Argument Love Famous Quotes & Sayings
List of top 67 famous quotes and sayings about argument love to read and share with friends on your Facebook, Twitter, blogs.
Top 67 Argument Love Quotes
#1. The media love coarse debate because coarse debate drives ratings and ratings generate profits. Unless the TV producer happens to be William Shakespeare, an argument is more interesting than a soliloquy - and there will never be a shortage of people willing to argue on TV. - Author: John Sununu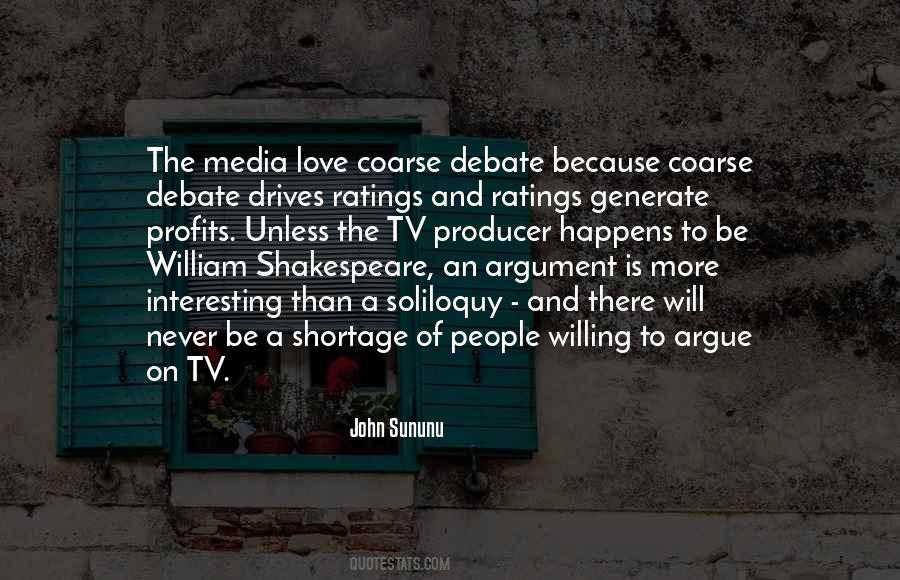 #2. When people fight about something, the subject of the argument is rarely the real issue. The real issue is about vulnerability, connectedness, safety, trust or love - which are all emotional states. - Author: Shawn Kent Hayashi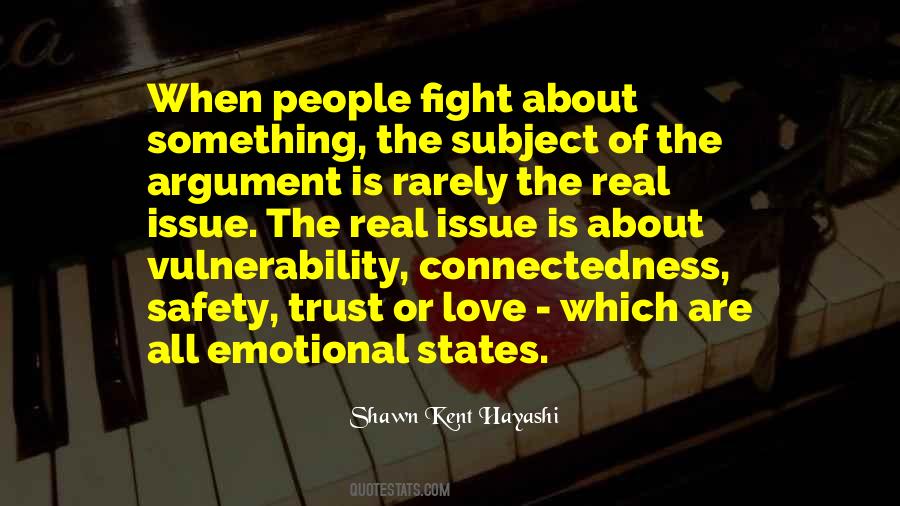 #3. GRATIANO
I have a wife I love. I wish she were in heaven so she could appeal to some power to make this dog Jew change his mind.
NERISSA
It's nice you're offering to sacrifice her behind her back. That wish of yours could start quite an argument back at home. - Author: William Shakespeare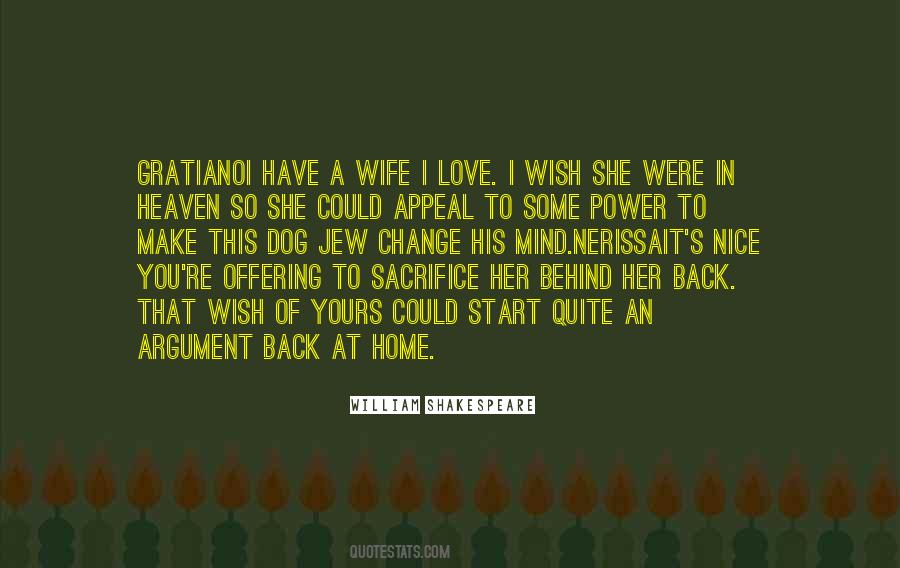 #4. I love argument, I love debate. I don't expect anyone just to sit there and agree with me, that's not their job. - Author: Margaret Thatcher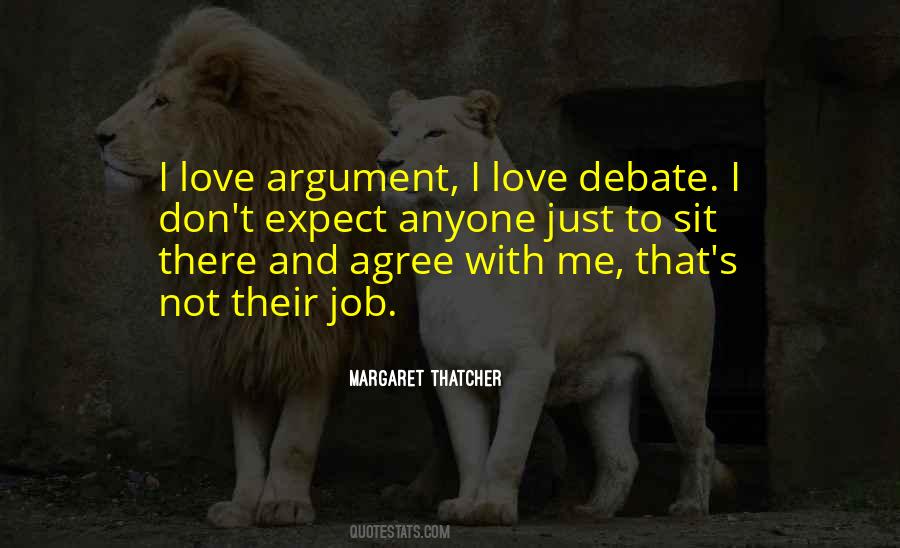 #5. Jealousy, like the flawed love that bears it, has no respect for time or space or wisely reasoned argument. - Author: Gregory David Roberts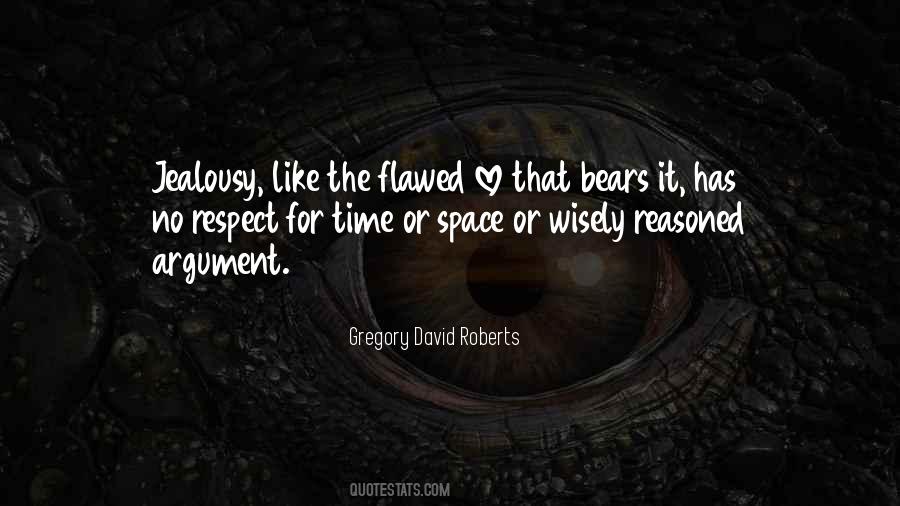 #6. But it feels good to love a thing and not expect anything back. It feels good to not get an argument or any pushiness or any rumors or any bullshit. It's love without strings. It's ideal. - Author: A.S. King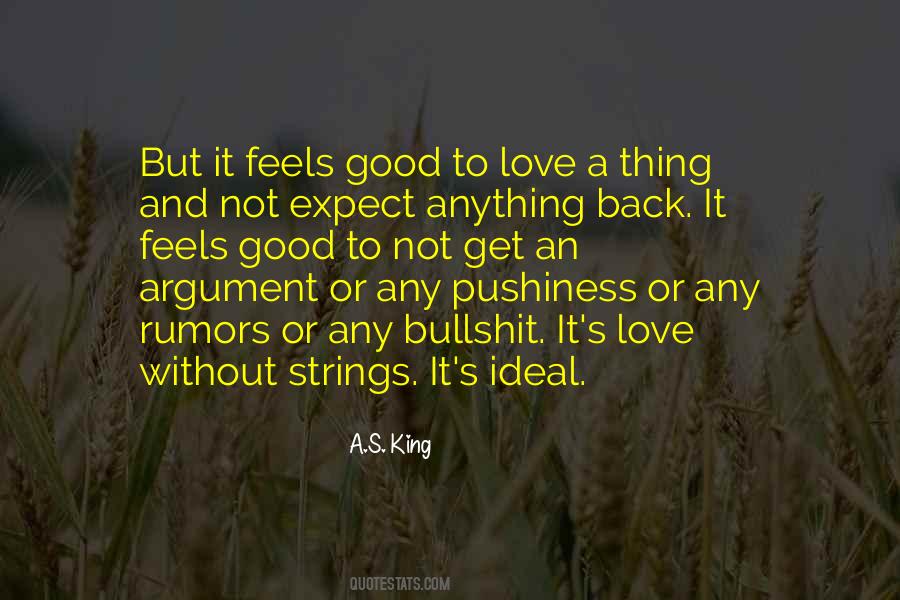 #7. Arguments escalate when we want to be right more than we want to be CHRIST. It's easy to get blinded in the heat of disagreement. Soon, all we want is to win. Even if victory requires sin. The one who wins the argument is usually the one who acts LESS like Christ. - Author: Francis Chan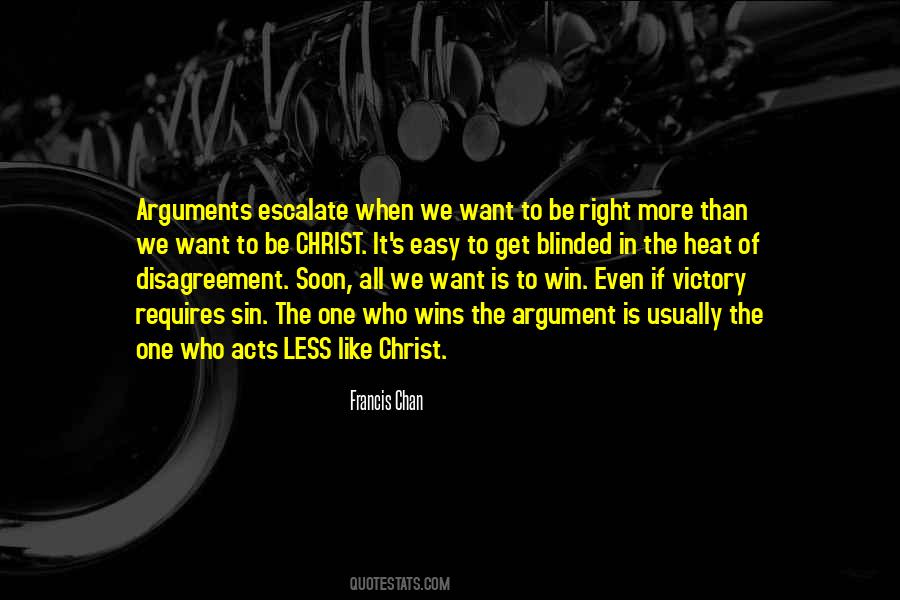 #8. In argument similes are like songs in love; they describe much, but prove nothing. - Author: Franz Kafka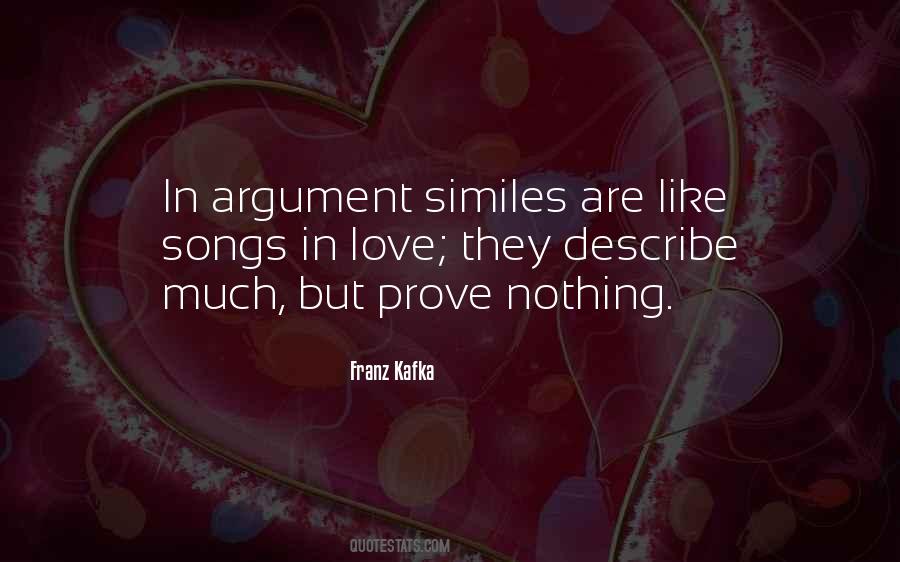 #9. Even in an argument, a person who loves more won't keep down the phone first. - Author: Subhasis Das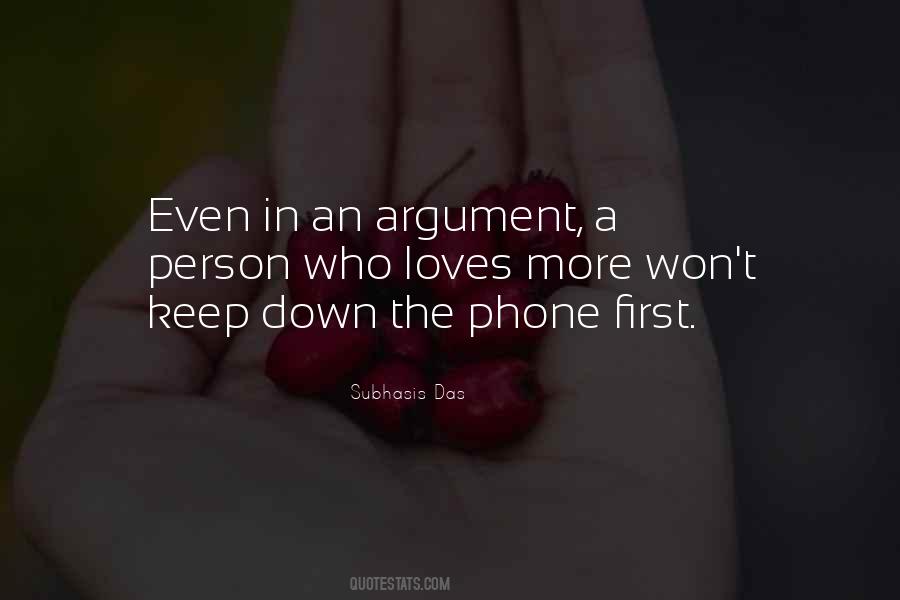 #10. Love is a very compelling argument. - Author: Brian Houston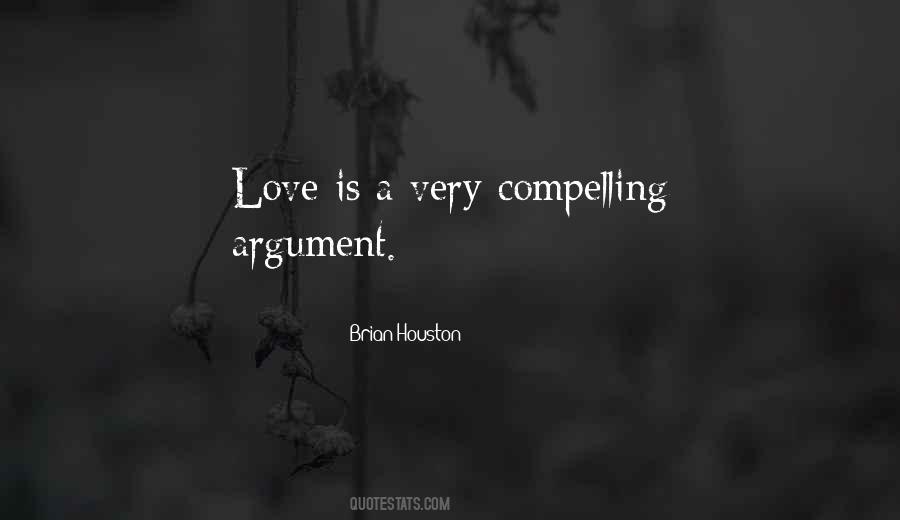 #11. Every human is a school subject. This is rather a metaphorical way of saying it, to put it straight, those you love are few, and the ones you detest are many. - Author: Michael Bassey Johnson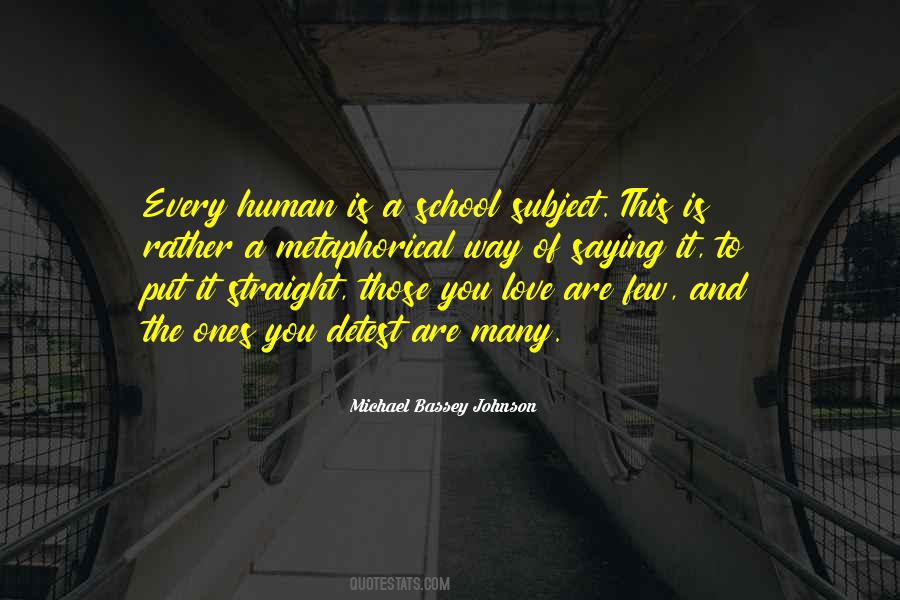 #12. But now my gracious numbers are decay'd, And my sick muse doth give another place. I grant, sweet love, thy lovely argument Deserves the travail of a worthier pen; - Author: William Shakespeare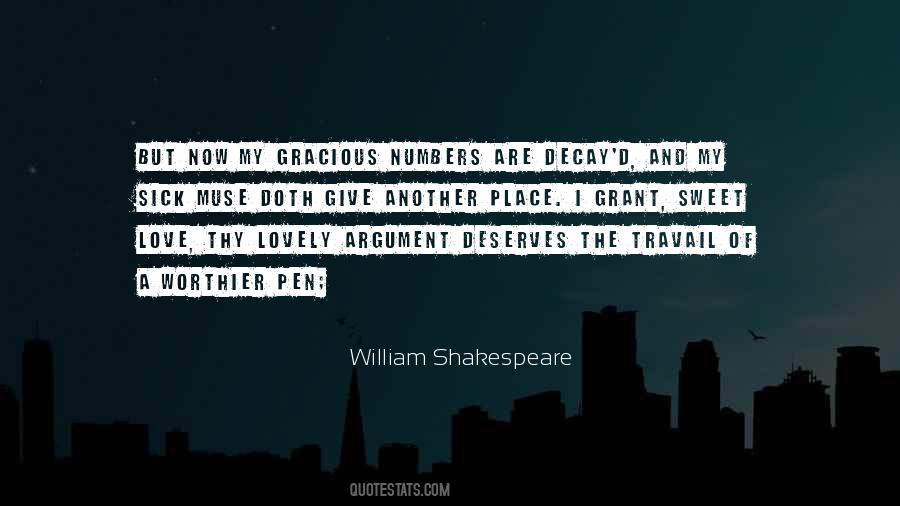 #13. Mindfulness won't ensure you'll win an argument with your sister. Mindfulness won't enable you to bypass your feelings of anger or hurt either. But it may help you see the conflict in a new way, one that allows you to break through old patterns. - Author: Sharon Salzberg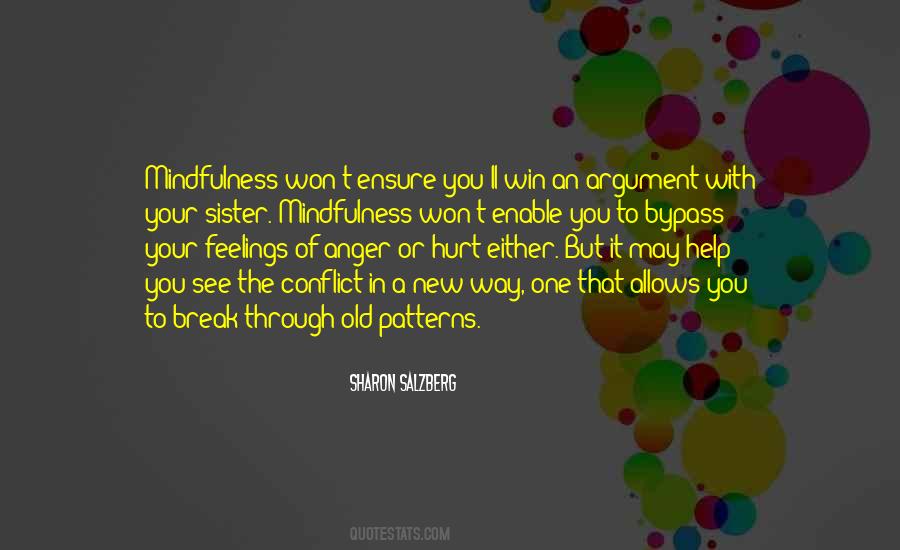 #14. You and I both know that love is for children,' he said. 'We're adults. Compatibility is for adults.'
'Compatibility is for my Bluetooth and my car,' Teresa replied. 'Only they get along just fine, and my car never makes my bluetooth feel like shit. - Author: Maggie Stiefvater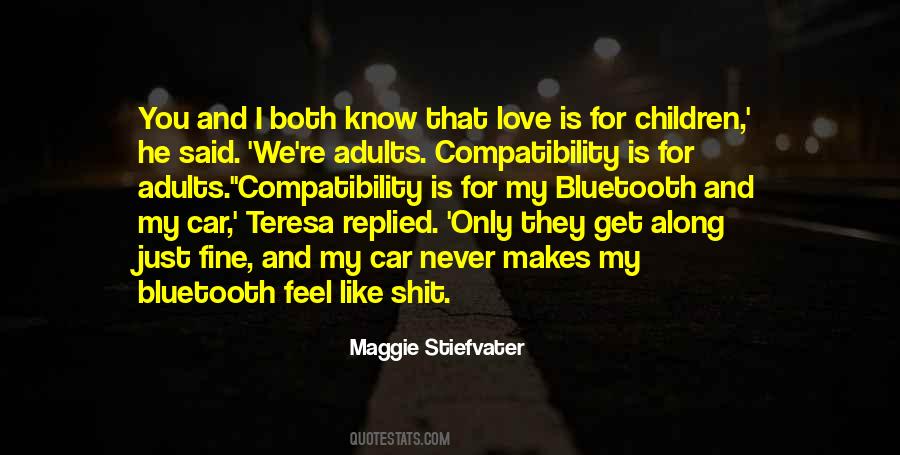 #15. I told Kate I didn't love her in an argument. But I do! Those heated moments are the worst, because that's when you can do the most damage. And they're bad, because you always hit them in the spot where you know it hurts. - Author: Peter Andre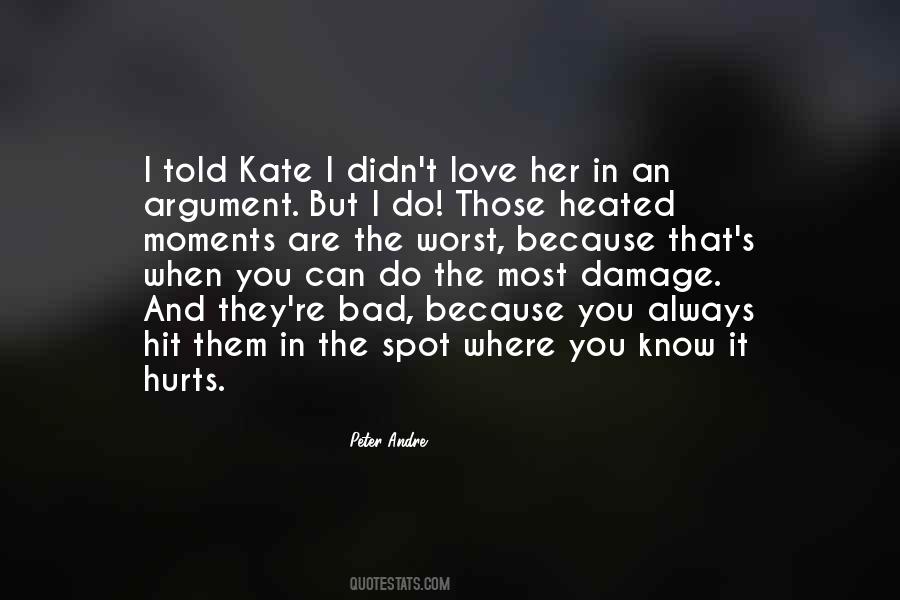 #16. Do not be astonished to see simple people believing without argument. God makes them love him and hate themselves. He inclines their hearts to believe. We shall never believe, with an effective belief and faith, unless God inclines our hearts. - Author: Blaise Pascal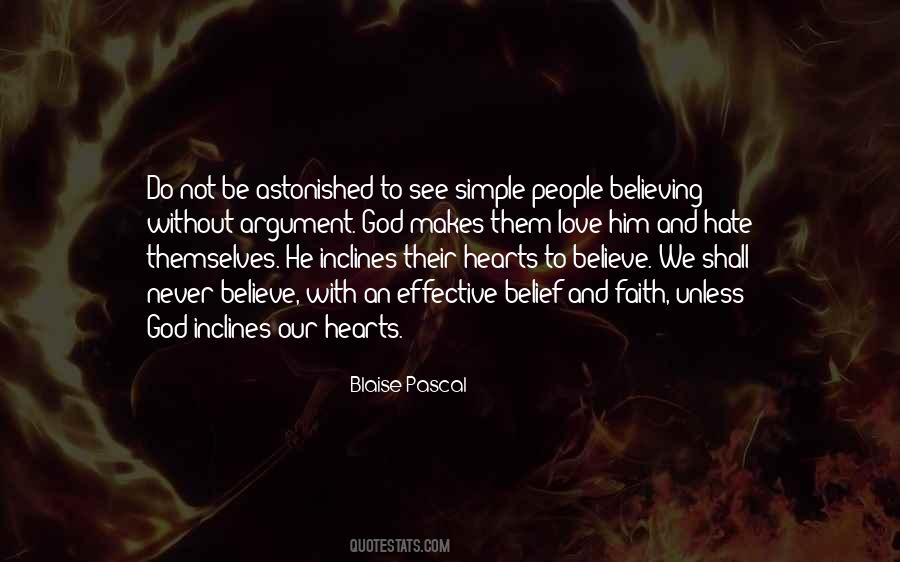 #17. Does that count as an argument? Can we kiss and make up now?"
"It was only half an argument."
"Fine. Then, you kiss and I'll make up."
I laughed until he effectively shut me up with his lips. - Author: Colleen Houck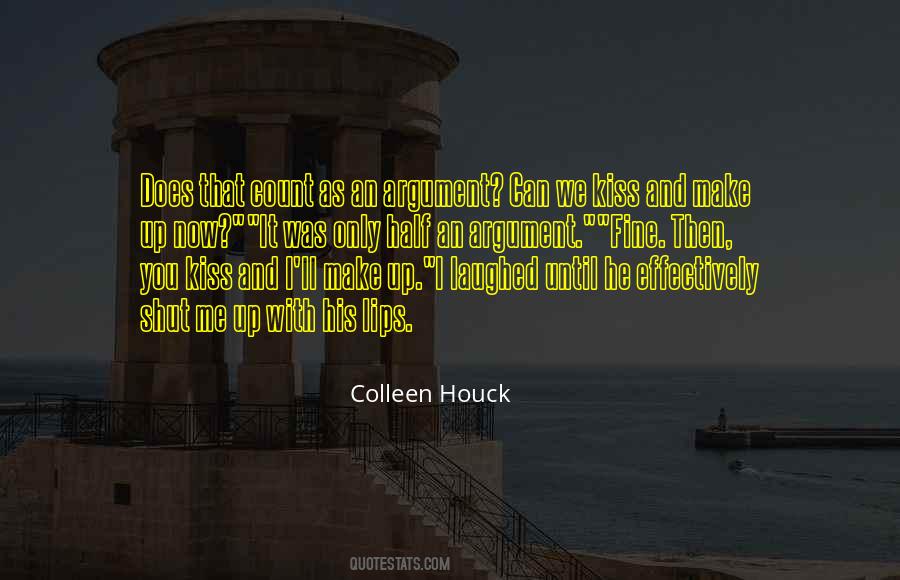 #18. If I hurt your feelings we ought to discuss it. I don't like this kiss-and-forget.'
'But I don't want to argue. I think it's wonderful that we can kiss and forget, and when we can't it'll be time to argue. - Author: F Scott Fitzgerald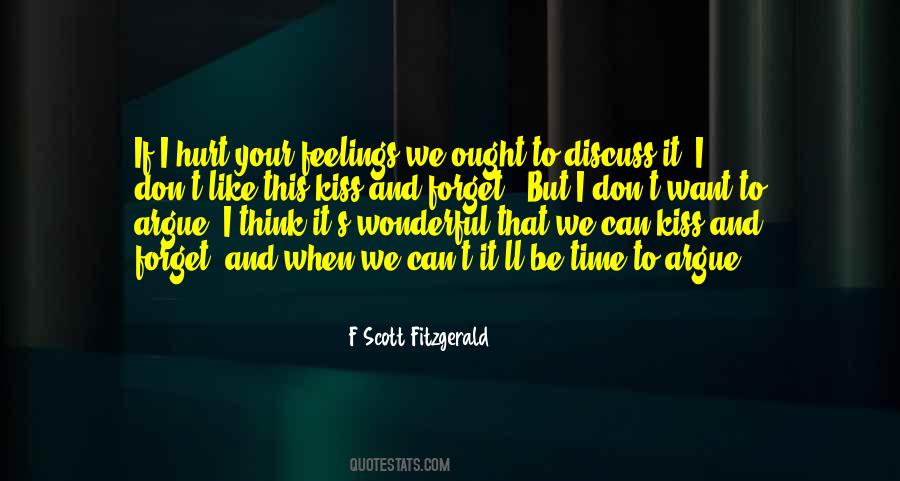 #19. Every argument is incapable of helping unless it is singular and addressed to a single person. Therefore, one who discourses in any other way presumably does so from love of reputation. - Author: Apollonius Of Tyana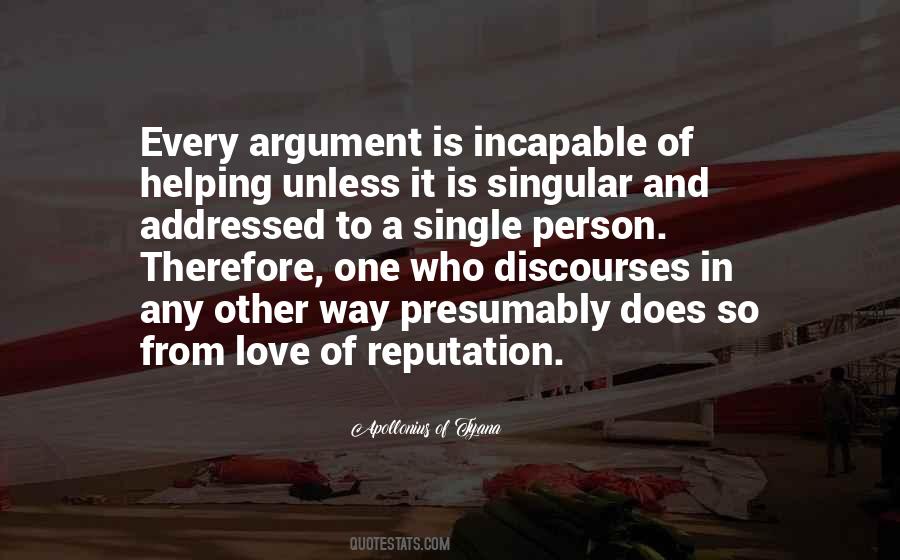 #20. On the stage, the characters express themselves more through words than images. So the arguments of the characters and the tension between characters - words have to be used to express that, and I love that about theater. - Author: Alan Alda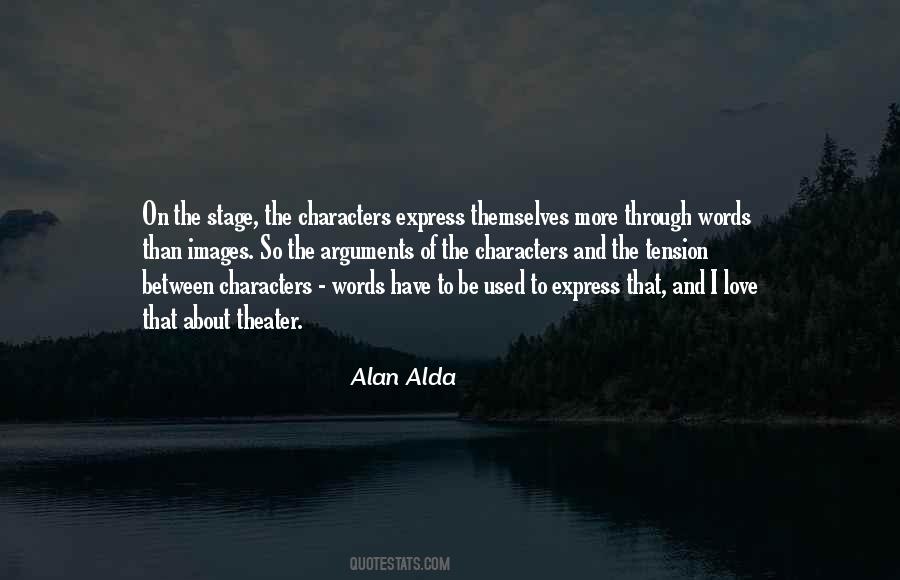 #21. You never knew the last time you were seeing someone. You didn't know when the last argument happened, or the last time you had sex, or the last time you looked into their eyes and thanked God they were in your life.
After they were gone?
That was all you thought about.
Day and night. - Author: J.R. Ward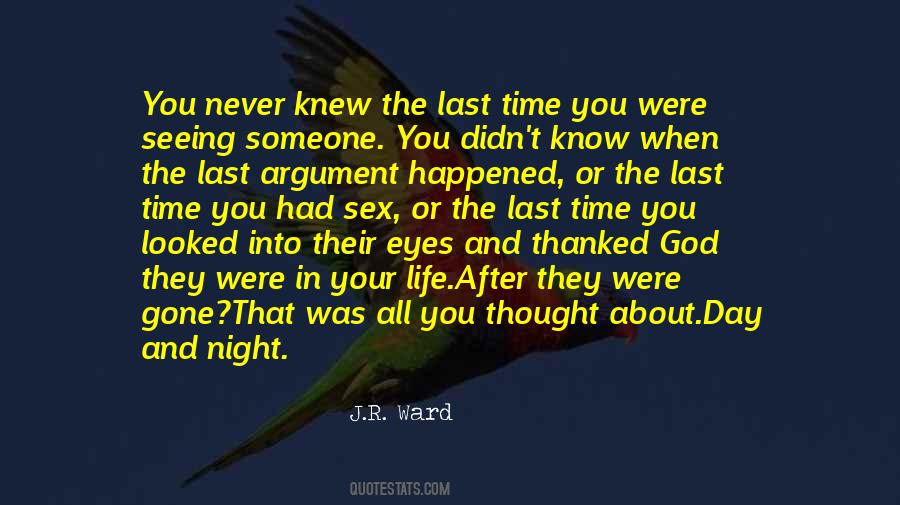 #22. What argument is left with someone you love if she is willing to break your heart? - Author: Mark Helprin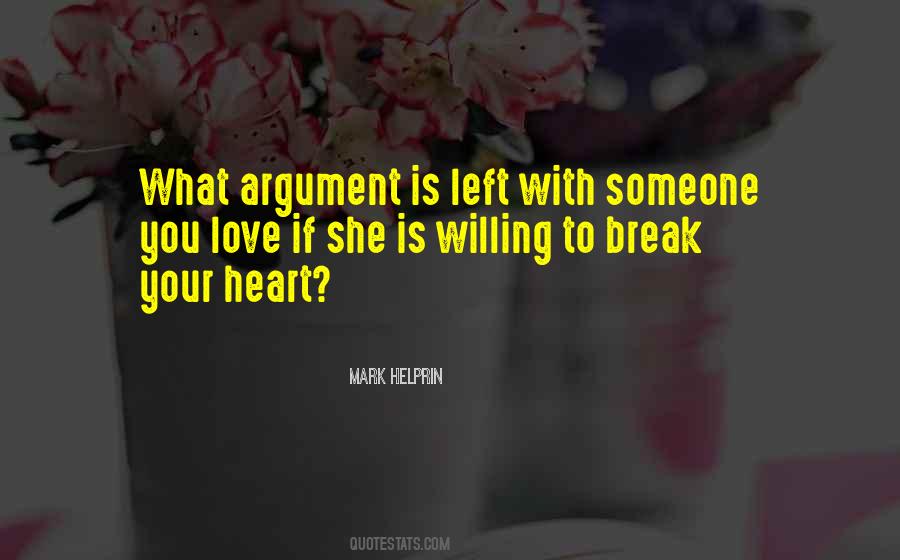 #23. Whether you're the best lawyer ...
Or the greatest philosopher ...
There will alway be at least two people that you can never win any argument with ...
Your child ...
And your wife ...
So don't argue with them ...
Just love them ... - Author: Nelson M. Lubao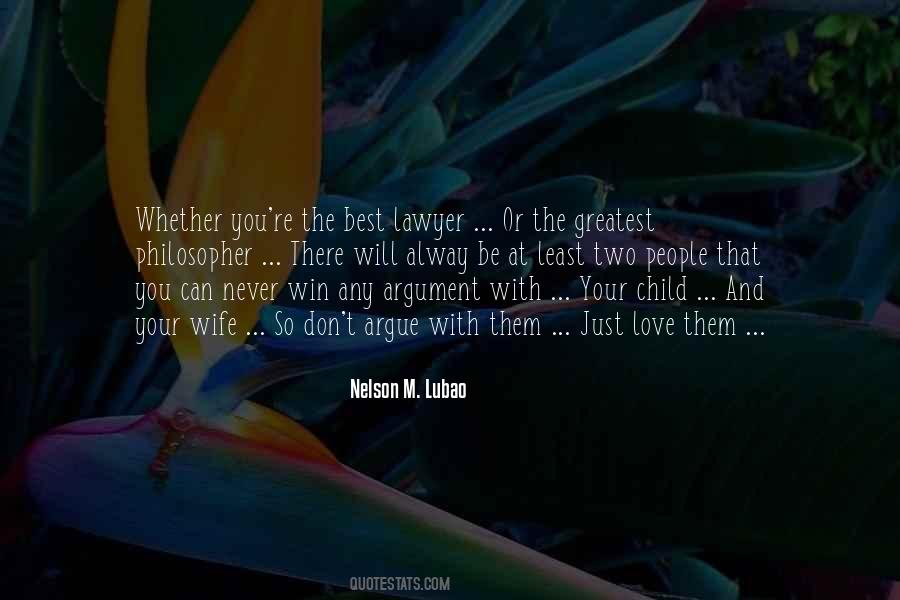 #24. I'm not going to stand here and have the same argument with you over and over. What I will say is that when I walk out that door I'm walking out of here hating you for throwing me away when the truth is ... the truth is you love - Author: Anonymous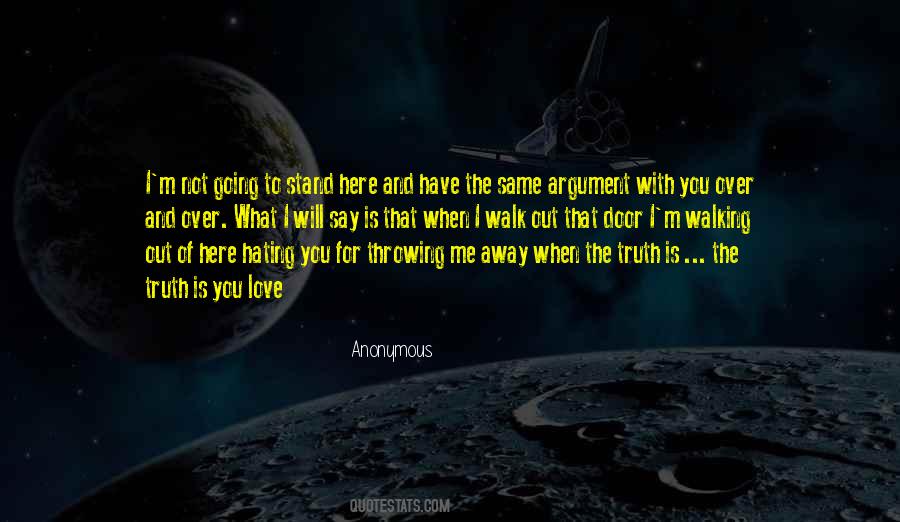 #25. If Christ is the wisdom of God and the power of God in the experience of those who trust and love Him, there needs no further argument of His divinity. - Author: Henry Ward Beecher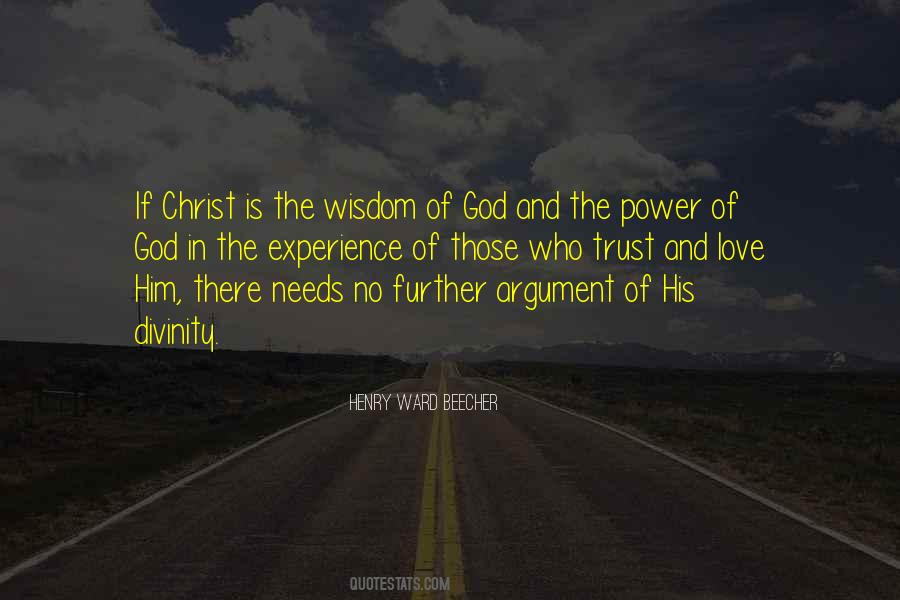 #26. Love. There's no argument, no matter how strong, that can overcome that word. - Author: Chitra Banerjee Divakaruni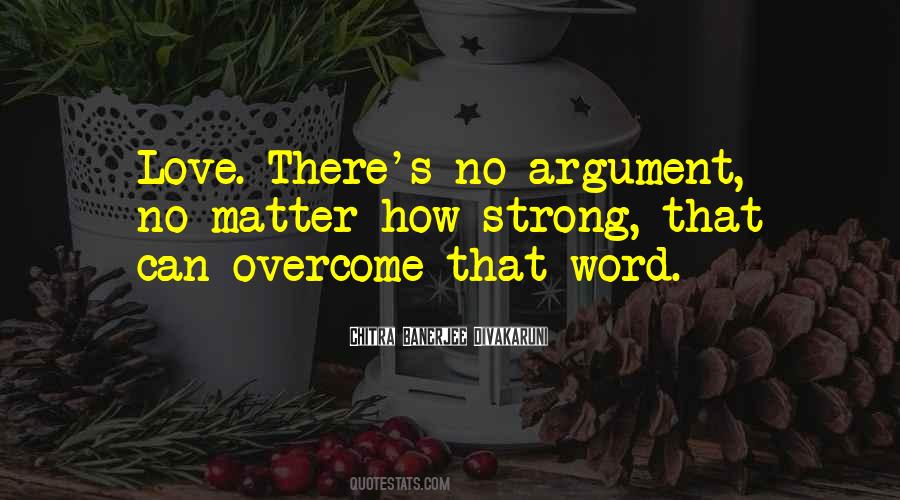 #27. I love the question-and-answer. I love to see liberals try to thrash their way to a coherent argument. And actually, I think it's fun to debate. - Author: Ann Coulter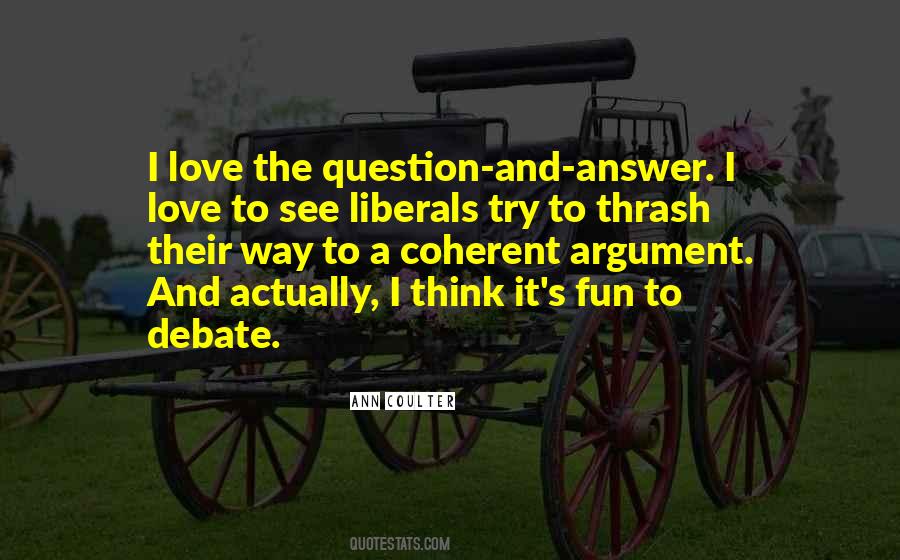 #28. The love of conflict is most evident when opposing forces join sides to defeat the peacemaker. - Author: Criss Jami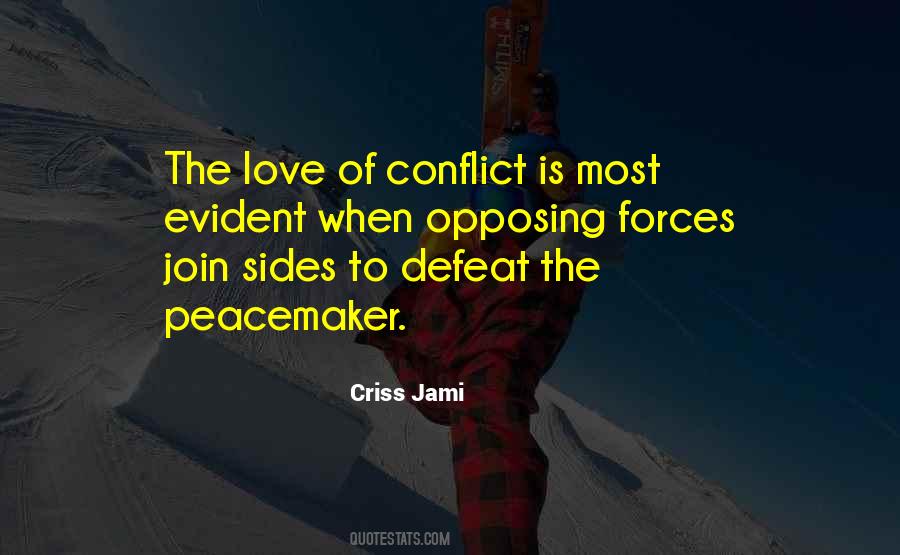 #29. Buddha said: 'Hatred is never ended by hatred but by love,' and a misunderstanding is never ended by an argument but by tact, diplomacy, conciliation and a sympathetic desire to see the other person's viewpoint. - Author: Dale Carnegie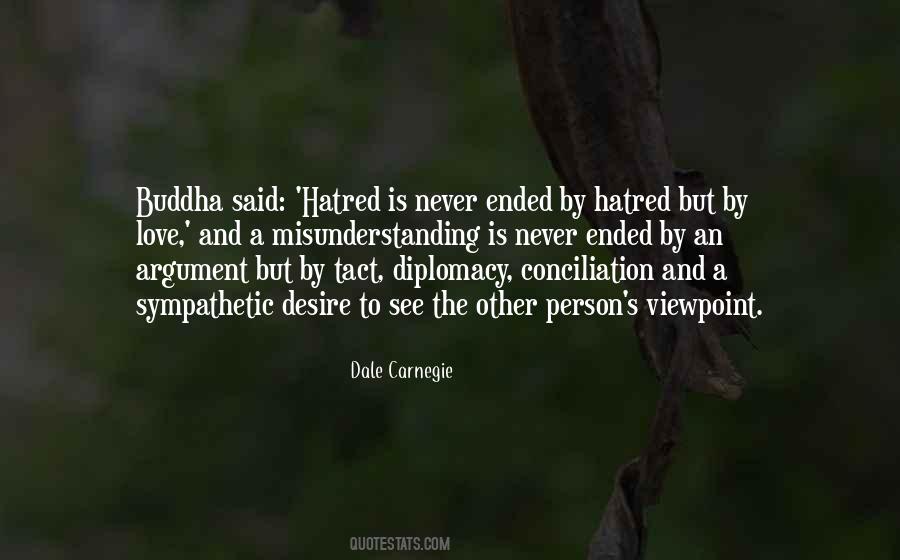 #30. If love or non-violence be not the law of our being, the whole of my argument falls to pieces. - Author: Mahatma Gandhi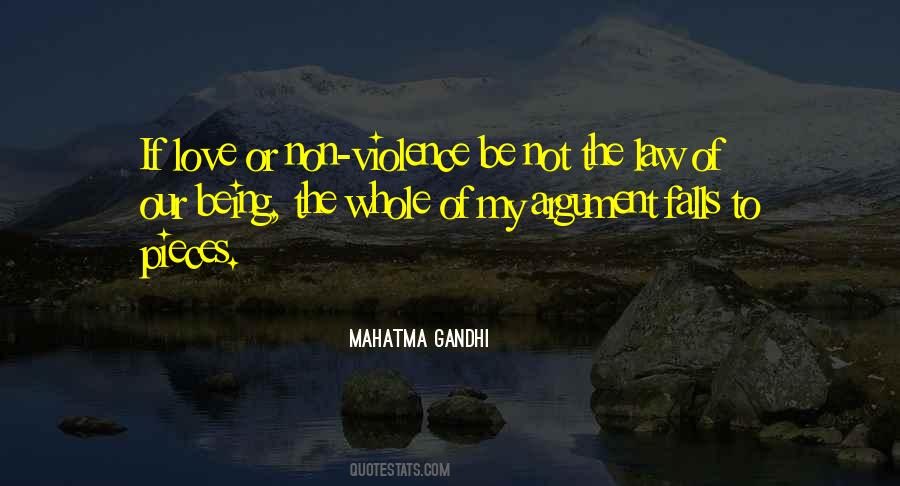 #31. I never lose in any argument, because I always make sure that my opponent wins. - Author: Debasish Mridha
#32. Archer wouldn't consider her allowance of the guard to be evidence of the powers of rational argument. He'd take it as proof that she was in love with whichever of her guards was the most handsome. - Author: Kristin Cashore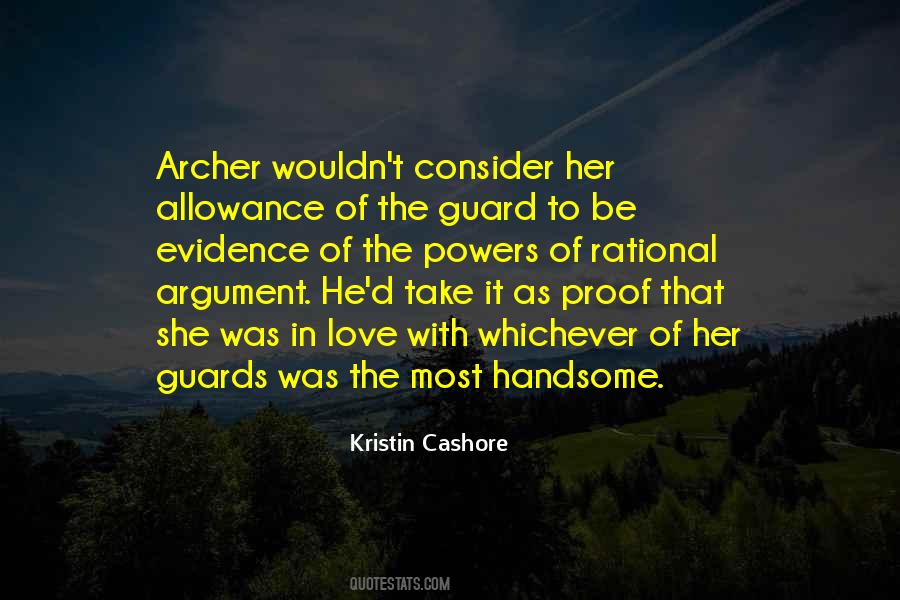 #33. Ministers who threaten death and destruction employ weapons of weakness. Argument and kindness are alone effectual, flavored by the principles of Divine love. - Author: Hosea Ballou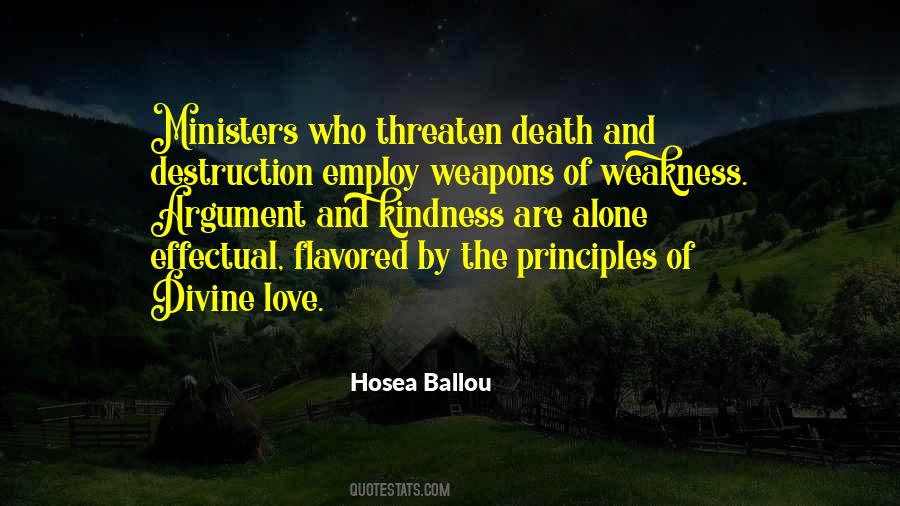 #34. You don't love anyone either. An argument could be made that you only ever do one of three things to the people closest to you: make enemies of them, kill the people they love, or get them killed. Careful. You're on thinner ice than you've ever been with me. - Author: Karen Marie Moning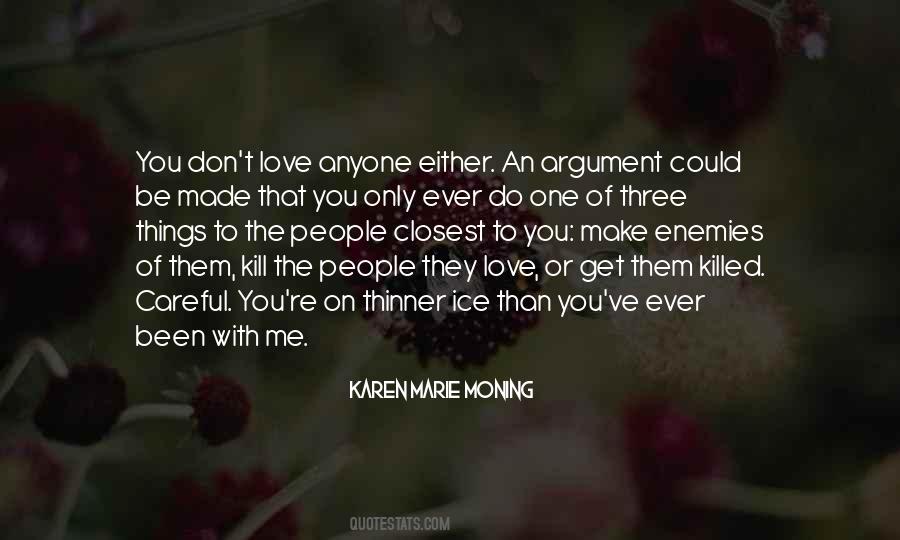 #35. Yes, I would become upset when you forgot to take out the garbage, but that is not a real argument. That is nothing. It passes like a leaf blown by the window. It is over and done and it is forgotten quickly. - Author: Nicholas Sparks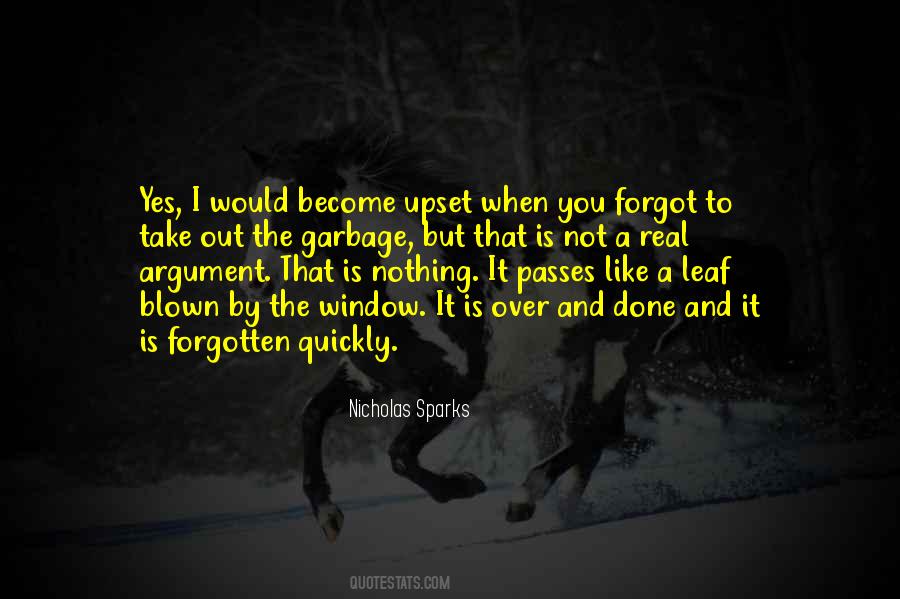 #36. It wasn't an attack. We'd been together too many times before, made love together too many times before, for it to be that. It was just that fear had suddenly entered, and made us dangerous strangers.
("New York Blues") - Author: Cornell Woolrich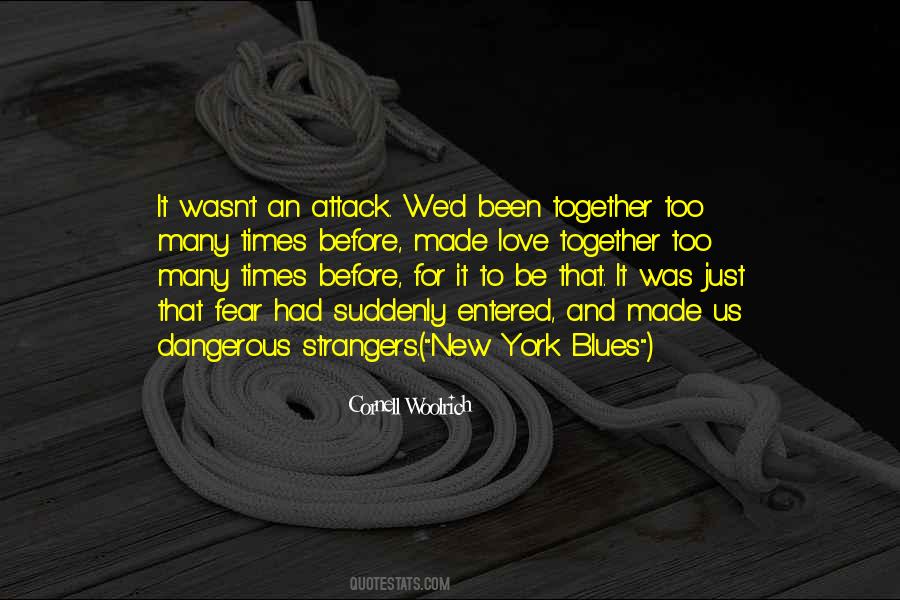 #37. Opinion. Love meant being brave, otherwise you had already lost your own argument: the man who couldn't tell a woman he loved her was, by definition, not worthy of her. - Author: Nick Hornby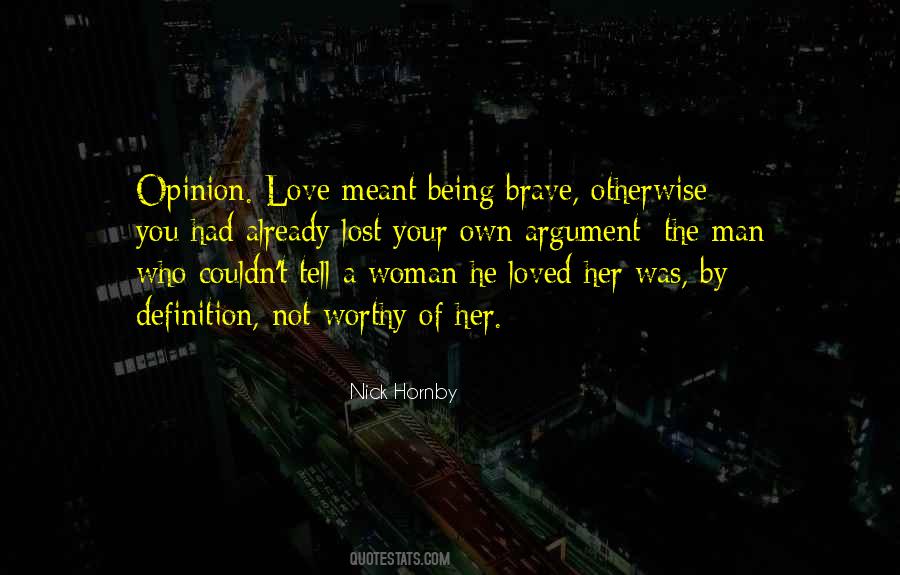 #38. Love isn't about saying cute things and being praised all the time. It's right after a long argument that drains the life out of both of you, and getting

over it the next day. - Author: Auliq Ice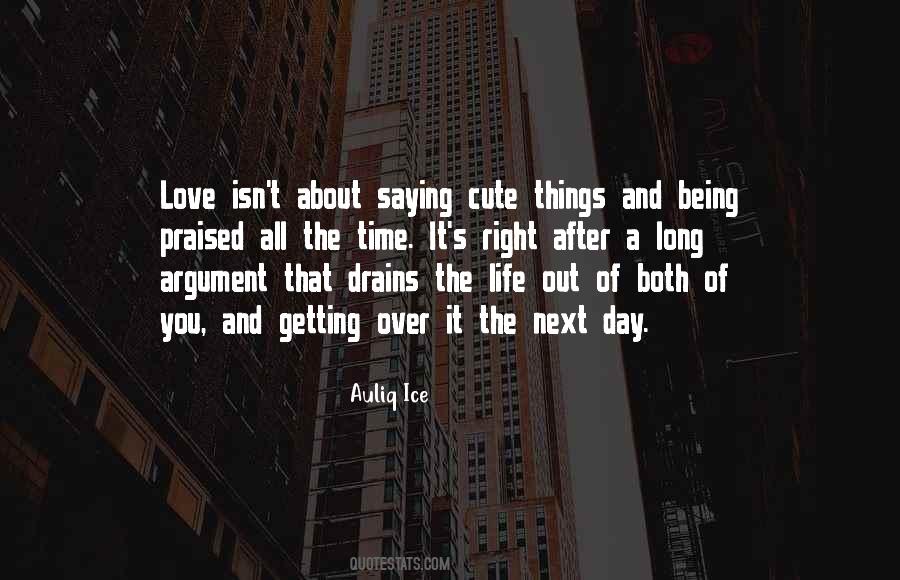 #39. You must determine your goal. What matters most? Winning arguments? Or resembling Christ? Even in the heat of an argument we should be asking ourselves if we are acting like Christ. - Author: Francis Chan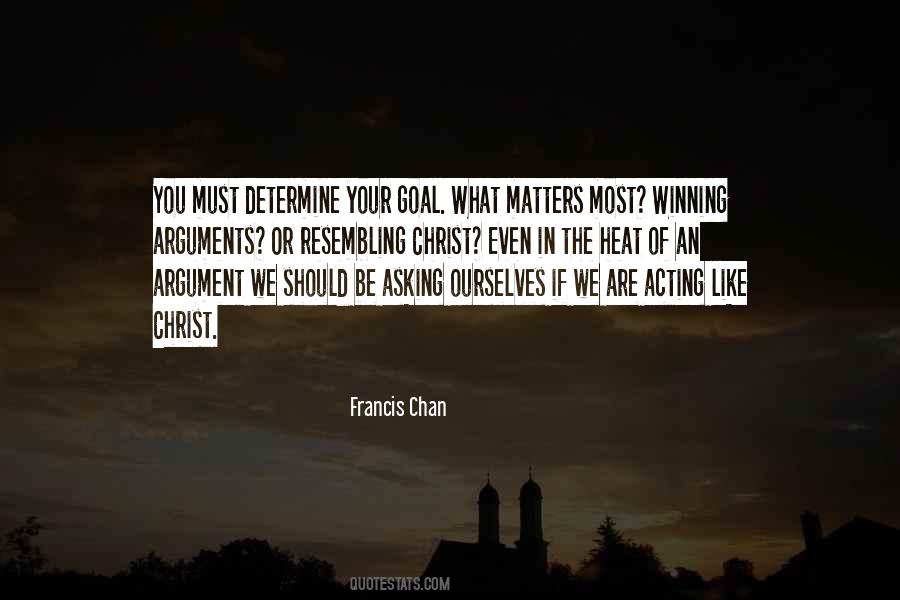 #40. The futility of something is not always (in love and in politics) a sufficient argument against it - Author: Jane Austen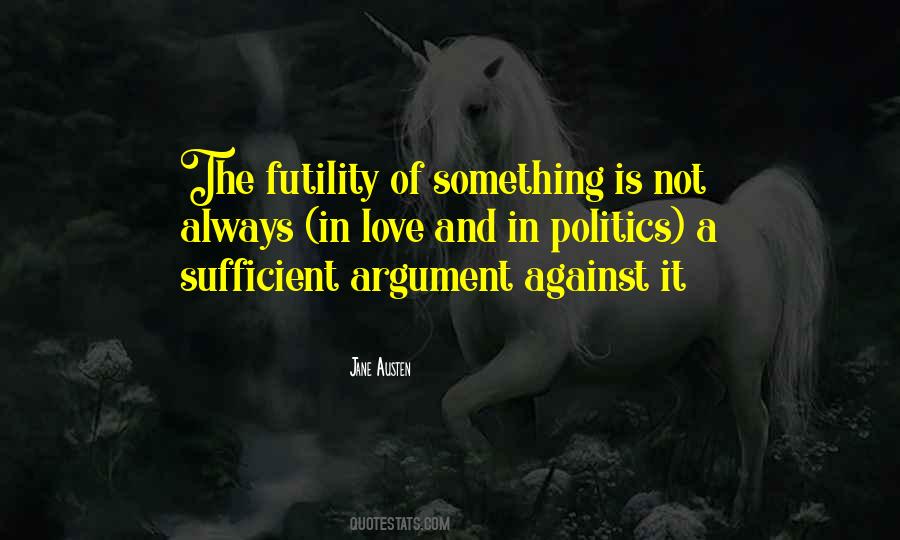 #41. Jo carried her love of liberty and hate of conventionalities to such and unlimited extent that she naturally found herself worsted in an argument. - Author: Louisa May Alcott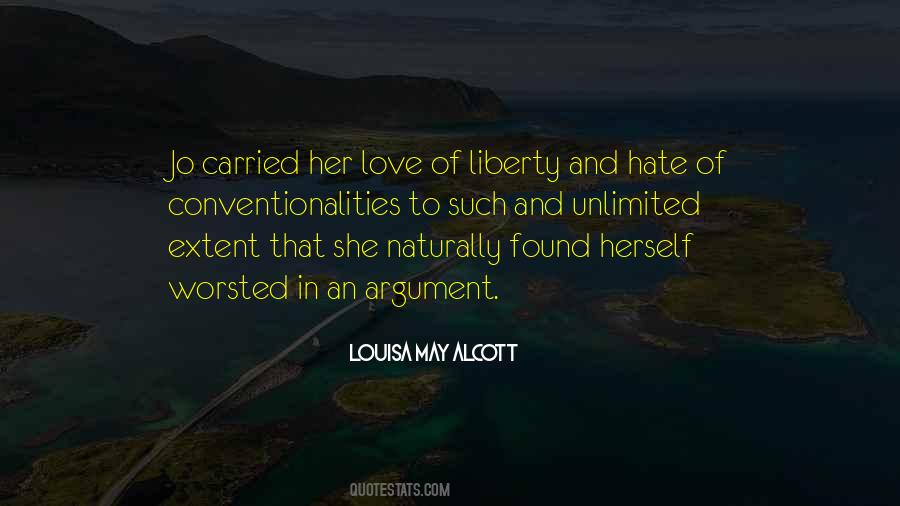 #42. ...Belief is strong. Stronger than rationality. Fear, love hope -all rational emotions, but they sway people more fiercely than any fact-based argument. - Author: Jessica Clare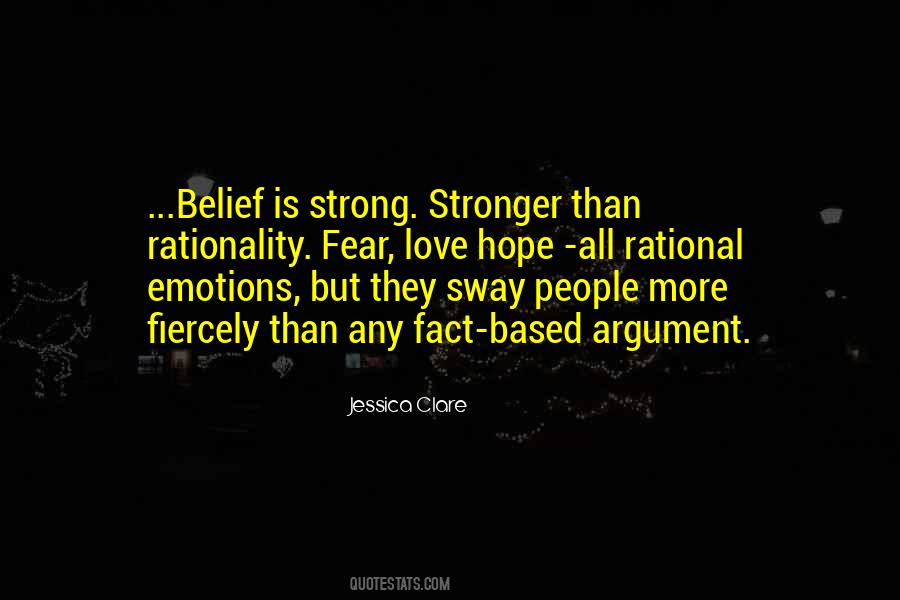 #43. All the same, it strikes me as unfair that I still have to defend myself against her moral judgements. My continuing need for her approbation is pathetic. Twice now I have stopped myself on the street to remonstrate with her, a crazy old coot talking to himself. - Author: Mordecai Richler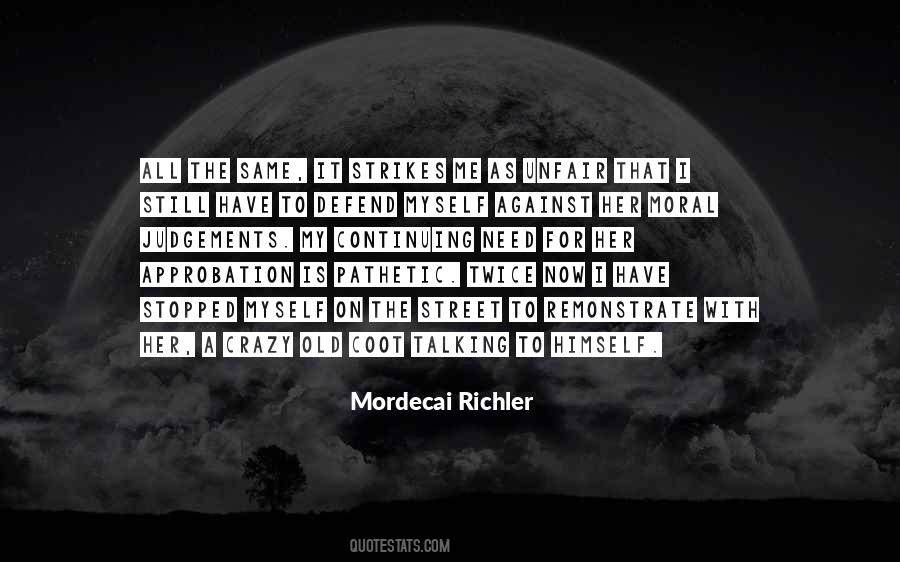 #44. Without contraries is no progression. Attraction and repulsion, reason and energy, love and hate, are necessary to human existence. - Author: William Blake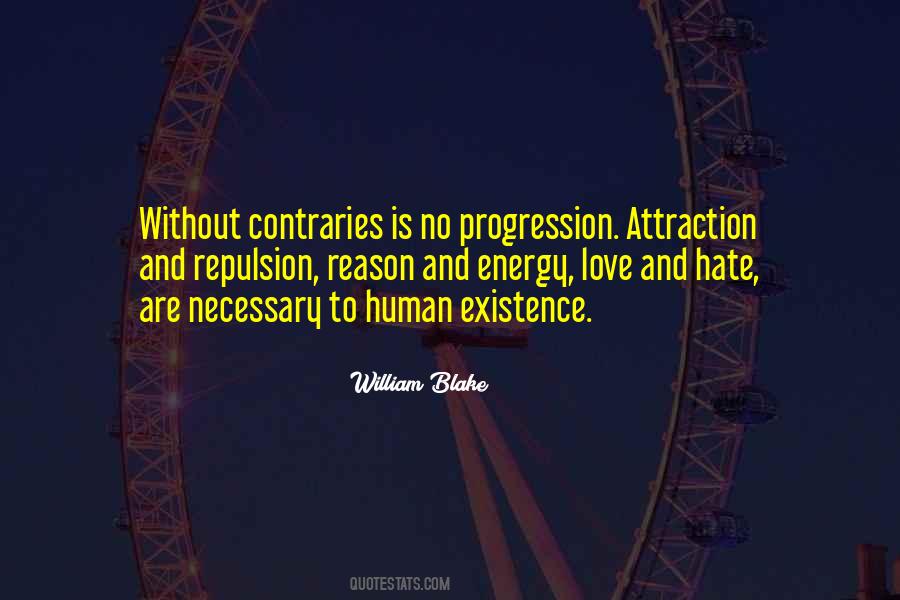 #45. Freud suggests that in order to love someone else, one must love themselves; it's a classic "needs before other needs" argument. Unfortunately, no one really loves themselves . And, if they do, they need to get to know themselves better. Unfortunately, no one is really happy. - Author: Pete Wentz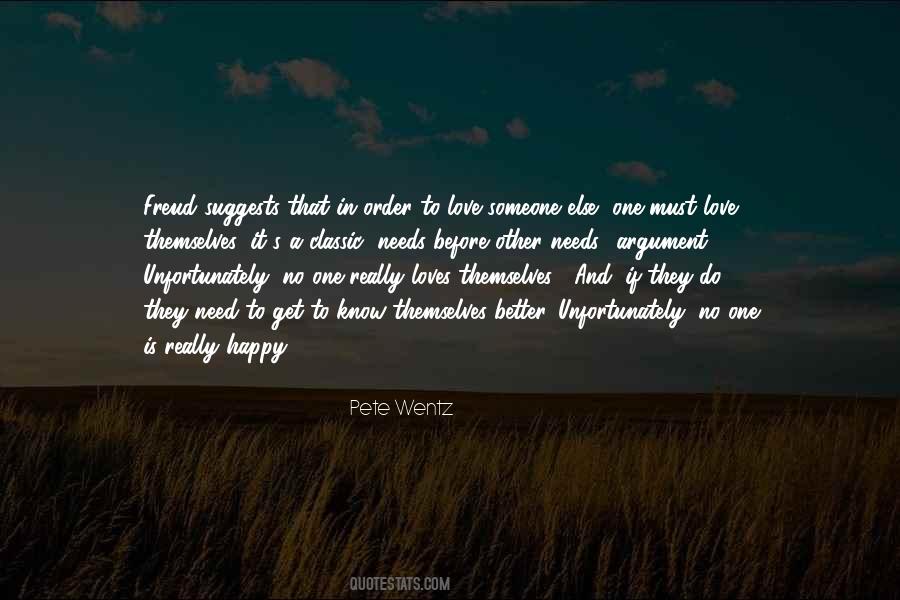 #46. Do much wonder that one man, seeing how much another man is a fool when he dedicates his behaviors to love, will, after he hath laughed at such shallow follies in others, become the argument of his own scorn by falling in love: - Author: William Shakespeare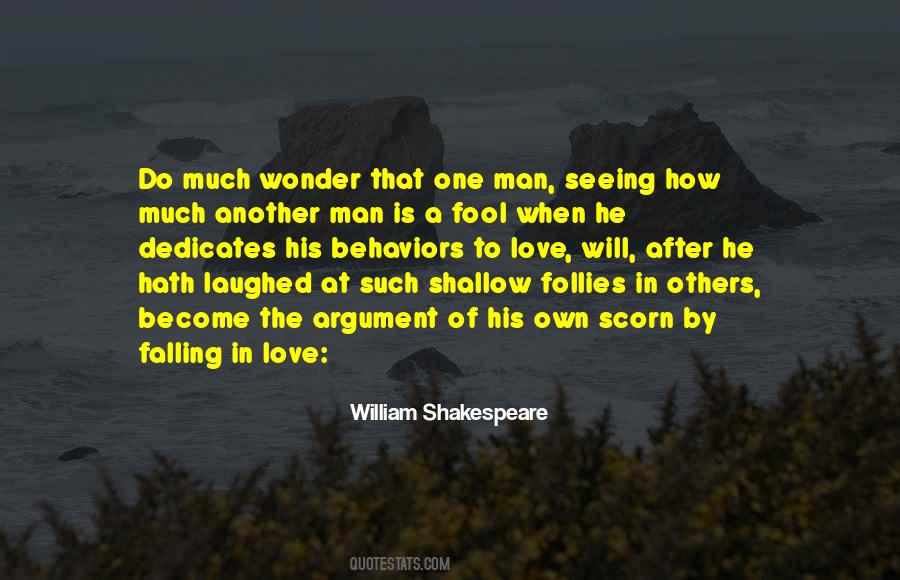 #47. The more a race is governed by its passions, the less it has acquired the habit of cautious and reasoned argument, the more intense will be its love of music. - Author: Stendhal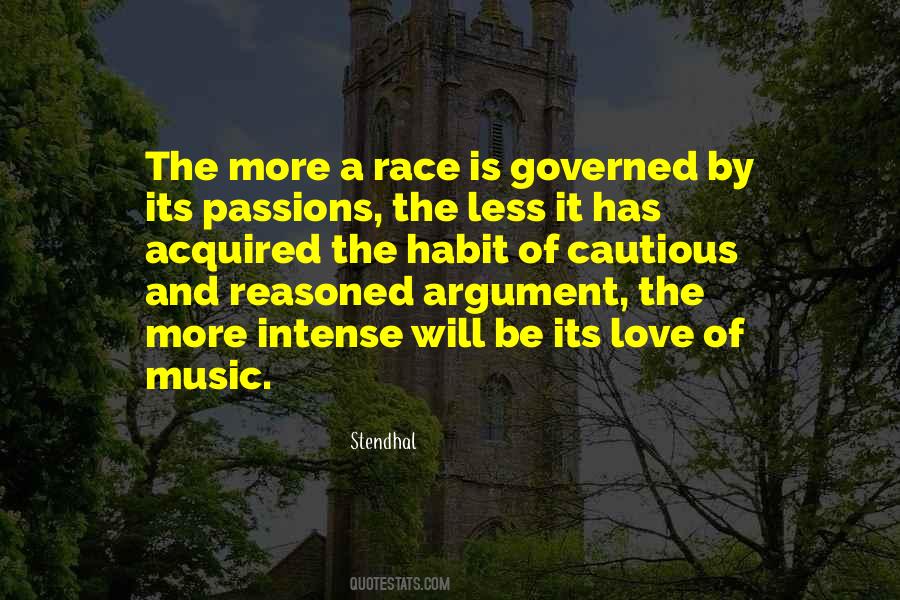 #48. Having someone to love and hold, to make you feel 'whole' and not alone, is worth every damn argument ever to be had. - Author: Auliq Ice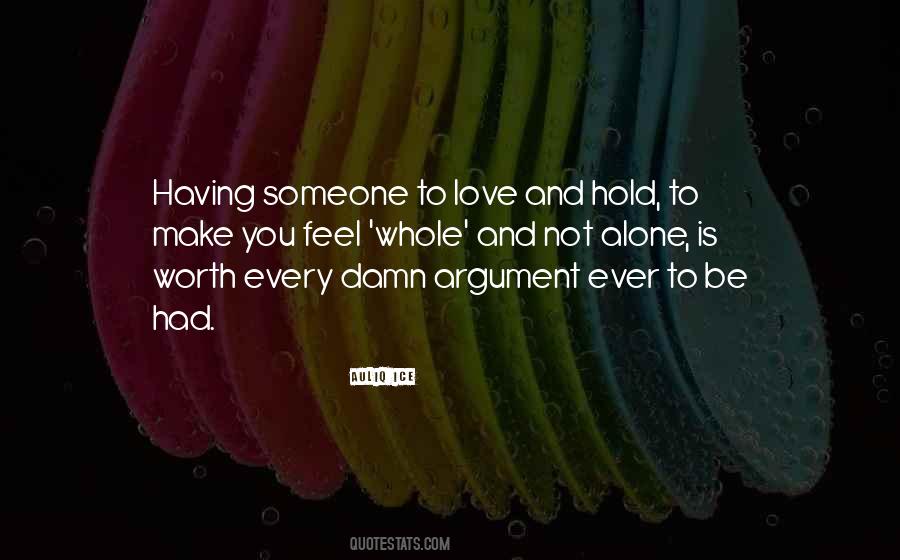 #49. The only truths worth arguing about are those truths that could prevent or lead to circumstances that may bite us in the rear sooner or later. - Author: Criss Jami
#50. I am a great believer in not pushing each other's "buttons" just because we know where they are! That's part of trusting each other. We need to trust that our vulnerabilities and challenges are safe with the person we love. - Author: Cathy Burnham Martin
#51. I love being married. It's great. But I hate arguing. I hate fighting. You know what I do now? When we get in an argument, I just take her side against me. It's just easier; it goes quicker. She's like, "What's wrong with you?" And I'm like, "I know! Damn it! Argh!" - Author: Louis C.K.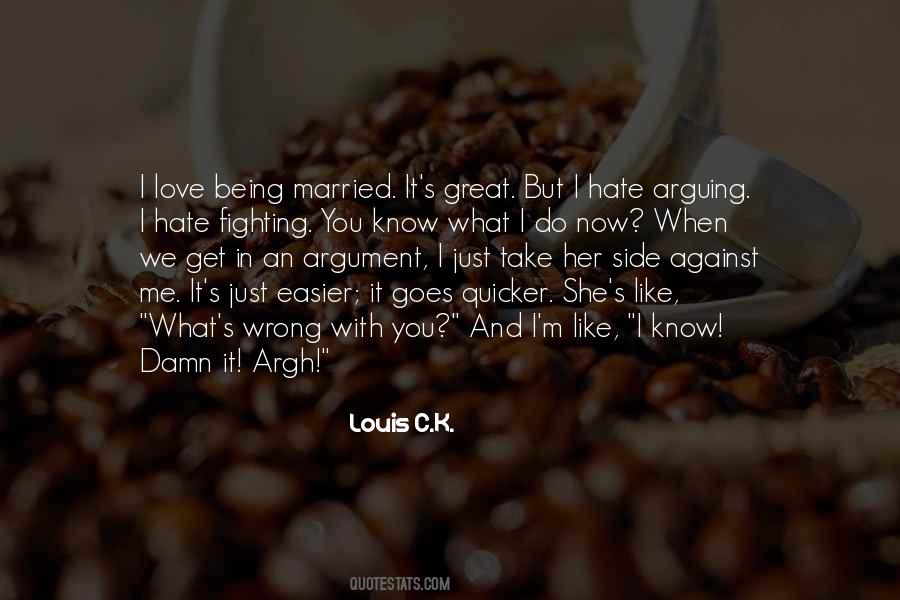 #52. Calling Rand Paul 'the most interesting man in politics' is an invitation to an argument - but one we suspect he'd love to have. - Author: Nancy Gibbs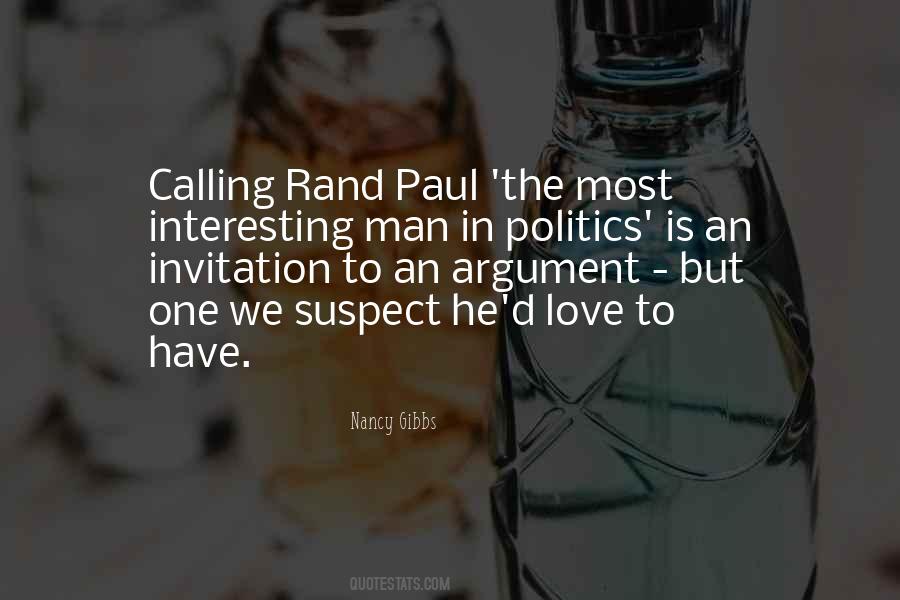 #53. The way of love is not / a subtle argument. / The door there is devastation. / Birds make great sky-circles / of their freedom. / How do they learn it? / They fall, and falling, / they're given wings. - Author: Rumi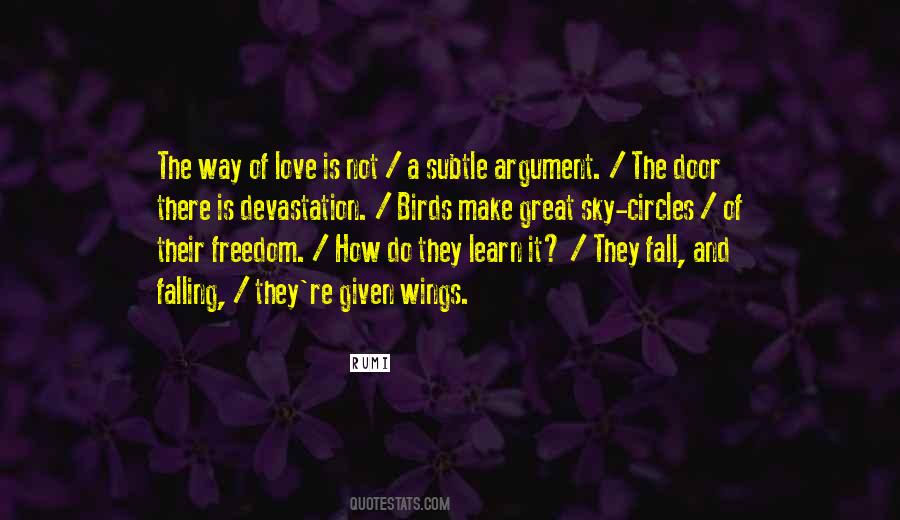 #54. I love a good argument and sometimes I have a hard time keeping my mouth shut if I think someone is wrong ... I've always fought for what I believe in, and I don't quit until I have accomplished what I set out to do. - Author: Kenny Wormald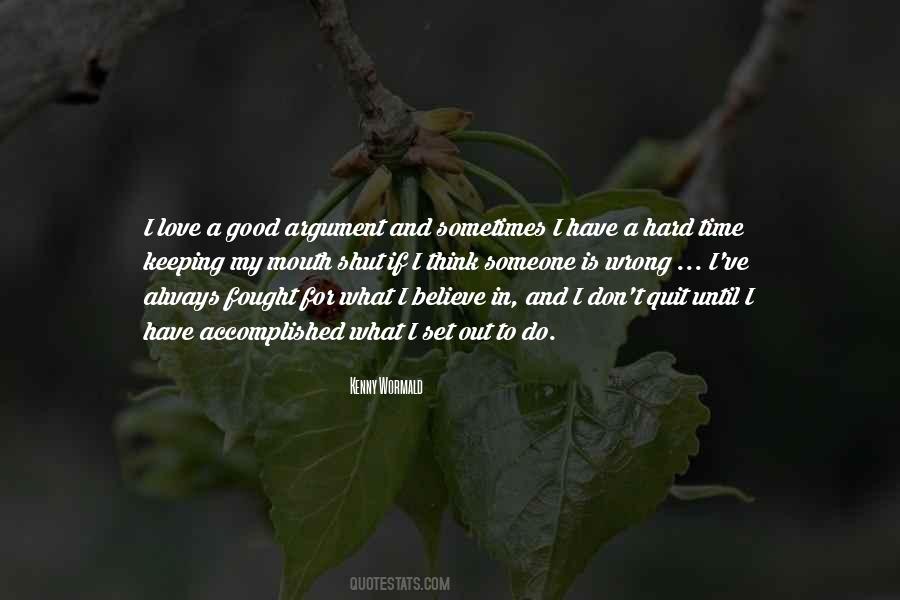 #55. You can never win resentment with an argument - only love can do that. - Author: Debasish Mridha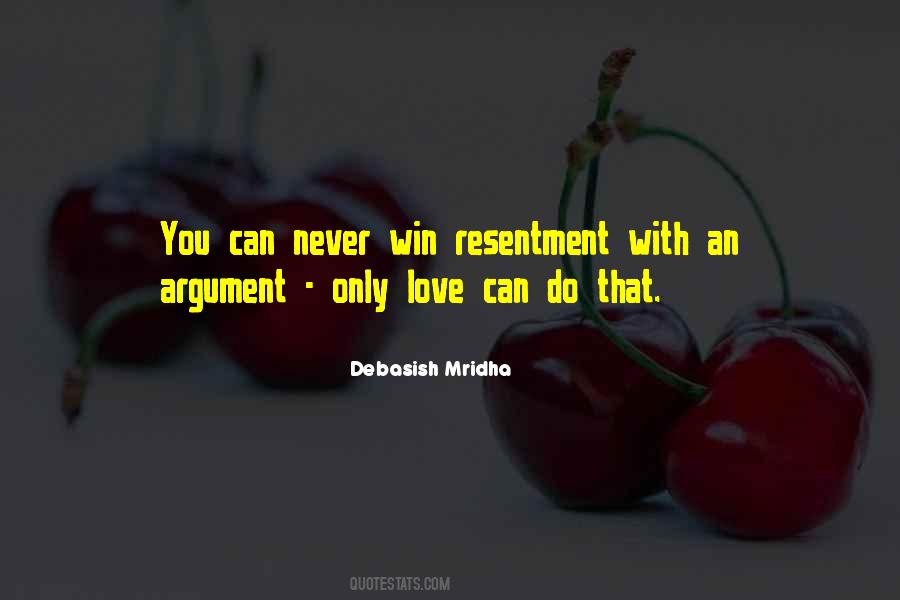 #56. It's difficult to love someone you don't respect, which is hard to remember when you're having an argument. - Author: Mehmet Oz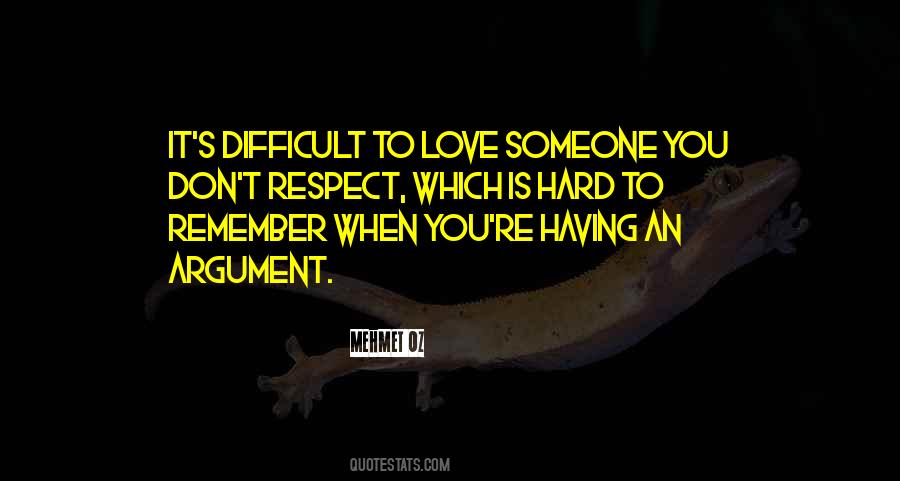 #57. The immoral woman in Luke 7 has the faith to anticipate Christ's forgiveness. She can act in love with no words to justify. - Author: Jenn Thoman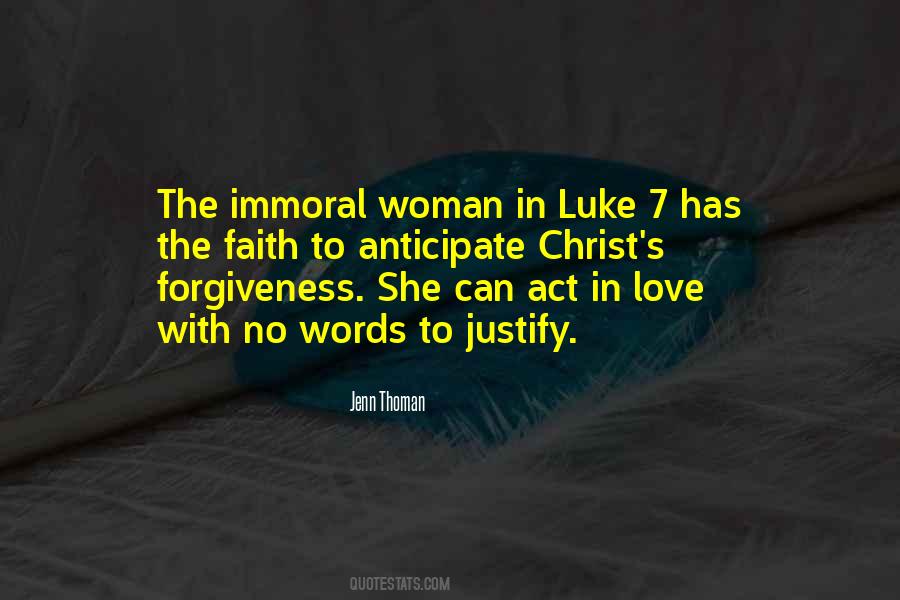 #58. You can come to know the truth only when you are in love. But love never argues. There is no argument in love, because there is no aggression. - Author: Rajneesh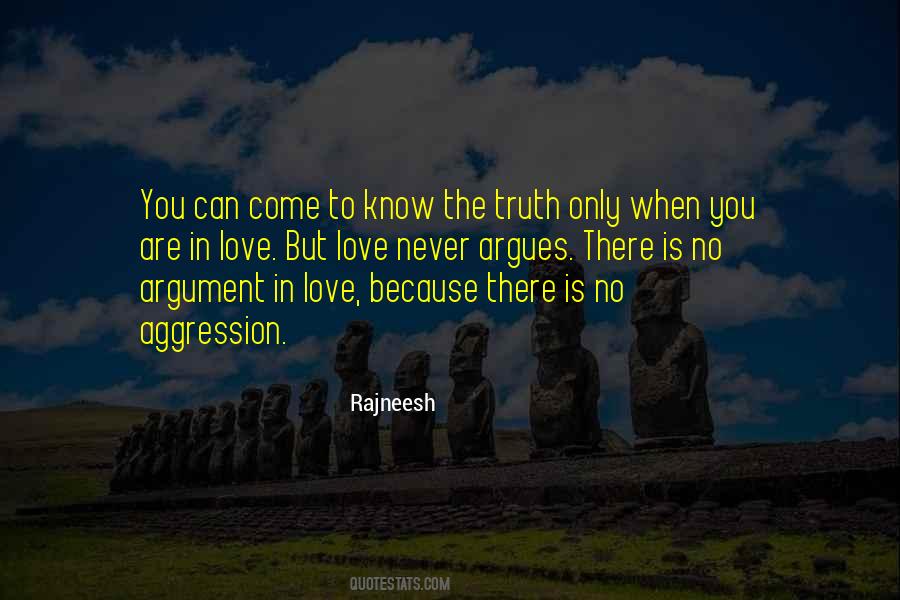 #59. For to the arguments of great thinkers there is no end, the idea of argument itself being a tool to improve the mind, the sharpest of all tools, born of the love of knowledge, which is to say, philosophy. - Author: Salman Rushdie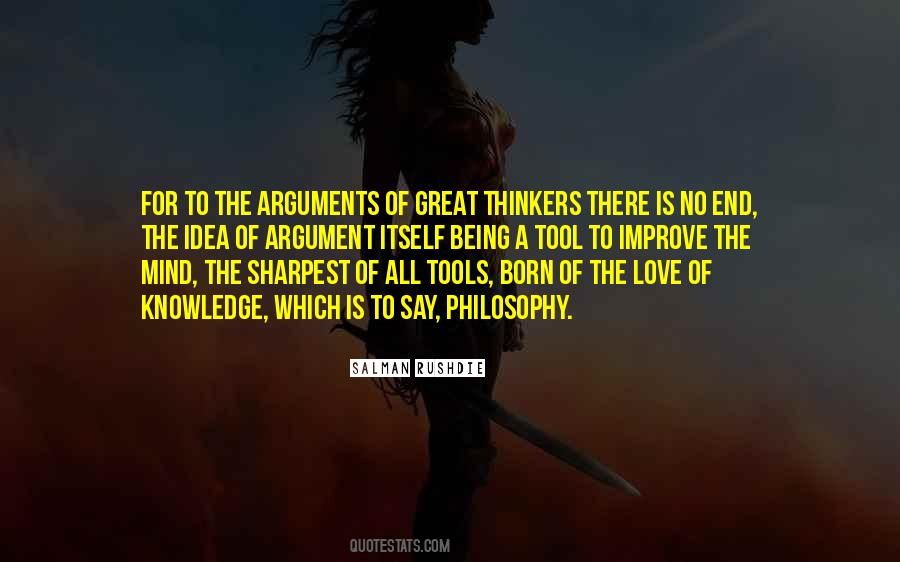 #60. What's all this love of arguing? No one ever convinces anyone else. - Author: Leo Tolstoy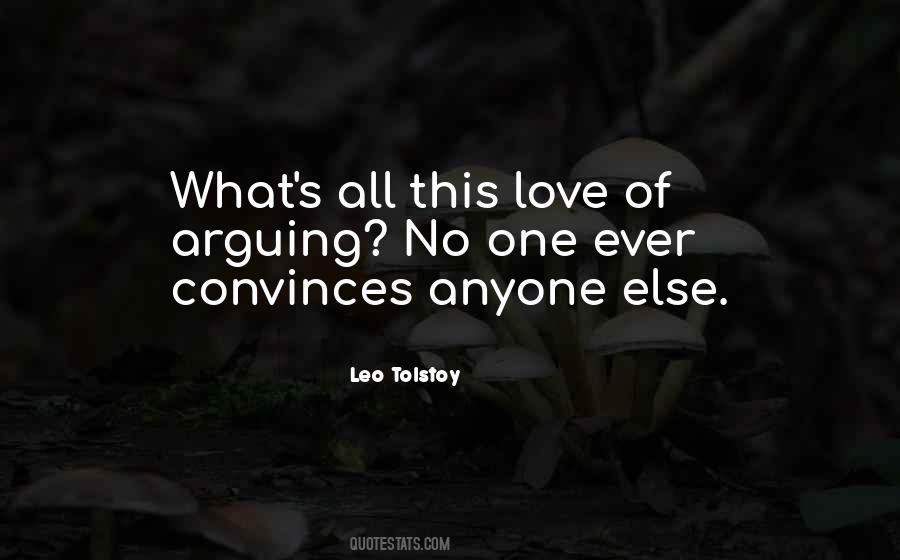 #61. Rights begin where love ends. Shall we argue over who is the most to blame? - Author: Jeanette Winterson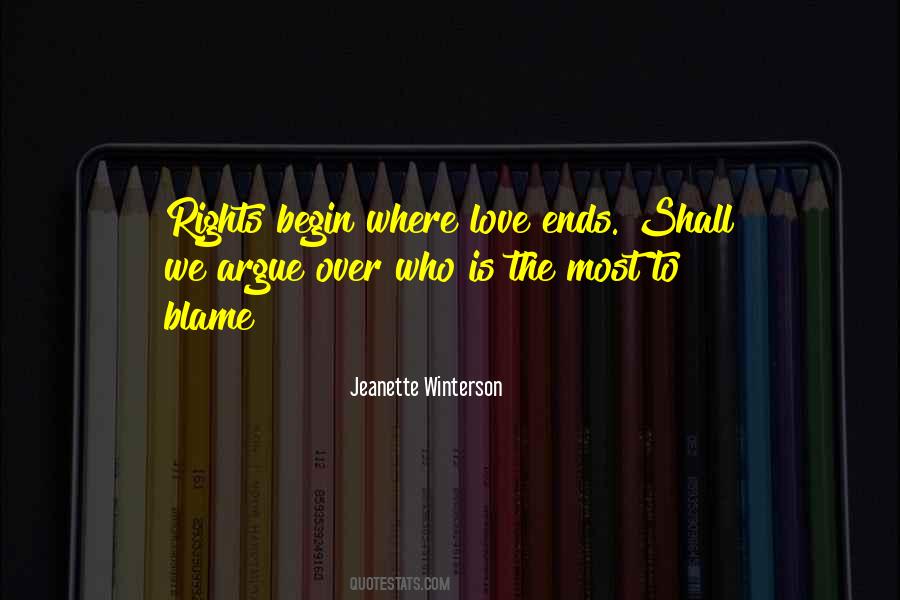 #62. We are pleased with one who instantly assents to our opinions, but we love a proselyte. - Author: Arthur Helps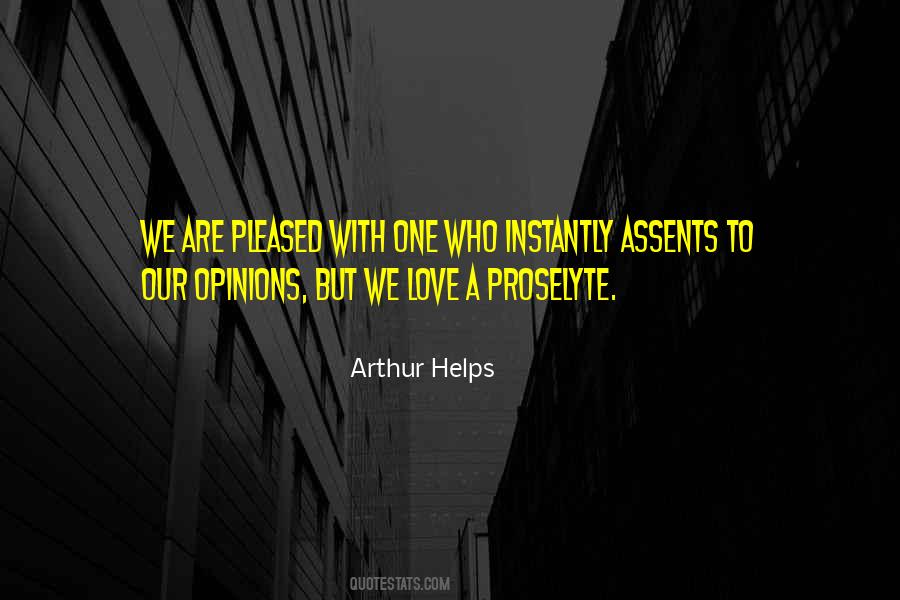 #63. Why not? It's natural selection. Just like nature." I wrinkled my nose. "Boudas love this argument, because it gives them an excuse to do all the wrong things. 'I'm sorry I screwed your sister and got my penis stuck in your German shepherd. It's in my nature. I just couldn't help myself. - Author: Ilona Andrews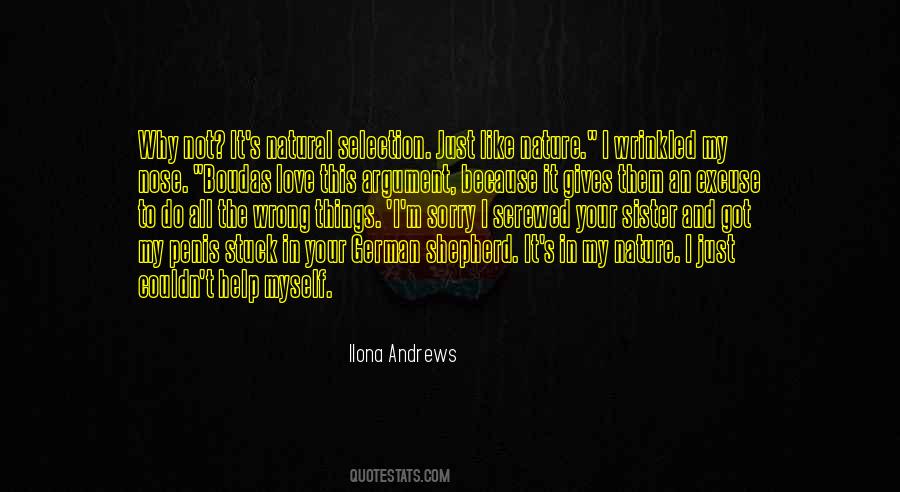 #64. Take caution when declaring war because you may believe it will be easy, but war will always end in despair. - Author: Anonymous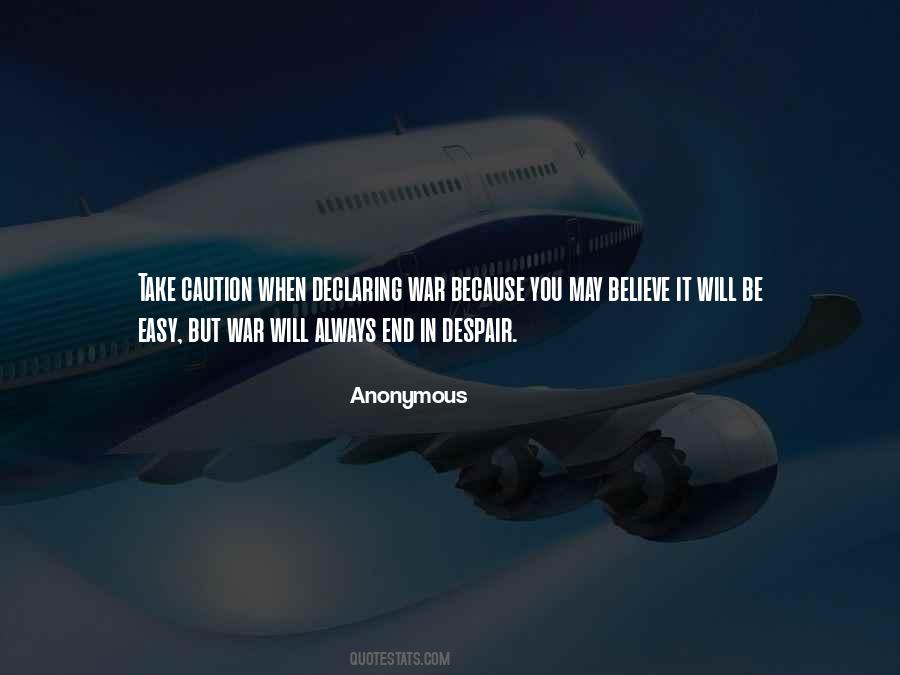 #65. What's more, I believe in argument and I even love it. Argument is our most steadfast pathway toward truth, for it is the only proven arbalest against superstitious thinking, or lackadaisical axioms. - Author: Elizabeth Gilbert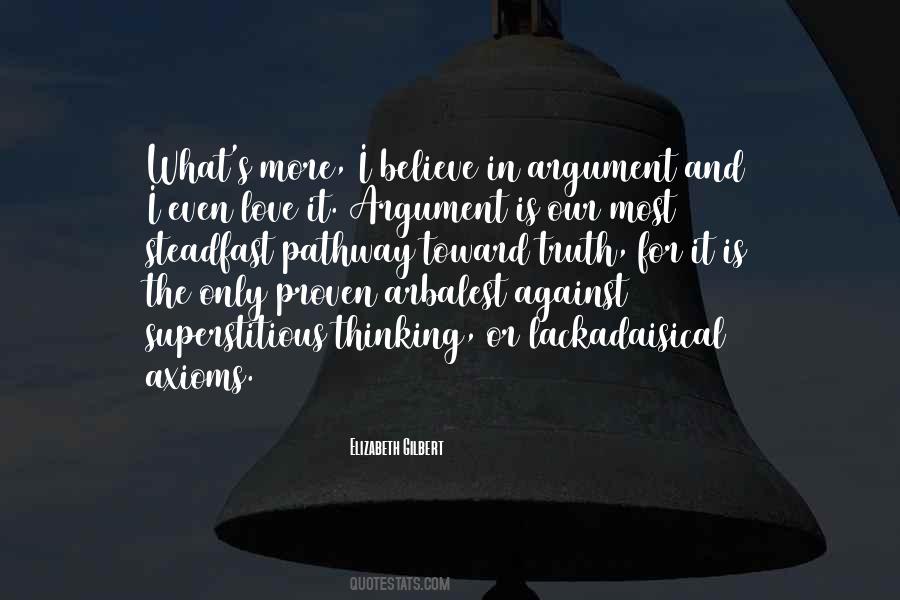 #66. Art is always at peril in universities, where there are so many people, young and old, who love art less than argument, and dote upon a text that provides the nutritious pemmican on which scholars love to chew. - Author: Robertson Davies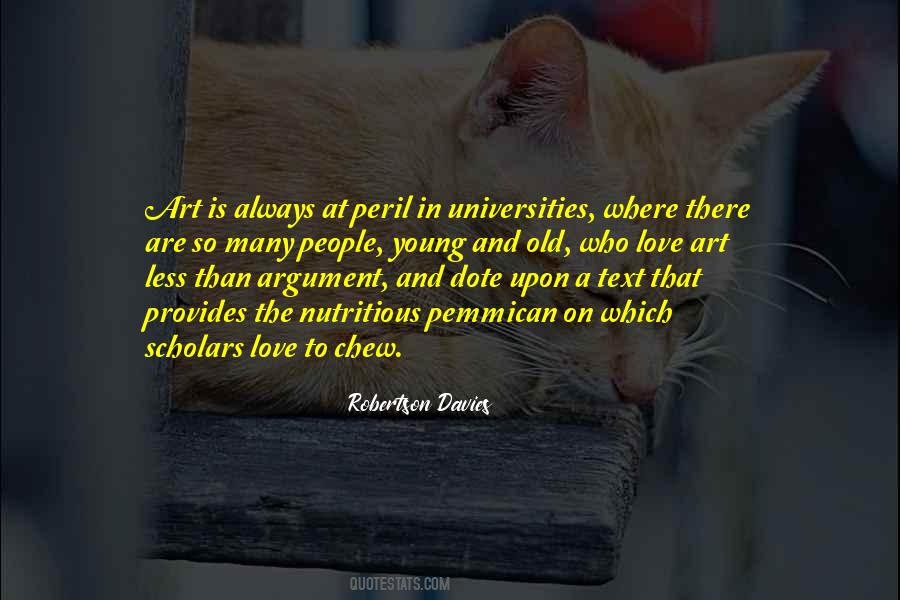 #67. Neither exhortations to virtue nor the argument of approaching death should divert us from literature; for in a good mind it excites the love of virtue, and dissipates, or at least diminishes, the fear of death. - Author: Francesco Petrarca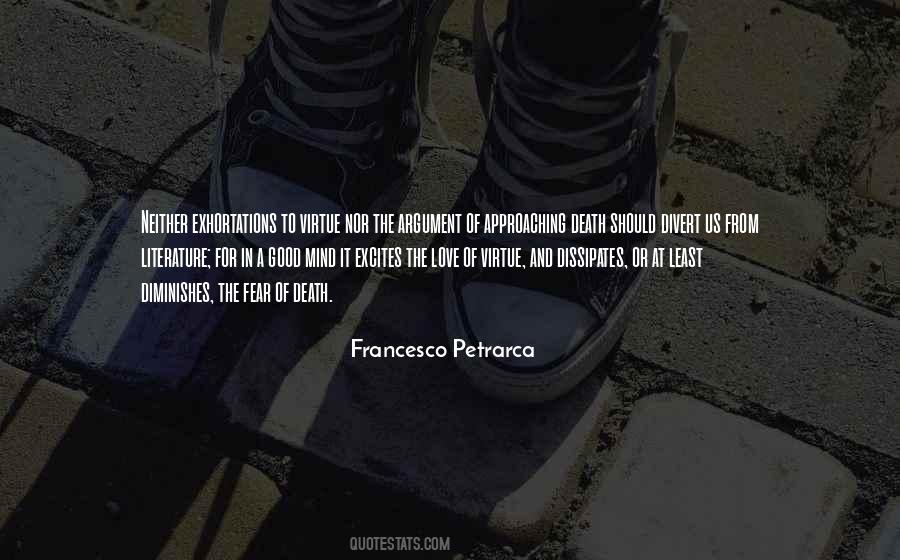 Famous Authors
Popular Topics