You've Worked Hard Famous Quotes & Sayings
List of top 100 famous quotes and sayings about you've worked hard to read and share with friends on your Facebook, Twitter, blogs.
Top 100 You've Worked Hard Quotes
#1. I really feel that most things are difficult at the beginning and they become fun, something you love, only after you've worked at them. Making children do something hard can, in the long run, be a great parental service. - Author: Amy Chua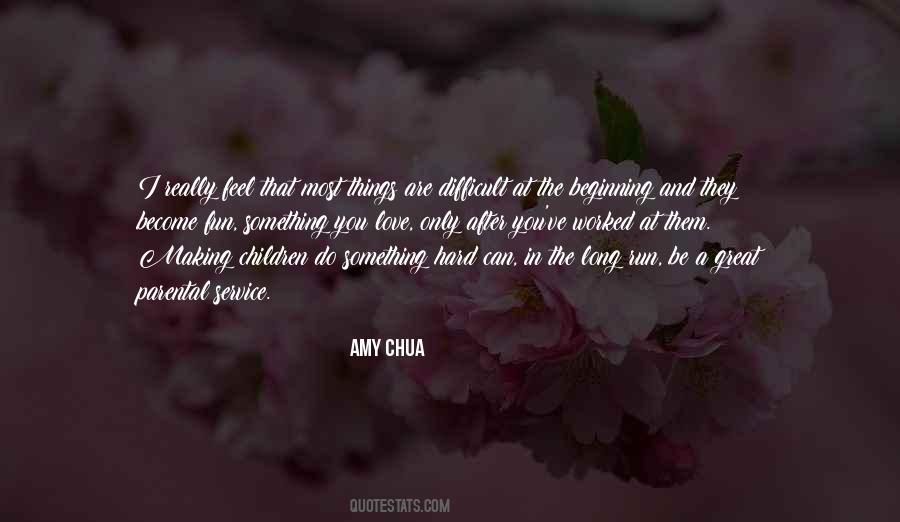 #2. I've never worked so hard for anything in my life as I have for you. - Author: Sylvia Day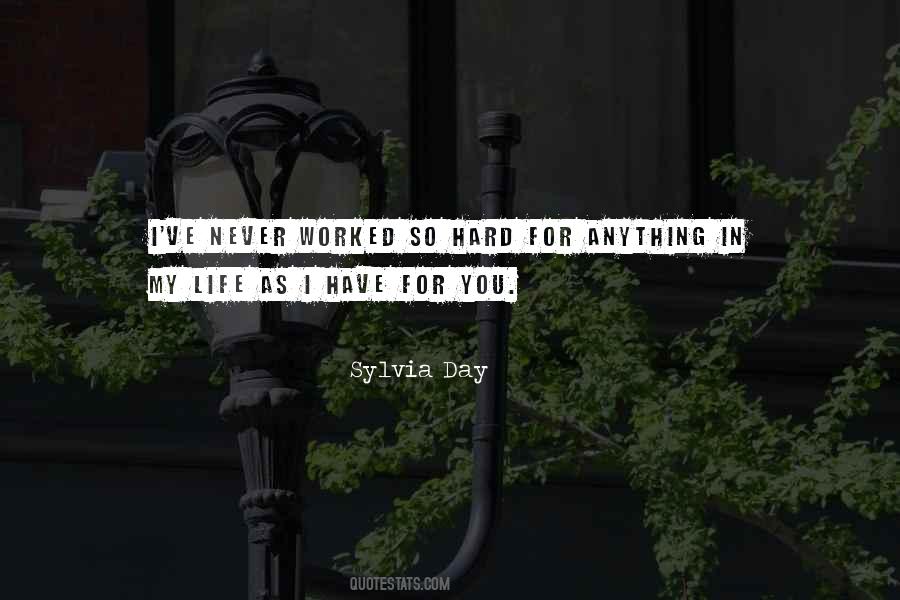 #3. You have to hone your craft, but you also have to be born with a certain amount of talent, and I never took the talent for granted - I've always worked really hard to be as good as I could be. - Author: Diane Warren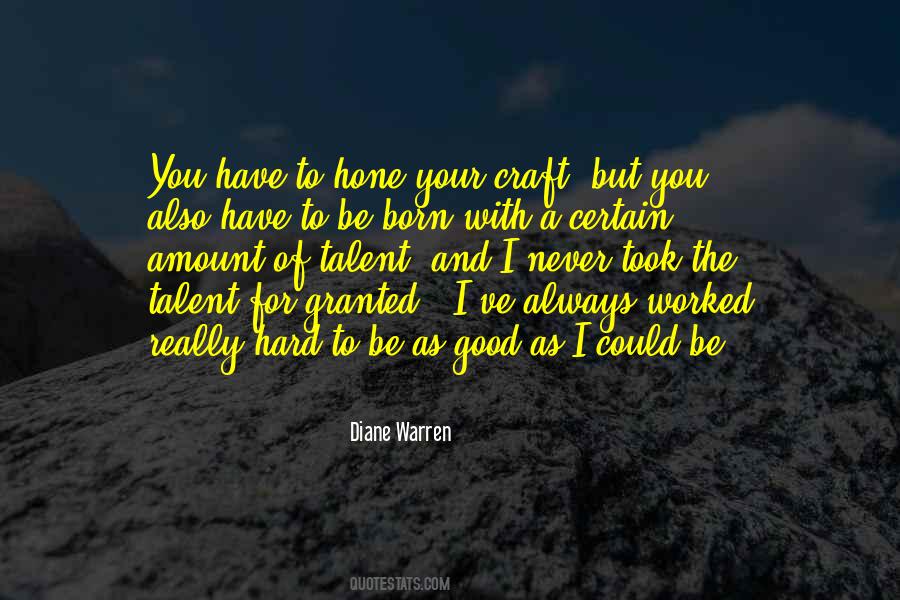 #4. As an actor, you've worked very hard, and you've been doing this for 20-some years, and William Morris was never interested - or any studio, either - in your company or as an actor, and then 'God's Not Dead' happens, and now everyone calls you. - Author: David A.R. White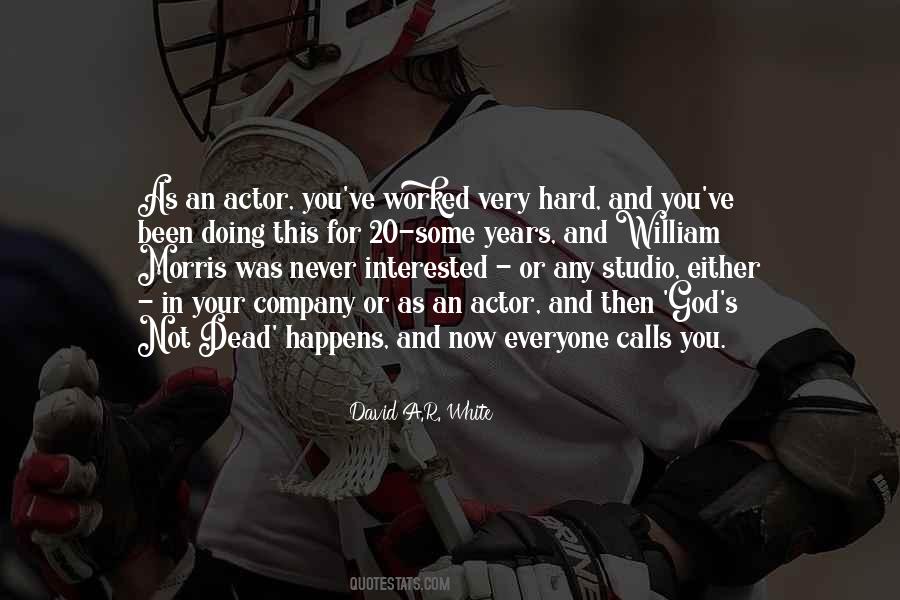 #5. My father worked real hard. I admired him. My father taught me you needed to work with your brain and not your back. I've made that a passion. - Author: Don Cornelius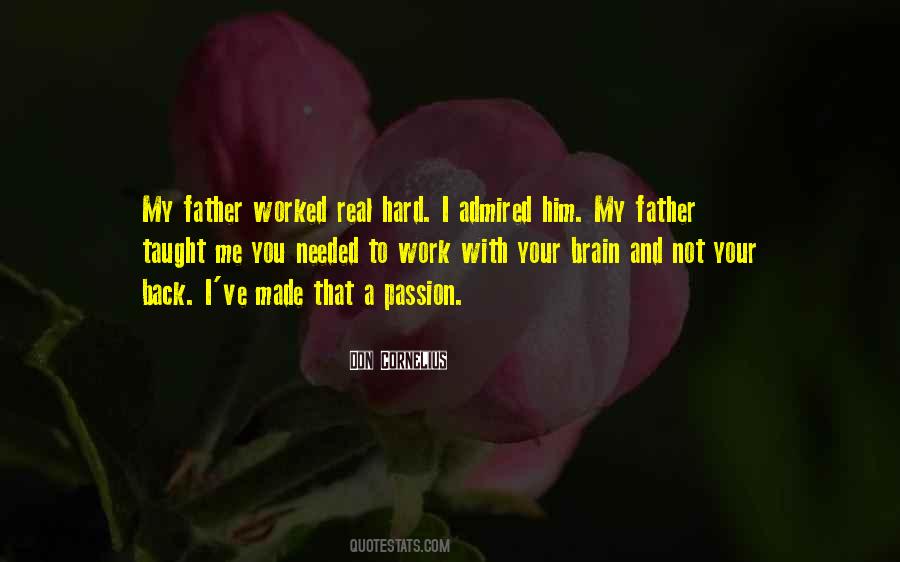 #6. I think that anything that you do, any accomplishment that you make, you have to work for. And I've worked very hard in the last ten years of my life, definitely, and I can tell you that hard work pays off. It's not just a cliche. - Author: Cameron Diaz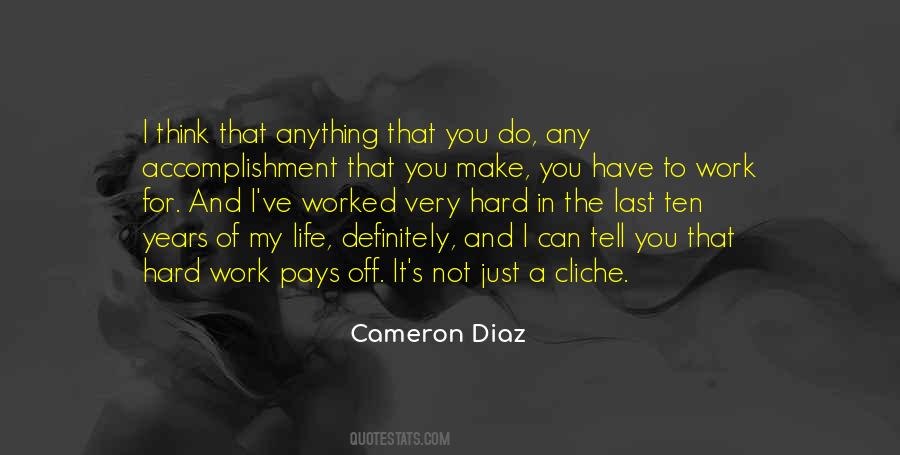 #7. I've taken a lot of time to build up the name Flavor Flav, but this could come tumbling down in 30 seconds. If you want to keep what you worked for hard all your life, then you got to do the right thing in your life. - Author: Flavor Flav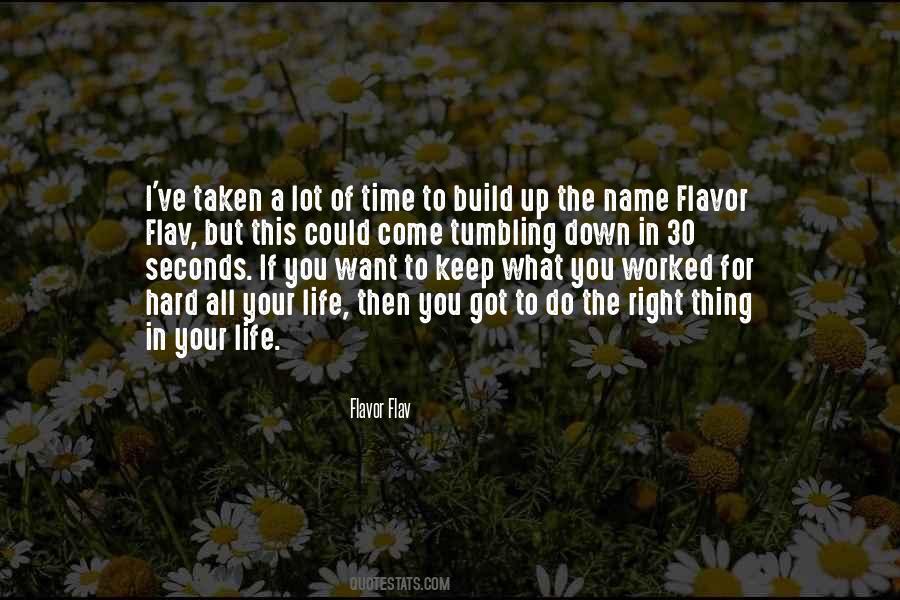 #8. It's very hard to be an artist, on my first album, and I'm like asking for money for a music video for every song - it's so hard to do. You have to pick your battles for sure, but I definitely want - and I've always worked to make it all connect - for all of it to feel cohesive. - Author: Melanie Martinez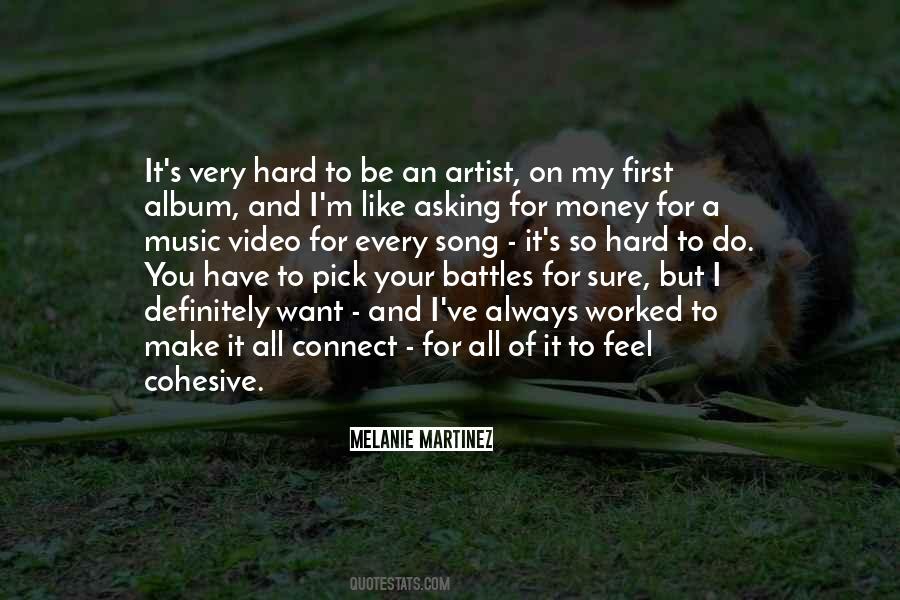 #9. You think I was born rich? I've worked really hard. You have no idea. - Author: Georges St-Pierre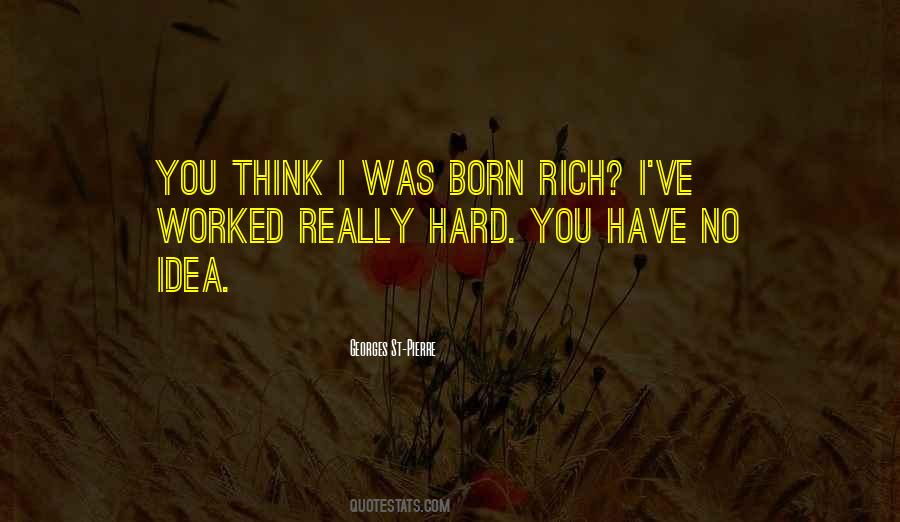 #10. The best thing about acting is when you're playing a scene and you actually become your character and lose yourself in that moment. That's when you know you've been succeeded at what you've worked very hard to accomplish in your profession. Those are the truly thrilling moments. - Author: Meryl Streep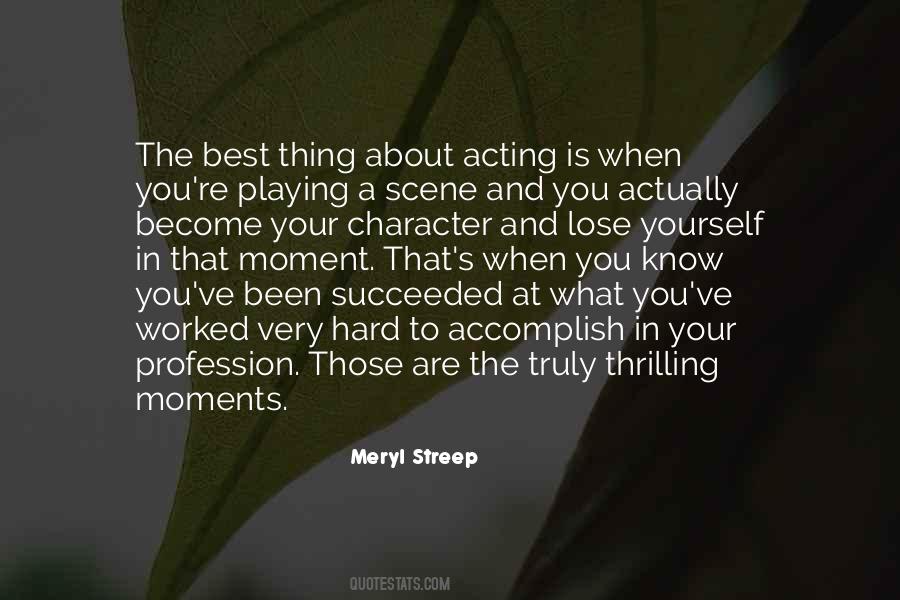 #11. I think that you have to present an image that is ... true to you, and ... the way you would like to be perceived, so I think that through the years I've worked really hard at trying to create an image that is true to me. - Author: Kristanna Loken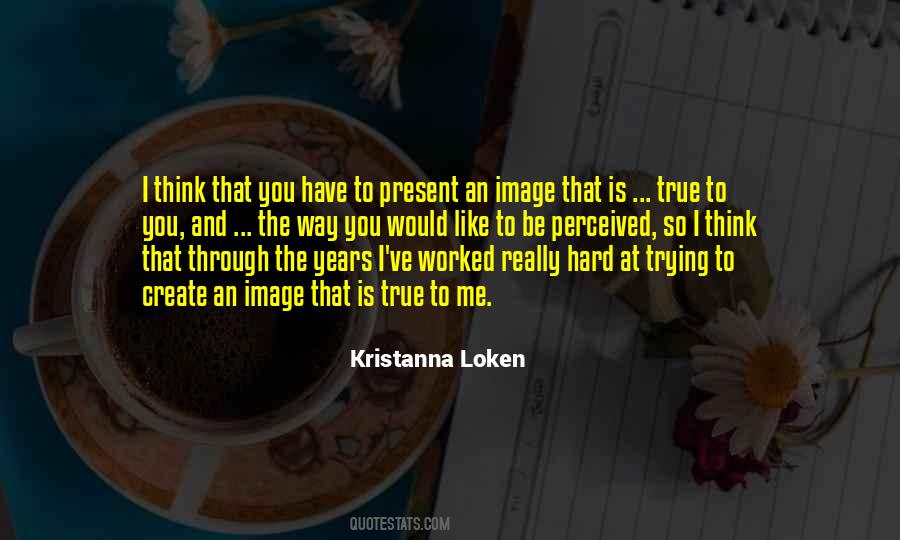 #12. I have worked very hard on being aware of my childhood but moving forward and not letting it bring me down emotionally. That is a hard thing - especially when you have children of your own and you remember what happened to you at that age. - Author: Samantha Morton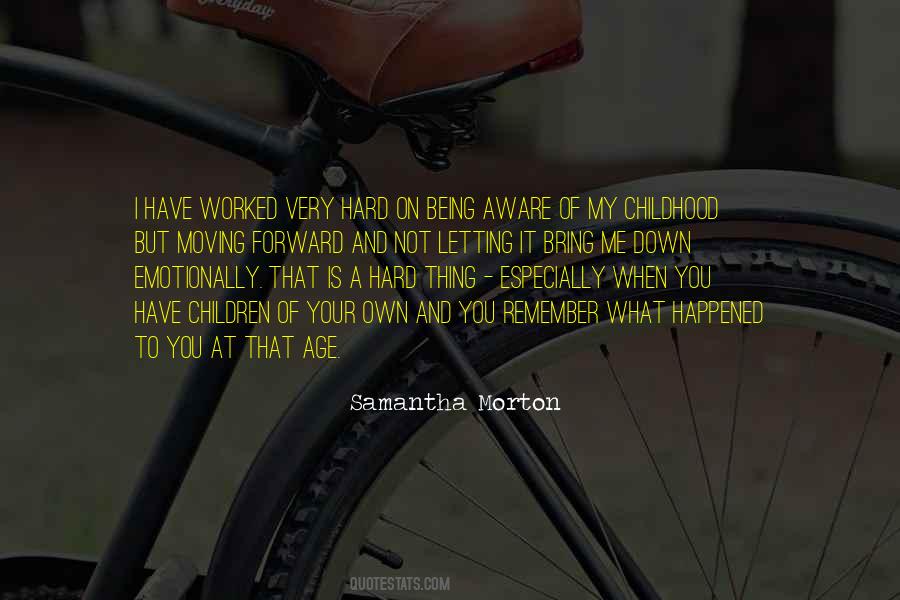 #13. I had some hesitations about philosophy because, if you worked out a philosophical theory, it was hard to know whether you were going to be able to prove it or whether other theories had just as good a claim on belief. - Author: Stephen Cole Kleene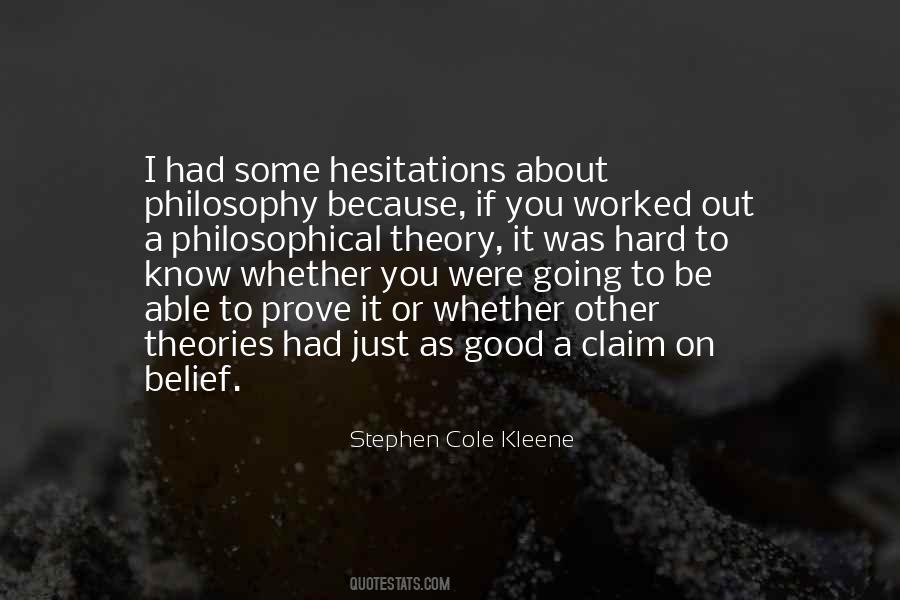 #14. I want to be an improviser, and I've worked very hard at that. It's an art. You don't just play whatever comes into your head; you have to be very deliberate about what you do. - Author: Neil Peart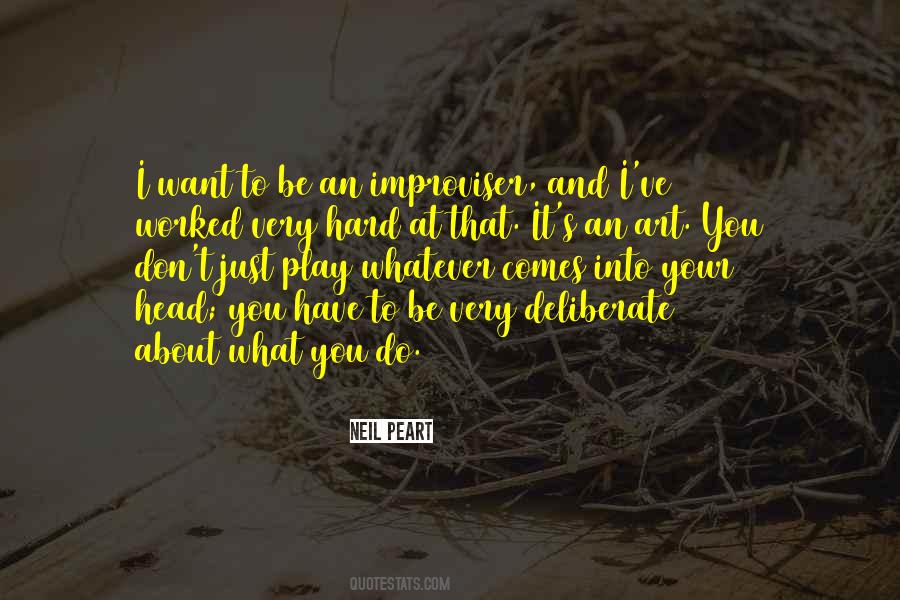 #15. My mom and dad worked very hard to give me the best chance in - not just in golf but in life. You know, I was an only child, you know, my dad worked three jobs at one stage. My mom worked night shifts in a factory. - Author: Rory McIlroy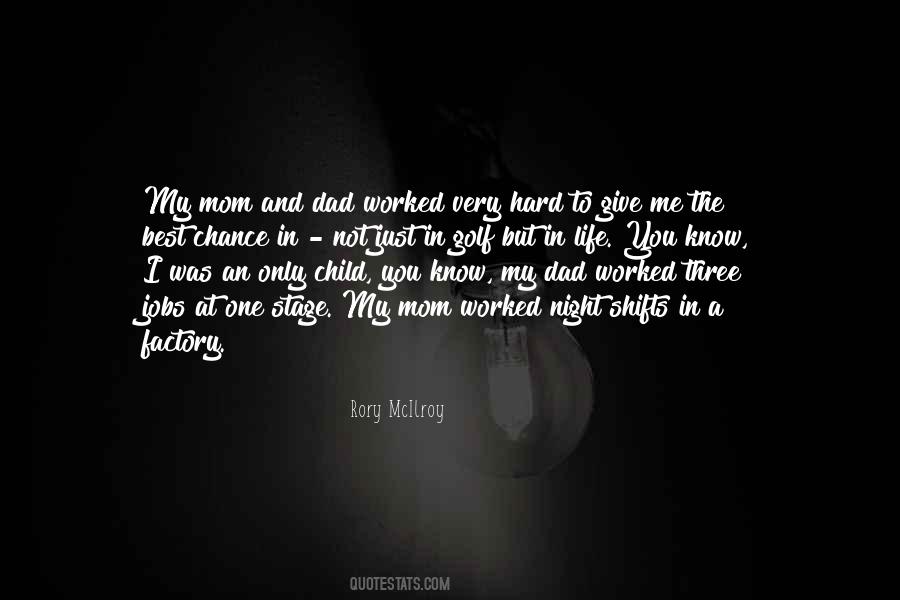 #16. I worked hard at becoming a professional football player, just like society says you should. It said you had to be fierce. I was fierce. Tough. I was tough. - Author: Dick Butkus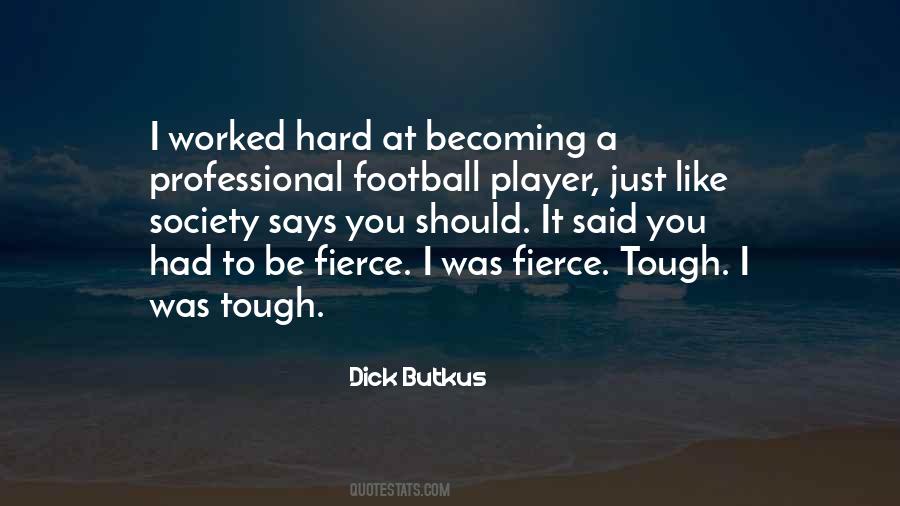 #17. Remember when I told you about the American dream? That if you worked hard enough and tried hard enough and kicked yourself in the butt, you'd succeed? Well, I think I did, I think I did. - Author: Curt Flood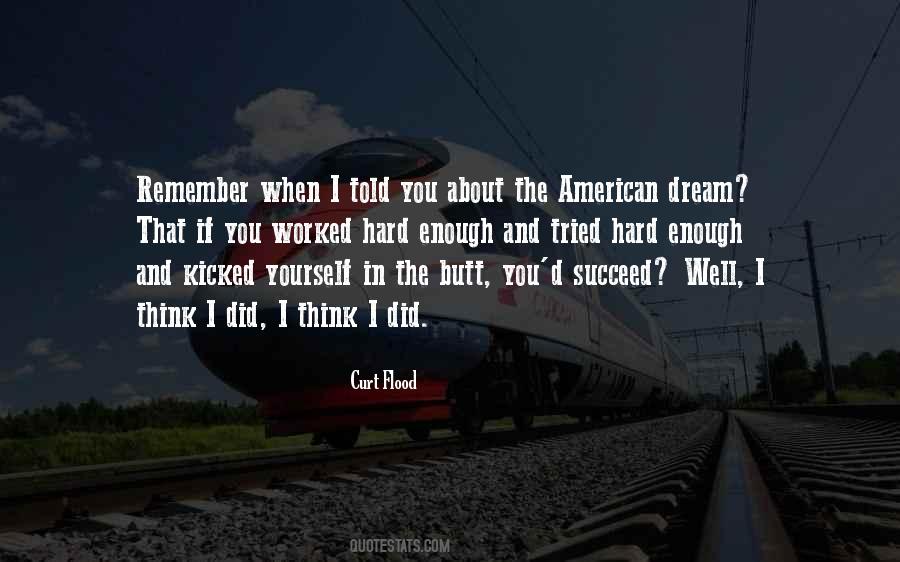 #18. We try to surround ourselves with love and light. You have to be there for each other. As a family, we are trying to make sure everything Dad worked so hard for carries on into the future. - Author: Bindi Irwin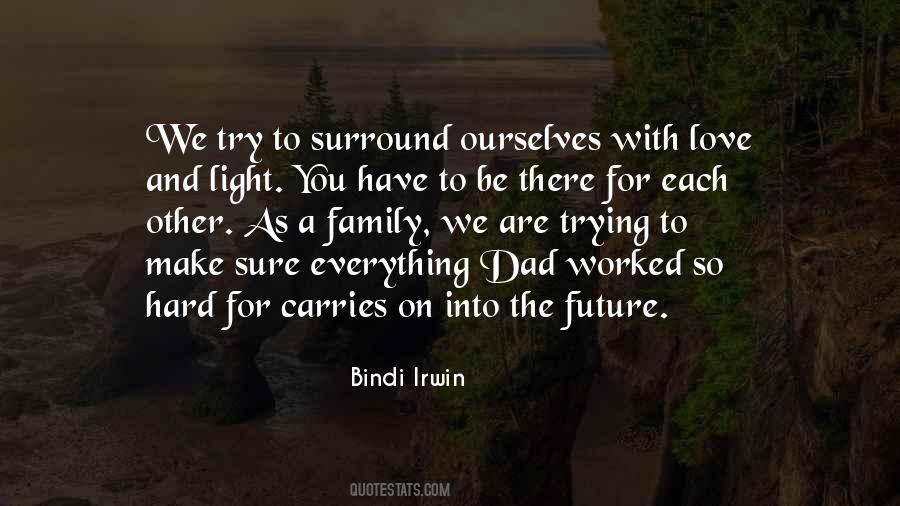 #19. Even if the dramatic scenes are really hard, if you're happy with what you have and it's been creative and you had a good time with the people you worked with, that's a good day. - Author: Ayelet Zurer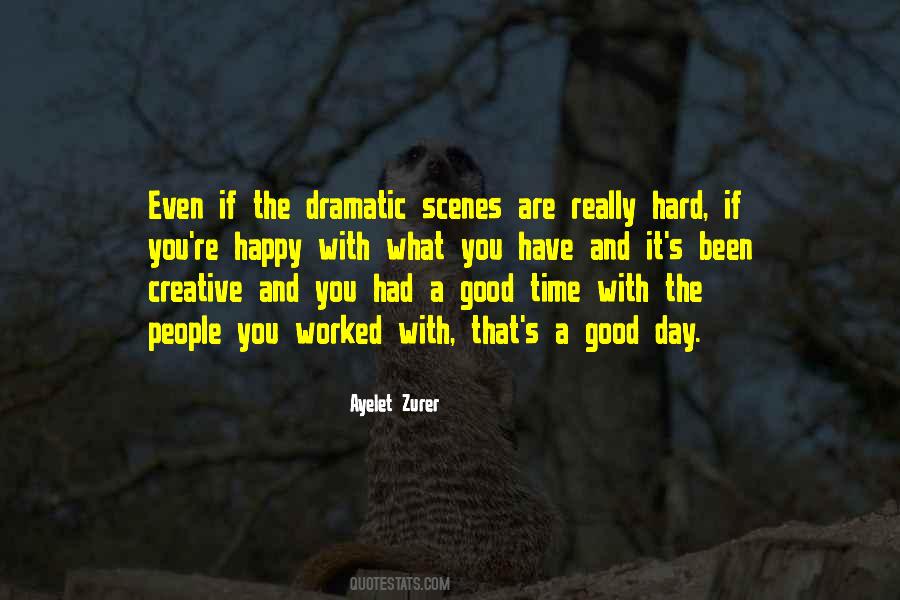 #20. The beauty of the space station, and of human spaceflight, is that it is now at a level of maturity where you can invite people on-board, which is what I worked so hard to do on social media and all the videos I made. - Author: Chris Hadfield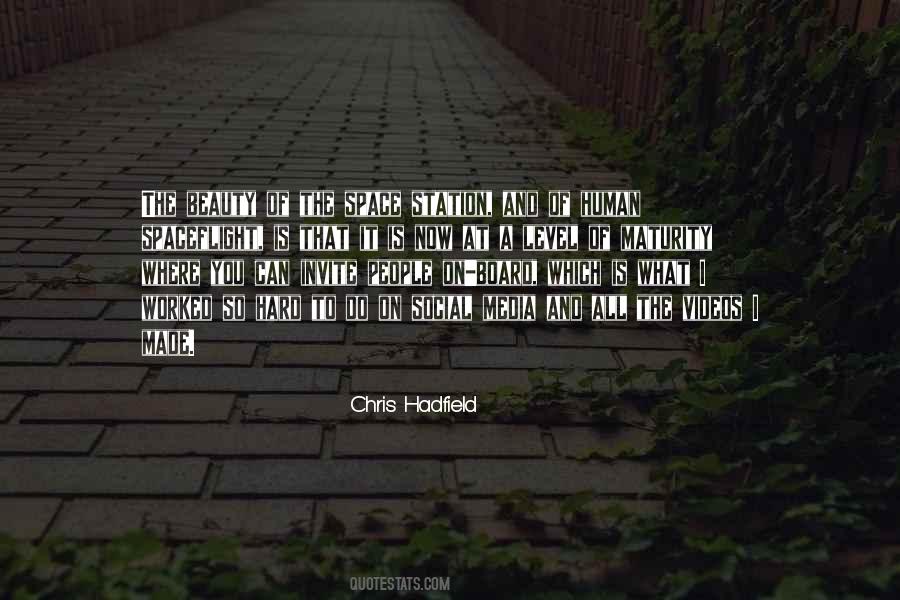 #21. How hard you worked for what you wanted. how cruelly fate betrayed you in the end. - Author: Lauren Kate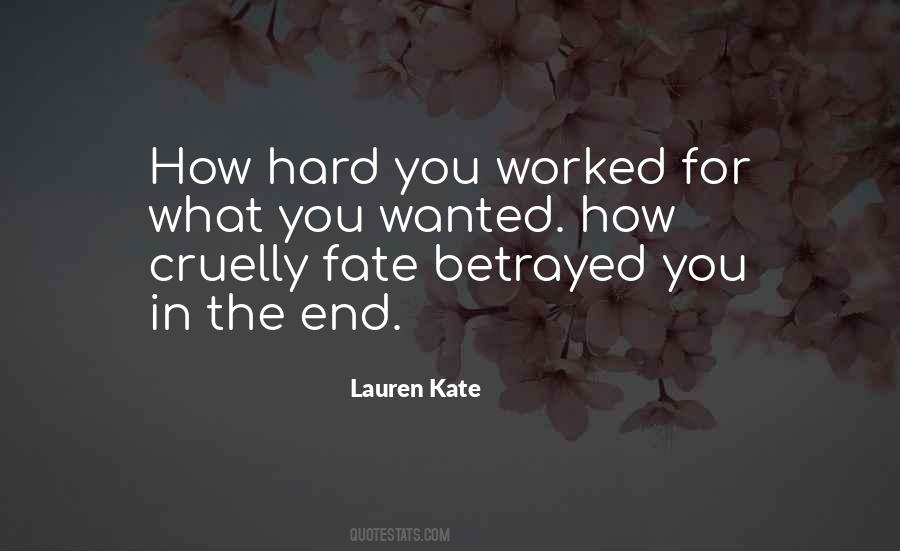 #22. If a British guy saw someone at the wheel of a Rolls- Royce, he'd say 'come the revolution and we'll take that away from you, mate', where the American would say 'one day I'll have one of those, when I have worked hard enough'. It's unfortunate we Australians inherited the British mentality. - Author: Kerry Packer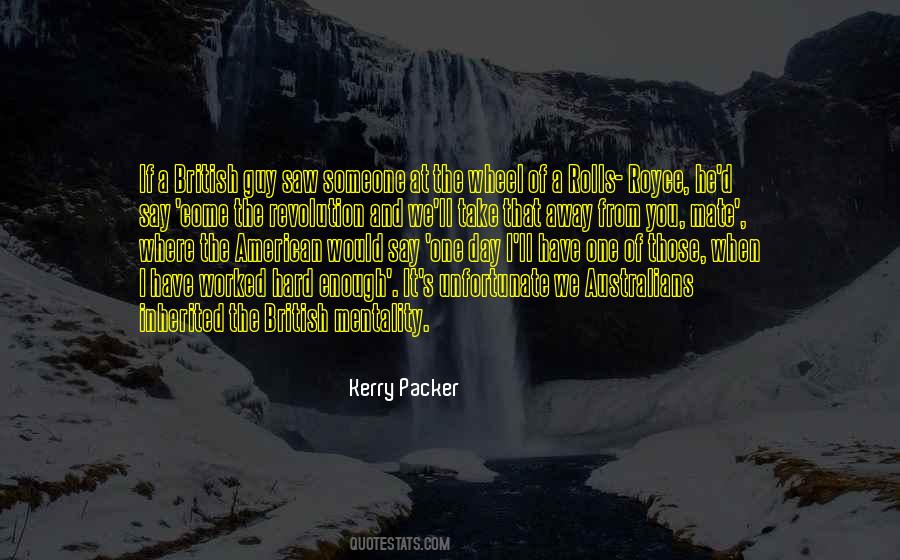 #23. I worked hard, and if you work hard you get the goodies. - Author: Steve McQueen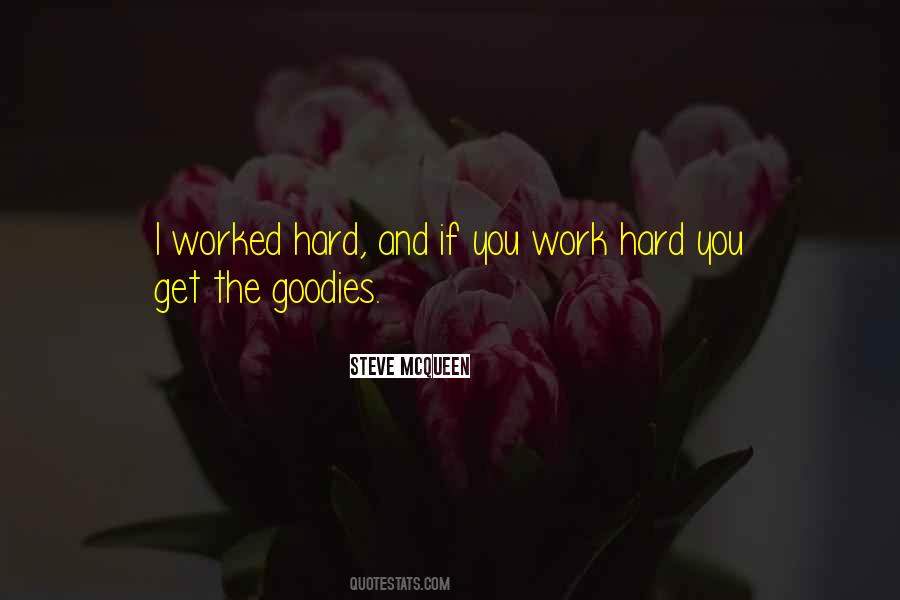 #24. Never let 'em see you sweat. Guests feel guilty if they think you've worked too hard to make dinner for them - which of course you have! - Author: Ina Garten
#25. I work really hard - that doesn't mean I deserve anything, but it's really cool to see the positive reaction people give to something you worked so hard on. It's one of the best feelings. - Author: Big Sean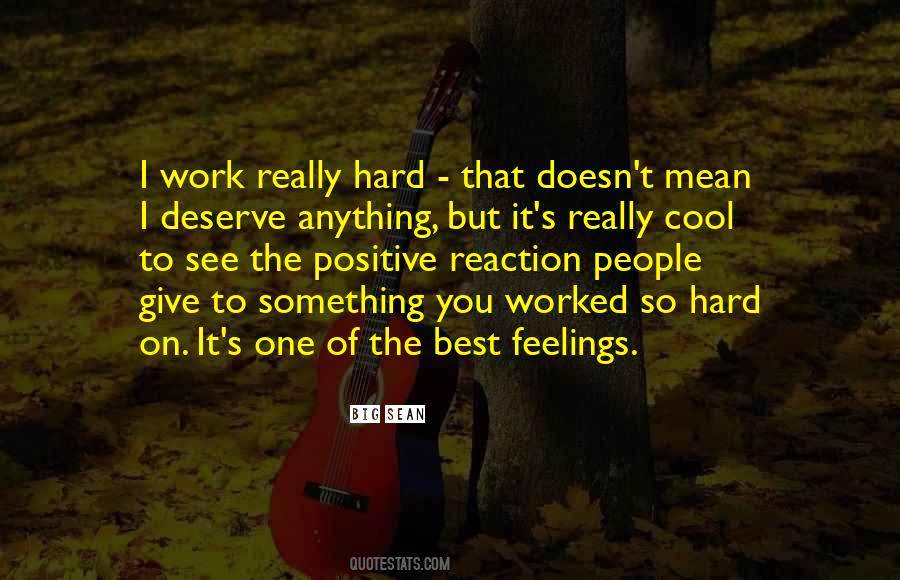 #26. I was raised by a woman who knows her own worth, and her daughters firmly believe that life is much better for a woman when a man has to work really hard to get her. It's human nature to take better care of something you've worked for, whether it's a car or a wife. - Author: Linda Howard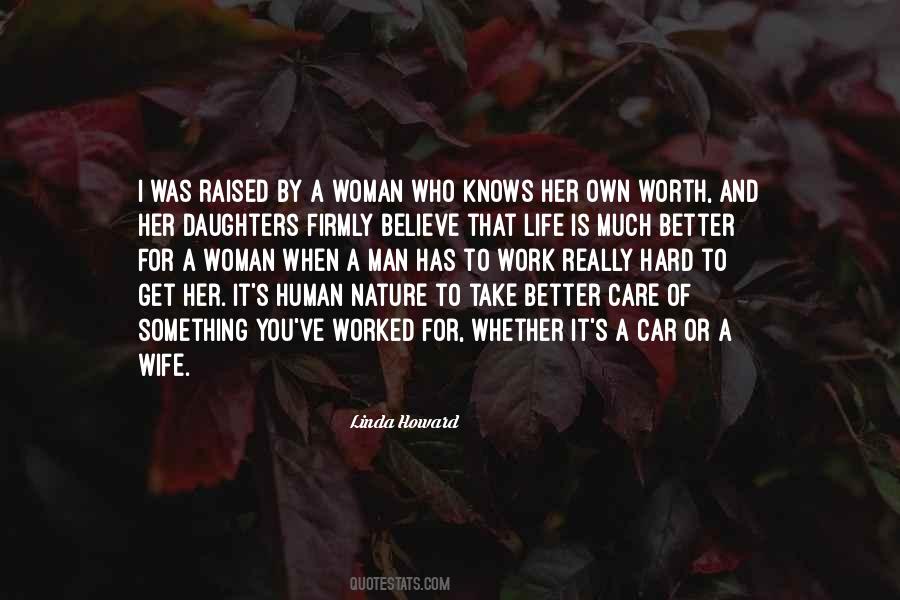 #27. You worked so hard to achieve.' It blinds us to everything else, to the moments we've joyfully experienced, to happy times and the bonds created during those occasions. How is it that hatred - Author: Paulo Coelho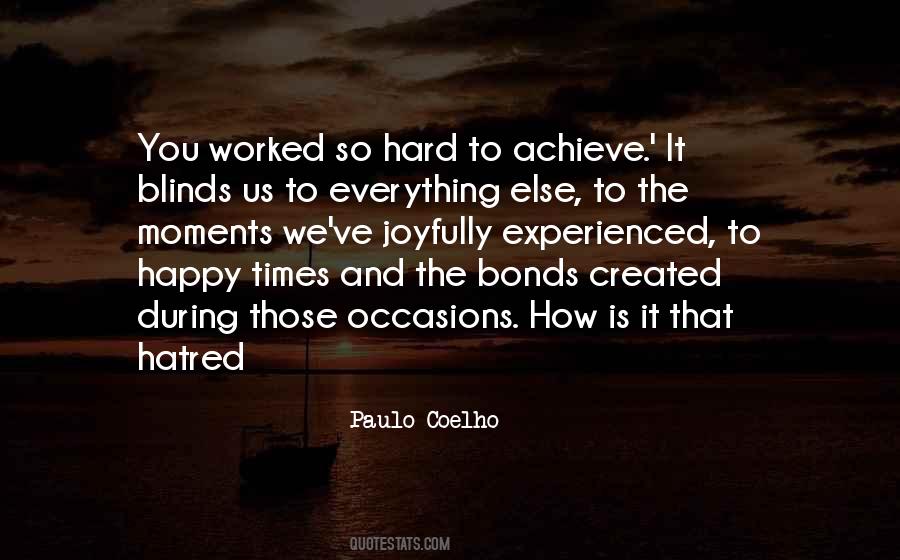 #28. Confidence comes from hard work. It comes from facing different situations and making putts. It comes from knowing you've worked on the right things, so when you get under the gun, you can execute what you've practiced. - Author: David Duval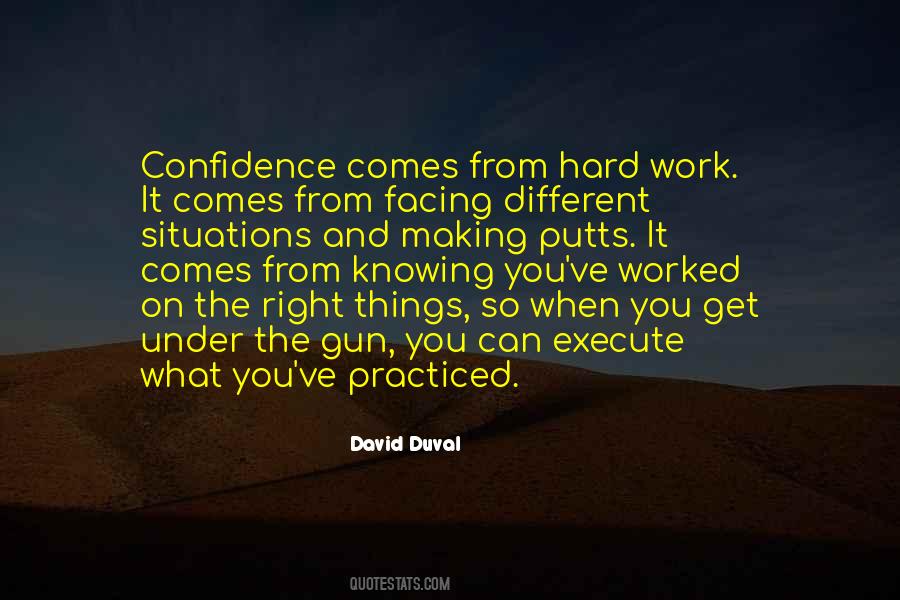 #29. As you practice things, you get better. I mean I've worked very hard on changing my life and taking what is good about it and trying to jettison the things I think were not good about it. I think the key word is "discipline," focus. I'm always working at it, but I'm not always successful. - Author: Lou Reed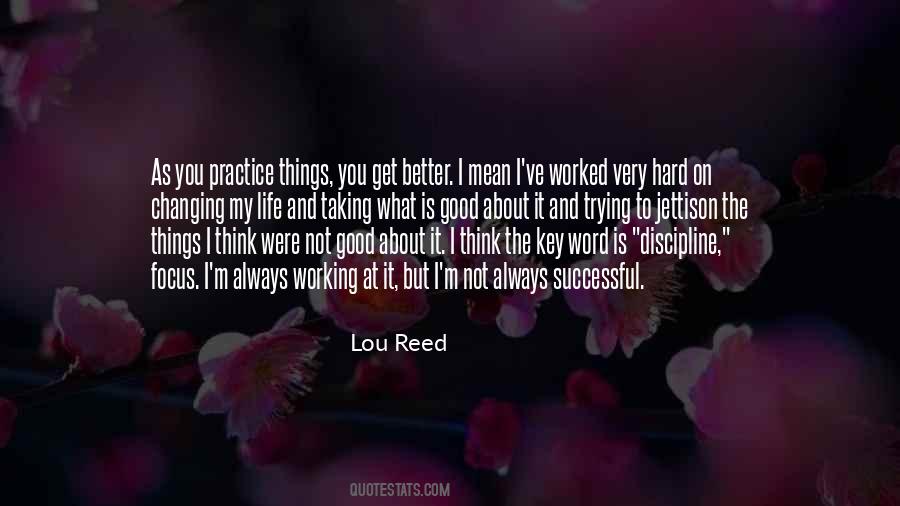 #30. I've worked hard all my life. You have to if you want to get things done. - Author: Doris Lessing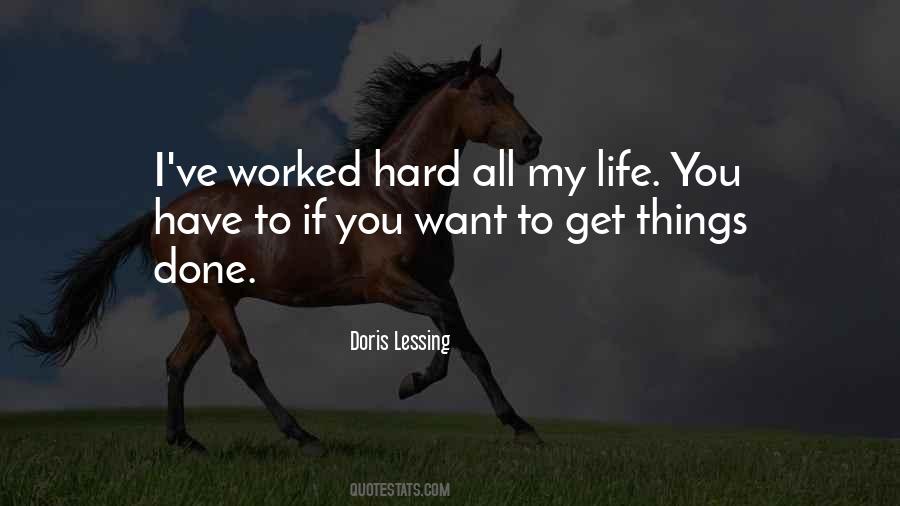 #31. When you've worked hard and done well and walked through that doorway of opportunity, you do not slam it shut behind you. - Author: Guy Kawasaki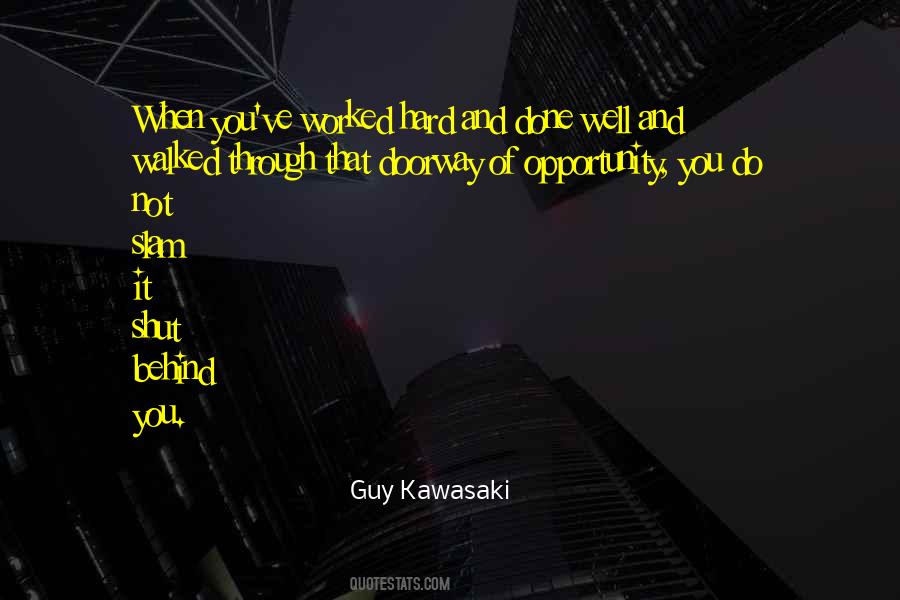 #32. I may be the first actress to admit that beauty doesn't hold you back. I think beauty is a gift that you have to make the most of. I've worked hard at trying to look my best. - Author: Catherine Zeta-Jones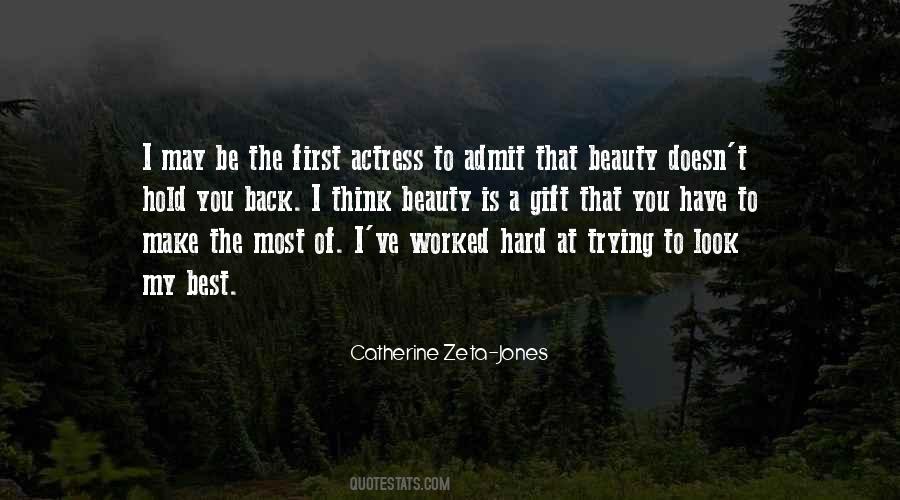 #33. You don't try any less hard on the ones that don't. I've gotten lucky to work with some amazingly talented people that have helped the ones that have worked work. I think you just have to keep doing the stories you love and the characters that you love and are drawn to. - Author: Channing Tatum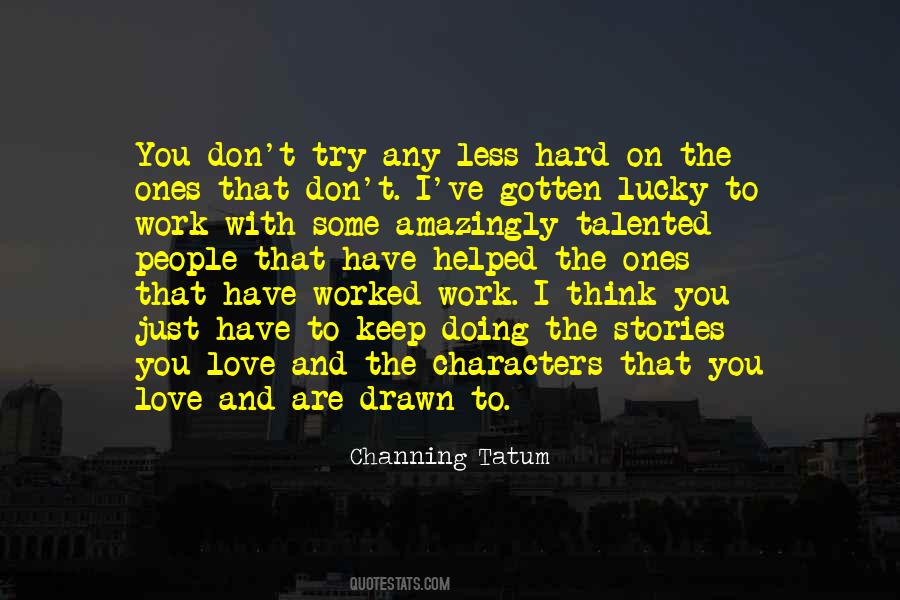 #34. It's always tough when you lose - you've worked so hard for that moment and it hasn't gone the way you wanted. But you have to realise there's always a bright side, you have to pick yourself up and get ready for the next game. - Author: Maria Sharapova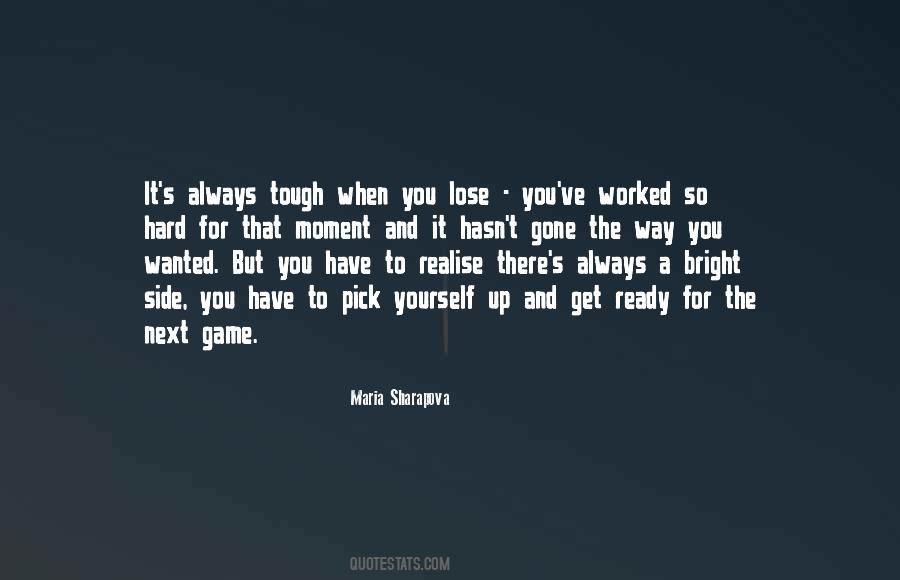 #35. I've had one very bad ankle injury but otherwise I've been incredibly lucky with my fitness. I've worked hard at it and I've always been fit even compared to other players. That sustains you through various parts of your career, but I am 36. - Author: Graeme Le Saux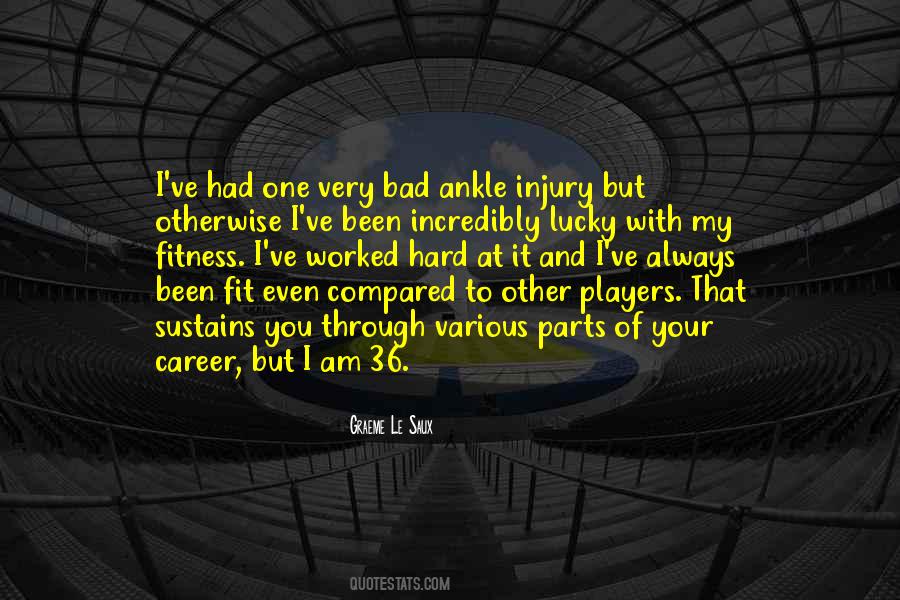 #36. You're attracted to him," Kylie said. "And don't try to deny it. You've even admitted that much to me."
"Okay, I won't deny that. He's got that whole hard body, vampire magnetism going for him. But when I was young, I had a crush on Big Bird. That wouldn't have worked out either. - Author: C.C. Hunter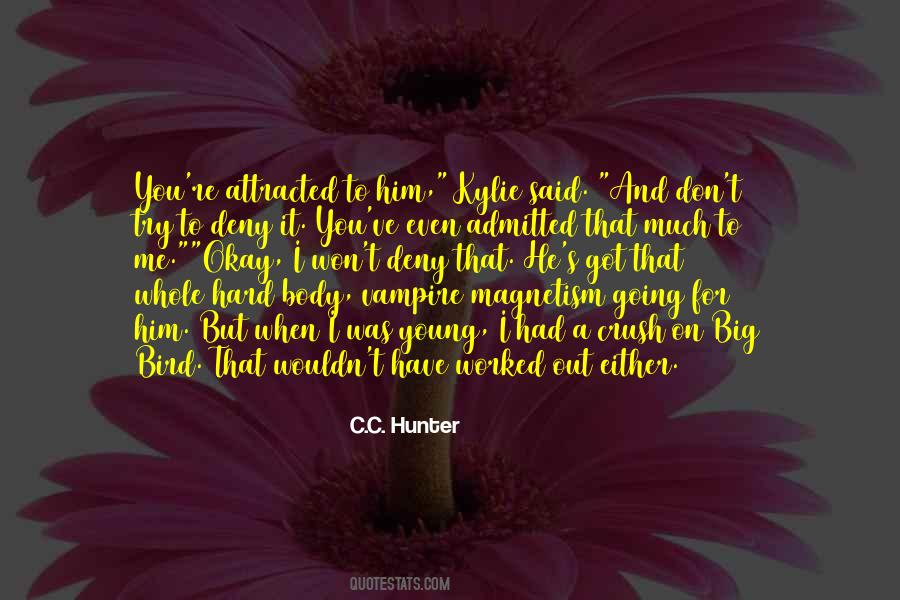 #37. I have a conscience, man, and I've worked really hard to keep it where you would feel like you were talking to the same man at one of my shows or sitting down at my dinner table. - Author: Cody Johnson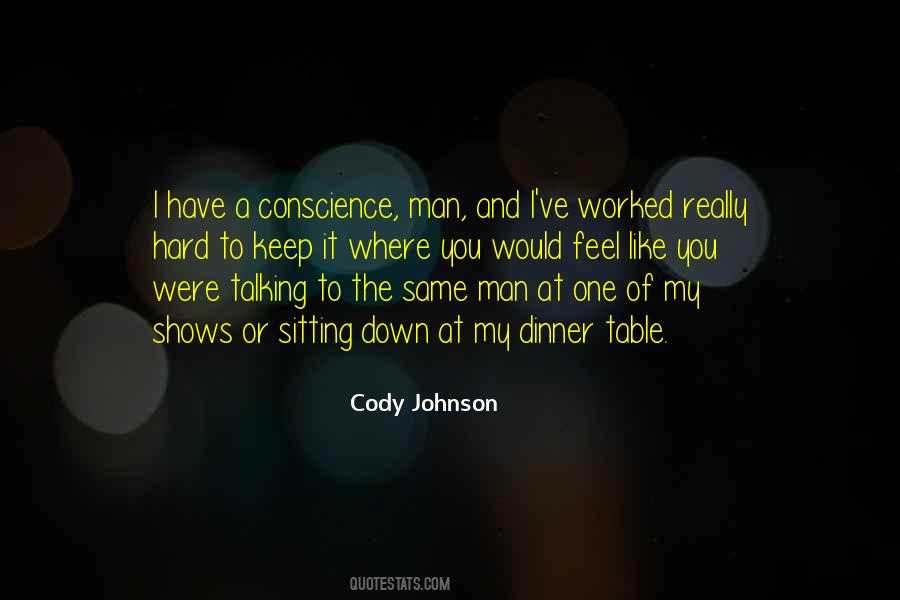 #38. The Nike Fuel Band is interesting - it measures your movements and how far you've walked and how hard you've worked that day. I prefer using when I travel. It's a fun way to see how far I've walked - how many steps I've taken when I'm walking around different cities. - Author: Andrew Luck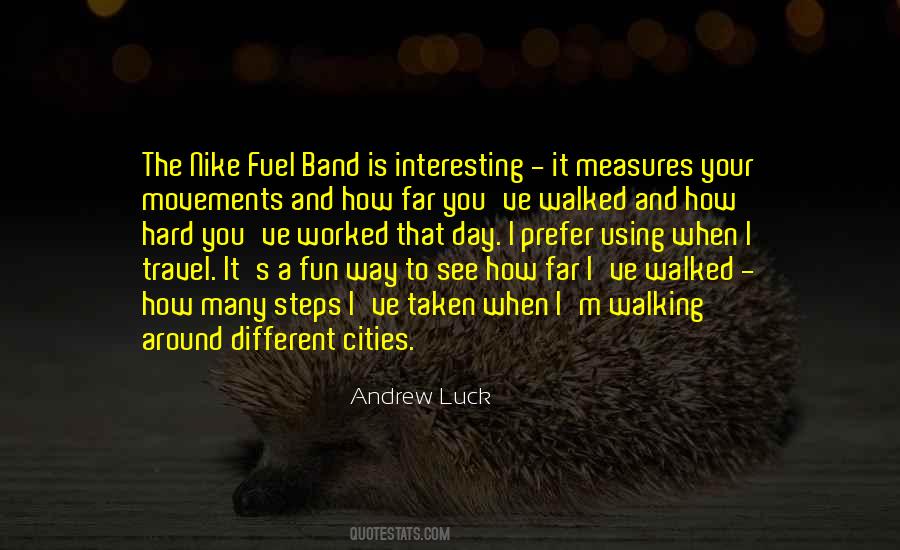 #39. When you're in Hollywood and you're a comedian, everybody wants you to do other things. All right, you're a stand-up comedian, can you write us a script? That's not fair. That's like if I worked hard to become a cook, and I'm a really good cook, they'd say, "OK, you're a cook. Can you farm?" - Author: Mitch Hedberg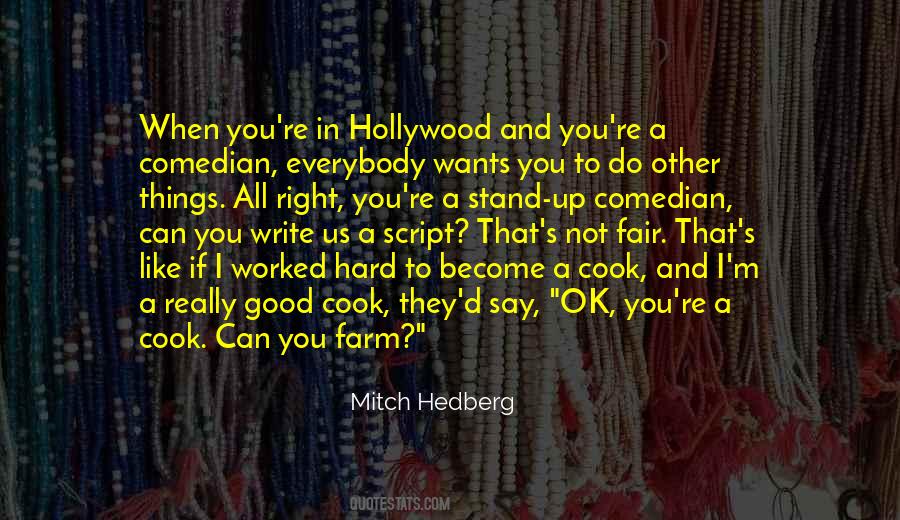 #40. You've got to give someone like Cher a lot of credit. She's worked very hard to get where she is. I can't take that away from her. - Author: Sonny Bono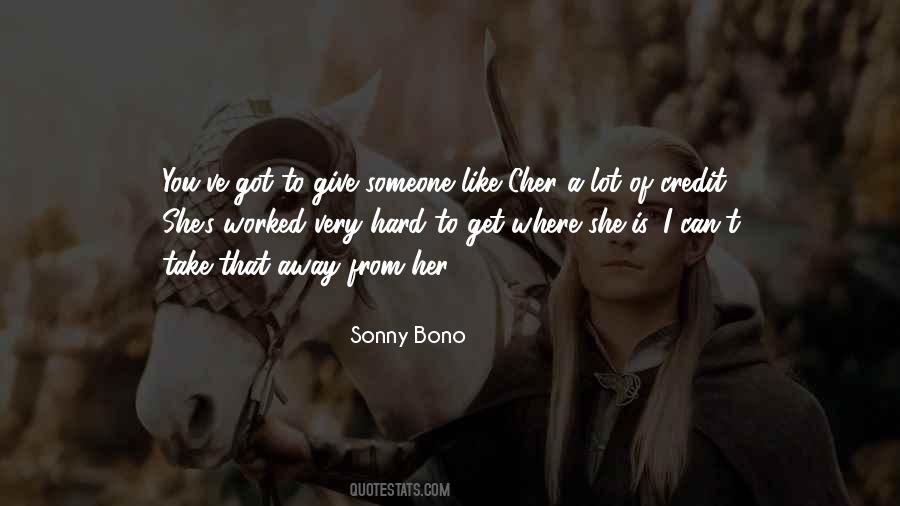 #41. The pain of your loss will return. Less, but still considerable. I know you've worked hard to release it, but it can still take hold of you. I will help you sing away the fury, but I will not bear it for you. - Author: Alex Bledsoe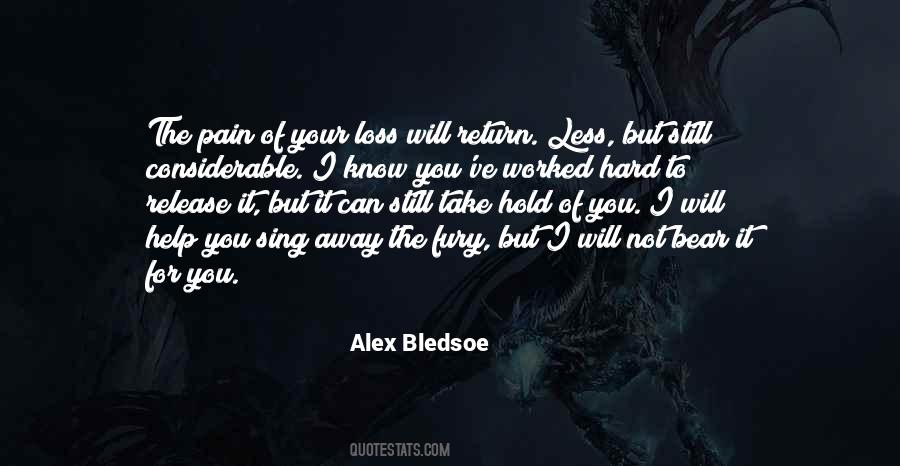 #42. I don't actually have a lot of discipline. I've worked hard at music. But I feel like you know, I felt like kind of natural at it. I always had a knack for it. - Author: Norah Jones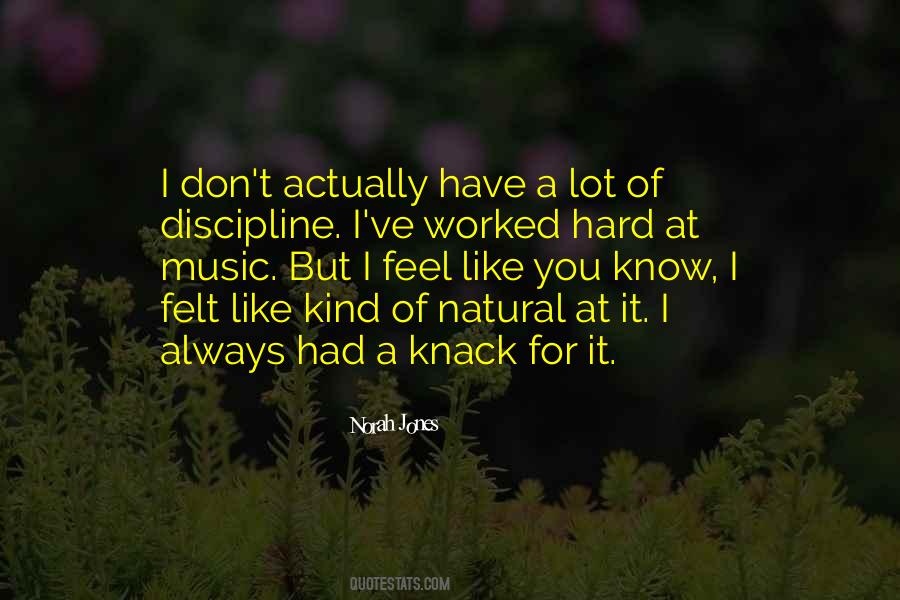 #43. No matter how much you've worked so hard to be as successful as you are, there will always be those ignorant haters who don't understand. - Author: Jinxx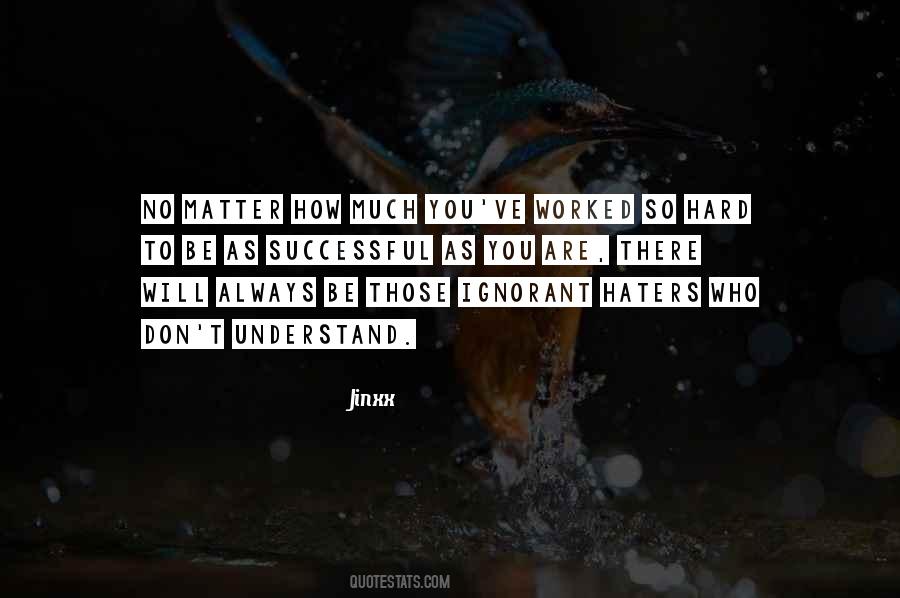 #44. One of the few graces of getting old-and God knows there are few graces-is that if you've worked hard and kept your nose to the grindstone, something happens: The body gets old but the creative mechanism is refreshed, smoothed and oiled and honed. That is the grace. That is what's happening to me. - Author: Maurice Sendak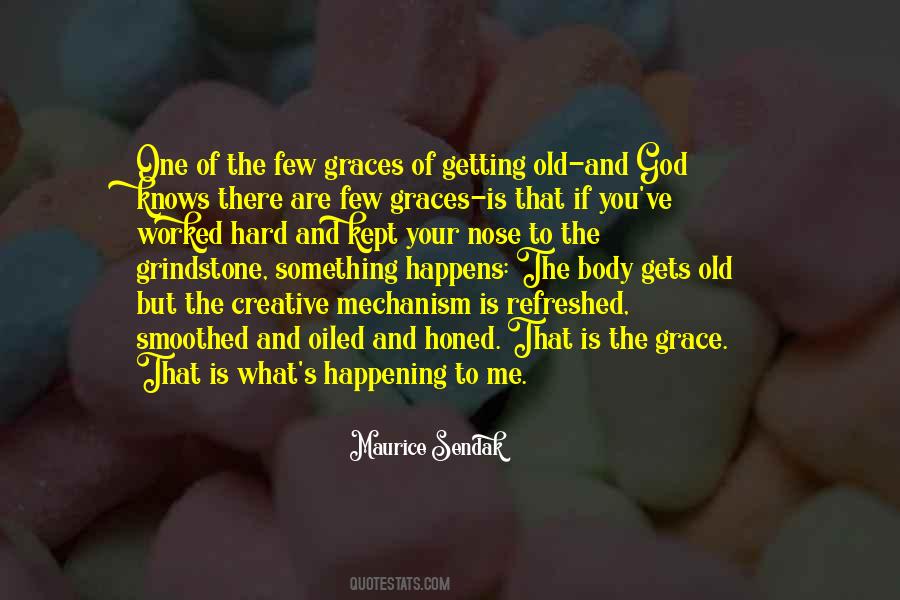 #45. I've worked hard, very hard, to get where I am. And you will have to work hard too. But when you do the work, you will see the results. - Author: Katie Alender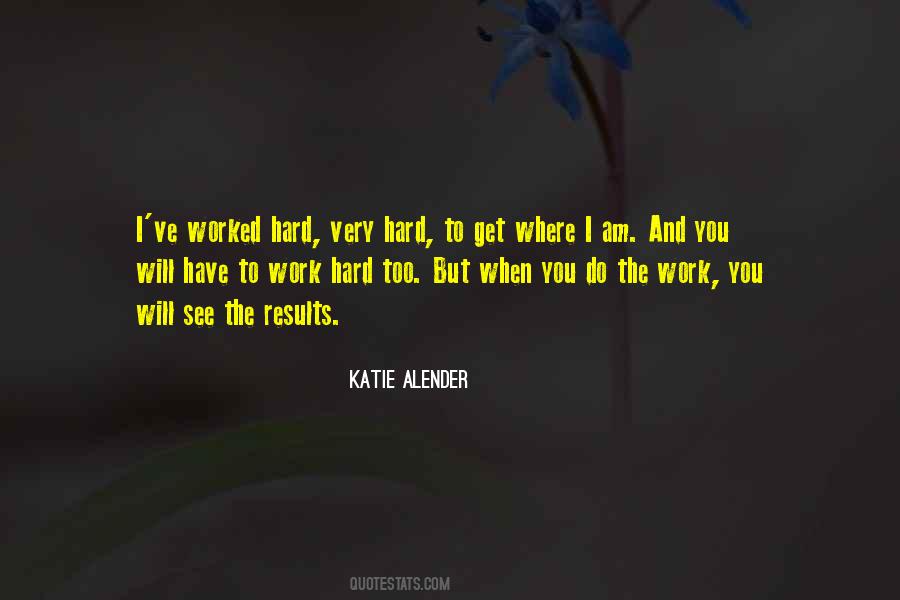 #46. But no, I've just been very lucky. But I've worked hard, and the harder you work, the luckier you seem to get. - Author: Norman Wisdom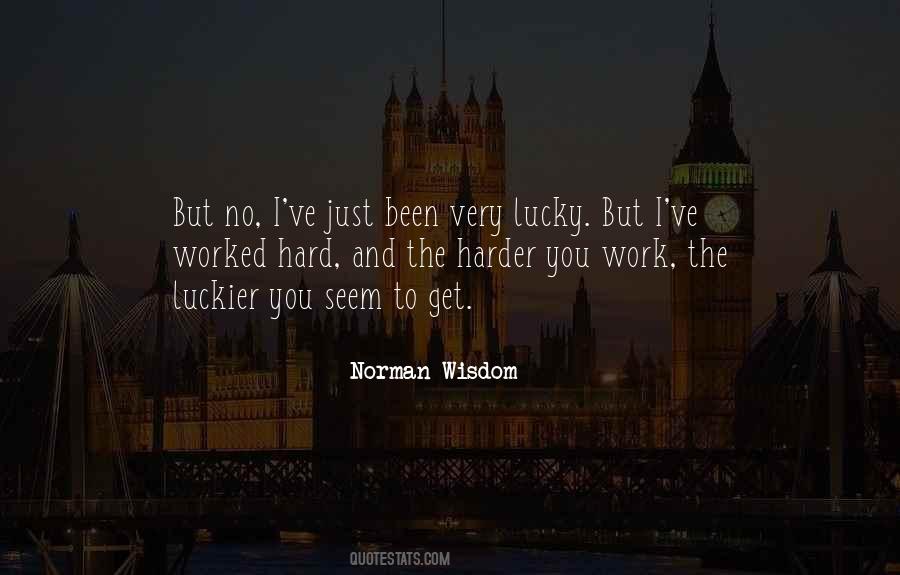 #47. You will not be able to enjoy a good night's sleep unless you've worked hard during the day - Author: Talal Abu-Ghazaleh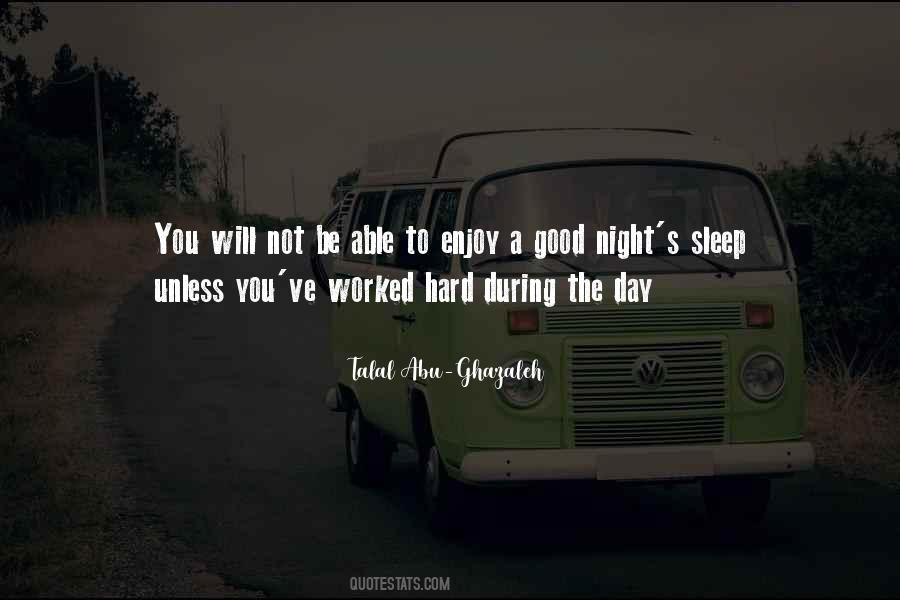 #48. you can live your life afraid to move forward, or you can live your life accepting people for who they are and believing in those people, giving second chances with the hopes that the changes they've worked hard to achieve remain. - Author: Melissa Foster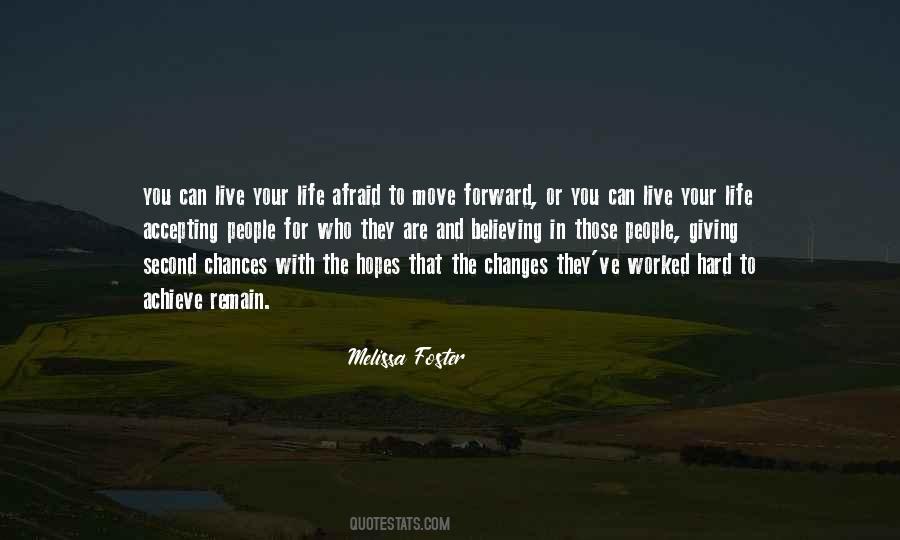 #49. I grew up in New England. I think I was brought up with the Puritan ethic: that if you worked really hard in life, then good would come to you. The harder you work, the luckier you get. I've come to believe that it's the smarter you work, the better. - Author: Ken Blanchard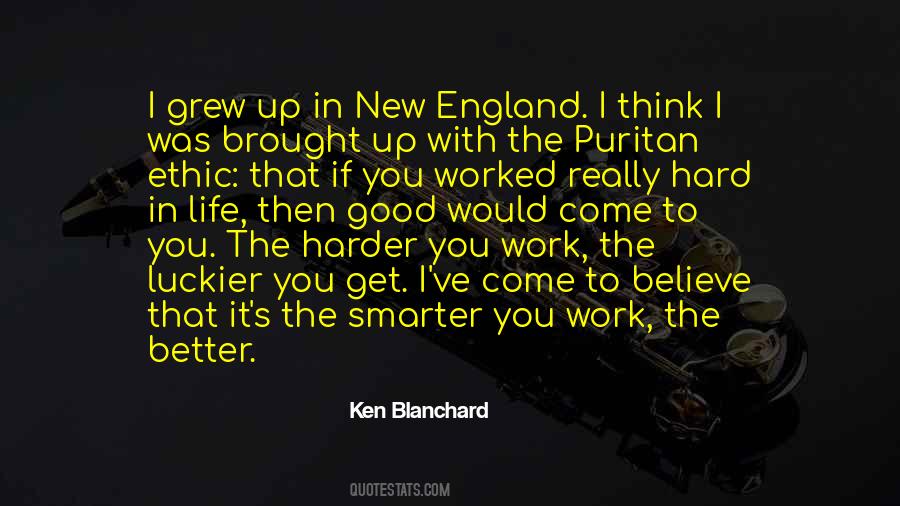 #50. Don't judge a book by its cover. Mom is always saying that, but most of the time, I think that's exactly what people are asking us to do: Please. Judge me by my cover. Judge me by exactly what I've worked so hard to show you. - Author: Aaron Hartzler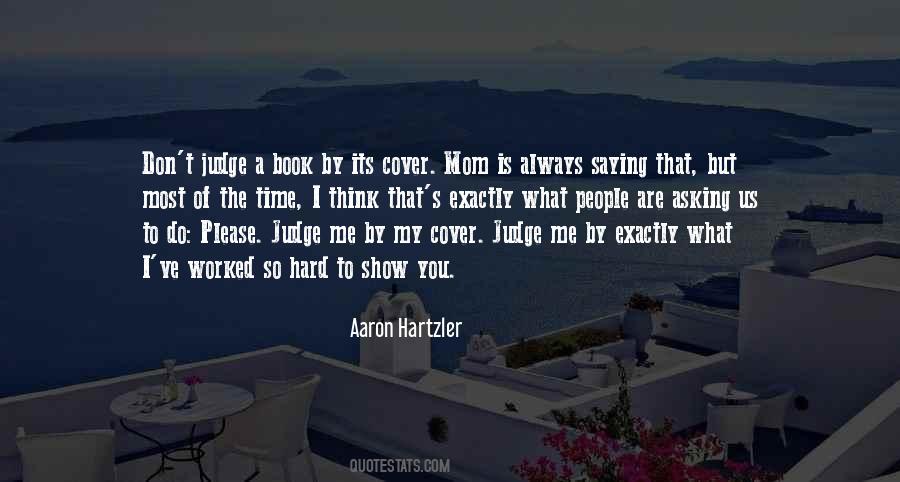 #51. The worst thing of all was very simple: the disruption of the illusion of safety. That if you were a good person who worked hard and stayed within the law, you'd always be okay. - Author: Edward W. Robertson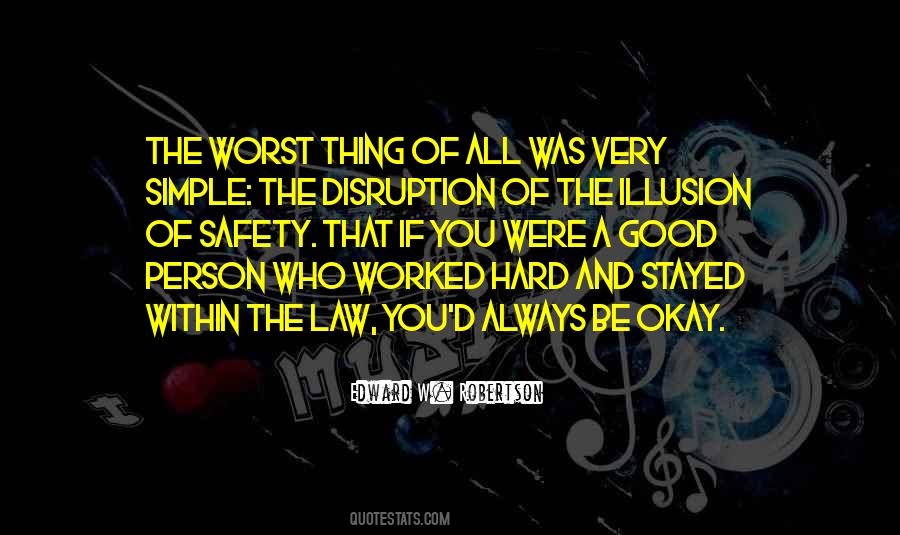 #52. You've worked too hard to let an opportunity like this slip through your fingers - read the script. - Author: Maggie Marr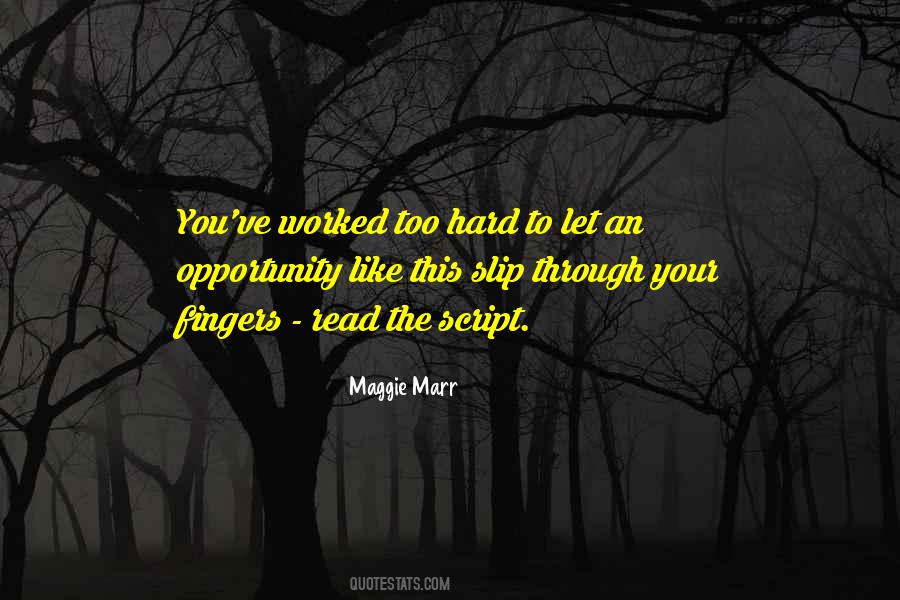 #53. We worked very hard to make the lyrics suit the music. I can't, like Elton John, for example, compose by lyrics. Elton has a great talent for that. Whatever you give him, including your questions, he composes in half an hour and makes a great song out of it. - Author: Rick Wright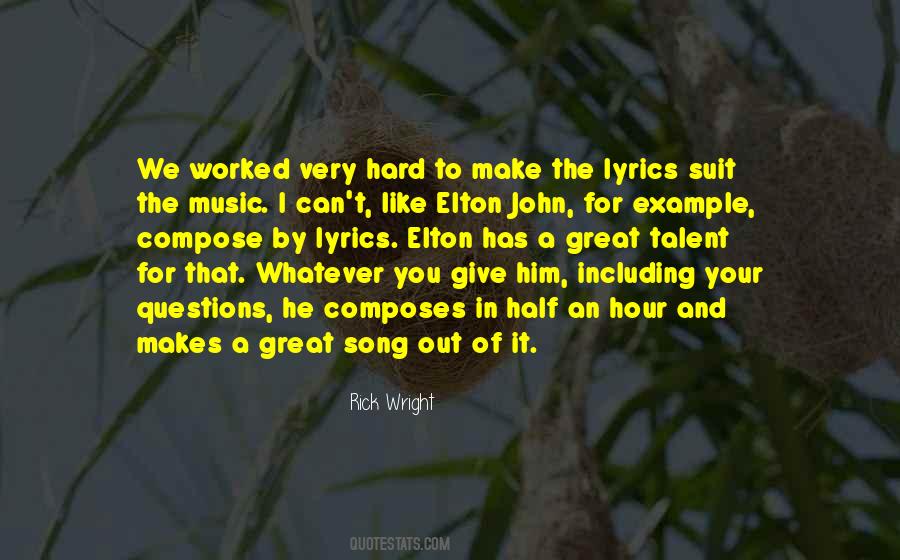 #54. I never grew up thinking the goal in life was to be a millionaire. All the way through college, I had a part-time job. I worked hard to get the things that you need at that age. - Author: Cecelia Ahern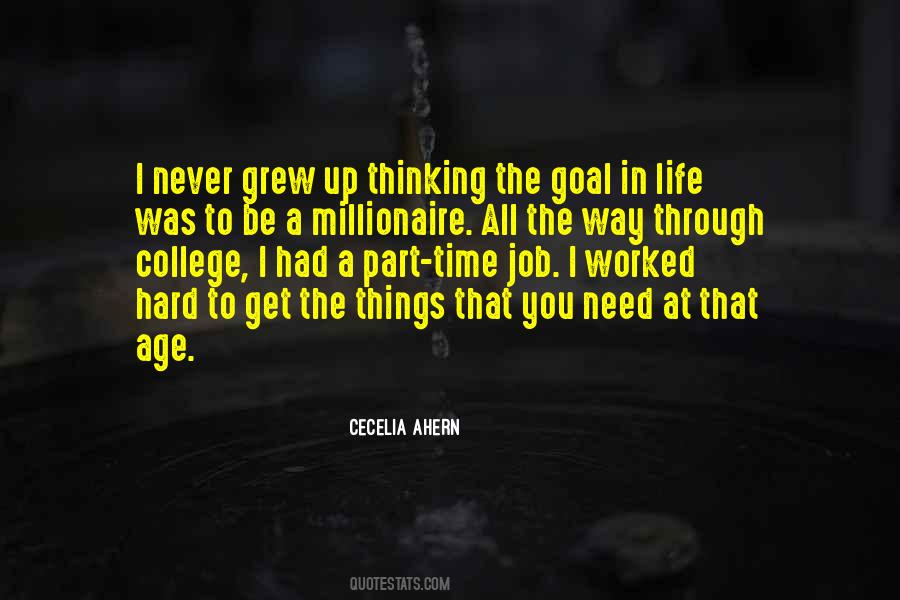 #55. My dad was a longshoreman in the Port of Miami. Tough job. I worked down there in the summer once. One day. Never again. My dad was a no-nonsense guy. As a kid, I hated his rules, but as a man, I understand what he was teaching. He taught me you have to work hard for everything you get. - Author: Nick Ferguson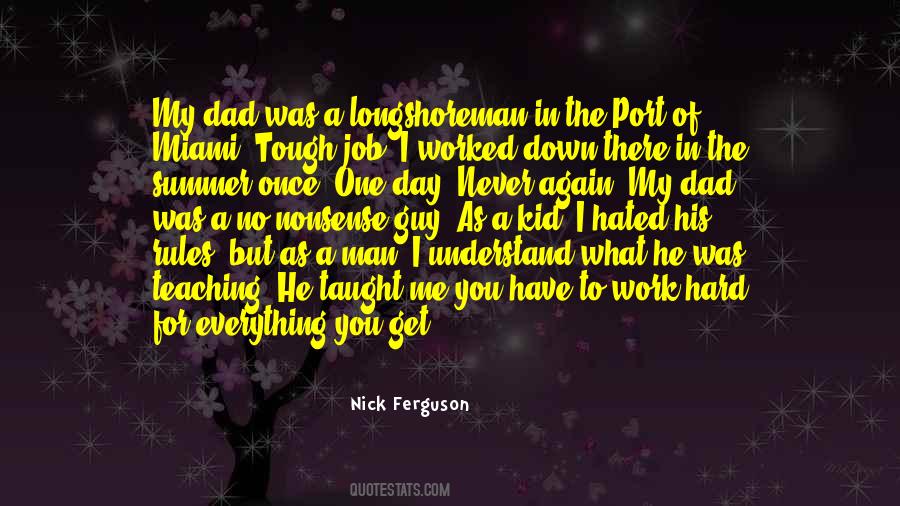 #56. One of the things about having worked at certain places is that it becomes very hard after you stop working at them to continue a relationship, to continue even reading them. So I must confess that I don't read 'New York' magazine anymore. - Author: Michael Wolf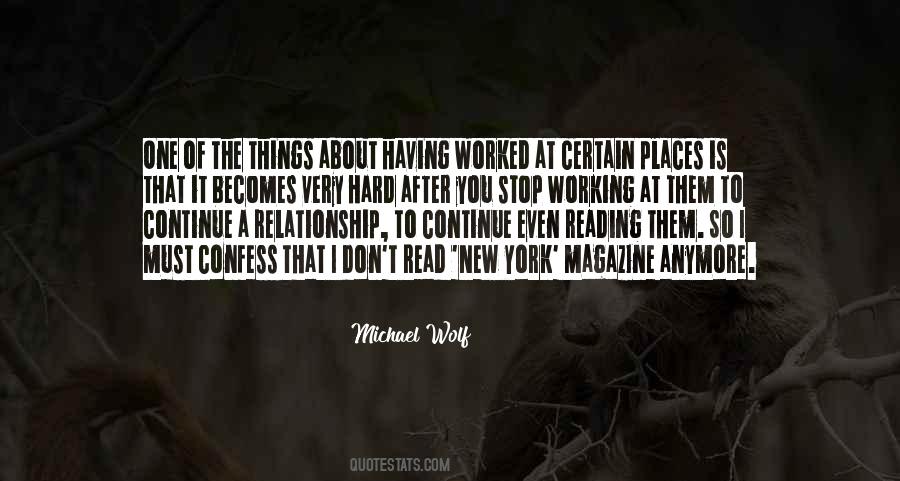 #57. You should be dead," he said, his voice full of wonder. "How is it that you're still alive?"
Jaw clenched, I worked at his grip on me, trying to get my fingers between him and my wrist. "I work hard at it. - Author: Kim Harrison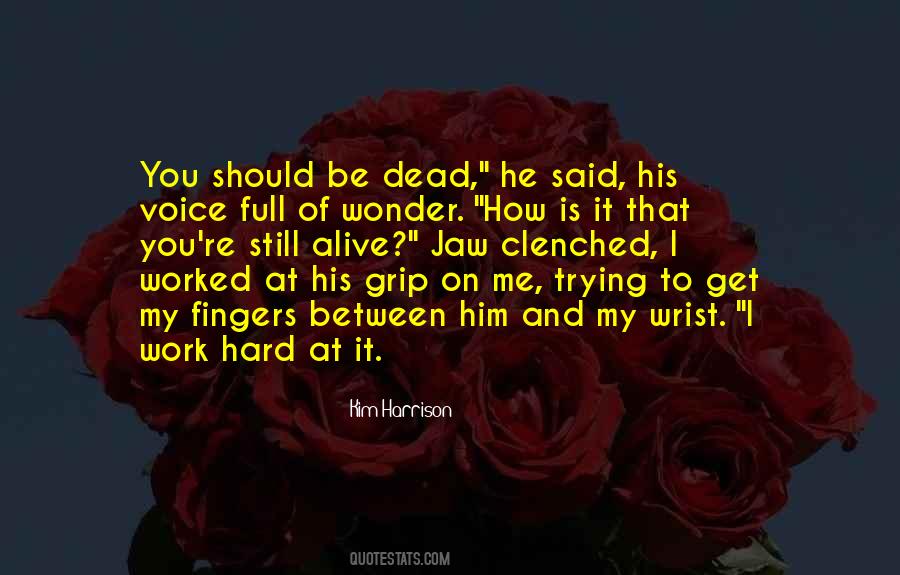 #58. The whole crowd interrupted and told him, 'No, we won't let you go. You have worked hard for our rights and you can't quit now.'
'Then,' said Riel, 'if I must, I will desert.'
'If you desert, we will desert with you. - Author: Gabriel Dumont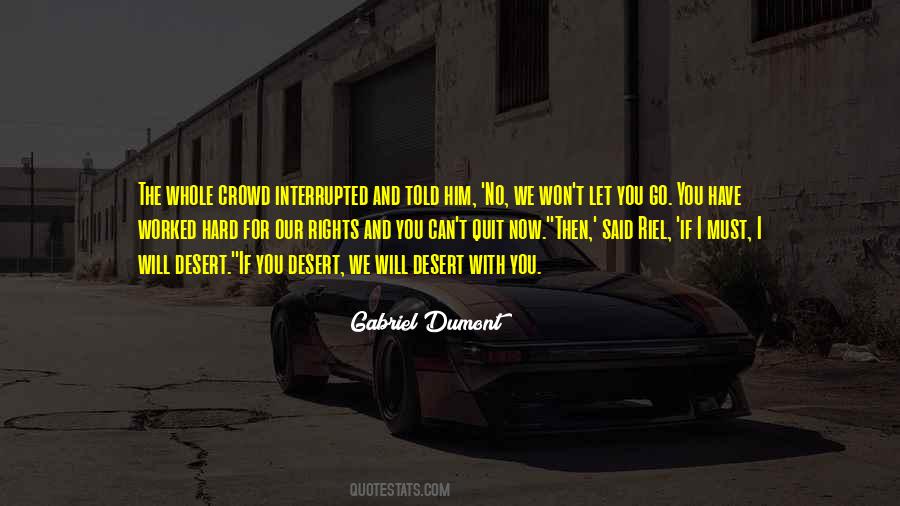 #59. I always knew that I would give back. My mother and my father both believe you have to work hard and give back. That's why I was a volunteer firefighter, that's why I worked in a homeless shelter. I always knew I'd give back, elective office or not. - Author: Thomas Kean Jr.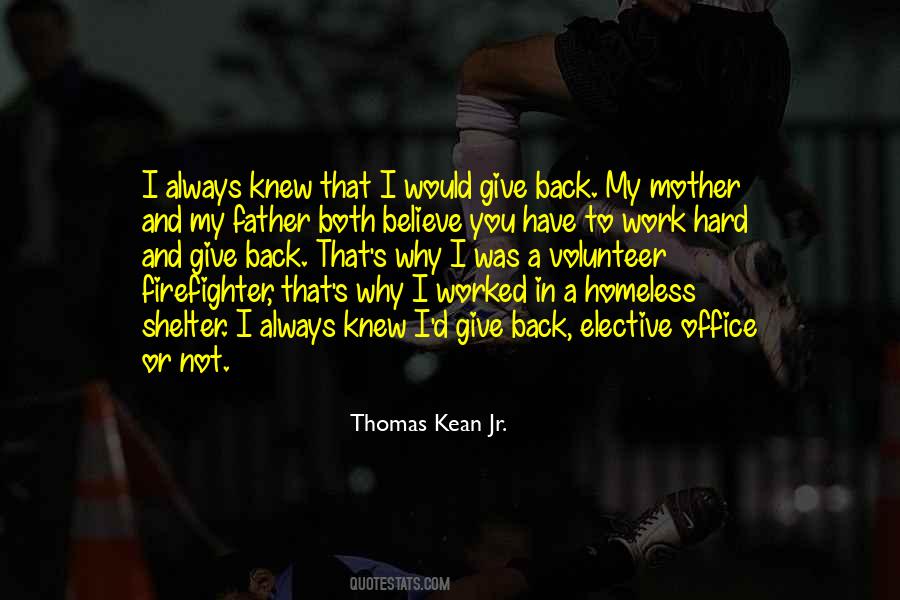 #60. It be nicer to think your parents, who worked hard, gave you those presents instead of some creepy stranger? - Author: Harlan Coben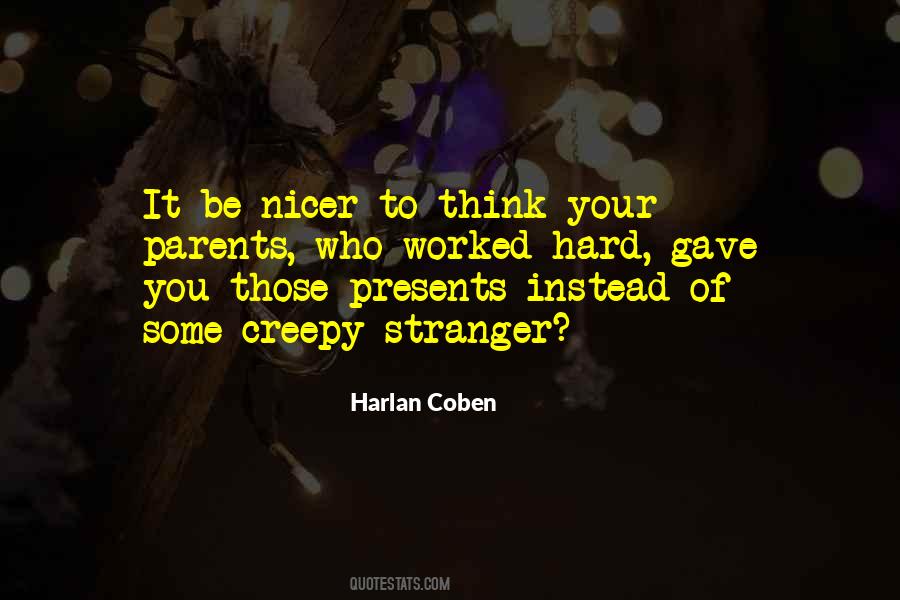 #61. What is frustrating is being told that no matter how hard I've worked, it counts less than my appearance. Although if you're not considered conventionally attractive, that also becomes an issue: you know, you're a feminist because you couldn't get a man. - Author: Gloria Steinem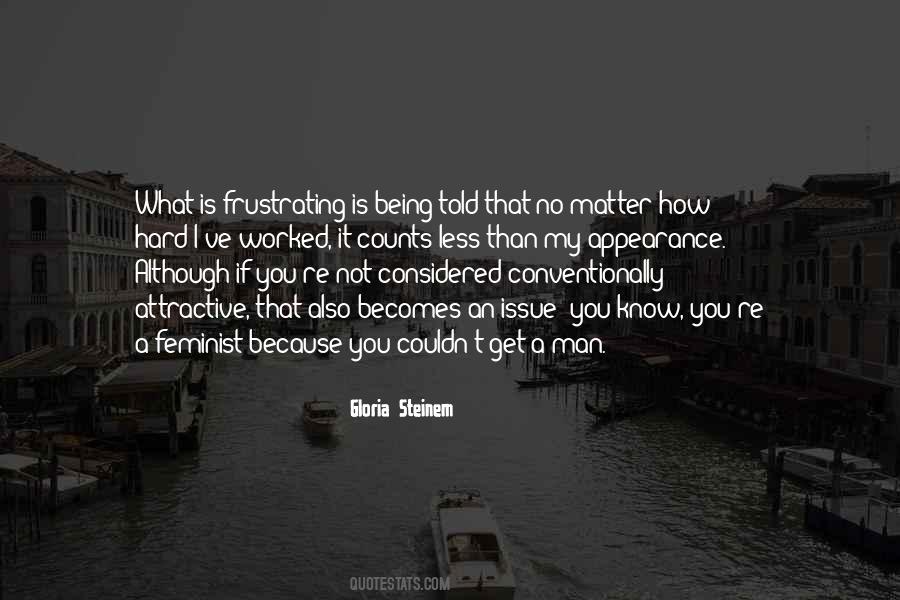 #62. Even though I worked hard at times, it was always magical. I have to confess I enjoyed every minute of it. Even the down times I enjoyed, because we were creating something that would make people smile and lift their hearts. You can't think of a better job than that. - Author: Floyd Norman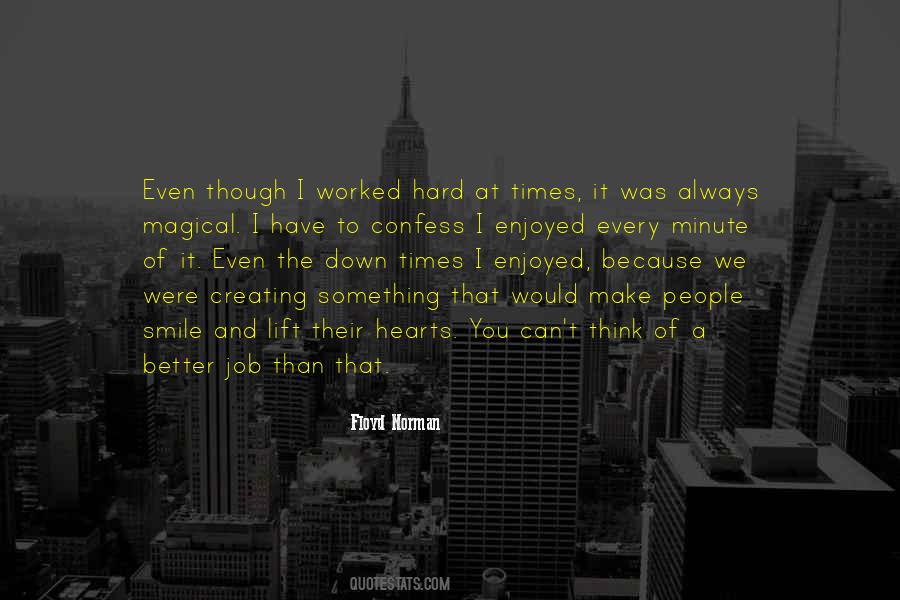 #63. I'm really proud of an independent movie called 'Angel's Perch' that you can get now on demand. It's a labor of love. People worked really, really hard, and it's a beautiful film. - Author: Ashley Jones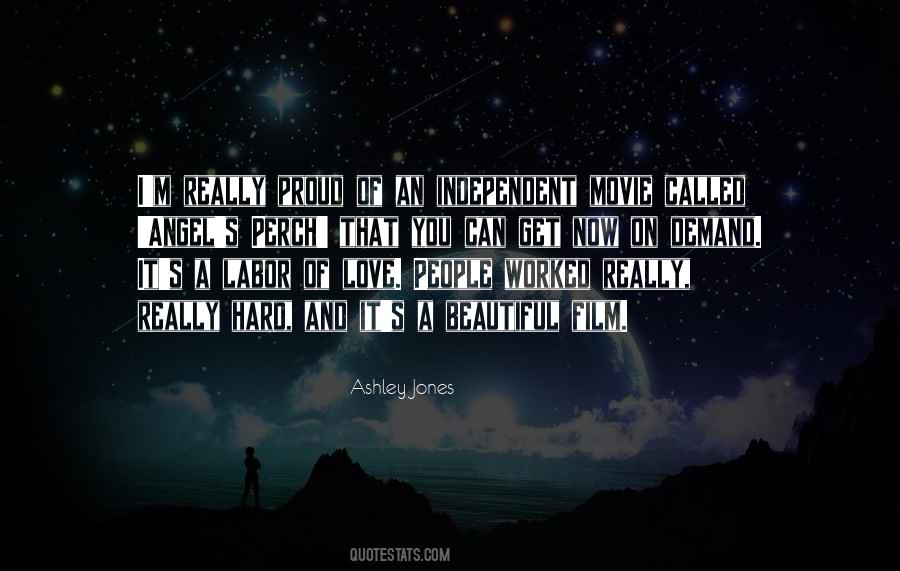 #64. I think swagger's a confidence. It's a confidence of you knowing that you work hard for your success. A lot of times, you can't develop swagger if you haven't worked hard to succeed. - Author: Amar'e Stoudemire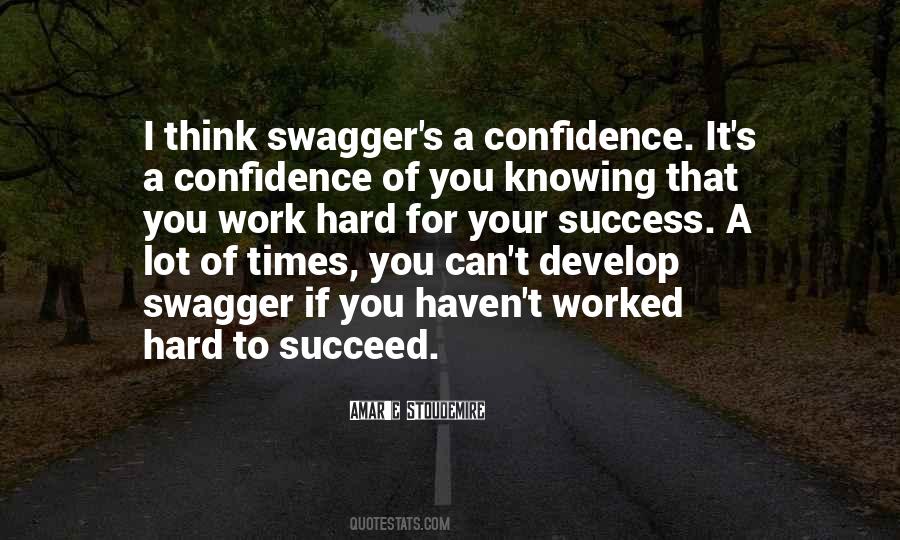 #65. When friends tell you how awesome you look, drop the "I still have more to go" crap. You worked hard and you deserve the compliment! - Author: Jillian Michaels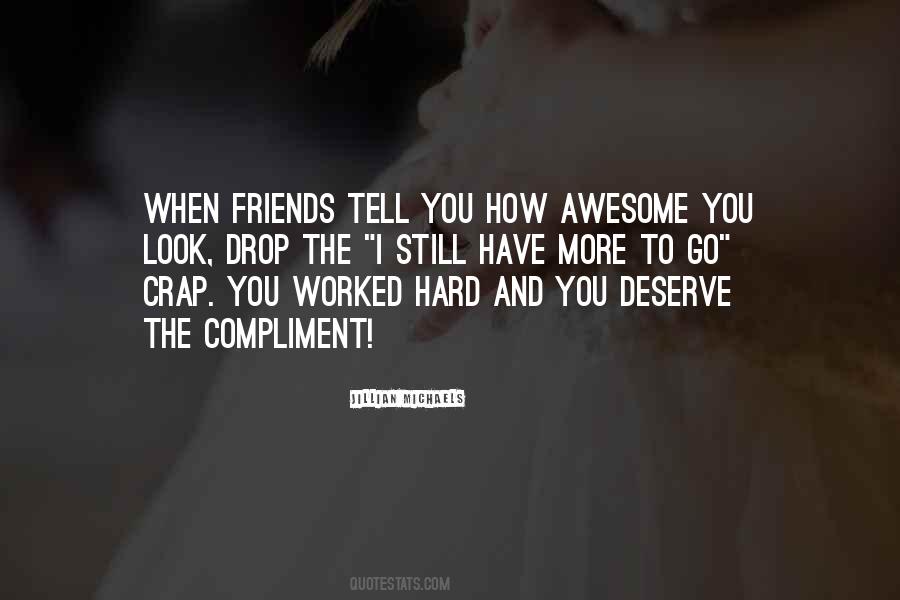 #66. I worked for twenty-some years with no capital, so I never had any liquidity. Managing my loans alone wouldn't do it, and working hard twenty-four hours a day seven days a week alone wouldn't do it. You have to be properly capitalized. - Author: Bob McNair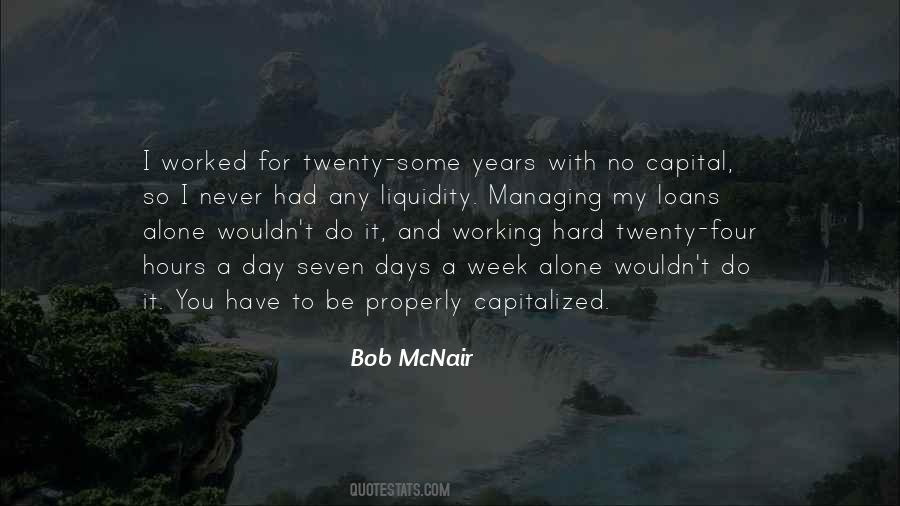 #67. What my mother believed about cooking is that if you worked hard and prospered, someone else would do it for you. - Author: Nora Ephron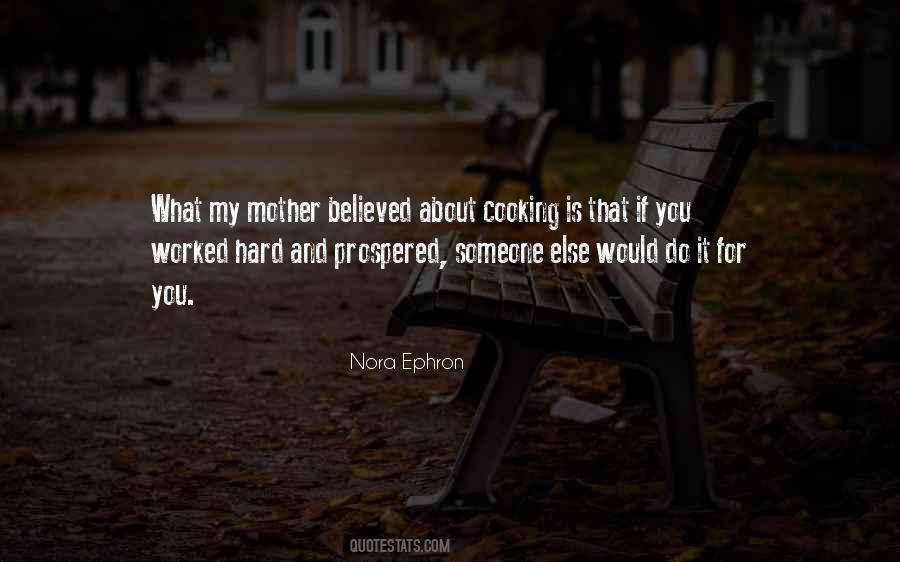 #68. God, Packard! Do you know how hard I worked at
it?" I twist up the napkin and whip it at him.
He deflects it. "There we go; I knew you could do it."
My mouth falls open. "Very funny."
He just laughs.
"I can't believe you! - Author: Carolyn Crane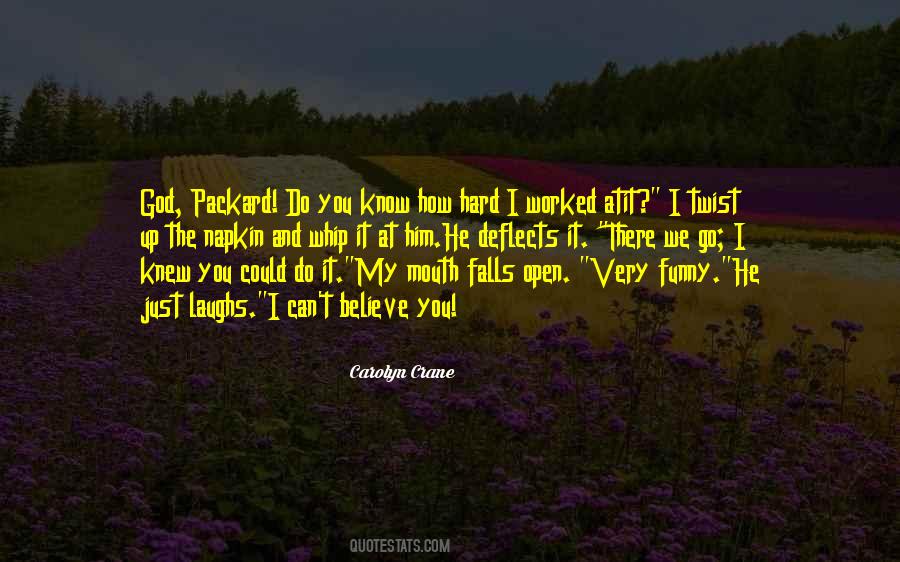 #69. I think it's easiest to teach by example. My dad didn't tell us to work hard; we just saw how hard he worked. I know I have shortcomings - like a short fuse - but I've learned you can't come home from a long day of work and snap at the kids. - Author: Chris O'Donnell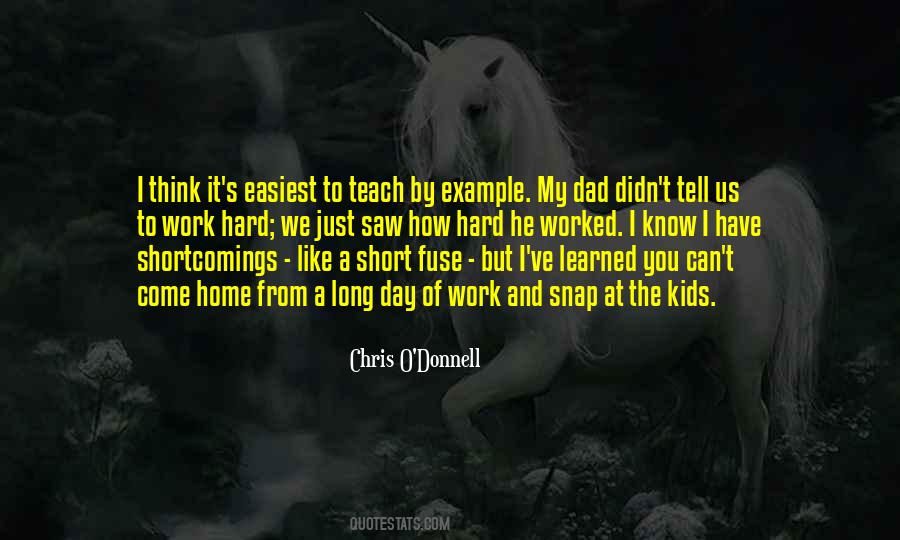 #70. I didn't work hard for success. I worked hard because that's what is in me. I showed up in this world somehow knowing that you have to work hard. You can't just have a thought. You have to follow the thought through. - Author: Wayne Dyer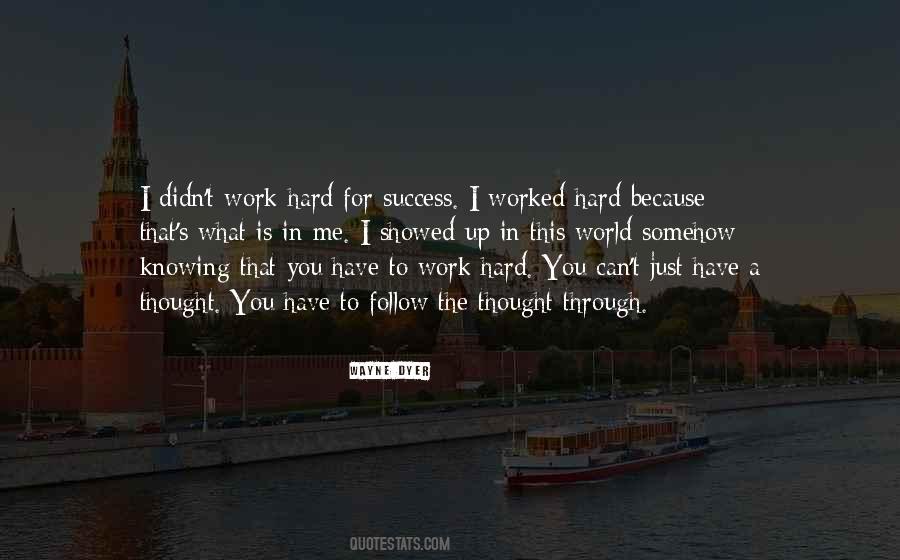 #71. I've got a song called 'Salt Skin' because when you run in the heat it evaporates and you've got salt crystals on your face. I love that, because it means you've worked really hard. - Author: Ellie Goulding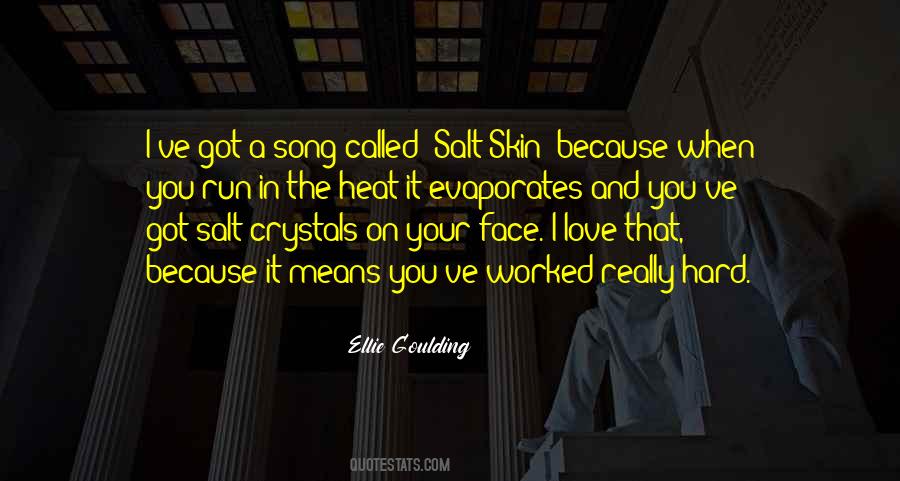 #72. If you work hard, good things will happen. I will never be in a situation where if I fail I can look back and say, 'If I'd only worked harder.' - Author: Travis Hafner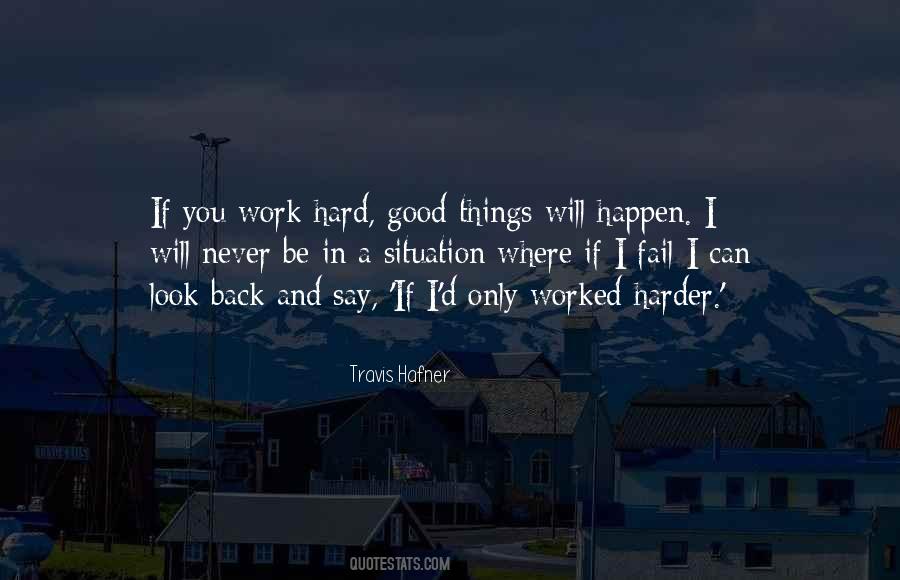 #73. Don't you know that's what college is about ... students spending years gathering useless information they'll never use again, going hopelessly into debt, just so they feel smarter than the rest of their family? I mean, that's why I worked so hard to get here, anyway. - Author: A.L. Jackson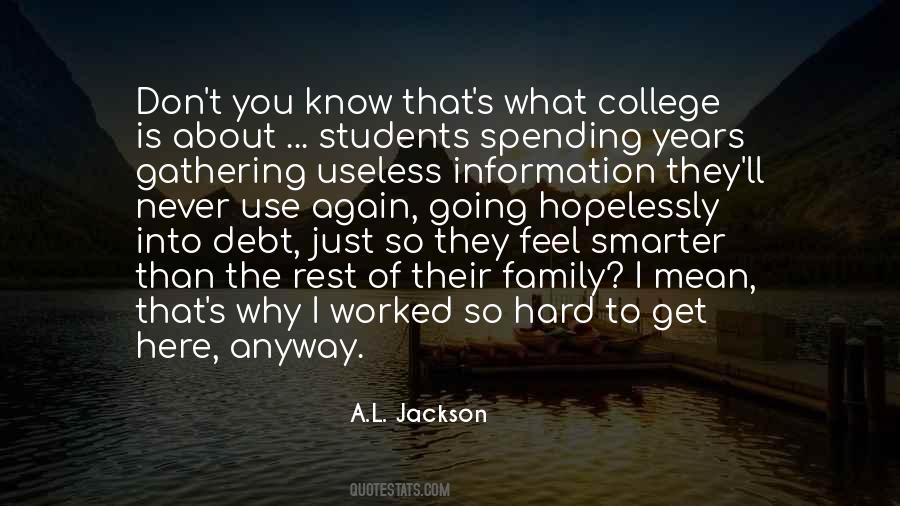 #74. We worked so hard, so hard, building our world one brick at a time. And when it fell apart, it happened just like that. Everything was gone before you knew it. - Author: Haruki Murakami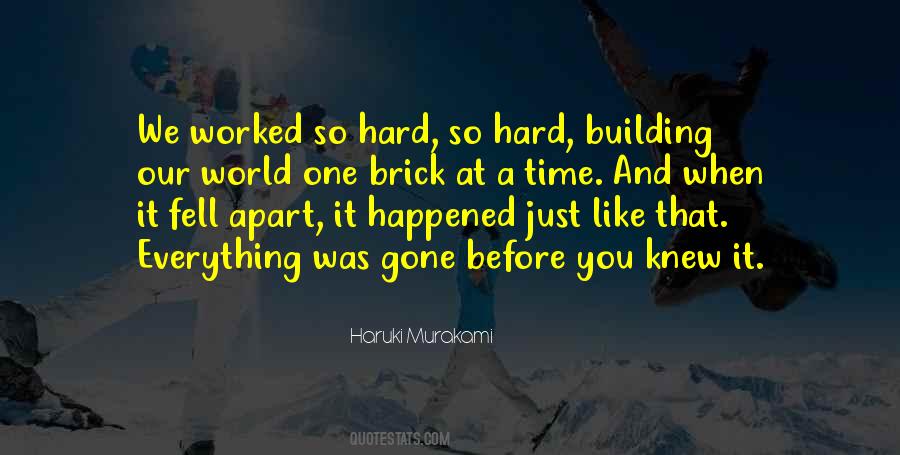 #75. It was kind of unexpected, to wake up one day and realize that the things that you've worked so hard to accomplish, you've accomplished in so little an amount of time. - Author: Colton Haynes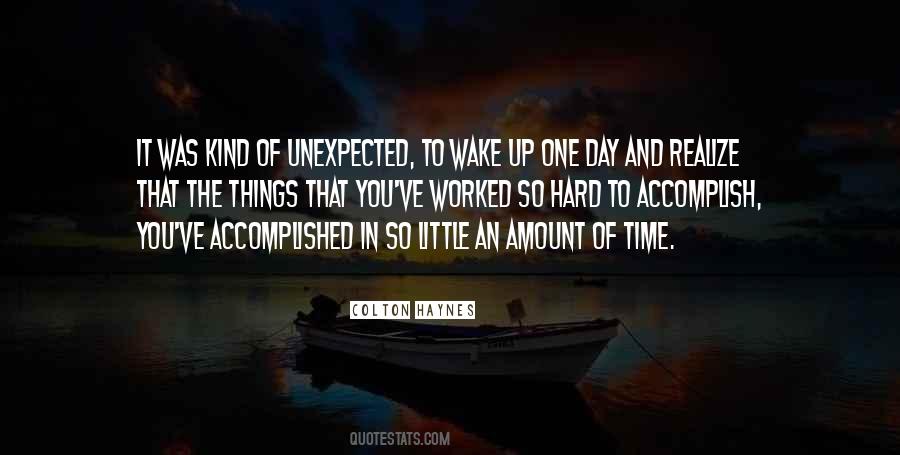 #76. I think that property is very important in this day and age. It defines you; you worked hard to get it. It's meaningful to you, and when you divorce, a lot of people have a lot of battles over their property for good reasons. - Author: Helen Fisher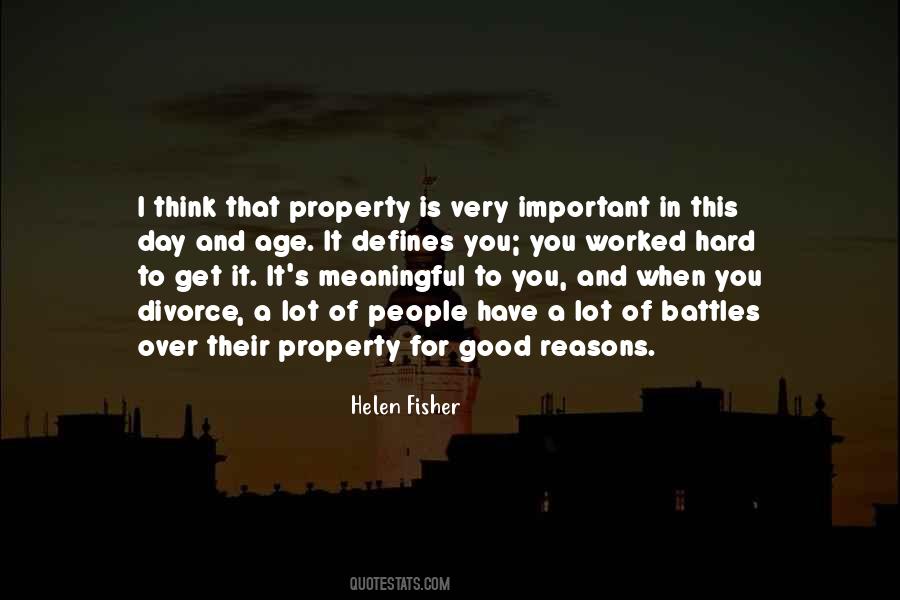 #77. Make no mistake:
Your salary is held to the same standards your grades were held to in the educational system, where you couldn't surpass a 100 no matter how hard you worked or how intelligent you were. - Author: Carlos Roche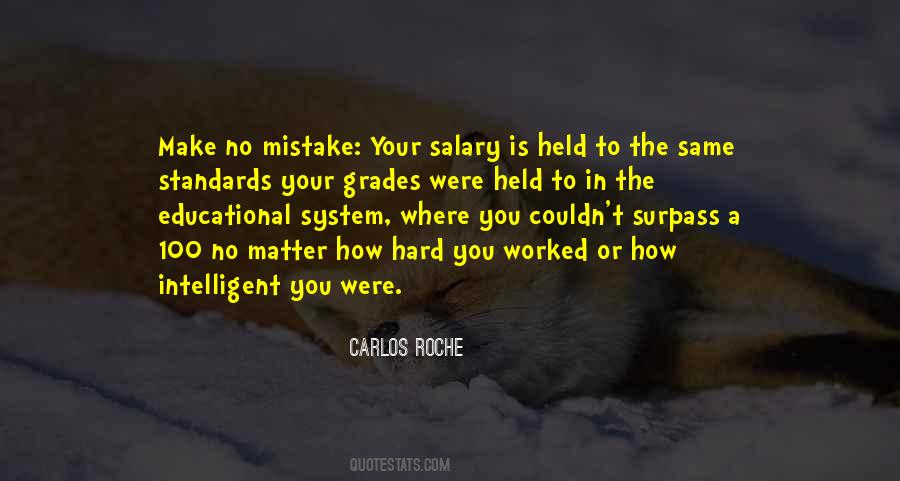 #78. This deluded little rube who really thought the future would be any better. If you just worked hard enough. If you just learned enough. Ran fast enough. Everything would turn out right, and your life would amount to something. - Author: Chuck Palahniuk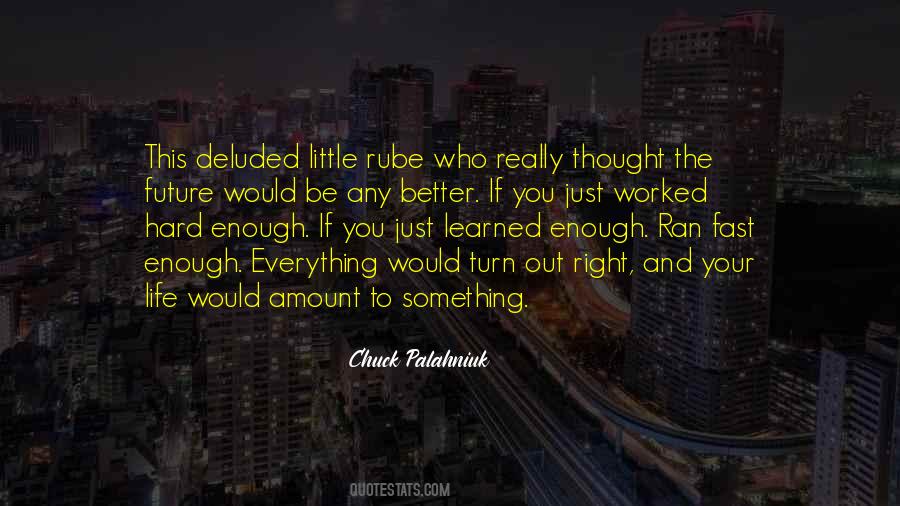 #79. I've been blessed with good eyebrows, and I've worked very hard for them. Get a good brow pencil, fill them in a bit, make them perfect, and I guarantee you'll feel better. At least it works for me. - Author: Zendaya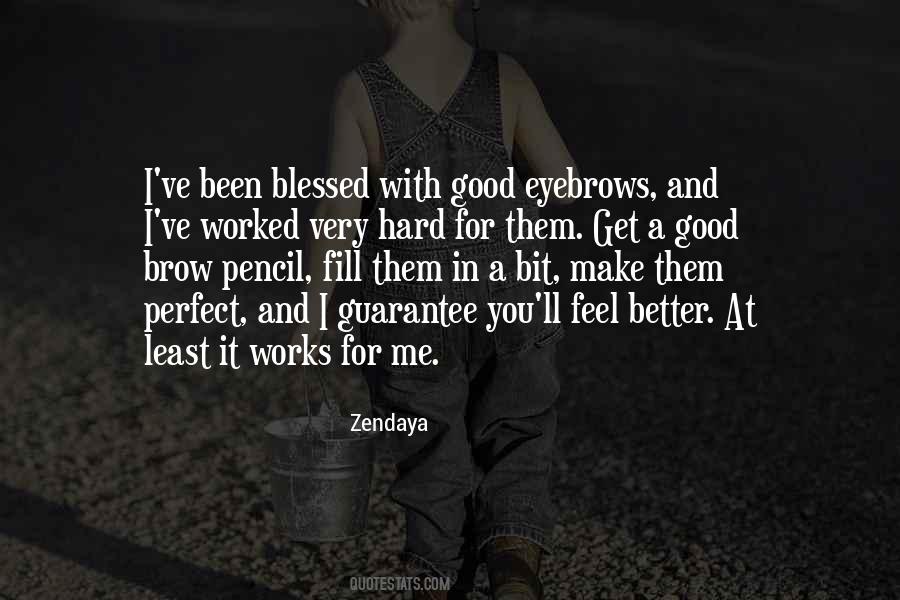 #80. I mean, they're threatening - my career is over. You know, everything I've worked so hard. I've worked extremely hard since about 17 years old, you know, as a White House intern on up. - Author: Andrea Mackris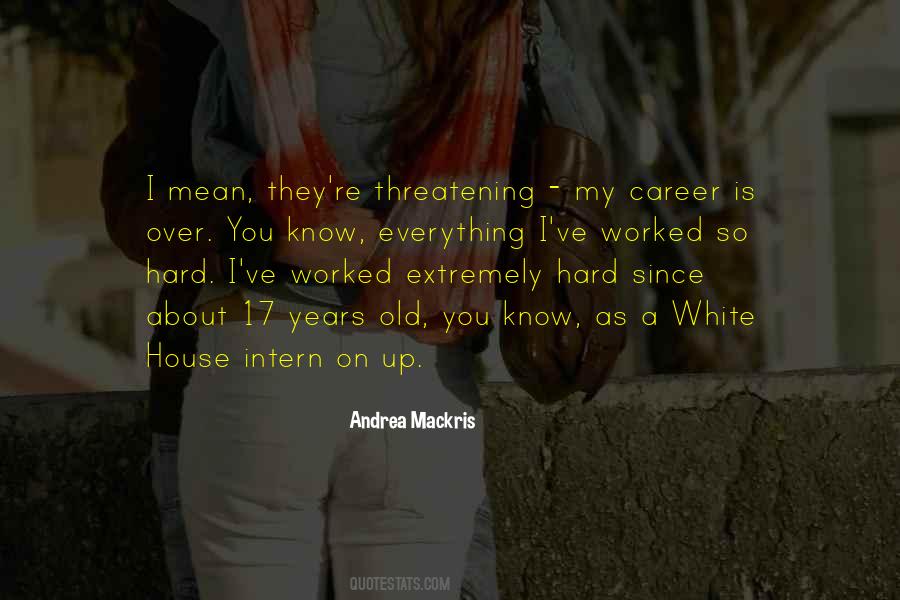 #81. I had a hard time at school because I worked, so I was quite often out of school, which meant that I didn't make many friends. It can happen to child actors, because you're not in the school environment. And I did miss that school environment and being around people. - Author: Yasmin Paige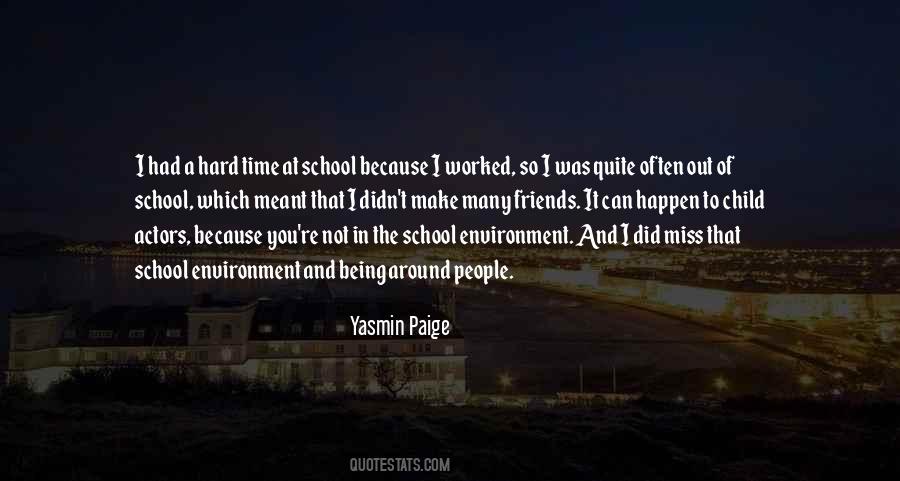 #82. I'm not saying people shouldn't apply themselves and work hard. You do have to try to make your own luck. But I know people firsthand who worked incredibly hard, who were really smart, who never got into trouble, and still didn't get a break. - Author: David Lindsay-Abaire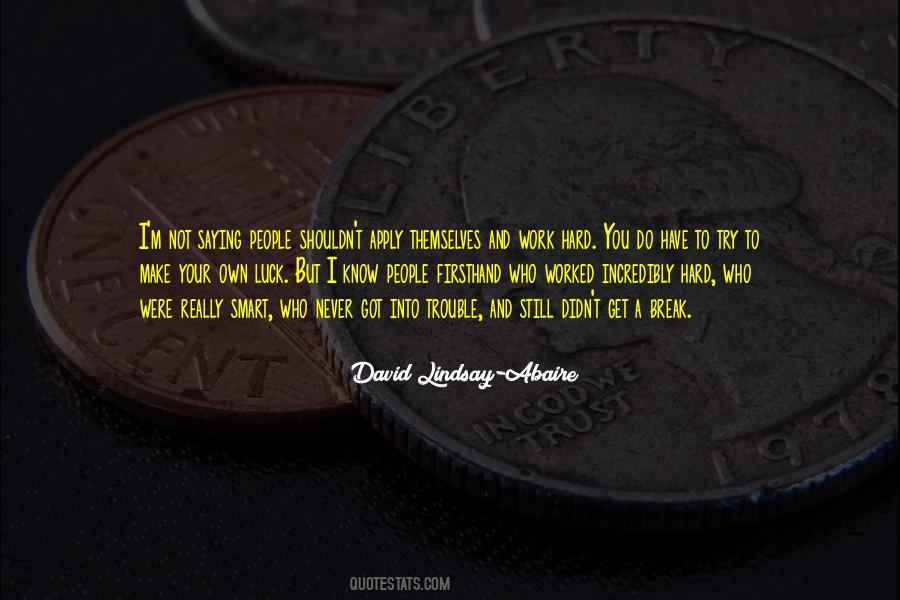 #83. It's not like they just open the gate to Hollywood and off you go - you earn your stripes. I worked ferociously hard even just to get an agent. - Author: Sophie Kennedy Clark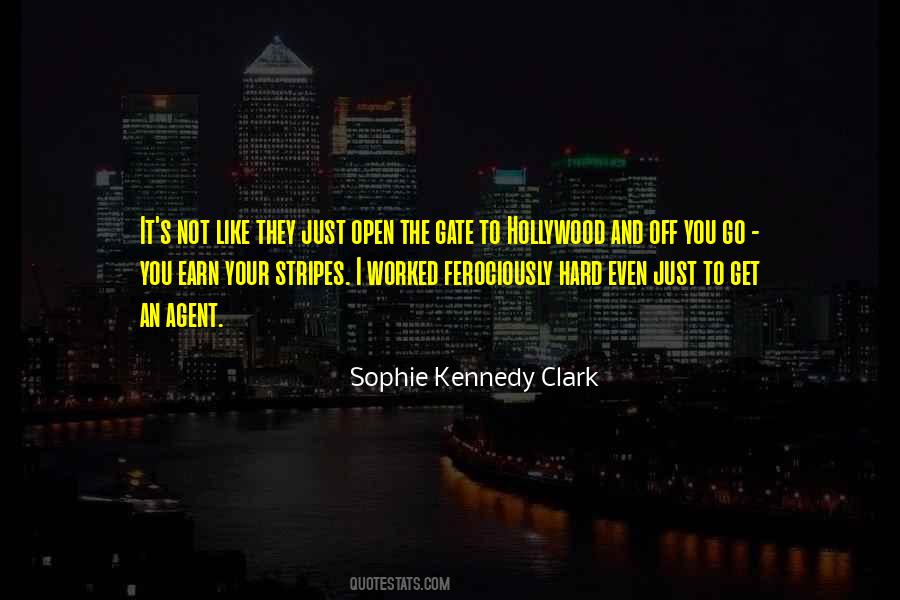 #84. Be thankful for the efforts of people who worked hard to get you where you are; you should not take it for granted and treat them with indifference. - Author: Roy T. Bennett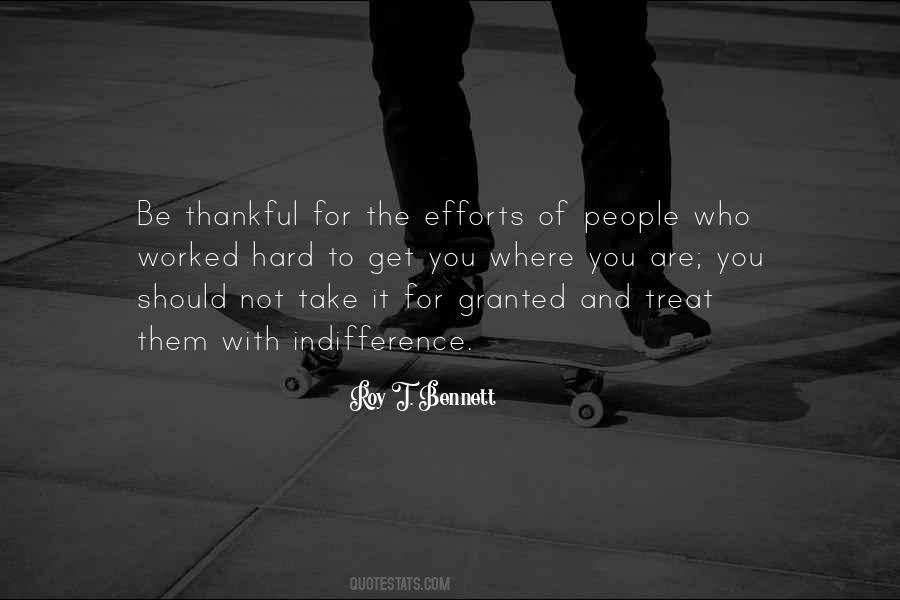 #85. The hardest thing as an actor is that you work really hard constantly for these roles, and you invest so much in it. And when they don't come to fruition and nobody sees them, there's a part of you that dies a little bit. It's like, 'Ah! But I worked so hard!' But that's the business. - Author: Adrianne Palicki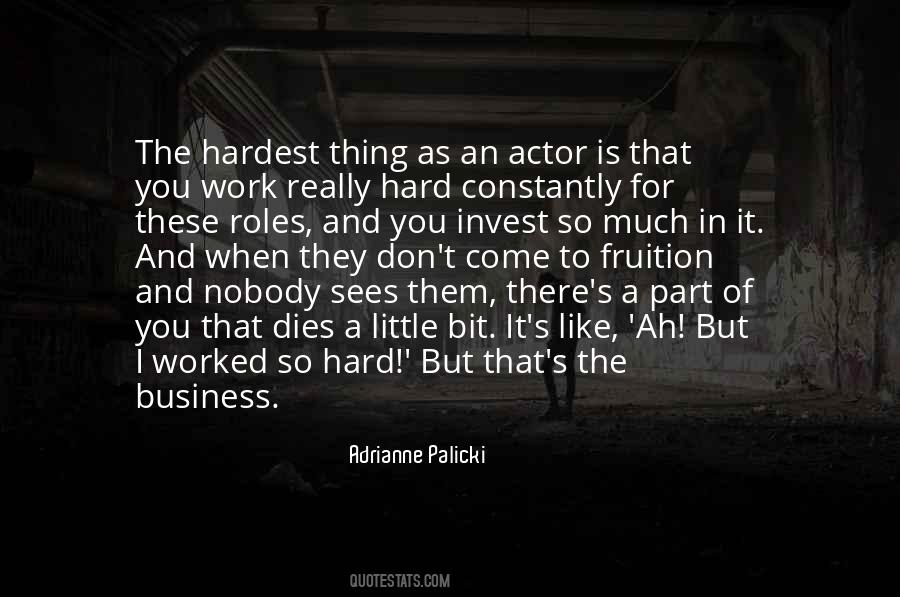 #86. You have to be taxed. Just because you work a little harder to have a little bit more money taken from you, I mean, that's scary. I worked hard for it. Why should I be taxed more than other people? - Author: Joe Wurzelbacher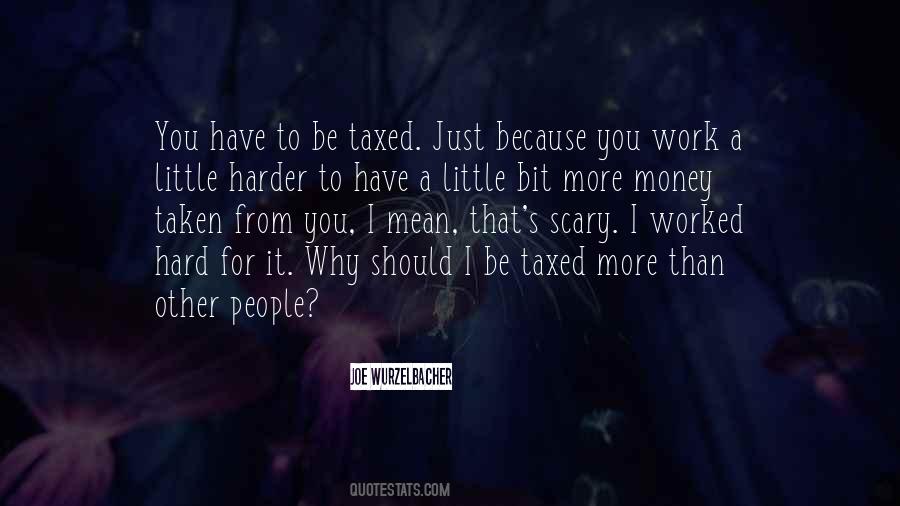 #87. I can't tell you how hard I worked the last year. In fact, I worked so hard that I know I can't maintain that same work level in 2001, so I've got to quit something. - Author: Christopher Darden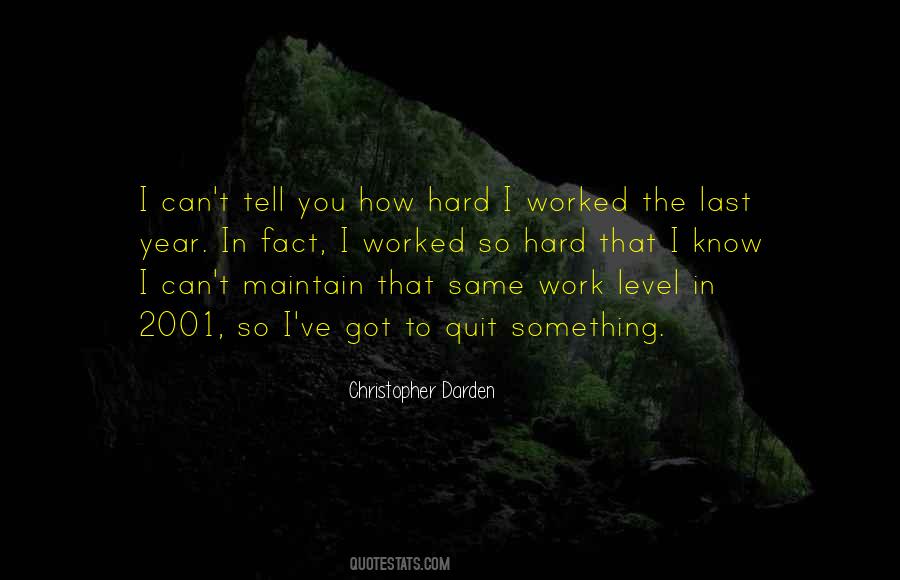 #88. Yeah, I was a pretty good kid, you know, I was - I was- I was an overachiever and I worked very hard, played a hell of a fiddle. - Author: Mike Wallace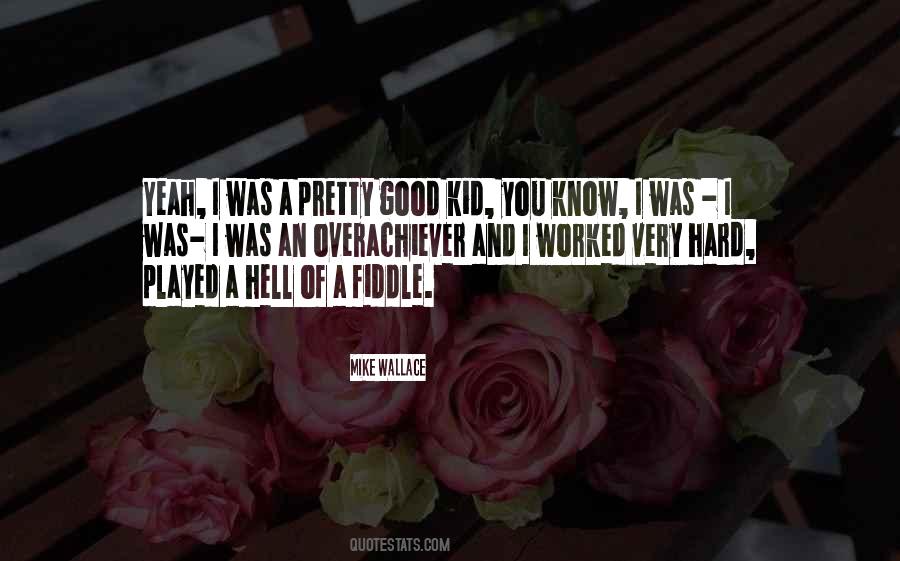 #89. The gold-digger is the enemy of the honest laborer, whatever checks and compensations there may be. It is not enough to tell me that you worked hard to get your gold. So does the Devil work hard. The way of transgressors may be hard in many respects. - Author: Henry David Thoreau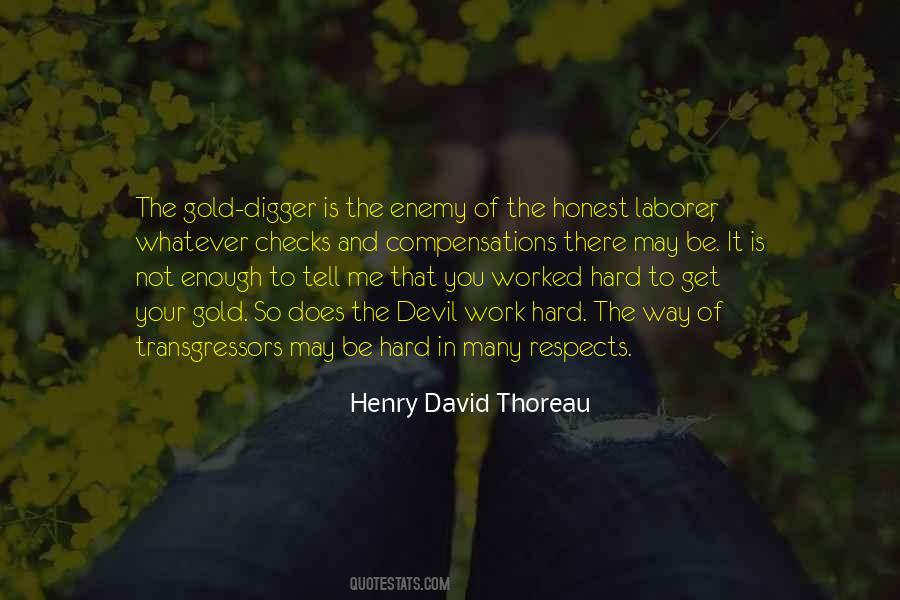 #90. If someone says you're a reporter and doesn't want you to anchor then you wonder why you worked so hard at it. - Author: Gayle Gardner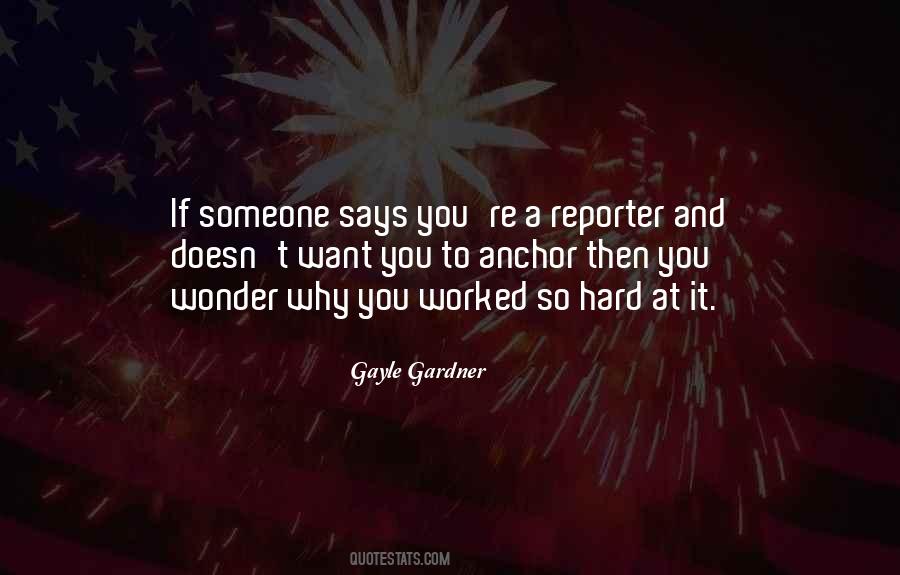 #91. The promise of America has always been that if you worked hard, had the right values, took some risks, that there was an opportunity to build a better life for your family and for your next generation. - Author: Mitt Romney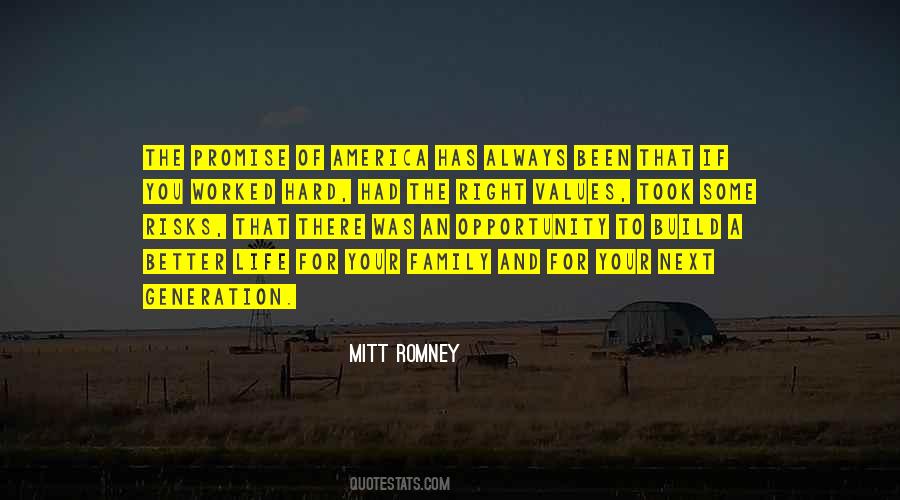 #92. You couldn't set out to be a good witch or a bad witch. It never worked for long. All you could try to be was a witch, as hard as you could. - Author: Terry Pratchett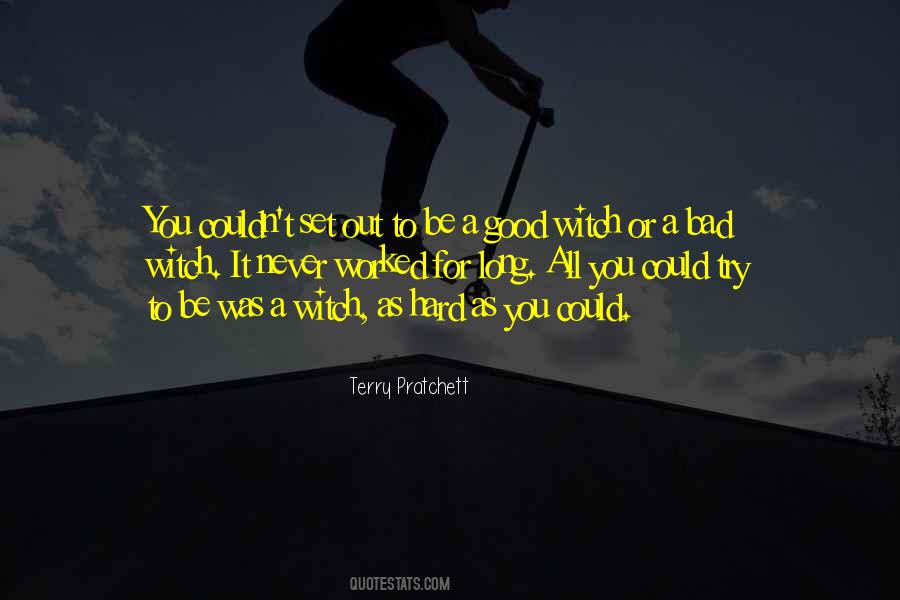 #93. If you ask men why they did a good job, they'll say, 'I'm awesome. Obviously. Why are you even asking?' If you ask women why they did a good job, what they'll say is someone helped them, they got lucky, they worked really hard. - Author: Sheryl Sandberg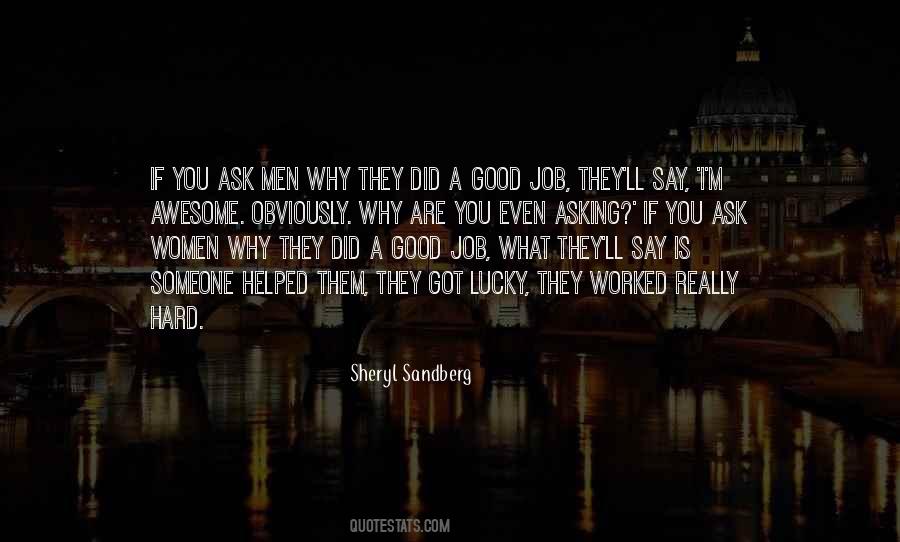 #94. There is no limit to the hunger politicians have for the money you've worked so hard for ... You can tell them to take a hike, but then the guns come out. - Author: Neal Boortz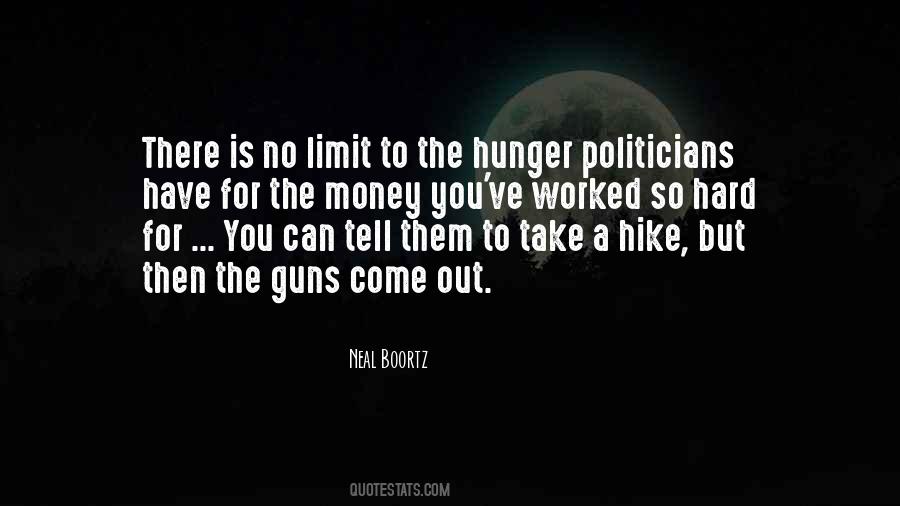 #95. You don't get to have an opinion on whether .999 ... is equal to 1, for instance. It is equal to 1. People smarter than us have worked hard to figure this stuff out, and we owe it to them and to the universe to respect what they've figured out. - Author: John Green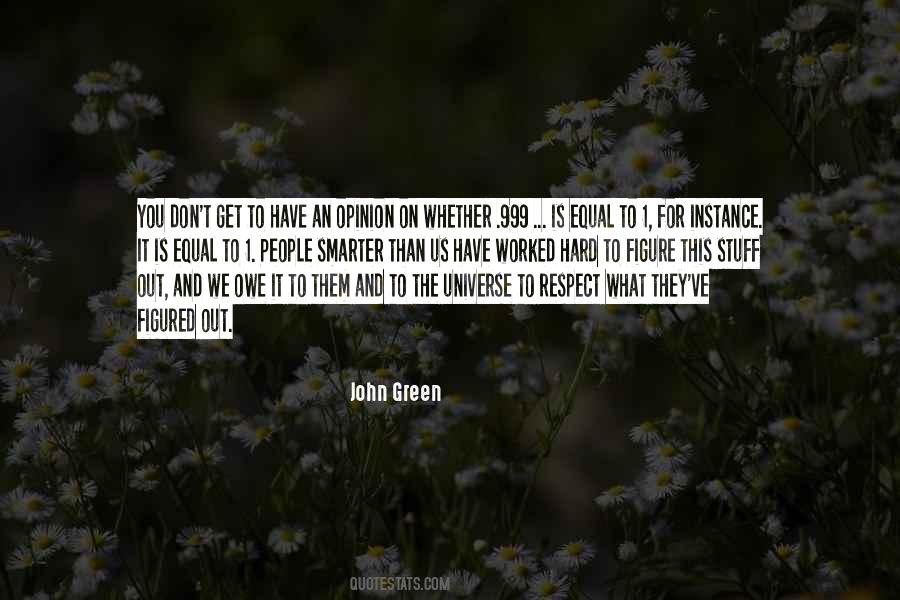 #96. When you have worked this hard to get this far, don't let up because you finally got here. Finish with your heart and fulfill this moment the way you have dreamt of it for so long. - Author: Kristin Kreuk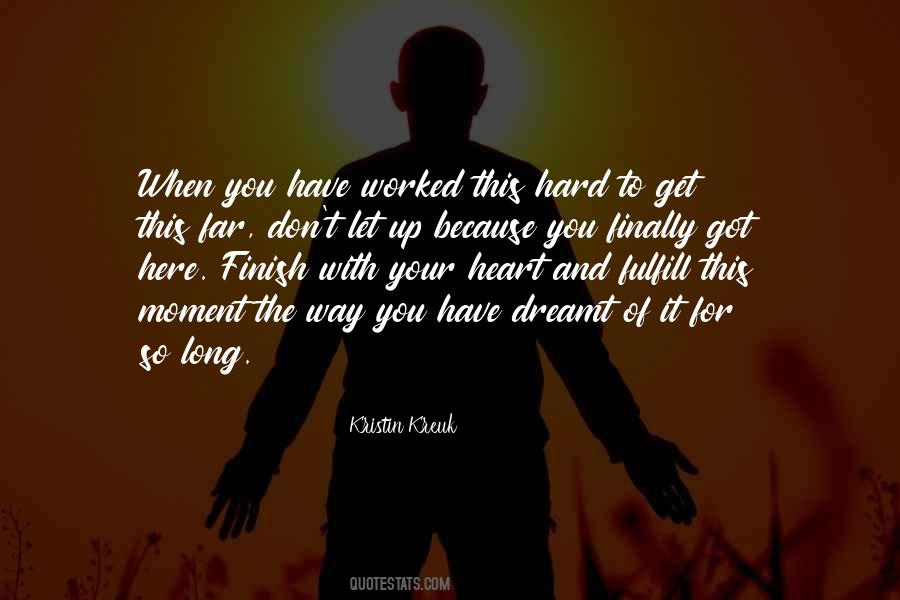 #97. The greatest competitor was Bob Gibson. He worked so fast out there and he always had the hood up. He always wanted to close his own deal. He never talked to you because he was battling so hard. I sure as hell don't miss batting against him, but I miss him in the game. - Author: Pete Rose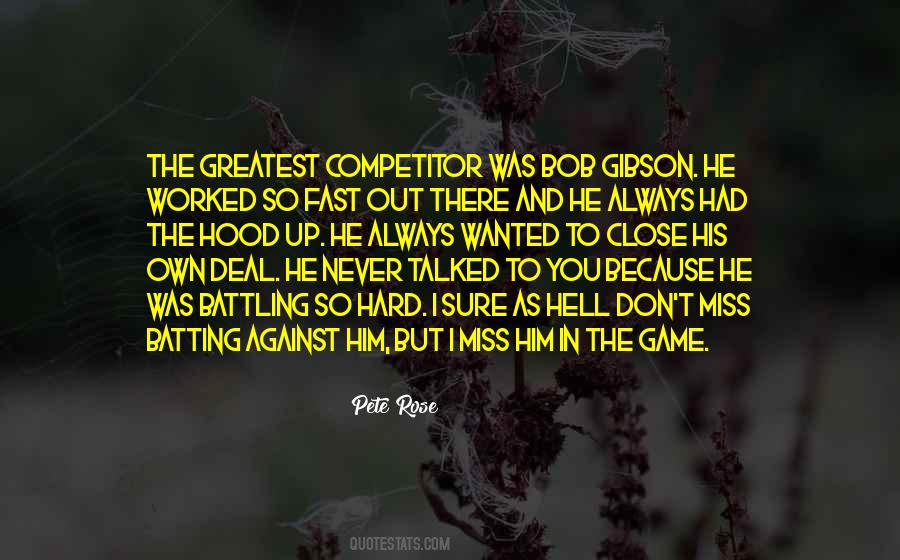 #98. It's hard to generalize about that subject because the women I've worked with have all been so different. But if there's one consistency, it might be that you do have to handle yourself differently on a set. Women can be more emotional - at least they sometimes show it more. - Author: Kristen Stewart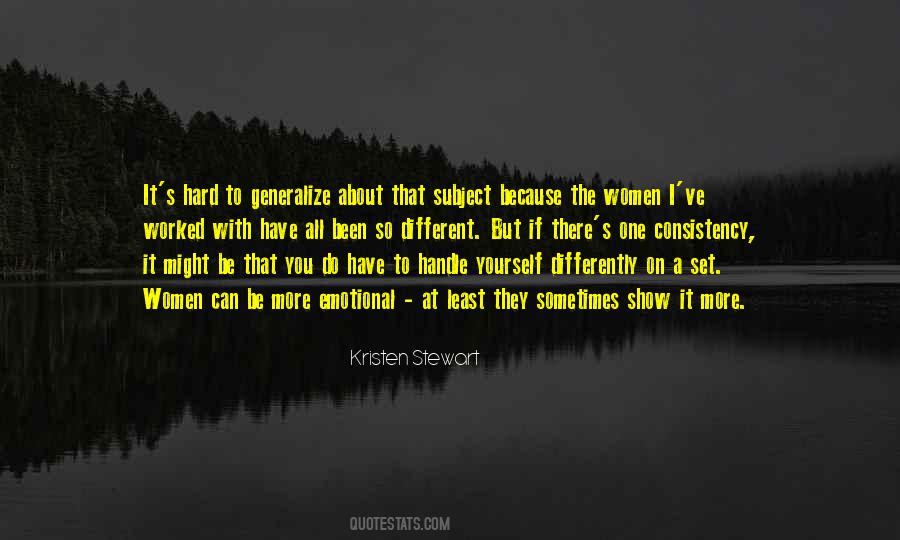 #99. When it is time for you to leave this school, leave your job, or even leave this earth, you make sure you have worked hard to make sure it mattered you were even here. - Author: Wes Moore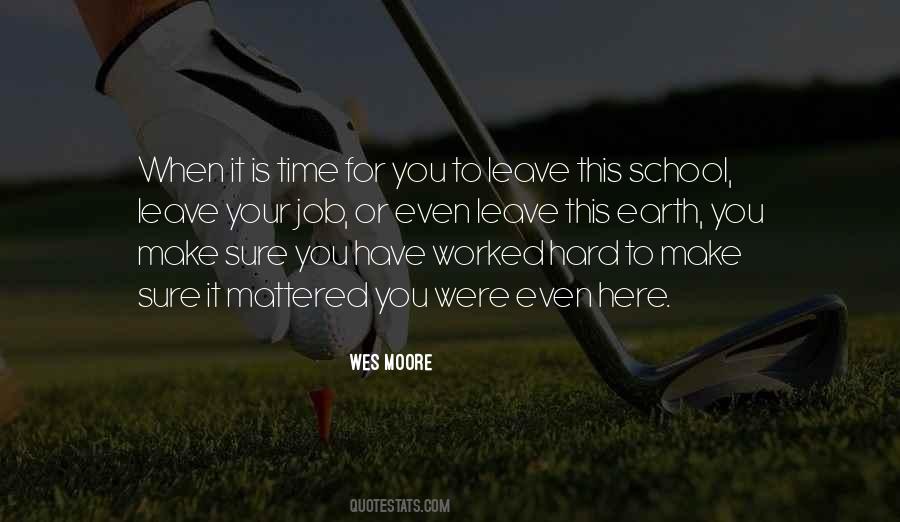 #100. I learned early in my career, where you get so wrapped up and so excited, that all of a sudden you don't think. So I worked very hard to keep myself suppressed. And that's one of the reasons I wasn't gregarious with the gallery. - Author: Jack Nicklaus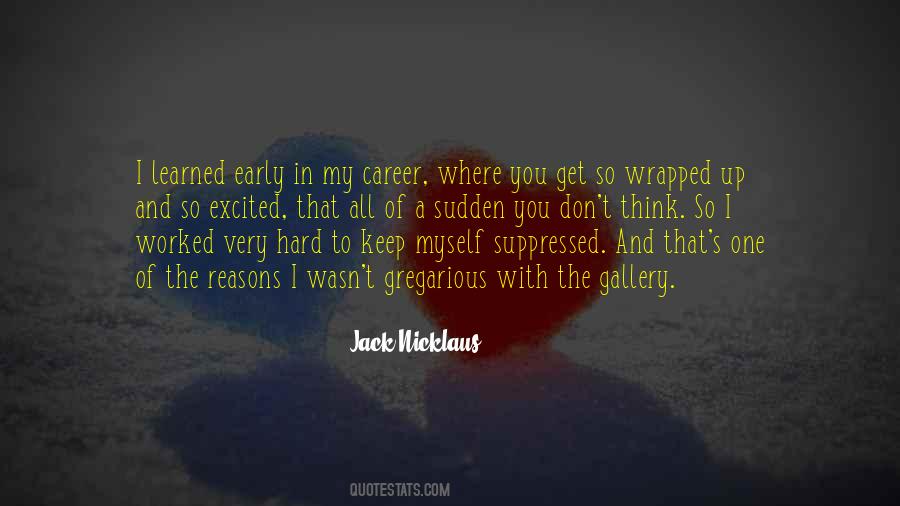 Famous Authors
Popular Topics