You Stopped Loving Me Famous Quotes & Sayings
List of top 54 famous quotes and sayings about you stopped loving me to read and share with friends on your Facebook, Twitter, blogs.
Top 54 You Stopped Loving Me Quotes
#1. I've loved you since we had that first long walk together, and I've never stopped loving you. I don't plan to ever stop loving you if you'll let me. - Author: Vince O. Teves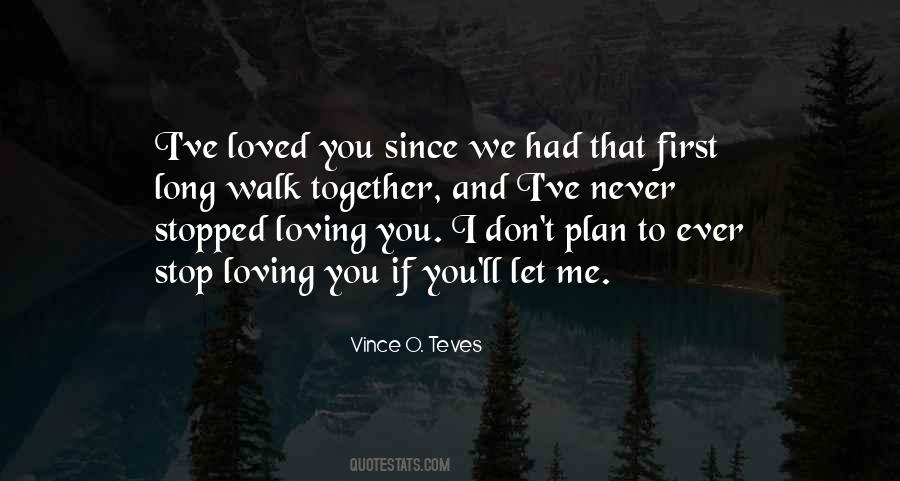 #2. i didn't leave because
i stopped loving you
i left because the longer
i stayed the less
i loved myself - Author: Rupi Kaur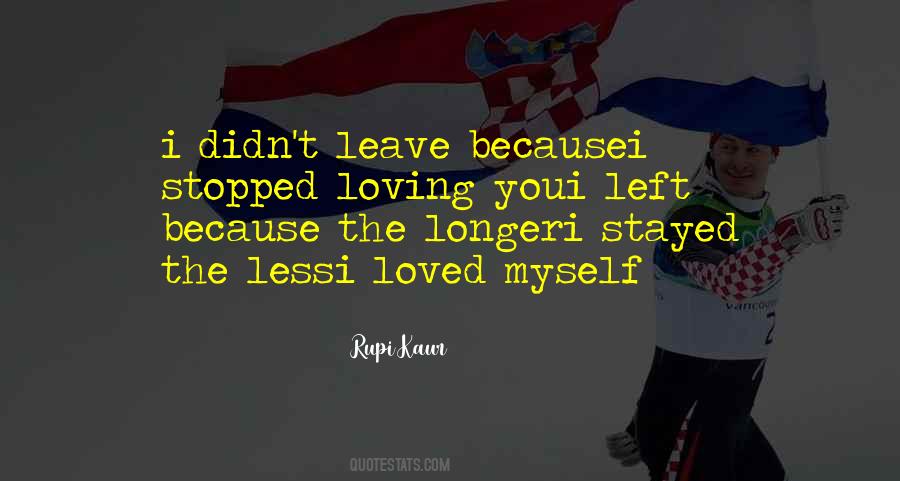 #3. Layne knew he was in love with her. Not only that, he'd never stopped loving her. Not once, not for a second, not for twenty-one years.
Fuck him. - Author: Kristen Ashley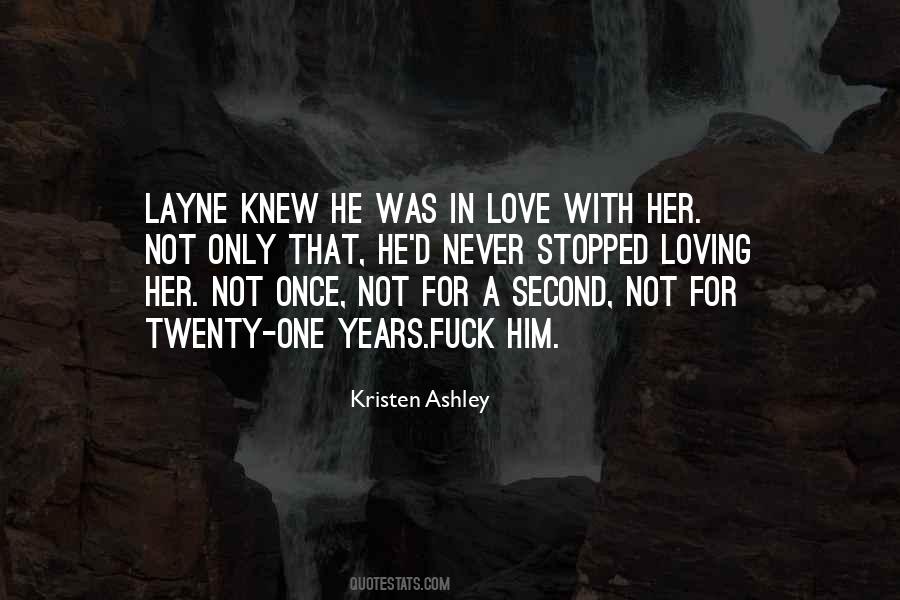 #4. Everyone hurts us. If we stopped loving them because of pain, we'd never love anyone. - Author: Courtney C. Stevens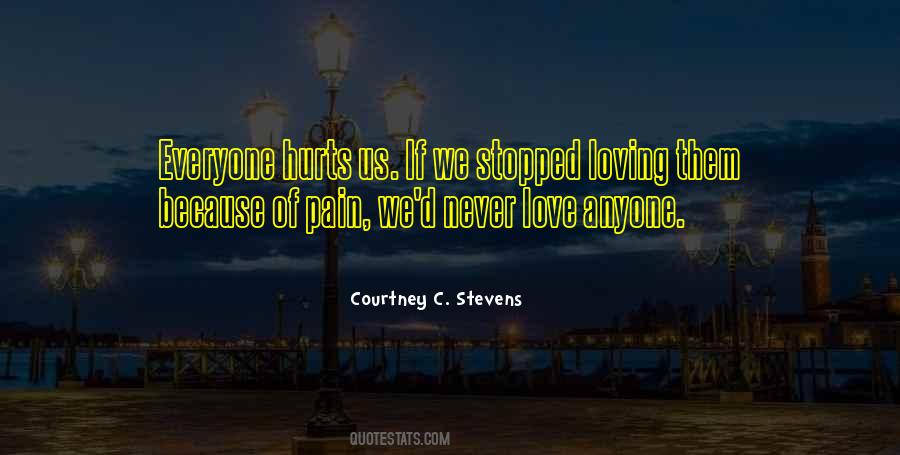 #5. You want to prove you never stopped loving me?" She got up and stared down at me. "Start by trusting me with the truth. - Author: Lisa Kessler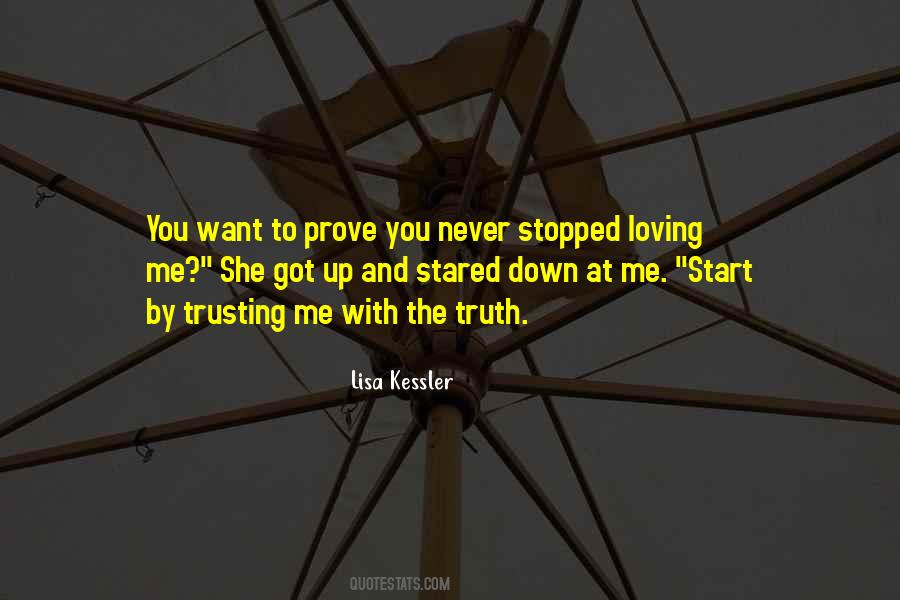 #6. Once you've stopped loving someone breaking his or her heart's just an unpleasant chore you have to get behind you. My God, you really don't love me anymore, do you? No matter your decency the victim's incredulity's potentially hilarious. You manage not to laugh. - Author: Glen Duncan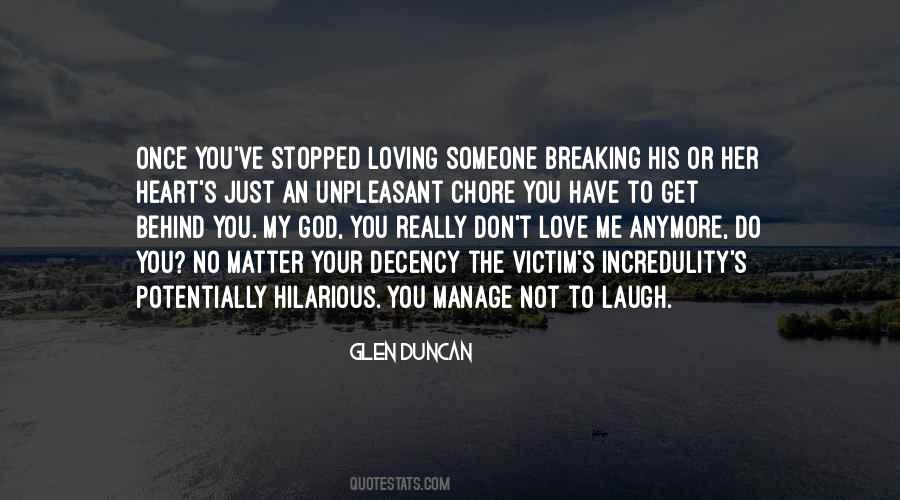 #7. I don't want another to love you, Because I wanted you for myself. I've never stopped loving you. Never stopped wanting you. Every second of every day, my heart has always been yours. - Author: Jessica Clare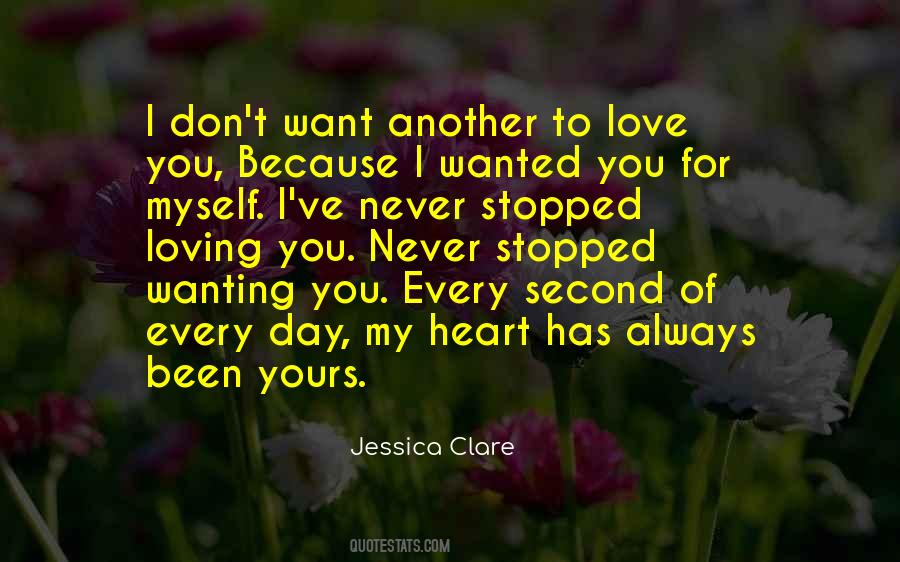 #8. The moment you stop to think about whether you love someone, you've already stopped loving that person forever. - Author: Carlos Ruiz Zafon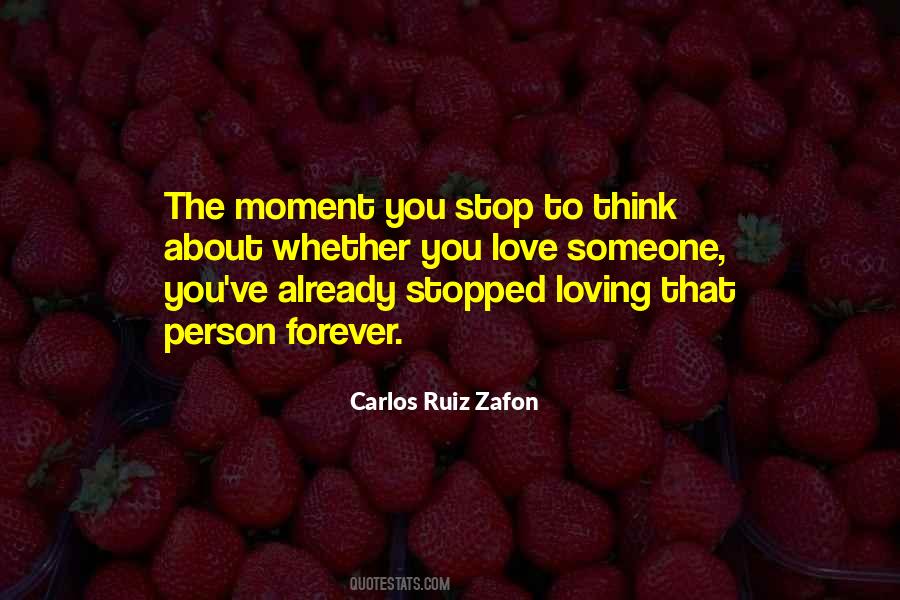 #9. You have to stop loving me. Because I stopped loving you. - Author: Lauren Kate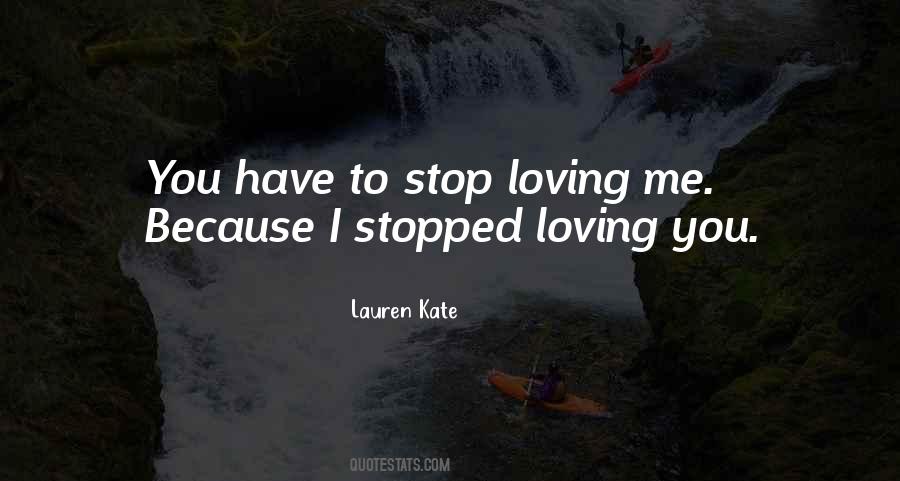 #10. Dagmar tried to stand, and Gwenvael caught her hand, pulling her back down. "You can't leave me. I'm tortured and brooding. You need to show me how much you adore me so I can learn to love myself again."
"You've never stopped loving yourself."
"Because I'm amazing. - Author: G.A. Aiken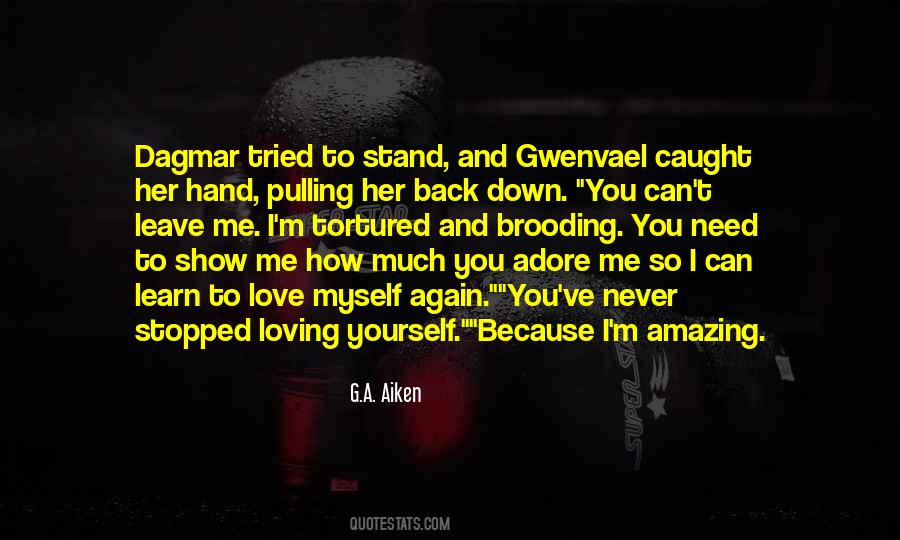 #11. I've always loved you. I never stopped loving you. I'm incapable of it. I'm incapable of loving anyone but you. - Author: Taylor Jenkins Reid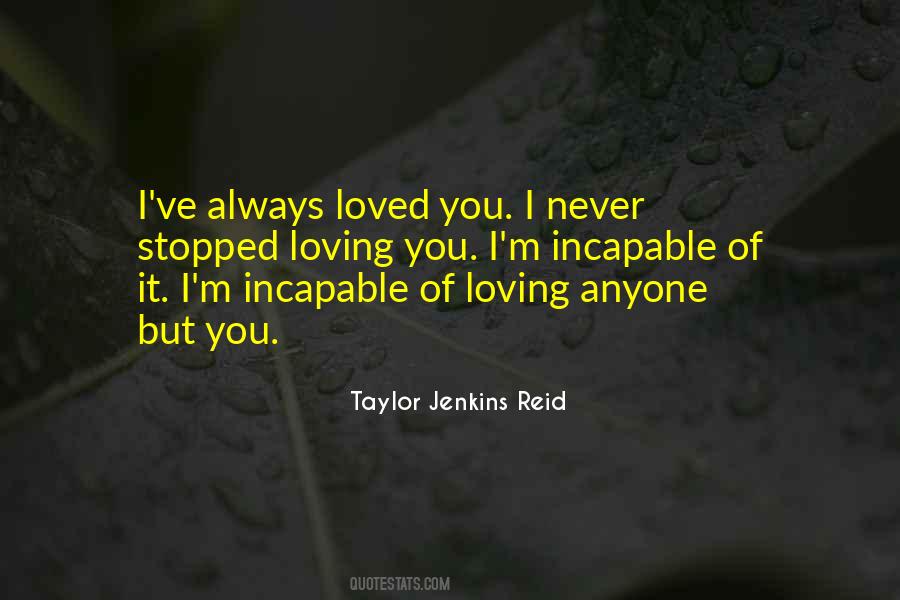 #12. I never stopped loving you. Not for one second. - Author: Priscilla Glenn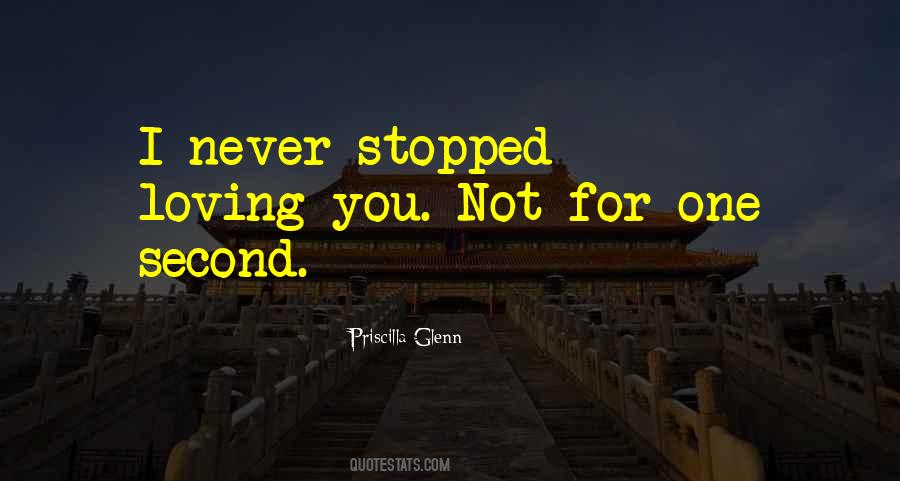 #13. Oftentimes we say goodbye to the person we love without wanting to. Though that doesnt mean that we've stopped loving them or we've stopped to care. Sometimes goodbye is a painful way to say I love you. - Author: Kezia Dugdale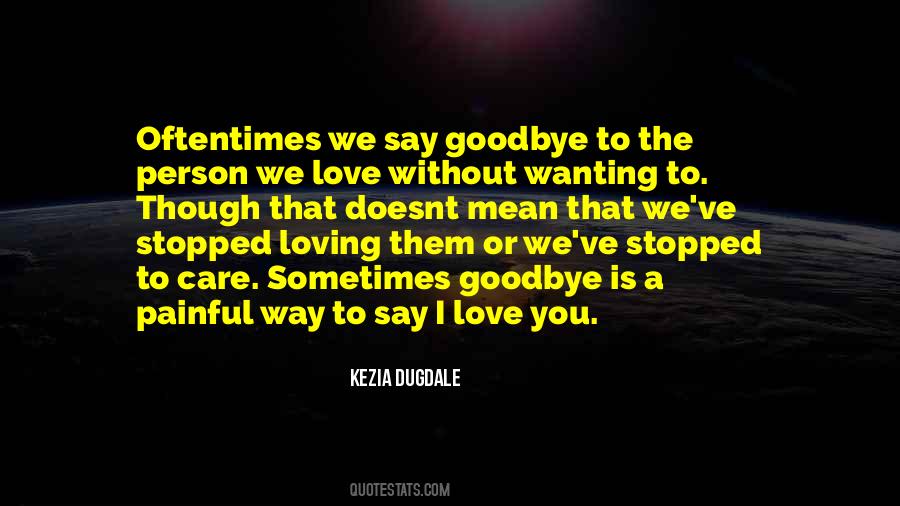 #14. Which doesn't mean, of course, that I'd stopped loving her, that I'd forgotten her, or that her image had paled; on the contrary; in the form of a quiet nostalgia she remained constantly within me; I longed for her as one longs for something definitively lost. - Author: Milan Kundera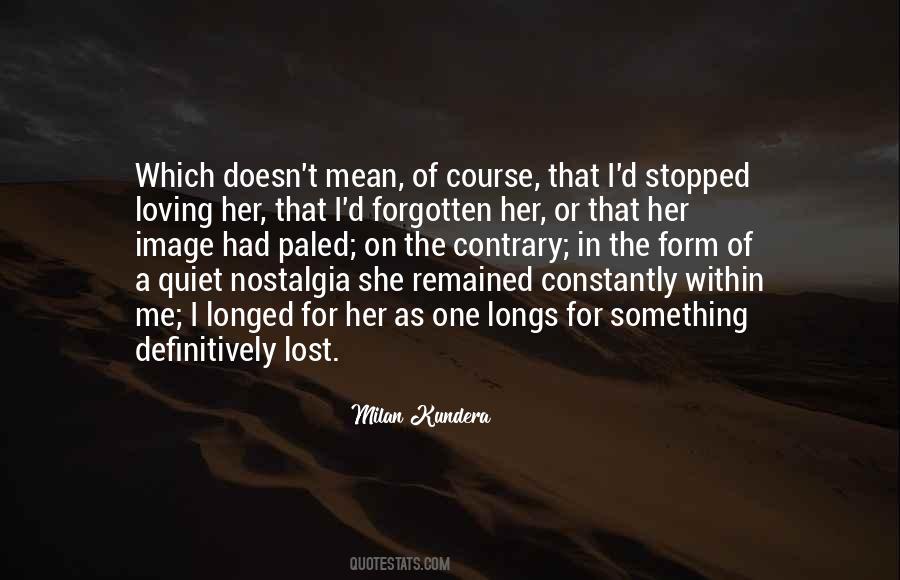 #15. Go back to your ghost, I hear Bryn telling me. But she has it wrong. Bryn is the one who's been living with the ghost-the specter of a man who never stopped loving someone else. - Author: Gayle Forman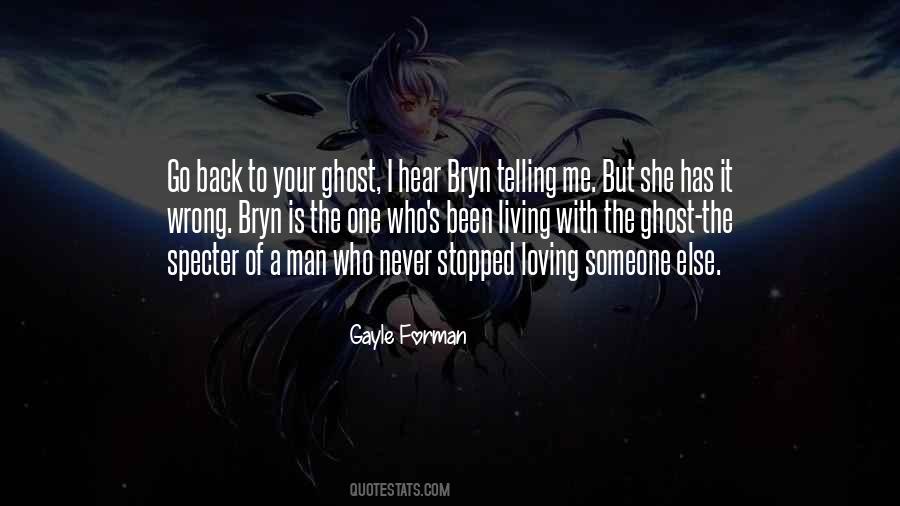 #16. I have not stopped loving her, nor my parabatai; love does not stop when someone dies. - Author: Cassandra Clare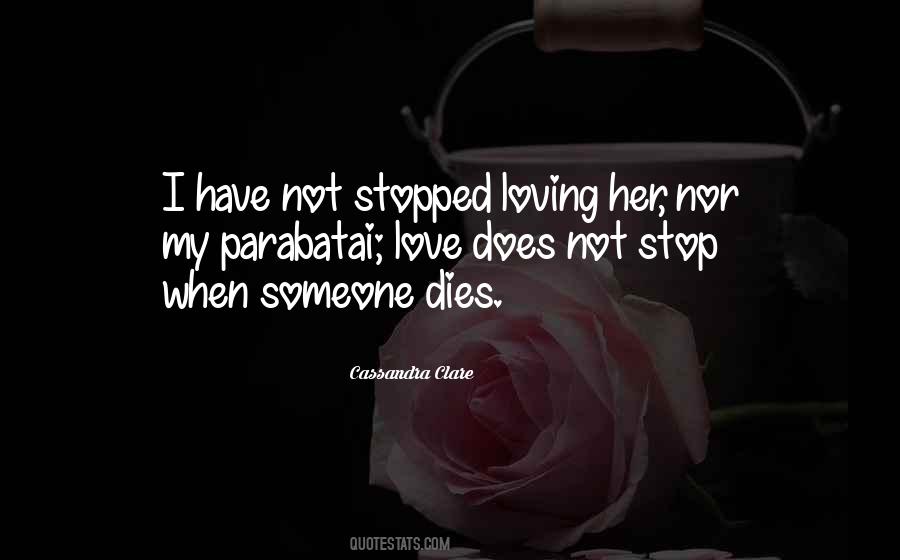 #17. I never stopped loving you Jordan...you will be mine again...it's just a matter of time...whatever you think I did to destroy you...it better be a damn good reason... - Author: Michelle R.K.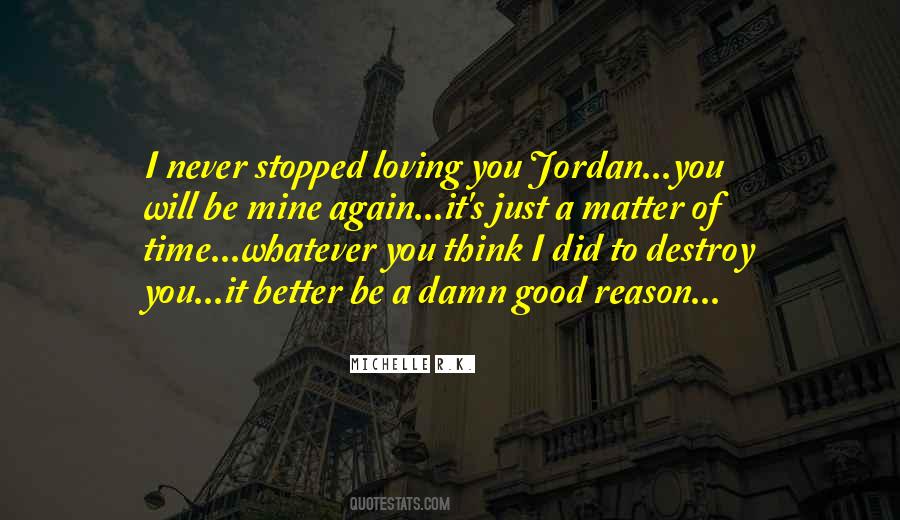 #18. He loved her so much he felt his bones would break. Loving her was like lying in a bed of nettles, and the feel of her skin against his was the only balm, the only time the stinging stopped, while, for her, he was the warm bath she took to stave off the cold waterfall of Boaty's indifference. - Author: Robert Goolrick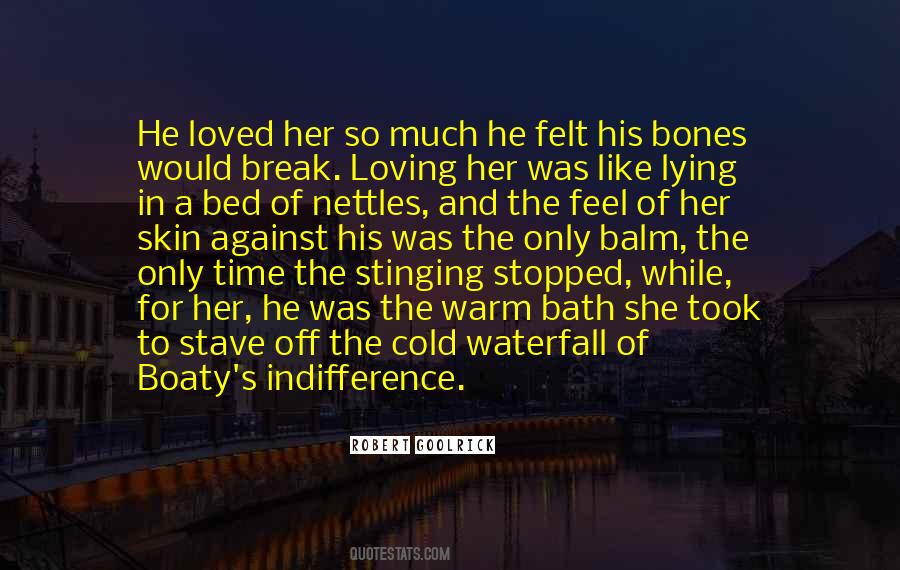 #19. Despite my express wish, I was not left in Chicago, but taken to Paris to live, and I did not see my father for many years. But we never stopped loving each other, and in 1940 he died in my arms in Hollywood, where he had come to be near me at the end. - Author: Preston Sturges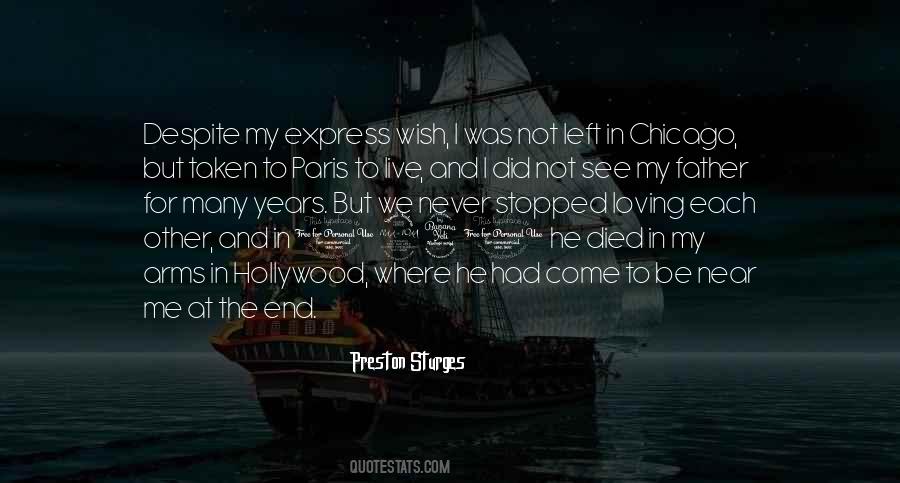 #20. I've never stopped loving you. From the day we met, you've been the only one for me. There's never been anyone else. - Author: Leisa Rayven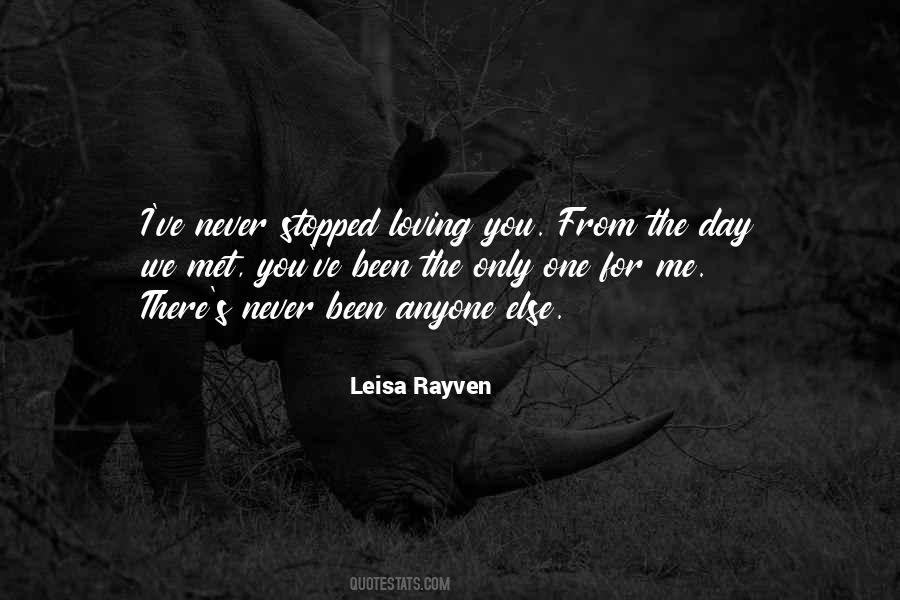 #21. I've never stopped; I simply forgot that I love you. However, every time I look at you I'm reminded of how I can never stop loving you. - Author: Hafsa Shah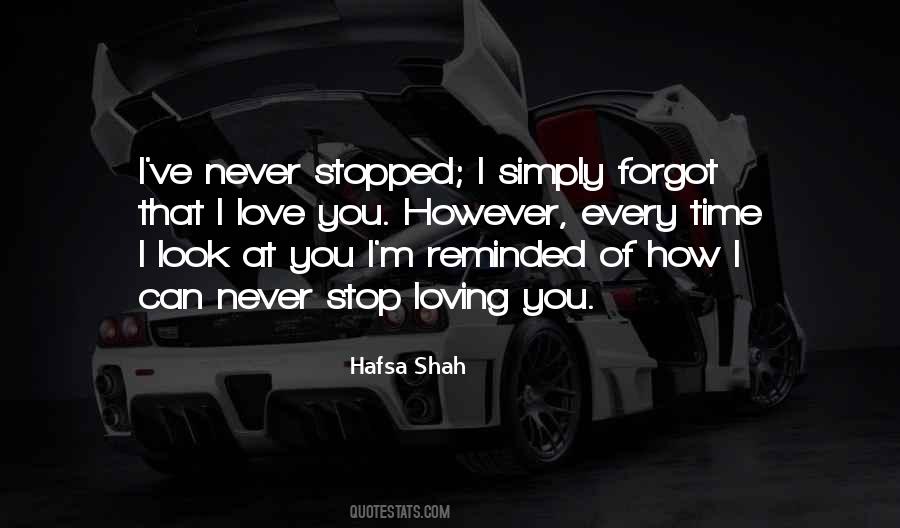 #22. But you're right-you are an idiot if you thought I ever stopped loving you . . . Mr. Wolfe - Author: Emily Snow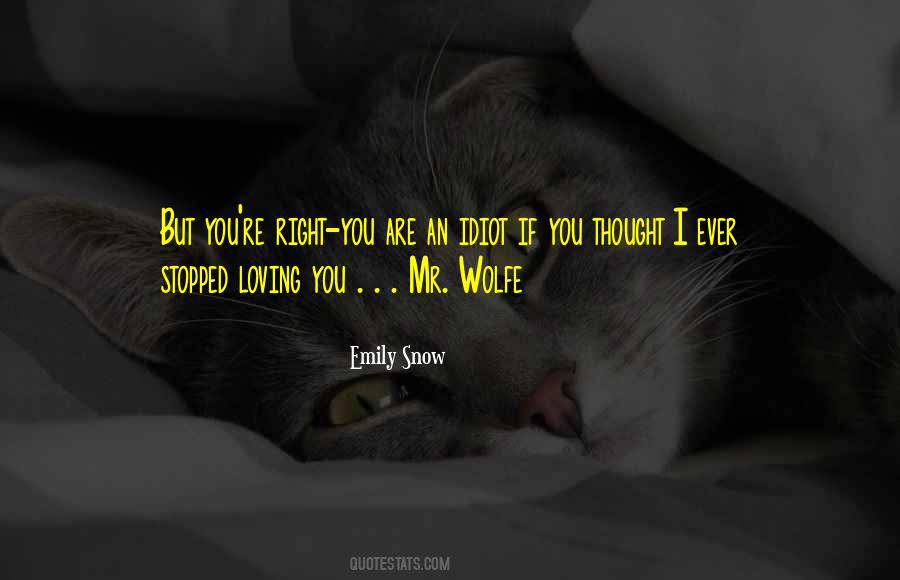 #23. Your lies didn't stop me loving you; your truth hasn't stopped me either. - Author: Rachel Hartman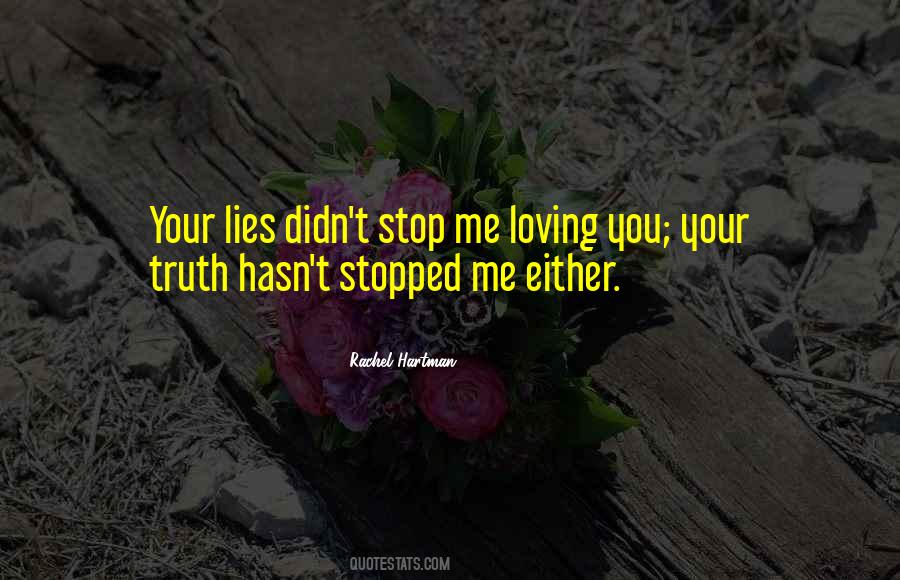 #24. I might have enjoyed the company of a woman or two ... Or three but that had never
stopped me from loving you. - Author: F Scott Fitzgerald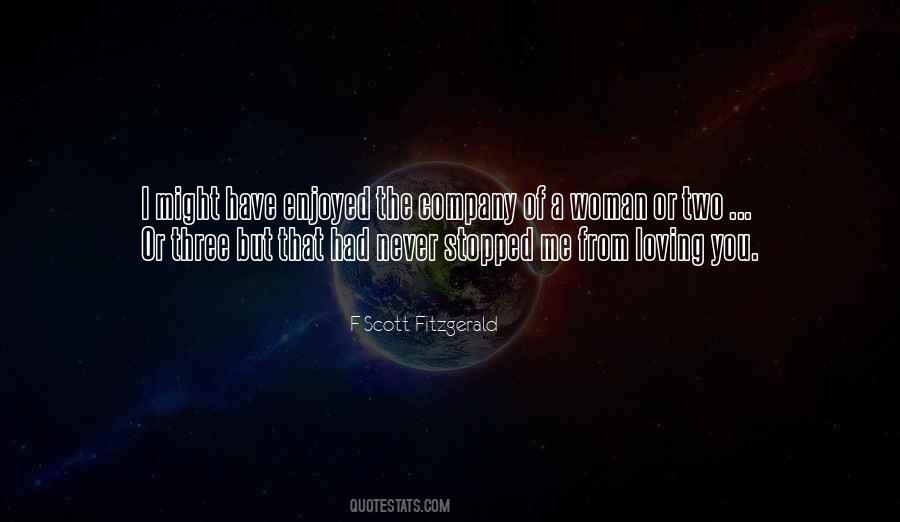 #25. I've never stopped loving the game since day one. If it were a job to me it would be very hard for me to get up in the morning. And why leave something that you can never come back to? Realistically, whether you accept it or not, you only get one wave in this journey. Run at it as hard as you can. - Author: Ray Lewis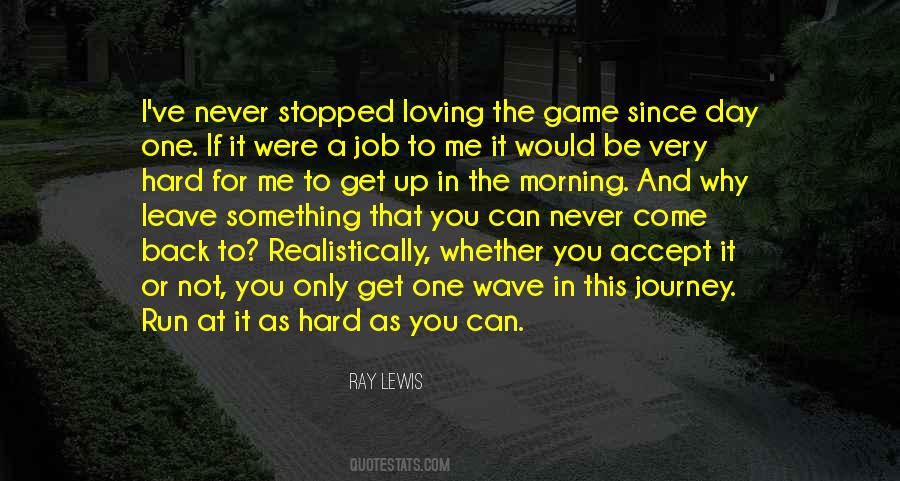 #26. I never stopped loving you, Ronnie. And I never stopped thinking about you. Even if summers do come to an end. - Author: Nicholas Sparks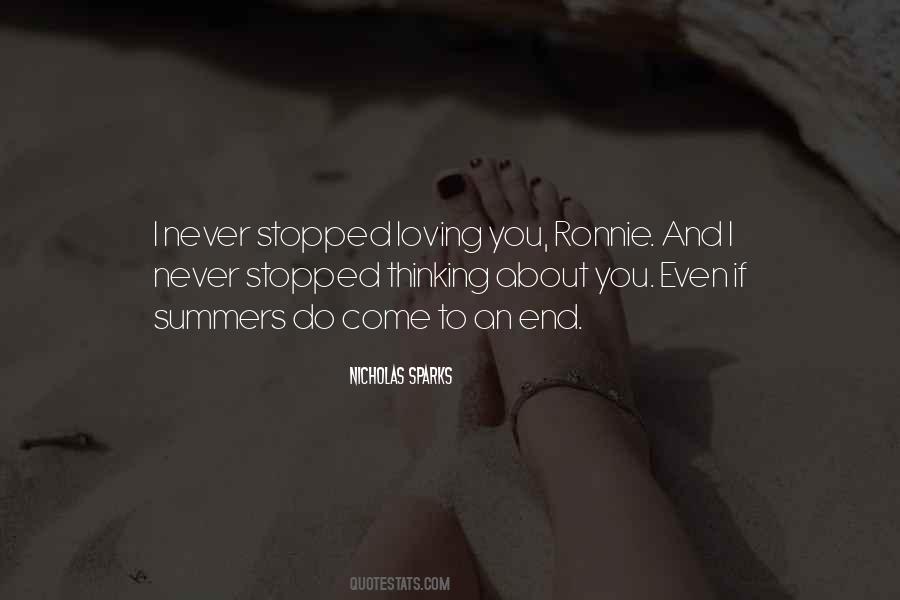 #27. My God, every time, it never fails. You happen to me all over again. I never stopped loving you, Lay. You were always with me. Everywhere. - Author: T. Torrest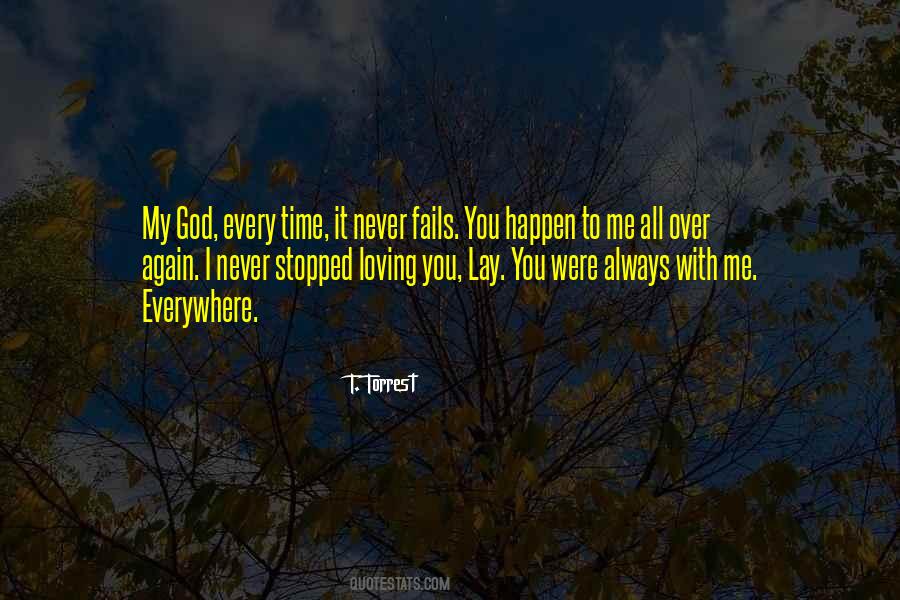 #28. I found the only place I ever wanted to live again in this girl, right her in my arms. I leaned back just barely, ran my thumb from her brow o the tip of her nose and stopped at her lips, loving the way her eyes fluttered. I'll always come to you. - Author: Shelly Crane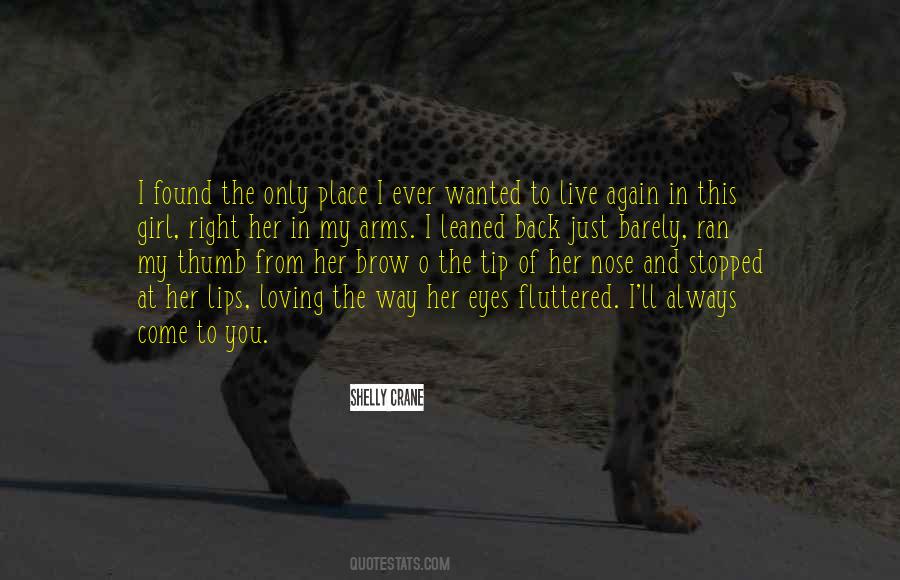 #29. I have not stopped loving that which is sacred in this world. - Author: Albert Camus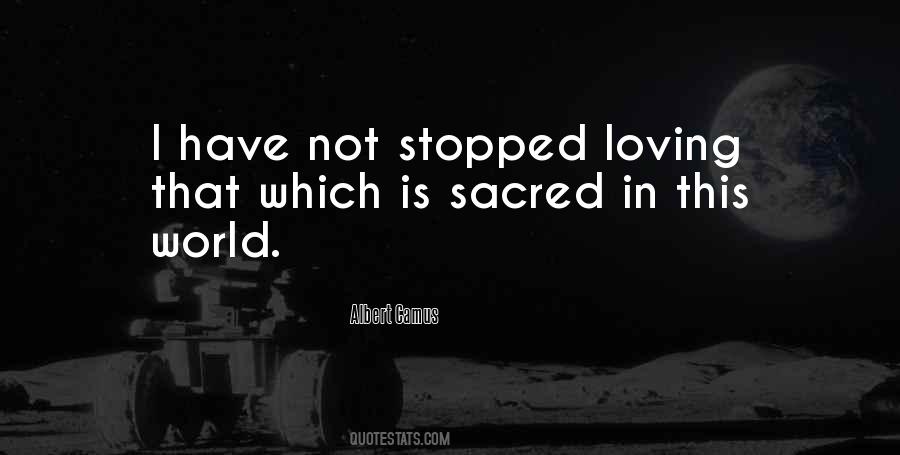 #30. Just because she's dead it doesn't mean I stopped loving her or that she stopped loving me. It's just her body that left. The love didn't.
- Jenna Richards - Author: Julius Lester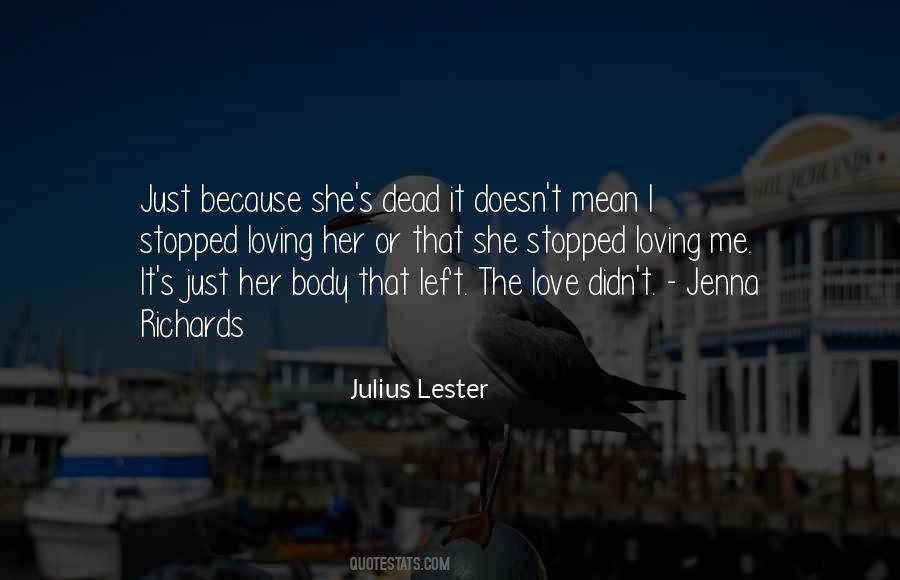 #31. It stayed there because, honey, I've never stopped loving you. In my heart, you are my wife and always will be. ~Carlos & Maddie - Author: Bernadette Marie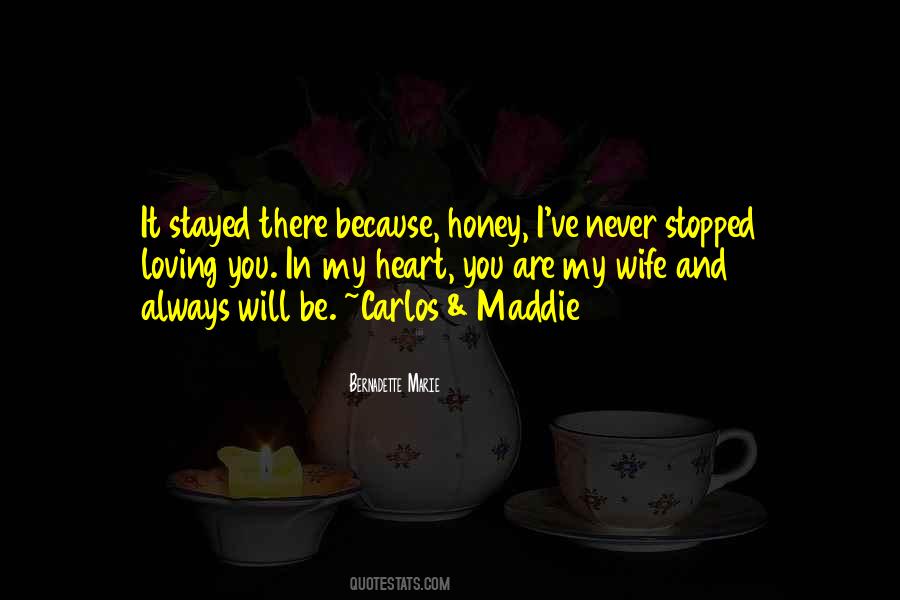 #32. I never stopped loving you. There may have been times I tried to hate you, but even then, I never stopped loving you. - Author: Penelope Ward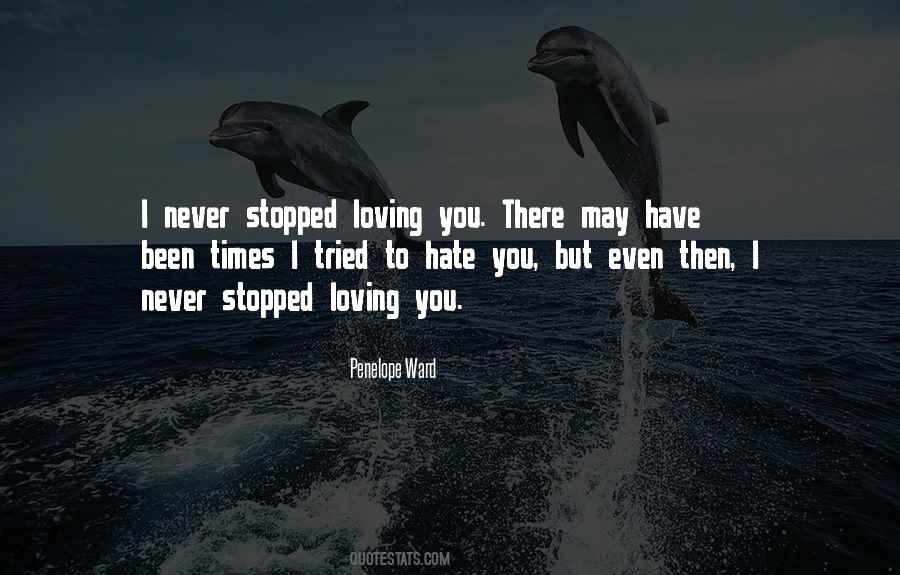 #33. Have you ever stopped to think how much unhappiness and downright cruelty are laid to the loving kindness of the Lord? And always by His most ardent followers, it seems. - Author: Nella Larsen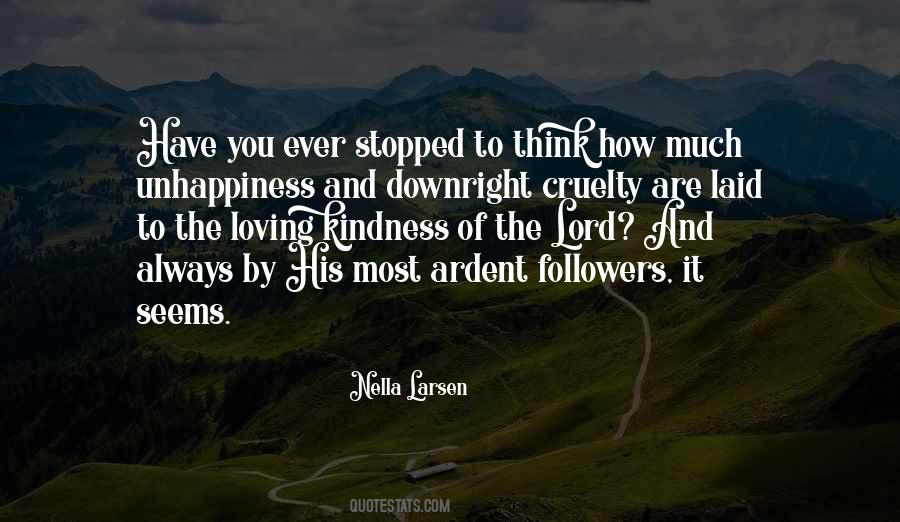 #34. You once said you loved me. Do you still?"
My sister is watching this exchange between us. She smiles warmly at me, giving me the strength to tell him the truth. "I never stopped loving you. Even when I tried desperately to forget you. I couldn't. - Author: Simone Elkeles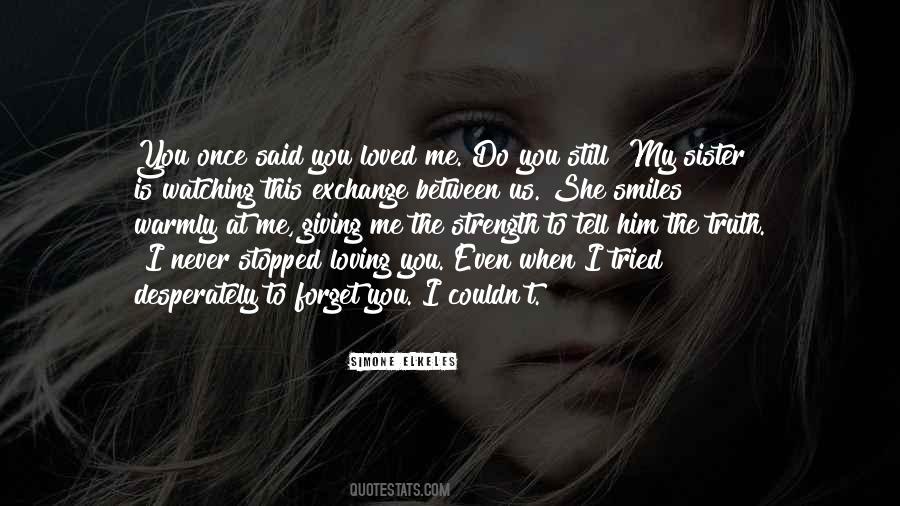 #35. I never stopped loving you," he whispered. "Not even for a second. Even when I hated you. - Author: Charles Sheehan-Miles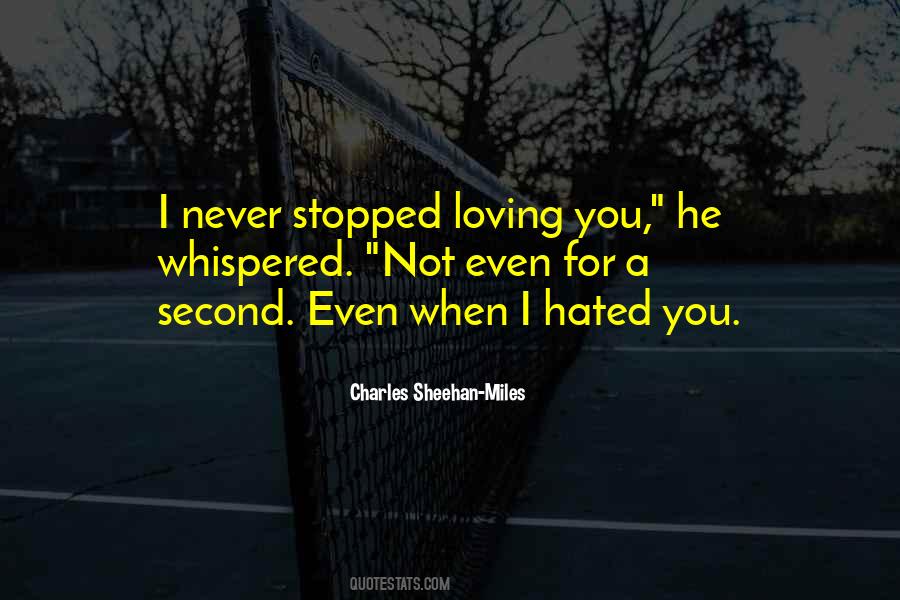 #36. I wasn't encouraged to write just stand there and sing and I never thought I was a writer. I always figured if I couldn't write something as good as "He Stopped Loving Her Today," then what's the point? - Author: Shelby Lynne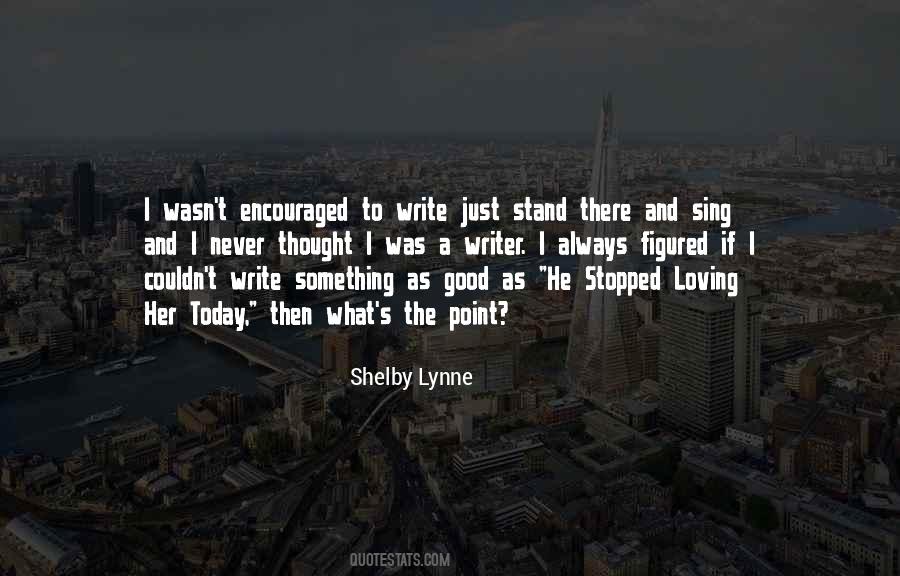 #37. Love alone is not enough. Without imagination, love stales into sentiment, duty, boredom. Relationships fail not because we have stopped loving but because we first stopped imagining. - Author: James Hillman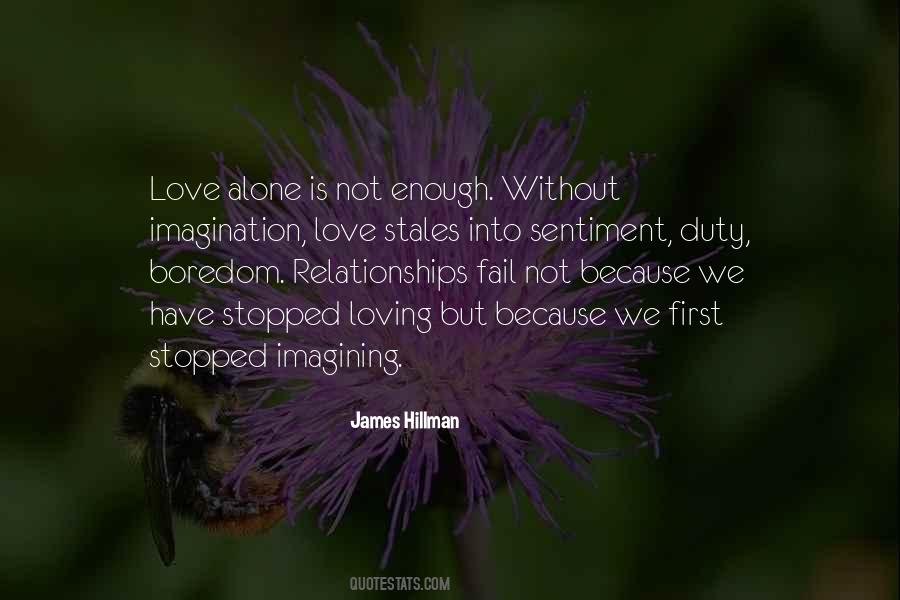 #38. They have stopped deceiving you, not loving you. And it seems to you that they have stopped loving you. - Author: Antonio Porchia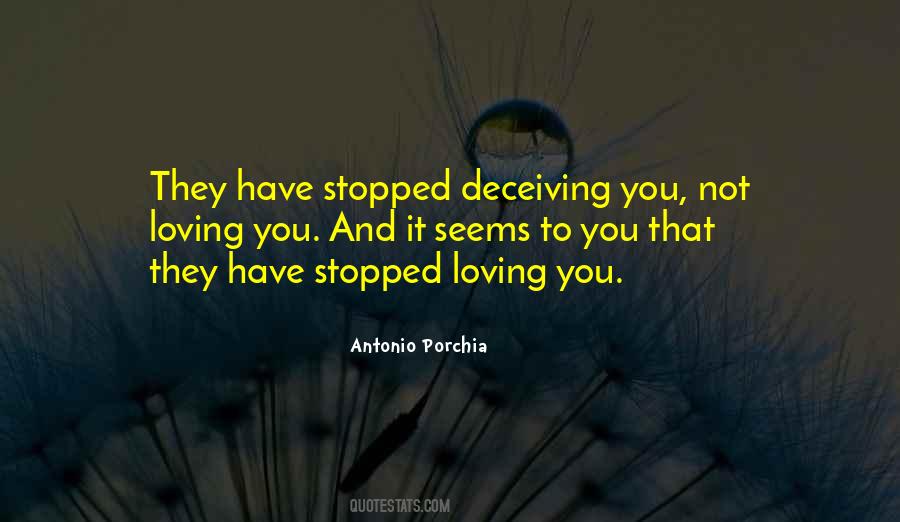 #39. I never stopped loving you." - Troy. - Author: Renee Swann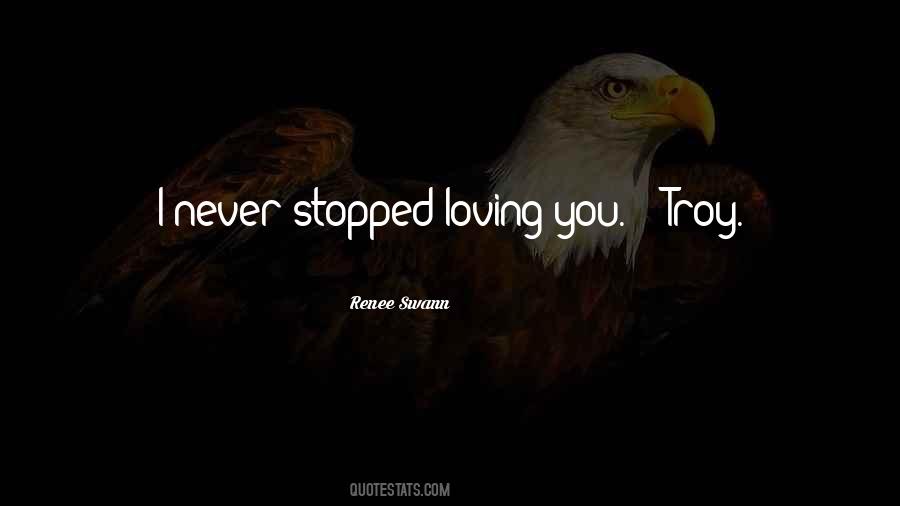 #40. If I stopped loving Him, I would cease to believe in His love. If I loved God, then I would believe in His love for me. It's not enough to need it. We have to love first, and I don't know how. But I need it, how I need it. - Author: Graham Greene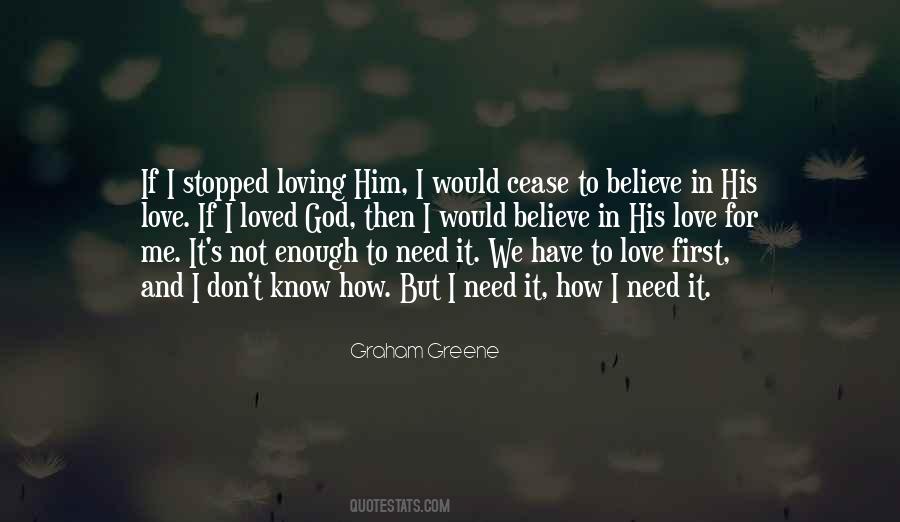 #41. Whoever spoke of a wise lover? The wiser the lover, the longer ago he stopped loving. - Author: Howard Jacobson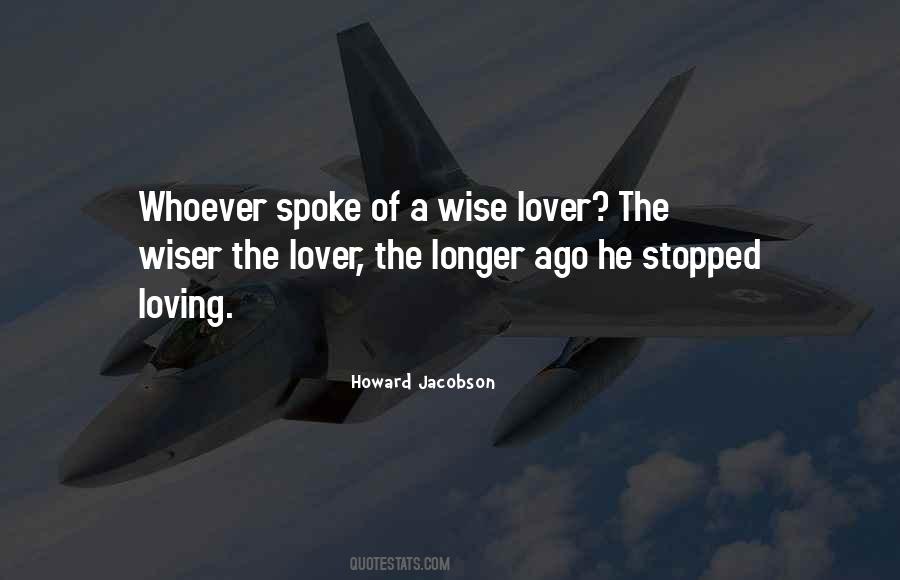 #42. I stopped loving my father a long time ago. What remained was the slavery to a pattern. - Author: Anais Nin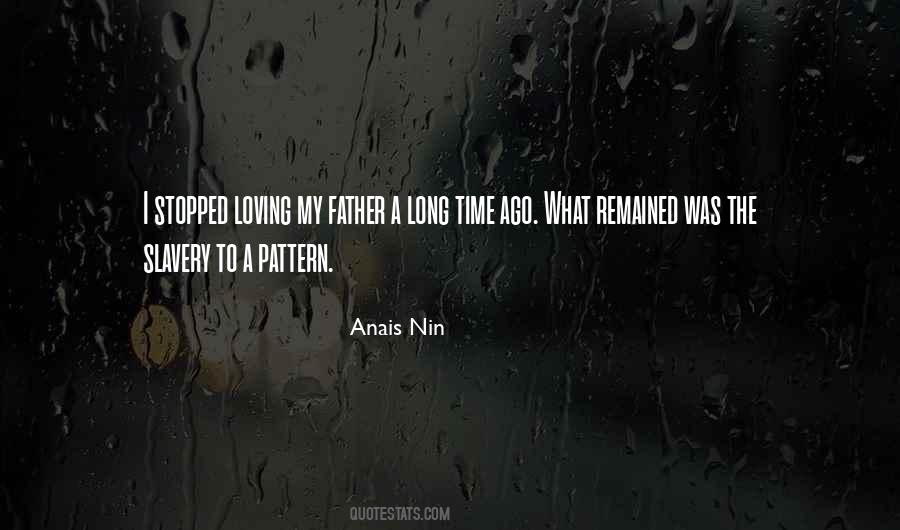 #43. The words just sprang into my mind. Maybe I'd never stopped loving Michael, but now it felt different. I loved him despite the injuries we'd inflicted on one another, because of the bad times as well as the good ones ... Our love was richer and bumpier and more complex than it had ever been before. - Author: Sarah Pekkanen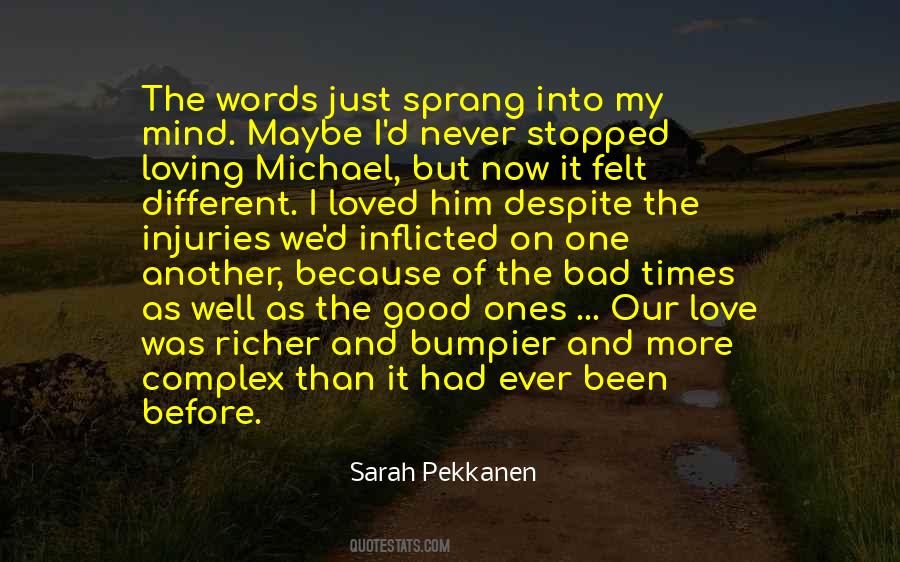 #44. I still love him. This man that I have thought was forever lost to me. If I am completely honest with myself, I never stopped loving him. But, all this knowledge shouldn't scare me. The teenage love we shared over a decade ago has grown with such a power that it will kill me if I lose it again. - Author: Harper Sloan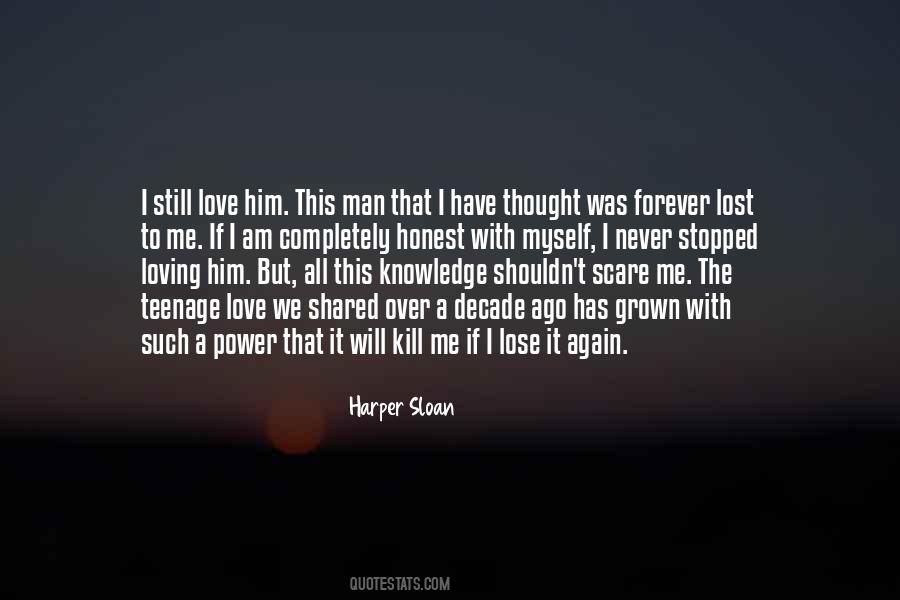 #45. Layken Cooper, I love you. I've loved you since the second I laid eyes on you and I haven't stopped loving you for a second since. - Author: Colleen Hoover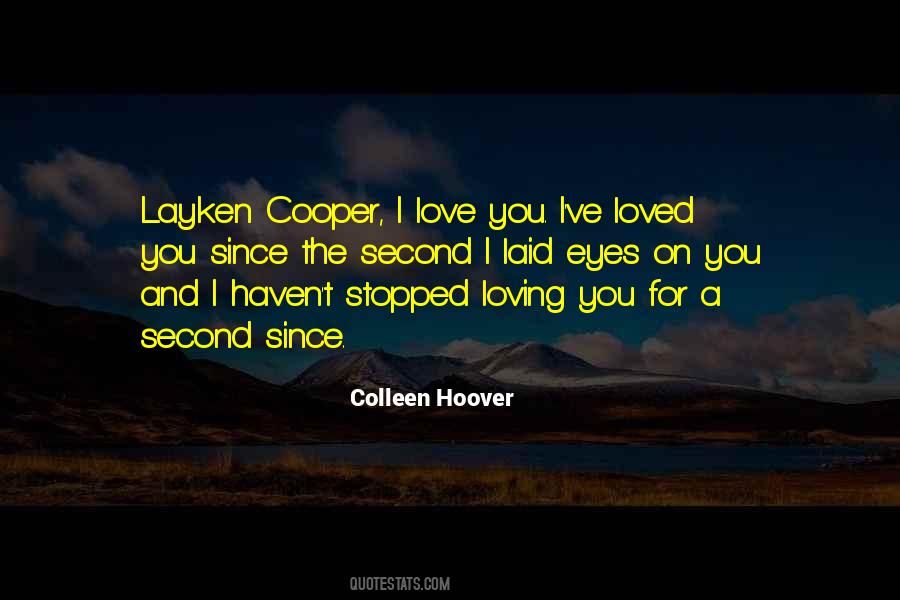 #46. He stopped loving her today, they placed a wreath upon his door. - Author: George Jones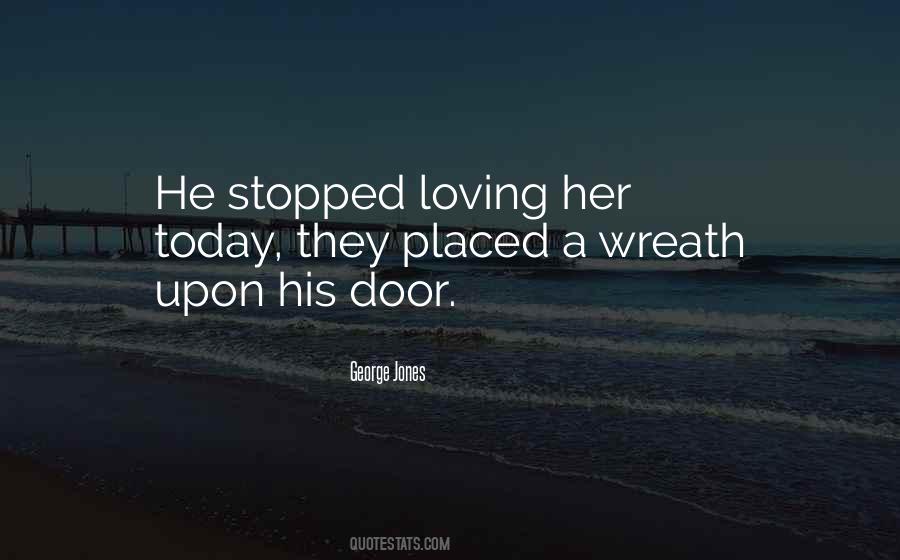 #47. I love making comedy. I never stopped loving it. I will continue to love it and I can't believe that I get to do it. - Author: Mike Myers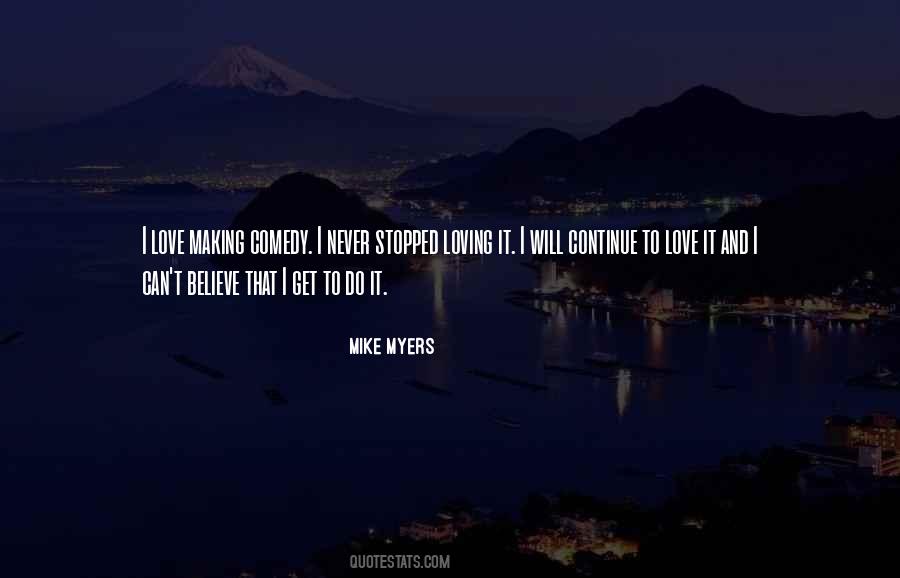 #48. I would love to hear someone write a song like 'He Stopped Loving Her Today' rather than 'You're hot. I'm hot. We're in a truck.' It's just mind-numbing to me. - Author: Vince Gill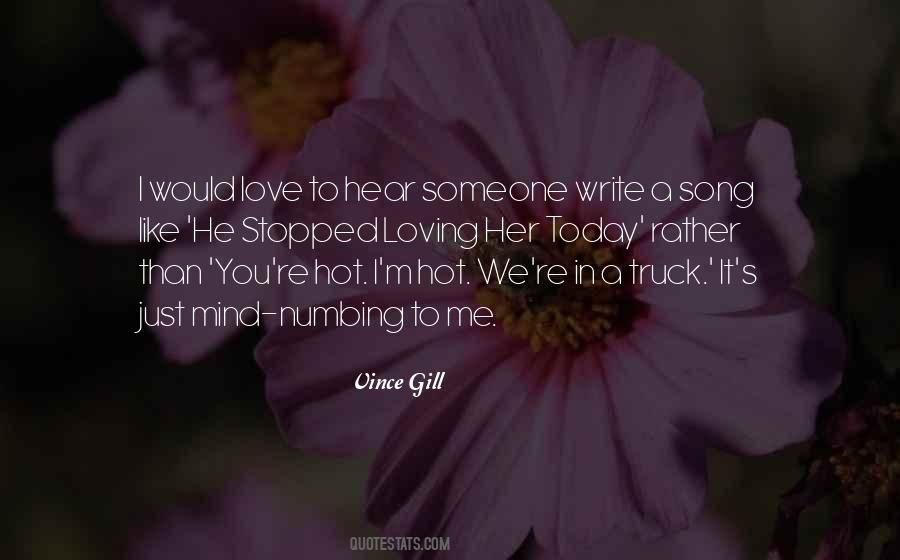 #49. I looked at you and knew what was missing in my life. What I wanted in my life. I've never stopped loving you, Ren. I can't make it any simpler than that. - Author: Maya Banks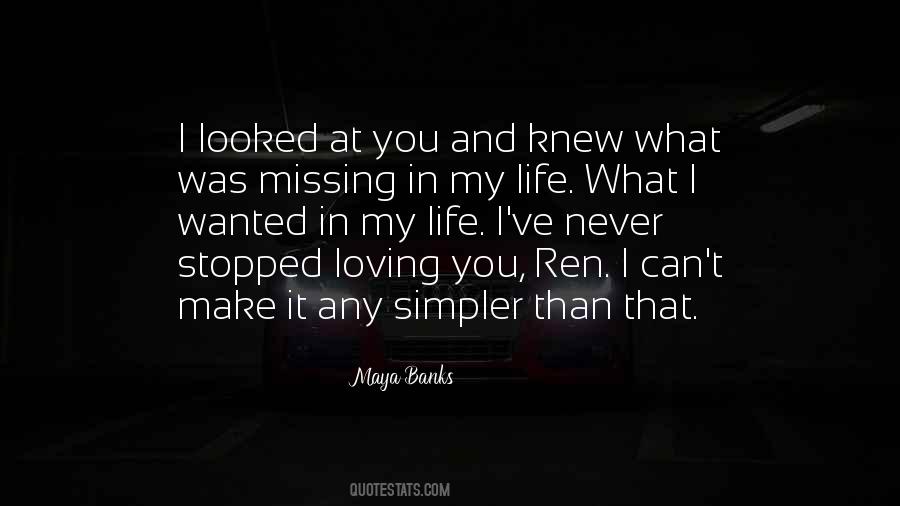 #50. I stopped loving my father at some point while I was a drunk. I began hating him after I became sober. - Author: Phil Volatile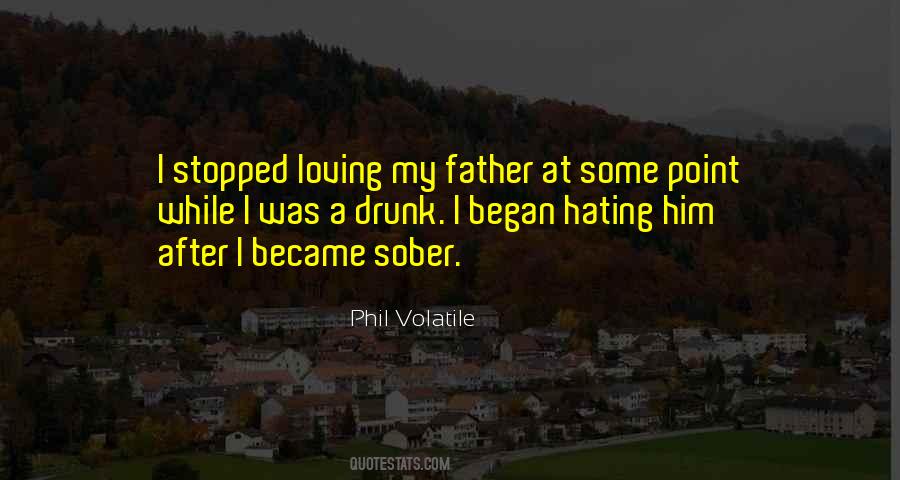 #51. Disappointment and failure are not signs that God has forsaken you or stopped loving you. The devil wants you to believe God no longer loves you, but it isn't true. God's love for us never fails. - Author: Billy Graham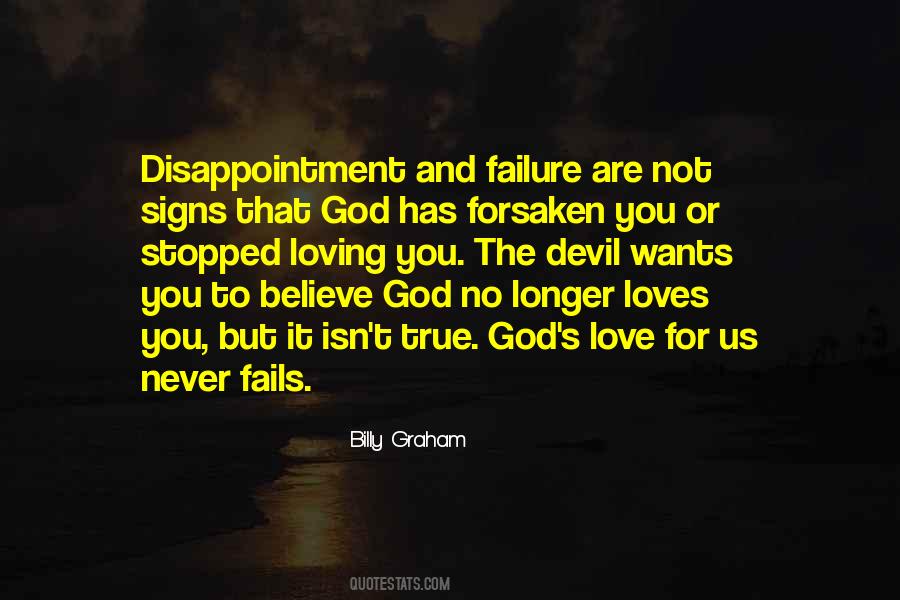 #52. From the moment I met you, I never stood a chance of not falling in love with you. I never stopped loving you, so there was no need to fall back in love with you. I just had to let myself feel again. - Author: Melissa Foster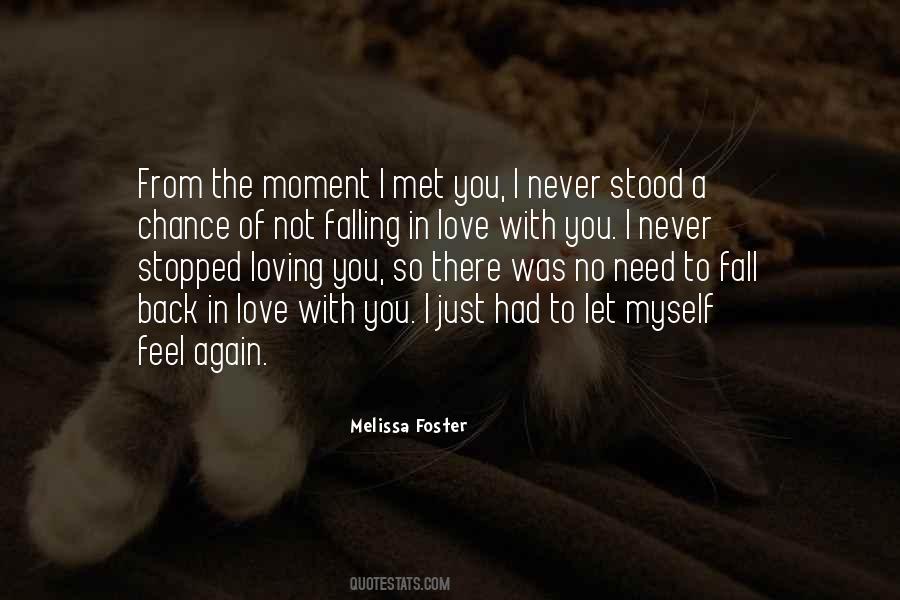 #53. I've never stopped loving cartoons. I loved cartoons as a kid. I can still look at them and enjoy them. - Author: Ed Asner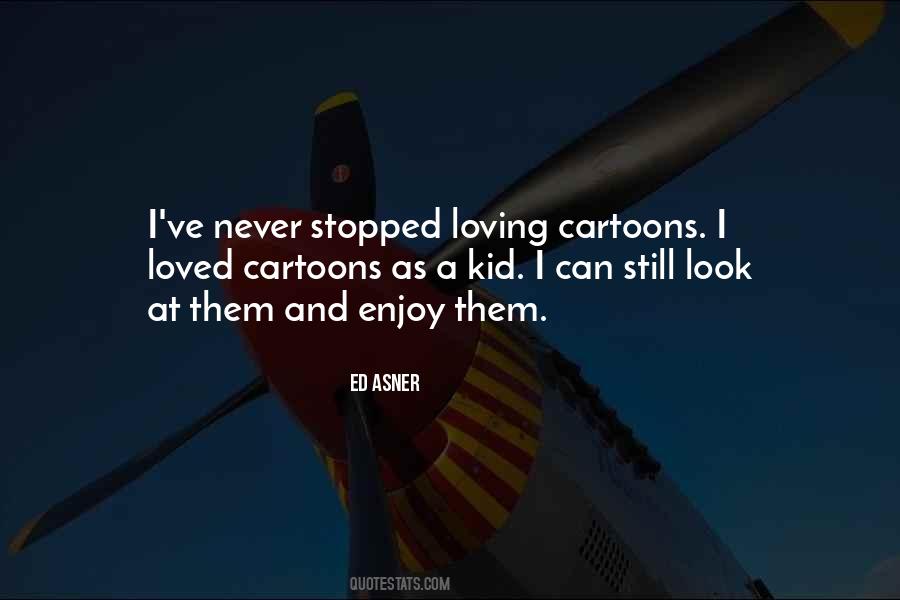 #54. Harrison was standing next to the dorm building, checking his Blackberry. She watched him from behind. How was she supposed to be okay just hating him and then loving him on alternate days. What if it never stopped? - Author: Jennifer Close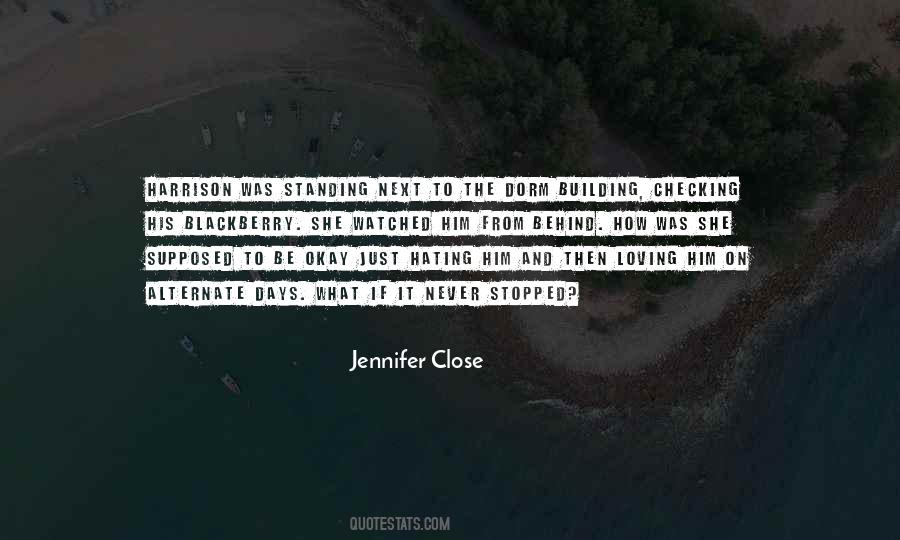 Famous Authors
Popular Topics