When You Need Famous Quotes & Sayings
List of top 100 famous quotes and sayings about when you need to read and share with friends on your Facebook, Twitter, blogs.
Top 100 When You Need Quotes
#1. You need to be, like, turning down high-paying illustration work because you want to work on your comic. That's when you know you're doing something good. - Author: Daniel Clowes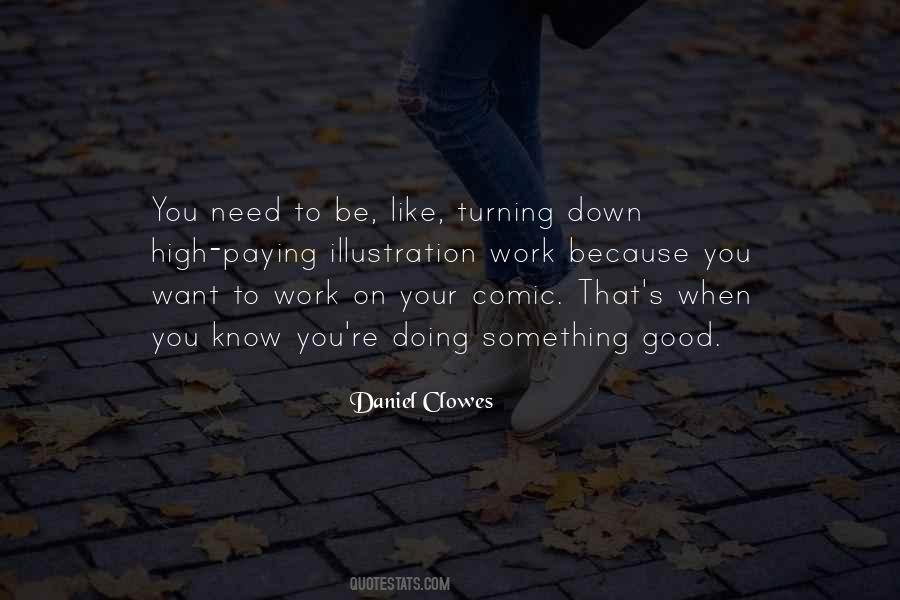 #2. A hungry man can be a fast learner. When you come to a table with nothing but need, you are grateful for things you might have pushed aside before. And when you kneel, hungry & broken at His table, you receive a grace from Him you might, at some other time, have completely missed. - Author: Mike Yankoski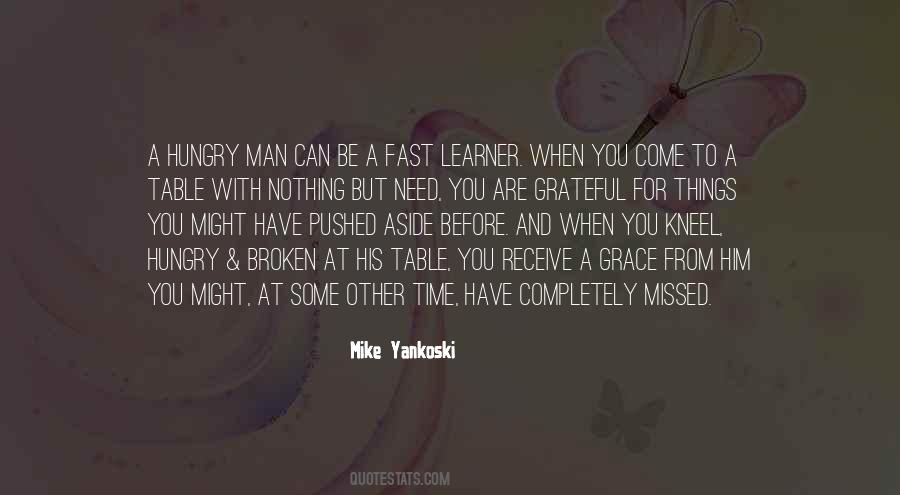 #3. I never understood who all those people are behind the actors! When you see them on the red carpet on TV, you go, 'Why does that person need such a large entourage?' And then you realize that every single person there has a role to play. - Author: Lupita Nyong'o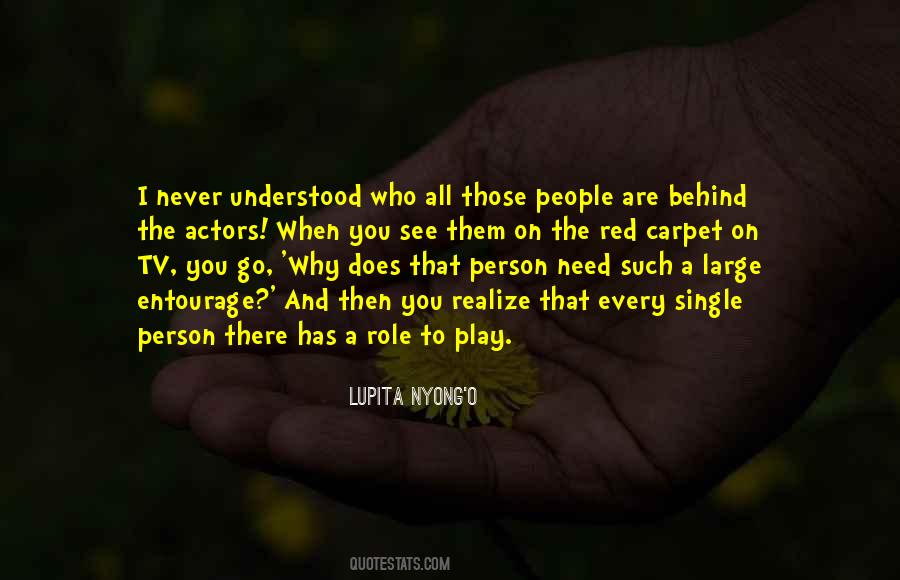 #4. It seems almost inherent in human beings that when you are thriving for a certain level of spirituality, you tend to reject clothes, and the implied need to hide yourself. - Author: Jim Dodge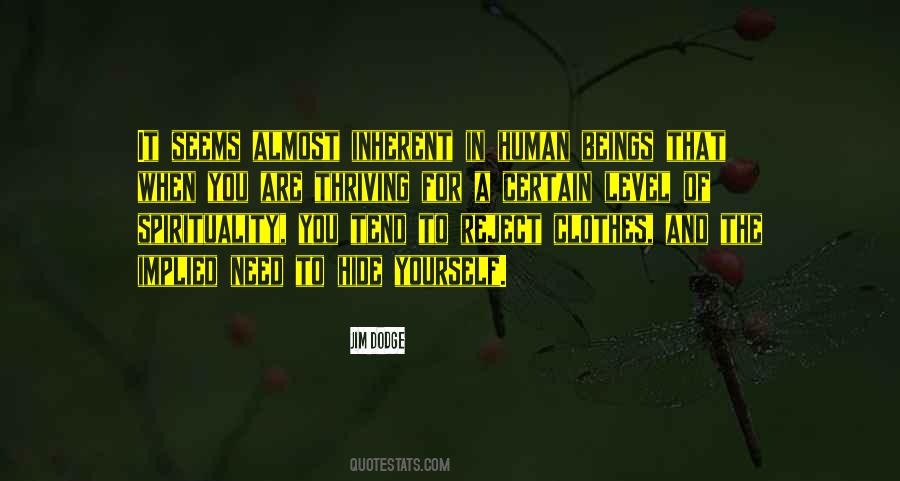 #5. Religions are strange. They seem to be caught in some dream which they won't give up and trying to convince others of the truth of their dream, when in fact each person is having their own dream. Take what you need from the religions and just leave the rest, and be all right with that. - Author: Art Hochberg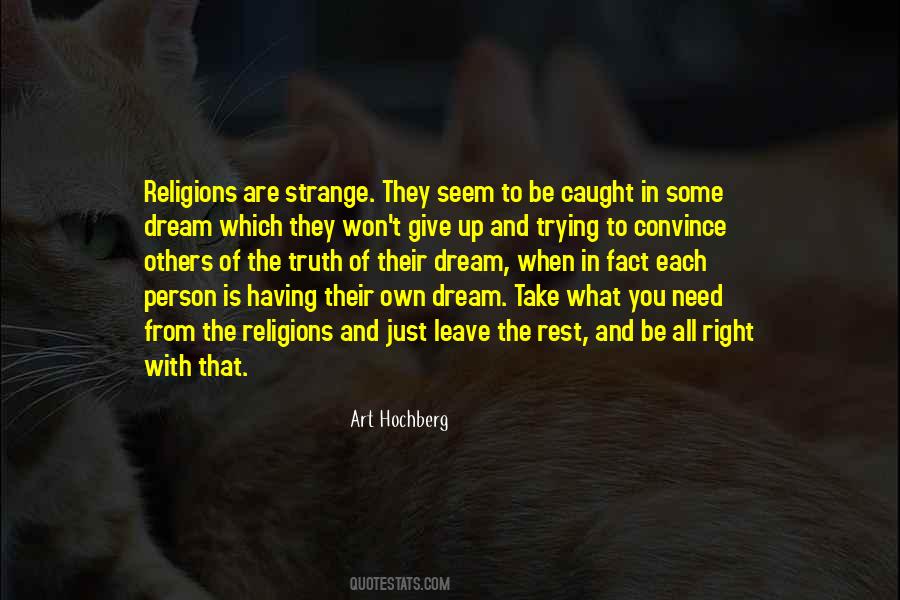 #6. When you need something tedious done, and don't have time for it, give it to a workaholic. This way, both of you will be happy. - Author: Ernie J Zelinski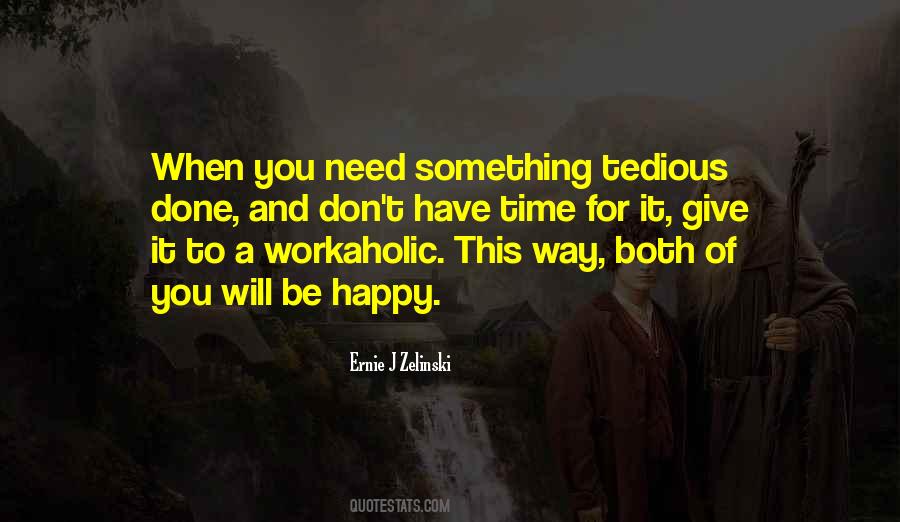 #7. When you practice a life of non-violence you no longer need seek the truth, the truth finds you. - Author: Mahatma Gandhi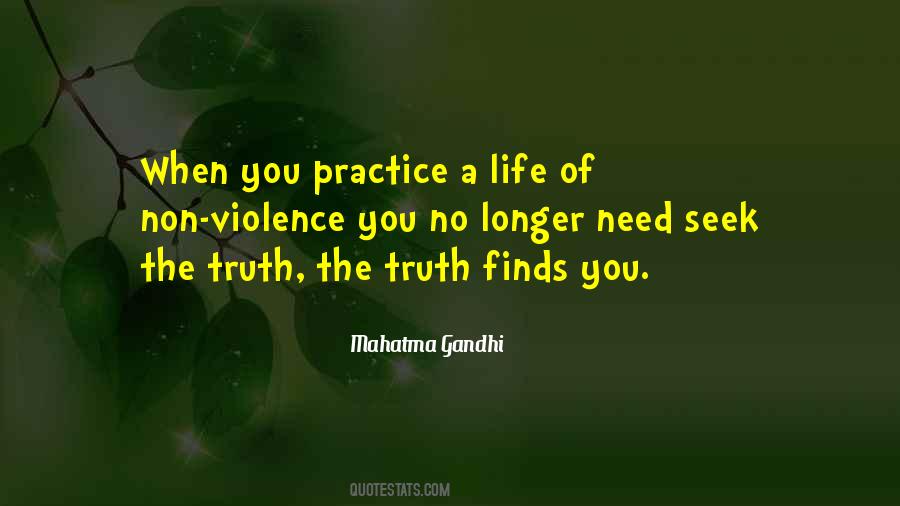 #8. You must have a dragon hidden inside you. When you need, you let the dragon out. - Author: Anderson Silva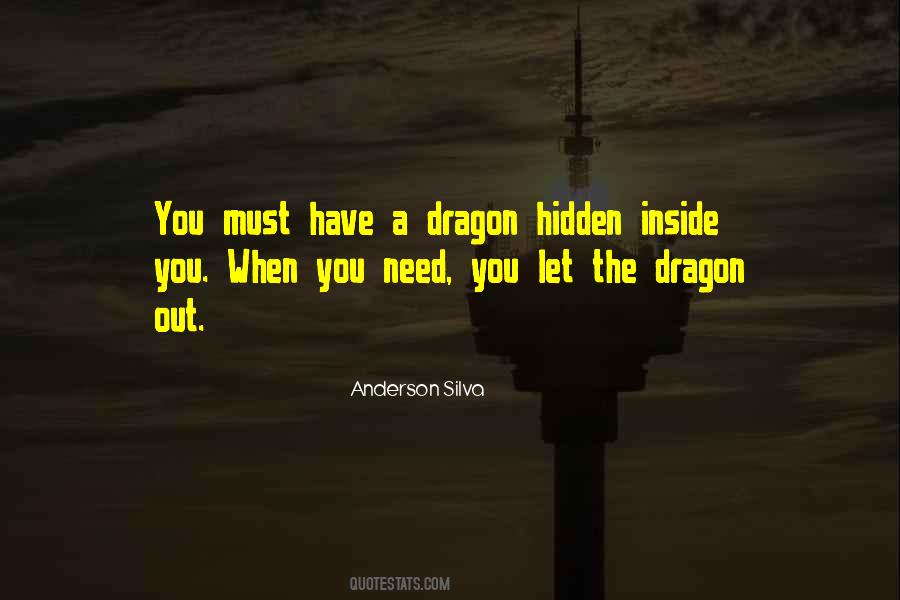 #9. Don't know why folks need diamonds and pearls, fur coats, first-class tickets, island adventures when simple shit like this is the best thing you could ever do. - Author: Kristen Ashley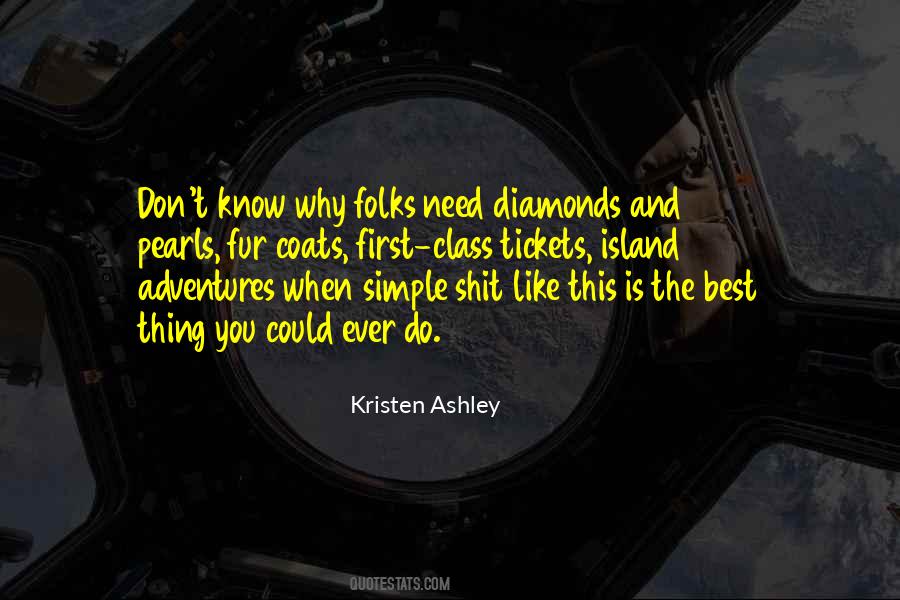 #10. And I really wanted to see you, too," she said. "When I couldn't see you any more, I realized that. It was as clear as if the planets all of a sudden lined up in a row for me. I really need you. You're a part of me; I'm a part of you. - Author: Haruki Murakami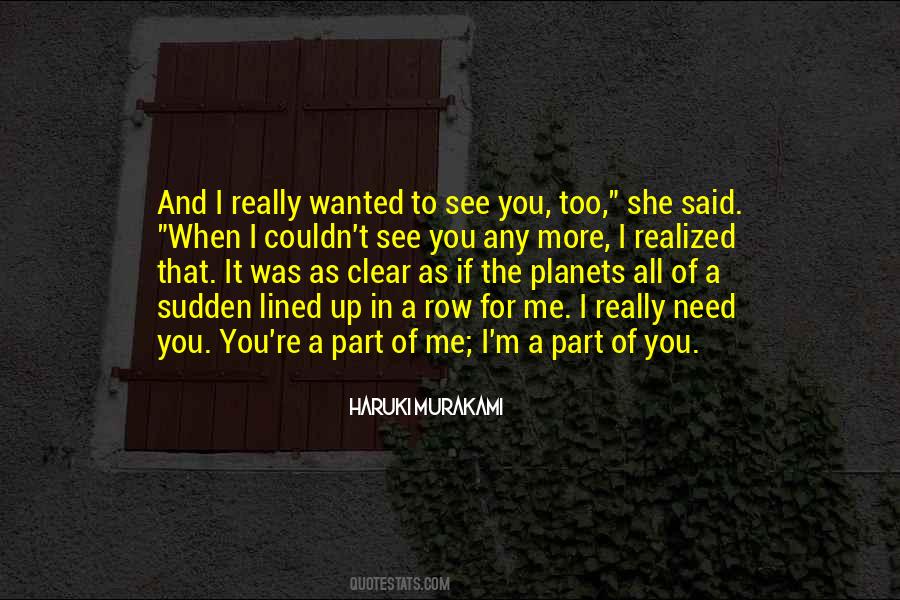 #11. You don't need to manage the clock when you score in one play. - Author: Todd Blackledge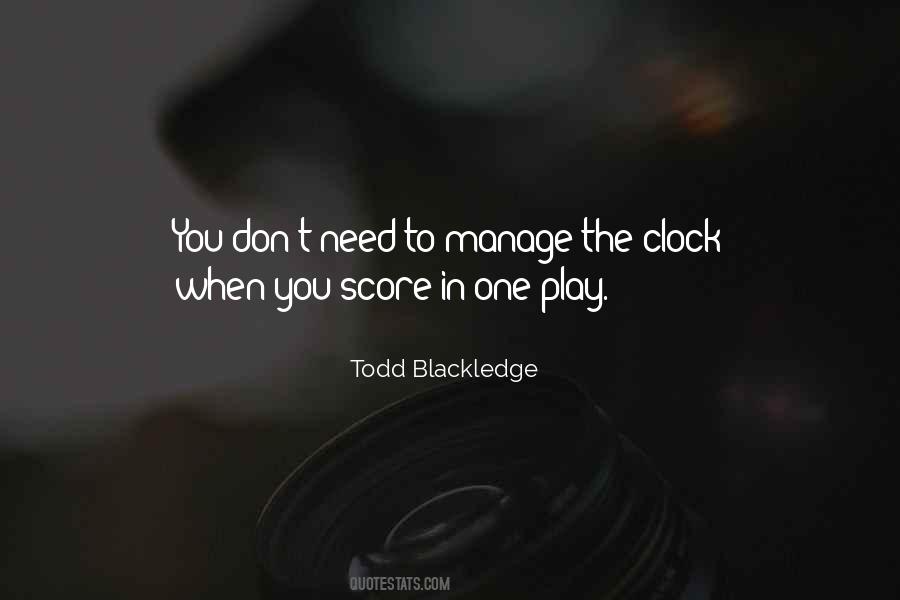 #12. It occurred to her then that there was a reason age drained the pleasure out of life, slowly stripping away all the things you enjoyed or took for granted. It was so you wouldn't need convincing when the time came. You'd be ready, because everything good in life was gone. - Author: Laura McHugh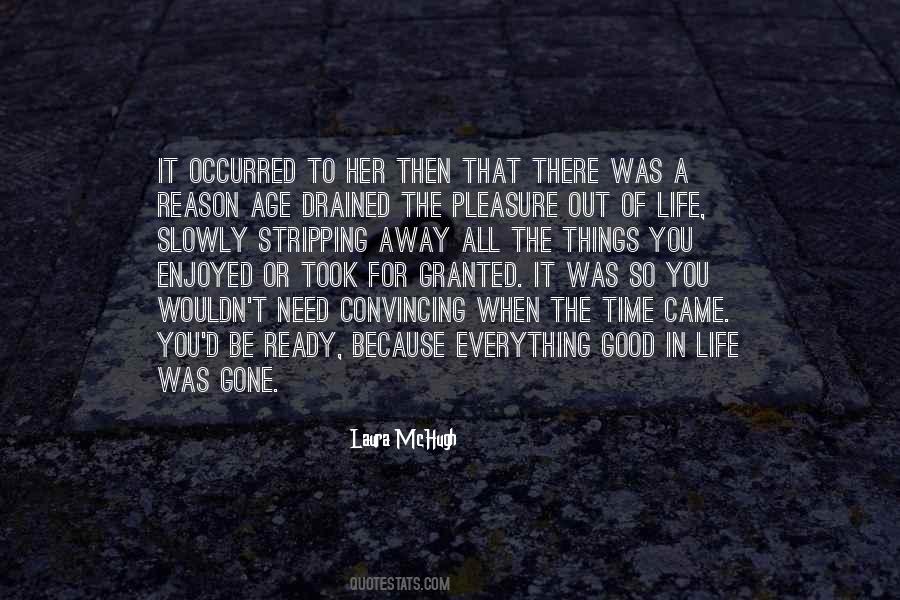 #13. With you, I want it all. If I get a taste of what it could be, I won't ever want to let it go. I fell in love with you when I was sixteen, and that's never changed. But trusting you with my heart again is different. With you, I need to know it's forever. - Author: Abbi Glines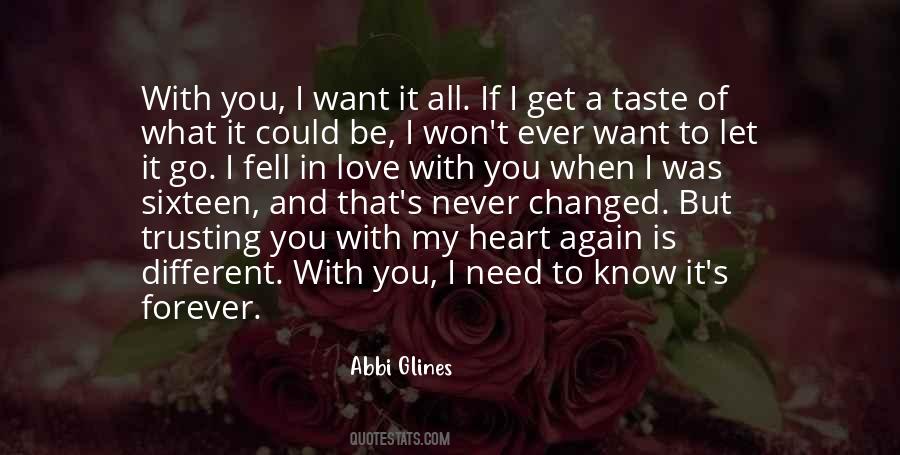 #14. I'm a very ordinary girl, Moses. I know that I am. And I always will be. I can't paint. I don't know who Vermeer is, or Manet for that matter. But if you think ordinary can be beautiful, that gives me hope. And maybe sometime you'll think about me when you need an escape from the hurt in your head. - Author: Amy Harmon
#15. Love is what's left when you let go of everything you don't need. - Author: Erich Schiffmann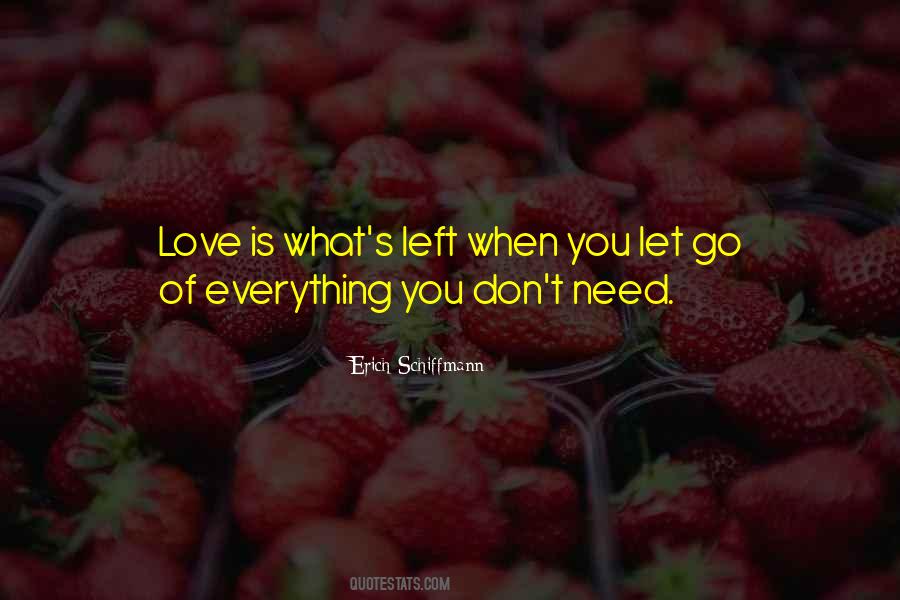 #16. I felt lonely then. This is the time when you need somebody. This is the time when it is good to have a wife, and children, to absorb your grief, to hold on to you. This is when you pay, and pay and pay, for pretending that you don't need anybody. - Author: Rick Bragg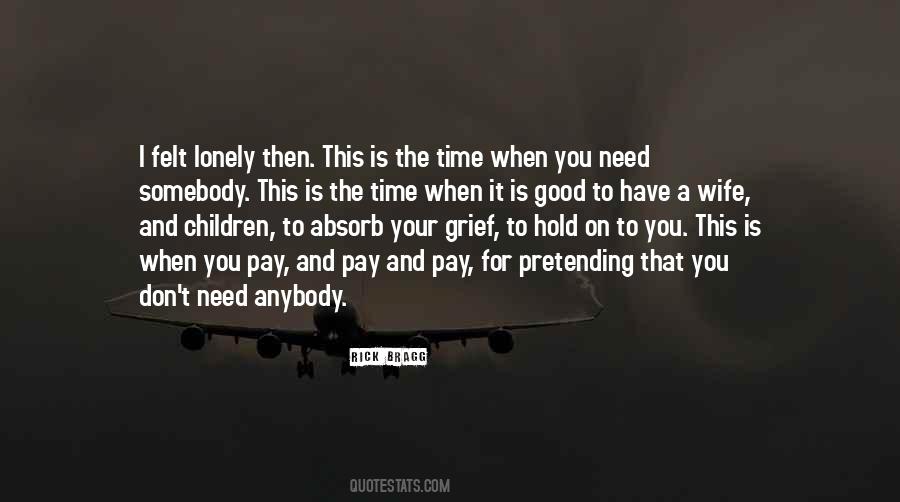 #17. I always knew I wanted to have children. When I met my husband, Rande, I thought, 'This is the guy.' When you are getting ready to become a mom, being in love with someone just isn't enough. You need to think about whether he would be a good parent and raise your children with similar beliefs. - Author: Cindy Crawford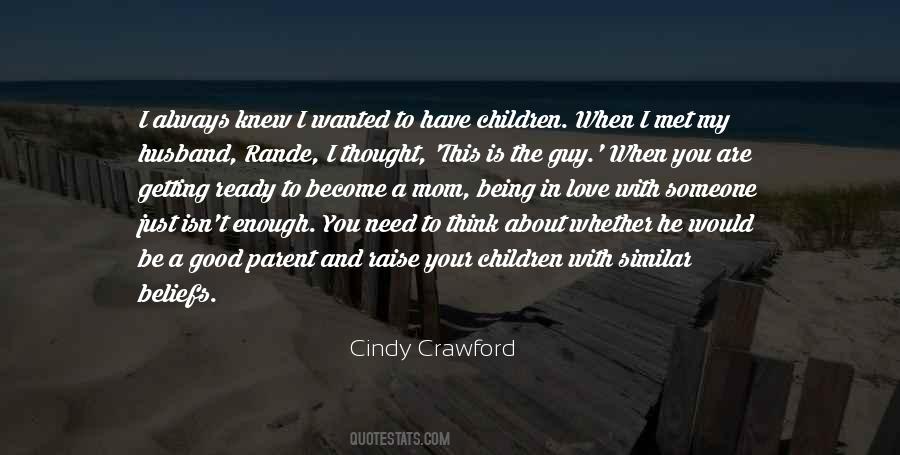 #18. I should probably warn you, my love isn't roses and champagne. I'm obsessive, jealous, and controlling, but I'm faithful and I'll be here when you need someone. - Author: Suzanne Steele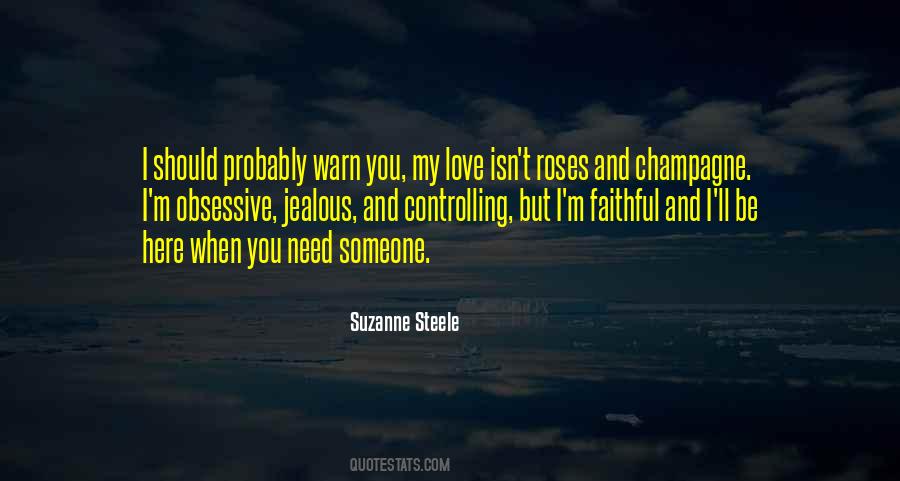 #19. Don't talk about your diet. It's just boring, and the last thing you need when dieting is to be considered boring. - Author: Diane Von Furstenberg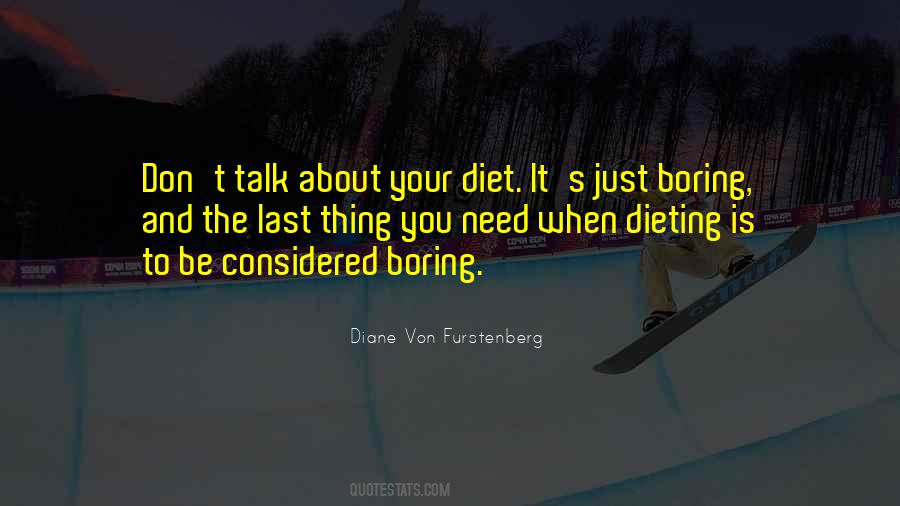 #20. Its really amazing when someone need your help in there life and you help them from your heart - Author: Ahmed Farrag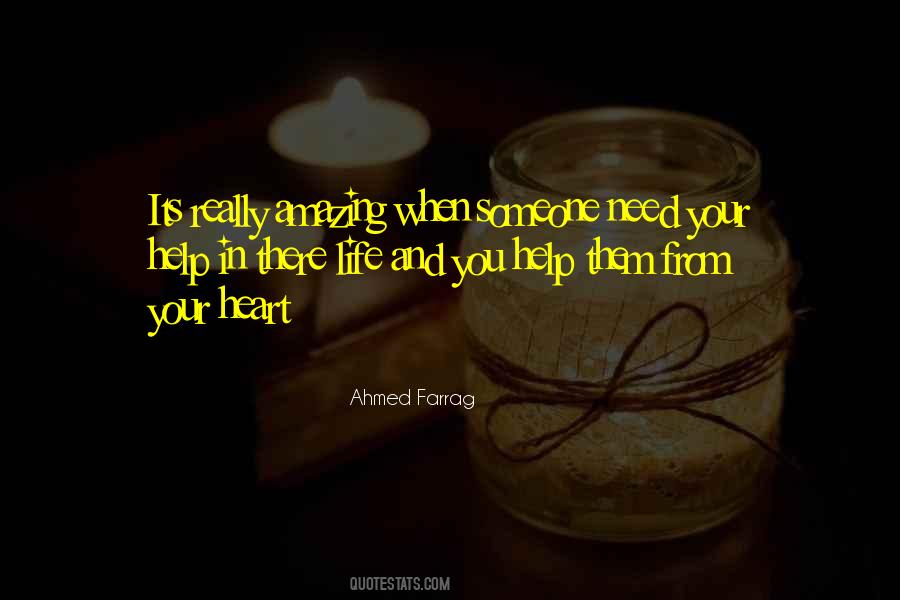 #21. When God give you a vision, He will give you what you need to accomplish the vision. - Author: Lailah Gifty Akita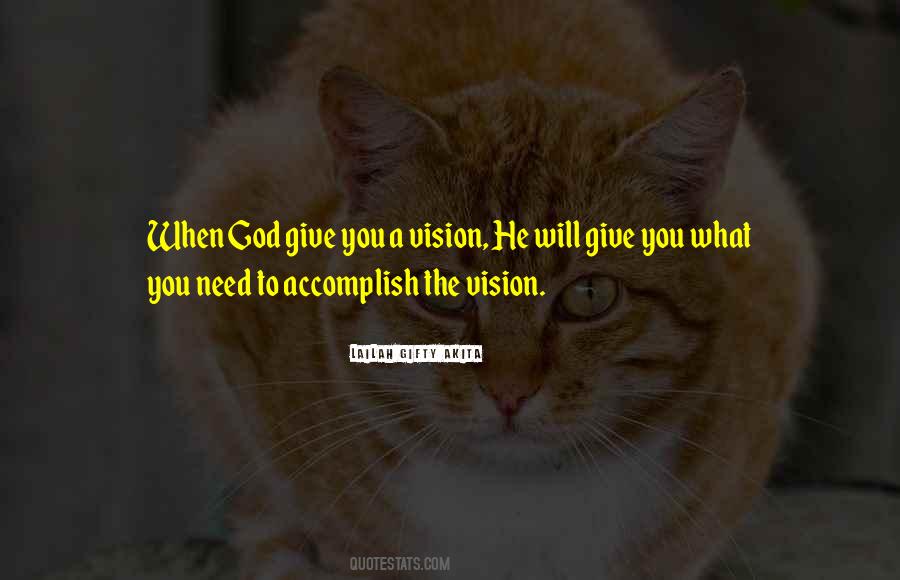 #22. Seek healing, a refilling of energy and spirit, as soon as you see that you need it. You don't have to push yourself to give, do, or perform when what your body, mind, soul and emotions need is to heal. - Author: Melody Beattie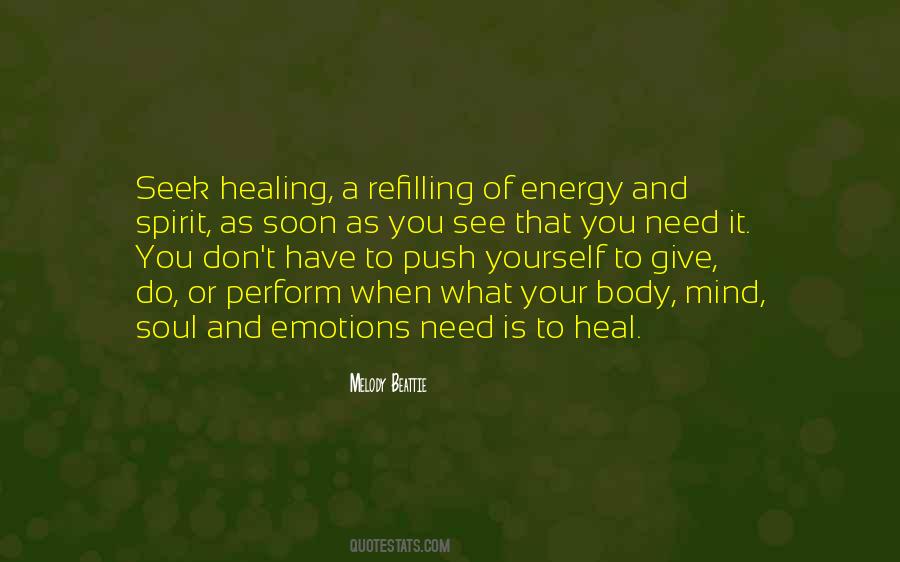 #23. When I get older losing my hair many years from now,
Will you still be sending me a Valentine, birthday greetings, bottle of wine?
If I'd been out till quarter to three would you lock the door?
Will you still need me, will you still feed me,
When I'm sixty-four? - Author: John Lennon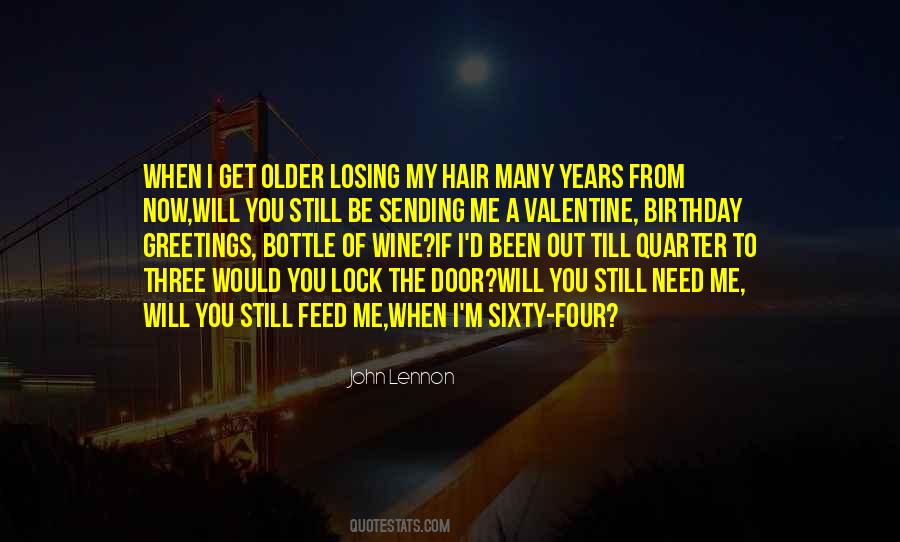 #24. You don't have to know everything. You simply need to know where to find it when necessary. - Author: John Brunner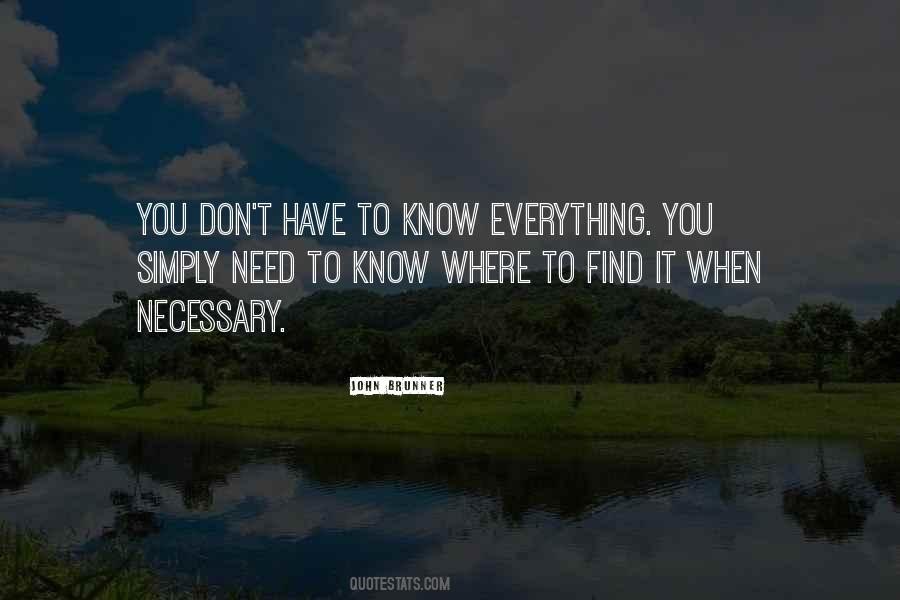 #25. Taking care is one way to show your love. Another way is letting people take good care of you when you need it. - Author: Fred Rogers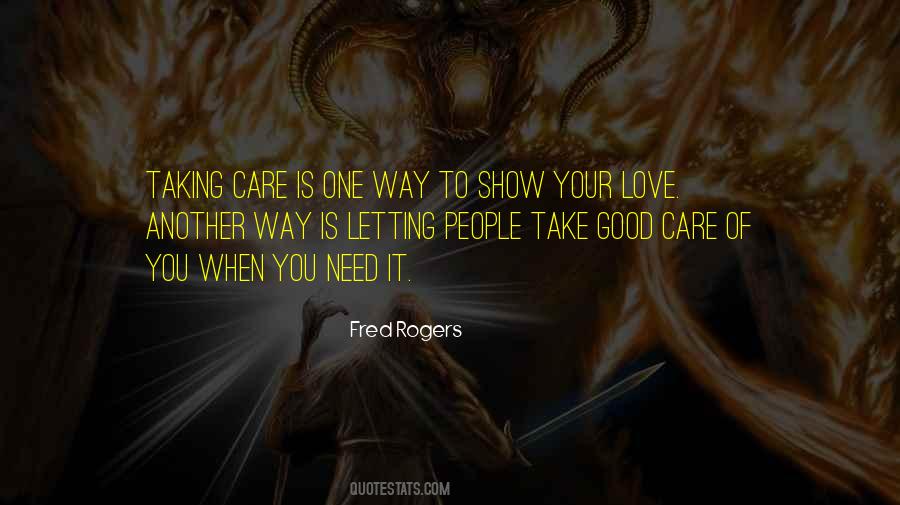 #26. If you seek Truth, you will not seek to gain a victory by every possible means; and when you have found Truth, you need not fear being defeated. - Author: Epictetus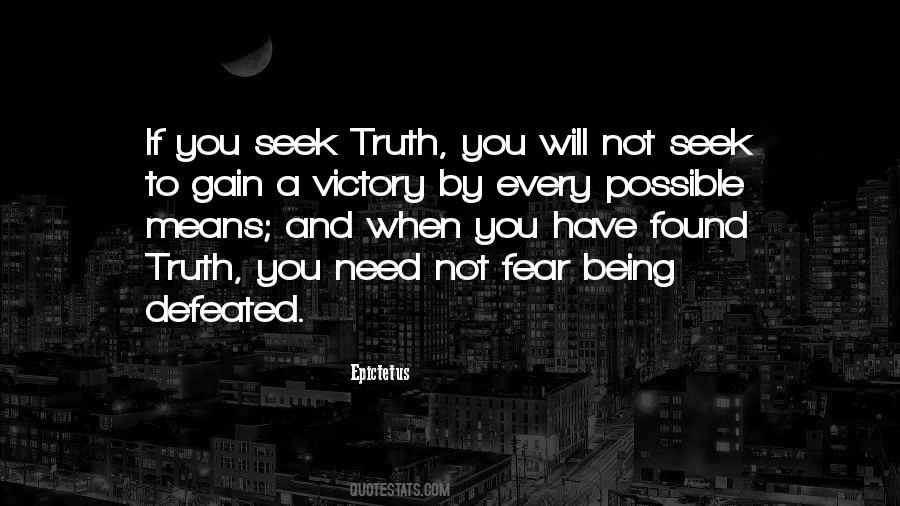 #27. You need to know that you can't honor God when you're chained to the voice and opinions of man. - Author: Tyler Perry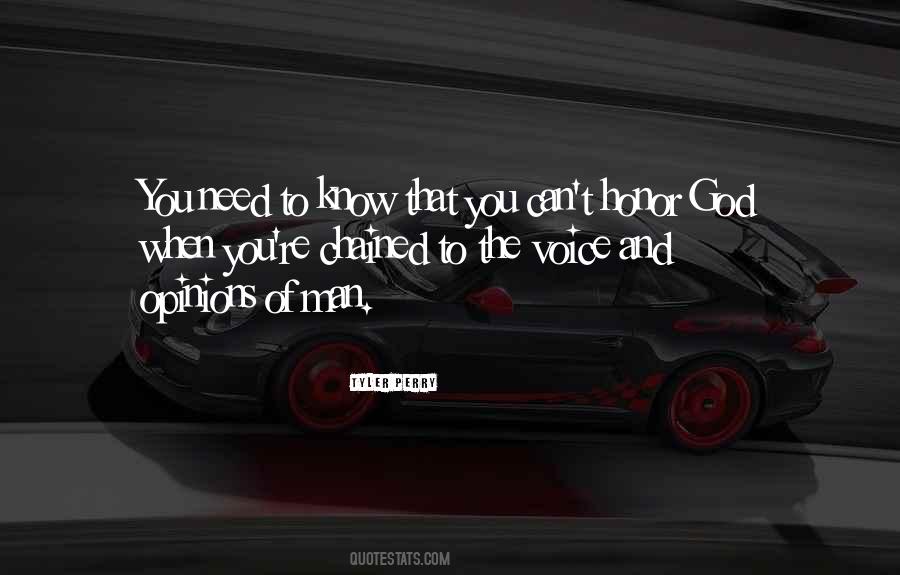 #28. Because when I look at you, I see everything I want and everything I need."
~ Ronan - Author: Mia Asher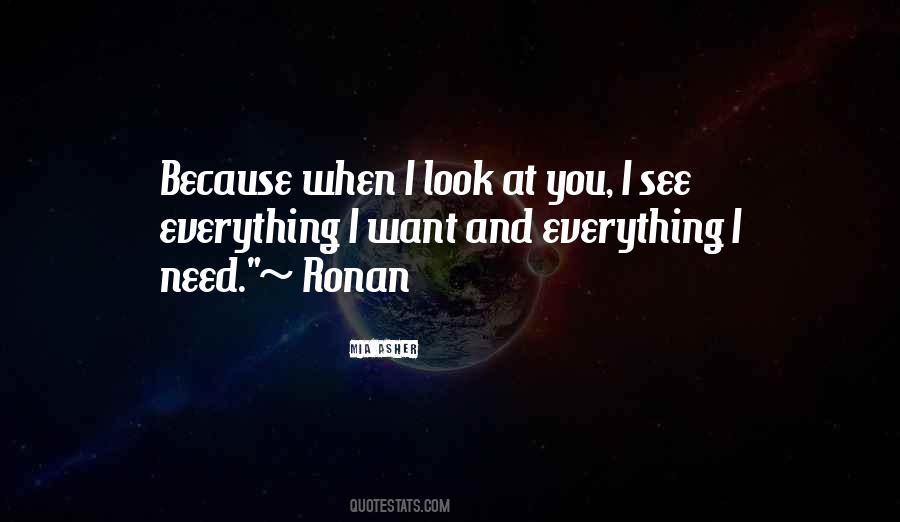 #29. I hate SF books that think all you need to make a book is cool technology and mind-bending ideas without a decent plot or characters. And I hate when fantasy books are allowed to ramble off into five hundred page diatribes which don't advance the story one bit. - Author: Chris Wooding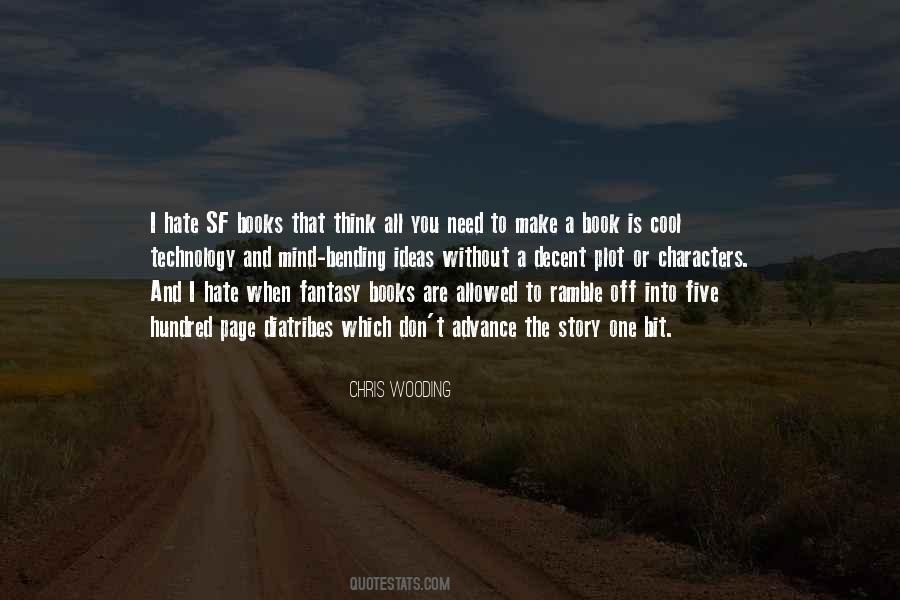 #30. One hardly need believe that the events in your life are actually planned as bolts from the blue, sent special delivery from a deity who is testing and training you like a lab rat! And that is what we are saying when we fretfully ask, What can God be trying to teach me through this tragedy? - Author: Robert M. Price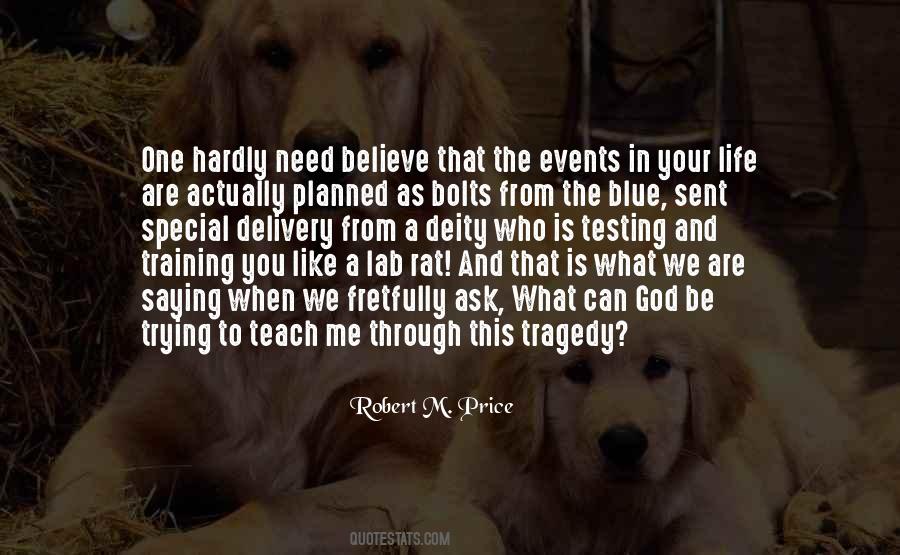 #31. Self-driving cars will enable car-sharing even in spread-out suburbs. A car will come to you just when you need it. And when you are done with it, the car will just drive away, so you won't even have to look for parking. - Author: Sebastian Thrun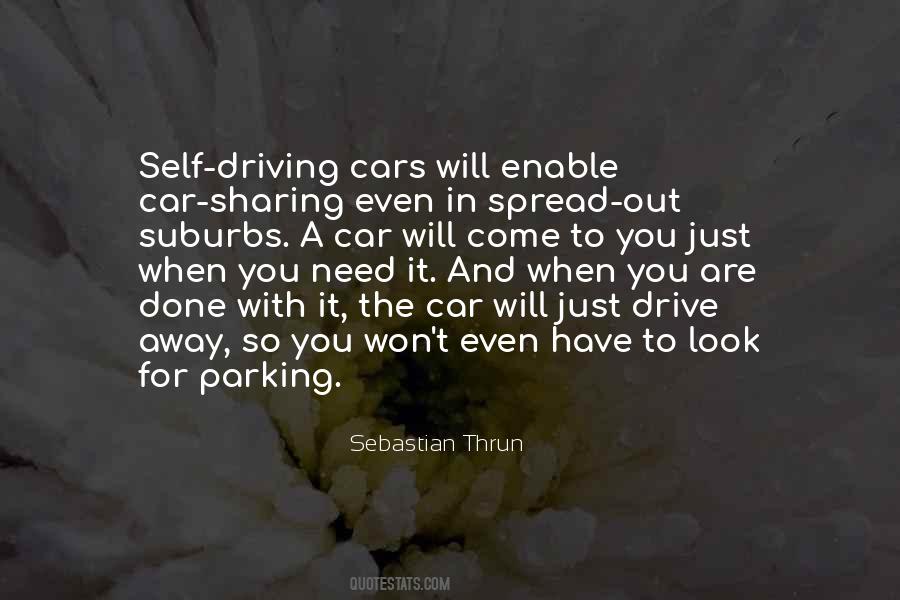 #32. All you need to find and accomplish God's purpose in your life is God's permission and approval
not anyone else's. When you get in step with Him, there will be a glow on your face that will make people wonder what you're up to. - Author: Zig Ziglar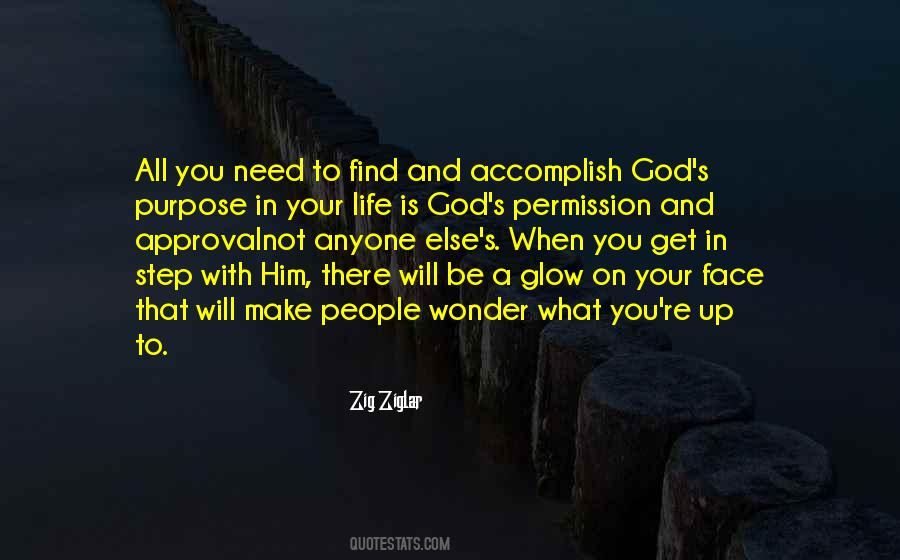 #33. I don't want you to go, but I can't make you stay. I want to continue holding you in my arms at night when you can't sleep and be there in the morning when you're adjusting to yet another new outfit. I also need someone to burn dinner because that doesn't happen nearly enough for me. - Author: Sydney Landon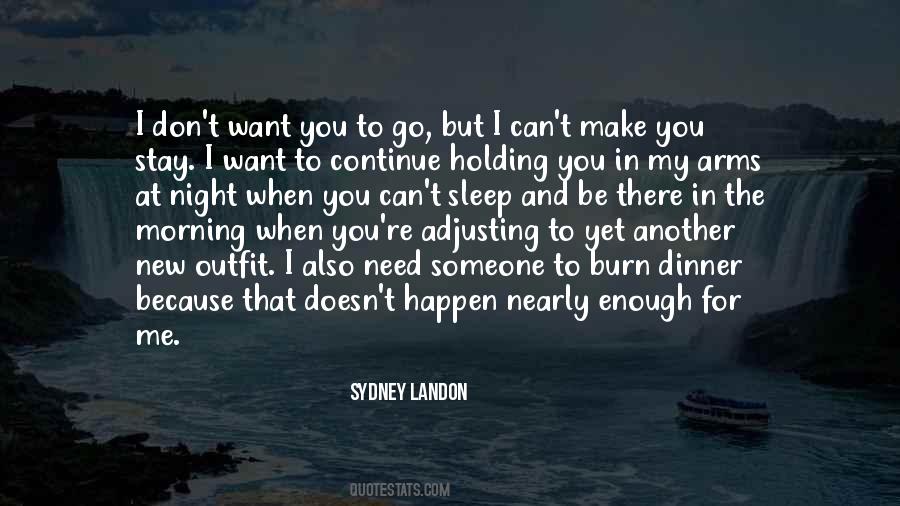 #34. When you are new at something, you need to start creating. - Author: Jason Fried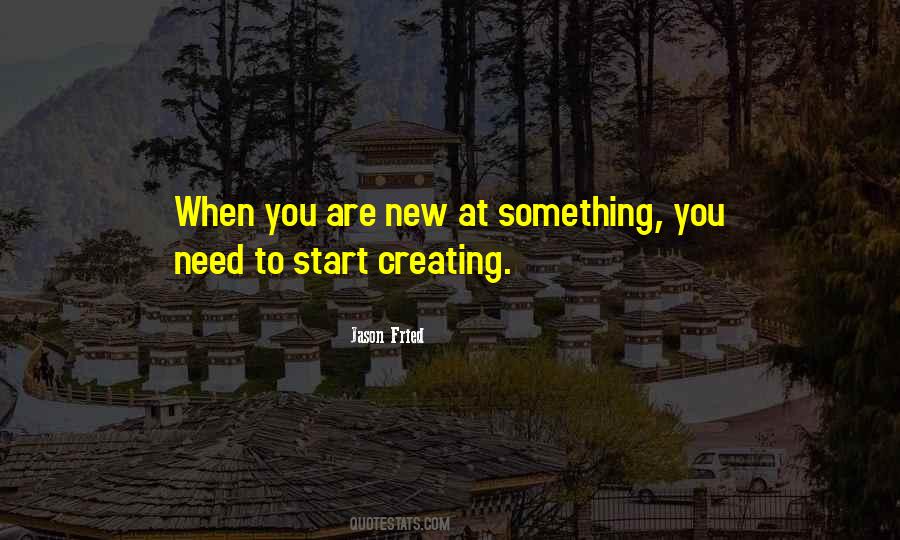 #35. But sometimes it doesn't matter whether someone is right or wrong. Sometimes you just have to love them when they need you. - Author: Laurel Snyder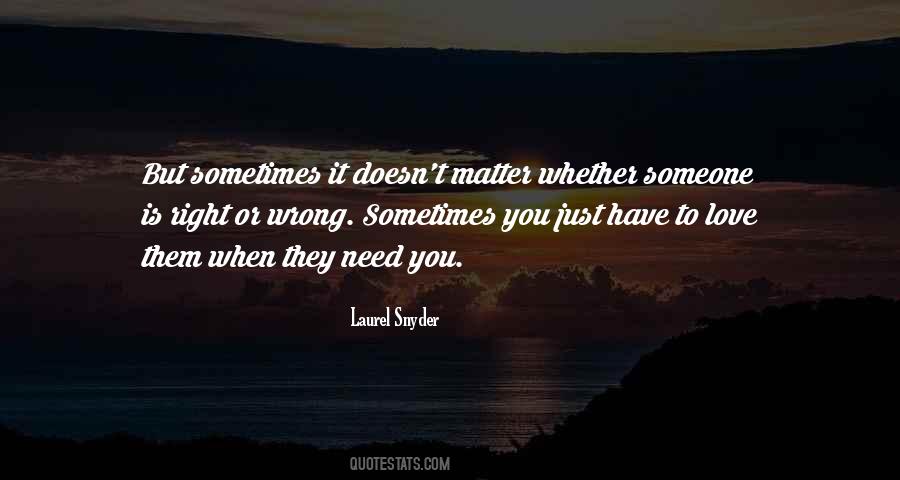 #36. It's important not to ditch your mates when you're in a relationship. Lots of girls do it, but you need to remember they will always be there for you. - Author: Rachel Bilson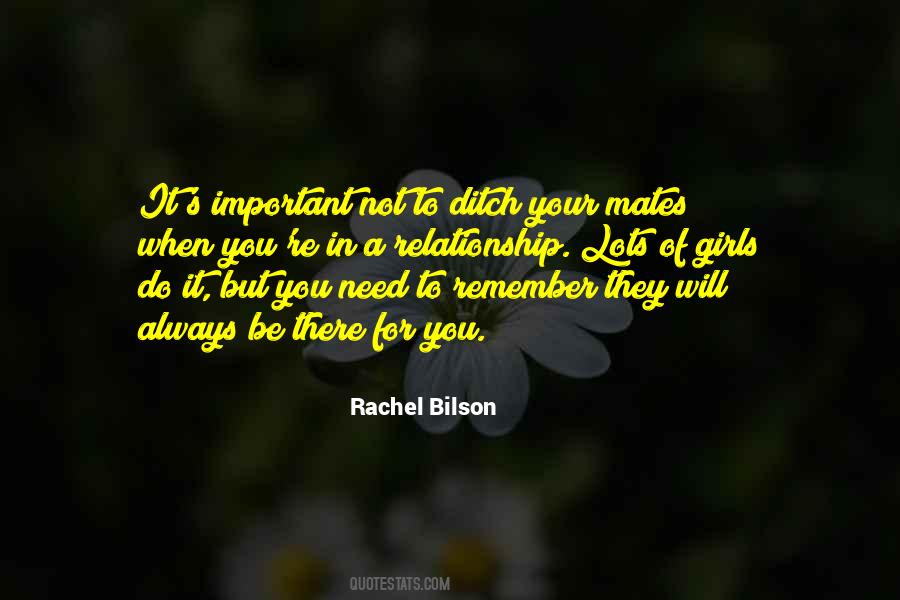 #37. You don't need to pray to God any more when there are storms in the sky, but you do have to be insured. - Author: Bertolt Brecht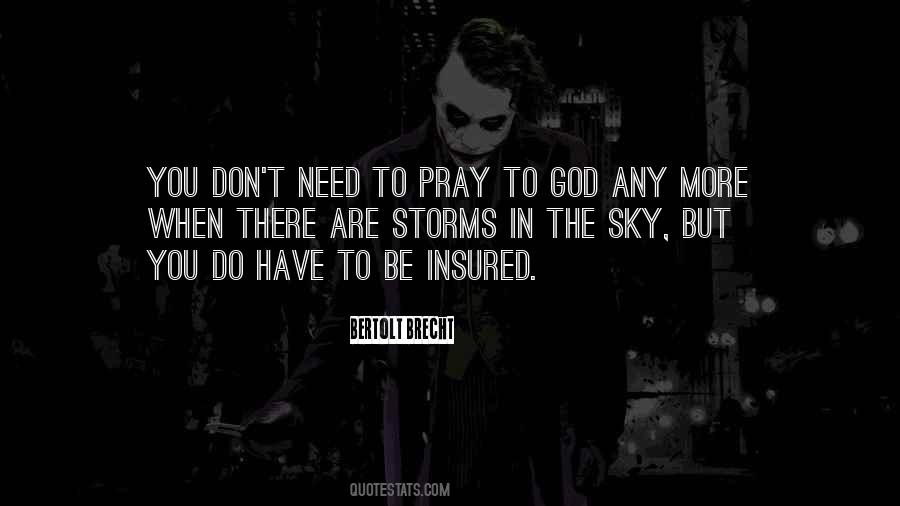 #38. I don't need to be liked, but I need to be vital - on set or on stage - and I think that probably would be my advice: Stay vital. It's about saying 'no' and asking the tough questions and believing in yourself when no one else will, but you have to know the rules to break them. - Author: Logan Marshall-Green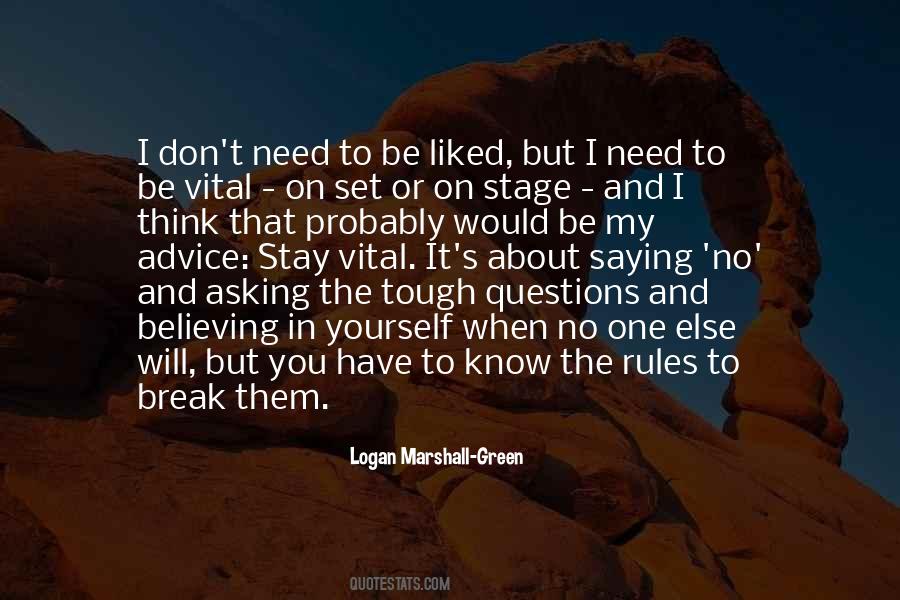 #39. When you usually are not ready to chance the standard you'll need to settle for the standard. - Author: Jim Rohn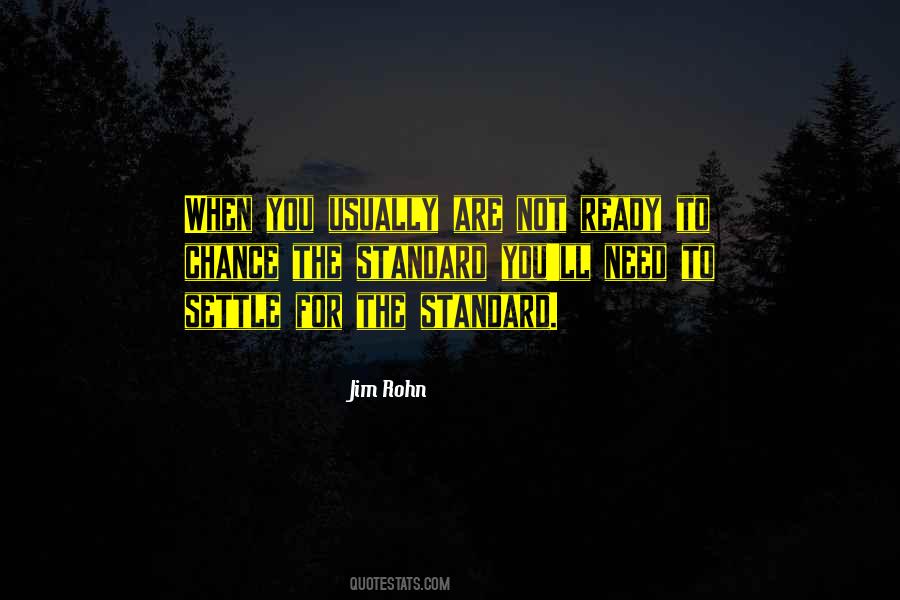 #40. When you need to set boundaries . . . They are the kind [of people] who work their way into people's homes and win the confidence of vulnerable women who are burdened with the guilt of sin and controlled by various desires. 2 TIMOTHY 3:6 - Author: Beth Moore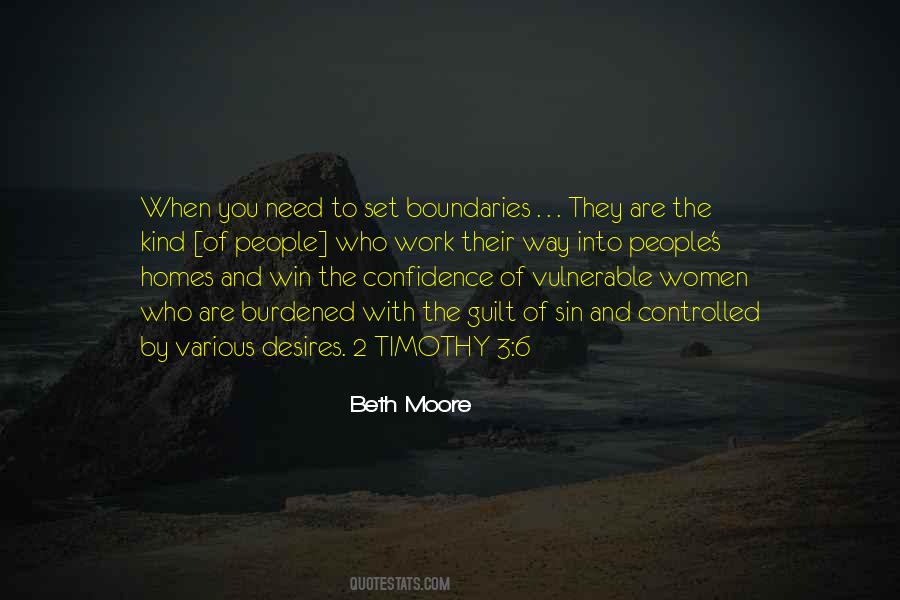 #41. I will come to you, my friend, when I no longer need you. Then you will find a palace, not an almshouse. - Author: Henry David Thoreau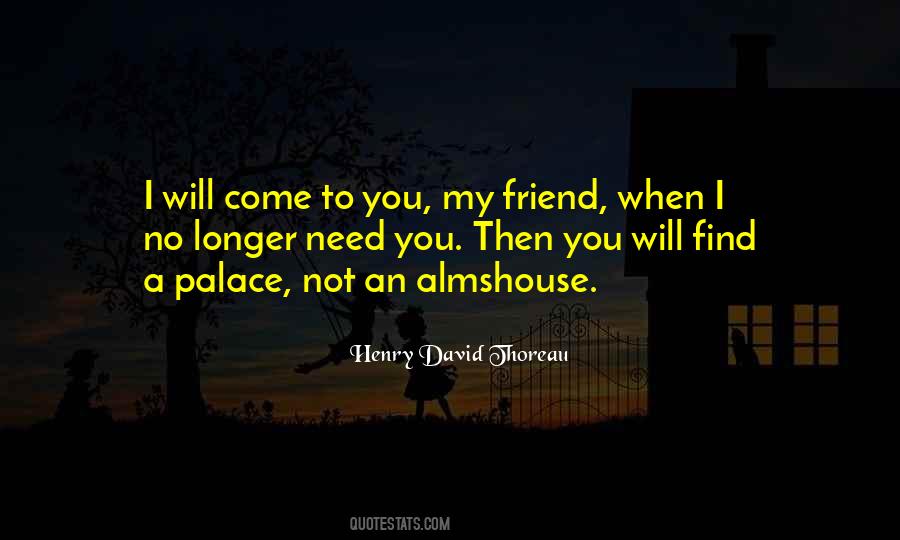 #42. I think I let go of the need for approval, ... It certainly feels good when you get it, but I used to be more desperate for it. Once I felt better inside about myself ... I could do everything based on how I want to do things. - Author: Ellen DeGeneres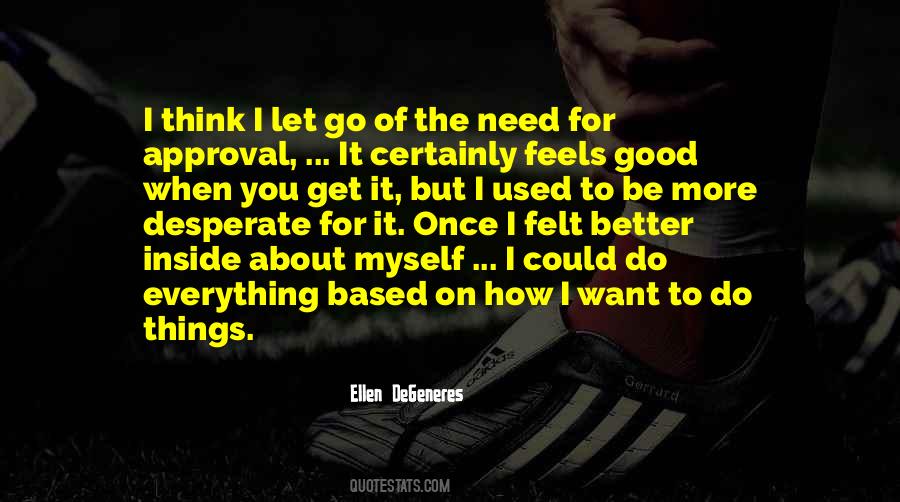 #43. You know, there's something when you just know you fit together. And I fit with you. I don't care what you are, human or anything else. It's like a need, Maddy. So please." He stopped and looked at her desperately. Nakedly. "Give me a chance, Maddy. - Author: Scott Speer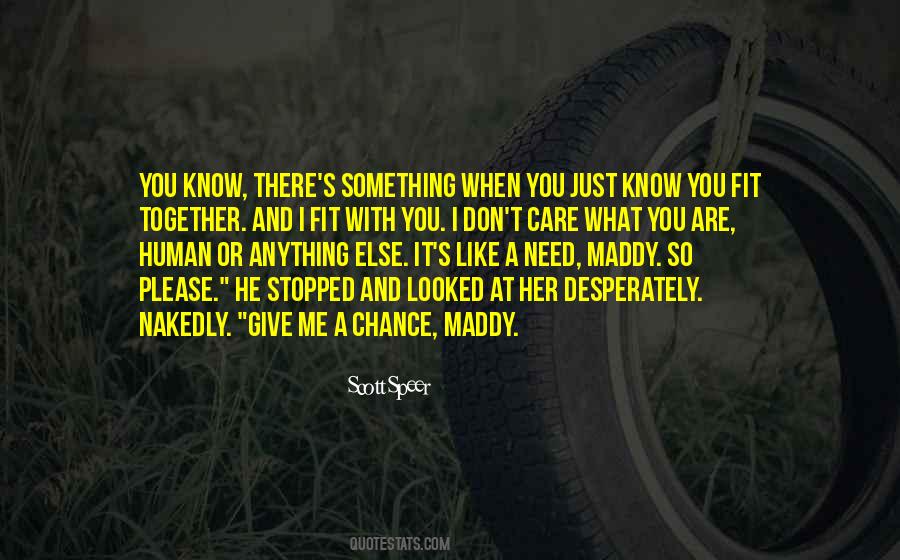 #44. Sometimes, there's no one around to tell you to be quiet... to be very, very quiet. Sometimes you need to be quiet when you're all alone. - Author: Jay Asher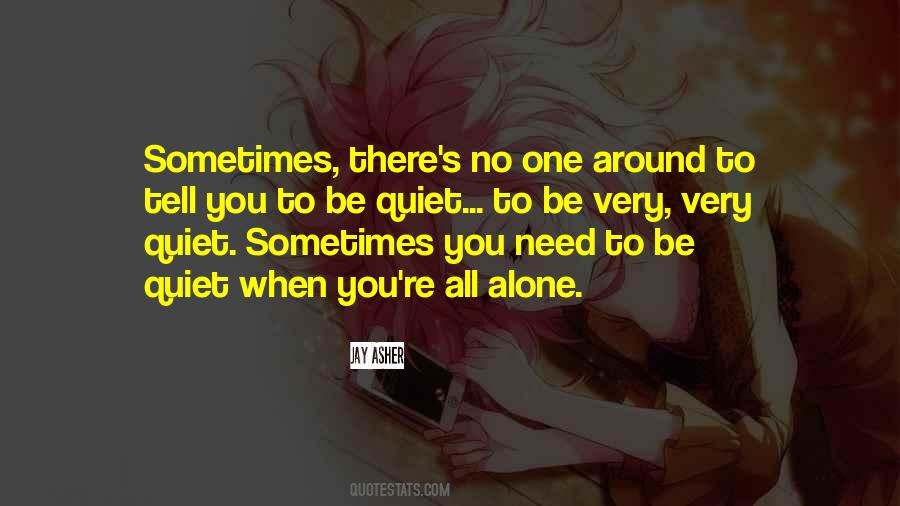 #45. Drink and be thankful to the host! What seems insignificant when you have it, is important when you need it. - Author: Franz Grillparzer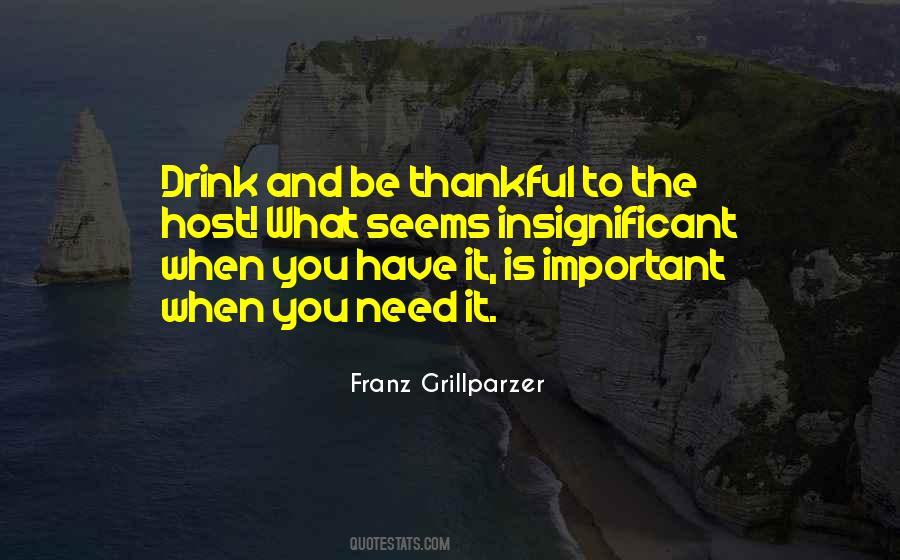 #46. I do want someone, need someone. You're right. And, when I'm with you, I feel like I'm a better person. I feel happier. Less alone, less lonely. But it's not as simple as that, is it? Being with someone? - Author: Naomi Campbell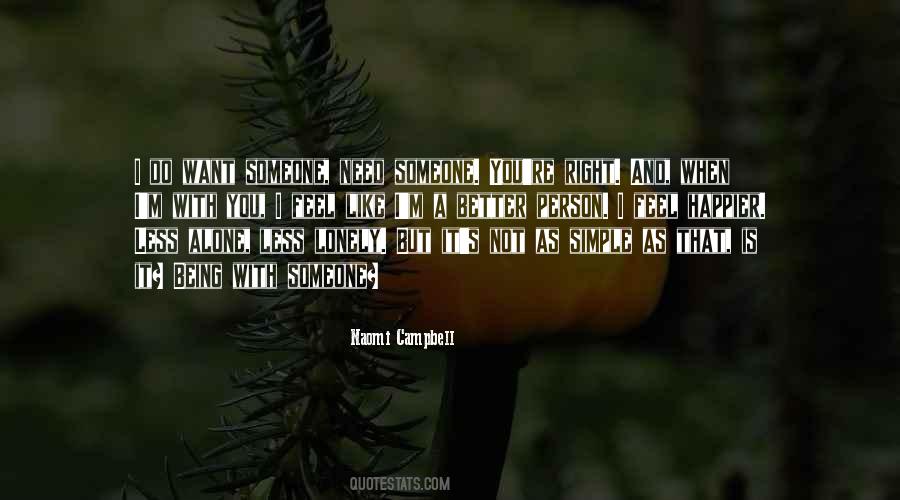 #47. The strong bond of friendship is not always a balanced equation; friendship is not always about giving and taking in equal shares. Instead, friendship is grounded in a feeling that you know exactly who will be there for you when you need something, no matter what or when. - Author: Simon Sinek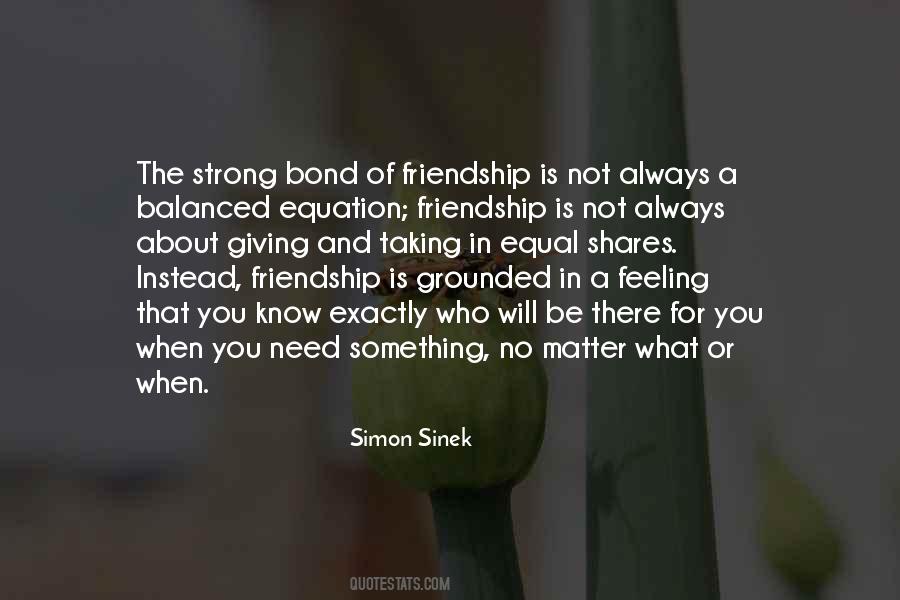 #48. No one knows your body like you do. Listen to it. It will tell you what to eat, when to drink, how to sleep and which exercises you need to do. Let your own body be your most trusted personal trainer. - Author: Toni Sorenson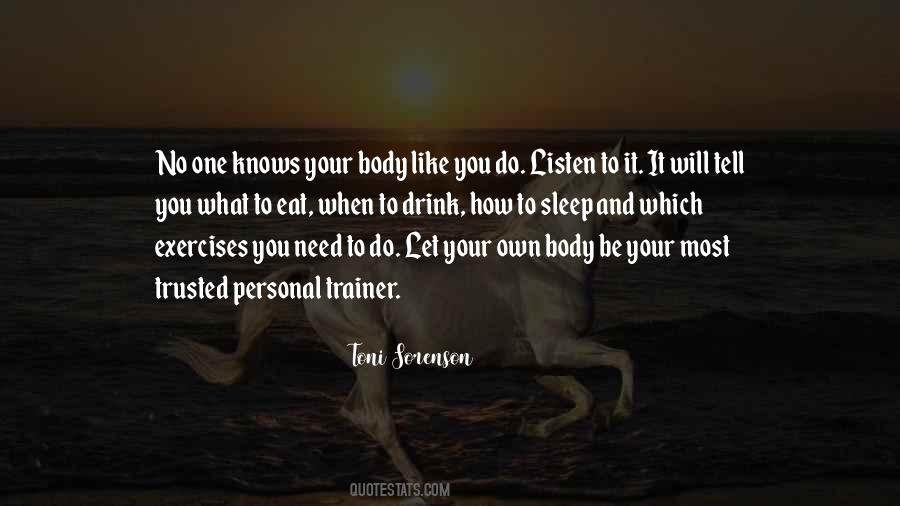 #49. You don't need to know the purpose as you write, but when you read over something you've written, you should be able to point to any given element - be that a line of dialogue, a descriptive phrase, a plot point - and say why it's there. - Author: Diana Gabaldon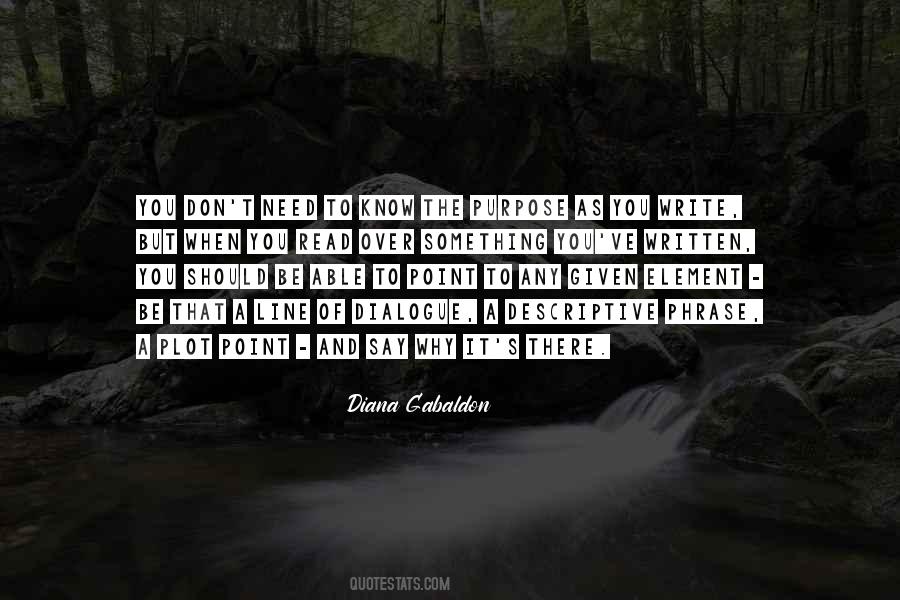 #50. The demand in India is to have a hit, which becomes a promotion for the movie and makes people come to the theater. You have five songs and different promotions based on those. But when I do Western films, the need for originality is greater. Then I become very conscious about the writing. - Author: A.R. Rahman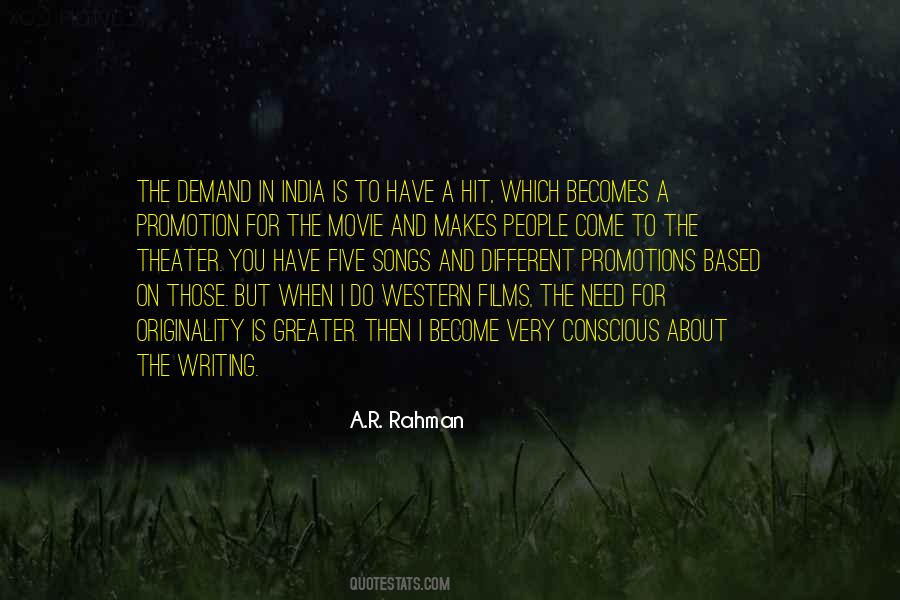 #51. My mom always wanted a bunch of kids, but they stopped after me. I never understood why."
His voice was wistful. Haven closed the distance between them and wrapped her arms around his neck. "Maybe they realized they created perfection when they made you and didnt need anymore. - Author: J.M. Darhower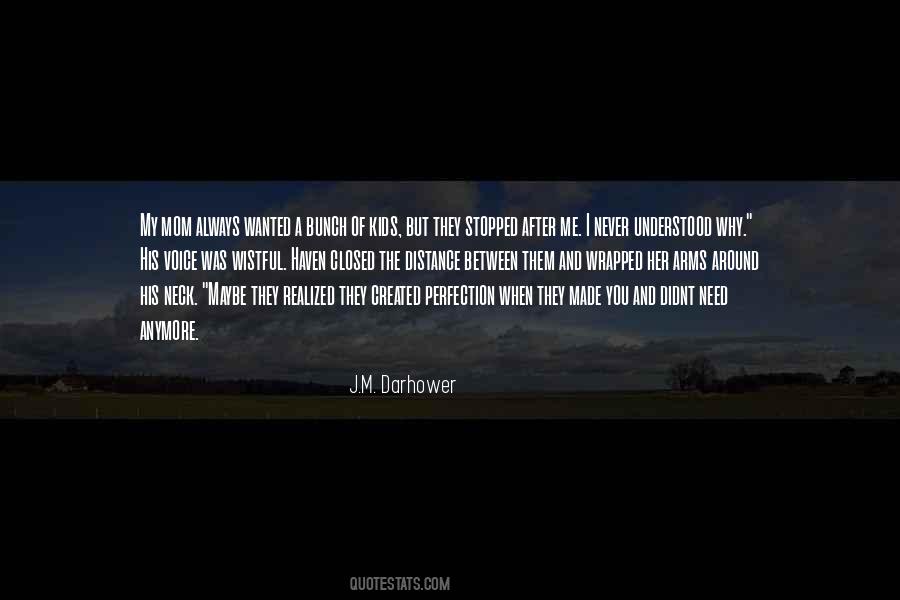 #52. A book acts as the getaway car when you need to escape.
Even when you're the one writing it. - Author: Julie Wright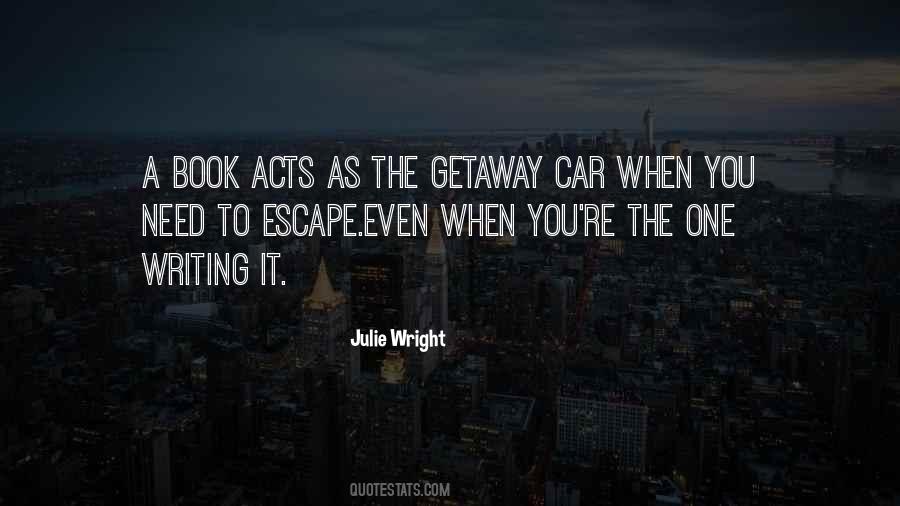 #53. The sling is to a rifle what the holster is to a pistol. If you have a sling, chances are you will keep the rifle with you. If there is no sling present, you will set the rifle down. When you are at the absolutely farthest point away from the rifle that you can possibly get, you'll need it. - Author: Clint Smith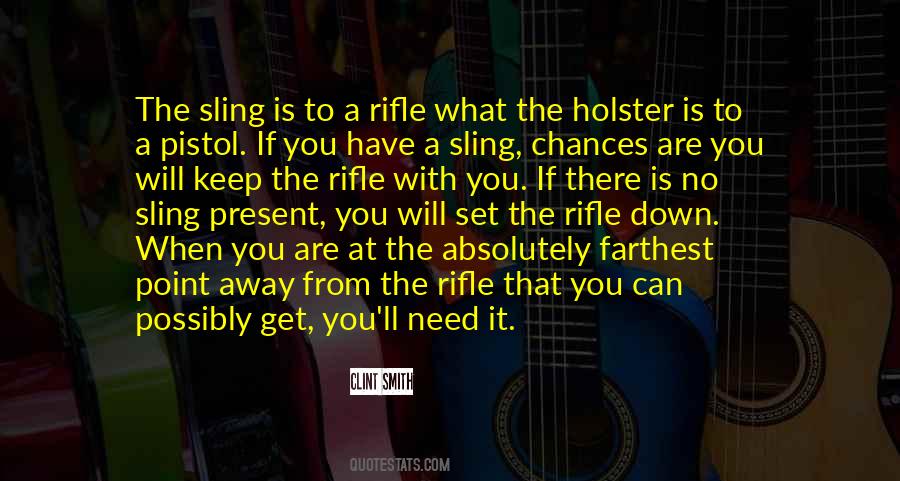 #54. I don't need friends. All they do is eat your food, drink your beer, then spew your secrets the first time you do something that displeases them. No offense, but when you have as many enemies as I do, you keep your secrets under lock and key. (Solin) - Author: Sherrilyn Kenyon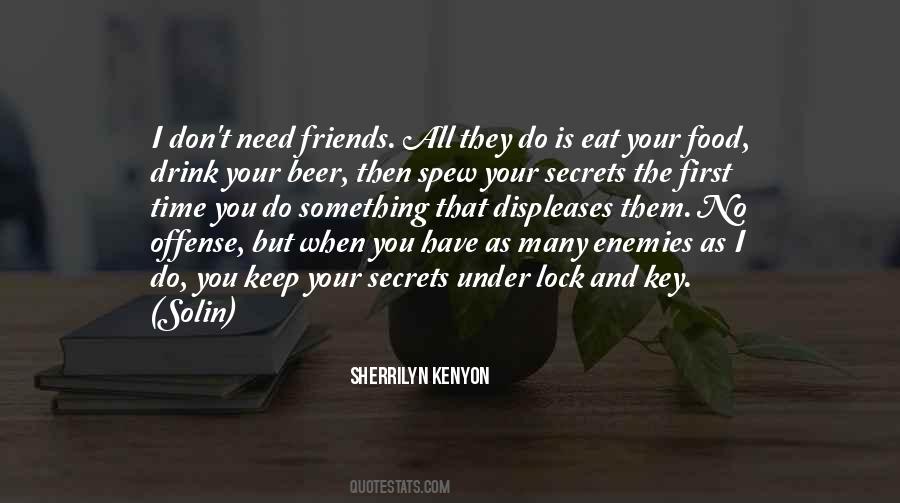 #55. Things fall apart, and fade, and when these things happen you just need to pick yourself up and start over, - Author: Evan Reeves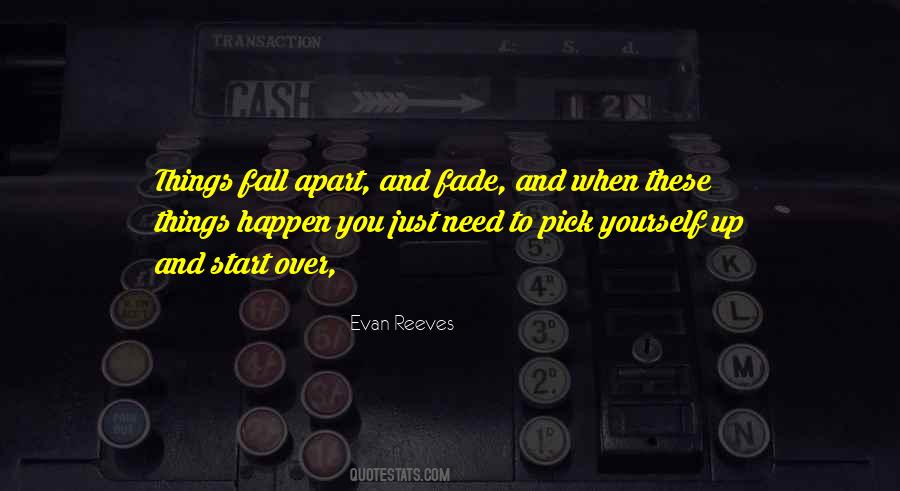 #56. Here's one thing you need to know about me, Ash: I always take care of what's mine. And then maybe, when we get back, I'll take care of you again. - Author: Cole Gibsen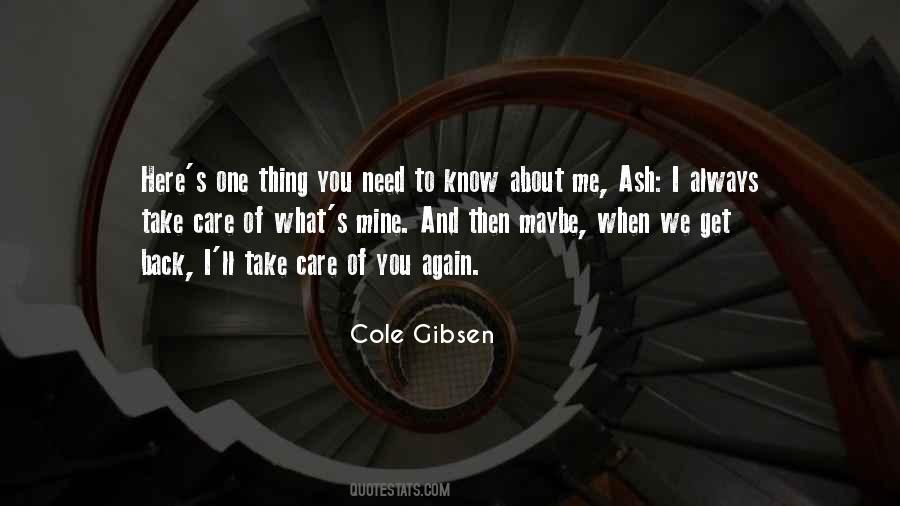 #57. You need a village, if only for the pleasure of leaving it. A village means that you are not alone, knowing that in the people, the trees, the earth, there is something that belongs to you, waiting for you when you are not there. - Author: Cesare Pavese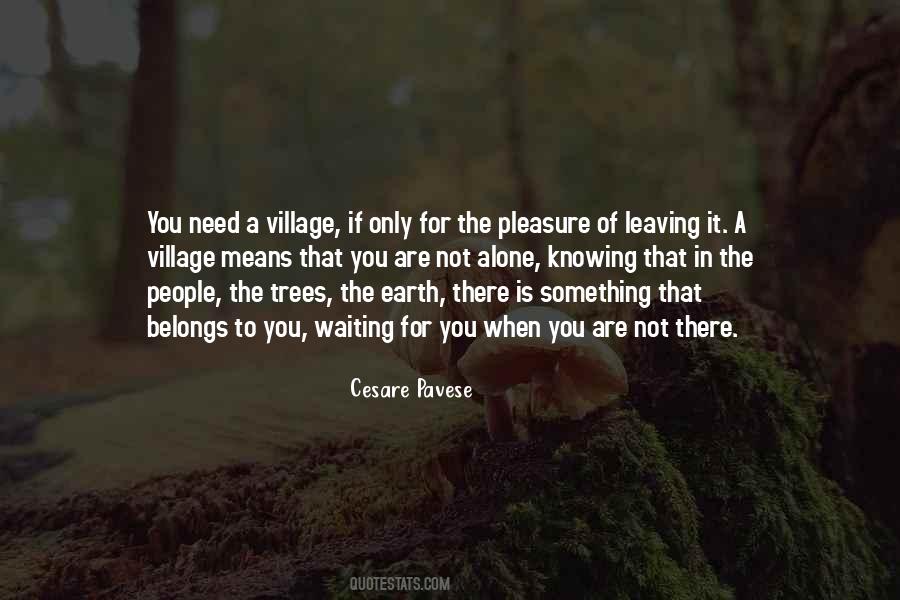 #58. When you put a seed in the ground, it doesn't stop growing after eight hours. It keeps going every minute that it's in the earth. We, too, need to keep growing every moment of every day that we are on this earth. - Author: Ruth Asawa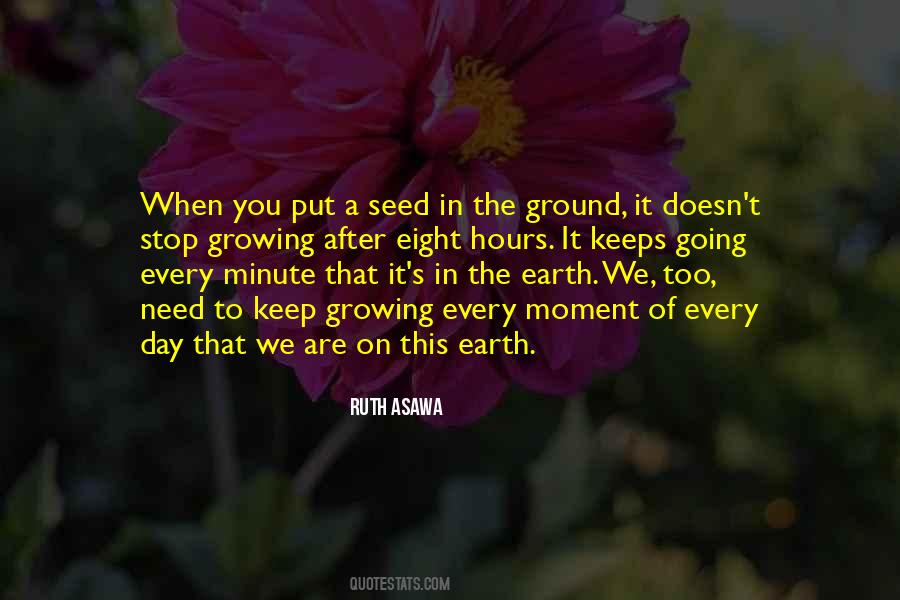 #59. In the beginning of life, when we are infants, we need others to survive, right? And at the end of life, when you get like me, you need others to survive, right?' His voice dropped to a whisper. 'But here's the secret: in between, we need others as well. - Author: Mitch Albom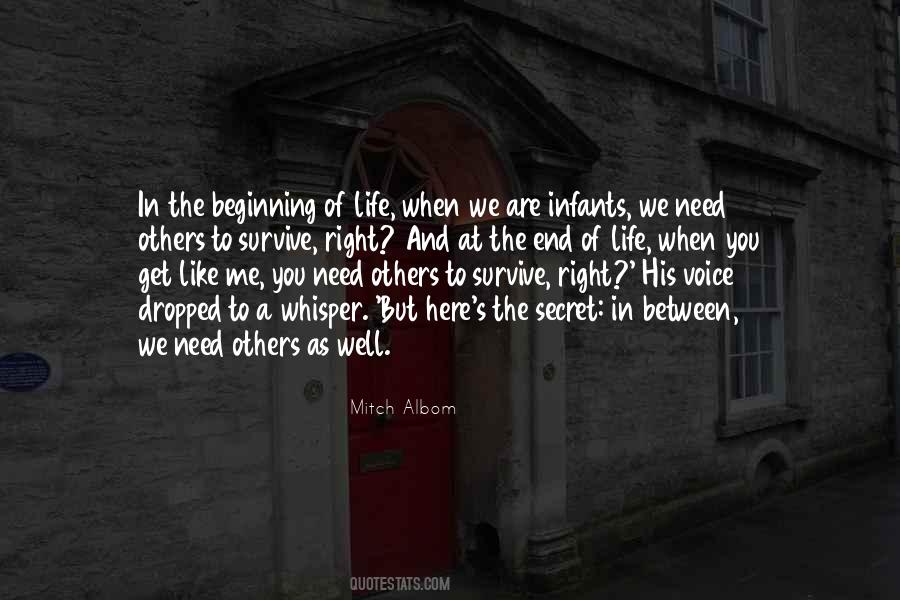 #60. I just never learn: When you're about to finally get what you've been wanting, and when it's what you need like you've rarely needed anything, turn off your fucking phone. - Author: Steven Brust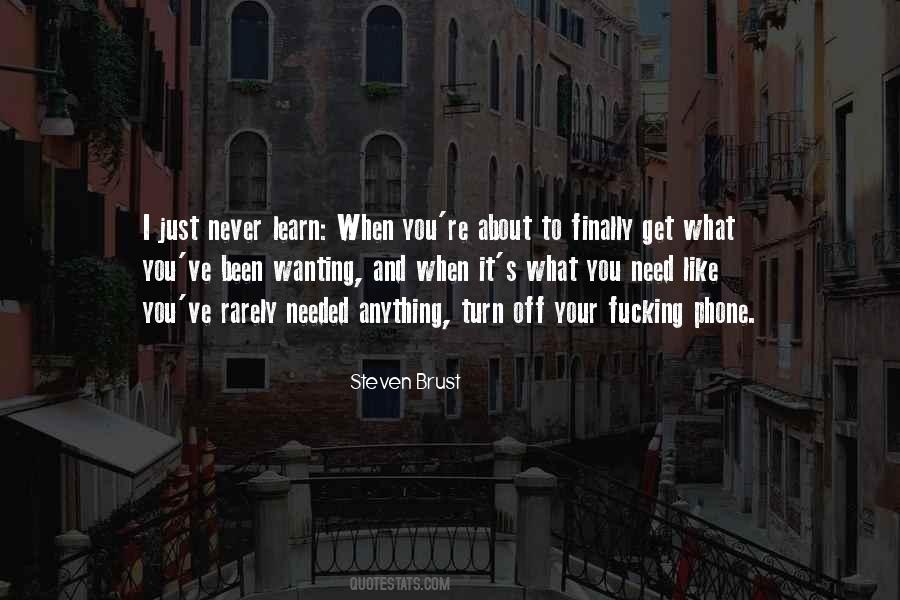 #61. Screen credit is valuable only when it's given you. If you're in a position to give yourself credit, you don't need it. - Author: Irving Thalberg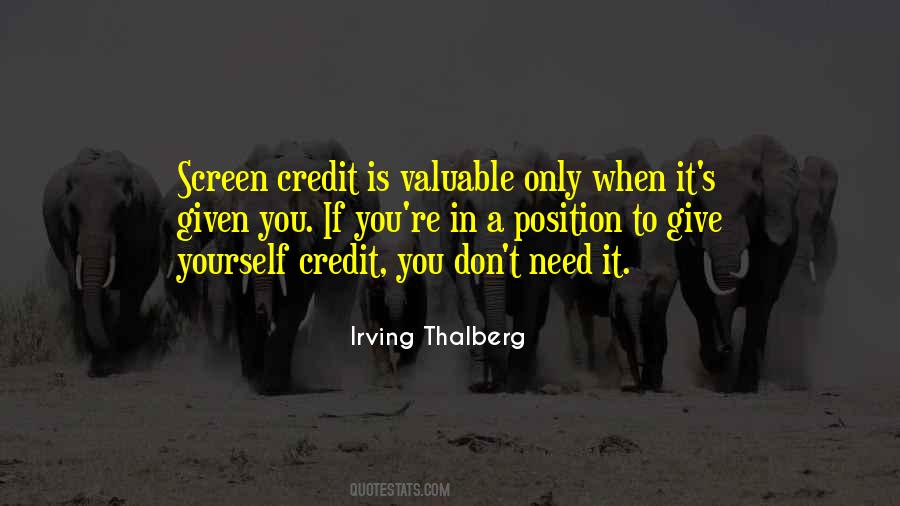 #62. How easy it was to make people happy, when you didn't want or need anything from them. - Author: Gail Godwin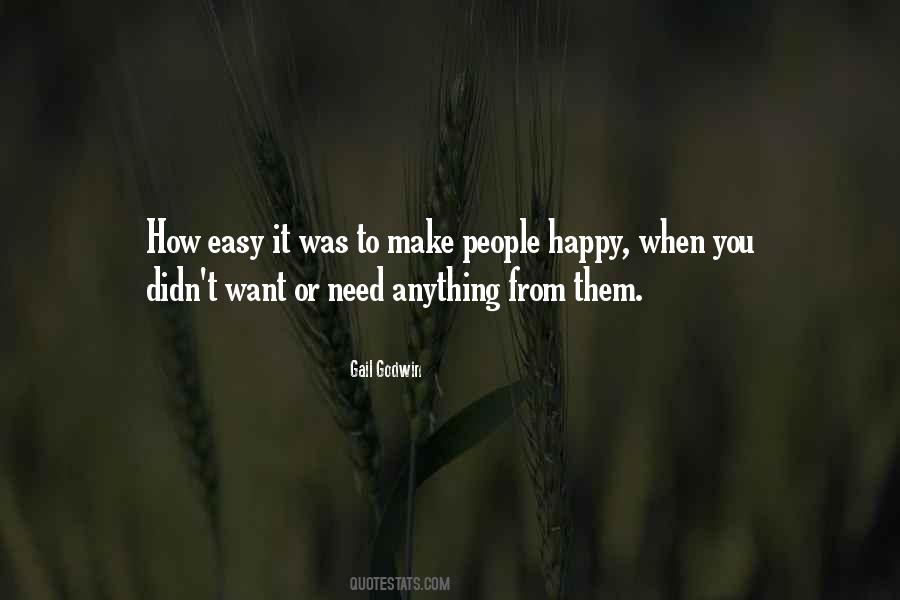 #63. This life is full of signs, many of which find their way to you exactly when you need them most. - Author: Christy Hall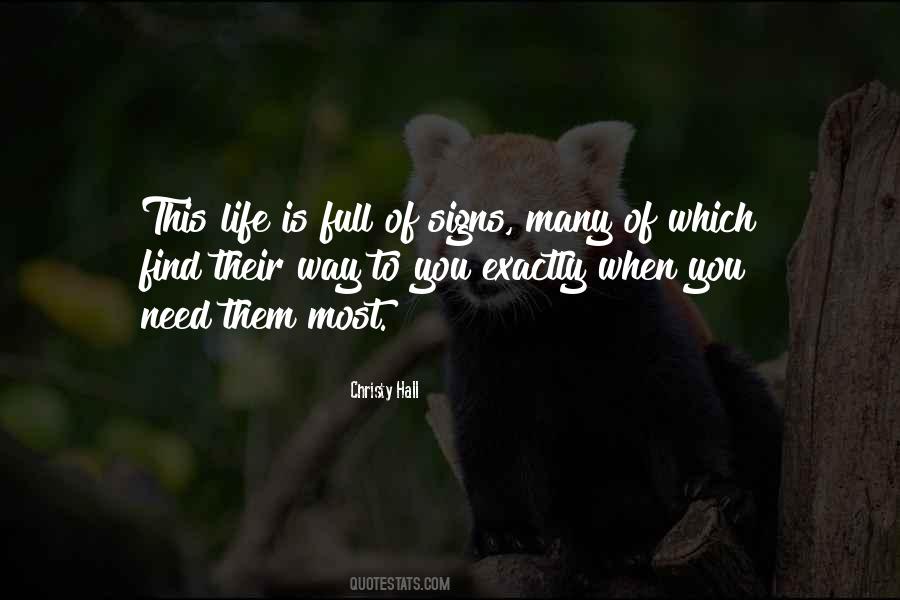 #64. when you go after the perfect architecture. The difference between the right architecture and the perfect architecture is the difference between finishing a project, and being fired for never finishing the project. You need to seek an architecture that meets the purpose of the project. - Author: Bett Correa-Bollhoefer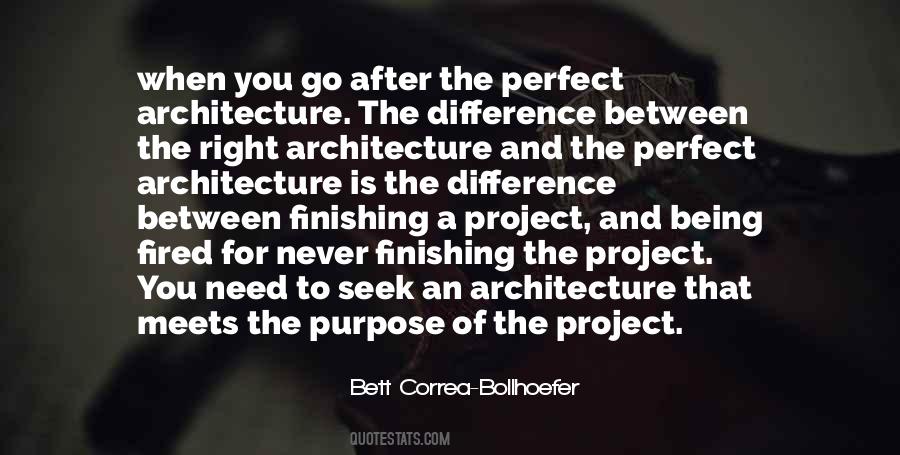 #65. It's when you don't need something that you tend to lose it. - Author: Gabrielle Zevin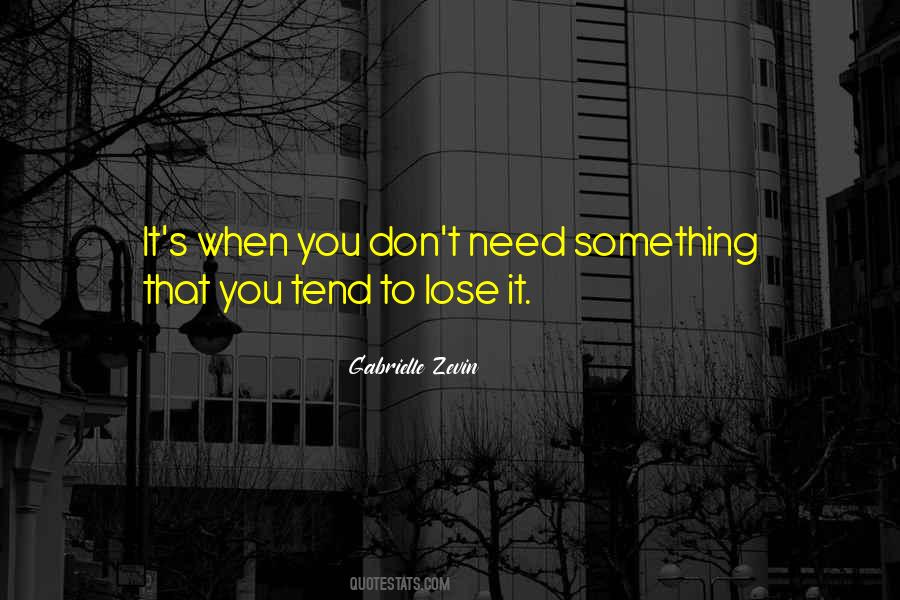 #66. When your boss listens to you carefully, reaches out to help you, and learns from you, it enhances your dignity and pride. Doing so also helps your boss gain empathy for you, to better understand how it feels to be you and what you need to succeed in your job and life. - Author: Robert I. Sutton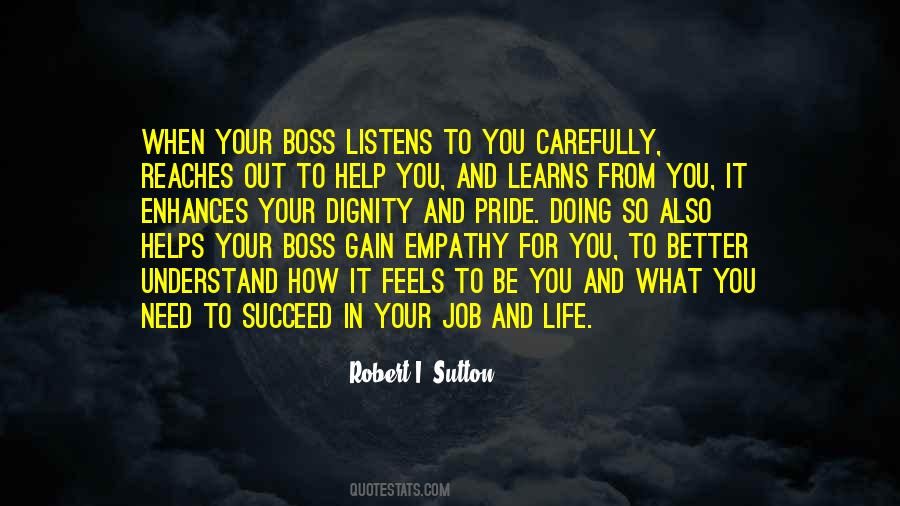 #67. Different things make me feel sexy. Sometimes it's just a manicure or when I buy some new underwear or just receiving a compliment from a guy on the street. But I think to feel sexy, you just need the right person next to you, who's going to complete you and make you feel even sexier. - Author: Irina Shayk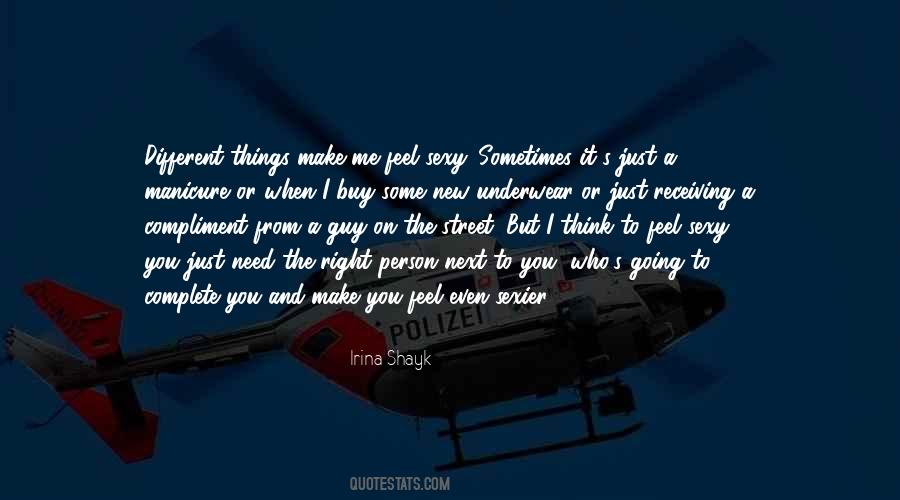 #68. And you plan to do this alone? You think a lot of yourself, don't you animal? (Stone)
Oh, punk, please. Believe me, when dealing with wusses like you who have to gang up on a kid to feel powerful, I don't need any help. (Fang) - Author: Sherrilyn Kenyon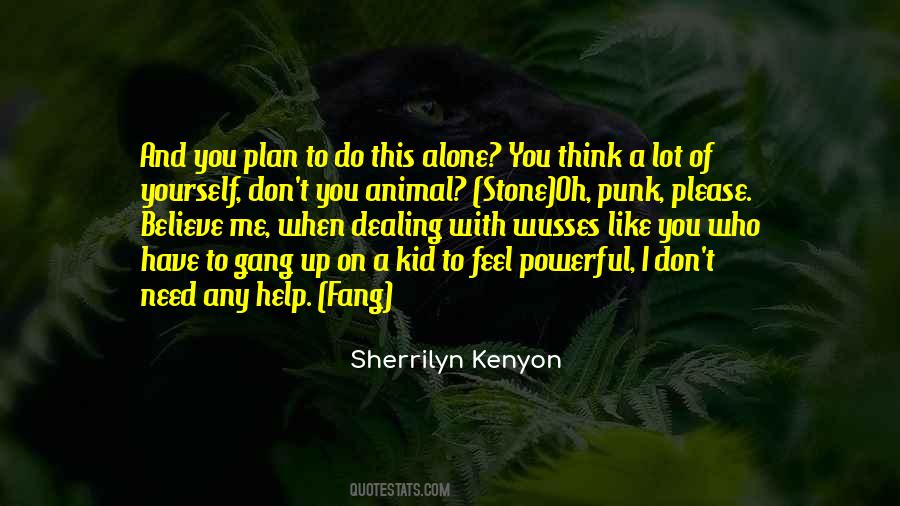 #69. You know you have a transparency problem when citizens of a democracy need to rely on WikiLeaks for details on changes to laws. - Author: Ziad K. Abdelnour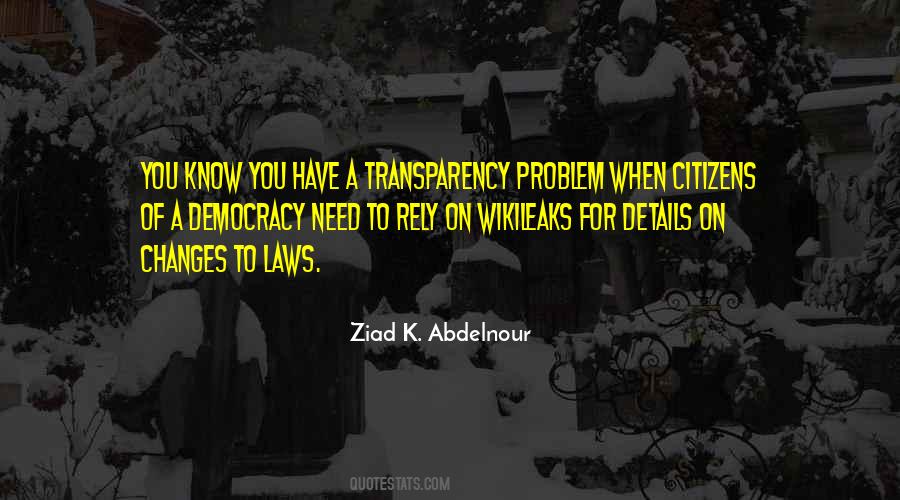 #70. When God has abandoned you and the devil is snapping at your heels, what you really need on your side is a bigger devil. - Author: Mike Carey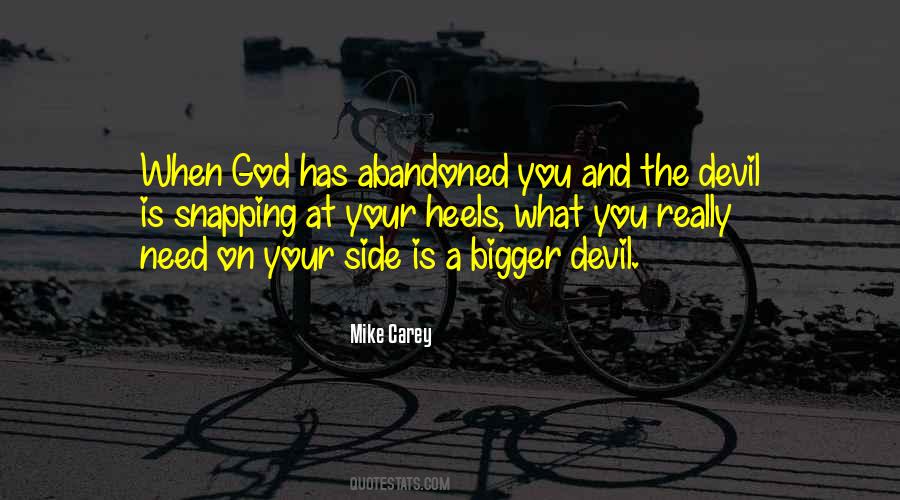 #71. Keep your dreams, you will never know when you need them - Author: Carlos Ruiz Zafon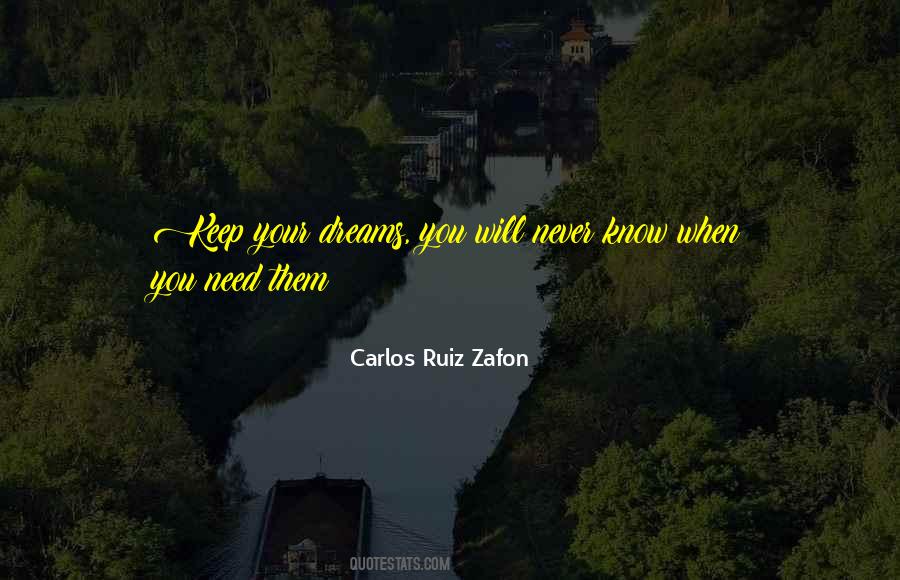 #72. My mom made me go to a Britney Spears concert when I was young. And I was like, 'No, I don't want to!' she was like, 'You're going to be a performer, you need to see other people.' - Author: Avril Lavigne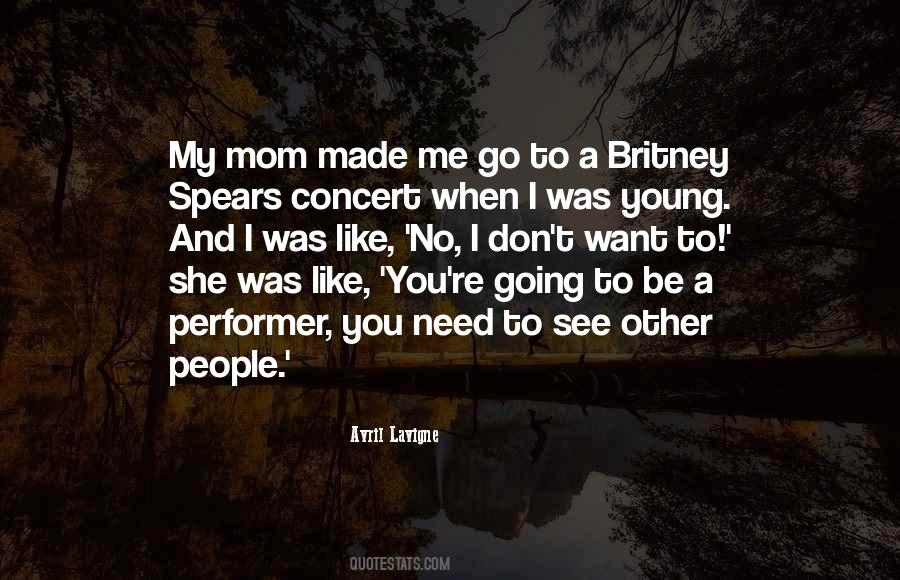 #73. You will come across people who always affirm by everything you say, but at the hour of need, they simply disappear! Stay away from such people or simply don't fall for their promises. - Author: K. Hari Kumar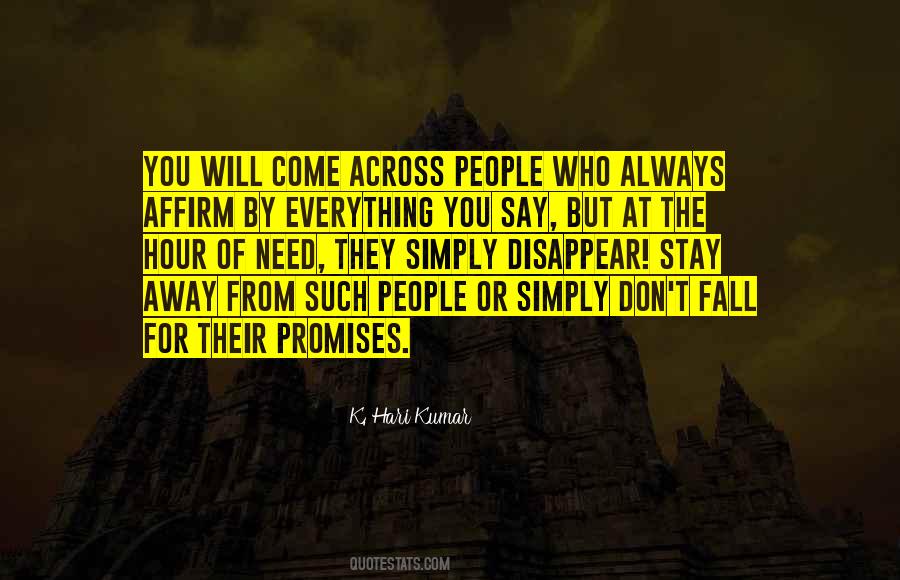 #74. When you're singing before 15,000 people at a summer concert outside, you need to look beautiful, because that's what people want. - Author: Anna Netrebko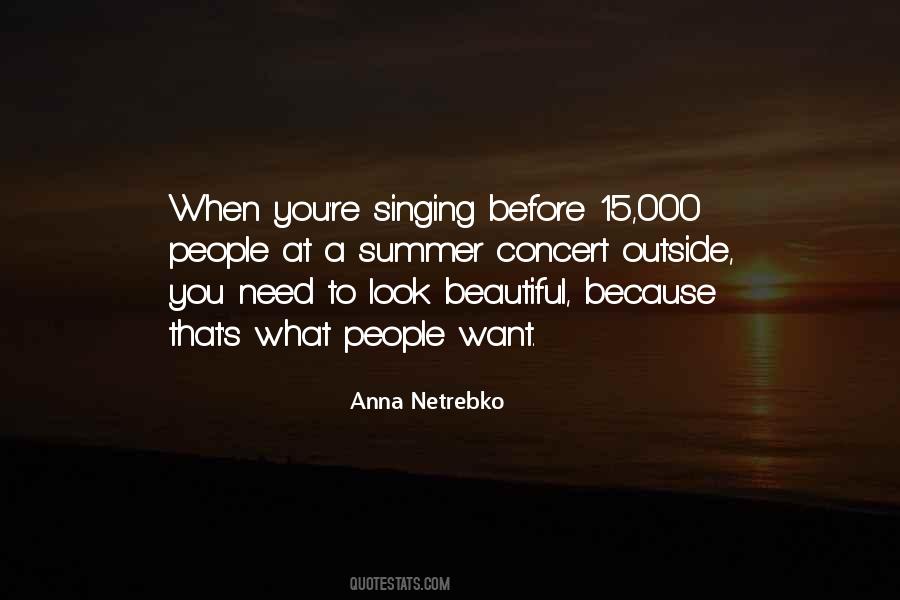 #75. What reason would I have to look at other girls when I have you? You're everything I need. - Author: Komal Kant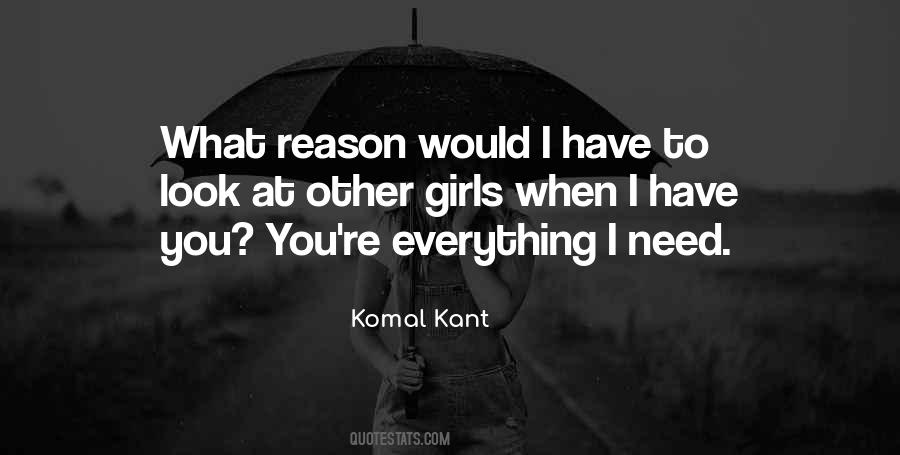 #76. When I watch shows, what I gravitate to is serial. You need to come back, you need to know what's happening. - Author: Krysten Ritter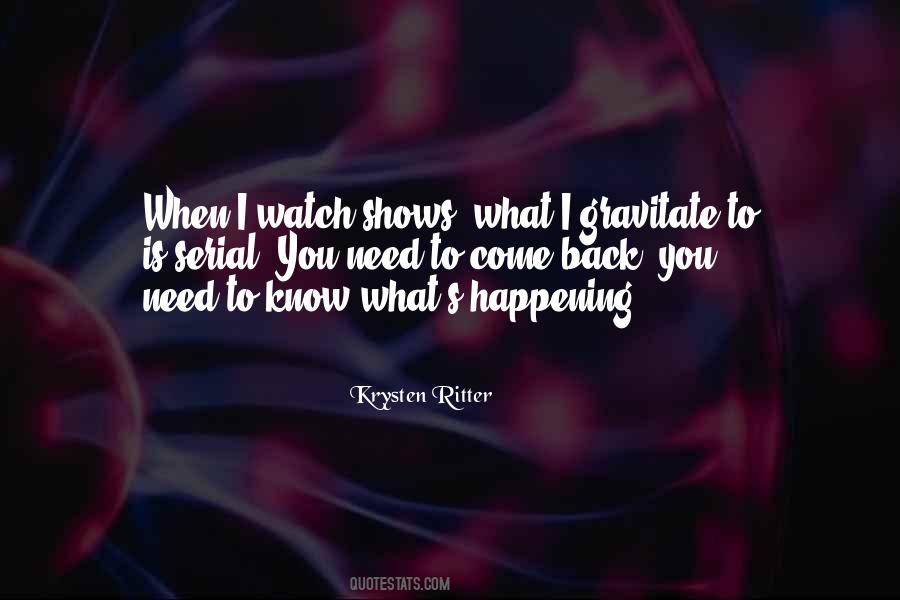 #77. I always tell students that you've got to be practical. You do not need a dream. You need a purpose, something you can wake up to in the morning when the dream is dissipated. - Author: Twyla Tharp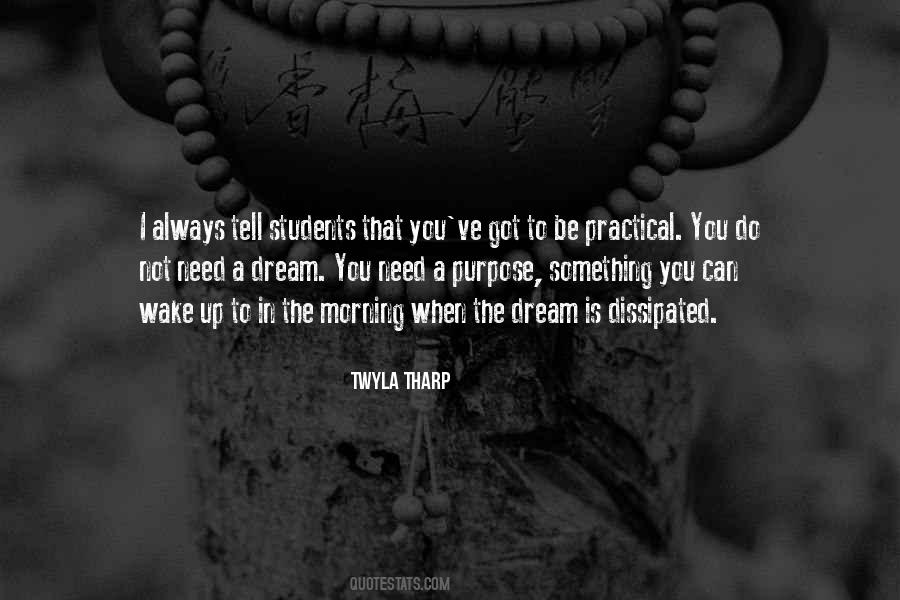 #78. I never yelled at my players much. That would have been artificial stimulation, which doesn't last very long. I think it's like love and passion. Passion won't last as long as love. When you are dependent on passion, you need more and more of it to make it work. It's the same with yelling. - Author: John Wooden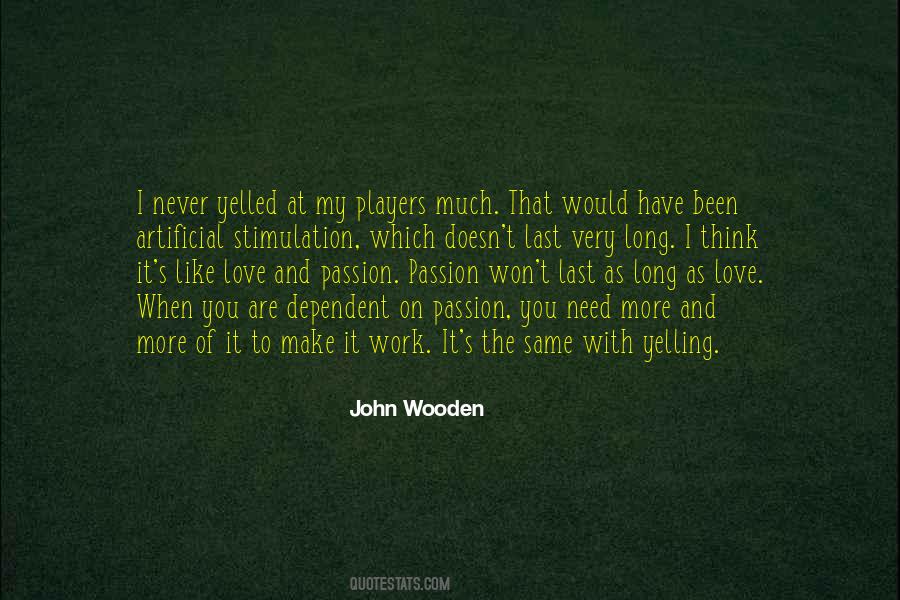 #79. Really good 'hard' novels - say, Wolf Hall - yield, if you read them carefully, the information you need when you need it, in order to follow their paths. But there is a point at which subtle storytelling maneuvers outmaneuver their own intelligibility. - Author: Daniel Menaker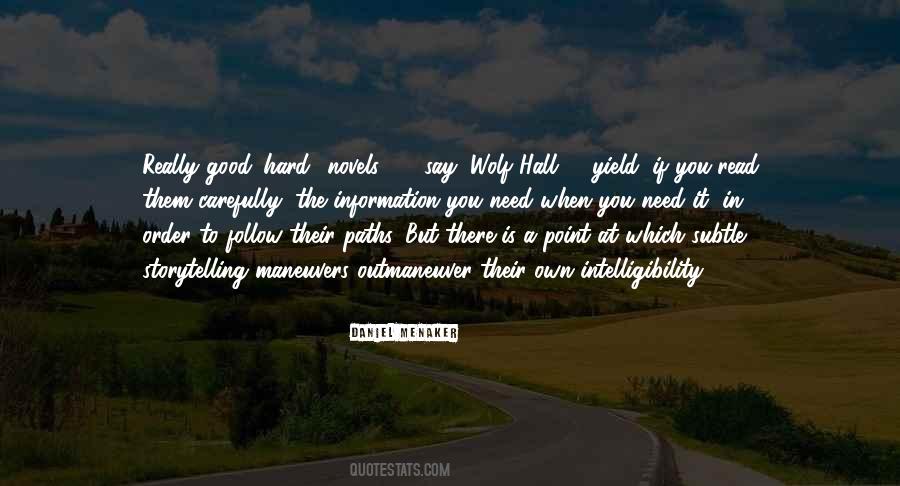 #80. She liked you.. You thought she was quietly discussing precalc, when she was clearly talking about having hot sex with you. Which is why you need me. - Author: John Green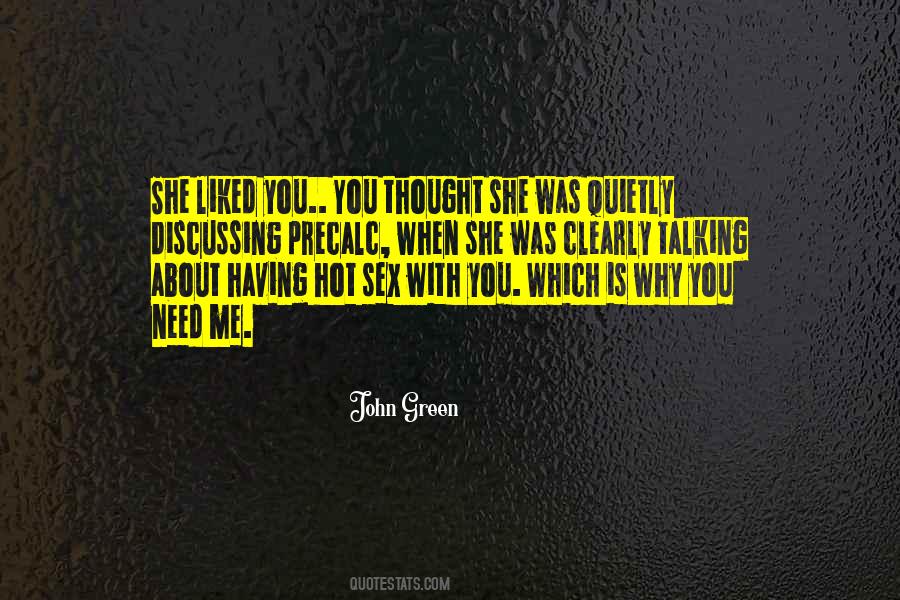 #81. Don't you just hate nights like that, when you think over every mistake you've made, every hurt you've received, every bit of meanness you've dealt out? There's no profit in it, no point to it, and you need sleep. - Author: Charlaine Harris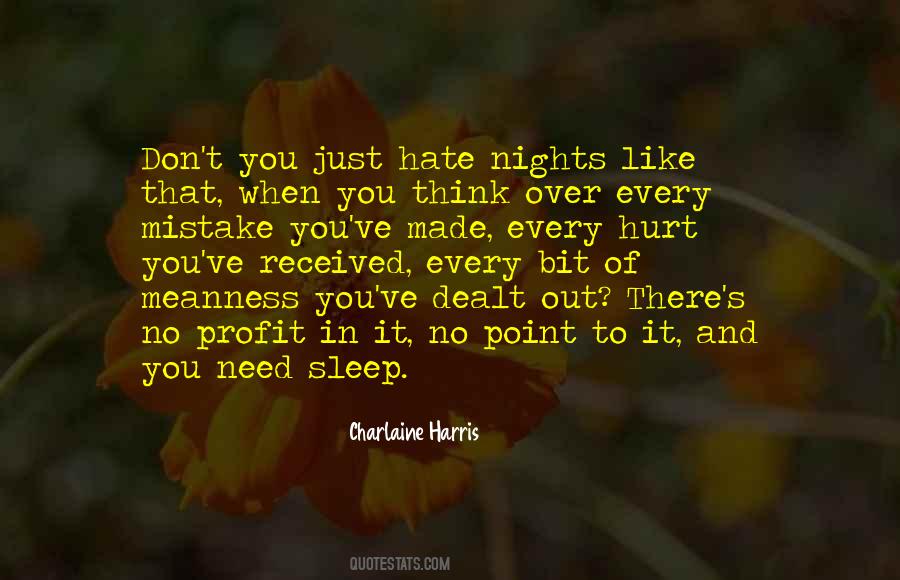 #82. I realize that two years is not a long time. I realize that even ten years is not a long time. But when it seems insurmountable, I need reminders like this that you can get used to it. That it can take on the comfort of the right choice. That lasting things do, in fact, last. - Author: David Levithan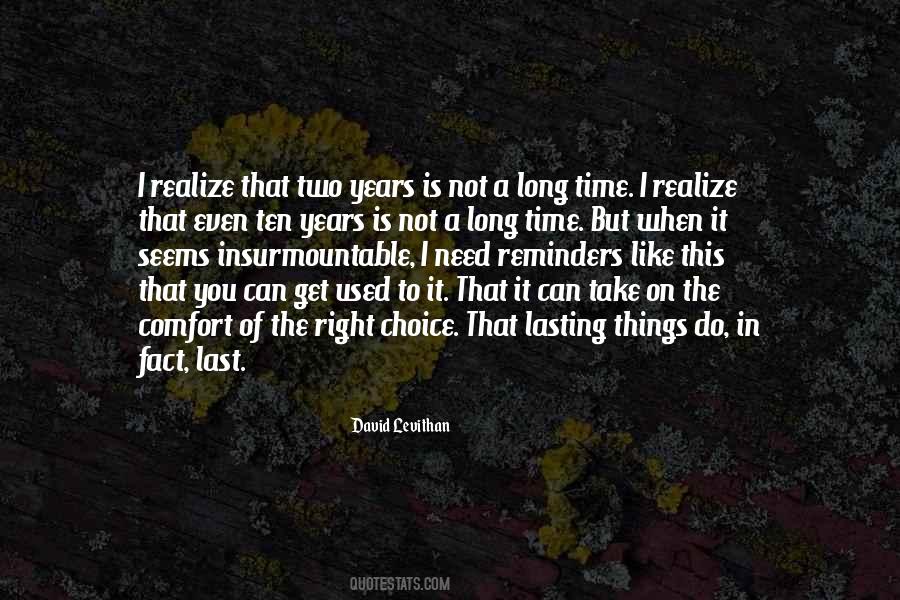 #83. The truly wealthy don't often pursue status. They don't need to. They have already made it. The pursuit of Rolex watches and $100,000 vehicles is for wannabes like you and me. Why pursue status when you've already achieved it? - Author: Erik Wecks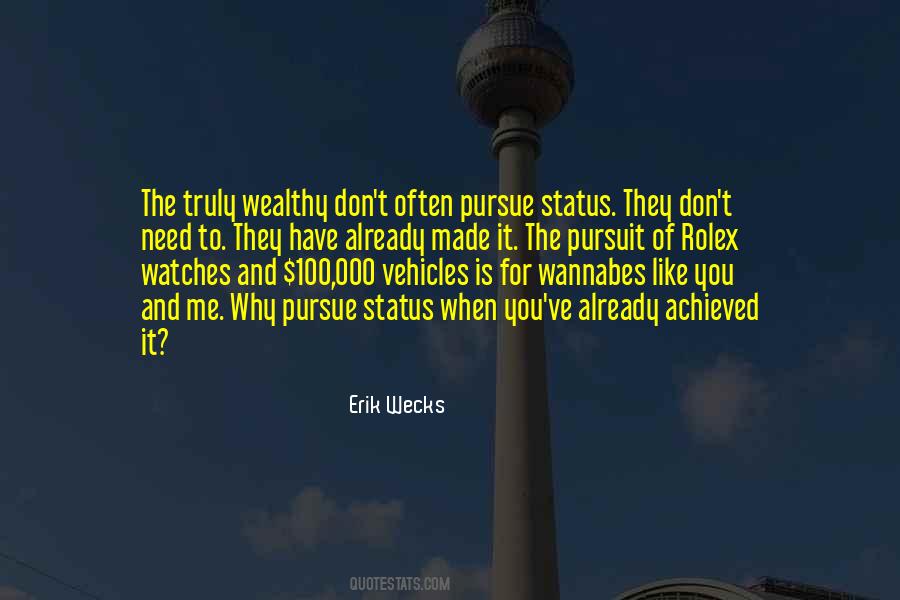 #84. For me, policy is best when connected to the roots, and roots are best when connected to policy. So I encourage you all to stay connected ... and walk with real people while doing the activism. Lord knows we need folks who are engaged. - Author: Simone Campbell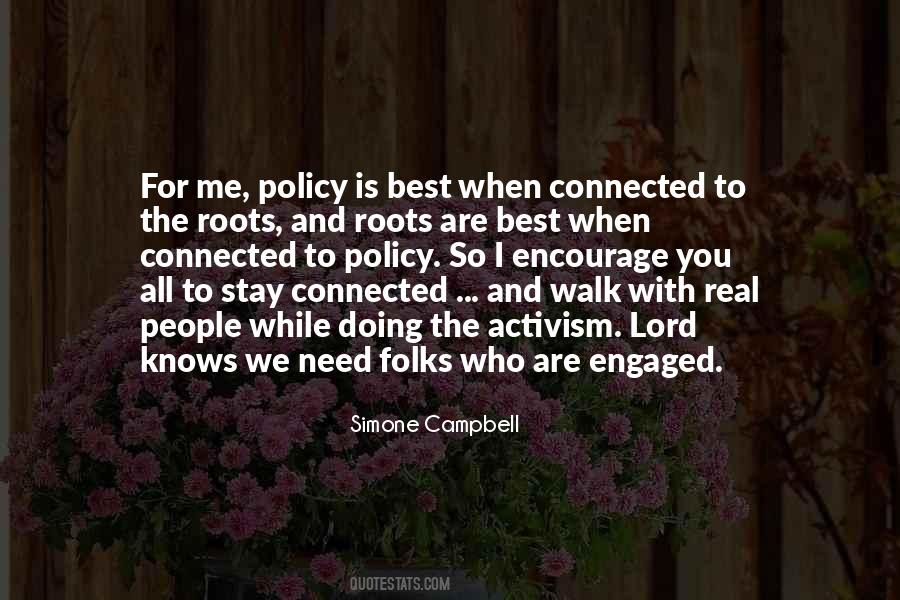 #85. There are only so many letters in the alphabet. When I talk to young musicians or authors and they ask for advice, I say, 'You gotta learn all the letters of your own personal alphabet. With music, you need to know all the different kinds of music and everything in and around your given instrument.' - Author: David Lee Roth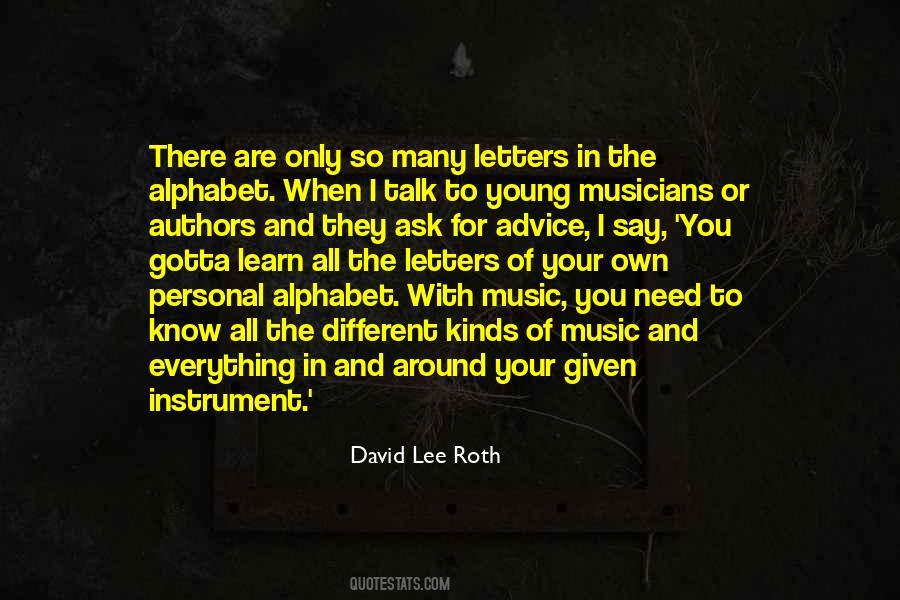 #86. When you have known someone your whole life you don't need a lot of warm-up time to get into a big argument. All the fore-play has been done years ago, and so the battle sits in your memory like stove gas awaiting the match. A wrong word, a careless allusion, and the old fire is suddenly raging. - Author: Roland Merullo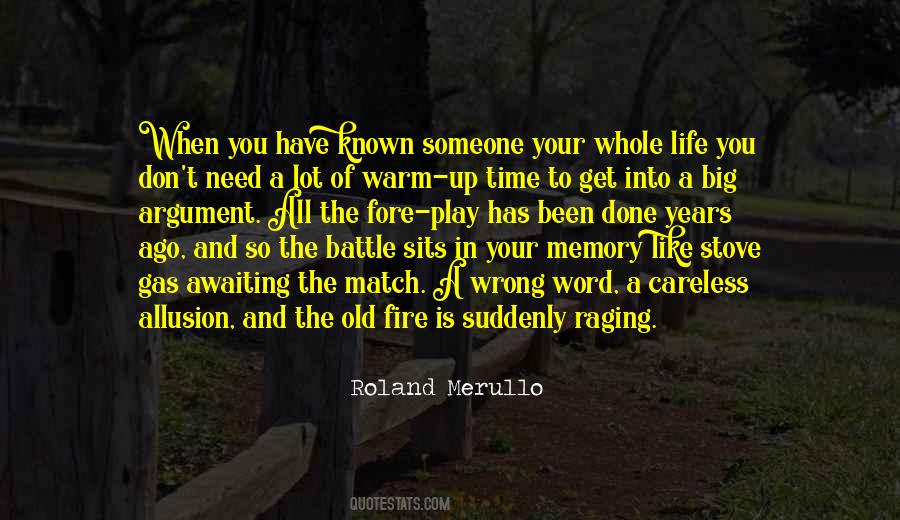 #87. You are a fine and talented woman, whose potential is yet to be realized given the love and support and luck we all need. Where you lost the will to fight for what is yours, where you gave away control of your life, is the mystery you are now unraveling. When you get it all back, hold on to it. - Author: Isabel Vincent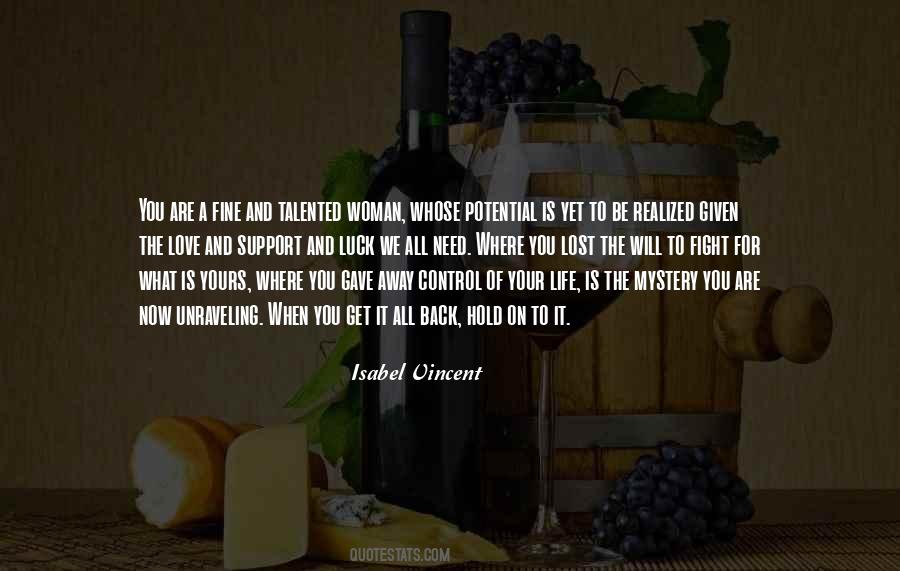 #88. It seems to me that dealing with little boys is a lot like playing poker. You need to know when to hold them, when to fold them, and when to walk away. But the most important thing you need to know is, oral contraceptives are only 97 percent effective. - Author: Paula Wall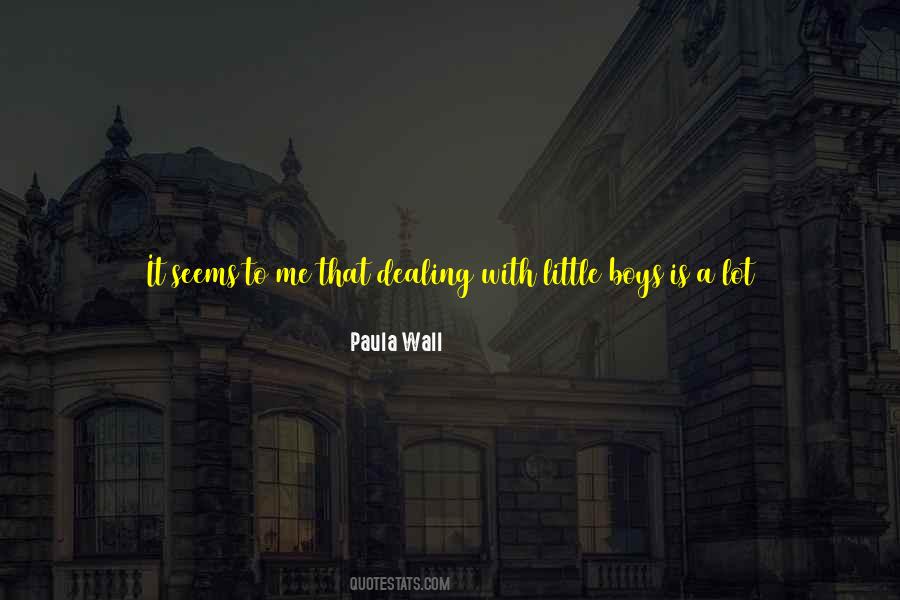 #89. I don't like offending people, and it's easy to offend people when you don't know as much as they do. This group knows more about what it takes to lead in this way than I ever will. My goal is to push people, but I need to do it from a place of respect. - Author: Seth Godin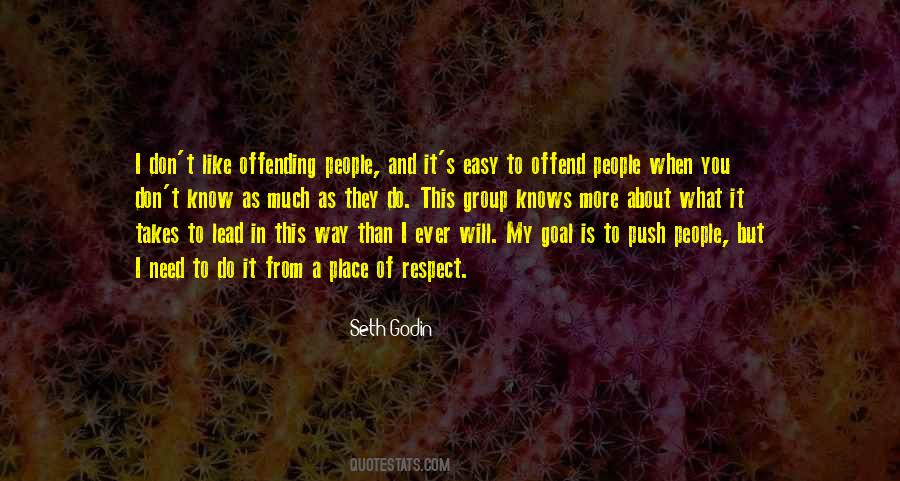 #90. Sometimes when you're struggling to see kindness in the world, you need to be the creator of it to remind yourself it does exist. - Author: Truth Devour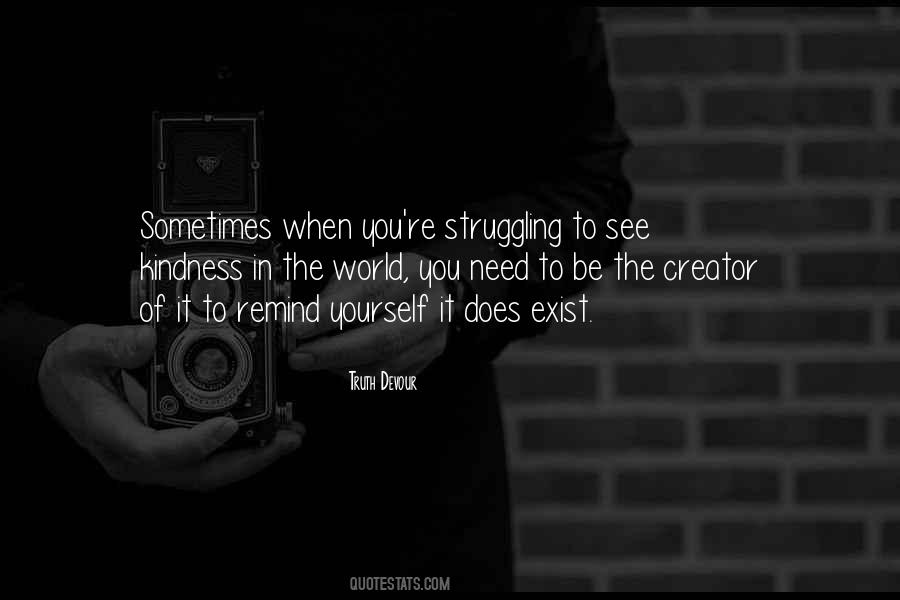 #91. You think you know what you want and how it's all supposed to turn out. When all is said and done, you get what you need. You know in the end that what you need is what you really wanted all along. - Author: Kate McGahan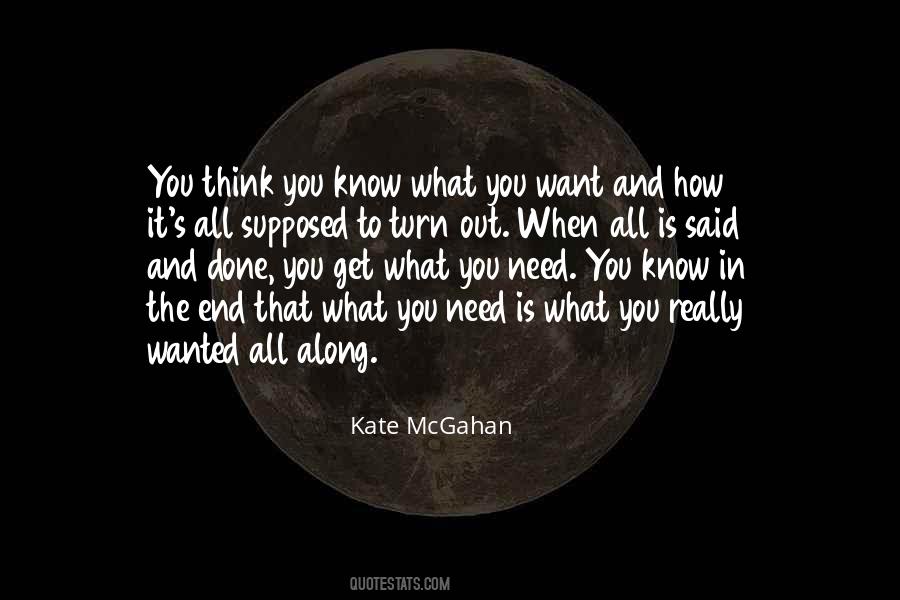 #92. But minds are not to be trusted. Minds are always drifting toward ambiguity, toward questions, when what you really need is certainty. Purpose. Clarity. Do not trust your minds. - Author: Anthony Doerr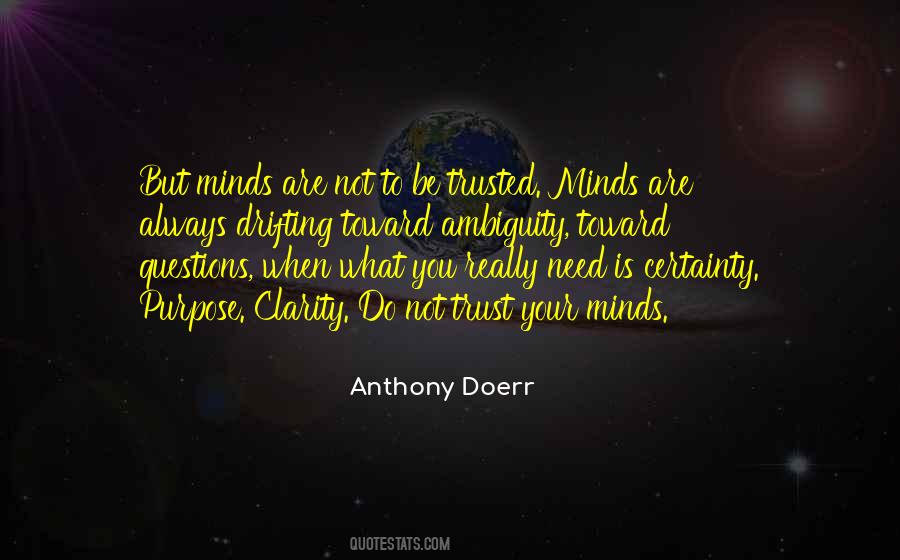 #93. if somebody steals from you, you should forgive them because they might have been in need. If someone speaks behind your back, say nothing because you must be the bigger person. When you fall in love, give all your heart to your beloved and don't ever doubt. - Author: Zahed Haftlang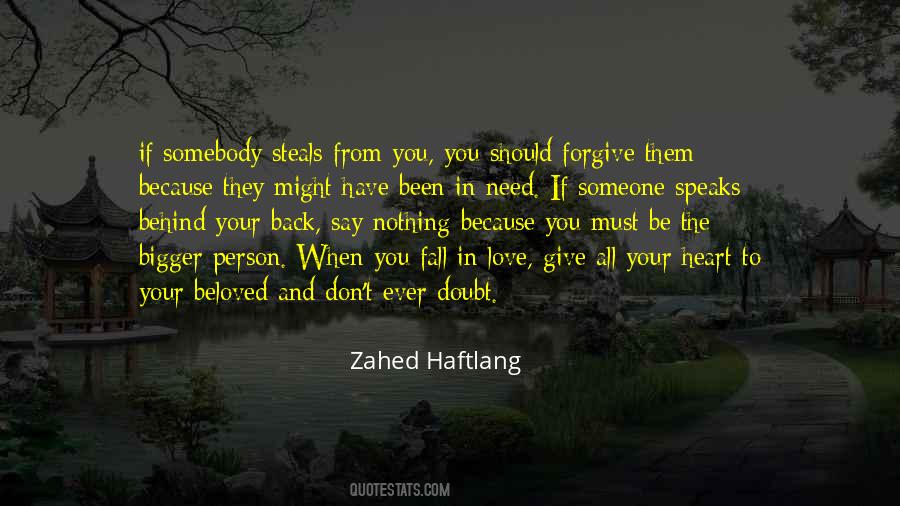 #94. I don't think even when you find a person, you can be completely honest, ever. There's still pieces of you that you don't give away. I do believe you always need that place where it's just you, your thoughts, no one else's judgment or anything. - Author: Alicia Keys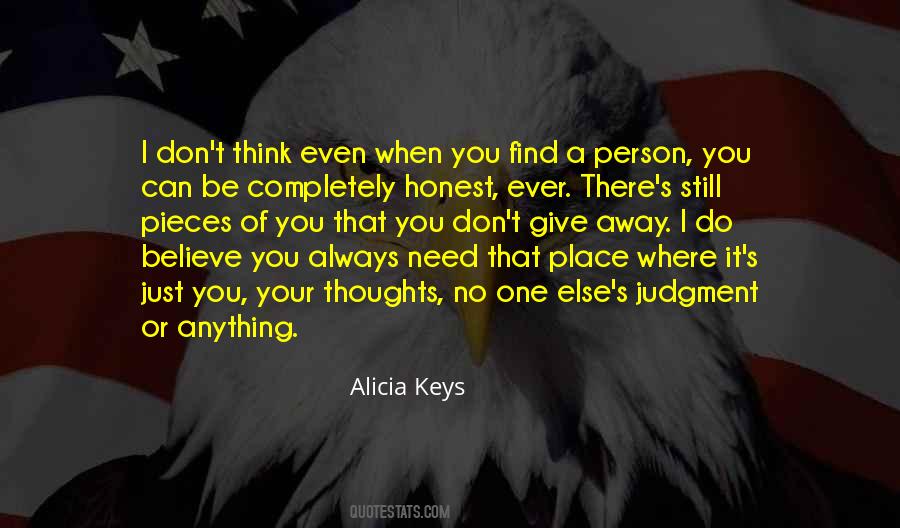 #95. 'Just Do It' is exactly what you need to hear when you're in a moment of doubt. When you're struggling, especially with sport ... just do it. Stop talking about it, stop complaining about the cellulite, or that you're not able to run fast enough for the bus ... just do it. - Author: Jessie J.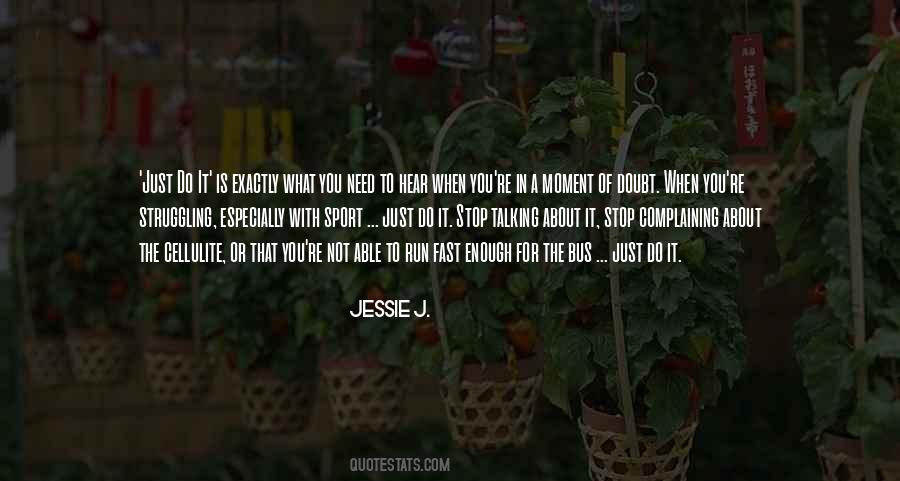 #96. It's perfect. Blurred lines; it's when fact and fiction become indiscernible. Fantasy and reality fade into a color of grey yarn and you become tangled up in it and can't escape into the world of black and white you desperately need as proof of the reality of life itself. - Author: Scott Hildreth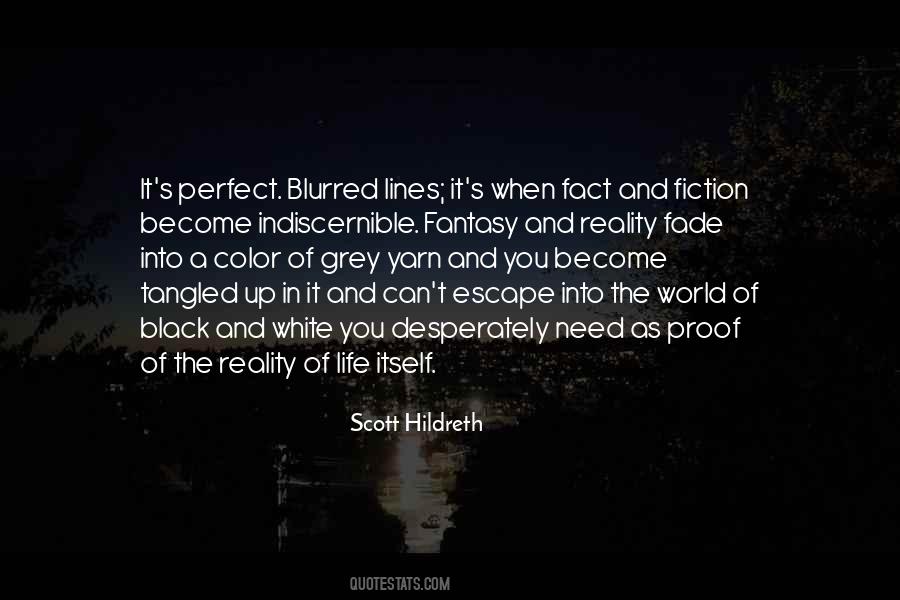 #97. If you are paying for something to drink when safe drinking water comes out of the tap, you have money to spend on things you don't really need. - Author: Peter Singer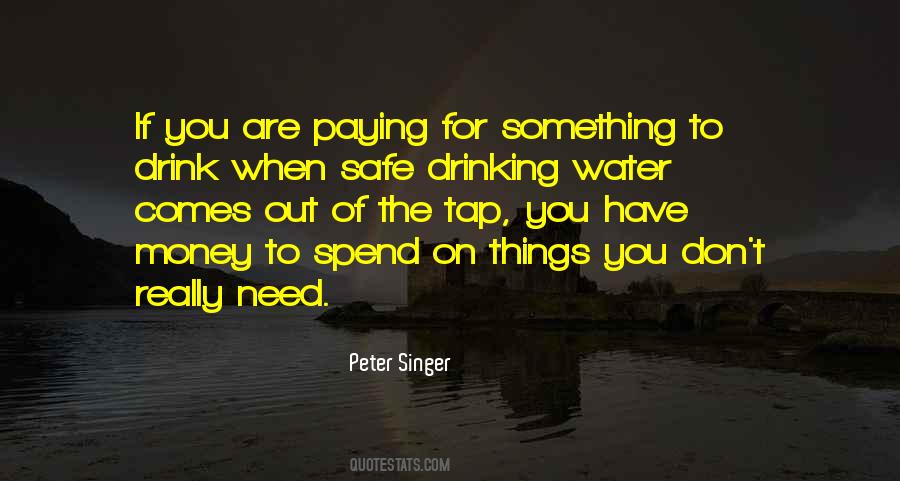 #98. It is strange the way the ignorant and inexperienced so often and so undeservedly succeed when the informed and the experienced fail. All you need in this life is ignorance and confidence, and then success is sure. - Author: Mark Twain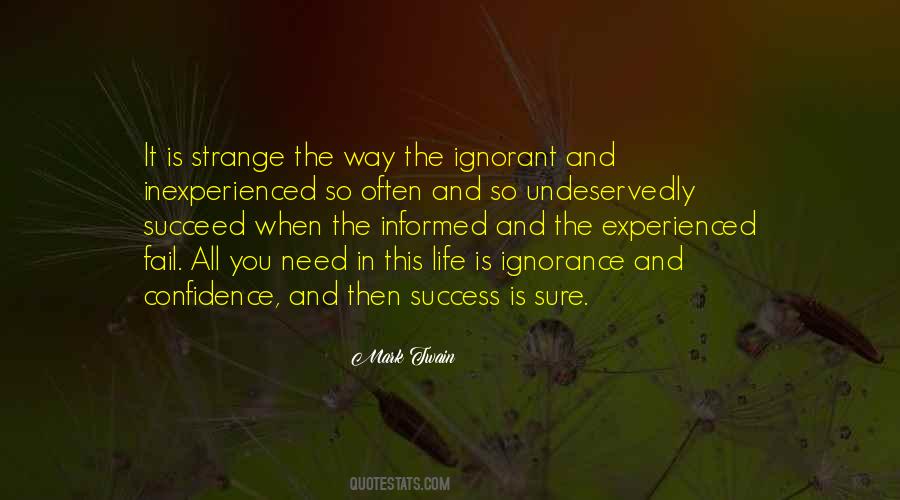 #99. Sometimes when you think you need space to sort out how you feel, you really don't. You're just scared, so you ran. Running is never the answer. Make yourself stay and work through it. - Author: J.C. Isabella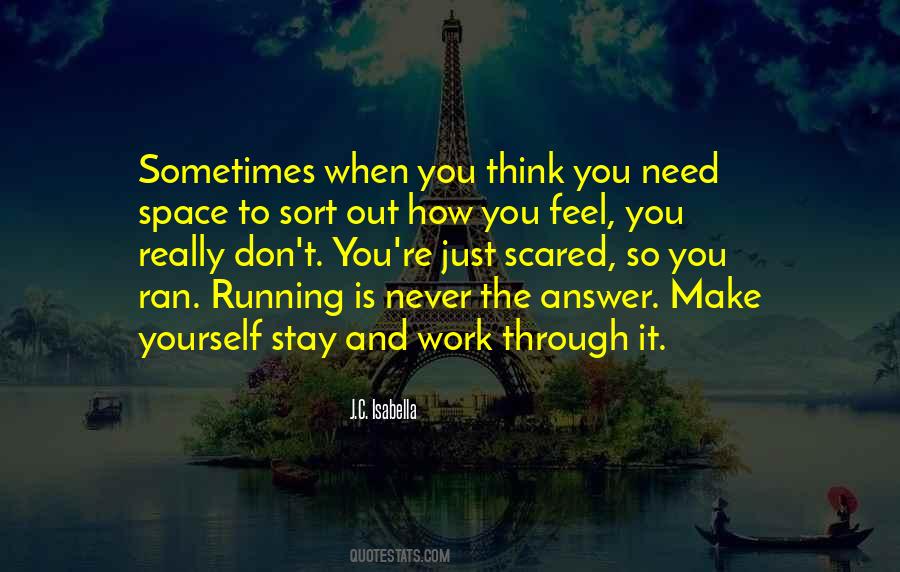 #100. As I see it, part of the art of being a hero is knowing when you don't need to be one anymore. - Author: Alan Moore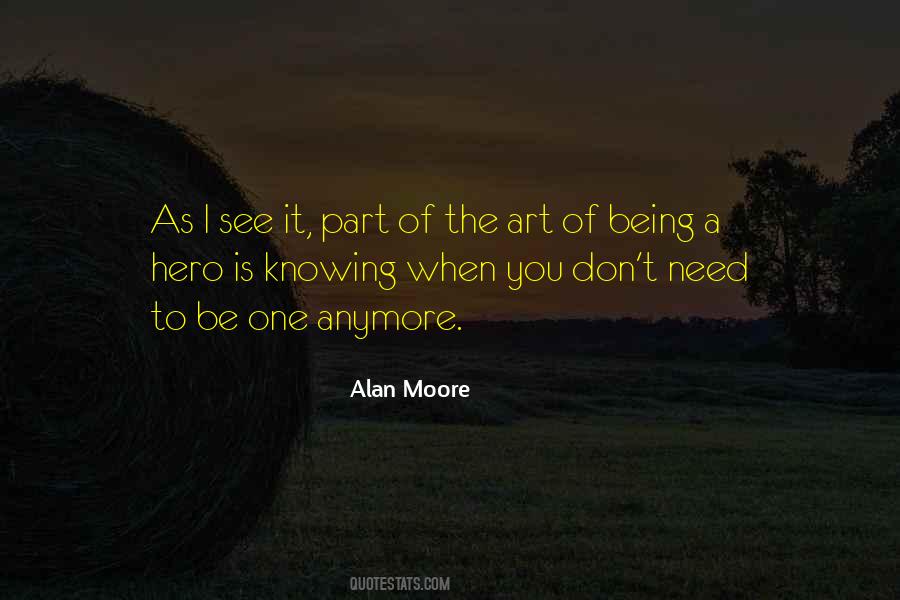 Famous Authors
Popular Topics