What Is The Purpose Of Life Famous Quotes & Sayings
List of top 100 famous quotes and sayings about what is the purpose of life to read and share with friends on your Facebook, Twitter, blogs.
Top 100 What Is The Purpose Of Life Quotes
#1. The secret to your purpose is to find what you feel is important, and not pursue what others would think is important. When you think highly of yourself, me thinking highly of you will never be enough! - Author: Shannon L. Alder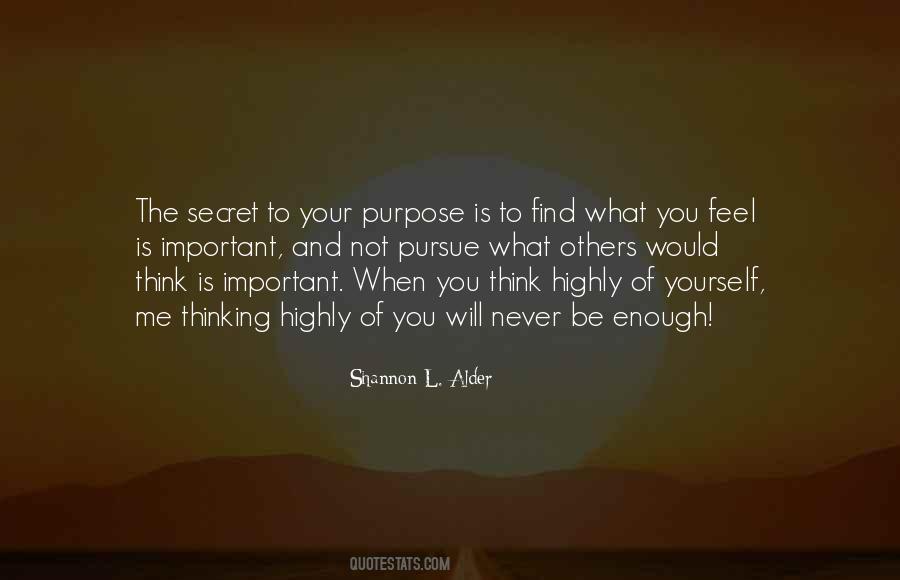 #2. I always felt I wouldn't be around long. I mean, we live, we die. circle of life. But I feel life now is wasted in front of the Television and computer that we all miss the view of it. I know I was put her for a purpose and I just need to find out what it is. - Author: Sarah Swartz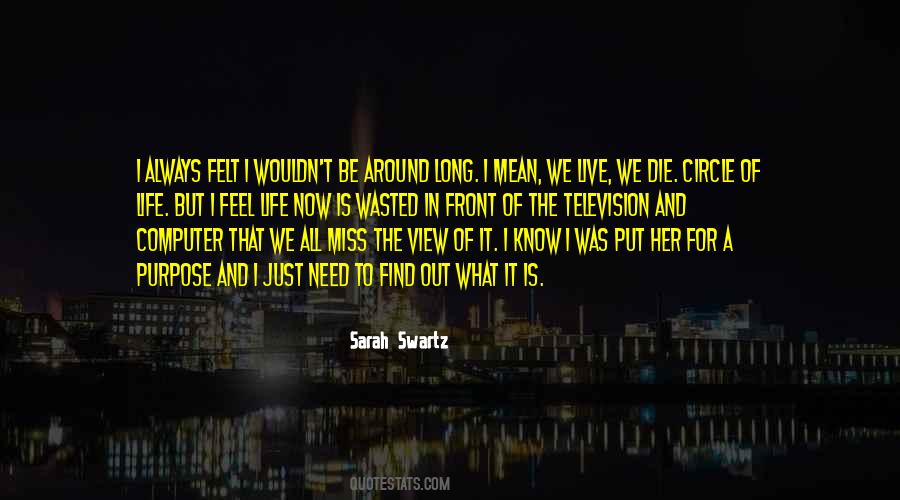 #3. It is not that we have so little time but that we lose so much ... The life we receive is not short but we make it so; we are not ill provided but use what we have wastefully. - Author: Seneca.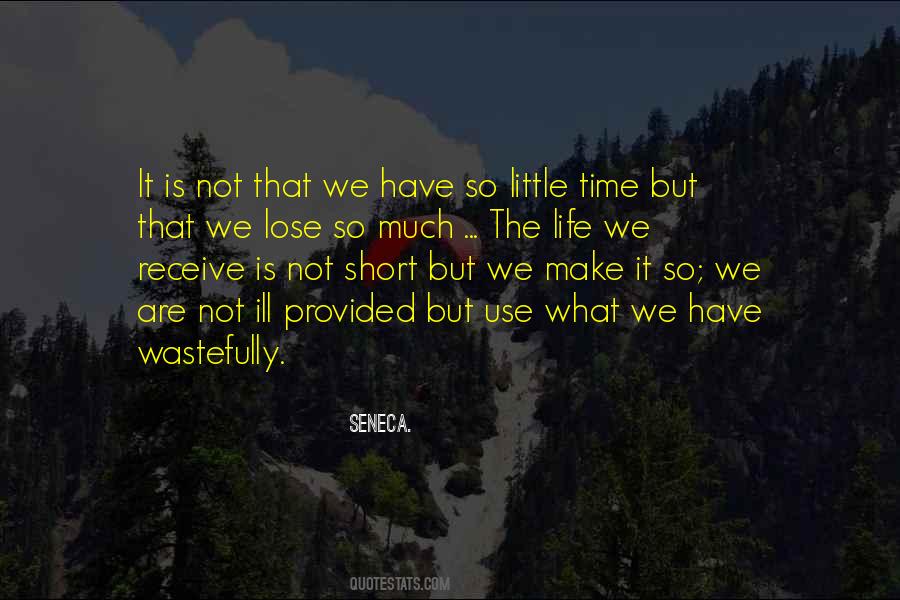 #4. Singleness of purpose is one of the chief essentials for success in life, no matter what may be one's aim. - Author: John D. Rockefeller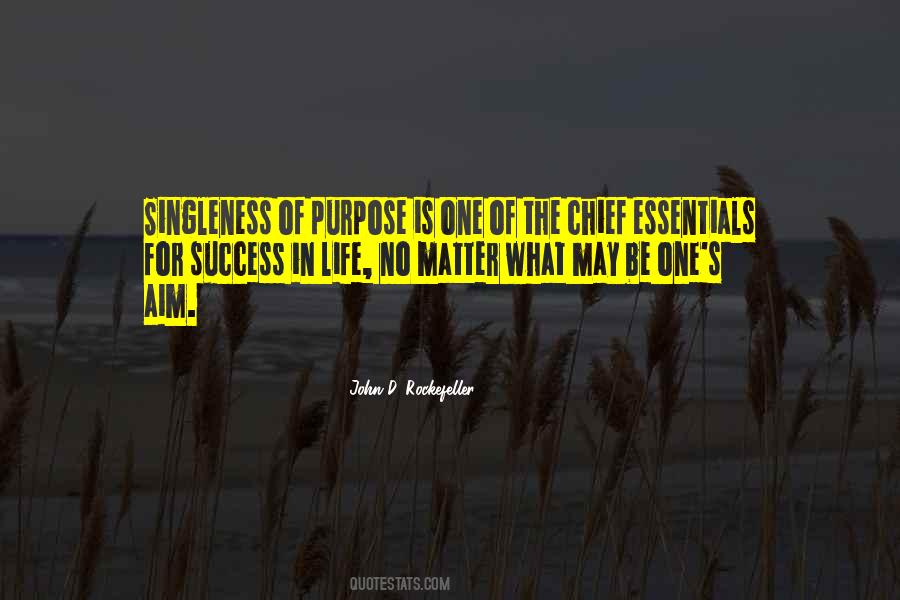 #5. My father used to say that life is what you make it. Today is the first day of the rest of your life. You can't change the past, but the future isn't set in stone. You can effect a change there. Move forward not with hatred or love. Move forward with purpose. (Simone) - Author: Sherrilyn Kenyon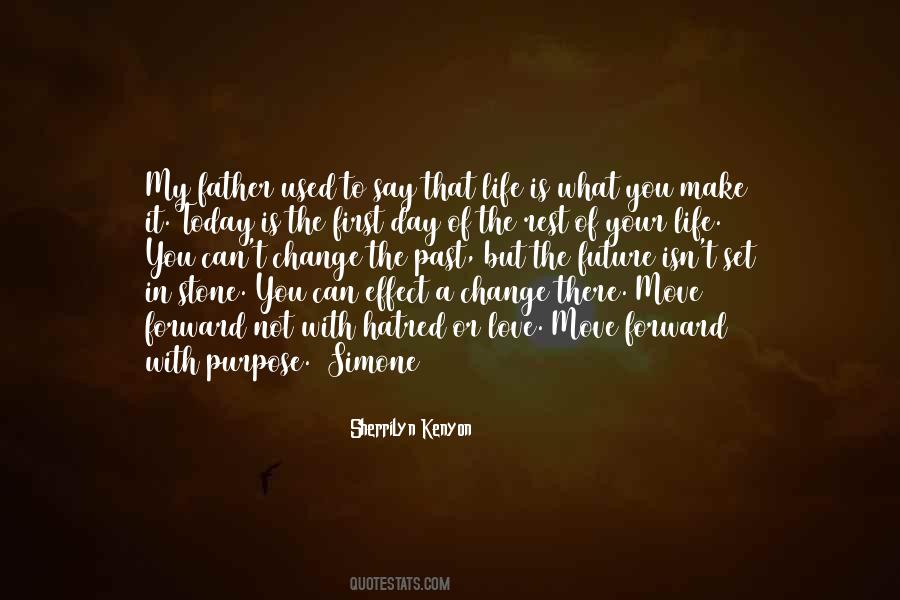 #6. Who are you' is a question of both substance and position. In other words, what is the authority of your voice, service, product or performance in relation to the needs of those you intend to serve? Secondly, have you defined and demystified yourself enough to be accepted as the solution of choice? - Author: Archibald Marwizi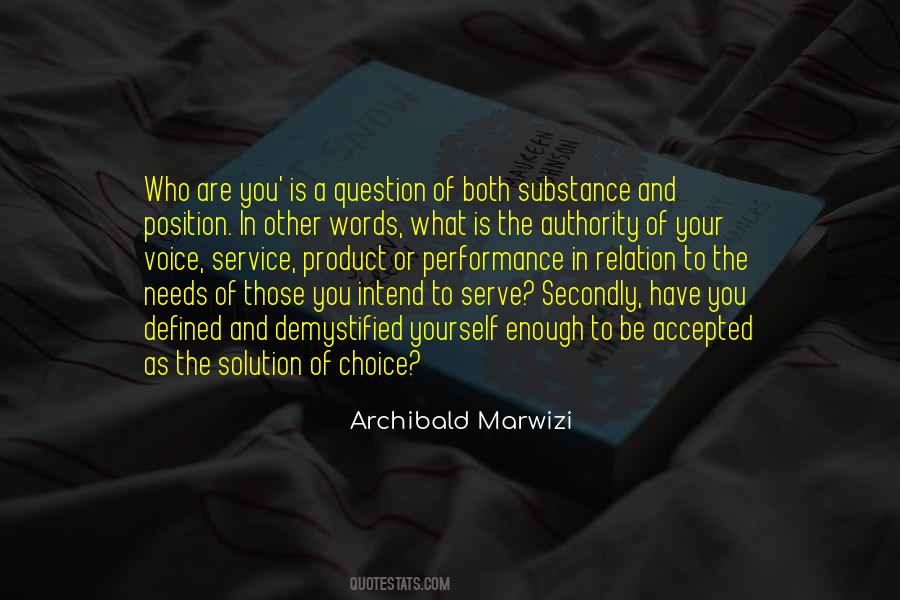 #7. The purpose of your life is to find your ultimate purpose that makes you happy. Then commit to it wholeheartedly. - Author: Debasish Mridha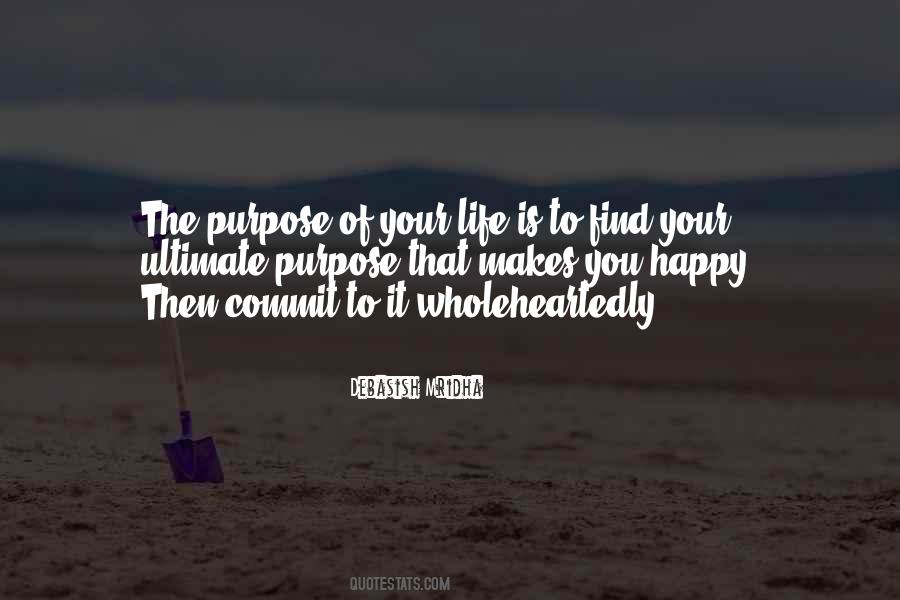 #8. When I think of existence, I cannot help but wonder, "What is life, anyway?" Where do I fit in the grand scheme of life? What is the point of it, anyway? Is this a test - and if so, am I passing it? - Author: C.J. Sinclair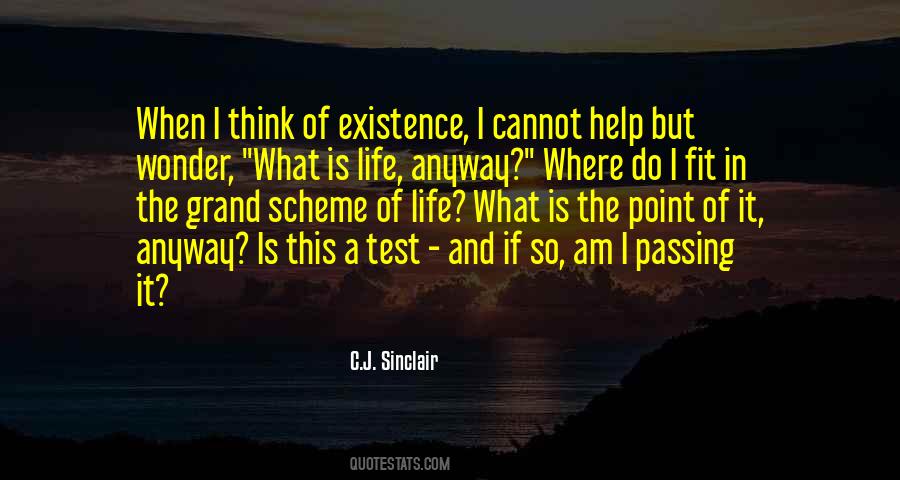 #9. Destiny, Talent, Calling, purpose. each of us came with our Talents, Purpose and Calling. What you do with them is the summary of your life here on earth. - Author: Jaachynma N.E. Agu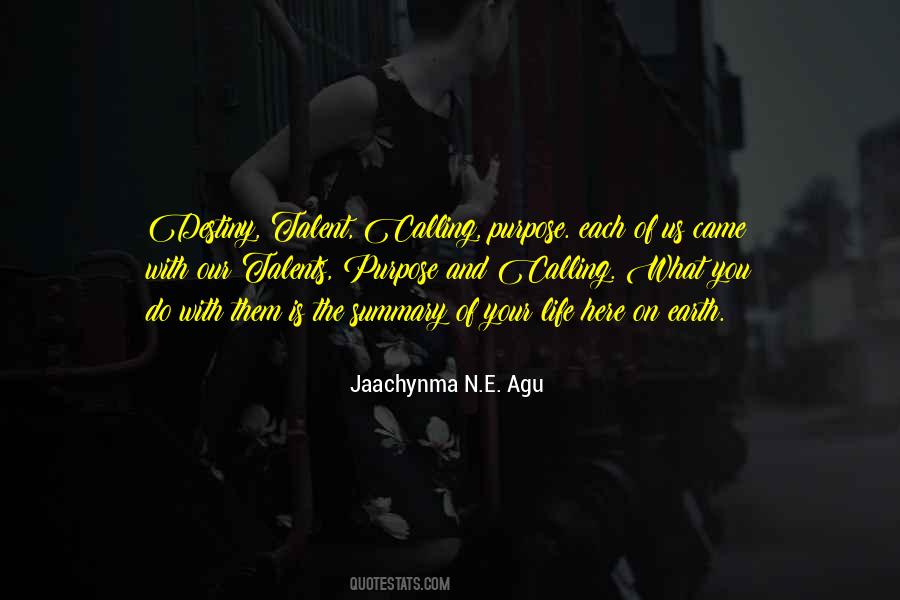 #10. I recently read a fabulous blog by a writer named Mark Manson, who said that the secret to finding your purpose in life is to answer this question in total honesty: What's your favorite flavor of shit sandwich? - Author: Elizabeth Gilbert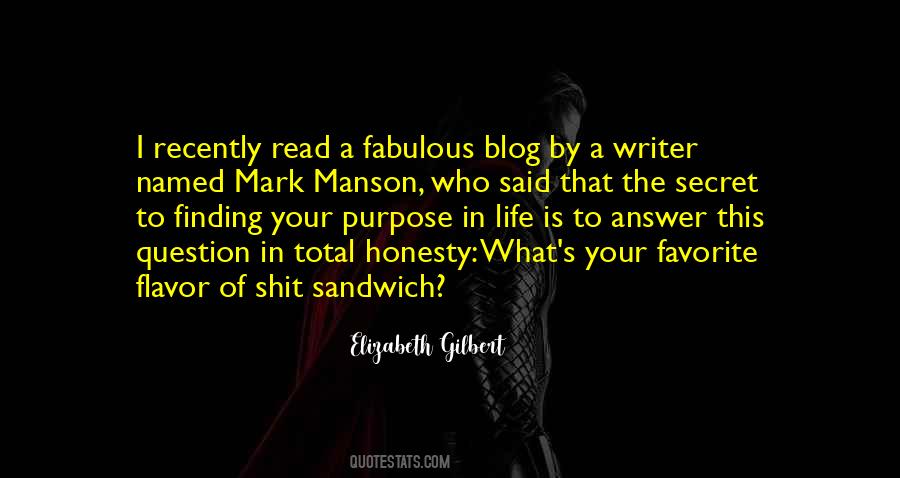 #11. Our days are numbered in the book of days, Most High," Gorgon murmurs as the garden comes once more into view. "That is what gives them sweetness and purpose. - Author: Libba Bray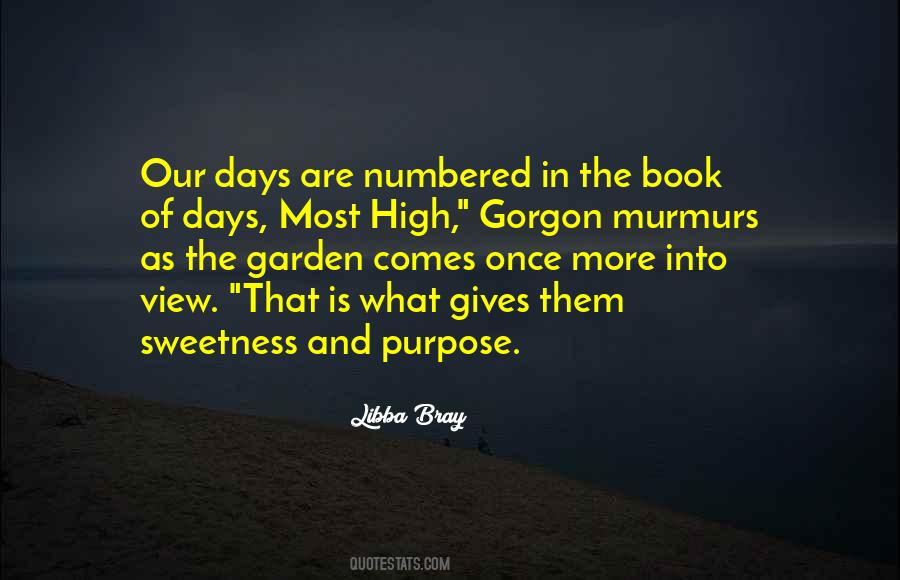 #12. She knows what is the best purpose of education: not to be frightened by the best but to treat it as part of daily life. - Author: John Mason Brown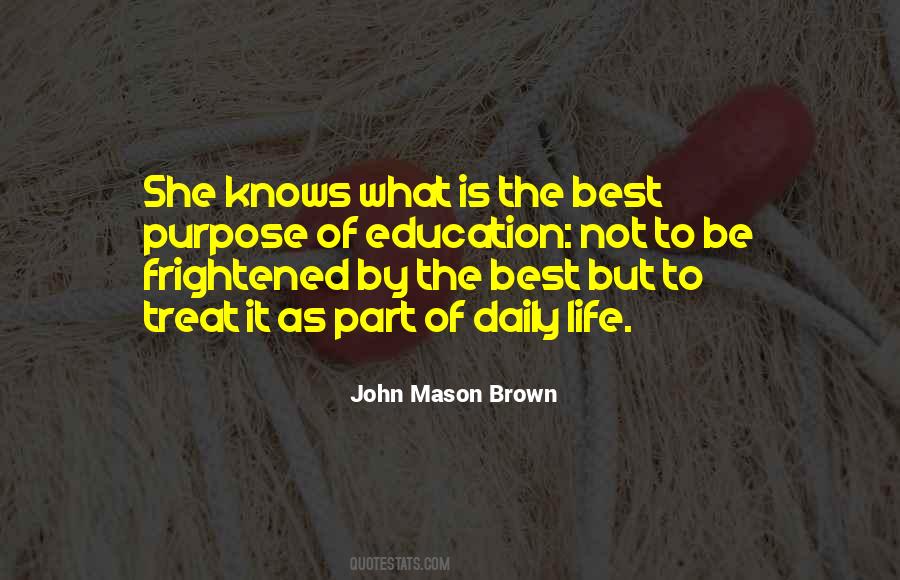 #13. Of all the questions I have asked my readers this is the most important: What would you do if you weren't afraid? When you finally give wings to that answer then you have found your life's purpose. - Author: Shannon L. Alder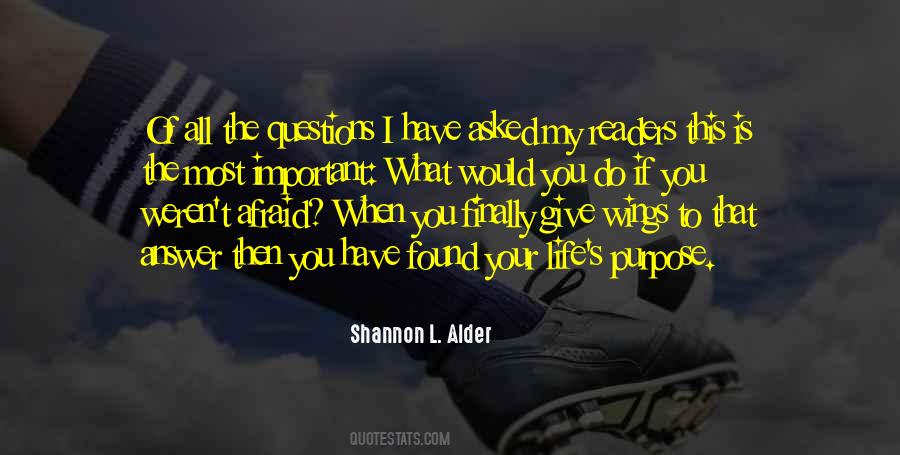 #14. The purpose of life is happiness. What else could it possibly be? - Author: Frederick Lenz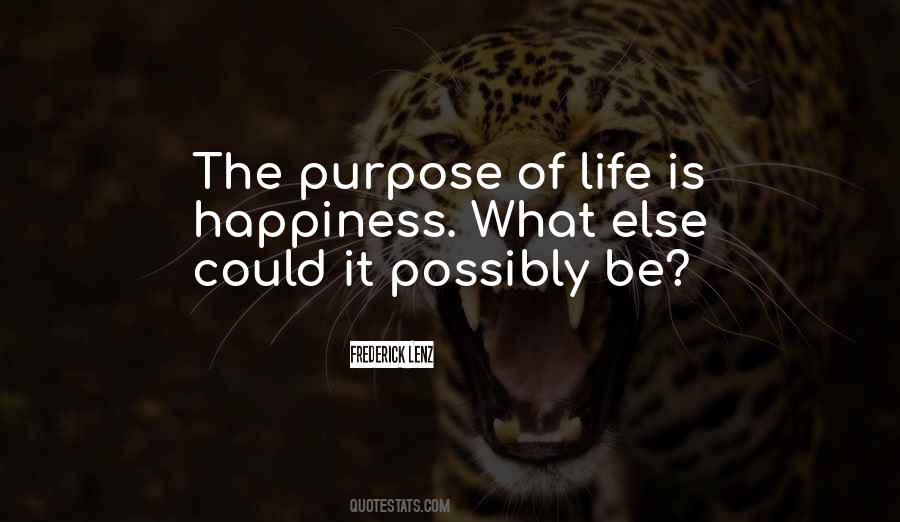 #15. What if the purpose of my life is not about me? Am I willing to give up all my dreams, my aspirations and comfort to find it/ Are you willing to pay the cost? This is the pearl of great price, the abundant life we are all seeking and, at the same time, petrified to find. - Author: Jeff Goins
#16. I want to ask someone the truth, I think truth is what has been missing in my life. Well, it's one of the things that has been missing, along with a sense of purpose and positive self-esteem. - Author: Susan Juby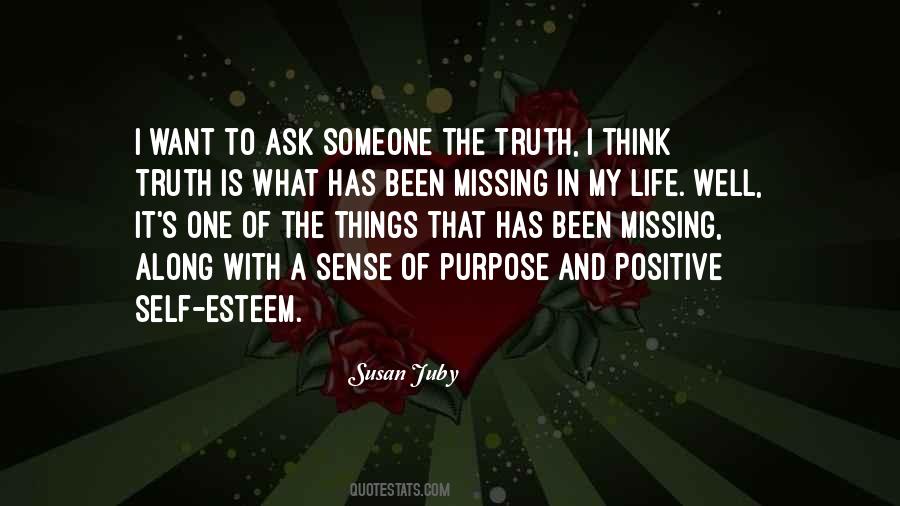 #17. If the goal is what you want to achieve, then the purpose is why you want to achieve it. Without purpose, reaching your goal will have little or no meaning. - Author: Lawren Leo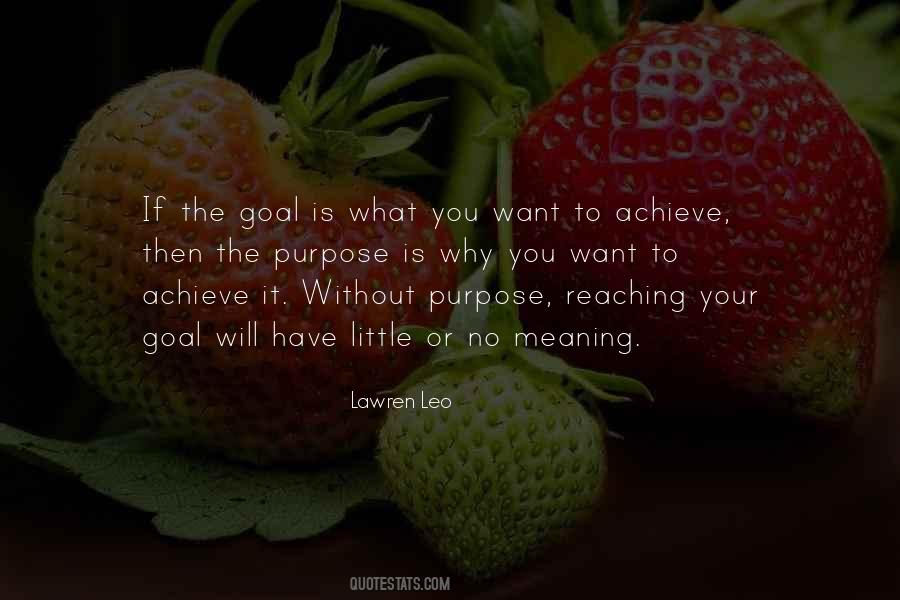 #18. The human race is a monotonous affair. Most people spend the greatest part of their time working in order to live, and what little freedom remains so fills them with fear that they seek out any and every means to be rid of it. - Author: Johann Wolfgang Von Goethe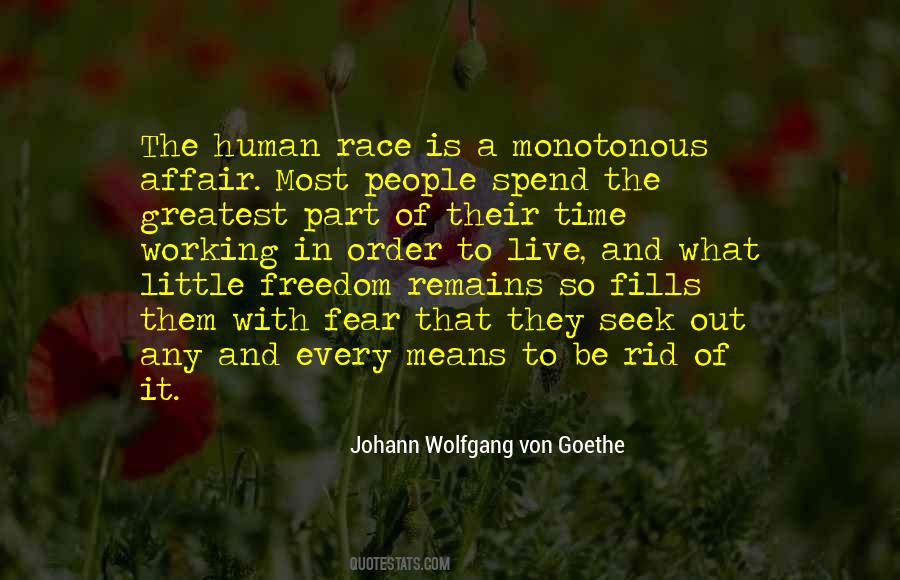 #19. What then is the purpose of national education? Rather than devise complex theoretical interpretations, it is better to start by looking to the lovely child who sits on your knee and ask yourself: What can I do to assure this child will be able to lead the happiest life possible? - Author: Tsunesaburo Makiguchi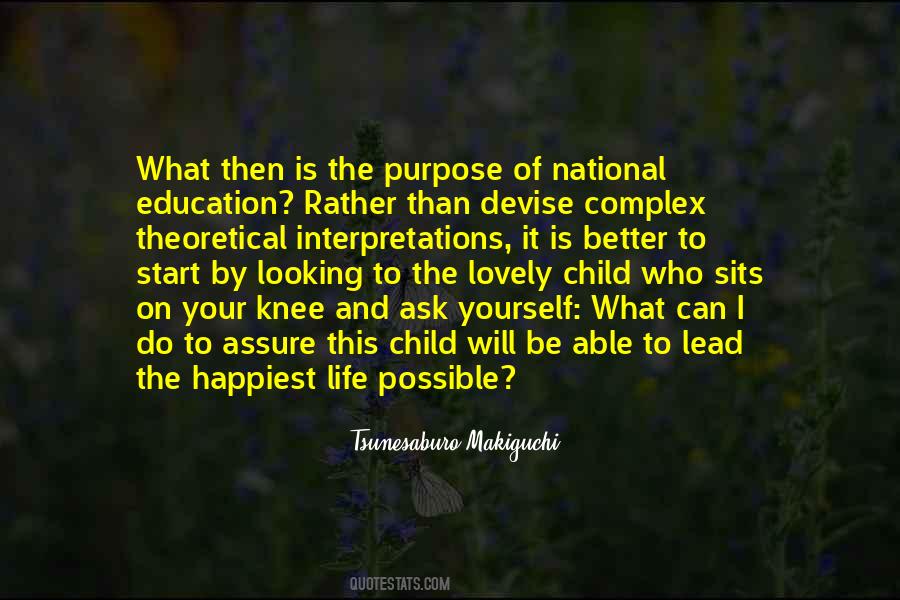 #20. Asking, "If there is no God, what is the purpose of life?" is like asking, "If there is no master, whose slave will I be?" If your purpose of life is to submit as a slave, then your meaning comes from flattering the ego of a person whom who should detest. - Author: Dan Barker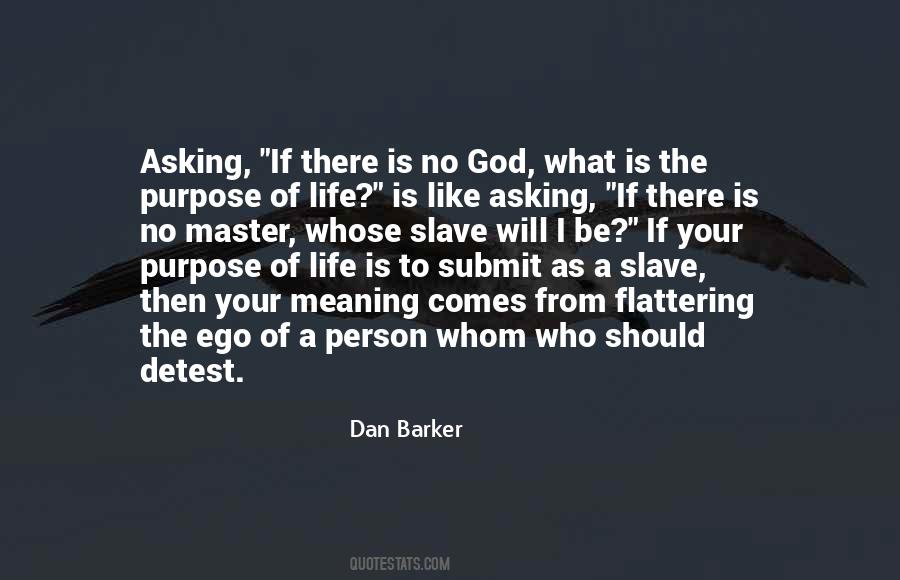 #21. If "Nothing is True, Everything is Permitted," then there is no purpose or grand cosmic scheme to life beyond what we choose to impose or believe. To some this is cynicism. For the Chaos Magician, it is a breath of dizzying freedom. - Author: Phil Hine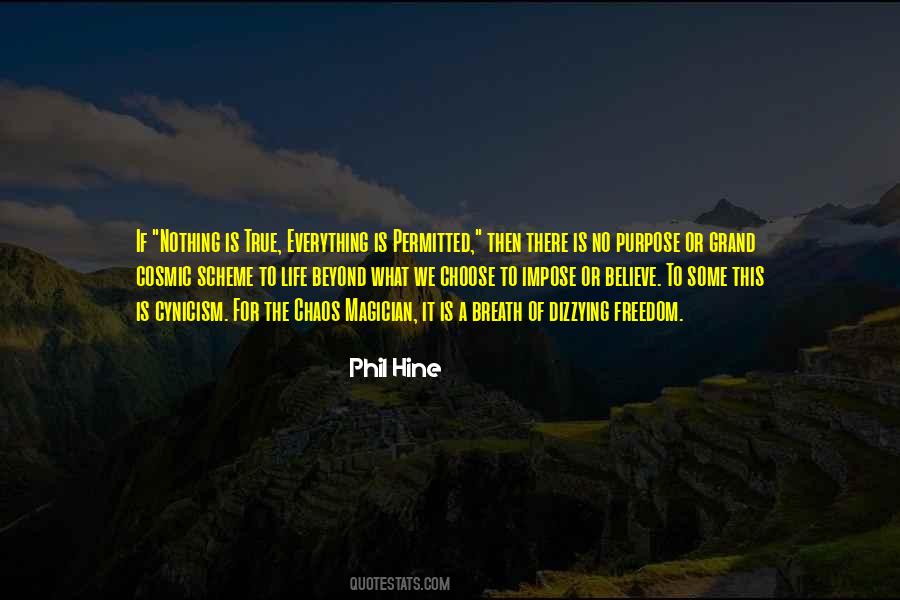 #22. Pursuit of truth, not success, is the ultimate purpose of an illuminated life. - Author: Debasish Mridha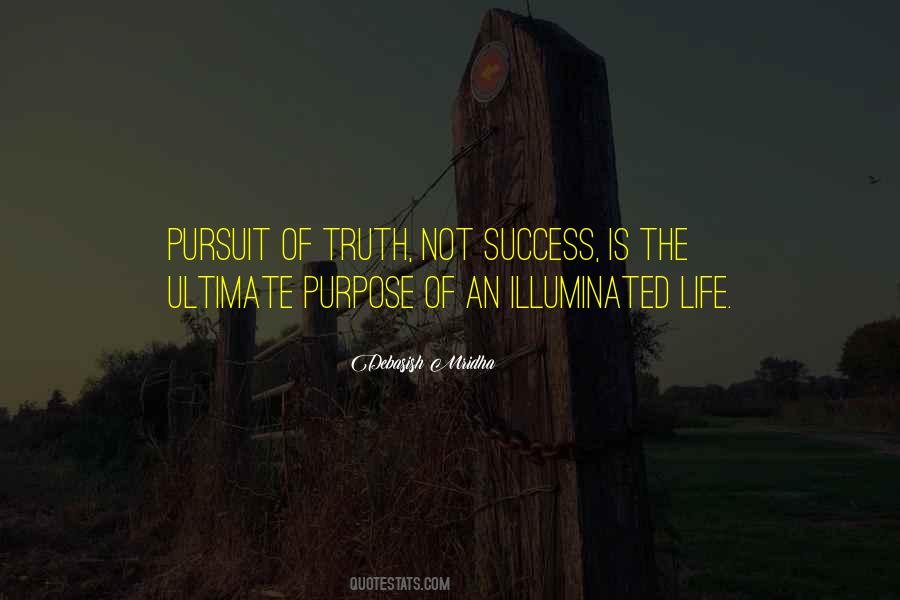 #23. So the being grows rings; identity becomes robust. What was fiery and furtive like a fling of grain cast into the air and blown hither and thither by wild gusts of life from every quarter is now methodical and orderly and flung with a purpose
so it seems. - Author: Virginia Woolf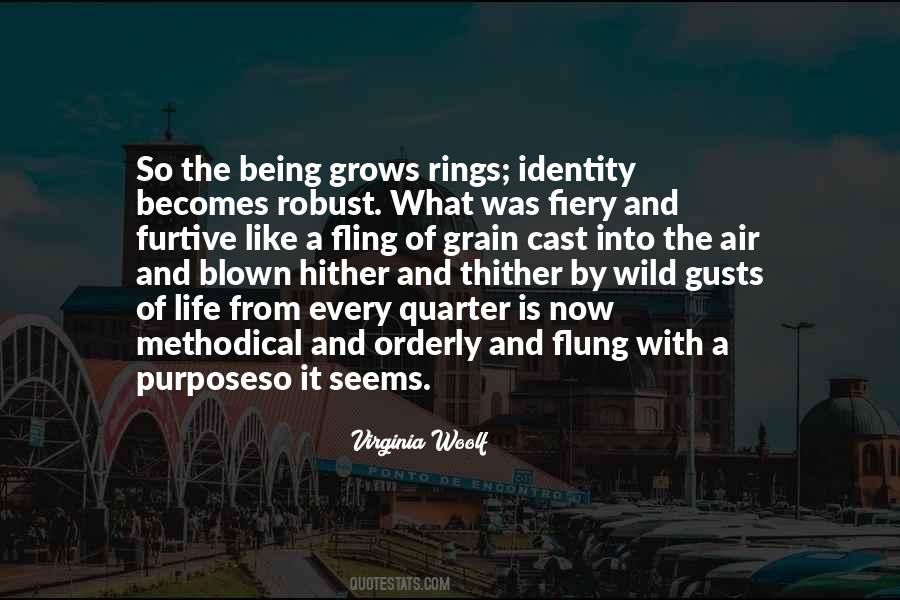 #24. What is the purpose of life? To elevate all, big or small. - Author: Harbhajan Singh Yogi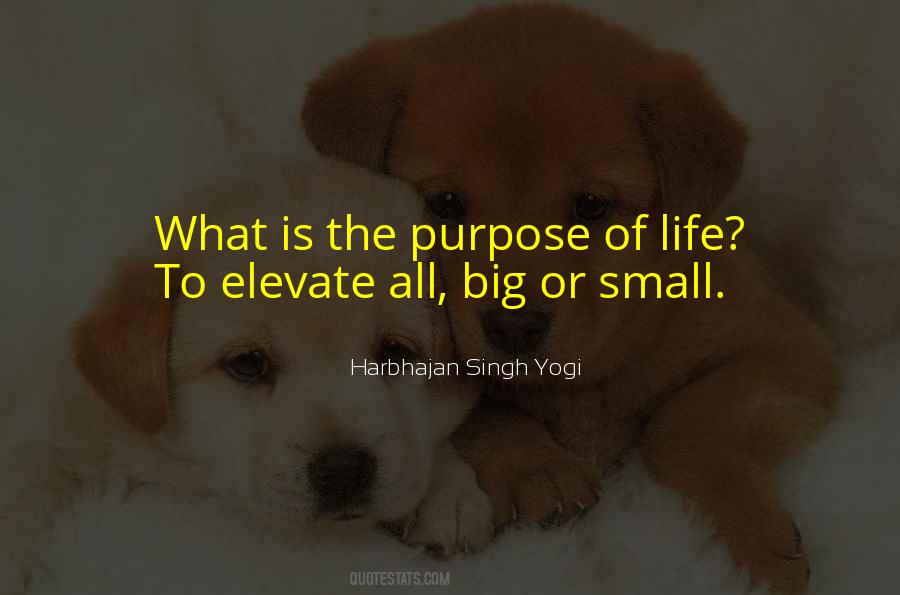 #25. For what is faith, except a perspective on life seen through the belief that there is a purpose, there is hope, there are miracles, there is something better coming, there is a loving God? - Author: The Prophet Of Life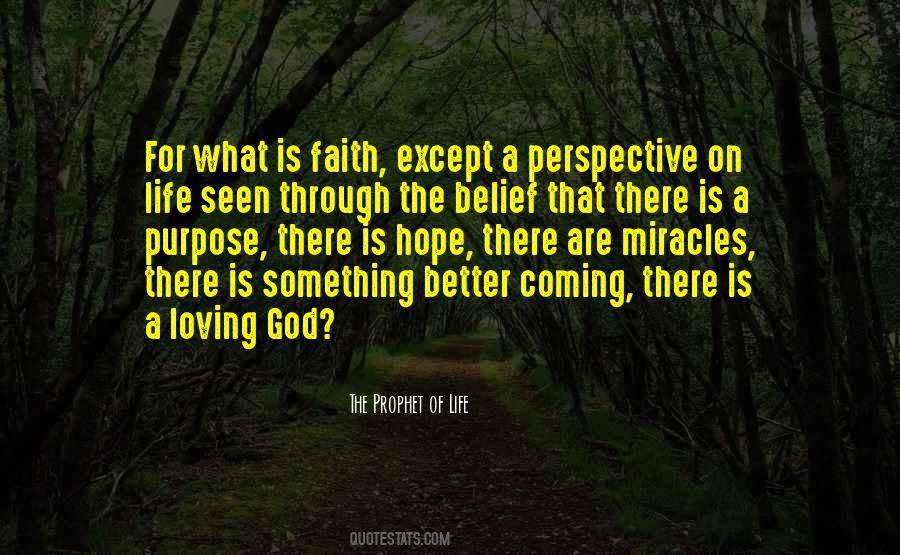 #26. Profit is to business what breathing is to humans. Both are essential to survival, but just as breathing is not the purpose of life, so profit is not the purpose of business. - Author: Margaret Benefiel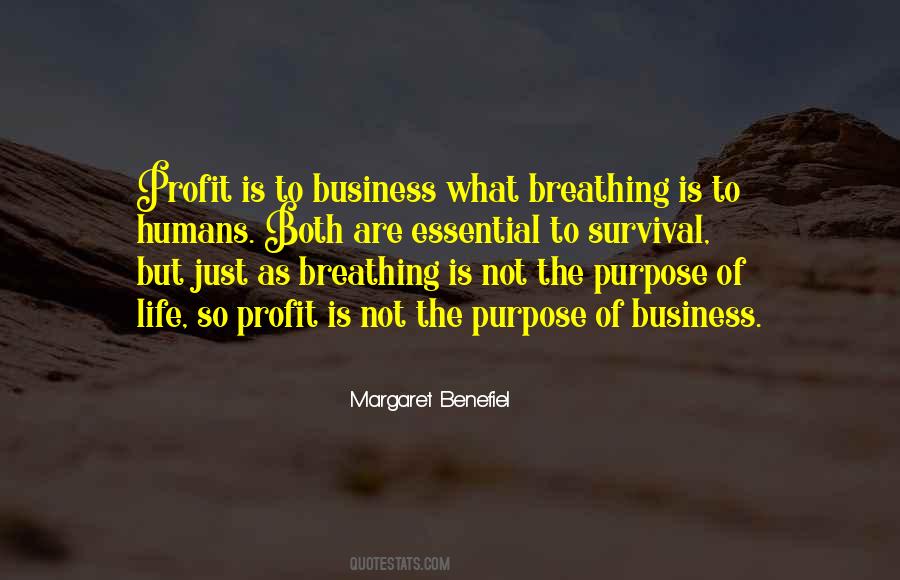 #27. What is the purpose of life if not to conquer? To steal women and land? I would rather be here and see this than live out my life in peace. - Author: Conn Iggulden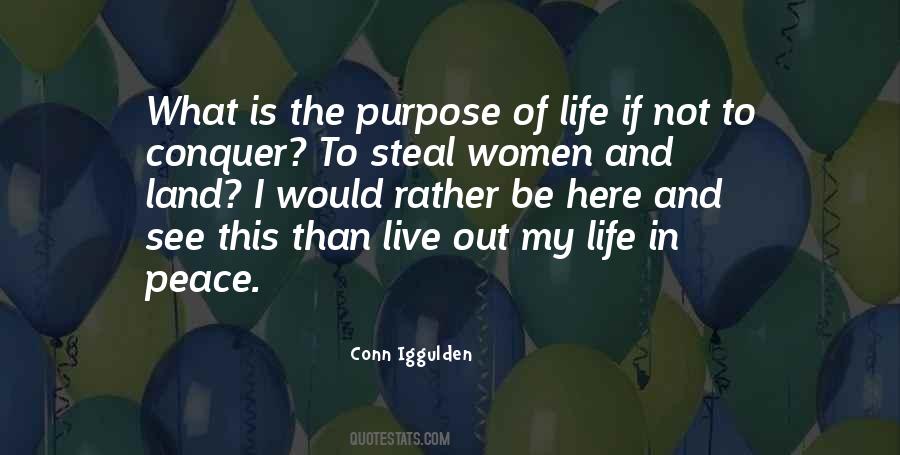 #28. At the moment you're suffering from what we call Maya. Maya is illusion. Maya is a Sanskrit word that suggests that we have forgotten. We've forgotten the purpose of life. - Author: Frederick Lenz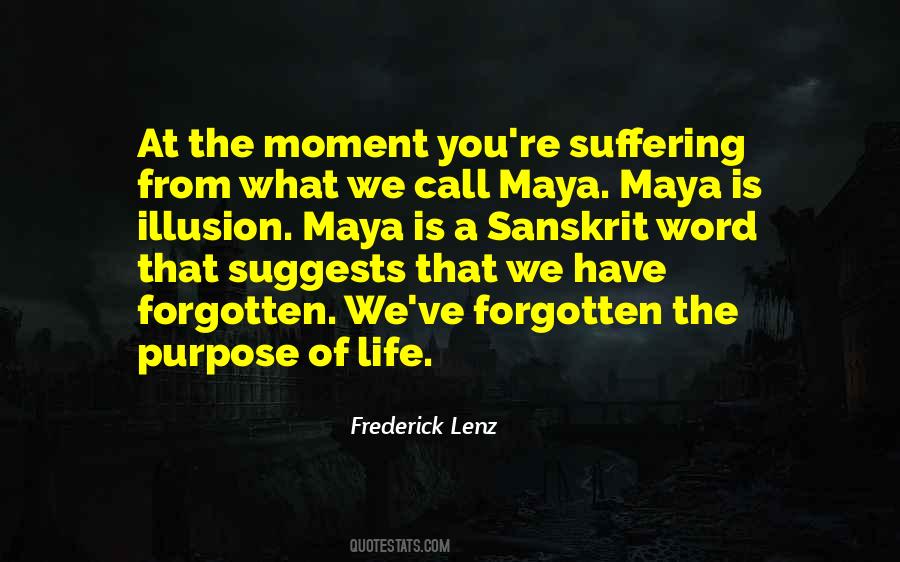 #29. If you will not meditate, your mind will not accept what the Spirit of God is revealing to you - Author: Sunday Adelaja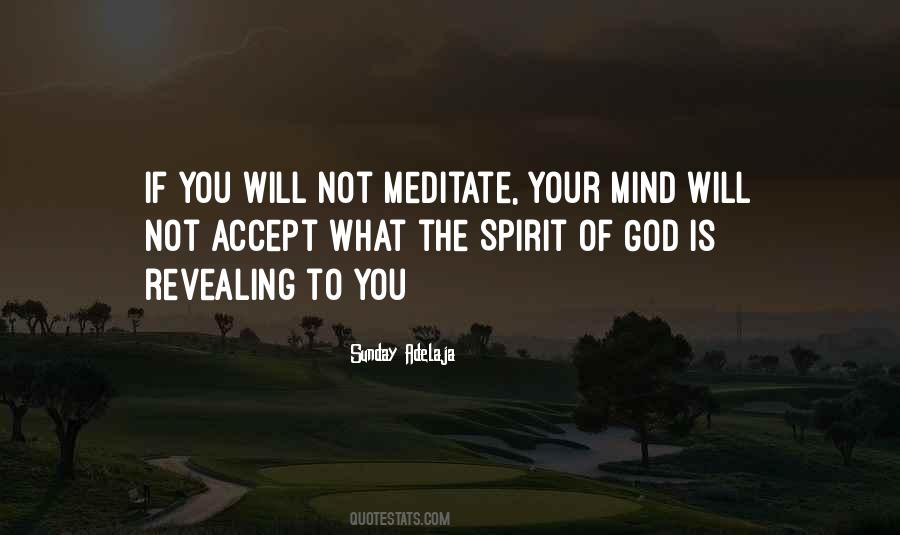 #30. There are essentially two questions in life - a spiritual question and a material question. The spiritual question is 'Who am I?' The material question is 'What am I to do with my life?' One leads to the other. - Author: Rasheed Ogunlaru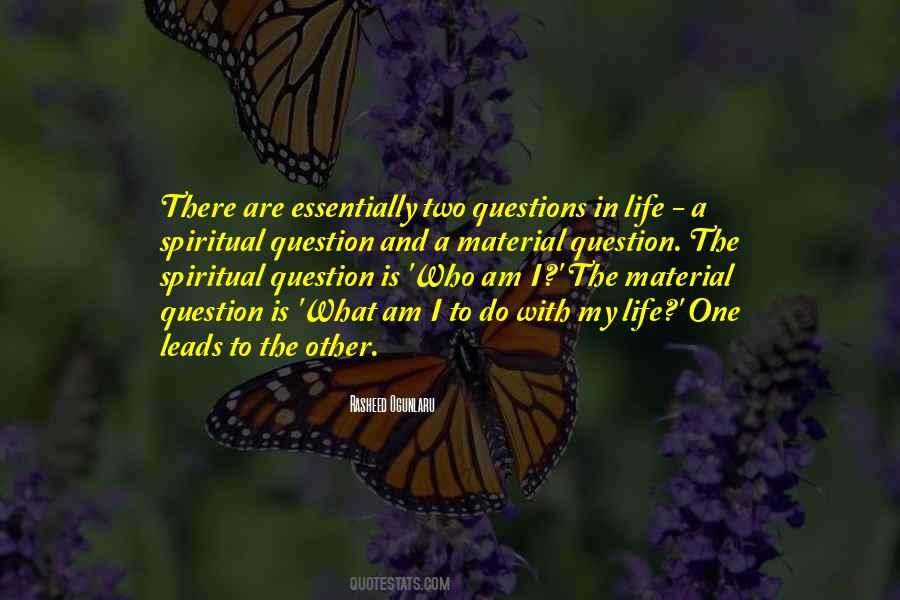 #31. You ask: what is the meaning or purpose of life? I can only answer with another question: do you think we are wise enough to read God's mind? - Author: Freeman Dyson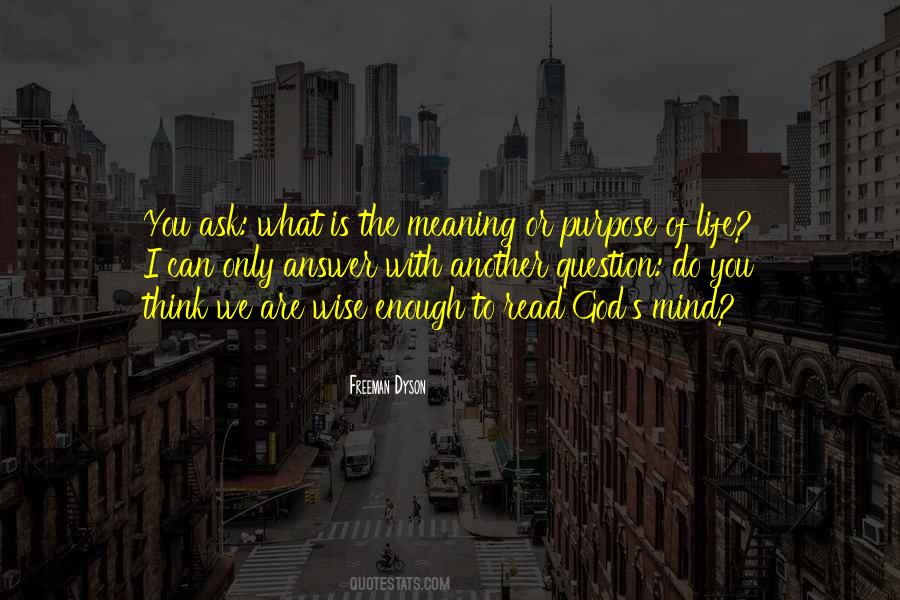 #32. To make a difference is just ... I think ... the purpose of what life is. - Author: Anastacia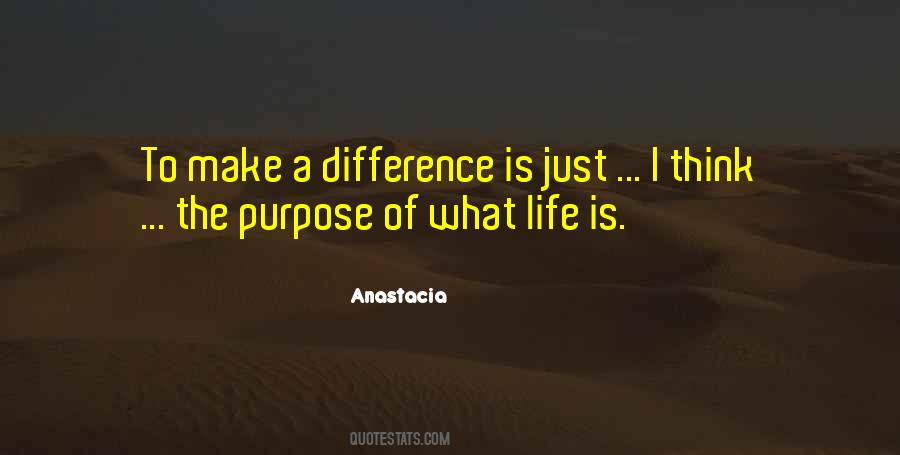 #33. When we look at what has the strongest statistical relationship to overall evaluation of your life, the first one is your career well-being, or the mission, purpose and meaning of what you're doing when you wake up each day. - Author: Tom Rath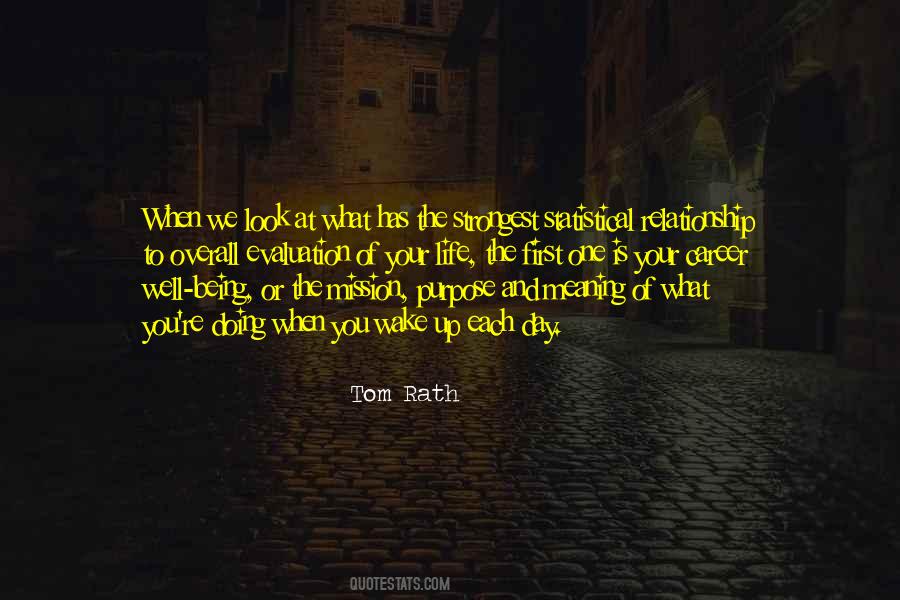 #34. We all are wearing many hundred glasses of different colors. Therefore, everyone sees the world in different views. Somehow, if we could remove those glasses, we can see the world with real colors. Name of the most difficult to remove glass is 'there are permanent things of mine. - Author: Muditha Champika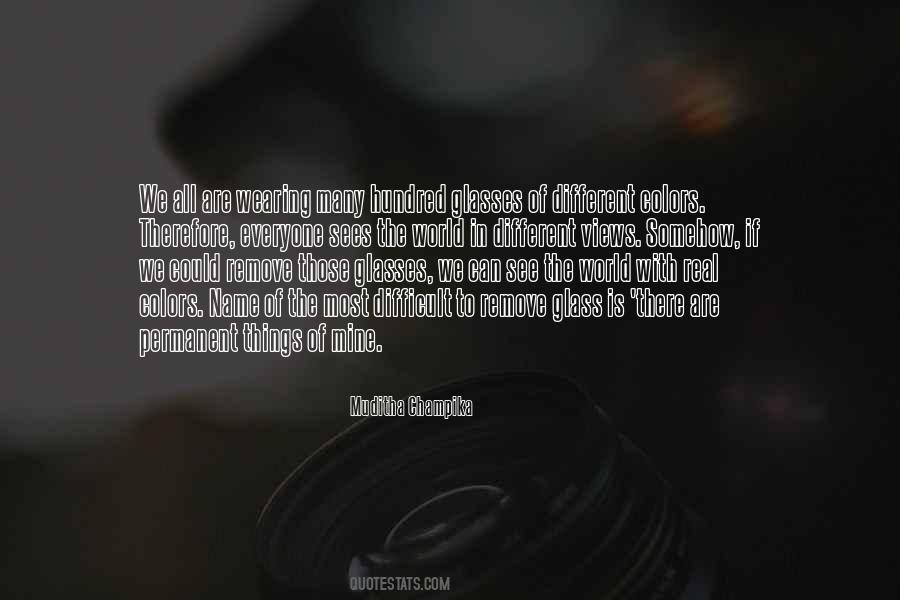 #35. A world full of people who want to know what you will be, what is your skill and what is your purpose. In the north, if a man had come and said "What will you be? What will you do?" I would have laughed at this kind of person that lives all the time in the future. - Author: Daniel Mason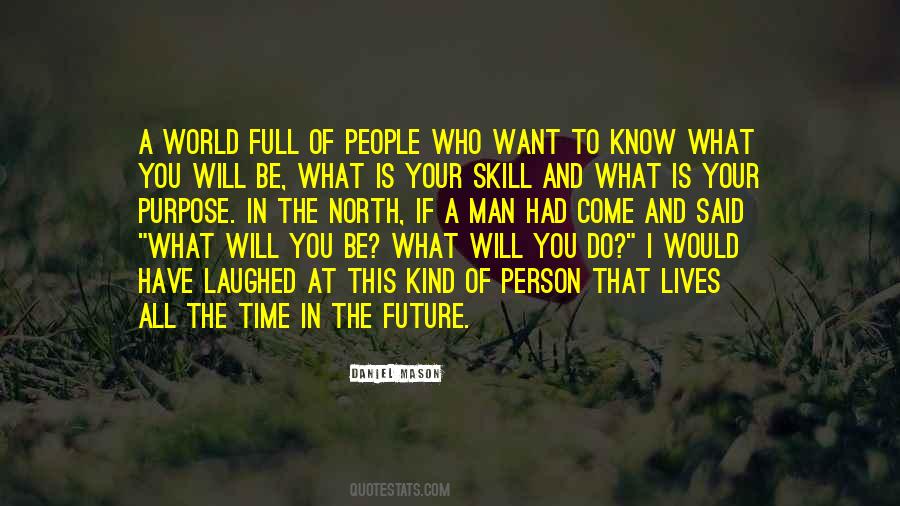 #36. The purpose of this life and all its experiences is not to make ourselves what we think we should be. It is to unfold who we already are. - Author: Gary Zukav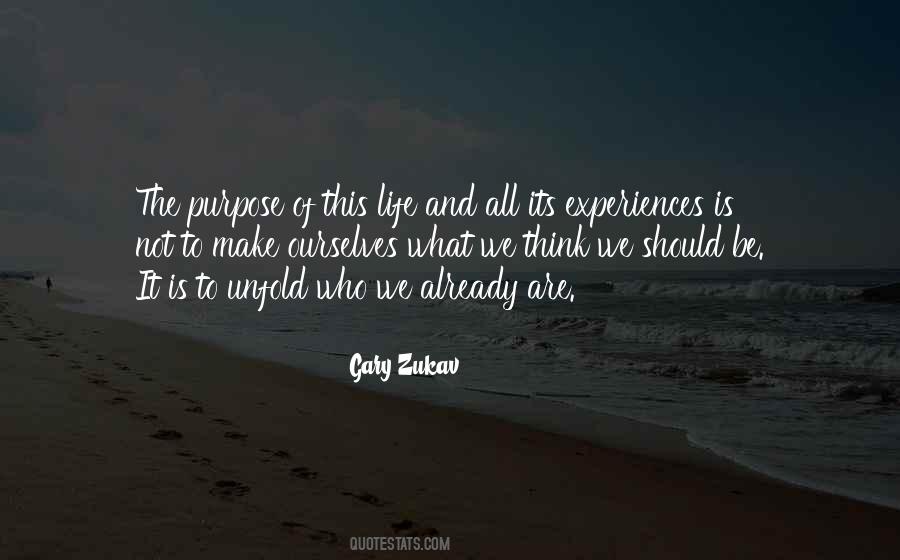 #37. What is life for?' he asked rhetorically. 'It's a way to evolve thought. And what is thought for? It's a way to be aware, a stage between the physical and the spiritual. And time? it's a good way to keep things separated. - Author: Raymond E. Feist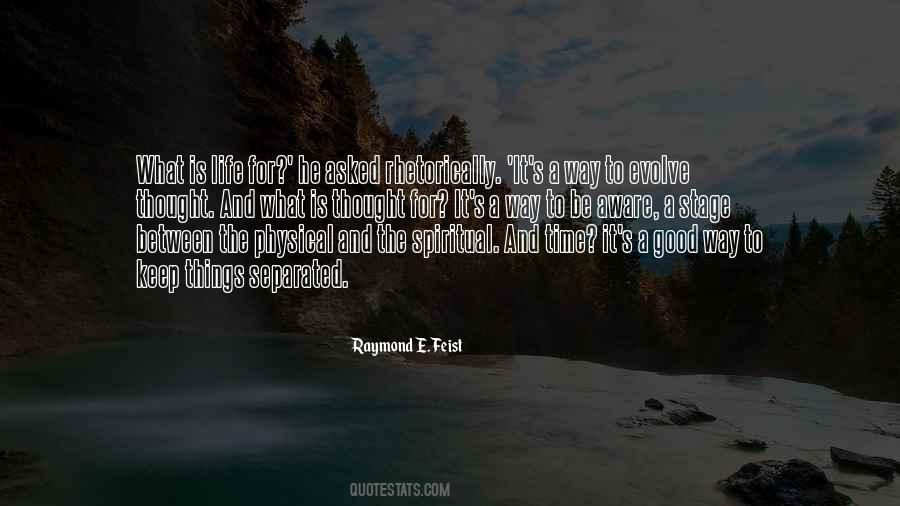 #38. If by the time we're sixty we haven't learned what a knot of paradox and contradiction life is, and how exquisitely the good and the bad are mingled in every action we take, and what a compromising hostess Our Lady of Truth is, we haven't grown old to much purpose. - Author: John Cowper Powys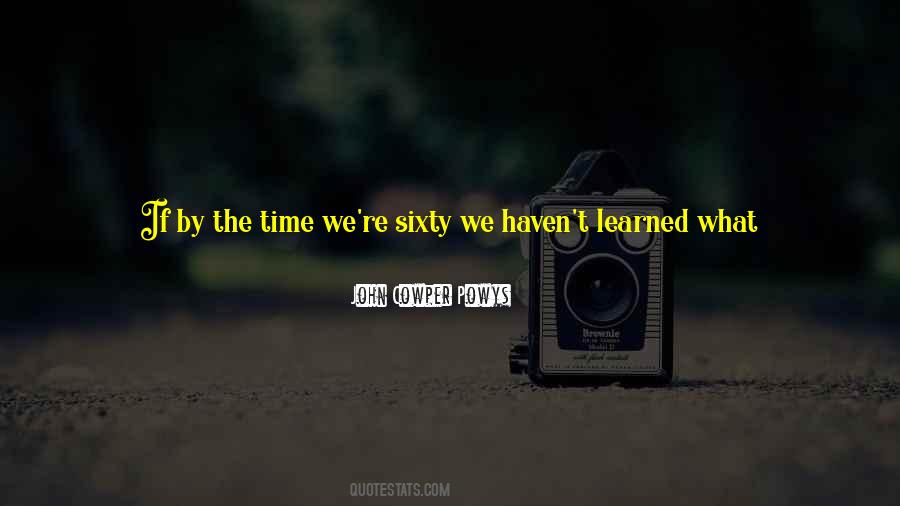 #39. If there is one thing the psychic taught me, it's that people and events are rarely who and what we think they are. They are more meaningful, more worth our attention-part of some finely choreographed, eternal dance that we would be wise to bow down before in gratitude and humility. - Author: Leslie Morgan Steiner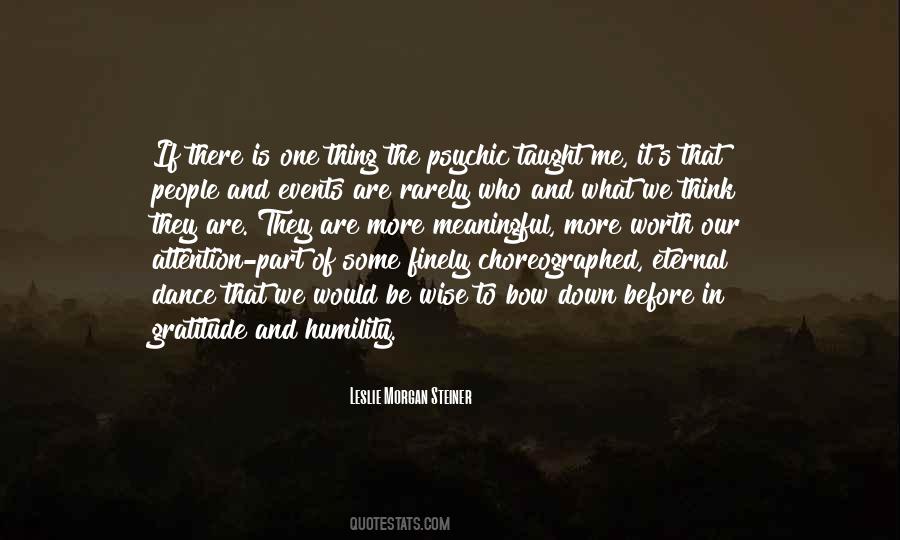 #40. What is the purpose of achieving your dream if the people you had dreamed your achievements for are no longer there to reap the benefits? - Author: Janvier Chouteu-Chando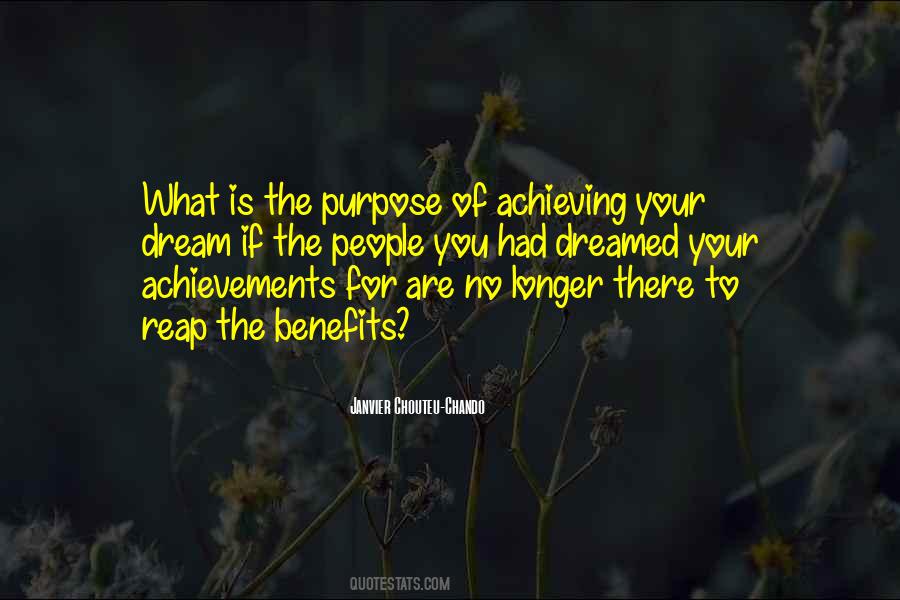 #41. There is is again, that slight stinging sensation of the cheeks. It's our body's light speed response to the world showing us up. And it's one of life's most unpleasant feelings, leaving one to wonder what evolutionary purpose it could possible serve. - Author: Amor Towles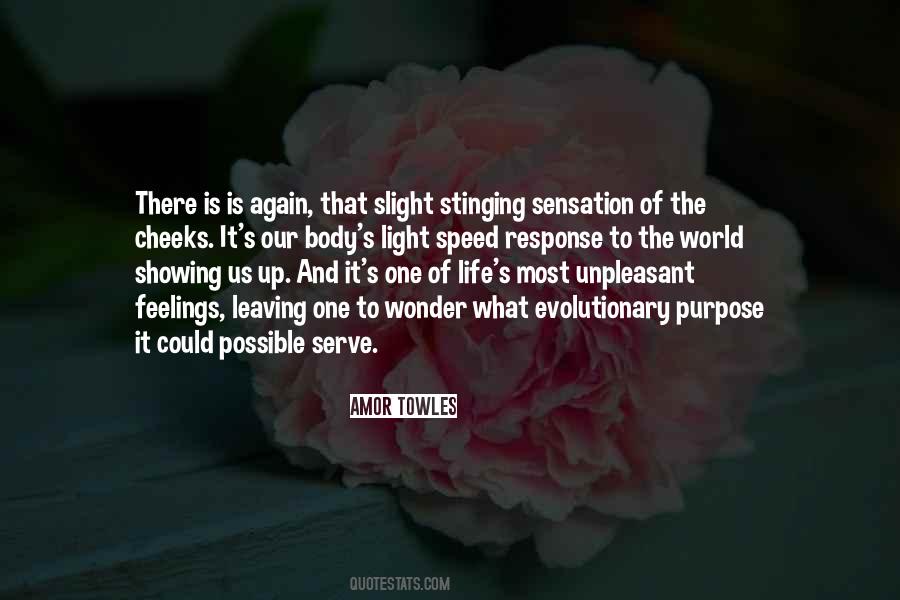 #42. I think the biggest single improvement, or change, that a person could make in one's life would be to come to a deeper understanding, a more expanded awareness of who they are, of who God is, of what God wants, of what life is really about, of the purpose of life. - Author: Neale Donald Walsch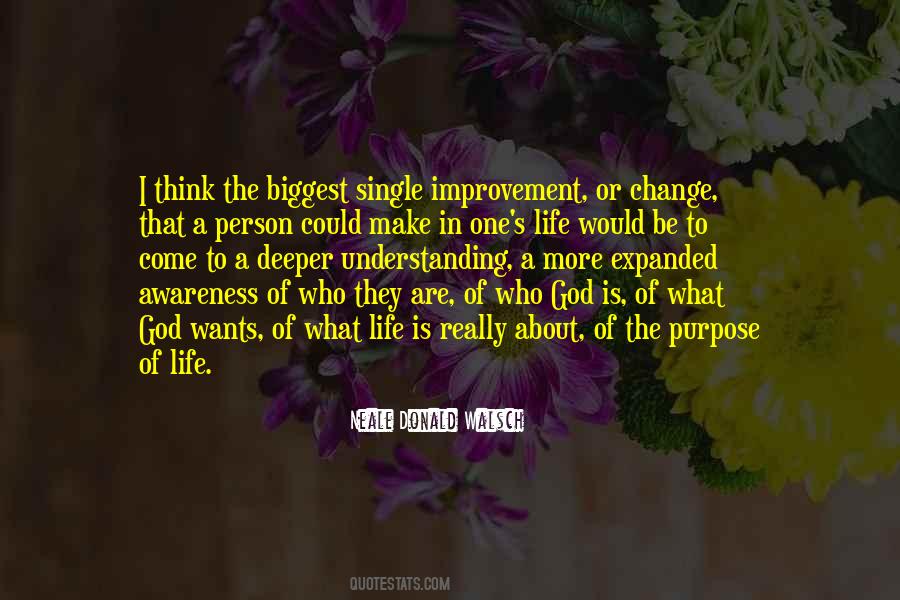 #43. Politics disappears; it vanishes. What remains constant is human life. So I try to develop a perspective in my writing where politics is just one of the pieces of furniture in this furnished world. It is not the purpose. It is not the goal. - Author: Tatyana Tolstaya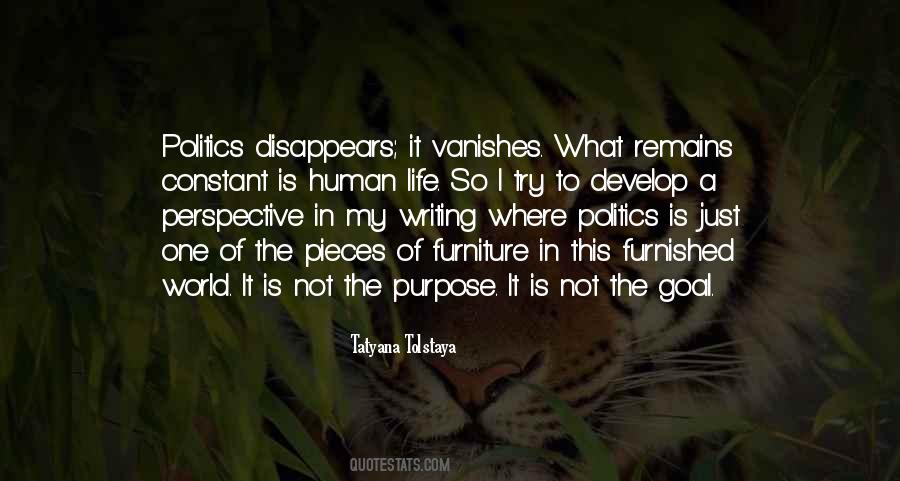 #44. Set out with some definite purpose in life and accomplish that purpose. There is little that the human mind can conceive that is not possible of accomplishment. The thing to do is to make up your mind what you are going to drive for, and let nothing stand in the way of its ultimate accomplishment. - Author: Charles M. Schwab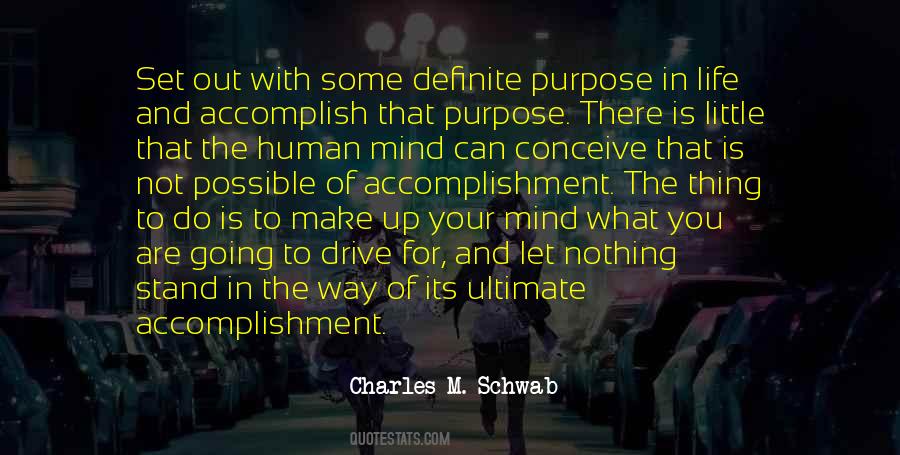 #45. Tell me that the purpose of life is to have fun, and without a care in the world I'll begin wreaking havoc on everything I pass. Now that's what I call pure, honest fun. - Author: Criss Jami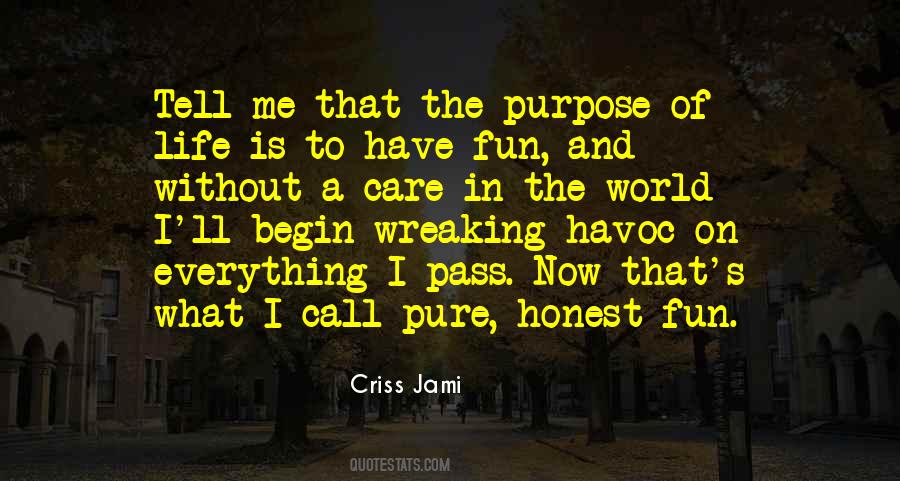 #46. Worship is a posture of life that takes as its primary purpose the understanding of what it really means to love and revere God. - Author: Ravi Zacharias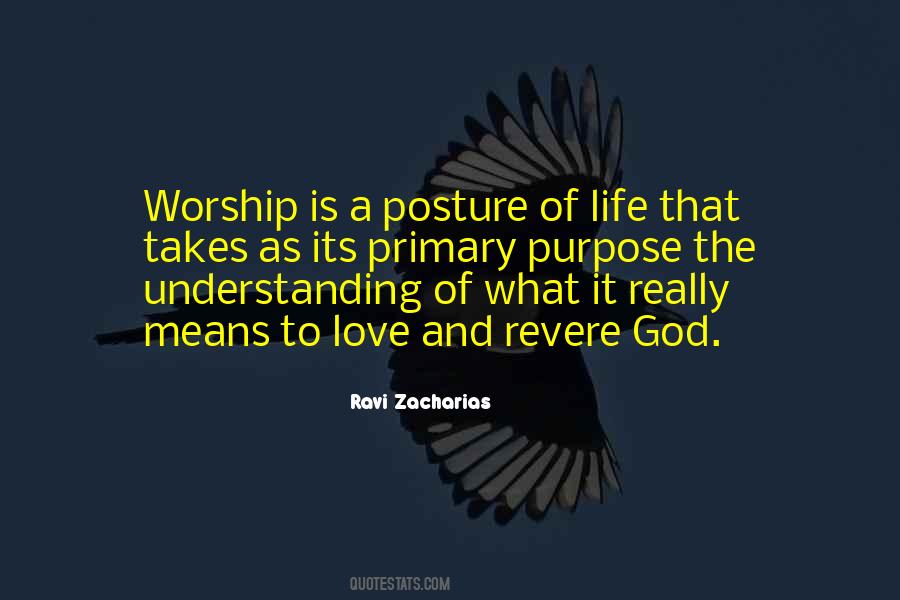 #47. Life is what you make it and legacy is what you leave it. Stop trying to be perfect, stop waiting for perfection to find you, and start making your environment a product of you instead of the other way around. - Author: A.J. Darkholme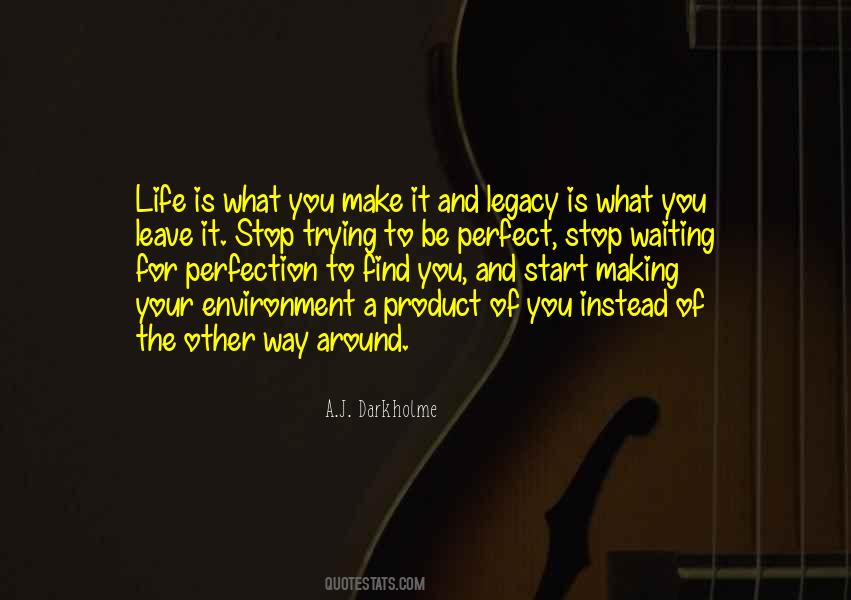 #48. Many believe that they must discover their purpose for living, that life is about purpose. But, in truth, life is purpose. Meaning is found in the fact of life itself. So many people try to find fulfillment in what they do, instead of who they are and who I am. - Author: Dale Fife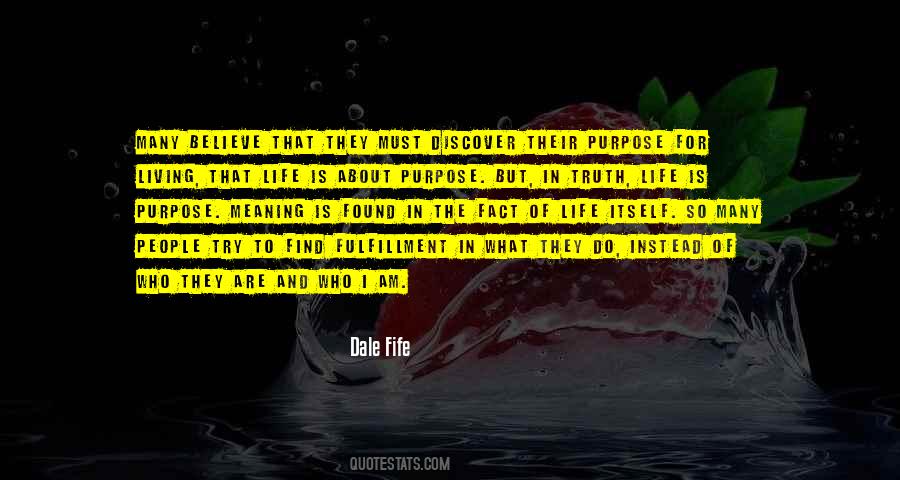 #49. The question of how to spend my life, of what my life is for, is a question posed only to me, and I can no more delegate the responsibility for answering it than I can delegate the task of dying. - Author: Anthony T. Kronman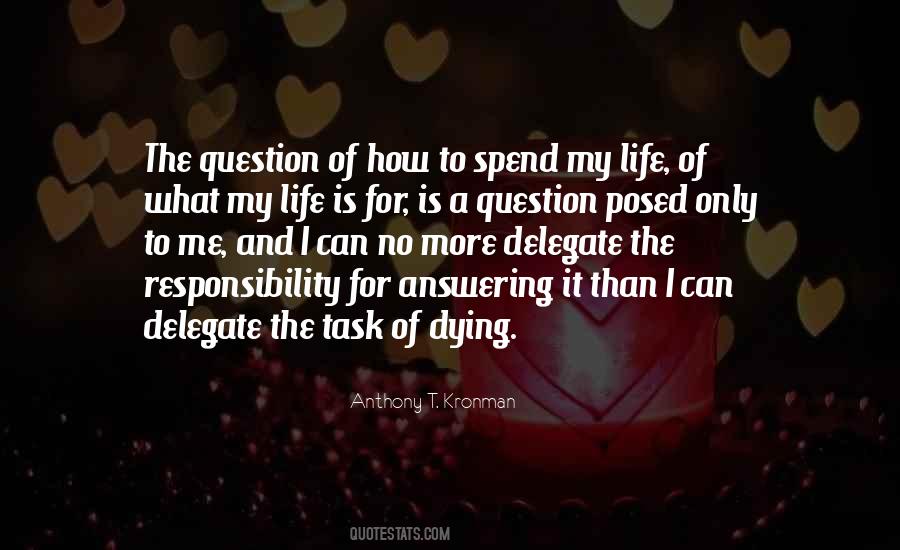 #50. If there is no God, and life is a chance product of blind material forces, what purpose does human life have? Is it just a chemical accident on a rock flying through the cold, empty reaches of space? - Author: Nancy Pearcey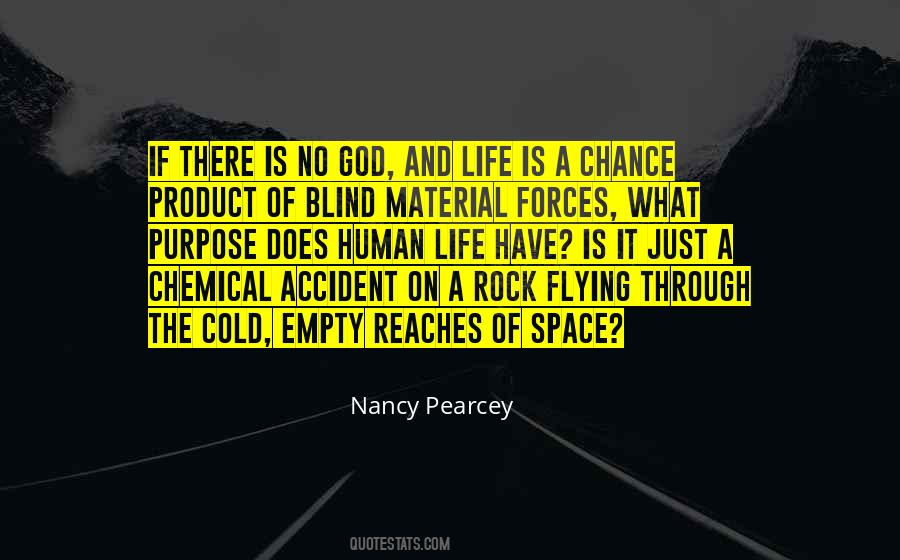 #51. Life is not about negative circumstances that happen to you, it's about what you do with the golden opportunities hidden within! - Author: Rhonda Byrne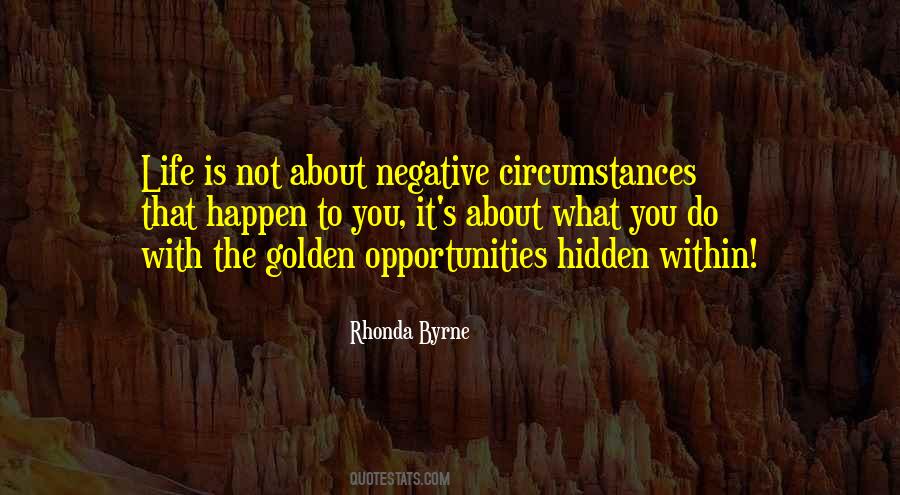 #52. As we begin to transform, illness and pain can also be seen as a "messenger" for spiritual growth. What does this illness mean? What can I learn from this? Why is the occurring in my life - Author: Teresa DeCicco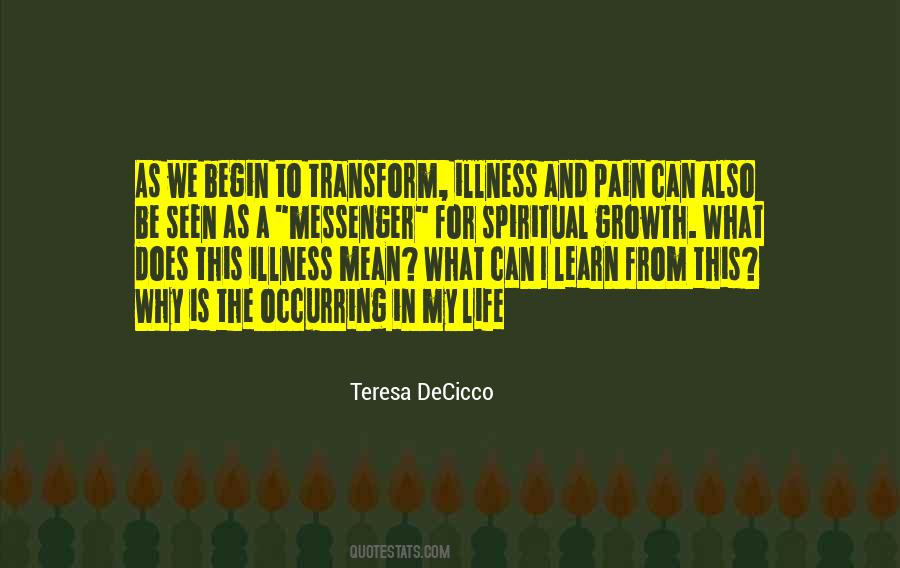 #53. God makes each one of us for the time into which we are born. He creates us for a purpose. Our job is to know Him well, discover what He created us to do, and then do it for all we're worth for the rest of our lives. Ask God to show you your purpose. He will answer. - Author: Robin Lee Hatcher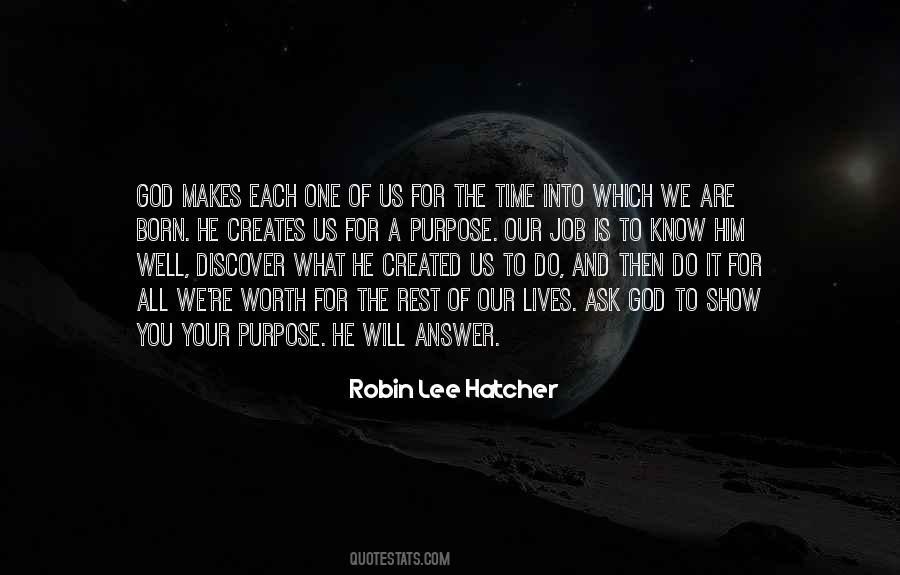 #54. In spite of her desire for a contained universe, her life felt scattered, full of many small moments, without great purpose. That is what she thought, though what is most untrustworthy about our natures and self-worth is how we differe in our own realities from the way we are seen by others. - Author: Michael Ondaatje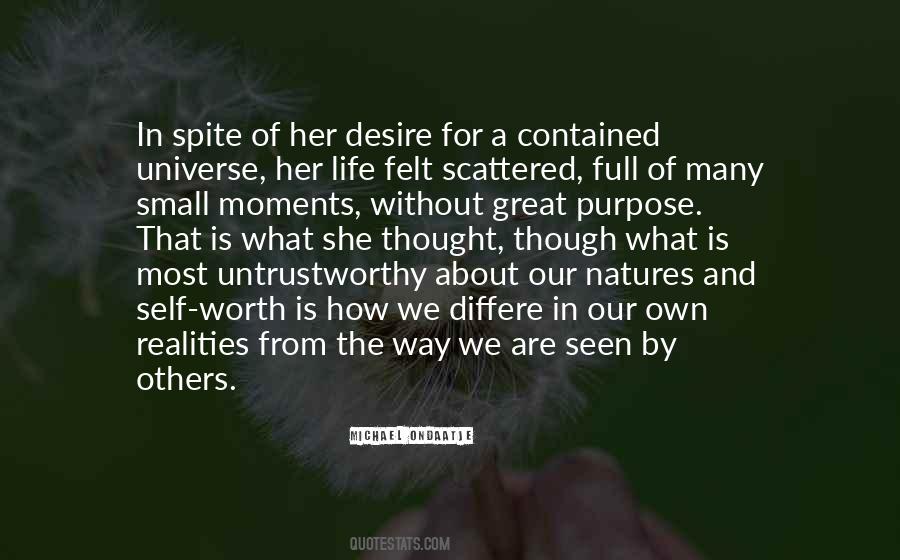 #55. MADNESS Madness is the first step towards unselfishness. Be mad and tell us what is behind the veil of "sanity." The purpose of life is to bring us closer to those secrets, and madness is the only means. SP-ST-62 - Author: Kahlil Gibran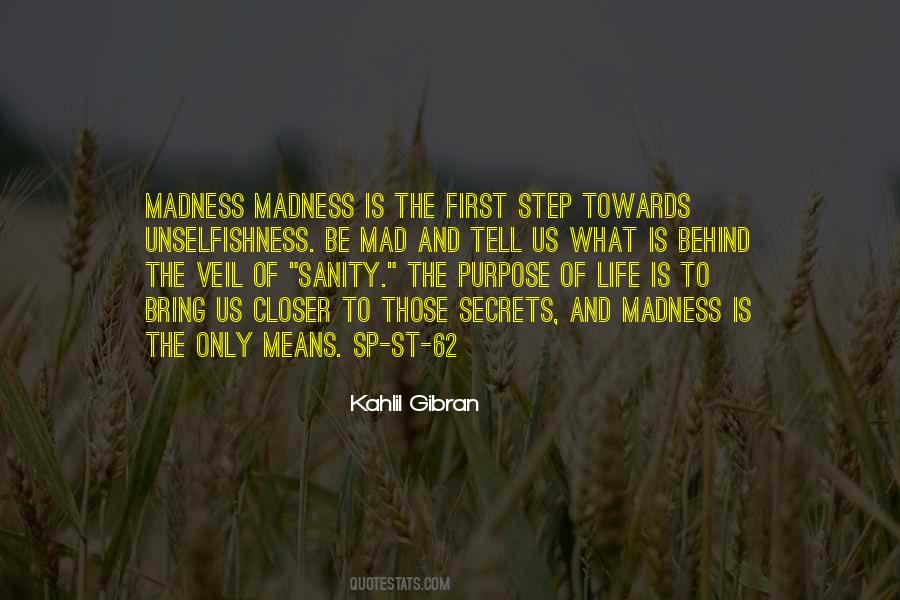 #56. What is the purpose of life?
To be loving, kind, caring, useful, and of course, to be happy. - Author: Debasish Mridha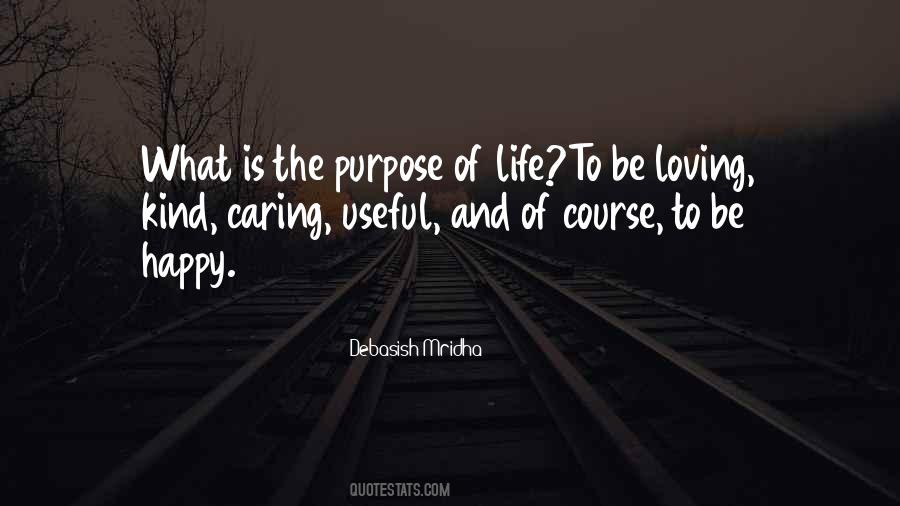 #57. I believe that if you don't derive a deep sense of purpose from what you do, if you don't come radiantly alive several times a day, if you don't feel deeply grateful at the tremendous good fortune that has been bestowed on you, then you are wasting your life. And life is too short to waste. - Author: Srikumar Rao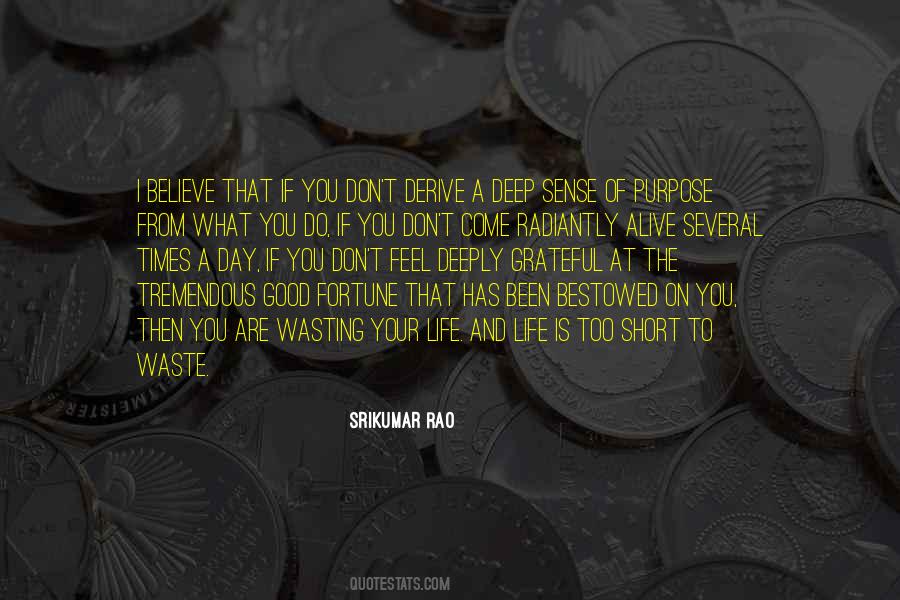 #58. When God's first in your life and your family's second, the perspective is that the platform as player is for the purpose of lifting up His name and glorifying Him in all you do. No matter what the platform is, that's the goal and that's the prayer before tonight's game and before every game. - Author: Luke Zeller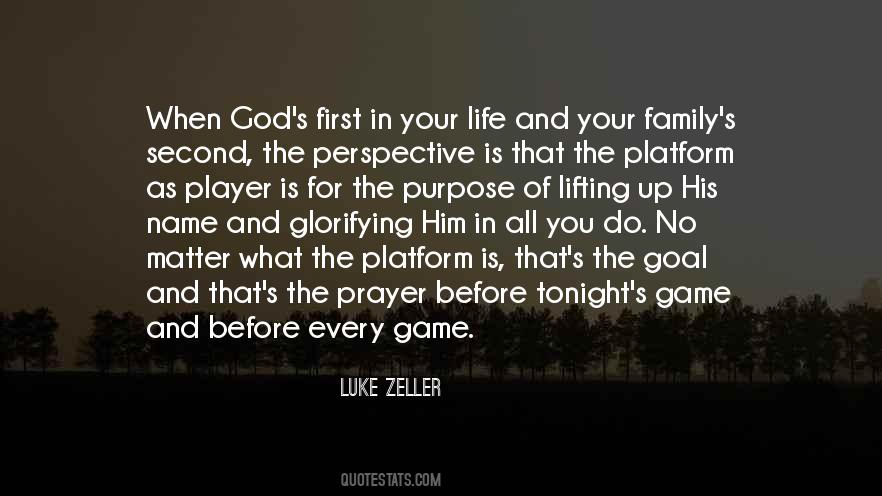 #59. I cannot pretend that I regard this with favor, but the purpose of life is not to do what we want but what needs to be done. This is what fate demands of us.

- Oromis - Author: Christopher Paolini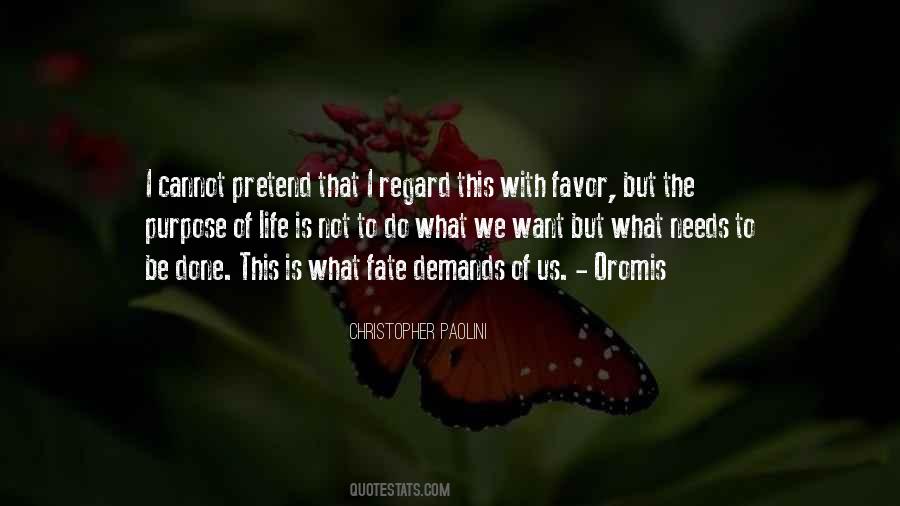 #60. Anytime you use your God-given abilities to help others, you are fulfilling your purpose of life.
What matters is not the Duration of your life, but the Donation of it. - Author: Rick Warren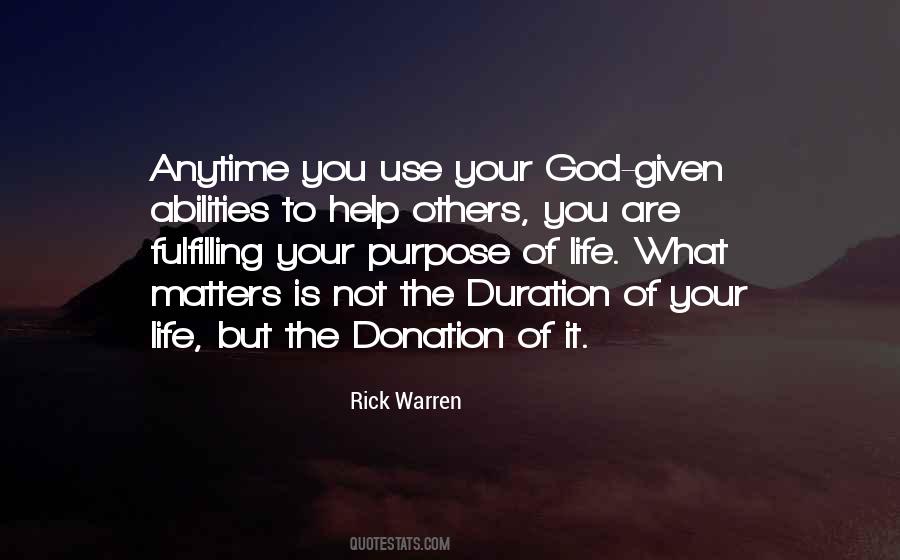 #61. My hope is that you will see this book for what it is...a conversation about the core questions that call us into humanity. Who am I? What am I? Who created me? What is my purpose? This is the story about the journey through the mysteries that make up the depths of life. - Author: Julia J. Gibbs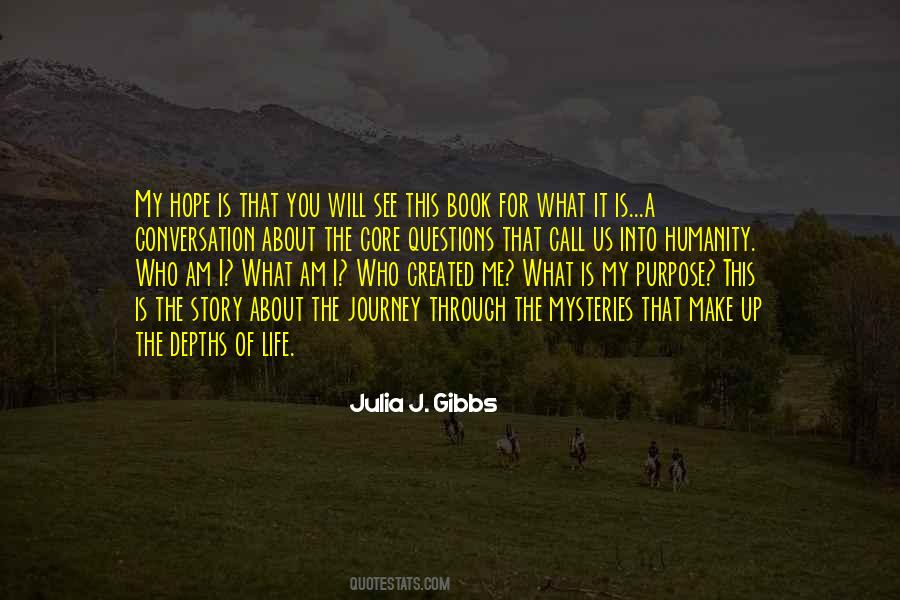 #62. The purpose of forgiveness is not to make sure that someone ends up changing into what you expect them to be, as this is dominance. The purpose is actually to make your own life better, more worthy and less stressful. Forgiveness reduces the hold that the wrongdoer has over you and empowers you. - Author: Stephen Richards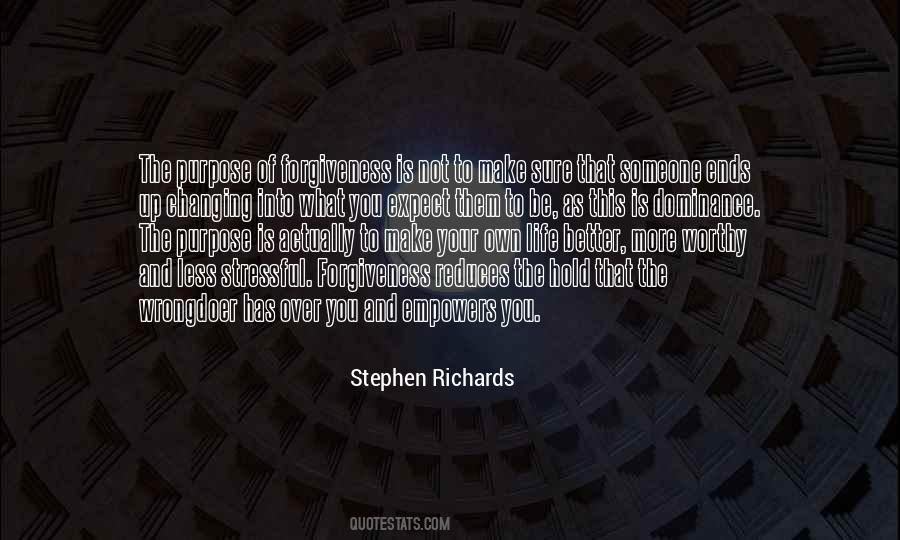 #63. The question is not to know what is the meaning of life, but what meaning I can give to my life. - Author: Dalai Lama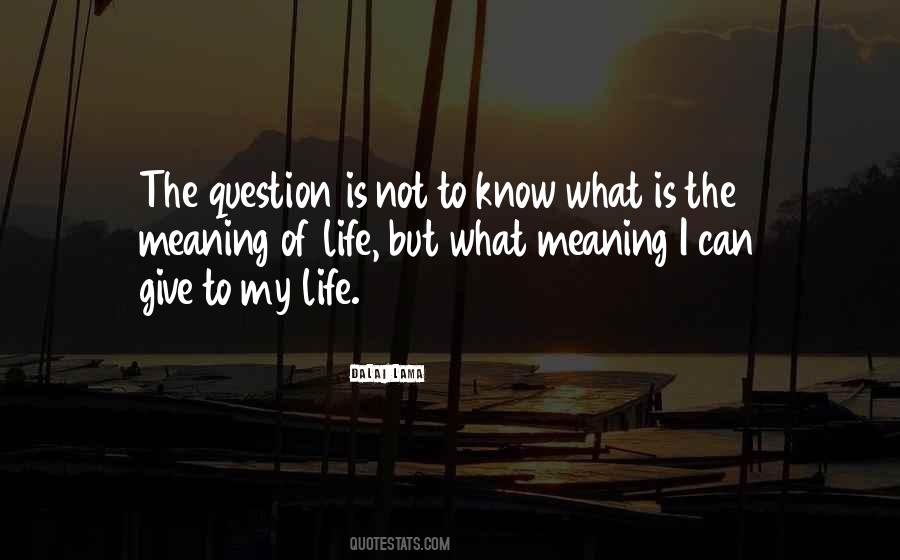 #64. Attitude is the mind-set, the kind of thoughts you process and meditate on, to generate the kind of feelings you have towards life, people and issues. This is what makes you do what you do in the way you do it. - Author: Archibald Marwizi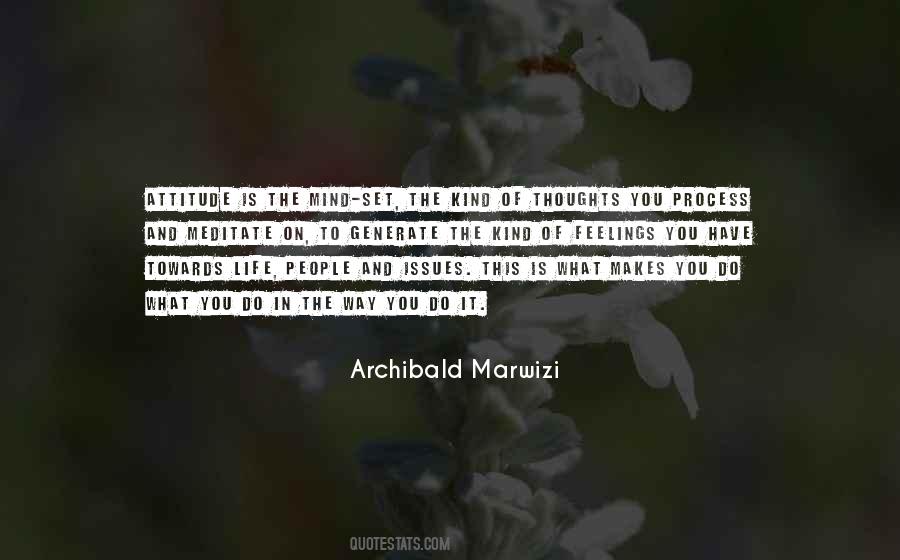 #65. There is no substitute for finding true purpose. But the true or primary purpose of your life cannot be found on the outer level. It does not concern what you do but what you are - that is to say, your state of consciousness. - Author: Eckhart Tolle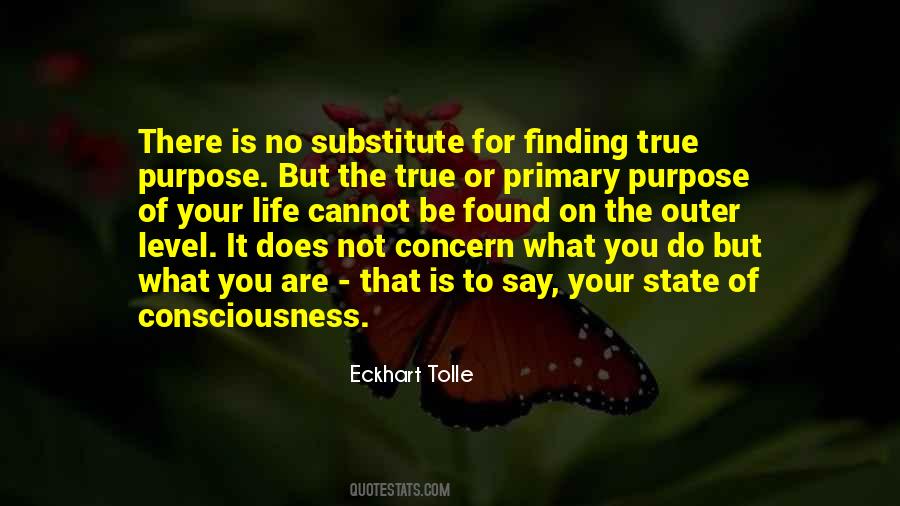 #66. Man's Chief purpose ... is the creation and preservation of values; that is what gives meaning to our civilization, and the participation in this is what gives significance, ultimately, to the individual human life. - Author: Lewis Mumford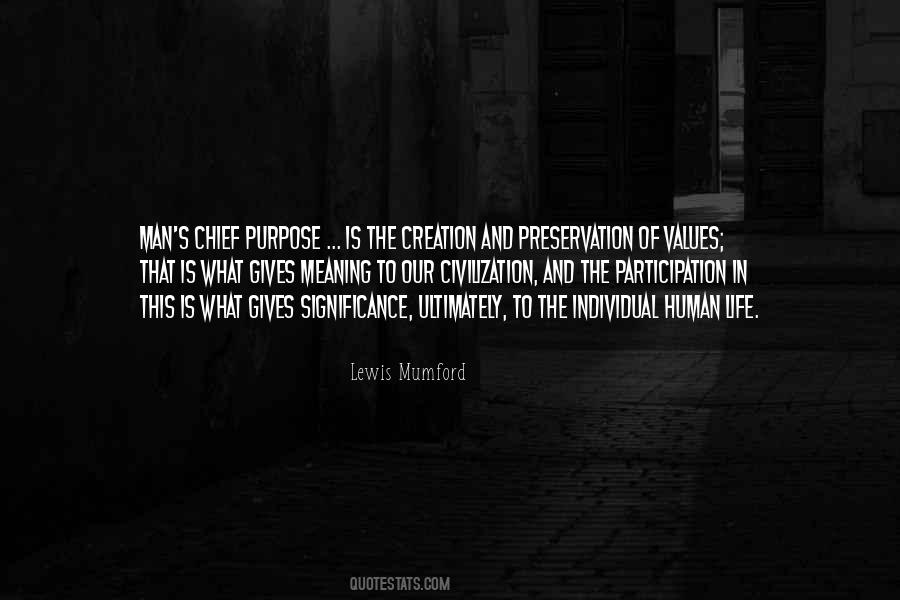 #67. The purpose of life is to be beautiful, to be bountiful, to be blissful, to be graceful and grateful. What a wonderful English word-grateful. If one is great and full, one is God. And whenever smallness faces you, you should be great, and full-full of that greatness. - Author: Harbhajan Singh Yogi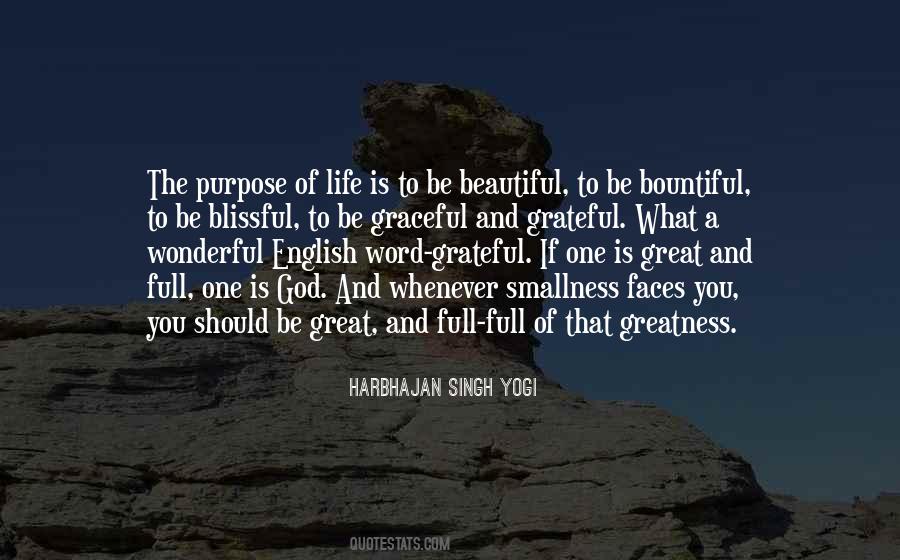 #68. Constantly to seek the purpose of life is one of the odd escapes of man. If he finds what he seeks it will not be worth that pebble on the path. - Author: Jiddu Krishnamurti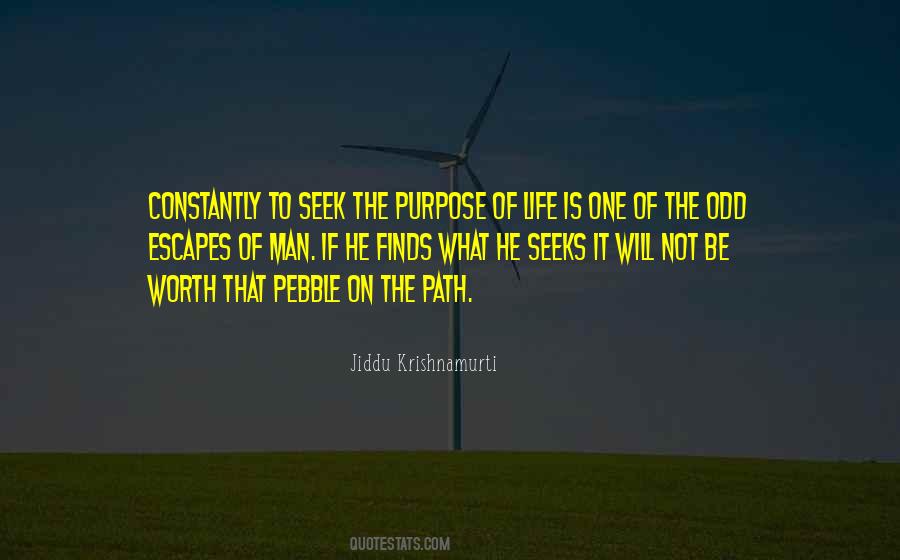 #69. What the purpose of my life is about is I want to become the kind of person that God wants me to become, and through my study of the scriptures, I can articulate the kind of person that God would be happy if I become. - Author: Clayton Christensen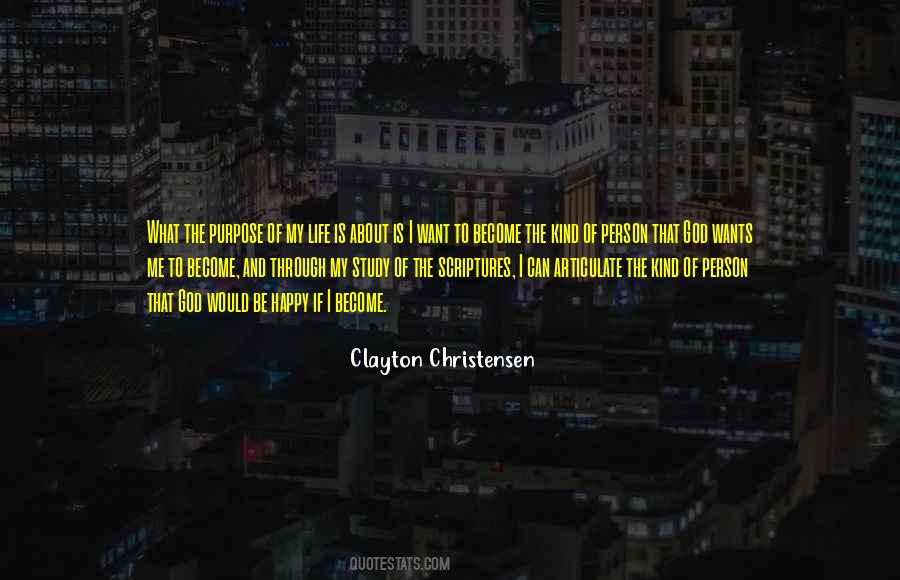 #70. There are also several practical aspects to learning more about
our eternal home. Having a better perspective on the purpose of
our lives helps us to handle difficult times better. It helps us focus
on what is truly important. It also helps us to enjoy this life more
fully. - Author: Vance C. Kessler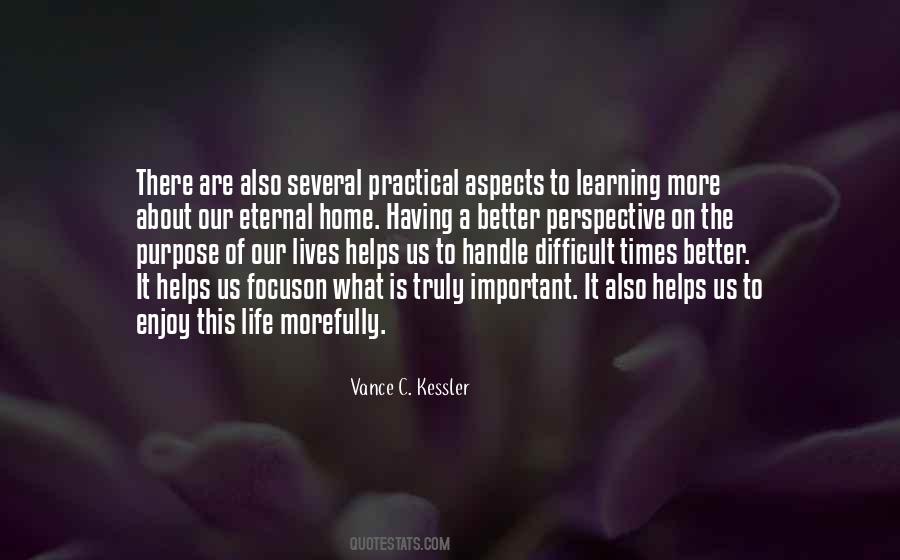 #71. The purpose of art is to provide what life does not. - Author: Tom Robbins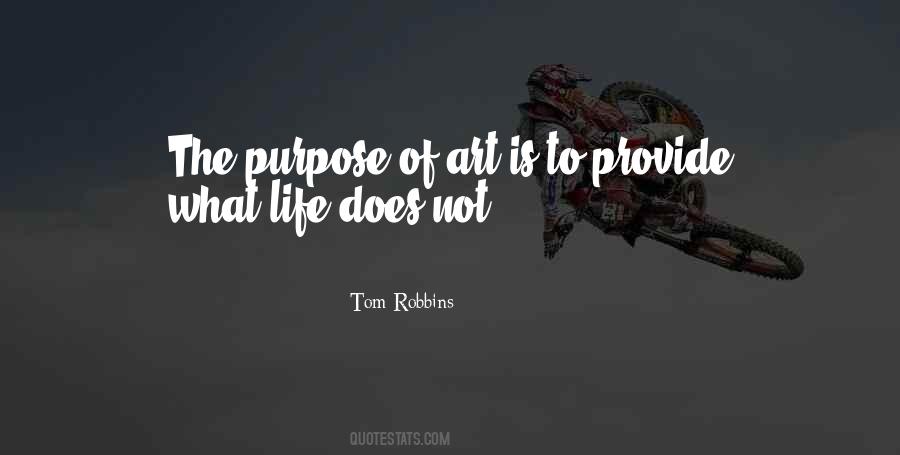 #72. Is there conscience in the Kremlin? Do they ever ask themselves what is the purpose of life? What is it all for? ... No. Their creed is barren of conscience, immune to the promptings of good and evil. - Author: Margaret Thatcher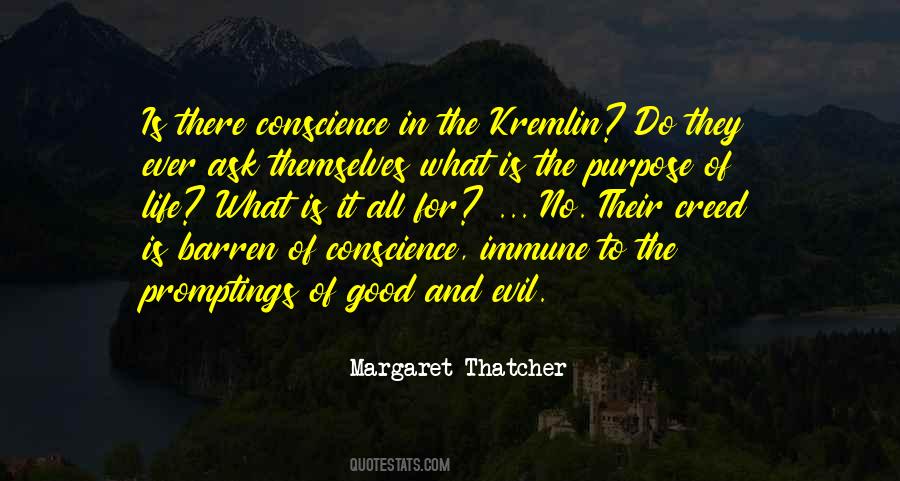 #73. What will you do with your self? Many men and women are still in darkness, trying to figure out the meaning and purpose of life. But no matter what you try to do with your self - whether you deny it, obliterate it, annihilate it, accept it or express it - believe me, it is still alive and kicking. - Author: K.P. Yohannan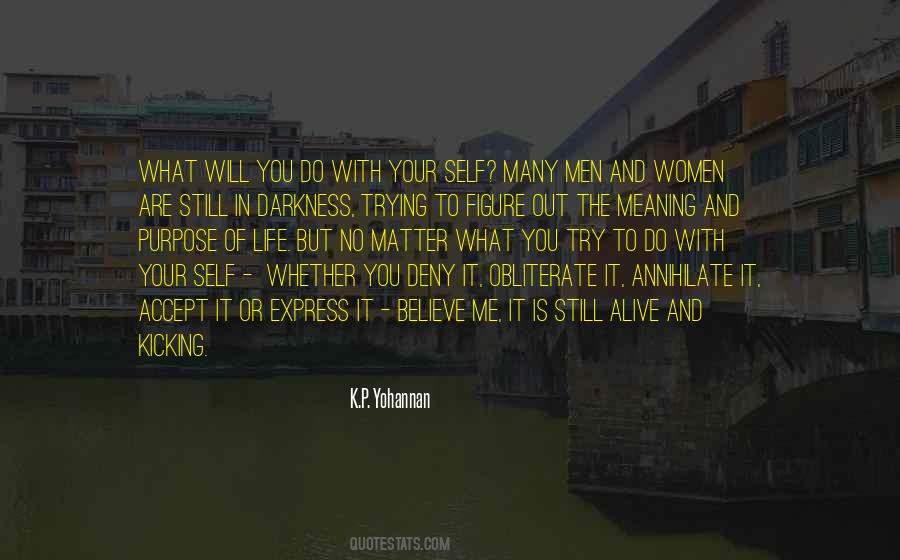 #74. The amount of time spent doing something is what adds value to it - Author: Sunday Adelaja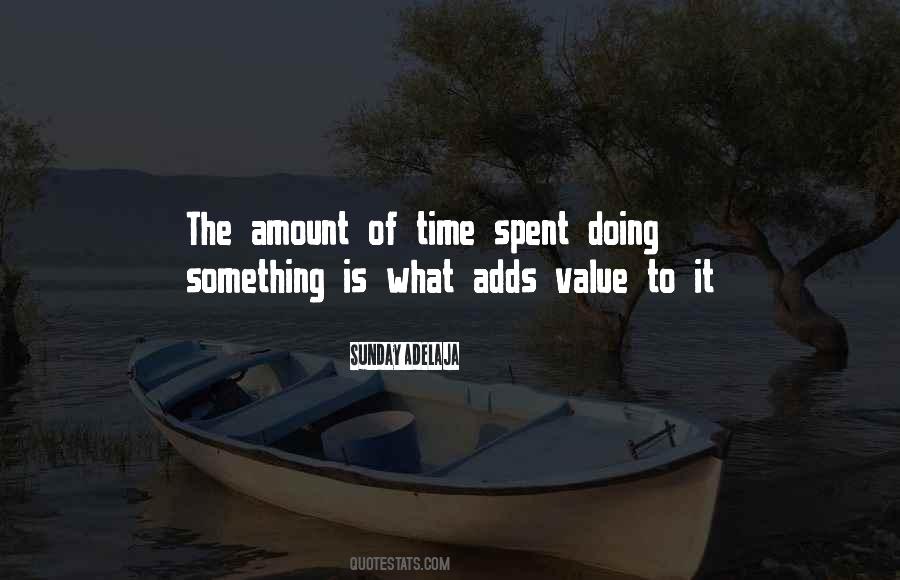 #75. We must concern ourselves not with what is beyond life, or what is life, or what is the purpose of life, but rather with the understanding of this complex existence of everyday life, because that is the foundation upon which we must build. - Author: Jiddu Krishnamurti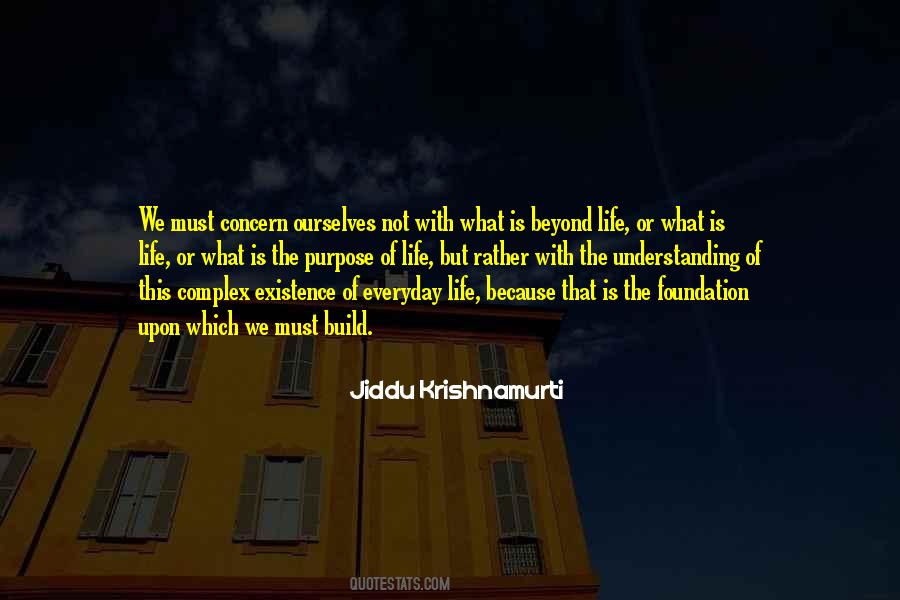 #76. What is the purpose of writing? For me personally, it is really to explain the mystery of life, and the mystery of life includes, of course, the personal, the political, the forces that make us what we are while there's another force from inside battling to make us something else. - Author: Nadine Gordimer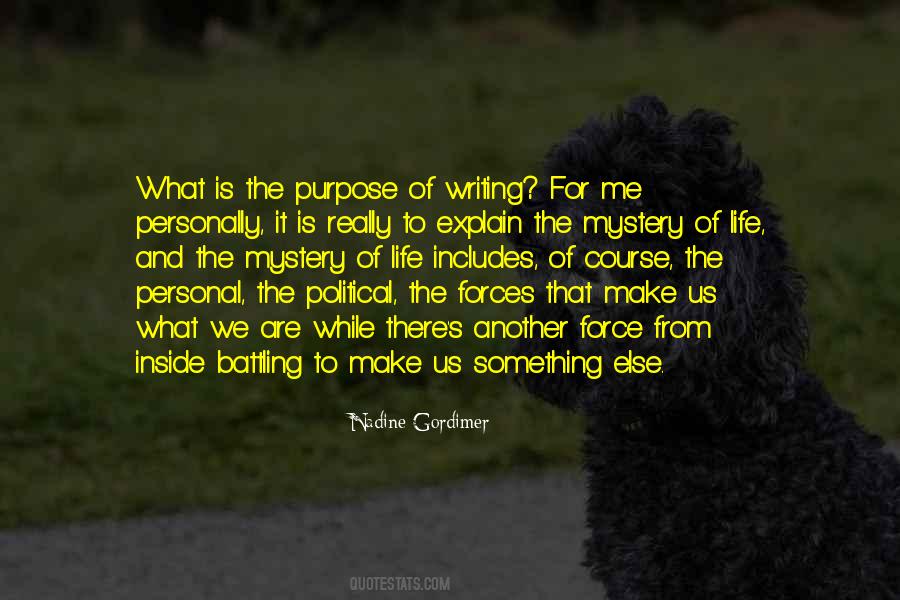 #77. At the moment I'm so exhausted that I feel like cutting my throat, so the next news masy well be that I am across the river and under the trees: what is the meaning and purpose of life? Death. - Author: Delmore Schwartz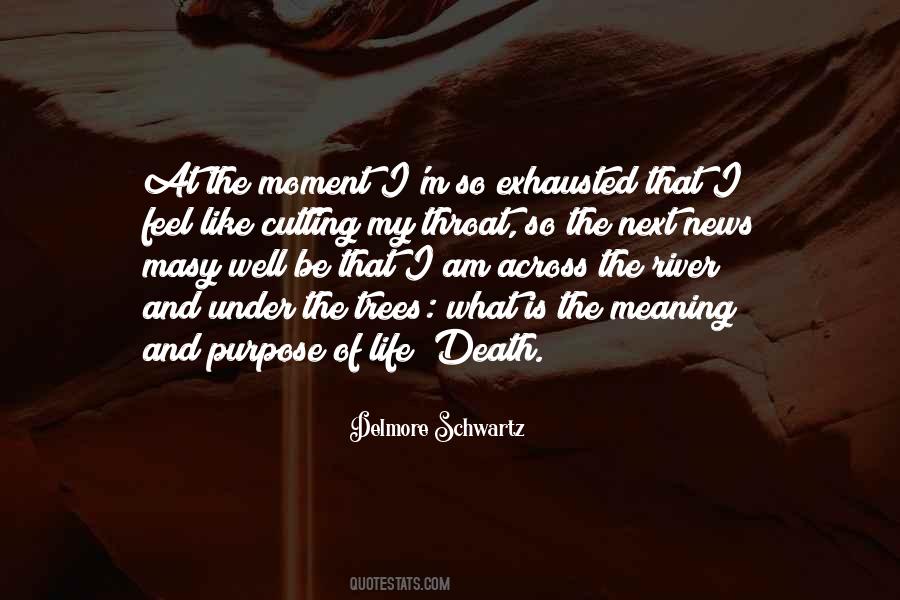 #78. The tragedy of life is when you do not know what to do with time - Author: Sunday Adelaja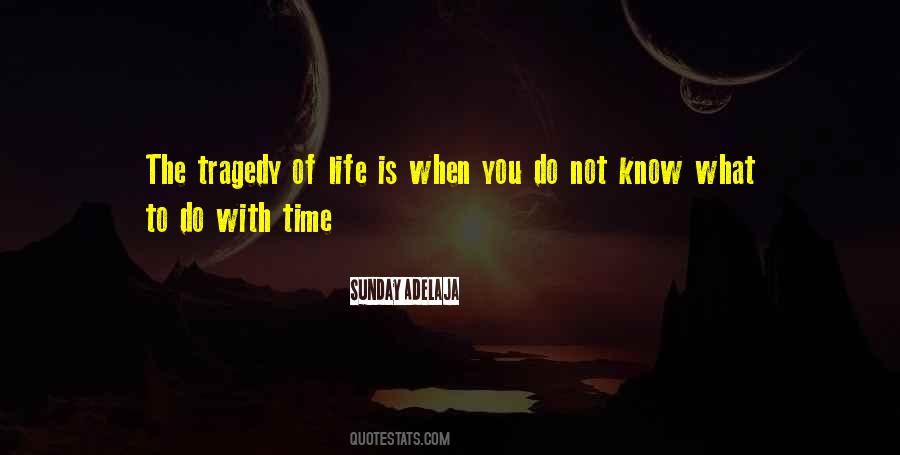 #79. Being unheard is the ground floor of giving up, and giving up is the ground floor of doing yourself in. It's not so much, what's the point? It's more like, what's the difference? - Author: Mitch Albom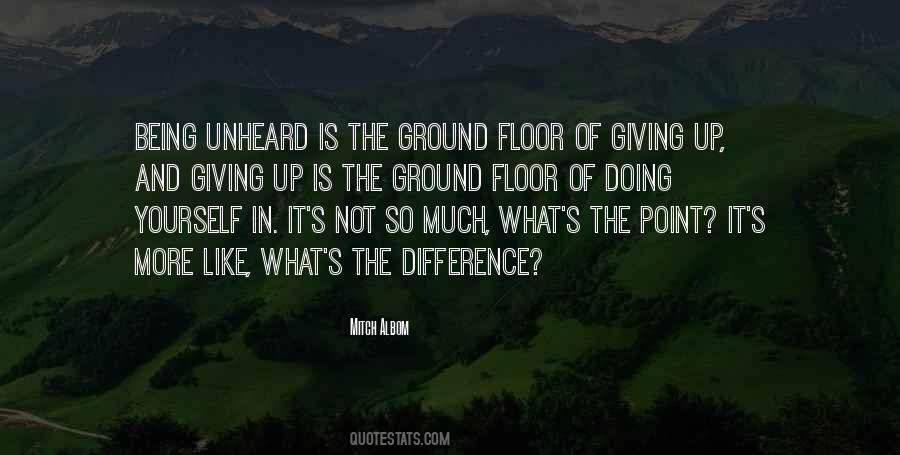 #80. What you have within you in your life is what you are after death. If you have explored it to some extent, you would see how life continues after death, and know that after death the consequences of the way that you have lived follow. - Author: Belsebuub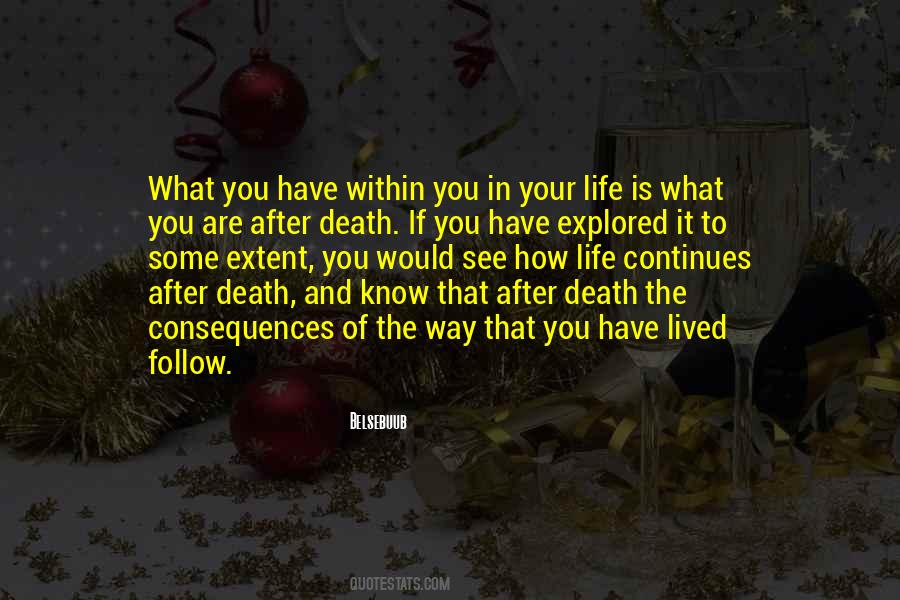 #81. To think what is true, to sense what is beautiful and to want what is good, hereby the spirit finds purpose of a life in reason. - Author: Johann Gottfried Herder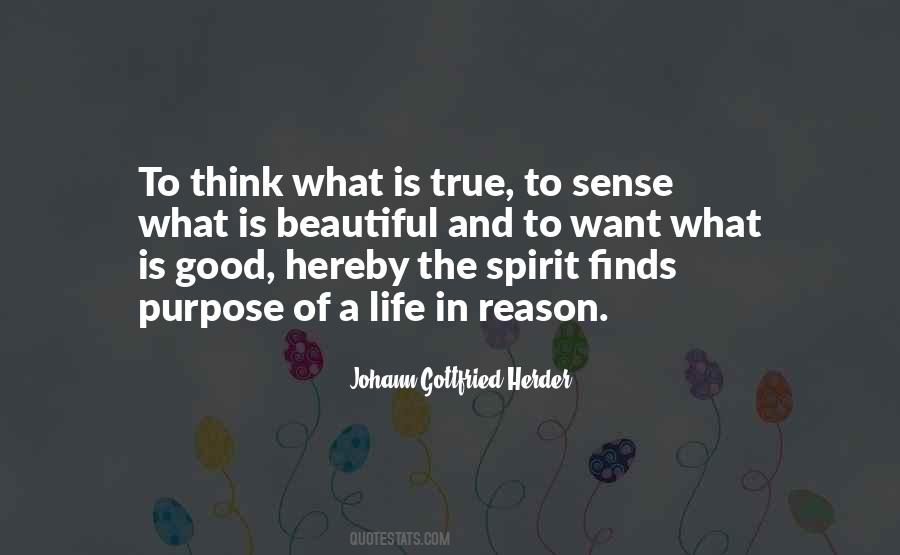 #82. If life is not a celebration, why remember it ? If life
mine or that of my fellow man
is not an offering to the other, what are we doing on this earth? - Author: Elie Wiesel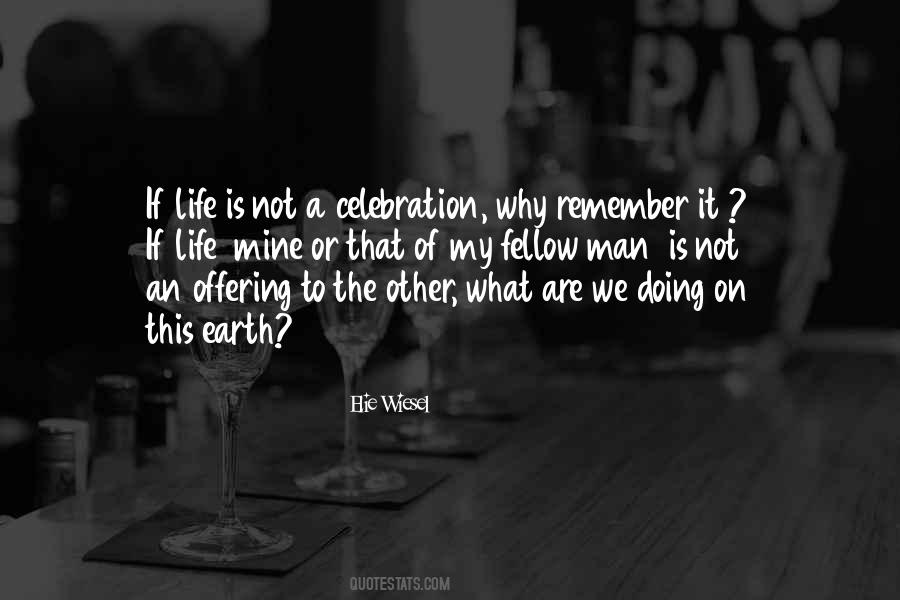 #83. And in that moment I experience a revelation.
I realize now that it was a painful sense that the world is purposeless, the lazy fruit of a misunderstanding, but in that moment I was able to translate what I felt only as: God does not exist. - Author: Umberto Eco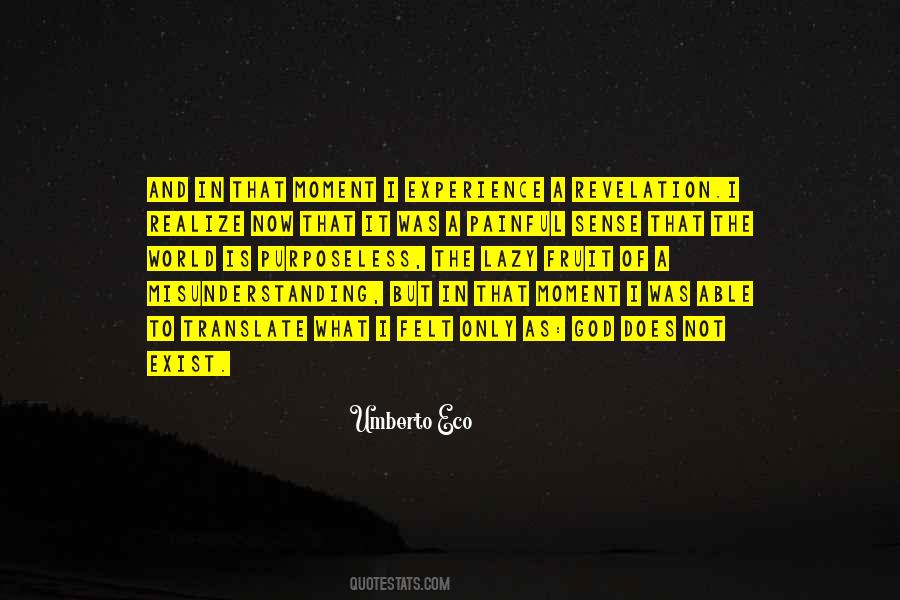 #84. I am sure now that life is not what it is purported to be and that nature, in the canny words of the Scotch theologue, 'is not as natural as it looks. - Author: Loren Eiseley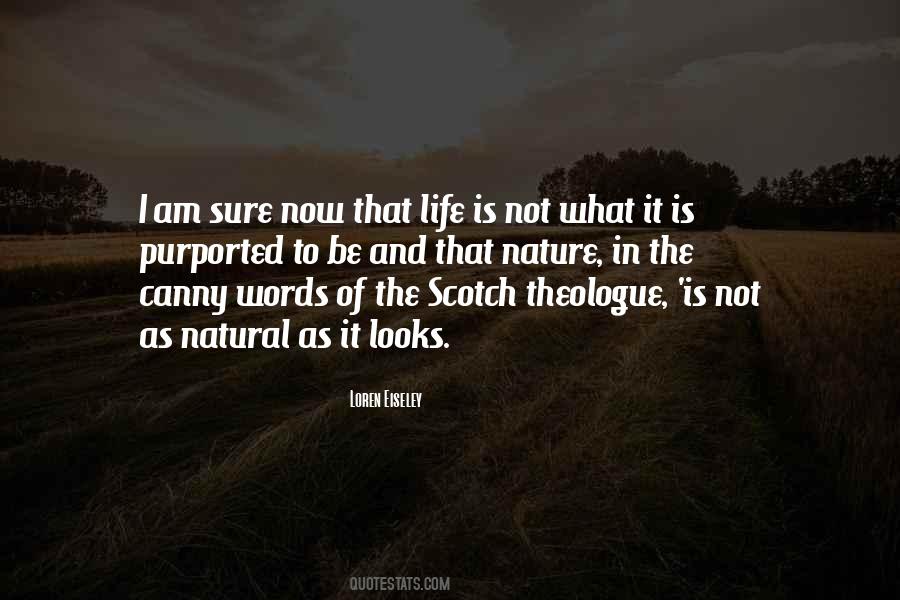 #85. Sometimes people think they are looking for the meaning of life, when really they are looking for an understanding of why they are here. What their purpose is, the purpose of life in general. And that's a much easier question to answer than the meaning of life. - Author: Wendy Mass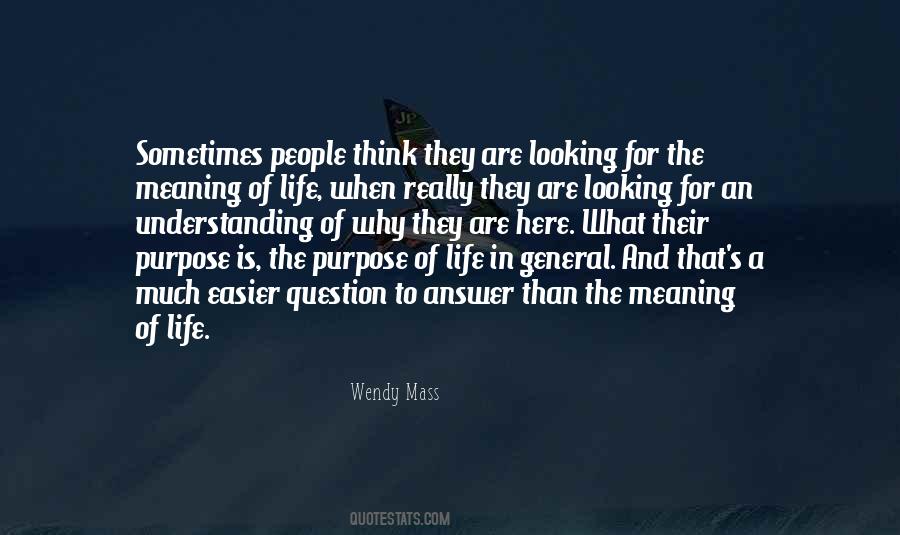 #86. Man is nothing else but what he purposes, he exists only in so far as he realizes himself, he is therefore nothing else but the sum of his actions, nothing else but what his life is. - Author: Jean-Paul Sartre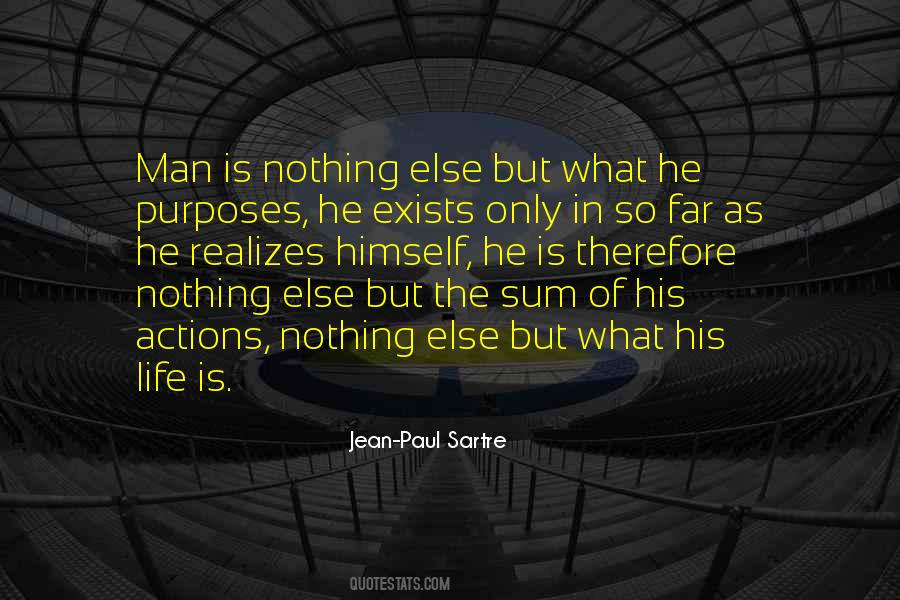 #87. What is the ultimate purpose of life? It's to give. - Author: Narayanan Krishnan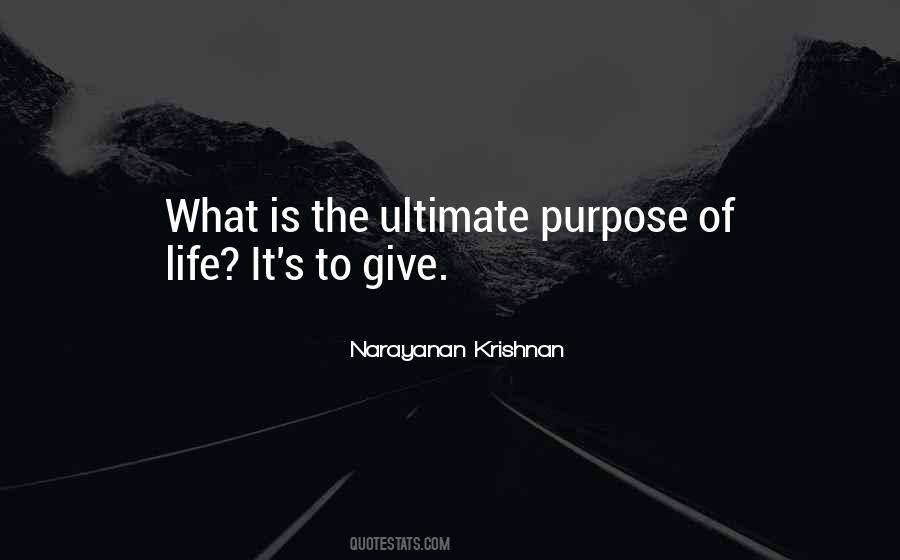 #88. Dear God,
what is my purpose of life?
What should I do to find it?
Once I found it, will I become stronger?
... Oh no, my mind is blank.
a strange sound kept ringing in my head.
What sound is that ... ?
Ah, I know.
It's ...
The sound of emptiness. - Author: Chica Umino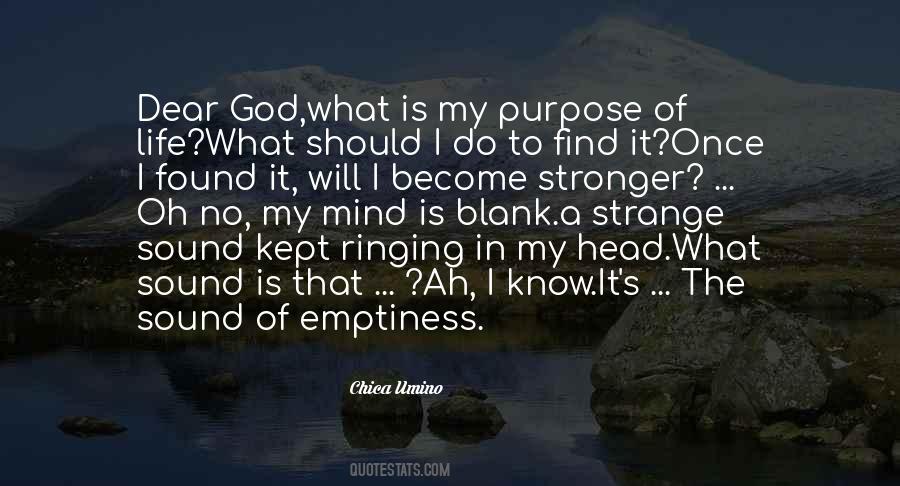 #89. DAY 10 Thinking about My Purpose POINT TO PONDER: The heart of worship is surrender. VERSE TO REMEMBER: "Surrender your whole being to him to be used for righteous purposes." ROMANS 6:13B (TEV) QUESTION TO CONSIDER: What area of my life am I holding back from God? - Author: Rick Warren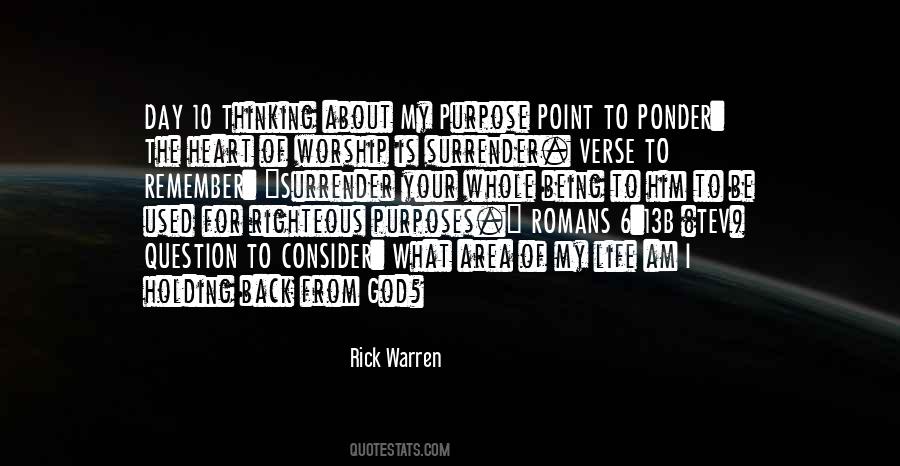 #90. I still believe that standing up for the truth of God is the greatest thing in the world. This is the end (purpose) of life. The end of life is not to be happy. The end of life is not to achieve pleasure and avoid pain. The end of life is to do the will of God, come what may. - Author: Martin Luther King Jr.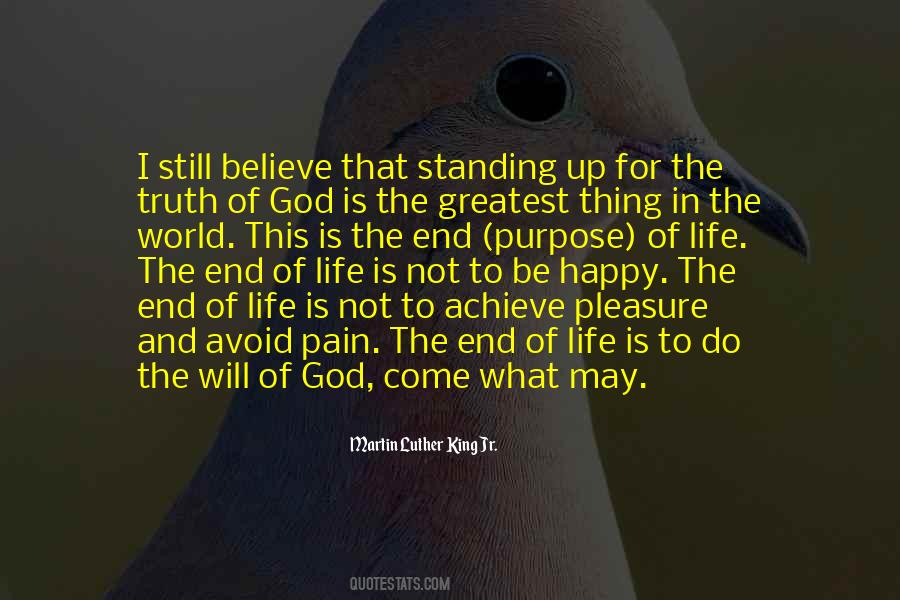 #91. Satan had made it his aim to distract you from who you really are and what the purpose of your life really is. It is his focused objective to lure you out of the path of strength, life, and authority and into a course of intentional destruction. - Author: Lisa Bevere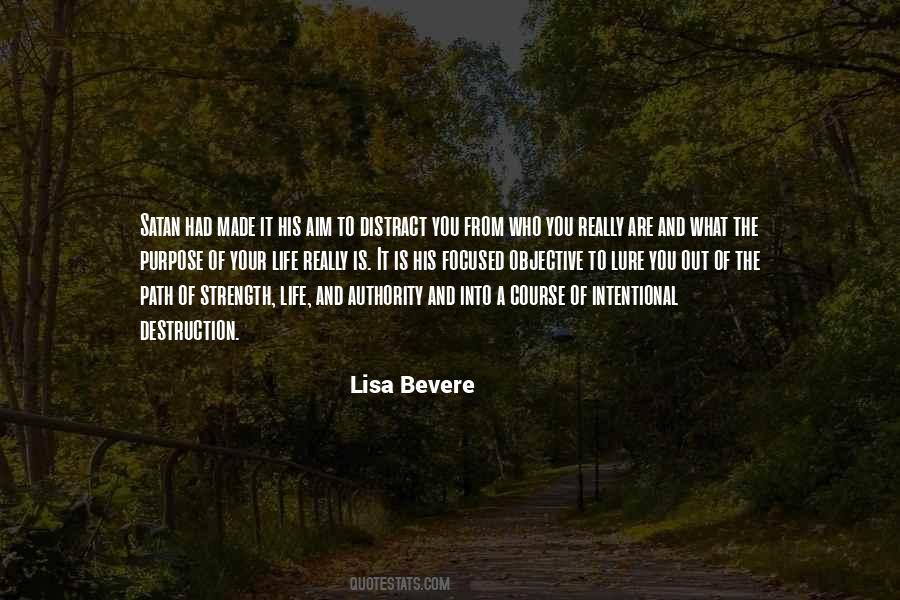 #92. Just imagine that the purpose of life is happinesss only-
then life becomes a cruel and senseless thing.You have to embrace what the wisdom of humanity,your intellect and your heart tell you: that the meaning of life is to serve the force that sent you into the world.Then life becomes a joy - Author: Leo Tolstoy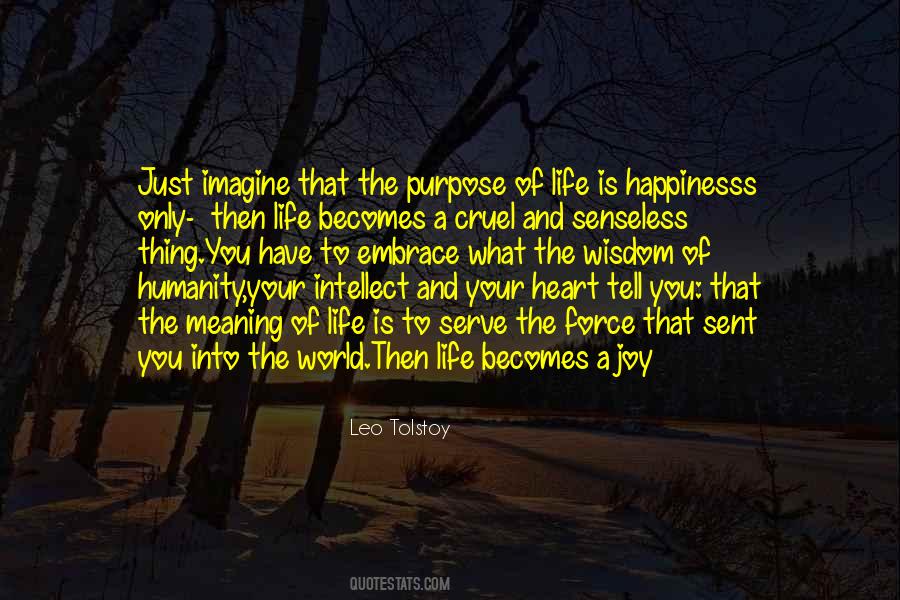 #93. The purpose of my life is not to get what I want. The purpose of my life is to become who I am. - Author: Cara Lopez Lee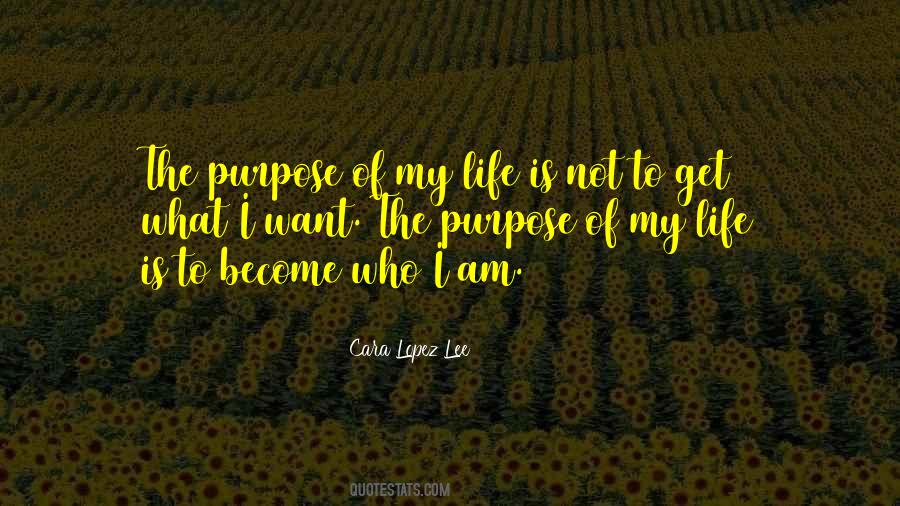 #94. We begin to ask questions, such as: "What is the purpose of life? What is my true nature? What is the source and origin of this entire creation?" When questions of this kind arise in a person's mind, his or her quest for knowledge begins. - Author: Tejomayananda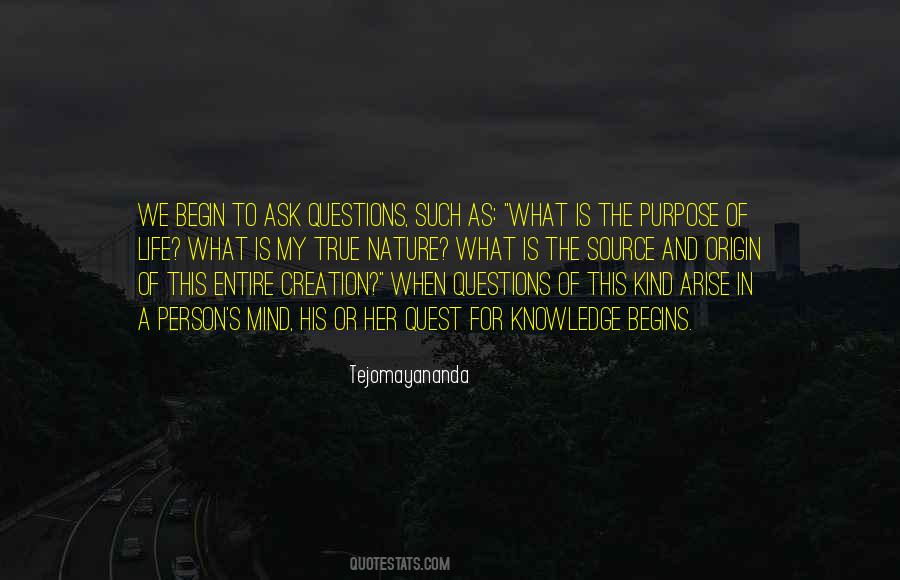 #95. Influence is not about what you can do but how you use it to change the lives of others - Author: Sunday Adelaja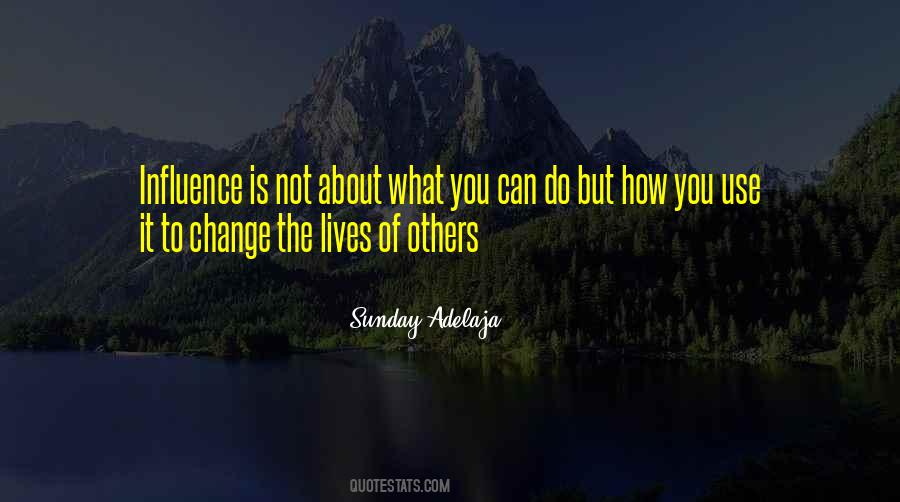 #96. The seeming imperfections of Earth, the hazards and inequalities of life, the cruelty, harshness and apparent indifference to suffering and affliction are not what they seem; as it is Earth is perfect for its purpose. It is ignorance of that purpose which makes it appear imperfect. - Author: Kolbrin BIble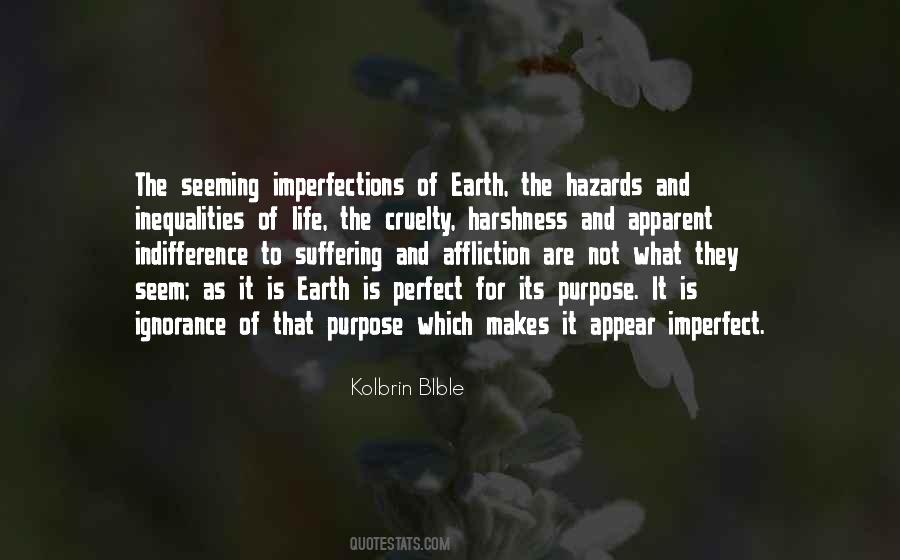 #97. Life is what you make it. Today is the first day of the rest of your life. You can't change the past, but the future isn't set in stone. You can effect a change there. Move forward not with hatred or love. Move forward with purpose. ========== Dream Chaser (Kenyon, Sherrilyn) - Author: Anonymous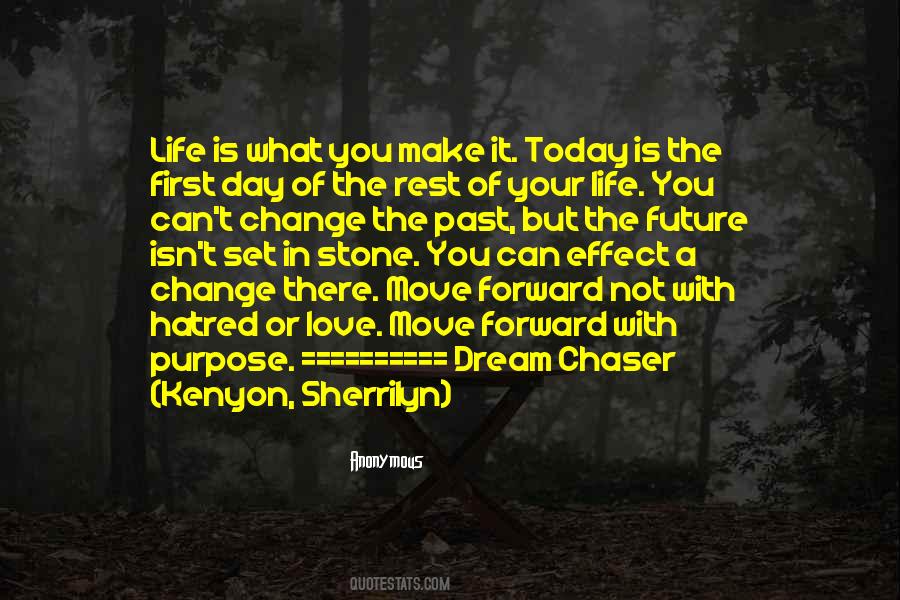 #98. Every one of us may know what is the ruling purpose of his life; and he who knows that his ruling purpose is to trust and follow Christ knows that he is a Christian. - Author: Washington Gladden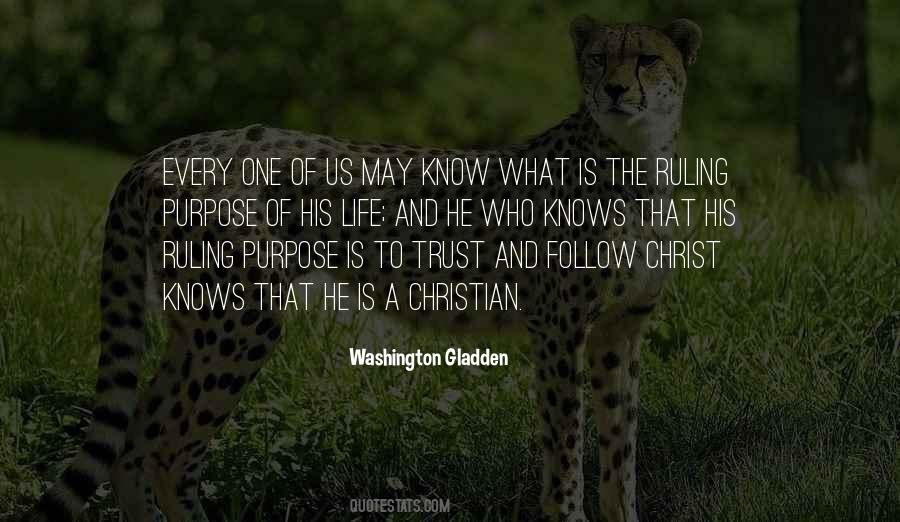 #99. It does not matter
where you are born,
but what matters is the purpose
Of your life. - Author: Debasish Mridha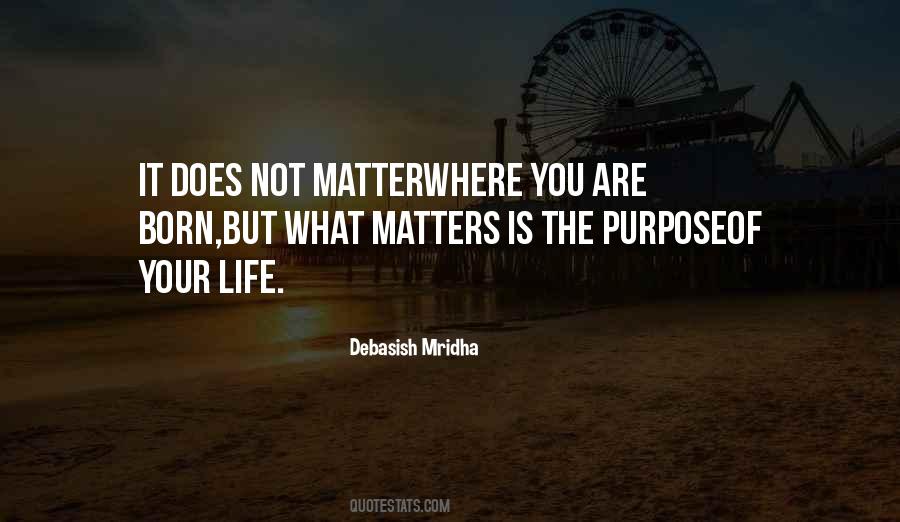 #100. the paradox of human ignorance is the most intriguing paradox of nature - Author: Ernest Agyemang Yeboah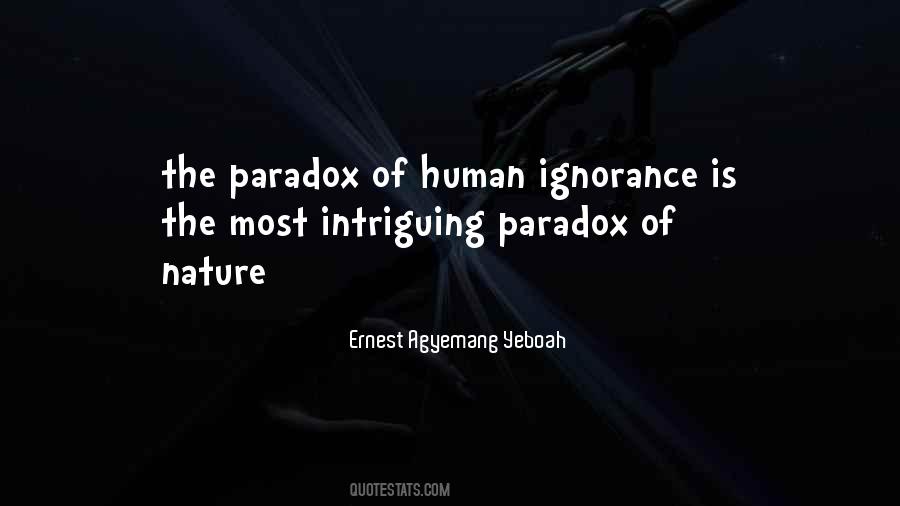 Famous Authors
Popular Topics