Way Of Peace Famous Quotes & Sayings
List of top 100 famous quotes and sayings about way of peace to read and share with friends on your Facebook, Twitter, blogs.
Top 100 Way Of Peace Quotes
#1. I never will have peace of mind. I'm not constructed that way. Some things in life can be horrible. - Author: Julie Christie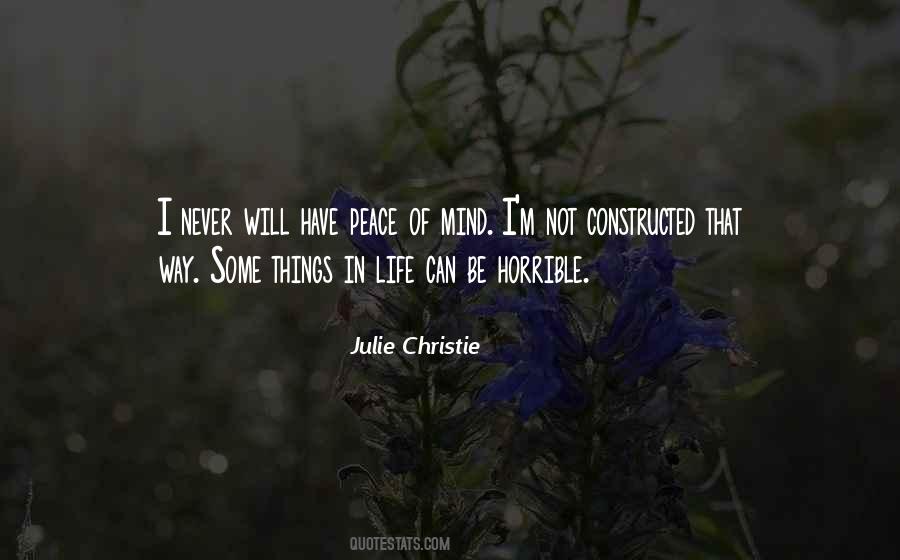 #2. I say that I found peace. I do not say that I was not lonely. I was
terribly. I do not say that I did not grieve. I did
most sorely. But peace of that sort the world cannot give comes, not by the removal of suffering, but in another way
through acceptance. - Author: Elisabeth Elliot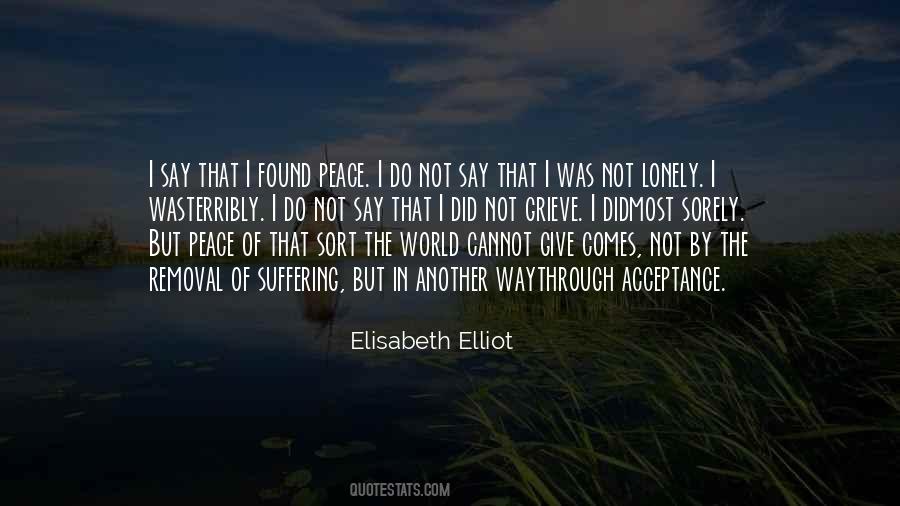 #3. It will be helpful to keep the following underlying themes in mind: Peace of mind is our single goal. Forgiveness is our single function and the way to achieve our goal of peace of mind. Through forgiveness, we can learn not to judge others and to see everyone, including ourselves, as guiltless. - Author: Gerald G. Jampolsky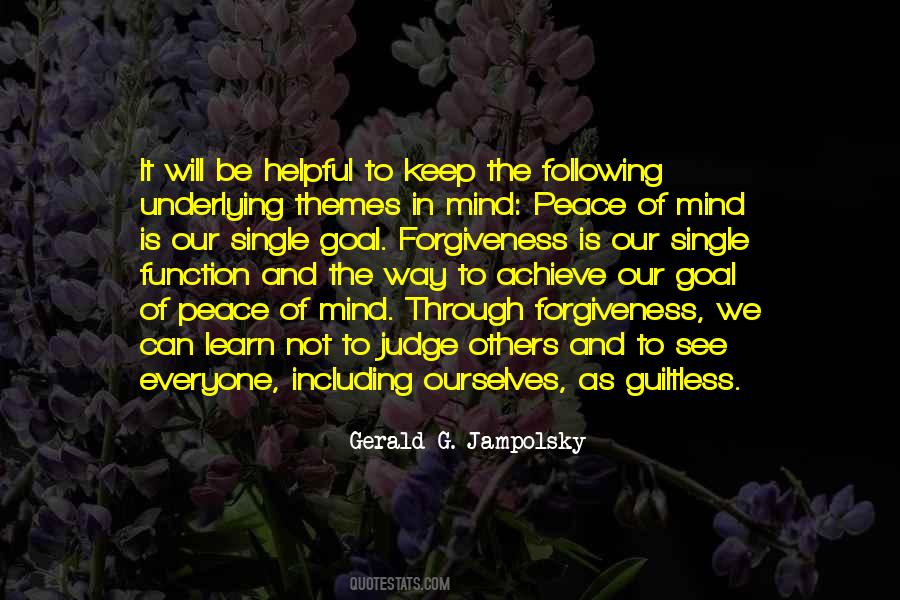 #4. Because i see at the end of my rough way that i was the architect of my destiny.. - Author: Amado Nervo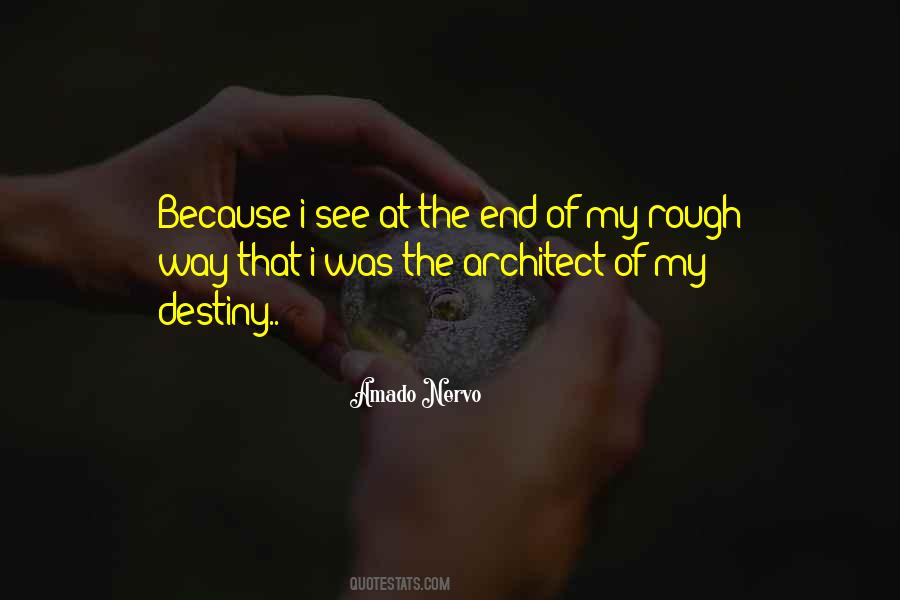 #5. I prize the soul that slumbers in a quiet eye. - Author: Eliza Cook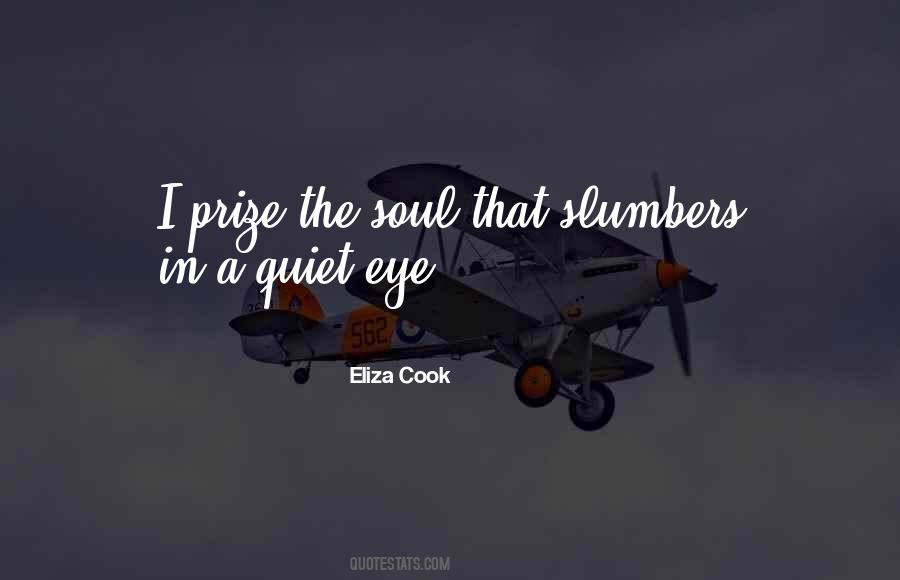 #6. Continue in the way of the bow, for it is a whole life's journey, but remember that a good, accurate shot is very different from one made with peace in your soul. - Author: Paulo Coelho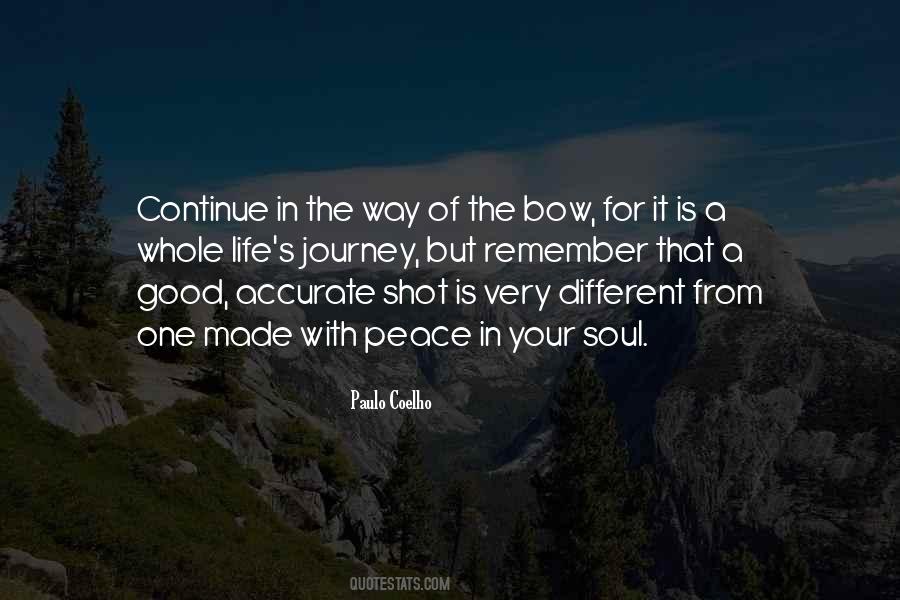 #7. Both above and below, without and within, which way so ever thou dost turn thee, everywhere thou shalt find the Cross; and everywhere of necessity thou must hold fast patience, if thou wilt have inward peace, and enjoy an everlasting crown. - Author: Thomas A Kempis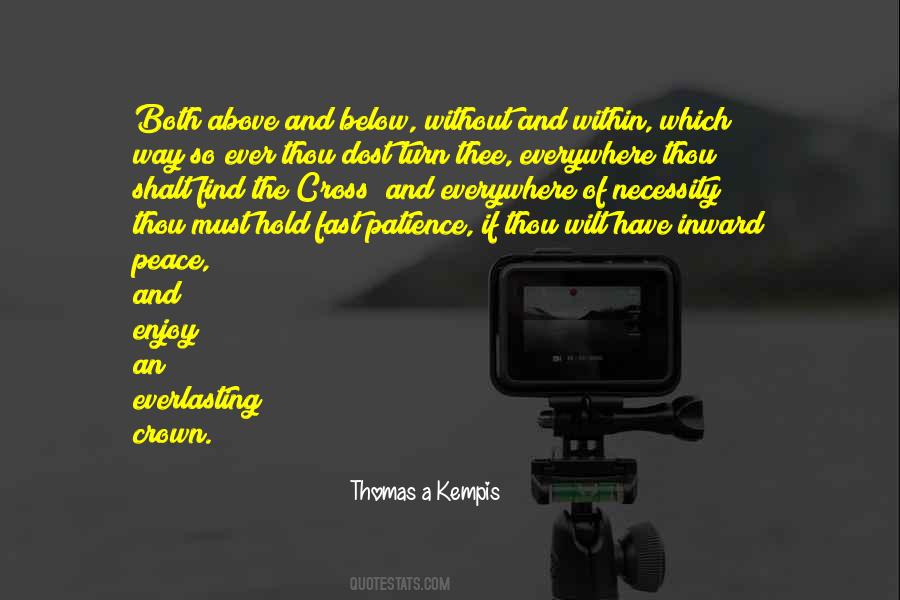 #8. Why should we defend ourselves when we are misunderstood and misjudged? Let us leave that aside. Let us not say anything. It is so sweet to let others judge us in any way they like. O blessed silence, which gives so much peace to the soul! - Author: Therese Of Lisieux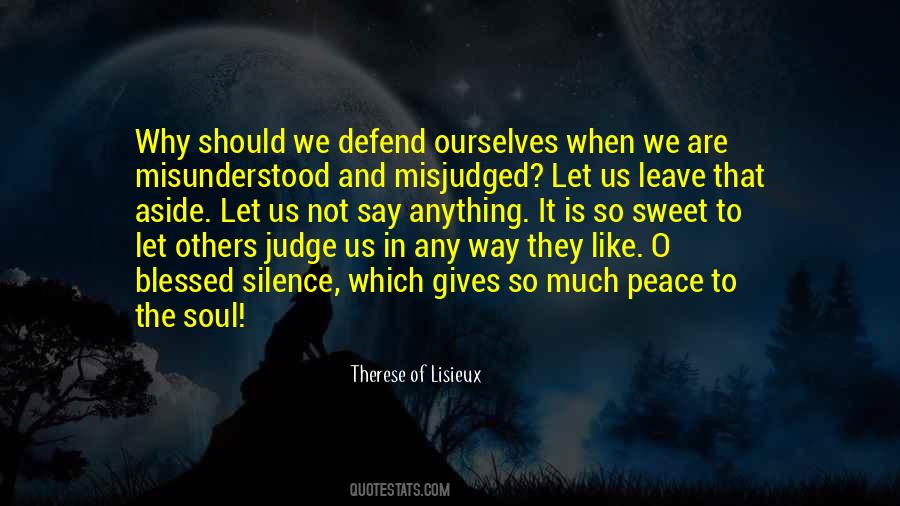 #9. He thought perhaps it was a woman's way, to come out of such a storm of emotion and pain as if she were a ship emerging onto calm seas. She had seemed, not at peace, but emptied of sorrow. As if she had run out of that particular emotion and no other one arose to take its place. - Author: Robin Hobb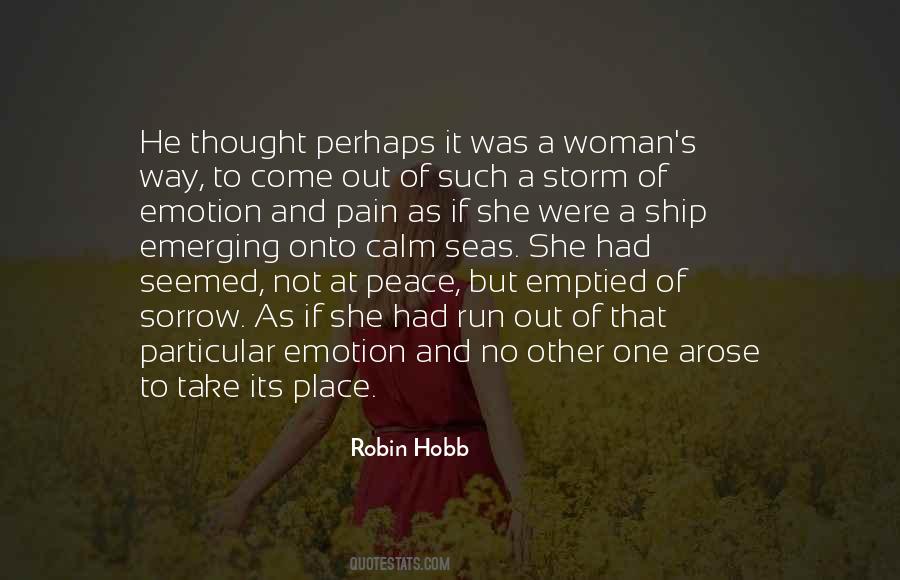 #10. I awake with a not entirely sickened knowledge that I am merely young again and in a funny way at peace, an observer who is aware of time's chariot, aware that some metamorphosis has occurred. - Author: Harold Brodkey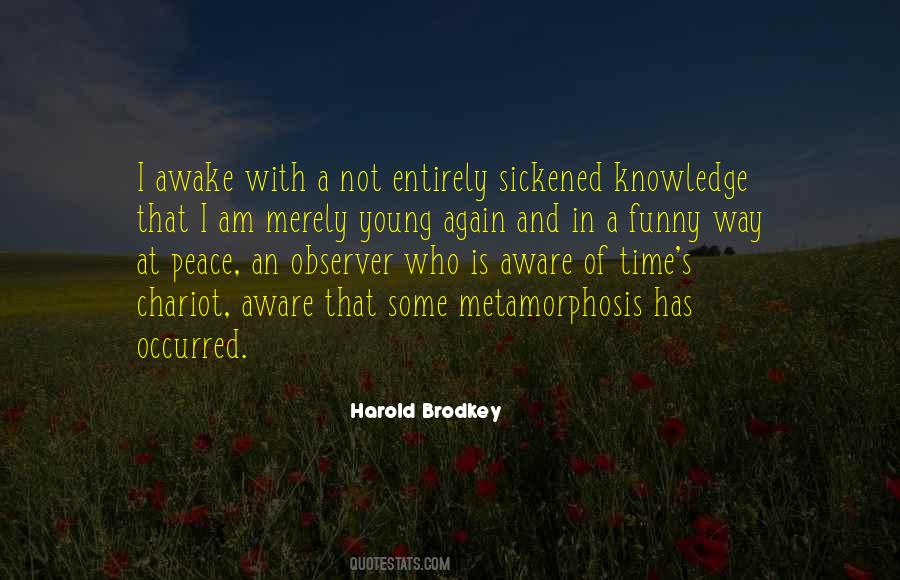 #11. It is neither a culture of confrontation nor a culture of conflict which builds harmony within and between peoples, but rather a culture of encounter and a culture of dialogue; this is the only way to peace. - Author: Pope Francis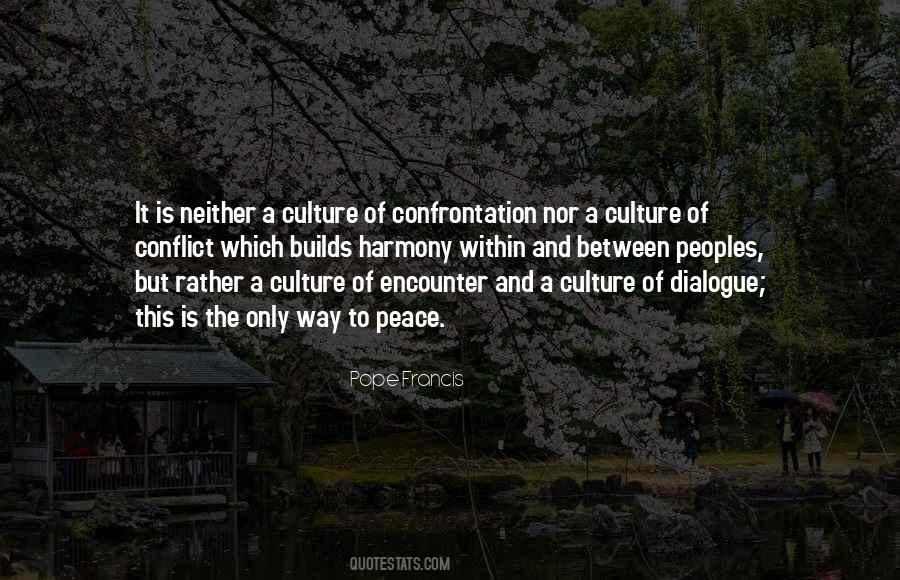 #12. Happiness is a shadow of harmony; it follows harmony. There is no other way to be happy. - Author: Rajneesh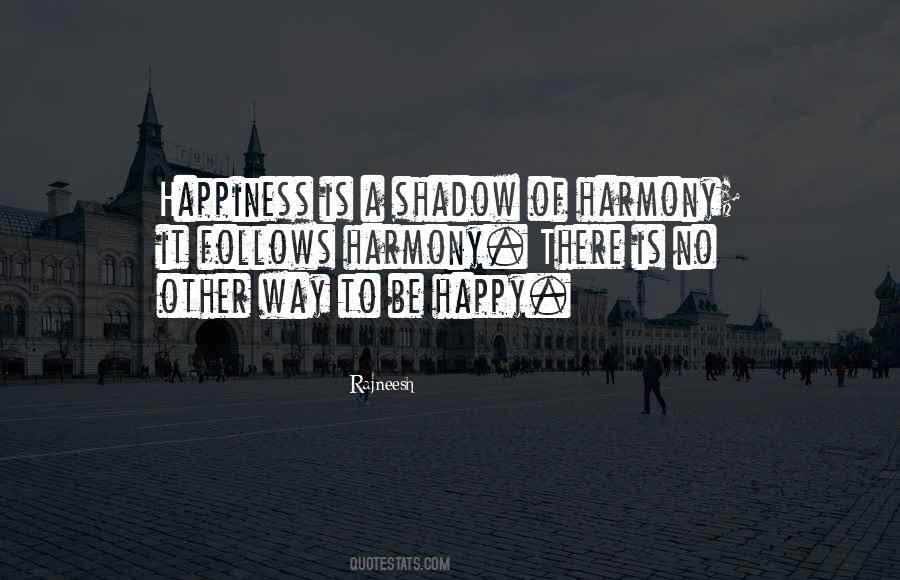 #13. The Israeli government has proved over the past year its commitment to peace, both in words and deeds. By contrast, the Palestinians are posing preconditions for renewing the diplomatic process in a way they have not done over the course of 16 years. - Author: Benjamin Netanyahu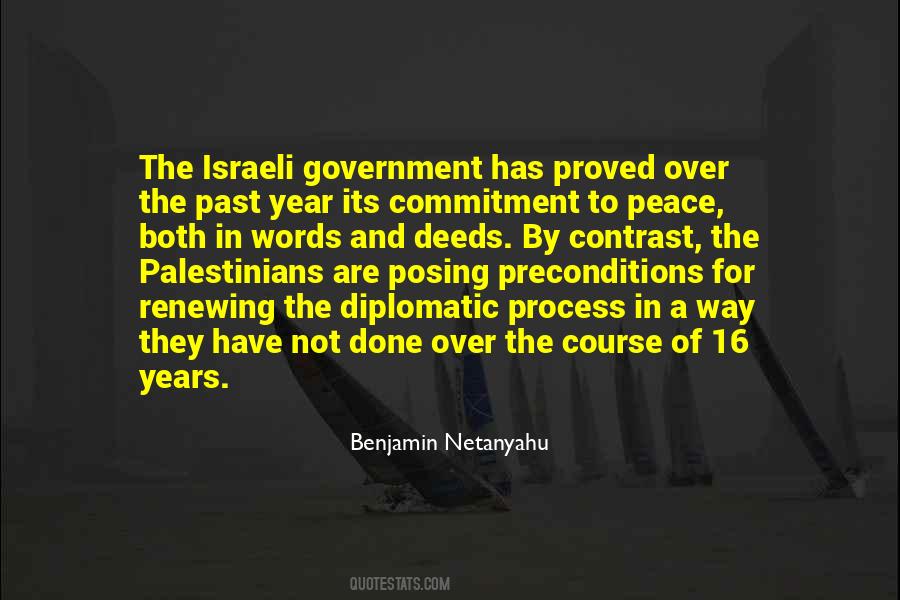 #14. Have little,
Need less:
This is the way
To inner peace.
Surrender is a journey
From the outer turmoil
To the inner peace.
Peace
Is in inner awakening,
And this inner awakening
We must share
With the rest of the world. - Author: Sri Chinmoy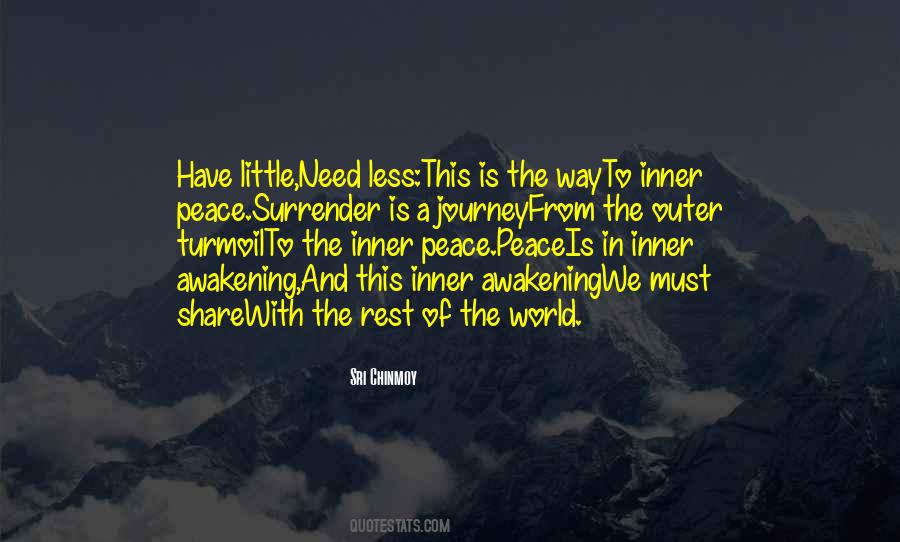 #15. Peace is a process - a way of solving problems. - Author: John F. Kennedy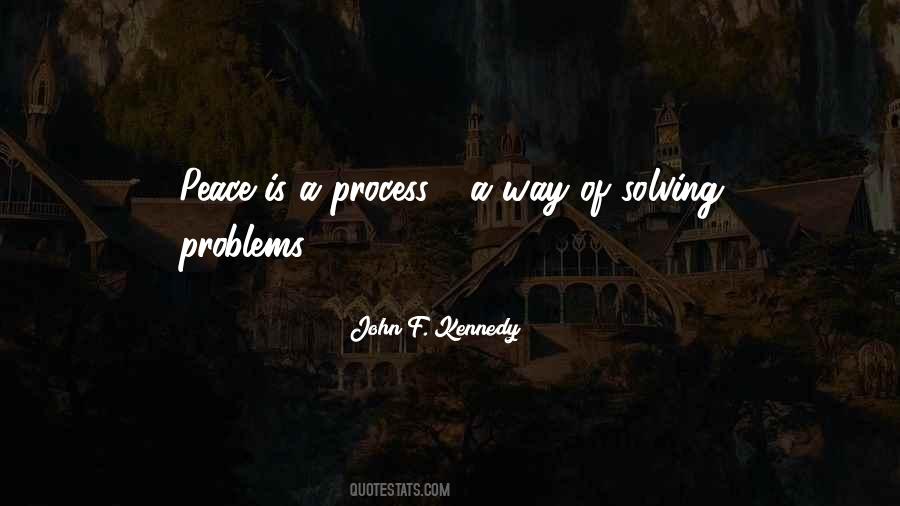 #16. When a man's ways please God, the stones of the street shall be at peace with him. - Author: Walter Cradock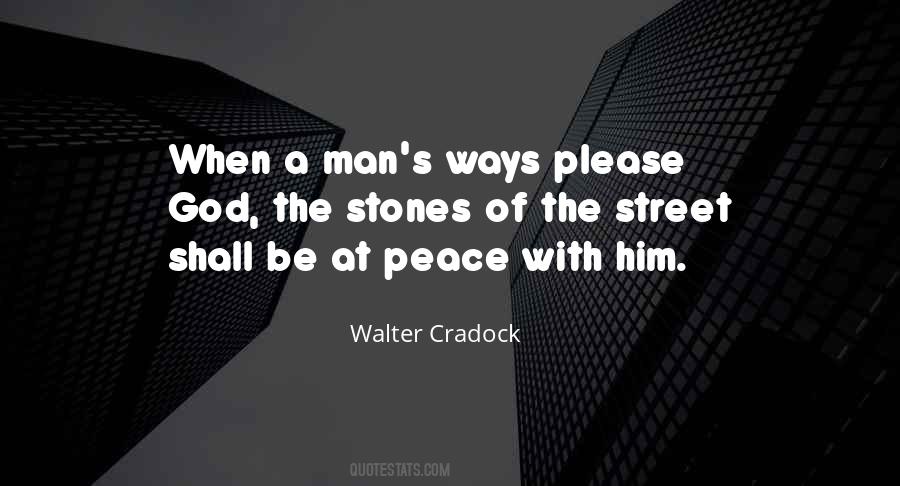 #17. I think that people want peace so much that one of these days government had better get out of their way and let them have it. - Author: Dwight D. Eisenhower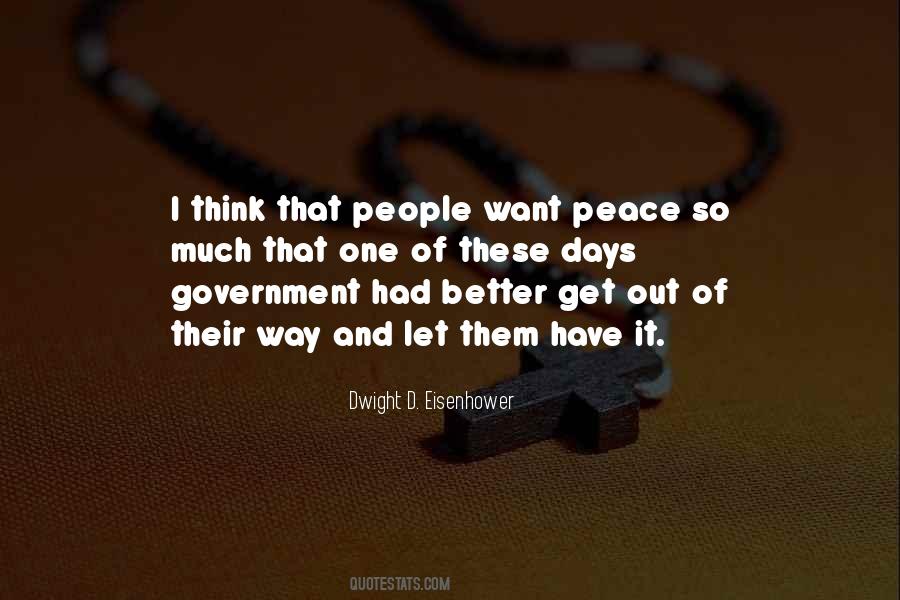 #18. Although attempting to bring about world peace through the internal transformation of individuals is difficult, it is the only way. - Author: Dalai Lama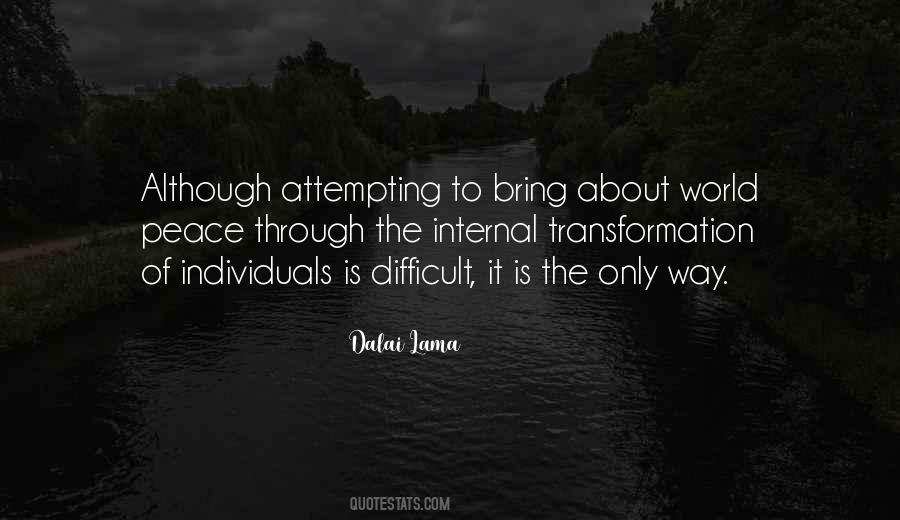 #19. We must think differently, look at things in a different way. Peace requires a world of new concepts, new definitions. - Author: Yitzhak Rabin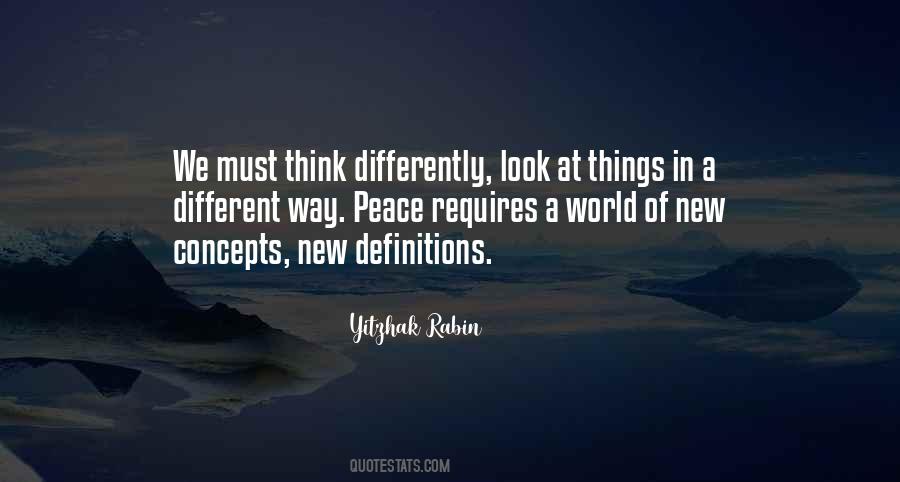 #20. PRACTICE THE Art of Peace sincerely, and evil thoughts and deeds will naturally disappear. The only desire that should remain is the thirst for more and more training in the Way. - Author: Morihei Ueshiba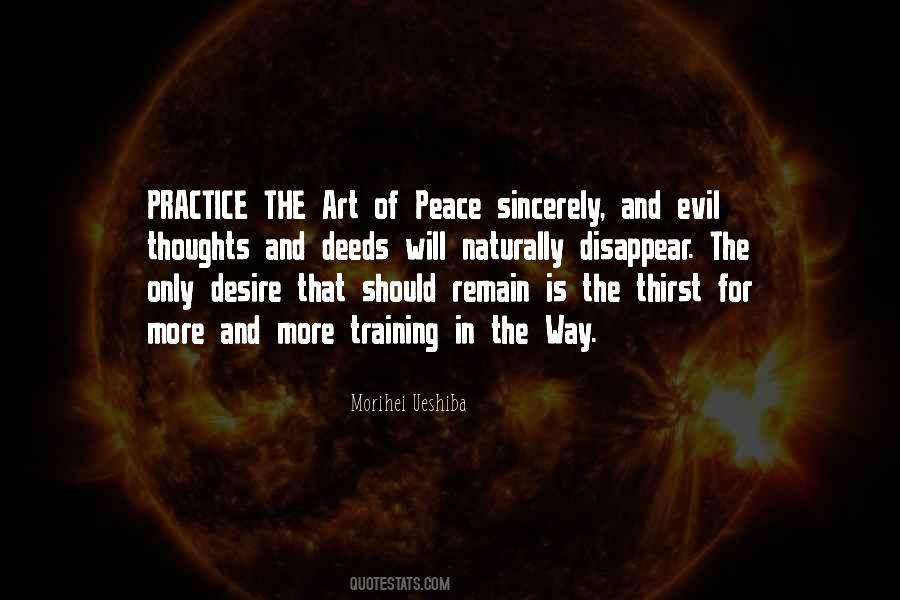 #21. I am just absolutely convinced that the best formula for giving us peace and preserving the American way of life is freedom, limited government, and minding our own business overseas. - Author: Ron Paul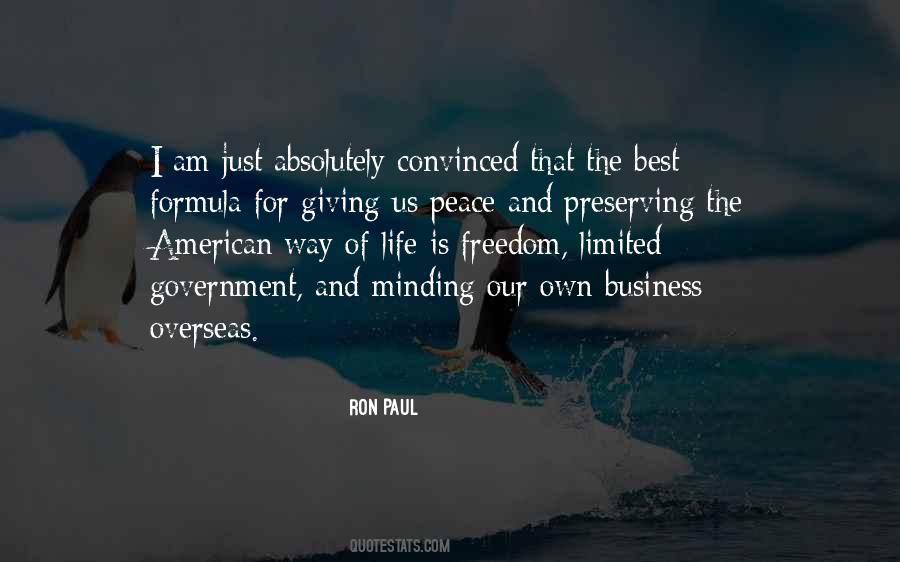 #22. The hardest part about life is getting out of our own way; in those often fleeting moments that we actually do, we always see light and peace. - Author: Gregor Collins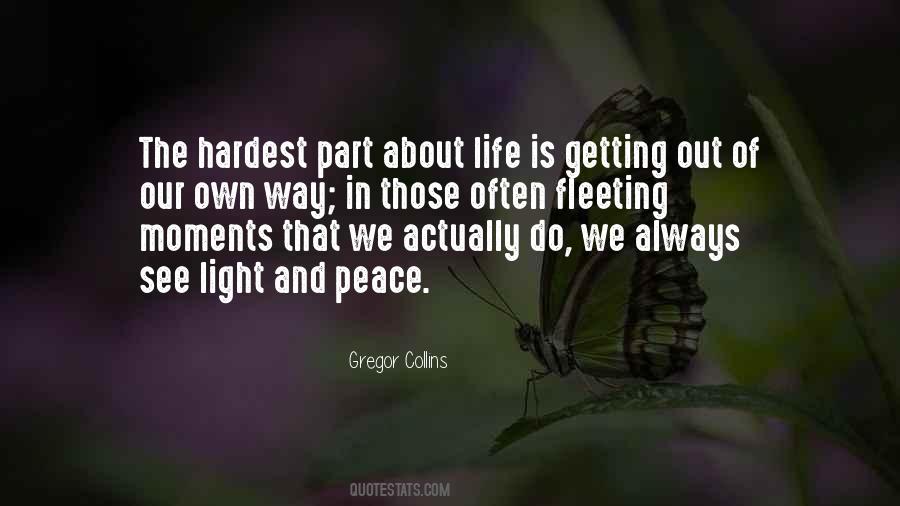 #23. The only way to protect our people, the only way to secure the peace, the only way to control our destiny is by our leadership
so the United States of America will continue to lead - Author: George W. Bush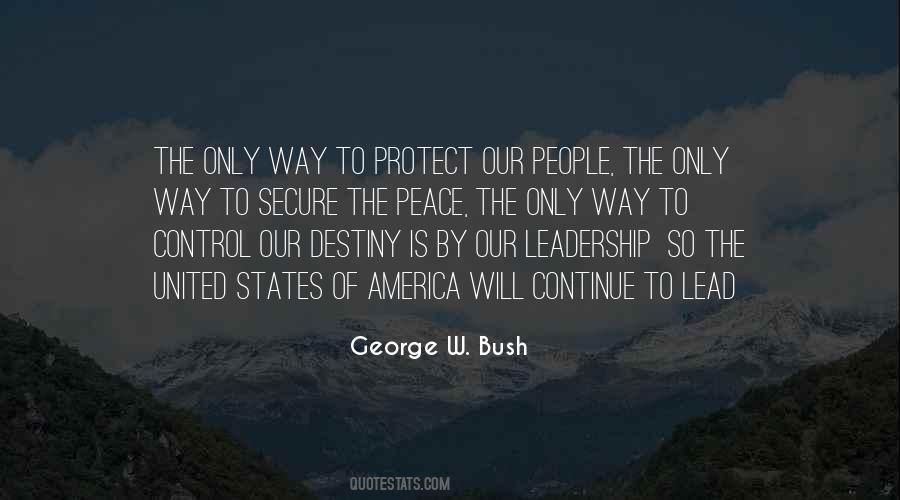 #24. To think that all we've known to be true is not necessarily an absolute is unsettling and almost incomprehensible, and so to walk the road of acceptance and peace often takes more courage than the way of the warrior. - Author: R.A. Salvatore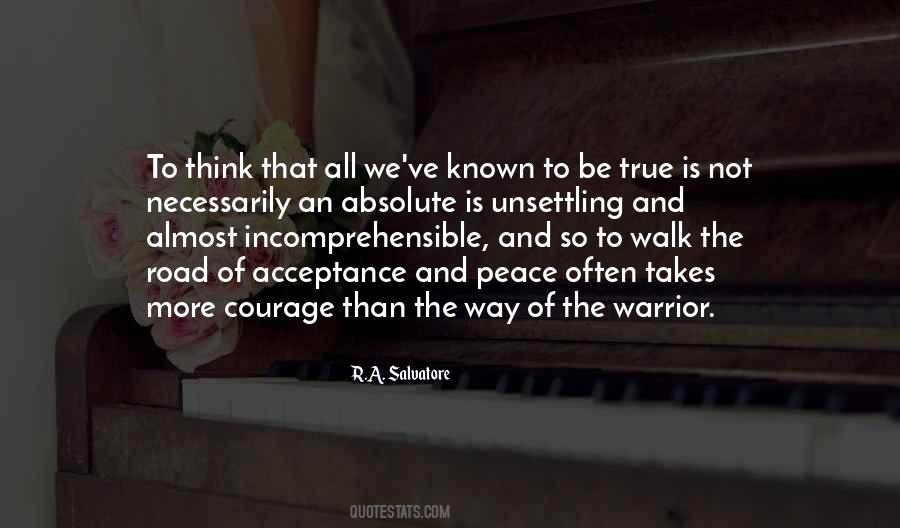 #25. The solution, many times more complex and difficult, would be to go beyond our ideas, obviously insane, of war as the way to peace and of permanent damage to the ecosphere as the way to wealth. - Author: Wendell Berry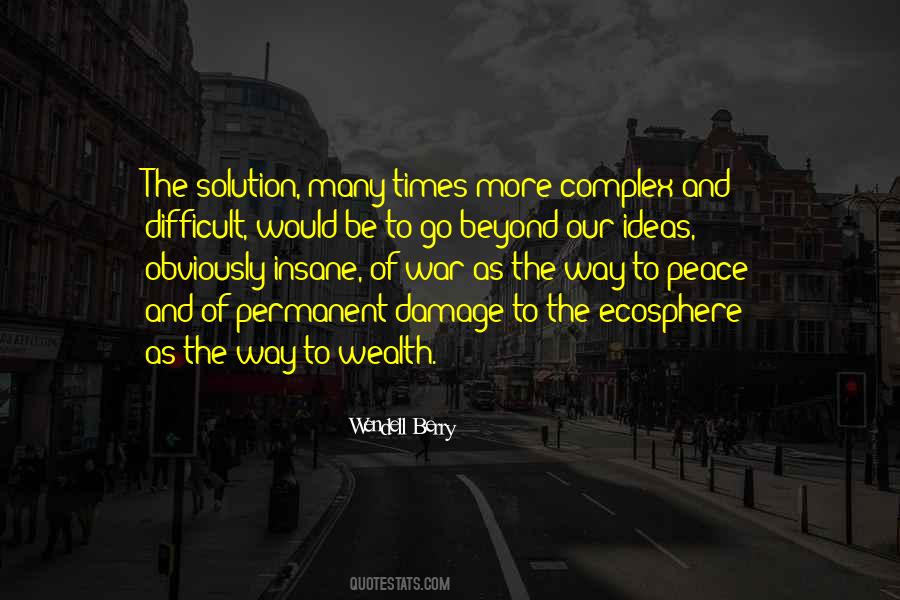 #26. This is the way of peace: Overcome evil with good, falsehood with truth, and hatred with love. - Author: Peace Pilgrim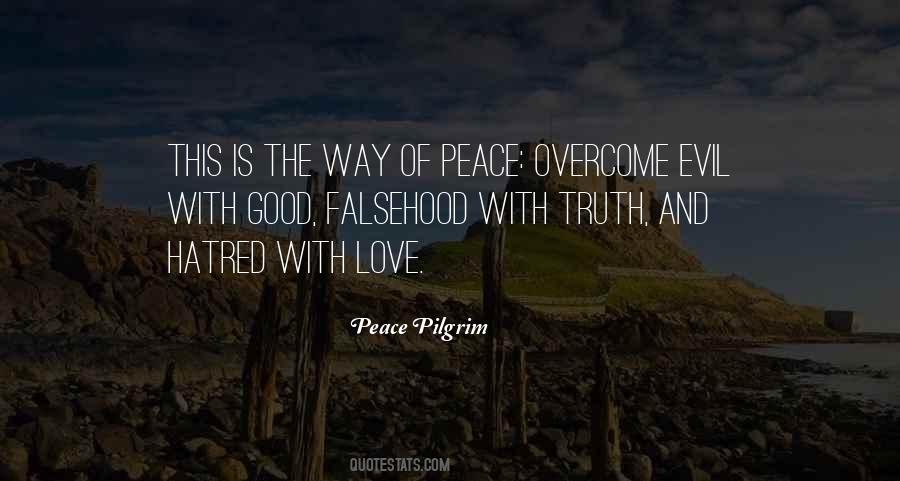 #27. To find real peace you have to let the armor go. Your need for acceptance can make you invisible in this world. Don't let anything stand in the way of the light that shines through this form. Risk being seen in all of your glory. - Author: Jim Carrey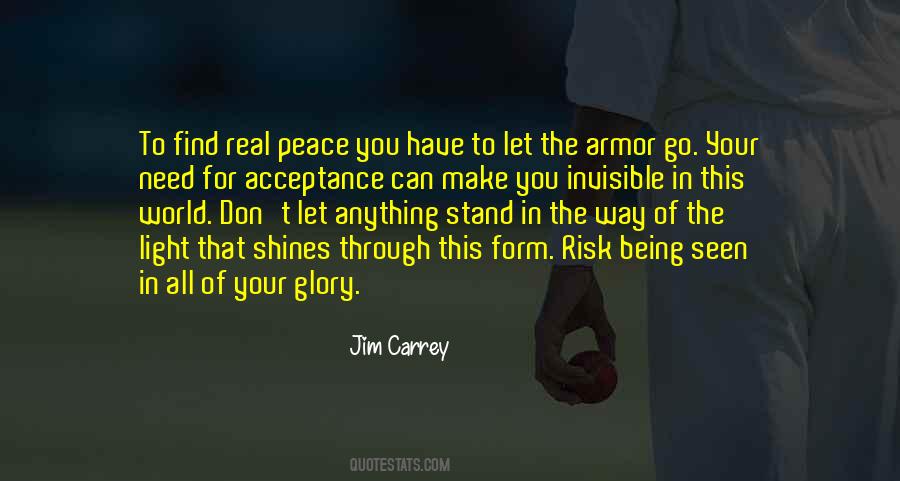 #28. Meditation is not a way to enlightenment, Nor is it a method of achieving anything at all. It is peace itself. It is the actualization of wisdom, The ultimate truth of the oneness of all things. - Author: Dogen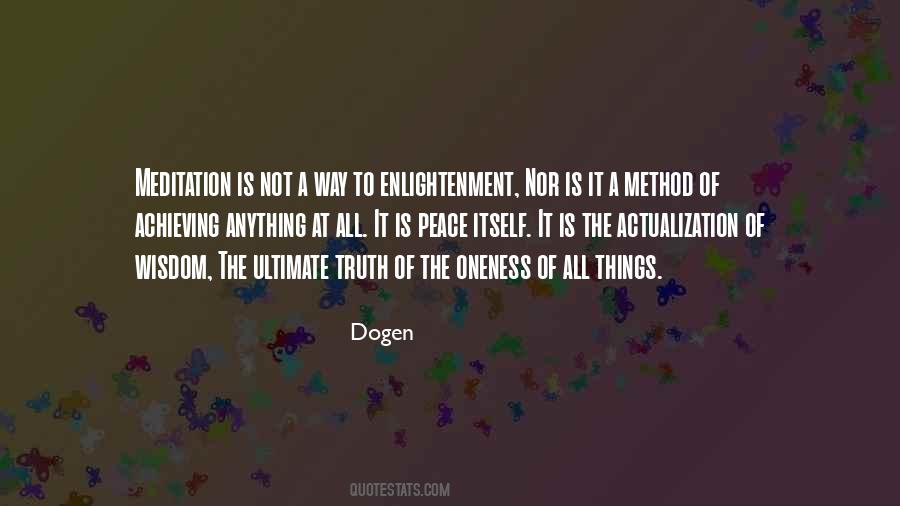 #29. Wars are an outdated way to try to solve conflicts, which is unacceptable in the 21st century. Instead of trying to conquer yourself, wars are an unconscious way to try to conquer life. Wars are an unconscious way to try to conquer death, which is the basic fear in the West. - Author: Swami Dhyan Giten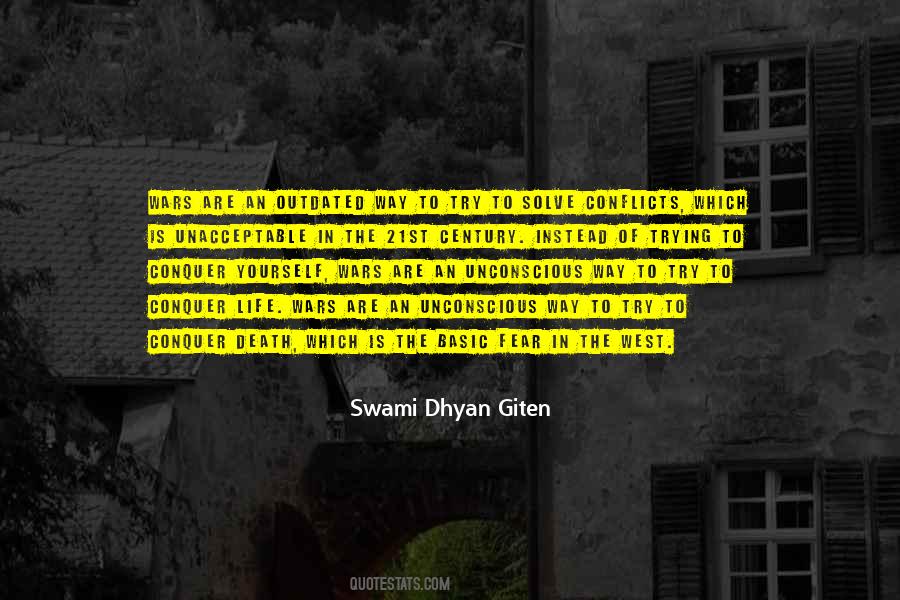 #30. The best, the surest and the most effective way of establishing PEACE on the face of the earth is through the great power of Perpetual Adoration of the Blessed Sacrament. - Author: Pope John Paul II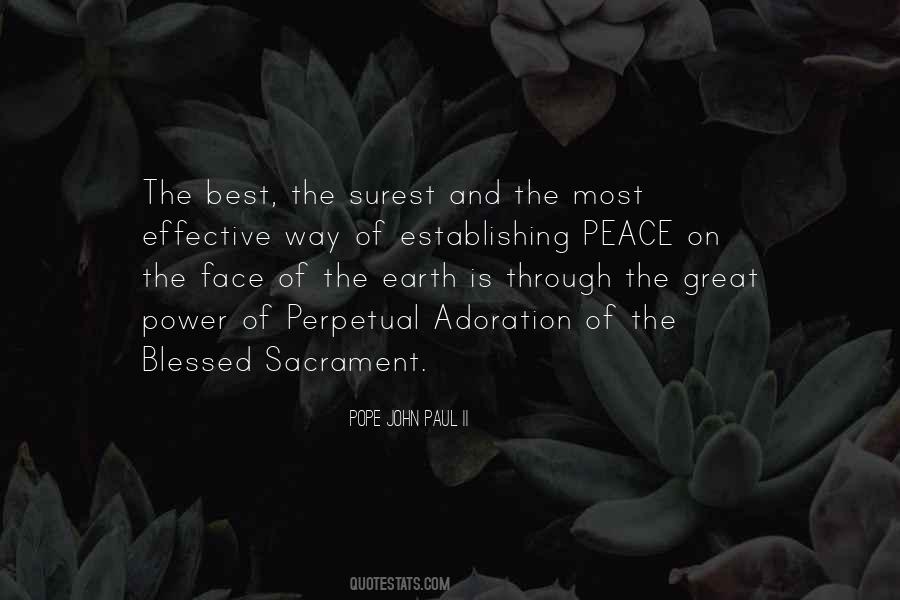 #31. We infinitely desire peace, and the surest way of obtaining it is to show that we are not afraid of war. - Author: Edmund Morris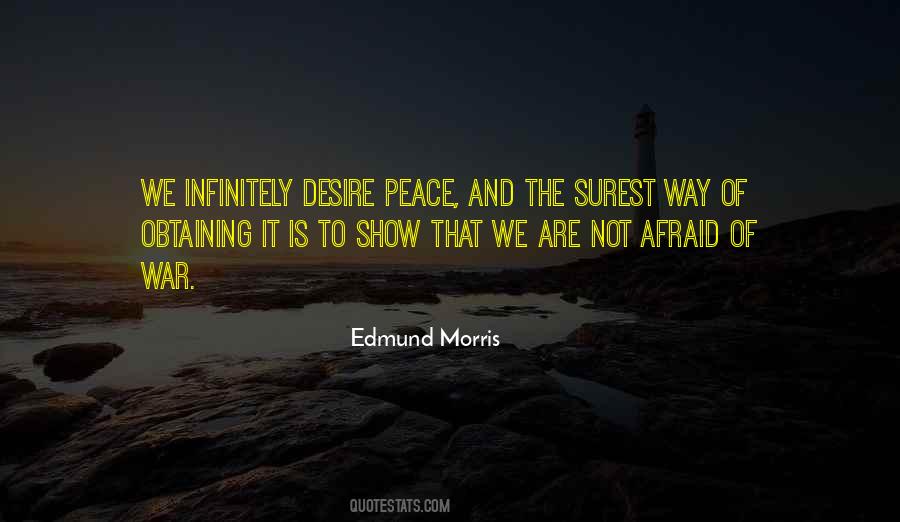 #32. Wisdom is the only thing which can relieve us from the sway of the passions and the fear of danger, and which can teach us to bear the injuries of fortune itself with moderation, and which shows us all the ways which lead to tranquility and peace. - Author: Marcus Tullius Cicero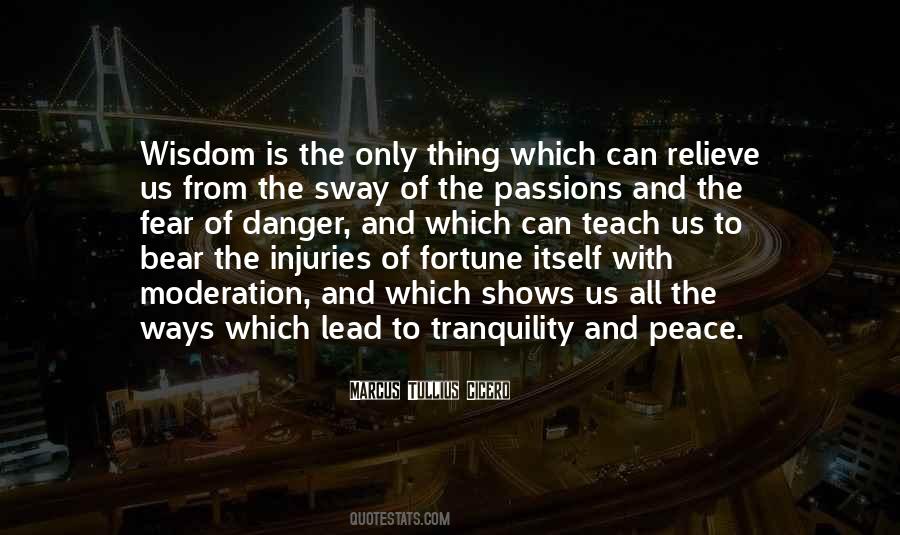 #33. Every day in every way I am growing more prosperous, successful, victorious. I am made for peace, health, and plenty, and I am now experiencing them in ever-increasing degrees of good. - Author: Catherine Ponder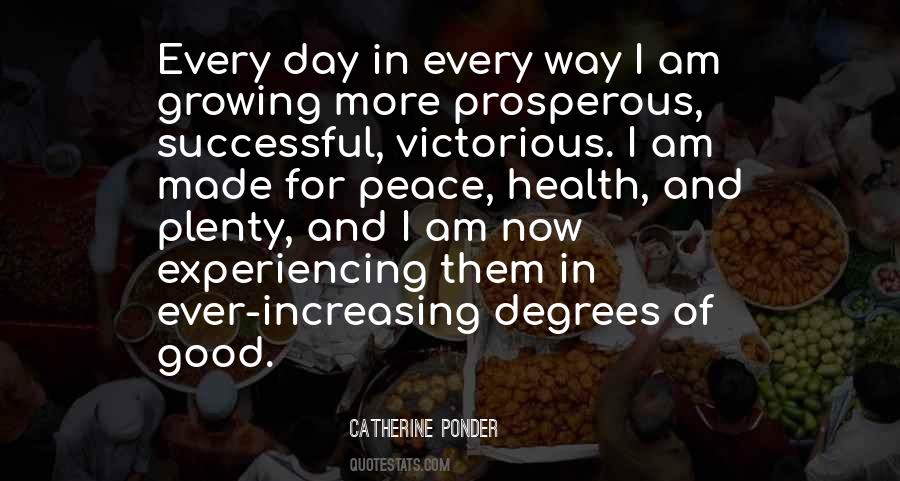 #34. Keep the commandments of God. If you have sinned, the sooner you begin to make your way back, the sooner you will find the sweet peace and joy that come with the miracle of forgiveness. Happiness comes from living the way the Lord wants you to live and from service to God and others. - Author: Thomas S. Monson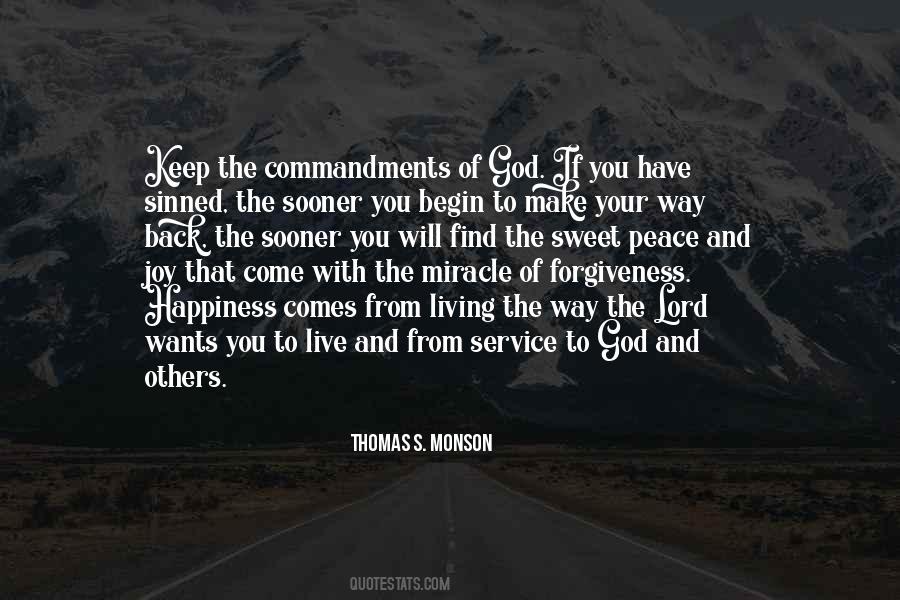 #35. If you are kept in ignorance of the true way and permit yourself to rely upon and be guided by the opinion of imperfect man, you can never gain the riches that will bring you peace and lasting happiness. - Author: Joseph Franklin Rutherford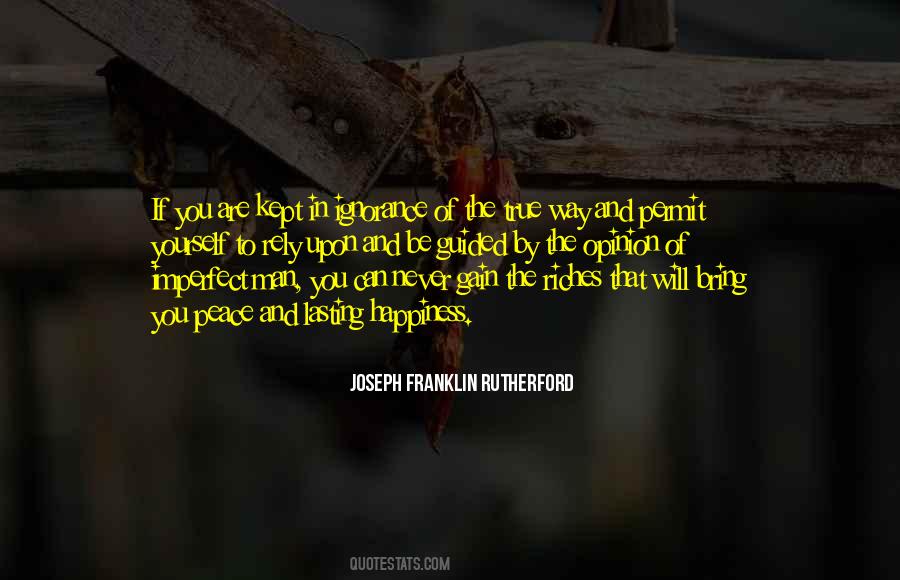 #36. No Arab ruler will consider the peace process seriously so long as he is able to toy with the idea of achieving more by the way of violence. - Author: Yitzhak Rabin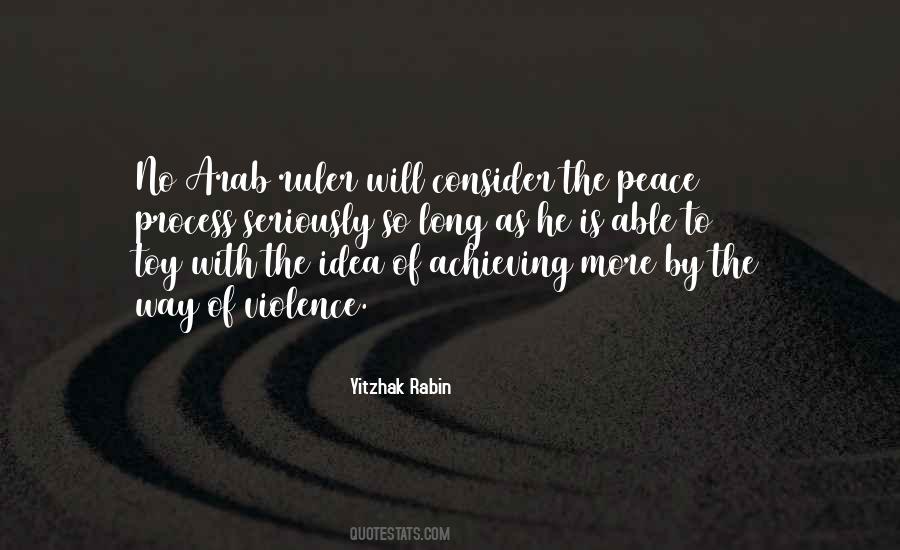 #37. Most of us fall short much more by omission than by commission. While the world perishes we go our way: purposeless, passionless, day after day. - Author: Peace Pilgrim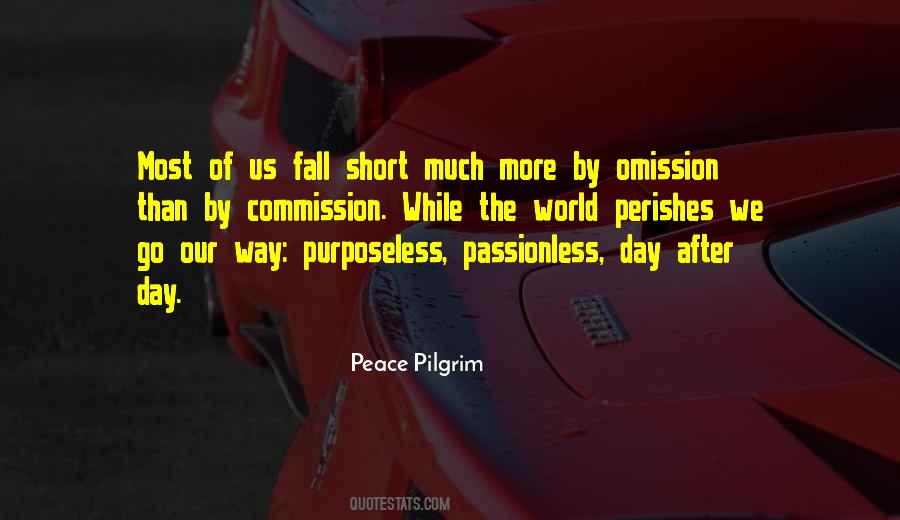 #38. I want to tell the United States, the international community and all those who speak about peace that ... the shortest way for this is that they should work for halting the Israeli aggression and occupation of the Palestinian territories. - Author: Khaled Mashal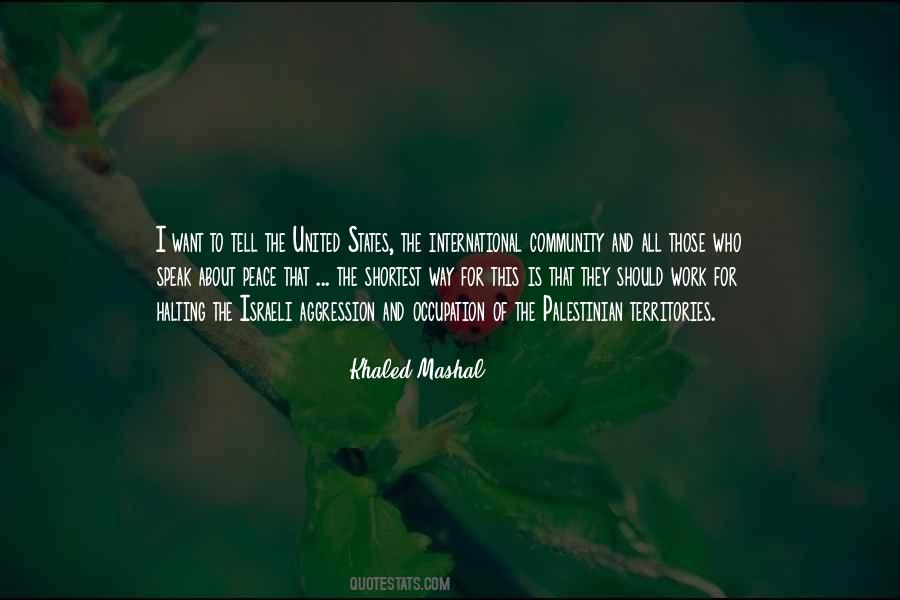 #39. I had to come to terms with the fact that I wouldn't have peace with myself until I found a way to like myself. - Author: Michael Barbarulo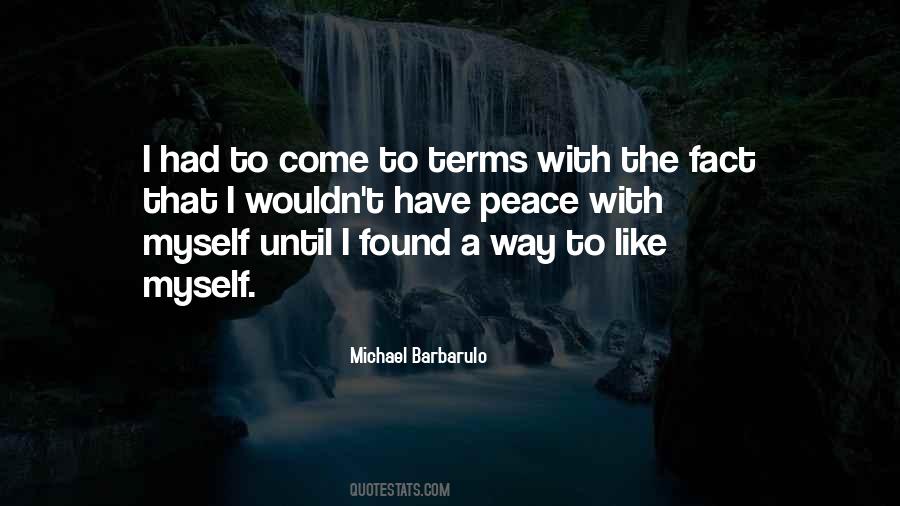 #40. Nearly always, so as to live at peace with ourselves, we disguise our own impotence and weakness as calculation and policy; it is our way of placating that half of our being which is in a sense a spectator of the other. - Author: Benjamin Constant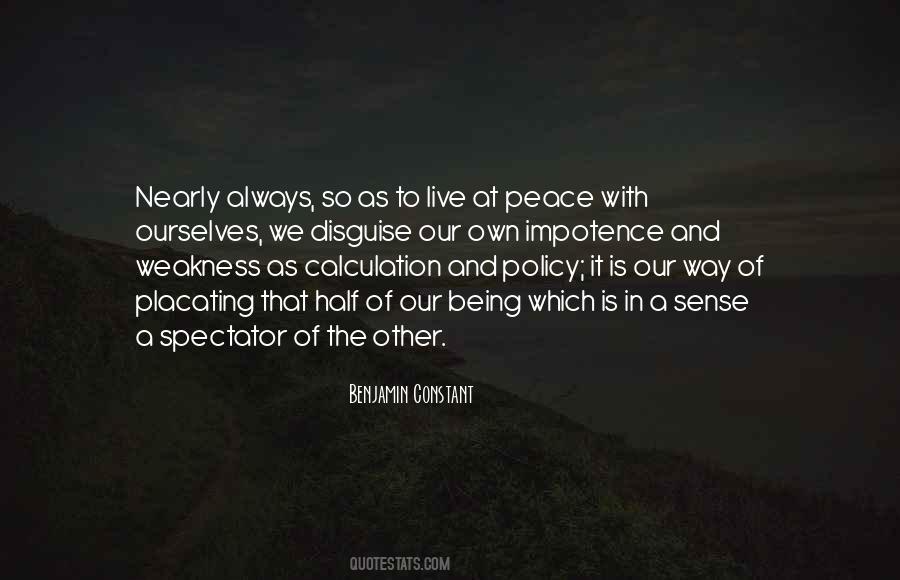 #41. I talk about my grandmother a lot, because she's an amazing person - not in some dramatic, distinct, unique way, but anybody who is the daughter of enslaved people and who has found a way to be hopeful and create love and value justice and seek peace is a remarkable person. - Author: Bryan Stevenson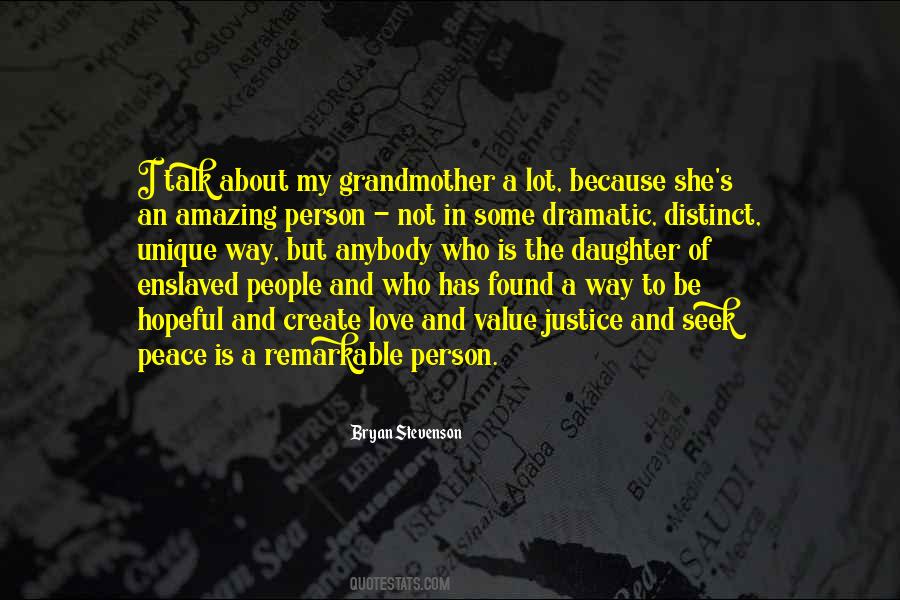 #42. The lesson of the way of love is that evil can only be overcome by good. We don't need to reach out and tear down the things that are evil because nothing which is contrary to the law of love can endure. - Author: Peace Pilgrim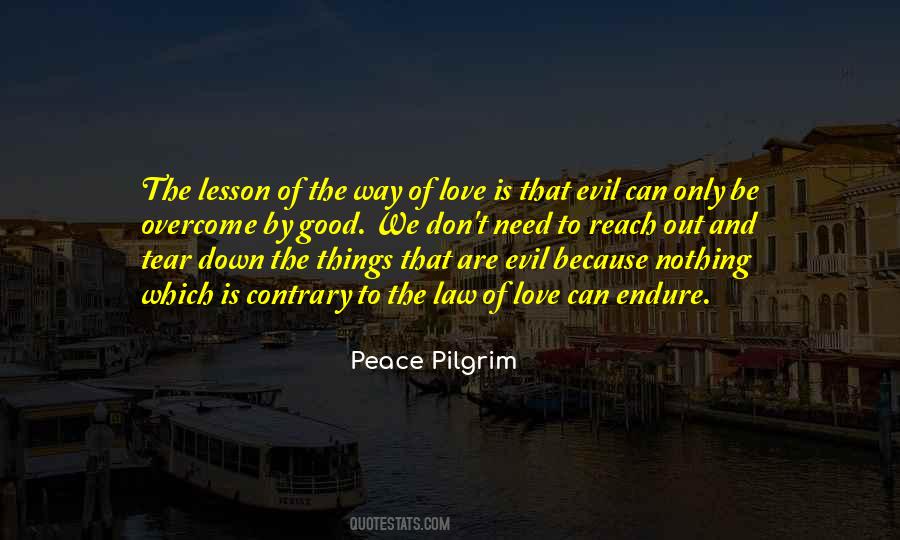 #43. Your thoughts create reality. The most pragmatic way to create world peace is to use your power of visualization. Think Peace, Act Peace, Spread Peace, Imagine Peace. Your thoughts will soon cover the planet. The most important thing is to believe in your power. It works. - Author: Yoko Ono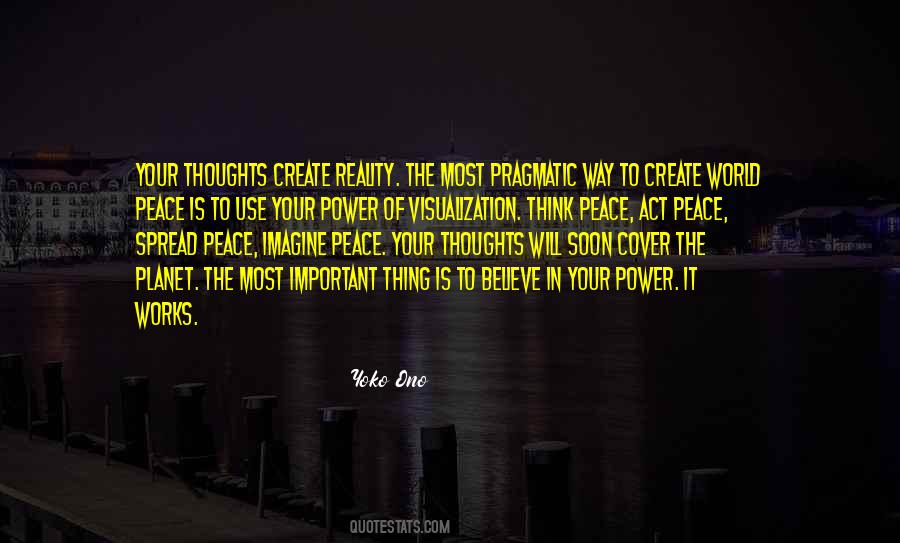 #44. Between our way of life and communism there can be no peace, no paralyzing coexistence, no gray neutralism. There can only be conflict-total and without reconciliation. - Author: Ramon Magsaysay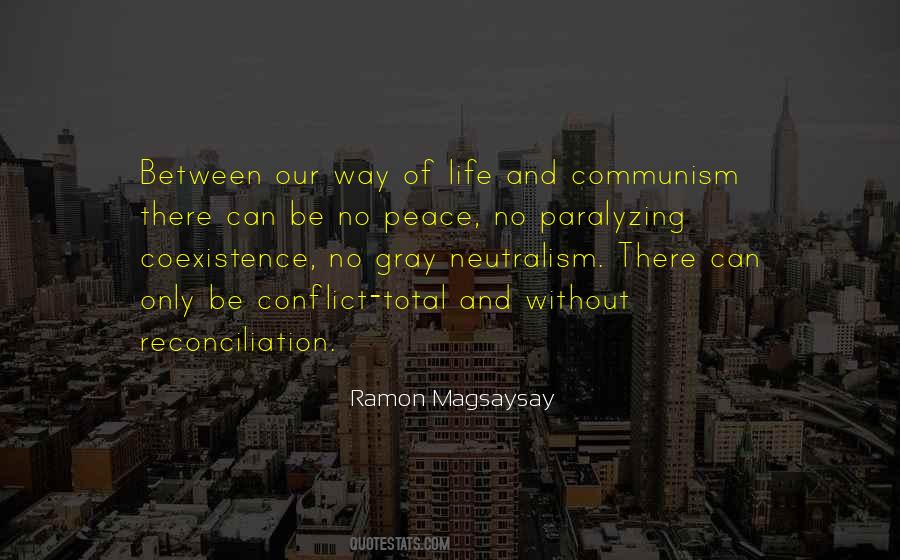 #45. Peace is precious to us. It is the way of life we strive for with all the strength and wisdom we possess. But more precious than peace are freedom and justice. We will fight, if fight we must, to keep our freedom and to prevent justice from being destroyed. - Author: Harry S. Truman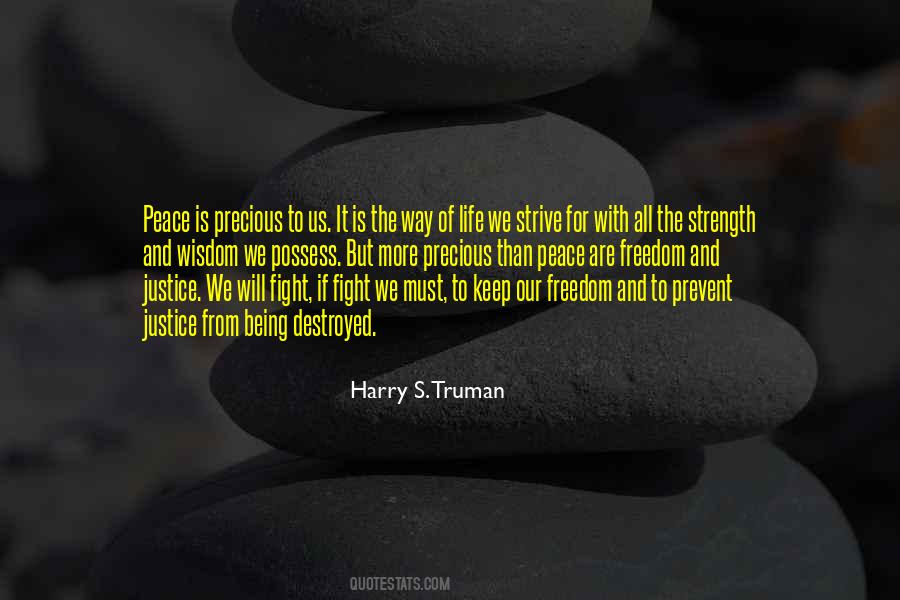 #46. Gentle Mother, font of mercy,
save our sons from war, we pray,
stay the swords and stay the arrows,
let them know a better day,
Gentle Mother, strength of women,
help our daughters through this fray,
soothe the wrath and tame the fury,
teach us all a kinder way. - Author: George R R Martin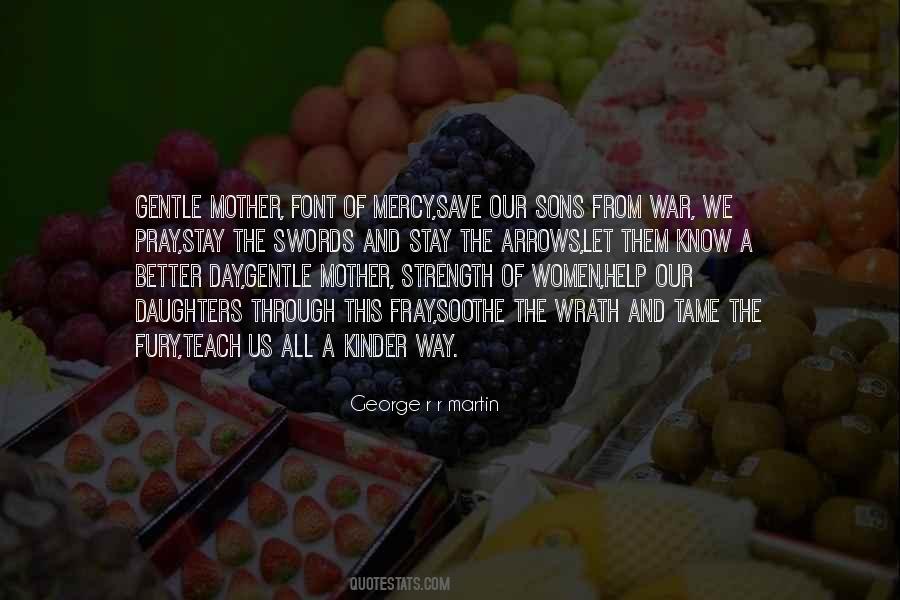 #47. We who were formerly no people at all, and who knew of no peace, are now called to be ... a church ... of peace. True Christians do not know vengeance. They are the children of peace. Their hearts overflow with peace. Their mouths speak peace, and they walk in the way of peace. - Author: Menno Simons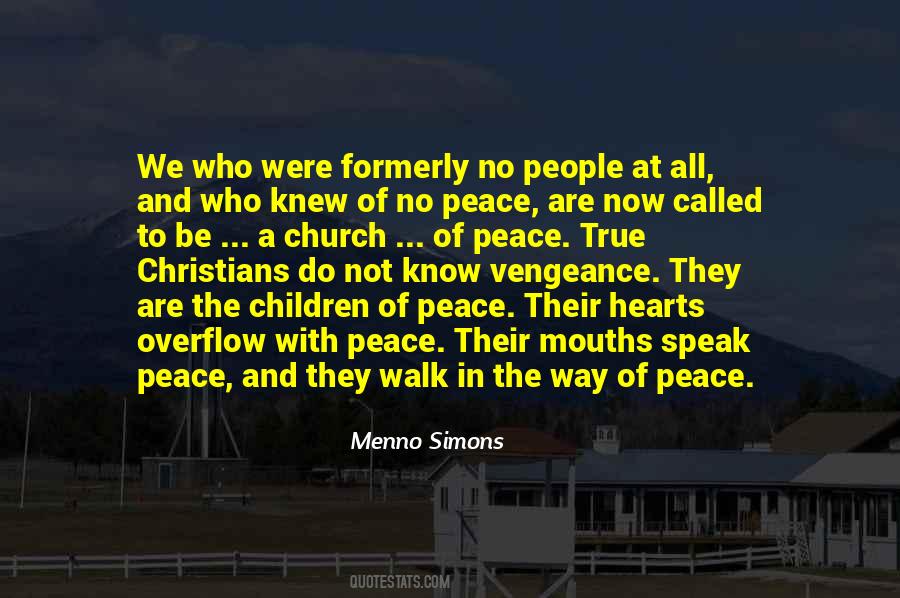 #48. When each one of us become an active and living book of lessons for those who see our examples, the boundaries of religious interpretation will give way to the new era of brotherhood and peace we're waiting for. - Author: Chico Xavier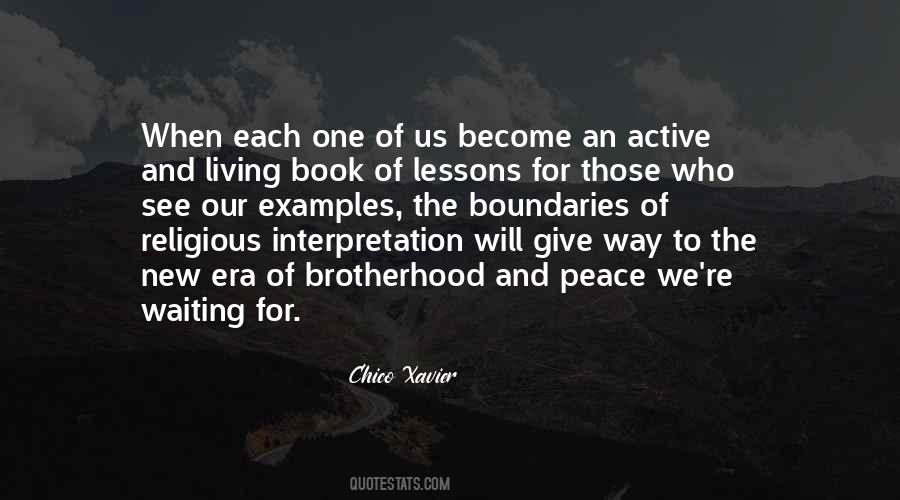 #49. As the seed buried in the earth cannot imagine itself as an orchid or hyacinth, neither can a heart packed with hurt imagine itself loved or at peace. The courage of the seed is that once cracking, it cracks all the way. - Author: Mark Nepo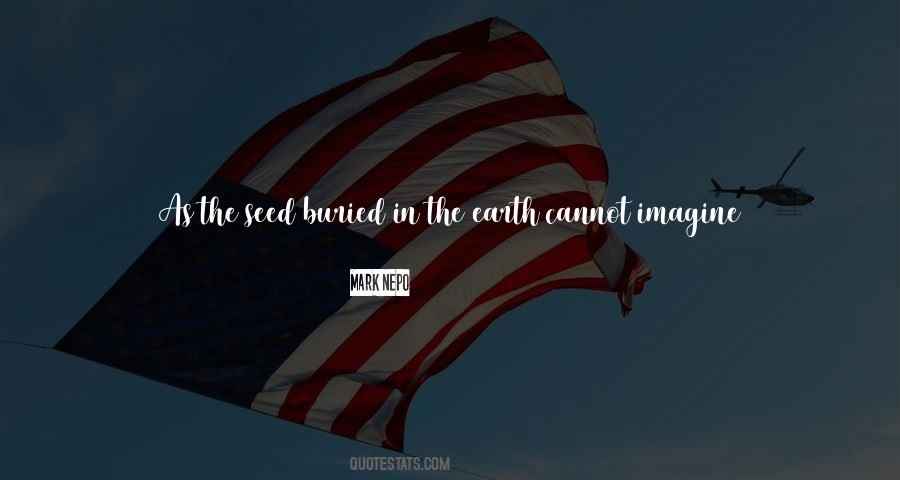 #50. Being lazy does not mean that you do not create. In fact, lying around doing nothing is an important, nay crucial, part of the creative process. It is meaningless bustle that actually gets in the way of productivity. All we are really saying is, give peace a chance. - Author: Tom Hodgkinson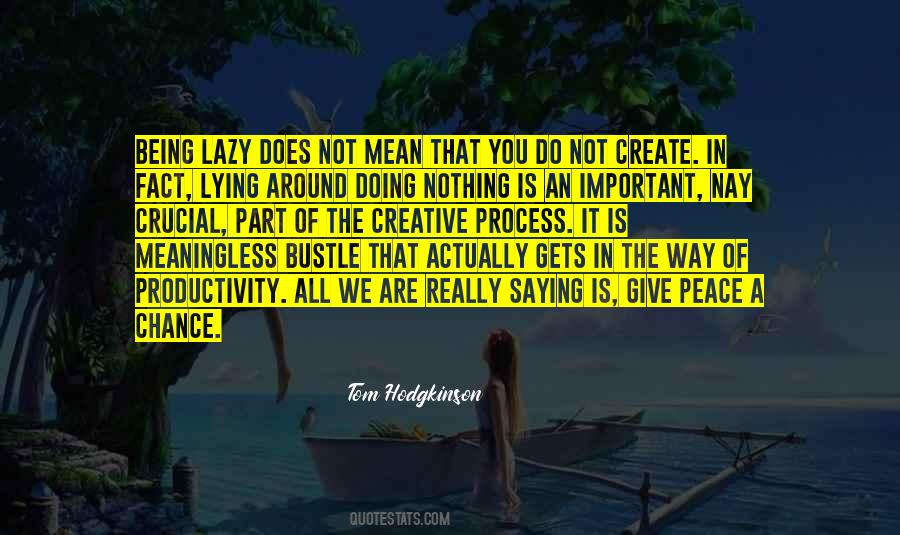 #51. I will die the way I learned to live. Fully aware. At peace. With a heart so full of love that even as it slows, it is still full.
Because I know something the Scientists refuse to acknowledge.
Death is only the beginning. - Author: Krista McGee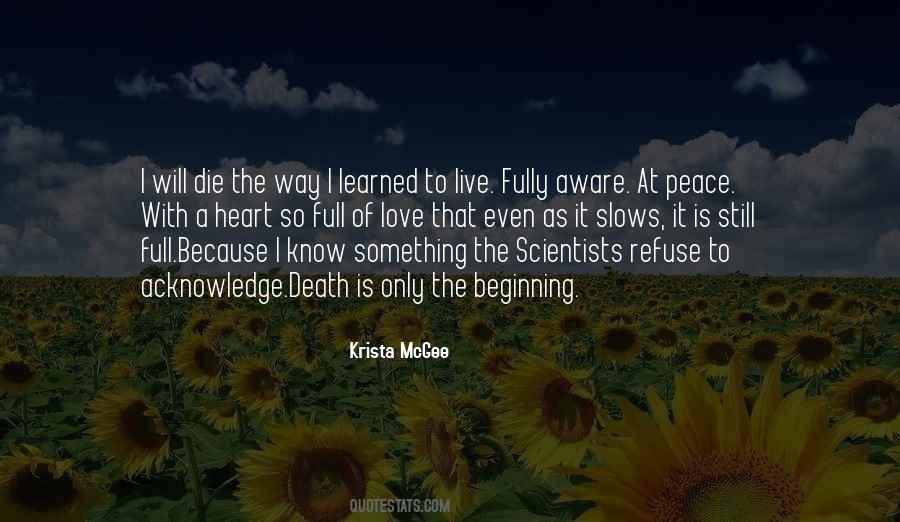 #52. Become one with eternity.
Become part of your environment.
Take off your clothes.
Forget yourself. Make love.
Self-destruction is the only
way to peace. - Author: Yayoi Kusama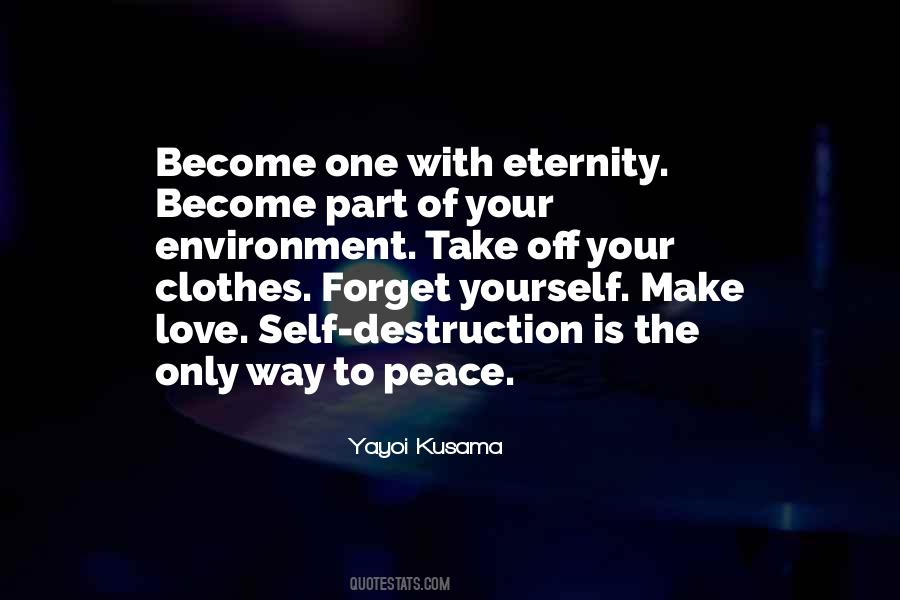 #53. I use the word inquiry as synonymous with The Work ... Inquiry is a way to end confusion and to experience internal peace, even in a world of apparent chaos. Above all else, inquiry is about realizing that all the answers we ever need are always available inside us. - Author: Byron Katie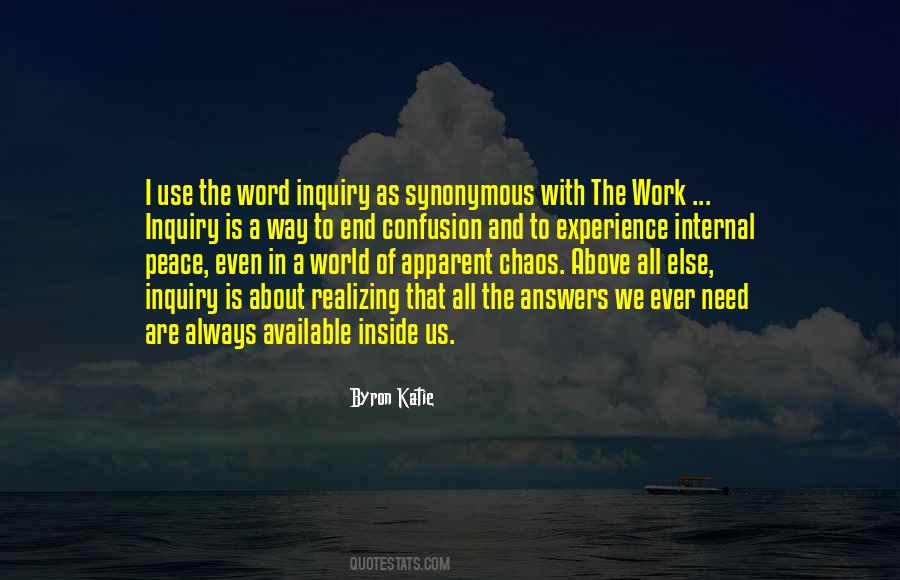 #54. She was right. Peace was the way.
She was right. But at the wrong time. - Author: James Blish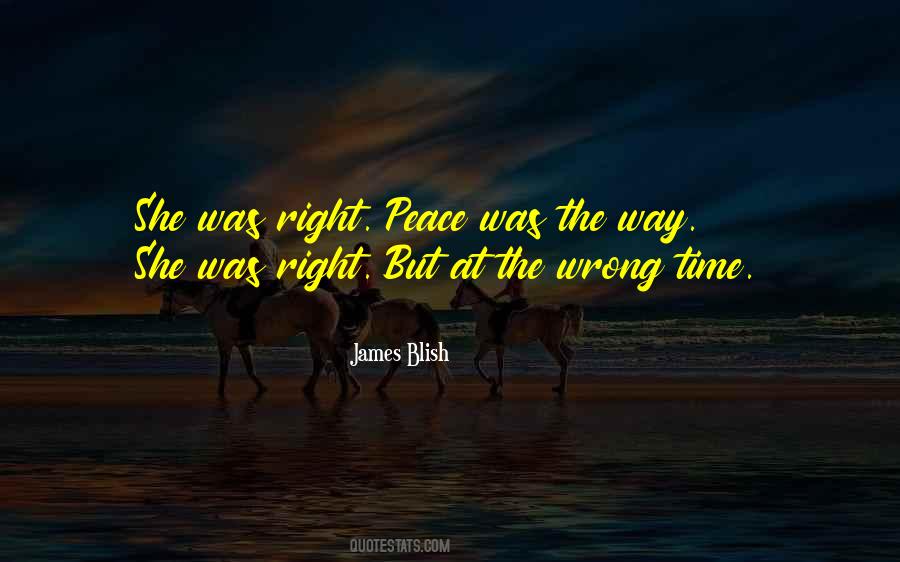 #55. The way to preserve the peace of the church is to preserve its purity. - Author: Matthew Henry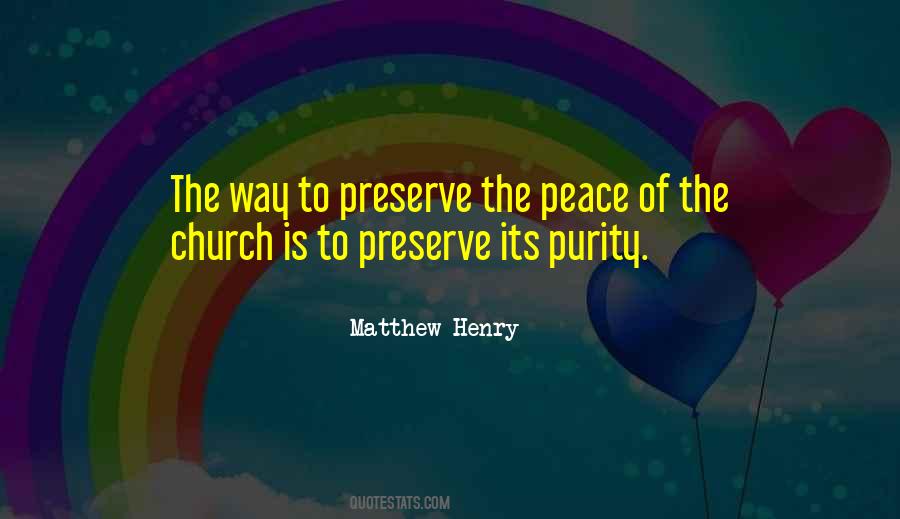 #56. If we want to grow, the way to break a pattern of negativity is to face anything negative with love. - Author: Molly Friedenfeld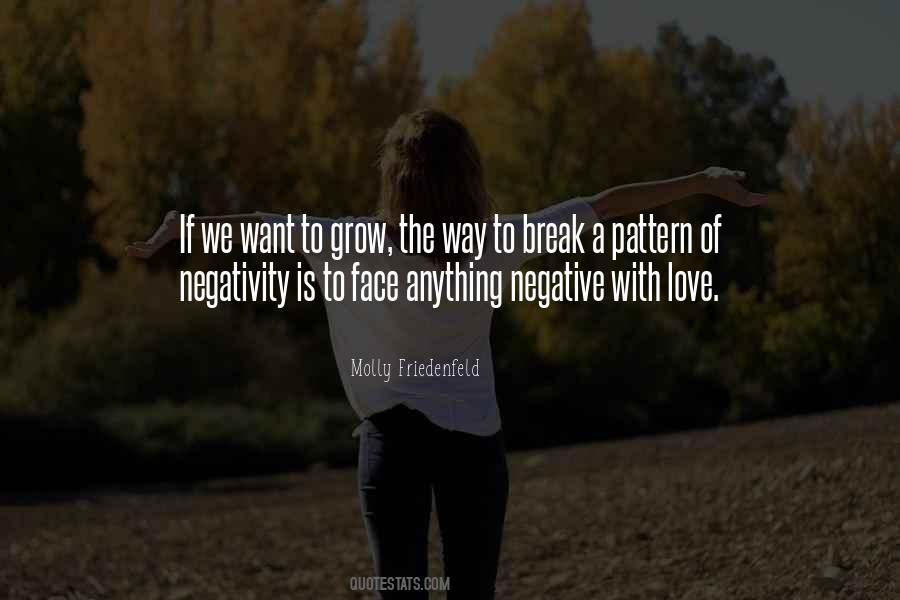 #57. Letting go of anger is the best way to find peace of mind, a healthier pain-free body, and an indomitable spirit. - Author: Charles F. Glassman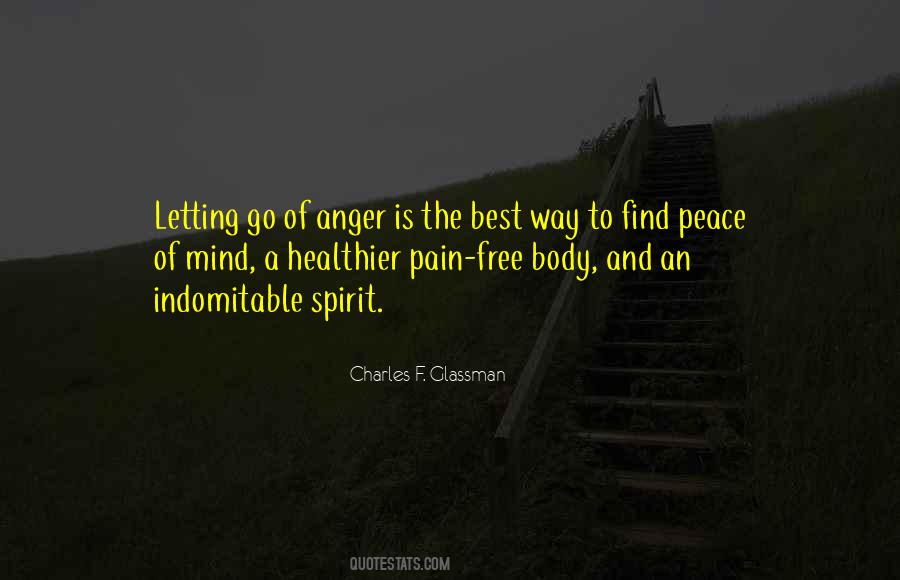 #58. Life is a gift, so appreciate it.
Love is abundant, so share it.
Enthusiasm is infectious, so spread it.
Kindness is divine, so embody it.
Peace is the only way, so embrace it.
The earth is your home, so take care of it.
Life is for happiness, so enjoy it. - Author: Debasish Mridha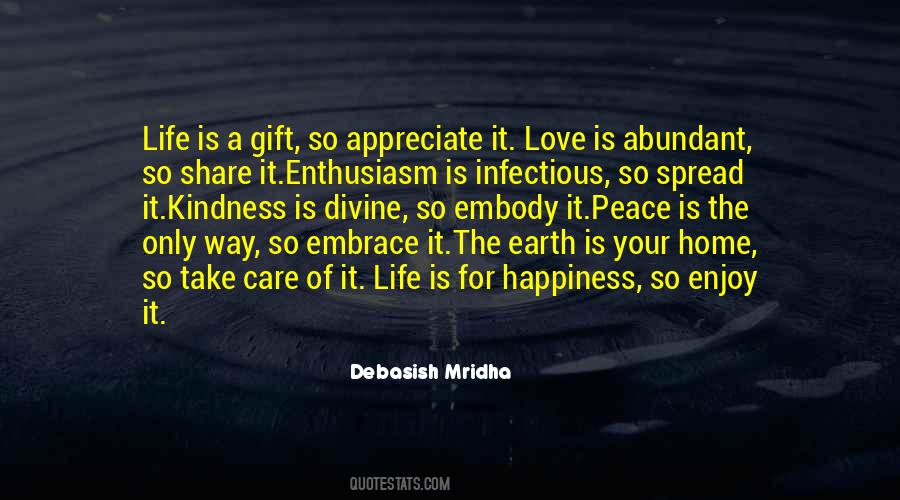 #59. Peace of mind is another way of saying that you've learned how to love, that you have come to appreciate the importance of giving love in order to be worthy of receiving it. - Author: Hubert H. Humphrey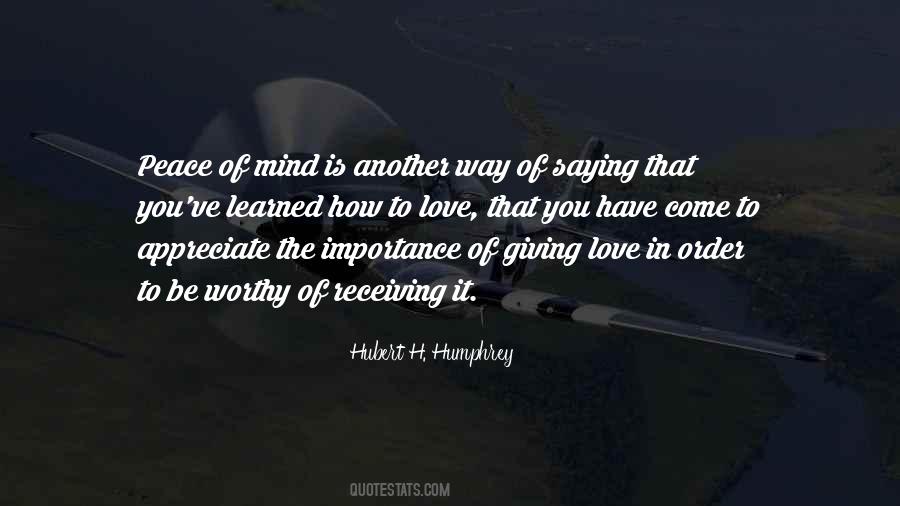 #60. We do not act as your precious Christians do, slaughtering other Christians for believing the wrong way. Yes, we ask for payment. That is the price of safety. But we allow all people under our rule to believe what they will, so long as they do not disturb the peace. - Author: Kiersten White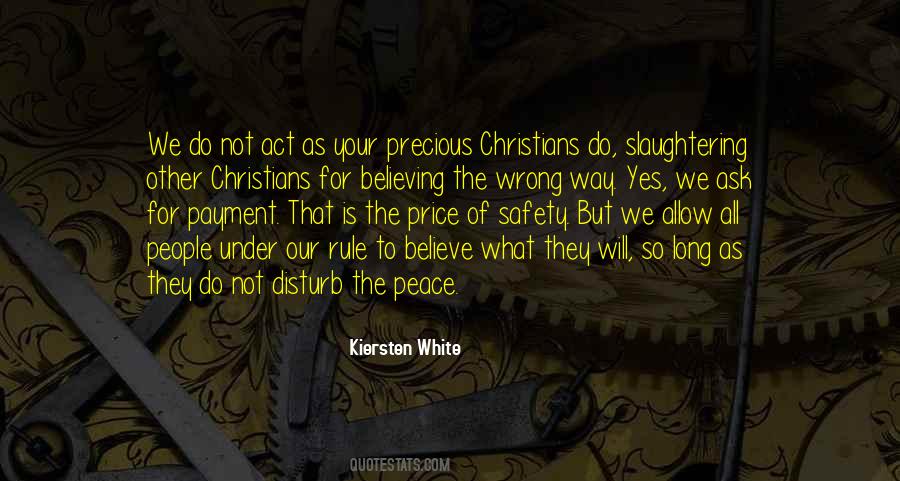 #61. Gratitude is not just a word; it is a way a of life. - Author: Rob Martin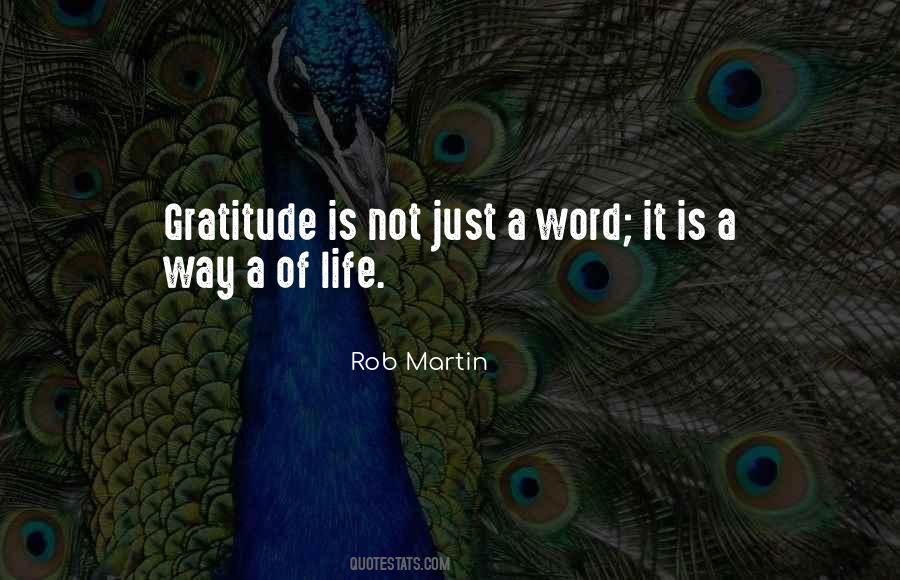 #62. As a child, I went to peace and ERA marches on the back of my mom and grandmother. Through them I learned that I wanted to find a way to make the world a more kind, compassionate place. - Author: Abigail Washburn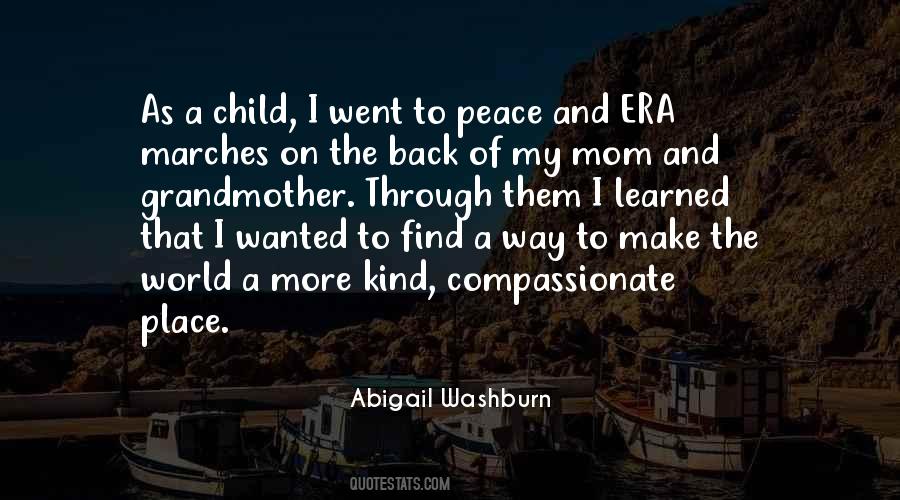 #63. In order to forgive an offender,
we have first to forgive ourselves,
then we can forgive them.
In this way we are not
helpless victims anymore,
we regain our power,
acting from our peaceful place
of power. - Author: Human Angels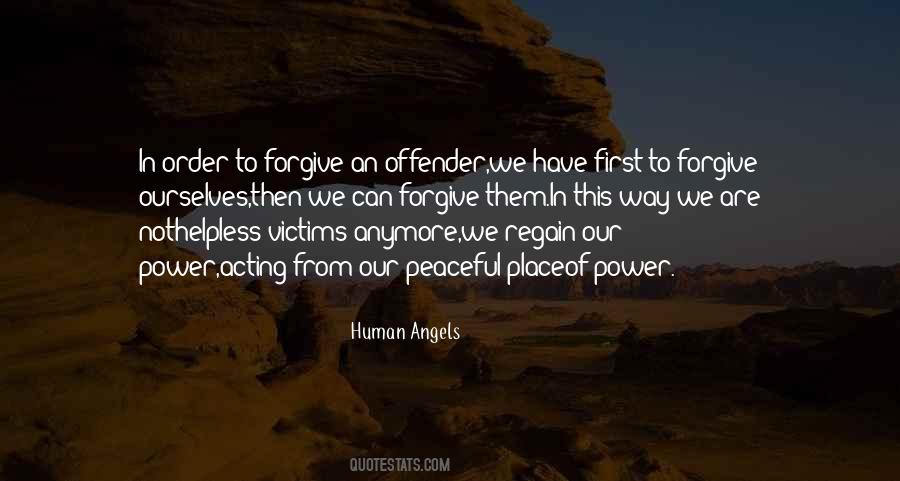 #64. Well Buddhism, 'shmoodism', I didn't go to India looking for Buddhism. I was looking for truth, or God, or a better way of life or happiness, fulfillment, meaning, purpose. And a way to become peace in the world and not just fight for peace, as we had in the 60's. - Author: Surya Das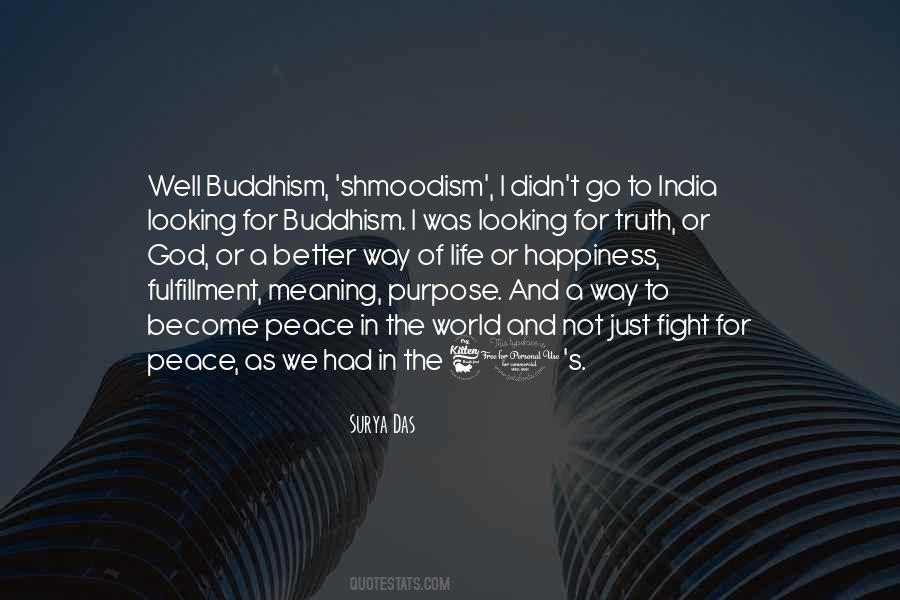 #65. I have always dislike people who live by the motto "It's my way or the highway" We live in a free nation called America and not some freaking dictatorship! - Author: Timothy Pina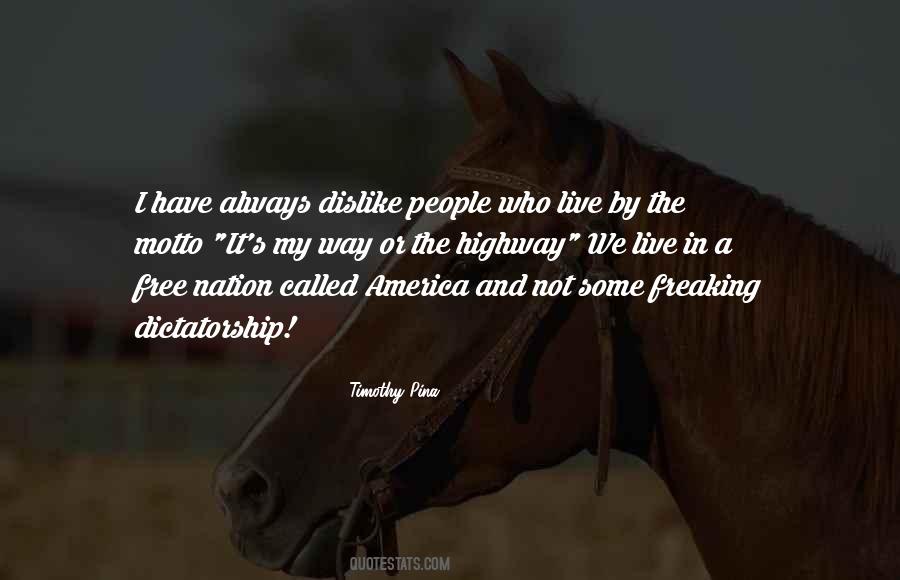 #66. I'm a Christian. I want the world of justice and equality. This is the only way to achieve peace. - Author: Hugo Chavez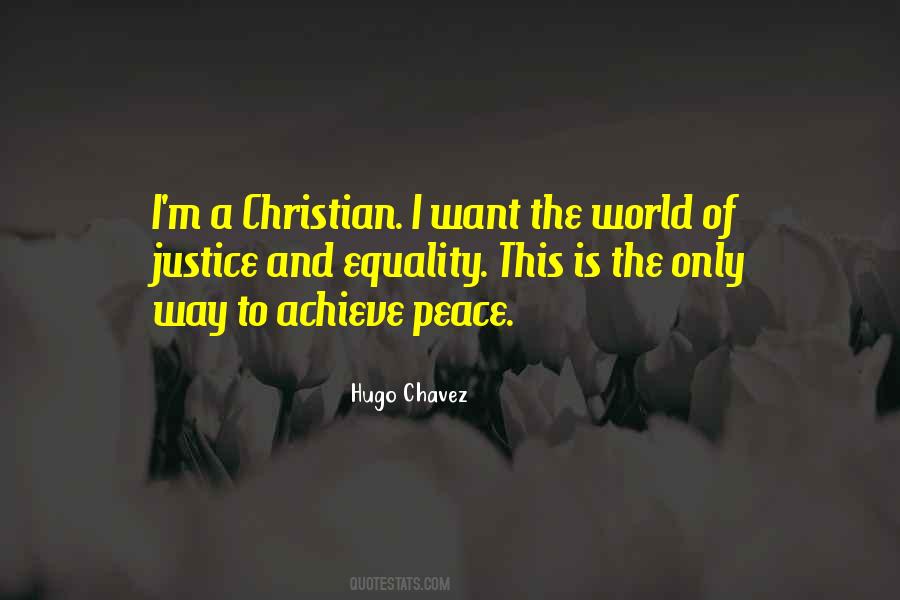 #67. Sometimes it is one step at a time, and things don't always work out the way we would like them to, but as you allow God to direct you He will bring you to a place of peace. - Author: Anna Stevens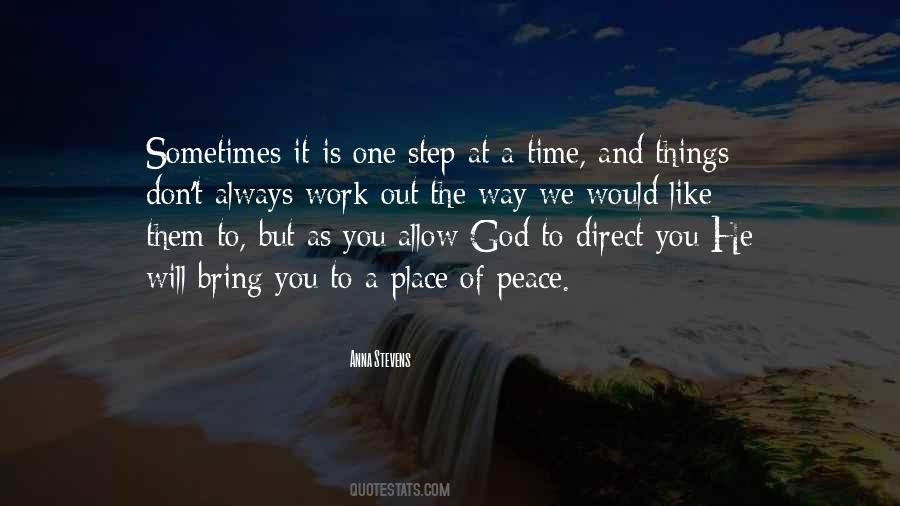 #68. Being a pastor, of course, obviously people would say it (shouldn't) have done much but, boy, it sure gave me a peace I never had before. I think we struggle in life. Even people of faith struggle when things don't work out quite the way we think they should. - Author: Todd Burpo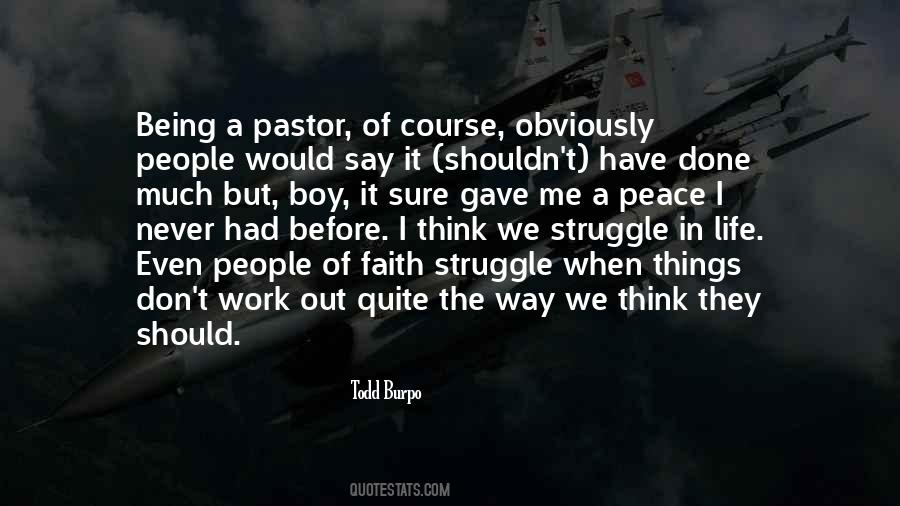 #69. The only way to build a peaceful community is to build men and women who are lovers and makers of peace. - Author: John Andreas Widtsoe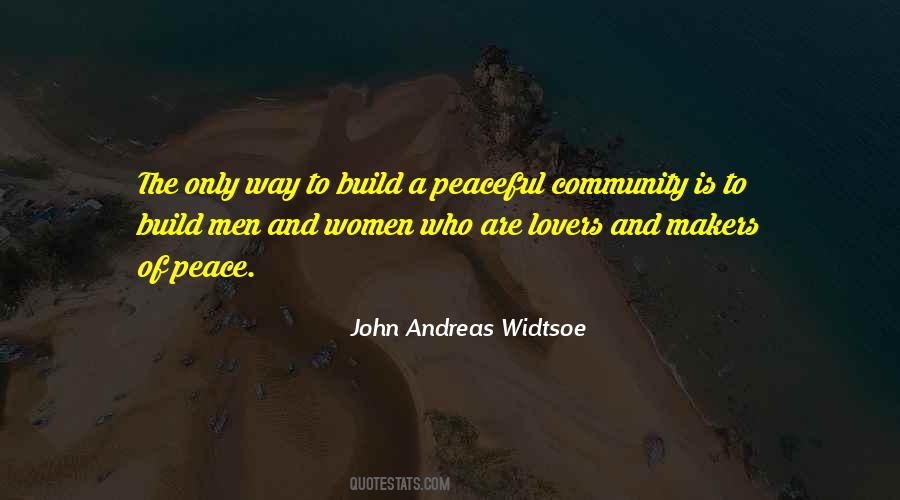 #70. Grant us safe lodging, and holy rest," Mrs. Grogan was saying, "and peace at last." Amen, thought Wilbur Larch, the Saint of St. Cloud's, who was seventy-something, and an ether addict, and who felt that he'd come a long way and still had a long way to go. - Author: John Irving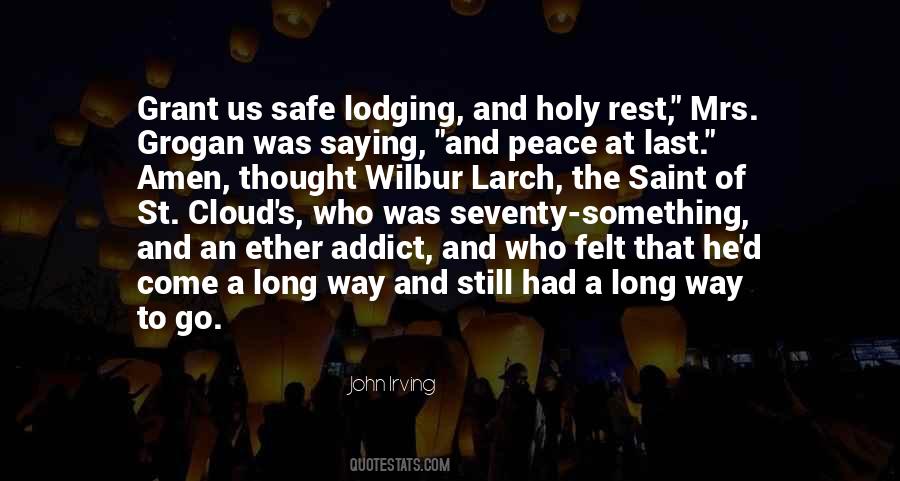 #71. Today the real test of America's power and wisdom is not our capacity to make war but our capacity to prevent it. Prevention must be our overriding objective. It can be done. Surrendering to the inevitability of combat only paves the way for its occurring. - Author: Dale E. Turner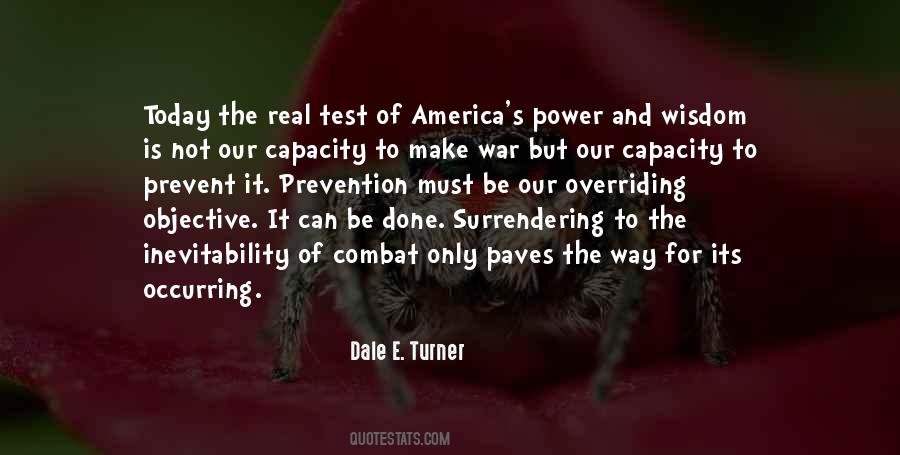 #72. 23 Now may the God of peace make you holy in every way, and may your whole spirit and soul and body be kept blameless until our Lord Jesus Christ comes again. 24 God will make this happen, for he who calls you is faithful. - Author: Anonymous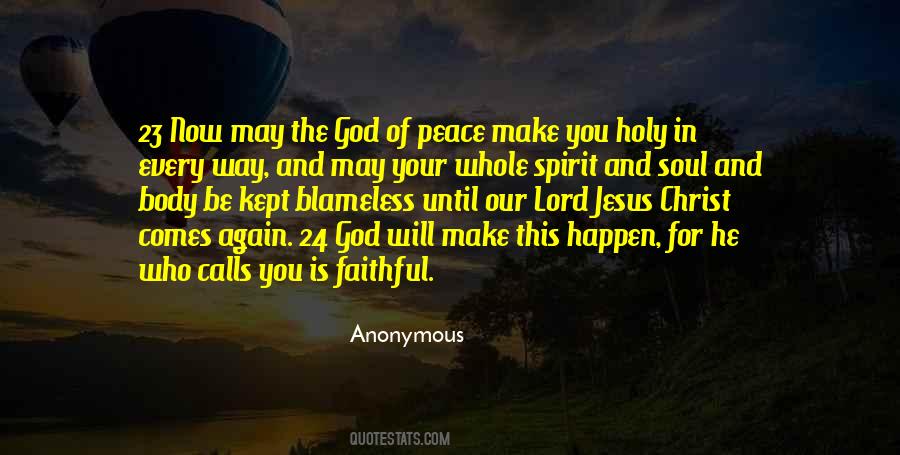 #73. We cannot have peace if we are only concerned with peace. War is not an accident. It is the logical outcome of a certain way of life. If we want to attack war, we have to attack that way of life. - Author: A.J. Muste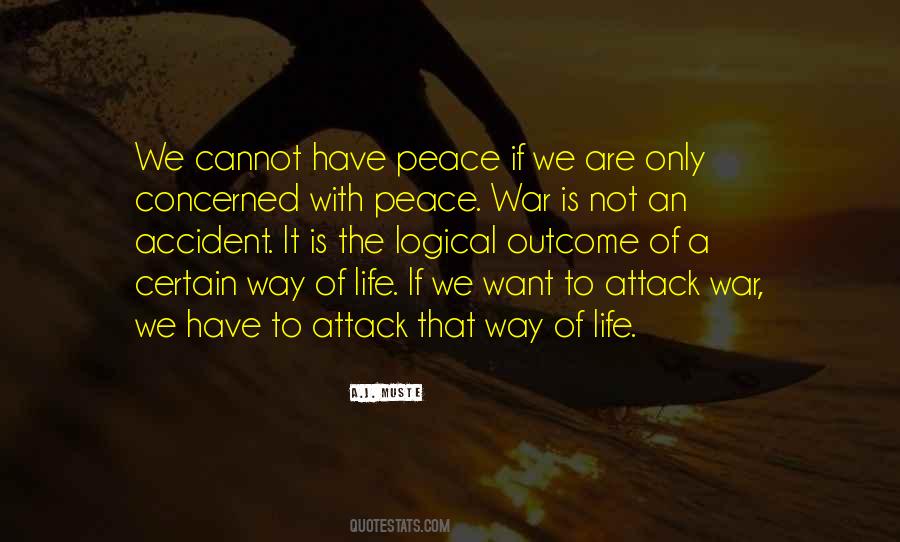 #74. Living your life working for peace and a better humanity is an awesome task. Even if you are mocked, laughed at and ridiculed for it ... there is no better way. - Author: Timothy Pina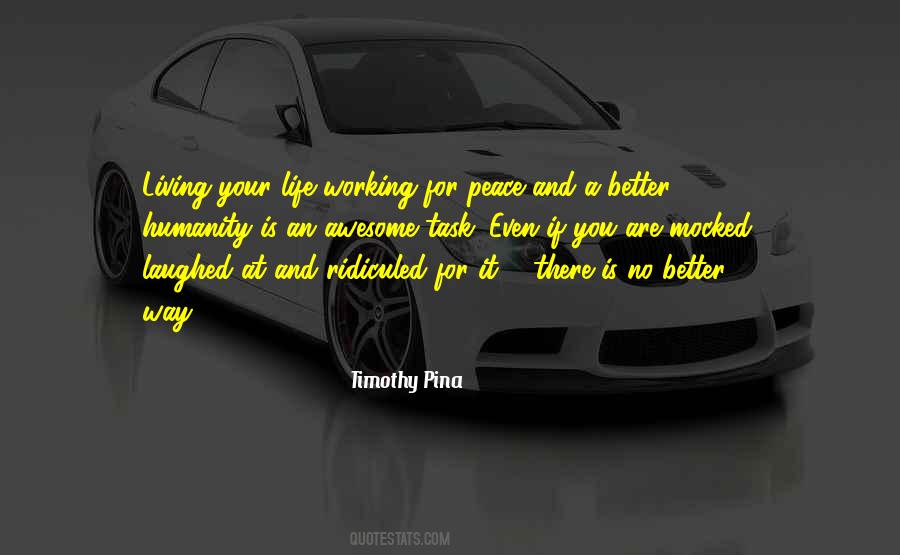 #75. Only a man of inner silences becomes a creator. And we need more and more creative people in the world. Their very creativity, their very silence, their very love, their very peace will be the only way to protect this beautiful planet. - Author: Rajneesh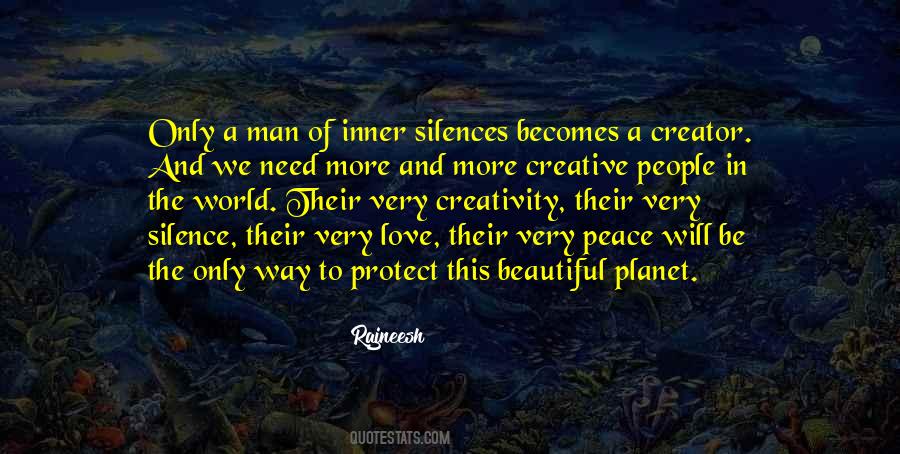 #76. I like to believe that people in the long run are going to do more to promote peace than our governments. Indeed, I think that people want peace so much that one of these days governments had better get out of the way and let them have it. - Author: Dwight D. Eisenhower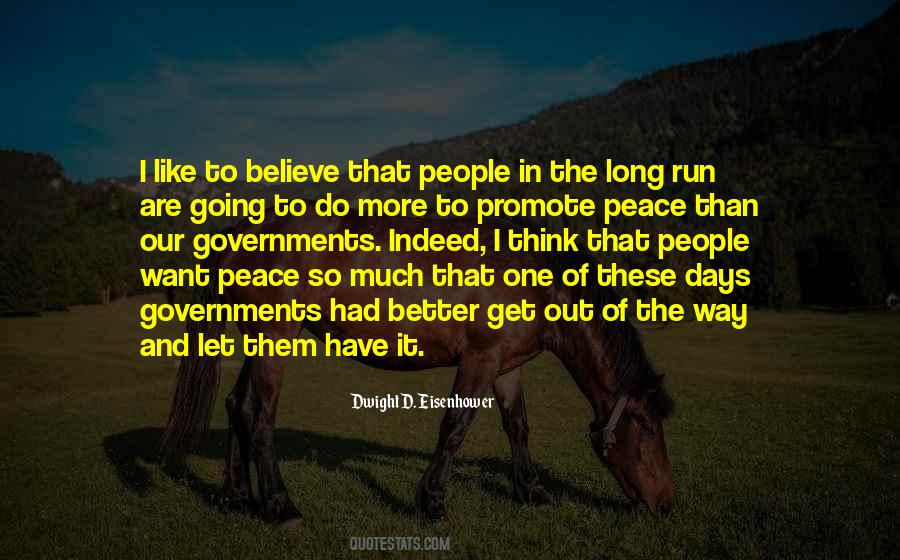 #77. If I wanted to be free of this unrequited longing, I would have to make peace with the past and finally let go. There was no way around it. But did I want to be free of it - and him? - Author: Kat Von D.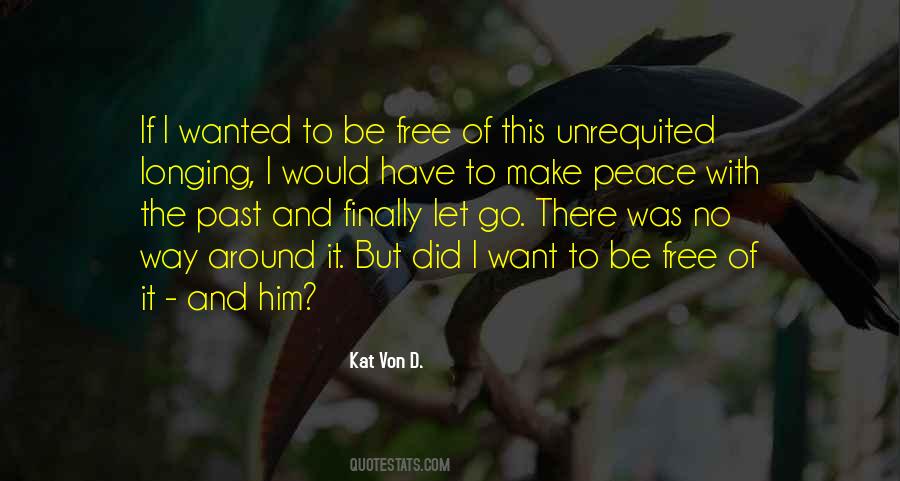 #78. Christianity has from its beginning portrayed itself as a gospel of peace, a way of reconciliation (with God, with other creatures), and a new model of human community, offering the 'peace which passes understanding' to a world enmeshed in sin and violence. (1) - Author: David Bentley Hart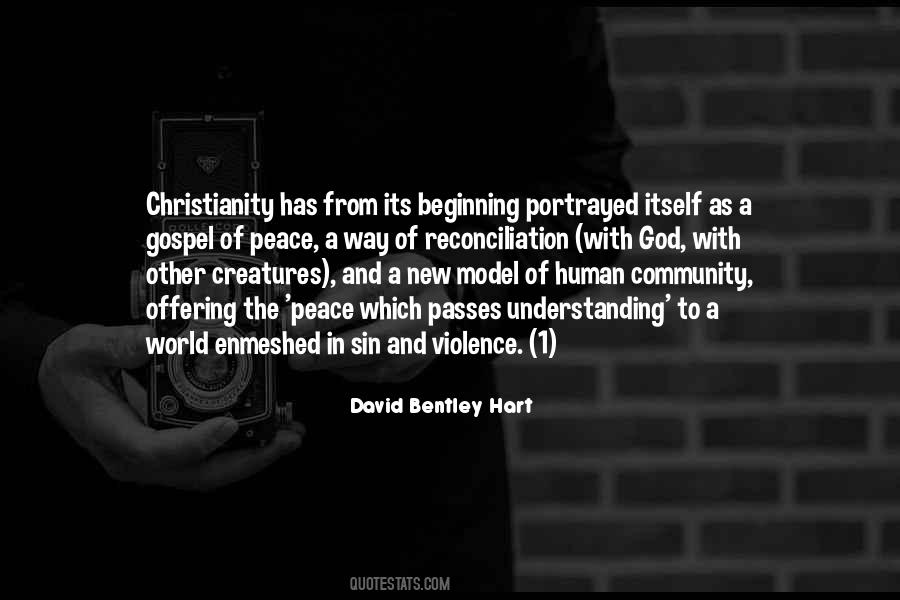 #79. Herb nodded. "Problem is, you knocked up your girl. That's the only way women'll allow you to get away with a Justice of the Peace." Herb looked back to Hank as many of the men coughed to hide their laughter. "That's the ticket, son, only way to save us all. Start workin' on makin' a baby. - Author: Kristen Ashley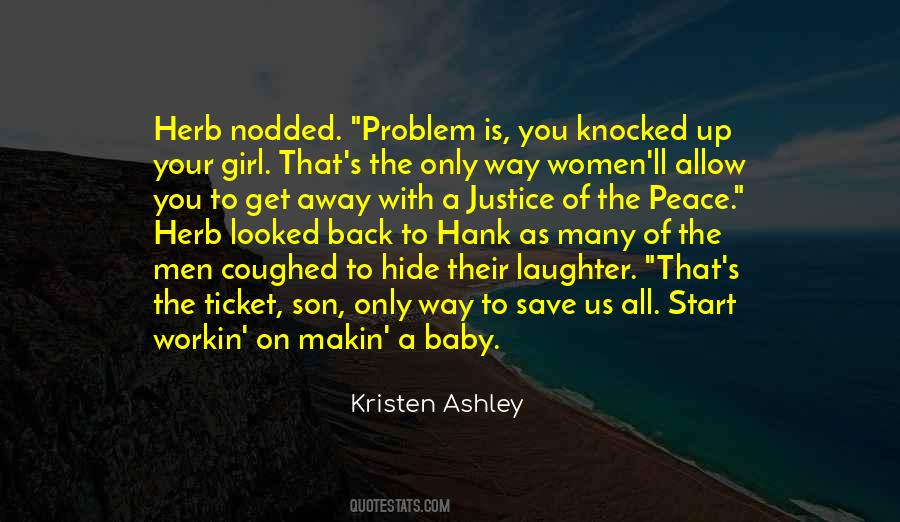 #80. My way of thinking is to create a situation where we rally everyone together and create peace and pardon people, to not forget about the past - because we need to learn from it - but to mainly think about the future. - Author: Michel Martelly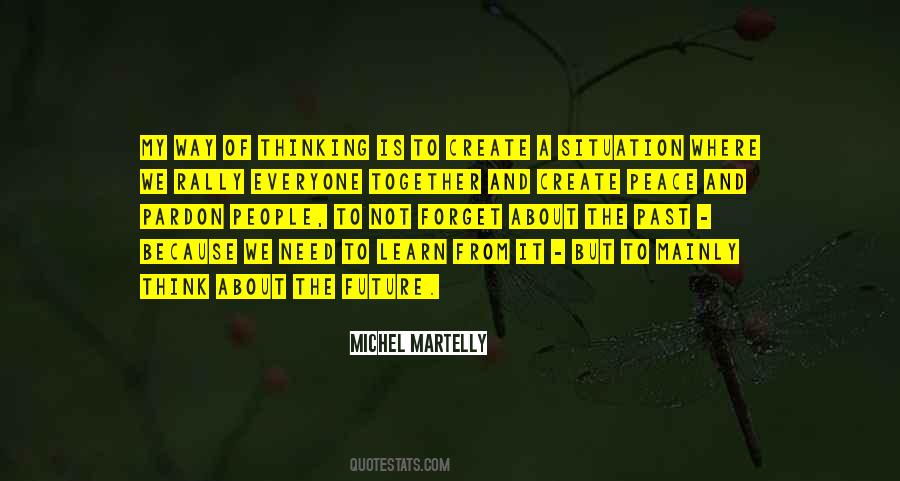 #81. Only through the empowerment of society to be the very best it can be in a moral way, might we acheive peace through achievement. - Author: Carl T. Johnson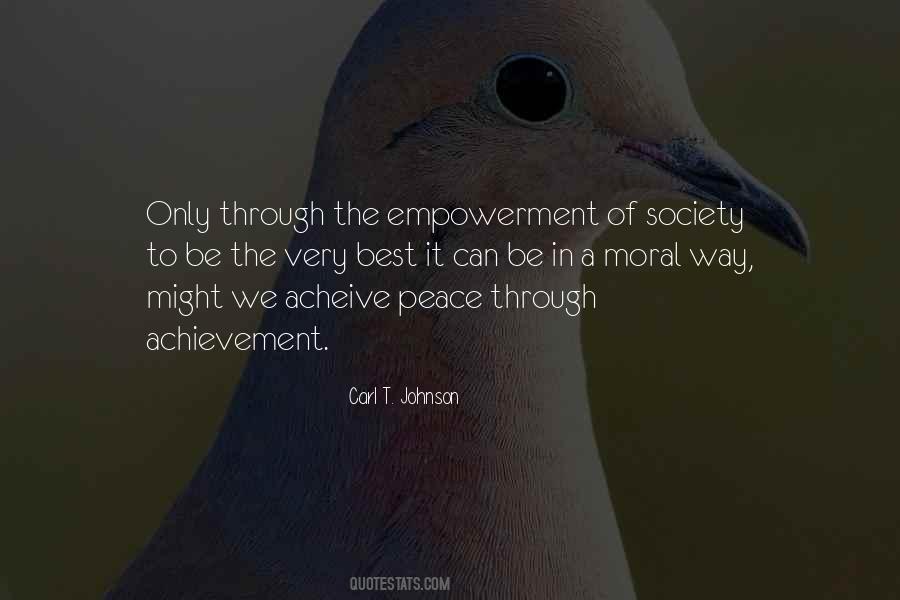 #82. We'll find a way," I whispered. "I always do."
Danaus leaned forward and brushed a kiss against my temple, sending a wave of peace deep
into the marrow of my bones, helping to ease some of the pain. "And then we'll kill each other as
God intended. - Author: Jocelynn Drake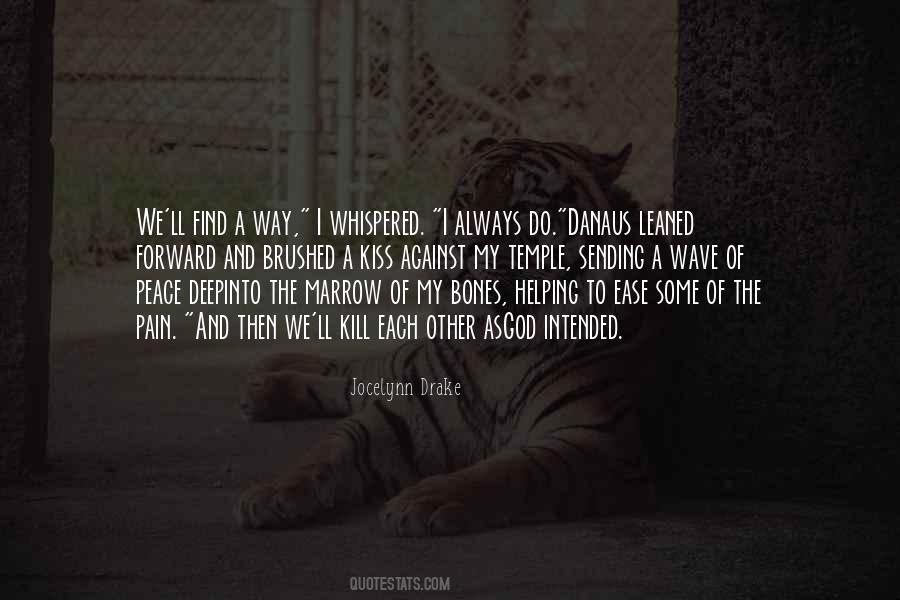 #83. The best way of avenging thyself is not to become like the wrong-doer. - Author: Marcus Aurelius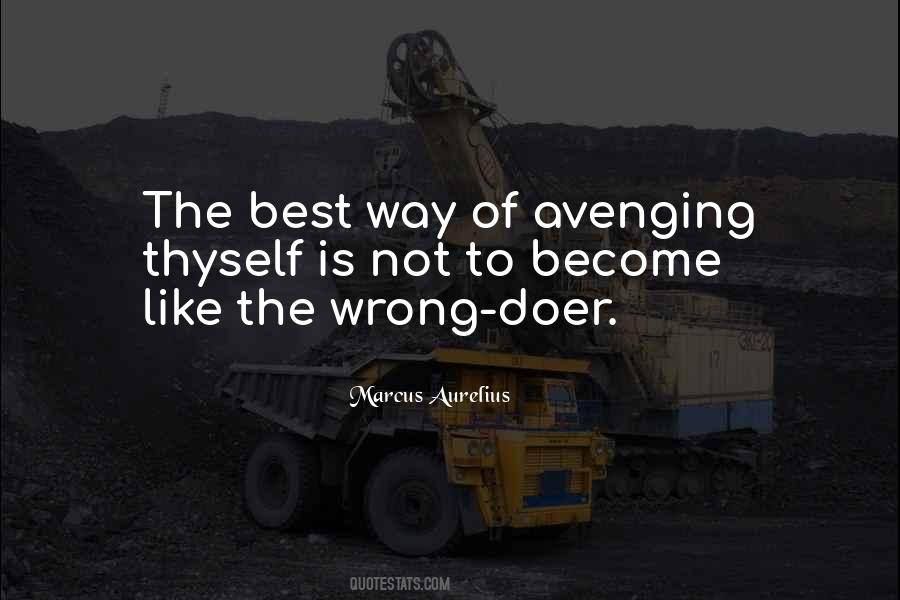 #84. The only way you can rise above your troubles is too force your mind ... to stay in the present moment. The pass will haunt you & the future may worry you but right now at this very moment, you're alive ... so anything is possible! - Author: Timothy Pina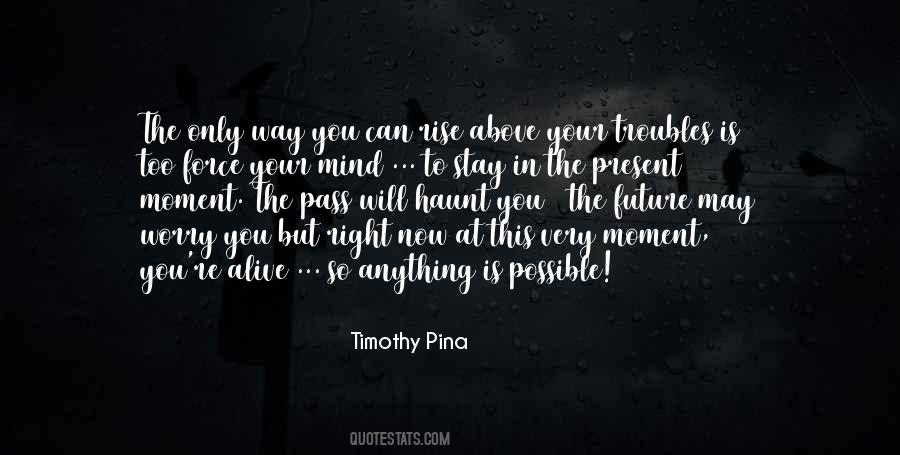 #85. The only way for peace between the races is a separation of the races. - Author: Muhammad Ali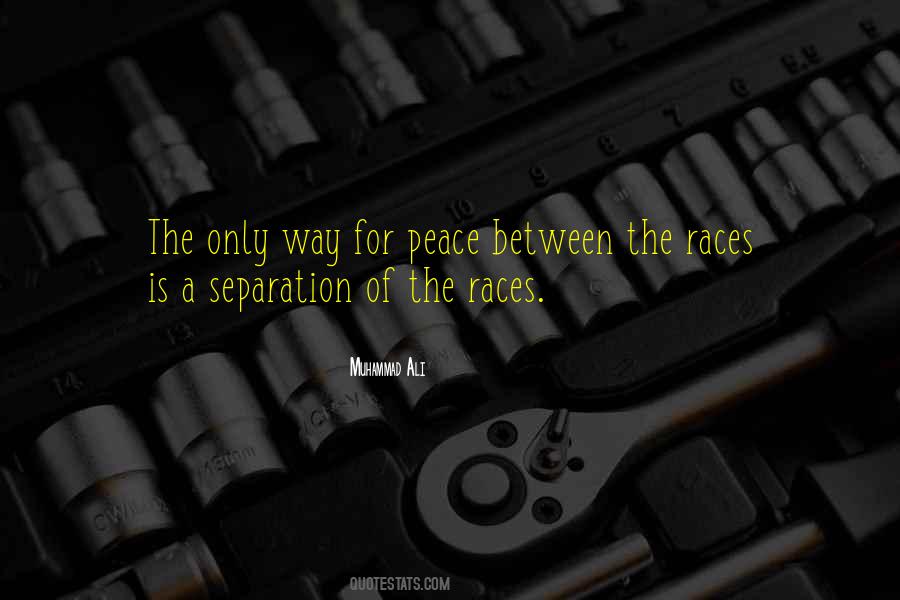 #86. The best way to come to terms with anything that is out of harmony is never to fear it - that gives it power. Bring good influences to bear upon it; make yourself a good example. - Author: Peace Pilgrim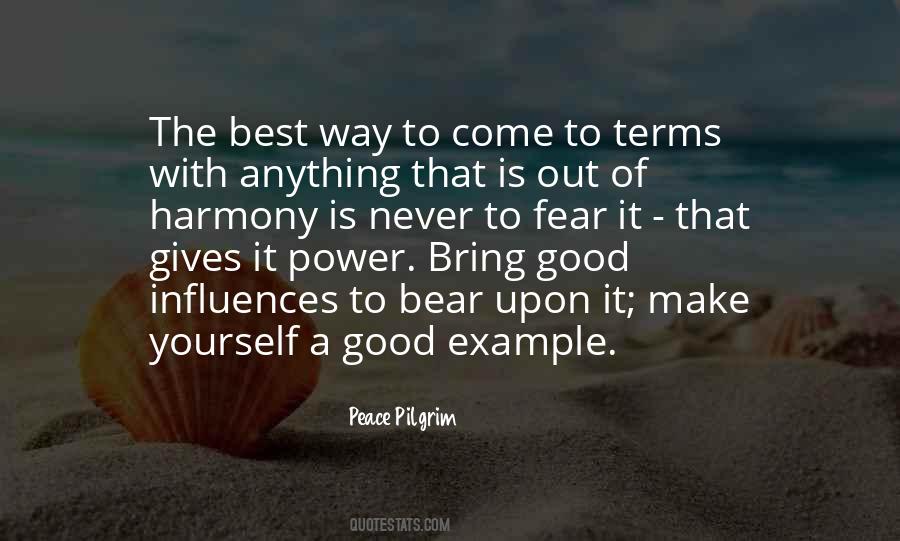 #87. We all lose somebody we care about and want to find some comforting way of dealing with it, something that will give us a little closure, a little peace. - Author: Mitch Albom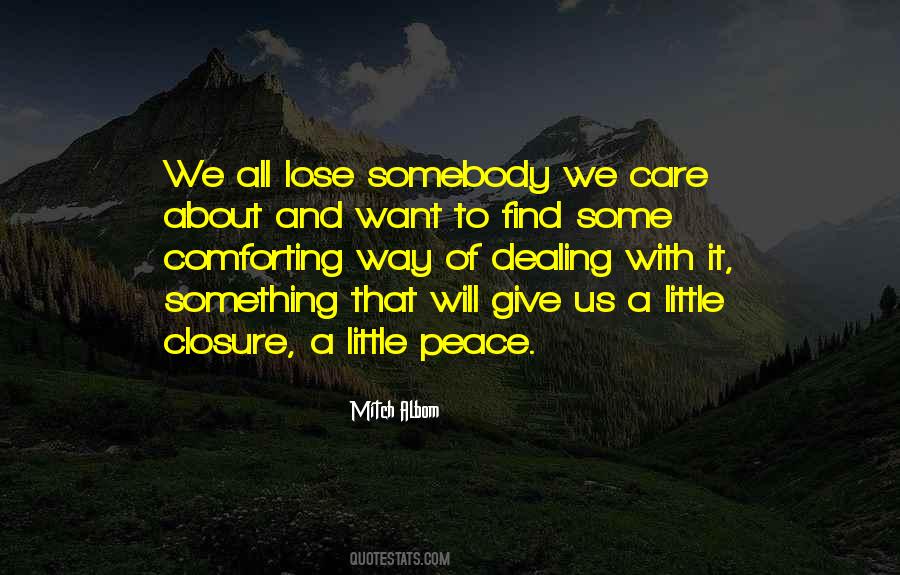 #88. Beneath his exhaustion, he radiated a serenity that suggested nothing in this place could touch him. Maybe nothing in this world could touch him. It was one of the most beautiful things she'd ever seen. She wanted to be that way, too: at peace with herself, autonomous, free. - Author: Lauren Kate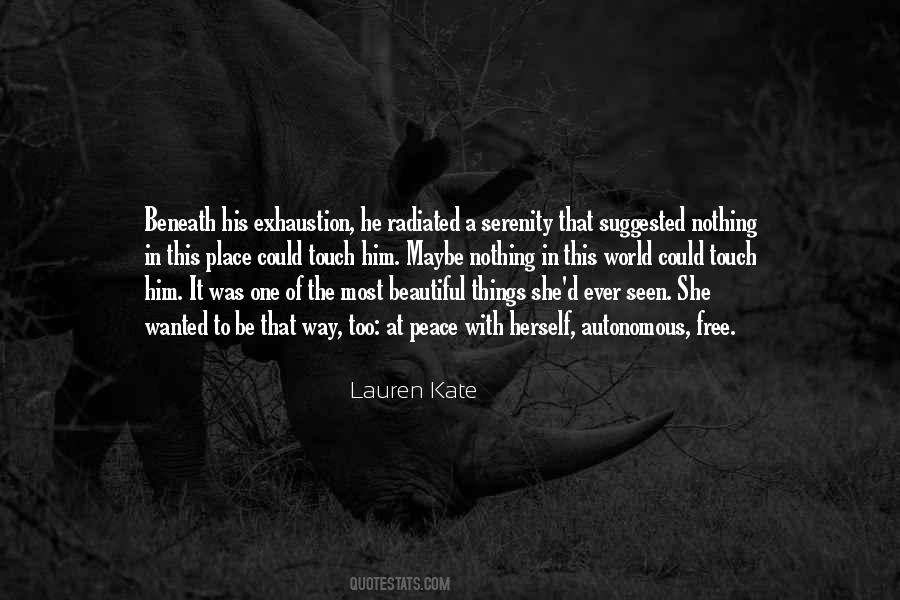 #89. The surest way of finding peace of mind is that which helps the greatest number of others to find it - Author: Napoleon Hill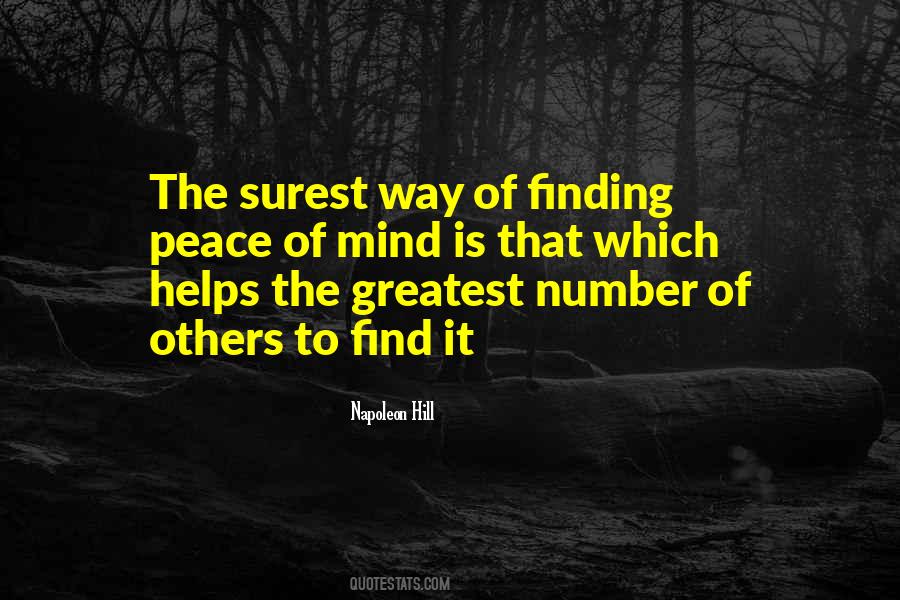 #90. You may gain temporary appeasement by a policy of concession to violence, but you do not gain lasting peace that way. - Author: Anthony Eden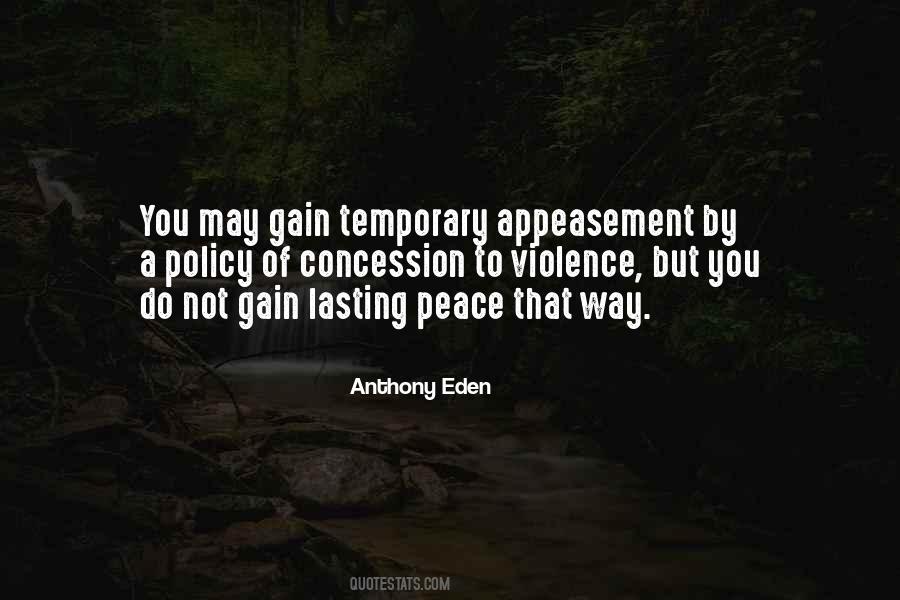 #91. The messages he watched and sent out were a kind of prayer for him, though he wouldn't have said it that way. Something that brought peace and the illusion that what they were caught up in wasn't so massively bigger than their own individual wills and hopes and intentions. - Author: James S.A. Corey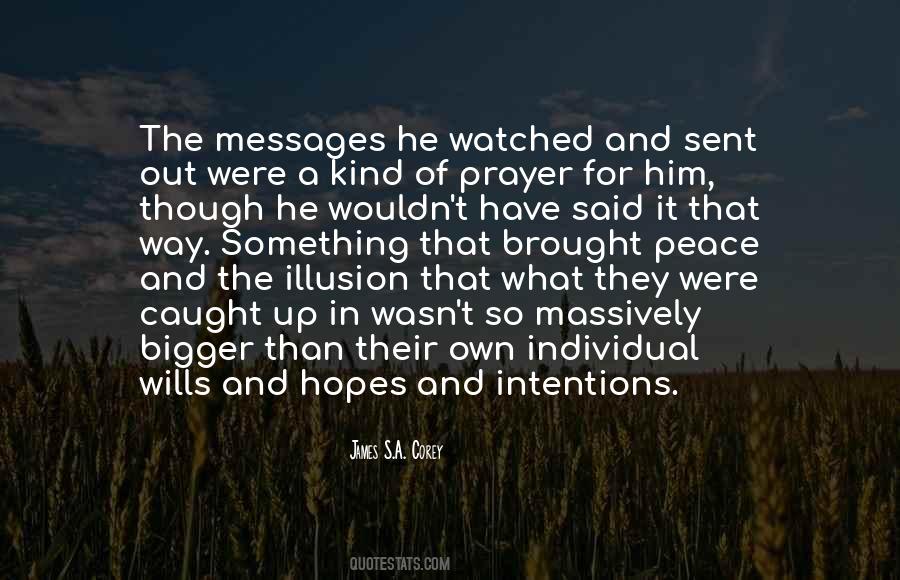 #92. On this International Day, let us promise to make peace not just a priority, but a passion. Let us pledge to do more, wherever we are in whatever way we can, to make every day a day of peace. - Author: Ban Ki-moon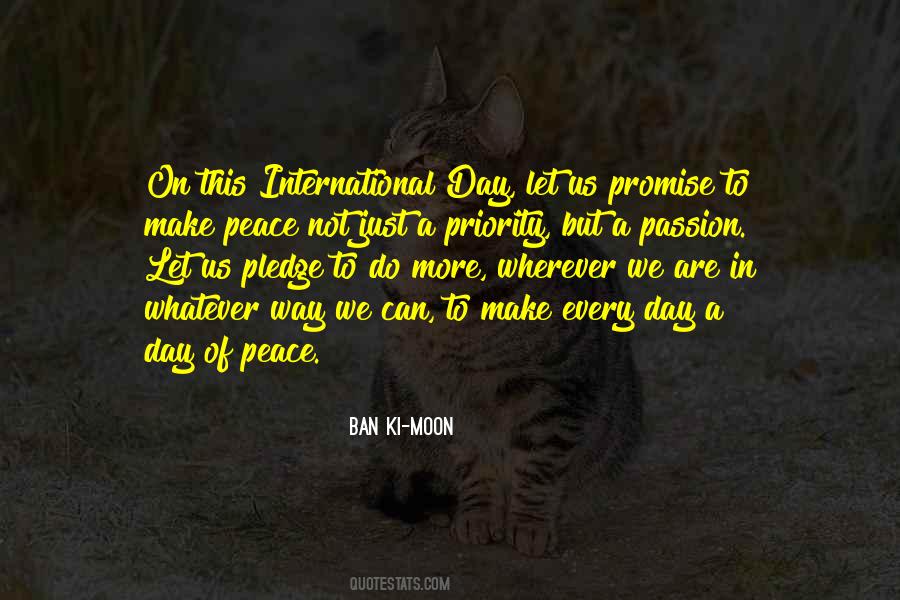 #93. For hundreds of millions of Americans who believe in God, prayer is our bridge between Earth and Heaven, our way of opening our hearts to the Lord. Through this intimate relationship we find peace and guidance. - Author: Nick Rahall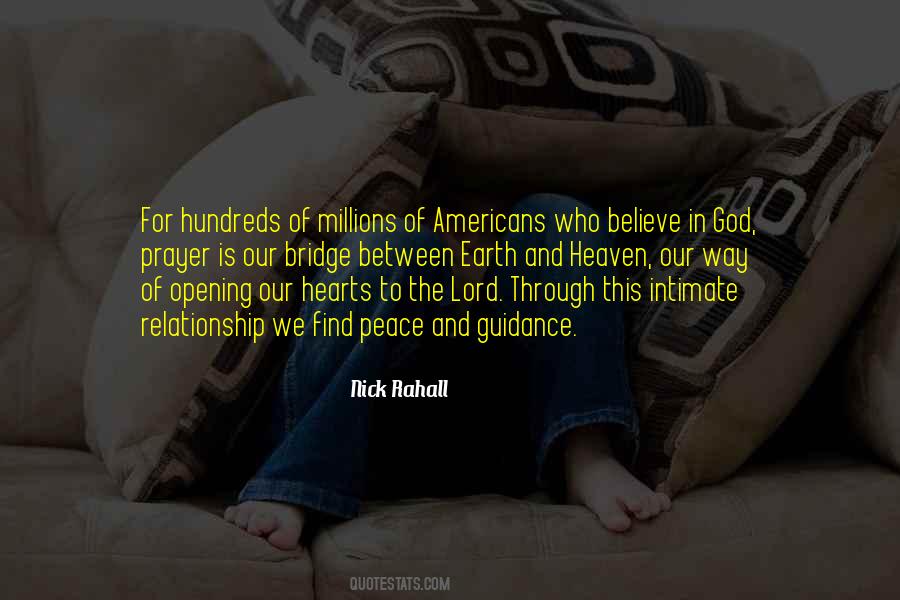 #94. If you have found the way of sacrifice, the way that leads to peace; if you have joined with loving comrades to bring deliverance to them that weep and mourn in secret; then see to it that your soul be free from envy and passion and your heart as an altar where the sacred fire burns eternally. - Author: Ethel Lilian Voynich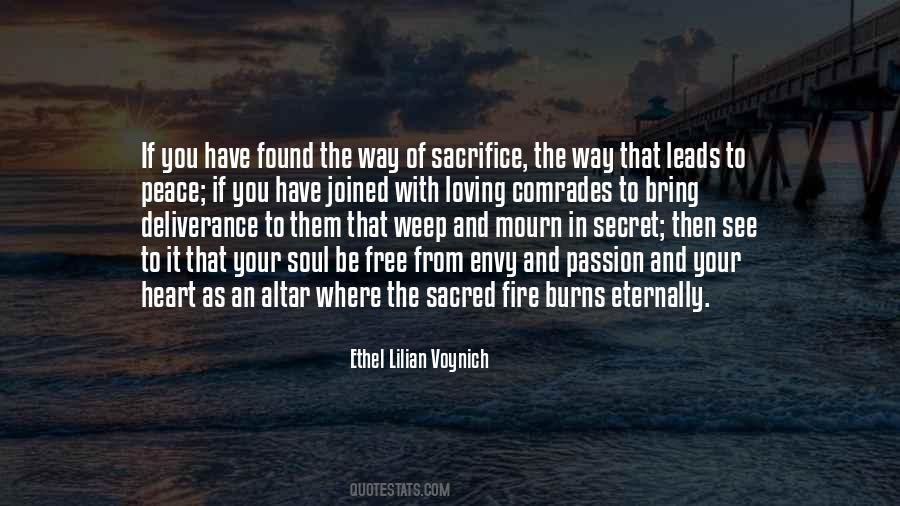 #95. It's always fallen to women to forge the peace between all these hot-blooded men, always ready to go to war at the slightest provocation....Why do men behave the way they do, warring?"
"What do you think?" he asked.
"Maybe because they've got no sense of grief? - Author: Nuruddin Farah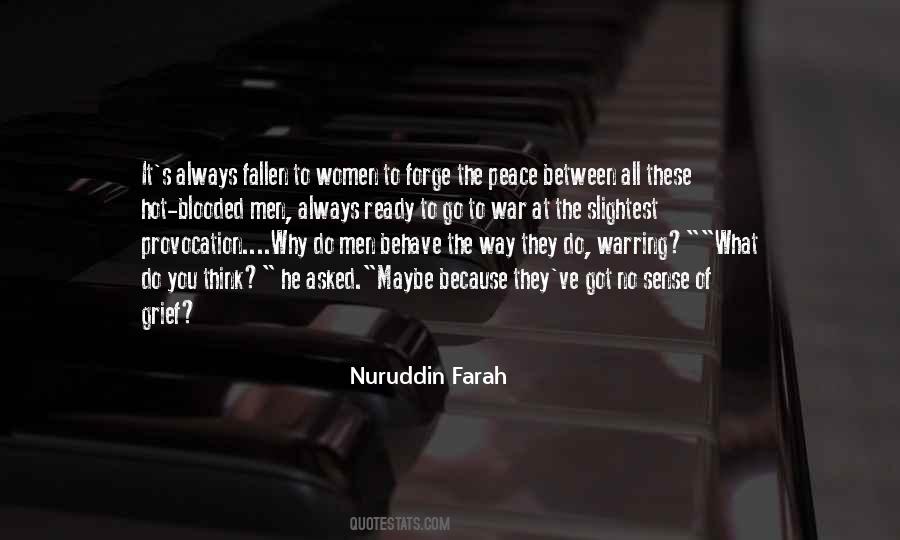 #96. You can never expect to live a positive life if you continue to hangout with negative people. The way you think ... you will live! - Author: Timothy Pina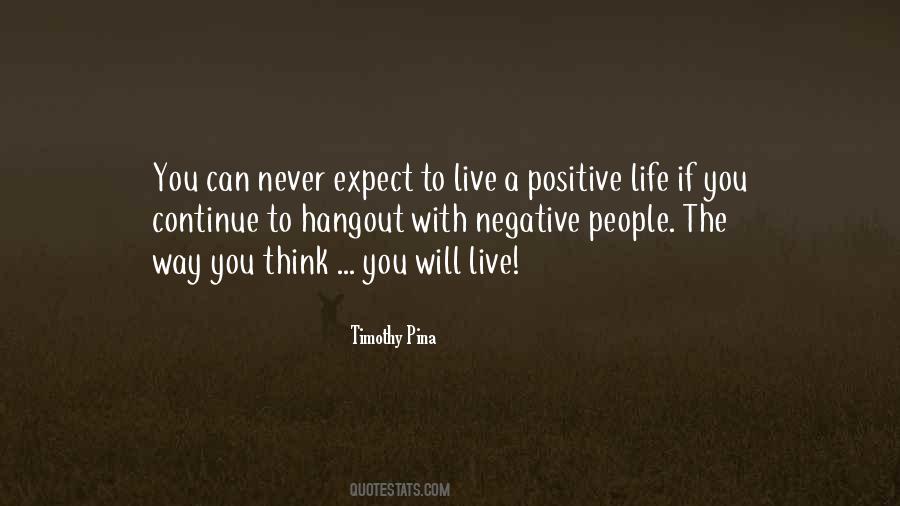 #97. Forgiveness is the fastest way to a spiritual path and inner peace of mind - Author: Muhaya Haji Mohamad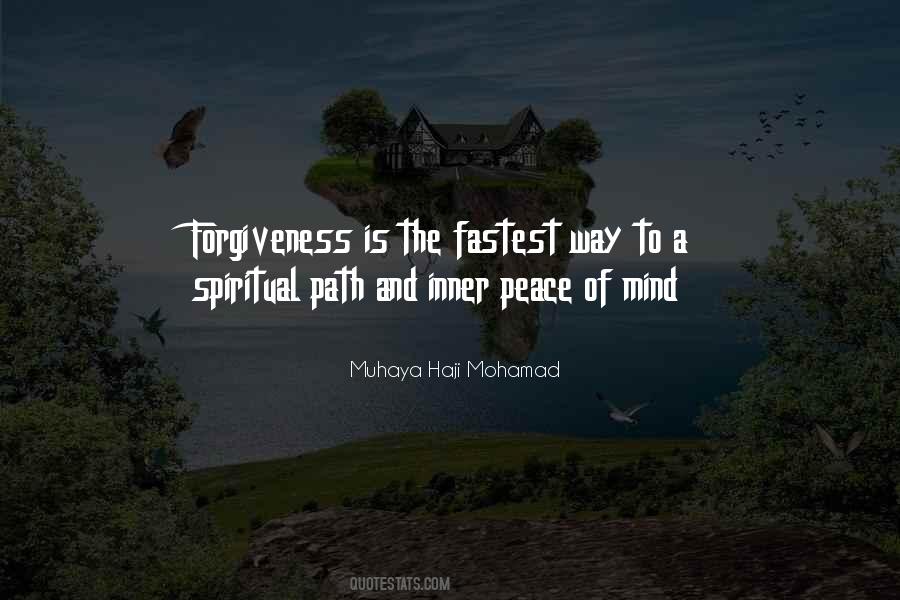 #98. I think if all men knew and understood who they are, and were aware of the divine source from whence they came, they would have feelings of kindness and kinship for each other that would change their whole way of living and bring peace on earth. - Author: Joseph Fielding Smith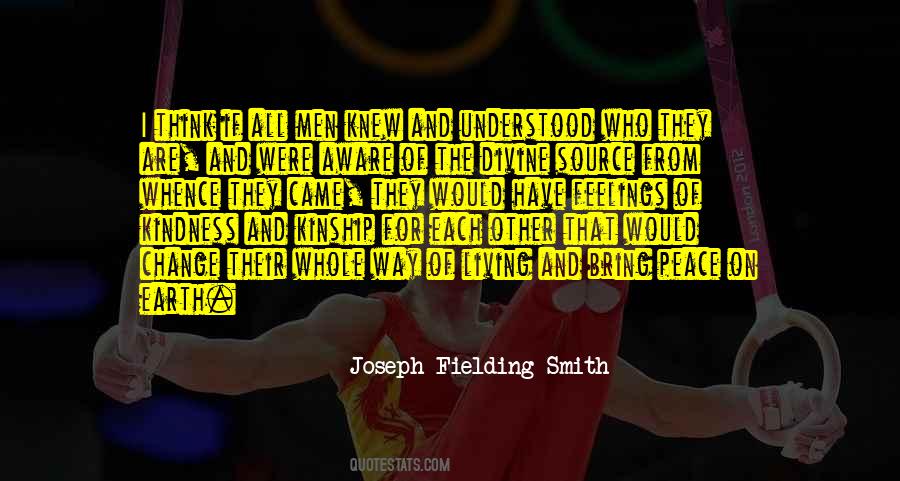 #99. Today, and forever, remember that your peace is not dependent on anything but the one-way, never-ending love of Jesus. - Author: Tullian Tchividjian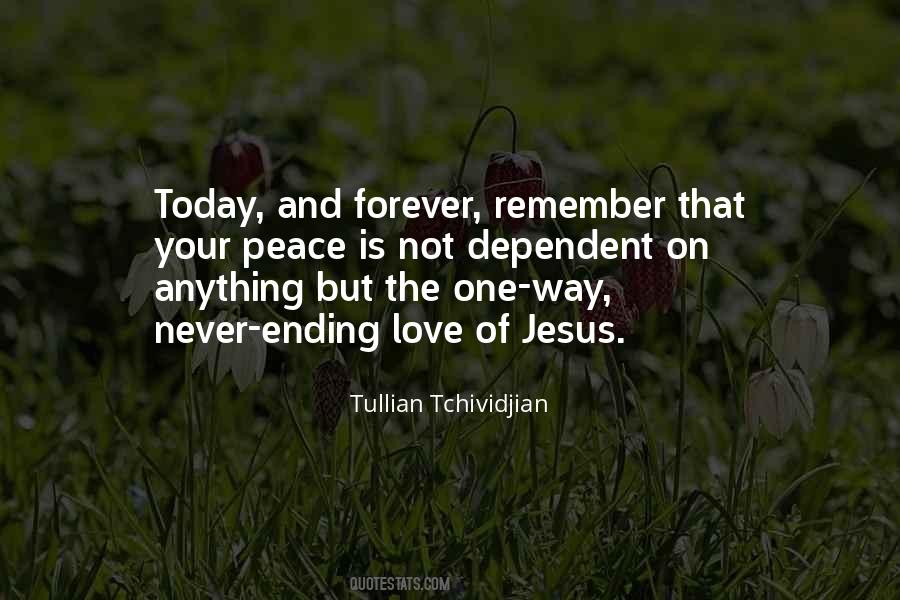 #100. A solution exists for every challenge to our peace of mind. There is always a way, somehow. What holds us back from happiness is our lack of faith in the mighty power of the Holy Spirit to address our most humble needs. - Author: Harold Klemp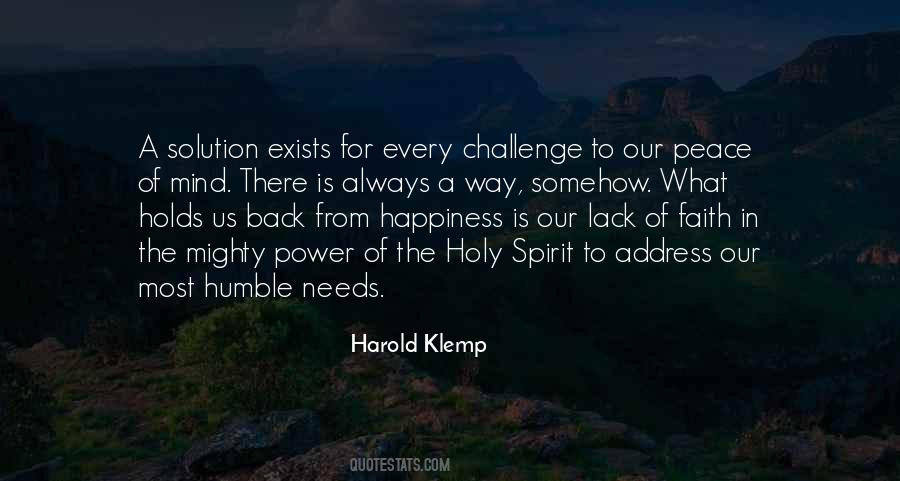 Famous Authors
Popular Topics