Voice Of Silence Famous Quotes & Sayings
List of top 100 famous quotes and sayings about voice of silence to read and share with friends on your Facebook, Twitter, blogs.
Top 100 Voice Of Silence Quotes
#1. I understand the voice of your stars and the silence of your trees. - Author: Rabindranath Tagore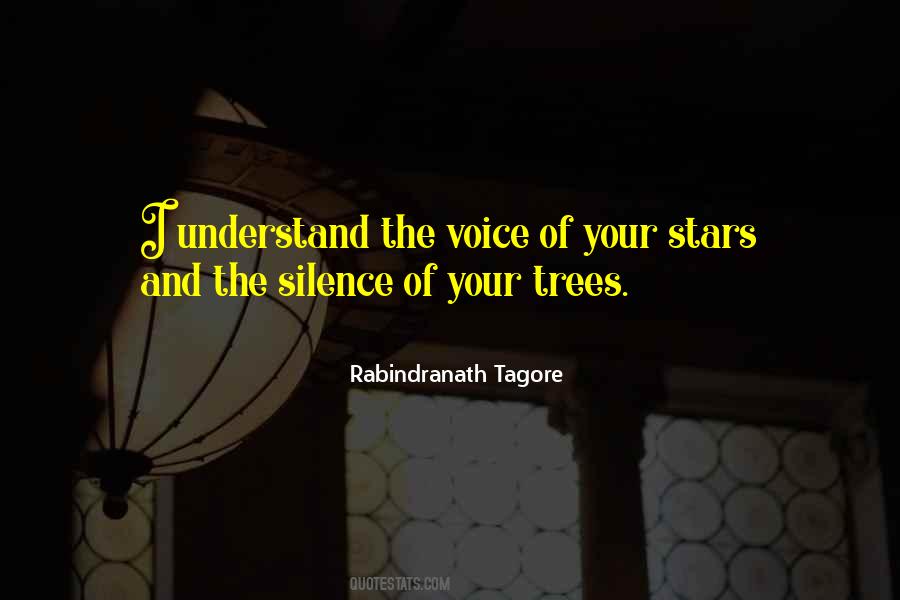 #2. Come into the silence of solitude, and the vibration there will talk to you through the voice of God. - Author: Paramahansa Yogananda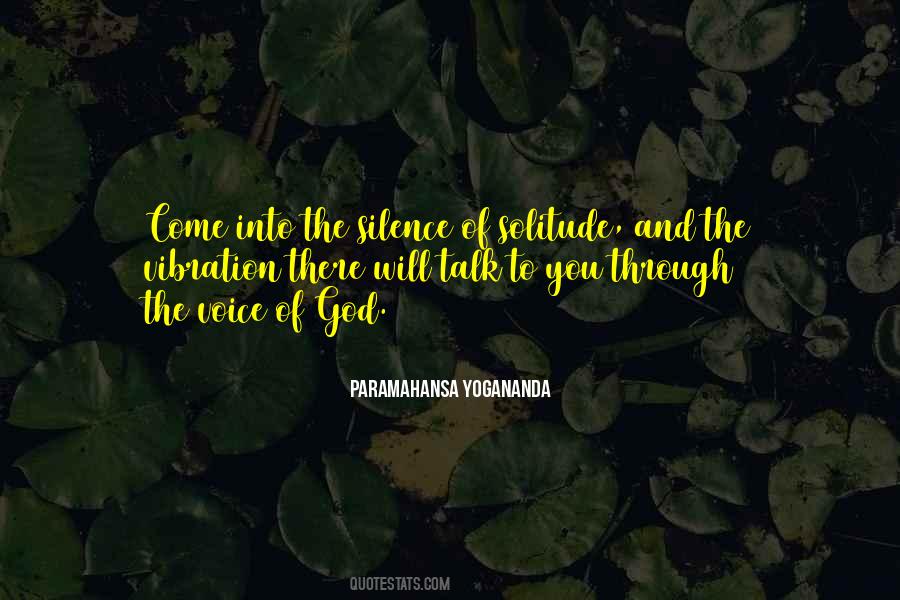 #3. To hear the voice of the silence is to understand that from within comes the only true guidance - Author: Mabel Collins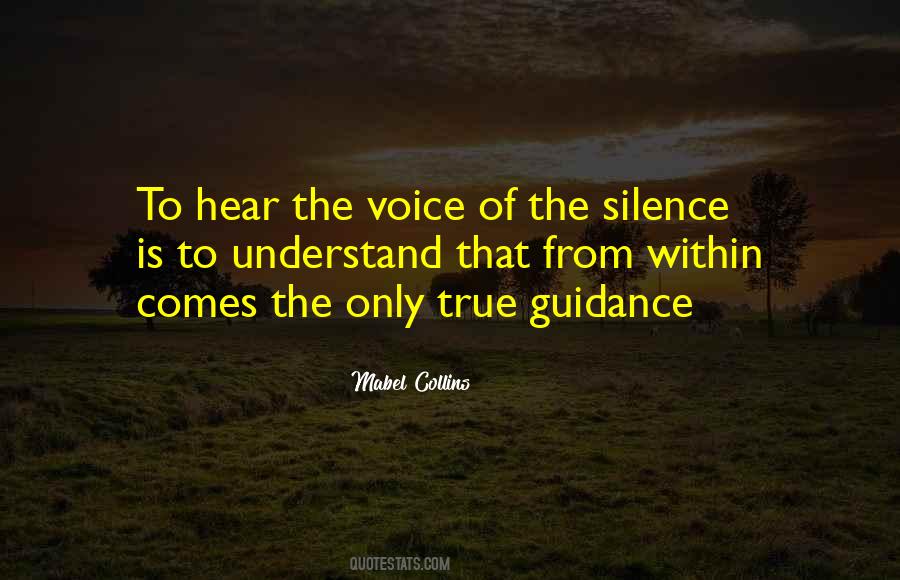 #4. Preach the Truth as if you had a million voices. It is silence that kills the world. - Author: St. Catherine Of Siena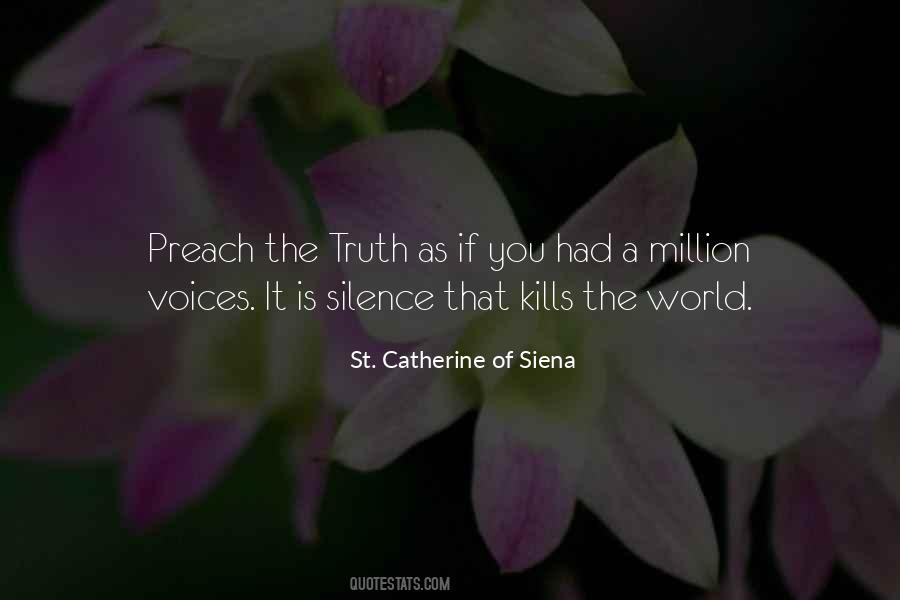 #5. Going to where the silence is. That is the responsibility of a journalist: giving a voice to those who have been forgotten, forsaken, and beaten down by the powerful. - Author: Amy Goodman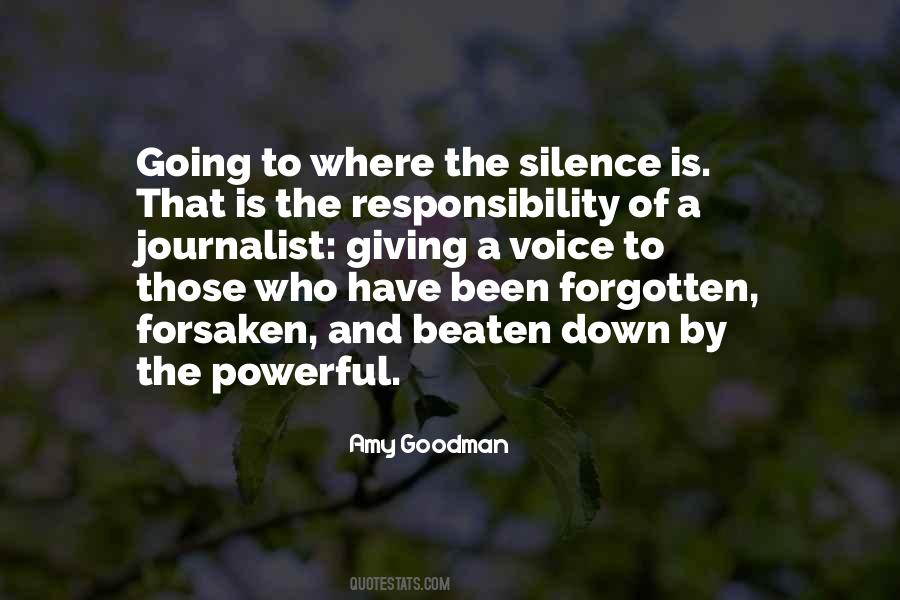 #6. There are times when silence is the best way to yell at the top of your voice. - Author: Orlando Aloysius Battista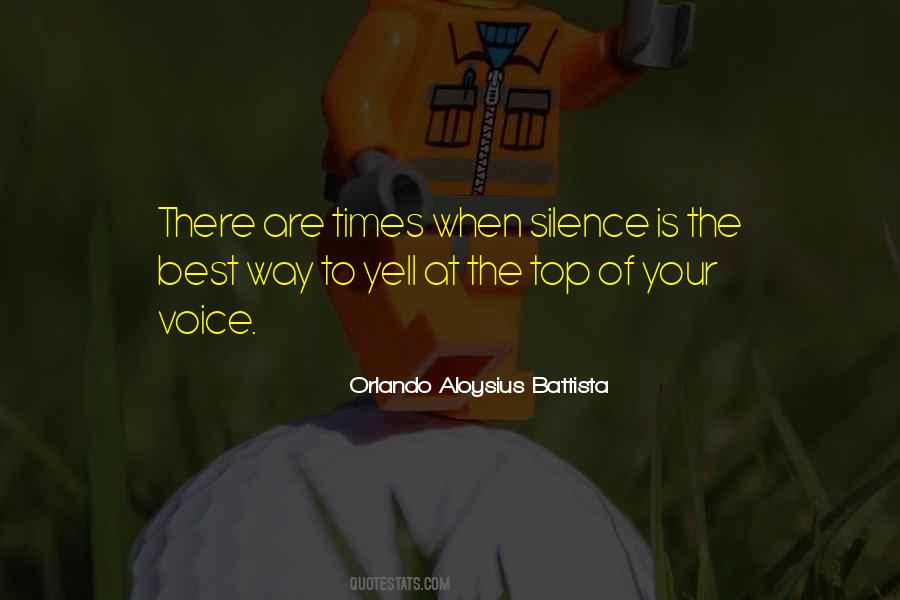 #7. Inside me there is a fire stocking
I burn with passion
Whilst people only see a whiff of smoke
I am told by an inner voice
The human spirit on fire is the most unrelenting force in the deafening silence of the universe. - Author: Gabriel Iqbal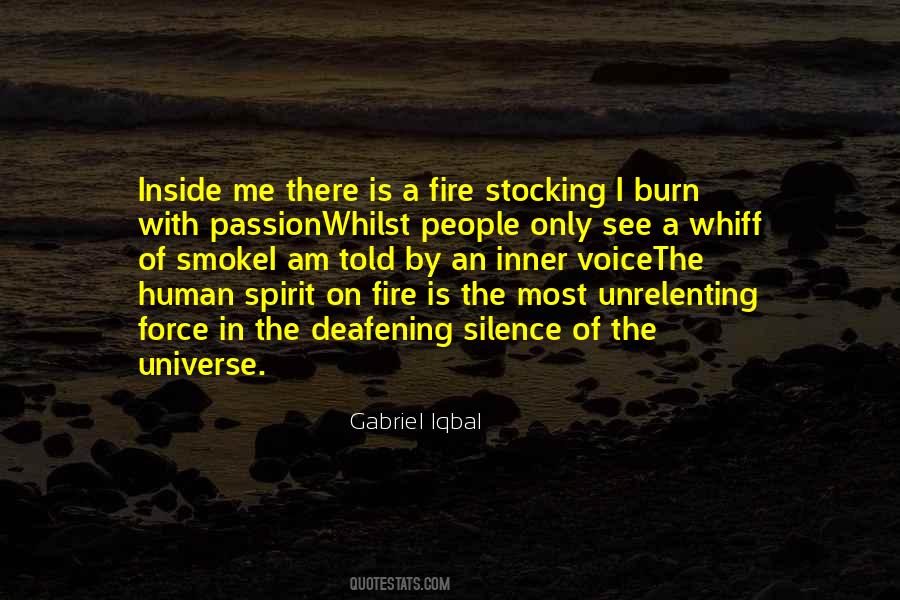 #8. For 1,300 days of Sarajevo's drama, important people in the world who were supposed to act kept their eyes closed, ... But not you. You were not silent. Your voice was clear. - Author: Alijia Izetbegovic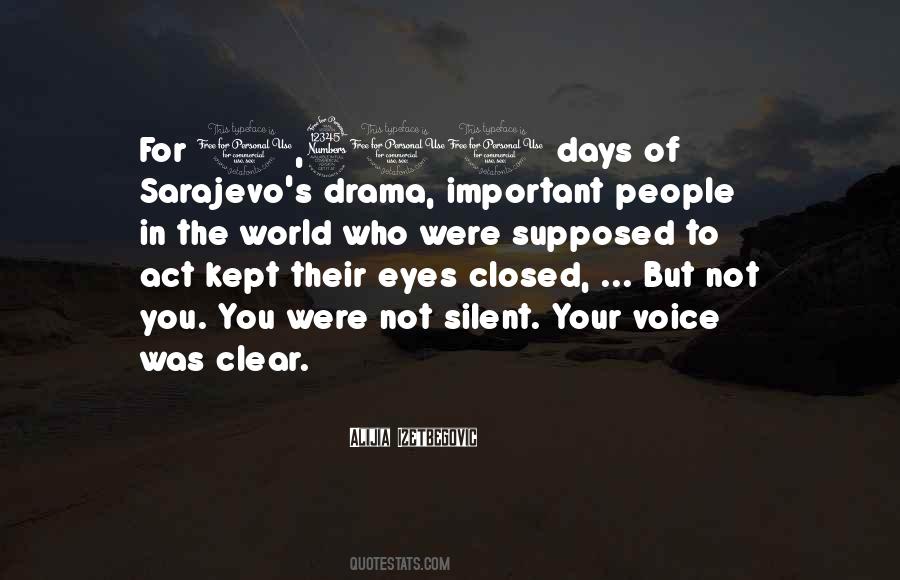 #9. Affliction is able to drown out every earthly voice ... but the voice of eternity within a man it cannot drown. When by the aid of affliction all irrelevant voices are brought to silence, it can be heard, this voice within. - Author: Mark Galli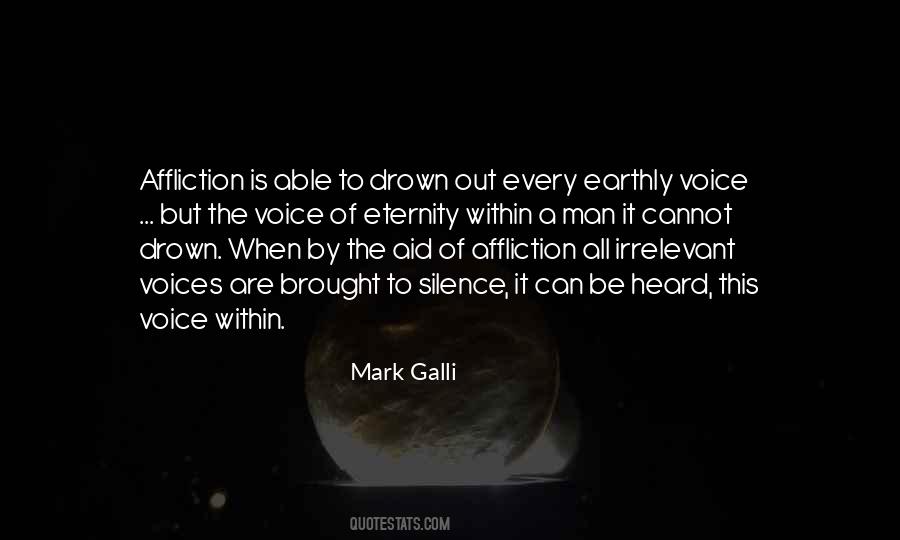 #10. Silence is the bluntest of blunt instruments. It seems to hammer you into the ground. It drives you deeper and deeper into your own guilt. It makes the voices inside your head accuse you more viciously than any outside voices ever could. - Author: Erica Jong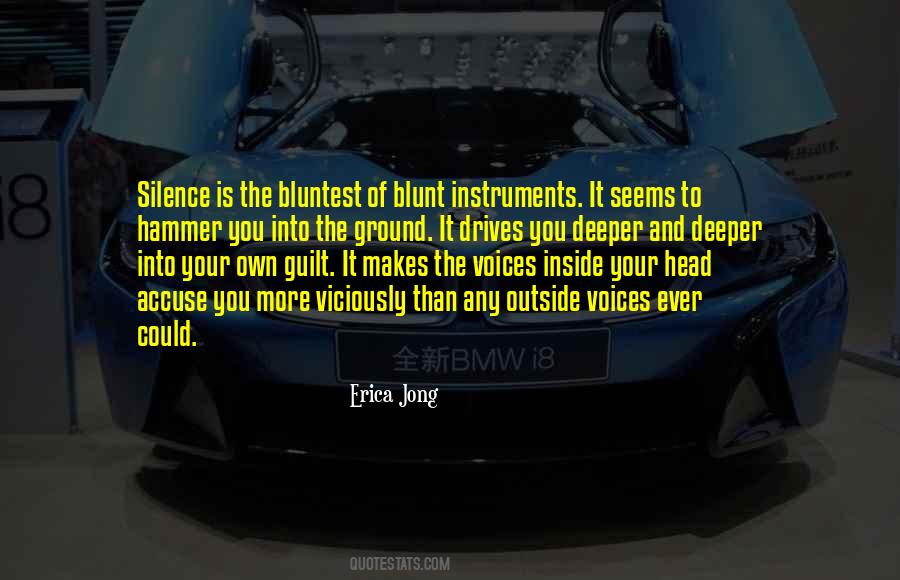 #11. Each poem holds the voice of a moment.
Held within, they are contained, damned to silence;
released, they fly into the world to find a new heart and a new home within,
where they will speak again. - Author: Noa Daniels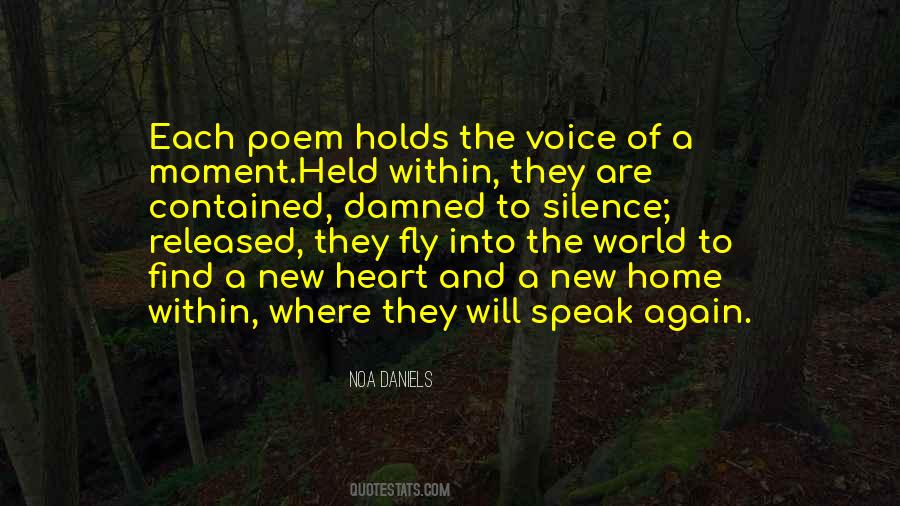 #12. God is our true Friend, who always gives us the counsel and comfort we need. Our danger lies in resisting Him; so it is essential that we acquire the habit of hearkening to His voice, or keeping silence within, and listening so as to lose nothing of what He says to us. - Author: Francois Fenelon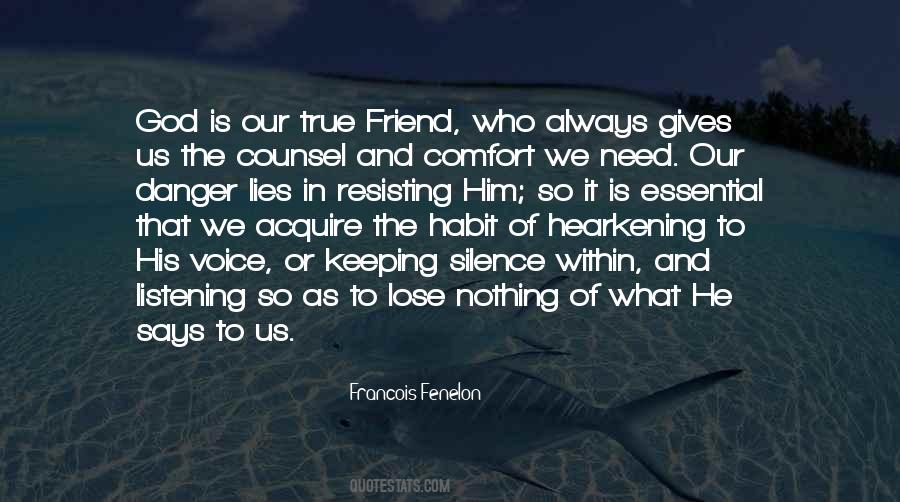 #13. The artist in his calling of interpreter creates because he must. He is so much of a voice that, for him, silence is like death - Author: Joseph Conrad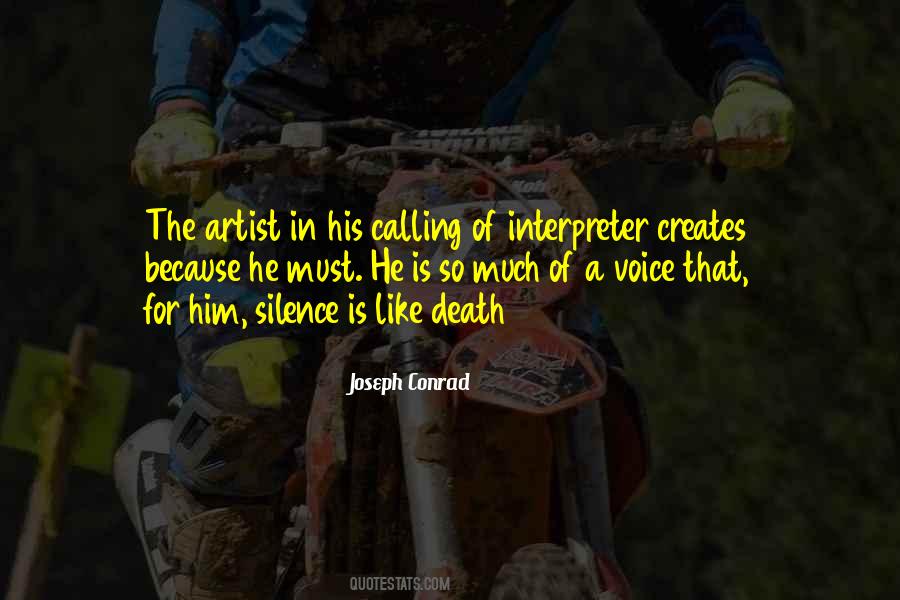 #14. Did He give me the gift of love to say who I could choose? When God made me did He give me the gift of voice so some could silence me? Did he give me the gift of vision not knowing what I might see? Did he give me the gift of compassion to help my fellow man? - Author: Neil Young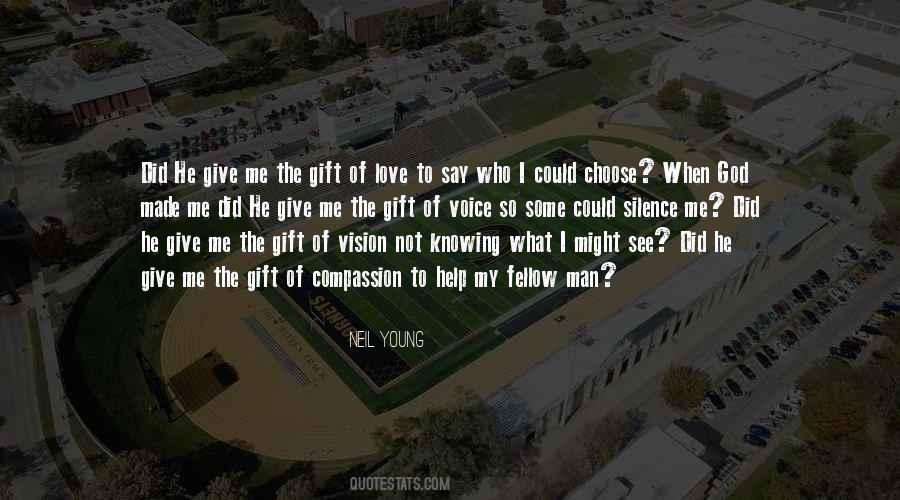 #15. The places of quiet are going away, the churches, the woods, the libraries. And it is only in silence we can hear the voice inside of us which gives us true peace. - Author: James Rozoff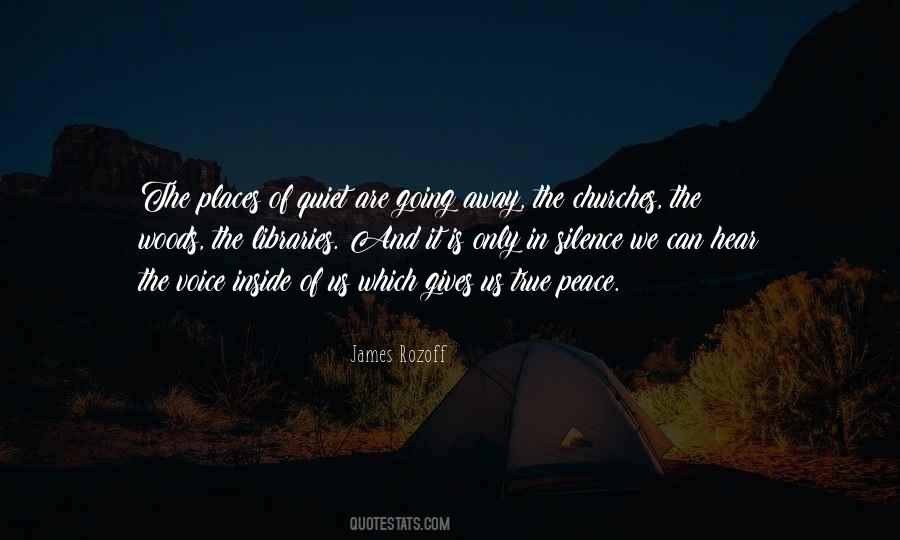 #16. There was no echo, no reverberation. If anything the room ate sound. It swallowed her voice, her words, and her eternal, inadequate apology. But not her memories. She would never be rid of those. - Author: Laini Taylor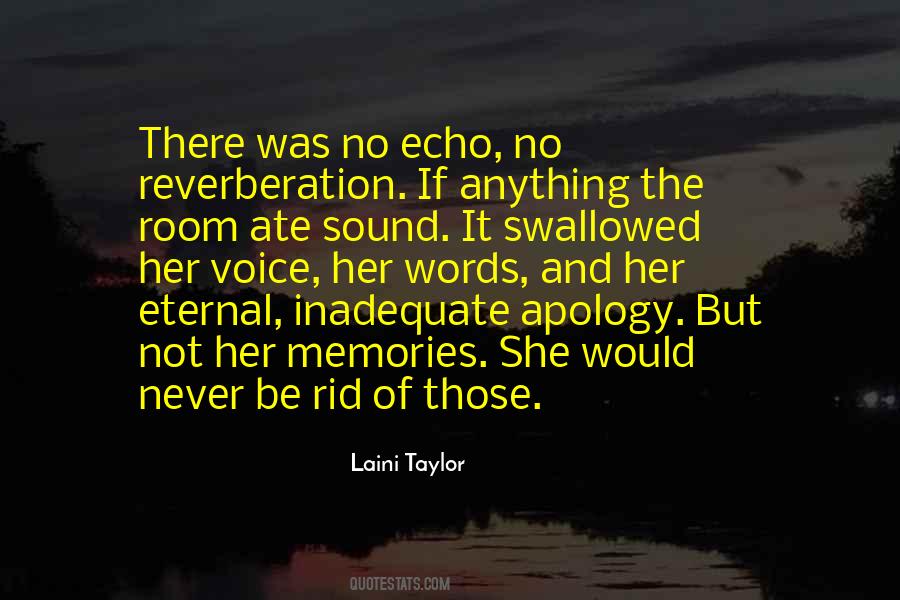 #17. Ministers are tempted to join the ranks of those who consider it their primary task to keep other people busy ... But our task is the opposite of distraction ... how to keep them from being so busy that they can no longer hear the voice of God who speaks in silence. - Author: Henri Nouwen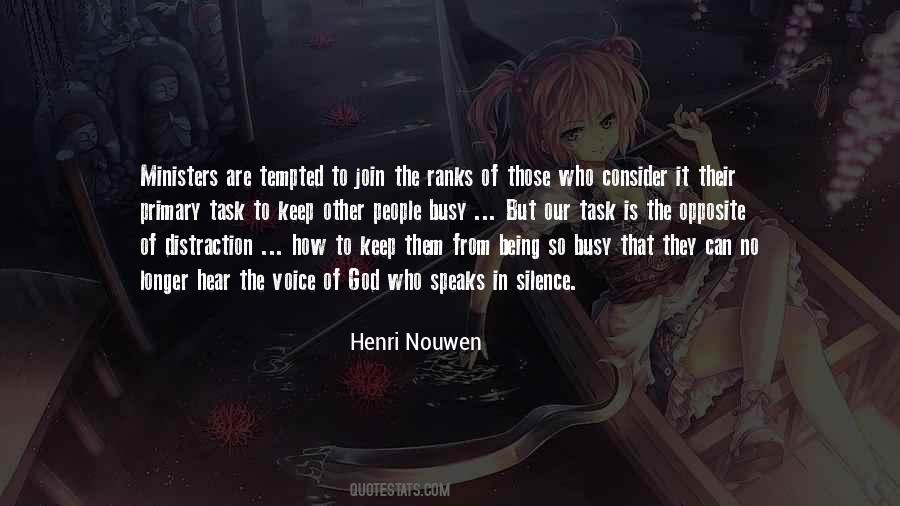 #18. When silence is God's only voice,
And waiting on Him my only choice,
A banner of faith I humbly raise
And offer a sacrifice of praise.
Though answers He may not impart,
Forever I can trust His heart. - Author: Kathy Herman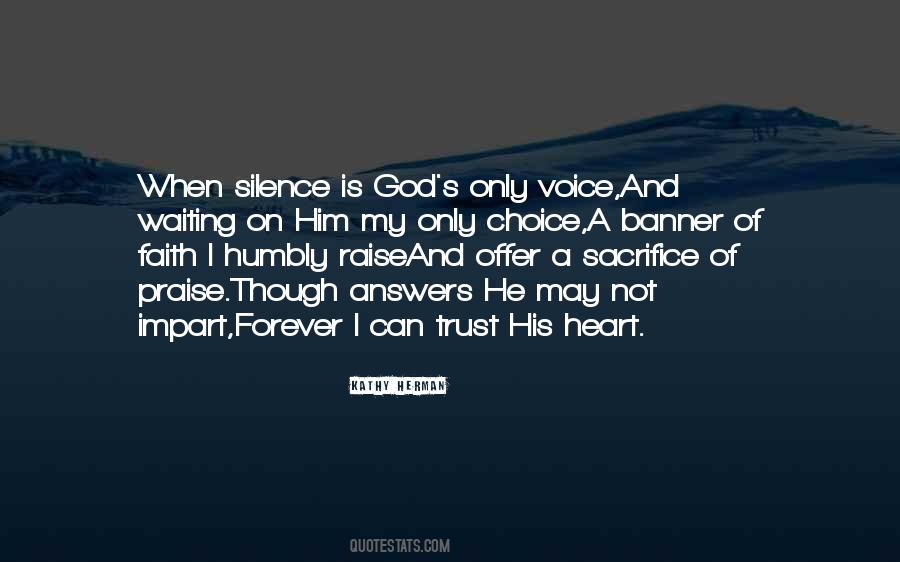 #19. To silence the Voice of God is damnation in time! - Author: Oswald Chambers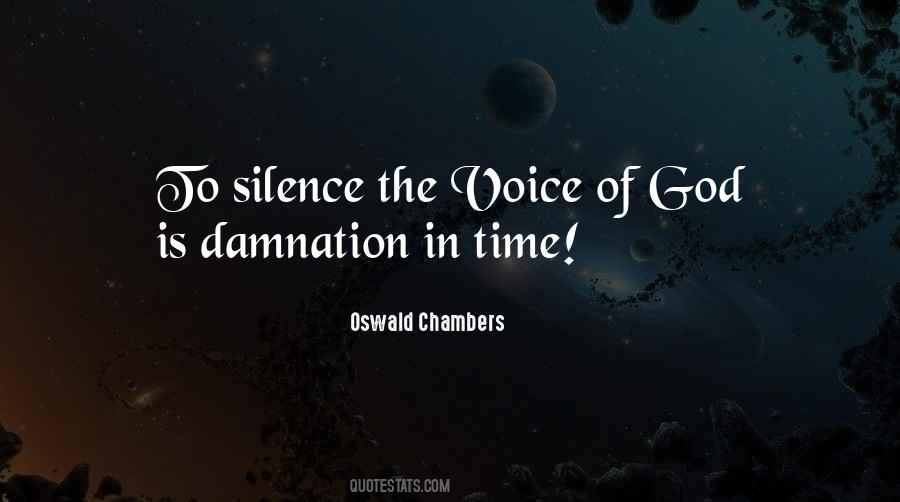 #20. In the silences I make in the midst of the turmoil of life I have appointments with God. From these silences I come forth with spirit refreshed, and with a renewed sense of power. I hear a voice in the silences, and become increasingly aware that it is the voice of God. - Author: David Brainerd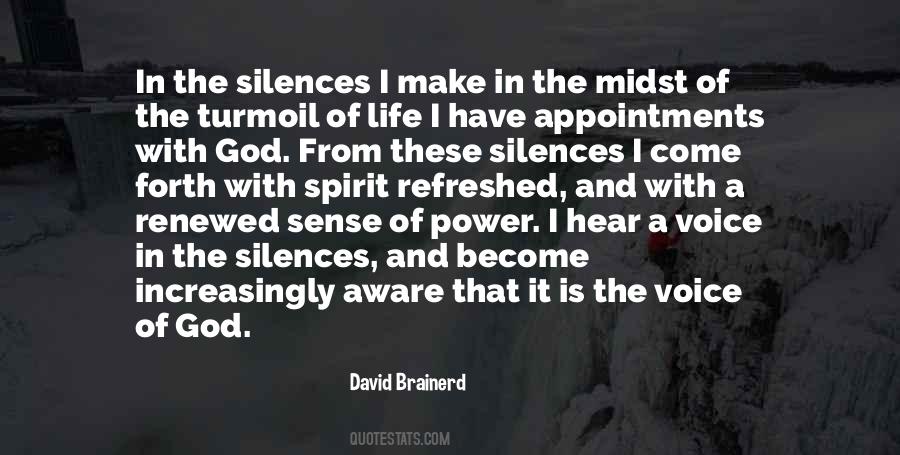 #21. Now and then we hear the wilder voices of the wilderness, from animals that in the hours of darkness do not fear the neighborhood of man: the coyotes wail like dismal ventriloquists, or the silence may be broken by the snorting and stamping of a deer. - Author: Theodore Roosevelt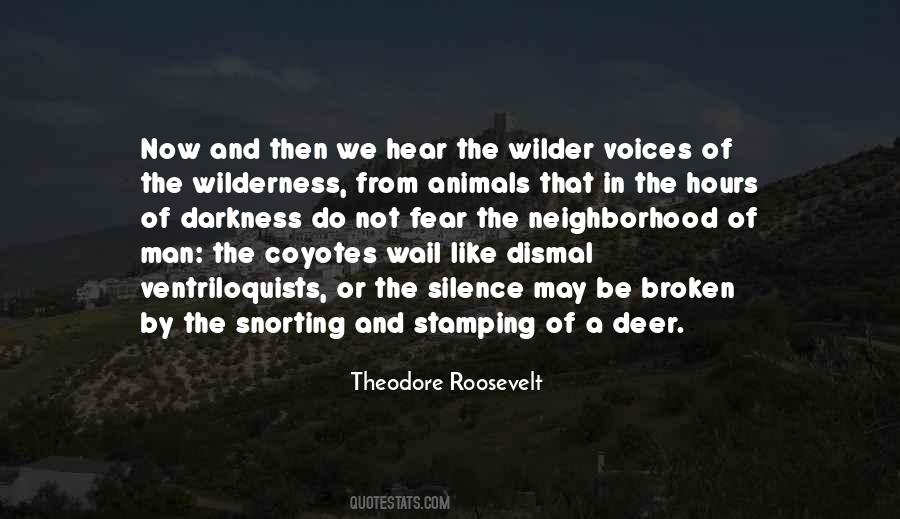 #22. Voting is not an act of political freedom. It is an act of political conformity. Those who refuse to vote are not expressing silence. They are screaming in the politician's ear: 'You do not represent me. This is not a process in which my voice matters. I do not believe you.' - Author: Wendy McElroy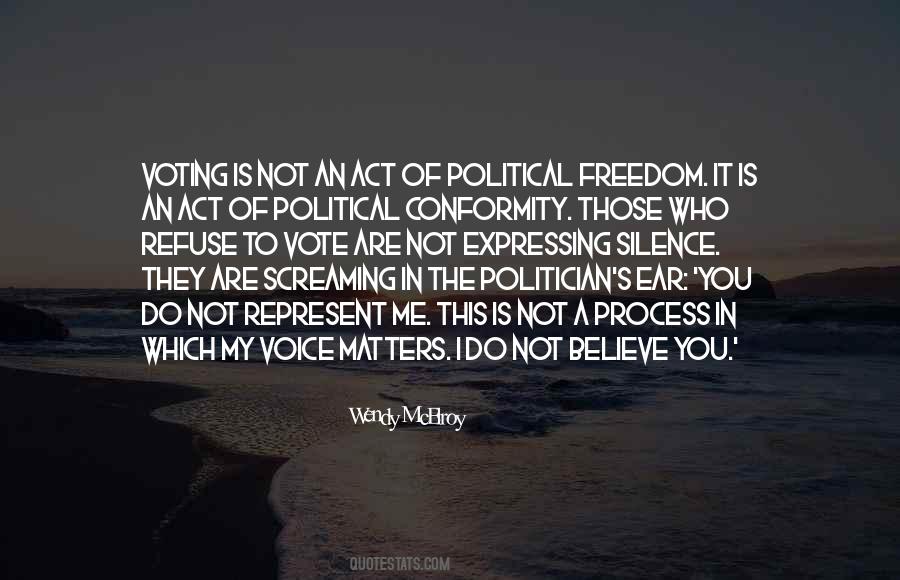 #23. I hear nothing. I hear nothing, but what does it mean that I hear nothing? I walk in the cemeteries of this city at night and I hear nothing. I walk among mortals and sometimes I hear nothing. I walk alone and I hear nothing, as if I myself had no inner voice. - Author: Anne Rice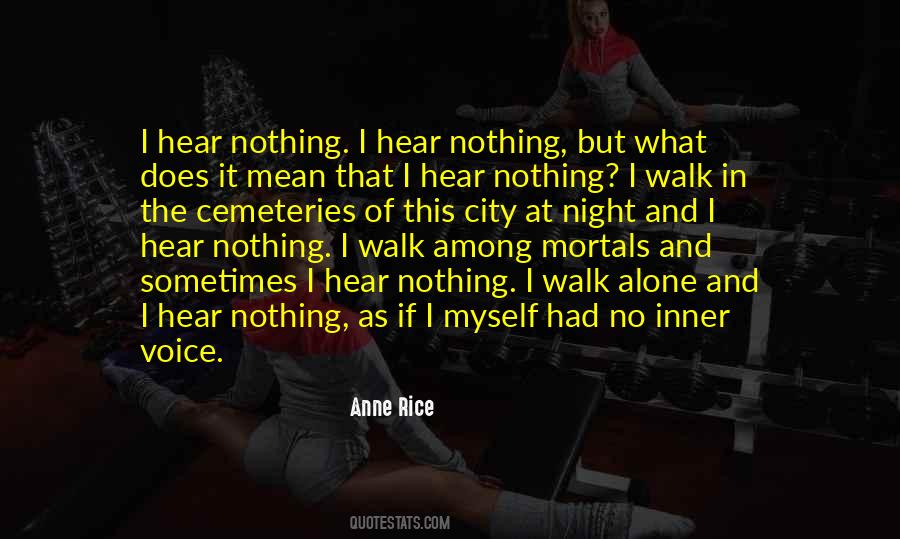 #24. In the valley of unknown, in my moments of uncertainty, the clutter flees and silence allows me to hear the voice of the LORD - Author: Jonah Books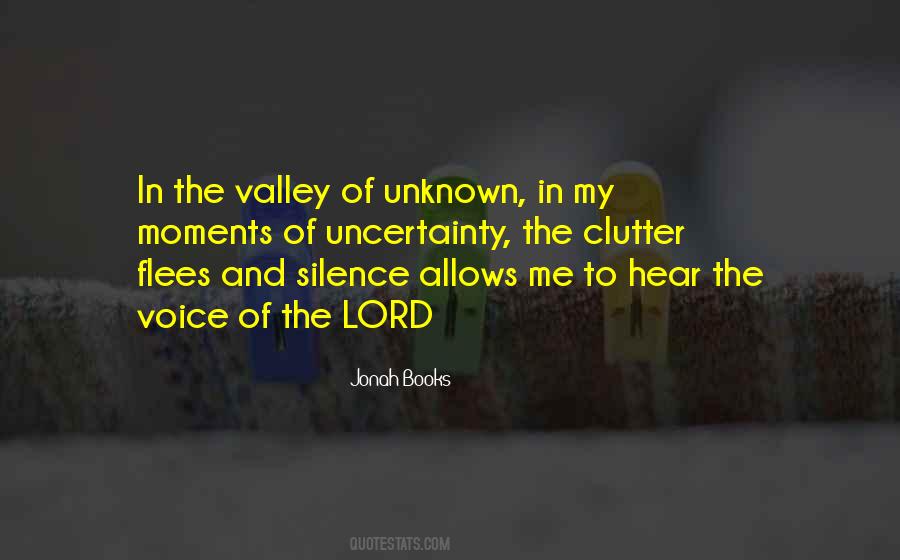 #25. A voice so thrilling ne'er was heard ... Breaking the silence of the seas Among the farthest Hebrides. - Author: William Wordsworth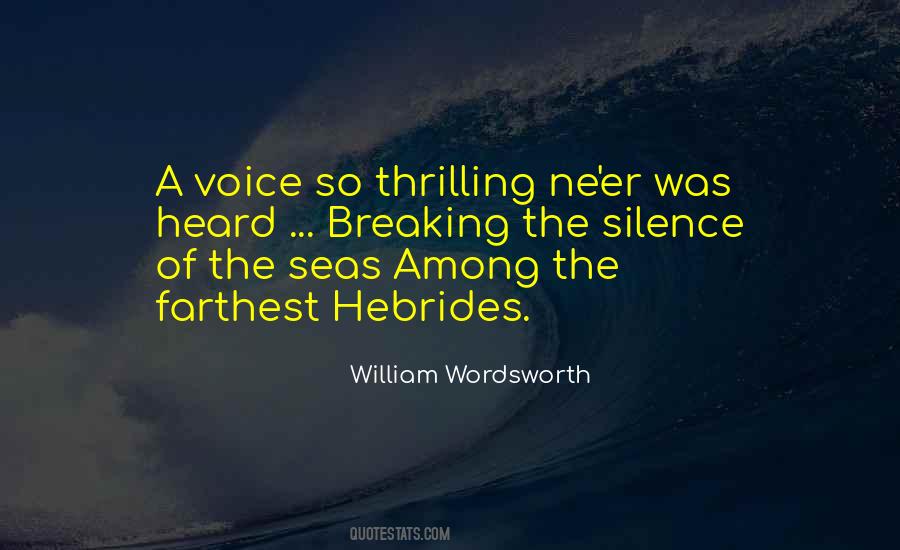 #26. You can listen to the secrets of life
in the silence of night,
in the voice of the ocean,
in the beating of your heart.
Just listen with your soul. - Author: Debasish Mridha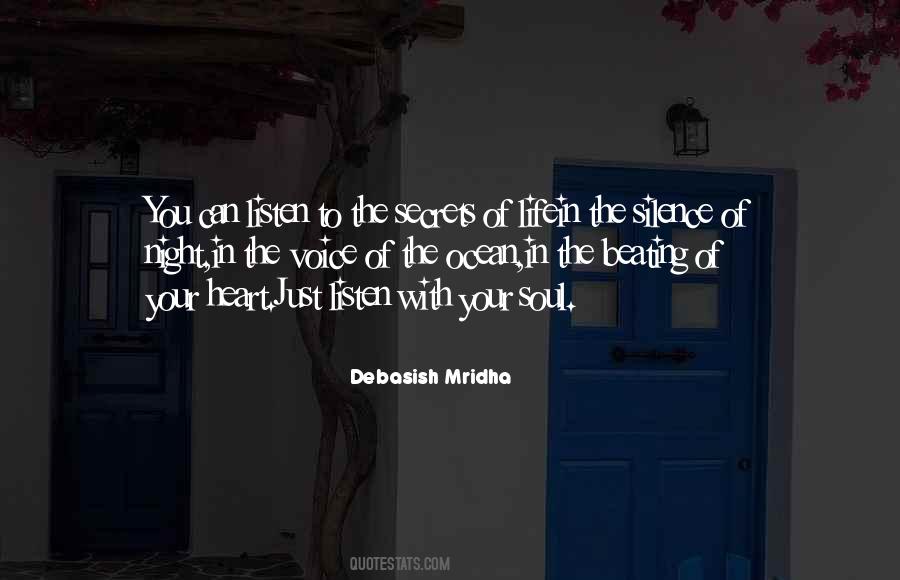 #27. [ ... ] and the barred owl calls from the well of my mind,
more echo than thought, as it fades through the wind
and flickers away to the silence beyond
like that voice, in myself, of another. - Author: John Burnside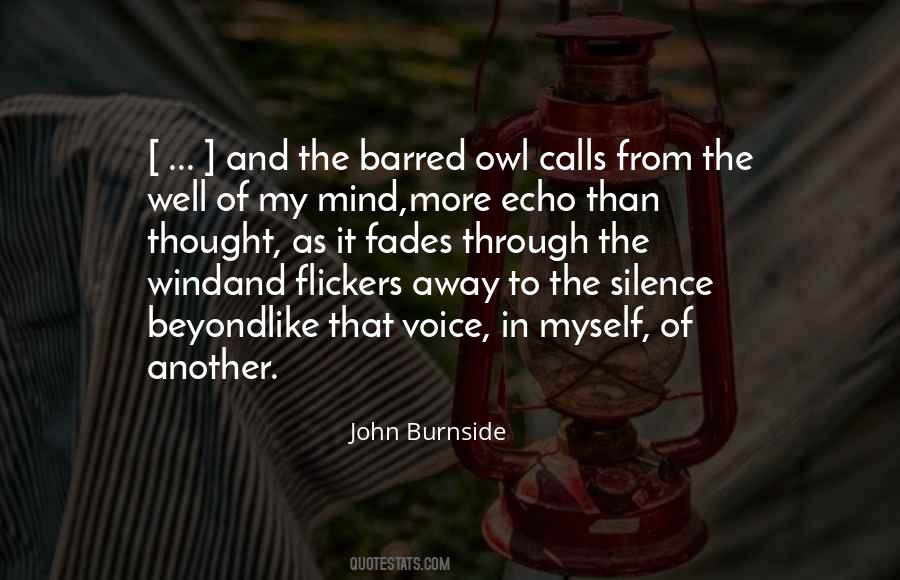 #28. The means of choice:
She might choose to ascend
The falling dream,
By some angelic power without a name
Reverse the motion, plunge into upwardness,
Know height without an end,
Density melt to air, silence yield a voice
Within her fall she felt the pull of Grace. - Author: May Sarton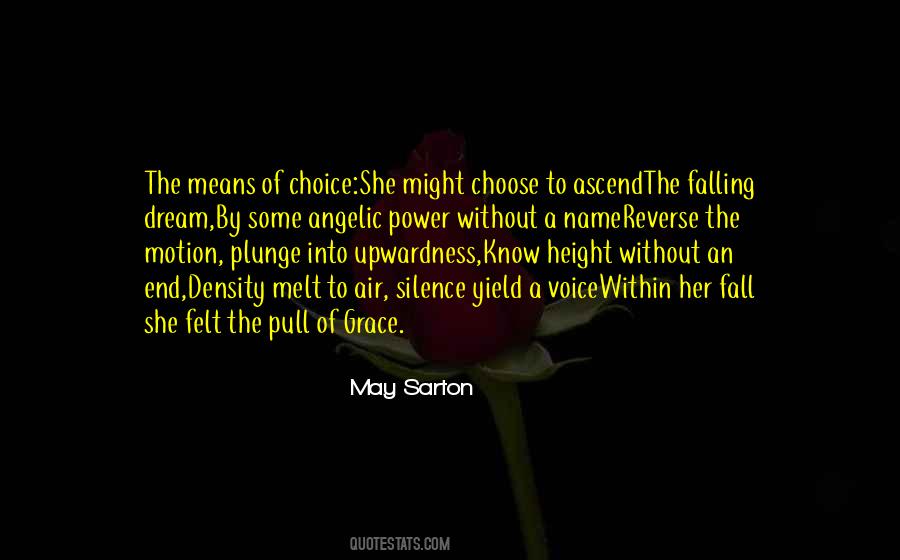 #29. Silence is the room we create for the searching of God, where we hear His voice and follow. - Author: Mark Buchanan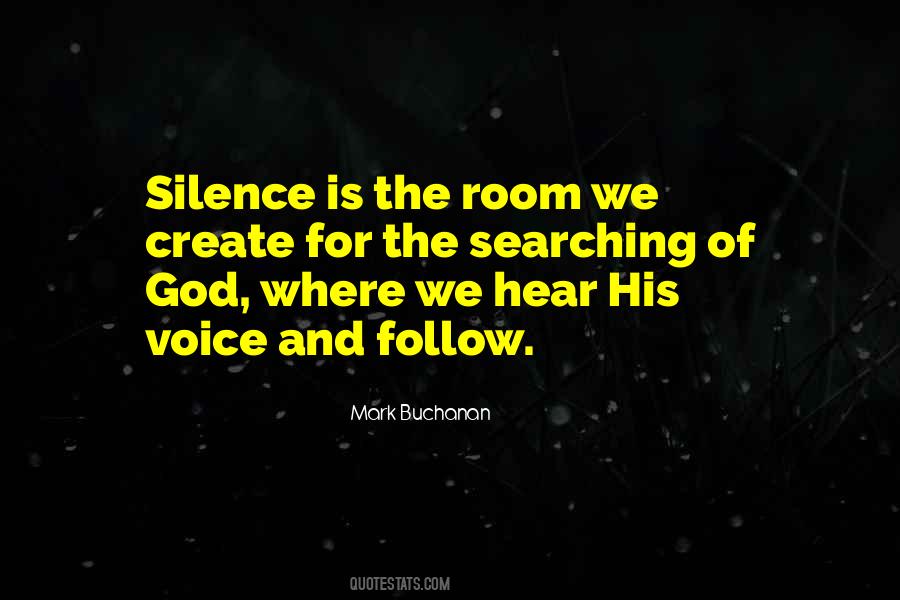 #30. The silence of God's voice will make you wonder if He is even there. And the absence of God's presence will make you wonder if He even cares. He is. And He does. - Author: Charles R. Swindoll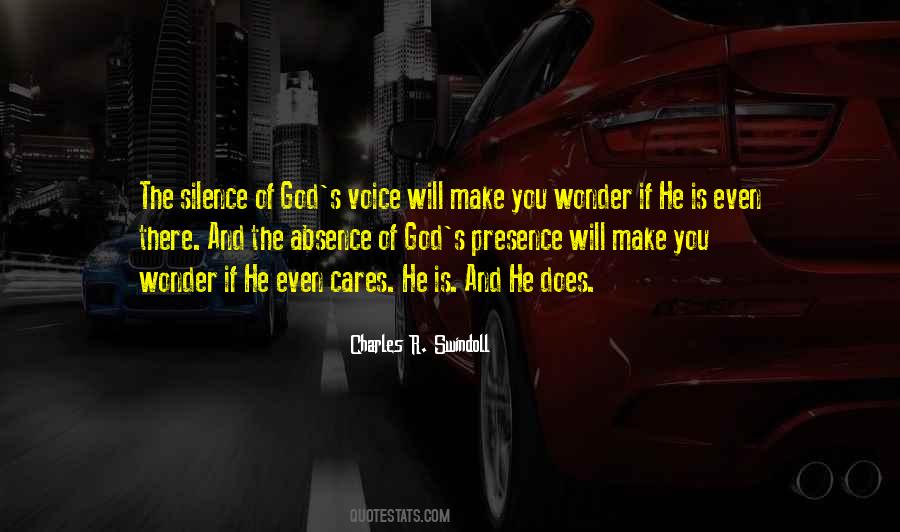 #31. Not all of us are called to be hermits, but all of us need enough silence and solitude in our lives to enable the deeper voice of our own self to be heard at least occasionally. - Author: Thomas Merton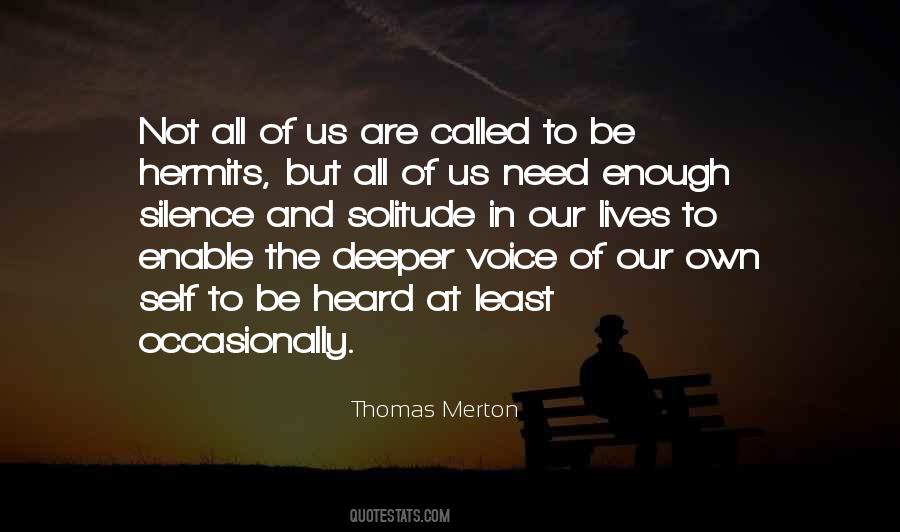 #32. Your voice
in this being unable to move away
from my gaze
things dispossess me
make of me a ship on a river of stones
if your voice is not
rain alone in my feverish silence
you unbind my eyes
and please
may you never stop
speaking
ever - Author: Alejandra Pizarnik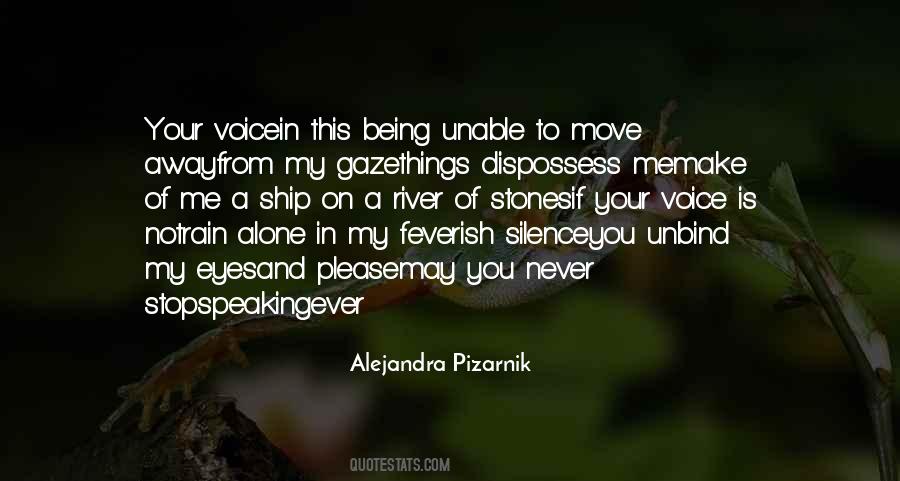 #33. When the voices of democracy are silenced, freedom becomes a hollow concept. No man or woman should be sentenced to the shadows of silence for something he or she has said or written. - Author: Al Neuharth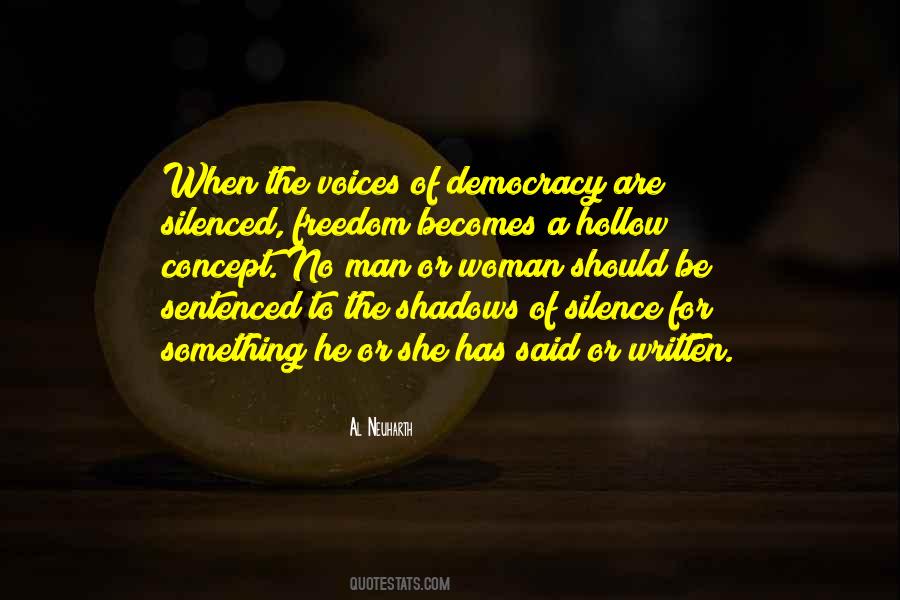 #34. Those who speak largely of the human condition are usually those most exempt from its oppressions - whether of sex, race, or servitude. - Author: Adrienne Rich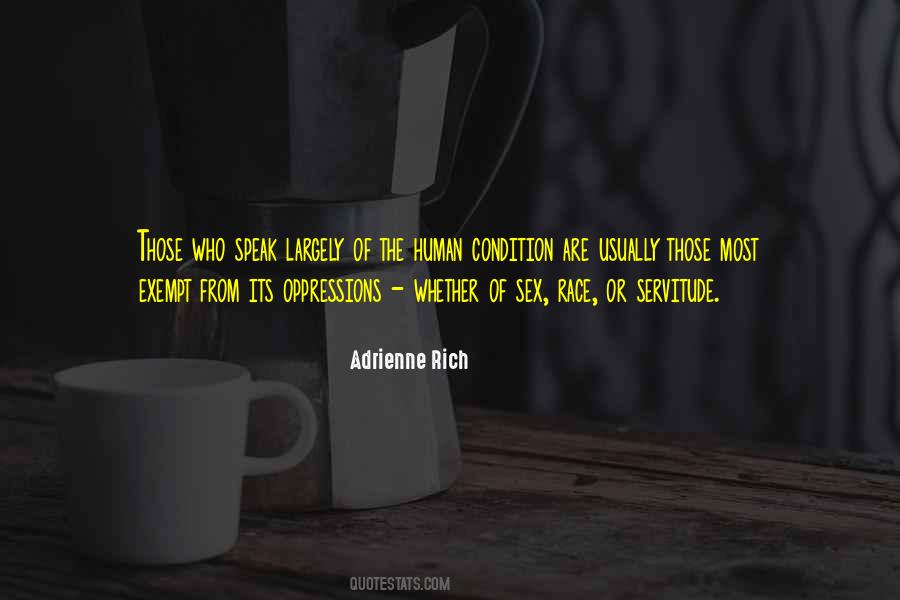 #35. The silence was pregnant with noise, with muted fury, with questions the father found too disgusting to frame and with answers to which the son was incapable of giving voice. - Author: Johnny Rich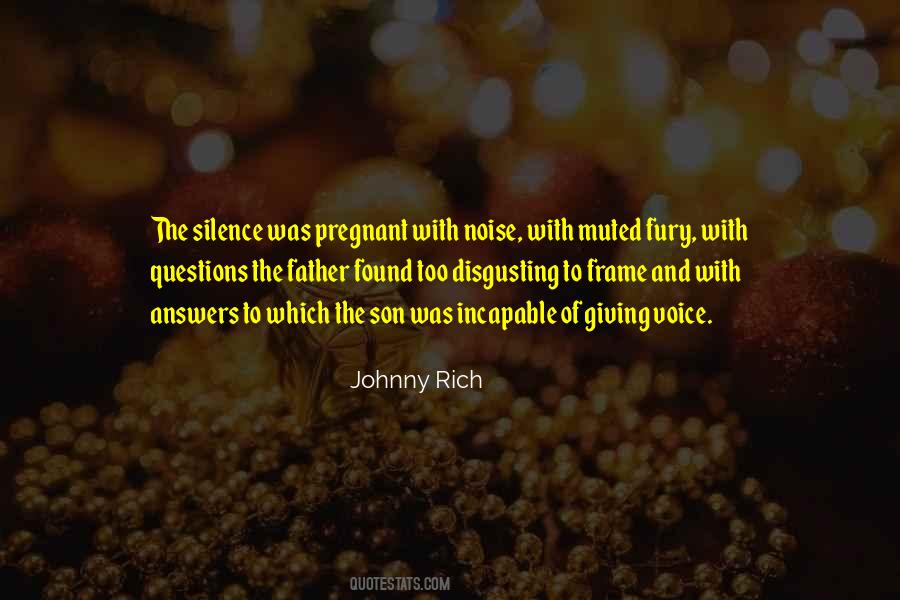 #36. Silence 'is so lacking in this world which is often too noisy, which is not favorable to recollection and listening to the voice of God. In this time of preparation for Christmas, let us cultivate interior recollection so as to receive and keep Jesus in our lives.' - Author: Pope Benedict XVI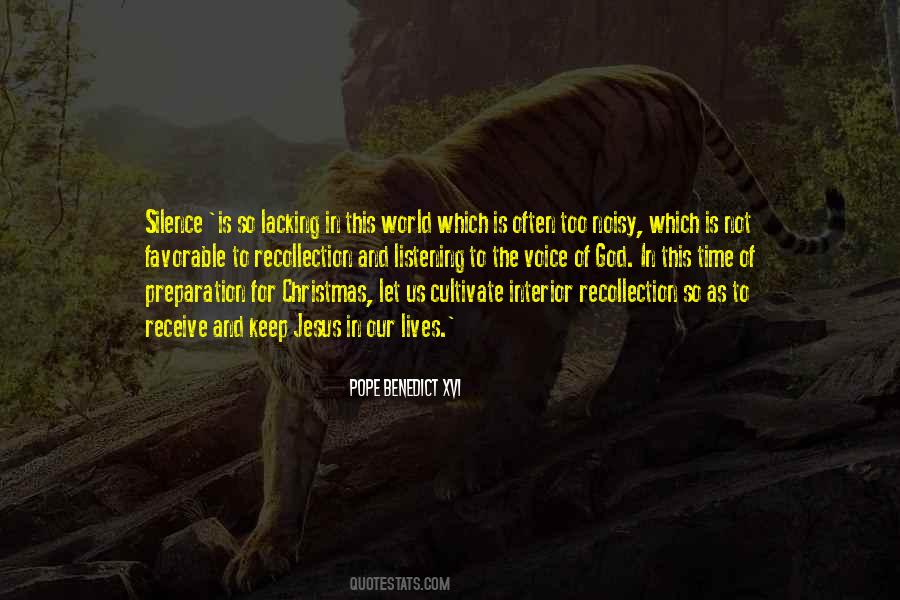 #37. When he saw her sitting there all alone, so young, and good, and beautiful, and kind to him; and heard her thrilling voice, so natural and sweet, and such a golden link between him and all his life's love and happiness, rising out of the silence; he turned his face away, and hid his tears. - Author: Charles Dickens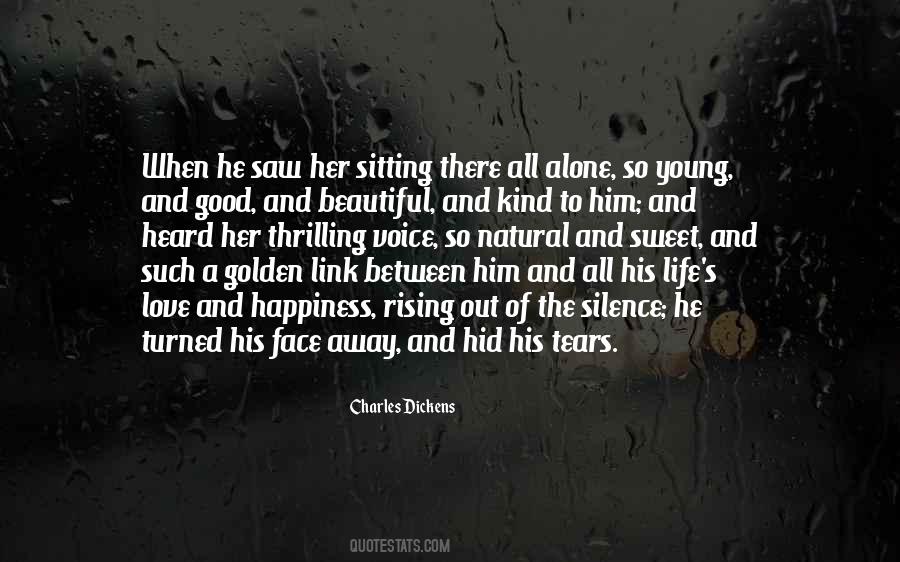 #38. That was the first sound in the song of love!
Scarce more than silence is, and yet a sound.
Hands of invisible spirits touch the strings
Of that mysterious instrument, the soul,
And play the prelude of our fate. We hear
The voice prophetic, and are not alone. - Author: Henry Wadsworth Longfellow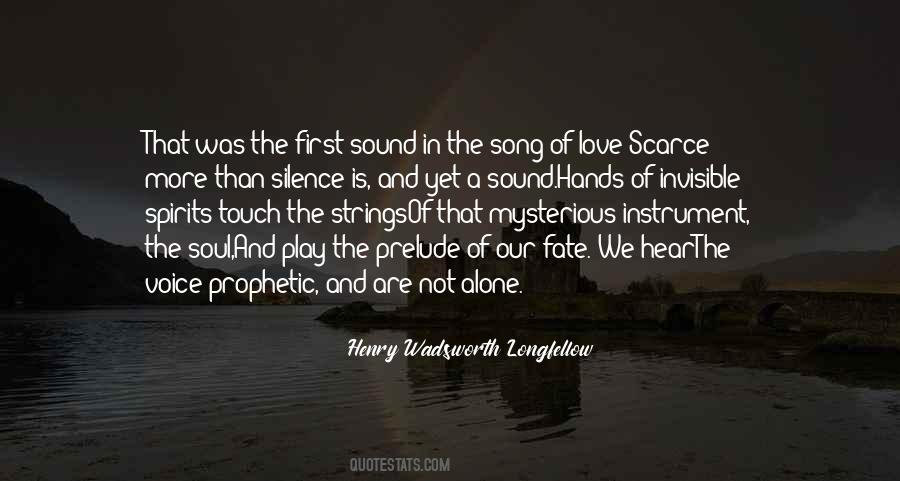 #39. Children are not only sensitive to silence, but also to a voice which calls them ... Out of that silence. - Author: Maria Montessori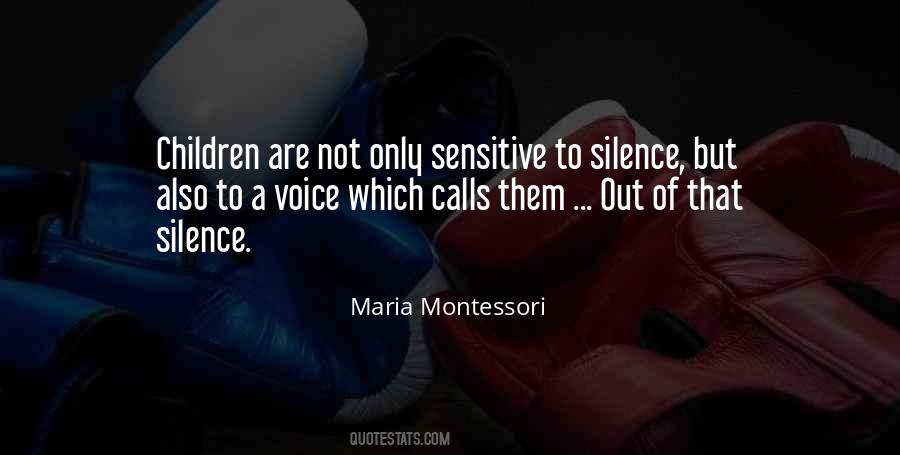 #40. I'd had much practice turning my mind away from certain memories of my childhood. I could quickly dial her remembered voice from a whisper to a silence. - Author: Dean Koontz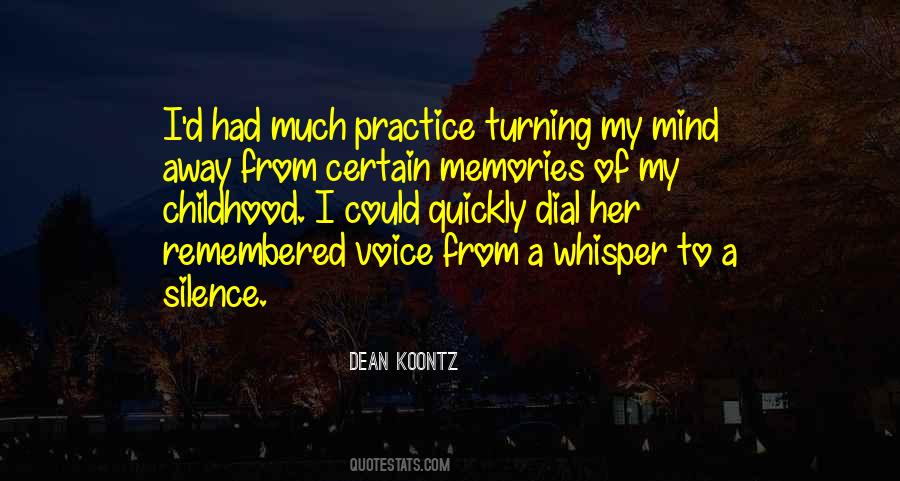 #41. He had figured out that thoughts exist in silence and have no colour or sound or shape until they are turned into words. Spoken words exist in the mind first and then go to the voice and sit temporarily inside ears, and if words are conveyed through sign language, they exist in the motion of hands. - Author: Rita Leganski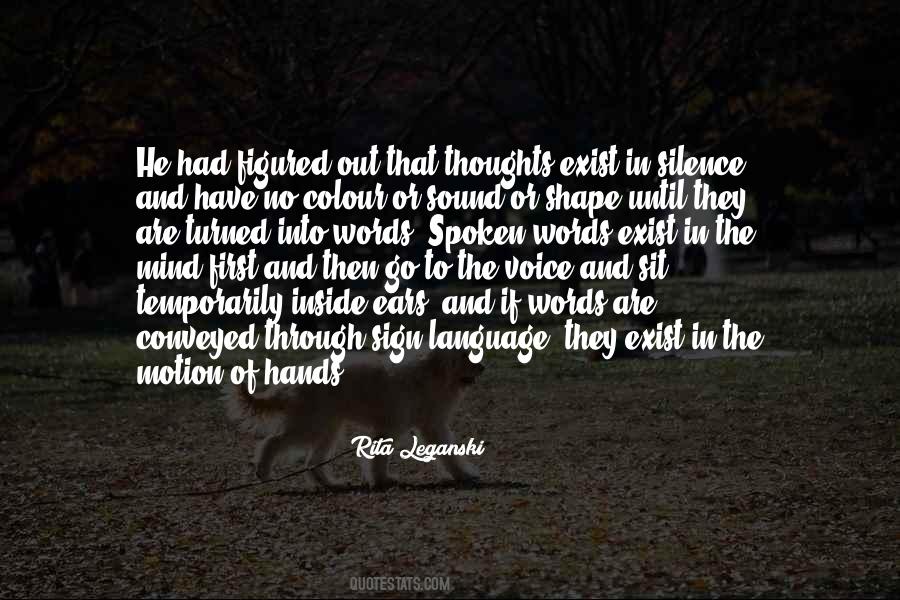 #42. To lose such an important listener in life is like losing my shadow. With no shadow, does a person truly exist under the sun? With no listener, does a person really have a voice? Silence means so many things to human beings. Some of them are unbearable. - Author: Reeve Lindbergh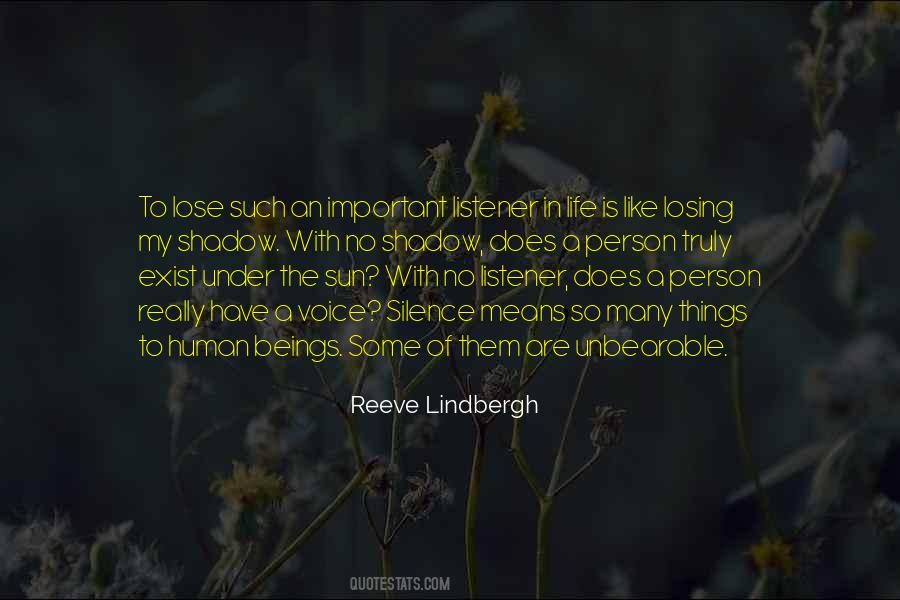 #43. There's a weighing kind of overemphasis on sexuality, which disempowers music generally, because it silences all the other voices; it makes music a very powerless force for changing the world. - Author: Sinead O'Connor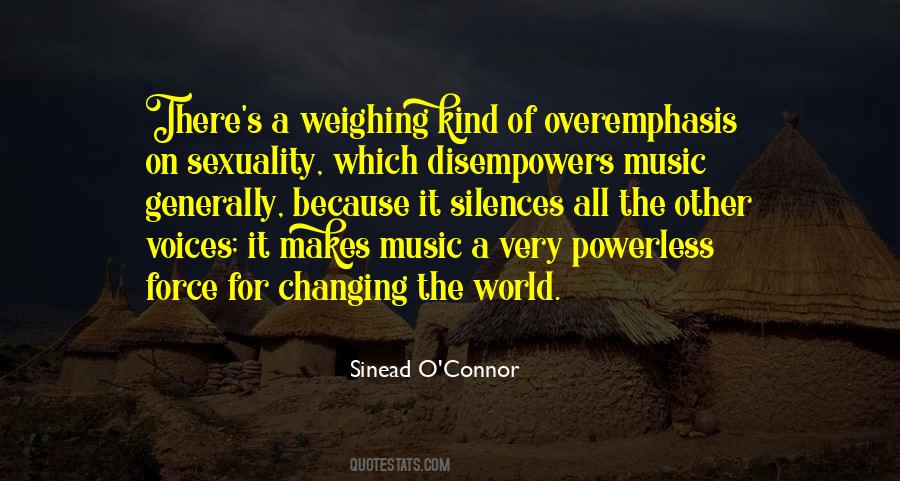 #44. To be wild is not to be crazy or psychotic. True wildness is a love of nature, a delight in silence, a voice free to say spontaneous things, and an exuberant curiosity in the face of the unknown. - Author: Robert Bly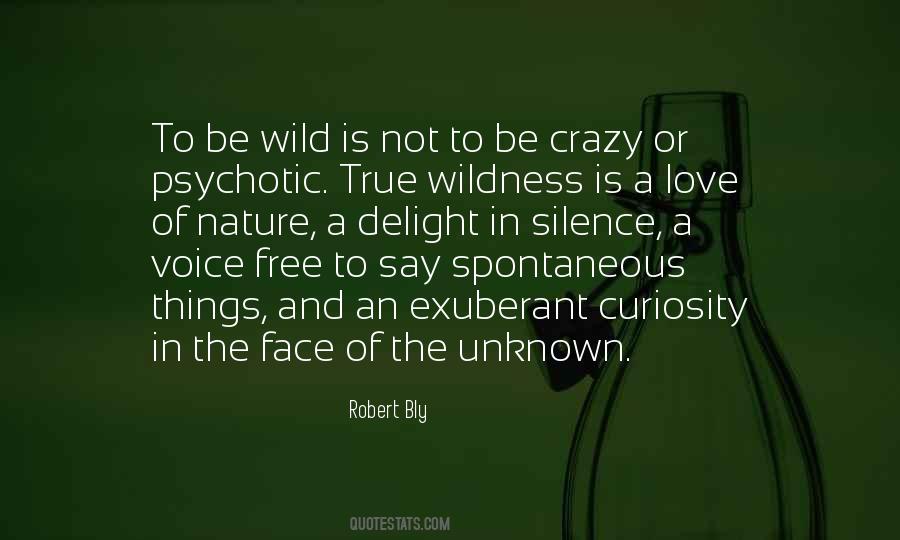 #45. When we spend time in silence, we can hear the voice of our soul whispering its sacred message and encouraging us to make choices that bring us more happiness, health, love, meaning, and peace. - Author: David Simon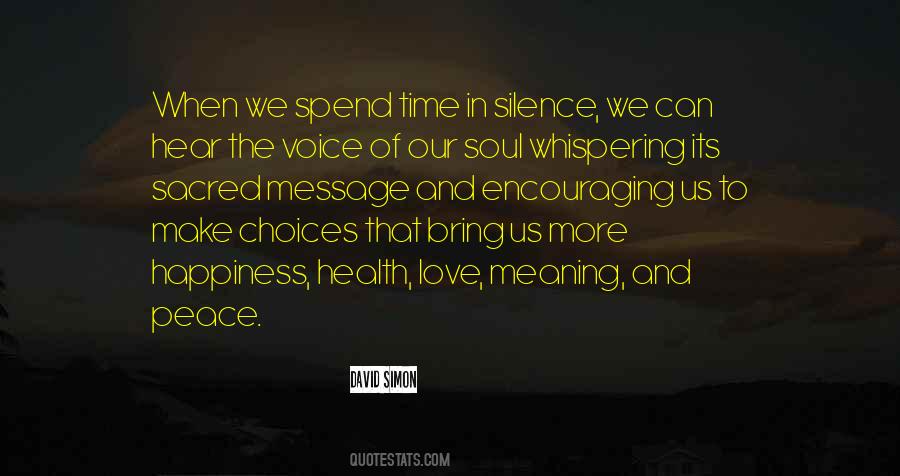 #46. I want to be able to say what's on my mind and in my heart and what I think is helpful and useful without somebody getting angry, some special interest group deciding this is the time to silence a voice of dissent and attack affiliates, attack sponsors. I'm sort of done with that. - Author: Laura Schlessinger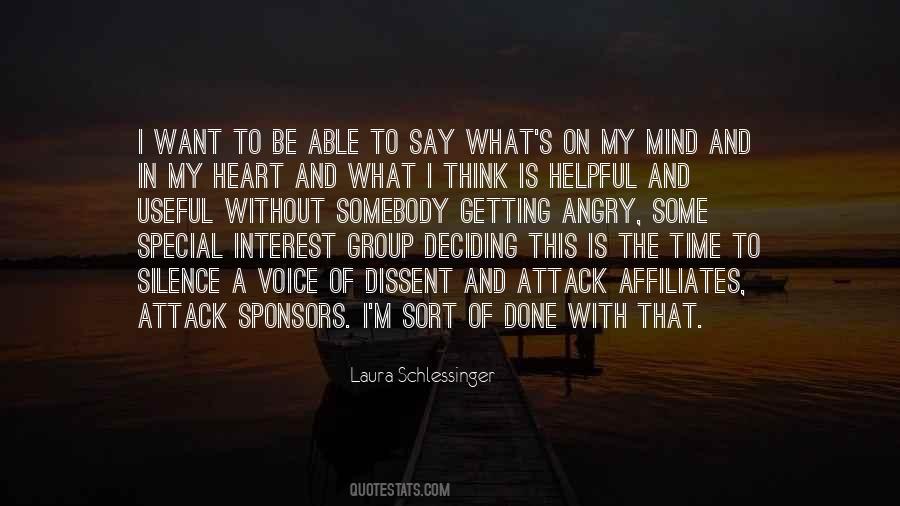 #47. Another moment or two of suffocated silence, and Hunt swallowed hard before speaking in a rusty-sounding voice. I probably shouldn't ask. But what the hell are you doing? - Author: Lisa Kleypas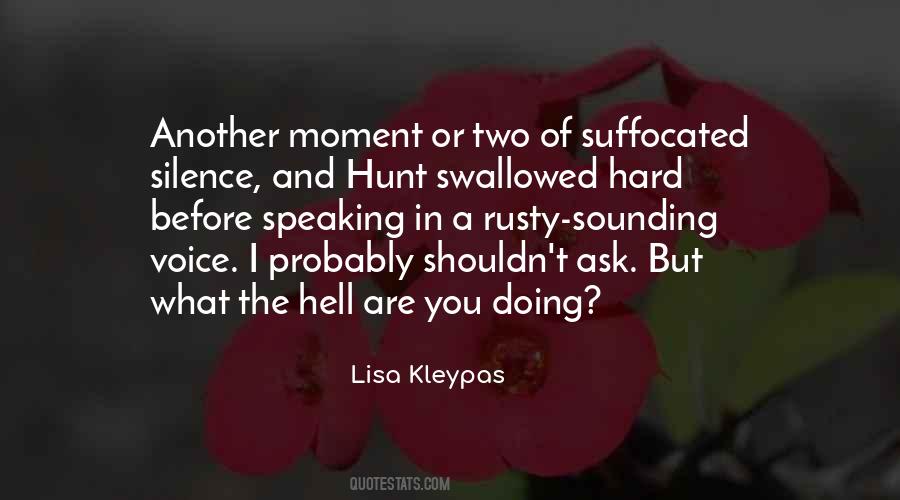 #48. A tissue of small sounds filled the room, a bird, a clock, a voice from another garden. What we call silence. - Author: Patrick McGrath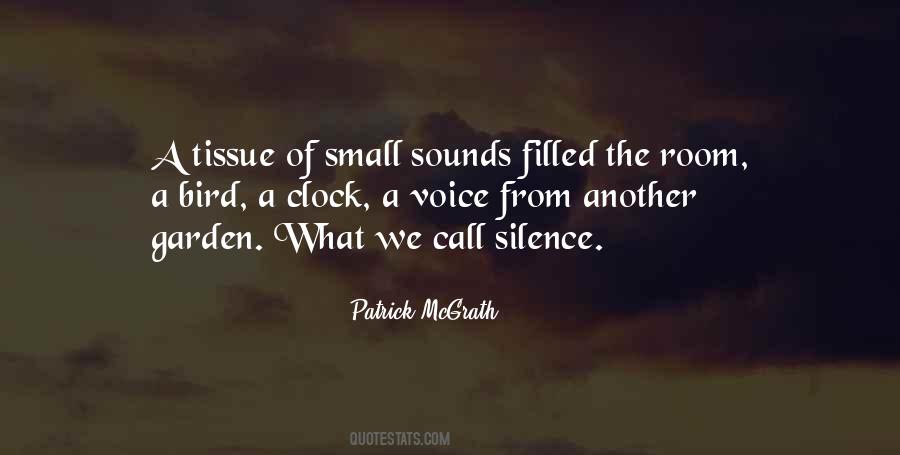 #49. The real "work" of prayer is to become silent and listen to the voice that says good things about me.
To gently push aside and silence the many voices that question my goodness and to trust that I will hear the voice of blessing
that demands real effort. - Author: Henri J.M. Nouwen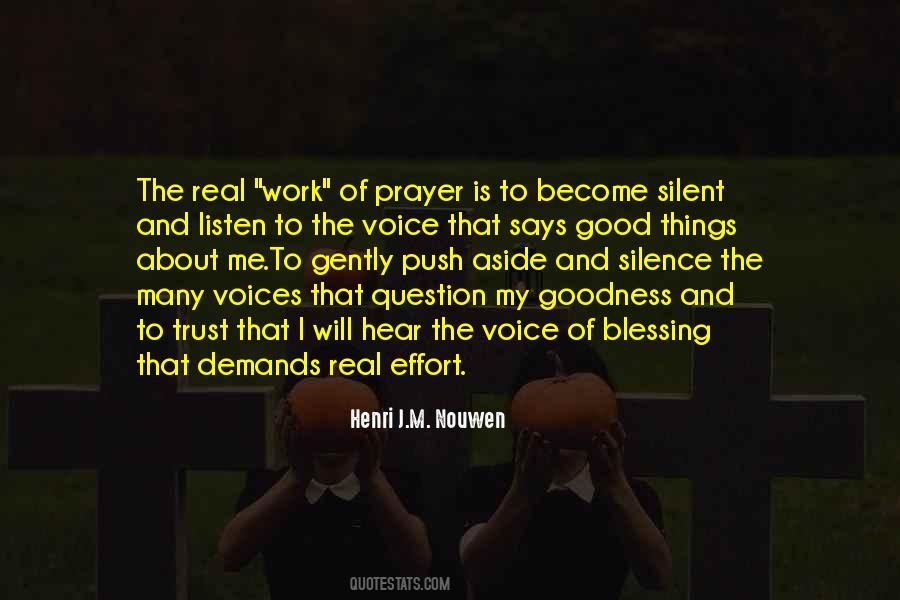 #50. I found I had less and less to say, until finally, I became silent, and began to listen. I discovered in the silence, the voice of God - Author: Soren Kierkegaard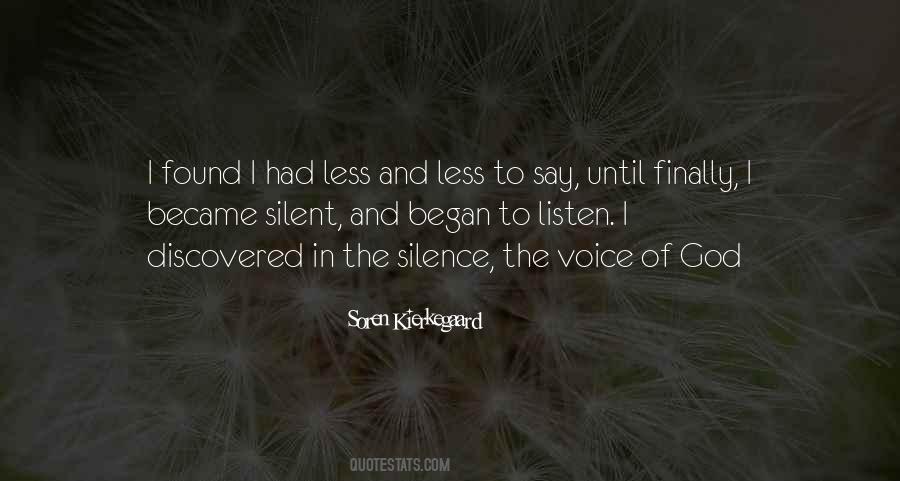 #51. To hold silence and to be silenced are two very different experiences. And so another theme emerges, that of light and shadow. When we share our voice, who benefits? When we withhold, who benefits? And what are the consequences and costs of both? - Author: Terry Tempest Williams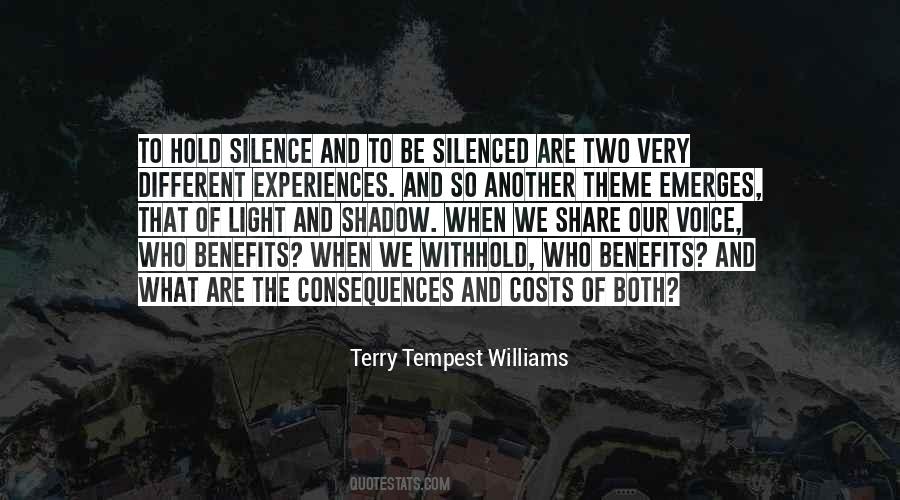 #52. I have a need of silence and of stars.
Too much is said too loudly. I am dazed.
The silken sound of whirled infinity
Is lost in voices shouting to be heard ... - Author: William Alexander Percy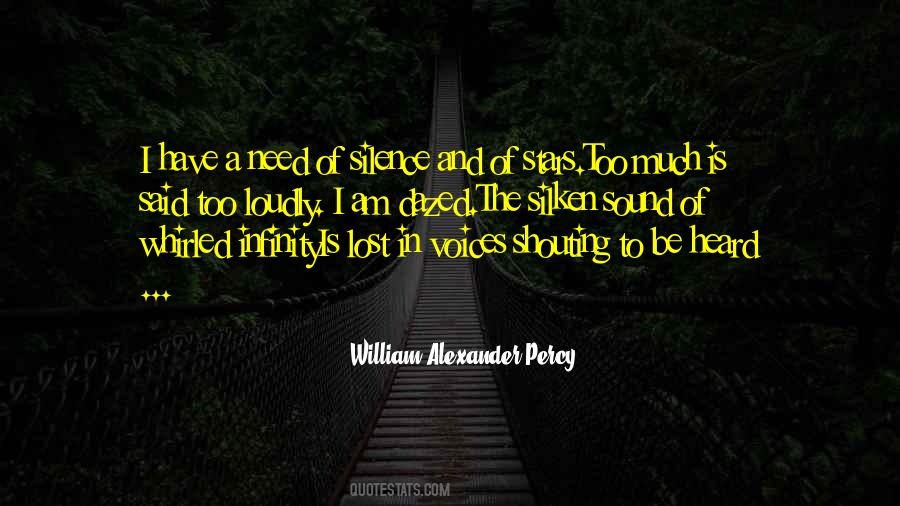 #53. Worldly faces never look so worldly as at a funeral. They have the same effect of grating incongruity as the sound of a coarse voice breaking the solemn silence of night. - Author: George Eliot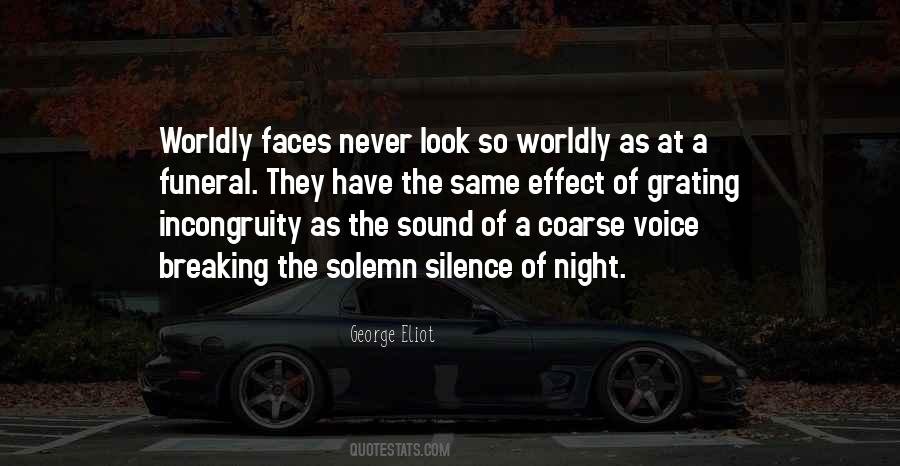 #54. And at night, when it breathes delicately from silence - I love listening to your voice. It is like a heavenly graceful singing of thousands of stars. - Author: Kristian Goldmund Aumann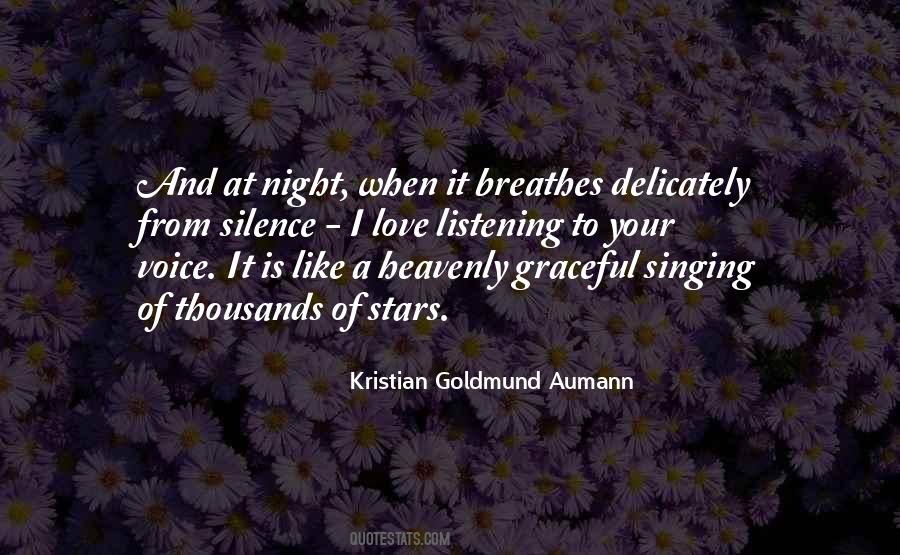 #55. The soul might be silent but the servant of the soul has always got a voice and it has got one for a reason. - Author: Cormac McCarthy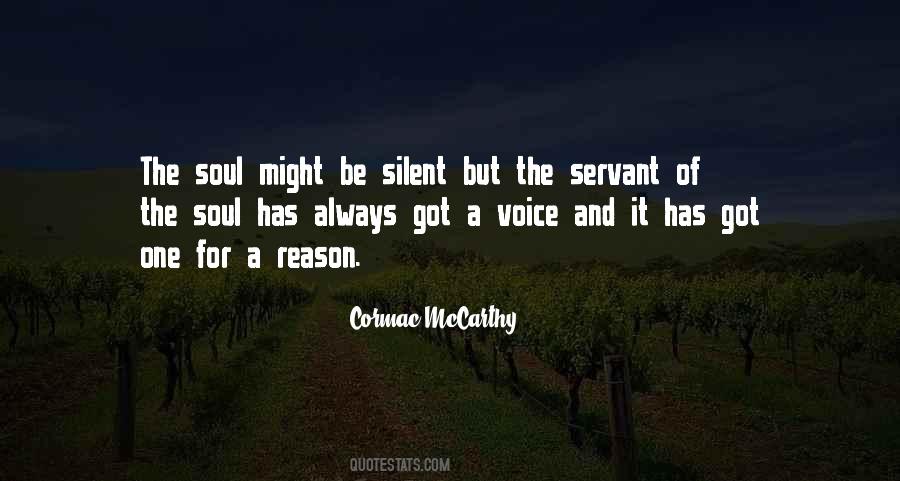 #56. Only after all the noise has spent itself do we begin to hear in the silence of our heart, the still, small, mighty voice of God. - Author: Aiden Wilson Tozer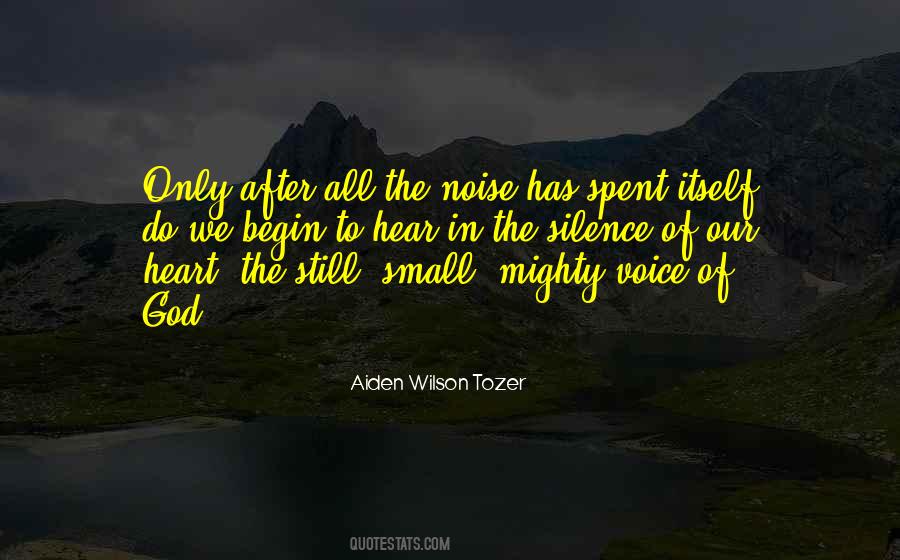 #57. Ships that pass in the night, and speak each other in passing, only a signal shown, and a distant voice in the darkness; So on the ocean of life, we pass and speak one another, only a look and a voice, then darkness again and a silence. - Author: Henry Wadsworth Longfellow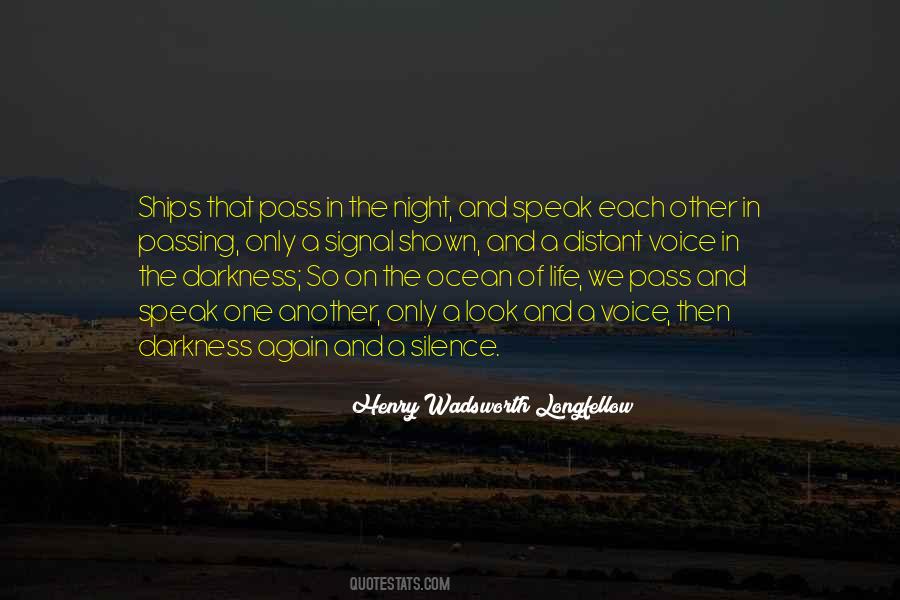 #58. Reading was what I needed to beat back all that noise and silence, those horrible silences. . . .An ink pen was the only way to carve a voice out of the air and have others hear it. - Author: Reginald Dwayne Betts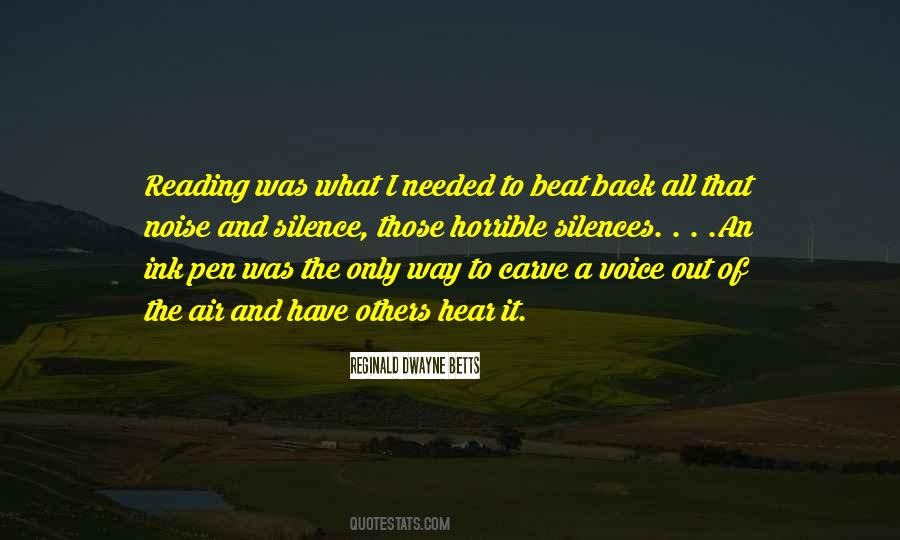 #59. Violence is one way to silence people, to deny their voice and their credibility, to assert your right to control over their right to exist. About three women a day are murdered by spouses or ex-spouses in this country. It's one of the main causes of death for pregnant women in the United States. At - Author: Rebecca Solnit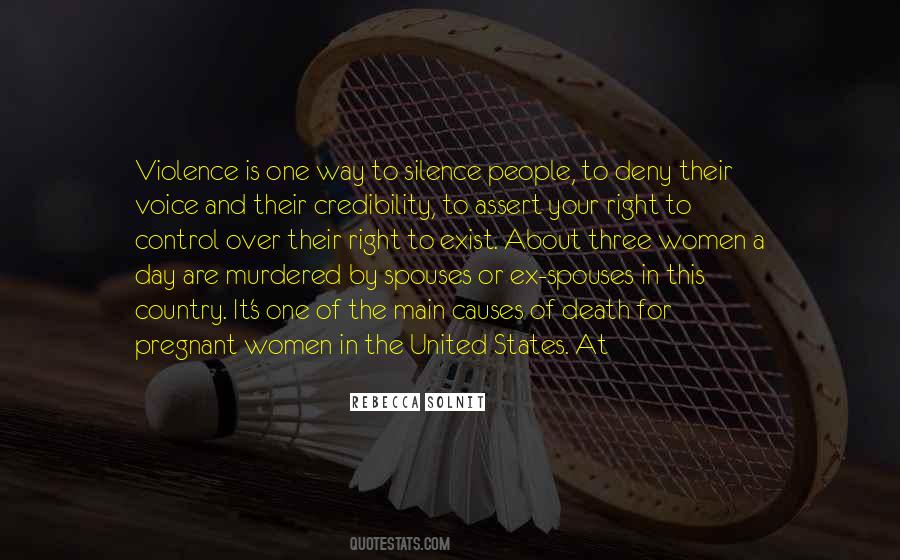 #60. The wild women in his lap,' my father enthused, 'laying their breasts on his head.'
There was a moment of stunned silence. Then my mother spoke slowly, with an edge to her voice. 'I think you mean "wild beasts laying their heads in his lap".'
'Do I? - Author: Patrick Rothfuss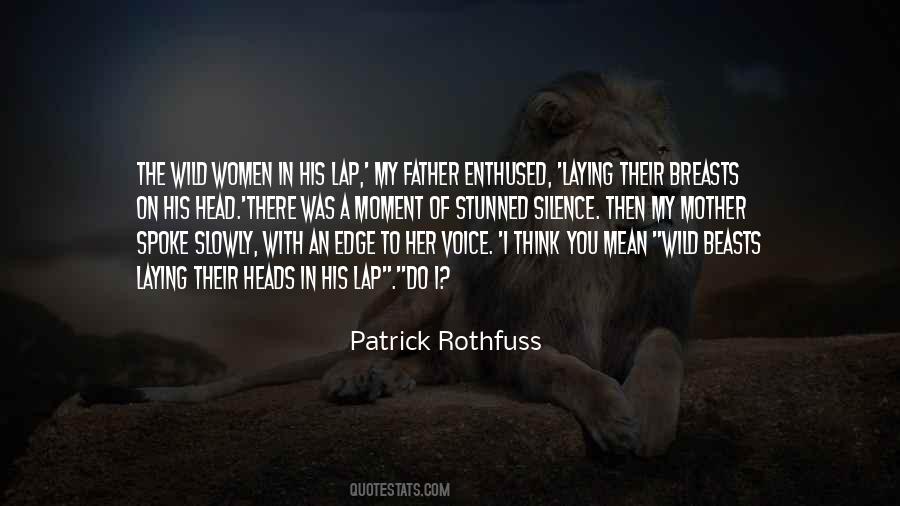 #61. Listen in silence because if your heart is full of other things you cannot hear the voice of God - Author: Mother Teresa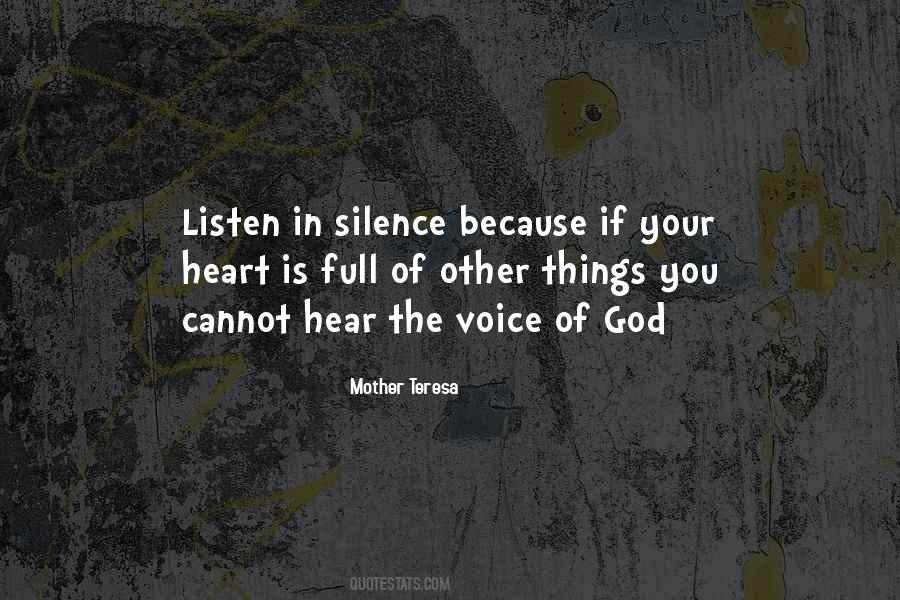 #62. To often we speak just to hear the sound of our own voice, when we should speak only when the words are sweeter than silence. - Author: Steven Aitchison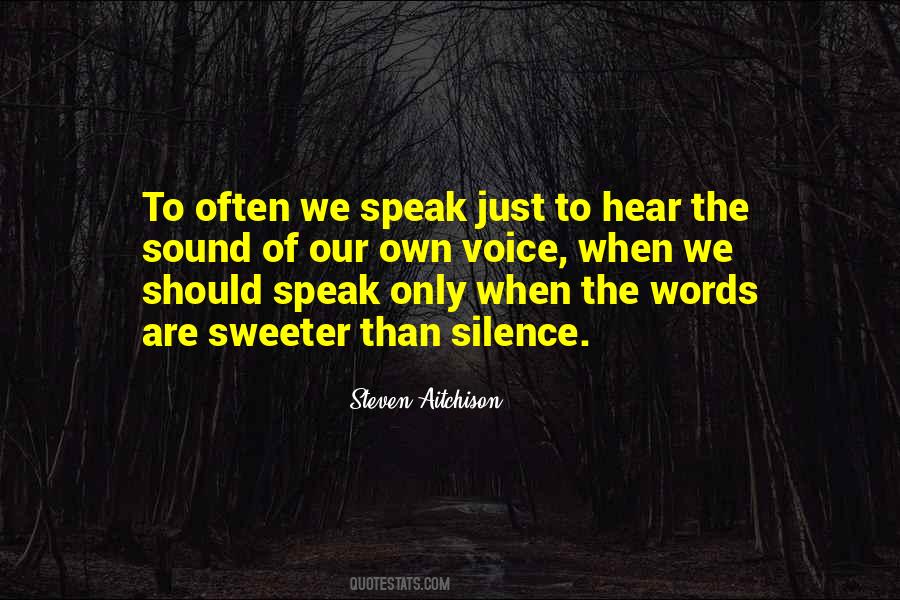 #63. Fortune favors the brave."
Another moment of silence. And then, Iolanthe found herself shouting at the top of her lungs, her voice nearly drowned by the bellow of all the rebels present, "And the brave make their own fortune! - Author: Sherry Thomas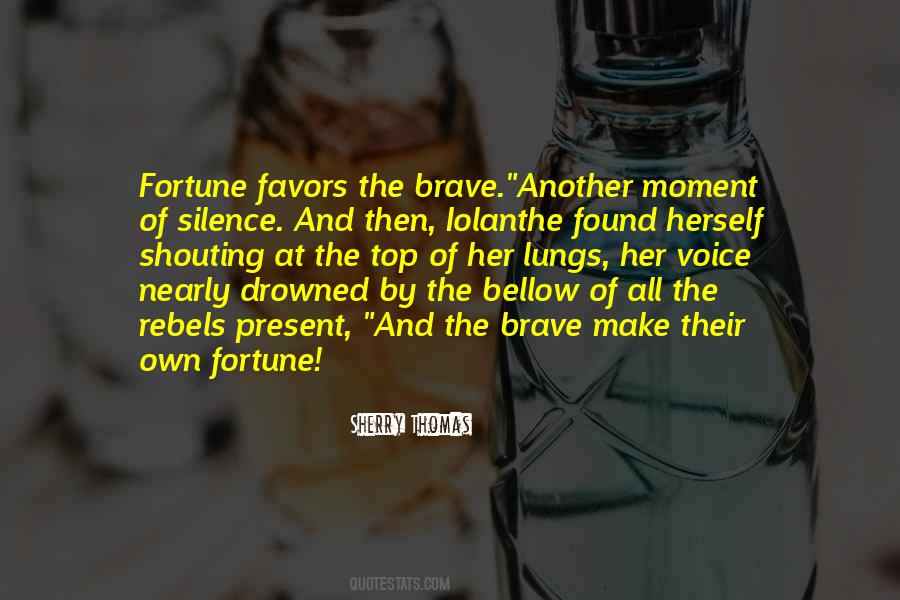 #64. I open the door to my cottage these evenings on a silence so thick it falls upon me like a blanket. Of all the lonely moments of my day, this is the loneliest. I confess I have sometimes been reduced to muttering my thoughts aloud like a madwoman when the need for a human voice becomes too strong. - Author: Geraldine Brooks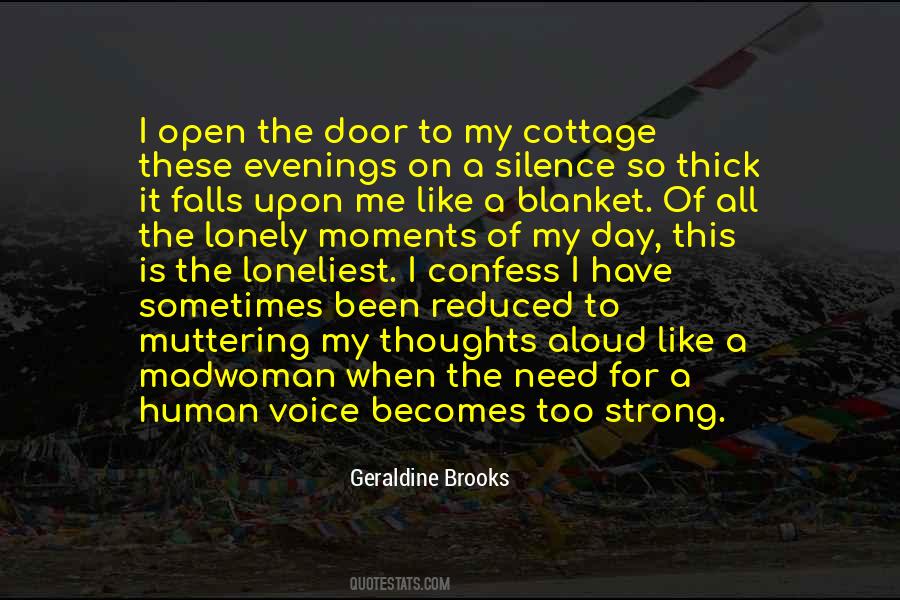 #65. The language of the universe comes not from the voice but from the primordial silence. You can understand it by enhancing your feelings. - Author: Debasish Mridha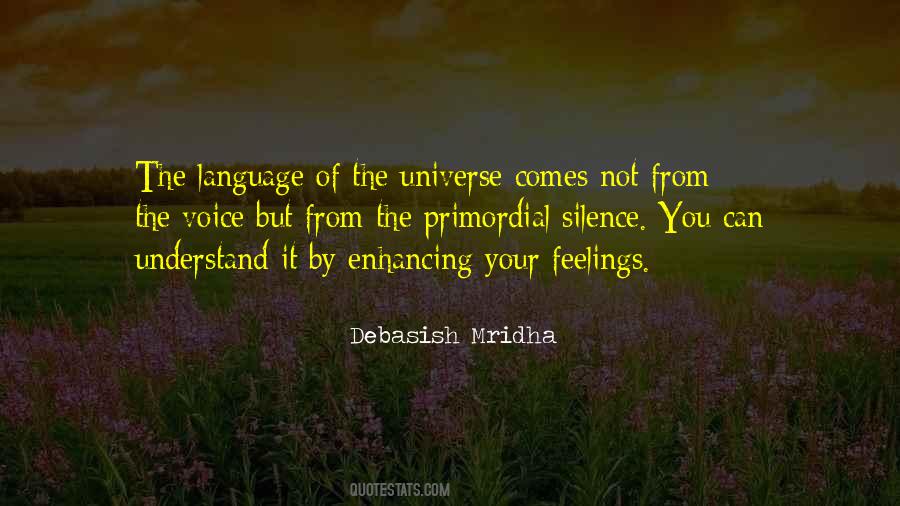 #66. Hello Rush," she said, breaking the silence. The sound of her voice almost sent me to my knees. God, I'd missed her voice.
"Blaire," I managed to say, terrified that I'd scare her away just by speaking. - Author: Abbi Glines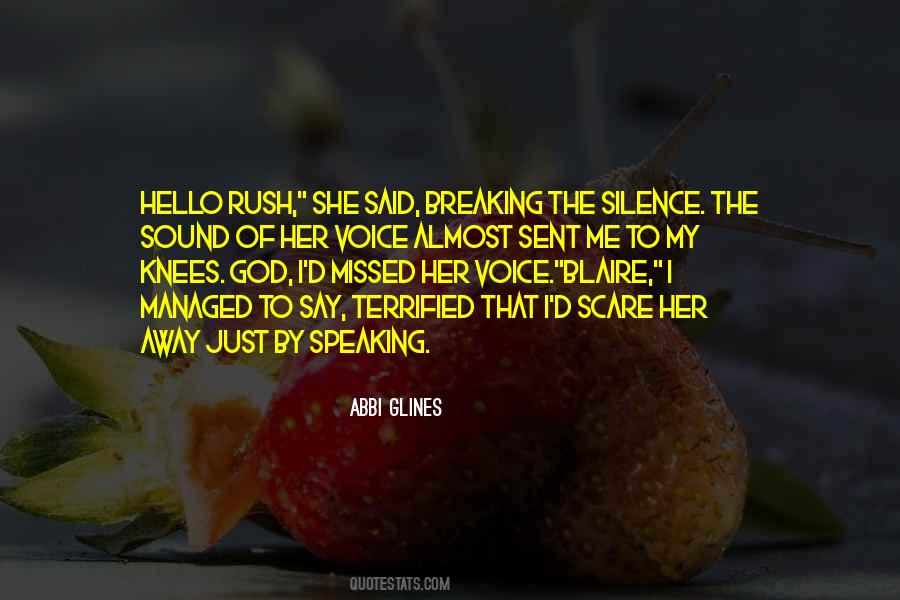 #67. I miss the sound of your voice
And I miss the rush of your skin
And I miss the still of the silence
As you breathe out and I breathe in - Author: Matt Nathanson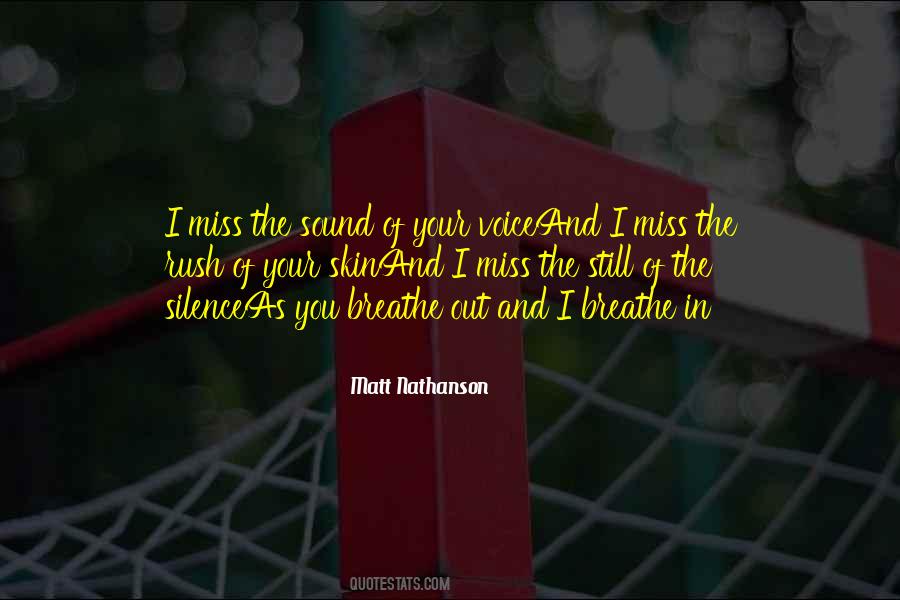 #68. And it is silence that she hears, the silence of lost years that have no voice left in them. - Author: Rose Tremain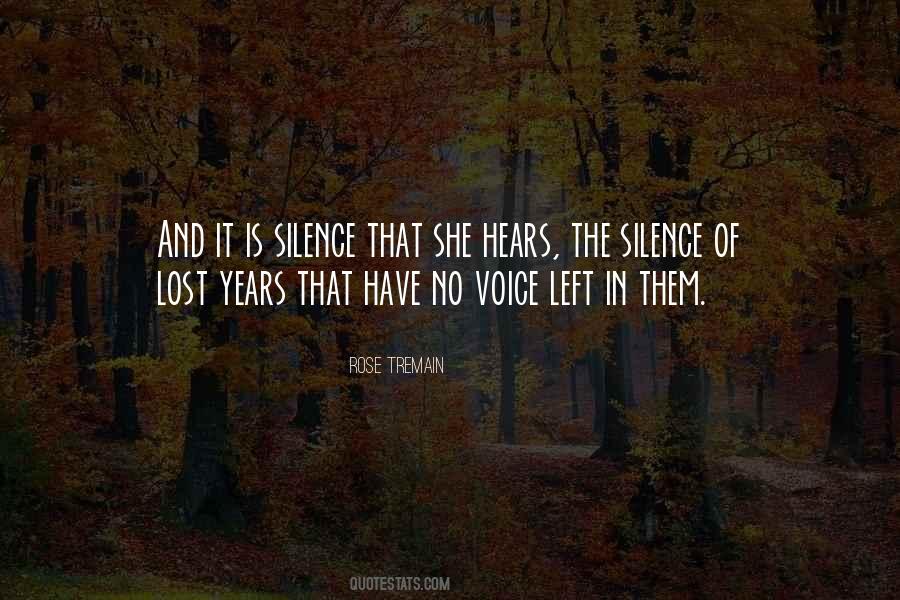 #69. Our daily life is filled with electronic pianos, ring tones, the disembodied voice giving you your bank balance over the telephone. Even silence can be electronic, courtesy of sound-canceling headphones. - Author: Serge Schmemann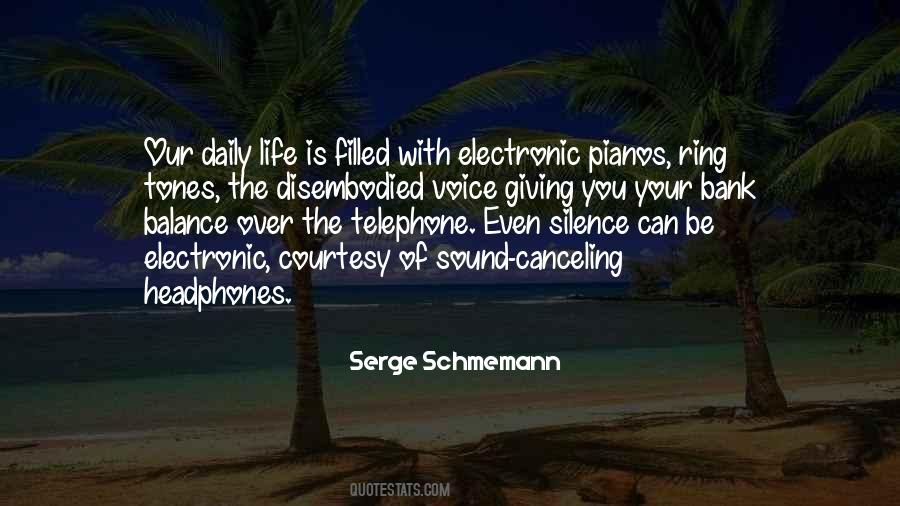 #70. The room rang with her voice, then with silence. In the shaded darkness, silence had the quality of a looming dragon. It seemed to roar and the roar to reverberate, to dominate. To escape from it would require a burst of recklessness, even cruelty. - Author: Anita Desai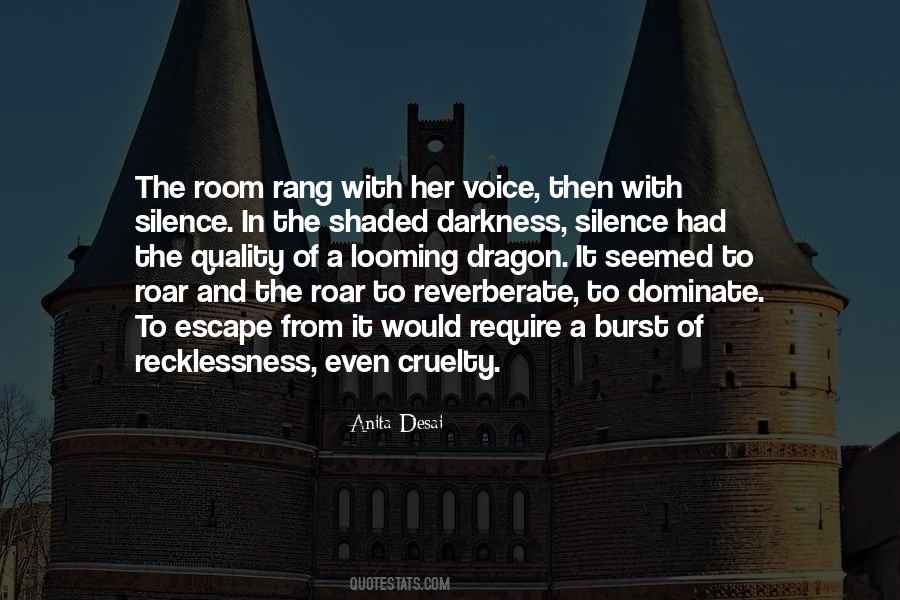 #71. I'll talk to her." Mirren's deep, rumbling voice sliced through the room like a cutter ship, leaving silence in its wake. "The rest of you, get the hell out. - Author: Susannah Sandlin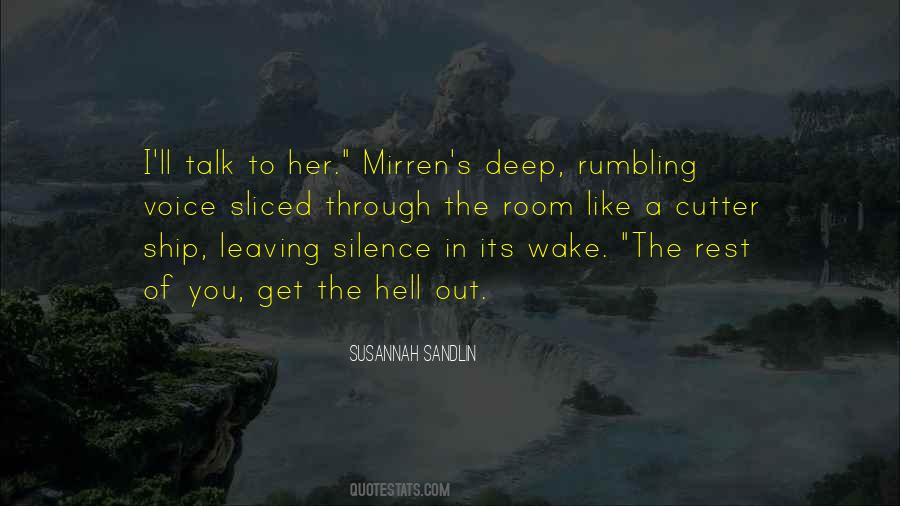 #72. First and foremost, the monk should own nothing in this world, but he should have as his possessions solitude of the body, modesty of bearing, a modulated tone of voice, and a well-ordered manner of speech. He should be without anxiety as to his food and drink, and should eat in silence. - Author: Saint Basil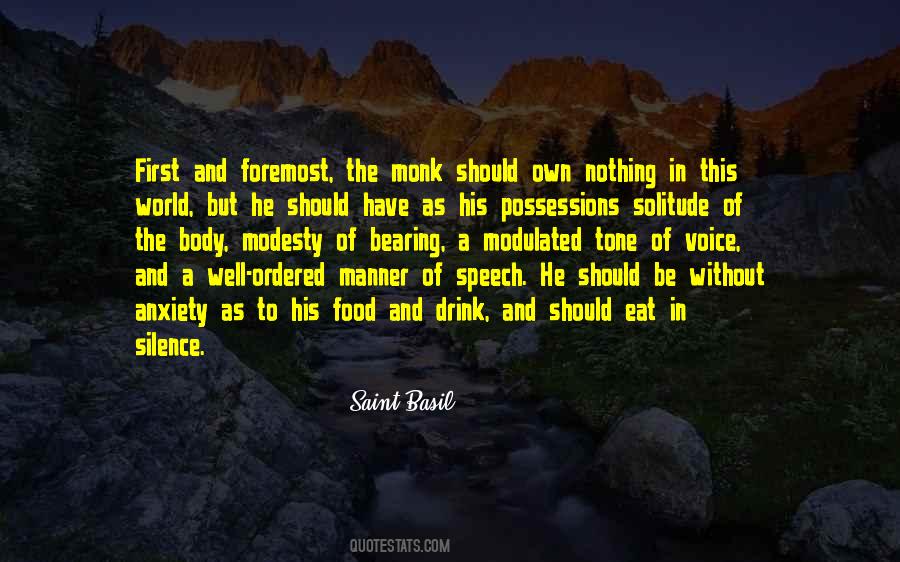 #73. I believe that God is in me as the sun is in the colour and fragrance of a flower - the Light in my darkness, the Voice in my silence. - Author: Helen Keller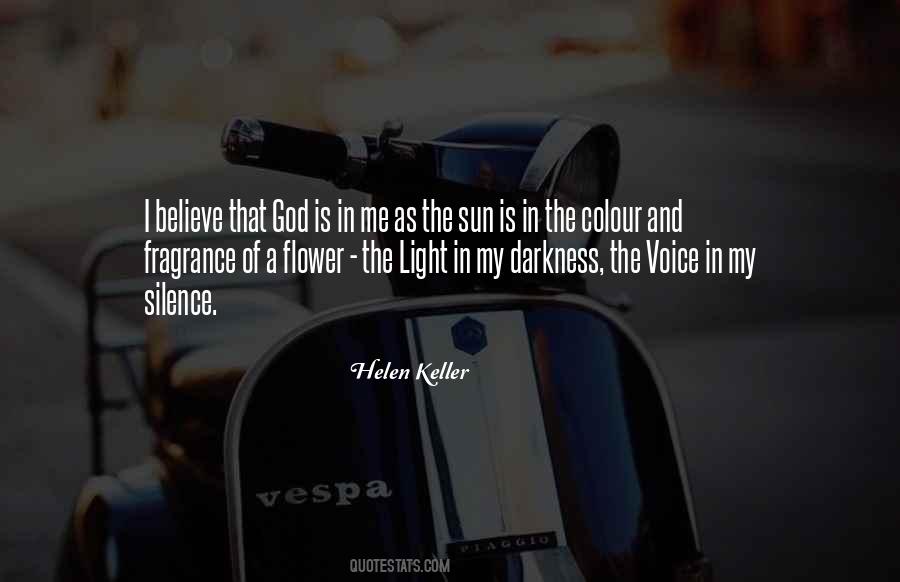 #74. In silence and in meditation on the eternal truths, I hear the voice of God which excites our hearts to greater love. - Author: C.S. Lewis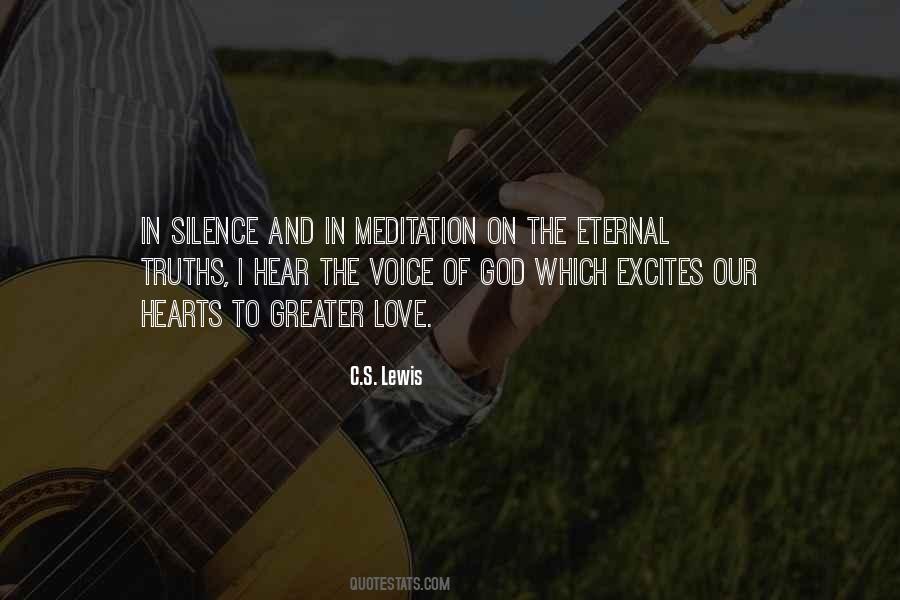 #75. The voice of the Almighty speaks most profoundly in such things as lives in silence themselves. - Author: Cormac McCarthy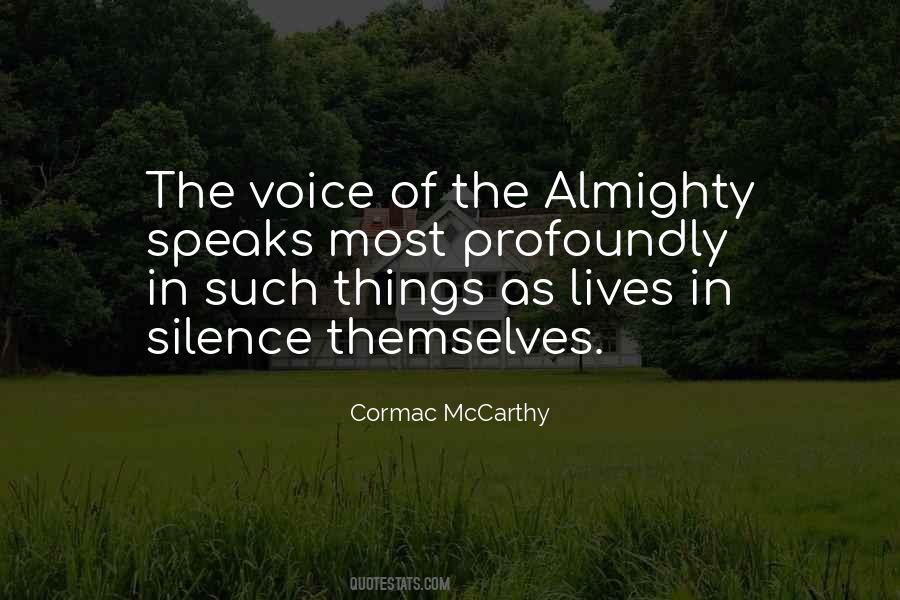 #76. The voice of humility is God's music, and the silence of humility is God's rhetoric. - Author: Francis Quarles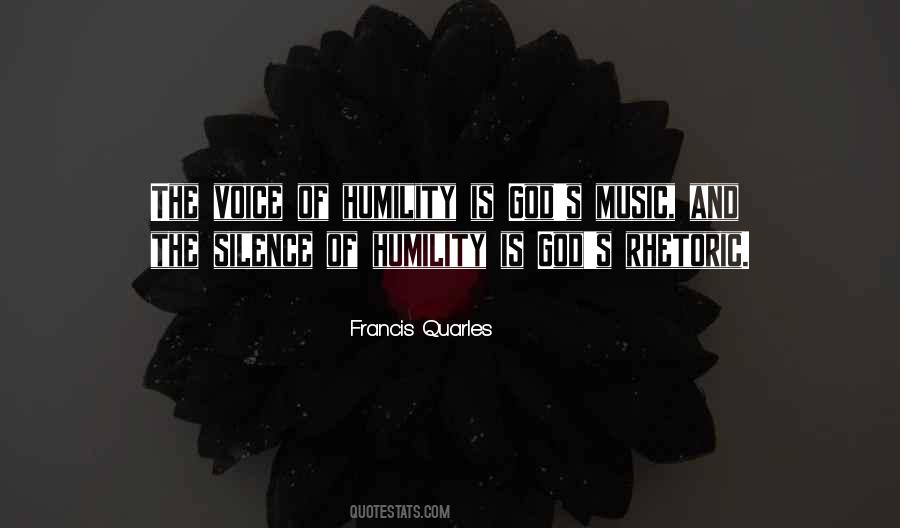 #77. A man seeking publicity works with the noise of voice; A man working for humanity seeks the silence of rejoice in life. - Author: Anuj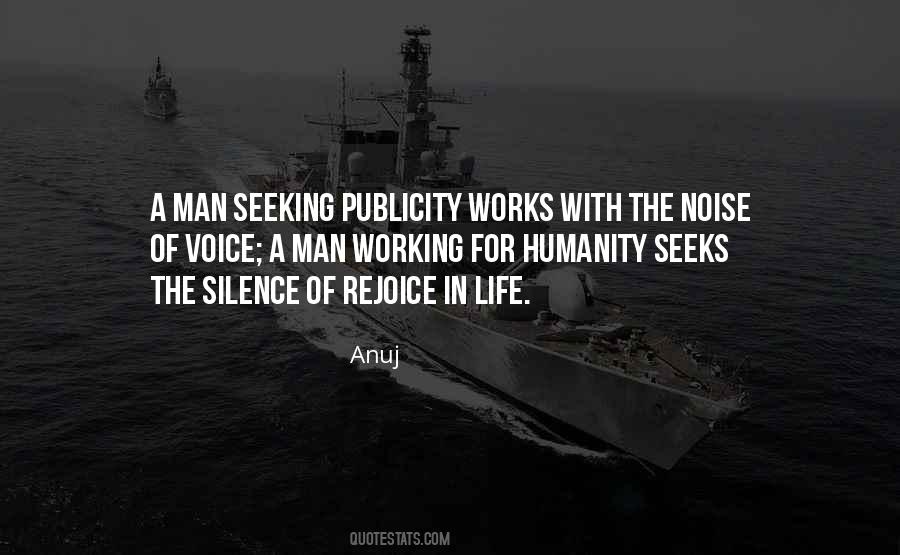 #78. Keeping her silence and stifling her hunger to know this complex, talented man both in and out of bed, she fell asleep to the rhythm of his voice, only to wake to the unadulterated demand of his kiss. - Author: Nalini Singh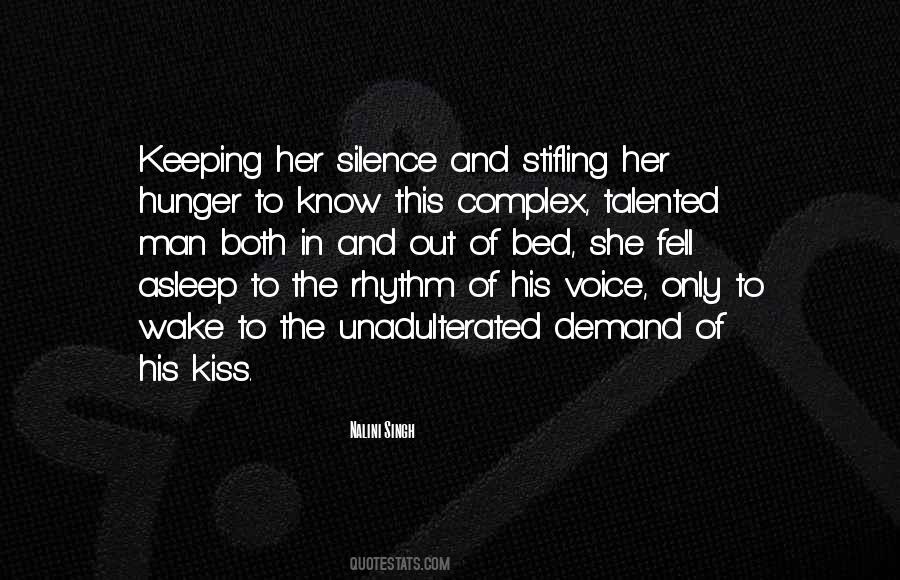 #79. Three hundred years of humiliation, abuse and deprivation cannot be expected to find voice in a whisper. - Author: Martin Luther King Jr.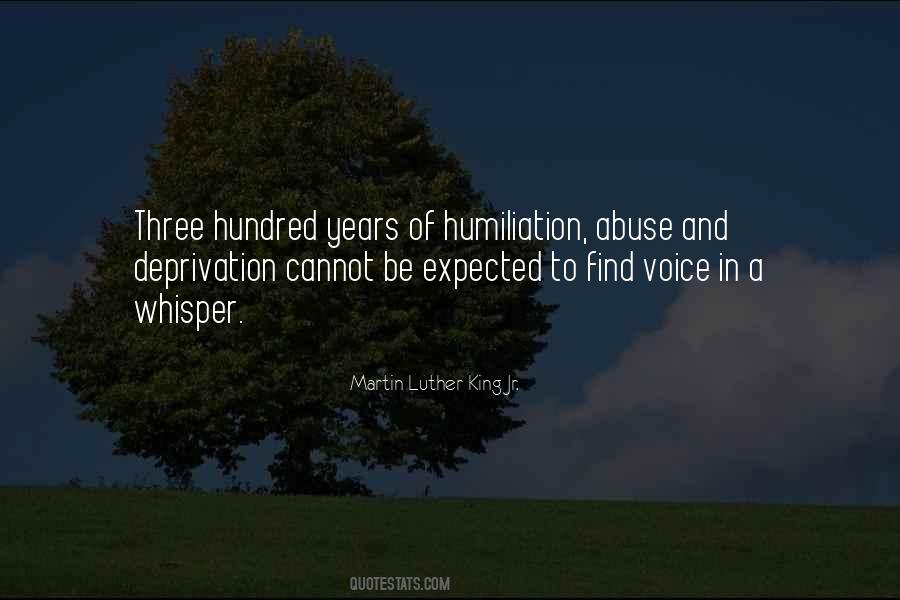 #80. People often ask me questions that I cannot very well answer in words, and it makes me sad to think they are unable to hear the voice of my silence. - Author: Hazrat Inayat Khan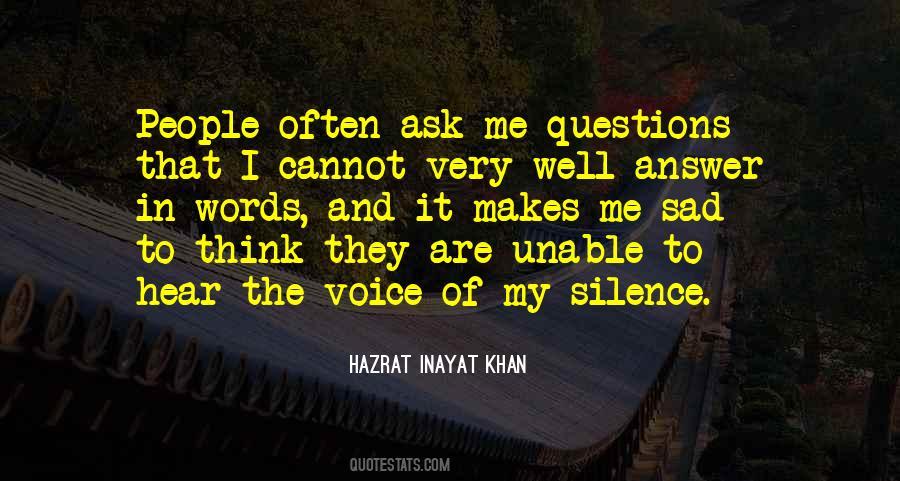 #81. I read the graffiti written on the walls of my brain. Then I use my writing to give it voice so it won't simply be "whispered in the sounds of silence." (Apologies to Paul Simon) - Author: Dick Peterson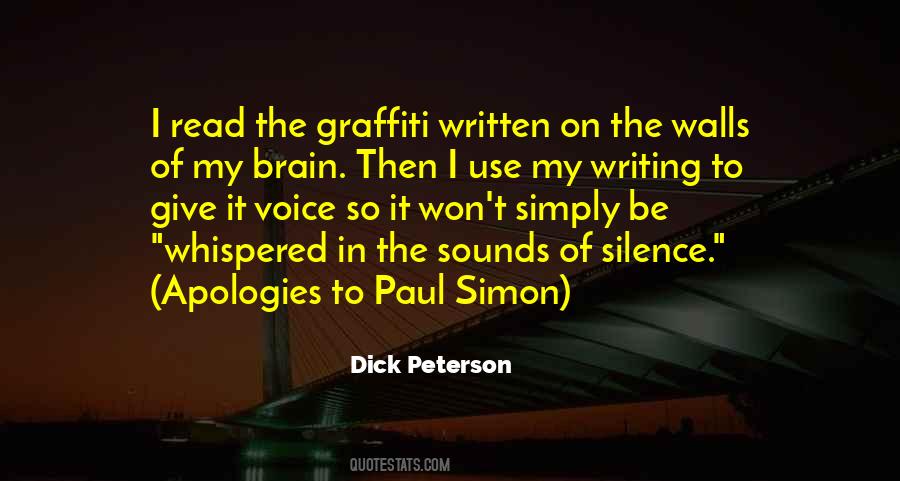 #82. I want to release my soul from its prison cell, to silence the guards who tell me that I am not capable of living. Every voice that ever told me that I cannot achieve has, at this moment, become silenced. This cell is no longer my home. - Author: Leigh Hershkovich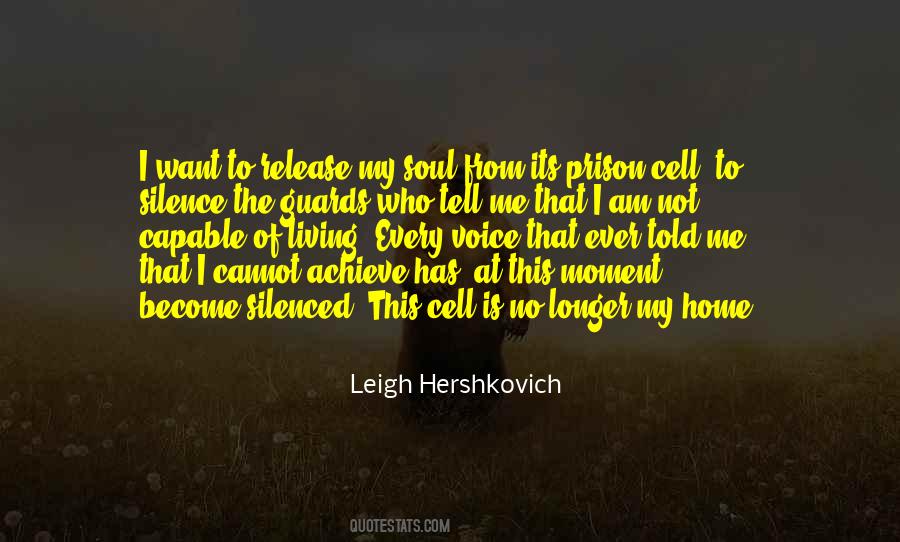 #83. The voice that arises out of the silence is something no one can imagine until it is heard. It roars when it speaks, it lies to you and convinces you, it steals from you and leaves you without a single word of comfort. - Author: Alice Hoffman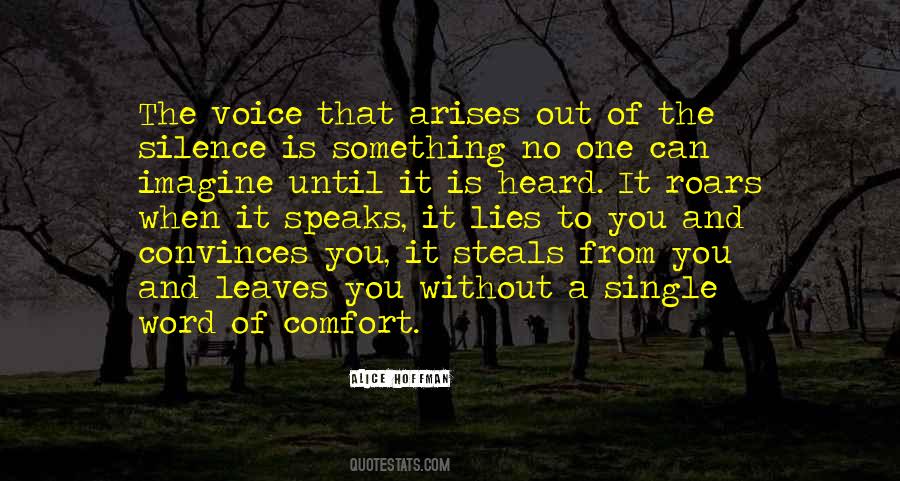 #84. Now, to be properly enjoyed, a walking tour should be gone upon alone ... Freedom is of the essence, because you should be able to stop and go on and follow this way or that as the freak takes you ... There should be no cackle of voices at your elbow to jar on the meditative silence of the morning. - Author: Robert Louis Stevenson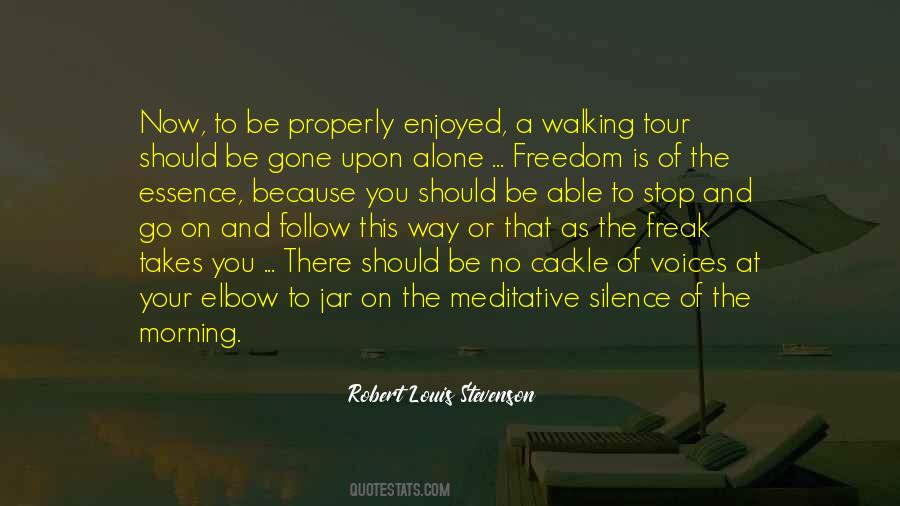 #85. Where the storyteller is loyal, eternally and unswervingly loyal to the story, there, in the end, silence will speak. Where the story has been betrayed, silence is but emptiness. But we, the faithful, when we have spoken our last word, will hear the voice of silence. - Author: Isak Dinesen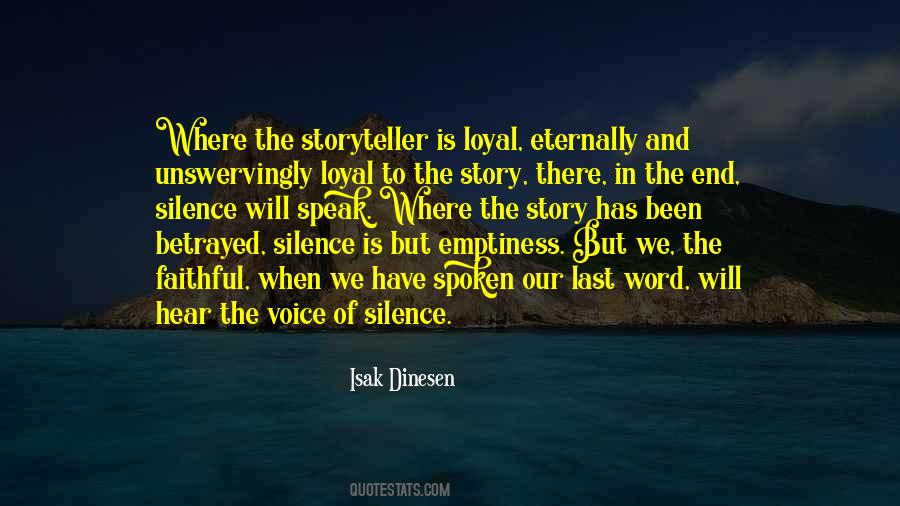 #86. It's always the voice of God they try to silence first. - Author: Andrew Klavan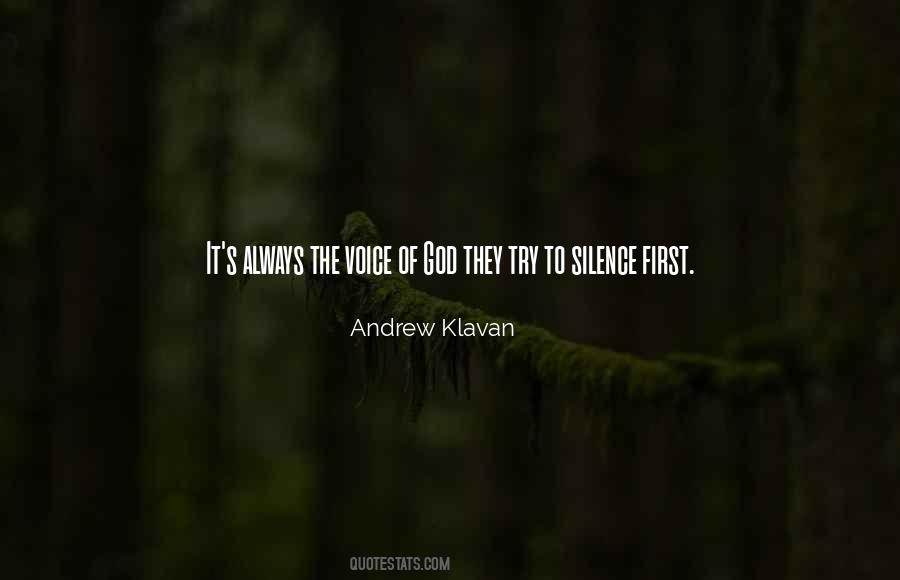 #87. In silence, we hear the voice of intuition's guidance; coming from that place within where it already resides. - Author: Transform Publishing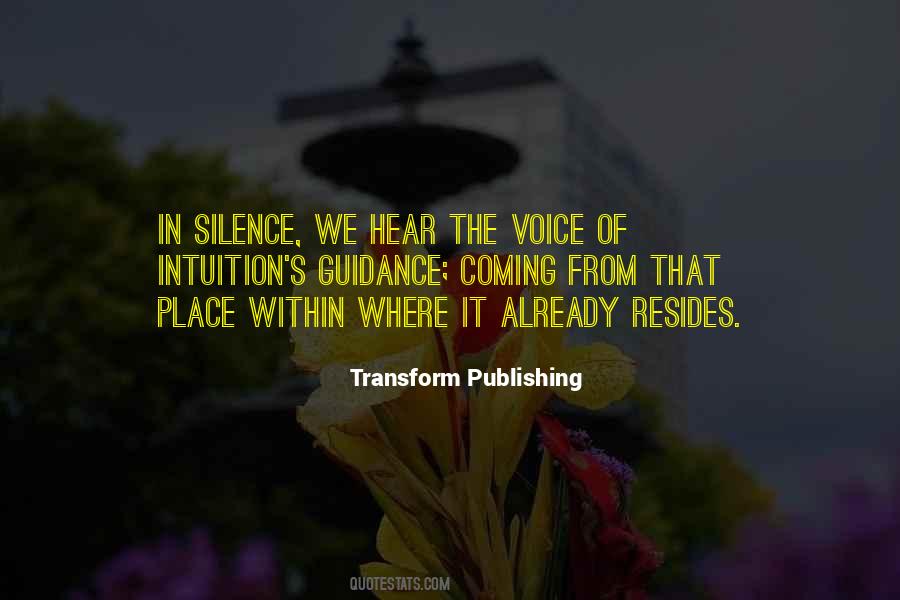 #88. The voice of the Soul can be heard within the silence of the unaffected mind. Listen. - Author: Ka Chinery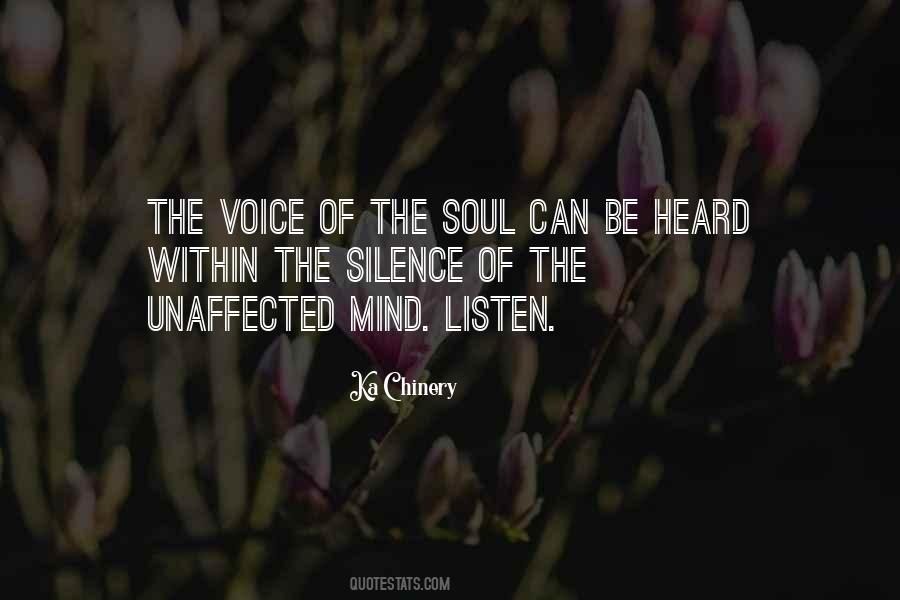 #89. My stroke of insight would be: peace is only a thought away, and all we have to do to access it is silence the voice of our dominating left mind. - Author: Jill Bolte Taylor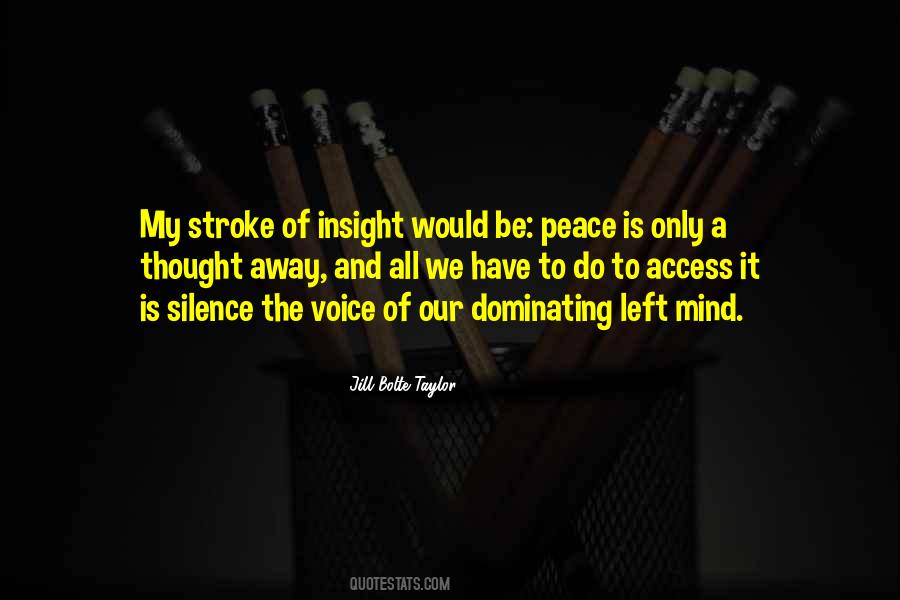 #90. Throughout history, it has been the inaction of those who could have acted; the indifference of those who should have known better; the silence of the voice of justice when it mattered most; that has made it possible for evil to triumph. - Author: Haile Selassie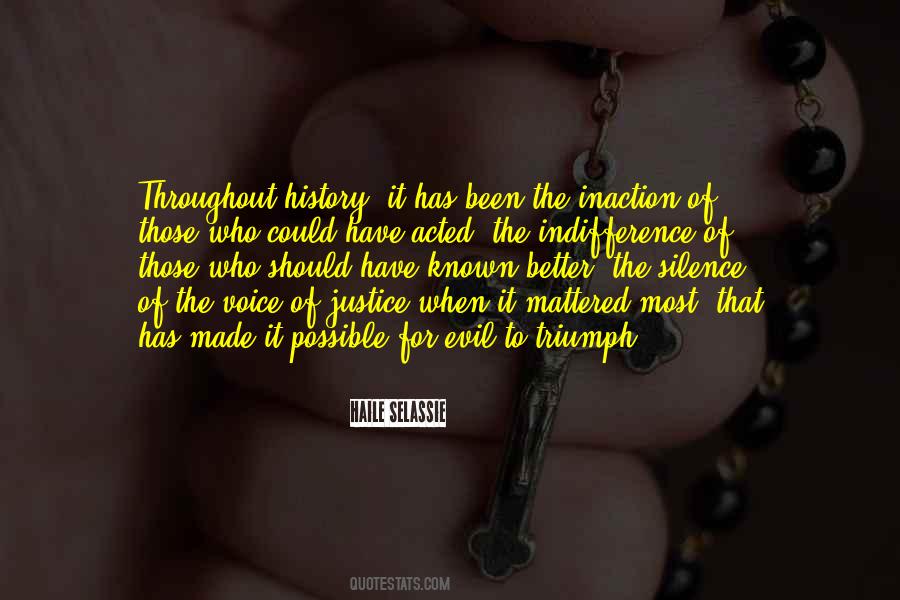 #91. Insects, birds, and small game all chattered, yet for a while, they sat in peace. In an odd way, connection and understanding thrived on the non-words. The forest spoke like God's voice, alive and real, leaving healing and hope in the wake of silence. - Author: Michelle Griep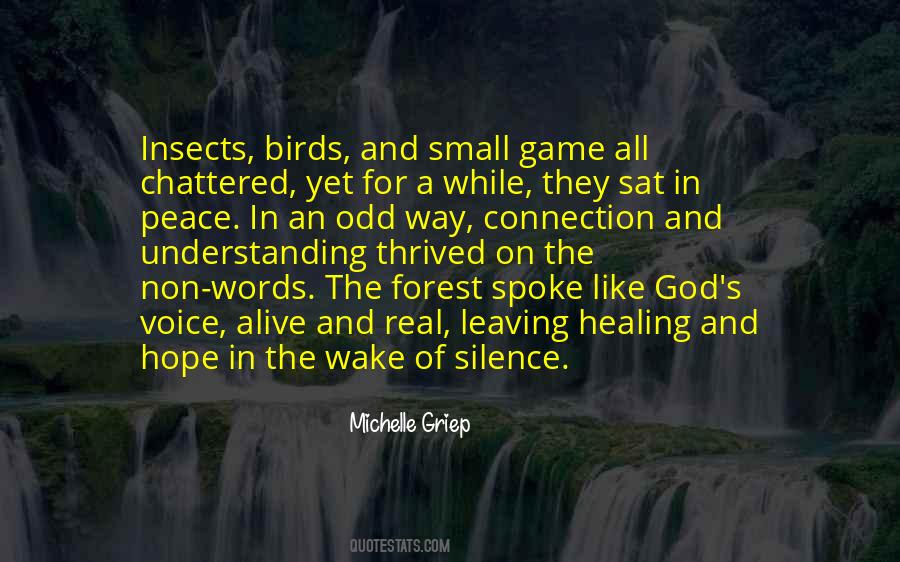 #92. Try to listen silence of your loved one And you will find voice of Heart and Feelings - Author: Mohammed Zaki Ansari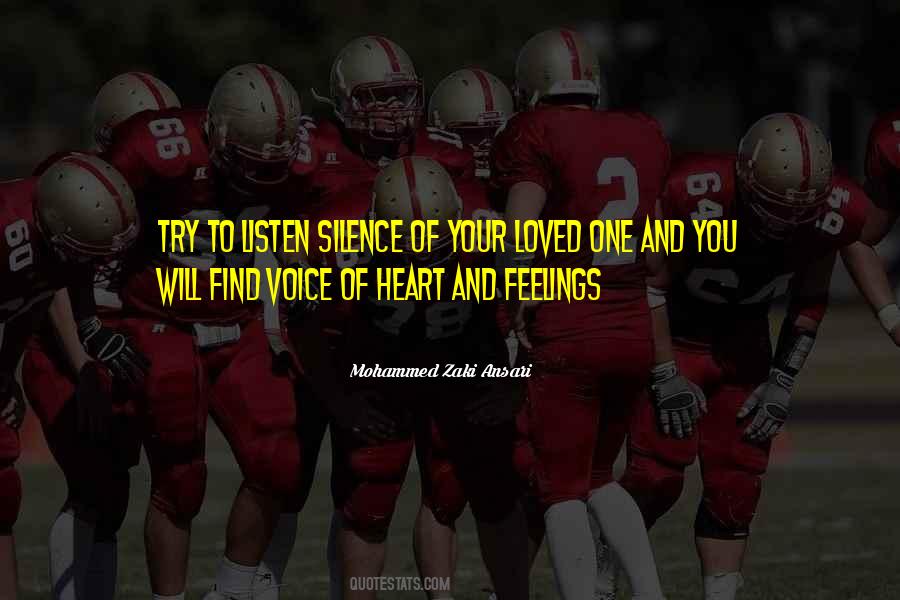 #93. Christmas celebrations are often full of sound. It would be good for us to make room for silence, to hear the voice of Love. - Author: Pope Francis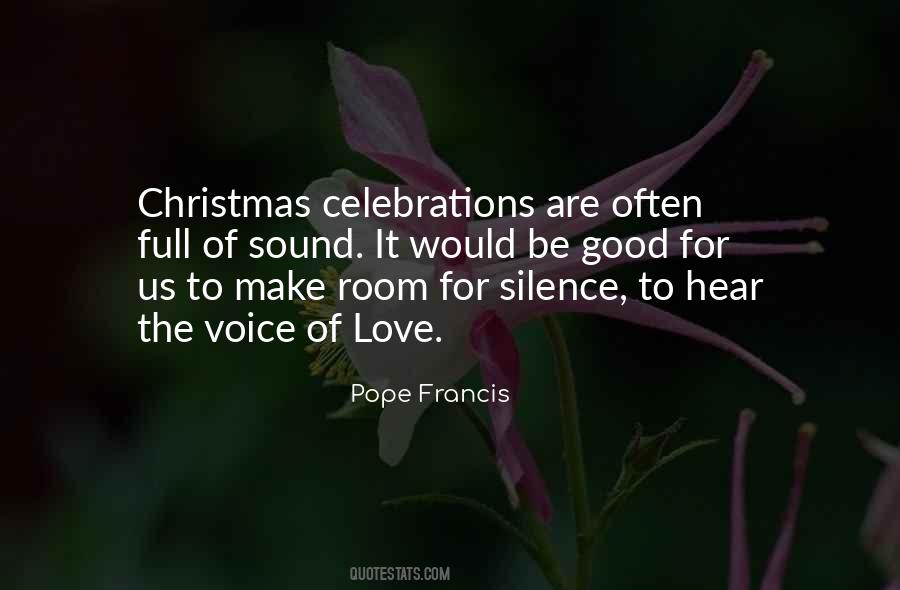 #94. She would rather remain silent, but her voice is no longer something to fear. It's strong. Powerful. A weapon of emotions. - Author: Laura Kreitzer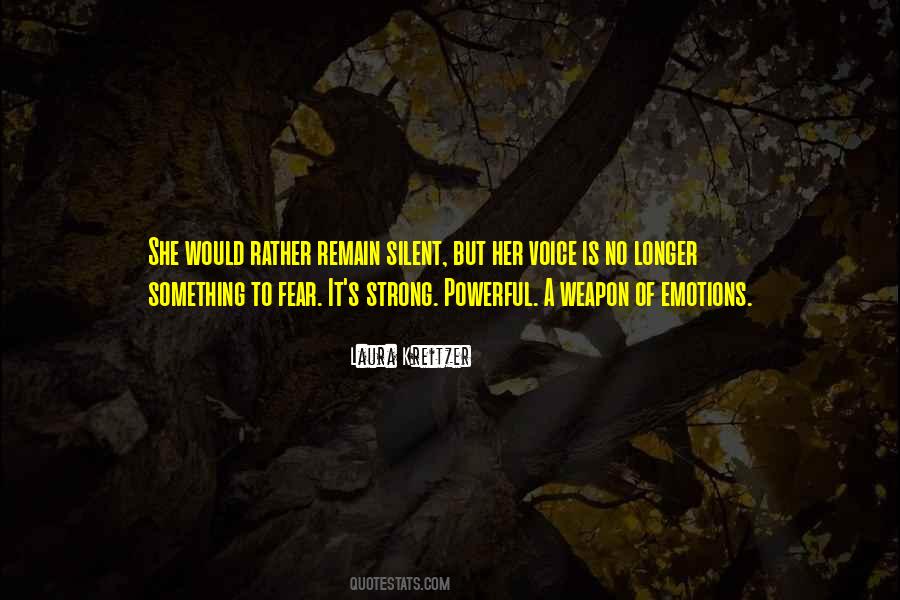 #95. Valentine reminds us that to be fully human is to be both a story teller and a story dweller."
--- Christina Meldrum, author of Madapple and Amaryllis in Blueberry - Author: Tamara Valentine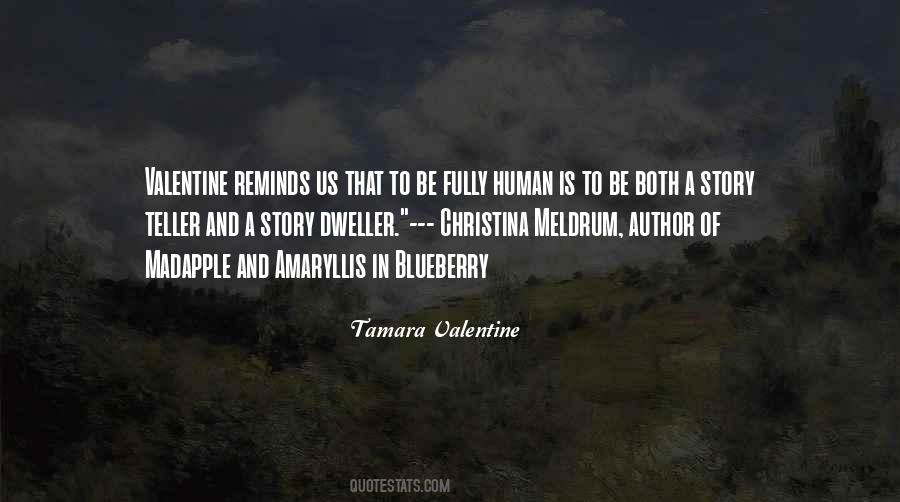 #96. Silence is the voice of the mystery. Silence let us dream again. - Author: John O'Donohue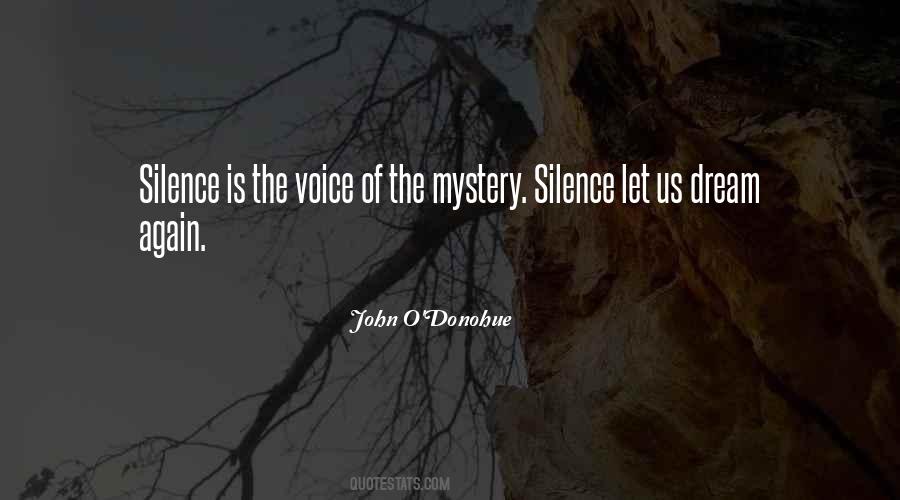 #97. It was only after a long silence, when he said, in a hesitating voice, "I suppose you fellows remember I did once turn fresh-water sailor for a bit," that we knew we were fated, before the ebb began to run, to hear about one of Marlow's inconclusive experiences. - Author: Joseph Conrad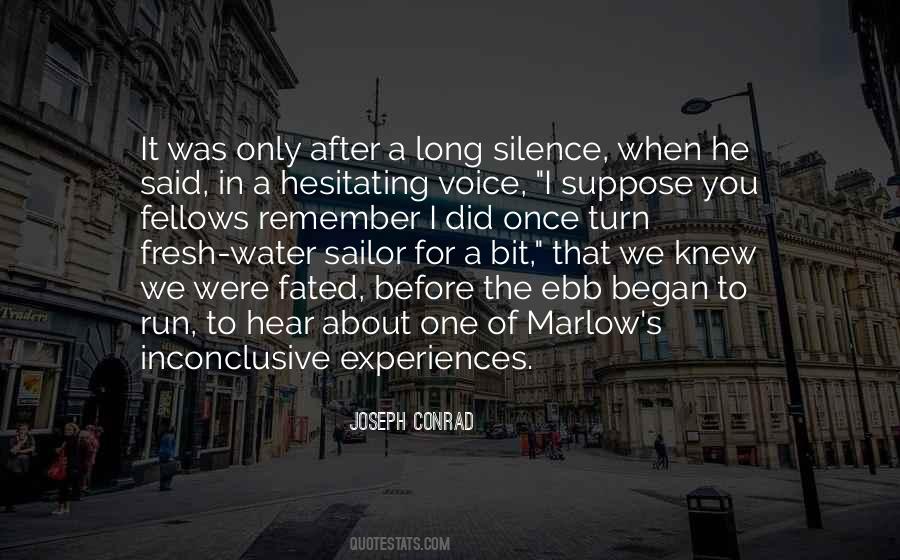 #98. The voice of silence speaks clearly in those moments, and you can ask it to speak anytime you want. In time it will become the voice you trust more than anything else. - Author: Deepak Chopra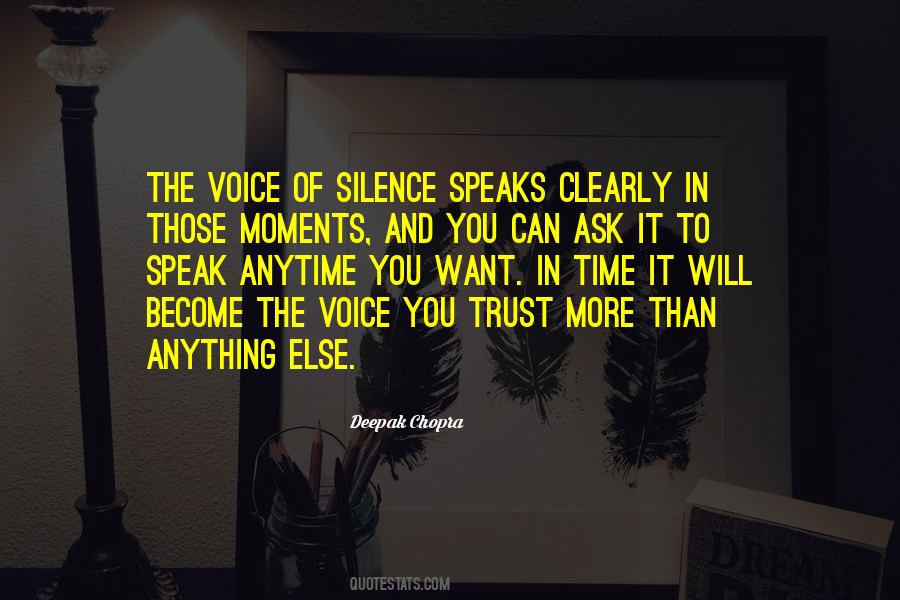 #99. It is not easy to enter into the silence and reach beyond the many boisterous and demanding voices of our world and to discover there the small intimate voice saying: 'You are my Belived Child, on you my favor rests.' - Author: Henri Nouwen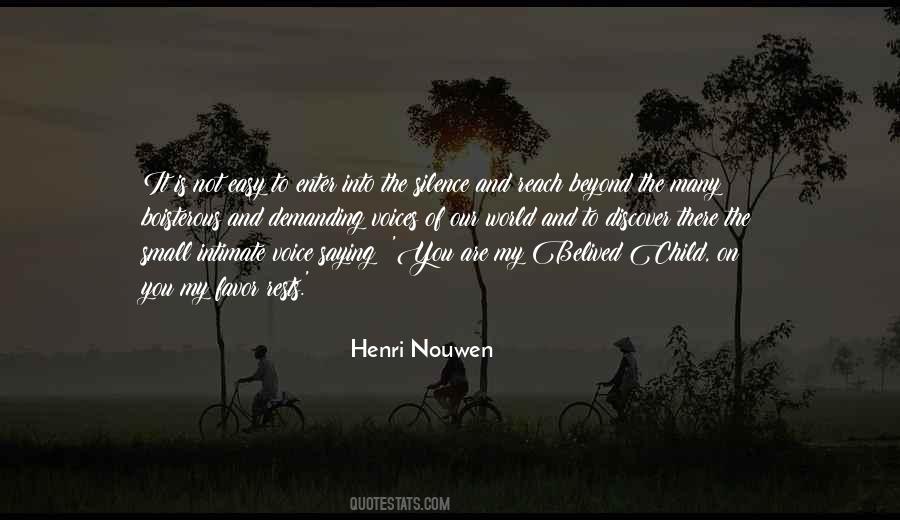 #100. Sorrow has a voice. It is the cold scream of silence turned inward. - Author: Terry Tempest Williams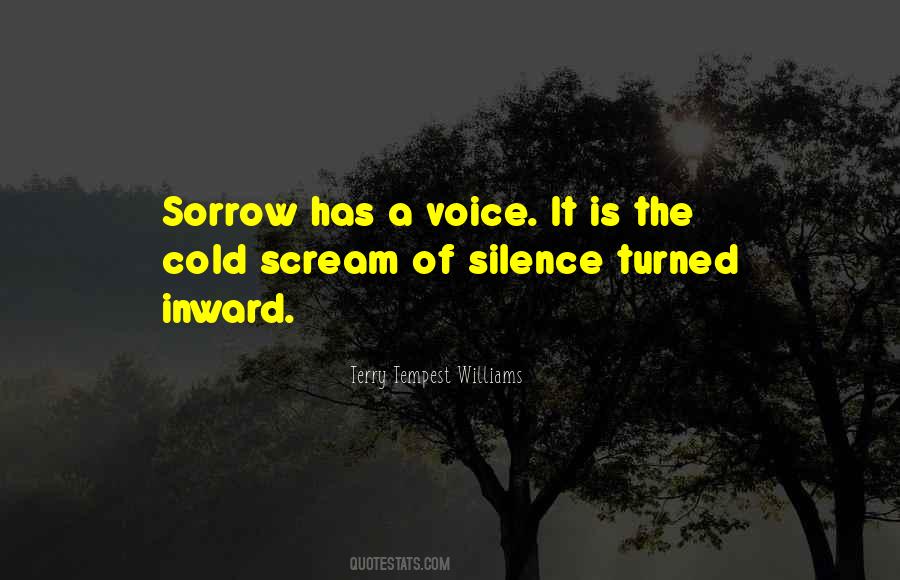 Famous Authors
Popular Topics