Versace's Famous Quotes & Sayings
List of top 100 famous quotes and sayings about versace's to read and share with friends on your Facebook, Twitter, blogs.
Top 100 Versace's Quotes
#1. After Versace was murdered, the first person to call me was Mandela. - Author: Naomi Campbell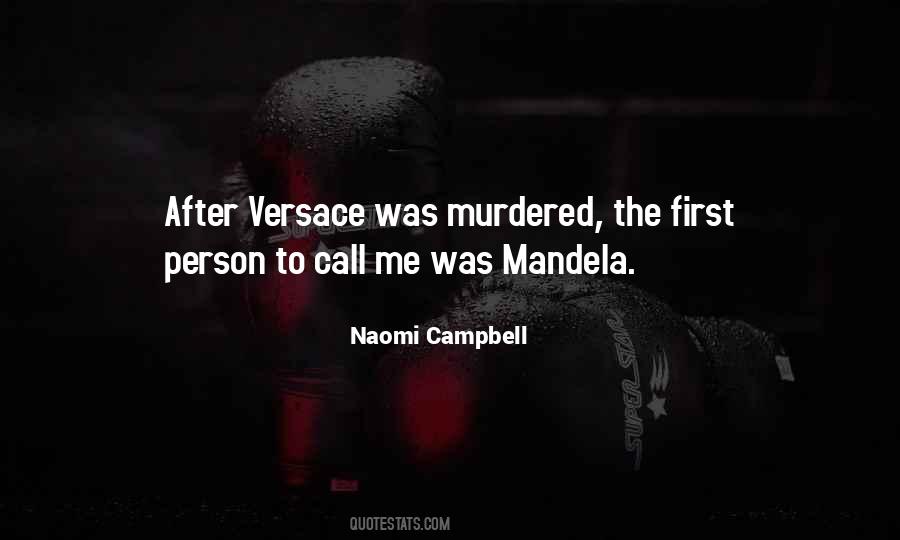 #2. In mythology, the Medusa can petrify people with a look - which is a good thing, I think. But the Medusa is a unique symbol - something strong. It's about going all the way. - Author: Donatella Versace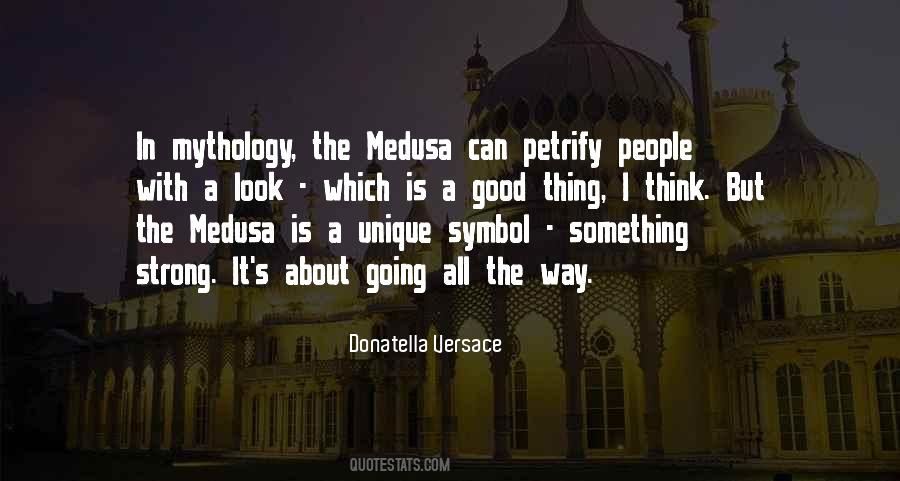 #3. When my mother did fittings for her clients, I was hiding, looking at these beautiful ladies try on these fantastic clothes. I was dreaming as a small child to try these clothes on myself. - Author: Donatella Versace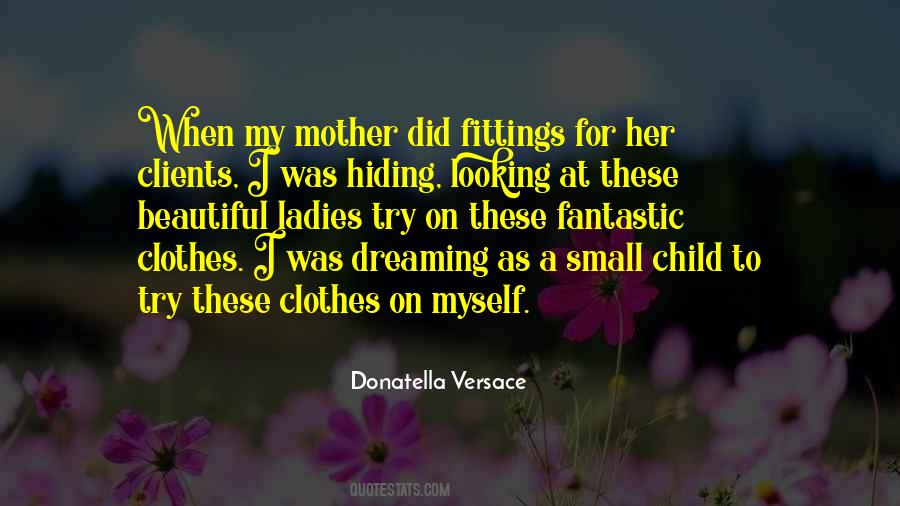 #4. I love Versace; I love Donatella's vision! It still has that '90s supermodel vibe. - Author: Behati Prinsloo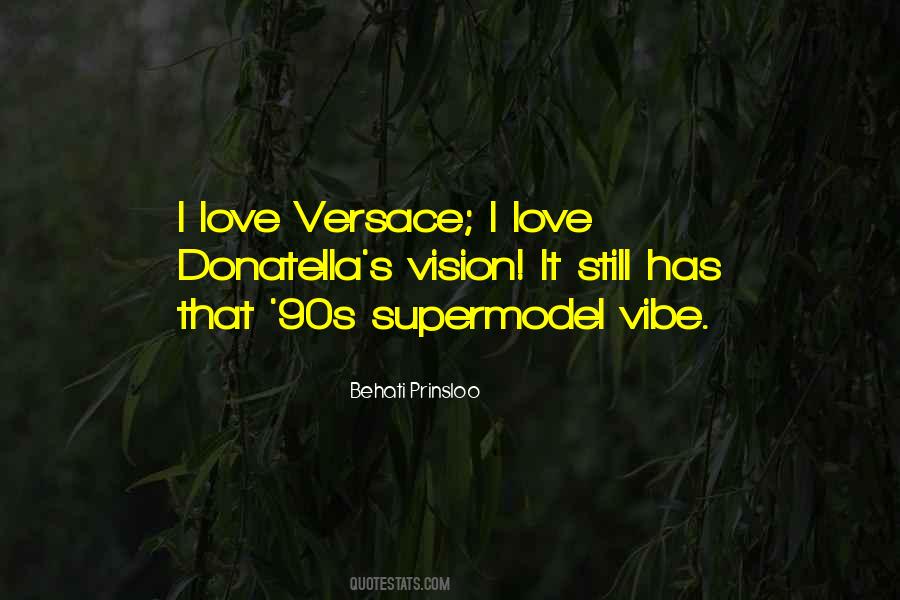 #5. Versace designs have always been bootlegged. Now it's Versace bootlegging the bootleg for the bootleggers to bootleg the bootleg. - Author: M.I.A.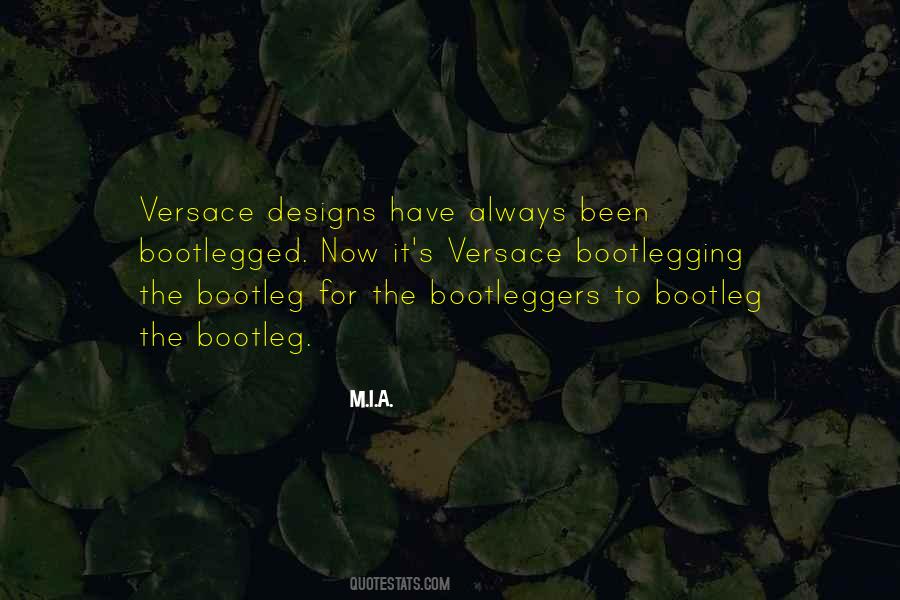 #6. For me the safety pin is about rebellion, and I'm punk in the soul. - Author: Donatella Versace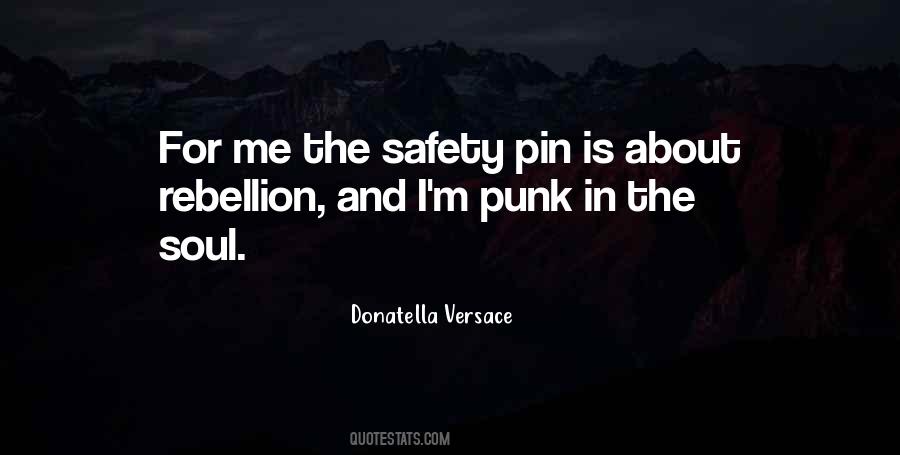 #7. I think men know to seduce women though words and conversation and nice gestures. That's much sexier than when a man uses muscle. - Author: Donatella Versace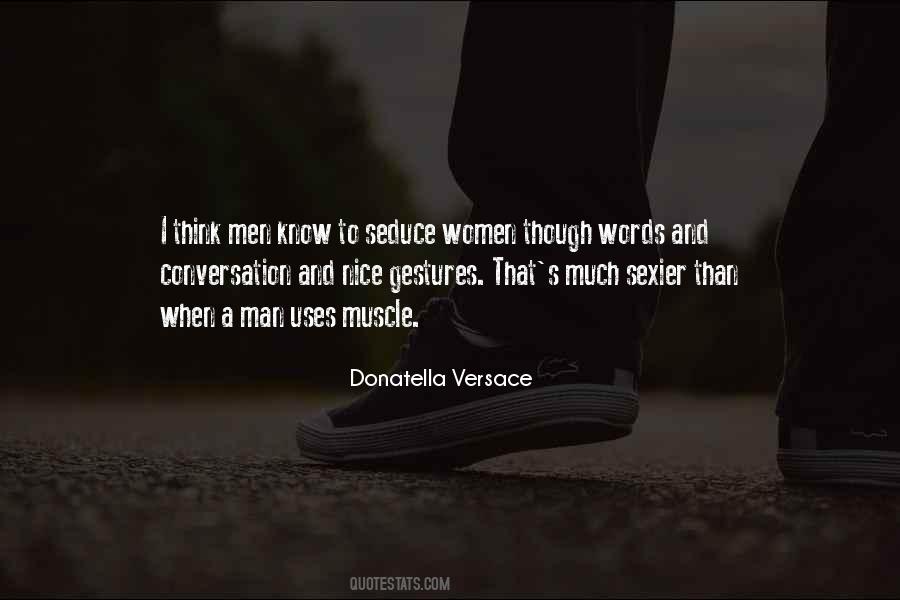 #8. My main influence is - it's music. It lifts the spirit. I am always listening to music. And sometimes what inspires me is a little sound or some small arrangement. I really do listen to music continuously all day long - very loud, so people can't stand to be around me anymore. - Author: Donatella Versace
#9. Fashion is not frivolous. - Author: Donatella Versace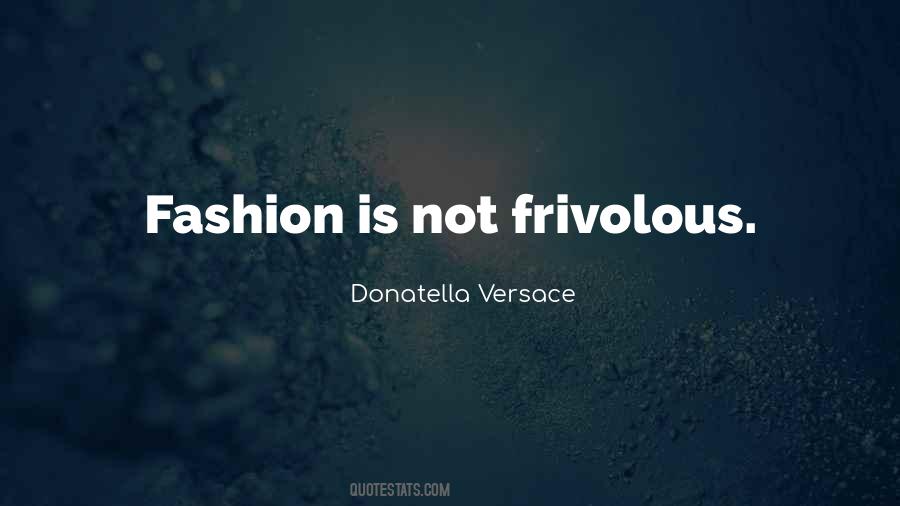 #10. The man of the millennium is much more liberated than the man of the '90s. - Author: Donatella Versace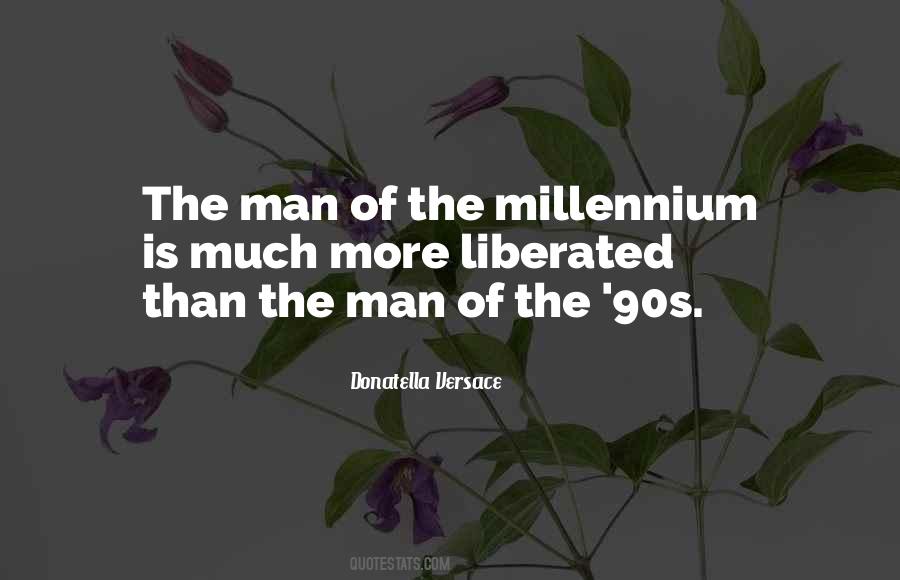 #11. New York is full of creative people, not only in fashion. - Author: Donatella Versace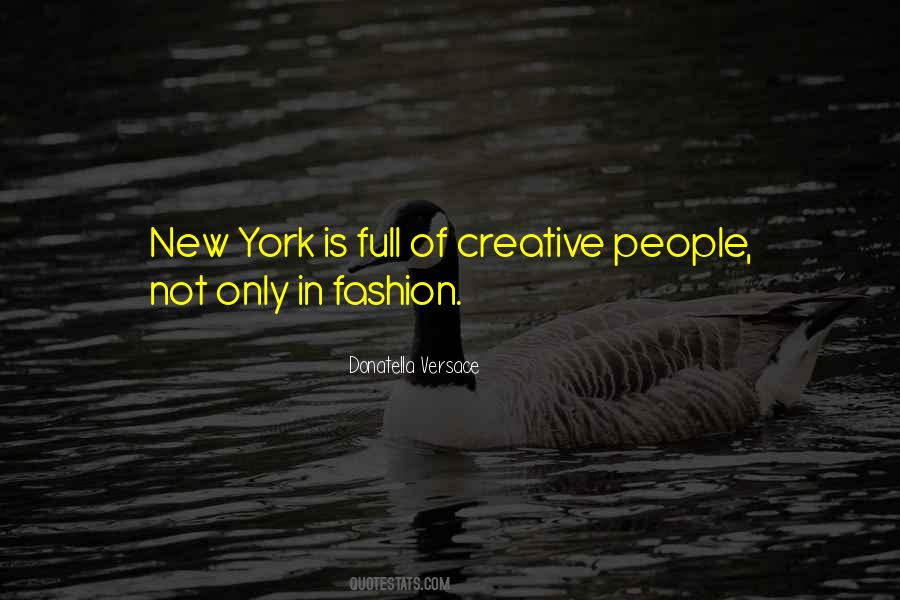 #12. I want always to be positive. - Author: Gianni Versace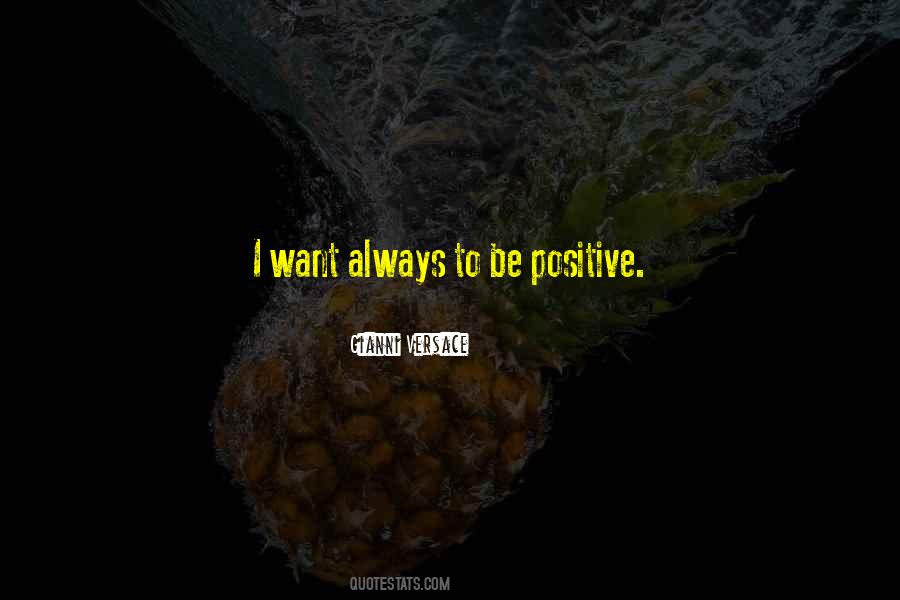 #13. The first thing I really enjoy is to make love, after comes the music. - Author: Gianni Versace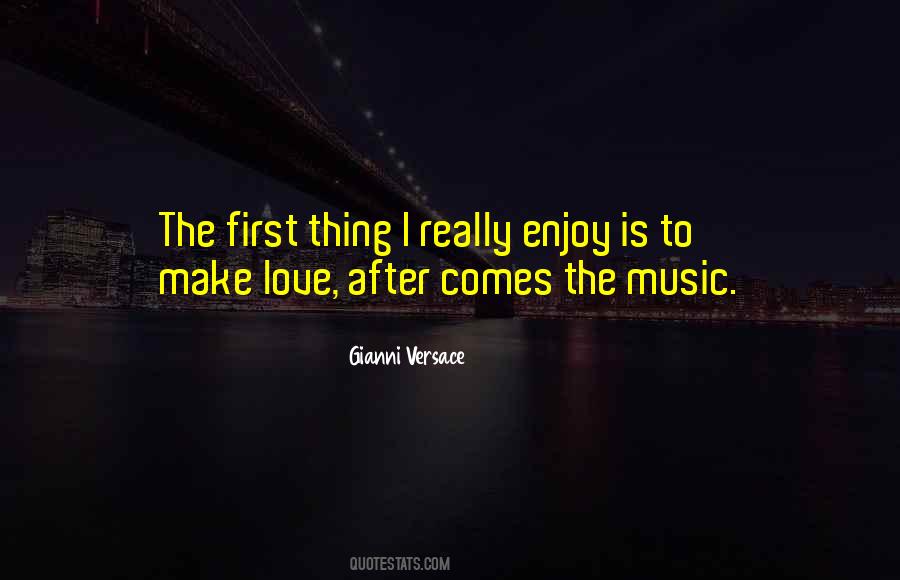 #14. There's time to slow down, after you're dead. - Author: Donatella Versace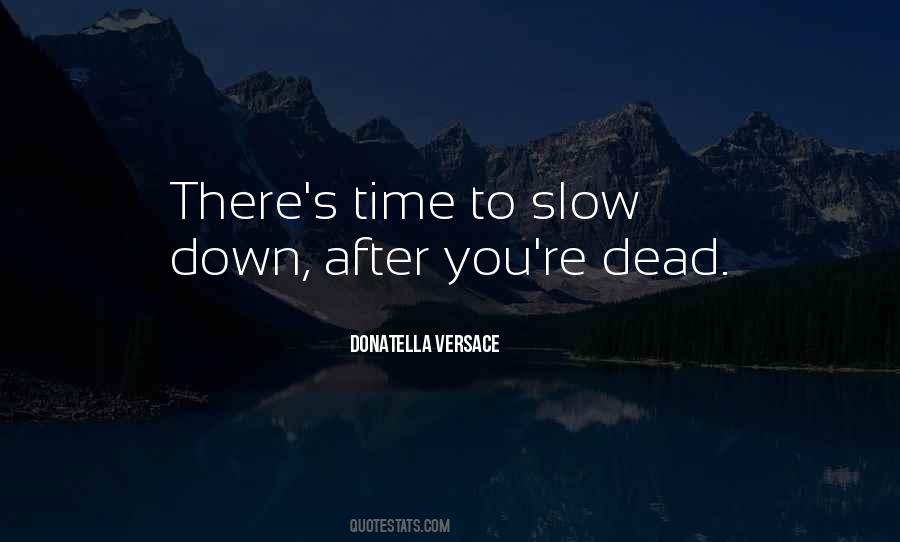 #15. How enlightened is wearing God like some do Versace? - Author: Vanna Bonta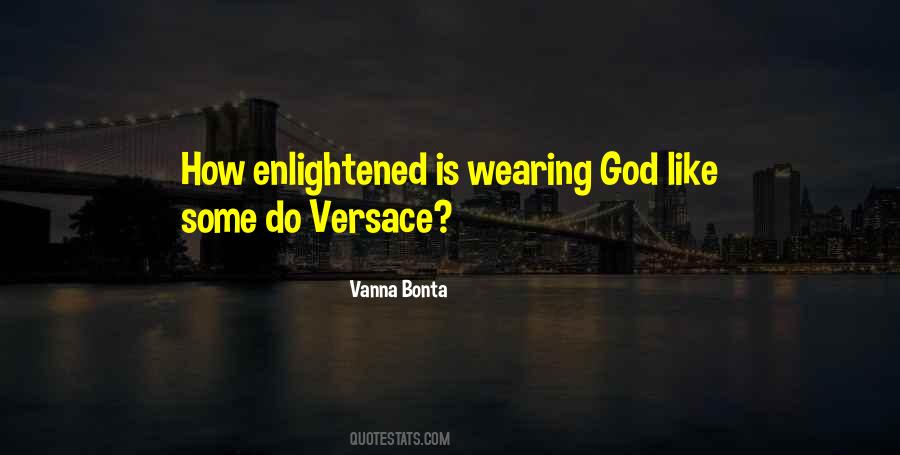 #16. It's no good being too easily swayed by people's opinions. You have to believe in yourself. - Author: Donatella Versace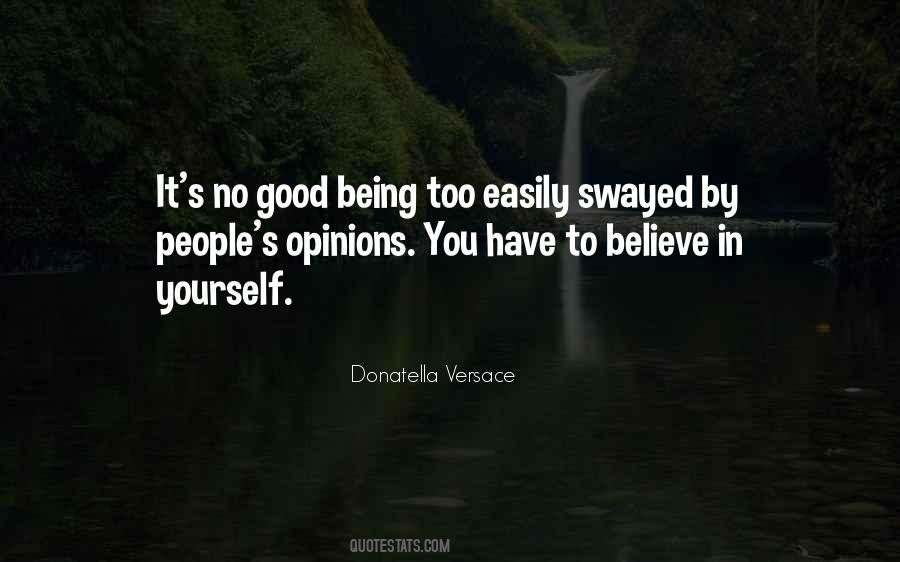 #17. Scent is very important. Strong fragrances suit some men, while citrus types suit others. I like my men to smell fresh and woody, but also like a man. - Author: Donatella Versace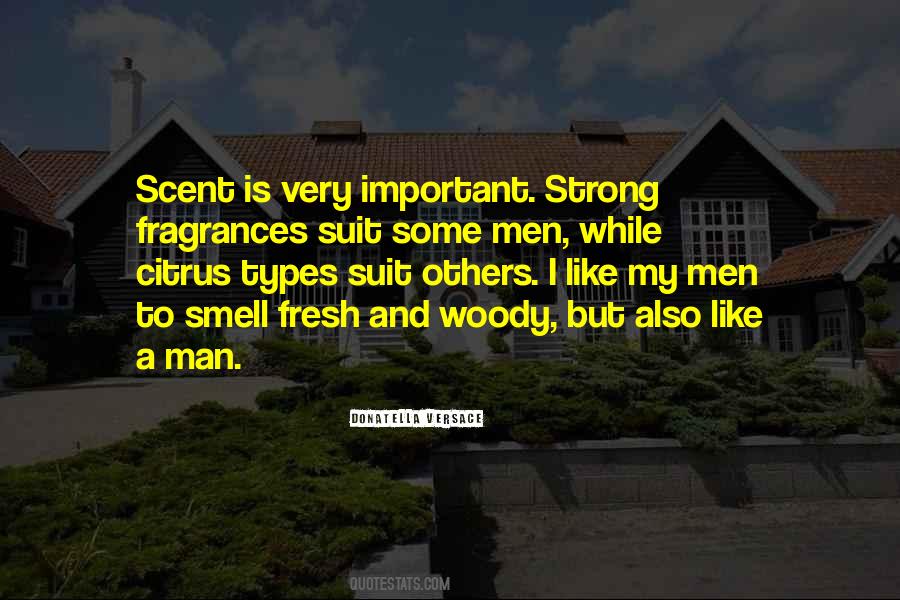 #18. Fashion is not frivolous. I am a businesswoman, a very serious person. - Author: Donatella Versace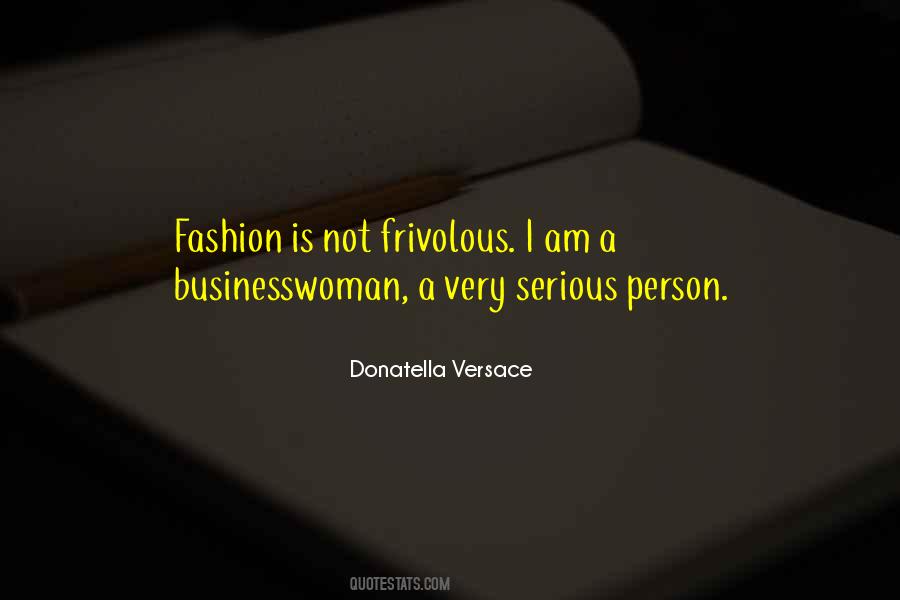 #19. A lot of people would say 'sexy' is about the body. But to me, 'sexy' is a woman with confidence. I admire women who have very little fear. - Author: Allegra Versace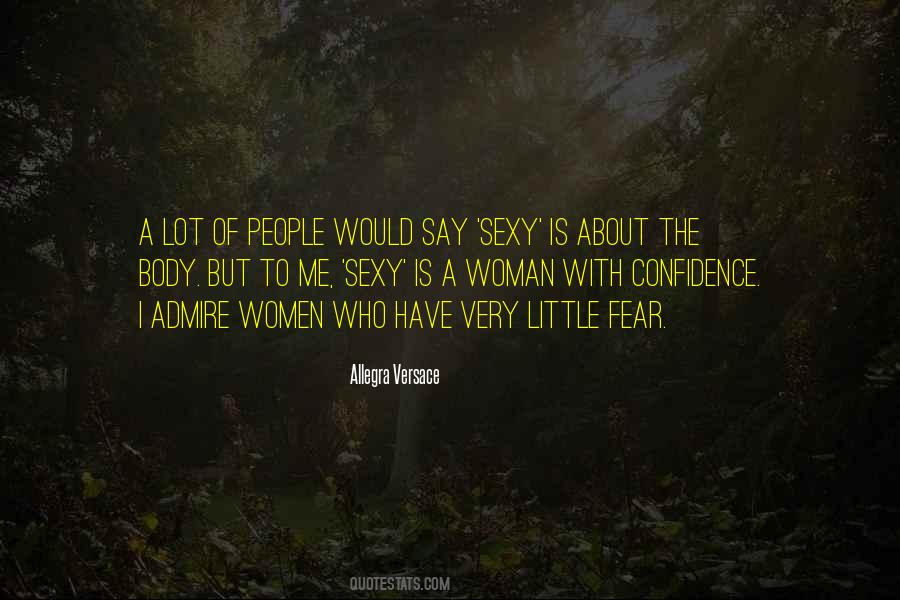 #20. Versace was and still is about the sophisticated woman who is elegant, not afraid of her own sensuality, and not afraid to dare or take risks in life. - Author: Nicki Minaj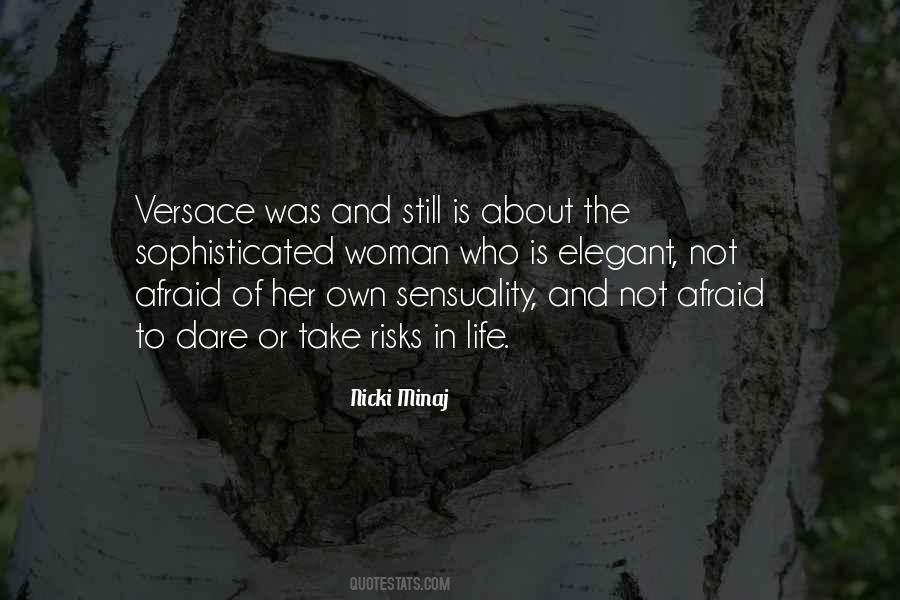 #21. Some say the economy means that you have to persuade people to invest in clothes - to buy less things but more expensive things. I disagree - invest in jewelry, or a house, maybe, but not in fashion. - Author: Donatella Versace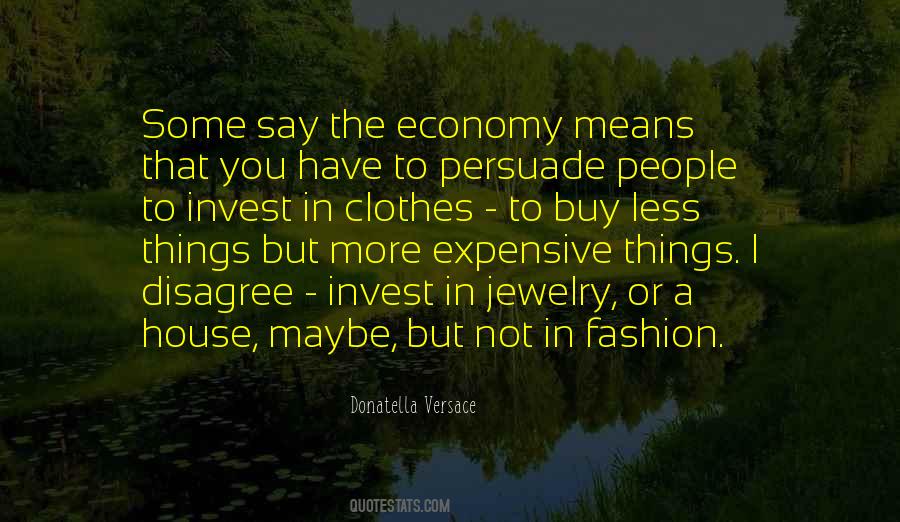 #22. When I meet celebrities, I have to know what they are like and only then can I design. The clothes have to fit their personality. - Author: Donatella Versace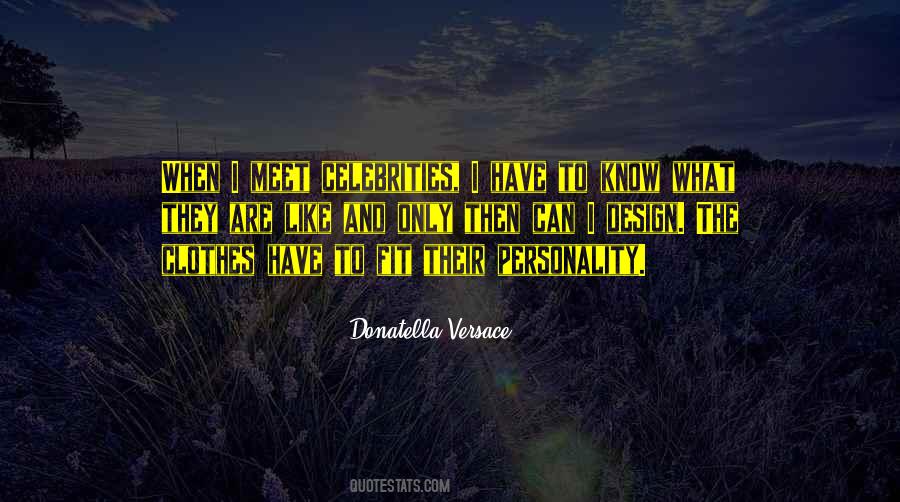 #23. Creativity comes from a conflict of ideas - Author: Donatella Versace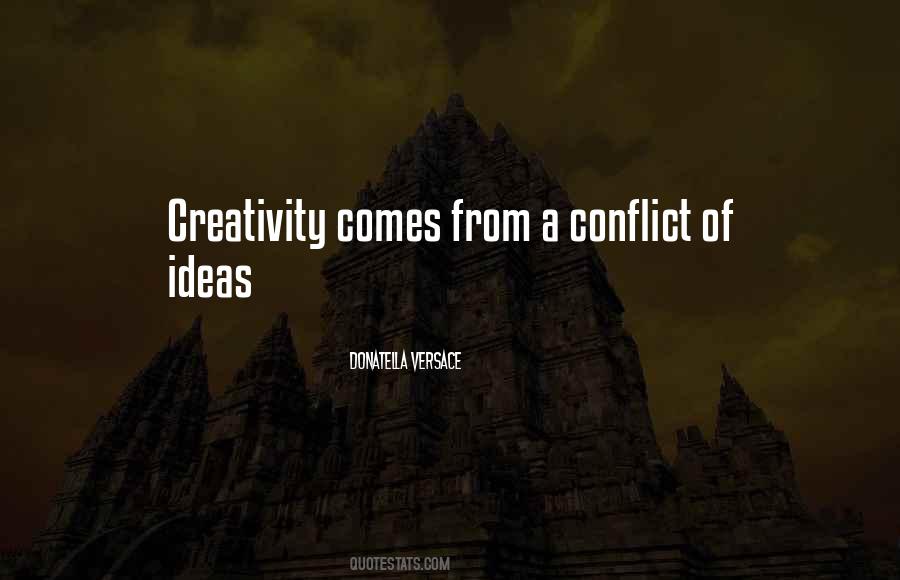 #24. For so long Versace couture was identified with celebrities and music, which I love. But at the same time it could overwhelm the clothes. - Author: Donatella Versace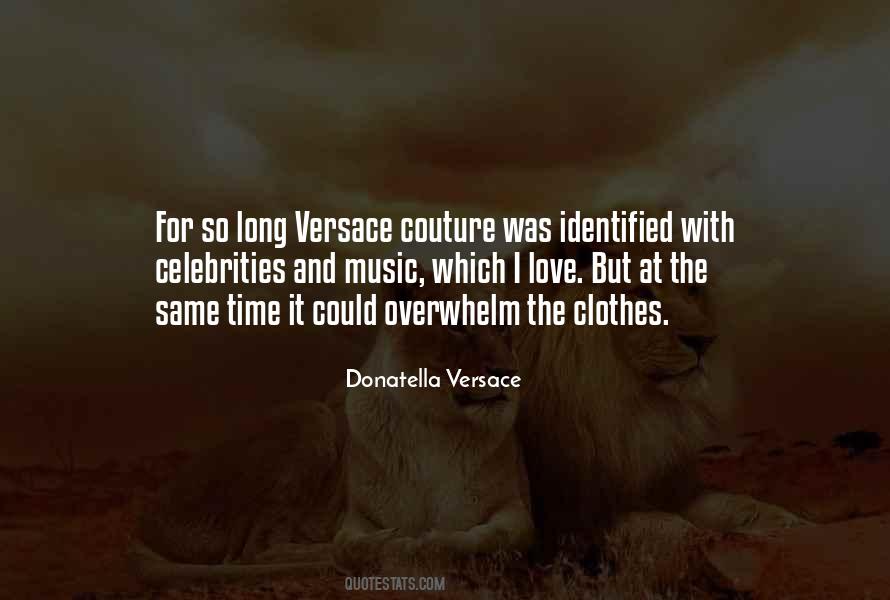 #25. Do not go into trends. Do not allow fashion take you over, choose who you want to be and what do you want to show with your clothes and lifestyle. - Author: Gianni Versace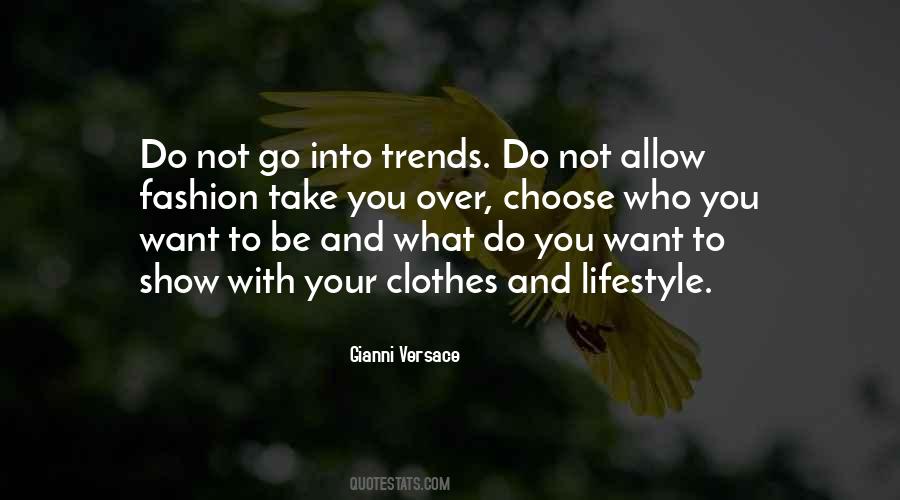 #26. I have worked with wool all my life as a designer. There's so much more to it than knitwear - it's an amazingly versatile material and can be used in so many different ways from chic to rustic. - Author: Donatella Versace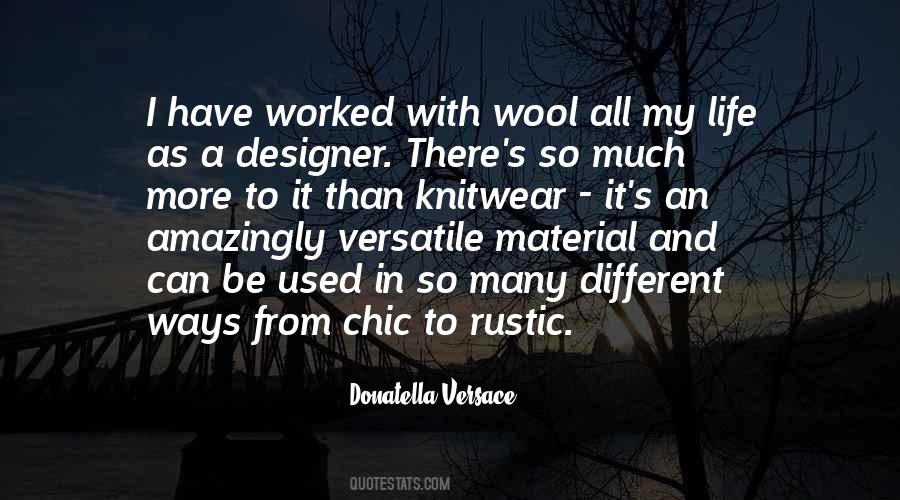 #27. I'm like a little kid when it comes to music. I mean, the music is always blasting wherever I am that people always knock on my door and say, 'It's too loud!' But I think music gives so much inspiration. - Author: Donatella Versace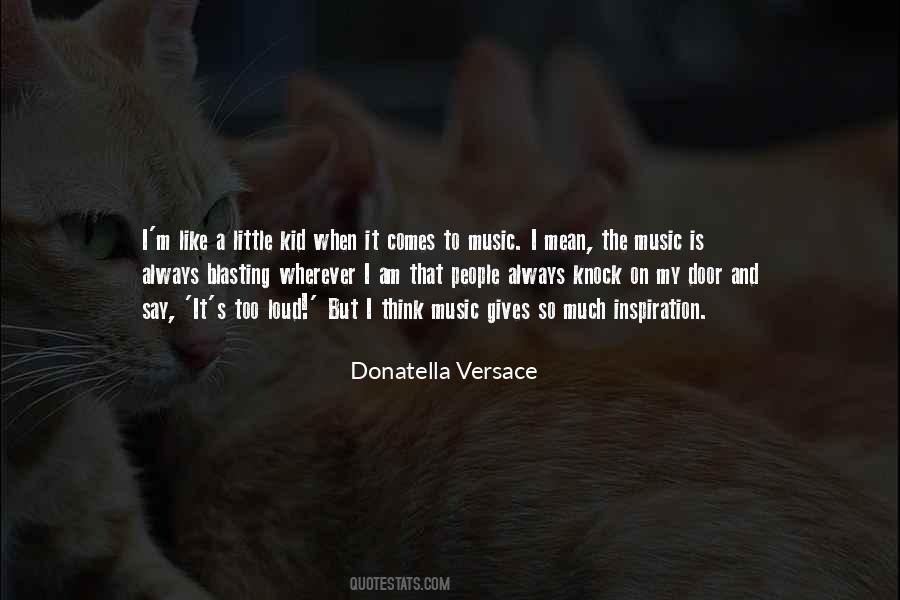 #28. I would never rep Versace. I can't stand her. I think she makes disgusting clothes. Calvin [Klein] is like, snore! Who wears Calvin Klein? I'm not dissing him. I think he's built an amazing, respectable business, but I would never want to work for Calvin Klein, ever. - Author: Kelly Cutrone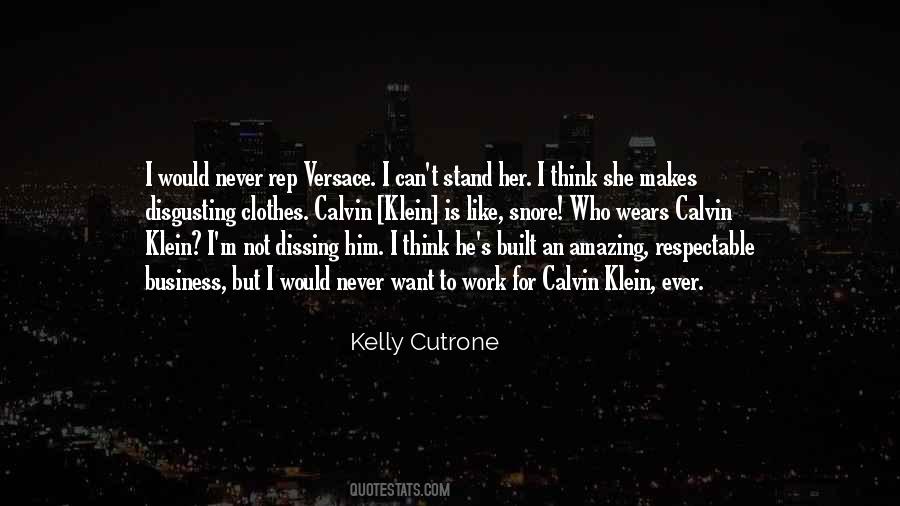 #29. Fashion is all about happiness. It's fun. It's important. But it's not medicine. - Author: Donatella Versace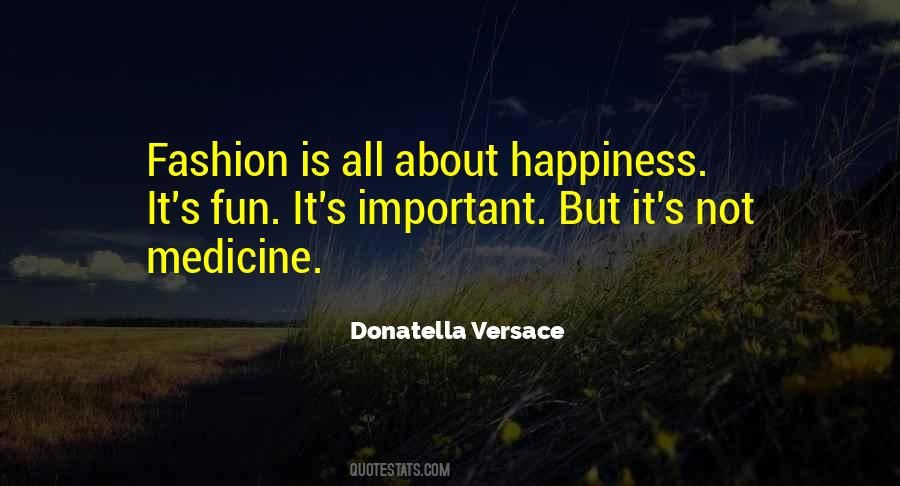 #30. I don't see anybody categorized as a 'fashion diva,' except for me! And I like that. I am thought of as a diva because I wear an evening dress and I take care of my look when I go out. I go to parties regarding business, not for fun. And that's why they call me a 'diva.' - Author: Donatella Versace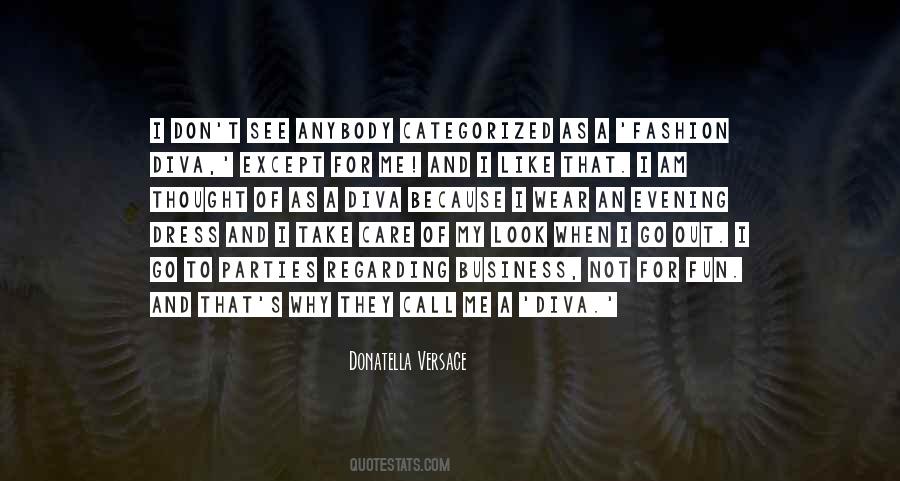 #31. When I work, I wear pants usually because I want to be comfortable. I wear dark colors, especially in winter, because I don't want to concentrate on myself but on what I'm working on. Because I really, really love clothes, I can start to think too much about myself. It's distracting. - Author: Donatella Versace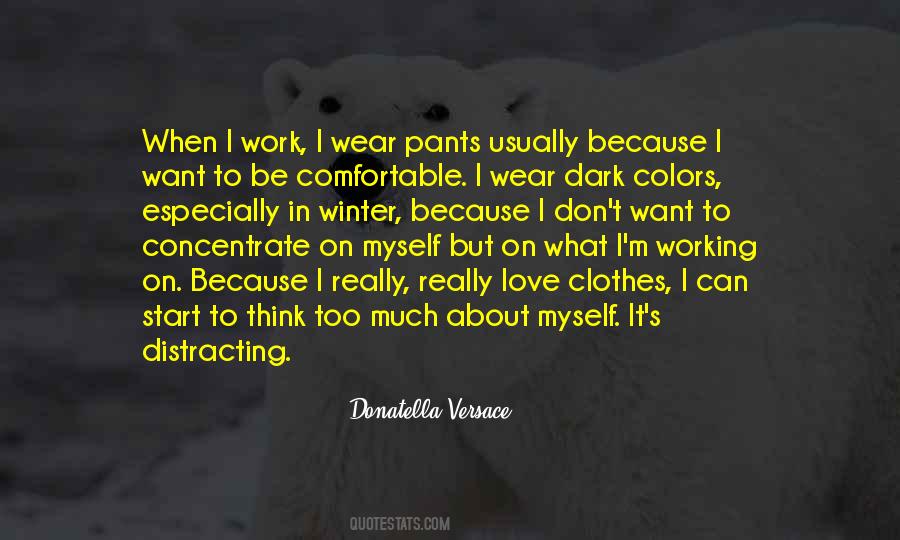 #32. You can't pretend that everybody likes Versace. It would be boring. It's better to create a reaction than to create no reaction. That's dangerous. - Author: Donatella Versace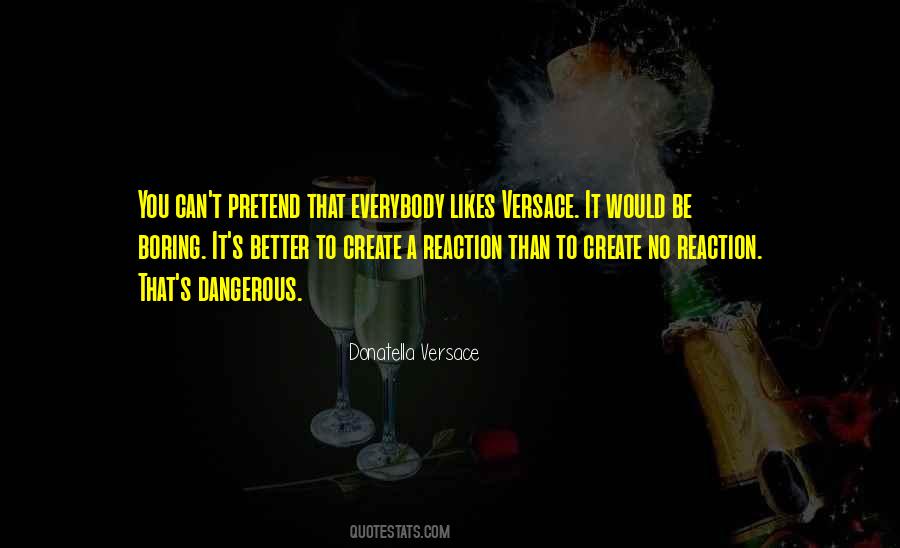 #33. I love Alexander McQueen. I like the construction of his suits. I think it's fantastic. - Author: Donatella Versace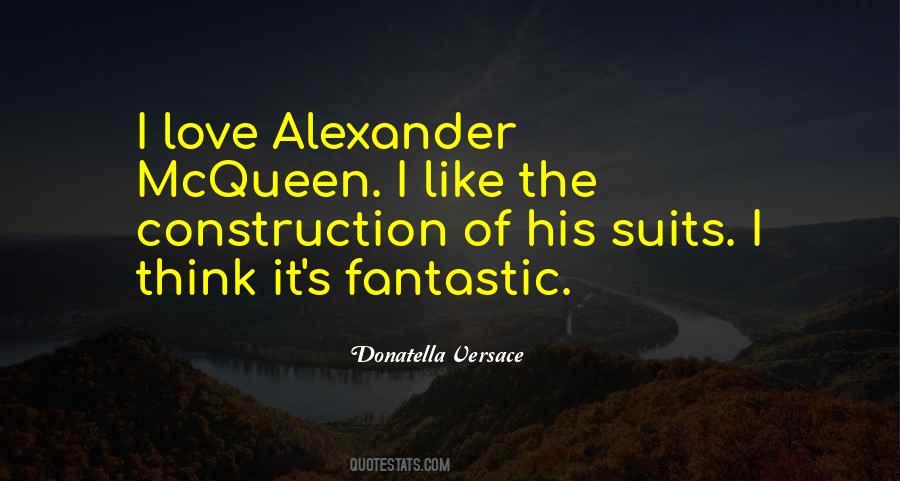 #34. As I'm starting to grow up, and things are happening, I'm going to have to take off my pants, and I want to have on some attractive underwear. When it says Versace on your underwear, people will say, 'Man, he's fresh to his undies.' - Author: Shameik Moore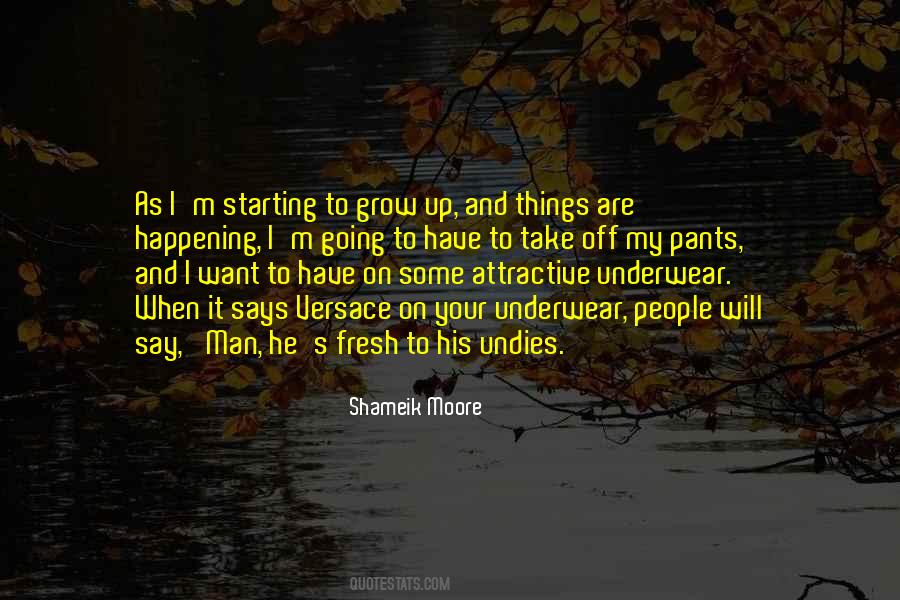 #35. I used to switch up my cologne every two to three months, get a new wave - Dolce, Versace, Burberry. But Black Orchid, that joint stayed. That's the smell of beauty that stays on you ... and girls love Tom Ford. - Author: Wale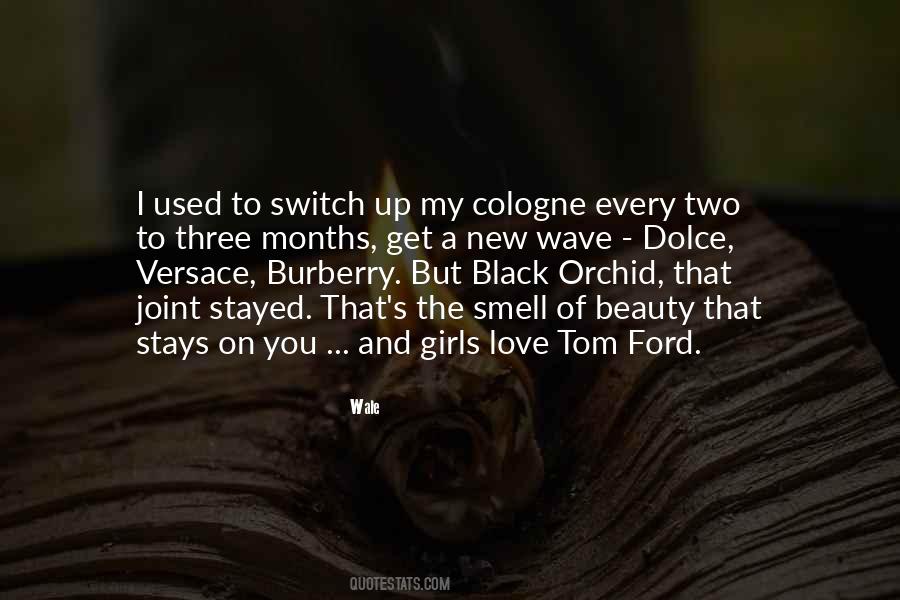 #36. Let's just say beauty inspires me. But I like all beauty - I think it really comes from the inside out. - Author: Donatella Versace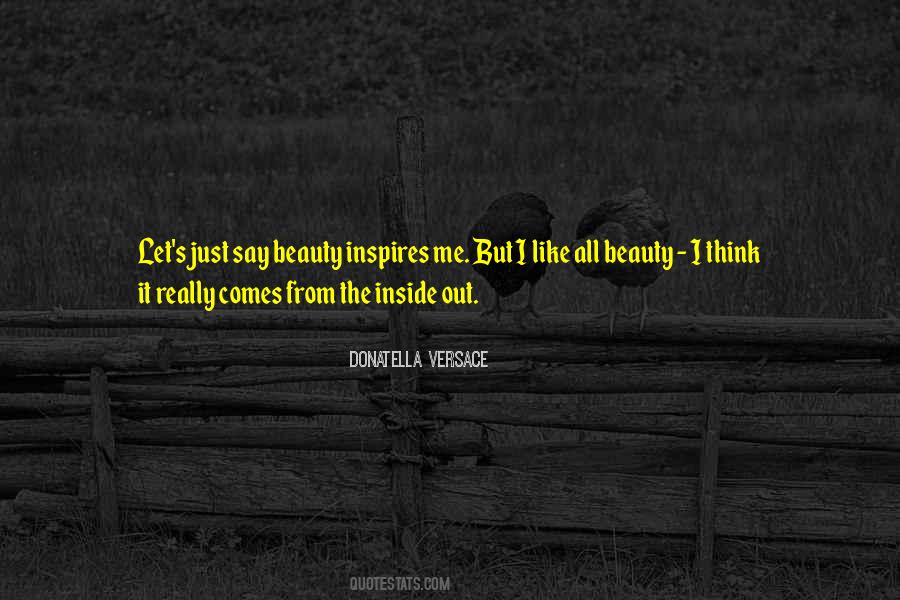 #37. Women's bodies are curvy, sensual, it's about being happy to be a woman - and sexy is always good - Author: Donatella Versace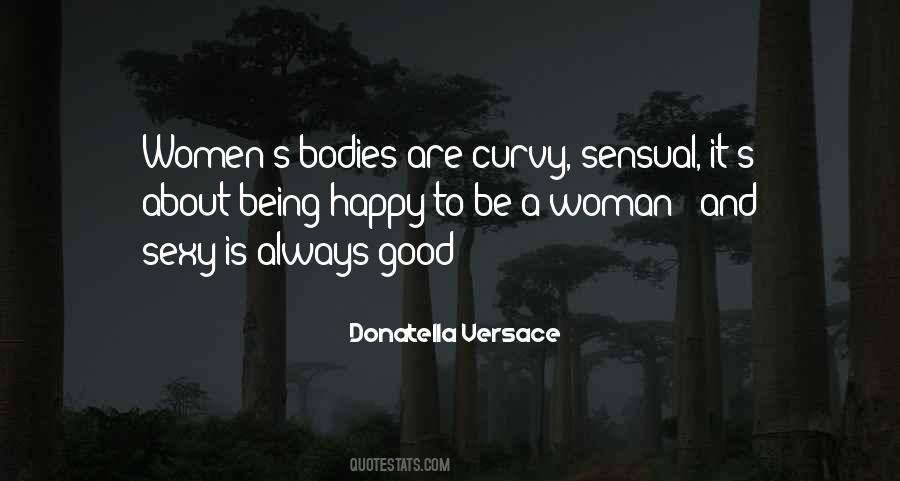 #38. I just remember Stella Tenant and me dancing in Donatella Versace's bathtub until like four in the morning. It was one of those 'pinch me' moments. - Author: Carolyn Murphy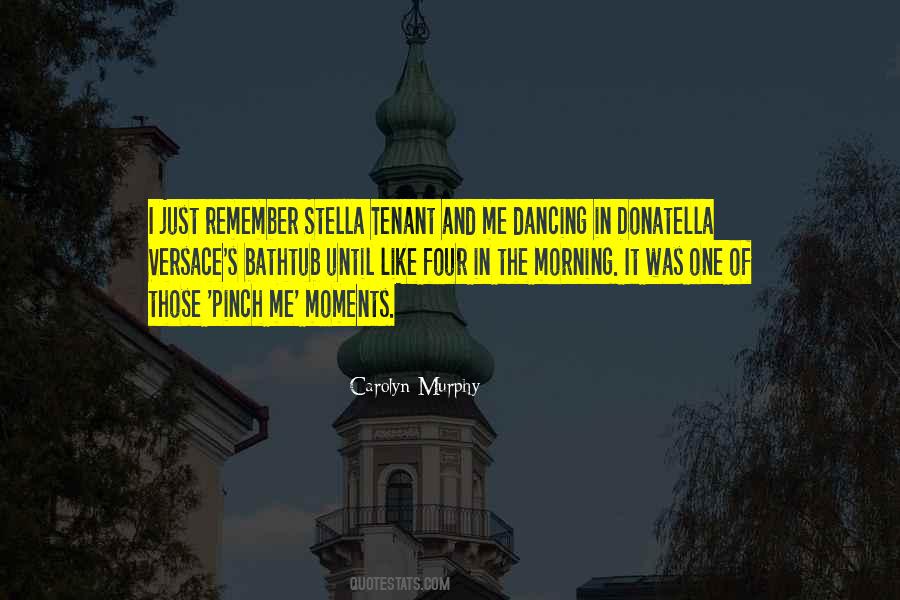 #39. I find older men more attractive than boys. I need a man who can teach me a thing or two. - Author: Donatella Versace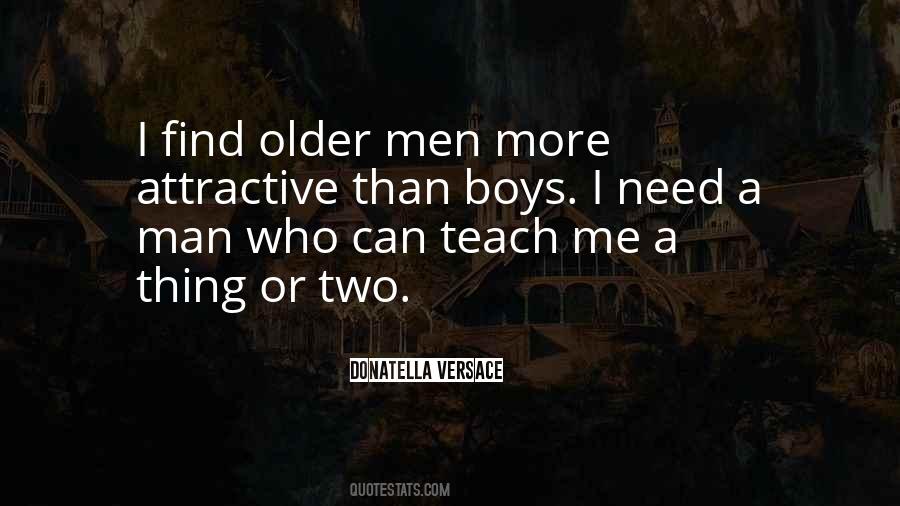 #40. I was Versace's muse, I was Valentino's muse, I was Alaia's muse, Lancetti's muse, Calvin Klein's, Halston's. I could go on and on. - Author: Janice Dickinson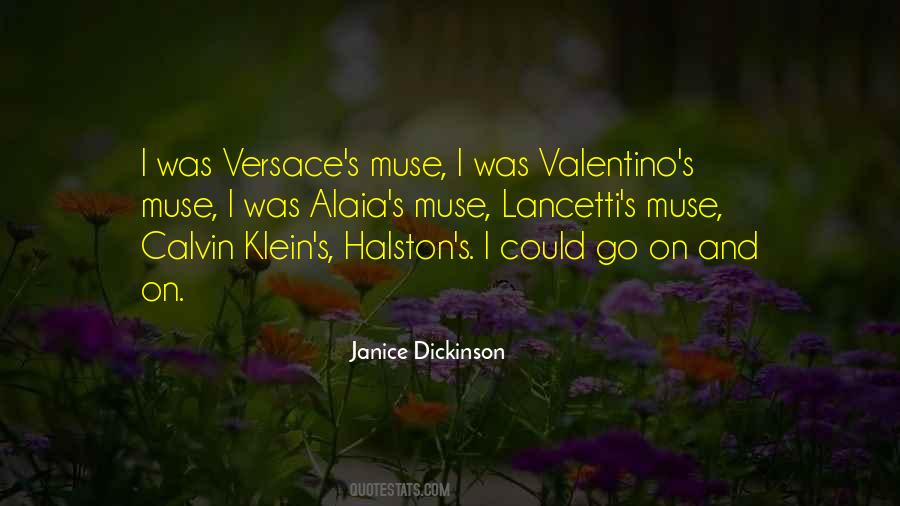 #41. I think it's the responsibility of a designer to try to break rules and barriers. - Author: Gianni Versace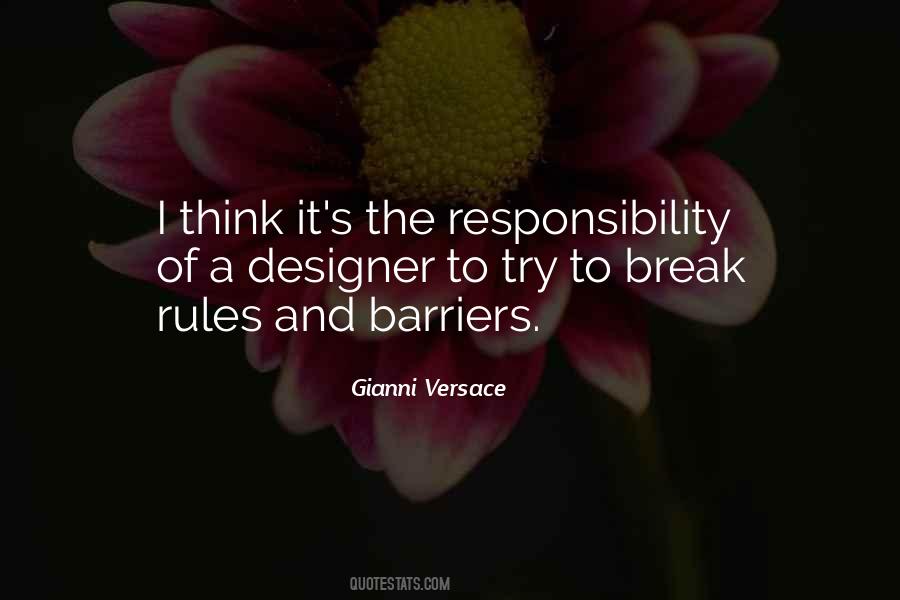 #42. Die and born again, die and born again. It's the story of my life. - Author: Donatella Versace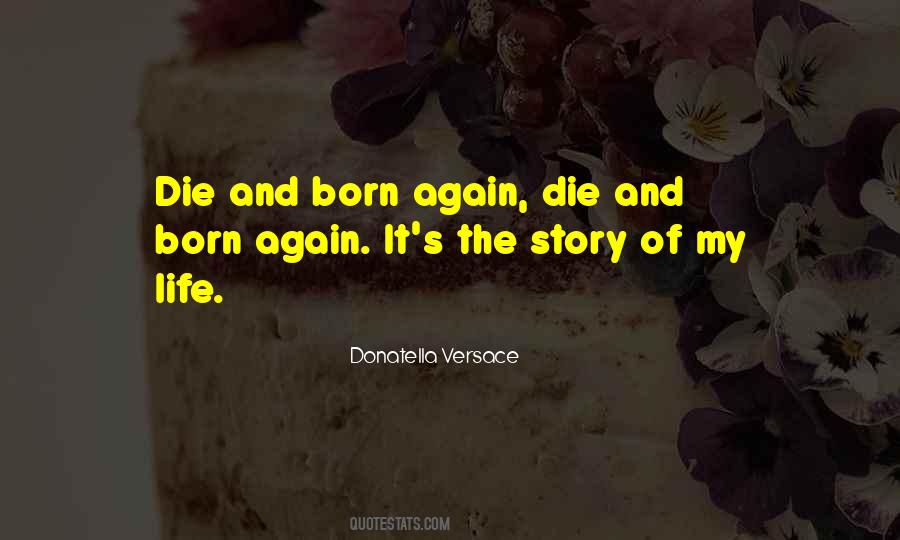 #43. Linda doesn't like to give out her cell number to "non-industry people," like the office workers at my high school, because she thinks she's Donatella Versace. - Author: Matthew Quick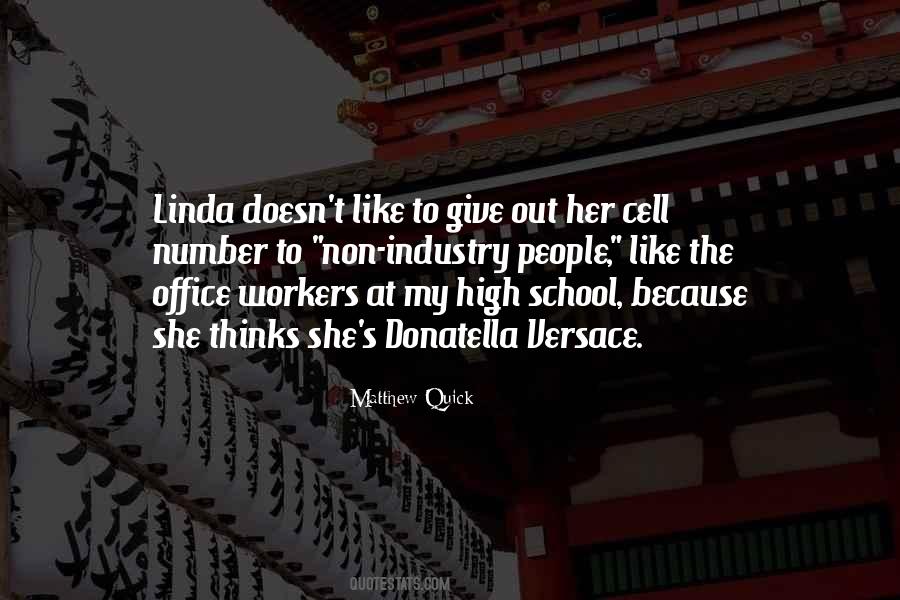 #44. It's very important for a brand to have an identity through the years, but it's very important as well to evolve because times change so fast. - Author: Donatella Versace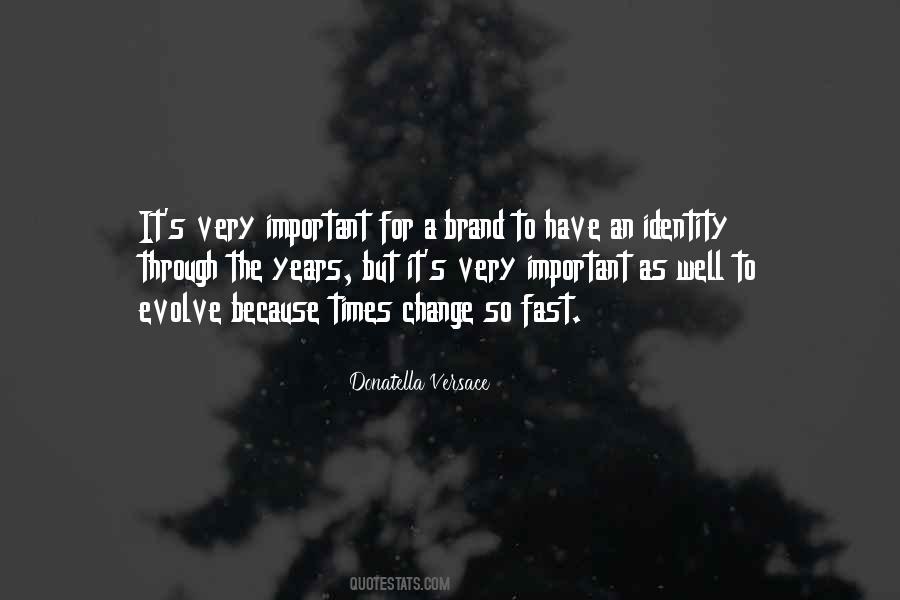 #45. The first thing I do each morning is get out of bed and give my dog, Audrey, a hug. She's a Jack Russell. I think having an animal is a wonderful thing, particularly dogs. They are great levelers, there's no nonsense with them, and they just want simple affection. - Author: Donatella Versace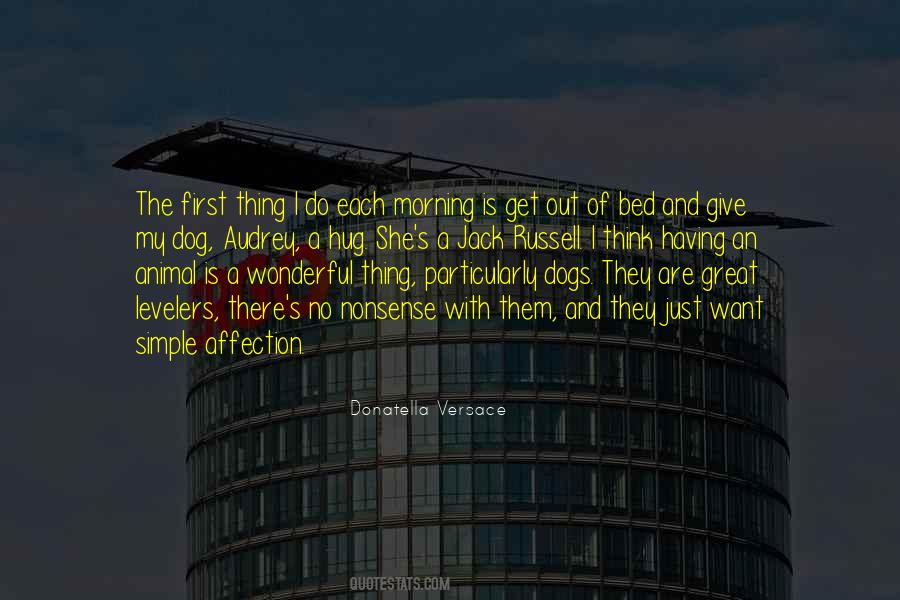 #46. I always drew dresses. I remember loving Richard Avedon's early Versace campaigns. I used to plaster my whole walls with them when I was a kid. - Author: Sarah Burton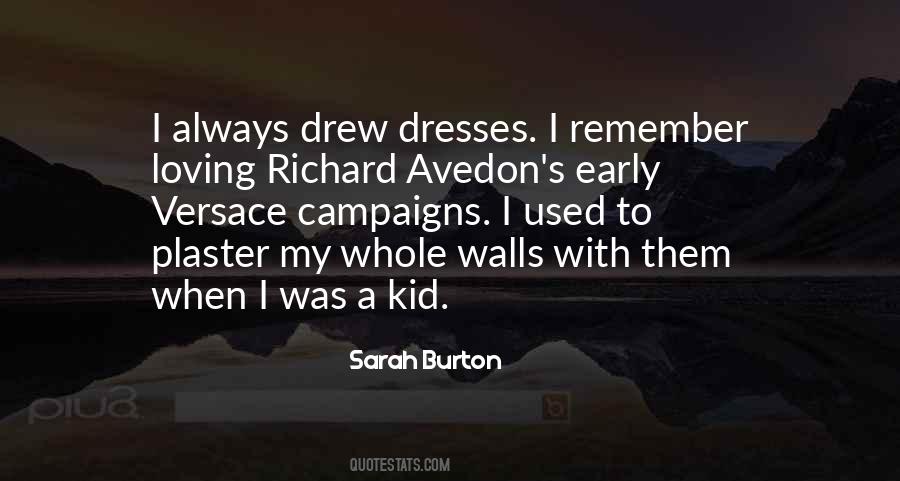 #47. I don't think about making sexy clothes. It's just my instinct to make them. - Author: Donatella Versace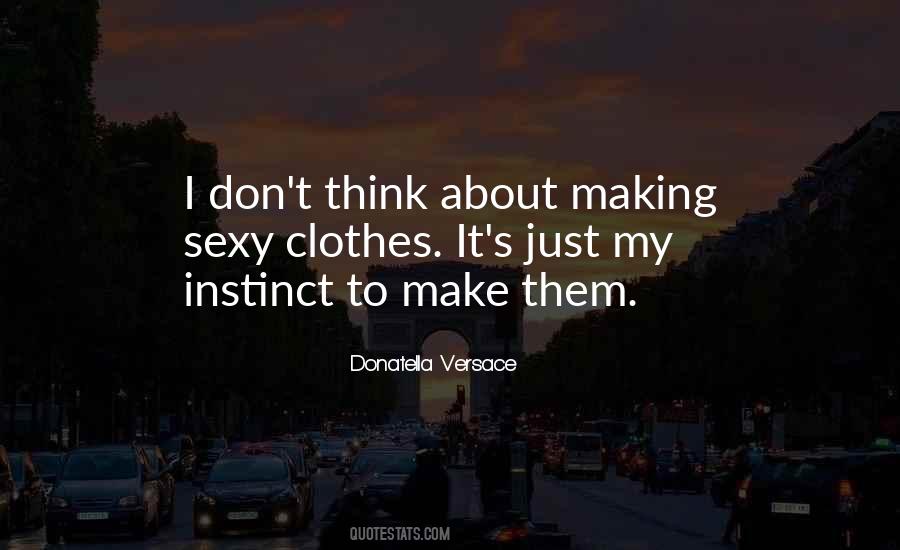 #48. In fashion, women have more sensitivity, more sense of the body, so they know how things fit and feel. Yet there are not many women who study fashion. It's ridiculous. - Author: Donatella Versace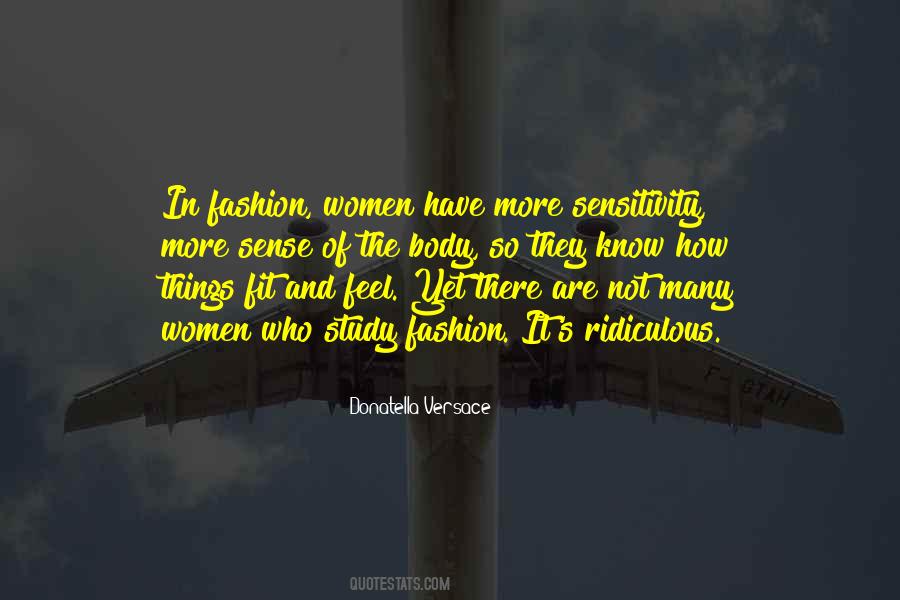 #49. Powerful women intimidate men. If she's a really well-known woman, she has a career, she's famous - in that case, men are really afraid. - Author: Donatella Versace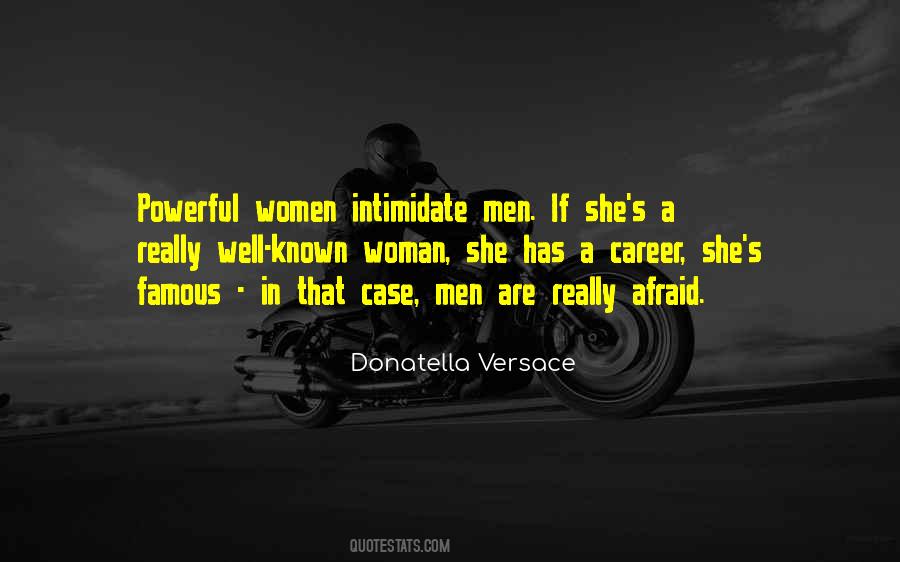 #50. But I want to assure you, if it's your last day on earth, even after 2,000 years, I strongly suggest you go for the Versace leaf halter dress. - Author: Richard Finney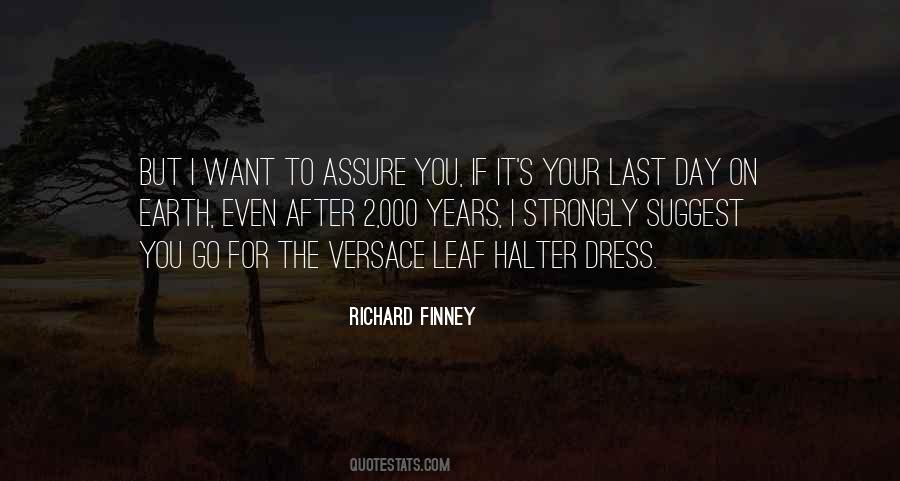 #51. My dream was always to be a composer, but fashion came very easily. - Author: Gianni Versace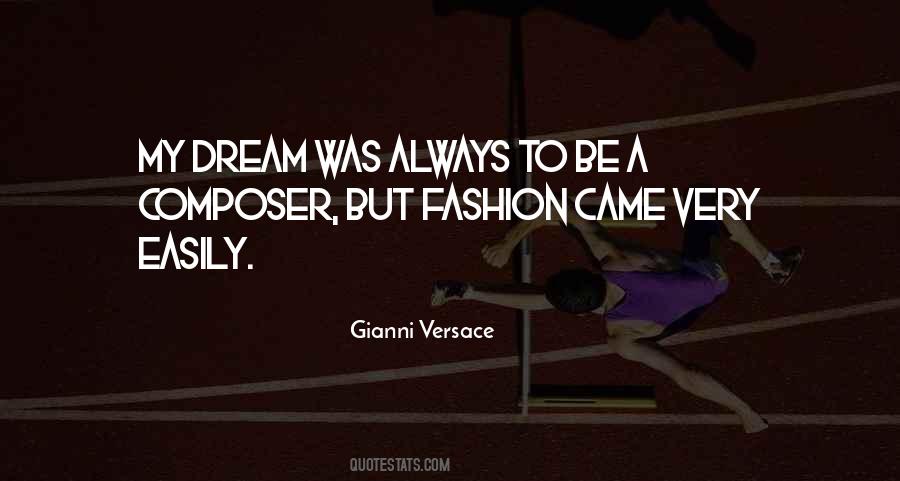 #52. To be Catholic puts a lot of fear in you. It's a great religion, but also one that can limit your experience. You fear experience because everything is a sin. - Author: Donatella Versace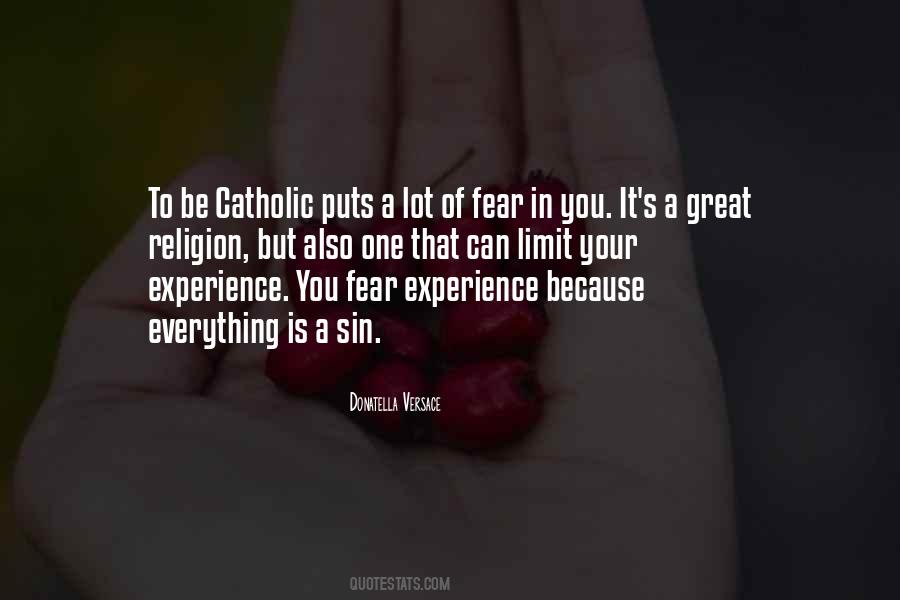 #53. You can have small moments of happiness in life. You certainly can't expect years and years of it. - Author: Donatella Versace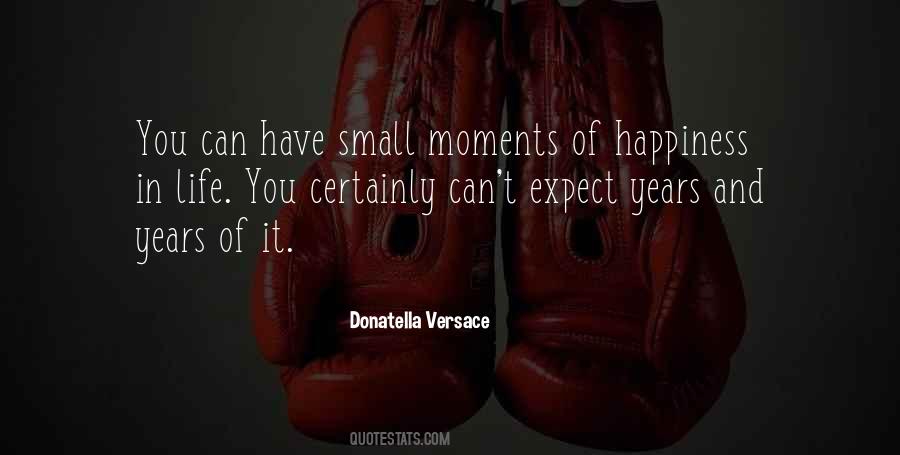 #54. If I could dress anyone, I'd like to dress the Queen - she can handle anything. I'd put her in black - she never wears black - and add a little leather, maybe. A little rock n' roll. - Author: Donatella Versace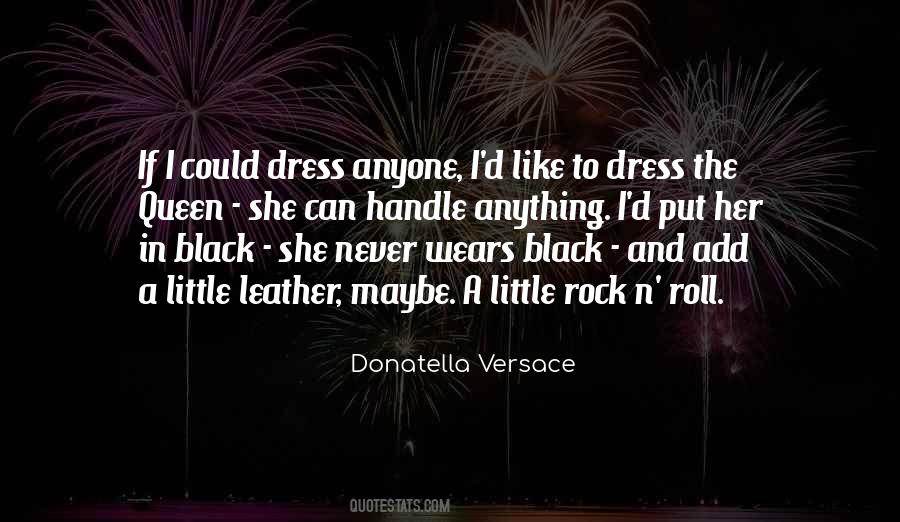 #55. I have an image of what a British gentleman looks like, and that image finds real expression in Prince Charles. He is beyond fashion - he is an archetype of style. - Author: Donatella Versace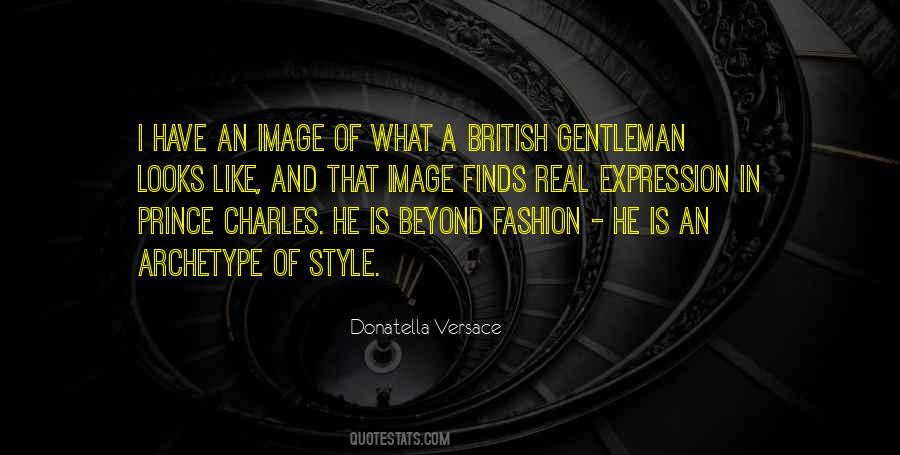 #56. In the past, people were born royal. Nowadays, royalty comes from what you do. - Author: Gianni Versace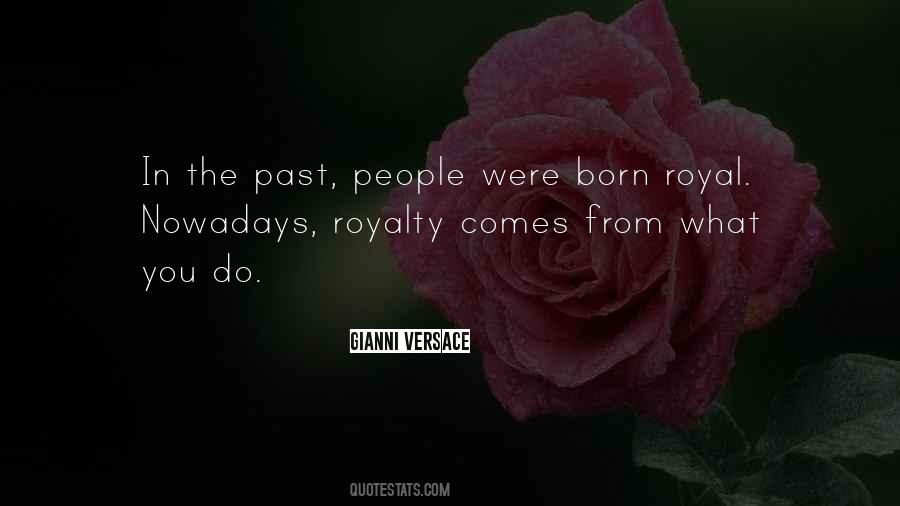 #57. Something has to change in the world. Without change, young people will have no future. - Author: Donatella Versace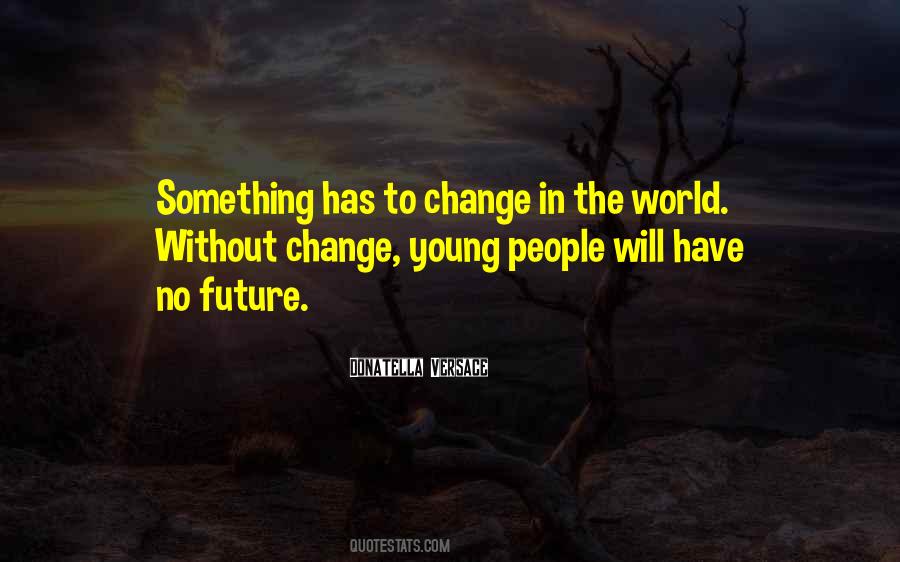 #58. In fashion, only sexy won't go out of fashion. - Author: Donatella Versace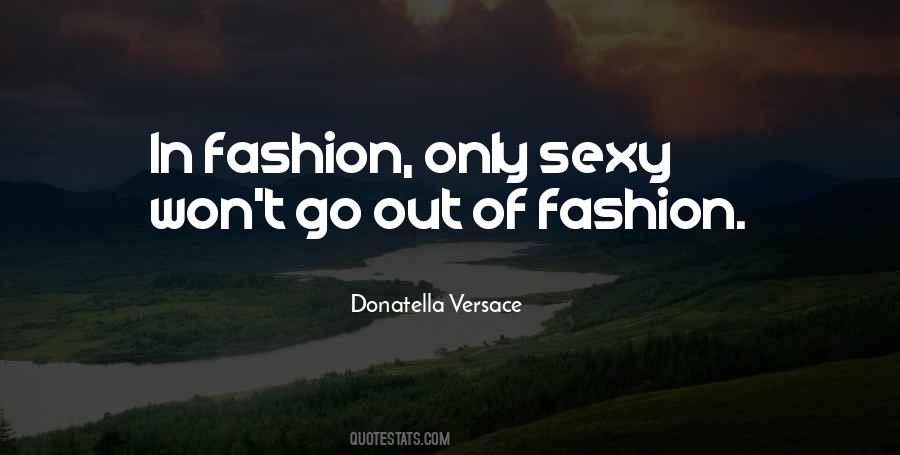 #59. It's good to see the children be creative. It's the pleasure of the future. - Author: Donatella Versace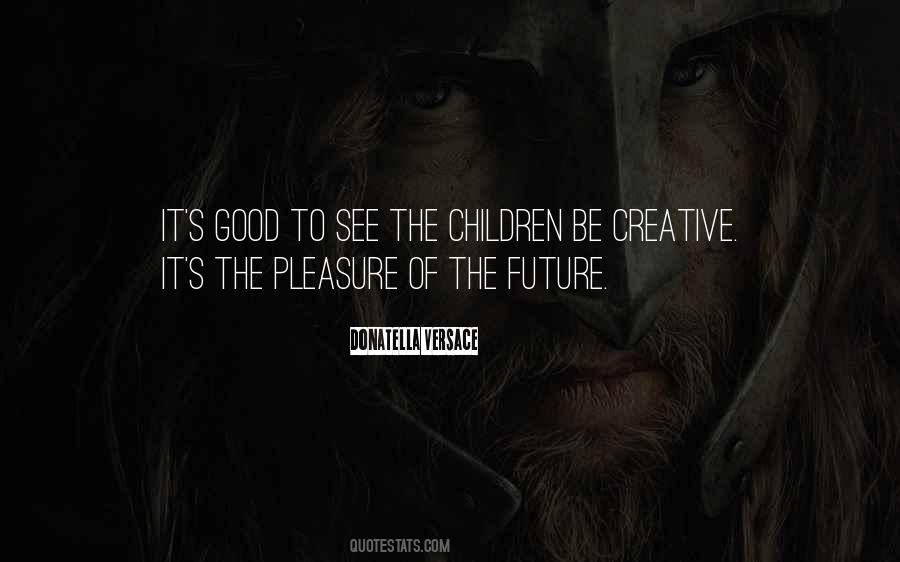 #60. You can be too boring, but you can never be too seductive. - Author: Donatella Versace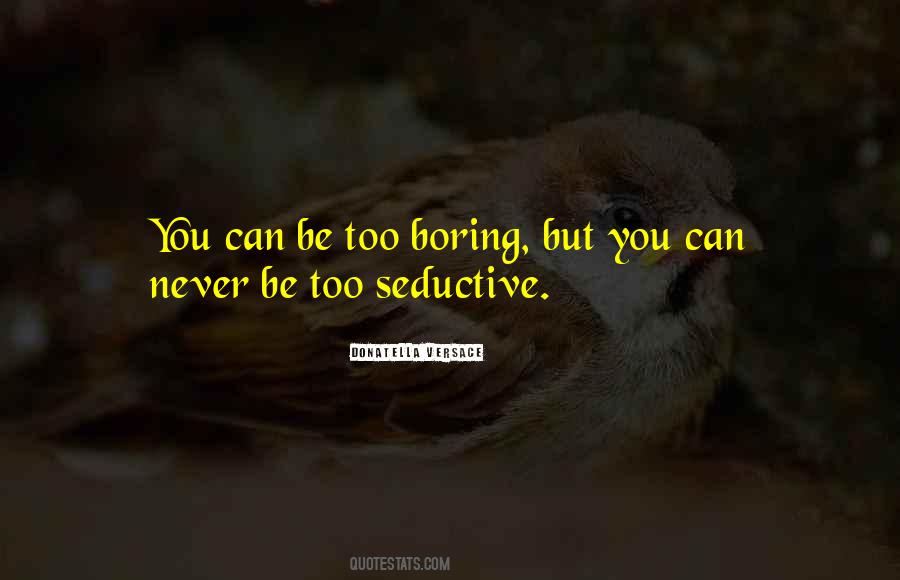 #61. For me, the summer will be pure gray - mother-of-pearl gray, very pale gray. To me, this is the big statement for summer. Then we have light blue, light turquoise, lots of pink. - Author: Gianni Versace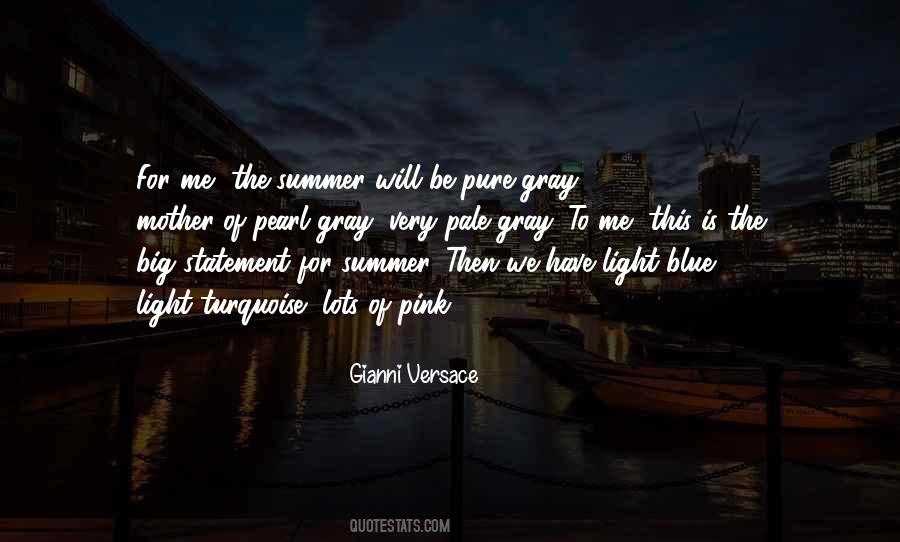 #62. I'm a little like Marco Polo, going around and mixing cultures. - Author: Gianni Versace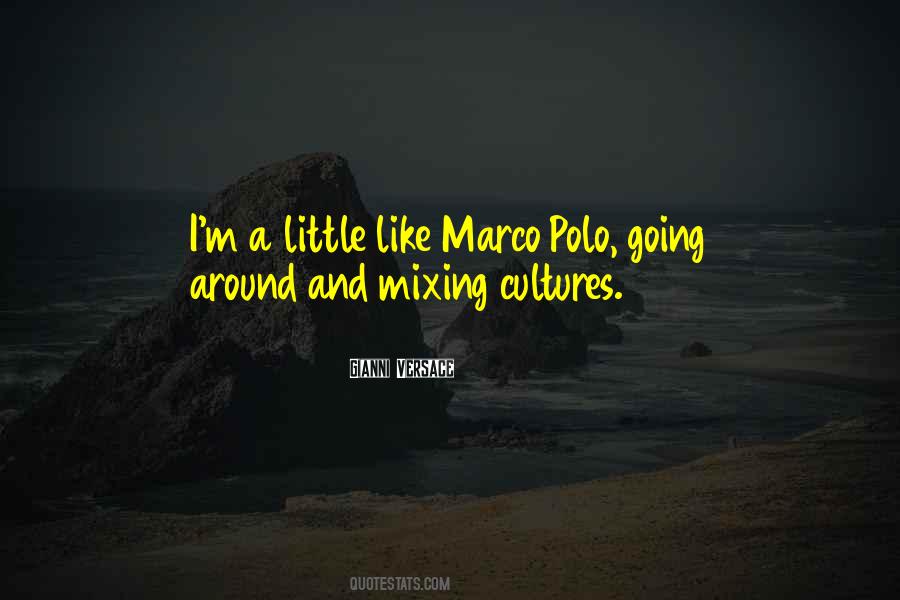 #63. I really want to make clothes that are feminine and help women look beautiful. - Author: Gianni Versace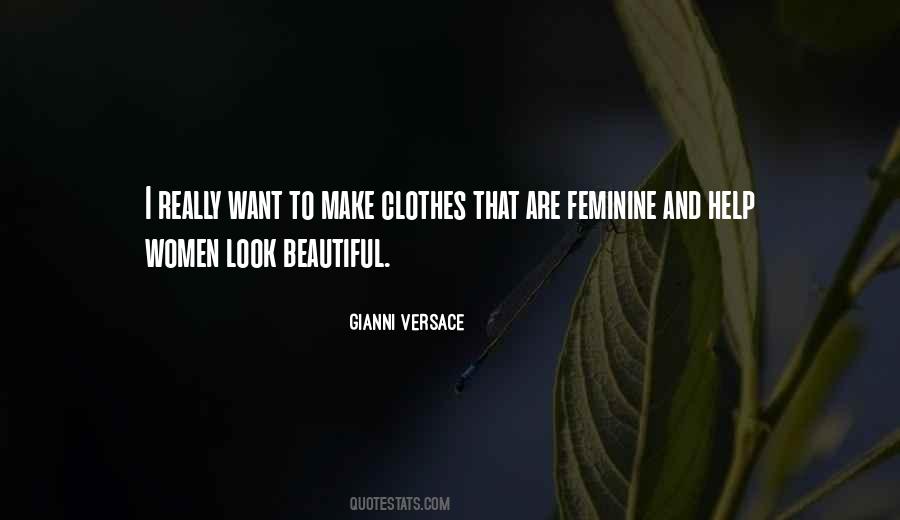 #64. The body should be reconfigured by the clothes, never again the other way round. - Author: Donatella Versace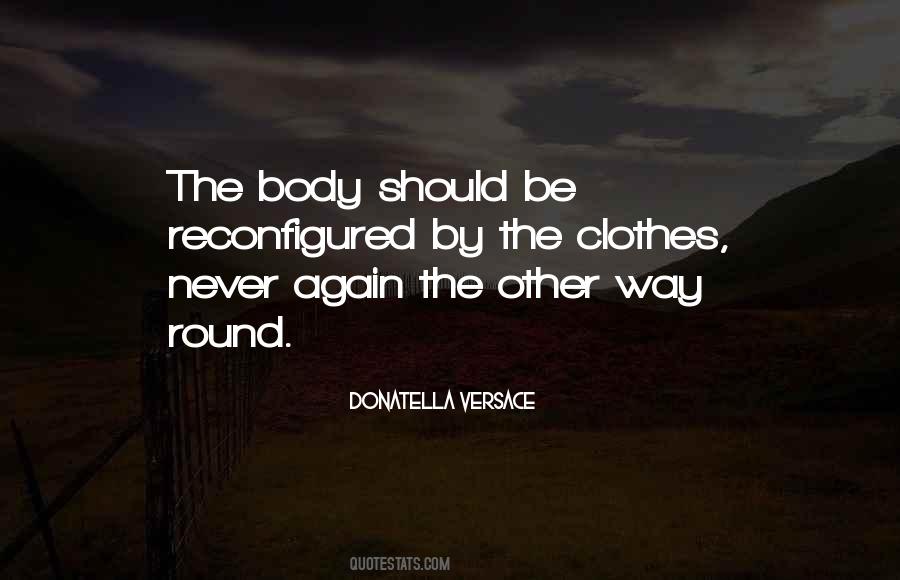 #65. Hollywood is a very inspiring place. - Author: Donatella Versace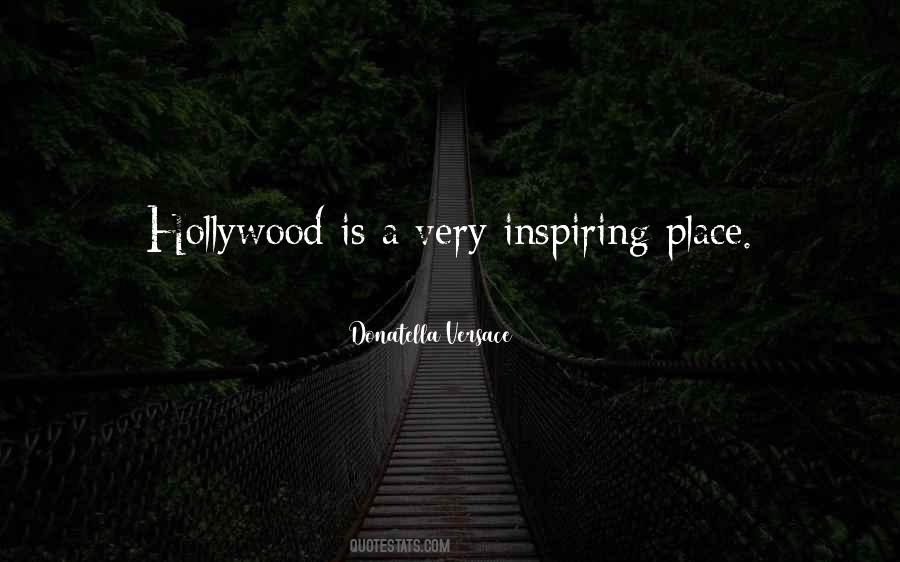 #66. I like to eat. Definitely. I love sitting around a table with my friends. But I don't know how to cook anything. - Author: Donatella Versace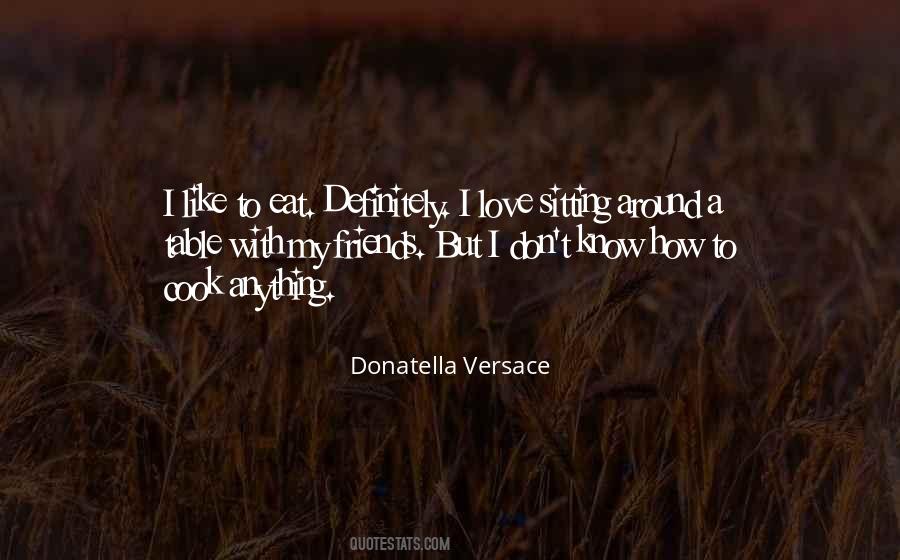 #67. I think sex is part of life, like eating and breathing. - Author: Donatella Versace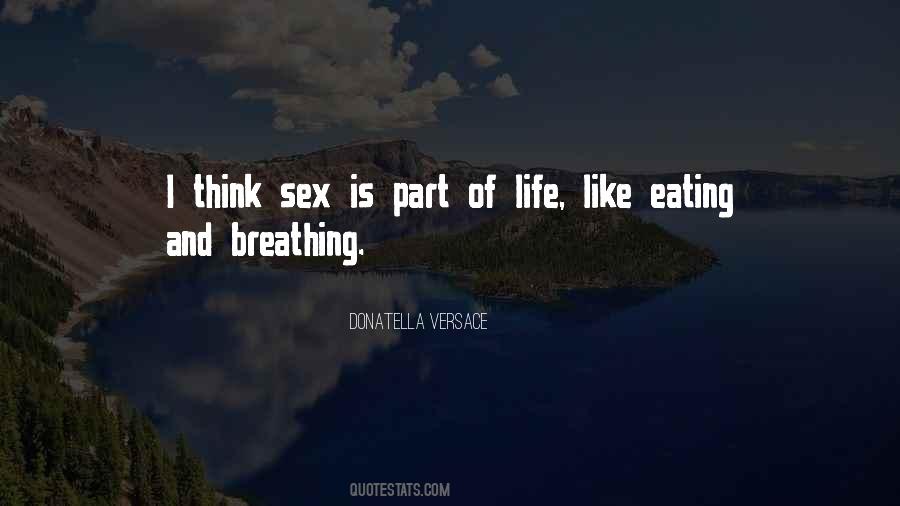 #68. I watch women continuously. I want them to look beautiful, I am not interested in making them funny, but just beautiful. They have got to look marvelous to please their own men. - Author: Gianni Versace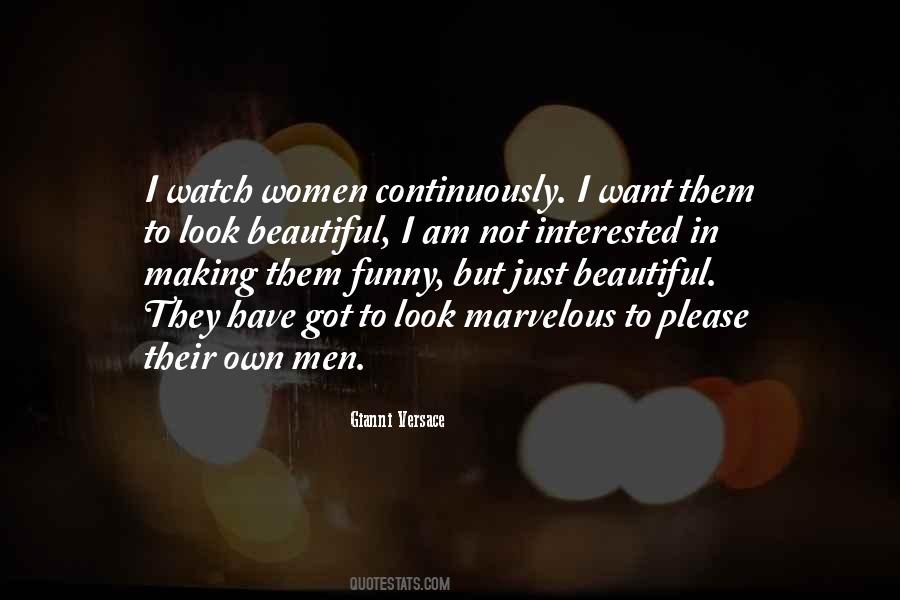 #69. I believe it is the responsibility and duty of those in high-profile positions to give a voice to people whose voices cannot be heard. - Author: Donatella Versace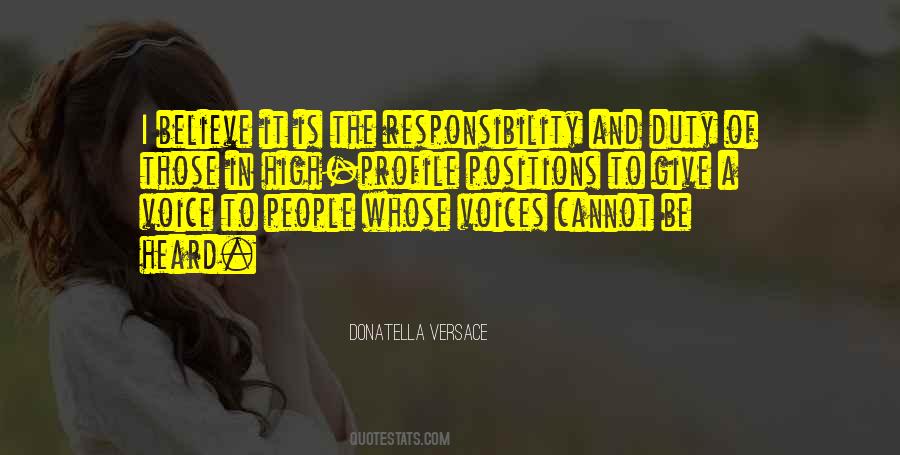 #70. I've learned how to appreciate what I have. And it's a lot. I'm very lucky. - Author: Donatella Versace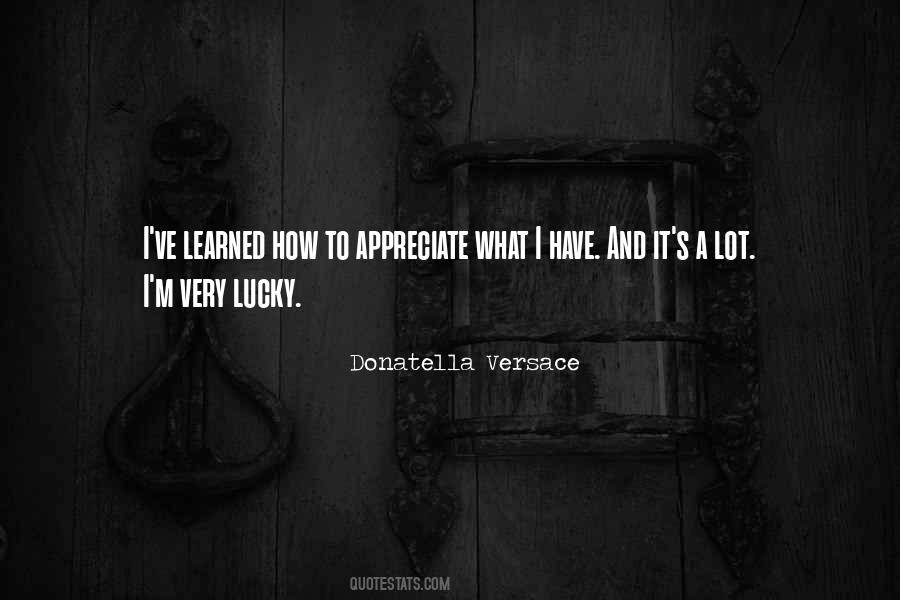 #71. A business woman needs a successful mix of design and practicality. - Author: Donatella Versace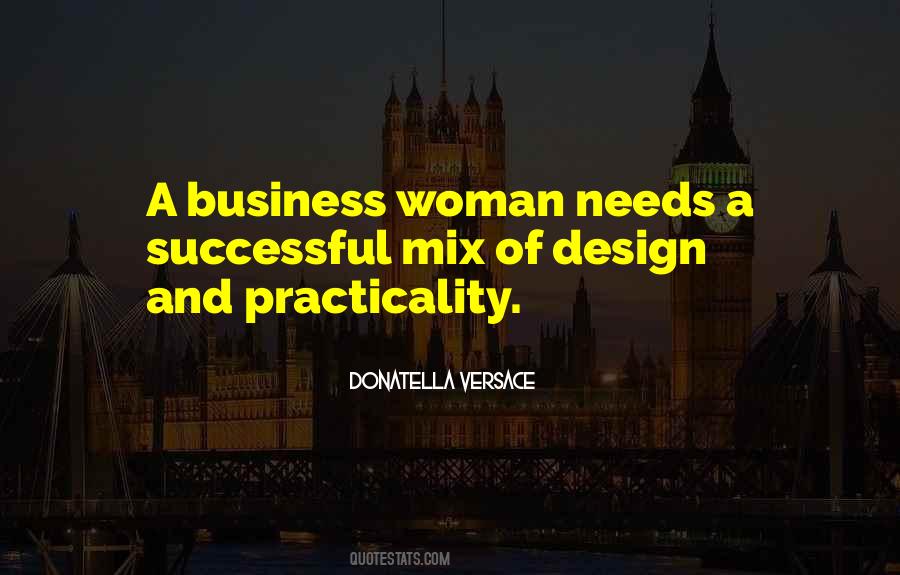 #72. Women are all the same; we want to be smaller in the waist, longer legs, slimmer. I design for women and their defects, to make them better. - Author: Donatella Versace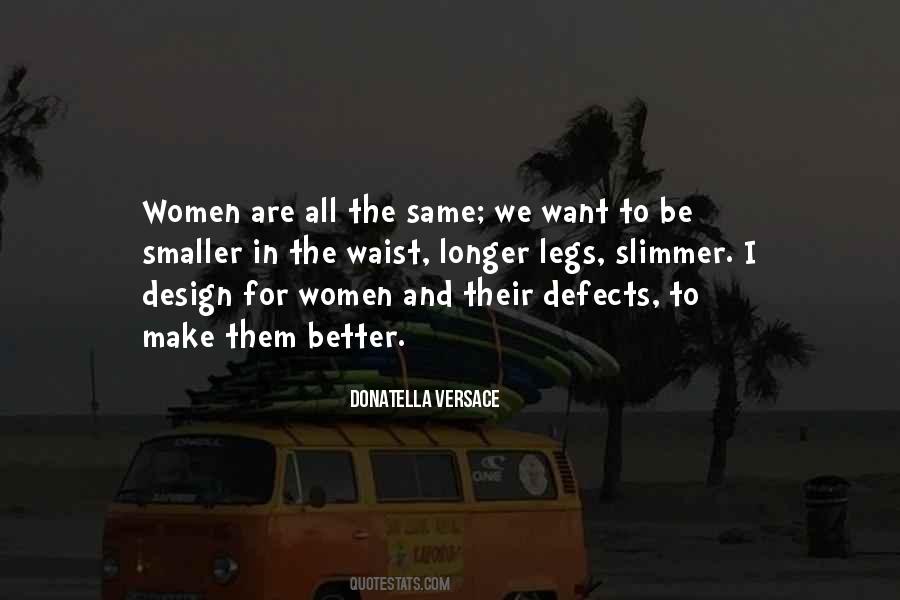 #73. I hate the traffic over there. Why don't they start to build moving pathways to replace all the streets? I see New York in a very futuristic way, but they must do something new. - Author: Gianni Versace
#74. During the eighties and nineties, people wanted to be chic, elegant, bourgeois. - Author: Donatella Versace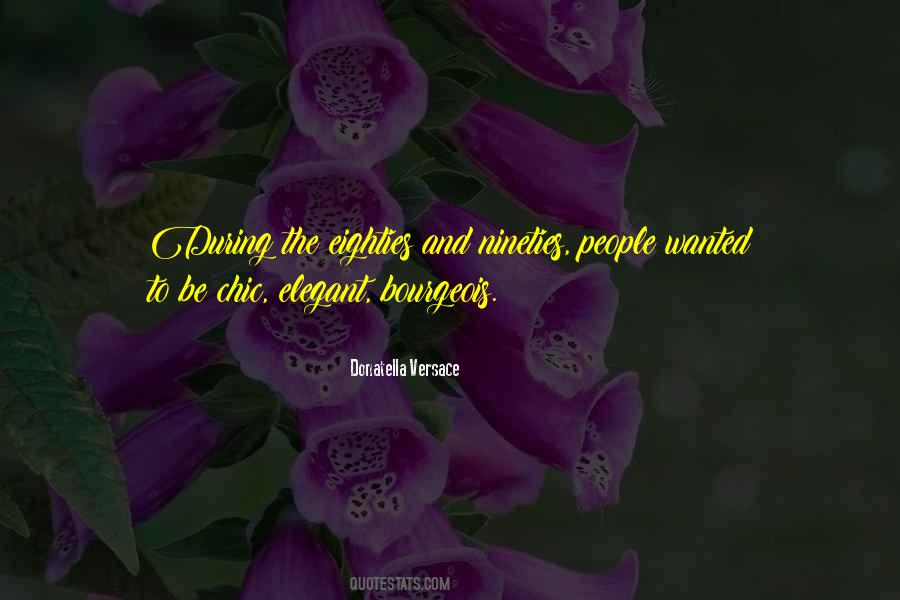 #75. I want to be a designer for my time. - Author: Gianni Versace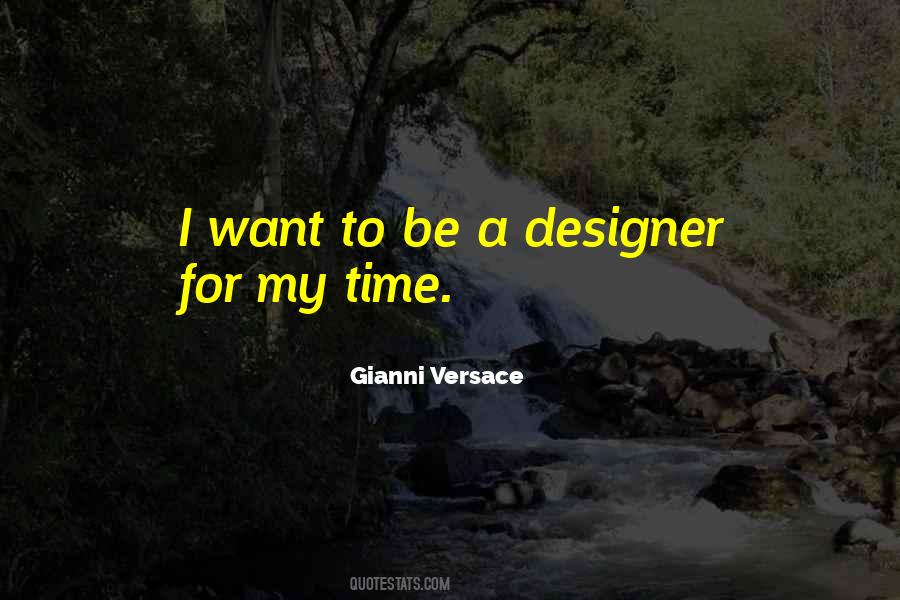 #76. She looks like a librarian with some money and good taste in clothes, but underneath the Versace, she's Godzilla with tits. - Author: Richard Kadrey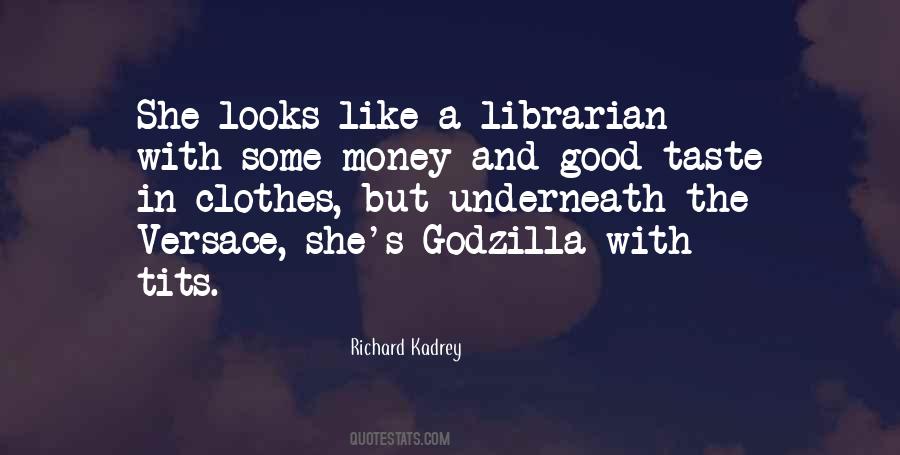 #77. Women should be sure of themselves because women have a lot of capacities. We can achieve so many different things that men cannot. I think women are stronger. - Author: Donatella Versace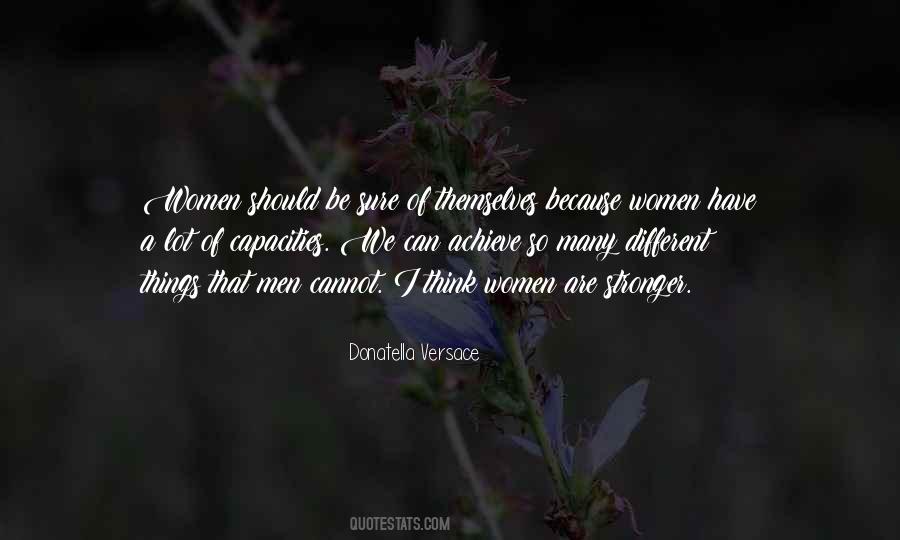 #78. Some men look great unshaven; others just look like they forgot to shave. Beards and mustaches can be really distinctive if you go for an earthy, rock-and-roll look like the Kings of Leon or the Killers. - Author: Donatella Versace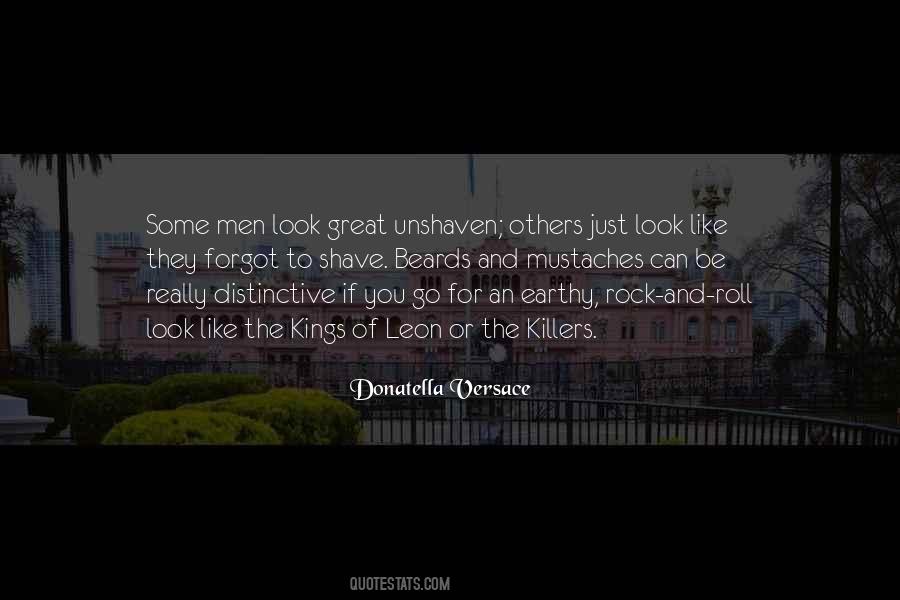 #79. On a hanger, no dress is sexy. It's just fabric on a hanger. - Author: Donatella Versace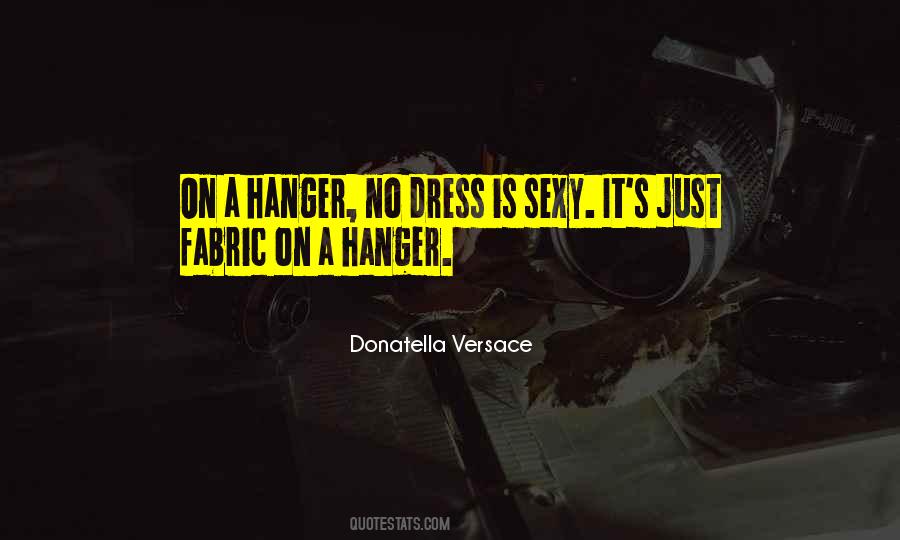 #80. Fashion is about dreaming and making other people dream. - Author: Donatella Versace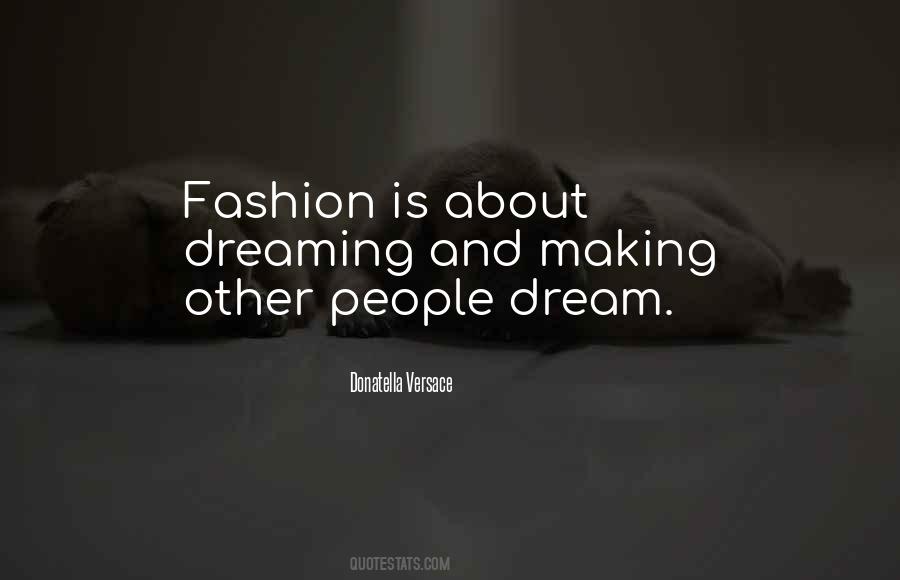 #81. The three biggest fashion mistakes are cheap suits, shoes, and shirts. Spend your money on something good. - Author: Donatella Versace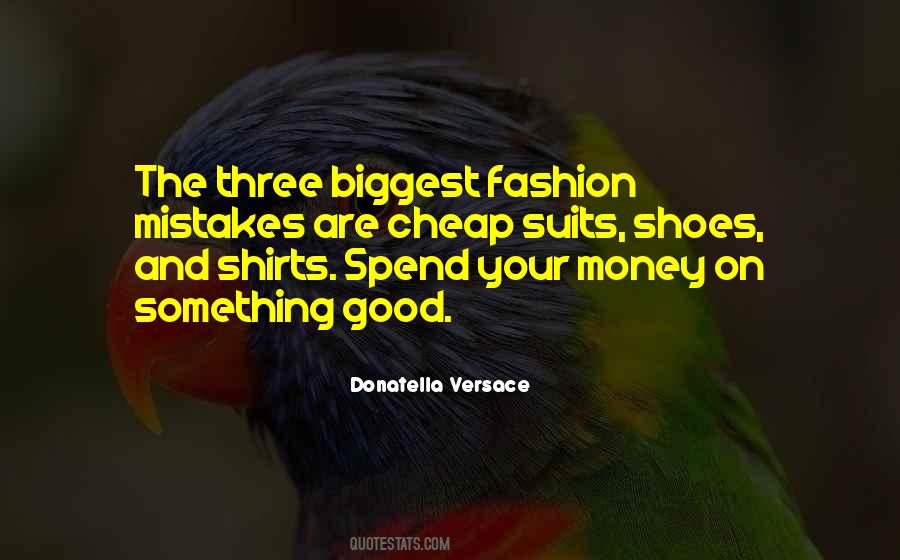 #82. I'm a designer, and I work very hard at that. People sometimes want to put down fashion by saying it's frivolous or superficial, but it's not that way at all. It's actually very hard work. - Author: Donatella Versace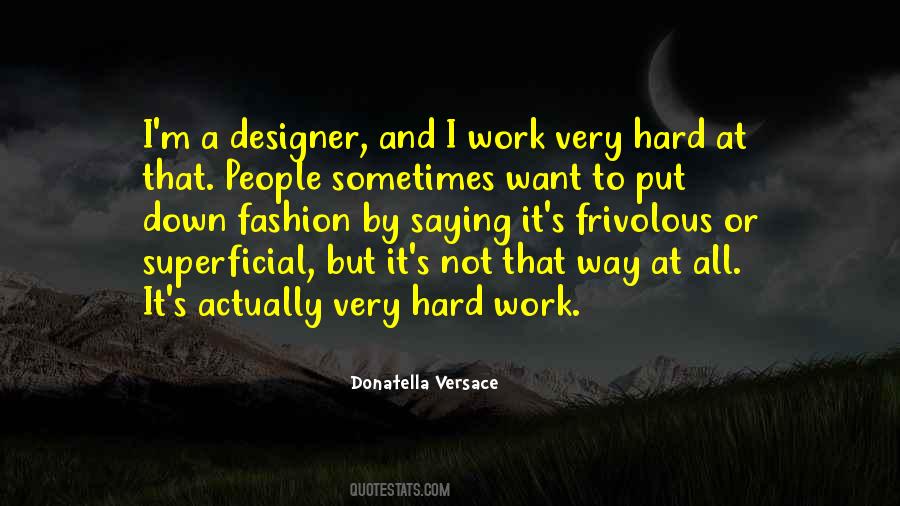 #83. I understand that the rule of fashion is to change, even as a successful designer - you do not want to be stuck in the same rut. - Author: Donatella Versace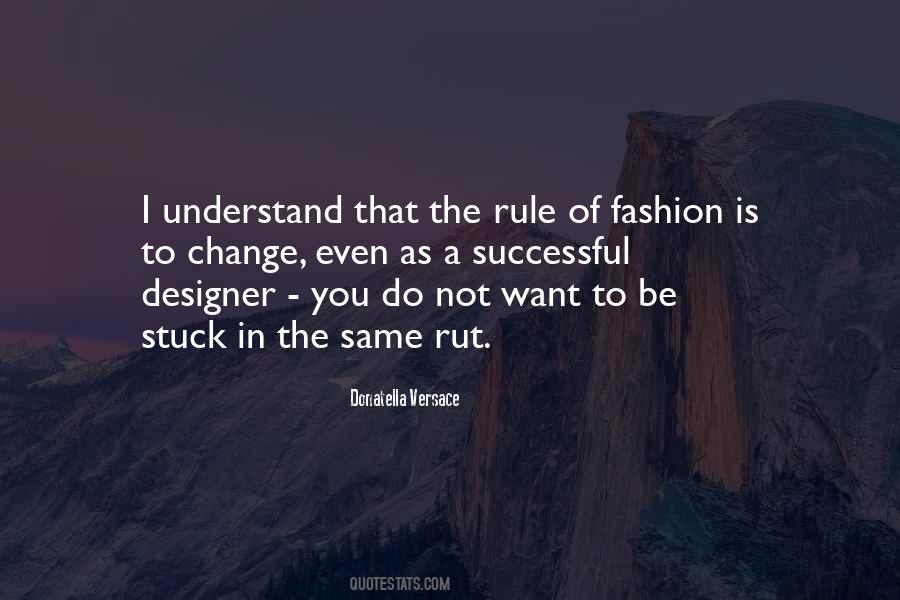 #84. Richard Avedon is a true genius of photography and one of the greatest artists of our time. - Author: Donatella Versace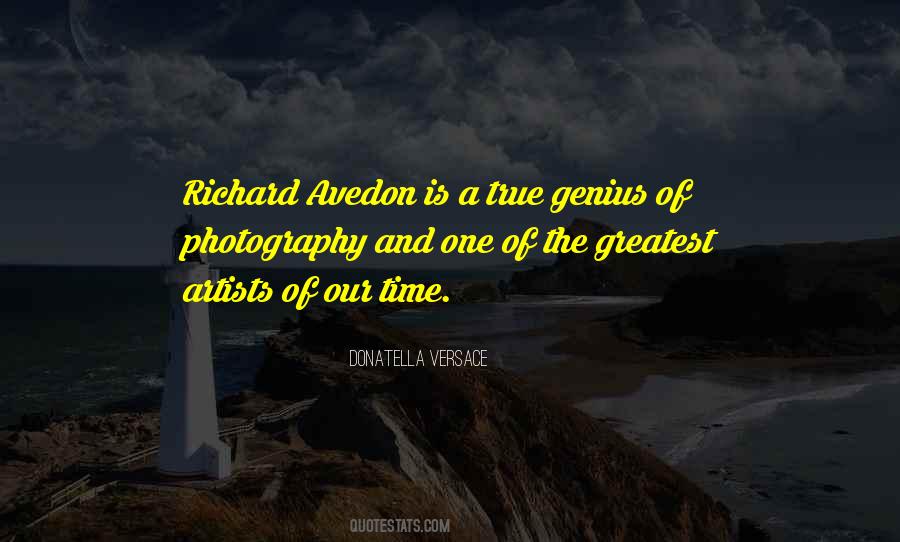 #85. Feminism is dead in the world. It comes from another time. I'm a feminist. I want to fight, but I don't see many people with this desire to fight for something. Women don't help each other, especially in fashion. - Author: Donatella Versace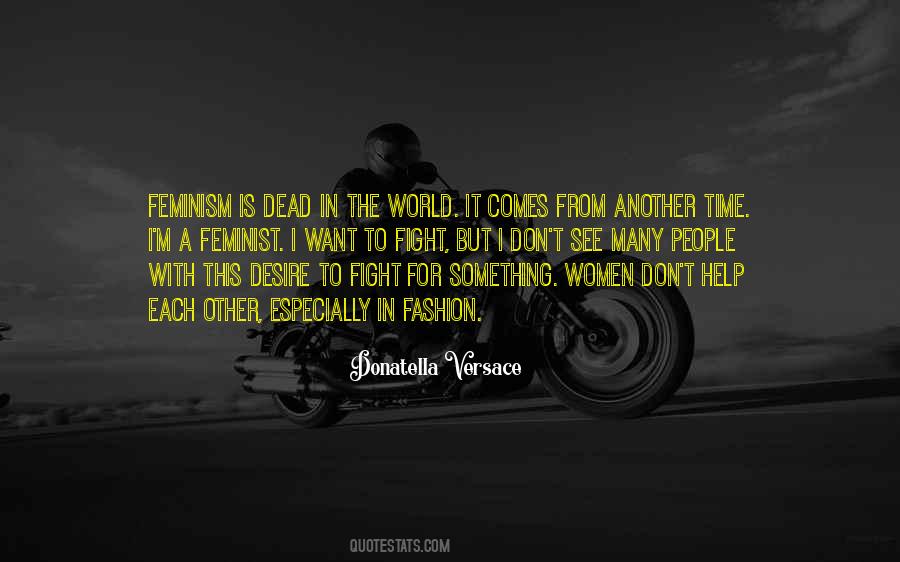 #86. I never fall down. I always fight. - Author: Gianni Versace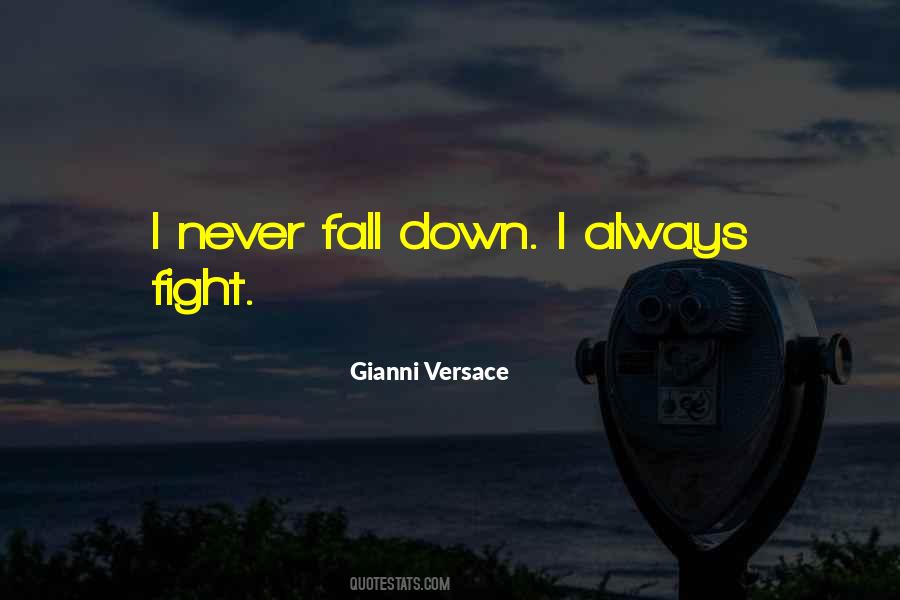 #87. I don't like my physique at all. - Author: Donatella Versace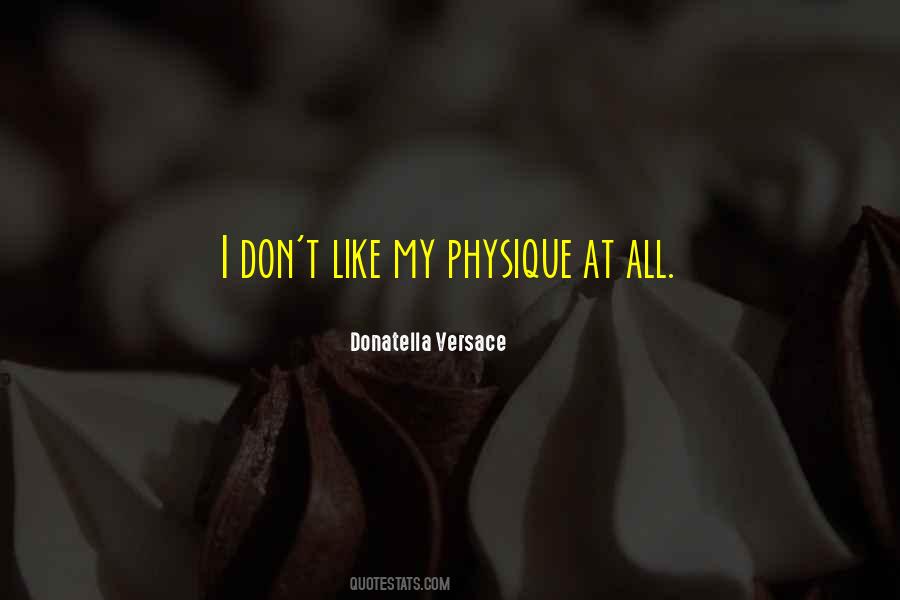 #88. Fashion goes with the feeling of the moment. It's related to movies, to art, to young people's taste. - Author: Gianni Versace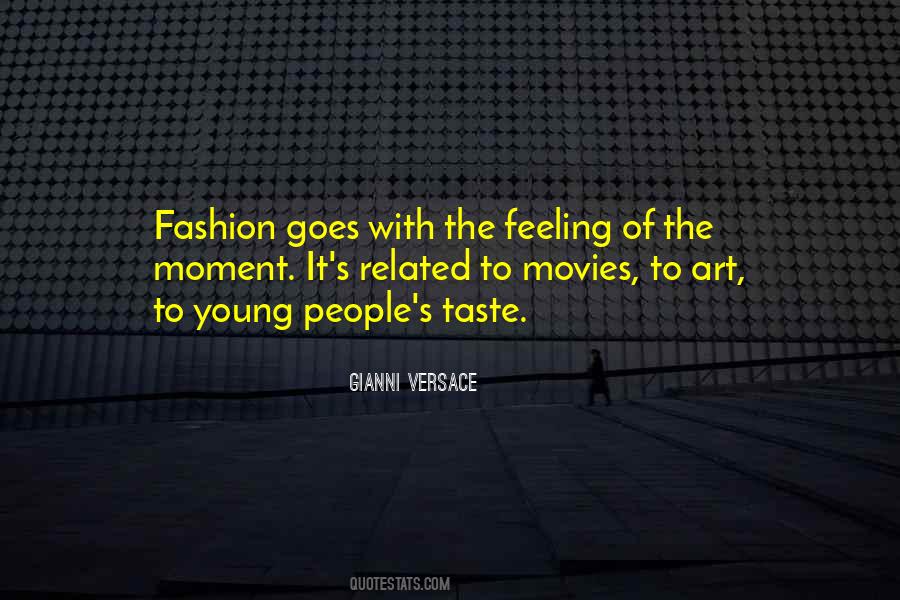 #89. Many young people don't know what Versace represent. I want to show what makes Versace an iconic brand. - Author: Donatella Versace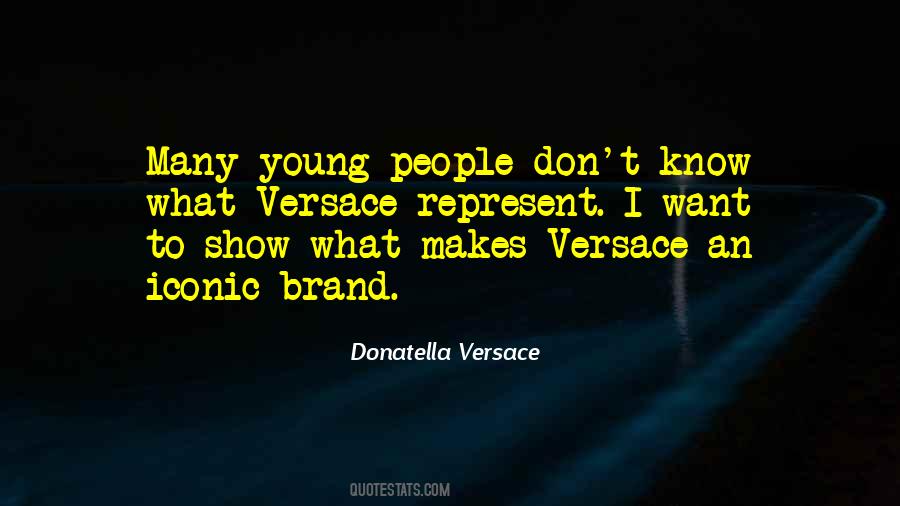 #90. Sometimes big designers are afraid that people won't recognize them if they change that much. - Author: Donatella Versace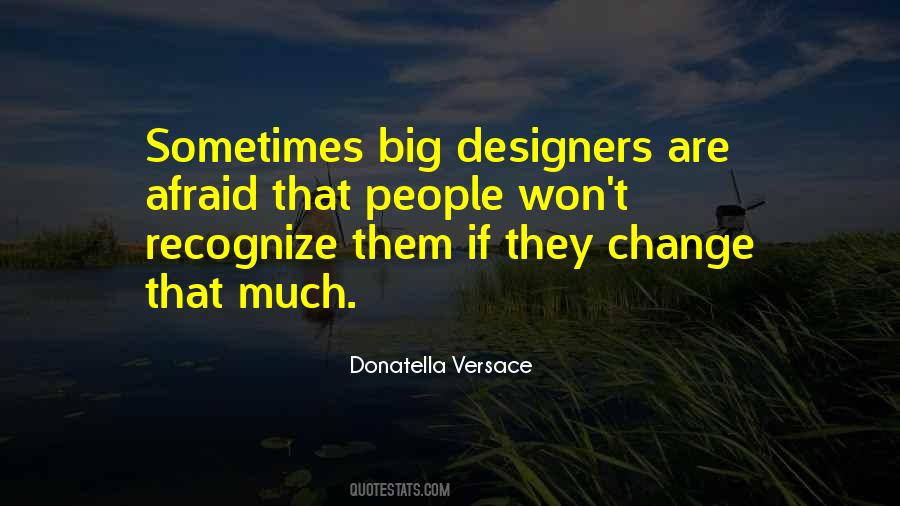 #91. What is comfortable fashion? To be comfortable, that can't be in the vocabulary of fashion. If you want to be comfortable, stay home in your pajamas. - Author: Donatella Versace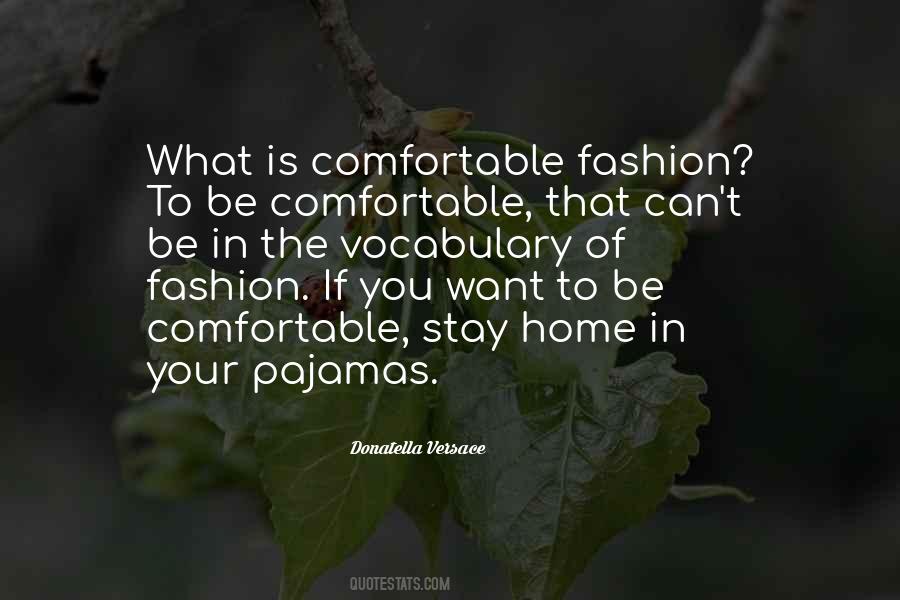 #92. At that time of the supermodels, celebrities didn't want to be in fashion; they thought they were more intellectual and interesting than anyone in fashion. - Author: Donatella Versace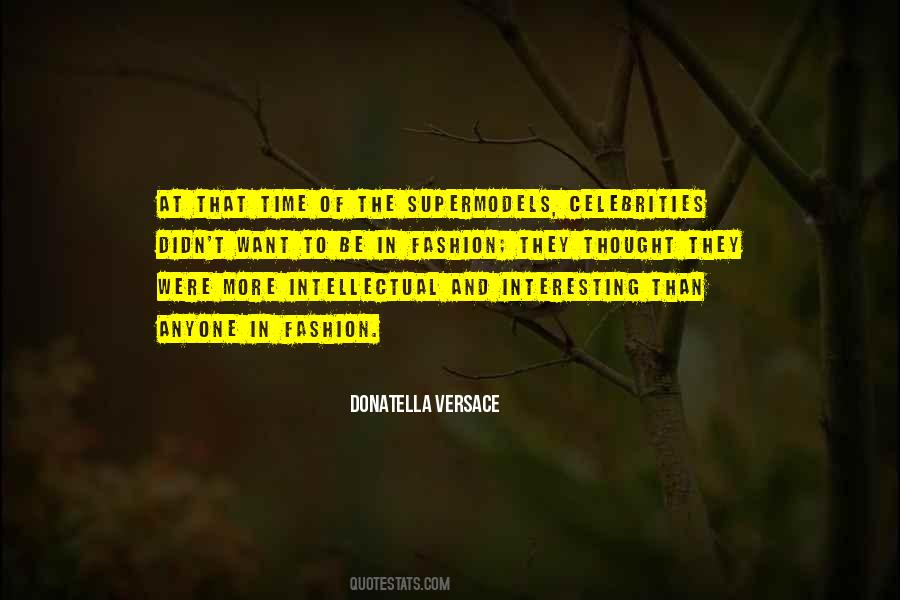 #93. Other brands I like besides Versace ... Tom Ford makes incredible suits. I love the glasses as well. I have a plethora of Tom Ford shades. Who else do I like? Dolce & Gabbana, Dior Homme. - Author: Trey Songz
#94. In Italian there is an expression: We don't sleep on the fame. - Author: Donatella Versace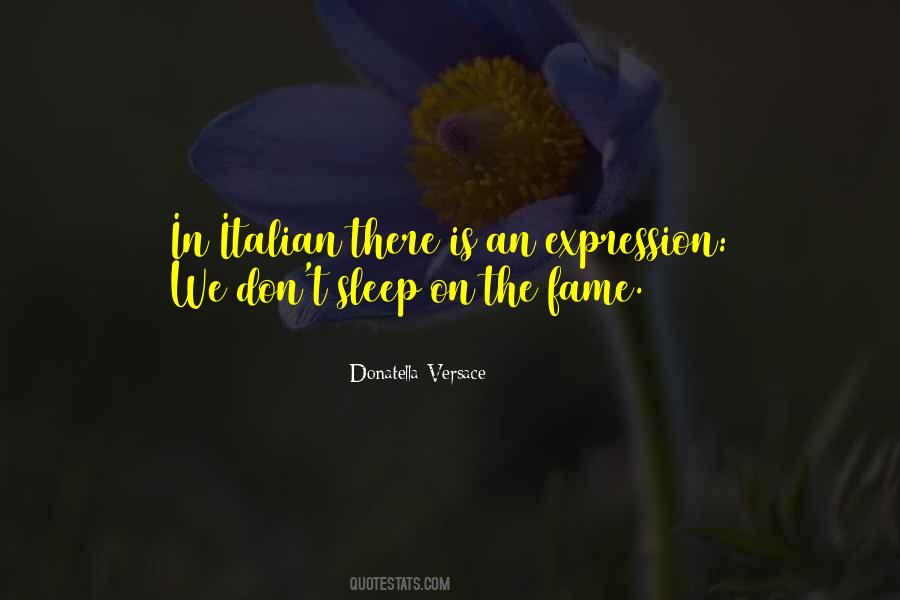 #95. I have to say, I grew up with fashion because my mother was a seamstress, and she had an atelier. She would cut the first pattern, and then she had people working for her. So I grew up in an atelier, watching people all around me sewing. I was fascinated. - Author: Donatella Versace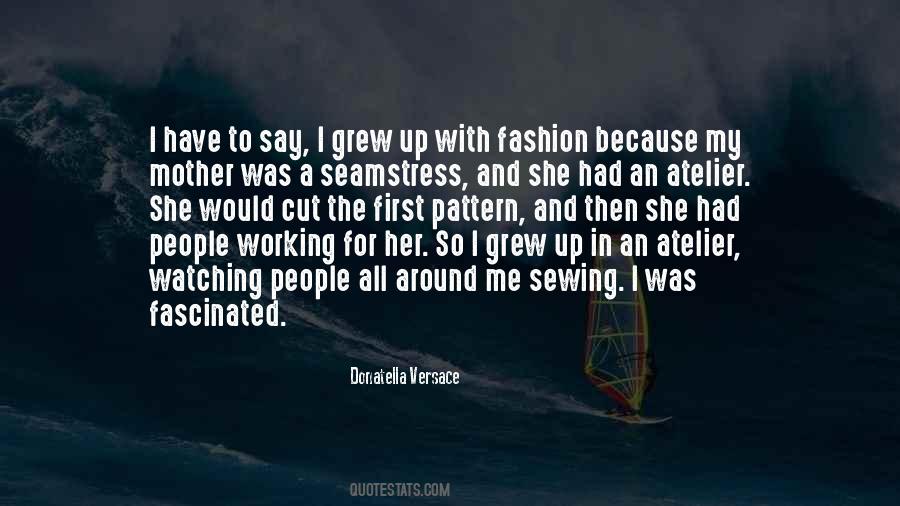 #96. Honest to god, Clare, you act like the dress is more important than you being shot!"
Of course it is! It's a Versace, you idiot! Bring help! I'm going to save this dress at all costs." - Sam to Clare - Author: Katie MacAlister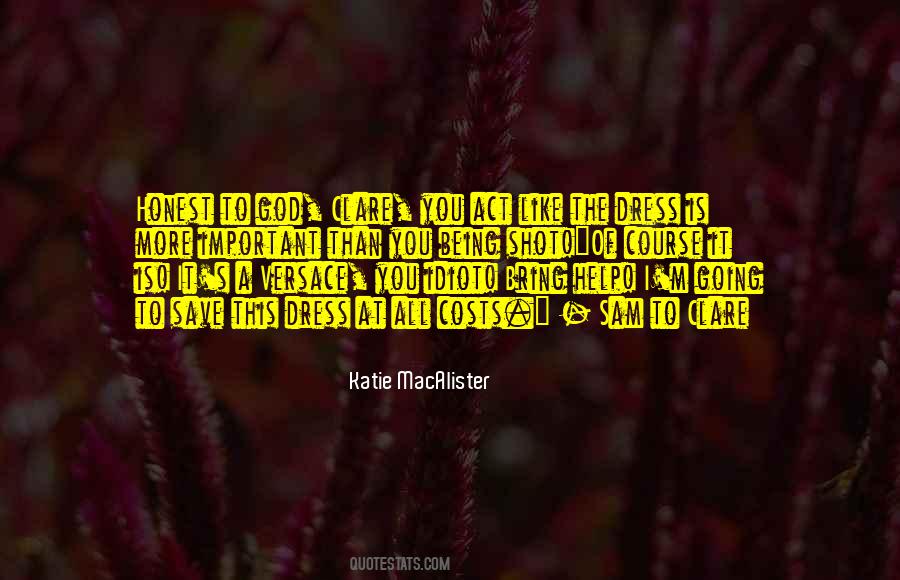 #97. It would be very easy for us to do a collection that everybody would like and not criticize. But criticism is a part of life. You have to take it. - Author: Donatella Versace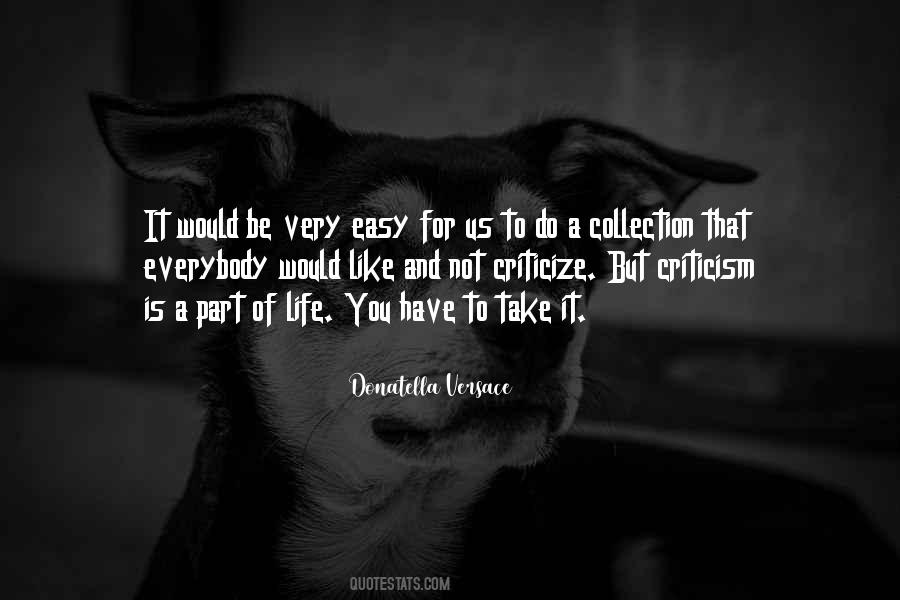 #98. Perfume puts the finishing touch to elegance - a detail that subtly underscores the look, an invisible extra that completes a man and a woman's personality. Without it there is something missing. - Author: Gianni Versace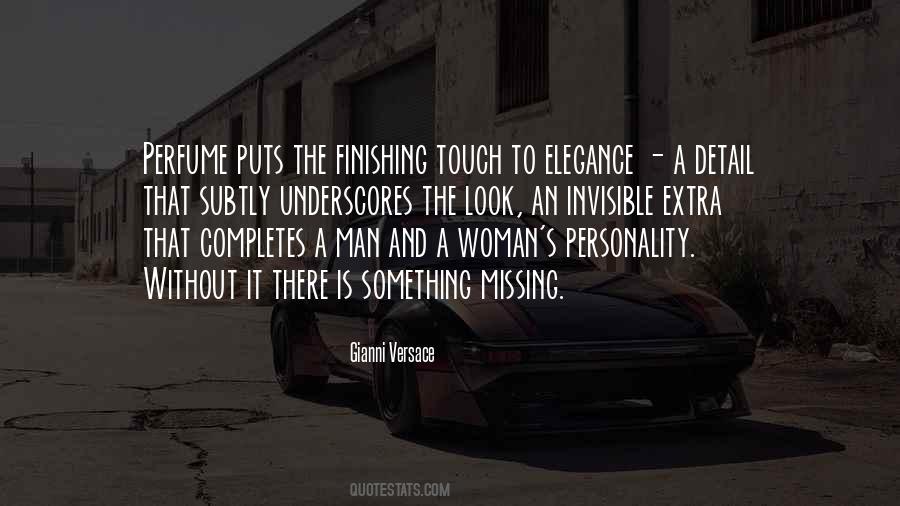 #99. Decide what you are, what you want to express by the way you dress and the way you live. - Author: Gianni Versace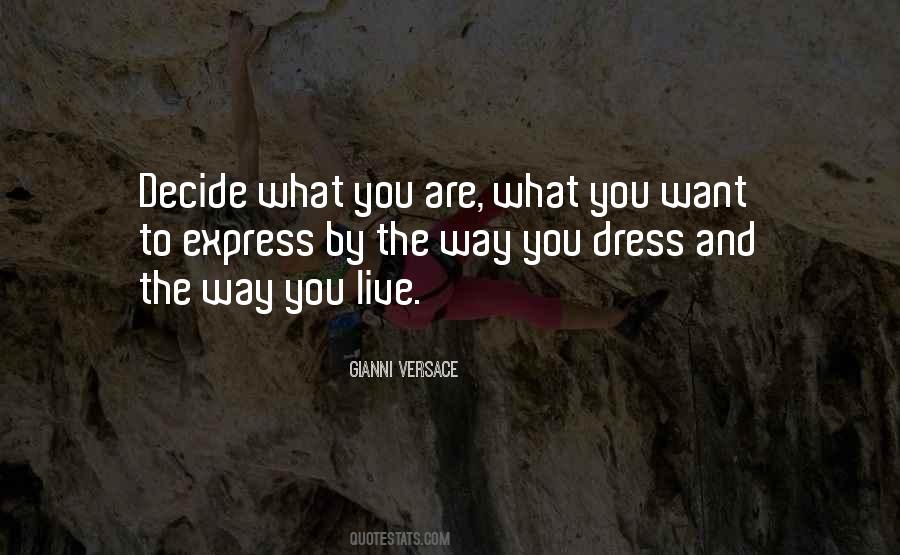 #100. Versace has always been a brand that I've loved, a brand that has supported me. I've been wearing Versace for so long, I come in here and I have friends here, and they really support what it is that I do. Our partnership has been great. - Author: Trey Songz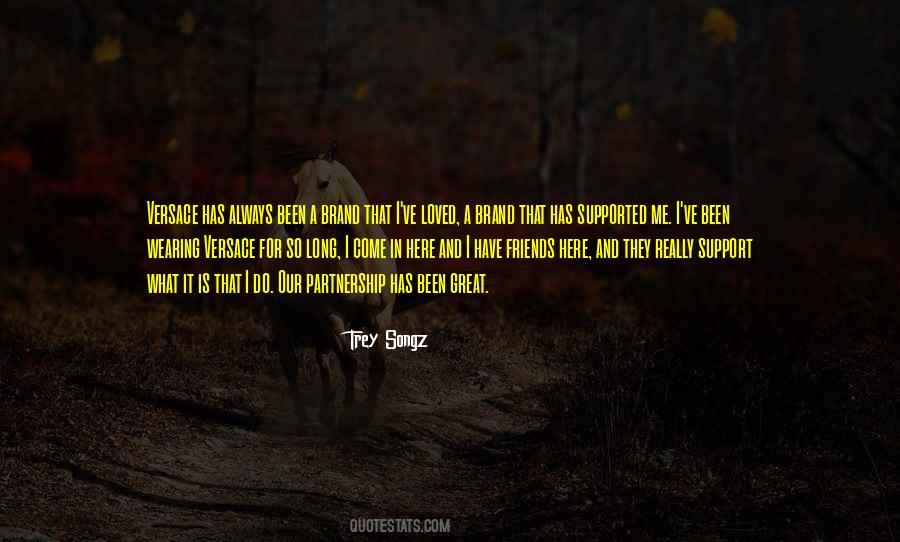 Famous Authors
Popular Topics