Theme With Famous Quotes & Sayings
List of top 100 famous quotes and sayings about theme with to read and share with friends on your Facebook, Twitter, blogs.
Top 100 Theme With Quotes
#1. Overall, I was generally "delighted" with the book's story -- writing, theme, plot, etc. Seriously, though, I really did revel in it. After all, "what is a book for if not for our enjoyment? - Author: Chris Mentillo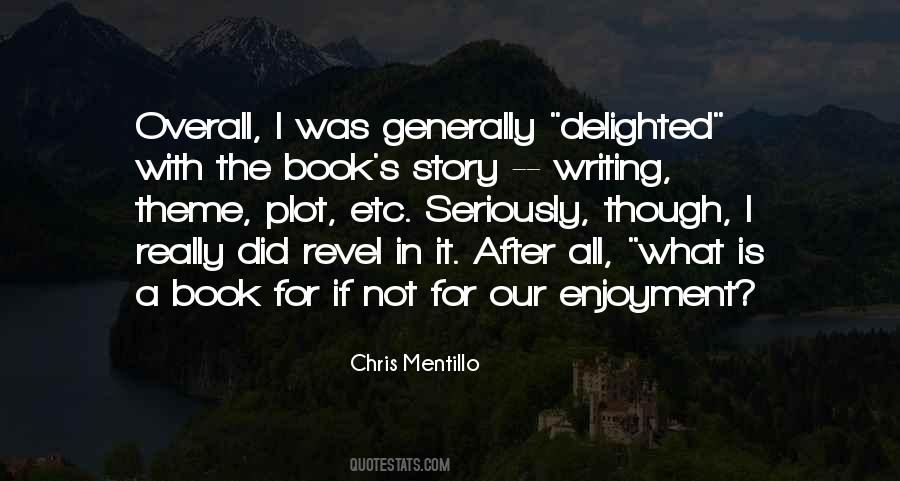 #2. The major and almost only theme of all my work is the struggle of man with "God": the unyielding, inextinguishable struggle of the naked worm called "man" against the terrifying power and darkness of the forces within him and around him. - Author: Nikos Kazantzakis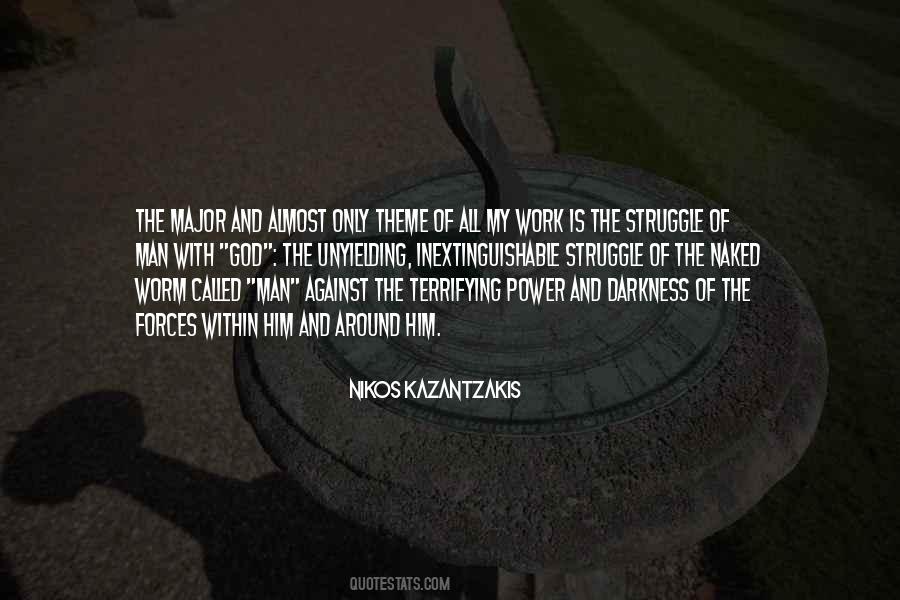 #3. In all those cases, in accordance with the theme of this book, increases in economic freedom have gone hand in hand with increases in political and civil freedom and have led to increased prosperity; competitive capitalism and freedom have been inseparable. - Author: Milton Friedman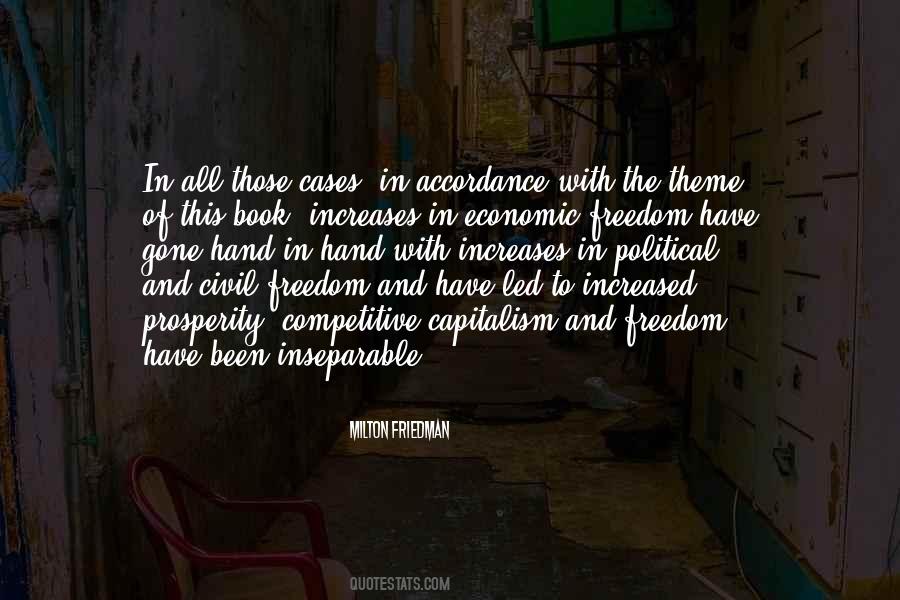 #4. Herzog abandoned this theme with characteristic abruptness - Author: Saul Bellow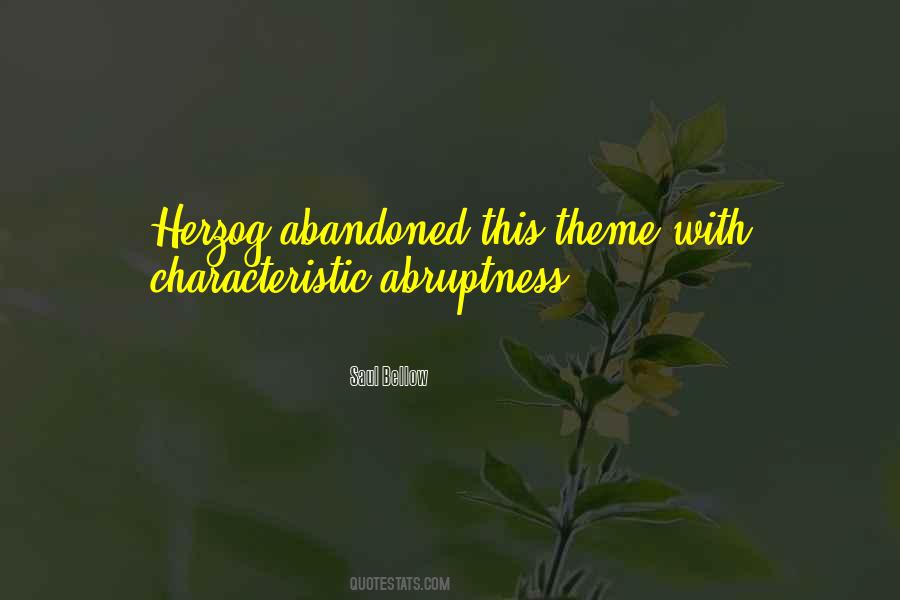 #5. The place was crawling with youngsters. It was good, because the kids were good. I can't make a general assumption. Again, you're probably getting, as a general theme from me, that I don't make a lot of broad, sweeping rules about movies. - Author: Adam Arkin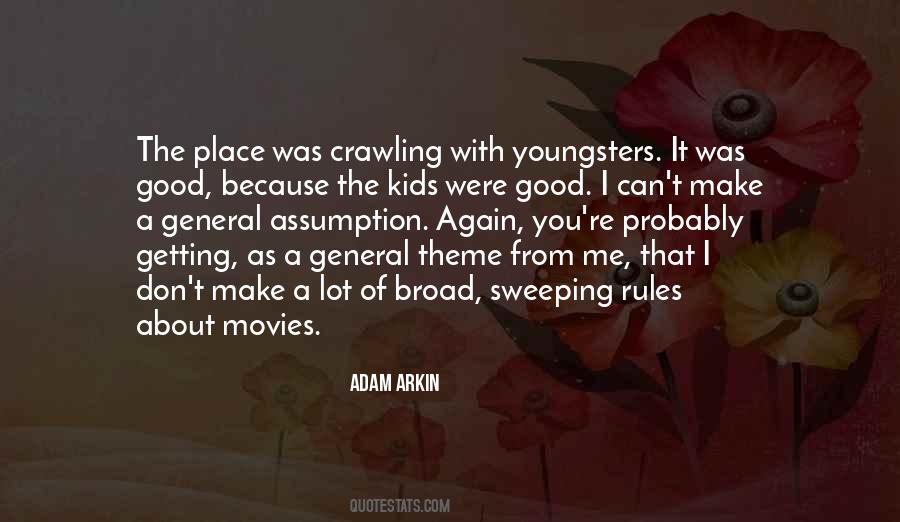 #6. But more than anything I kind of pride myself in continuing the process that we're trying to accomplish, and that's just to get better and work on my fundamentals. So that's been kind of in the theme now for a couple years and we stuck with it and that's kind of what I want to keep doing. - Author: Webb Simpson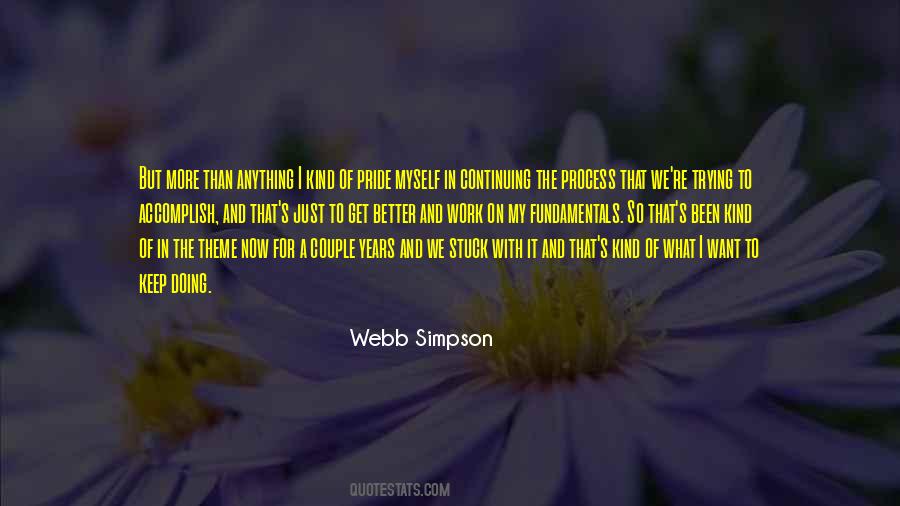 #7. Stevie Nicks has always been my fashion icon, so I wanted to blend her infamous witchy style with the 90s valley girl theme that I was so entranced by as a young girl. - Author: Bethany Cosentino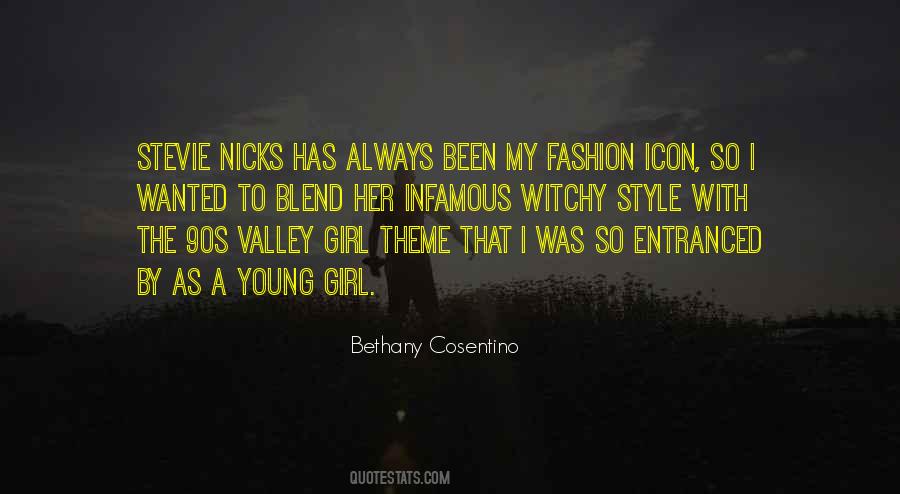 #8. We find our voice, we lose our voice, we retrieve it, honor it, and hopefully, learn how to share it with others and stand in the center of our power. Translation is a theme. Fear and courage are a theme. - Author: Terry Tempest Williams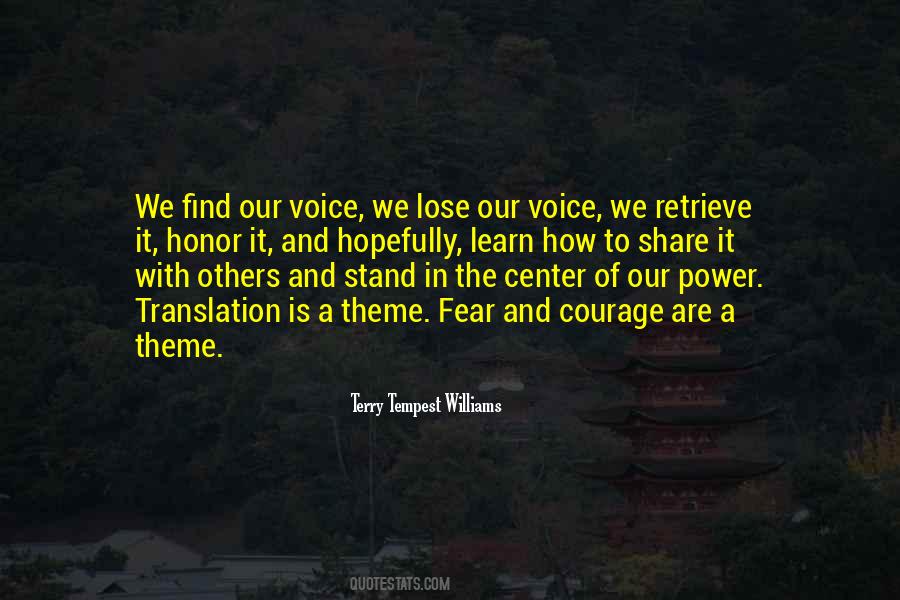 #9. When I got to Florida, I was a British kid, but I was also an Indian kid: a brown kid with an English accent. Talk about being an outsider. And that's become the theme of a lot of the stuff I write about. - Author: Aasif Mandvi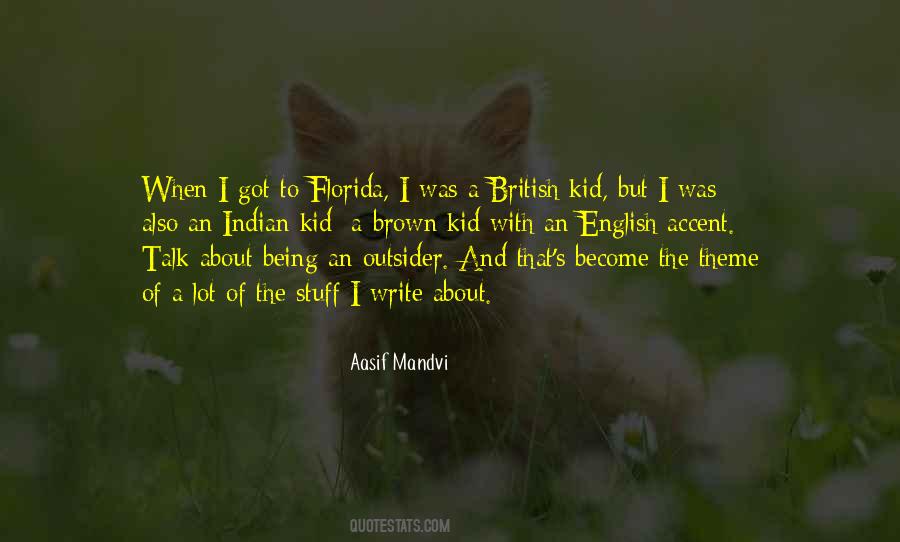 #10. The real world is devoid of narratives, after all. Narratives are just a thing that our brains do with facts in order to draw a line around the incomprehensible largeness of reality and wrestle it into something learnable and manipulable. Existence is devoid of plot, theme, and most of all moral. - Author: Charles Stross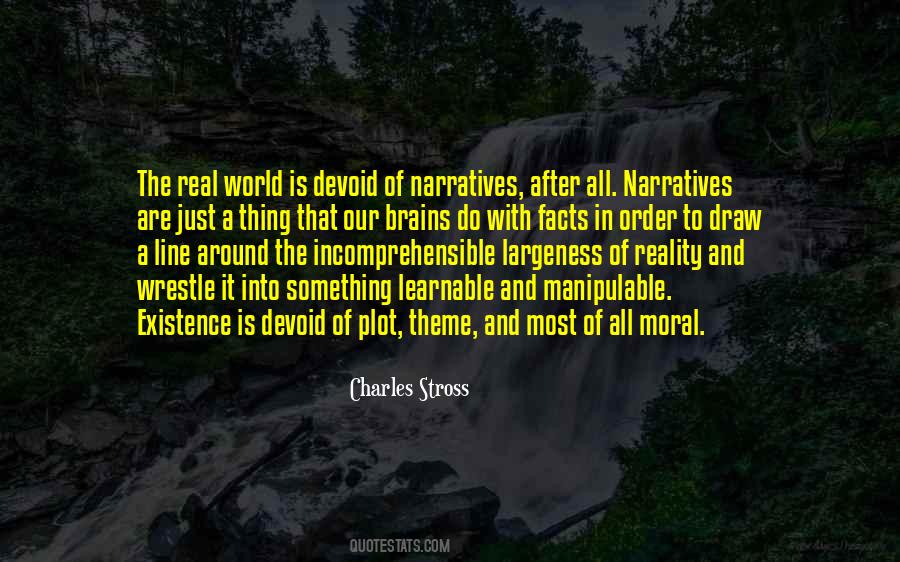 #11. I am good when there is something central about the character. There is always a human theme I attach myself to. I am really looking for something that is moving or enlightening or something with depth as an actor. I look for these kinds of roles. - Author: Brad Dourif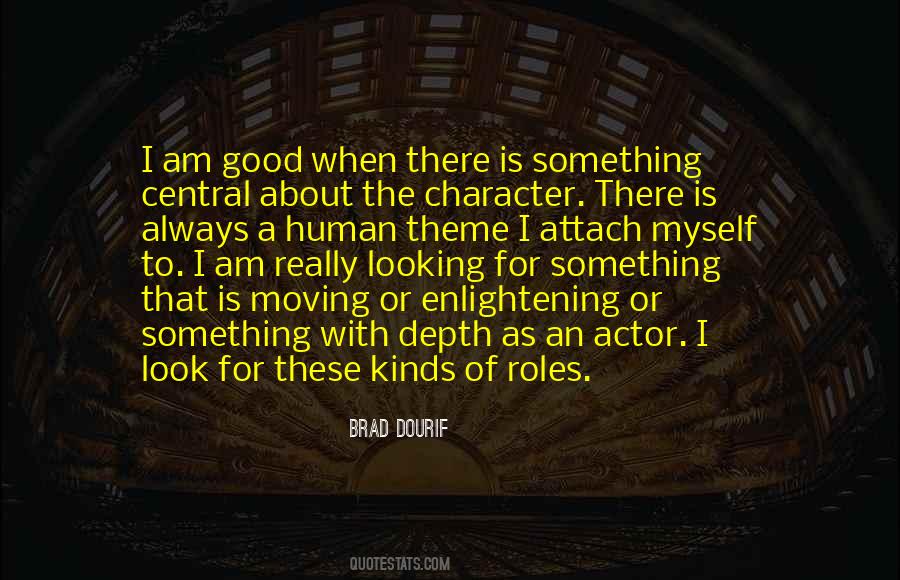 #12. Wishing to open my mouth, O brethren, and speak on the exalted theme of humility, I am filled with fear, even as a man who understands that he is about to discourse concerning God with the art of his own words. For humility is the raiment of the Godhead. - Author: Isaac Of Nineveh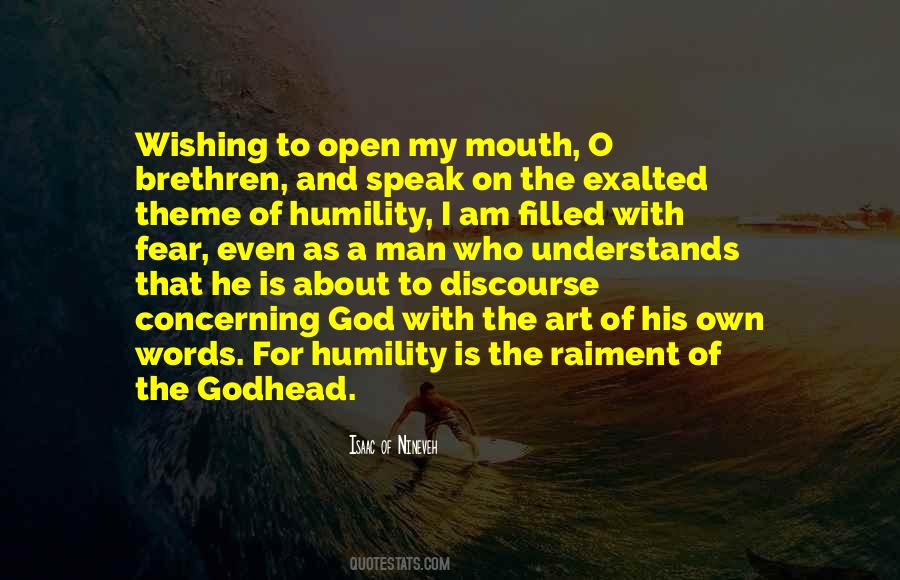 #13. The theme that runs through all my books is connection. Connection - physical and non-physical - with other humans, and connection with nature are necessary for our well-being. Without it, we are depressed, lonely, and fail to thrive. - Author: Mary Alice Monroe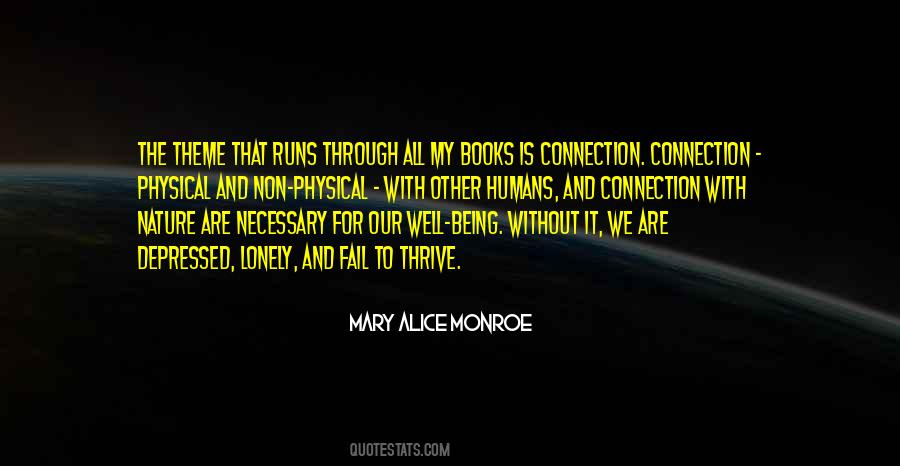 #14. Fiction has subversive potential. People let it into their minds, like the Trojan Horse. They don't know what's inside. You hook them with the story, and God can work below the level of their consciousness. Fiction can be propaganda for evil or convey a theme that impacts people for good. - Author: Randy Alcorn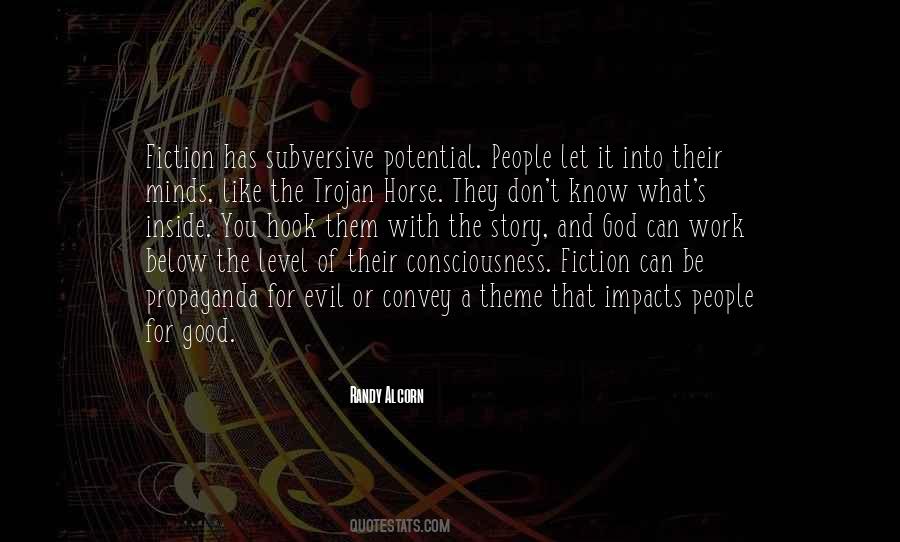 #15. I did a really fun orange nail polish with my friend Deborah Lippmann. All of her nail polishes are named after songs so we called this one "Lara's Theme" which is really cute. It's a bright orange which is really good for summer or cheering yourself up in winter. - Author: Lara Stone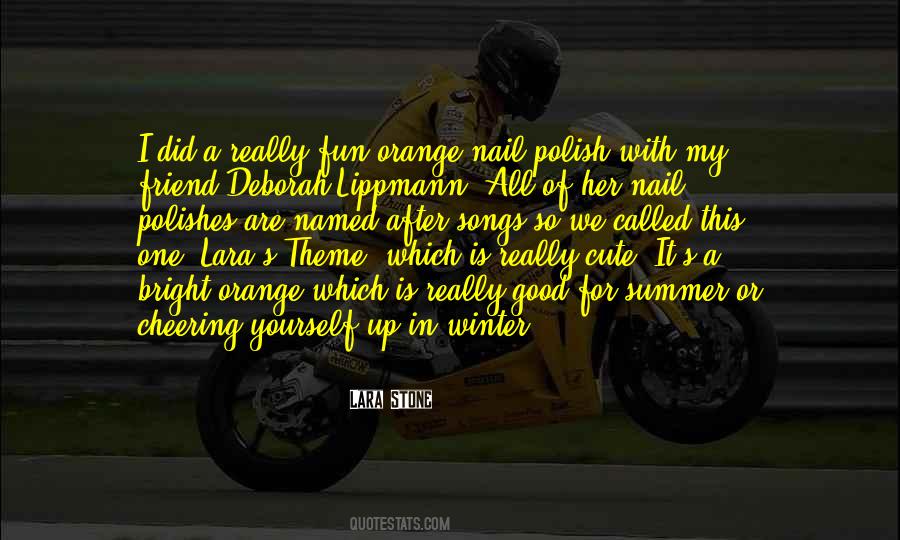 #16. It's a very tough time for the playwright. Broadway has become almost a musical comedy theme park with all these long-running shows. - Author: John Lithgow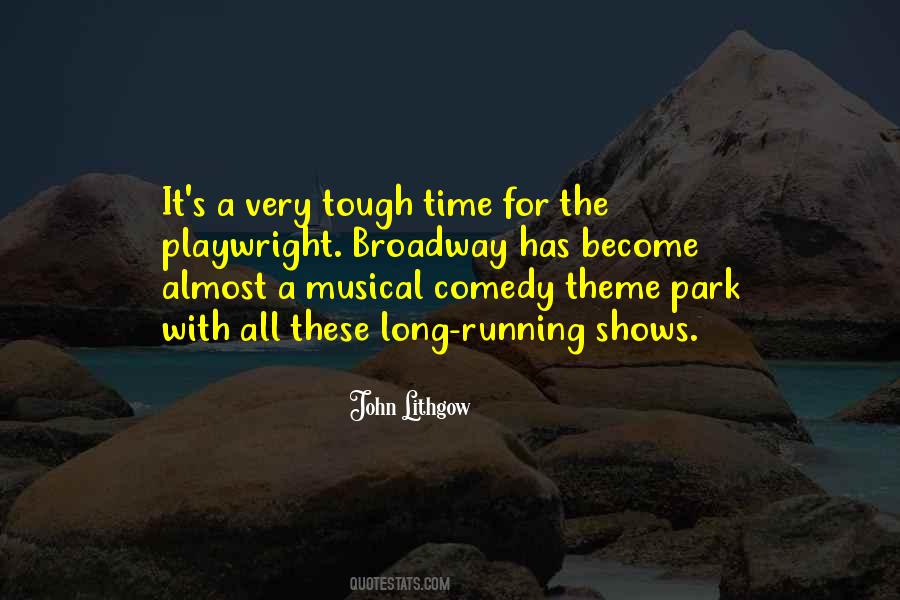 #17. The whole theme of Interview with the Vampire was Louis's quest for meaning in a godless world. He searched to find the oldest existing immortal simply to ask, What is the meaning of what we are? - Author: Anne Rice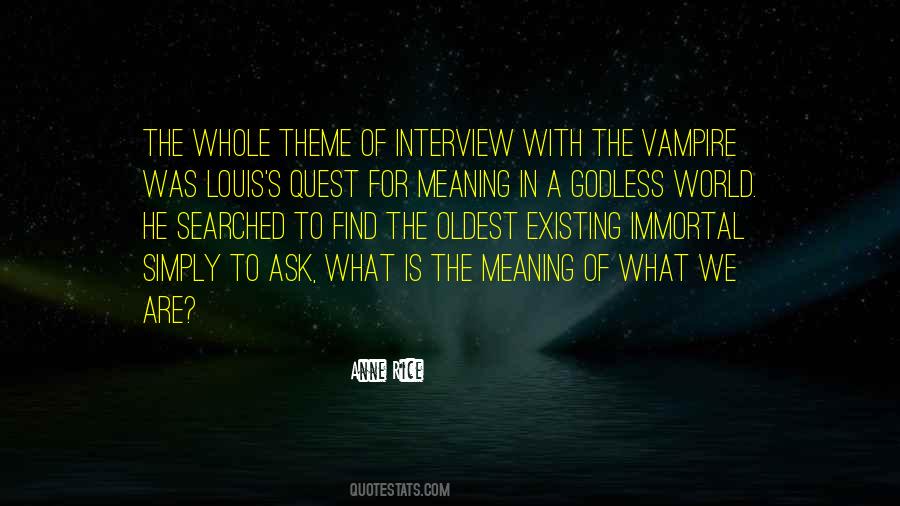 #18. And our big theme has been, you have made so much progress, we urge you on with the openings and market openings that have occurred. They clearly work and continuing on that path will produce further growth and further opportunities for the Indian people. - Author: John W. Snow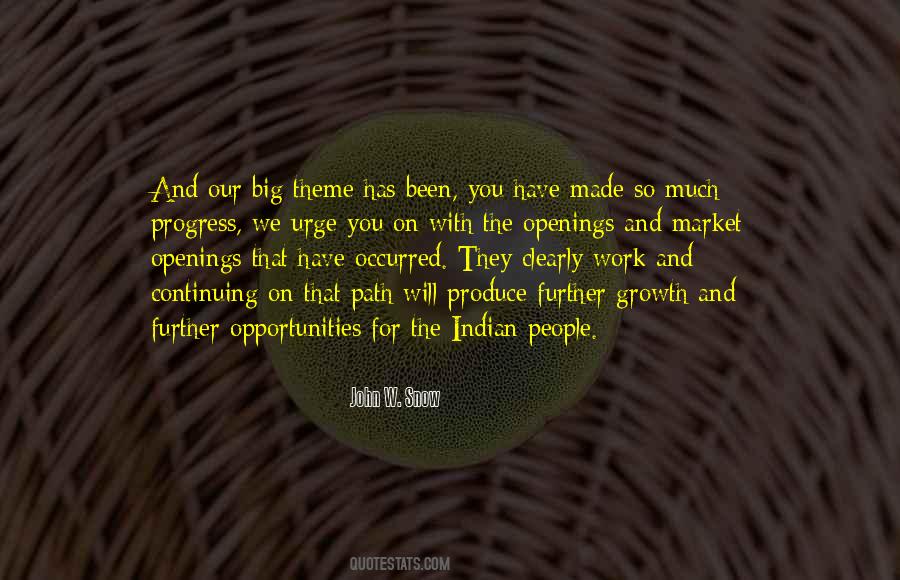 #19. All music is rehash. There are only a few notes. Just variations on a theme. Try to tell the kids in the Seventies who were screaming to the Bee Gees that their music was just The Beatles redone. There is nothing wrong with the Bee Gees. - Author: John Lennon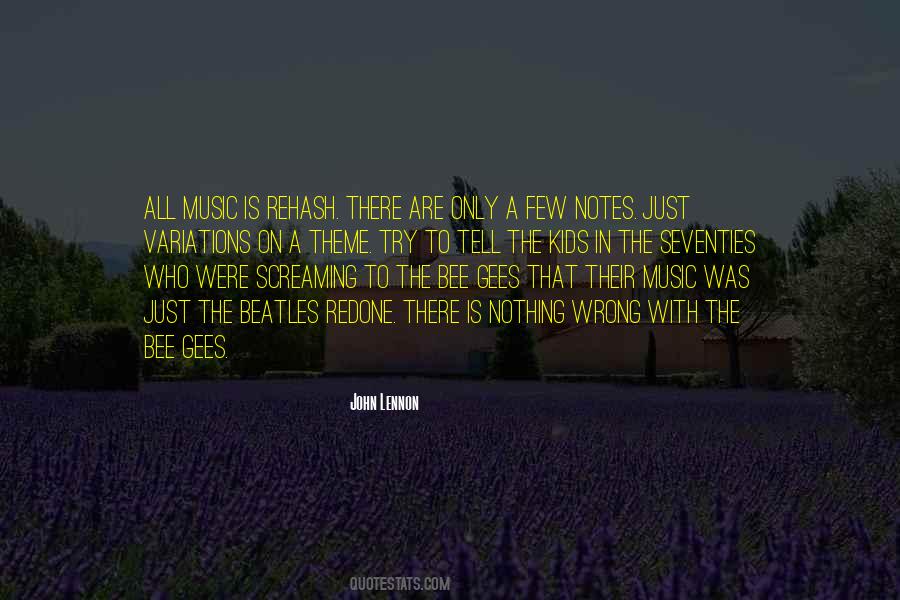 #20. Obsession led me to write. It's been that way with every book I've ever written. I become completely consumed by a theme, by characters, by a desire to meet a challenge. - Author: Anne Rice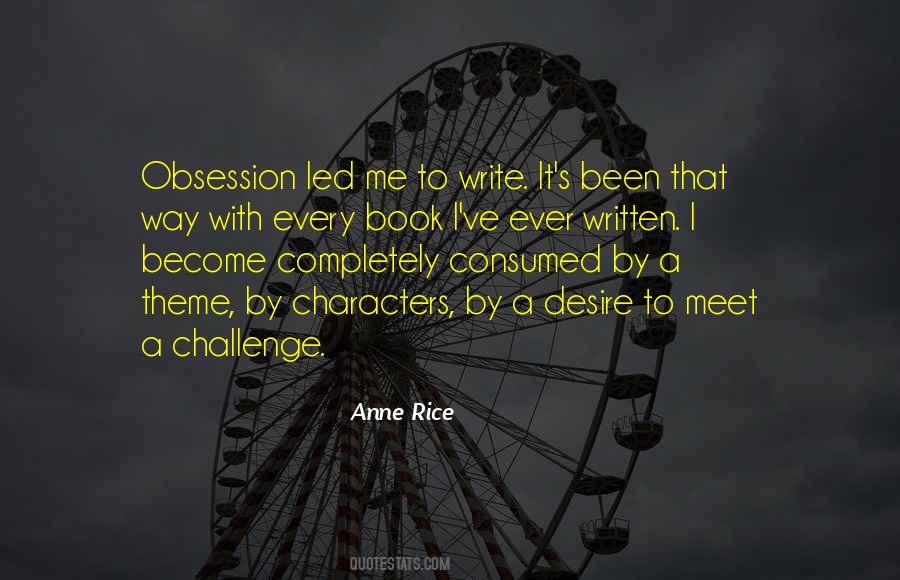 #21. Most modern science fiction went to school on 'Dune.' Even 'Harry Potter' with its 'boy protagonist who has not yet grown into his destiny' shares a common theme. When I read it for the first time, I felt like I had learned another language, mastered a new culture, adopted a new religion. - Author: Gary Ross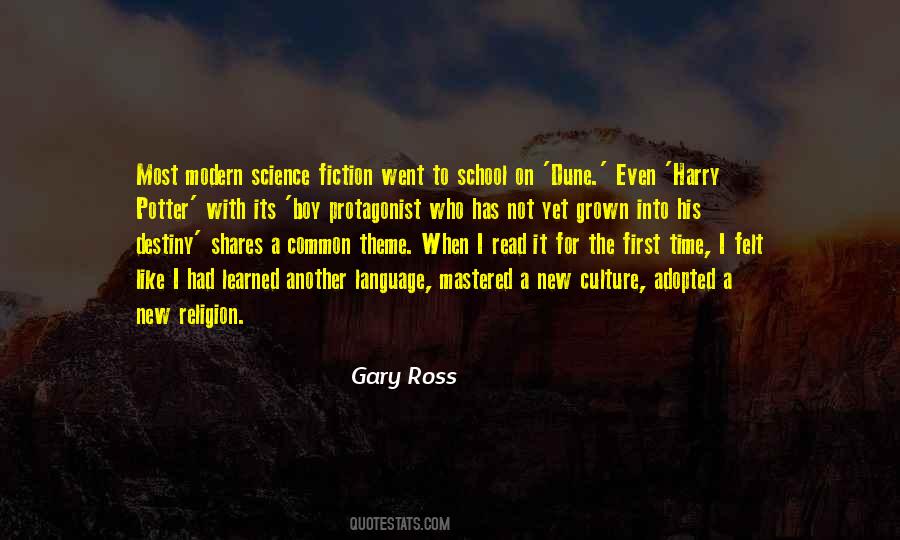 #22. With all the weird surroundings of outer space the basic underlying theme of the show is a philosophical approach to man's relationship to woman. There are both sexes in the crew, in fact, the first officer is a woman. - Author: Jeffrey Hunter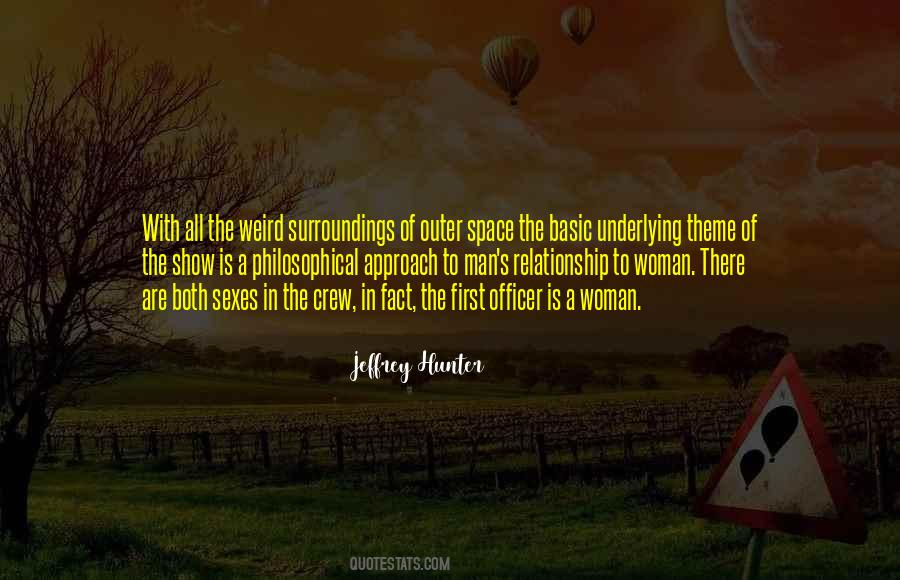 #23. Thou wouldst be loved? - then let thy heart From its present pathway part not; Being everything which now thou art, Be nothing which thou art not. So with the world thy gentle ways, Thy grace, thy more than beauty, Shall be an endless theme of praise. And love a simple duty. - Author: Edgar Allan Poe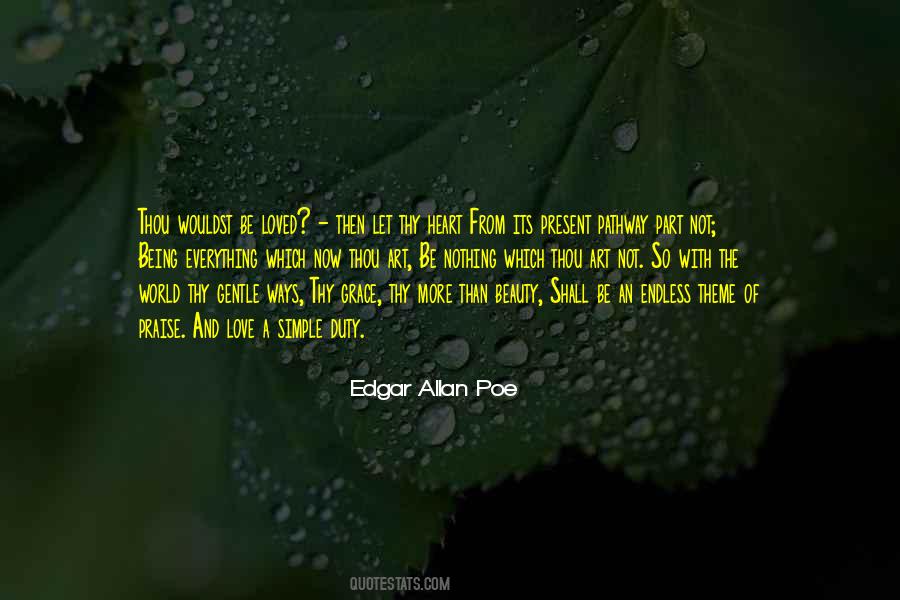 #24. Whatever universal masterpiece of tomorrow may be wrought from phantasm or terror will owe its acceptance rather to a supreme workmanship than to a sympathetic theme. Yet who shall declare the dark theme a positive handicap? Radiant with beauty, the Cup of the Ptolemies was carven of onyx. - Author: H.P. Lovecraft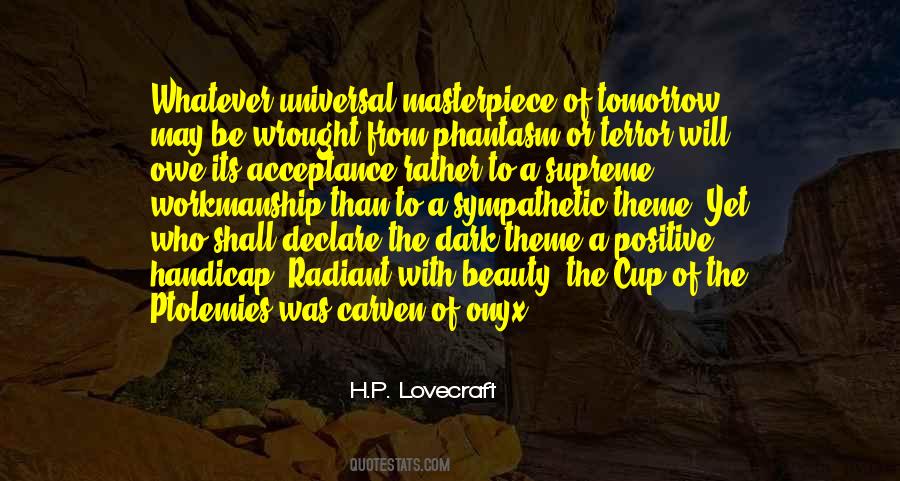 #25. I did an album a long time ago called 'Replicas,' which was entirely science-fiction driven, or science-fantasy. Since then it's been a song here, a song there. It's not really a constant theme. I've written far more about my problems with religion, with God and all that. - Author: Gary Numan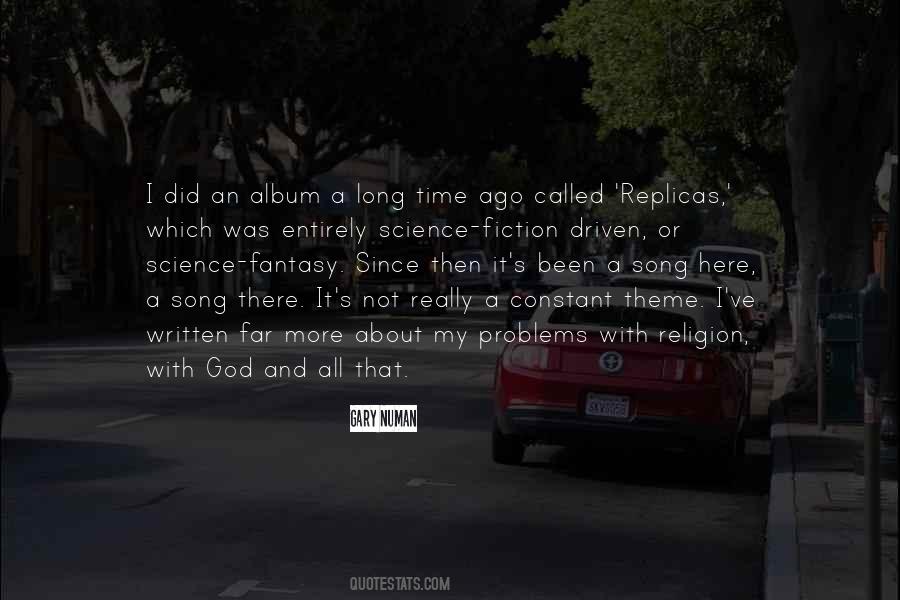 #26. A myth is an unverifiable and typically fantastic story that is nonethless felt to be true and that deal with a theme of some importance to the believer. - Author: John Bierhorst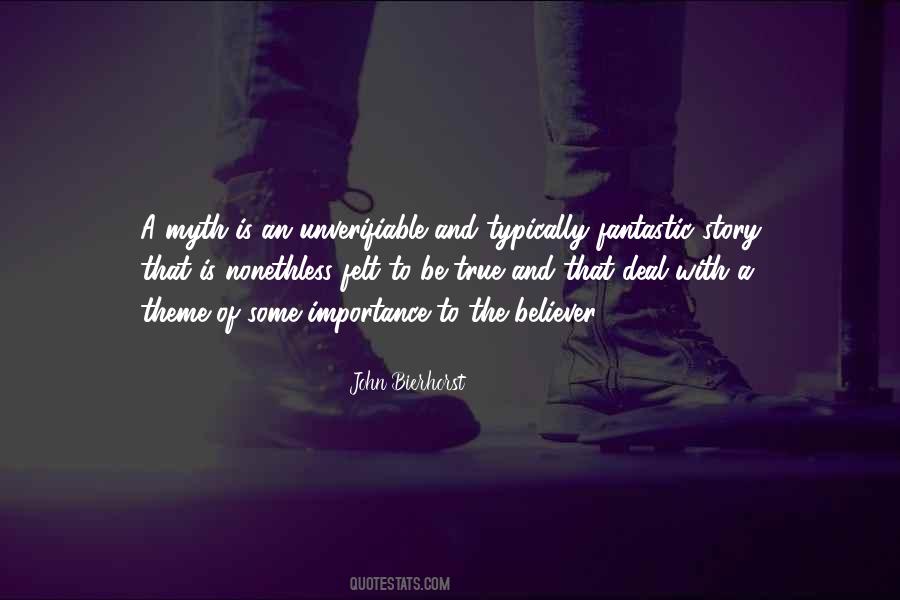 #27. I also used these realistic sounds in a psychological way. With The Good, the Bad and the Ugly, I used animal sounds - as you say, the coyote sound - so the sound of the animal became the main theme of the movie. - Author: Ennio Morricone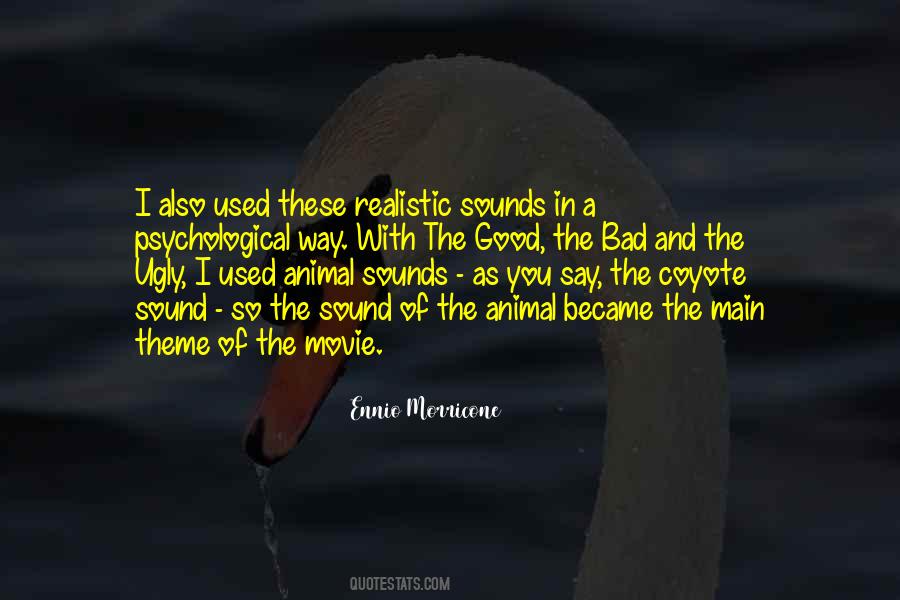 #28. While I like people, I do also like being alone in a room and seeing what you can do with a particular theme or subject. - Author: Dean Koontz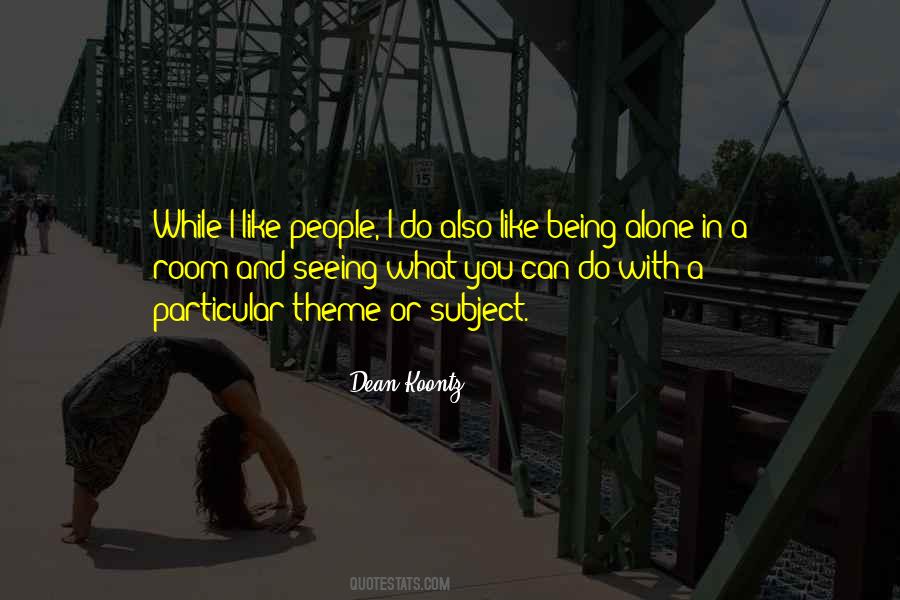 #29. Improvisation sometimes seemed more like jazz than acting, like verbal jazz, with the actors playing a theme back and forth, and then introducing another theme, incorporating it, somehow trying to work their way all together to a meaning of some kind, or at least a conclusion. - Author: Alan Arkin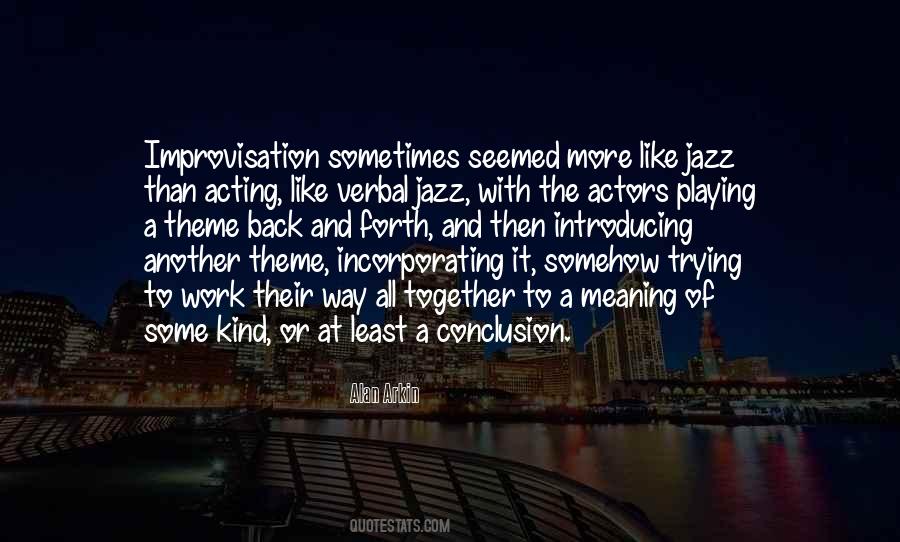 #30. In 1969, I wrote a musical called 'Mother Earth.' It was a rock musical with an ecology theme. We did it at the South Coast Repertory Theatre in Southern California where I was a member. It was a smash hit in this small theater. - Author: Toni Tennille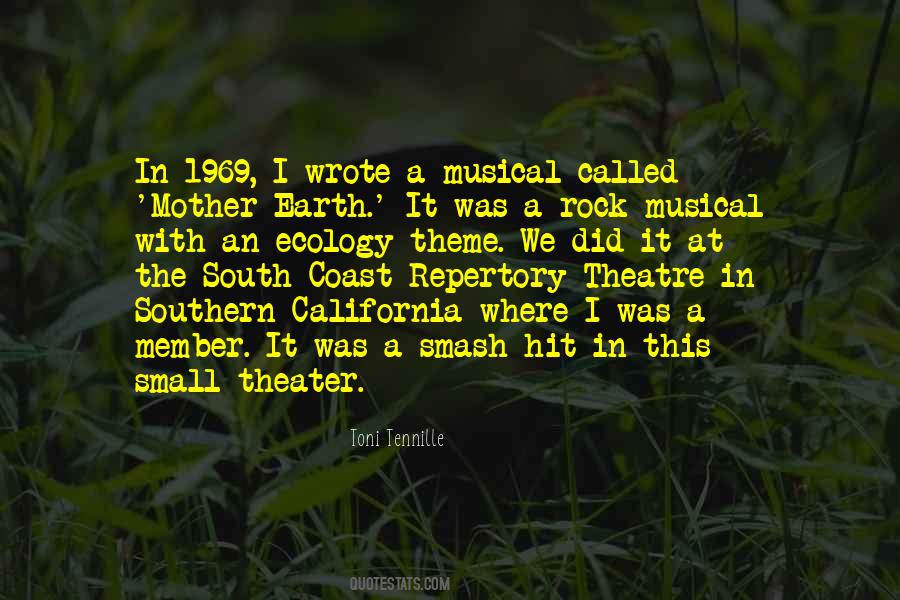 #31. After finishing the work I start rearranging the parts again and eventually start to work with themes - images and thoughts and things. - Author: Tim Zuck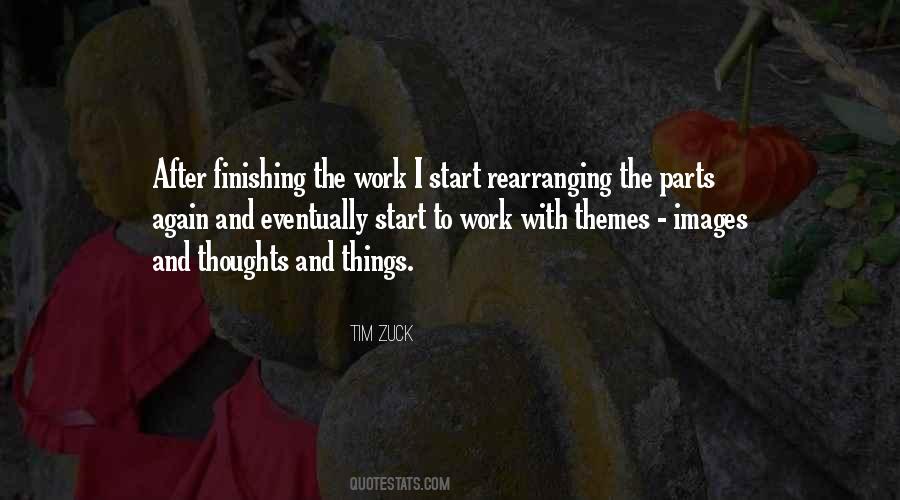 #32. What is noble, lyrical, tender in the upper level shown is also with the servants, scoundrels, and scamps, as in a distorting mirror. This contrast seems to me a most appealing musical theme
to show love in its noble and crude forms, romanticism and crass realism mixed as in everyday life. - Author: Stefan Zweig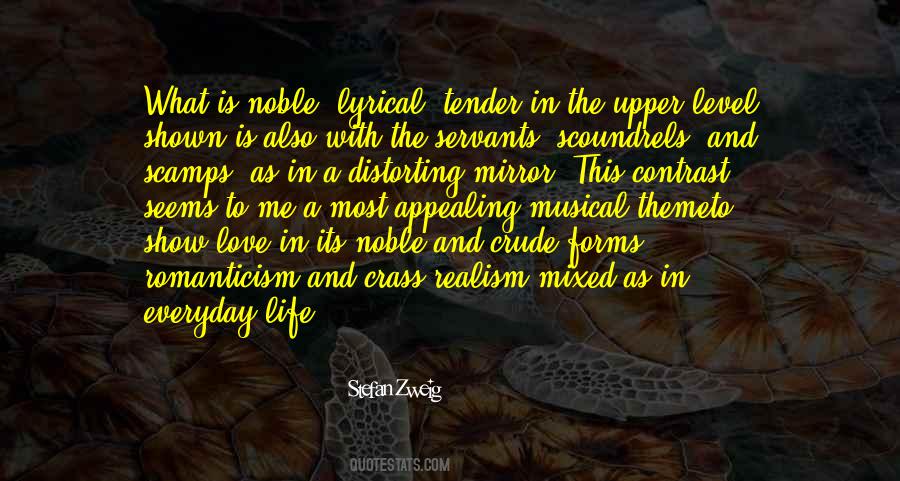 #33. Her advice boiled down to a consistent theme: that we all have to learn how to live with uncertainty, because some things are simply out of our control. - Author: Susan Stellin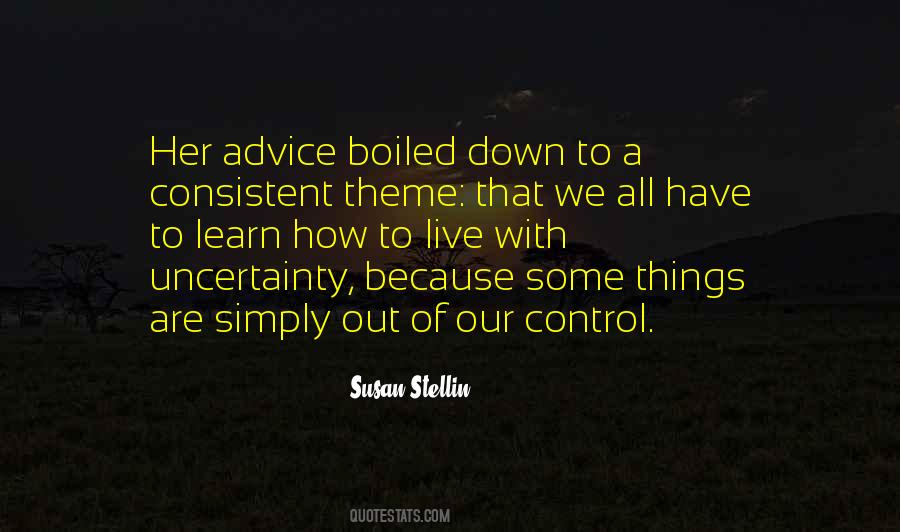 #34. Our theme is, 'Respected abroad, strong at home.' What do we mean by that? Basically that we want a strong emphasis on affordable health care and education, safer at home, positive themes. And respected abroad
a foreign policy with alliances. - Author: Bill Richardson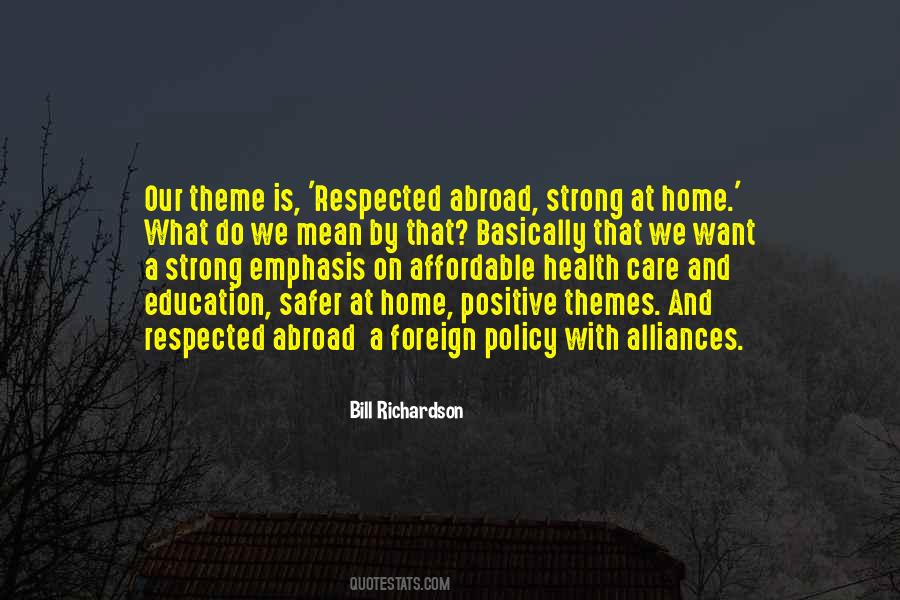 #35. I have never found, in anything outside of the four walls of my study, an enjoyment equal to sitting at my writing desk with a clean page, a new theme, and a mind awake. - Author: Washington Irving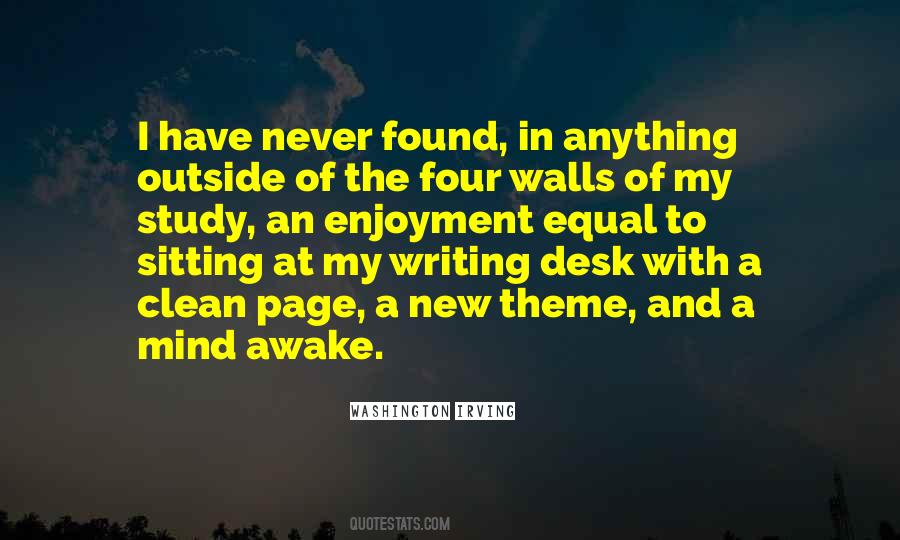 #36. Right, wrong, good, bad, heaven, hell. I think that is the theme of my life. I think you have to know both in order to honestly choose one. So I'm familiar with both sides of the fence. - Author: DMX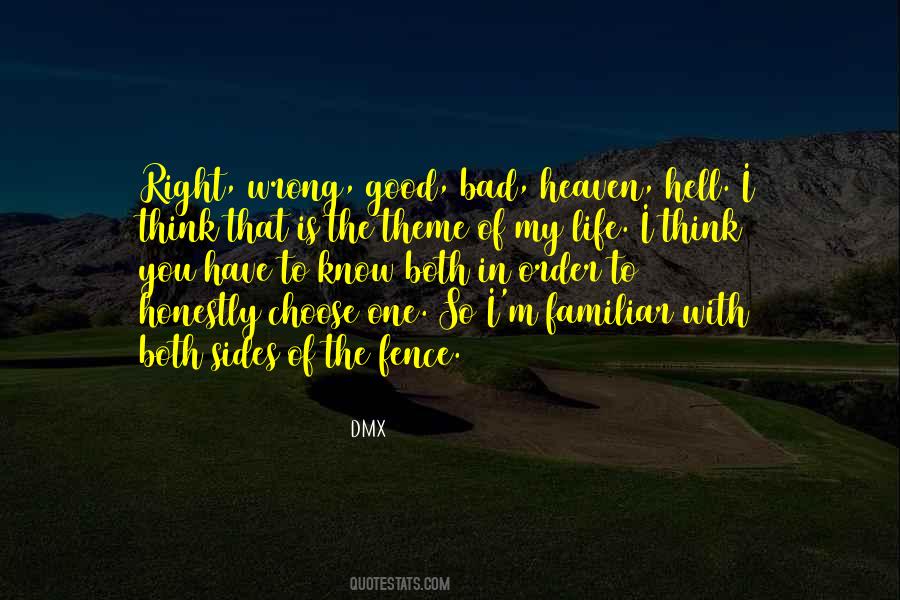 #37. I've always thought it would be nice to have the house to myself for a while. This place gets so loud all theme and there are always so many people in it. But I guess I'm grateful for all the noise and chaos. I don't know if I want to be alone in the quiet with my thoughts these days. - Author: Keary Taylor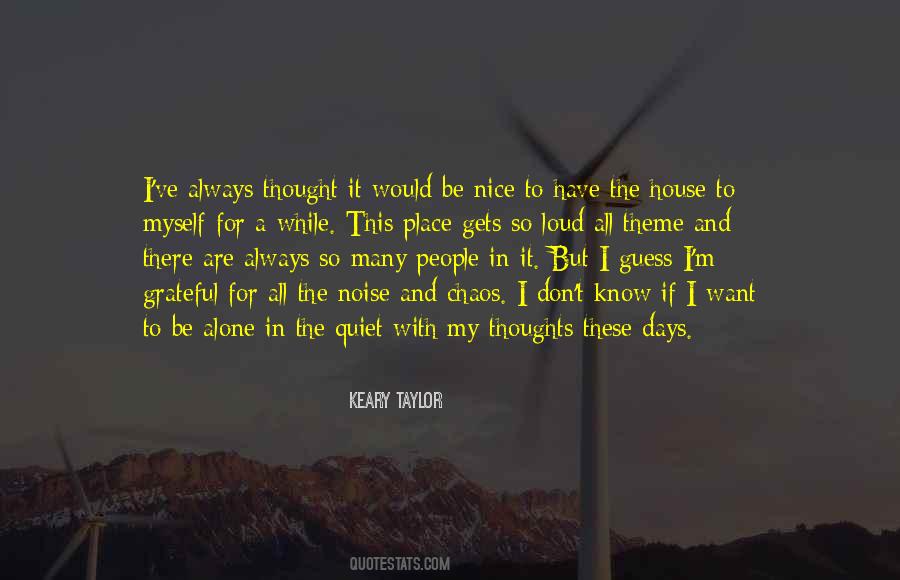 #38. I want to look at someone and know that every need and wish and desire i have matches his, not that my every need and wish and desire clashes with his. Unification should be the overall theme of a relationship. - Author: Sara Raasch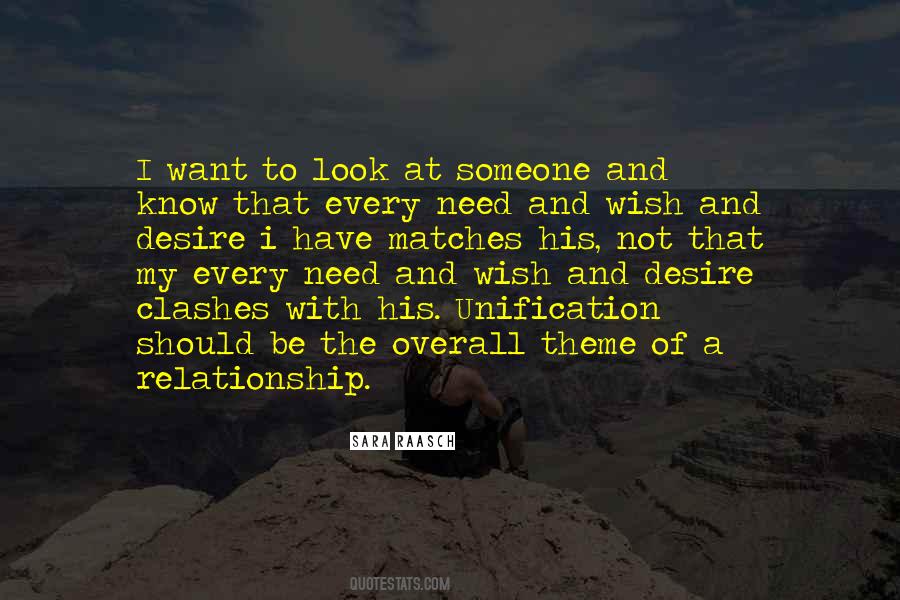 #39. We always thought we had to follow a certain theme but I don't agree with that anymore. I think the fans deserve a wider variety of music. - Author: Tom Cochrane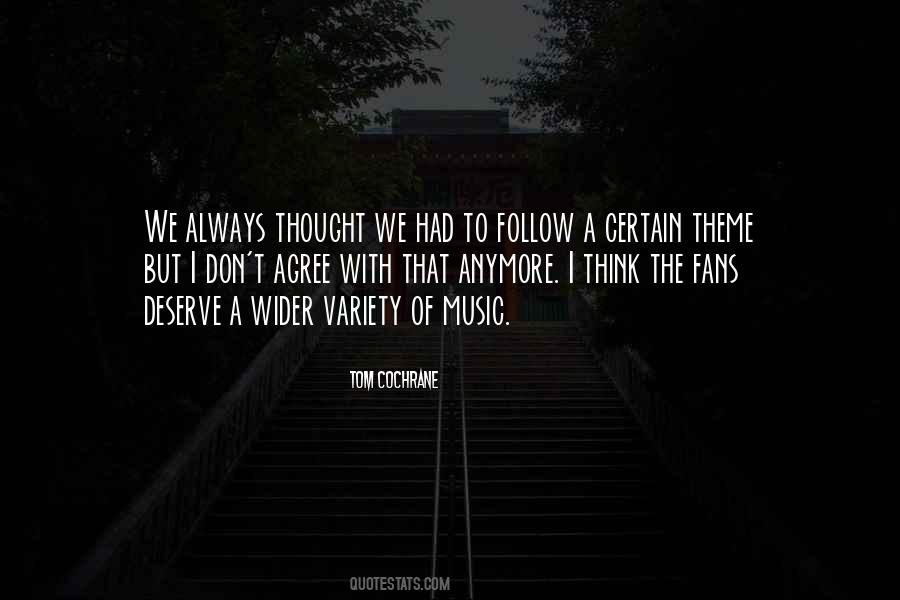 #40. It's a common theme around the city of New Orleans; we're resilient people because we have to be. We love this place with all of our heart and all of our soul and I just wanted to try to do something that I could to help make it better. - Author: Mitch Landrieu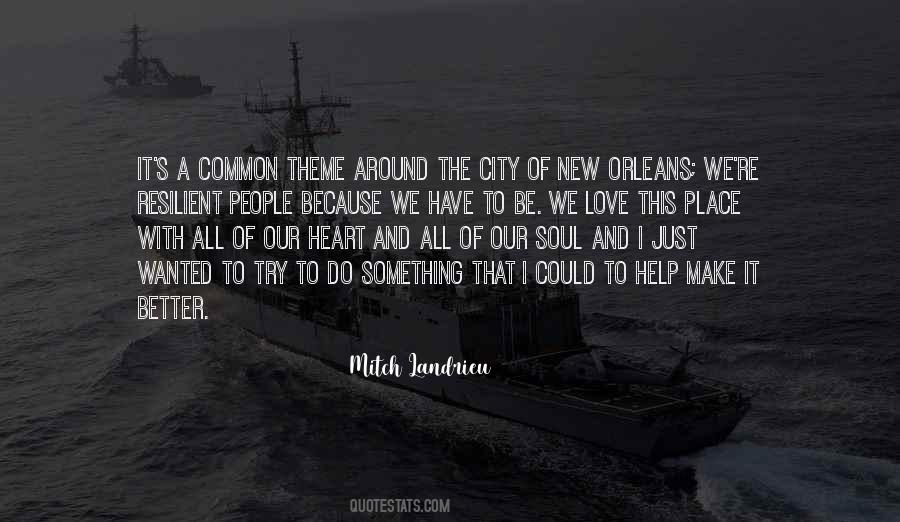 #41. The "evils of faction" theme recurs throughout our history, from the writings of the "muckrakers" at the turn of the twentieth century to the Democratic presidential primary campaigns of 2008 with talk of Halliburton's contracts in Iraq and the shady practices of sub-prime mortgage lenders. - Author: Edward S. Greenberg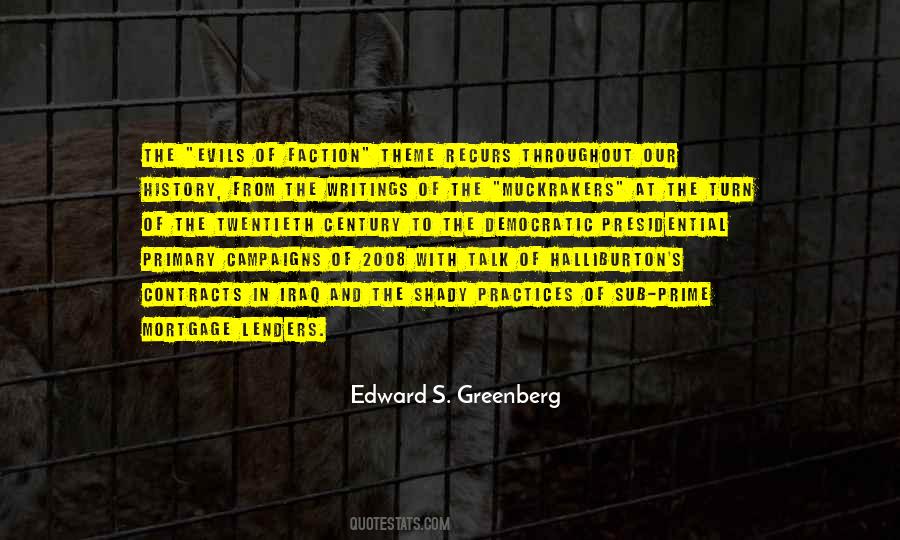 #42. Man's deliberate destruction of his own habitat
planet Earth
could serve as a mighty theme for a mighty book worthy of a modern Melville or Tolstoy. But our best fictioneers confine themselves to domestic drama
soap opera with literary trimmings. - Author: Edward Abbey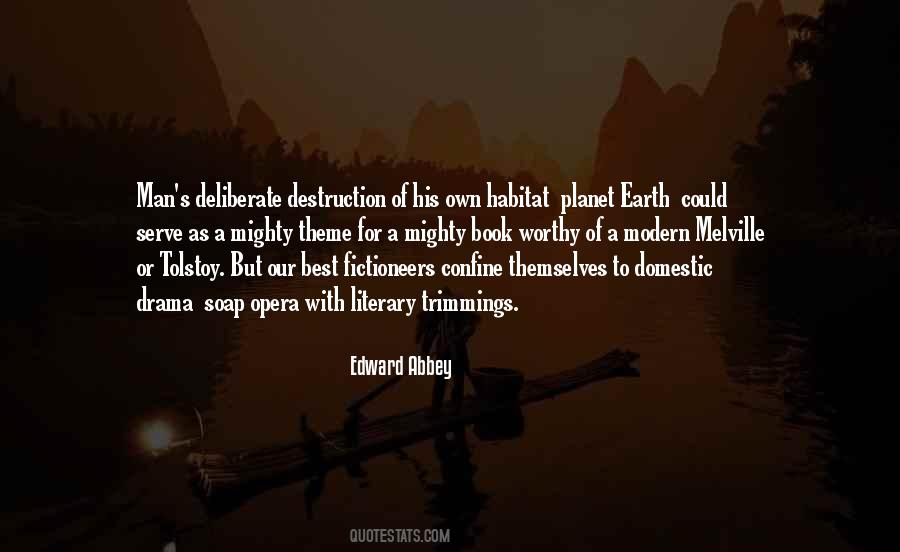 #43. I start every first draft with voice rather than theme or image or even character as such, so it isn't like I'm ever rubbing my hands, cackling, "The dad is really going to take it on the chin in this one!" Not in terms of any given story, and certainly not in terms of the collection as a whole. - Author: Roy Kesey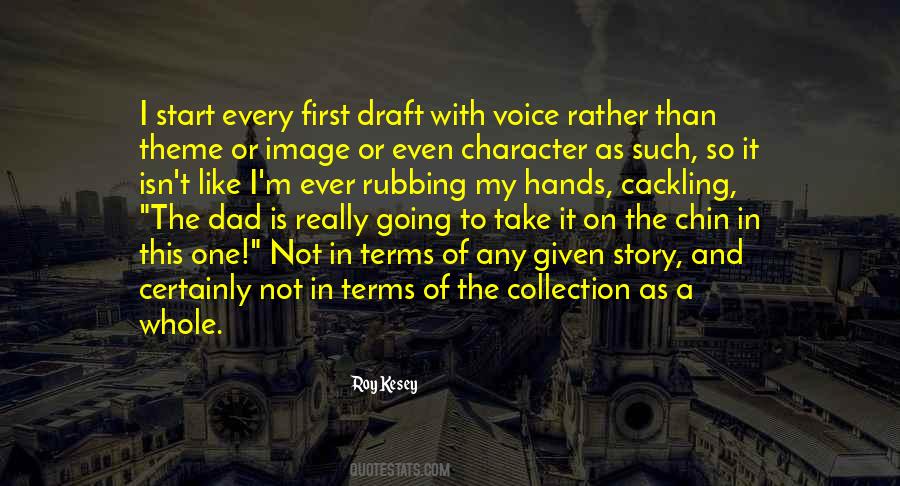 #44. We need to know what the Bible teaches about right and wrong. Every day we are battered by messages - from the media, advertising, entertainment, celebrities, even our friends - with one underlying theme: Live for yourself. - Author: Billy Graham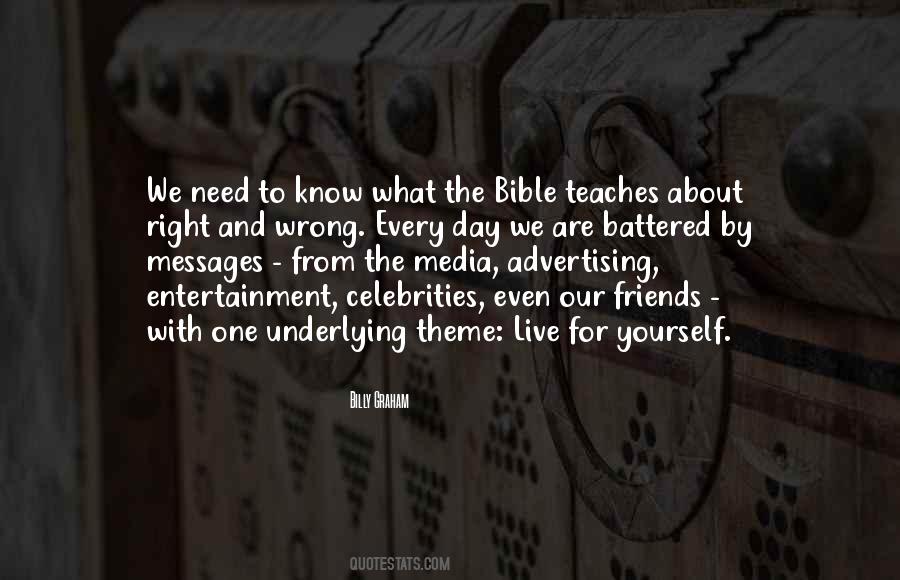 #45. I'm not saying it's a bad thing to do, but when you try to deal with prescient themes in the present, that is what you're doing. - Author: Quentin Tarantino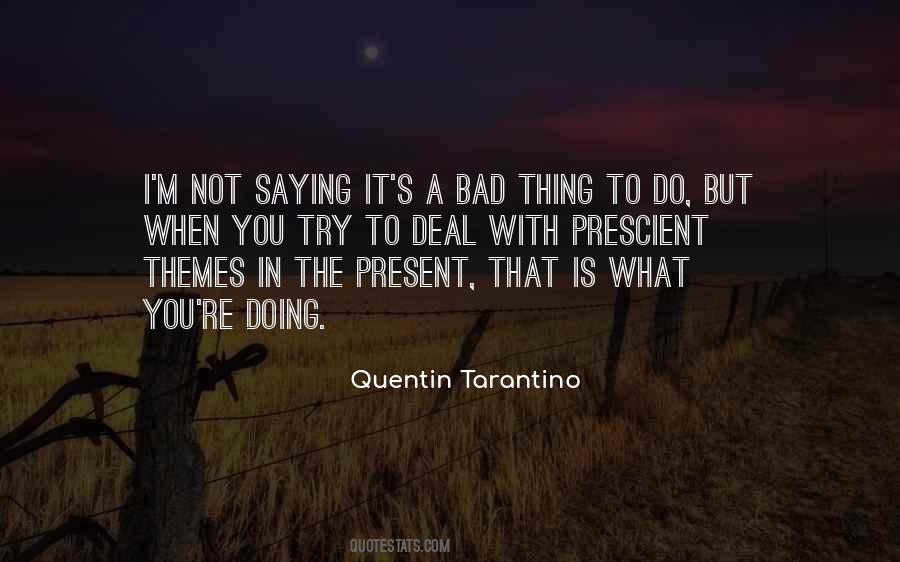 #46. My theme for philanthropy is the same approach I used with technology: to find a need and fill it. - Author: An Wang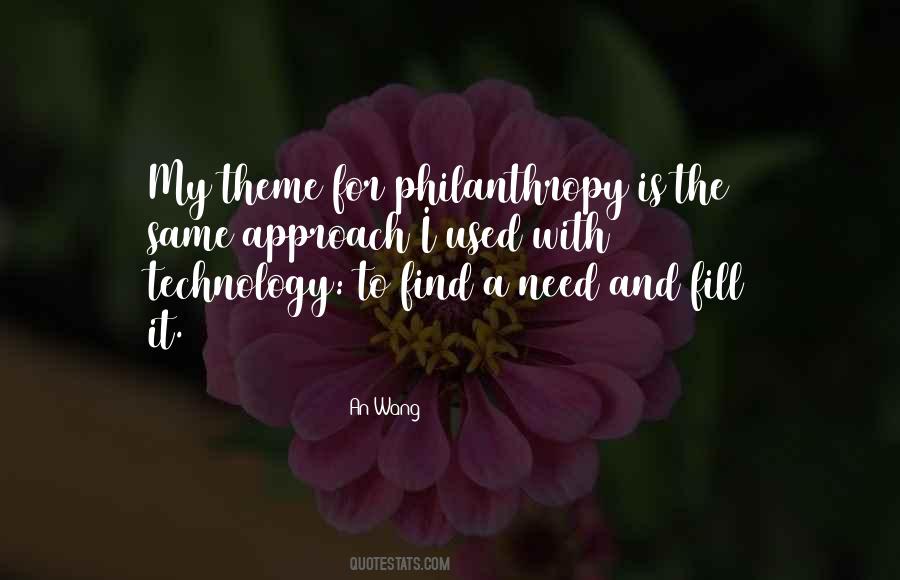 #47. I have struggled for decades now with the fear of and resistance to change - mostly in the realms of technology, transportation, and the ways people choose to communicate. If I had a theme song, it would be that lovely song 'I'm Old-Fashioned,' as sung by Ella Fitzgerald. - Author: Julia Glass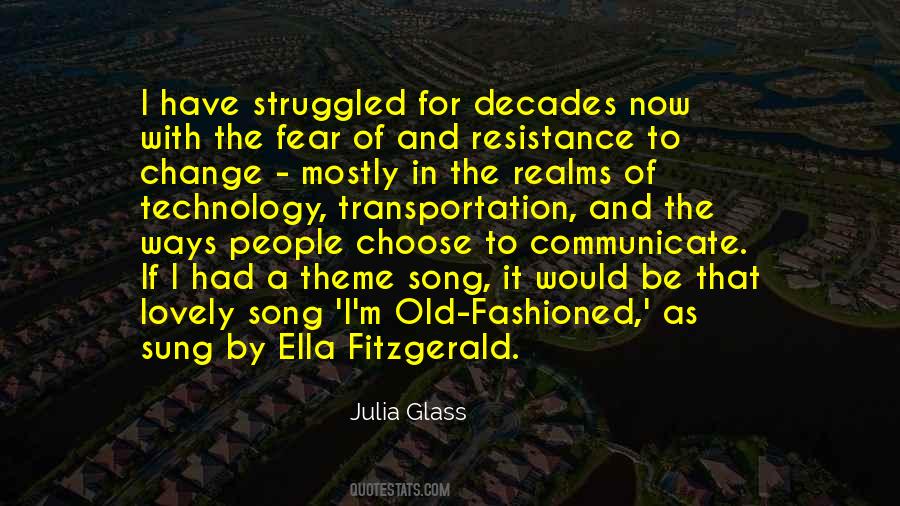 #48. The one general theme I took away from that first week with my new friends, was that everyone had their issues. Life in its simplest form is an attempt to deal with and avoid potential impediments. Some families take dysfunction to lofty heights while other break apart like Oreos mixed in a blender. - Author: Phil Wohl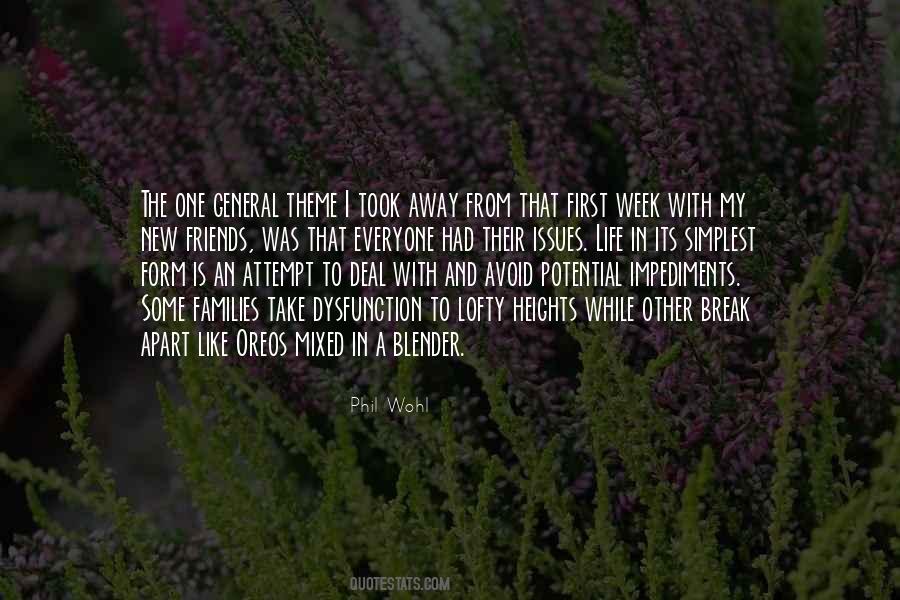 #49. Good fiction always begins with story and progresses to theme; it almost never begins with theme and progresses to story. - Author: Stephen King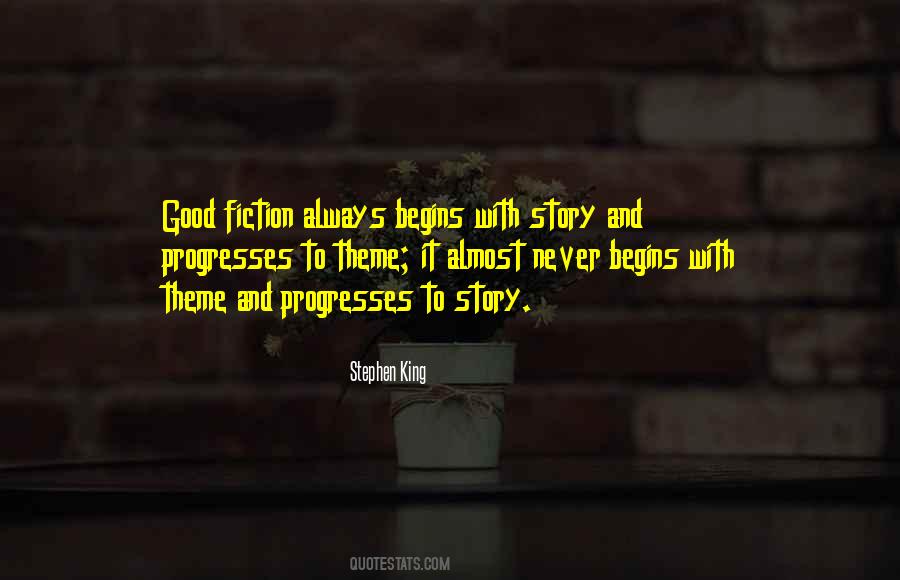 #50. The deepest, the only theme of human history, compared to which all others are of subordinate importance, is the conflict of scepticism with faith. - Author: Johann Wolfgang Von Goethe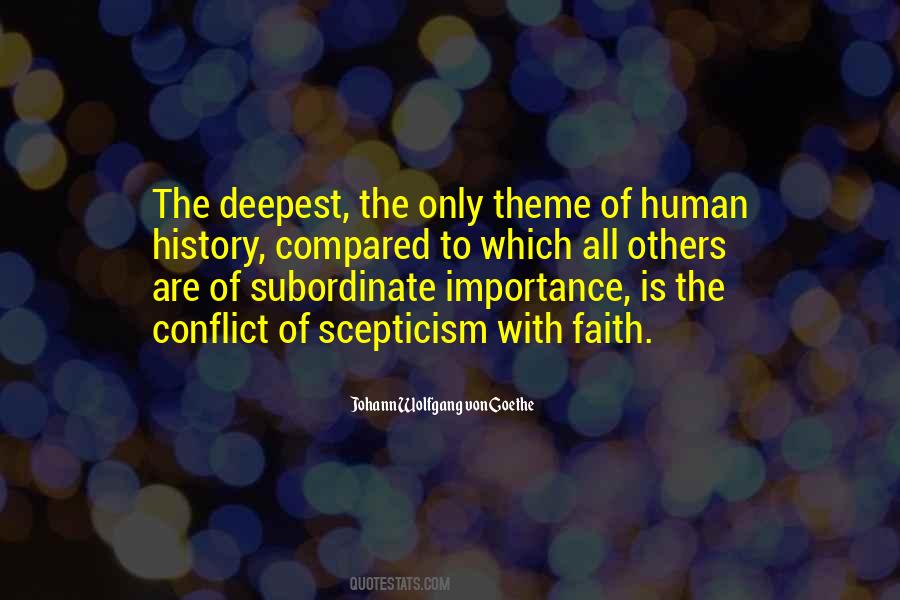 #51. It is simply wrong to begin with a theme, symbol or other abstract unifying agent, and then try to force characters and events to conform to it. - Author: Thomas Pynchon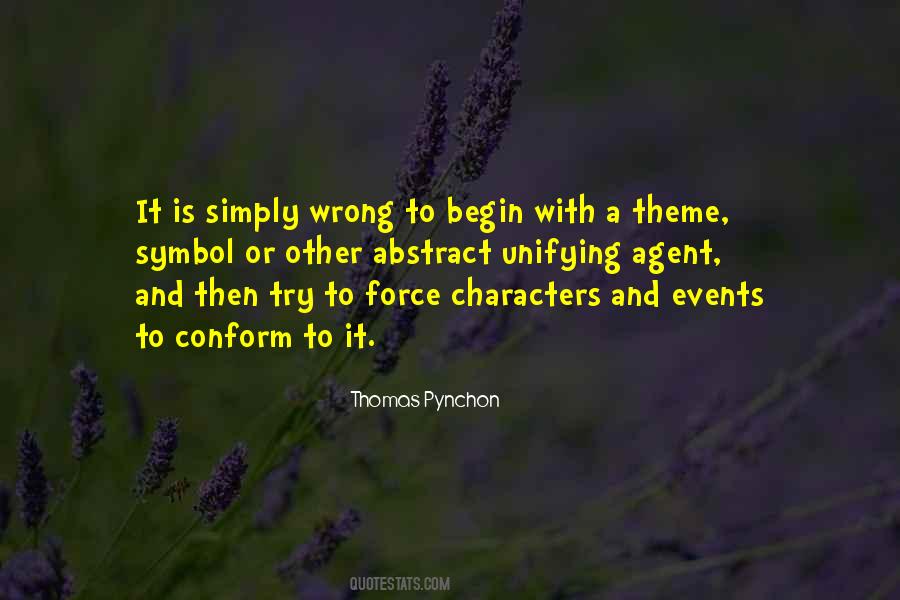 #52. Creative force, like a musical composer, goes on unweariedly repeating a simple air or theme, now high, now low, in solo, in chorus, ten thousand times reverberated, till it fills earth and heaven with the chant. - Author: Ralph Waldo Emerson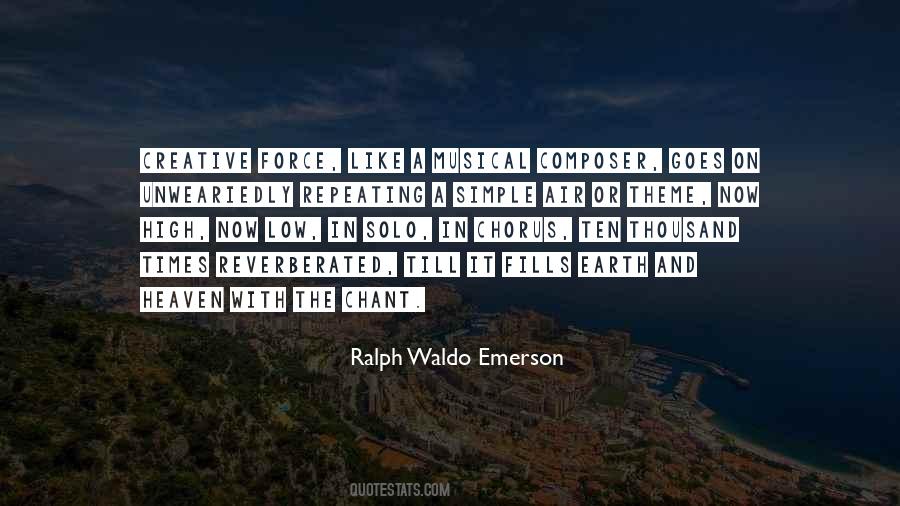 #53. History was an artist, maintaining the idea but changing the details, like a composer keeping the same theme but dulling it to a minor or lifting by an octave, now crooning it with violins, now blaring it on trumpets. - Author: George R. Stewart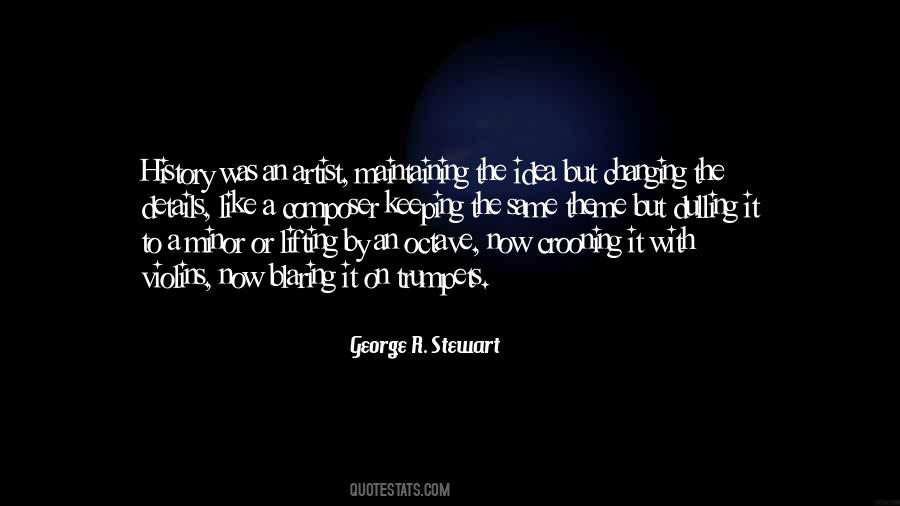 #54. I hold any writer sufficiently justified who is himself in love with his theme. - Author: Henry James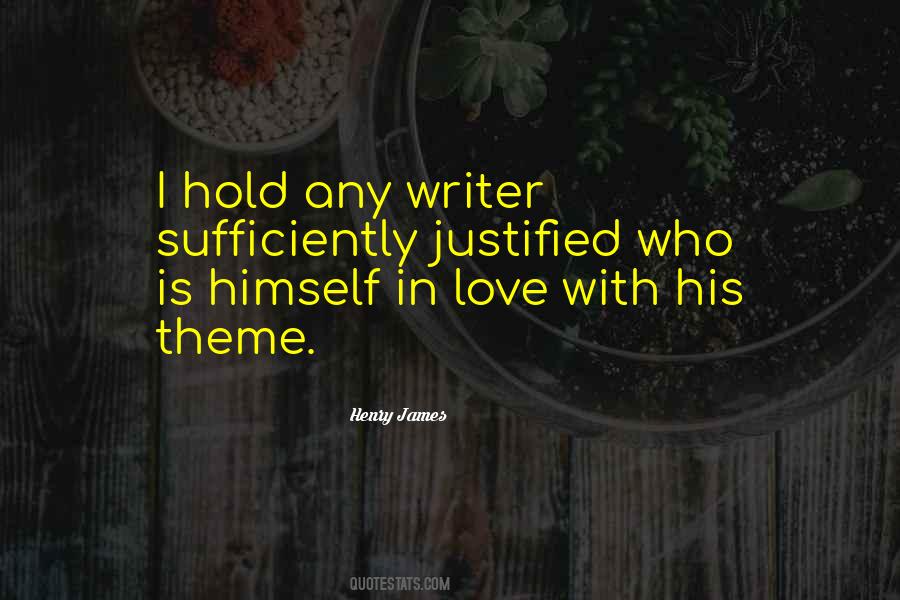 #55. As you thus take "sweet counsel" with others in the ways of God, take care that the theme of your converse is the Lord Jesus. Let the eye of faith be constantly looking unto him; let your heart be full of him; let your lips speak of his worth. Friend, live near to the cross, and thou wilt not sleep. - Author: Charles Haddon Spurgeon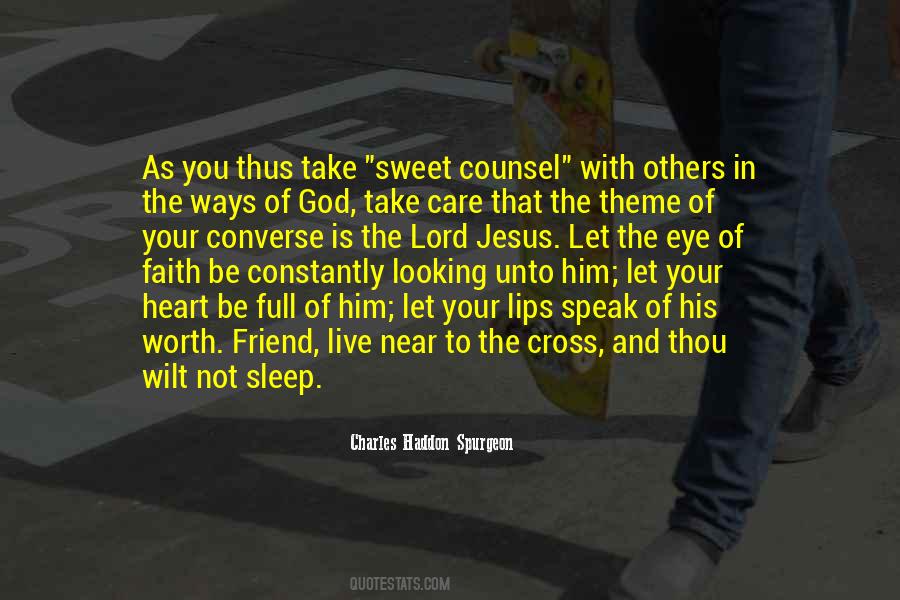 #56. I think that most of us can identify with the change that happens to Bruce Banner. We all have a little of both inside us. I think this is an important theme in defining the character. - Author: Herb Trimpe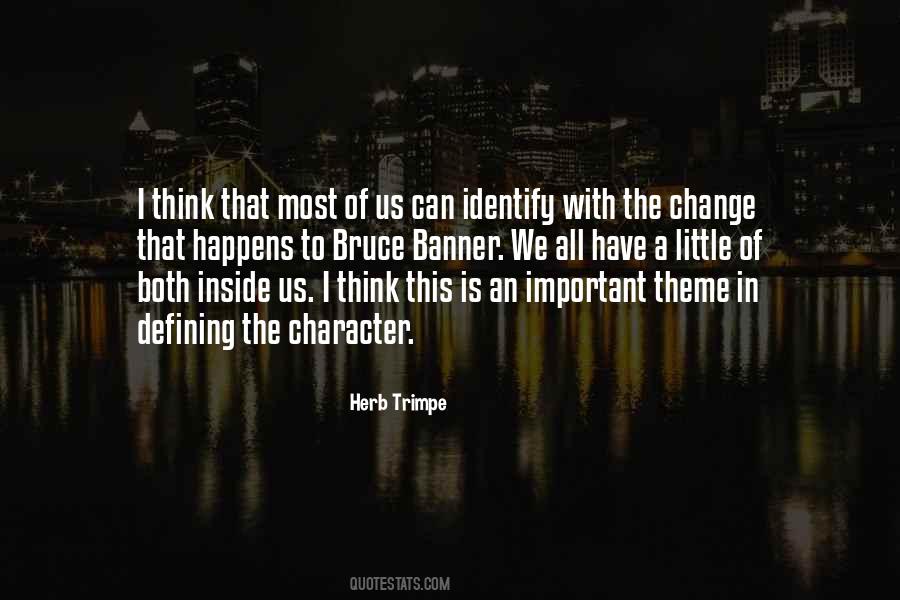 #57. I never try to convey a message, I just want to tell a story. Why that story in particular? I have no idea, but I have learned to surrender to the muse. I become obsessed with a theme or with certain stories; they haunt me for years, and finally, I write them. - Author: Isabel Allende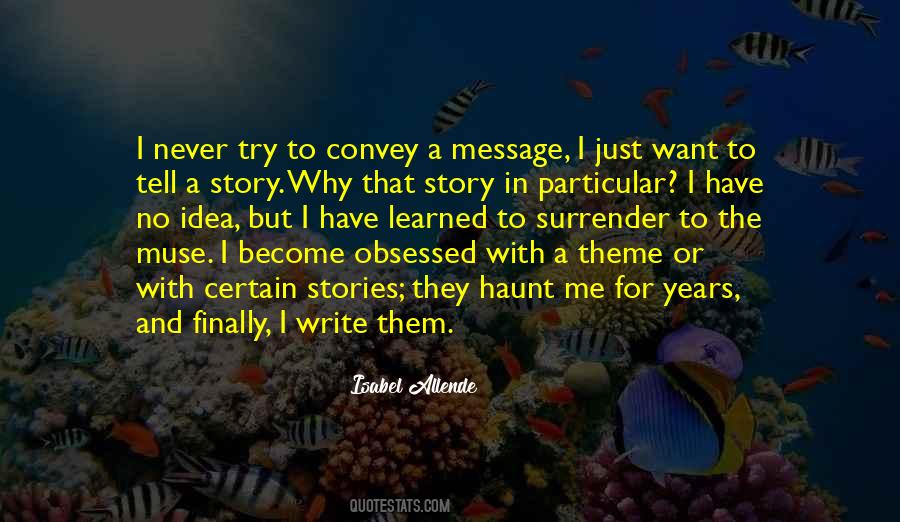 #58. I always thought losing my virginity would be a memorable event with fireworks and theme music and maybe a parade afterward. But no. - Author: Chelsea Fine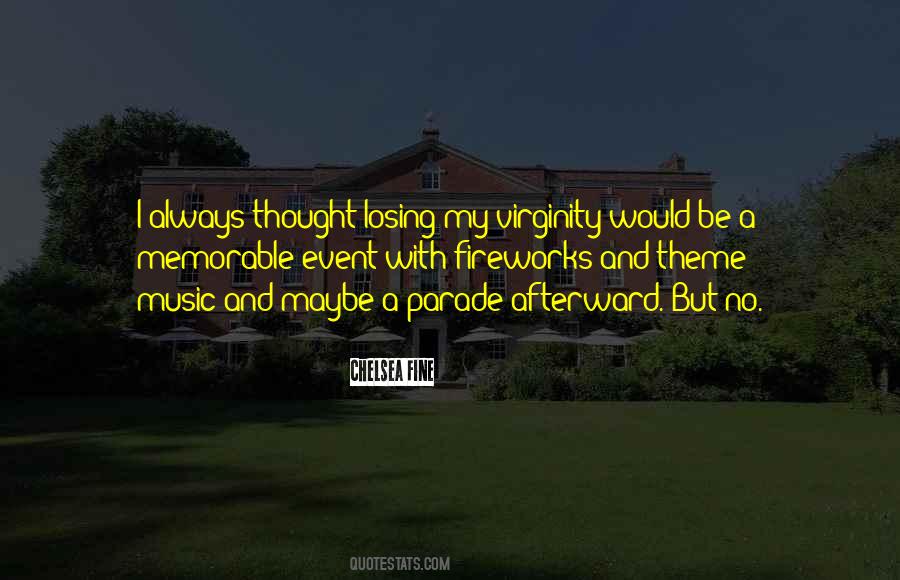 #59. She [Bernice] didn't like anything that had an adult theme, with only one exception, her collection of erotic female memorabilia. They were all antiques, fragments of other women's sexuality that was somehow easier to deal with than her own. - Author: K. Ford K.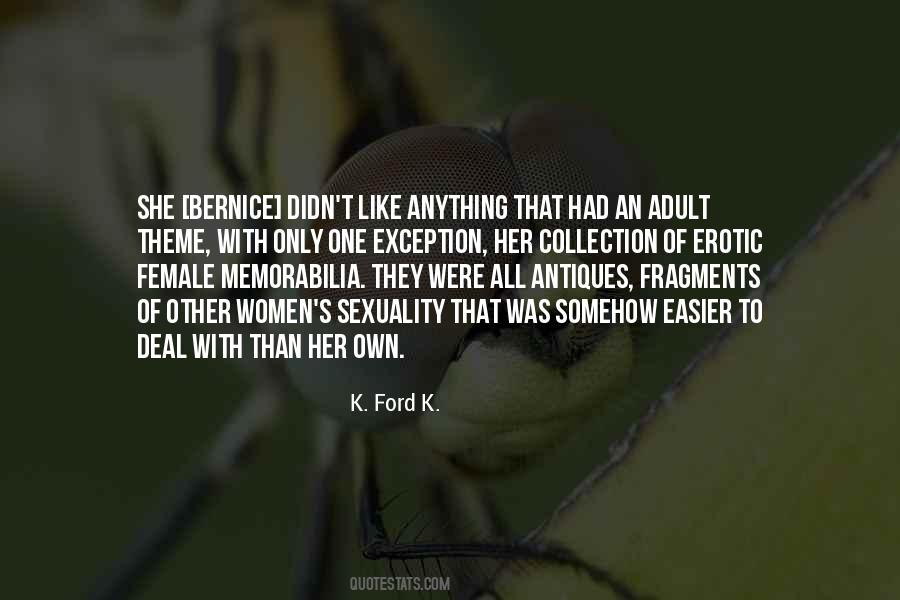 #60. Have an objective to give your bender a theme. For instance, stalking and killing a wild pig with a bowie knife. - Author: Hunter S. Thompson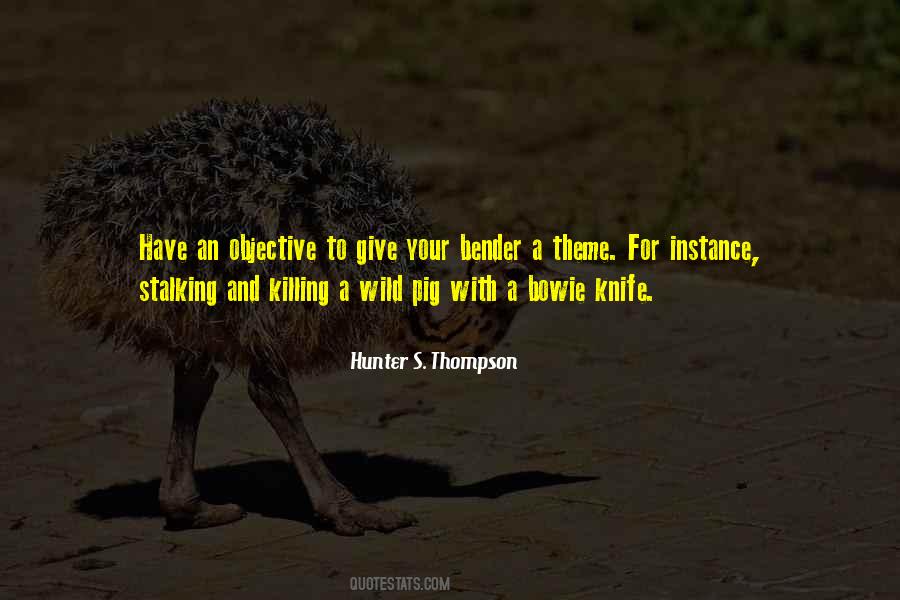 #61. Most of my bits are long stream-of-consciousness- type things, and when I'm doing them onstage, other places to take the theme or idea will hit me, and I just go with it. - Author: Joe Rogan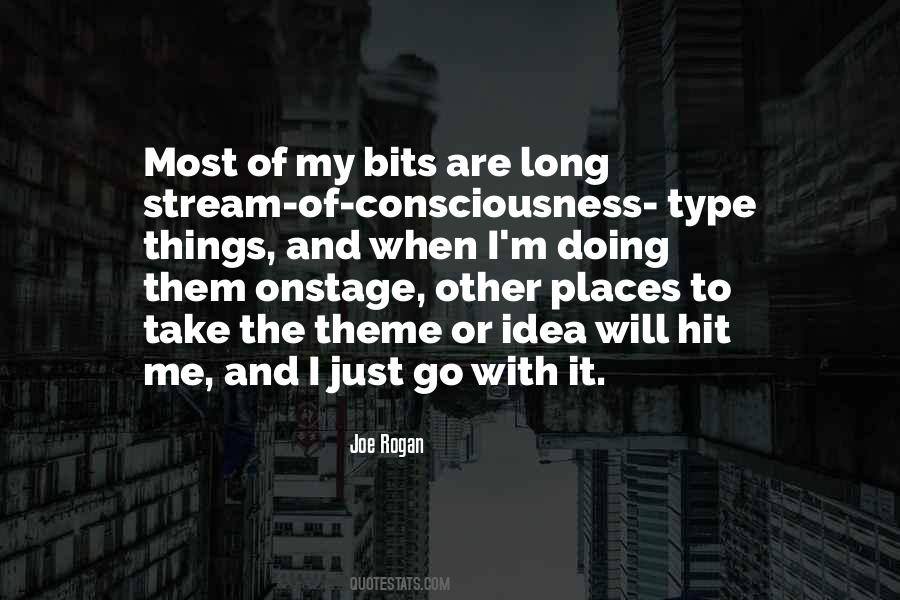 #62. Because I hate the ocean, theme parks and airplanes, talking with strangers, waiting in line. I'm through with these pills that make me sit still, are you feeling fine? Yes, I feel just fine. - Author: Aurelien Budynek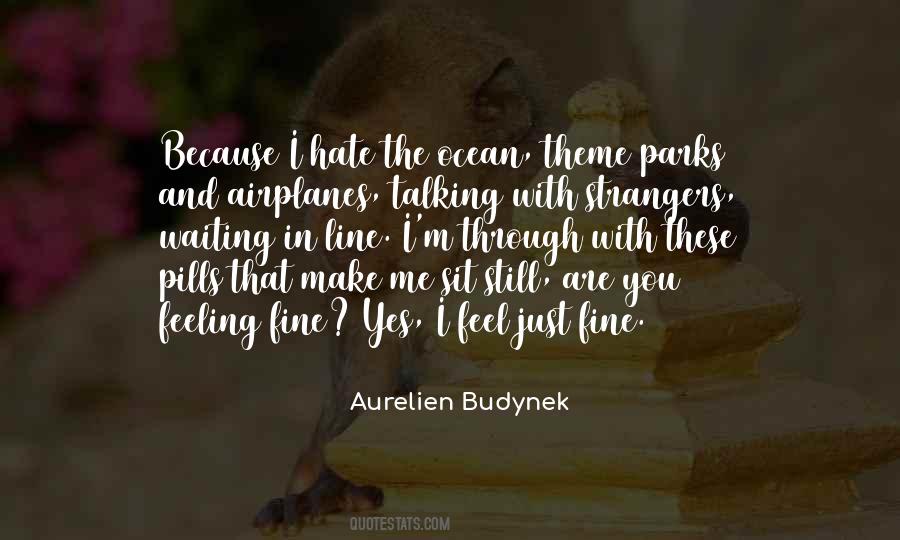 #63. Literature must rest always on a principle, and temporal considerations are no principle at all. For, to the poet, all times and places are one; the stuff he deals with is eternal and eternally the same: no theme is inept, no past or present preferable. - Author: Oscar Wilde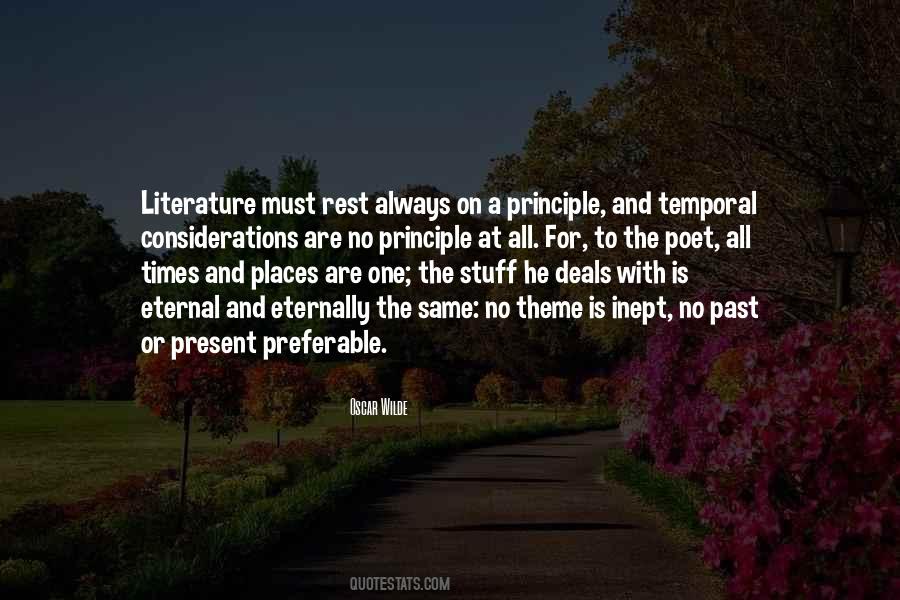 #64. Neurotic quarrels always have the same theme-song: Hate me and get it over with. - Author: Mignon McLaughlin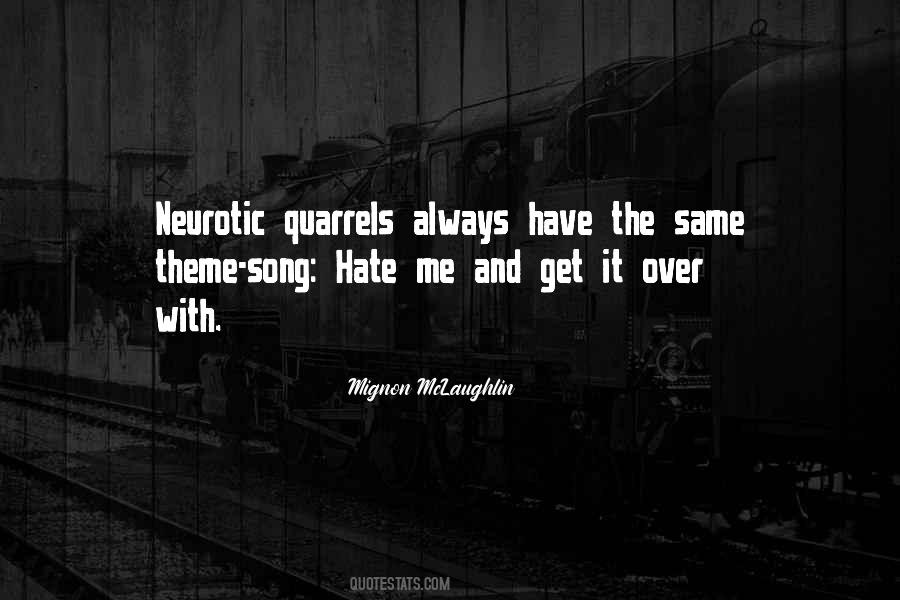 #65. And of course, in my writing, there is the constant theme of music, love of, preoccupation with, music. Music is the single thread making my life into a coherency. - Author: Philip K. Dick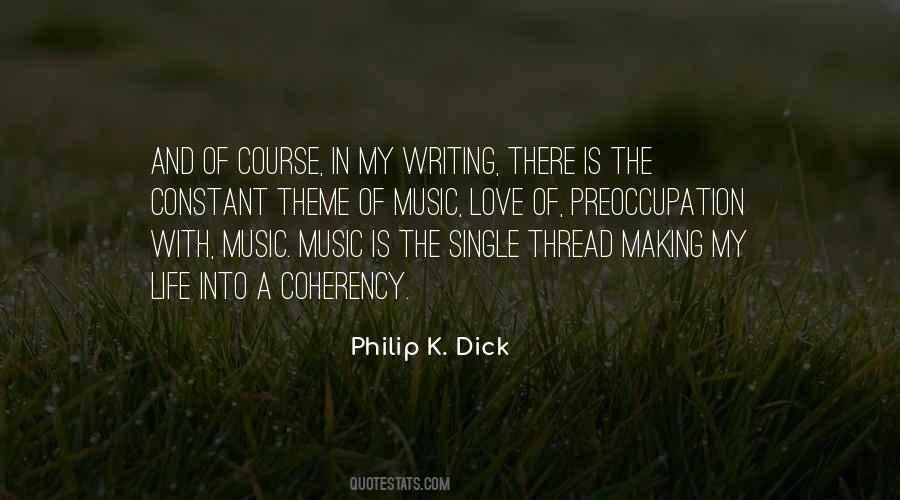 #66. That is its sole law: everything has to submit to form. If any of literature's other elements are stronger than form, such as style, plot, theme, if any of these take control over form, the result is poor. That is why writers with a strong style often write poor books. - Author: Karl Ove Knausgard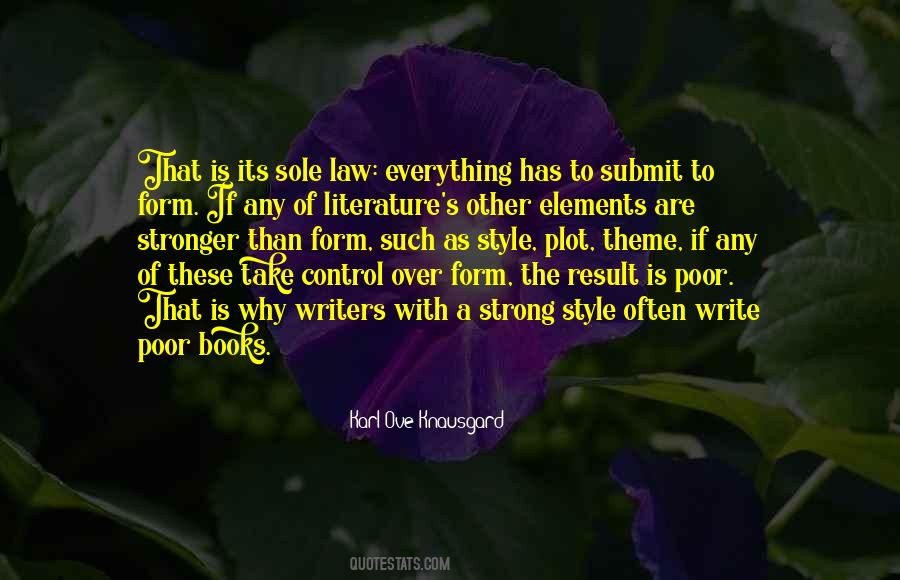 #67. I first heard music while in the womb. My mom tells me she played Tubular Bells with the headphones against her stomach all the time. A bit disturbing as I believe that is the theme to The Exorcist. Maybe she thought she was having Satan's baby. - Author: Venetian Snares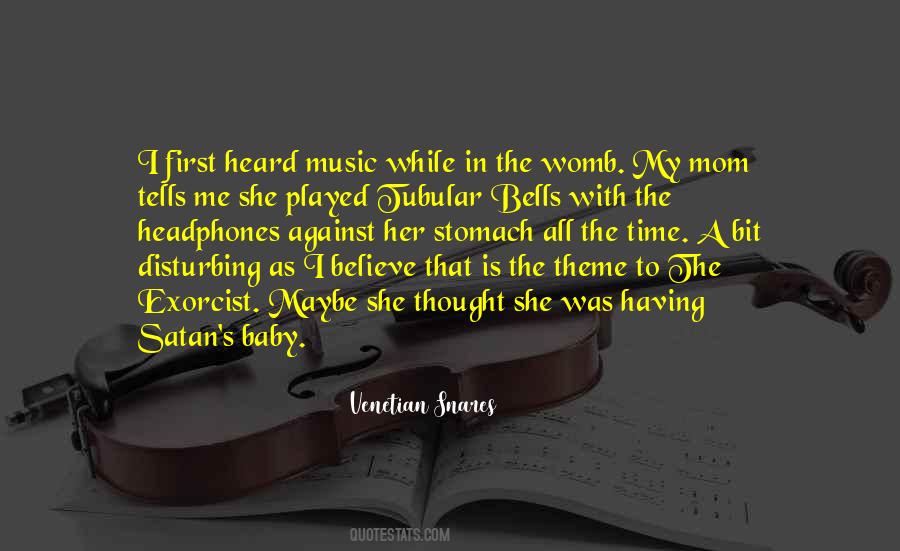 #68. Genesis began with the Father losing His family. Revelation ends with Him getting them back. Is there nothing to be learned from this sad cycle? Truly, family is the legitimate theme of holy text.
pg vi - Author: Michael Ben Zehabe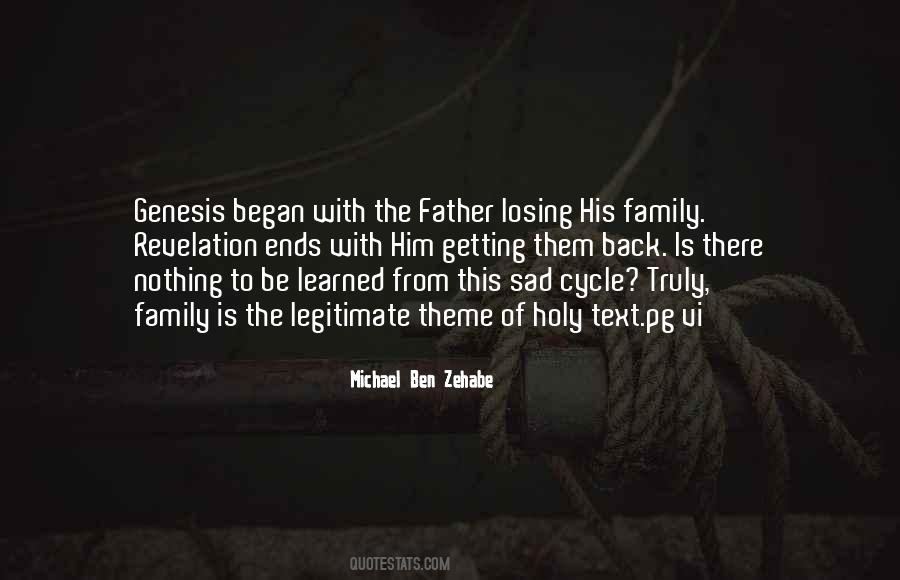 #69. The idea was I'd never amount to anything in music, The theme there was that I was talented, but I wouldn't work hard enough to do anything with it. - Author: Mose Allison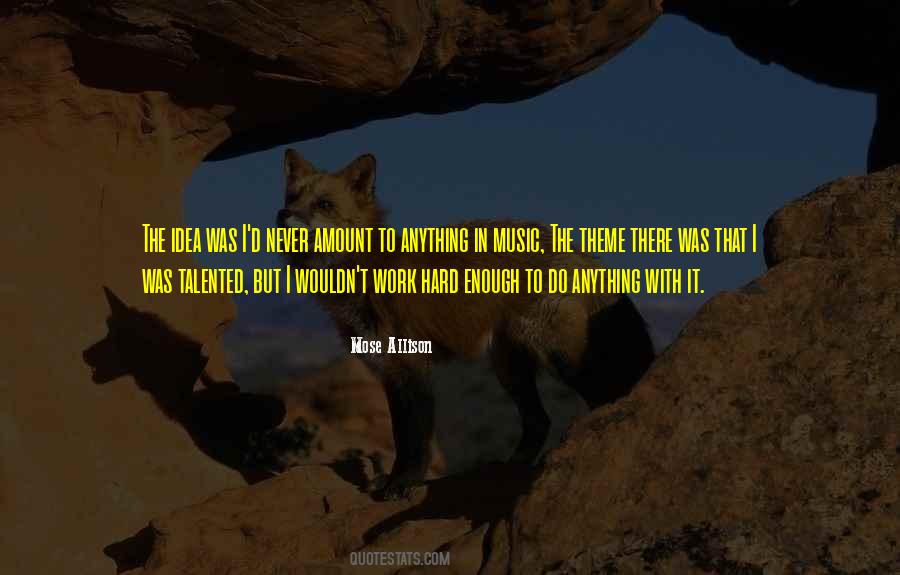 #70. Admittedly, the masturbation story is just a "Hey, this is one of my best-of's, I'll throw it in the special." But the grandmother stuff, really, I feel like is part of the theme and part of the best way to end the story that I'm telling with the special. - Author: Jen Kirkman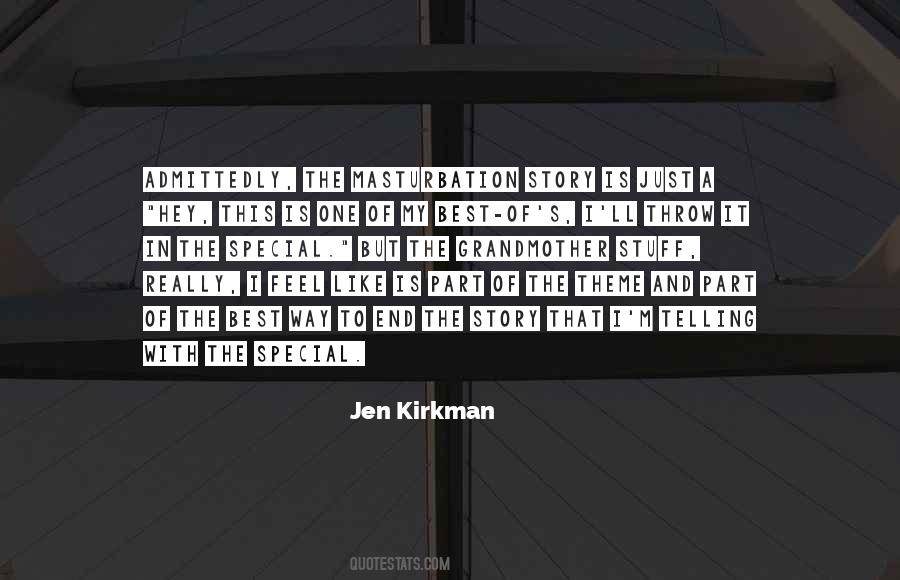 #71. When I graduated from college in early 2010, I decided that I needed to create a calling card, some kind of business card that people can link to my name and face. So I did this 'Mad Men Theme Song ... With a Twist' music video. I released it just as I moved to L.A. - Author: Allison Williams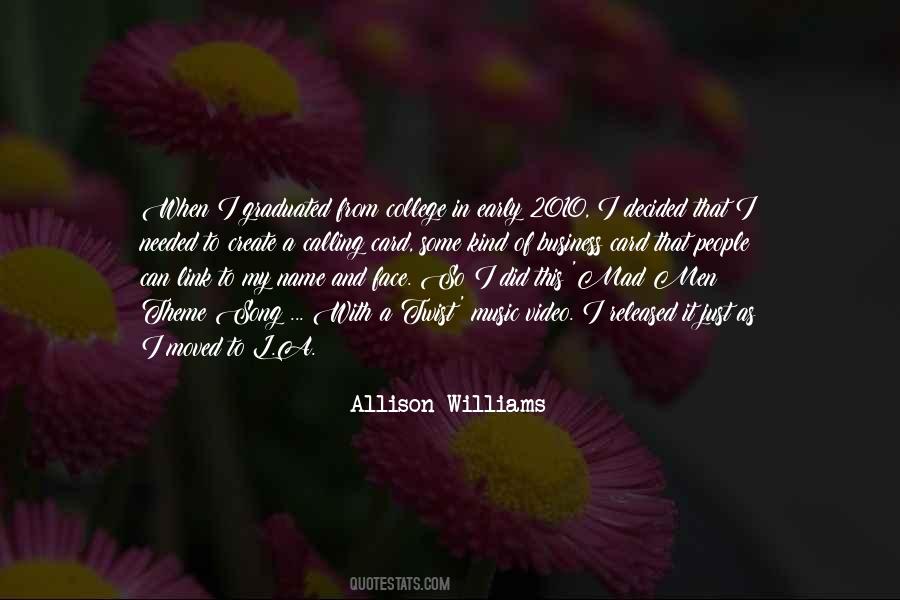 #72. It's the same old theme since 1916
In your head, in your head they're still fighting
With their tanks and their bombs
And their bombs and their guns
In your head, in your head they are dying - Author: The Cranberries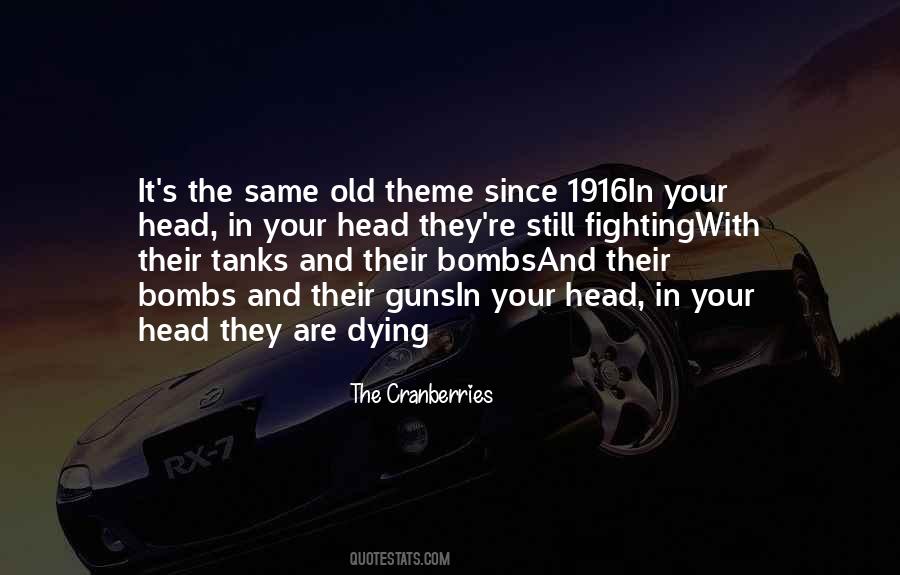 #73. Our biggest single theme is trying to make the NIH work better with the same amount of money. - Author: Harold E. Varmus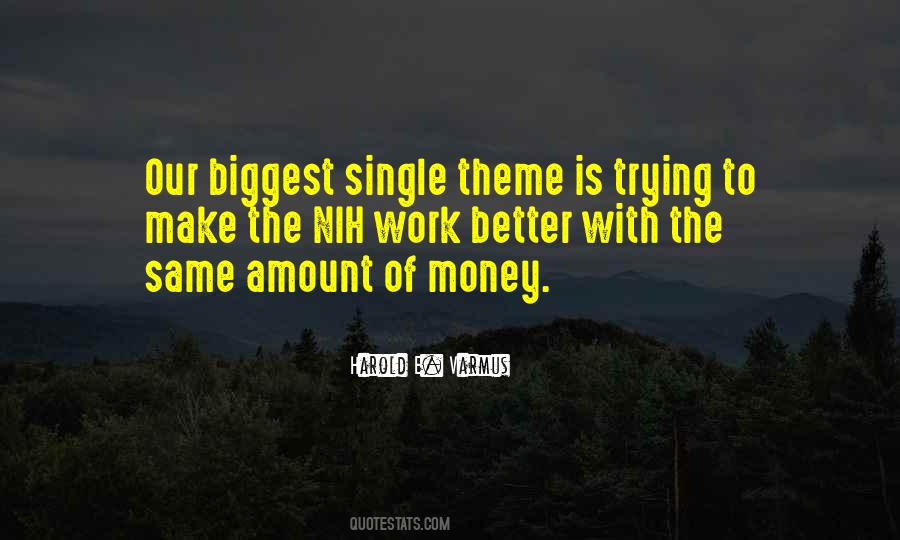 #74. You have to live with your product, you have to know it through and through, you have to look at it, understand it, love it then, and only then, you can crystallize in one clear thought, one single theme, what must be conveyed about the product to the consumer. - Author: William Bernbach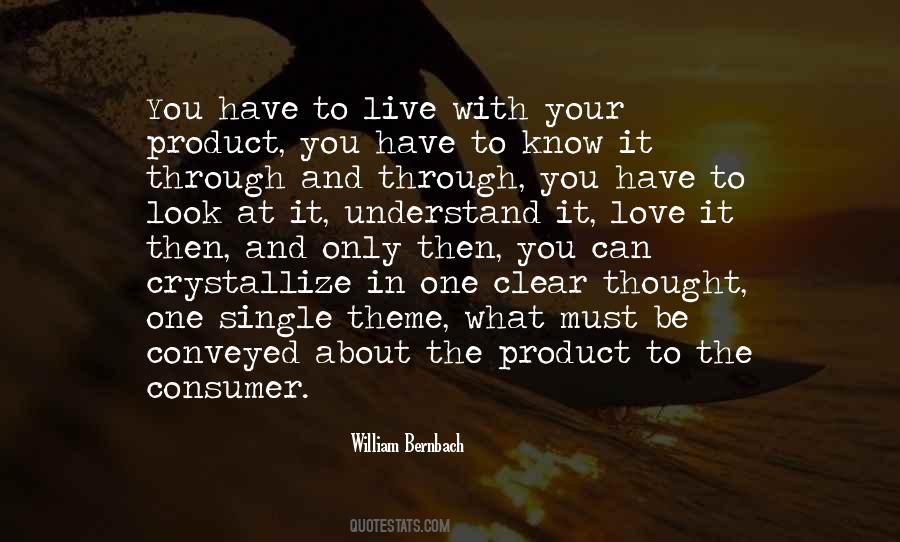 #75. Of course, from one point of view the unhappy events of our own century might be regarded as, say, demonstration ballets on the theme 'Hydrocarbon Synthesis' with strong audience participation. - Author: J.G. Ballard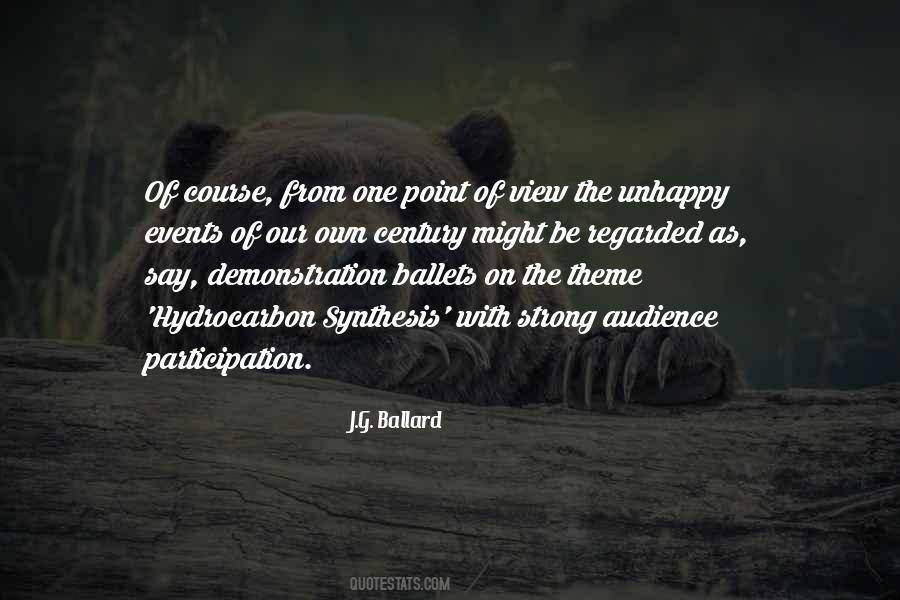 #76. Ryan stared at me as I pulled my phone out to see who was calling at this late
hour. "You have the Fraggle Rock theme song as your ring tone," he said, with a
bemused look on his face. "You are so weird. - Author: Diana Rowland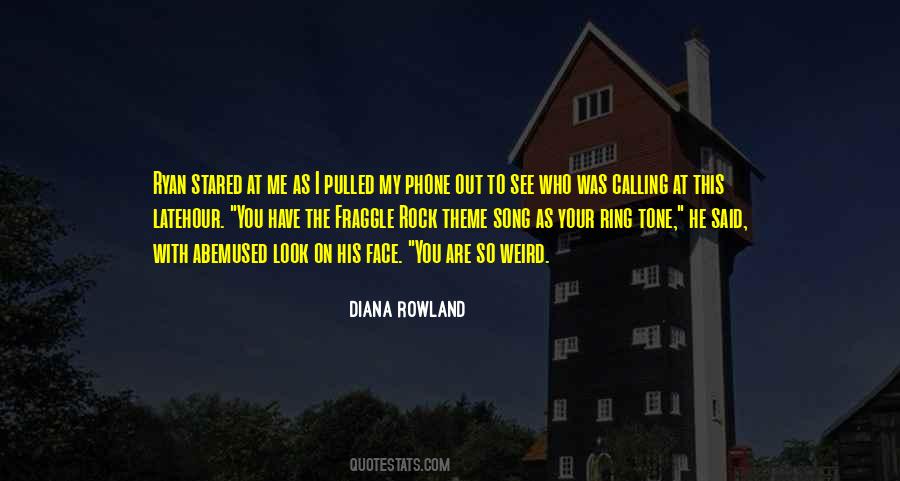 #77. Usually, my rhymes are just in my head. I start off with a theme, and once I start rapping and writing and singing, the chorus and all that, it just starts flowing. Then it's done in about an hour! I write a lot of songs. - Author: Roshon Fegan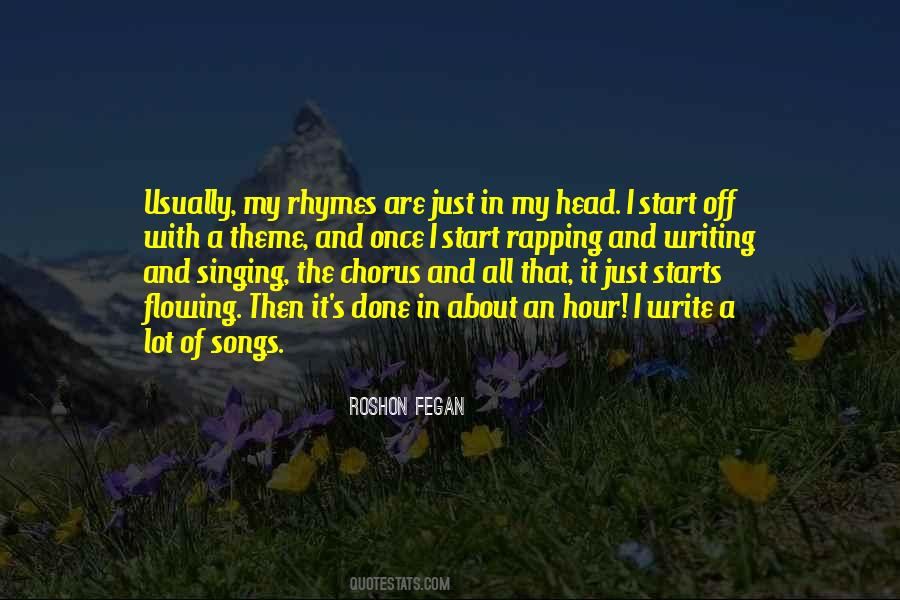 #78. We're a very expensive group; we break a lot of rules. It's unheard of to combine opera with a rock theme, my dear . - Author: Freddie Mercury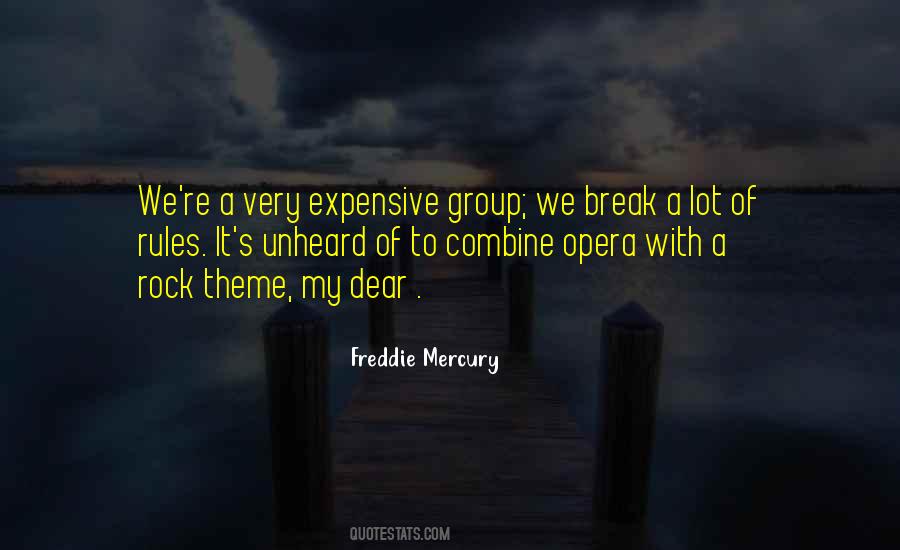 #79. Every person you interact with should feel the inner glow that comes from being appreciated, particularly for the ways in which they express their creativity. A core theme, which strengthens the flow of the power of intention, is wanting for others as much as you intend for yourself. - Author: Wayne Dyer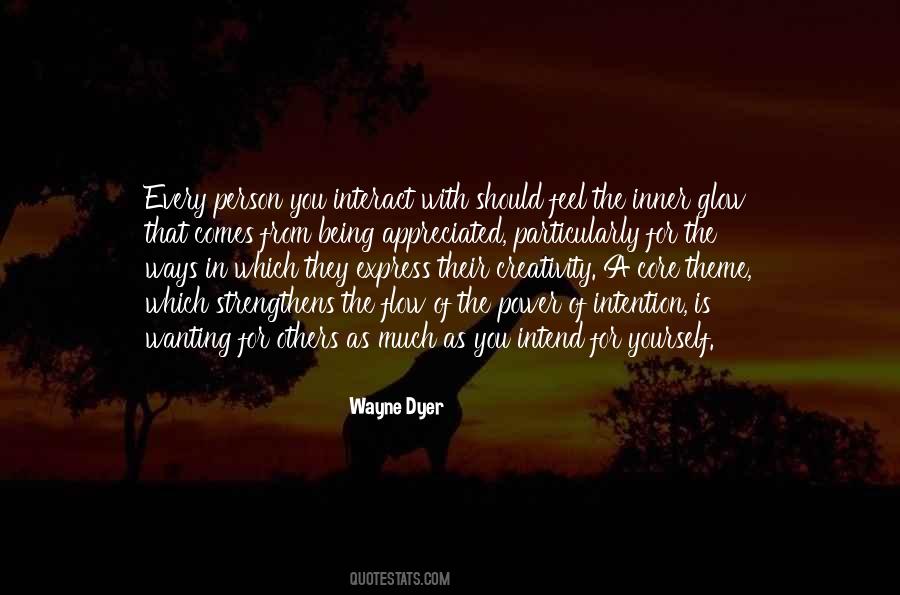 #80. There are themes that somehow stir me and that I find very interesting. They're themes that deal with leadership, the nature of bravery and courage, and how to define those. - Author: Stephen Lang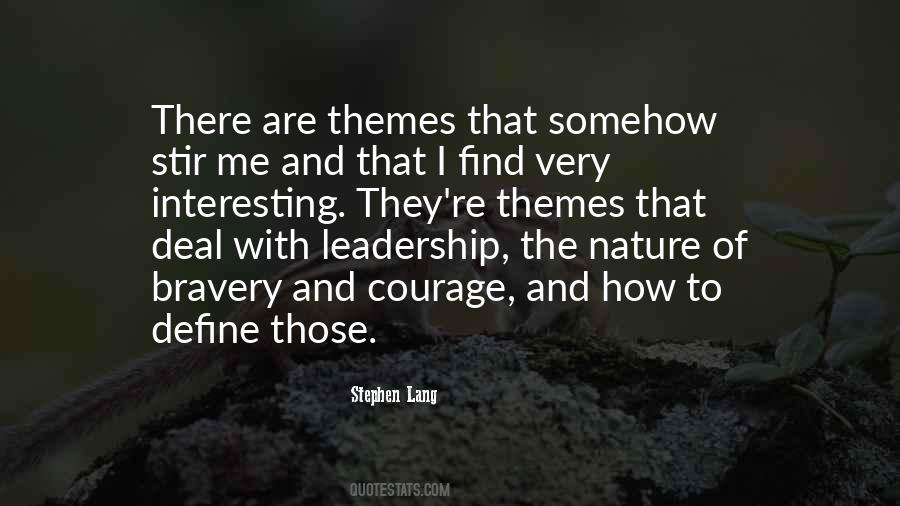 #81. I had one simple idea about telling friends about arts and technology events. People in the community suggested everything else to us, and that's our theme. We're really run by the people who use the site. We just run the infrastructure, and help out with problems. - Author: Craig Newmark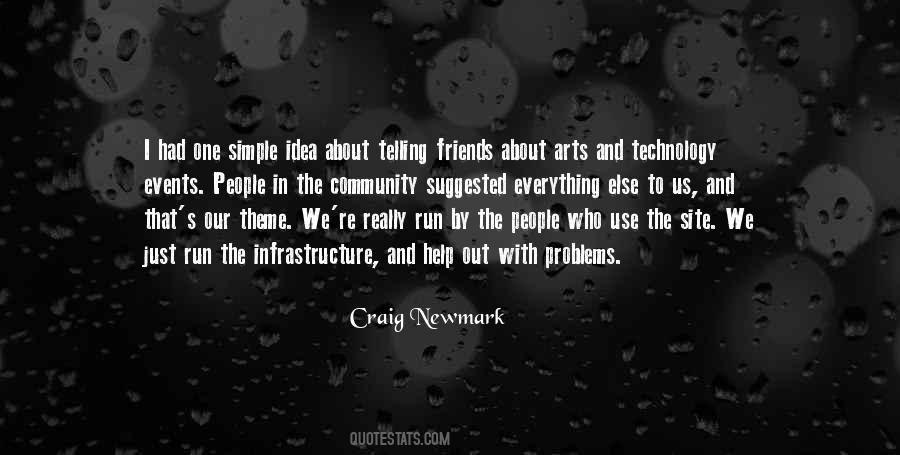 #82. The moment at which music reveals its true nature is contained in the ancient exercise of the theme with variations. The complete mystery of music is explained right there. - Author: Pierre Schaeffer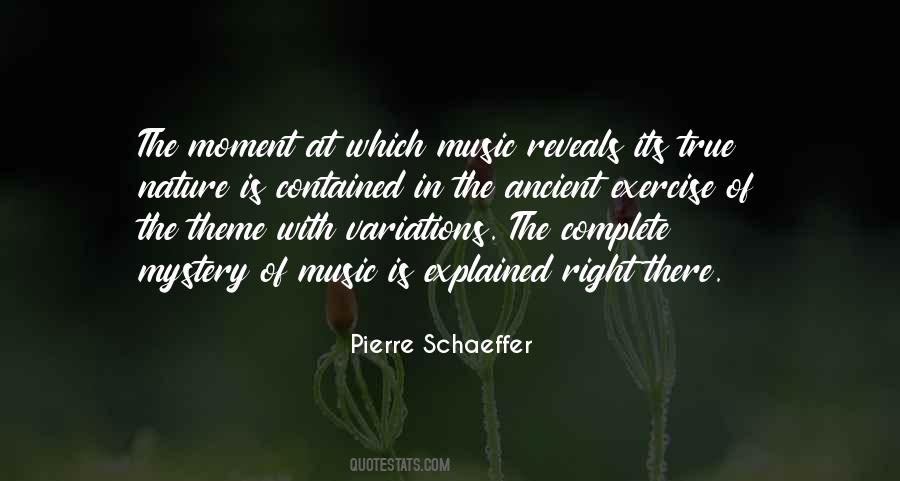 #83. My secret ambition was always to provide music for animation films: something with an Indian theme, either a fairy tale or mythological tale or on the Krishna theme. I still have a very deep desire, but these sorts of chances don't always come. - Author: Ravi Shankar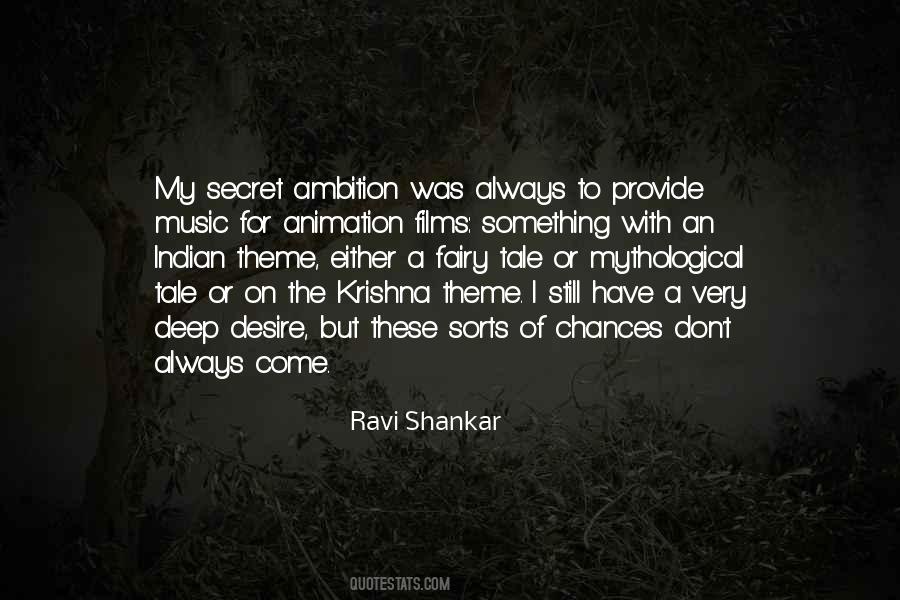 #84. I always try and come up with a clear theme when I'm making a videogame. - Author: Shigeru Miyamoto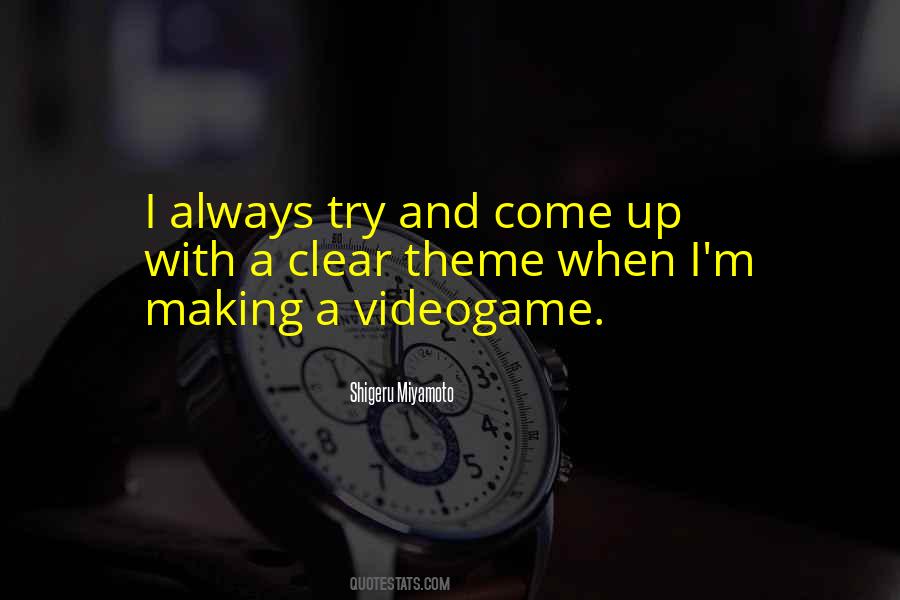 #85. People think I'm more wild than I am ... I like going to theme parks, play sports or just hanging out with my friends. - Author: Iggy Azalea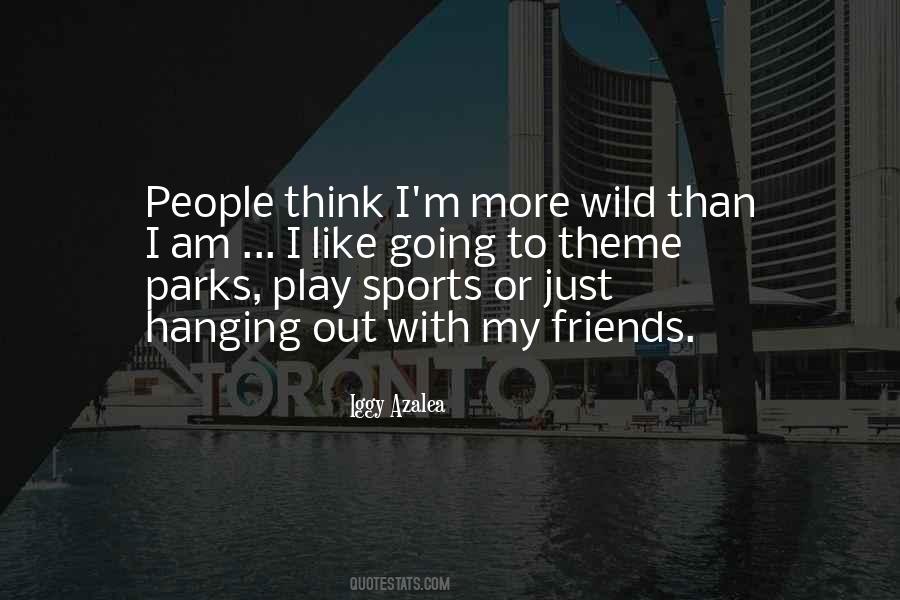 #86. Cooking is for capturing the taste of the food and then enhancing it, as a composer may take a theme and then delight us with his variations. - Author: Fernand Point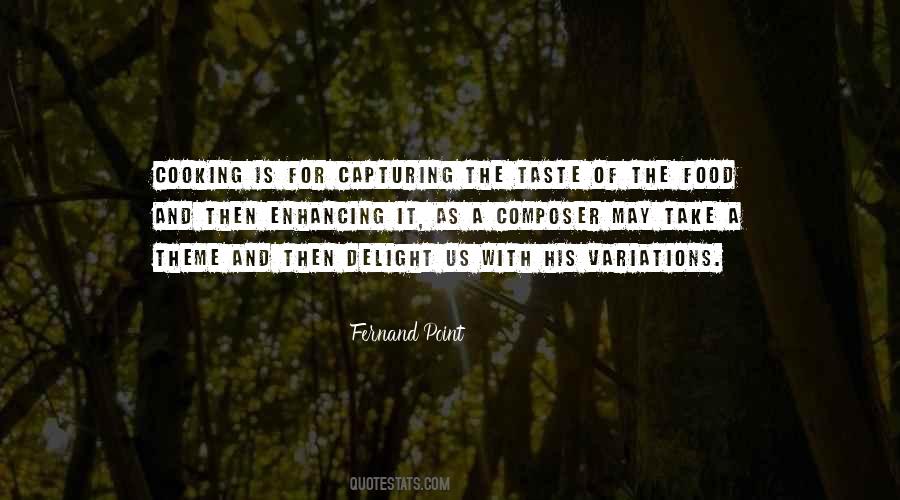 #87. I've always been a fan of issues around race and racialism, and I've loved playing with it. People act as though it isn't an issue, but it's a recurring theme in our lives globally. - Author: Trevor Noah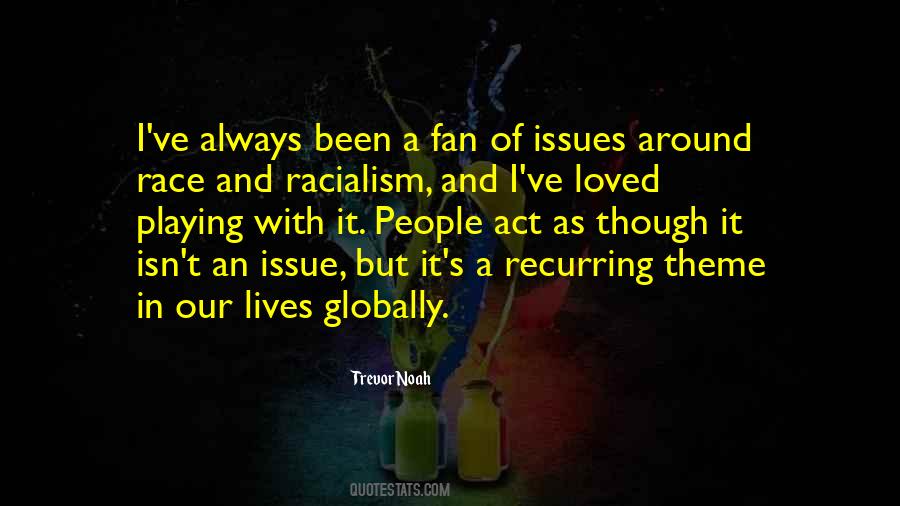 #88. Many believers get together to discuss a great book and mistakenly call it Bible study. That is, in fact, a book club with a spiritual theme. - Author: Jen Hatmaker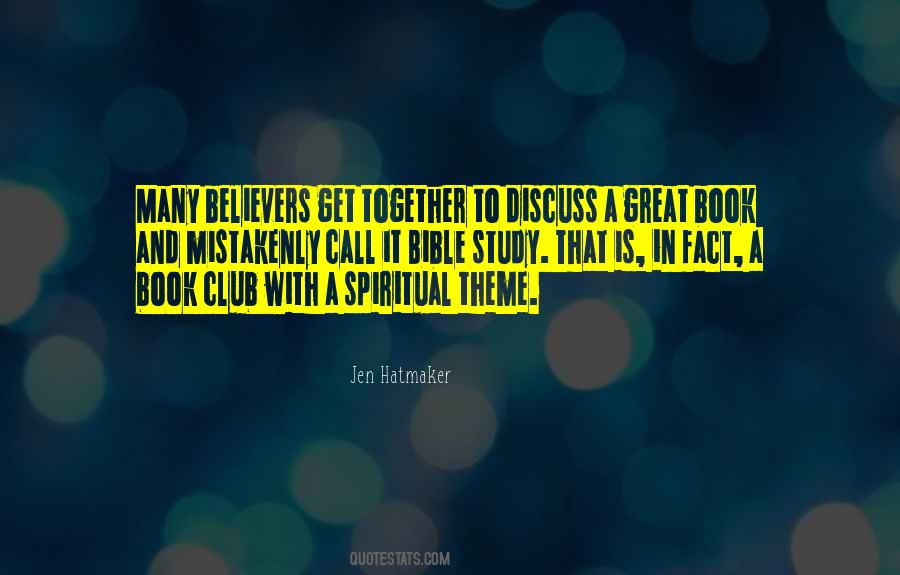 #89. Each returning soldier is an in-the-flesh memoir of war. Their chapters might vary, but similar imagery fills the pages, and the theme of every book is the same
profound change. The big question became, could I live with that kind of change? - Author: Ellen Hopkins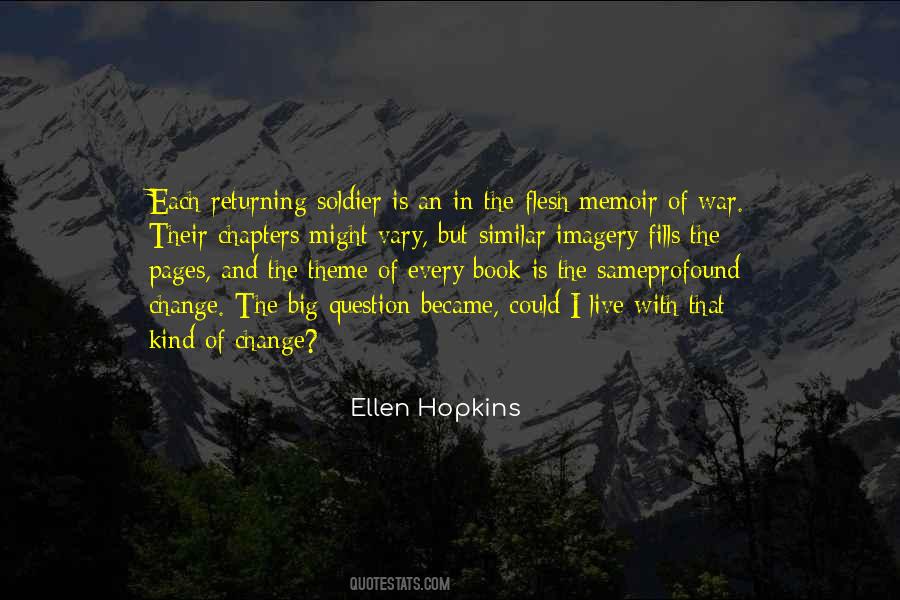 #90. I identified in a very deep way with the individuals I was writing about because the theme that runs through this story is of extraordinary hardship and the will to overcome it. - Author: Laura Hillenbrand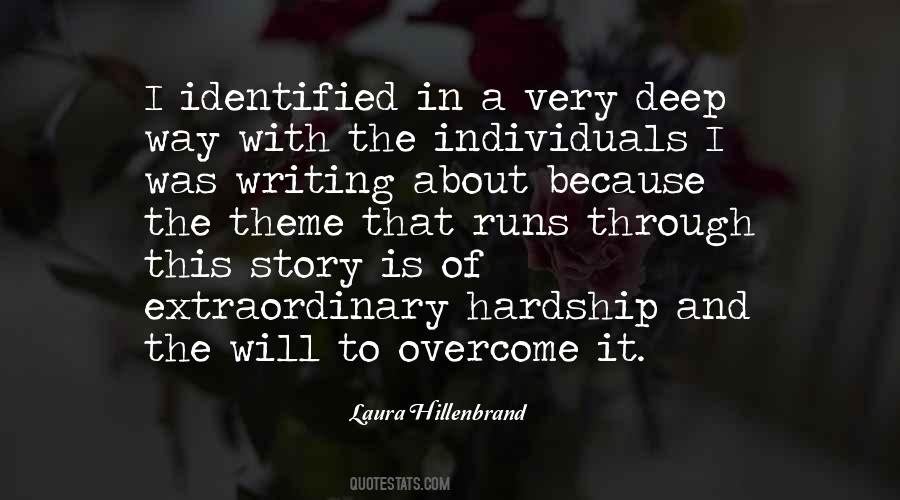 #91. You know, usually with movies there are periods, dark areas, where I might not be getting what I wanted out of a theme. I'll have to go over and over it again. - Author: Trevor Rabin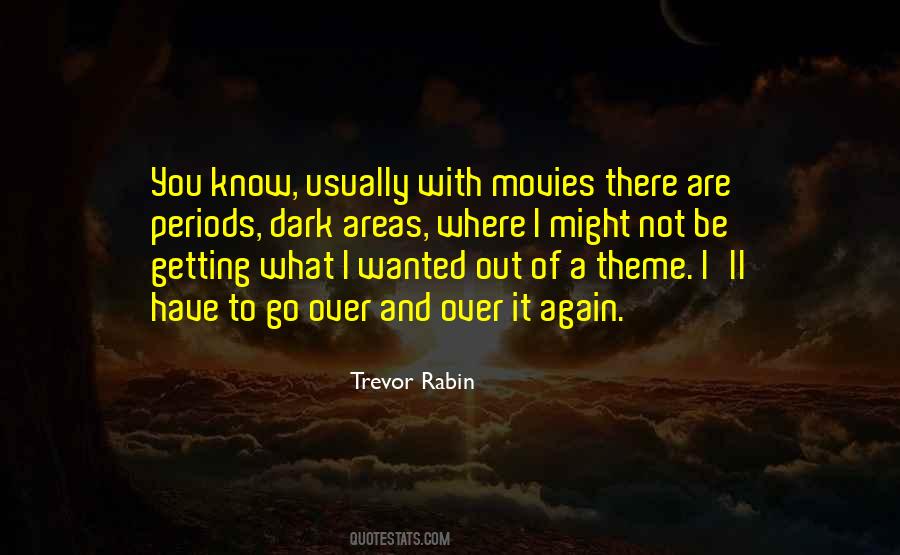 #92. The theme of the party was Neverland Ranch, so guests were asked to come as anyone or anything associated with Michael Jackson. It was all very disturbing. - Author: April Winchell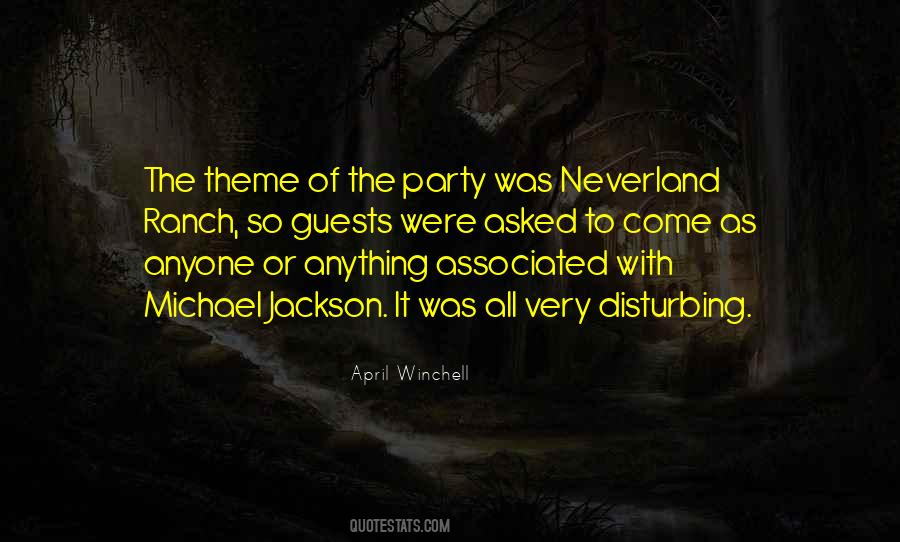 #93. I tried to pay some small tribute to A Man and a Woman (1966) with the recurring musical theme. - Author: Dwight Yoakam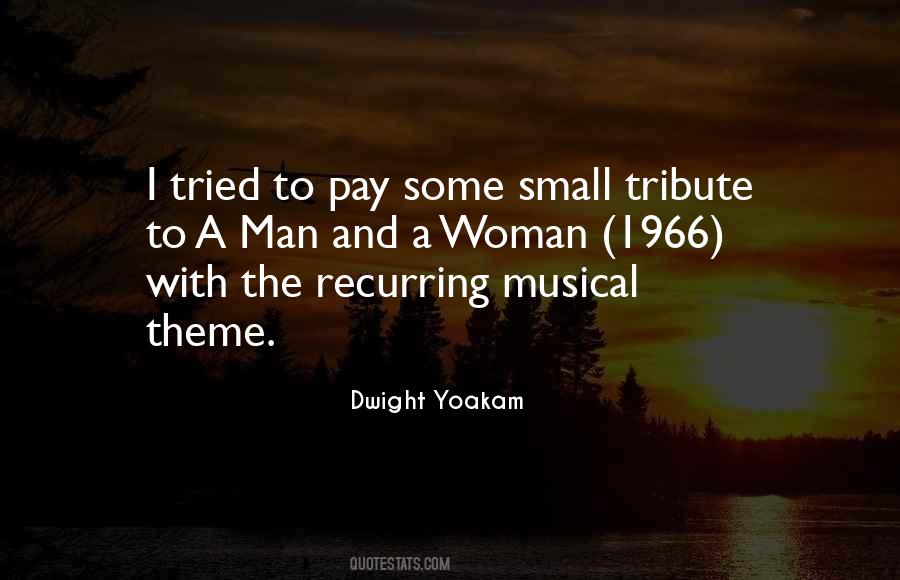 #94. The situation is not good with the record companies. It's just not working out, so I don't plan to record until it's straightened out. In the meantime I'm happy doing my movies and writing the music for the theme songs, whether I sing them or not. - Author: Irene Cara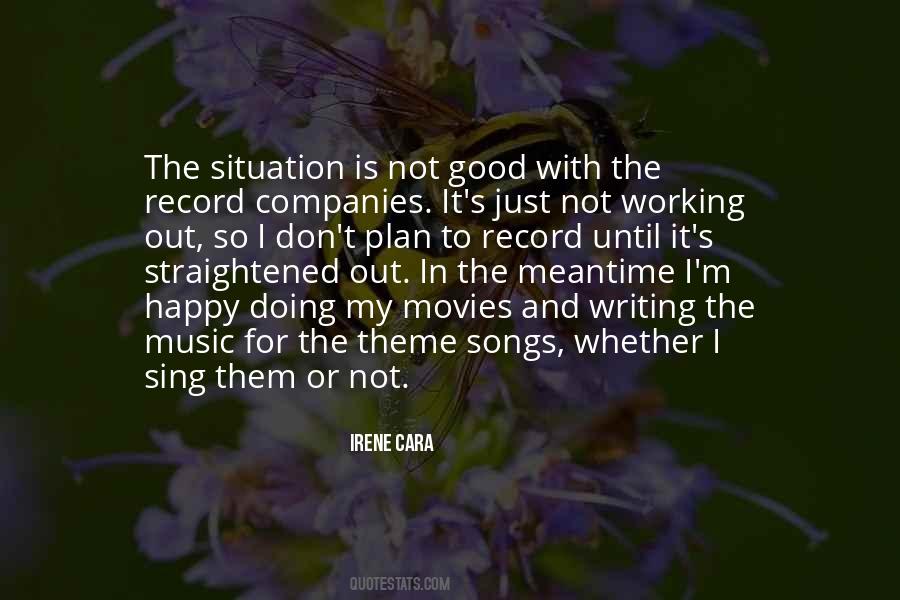 #95. I will tell just one more story ... and I will tell it with the humility and restraint of him who knows from the start that his theme is desperate, his means feeble, and the trade of clothing facts in words is bound by its very nature to fail. - Author: Primo Levi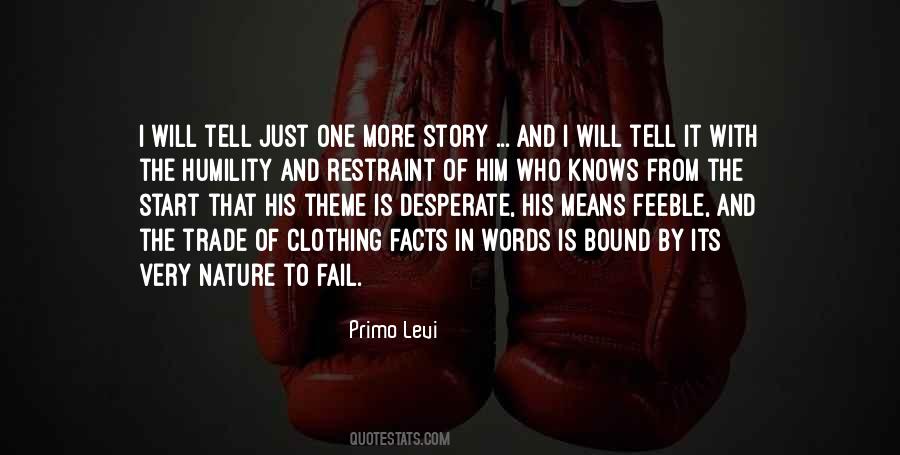 #96. The new French theme park based on Napoleon is named Napoleon's Bivouac, and will honor Napoleon with rides, battle reenactments, and the brutal March on Moscow ride. That's a walk-in freezer you stand in for 18 months while you try to eat a dead horse. - Author: Peter Sagal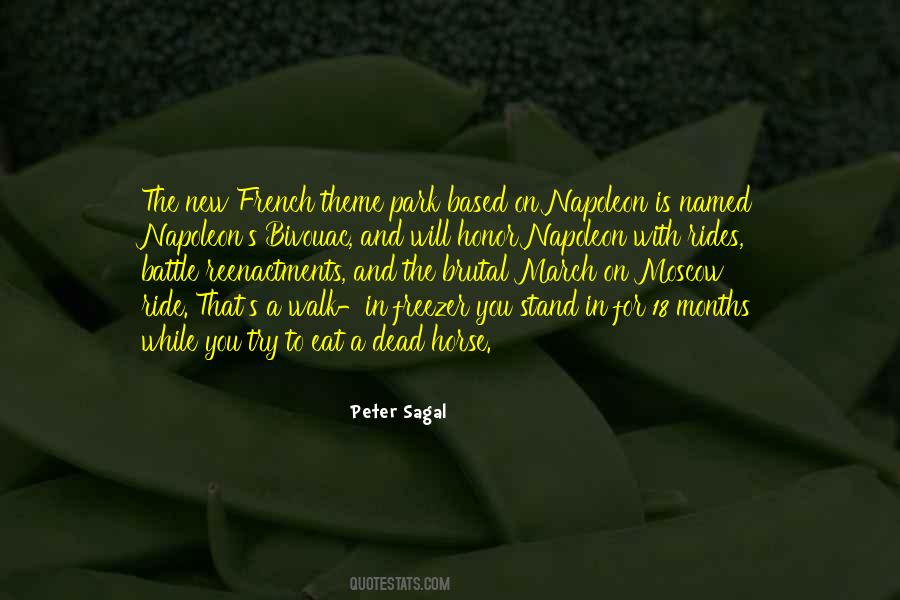 #97. I could name many women who travel or who work with America as a theme. I think it was more not being able to name canonical women, whose work is part of the American canon. - Author: Cynthia Daignault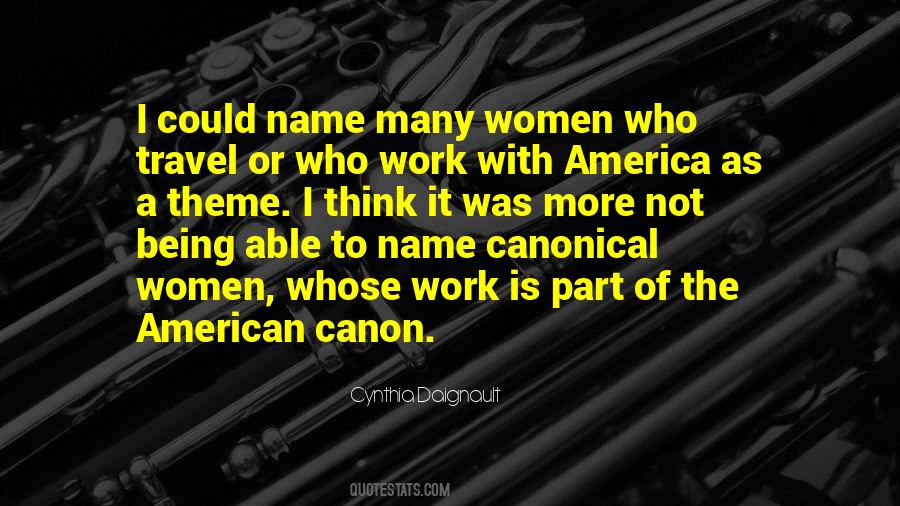 #98. I'm obsessed with the theme parks and themed restaurants, I love it! - Author: Tyra Banks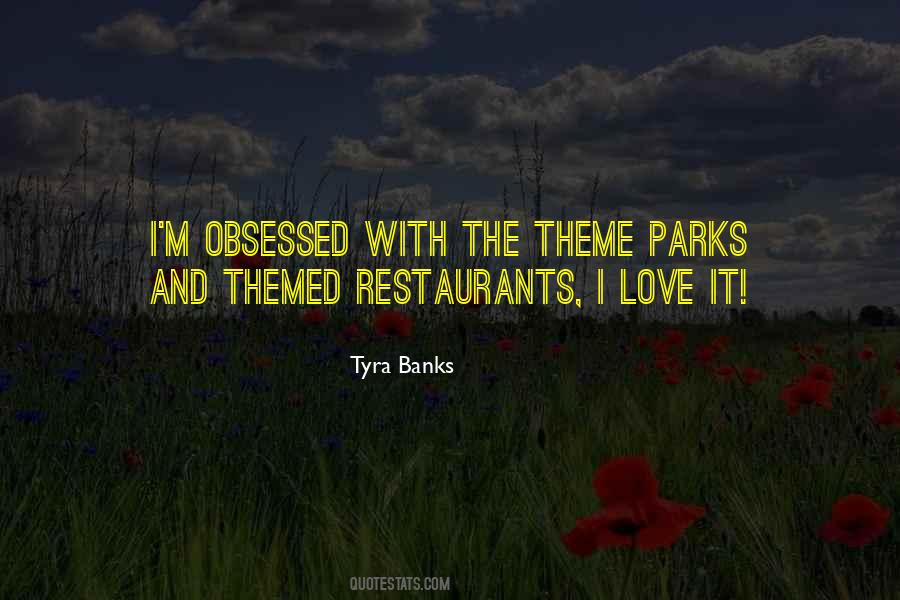 #99. Donald Trump is writing a different theme, which is it's midnight in America and that things are bad, and they're bleak, and they're gloomy and they're doomy, and the only thing that is going to save you is someone with the authority and power of somebody like me. - Author: Mark Shields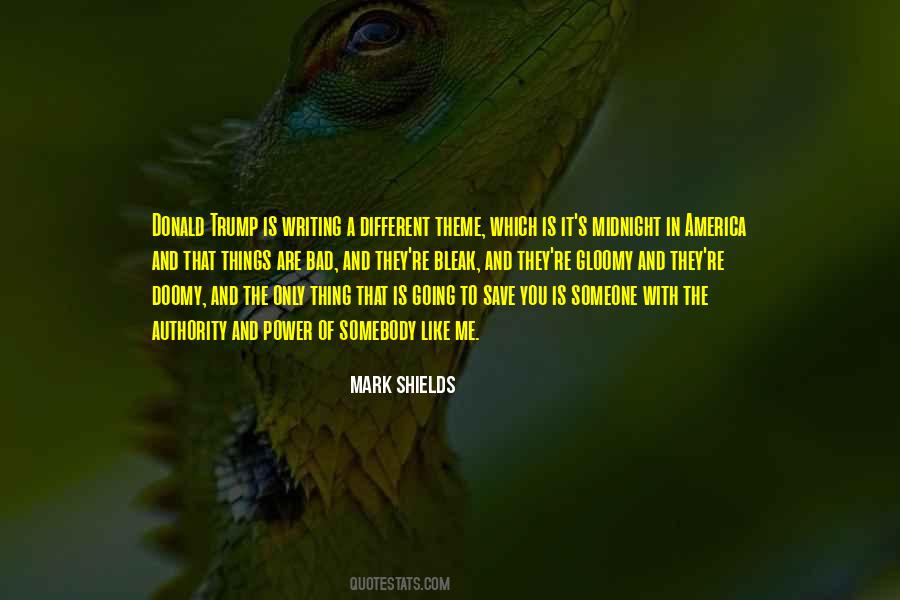 #100. Smash creative blocks. Change the problem or sneak up on it from a different direction. Try something fresh - a new way with an old theme, a different point of view, unusual tool. - Author: Nita Leland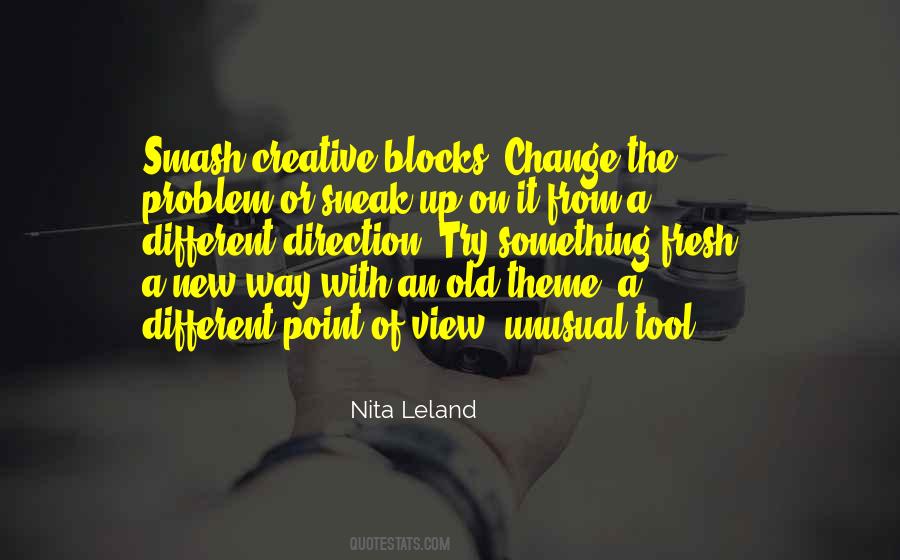 Famous Authors
Popular Topics