The Way Movie Famous Quotes & Sayings
List of top 100 famous quotes and sayings about the way movie to read and share with friends on your Facebook, Twitter, blogs.
Top 100 The Way Movie Quotes
#1. The dynamic is extremely similar to Gremlins and the hero is very similar, plus the small town atmosphere. It really is in a way the third Gremlins movie. - Author: Joe Dante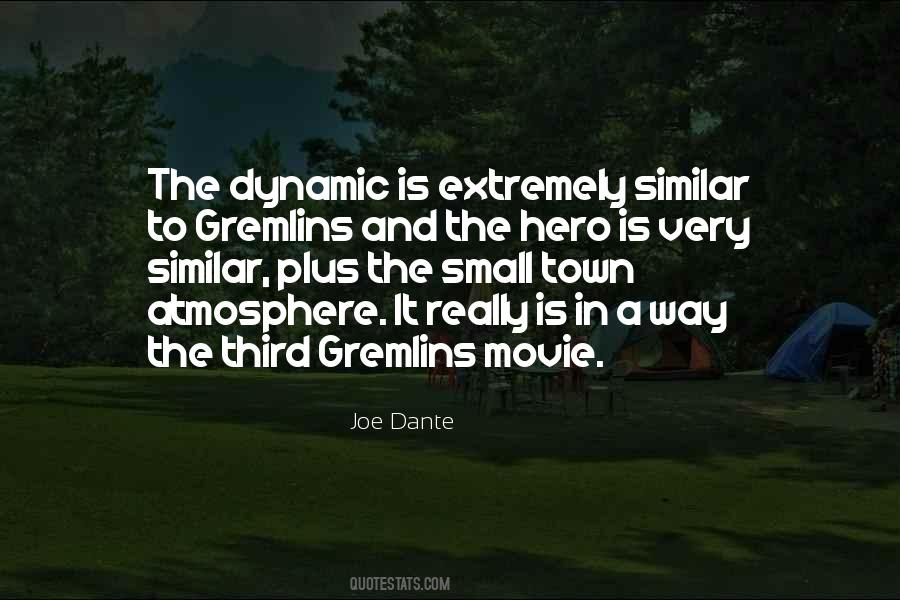 #2. I find 'Edward Scissorhands' a very inspiring movie - it's one of the first movies about bullying, in a way - about being treated unkindly for being different. - Author: Denise Di Novi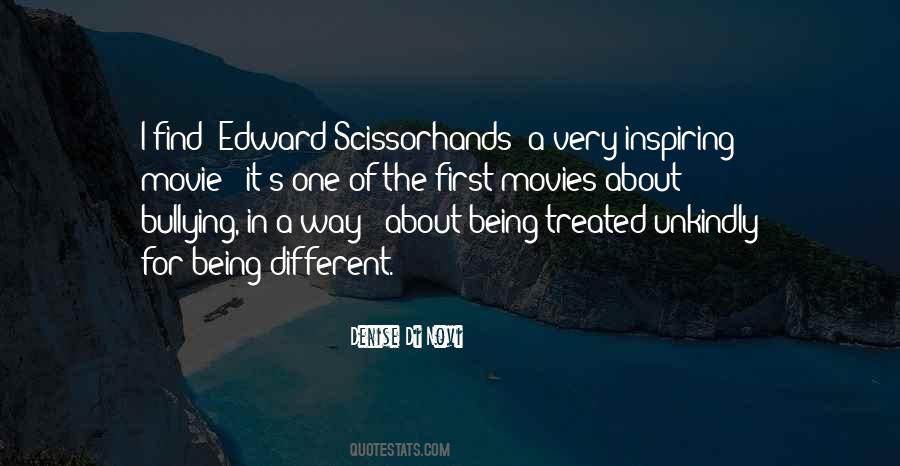 #3. The way that I look at it is that, when we film for eight months straight for a new 'Jackass' movie, I know that I'm going to wind up with at least two broken bones. I don't know when it's going to happen, but you can't contemplate how you're going to fall and what's going to happen. - Author: Bam Margera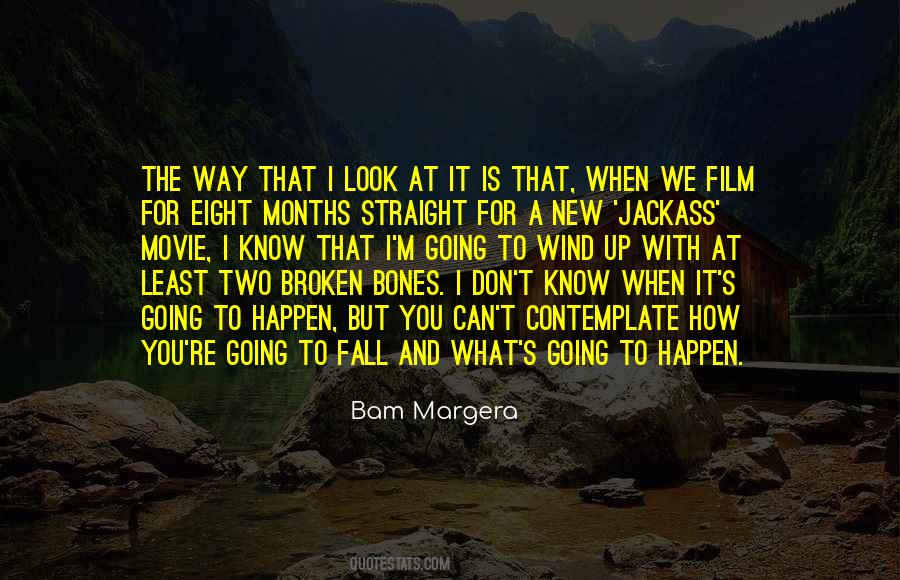 #4. One of my favourite kinds of movie is the American picaresque, in which the characters make their way across the country, learning about life against the gorgeous backdrops of that vast land. - Author: Steven Pinker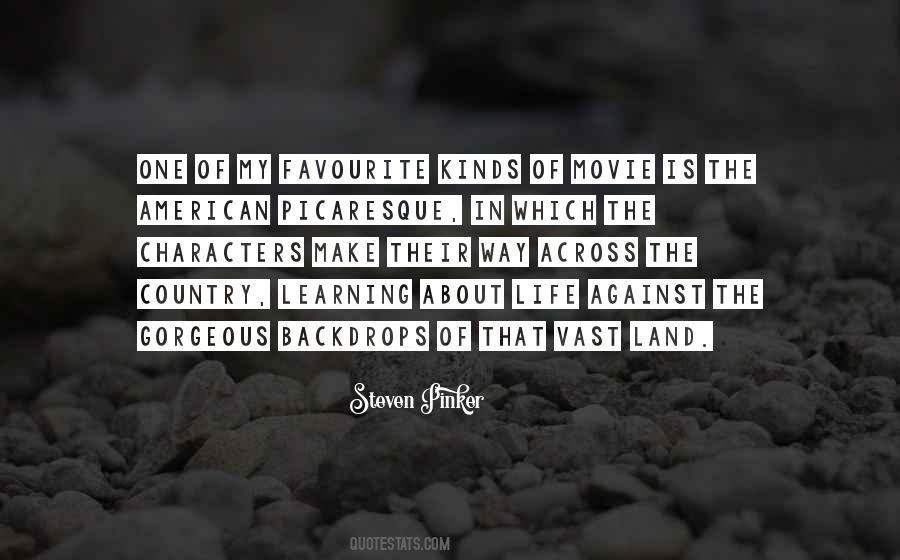 #5. In those simpler days, you could just take pictures of movie stars and show them the way they were, as normal human beings. And if I felt part of any movement at the time, it was just to do that - to be journalistic and photograph what is, rather than what is made up. - Author: Elliott Erwitt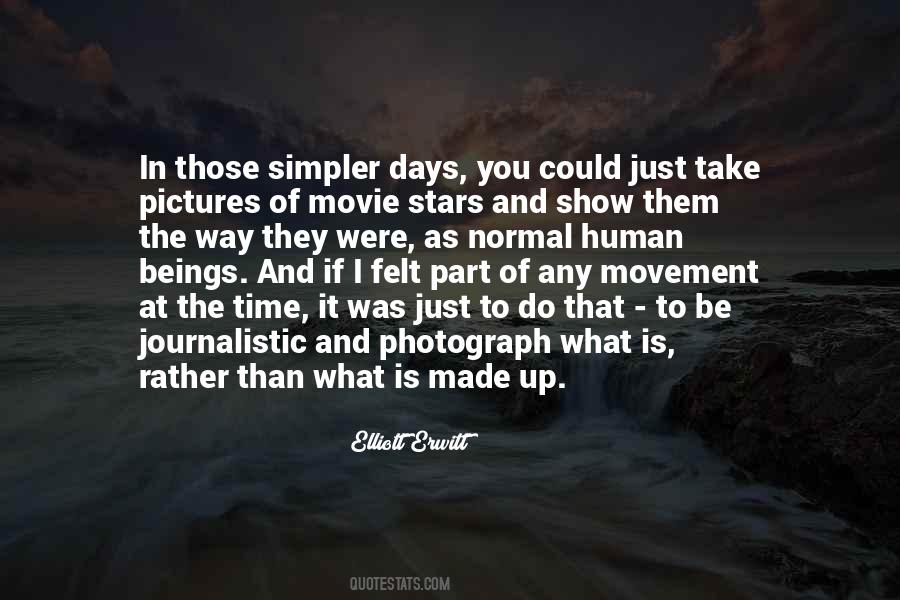 #6. Every single movie that I've ever done has affected my life; I always feel more changed by a character than I affect them or change them, always. I mean, that's just kind of the way it is. - Author: Joaquin Phoenix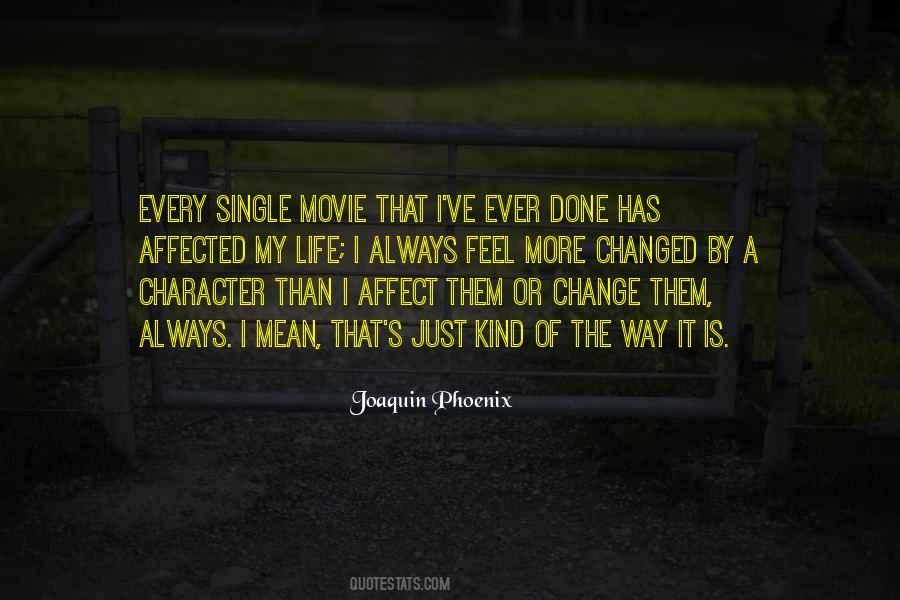 #7. When you direct a movie, you're basically looking at a story, the way you want to look at it. You bring that director's vision, and I'm totally open for that. - Author: Donnie Yen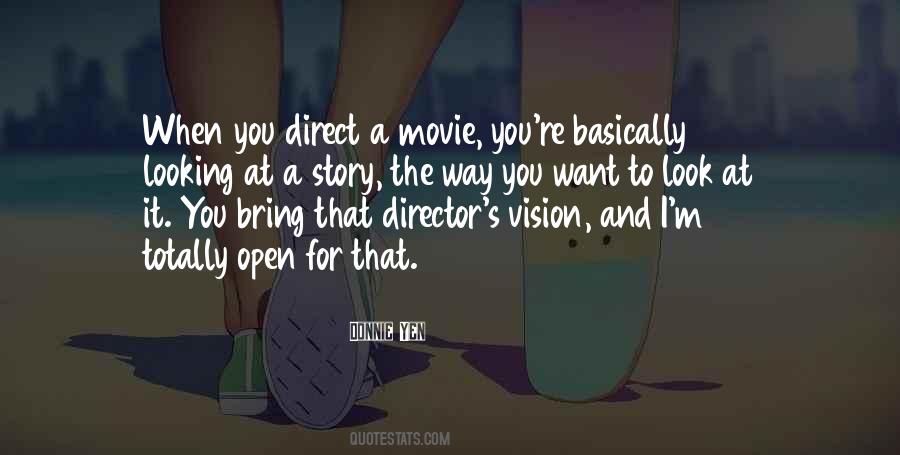 #8. I was heartbroken at the end of that, because I thought that was going to be it for me. Somehow I had worked my way into this movie and it had exposed me to people and I had a chance to be an actor, which I loved, but I didn't think it was ever going to happen again. - Author: Jason Schwartzman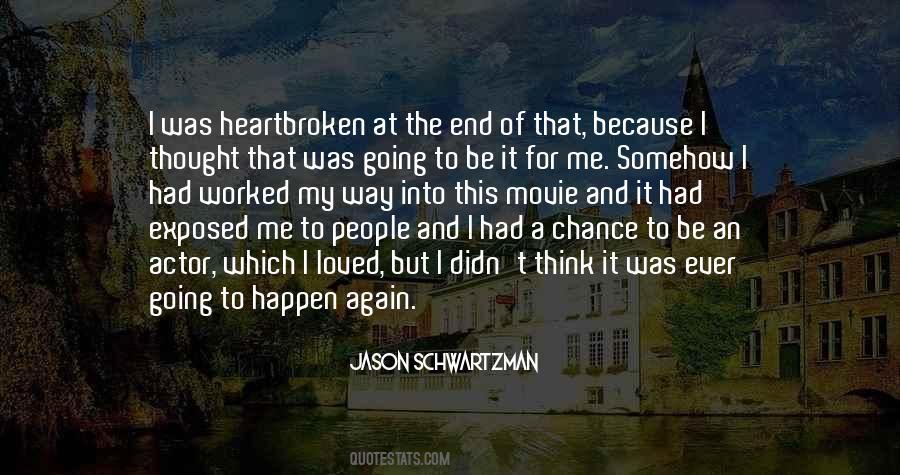 #9. I love working with actors. I love to see what they're going to do. There's just something very thrilling and satisfying with being involved with something, all the way through the process [making movie]. - Author: Griffin Dunne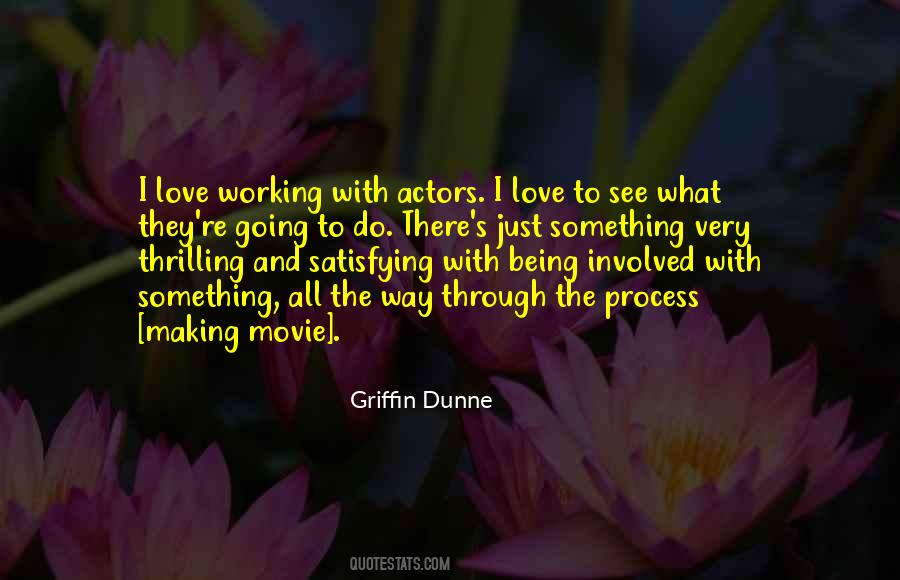 #10. If chess has any relationship to film-making, it would be in the way it helps you develop patience and discipline in choosing between alternatives at a time when an impulsive decision seems very attractive. - Author: Stanley Kubrick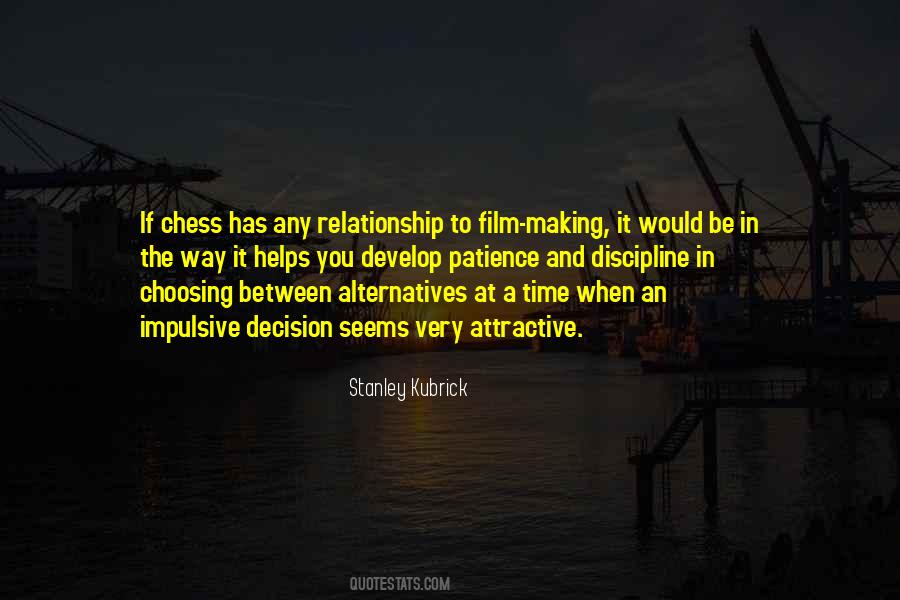 #11. In a movie, you need good actors, whereas in a book, you don't, unless you have a really bad imagination. In a book, your imagination will do the acting for you. Also, the process of revelation is often different. Tension is achieved in a different way. - Author: Yann Martel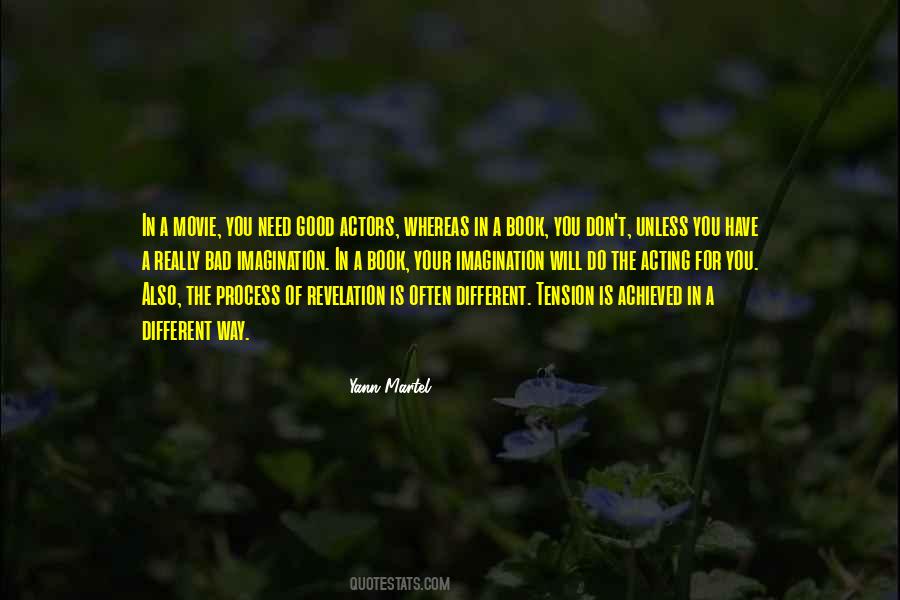 #12. I'd done a big movie that I wasn't happy with, and I was moving out of London when I got approached about Barton Fink, because my agent said the brothers were in London. We hit it off immediately, and suddenly I found myself on the way to America! - Author: Roger Deakins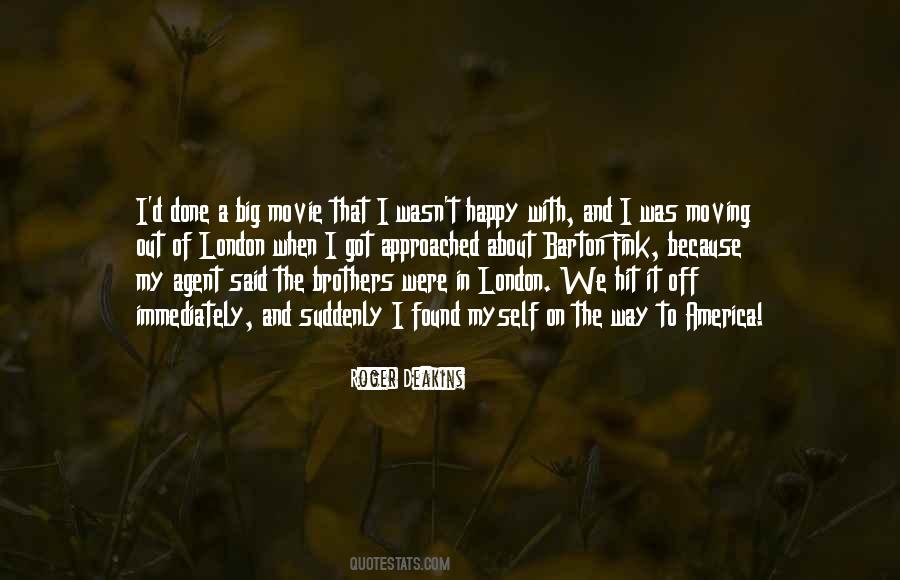 #13. The storyboard for me is the way to visualise the entire movie in advance, - Author: Martin Scorsese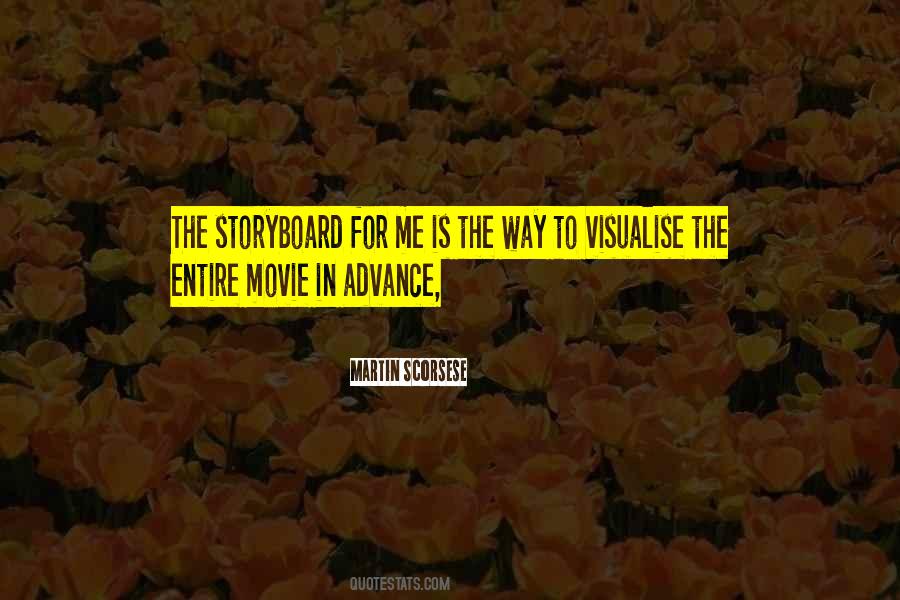 #14. I do listen to music. Movie scores, exclusively, because it's all about mood and nonspecificity. I love the way modern movie scoring is all about nonspecificity. You know, if I shuffled the tracks from 'Inception,' I challenge you to tell me which is which. - Author: Joss Whedon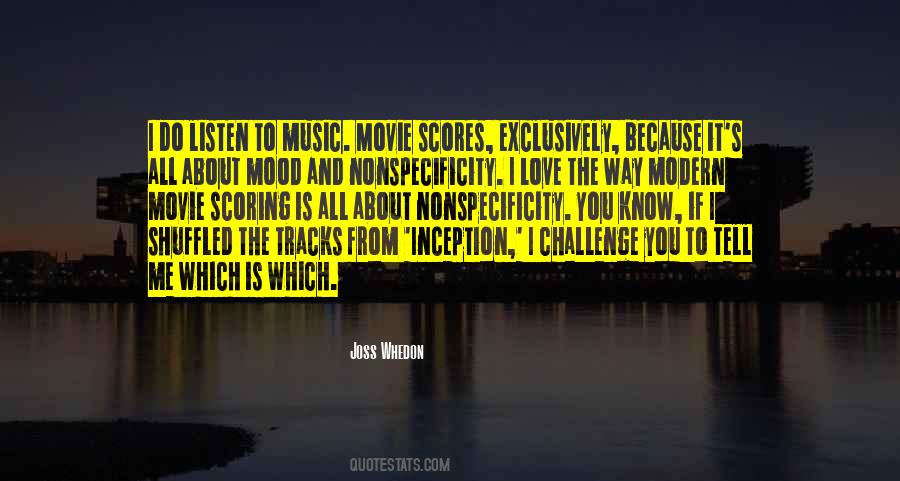 #15. I always say 300 is a sci-fi movie as much as anything. It's like that could be another planet. It doesn't have to be earth necessarily. That's like when people get so wrapped up in the politics of 300 I always go, "By the way, that's a sci-fi movie. It's not really a historical film." - Author: Zack Snyder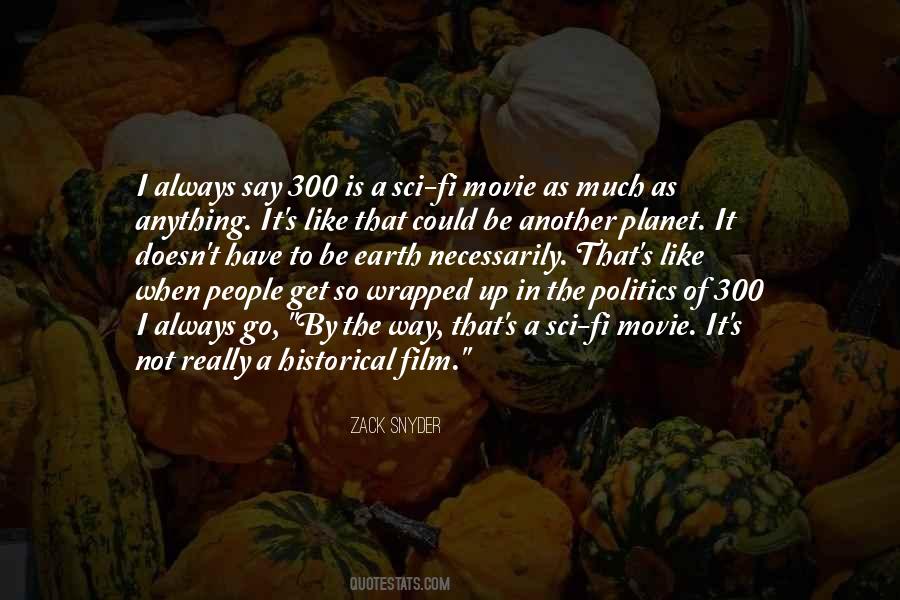 #16. I learned there's an amazing unexplored territory in terms of narrative. Before, I thought the unexplored territory was the form, the way you shoot a movie. Now, I'm learning about the beautiful marriage between form and narrative. - Author: Alfonso Cuaron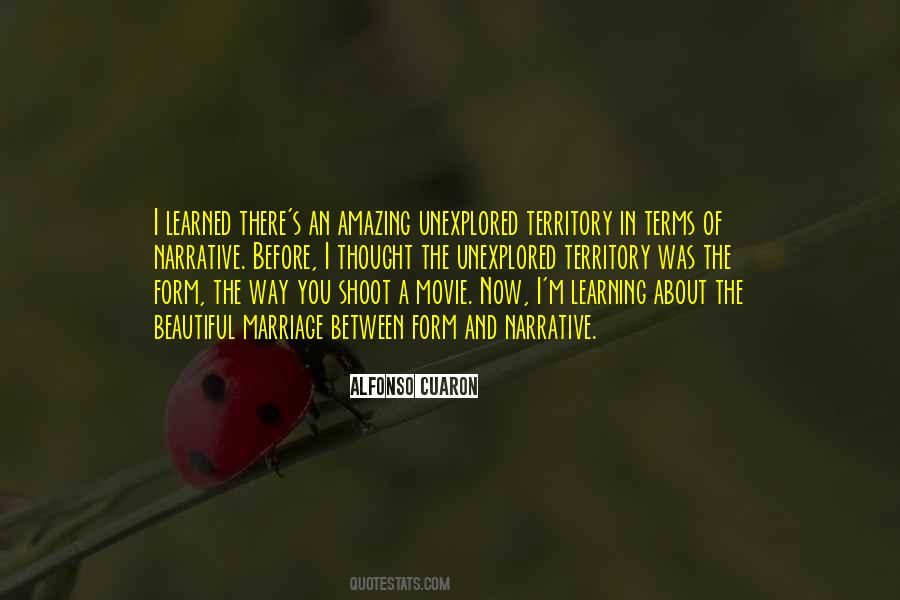 #17. For some people, the highlight of their entire month could be going out and eating a pizza or watching a movie at a multiplex, and here I am visiting four countries in a month. So, in that way, movies have made me socially aware. I now know how simple people live their lives. - Author: Sonam Kapoor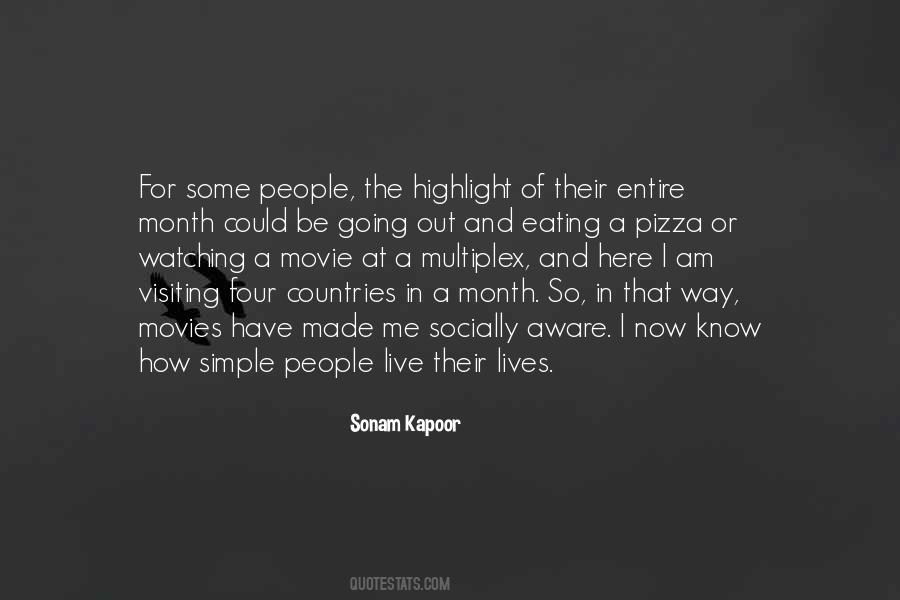 #18. Any time anyone makes a comic book into a movie, in some way, I think they have to kill the comic book. - Author: Sam Raimi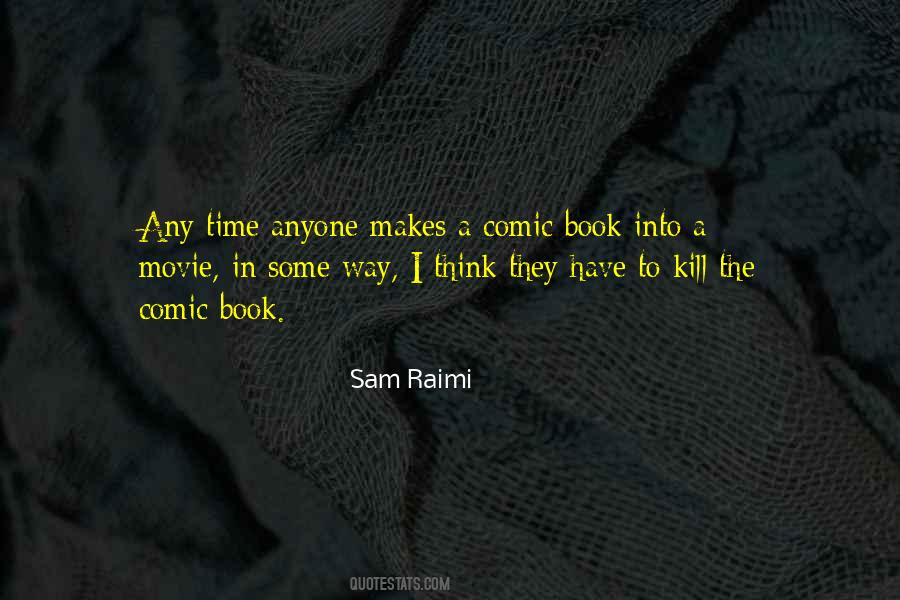 #19. Have you read 'The Grapes of Wrath?' That was my family. My dad was a sharecropper in western Oklahoma. When the dust storms came and everything got wiped out, they came to California. The guys with the mattresses on the tops of their cars in the movie? That was the way it was. - Author: B. Wayne Hughes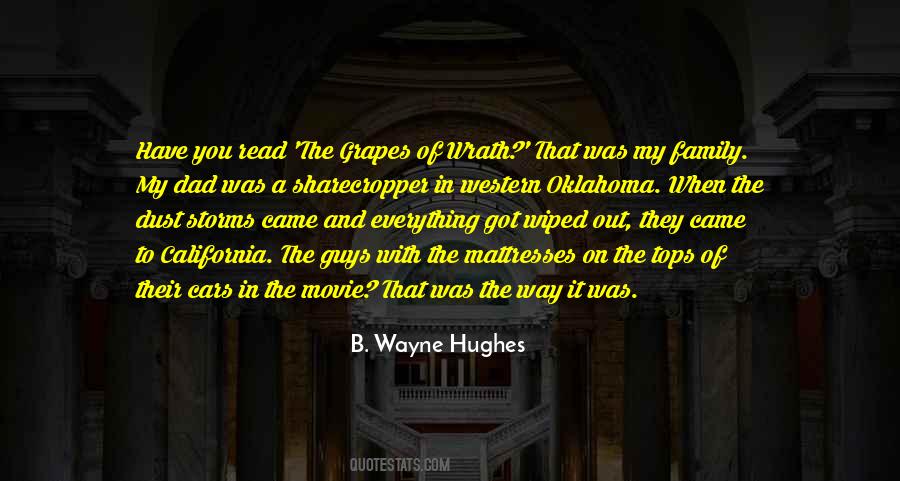 #20. My brother Robert wanted to act from a very early age, and there was always a part of me that said we couldn't have two actors in the family because our parents would go mental. So I became a runner for the Robert Stigwood Organisation and, one way or another, worked my way up to movie publicist. - Author: Philip Glenister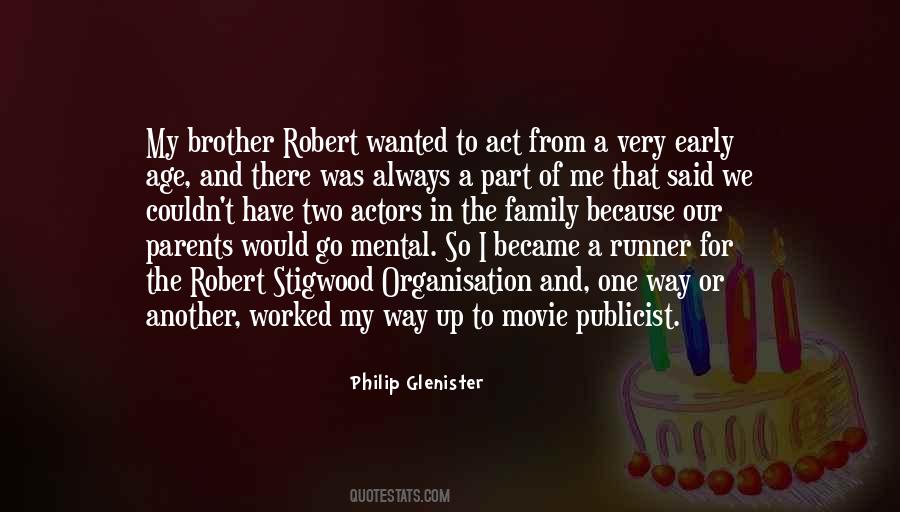 #21. I had no idea that it was gonna take off the way it did. I thought we made a good movie. - Author: Morgan Spurlock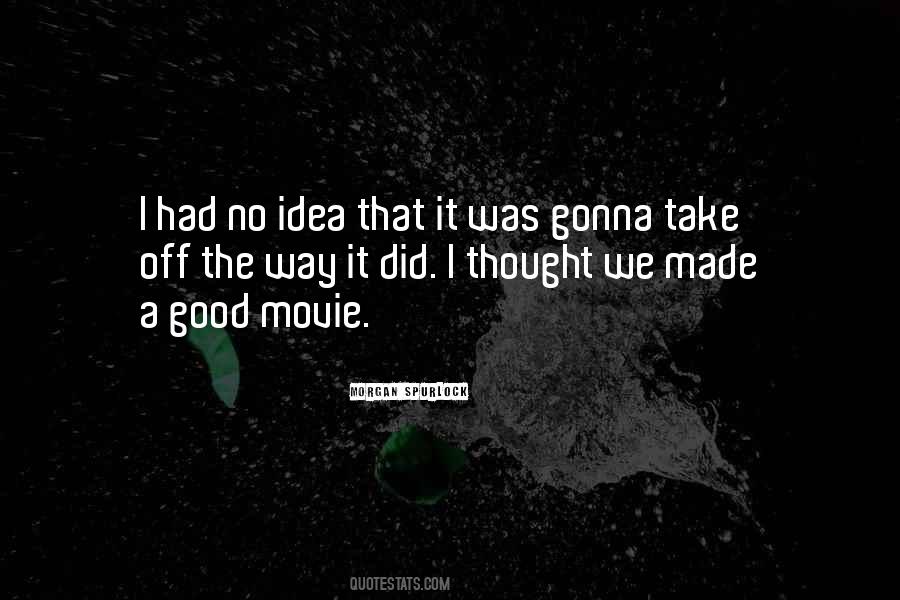 #22. I think you have to have a sense of humor about every movie that you're doing. Your character needs to be relatable in a way that, even when you're doing the most bizarre things, sometimes a bit of tongue in cheek is necessary to keep up the believability of it. - Author: Katharine Isabelle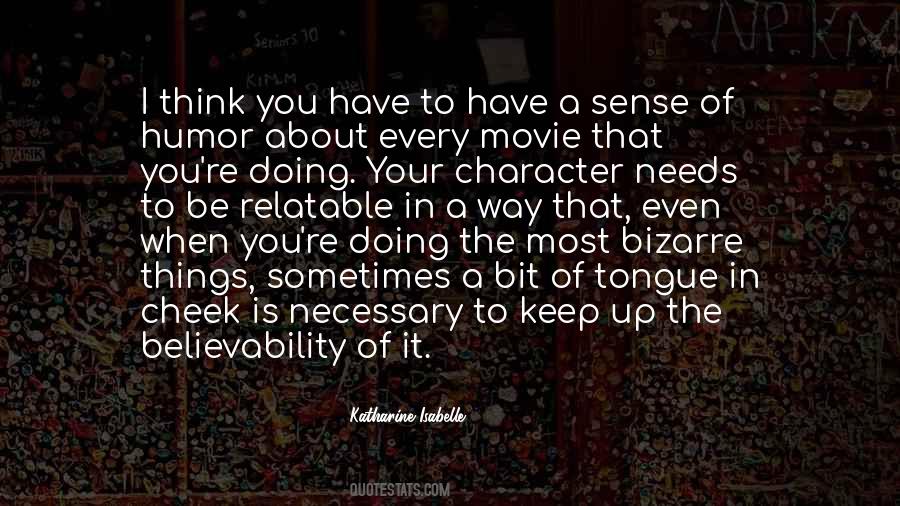 #23. Before shooting, I prepare with the actors much more like it's a theater play than a movie. Apparently, that way of working is very unusual. - Author: Pedro Almodovar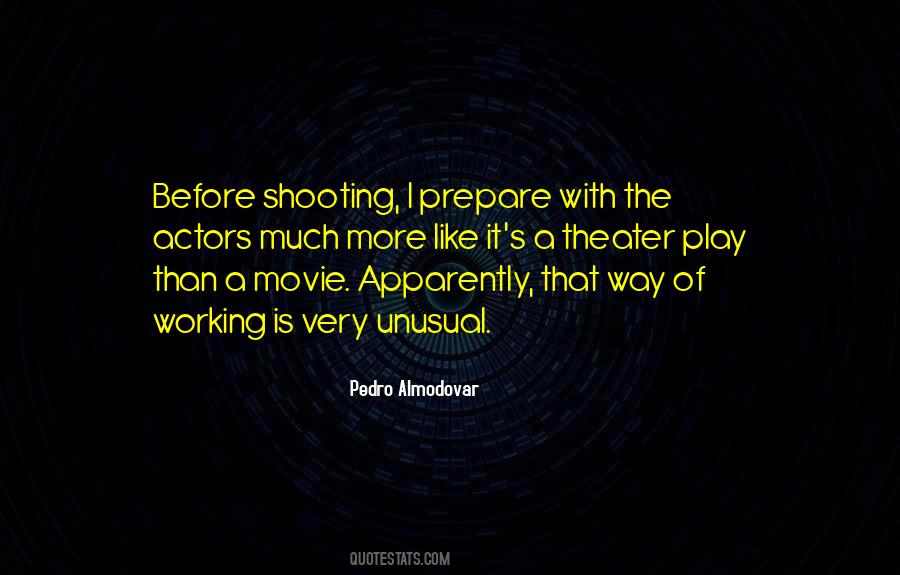 #24. I wonder if that's hurt me at the box office. Maybe audiences these days want to know exactly what to expect when they go into a movie, and my movies are hard to explain in just one way. - Author: Paul Mazursky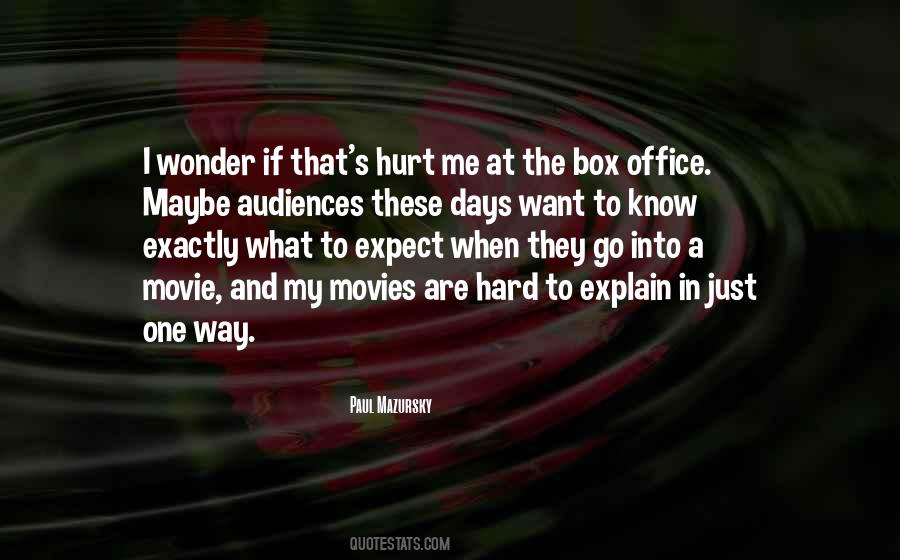 #25. The movie Fifty Shades of Grey is considerably better written than the book. It is also sort of classy-looking, in a generic, TV-ad-for-bath-oil way. - Author: Lisa Schwarzbaum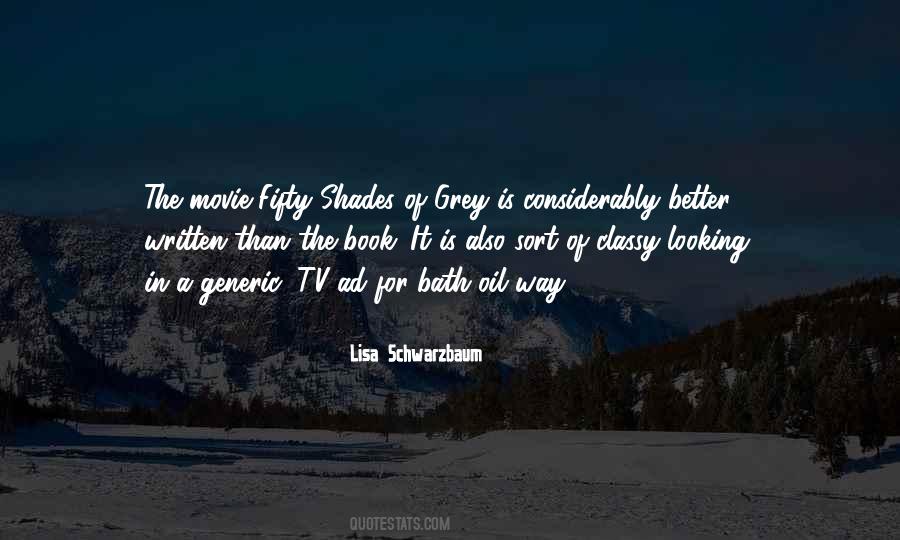 #26. I want to tell stories which require something of an audience, by way of thought, argument, emotion, because I'm more often in an audience than I am a maker of films, and that's the kind of movie I want to see. - Author: Anthony Minghella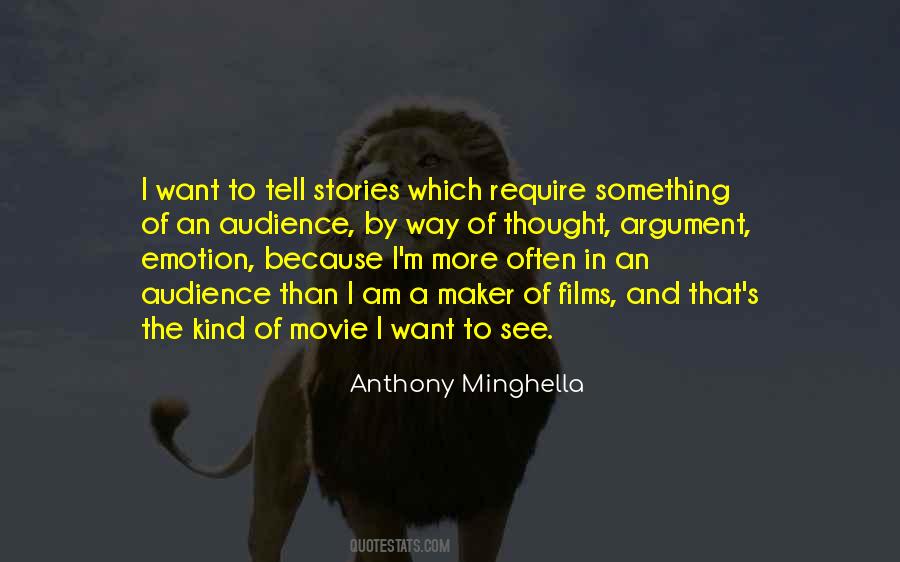 #27. My favorite way to wake up is to have a certain French movie star whisper to me softly at two-thirty in the afternoon that if I want to get to Sweden in time to pick up my Nobel Prize for Literature, I had better ring for breakfast. This occurs rather less often than one might wish. - Author: Fran Lebowitz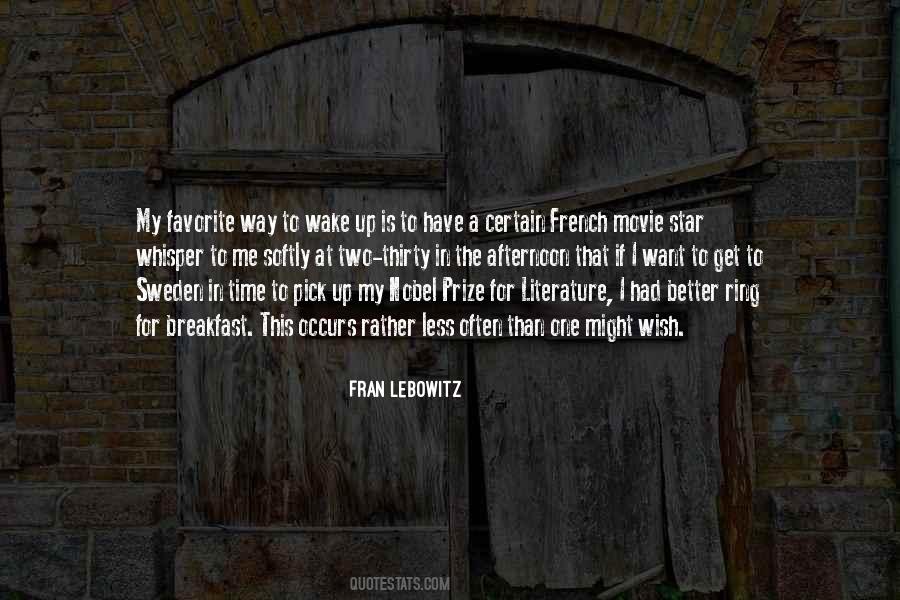 #28. I think the way it works is that when you're casting a movie, you usually want to work with people that you believe in. - Author: Owen Wilson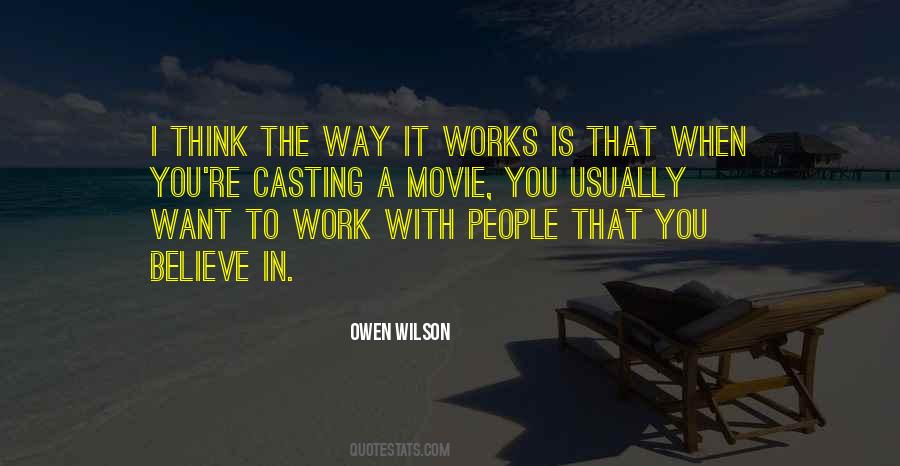 #29. I liked Lost in Space," Stefan said.
"The movie or the TV series?"
"The movie? Right. I had forgotten about the movie," he said soberly. "It was better that way. - Author: Patricia Briggs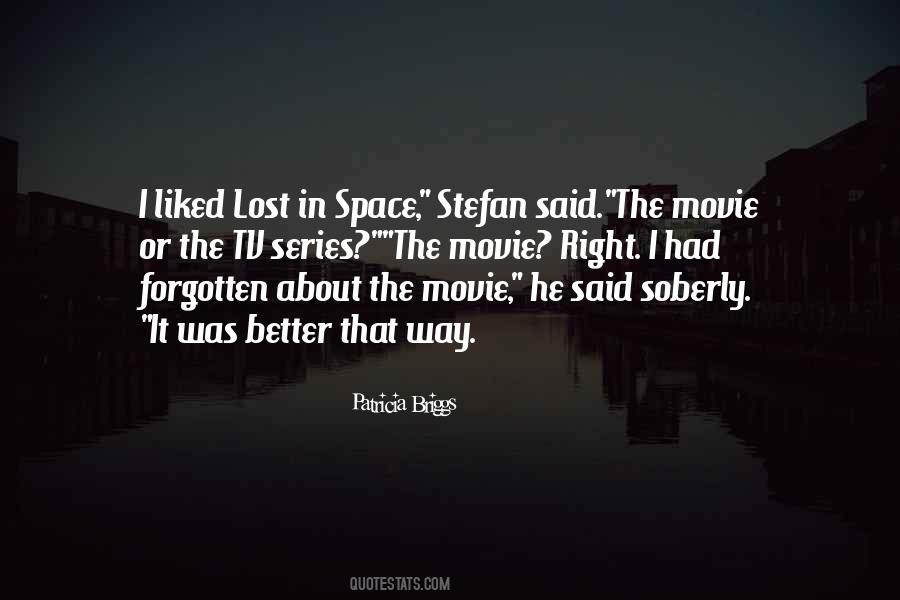 #30. Consider this 're-make' business that is taking away opportunities for new ideas and new films to happen. If the movie was made right the first time, why make it again? The only reason this is happening is it has become a safer way for the Studios. - Author: Bernie Brillstein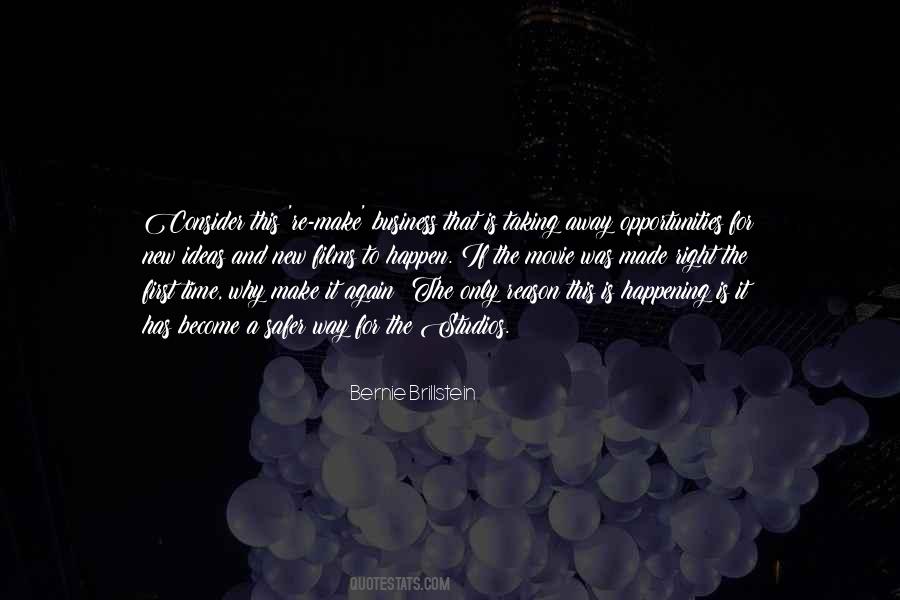 #31. I can't stand [female] characters that are not empowered in a certain way, or at least don't come to a conclusion at the end of the movie where they find empowerment in themselves. - Author: Chloe Grace Moretz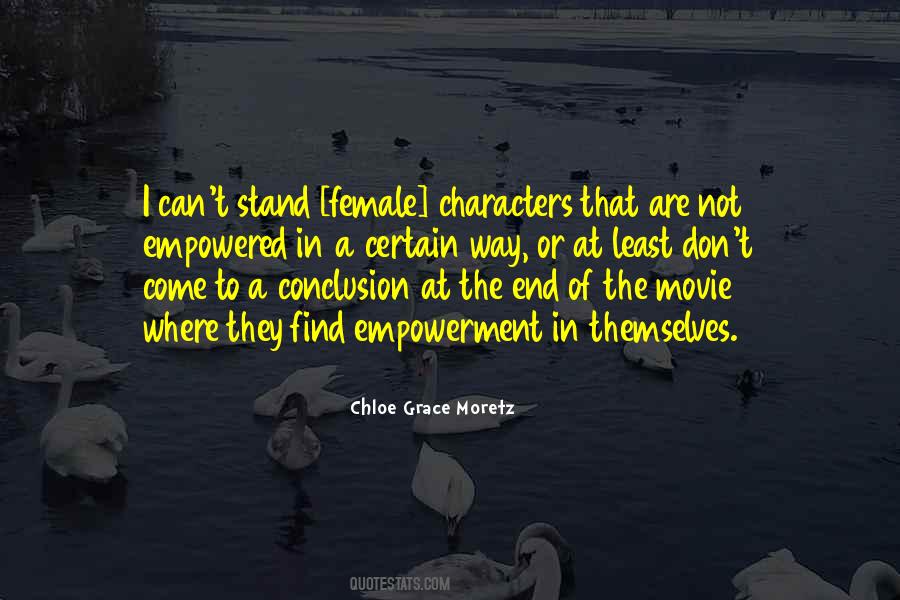 #32. Back in the '70s, like one of my favorite movies ever was 'The Bad News Bears', and that was a kids' movie, but I don't think of it that way. I think of it as just a great movie because Walter Matthau was so funny and so harsh with those kids. - Author: Jack Black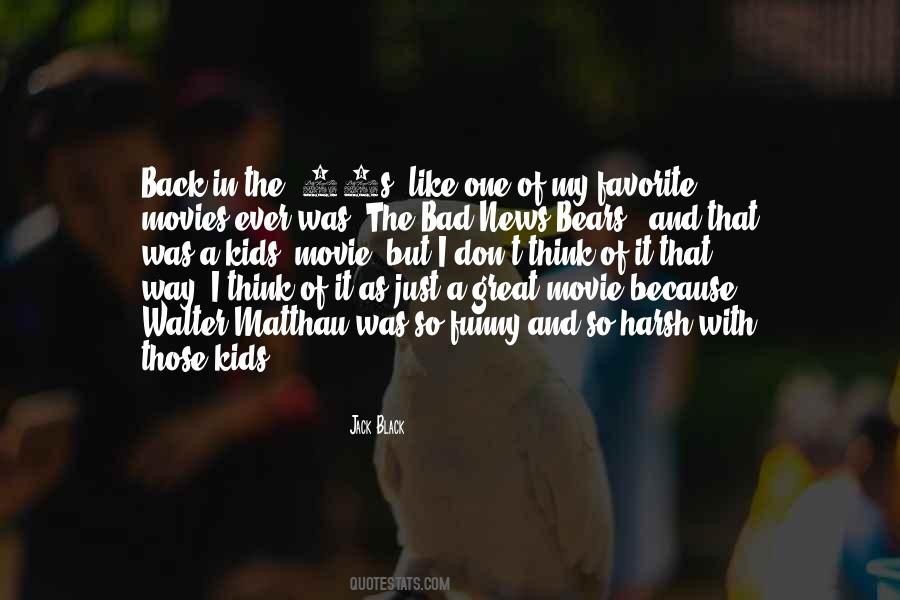 #33. Richard Donner is one of the few directors in Hollywood that can make whatever movie he wants exactly the way he wants it. No one will stop him. - Author: Lana Wachowski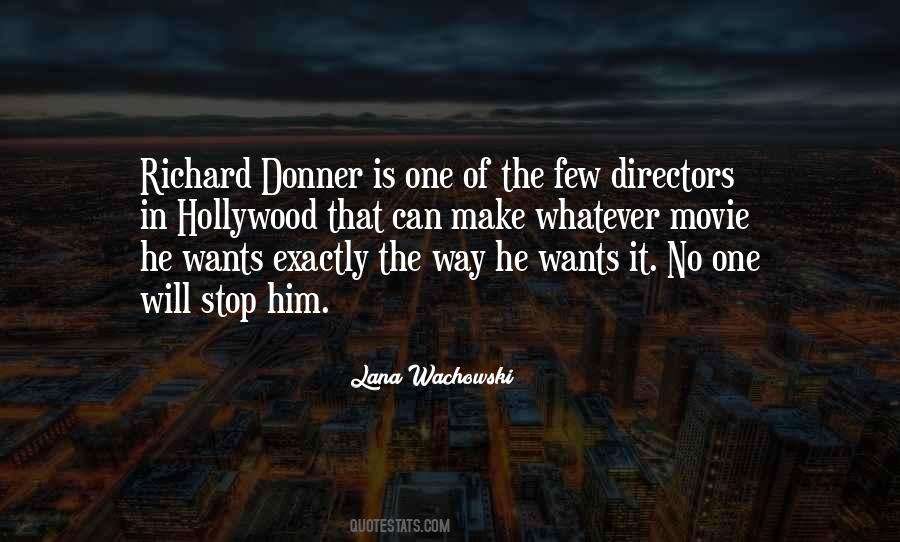 #34. The best way to learn anything is through a movie, because you have so much time to do it and you have great people teaching you. - Author: Ray Liotta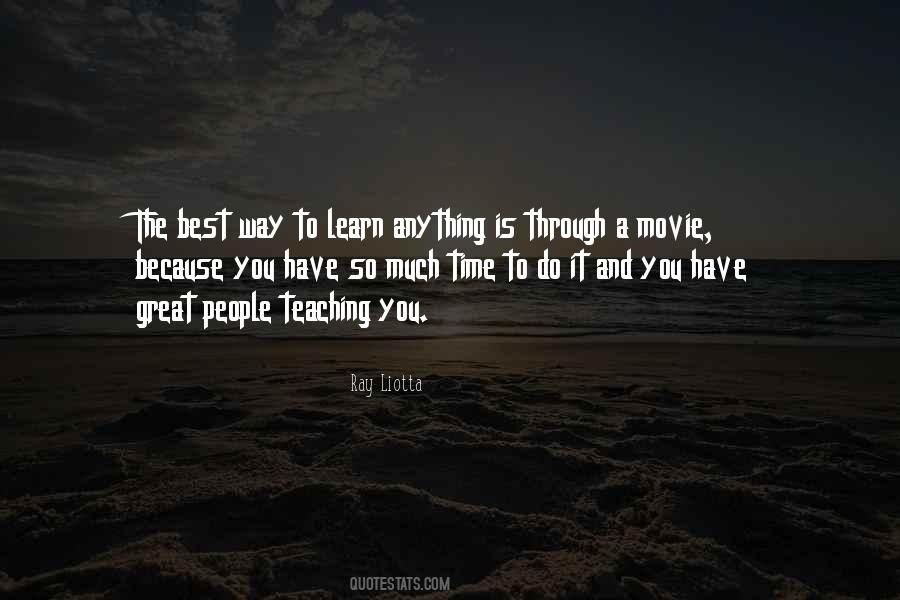 #35. [Liv Corfixen] very much part of my life in that she's everything in my life and we found a way to use each other much more on a creative level as well. She was kind of the idea for this movie so I wanted to acknowledge that. She gave me the original idea to make the film. - Author: Nicolas Winding Refn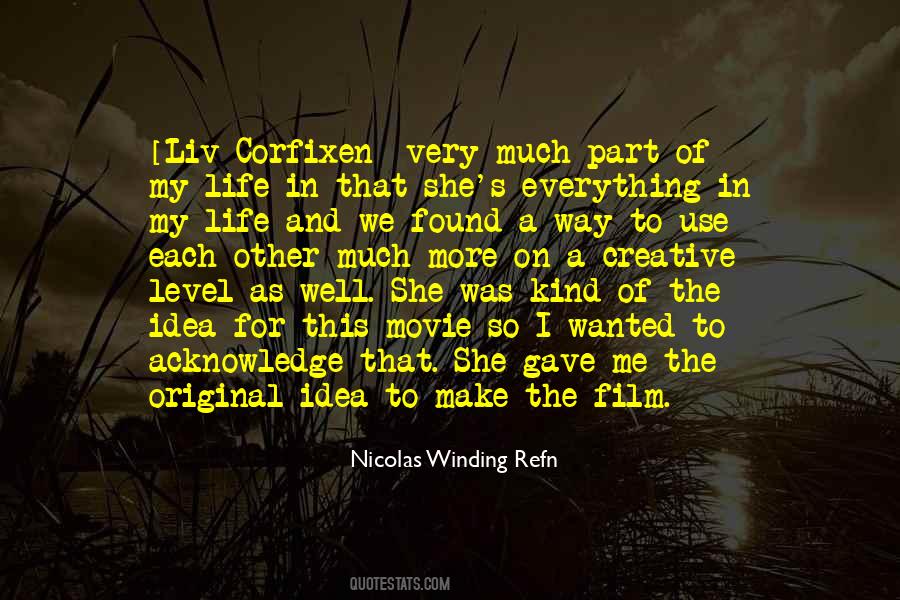 #36. I've made a way to allow myself to do big films, small films, dramas, comedies, action films, horror films, or whatever interests me, as a movie-goer. I like watching myself in movies. I want to choose movies that allow me to enjoy myself, the way that I want to entertain myself. - Author: Samuel L. Jackson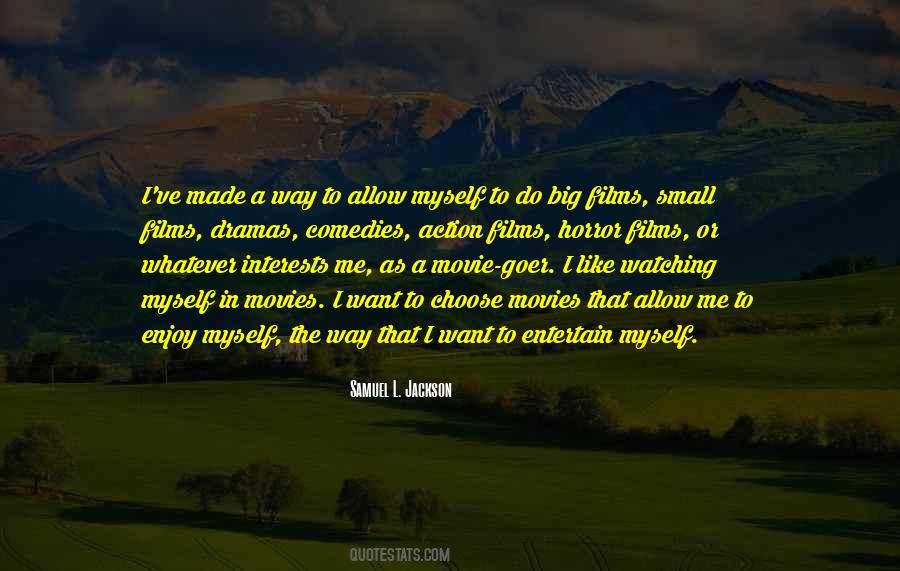 #37. I know one of the secrets the rest of the country hasn't figured out yet: it's not New Yorkers who are rude, it's the tourists who've seen a movie about rude New Yorkers and think they have to act the same way when they come to New York who are rude. - Author: Sari Botton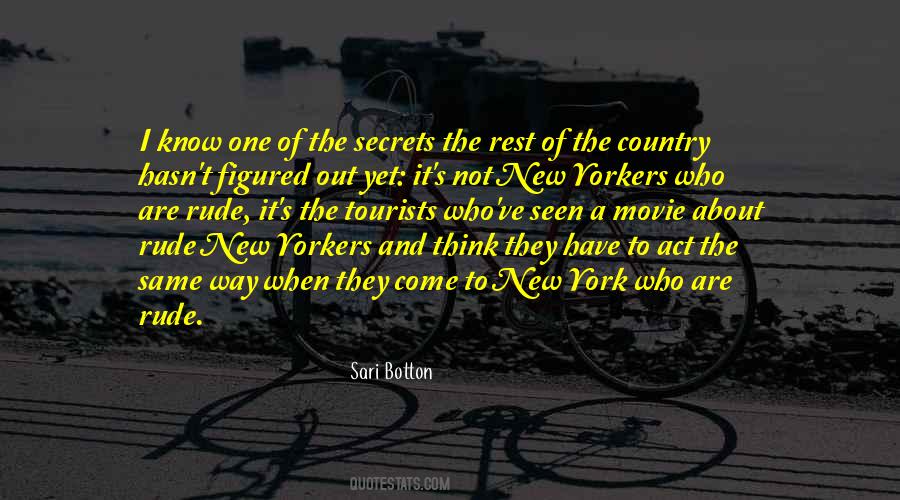 #38. The way I feel about you, it's like I finally understand what Lionel Richie is singing about. I mean, what we have, it's like movie love. - Author: Maggie Wheeler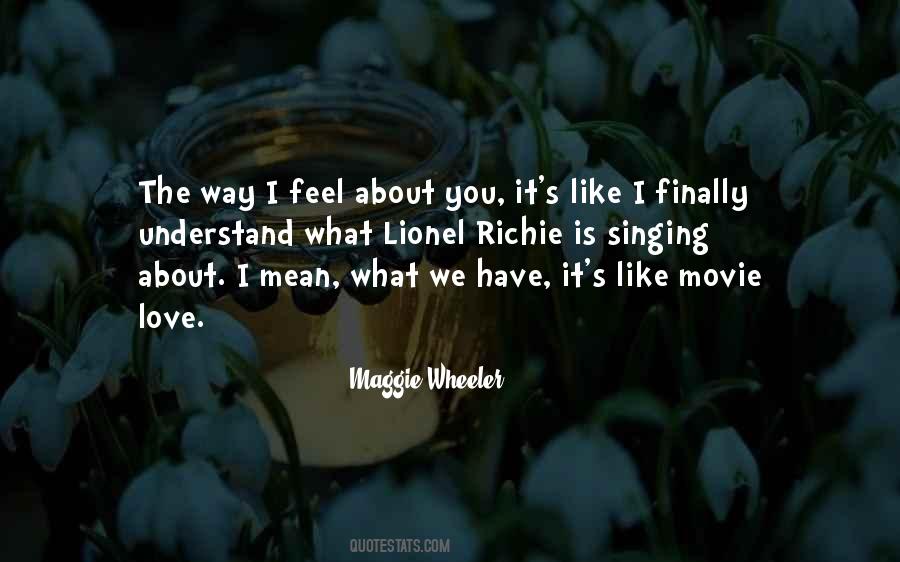 #39. I always wanted to do a movie that deals with America's horrific past with slavery, but the way I wanted to deal with it is - as opposed to doing it as a huge historical movie with a capital H - I thought it could be better if it was wrapped up in genre. - Author: Quentin Tarantino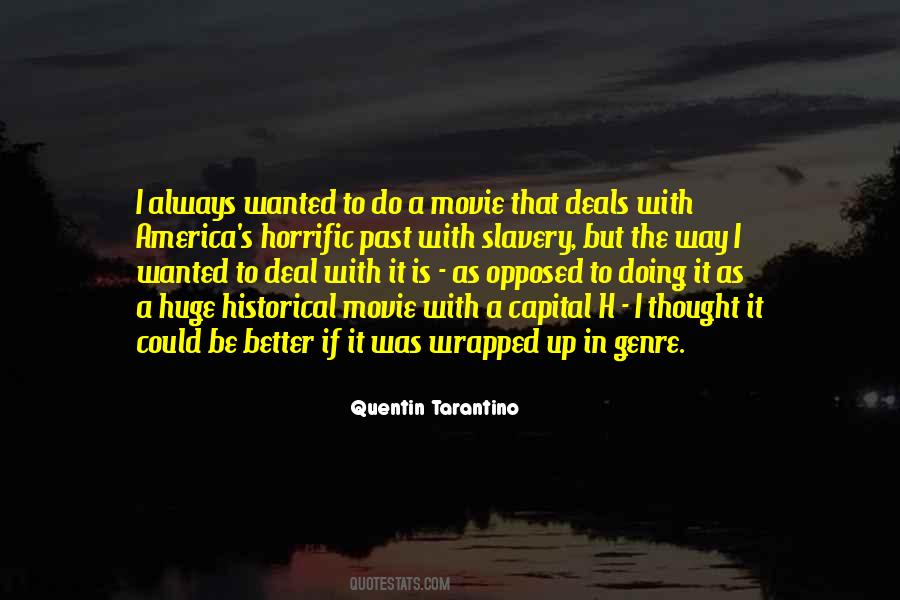 #40. 'Legion' was a lot of fun to shoot. It was a real unique apocalypse scenario that takes place in a diner out in the desert. Very much like a drive-in B-movie, but in a good way. - Author: Dennis Quaid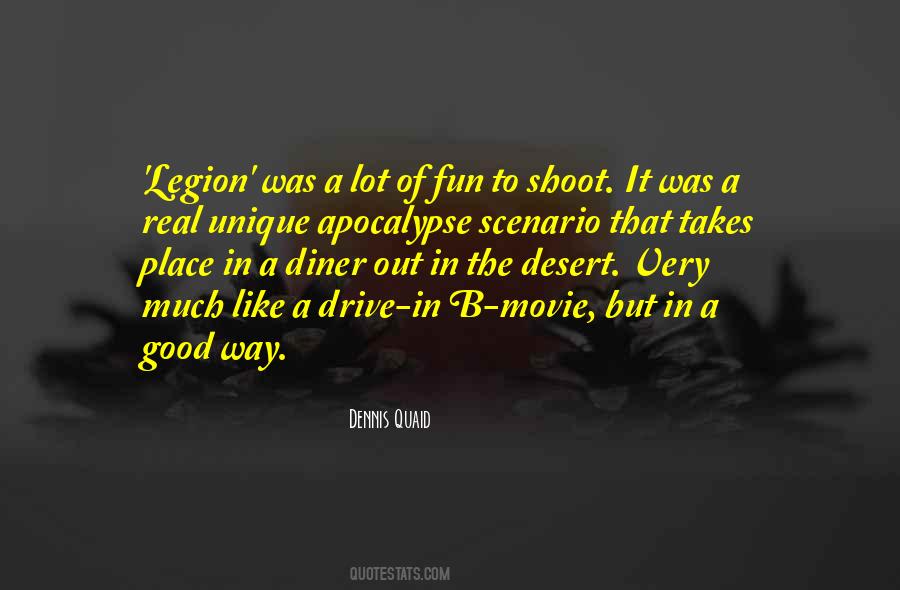 #41. It becomes pretty crystal clear once you watch that first assembly [movie cut] the things that are just grinding it to a halt, so to speak, or slowing it down, or getting in the way, yeah. - Author: Todd Phillips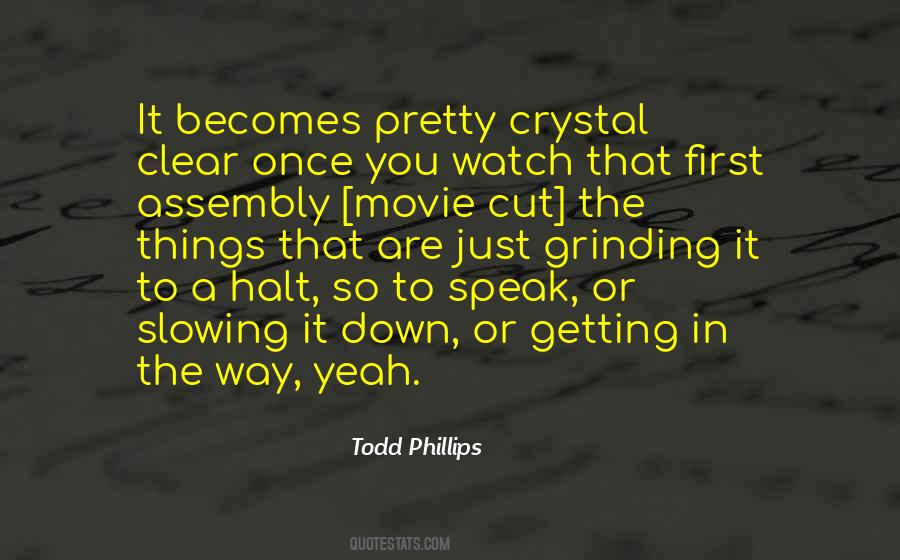 #42. My job when I'm acting in a movie is very limited to playing a role. I'm not evaluating somebody. I'm only evaluating them insofar as they're interacting with me, but I'm not evaluating their skill set and I don't watch the movies, so I'm not aware of the way they're putting things together. - Author: Jesse Eisenberg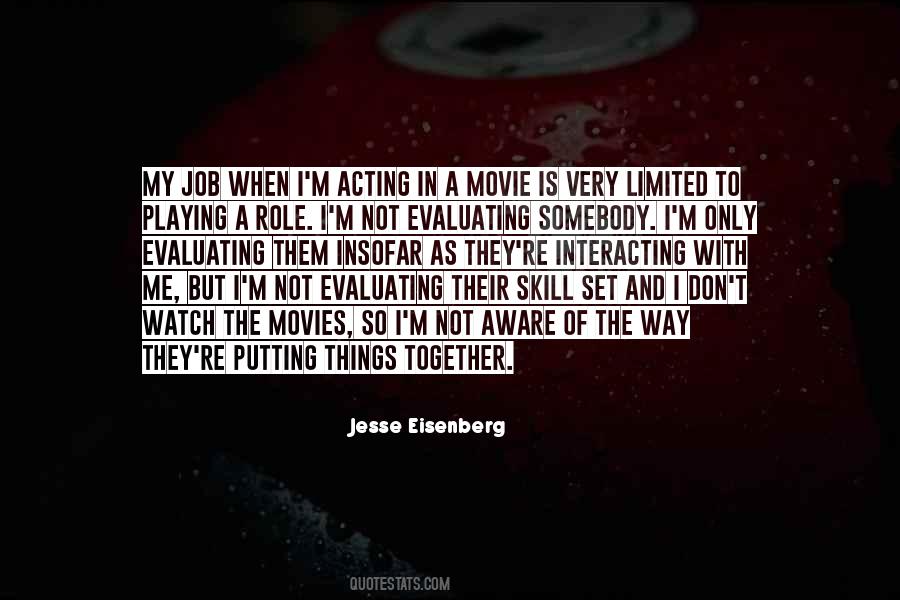 #43. I'm just really excited to promote the movie [I know The Chair ] and the show in a different way, and not just the typical Hollywood way, which I don't think I'll ever fit into. - Author: Shane Dawson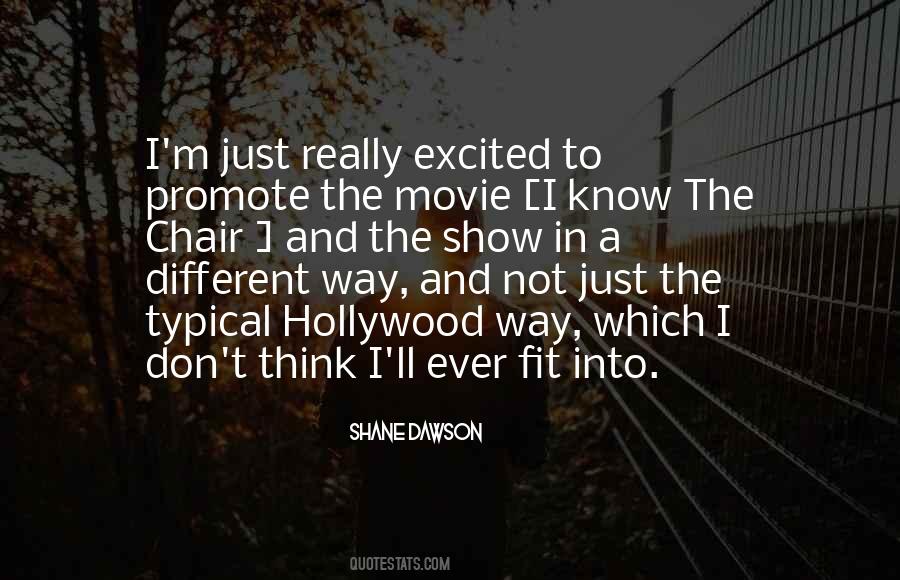 #44. Very effective way to do this with a bunch of second graders, is take a picture of The Lion King for instance, and a teacher might say, 'Do you know that the music for this movie was written by a gay man?' The message is: I'm better at what I do, because I'm gay. - Author: Michele Bachmann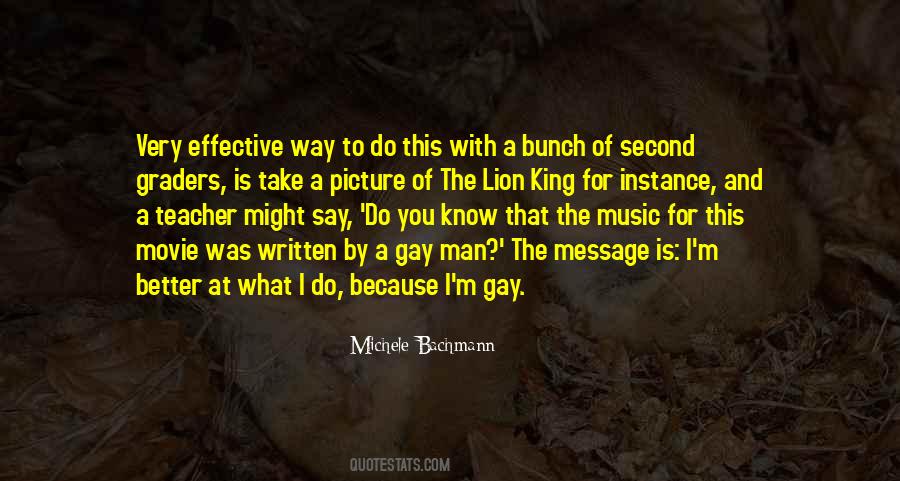 #45. Whether you're talking about the Egyptian pharaohs or Hollywood movie stars it all ends the same way. DEATH - Author: Neal A. Yeager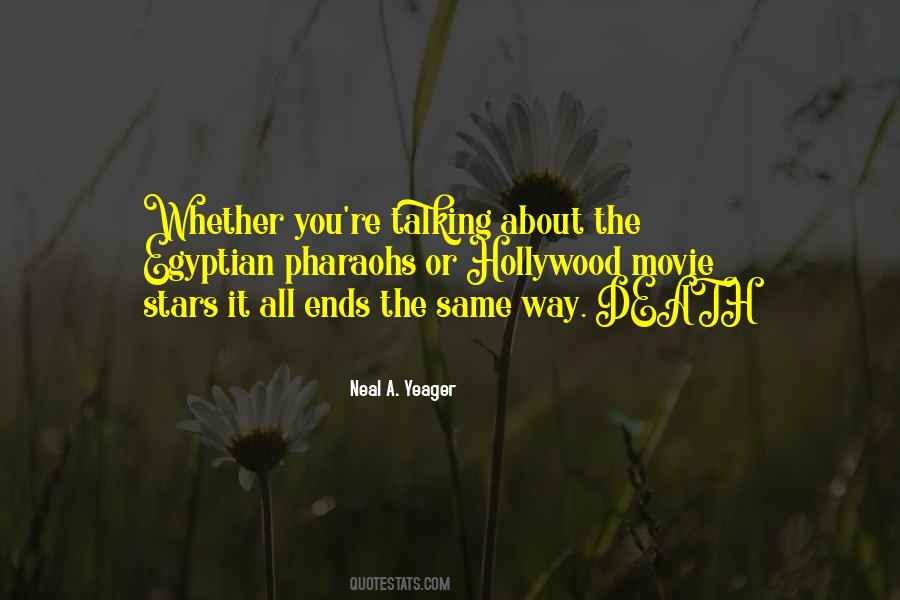 #46. And I think one way or another it's evident to those who work with me that as a writer, a director, a friend, as somebody's there that's very anxious to get the movie made. - Author: Robert Towne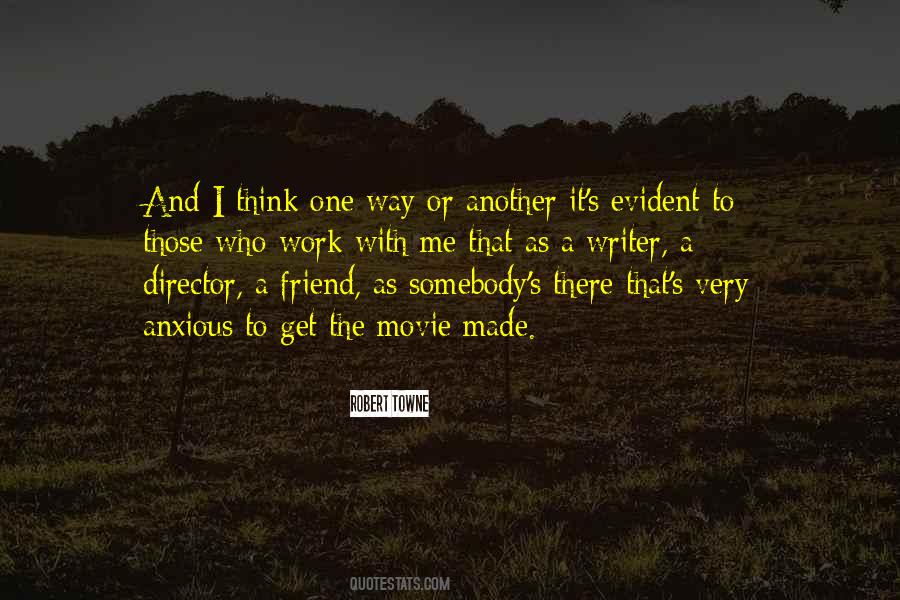 #47. The challenge, and also what I like most about a big ensemble movie, is that all actors have completely different processes and all of them prefer scenes to be done a different way. - Author: Jamie Linden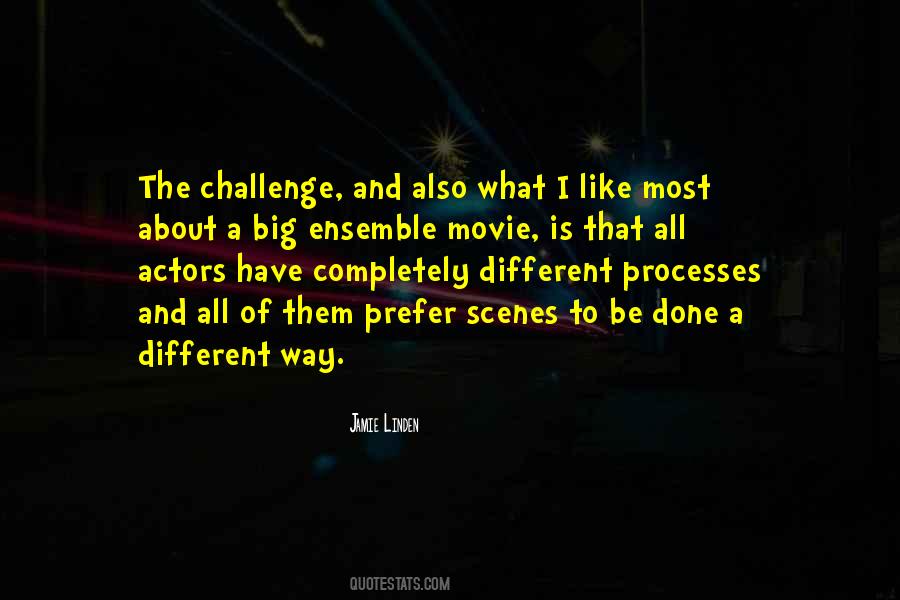 #48. Usually you talk about directors in terms of the way they choose camera lenses or a kind of light to create a certain effect. But to me the most valuable commodity for a movie to create is a feeling of life, and that's what A Hard Day's Night has in spades. - Author: Michael Patrick Jann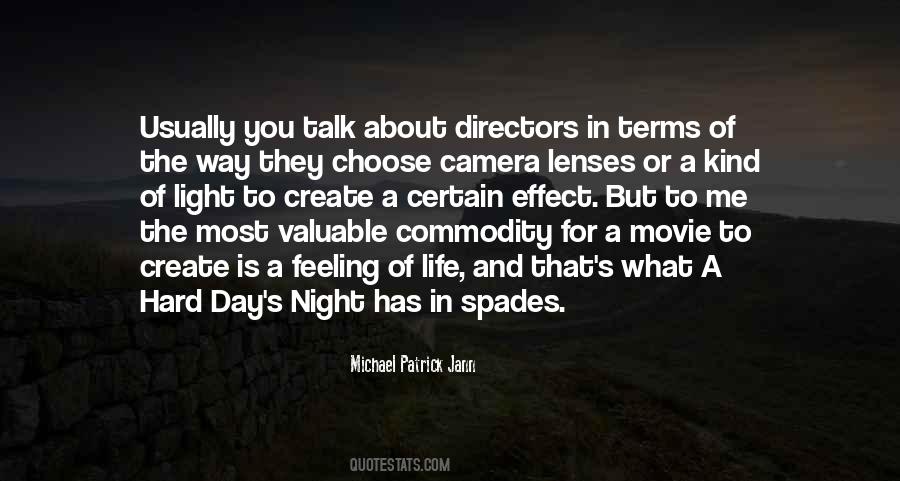 #49. That's the only way I can control my movie. If you shoot everything, then everything is liable to end up in the movie. If you have a vision, you don't have to cover every scene. - Author: Debbie Allen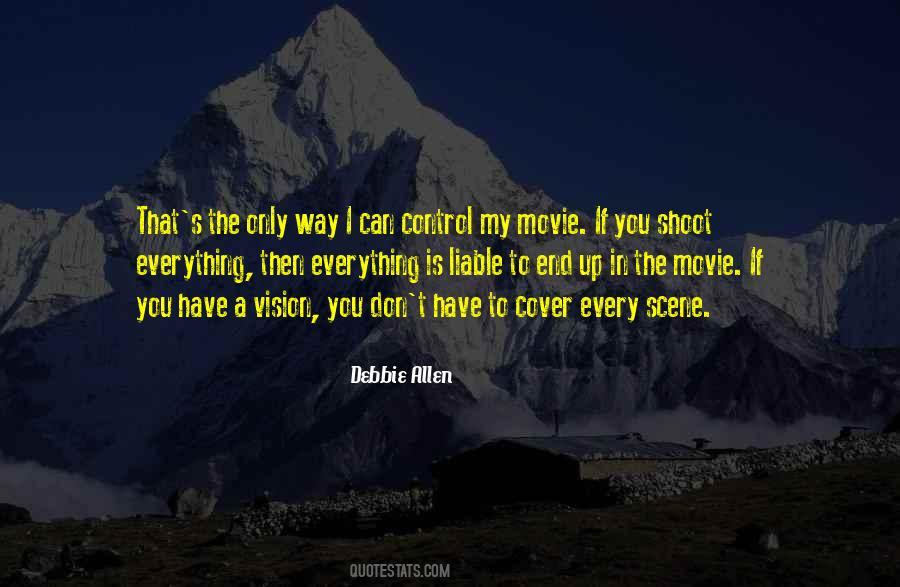 #50. You never know how stylish a movie is going to be and I think this movie has a great sense of style. The way that it is shot and our costumes and everything, it was just terrific. - Author: Julia Roberts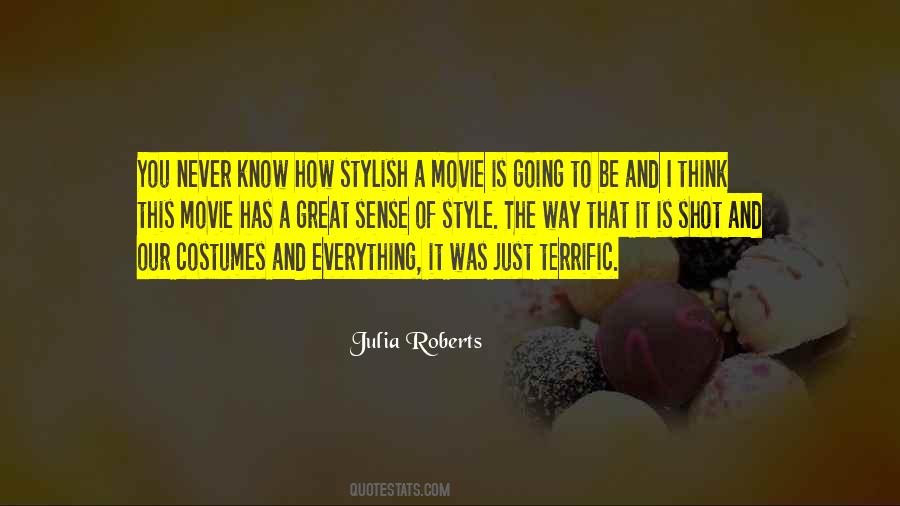 #51. I was afraid to watch 'Blade Runner' in the theater because I was afraid the movie would be better than what I myself had been able to imagine. In a way, I was right to be afraid, because even the first few minutes were better. - Author: William Gibson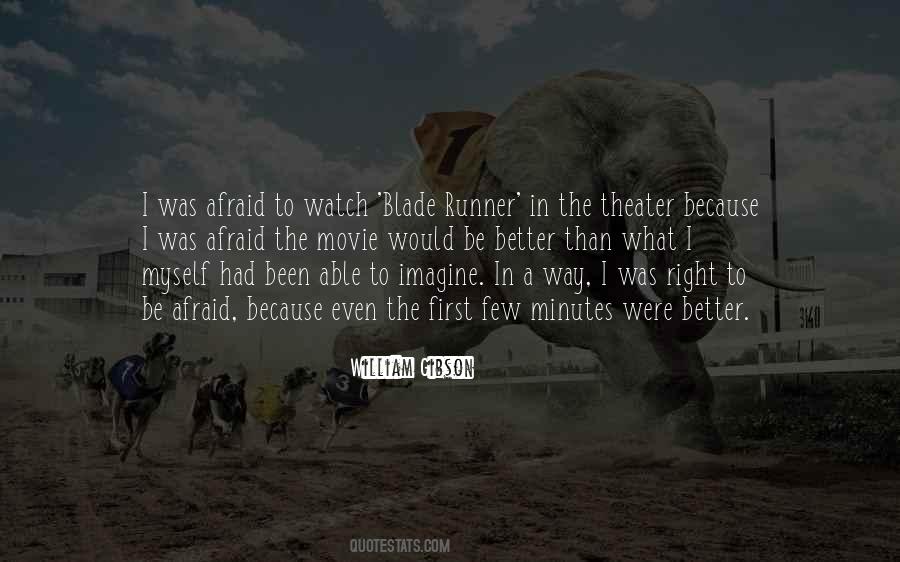 #52. It wasn't until the movie came out that it all changed for us. Some people say it was the start of Ten Years After, but in another way, it was the beginning of the end. - Author: Alvin Lee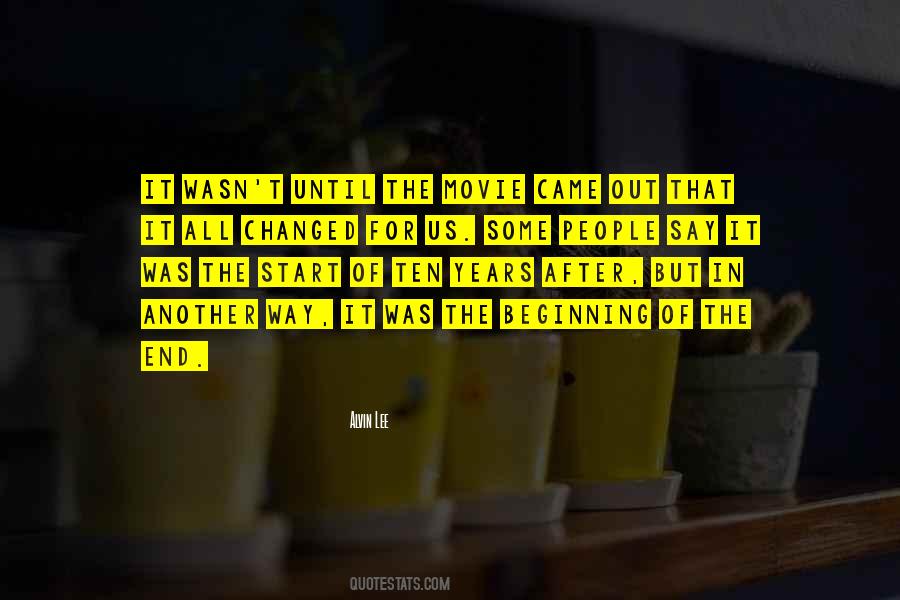 #53. 'Looper' was so brilliant, and it took me forever to finally see it, but the way that movie ends and the message behind that is so selfless. - Author: Hayley Williams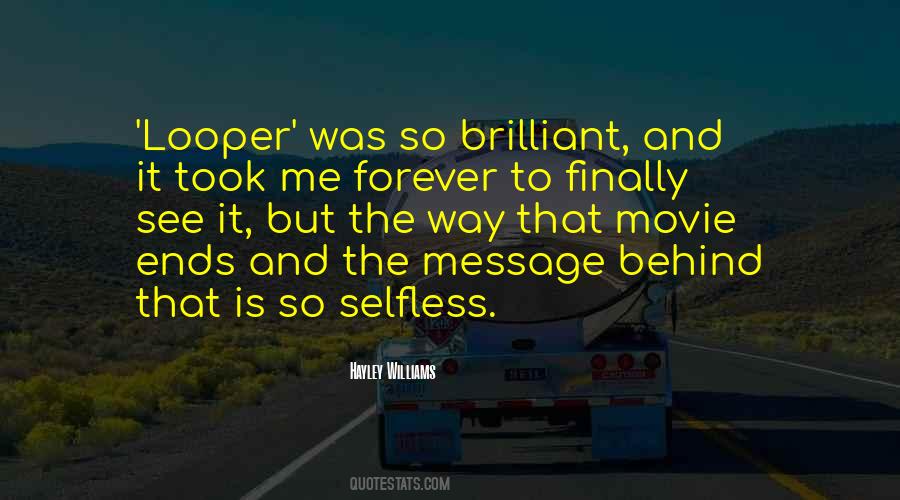 #54. We just said, 'Okay, you're in the movie. Bring what you would bring for a three-day weekend and I hope you like the way you look in it because once you're on camera, that's your wardrobe.' But it worked; it worked and we were very surprised. - Author: John Sayles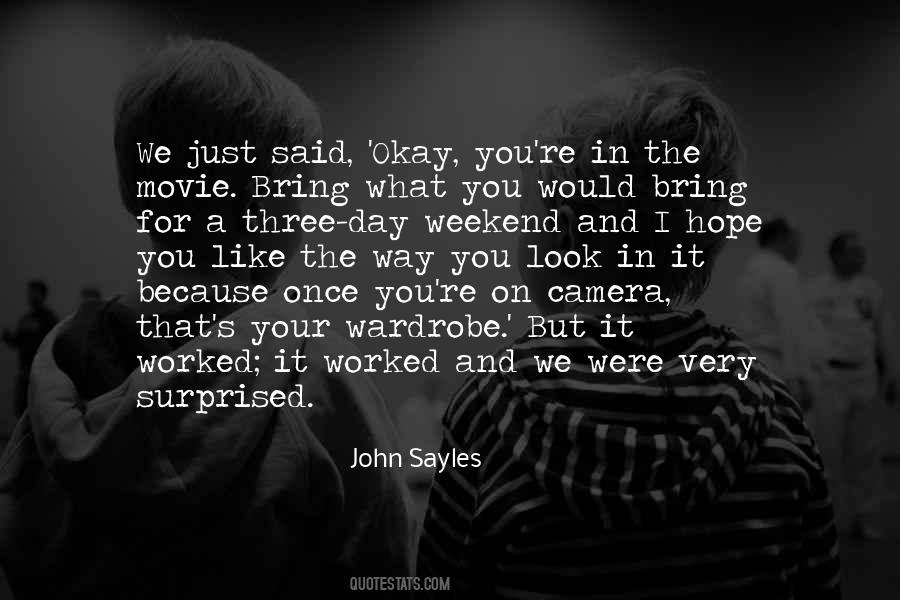 #55. I'm quite an odd little part of the Venn diagram. I'm not a movie star and beautiful in that way. I do an odd thing that's funny and sad, and my face and my old body can take that. - Author: Tamsin Greig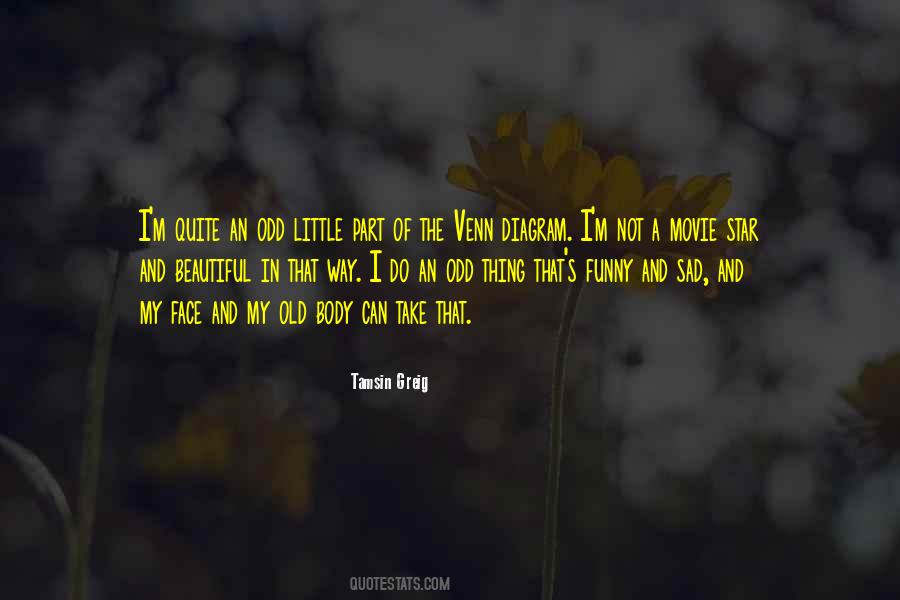 #56. Remember where you're standing when the spotlight goes off," Lovell warned me once, when our book was a best-seller and the movie it spawned was in theatres. "You'll have to find your own way off the stage. - Author: Jeffrey Kluger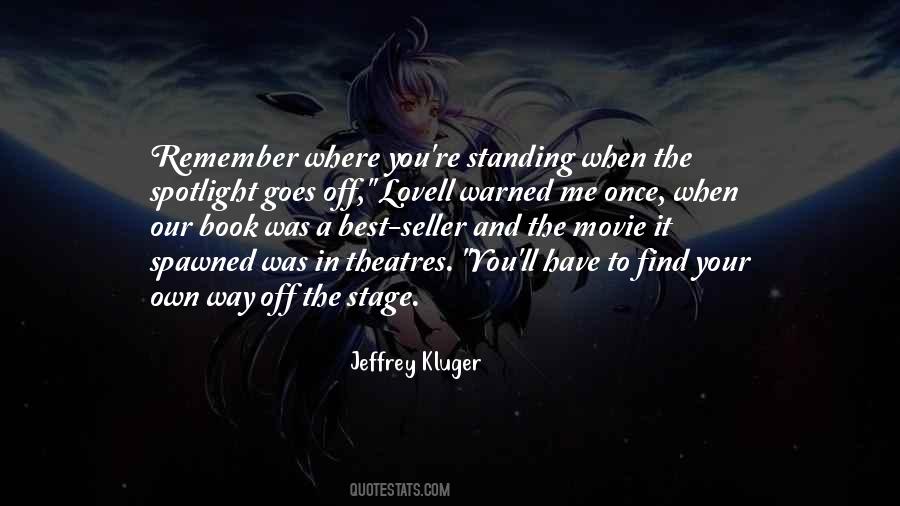 #57. You will find your person. Sometimes it may confuse you because they're not shiny like a movie the way you imagines, but you'll know by the calm they bring. - Author: Unknown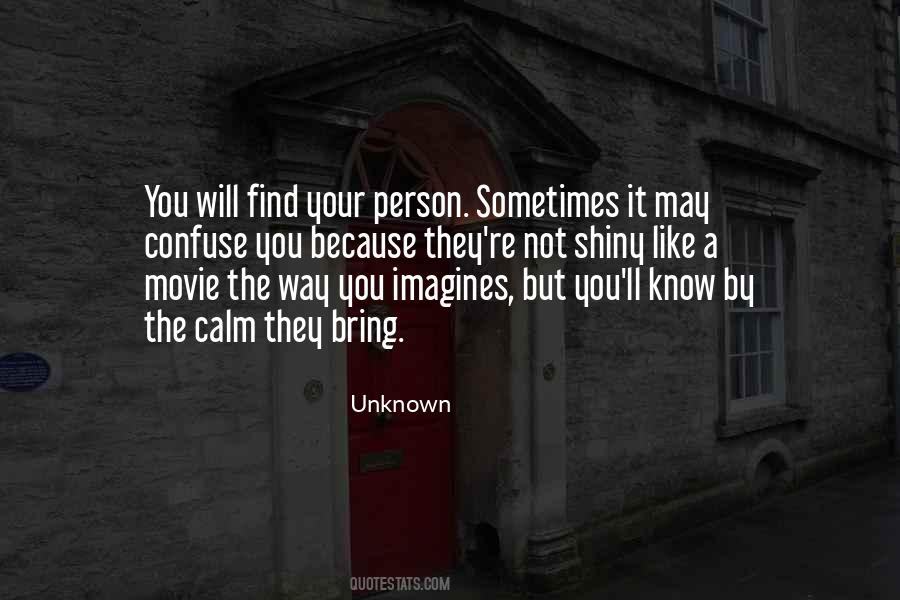 #58. TV showrunners have become known entities to people who watch television in the way that movie directors have been known to filmgoers for a long time. When I started out as a writer and producer in television, I never had the slightest expectation that fame would be part of the job. - Author: Carlton Cuse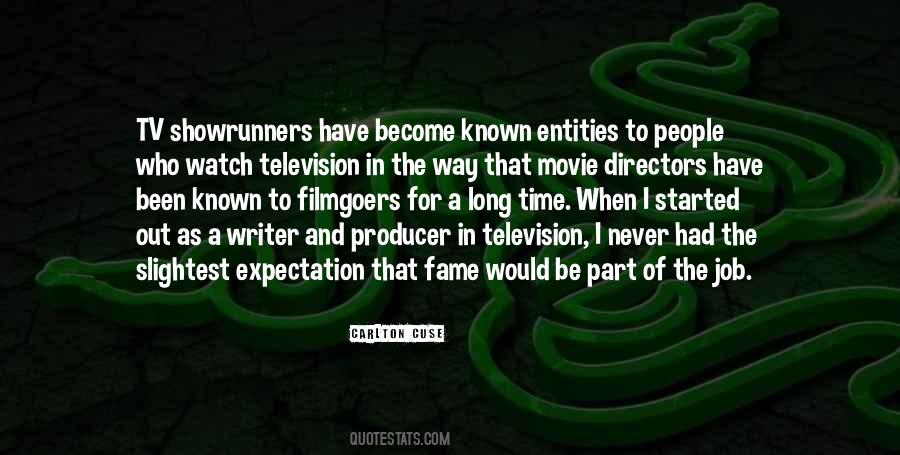 #59. It didn't scare him the way he had thought it would. There was still the unshakable, blind assurances that this organism Ray Garraty could not die. The others could die, they were extras in the movie of his life, but not Ray Garraty, star of that long-running hit film, The Ray Garraty Story. - Author: Stephen King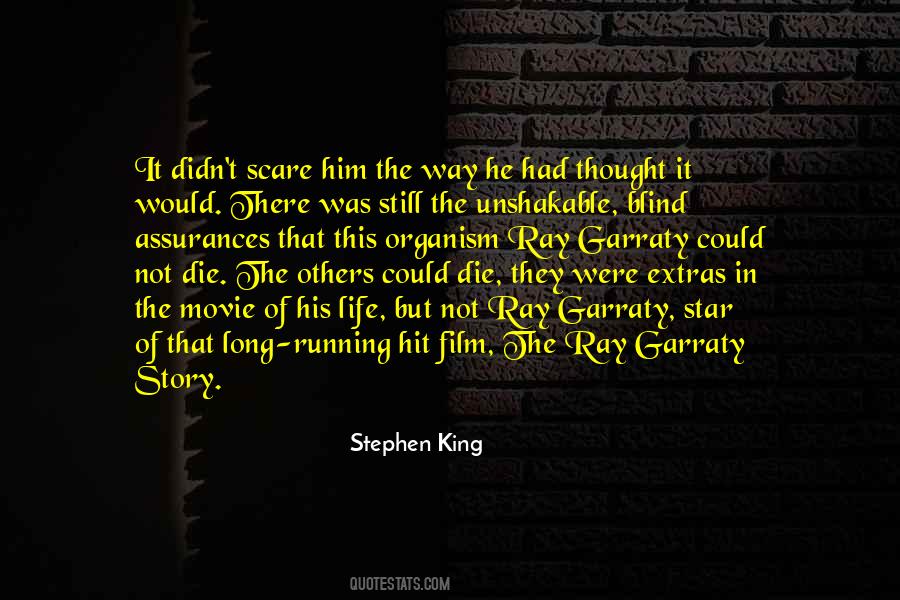 #60. A voice expressing emotion in a musical way moves on. It's like the finale of the movie 2001: A Space Odyssey (1968) - the world turns in on itself, as a universe unto itself, in the shape of one human being. - Author: Dwight Yoakam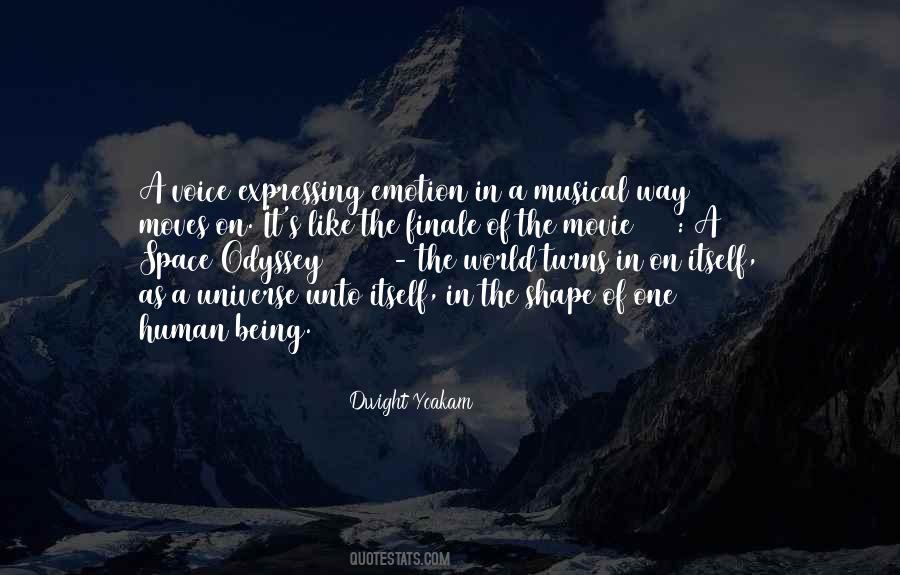 #61. I do know that the best way to make a mediocre movie is to just transcribe the book. - Author: Andy Weir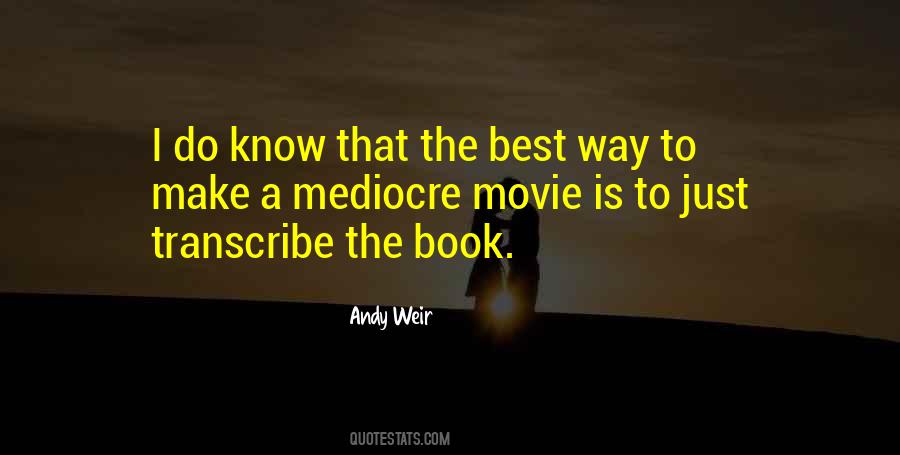 #62. I think that's what makes David Ayer really interesting. He likes to make a tough-y movie, but actually he's a character director. He's fascinated by the actual people who decide to have these jobs and the way it affects their lives. - Author: Mireille Enos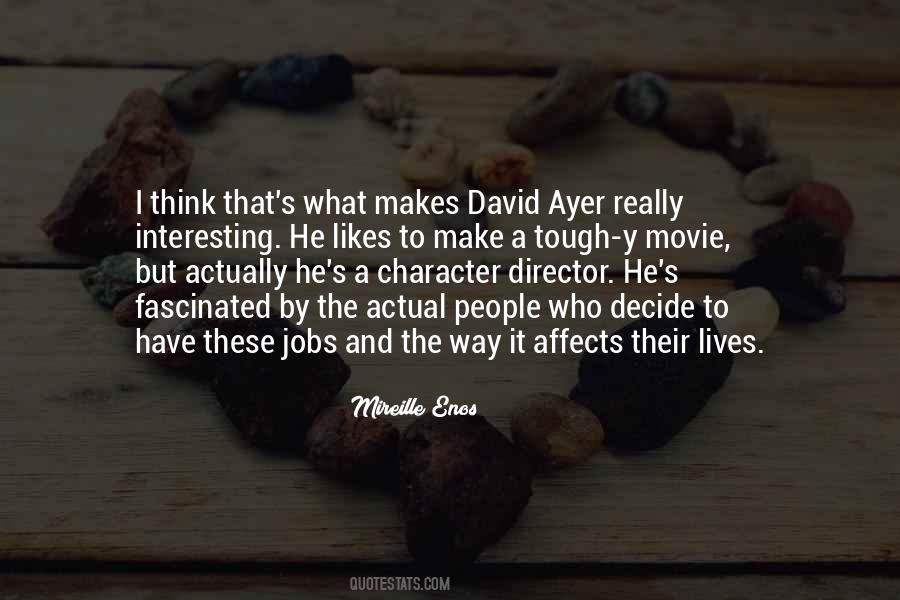 #63. Sometimes, you really don't understand why something is important to you until you get halfway through the movie - or maybe even all the way through. - Author: Jodie Foster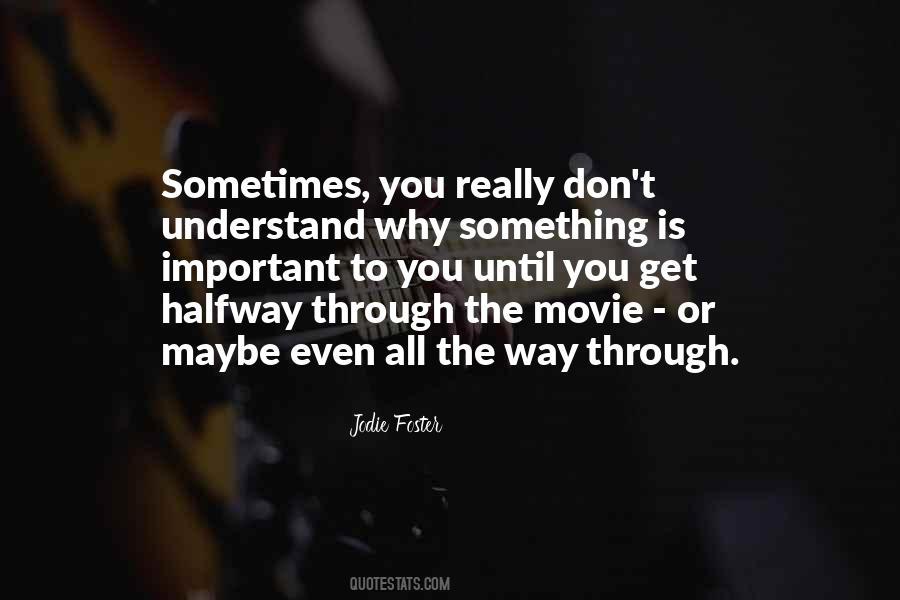 #64. Alejandro Jodorowsky is one of the supreme nut jobs in movie history, and of course I mean that in the nicest way. - Author: Steve Erickson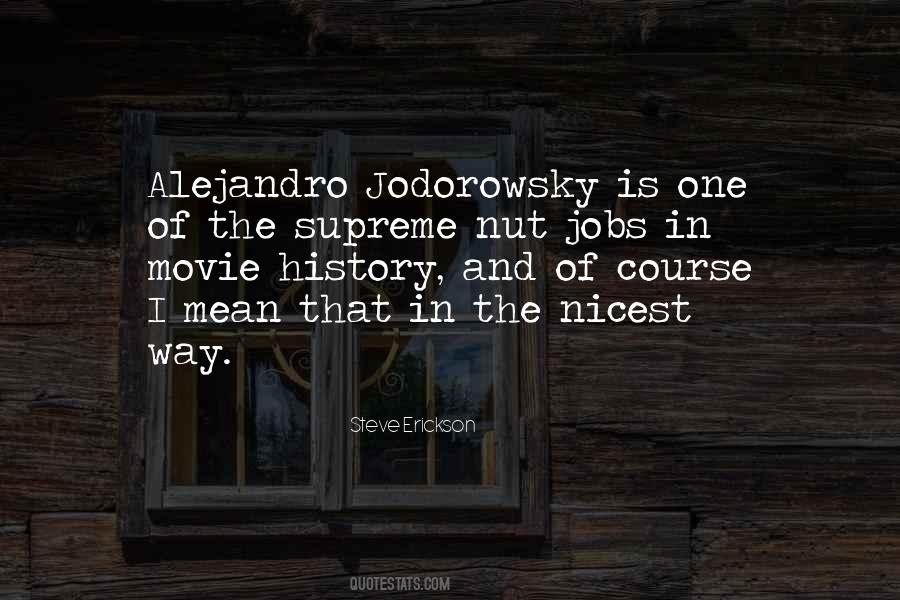 #65. To do that I try and keep myself in pretty good shape physically and I try to lead my life in such a way that I'll be able to be as strong at the end of the movie as I am in the beginning. - Author: John Frankenheimer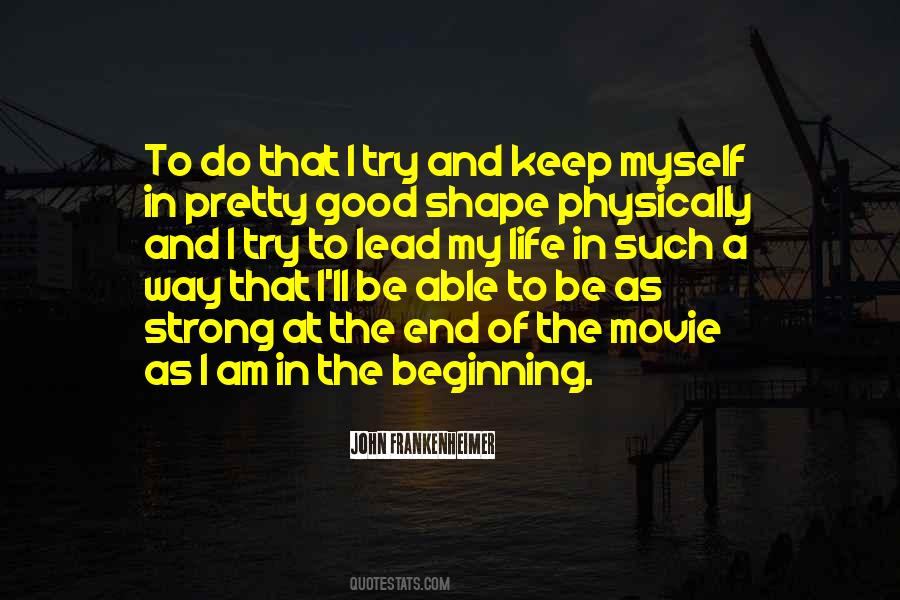 #66. This is why people cry at the movies: because everybody's doomed. No one in a movie can help themselves in any way. Their fate has already staked its claim on them from the moment they appear onscreen. - Author: John Darnielle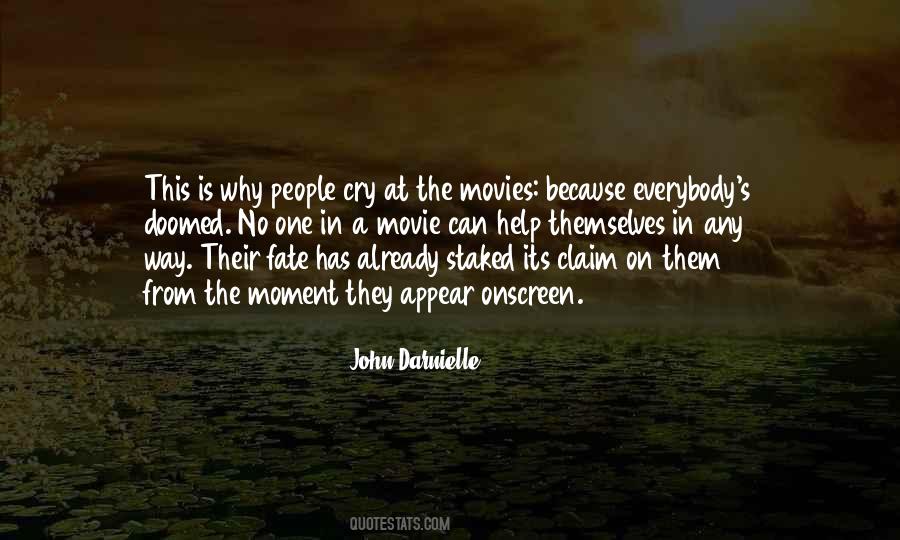 #67. I have not walked away from Hollywood. I'm walking away from the way I personally did business in Hollywood. The budget of whatever movie I do needs to be efficient; it needs to consider what kind of resources we're using and how to be as responsible as possible. - Author: Tom Shadyac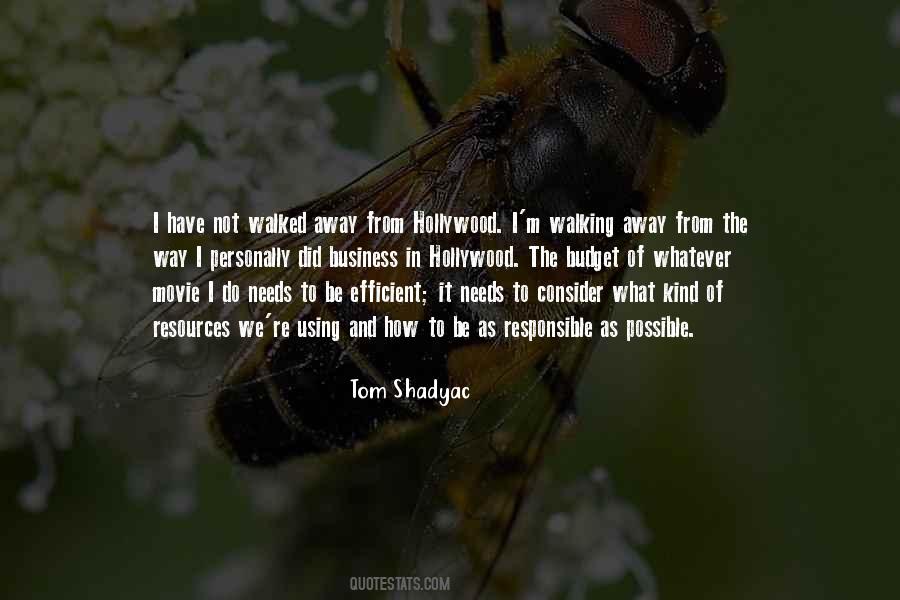 #68. I love doing television; it's such a brilliant way to tell a story over six hours rather over the two hours of doing a movie. - Author: Richard Madden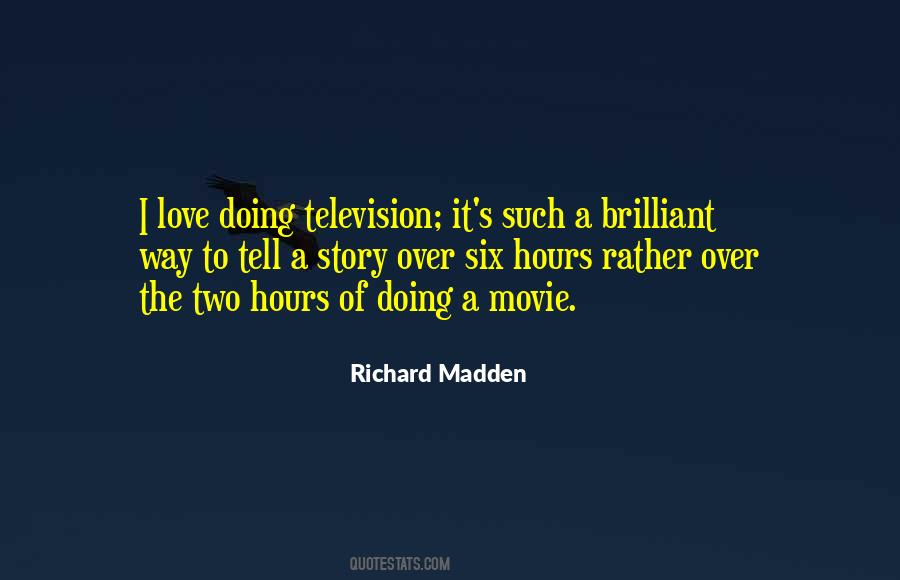 #69. Cosmopolis is the movie of my life. I didn't consider myself an actor before, even if I had 10 years of acting behind me. I always felt like a fraud, and inappropriate. I doubt a lot. David Cronenberg gave me confidence in myself. He changed my way of acting and thinking in this industry. - Author: Robert Pattinson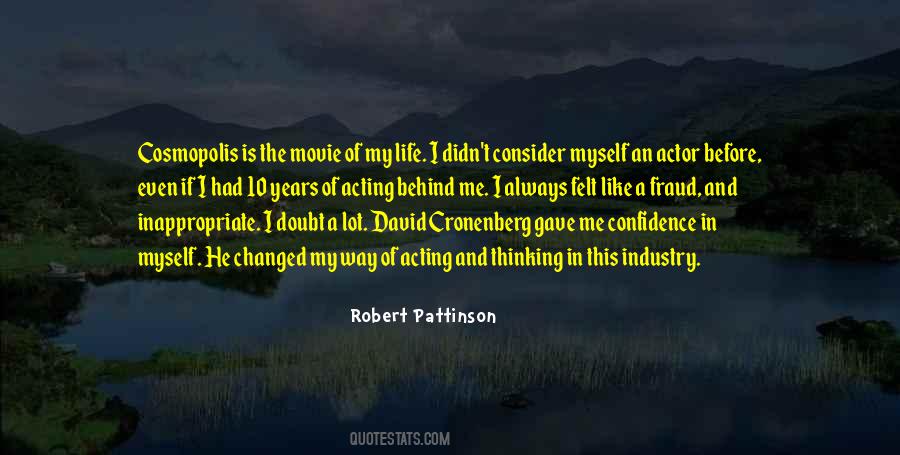 #70. I just thought, given the practicalities of financing an independent movie, you have to have some names. That's just the way it works. You have to have a name that can get you foreign pre-sales. - Author: George Ratliff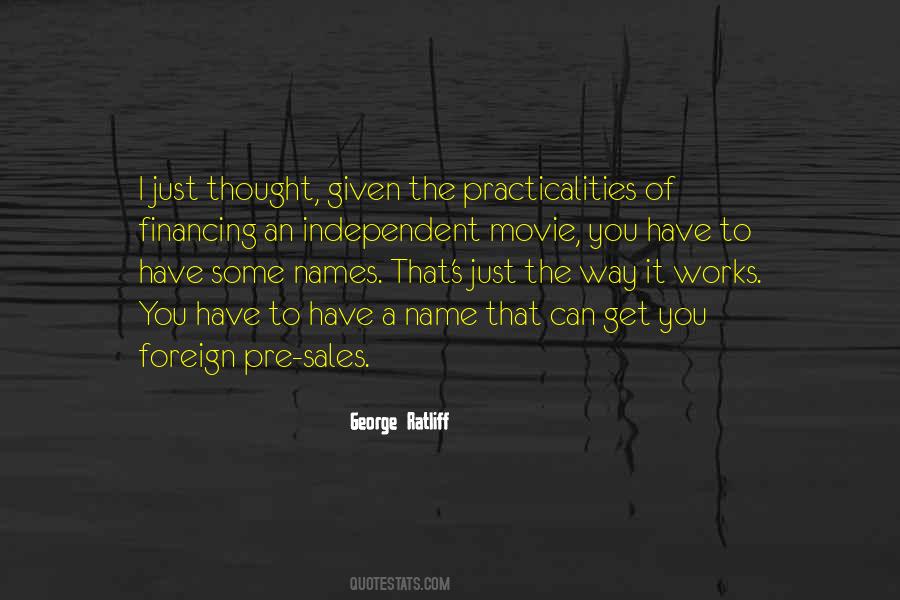 #71. I think the advantage we had with "MacGruber" is the speed we had to put it together. We had a such a short period to write the movie and such a post-[production] period, it was almost like the way that the show worked, where everything is happening so fast you have to go with your gut. - Author: Will Forte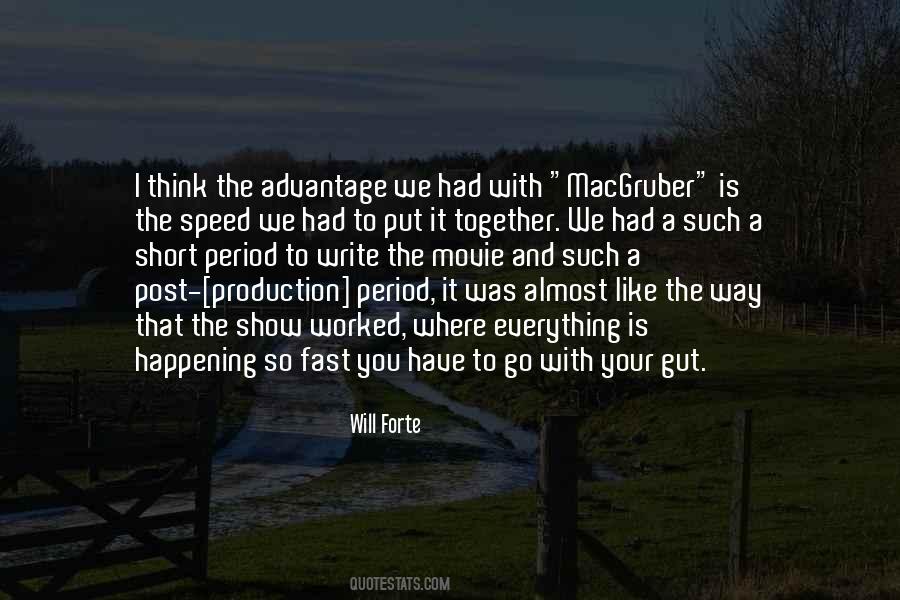 #72. I'm not a movie star like other actors in the way that I need to walk with a bodyguard. - Author: Olivier Martinez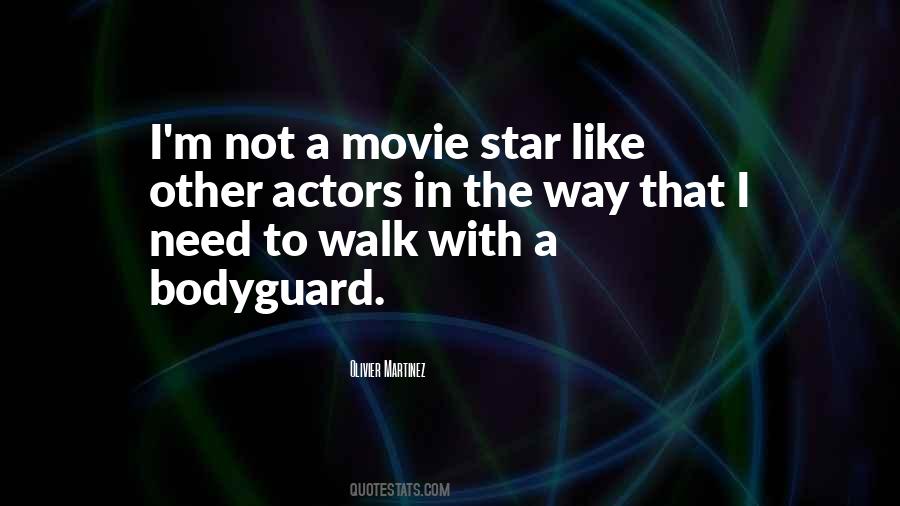 #73. Instead of becoming depressed that I was in the locked ward of a mental hospital, I pretended I was playing a role in a movie, possibly on my way to an Emmy. - Author: Augusten Burroughs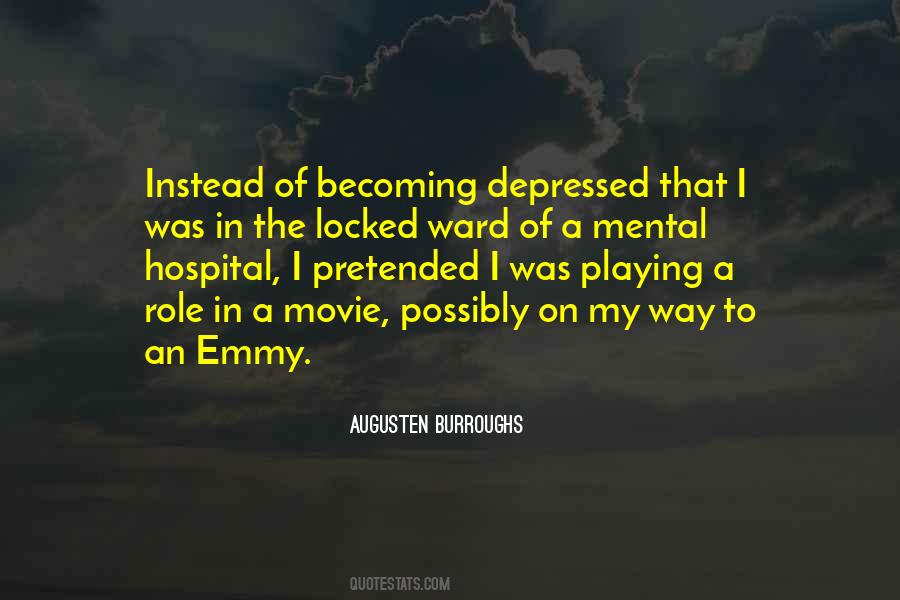 #74. You know, they just don't make big movie stars the way they used to, maybe because the system has changed, the studio system, but it's sad to see people like Jimmy Stewart go, all the giants of the past. - Author: Tom Atkins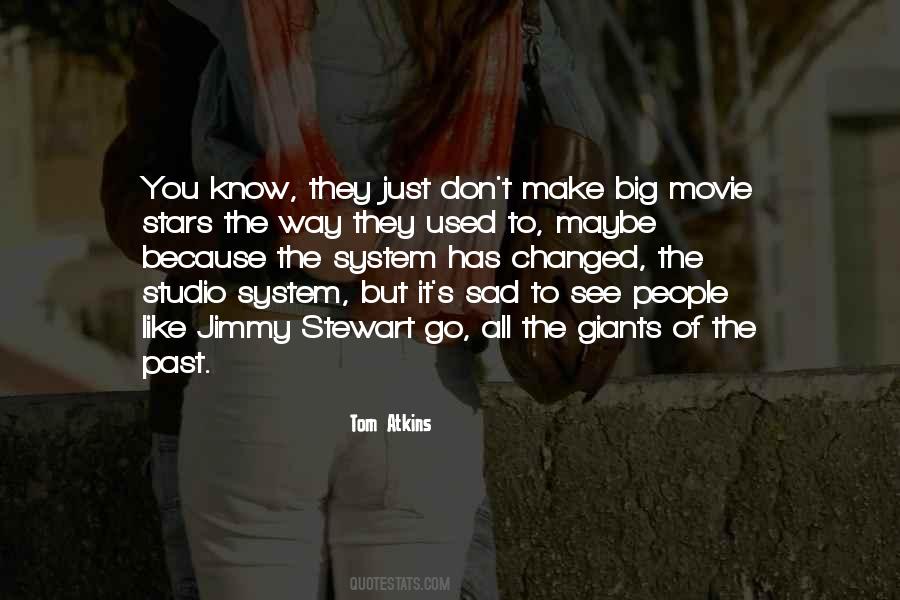 #75. The fact that I made a special movie with an old-fashioned style - even if it's a mix between with modern and old-fashioned things - must mean I feel both ways about change. In a way I'm resisting, but in a way adapting myself to the times. - Author: Michel Hazanavicius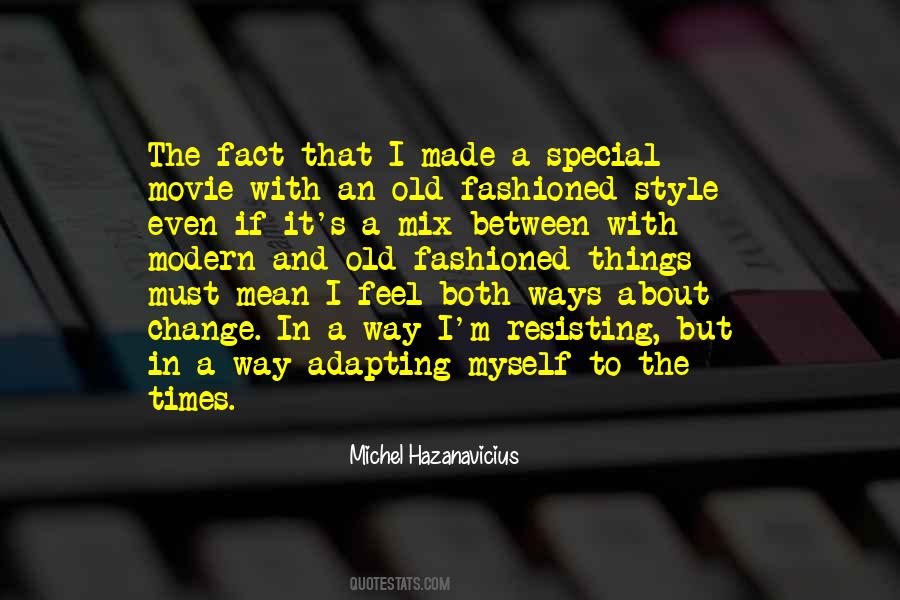 #76. For there to be a 'Community' movie just seems like an appropriate way for the show to go out. That would be my perfect end. - Author: Jim Rash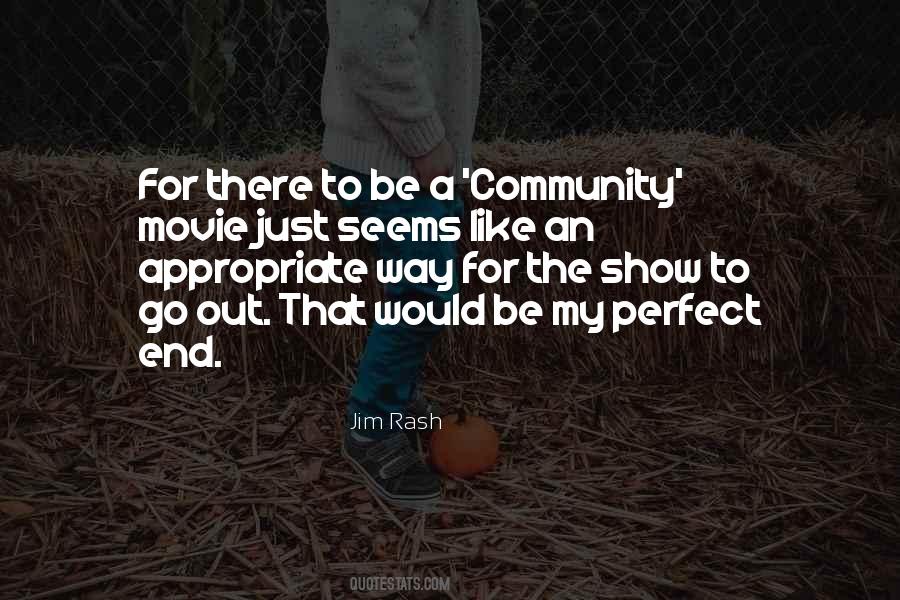 #77. I always hope that people feel less alone when they see a movie that I make. That some part of the story played out on the big screen will resonate for individuals in the audience in a way that gives them comfort. - Author: Ira Sachs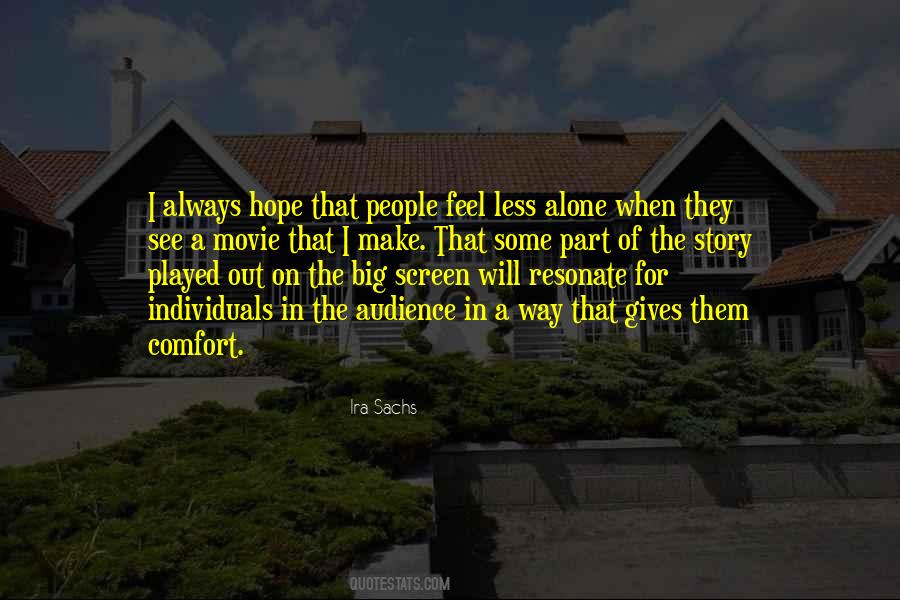 #78. Fox bought the rights to the book way back when, and there was this attempt by Fox to make a movie out of 'The Hot Zone,' and it tended tragically in a Hollywood disaster involving Robert Redford and Jodie Foster and Ridley Scott. But the rights have been sitting at Fox ever since. - Author: Richard Preston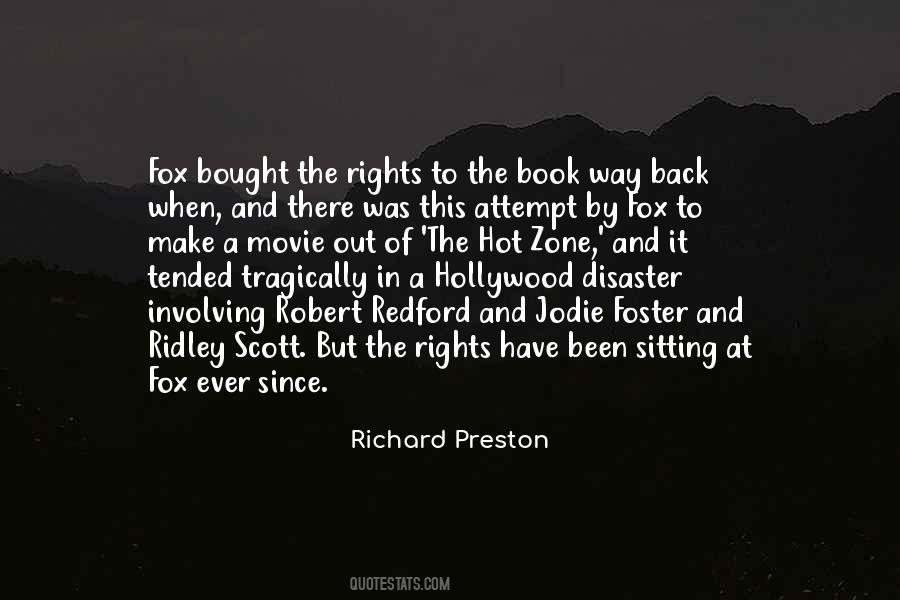 #79. When I'm on the road making a movie in another city, on my day off, I always go to the movies. I love going to the movies. You get a ticket and sit there, and it's very interesting to be around people who aren't personally invested in you, in any way. They're just going to the movies - Author: Christopher Walken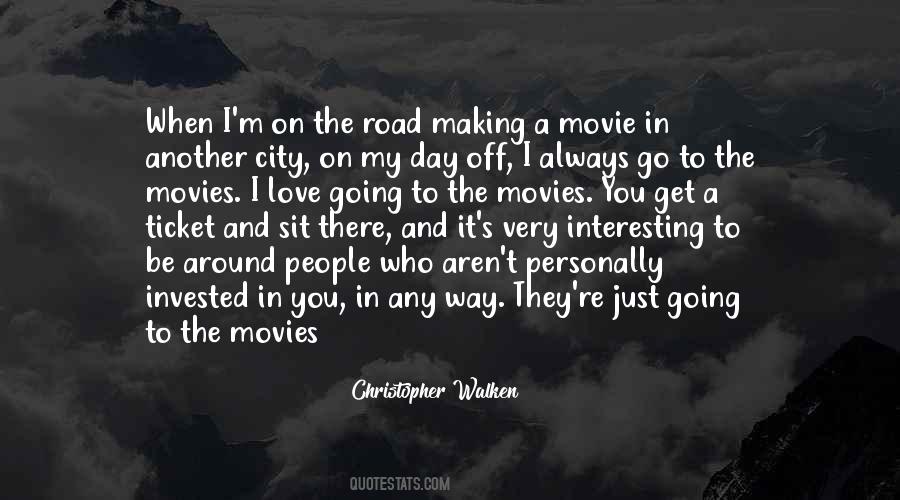 #80. I think about the audience in the sense that I serve as my own audience. I have to please myself the way, if I saw the movie in a theater, I would be pleased. Do I think about catering to an audience? No. - Author: Shane Black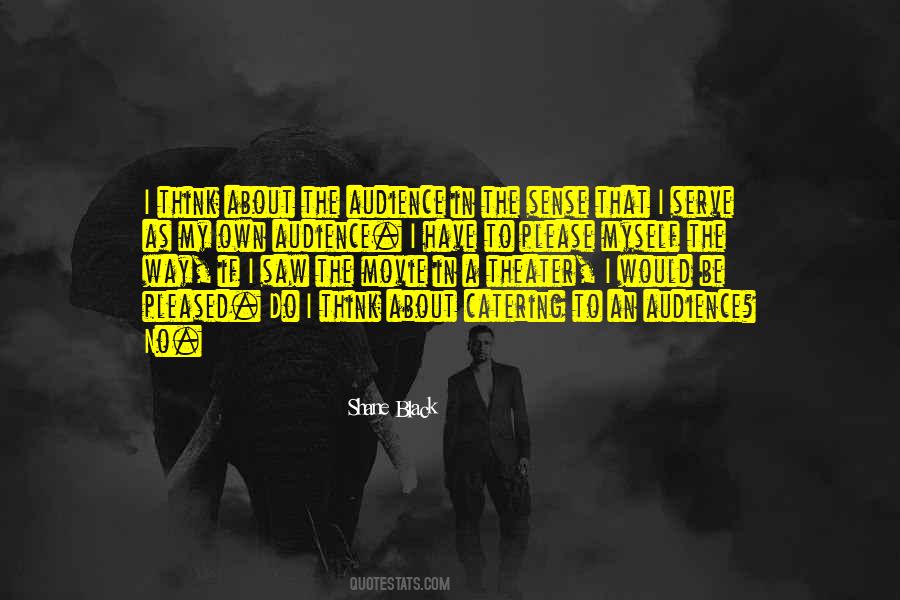 #81. We knew that we wanted TheHunger Games to be PG-13 because she wrote the book for readers 12 and up, and we wanted them to be able to see the movie. It's a movie that is meant to be relevant to young people, and not exclude them, in any way. - Author: Nina Jacobson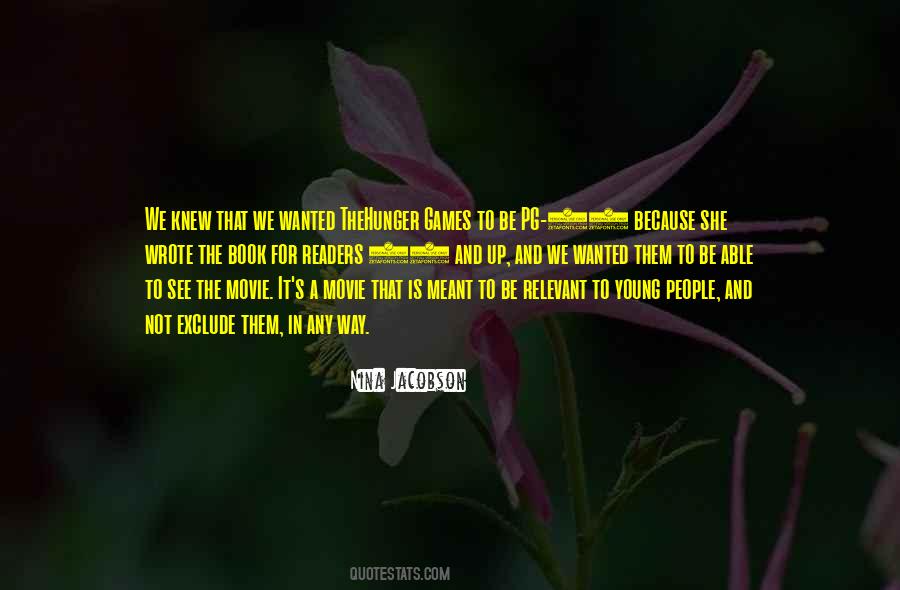 #82. Every time you start a movie is to explore with a director and if you can with the actors and with the other collaborators and try to figure out what's the best way to tell the specific story. - Author: Emmanuel Lubezki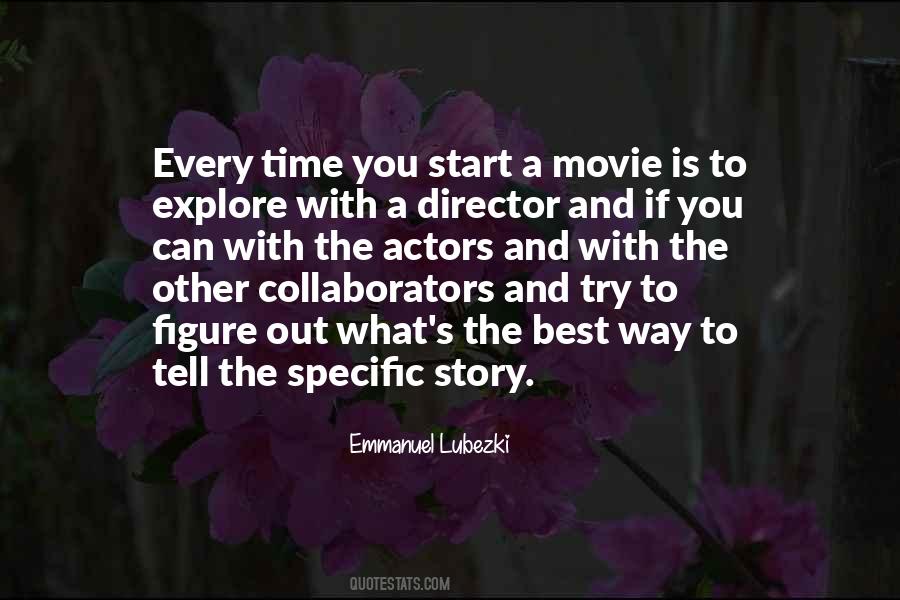 #83. The best date movies give you something to talk about. A movie that's a downer is a great way to find out about someone. - Author: Henry Adams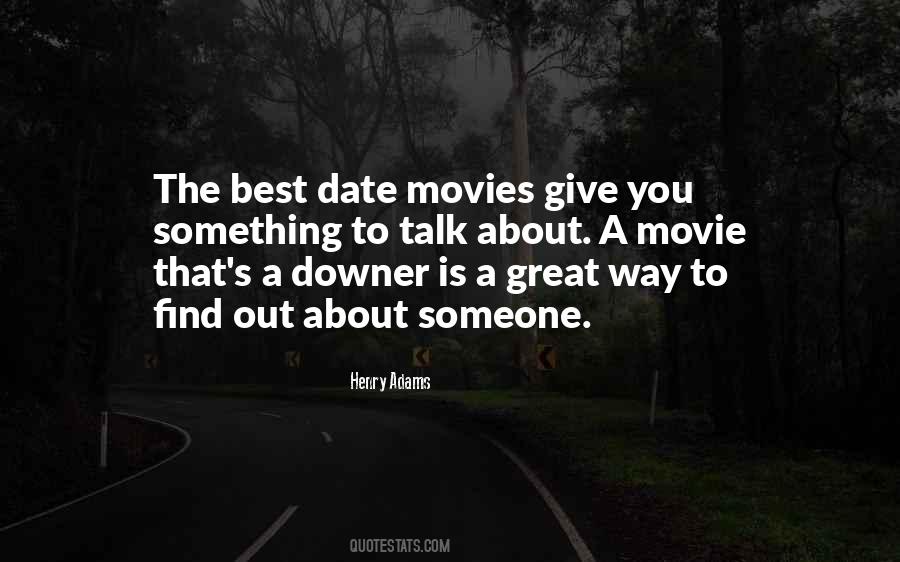 #84. It's called 'Miles Davis, Prince of Darkness,' and it's about Miles Davis, the genius, and why he was the way he was, and how he changed music so many times. He changed music six times. So, I'm excited about that movie. - Author: George Tillman Jr.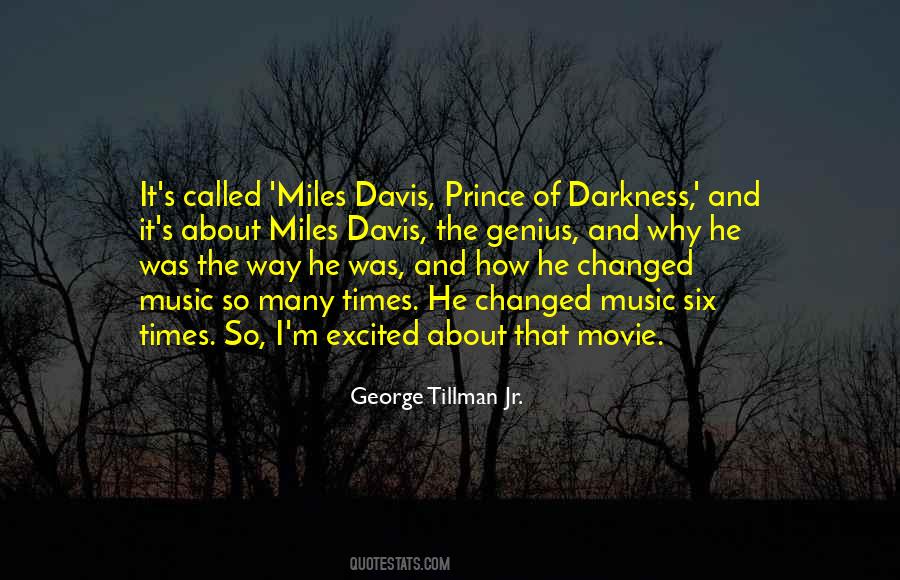 #85. There's a portion of the movie where something bad happens to me, and I lose my clothes along the way, so essentially I'm wearing a bra and trousers. There are certain requirements, but luckily I have a good base because I work out often. - Author: Gwyneth Paltrow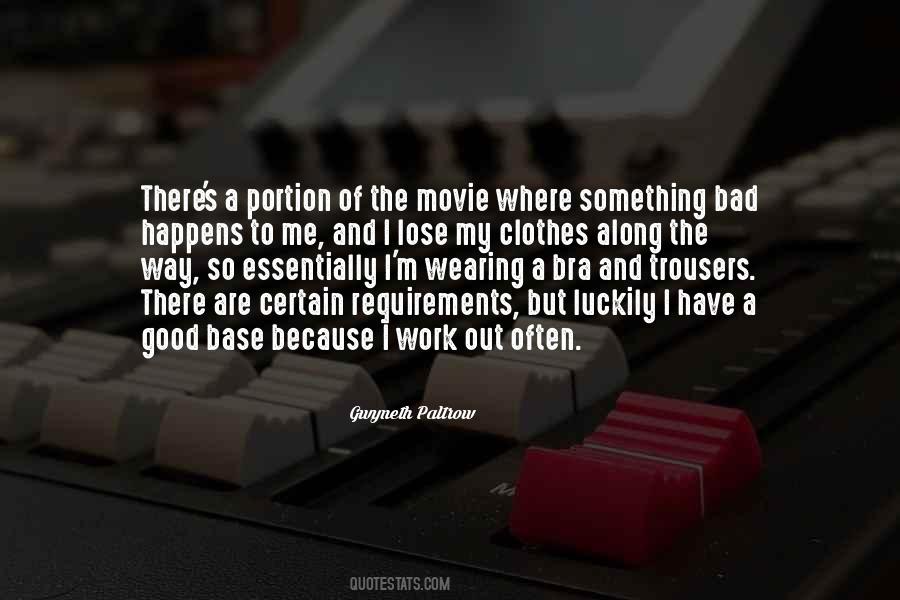 #86. A movie is like a tip of an iceberg, in a way, because so little of what you do in connection with making a movie actually gets into the movie. Almost everything gets left behind. - Author: Errol Morris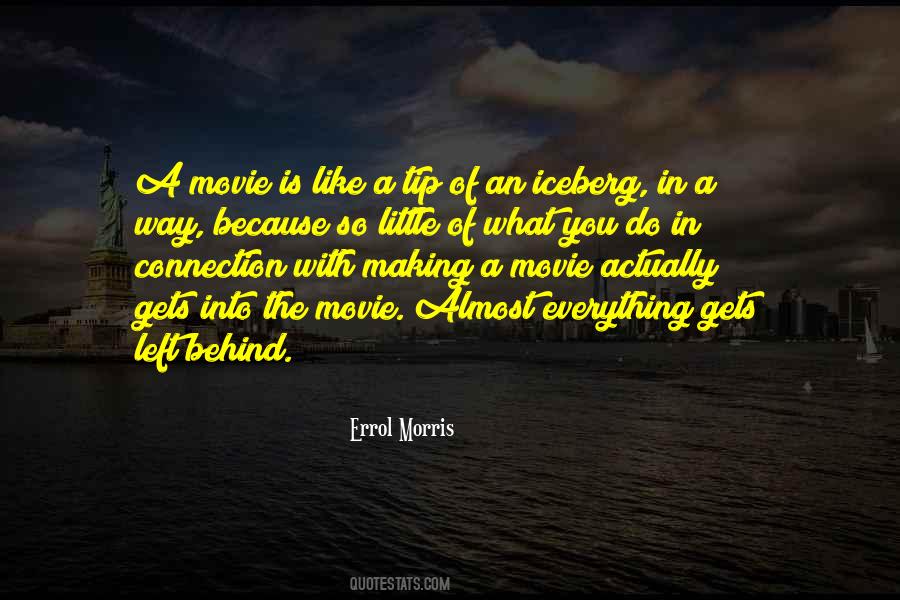 #87. Cheyenne Autumn was received not too successfully. I still think it was a very good movie. It was kinda Ford's apology for the way he had treated Indians in his past pictures. - Author: Richard Widmark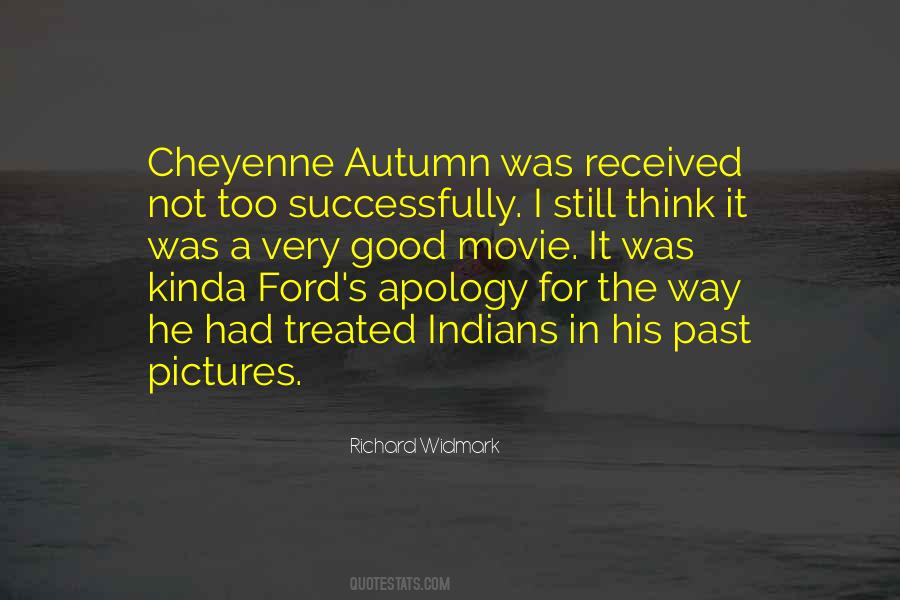 #88. If I make a movie in English, the money will come from Europe, so that I can keep my independence and freedom. The way they produce in Hollywood doesn't fit me. - Author: Pedro Almodovar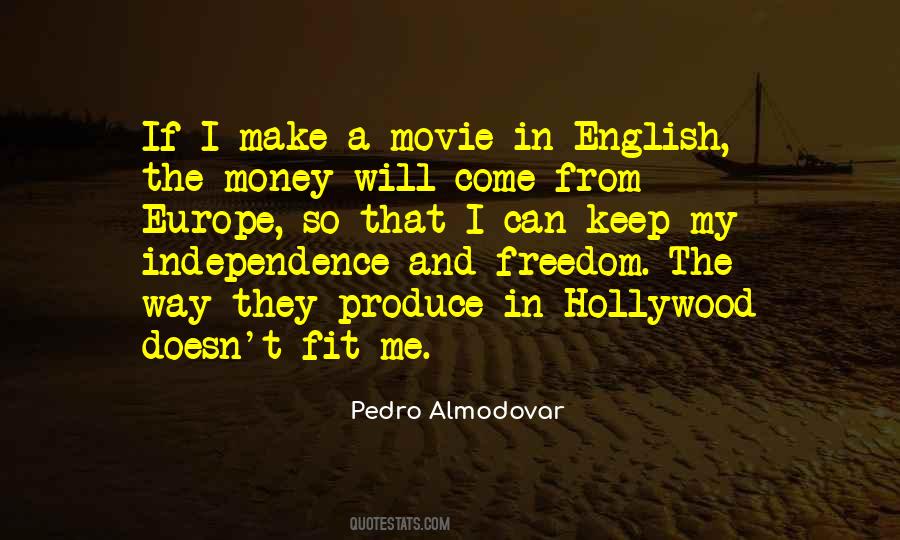 #89. I know some people see it as this success when the book is finally made into a movie - that marks its success. I don't see it that way. - Author: Robin Hobb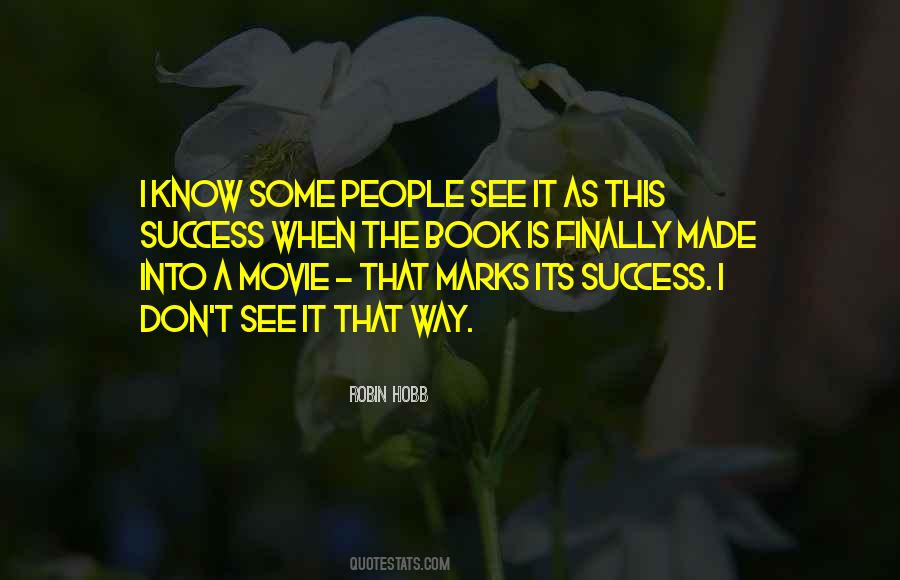 #90. I love to see the rarest movies, the most talked-about movies and documentaries. I read all the reviews and compare them to see if it's worth going! I have a secret movie critic blog I have shown no one or promoted, and I intend to keep it that way. - Author: Theophilus London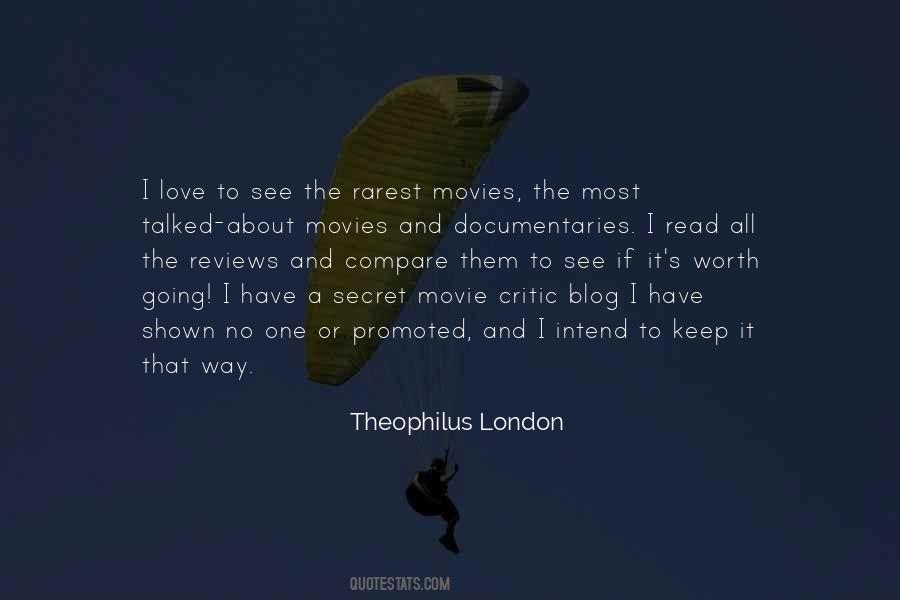 #91. Amazon, being a provider - not just on the playing field - is, of course, opening up a whole new set of possibilities. At the same time, Amazon also understands platforms. For them, theatrical is an extremely important event. I also believe it's the best way of seeing a movie. - Author: Nicolas Winding Refn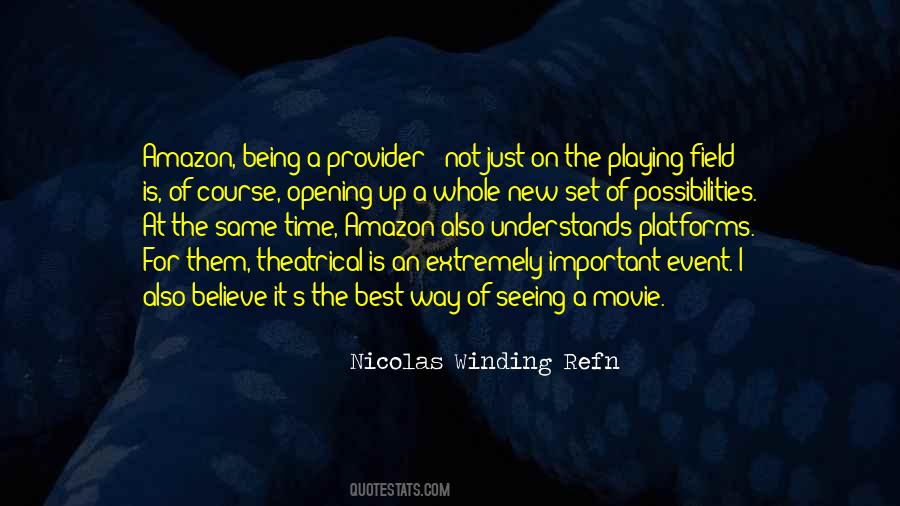 #92. A lot of the stuff in 'Speed Racer' has never been done before, from it having a multi-tone, to it having a retro-cool family movie, to having the photo-realism with the CG-backgrounds and infinite focus the way they worked with these digital cameras, to even the color experimentation. - Author: Emile Hirsch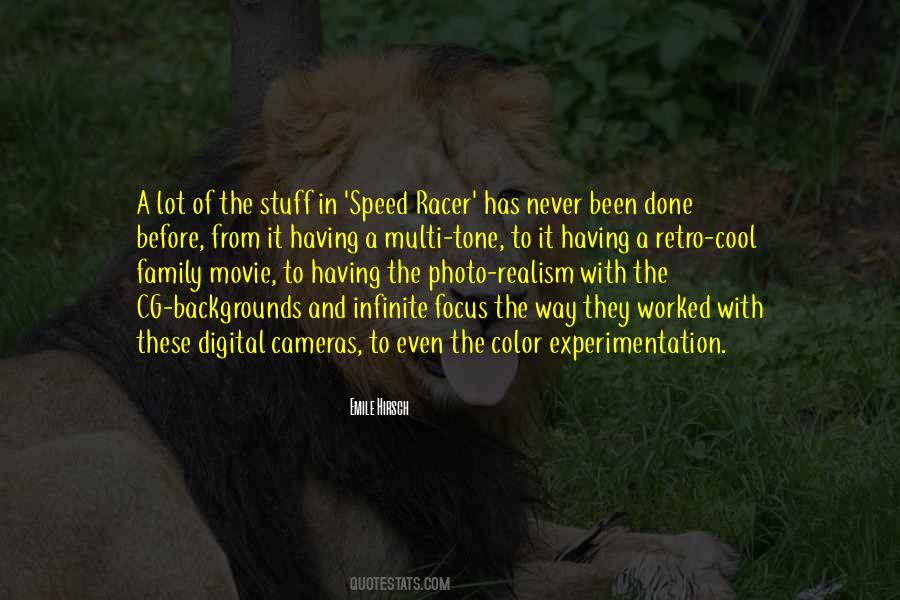 #93. Even the shows or movies that we know are not going to change the world, I love this. I love 'em. I'm a movie fan. I'm a nerd of any kind. I love a big studio comedy as much as I love the teeniest tiniest of indie. I'm not a snob in that way. I really do like a big, big studio comedy. - Author: Kathryn Hahn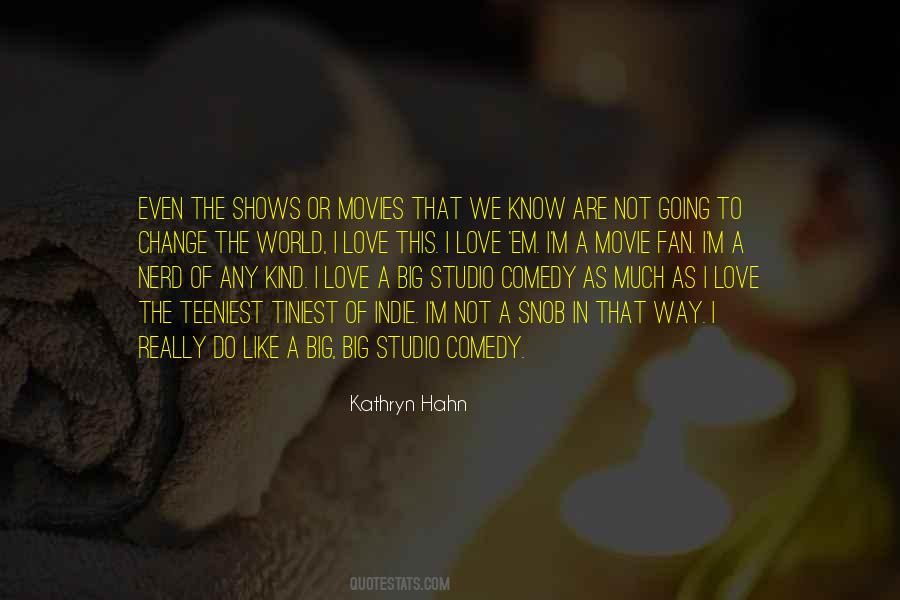 #94. I read 'Holes' in 10th grade, and I haven't read a full book since. The movie version with Shia LaBeouf was OK, but the book was way better. - Author: Domo Genesis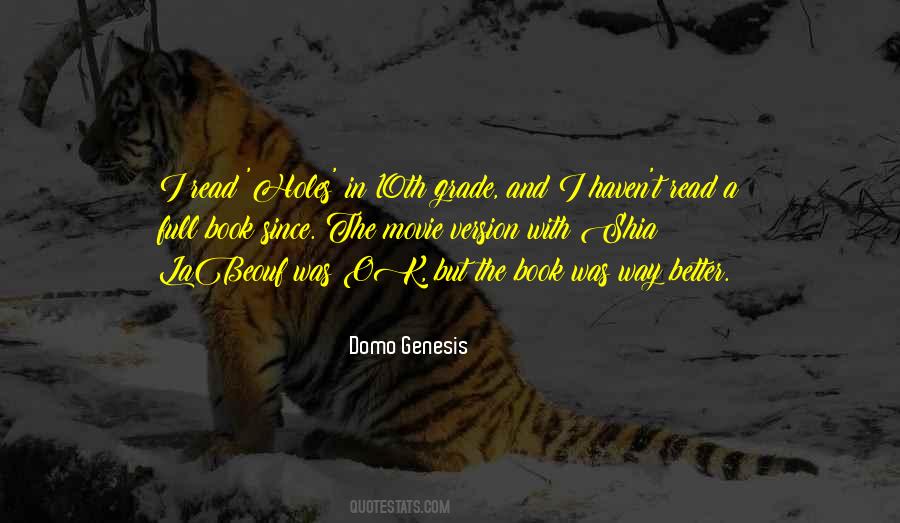 #95. A director shouldn't get in the way of the movie, the story should. - Author: Frank Darabont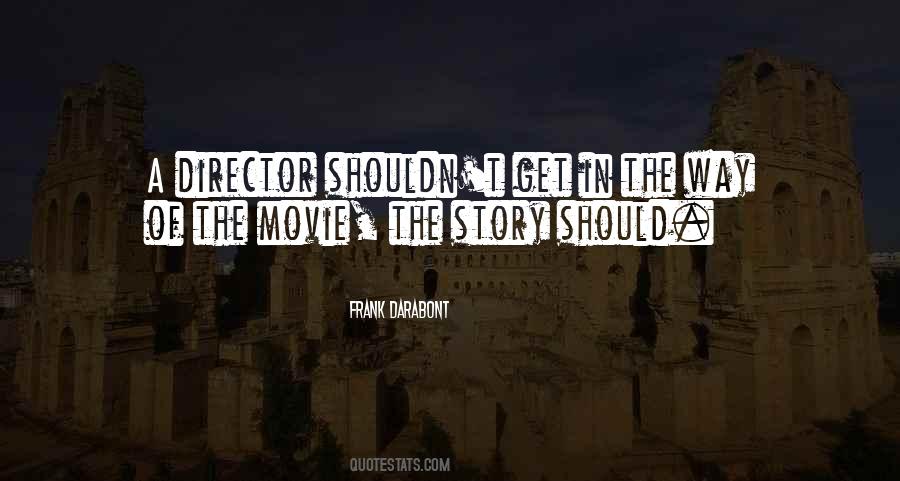 #96. 3D really altered the way I shot the movie completely, and it was exciting because, after 20 years of filmmaking, I felt like I was making my first movie, all over again. - Author: Paul W. S. Anderson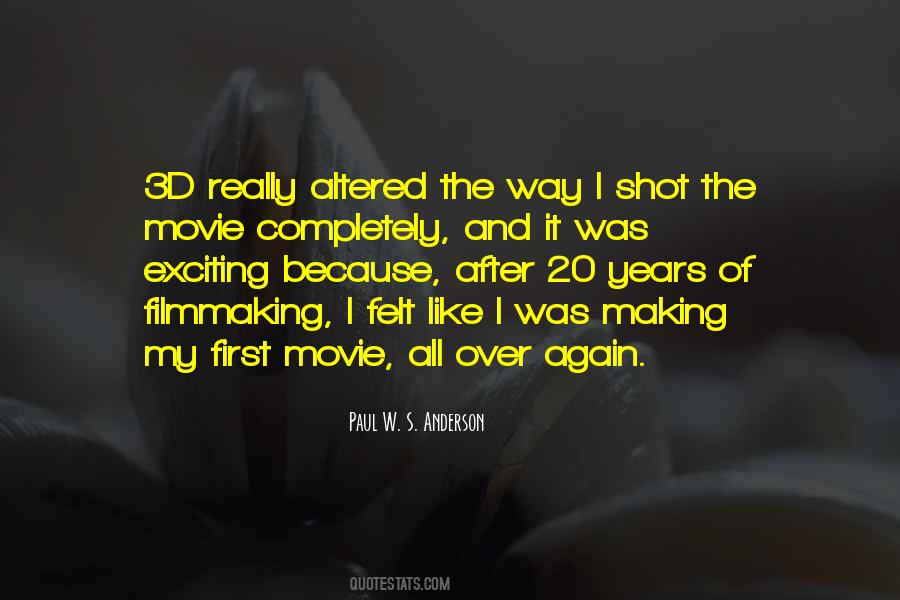 #97. The devil's main purpose is not to scare us, in a horror-movie way; when we're scared of him, we're alert to him, and that might undermine his plans. Instead, he wants to quietly, subtly lure us into stepping away from God. - Author: Frederica Mathewes-Green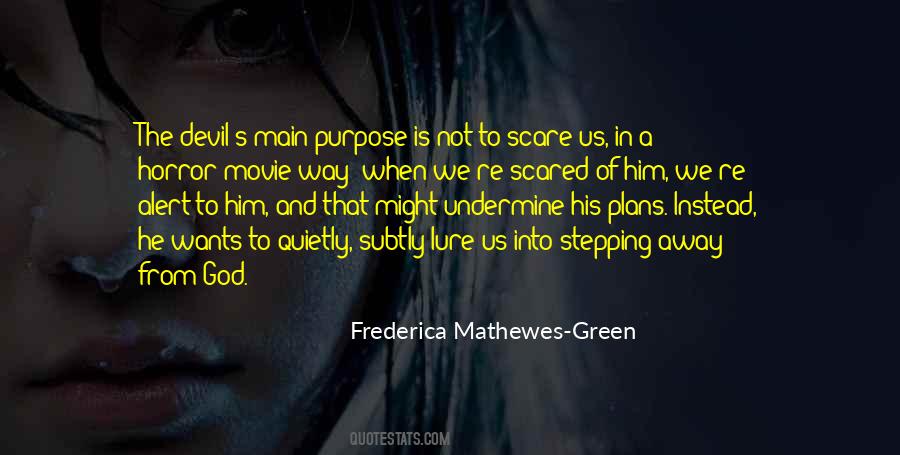 #98. The theater business has allowed me, in a way the movie and TV business has not, to do very, very interesting work. So that's what I do. - Author: Brian Dennehy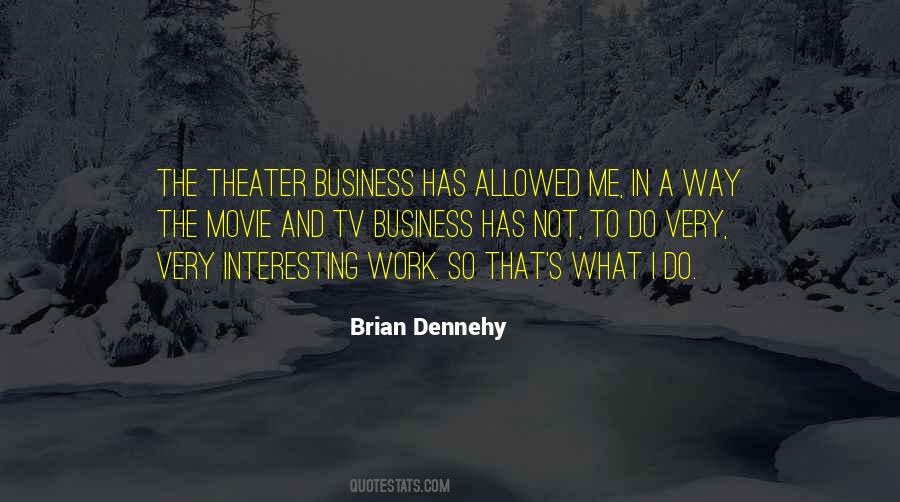 #99. I try to cover myself, to have another movie under way before the last one comes out. I've been able to just scrape by, holding out for good parts instead of taking anything. - Author: William Katt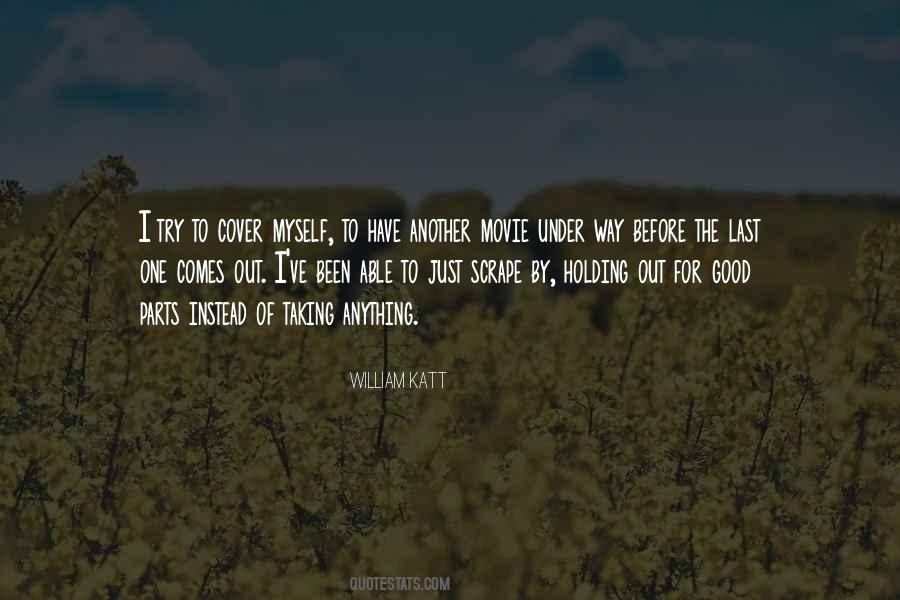 #100. I couldn't have left my career as an actor on a better note than to have done a cameo in the Lost In Space movie. Doing this part is the highlight of my career. What a way to leave the profession! - Author: Mark Goddard
Famous Authors
Popular Topics