The Moment I Knew Famous Quotes & Sayings
List of top 100 famous quotes and sayings about the moment i knew to read and share with friends on your Facebook, Twitter, blogs.
Top 100 The Moment I Knew Quotes
#1. But while you were doing it, he looked at me, and the look on his face - I still cannot describe it, other than in that moment, I felt something crumble inside me, like a tower of damp sand built too high: for him, and for you, and for me as well. And in his face, I knew my own would be echoed. - Author: Hanya Yanagihara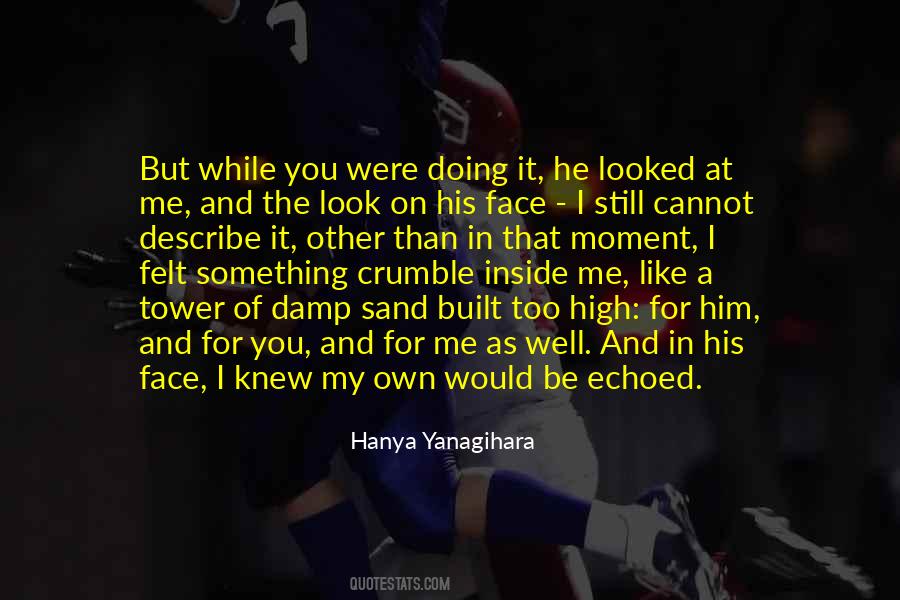 #2. I assumed he knew that your coach was abusing you. I realized in the limo that he didn't."
For a moment, there is only silence. When Damien speaks, his words are ice cold. "He knew. - Author: J. Kenner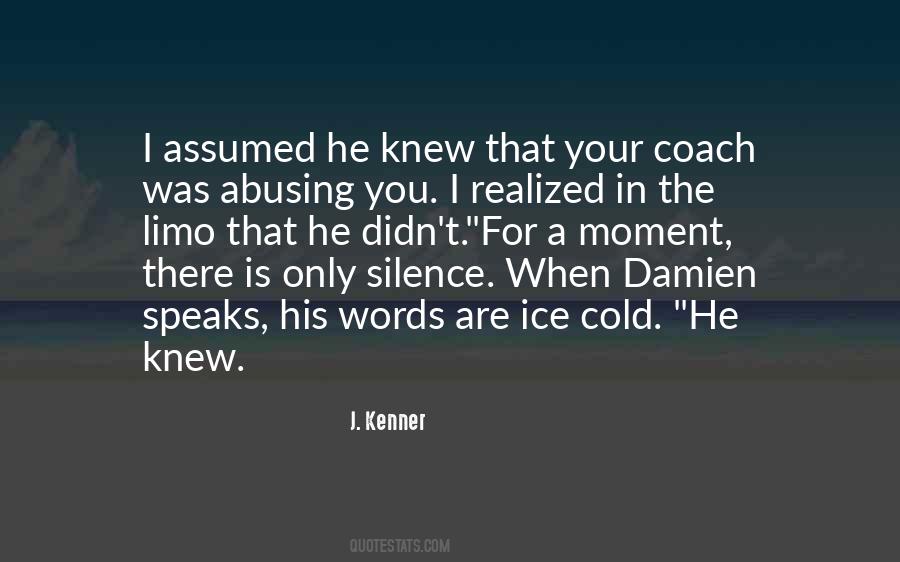 #3. Frequently, walking down the streets in Paris alone, I've suddenly come upon myself in a store window grinning foolishly away at the thought that no one in the world knew where I was at just that moment. - Author: Elaine Dundy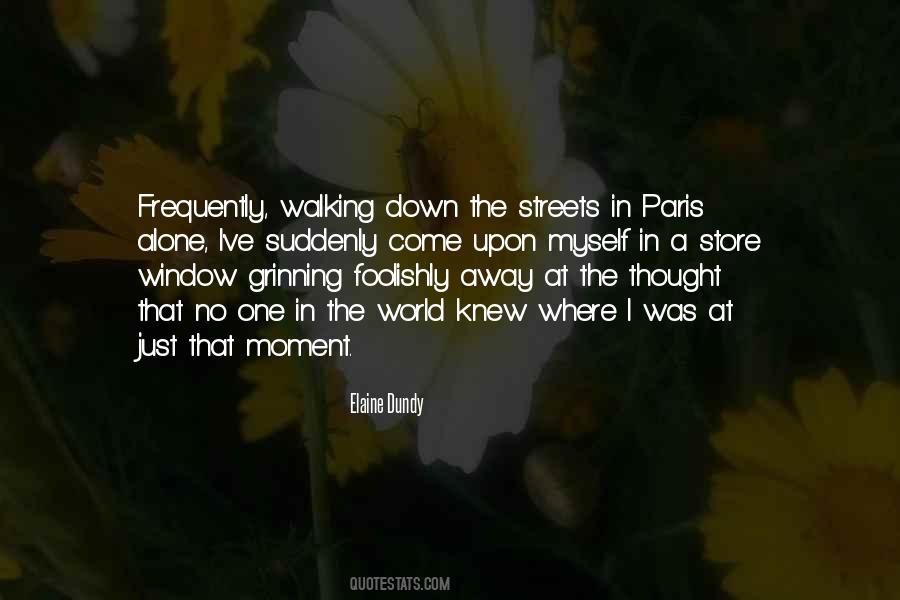 #4. I never felt comfortable about my looks until I married Reed Vreeland. I believe in love at first sight because that's what it was. I knew the moment our eyes met that we would marry, - Author: Diana Vreeland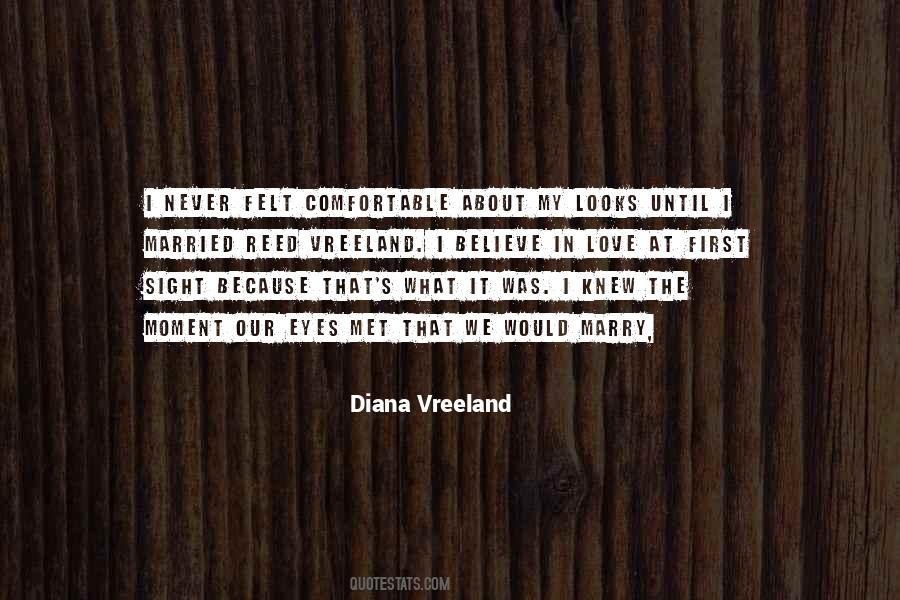 #5. I wasn't the kind of kid like Spielberg or Lucas who knew to go to film school. I didn't know at 12 what I was going to do; it took me until I was about 23. I studied journalism in college, but after school, I got a job in public television and I never worked as a journalist for one moment. - Author: Nancy Meyers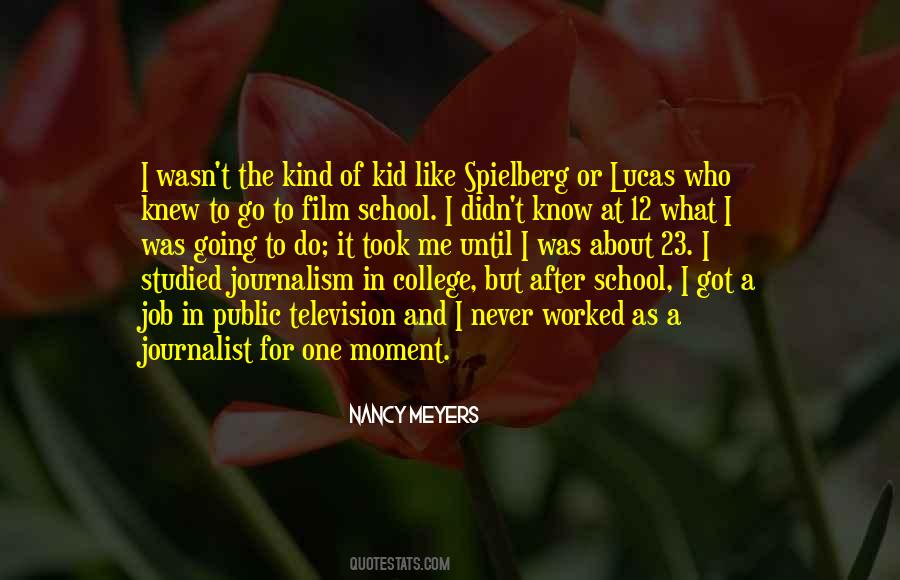 #6. The single moment when I knew that I had to get busy and do more was around the death of my son. - Author: Bobby Rush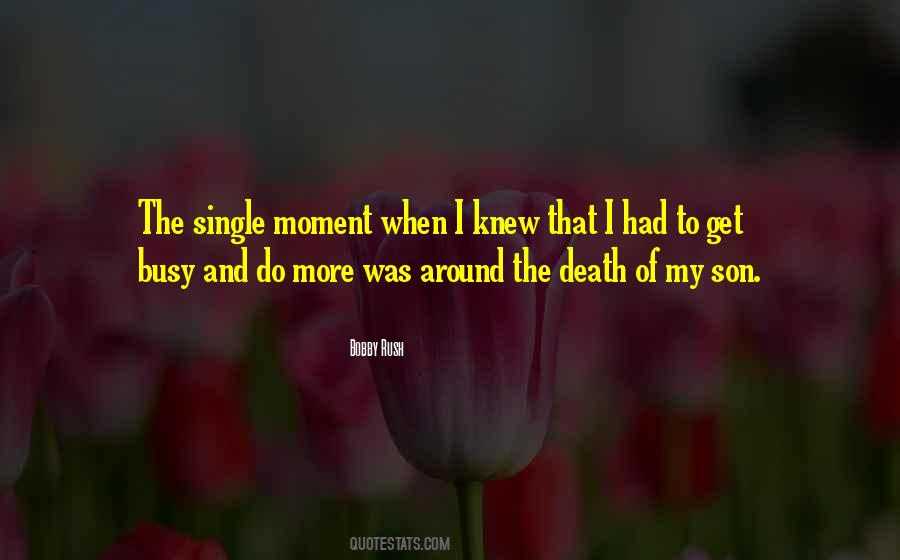 #7. God lays down all of His fullness into all the emptiness. I am in Him. He is in me. I embrace God in the moment. I give Him thanks and I bless God and we meet and couldn't I make love to God, making every moment love for Him? To know Him the way Adam knew Eve. Spirit skin to spirit skin. - Author: Ann Voskamp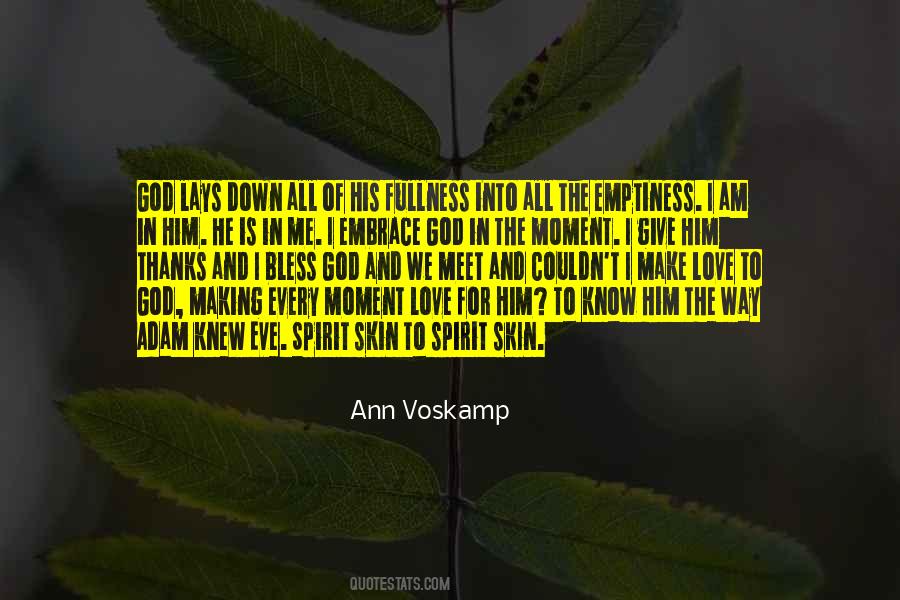 #8. I knew in that moment that things would be forever different- that today was gong to be the day that split my life into before and after. - Author: Morgan Matson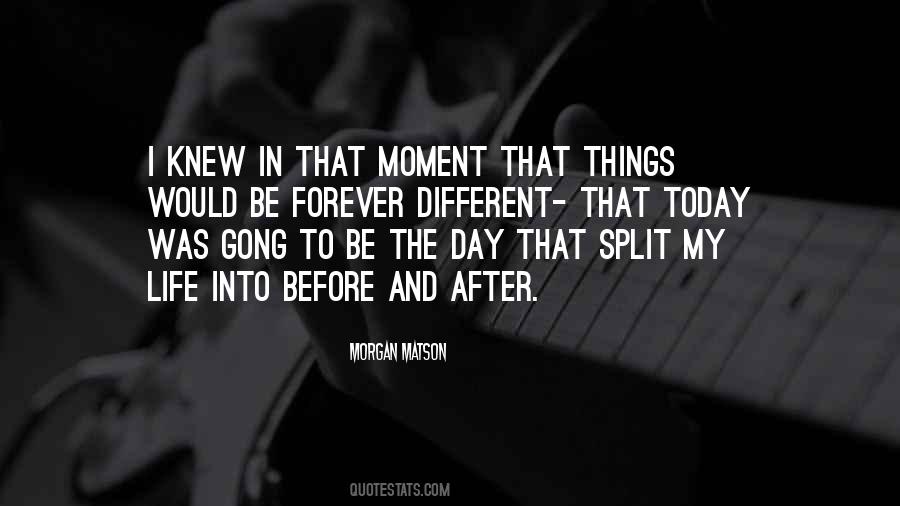 #9. I knew I had a choice. Either let you die and have the world blanketed with evil, or save you and make one dark moment for my best friend while the world continues to grow with light. - Author: K. Weikel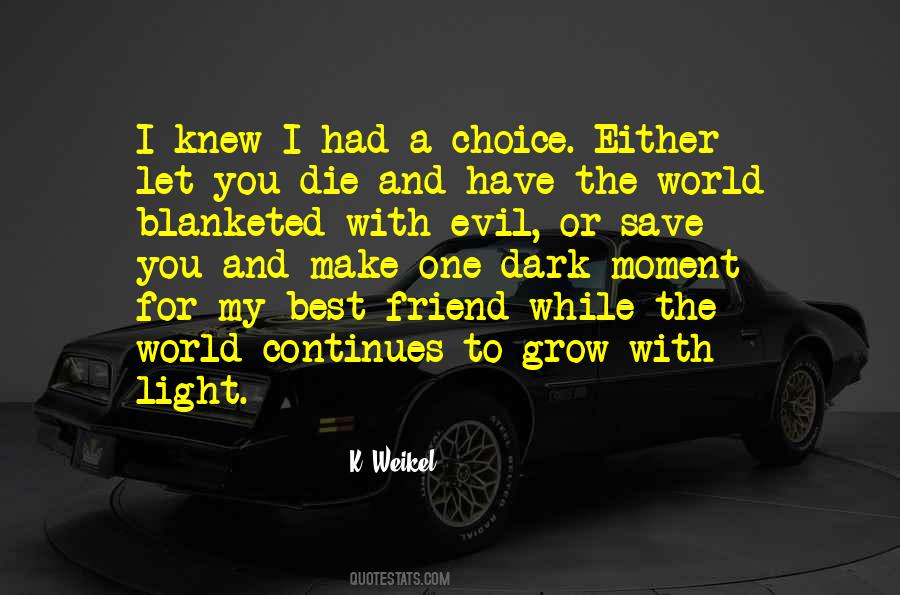 #10. I couldn't have known that Archer Hale existed somewhere in this crazy world, and that he had been made just for me.
And in that moment, I knew. I was falling in love with the beautiful, silent man staring down at me. If I hadn't already fallen. - Author: Mia Sheridan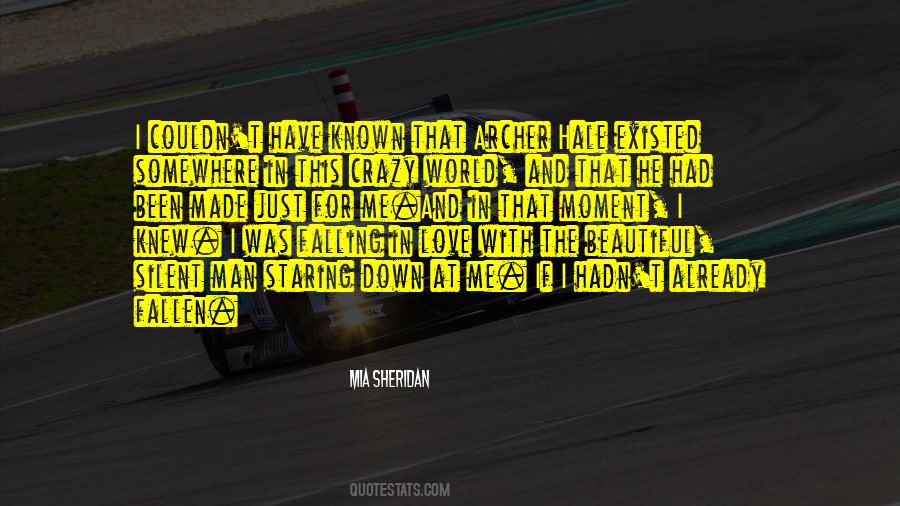 #11. When you were born, just a fresh babe, and I held you in my arms for the first time, I knew that we had to call you Bridie, after the blessed St. Brigid. I knew because the moment I set eyes on you, I saw you had holy fire in you, exactly like our own St. Brigid. - Author: Kirsty Murray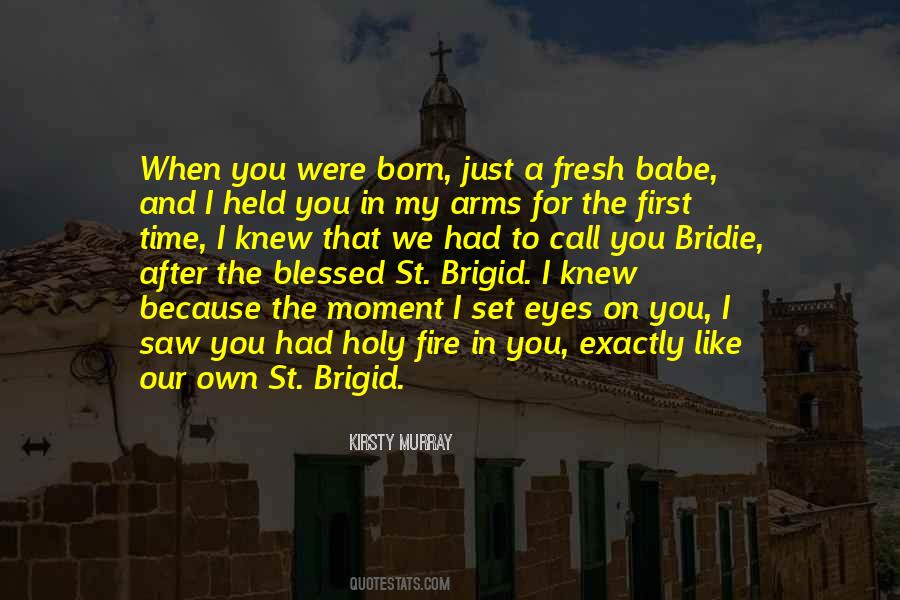 #12. I knew going in that being a single parent would be one of the toughest jobs I'd ever have. I'd been a talk-show host, actor, comic, and on and on, but this gig was going to be my defining moment. - Author: Arsenio Hall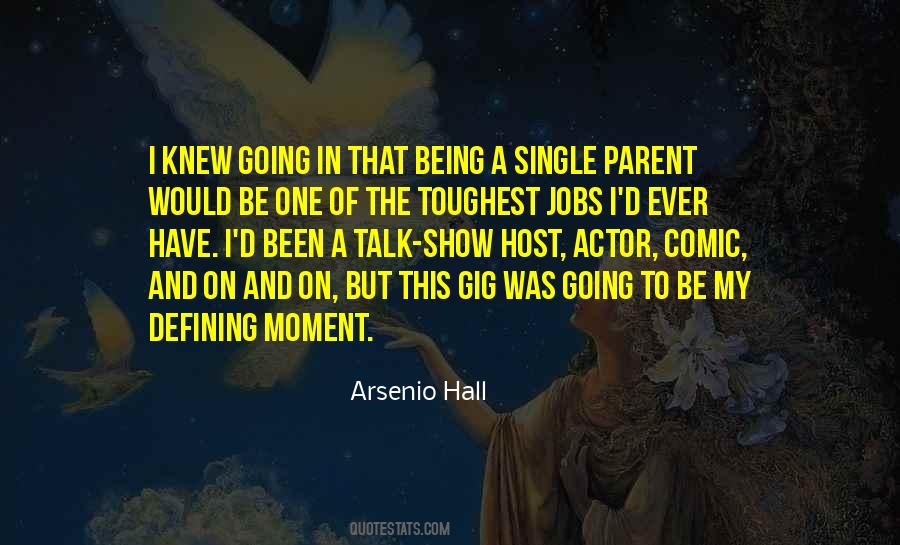 #13. The Moment I Knew" "was a song about my 21st birthday party, which was the worst experience ever, - Author: Taylor Swift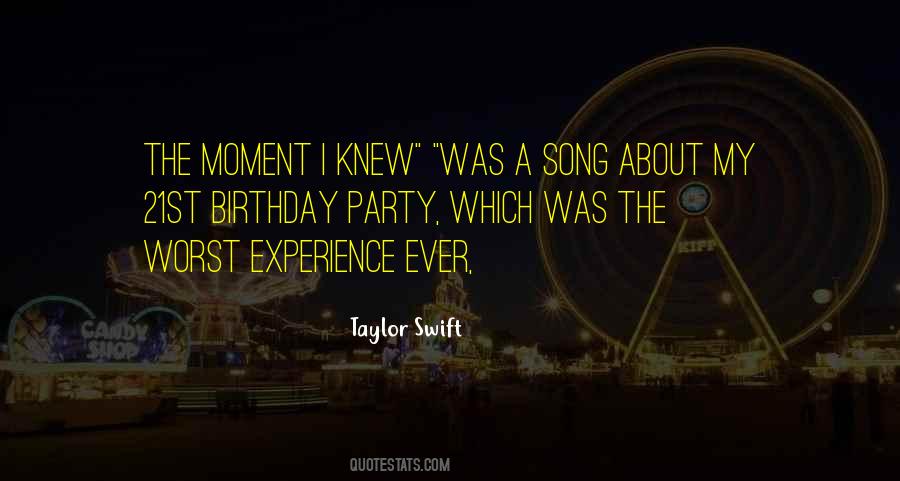 #14. A moment that should have lasted forever and forever
Long over
it came and went before I knew it existed.
I think I know what it means,
But every time I start to explain it, I forget the words. - Author: Charles Wright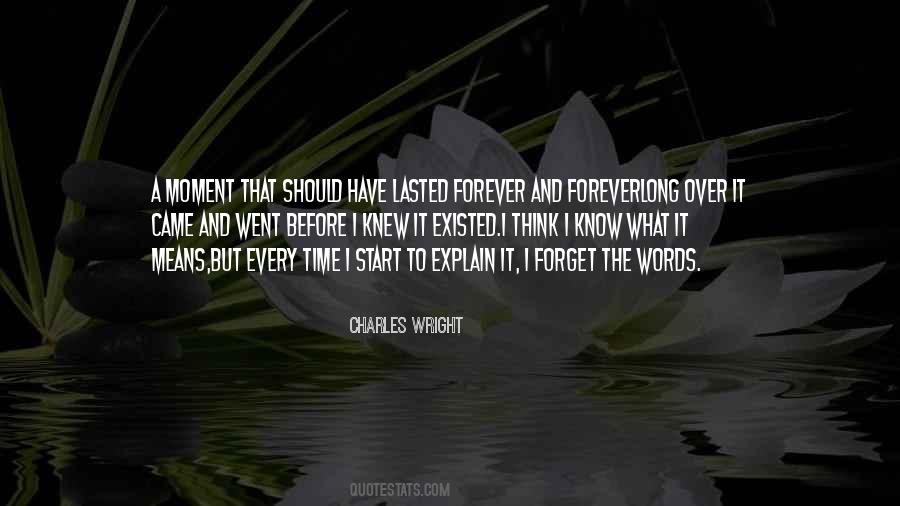 #15. You have to know, from the moment I saw you outside Paradise High, I knew. I knew we were going to fall in love. And I've never regretted even a second of it. Not even now. I love you with all my heart. I always will. It was ... it was all worth it. - Sarah Hart - Author: Pittacus Lore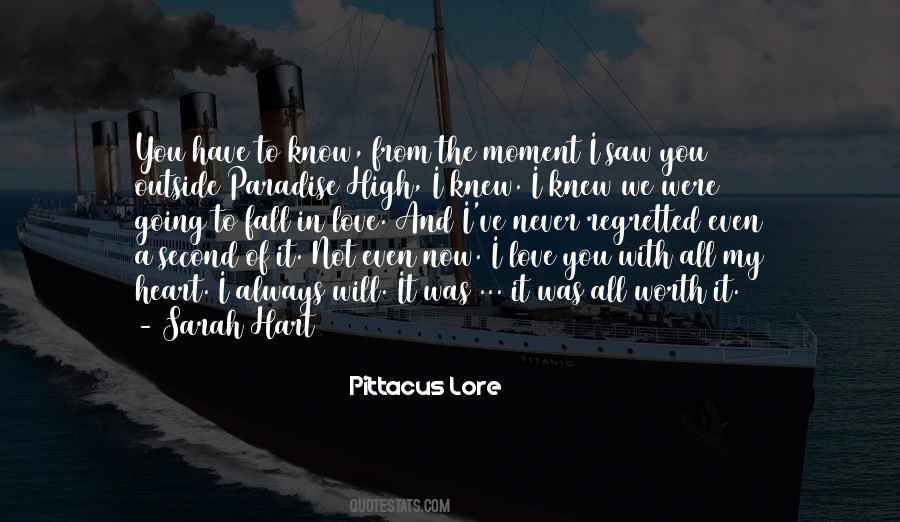 #16. I also knew every stolen moment we had together put her at a terrible risk to face the Alchemists' wrath. - Author: Richelle Mead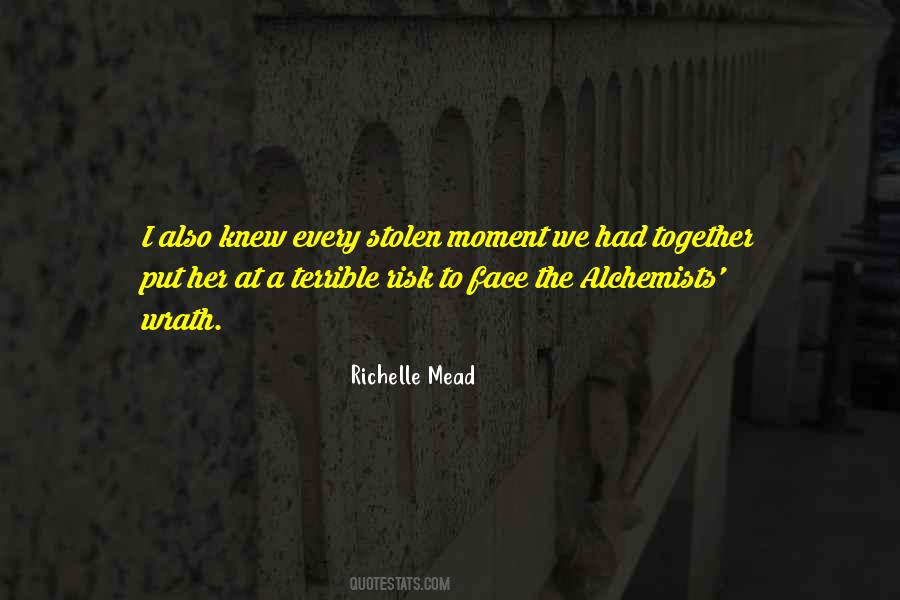 #17. In the morning it comes, heaven sent a hurricane
Not a trace of the sun but I don't even run from rain
Beating out of my chest, my heart is holding on to you
From the moment I knew
From the moment I knew - Author: Sara Bareilles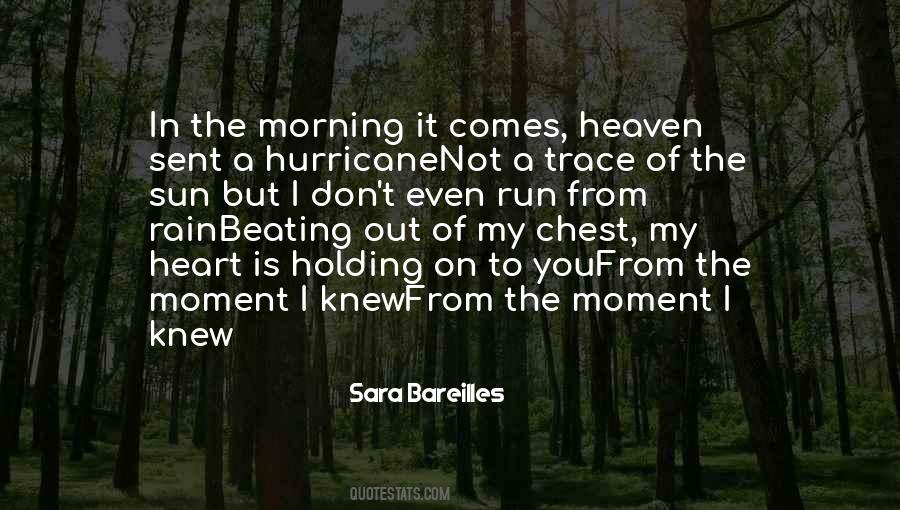 #18. It was weird that most people knew me as someone let go from 'SNL.' I had the best time there, and in retrospect, it was the perfect amount of time. The only thing that matters is what you do with yourself in that moment after. If you decide, 'I'm the girl who was fired from 'SNL,' you're just that. - Author: Michaela Watkins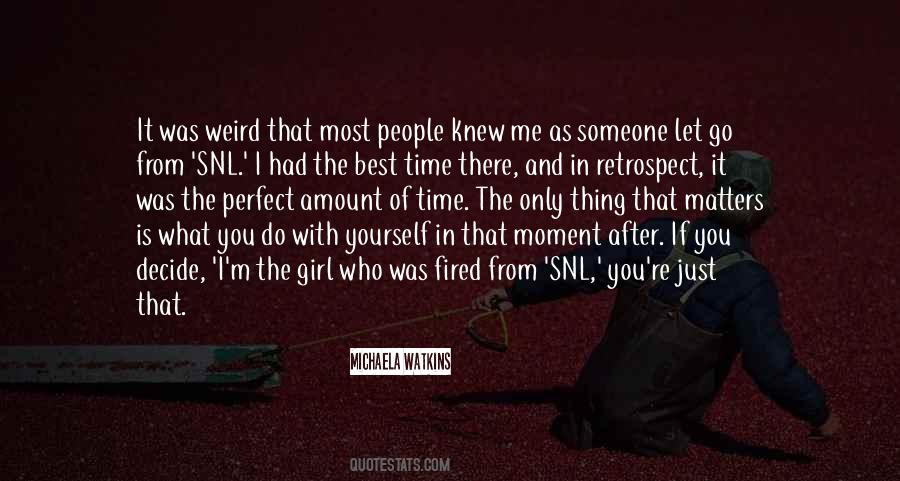 #19. I would have married Jamie Sullivan no matter what happened in the future. I would have married Jamie Sullivan if the miracle I was praying for had suddenly come true. I knew it at the moment I asked her, and I still know it today. - Author: Nicholas Sparks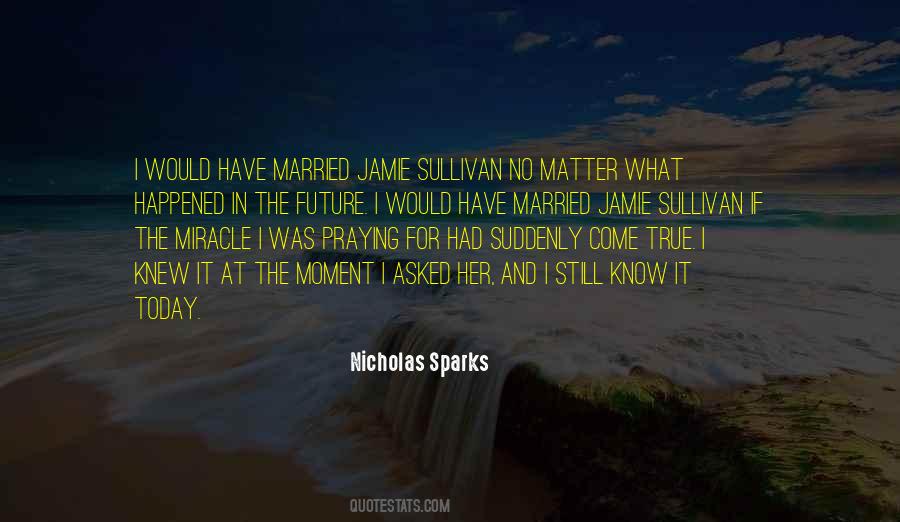 #20. I always knew she loved me, but I didn't need to accept everything she gave me, like her fears that people would let you down when you needed them, or the conviction that danger lurked behind every unguarded moment. - Author: Mani Feniger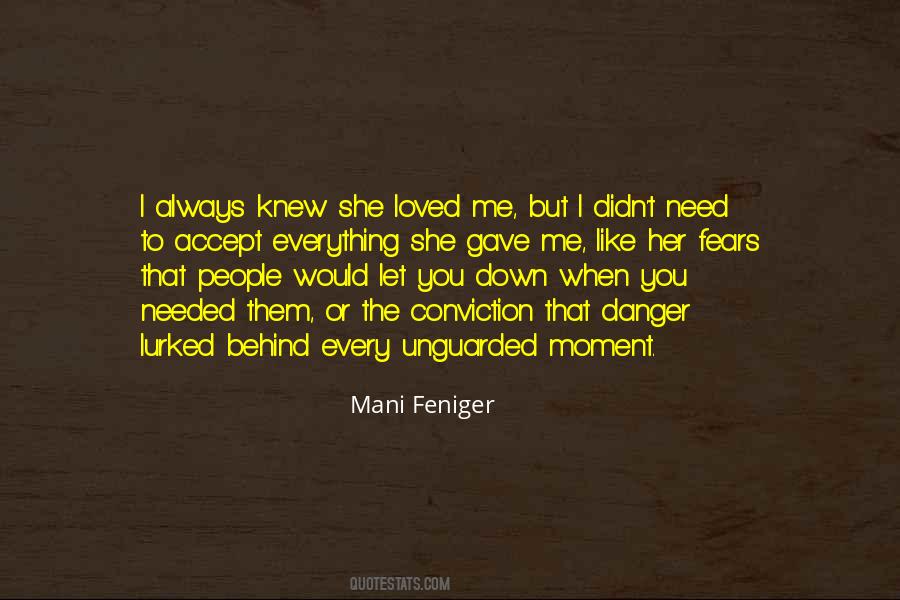 #21. I think this is why Ellis took so many moving pictures of us. Because he knew that people come in and out of your life, and a picture fixes them in the moment they reach out to you. - Author: Zu Vincent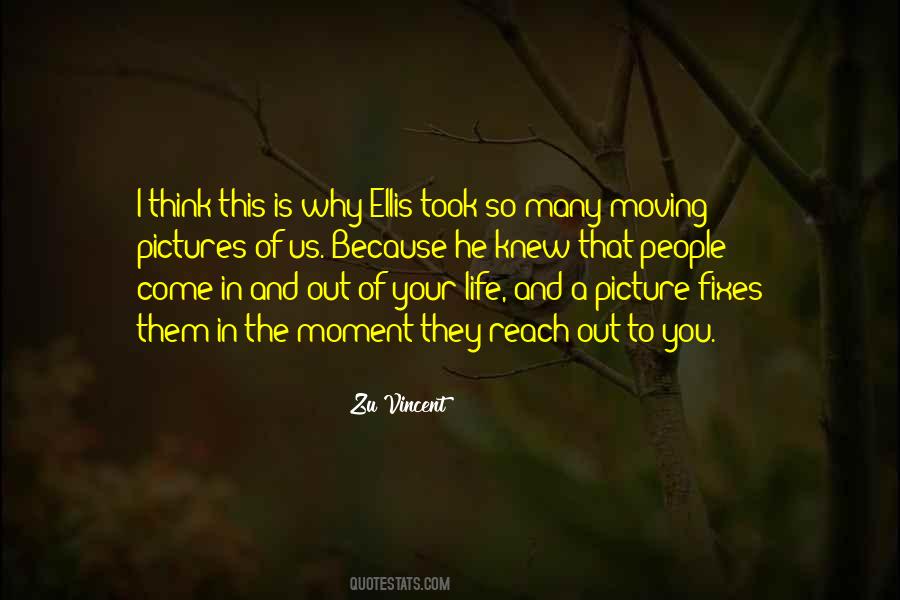 #22. The moment I put it on, that suit became an old, familiar, and valued friend - and I became taller and wider across the shoulders. It could not have fit better if it had been made on my body. It knew things about me I wouldn't learn for years yet, and approved of them all. - Author: Robert A. Heinlein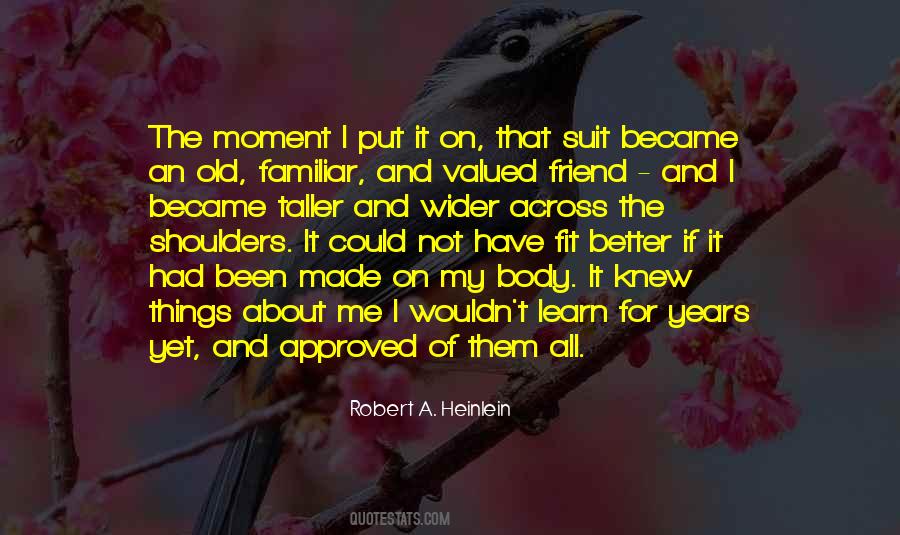 #23. We're drenched in water and beauty and the exhilaration of a moment I never knew was possible. - Author: Tahereh Mafi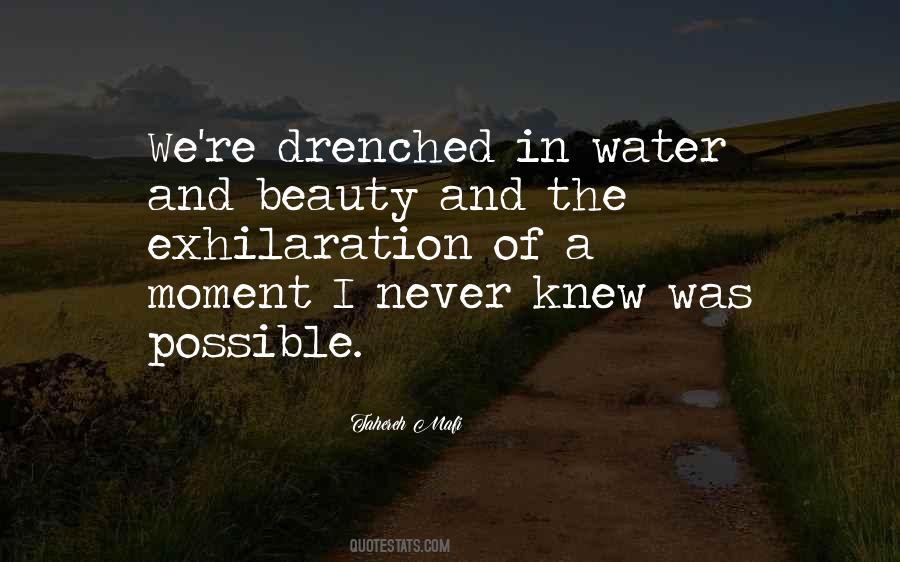 #24. part of what makes me who I am. I knew that the moment I met you, and you did, too. - Author: Callie Hart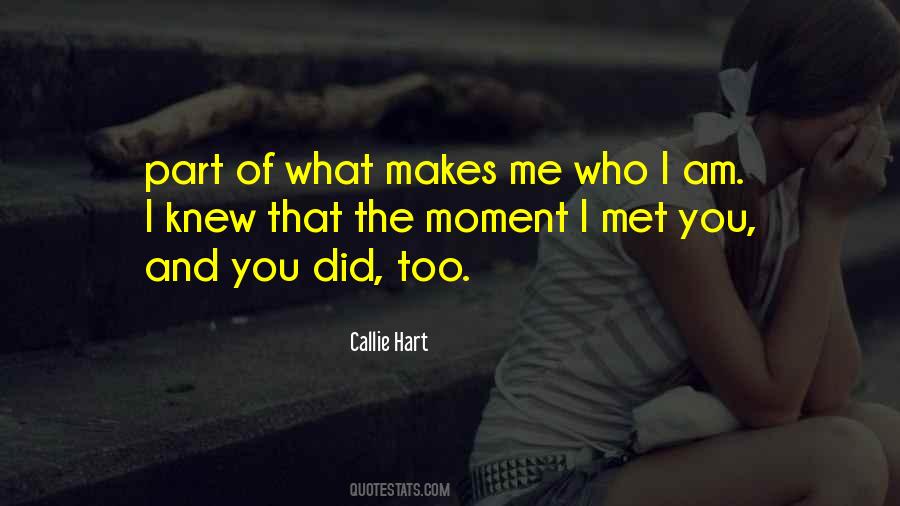 #25. And as for my father? No, he wouldn't ever walk through those gates; I now knew that. Whatever Thomas Stone had, wherever he was at this moment, he had no idea what he'd given up in the exchange. - Author: Abraham Verghese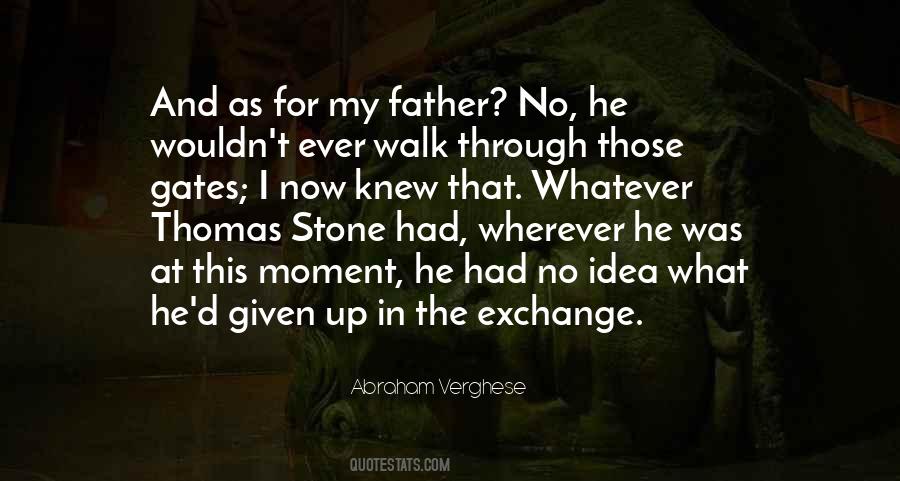 #26. But then, oh, my blessed, he smiled. I guess from that moment I knew I was going to marry Joseph Wojtkiewicz
God, pope, three motherless children, unspellable name and all. For when he smiled, he looked like the kind of man who would sing to the oysters. - Author: Katherine Paterson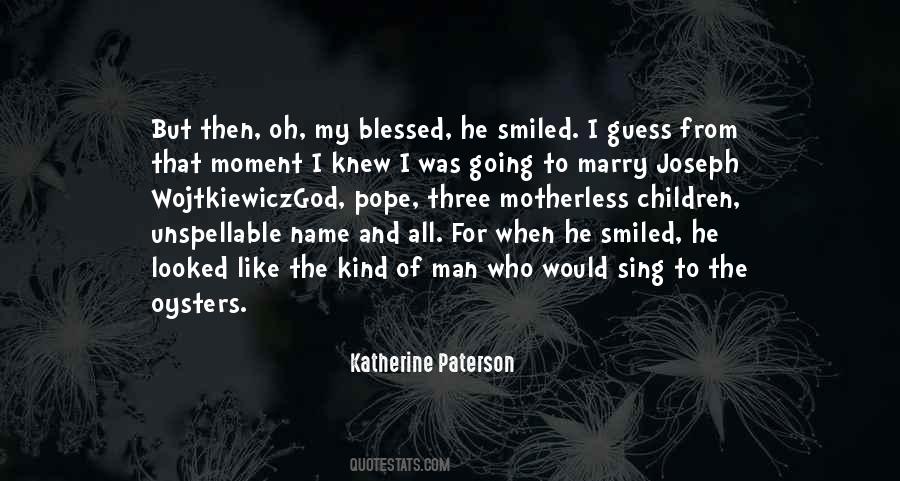 #27. Outside I saw her sitting in the wheelchair, hands folded on her lap, and I knew I was living the moment that says nothing, that will allow nothing said of consequence. - Author: Gerard Donovan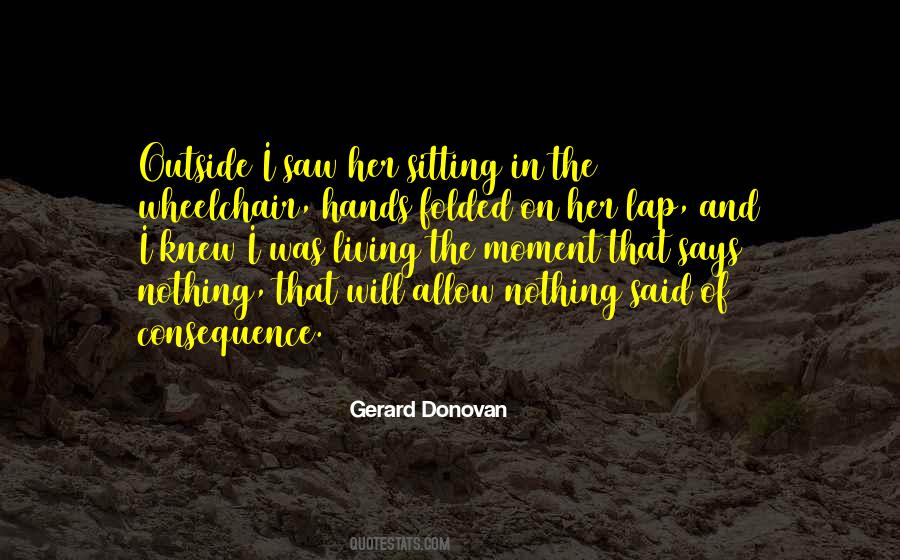 #28. I remember walking onstage in the first performance, and something hit me like a brick wall, and I just knew at that moment that this is something I had to do for the rest of my life, and I've never looked back. - Author: Katherine McNamara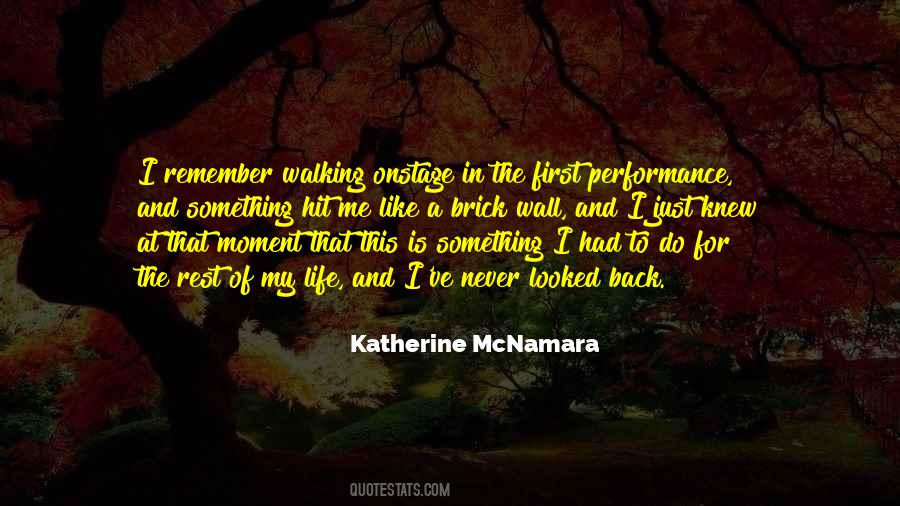 #29. I love you, he whispered, and that was the moment he knew what he was going to do. When you loved someone, you put their needs before your own. No matter how inconceivable those needs were; no matter how fucked up; no matter how much it made you feel like you were ripping yourself into pieces. - Author: Jodi Picoult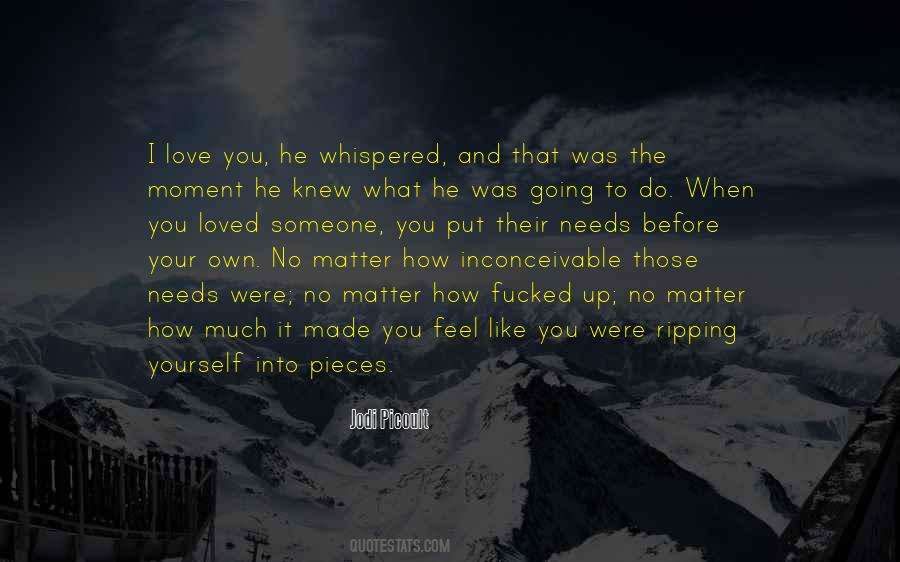 #30. But what I knew in that moment was that the size of your home, your car, your wallet, doesn't have one single thing to do with the size of your life. And my life ... my life felt big, filled with love and with meaning. - Author: Mia Sheridan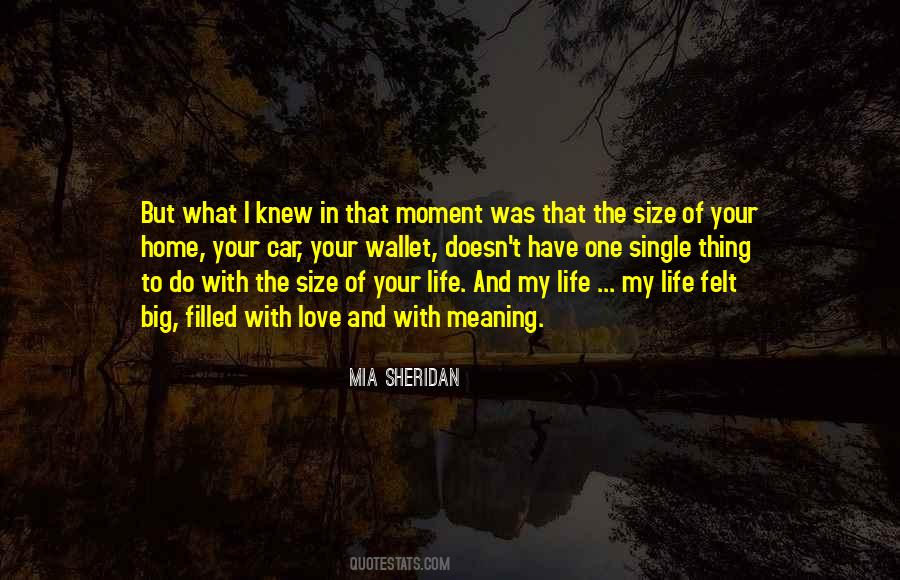 #31. At the same time, we both pulled back briefly still oh so close. Everything in the word rested on that moment.
"We can't ... " He told me.
"I know," I agreed.
Then his mouth was on mine again, and this time I knew there would be no turning back. - Author: Richelle Mead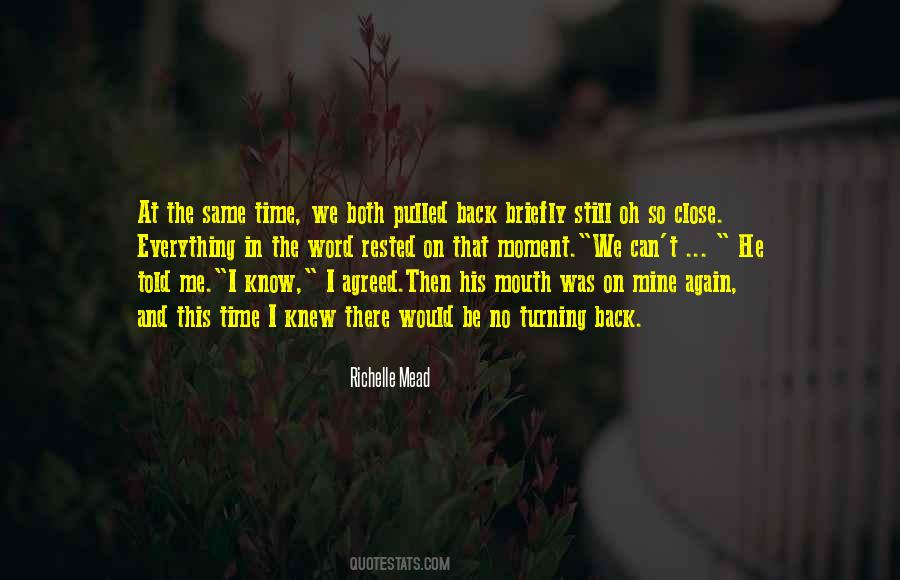 #32. At the last moment she thought, I'm not ready.
But she already knew the answer to that.
Nobody was ever ready. - Author: L.J.Smith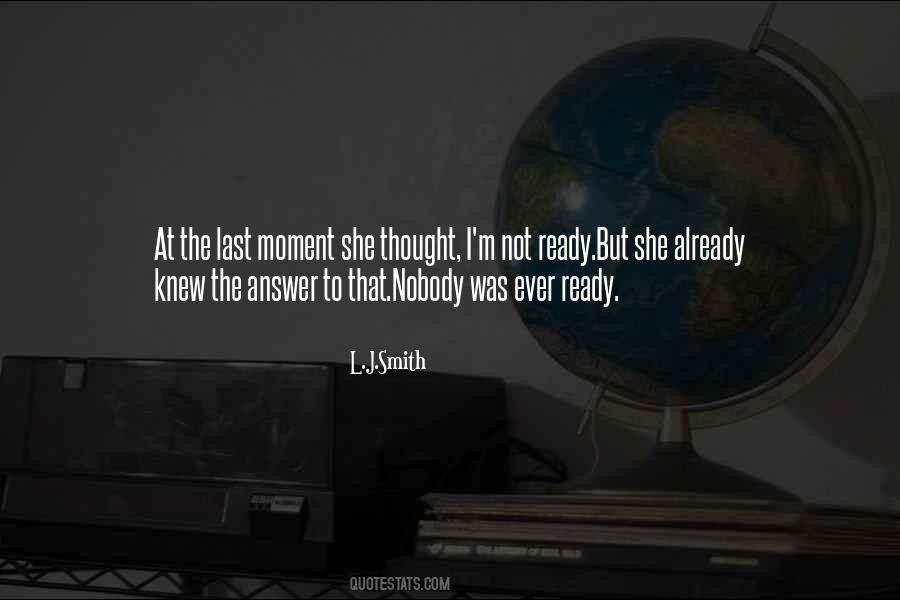 #33. As soon as I knew that I would be all right, I was sure that I was dead and didn't know it. I moved through the days like a severed head that finishes a sentence. I waited for the moment that would snap me out of my seeming life. - Author: Amy Hempel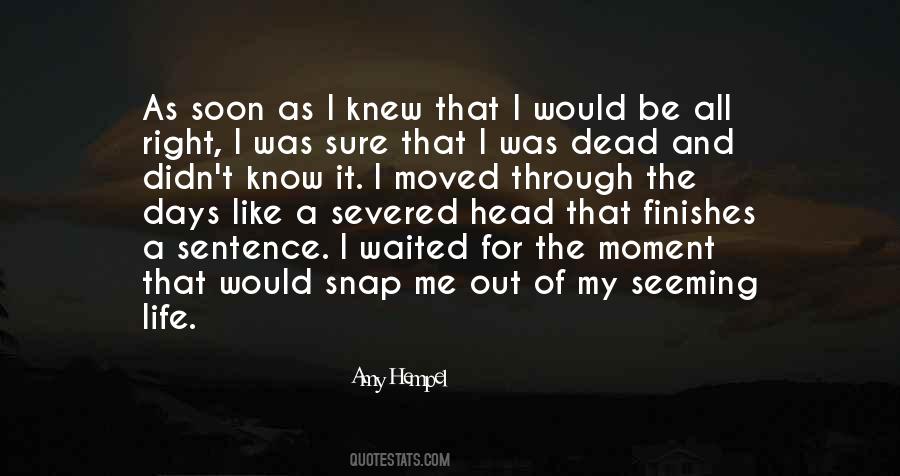 #34. I loved the way he touched me, like he still couldn't believe I was there and might disappear at any moment. I even loved that he looked at me with sadness in his eyes sometimes, because I knew it meant that he was struggling with things in his mind but letting his heart win. - Author: Melanie Harlow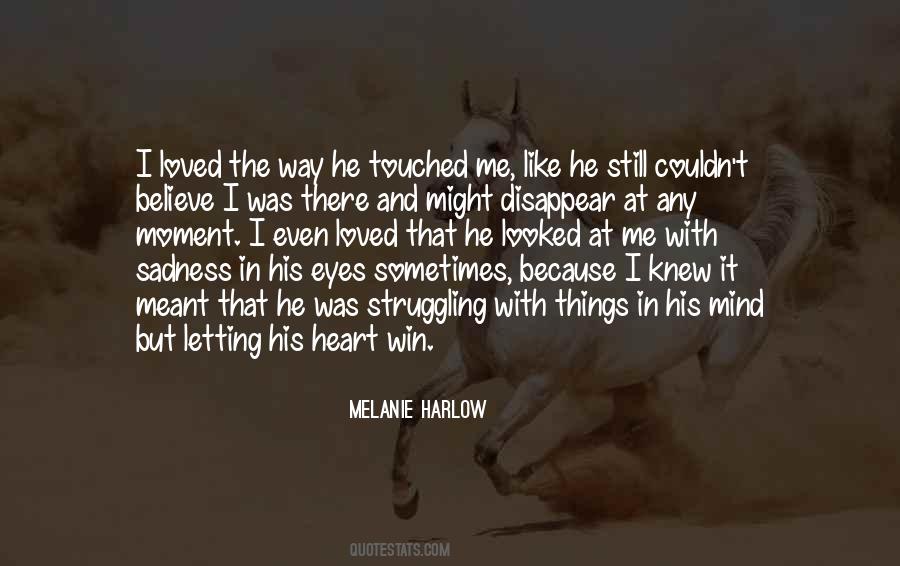 #35. But this kiss? It's ruined me. This is the type of kiss I never knew existed. It's like falling and flying, all in the same moment. - Author: Leisa Rayven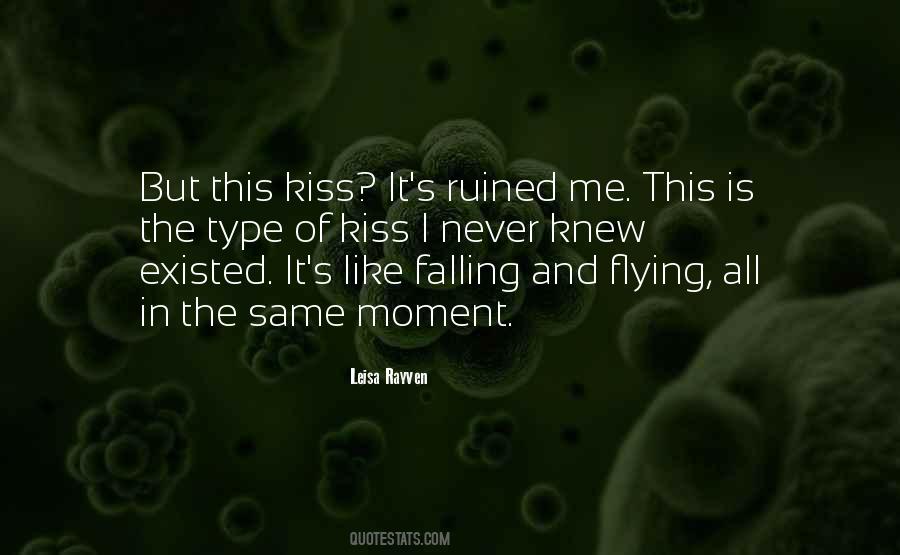 #36. Yeah. I've met so many people, and they don't really know me. I can't tell them who I am, or what I've lived. Even if I could, I probably wouldn't want to. It's not often I've met a person I really want to know better. But I knew I wanted to know you the moment I set eyes on you. - Author: Allison Van Diepen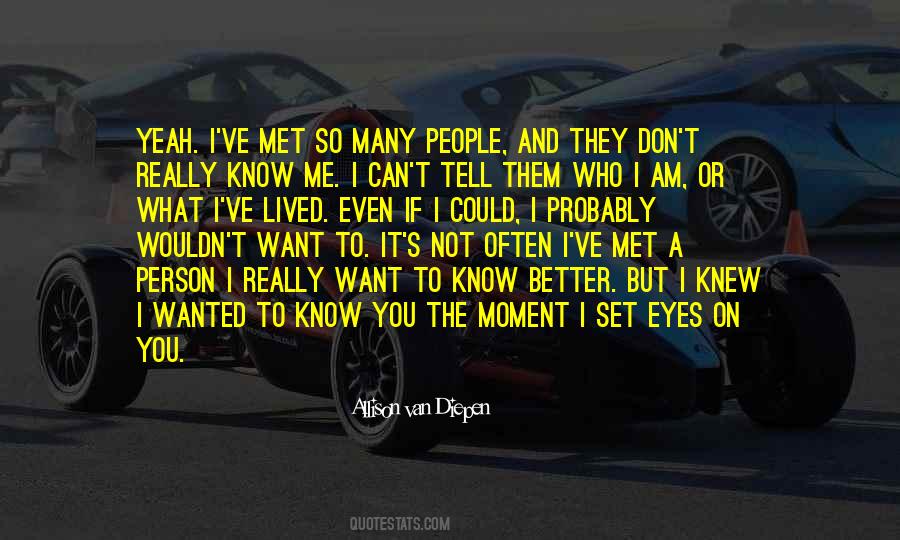 #37. It wasn't until that moment I knew three things. One, I was definitely going to work tomorrow. Two, I was a total douche bag for what I was about to do. Three, the plan would be placed into action as soon as possible. - Author: Sadie Grubor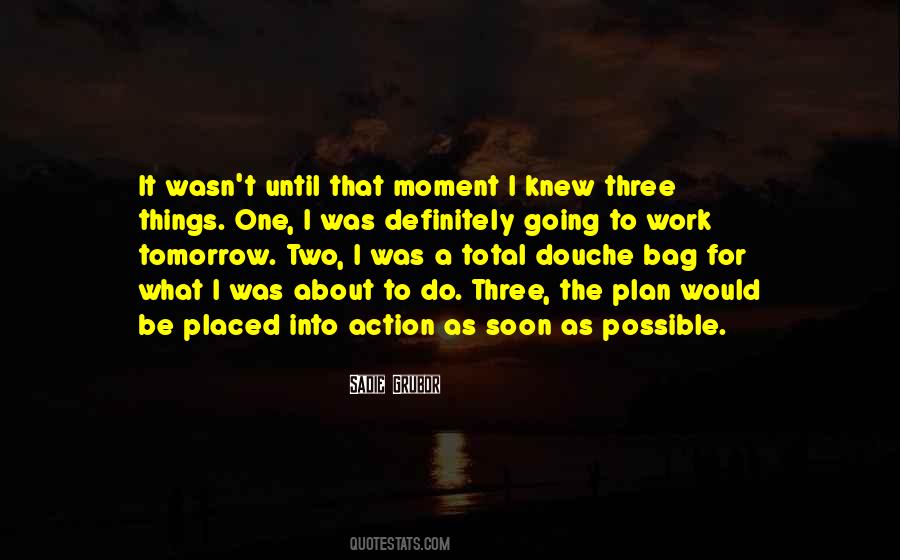 #38. On my own, the ordinariness of the moment is almost too much to stand. I glance around the restaurant, taking in the faces of the waiters, the customers. Two dozen noisy conversations mixing into a kind of meaningless roar. I think, What if you people knew what I knew? - - Author: Blake Crouch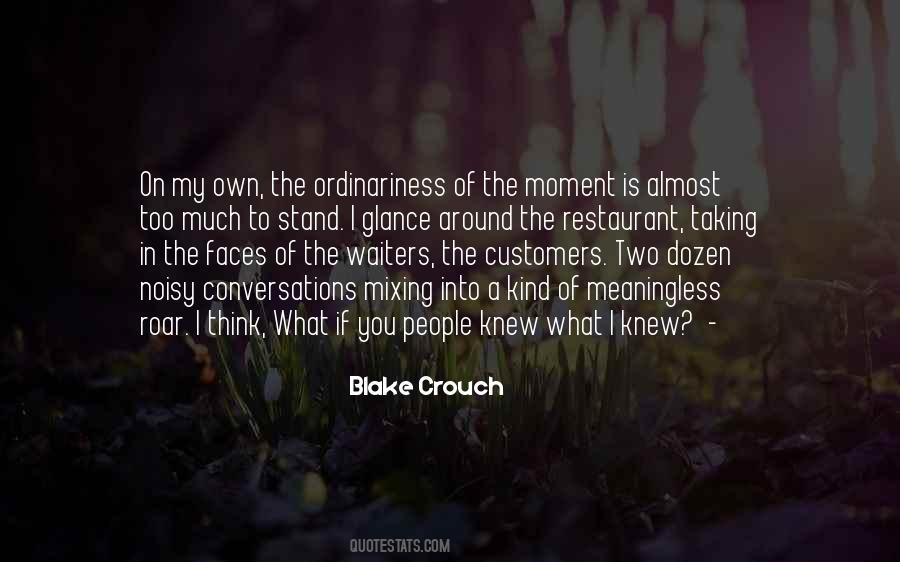 #39. I was simply in love with my daughter and how she viewed her world. The literal way in which she took it all in and took it on. I knew it wouldn't last long and so I treasured every moment I saw and heard of it. - Author: Michael Connelly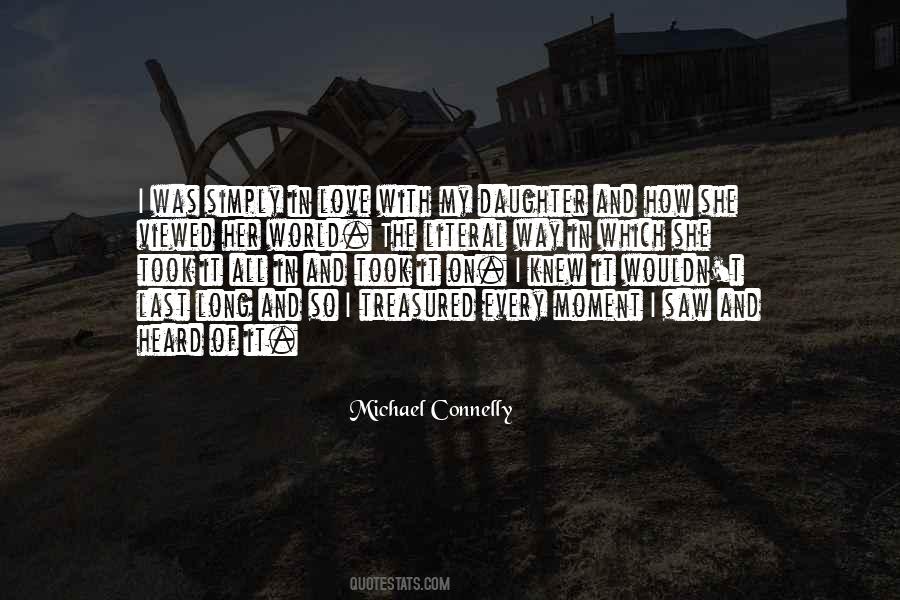 #40. And when her lips met mine, I knew that I could live to be a hundred and visit every country in the world, but nothing would ever compare to that single moment when I first kissed the girl of my dreams and knew that my love would last forever. - Author: Nicholas Sparks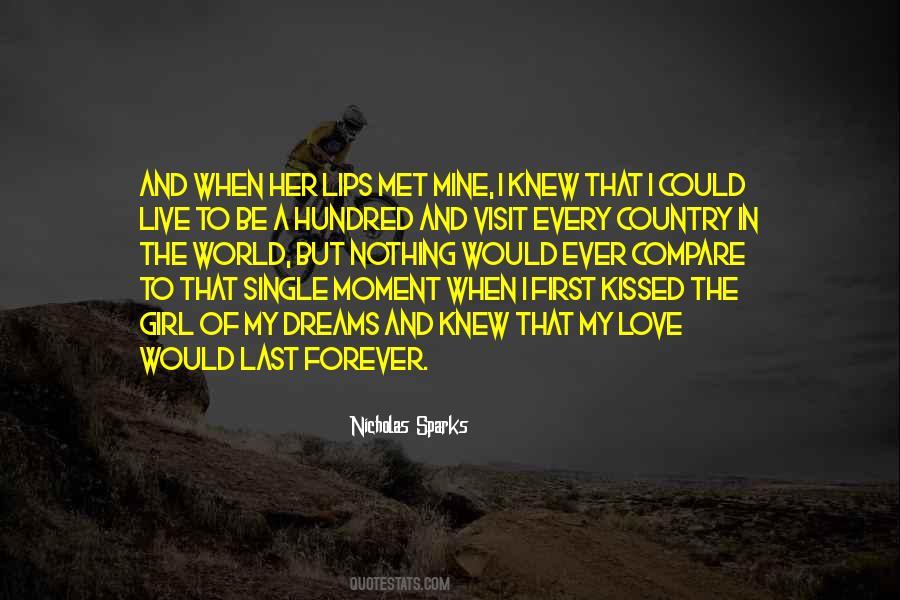 #41. You didn't want Mather to have the bowls, and you didn't want him to have me." He stared a moment. Then he leaned to her, suddenly fierce. "When I saw you, I knew I had to take you away from him. He had no idea what you were worth, just like he can't price the damn bowls. He's a philistine. - Author: Jennifer Ashley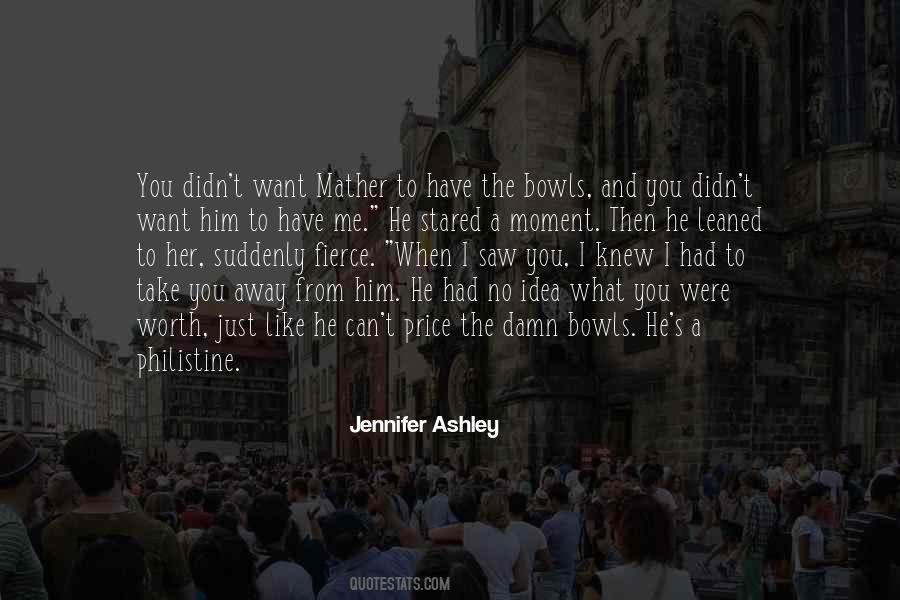 #42. I felt my heart warm up and become pliable in a way that I hadn't felt in far too long, and I knew in that moment that the thaw had happened because I was finally surrendering. - Author: Kimberly Stuart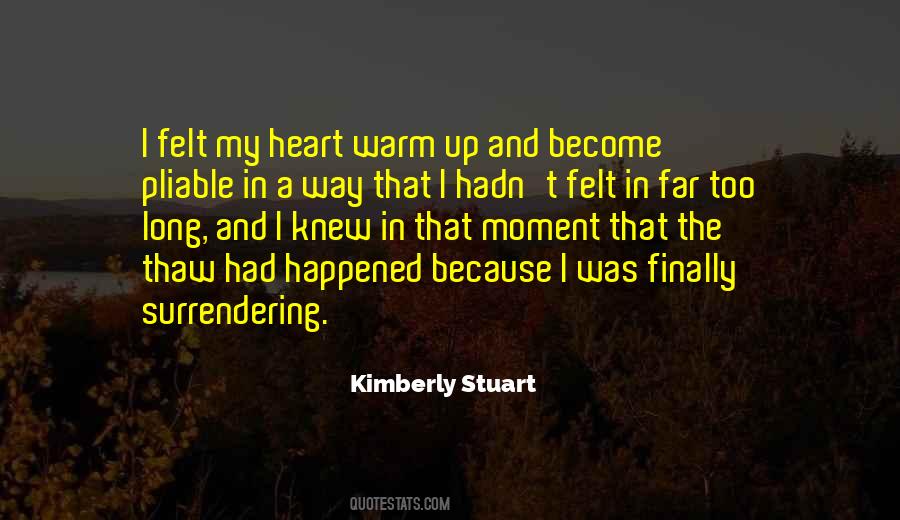 #43. I knew you weren't like the others from the moment I laid eyes on you. I chose to treat you as such. - Author: Georgia Cates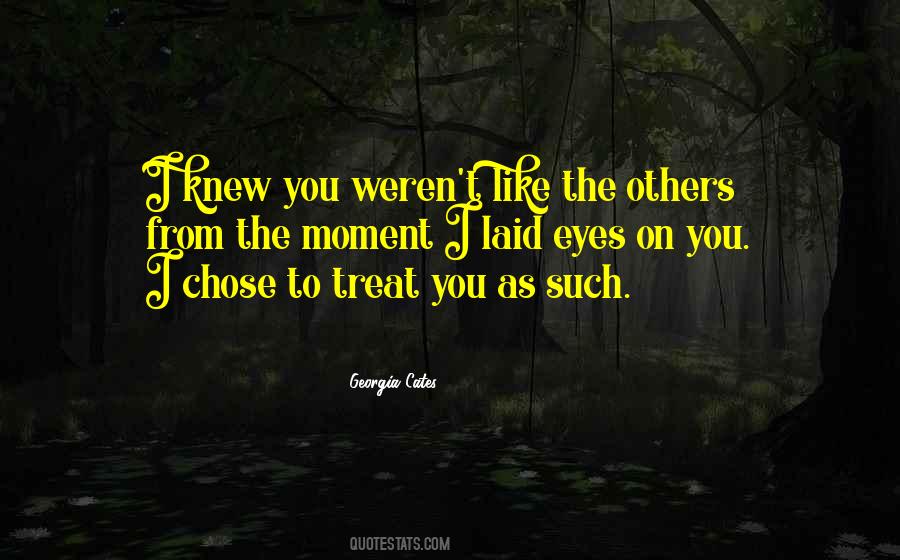 #44. From the moment I first heard Steve Laury play,
I knew he was dangerous ... He is an extremely gifted musician who makes great music! We go back 25 years and Steve will always be my dear friend. - Author: Nathan East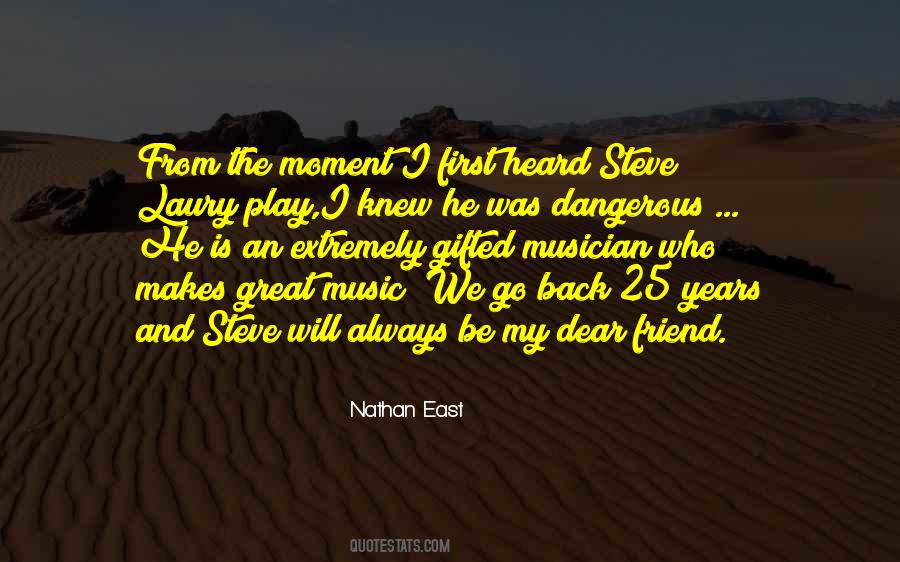 #45. I'd been a terrific student. I hadn't wasted a moment of my time in school, and I knew plenty about healing the troubled mind. But no one had taught me a thing about healing the soul - Author: Diane Chamberlain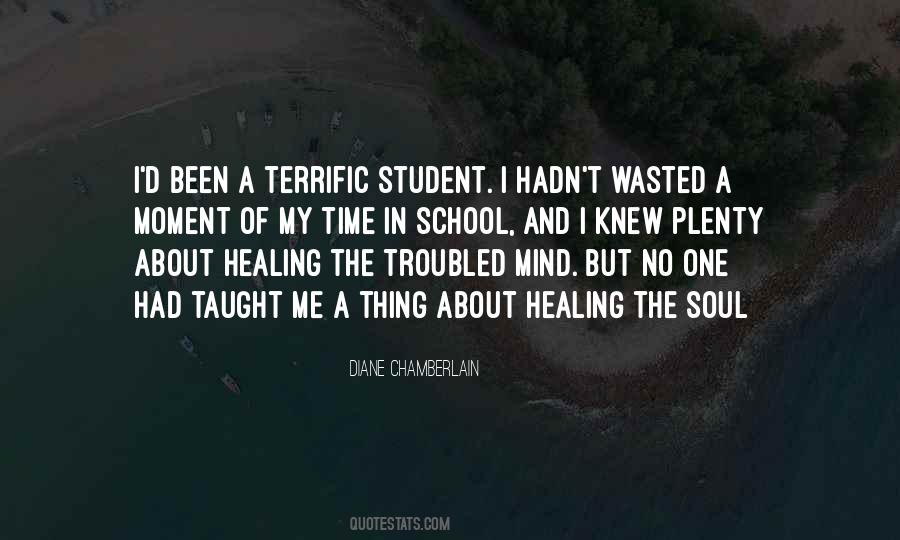 #46. it will make sense the moment you come Home. I could see it all so clearly. I could see what it is that we are waiting for. I knew in one solitary moment why I had learned obedience and why I valued nothing on the earth but love. It's all that matters. It is all there is. - Author: Kate McGahan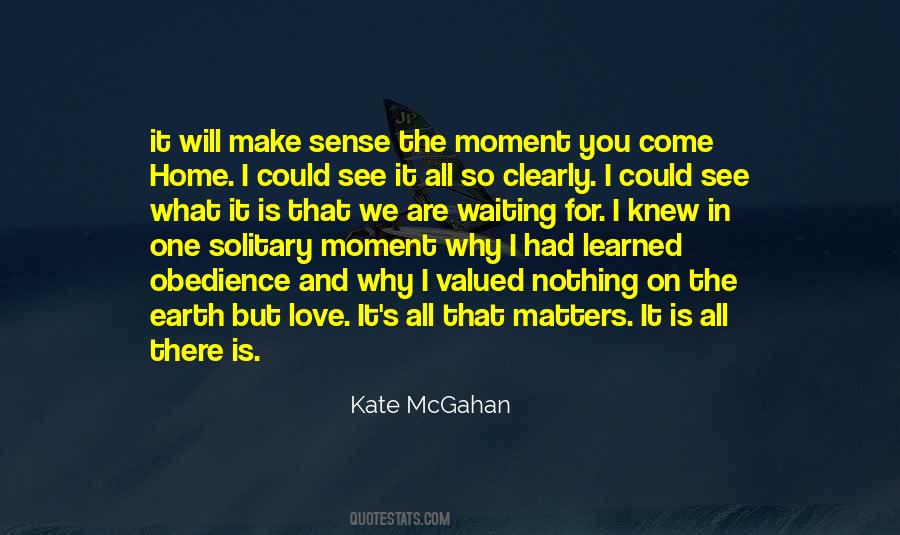 #47. I don't think, before that moment, that he truly grasped the nature of what I was. He knew, of course; had always known, and had been the one person who'd never cared for what, but only who I was. I saw him comprehend it now, and feared. It could change everything between us. - Author: Jacqueline Carey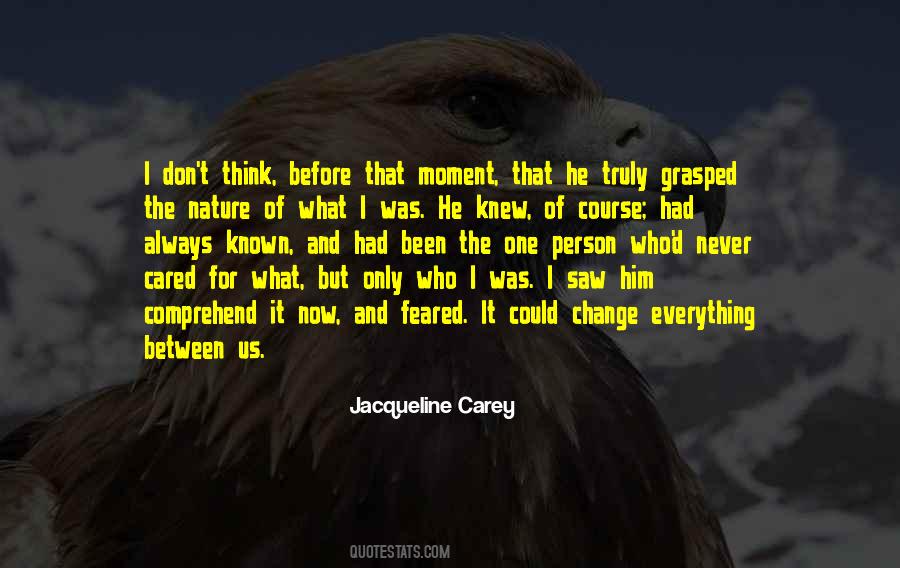 #48. But the moment I saw you, I knew there was something more. There was something behind those big, beautiful brown eyes that I had to get to know, and, damn girl you've kept me in a trance ever since. - Author: Magan Vernon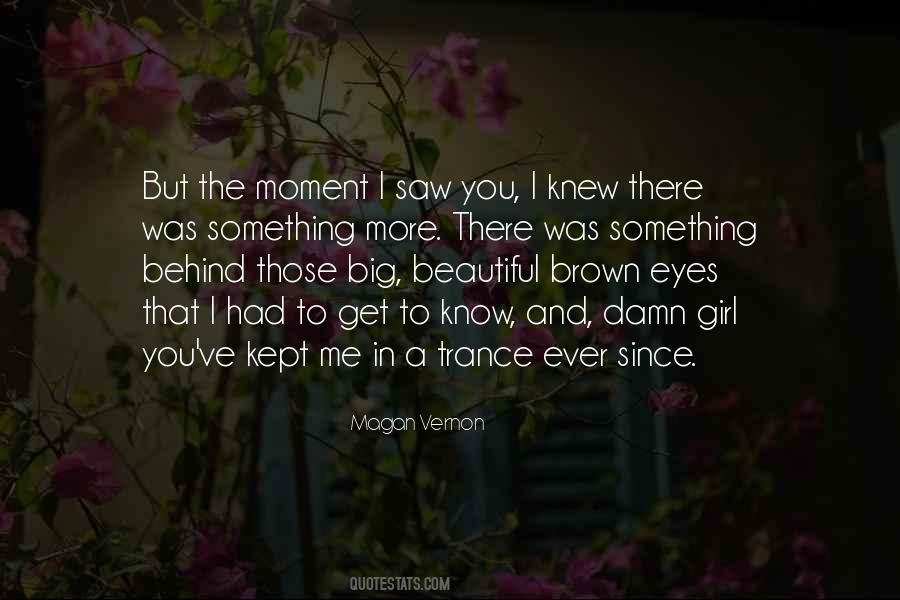 #49. A part of me knew ... from the moment I saw her;
her death would have been one wound too many that day. - Author: Dean Koontz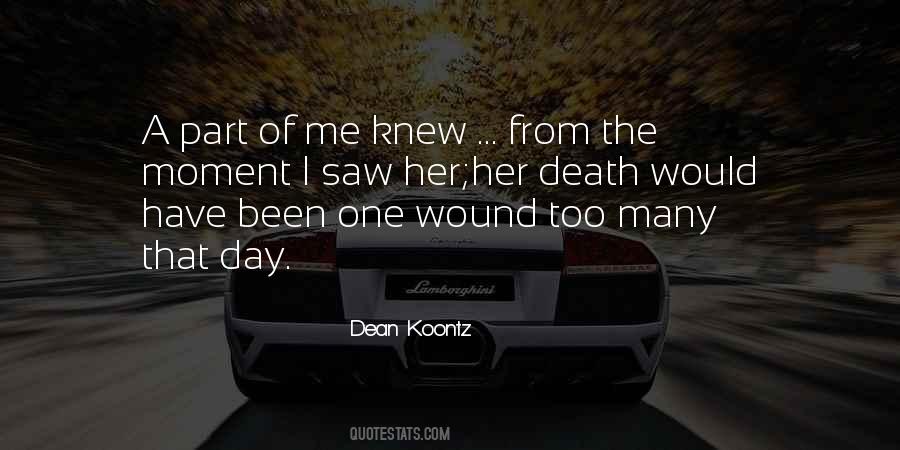 #50. The moment I saw her again, I knew that it's gonna be more fun to live my life now. - Author: Seo Do-young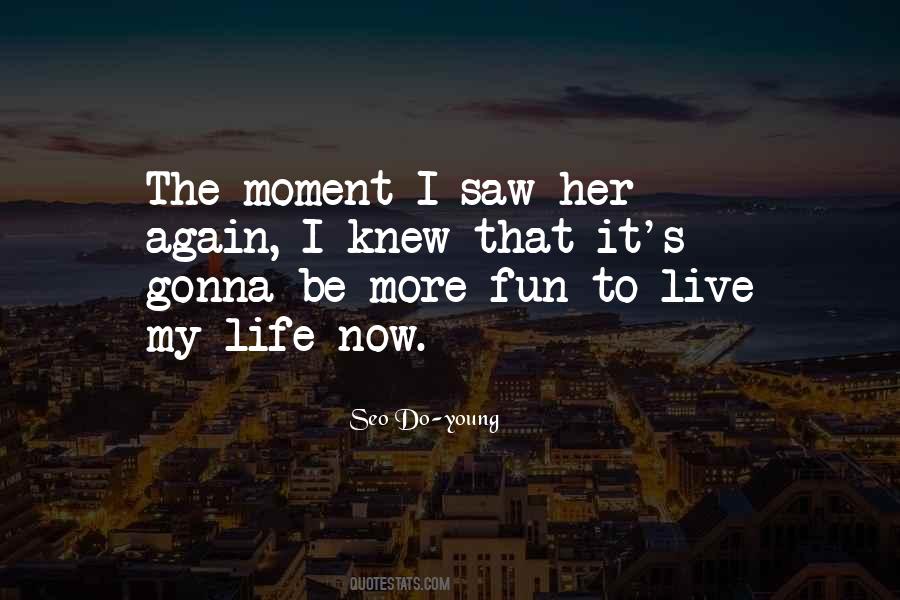 #51. At that moment I remembered something Cal had told me: that there is beauty in darkness in everything. Sorrow in joy, life and death, thorns on the rose. I knew then that I could not escape pain and torment any more than I could give up joy and beauty - Author: Cate Tiernan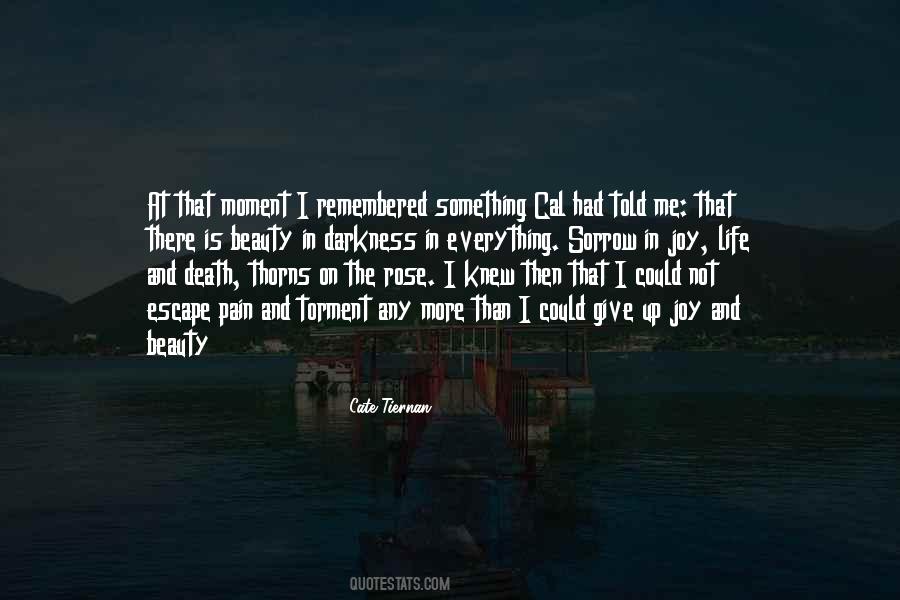 #52. I don't remember the moment I knew I was broken ... but I do recall when I started to understand that it might be okay. It was the moment I fell in love with the boy with the green eyes. - Author: John Goode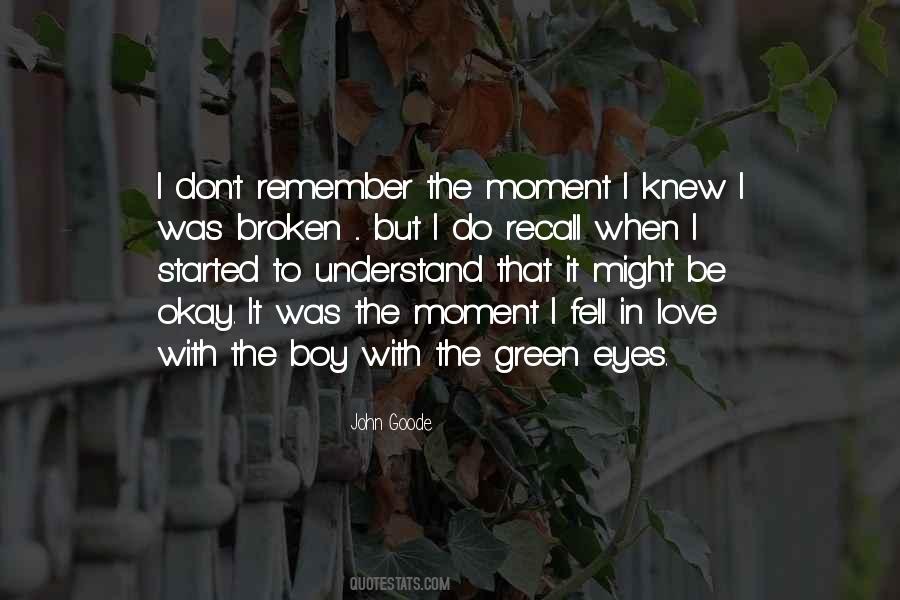 #53. I cannot say for certain if there is such a thing as love at first sight, but I do know that the moment I first glimpsed Winnie Nomzamo, I knew that I wanted to have her as my wife. - Author: Nelson Mandela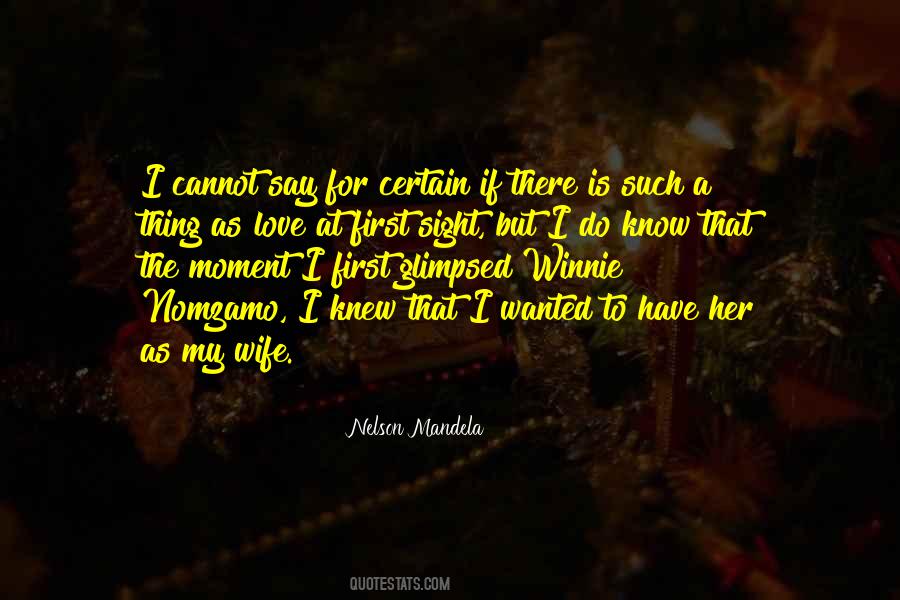 #54. I knew from combat that casualties are the victims of a process, not of anger nor of hate or cruelty. And I believe that in the moment of acceptance, between winner and loser, between killer and killed, there is love. - Author: John Steinbeck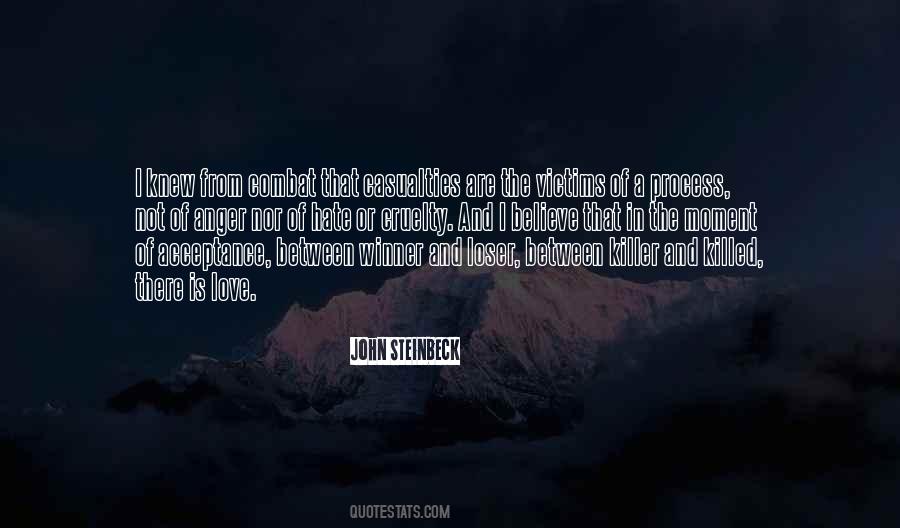 #55. When I was a small boy, 10, 11, 12, probably somewhere around there, when I first heard a blues song on the radio, it was a jolt of electricity. It grabbed me by the throat, it made me shiver. And I knew from that moment that this was for me and this would be with me for the rest of my life. - Author: Hugh Laurie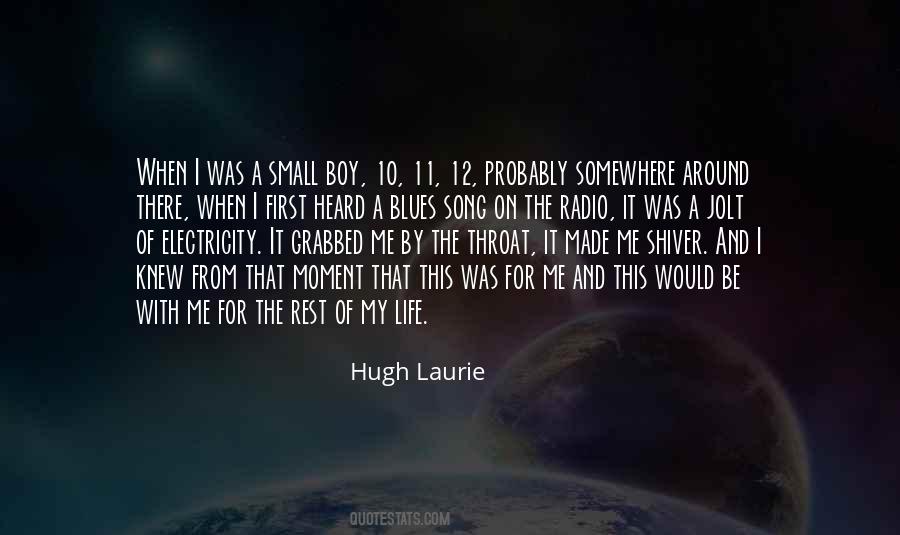 #56. He knew that his wings could ignite at any moment, but the closer he came to touching the fire, the more he sensed that he was fulfilling his destiny. As he put it in his journal that night: If I mean to save my life, then I have to come within an inch of destroying it. - Author: Paul Auster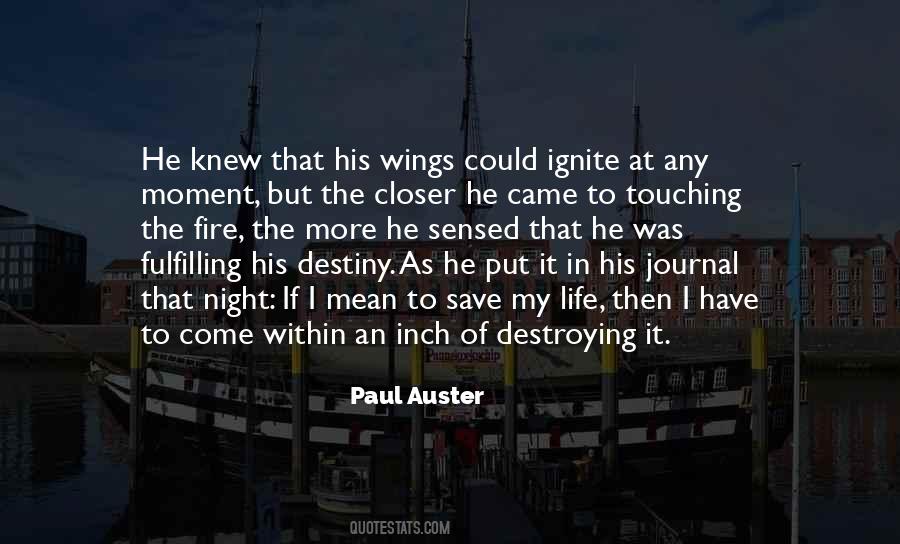 #57. The moment our lips met, I knew with pure and piercing certainty that I would have waited for him forever. - Author: Leigh Bardugo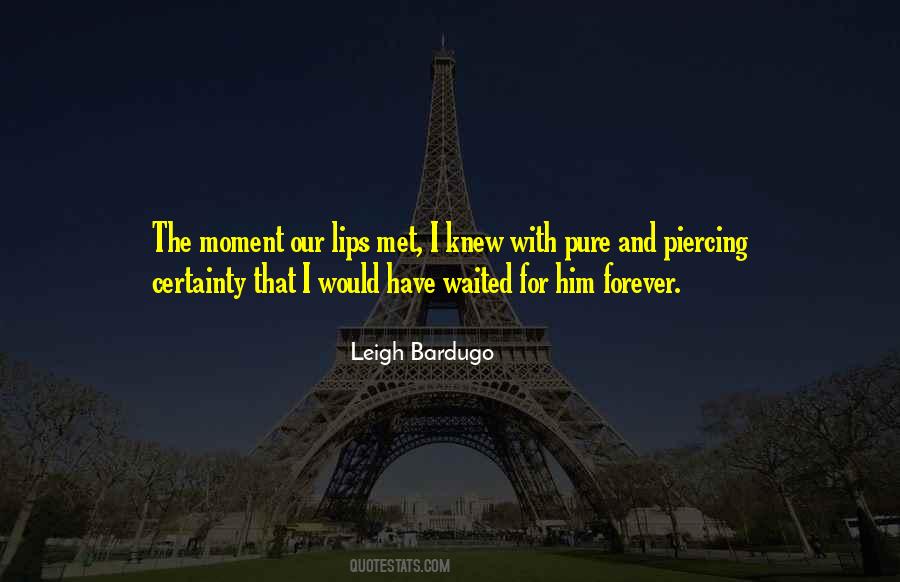 #58. I knew from the first moment I picked up a camera, on my first school assignment, what I wanted to do for the rest of my life. I was going to find a way to travel the world and tell the stories of the people I met through photographs. - Author: Mary Ellen Mark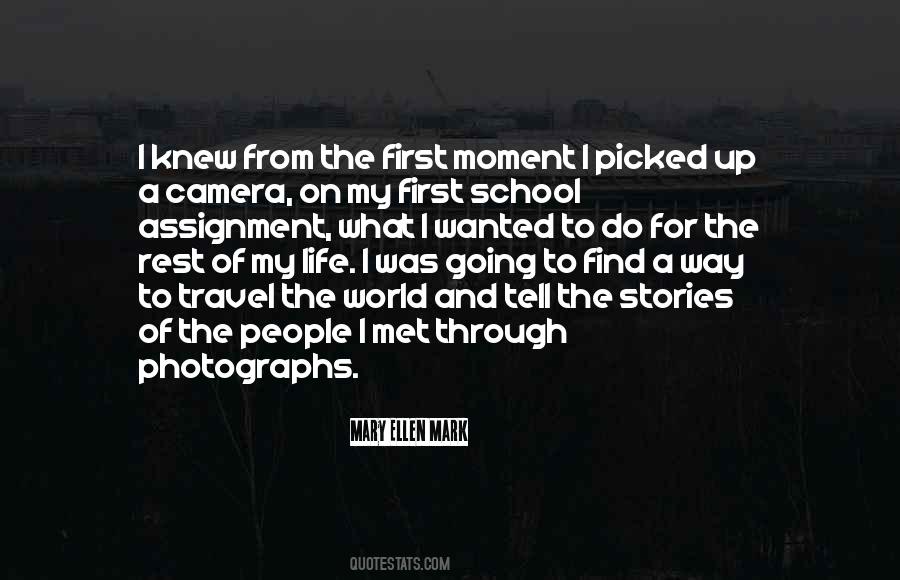 #59. I'll keep you safe, because the moment I saw you I knew you'd be mine. - Author: Jenika Snow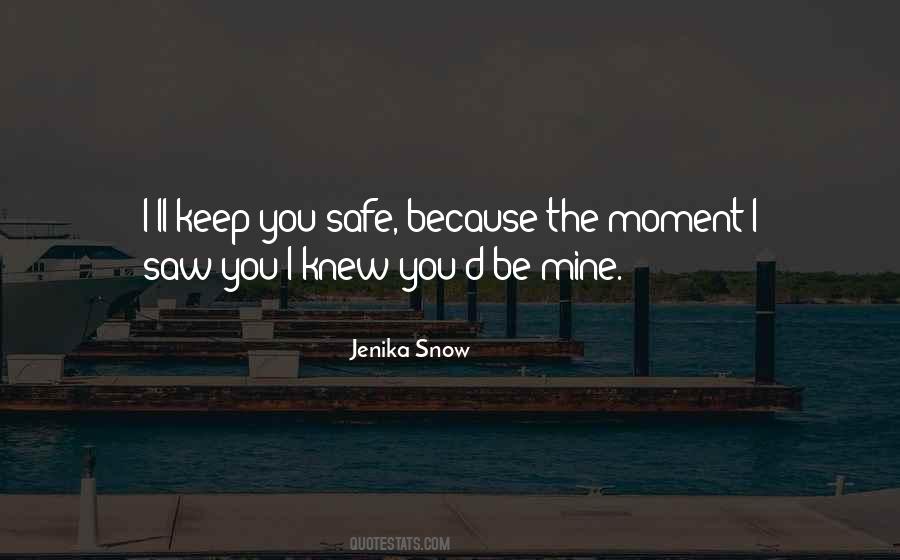 #60. DJ Tiesto was my first inspiration. I heard him play at the Olympics in 2004 and from that moment on I knew I wanted to make music and become a DJ. I made a bootleg of a track by Enrique Iglesias called Tonight. - Author: Martin Garrix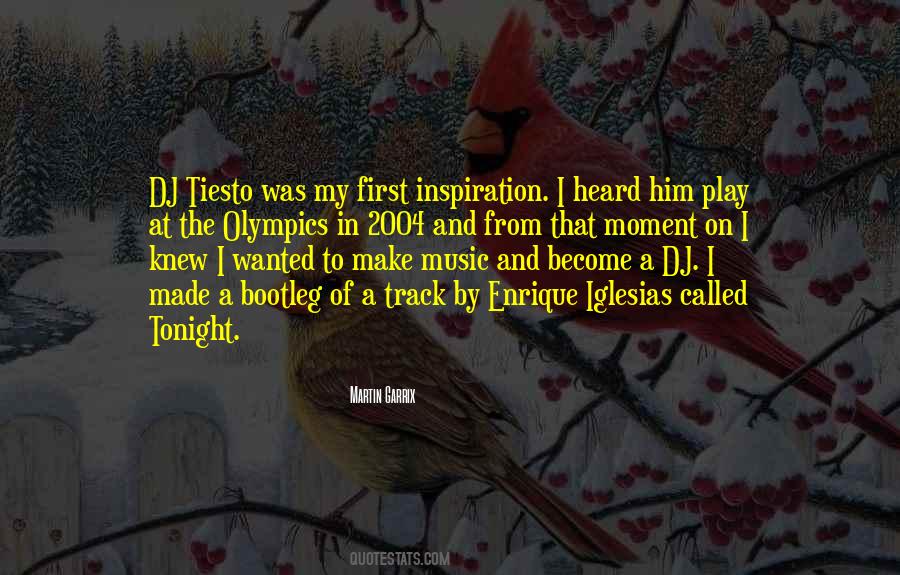 #61. This is what I knew: I was trapped in my body, in that bed, at that moment. But even as I looked out through the windows of my eyes, through the bars of my prison, I knew I wouldn't be trapped forever. - Author: Michelle Hodkin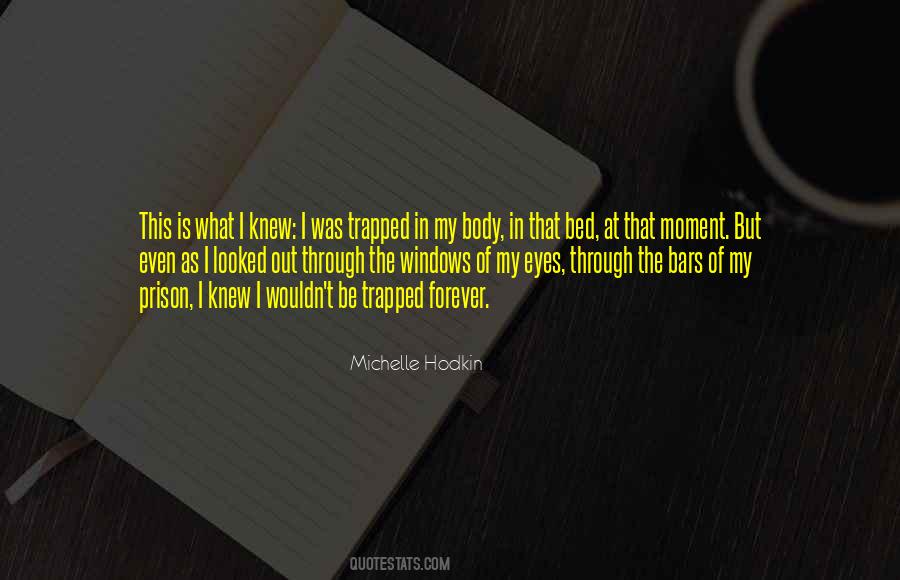 #62. I dropped my eyes, kneading the dying flesh of his feet between my fingers. For a moment, I felt afraid, as if accepting his words would somehow betray my own father. But when I looked up, I saw Morrie smiling through tears and I knew there was no betrayal in a moment like this. All - Author: Mitch Albom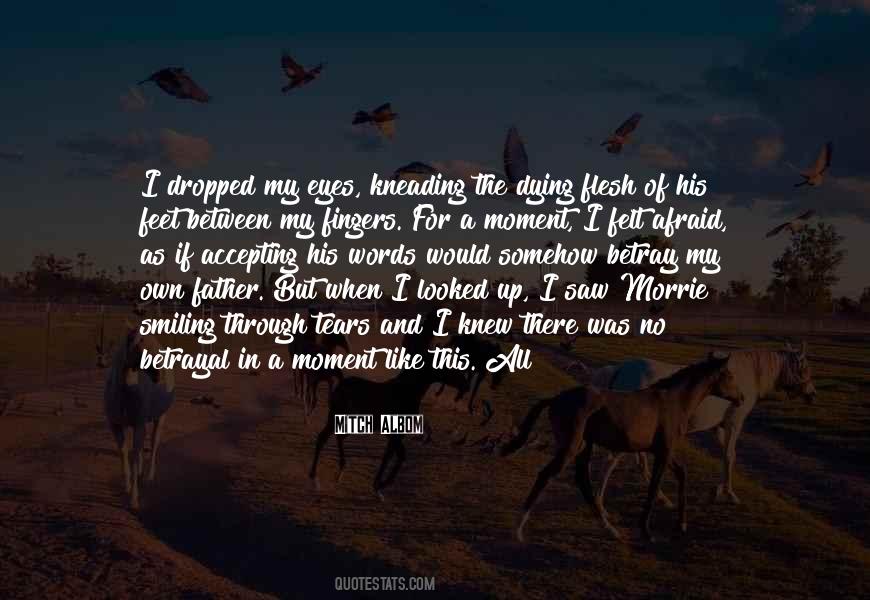 #63. At that moment, I knew she was the girl for me. Of course, we'd already been going out for a few weeks, so I wasn't, like, shocked or anything. But still, it's never not nice to to keep realizing. - Author: Rob Sheffield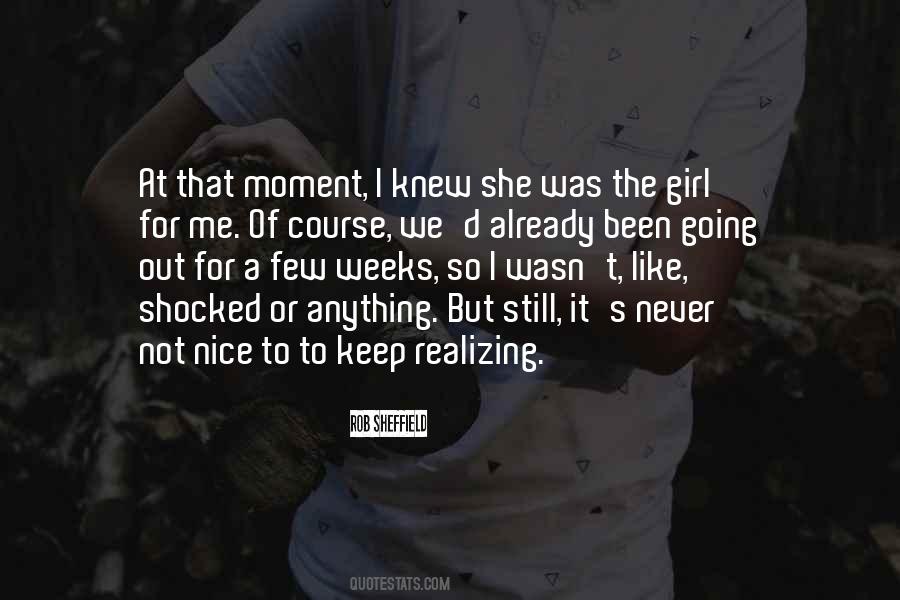 #64. I'm always fine," Andi snapped. But she knew that Lira sensed the lie the moment it left her lips. She sighed. "I'm just in shock. Seeing Dex again after I thought her was gone for good... I stuck a knife through him, Lira. And now he's come back to haunt me. - Author: Sasha Alsberg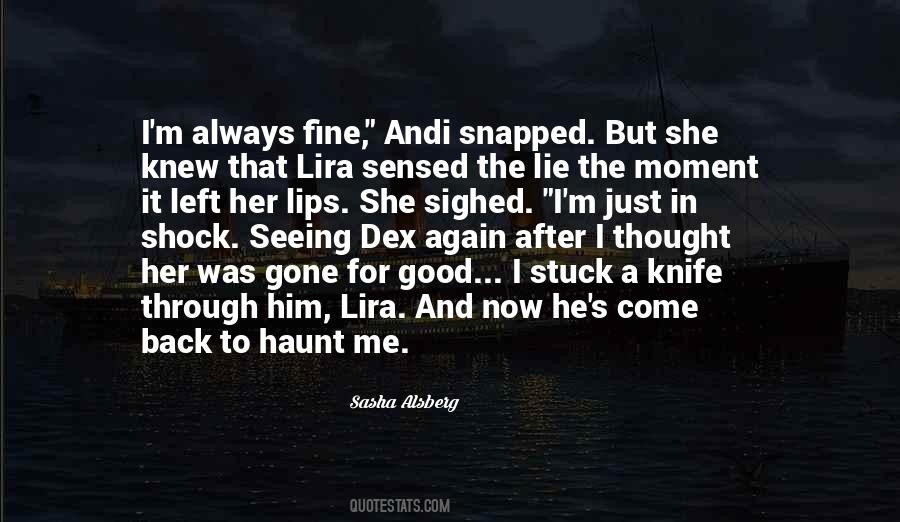 #65. I knew from the first moment I saw him that I'd never turn down anything this guy asked of me. - Author: Ben Monopoli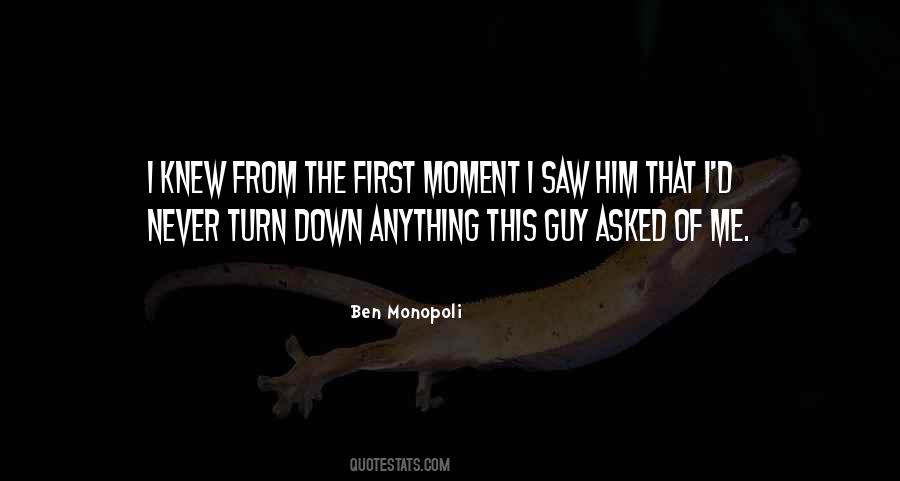 #66. He also didn't like a lock of my hair and said that he couldn't get into the moment without the hair being just right. I quietly knew that he was anxious and that the hairdo wasn't the real issue. But we all let it go and came back to the scene sometime later. - Author: Madeleine Stowe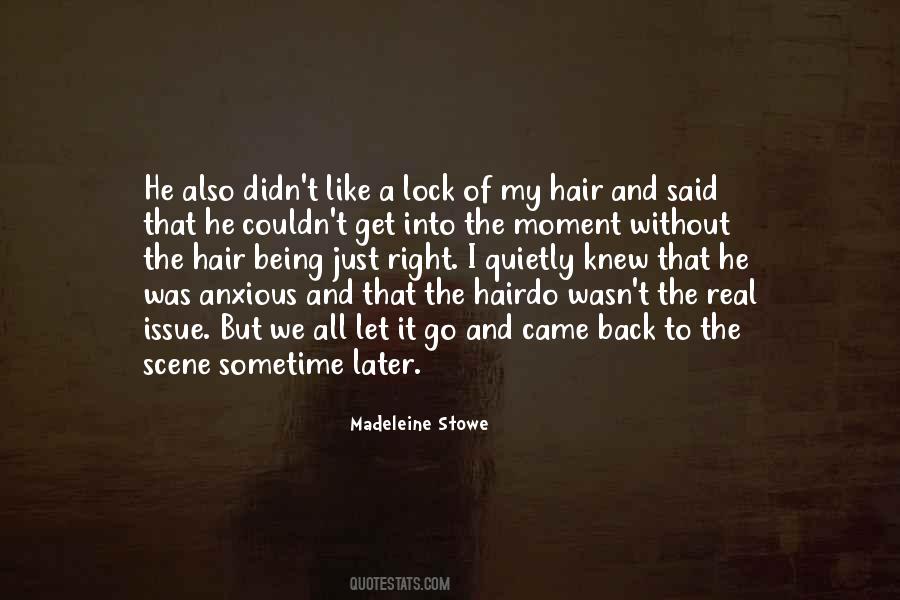 #67. From the moment I held the box of colors in my hands, I knew this was my life. I threw myself into it like a beast that plunges towards the thing it loves. - Author: Henri Matisse
#68. That was the moment I knew I'd have to do this thing alone. This thing being life. - Author: Anonymous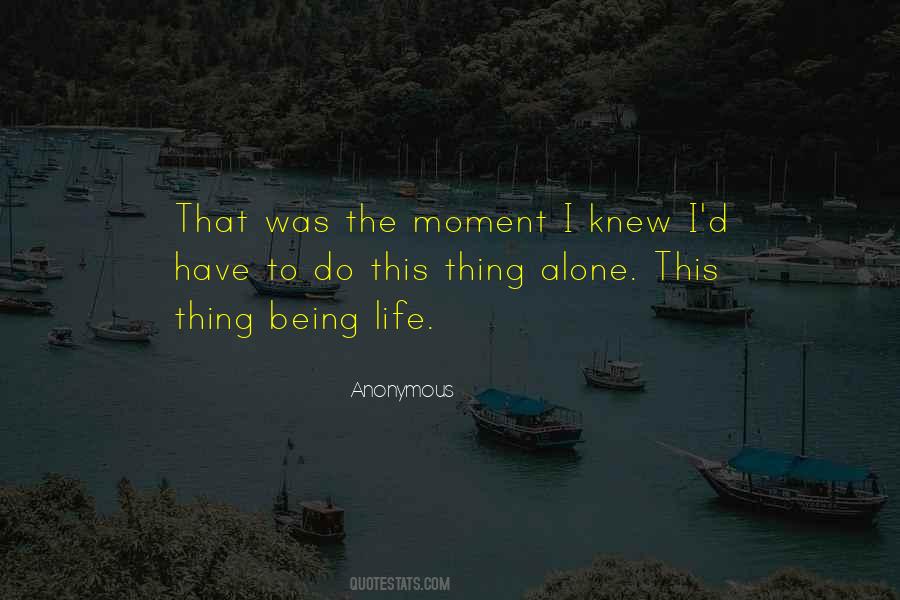 #69. The most blessed result of prayer would be to rise thinking "But I never knew before. I never dreamed ... " I suppose it was at such a moment that Thomas Aquinas said of all his own theology, "It reminds me of straw. - Author: C.S. Lewis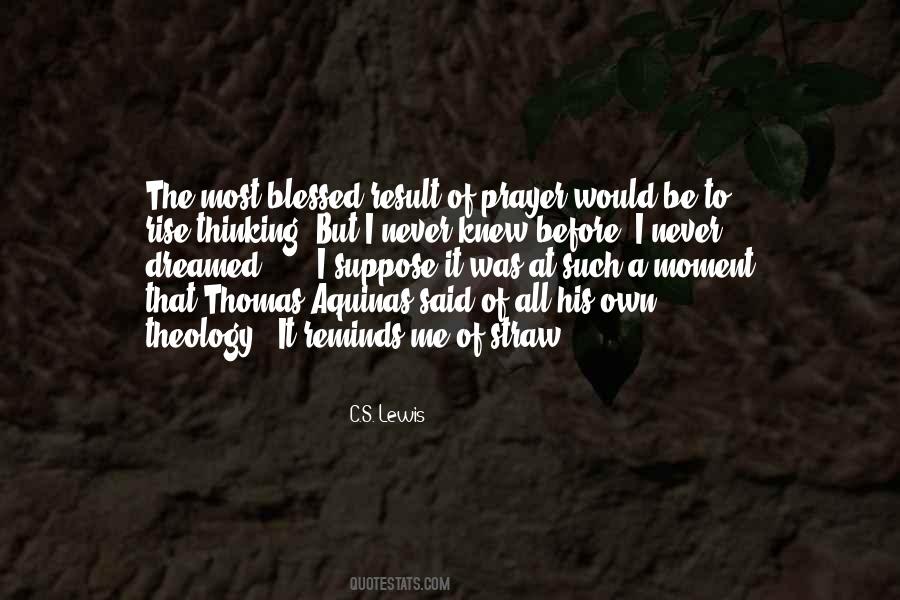 #70. Actually on the point of tears, though I knew perfectly well at that moment that all this was out of Pushkin's Silvio and Lermontov's Masquerade. - Author: Fyodor Dostoyevsky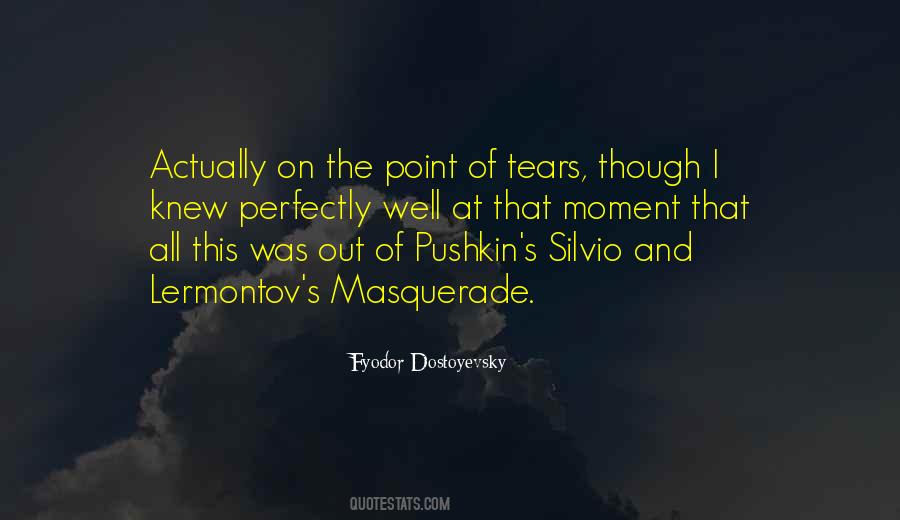 #71. Grayson. I know you think I'm full of shit, but I knew I loved him the moment we kissed.
Goddamaned it. What am I going to do? And then he stifles a sob with the last shot. - Author: John Green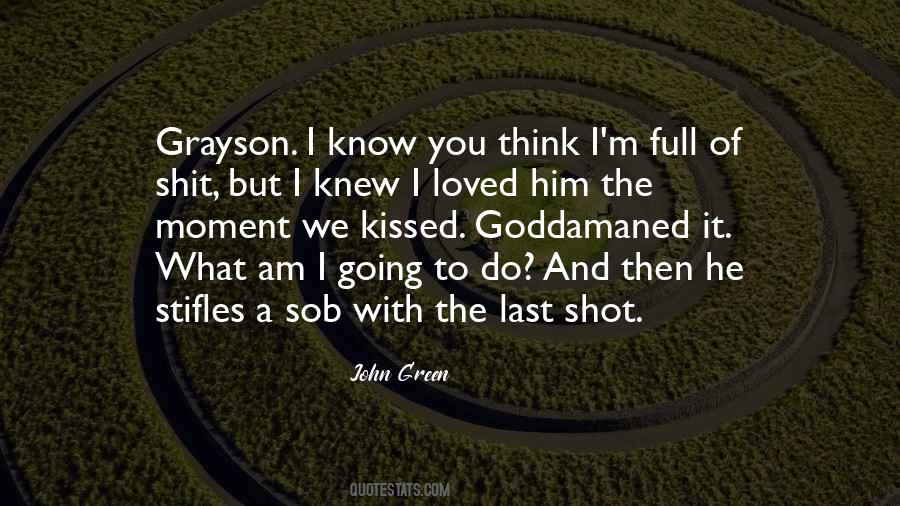 #72. In my life, looking at other women who have been pregnant while writing, I always feel like it's kind of their most musical or the closest to themselves. I think for me it's such a validating moment, you know. I always knew I wanted to have kids, and I've been making music all my life. - Author: Kelis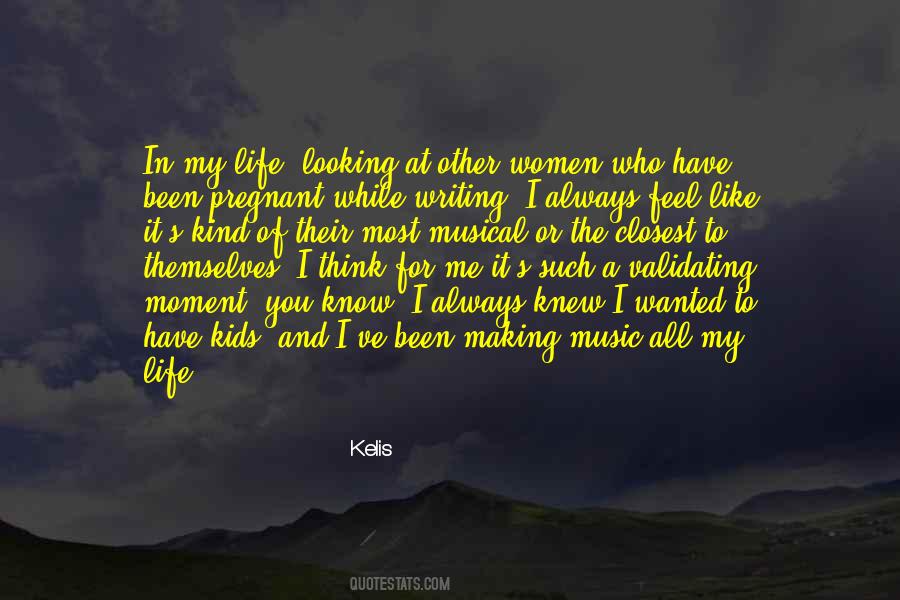 #73. I honestly think you're the most insane and infuriating woman I've ever met. I knew from the moment you gave me a tour of my own goddamn apartment that you were a special brand of psycho. - Author: Whitney G.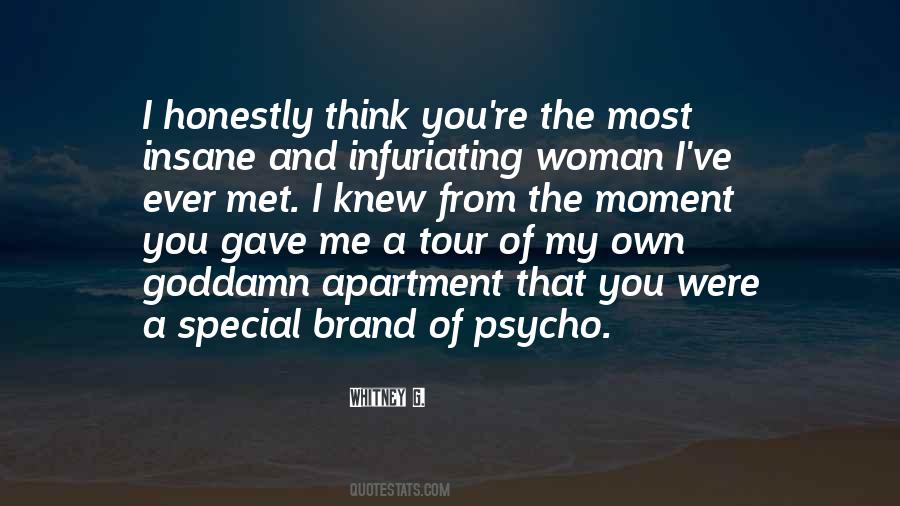 #74. Her eyes are closed when I reach the couch again. She looks so peaceful just lying there. I watch her for a moment, wishing I knew what the hell was going through her head, but I refuse to ask. I can carve pumpkins just as well as she can. - Author: Colleen Hoover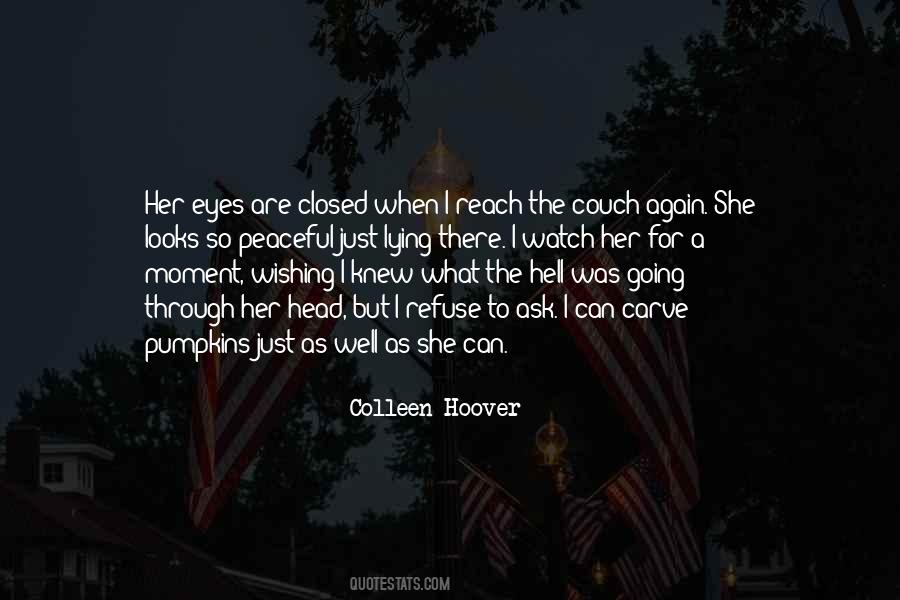 #75. The moment I saw him running toward you that morning, I knew you were going to save him, just as he saved you. - Author: Renee Ahdieh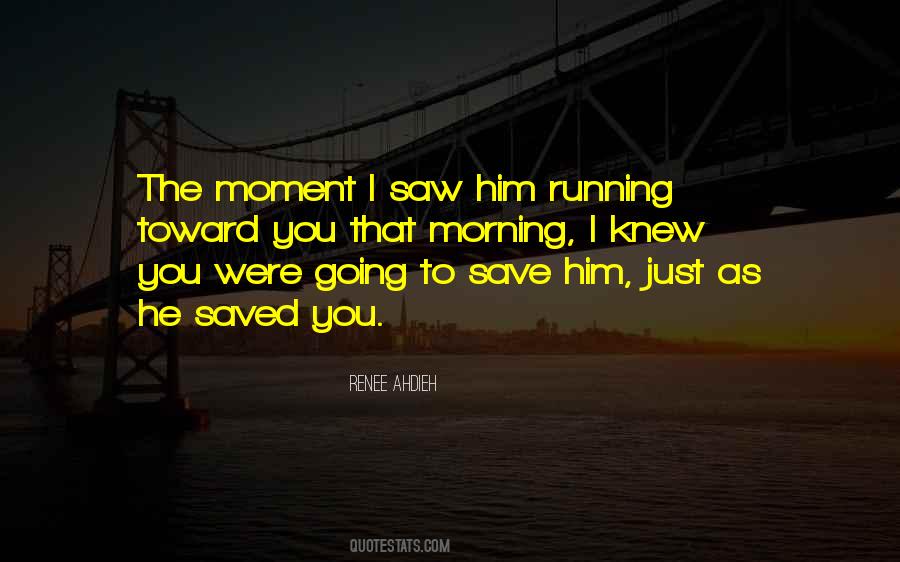 #76. I knew the moment it happened, it was a miracle. I could have been kissing her when she threw up. It would have scarred me for life. I may never have recovered. - Author: M. Night Shyamalan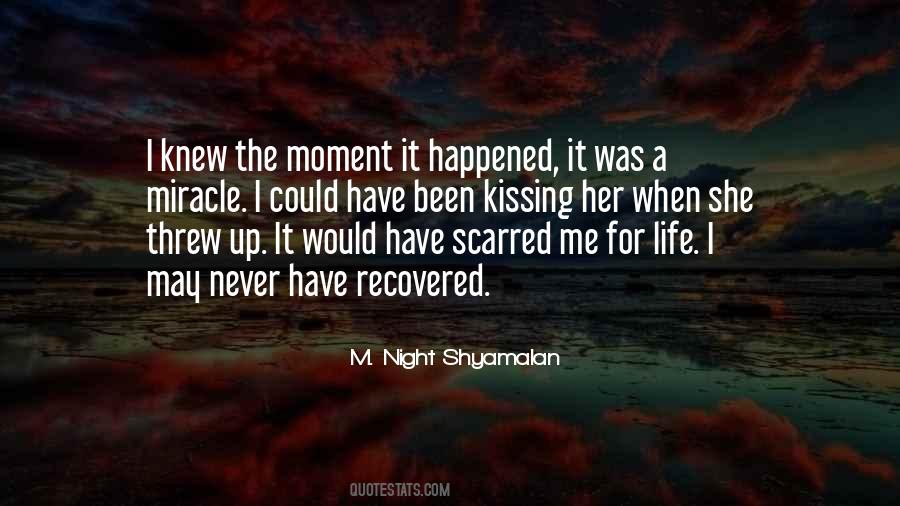 #77. But I knew the truth and that's why I was so sad. Every moment before this one depends on this one. Everything in the history of the world can be proven wrong in one moment. - Author: Jonathan Safran Foer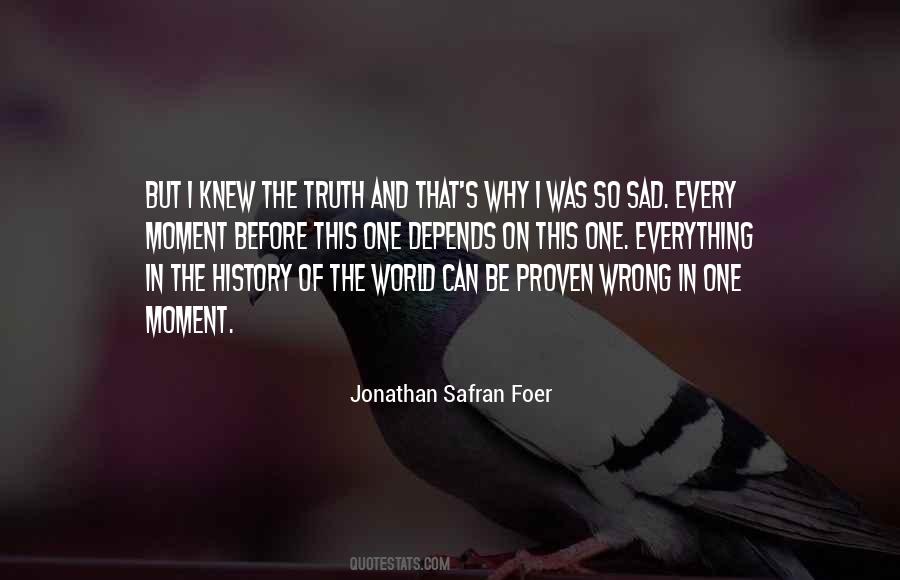 #78. I knew it to be very doubtful whether the Cabinet, Parliament, and the country would take this view on the outbreak of war, and through the whole of this week I had in view the probable contingency that we should not decide at the critical moment to support France. - Author: Edward Grey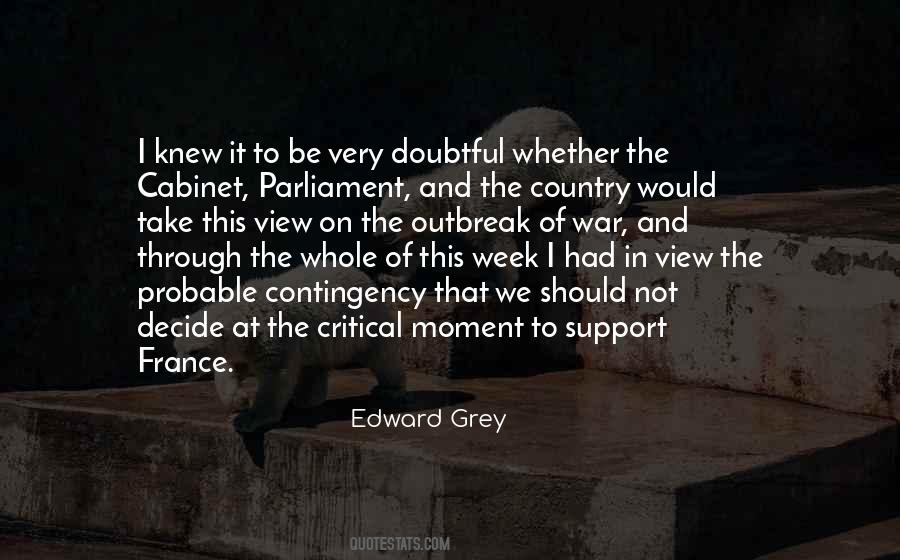 #79. The moment I met you, I knew you were different. - Author: Victoria Schwab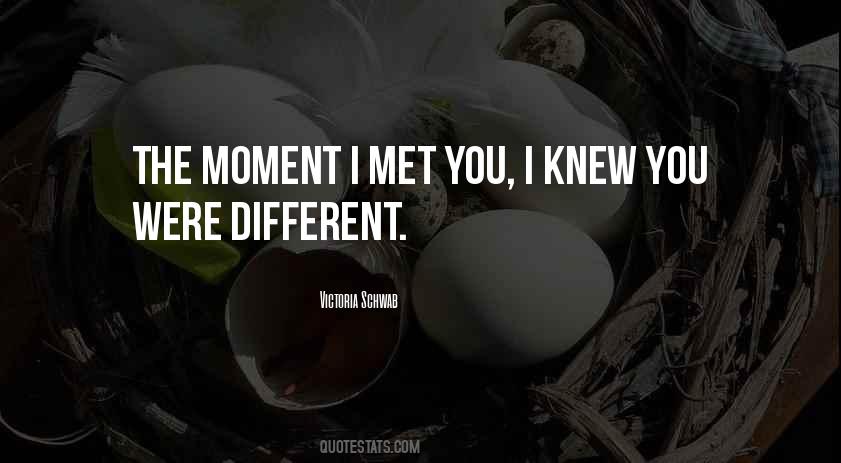 #80. I don't know if it was a defining moment. I knew it as soon as I could comprehend the possibility of having a career. I knew very young I wanted to be a movie star. As much as I grew into love of the craft. As soon as I could speak I was auditioning and going to classes every day. It was my life. - Author: Columbus Short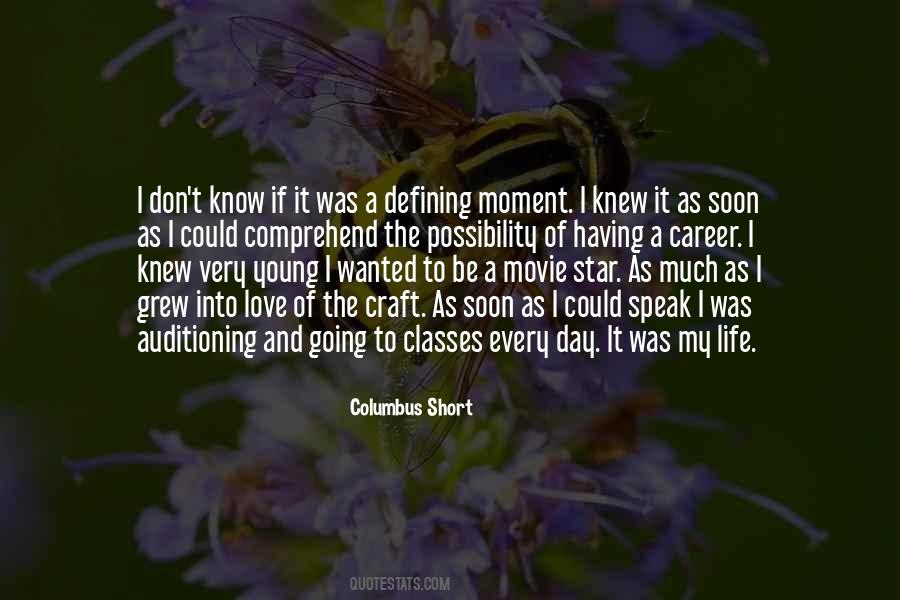 #81. I knew what she was asking, of course. I'd been asking it myself a moment before. But I wasn't sure how you went from dreams to reality without the magic leaking out - or becoming too wild and powerful. - Author: Scott Westerfeld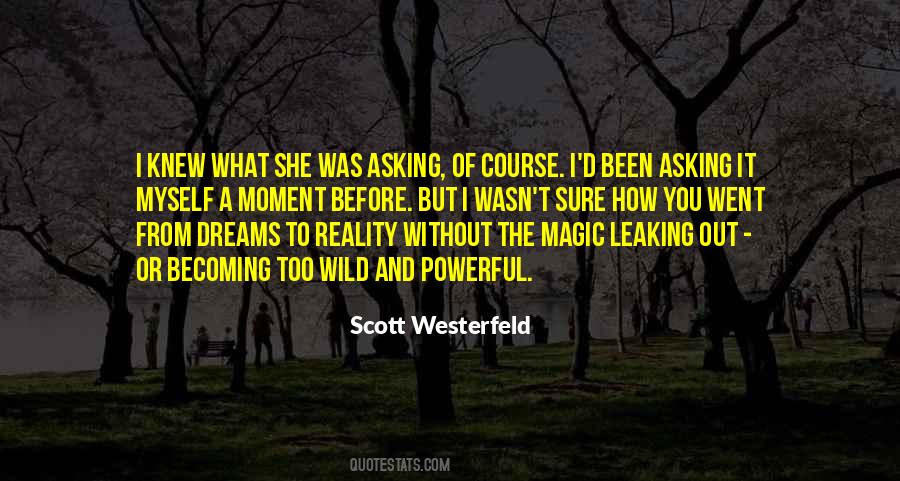 #82. However, embarrassment was quickly replaced with a completely different emotion all together when I heard him say the words that I knew I was never going to forget, "I'm going to marry that girl one day."
And in that moment ... I knew that I was falling in love. - Author: Karli Perrin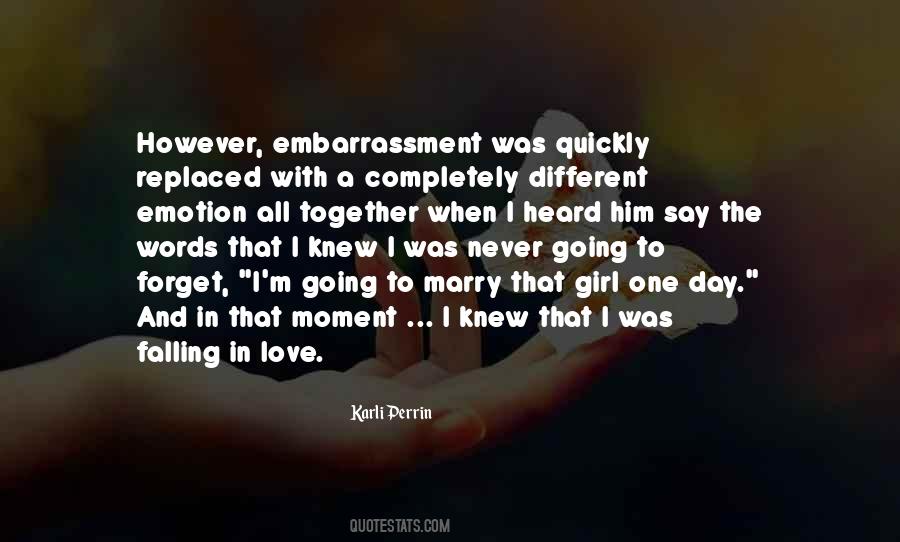 #83. Now it's different, and to me it was shockingly humble, but there with my girl in my arms and our child in her belly I knew I had reached the moment my life had been waiting for. I was going to be a father and a husband.
I spanked her bottom and cranked up the tunes. - Author: Ethan Hawke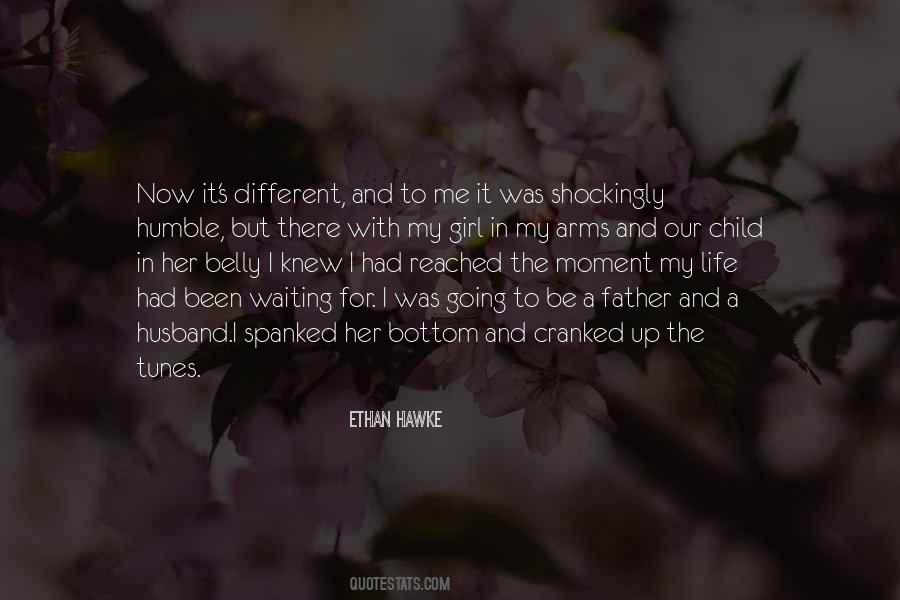 #84. For a moment, I felt as if the universe had turned upside down and we were falling softly into an enormous black bowl of stars, and I knew, beyond any doubt, that everything was going to be alright. - Author: Tana French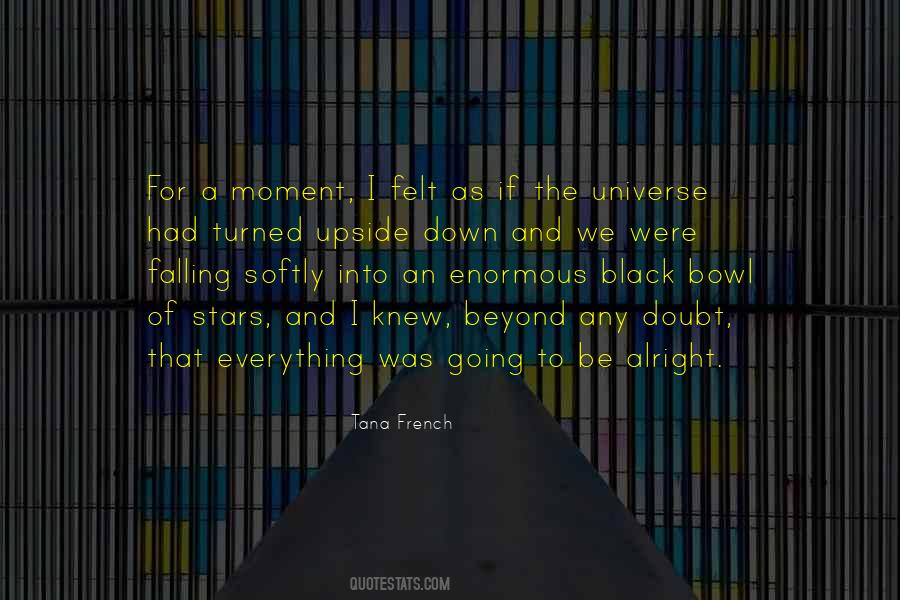 #85. For nearly two years, I was flying above the planet with my camera. I knew straight away that this was something important to do, just at this moment, a portrait of the planet for the millennium year. I worked in 80 countries, fighting for money all the time. - Author: Yann Arthus-Bertrand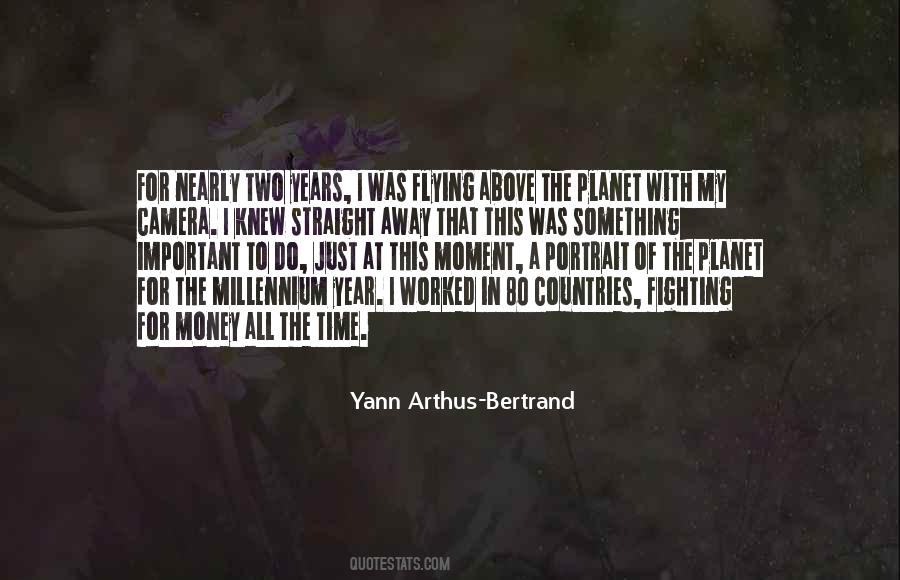 #86. The moment I said I'd finished a book, I knew what would happen. There would be a bidding war, and I would end up with someone who'd got the fattest wallet, who had bought it because I'd written Harry Potter. That would have been why. - Author: J.K. Rowling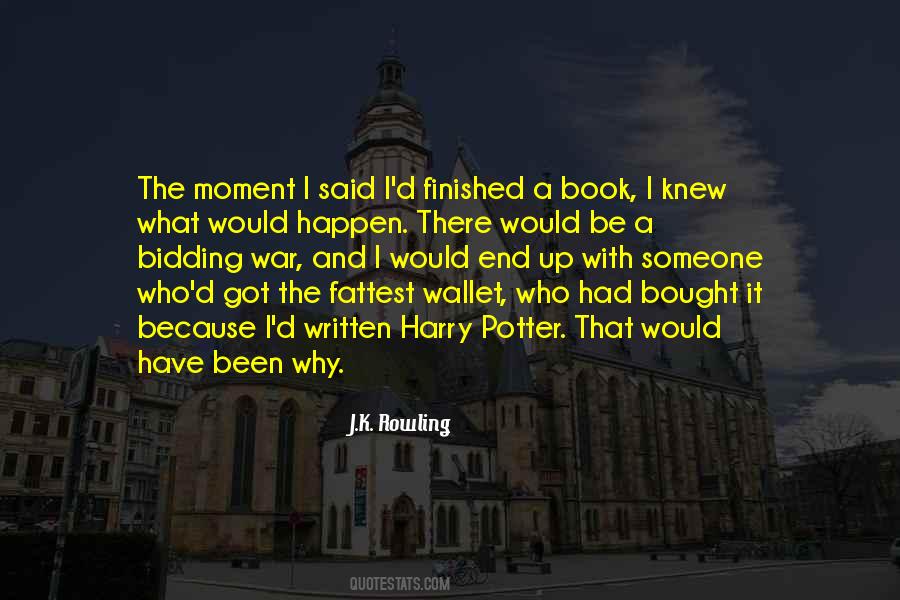 #87. I took a heavenly ride through our silence
I knew the moment had arrived
For killing the past and coming back to life. - Author: Pink Floyd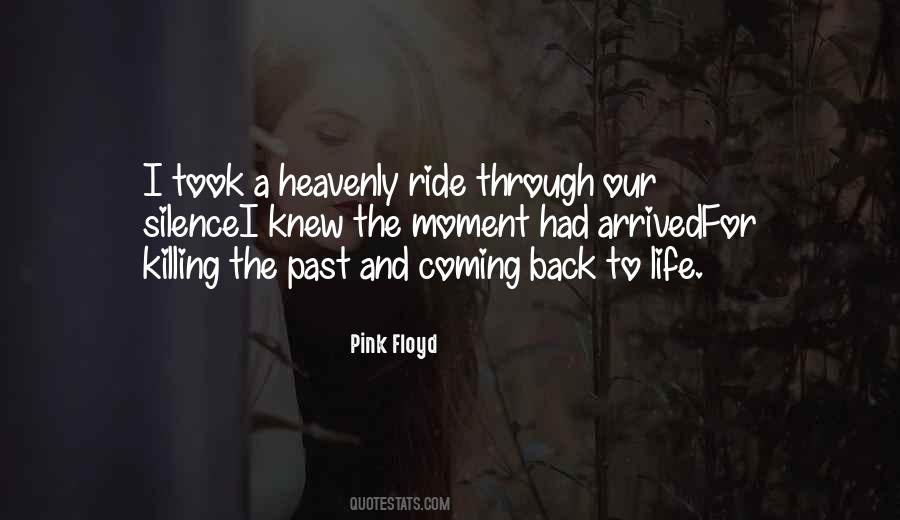 #88. The moment that I realized my name was going to be said in the same sentence as children and sex, that's really intense. That's something I knew from that very moment, whatever happens past that point, something's out there in the air that is really bad. - Author: Paul Reubens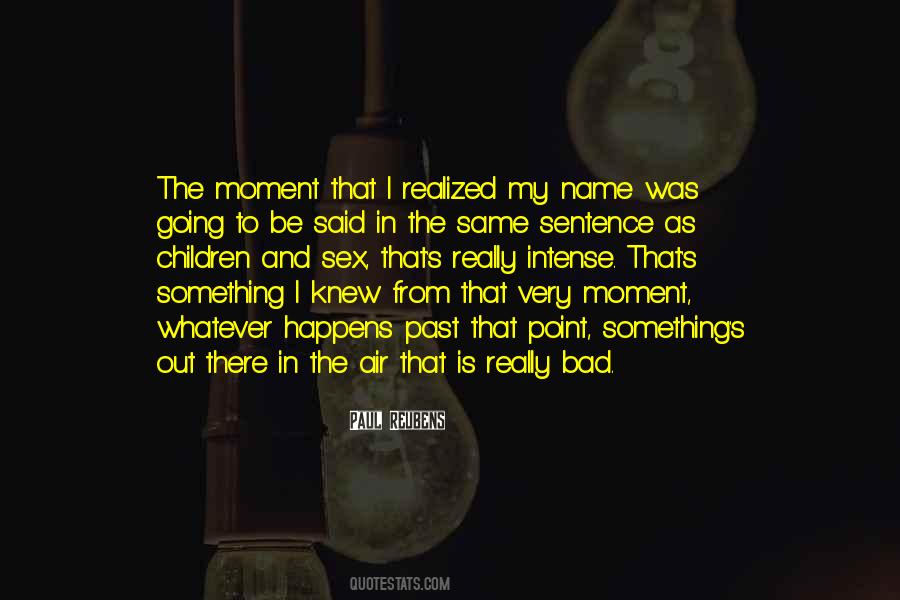 #89. Colin mustered a perfunctory leer, but his mind was obviously elsewhere. 'Do you know ... ' he began.
I knew many things, but I didn't think he needed to hear the entirety of the Prologue to the Canterbury Tales right at just this moment. - Author: Lauren Willig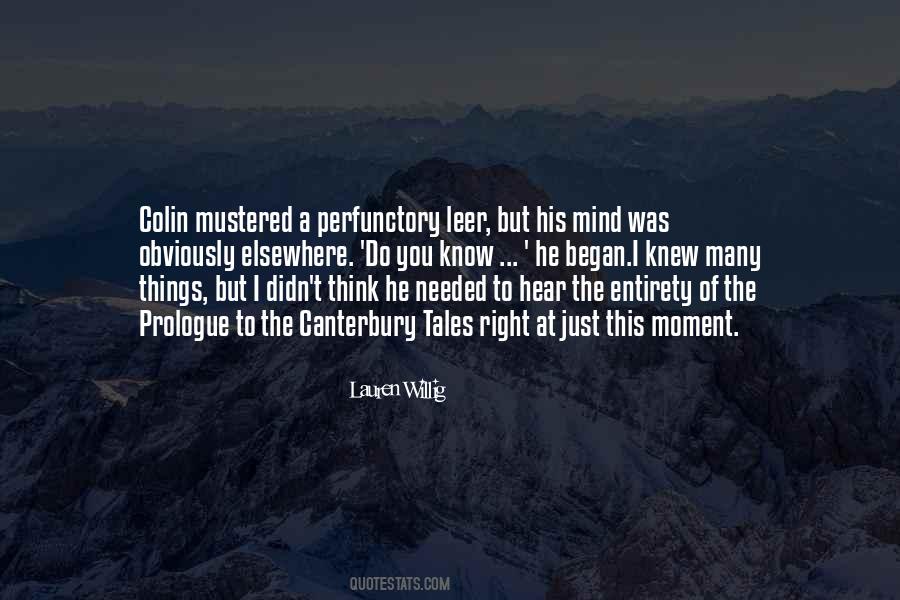 #90. This is it
what all the hoopla is about, what Wuthering Heights is about
it all boils down to this feeling rushing through me in this moment with Joe as our mouths refuse to part. Who knew all this time I was one kiss away from being Cathy and Juliet and Elizabeth Bennet and Lady Chatterley!? - Author: Jandy Nelson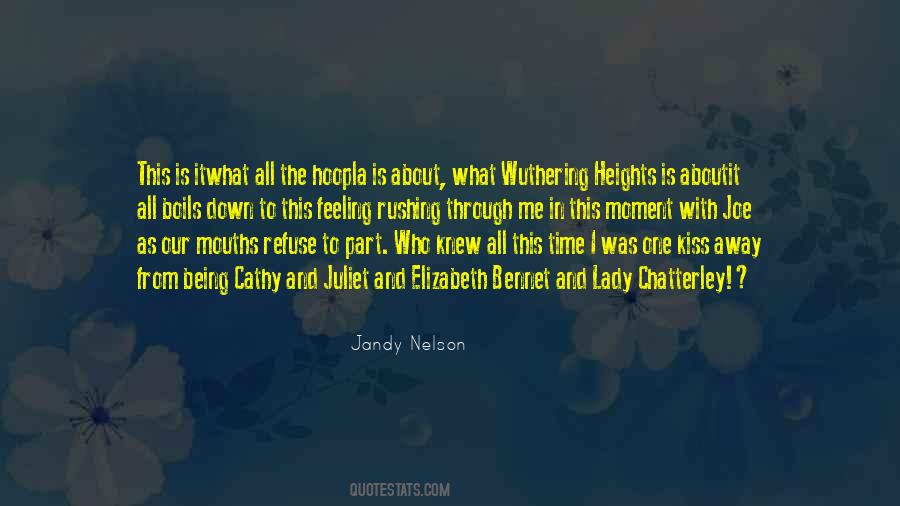 #91. Lust was a story I knew. There were many women I took to bed for the night. I yearned for them in the moment, but in the morning, any lover Id had was already claimed by the past, even if she was still calling my name. - Author: Alice Hoffman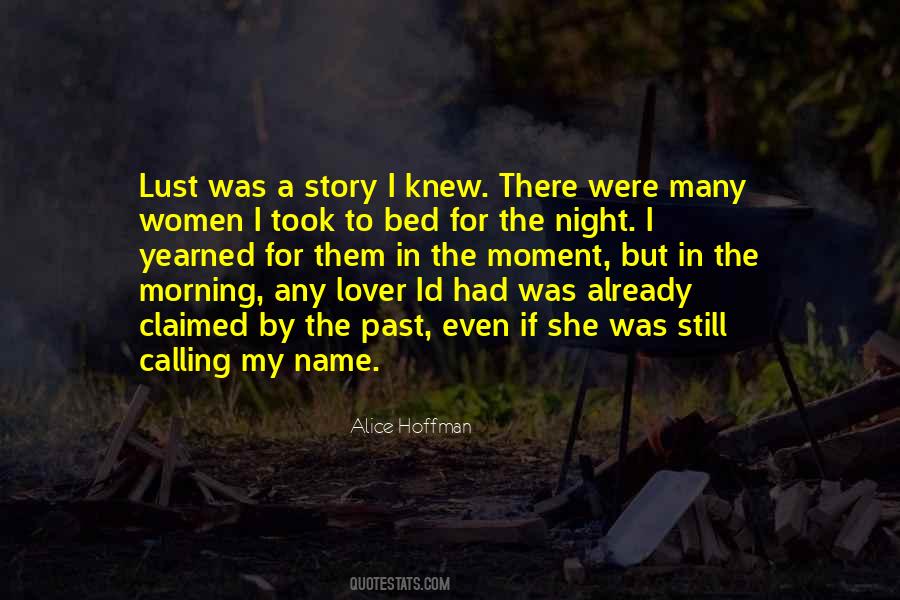 #92. If I knew I was going to die at a specific moment in the future, it would be nice to be able to control what song I was listening to; this is why I always bring my iPod on airplanes. - Author: Chuck Klosterman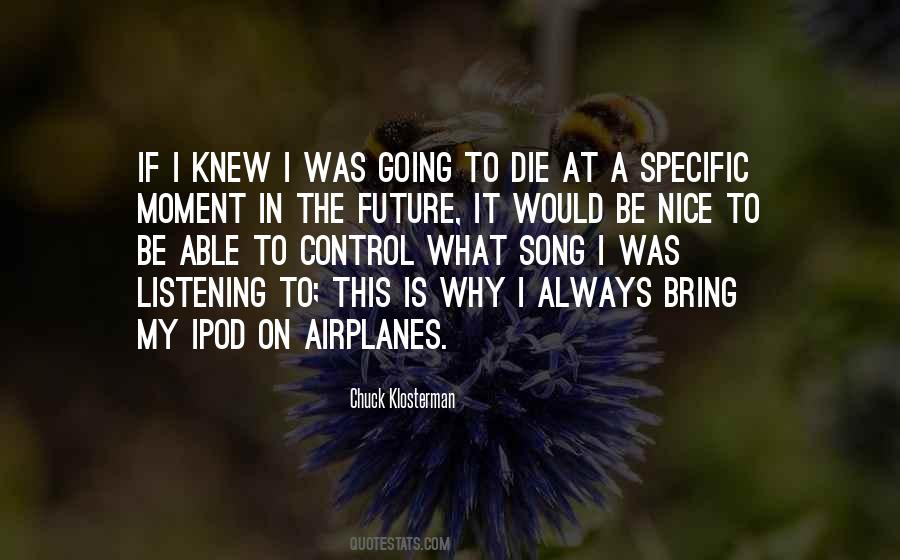 #93. It wasn't that long, and it certainly wasn't the kind of kiss you see in movies these days, but it was wonderful in its own way, and all I can remember about the moment is that when our lips touched, I knew the memory would last forever. - Author: Nicholas Sparks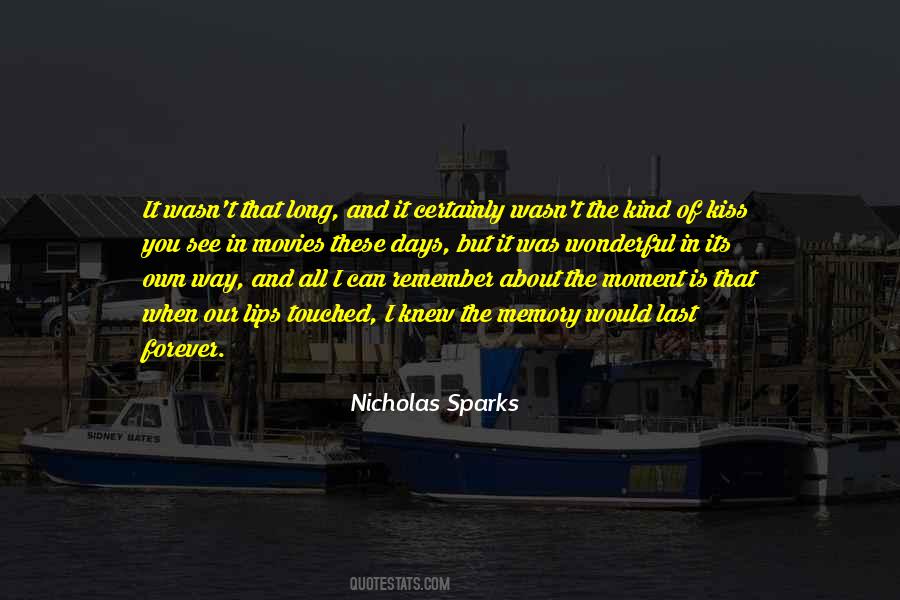 #94. Broken glass. At the moment, we were barefoot and dancing over a sea of it. But as true as that was, Mickey knew I would dance with him forever if I could, bloody feet and all. - Author: Ka Hancock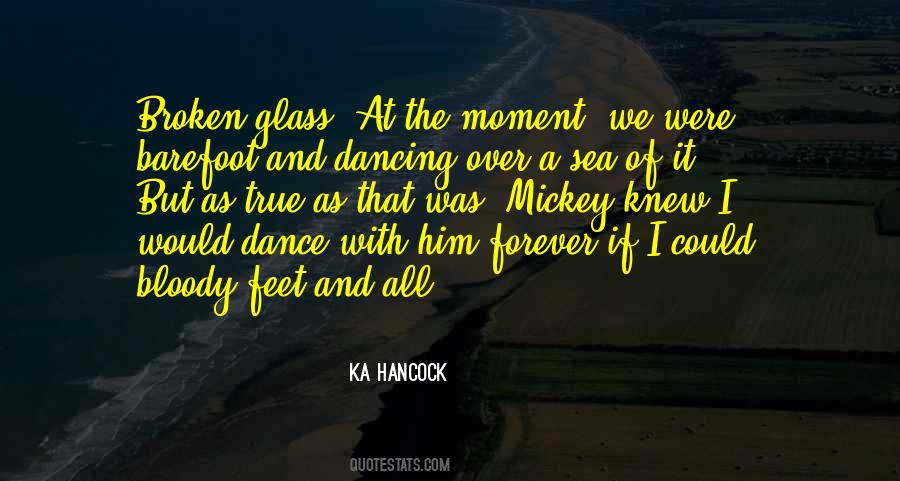 #95. I grow up relying upon on my own shoulders even from the moment they were too weak to hold me back, but I knew it is the only to become a tough guy. - Author: M.F. Moonzajer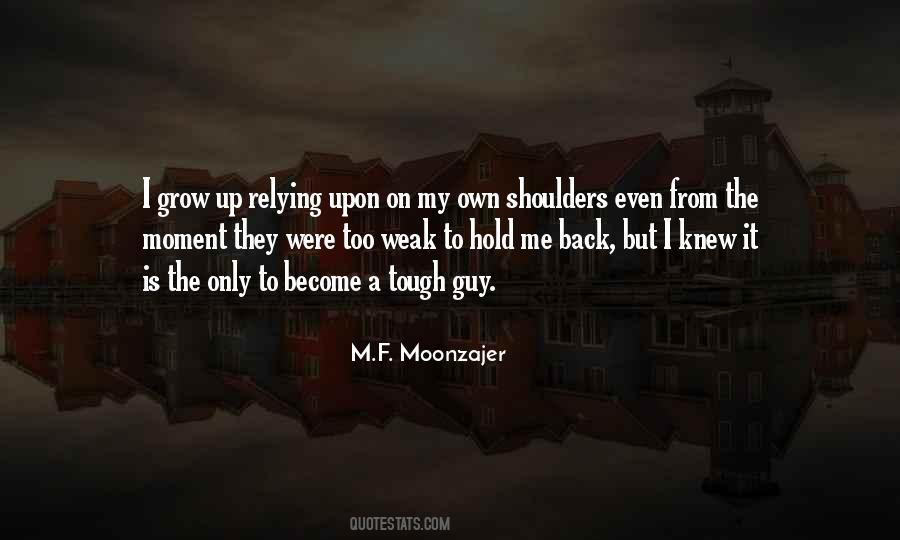 #96. Right then, and at every moment since you'd left me, all I could think about was you. I wanted you in that apartment. I wanted your arms around me, your face close to mine. I wanted your smell. And I knew I couldn't - shouldn't - have it. That's what I hated most. The uncertainty of you. - Author: Lucy Christopher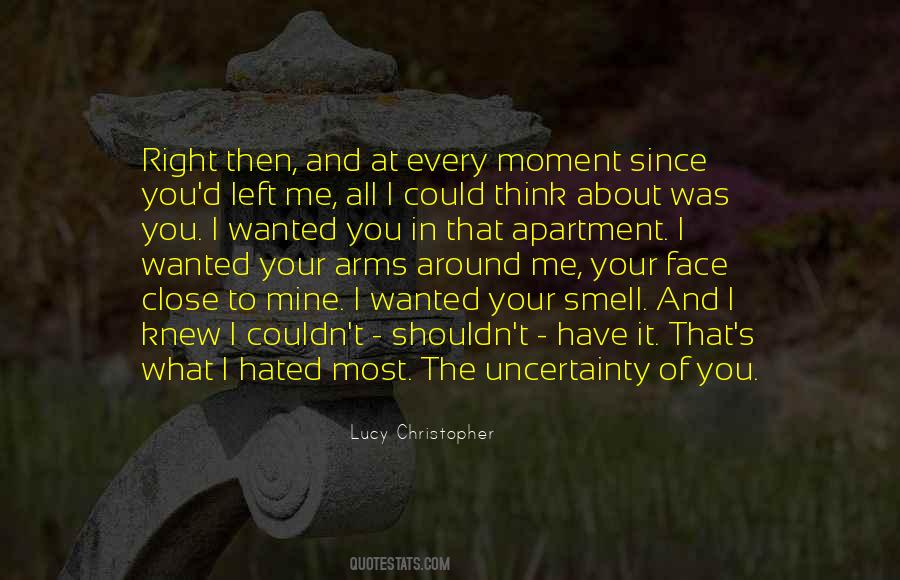 #97. You're it for me. I knew it the moment I saw you tell of the maitre d' at the restaurant. Do you understand? You're it. I love you. That sketch was of the moment I fell in love with you. - Author: Nichole Chase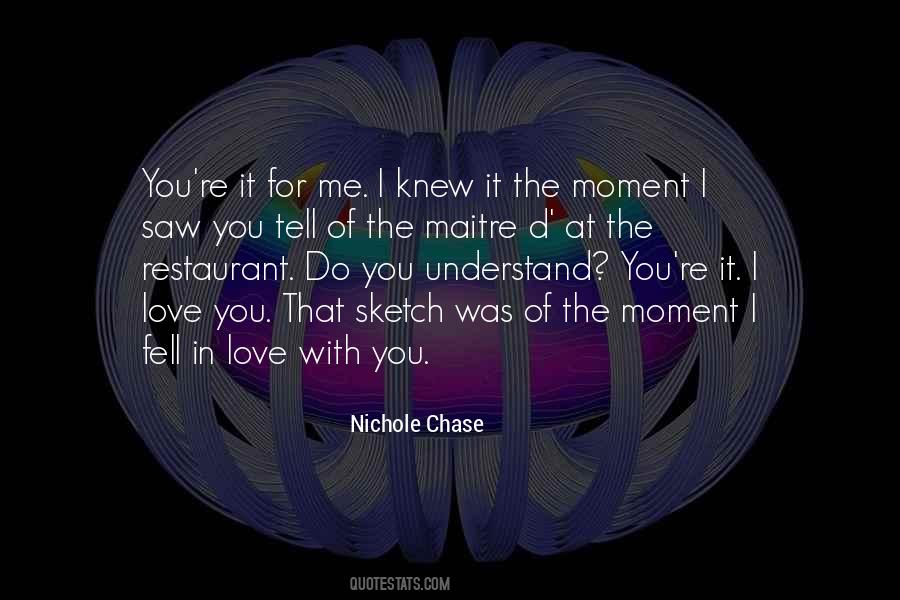 #98. Surely the LORD is in this place, and I knew it not. Jacob had never been for one small division of a moment outside the circle of that all-pervading presence. But he knew it not. - Author: A.W. Tozer
#99. The time between two seconds was immeasurable, and though I knew our moment would come to an end, it would be a limitless one. We were two halves of one being who had at last found each other and come together in this union. - Author: Nicole Williams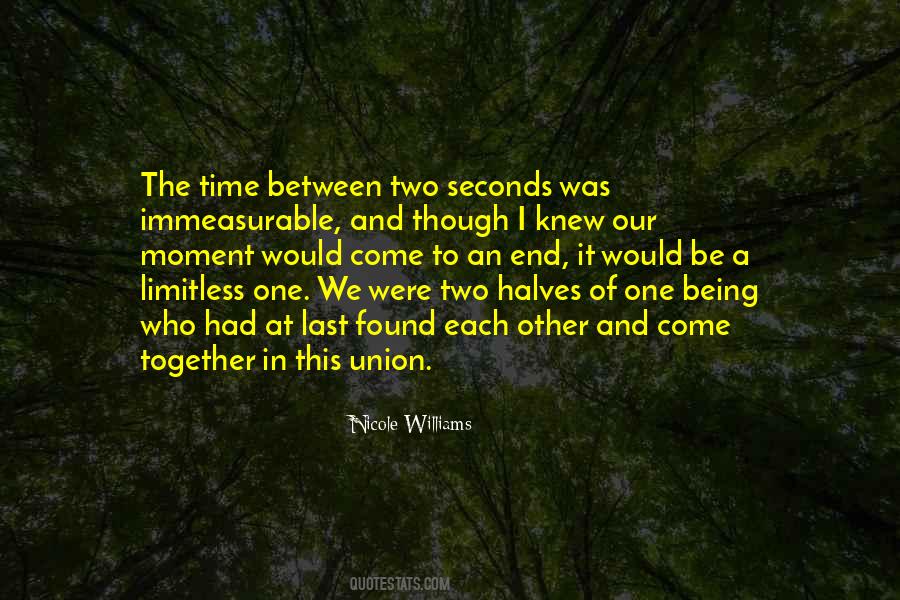 #100. From the moment I could even understand what "respect" was I knew it was not a choice but the ONLY option. - Author: Carlos Wallace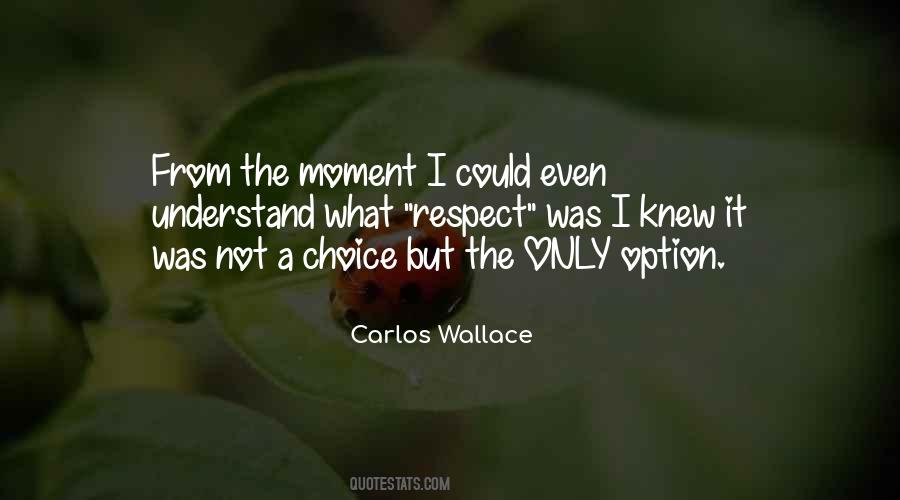 Famous Authors
Popular Topics