Takes Courage Famous Quotes & Sayings
List of top 100 famous quotes and sayings about takes courage to read and share with friends on your Facebook, Twitter, blogs.
Top 100 Takes Courage Quotes
#1. And remember it takes great courage and heart for a man who knows no kindness to show it to another. Even the wildest of beasts can be tamed by a patient and gentle hand. - Author: Sherrilyn Kenyon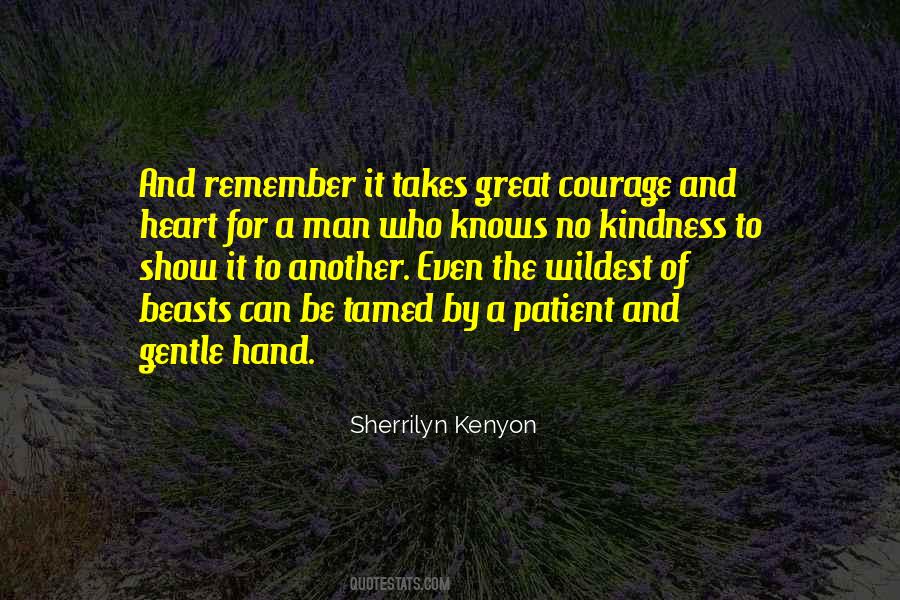 #2. I've always said it takes more courage to stand back there and throw a ball knowing you're fixing to get drilled than anything I can think of in football. - Author: Bobby Bowden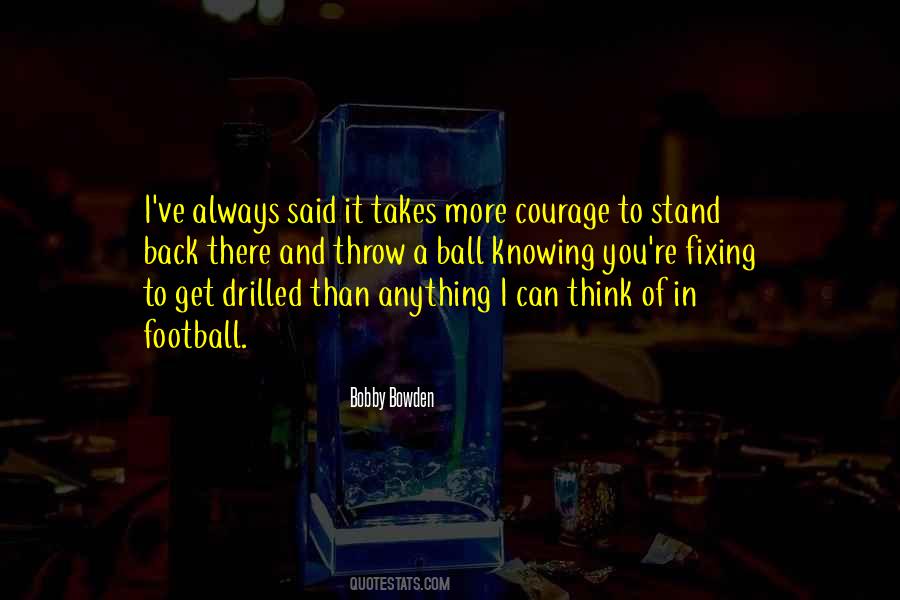 #3. I don't know what takes more courage: surviving a lifelong endurance test because you once made a promise or breaking free, disrupting all your world. - Author: Anne Tyler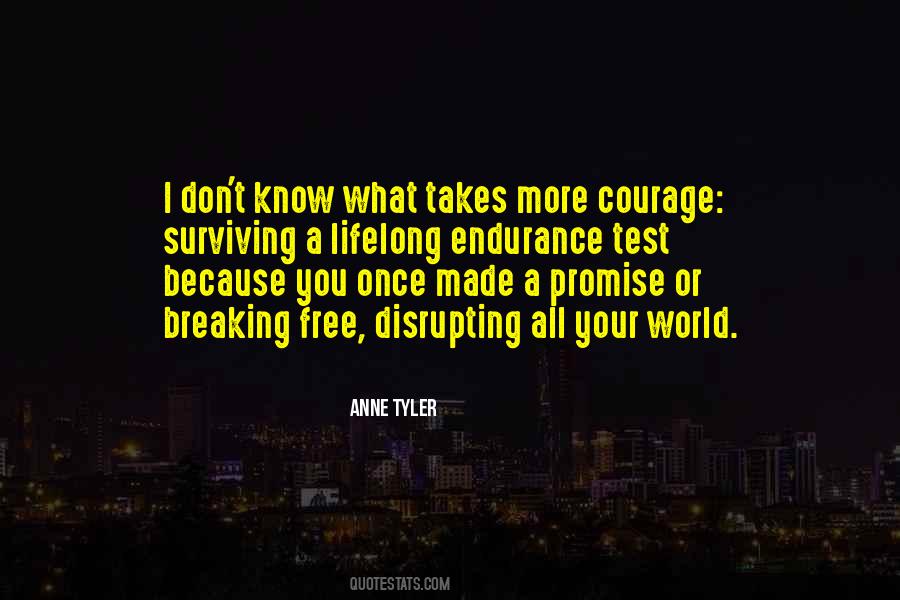 #4. It takes courage to stay young, to make your enthusiasms work for you. Don't let anyone drag you down. - Author: Ken Adam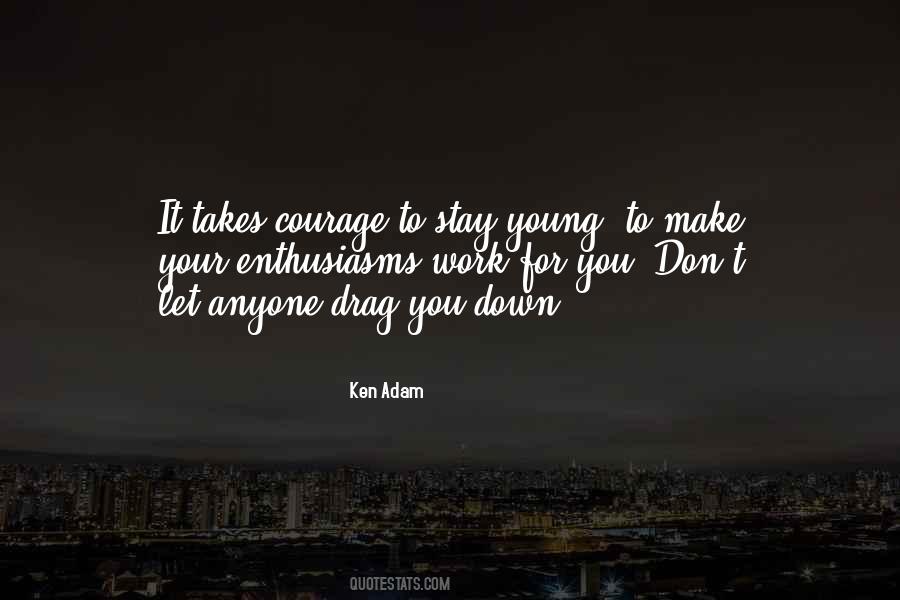 #5. At my age, people prefer to stay in a relationship that is not working. I do not understand that. I think it takes a lot of courage to separate. But it takes more energy to stay in something that is not working. - Author: Isabel Allende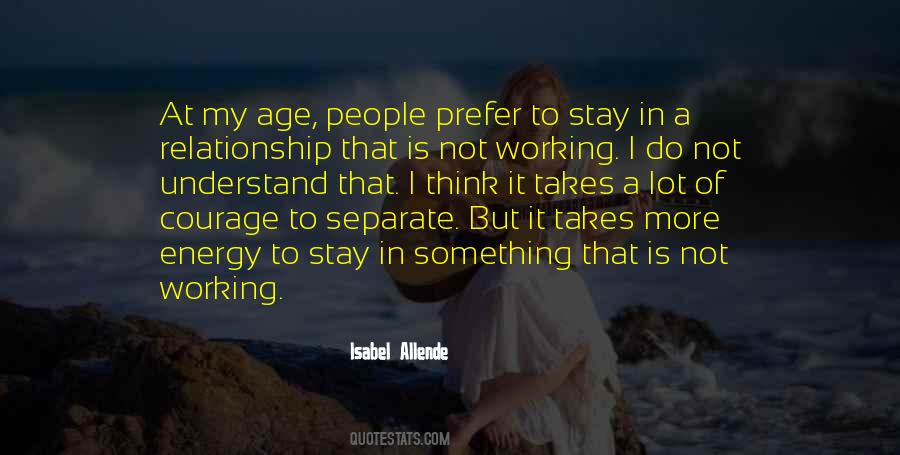 #6. Writing a song doesn't heal things. Even if the song comes up with a solution, it's still only a theory. Going out and living my lyrics is a whole other deal. That takes courage. - Author: Alanis Morissette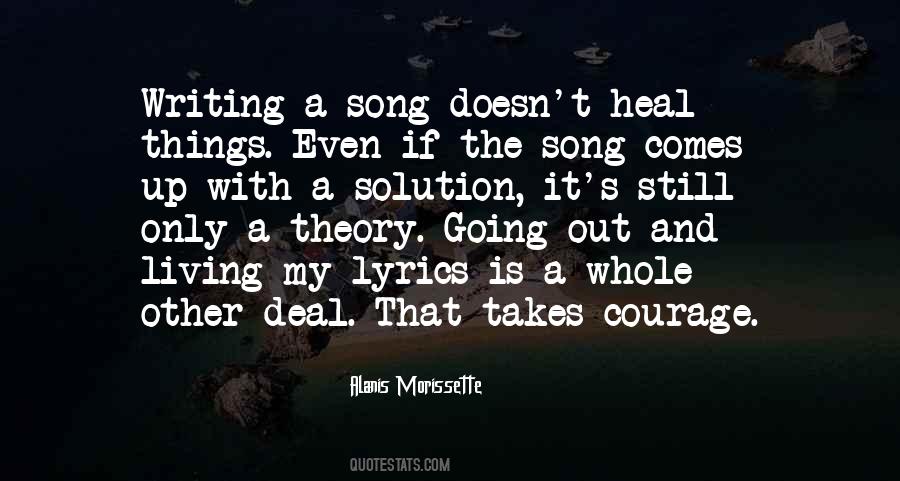 #7. Living takes courage. So does dying. - Author: Juliet Blackwell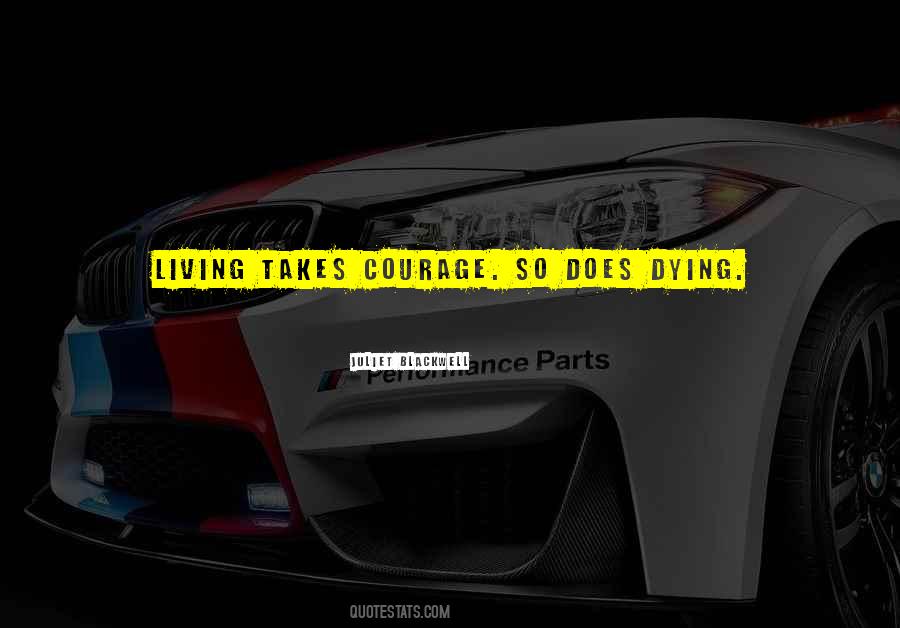 #8. When you forgive, some deeper, divine generosity takes you over ... When you cannot forgive, you are a prisoner of the hurt done to you. - Author: John O'Donohue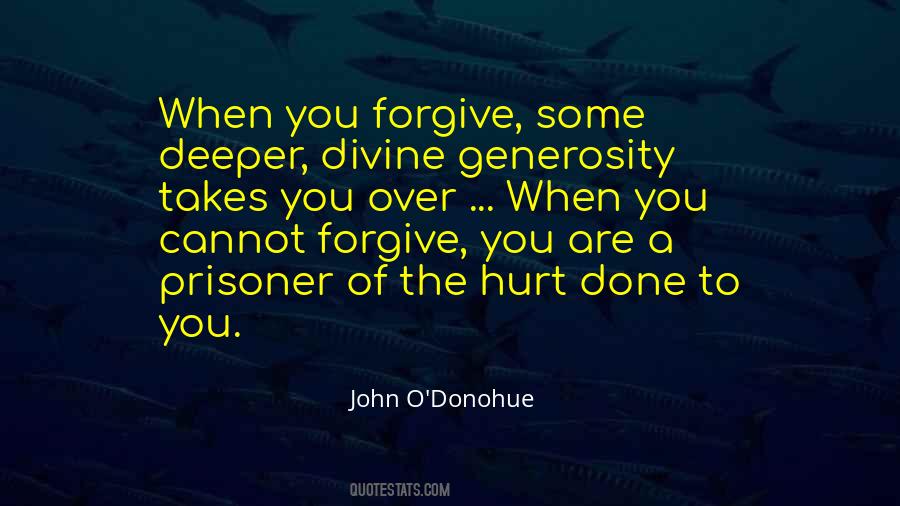 #9. It takes great courage to write great books. Find your courage and find your voice. - Author: Kristen Lamb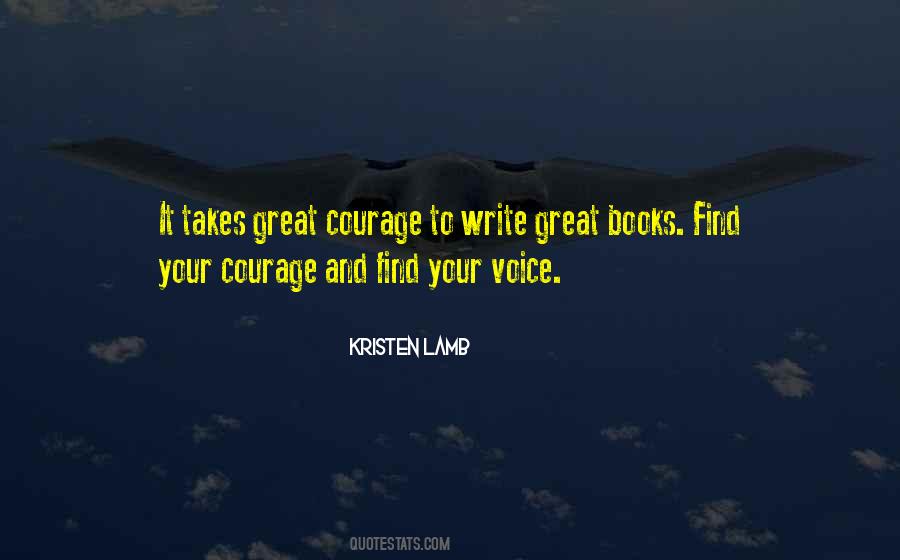 #10. In order to free ourselves from our assumptions about love, we must ask ourselves what long-held, often buried assumptions are and then face them, which takes courage, humility, and kindness. - Author: Sharon Salzberg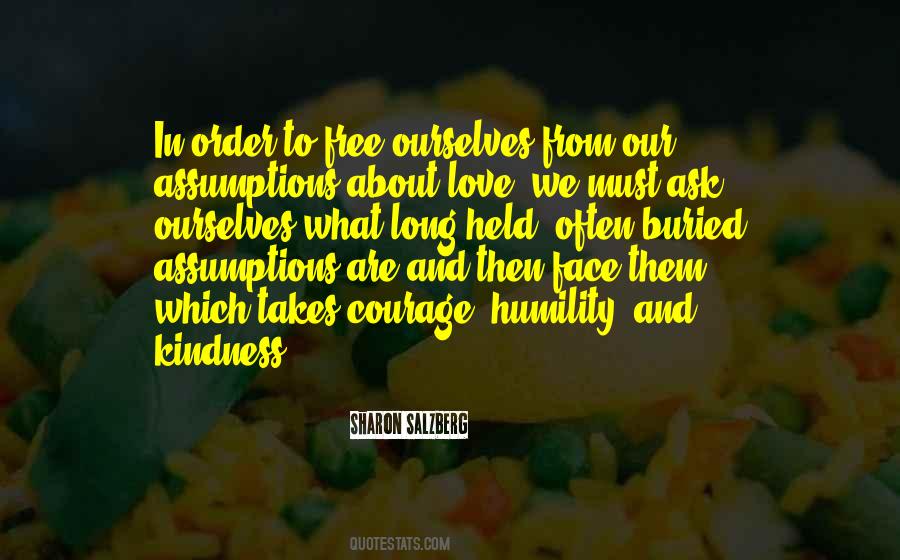 #11. It takes courage to live through suffering; and it takes honesty to observe it. - Author: C.S. Lewis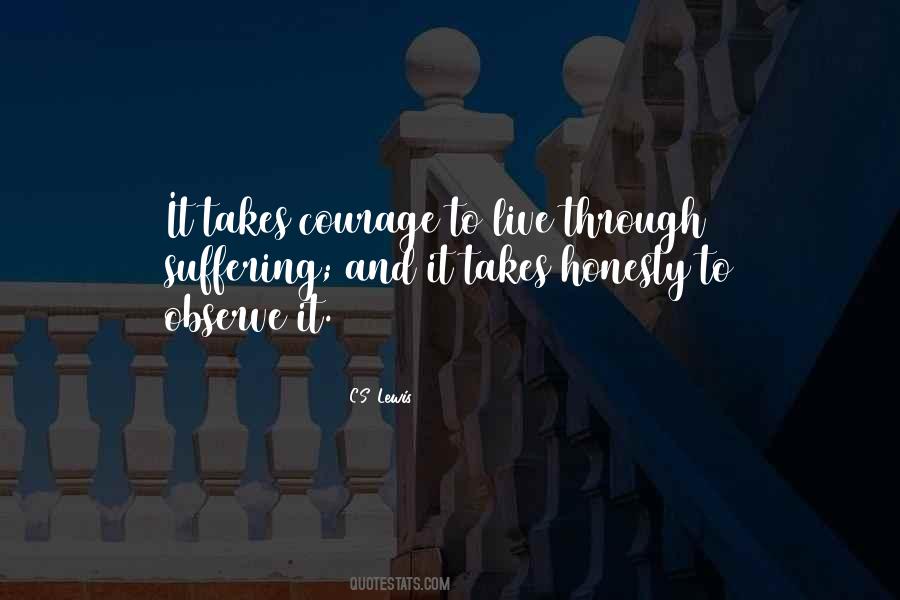 #12. Surrender is not giving up, far from it. Surrender takes an enormous amount of courage. Often we are only capable of doing so when the pain of trying to control the outcome becomes too much to bear. - Author: Bronnie Ware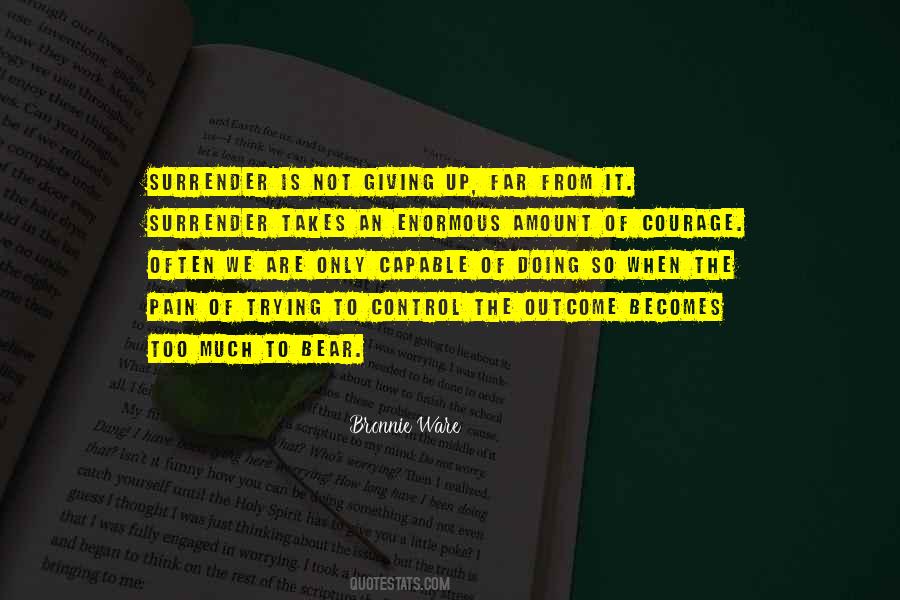 #13. You wouldn't be the first trainee to fail, you know. You won't be the last, either. It takes real courage to submit." Ashley's - Author: Claire Thompson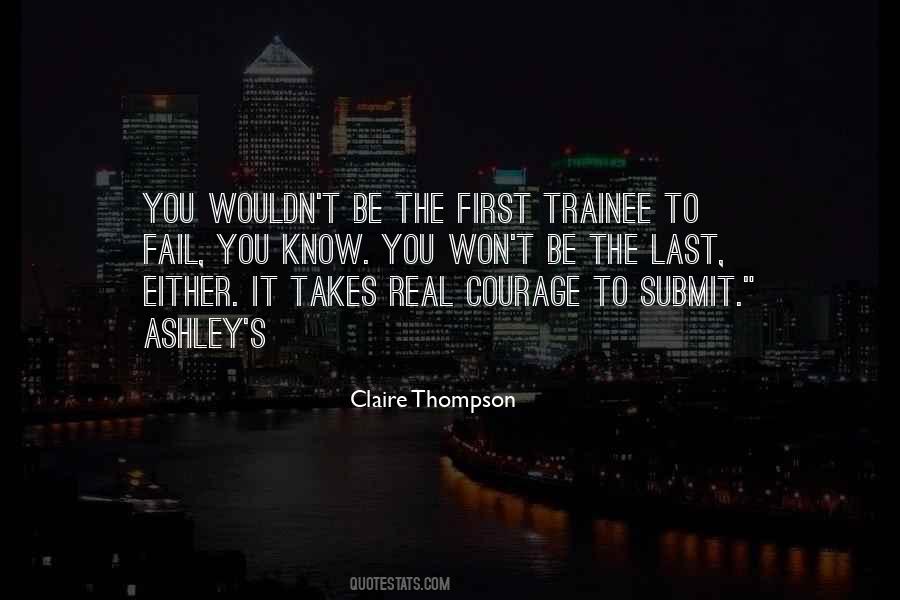 #14. Just know that it takes a bit of courage to unlearn that shame, and to be there for others when they try to unlearn that shame, and that it all gets easier after you feel how healthy it is. - Author: Hugh Howey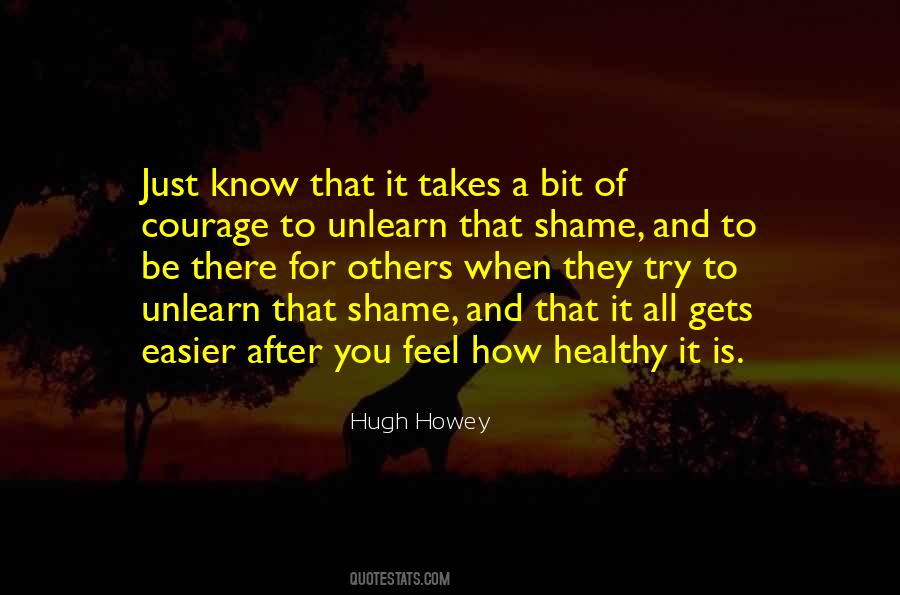 #15. He knew then why his voice had abandoned him. Because it takes courage to talk to people. - Author: Catherine Ryan Hyde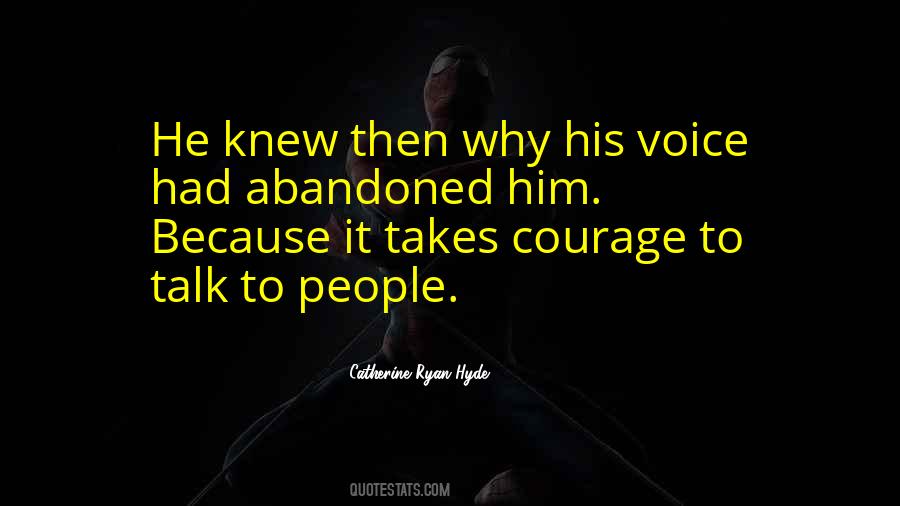 #16. Each person has inside a basic decency and goodness. If he listens to it and acts on it, he is giving a great deal of what it is the world needs most. It is not complicated but it takes courage. It takes courage for a person to listen to his own goodness and act on it. - Author: Pablo Casals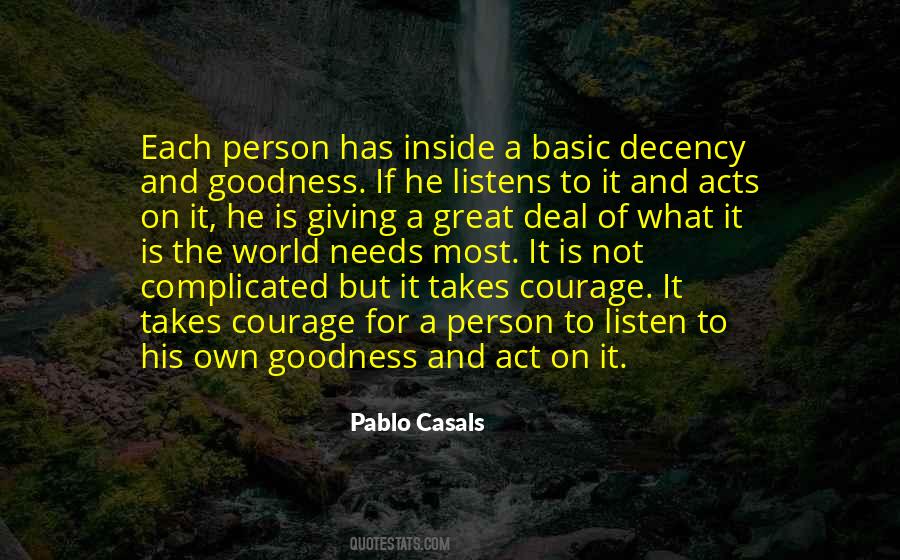 #17. Leading a missional church is not for the faint of heart. It takes courage to push yourself beyond your comfort zone and to lead the church beyond it personal limits. - Author: Gary Rohrmayer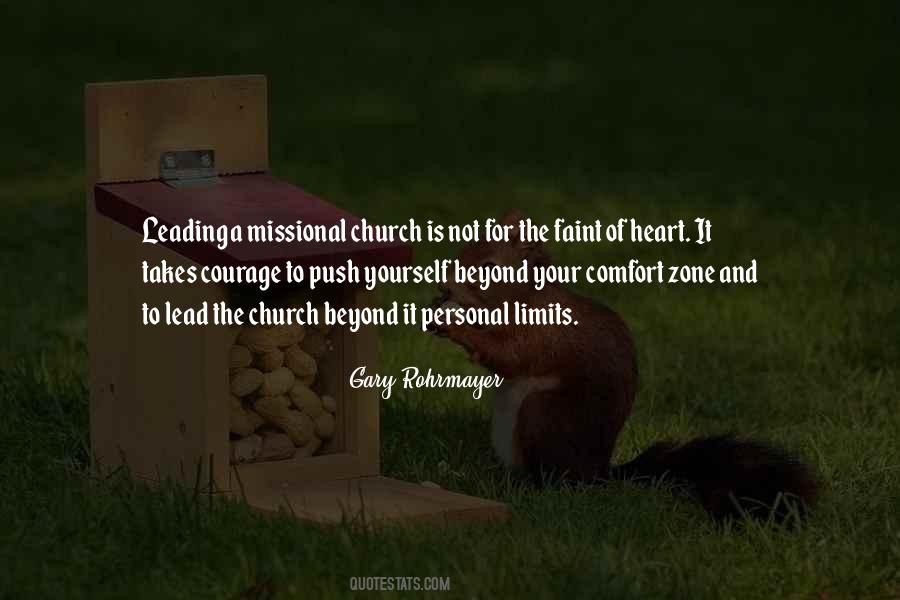 #18. Authenticity inspire respect because it takes courage to own who you really are. - Author: Arlene Dickinson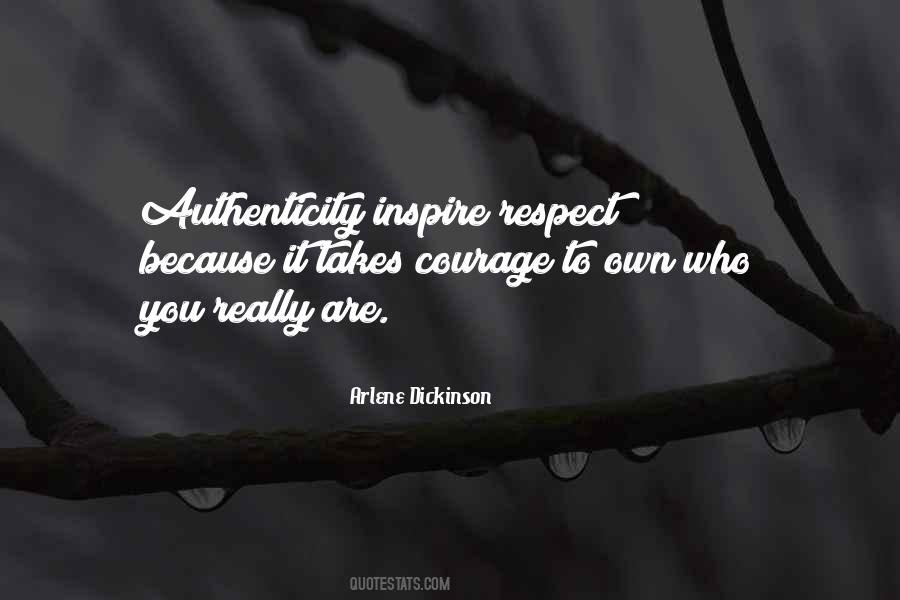 #19. And therein shines one major definition of what it meant to be Clinton D. Powell: someone who looked for, trusted in, and helped empower (if you will) the best in others. It takes a lot of beautiful love, uncommon sincerity, and spitfire courage to do that. - Author: Aberjhani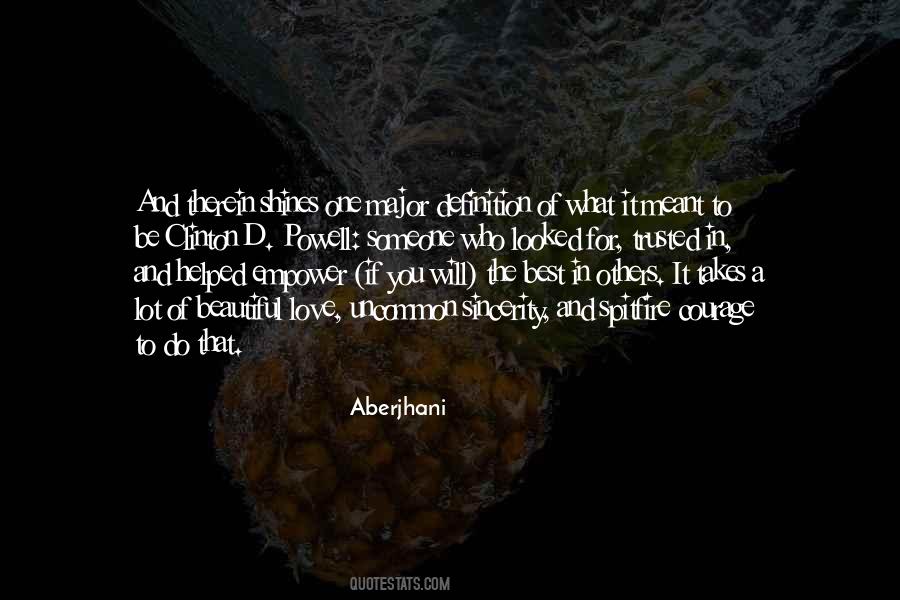 #20. In all realms of life it takes courage to stretch your limits, express your power, and fulfill your potential. It's no different in the financial realm - Author: Suze Orman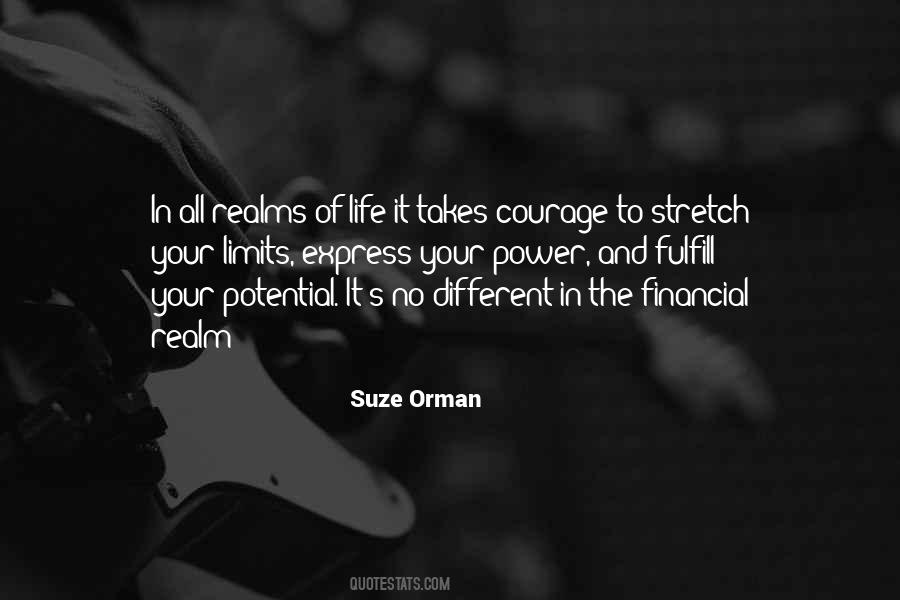 #21. Giving up also takes courage. - Author: Joanne Crisner Alcayaga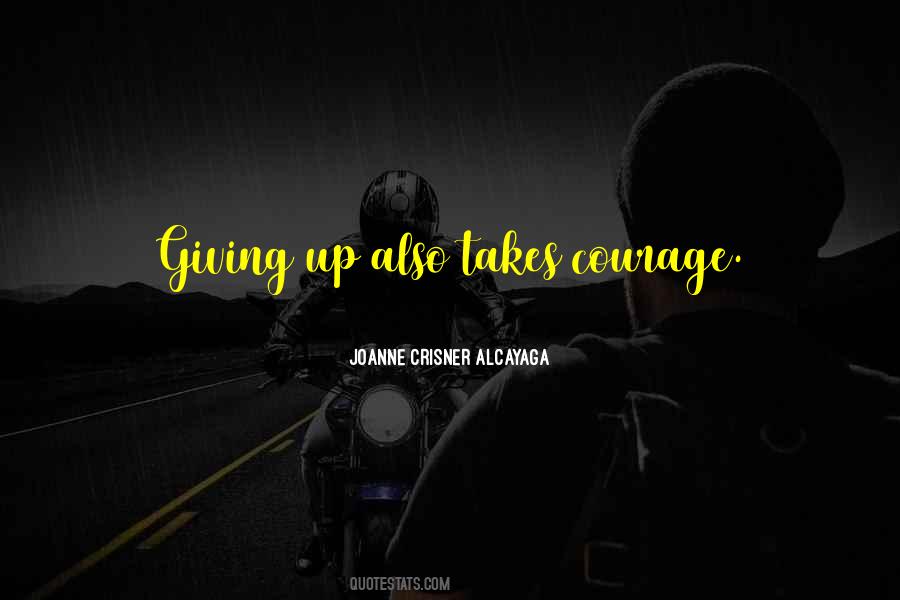 #22. I admire the courage and self-reliance it takes to start your own business and make it succeed. - Author: Martha Stewart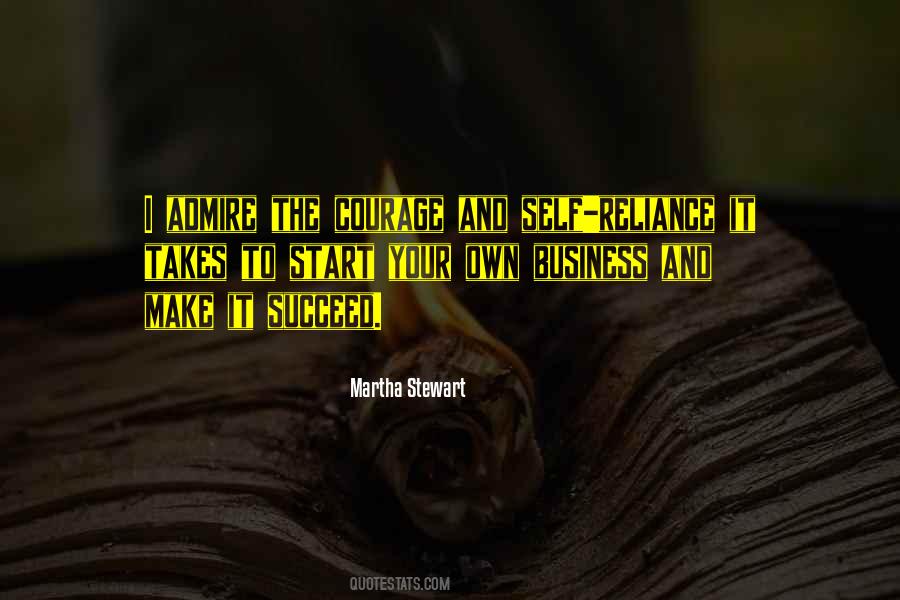 #23. A total commitment gives you the extra ounce of courage that it takes to win. - Author: Arthur L. Williams Jr.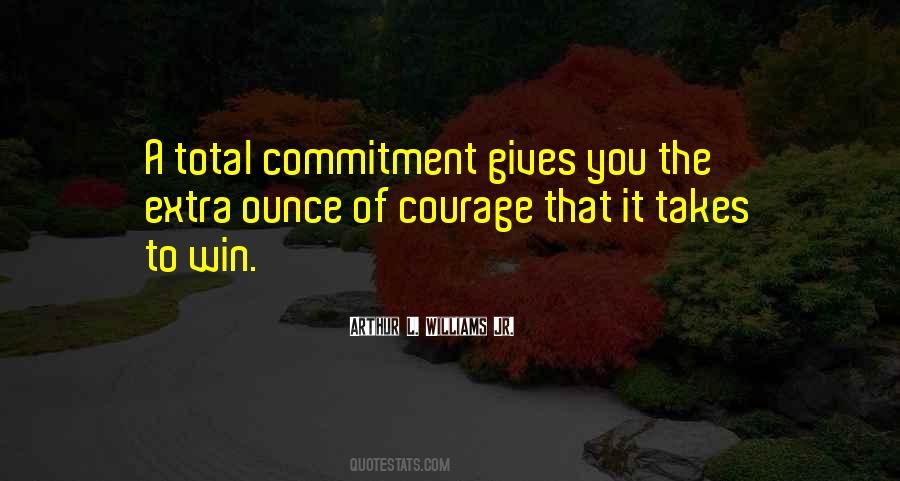 #24. Peace is a fragile thing. It takes courage to secure it. It takes wisdom to maintain it. - Author: Jenny Shipley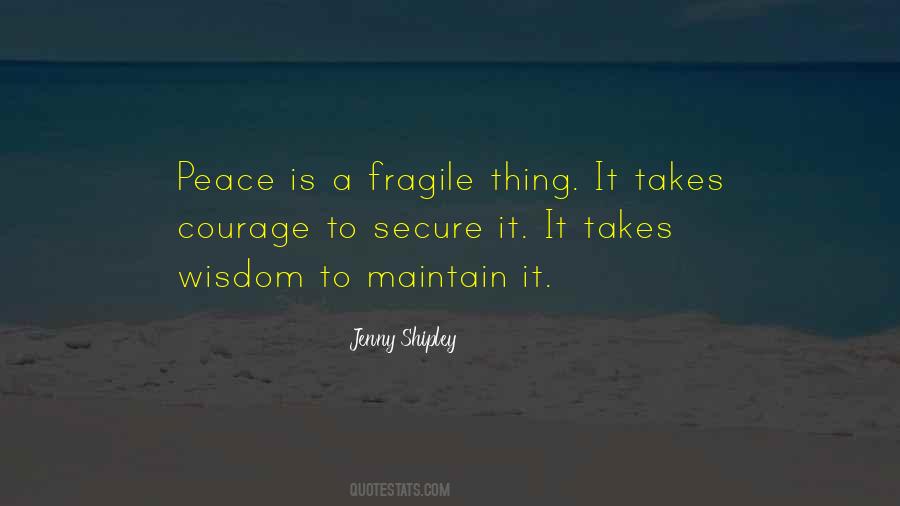 #25. It takes great courage to break with one's past history and stand alone. - Author: Marion Woodman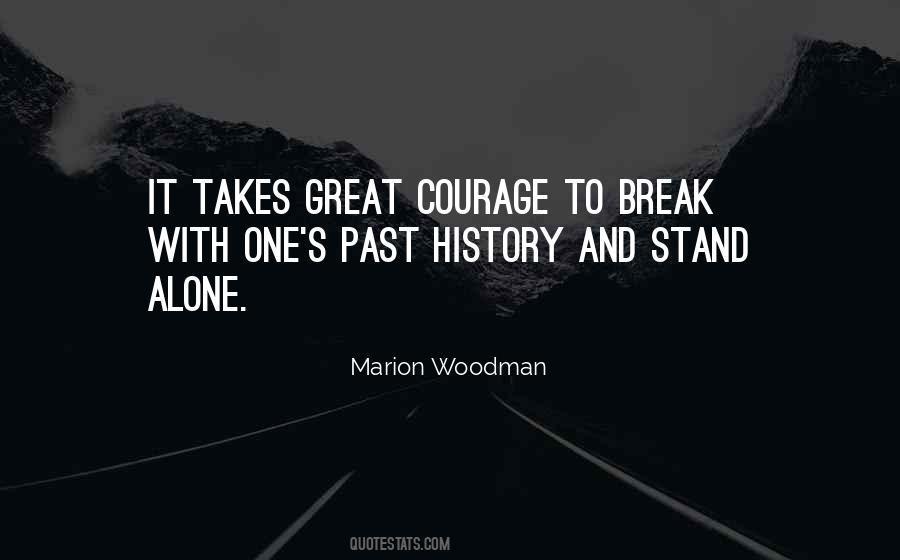 #26. It takes courage to speak up for your beliefs. - Author: Jim George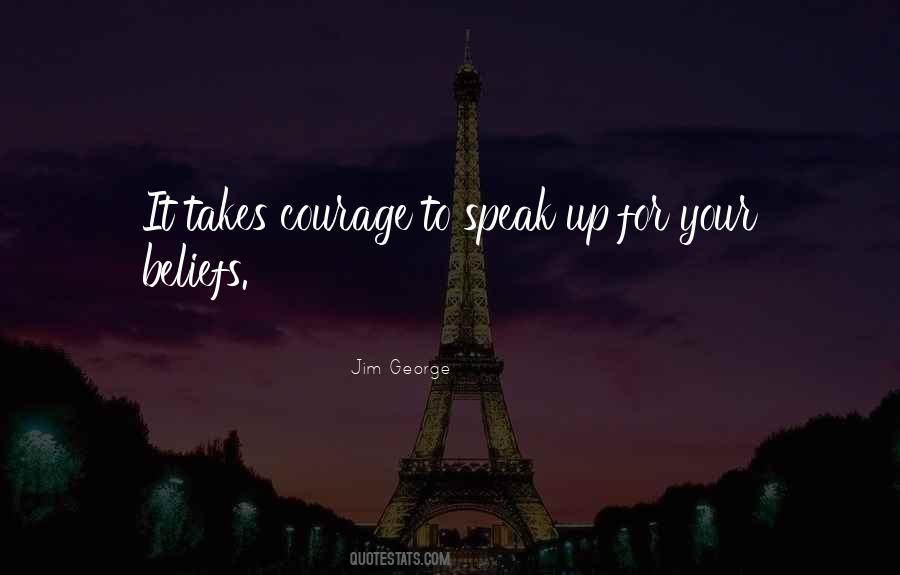 #27. Being a successful trader also takes courage: the courage to try, the courage to fail, the courage to succeed, and the courage to keep on going when the going gets tough. - Author: Michael Marcus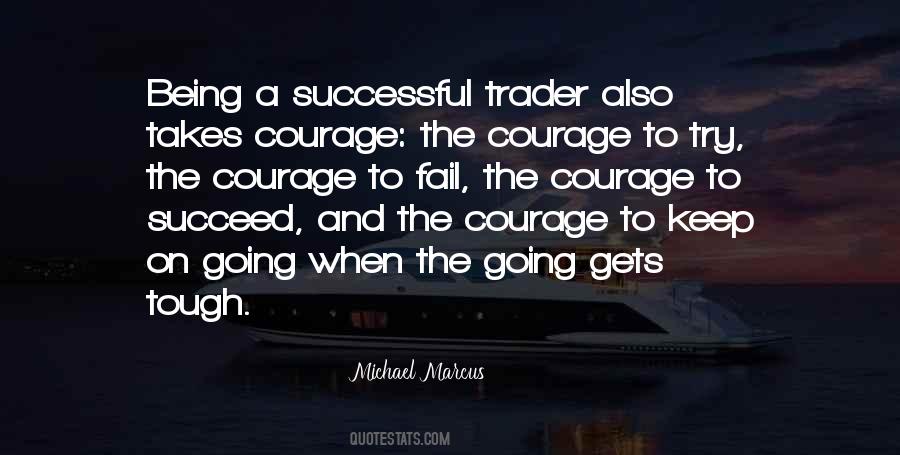 #28. There is no weakness in crying. If we do not sorrow over what hurts us, how do we ever go past it? I have shed many a tear myself, Barbara Devane, over what life has brought me. Compassion can come from great pain, if you allow it. But compassion takes courage. Bitterness is easier. - Author: Karleen Koen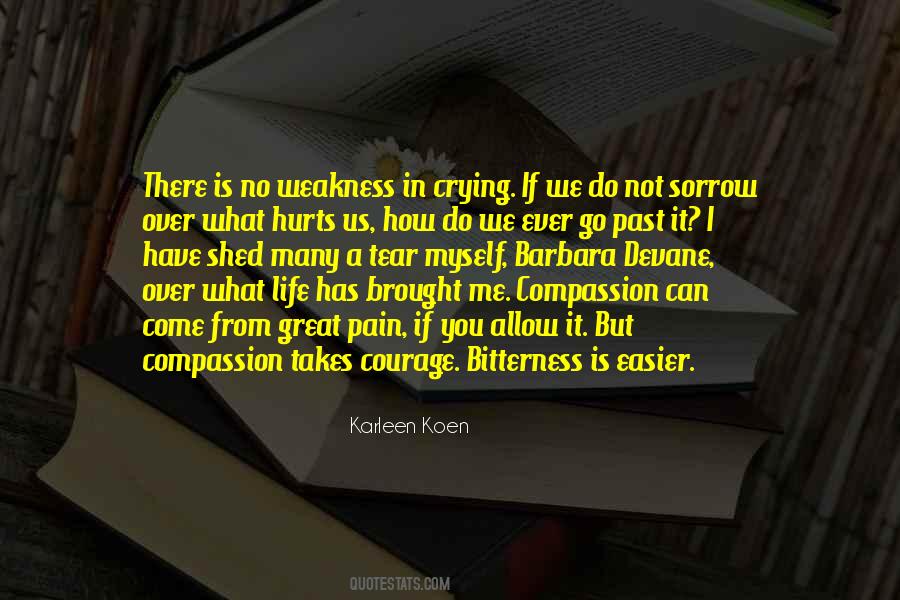 #29. It's fun talking to you ... like walking on the edge of a precipice. At first one's nervous but then courage takes over from somewhere. - Author: Ivan Turgenev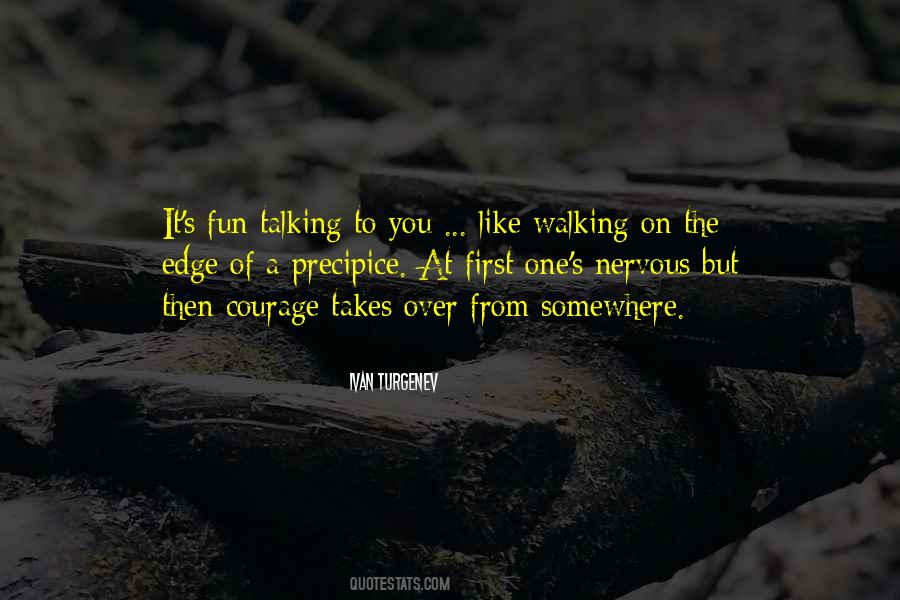 #30. When you make that crossover from life to real life, when you're not treated as a child anymore but as a man, and you are no longer given the benefit of the doubt, it takes some courage to face that. - Author: Ricky Williams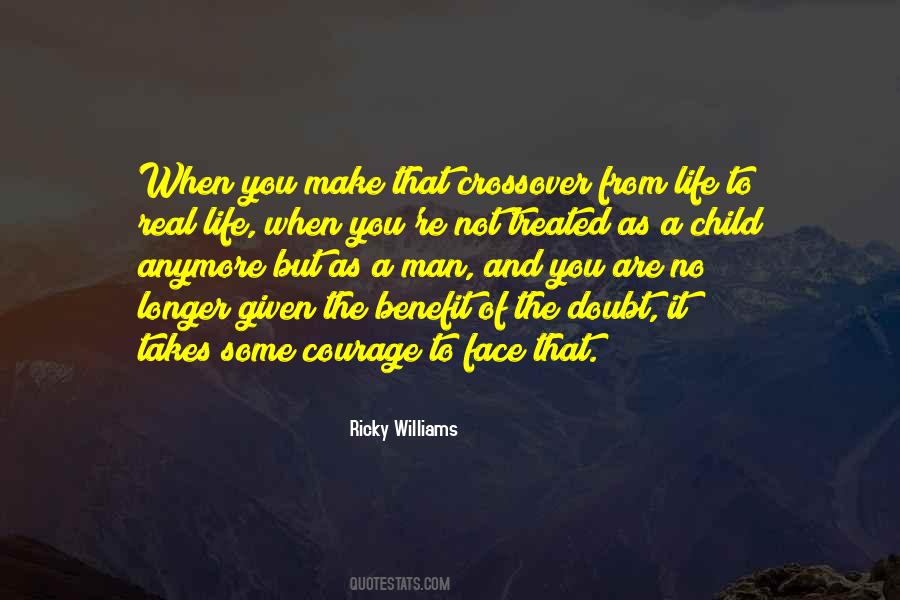 #31. it takes courage to look life in the eye and say yes to the messy glory - Author: Deborah Wiles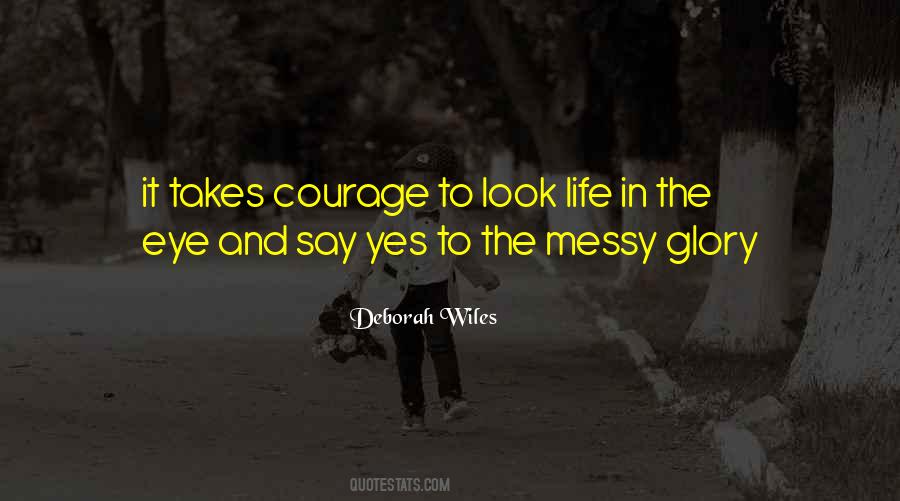 #32. It takes great courage and personal strength to hold on to our center during times of great hurt. It takes wisdom to understand that our reactiveness only fans the flames of false drama. - Author: Marianne Williamson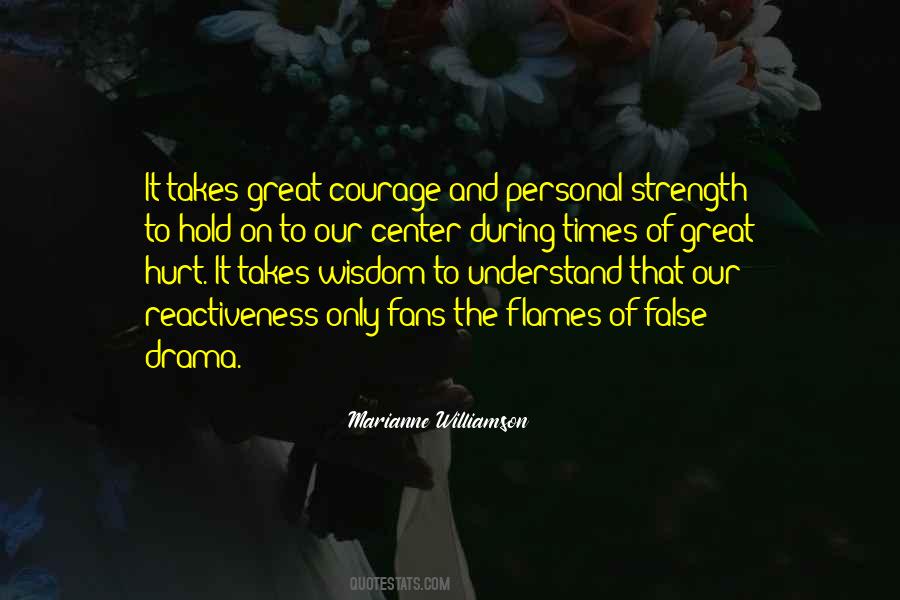 #33. To bathe a cat takes brute force, perseverance, courage of conviction - and a cat. The last ingredient is usually hardest to come by. - Author: Stephen Baker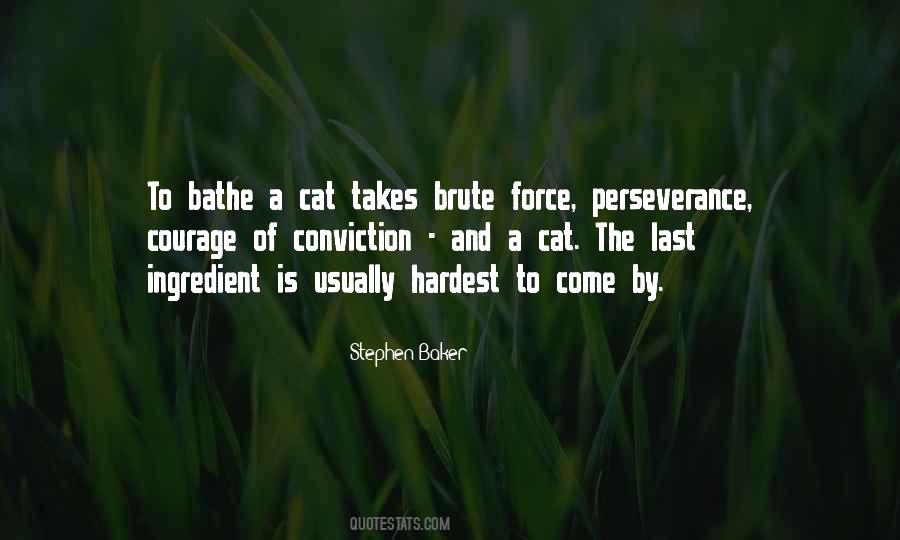 #34. It takes a lot of courage to face up to things you can't do because we feed ourselves so much denial. - Author: Zoe Saldana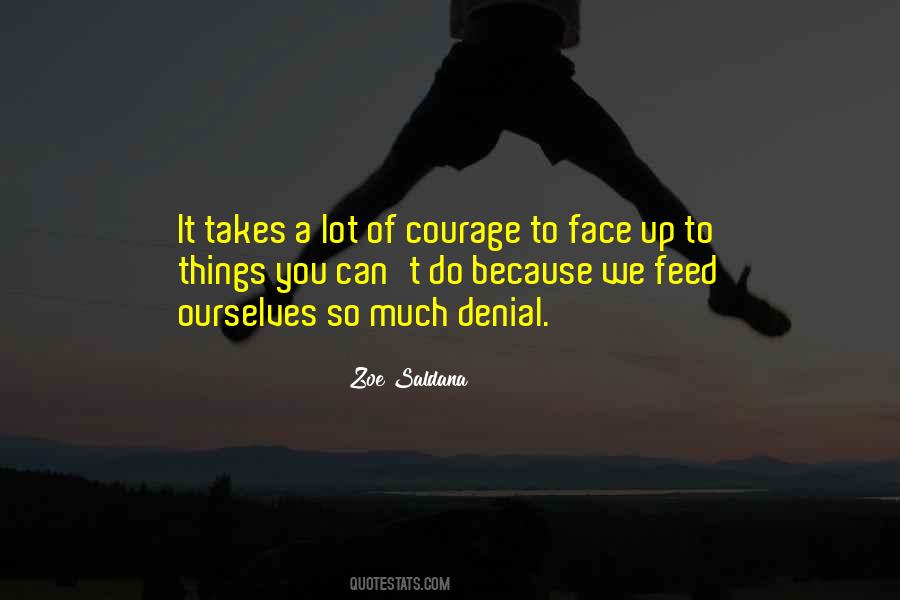 #35. The single characteristic that most makes a difference in the success of an article or nonfiction book is the author's courage in revealing normally unspoken things about himself or his society. It takes guts to be a writer - Author: Sol Stein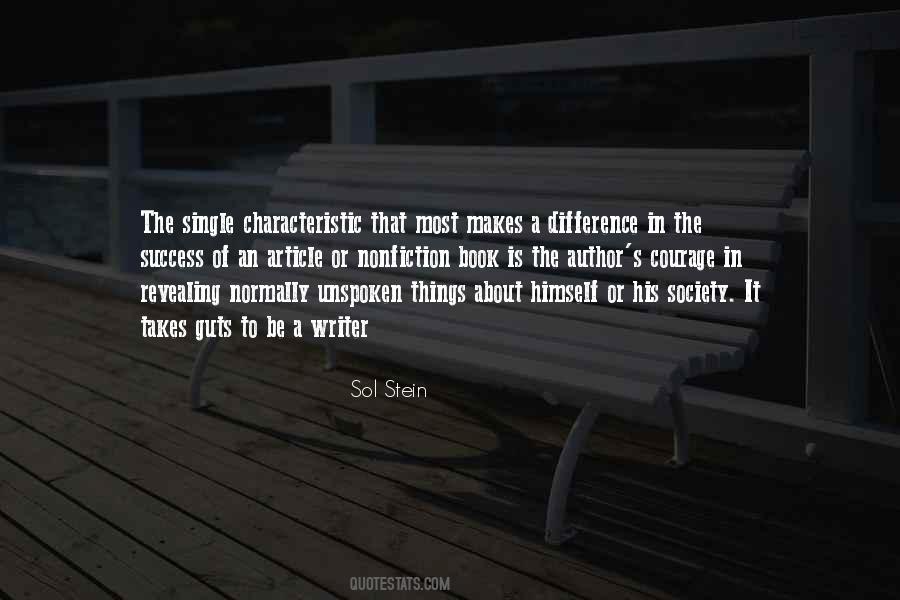 #36. Courage is a greater virtue than love. At best, it takes courage to love. - Author: Paul Tillich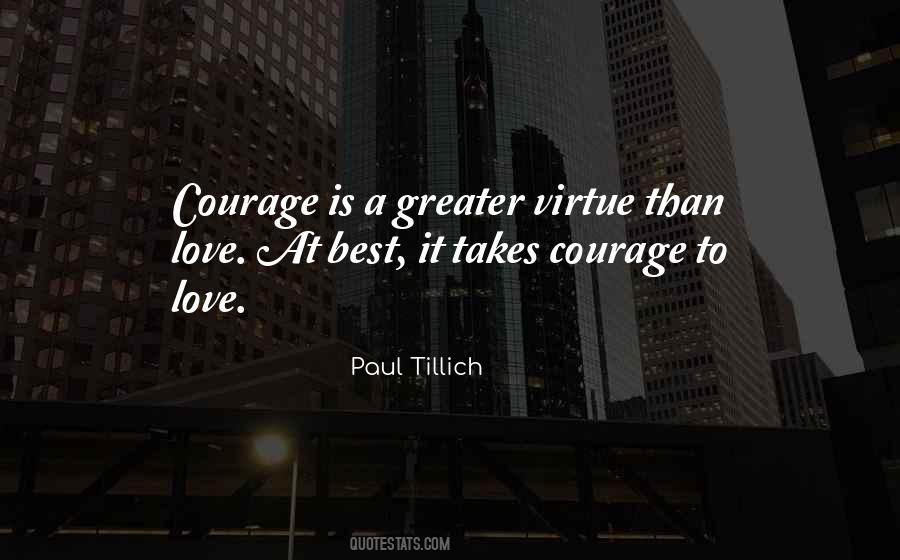 #37. Maybe the job of the artist is to see through all of this strangeness to what really is, and that takes a lot of courage and a strong faith in the validity of the artistic vision even if there is not a conscious faith in God. - Author: Madeleine L'Engle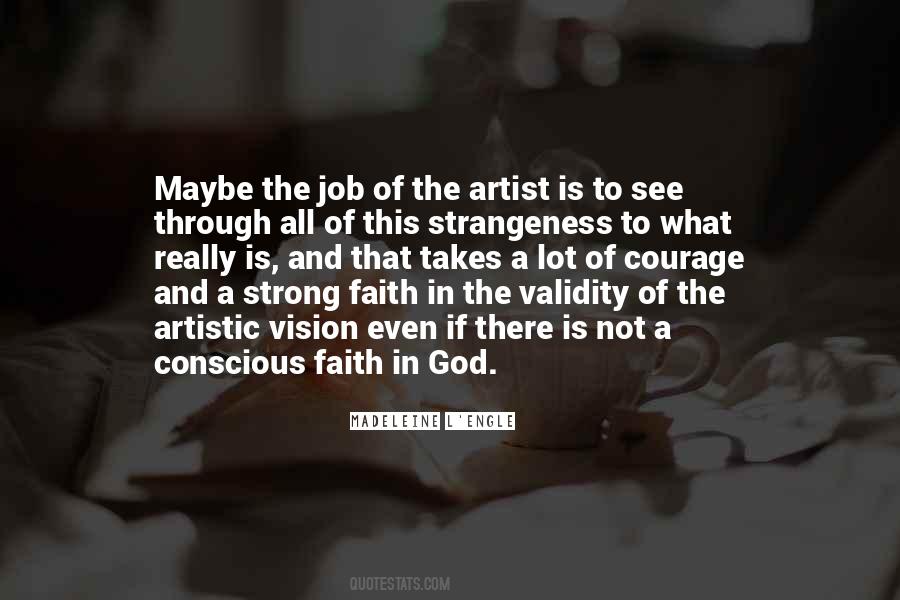 #38. It takes a good deal of physical courage to ride a horse. This, however, I have. I get it at about forty cents a flask, and take it as required. - Author: Stephen Leacock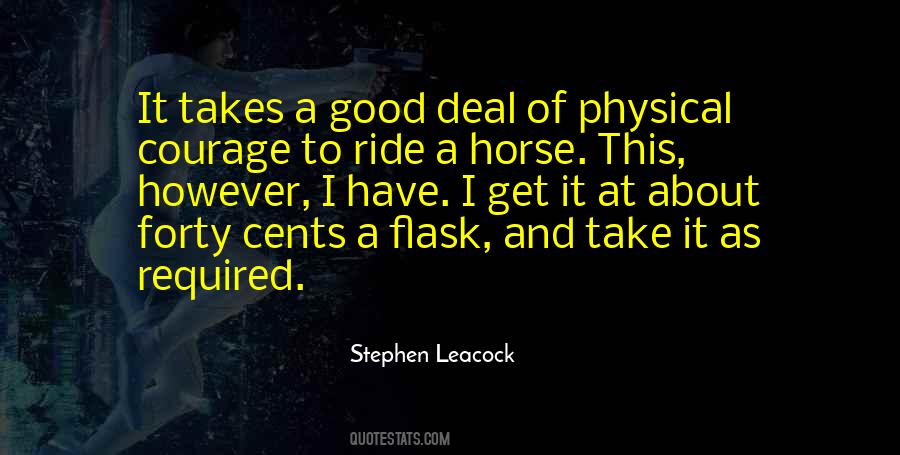 #39. If we have no idea what we believe in, we'll go along with anything. Truth takes courage. Courage to stand up for what we believe in. Not necessarily in a confrontational way, but in a gentle yet firm way. Like an oak tree, able to sway gently in the wind, but strongly rooted to the ground. - Author: A.C. Ping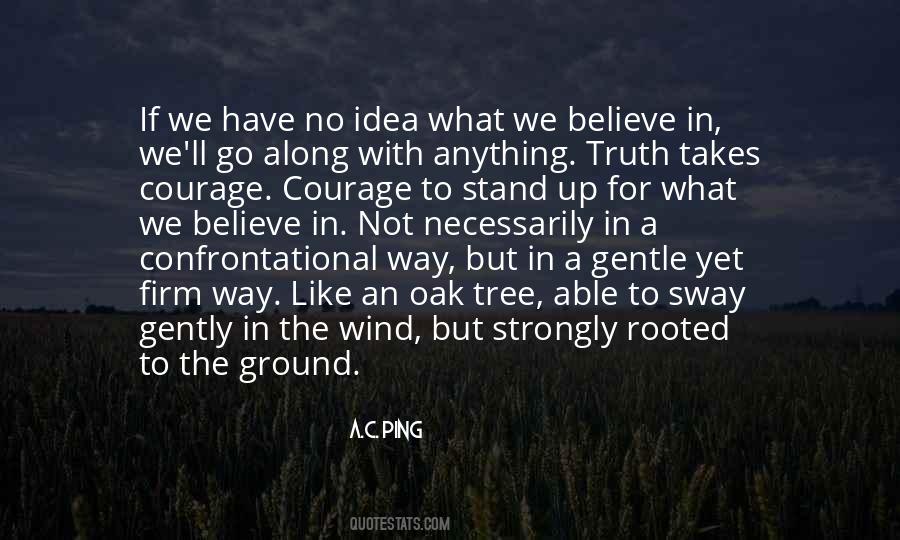 #40. It takes great personal courage to let yourself appear weak. - Author: David Foster Wallace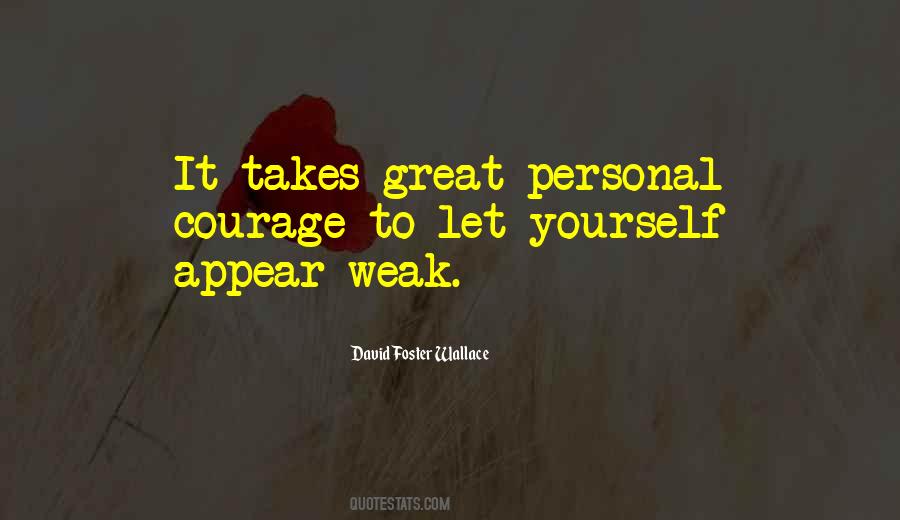 #41. Any intelligent fool can make things bigger and more complex ... It takes a touch of genius - and a lot of courage to move in the opposite direction. - Author: E.F. Schumacher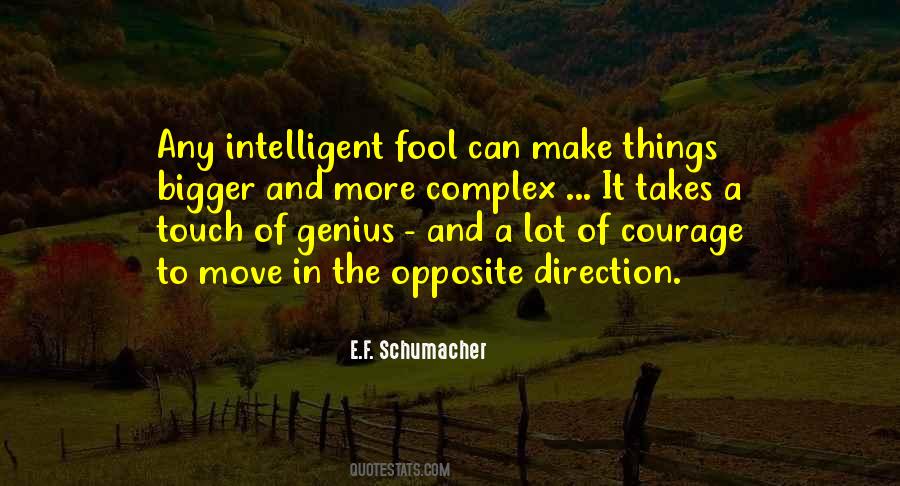 #42. Creativity takes courage. - Author: Henri Matisse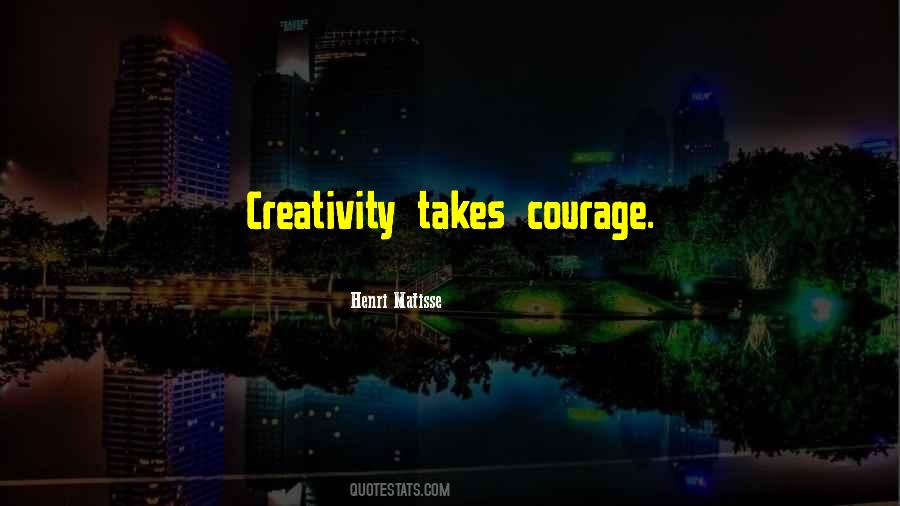 #43. Death does not concern me. He who takes his first step uses perhaps his last shoes. (Halmalo) - Author: Victor Hugo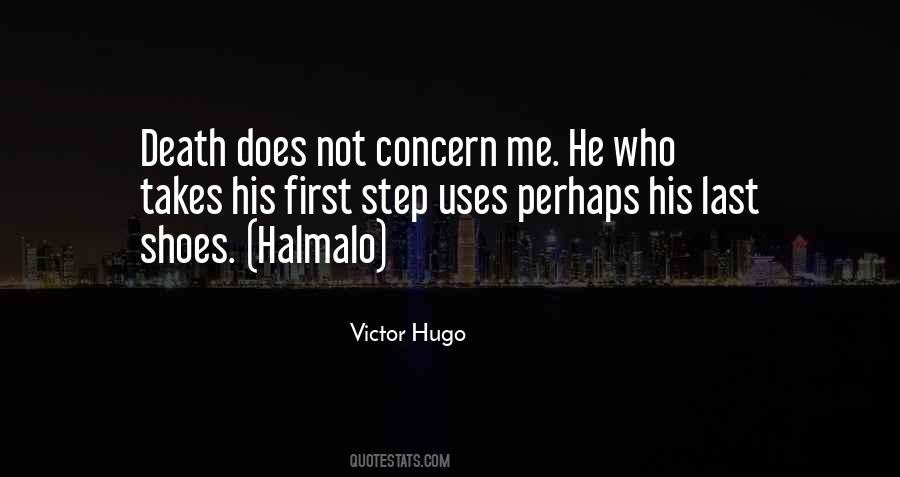 #44. It takes great courage and determination, to keep looking for light in all the darkness of life. - Author: Menna Van Praag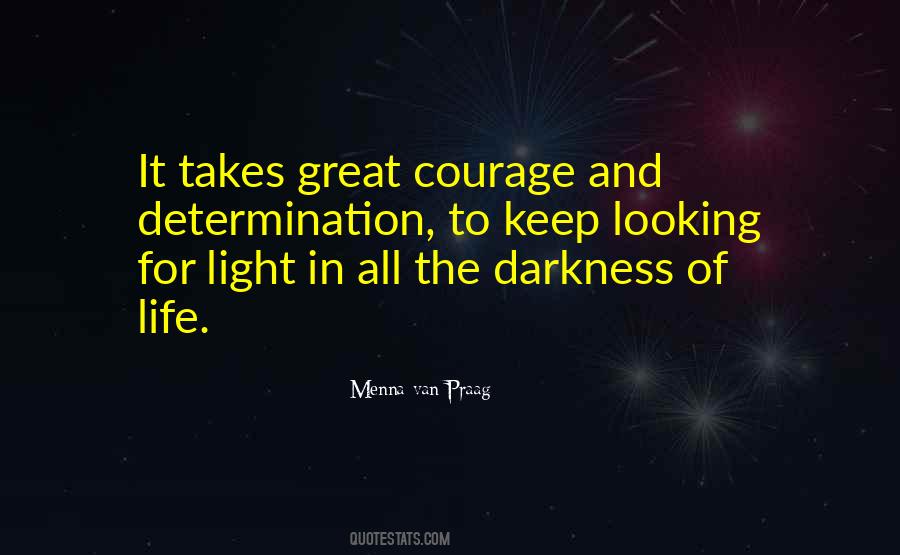 #45. Art should take what is complex and render it simply. It takes a lot of skill, human understanding, stamina, courage, energy, and heart to do that. - Author: Anna Deavere Smith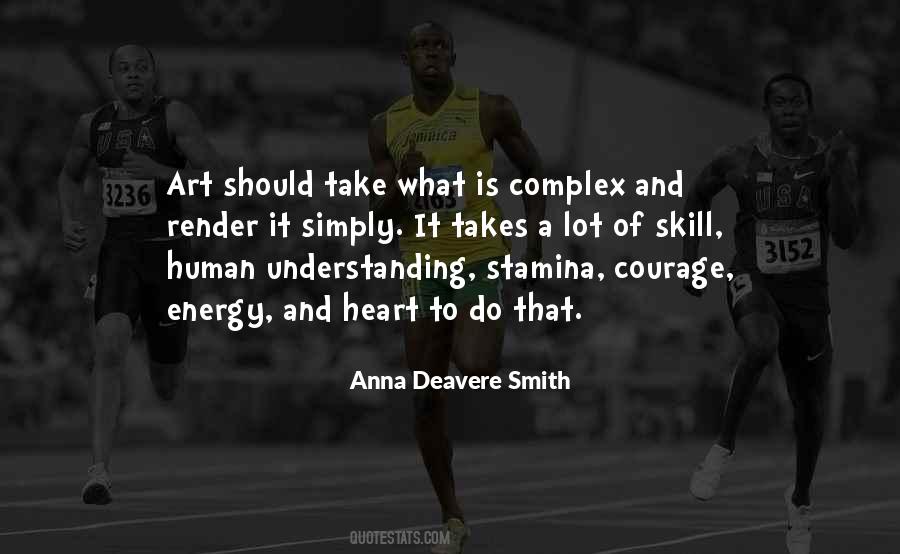 #46. It's easy to stand back, but to move forward and take a chance, that takes a little more guts, a little more courage. - Author: Venus Williams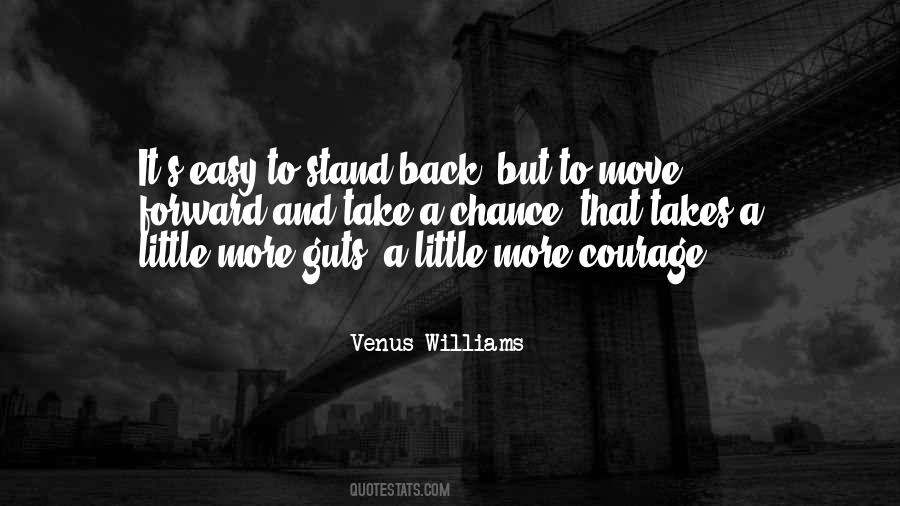 #47. When asked what it takes to succeed in the acting profession, Bette Davis would answer, "the courage to be hated." - Author: Frank Langella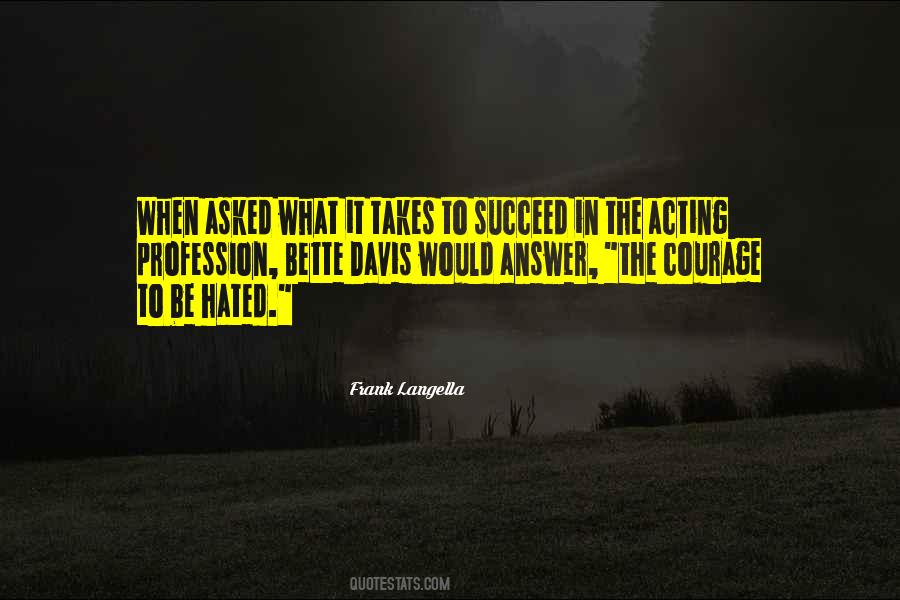 #48. Failure is unimportant. It takes courage to make a fool of yourself - Author: Charlie Chaplin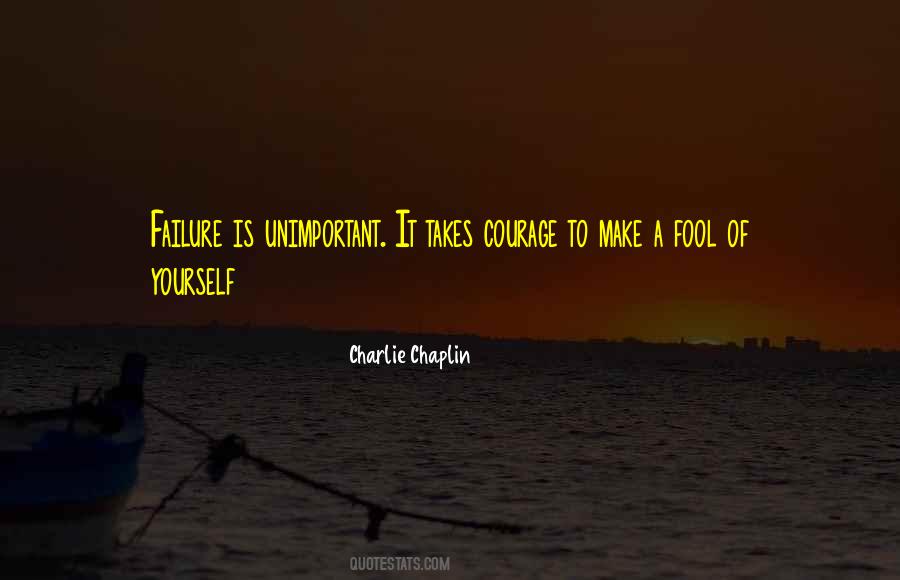 #49. There is nothing in back of this cafe. Since the place sits right on the margin between the edge of the world and infinite possibility, he back door opens out to a void. It takes courage to turn the knob and heart to leave the steps. - Author: Gloria Naylor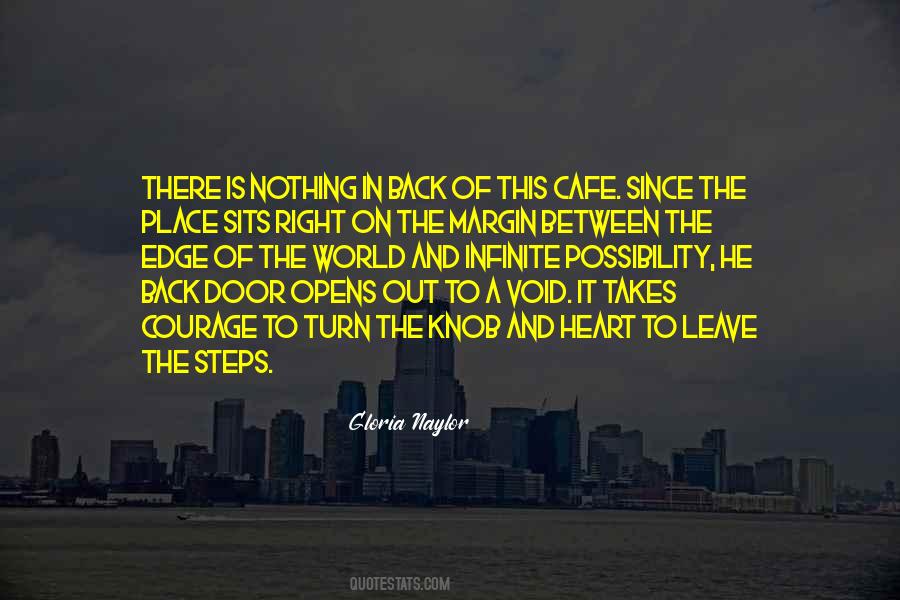 #50. When fear no longer takes hold, the possibilities are endless. - Author: Tom Althouse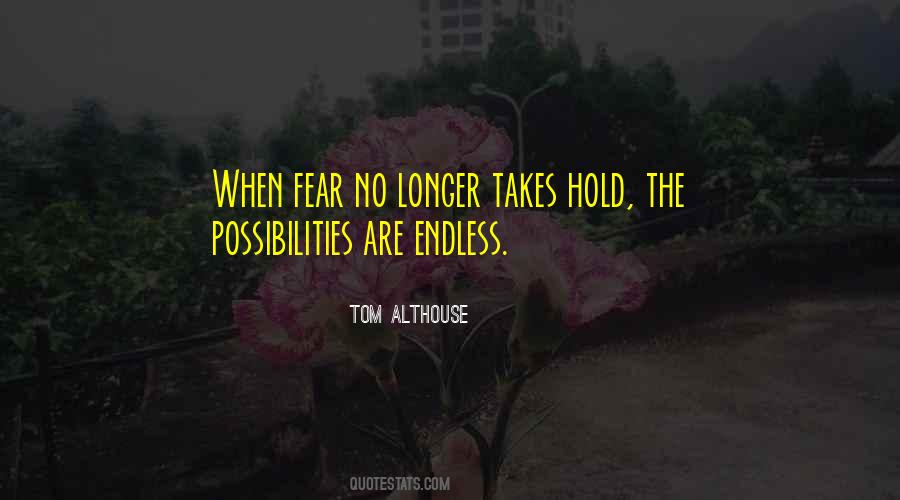 #51. Actually, we have no problems-we have opportunities for which we should give thanks ... An error we refuse to correct has many lives. It takes courage to face one's own shortcomings and wisdom to do something about them. - Author: Edgar Cayce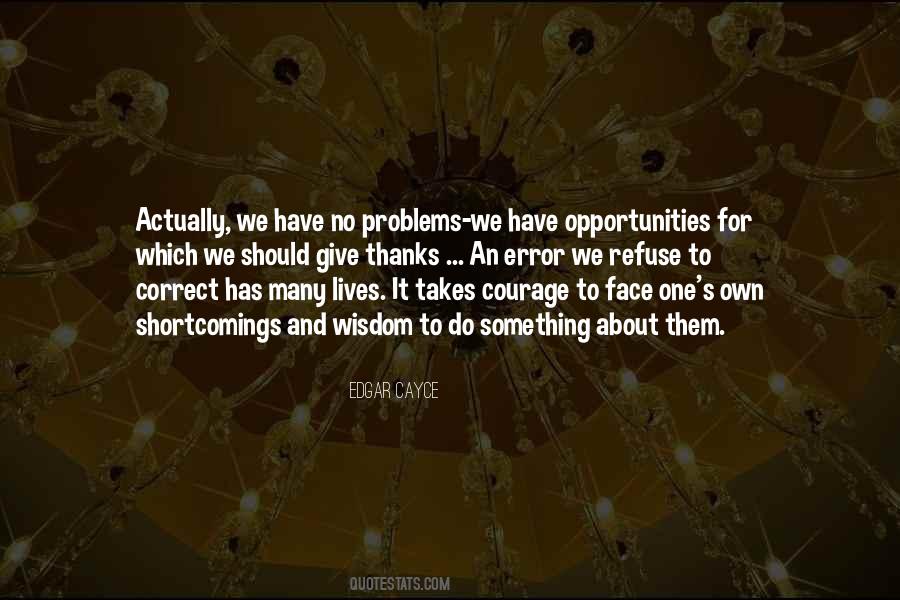 #52. It takes moral courage to grieve; it requires religious courage to rejoice. - Author: Soren Kierkegaard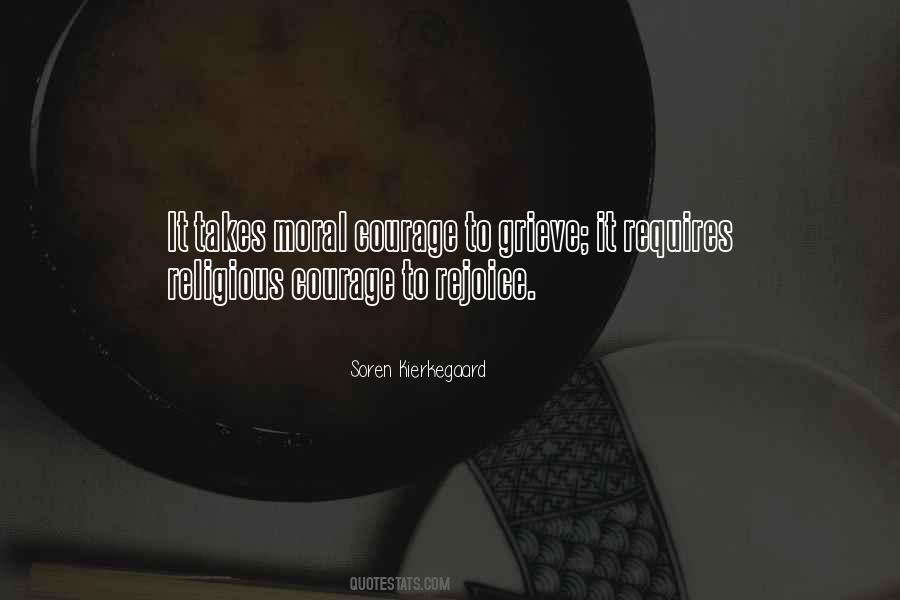 #53. It takes courage to step out of the line marked 'security' into the line marked 'risk.' - Author: Robert G. Allen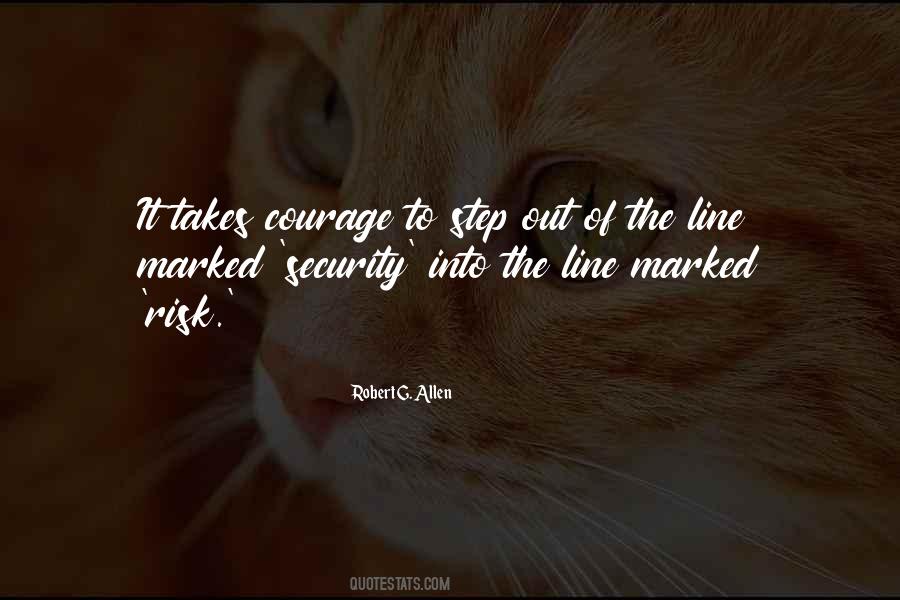 #54. Sometimes it takes more courage to be the passenger than to be the driver. - Author: E.L. Konigsburg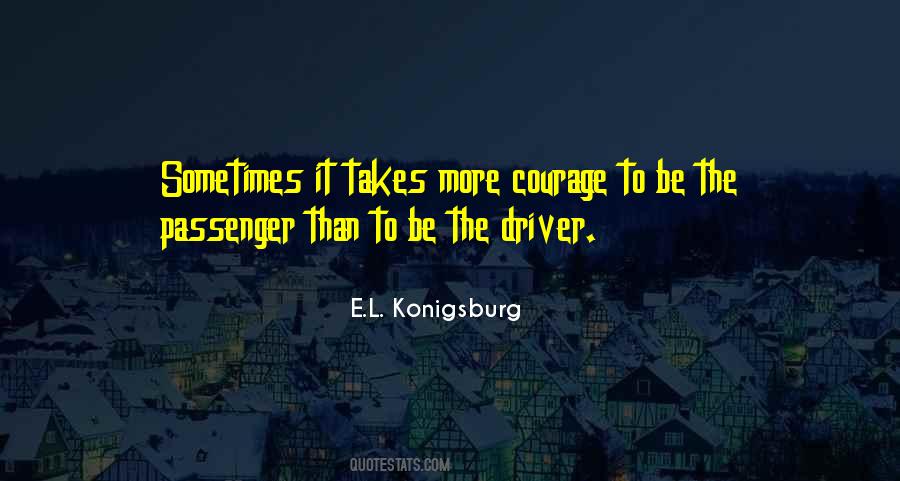 #55. It takes enormous courage and humility to be open to others to find out who we really are. - Author: Arthur P. Ciaramicoli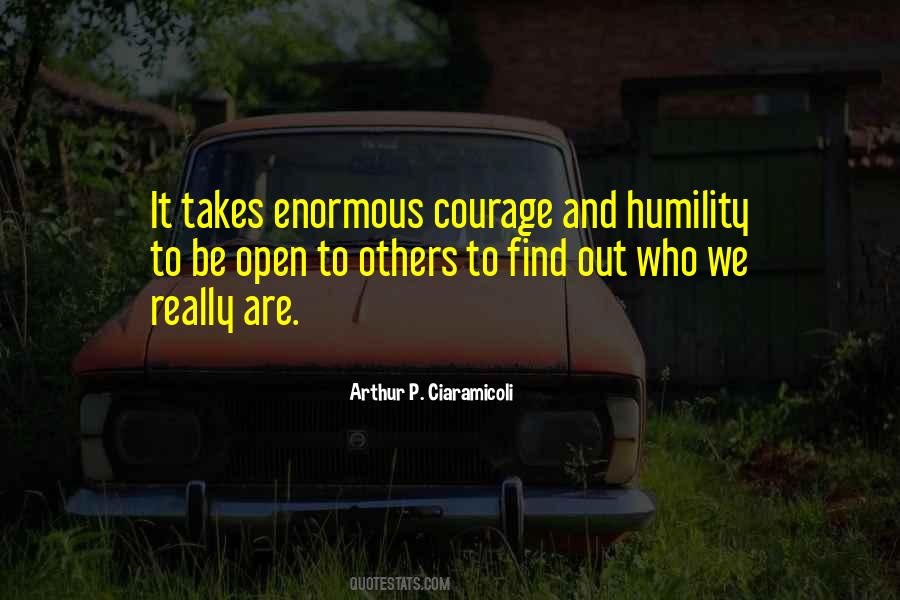 #56. Courage does not take over, it fights and struggles through every word you say and every step you take. It's a battle or a dance as to whether you let it pervade. It takes courage to overcome, but it takes extreme fear to be courageous. - Author: Cecelia Ahern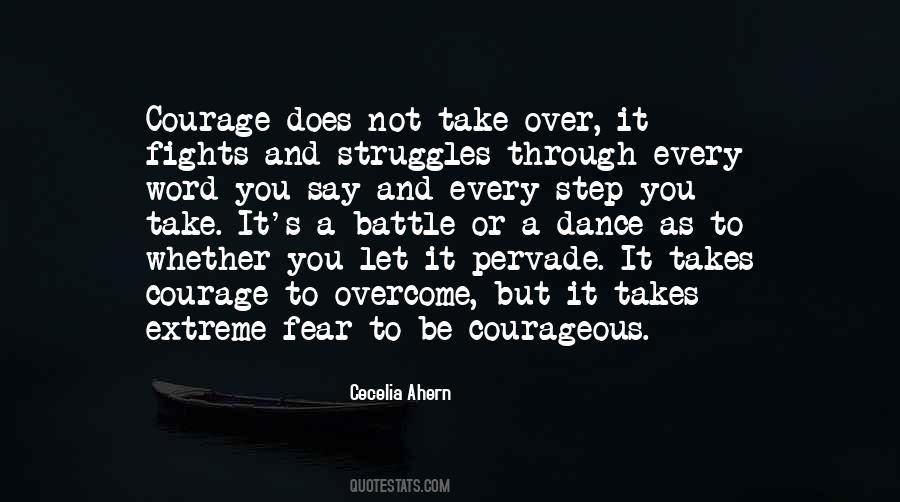 #57. It takes courage to say goodbye. To stare at a thing lost and know it is gone forever. Some tears are iron forged. - Author: Jay Kristoff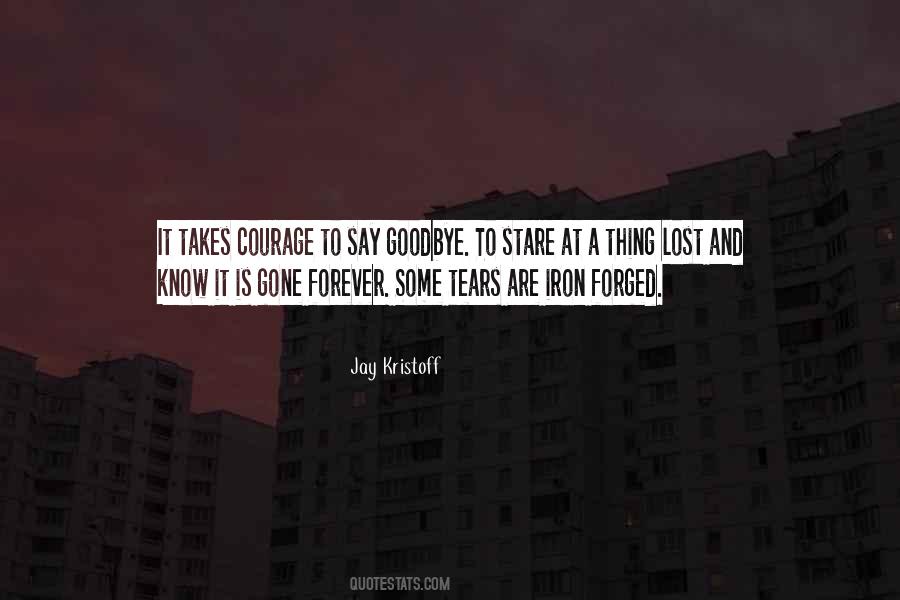 #58. It takes a special courage to challenge the rigid confines of our accustomed story. It's not easy to radically alter our views about where happiness comes from but it's eminently possible. - Author: Sharon Salzberg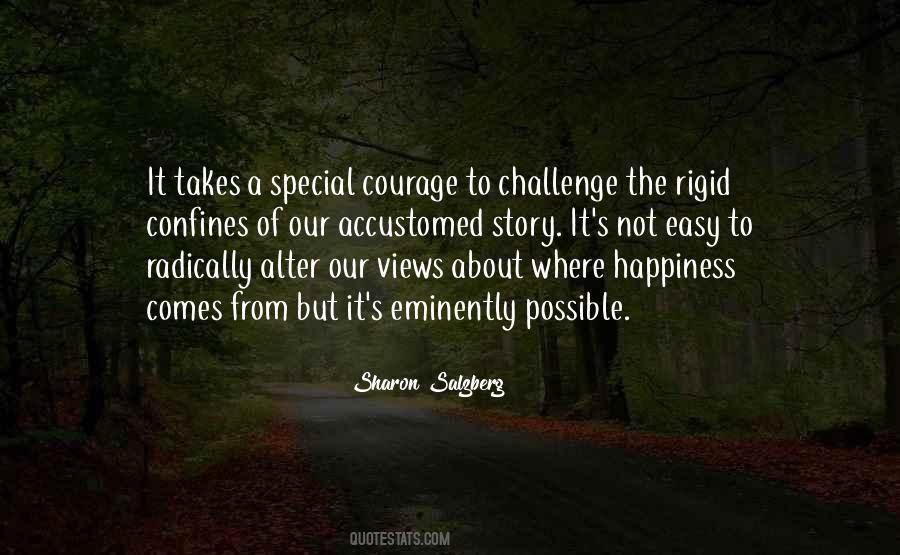 #59. What takes more courage. To live ... or to die? - Author: Anne Rouen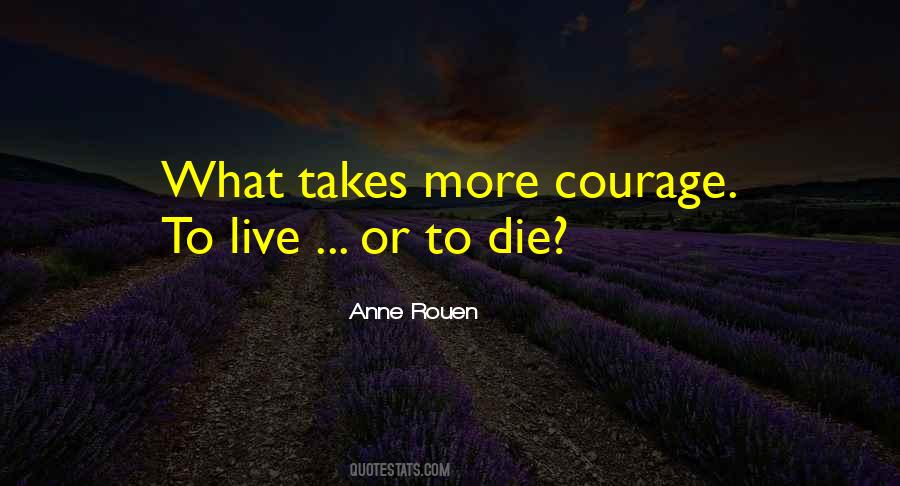 #60. It often takes more courage to be a passenger than a driver. - Author: E.L. Konigsburg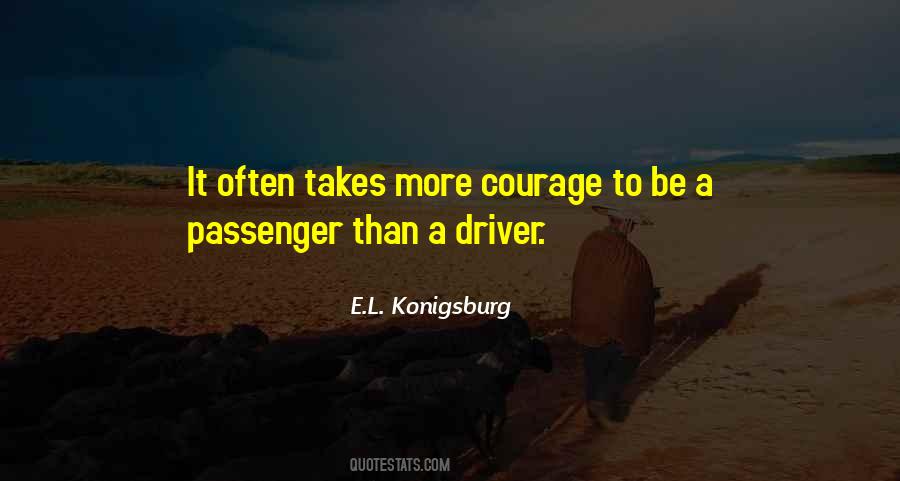 #61. It takes great courage to see the world in all its tainted glory, and still to love it. And even more courage to see it in the one you love - Author: Oscar Wilde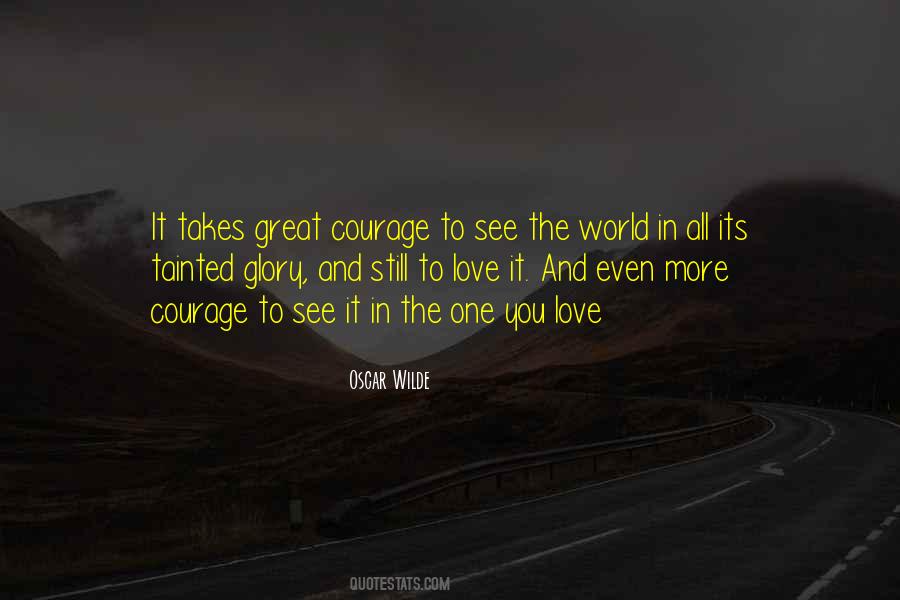 #62. It takes more courage to dig deep in the dark corners of your own soul and the back alleys of your society than it does for a soldier to fight on the battlefield. - Author: William Butler Yeats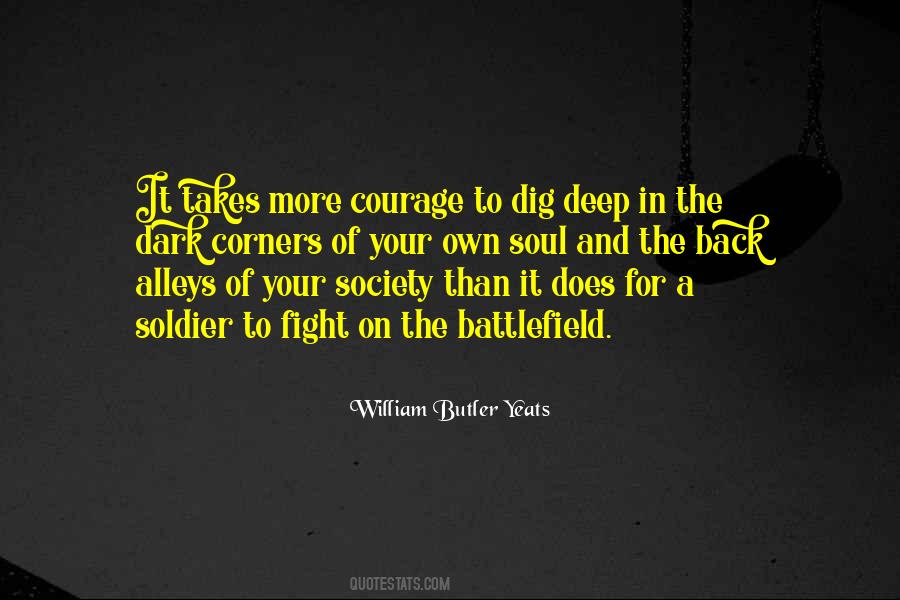 #63. It takes courage to live your dream and bounce back up when you have been knocked down. Your dreams give you the energy and inspiration to live a great life. - Author: Justin Langer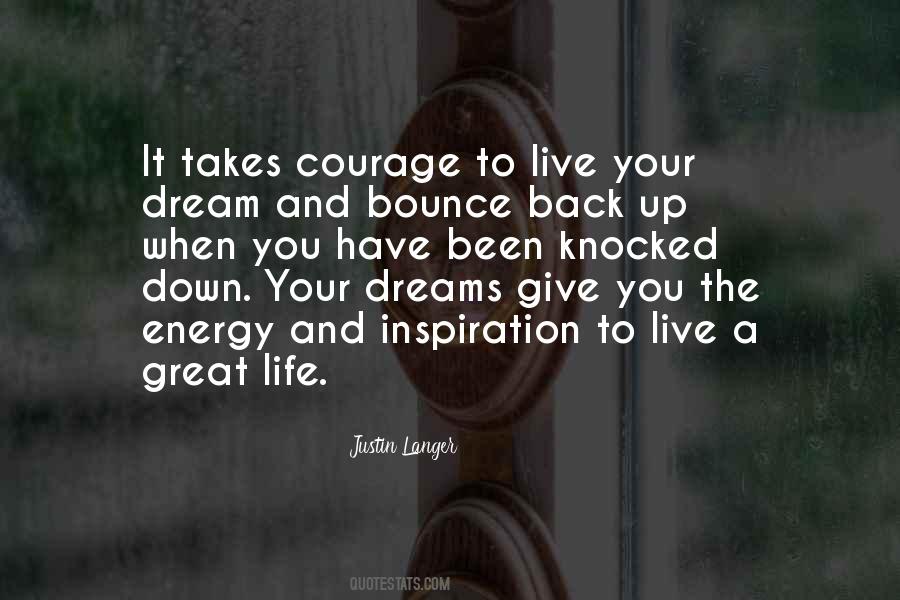 #64. To think that all we've known to be true is not necessarily an absolute is unsettling and almost incomprehensible, and so to walk the road of acceptance and peace often takes more courage than the way of the warrior. - Author: R.A. Salvatore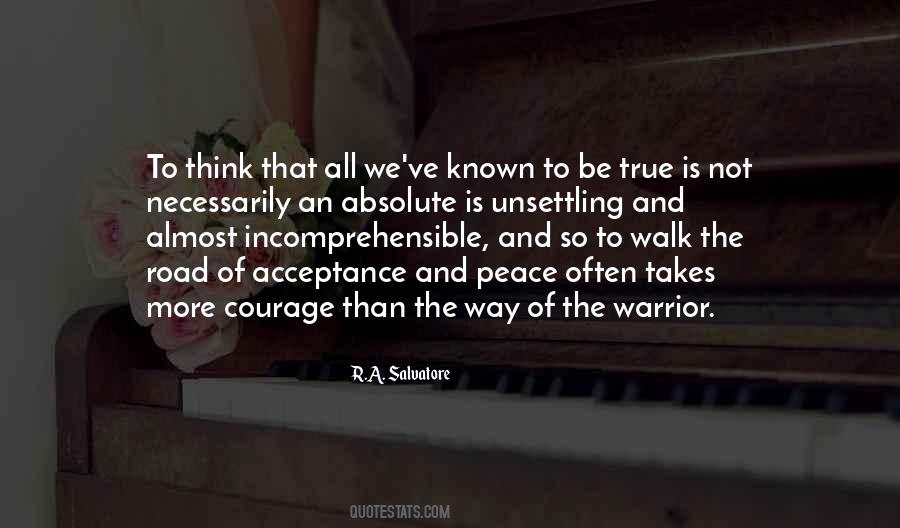 #65. But steel bars have never yet kept out a mob; it takes something a good deal stronger: human courage backed up by the consciousness of being right. - Author: Ray Stannard Baker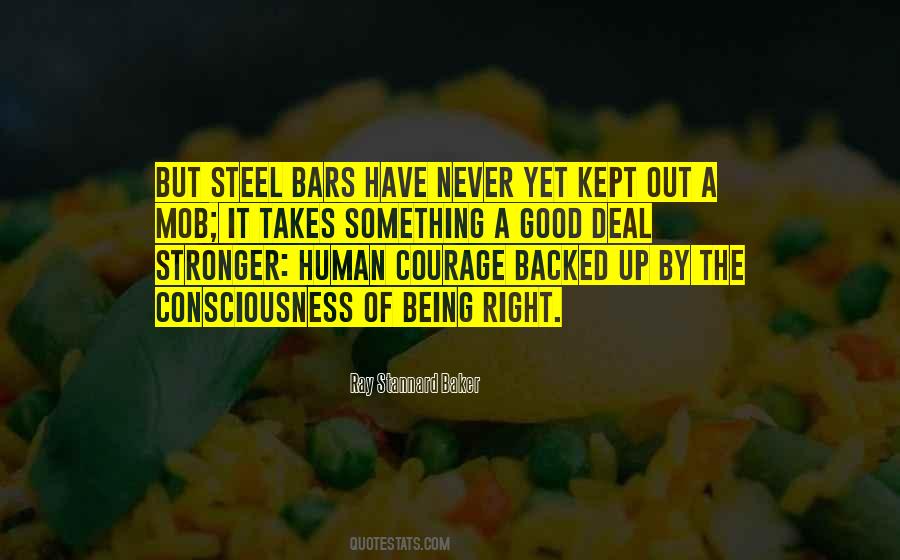 #66. It takes courage to live in the midst of hate. And it requires strength to keep that hatred from eating your soul. - Author: Mari Serebrov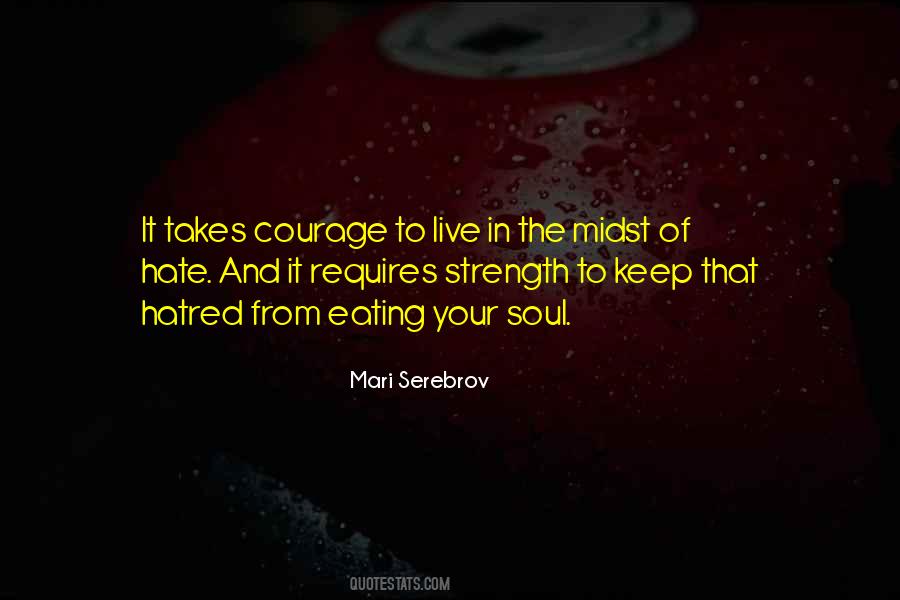 #67. A soul carries a vessel of courage. It cannot be refilled. Every thing that takes from it leaves less behind. - Author: Steven Erikson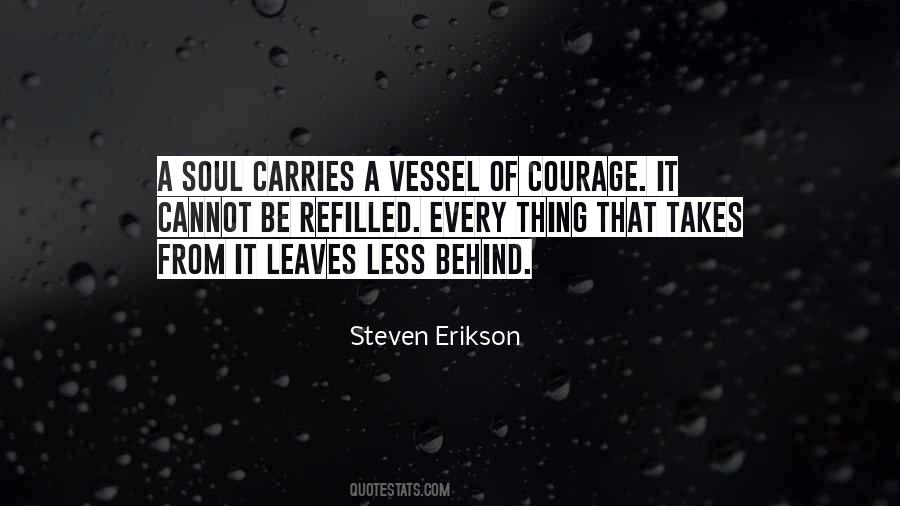 #68. No matter what identity we cling to, it takes great courage to step out of the old masks we wear and the old scripts that we live by, and open ourselves to the mysterious inner core of our being. - Author: Adyashanti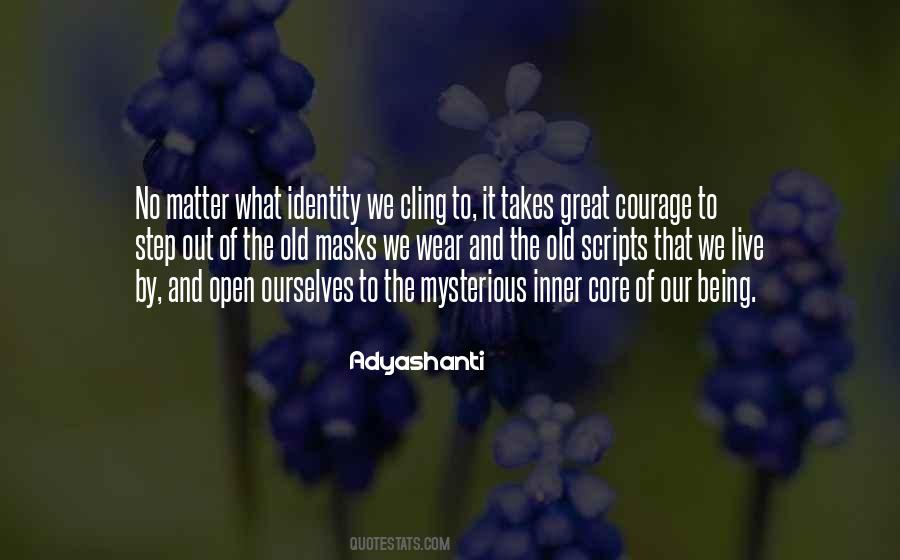 #69. Many people feel they are powerless to do anything effective with their lives. It takes courage to break out of the settled mold, but most find conformity more comfortable. This is why the opposite of courage in our society is not cowardice, it's conformity. - Author: Rollo May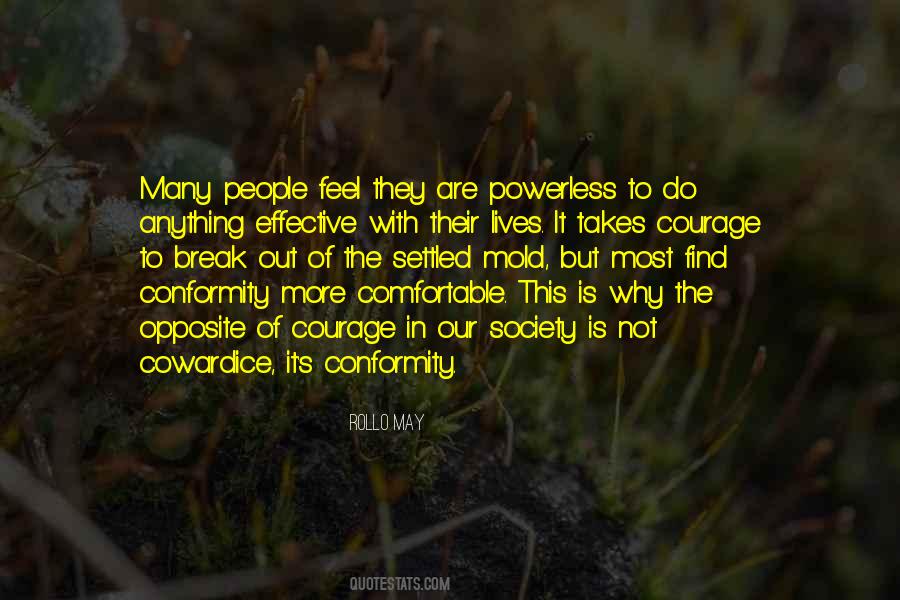 #70. Giving anyone anything takes courage, since so many presents backfire. A gift conspicuously at odds with your tastes serves only to betray that the benefactor has no earthly clue who you are. - Author: Lionel Shriver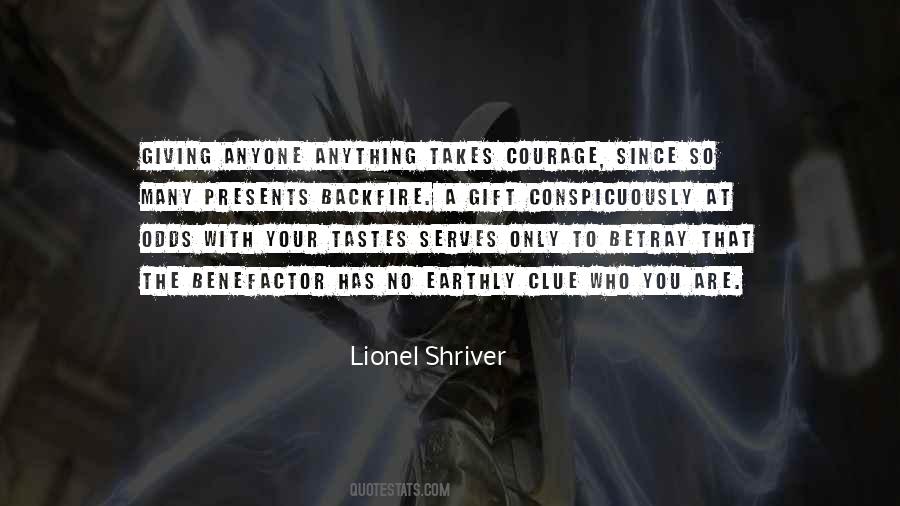 #71. Courage is not always about action. It takes courage to do nothing rather than do something that you do not believe in or understand. - Author: Suze Orman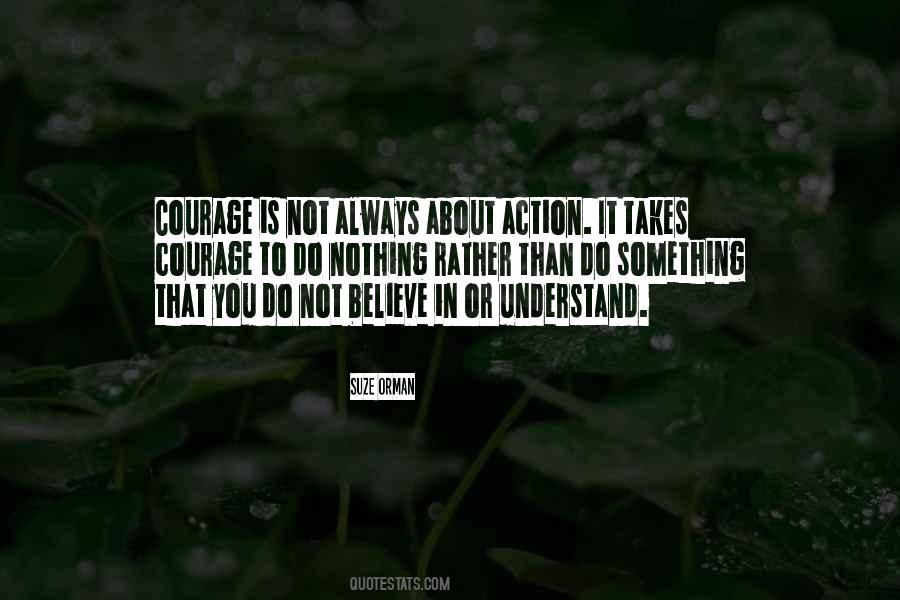 #72. Anyone can stay the same. It takes courage to change - Author: John Assaraf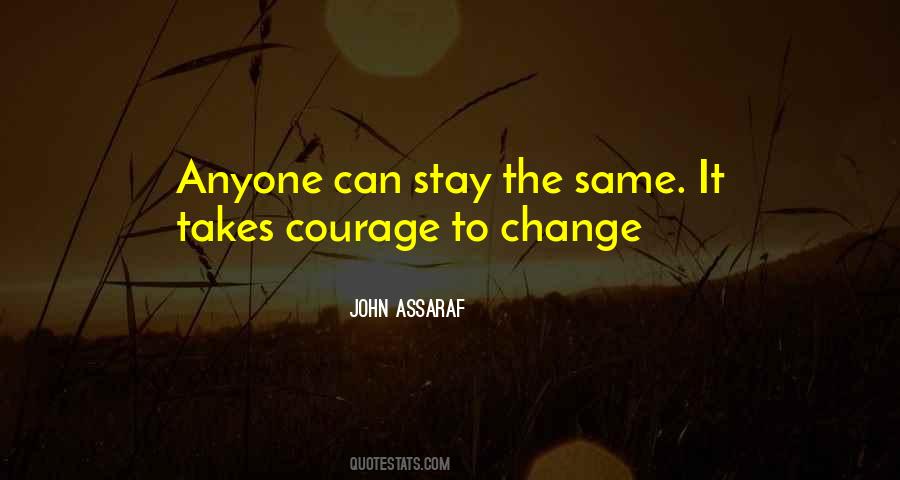 #73. I knew people want most what they pretend to hate, that it takes courage to say what you really want. - Author: Darcey Steinke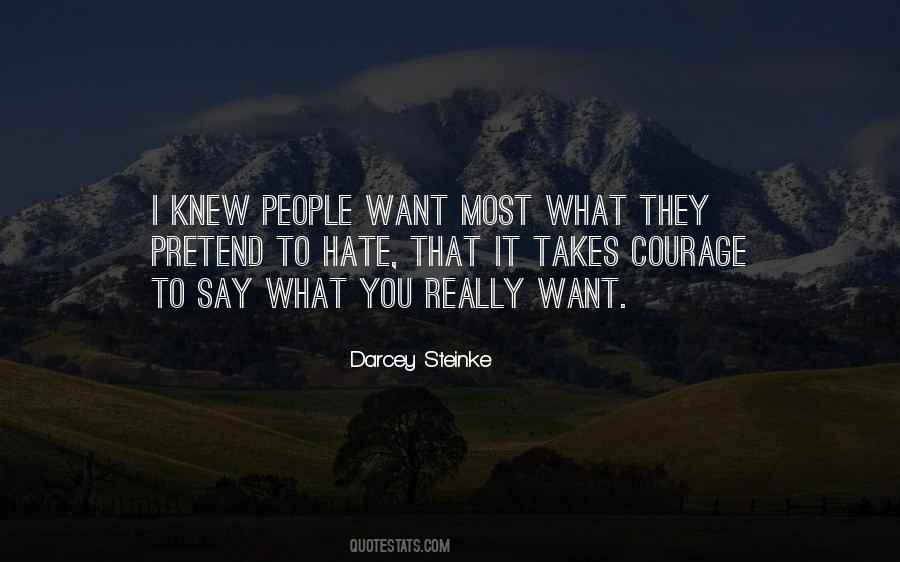 #74. Writing and prayer are both a form of love, and love takes courage. - Author: Pat Schneider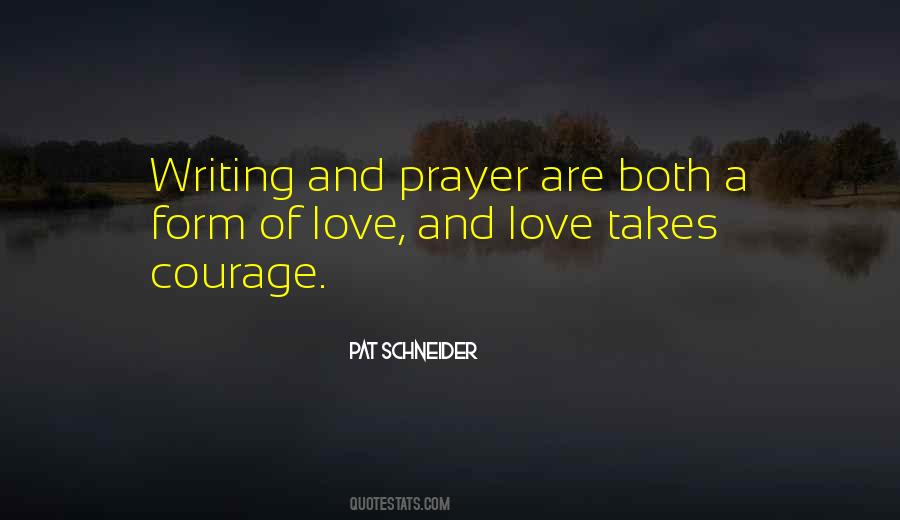 #75. It takes as much courage to have tried and failed as it does to have tried and succeded. - Author: Anne Morrow Lindbergh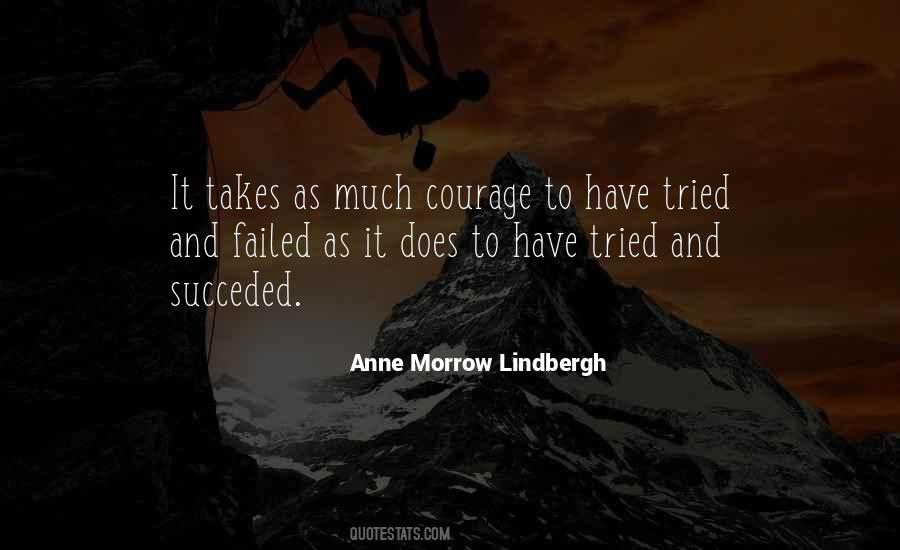 #76. Too many people are frightened. They want youth to last. They complain bitterly if sickness comes. But the world is always in tumult, and fortunes rise and fall and fail. It is the ambitious who accomplish things. It takes courage to be ambitious, for never was anything great achieved without risk. - Author: Jeff Wheeler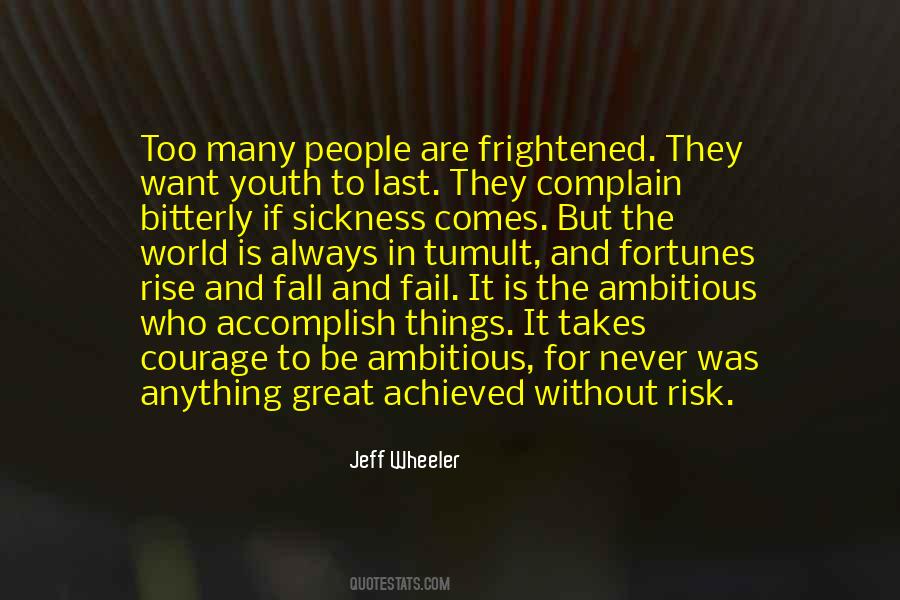 #77. The simple truth is that being a creative artist takes courage; it's not a job for the faint of heart. It takes courage each and every time you put a book or poem or painting before the public, because it is, in fact, enormously revealing. - Author: Terri Windling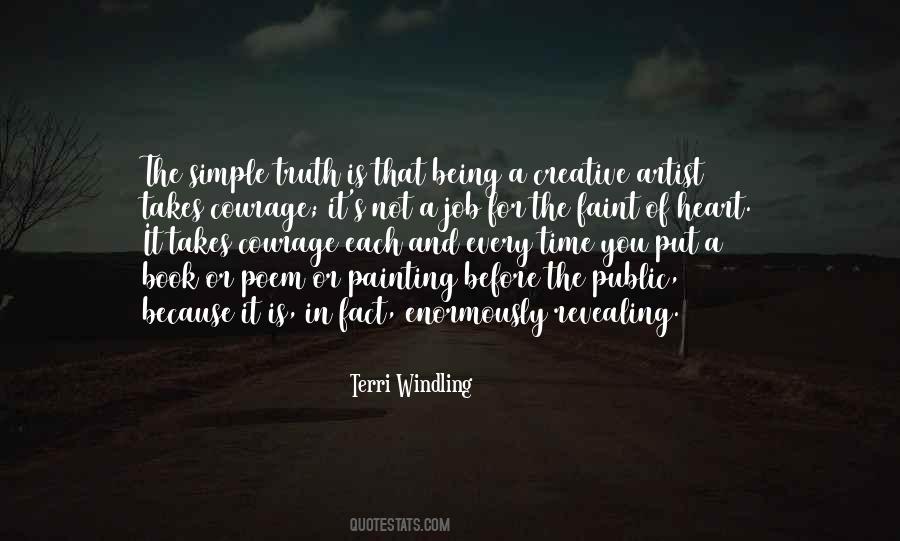 #78. And then I realized that my sister was trying to LIVE a romance novel.
Man, that takes courage and imagination. Well, it also took some degree of mental illness, too, but I was suddenly happy for her.
And a little scared. Well, a lot scared. - Author: Sherman Alexie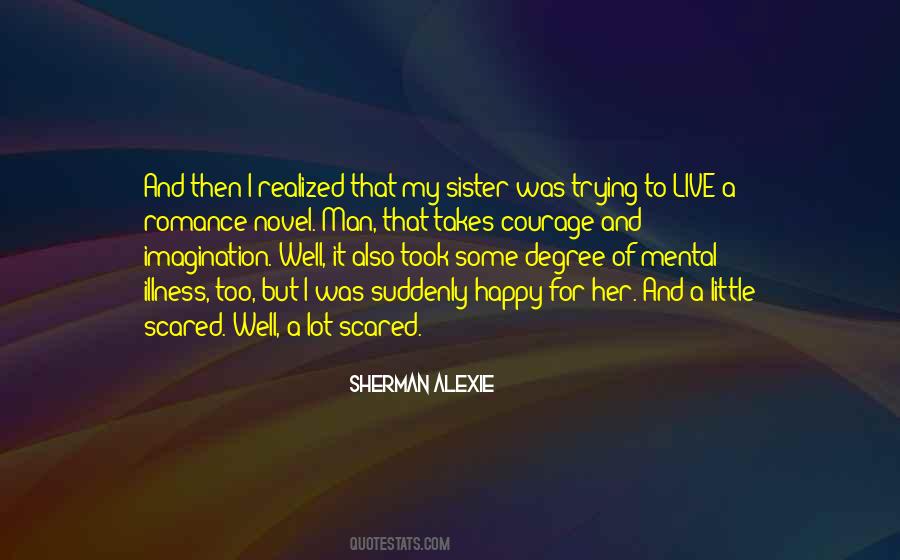 #79. It is in the expectations of happiness that much of happiness itself is found. And it takes courage to expect happiness. - Author: Earl Nightingale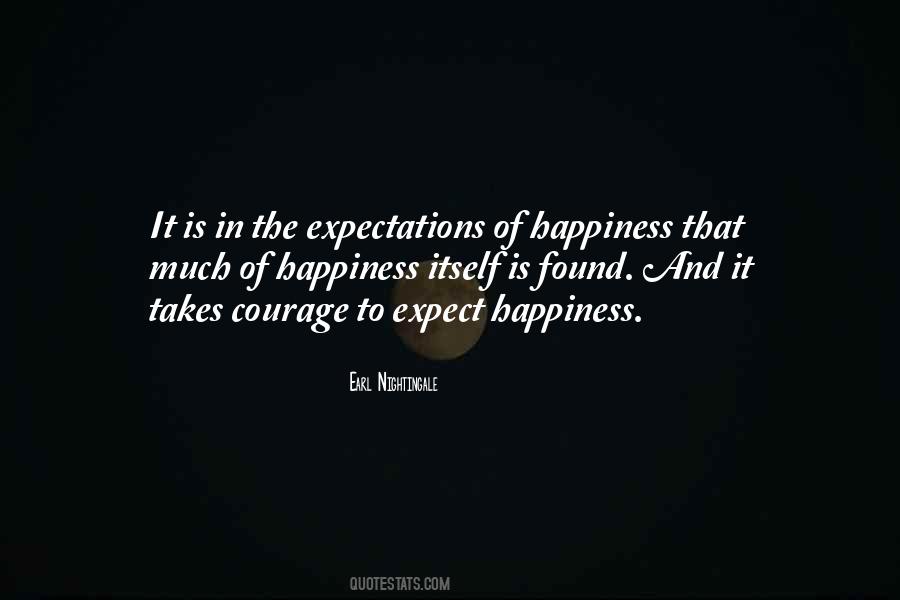 #80. Living everyday in the presence of those who refuse to acknowledge your humanity takes great courage - Author: Min Jin Lee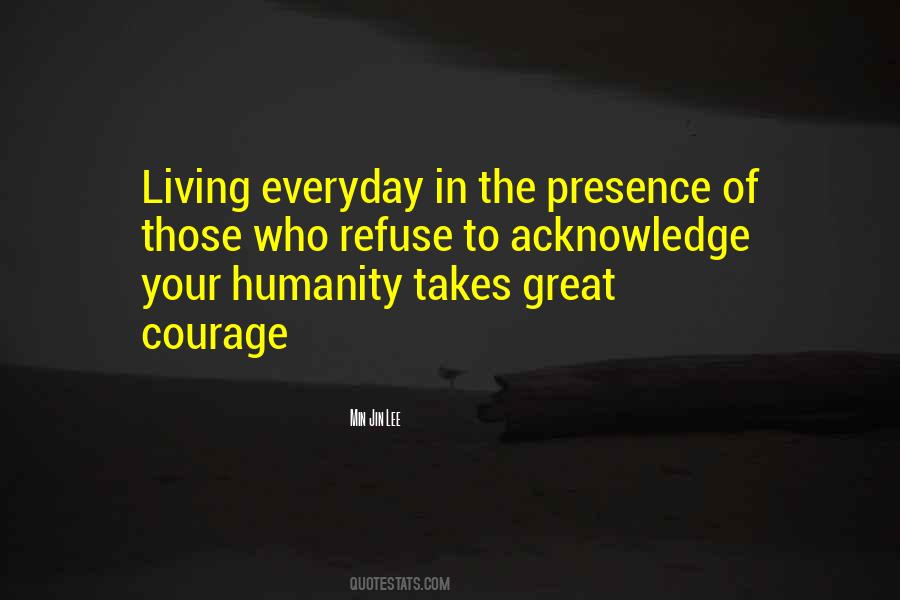 #81. It takes courage to push yourself to places you have never been before ... to test yout limits ... to break through barriers. And the day came when the risk it took to stay tight inside the bud was more painful than the risk it took to blossum. - Author: Anais Nin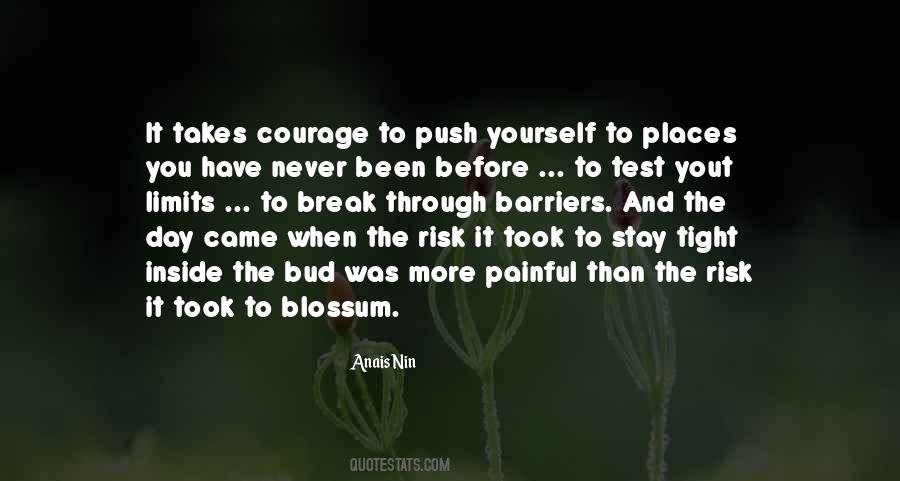 #82. Innovation journey is like taking a hiking trip at the trail very few or even no people ever went before, it takes courage and emotional maturity. - Author: Pearl Zhu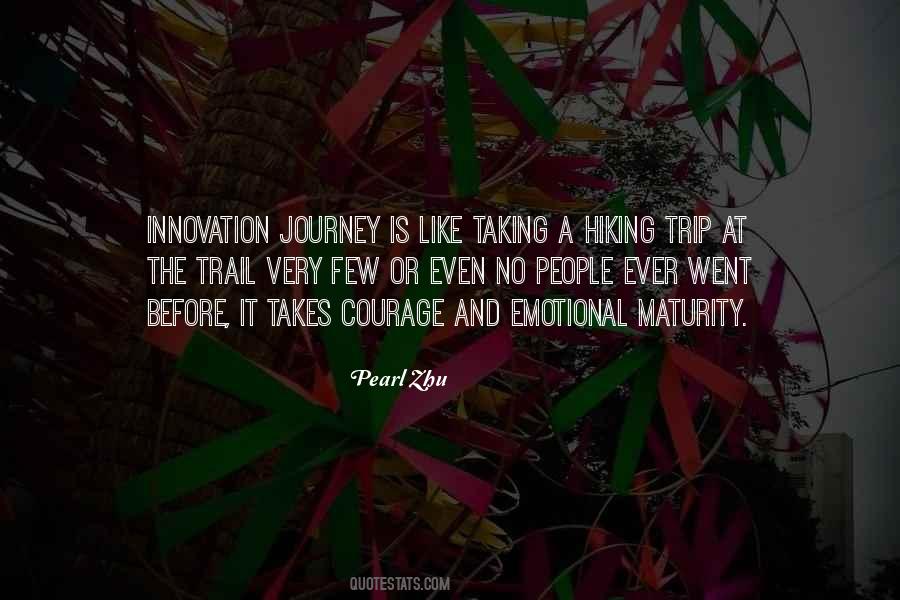 #83. It takes courage to set priorities because doing so is an admission that American policy cannot be all things to all people - or rather to all interest groups - Author: Condoleezza Rice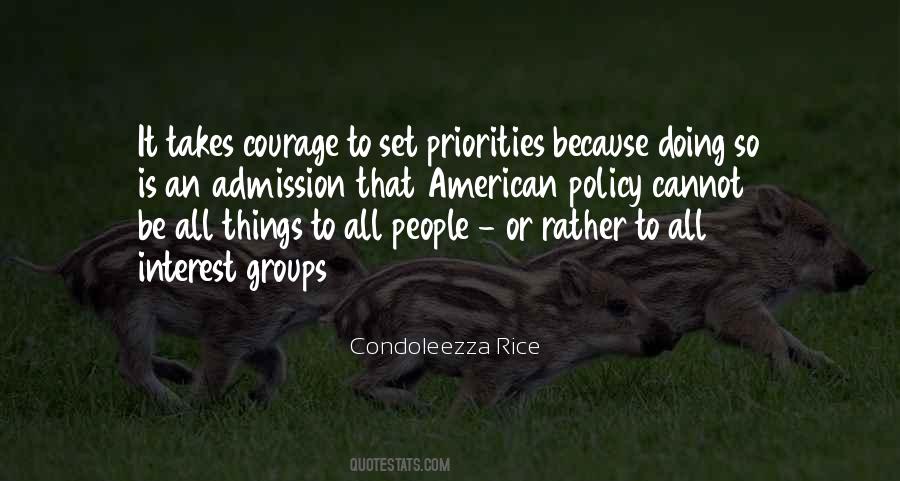 #84. In my experience, getting rich takes focus, courage, knowledge, expertise, 100 percent of your effort, a never-give-up attitude and of course a rich mind-set. - Author: T. Harv Eker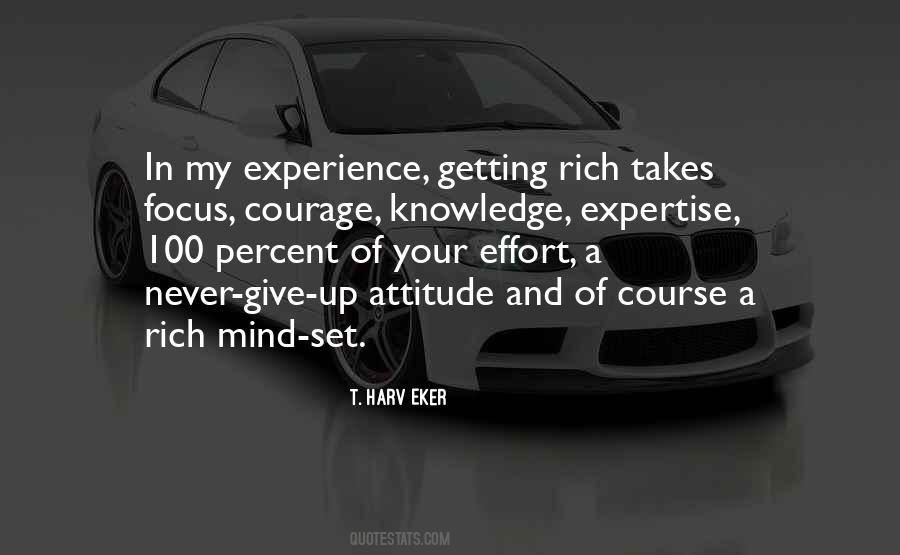 #85. Talent is a universal gift, but it takes a lot of courage to use it. Don't be afraid to be the best. - Author: Paulo Coelho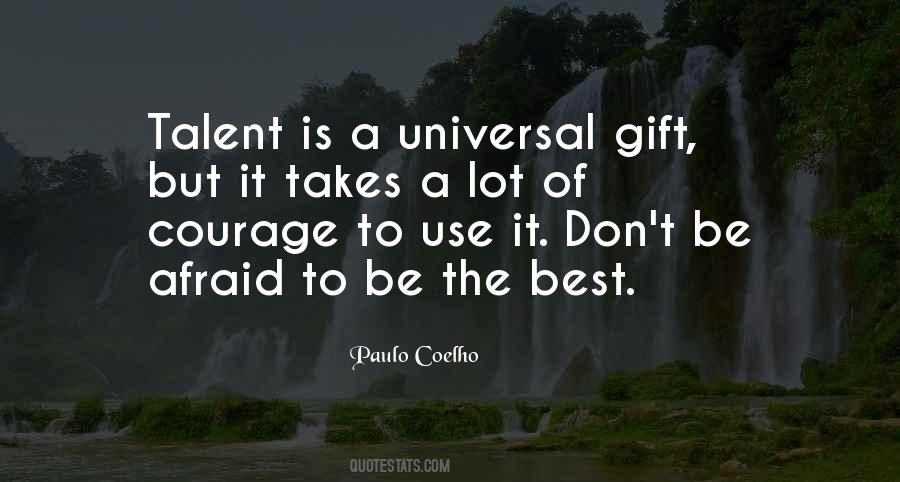 #86. Launching a brand is not for those with thin skin. It takes courage, intelligence and foresight. - Author: David Brier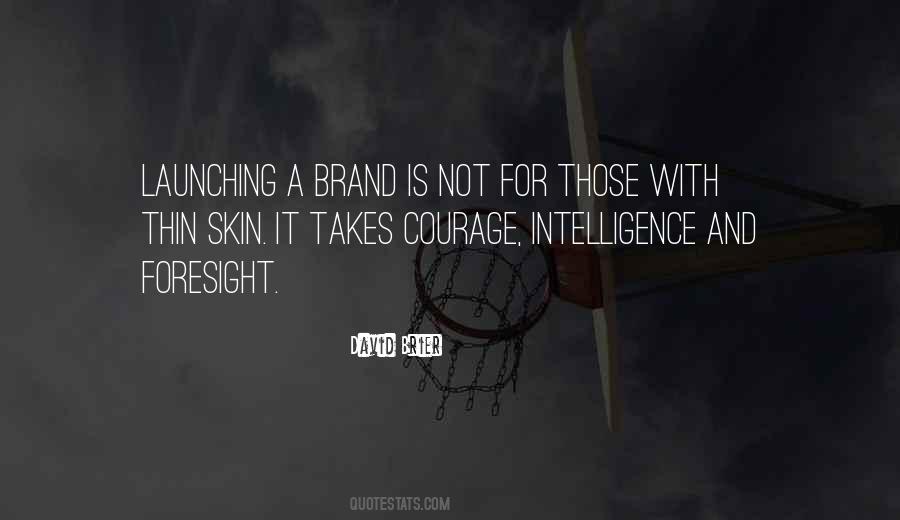 #87. It takes far less courage to cling to the past than it does to face the future. - Author: Sandra Brown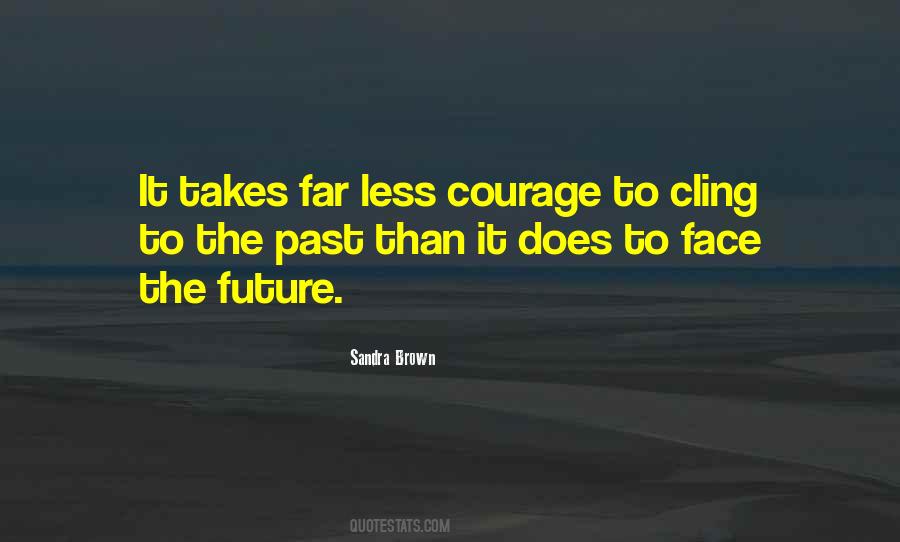 #88. In this space, in this moment, we are who we want to be. I am lucky, because for me that doesn't take much courage. But for others, it takes a world of bravery to make it to the clearing. - Author: David Levithan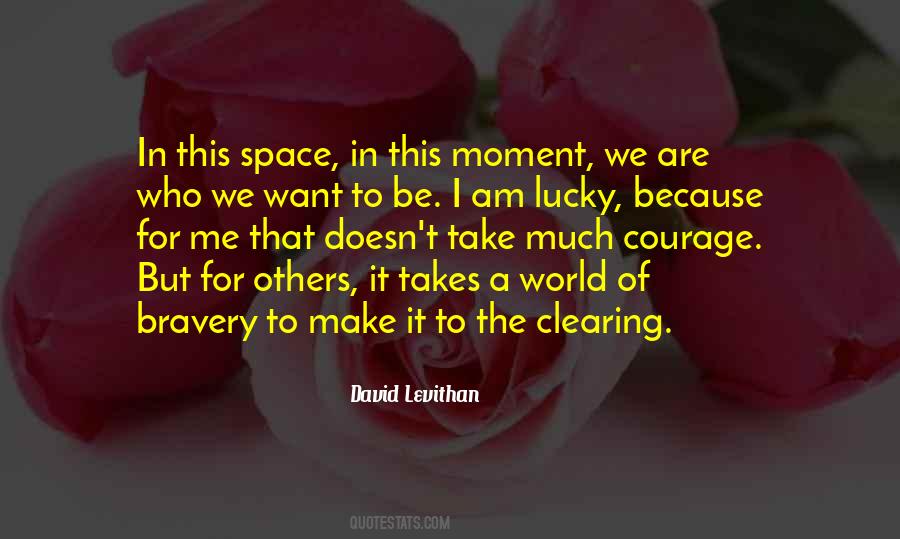 #89. Makes sense to me. Sometimes starting over is exactly what a person needs. And I think it's admirable. A lot of people don't have the courage it takes to do something like that. - Author: Nicholas Sparks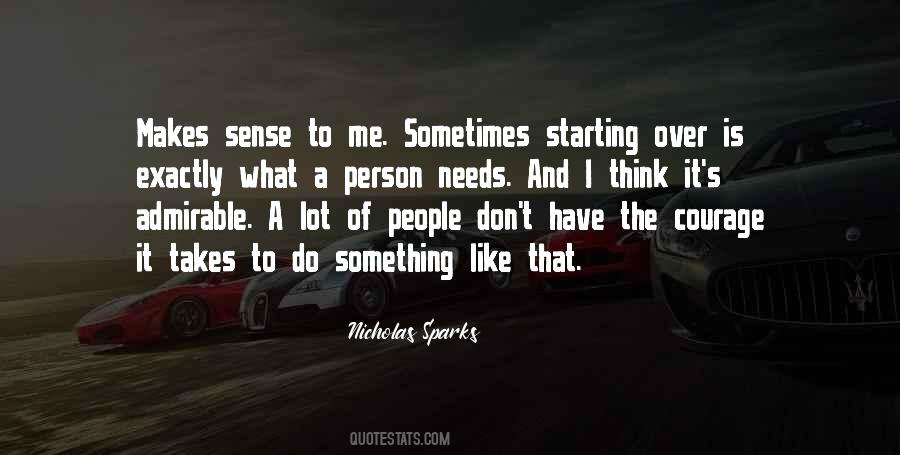 #90. The easiest decision you could make is judge, it takes courage to search for the truth. - Author: Abraham Ruiz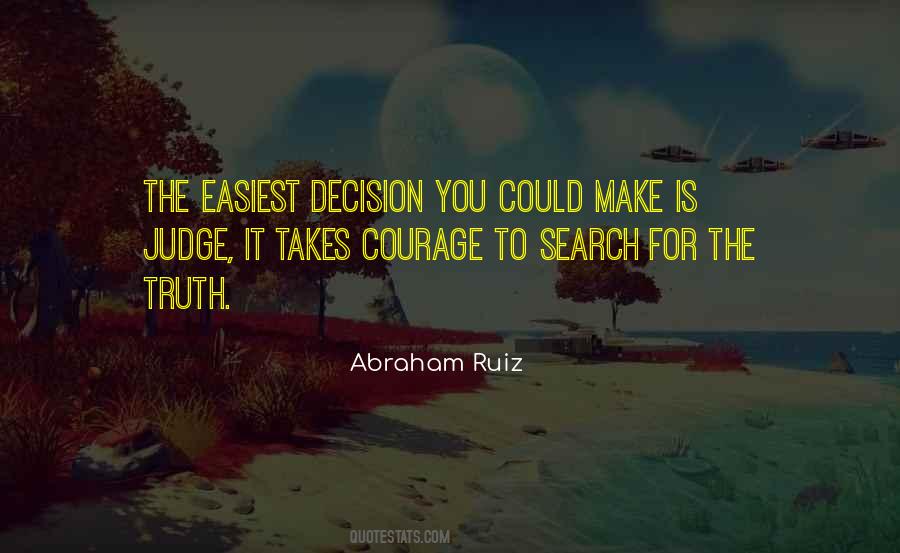 #91. Some temptations are so great it takes great courage to yield to them. - Author: Oscar Wilde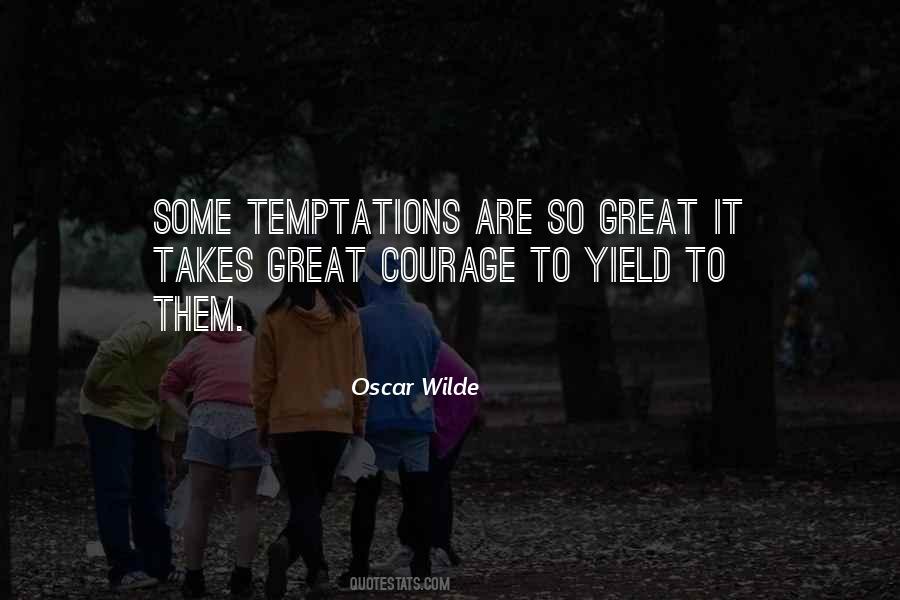 #92. When I today ask myself whence I got the moral courage, for it takes moral courage to make a move (or form a plan) running counter to all tradition, I think I may say in answer, that it was only my intense preoccupation with the problem of the blockade which helped me to do so. - Author: Aron Nimzowitsch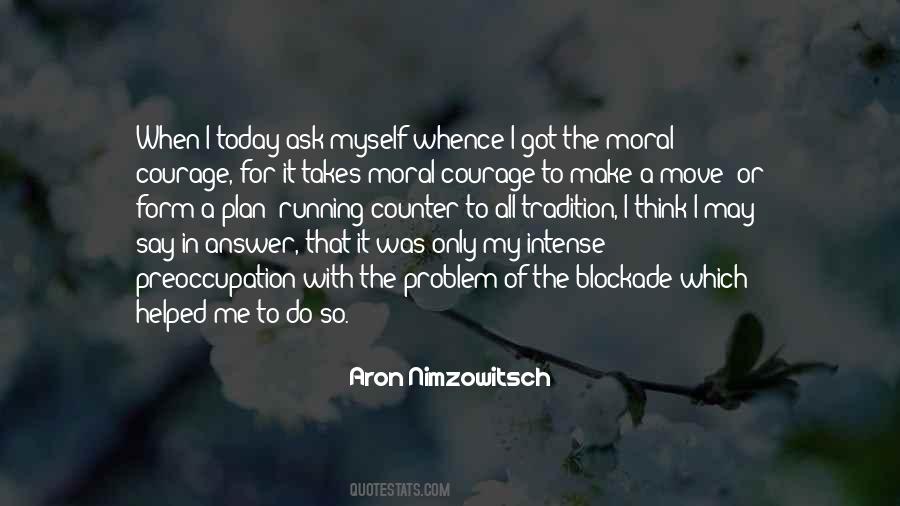 #93. Relationships: It takes wisdom to know when to turn the page and courage to know when to close the book. - Author: Steve Maraboli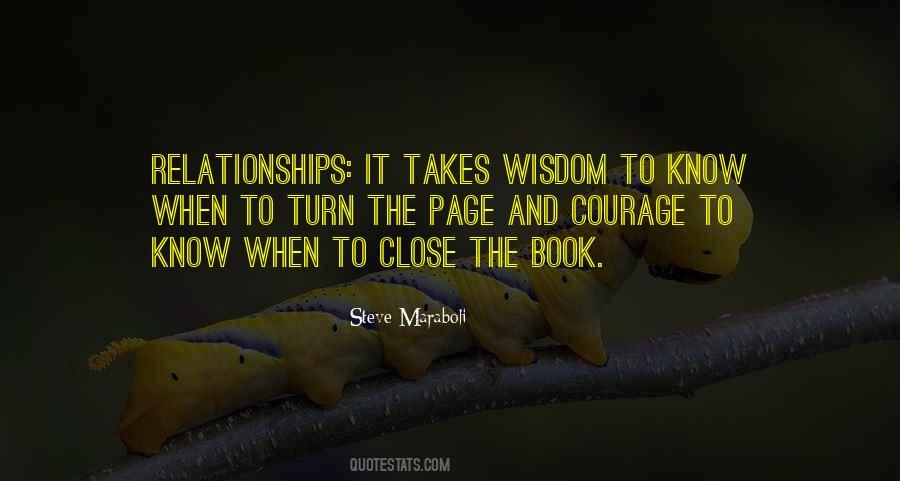 #94. Man with his burning soul Has but an hour of breath To build a ship of Truth In which his soul may sail- Sail on the sea of death. For death takes toll Of beauty, courage, youth, Of all but Truth. - Author: John Masefield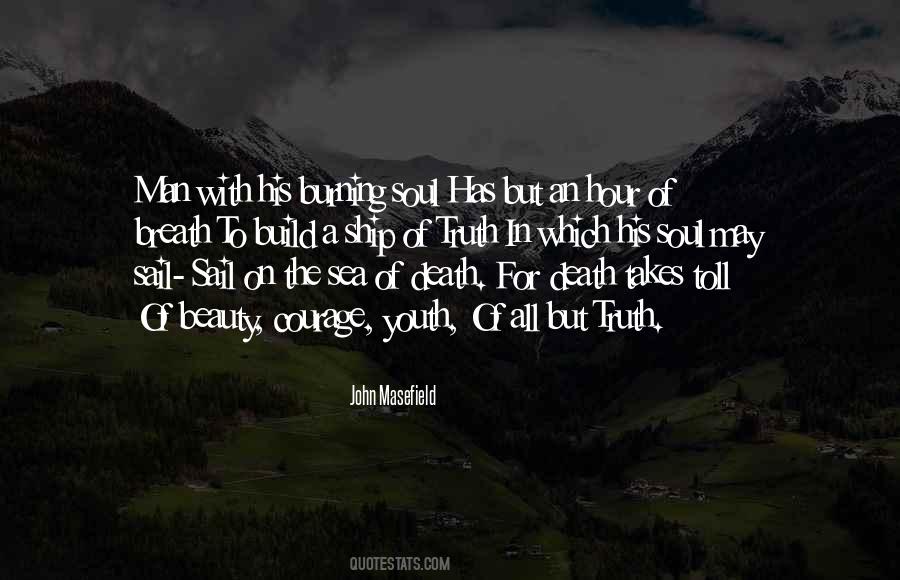 #95. It takes courage to do what you want. Other people have a lot of plans for you ... Follow your bliss. - Author: Joseph Campbell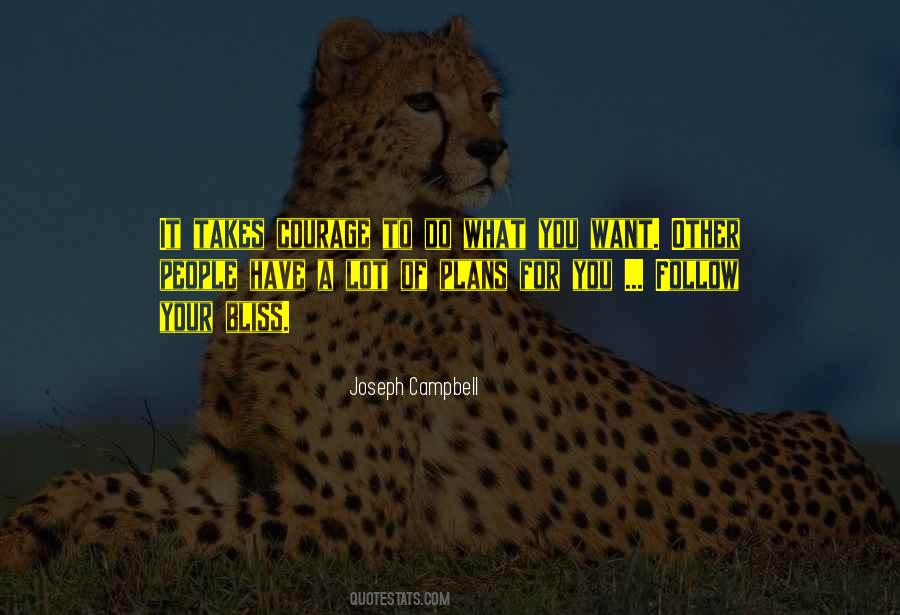 #96. It takes courage to begin something, but it can take even more to end it. - Author: Marie Forleo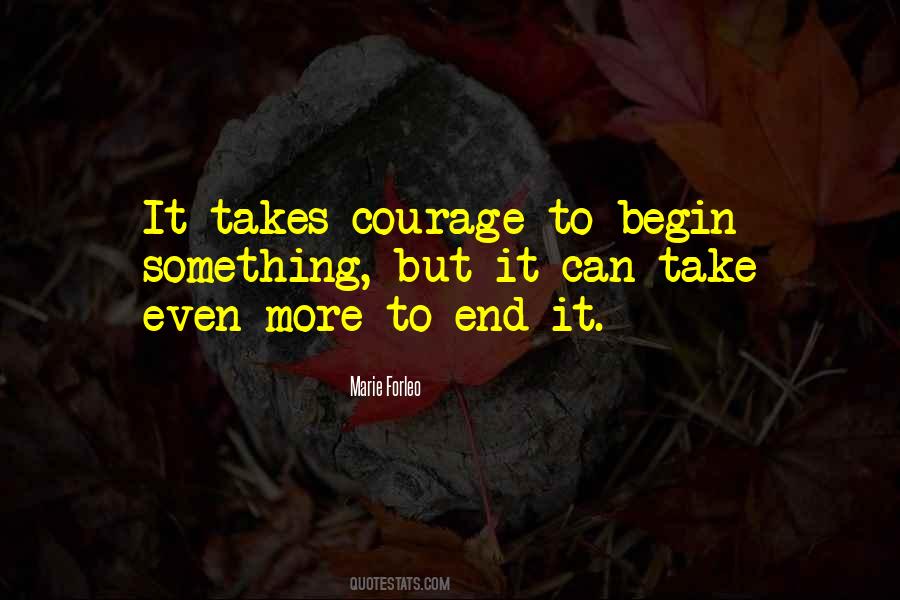 #97. Big love is the kind of love that takes in more than the self. It's love for something bigger than the self. It's love of God, of the universe, of the family, of the pack, of the tribe. It inspires courage and selflessness in those who know it. - Author: Angelo Dirks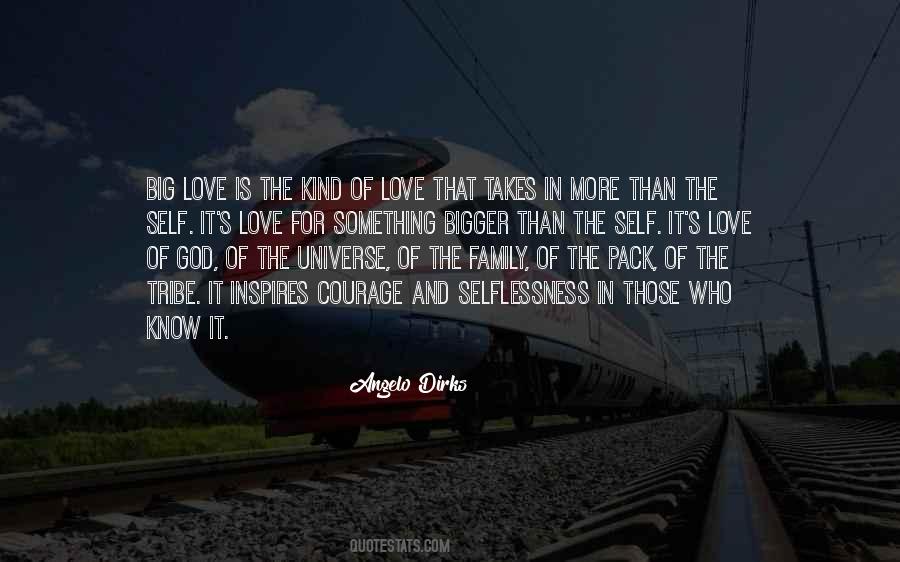 #98. Of all the actresses ... to me, only Faye Dunaway has the talent and the class and the courage it takes to make a real star. - Author: Joan Crawford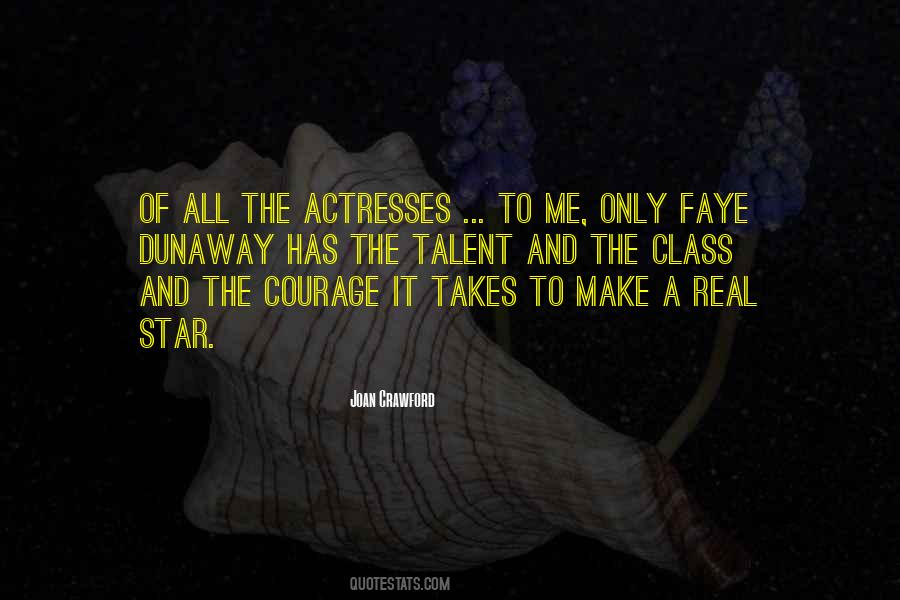 #99. Through every generation of the human race there has been a constant war, a war with fear. Those who have the courage to conquer it are made free and those who are conquered by it are made to suffer until they have the courage to defeat it, or death takes them. - Author: Alexander The Great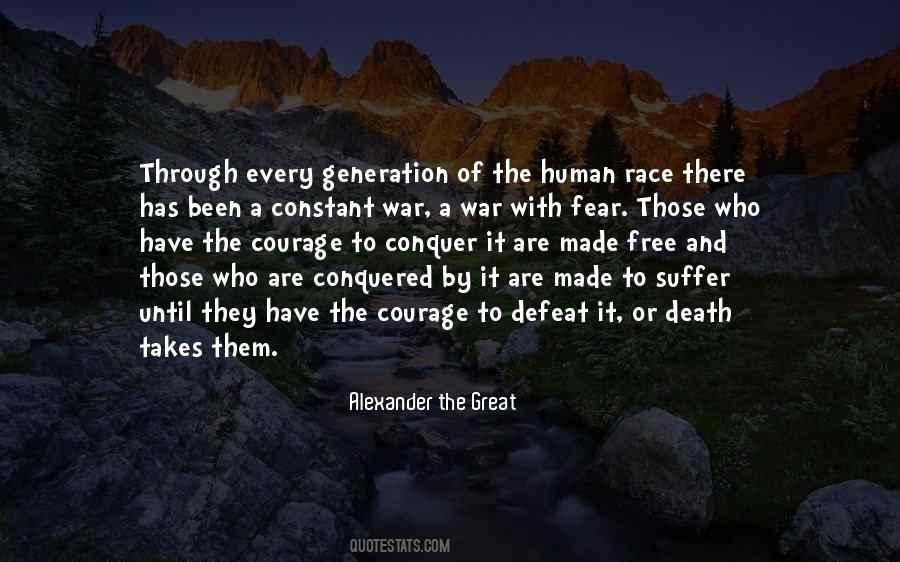 #100. It's easy to stand in the crowd but it takes courage to stand alone - Author: Mahatma Gandhi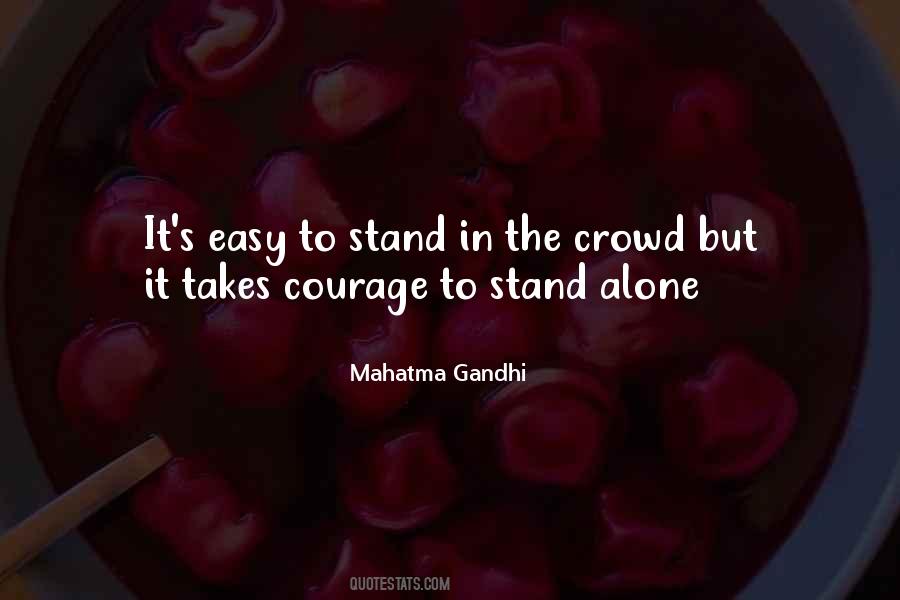 Famous Authors
Popular Topics