Take No Prisoners Famous Quotes & Sayings
List of top 42 famous quotes and sayings about take no prisoners to read and share with friends on your Facebook, Twitter, blogs.
Top 42 Take No Prisoners Quotes
#1. I am an adamant feminist. It never occurred to me to take my husband's name when we married. I am a supporter of abortion rights, of equal pay for equal work, of the rights of women prisoners, of all the time-honored feminist causes, and then some. - Author: Ayelet Waldman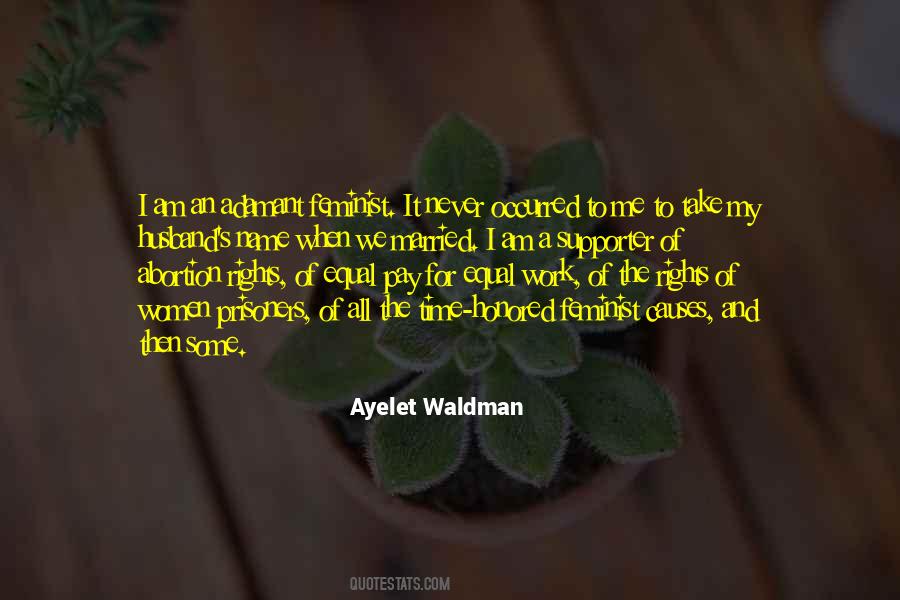 #2. The moral was, in time of anarchy, tough leadership is the only solution - even though the collateral damage may be heartbreaking. Mrs. Thatcher's strident, take-no prisoners approach was in some ways repugnant, but it was surely necessary. - Author: Nigel Hamilton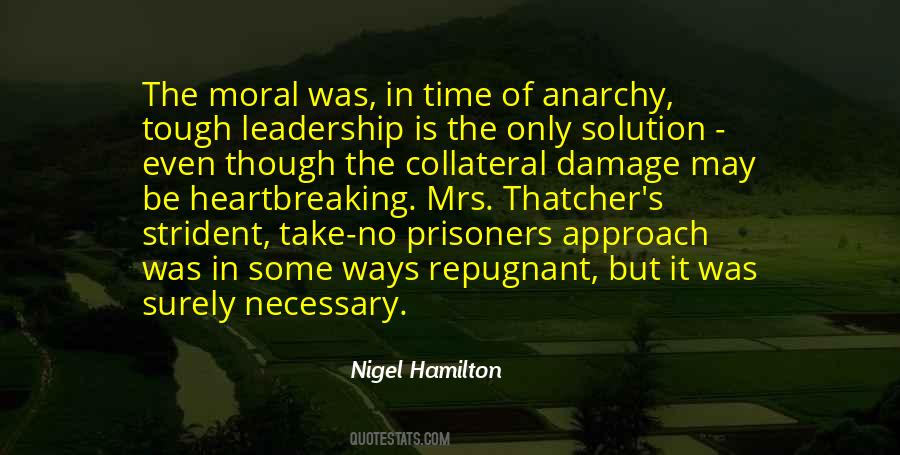 #3. Everything about Florence seems to be colored with a mild violet, like diluted wine. - Author: Henry James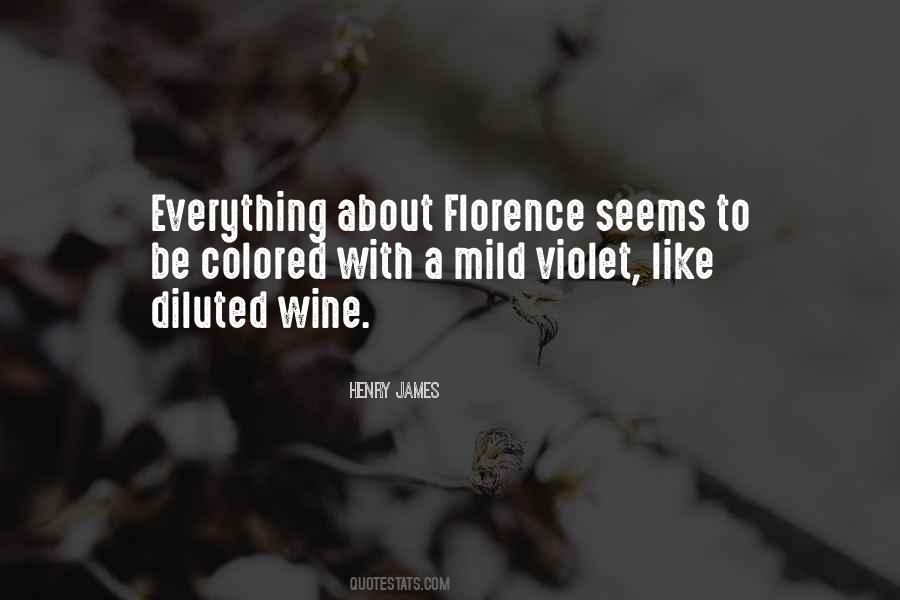 #4. I remember when humor was gentle pokes. I used to call it 'arm around the shoulder' humor. Now they go for the jugular and they take no prisoners. It's mean, mean stuff. - Author: Robert Orben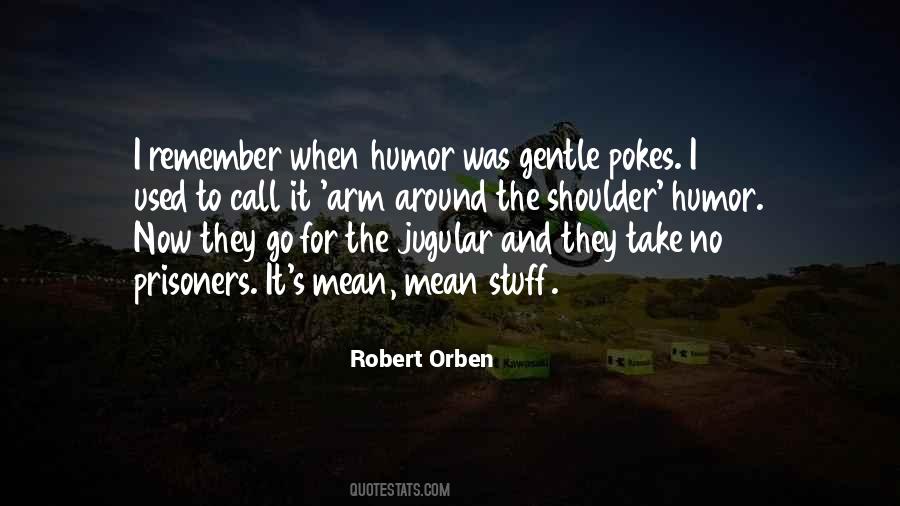 #5. Like I'm listening to a garden seashell for the echo of her take-no-prisoners affection, I lay my head against Mom's cold pillow. - Author: Rodney Ross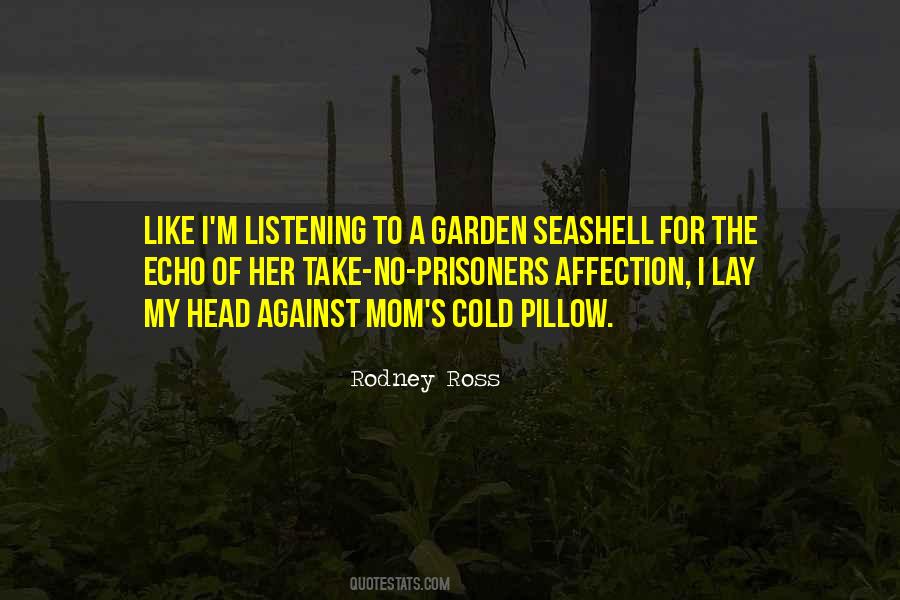 #6. Oh no you don't. We made our bed, now we have to lie in it. We're warriors, and we ain't scared of nobody!" She claimed, holding out a fist. "We're warriors Anna. Mean, hardcore, we take no prisoners, warriors. I laugh in the face of the fools that would dare confront us today. - Author: Sarah Tork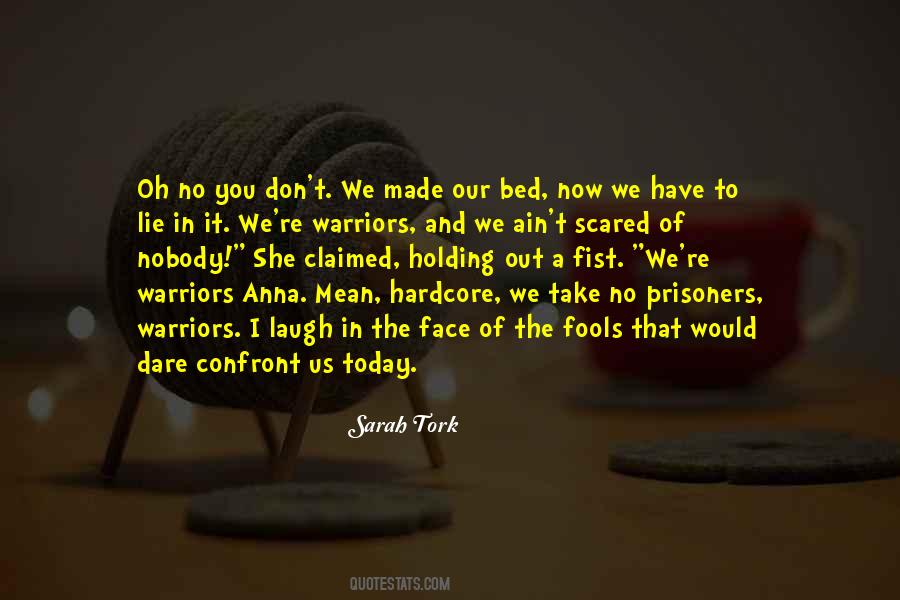 #7. There's no tradition of scientists knocking down the Sunday school door, telling the preacher, That might not necessarily be true. That's never happened. There're no scientists picketing outside of churches. - Author: Neil DeGrasse Tyson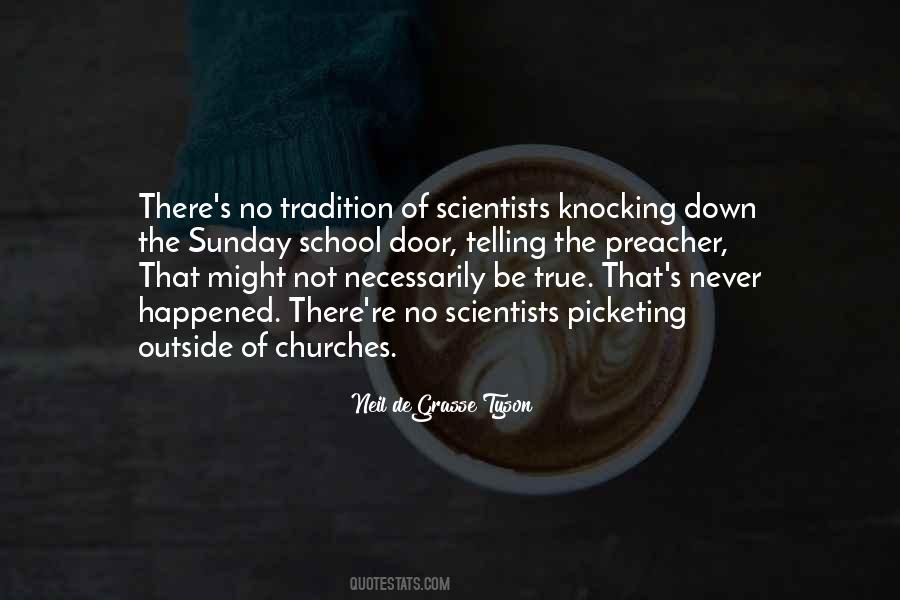 #8. And when you were a silent word upon Life's quivering lips, I too was there, another silent word. Then life uttered us and we came down the years throbbing with memories of yesterday and with longing for tomorrow, for yesterday was death conquered and tomorrow was birth pursued. - Author: Kahlil Gibran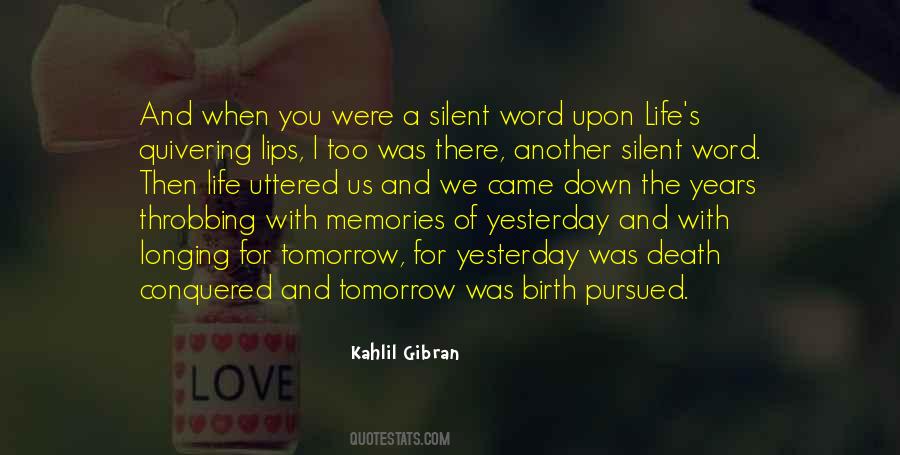 #9. It really isn't hard to write a book that prohibits sexual slavery - you just put in a few lines like "Don't take sex slaves!" and "When you fight a war and take prisoners, as you inevitably will, don't rape any of them!" And yet God couldn't seem to manage it. - Author: Sam Harris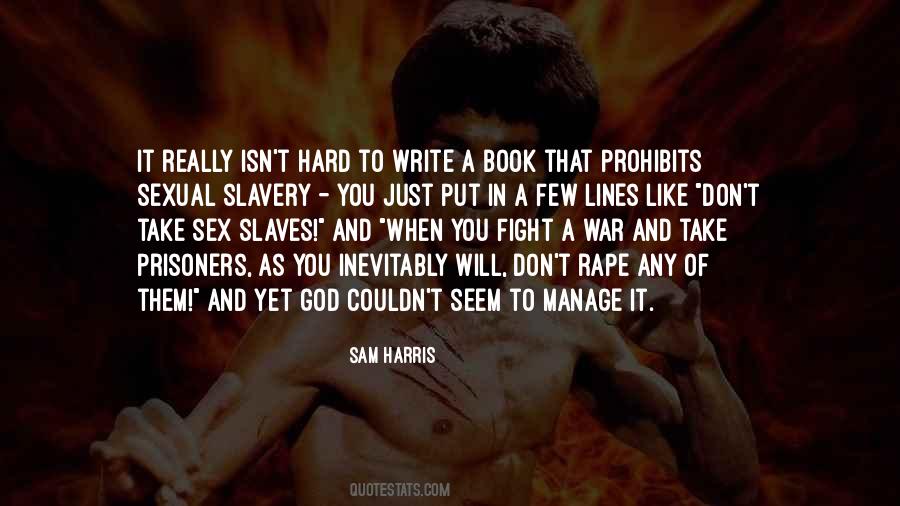 #10. So I had to be the doctor to these wounded men until we could remove them to the hospital. There were fifty-four women and forty little boys with the Red Army prisoners, and I went daily to take care of them also. - Author: Agnes Smedley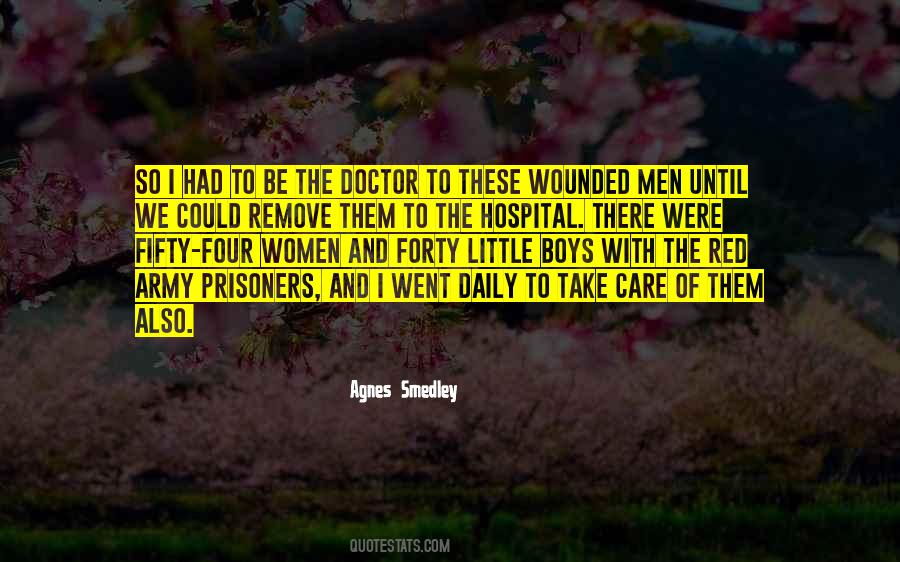 #11. The senses have their limits, and we can never know how short they fall in revealing to us the truth of a vision, a scent, a sound. - Author: Stephanie Perkins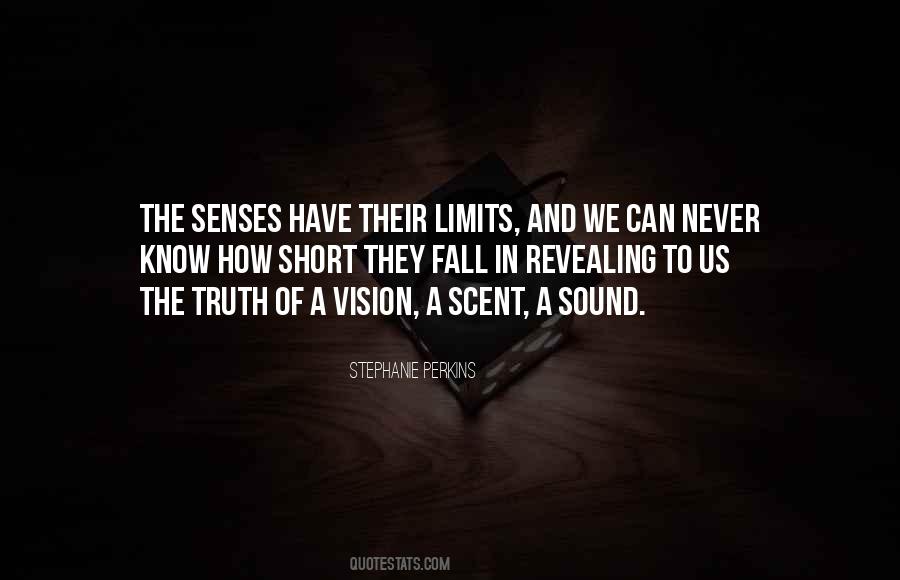 #12. We have not come here to take prisoners But to surrender ever more deeply To freedom and joy. - Author: Hafez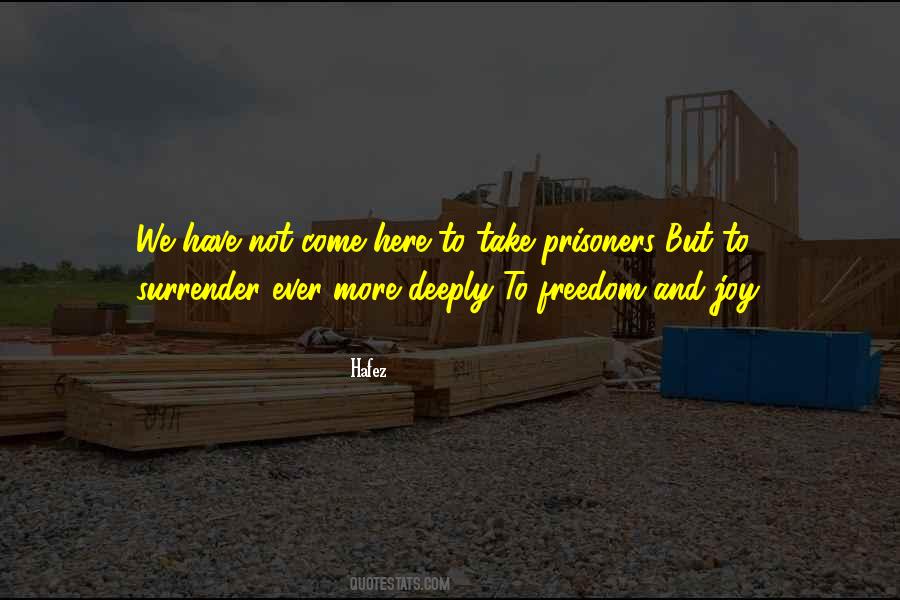 #13. Laurent flushed. The colour hit his
cheeks hard, and a muscle tightened in
his jaw as whatever he felt was forcibly
repressed. It was not like any reaction
that Damen had ever seen from him
before, and he couldn't resist pushing it a
little further. - Author: C.S. Pacat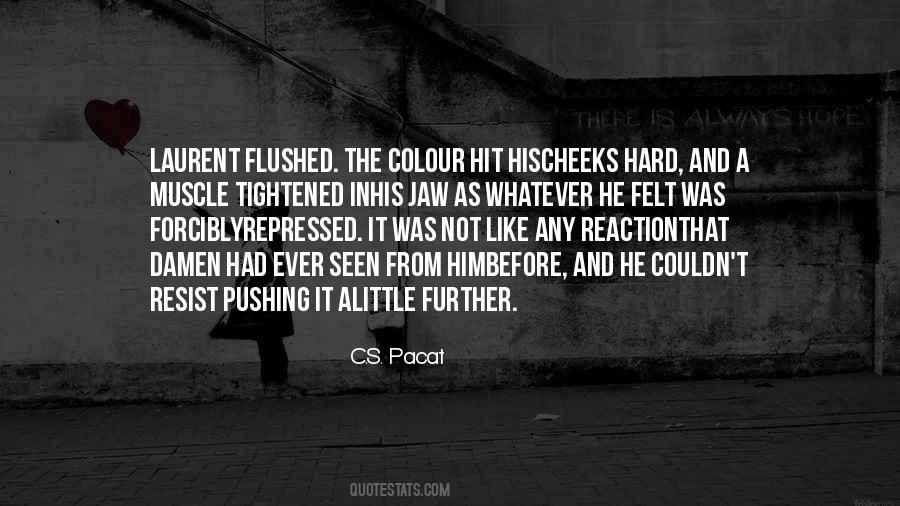 #14. So, you take no prisoners, huh?'
Flynn leaned in close. Her pulse clicked up a gear at the deliberate invasion of her personal space. 'No, sweetie. We take prisoners, of the short, female variety. We just don't fight fair when we catch 'em. - Author: Fiona Archer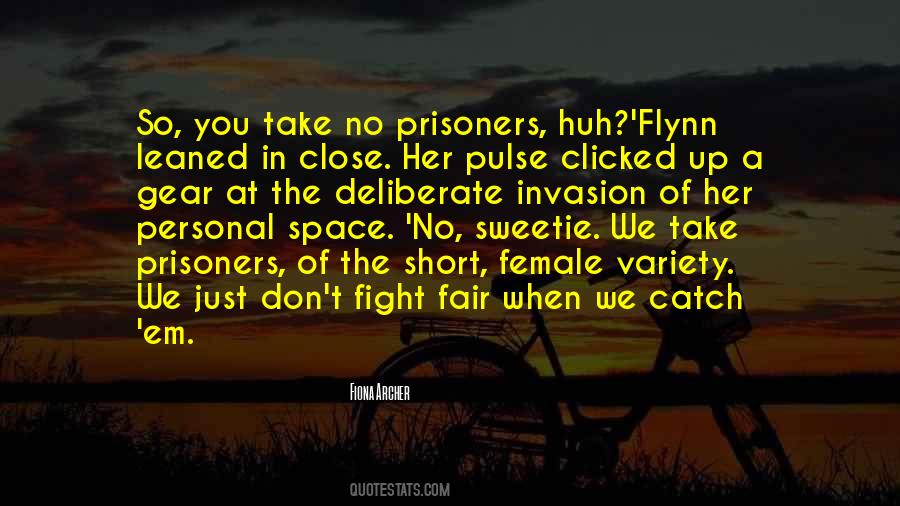 #15. Prisoners learn how to make do with less, and many of them want to take this ingenuity that they've learned to the outside ... but there's no training, nothing to prepare them for that. - Author: Jeff Smith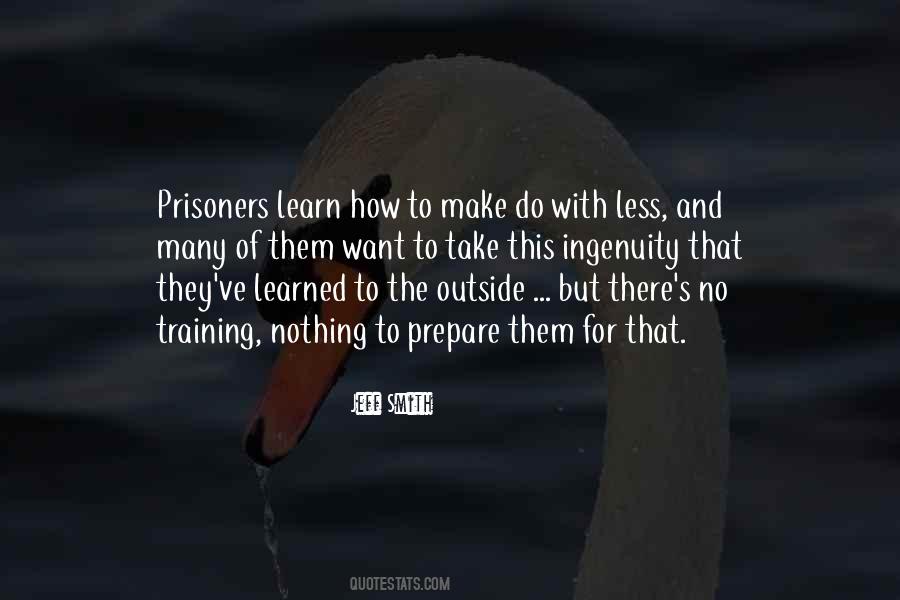 #16. I feel very blessed to have four brothers. My brothers always say, 'Oh, you know, we prepared you for the world of journalism. We prepared you for Arnold. We prepared you for everything.' And in a way they're right. Because you know, they take no prisoners. They were very tough. - Author: Maria Shriver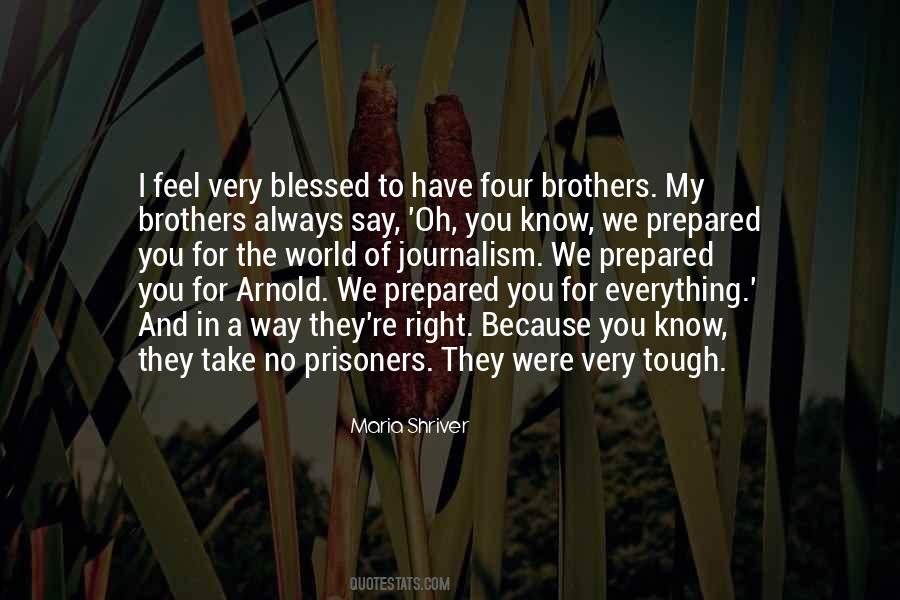 #17. Music was my joy, my home, the one place I felt happy and secure. - Author: Lawrence Welk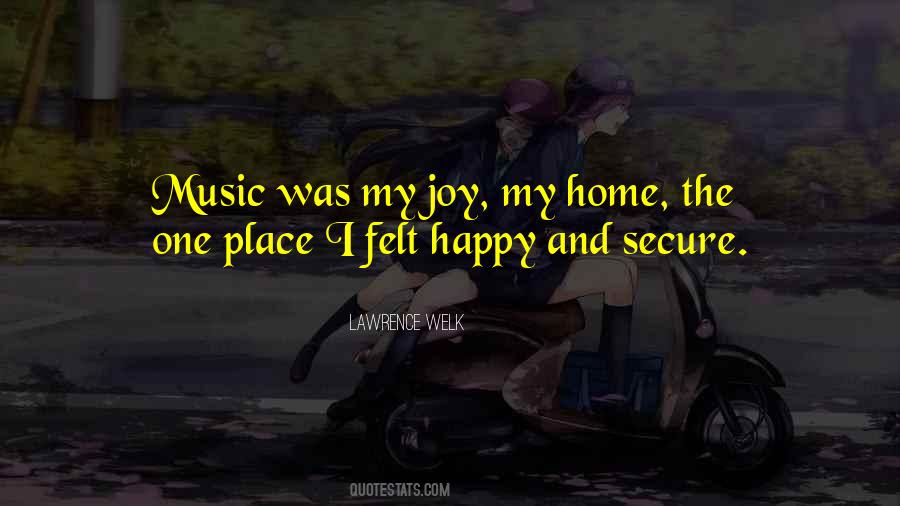 #18. Have the determination to make the effort, the single-mindness to work toward a worthy goal, and the courage not only to face the challenges that inevitably come but also to make a 2nd effort, should such be required, - Author: Thomas S. Monson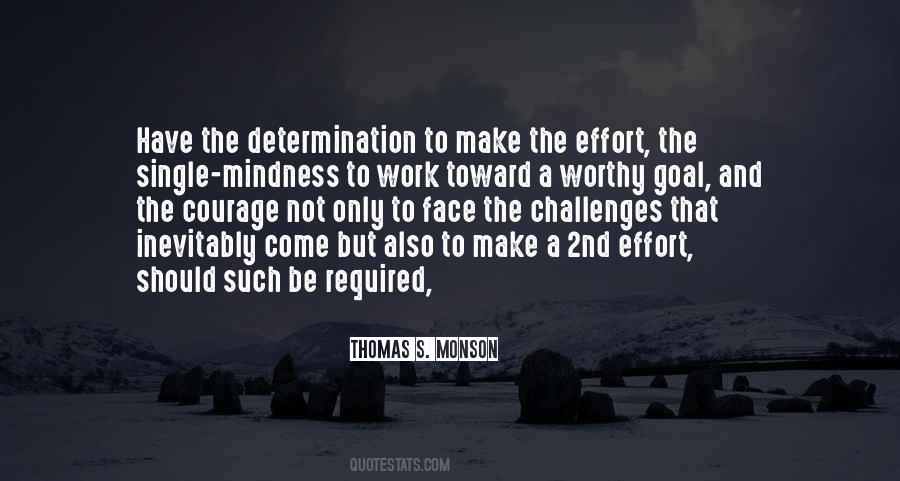 #19. We have progressed from the stone age and moved on to the age of stone hearted people - Author: Amit Abraham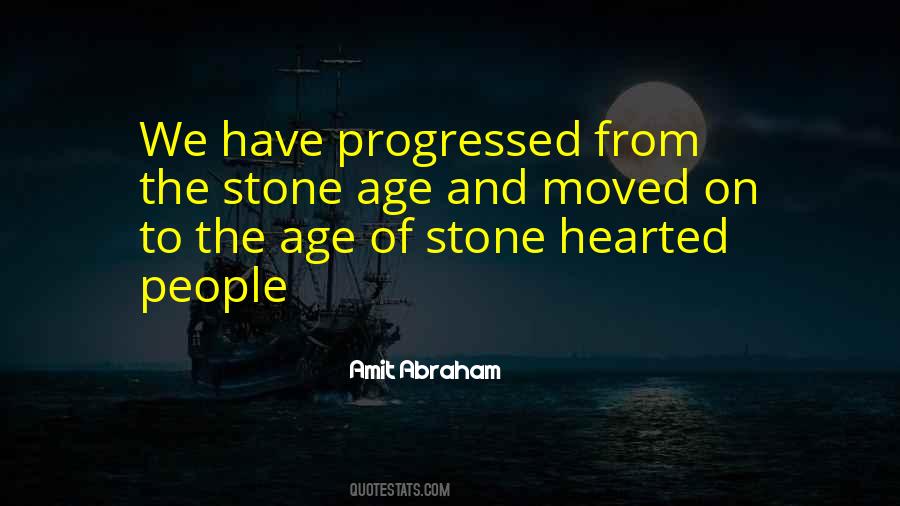 #20. Here's how I think of my money - as soldiers - I send them out to war everyday. I want them to take prisoners and come home, so there's more of them. - Author: Kevin O'Leary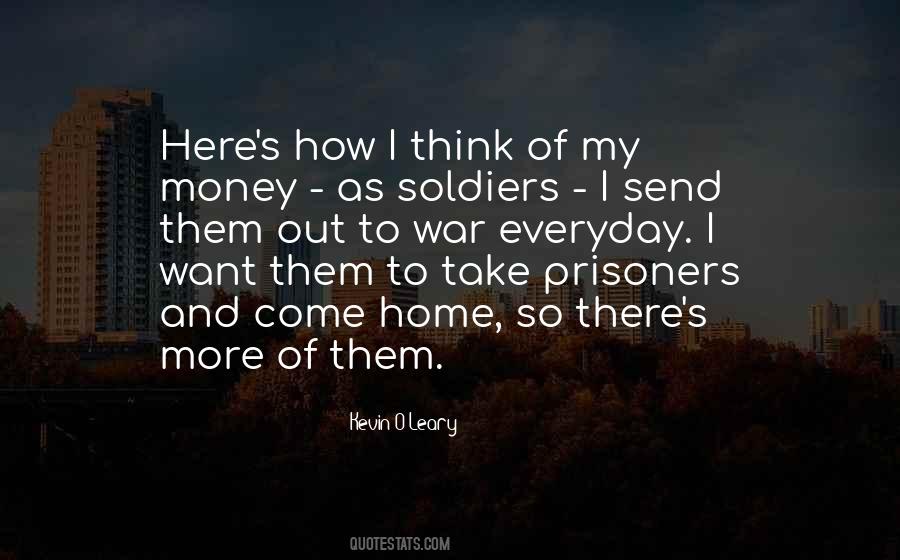 #21. To tell you the truth, I never listen to opera at home. - Author: Lesley Garrett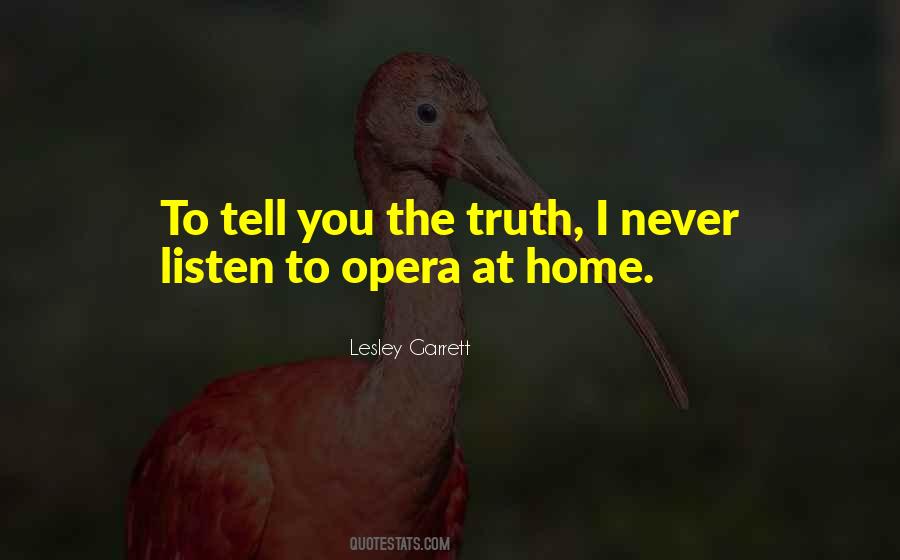 #22. It's been my dream to be in a Western, and to be able to wear the clothes, have a big gun, wear a big hat, have a big horse, and be a take-no-prisoners lady in the Civil War era. - Author: Lauren Ambrose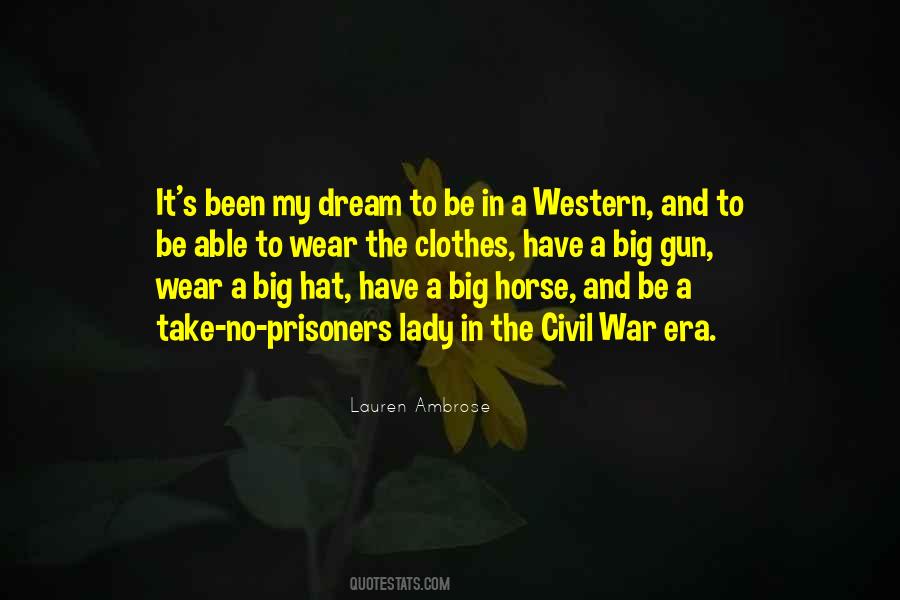 #23. For the people who believe, you don't have to explain, and for the people who don't believe, no explanation is good enough. - Author: Jeff Jarrett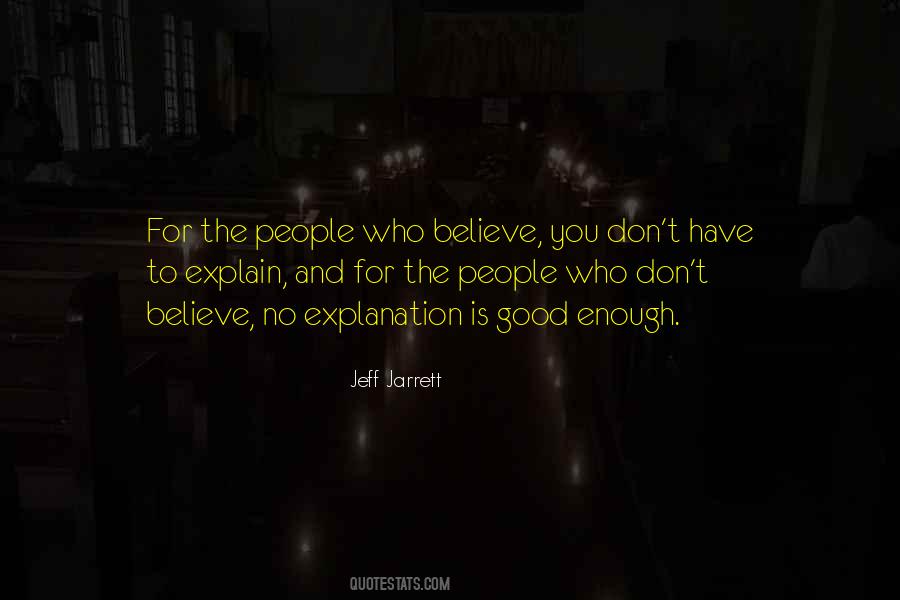 #24. When it comes to the cause of justice, I take no prisoners and I don't believe in compromise. - Author: Mary Frances Berry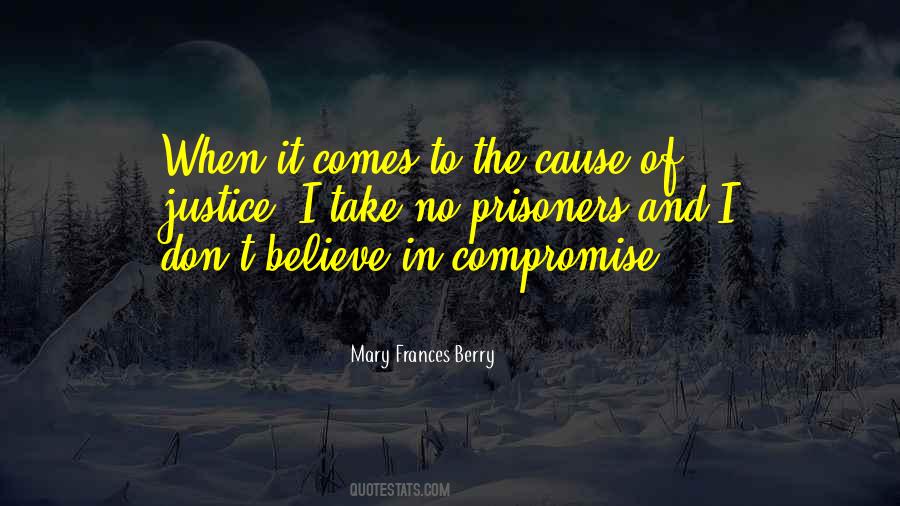 #25. America sends its criminals to unseen corners of our society, where they live they live monotonous lives that take away autonomy and choice, and where their time is completely owned by the institution. - Author: Erika Camplin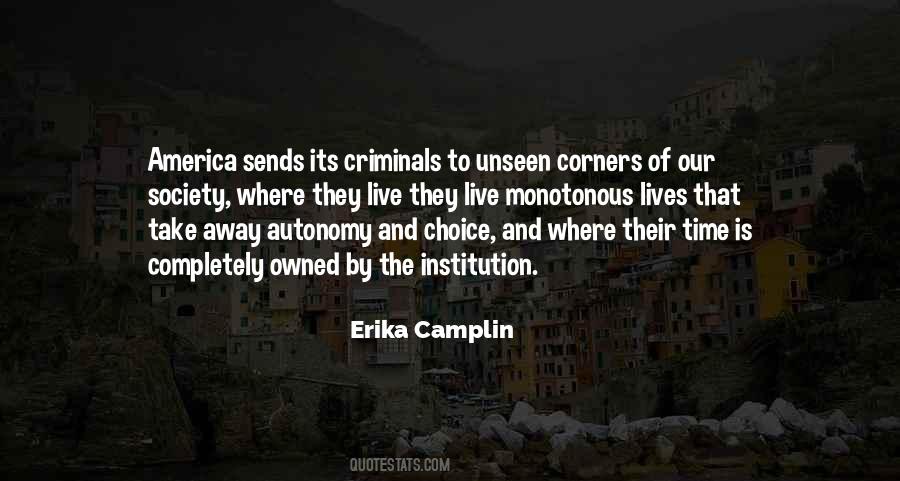 #26. No one dies except on his own day. You are throwing away none of your own time; for what you leave behind does not belong to you. - Author: Seneca.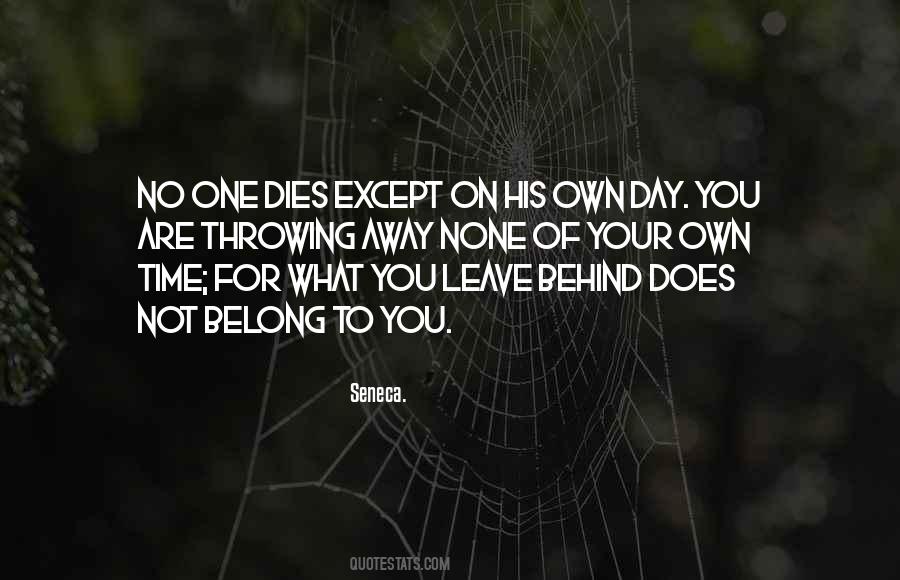 #27. I have learned some things. Modern life is warfare without end: take no prisoners, leave no wounded, eat the dead
that's environmentally sound. - Author: James Crumley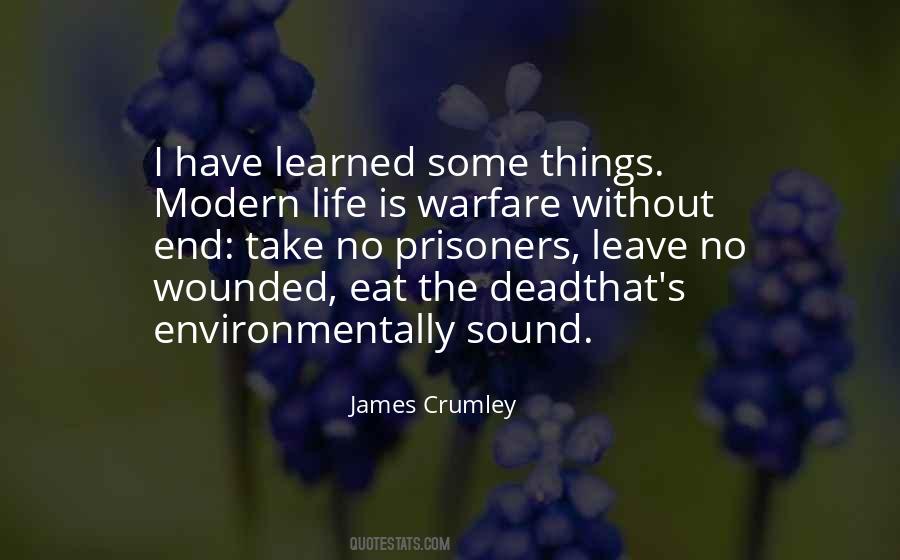 #28. If I'm tapping anything, it's the frustration of people who have something to say at work or home or in some social setting and just can't do it. I do it for them. I don't take prisoners. - Author: Neal Boortz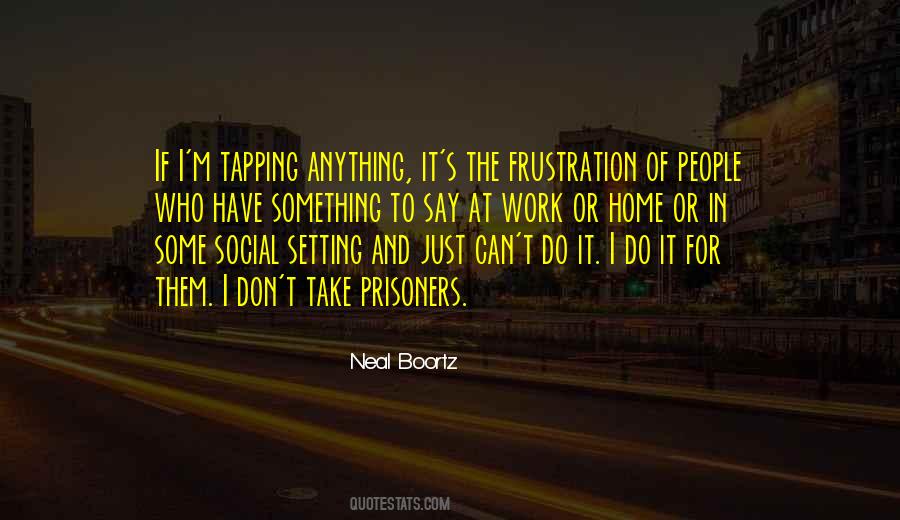 #29. We are the prisoners of ideas. They catch us up for moments into their heaven, and so fully engage us, that we take no thought forthe morrow, gaze like children, without an effort to make them our own. - Author: Ralph Waldo Emerson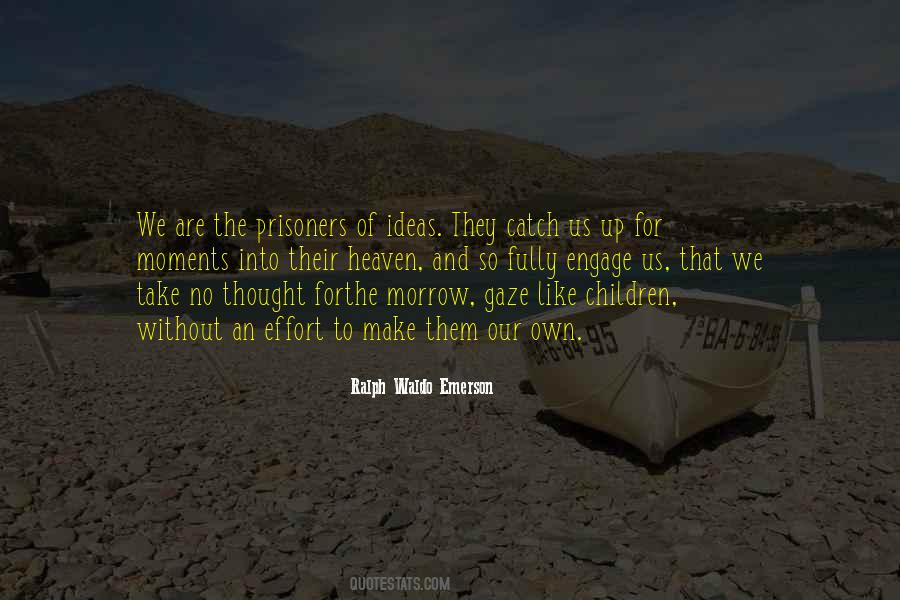 #30. I needed a place to put the dogs. The prisoners ruined the jail, so I put the prisoners in the tents and I had a nice place to put the dogs. We treat the cats nice too, and horses. I have the inmates take care of the animals. It's therapy too, you see. - Author: Joe Arpaio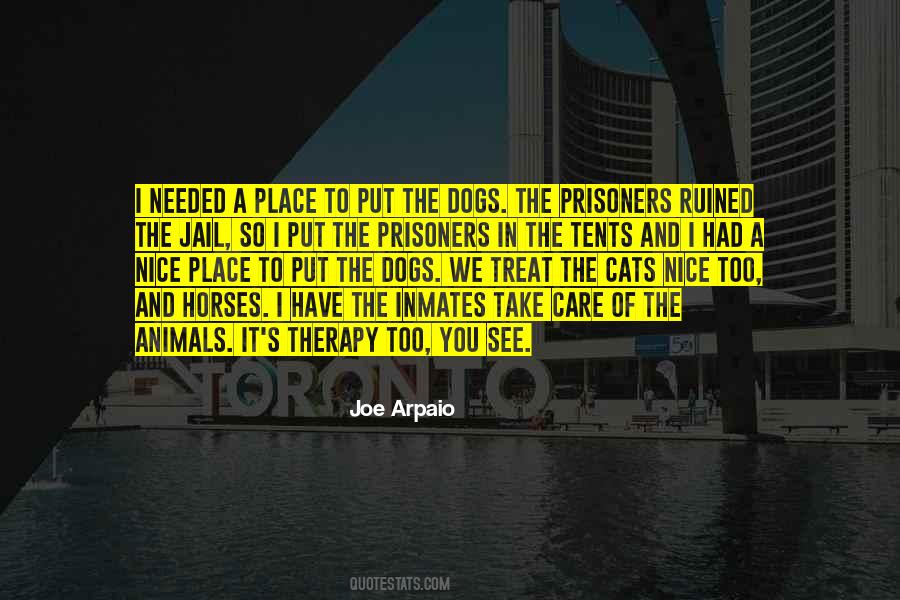 #31. Dreamers are risk takers, they go where the most people couldn't go. They break grounds, they take no prisoners. - Author: Euginia Herlihy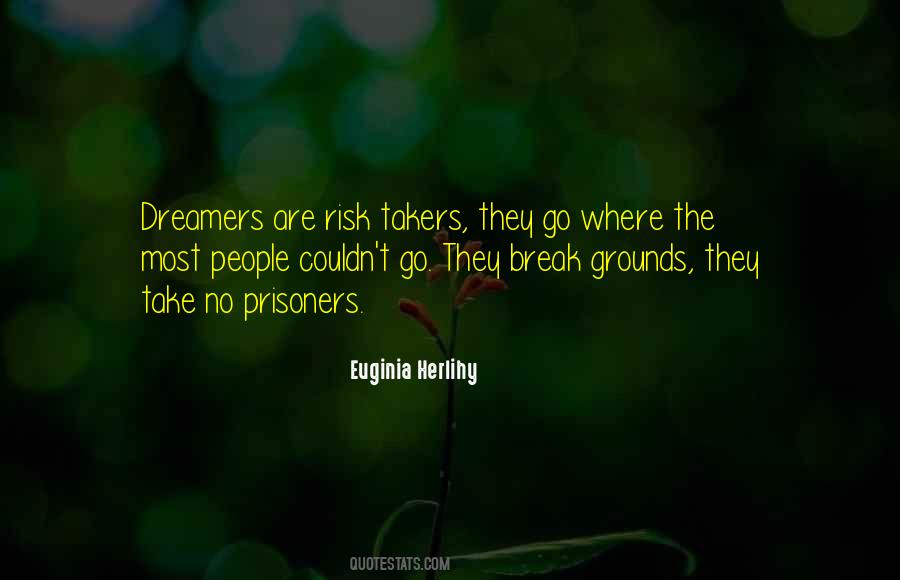 #32. You could eat sushi off my bookshelf. My cleaning regime is like a battleground. I'm Genghis Khan and my cleaning products are my Mongolian army and I take no prisoners. The rest of my life is an experiment in chaos so I like to keep my flat neat. - Author: Ryan Adams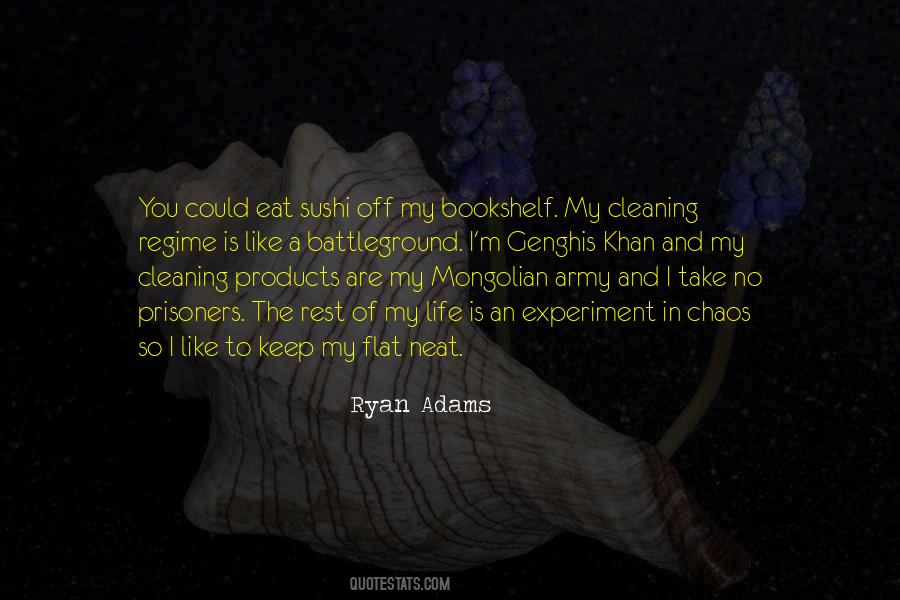 #33. Far from being a magic nostrum, true love, so-called, was a lingering illness, a clash of cold steel, a take no-prisoners war between Venus and Mars. - Author: Nina Mason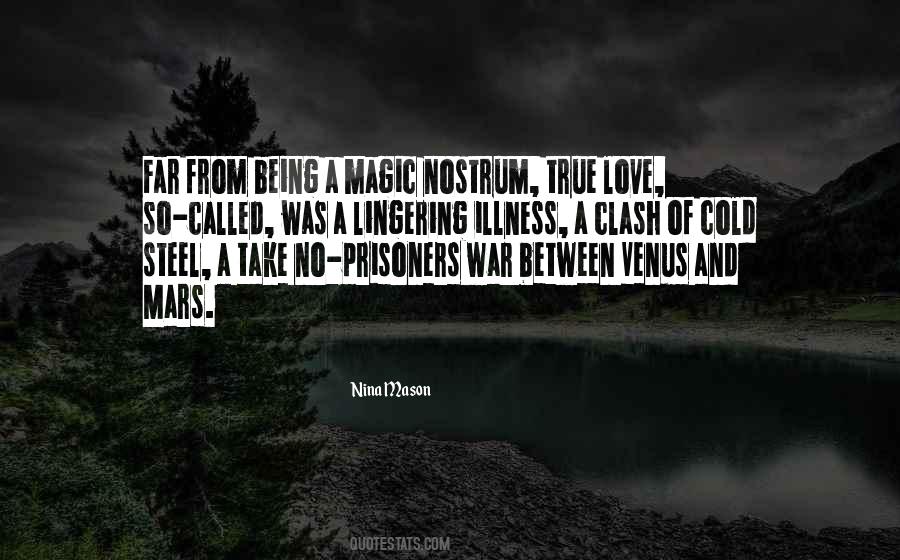 #34. Cuban agents are assigned to a Catholic Church where their instructions are to beat, jail and intimidate the Ladies In White that attend Mass and who afterwards peacefully take to the streets calling for the release of their husbands, sons and fathers who are political prisoners. - Author: Marco Rubio
#35. Basically, I wanted to get in, get on, get off, get up, get dressed and get out. - Author: Megan Hart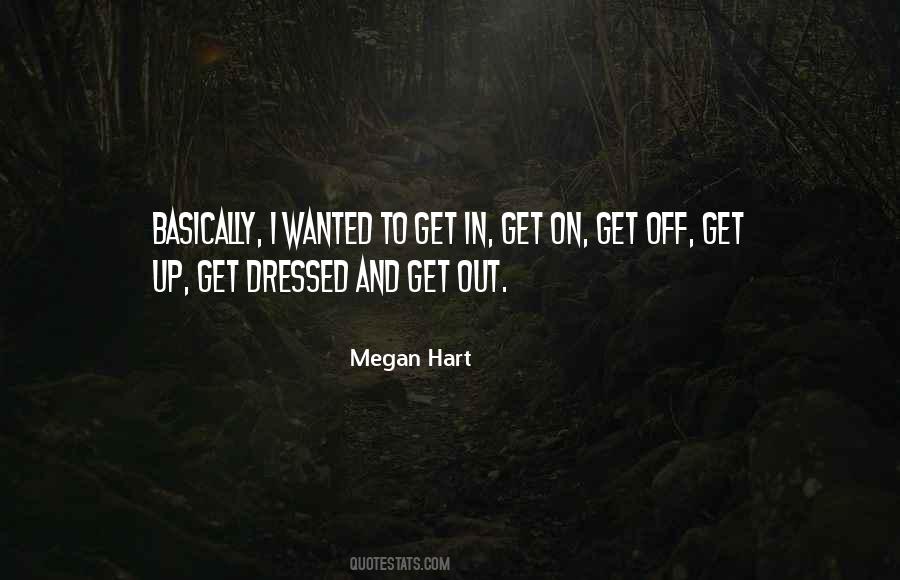 #36. From the catbird seat, I've found poetry to be the necessary utterance it has always been in America. - Author: Natasha Trethewey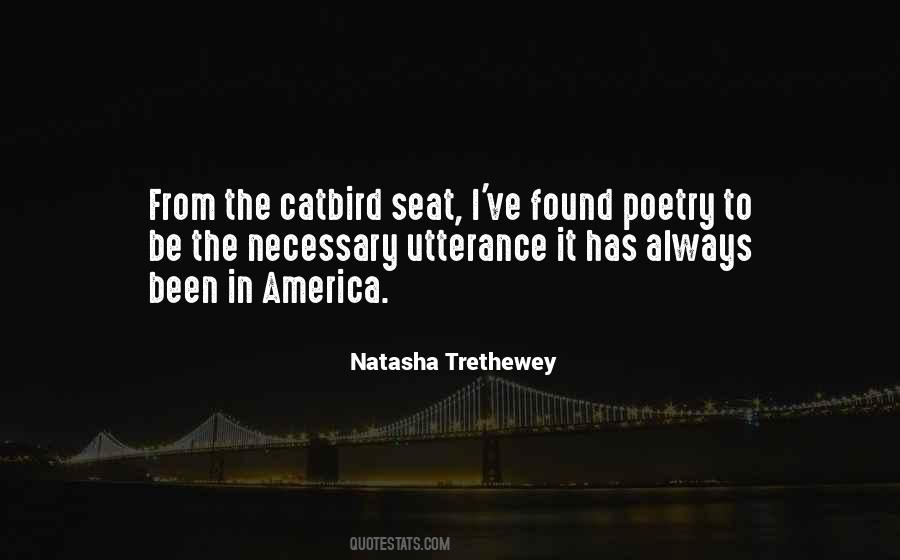 #37. Country music is important to me, and I love it, but it's not my whole life. - Author: George Strait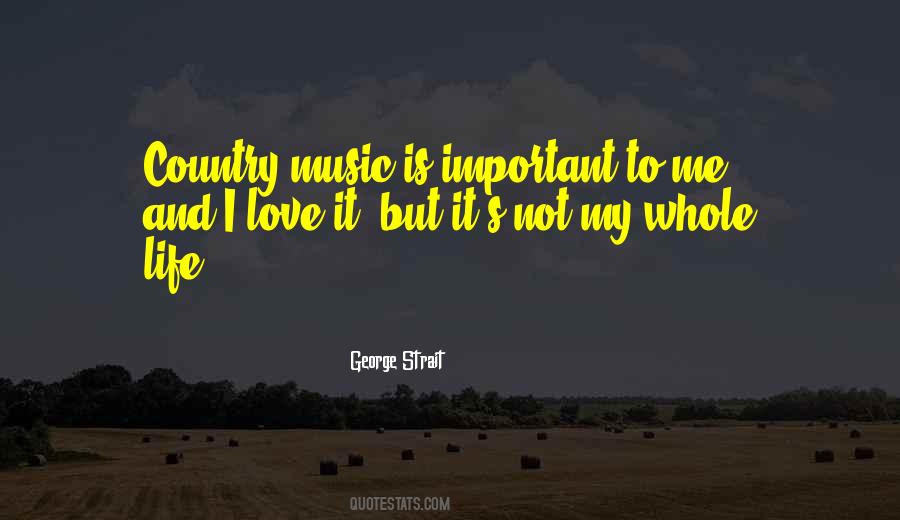 #38. I live on the limit, Vyvyan. The limit, because I'm a rider at the gates of dawn and I take no prisoners! - Author: Rik Mayall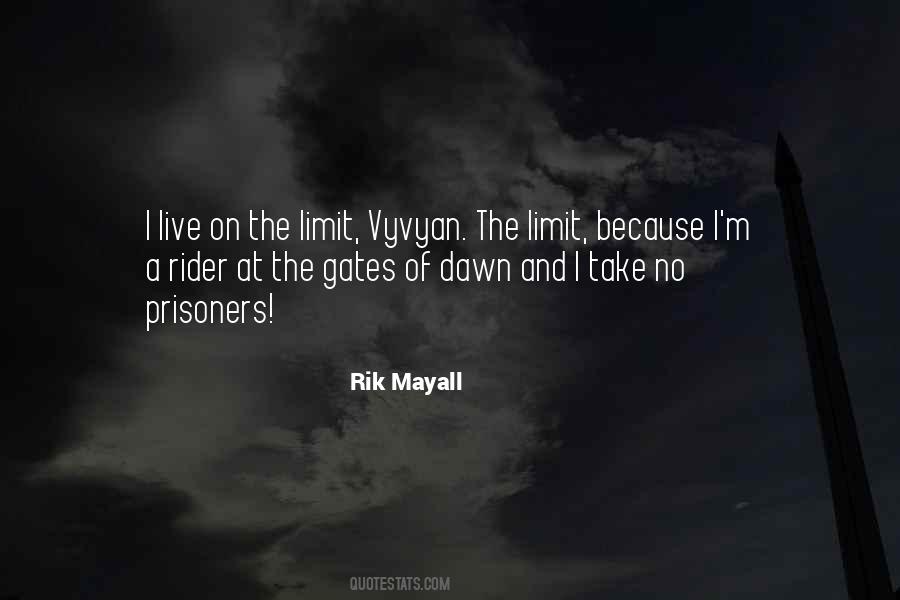 #39. I have exercises that lead participants to discover for themselves that their deepest fulfillment comes when what they're doing is of benefit to larger society in some way. This really knocks some for a loop - especially those schooled in the 'take no prisoners' approach. - Author: Srikumar Rao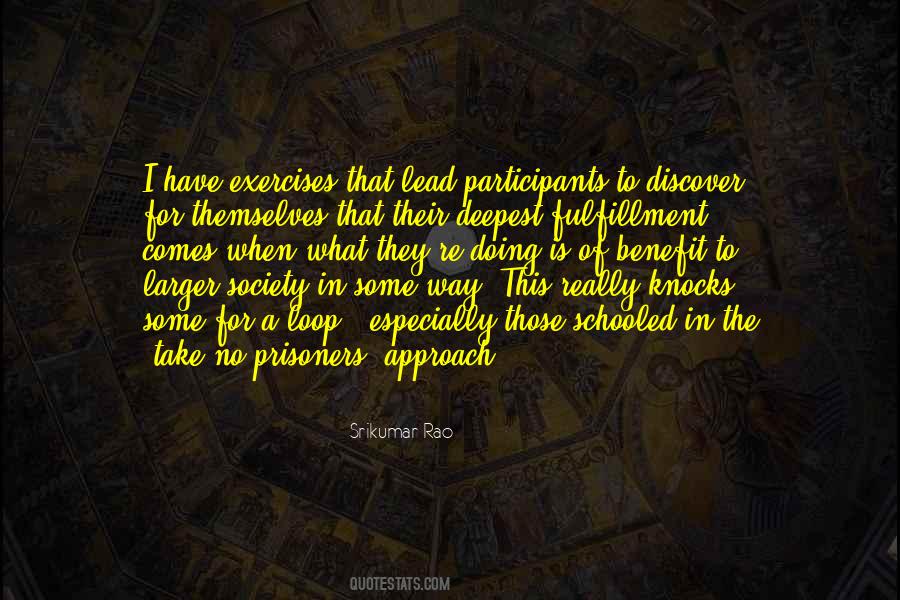 #40. That's how I make work. Along the way, I take notes, I read about history and popular culture. Sometimes I act out things in the studio. I go back to my mother's hair salon so I can hear three voices going all at once. I pull inspiration from everything. - Author: Mark Bradford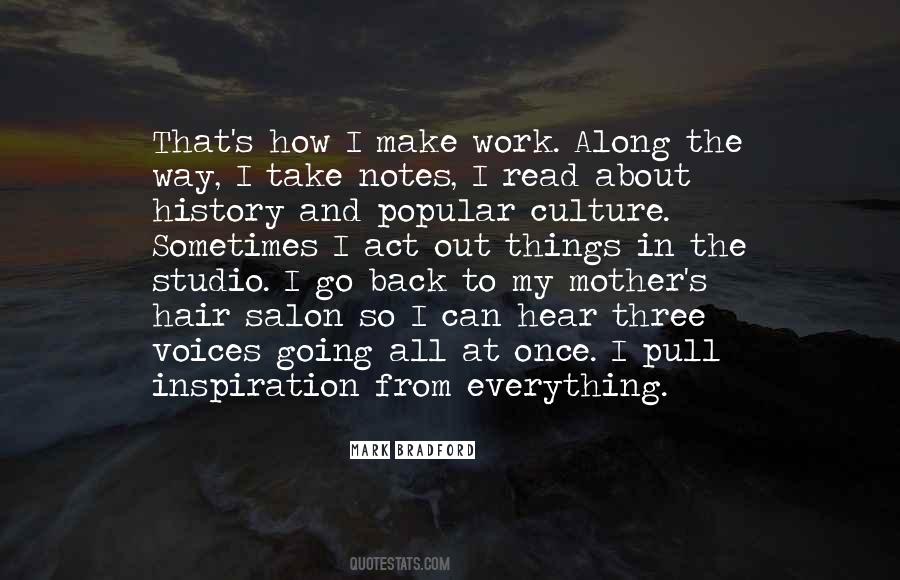 #41. Prisoner of War guard companies, or an equivalent organization, should be as far forward as possible in action to take over prisoners of war, because troops heated with battle are not safe custodians. Any attempt to rob or loot prisoners of war by escorts must be dealt strictly with. - Author: George S. Patton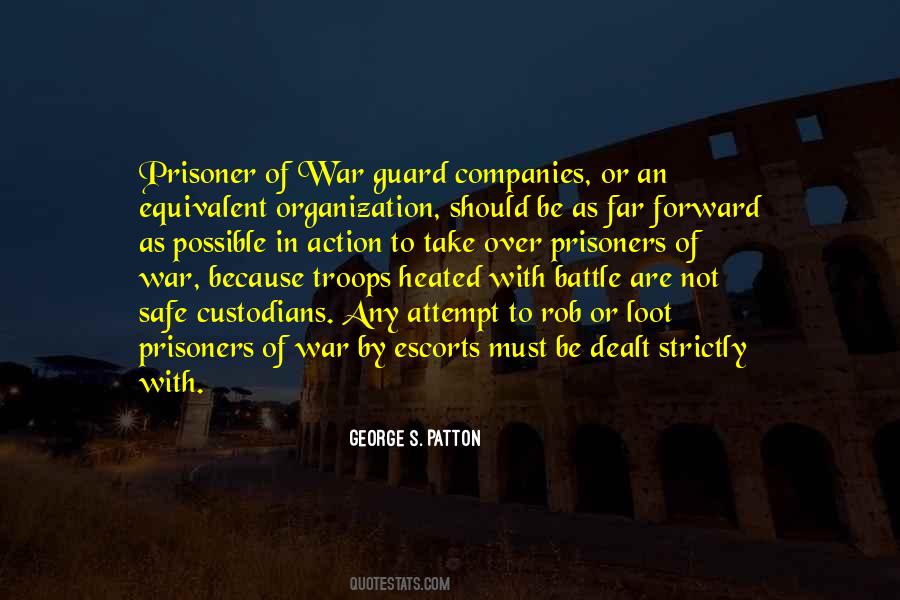 #42. Prisoners!" Finan shouted, and I suspected he was shouting at me because I had so blatantly ignored my own insistence that we take men captive. - Author: Bernard Cornwell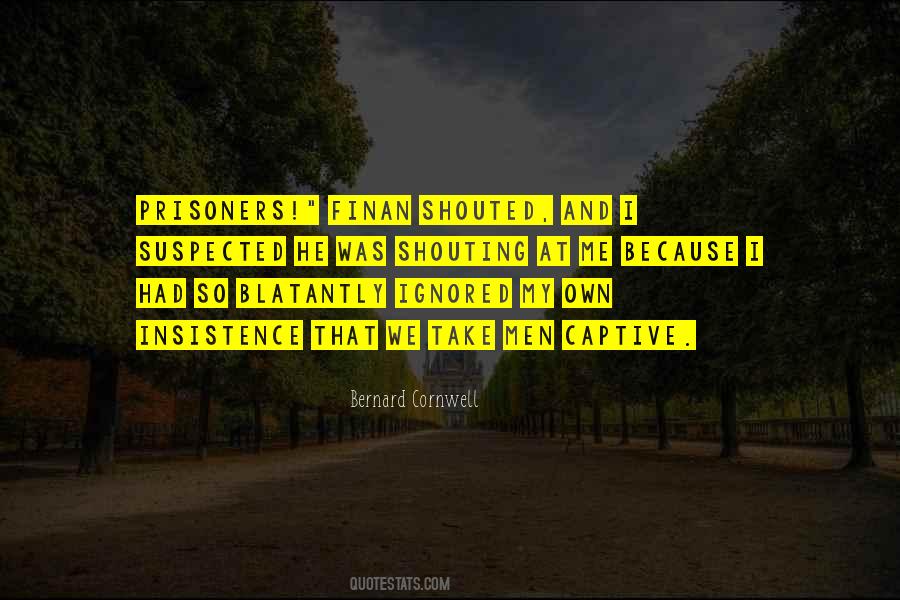 Famous Authors
Popular Topics