Stand For Yourself Famous Quotes & Sayings
List of top 100 famous quotes and sayings about stand for yourself to read and share with friends on your Facebook, Twitter, blogs.
Top 100 Stand For Yourself Quotes
#1. Be a good ancestor. Stand for something bigger than yourself. Add value to the Earth during your sojourn. - Author: Marian Wright Edelman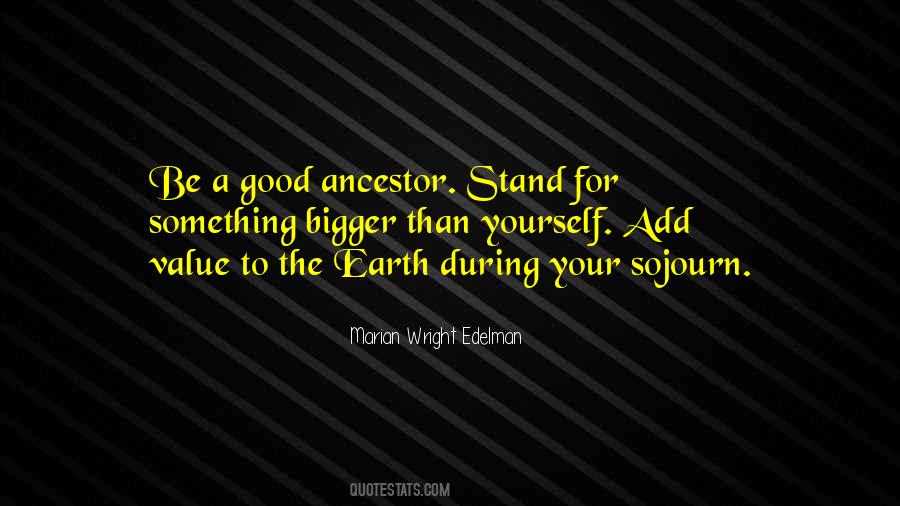 #2. In order to be truly happy, you must live along with, and you must stand for something larger than yourself. - Author: Oprah Winfrey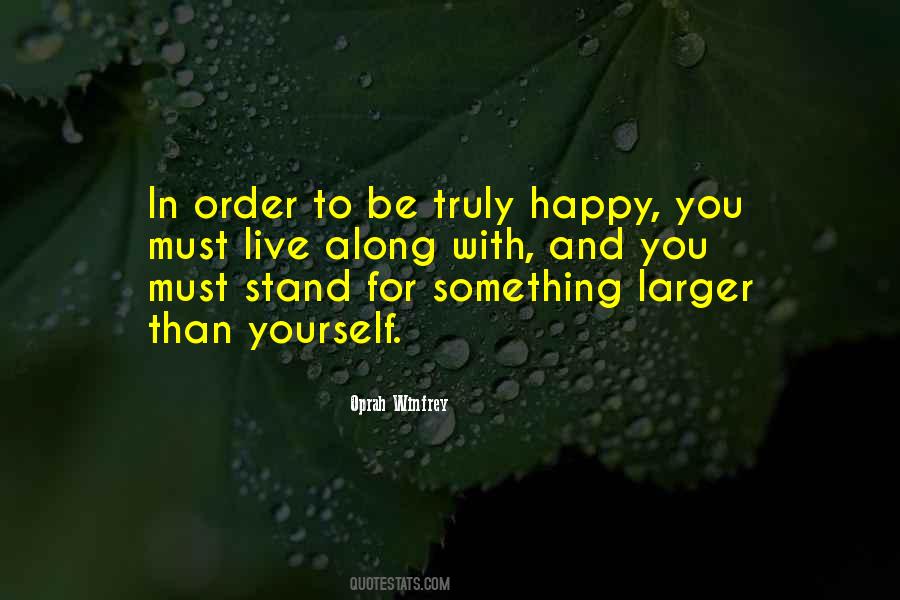 #3. You have to develop ways so that you can take up for yourself, and then you take up for someone else. And so sooner or later, you have enough courage to really stand up for the human race and say, 'I'm a representative.' - Author: Maya Angelou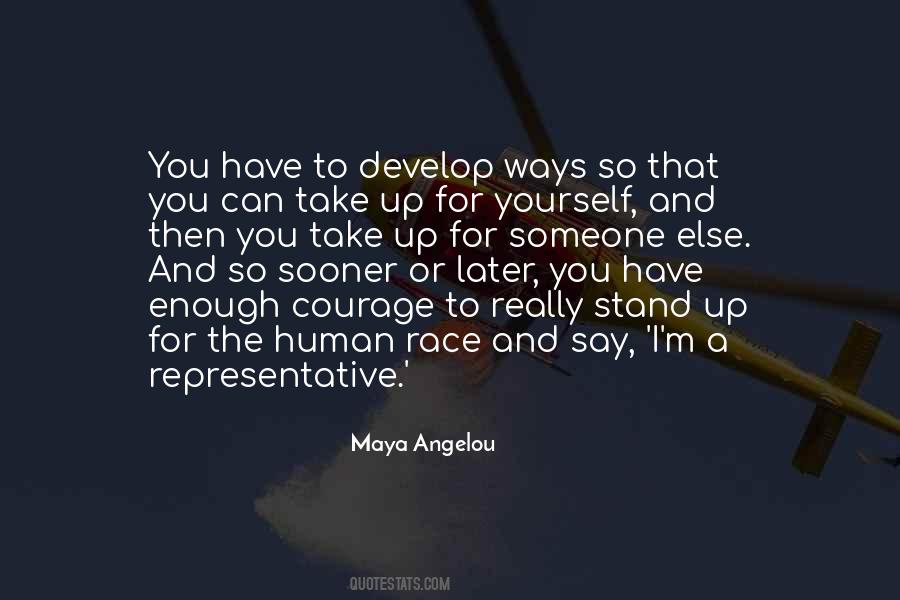 #4. Crazy is relative. - Author: Tina Laningham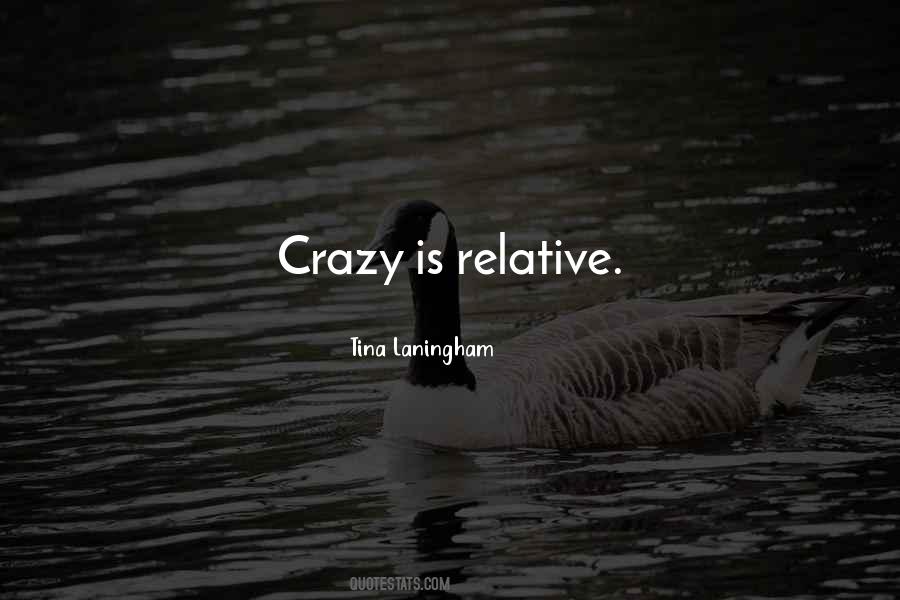 #5. As I said, if you don't stand up for yourself, people aren't going to think that you can stand up for them. - Author: Sidney Blumenthal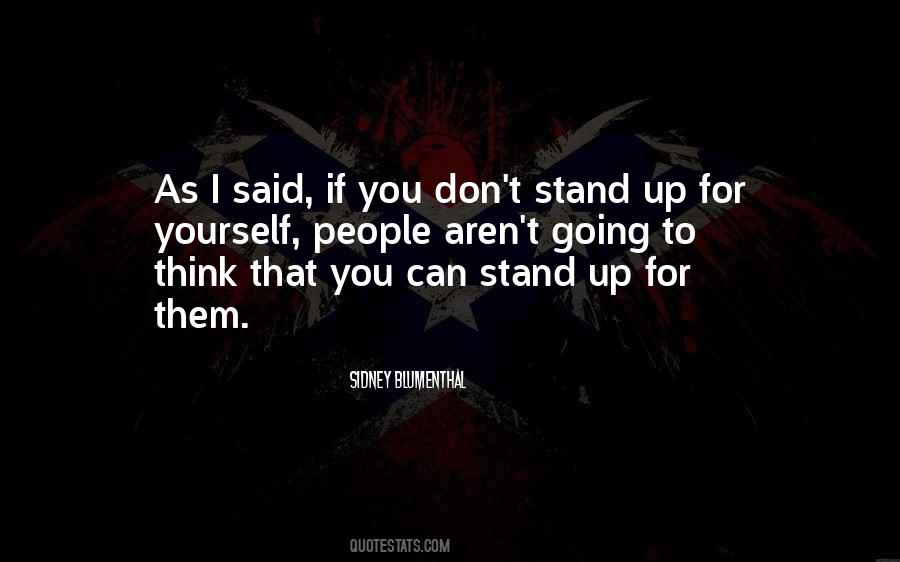 #6. If you stand up and be counted, from time to time you may get yourself knocked down. But remember this: A man flattened by an opponent can get up again. A man flattened by conformity stays down for good. - Author: Thomas J. Watson Jr.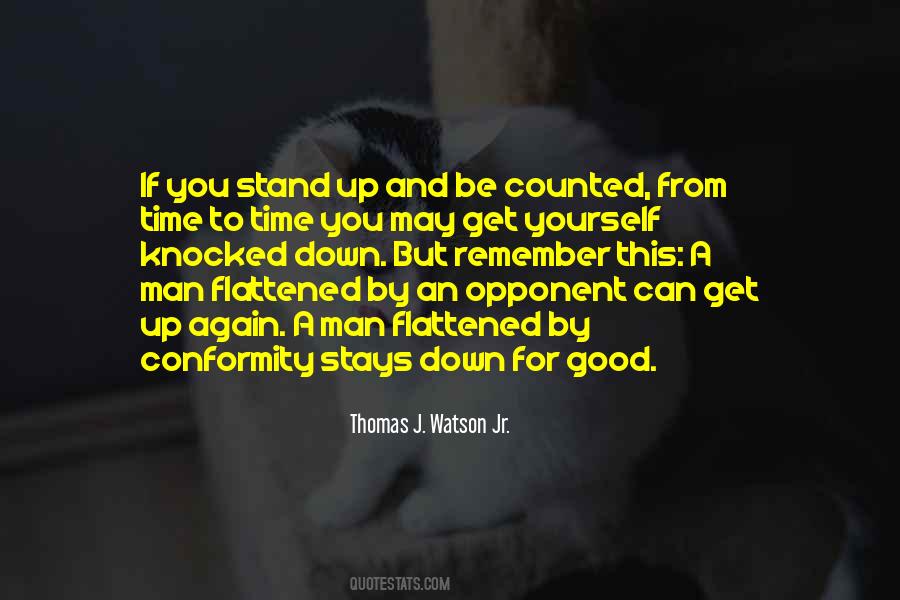 #7. Never try to hide the real you. Be yourself and stand up for what you believe in. Question what other people tell you, think things though. Never regret your mistakes as there's a reason for everything.Grudges are toxic and heavy to bear. Let them go, learn from everything and continue to grow. - Author: Karen Gibbs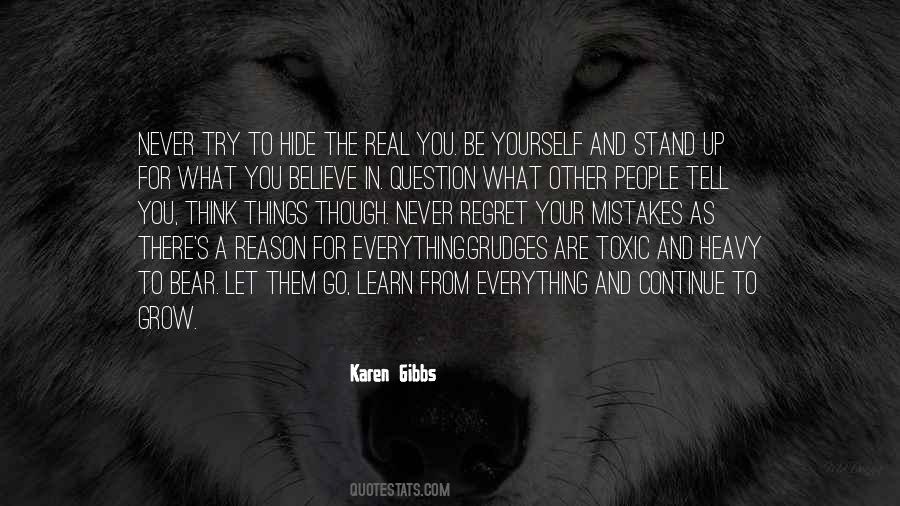 #8. Sometimes you've gotta stand up for yourself, even when you know you ain't got a chance. - Author: Sara King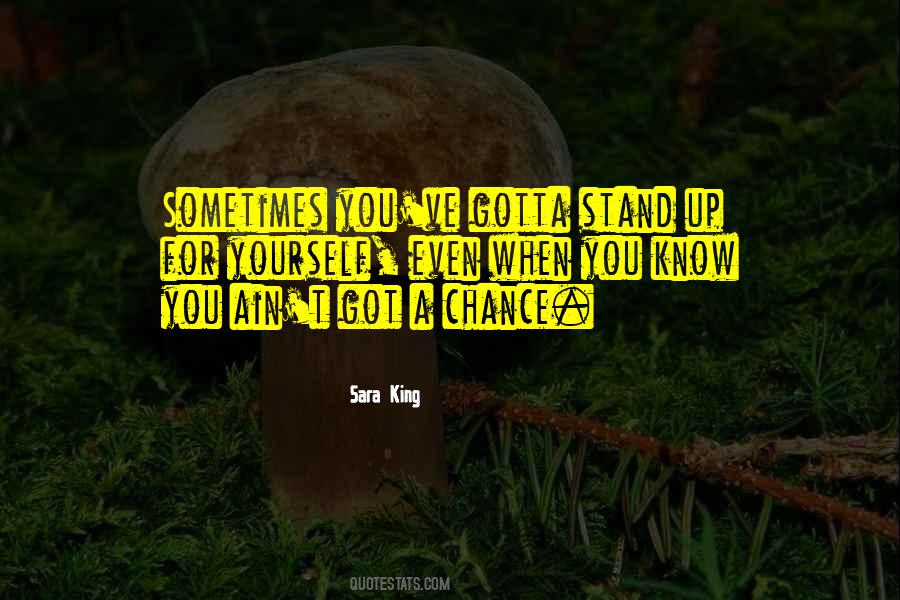 #9. Maybe a first love exists to reaffirm the best parts of yourself, the choices you made when you didn't worry about the consequences. Maybe a first love exists to remind you to be brave in the moment, to stand up for your feelings, instead of shrinking back in the face of potential loneliness. - Author: Adriana Trigiani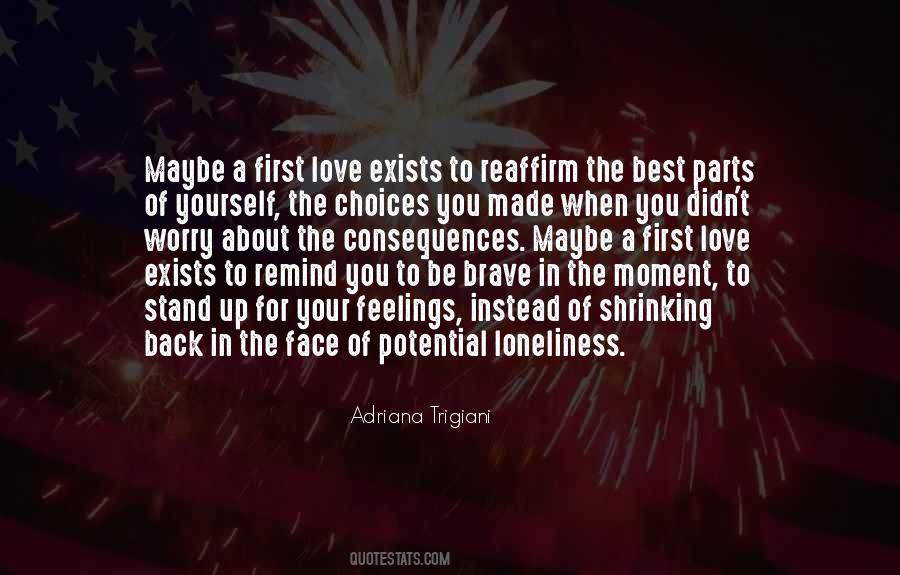 #10. Fight for what you believe in,
for if you don't you will be forever fighting against yourself. - Author: Keisha Keenleyside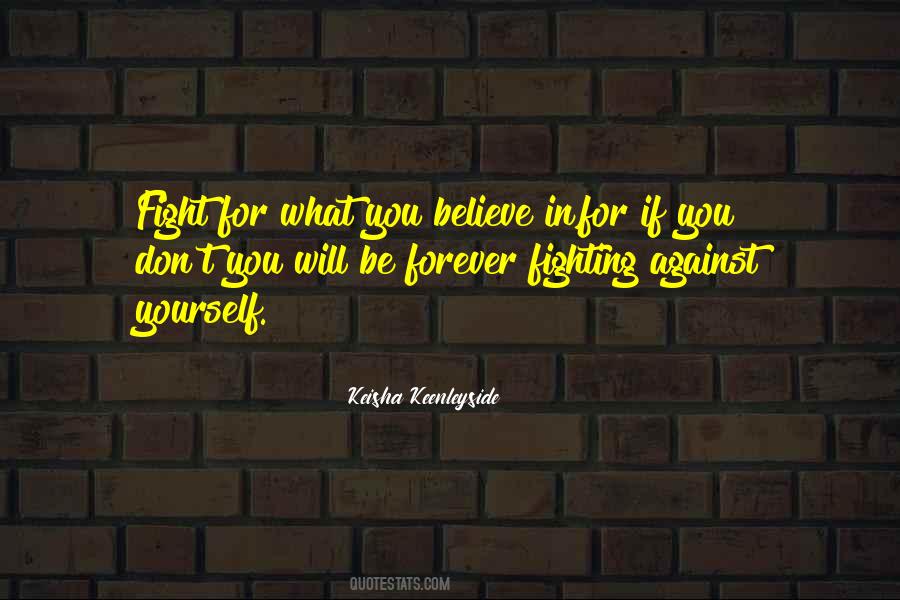 #11. Wake up for your call no matter how many times you fall; Stand tall and stretch yourself once more. Rise up from the ground, roll the ball and be hopeful you will score! - Author: Israelmore Ayivor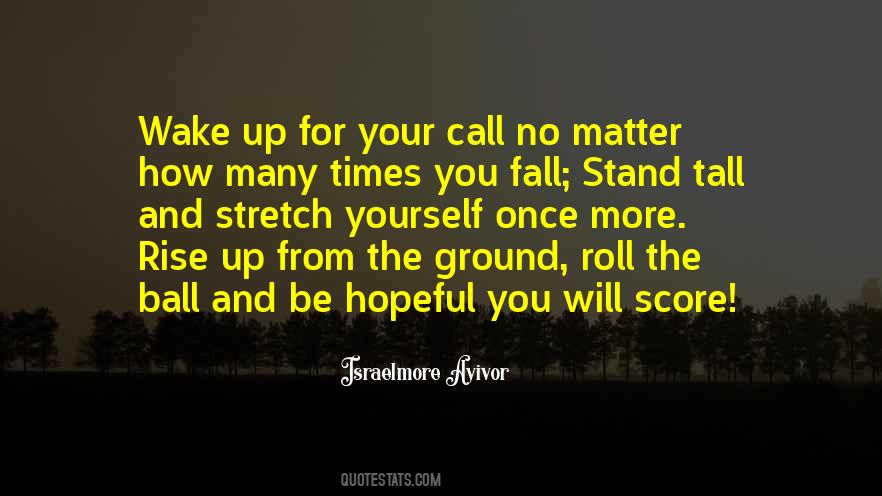 #12. If you are looking to build a new culture or transform the one you have, the first questions you should ask yourself are, "What do we stand for?" and "What do we want to be known for? - Author: Jon Gordon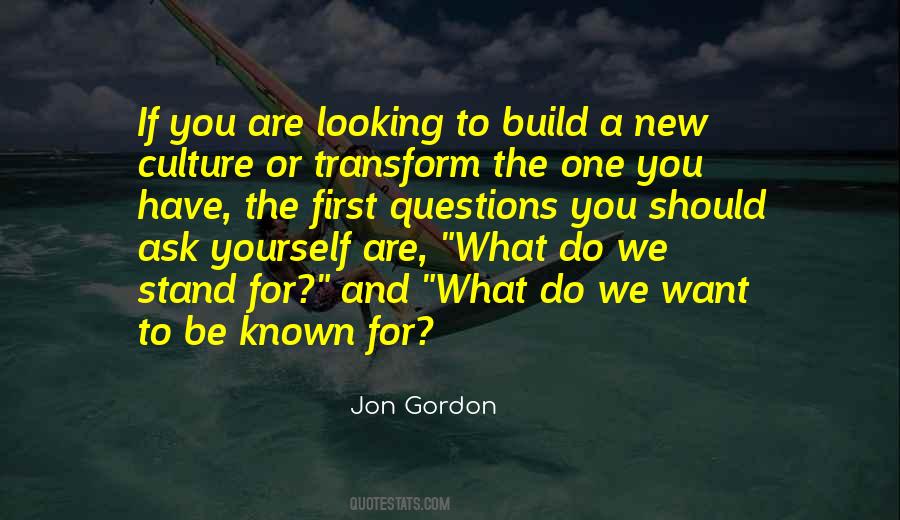 #13. It's not wrong to feel sorry for yourself. Just like it's not wrong to stand in a puddle of water while the rain pours down on your head. But neither is productive, unless you enjoy feeling cold and miserable and soggy while mascara runs down your face. - Author: Richelle E. Goodrich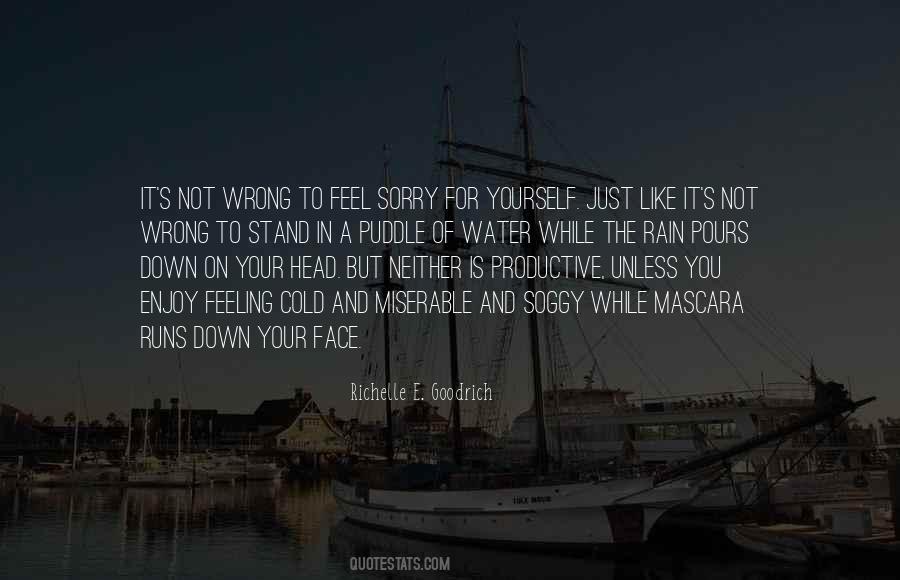 #14. Having the courage to stand up for yourself is like bringing swords to a stick fight. - Author: Kyle Schmalenberg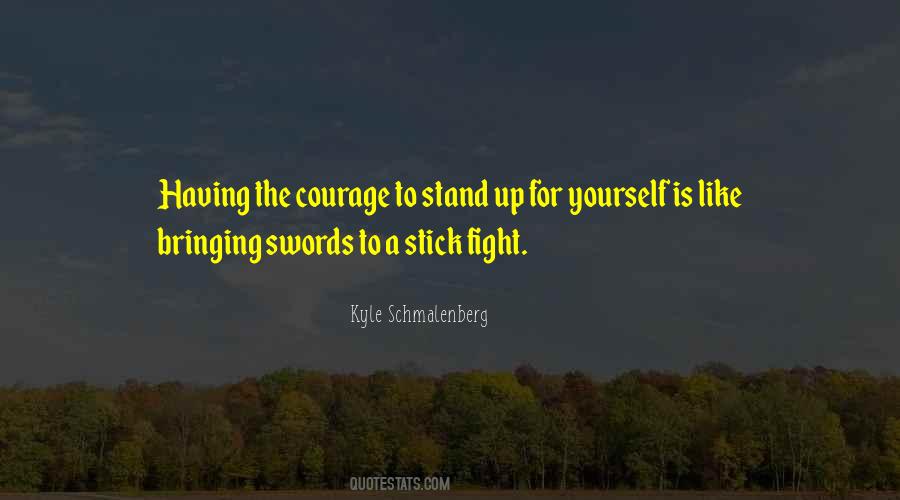 #15. Promise me this: ... you will stand for yourself, especially in the times when no one seems interested in standing for you. - Author: Melissa Jensen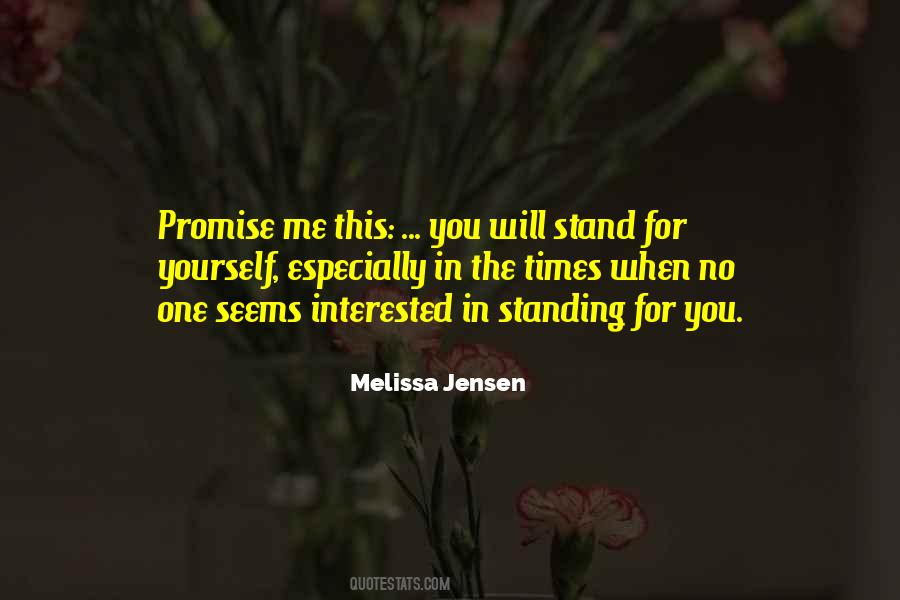 #16. You gotta stand up and walk, Gem," he said quietly, turning his back on them. "You have to walk out of here. Not just for them, but for yourself. Come on. You have to walk out of here on your own two feet."
So I did. - Author: Alexandra Bracken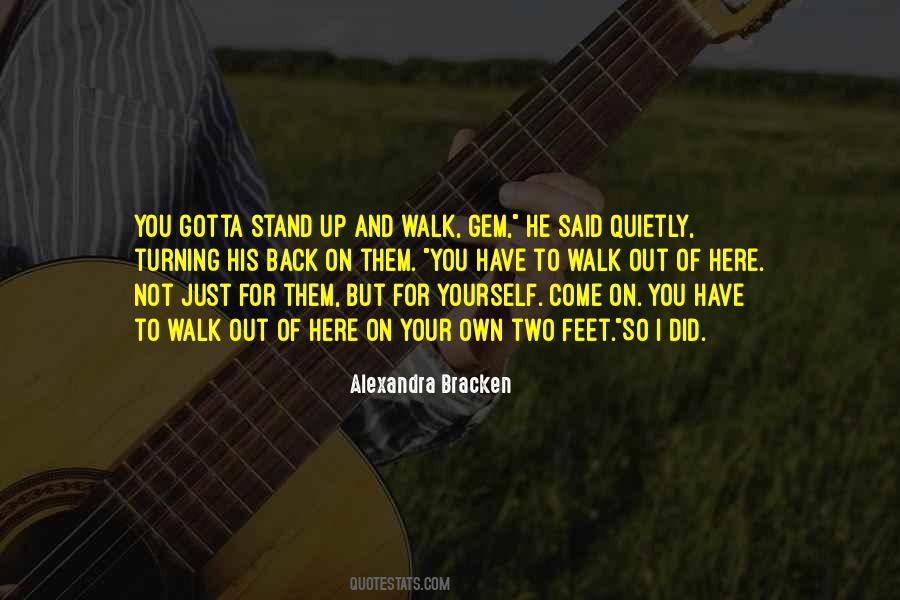 #17. Moreover, you can't stand so much as an hour of your own company
or spend your leisure properly; you avoid yourself like a truant
or fugitive, hoping by drink or sleep to elude Angst.
But it's no good, for that dark companion stays on your heels - Author: Horace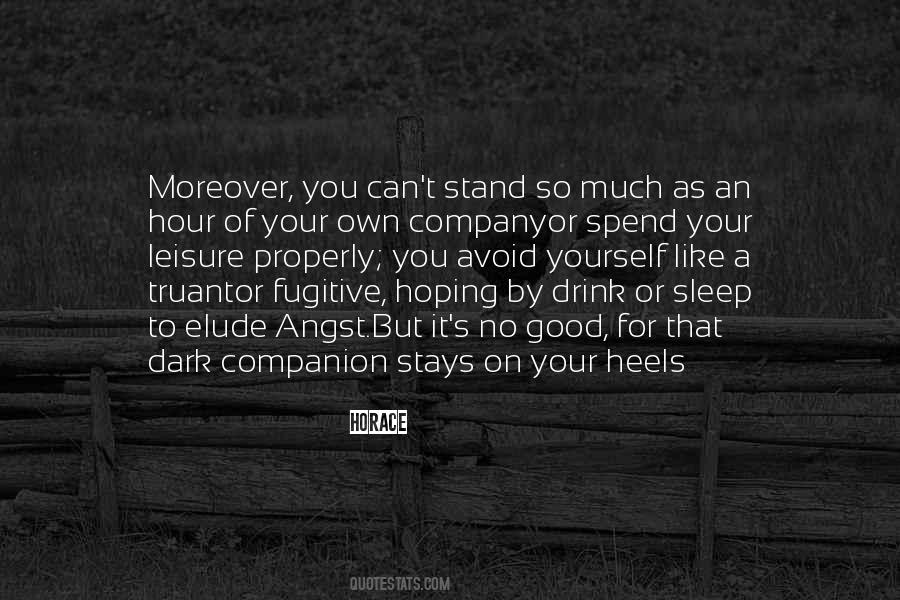 #18. Get off your bottom and be the stand, and do the work you can to pursue the American Dream for yourself, and help others to do the same. - Author: David Pratt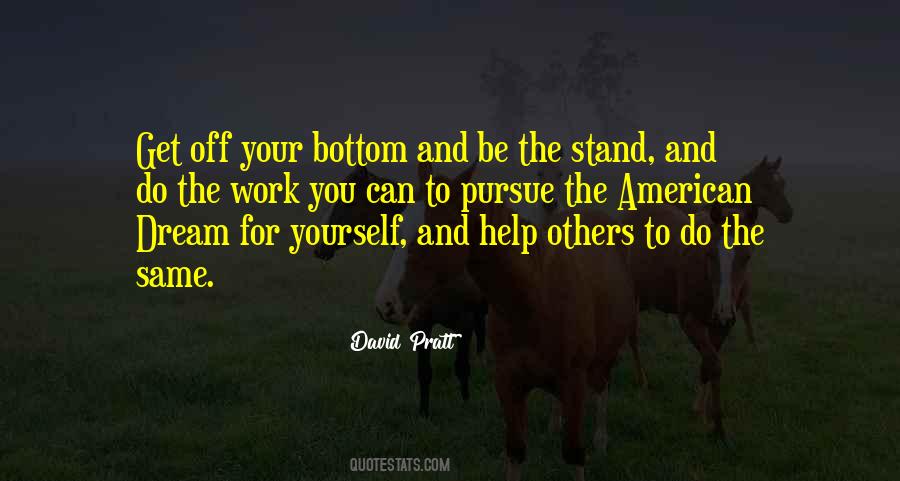 #19. Over, under, around, or through, there's always a way. You don't give up and you never give in. They can scar your body and take your freedom, but only you can surrender your heart and soul. Nothing is worth compromising yourself for. Stand fast and stand true. Always. - Author: Sherrilyn Kenyon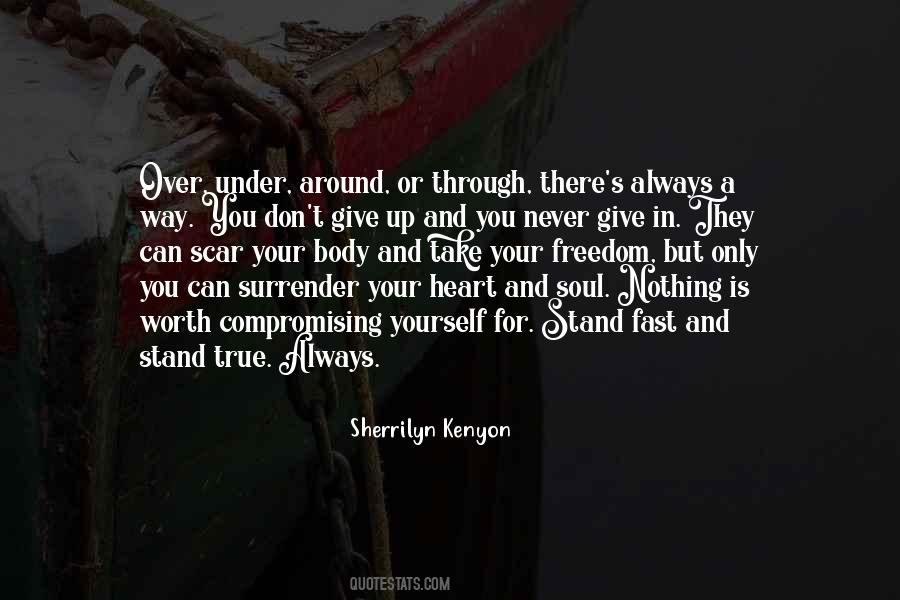 #20. Networking is marketing. Marketing yourself, marketing your uniqueness, marketing what you stand for. - Author: Christine Comaford-Lynch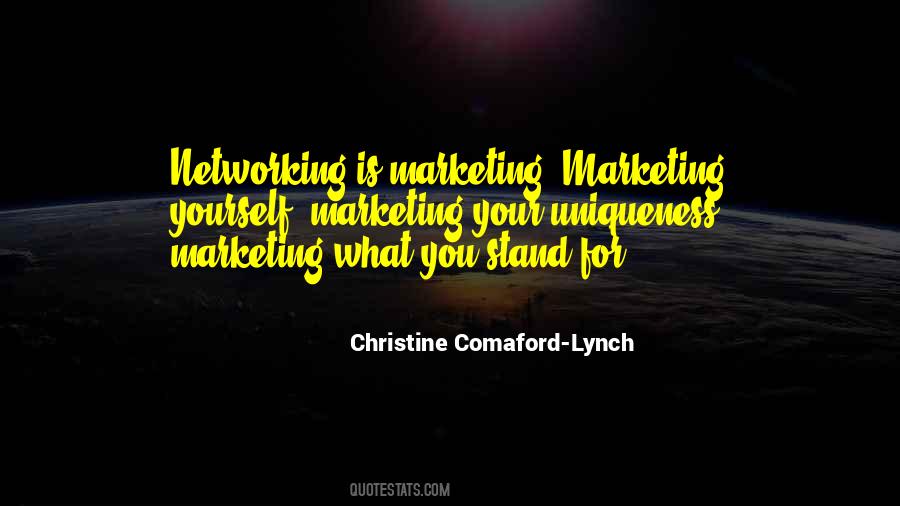 #21. If you stand behind a closed door and try to hear a private conversation not intended for your ears, you're most likely to hear something derogatory about yourself." From A Good Girl - Author: Chandana Roy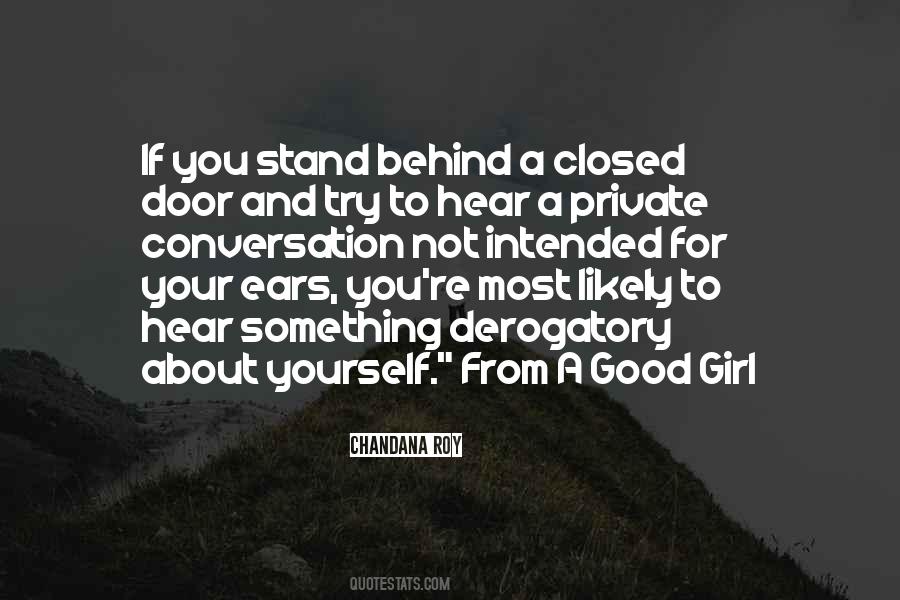 #22. Stop setting yourself on fire for people who just stand to watch you burn. - Author: Nadege Richards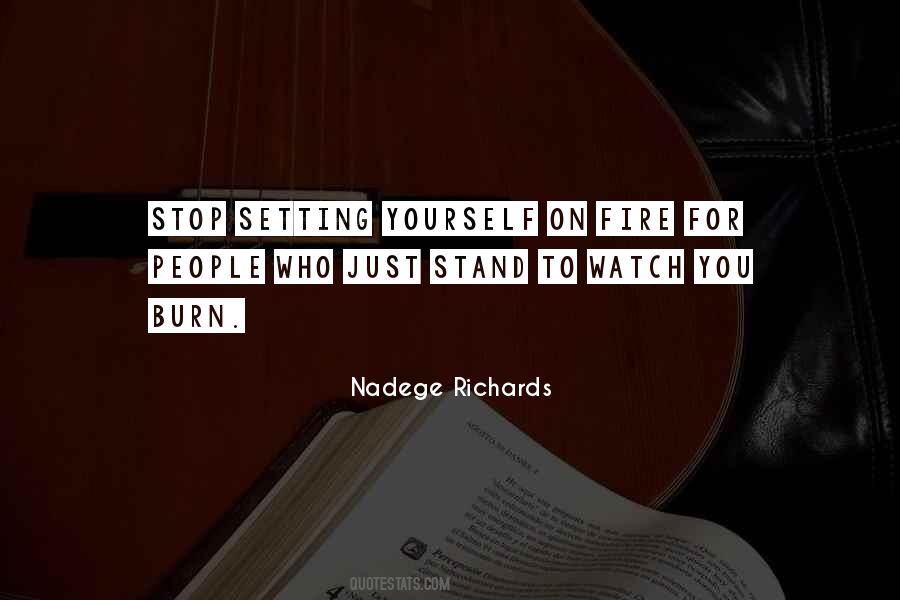 #23. When you're too mad and too rattled to see straight, you're bound to make mistakes. You can't go on and on for years being miserable about a situation and not have it change you. You get so you can't stand yourself. - Author: Lucille Ball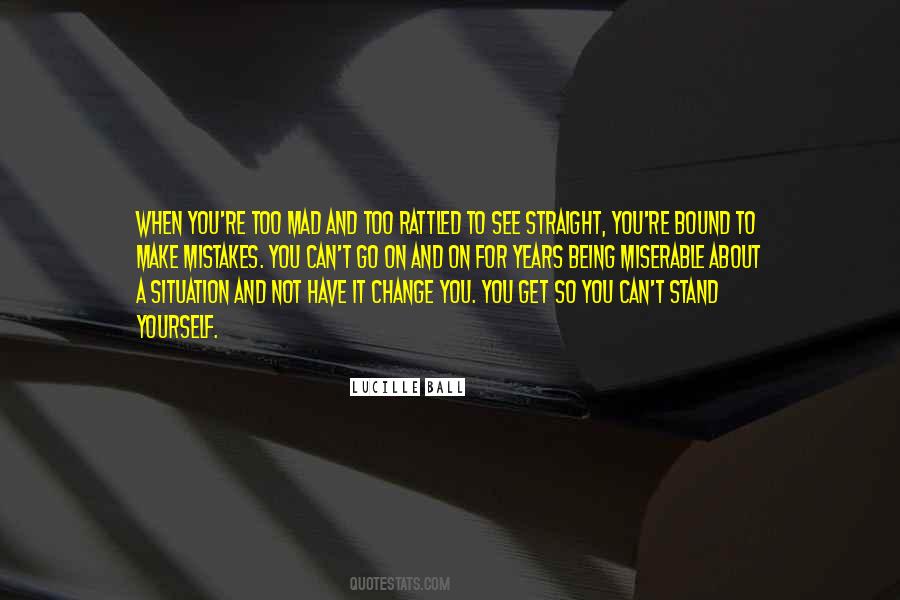 #24. I learned that you can stand up for yourself and still maintain your zen! - Author: Doreen Virtue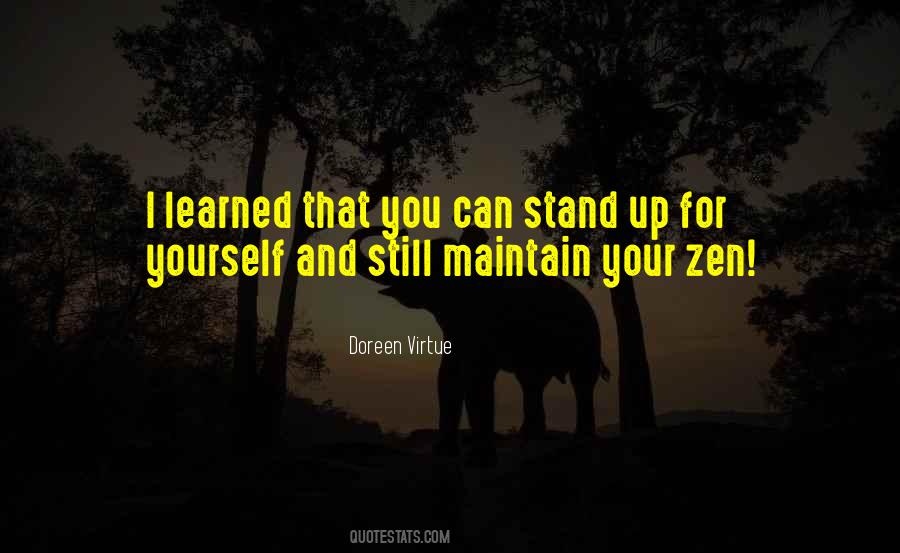 #25. And listen to me: what you've done here carries power with it, of a different sort. Don't let Solya take all the credit, and don't be shy of using it. - Author: Naomi Novik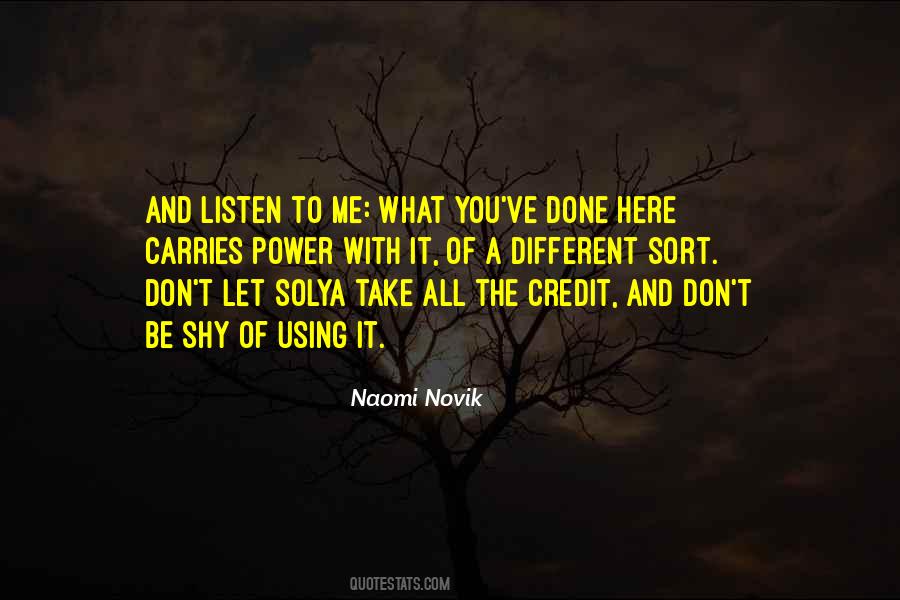 #26. You have to stand for something bigger than yourself. - Author: Jose Antonio Vargas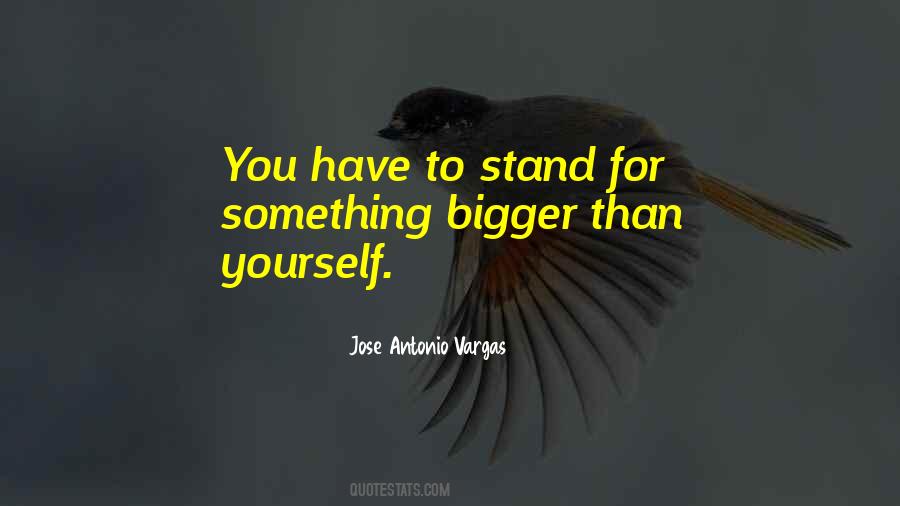 #27. Do not let people put you down. Believe in yourself and stand for yourself and trust yourself. - Author: Jacob Neusner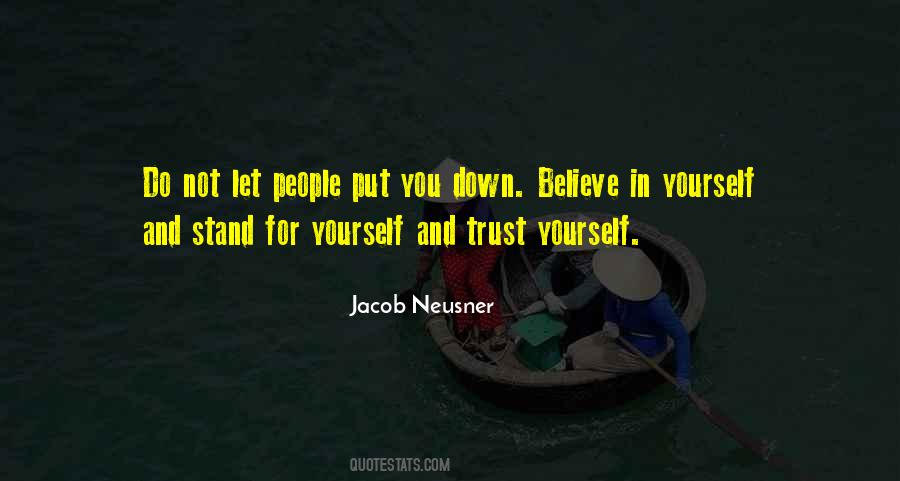 #28. You are doing the best you can, and that best results in good to yourself and to others. Do not nag yourself with a sense of failure. Get on your knees and ask for the blessings of the Lord;then stand on your feet and do what you are asked to do. - Author: Gordon B. Hinckley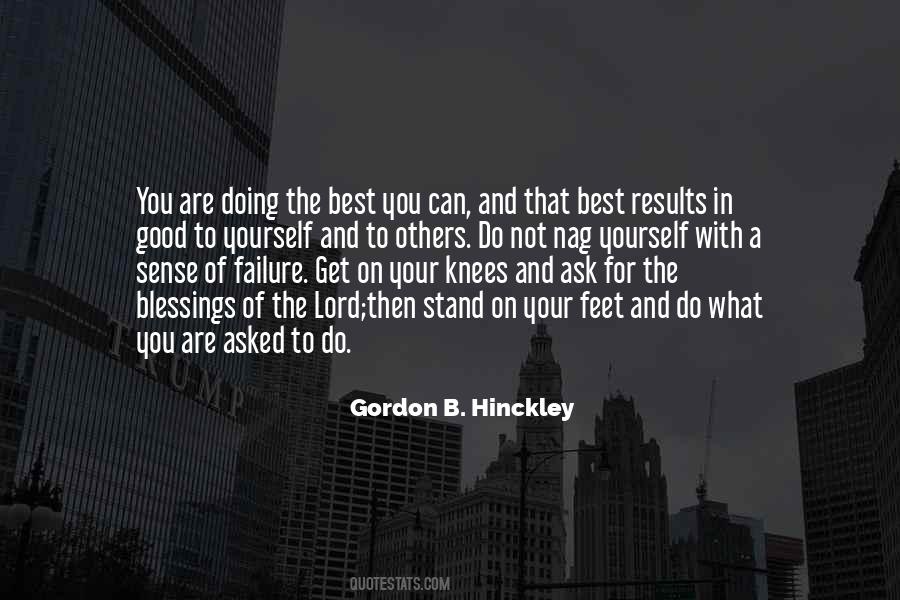 #29. Connect with supportive people who empower you. The more you jump into your life, the further away from Ed you can get. Don't have a backup plan for living. Live today. [ ... ] Trust in God. Believe in yourself. Get friends and family members to stand behind you. That's the only backup you'll need. - Author: Jenni Schaefer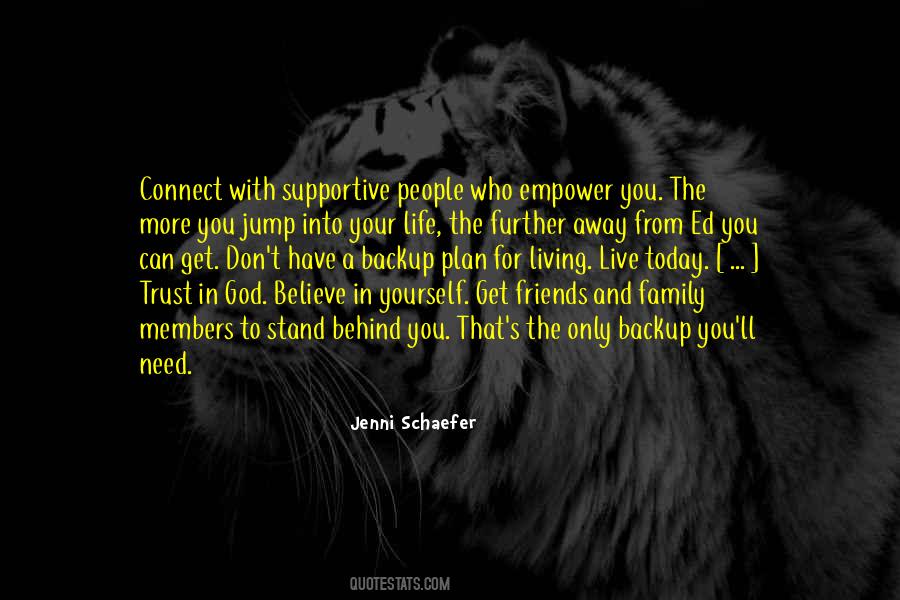 #30. It takes courage to stand up for yourself. I stand in honor, and no longer in fear of speaking out. - Author: Catherine Jane Fisher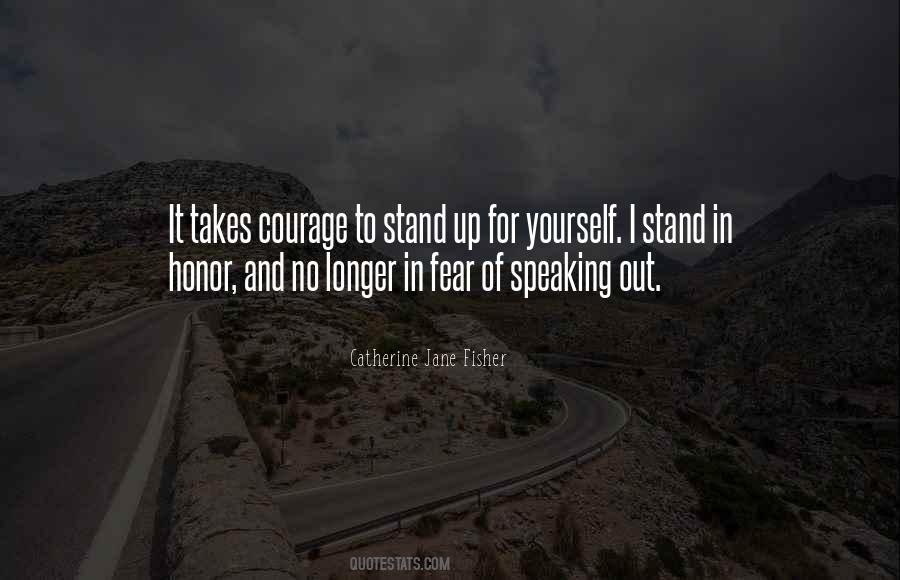 #31. A mutual fund can do for you what you would do for yourself if you had sufficient time, training, and money to diversify, plus the temperament to stand back from your money and make rational decisions. - Author: Venita VanCaspel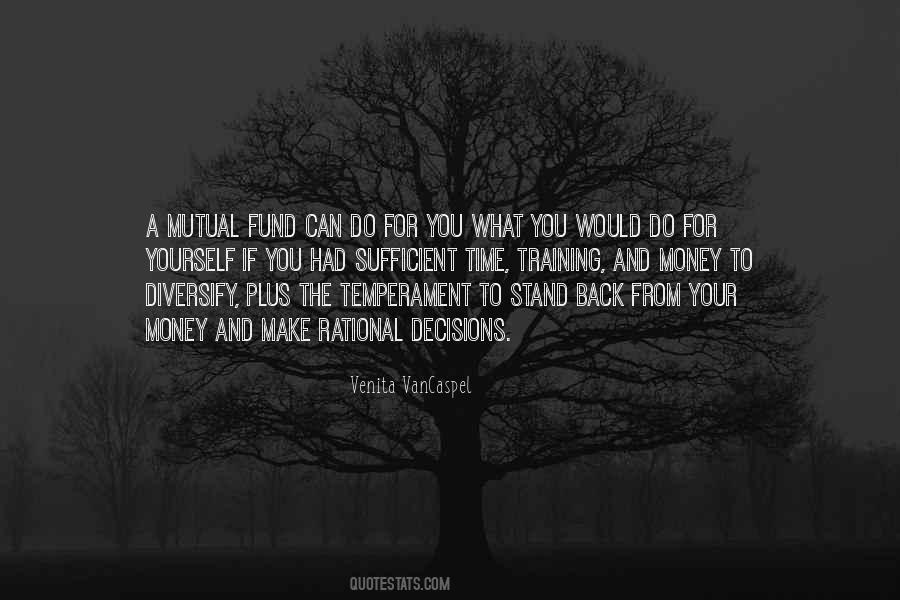 #32. It's really important to stand up for yourself and not always agree with what people say if indeed you don't feel that that's true. - Author: Lily Collins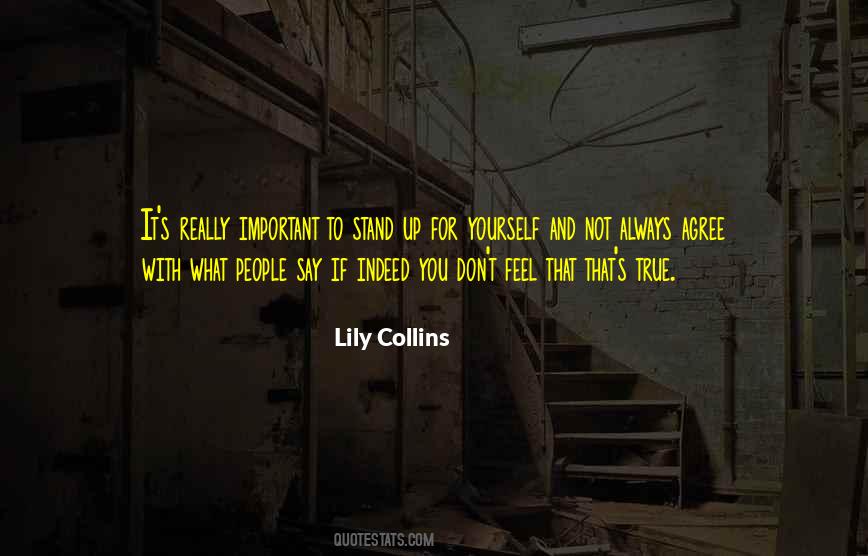 #33. Shift yourself away from the slippery ground of bad attitudes and you'll not drift off! - Author: Israelmore Ayivor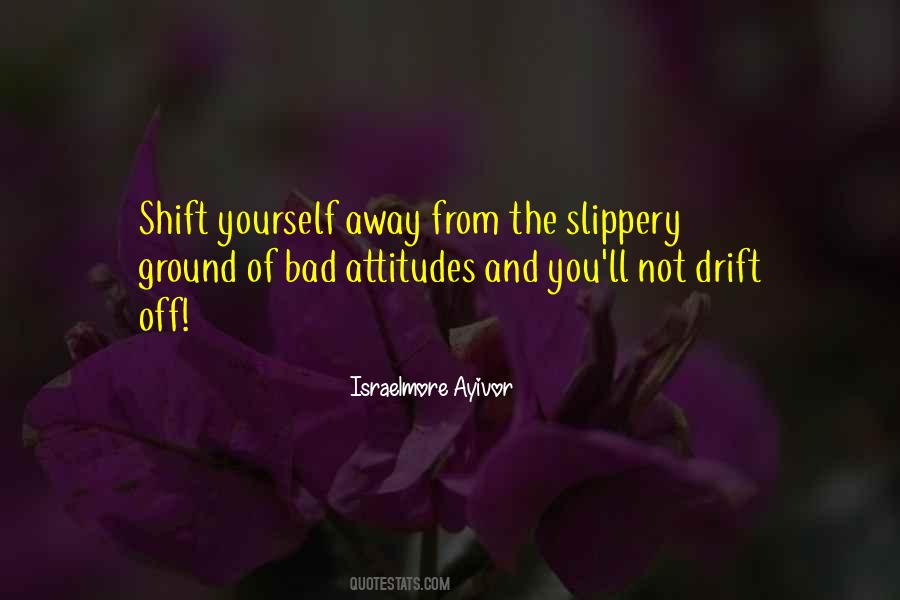 #34. Always take a stand for yourself, your values. You're defined by what you stand for - Author: Oprah Winfrey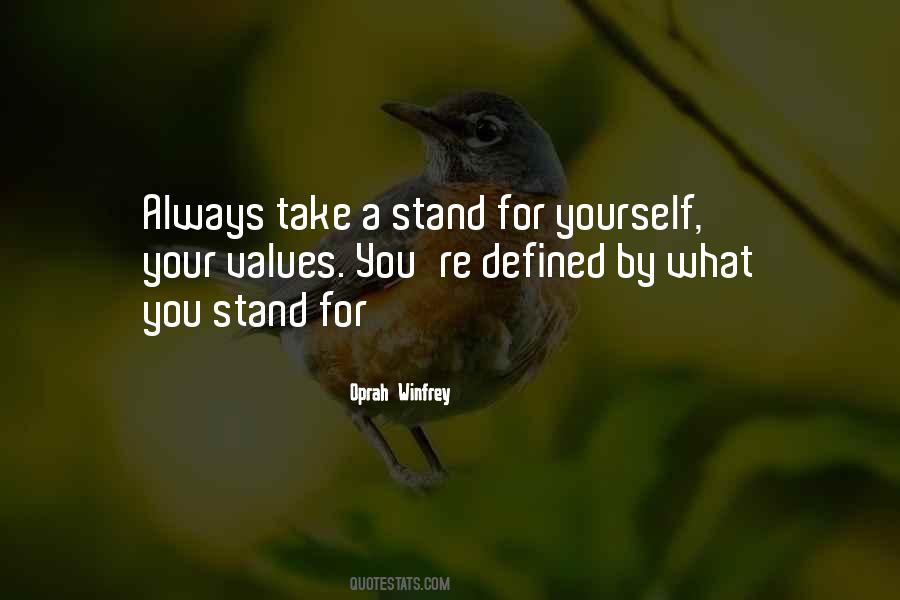 #35. If you are an LGBT+ person and you come out, you have to go through your knight's quest to create ground for yourself, to stand there and say, 'I exist. I have no reason to feel guilt or shame. I am proud to exist, and while I'm not perfect, I deserve to exist in society just like anyone else. - Author: Eddie Izzard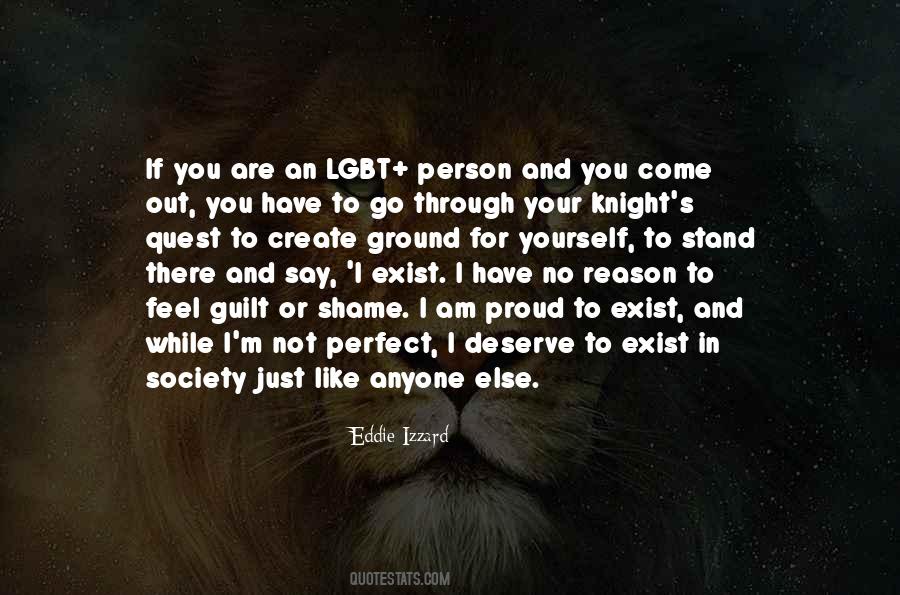 #36. Take a stand for what's right. Raise a ruckus and make a change. You may not always be popular, but you'll be part of something larger and bigger and greater than yourself. Besides, making history is extremely cool. - Author: Samuel L. Jackson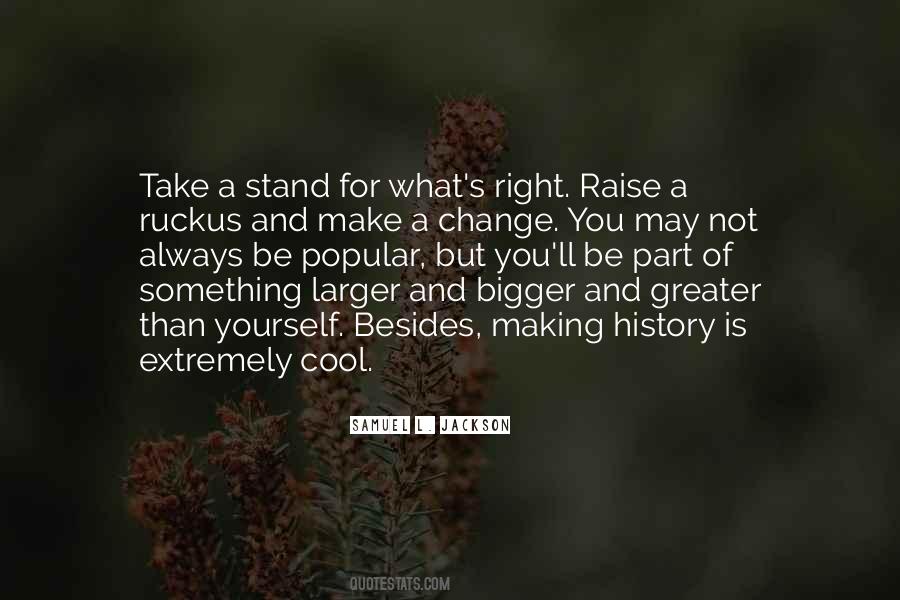 #37. There's something magical about putting yourself into life. You've got to stand up and take responsibility for your own life and you cannot abandon that. - Author: Bill Kurtis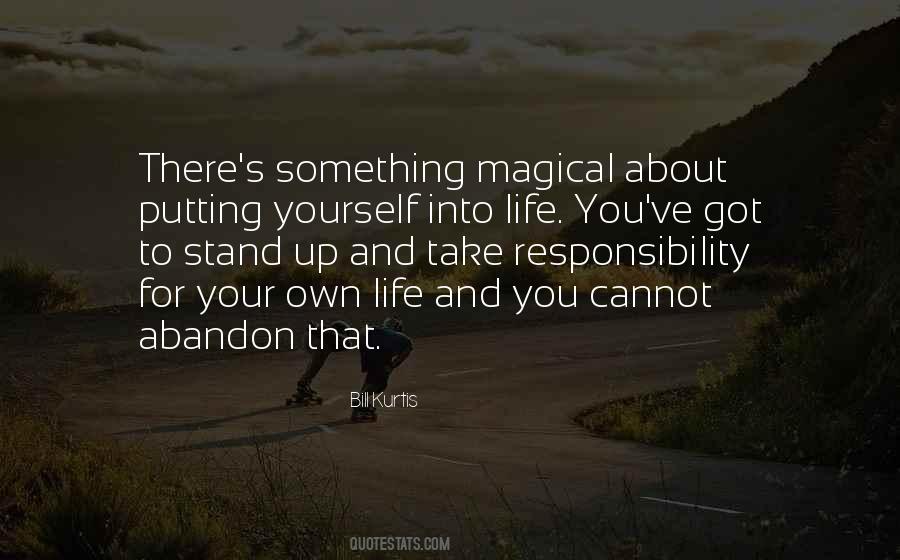 #38. A great teacher never strives to explain his vision. He simply invites you to stand beside him and see for yourself. - Author: Bobby Ray Inman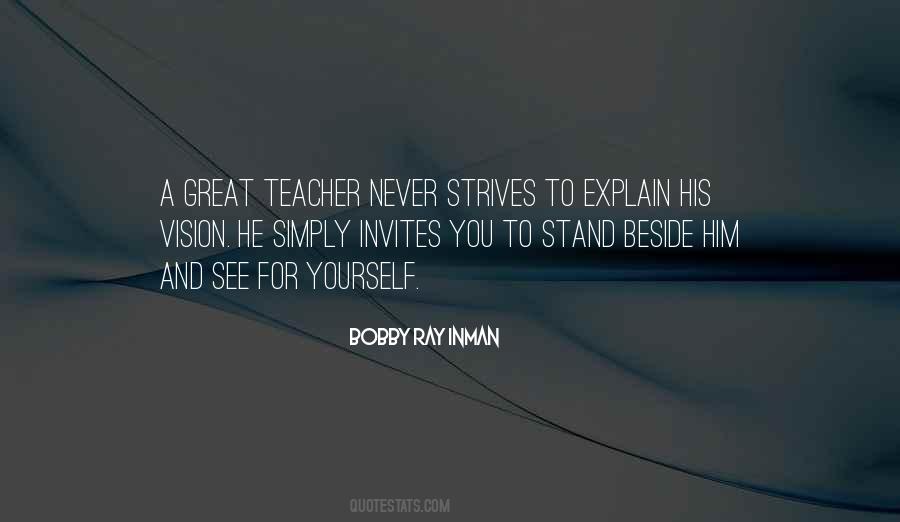 #39. You really need faith in yourself to make art and to stand up for what you believe in. - Author: Elizabeth Peyton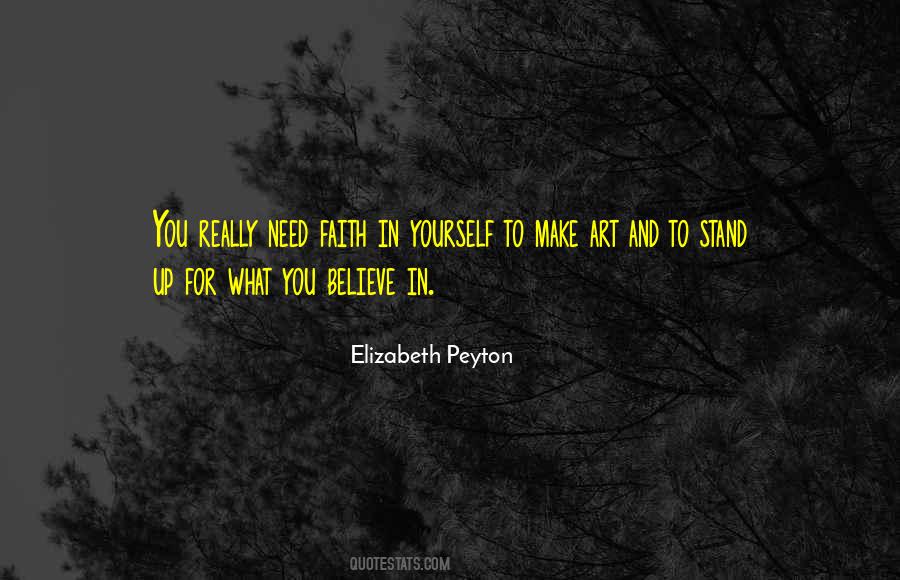 #40. Anything that threatens, hinders, obstructs, denies, delays your capacity to stand fully up for yourself, within yourself, take it down. - Author: Iyanla Vanzant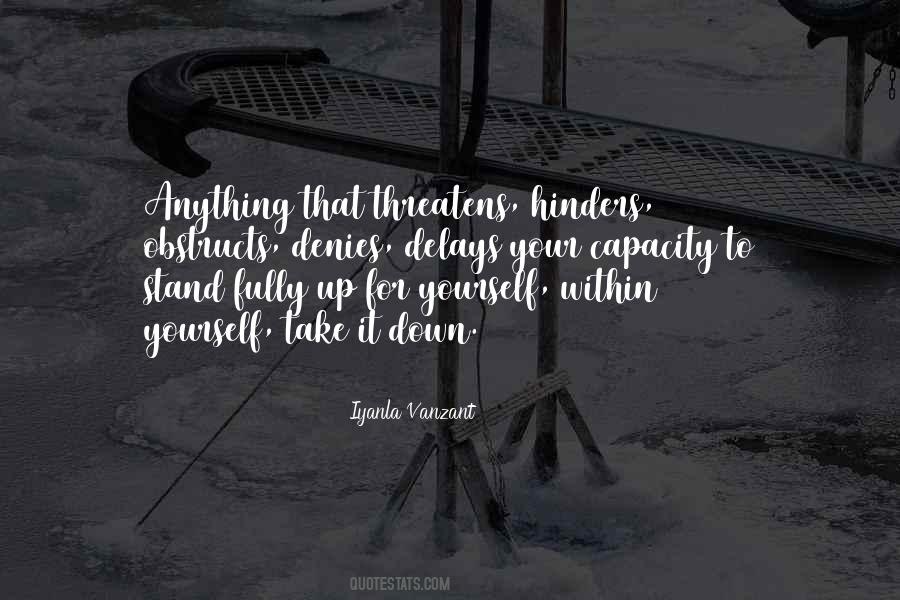 #41. What I'm suggesting is, stand for yourself, be for something and the hell with it. Because the hand-wringers and the editorialists and the sigh-and-pontificate crowd will be against you, whatever you do. - Author: James Carville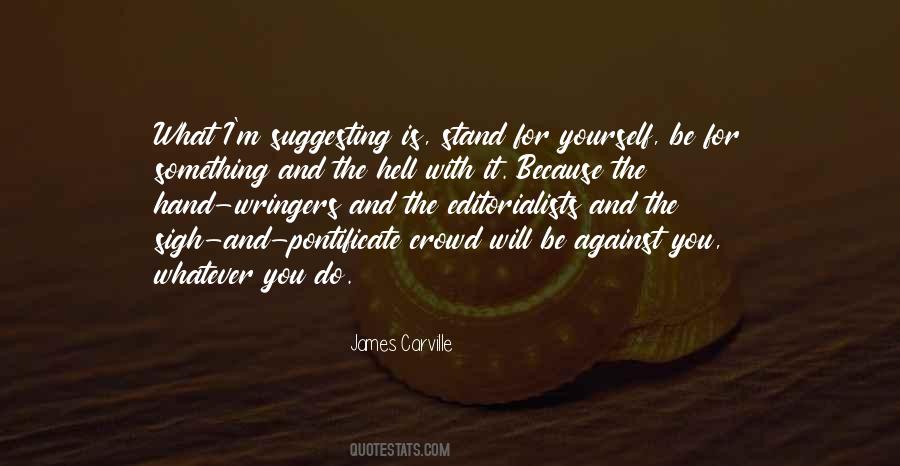 #42. For an impenetrable shield, stand inside yourself - Author: Henry David Thoreau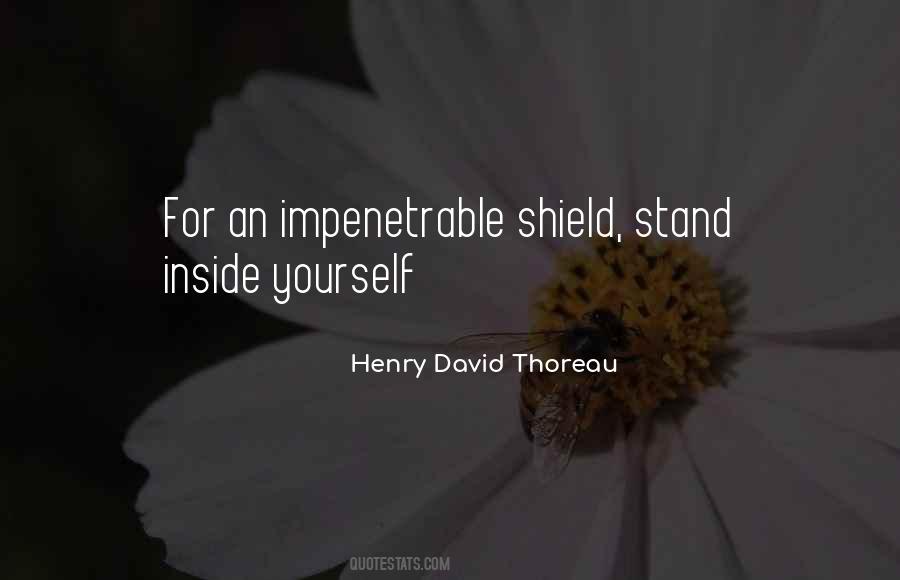 #43. You will never gain anyone's approval by begging for it. When you stand confident in your own worth, respect follows. - Author: Mandy Hale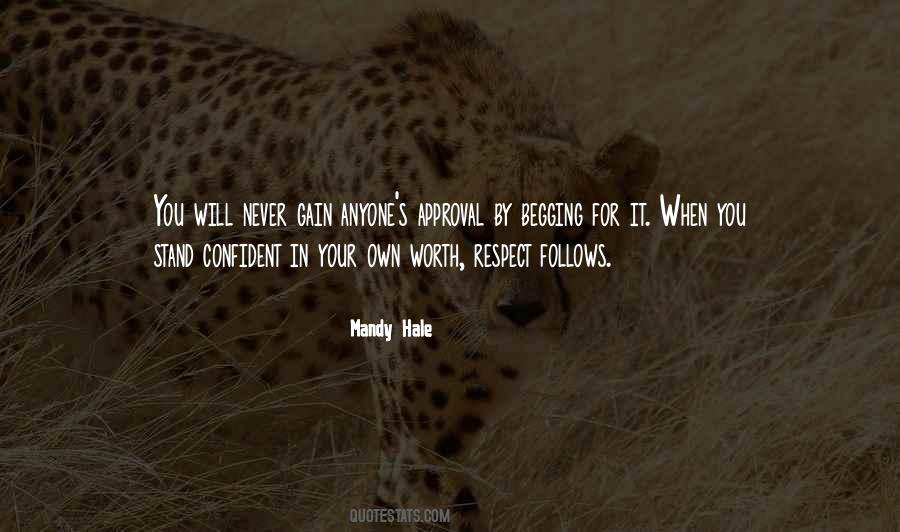 #44. As a leader, you build trust when you give yourself 100%, so that people understand with your every action, you stand for them. - Author: Jaggi Vasudev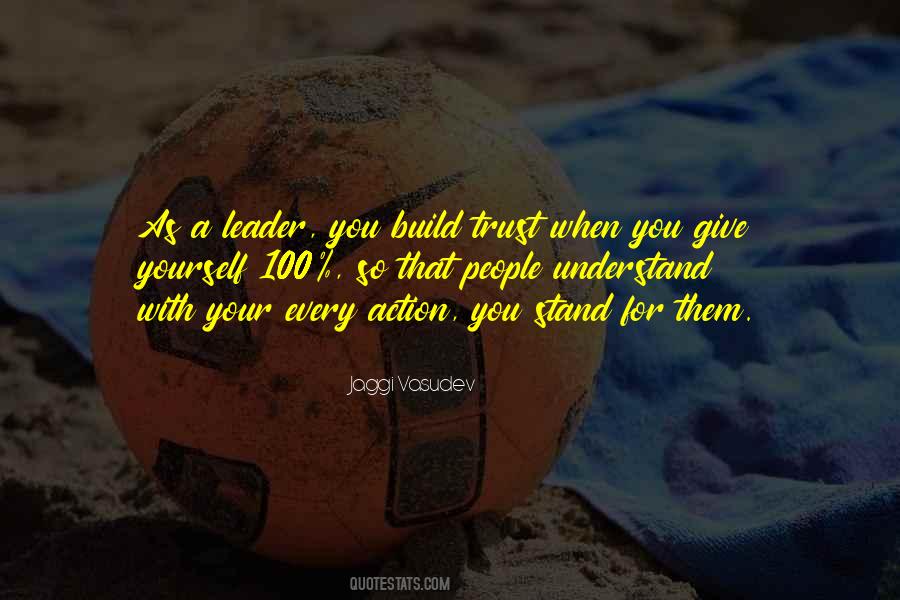 #45. If you believe you're right ... stand up and fight for your place in the sun. If you believe you can do it, hang in for the whole 15 rounds because even if you don't win, you will have earned the respect of everyone in the fight, including yourself, and in that sense you will have prevailed. - Author: Erin Brockovich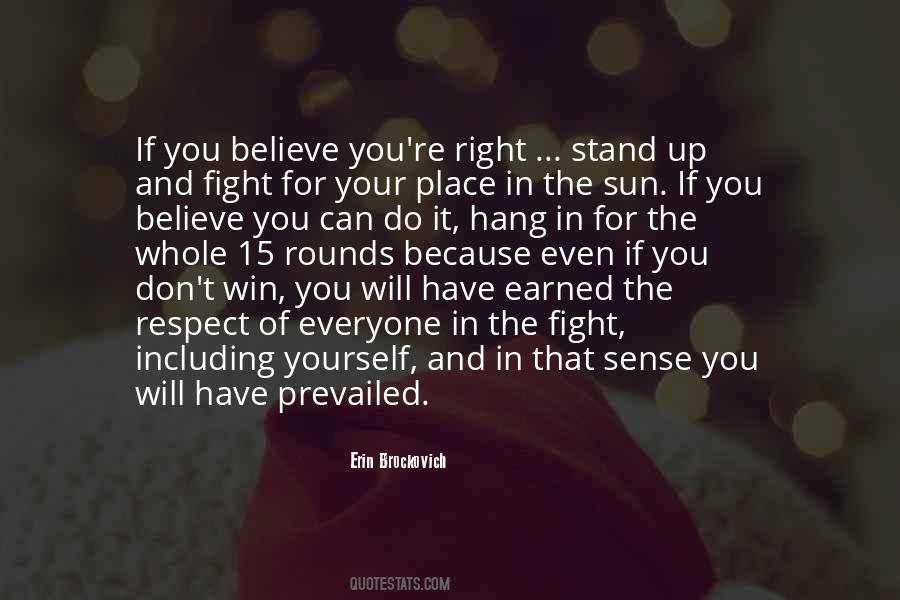 #46. You can and should stand up for who you are and what you represent, without fear or prejudice. You take the promises you have made to yourself and to others very seriously. - Author: Archibald Marwizi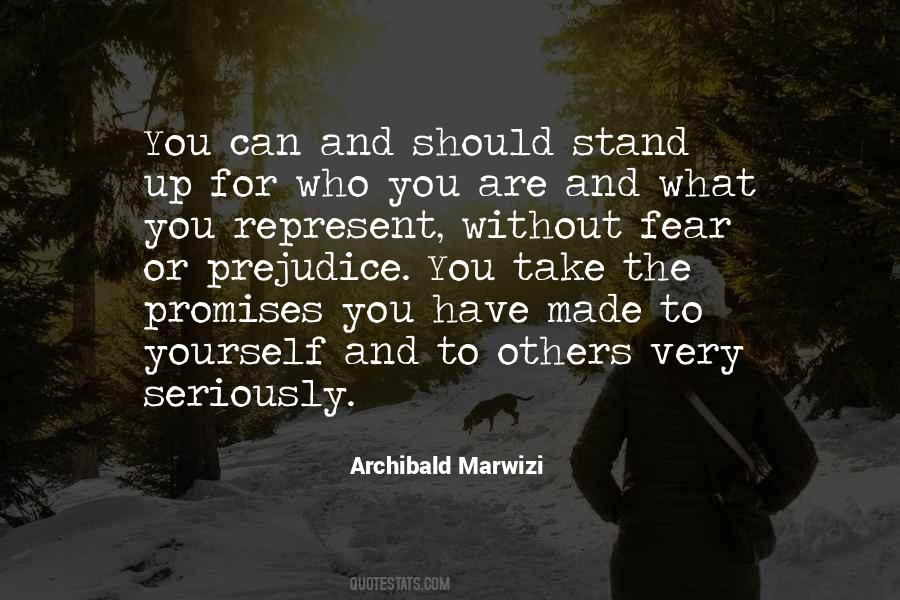 #47. It's past parsons to console us: No, nor no doctor fetch for me: I can die without my bolus; Two of a trade, lass, never agree! Parson and Doctor!
don't they love rarely Fighting the devil in other men's fields! Stand up yourself and match him fairly: Then see how the rascal yields! - Author: George Meredith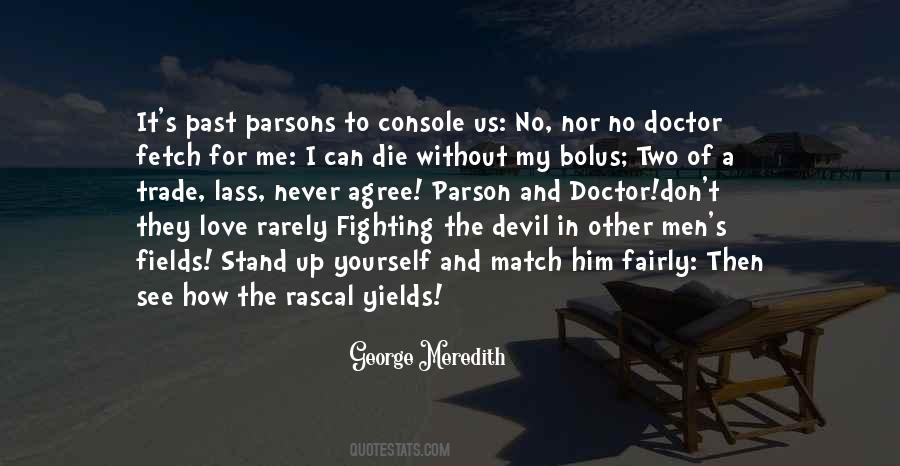 #48. The generation I grew up in was the beginning of "stand up for yourself," whether being a singer-songwriter or a feminist. In my college years, the feminist movement was really coming to fore, so we wouldn't have put up with guys treating us less than equal. - Author: Bonnie Raitt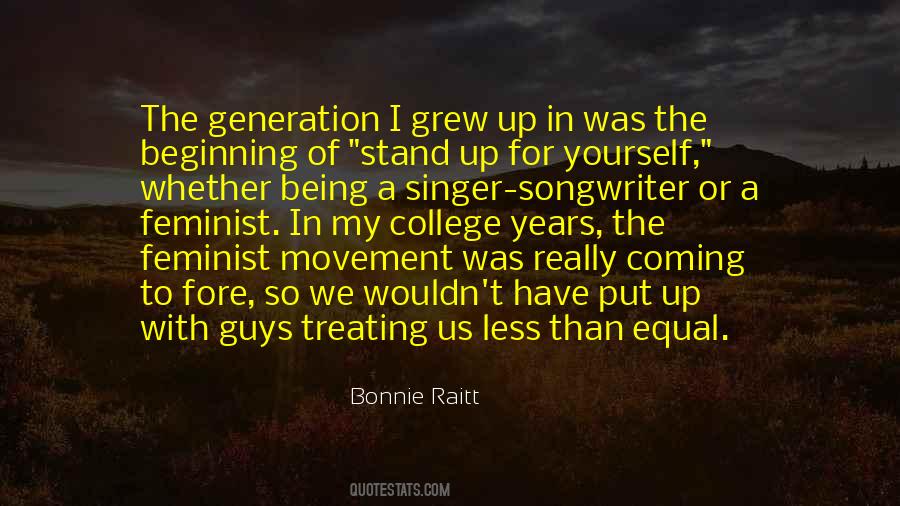 #49. I'm proud of you, son," he said. "I guess it has finally sunk in that it's important to stand up for yourself in this world."
Rocky shook his head. "It's more important to stand up for someone who can't stand up for herself," he had answered.
Rocky Ryan speaking with his father. - Author: Karen Mueller Coombs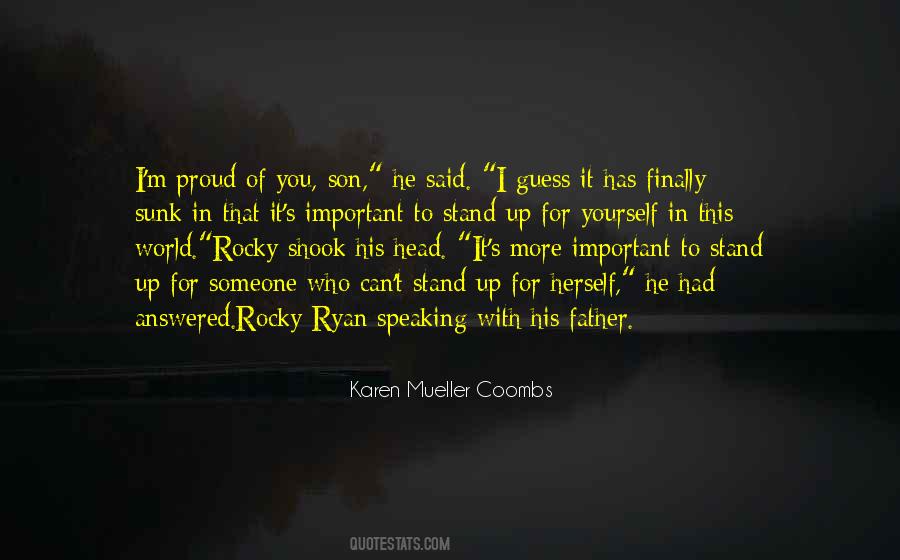 #50. You pretty much have to be bad at it [stand-up] for several years to get good at it, so there's no avoiding embarrassing yourself. - Author: W. Kamau Bell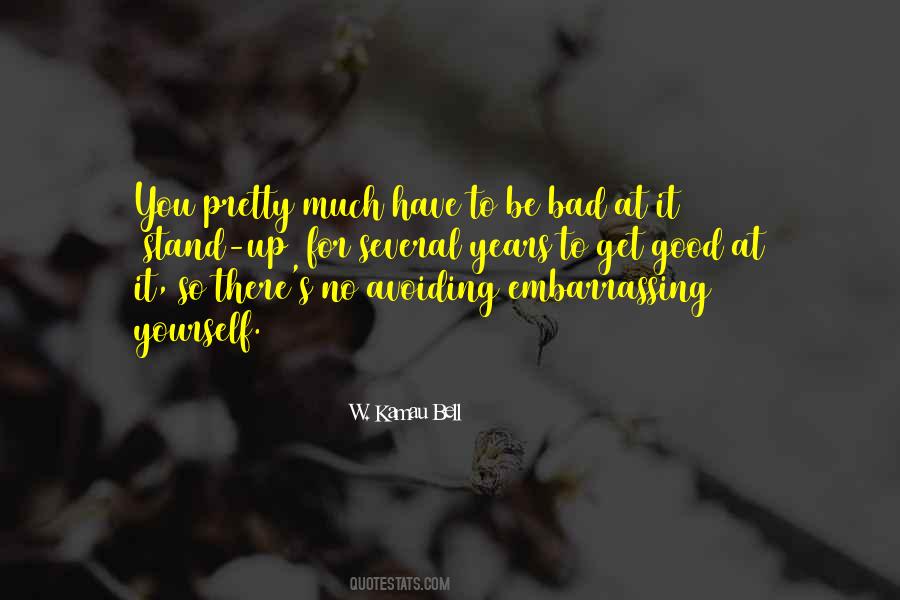 #51. Happiness is not about hiding the past, it's accepting today and making it last, You should not fear who you have become, have pride in yourself for all you have done. Stand tall and be proud to be who you are, Release your fears and brighten your star. - Author: Kylie Abecca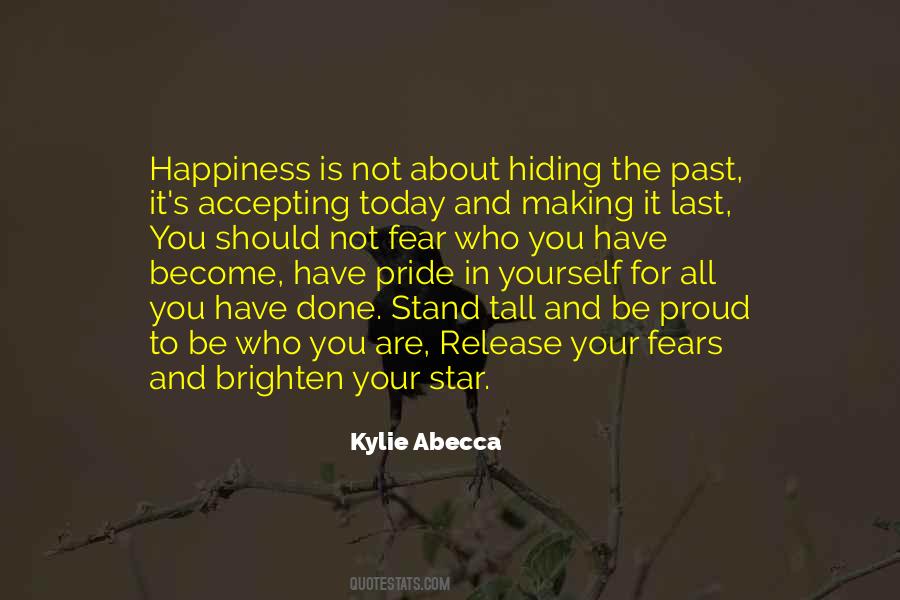 #52. The voices inside you can lead your soul astray Believe in what you dream Don't turn away don't you turn away. Reach for the light You might touch the sky Stand on the mountaintop and see yourself flying Reach for the light to capture a star Come out of the darkness and find out who you are. - Author: Steve Winwood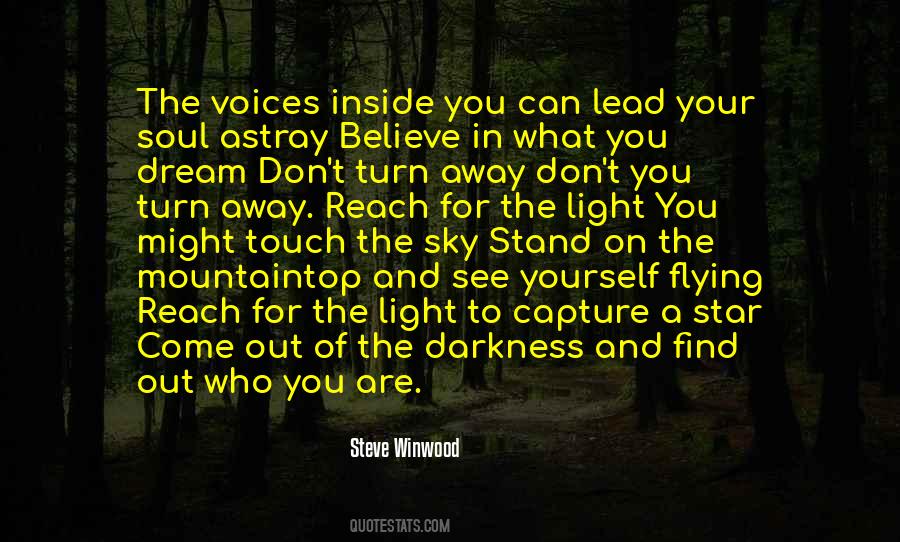 #53. For me, it's always more difficult and slightly exposing to play something that's close to yourself. I always like to try to hide, just because I can't stand the way I look. - Author: Johnny Depp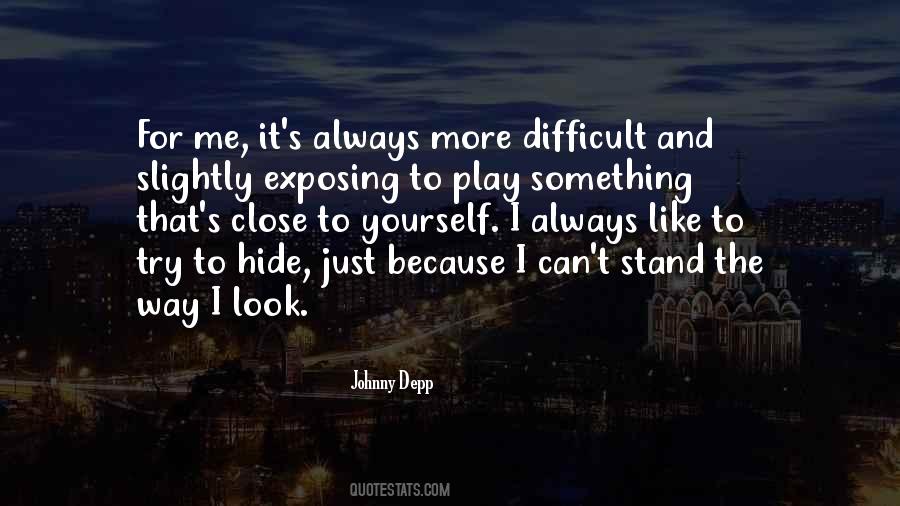 #54. And I always thought: the very simplest words Must be enough. When I say what things are like Everyone's heart must be torn to shreds. That you'll go down if you don't stand up for yourself Surely you see that. - Author: Larry Kramer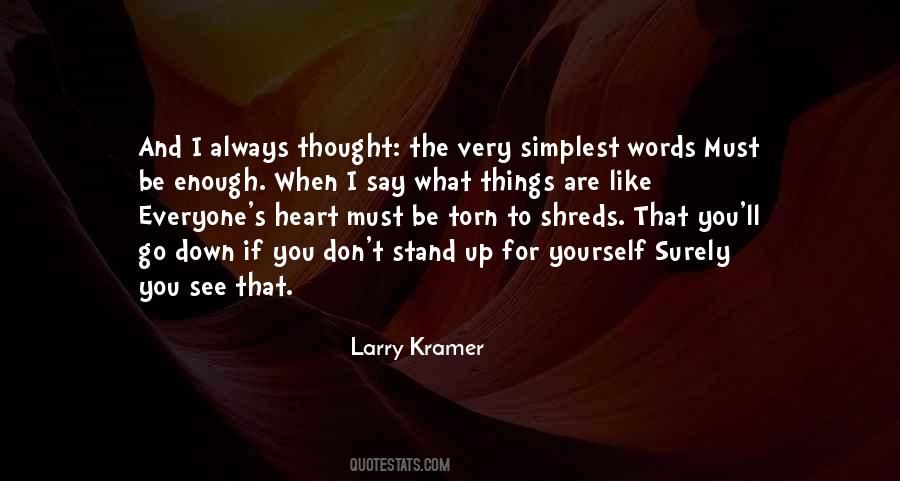 #55. We get weak and we fall down. It's when we stand up again that we become stronger. You will learn from this and be better for it. It's okay to fall once in a while. You'll pick yourself up - eventually. - Author: E.L. Todd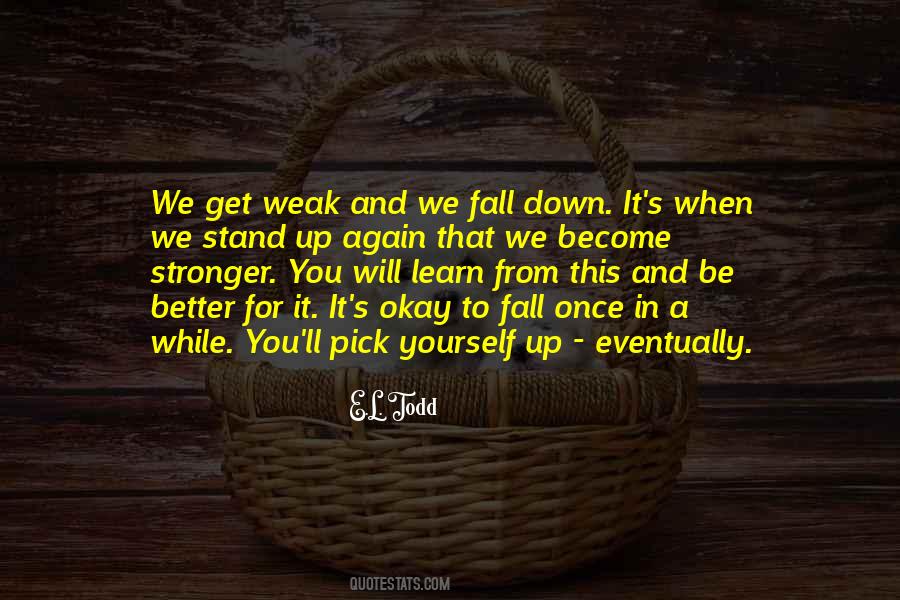 #56. Sometimes, you've just got to take a stand. For yourself and for others.
Bubba - Author: Sherrilyn Kenyon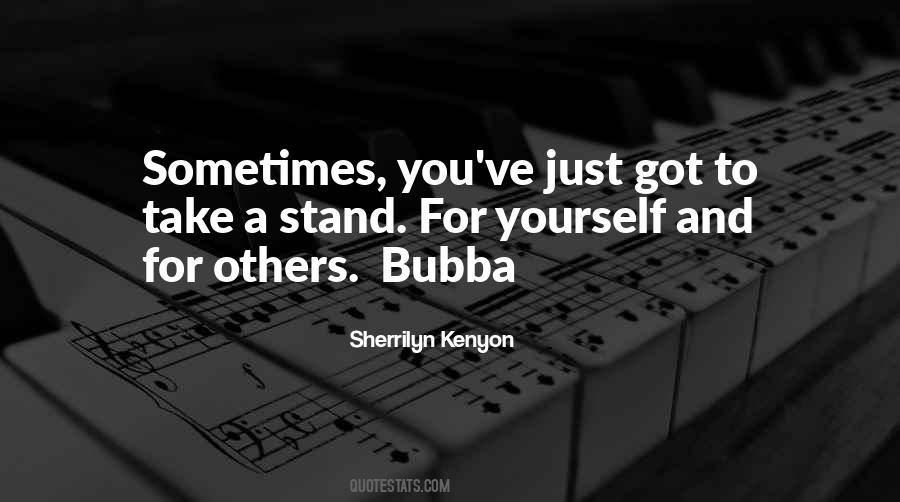 #57. The world is not the most pleasant place. Eventually your parents leave you and nobody is going to go out of their way to protect you unconditionally. You need to learn to stand up for yourself and what you believe and sometimes, pardon my language, kick some ass. - Author: Queen Elizabeth II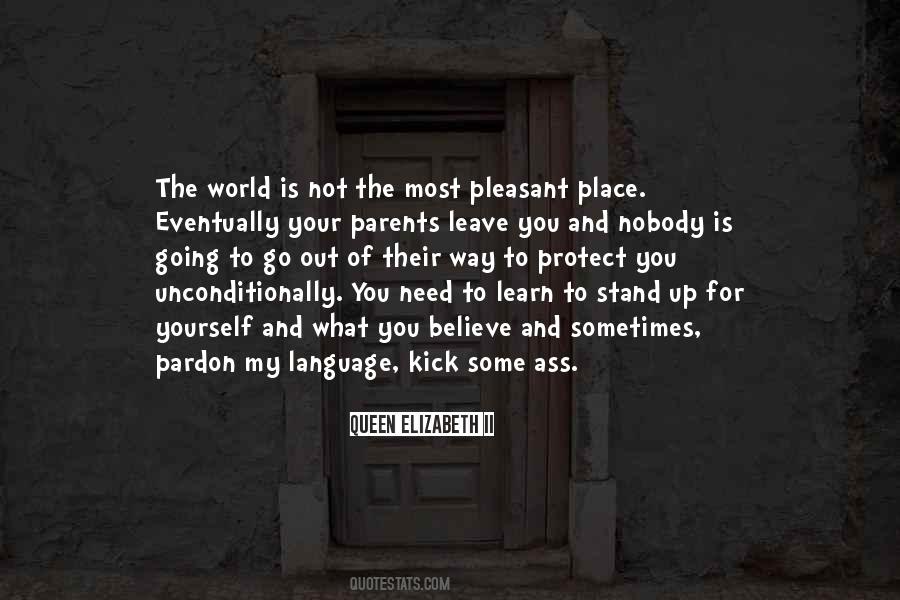 #58. Stand up for yourself.
Never give any one permission to abuse you. - Author: Lailah Gifty Akita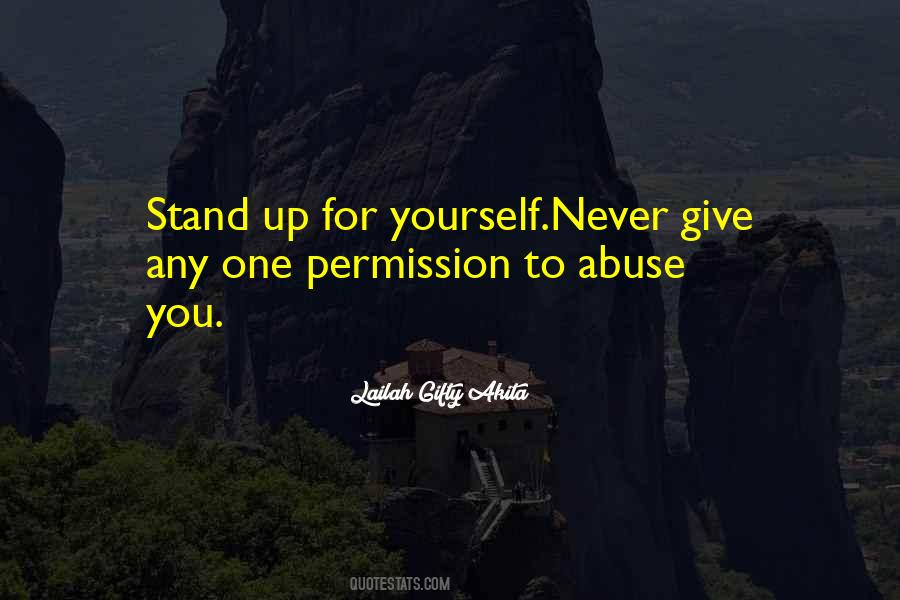 #59. When you come from a family of ten children you learn very early on in life to stand up for yourself and hold your ground regarding the things you're passionate about. - Author: Sufe Bradshaw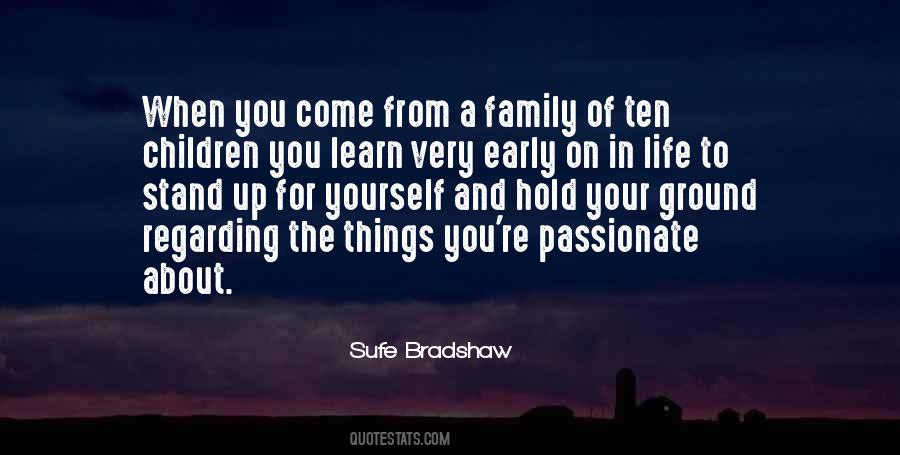 #60. You've to stand up for yourself. If you don't, no one else will. - Author: Sharad Vivek Sagar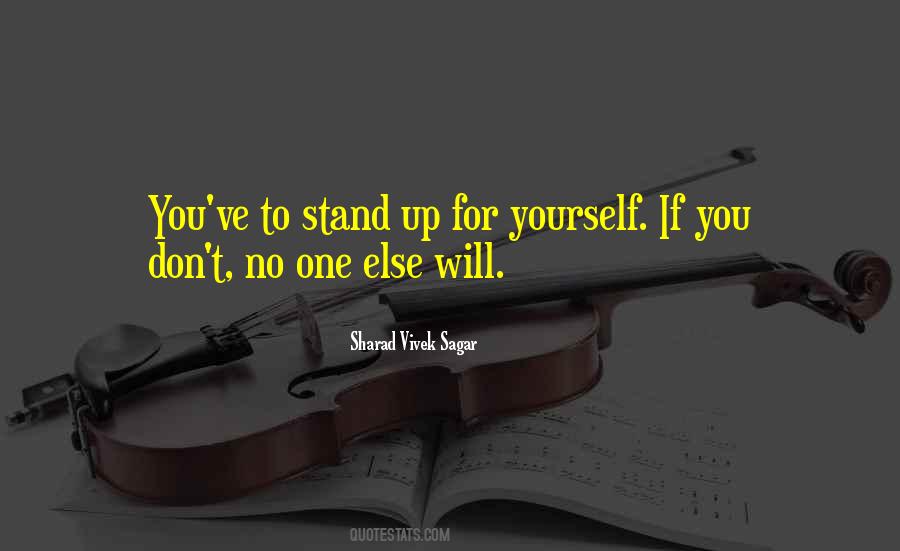 #61. Formal education teaches how to stand, but to see the rainbow you must come out and walk many steps on your own. - Author: Amit Ray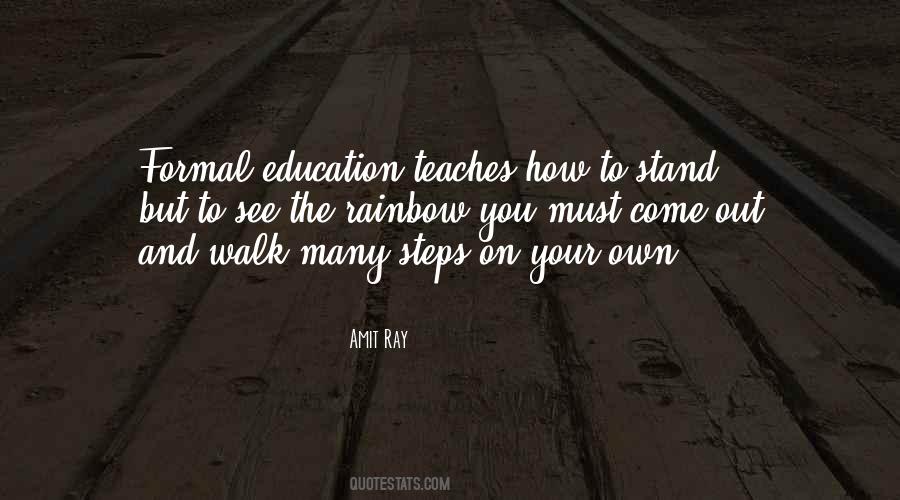 #62. It's about knowing who you are, what you stand for, and then having the courage to be yourself - in every situation rather than only when it's convenient. It's about being real, consistent, and congruent so who you are on the inside is reflected by the way you perform on the outside. - Author: Robin S. Sharma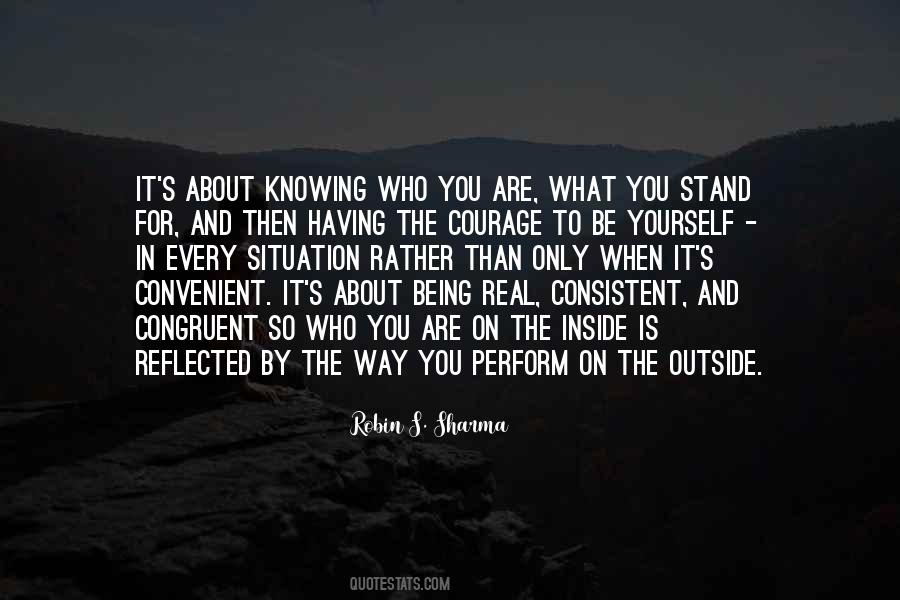 #63. That's what we were told - stand up for yourself. But that's hard to do if you don't know who you are. - Author: Shane Koyczan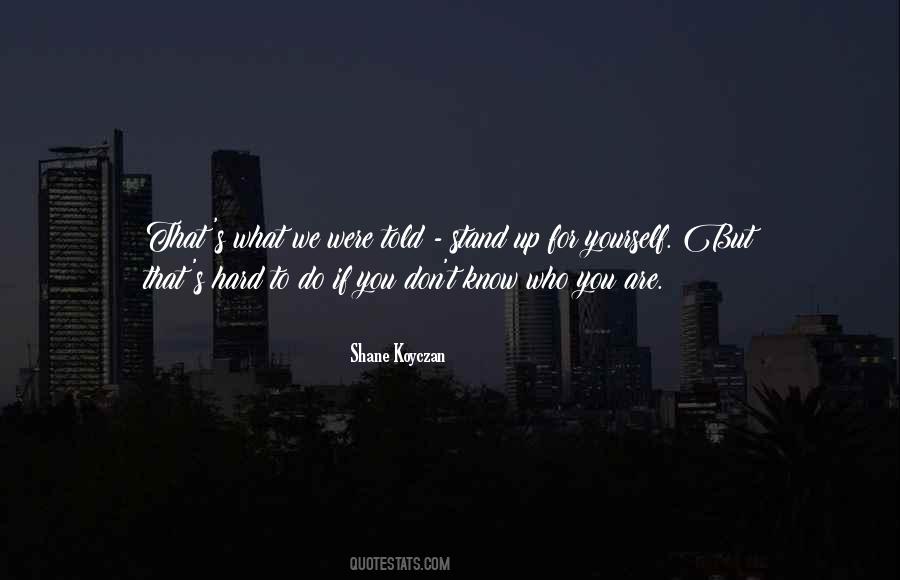 #64. You might have a hundred ways to fool yourself, but I don't bother with that shit. I know better. You're it for me, and what we just did in that bed together proved it. I'm smitten. Gone. And I can't stand that you don't trust me. - Author: Shayla Black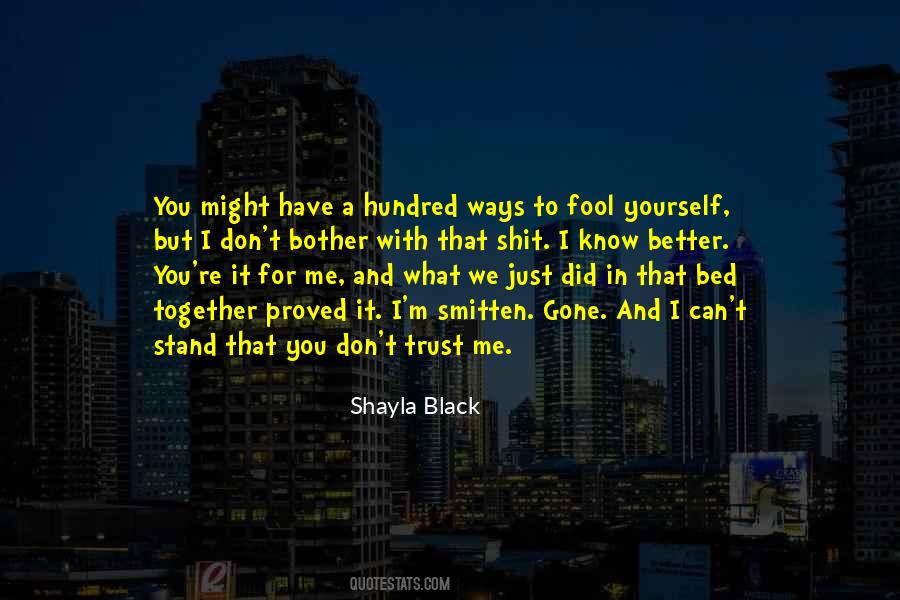 #65. Don't yell at people. Stand up for what's right. Put yourself in the other persons place. Respect women. Don't take no for an answer. Laugh at yourself. Don't believe what you are told. Fall in love. - Author: Greg Proops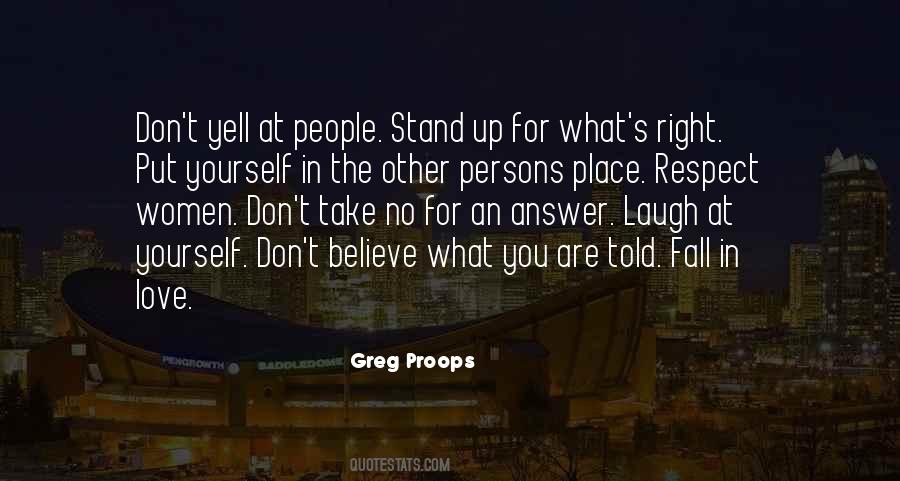 #66. You can't lead me down that road. - Author: Taylor Swift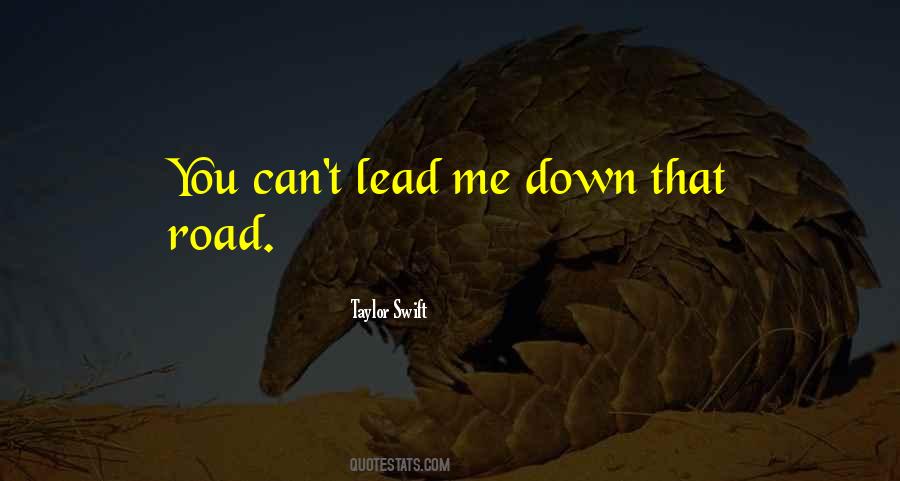 #67. Don't stand in the way of your own light. Let yourself shine as you were meant to shine, for only you can. - Author: Karlyle Tomms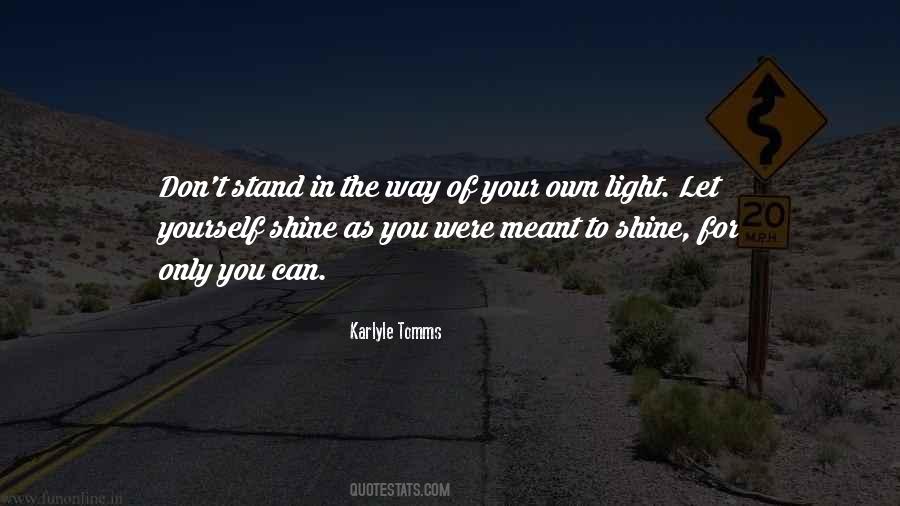 #68. When you stand up for yourself, you are standing up for everyone who will follow your positive example! - Author: Doreen Virtue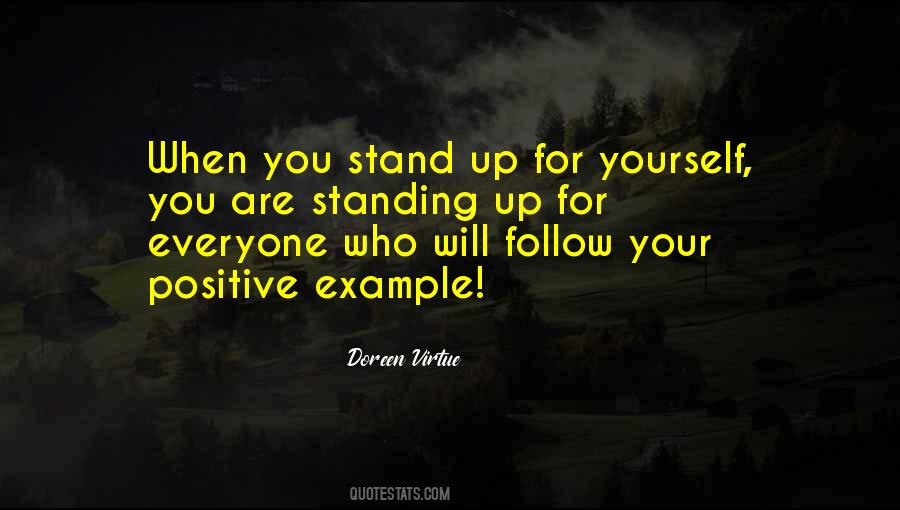 #69. You're just so excited that you have this record deal or this movie opportunity that you don't stand up for yourself and say, This is what I want to do. - Author: Solange Knowles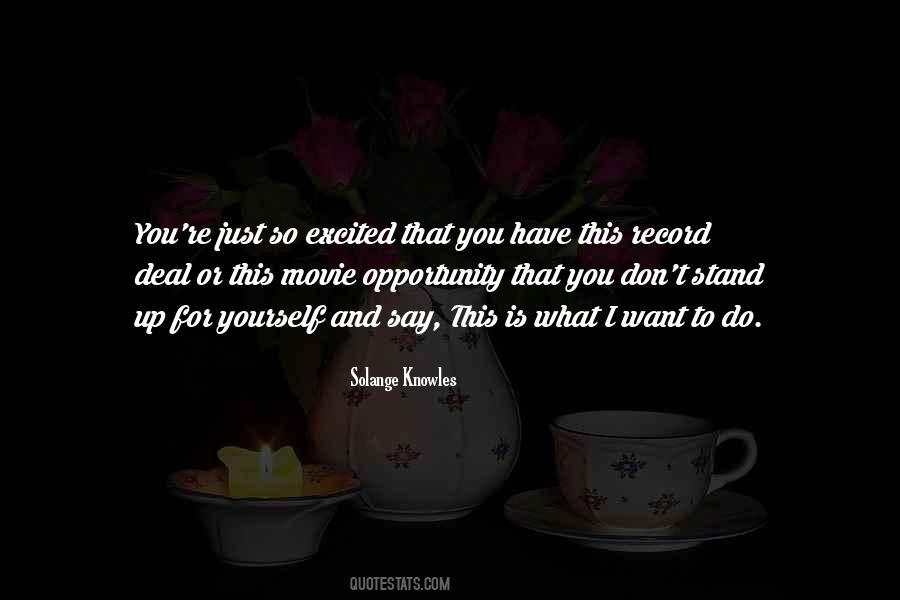 #70. How many more of us are faking the facade? How many more of us are pretending to be something we're not? Even better, how many of us will have the courage to be ourselves regardless of what others think? - Author: Katie McGarry
#71. To take up your cross means to associate yourself with Christ and to share His rejection. It means you take a stand for Christ even though people make fun of you, persecute you - or even kill you! - Author: Billy Graham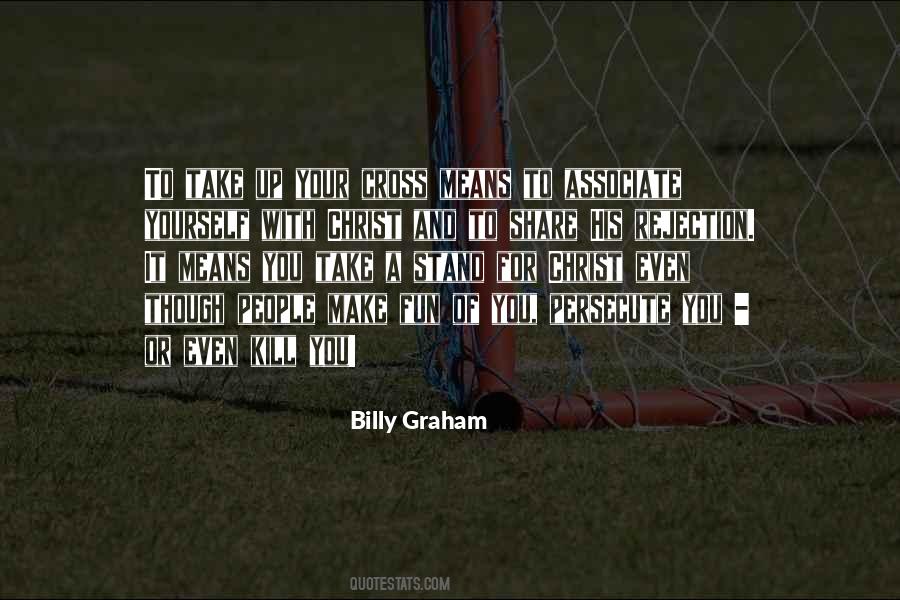 #72. You always knew that one day you would stand up for yourself ... That one day you would raise the standard of your life ... That one day would say to yourself, "Enough with this bullshit" ... You might as well make today that day. - Author: Steve Maraboli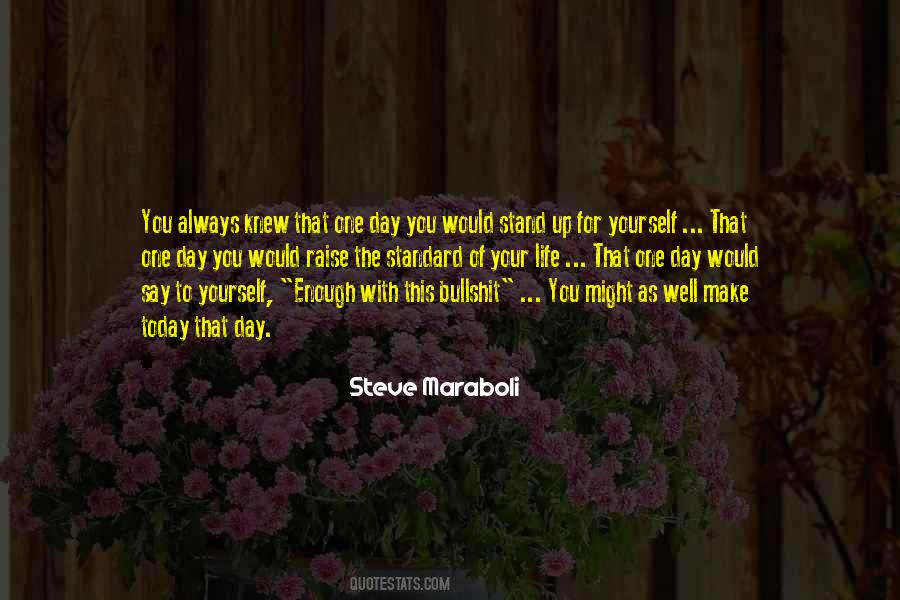 #73. Always stand up for what you believe in. Always defend yourself and your beliefs. - Author: Carol Alt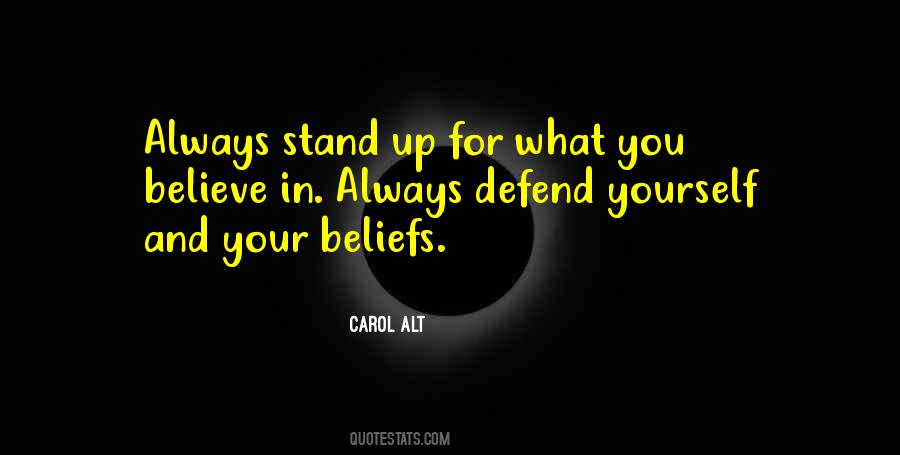 #74. Sometimes it just feels so amazing to finally stand up for yourself. I highly recommend it. Life is too short to be taken for granted. - Author: Demi Lovato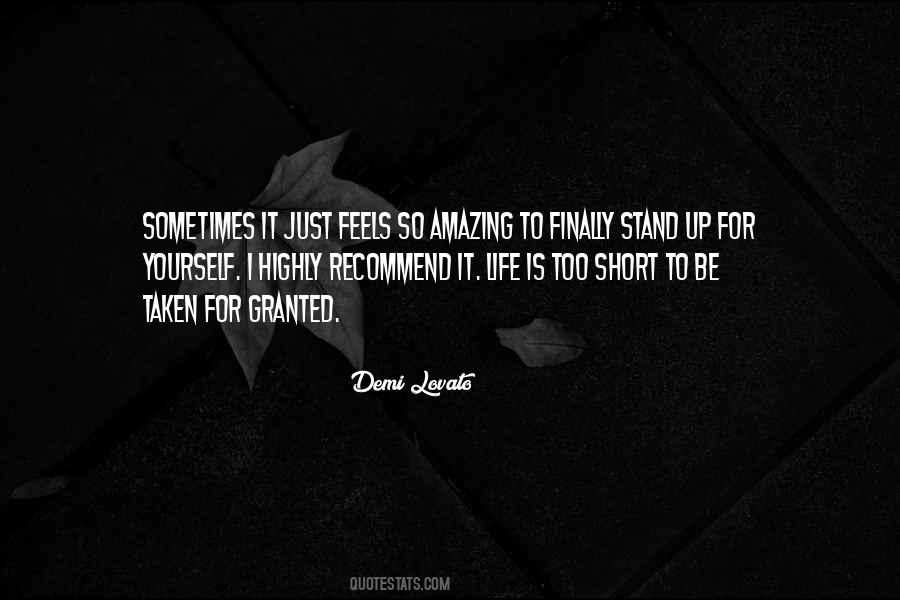 #75. When you finish a thing you ought to be able to say to yourself: 'There, I am willing to stand for that piece of work. It is not pretty well done; it is done as well as I can do it; done to a complete finish. I will stand for that. I am willing to be judged by it.' - Author: Orison Swett Marden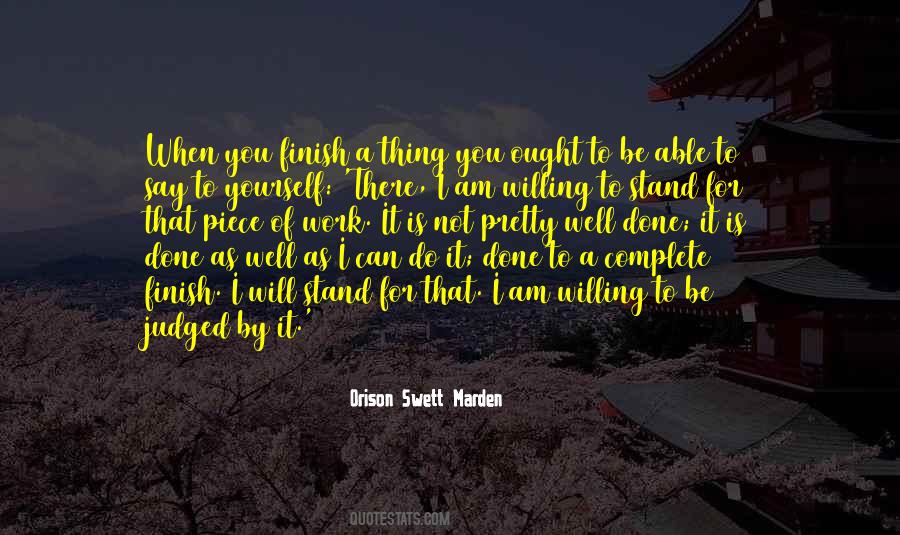 #76. The first step to loving yourself
begins with the words,
'I matter.'
You deserve to occupy space.
You deserve to stand up for yourself
and claim your right to happiness.
You deserve to be here,
just as much as
anyone else. - Author: Tina Tran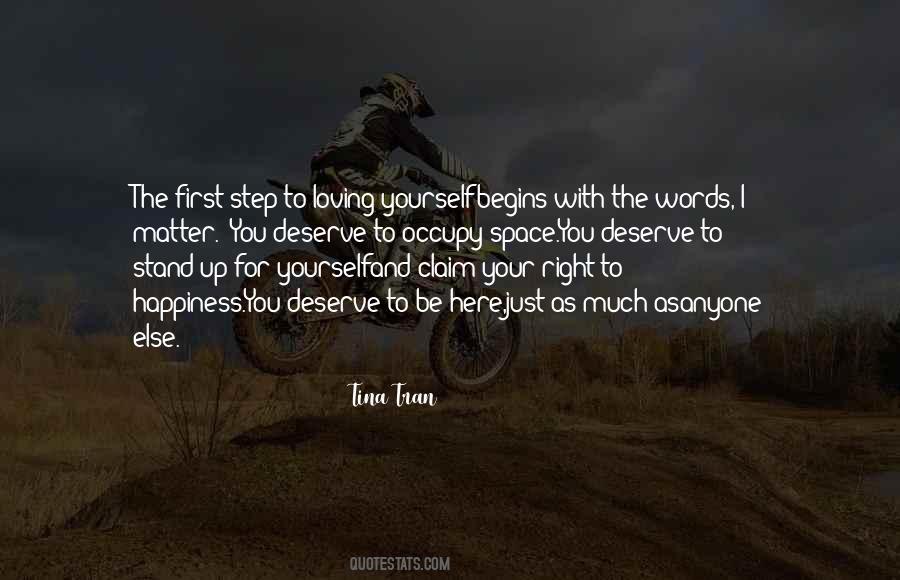 #77. Stand up for someone who is in need
so that it will build confidence in you
to stand up for yourself at times when required ... - Author: Adil Adam Memon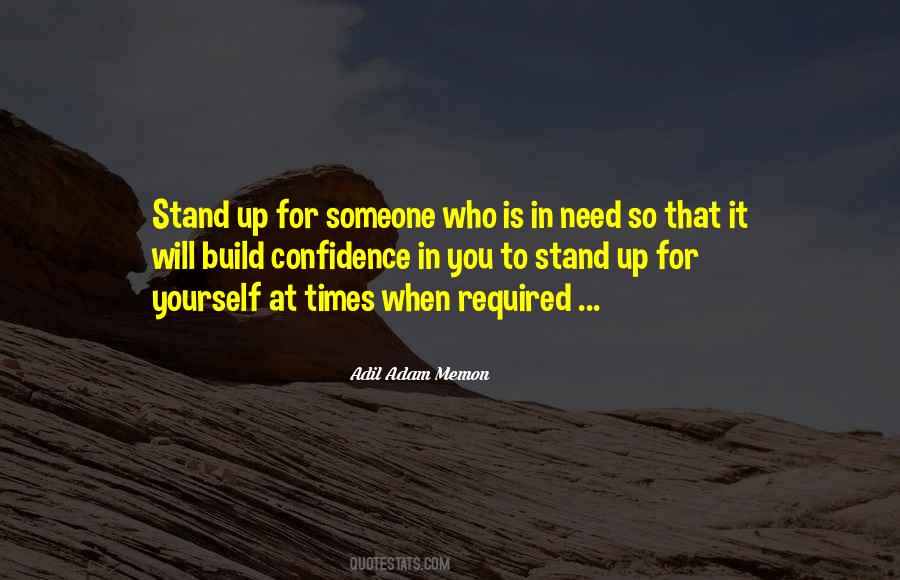 #78. There's a certain way you stand to give yourself authority, which gives you the texture for the part. I chose that my character hadn't been married, he'd worked his way up the chain of command. For a small cameo role, I gave it a lot of thought. - Author: Mark Goddard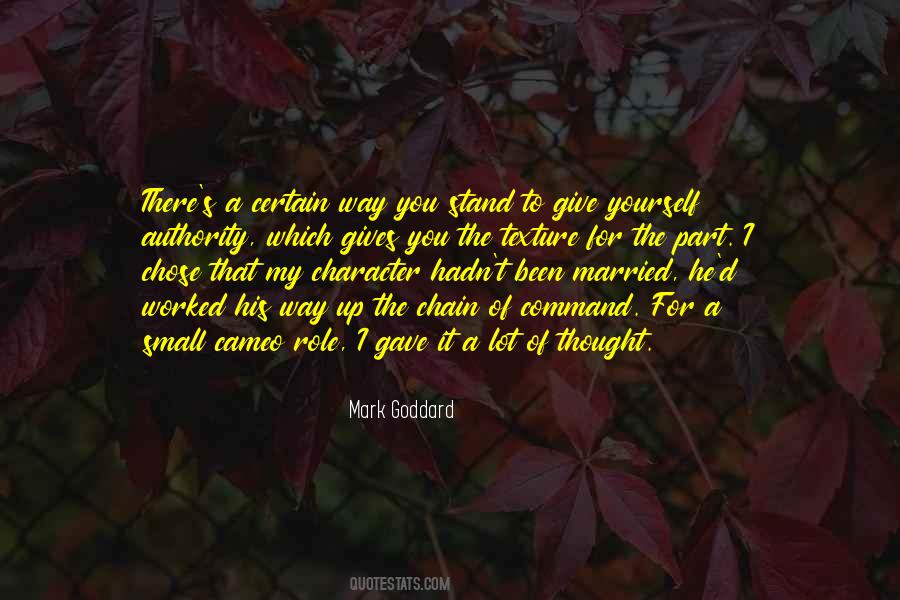 #79. This is the city of disguises. What you are one day will not constrain you on the next. You may explore yourself freely and, if you have wit or wealth, no one will stand in your way. This city was built on wit and wealth and we have a fondness for both, though they do not have to appear in tandem. - Author: Jeanette Winterson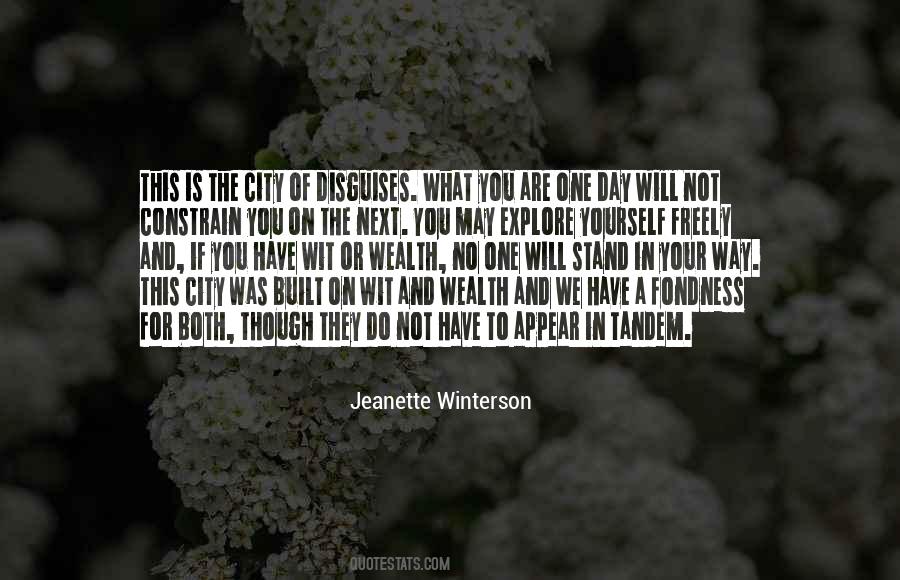 #80. Unless you allow yourself to seek your inner depths; the surfacial affairs of life shall always engross you in mundane Routines ... Arise and stand apart ... for true growth ... - Author: Dinesh Kumar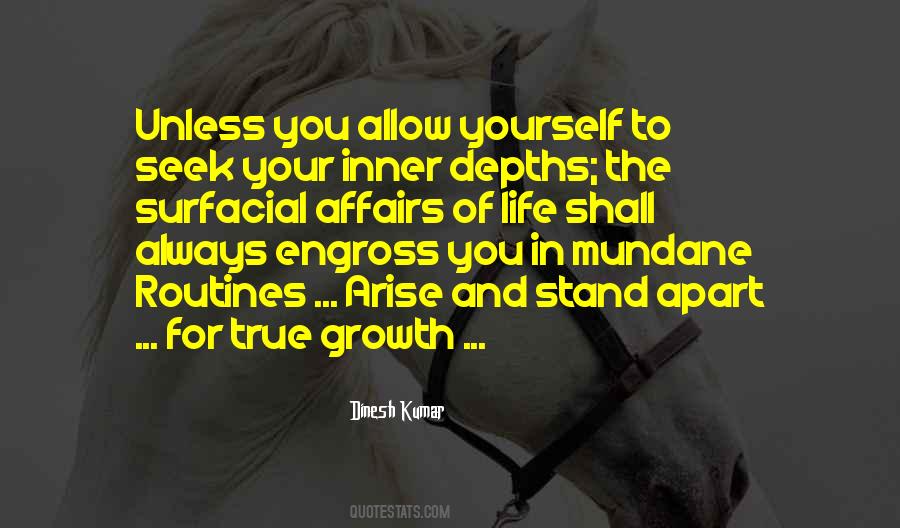 #81. And I not only have the right to stand up for myself, but I have the responsibility. I can't ask somebody else to stand up for me if I won't stand up for myself. And once you stand up for yourself, you'd be surprised that people say, "Can I be of help?" - Author: Maya Angelou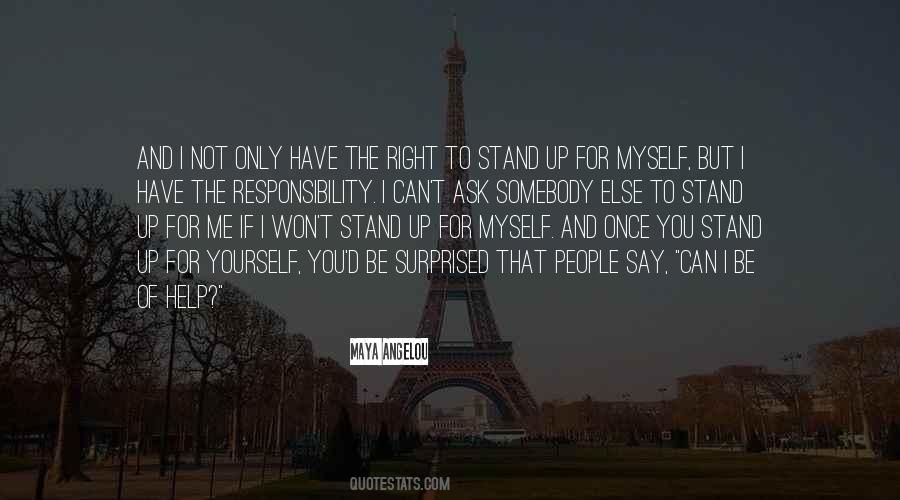 #82. Life is not about who you know, but rather about who knows you & what you stand for.

Show the world with presence, actions & the way you lead your life, who you are. - Author: Akilnathan Logeswaran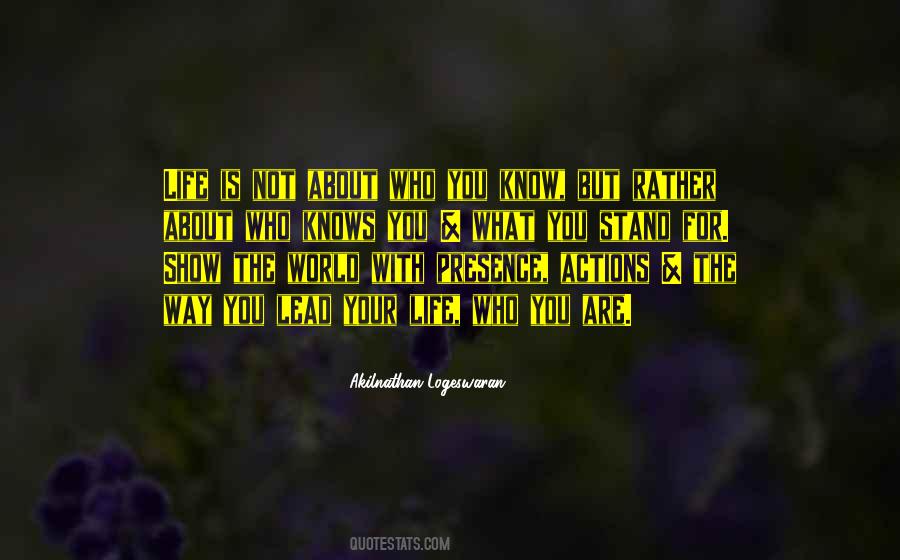 #83. I stand by your side because this is where I'm meant to be. I stand by your side because you didn't have the strength to hold yourself up. That's what you do for the person you love. - Author: Harper Sloan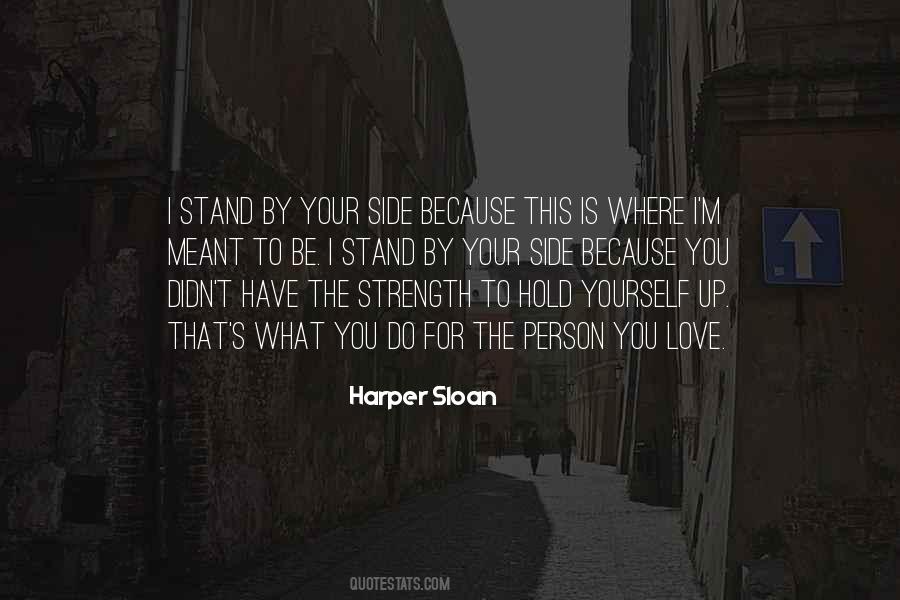 #84. Develop enough courage so that you can stand up for yourself and then stand up for somebody else. - Author: Maya Angelou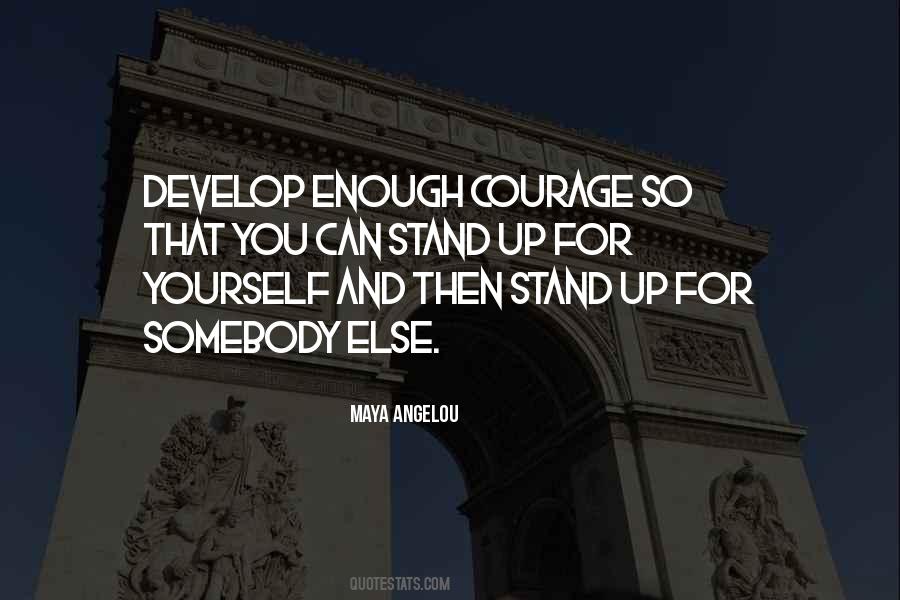 #85. I used to think that if she were gone, you would come back to me."
"If she were gone, I would be nothing," Marco says. "You should think better of yourself than to settle for that."
They stand in silence on the empty street, the chill of the night air falling between them. - Author: Erin Morgenstern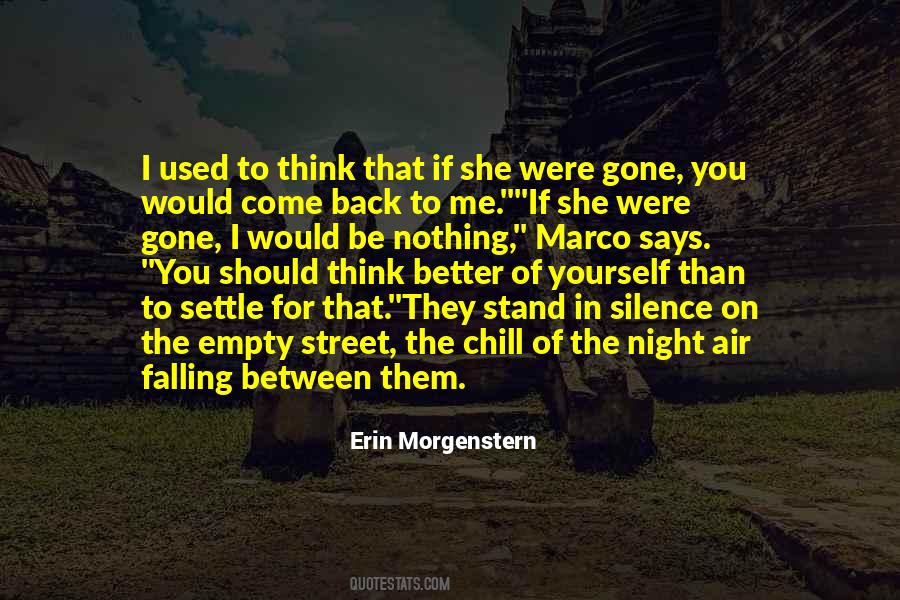 #86. You can know that the final show is coming up, and prepare yourself for it mentally, but when it finally occurs, it's like a dream. You stand there feeling the love the audience has for you, and you think, 'Is this really going to end? - Author: Phil Lynott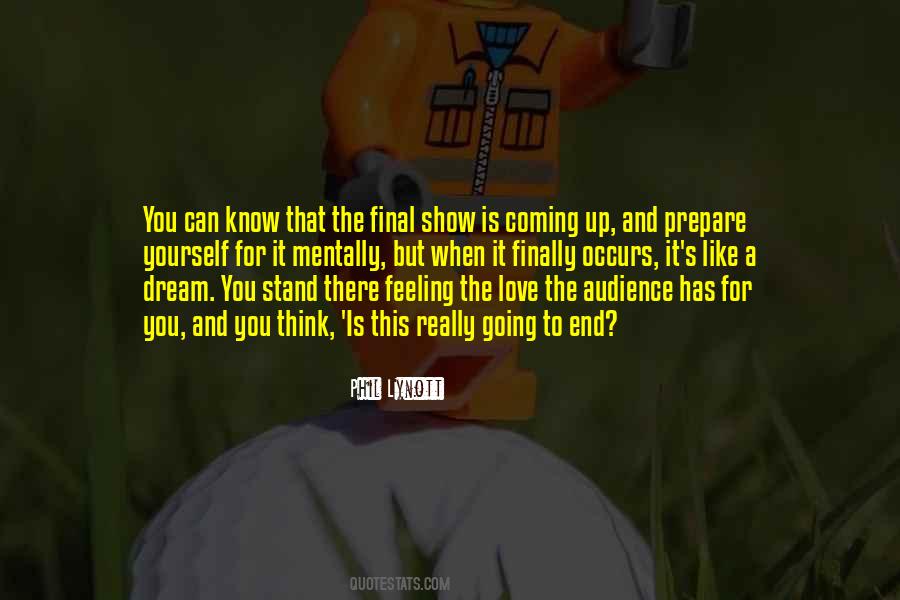 #87. Life's fairly excruciating. Painful things happen. Every now and then, you drag yourself out of the stream and stand on the bank gasping for air. I think that's how I work. - Author: Helen Garner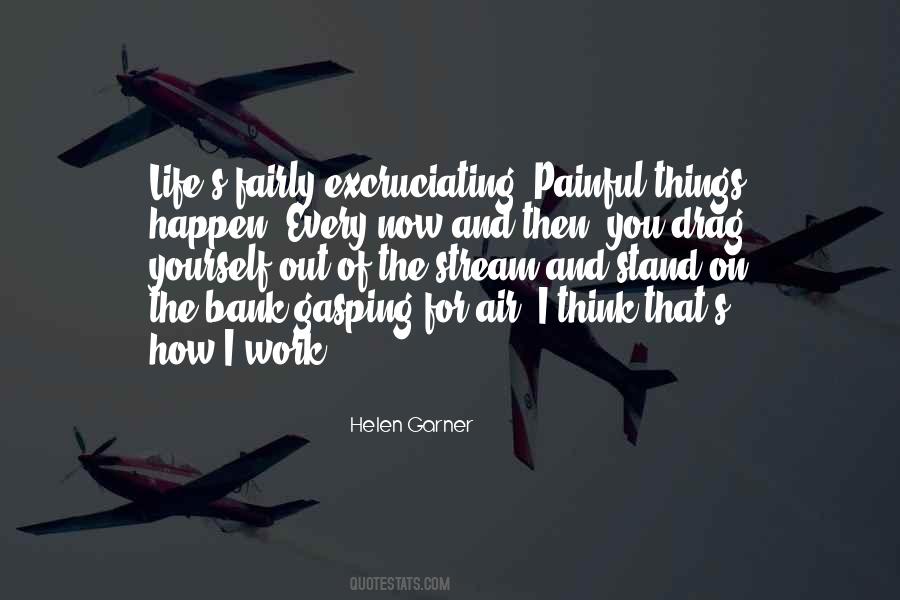 #88. Those who lift trophies of success are those who do what they do without stretching their necks to see "who else is doing what? - Author: Israelmore Ayivor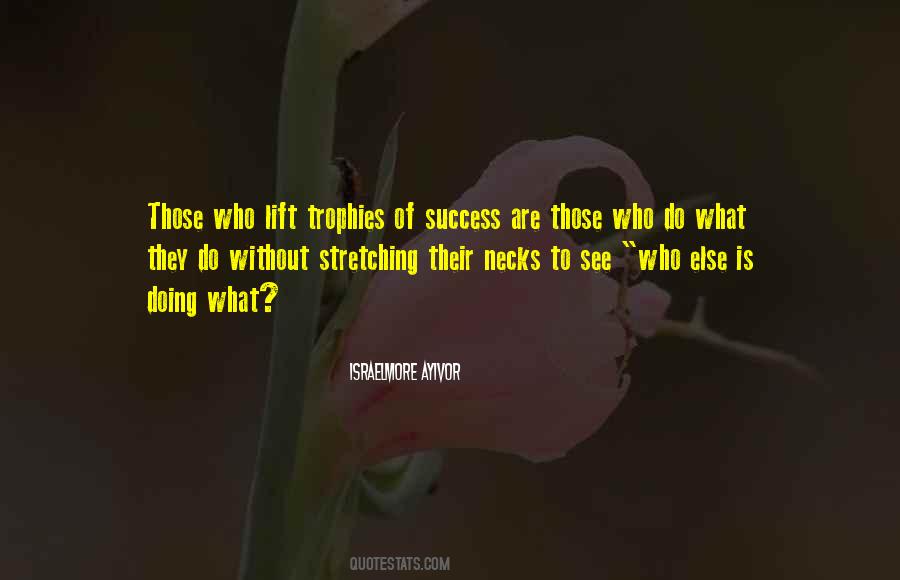 #89. All things are possible if you are willing to put yourself on the line. You cannot stand back and hope for the best. You have to act. - Author: Elizabeth Edwards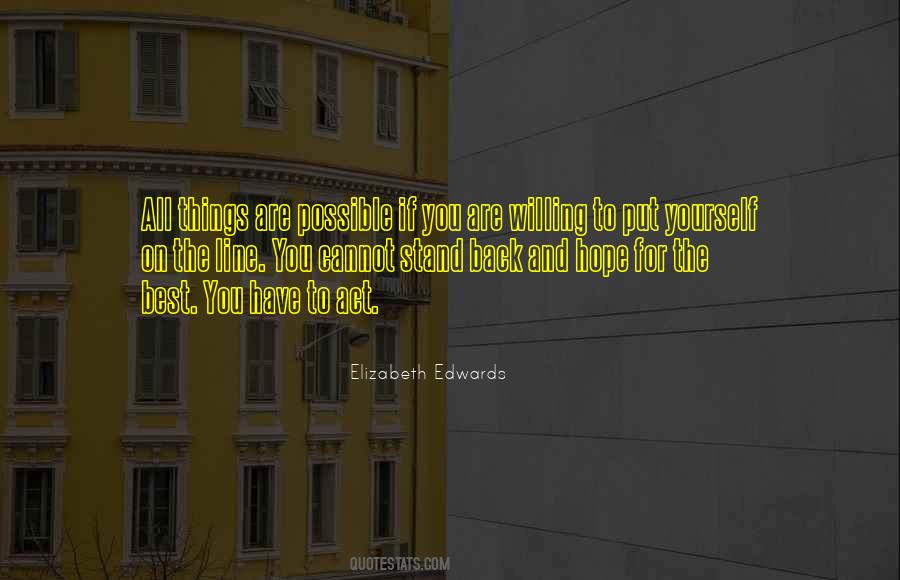 #90. Life doesn't actually knock you down. It does, however, provide you with many opportunities to evaluate your standing in life: what you stand on, what you stand for, how you stand within yourself and for yourself. - Author: Iyanla Vanzant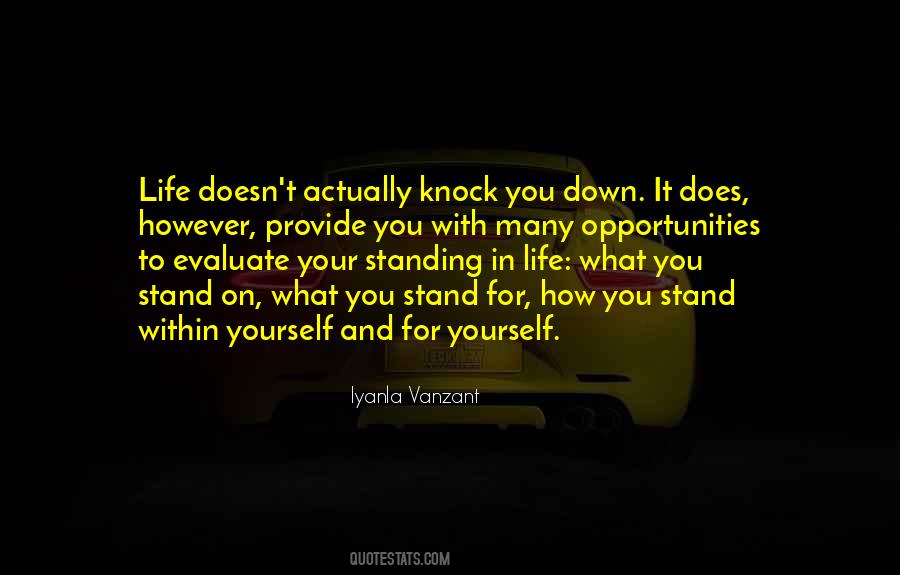 #91. I lost my own daughter and I'll never have another. The hurt doesn't go away, no matter what you tell yourself. It's there day and night. I'd have killed any man who touched her. Why should I stand for such talk about another man's child, if I wouldn't have stood for it about my own? - Author: Charles Todd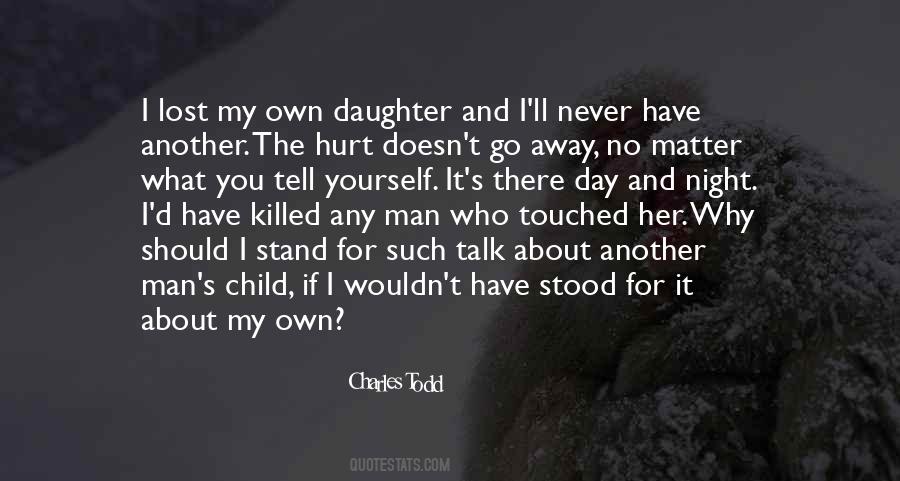 #92. Dear World,

I exist.
Deal with it. - Author: Joyce Rachelle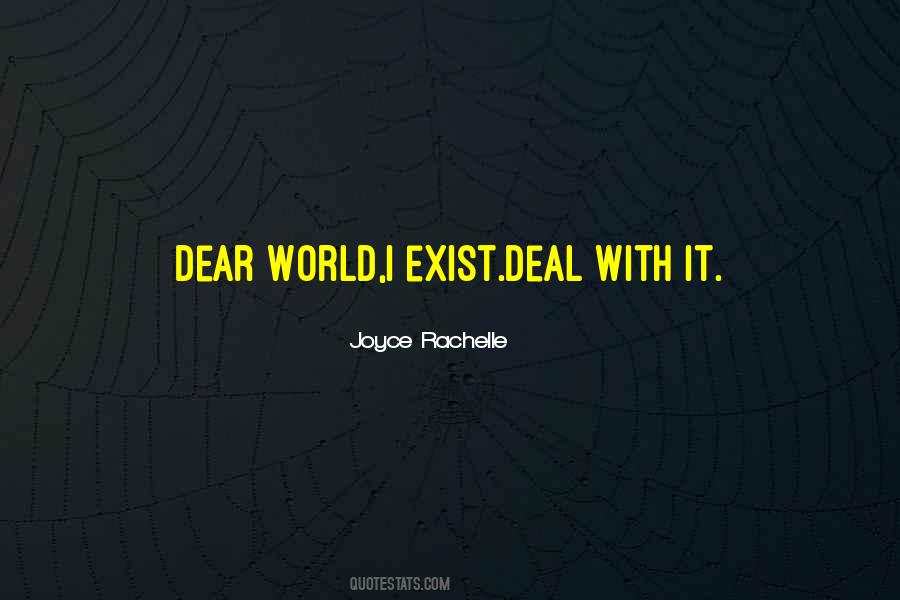 #93. And so gentlemen, I learned. Oh, if you have to learn, you learn; if you're desperate for a way out, you learn; you learn pitilessly. You stand over yourself with a whip in your hand; if there's the least resistance, you lash yourself. - Author: Franz Kafka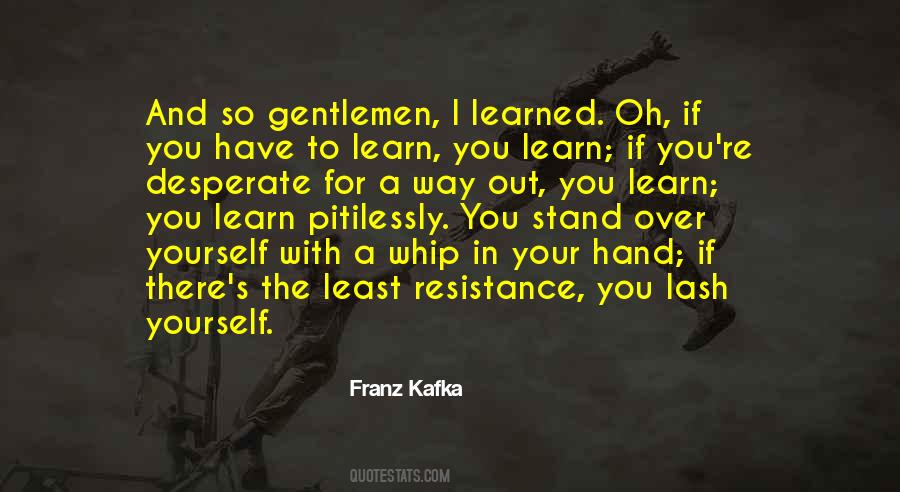 #94. You have two choices. you can keep running and hiding and blaming the world for your problems, or you can stand up for yourself and decide to be somebody important. - Author: Sidney Sheldon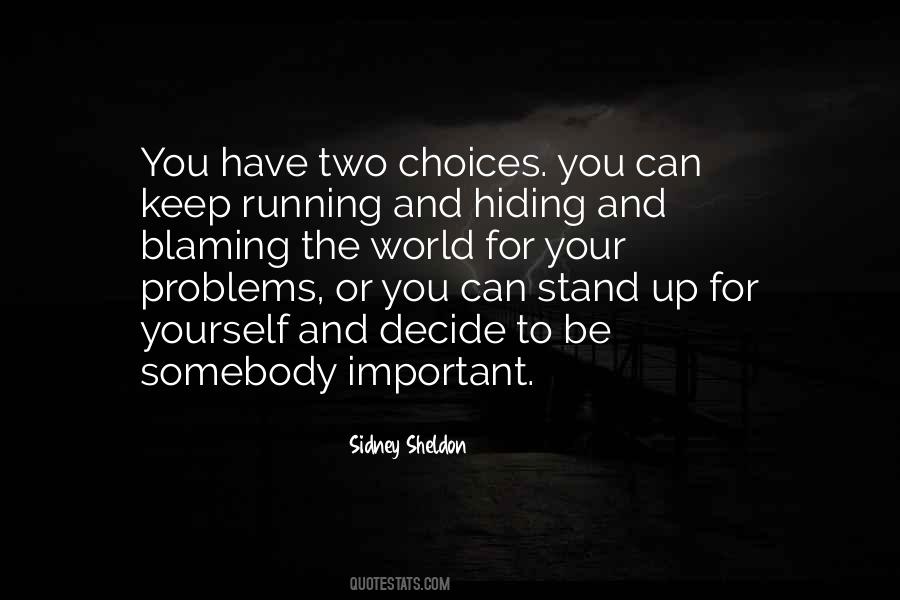 #95. The bottom line is, if you stay home, your message stays home with you. If you stand for justice and equality, you have an obligation to find the biggest possible megaphone to let your feelings be known. Don't let your message be buried and don't bury yourself. - Author: John Carlos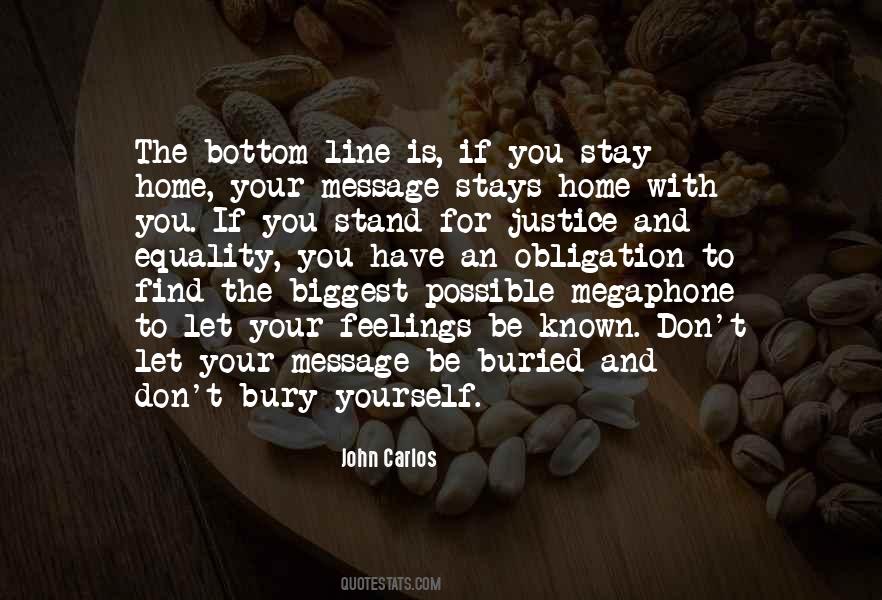 #96. Just be yourself, be confident. Try and stand out - but in a good way. Stand out for being yourself other then wearing like a chicken suit or something ... - Author: Perrie Edwards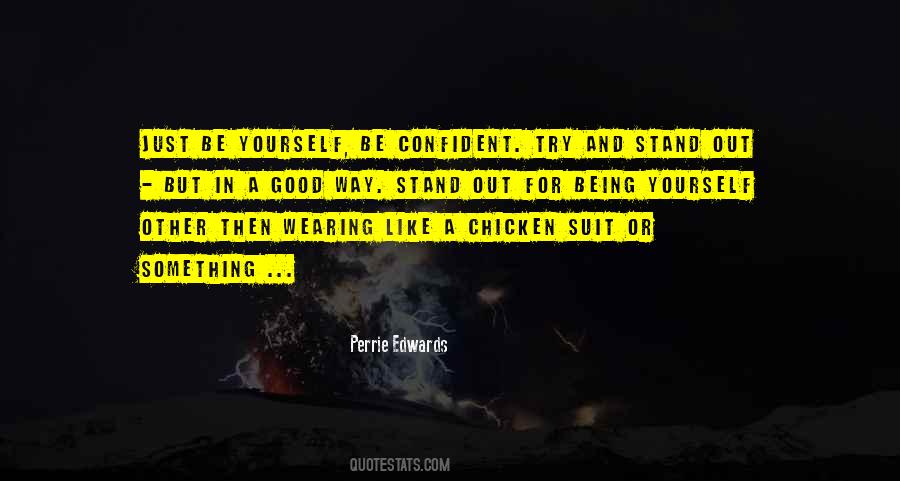 #97. On the way home my father said tiredly he hoped some day I'd realize it was necessary to live with people. I didn't understand him. He said a lot of other things that made me feel sorry for him, because he just couldn't stand up to a situation. - Author: Dan J. Marlowe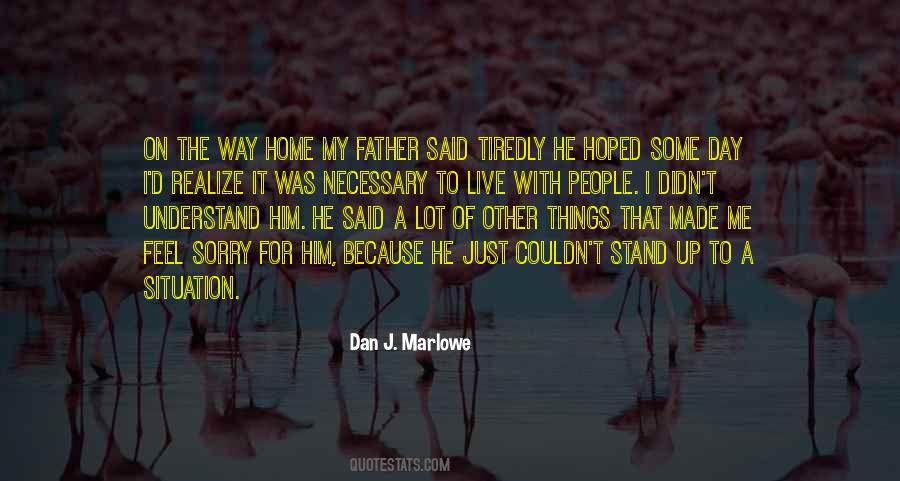 #98. I think we each have a certain number of unnecessary apologies, which we willingly dish out before we realize it's time to stand and fight. I may still have two or three left. - Author: Joyce Rachelle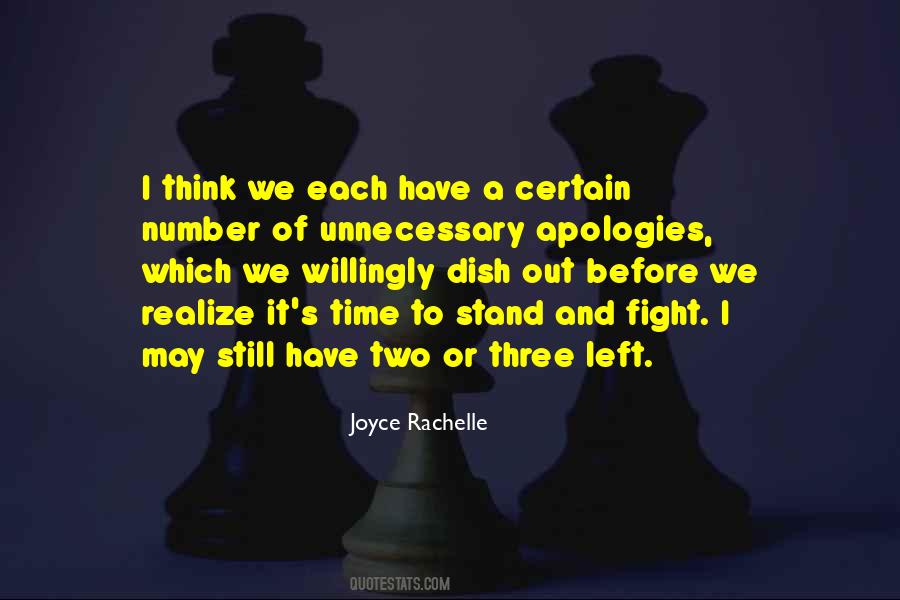 #99. But then I realize there is never going to be a day when I stand before God and He looks at me and says, 'I wish you would have kept more for yourself.' I'm confident that God will take care of me. - Author: David Platt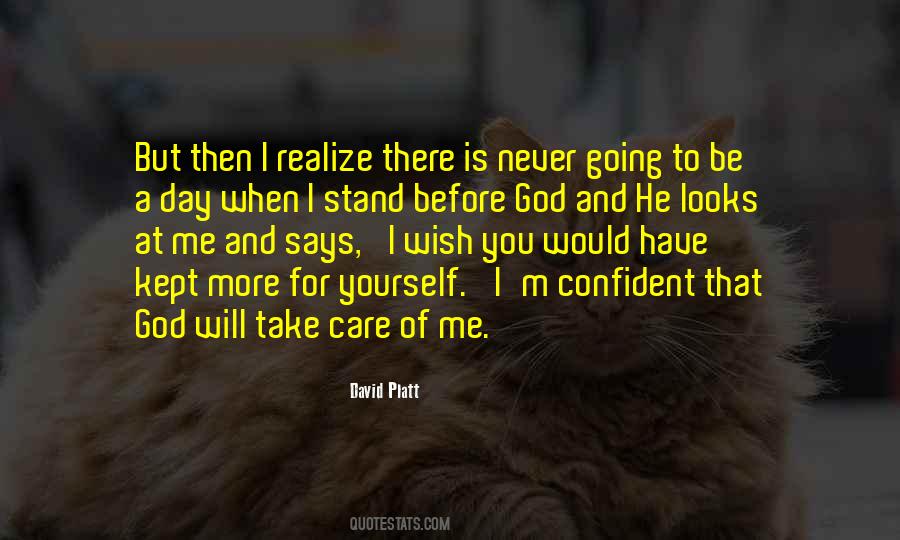 #100. When your commitment is to be loving regardless of the circumstances, there is no room for harsh words. You assert yourself not from a desire to control but from a desire to stand for who you are. - Author: Rhonda Britten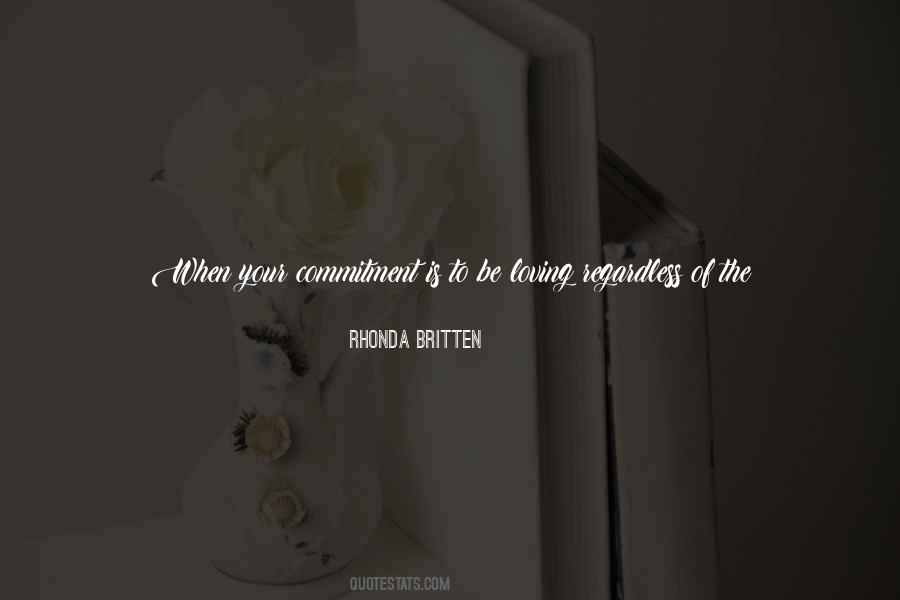 Famous Authors
Popular Topics