Sick Of This Life Famous Quotes & Sayings
List of top 74 famous quotes and sayings about sick of this life to read and share with friends on your Facebook, Twitter, blogs.
Top 74 Sick Of This Life Quotes
#1. When you are sad or in pain or sick or you witness any cremation then you actually learn the many truths of life. - Author: Neem Karoli Baba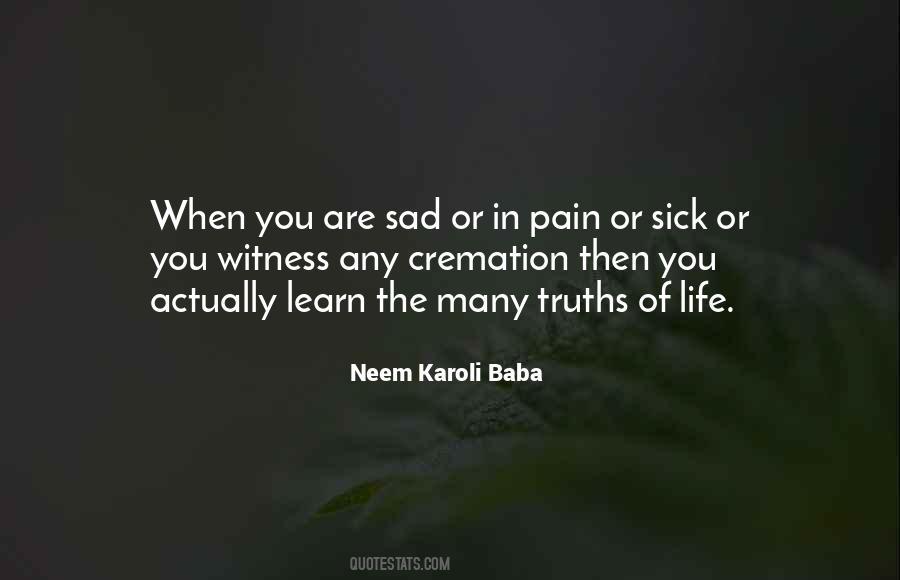 #2. You don't get to reschedule life's challenge matches. In the real world, you often have to produce when you do not want to. You go to work with a cold because you have a big presentation and can't call in sick. You have to complete that project, hand in the contract, and feed that baby. - Author: Paul Assaiante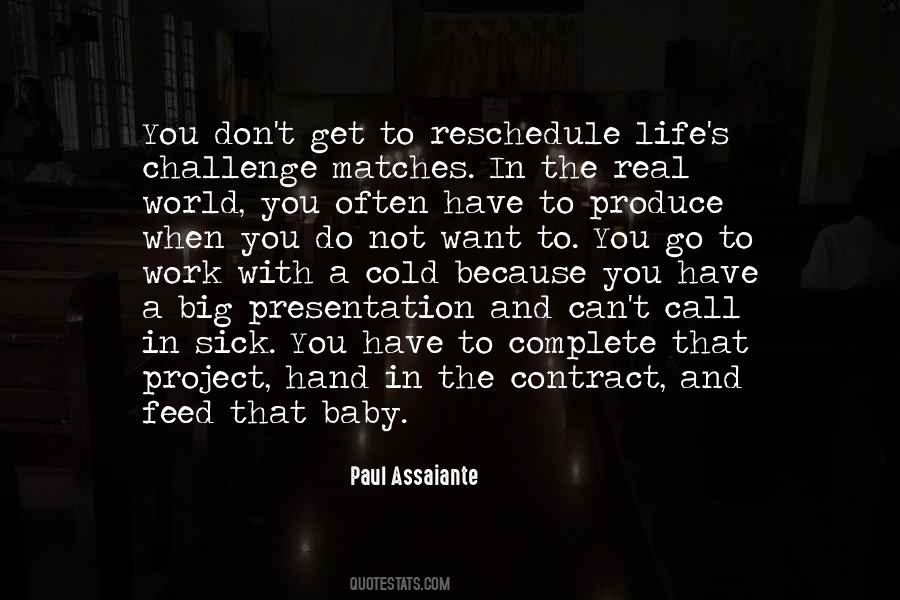 #3. Sick children inevitably become arrested: You are fated to live out your days as the child you were when diagnosed, the child who believes there is a life after a novel ends. - Author: John Green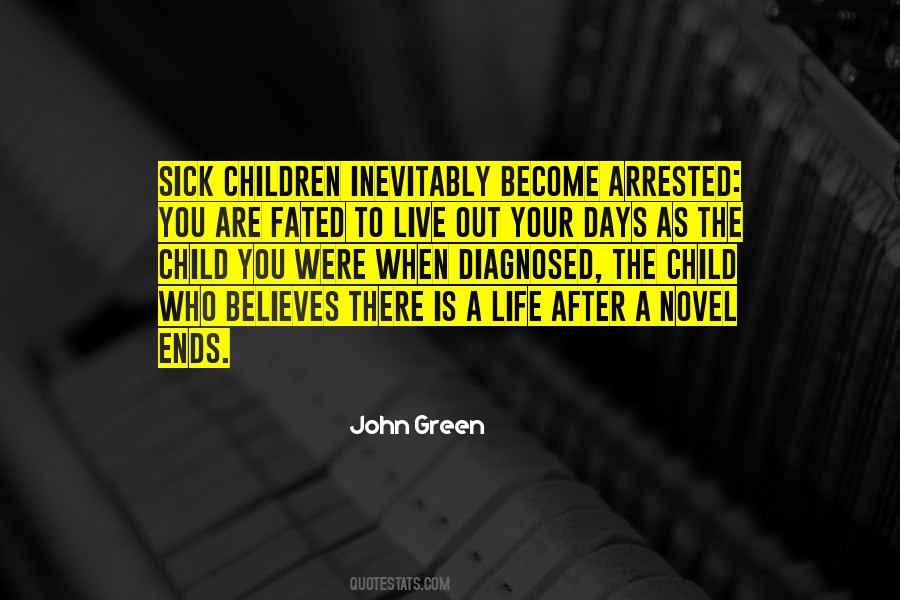 #4. Ged stood sick and haggard. He said at last, "Better I had died." "Who are you to judge that, you for whom Nemmerle gave his life? - You are safe here. You will live here, and go on with your training. They tell me you were clever. Go on and do your work. Do it well. It is all you can do. - Author: Ursula K. Le Guin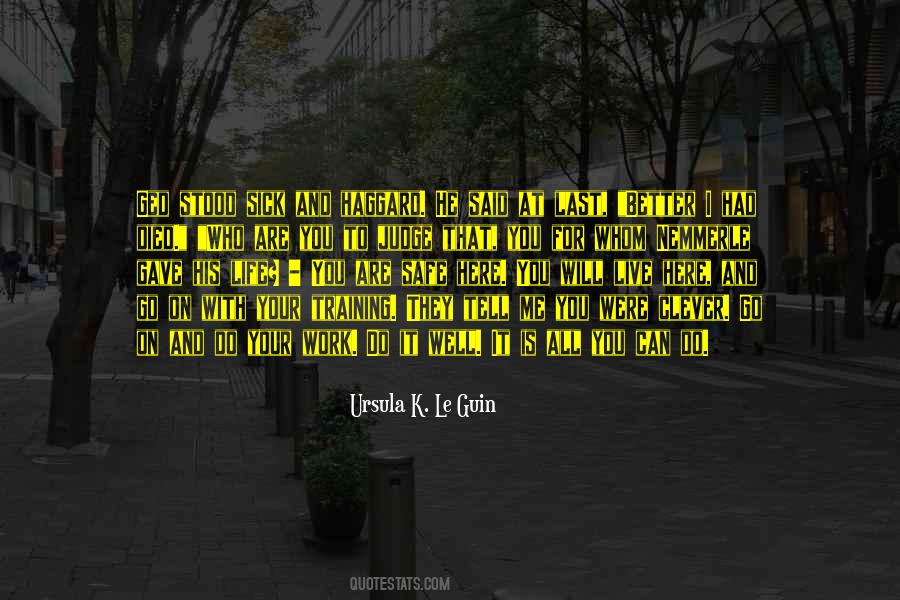 #5. To the sick, while there is life there is hope.
[Lat., Aegroto dum anima est, spes est.] - Author: Marcus Tullius Cicero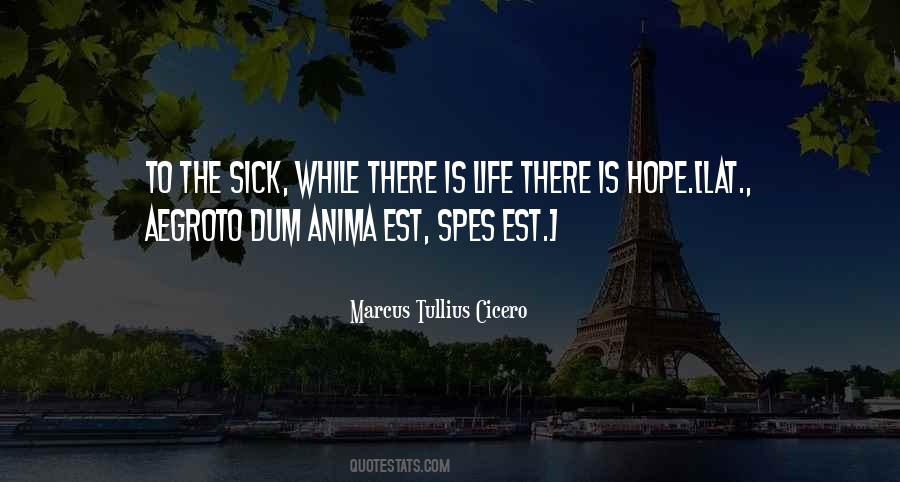 #6. Because he understood very well what was making her sick. For the first time in her life she had fallen in love at the same time that she had the experience necessary to know it would never work out. - Author: Alice Walker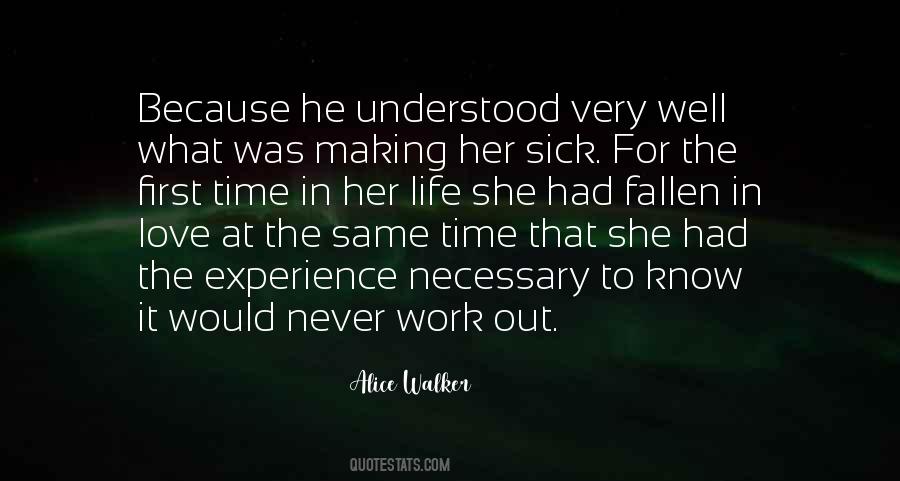 #7. Besides, if you're sick, I'm on life support. As wrong as that joke is. - Author: Lia Habel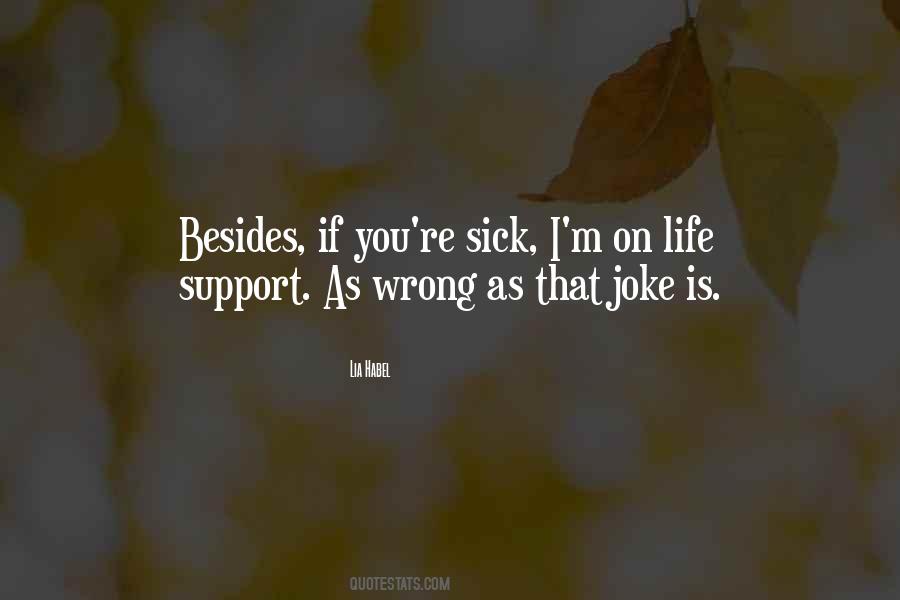 #8. it was "the hardest damn thing I ever did in my life. I don't care how many feathers a man wears in his hair, he's still a man. One of them, Red Legs, looked at me and said 'do you think this is fair? Would you sign such a paper?' and I could not meet his eyes. It made me sick. - Author: Michael Crichton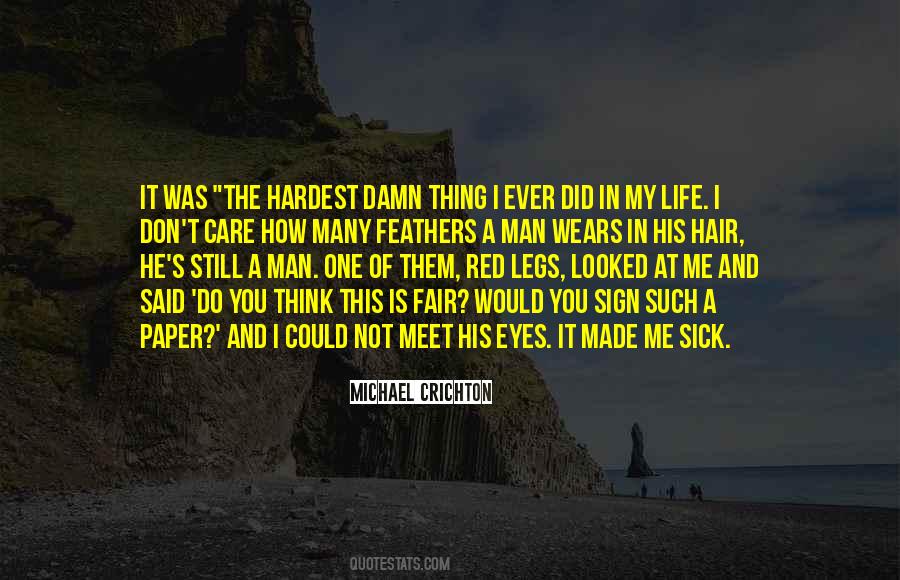 #9. Giving advice to people to better themselves health wise when they're not interested only moves towards making yourself sick. - Author: Lou Silluzio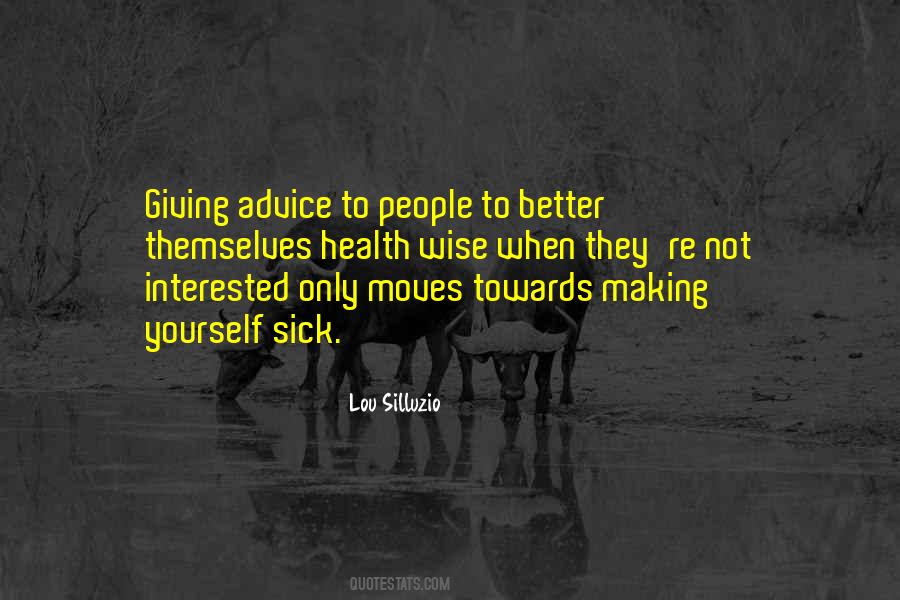 #10. Even when I'm sick and depressed, I love life. - Author: Arthur Rubinstein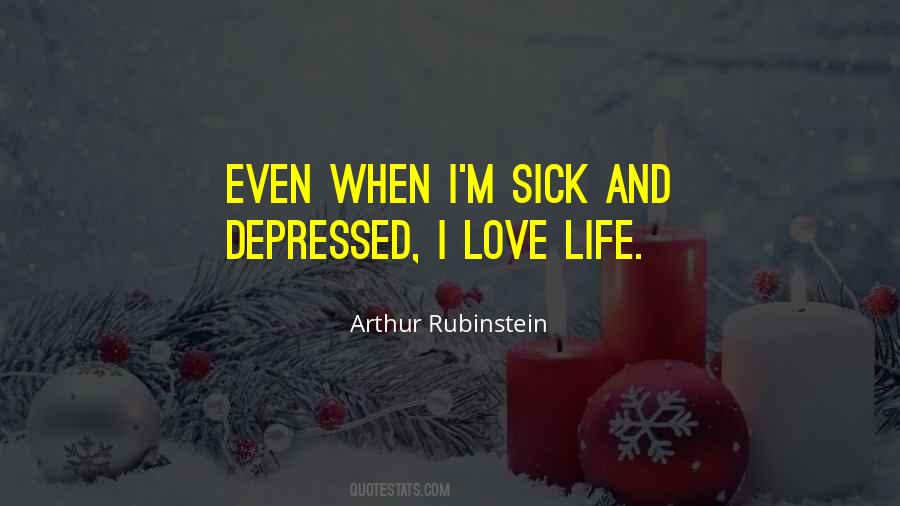 #11. Through social media, missing persons are found; sick persons are given chances to live a healthy life. I say, that is the modern bayanihan movement. - Author: Kcat Yarza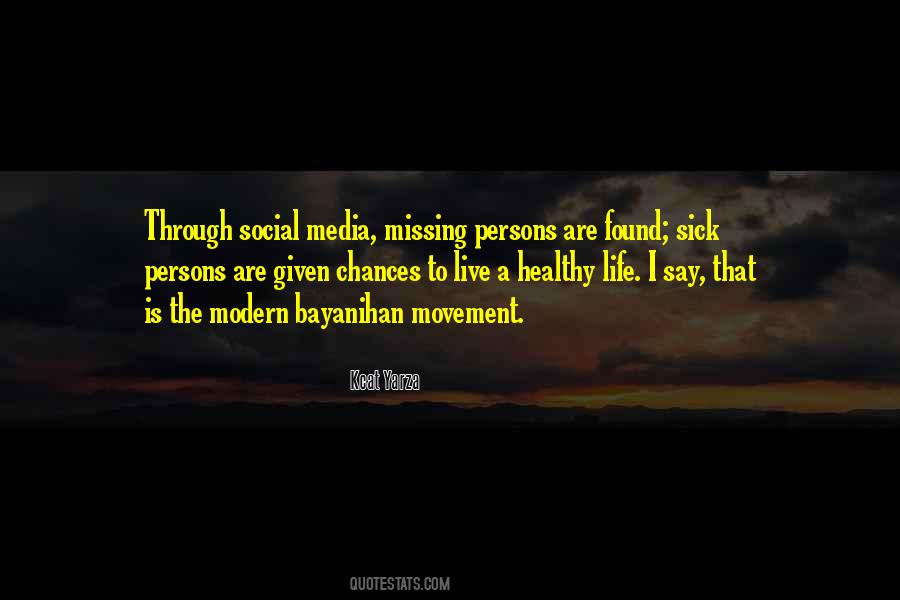 #12. Just for the record, a nymphomaniac girlfriend might be great material for imagination, but in real life, trust me, having a nympho in your bed night after night is not as fantastic as it sounds. At worst, they are sick; at best they are exhausting, and in both cases they wear you out. - Author: Carol Vorvain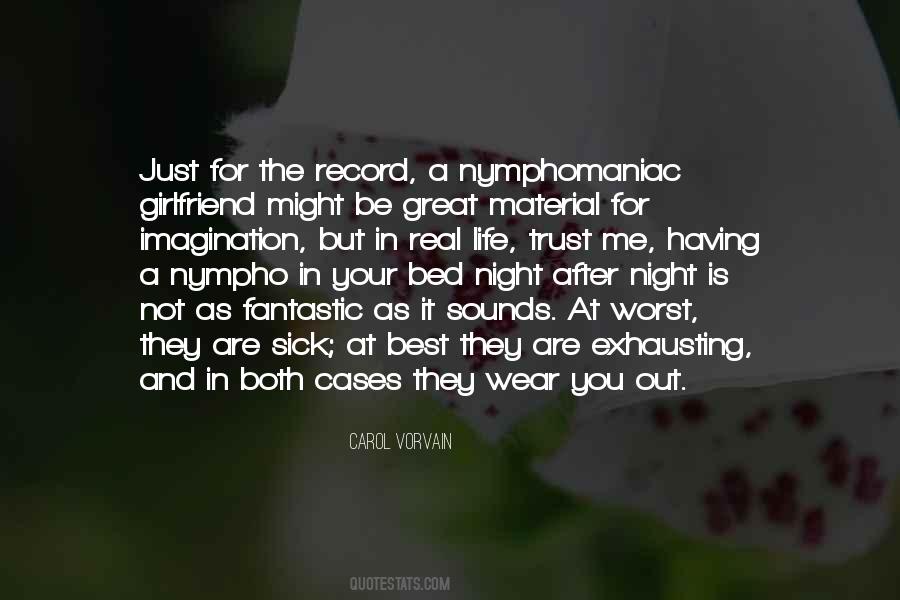 #13. I've never been sick a day in my life. I'm healthy, and I think I can make other people healthy, too. - Author: David H. Murdock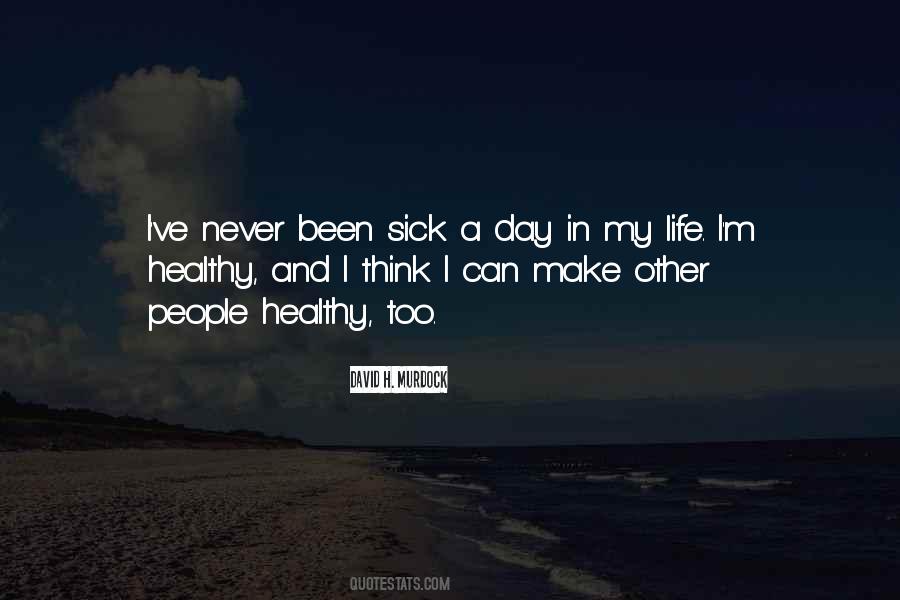 #14. It gets so tiring, this strong-picking-on-the-weak stuff. It was the story of my life -literally- and it seemed to be a big part of the outside world too. I was sick of it, sick of guys like these, stupid and bullying. - Author: James Patterson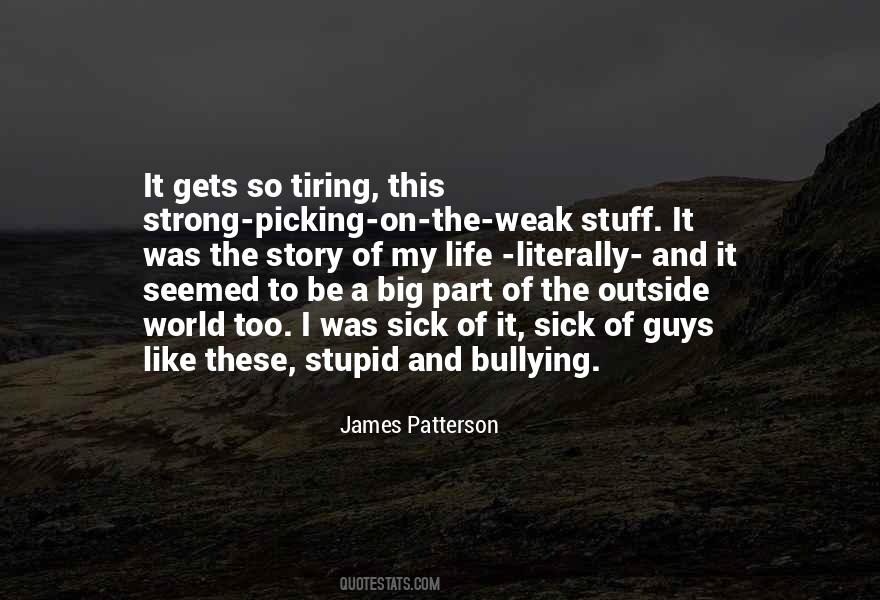 #15. We participate and are responsible for a lot of the things that happen to us. If you hate your job, you are much more likely to get sick and die at a younger age than someone who's happy at work and has a nice family life and is mentally well adjusted. - Author: Bernie Siegel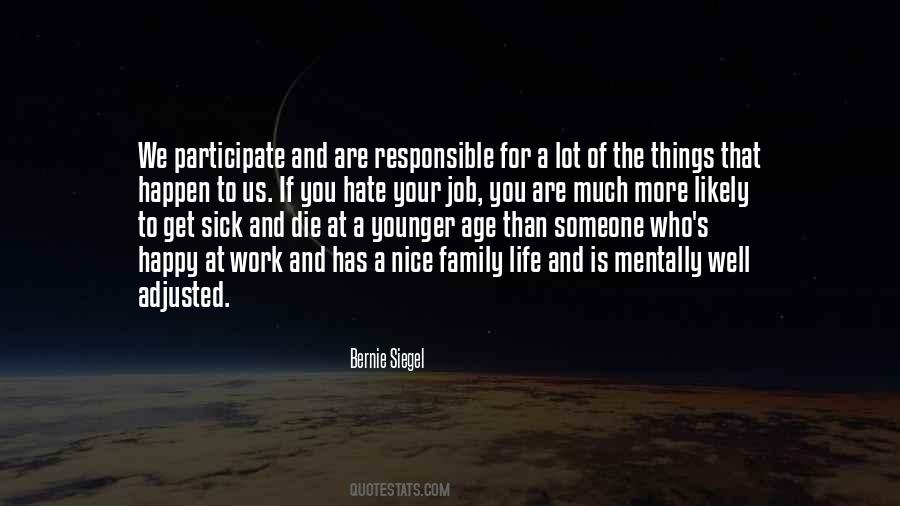 #16. Life sure has a sick sense of humor, doesn't it? - Author: Patrick Swayze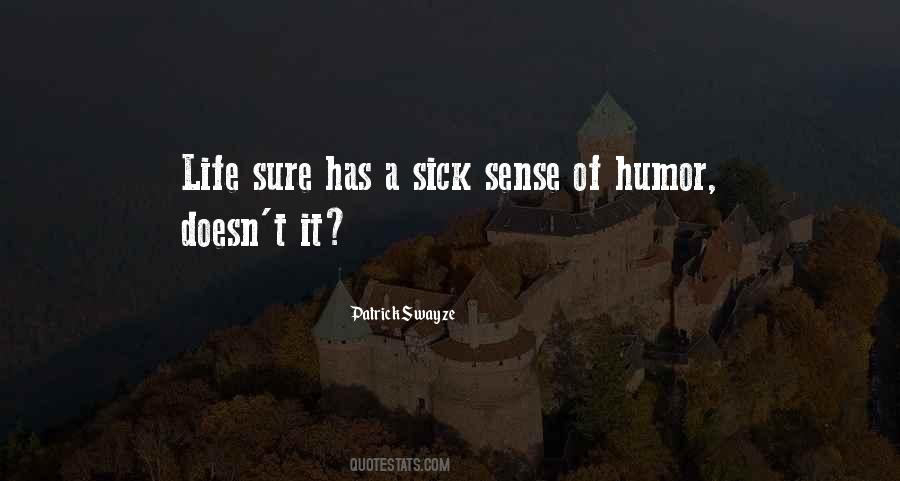 #17. Never too old, never too bad, never too late, never too sick to start from scratch once again. - Author: Bikram Choudhury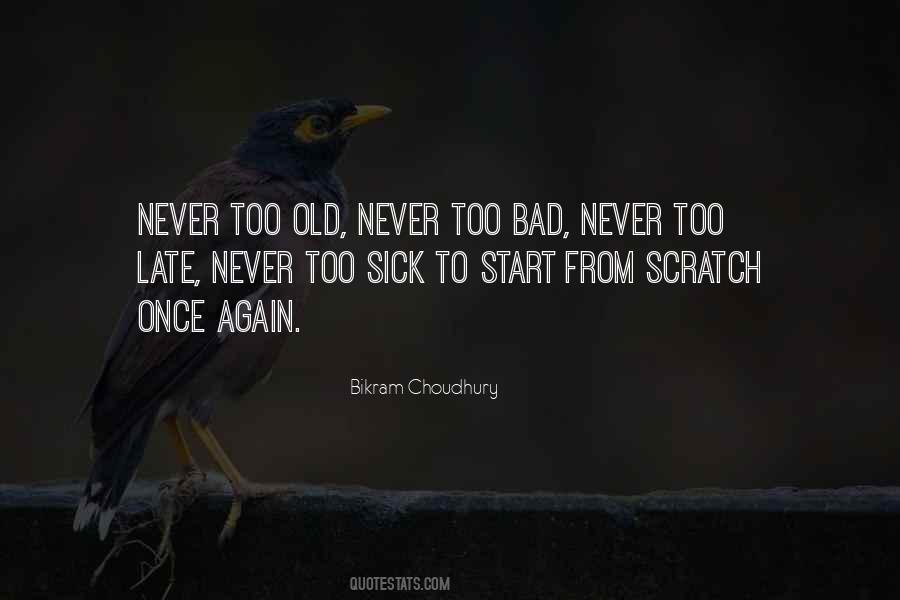 #18. In the old days, when you took out a mortgage, it was probably through a local bank or a credit union, and whoever gave you your loan held on to it for life. If you lost your job or got too sick to work and suddenly had trouble making your payments, you could call a human being and work things out. - Author: Matt Taibbi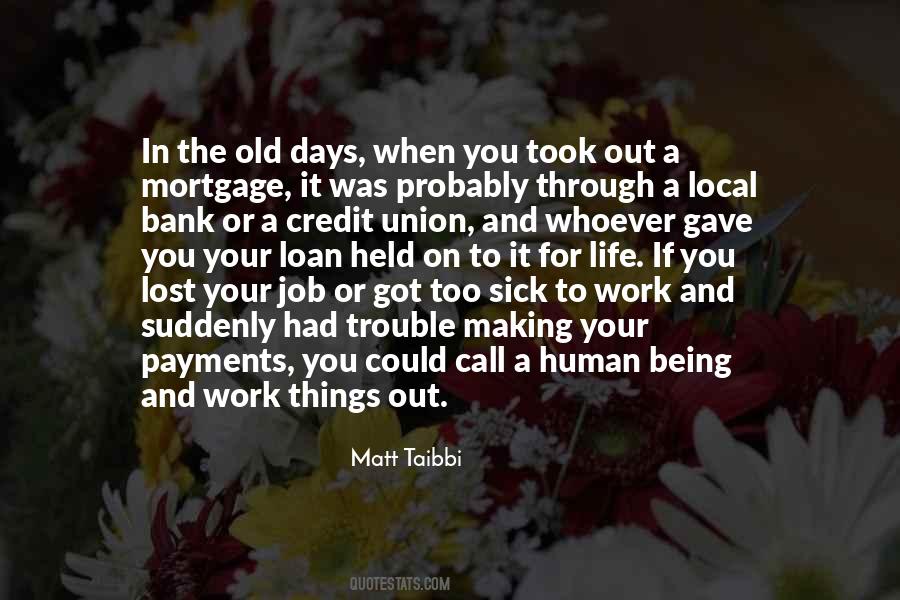 #19. Patrick Carnes wrote an apt description of the addict's behavior: "The addict substitutes a sick relationship to an event or a process for a healthy relationship with others. The addict's relationship with a mood-altering experience becomes central to his life" (Carnes 2001, 14). - Author: George Collins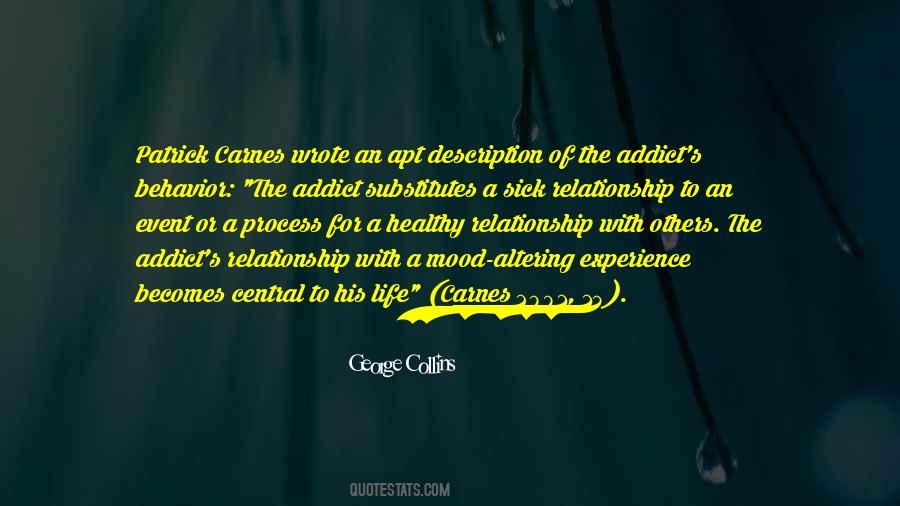 #20. I am sick of this way of life. The weariness and sadness of old age make it intolerable. I have walked with death in hand, and death's own hand is warmer than my own. I don't wish to live any longer. - Author: W. Somerset Maugham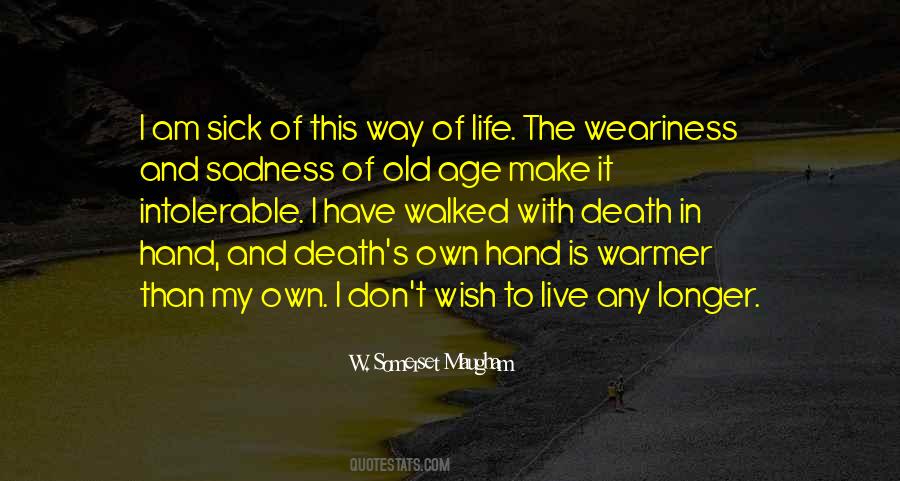 #21. For the average person, taken to their sick bed, it takes a serious bout of pneumonia or a full body cast to completely forget the life they had prior to falling off the rollercoaster. I, however, will do this over a paper cut on my thumb, obsessing of said cut and being generally consumed by it. - Author: Sloane Crosley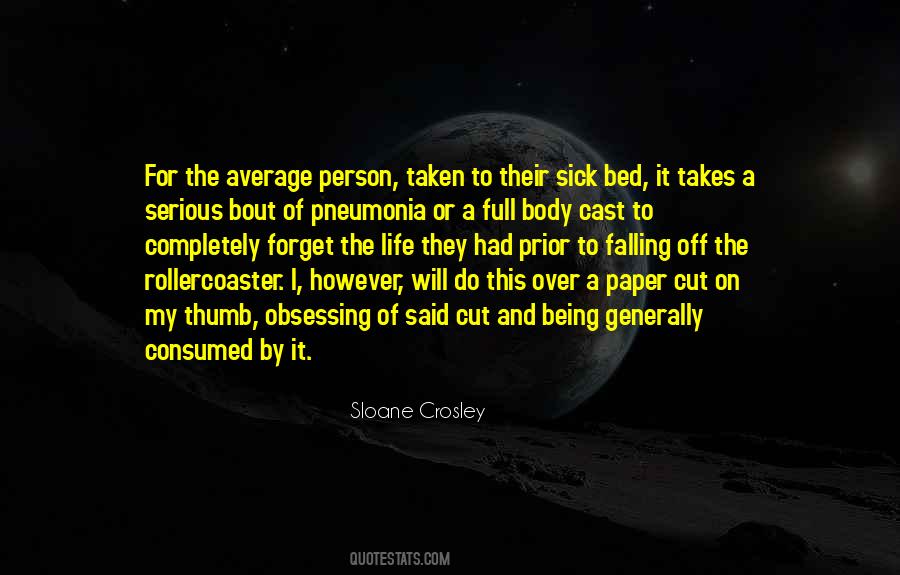 #22. I am too miserable, too low-spirited, too sick of the world and all in it, including life itself, and I would not care if I heard this moment the flapping of the wings of the angel of death. - Author: Bram Stoker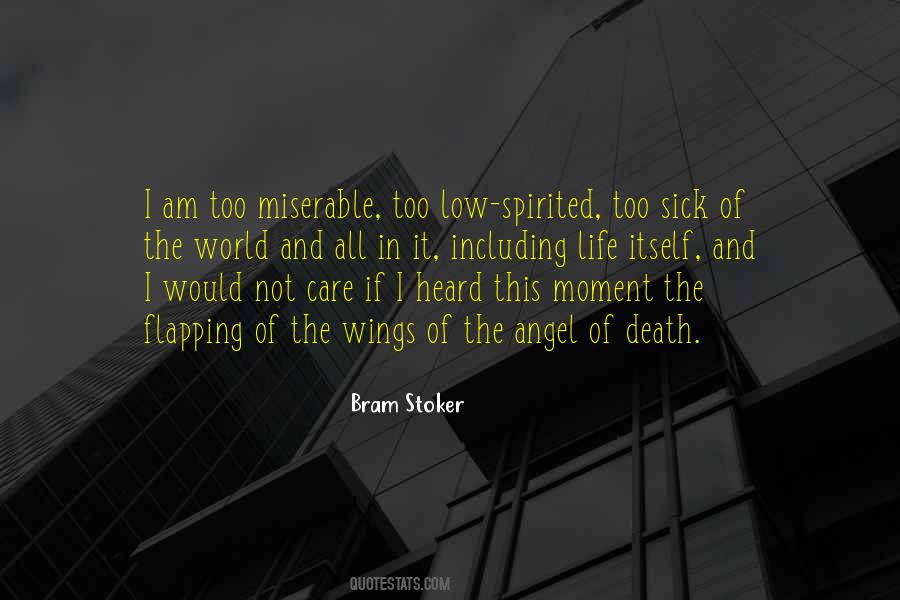 #23. Tell me to stop and I will. Tell me you don't want me to pull your tights down and fuck you up against this wall. Remind me of what a terrible person I am. Tell me I'm a sick bastard and you want me out of your life forever. - Author: C.J. Roberts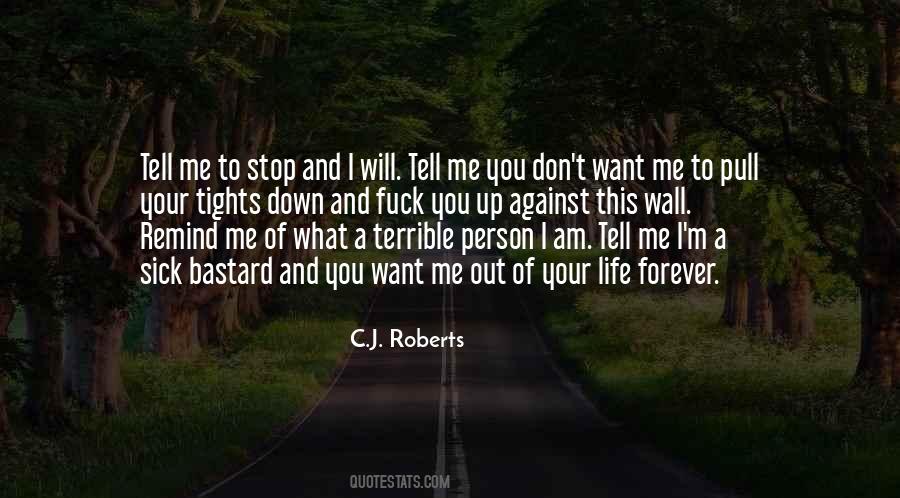 #24. Real freedom cannot exist alongside false freedom, but the abandonment of false freedom looks as if it would leave you as good as dead. But this is the secret of Goethe's Stirb und werde, "Die and come to life." For the job of compassion in a sick society only the dead need apply. - Author: Alan W. Watts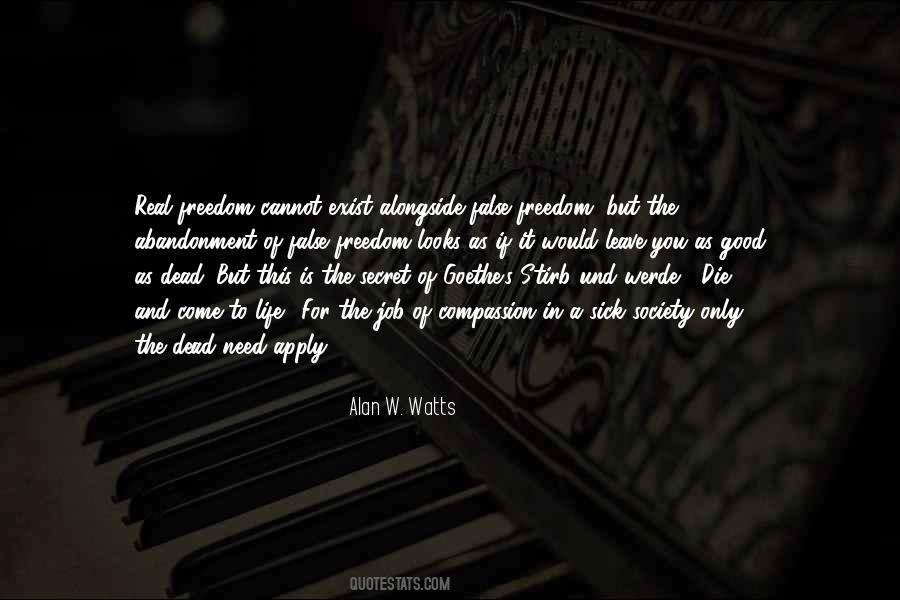 #25. But I am weary of this place, and sick to death of playing at philanthropy and progress. Of all varieties of mock-life, we have surely blundered into the very emptiest mockery in our effort to establish the one true system. I - Author: Nathaniel Hawthorne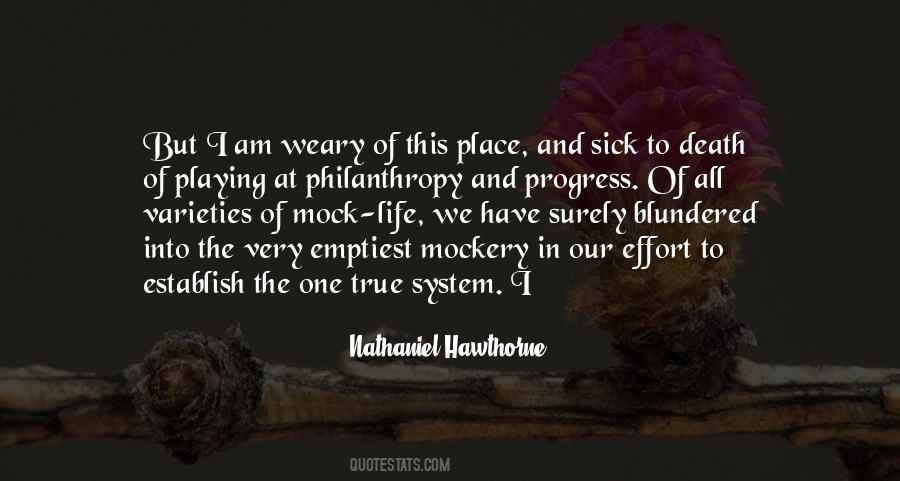 #26. I heard Nik bellow, "Aimee. Get your ass back in here, now!" As the doors slid closed, I flipped him off. Just who did that man think he was? I would figure this out myself. I was sick and tired of these powerful, commanding men telling me what to do with my life. They could all go to hell. ***** - Author: Lora Ann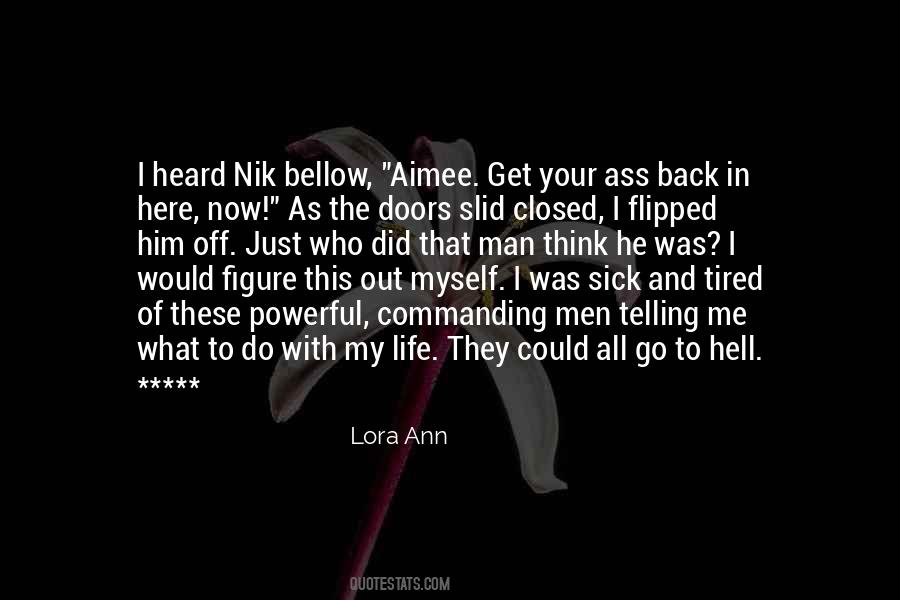 #27. In the life of the body a man is sometimes sick, and unless he takes medicine, he will die. Even so in the spiritual life a man is sick on account of sin. For that reason he needs medicine so that he may be restored to health; and this grace is bestowed in the Sacrament of Penance. - Author: Thomas Aquinas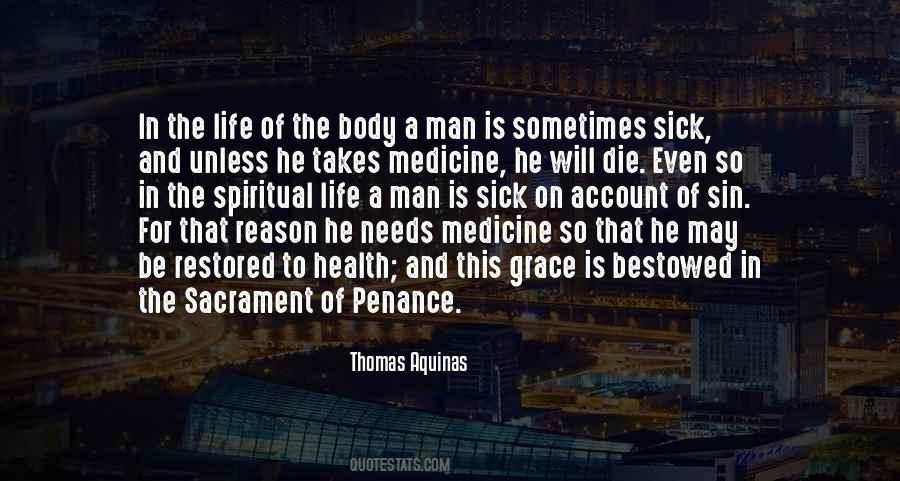 #28. Some reviewers have read this as cynicism but I don't see it that way. When I say "I am so sick / of pretending to be me," it's exhaustion at the everyday performance, in life, in art, even in our most intimate encounters. - Author: Randall Mann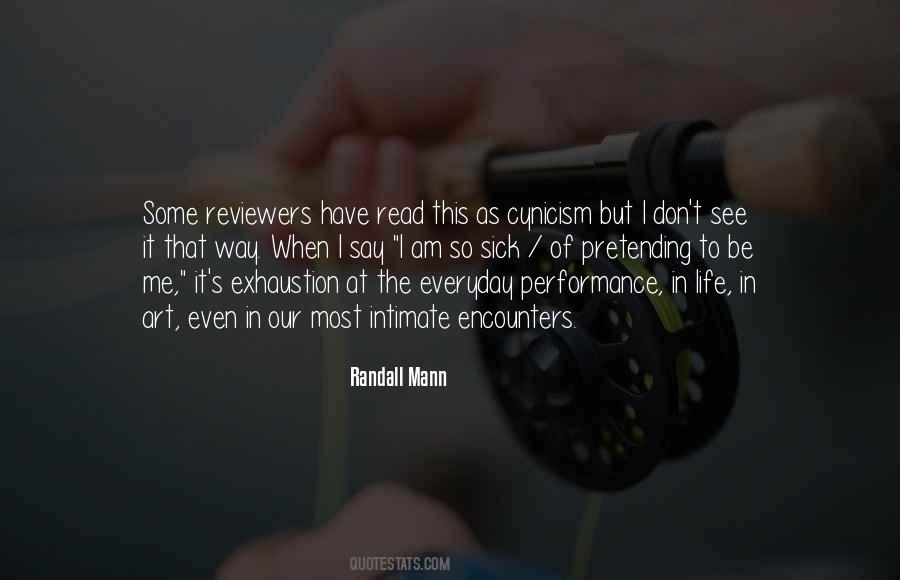 #29. I want to know
or understand something. I've been sick my whole life. What is the point of being alive if I never get to live? - Author: Erin Kellison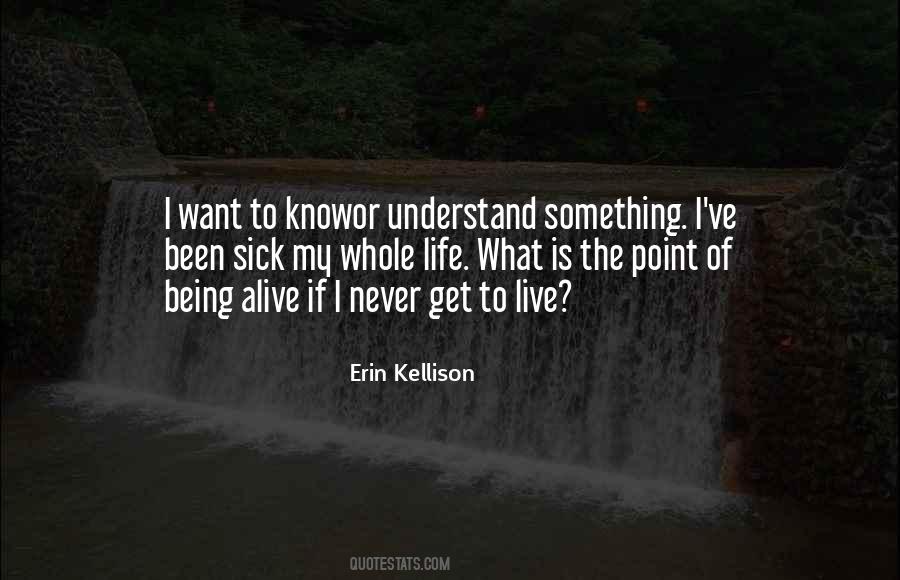 #30. O born in days when wits were fresh and clear, And life ran gaily as the sparkling Thames; Before this strange disease of modern life, With its sick hurry, its divided aims, Its heads o'ertax'd, its palsied hearts, was rife. - Author: Matthew Arnold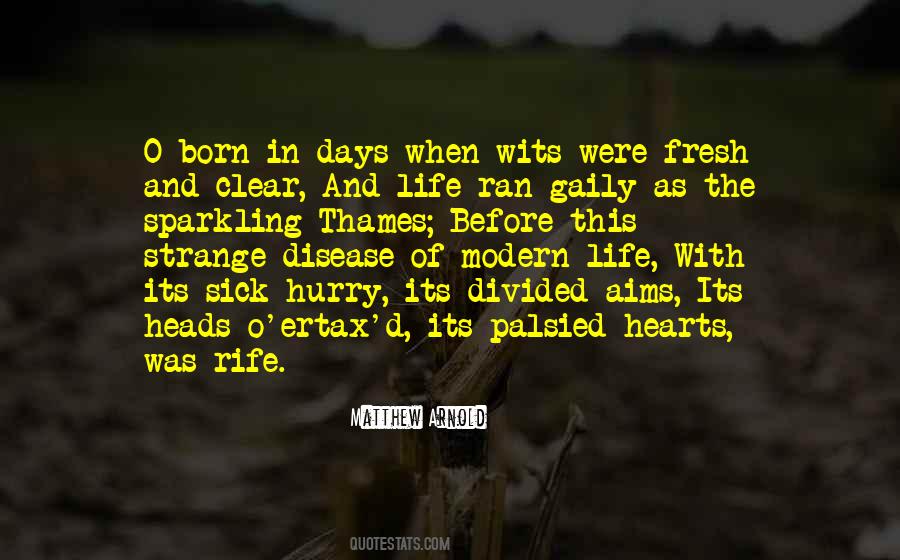 #31. We are fat and sick and dying because we have handed a basic, fundamental and intimate function of life over to corporations. We choose to value our nourishment so little that we entrust it to strangers. This is insanity. Feed yourselves. Feed your loved ones. And for God's sake feed your children. - Author: Alton Brown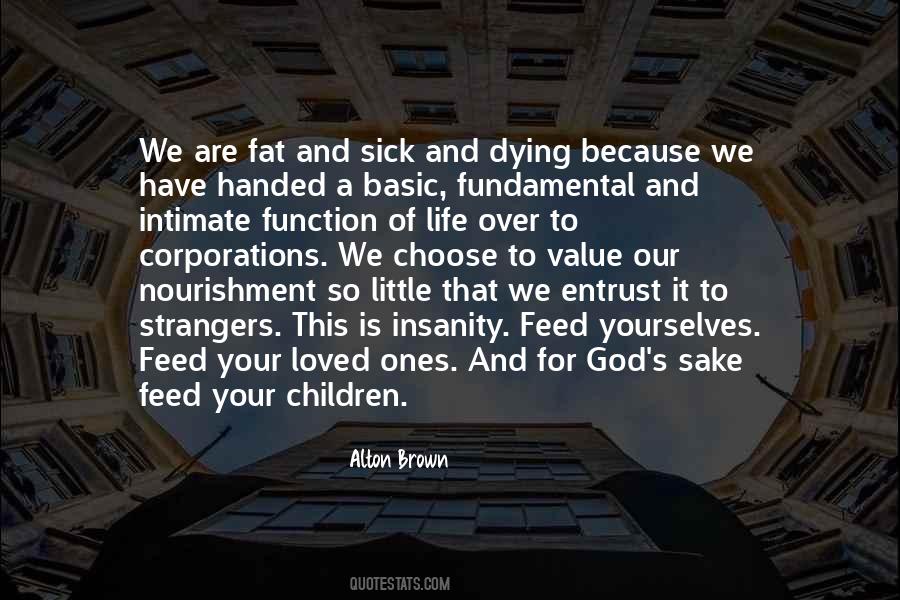 #32. I've certainly faced some raw, real pain in my life. I lost my father to a car accident when I was young. My mother died ten years ago. My son was very sick as an infant. Eventually, I have attempted to transform this pain into art, to make meaning out of it. - Author: Dani Shapiro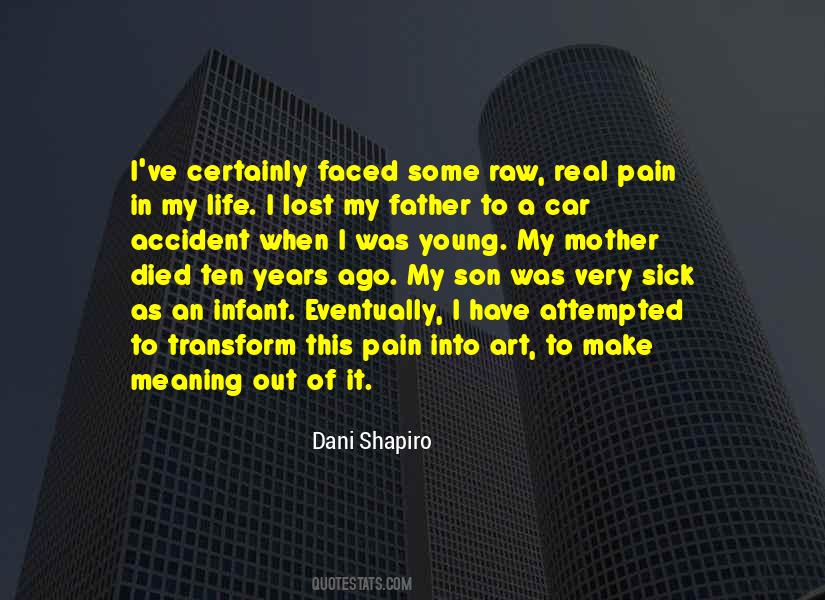 #33. This strange disease of modern life,
With its sick hurry, its divided aims. - Author: Matthew Arnold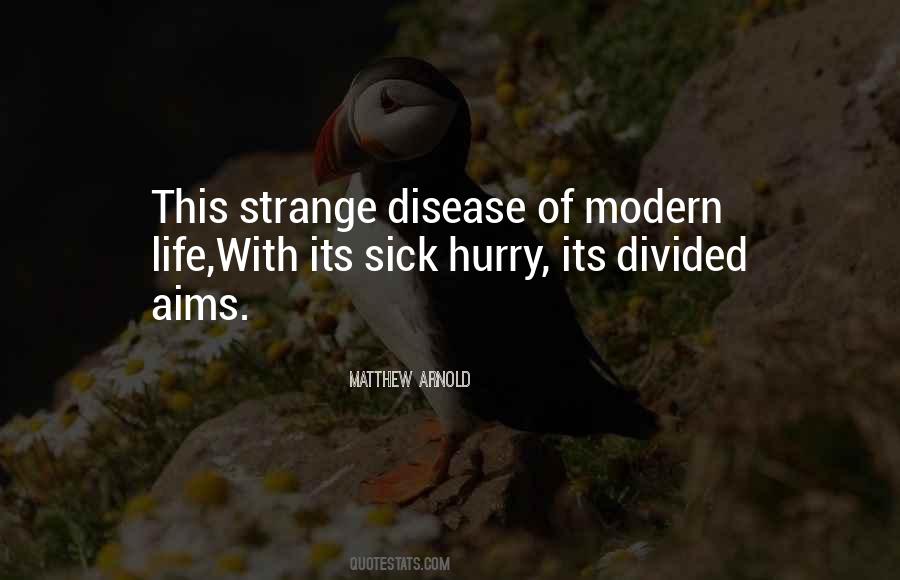 #34. I'm so sick of gay this, gay that. I could care less. It ain't affecting my life at all. - Author: Larry The Cable Guy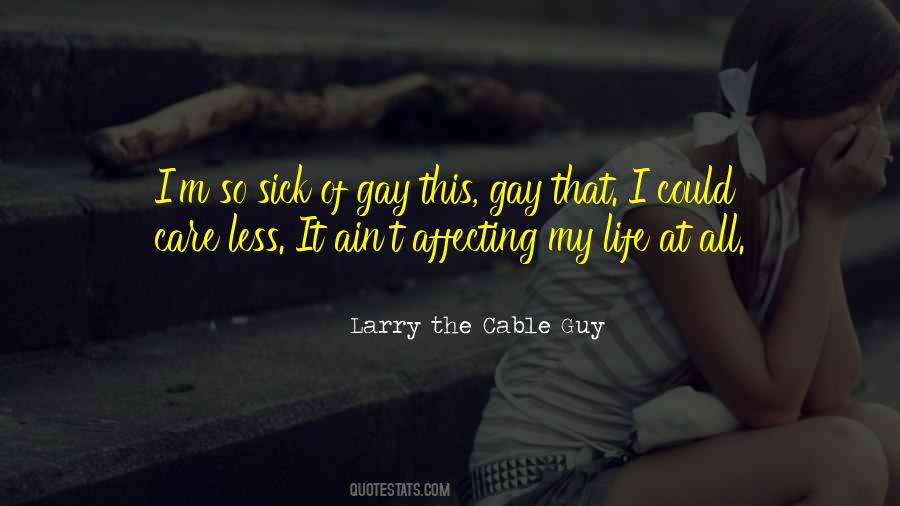 #35. The moment a man questions the meaning and value of life, he is sick, since objectively neither has any existence; by asking this question one is merely admitting to a store of unsatisfied libido to which something else must have happened, a kind of fermentation leading to sadness and depression. - Author: Sigmund Freud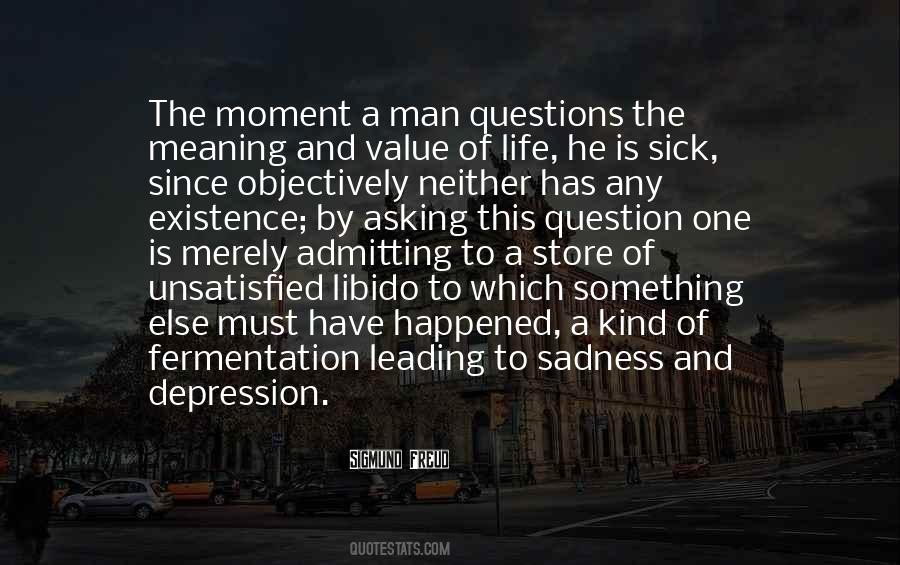 #36. Every negative has a positive." Take my sickness, for example. Being sick is not good, but through this, I have received a lot of blessings in different forms. Because of this, I am able to share everything that God has done for me. - Author: Kcat Yarza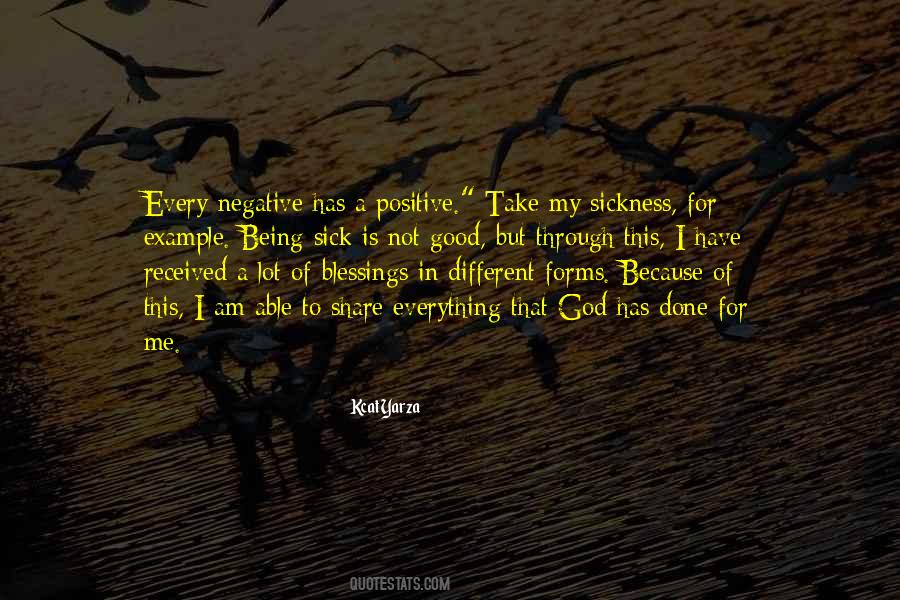 #37. I have been looking forward to this age of my life for a long time. In my twenties, I marked the days on the calendar - I was sick of playing high-school kids. - Author: Rob Lowe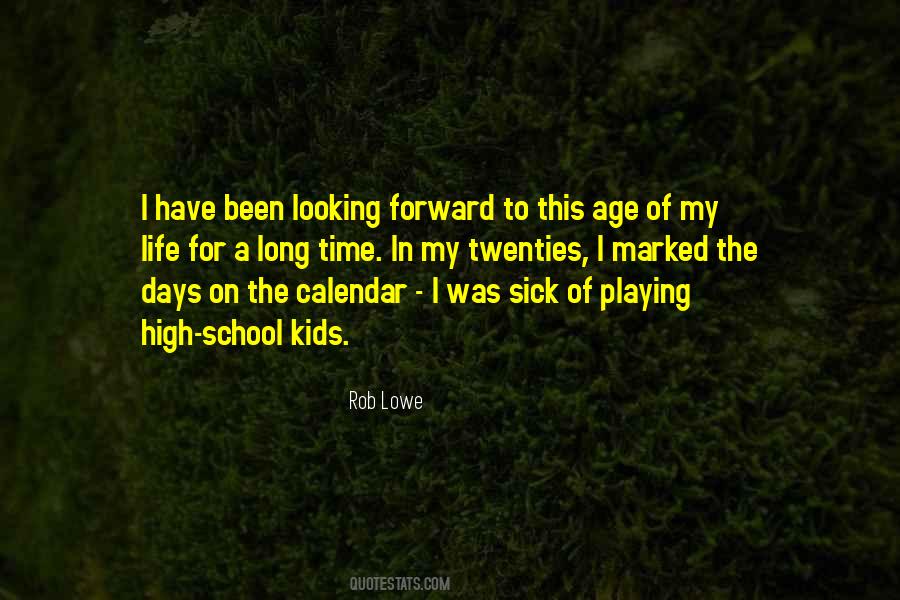 #38. I don't really diet or anything. I'm miserable when I'm dieting and I like the way I look. I'm really sick of all these actresses looking like birds I'd rather look a little chubby on camera and look like a person in real life, than look great on screen and look like a scarecrow in real life. - Author: Jennifer Lawrence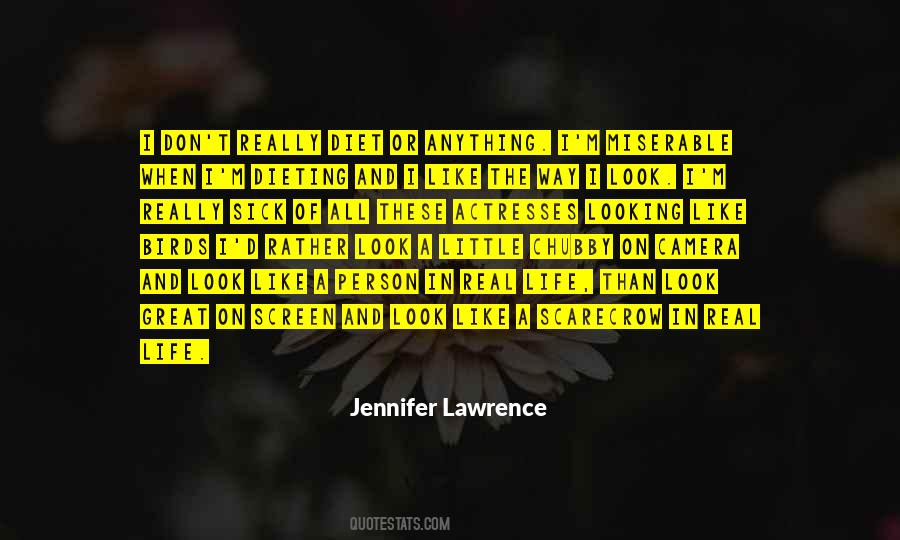 #39. When I get sick, I go to my doctor like everyone else. A doctor has powerful tools that may help me. Or those tools may hurt me, make me worse. I have to decide. It's my life. It's my responsibility. - Author: Michael Crichton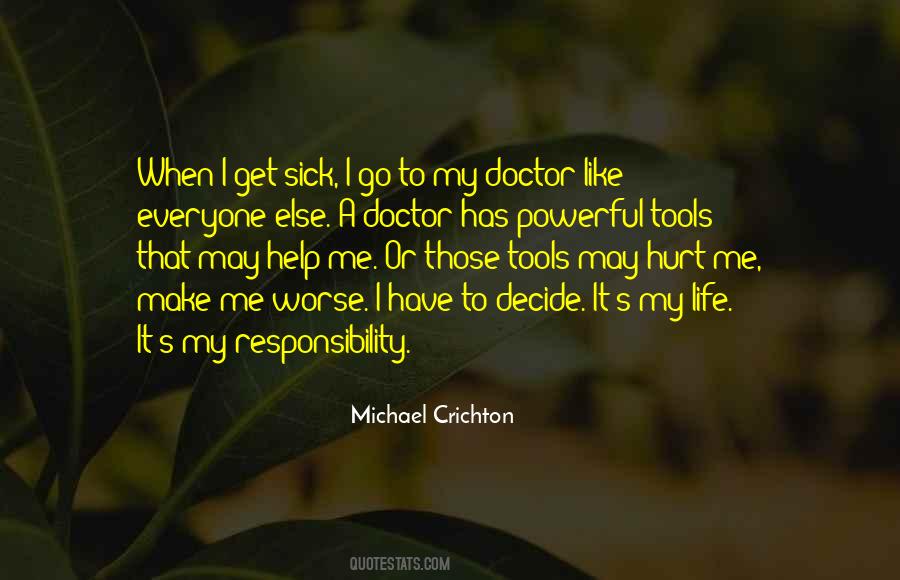 #40. I've been to enough other countries in the world to know what happens when you have socialized single-payer health care. It works. People don't get sick as much. They don't lose their life savings with a catastrophic illness like cancer or AIDS. - Author: Jello Biafra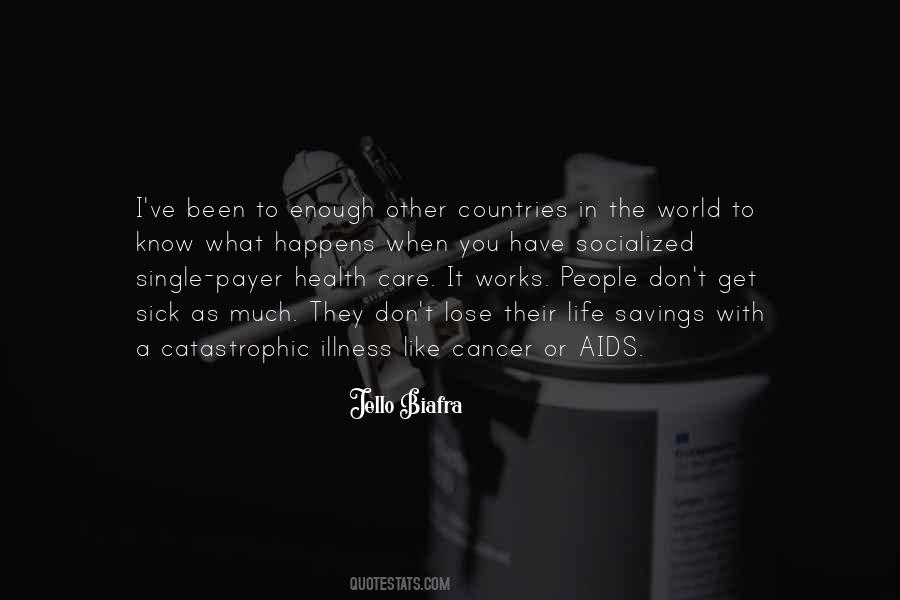 #41. An acting career usually has about a shelf life of ten years before people get sick of seeing you. It's a good thing to have a job to fall back on and I really do enjoy directing. - Author: George Clooney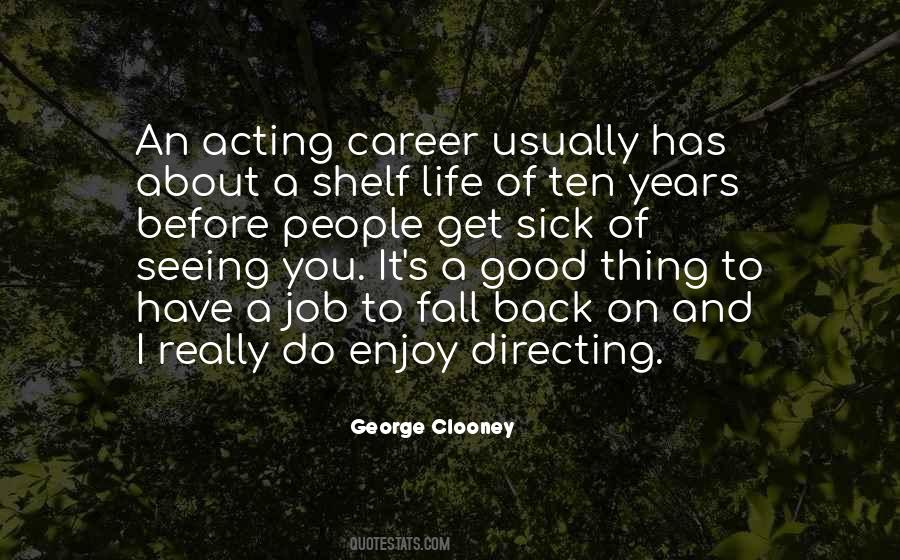 #42. An injured dog, a sick kitten, a horse in labor, it didn't matter... Dell gave his heart and soul, and in less time than it took humans to shake hands, an animal would become part of Dell's pack for life. - Author: Jill Shalvis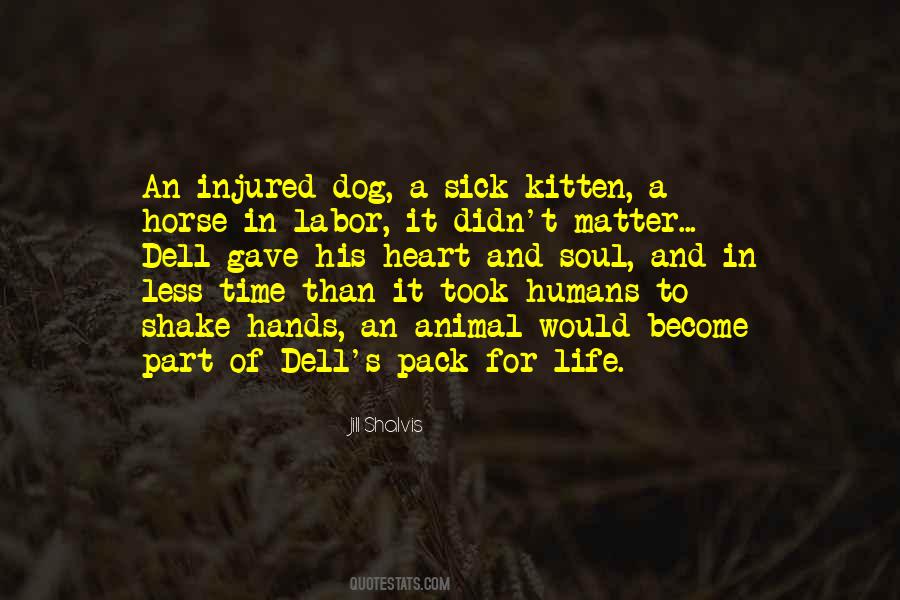 #43. I see a time of Seven Generations when all the colors of mankind will gather under the Sacred Tree of Life and the whole earth will become One Circle again. - Author: Crazy Horse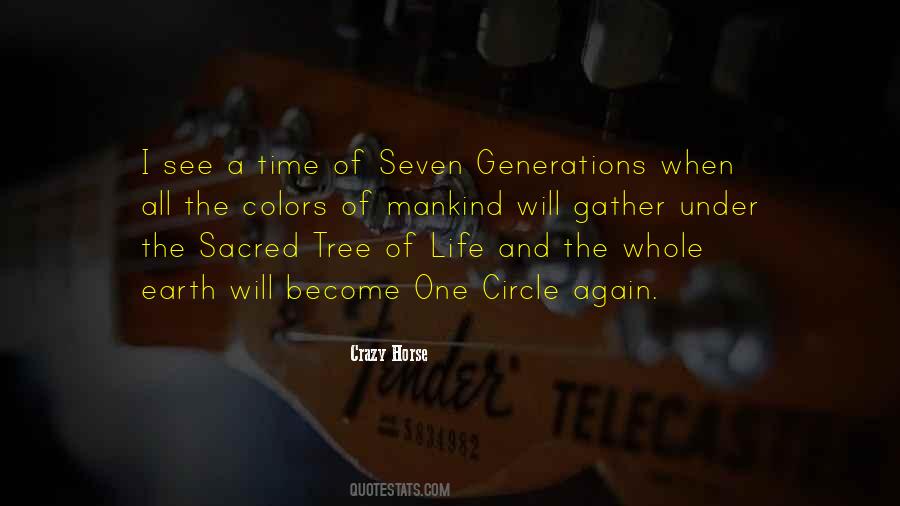 #44. The thing with giving up is you never know. You never know whether you could have done the job. And I'm sick of not knowing about my life. - Author: Sophie Kinsella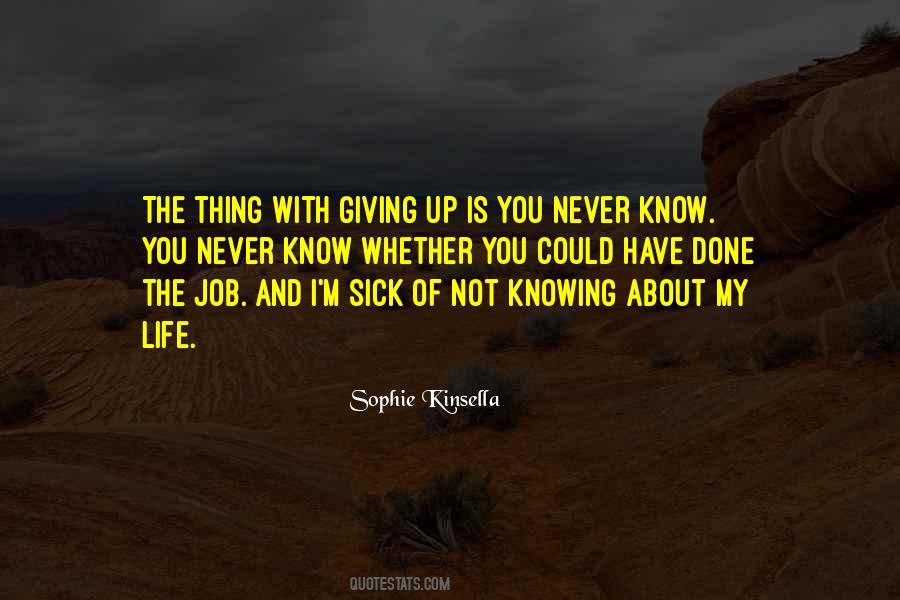 #45. Is this all we are? Continual actions and reactions? No control over our future? [ ... ] If that's true, then life is one pathetic and sick game. - Author: Katie McGarry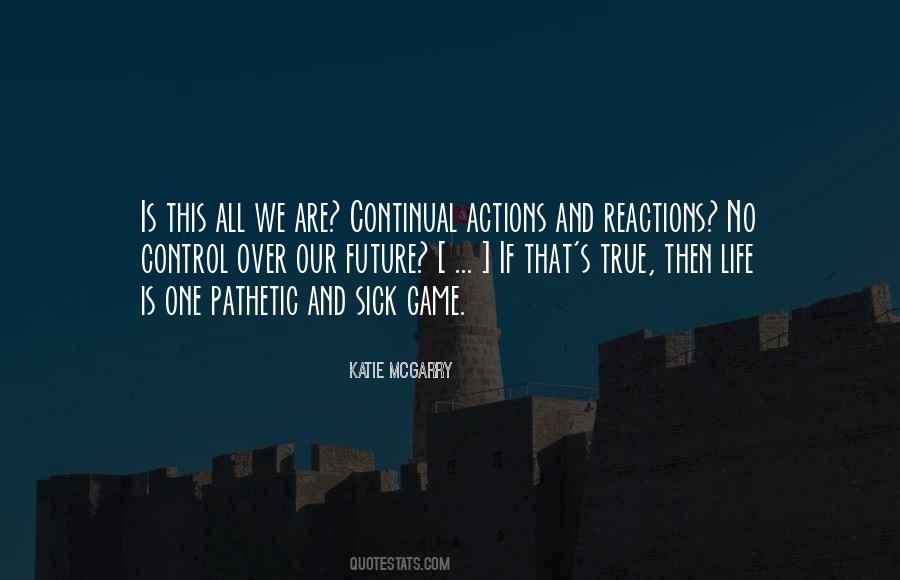 #46. I have often thought," she said, "that women are the only true adults in the world, and men are a species of children. When babies are born, when the sick are struggling for life, when the old die, you will see women about, but rarely men. - Author: Phyllis T. Smith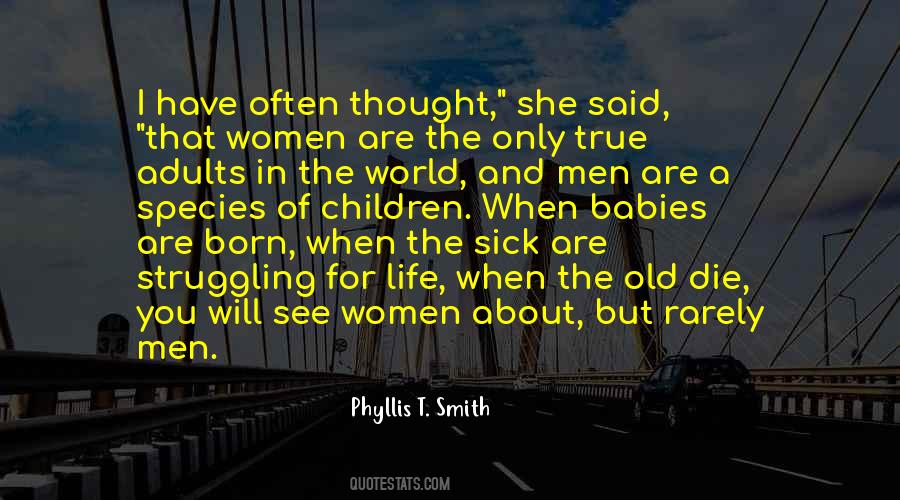 #47. This girl who's slept a hundred years has something after all. It's called Centuryitis, and it has turned me into a man. Oh, what will mamma think when she sees me?!
-Karen Quan and Jarod Kintz - Author: Karen Quan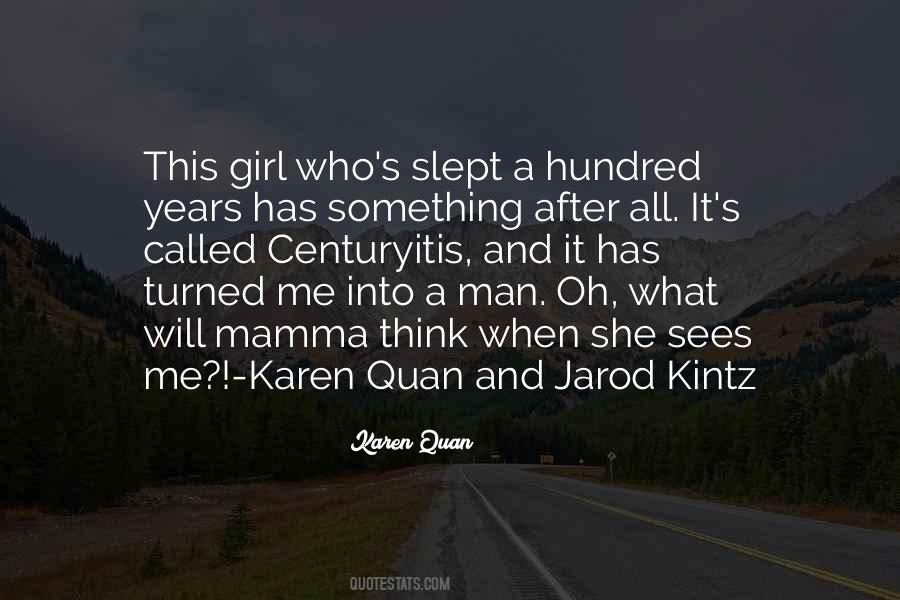 #48. There's no good way to die, you know? No way I've seen, anyway. It all ends with tubes and bedpans and IVs and I just
smoking gets me out of there. Gets me outside, gets me away from all the
"
"Sick people?" I say, and she shakes her head.
"Away from my life. - Author: Elizabeth Scott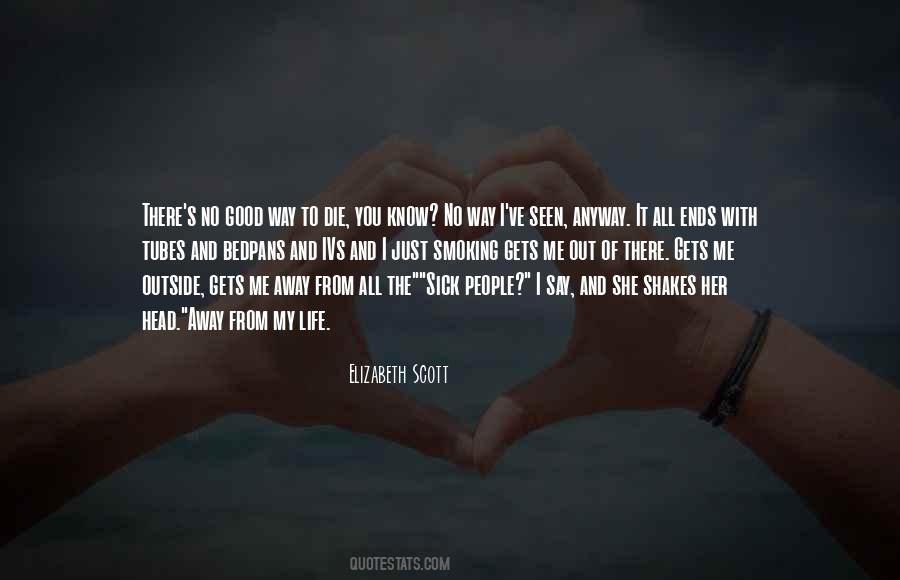 #49. Wherever I am when you feel sick at heart and weary of life, or when you stumble and fall and don't know if you can get up again, think of me. I will be watching and smiling and cheering on. - Author: Arthur Ashe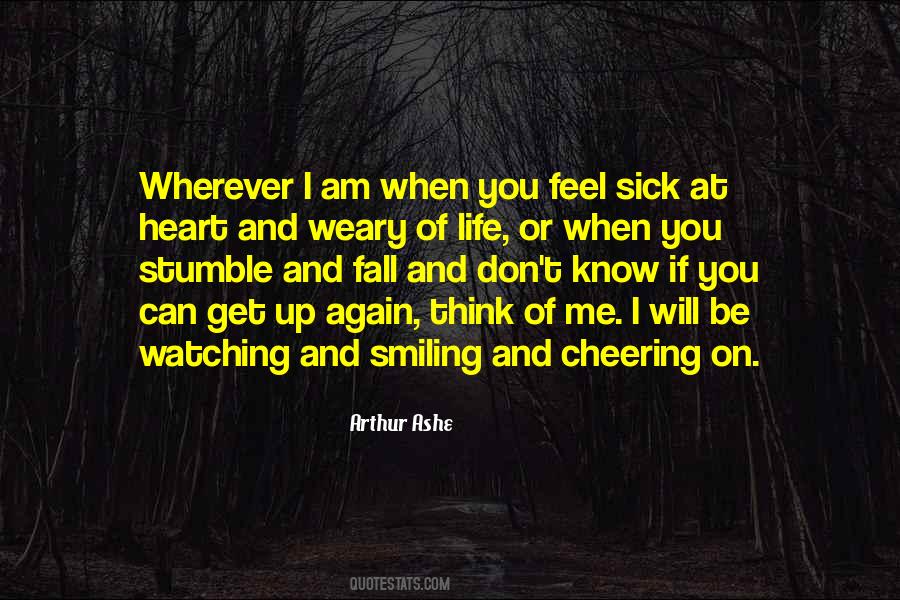 #50. The truth is, I am heartily sick of this life & of the nineteenth century in general. (I am convinced that every thing is going wrong.) - Author: Edgar Allan Poe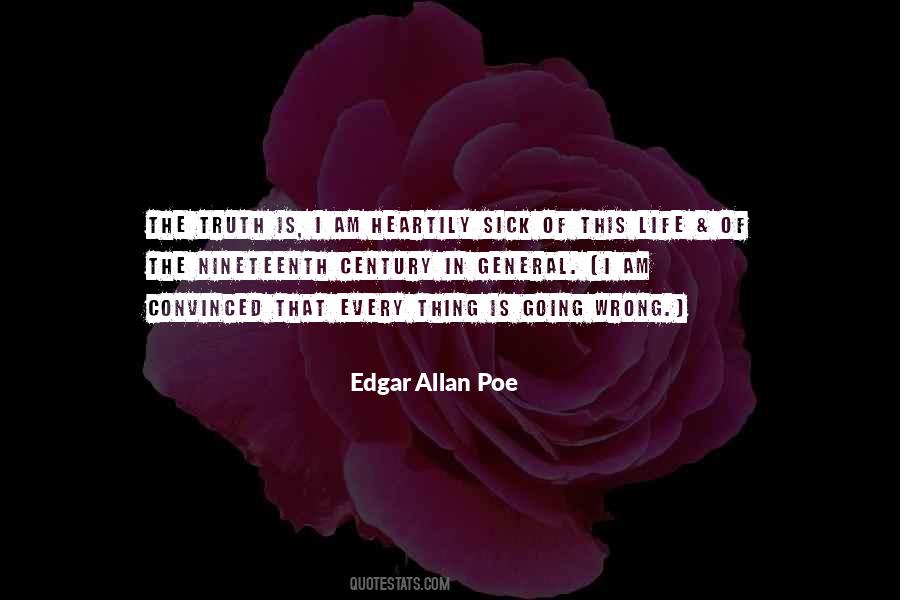 #51. Don't make people control your life, People only care about themselves. Live your life with happy and ignore Sick people. - Author: Al-Hanouf Halawi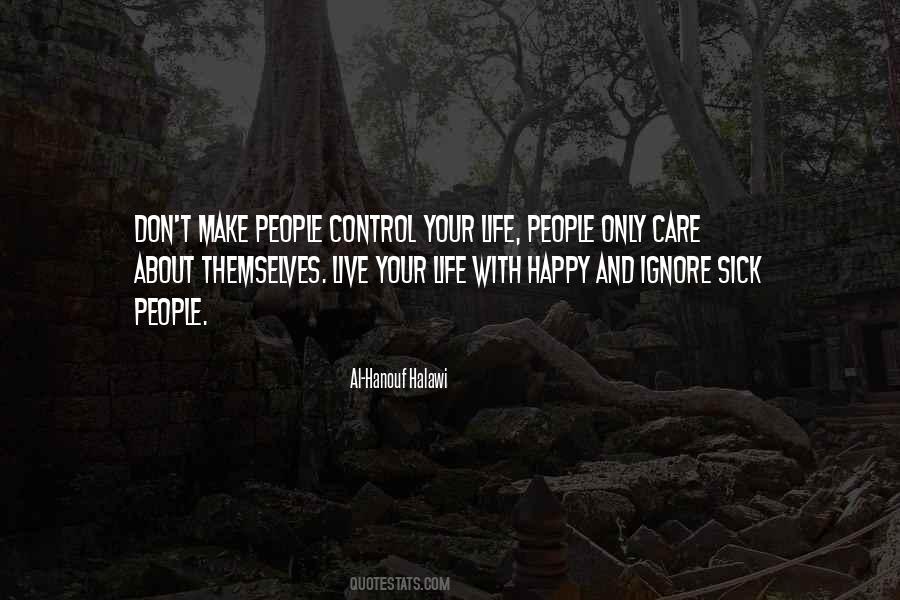 #52. He who advises a sick man, whose manner of life is prejudicial to health, is clearly bound first of all to change his patient's manner of life. - Author: Plato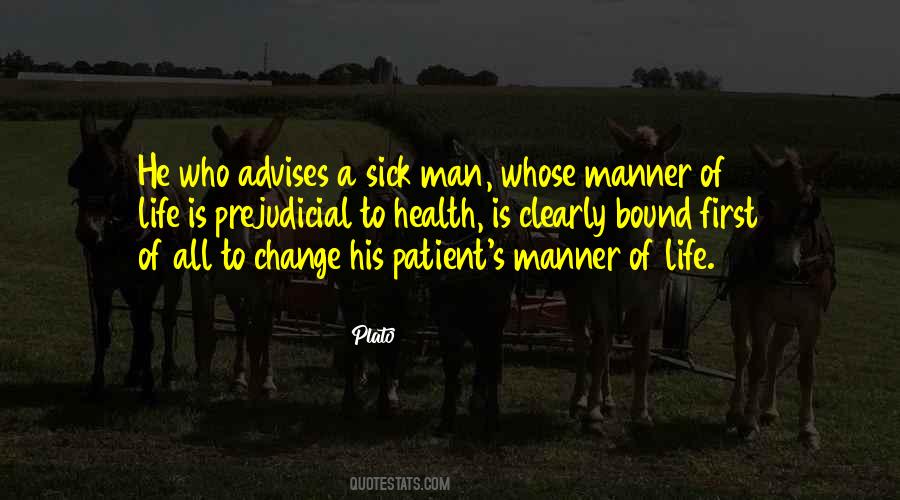 #53. But I believe in true love, you know? I don't believe that everybody gets to keep their eyes or not get sick or whatever, but everybody should have true love, and it should last at least as long as your life does. - Author: John Green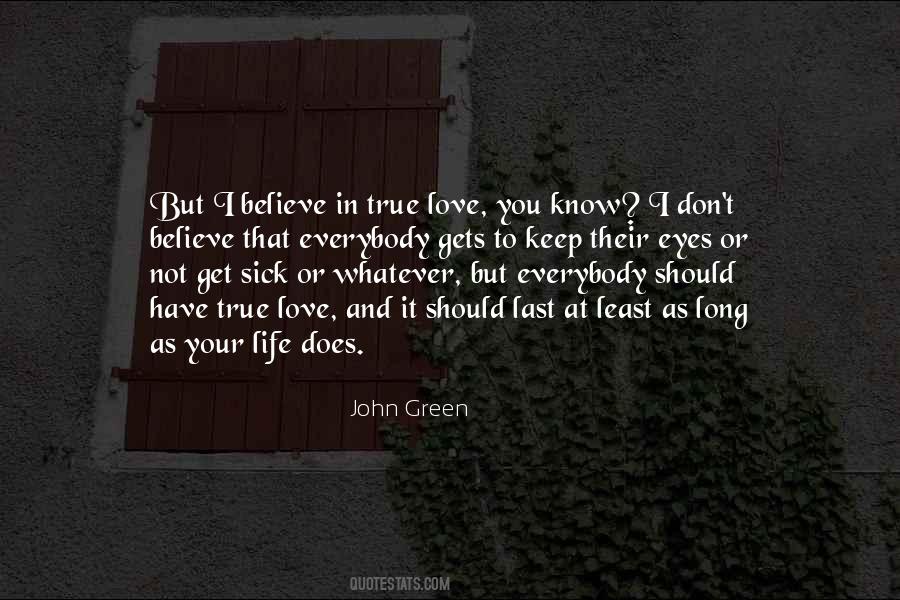 #54. They told me I had been sick twelve days, lying like dead all the while, and that Whirlwind Chaser, who was Standing Bear's uncle and a medicine man, had brought me back to life. - Author: Black Elk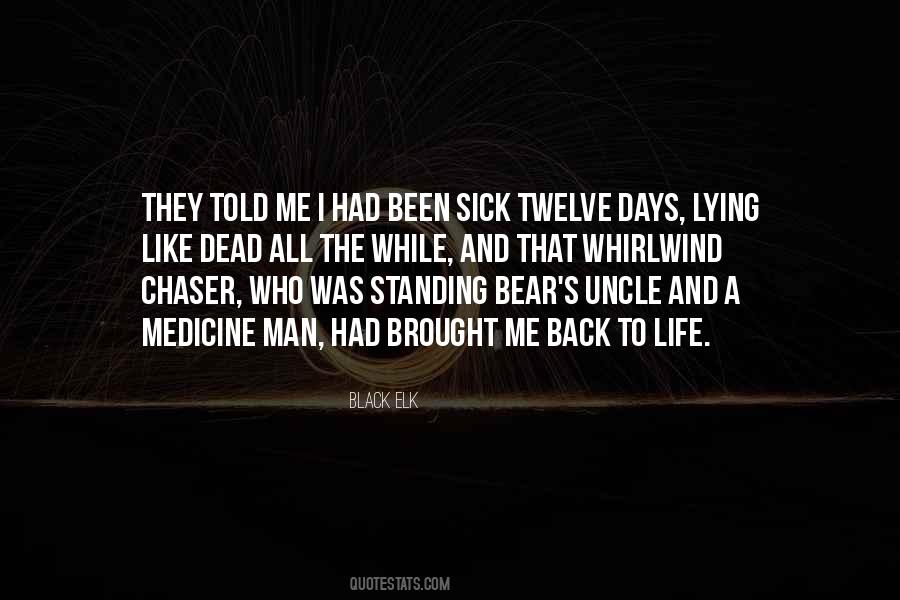 #55. I was so afraid to feel free to enjoy my own life if my mother was sick and suffering everyday of her's. I didn't think I had the right. - Author: Gene Wilder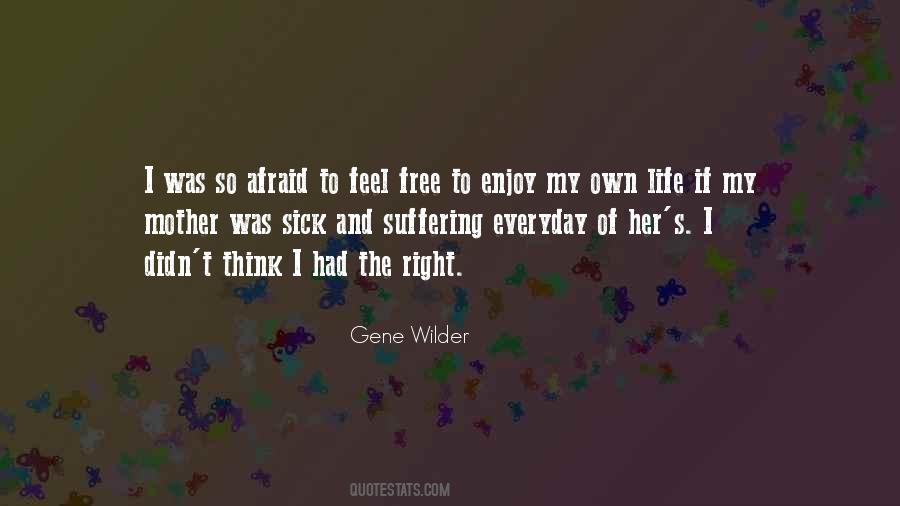 #56. May the Lord heal every sick soul. - Author: Lailah Gifty Akita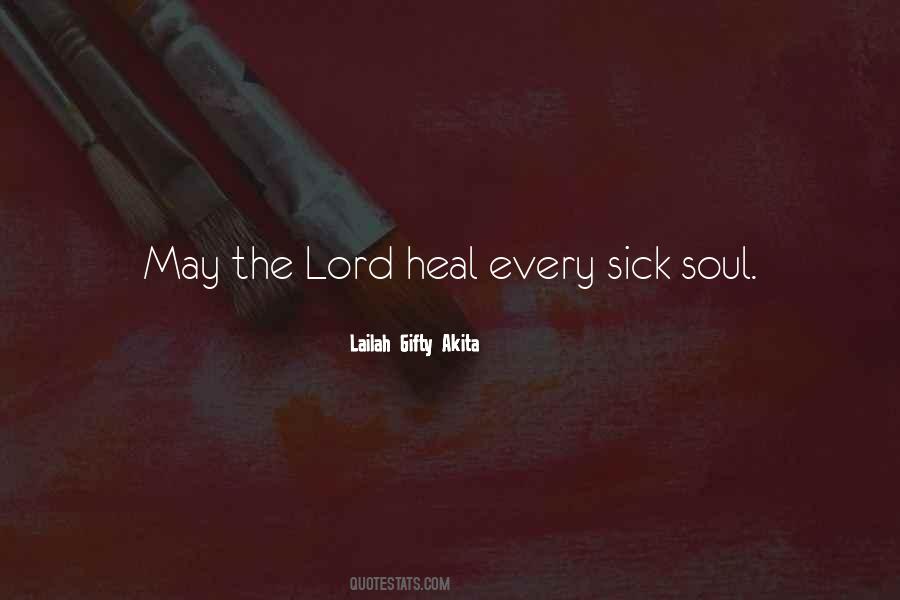 #57. I think I'm allergic or something. I feel kinda strange... sort of floaty and light-headed."

"You ain't sick, hon," Mom said. She kissed me cheek and hugged me so tight I thought I might break a rib. "That's joy. - Author: Meredith Russo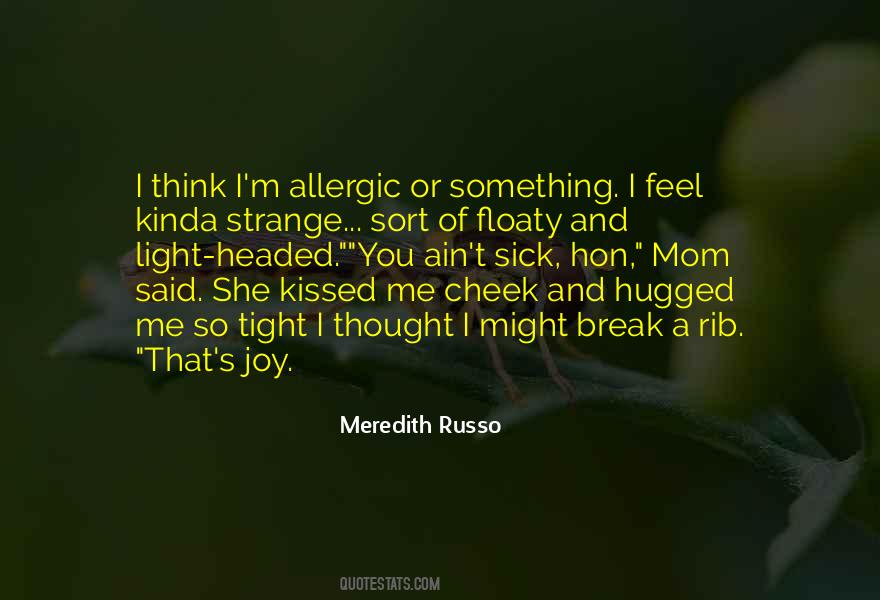 #58. The popular culture says ... Do what you do, your life is predestined, like the installment plan on your house. There's not much you can do about it. Make your payments, live it, get sick, die, don't make any trouble. It is the Master Charge of destiny. Try to get your high credit rating. - Author: Jerzy Kosinski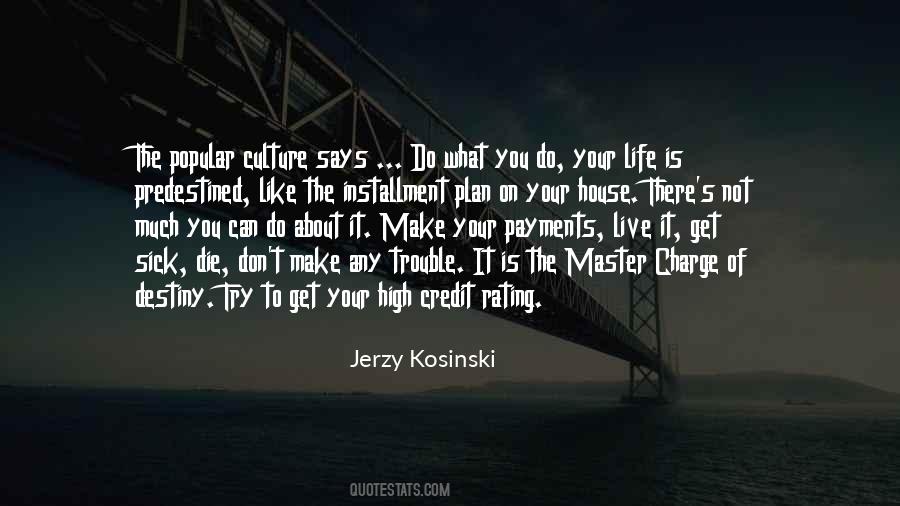 #59. The reason many people in our society are miserable, sick, and highly stressed is because of an unhealthy attachment to things they have no control over. - Author: Steve Maraboli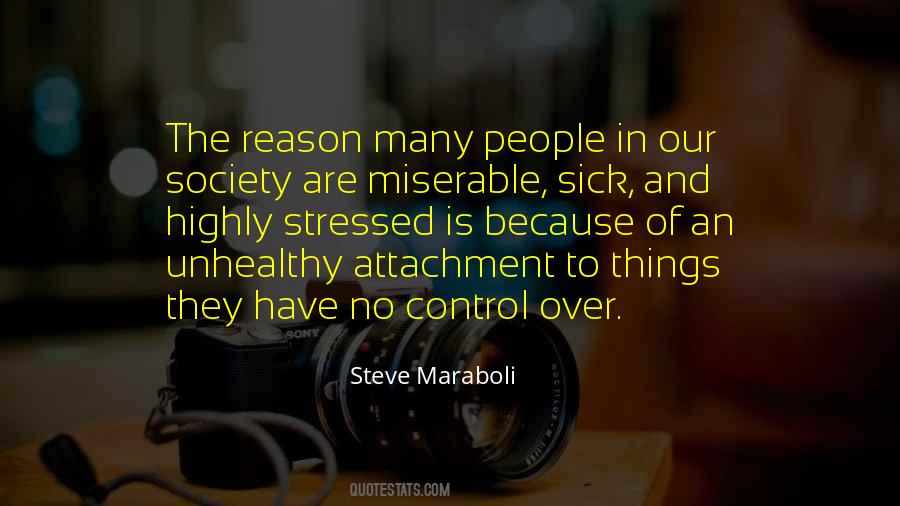 #60. I was sick in my soul for that greater meaning of home that we understand most purely when we are children, when it is a metaphor for all possible feelings of security, of safety, of what is predictable, gentle, and good in life. During - Author: Anna Quindlen
#61. I like to behave in an extremely normal, wholesome manner for the most part in my daily life. Even if mentally I'm consumed with sick visions of violence, terror, sex and death. - Author: Courtney Love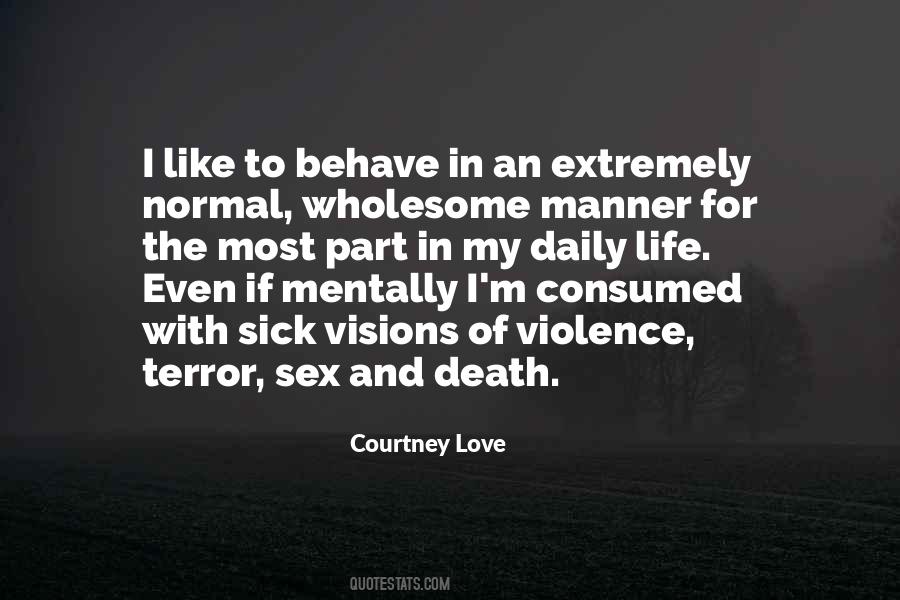 #62. There are no roses in my yard: what wind brought you?
But I suddenly come from far away. I was sick for a moment.
No wind whatsoever brought you now.
Now you're here.
What you were isn't you, or else the whole rose would be here. - Author: Alberto Caeiro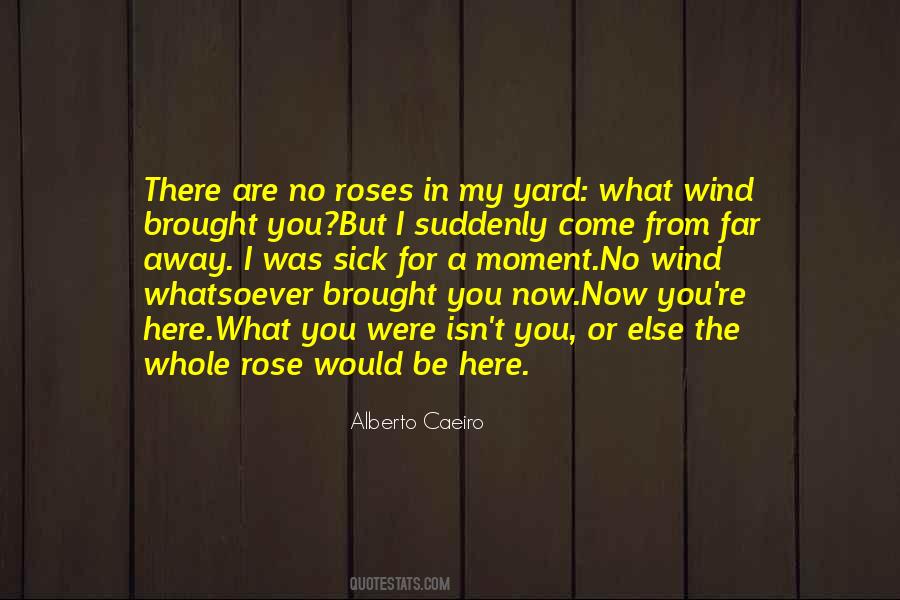 #63. At issue in the Hiss Case was the question whether this sick society, which we call Western civilization, could in its extremity still cast up a man whose faith in it was so great that he would voluntarily abandon those things which men hold good, including life, to defend it. - Author: Whittaker Chambers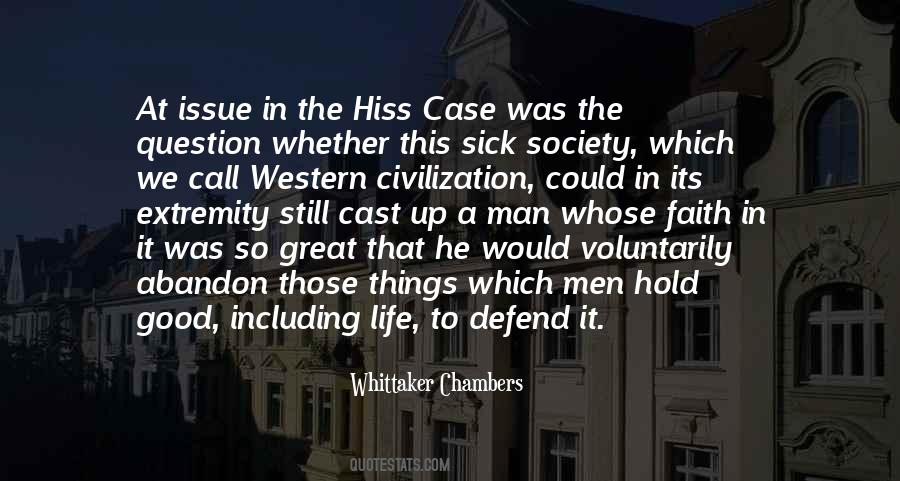 #64. I understand the horrors of having no insurance, but, believe me, eight hours of sleep and good meals are NOT going to prevent you from getting sick. Don't gamble with your life; it's a stupid bet. - Author: Michael Specter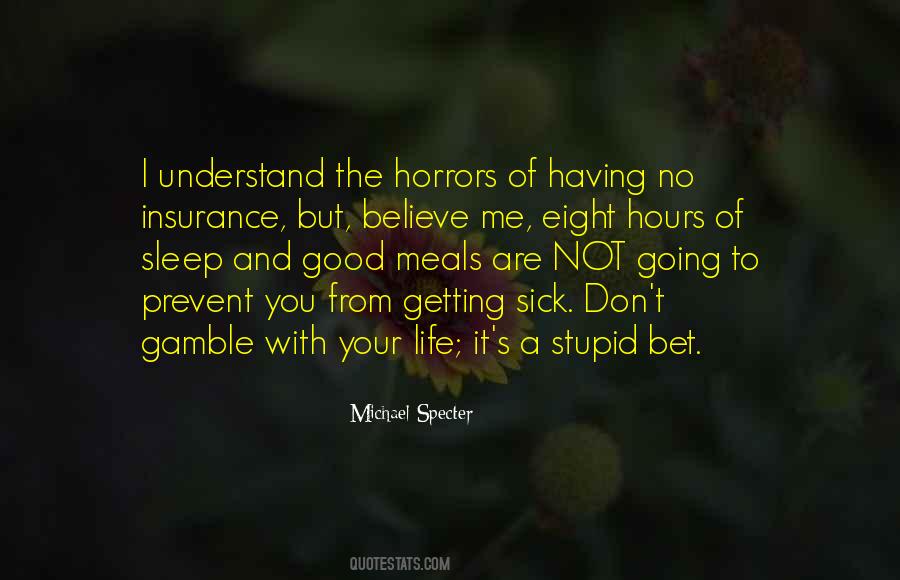 #65. If you apply yourself to study you will avoid all boredom with life, you will not long for night because you are sick of daylight, you will be neither a burden to yourself nor useless to others, you will attract many to become your friends and the finest people will flock about you. - Author: Seneca.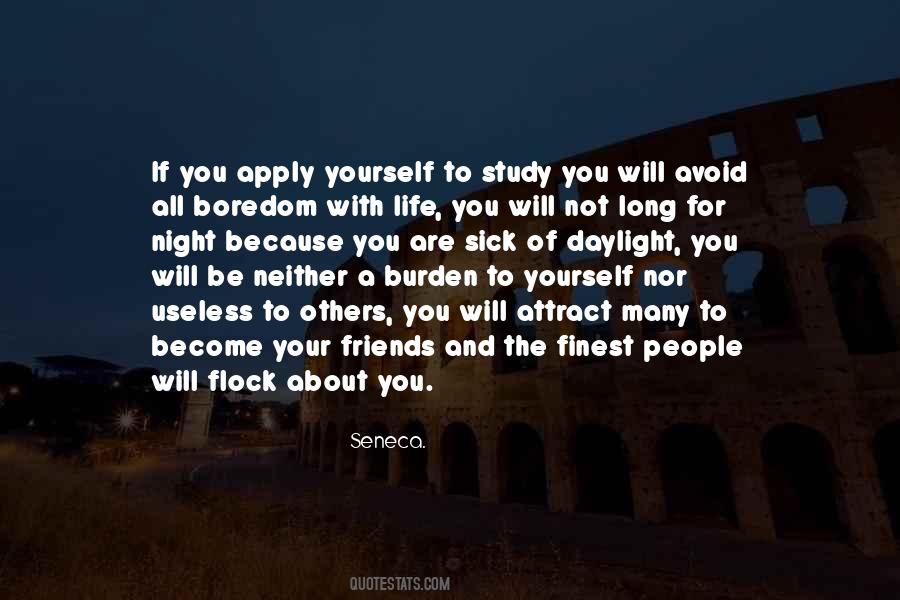 #66. Love, that is day and night - love, that is sun and moon and stars, Love, that is crimson, sumptuous, sick with perfume, no other words but words of love, no other thought but love. - Author: Walt Whitman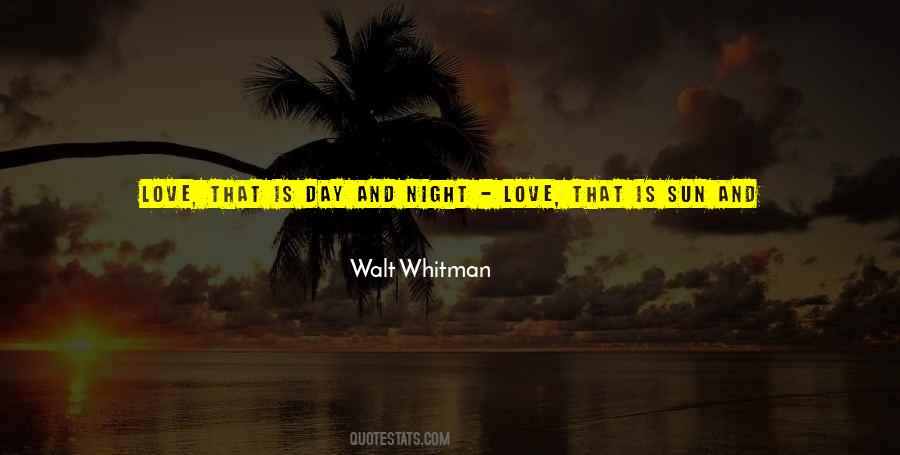 #67. If there's - one person on the face of this earth who makes me sick it's the ninny who calls a thing 'improbable' because it happens to be outside his own special, puny experience of life. - Author: Eleanor Hallowell Abbott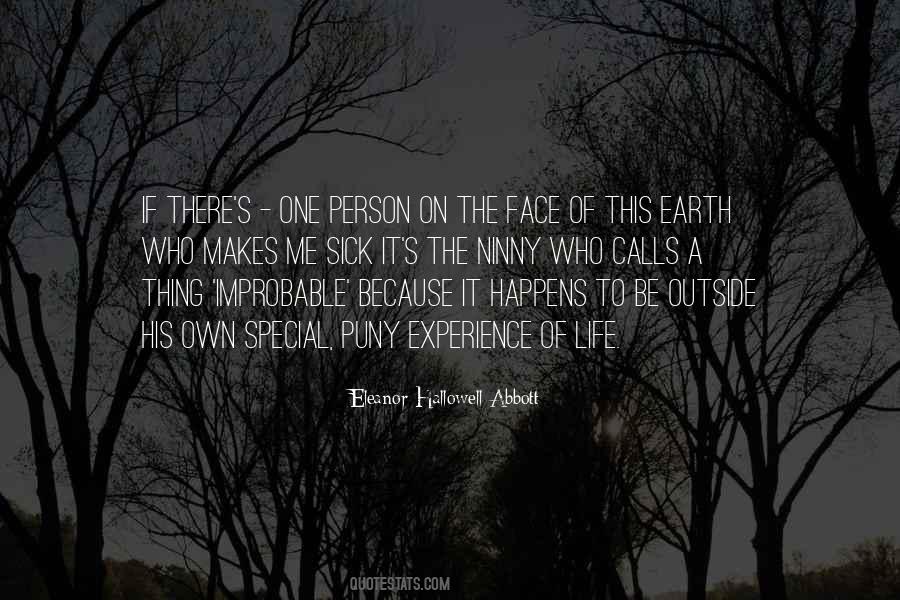 #68. Kindness is not an illusion and violence is not a rule. The true resting state of human affairs is not represented by a man hacking his neighbor into pieces with a machete. That is a sick aberration. No, the true state of human affairs is life as it ought to be lived. - Author: Paul Rusesabagina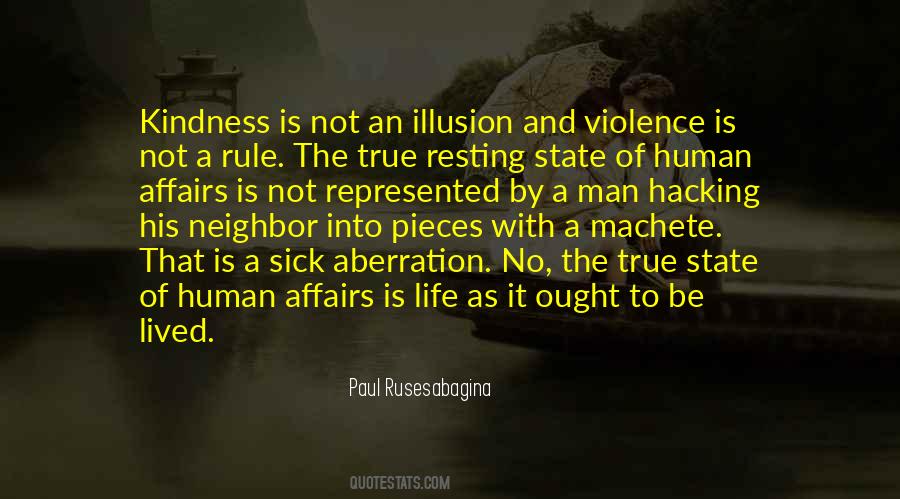 #69. When you die, it will not be because you are sick, but because you were alive. - Author: Seneca The Younger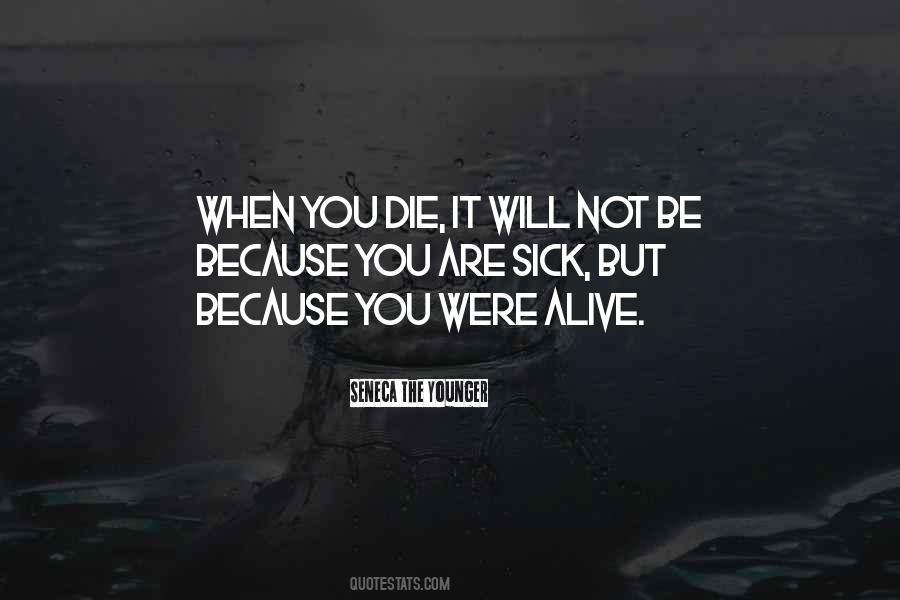 #70. The quality of life of European cities and towns of almost any size make life in America look not just like a joke, but a sick joke, a horror movie. But I'd rather stay involved and do what I can to make this a better place than move to the south of France and enjoy the good life. - Author: James Howard Kunstler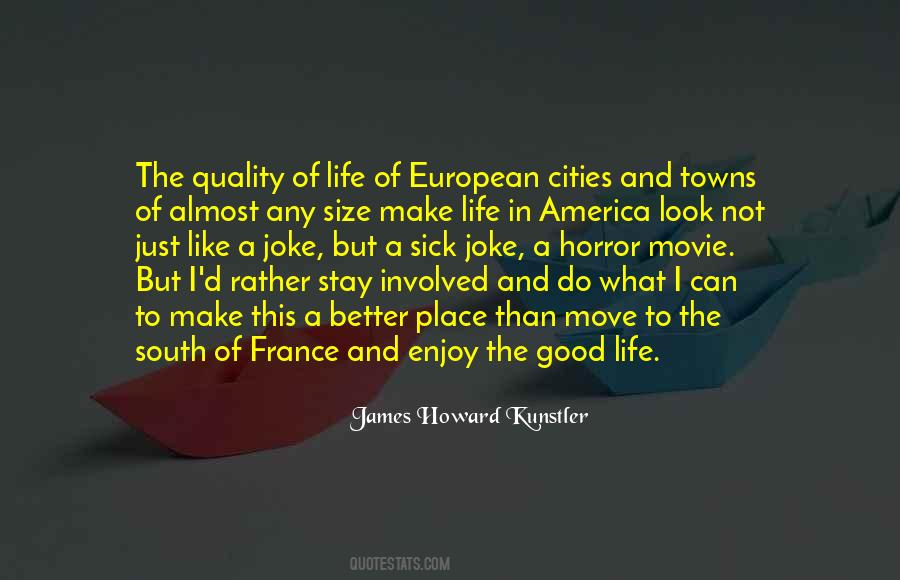 #71. My life was fine. My job was fine. My house was fine. My friends were fine. God, I was sick of fucking fine. I needed something--anything--to be great. - Author: Aly Martinez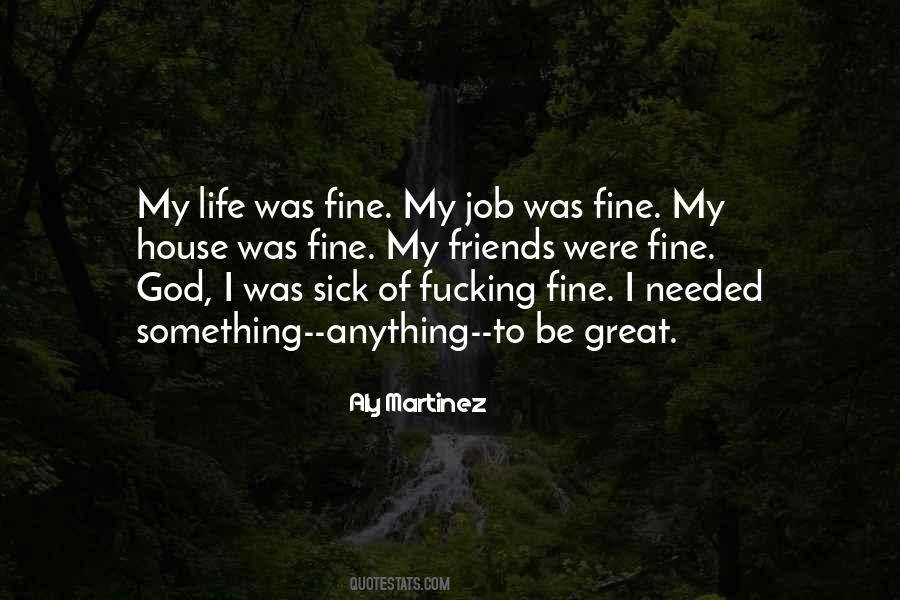 #72. Surfing is kind of a good metaphor for the rest of life.
The extremely good stuff - chocolate and great sex and weddings and hilarious jokes - fills a minute portion of an adult lifespan.
The rest of life is the paddling: work, paying bills, flossing, getting sick, dying. - Author: Jaimal Yogis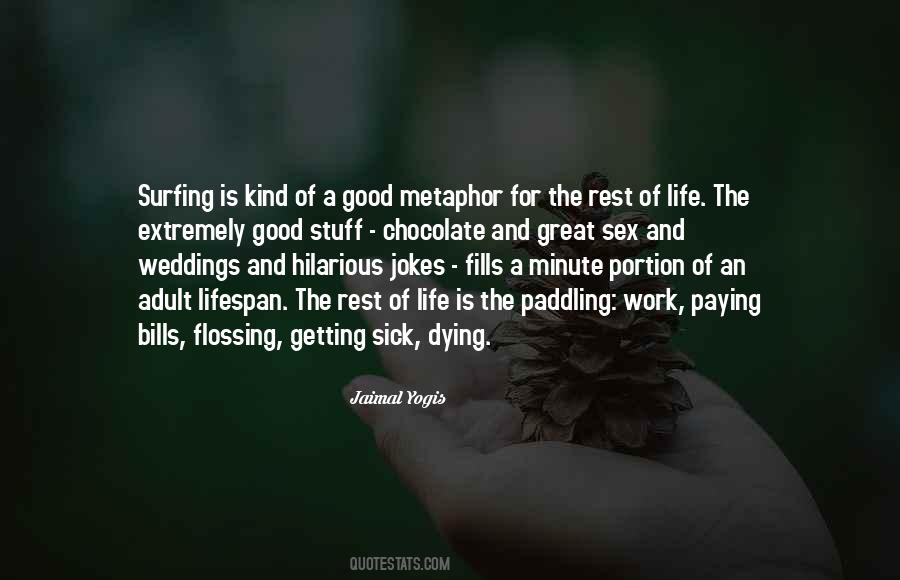 #73. I'm more of a realist when it comes to life, and I'd much rather my mother be in a spiritual place in Heaven than in a bed, sick, fighting for her life. - Author: Kevin Hart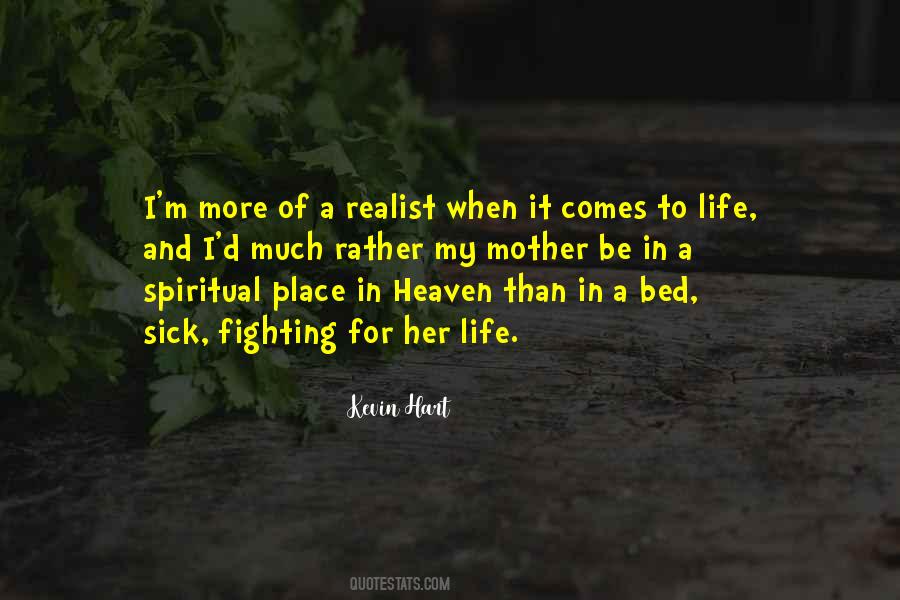 #74. The truth is, what I learned this year is that life is hard ... Good people die for no reason. Little kids get sick. The people that are supposed to love you end up leaving. - Author: Jennifer Weiner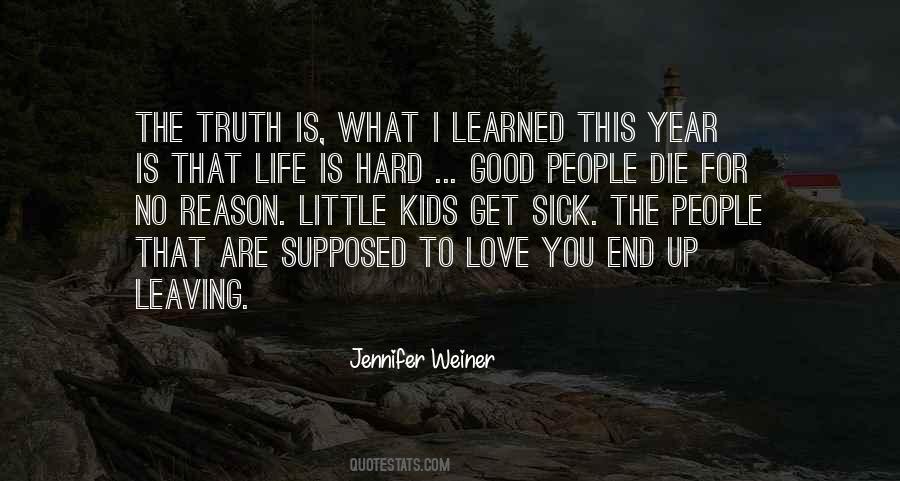 Famous Authors
Popular Topics