Say Something Positive Famous Quotes & Sayings
List of top 78 famous quotes and sayings about say something positive to read and share with friends on your Facebook, Twitter, blogs.
Top 78 Say Something Positive Quotes
#1. I've never achieved spectacular success with a film. My reputation has grown slowly. I suppose you could say that I'm a successful filmmaker-in that a number of people speak well of me. But none of my films have received unanimously positive reviews, and none have done blockbuster business. - Author: Stanley Kubrick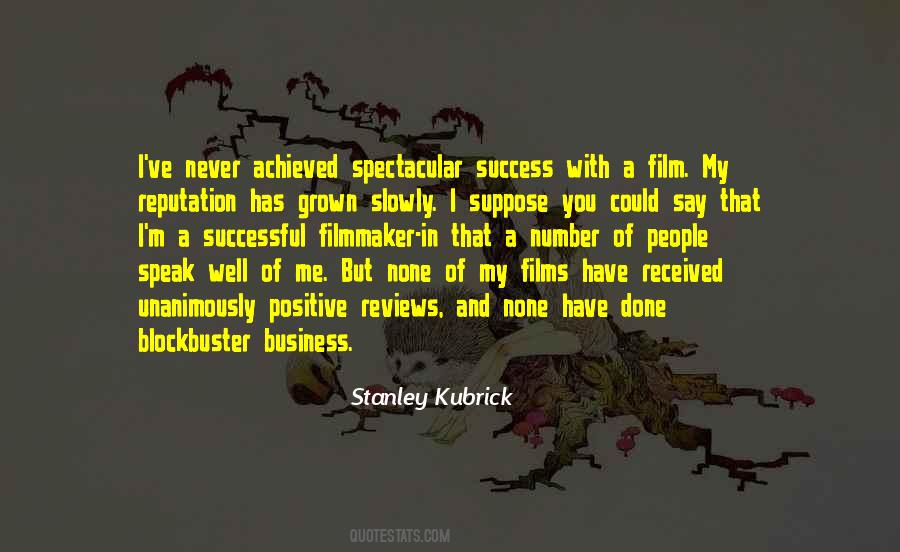 #2. However, I must say that I am very happy to see that we have such a positive result for our first referendum in our history and that gives me more confidence in Taiwan's democracy. - Author: Chen Shui-bian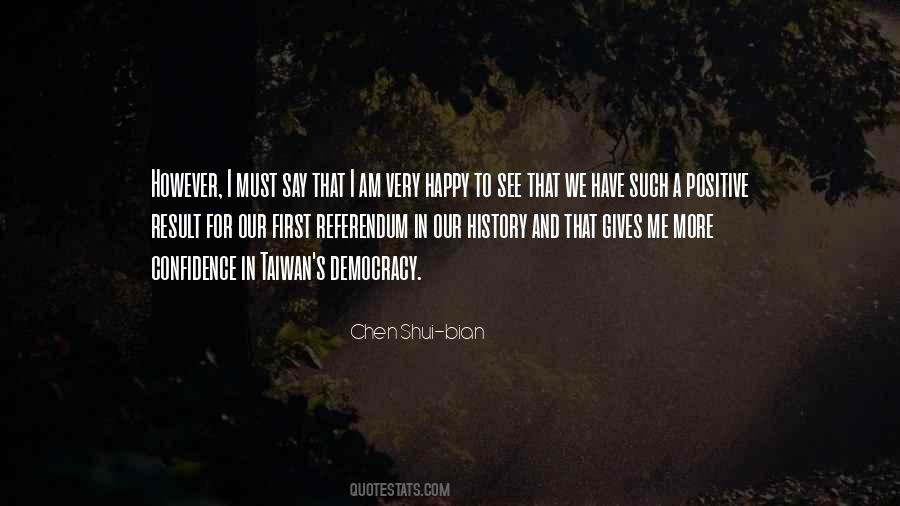 #3. We will not build a peaceful world by following a negative path. It is not enough to say we will not wage war. It is necessary to love peace and sacrifice for it. We must concentrate not merely on the negative expulsion of war, but on the positive affirmation of peace - Author: Martin Luther King Jr.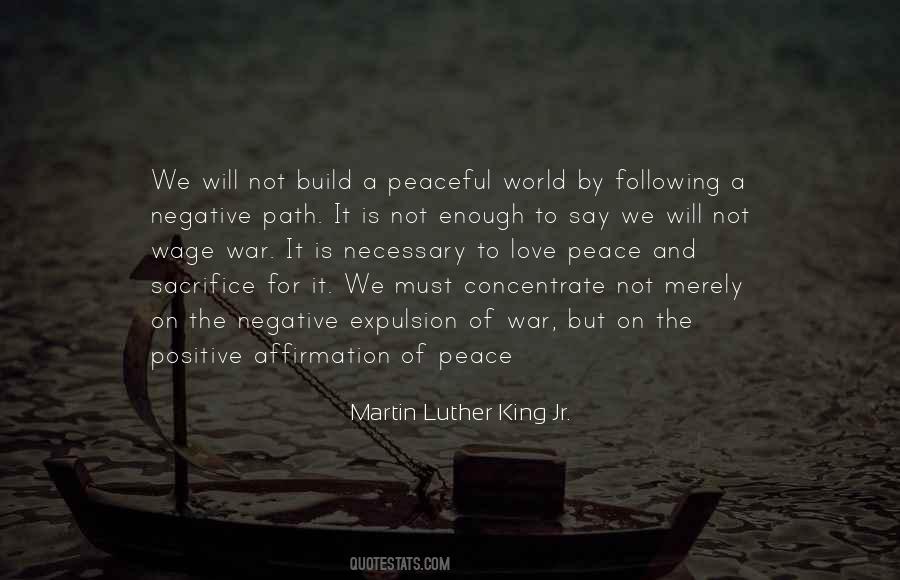 #4. People mess up, you know? But you can't see past it. It's like you choose one thing about them - the worst thing - and say, 'That's who they are,' and ignore the rest of it. Why not choose the best thing about them instead? Or the thing they do the most? - Author: Sarah Skilton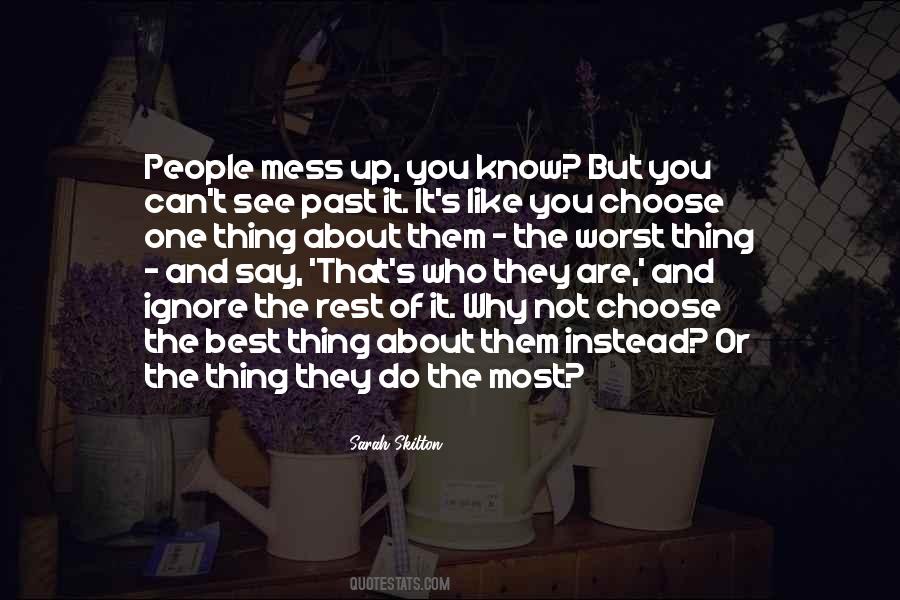 #5. Attitude is everything, they say . . . and I believe this to be true. If we learn to see the positive side of things, then we'll live longer, healthier, happier lives. A good way to do so is to stop complaining and start being grateful. - Author: David Hamilton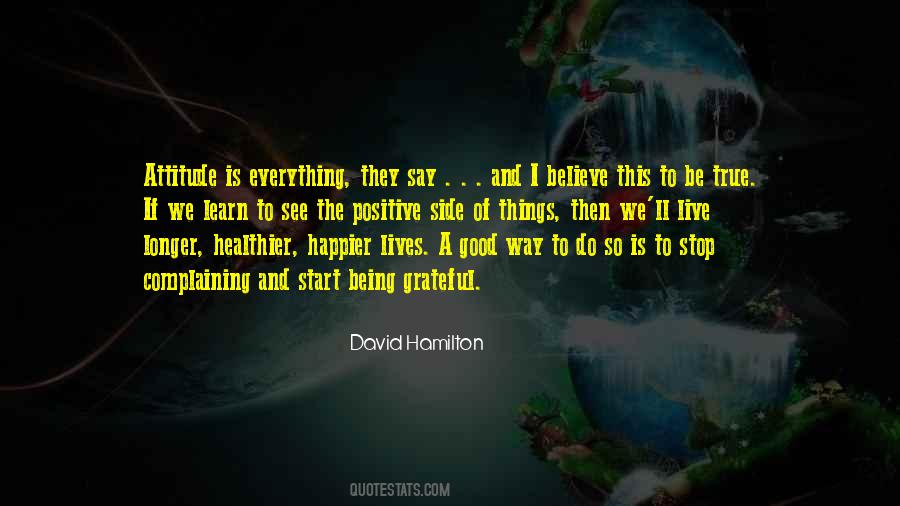 #6. Spirituality is the ability to say - It is OK, in every circumstance. - Author: Rajesh Nanoo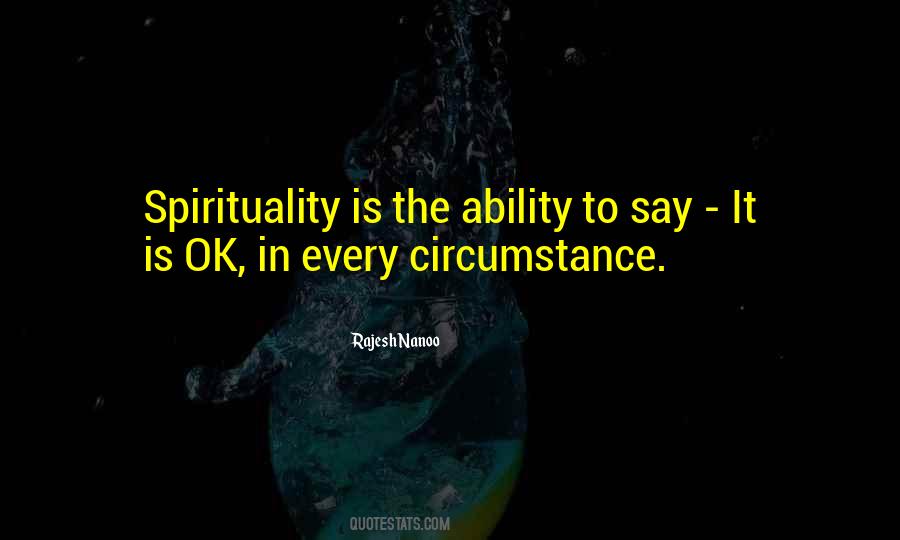 #7. As a child, I never heard one woman say to me, "I love my body". Not my mother, my elder sister, my best friend. No one woman has ever said, "I am so proud of my body." So I make sure to say it to Mia , because a positive physical outlook has to start at an early age. - Author: Kate Winslet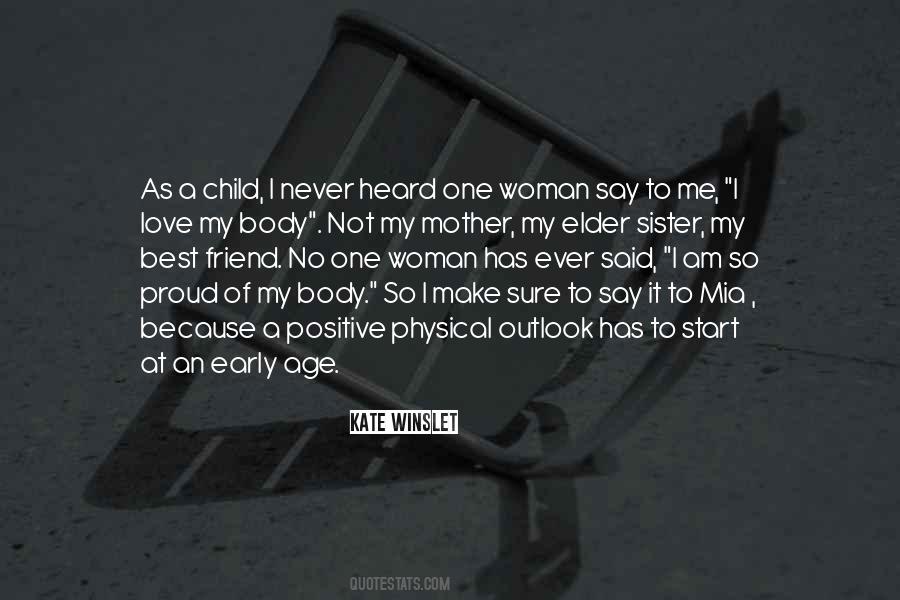 #8. Care not what they say about the color of your skin let the brilliant light of your soul blind them. - Author: Michael Dolan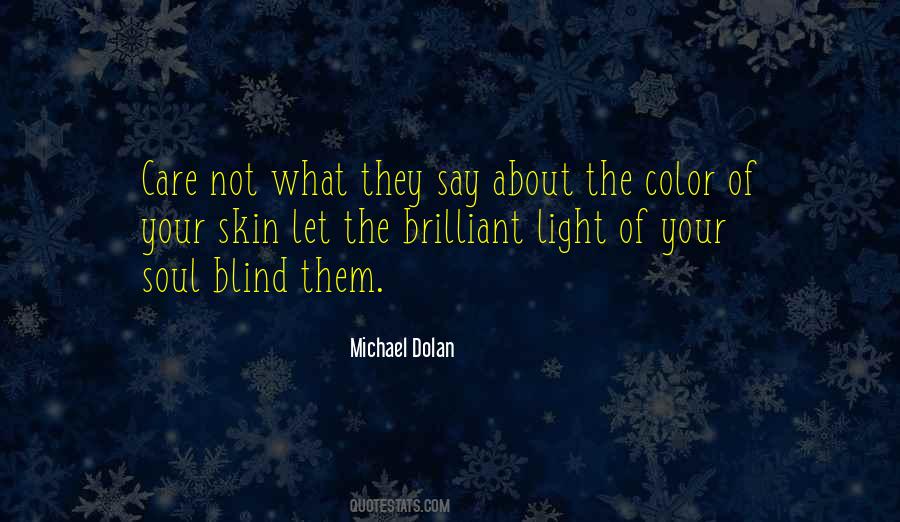 #9. I used to hear people say nobody can prepare you for fame, and it's actually very true. But there is such beauty that comes with it when you're able to use your platform in a positive way. - Author: Jussie Smollett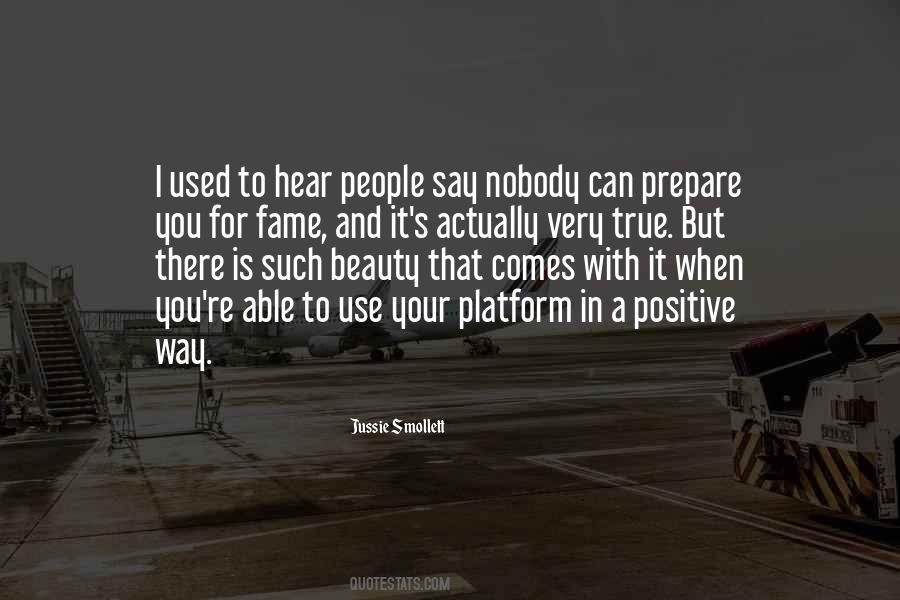 #10. It's our responsibility for the village to say, 'Hey we're going to create these programs,' whether it's sports, creative arts, music, we need some things to give young people positive things to do, and that's including jobs. - Author: Common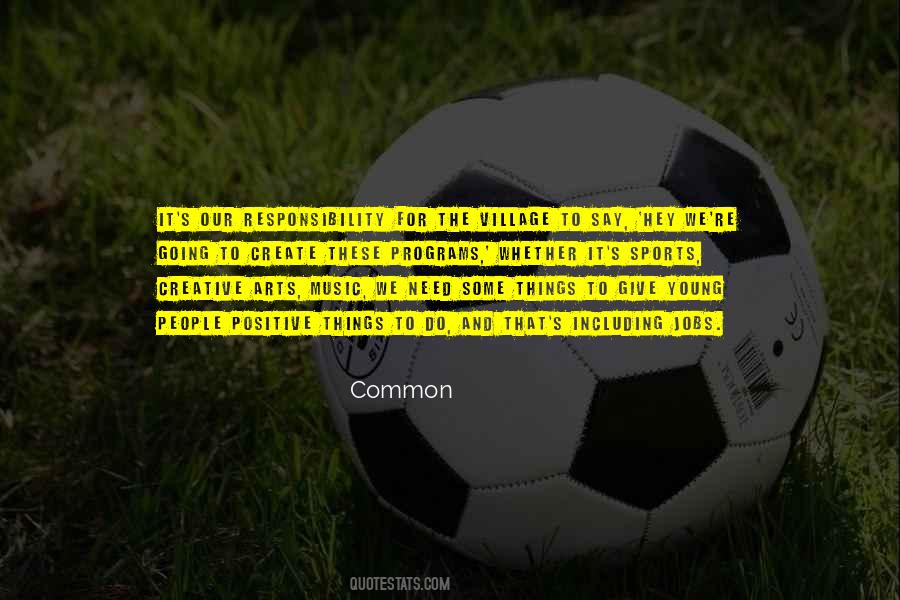 #11. I'll always have to force myself to see the positive, because I'm wired badly, I'd say. I'm just naturally a bit under, a bit depressed. - Author: Miranda Hart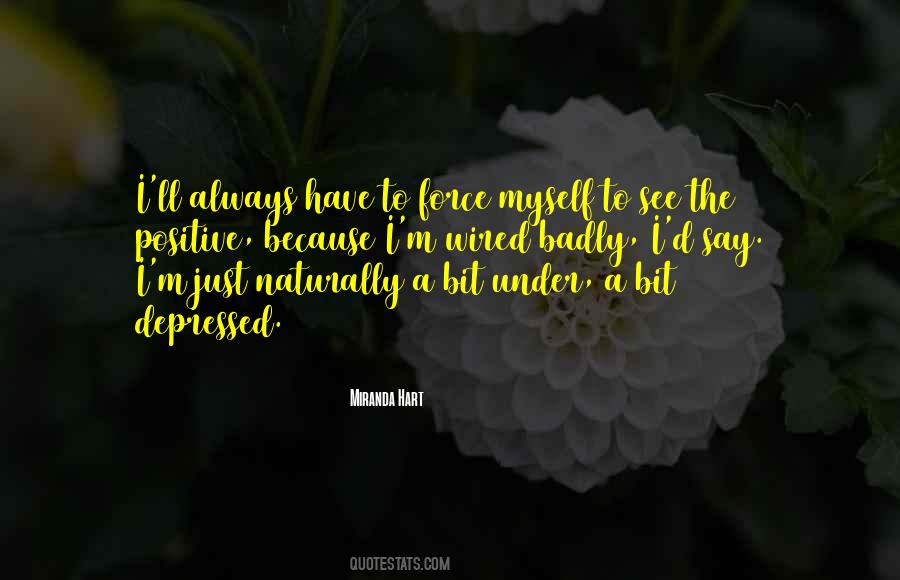 #12. Discovery comes as a result of positive discontent, a constructive dissatisfaction. In fact, one might quite truthfully say that there is no discovery when one is content. - Author: Myron Allen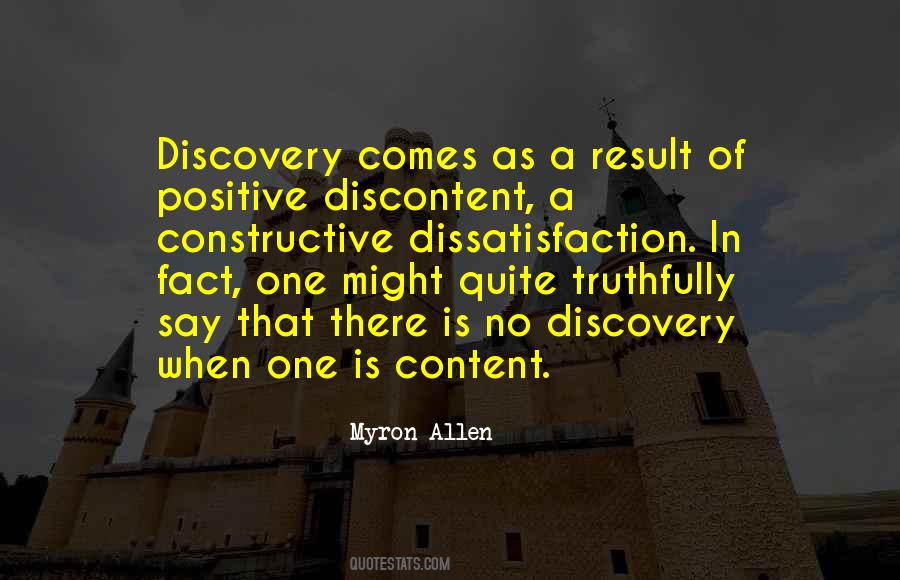 #13. I took the decision that everything I would post would be positive. If you say, 'Ahh, I feel terrible today,' and you spread that to the eyes and ears of millions of people, that's not good. - Author: Jerome Jarre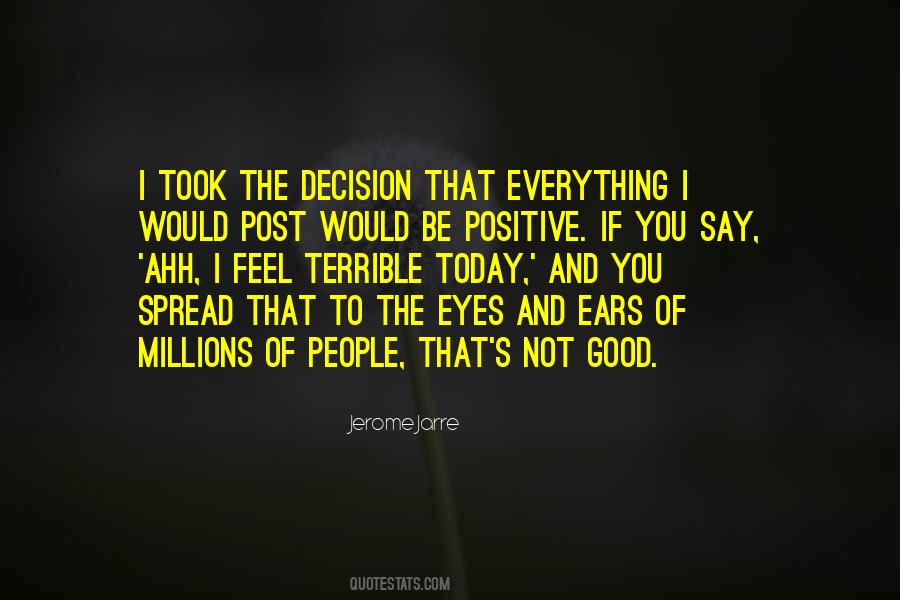 #14. Take out another notebook, pick up another pen, and just write, just write, just write. In the middle of the world, make one positive step. In the center of chaos, make one definitive act. Just write. Say yes, stay alive, be awake. Just write. Just write. Just write. - Author: Natalie Goldberg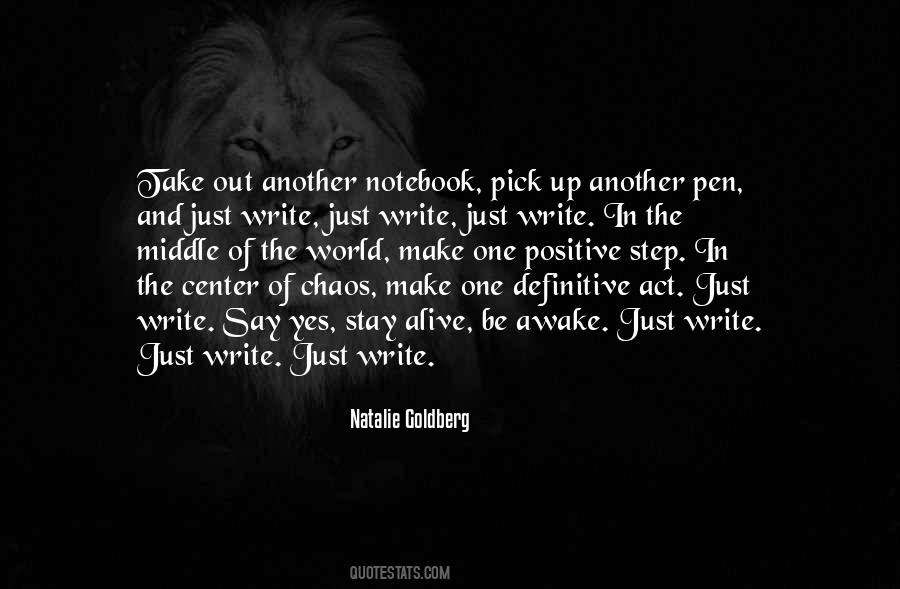 #15. It's not always the case that things will fall into your lap or that life will be great, but it's all about perspective and having a positive outlook. If something goes wrong you say: "That happened for a reason, what can I learn from that and how can I grow?" - Author: Chris Pine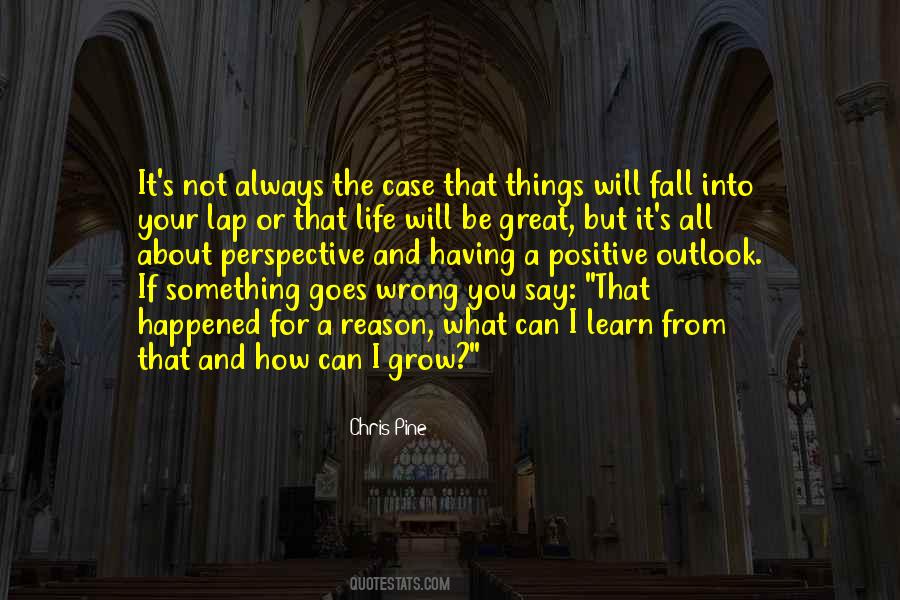 #16. God's Word does not say, "Call unto me, and you will thereby be trained into the happy art of knowing how to be denied. Ask, and you will learn sweet patience by getting nothing." Far from it. But it is definite, clear and positive: "Ask, and it shall be given unto you." - Author: Edward McKendree Bounds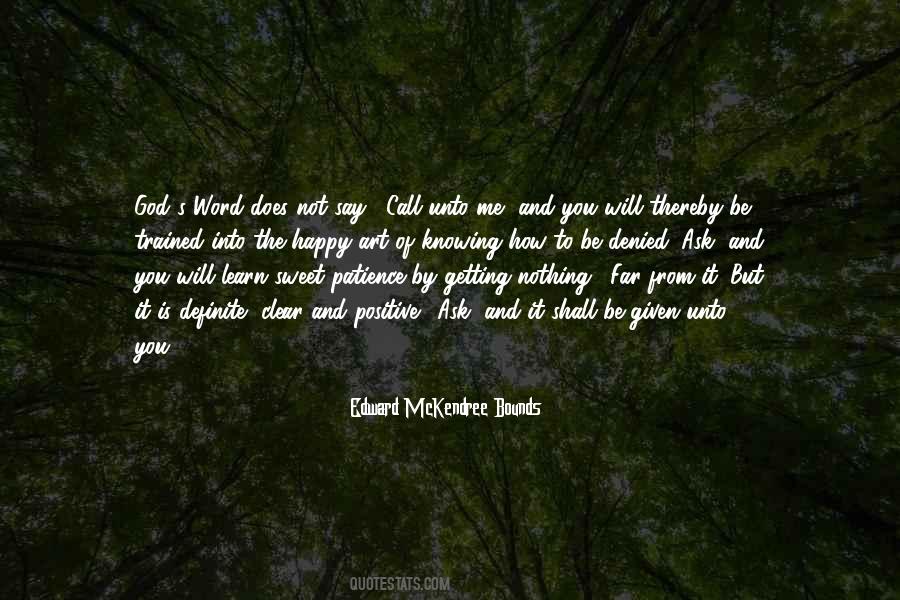 #17. Most people say about graveyards: "Oh, it's just a bunch of dead people. It's creepy." But for me, there's an energy to it that it not creepy, or dark. It has a positive sense to it. - Author: Tim Burton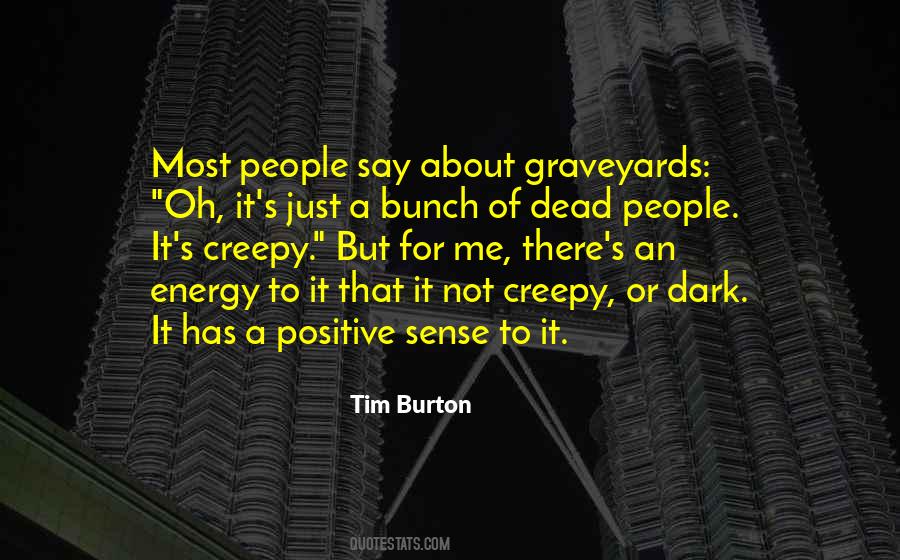 #18. When you've been touched by sadness and grief, it makes you vulnerable. And because I am vulnerable, I try to be positive. And when I say 'try,' I really do mean try, because it's an effort. - Author: Marie Helvin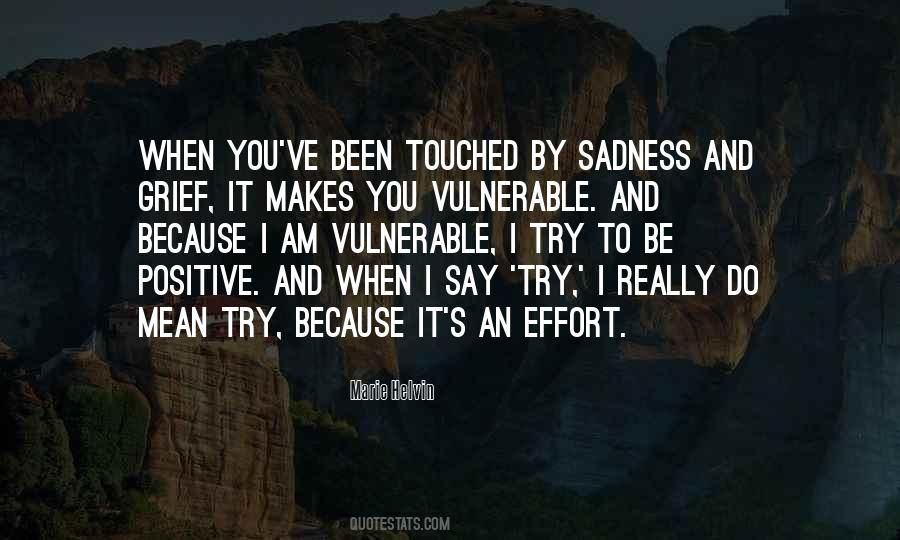 #19. Greatness is judged not by the negative things we say but the positive things we do". - Author: Abdulazeez Henry Musa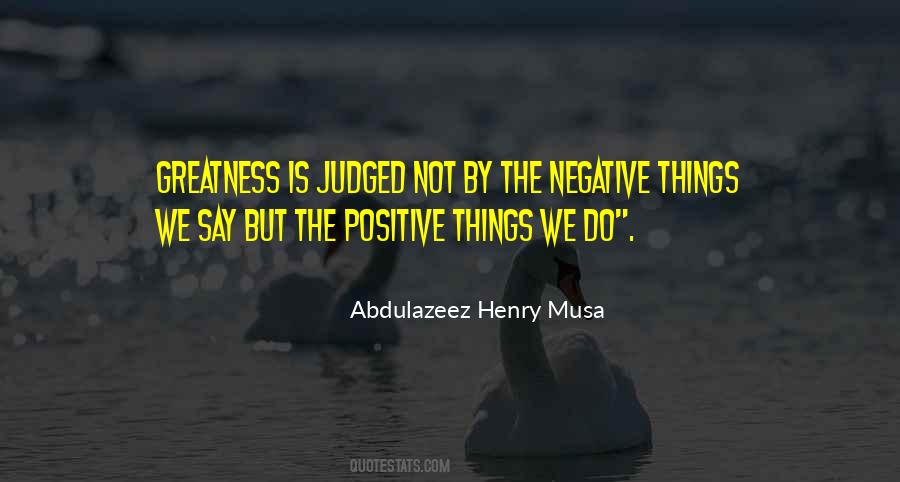 #20. If it doesn't do you any good, dump it. Take some action, push that lever, flush it away, and don't look back. Take small steps everyday of your life, and start taking control of what you say when you talk to yourself. - Author: Dave Pelzer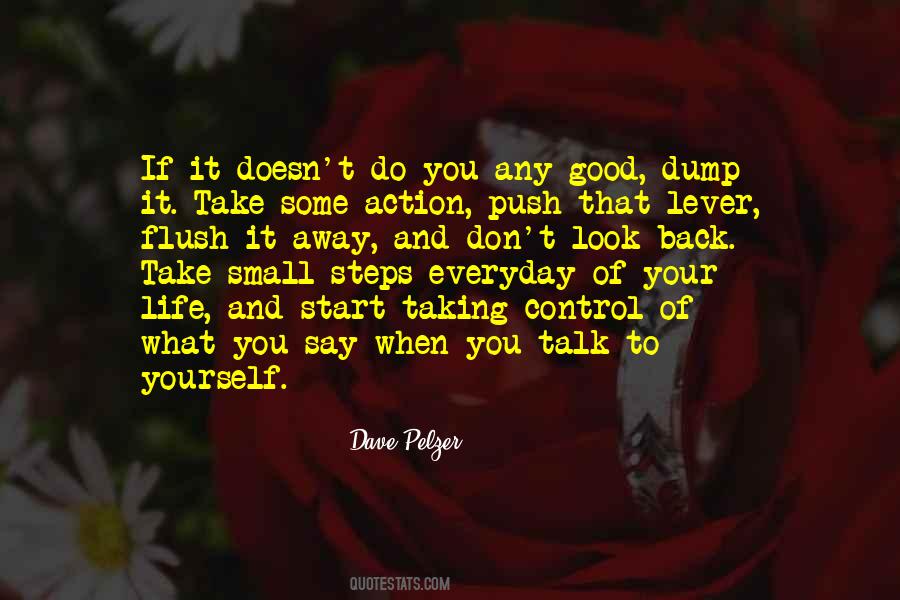 #21. People ask me if I believe in things: in God, in astrology, and I say, absolutely! I believe in everything! And I believe in its opposite. Like the positive and negative volts on a battery, you need both for power. - Author: John Patrick Shanley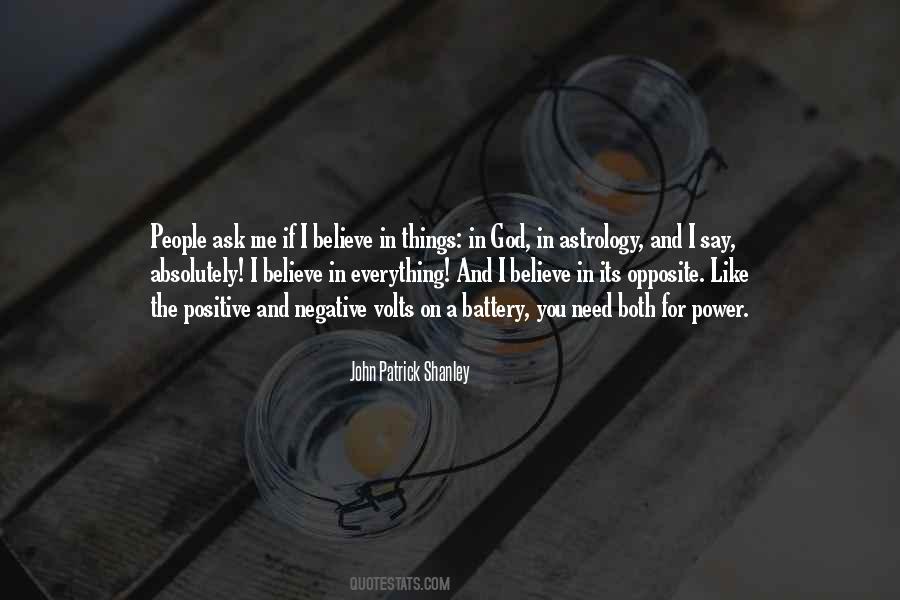 #22. It's not an exaggeration to say that different generations may see the same behaviors or dynamics in the workplace and perceive completely different things, whether positive or negative. - Author: Crystal Kadakia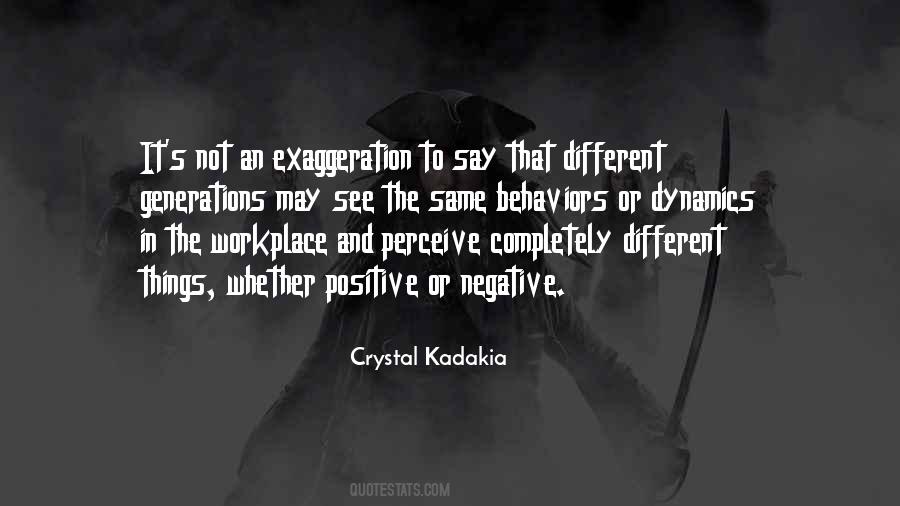 #23. People always say congratulations. When you're a successful bidder it means you're willing to spend more money than anyone else. I'm not sure if that's congratulations or condolences. - Author: Eli Broad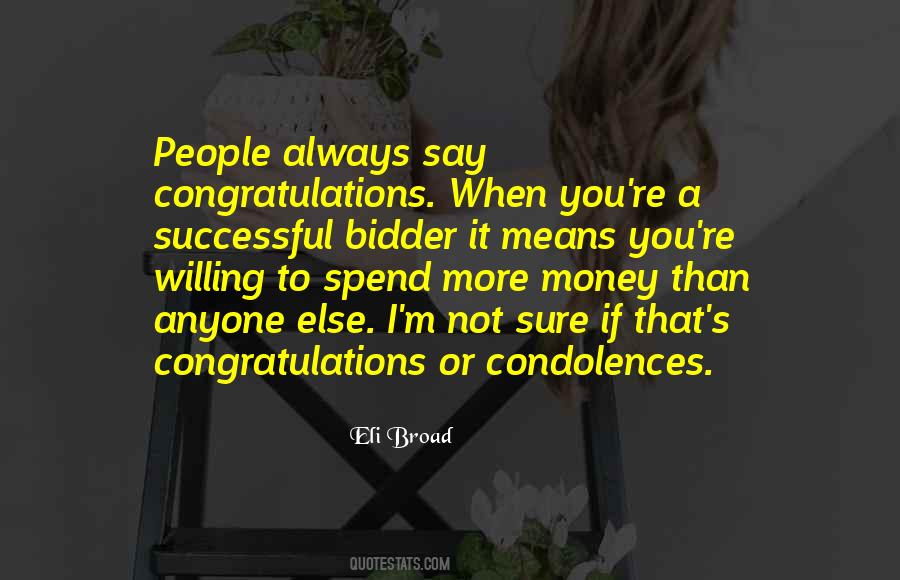 #24. Two things that annoy me, are; people who are positive out of ignorance, and people who are negative out of bitterness, People who are neither usually get along with me and agree with most of what I say. But People who are one of the two think I'm the other and at the end get confused totally. - Author: Auliq Ice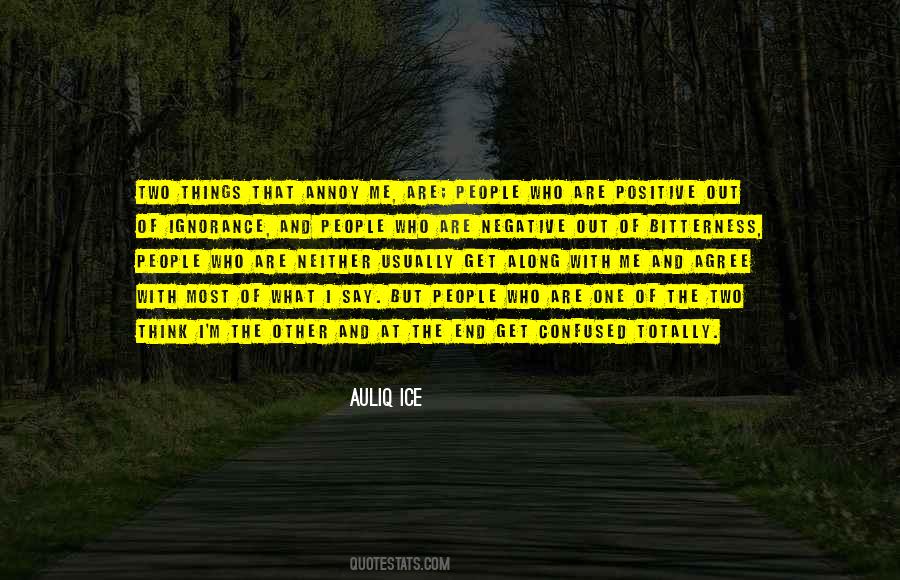 #25. You can't change how people treat you or what they say about you. All you can do is change how you react to it. - Author: Nicky Gumbel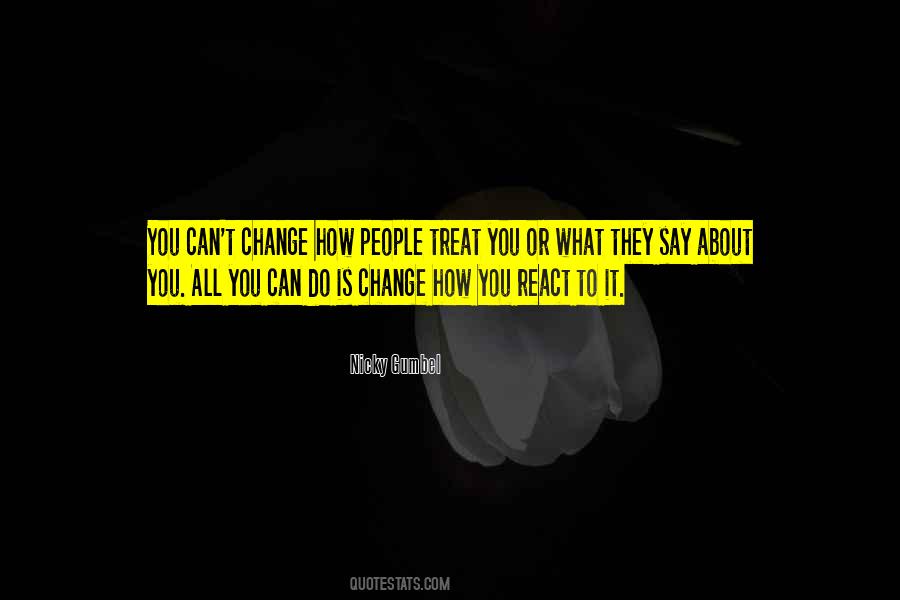 #26. I think there are some folks who don't particularly like what I have to say, but on the whole, the reaction has been very positive. - Author: Daniel Woodrell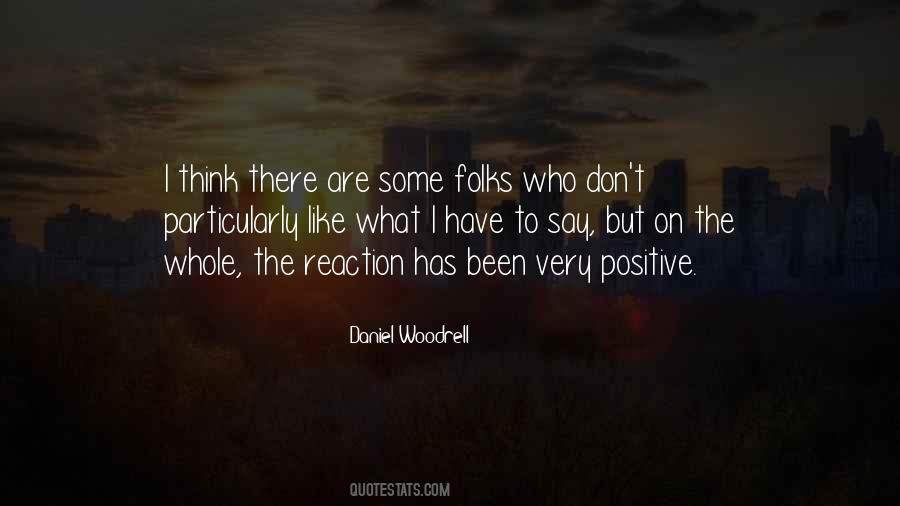 #27. Say and do something positive that will help the situation; it doesn't take any brains to complain. - Author: Robert A. Cook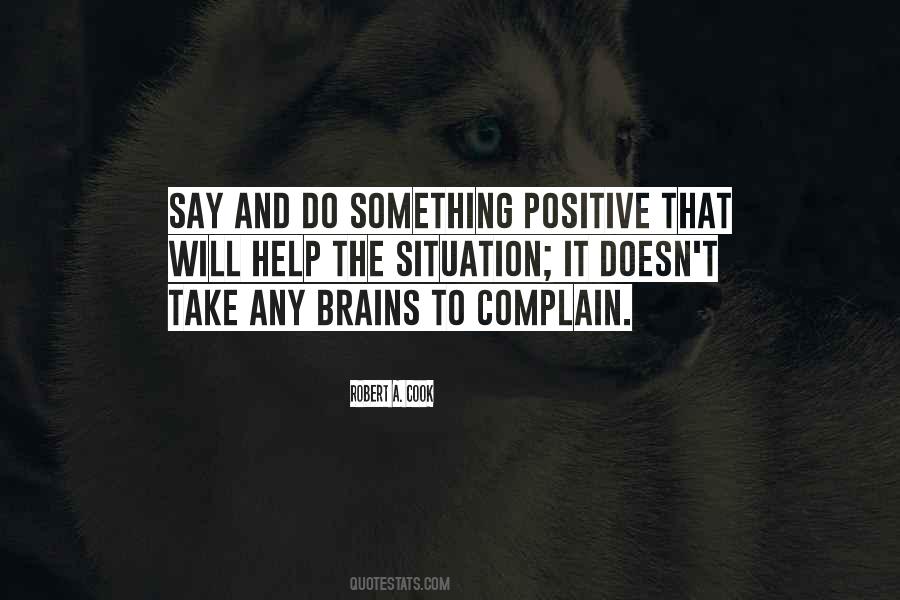 #28. I have a pretty positive view of environmental activism, but I didn't know much about the ELF. A lot of people make documentaries because they have something they want to say, but I make them because there's something I want to explore. - Author: Marshall Curry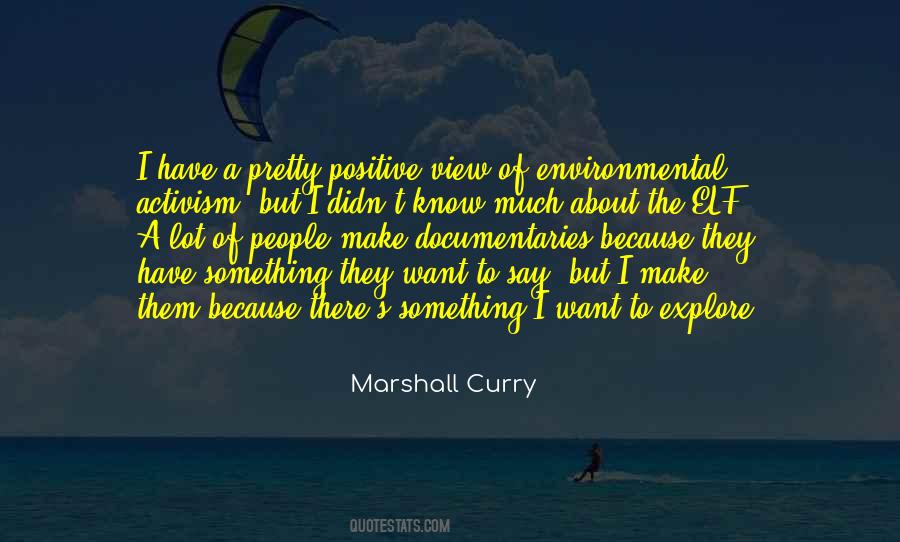 #29. You've used me to punish yourself, haven't you?"
He watched dawning realization spread over her face, a confirmation more positive than anything she could ever say, and that arrow twisted deep in his
chest. Yet still he had to ask the last question.
"Am I anything to you but a punishment? - Author: Elizabeth Hoyt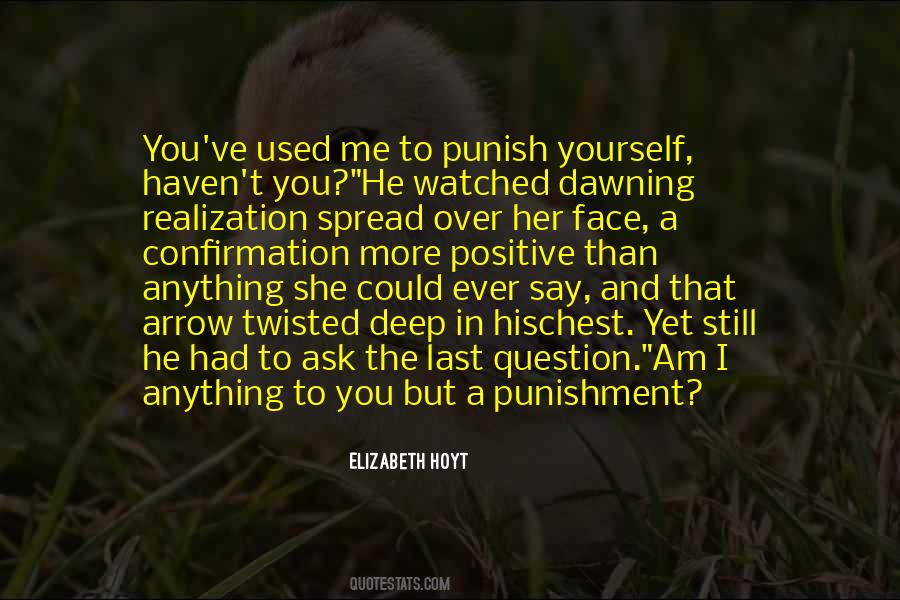 #30. Overly positive, horrendously cheerful people can make a depressed person even more depressed. In fact, perhaps the least helpful thing one can say to a depressed person is, "Cheer up!" - Author: Harold H. Bloomfield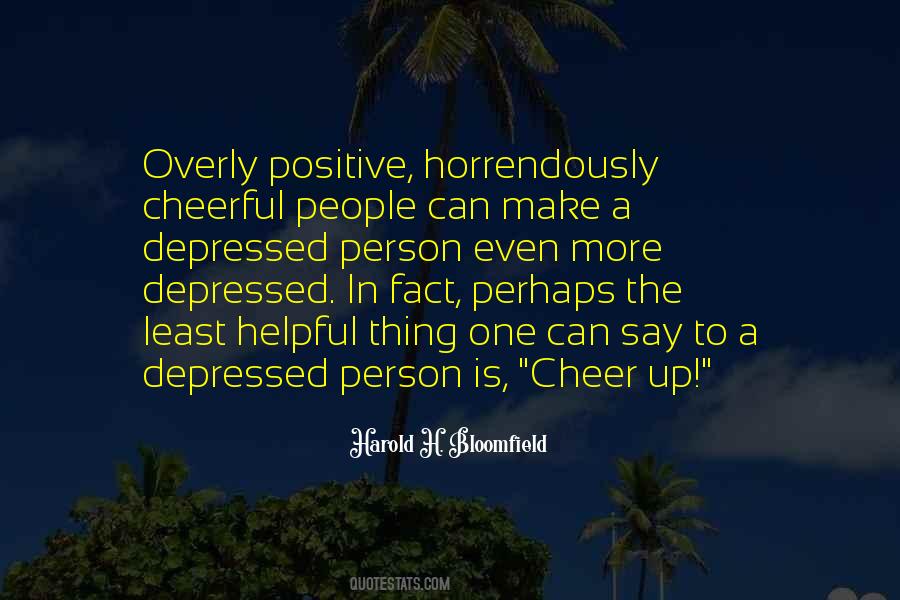 #31. When we say the South lost the Civil War, we mean the white South. The blacks were liberated. And it's trying to redefine this Southern myth and bring it in a more positive direction. - Author: William R. Ferris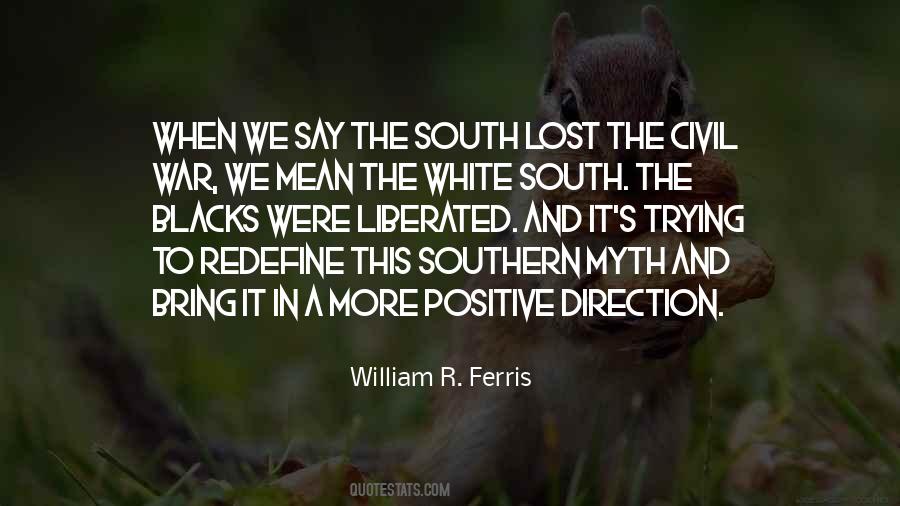 #32. To be candid, some people have given positive thinking a bad name. I can't stand to hear some gung-ho individual say that with positive thinking you can just do 'anything.' If you think about that one for a moment, you recognize the absurdity of it. - Author: Zig Ziglar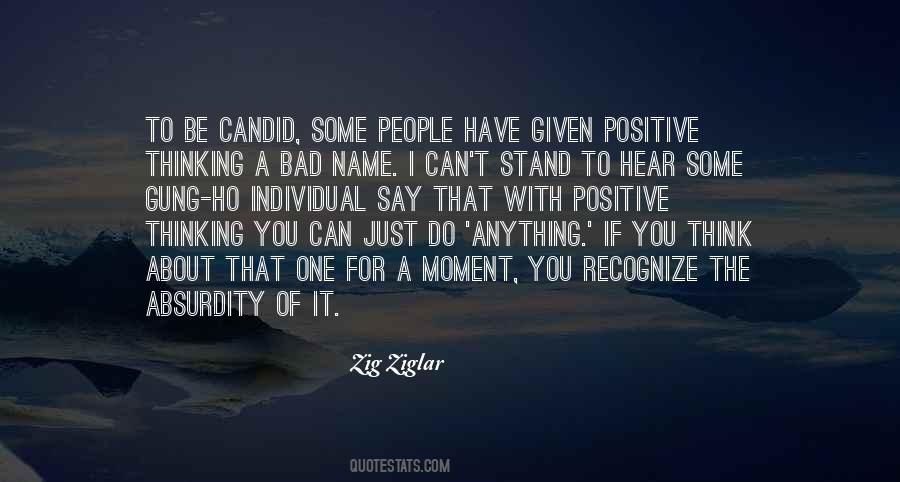 #33. I love Snoop. I worked with him on 'Old School,' and he's very accessible. He's very kind. He's always nice to everyone, to the crew. He's always got something positive to say. He's very childlike and loves to come and play. So, I had fun working with him. - Author: Vince Vaughn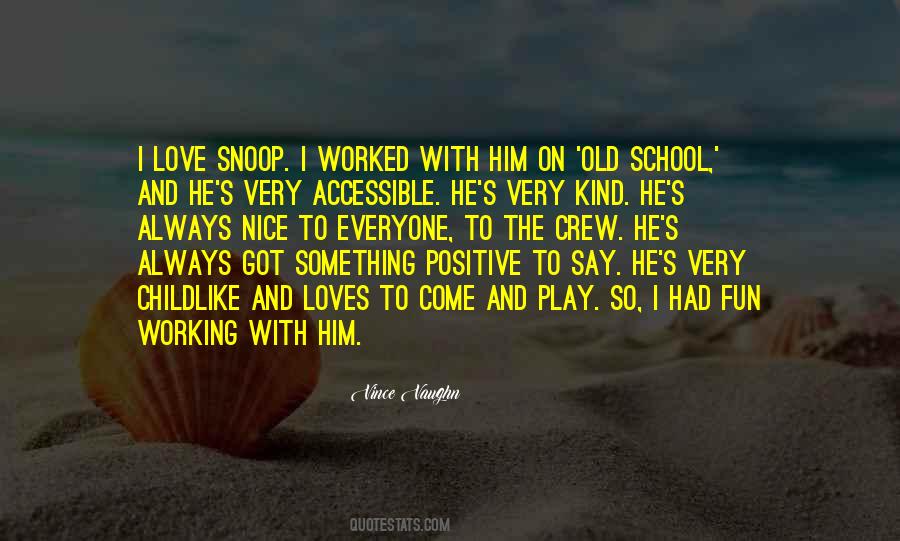 #34. Comparing oneself with one's fellow writers is a bad idea. I would not review a fellow writer unless I had something terribly positive to say. - Author: W.G. Sebald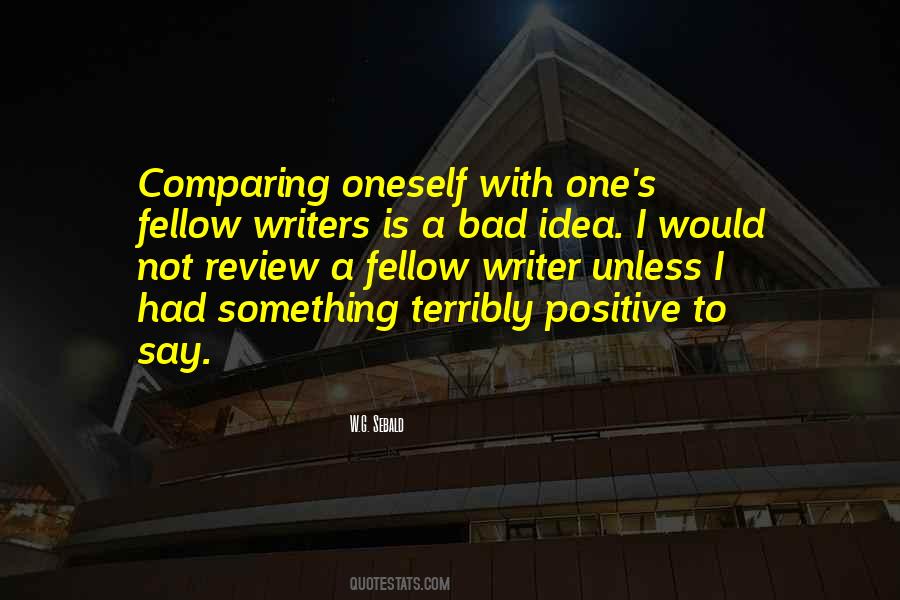 #35. Some people look at the world and say 'why?' Some people look at the world and say 'why not?' - Author: George Bernard Shaw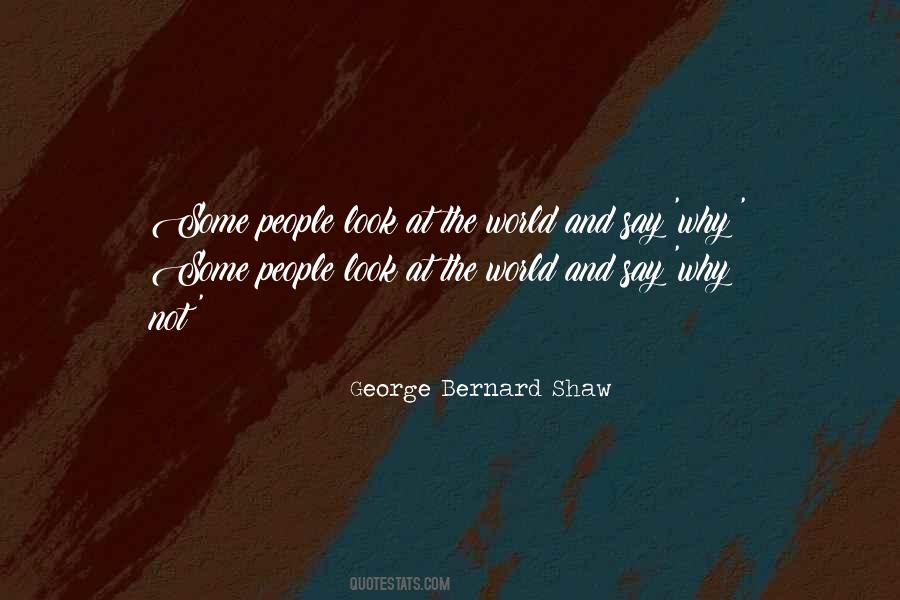 #36. Ten years from now, make sure you can say that you CHOSE your life, you didn't SETTLE for it. - Author: Mandy Hale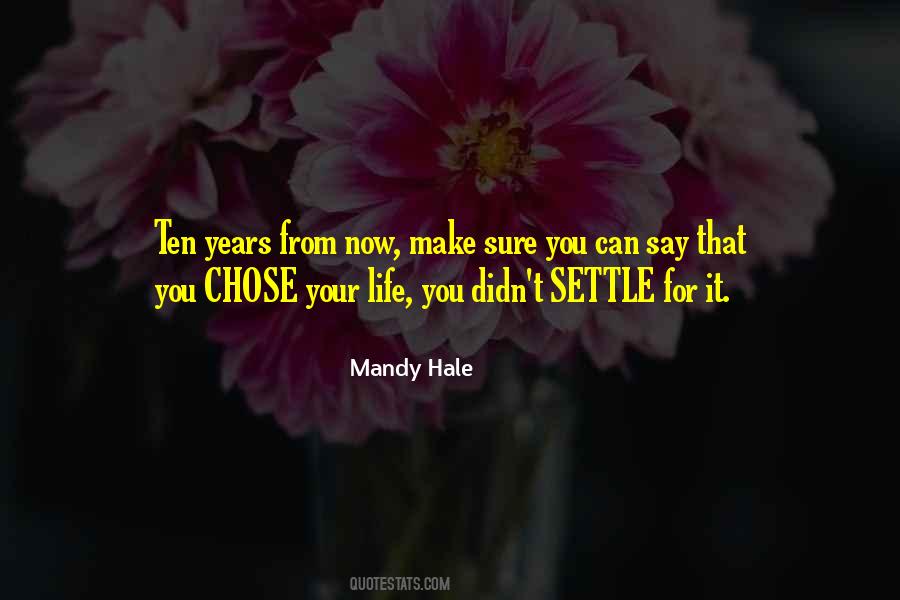 #37. His tenacity is unmatched in my opinion. Incredible how someone could have suffered that long and come back out of prison with such a good heart and positive things to say and do. - Author: Maurice Ashley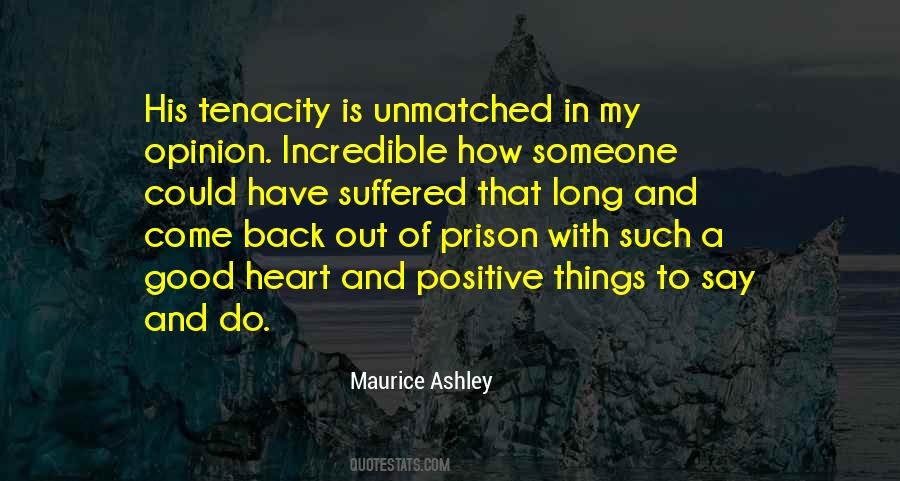 #38. Never say anything about someone which, if called to testify, you are unable to repeat to the person's hearing or the hearing of the person's close friend. This will save you a lot of trouble in life. - Author: Chikamso Efobi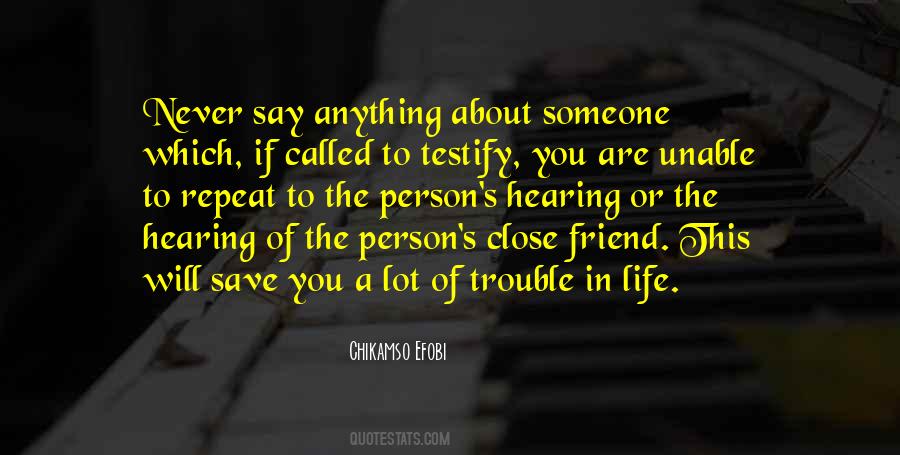 #39. The theory is that if you take interest rates negative, people are going to say, "That's a silly game! I'm not going to lend my money to governments who want me to pay them. I am going to go into the stock market where I can get positive returns!" - Author: Mohamed El-Erian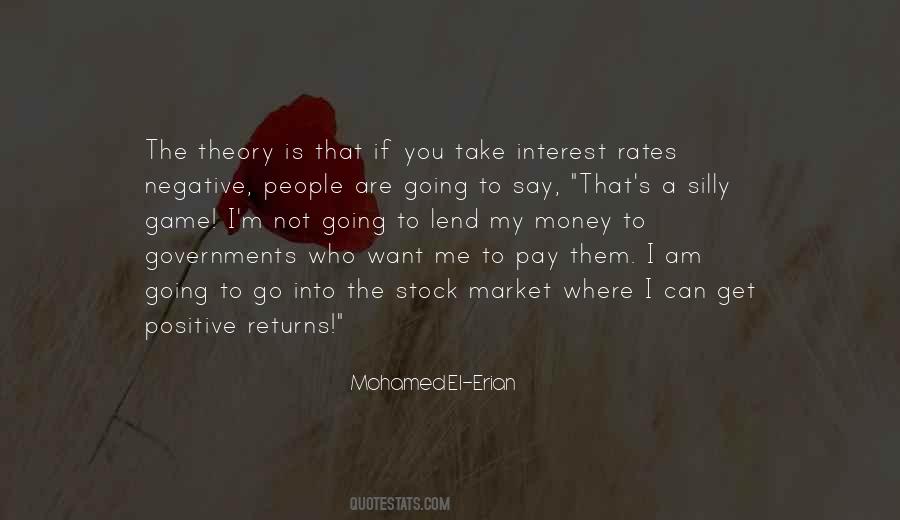 #40. say positive stay positive - Author: Rajesh Walecha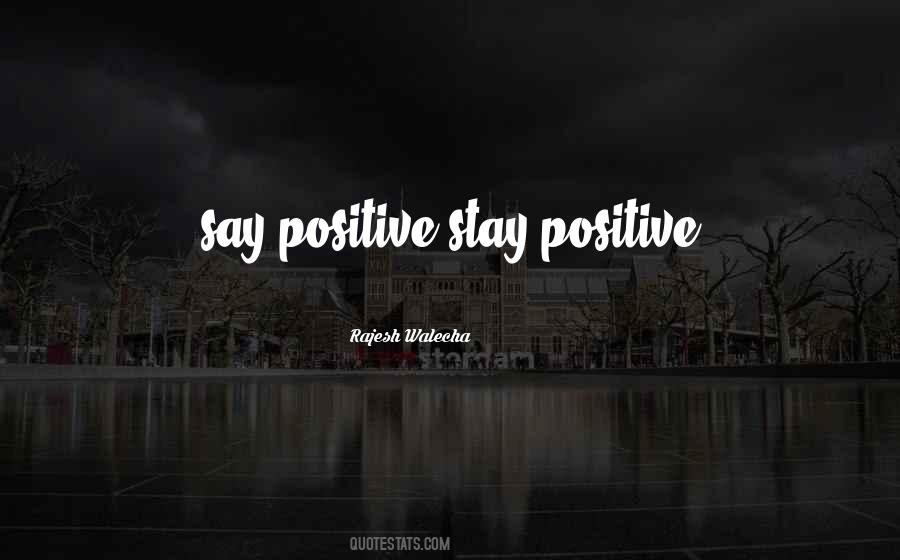 #41. Say NO to negativity and say YES to positivity. Negativity has no place in your life. - Author: Stephanie Lahart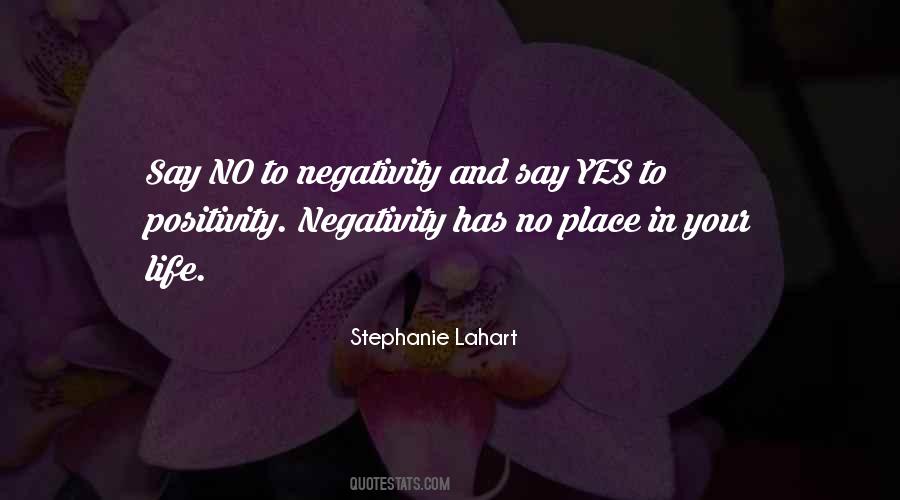 #42. [Faith] guides me on everything I do, i ask for guidance, I ask the Lord to give me wisdom when I speak, when I think and I always try to be positive and say nice things and it gives me strength throughout every minute and every day. - Author: Reba McEntire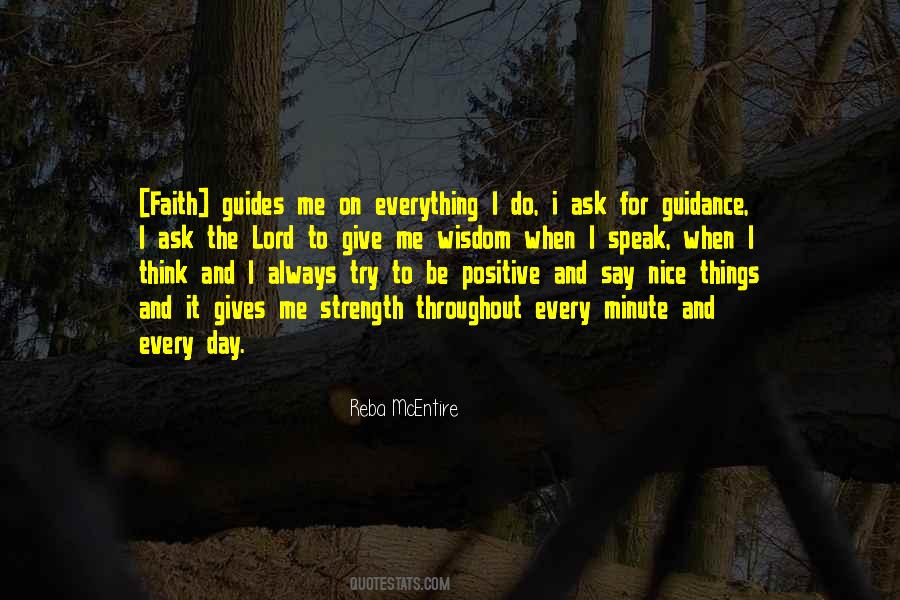 #43. I'm a positive thinker and actor. I look at a glass; a negative person sees the glass and says: too bad it's half empty ... I look at the same glass and say: Hallelujah!! It's half full!!! - Author: Maya Angelou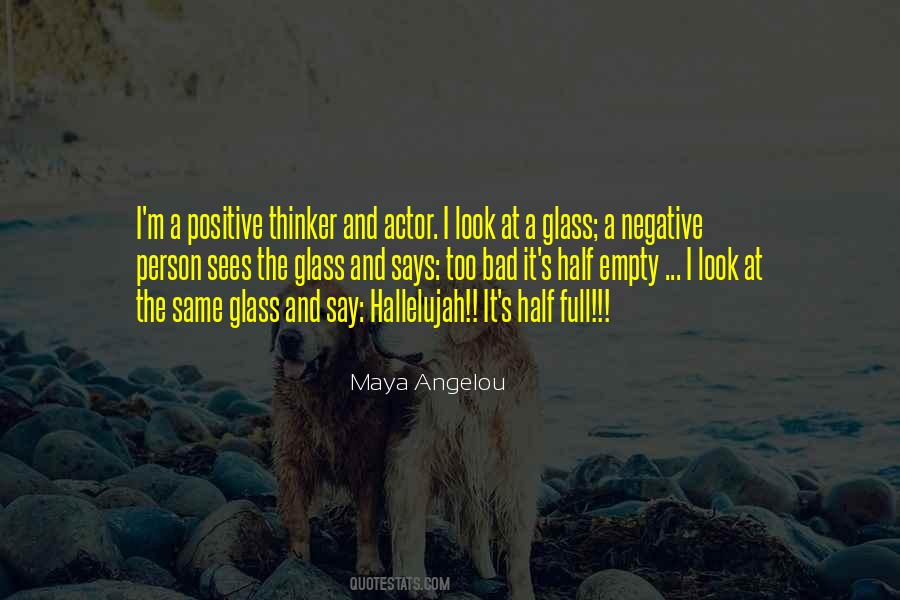 #44. P. T. Forsyth's book Positive Preaching and the Modern Mind. These are its opening words: 'It is, perhaps, an overbold beginning, but I will venture to say that with its preaching Christianity stands or falls. - Author: John R.W. Stott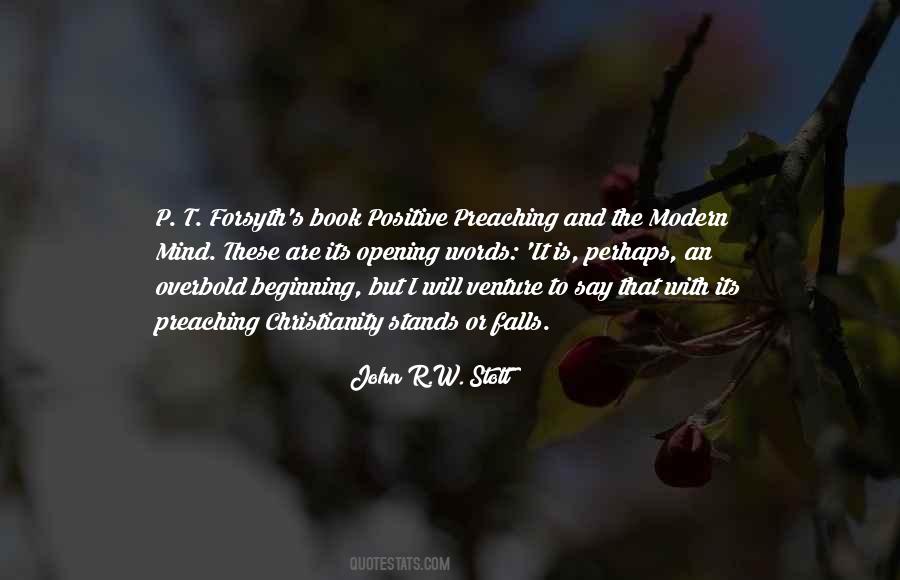 #45. If you keep focusing on what people have to say or will say about you, you will lose focus of what God has called you to do. Never let distractions bother you...if you do, you will only be giving your energy to an unworthy cause. - Author: Kemi Sogunle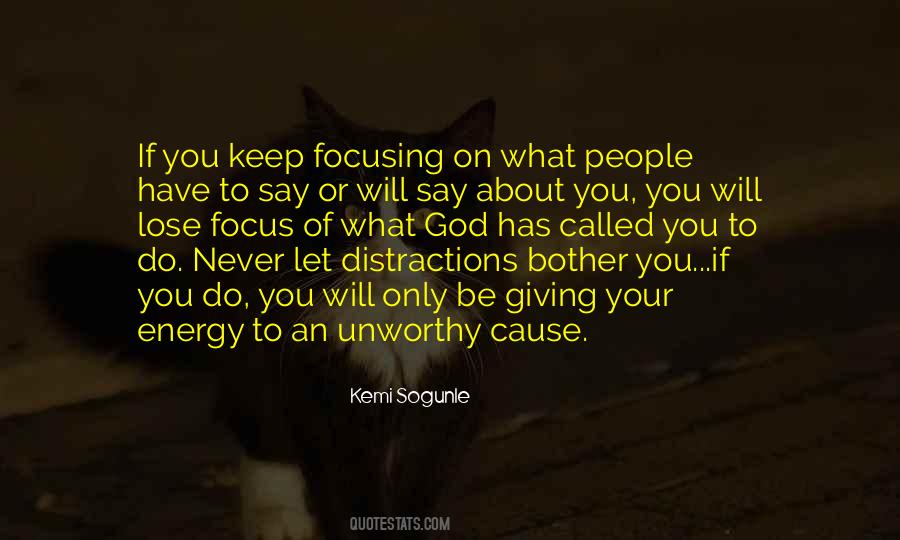 #46. The moment when you realize no one understands, no one ever did, no one ever will.
You were alone, you always will be.
But may be, just may be, someone will look up to you someday. And when they do, remember to hide those tearful eyes, to smile and to say - look, life's so good. - Author: Sanhita Baruah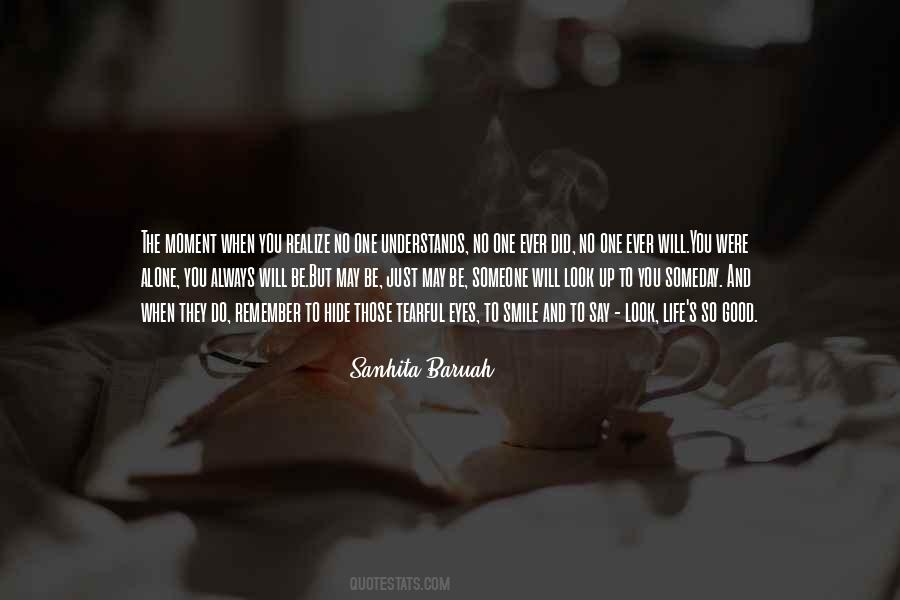 #47. I'm not an expert in the sociological realities of all the pastors in the world, but I would say that there are some very, very positive things about the state of integrity in church leaders. - Author: Henry Cloud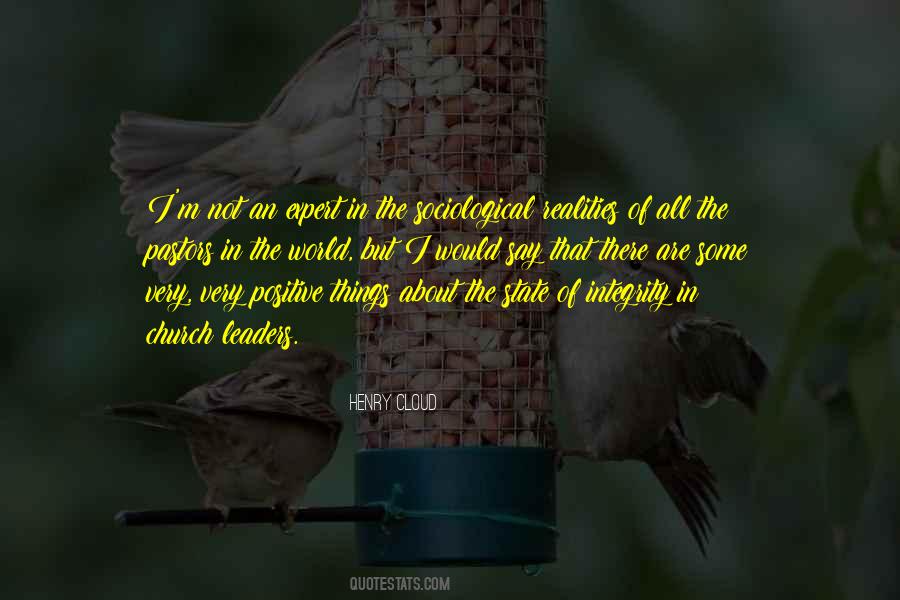 #48. Major brands don't know what to do with happy customers. They make it hard for customers to say thanks and way too often companies don't celebrate and embrace customers' positive gestures. - Author: Paul Walker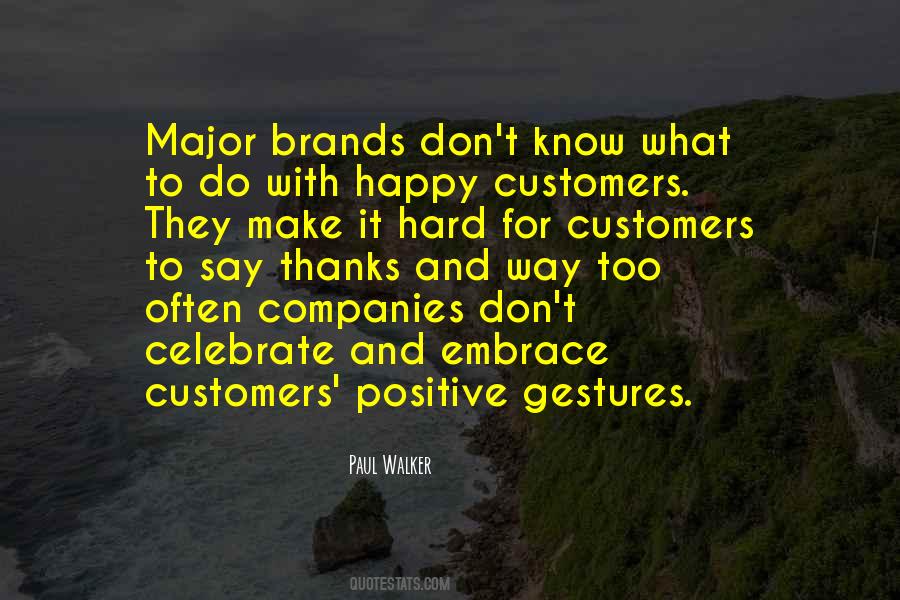 #49. There is only one positive role of the Nobel prize
it creates some common way to understand a writer. I cannot say, that I like this situation, but that's the way it goes. The books are being born and then walk around the world, just as children do. - Author: Stanislaw Lem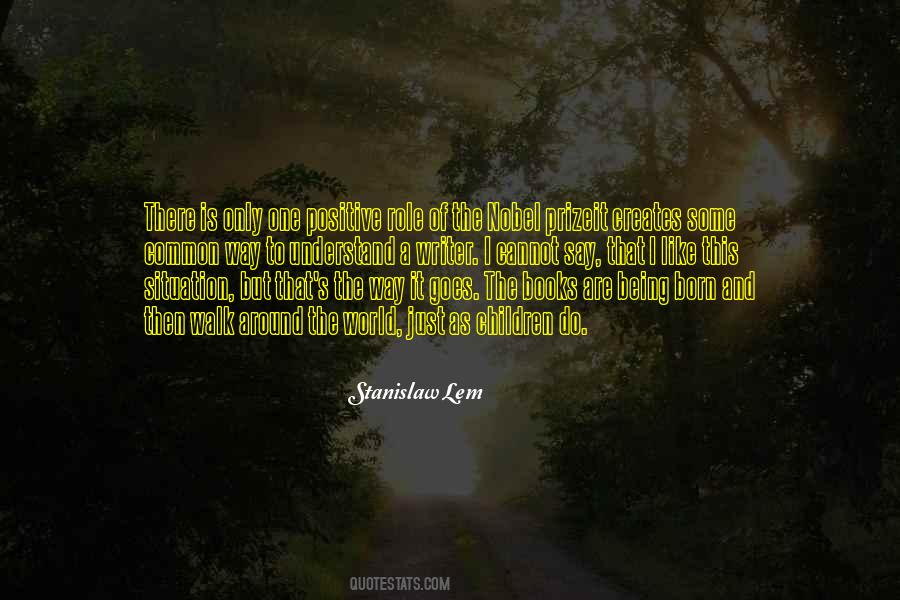 #50. My father used to say, "a day spent breathing is a good day - Author: Raymond E. Feist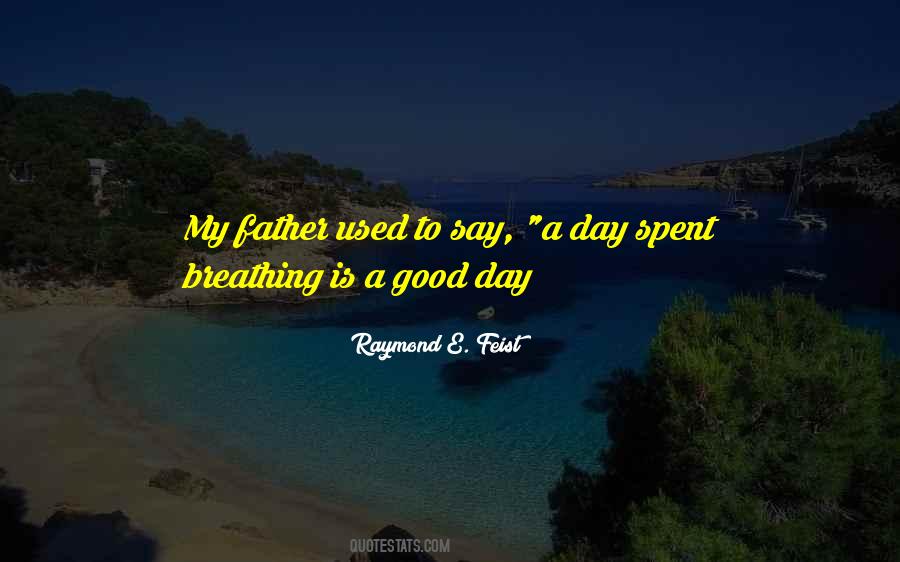 #51. That beauty which is meant by art is no mere accident of human life which people can take or leave, but a positive necessity of life if we are to live as nature meant us to, that is to say unless we are content to be less than men. - Author: Oscar Wilde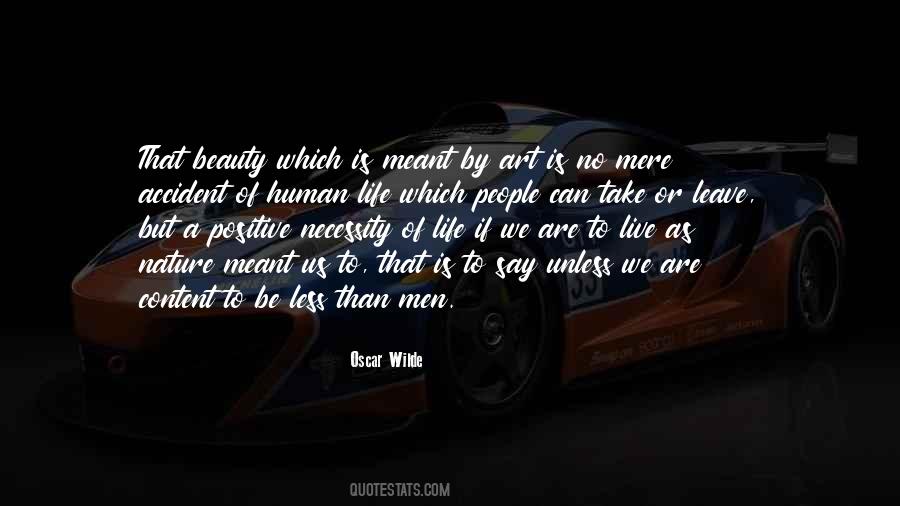 #52. Do you feel gloomy? Lift your eyes. Stand on your feet. Say a few words of appreciation and love to the Lord. Be positive. - Author: Gordon B. Hinckley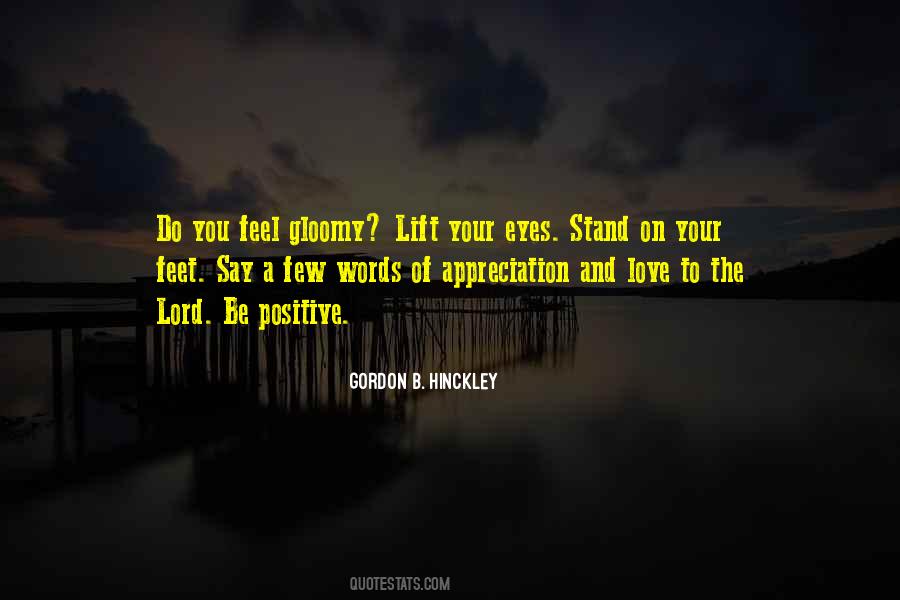 #53. Seeing people in person is a big part of how you drive any change process. You have to show people a positive view of the future and say "we can do it" - Author: Jeffrey R. Immelt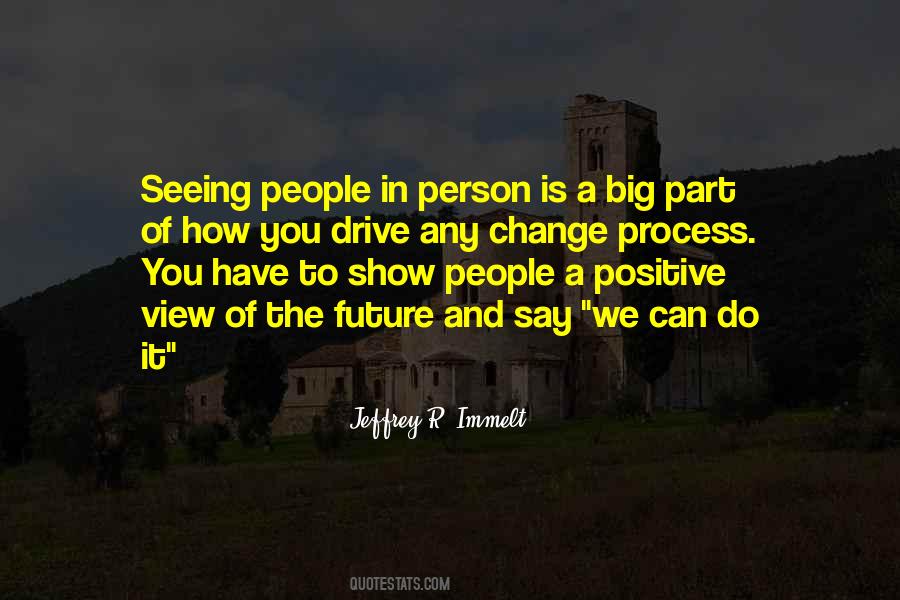 #54. I think the general public's response to my projects is very strong. You can be an intellectual and say that popularity detracts from architectural quality. On the other hand, you can see in the public's identification something very positive. - Author: Moshe Safdie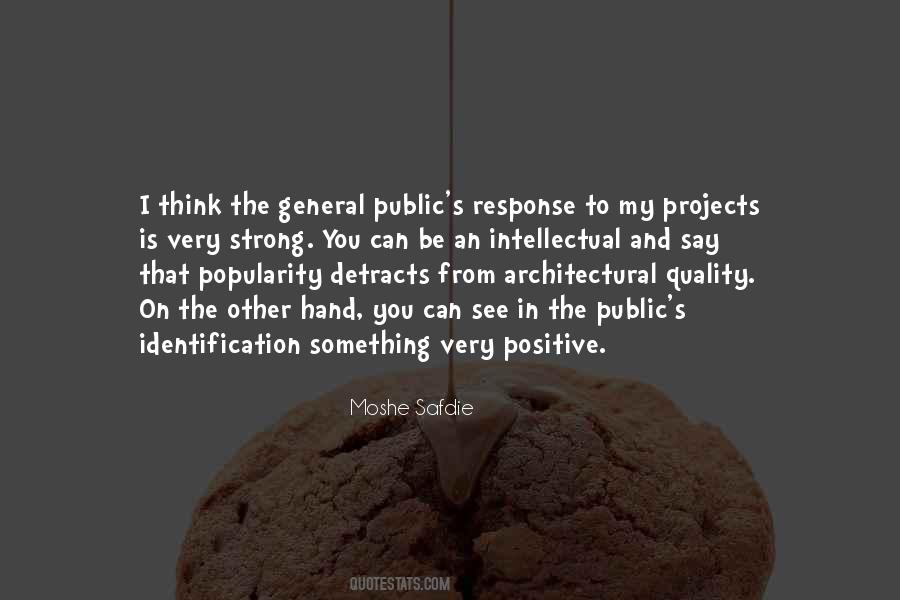 #55. But you cannot expect every writer to dwell on human suffering. I think my books do deal with grave issues. People who say they are too positive probably haven't read them. - Author: Alexander McCall Smith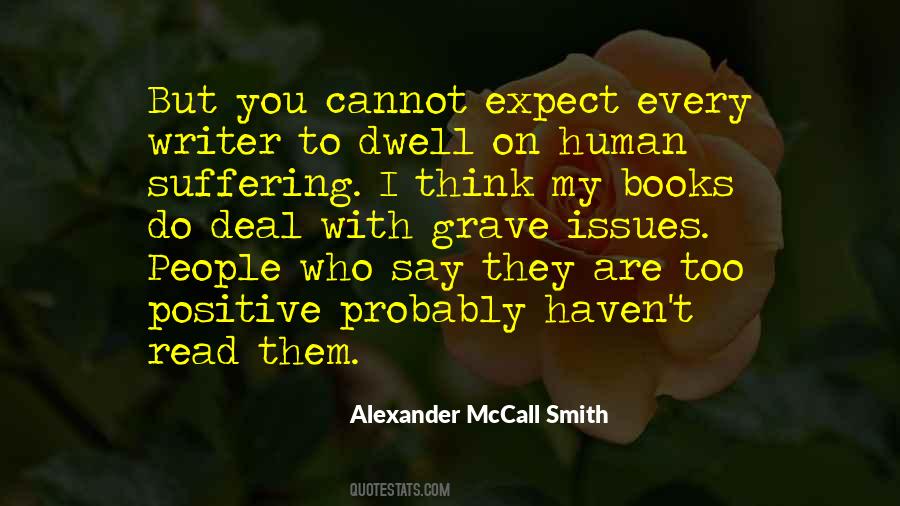 #56. Your writing is still yours, no matter what the contract or your editor might say. Trust your gut. It knows when you're screwing up. Your brain will lie to you. It loves the paycheck, it loves positive feedback. Your gut is under no obligation to make you feel good. - Author: Gail Simone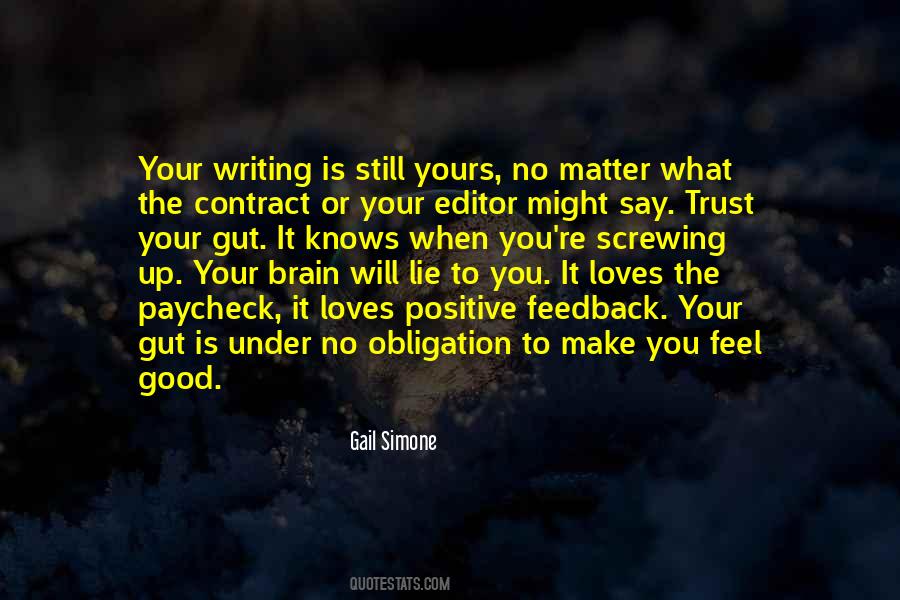 #57. Be positive, keep smiling and believe in the positive things You say To Yourself. - Author: Jan Jansen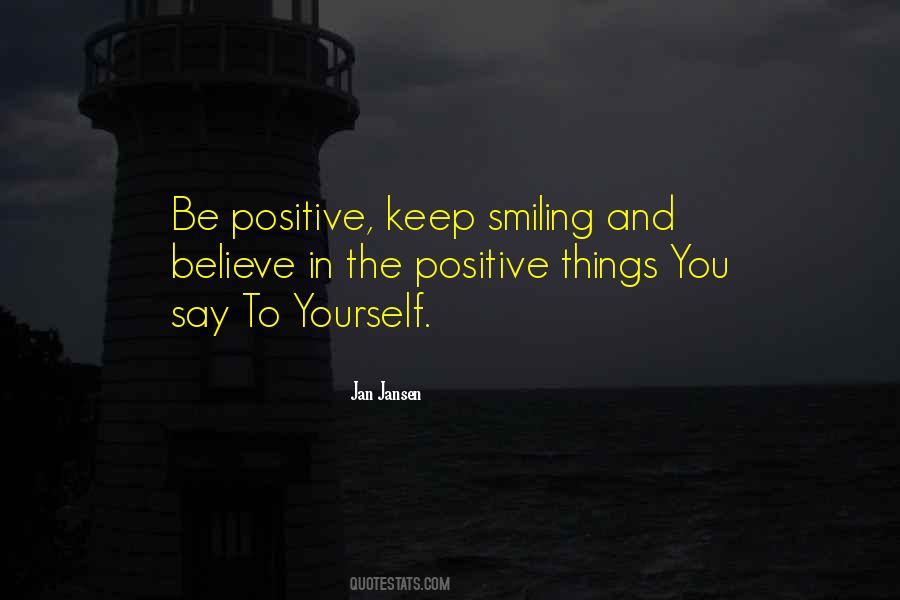 #58. You've got to say, "I think that if I keep working at this and want it badly enough I can have it." It's called perseverance. - Author: Lee Iacocca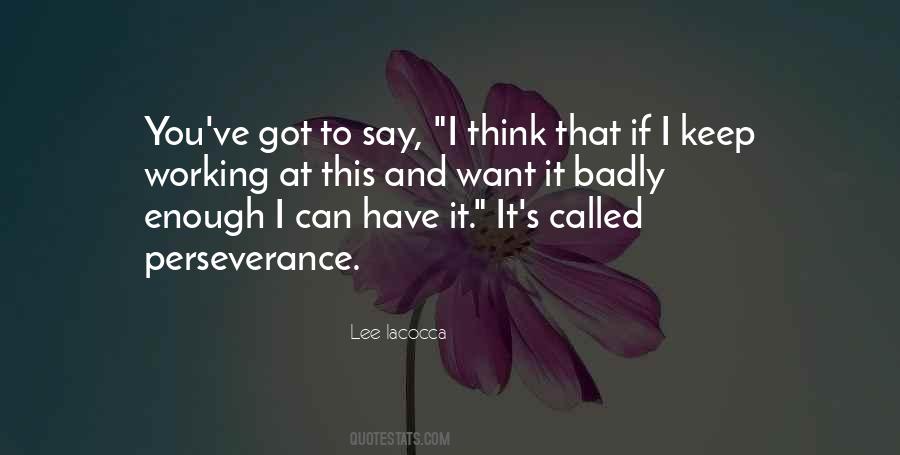 #59. After I became a citizen, I felt freer to say what I thought about this country, both negative and positive. I think I had been, consciously and subconsciously, biting my tongue in the past. - Author: Robert MacNeil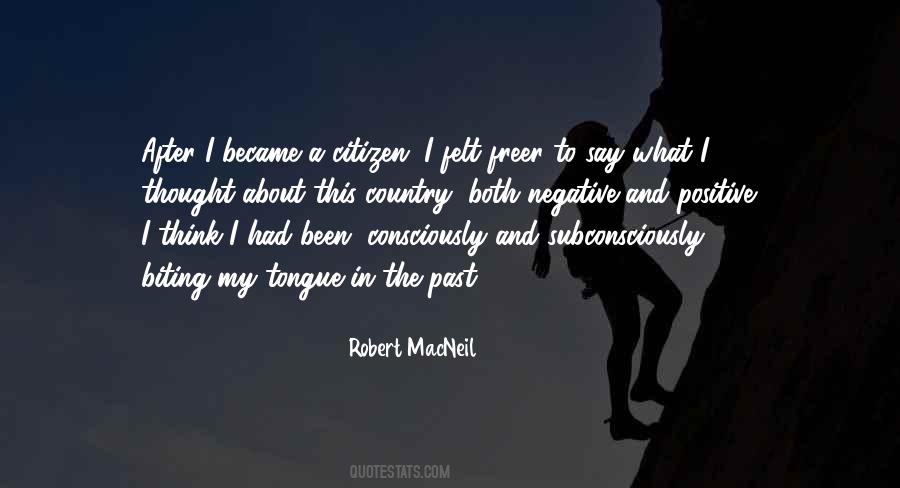 #60. The more you are positive and say, 'I want to have a good life,' the more you build that reality for yourself by creating the life that you want. - Author: Chris Pine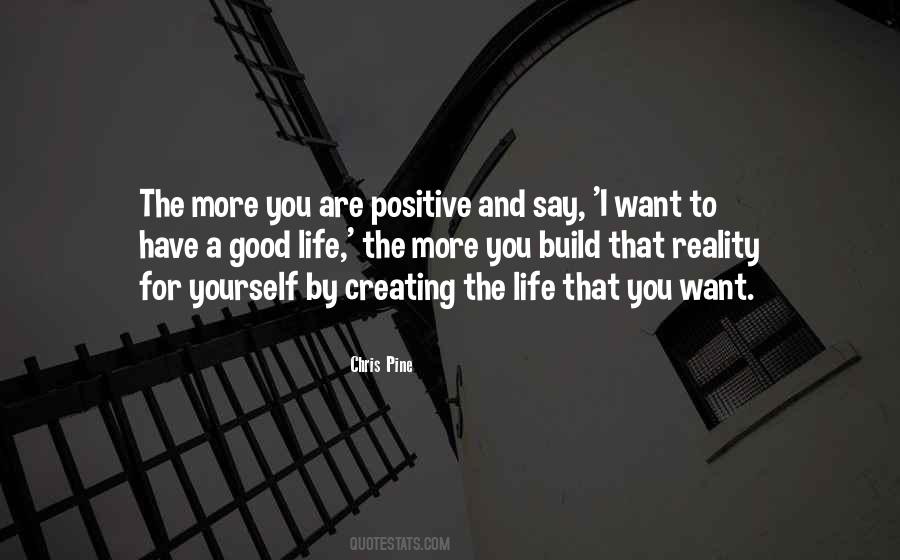 #61. If you can't say something positive about humanity, then say something equivocal. - Author: Thomas Ligotti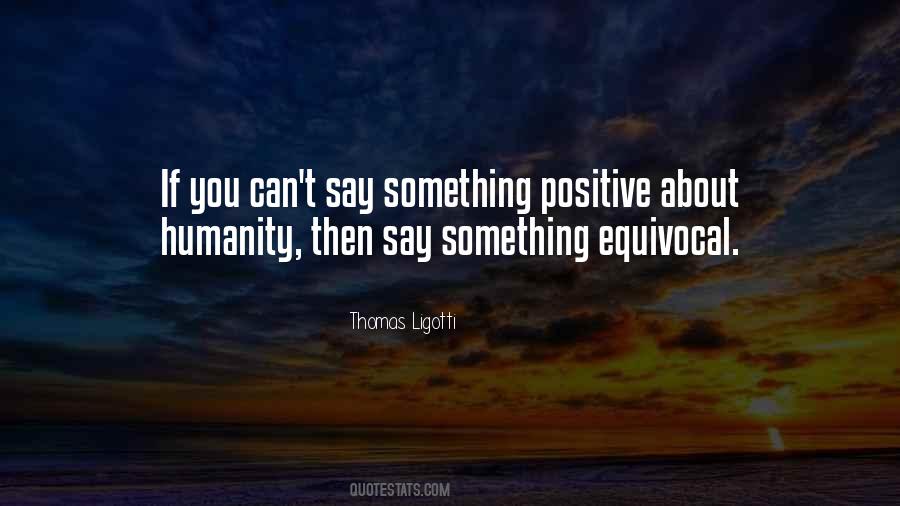 #62. While I still did not know what self- actualization that sat on the top level of the pyramid meant, I could believe
that if I knew I would be able to say something positive about it as well in
my life. - Author: Vann Chow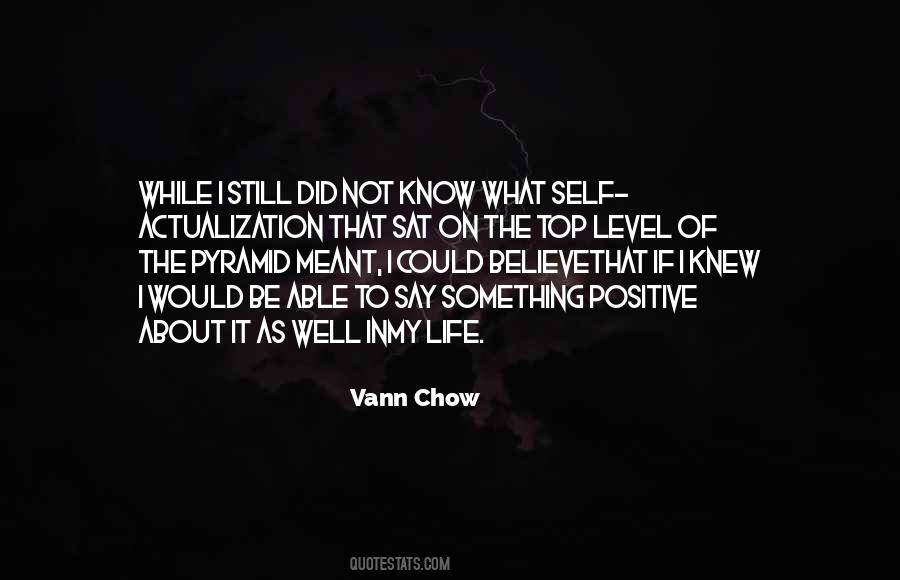 #63. The inner voice is something which cannot be described in words. But sometimes we have a positive feeling that something in us prompts us to do a certain thing. The time when I learnt to recognise this voice was, I may say, the time when I started praying regularly. - Author: Mahatma Gandhi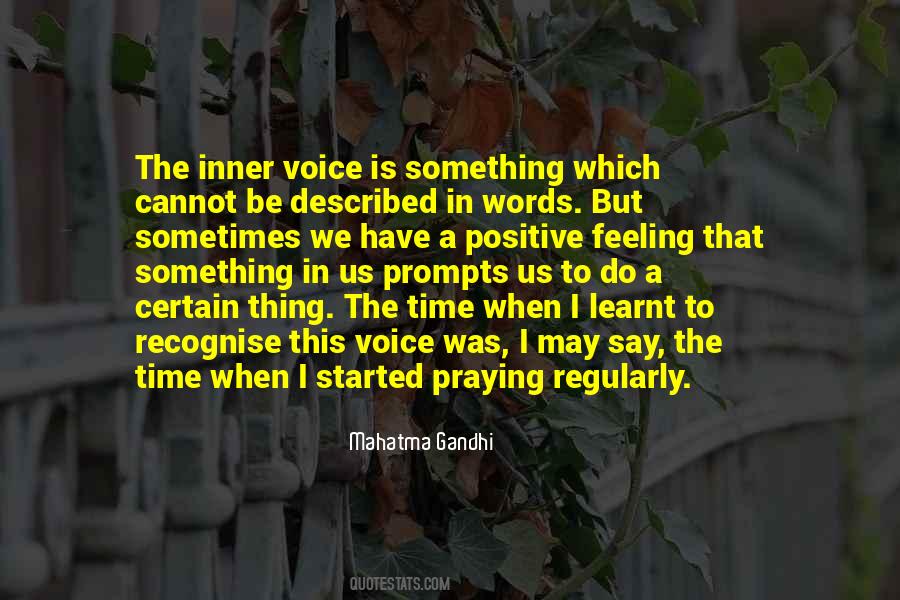 #64. If you have something Negative to say, then, say it in a Positive way. Don't set out to hurt people or their careers. We all deserve a fighting chance to succeed at what we do. - Author: Patsy Whittle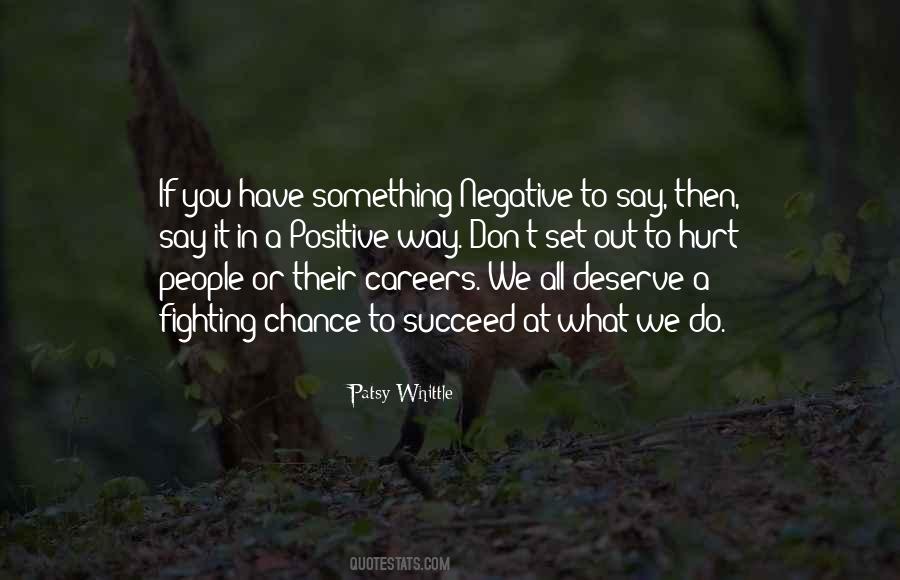 #65. I feel the responsibility to make things which on some level have something positive to say. - Author: Judd Apatow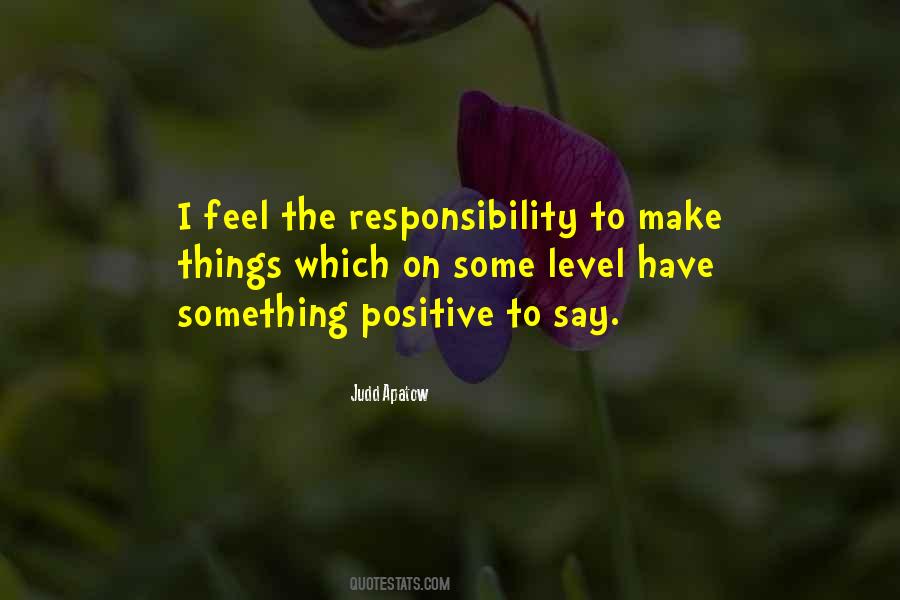 #66. I think there is pressure on people to turn every negative into a positive, but we should be allowed to say, 'I went through something really strange and awful and it has altered me forever.' - Author: Marian Keyes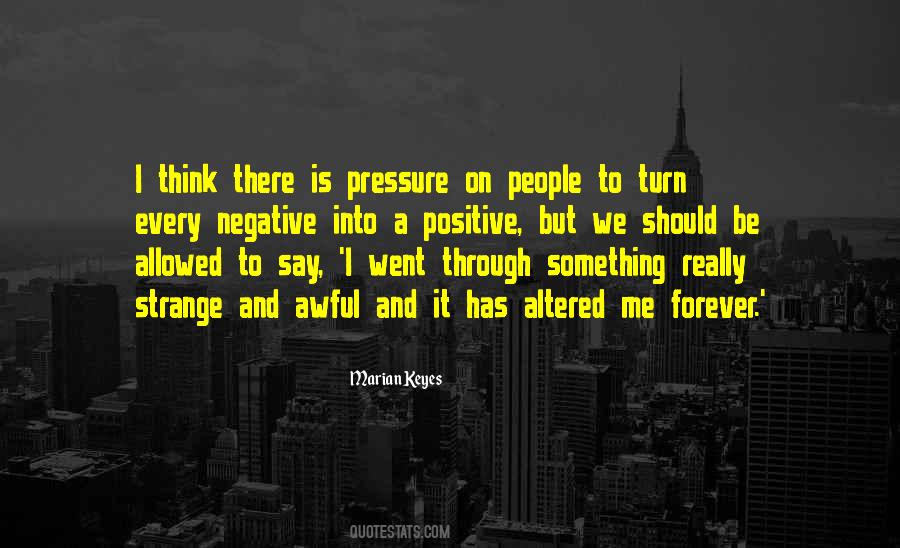 #67. When you are inhabiting a self that is fixed and set in place, you may think that you have attained something positive. As people say, "Now I know who I am." What they really know is an imitation of a real self, a collection of habits, labels, and preferences that is entirely historical. - Author: Deepak Chopra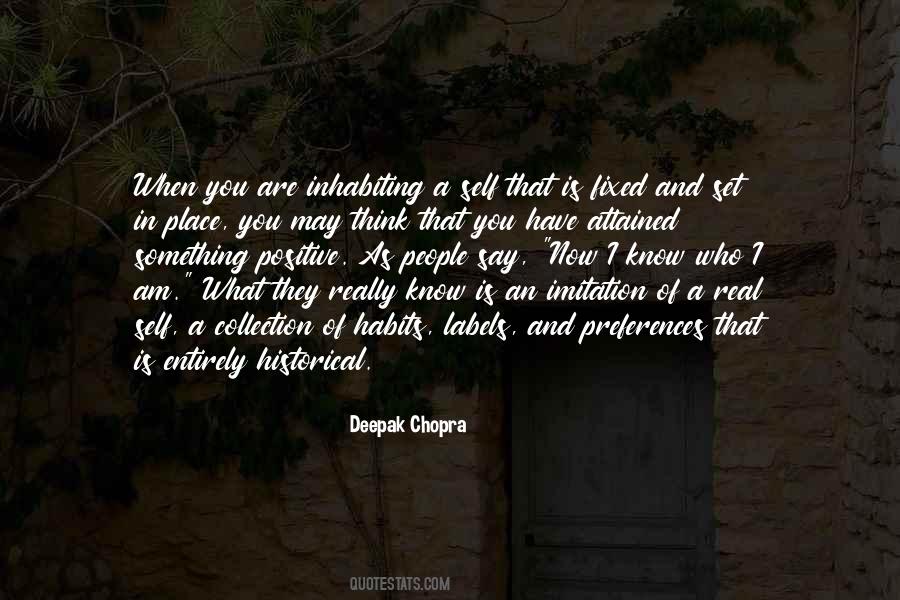 #68. Whoever believes in Allah and the Last Day, let him say something good or keep quiet. - Author: Muhammad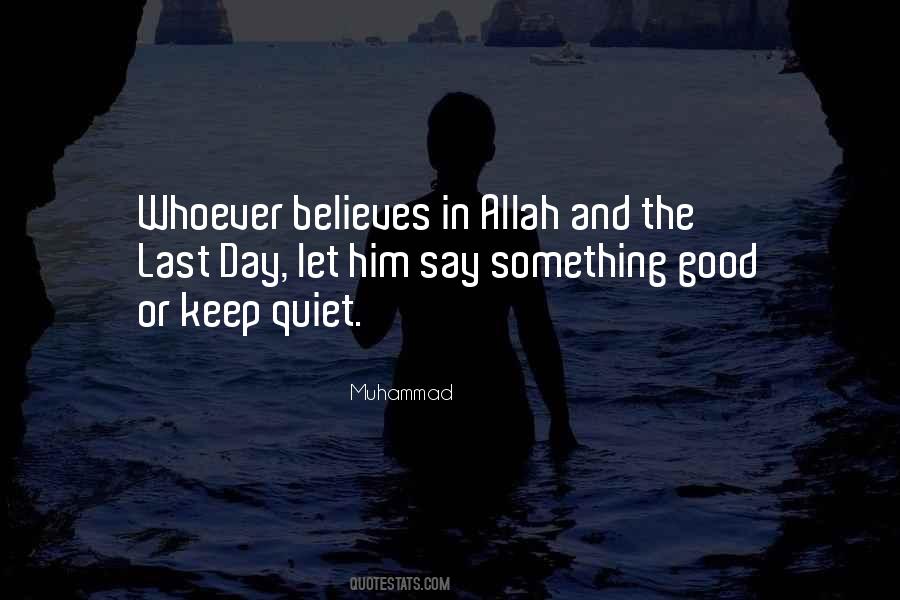 #69. Probably "I love my life" would be something I would say out loud to the planet - just that positive affirmation. And also, "Life is short," "Don't take yourself so seriously," and "Lighten the f - k up." And if that offends you, you really need to lighten the f - k up. - Author: John Feldmann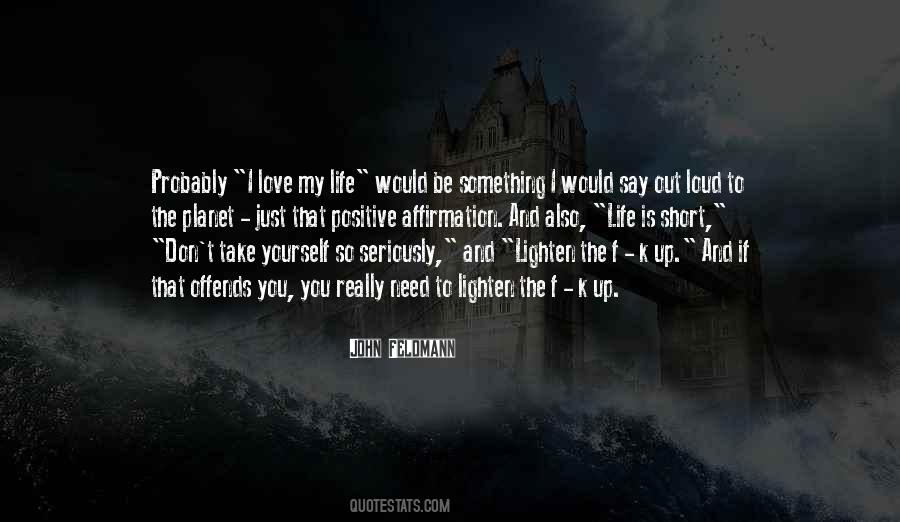 #70. Before you fall asleep everyday, say something positive to yourself. - Author: Enid Bagnold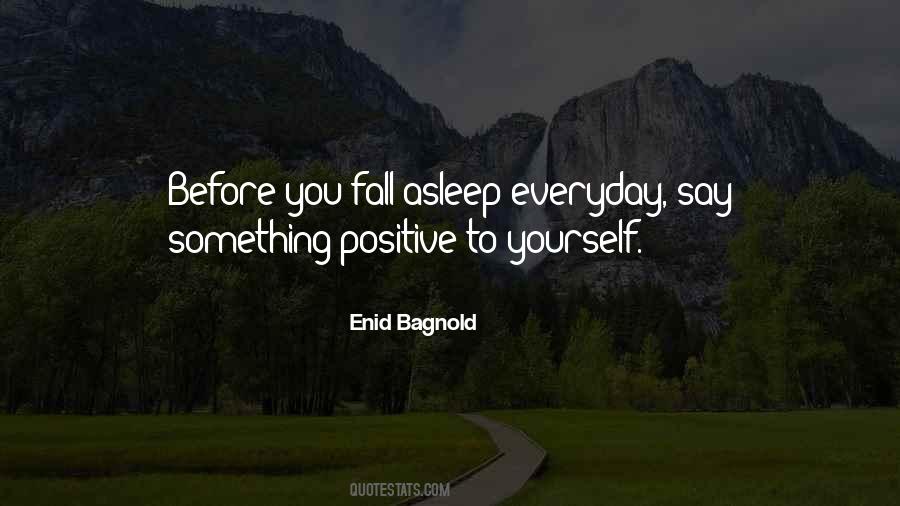 #71. I am happy to say that everyone that I have met in my life, I have gained something from them; be it negative or positive, it has enforced and reinforced my life in some aspect. - Author: Walter Payton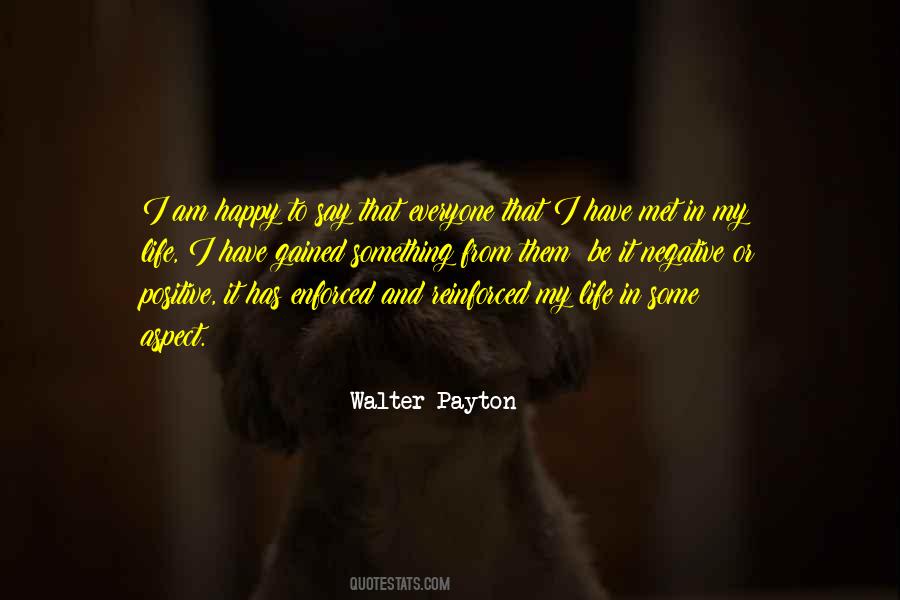 #72. Say something, Amy," Miranda insists. "Something positive. I'm sure it'll make you feel better."
"Okay, Miranda. I've got it." I motion the girls to lean in close to hear my words. "At least I'm not dead."
How's that for positivity?
I have to admit it does make me feel better. - Author: Simone Elkeles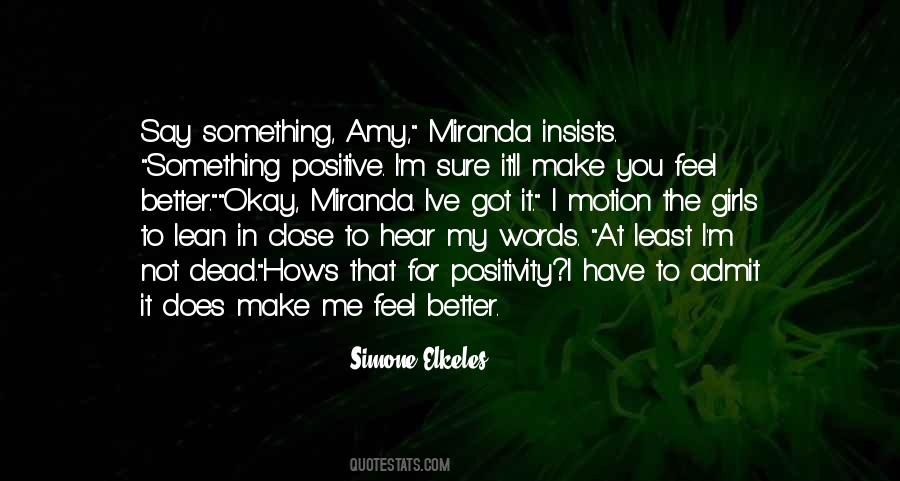 #73. Even though I'm retired for some years now I still have something positive to say to kids. And they still listen. - Author: Stephen Baker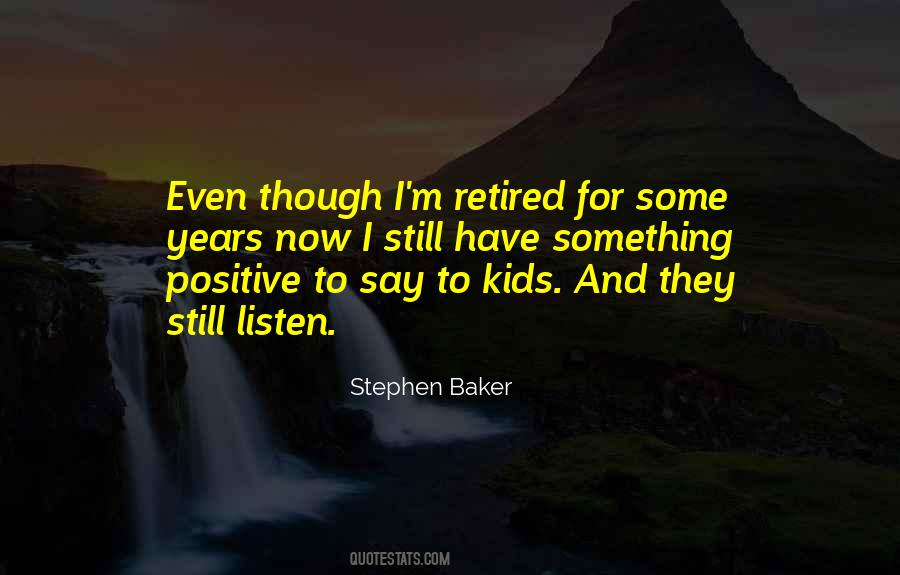 #74. As long as you as an individual ... can convince yourself that in order to move forward as best you can you have to be optimistic, you can be described as 'one of the faithful,' one of those people who can say, 'Well, look, something's going to happen! Let's just keep trying. Let's not give up. - Author: Tom Hanks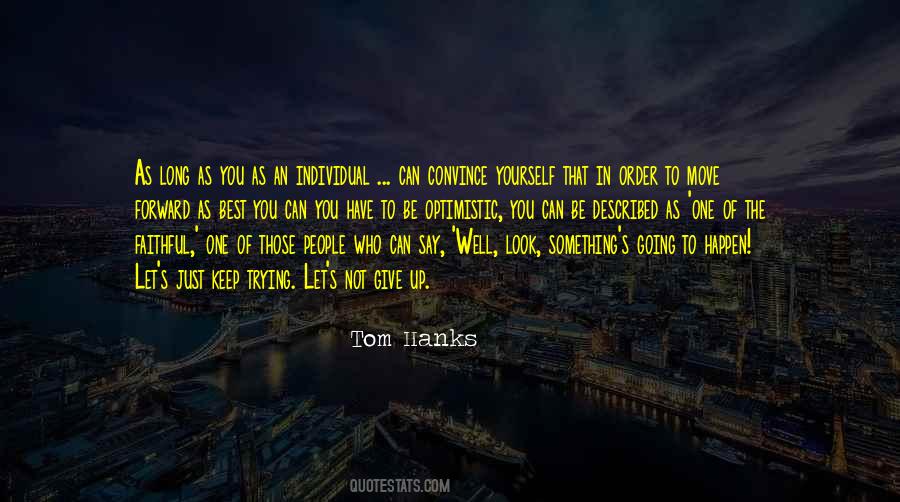 #75. What I really like is an intelligent review. It doesn't have to be positive. A review that has some kind of insight, and sometimes people say something that's startling or is so poignant. - Author: Patti Smith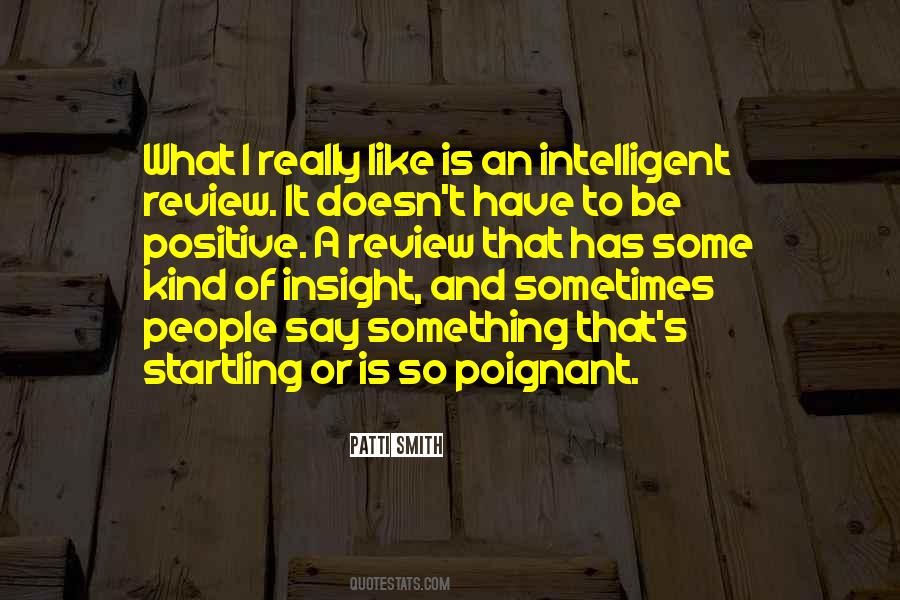 #76. This place? Nothing positive. OK, I want to say something positive. It's positively a dump. - Author: Charles Barkley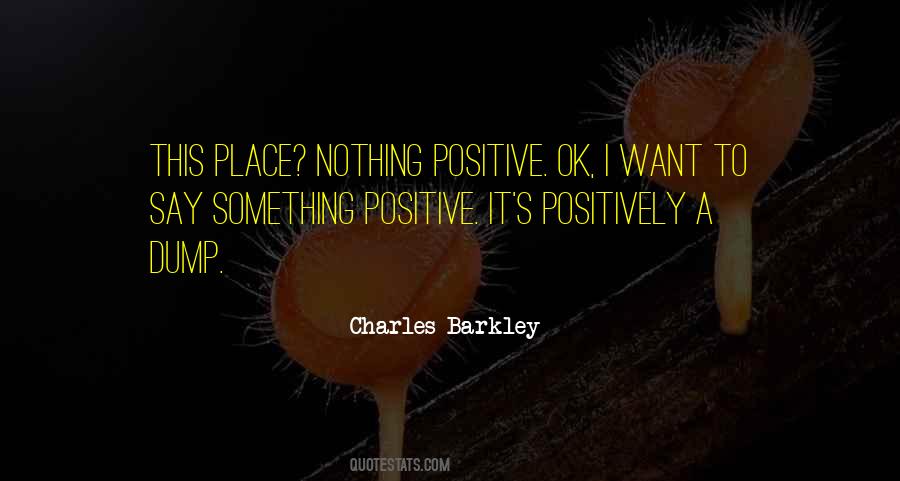 #77. Always keep an open mind and to listen to what those around you have to say about you. You might actually learn something that may help you become a better person! - Author: Auliq Ice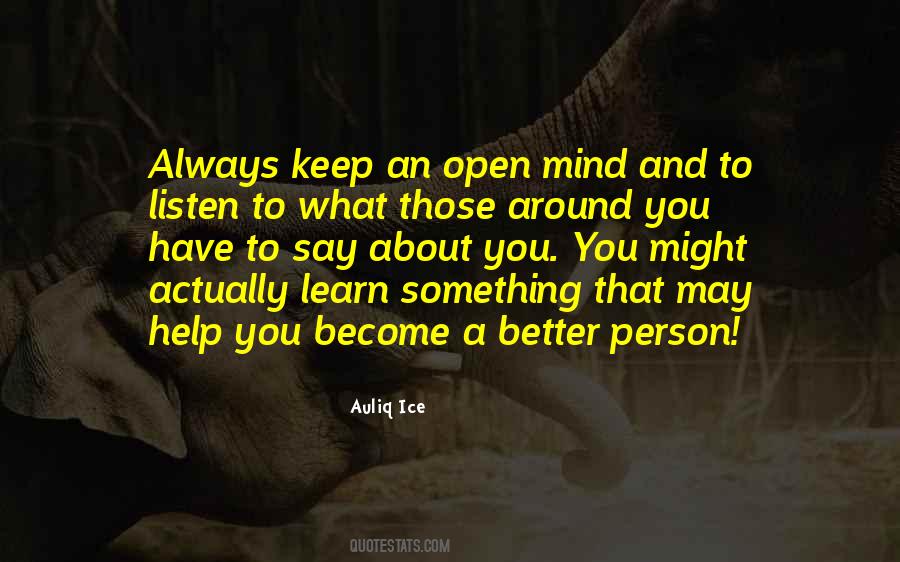 #78. Nowadays, people in the entertainment industry can have a louder voice than politicians, and I think it's important that they use that voice to say something positive or to give a voice to somebody that's had theirs taken away. - Author: Serinda Swan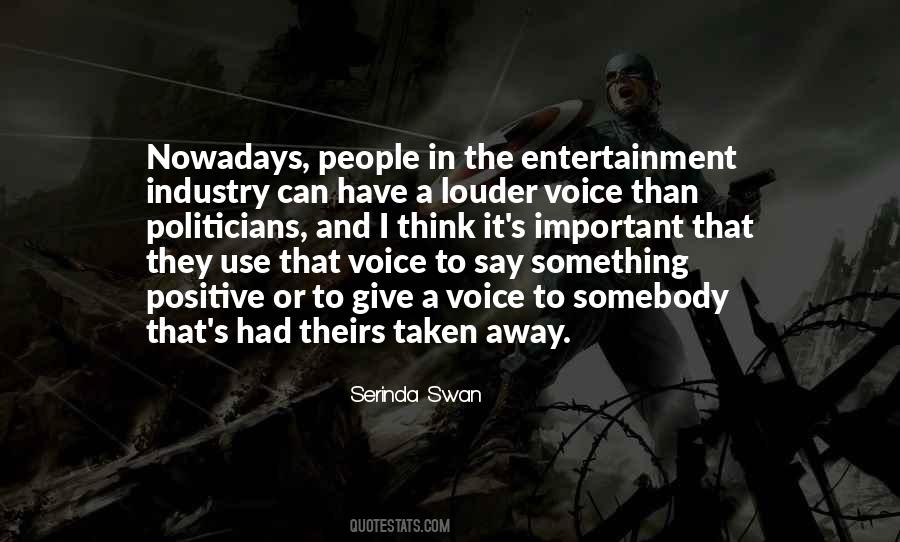 Famous Authors
Popular Topics