List of top 100 famous quotes and sayings about ronstadt to read and share with friends on your Facebook, Twitter, blogs.
Top 100 Ronstadt Quotes
#1. You don't want people who have never had to deal with adversity - you want people who have been able to deal successfully with adversity. That's what adds to society. Those are going to be the hardest-working, best people.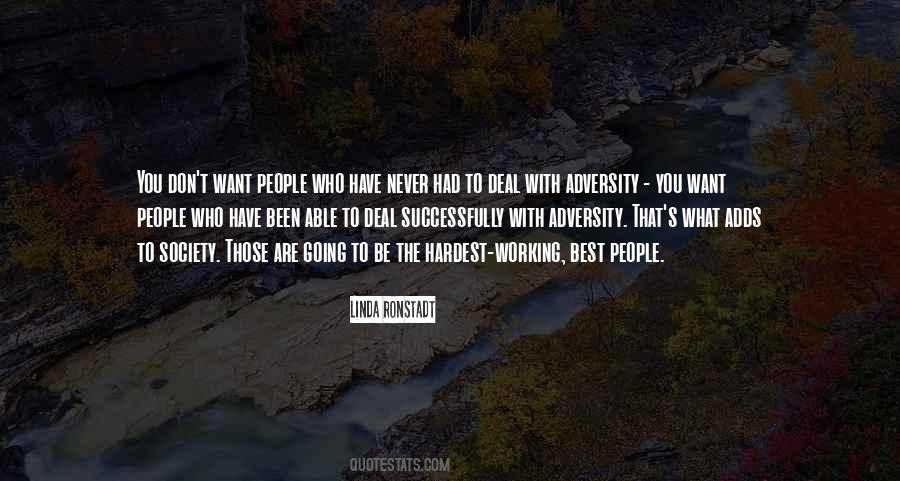 #2. My feeling is that the beaches should belong to everybody. Nobody should be able to build anything. It causes erosion. It's a bad thing altogether.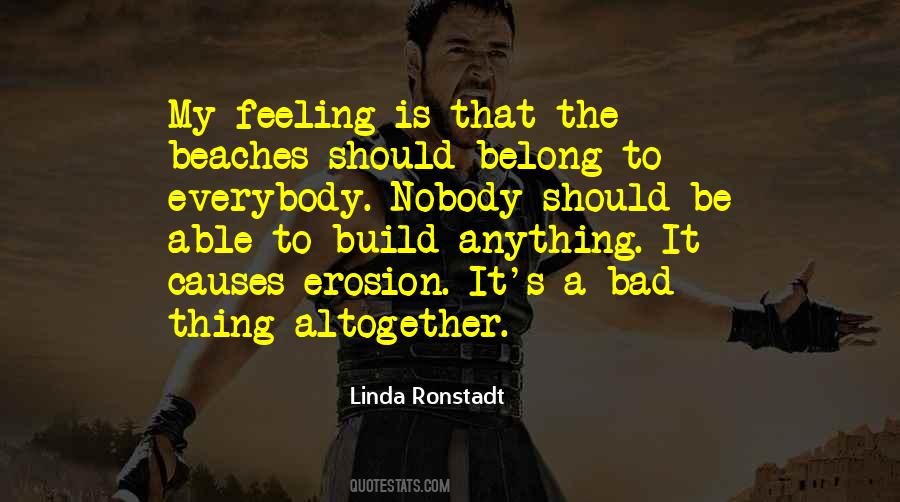 #3. I had tried marijuana several times, but in the words of my friend and longtime assistant Janet Stark, When I smoke pot, it makes me want to hide under the bed with a box of graham crackers and not share.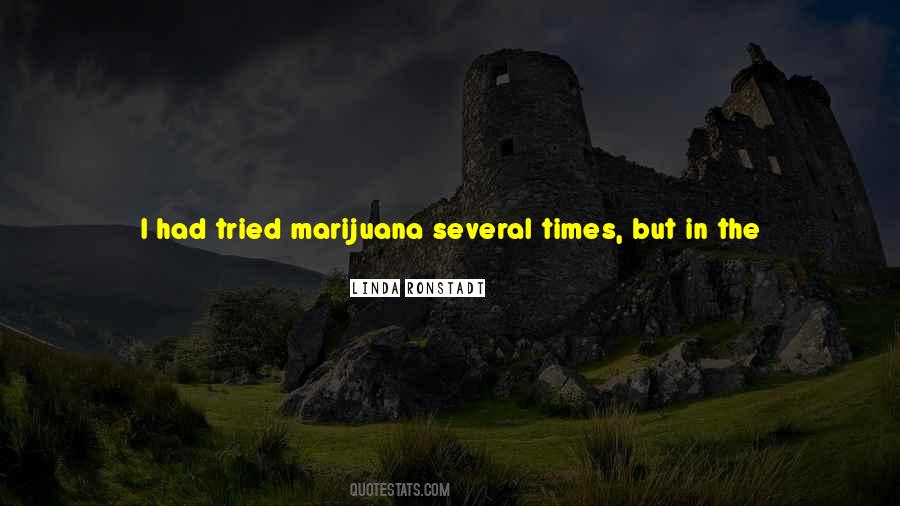 #4. I admire people's marriages, and I think it's a wonderful thing to have, but I don't think it's the only way to live. I think there are many ways to live and many ways to establish intimate support in your life that can be from family or friends or great roommates that you like.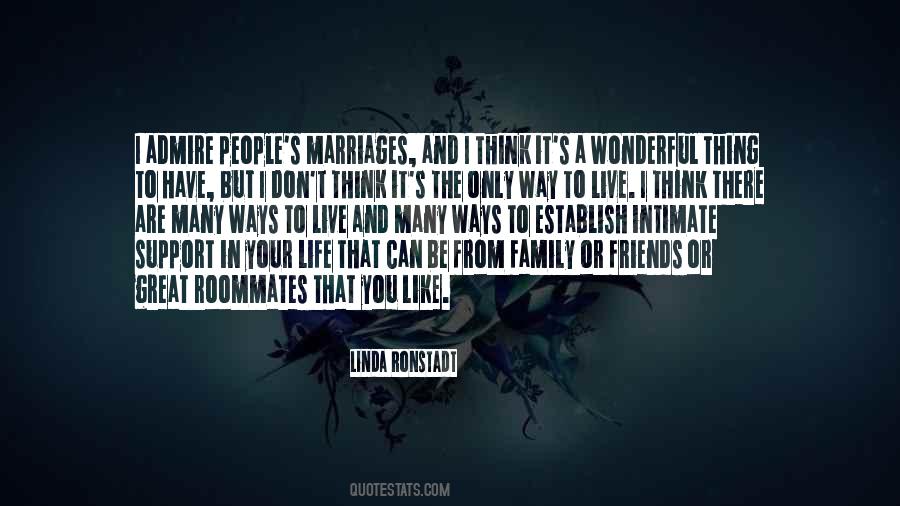 #5. When the night wind starts to sing a lonesome lullaby, it helps to think we're sleeping underneath the same big sky.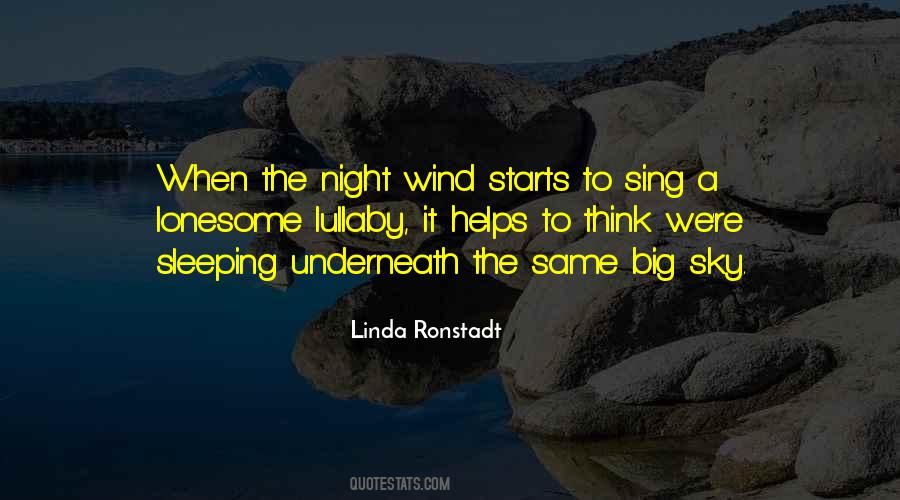 #6. I just thought that I was going to get to sing for a living and I wouldn't have to go to work in the department store or whatever else you did if you were a woman in those days.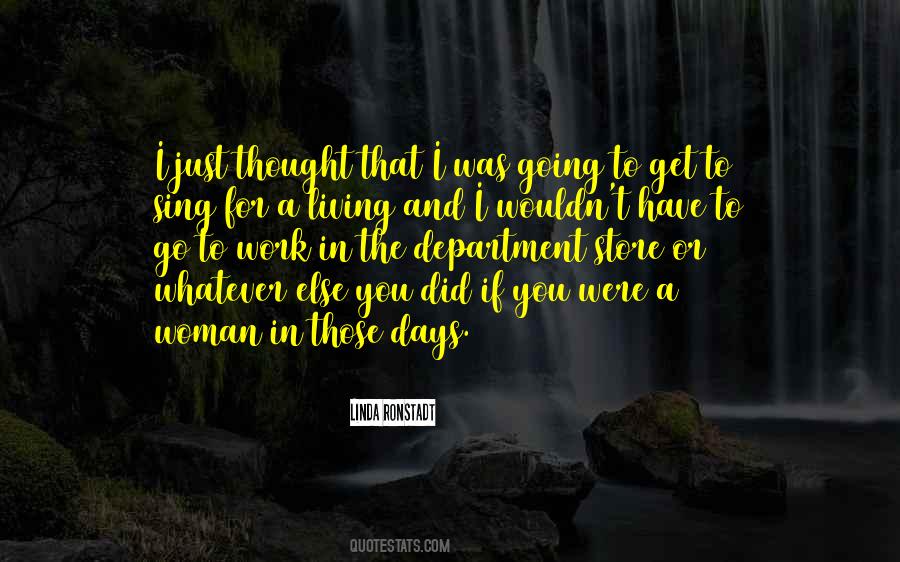 #7. I'll occasionally go and do an honor like the Mexican-American Legal Defense Fund because it raises money for a very worthy organization.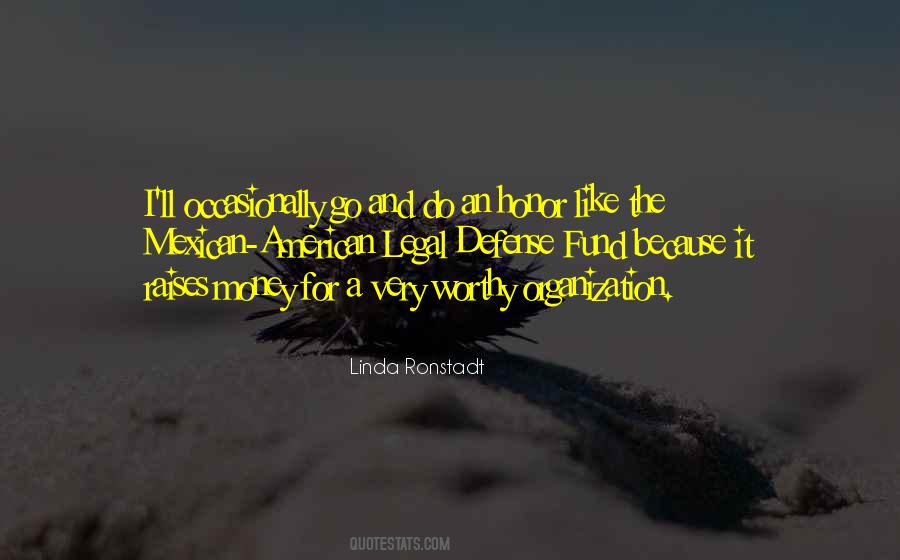 #8. I never thought of myself as a rock singer. I was interested in songs like 'Heart Like a Wheel,' and I liked the others for about 15 minutes.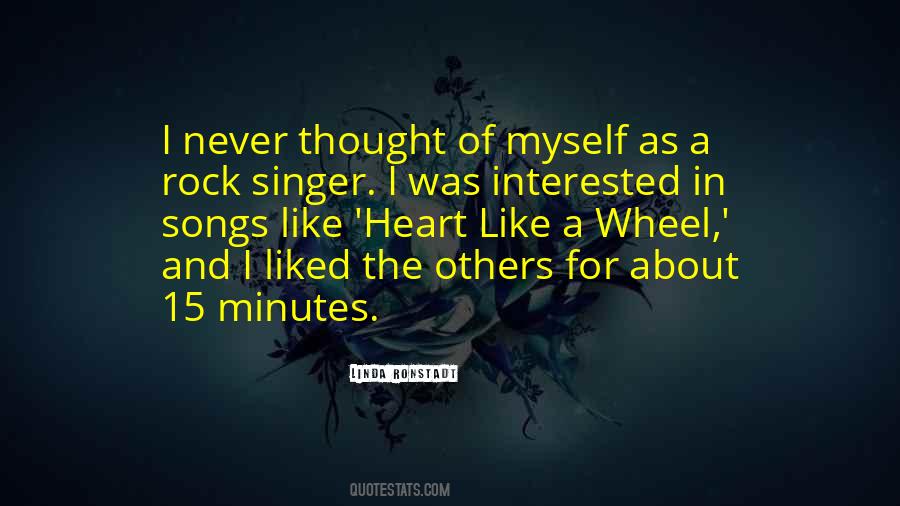 #9. I only notice the clothes I'm wearing.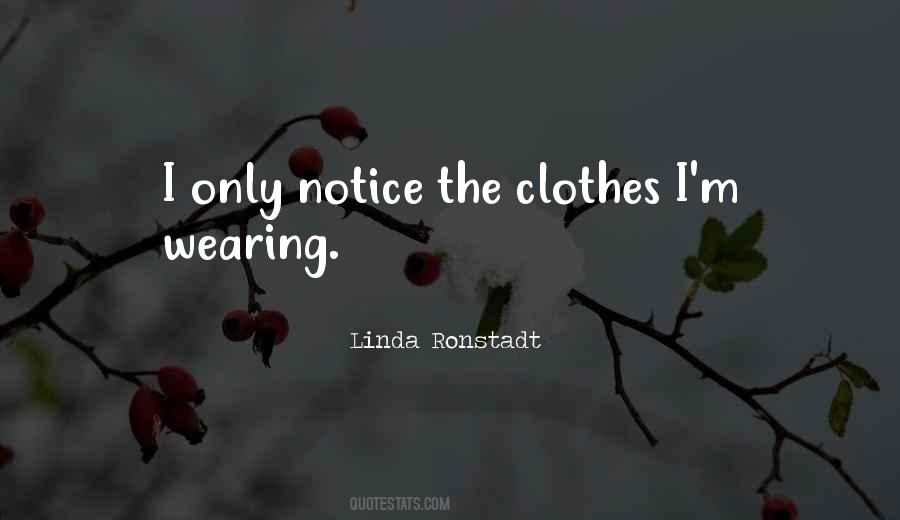 #10. Parkinson's is very hard to diagnose. So when I finally went to a neurologist, and he said, 'Oh, you have Parkinson's disease,' I was completely shocked.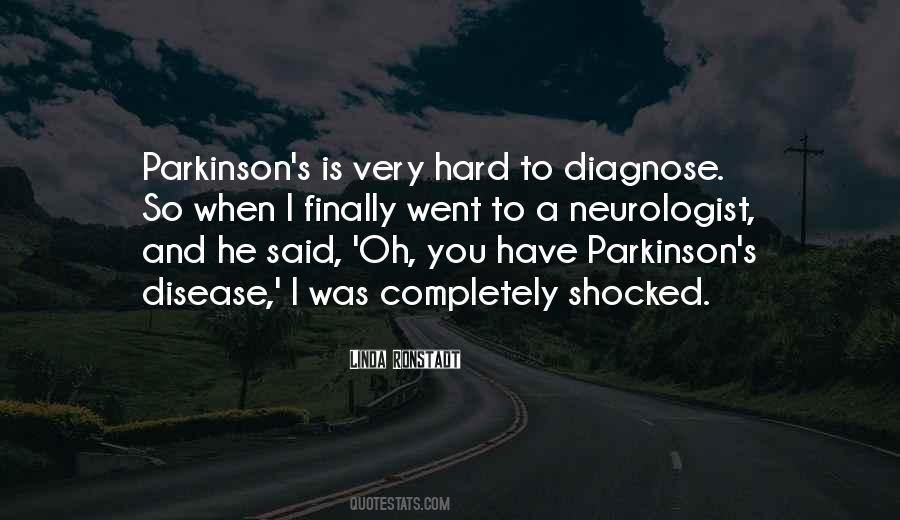 #11. I think if the United States gave anything to culture at large in the 20th century, the most important contribution made was the popular song.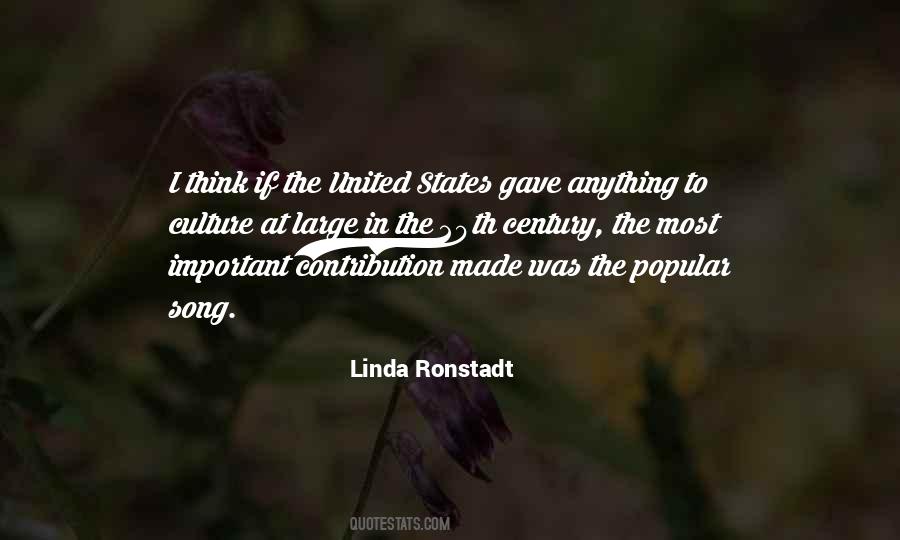 #12. The government has to spend money during a recession, because their spending is our earning.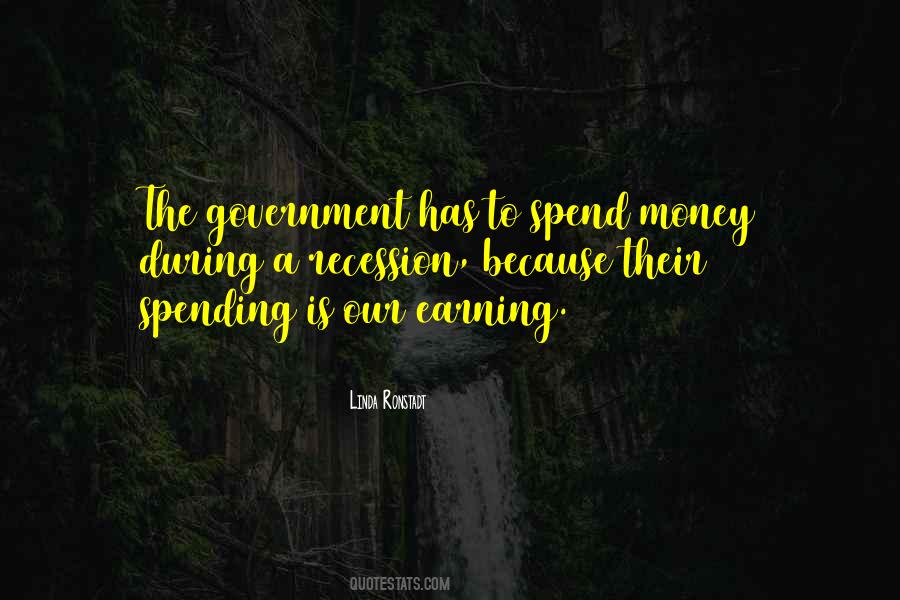 #13. God scares me when you get Him indoors.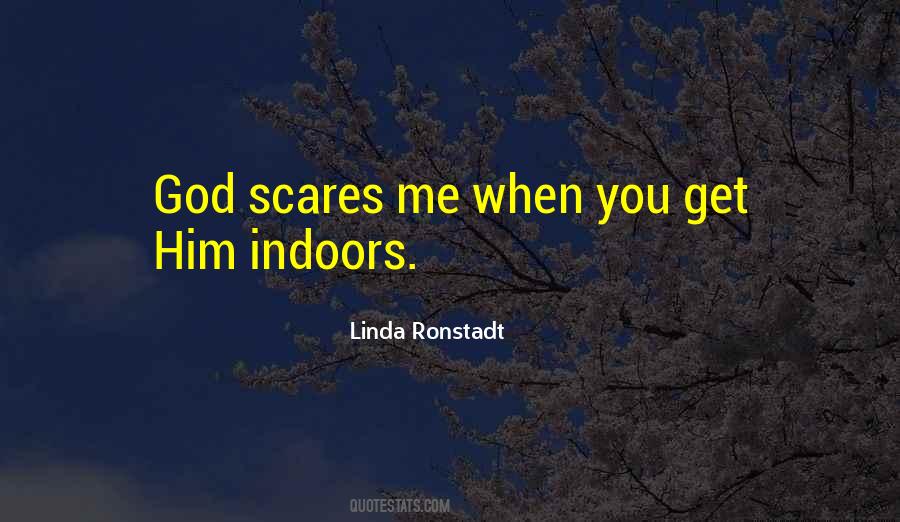 #14. If you don't have story to tell the public at large - you have to be able to sort of go listen.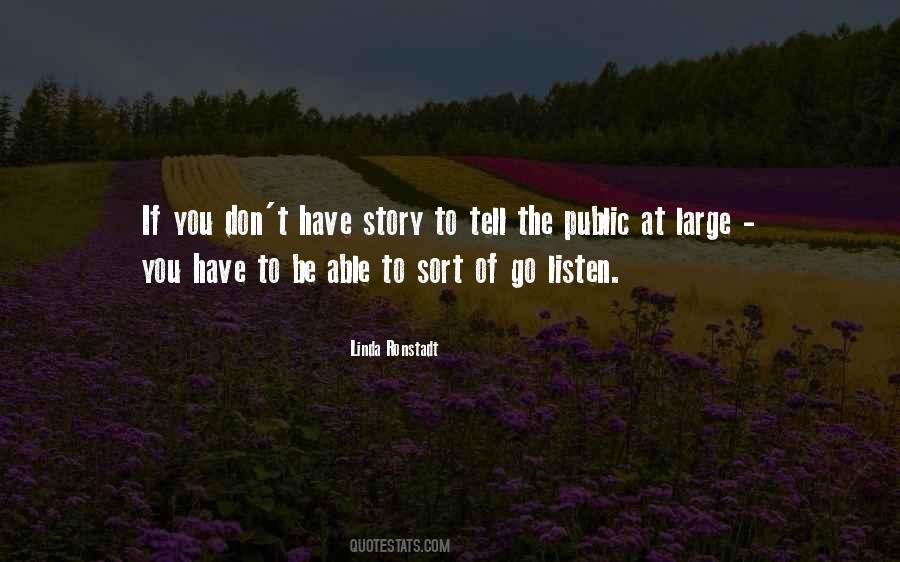 #15. I can sing better after shooting smack in both arms than after eating too much,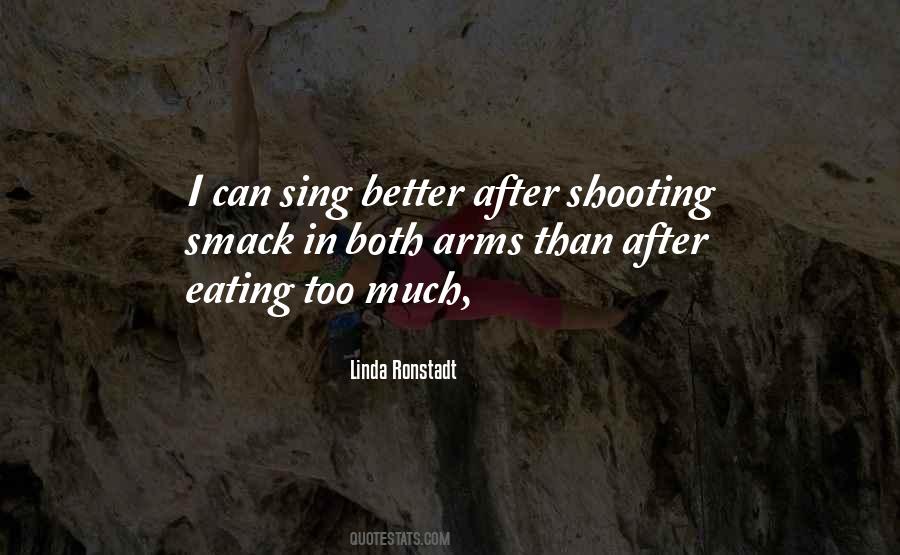 #16. I can't sing half as well as Claudia Lennear. Hats off to her, but somehow, things happened for me.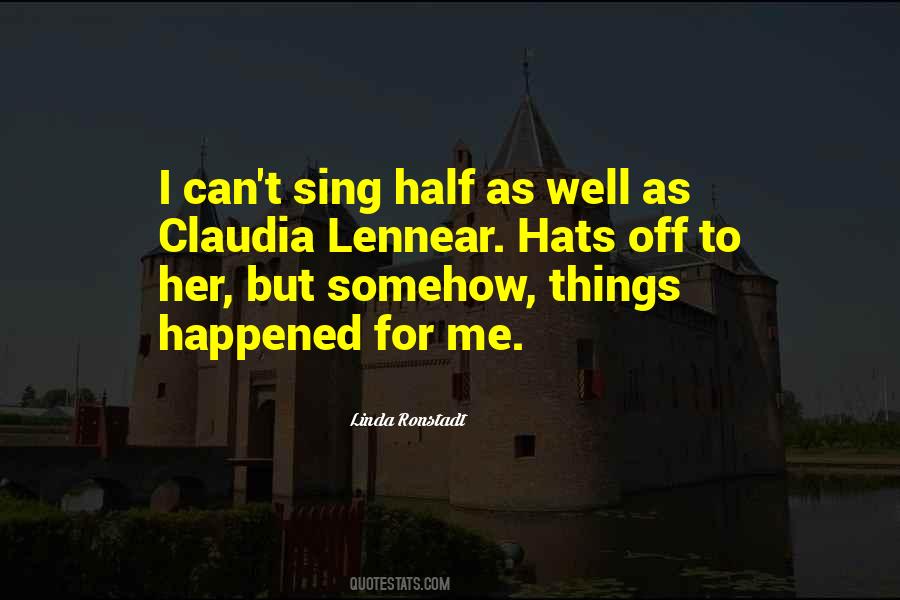 #17. There should not be a question of legal or illegal immigration. People came and immigrated to this country from the time of the Indians. No one's illegal. They should just be able to come.
#18. To sing with Frank Sinatra in any capacity at all is overwhelming.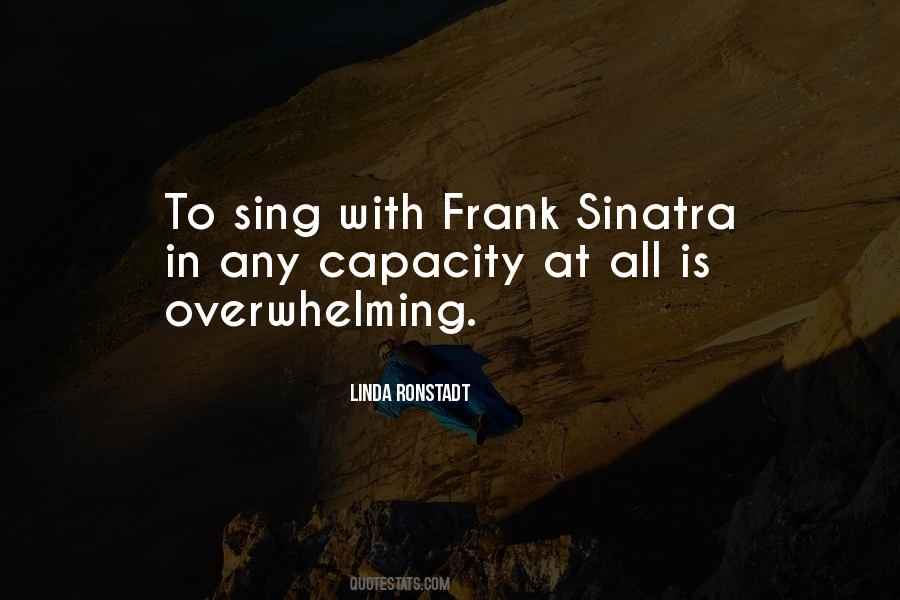 #19. Being an entertainer, especially in times like these, is really a public service.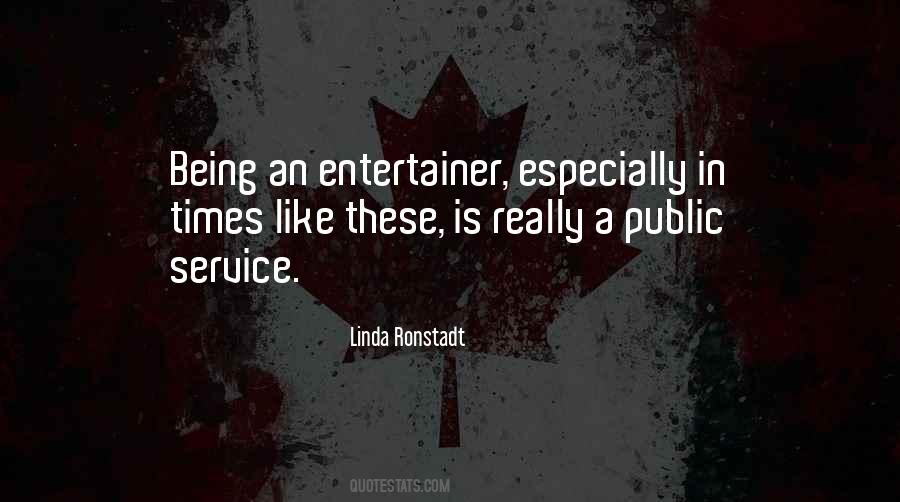 #20. So goodbye, I'll be leaving, I see no sense in this crying and grieving. We'll both live a lot longer, if you live without me.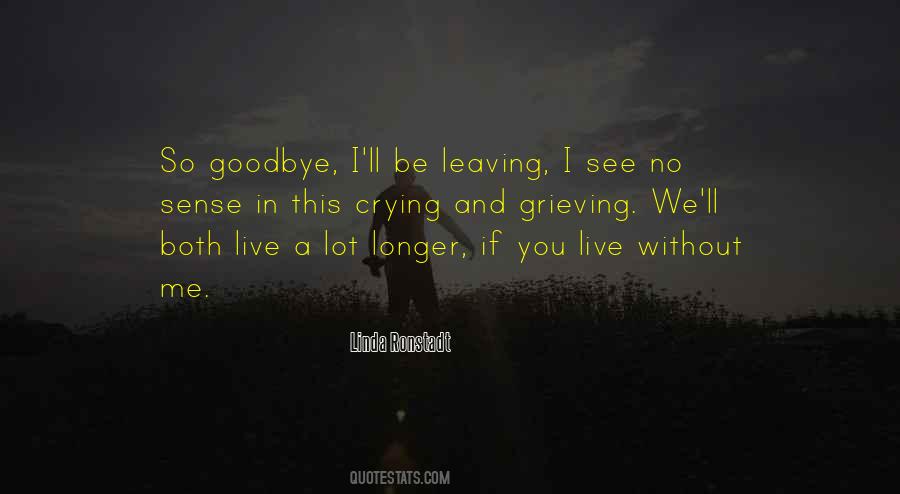 #21. Marijuana has a lot of very good medical uses, and I truly believe it should be legal, but for just recreational use it wasn't my drug. I didn't like it.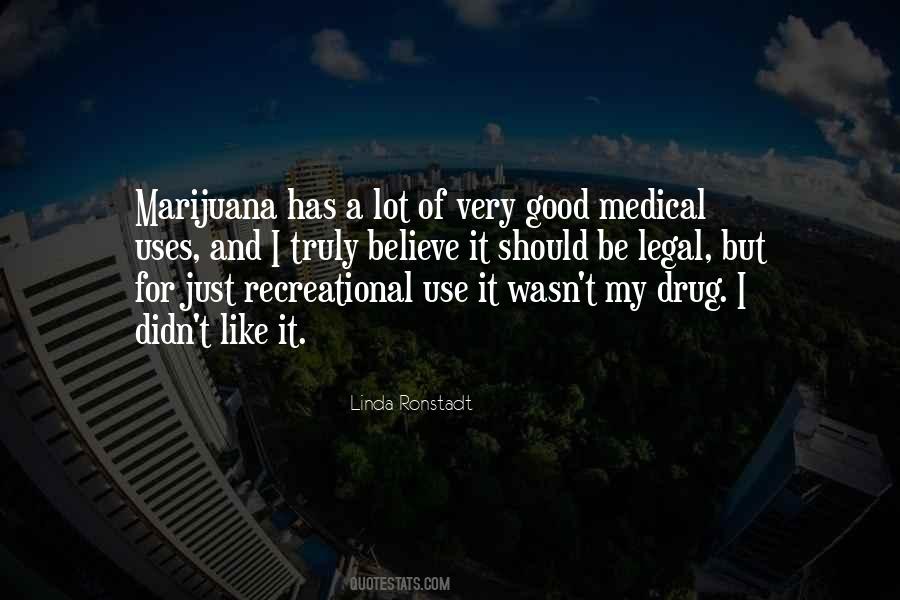 #22. Besides, when I read the list of people who are supporting Kerry, if I wasn't already a Bush supporter, I would have immediately switched. Linda Ronstadt? Don Henley? Geez, that's a good reason right there to vote for Bush.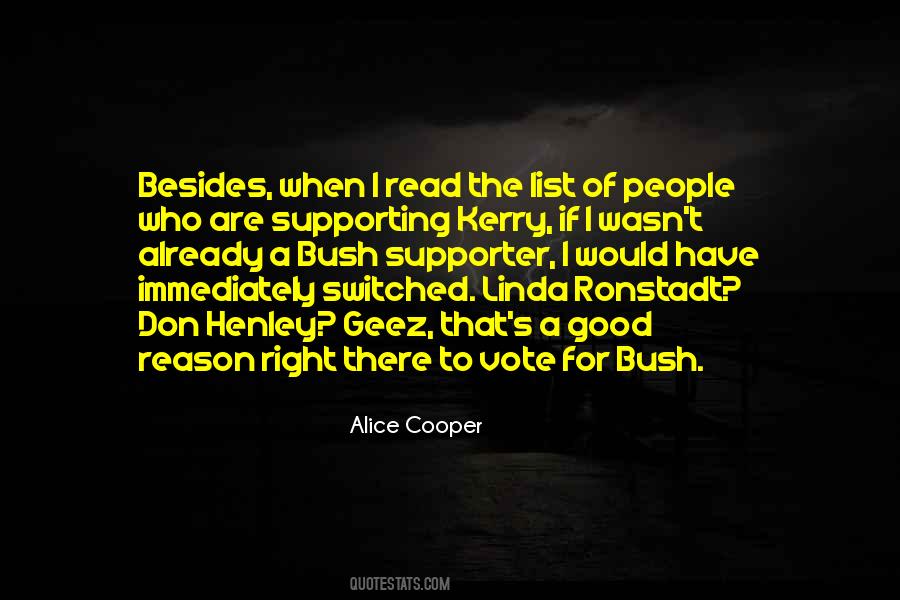 #23. I always thought competition was for horse races and it never belonged in art. I never felt that competitive with other girl singers, really.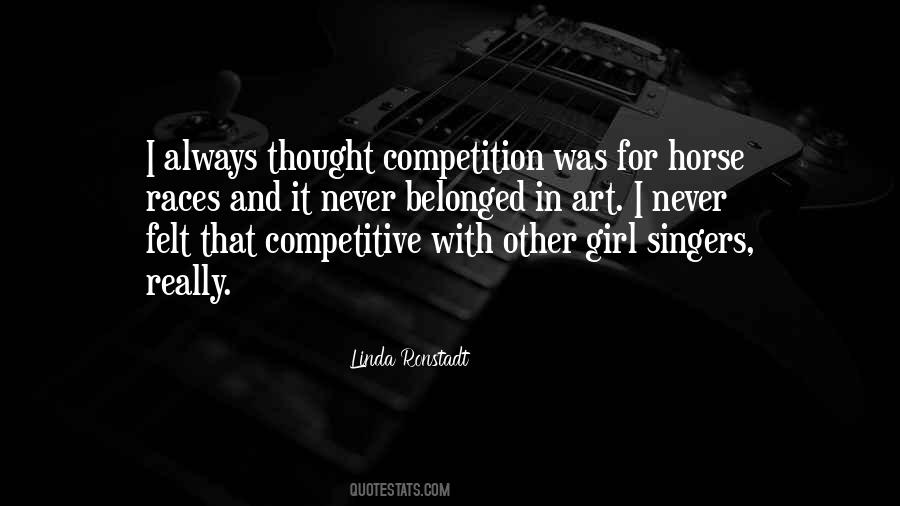 #24. I wish I had as much in bed as I get in the newspapers.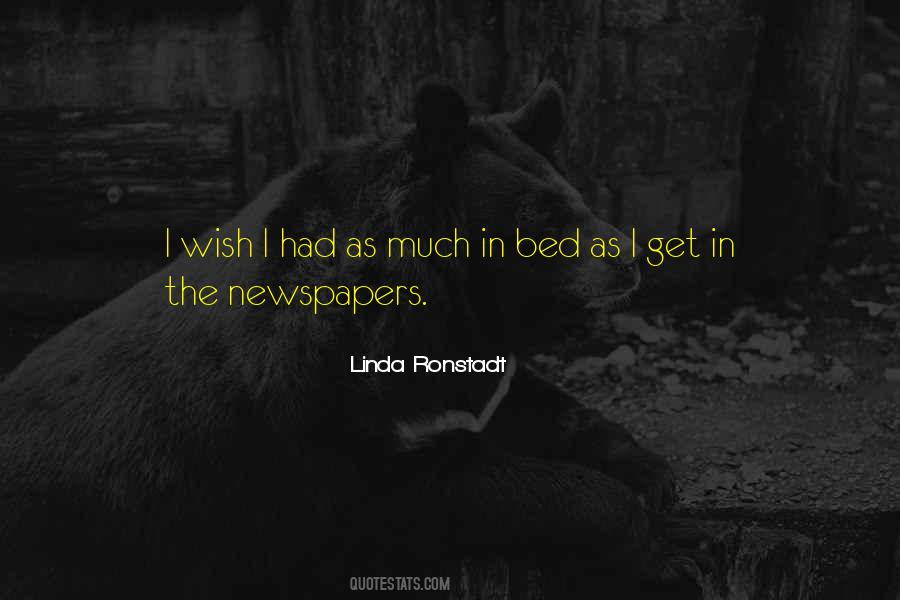 #25. Music should be an elective experience. You should go, "I'm going to sit down and listen to some Beethoven, by God," and then you get to hear it.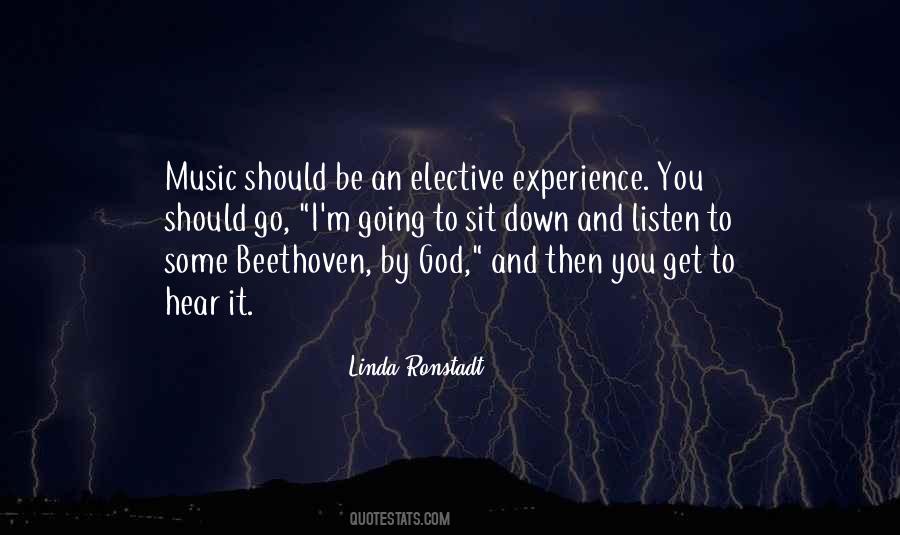 #26. You have the United States, and you have Mexico, and then you have this Mexican-American thing which is this third culture, which I like to call Aztlan.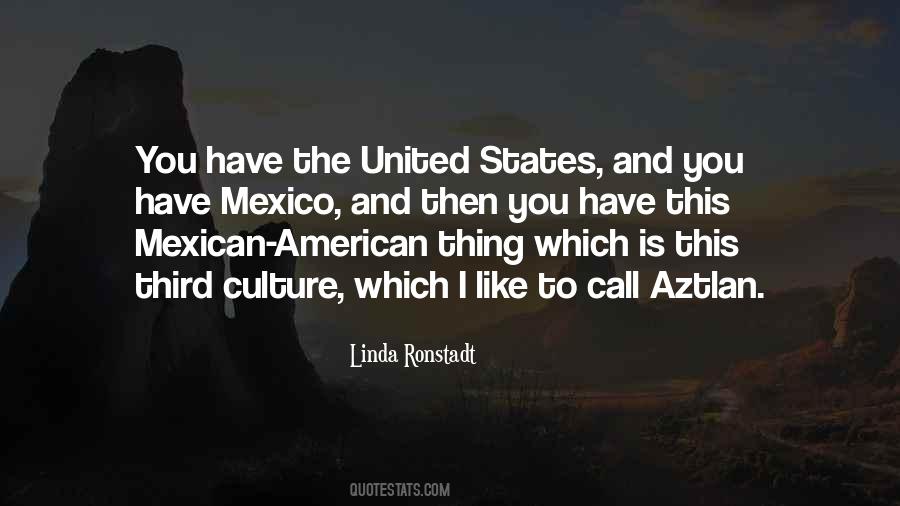 #27. I believe in the empirical wisdom of science, just to start with, so I hope that there might be some treatment out there that might be helpful.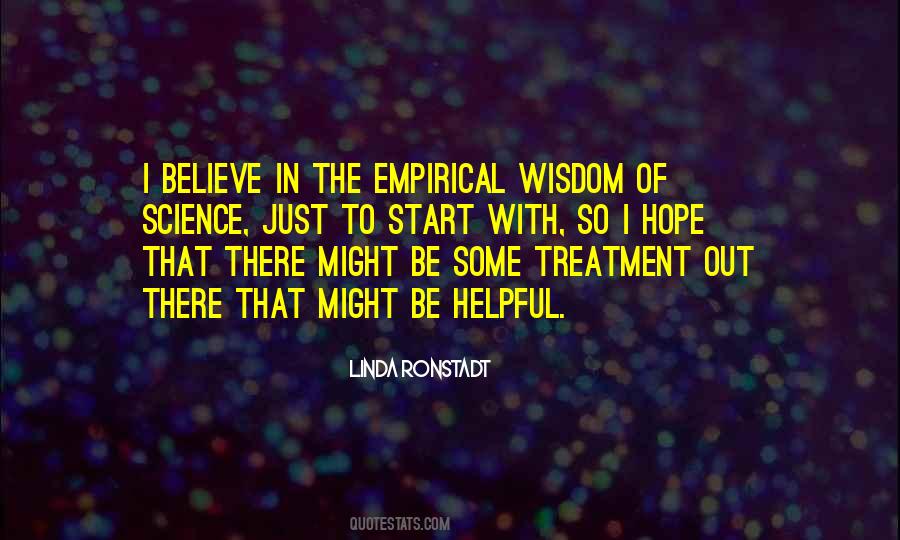 #28. Art is for healing ourselves, and everybody needs their own personal art to heal up their problems.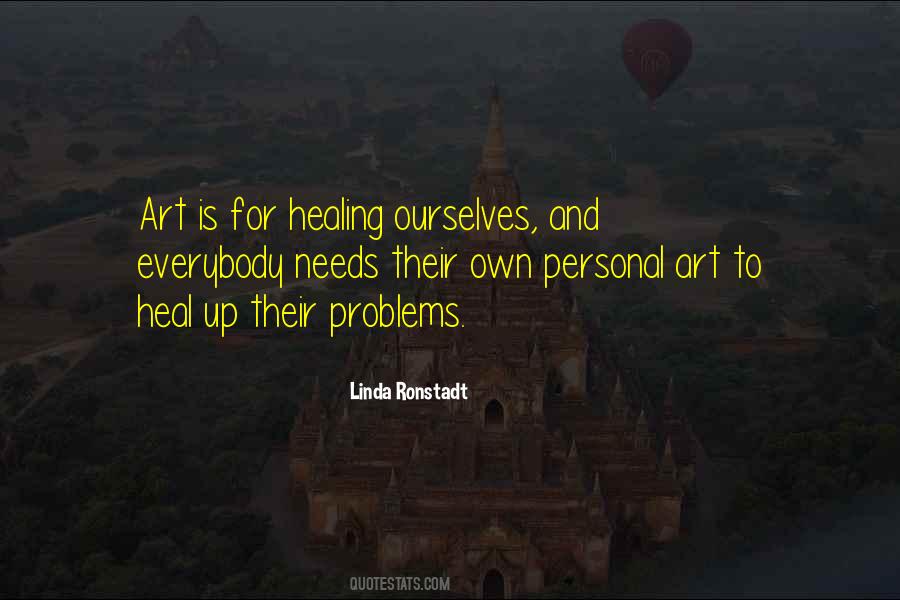 #29. I wanted to sing when I was little. That's what I liked doing. It didn't occur to me that you became famous or anything like that.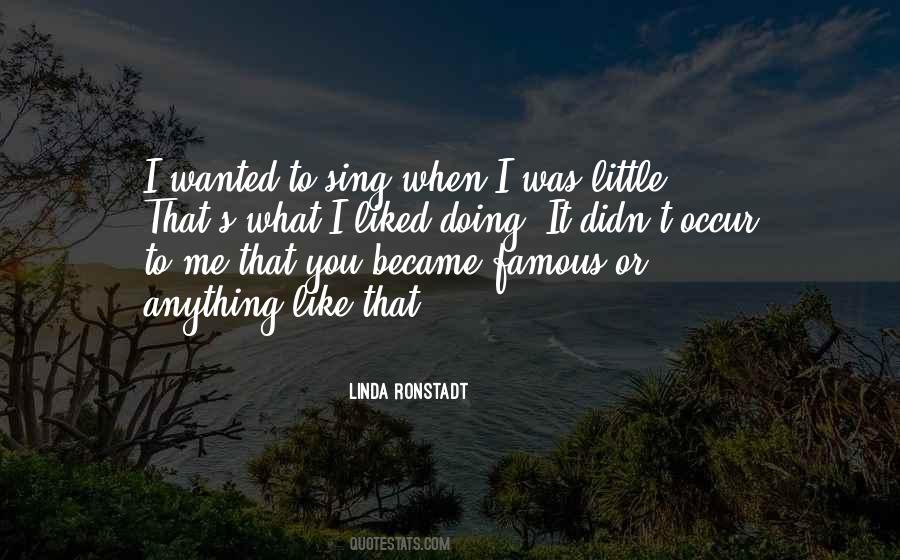 #30. You and I, travel to the beat of a different drum, can't you tell by the way I run, every time you make eyes at me.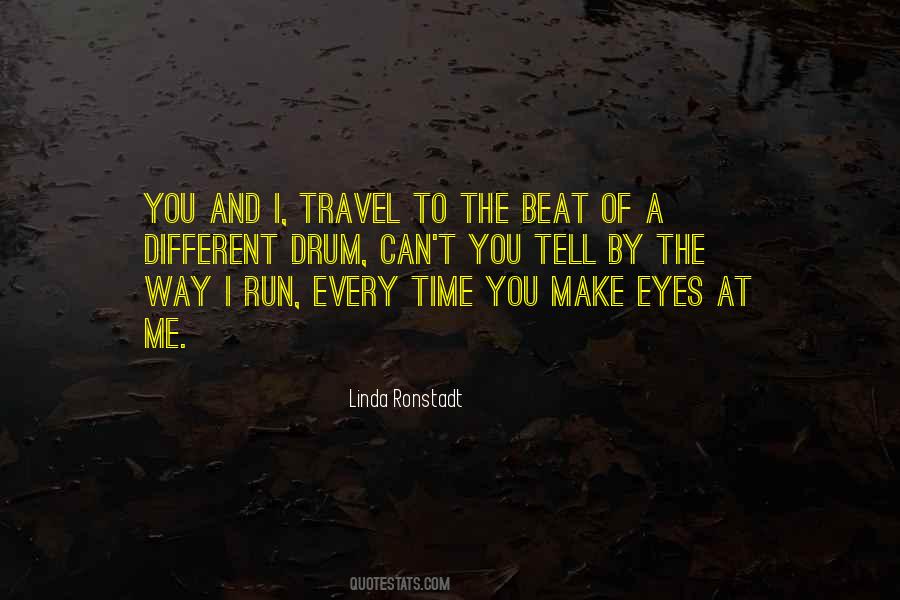 #31. Full disclosure here - I had a terrible crush on Smokey Robinson, like every other female on the planet.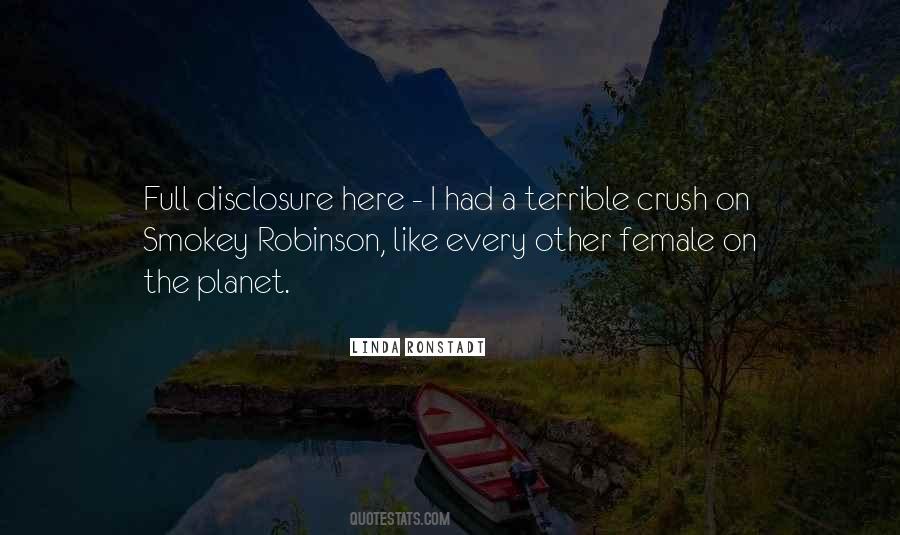 #32. Somewhere out there, beneath the pale moonlight, someone's thinking of me and loving me tonight.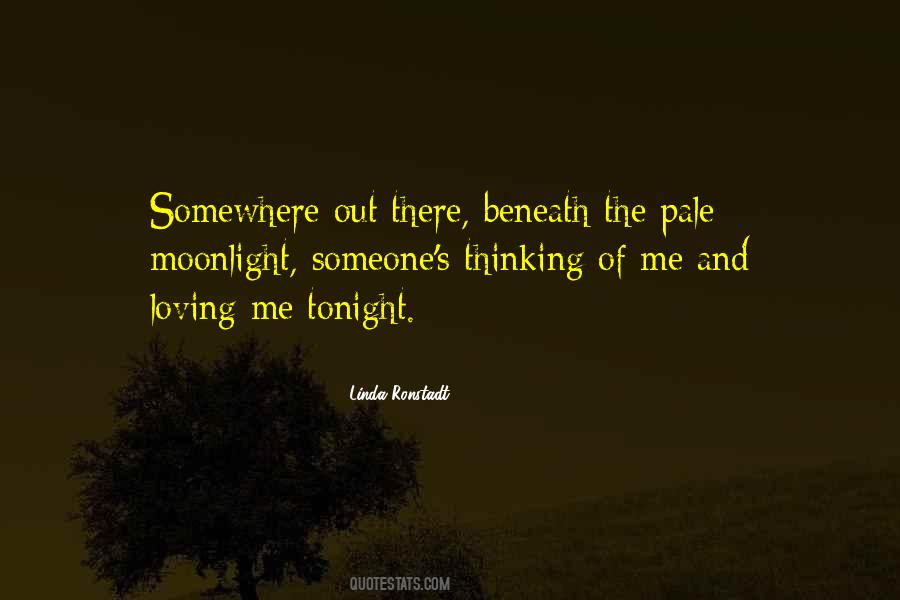 #33. I thought everybody could sing, because everybody in my family could.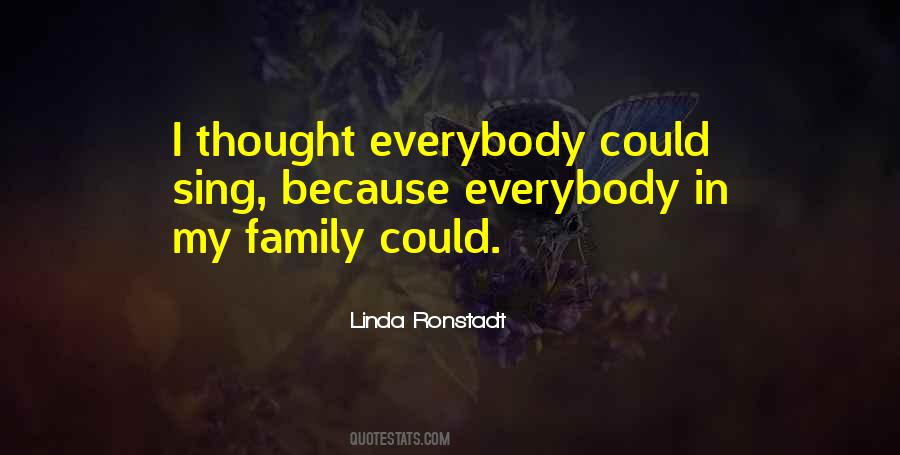 #34. I listen mostly to live music, and mostly my musical experience was playing music with other people.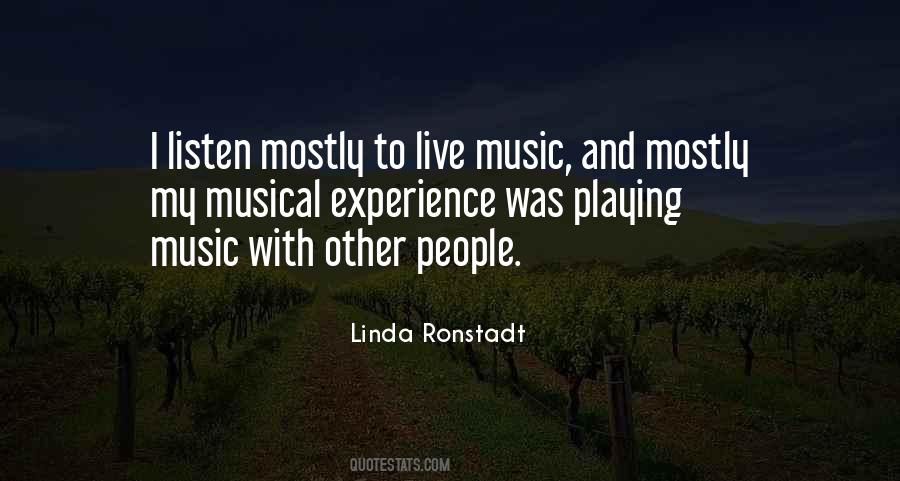 #35. Ninety-eight percent of the singing I did was private singing - it was in the shower, at the dishwasher, driving my car, singing with the radio, whatever. I can't do any of that now. I wish I could. I don't miss performing, particularly, but I miss singing.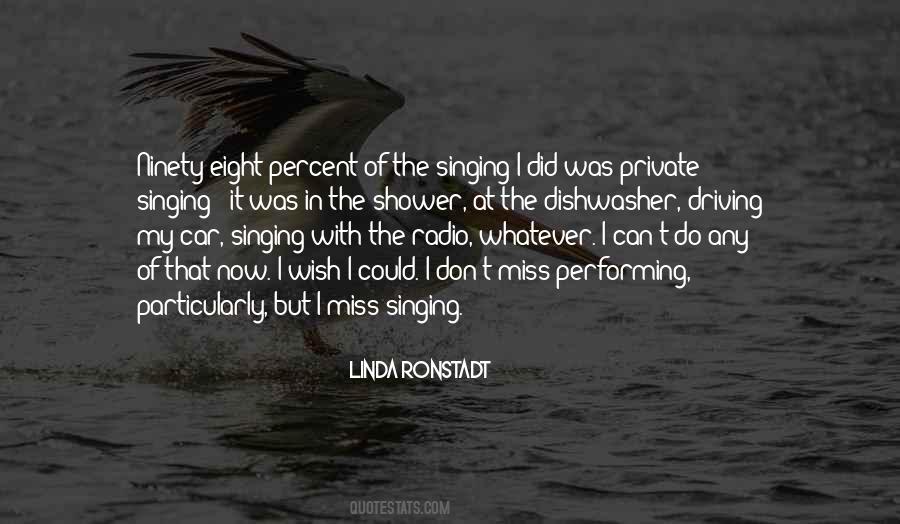 #36. The thing you have to be prepared for is that other people don't always dream your dream.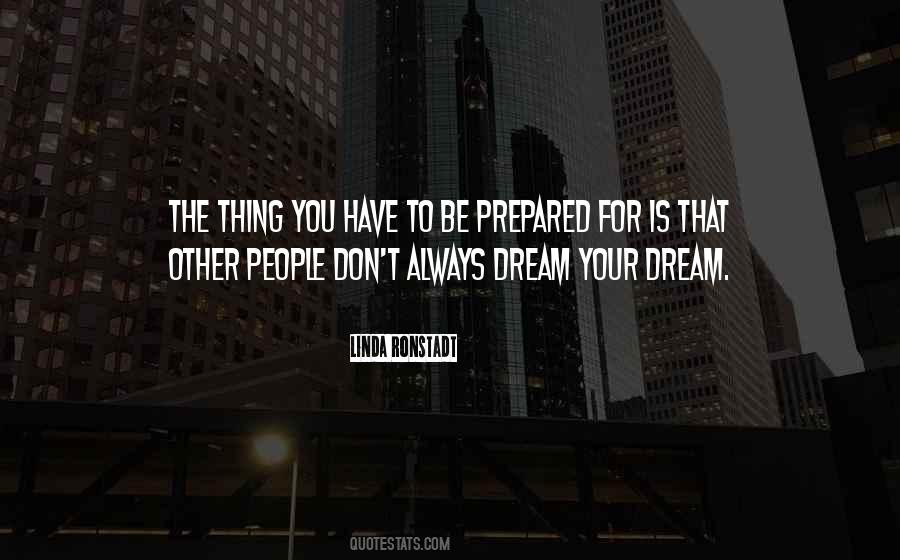 #37. I had a galvanised voice: I could sing through a 105 fever or a flu or a root canal or anything that you could throw at me.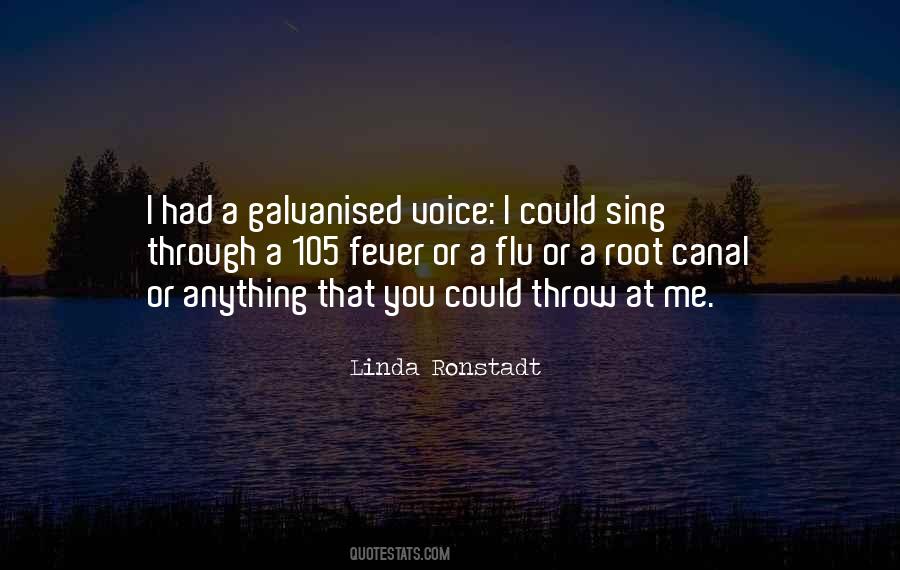 #38. Cocaine made my nose bleed right away. I thought why do I need a nose bleed? It would make me real nervous and talk really fast. I'm already pretty good at talking too fast. I thought, "Why do I need that?"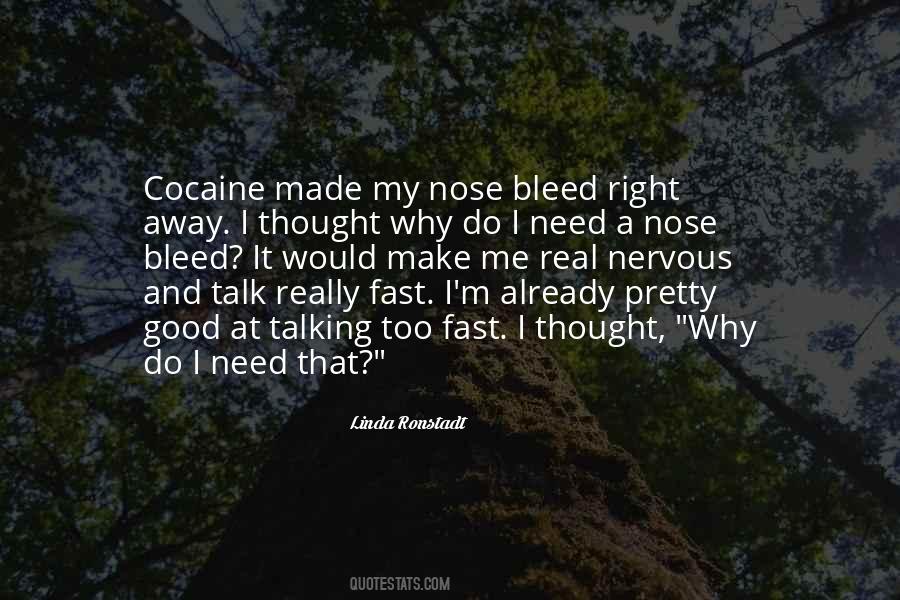 #39. Cocaine made people deaf, it made people dead and it made people real obnoxious.
#40. I didn't know why I couldn't sing - all I knew was that it was muscular or mechanical. Then, when I was diagnosed with Parkinson's, I was finally given the reason. I now understand that no one can sing with Parkinson's disease. No matter how hard you try. And in my case, I can't sing a note.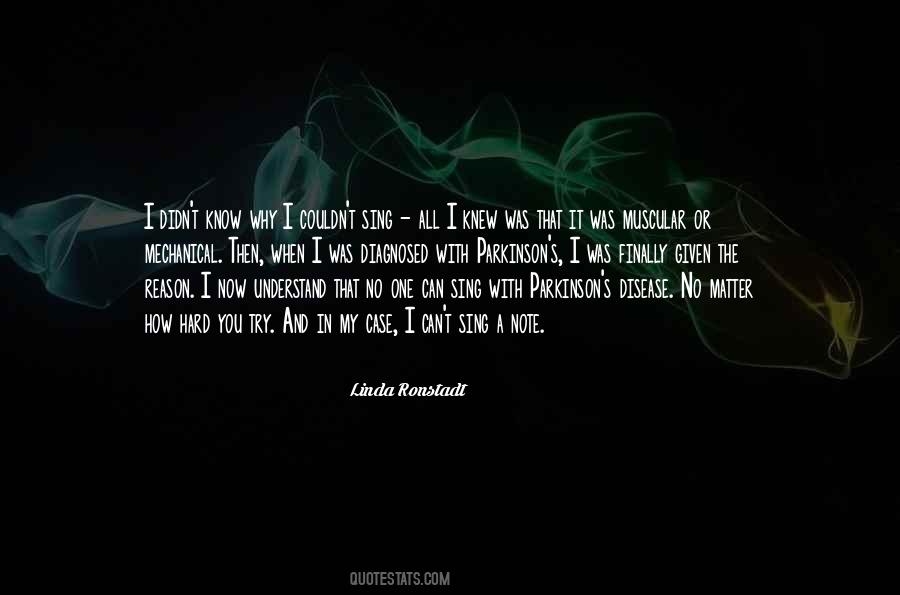 #41. Time washes clean, love's wounds unseen.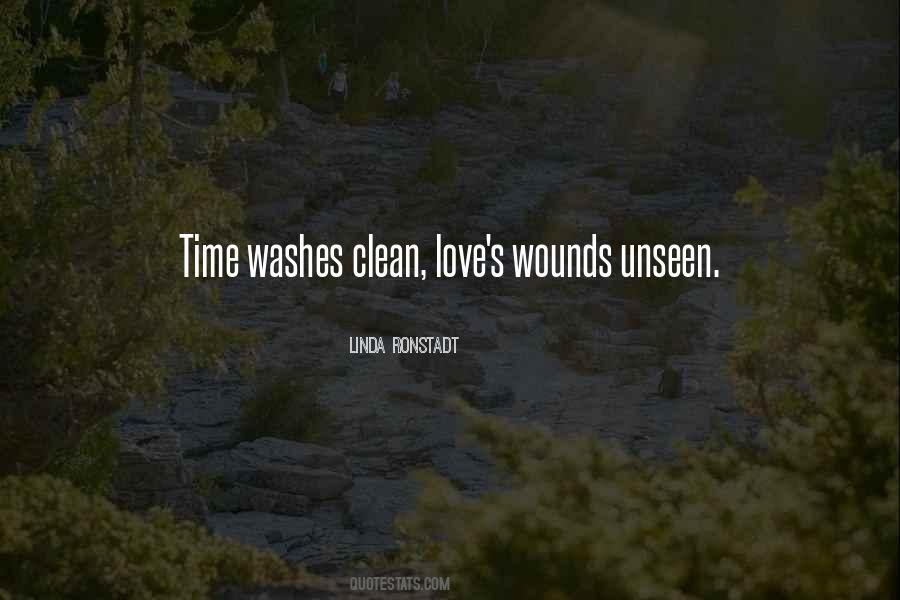 #42. It's a real conflict for me when I go to a concert and find out somebody in the audience is a Republican or fundamental Christian. It can cloud my enjoyment. I'd rather not know.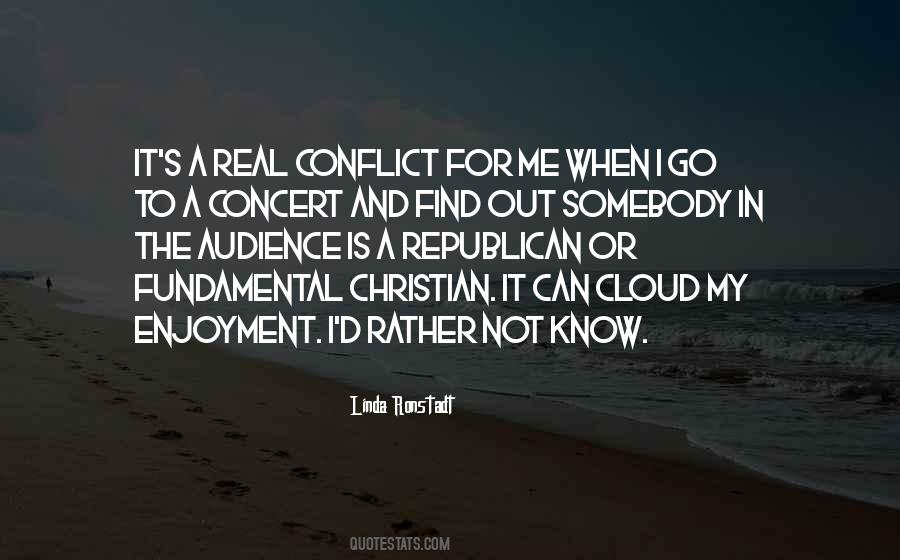 #43. Don't know much, but I know I love you.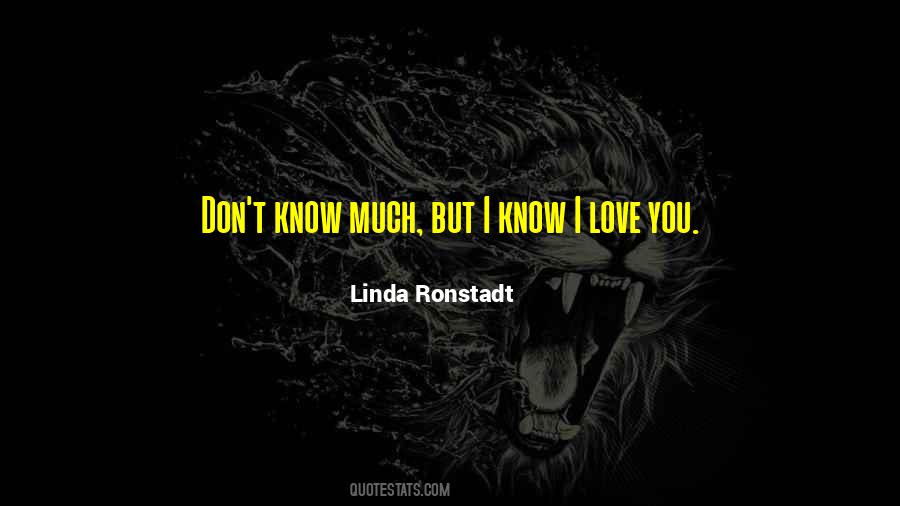 #44. I think if you do what's in your heart - Joseph Campbell always says you have to follow your bliss, and if you do, doors open where you didn't even realize there were doors.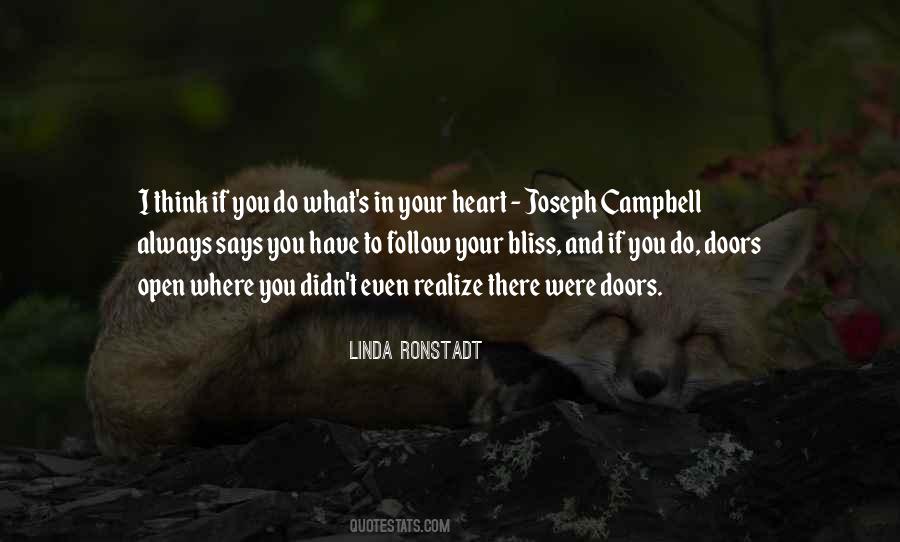 #45. As I got older, I got Parkinson's disease, so I couldn't sing at all. That's what happened to me. I was singing at my best strength when I developed Parkinson's. I think I've had it for quite a while.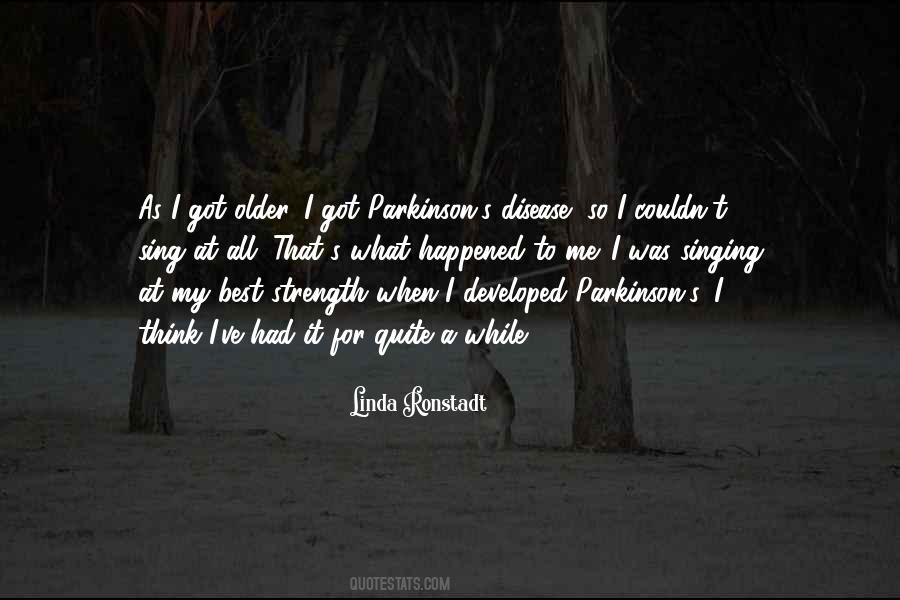 #46. Songwriting wasn't my gift. I think you have to cultivate a gift; you have to practice and develop craft around your gift so that you can execute it in more convenient, efficient ways.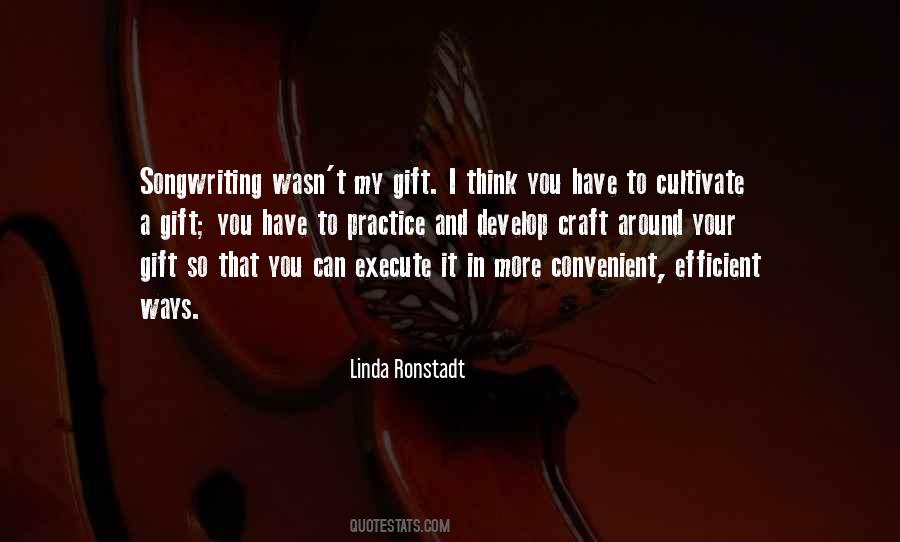 #47. I grew up in a big sky country. Then I lived in Manhattan, where you can only see the sky between buildings, and then I went into a building where you couldn't see the sky at all. I didn't like that so much.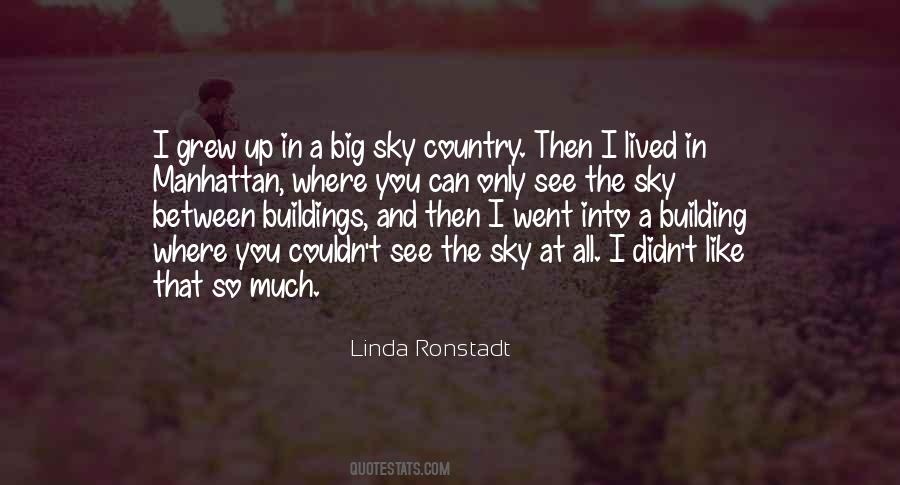 #48. The only reason to be with somebody is that they make you a better person and you make them a better person.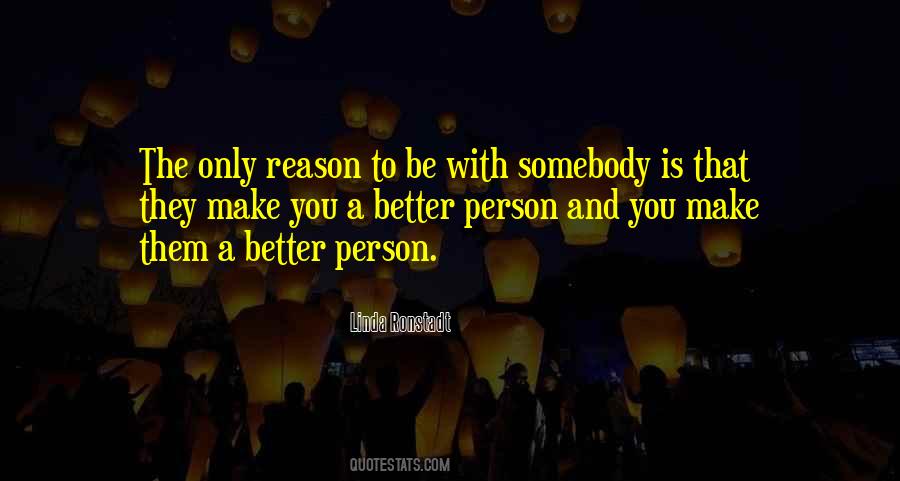 #49. My feeling about school was that it interfered with my reading.
#50. Your musical soul is like facets of a jewel, and you stick out one facet at a time ... (and) I tend to work real hard on whatever it is I do, to get it up to speed, up to a professional level. I tend to bury myself in one thing for years at a time.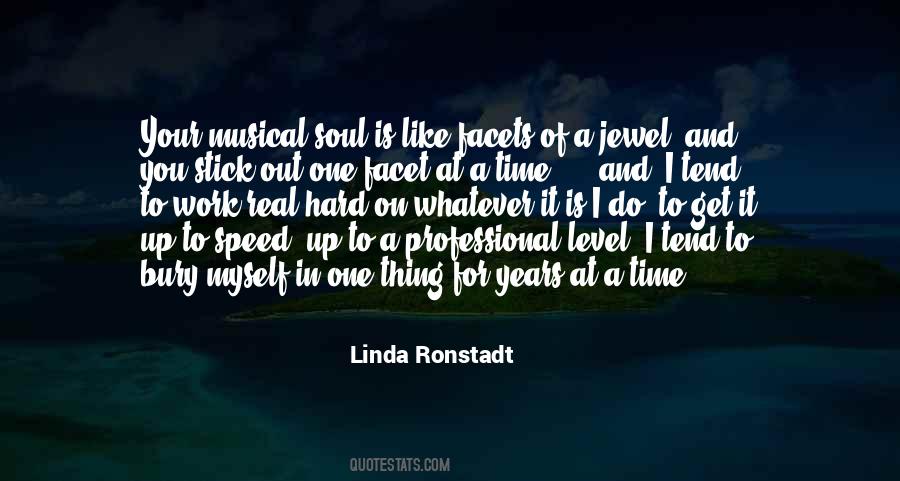 #51. I've been lucky in my life to work with people who I consider master singers.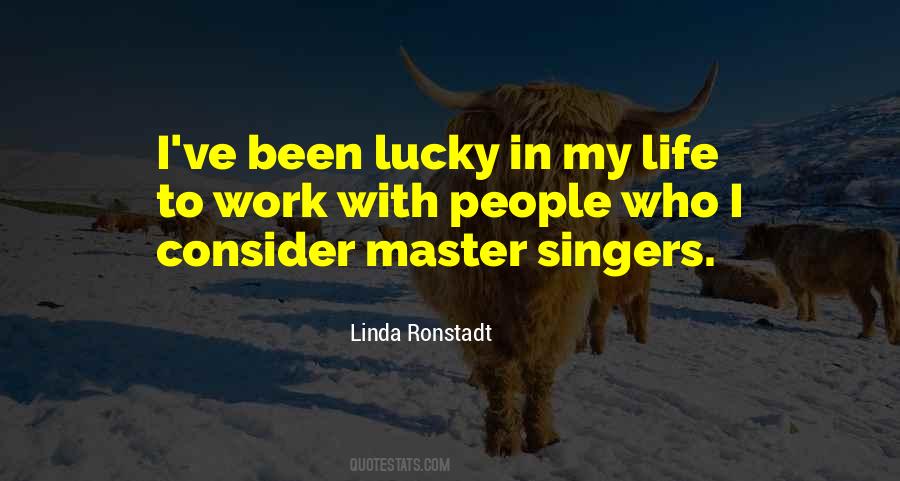 #52. I love sex as much as I love music, and I think it's as hard to do.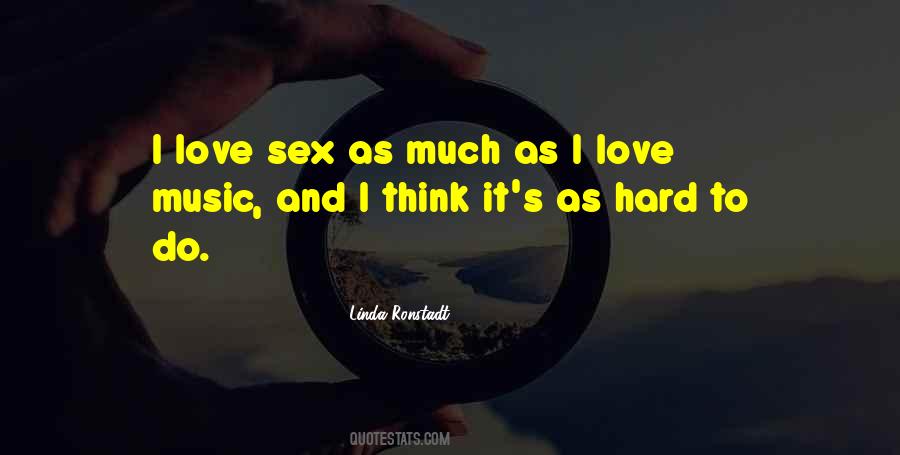 #53. The smell of the carpet in a hotel room is the same everywhere.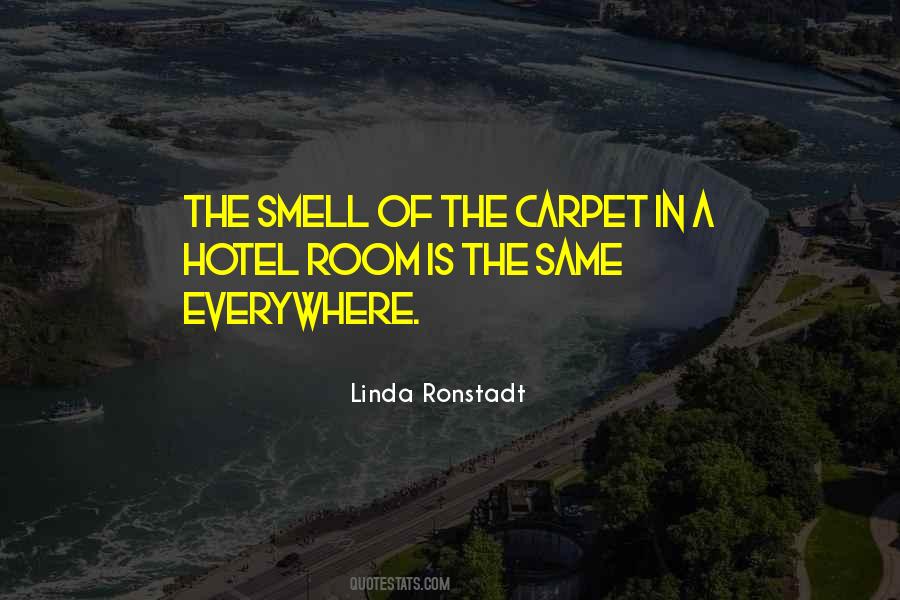 #54. American radio from the '30s through the '60s was just fabulous. There was such a diversity.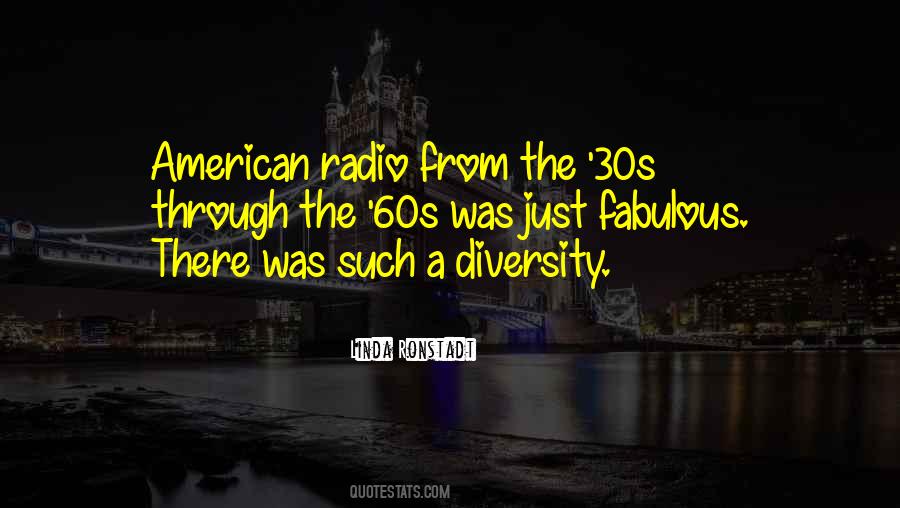 #55. Having children makes you see the world in a completely different way. When you're responsible for those little lives, you can't slough it off or forget about it until later.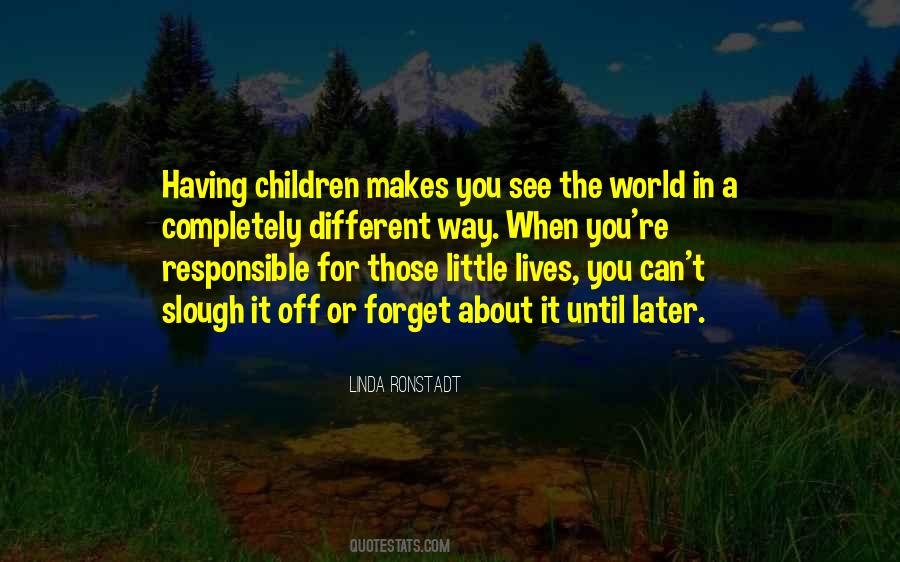 #56. A lot of singers that I've heard that I may not like their sensibility, but I see that they're entitled to whatever they get. People don't get there without talent, they really don't.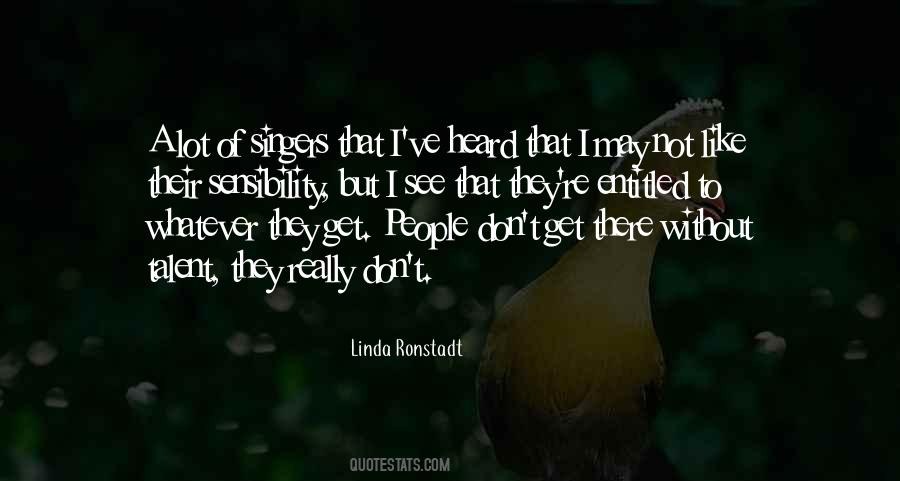 #57. I'm a chameleon. I can change my voice a lot. I always was able to, because in my family's music, I was a harmony singer, and harmony singing is really hard.
#58. I used to live with J.D. Souther, and I would watch him write. He's be sitting, he'd say something, and then he'd write it down. That's craft.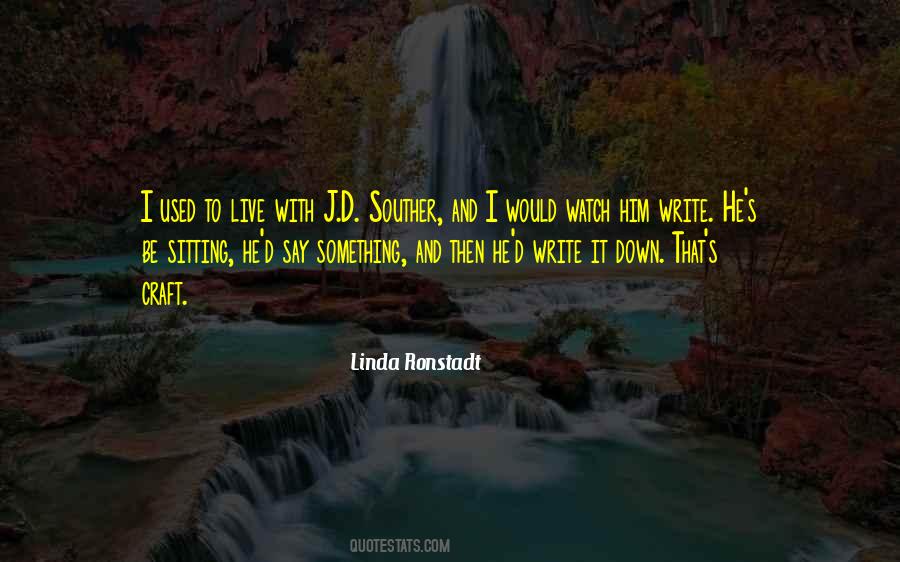 #59. Story is what's most important.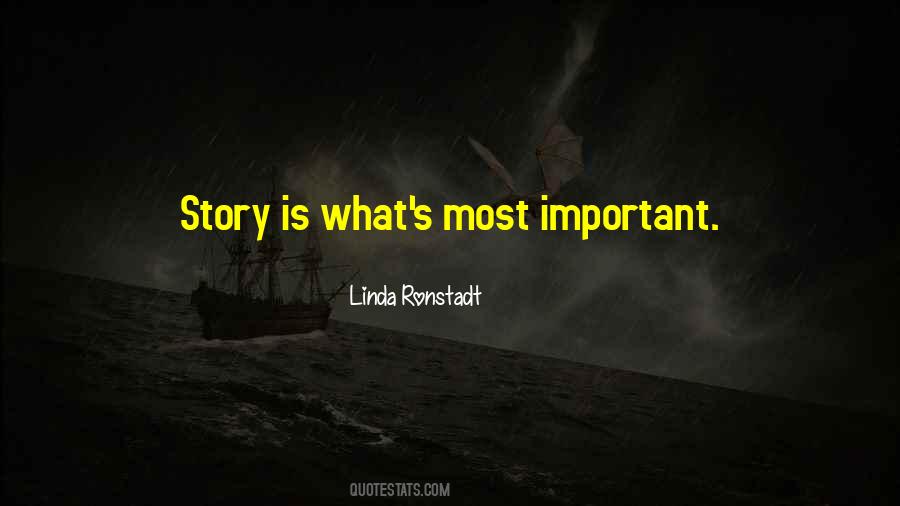 #60. We were raised with the idea that we had limitless chances and we got very shocked to learn that wasn't the case.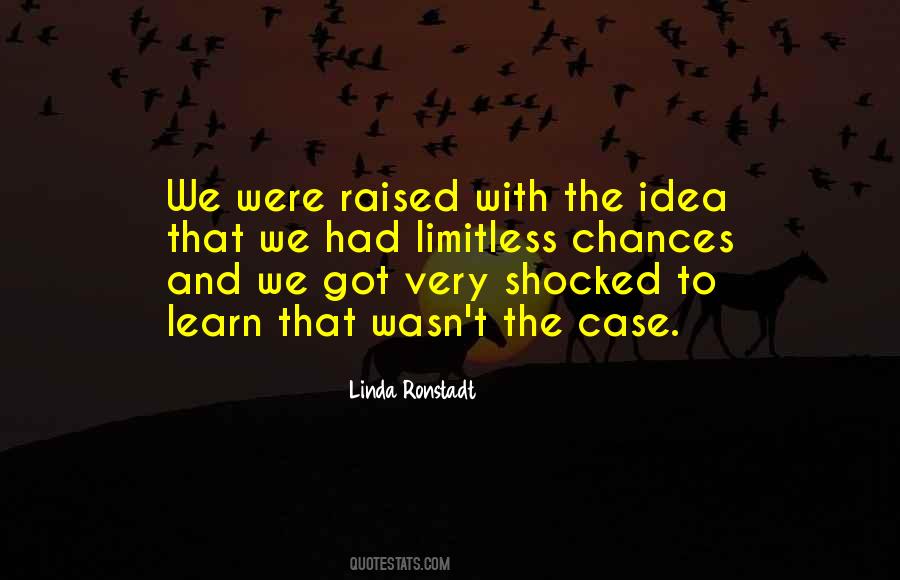 #61. Every single year since they invented sound recording it gets better and better. We've always improved it. With MP3, which just sounds awful, it's the first time in the history of recorded music that it sounds worse. It's really - and it's everywhere, it's ubiquitous.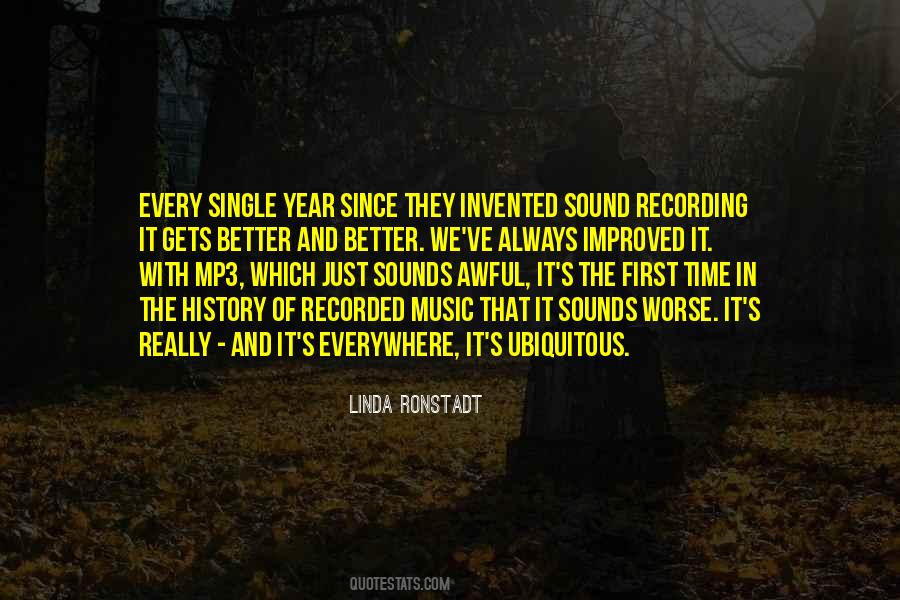 #62. Singing with Aaron Neville, he pulled stuff out of my voice I never could have gotten, because if he's providing XYZ, I have to put in ABC, and usually I don't have to put in ABC.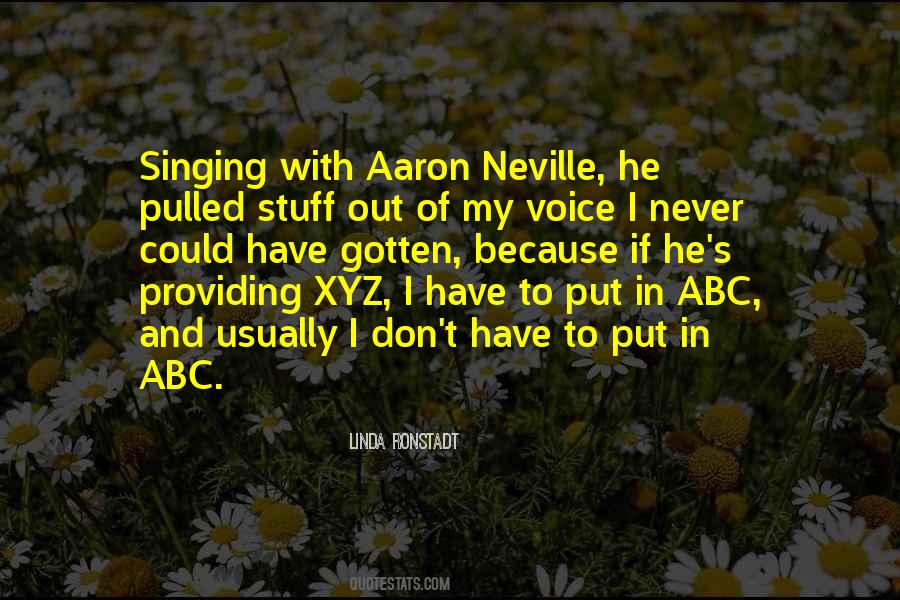 #63. I had a lot of chances to do things that other people don't ever get, and I have to be content with that. I have to look around for some other way to make myself useful.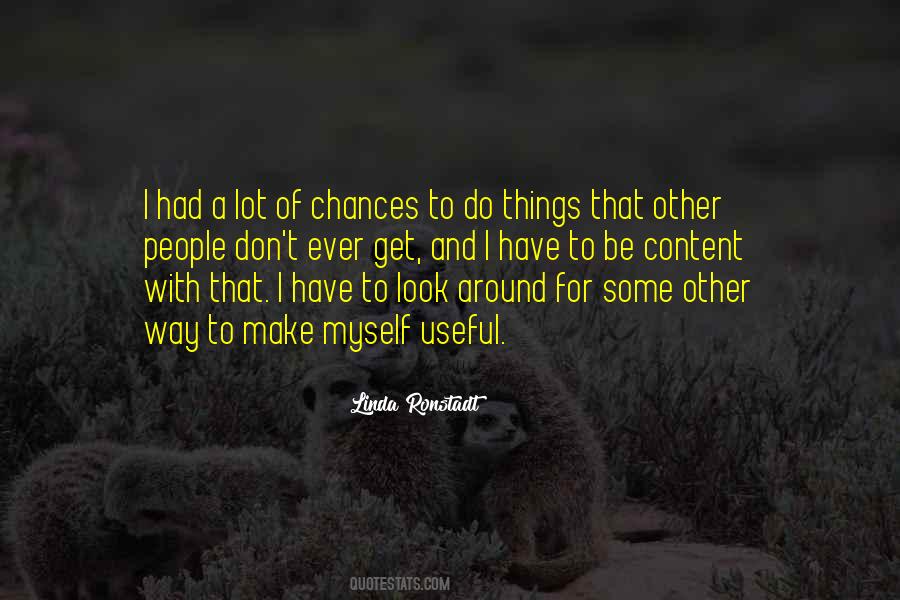 #64. Life's full of loss, who knows the cost, living in the memory of the love that never was.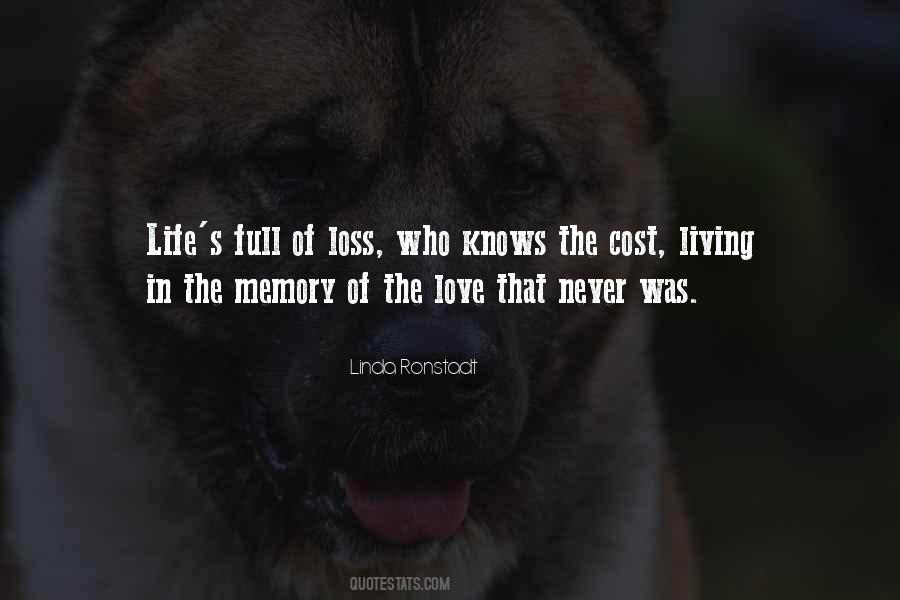 #65. Everywhere you go, there's a soundtrack. You can't really quite hear it. It's just a little out of the range of hearing.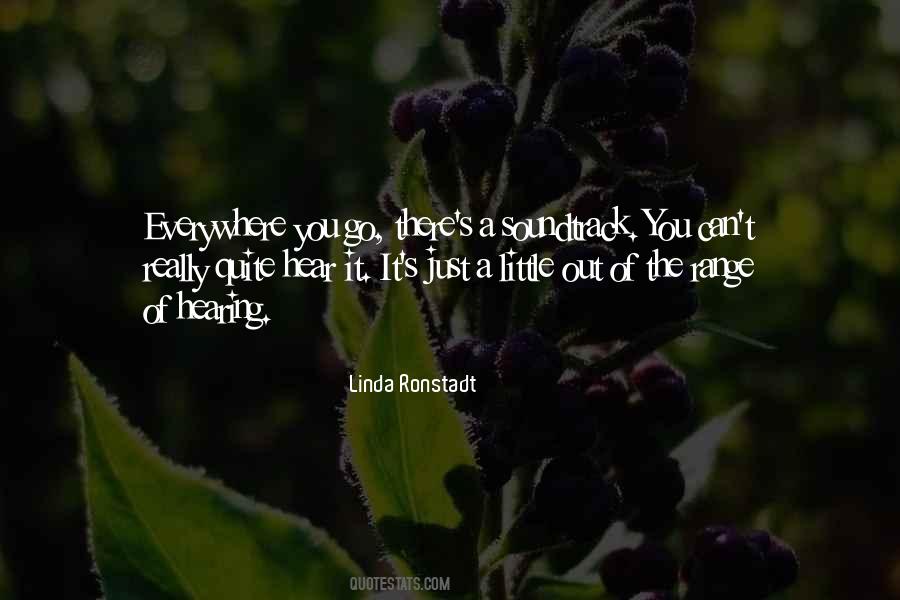 #66. I am a believer in discipline; it takes a lot to do well. You need discipline for those little excursions into the chaotic that make life interesting.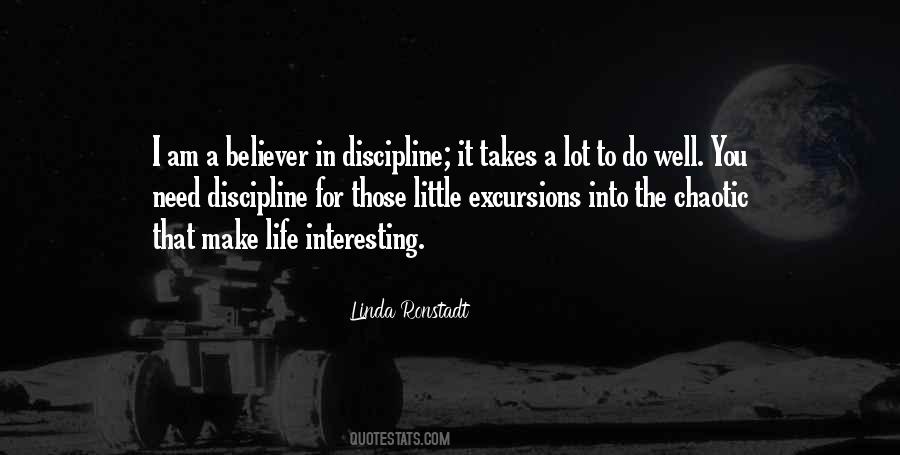 #67. I was never bored because I always had a book. So I had a doorway into another world or another universe. It was great.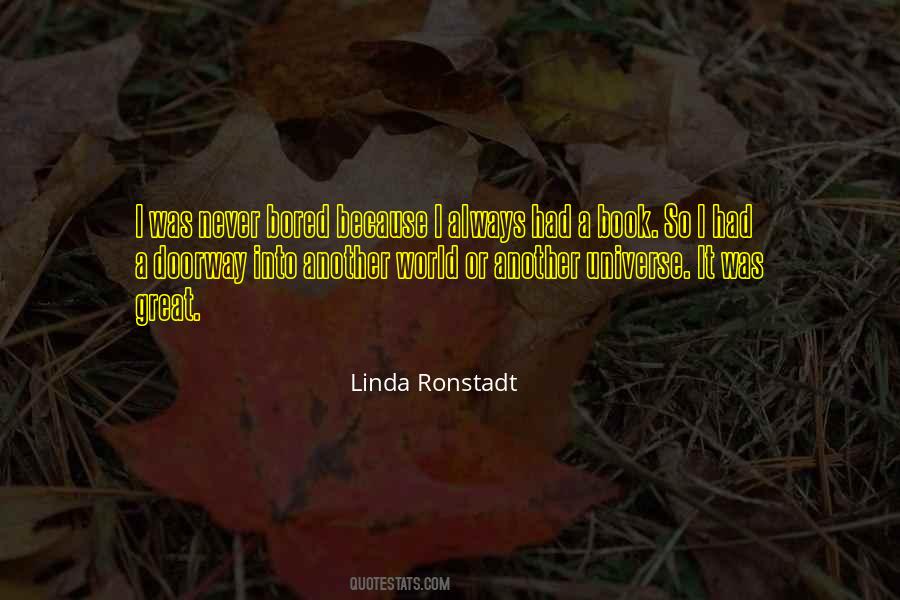 #68. What my true addiction is is reading. I love to read. If I'd get too loaded, I couldn't remember the sentence I just read.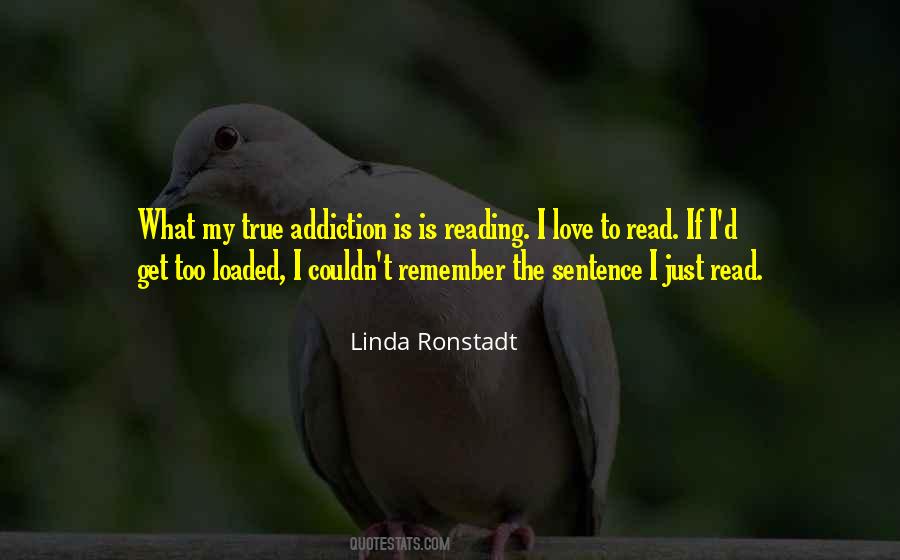 #69. I got a couple of different contacts from publishing companies saying they'd be interested in a book about my work: not a kiss-and-tell book, which I specifically put in the contract. Just a book about my work and what I did.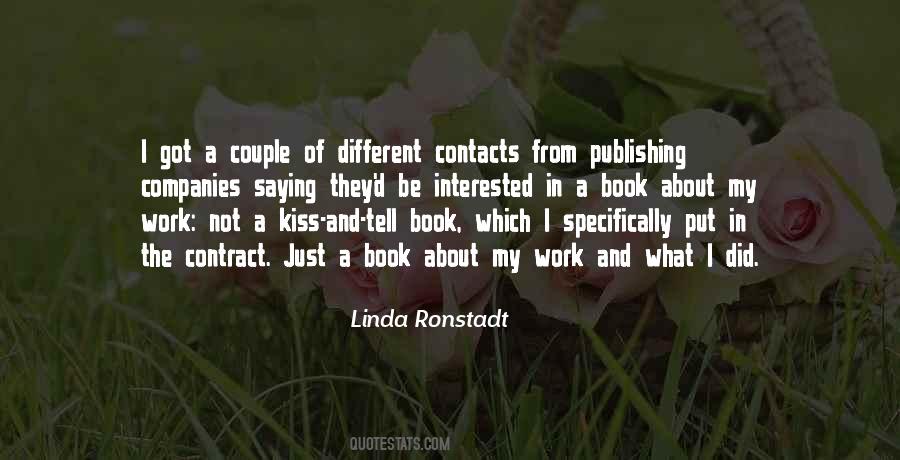 #70. Sometimes I was frivolous. Did you have some frivolous years? I had to live mine out in public.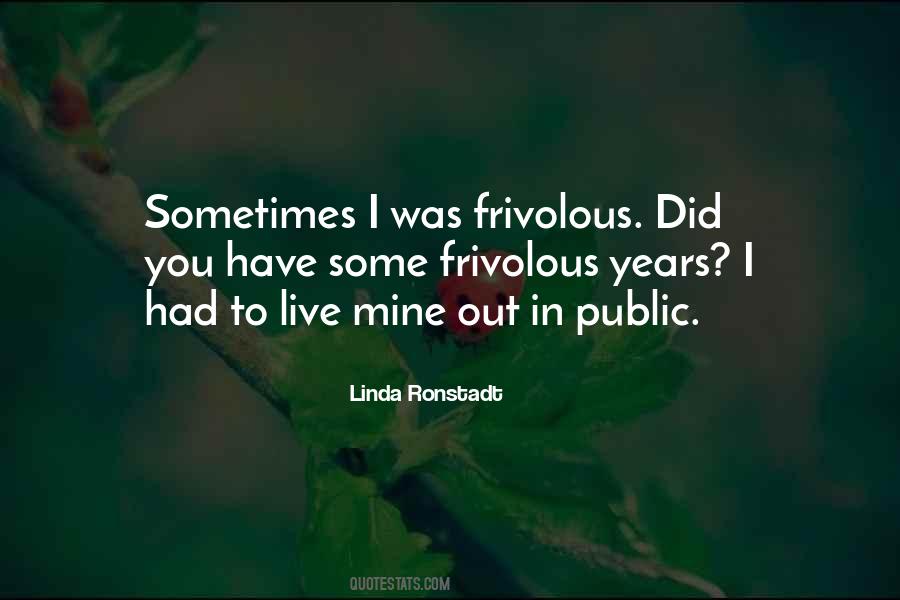 #71. I'm a combination of Linda Ronstadt, Loretta Lynn and Ralph Stanley.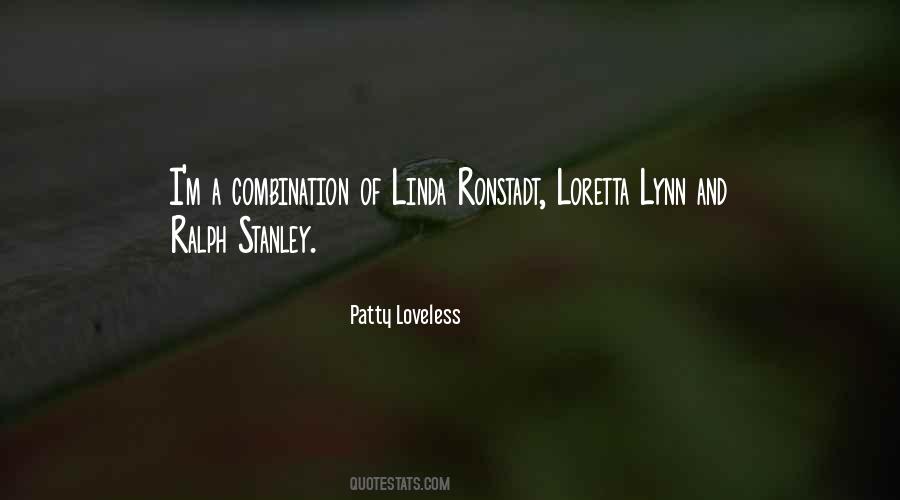 #72. I didn't love Jim Morrison. There was something very reptilian about him. And I didn't care for his singing, but his band! The Doors were fantastic.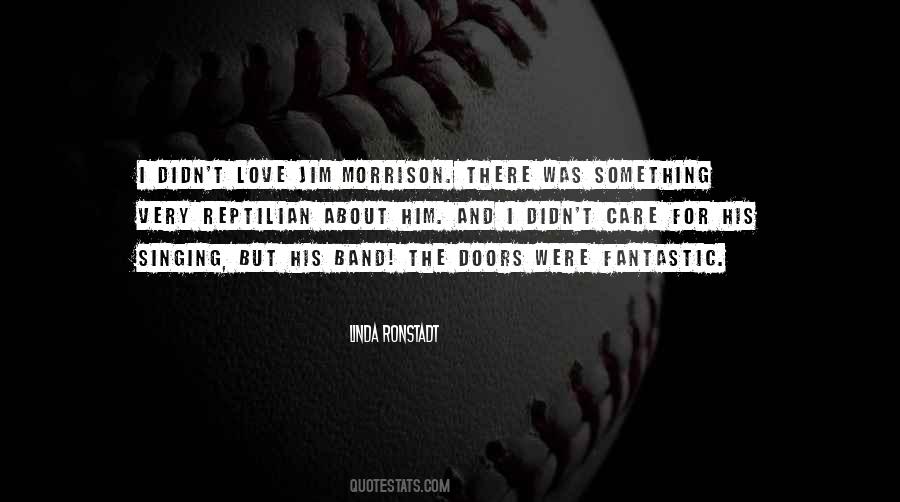 #73. Being a celebrity made me so uncomfortable that I would have preferred standing behind the amplifiers.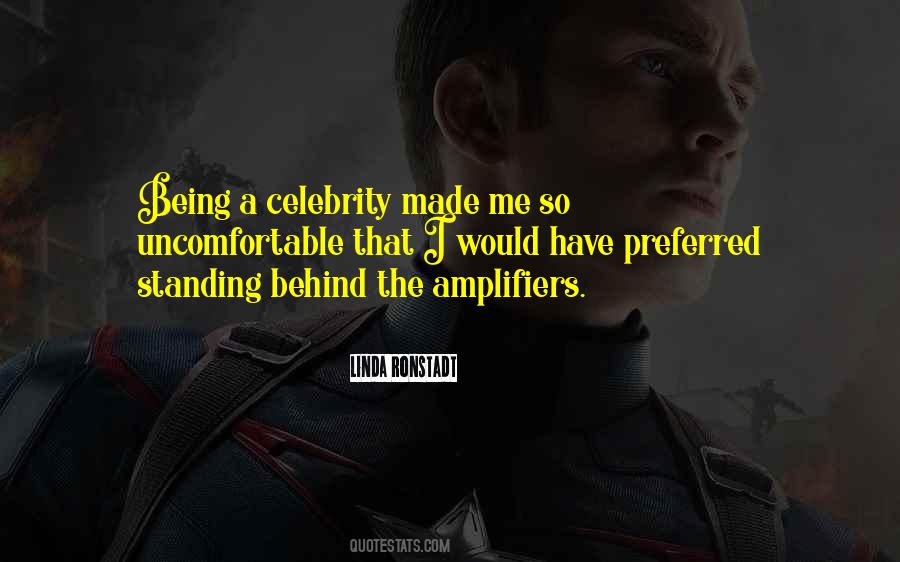 #74. I don't think you can look for love. All you can do is get yourself in a situation where you don't discourage something that may be rather nice.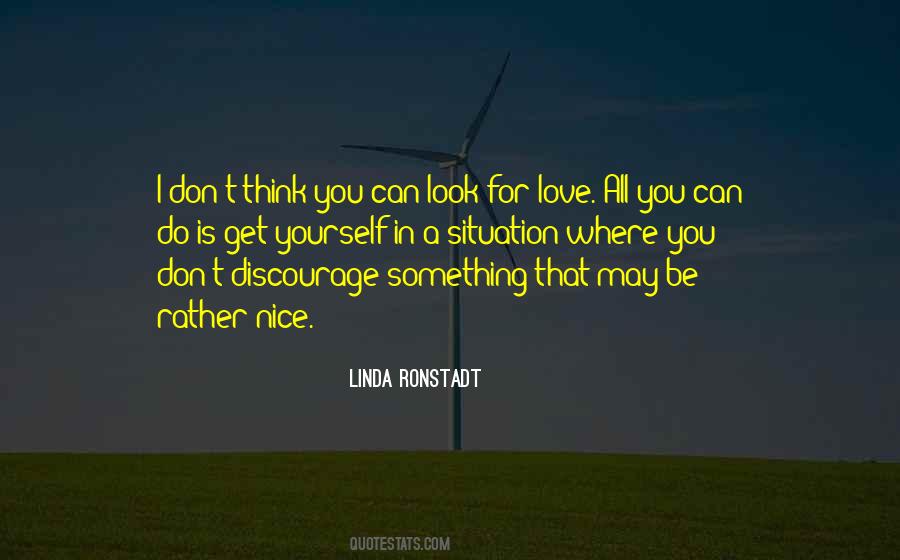 #75. You don't forget you have Parkinson's disease, believe me, especially in the shower. If you are not paying attention, you fall down.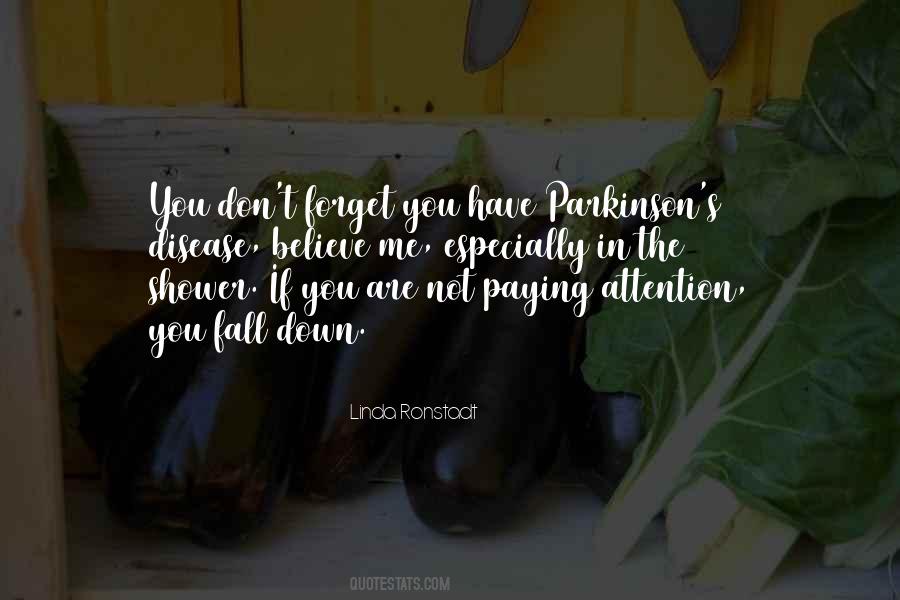 #76. The whole thing with recording is you have to know when to turn off the tape machine and just stop recording because you want to keep fixing, fixing, fixing, you know?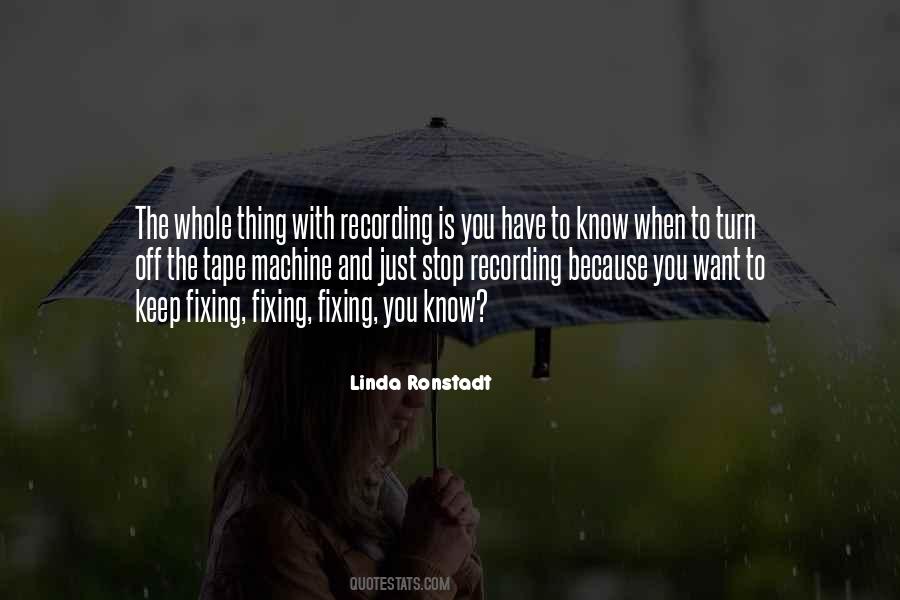 #77. Love will abide, take things in stride.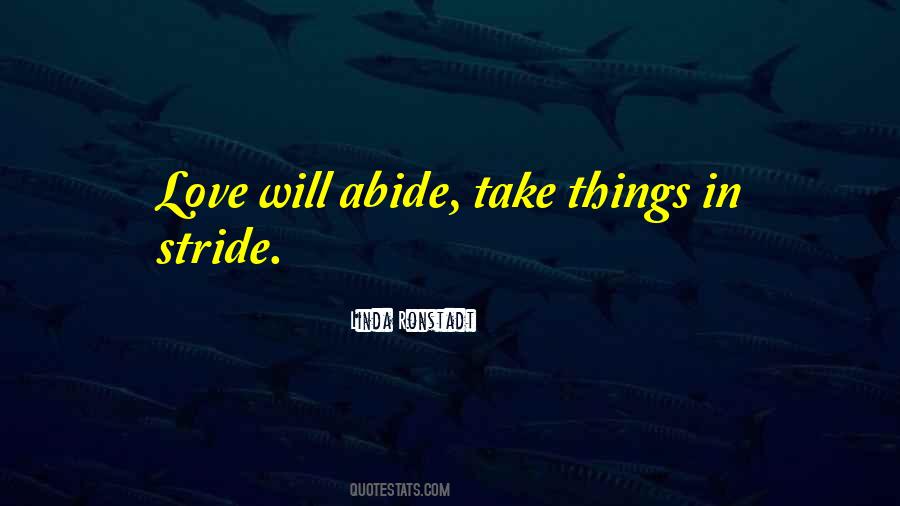 #78. I have always believed that one learns more from failure than from success.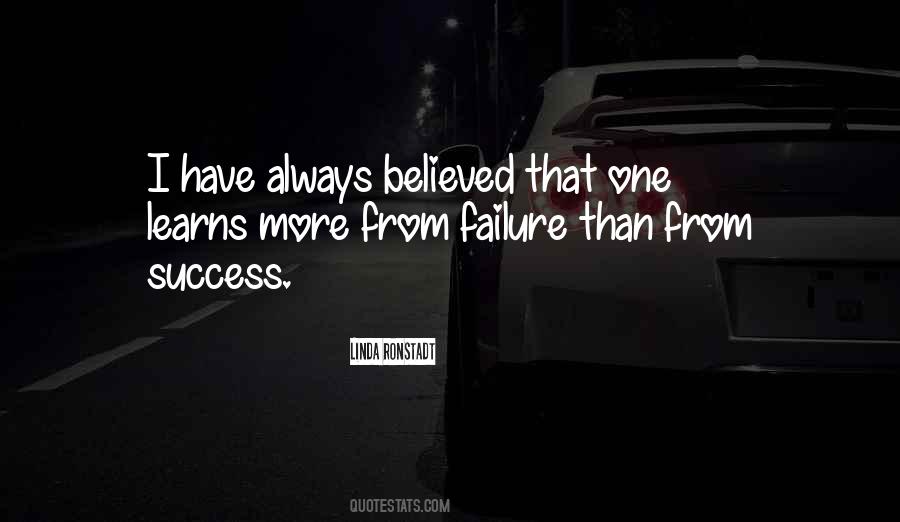 #79. The relentless touring and endless repetition of the same songs over and over again promoted a creeping awareness that my music had begun to sound like my washing machine.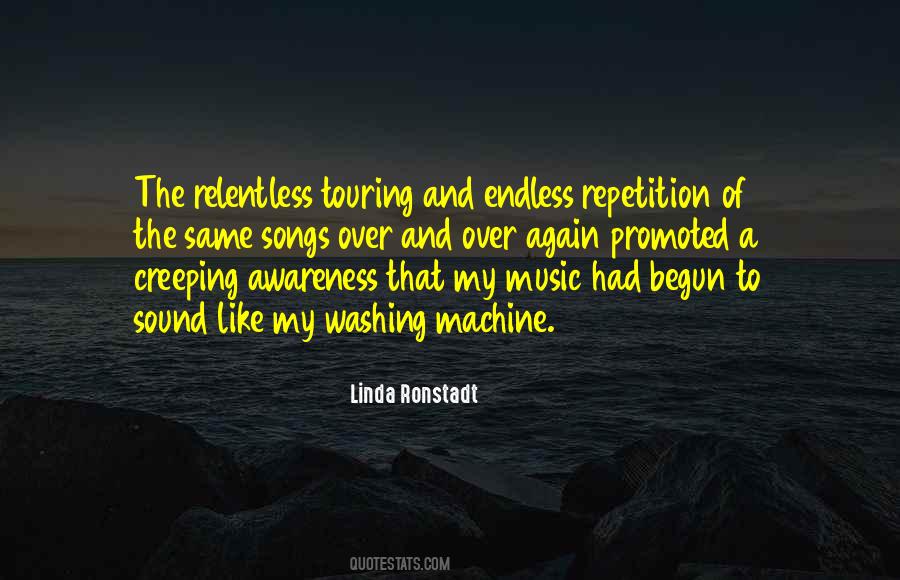 #80. I grew up singing Mexican music, and that's based on indigenous Mexican rhythms. Mexican music also has an overlay of West African music, based on huapango drums, and it's kind of like a 6/8 time signature, but it really is a very syncopated 6/8. And that's how I attack vocals.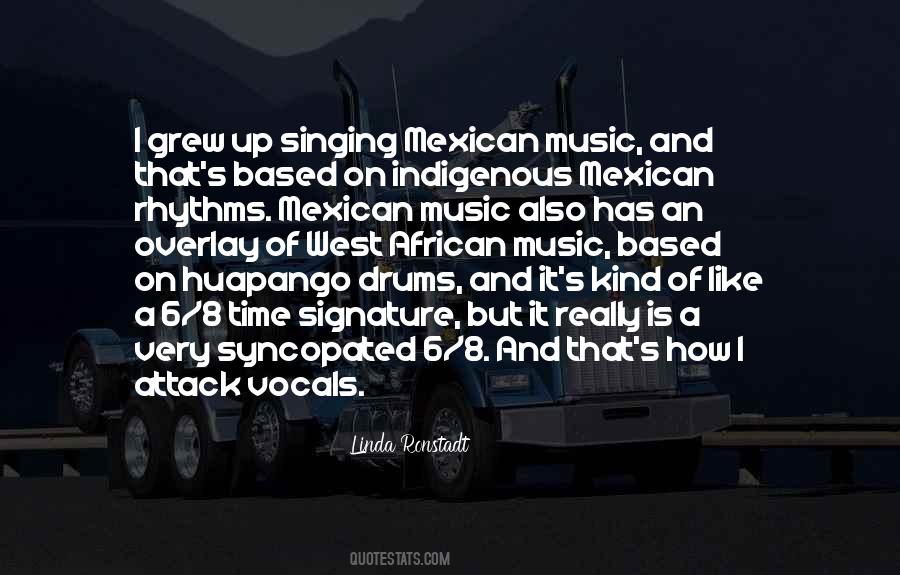 #81. I get on the airplane and there's a screen in front of everything. You get into a taxicab in New York, there's a screen blinking at you. I think it's going to have a tremendous effect on our brains, because those bright, saturated colors and those strong lines, they do things to your brain.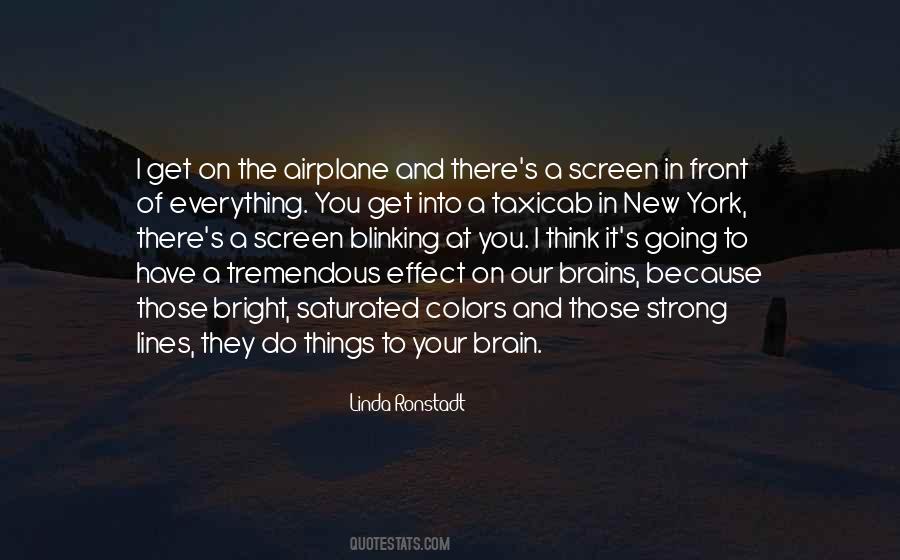 #82. Even though I know how very far apart we are, it helps to think we might be wishing underneath the same bright star.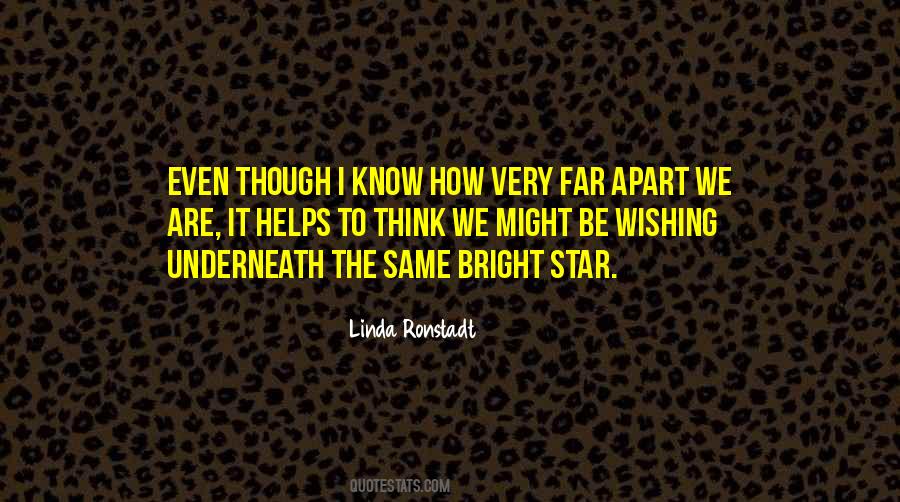 #83. Music isn't just for professionals. We delegate all of our music and our dancing and our art to professionals. It's silly. We should be doing our own dancing and drawing.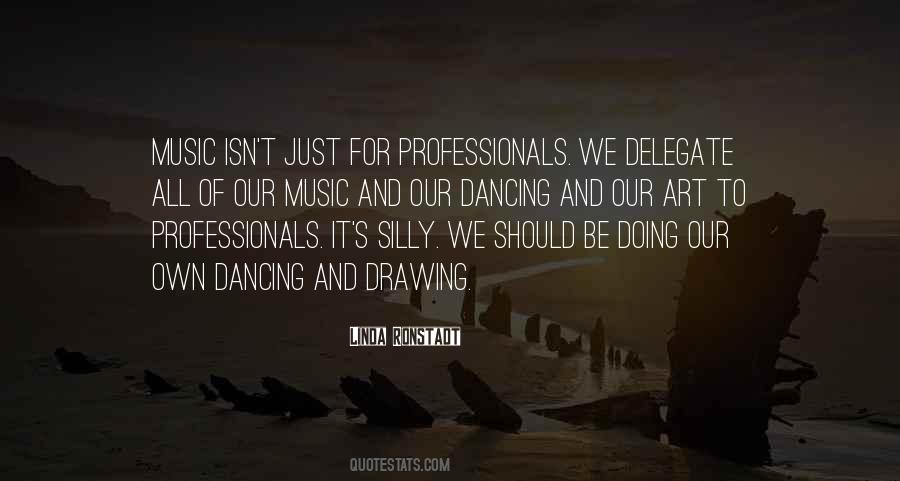 #84. I love everything soft, cashmere and down. I don't like anything scratchy.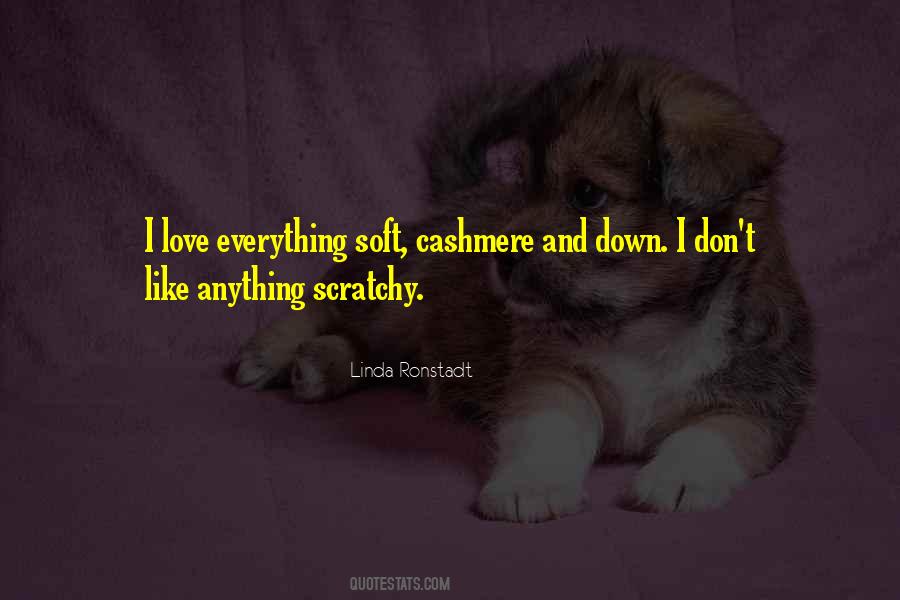 #85. Music is a work in progress. On a record, it gets frozen in time. And it's oddly unnatural.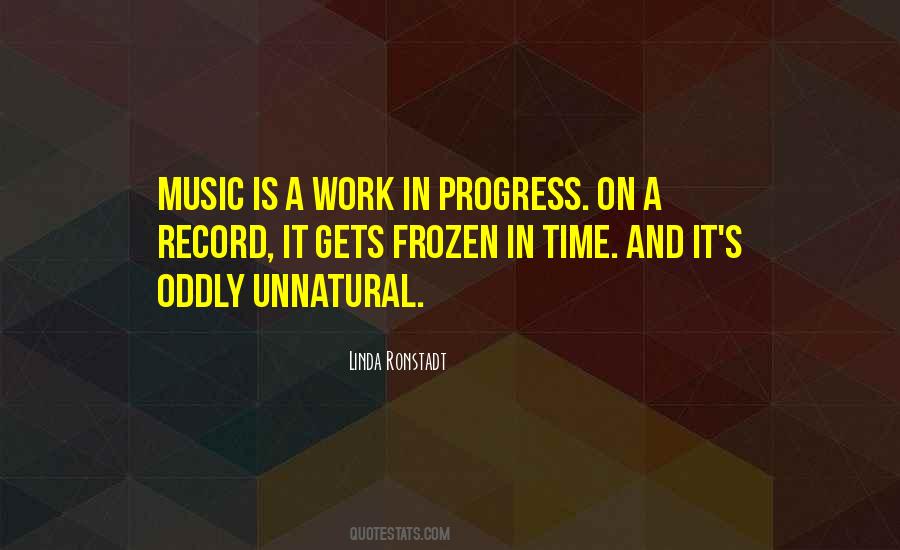 #86. When I was taking arithmetic in the first grade I said to myself, "I'm going to be a singer. I don't have to worry about numbers." I didn't think I was going to be famous or a star.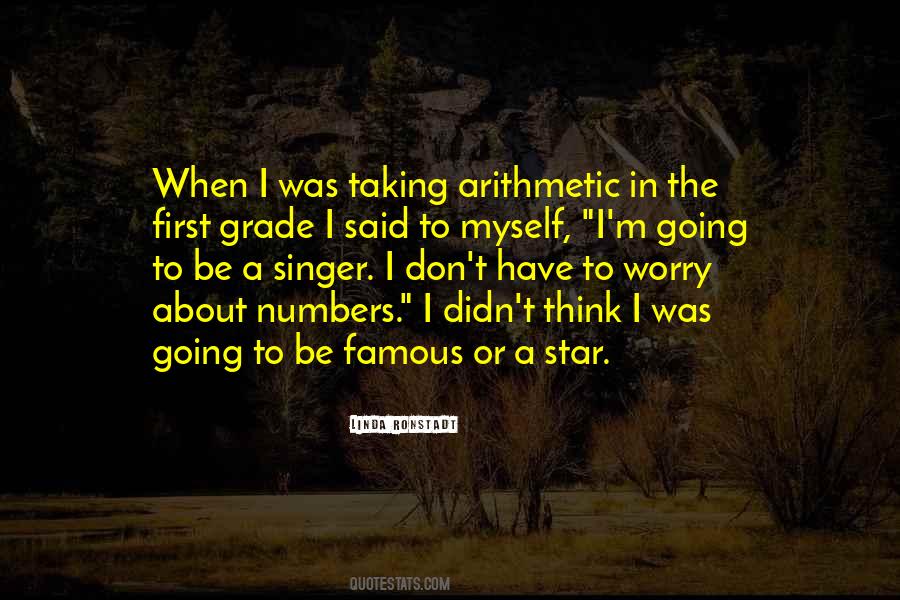 #87. In the Troubadour days, it was all those songwriters that I hung around with all the time, so I could get songs and find out what was going on. So we all knew each other, and we just carried each other's word around.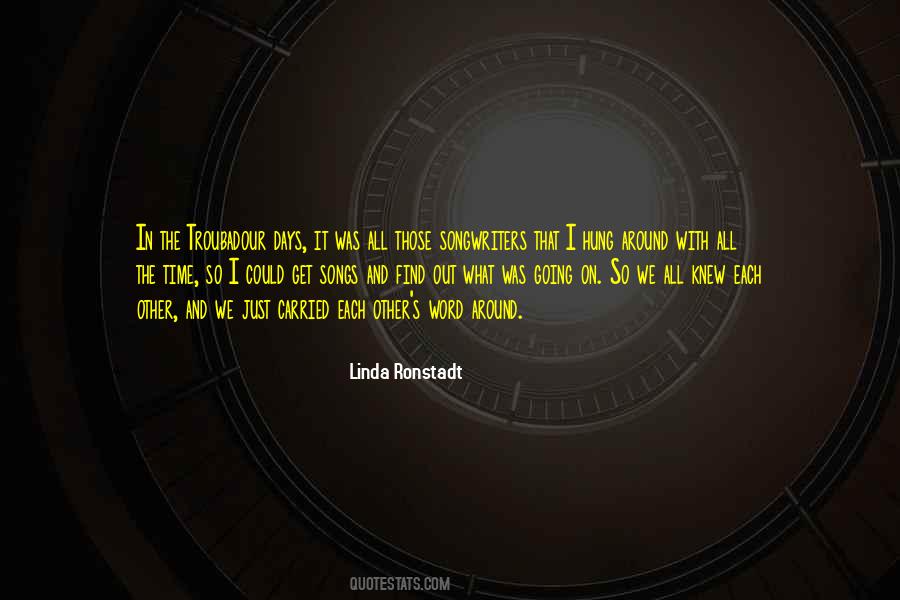 #88. There are a lot of aspiring singers who are not paid attention to because they don't look like a fashion model.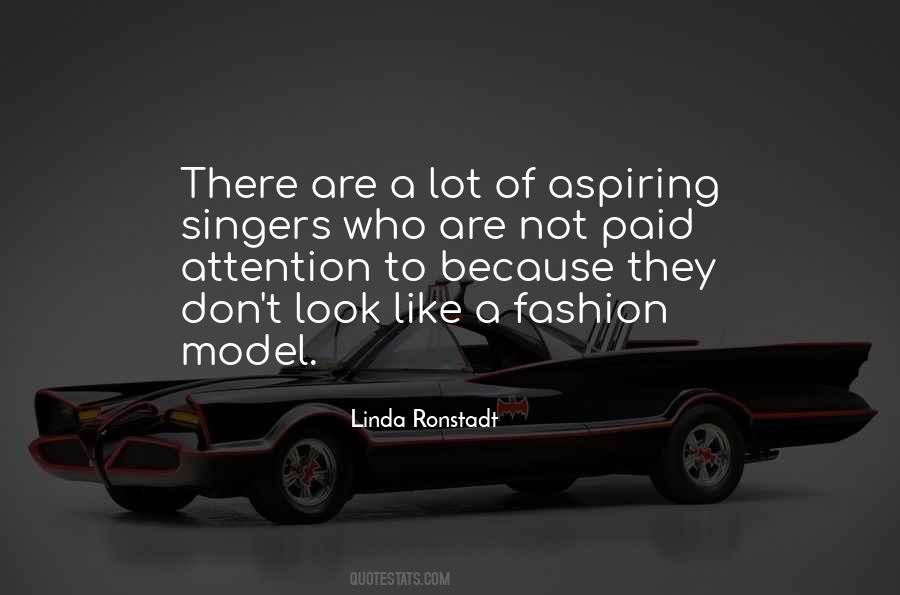 #89. I think that Frank Sinatra was maybe the greatest pop singer.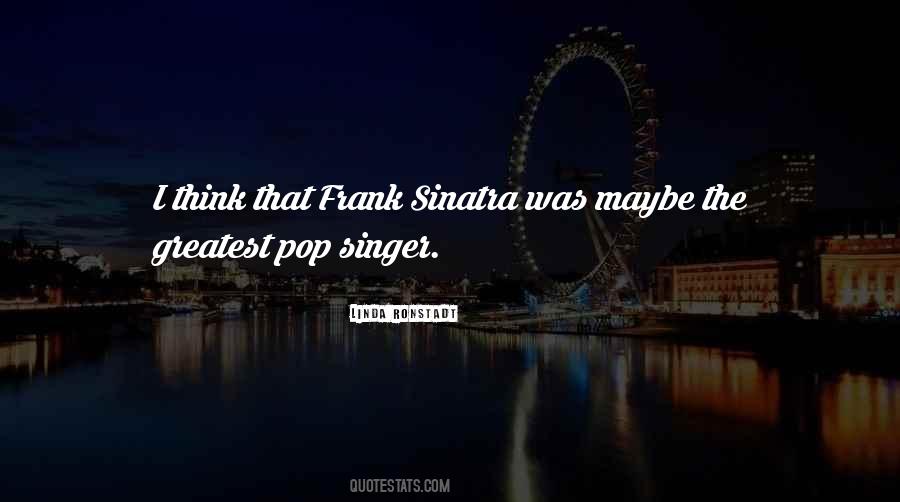 #90. Ninety-nine percent of singing is listening and hearing, and so then 1 percent of it is singing.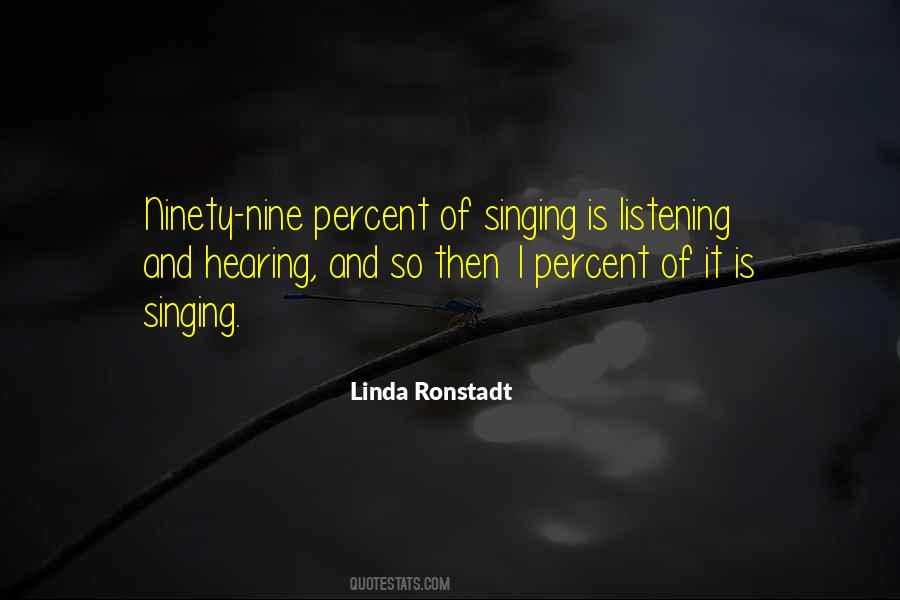 #91. I always sang harmony with my family growing up.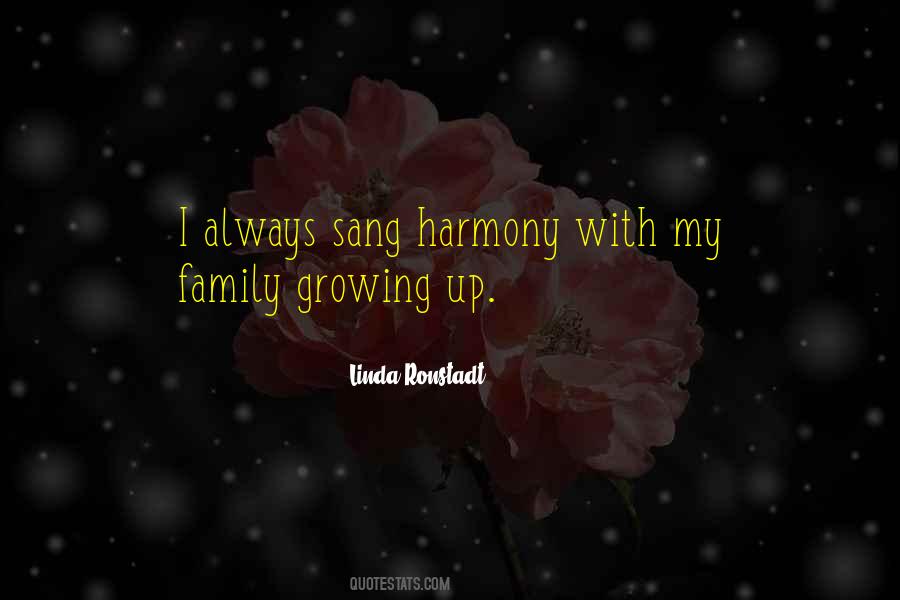 #92. Judy Henske, who was the then reigning queen of folk music, said to me at The Troubadour, 'Honey, in this town there are four sexes. Men, women, homosexuals, and girl singers.'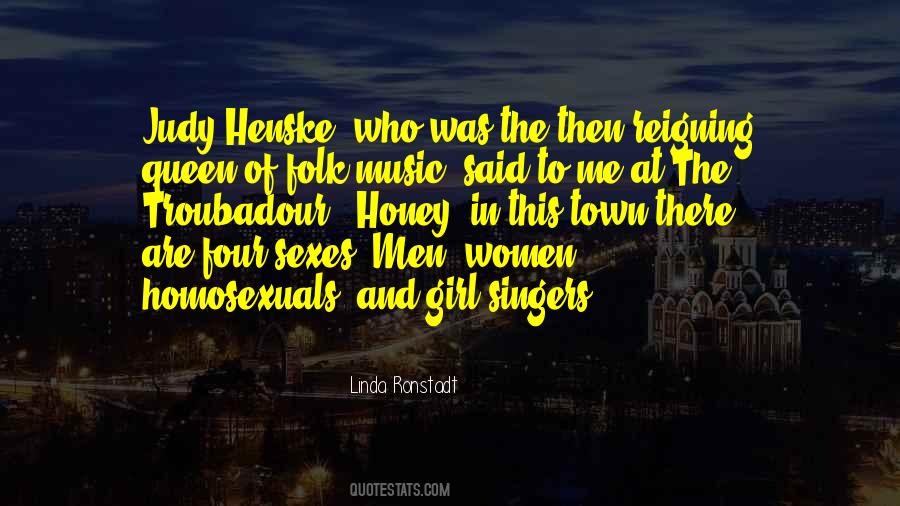 #93. I can't really walk well. The muscles don't get the electronic signals from my brain, not that there's anything wrong with the muscles themselves. It's just my brain.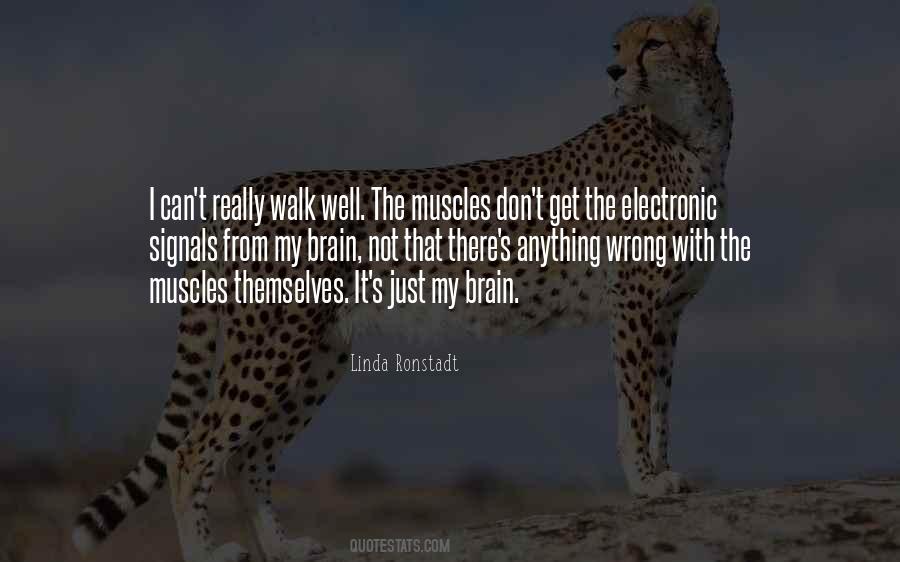 #94. Men are very delicate. They don't like being rejected.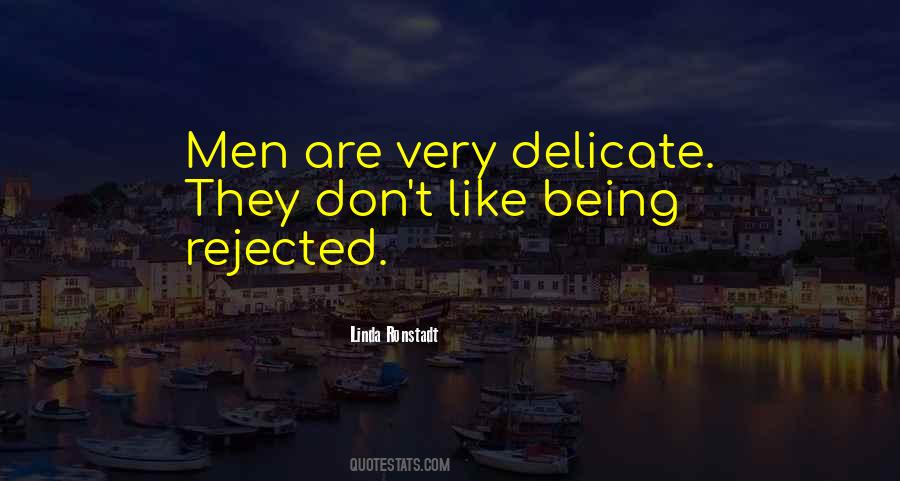 #95. I'm more into the old-school country myself, like Dolly Parton, and I guess it wouldn't be typical, but I really love Linda Ronstadt.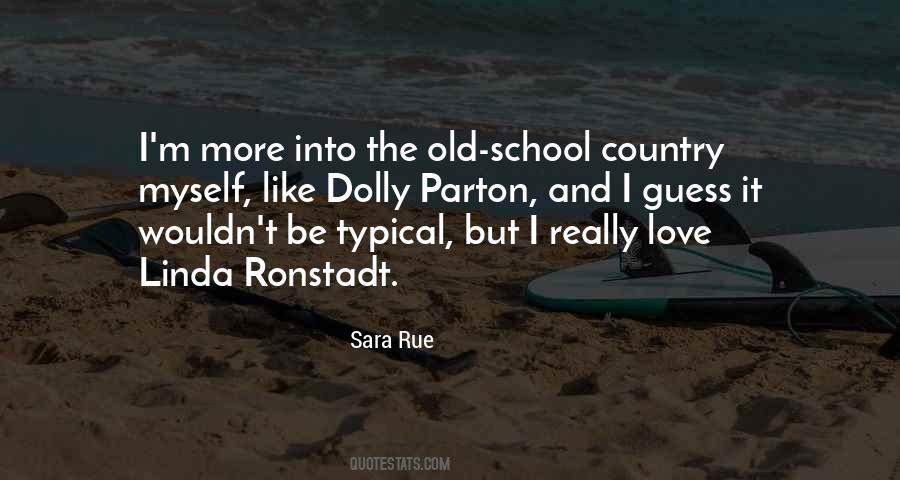 #96. I think there's just a lot of compassion in art. Again, when you're doing something that resonates with somebody else, you're going through an experience another person has had, whether it's been a painful experience or a joyous experience or a happy experience.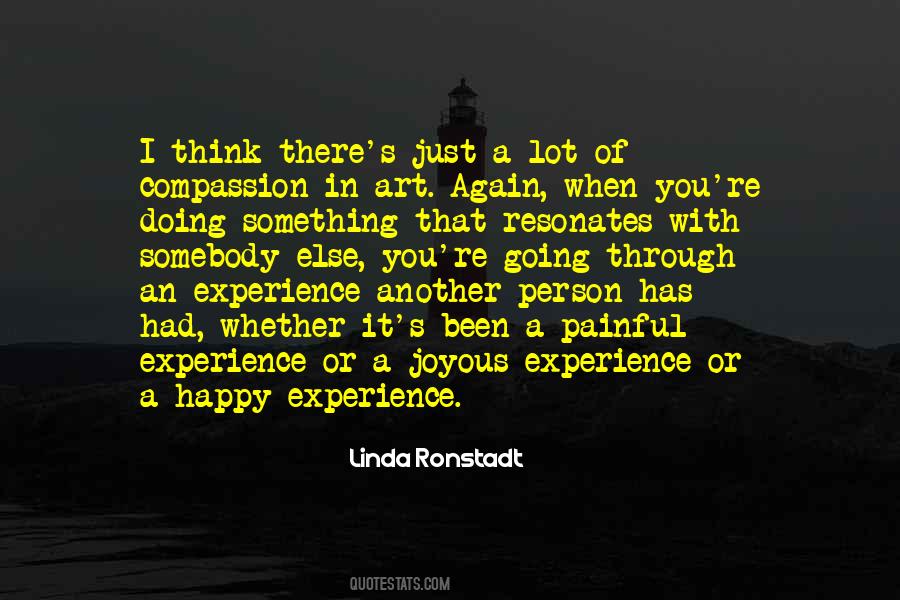 #97. I'd go over to my grandmother's house, and she'd be playing opera. They loved opera. Not only did they play it on the radio, but they played it on their piano. Everybody learned how to read music and how to play.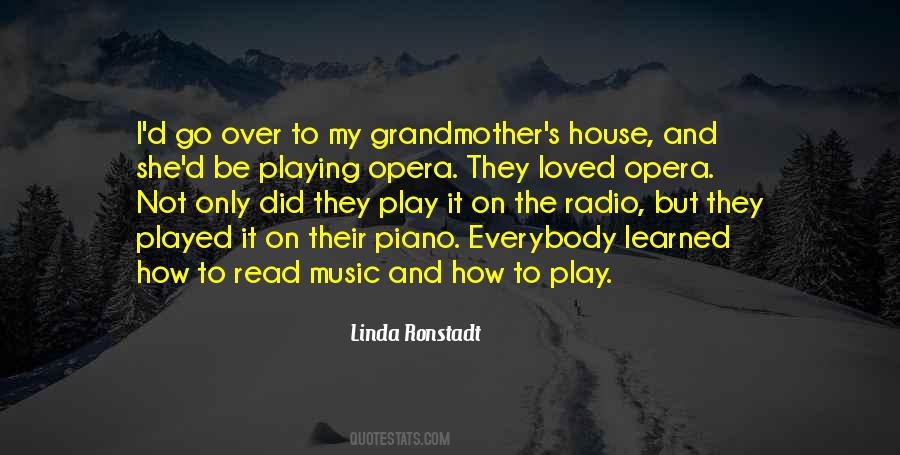 #98. The trip home always seemed to take half the time, because Murphy and Little Paint were eager for their dinner. We clung like burrs on their backs and rode like the wind. We were eager for our dinner too.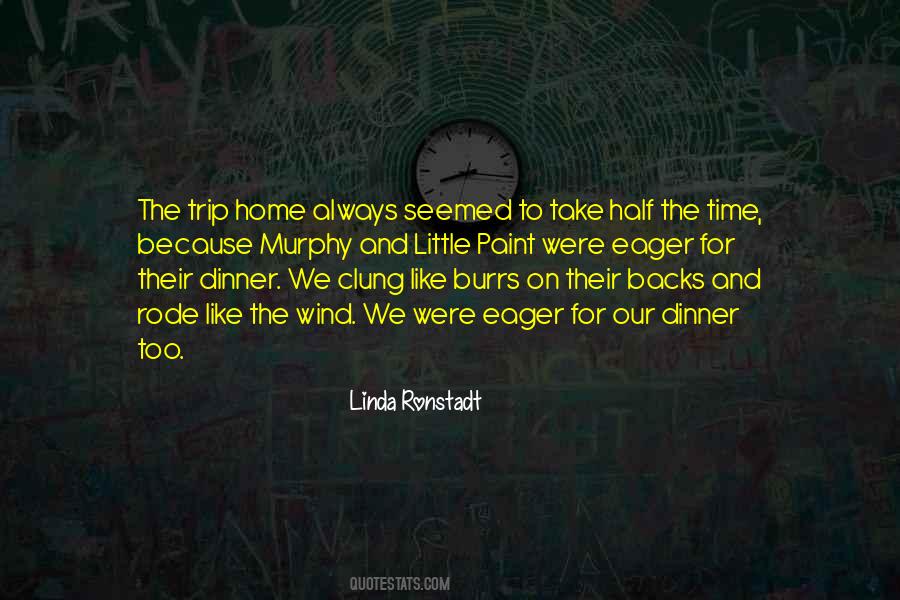 #99. As far as female vocalists, I love Heart, Joan Jett, Courtney Love, Laura Branigan, Linda Ronstadt, Barbra Streisand - or going back to when I was a child, Aileen Quinn, the original Annie.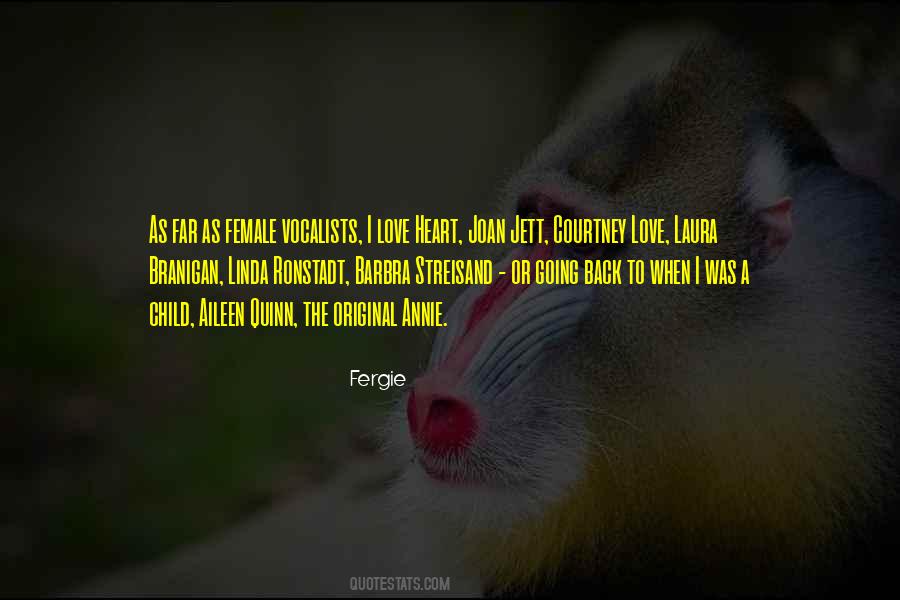 #100. I can remember sitting at the piano. My sister was playing, and my brother was singing something, and I said, 'I want to try that.'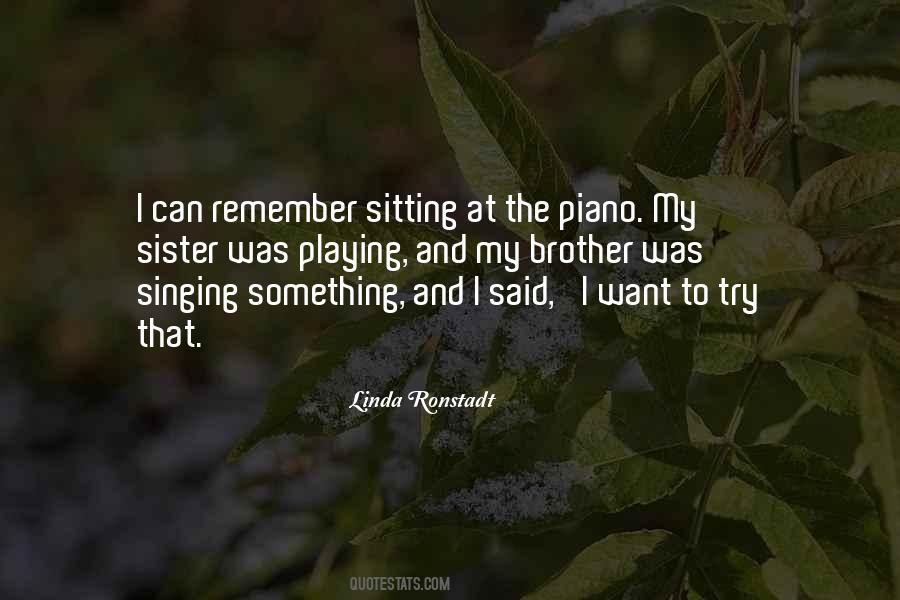 Famous Authors
Popular Topics