Rejoice God Famous Quotes & Sayings
List of top 100 famous quotes and sayings about rejoice god to read and share with friends on your Facebook, Twitter, blogs.
Top 100 Rejoice God Quotes
#1. We receive suffering when it comes as an opportunity for God to do something good in us and through us. We rejoice not in the pain but rather in what it can accomplish for the gospel so that something as costly as suffering is not wasted but used for God's glory, our joy, and others' good. - Author: Mark Driscoll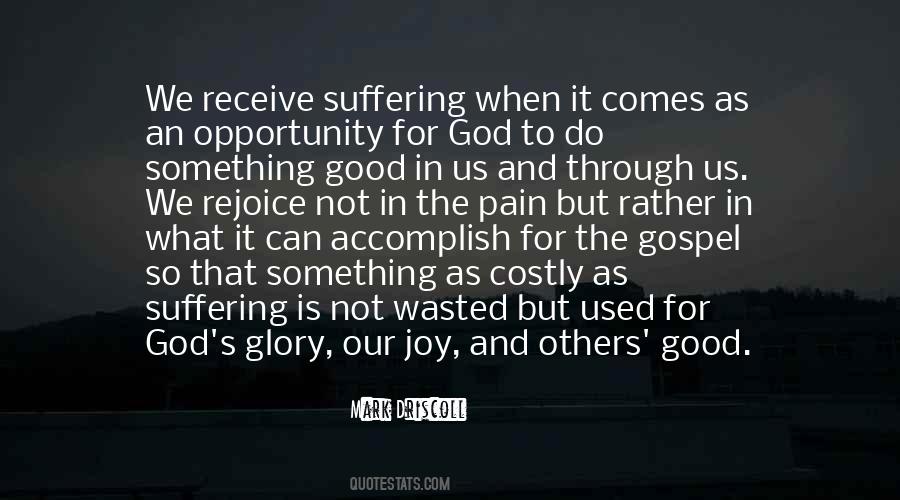 #2. If, then, yours is a much-tried path, rejoice in it, because you will be better able to display the all-sufficient grace of God. As - Author: Charles Haddon Spurgeon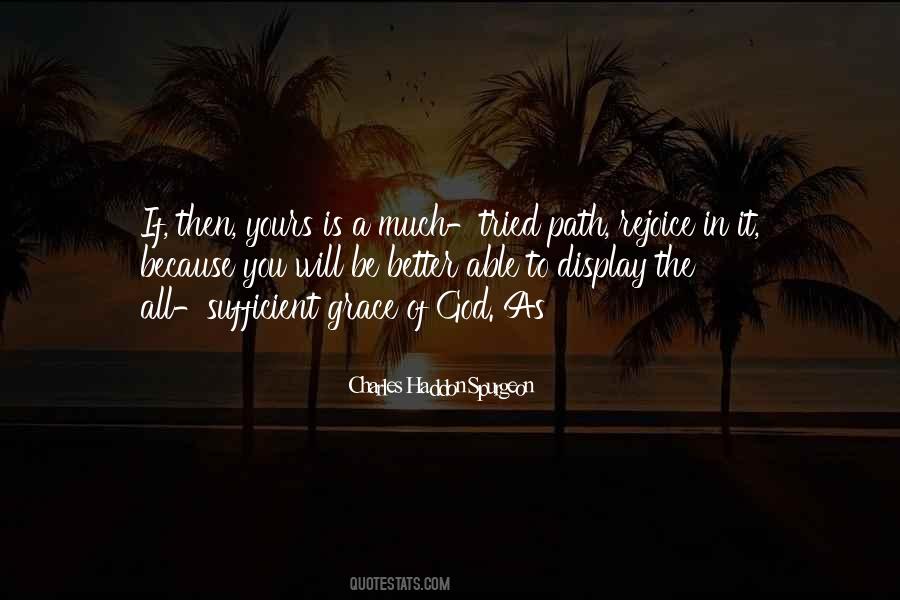 #3. More than that, we rejoice in our sufferings, knowing that suffering produces endurance, and endurance produces character, and character produces hope, and hope does not disappoint us, because God's love has been poured into our hearts through the Holy Spirit who has been given to us. - Author: Anonymous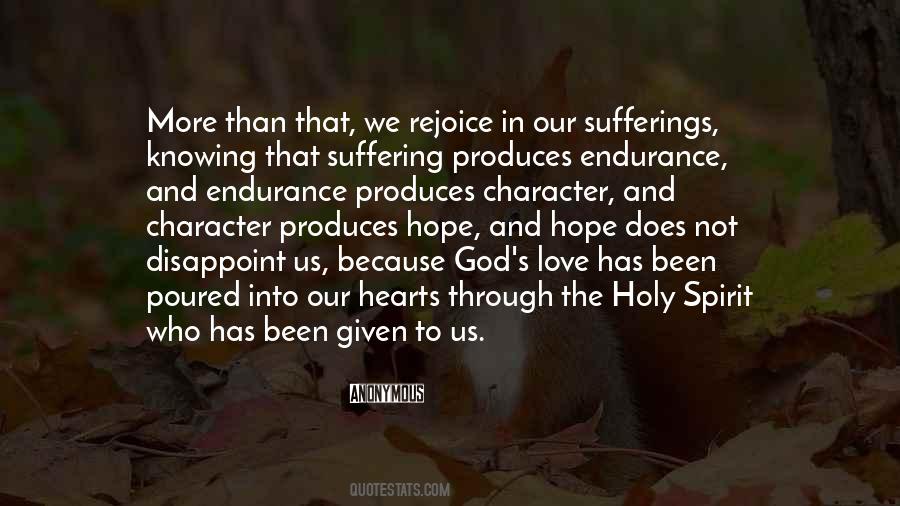 #4. The prescription for perplexed people who are tempted to be pessimistic is to rejoice, do good, and recognize that our ability to work, eat, and drink is the gift of God. - Author: J. Grant Howard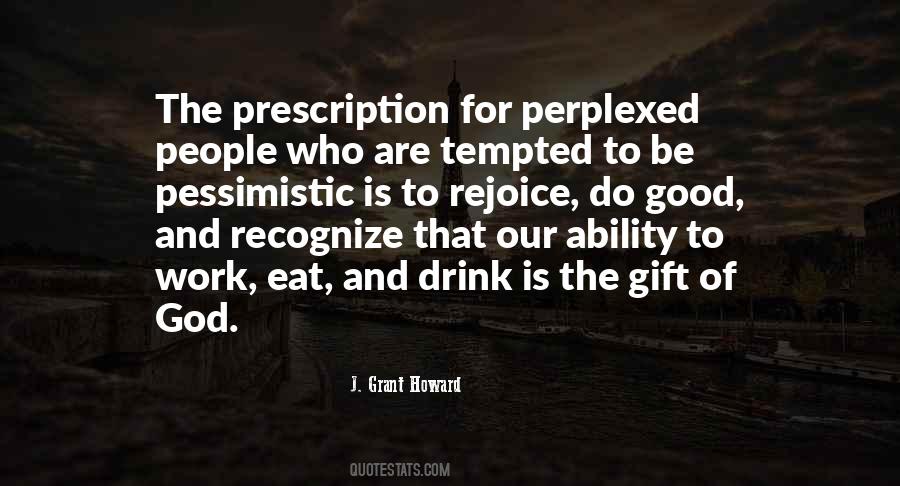 #5. LORD your God is with you, he is mighty to save. He will take great delight in you; he will quiet you with his love, he will rejoice over you with singing. (Zephaniah 3:17 NIV 1984) - Author: Nancy Grisham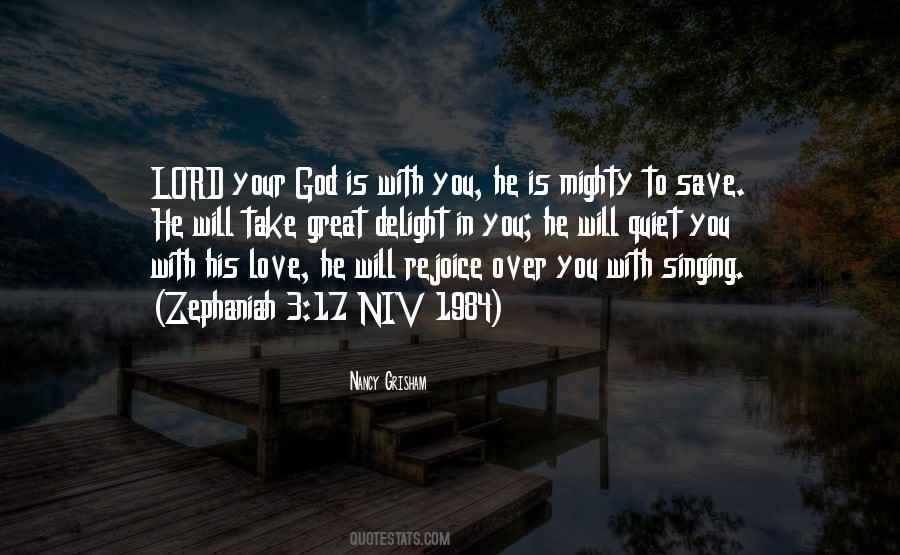 #6. If your life is broken right now, be encouraged that God knows what is going on in your life and will restore you. Until He does, rejoice in Him and praise His name. - Author: Warren W. Wiersbe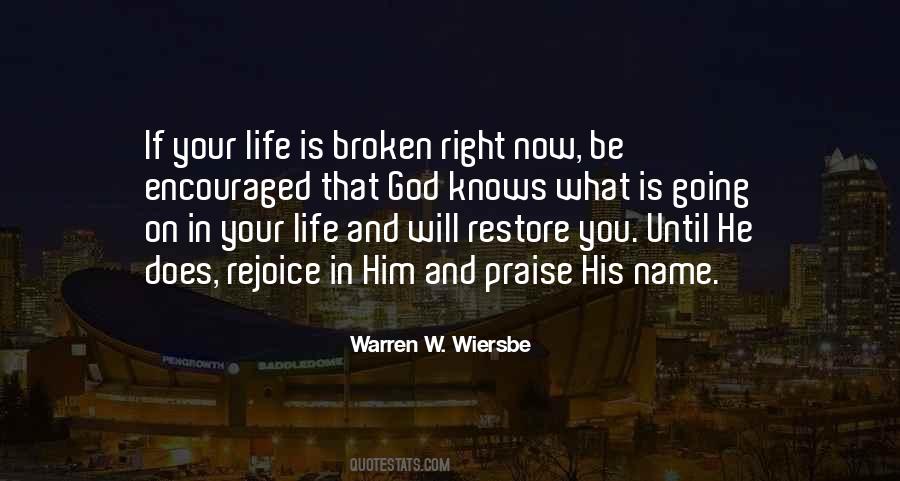 #7. At the very crisis, when Satan seemed about to triumph, the Son of God came with the embassage of divine grace. - Author: Ellen G. White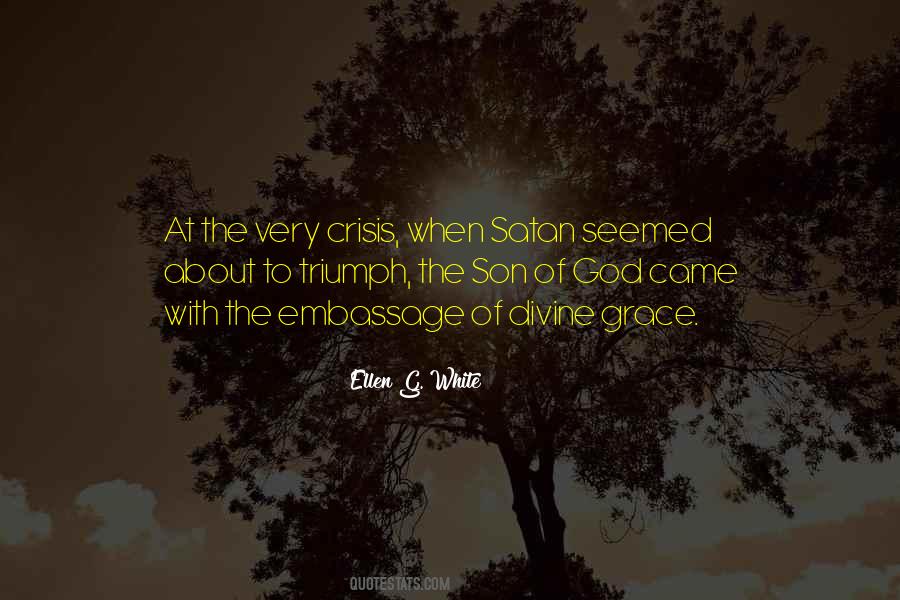 #8. It is only when we "rejoice with trembling" that we fully grasp who the God of Scripture is. - Author: Anonymous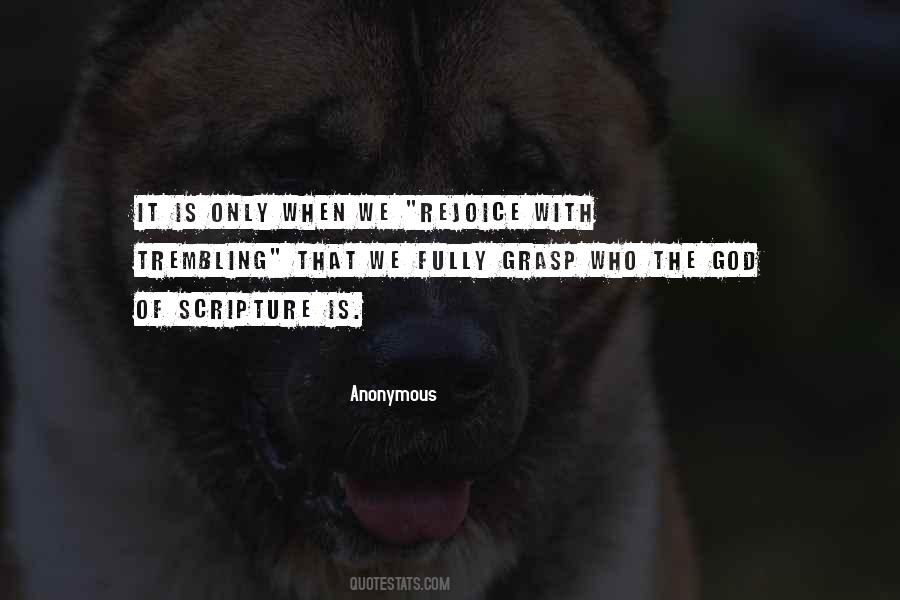 #9. The most glorious moment you will ever experience in your life is when you look back and see how God was protecting you all this time. - Author: Shannon L. Alder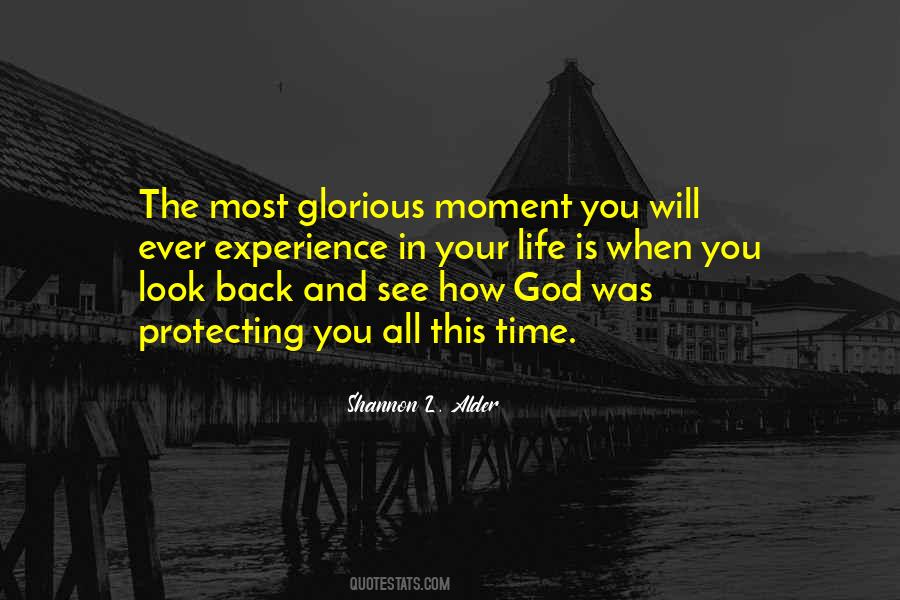 #10. Because every family is a distinct cultural unit, it is good that our methods differ. God did not intend for us to walk in lockstep with one another. We ought to rejoice in a common commitment to biblical principles and in the variety of methods God's people employ. - Author: Nancy Wilson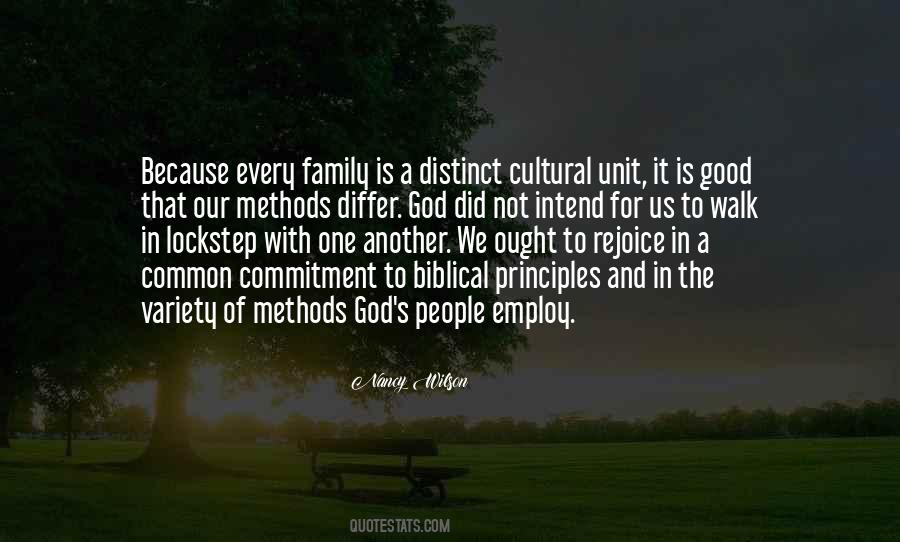 #11. Till you can sing and rejoice and delight in God as misers do in gold, and kings in scepters, you can never enjoy the world. - Author: Thomas Traherne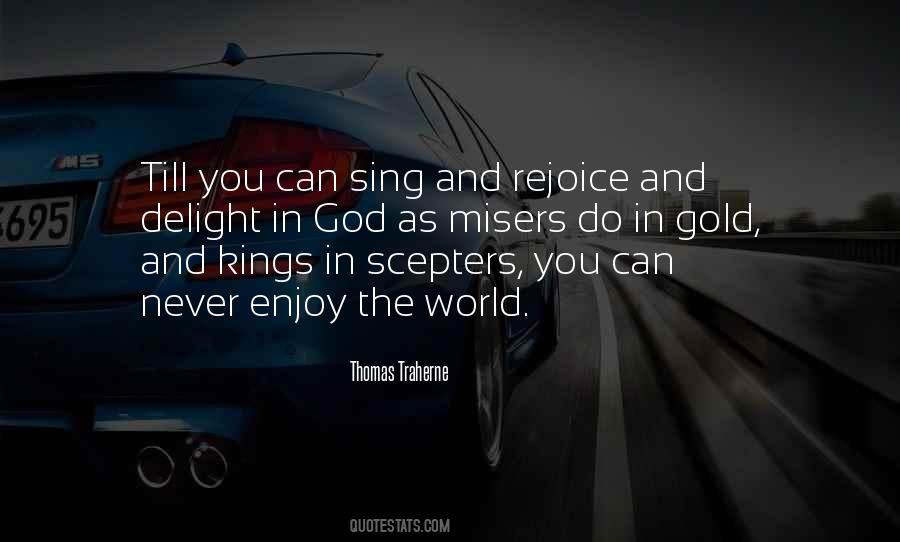 #12. Ah, Lord God, thou holy lover of my soul, when thou comest into my heart, all that is within me shall rejoice. - Author: Thomas A Kempis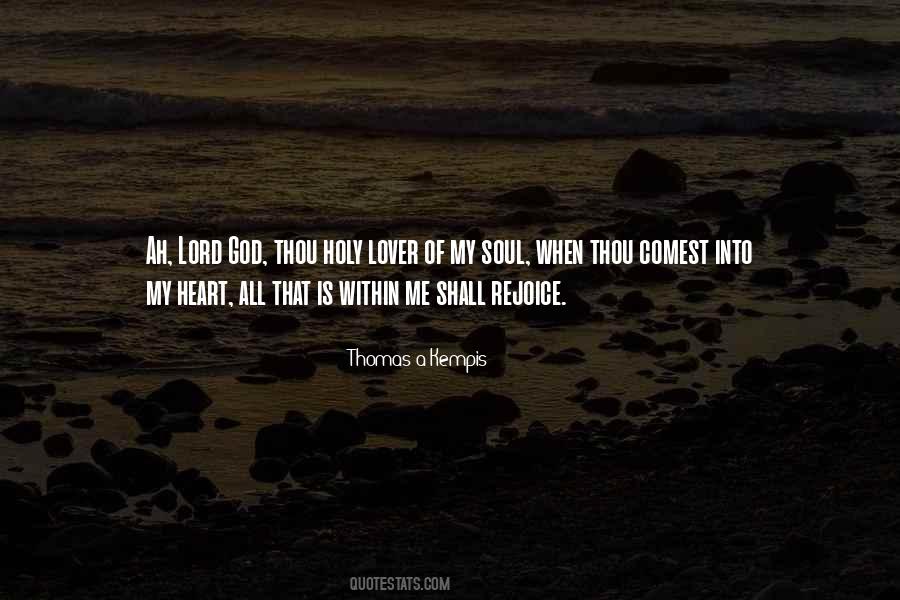 #13. When I look at the galaxies on a clear night - when I look at the incredible brilliance of creation, and think that this is what God is like, then instead of feeling intimidated and diminished by it, I am enlarged ... I rejoice that I am a part of it. - Author: Madeleine L'Engle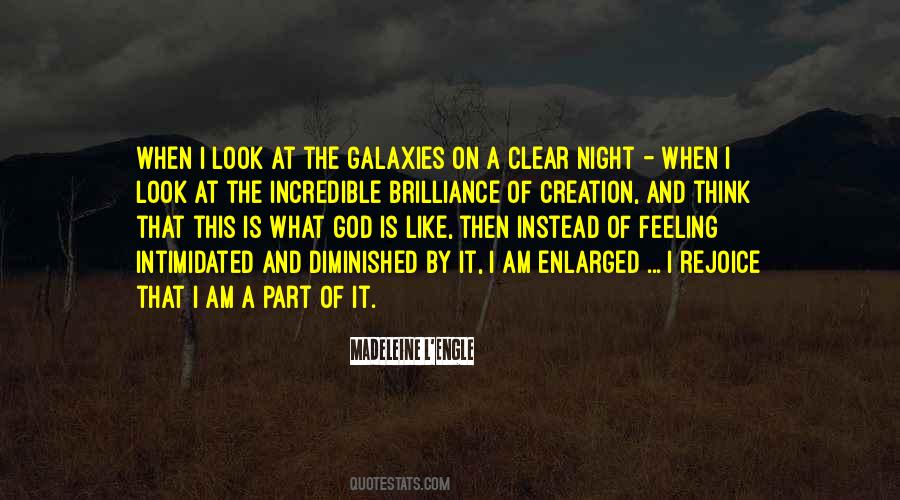 #14. Dream that the more you struggle, the more you prove the love that you bear your God, and the more you will rejoice one day with your Beloved, in a happiness and rapture that can never end. - Author: Teresa Of Avila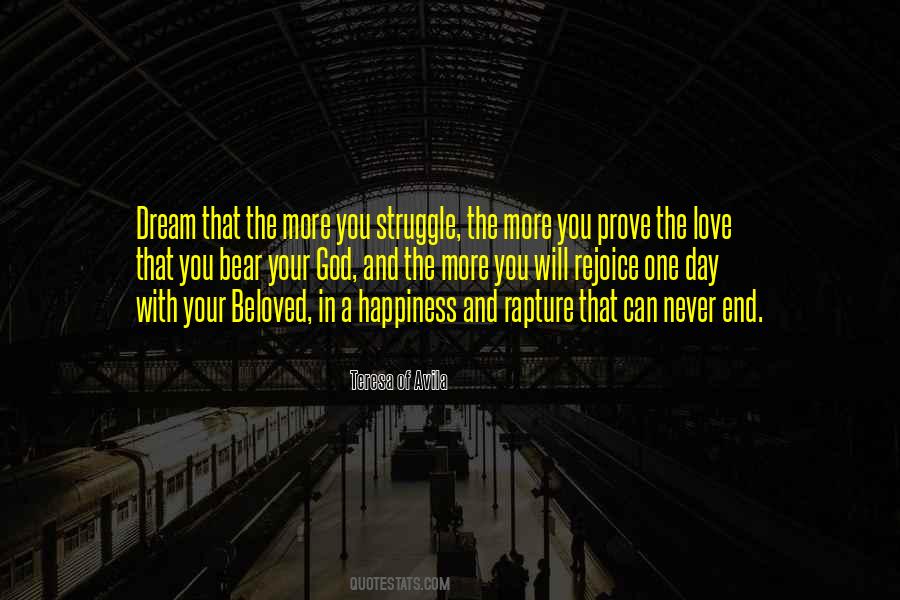 #15. Think it not hard if you get not your will, nor your delights in this life; God will have you to rejoice in nothing but himself. - Author: Samuel Rutherford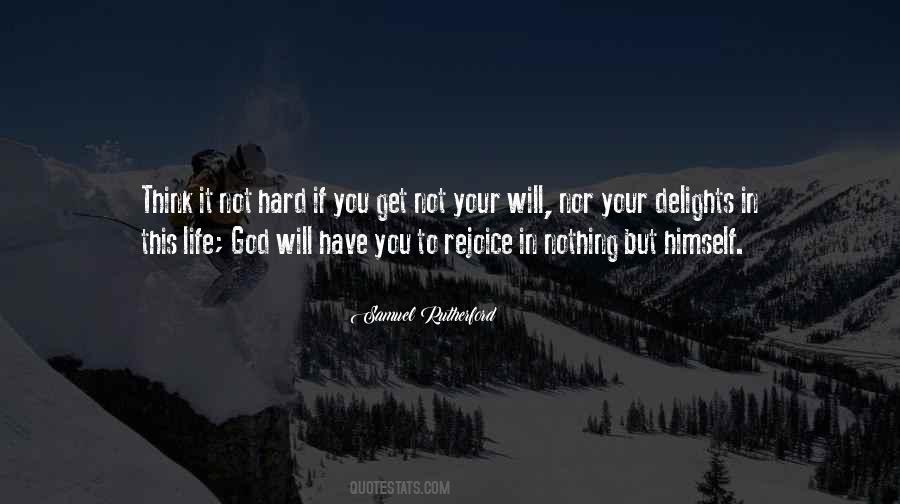 #16. Rejoice, that the immortal God is born, so that mortal man may live in eternity. - Author: Jan Hus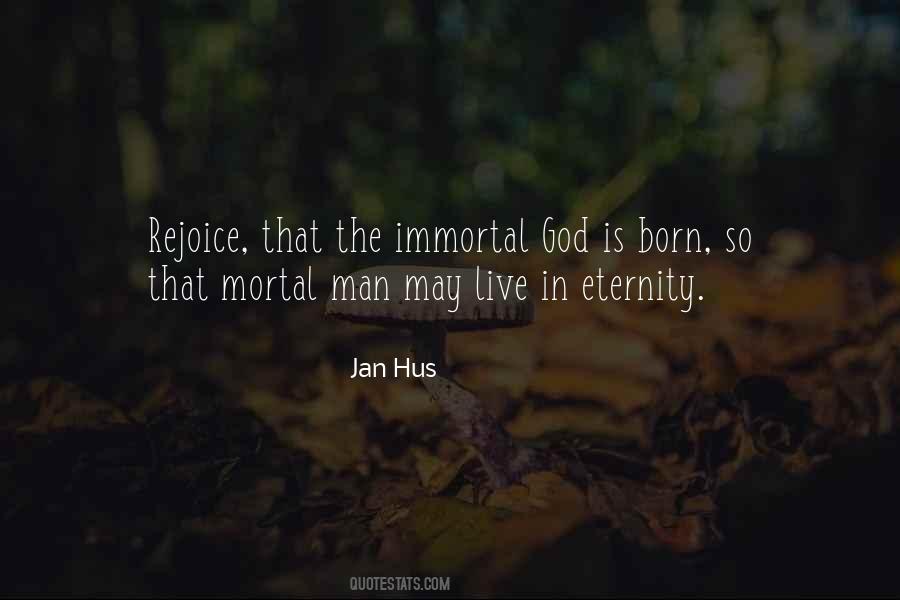 #17. God delights to see His people rejoice in what He has provided. - Author: Max Anders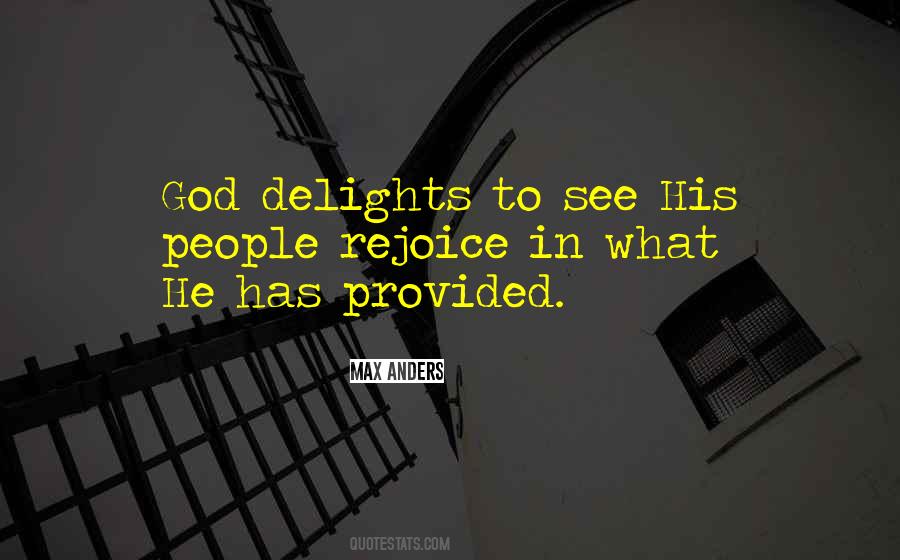 #18. I rejoice in the bounty of God, constantly manifesting as overflowing supply here and now. - Author: Catherine Ponder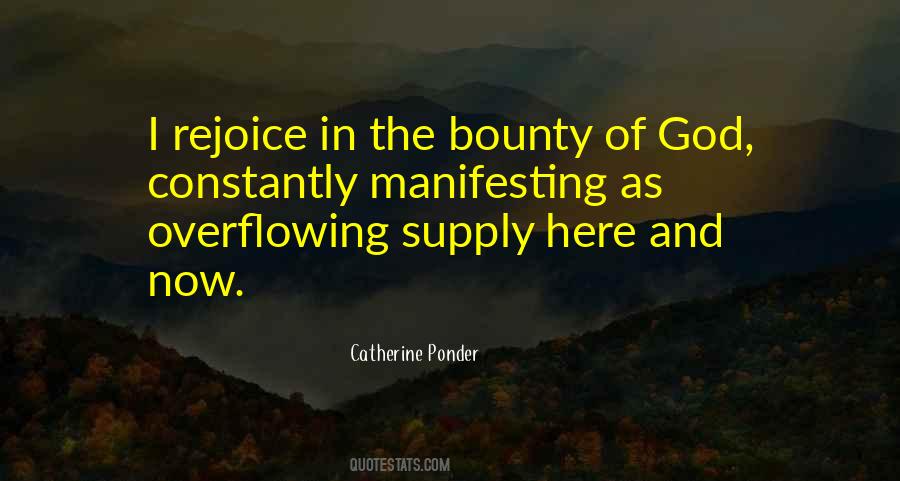 #19. Spirit filled souls are ablaze for God. They love with a love that glows. They serve with a faith that kindles. They serve with a devotion that consumes. They hate sin with fierceness that burns. They rejoice with a joy that radiates. Love is perfected in the fire of God. - Author: Samuel Chadwick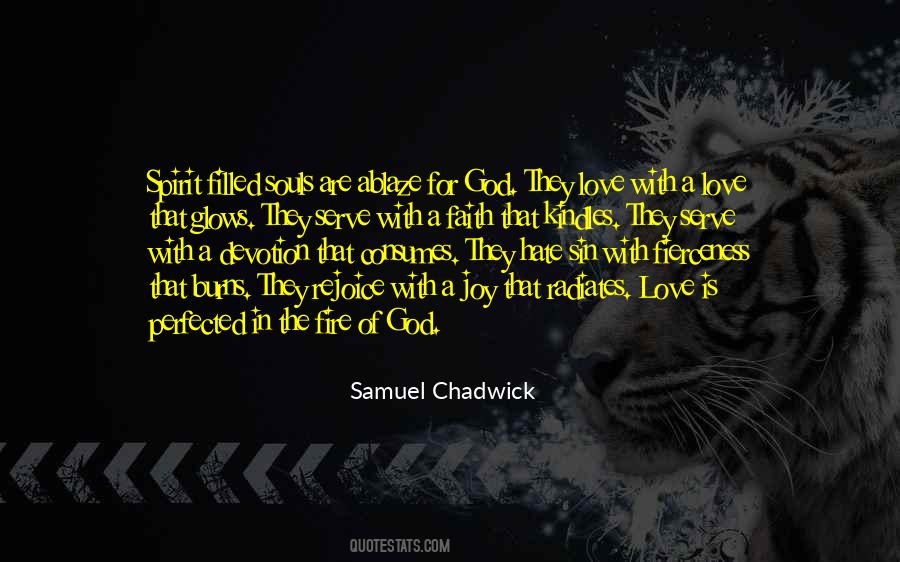 #20. Because of the gospel
the news about what Jesus did on the cross to save sinners
mothers who make Christ their treasure can rejoice in their work as God works in them. - Author: Gloria Furman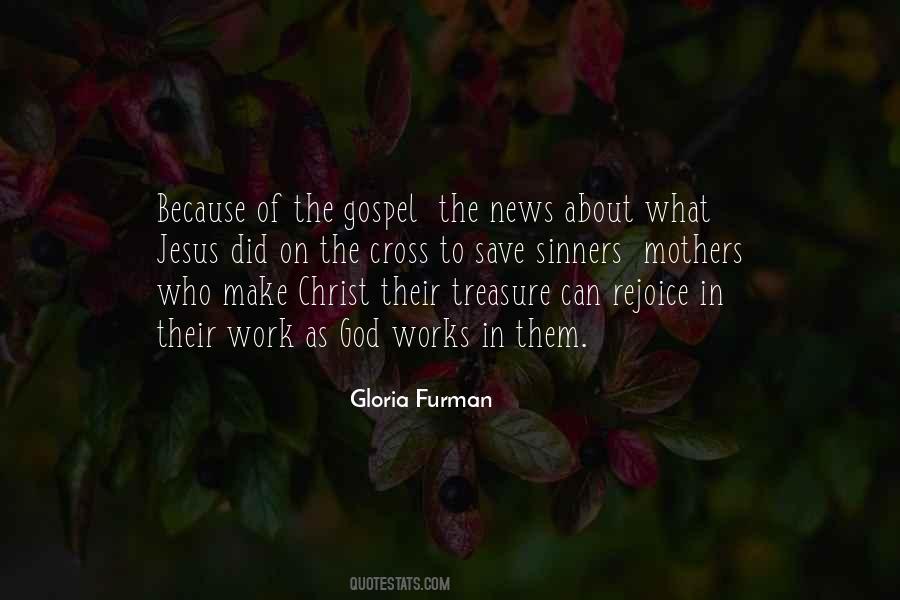 #21. Begin to rejoice in the Lord, and your bones will flourish like an herb, and your cheeks will glow with the bloom of health and freshness. Worry, fear, distrust, care-all are poisonous! Joy is balm and healing, and if you will but rejoice, God will give power. - Author: A.B. Simpson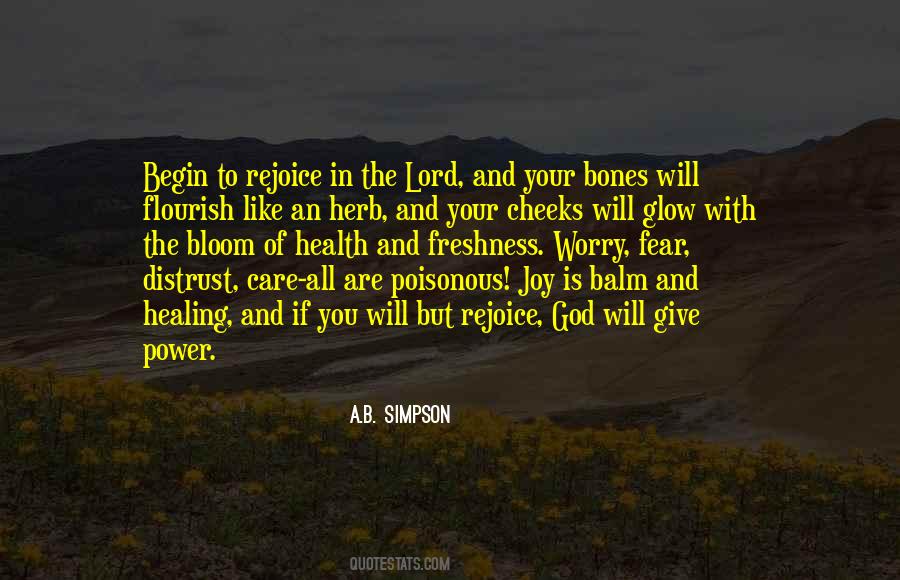 #22. The secret is this: When you have the single mind, you look on your circumstances as God-given opportunities for the furtherance of the gospel, and you rejoice at what God is going to do instead of complaining about what God did not do. - Author: Warren W. Wiersbe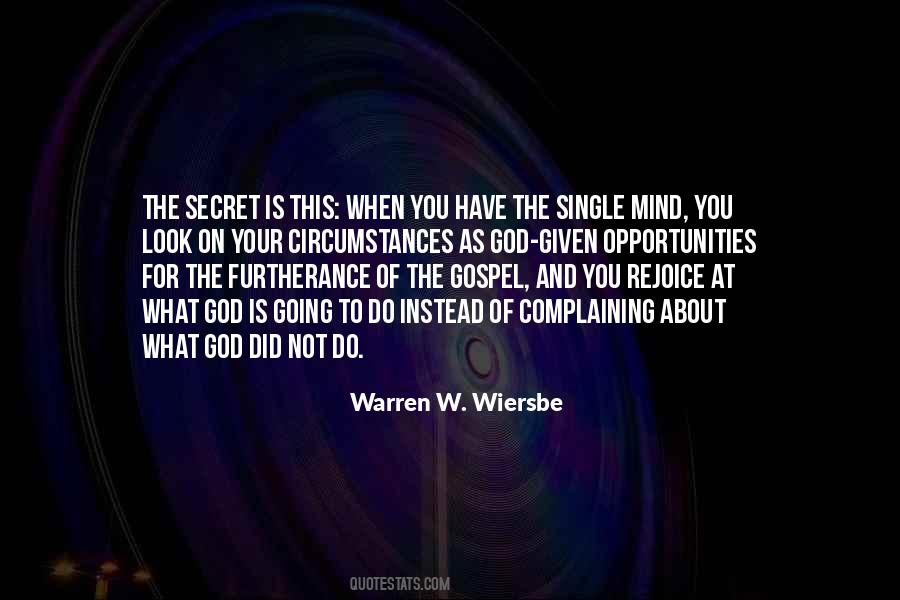 #23. God's love doesn't rejoice over the other people's mistakes and weaknesses. - Author: Euginia Herlihy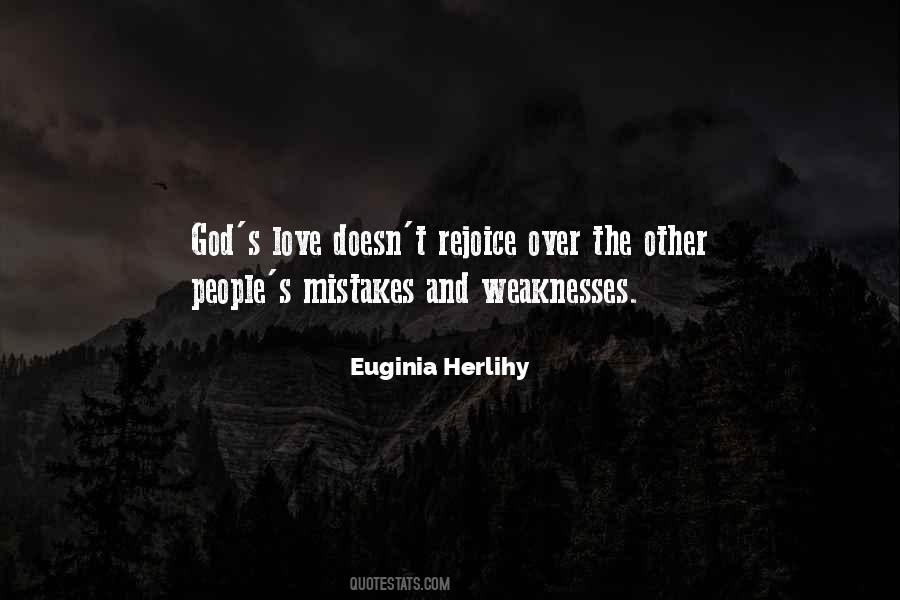 #24. I am not officially involved now in the direction of the Teen Challenge ministry, but I rejoice that God permits me to be the father of these ministries. - Author: David Wilkerson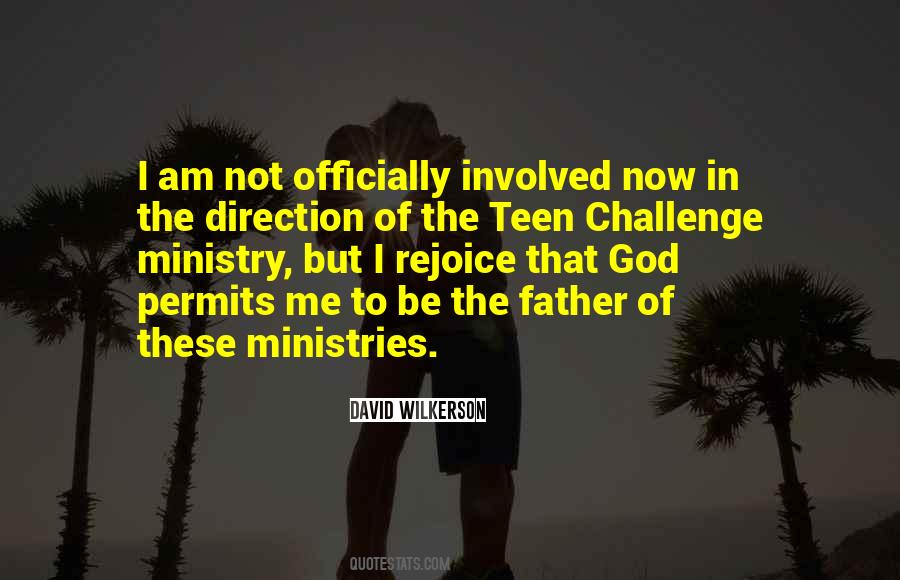 #25. I believe that very much of current Arminianism is simply ignorance of gospel doctrine; and if people began to study their Bibles, and to take the Word of God as they find it, they must inevitably, if believers, rise up to rejoice in the doctrines of grace. - Author: Charles Spurgeon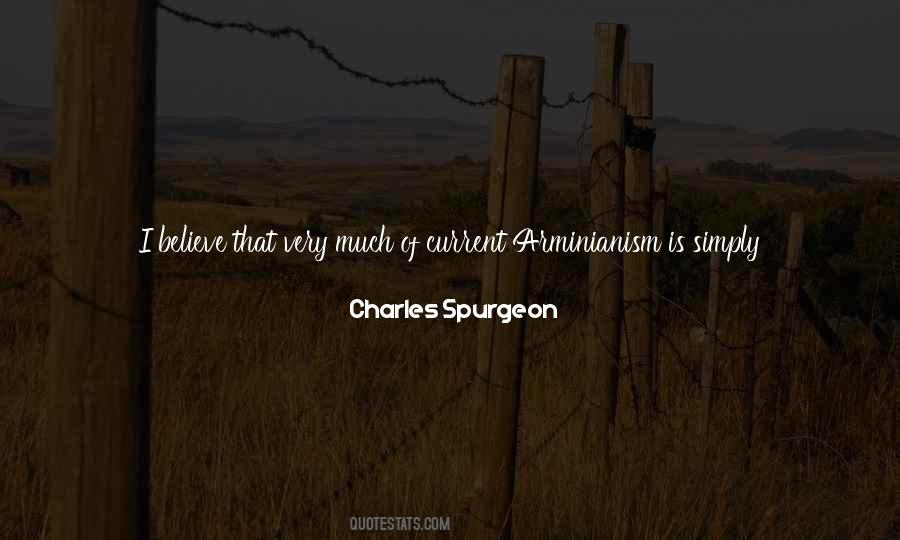 #26. Be glad, O people of Zion, rejoice in the Lord your God, for he has given you the autumn rains in righteousness. He sends you abundant showers, both autumn and spring rains, as before. - Author: Joel Osteen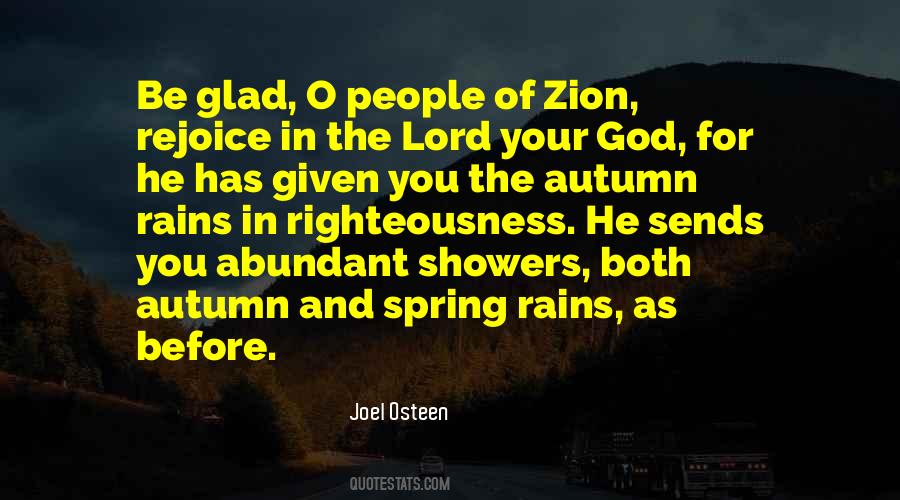 #27. If you can just trust Him enough to bring it to Him, He will rejoice in your masterpiece. And if you need to scream a little, know that you have a God who can take that too, as long as your face is tilted (even slightly) toward Him - Author: Angie Smith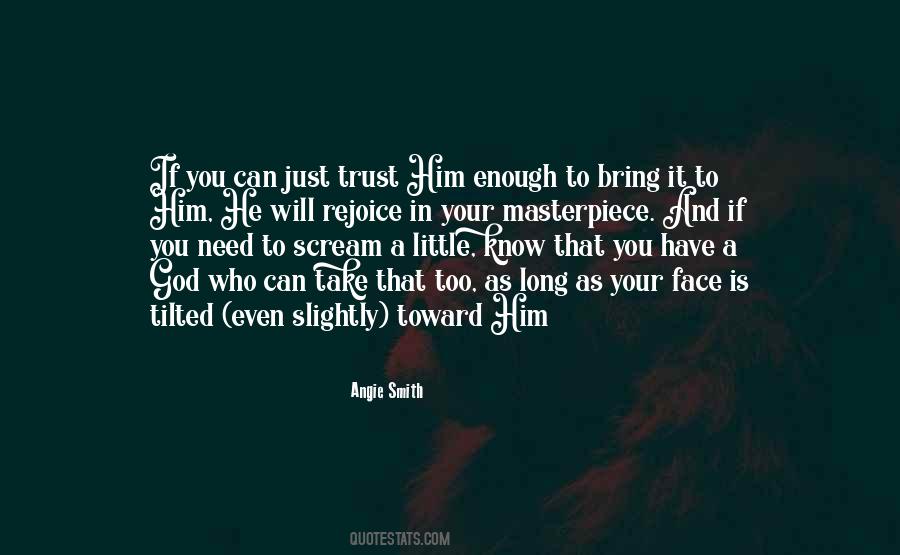 #28. I will rejoice in the Lord, and glory in the God of my salvation. - Author: Charles Haddon Spurgeon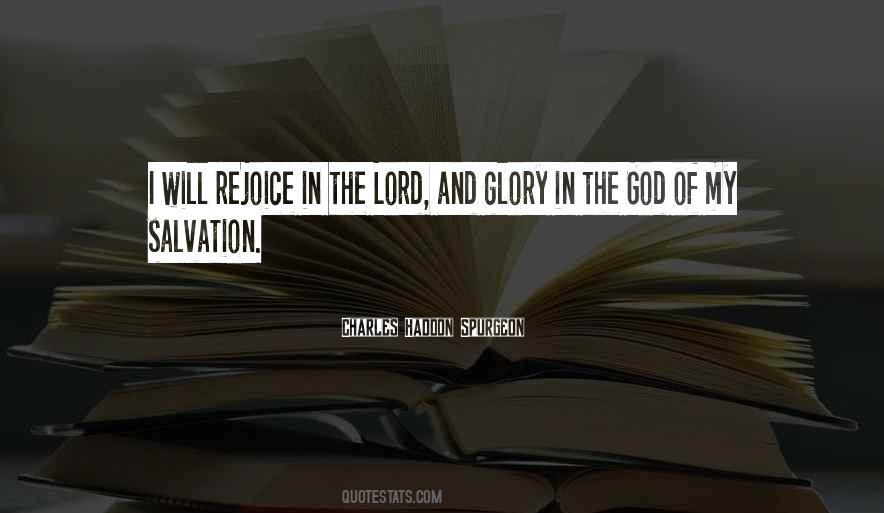 #29. A Prayer of Anselm My God, I pray that I may so know you and love you that I may rejoice in you. And if I may not do so fully in this life let me go steadily on to the day when I come to that fullness ... Let me receive That which you promised through your truth, that my joy may be full. - Author: Anselm Of Canterbury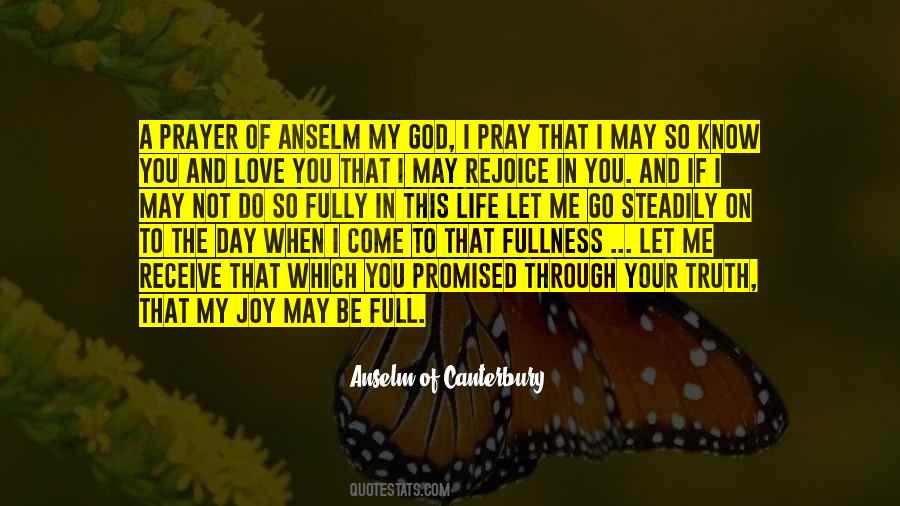 #30. Could a being create the fifty billion galaxies
each with two hundred billion stars
then rejoice in the smell of burning goat flesh? - Author: Ron Patterson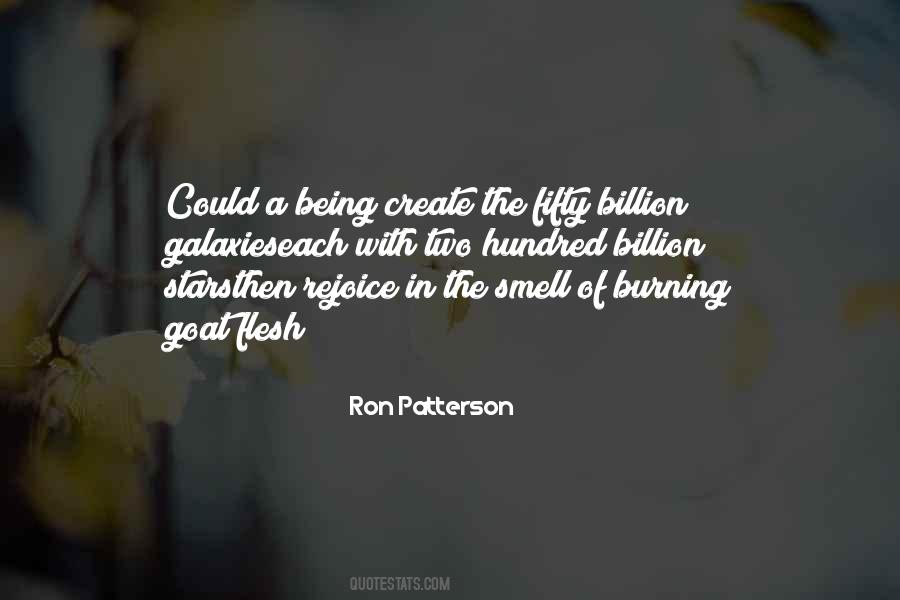 #31. I do not so much rejoice that God hath made me to be a Queen, as to be a Queen over so thankful a people. - Author: Elizabeth I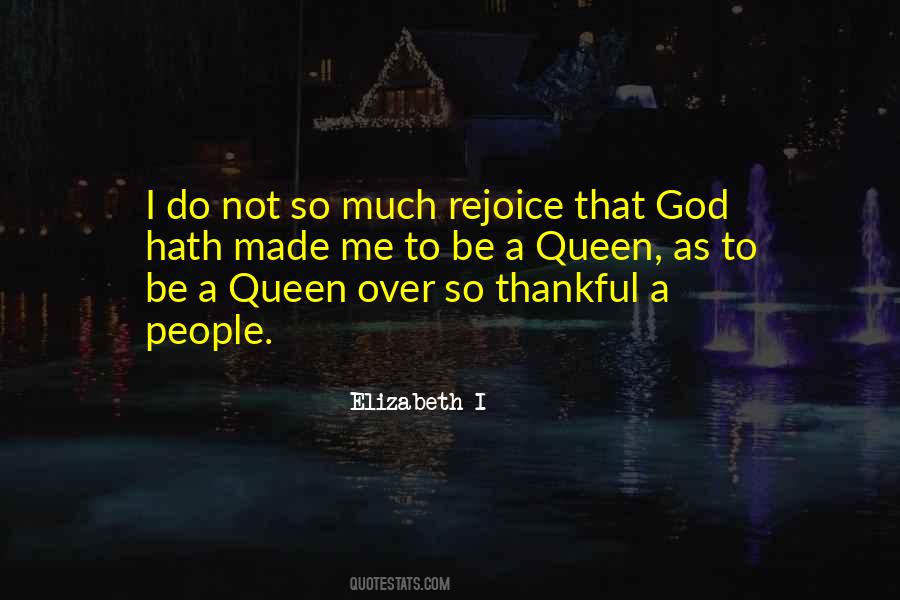 #32. Let us ask the Lord for this grace: that our hearts become free and filled with light, so that we can rejoice as children of God. - Author: Pope Francis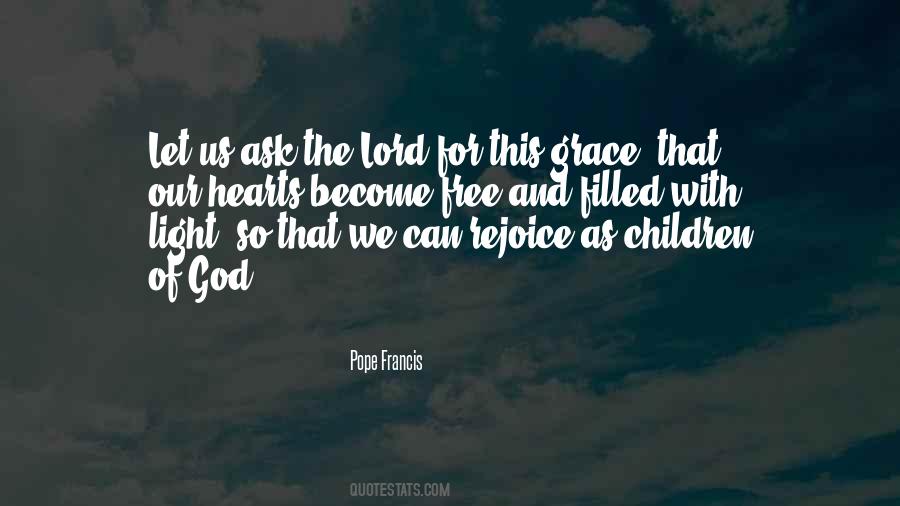 #33. Toward night, I felt my soul rejoice, that God is unchangeable happy and glorious and that He will be glorified, whatever becomes of His creatures. - Author: David Brainerd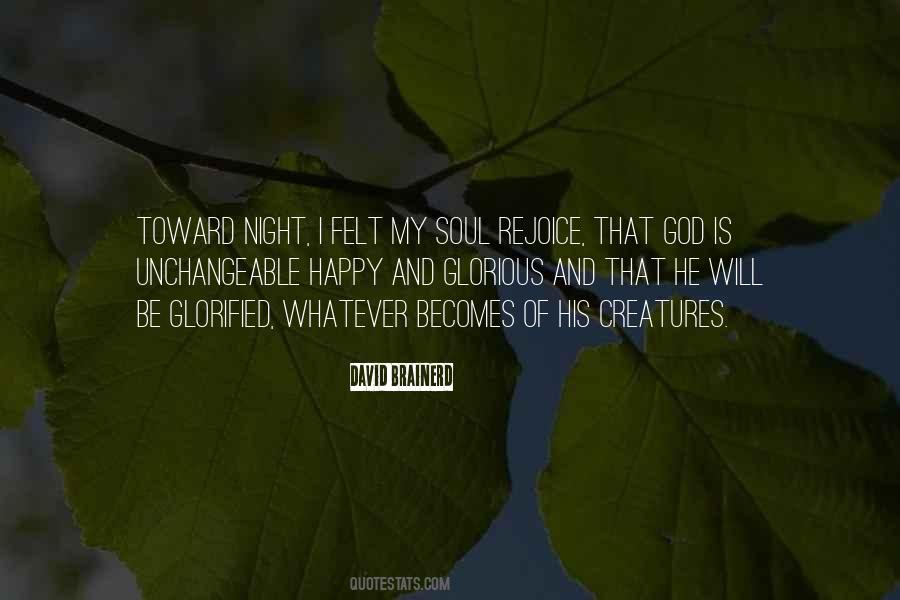 #34. Satan wants us to constantly focus on everything that is wrong with us and look at how far we still have to go. But God desires for us to rejoice in how far we have already come. - Author: Joyce Meyer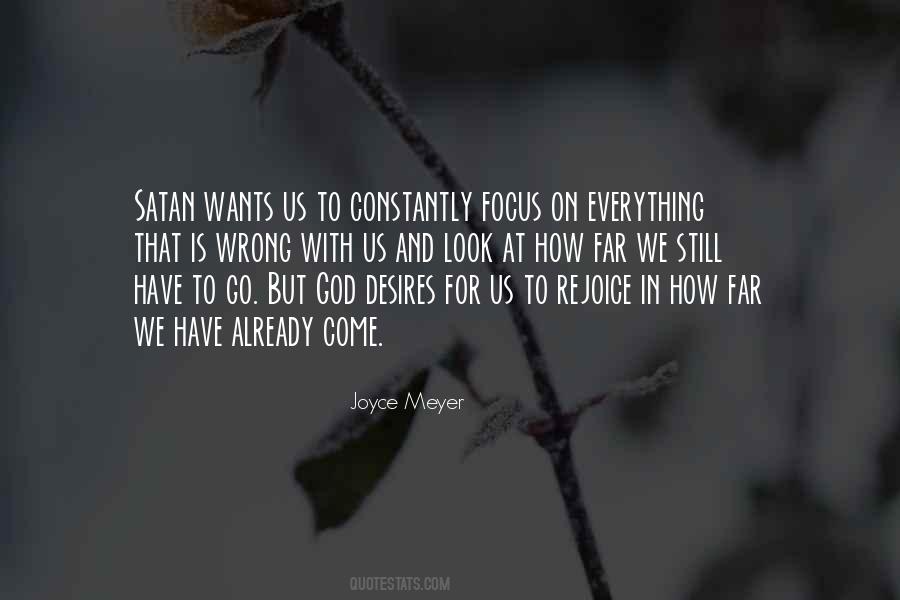 #35. Our knowledge of God is perfected by gratiitude: we are thankful and rejoice in the experience of the truth that He is love ... - Author: Thomas Merton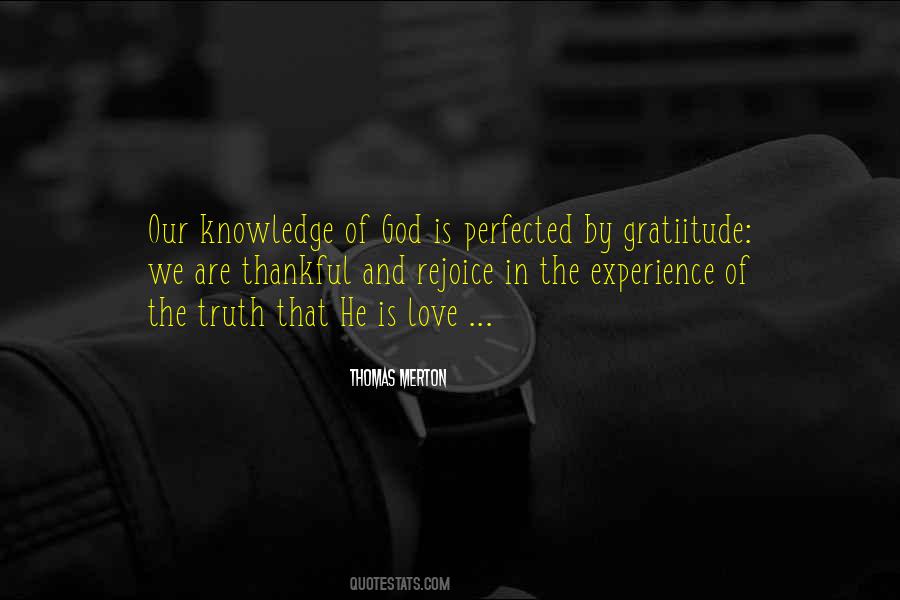 #36. We are made exactly as God wants us to be. We only need to lift our minds above Earth's empty sorrows so that we can rejoice in the Divine joy. - Author: Julian Of Norwich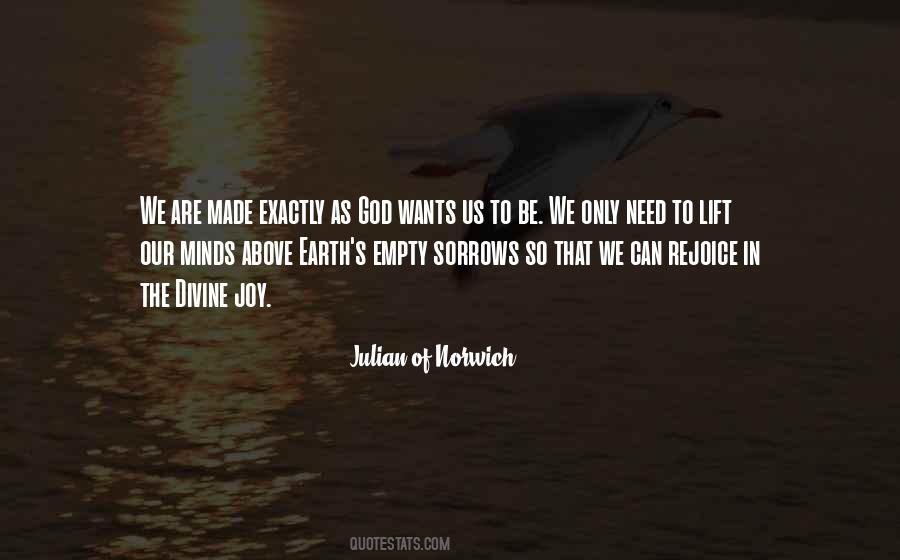 #37. Give me the grace to believe that you really do know what is best for me and that I do not. May I cling to Your character and rejoice in Your pursuit of me. - Author: Kenneth D. Boa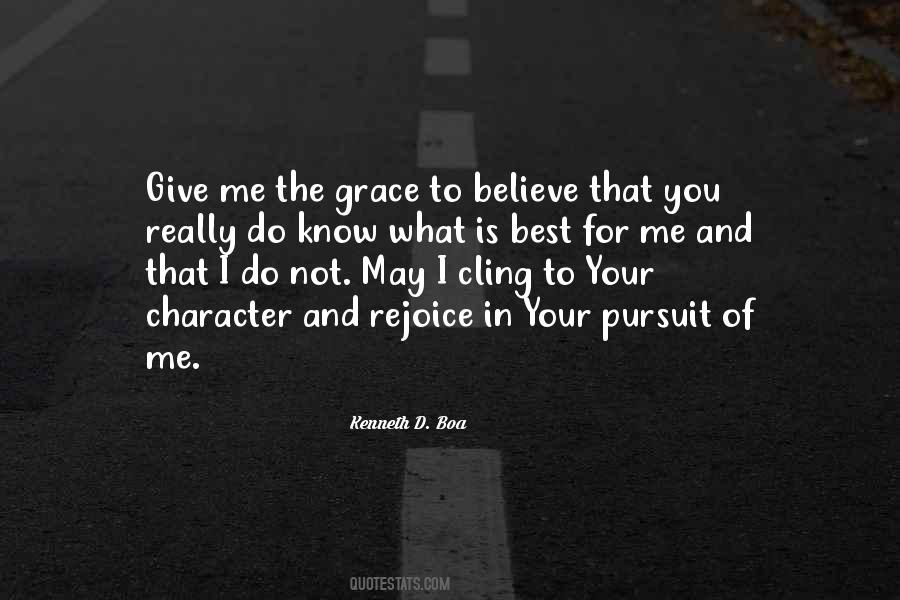 #38. If we have, through grace, an interest in Him who is the Fountain, we may rejoice in him when the streams of temporal mercies are dried up. - Author: Matthew Henry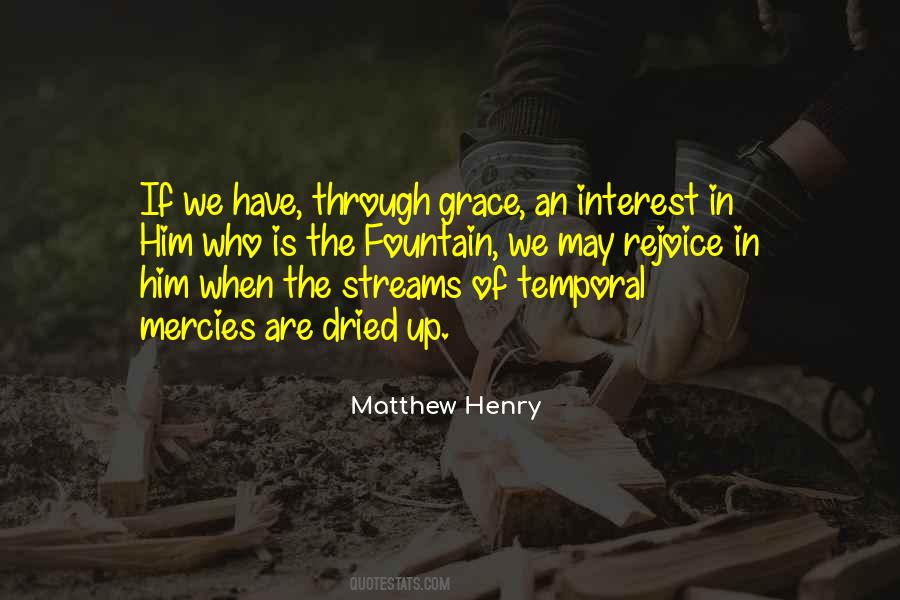 #39. Chastisement leads to the fellowship of God's Son. Only in Christ do we have the power to love and rejoice in the will of God. - Author: Andrew Murray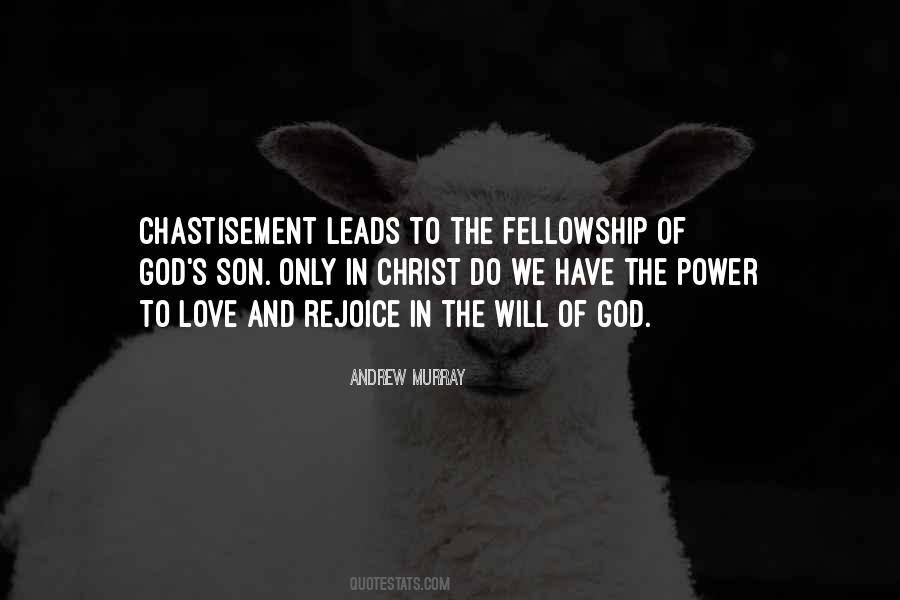 #40. Oh, yes, nodded Pollyanna, emphatically. He [her father] said he felt better right away, that first day he thought to count 'em. He said if God took the trouble to tell us eight hundred times [in the Bible] to be glad and rejoice, He must want us to do it - SOME. - Author: Eleanor Porter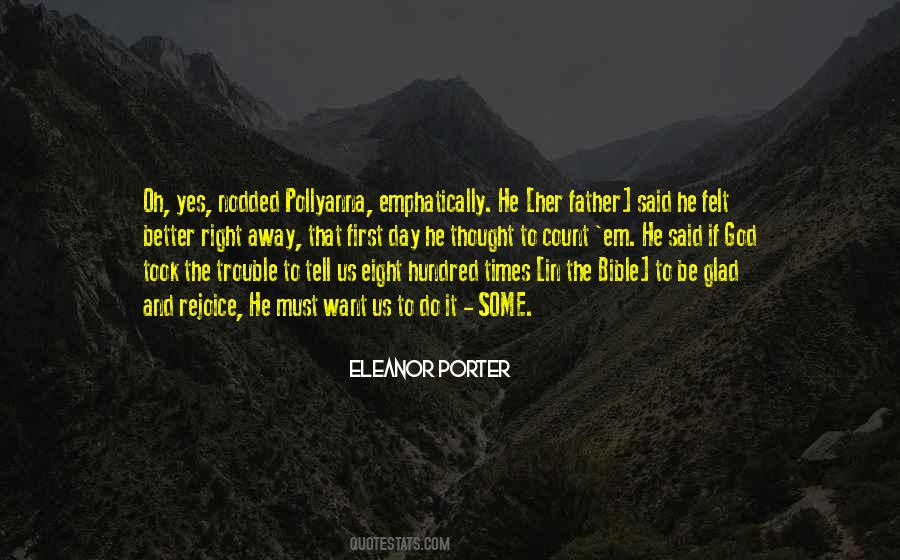 #41. If God suffers in the flesh when He is made man, should we not rejoice when we suffer, for we have God to share our sufferings? This shared suffering confers the kingdom on us. For he spoke truly who said, 'If we suffer with Him, then we shall also be glorified with Him' (Rom. 8:17). - Author: Maximus The Confessor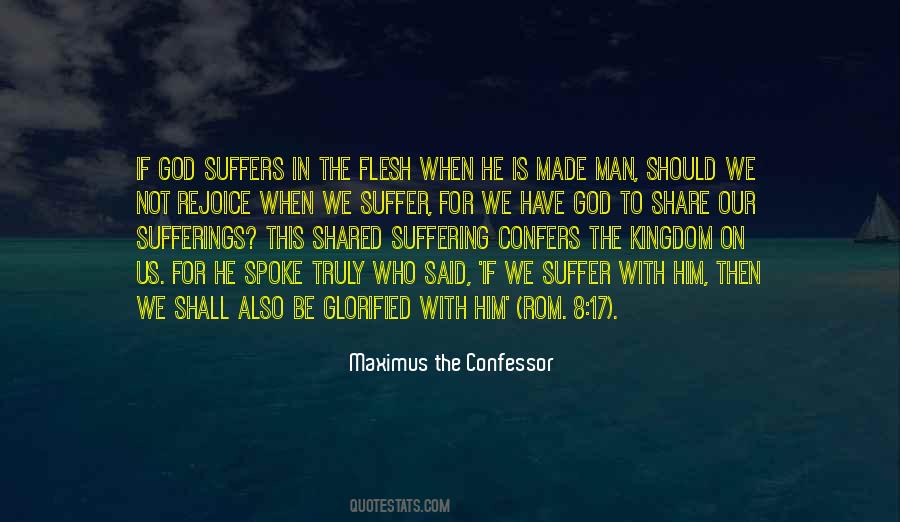 #42. Let us also once more rejoice in, and thank God for, the fact that we know nothing about Homer, and practically nothing about Shakespeare. - Author: George Saintsbury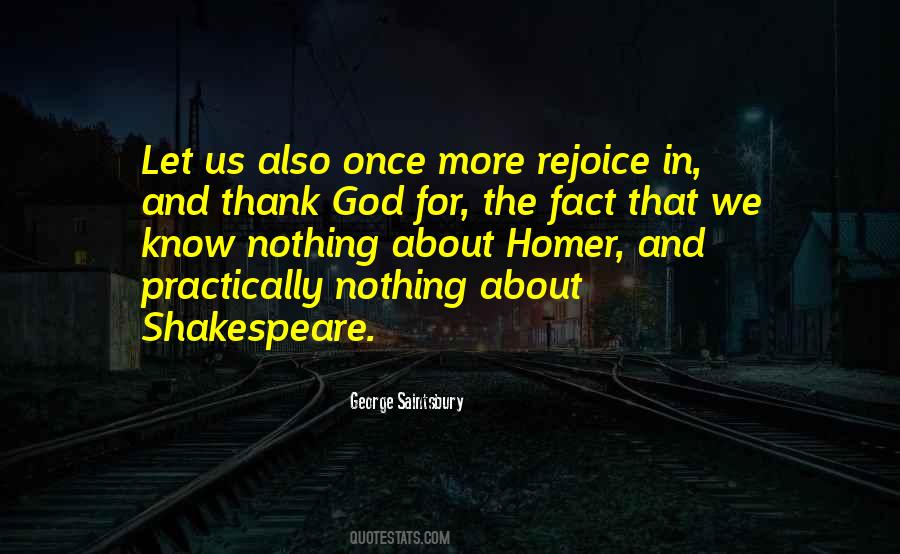 #43. When I am consumed by my problems-stressed out about my life, my family, and my job-I actually convey the belief that I think the circumstances are more important than God's command to always rejoice. - Author: Francis Chan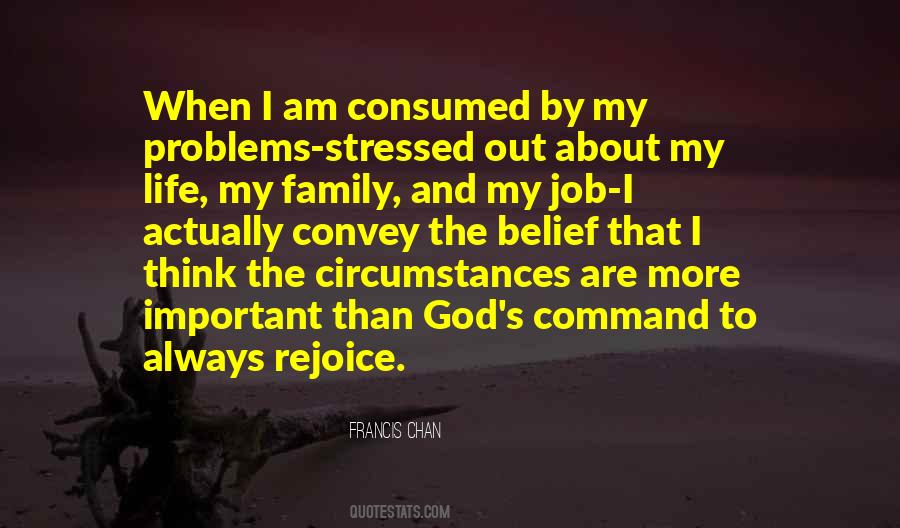 #44. 9 Rejoice, young man, while you are young, and let your heart be glad in the days of your youth. And walk in the ways of your heart and in the sight of your eyes; but know that for all of these things God will bring you to judgment. - Author: Anonymous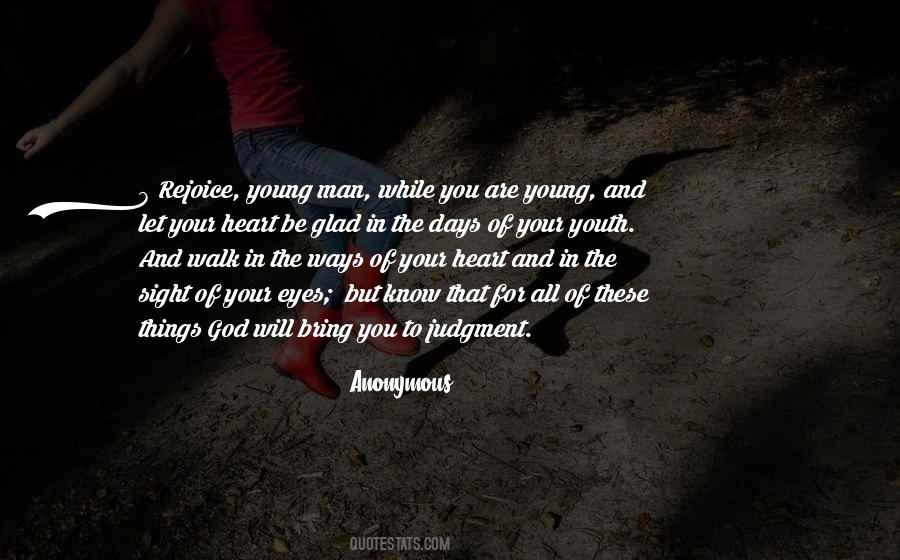 #45. Will I find spiritual communion with God sweet enough, and hope in his promises deep enough, not just to cope, but to flourish and rejoice in him? - Author: John Piper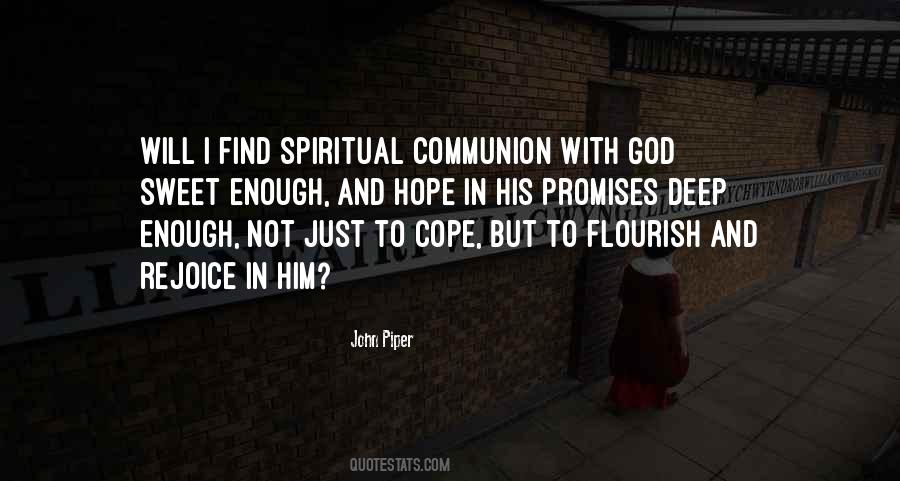 #46. I should rejoice if my pleasures were as pleasing to God as they are to myself. - Author: Margaret Of Valois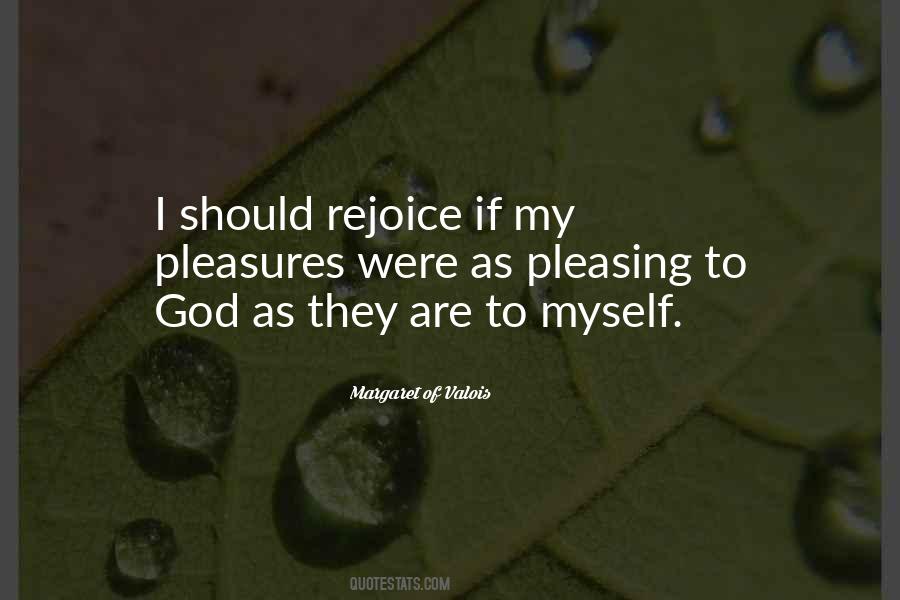 #47. Begin to be aware of your tendency to make the "haves" bad and the "have nots" good. Ask God to help you to be grateful for what you have, and to rejoice in the good things that others have. - Author: Henry Cloud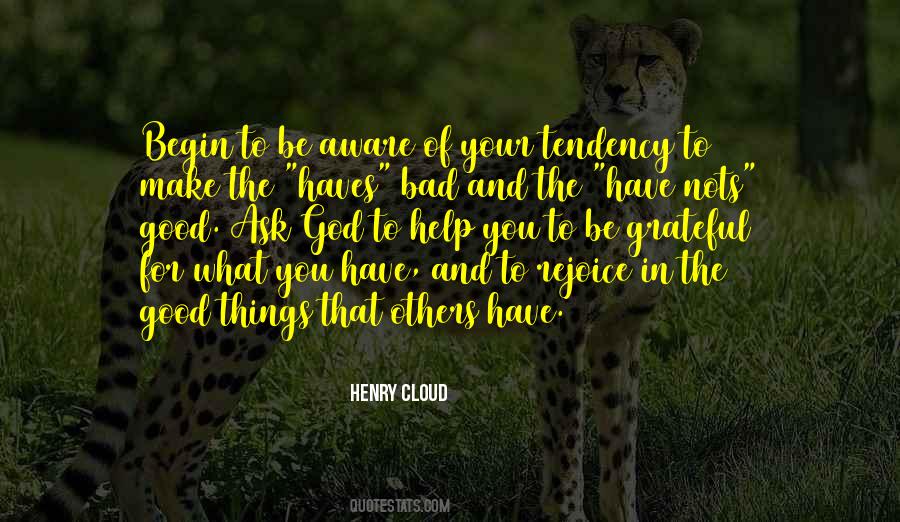 #48. Adam was created, as it were, intoxicated with rejoicing toward God and was delighted also with all the other creatures. - Author: Martin Luther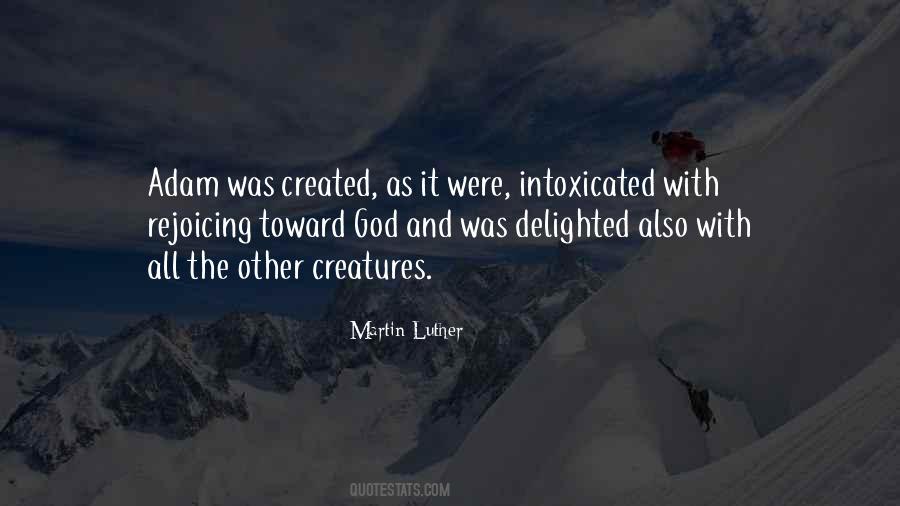 #49. Every time I open my Bible I will read it as the Word of 'God, that cannot lie;' and when I get a promise or a threatening, I will either rejoice or tremble because I know that these stand fast. - Author: Charles Spurgeon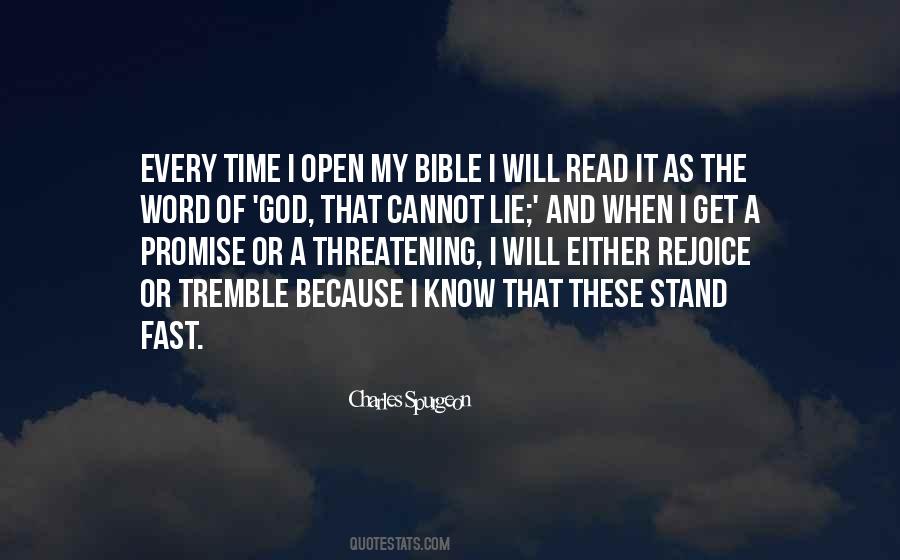 #50. Resolve never to criticize or downgrade yourself, but instead rejoice that you are fearfully and wonderfully made. - Author: Elizabeth George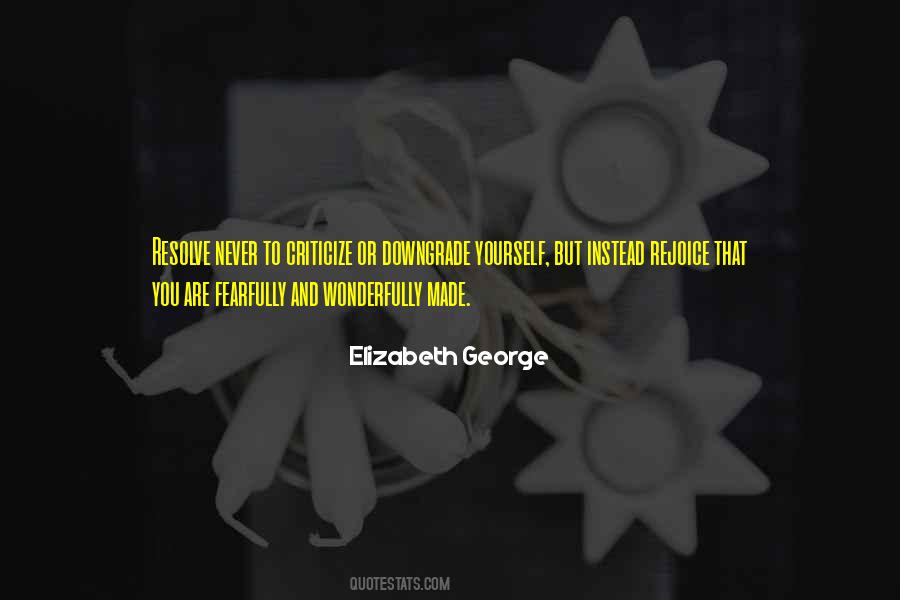 #51. Feelings are involuntary reactions, so God does not say, "Feel joy." He says, "Rejoice!" It's a choice. - Author: George Foster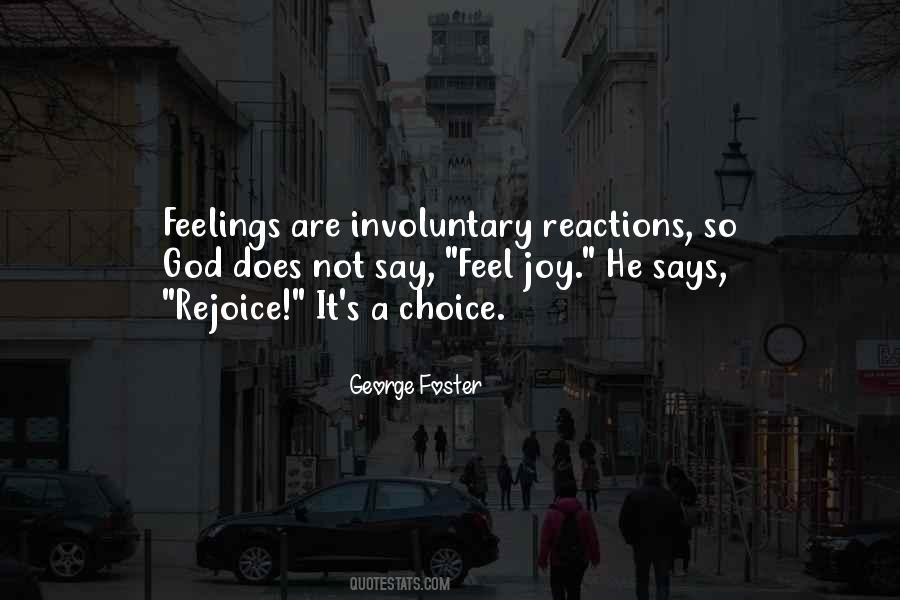 #52. Though the fig tree may not blossom, Nor fruit be on the vines; Though the labor of the olive may fail, And the fields yield no food; Though the flock may be cut off from the fold, And there be no herd in the stalls - 18 Yet I will rejoice in the LORD, I will joy in the God of my salvation. - Author: Anonymous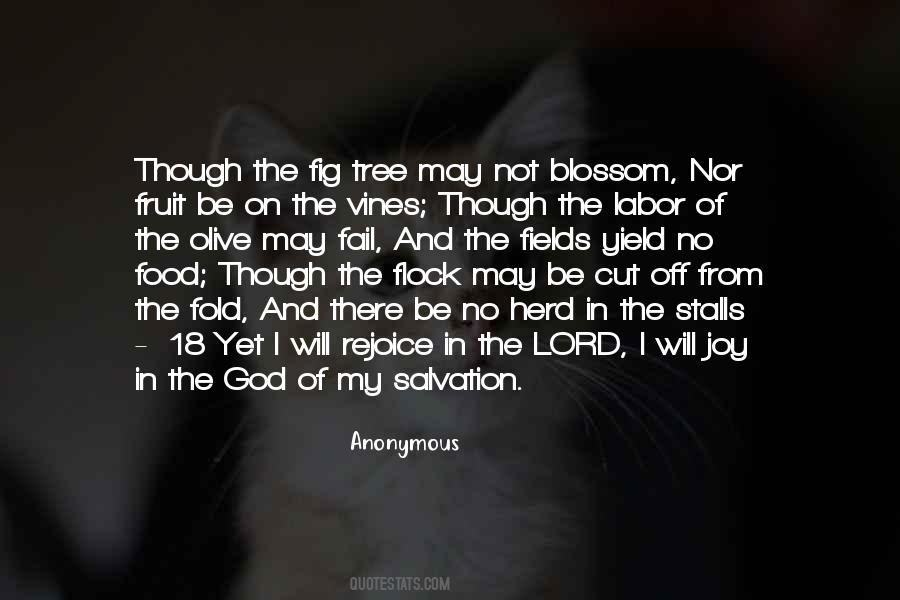 #53. God will act in His own way and time. Do not fear, and do not rejoice as yet; for what we wish for at the moment may be our undoings. - Van Helsing, Dracula - Author: Bram Stoker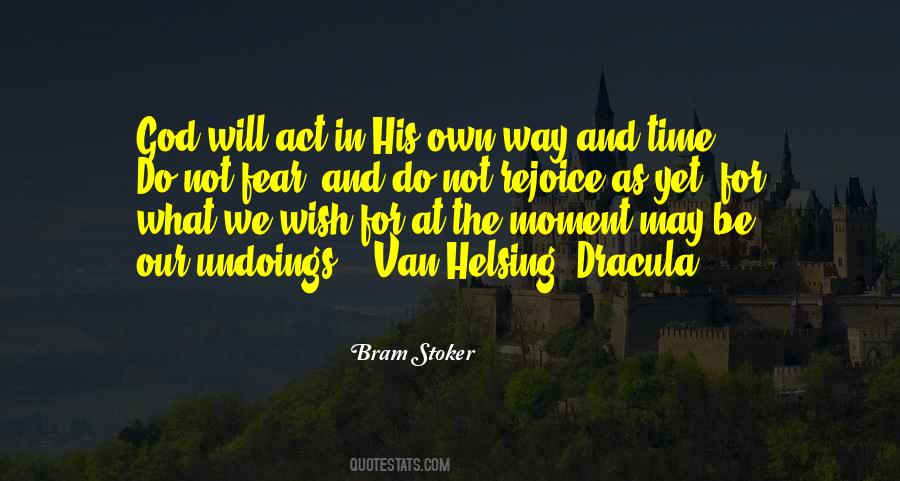 #54. God is not a God of sadness, death, etc., but the devil is. Christ is a God of joy, and so the Scriptures often say that we should rejoice ... A Christian should and must be a cheerful person. - Author: Martin Luther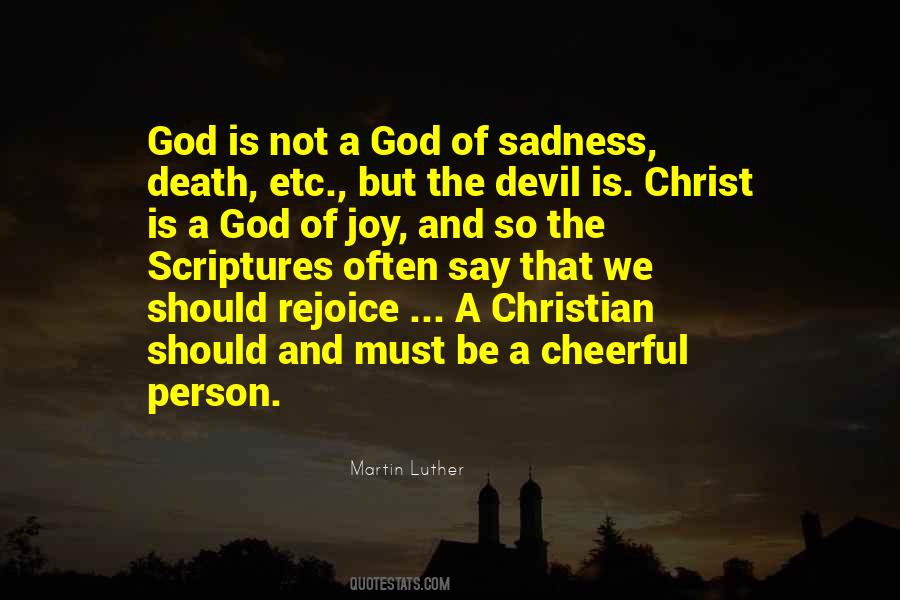 #55. 17The LORD your God is with you, the Mighty Warrior who saves. He will take great delight in you; in his love he will no longer rebuke you, but will rejoice over you with singing. - Author: Anonymous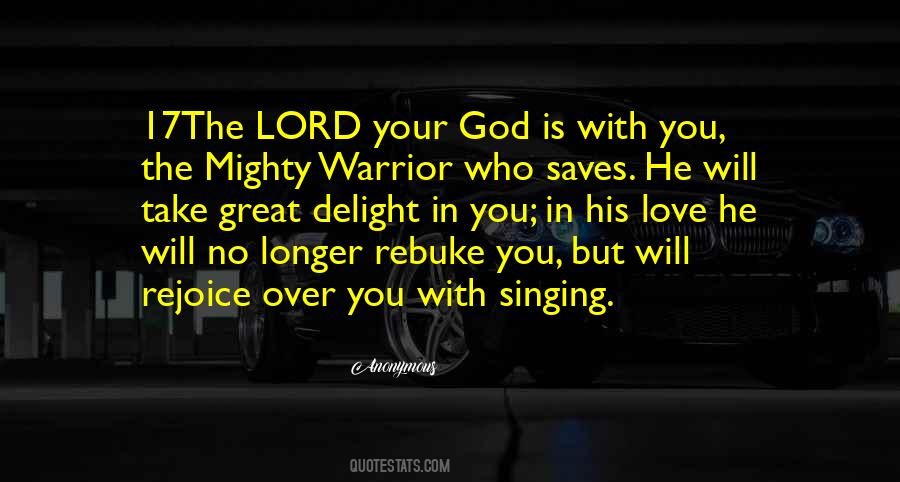 #56. Celebration is best done in the company of others who can rejoice with us over God's goodness. - Author: Max Anders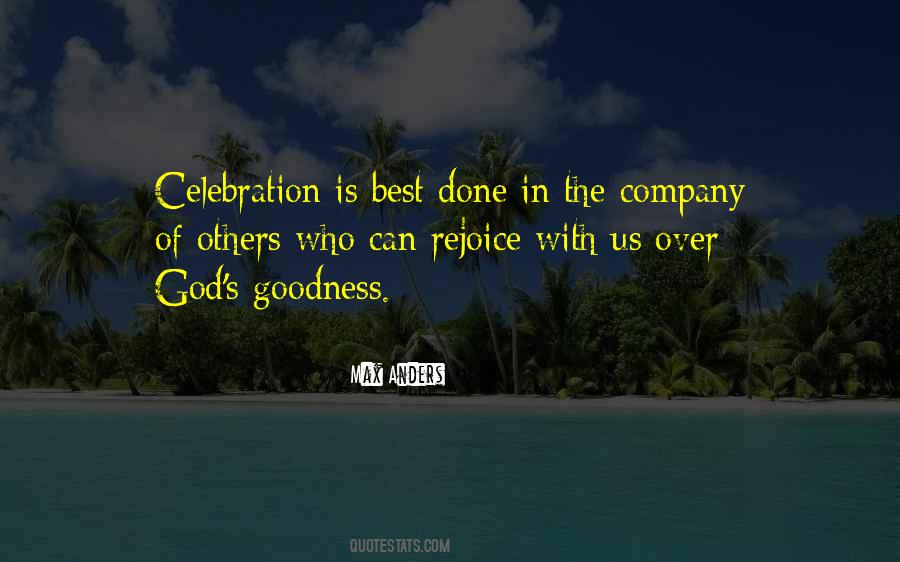 #57. He that enjoys the ocean may rejoice, though some drugs may be taken from him. - Author: Charles Haddon Spurgeon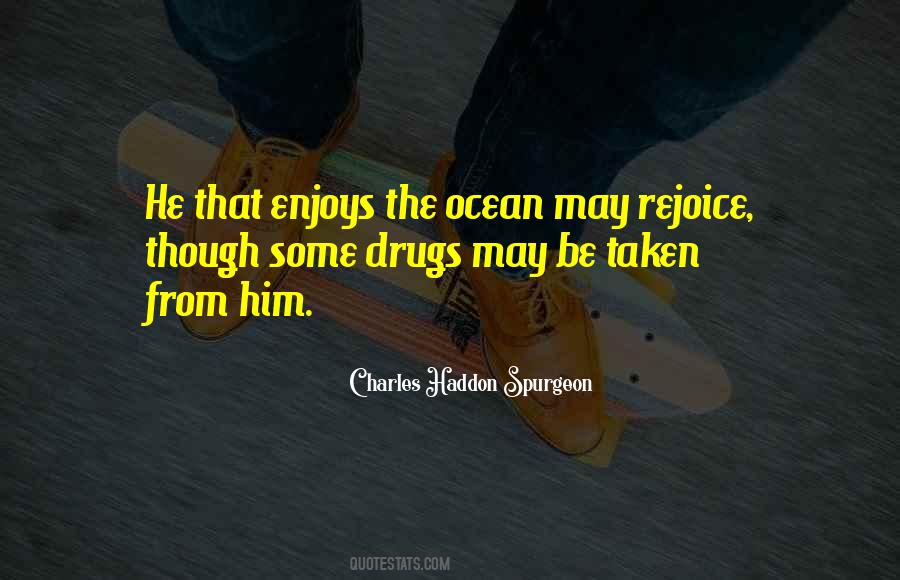 #58. All Thy works with joy surround Thee, God of glory, Lord of Love; Stars and angels sing around Thee, Center of unbroken praise. Field and forest, vale and mountain, Flowery meadow, flashing sea, Chanting bird and flowing fountain, Call us to rejoice in Thee. - Author: Henry Van Dyke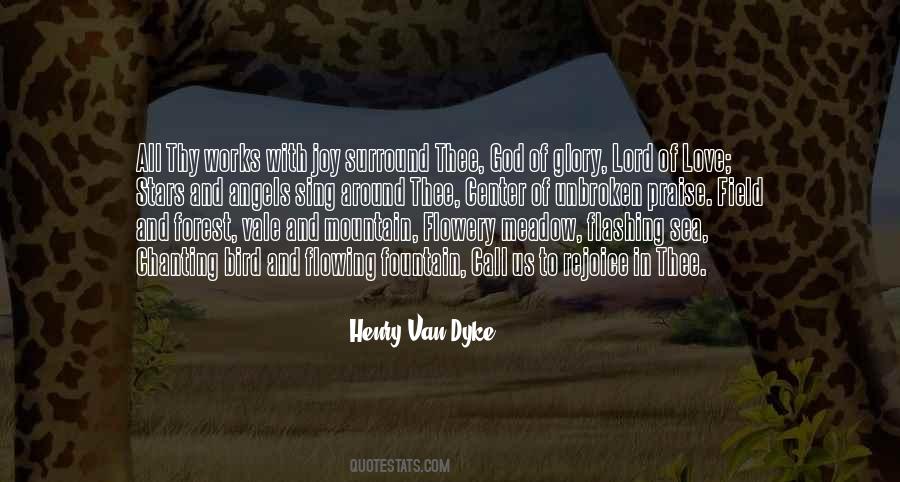 #59. Paul says that as Christians we can rejoice even in tough times because we have hope and because we know that God is working in our lives. - Author: Rick Warren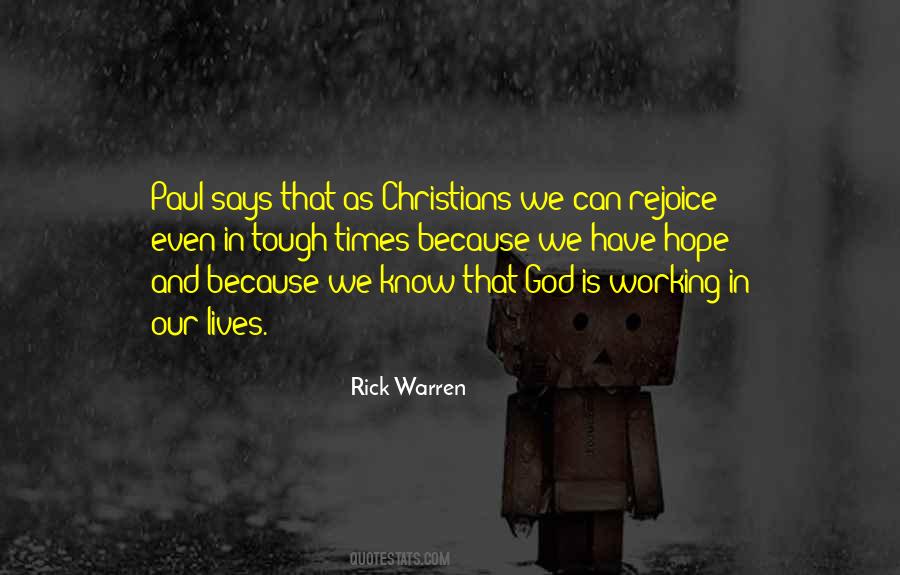 #60. Rejoice and thank God in the midst of your storms. For those people who have been through hell and back but continue to have smiles on their faces, they are the examples of God's grace and mercy - Author: Latorria Freeman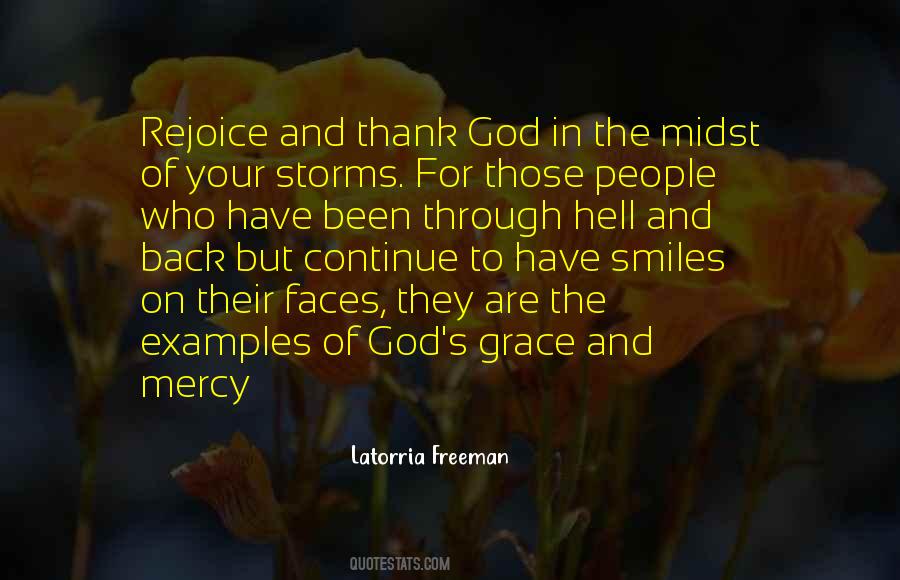 #61. True happiness is to rejoice in the truth, for to rejoice in the truth is to rejoice in You, O God, who are the truth ... Those who think that there is another kind of happiness look for joy elsewhere, but theirs is not true joy. - Author: Saint Augustine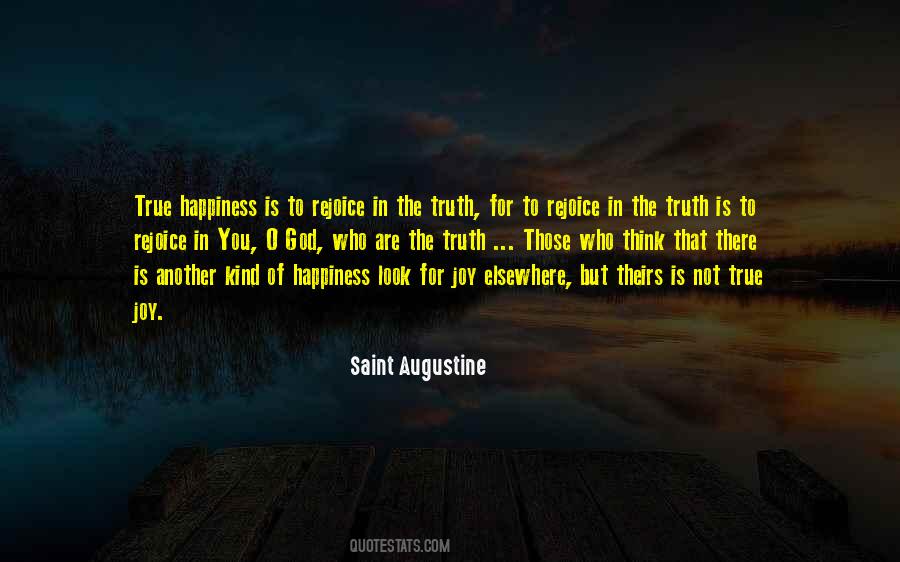 #62. Be grateful that yesterday ended well; be thankful that today begun well; be joyful that today will end beautifully. Live this pattern of life every day! - Author: Israelmore Ayivor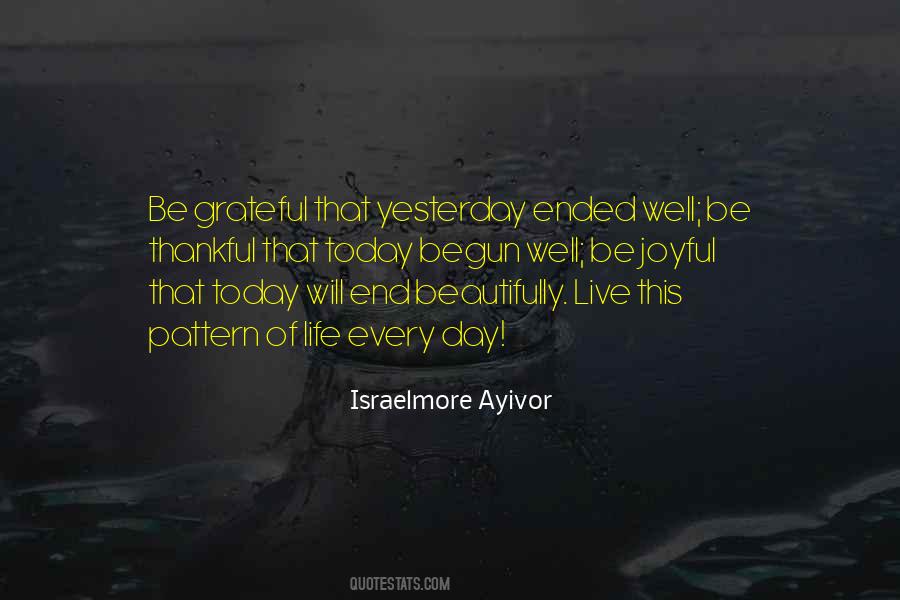 #63. I love the freedom of my wings. I love the empty space above the ground. I rejoice in my freedom. Freedom is my religion. Peace is my God. Love is my worship. - Author: Banani Ray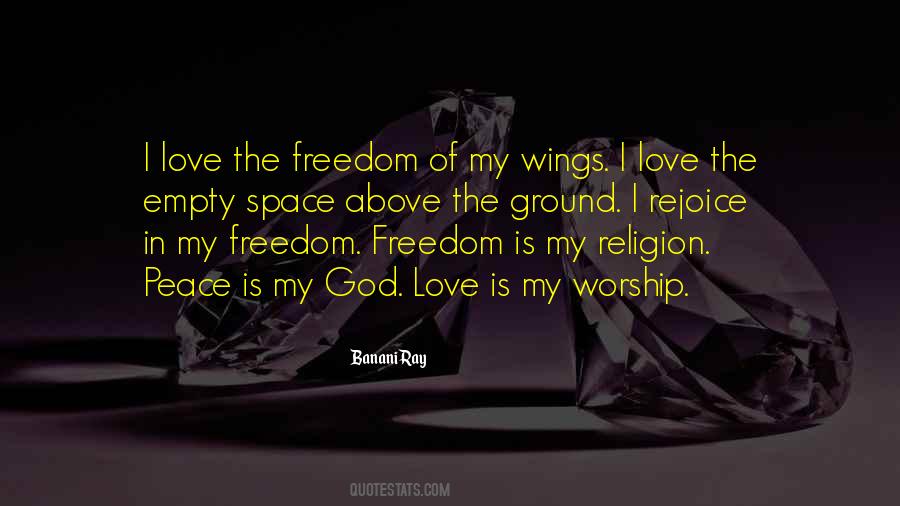 #64. I have never ceased to rejoice that God has appointed me to such an office. - Author: David Livingstone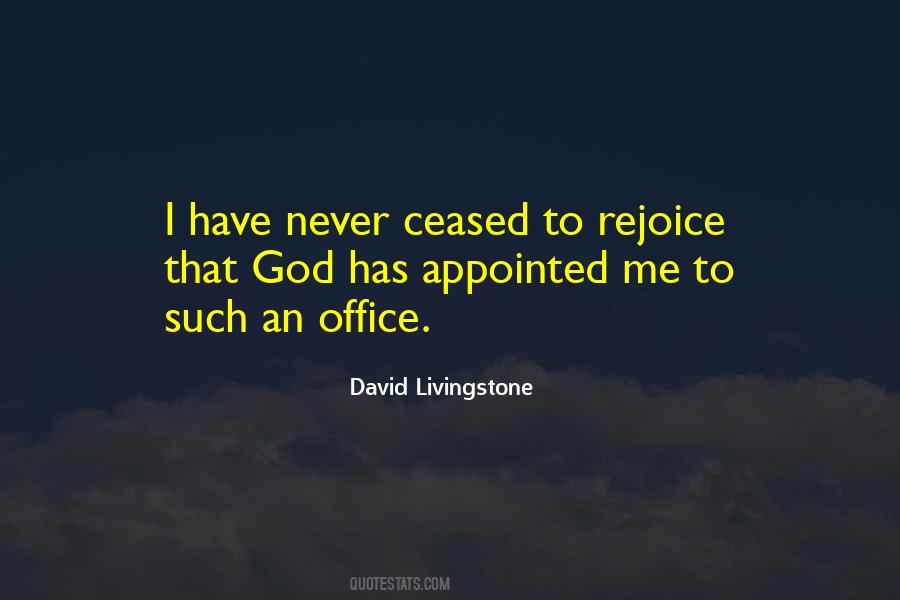 #65. We rejoice in God since he has taught us that every thing which is true in us, is but a faint expression of what is in him. And thus all our joys become to us the echo of higher joys, and our very life is as a dream of that nobler life, to which we shall awaken when we die. - Author: Henry Ward Beecher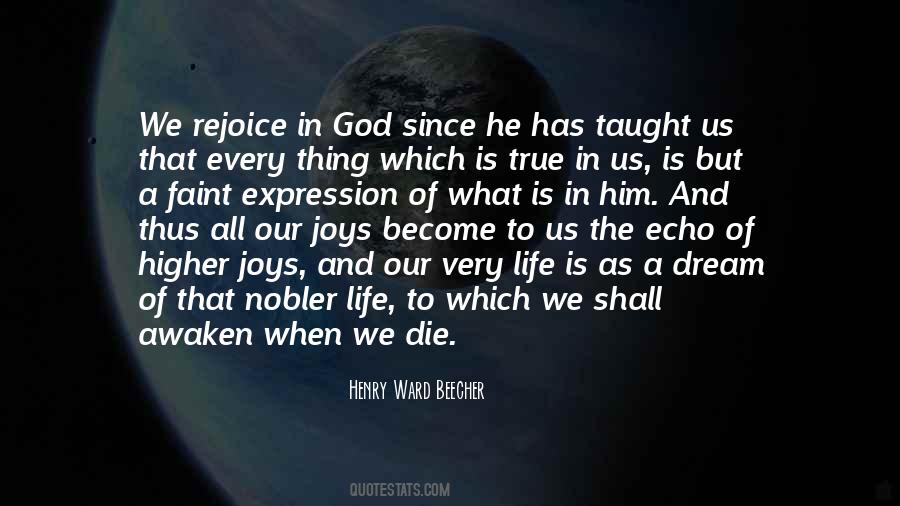 #66. Lincoln did not admire those who think it is a mark of sophistication to sneer at patriotism. He believed that God has a will for a country and that is honest man should rejoice in the effort to try to remake his country after the Divine pattern, insofar as that pattern is revealed to him. - Author: Elton Trueblood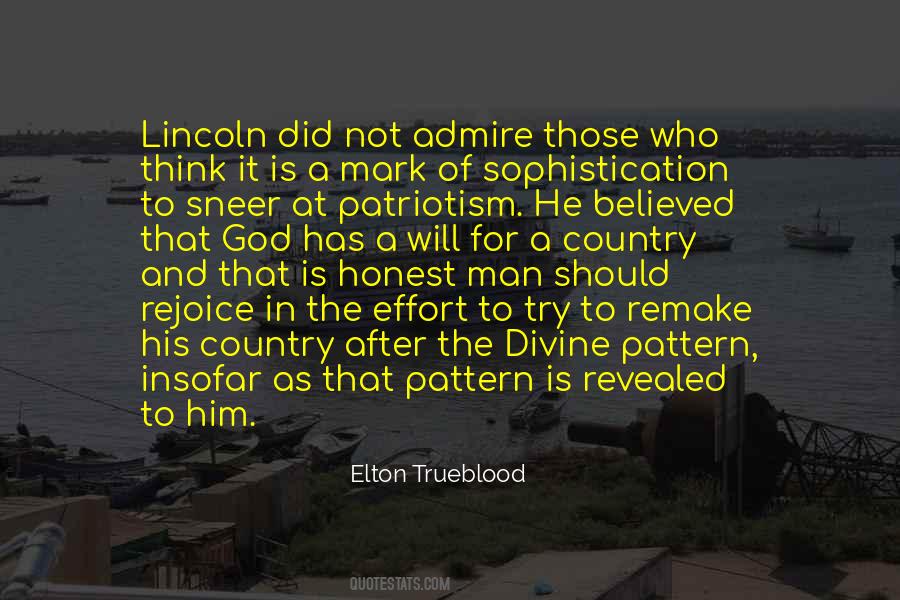 #67. Let God make you fully you. Rejoice in your God-given temperament and use it for God's purposes. This point cannot be emphasized enough. We must be authentic. If we try to be someone we are not, people will see it instantly. - Author: Adam S. McHugh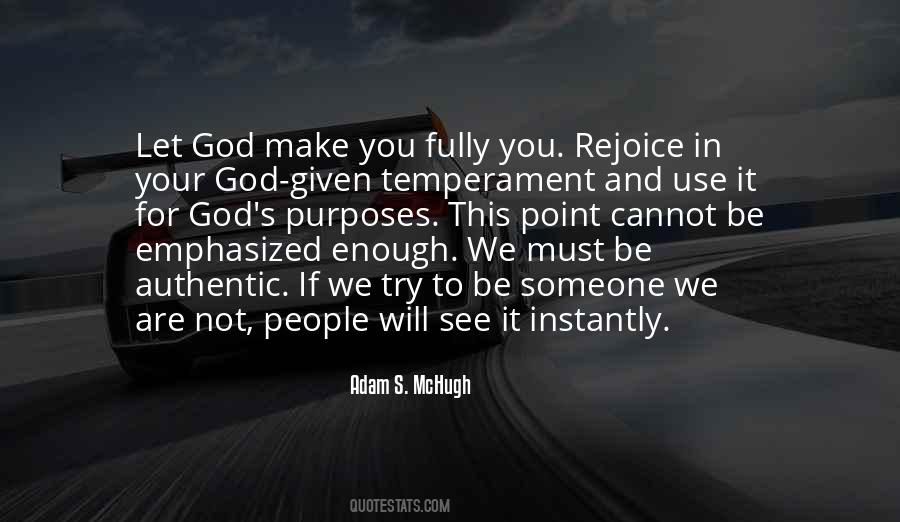 #68. In the day of prosperity rejoice, but in the day of adversity consider: God hath set the one over against the other, to the end that man should find nothing after him. - Author: Anonymous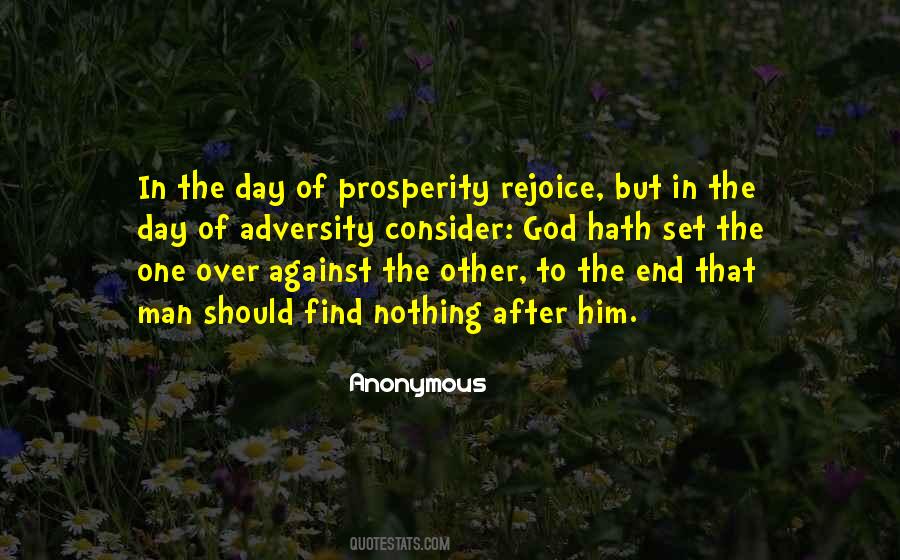 #69. Therefore, I bind these lies and slanderous accusations to my person as an ornament; it belongs to my Christian profession to be vilified, slandered, reproached and reviled, and since all this is nothing but that, as God and my conscience testify, I rejoice in being reproached for Christ's sake. - Author: John Bunyan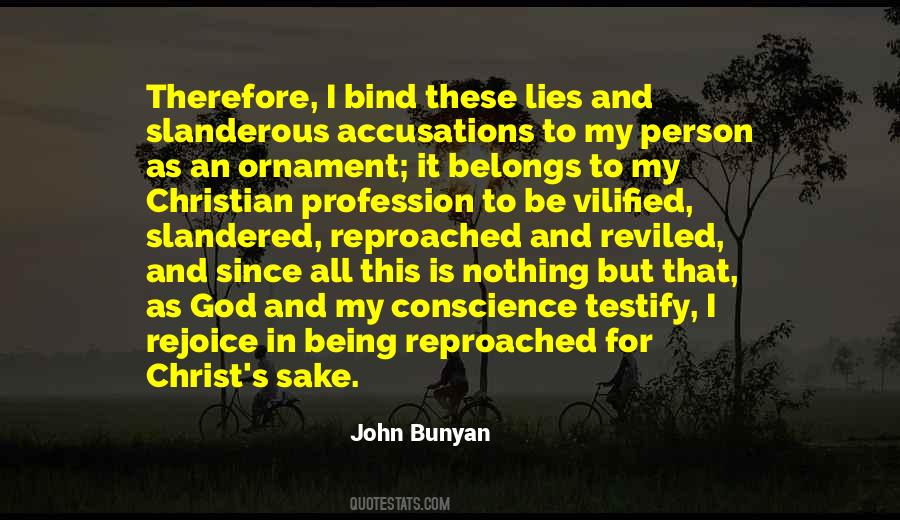 #70. The wicked cry out,
"We are oppressed!"
when the law is set out.
The righteous rejoice,
"We are blessed!"
when a king serves God
according to His law. - Author: Matshona Dhliwayo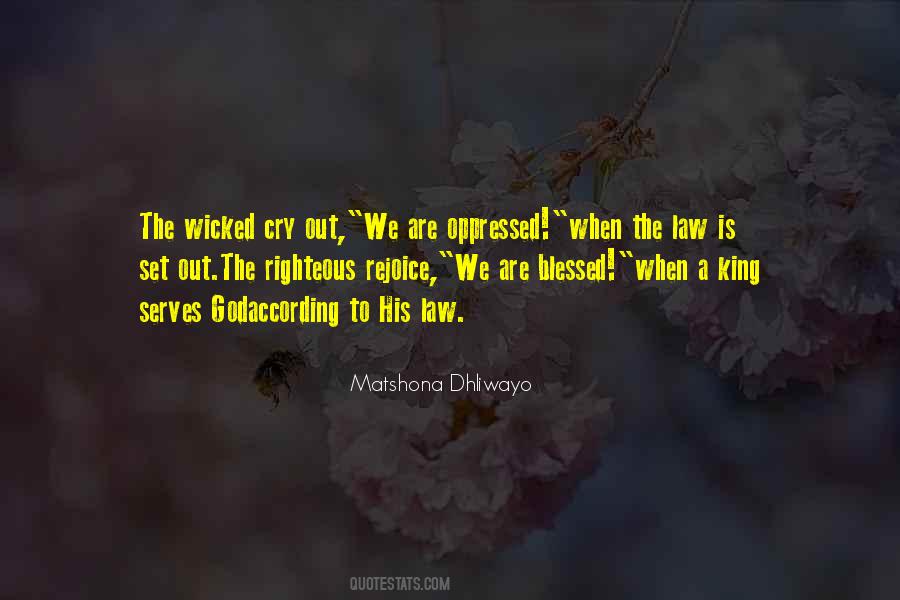 #71. Your own efforts "did not bring it to pass," only God-but rejoice if God found a use for your efforts in His work. - Author: Meister Eckhart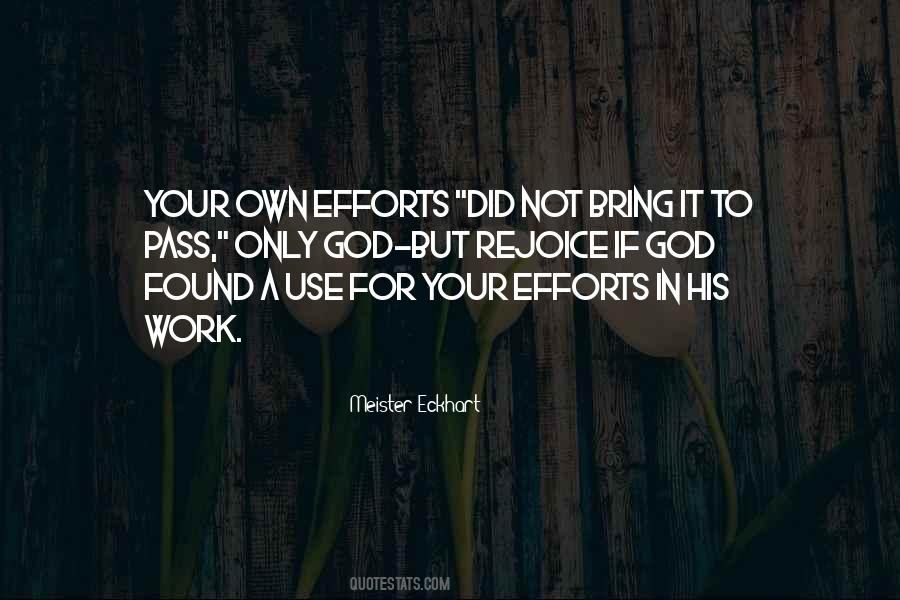 #72. Rejoice always, pray continually, give thanks in all circumstances; for this is God's will for you in Christ Jesus
1 Thessalonians 5:16-18 - Author: Melanie Dickerson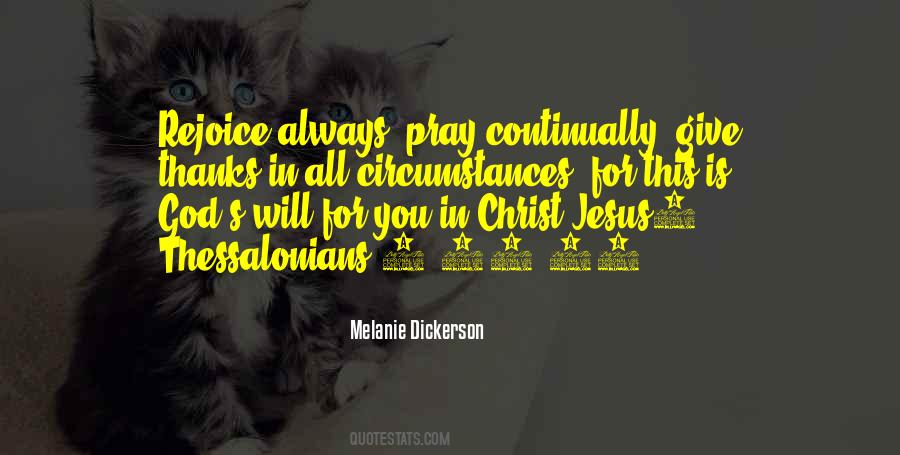 #73. Even when we cannot see the why and wherefore of God's dealings, we know that there is love in and behind them, and so we can rejoice always. - Author: J.I. Packer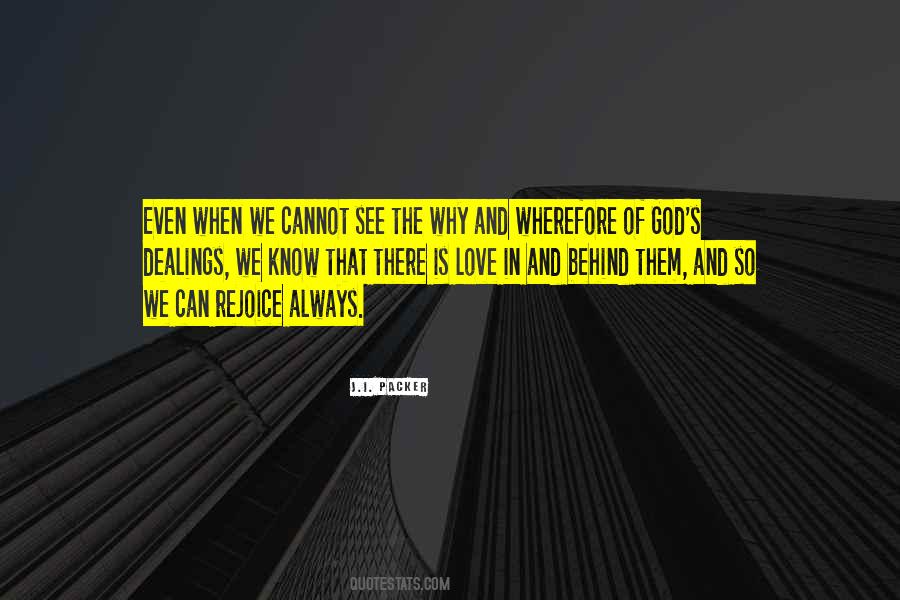 #74. You know, God has a plan for me, and I'm going to follow in his footsteps and just rejoice and be happy. - Author: Gabby Douglas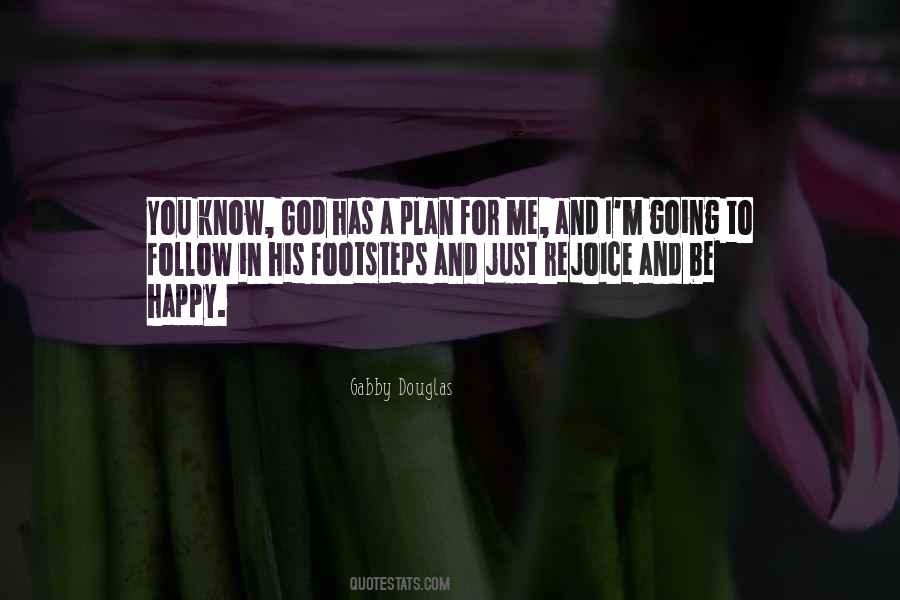 #75. Change your understanding and then even the negative side of the blessings will make you rejoice in God's blessings - Author: Sunday Adelaja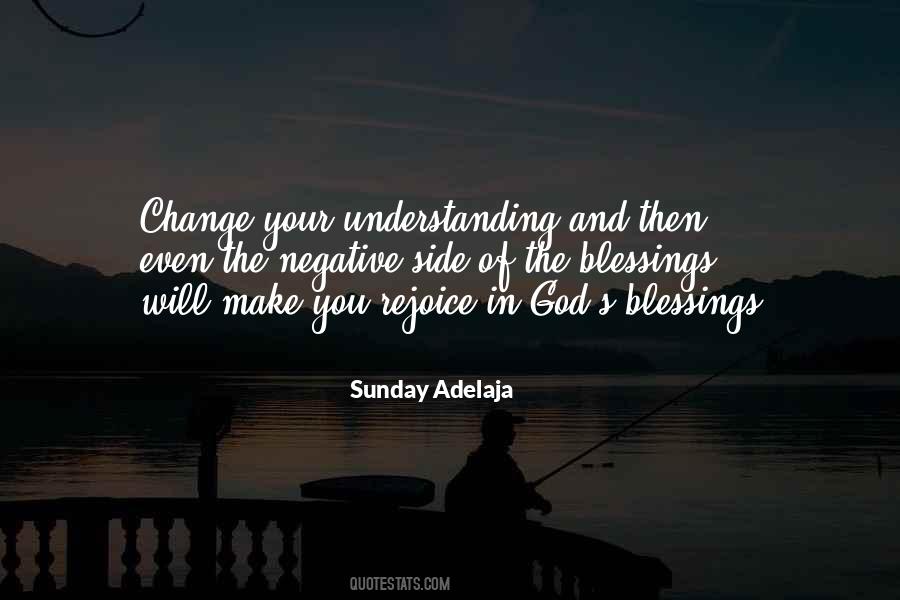 #76. God expects you not simply to face the future; He expects you to embrace and shape the future
to love it and rejoice in it and delight in your opportunities. - Author: Jeffrey R. Holland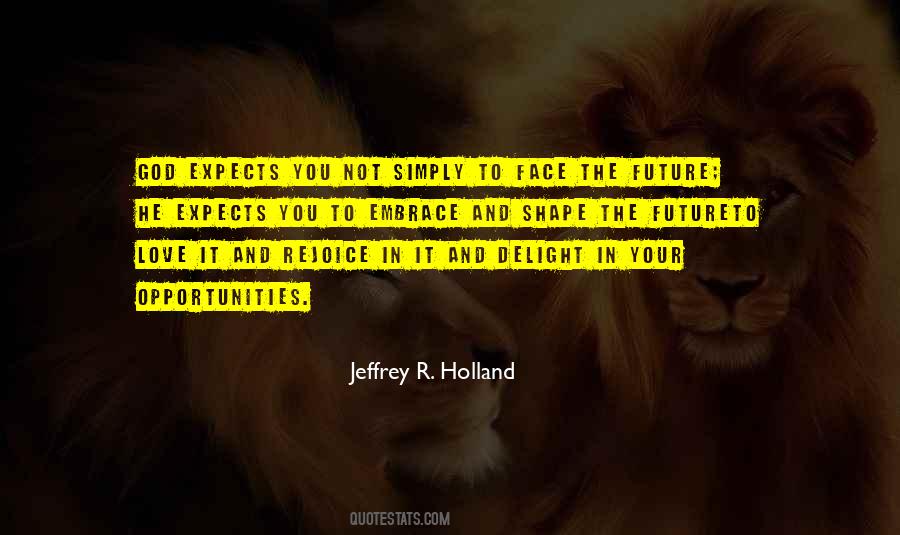 #77. Much of Satan's time is spent trying to make you remember what God has already forgotten. Reconcile, rejoice, and look forward. - Author: Mark Hart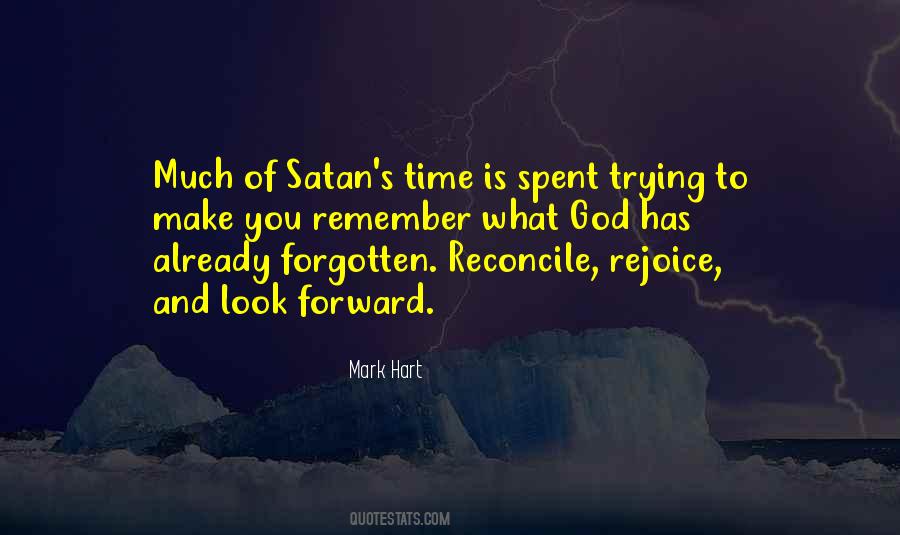 #78. Don't let us rejoice in punishment, even when the hand of God alone inflicts it. The best of us are but poor wretches, just saved from shipwreck. Can we feel anything but awe and pity when we see a fellow-passenger swallowed by the waves? - Author: George Eliot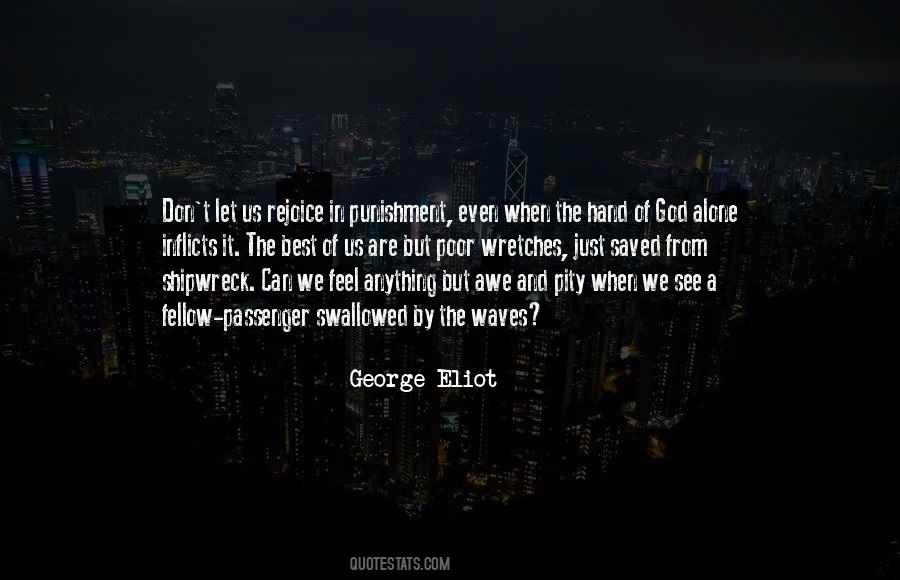 #79. As a bridegroom rejoices over his bride, so will your God rejoice over you. - Author: Anonymous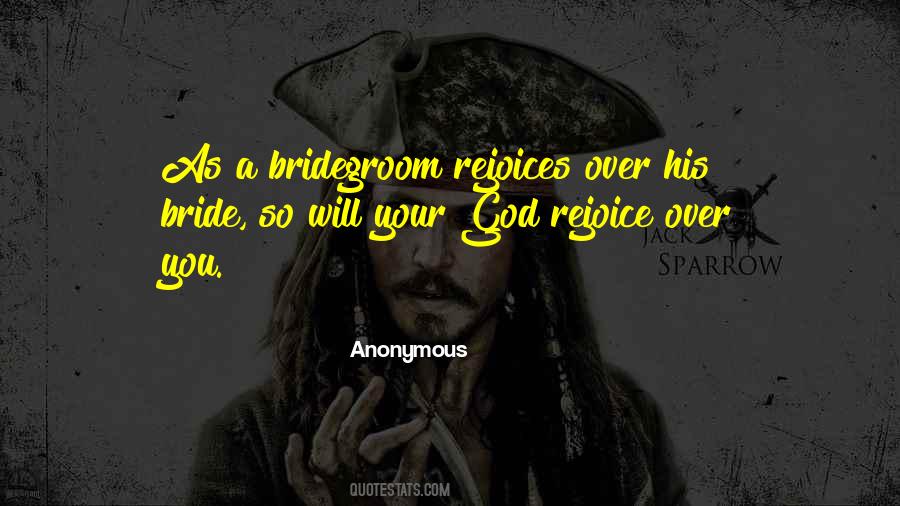 #80. rejoice and make a fool of yourself for God the way lovers have always made fools of themselves for the one they love." - Frederick Buechner, Beyond Words - Author: Richard J. Foster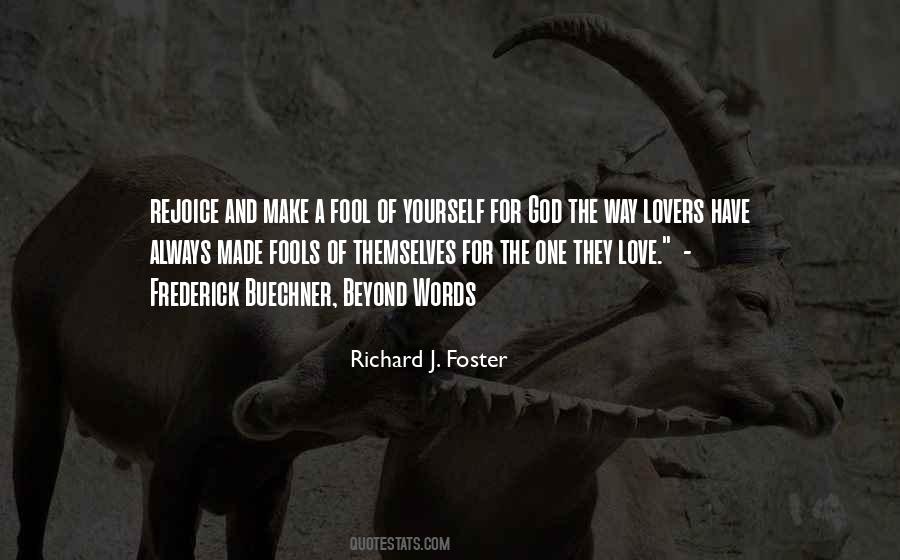 #81. I will not glory, even in my orthodoxy, for even that can be a snare if I make a god of it ... Let us rejoice in Him in all His fulness and in Him alone. - Author: D. Martyn Lloyd-Jones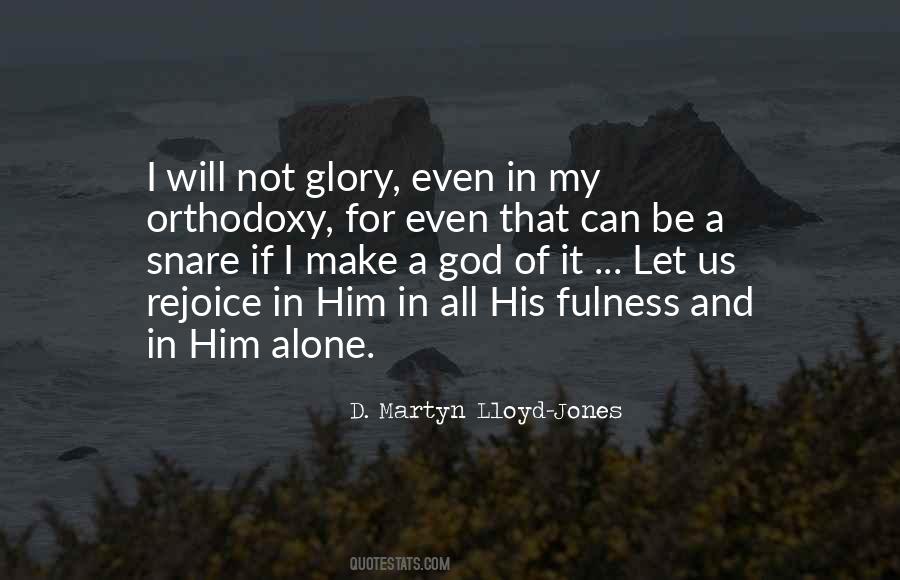 #82. Repeat it to yourself over and over until it trumps the voices of fear and angst. "The LORD your God is with you, he is mighty to save. He will take great delight in your, he will quiet you with his love, he will rejoice over your with singing" (Zeph. 3:17 NIV) - Author: Max Lucado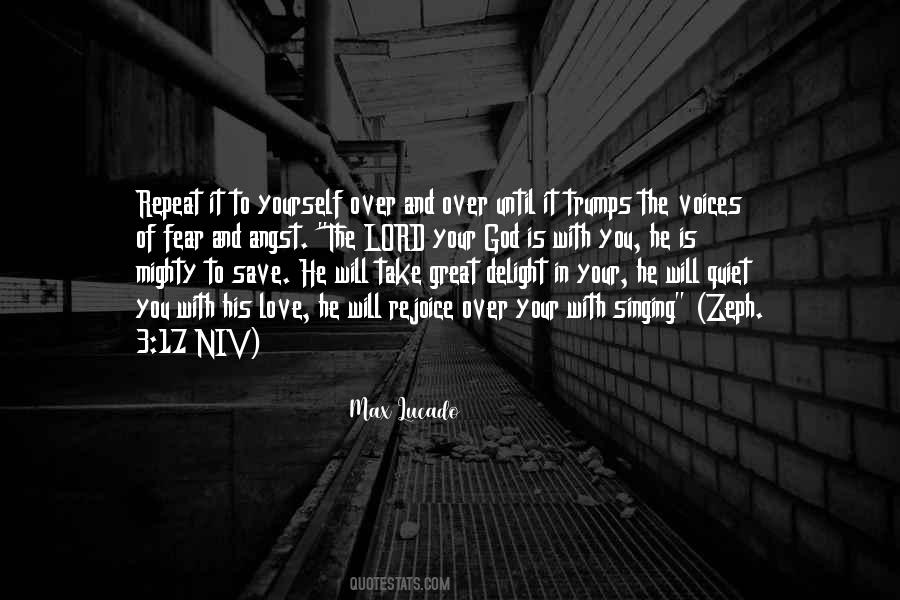 #83. 52 Behold, my beloved brethren, remember the words of your God; pray unto him continually by day, and give thanks unto his holy name by night. Let your hearts rejoice. - Author: Joseph Smith Jr.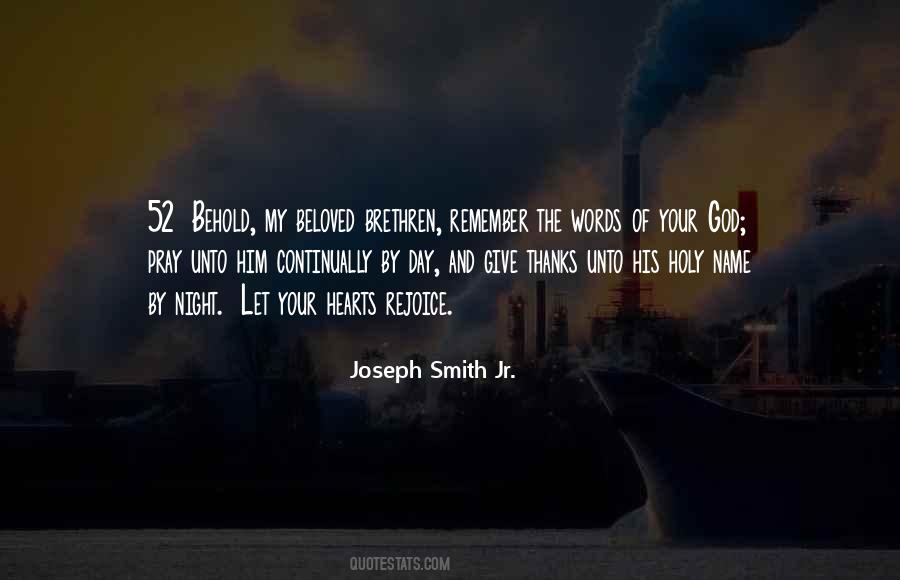 #84. Humans love truth and justice, and rejoice in ceremonies that honor those qualities. For that sentiment we should indeed thank God. - Author: Alfred Day Hershey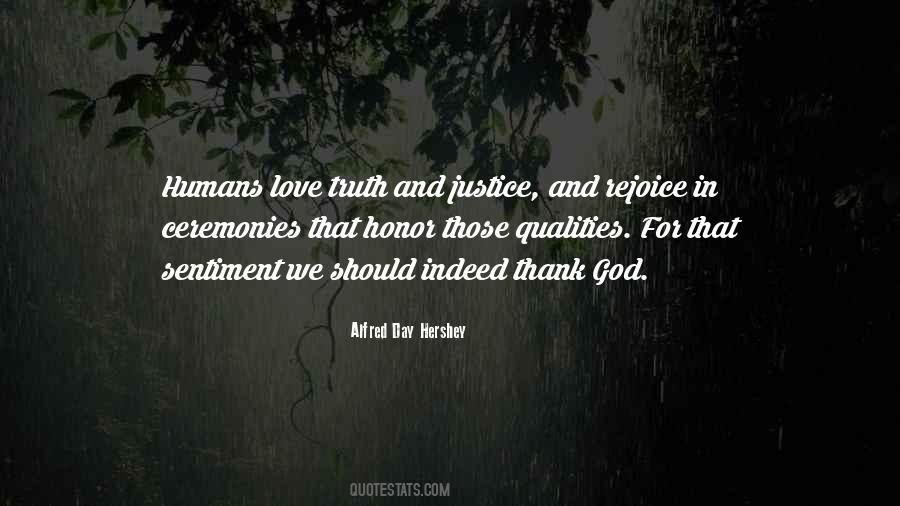 #85. Rejoice always, pray without ceasing, in everything give thanks; for this is the will of God in Christ Jesus for you (1 Thessalonians 5:16-18). - Author: Stormie O'martian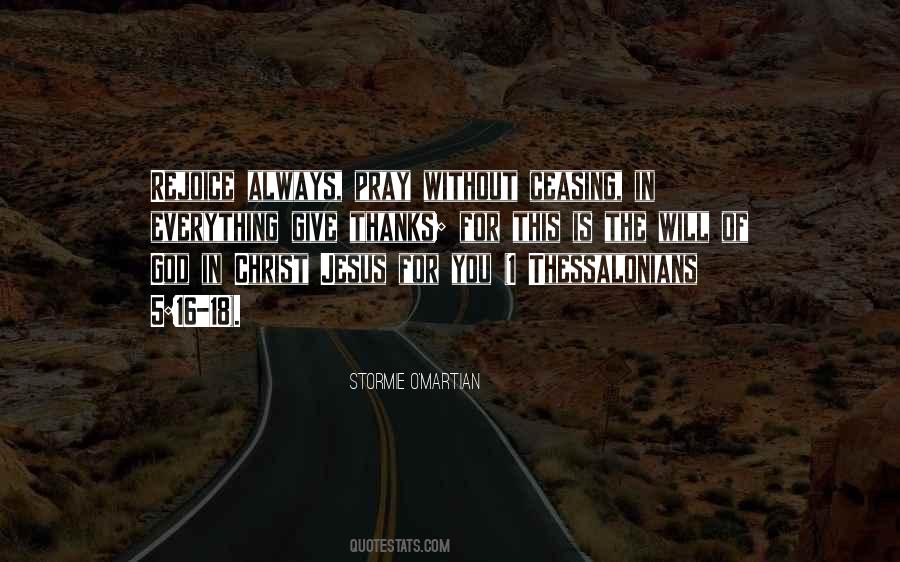 #86. To rejoice in temporal comforts is dangerous, to rejoice in self is foolish, to rejoice in sin is fatal, but to rejoice in God is heavenly. - Author: Charles Haddon Spurgeon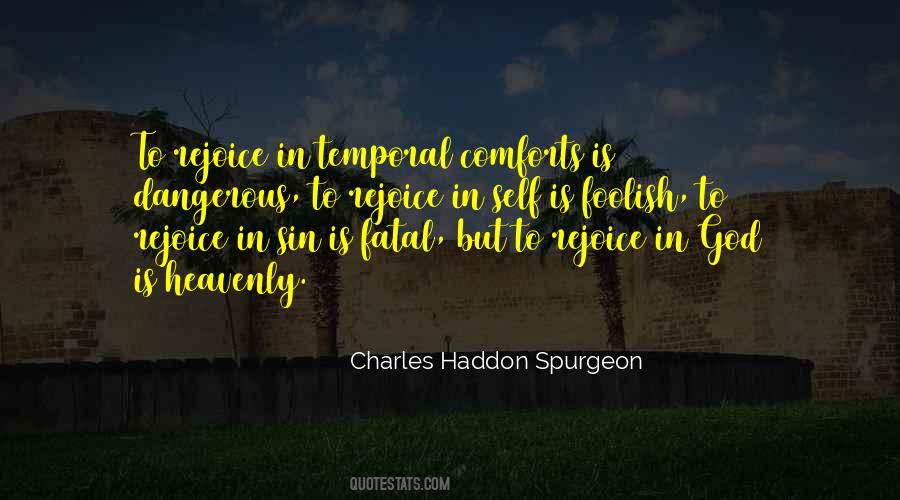 #87. I then carefully searched through the pages until I was able to find the verse that was crystal clear ... It read: "Rejoice always." - Author: Mary C. Neal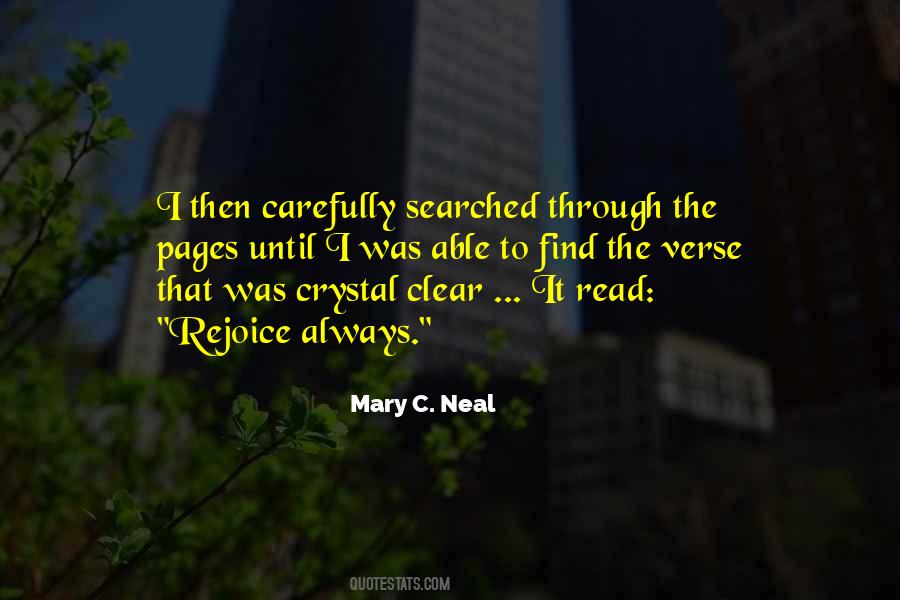 #88. L The LORD your God is in your midst, n a mighty one who will save; o he will rejoice over you with gladness; he will quiet you by his love; he will exult over you with loud singing. - Author: Anonymous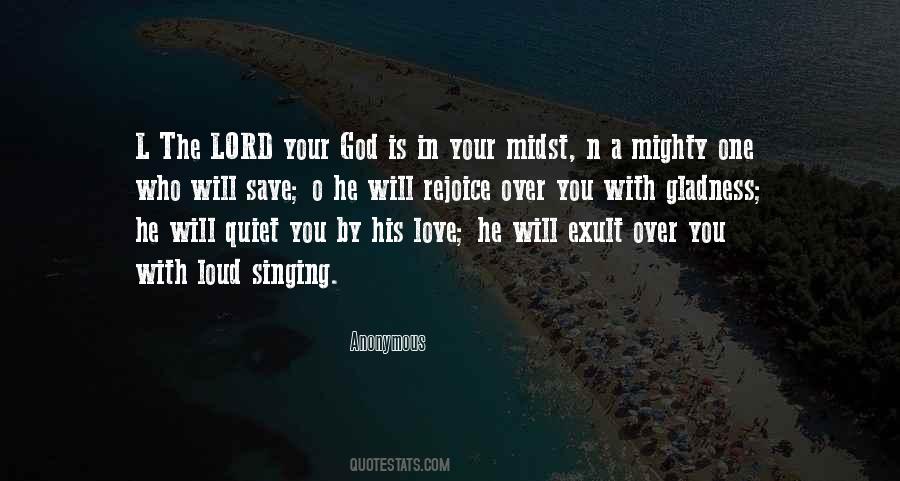 #89. See yourself and weep. See your God and rejoice. - Author: Paul David Tripp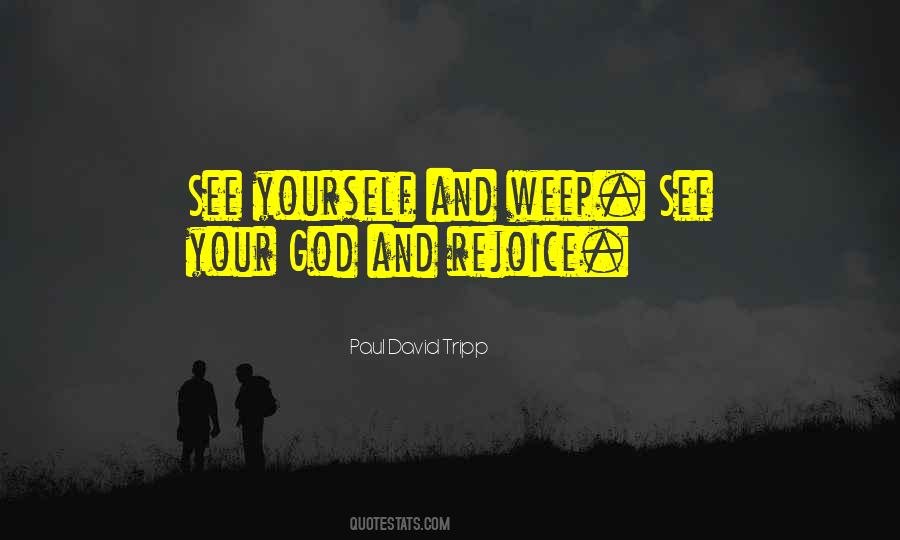 #90. JOE2.23 Be glad then, ye children of Zion, and rejoice in the LORD your God: for he hath given you the former rain moderately, and he will cause to come down for you the rain, the former rain, and the latter rain in the first month. - Author: Anonymous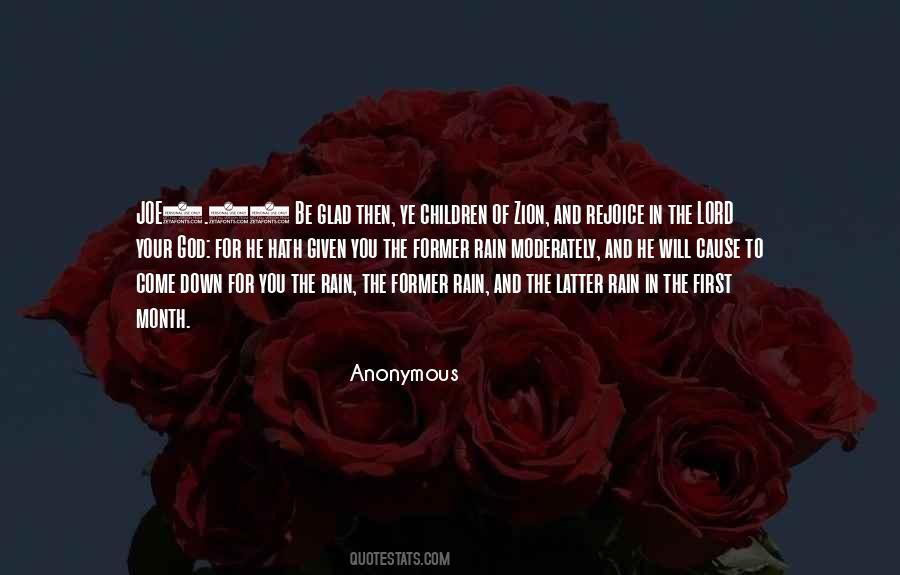 #91. It is no use to grumble and complain; It's just as cheap and easy to rejoice; When God sorts out the weather and sends rain - Why, rain's my choice. - Author: James Whitcomb Riley
#92. Learn to recognize God's sovereignty. Learn to rejoice in God's pleasure. This was Abraham's first lesson, namely that God, not himself, was the Source. - Author: Watchman Nee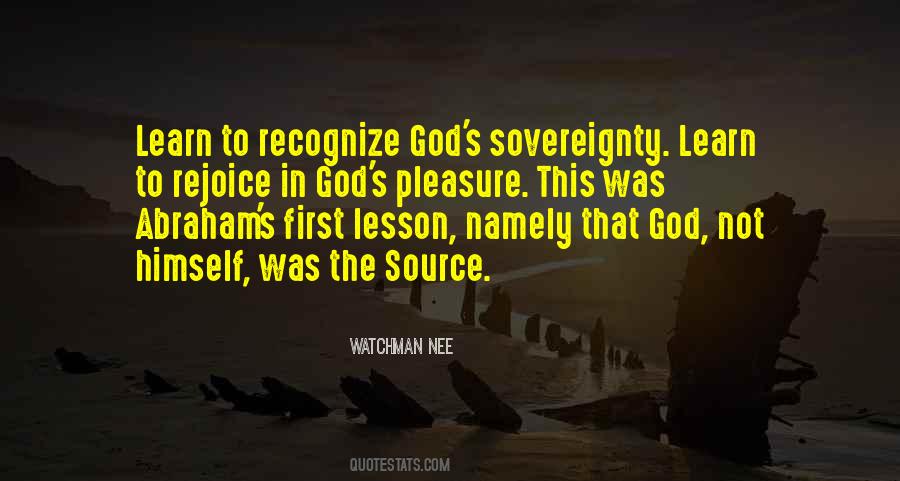 #93. We consider Christmas as the encounter, the great encounter, the historical encounter, the decisive encounter, between God and mankind. He who has faith knows this truly; let him rejoice. - Author: Pope Paul VI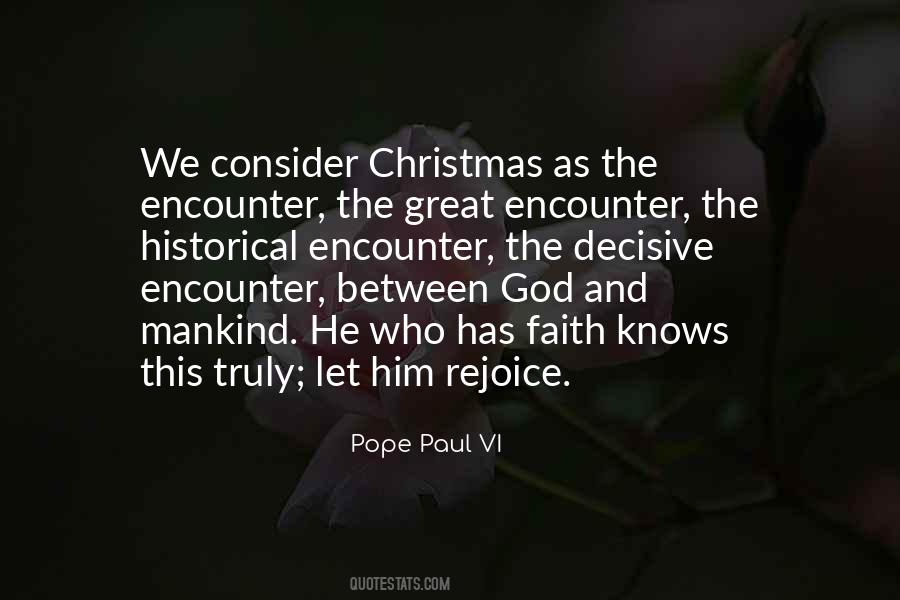 #94. May each one of us glorify the Lord with the soul of Mary and rejoice in God with the spirit of Mary - Author: Ambrose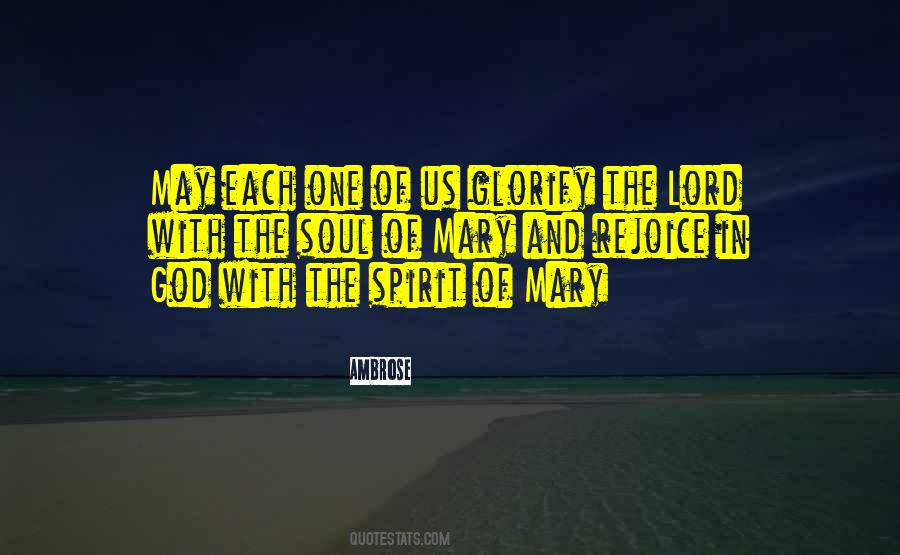 #95. Therefore you, too, mother, know that your infant, too, surely now stands before the throne of the Lord, rejoicing and being glad, and praying to God for you. Weep, then, but also rejoice. - Author: Fyodor Dostoyevsky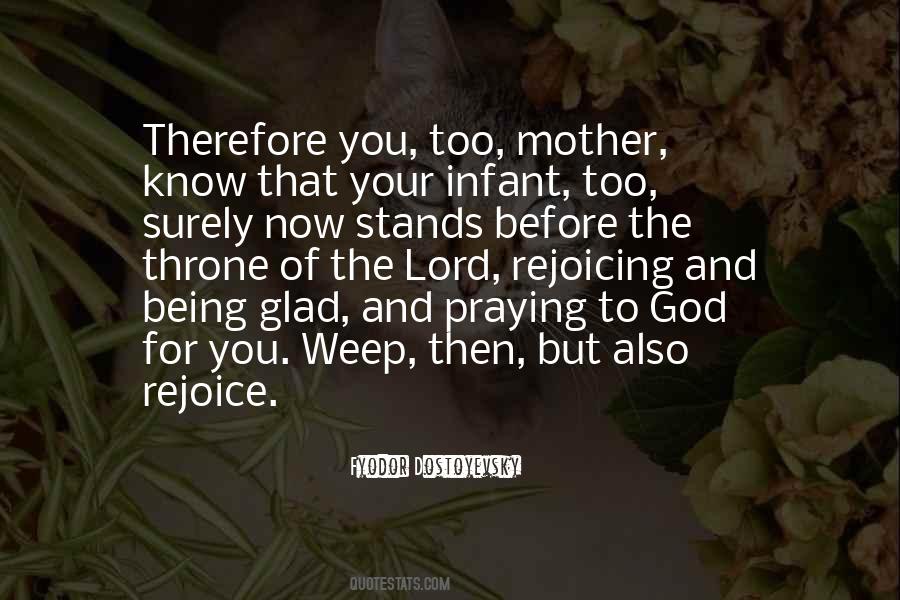 #96. If we rejoice in the acts of God without discovering His ways, we'll question who He is when He doesn't do what we've asked. - Author: Bill Johnson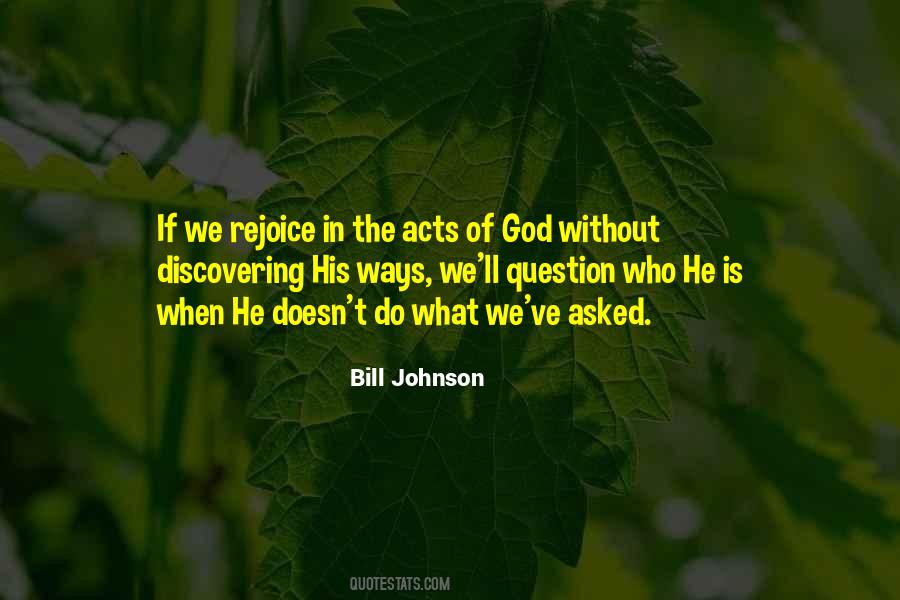 #97. It is cheerful to God when you rejoice or laugh from the bottom of your heart. - Author: Martin Luther King Jr.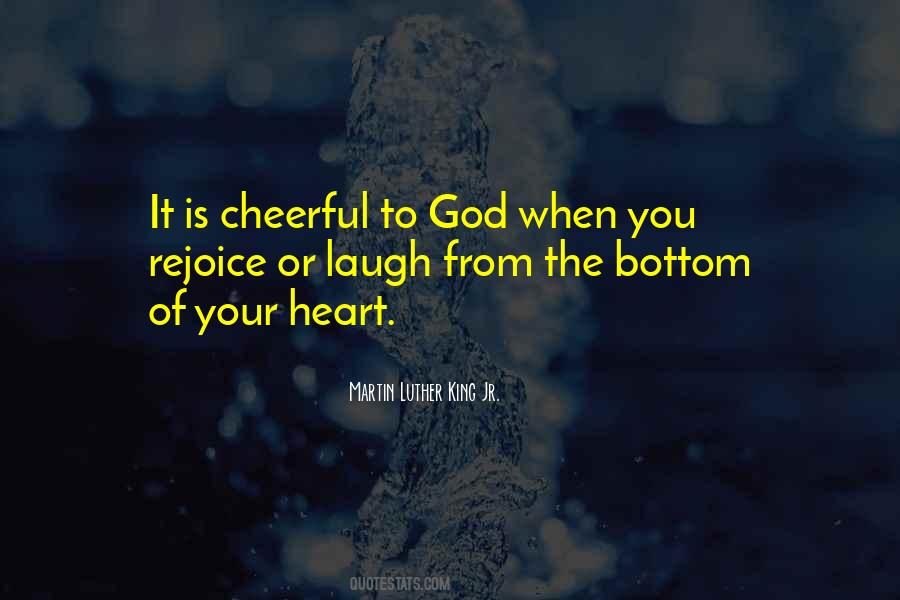 #98. Revive, Rekindle, Rejoice. - Author: Lailah Gifty Akita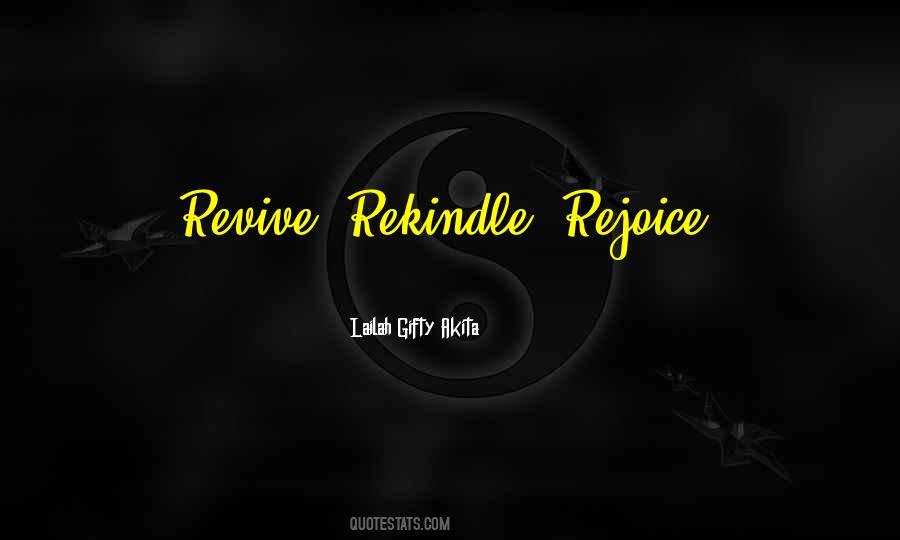 #99. The purposes of our God are great, His love unfathomable, His wisdom infinite, and His power unlimited; therefore, the Saints have cause to rejoice and be glad. - Author: Joseph Smith Jr.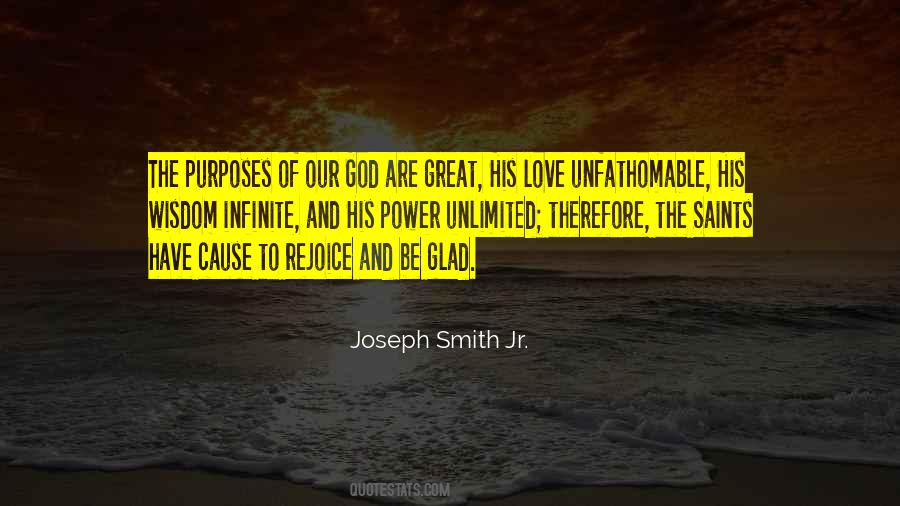 #100. to give thanks is an action and rejoice is a verb and these are not mere pulsing emotions. While I may not always feel joy, God asks me to give thanks in all things, because He knows that the feeling of joy begins in the action of thanksgiving.4 - Author: Ann Voskamp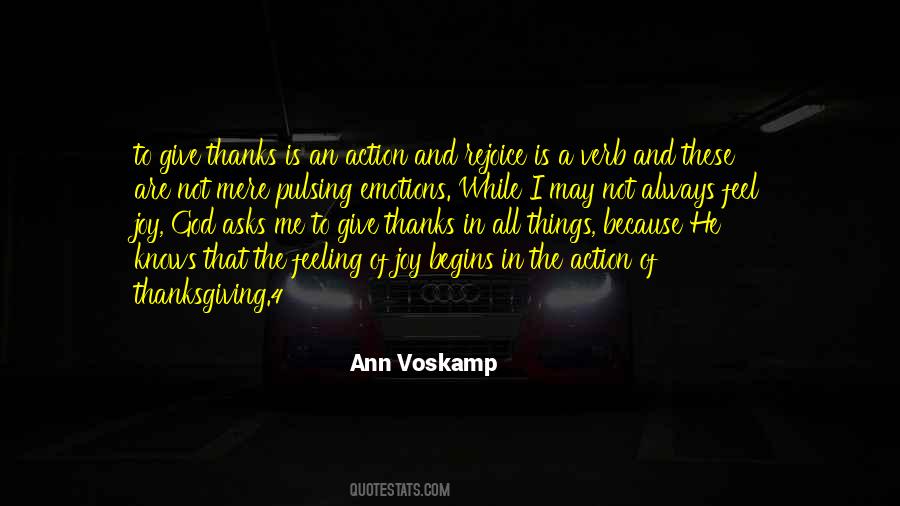 Famous Authors
Popular Topics