Faith And Trust Famous Quotes & Sayings
List of top 100 famous quotes and sayings about faith and trust to read and share with friends on your Facebook, Twitter, blogs.
Top 100 Quotes On Faith And Trust
#1. Marriage is an expression of love and respect and trust and faith in the future, but the union of husband and wife is also an alliance against the challenges and tragedies of life, a promise that with me in your corner, you will never stand alone. - Author: Dean Koontz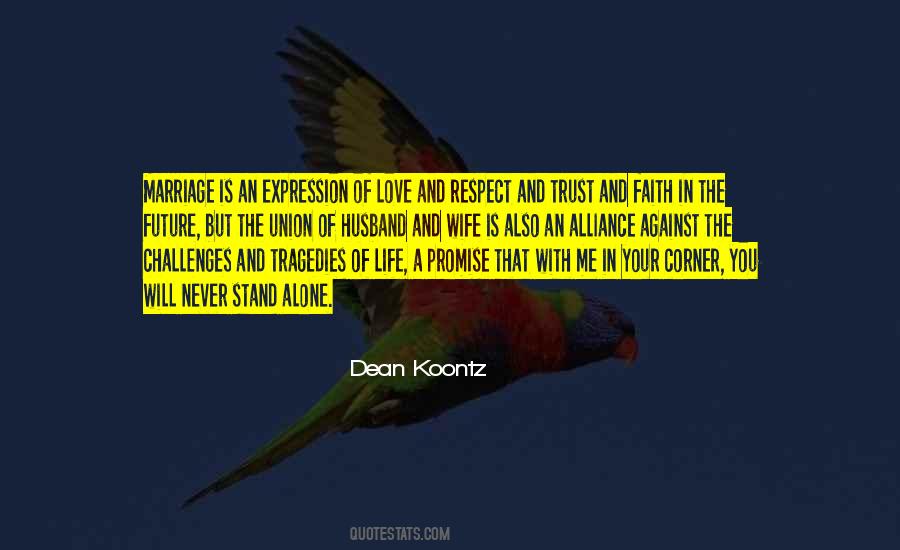 #2. Da used to say that lies were easy, but trust was hard. Trust is like faith: it can turn people into believers, but every time it's lost, trust becomes harder and harder to win back. - Author: Victoria Schwab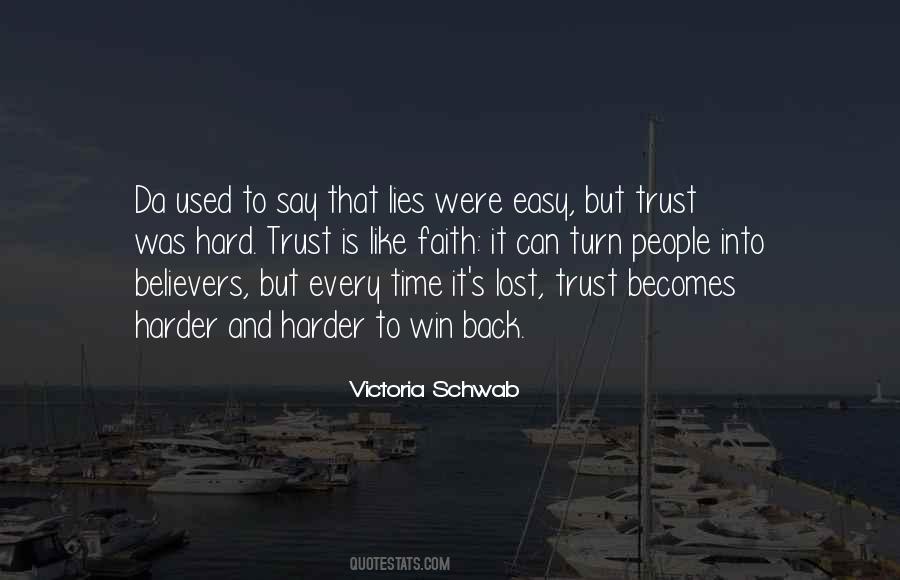 #3. God of deep waters and infinite riches, challenge me to go where I fear, to do what is difficult and what I thought could never be done. Push me to go to the deep waters of life and cast my net wide, for I put all my hope, trust and faith in you. - Author: Matthew Kelly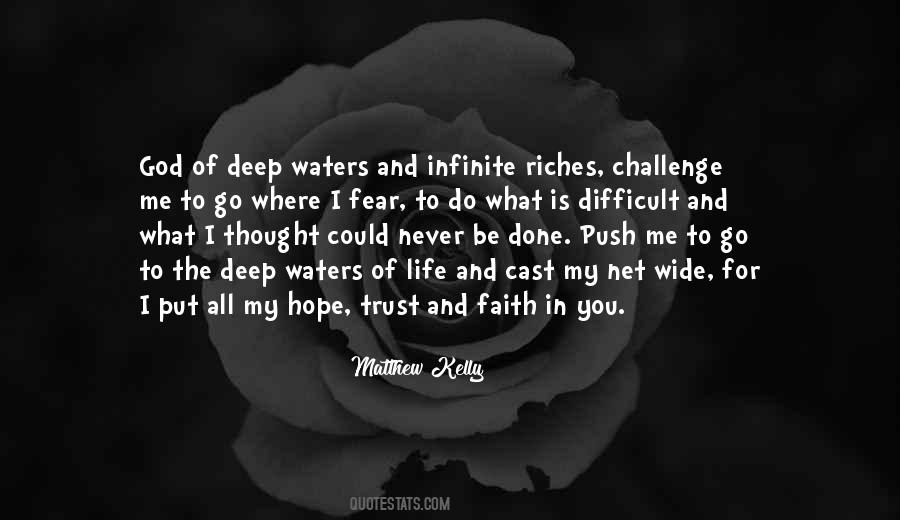 #4. My faith is certainly not as stable or constant as I'd like it to be. I'm a highly emotional person and sometimes allow my emotions to affect how I feel about God or how I trust him. - Author: Anne Jackson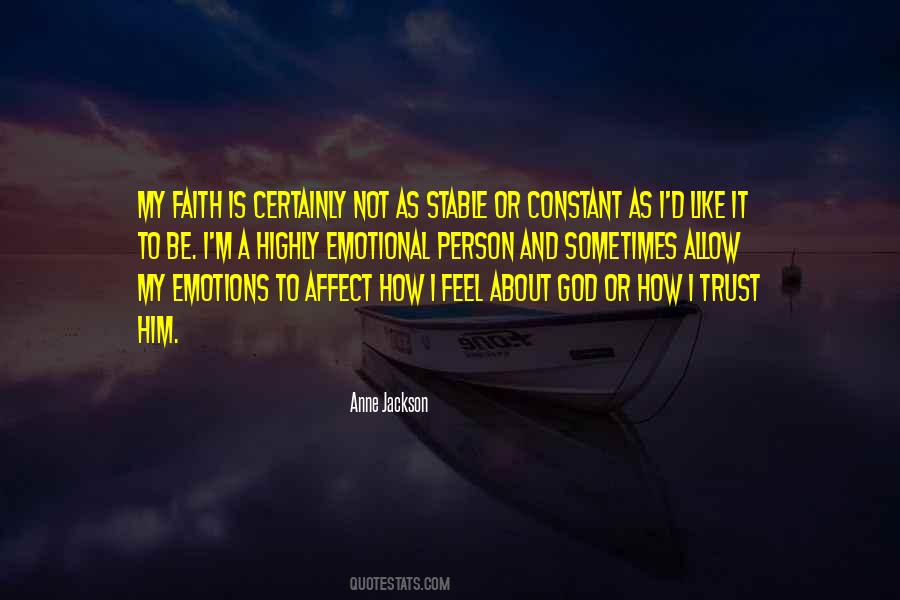 #5. Faith slips - and laughs, and rallies - Author: Emily Dickinson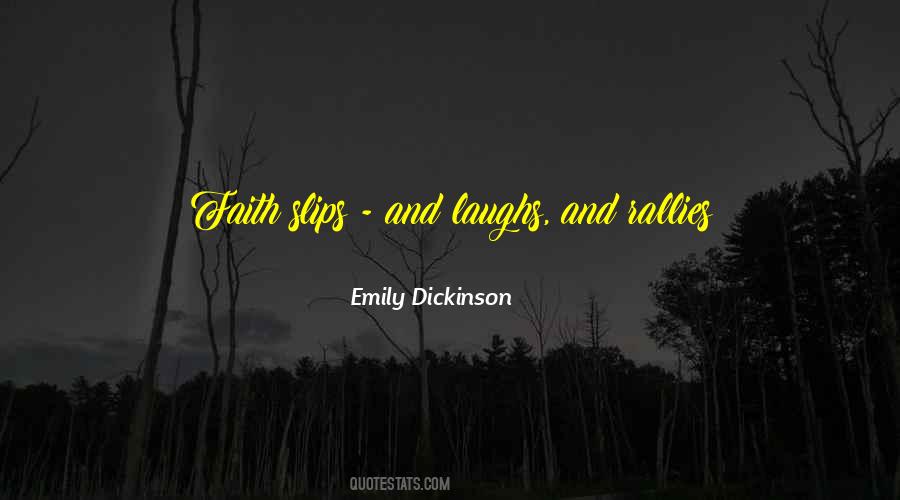 #6. Believe steadfastly on Him and everything that challenges you will strengthen your faith. There is continual testing in the life of faith up to the point of our physical death, which is the last great test. Faith is absolute trust in God-trust that could never imagine that He would forsake us. - Author: Oswald Chambers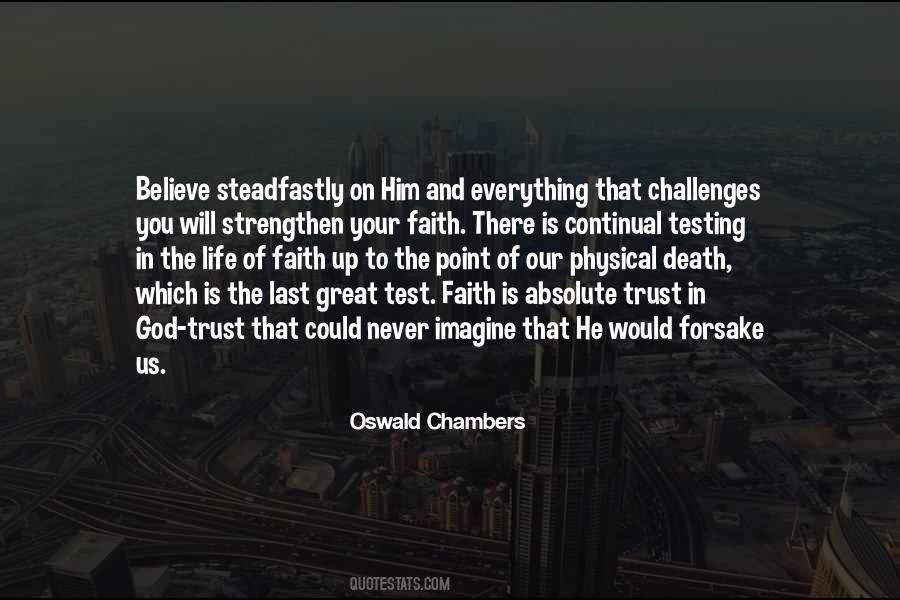 #7. Religious fundamentalism, magical thinking and self-delusion, have been justifications for some of the most horrific atrocities in human history. - Author: Bryant McGill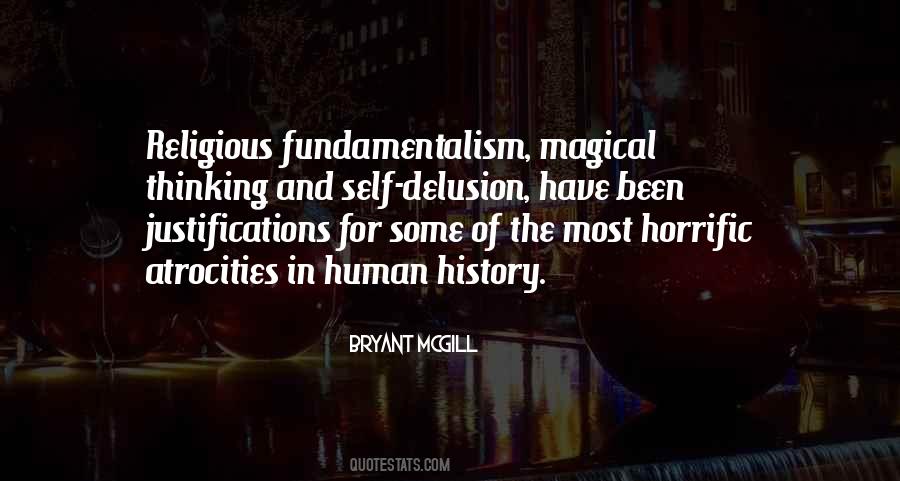 #8. Togetherness, passion, laughter, faith, trust, and jealousy are the essential ingredients of love - Author: Shahrukh Khan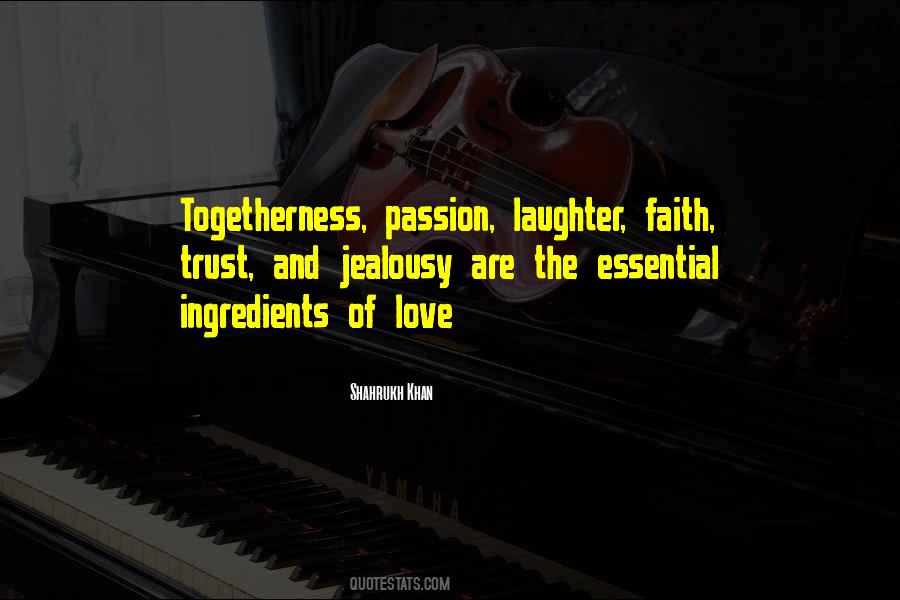 #9. Trust is an intangible thing, a token of faith that you extend to another. And the irony of it is that it will never solidify into anything true or strong unless you allow yourself the vulnerability of outstretching your hand, with the hope that the other will reciprocate the gesture. - Author: Sofia Malamas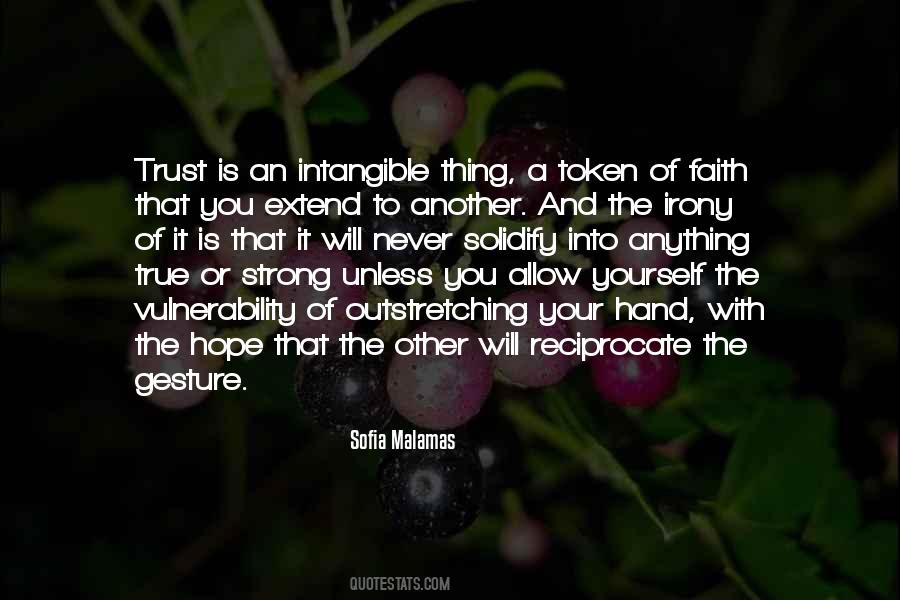 #10. Perhaps everything else that mattered in a relationship grew from trust - from a tranquil faith in the courage, integrity, and kindness of the other person. - Author: Dean Koontz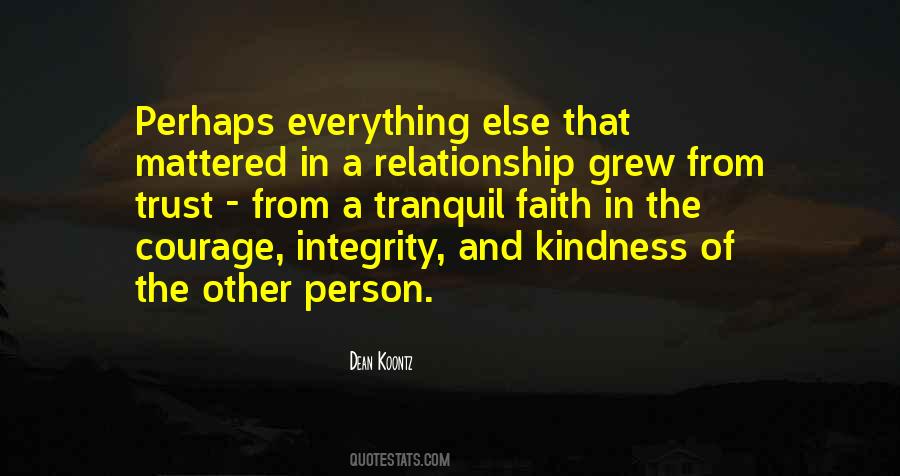 #11. There is something about the mental act of thanksgiving that seems to carry the human mind far beyond the region of doubt into the clear atmosphere of faith and trust, where "all things are possible." - Author: H. Emilie Cady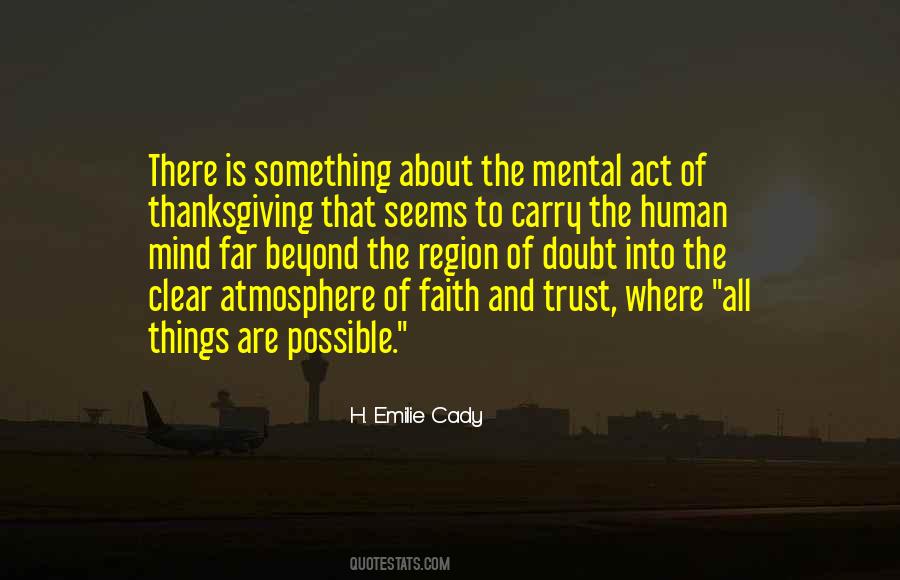 #12. God is calling you to relinquish your old habits and beliefs that are holding you back from being all He called you to be. To trust that He has something bigger and better in store for you. - Author: Dana Arcuri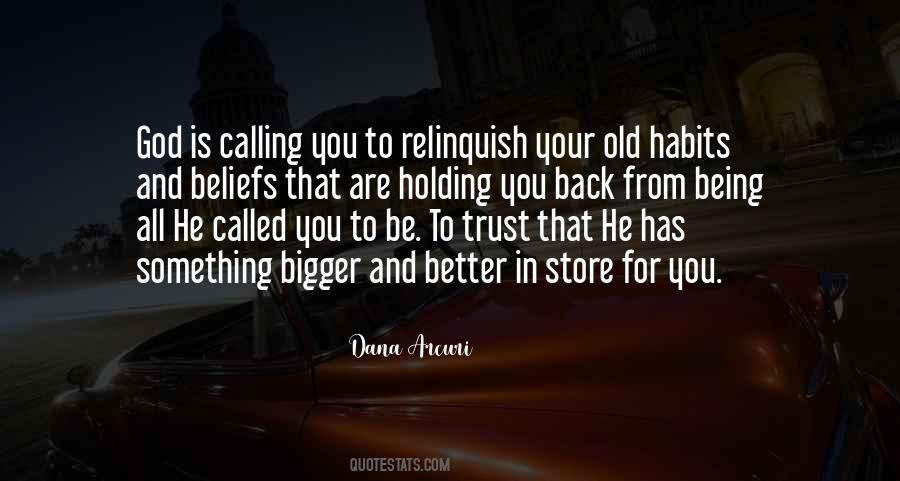 #13. If you want to speak to someone you cannot touch, see, or hear, the voice of love will transmit with or without a phone. It crosses all borders and travels through time and walls. - Author: Julieanne O'Connor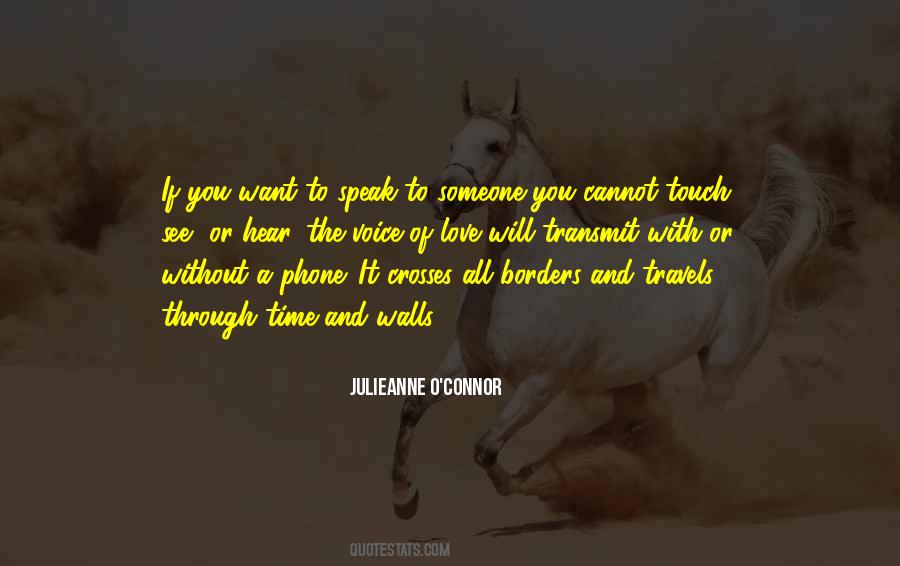 #14. To forgive' is divine they say, and 'to forget', attracts blessings, but to go a step further, and learn a lesson from a bad encounter/ experience is an act of wisdom;and promise oneself that you will never allow yourself to be exposed to such a thing or a person or even an idea again. - Author: Henrietta Newton Martin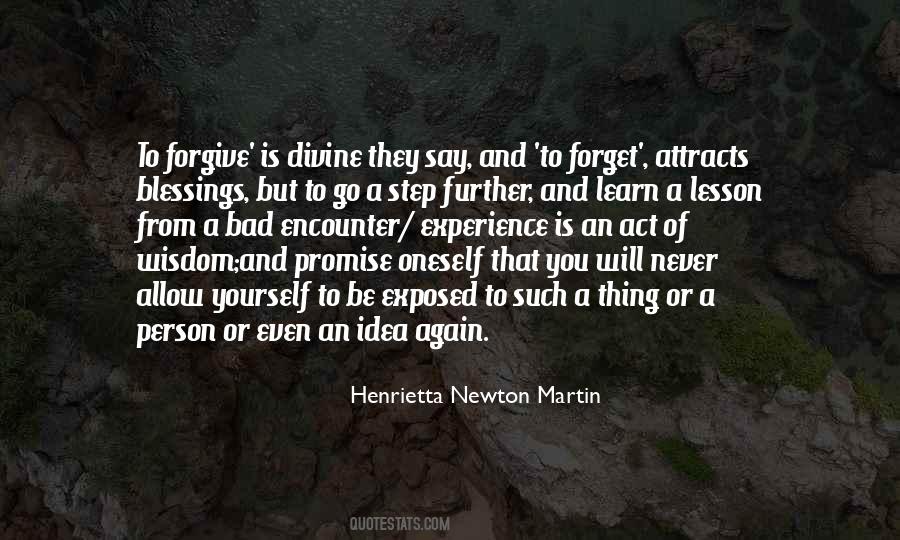 #15. Sometimes in life we take a leap of faith. Remember, the leap is not about getting from one side to the other. It's simply about taking the leap ... and trusting the air, the universal breath, will support your wings so that you may soar. - Author: Kristi Bowman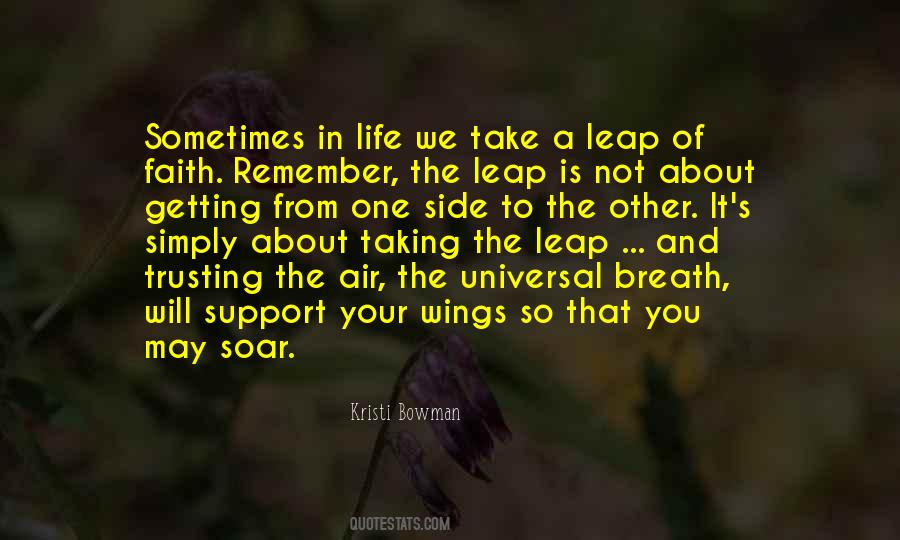 #16. I am very happy with all my friends and co-workers, because if they don't remember me in their happy times or in their success. However, they never forget me if they are in a problem or need my help ... - Author: Nutan Bajracharya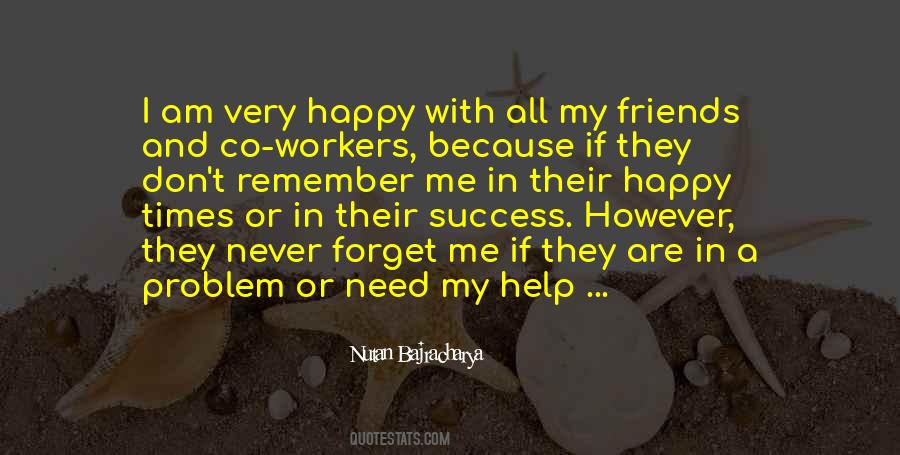 #17. Faith is such a wonderful thing. Without it, we would be panicky when we feel like we're standing alone and when the things we need and yearn for seem to be beyond our reach. - Author: Ron Brackin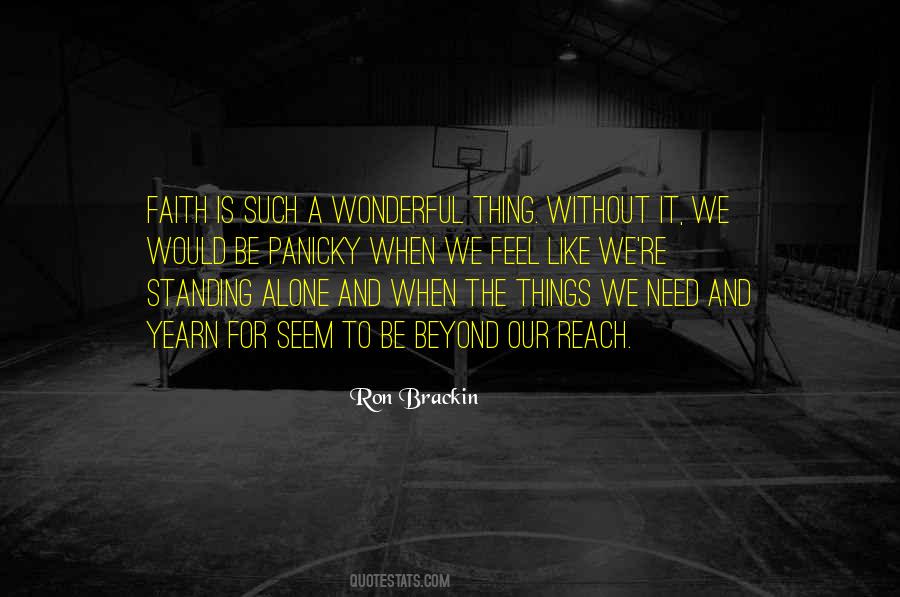 #18. Intuition is not a single way of knowing - it's our ability to hold space for uncertainty and our willingness to trust the many ways we've developed knowledge and insight, including instinct, experience, faith
and reason. - Author: Brene Brown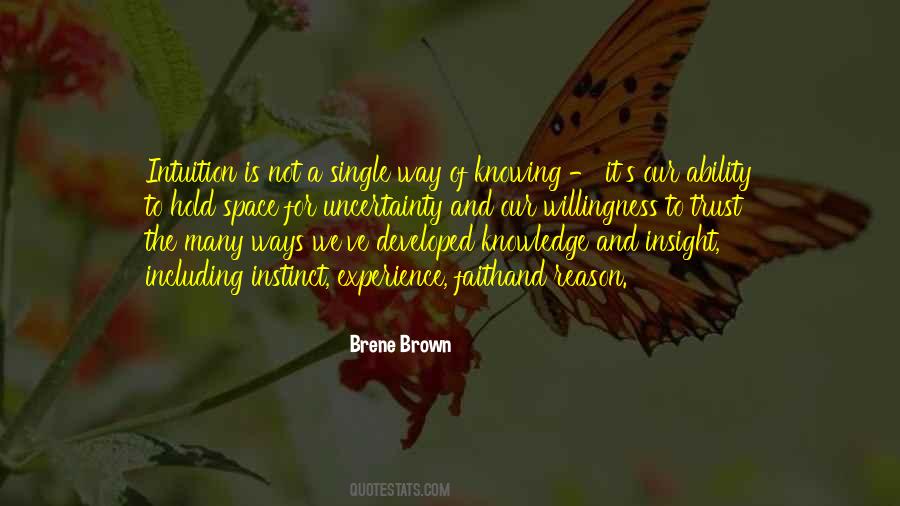 #19. A broken person understands she needs rescue, and she depends on God to resurrect and deliver. And she also understands that even if God chooses not to deliver, His ways are higher and more amazing then what we can fathom. - Author: Mary E. DeMuth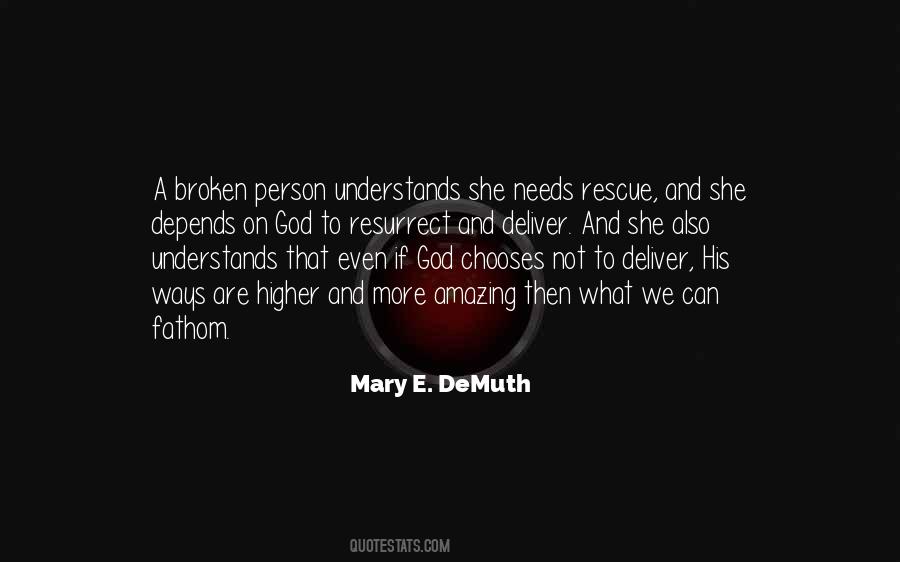 #20. We fear to trust our wings. We plume and feather them, but dare not throw our weight upon them. We cling too often to the perch. - Author: Charles Newcomb Baxter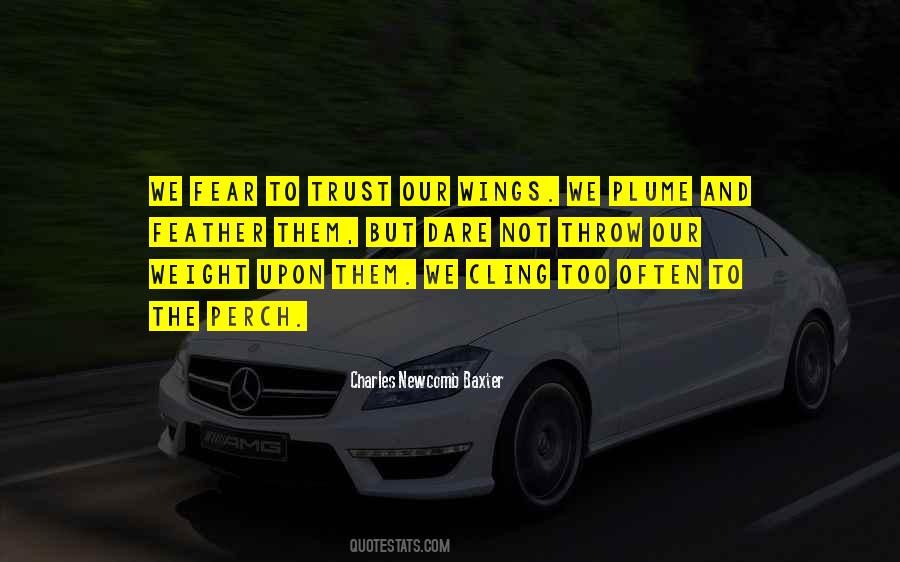 #21. The inevitable result of borrowed faith is lost faith. People born into a family anchored in Christendom tend to assume they're right with God, regardless of whether they personally turn from sin and trust in Jesus. - Author: Mark Driscoll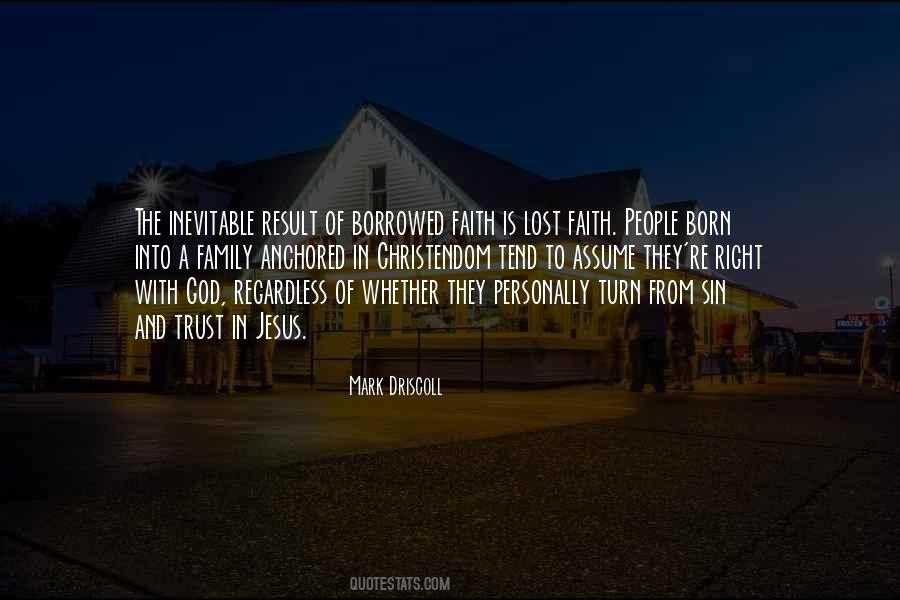 #22. When we step out in faith and use the talents He's given us, we show that we trust God, that we believe He will bless our actions and cause us to succeed. - Author: Victoria Osteen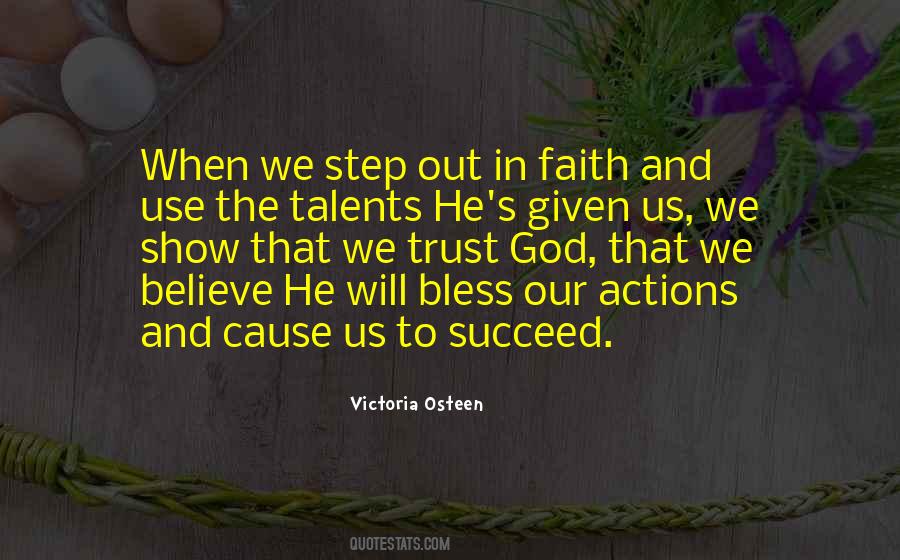 #23. Empty the vessel of hope and faith and trust and you can fill it with anything you like. They - Author: Rick Yancey
#24. I love you," was his reply. "I make myself keep on loving you, despite what you do. I've got to love you. We all have to love you, and believe in
you, and think you are looking out for our best interests. But look at us, Momma, and really see us. - Author: V.C. Andrews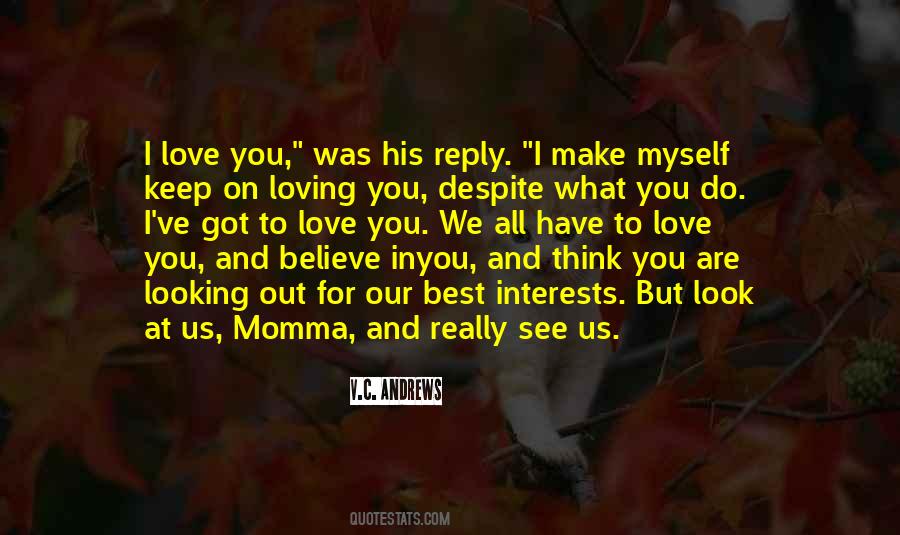 #25. I think the greatest of all human virtues is loyalty. It embraces all the best of the human character: courage, faith, love and charity. - Author: Douglas Bader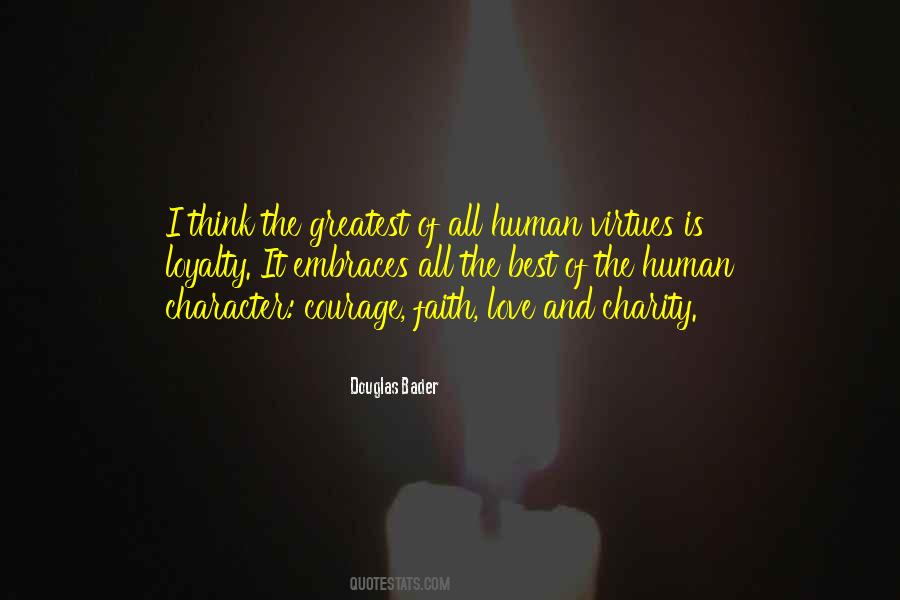 #26. Who has that perfect faith and trust? Only such a person with that faith and trust can be enlightened. - Author: Frederick Lenz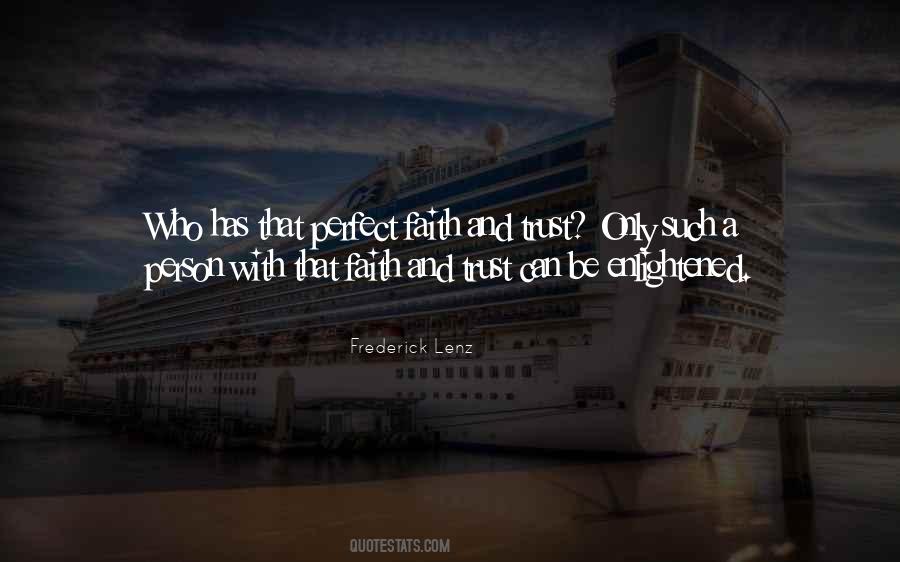 #27. There comes a time
when you have to let go
all the words
all the teaching
and trust the infinite - Author: Billy Doyle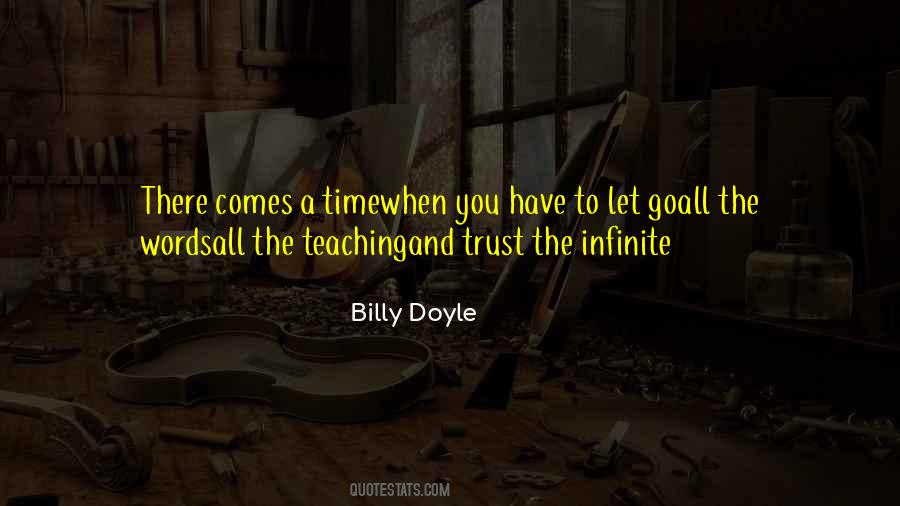 #28. You must give him time,' said her grandmother;'and you must be content not to be believed for a while. It is very hard to bear; but I have had to bear it, and shall have to bear it yet. I will take care of what Curdie thinks of you in the end. You must let him go now. - Author: George MacDonald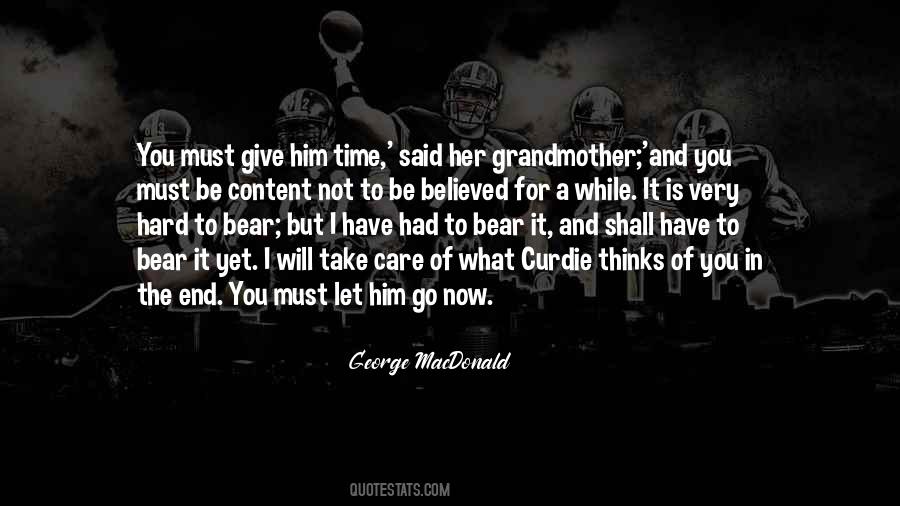 #29. I'm not comfortable, for myself and for others. And yet, one has these people whom you trust, have faith in, whom you believe see what you see, and then you come up against a moment where you feel suddenly tossed out. So I was really interested in those moments. - Author: Claudia Rankine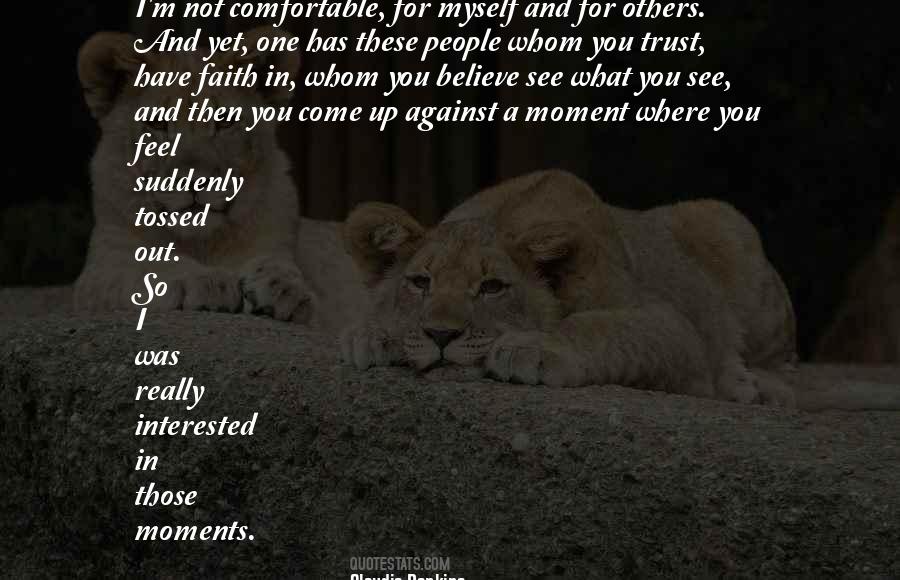 #30. We try too much and trust too little. Count the times God's Book tells us to "try." Now count the times it tells us to "trust. - Author: Peter Kreeft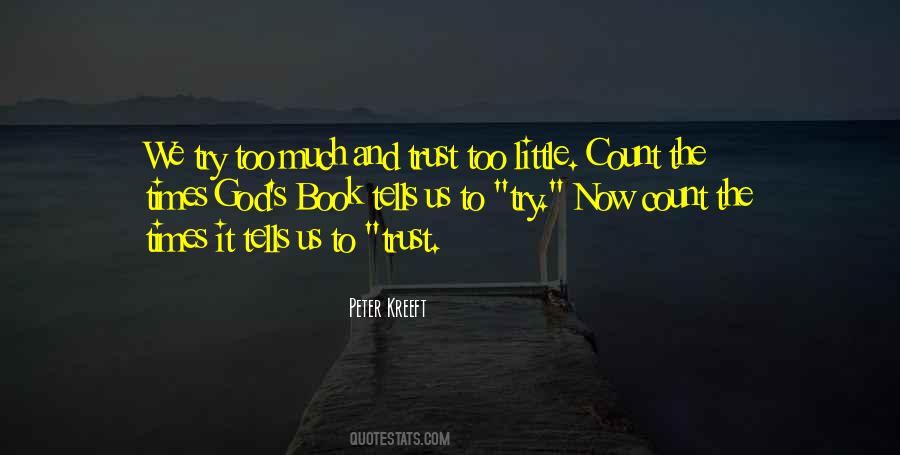 #31. You do trust him, though, Giddon?"
"Holt, who is stealing your sculptures and is of questionable mental health?"
"Yes."
"I trusted him five minutes ago. Now I'm at a bit of a loss."
"Your opinion five minutes ago is good enough for me. - Author: Kristin Cashore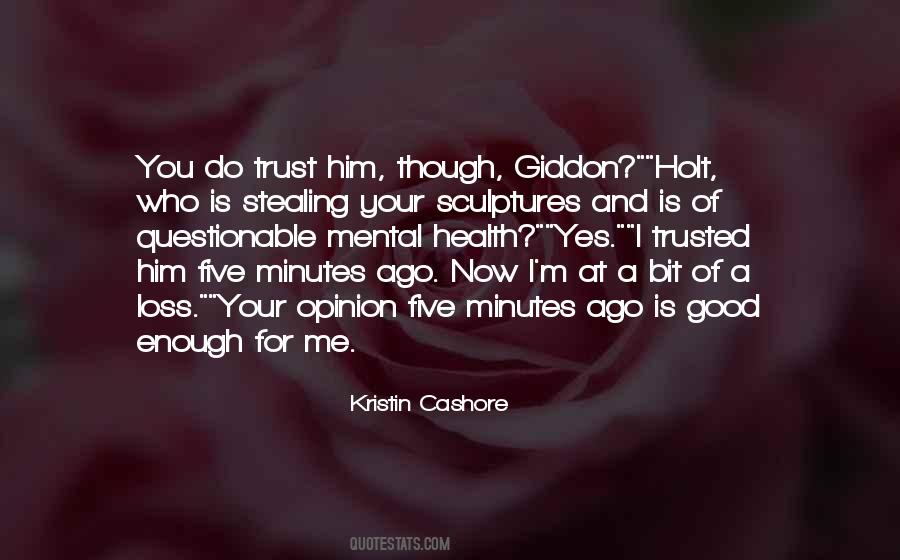 #32. We must cease striving and trust God to provide what He thinks is best and in whatever time He chooses to make it available. But this kind of trusting doesn't come naturally. It's a spiritual crisis of the will in which we must choose to exercise faith. - Author: Charles R. Swindoll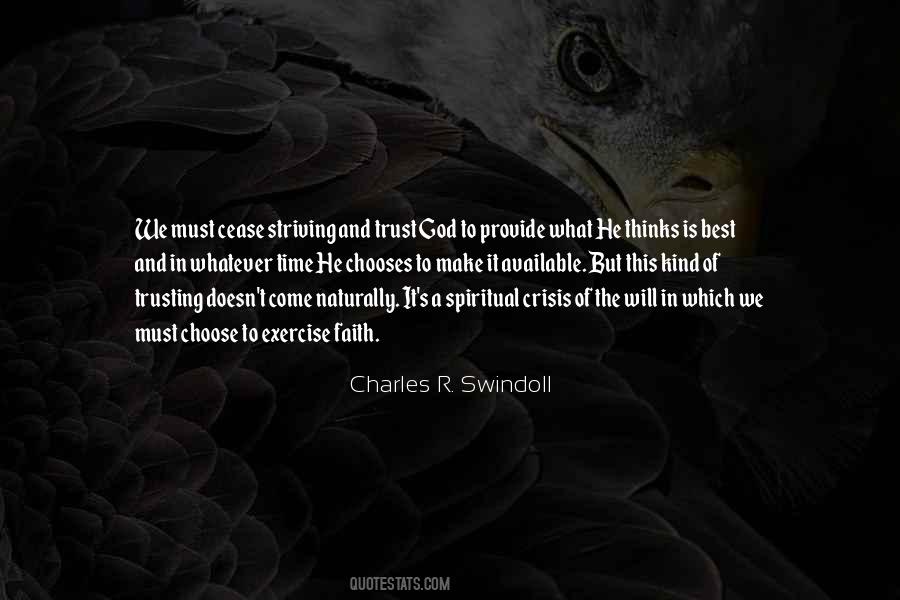 #33. Paradise is no whim.
It takes time and trust,
You see. - Author: Scott Hastie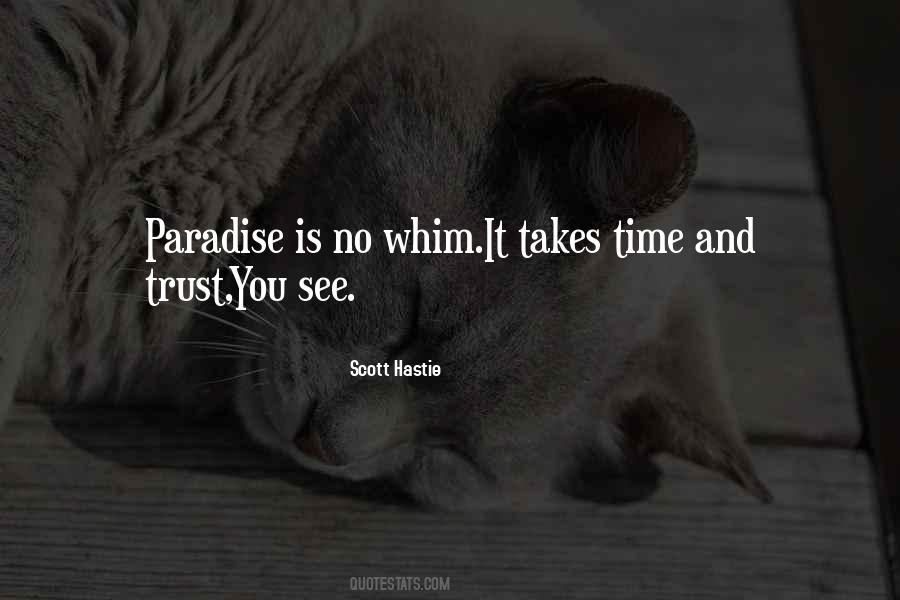 #34. All wars signify the failure of conflict resolution mechanisms, and they need post-war rebuilding of faith, trust and confidence. - Author: A. P. J. Abdul Kalam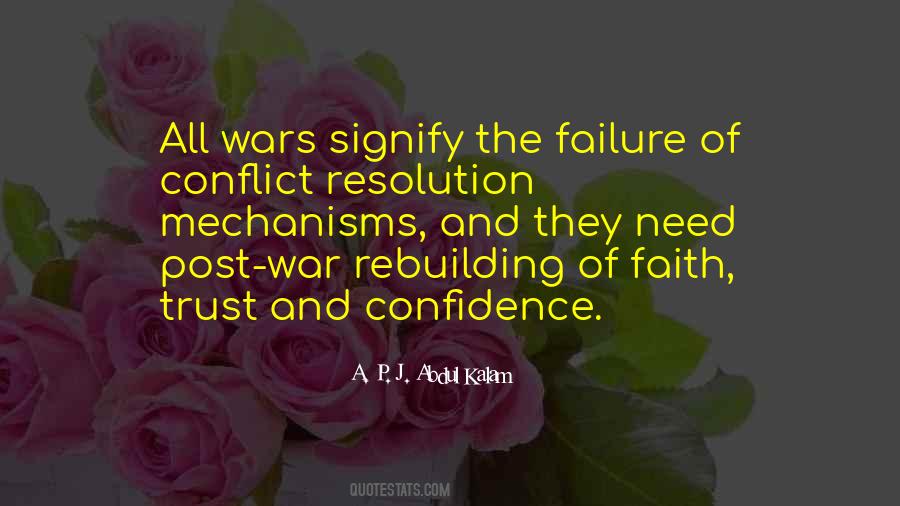 #35. Never does our good God leave us save to hold us better; never does He let go of us save to keep us better; never does He wrestle with us save to give Himself up to us and to bless us. - Author: Francis De Sales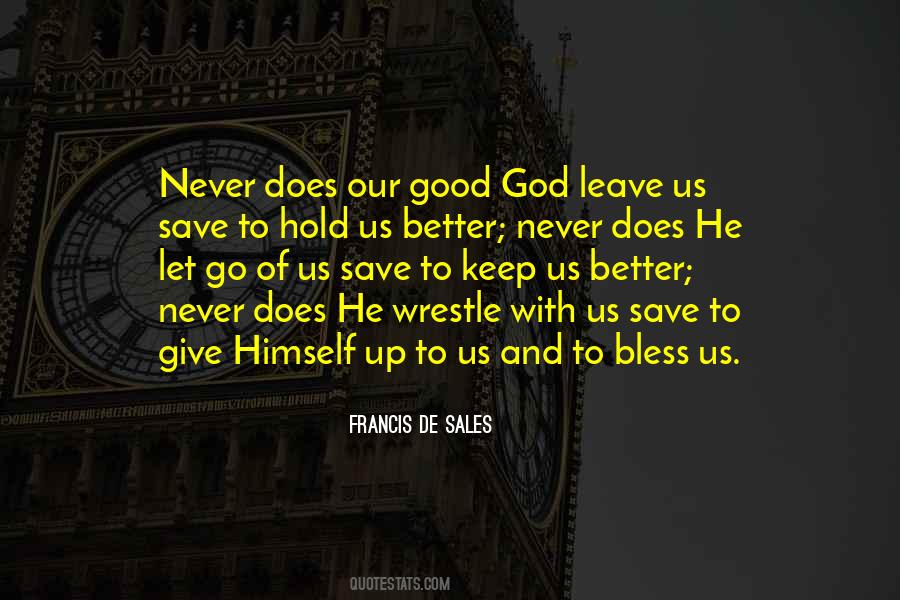 #36. Trials should not surprise us, or cause us to doubt God's faithfulness. Rather, we should actually be glad for them. God sends trials to strengthen our trust in him so that our faith will not fail. Our trials keep us trusting; they burn away our self confidence and drive us to our Savior. - Author: Edmund Clowney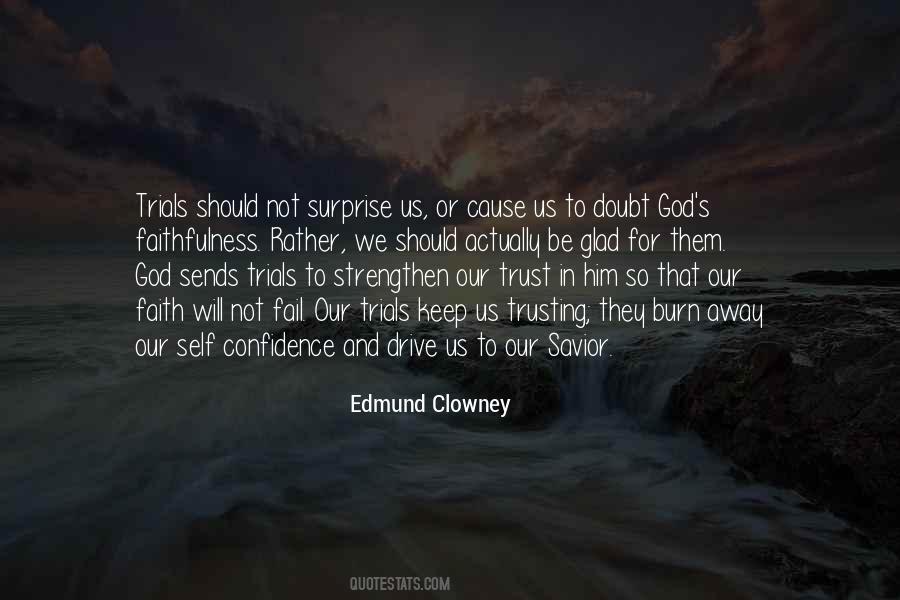 #37. What is courage? It is the ability to be strong in trust, in conviction, in obedience. To be courageous is to step out in faith - to trust and obey, no matter what. - Author: Kay Arthur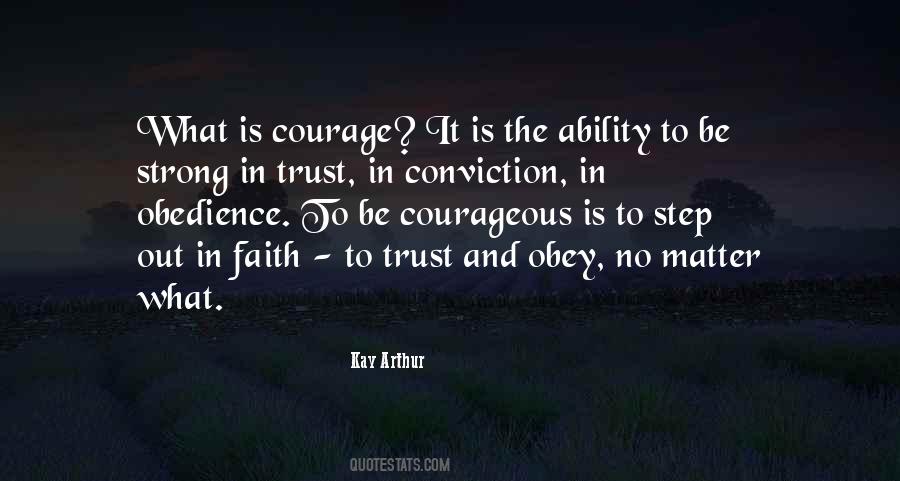 #38. Deep, contended joy comes from a place of complete security and confidence [in God] - even in the midst of trial. - Author: Charles R. Swindoll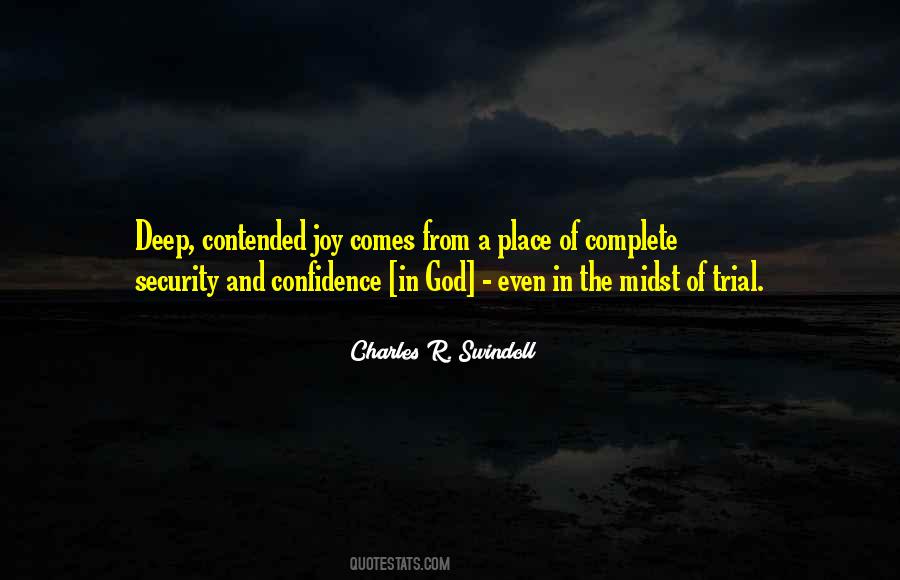 #39. Wise, spiritual faith - the kind I'm advocating - is a commitment of trust based on solid, though incomplete, evidence that we're believing in the right things and moving in the best direction. - Author: Mark Mittelberg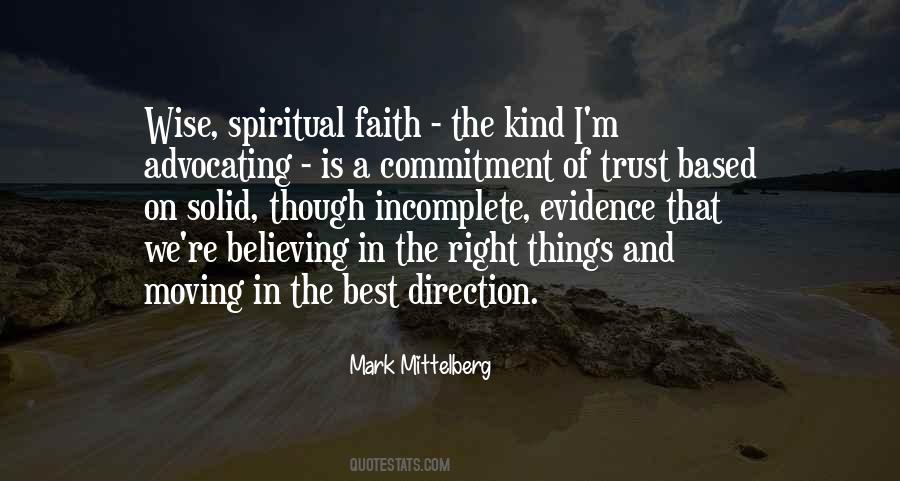 #40. Proclaim a theology of divine righteousness which demands justice, respect, tolerance, compassion, inclusiveness, trust in the ultimate efficacy of divine zeal, and the rigorous pursuit of peace in the midst of competing interests and faith claims. - Author: James A. Forbes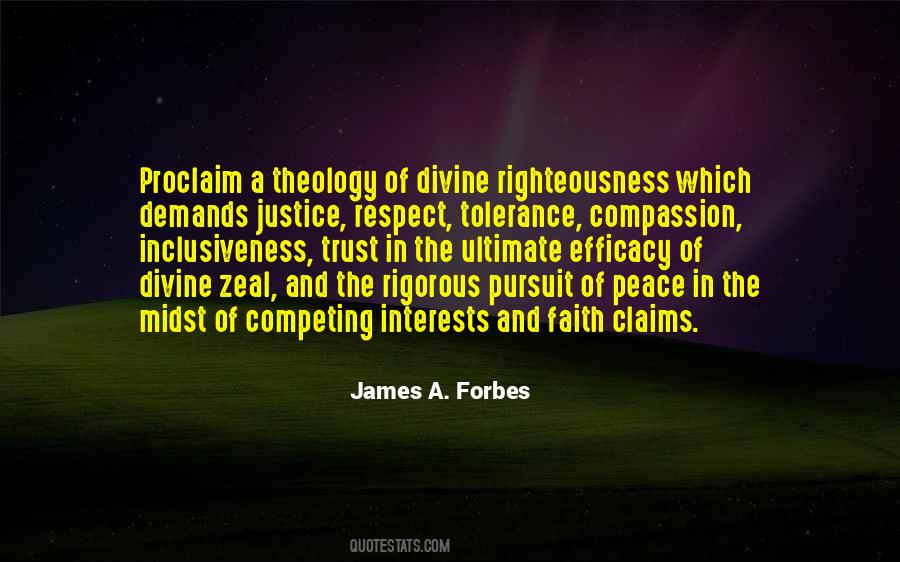 #41. To exercise faith is to trust that the Lord knows what he is doing with you and that He can accomplish it for your eternal good even though you cannot understand how He can possibly do it ... Your Father in Heaven and His Beloved Son love you perfectly. - Author: Richard G. Scott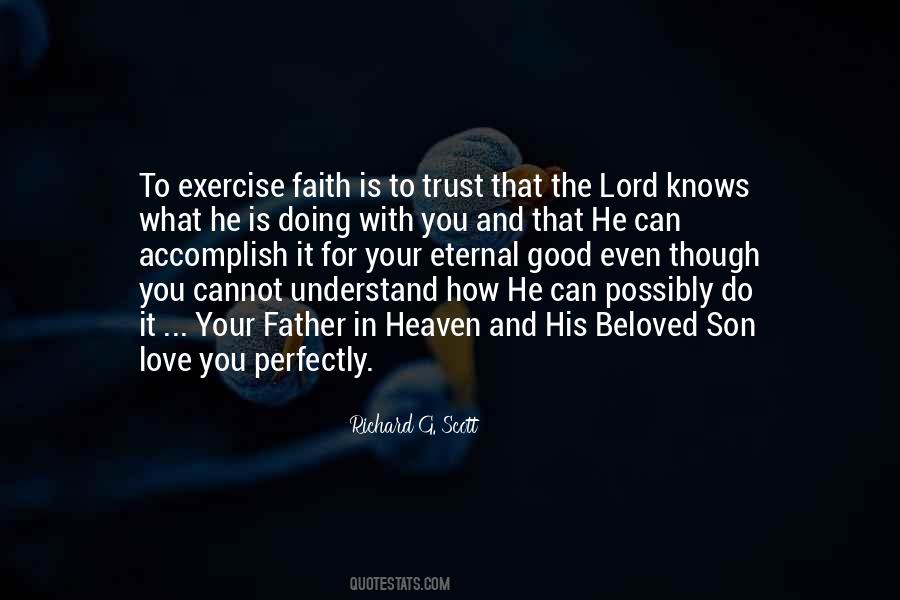 #42. There is always a certain leap of faith that editors have made with their nonfiction writers. If the trust is broken, things can get very embarrassing for the writers and the publisher. - Author: A. Scott Berg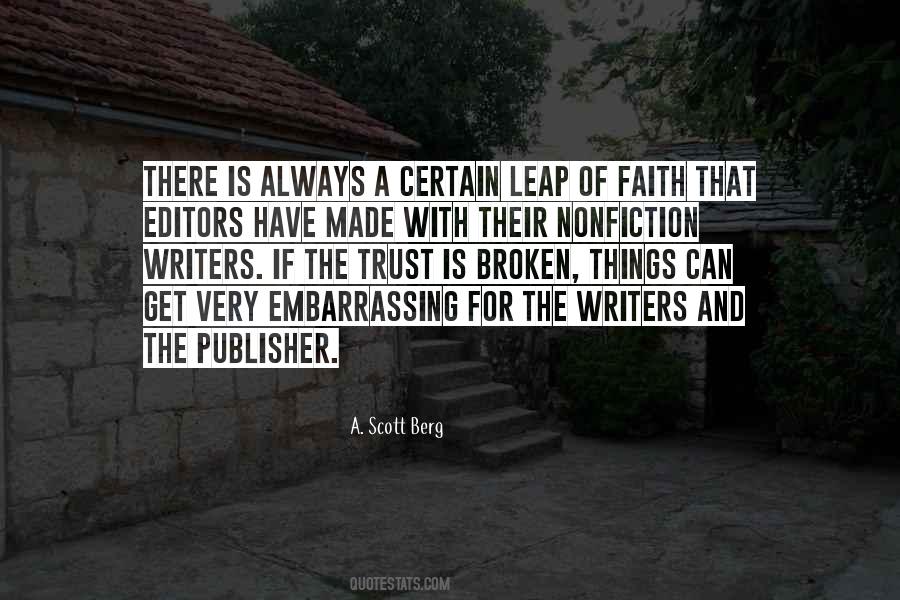 #43. You must become aware of the richness in you and come to believe in it and know it is there, so that you can write opulently and with self-trust. If you once become aware of it and have faith in it, you will be all right. - Author: Brenda Ueland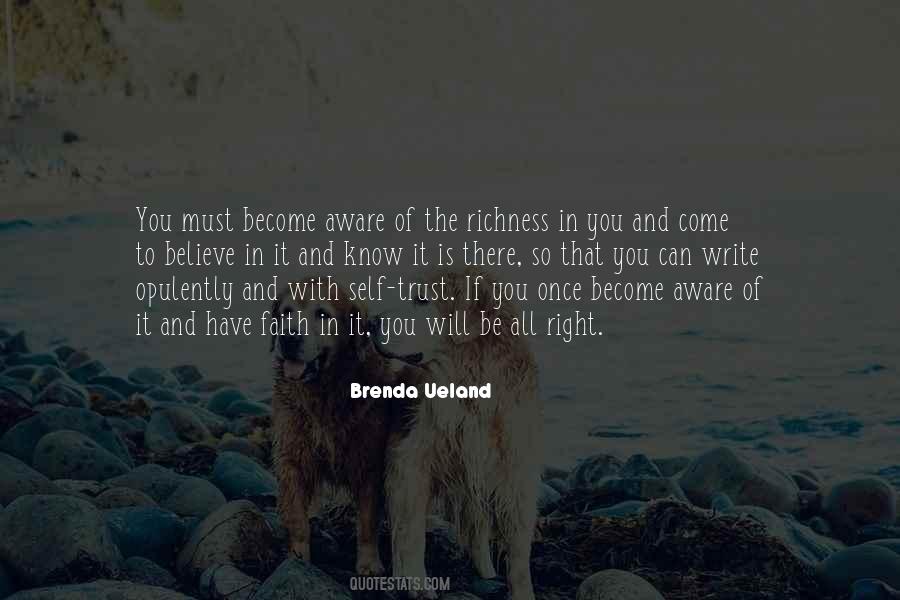 #44. It's important to have a vision of the long run and make wise decisions for our highest good in the present moment; however, we don't want to become attached to how everything must look. When we show up in good faith, life provides. And when we trust, we are always in the flow of manifestation. - Author: Alaric Hutchinson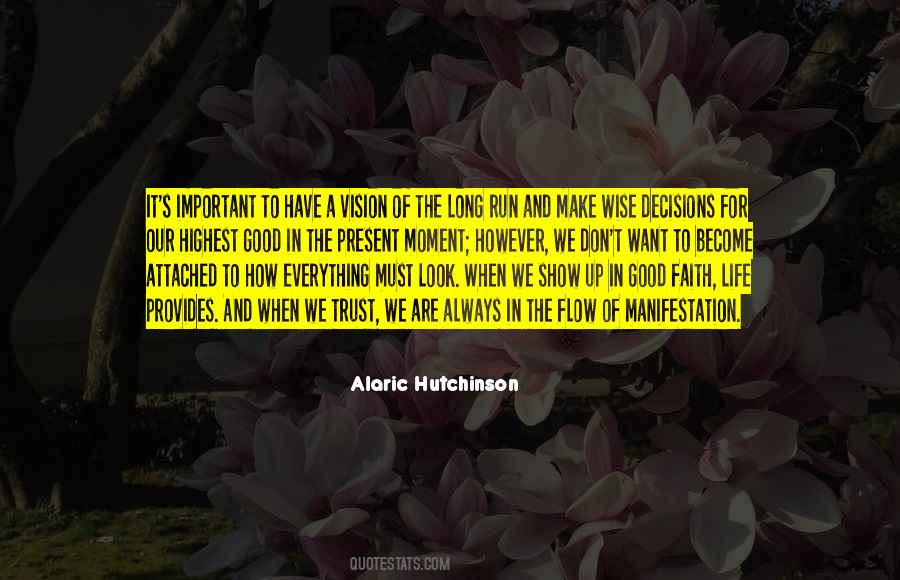 #45. I'm a scientist, not a theologian. I don't know if there is a God or not. Religion requires certainty. Revere and respect Gaia. Have trust in Gaia. But not faith. - Author: James Lovelock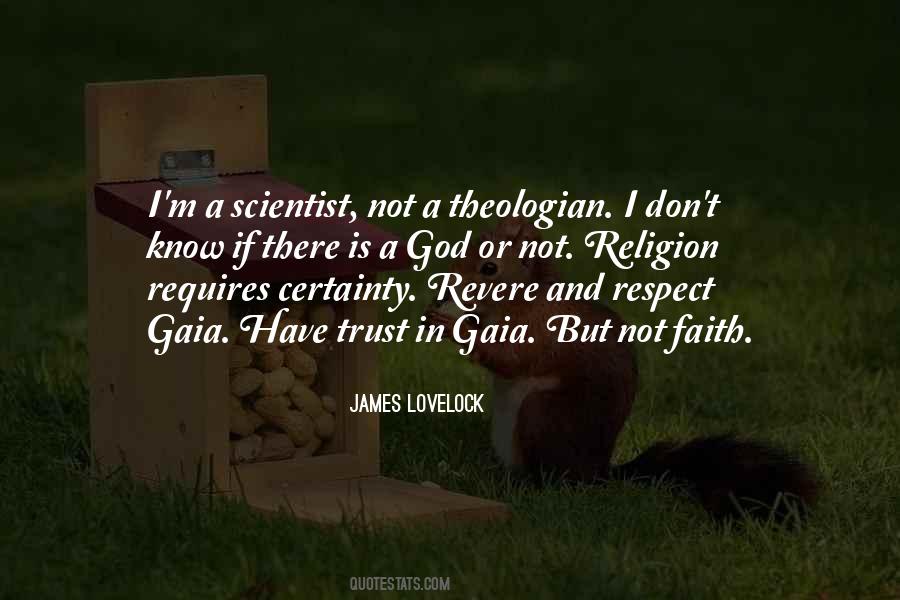 #46. When we take all thoughts captive and trust God with our well being, fear departs. Our faith in His power will remove our insecurities, wobbly uncertainty, and unstable nervousness. - Author: Cheryl Zelenka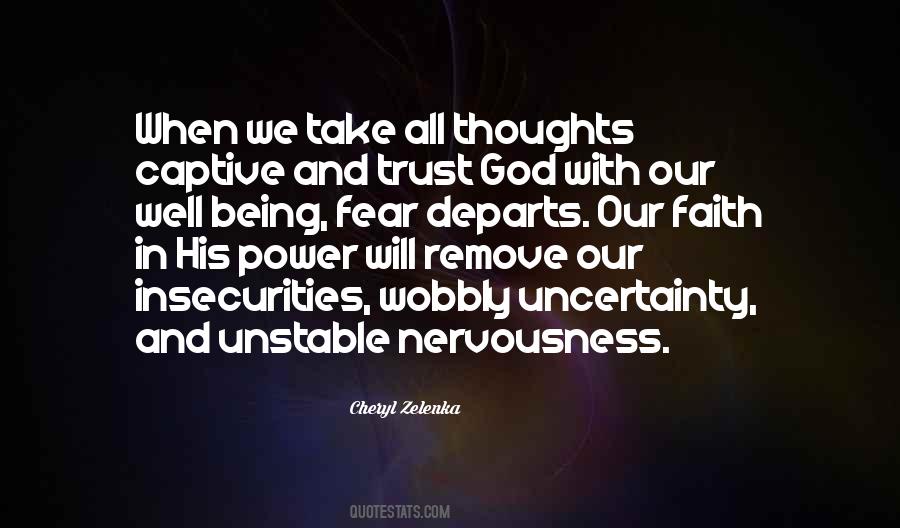 #47. Have a little faith in your sons. This journey will be the making of them. - Author: C.J. Milbrandt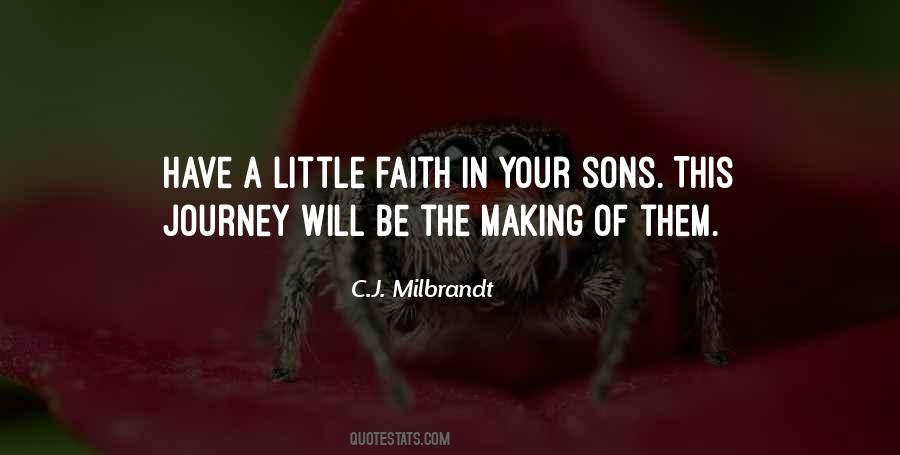 #48. I wish someone could tell me it is ok to trust someone and getting betrayed.
I wish some one could reassure the faith that I have on love. - Author: Anonymous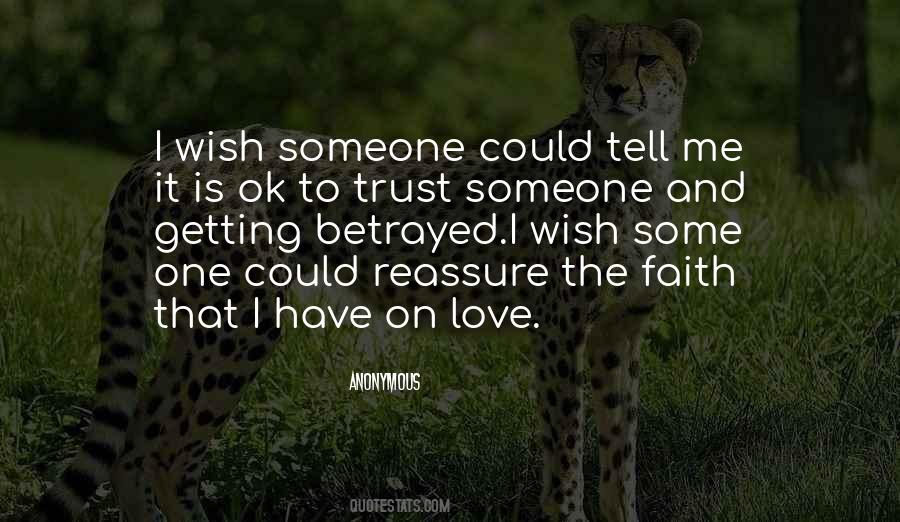 #49. The goal of faith isn't to take away your fears but to leverage those fears to create bolder belief. Faith leads you past your fears and reassures you of God's presence. And after a while, you begin to trust that God is going to lift you above the waves this time just like he did last time. - Author: Steven Furtick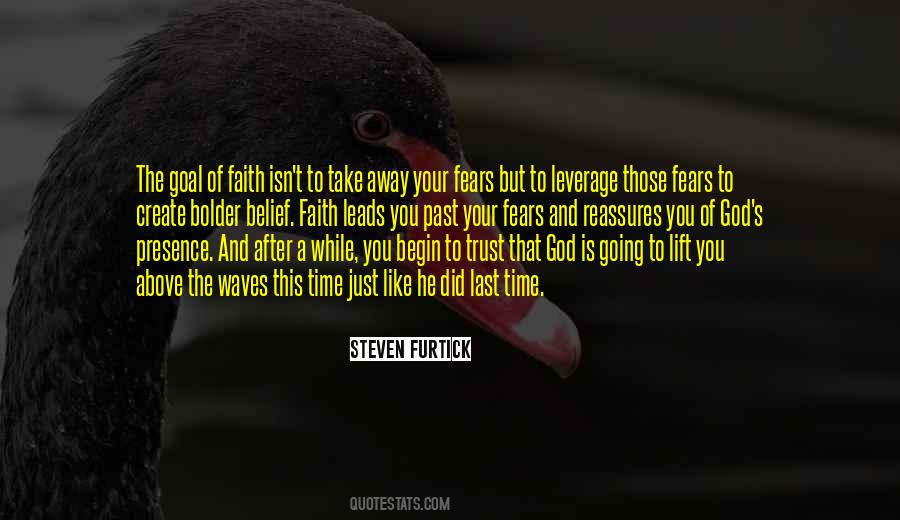 #50. Your faithfulness and mercies forever abide,we trust in You Jehovah - Ahavah, The Lord is love. - Author: Amy E. Tobin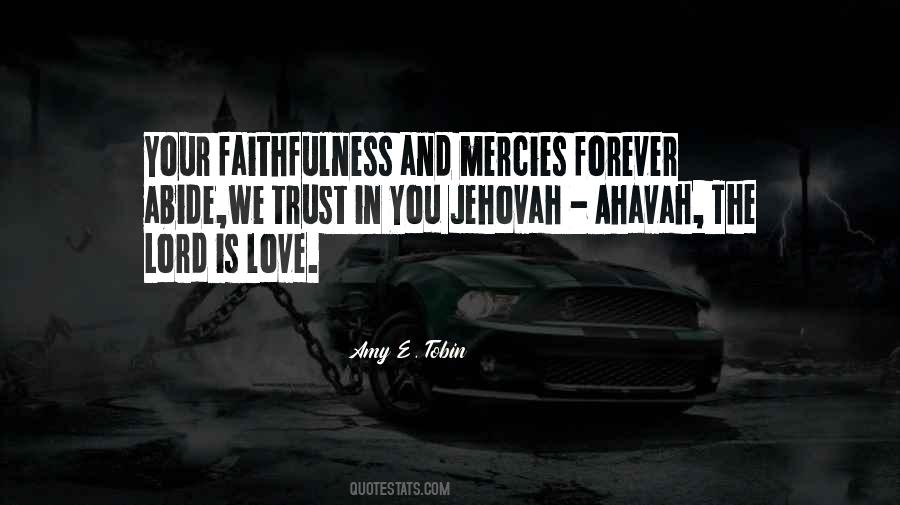 #51. In Scripture, faith involves placing trust in what you have reason to believe is true. Faith is not a blind, irrational leap into the dark. So faith and reason cooperate on a biblical view of faith. They are not intrinsically hostile. - Author: J.P. Moreland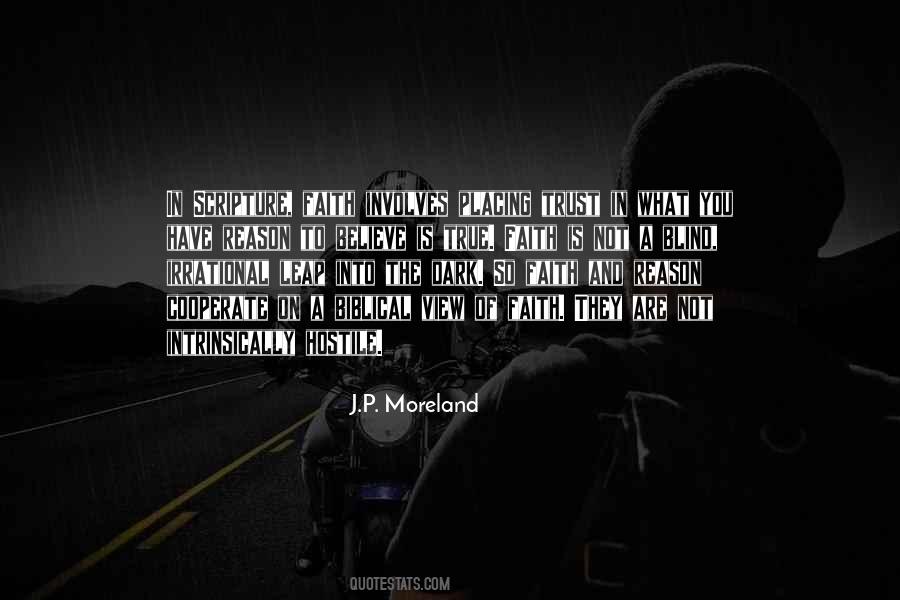 #52. We are always hungry and never satisfied because we don't trust and won't risk. Can we reach a place where we are satisfied with just enough? You are enough. You have enough. Do not worry about tomorrow. God will provide in our lives just as God provides in the Eucharist. - Author: Mary DeTurris Poust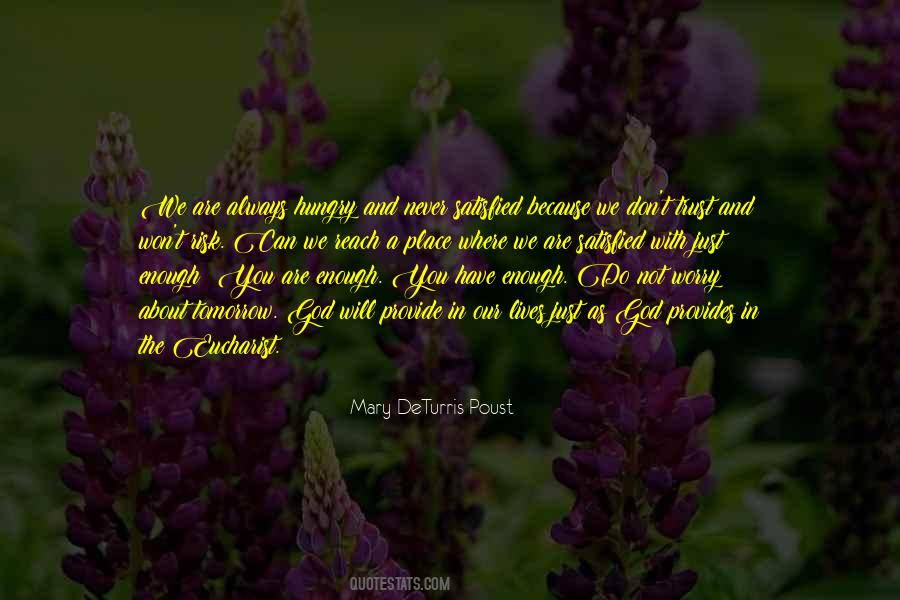 #53. I realized that my life was to be one of simple, childlike faith, and that my part was to trust, not to do. I was to trust in Him and He would work in me to do His good pleasure. From that time my life was different. - Author: Charles Studd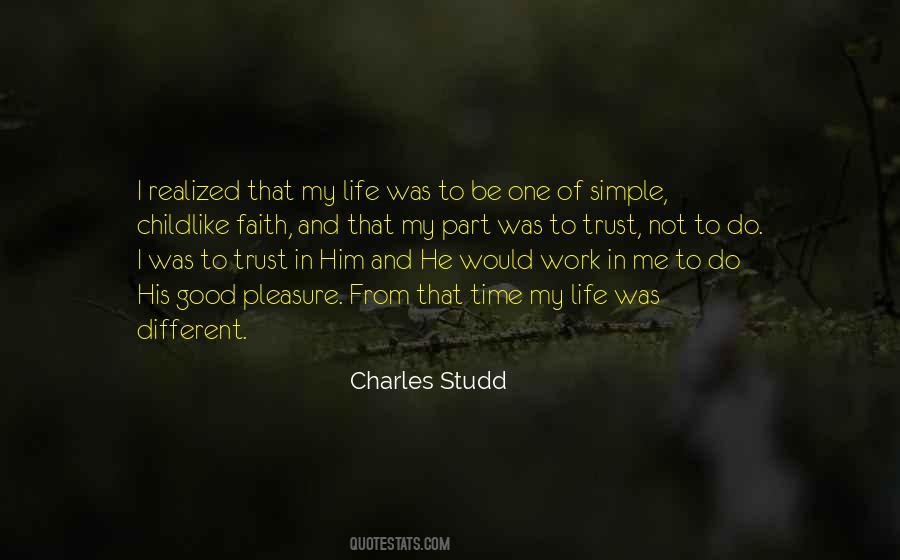 #54. To take up half on trust, and half to try, Name it not faith but bungling bigotry. - Author: John Dryden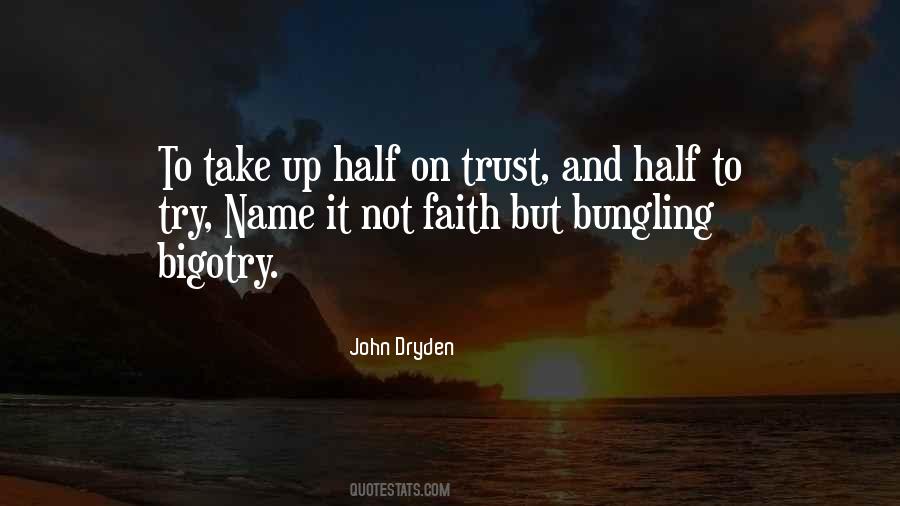 #55. Most (Christians) have an ungrounded trust in Christ, hoping that He will pardon, justify and save them, while the world has their hearts, and they live to the flesh. And this trust they take as justifying faith. - Author: Richard Baxter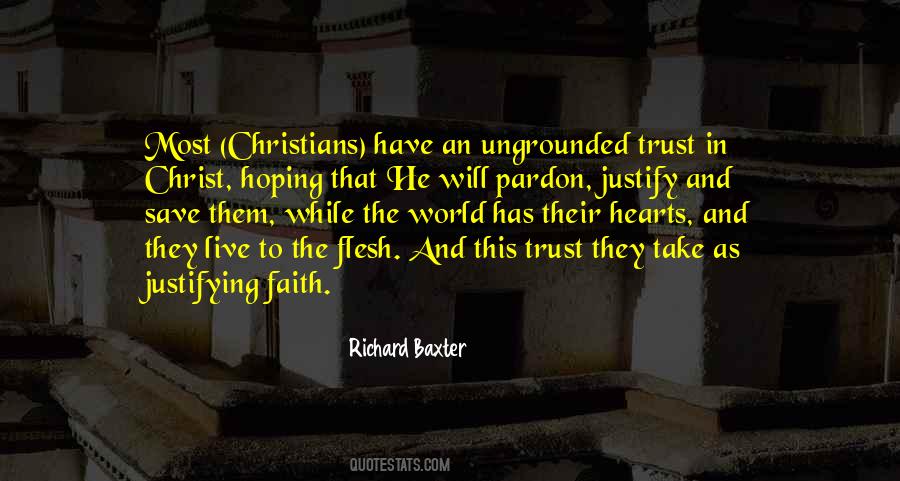 #56. As I lay in the late hours of night or perhaps the wee hours of morning, I felt content. I'd been right to keep faith and trust when I had no reason to. I didn't expect any grand gestures or magical solutions to things, but my hope was fueled. - Author: J.M. Northup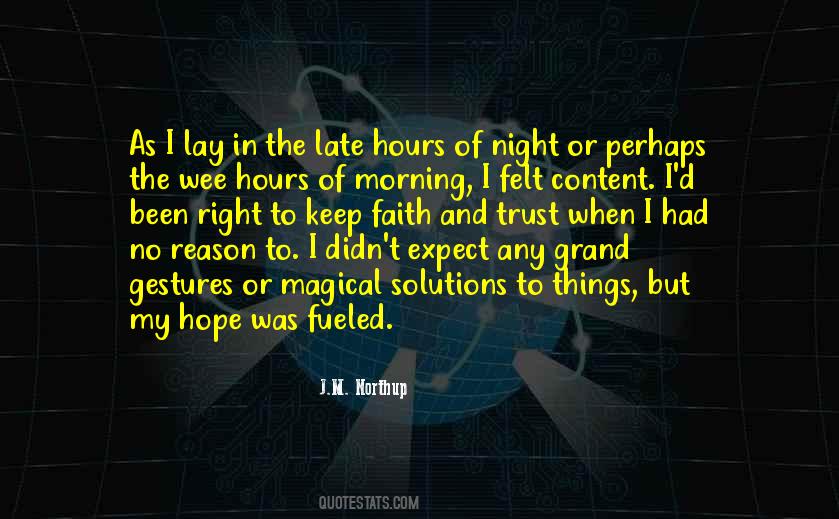 #57. Man cannot live without a permanent trust in something indestructible in himself, though both the indestructible element and the trust may remain permanently hidden from him. One of the ways in which this hiddenness can express itself is through faith in a personal god. - Author: Franz Kafka
#58. The virtues developed here in the age range [around the age of 2] of are trust or faith, and will power and self determination according to the Erickson model. The existential questions being addressed here in this stage are, can one trust the world? and, is it alright to be myself? - Author: Leviak B. Kelly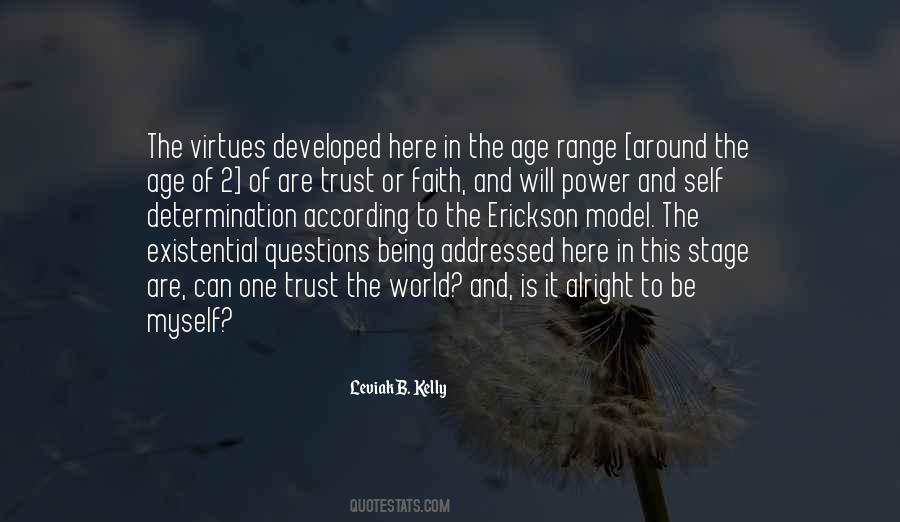 #59. To hope and trust in the Lord requires faith, patience, humility, meekness, long-suffering, keeping the commandments and enduring to the end. - Author: Robert D. Hales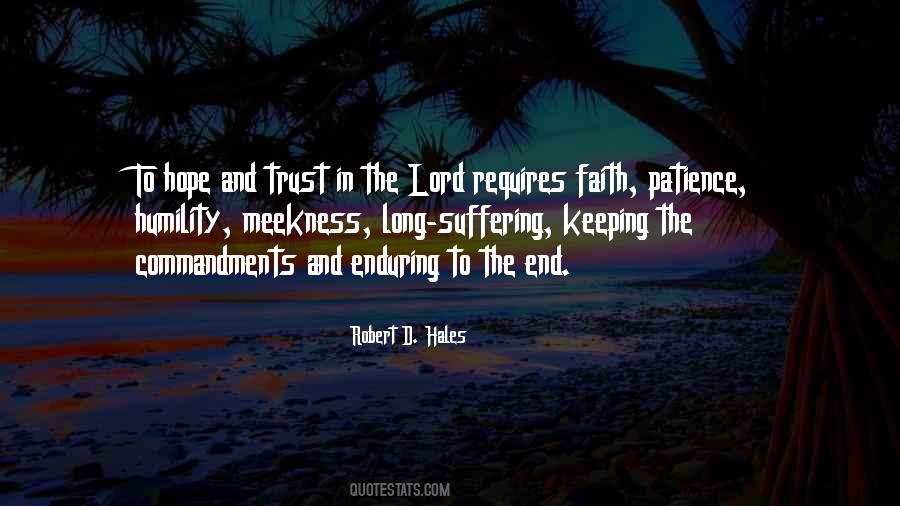 #60. Do yourself a favor and forgive anyone that has anything against you. Do it as an act of faith and trust God to change and heal your emotions. Pray for your enemies and never say another unkind thing about them. It is the only way you can move past the pain and begin to heal. - Author: Joyce Meyer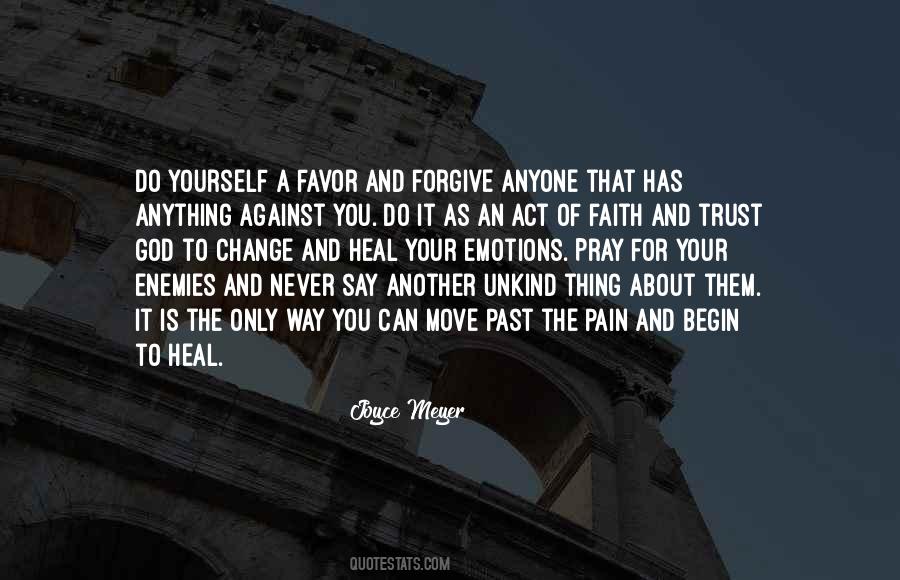 #61. Faith and trust come from an inner ability to believe in something unseen, to expect it to be there without ever having proof that it is. - Author: Tara Taylor Quinn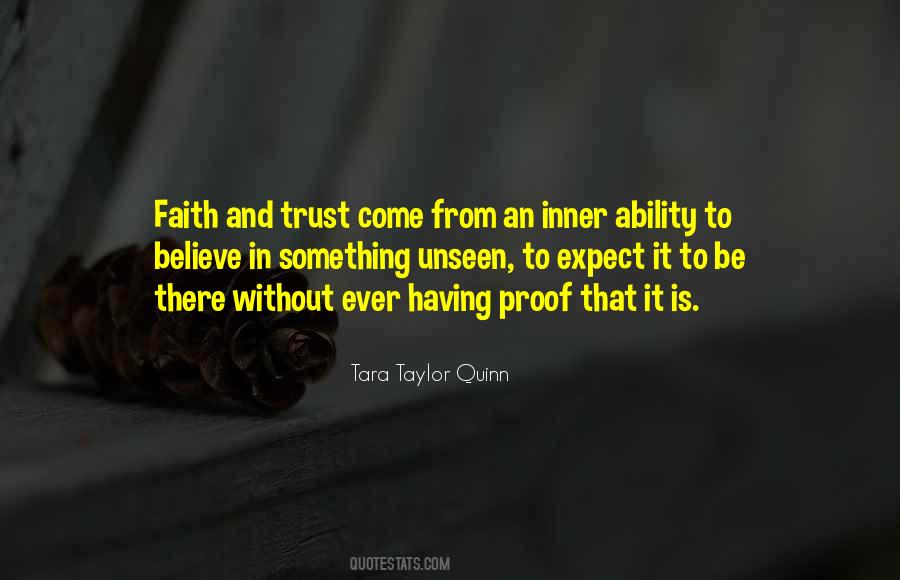 #62. Faith cannot be about absolute certainty in the letters of the Bible and wrath against those who don't comply (Ephesians 2:15). It has to be about overwhelming trust in God's love,6 which as the apostle Paul confirms, is beyond the letter of law and narrow legalistic interpretations. - Author: Amos Smith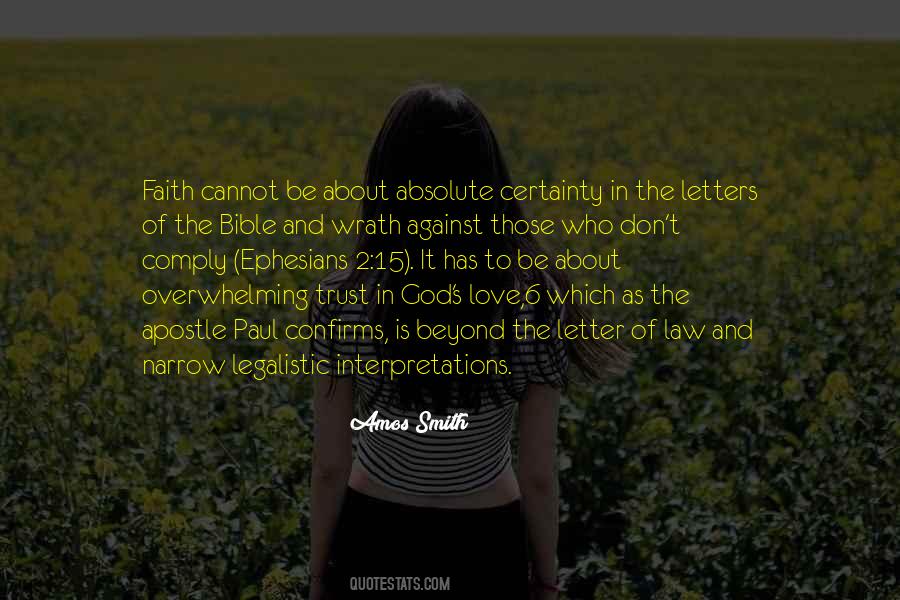 #63. Each of us has an inner dream that we can unfold if we will just have the courage to admit what it is. And the faith to trust our own admission. The admitting is often very difficult. - Author: Julia Cameron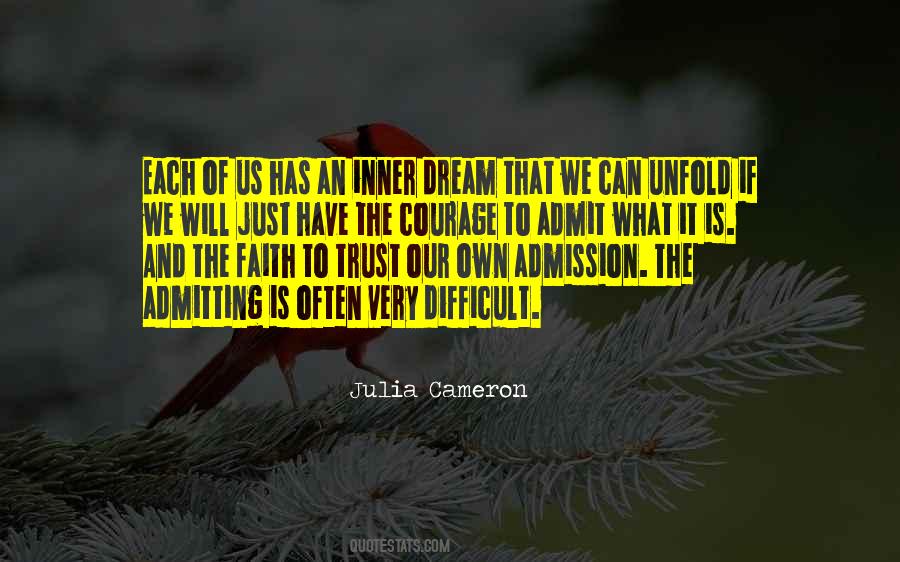 #64. Faith is our direct link to universal wisdom, reminding us that we know more than we have heard or read or studied that we have only to look, listen, and trust the love and wisdom of the Universal Spirit working through us all. - Author: Dan Millman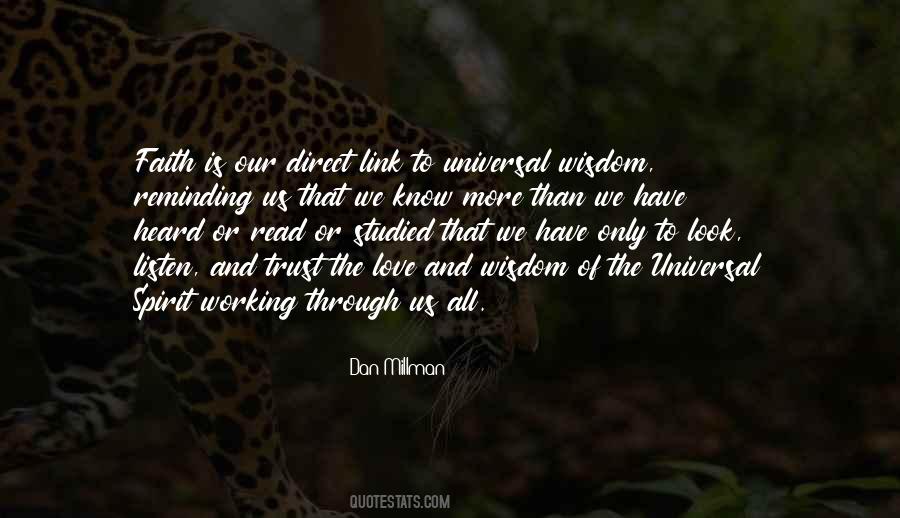 #65. For this equilibrium now in sight, let us trust that mankind, as it has occurred in the greatest periods of its past, will find for itself a new code of ethics, common to all, made of tolerance, of courage, and of faith in the Spirit of men. - Author: Albert Claude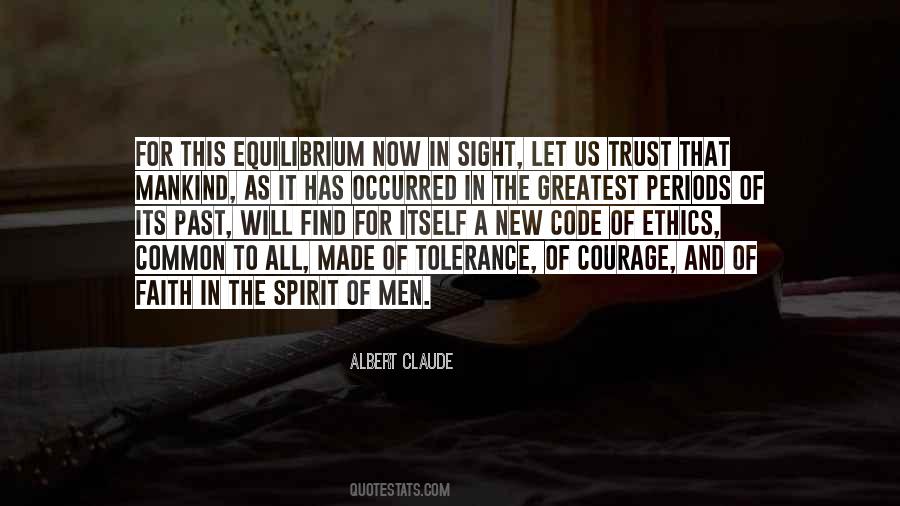 #66. With all her heart, Mom believed in opportunity for everyone and privilege for no one. She put her children first, and her faith and trust in the American dream. - Author: Ralph Webster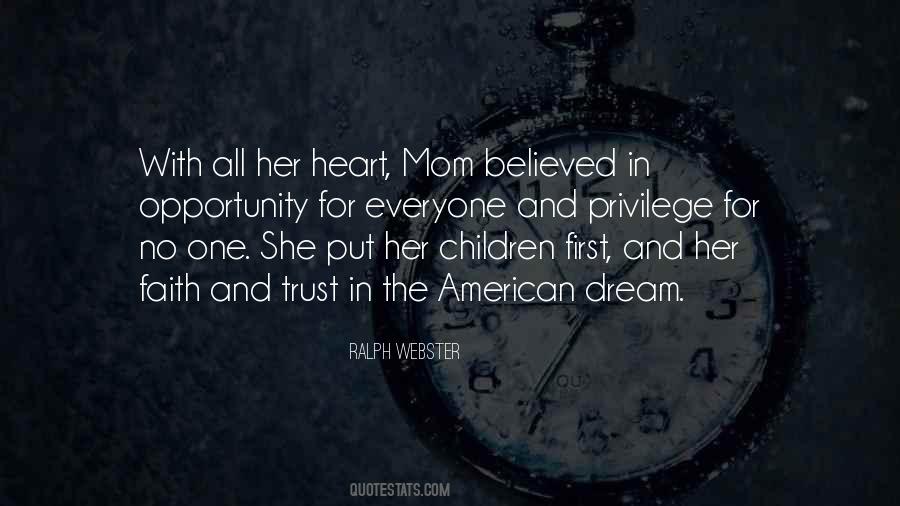 #67. Faith is the only belief which remains alive between heaven and hell. - Author: Munia Khan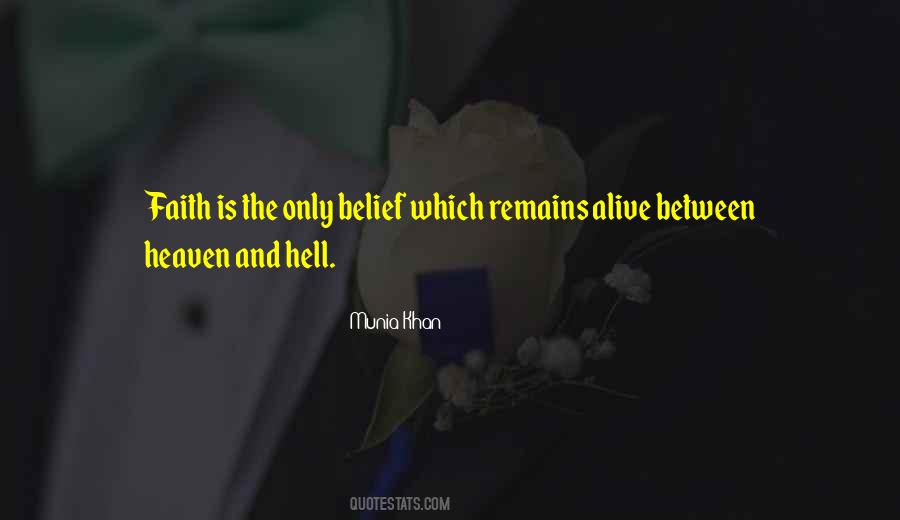 #68. As we trust the Lord, we start "emptying" ourselves with things that tie us or entangle us in order to be filled by God's grace and the fullness of Him who fills everything in every way. - Author: Yilda B. Rivera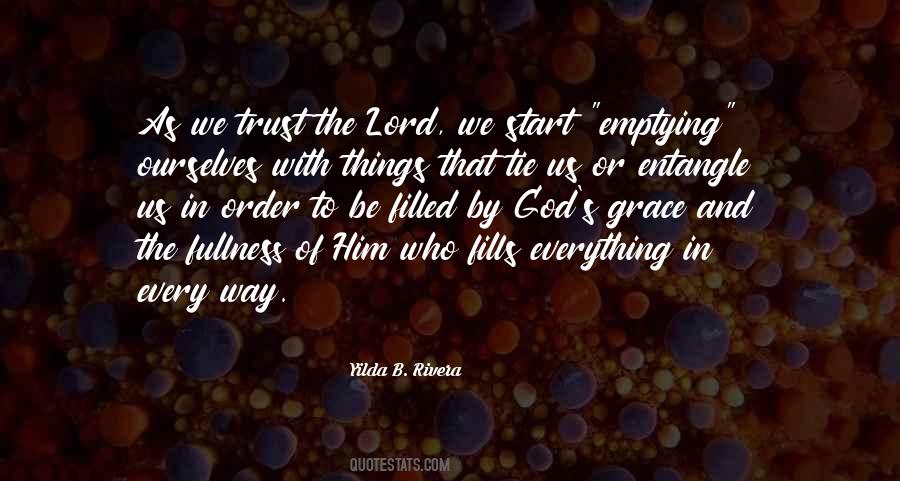 #69. A willing heart will believe anything and die for anything - Author: Bangambiki Habyarimana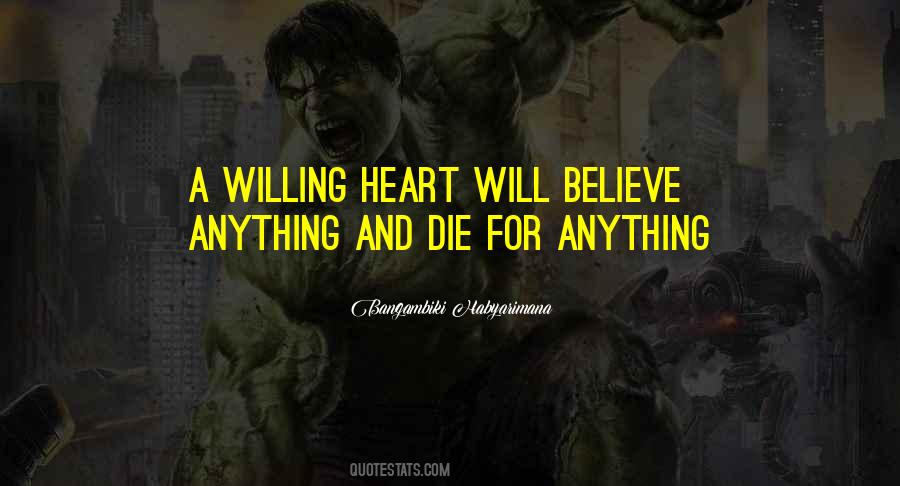 #70. I often said that never in the history of the world did one man receive so much faith and trust as Hitler. Similary, no one has ever betrayed so many people and abused so much good faith as he did. - Author: Hans Fritzsche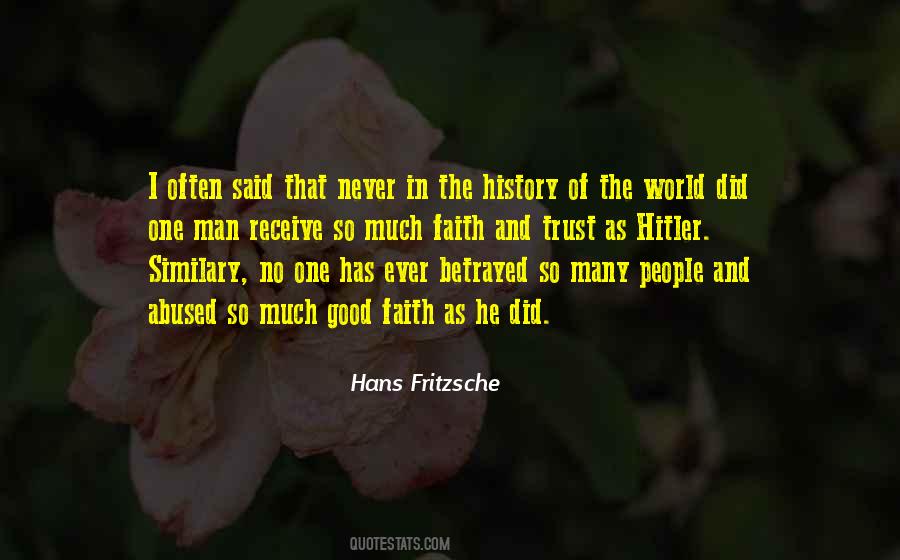 #71. 'Faith' and 'trust' are words that put the power in the hands of an outside force that we are meant to rely on - whether it is God or a person or the universe. Certainty puts the power back in our hands. - Author: Yehuda Berg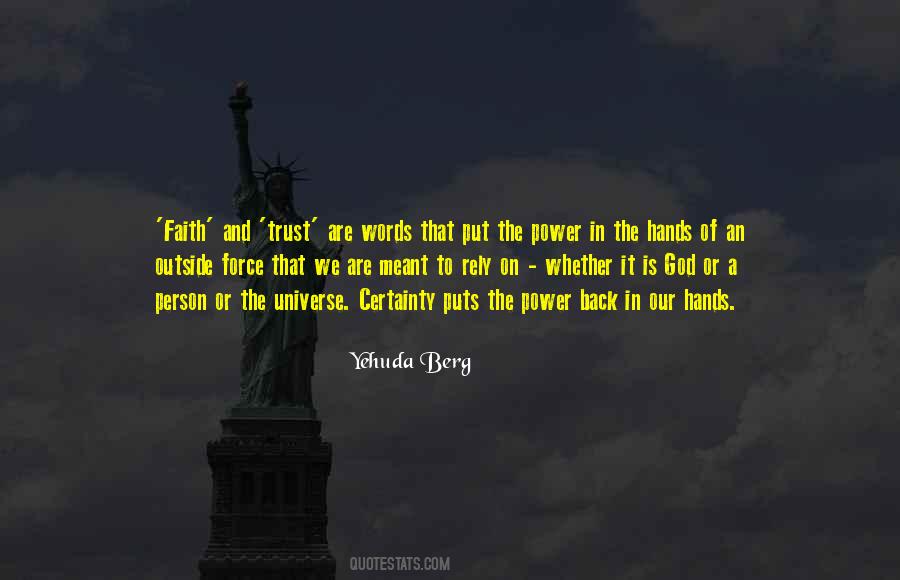 #72. To understand the Scripture is not simply to get information about God. If attended to with trust and faith, the Bible is the way to actually hear God speaking and also to meet God himself. - Author: Timothy J. Keller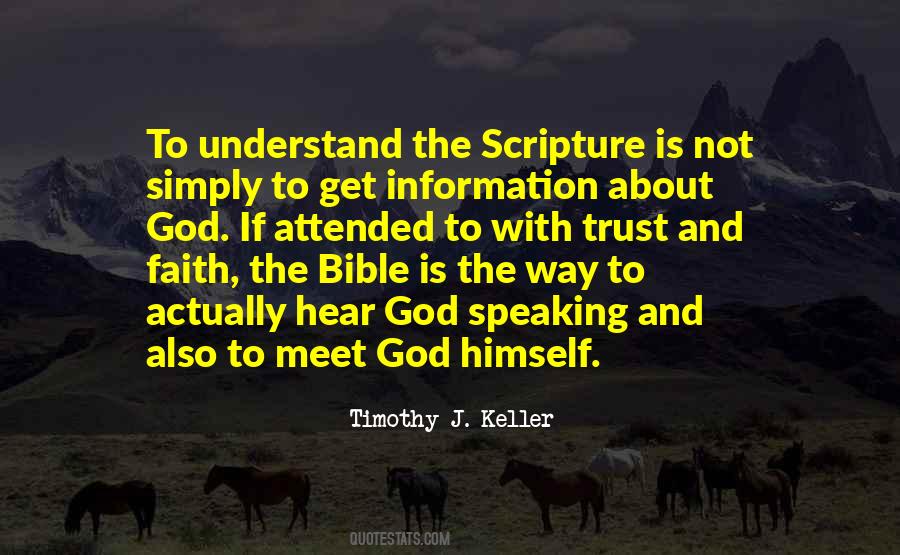 #73. The miraculous is always happening, even though we forget it or even when our faith is too small to trust God for miracles or even when we don't see the miracles occurring. God is always still at work, and God will always provide for us. - Author: Louie Giglio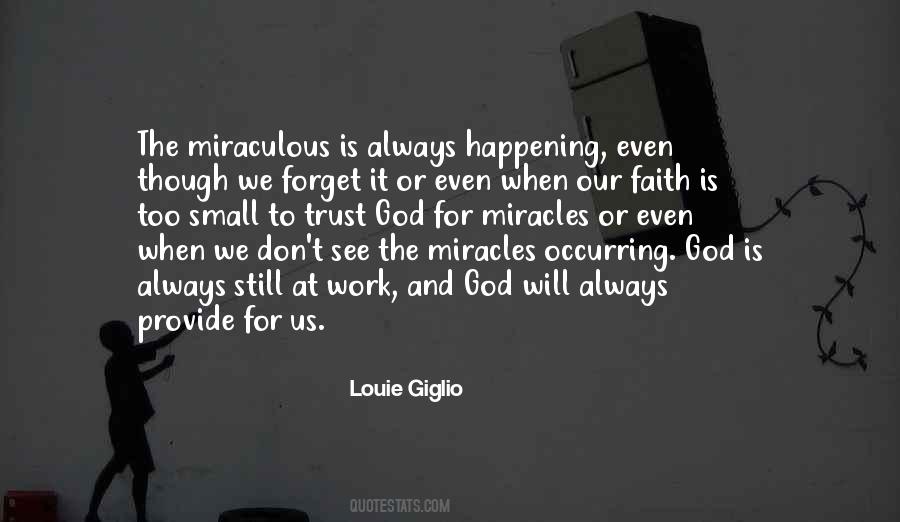 #74. She would never be caught unprepared again, she swore to herself. She would never trust. Never love. Never put faith in other human beings again. She would learn all she could of the shape and substance of the world, and she would find a way to survive in it. - Author: David Anthony Durham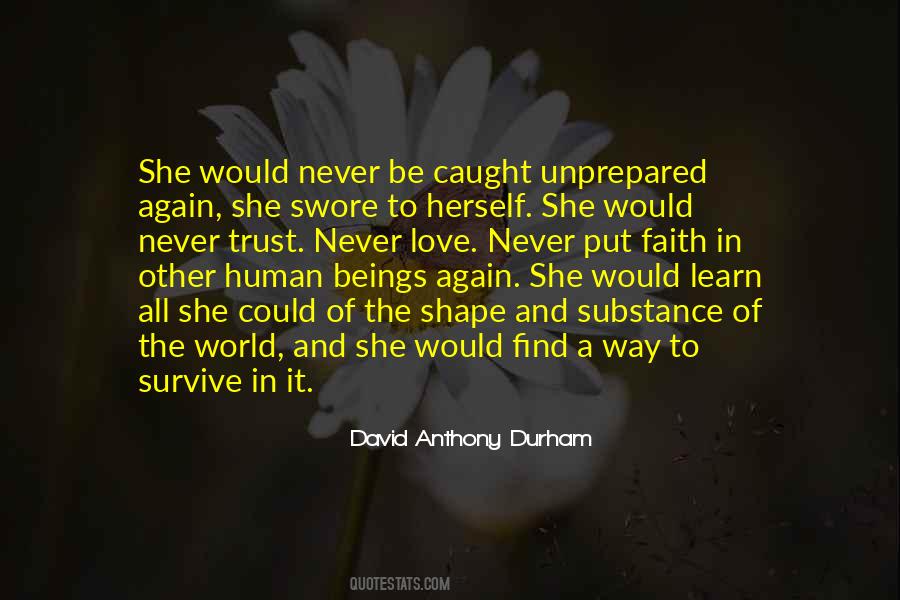 #75. Consider your actions and words. Be thoughtful when expressing your feelings or concerns. Sometimes it's not what you say, but the way you say it. That makes all the difference - Author: Amaka Imani Nkosazana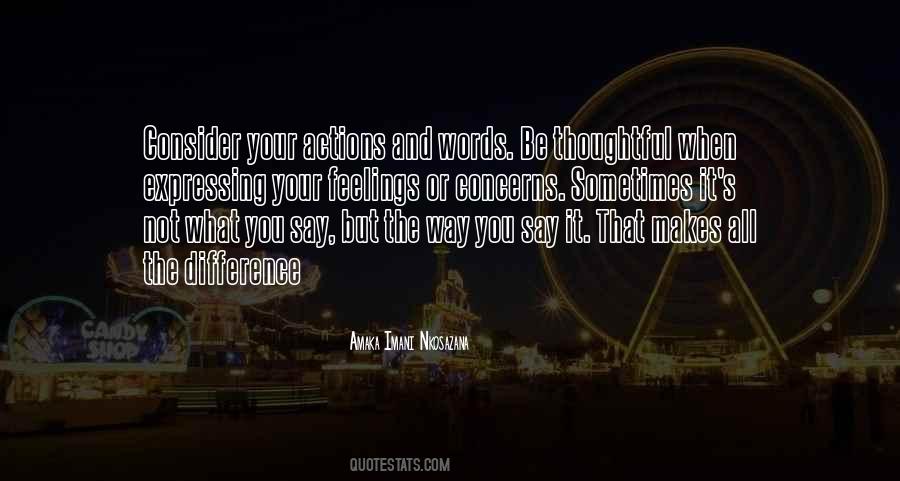 #76. No one has proof that I know of, that a higher power exists, yet a major portion of the world believes in it and relies on it in faith in trust, in what that is. Where is the science in that? And yet you have incredible belief in that. - Author: Sandra Bullock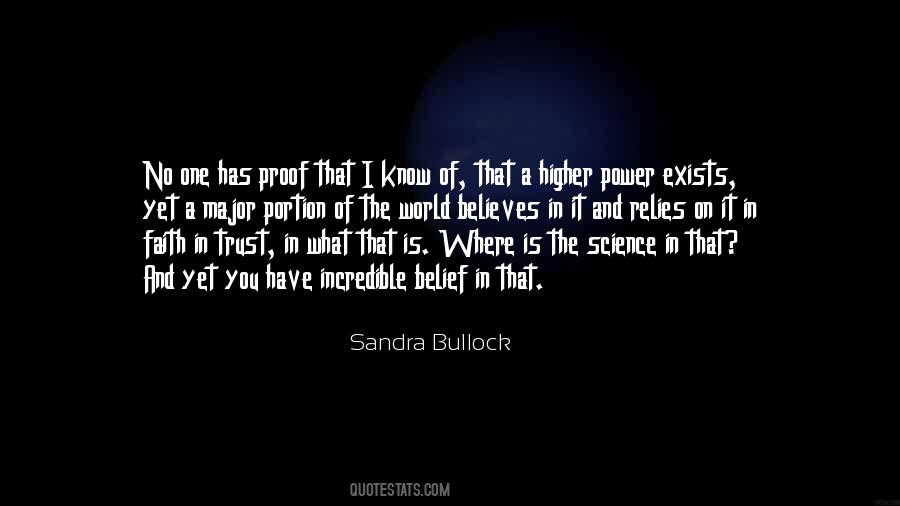 #77. Either we will spend our lives trying to take care of ourselves or we will let go and let God take care of us as we put our faith and trust in Him. - Author: Joyce Meyer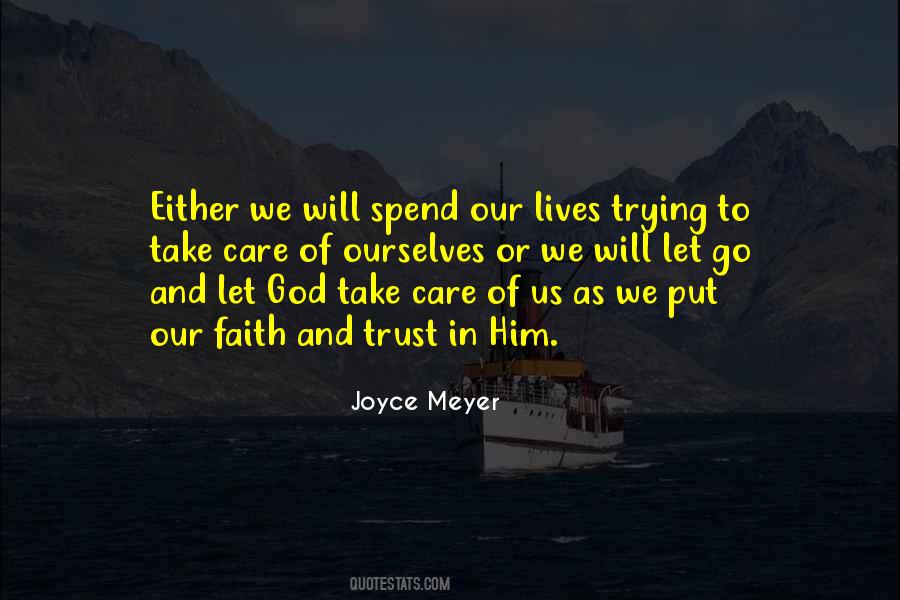 #78. Have faith in your own instinct and your own truth. - Author: Debasish Mridha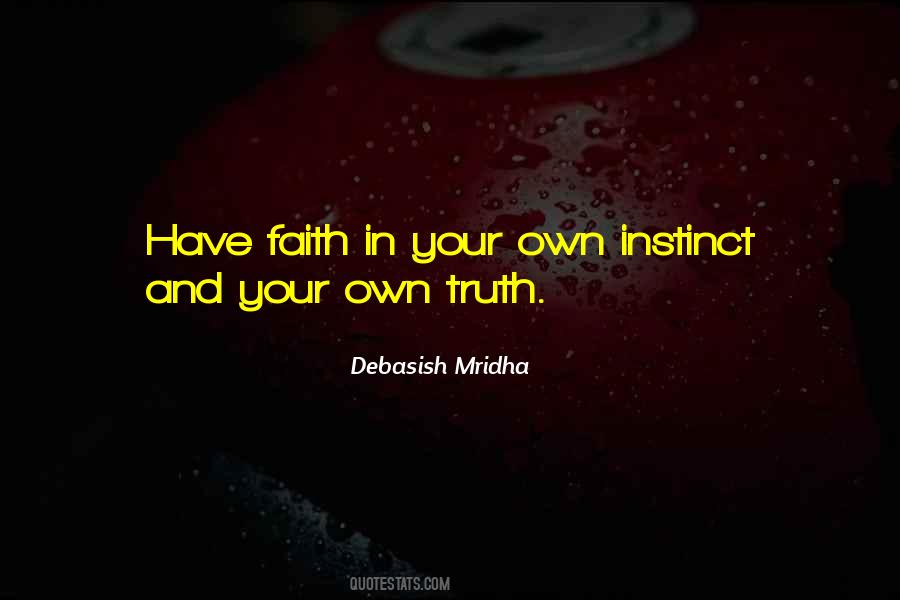 #79. If we can just let go and trust that things will work out they way they're supposed to, without trying to control the outcome, then we can begin to enjoy the moment more fully. The joy of the freedom it brings becomes more pleasurable than the experience itself. - Author: Goldie Hawn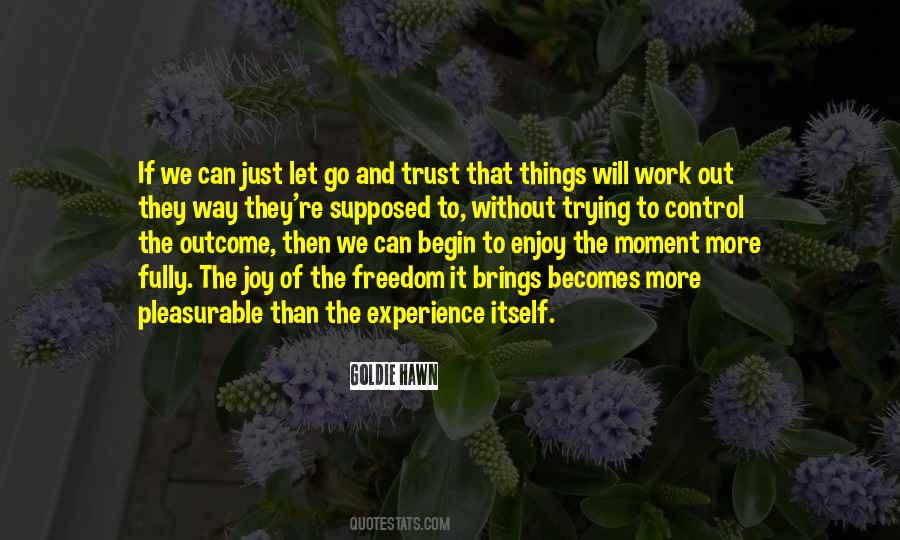 #80. I am sustained by a sense of the worthwhileness of what I am doing; a trust in the good faith of the process which created and sustains me. That process I call God. - Author: Upton Sinclair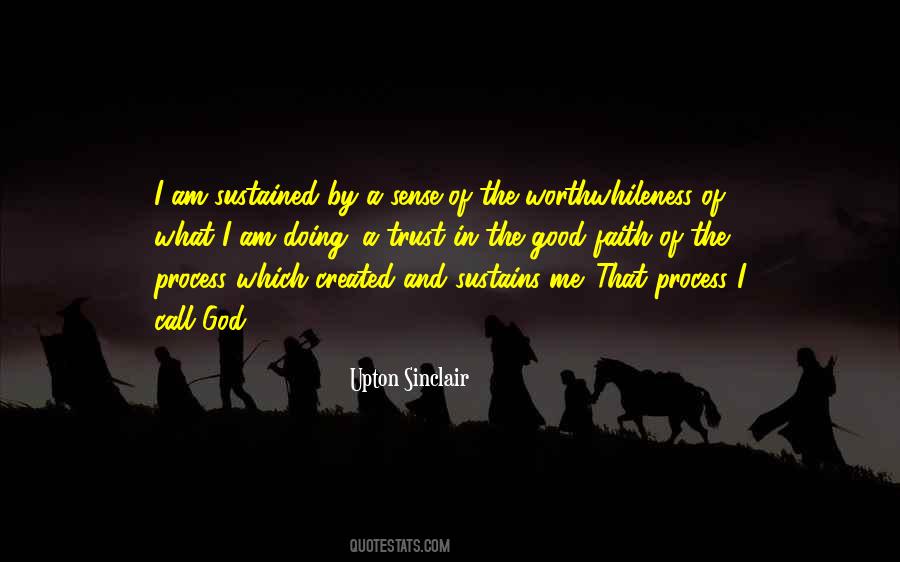 #81. When I trust someone I do it without doubt or fear or reservation. And then I work on a Plan B. - Author: Joyce Rachelle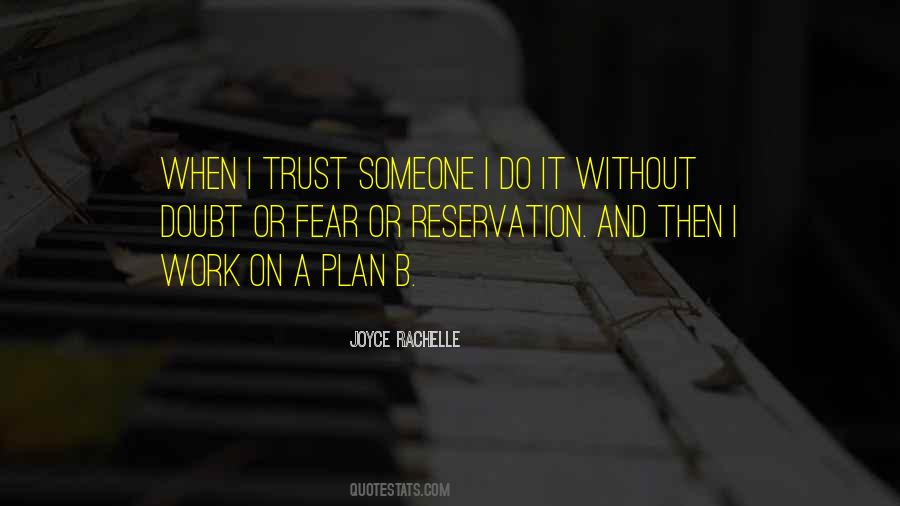 #82. Religion doesn't start with a set of laws or rules and it doesn't start with a set of ideas. It starts with an encounter, with the living God and in our case, Christ risen from the dead. In that encounter you meet someone you can trust. That's faith: trust in truth. - Author: Francis George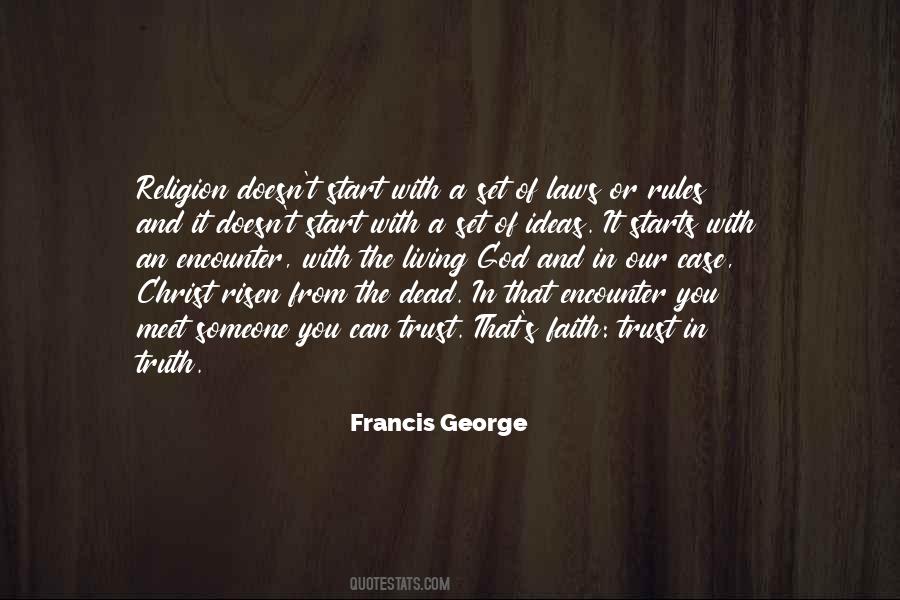 #83. Trying so hard to make things go our way in this world, doing so much leaning, is exhausting. I am convinced that is exactly what Jesus had in mind when he said, 'Come to me all you who are weary and heavy-laden and I will give you rest' (Matthew 11:28 NASB). - Author: Van Harden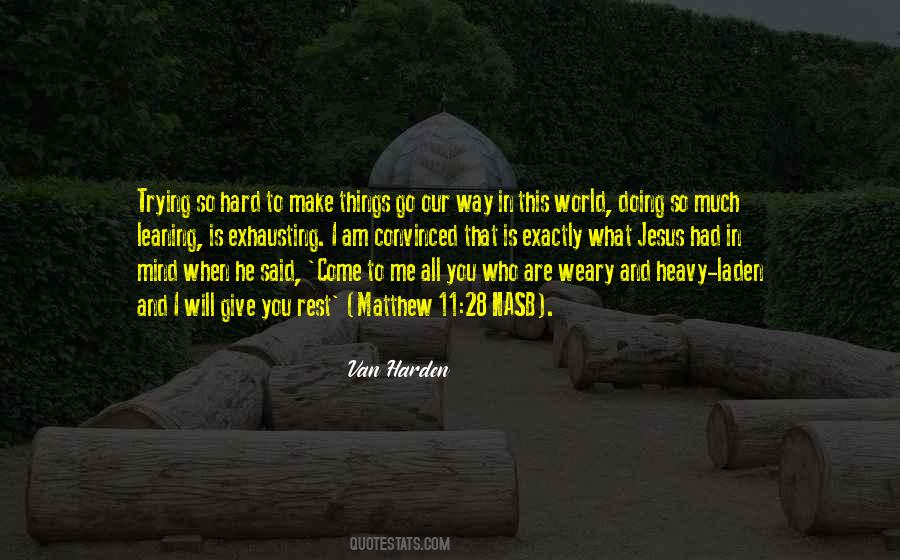 #84. God has ordained that His people live by promises and not by explanations. - Author: Warren W. Wiersbe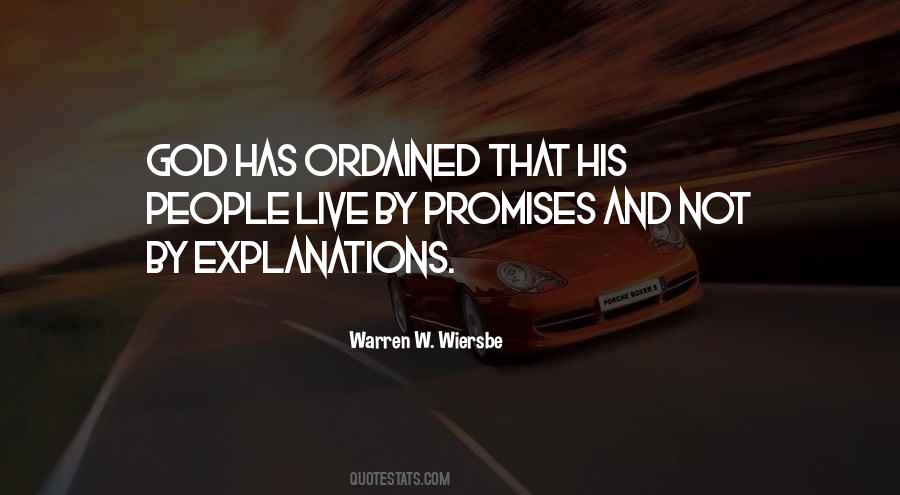 #85. I would stand there at times and remember how beautiful God created this world, and then I would be reassured that he would certainly take care of me and all of my loved ones. - Author: Diet Eman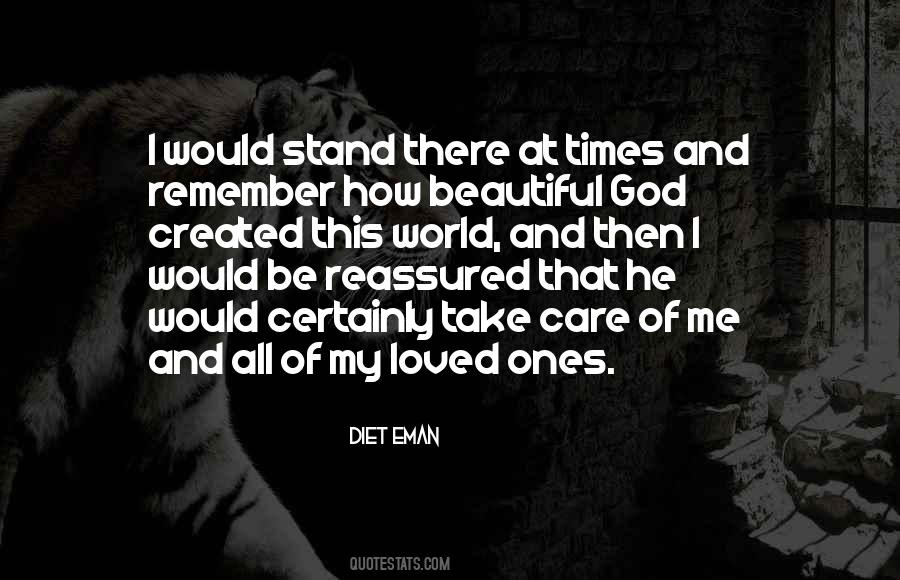 #86. The whole point of love is to trust someone with your heart and pray they don't break it. It's about faith in each other. I gave you my heart when I told you I loved you which means I'm giving you power over me. - Author: Belle Aurora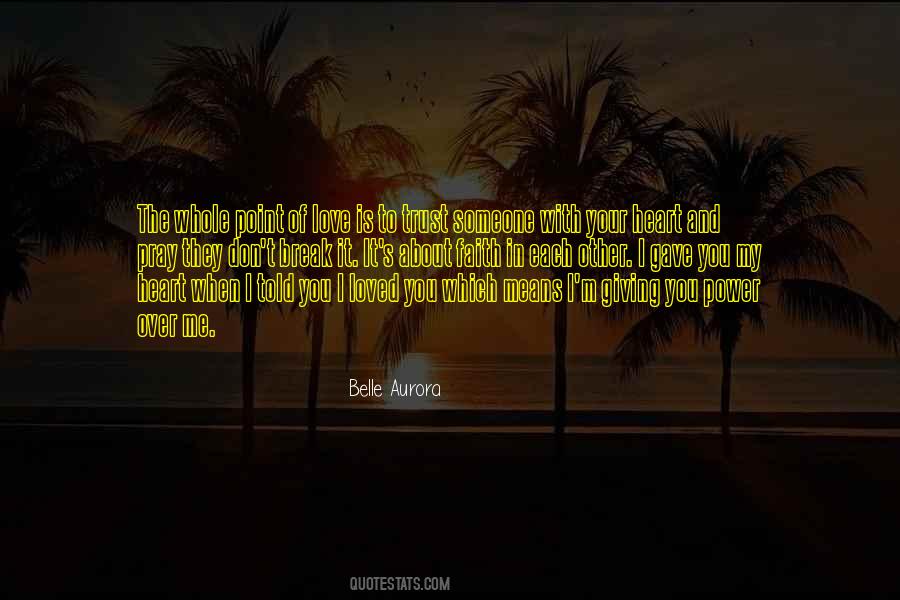 #87. In the midst of our lives, of our freedom and our struggles, we have to make a radical, absolute decision. And we never know when lightening will strike us out of the blue. It may be when we least expect to be asked whether we have the absolute faith and trust to say yes - Author: Karl Rahner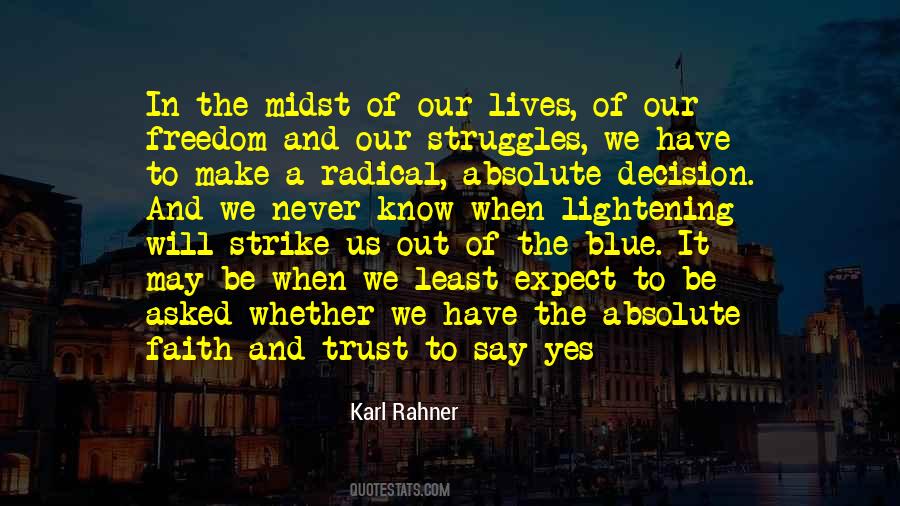 #88. People are my most important asset. Faith in the supreme being, trust, credibility and performance are the things that have brought me to the top. - Author: Don King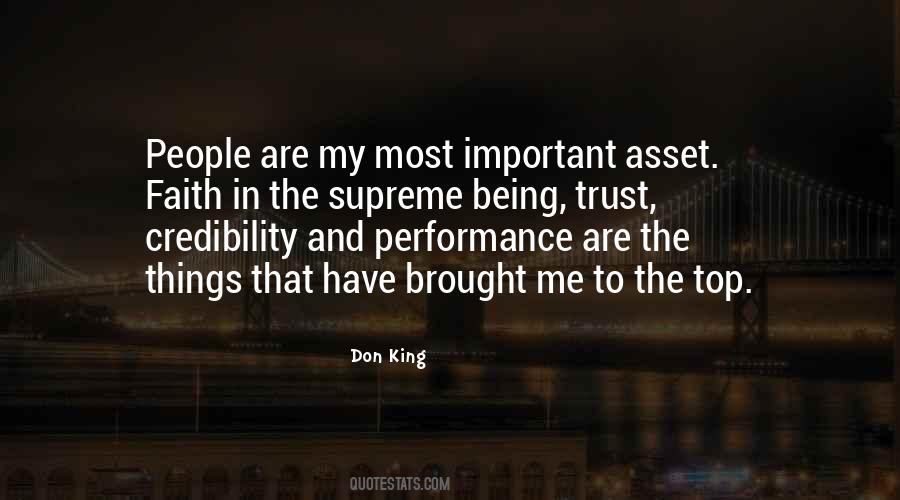 #89. I reckon it does take a powerful trust in the Lord to guard a fellow, though sometimes I think that Cora's a mite over-cautious, like she was trying to crowd the other folks away and get in closer than anybody else. - Author: William Faulkner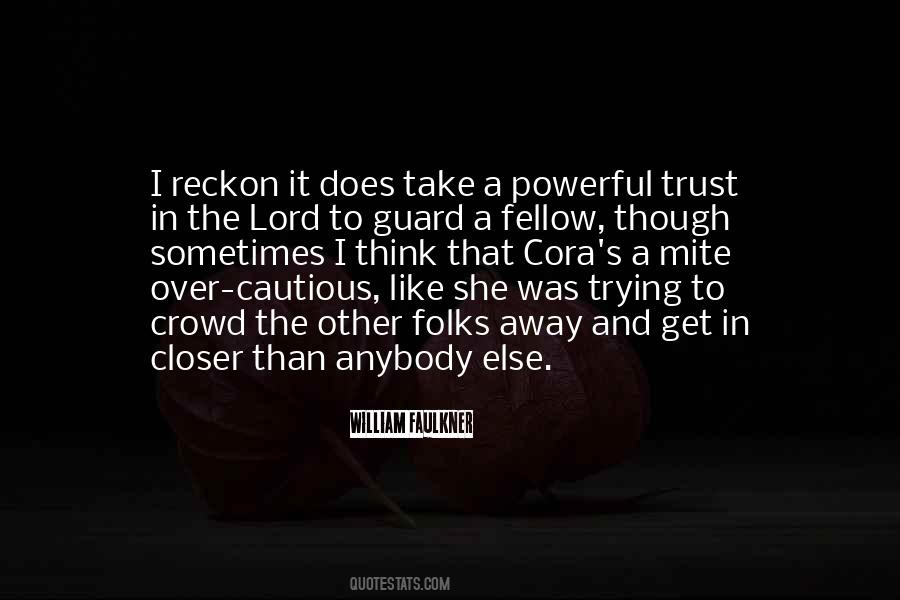 #90. God is merciful to those who want to love Him and who have placed their hopes in Him. - Author: Francis De Sales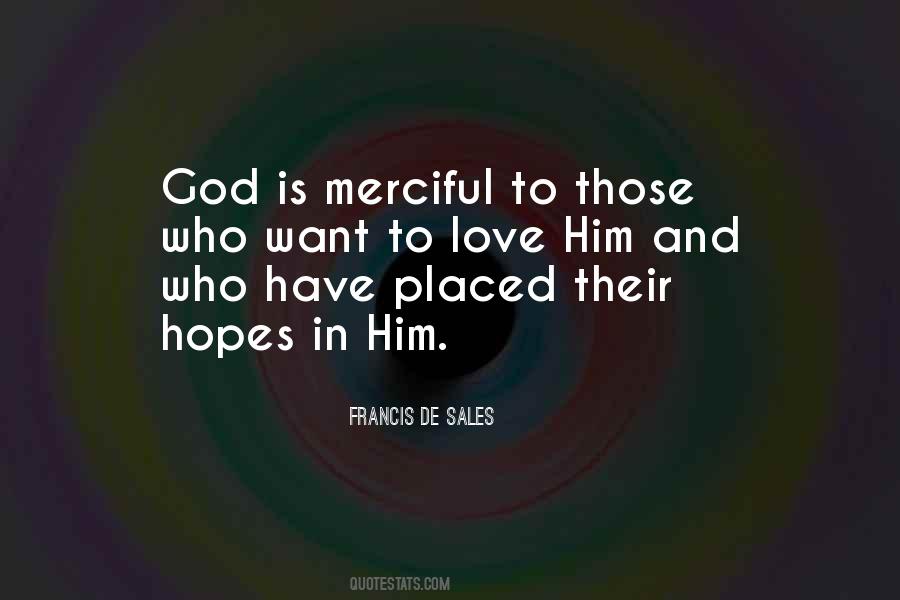 #91. We are not saved by feelings of sorrow over Jesus' death. We are saved when the Word of God 'pierces' our hearts (Hebrews 4:12), when we are convicted of our sins and trust Christ by faith. - Author: R. L. Hymers Jr.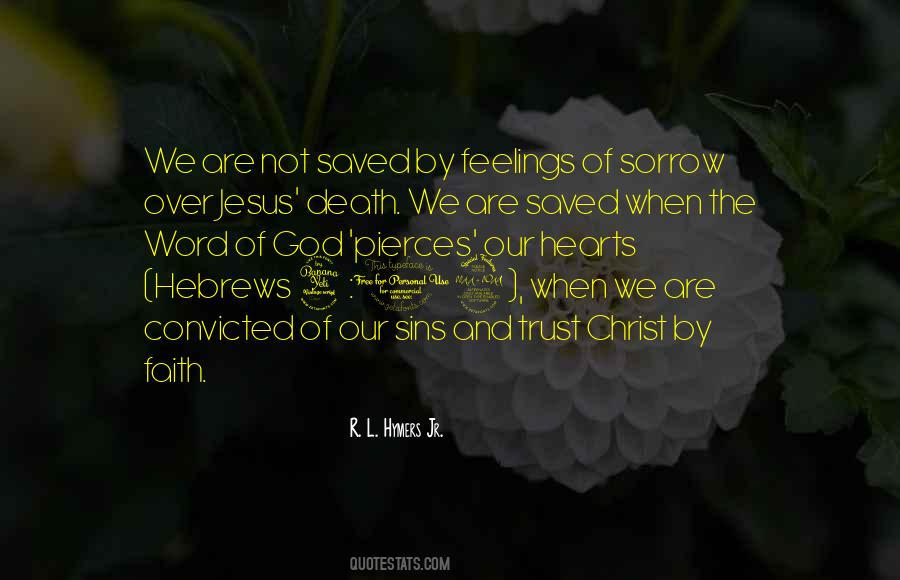 #92. The path God chooses for each of us to follow isn't always an easy one, but we all have to decide whether or not we're willing to trust in His wisdom and embrace His will - Author: Delia Parr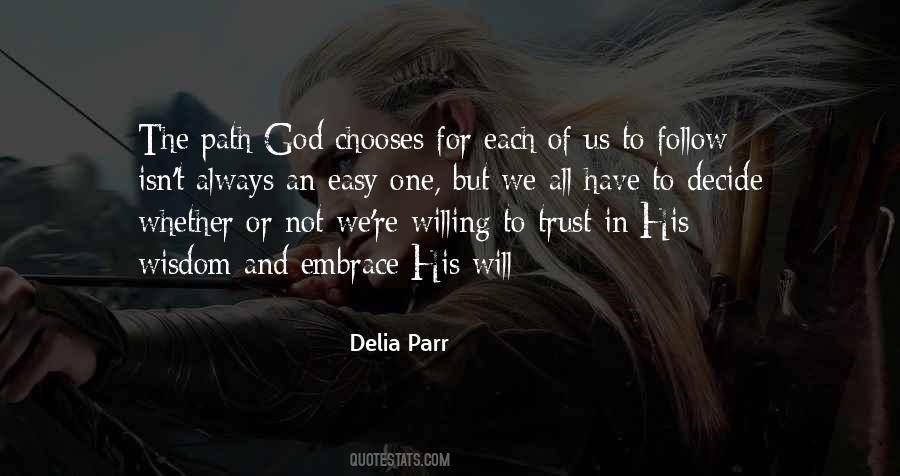 #93. Radical faith means you trust that the Lord visited these weaknesses and sorrows on you as part of His plan... - Author: Meredith Russo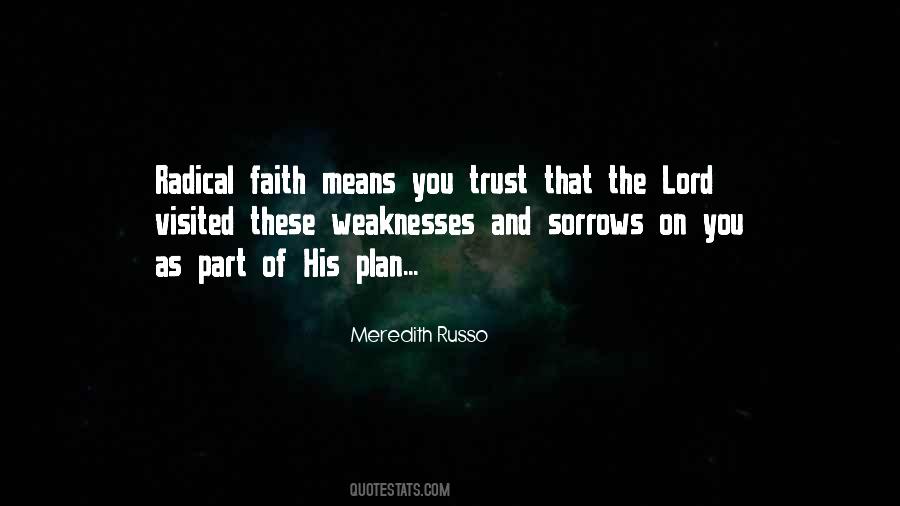 #94. As prayer without faith is but a beating of the air, so trust without prayer [is] but a presumptuous bravado. He that promises to give, and bids us trust His promises, commands us to pray, and expects obedience to his commands. He will give, but not without our asking. - Author: Thomas Lye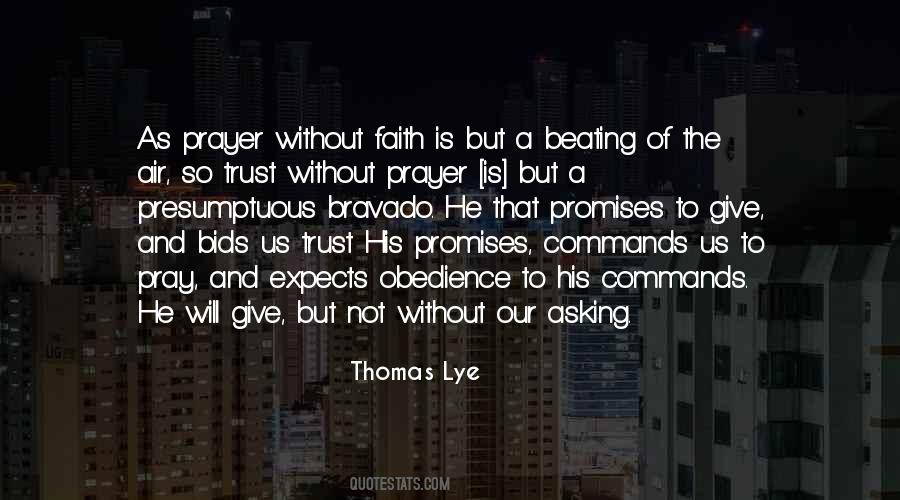 #95. To have a faith, therefore, or a trust in anything, where God hath not promised, is plain idolatry, and a worshipping of thine own imagination instead of God. - Author: William Tyndale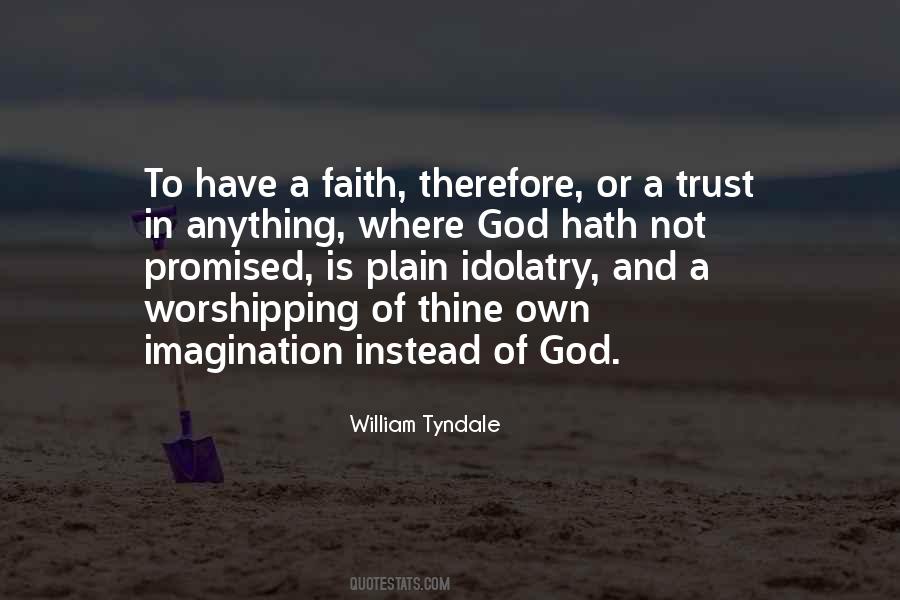 #96. A relationship is built on trust and faith, and not on rules. - Author: Taka Sande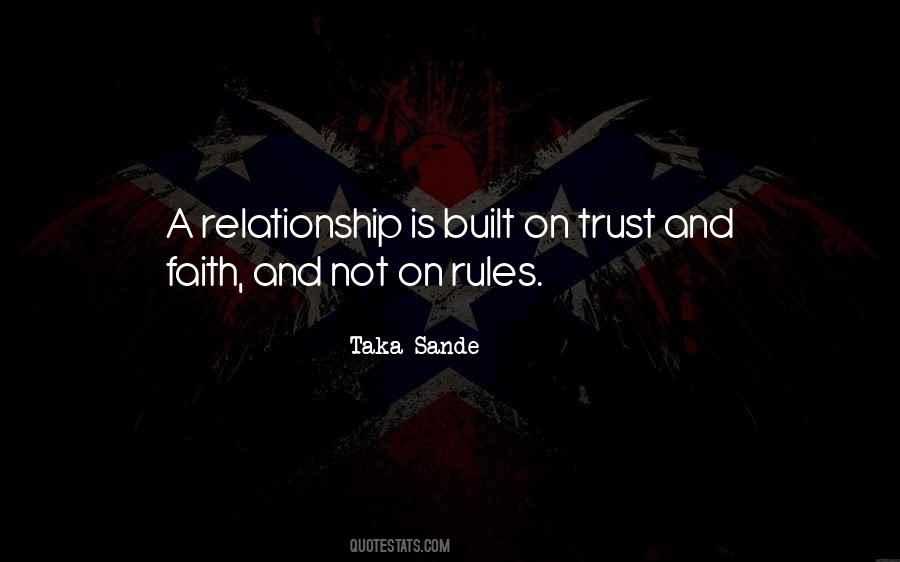 #97. In the beginning there was faith - which is childish; trust - which is vain; and illusion - which is dangerous. - Author: Elie Wiesel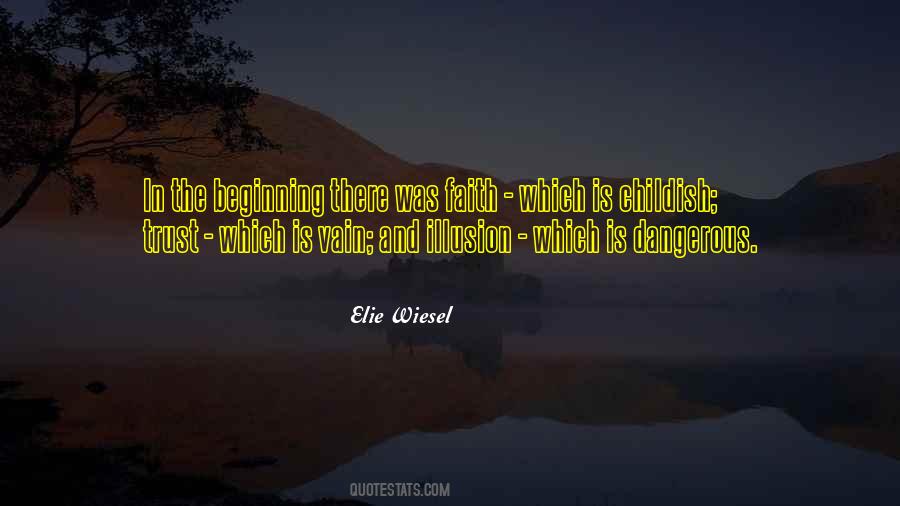 #98. When you don't understand what is happening, you need to wait, trust God, and rest in His care. He is always faithful to His own. - Author: Jim George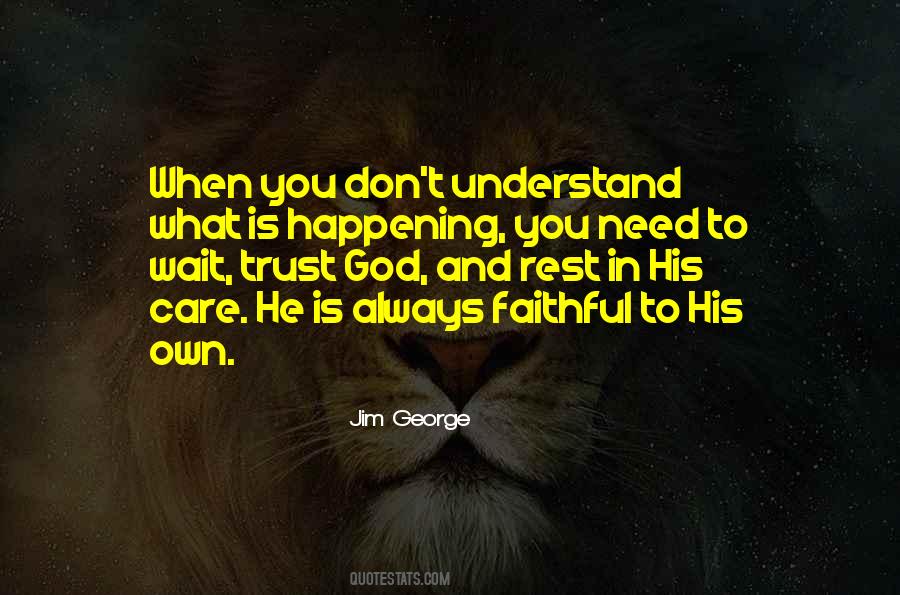 #99. I see when you doubt yourself, i feel your fear. please put down your burden and remember i am here. -your angels. - Author: Nikki Rowe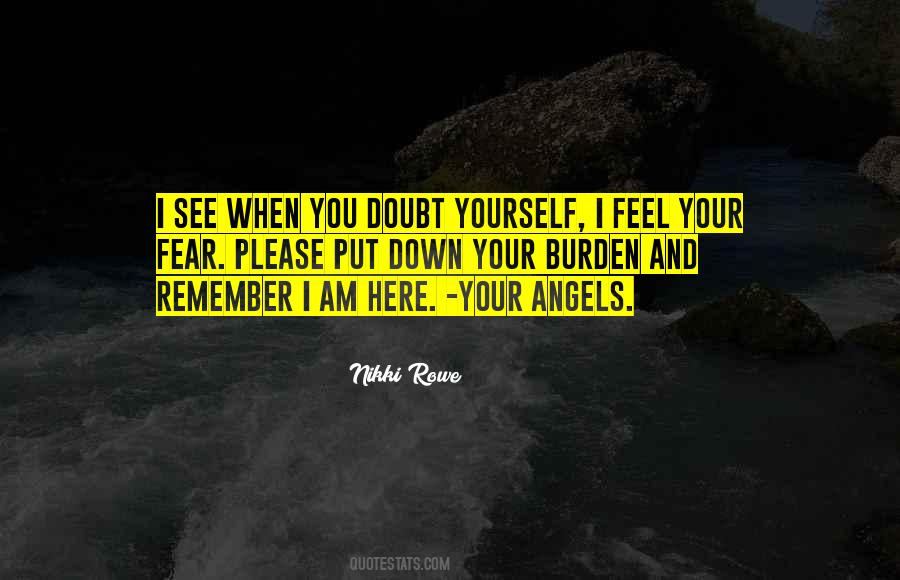 #100. Don't believe in anyone other than yourself - every other will start believing in you. - Author: Amit Abraham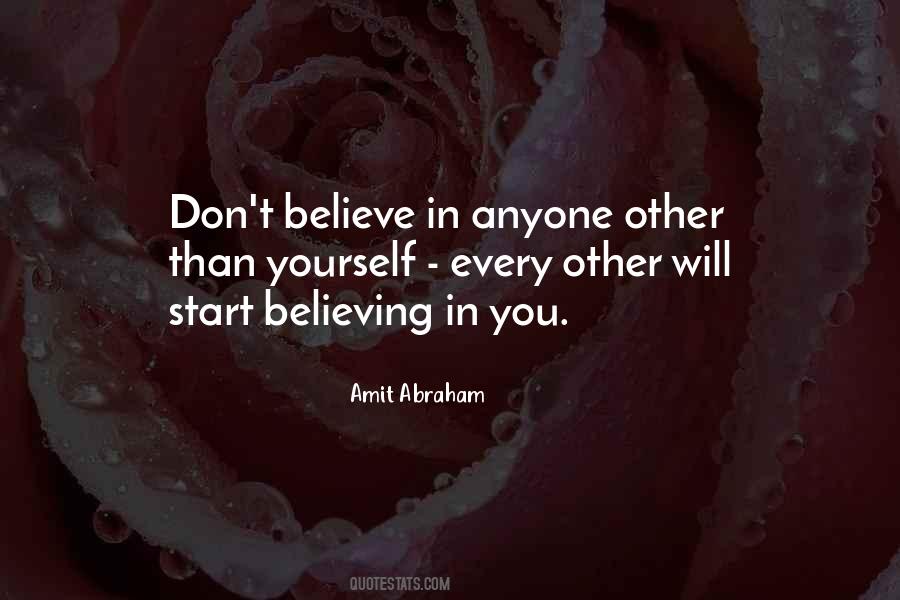 Famous Authors
Popular Topics