Worthy Things Famous Quotes & Sayings
List of top 100 famous quotes and sayings about worthy things to read and share with friends on your Facebook, Twitter, blogs.
Top 100 Quotes About Worthy Things
#1. He would live to see people praised for things that were not worthy of praise, simply because truth was seen to be bad for their feelings. - Author: Richard Flanagan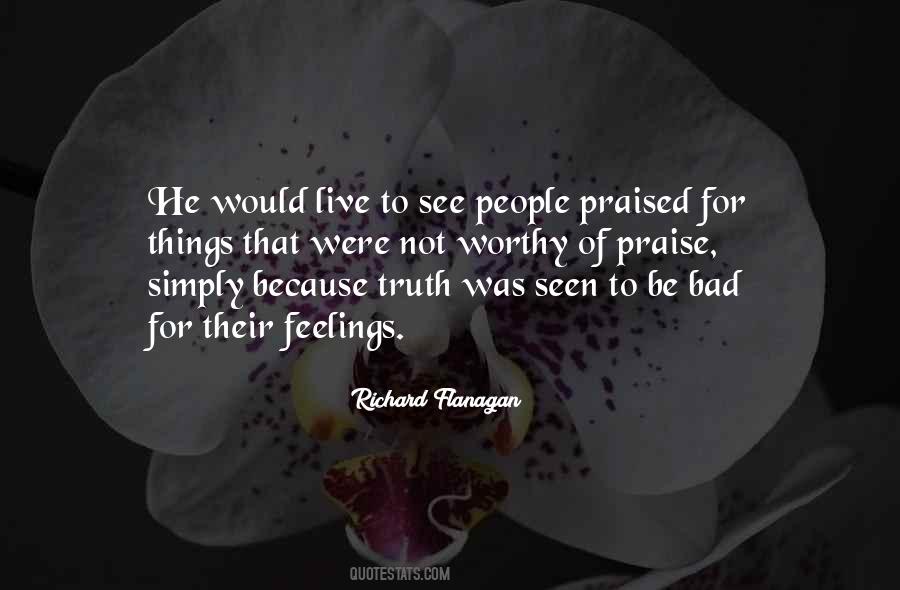 #2. Action is greater than writing. A good man is a nobler object of contemplation than a great author. There are but two things worth living for: to do what is worthy of being written; and to write what is worthy of being read. - Author: Ross Perot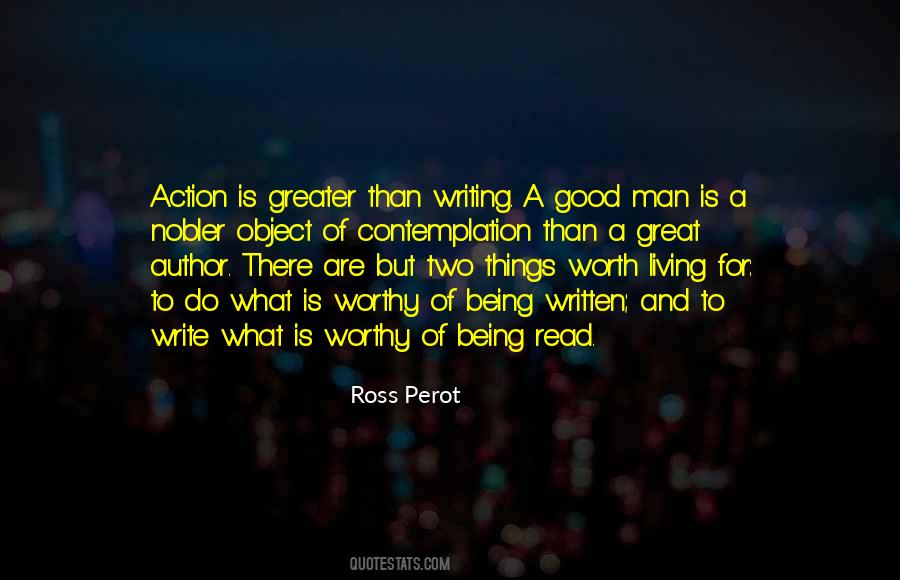 #3. It should be noted that my mother has a long history of being disturbingly unperturbed by what normal people deem perturbing. Certain things simply don't strike her as worthy of a sit-down. - Author: Sloane Crosley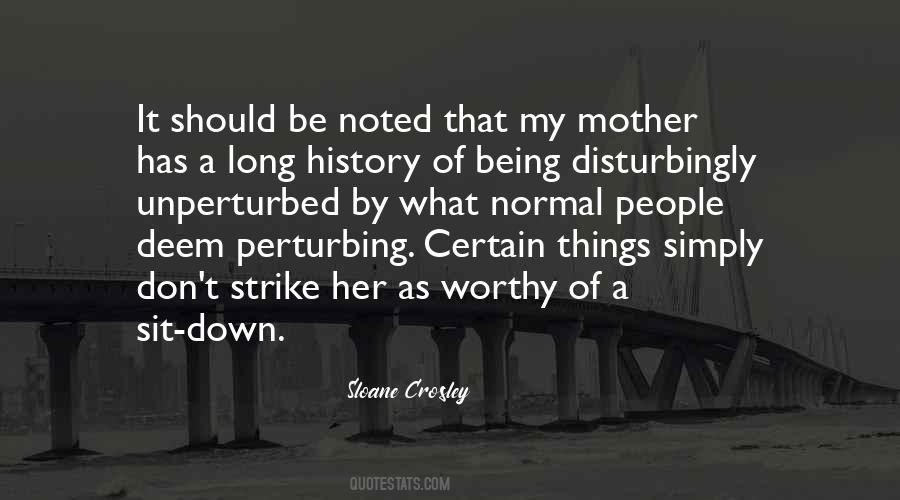 #4. I think it is conceded that I generally do pretty big things as a manager, am audacious in my outlays and risks, give much for little money, and make my shows worthy the support of the moral and refined classes. - Author: P.T. Barnum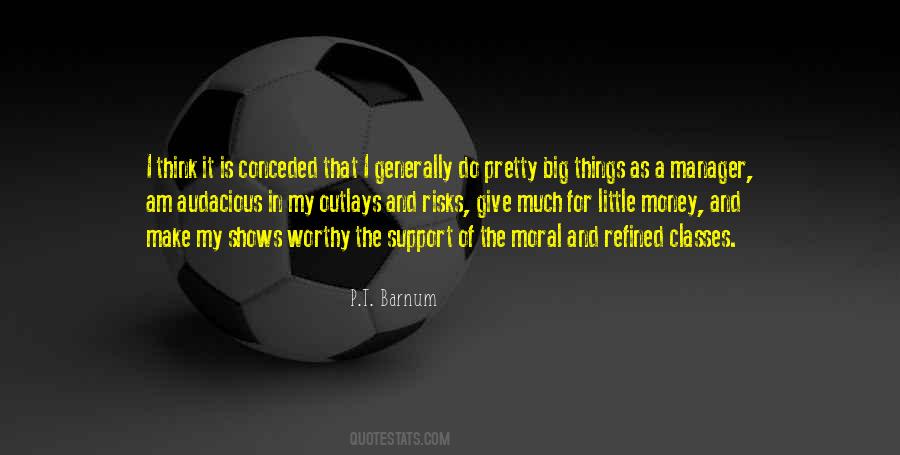 #5. We must honor our worthiness in order to receive what we want. In our society we are conditioned to believe that we are not worthy, and that it is even selfish to want to be able to attract things into our lives. - Author: Wayne Dyer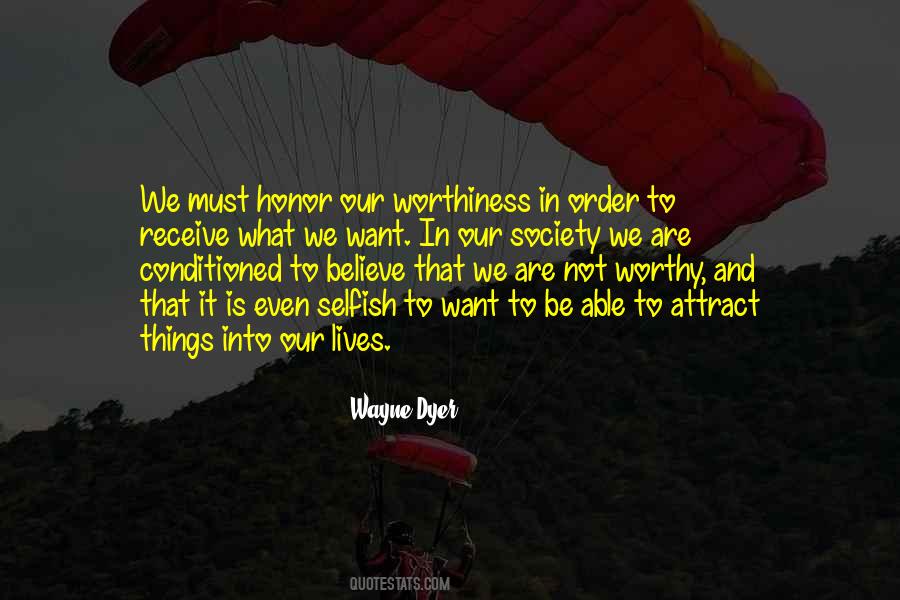 #6. When I was a boy, my mother would tell me that one of the best things in life is the knowledge that our story isn't over yet. Our story may have come to a close, but your story is still yet to be told.
Make it a story worthy of you - Author: Renee Ahdieh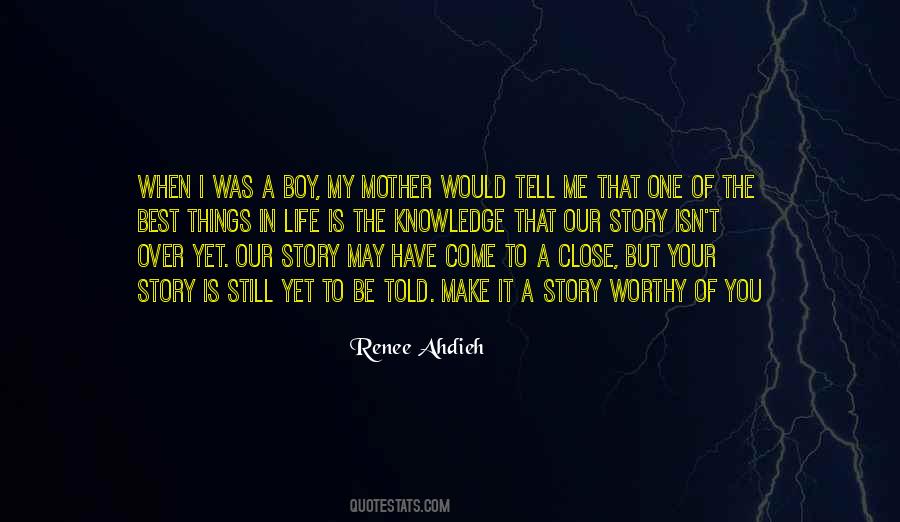 #7. I don't want a girl, or a woman, or a supermodel. I want you. - Author: Nicole Williams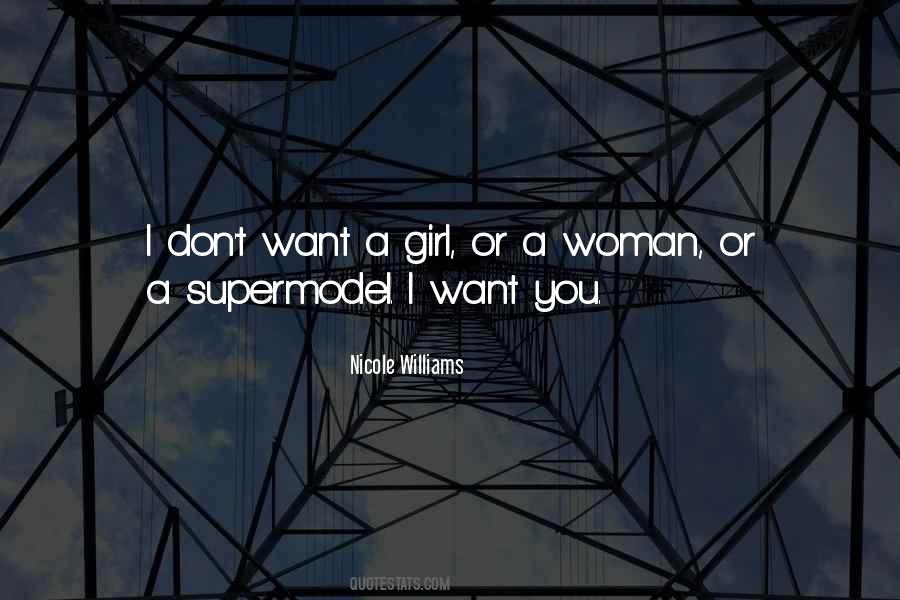 #8. Did God really say that I couldn't tell my friends what so and so did yesterday? Does that really count as gossip? No, it's just venting, and venting is healthy right? Wrong! We are supposed to think about the things that are praiseworthy, not gossip worthy. - Author: Heather Hart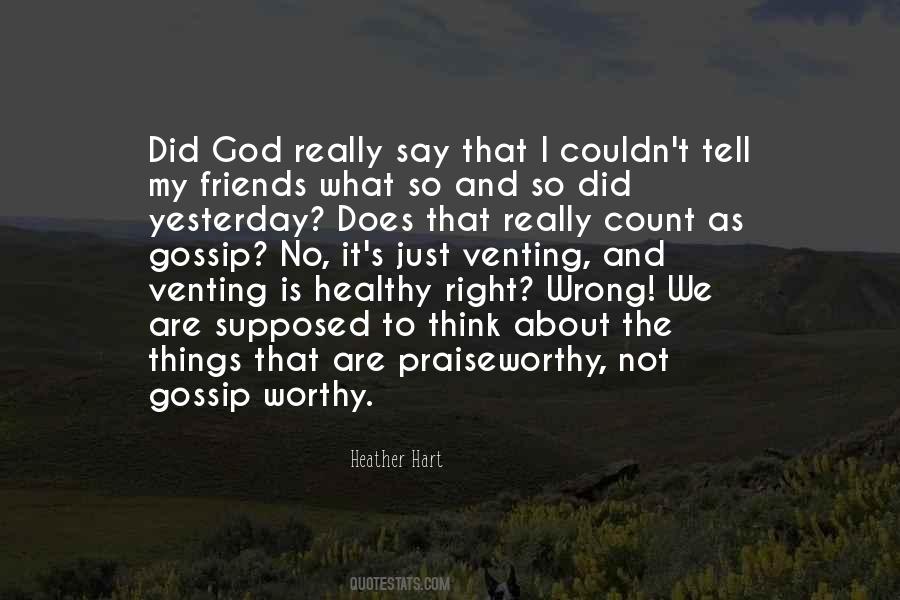 #9. O Nanak, the worldly achievements and glory is worthy of being burnt in the fire if it causes one to forget God. Usually these worldly things has caused mortals to forget the the Name of the Lord. Not even one of them will go along with you in the end. - Author: Guru Angad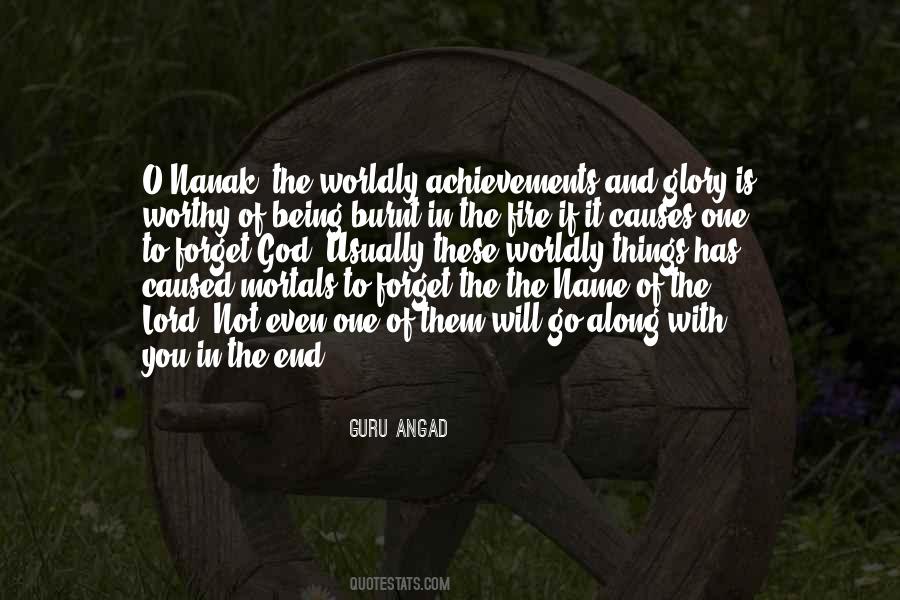 #10. Nothing is too small. Nothing is too, quote-unquote, ordinary or insignificant. Those are the things that make up the measure of our days, and they're the things that sustain us. And they're the things that certainly can become worthy of poetry. - Author: Rita Dove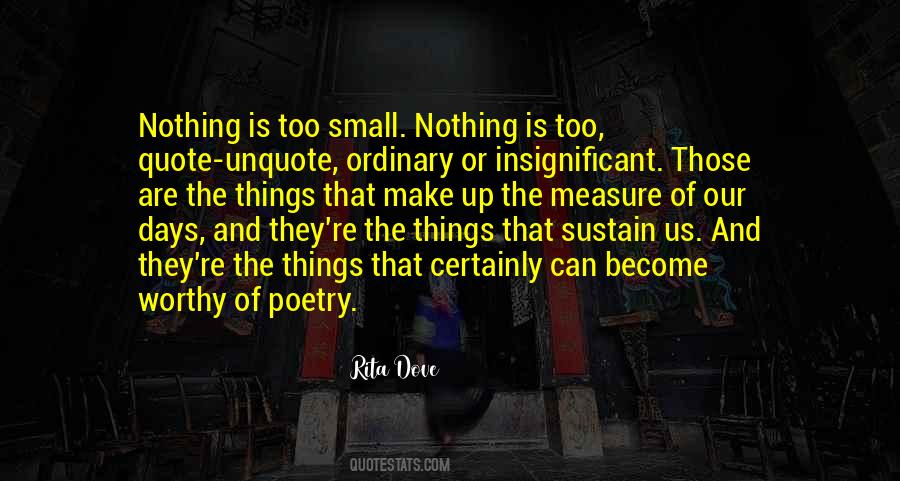 #11. Only Love conceives things worthy enough to stand greater than individual accomplishment. - Author: Vanna Bonta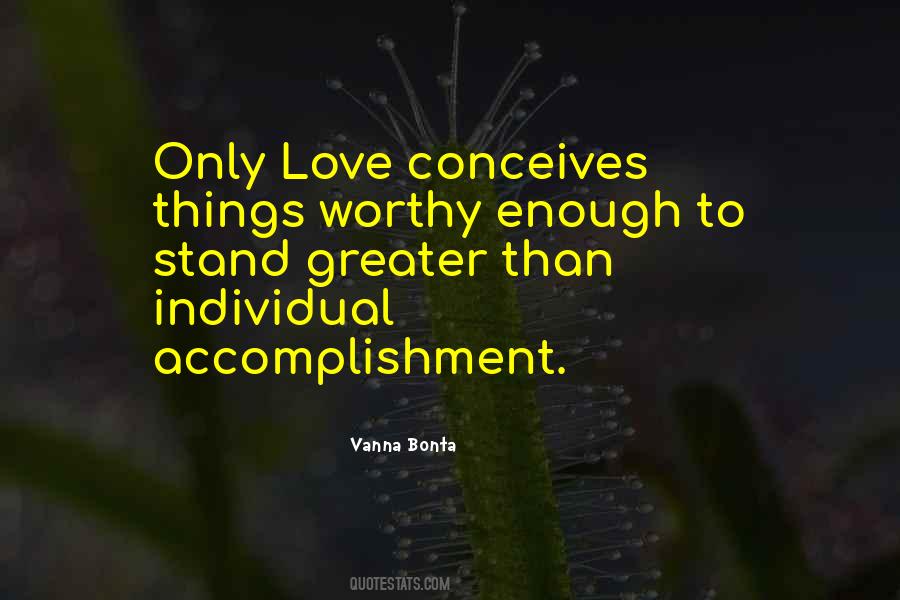 #12. I've been exploring different options for when I'm done skiing. I have the Turtle Ridge Foundation, which is helping a bunch of worthy causes around the Northeast. I've also started SkiSpace, which is an online social network that basically deals with all things based around any snow sport. - Author: Bode Miller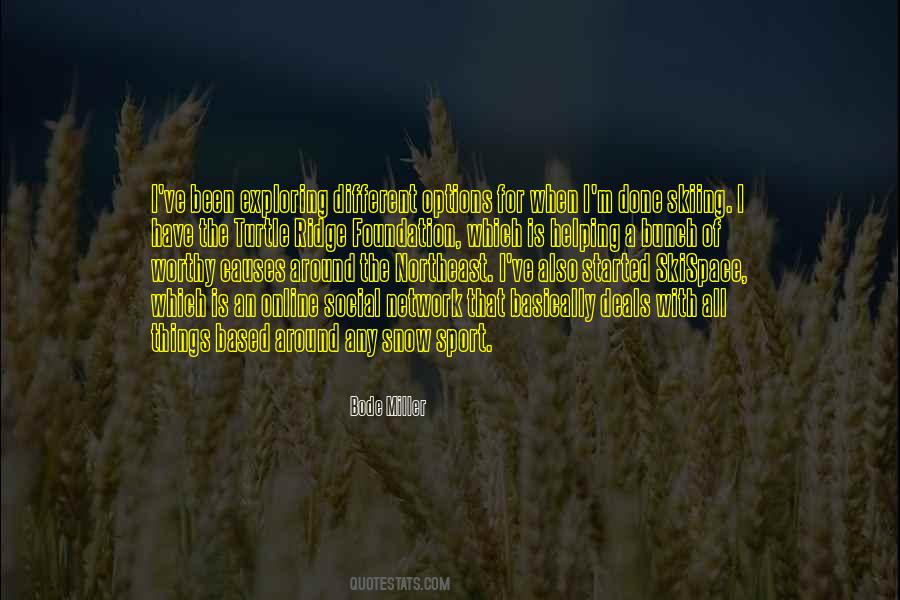 #13. Whatever is true, whatever is honorable, whatever is right,
whatever is pure, whatever is lovely, whatever is of good repute,
if there is any excellence and anything worthy of praise,
let your mind dwell on these things. - Author: Anonymous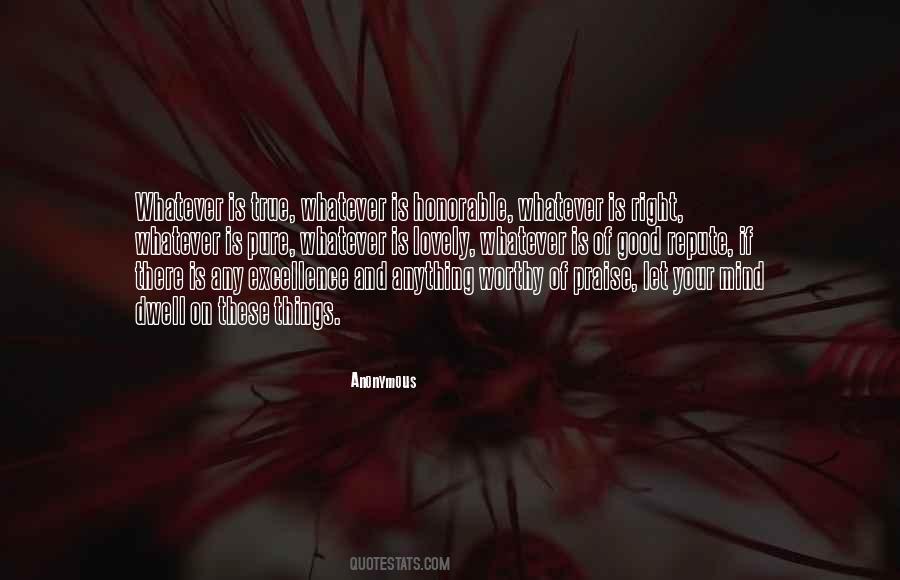 #14. Of all the things which man can do or make here below, by far the most momentous, wonderful, and worthy are the things we call books. - Author: Thomas Carlyle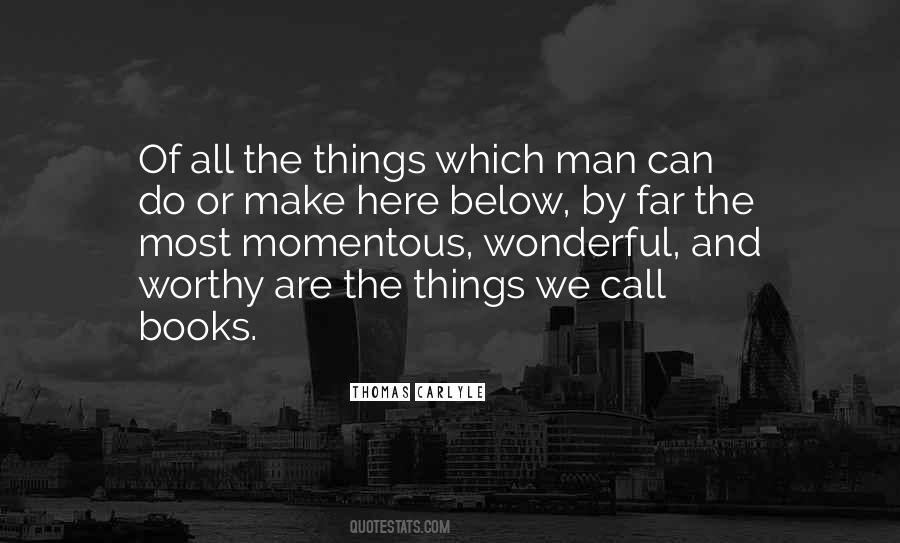 #15. The first step into the realm of giving is ... not manward but Godward: an utter yielding of our best. So long as our idea of surrender is limited to the renouncing of unlawful things, we have never grasped its true meaning: that is not worthy of the name for 'no polluted thing' can be offered. - Author: Lilias Trotter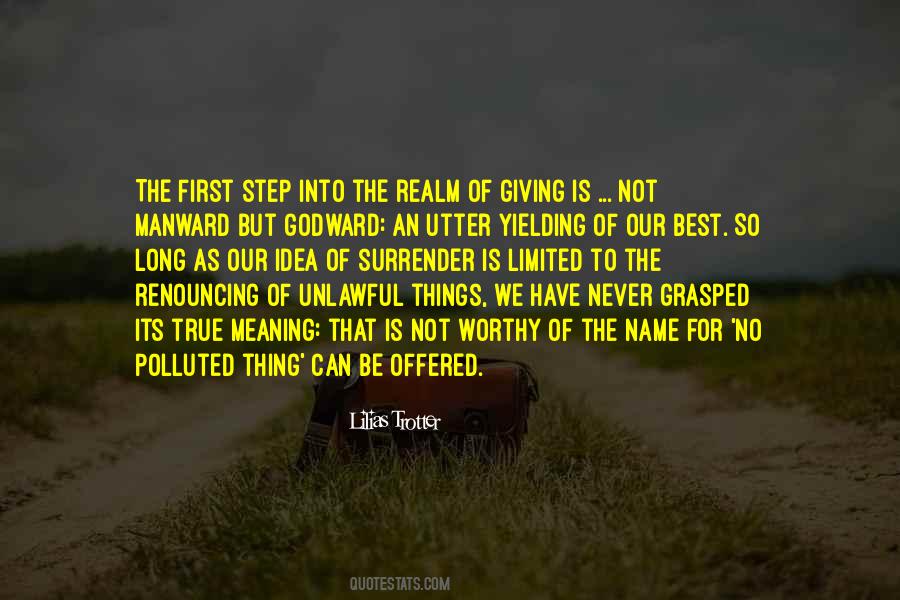 #16. I don't think she doesn't believe she can die. I think, just like you always did, she believes there are things worth dying for. - Author: Cassandra Clare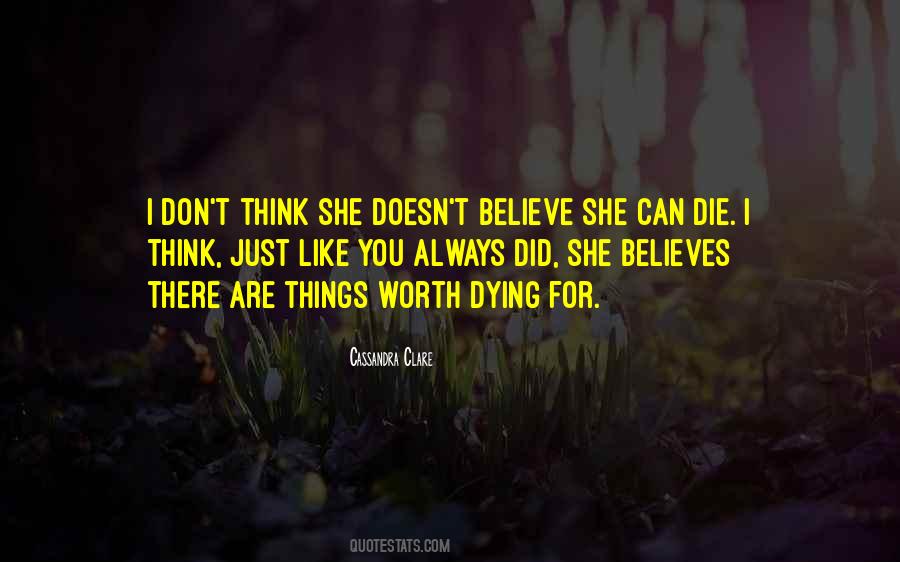 #17. When I meet with any persons who write obscurely or converse confusedly, I am apt to suspect two things; first, that such persons do not understand themselves; and secondly, that they are not worthy of being understood by others. - Author: Charles Caleb Colton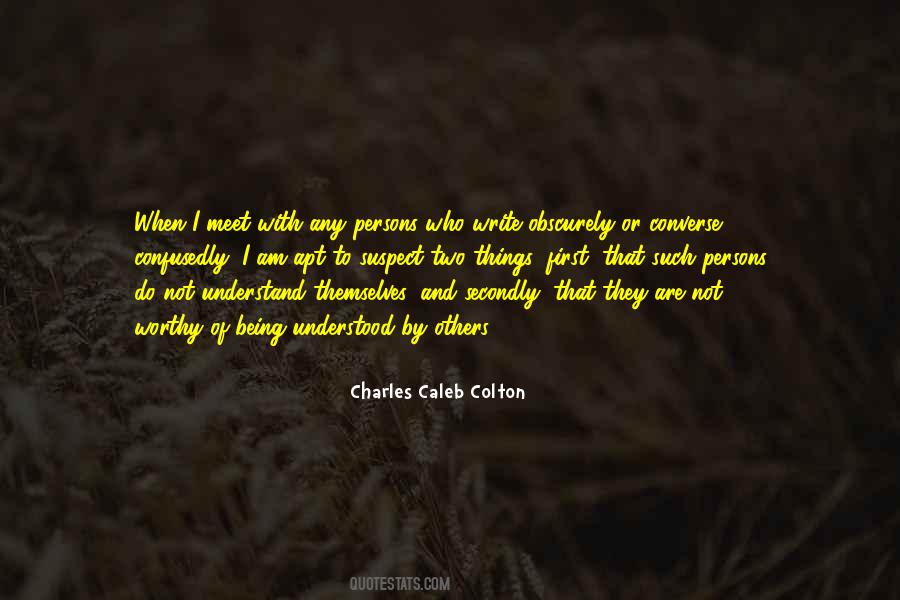 #18. Some things are so worthy that even to fail is glorious. - Author: Jim Magwood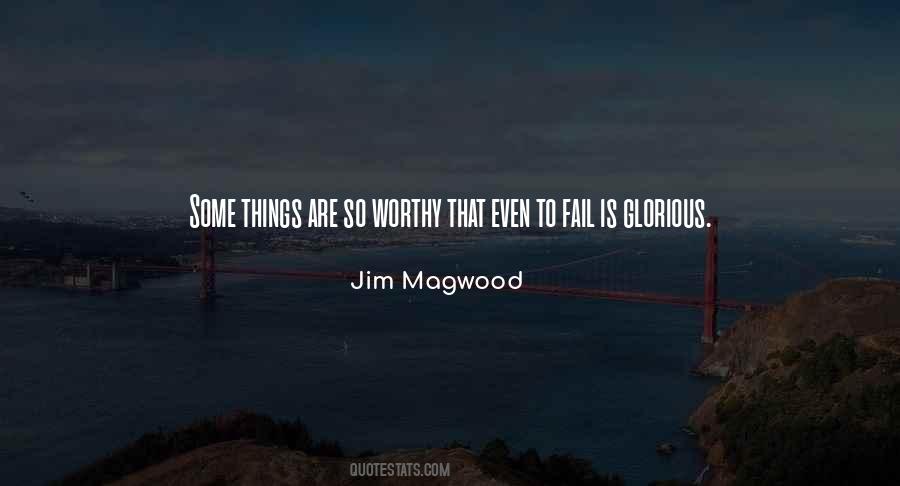 #19. So,' he said, his lip curling. 'There are some things you deem worthy enough to kill for, Gianluca.'
Luca's reply came in one steady breath. 'Only one. - Author: Catherine Doyle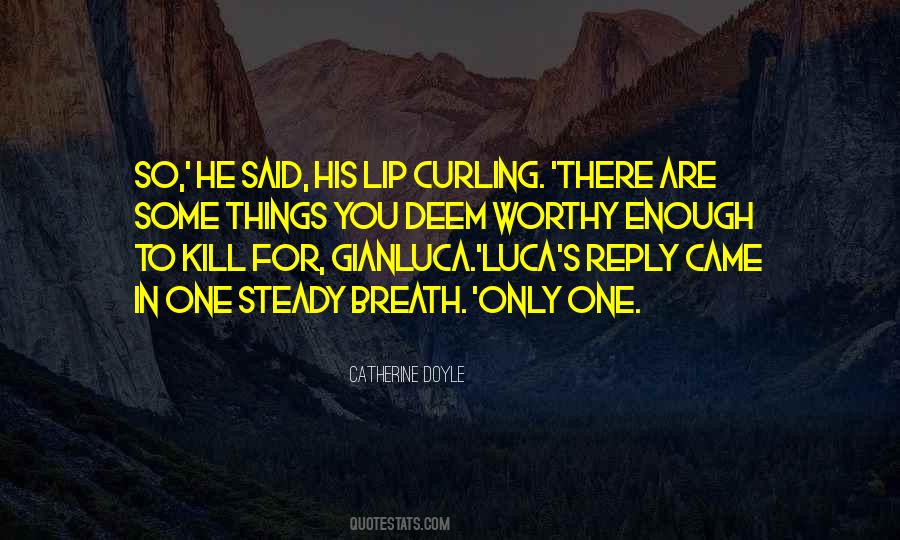 #20. Freedom is the only worthy goal in life. It is won by disregarding things that lie beyond our control. - Author: Epictetus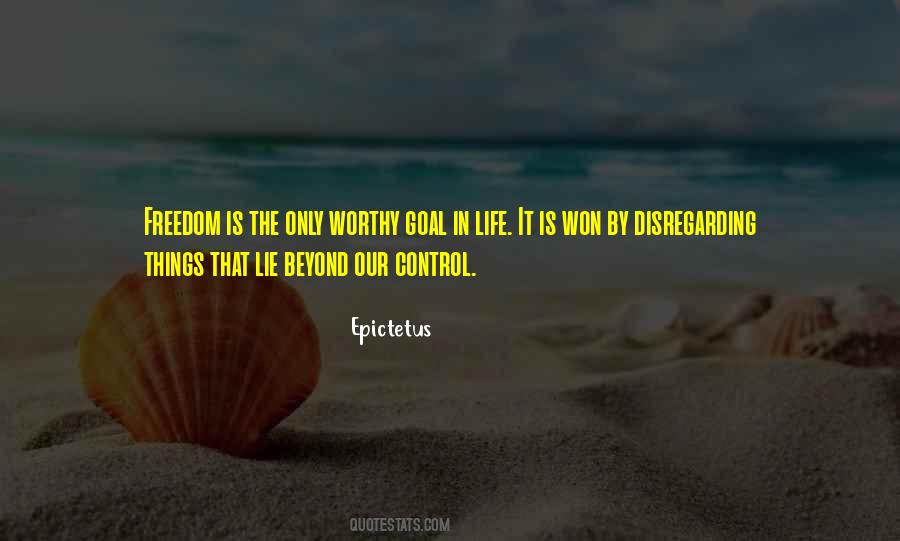 #21. The invention of the arts, and other things which serve the common use and convenience of life, is a gift of God by no means to be despised, and a faculty worthy of commendation. - Author: John Calvin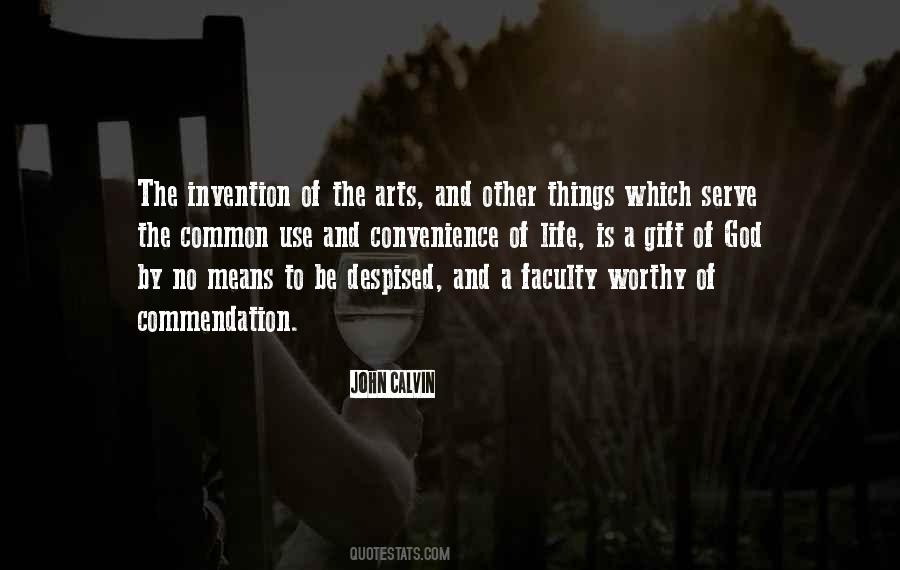 #22. One who faces and who fears the right things and from the right motive, in the right way and at the right time, posseses character worthy of our trust and admiration. - Author: Aristotle.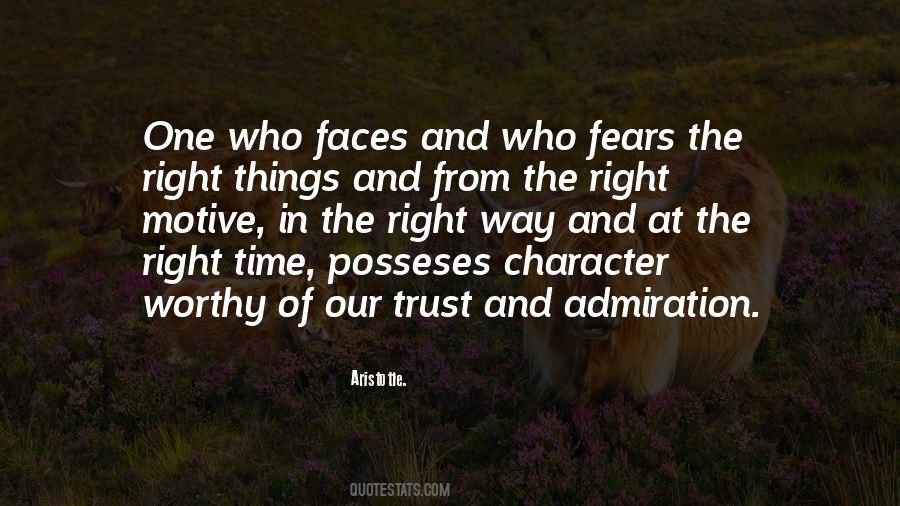 #23. I hope I will live long and be able to do some things worthy of giving to you who is giving so much to me. - Author: Kahlil Gibran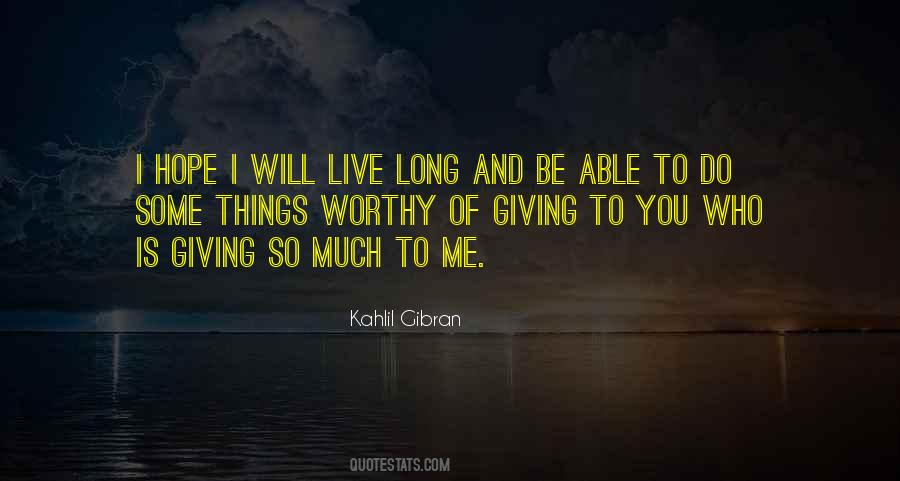 #24. He is the creator, and sustainer and Lord of all things and He is worthy of your honor and obedience. - Author: Paul Washer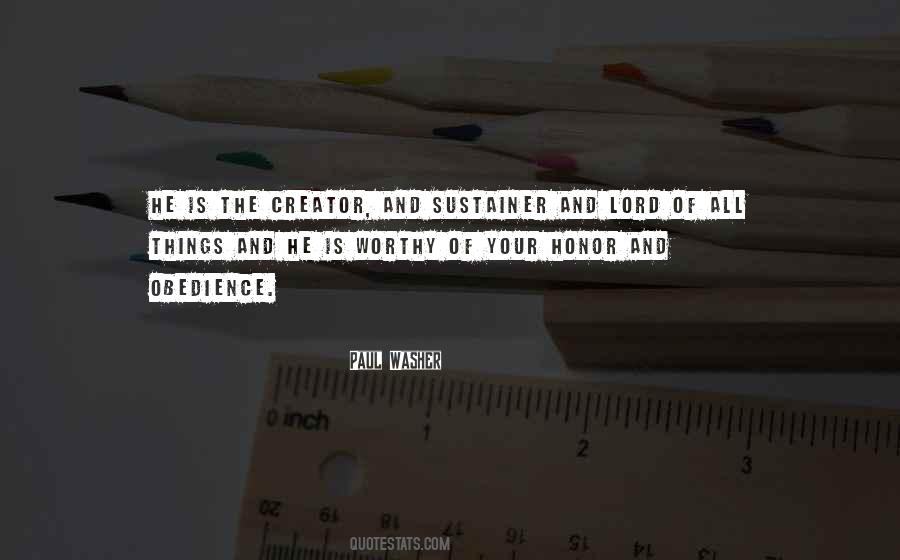 #25. Doing things for others is something that money cannot buy it is a priceless act which gives an abundance of worthy feelings for both involved, to empower others and to know that others care is an key part of listening, the stoppage of wars, the foundations of a hopeful future for everybody. - Author: Paul Isaacs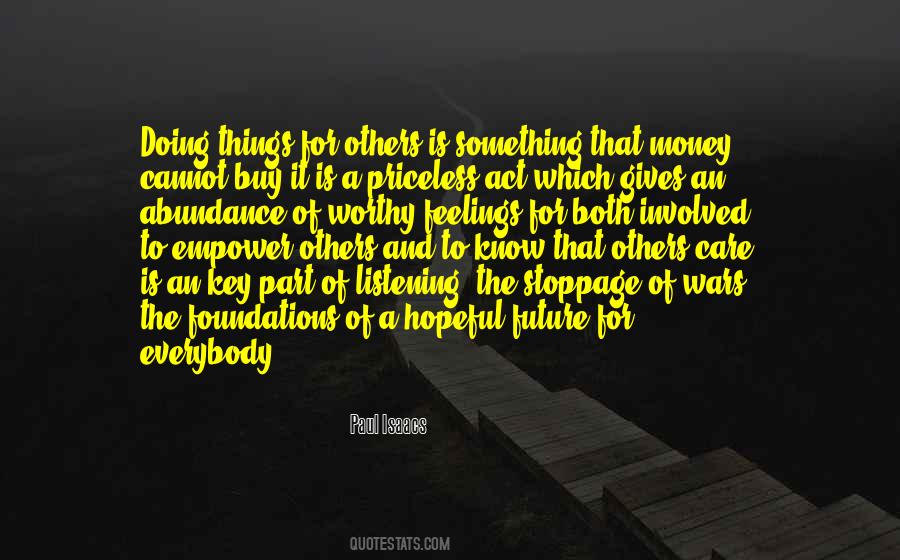 #26. Greek philosophers considered sport a religious and civic-in a word, moral-undertaking. Sport, they said, is morally serious because mankind's noblest aim is the loving contemplation of worthy things, such as beauty and courage. - Author: George Will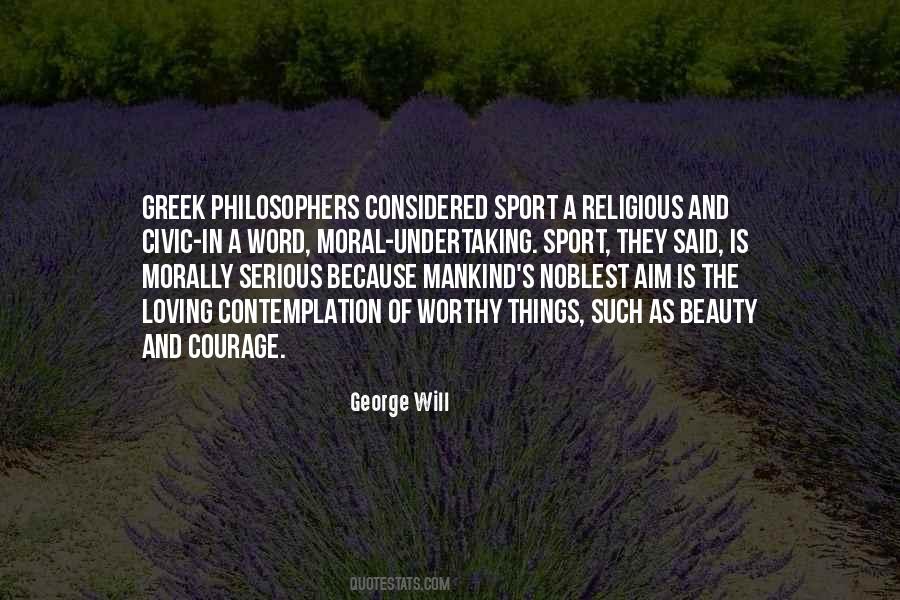 #27. This is the second day now that I do not know the result of the juegos he thought. But I must have confidence and I must be worthy of the great DiMaggio who does all things perfectly even with the pain of the bone spur in his heel. - Author: Ernest Hemingway,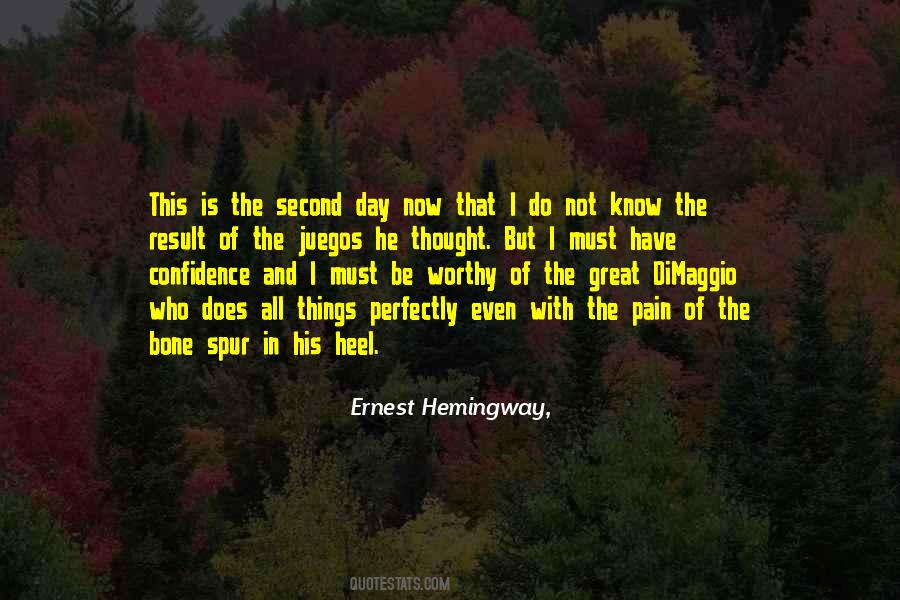 #28. Is there anything more worthy of our tongues and mouths than to speak of the things of God and Heaven?"
"I'm - Author: John Bunyan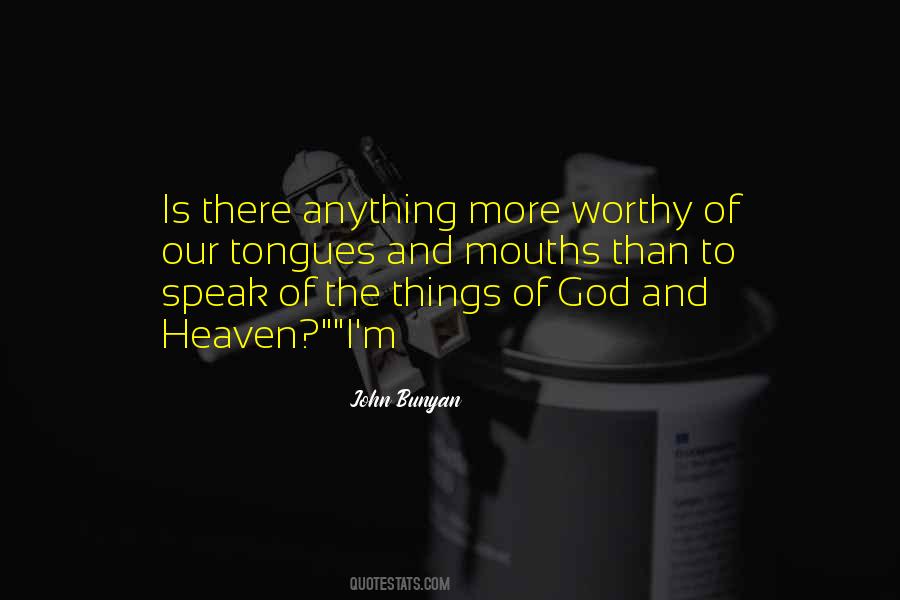 #29. One of the voices that we struggle with inside is the voice of religion. Religion teaches us some very strict things about God and our relationship with God. Some religions teach us that we aren't worthy of having a personal relationship with God. - Author: Echo Bodine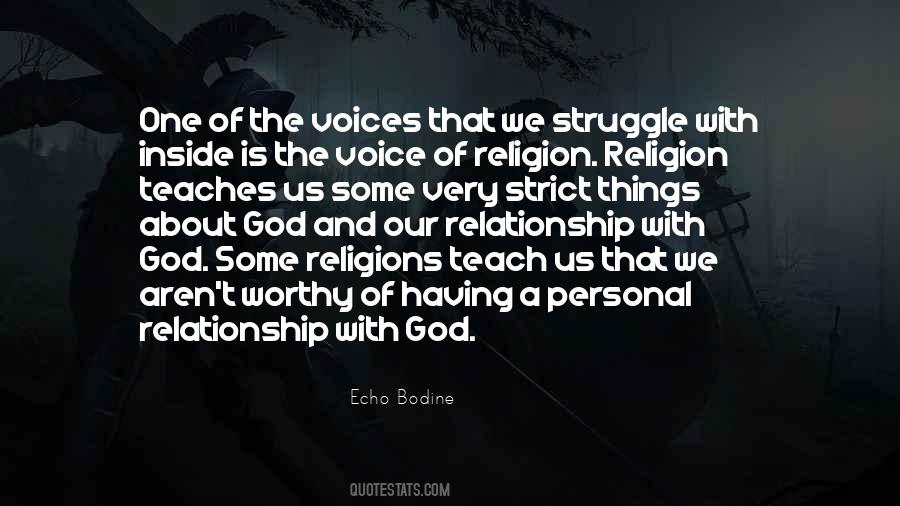 #30. Even as good and self-worthy as it sounds, sometimes the dance alone season is for God to do some cleaning up as well. There are some things that are in you that God needs to clean out before He sends you that special someone. - Author: Marcus Ray Bryant Gill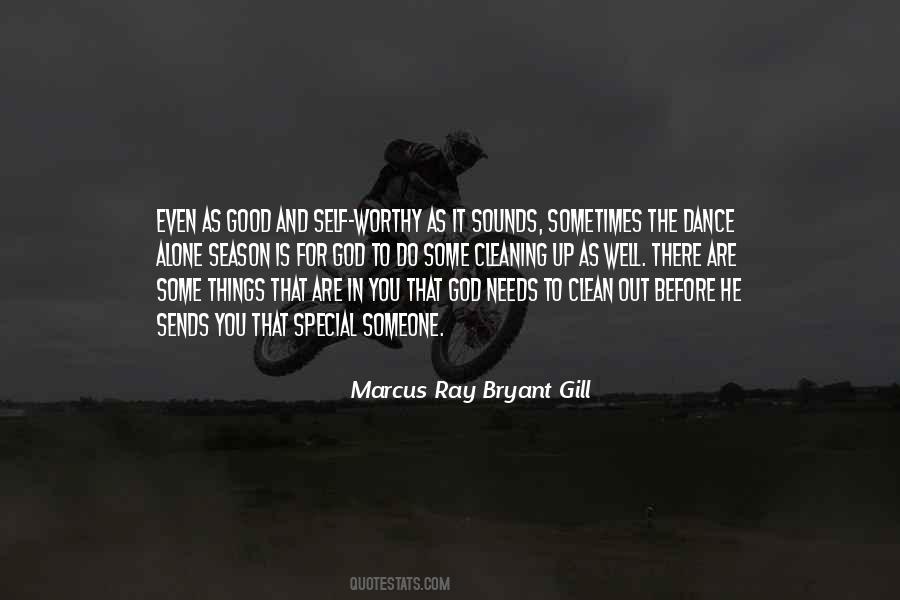 #31. You are worthy of good things, and you are a deserving and beautiful person. - Author: Bryant McGill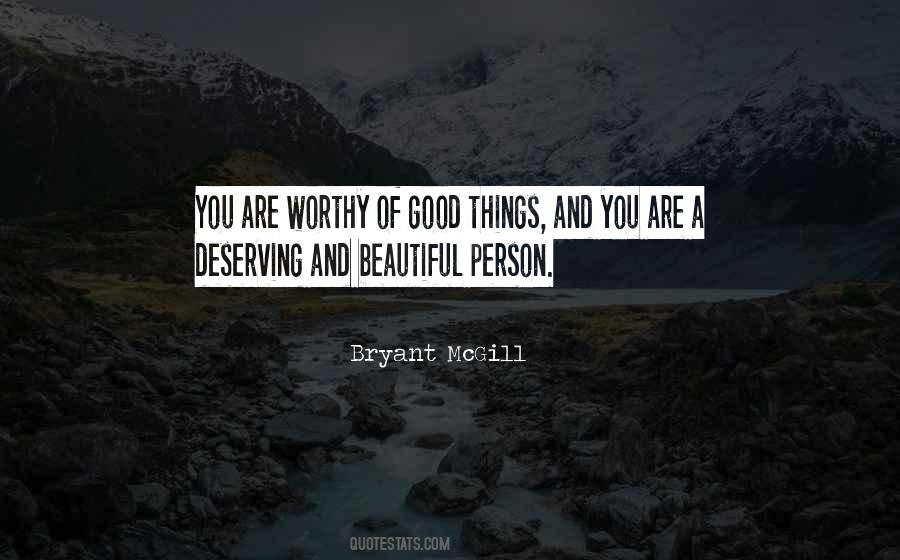 #32. Sometimes I don't feel worthy but then I look at my reflection and see my daughter, mother and grandmother who are worthy of all things. That in itself says a lot about me. - Author: Alexandra Elle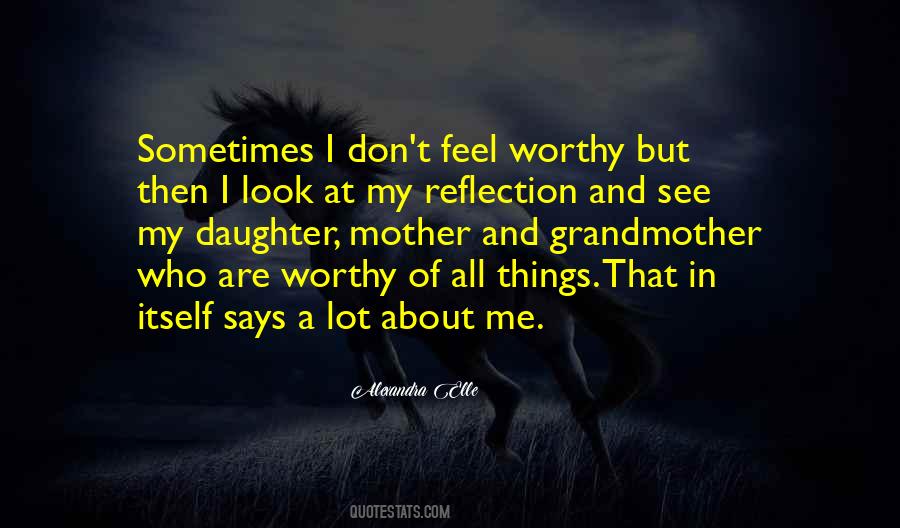 #33. If there is on earth, and among all these things of nothing, a belief worthy of adoration, if there is anything holy, pure and sublime, anything answering that immoderate desire for the infinite and the vague that we call the soul, it is art. - Author: Gustave Flaubert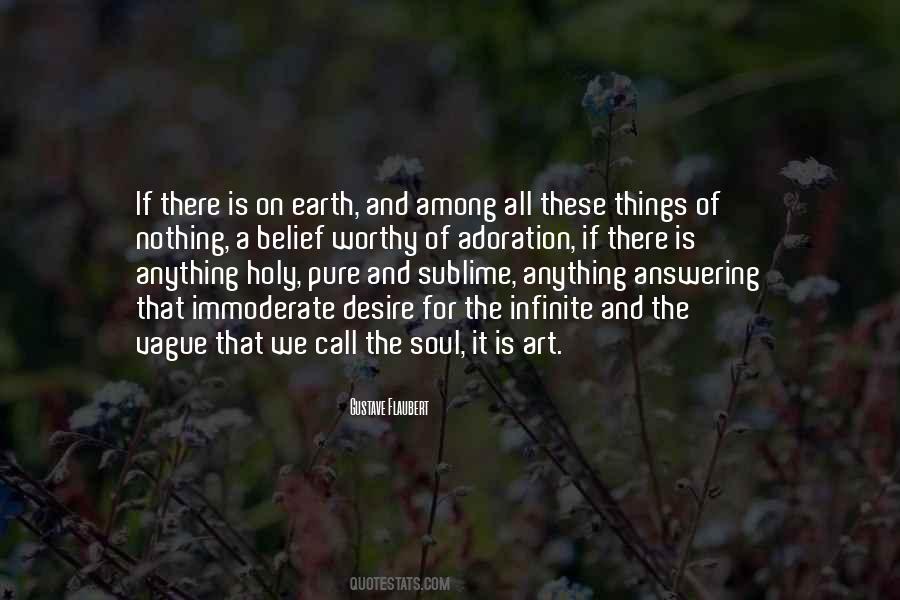 #34. We shouldn't want things and we should be satisfied with no thing. Furthermore, we don't deserve whatever we would like to have in our lives because we think we have been bad, we feel insufficient, or somebody else has convinced us that we're not worthy. - Author: Wayne Dyer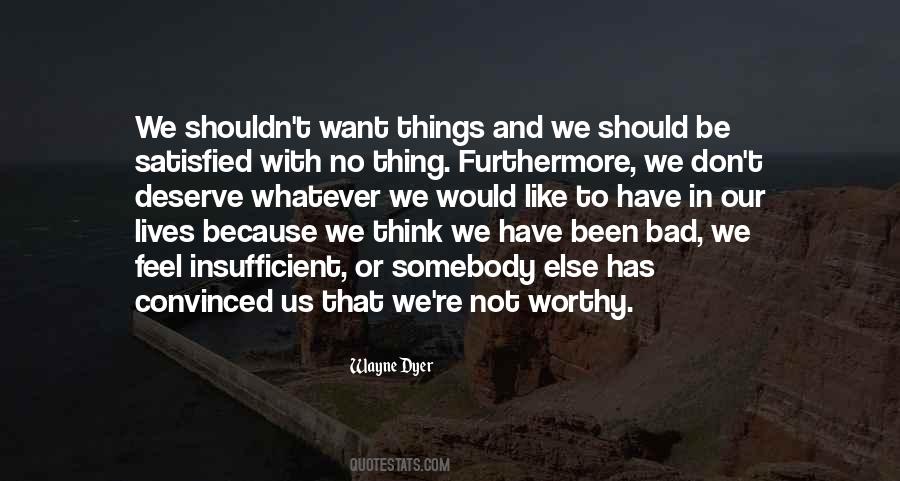 #35. Good men want only the power to make things right. Great men seek to make things right and gather the power to do so. Great leaders find those who are worthy of wielding power and set them to the task of making things right. - Author: Kel Kade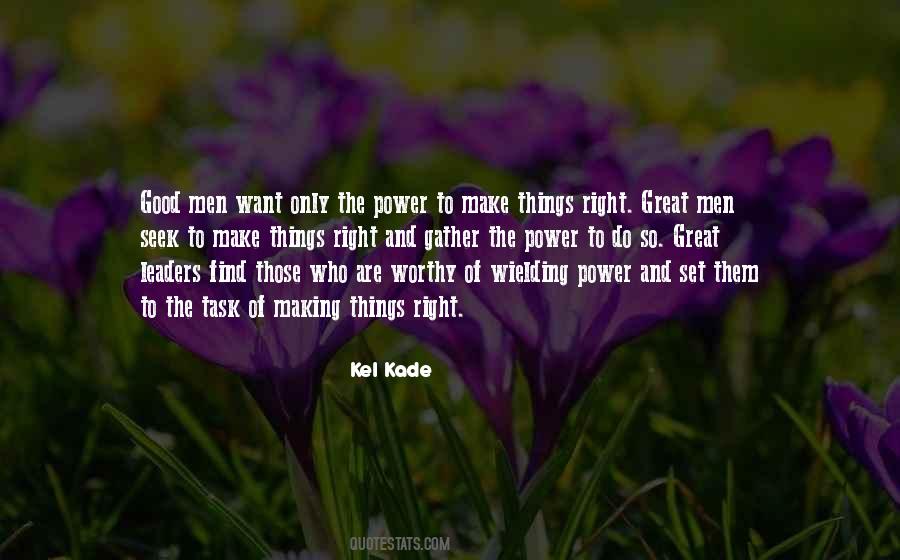 #36. It is proof of a narrow mind when things worthy of esteem are distinguished from things worthy of love. Great minds naturally love whatever is worthy of their esteem. - Author: Luc De Clapiers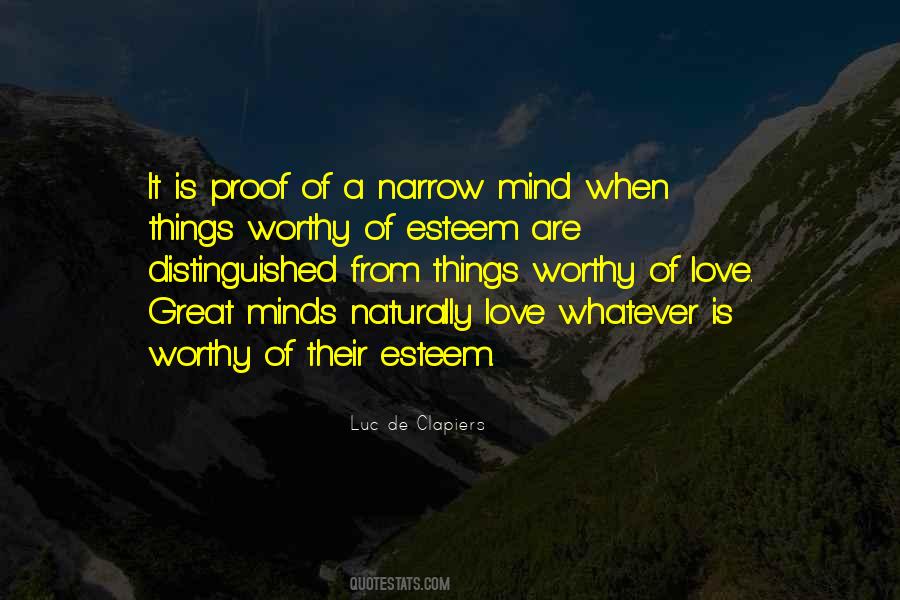 #37. I don't fly to the classics for comfort, as Giles does. I'm too frivolous. Worthy people always read the classics when things are difficult. - Author: Elizabeth Goudge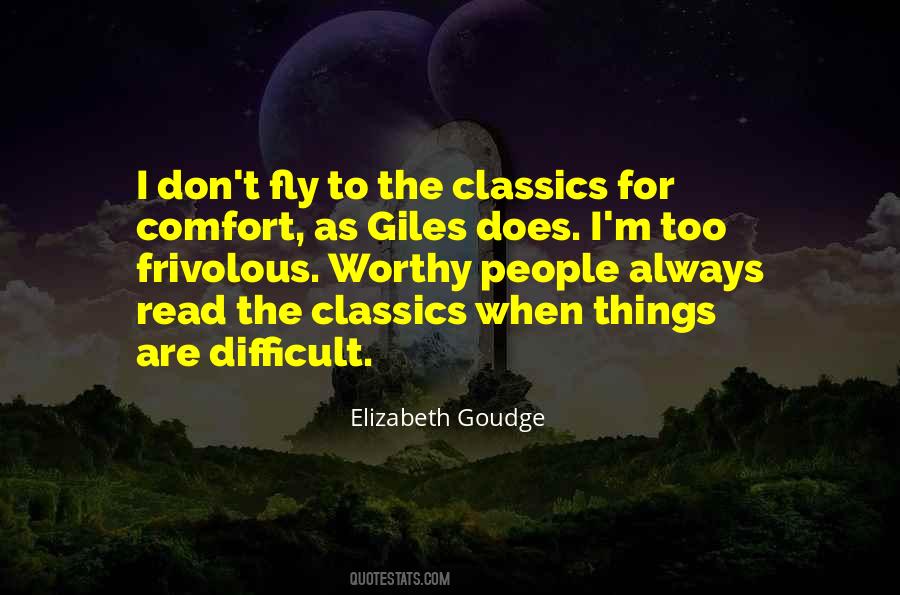 #38. She watched the sun bleed water out of the icicle. Warm and cold working together to make an icicle. Warm and cold anger working together to make a fury, a fury worthy enough to use as a weapon against the old things that still needed fighting. - Author: Gregory Maguire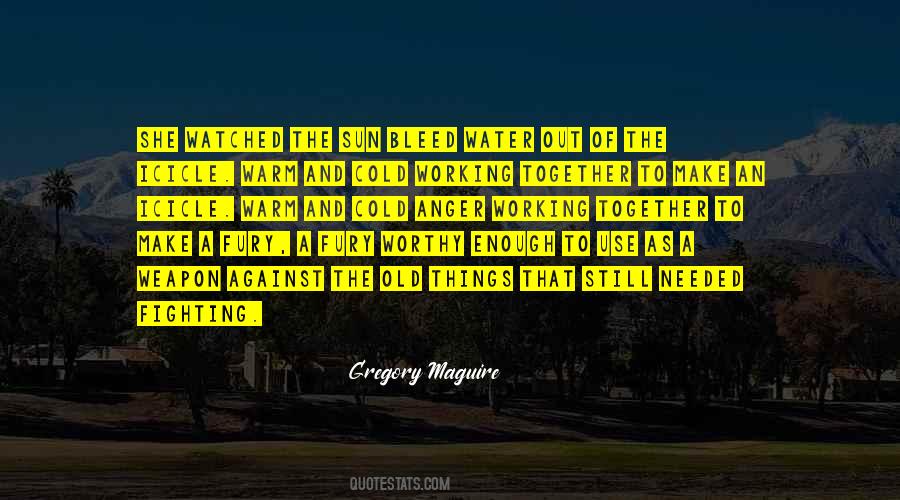 #39. Watch ye therefore, and pray always, that ye may be accounted worthy to escape all these things that shall come to pass, and to stand before the Son of man (Lk. 21:36) - Author: Finis Dake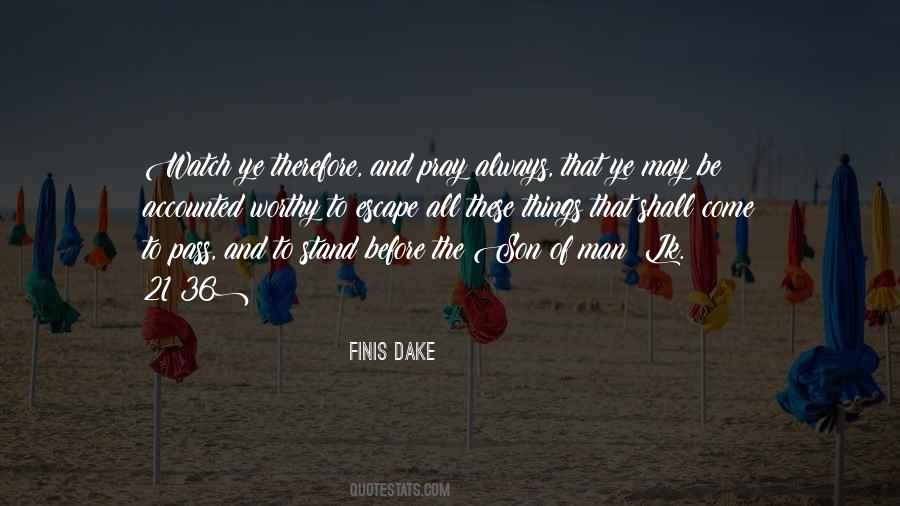 #40. It helps to even look in the mirror - and it sounds so cheesy - but if you just look in the mirror and say, 'You are beautiful,' and 'You are worthy,' those things really help you. - Author: Demi Lovato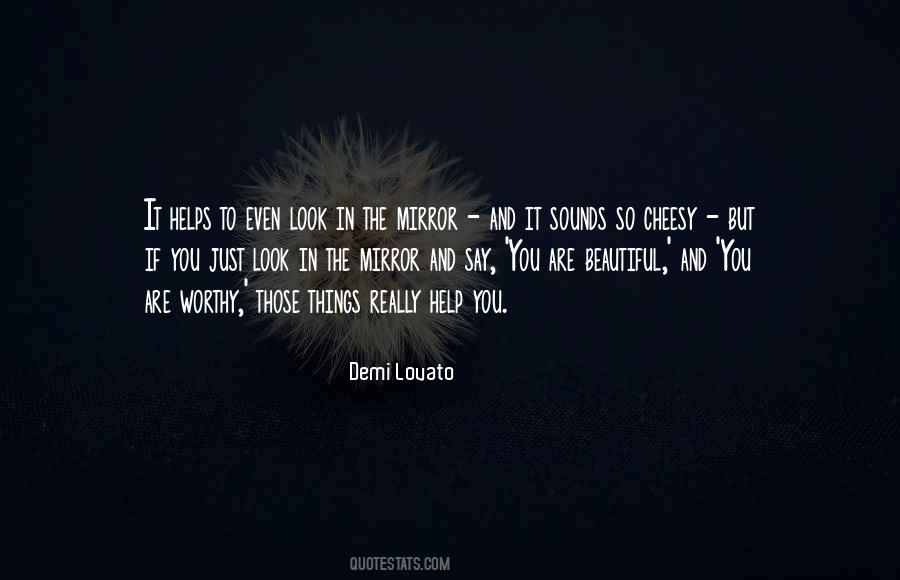 #41. I just had never occured to me to think that anything inherent to me was to blame for the things that went wrong (or the things that never even happened at all) with the other guys before him. Maybe it was all the time I'd had to decide I was cool and good and worthy without anyone else's help. - Author: Katie Heaney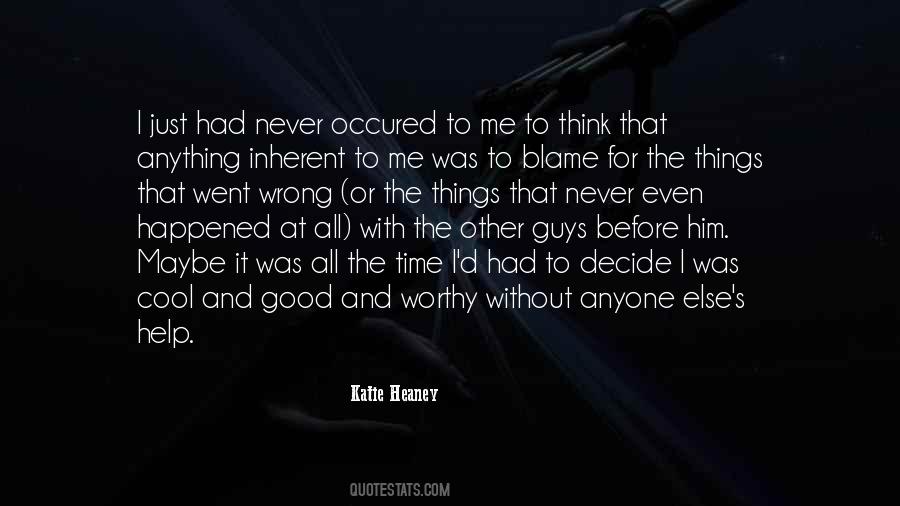 #42. Each moment brings new surprises to the one who has no expectations, who comes with an absolutely open mind. Then incredible things start happening. Even if you had wanted them you could not have expected them; you could not have found yourself worthy enough to expect them. - Author: Rajneesh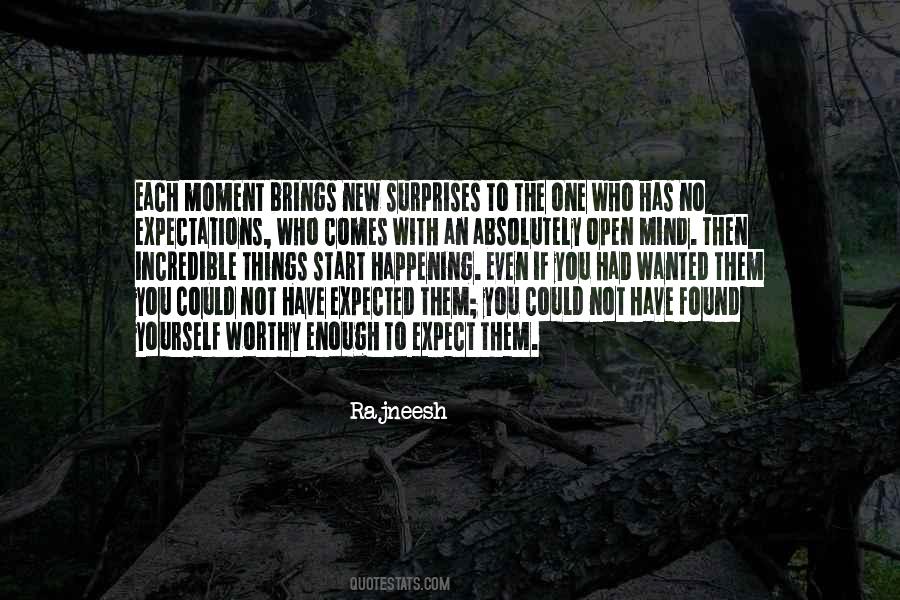 #43. We are not broken things, neither of us. We are cracked pottery mended with laquer and flakes of gold, whole as we are, complete unto each other. Complete and worthy and so very loved. - Author: Mackenzi Lee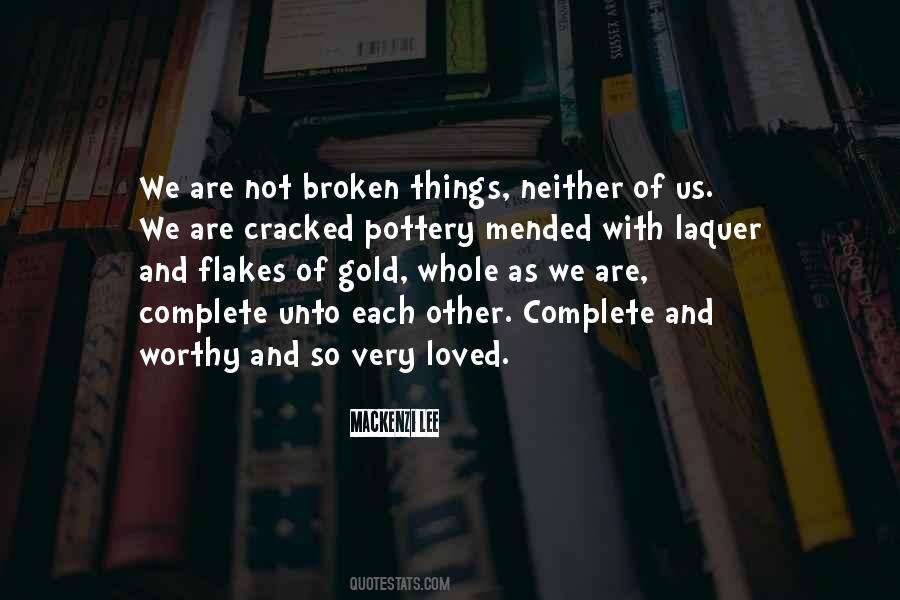 #44. Happy, even in anguish, is he to whom God has given a soul worthy of love and grief! He who has not seen the things of this world, and the heart of men in this double light, has seen nothing, and knows noting of the truth. - Author: Victor Hugo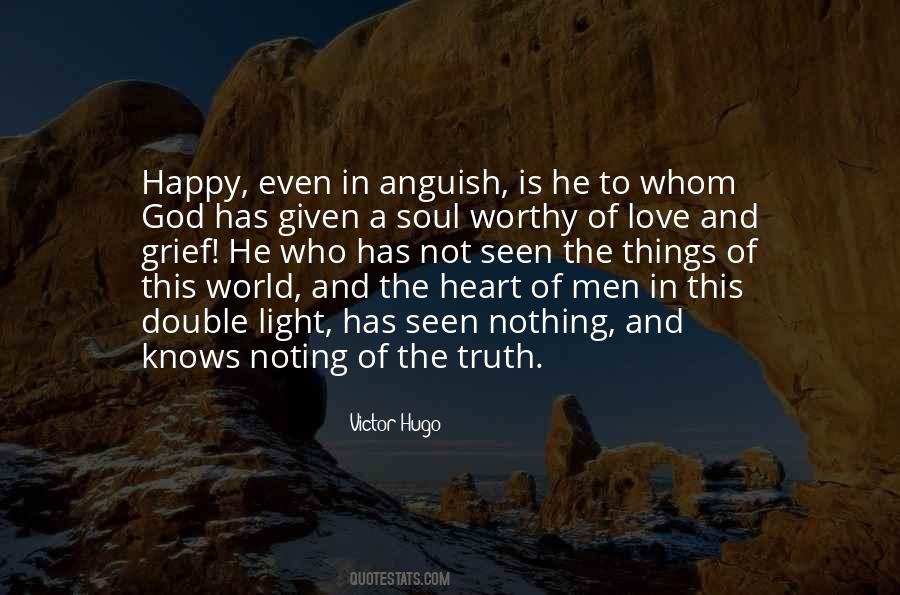 #45. I have friends that I have made through Twitter or things like that, but they're all verified as real people - I've either seen them perform, or we're mutual fans of each other, something like that. I don't have any authentic, 'Catfish'-worthy stories. - Author: Katie Featherston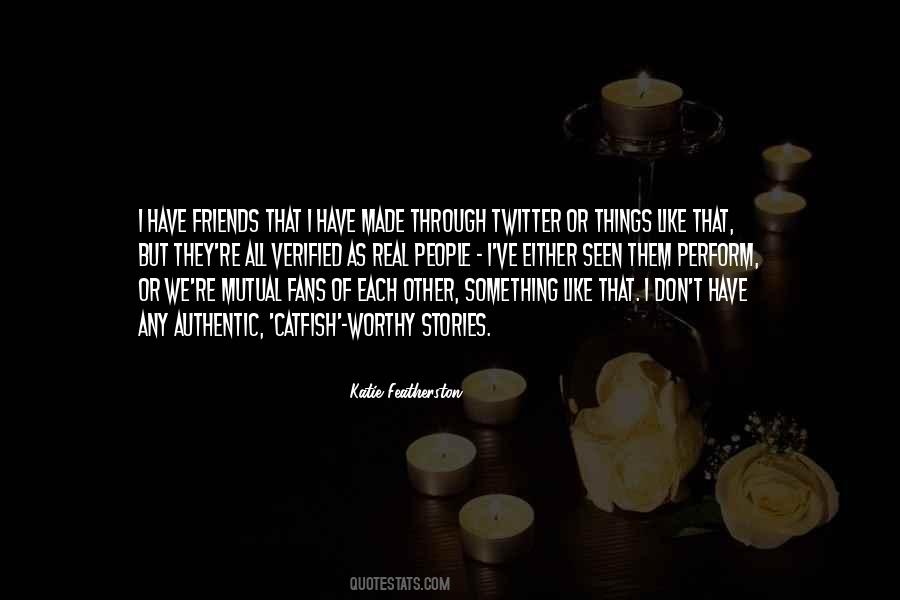 #46. Beastliness means taking that is unrightful [of someone's else right], eating that is unrightful, thinking of accumulating things which is unrightful [not of one's own right]. There is no problem in whatever comes to us rightfully [of which we are worthy of owning it]. - Author: Dada Bhagwan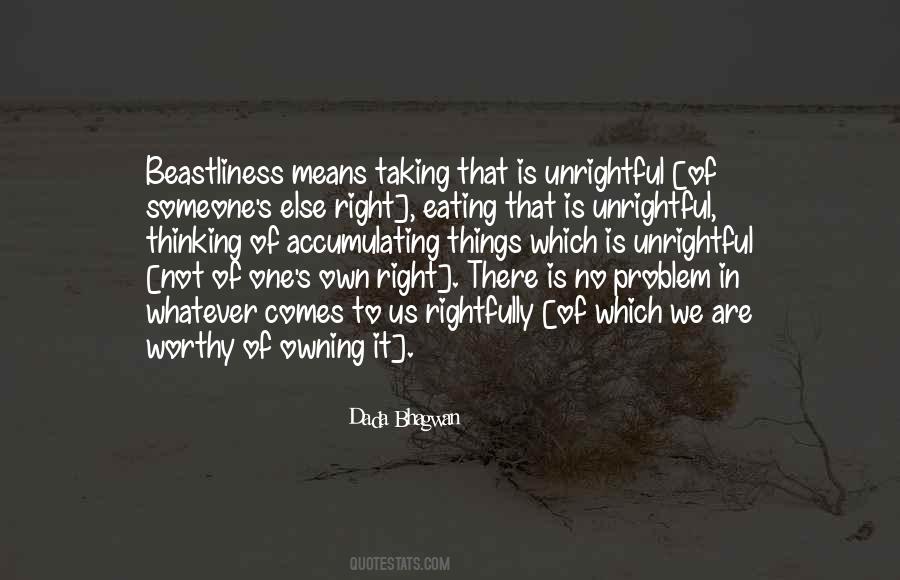 #47. Very few things in life are worthy of the kind of emotional distress we put ourselves through. - Author: John Mayer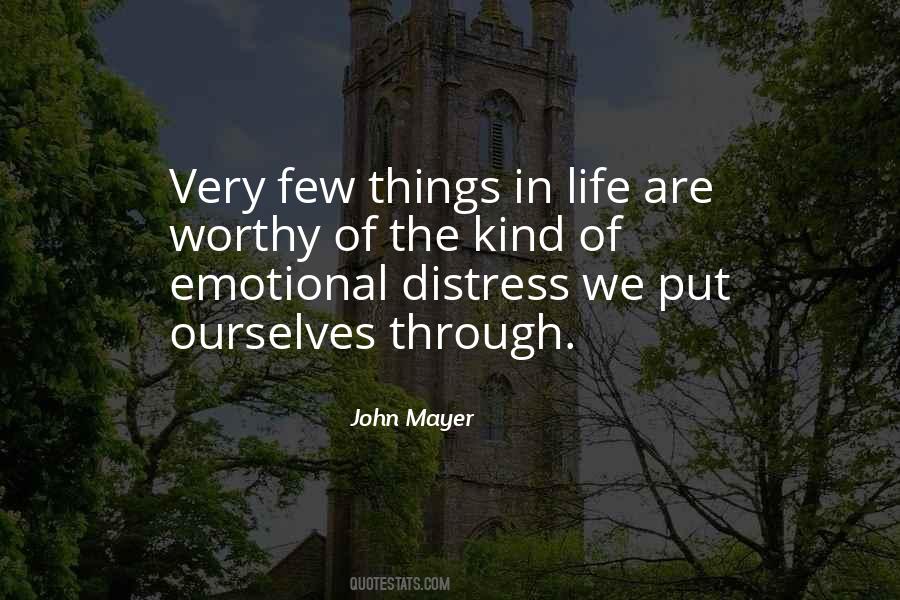 #48. Tasks don't have to be high-impact to be worthy of high effort. Most things we do in any given day are relatively low impact. The cumulative impact of thousands of low-impact test is huge. These tasks can be transposed into worship. - Author: John Piper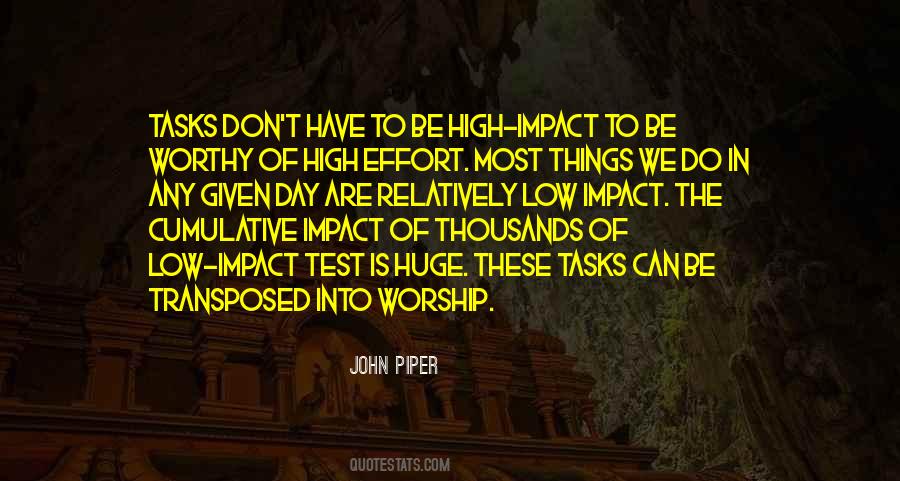 #49. Worthy things happen to the worthy. - Author: Plautus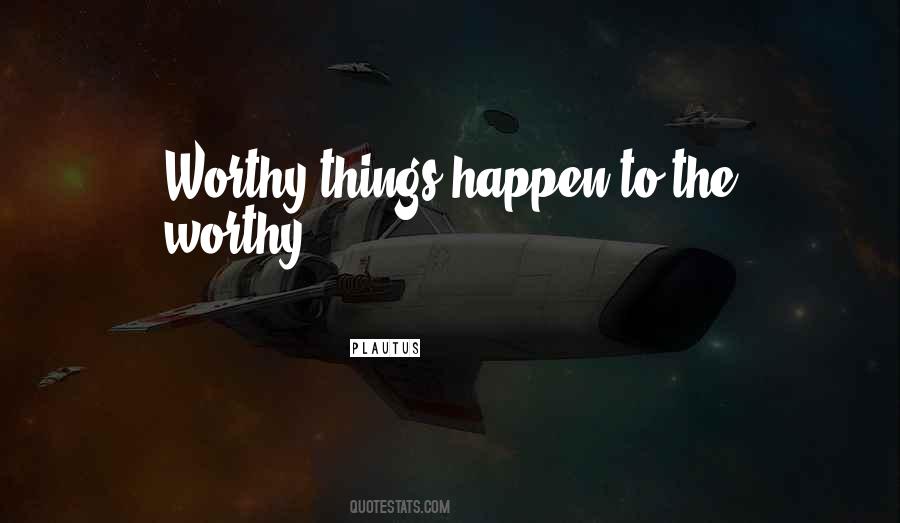 #50. Even people who believe they deserve to be happy and have nice things often don't feel worthy once they have them. - Author: Oprah Winfrey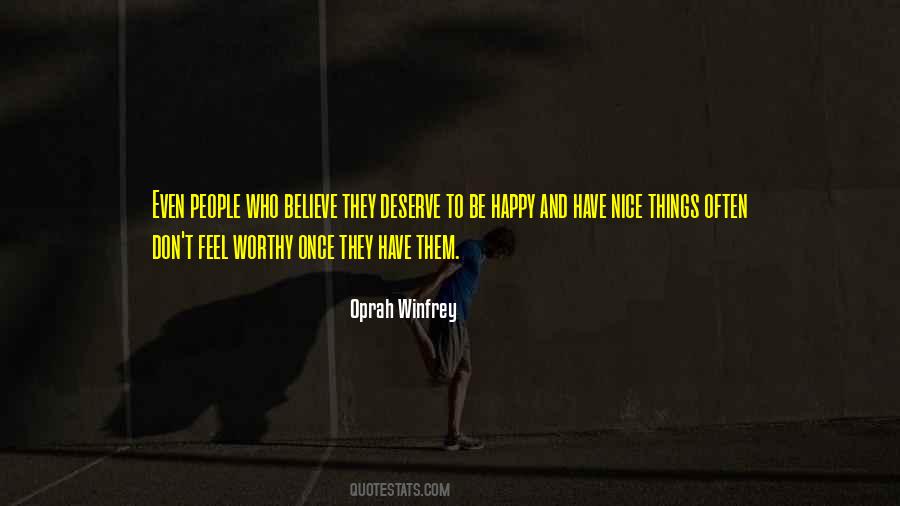 #51. In the case of all things which have a certain constitution, whatever harm may happen to any of them, that which is affected becomes consequently worse; but in like case, a man becomes both
better ... and more worthy of praise, by making the right use of these accidents. - Author: Marcus Aurelius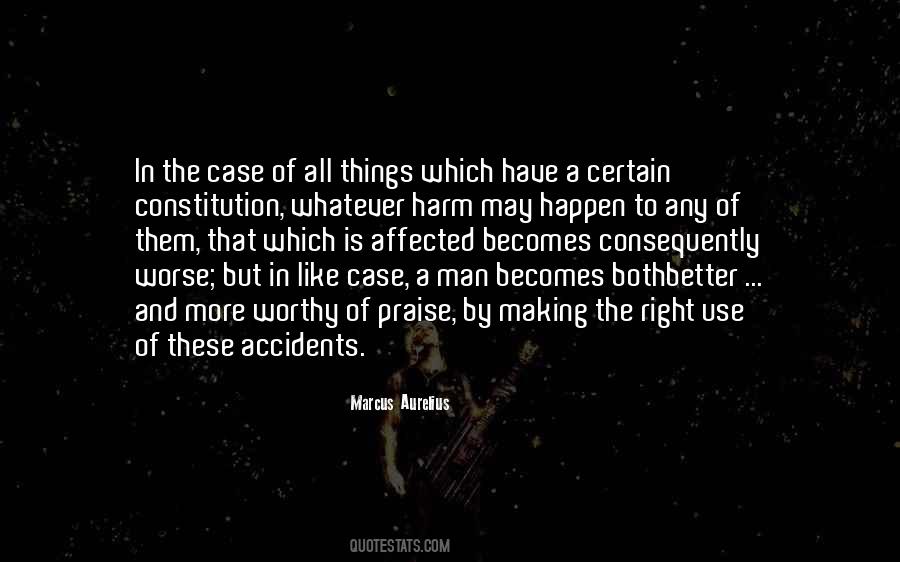 #52. With little here to do or see Of things that in the great world be, Sweet Daisy! oft I talk to thee For thou art worthy, Thou unassuming commonplace Of Nature, with that homely face, And yet with something of a grace Which love makes for thee! - Author: William Wordsworth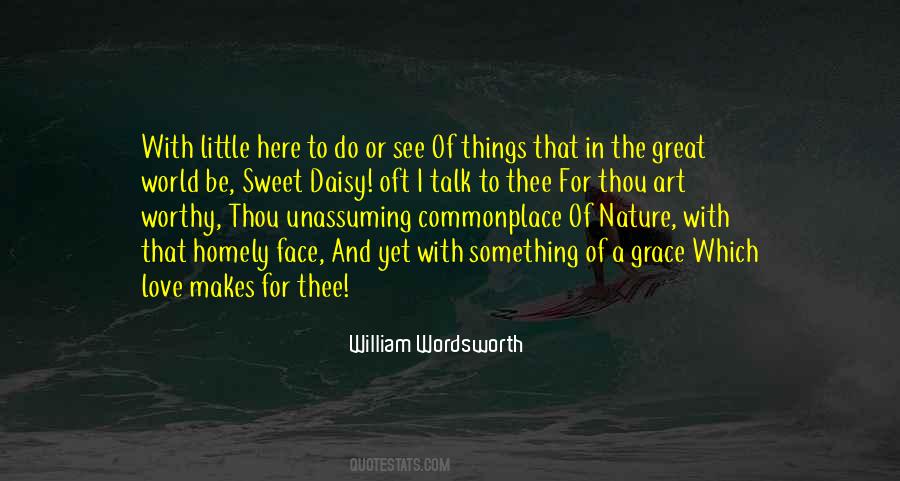 #53. Oddly enough, it was Prudence he studied beneath his lashes, not MacKay. The words he spoke came straight from his heart. No. Because she felt ashamed. Because she felt dirty. After the things he did to her, she could never feel worthy of someone as fine as you. - Author: Teresa Medeiros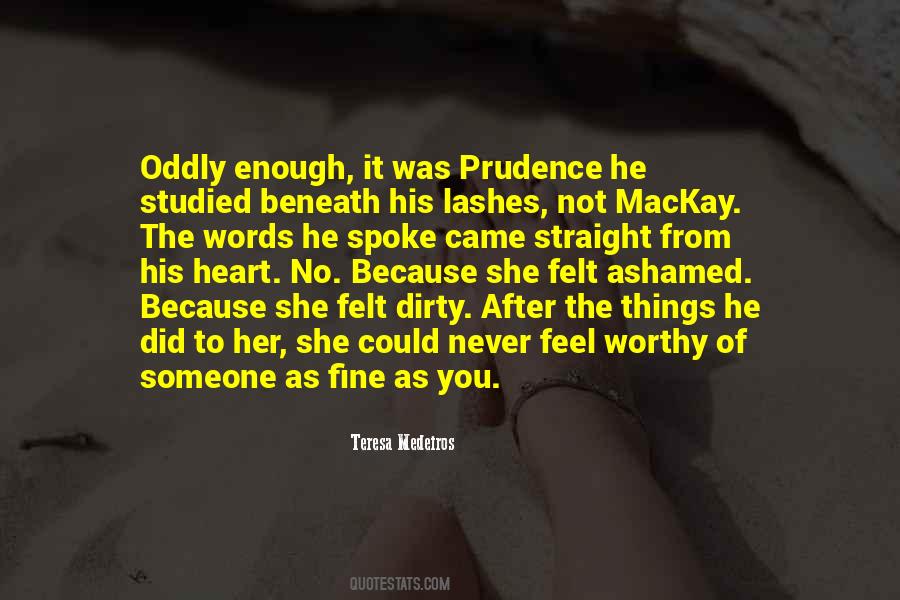 #54. Things of themselves cannot touch the soul at all. They have no entry to the soul, and cannot turn or move it. The soul alone turns and moves itself, making all externals presented to it cohere with the judgements it thinks worthy of itself. - Author: Marcus Aurelius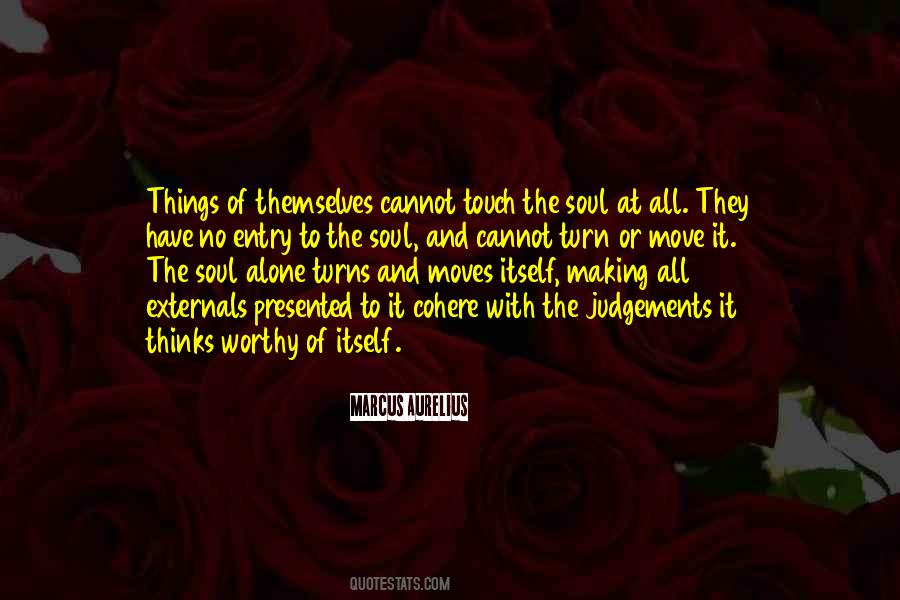 #55. The problem for us, as viewers, is that we want famous people who are passionate about the things they're famous for, because that makes them worthy of the attention. But I think many of those famous people just want to be famous. - Author: Bo Burnham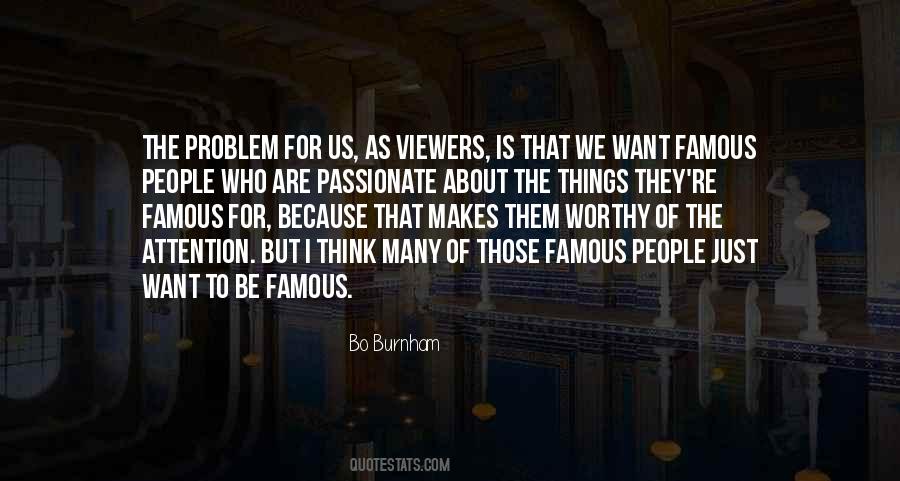 #56. Simple acceptance Like waves belong on water We are as we are There is no need to be more than what is. In fact, that is impossible by definition. We can feel good about being part of the natural order of things and simply accept that we are worthy as we are. - Author: Karl Grass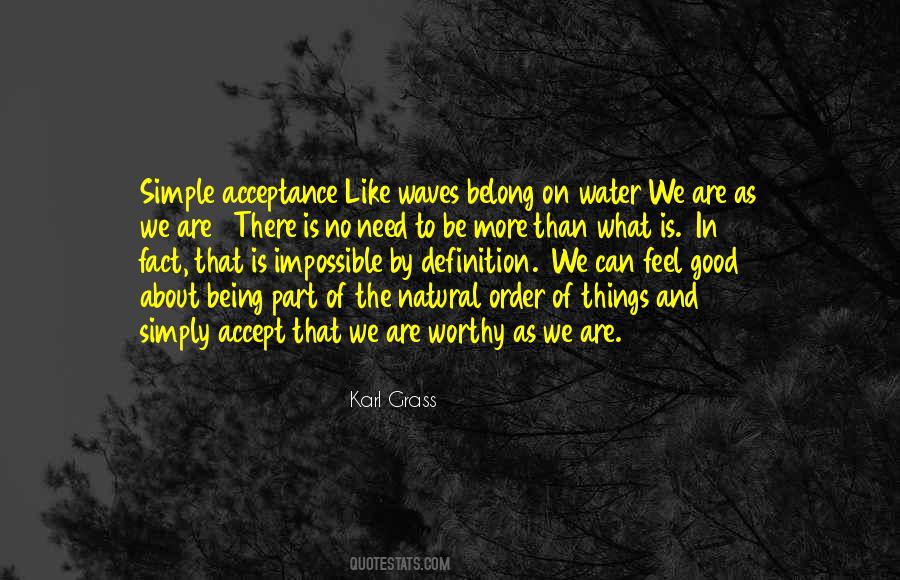 #57. The more we delve into the essence of personality, the more we learn that in this world, certainly rich with natural beauty and things worthy of seeing, nothing is more attractive and worthier of knowing and experiencing than people. - Author: Magnus Hirschfeld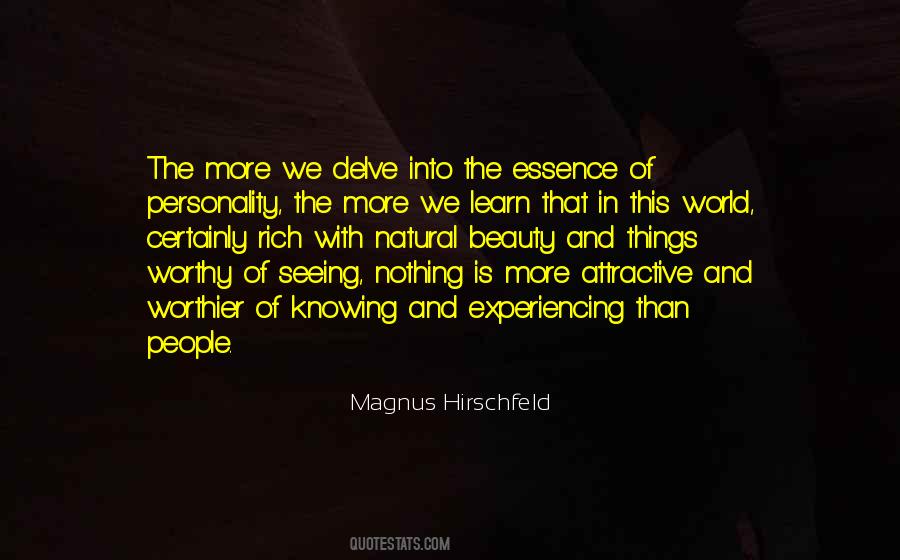 #58. I wanted to work hard. I wanted to prove myself somehow worthy of the good things I had known. - Author: Bear Grylls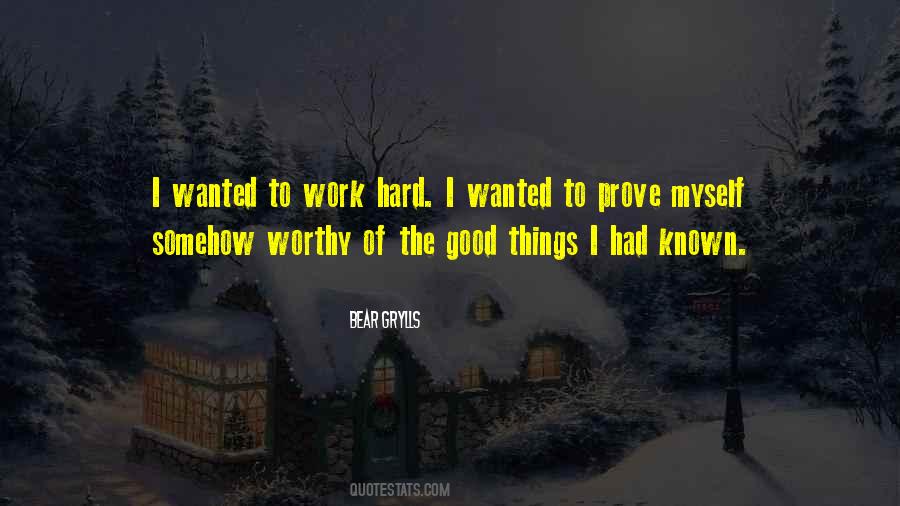 #59. Don't set limits on what you can or can't do. Don't set limits on what is or isn't worthy of your time. Dare yourself to "play games" with your day: watch, wait, listen; allow things to happen. - Author: Anonymous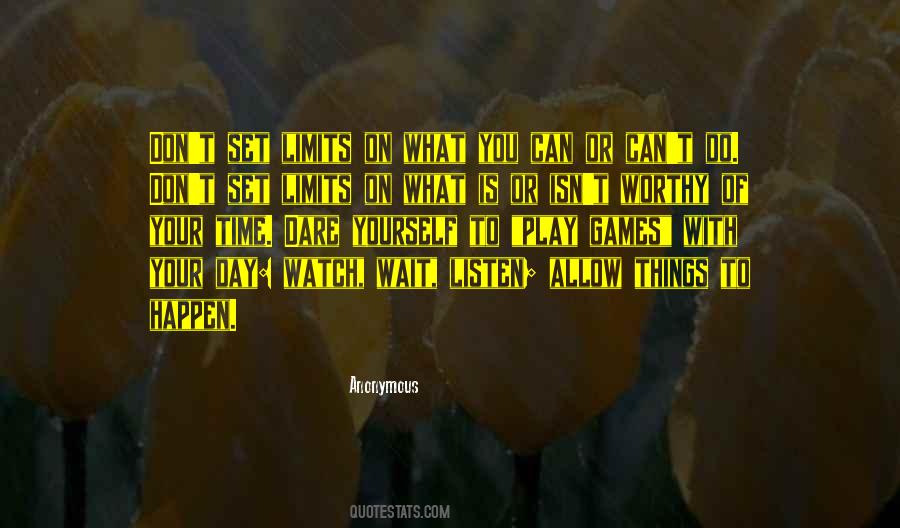 #60. Why publish what is worthless? Perhaps the worthy is also worthless. Besides, what is obviously worthless has always fascinated me. I have a real affection for things which are incomplete or badly finished, for things awkwardly try to take flight only to fall clumsily to the ground. - Author: Clarice Lispector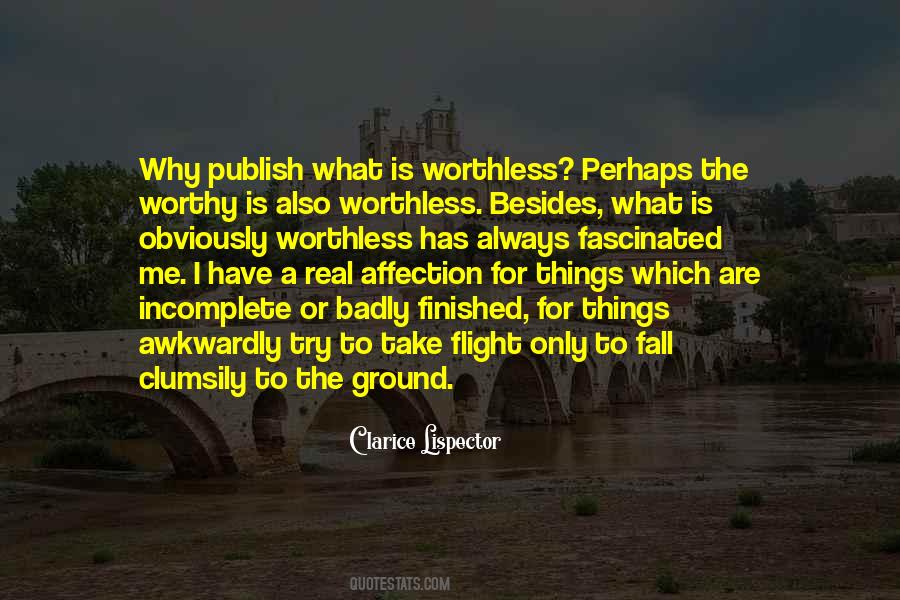 #61. When we are unhurried and wise, we perceive that only great and worthy things have any permanent and absolute existence, that petty fears and petty pleasures are but the shadow of the reality. - Author: Henry David Thoreau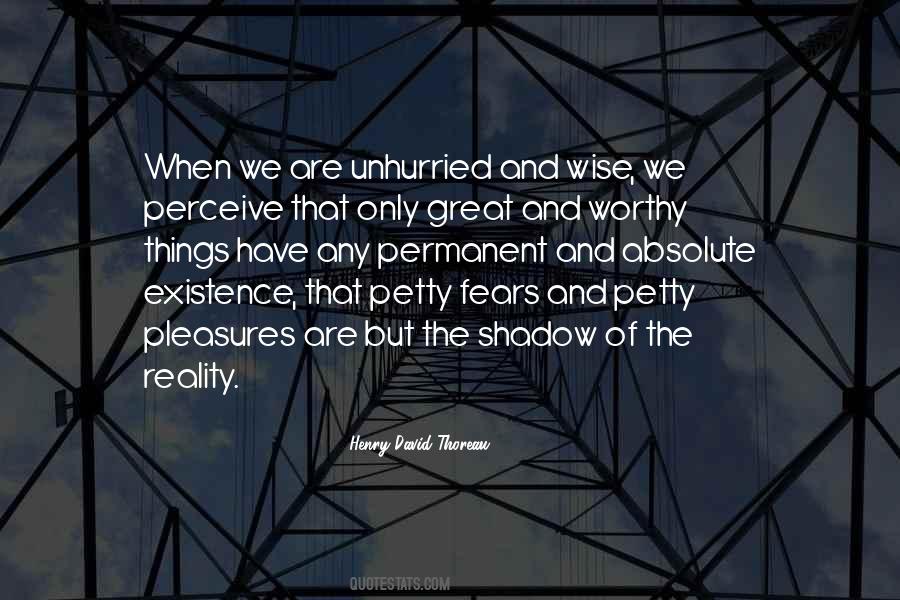 #62. Everything, absolutely everything on this earth makes sense, and even the smallest things are worthy of our consideration. - Author: Paulo Coelho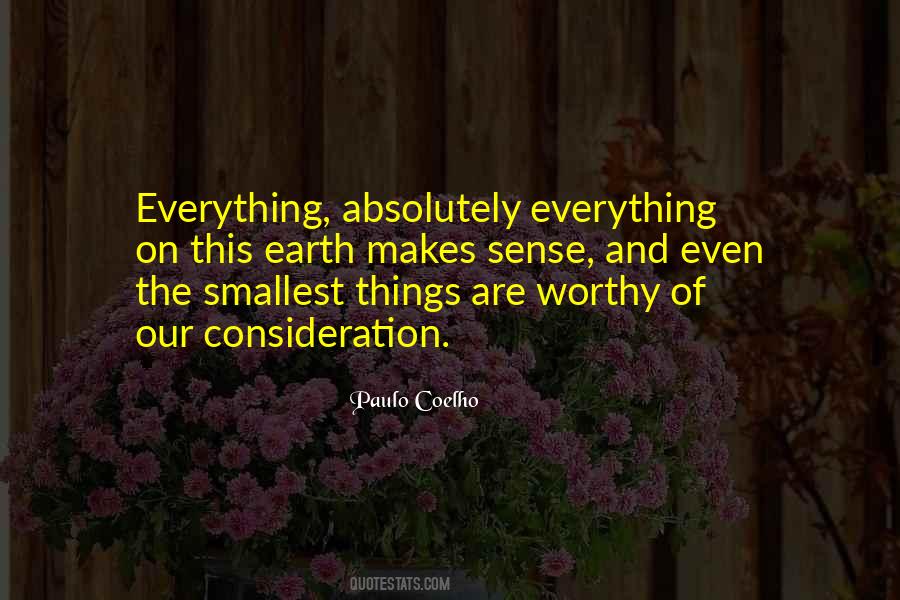 #63. If two percent of all the films made in Hollywood are really artistically worthy - and I think it's a lot more than two percent - that's a pretty big percentage of things that will outlive their own generation. - Author: Murray Horwitz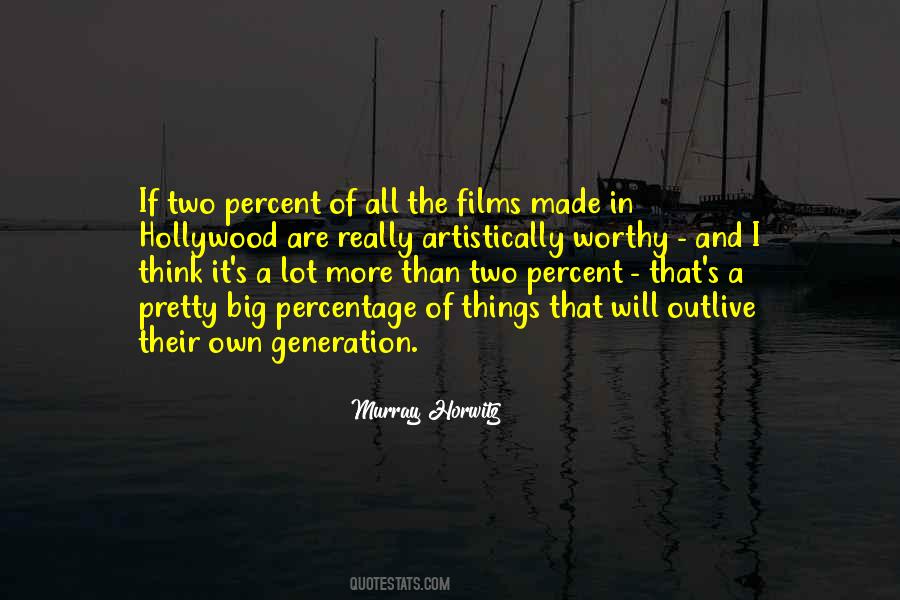 #64. They learned to live contently with small things, to seek elegance rather than luxury, and refinement rather than fashion, to be worthy not respectable, and to be rich not wealthy. They let the sacred and unconscious bloom amidst the common, rendering it all extraordinary. - Author: David Paul Kirkpatrick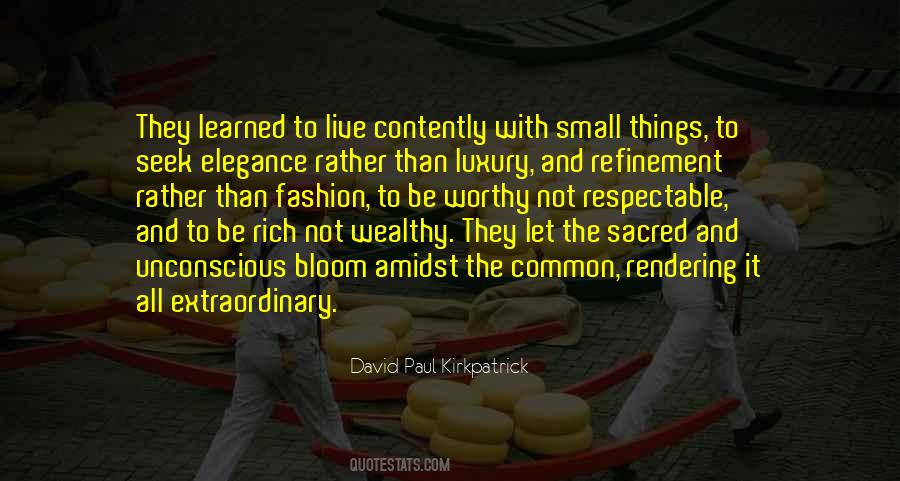 #65. We are first worshipers. We should be able to go into any atmosphere where there is worship, and throw off whatever sound or style we are accustomed to and worship the Creator of all things. We deny ourselves-- we are not the center... He is. Is He not worthy? - Author: James Vincent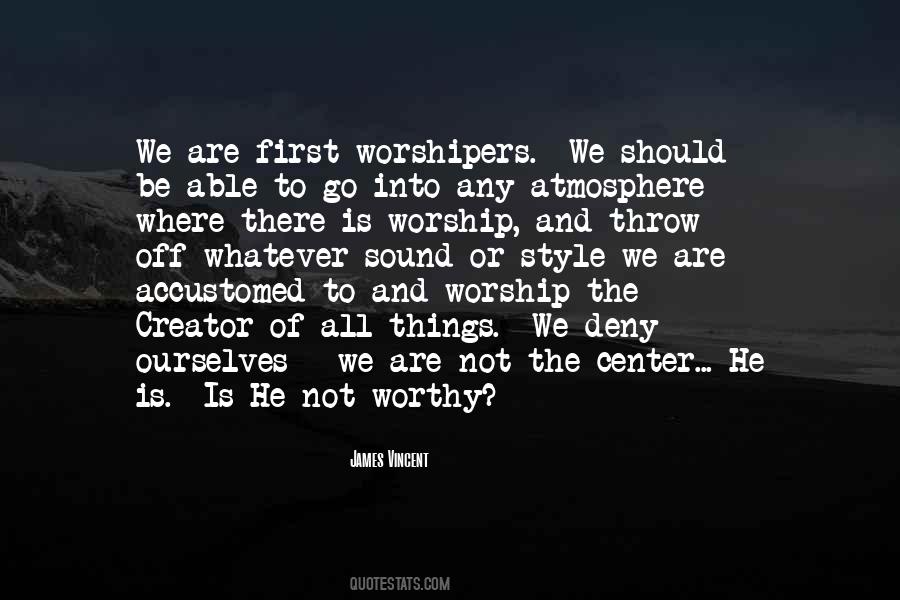 #66. Animals are not property or "things" but rather living organisms, subjects of a life, who are worthy of our compassion, respect, friendship, and support. - Author: Marc Bekoff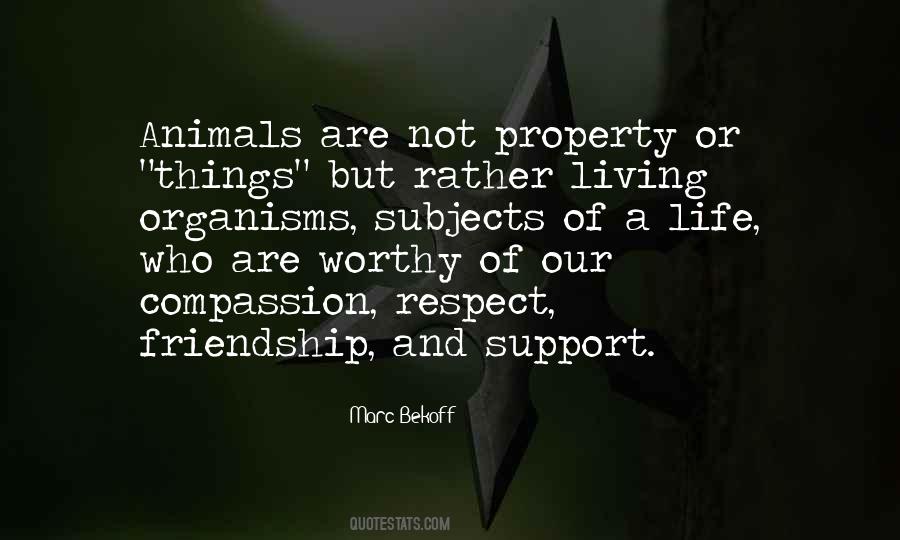 #67. If you're respectful by habit, constantly honoring the worthy, four things increase: long life, beauty, happiness, strength. - Author: Gautama Buddha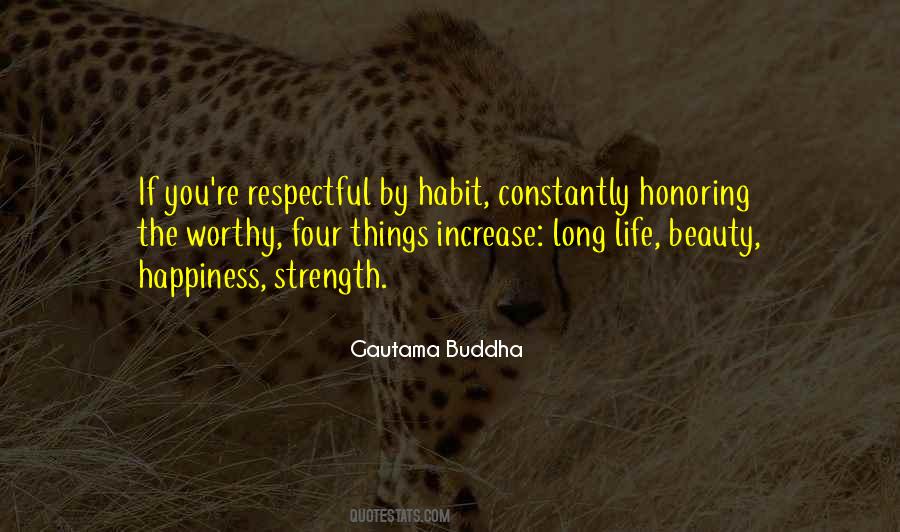 #68. When you start something, make sure that you're willing to take the time to finish it right because, honey, the work you put into it will be more than worth it in the end. The best things always are. - Author: C.M. Stunich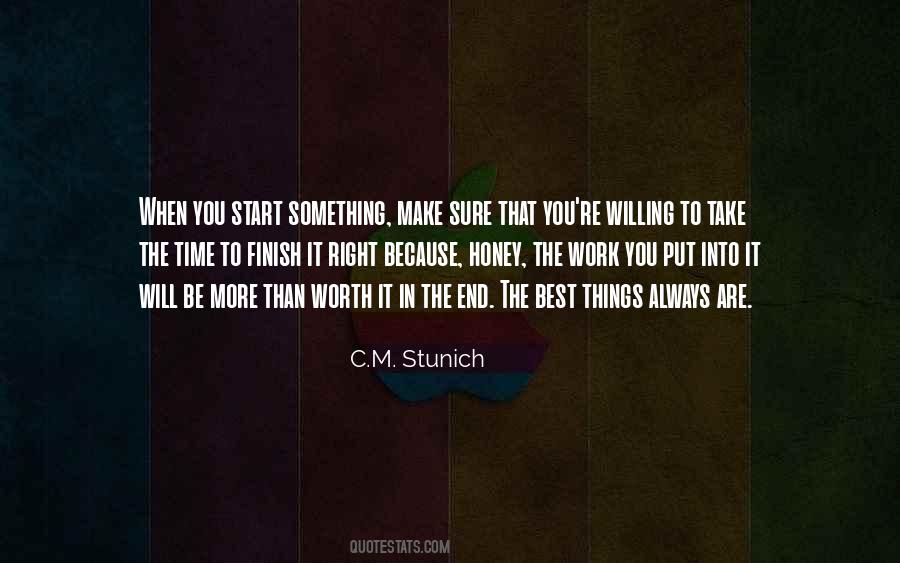 #69. Whatever is lovely, whatever is gracious, if there is anything worthy of praise, think about these things. And peace will be with you. - Author: Barbara Kingsolver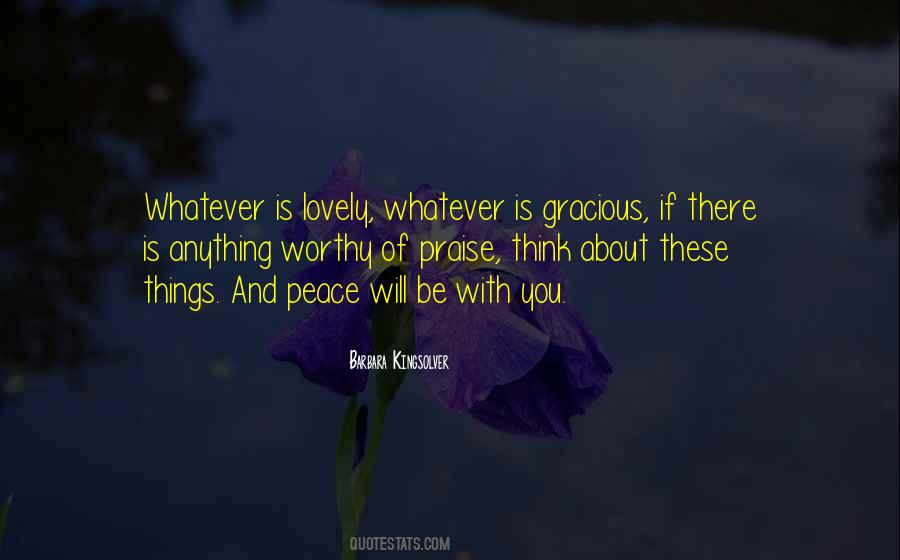 #70. Taking it all in all and after all, negro life in Washington is a promise rather than a fulfillment. But it is worthy of note for the really excellent things which are promised - Author: Paul Laurence Dunbar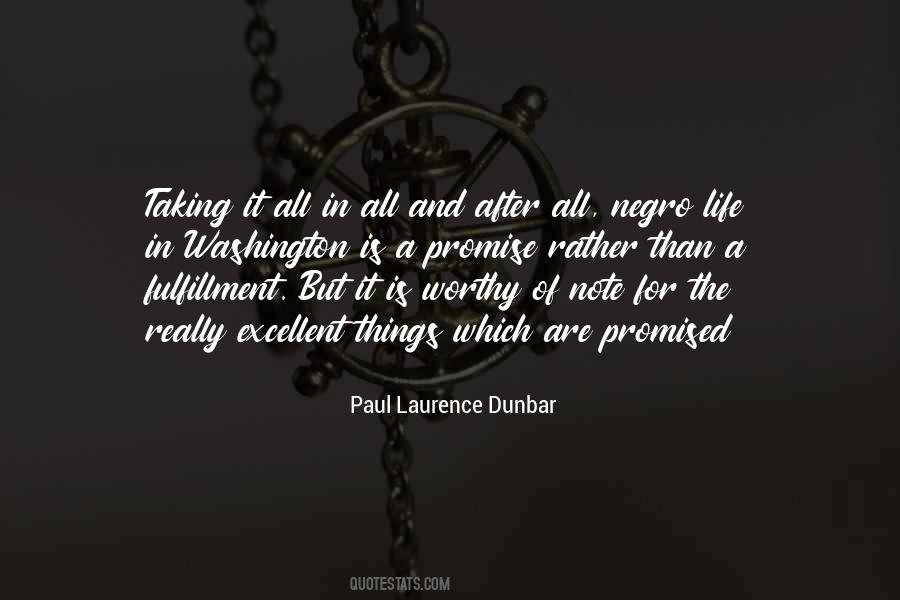 #71. If you have not done things worthy of being written about, at least write things worthy of being read. - Author: Giacomo Casanova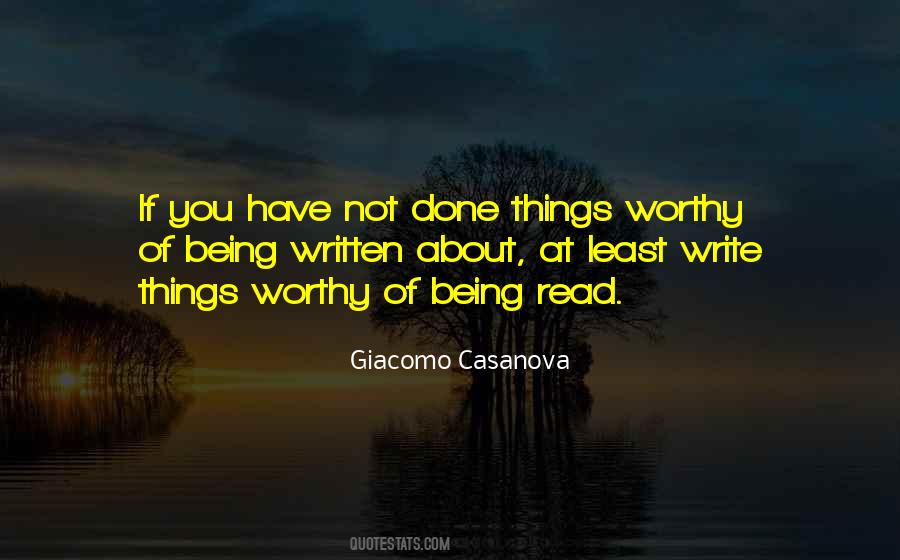 #72. We all need something to struggle against and to struggle for. The aim in life is not to avoid struggles, but to have the right ones; not to avoid worry, but to care about the right things; not to live without fear, but to confront worthy fears with force and - Author: Eric Greitens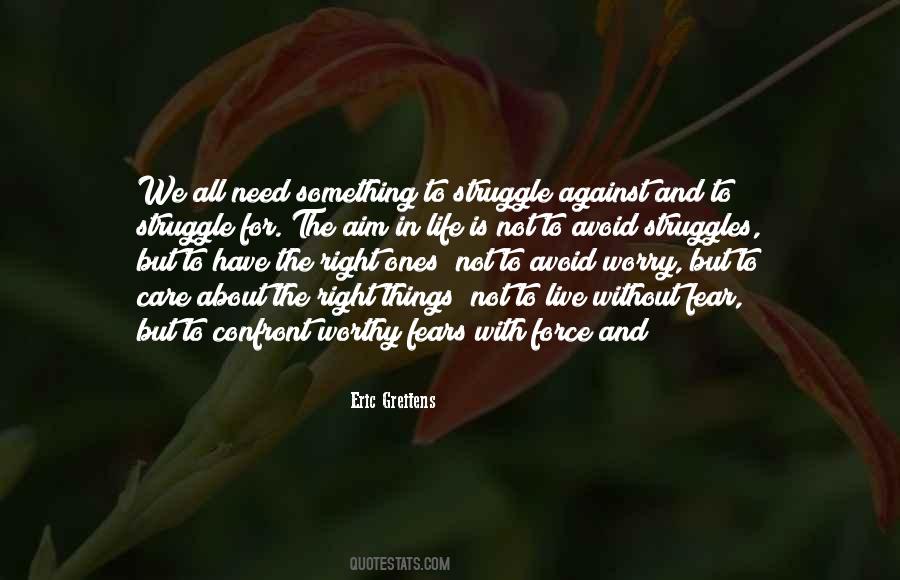 #73. When we choose to love people and the wonderful things around us, it always puts us one step above the people who choose not too. There's a peace we'll carry in our hearts. A feeling of being worthy of all situations. - Author: Ron Baratono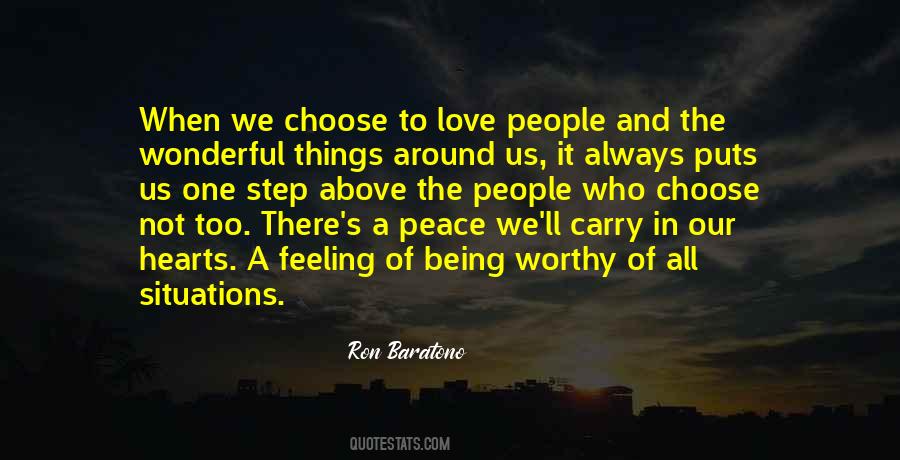 #74. In life's small things be resolute and great To keep thy muscle trained; Know'st thou when Fate Thy measure takes, or when she'll say to thee, "I find thee worthy; do this deed for me?" - Author: James Russell Lowell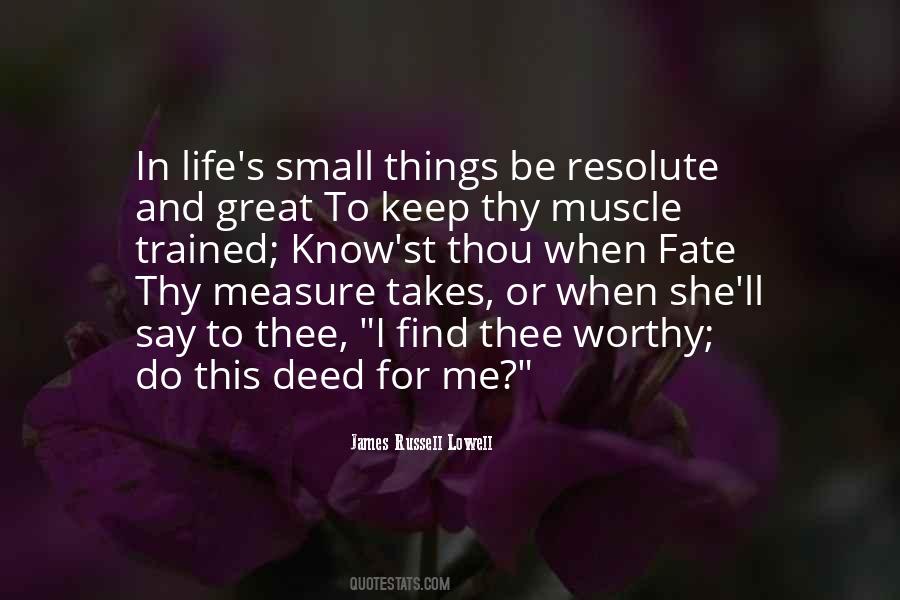 #75. I'd always told myself that I deserve good things, that I was worthy, but if I ever believed it. You can't tell yourself anything. Your heart only believes what it feels, and experience is the best teacher. - Author: Penelope Douglas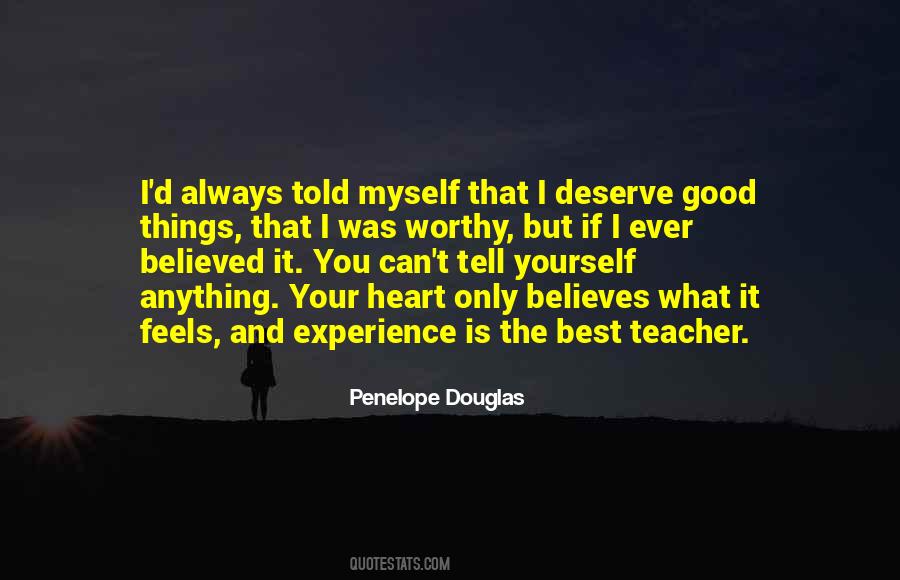 #76. And what I've found over time is that for me to write a poem that I think is worthy that I can live with, two things have to happen. - Author: Edward Hirsch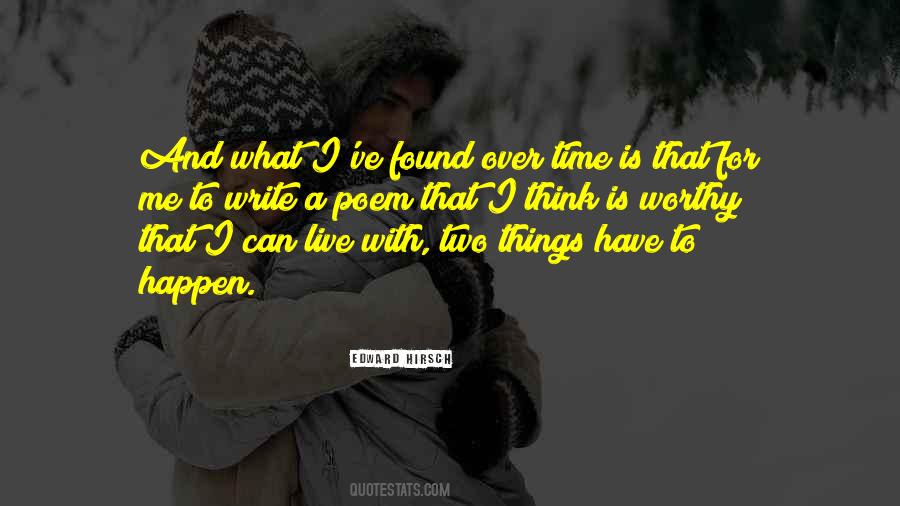 #77. And therefore only the enlightened sovereign and the worthy general who are able to use the most intelligent people as agents are certain to achieve great things. - Author: Sun Tzu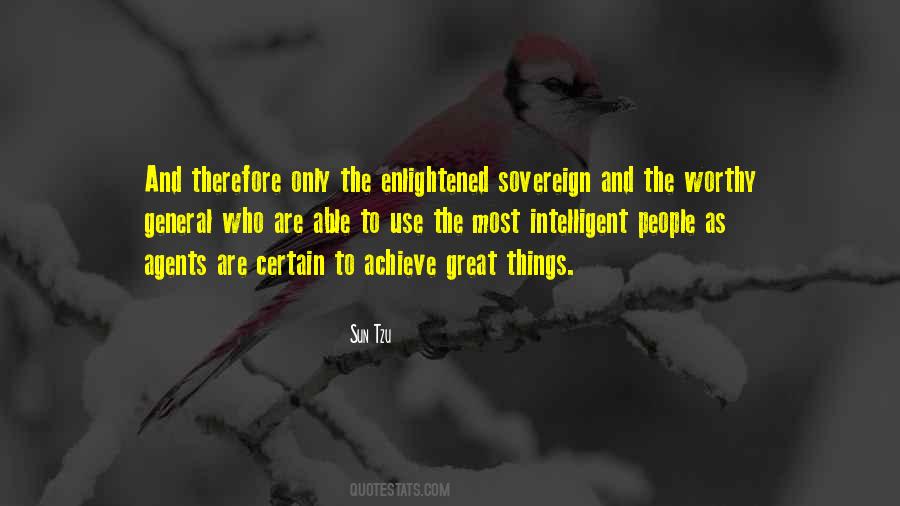 #78. In worthy teaching, all things are related. - Author: Confucius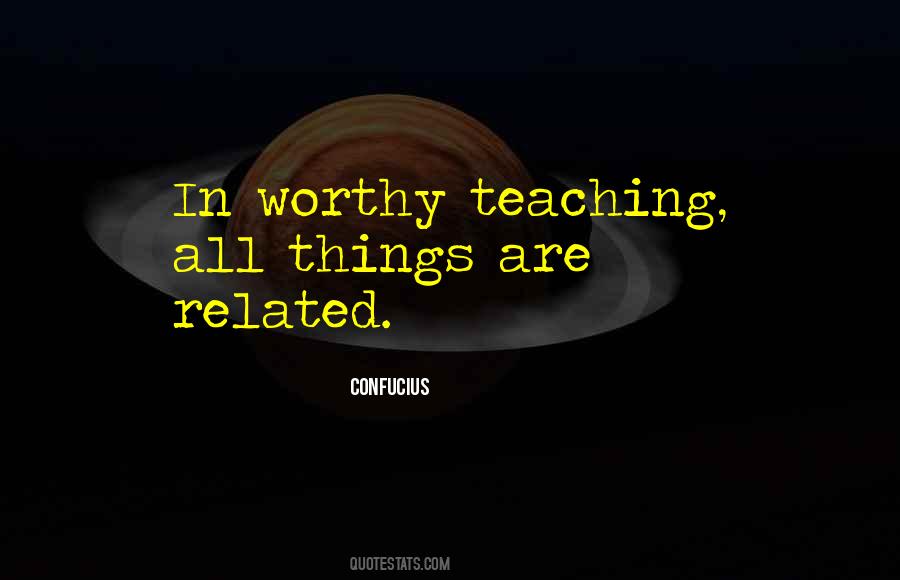 #79. Each day, focus your attention on what you want. Each day, take one step that will bring you closer to it. ALL THINGS ARE POSSIBLE! The key is to identify it, claim it for yourself, and believe that you are worthy to have it. - Author: Iyanla Vanzant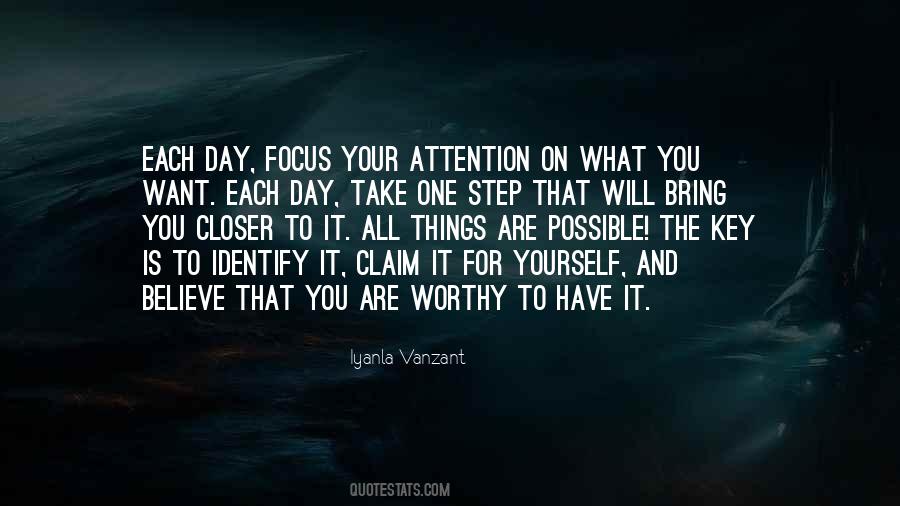 #80. Dare to do things worthy of imprisonment if you mean to be of consequence. - Author: Juvenal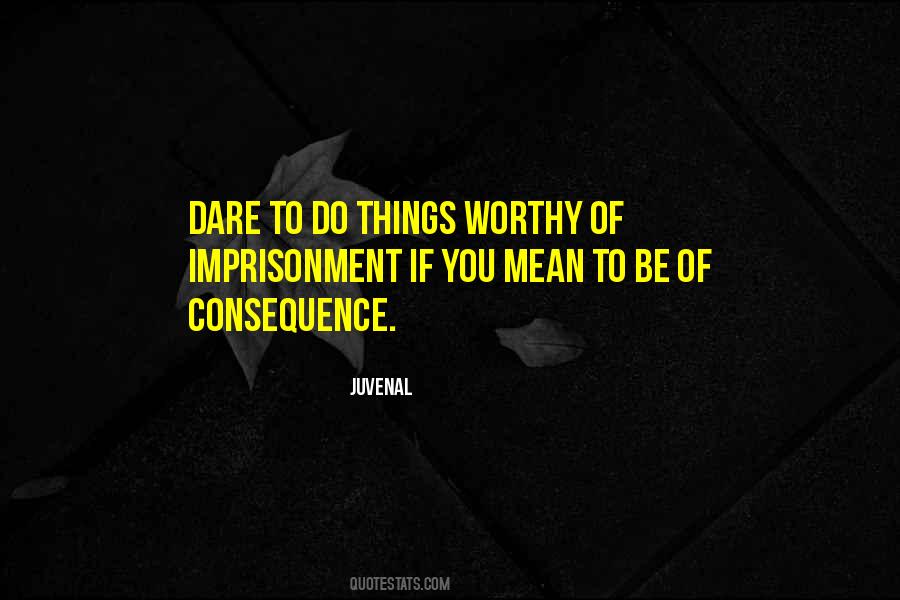 #81. I think people should be angry at things that are worthy of anger. Injustice is outrageous and deserves outrage. - Author: Chris Hayes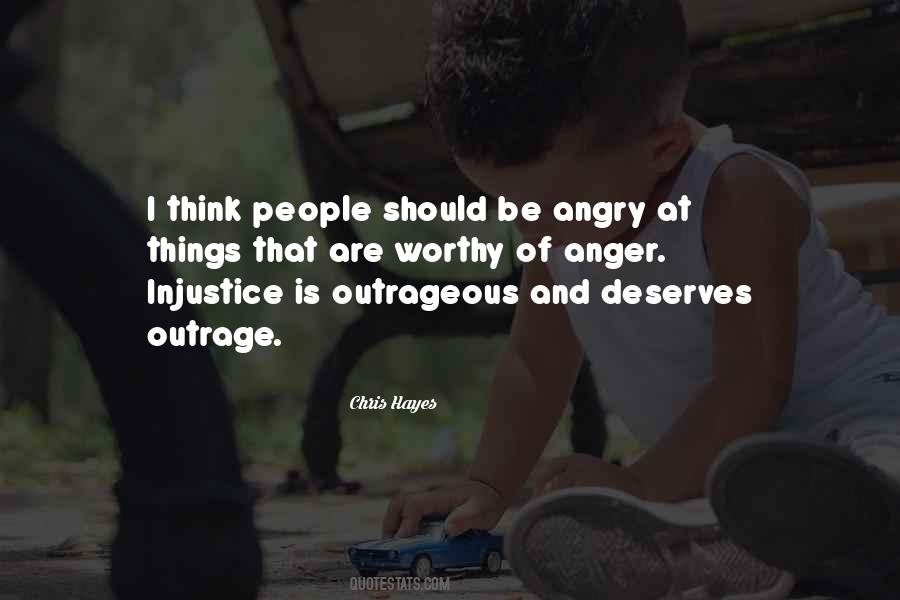 #82. With the first album, I wanted to do so many different things, and I was fighting with myself to try and see if I was worthy enough to do it. - Author: Estelle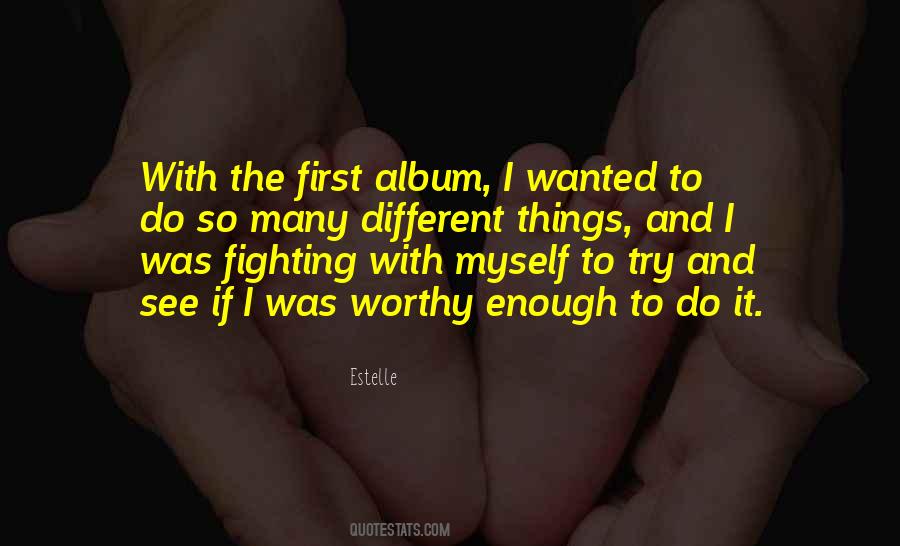 #83. He who is not always ready to suffer and to stand completely at the will of his beloved is not worthy to be called a lover, for it behooves a lover gladly to suffer all hard and bitter things for his beloved, and not to fall from love because of any irksome thing that may befall him. - Author: Thomas A Kempis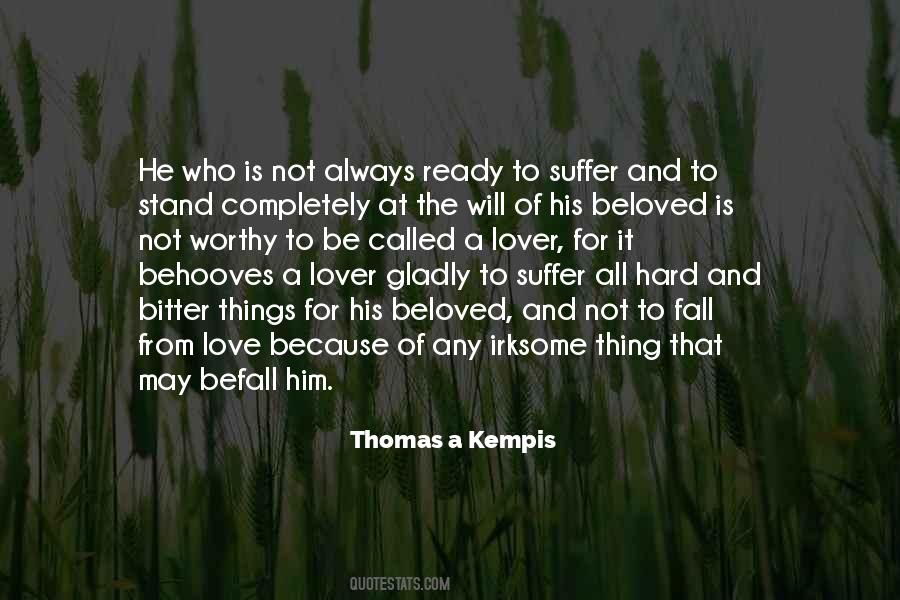 #84. I want it to be better than okay. You deserve better than okay. - Author: Tammara Webber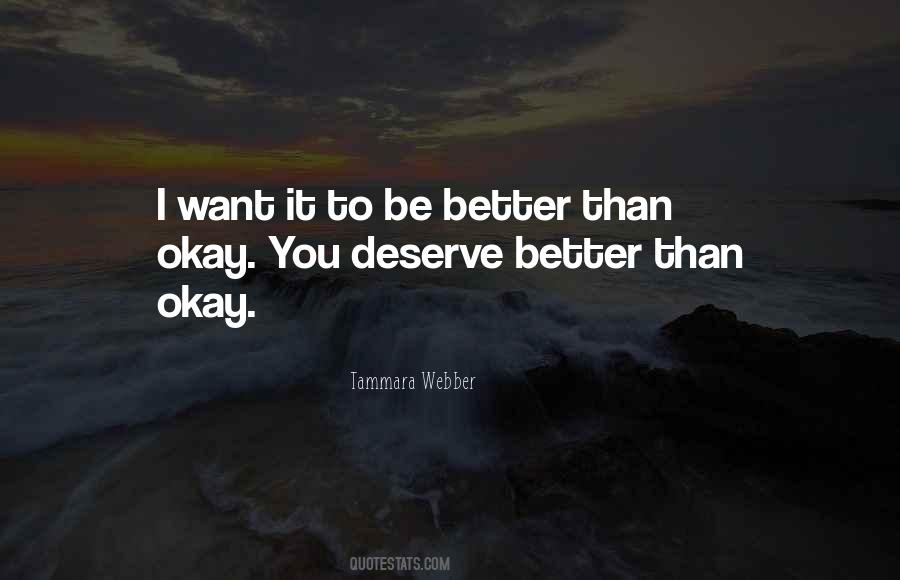 #85. The Clintons want to do big worthy things, but they also want to squeeze money from rich people wherever they live on planet Earth, insatiably gobbling up cash for politics and charity and themselves from the same incestuous swirl. - Author: Maureen Dowd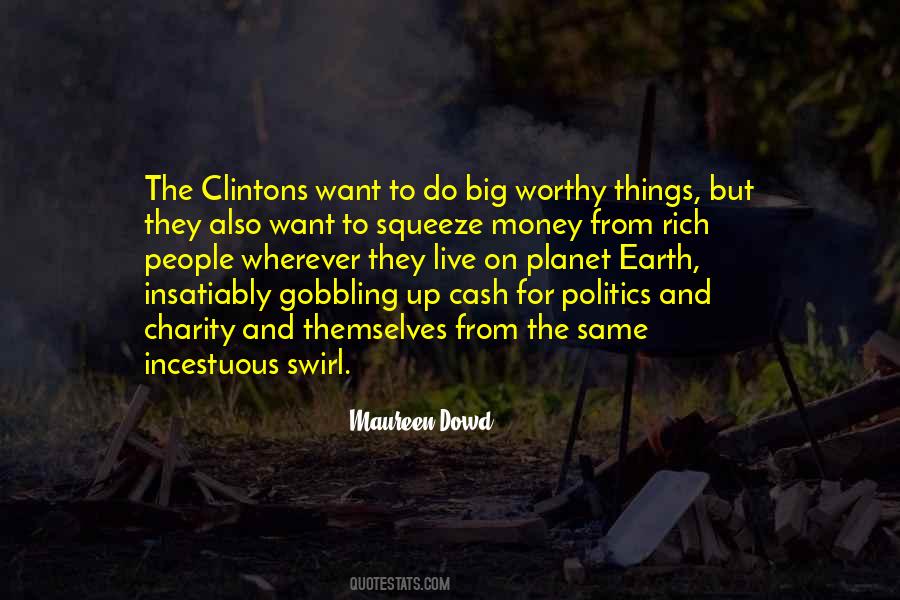 #86. I wish I never had sex with Luke. I wish I could take back so many things, but I can't. I wish I could be someone worthy for you. - Author: Katie McGarry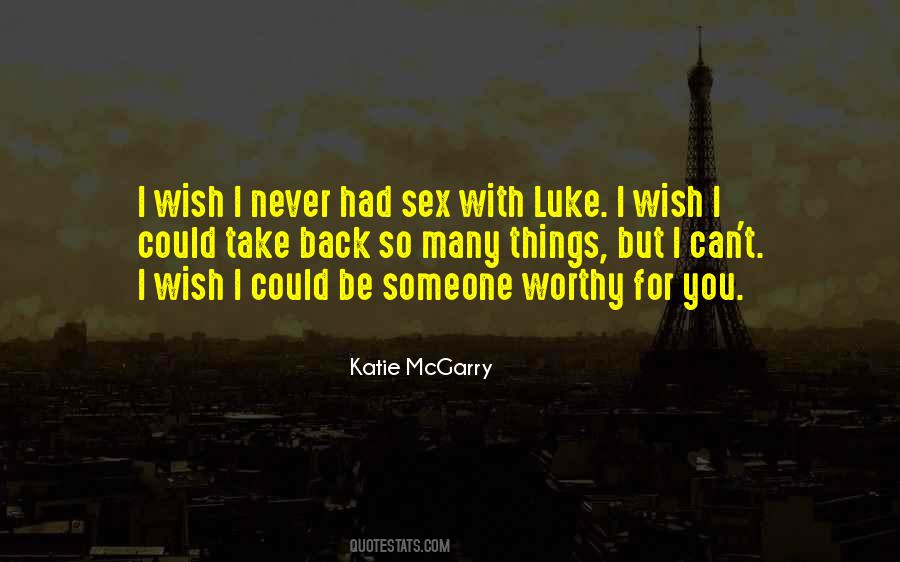 #87. I want my images to achieve two things in this regard - to be an elegy to a world that is tragically vanishing, to make people see what beauty is disappearing. Also, to try and show that animals are sentient creatures equally as worthy of life as humans. - Author: Nick Brandt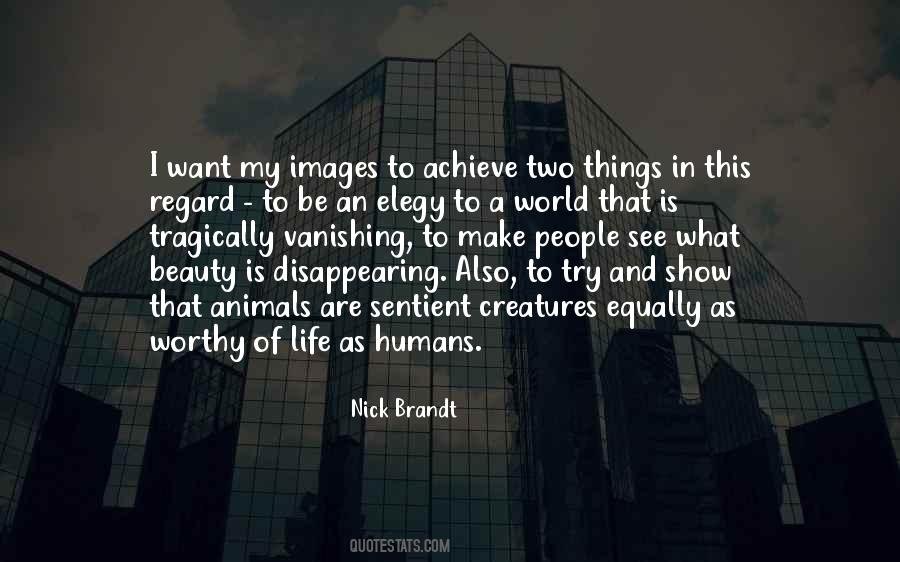 #88. There is a temptation for the writer or the teacher of church history to want to tell everything, whether it is worthy or faith promoting or not. Some things that are true are not very useful. - Author: Boyd K. Packer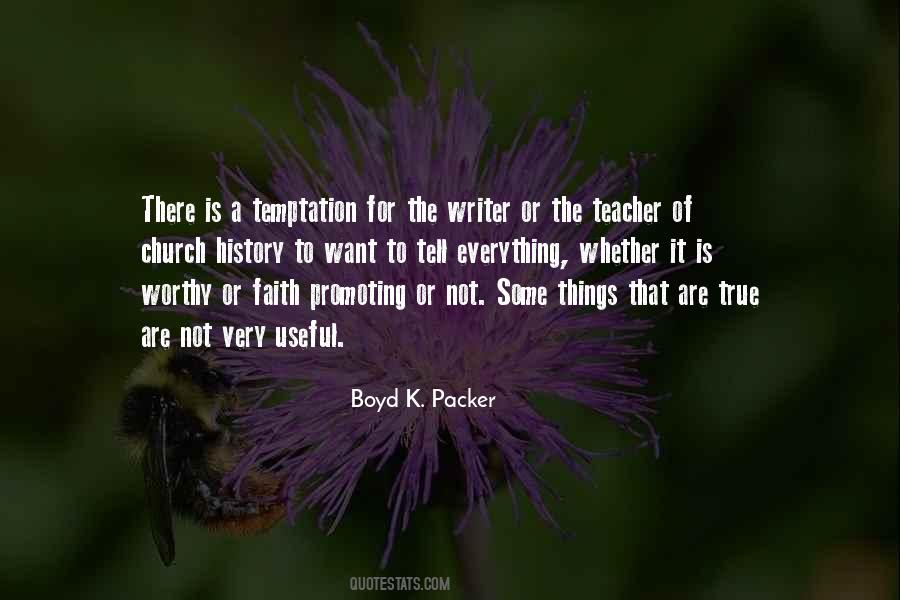 #89. Men spend their life down here in the worship of petty (or mean) interests and the search of perishable things, and with that ("et avec cela", Fr.) they pretend to perpetuate for all eternity their self ("moi", Fr.) so hardly worthy ("digne", Fr.) of it. - Author: African Spir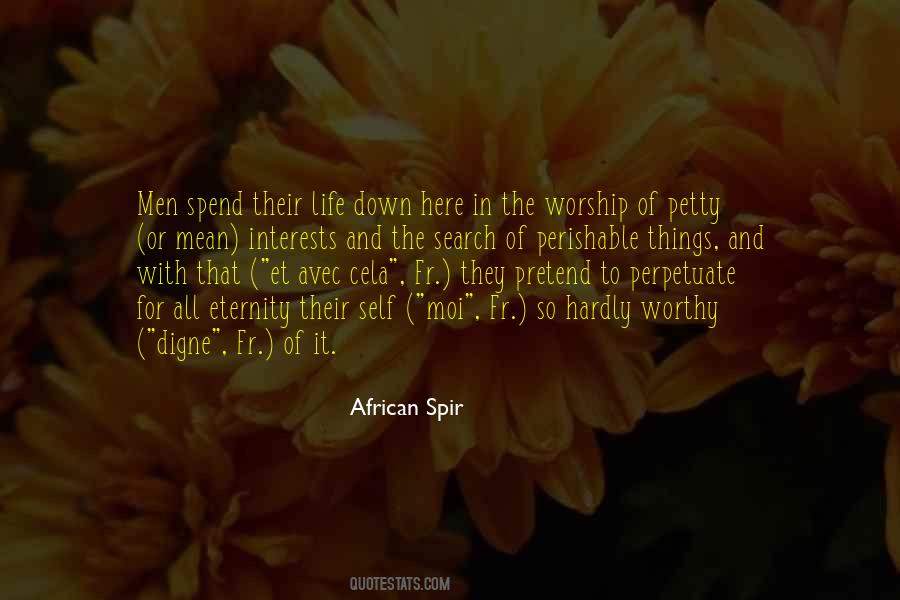 #90. Evolution, and the selection of reproduction-worthy genes that drives it, is the opposite of random. It is a sieve that living things have to pass through successfully, or we never see them again. - Author: Bill Nye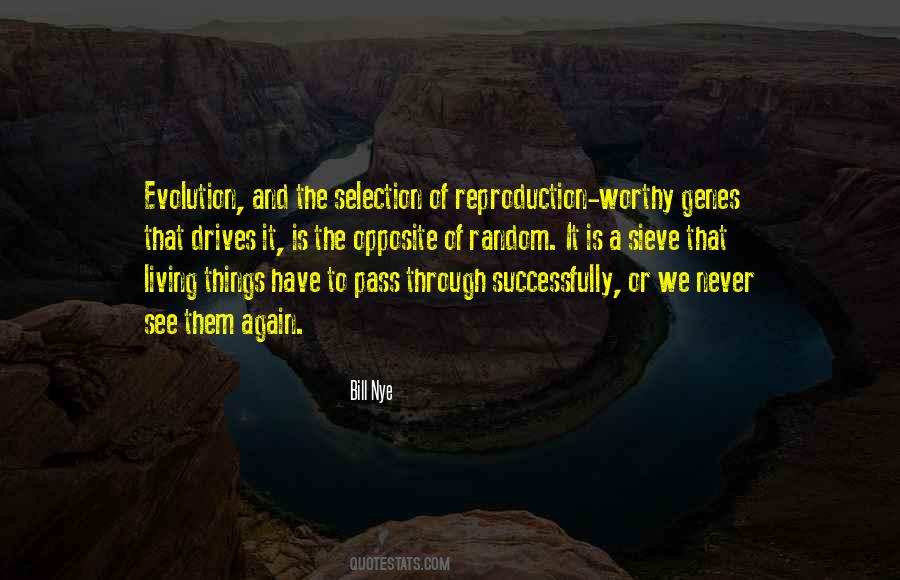 #91. Wherein cunning, but in craft? Wherein crafty, but in villainy? Wherein villainous, but in all things? Wherein worthy, but in nothing? - Author: William Shakespeare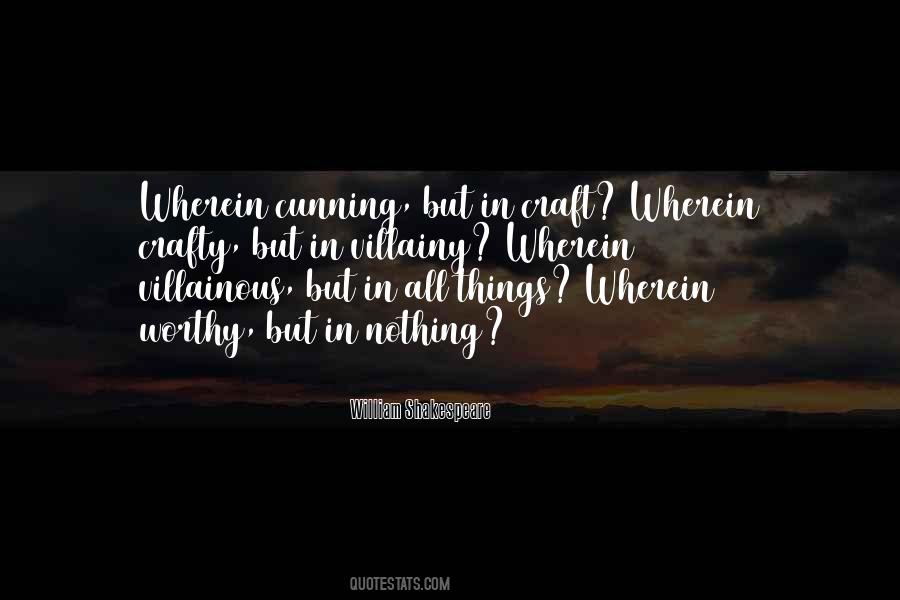 #92. Her feet were large, and she had a habit of whistling badly, but these things made her worthy of being loved. A goddess might be adored for a moment, but only a real person can speak forever to the rest of us. - Author: Katherine Vaz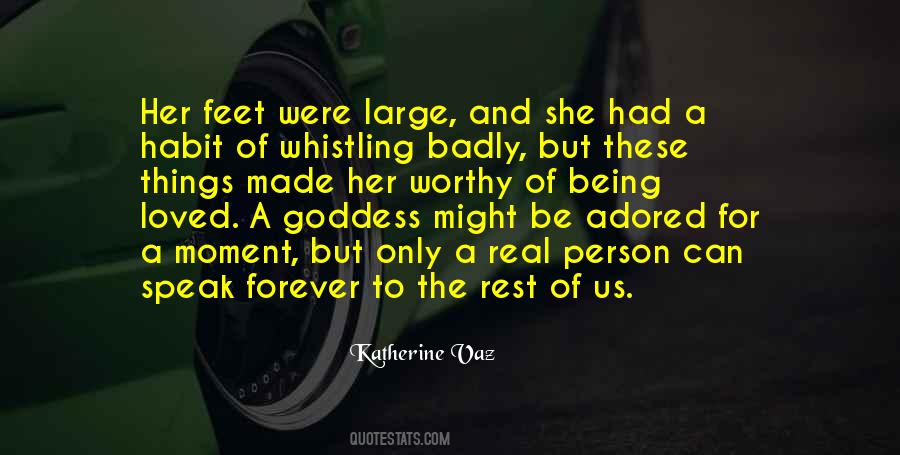 #93. I would rather go through this valley to find the honor that true wise men seek than choose those things that this man and his worldly friends think most worthy of our affections."
"Did - Author: John Bunyan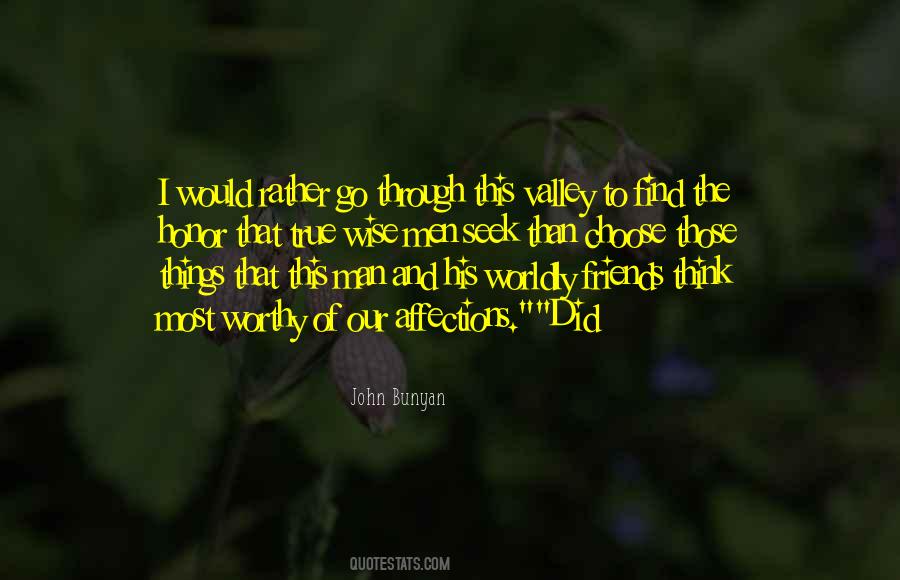 #94. Man is manifestly not the measure of all things. This universe is shot through with mystery. The very fact of its being, and of our own, is a mystery absolute, and the only miracle worthy of the name. - Author: Sam Harris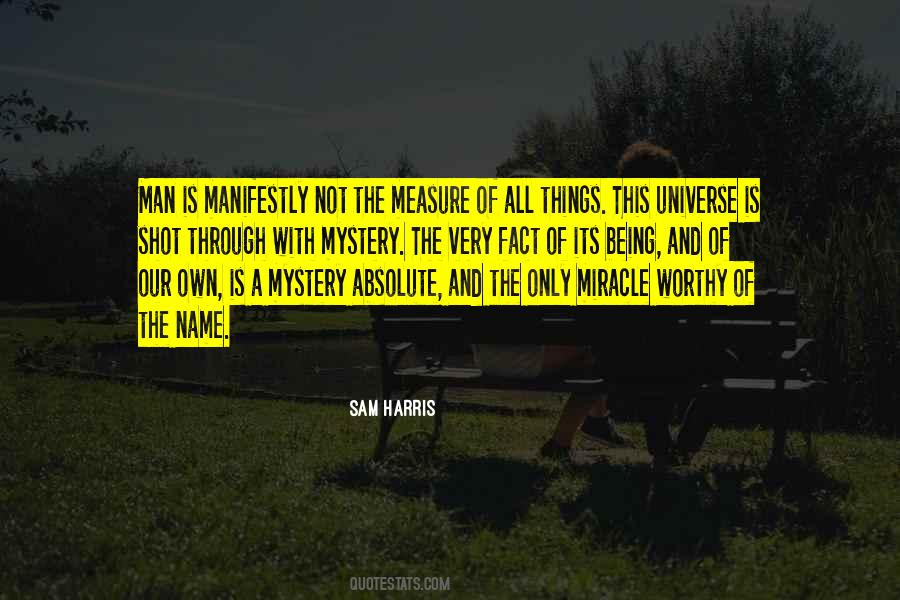 #95. You're so eager to jump into something you've barely begun to understand. Things don't just get handed to you. You have to fight. Prove that you are worthy and then maybe the answers will be found. - Mr. Creepy - Author: Candace Knoebel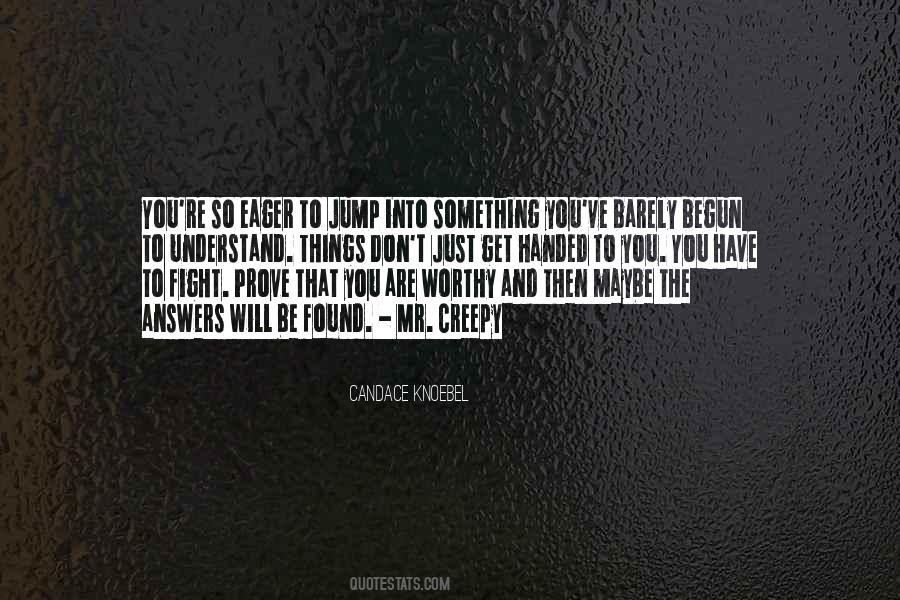 #96. The Spirit bears witness. Ecstasy and enlightenment, inspiration and intuition are not necessary. Happy is the man who is worthy of these; but woe unto us if we wait for such experiences; woe unto us if we do not perceive that these things are of secondary importance. - Author: Karl Barth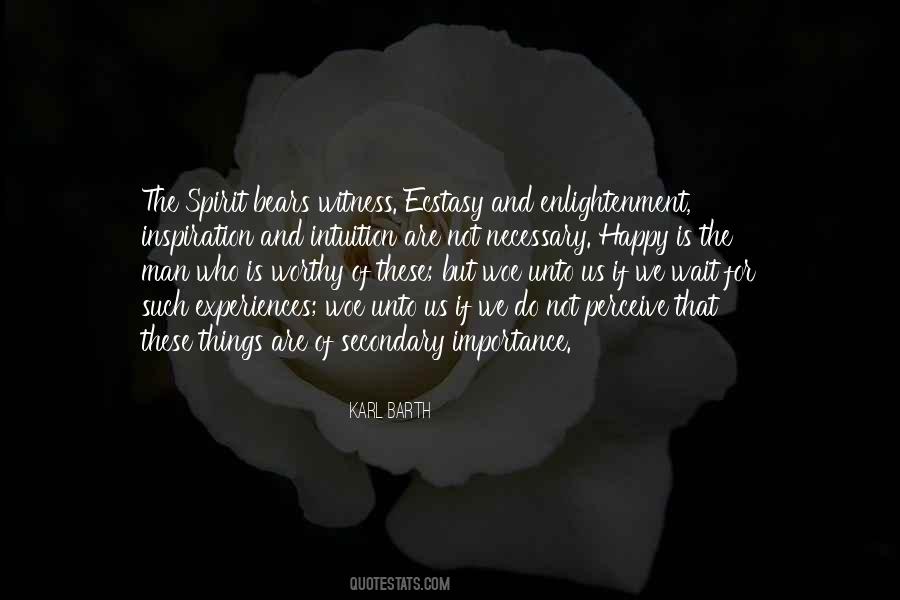 #97. Jesus Christ, Lord of all things! You see my heart, you know my desires. Possess all that I am - you alone. I am your sheep; make me worthy to overcome the devil. - Author: Agatha Of Sicily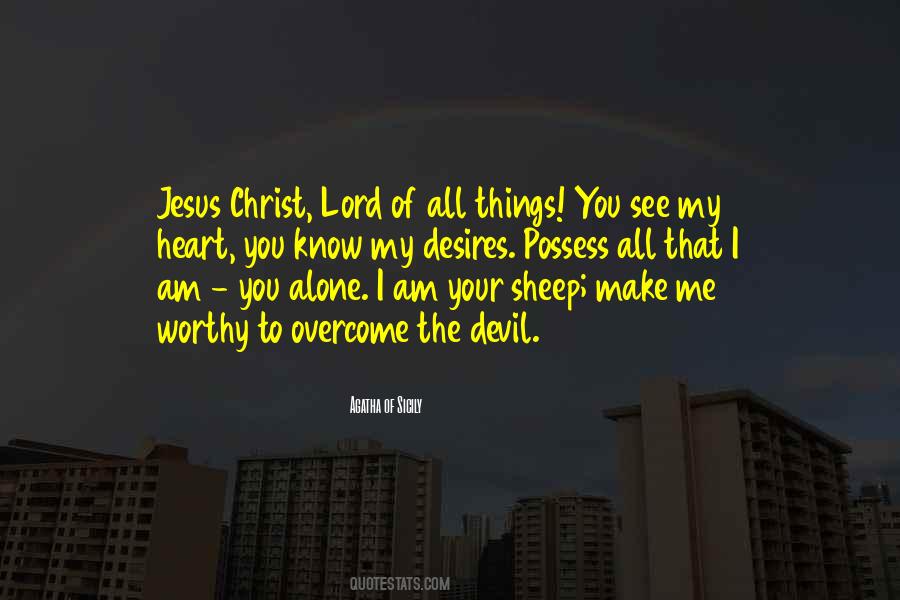 #98. Monsieur Josserand died very quietly - a victim of his own honesty. He had lived a useless life, and he went off, worthy to the last, weary of all the petty things in life, done to death by the heartless conduct of the only human beings that he had ever loved. - Author: Emile Zola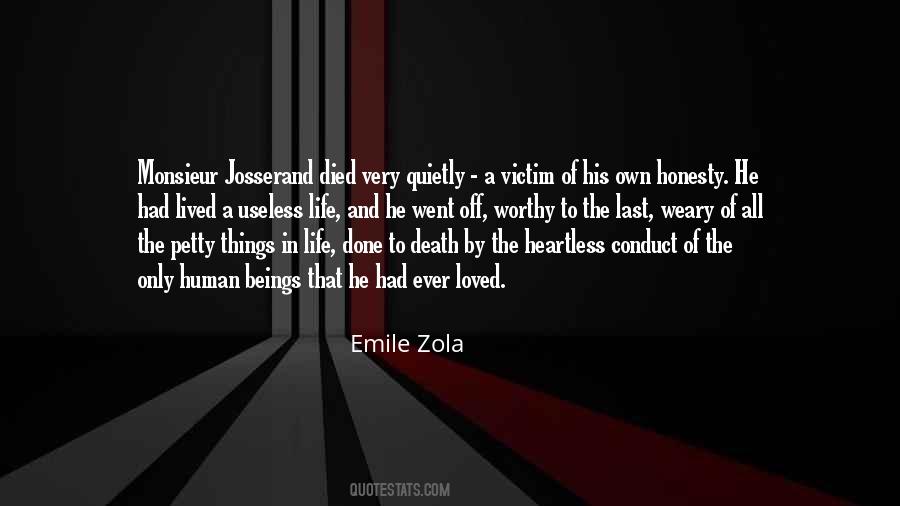 #99. The feeling of not belonging, of not being entirely worthy, of being sometimes hostage to your own sensibilities. Those things speak to me very personally. - Author: Anthony Minghella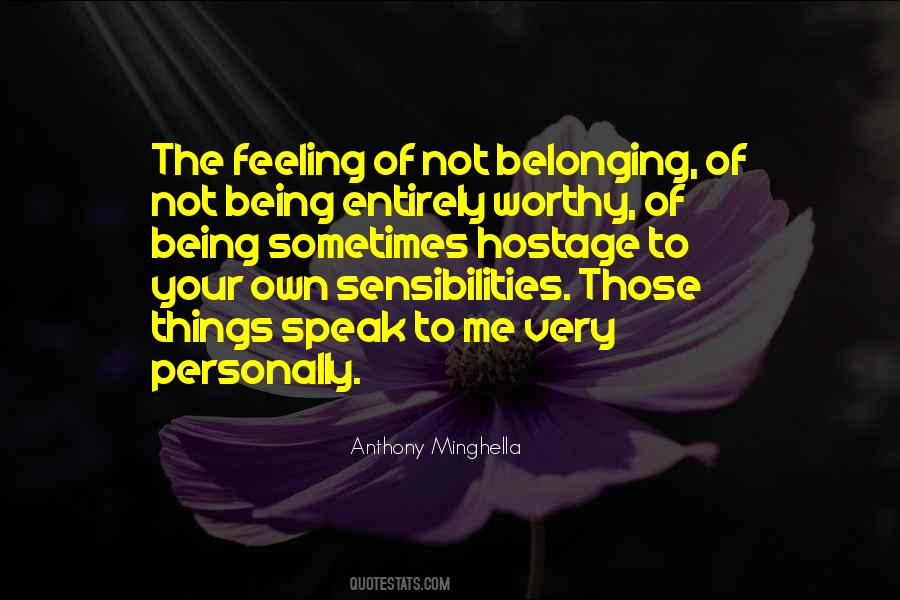 #100. To be really great in little things, to be truly noble and heroic in the insipid details of everyday life, is a virtue so rare as to be worthy of canonization. - Author: Harriet Beecher Stowe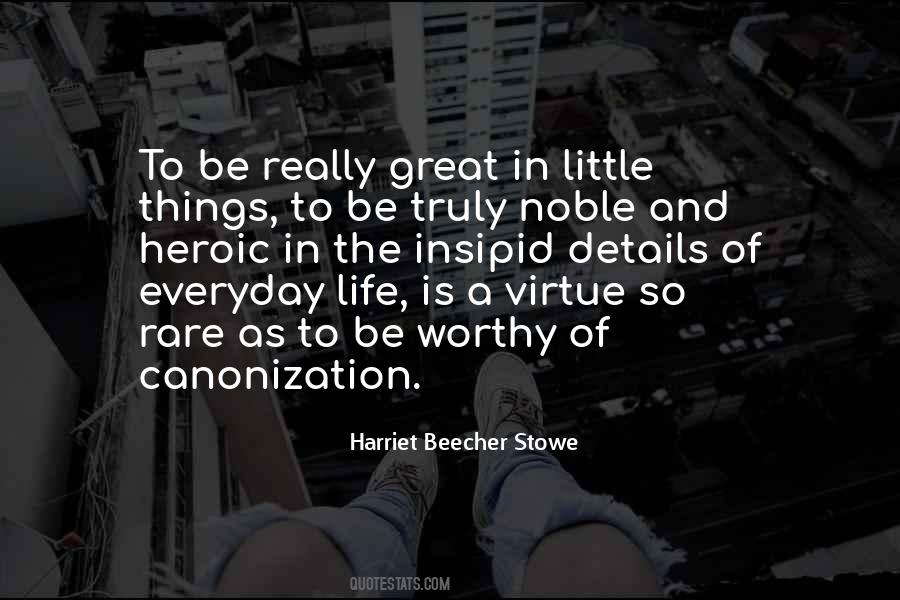 Famous Authors
Popular Topics