Winning The Fight Famous Quotes & Sayings
List of top 100 famous quotes and sayings about winning the fight to read and share with friends on your Facebook, Twitter, blogs.
Top 100 Quotes About Winning The Fight
#1. If your opponent has you by fifty pounds, winning a fight against him is a dubious proposition, at best. If your opponent has you by eight thousand and fifty pounds, you've left the realm of combat and enrolled yourself in Road-kill 101. Or possibly in a Tom and Jerry cartoon. - Author: Jim Butcher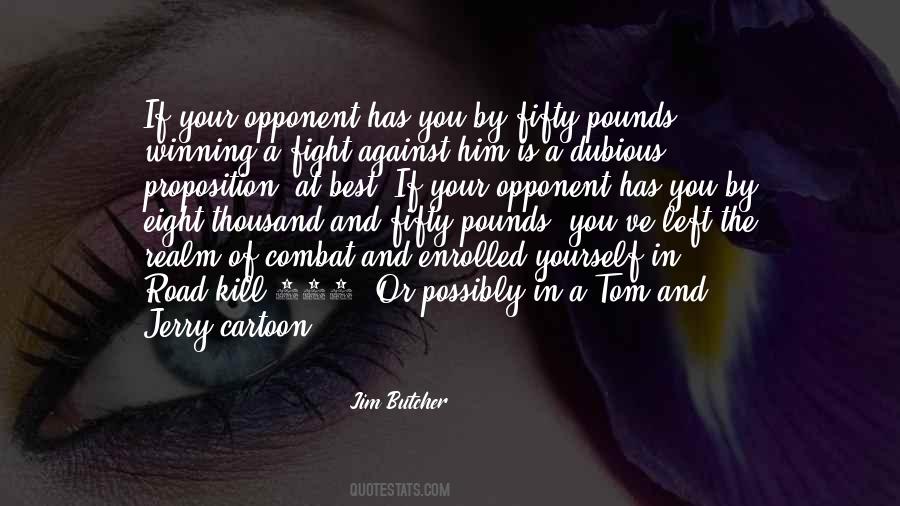 #2. Anyone can win two fights in one night, but it is the third fight that tells you if you have steel balls or not. - Author: Don Frye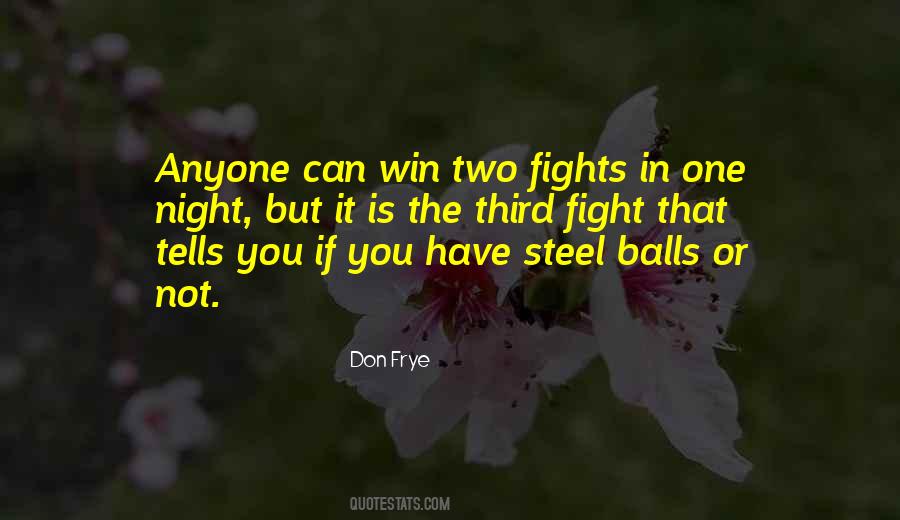 #3. Being brave means to know something is scary, difficult, and dangerous, and doing it anyway, because the possibility of winning the fight is worth the chance of losing it. - Author: Emilie Autumn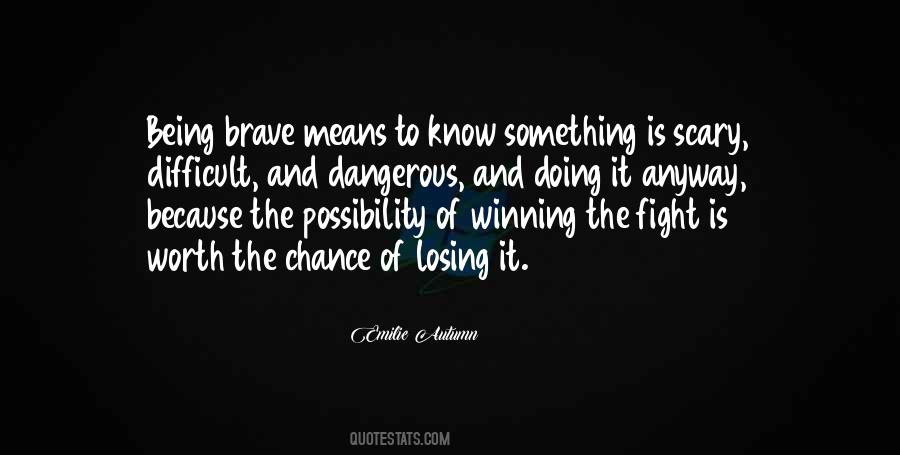 #4. You don't have to push or pull or fight or win, the struggle is illusory. Sometimes or rather, all times, you just have to be. - Author: Andrew McMahon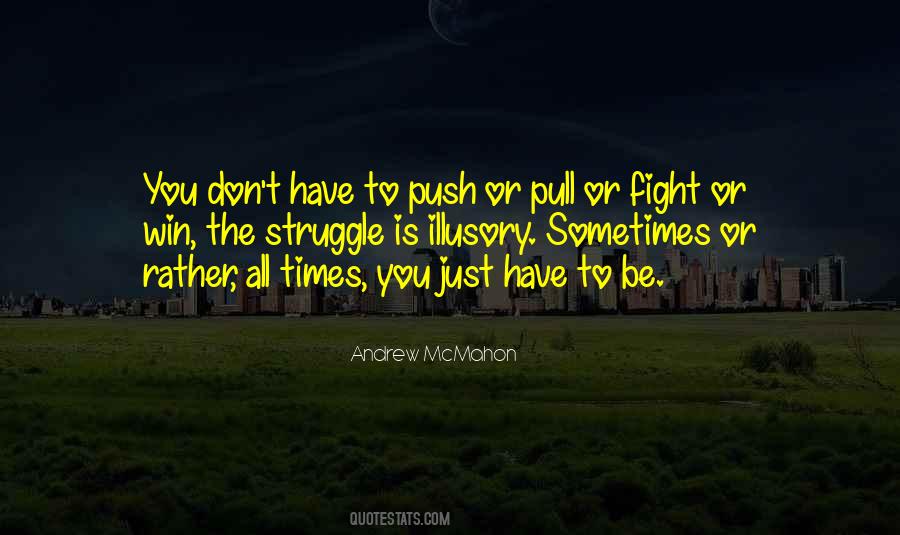 #5. In Los Angeles ... was the thinking-est crowd on earth: how to get ahead, how to mold a better body, how to have a better relationship, how to score, earn, fight, win, get published, be a star. - Author: Caroline B. Cooney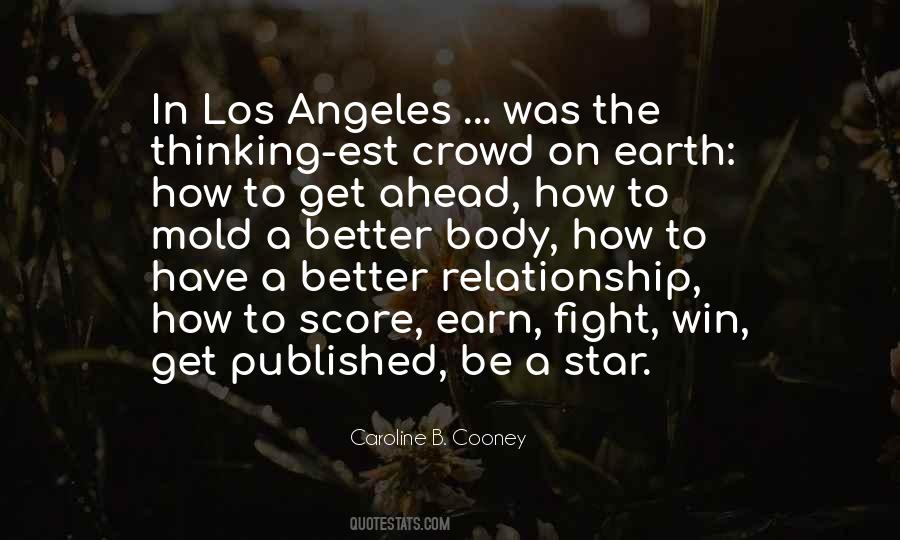 #6. You got an all-out prize fight, you wait 'til the fight's over, one guy's left standing and that's how you know who's won. - Author: David Mamet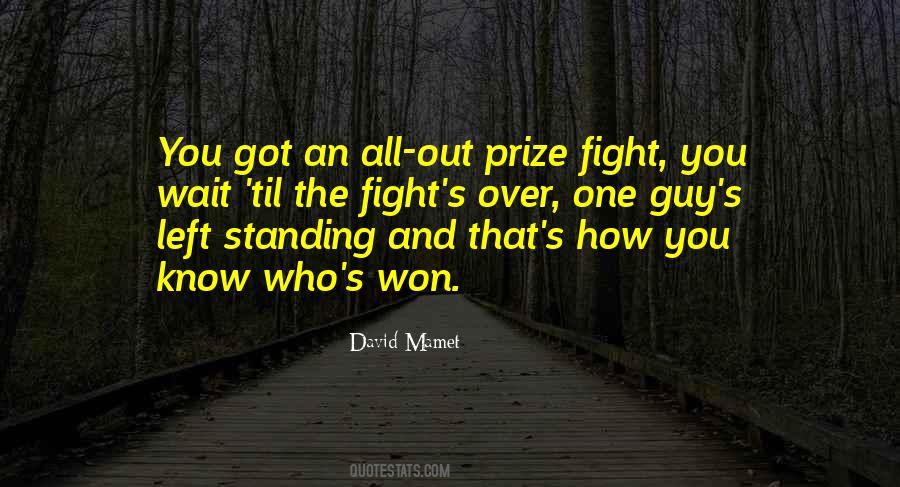 #7. It's better to fight because if you don't fight, you can't win. Besides, even when you don't win, you can change the game. - Author: Elizabeth Warren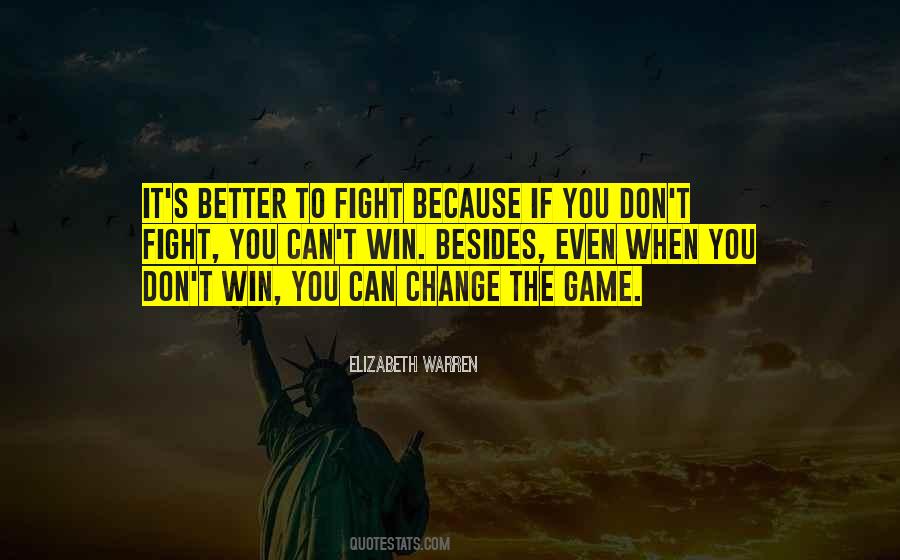 #8. If you would be just as content winning a local Golden Gloves fight as you would making a pile of money as a professional, then fine, go become a boxer. But if the whole idea is for you to get rich, my God, stay in school and learn a profession. - Author: Gerald McRaney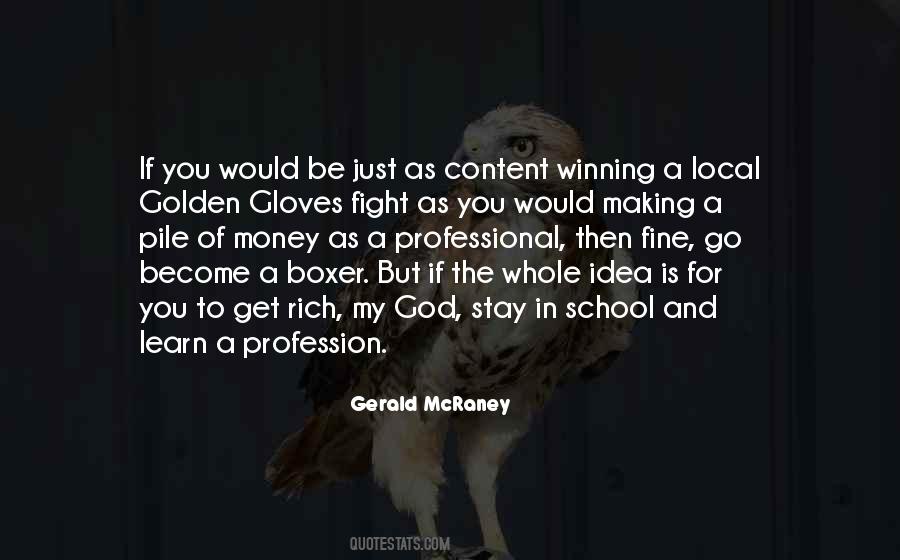 #9. There is nothing in this life that can destroy you but yourself. Bad things happen to everyone, but when they do, you can't just fall apart and die. You have to fight back. If you don't, you're the one who loses in the end. But if you do keep going and fight back, you win. - Author: Alexandra Monir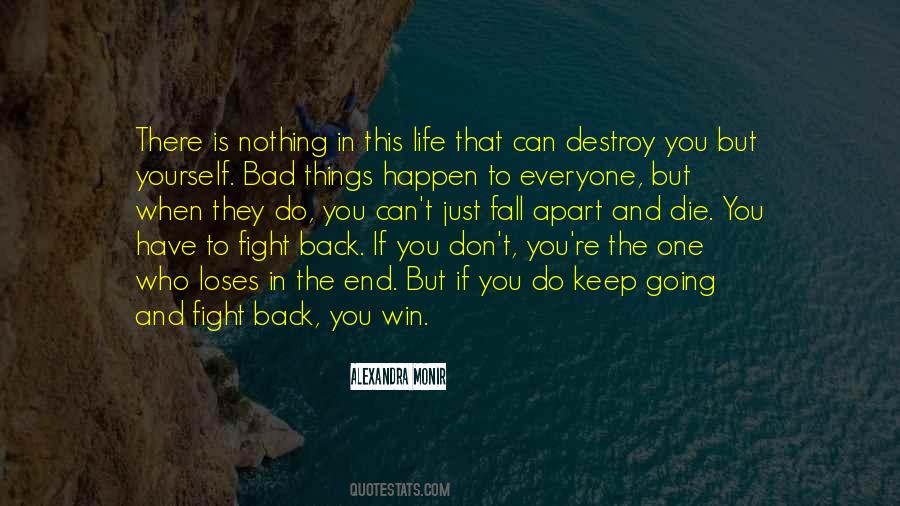 #10. With the skills that I have and with my commitment to getting better I don't see any reason I can't win every single fight I'm in. - Author: Daniel Cormier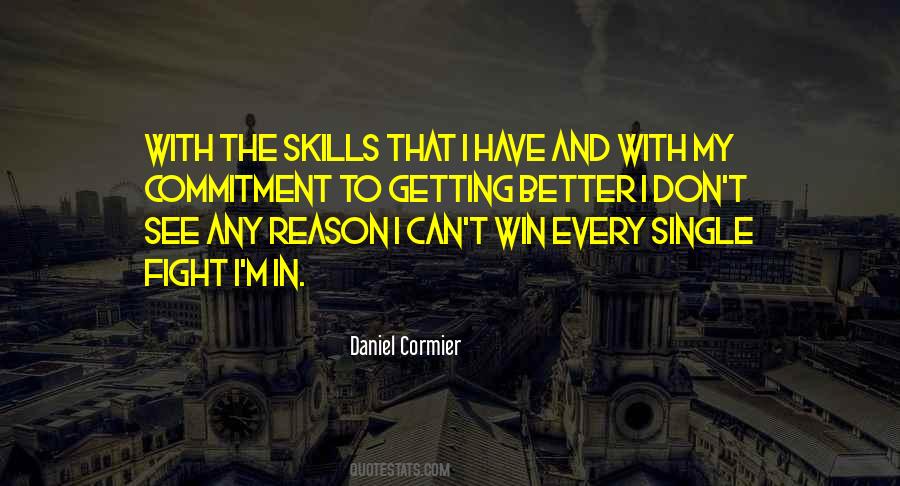 #11. They only the victory win,
Who have fought the good fight and have vanquished the demon that tempts us within;
Who have held to their faith unseduced by the prize that the world holds on high;
Who have dared for a high cause to suffer, resist, fight
if need be, to die. - Author: William Wetmore Story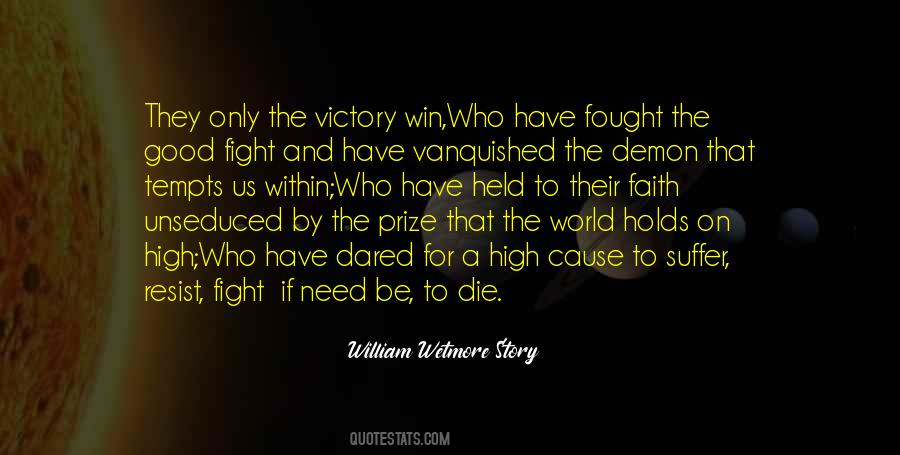 #12. But neither of us knows, because a fight's worth nothing if you know from the start that you're going to win it. - Author: Markus Zusak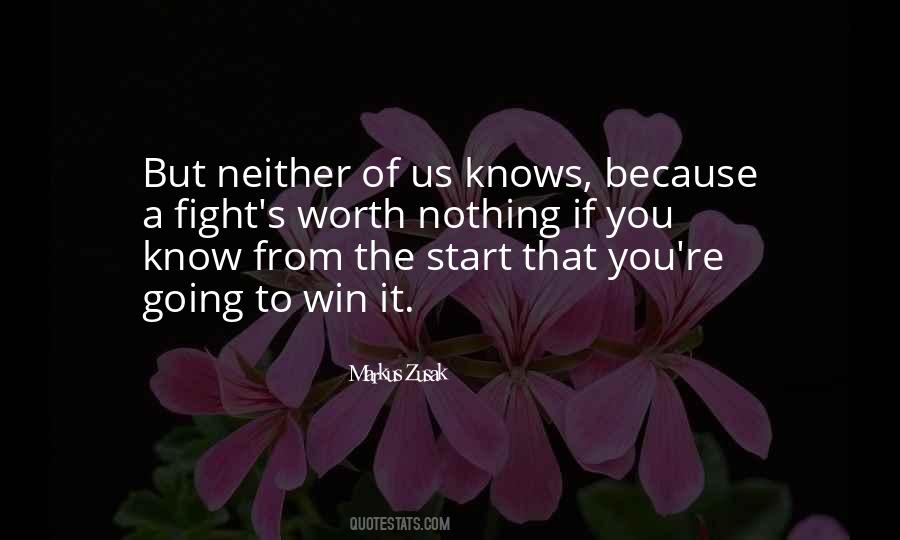 #13. You win the fight by fighting. - Author: Christian Kane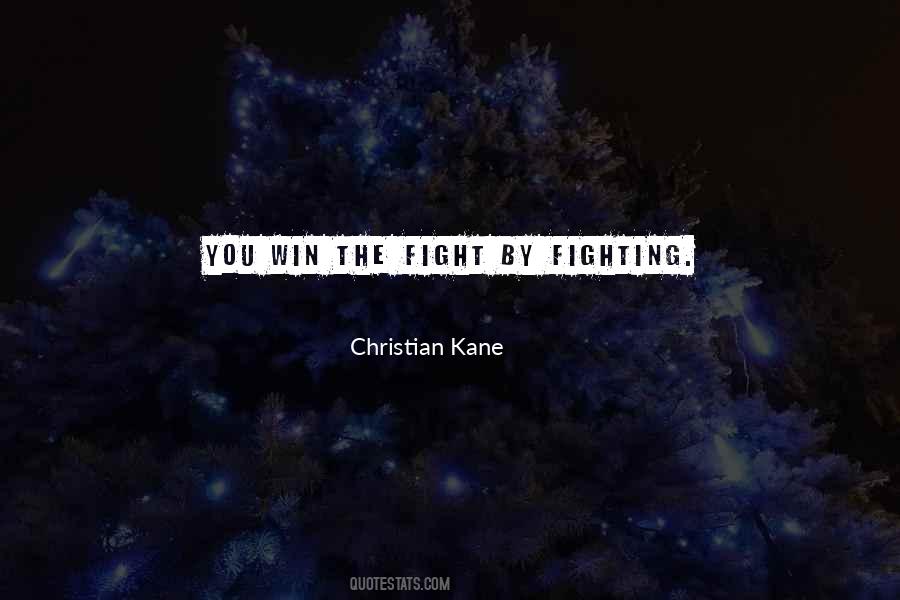 #14. You cannot fight against the ego and win, just as you cannot fight against darkness. The light of consciousness is all that is necessary. You are that light. - Author: Eckhart Tolle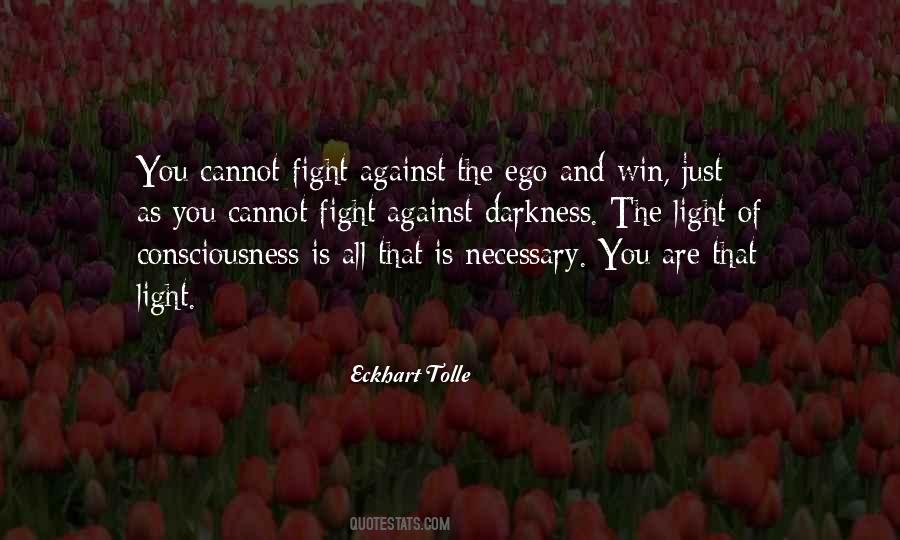 #15. We want to be on the winning team, but at the risk of turning our backs on the losers, no, it is not worth it. So we fight the long defeat. - Author: Paul Farmer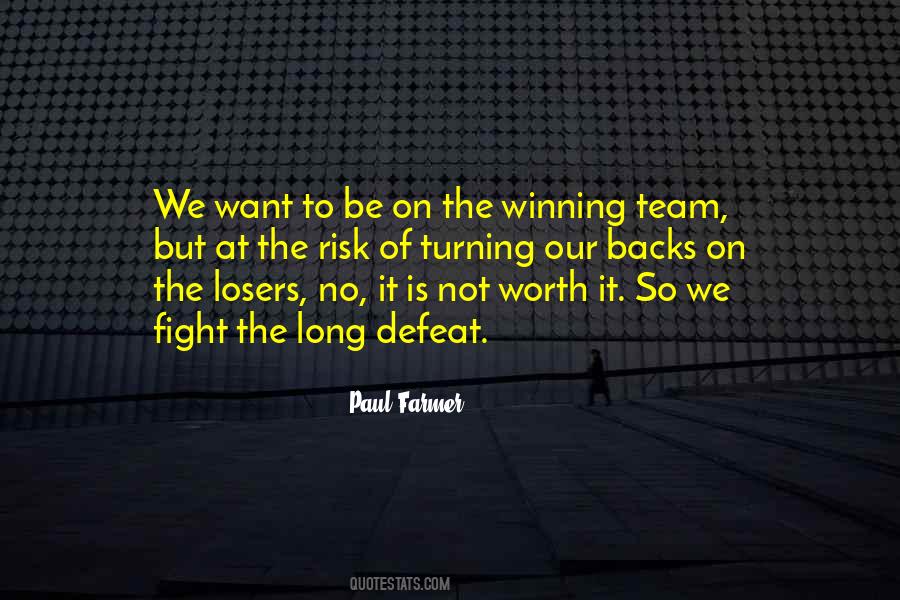 #16. Ohhh, OH no you didn't!" he screams. "Nobody touches the TERRY!" Then he starts punching himself in he face. This kid really is crazy! I may not even have to fight him. He's doing it for me, and I'm winning! - Author: Brent Crawford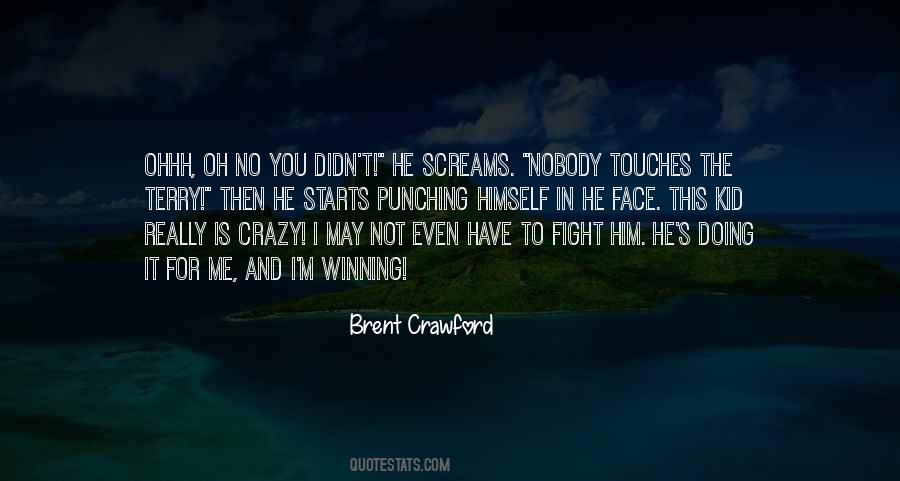 #17. I don't care who wins, I'll fight either one of them. As a matter of fact, I'll fight them both on the same night if they want. - Author: James Toney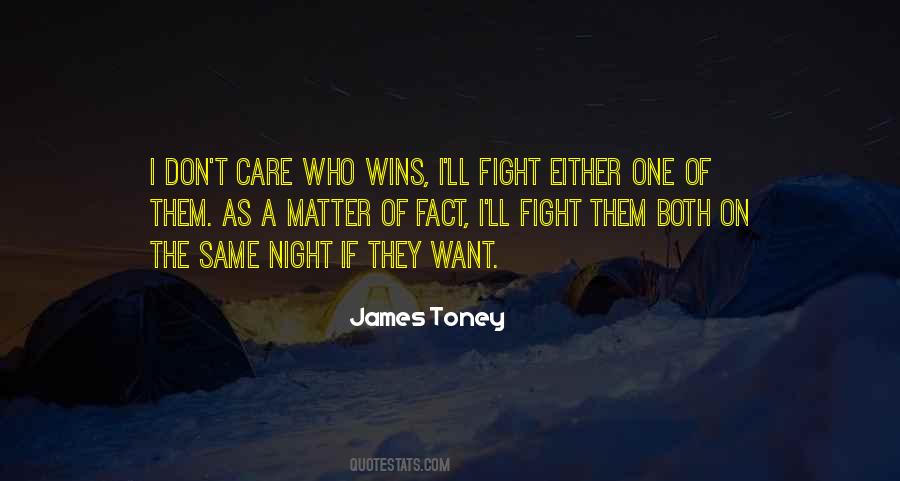 #18. The way that I like to fight is I like to paint myself into a corner and so the only way is for me to win. - Author: Ronda Rousey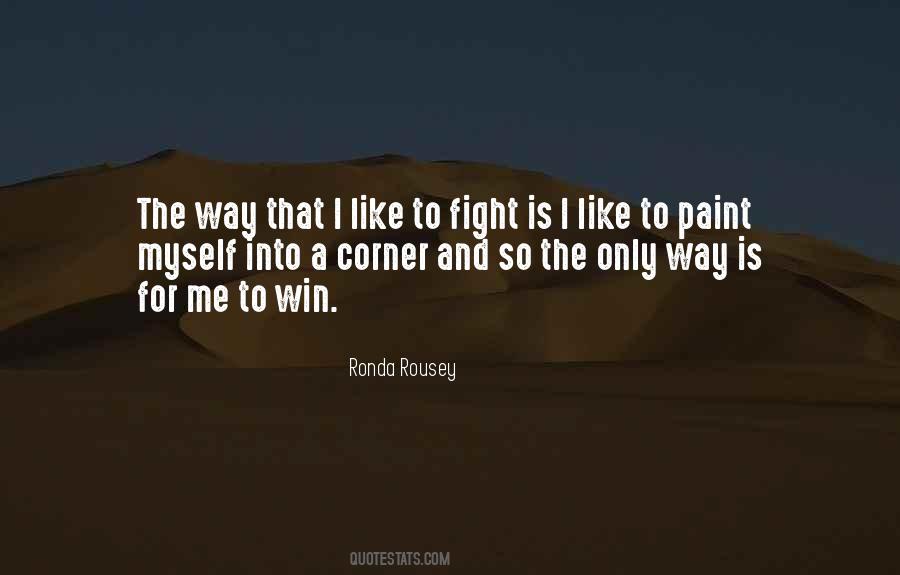 #19. We hadn't lost morale. But when you fight for four quarters, it's tough to always bounce back. The offense kept us in the game the last two weeks and to get out with a win feels really good. - Author: Barry Alvarez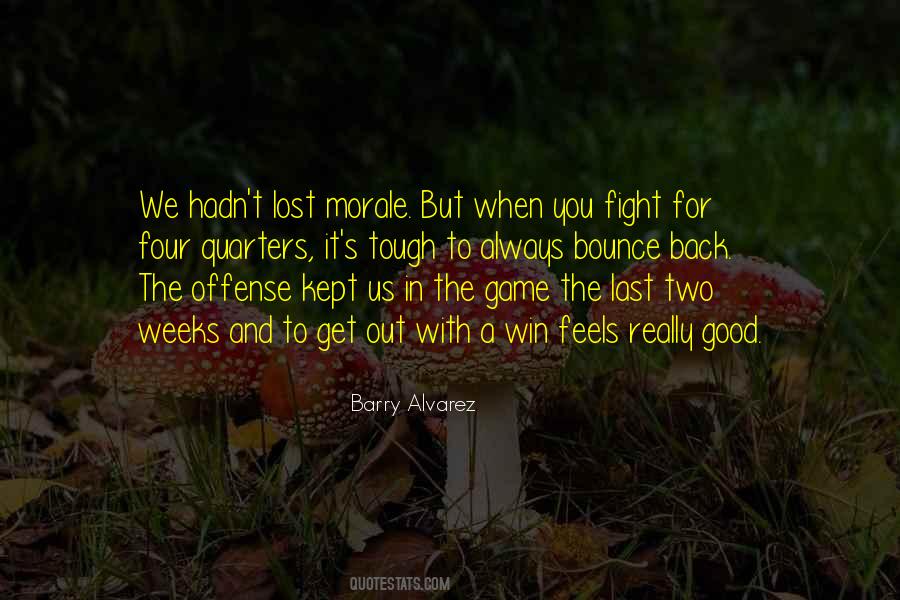 #20. I can not wish you success in your effort to reject the treaty because while it may win the fight it may destroy our cause. My plan cannot fail if the people are with us and we ought not to succeed unless we do have the people with us. - Author: William Jennings Bryan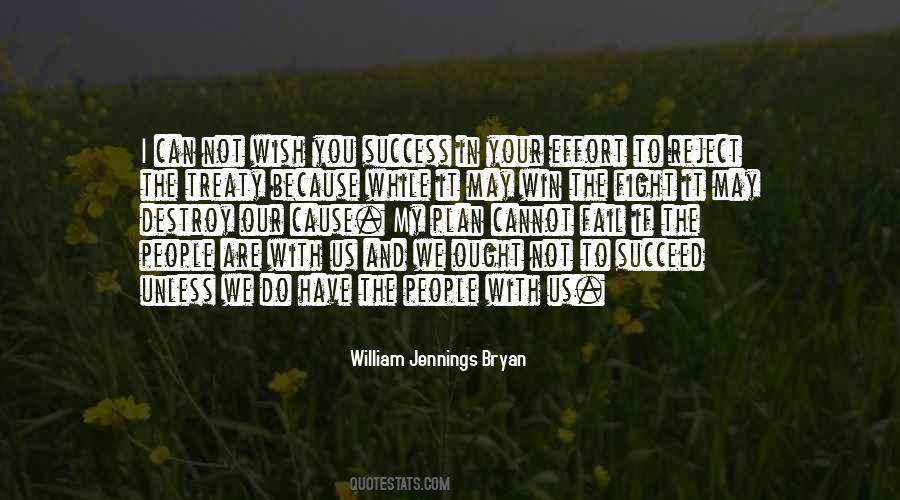 #21. There is no prize in sales for second place. It's win or nothing. The masters know this and strive for - they fight for - that winning edge. - Author: Jeffrey Gitomer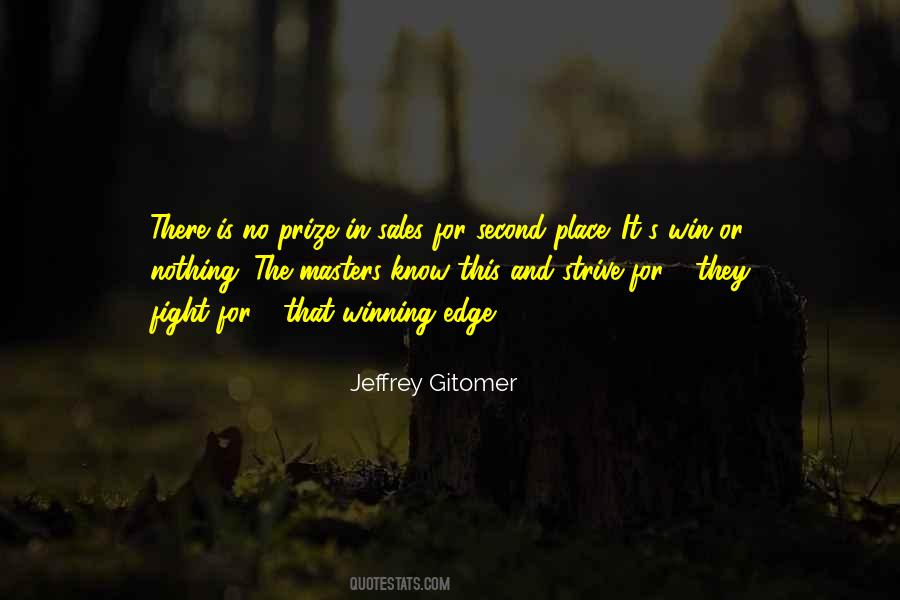 #22. I'm not trying to sell pipe dreams to people. I'm not giving them some fake utopia. I'm not telling them it's easy. If it was easy, everyone would do it. But you don't fight the fights you can win, you fight the fights that need fighting. That's the most important part. - Author: Immortal Technique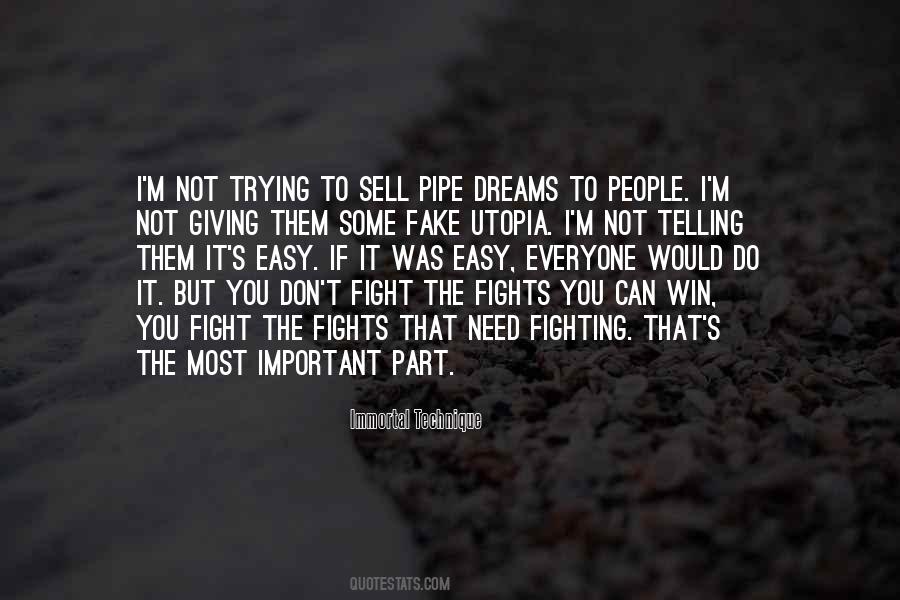 #23. It was just him and me. He fought with honor. If it weren't for his honor, he and the others would have beaten me together. They might have killed me, then. His sense of honor saved my life. I didn't fight with honor ... I fought to win. - Author: Orson Scott Card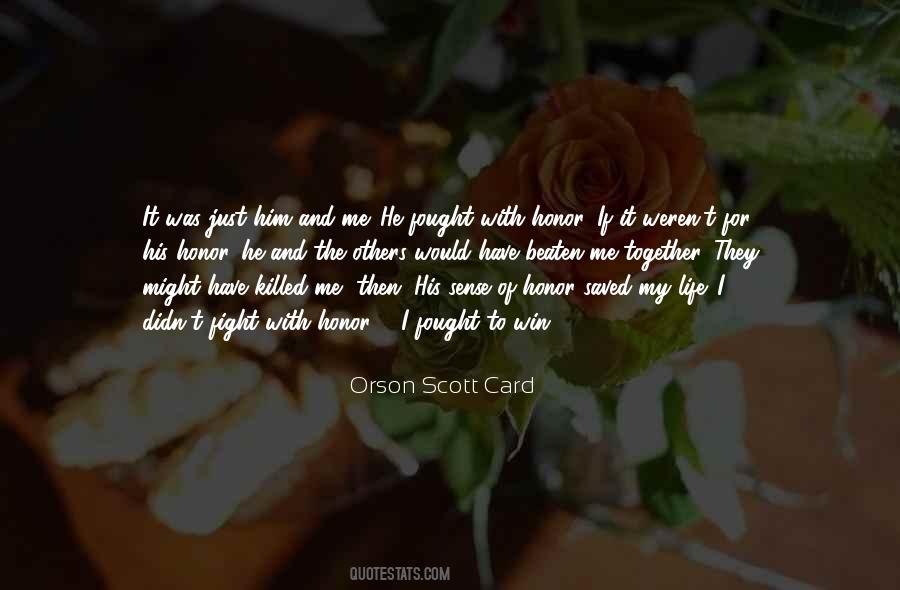 #24. I am sure that if every leader who goes into battle will promise himself that he will come out either a conqueror or a corpse, he is sure to win. There is no doubt of that. Defeat is not due to losses but to the destruction of the Soul of the leaders-the 'live to fight another day' doctrine. - Author: George S. Patton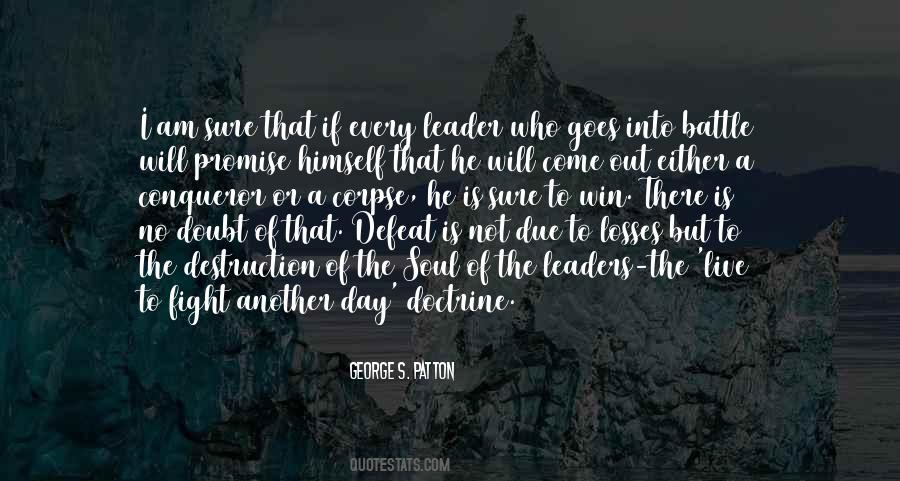 #25. I think the problem is that there has been a kind of backlash against feminism. I think women just didn't really see themselves winning that fight, and I think that probably led to a lot women feeling trapped in a perpetual cycle of disappointment - trying to be feminists and failing to be. - Author: Romola Garai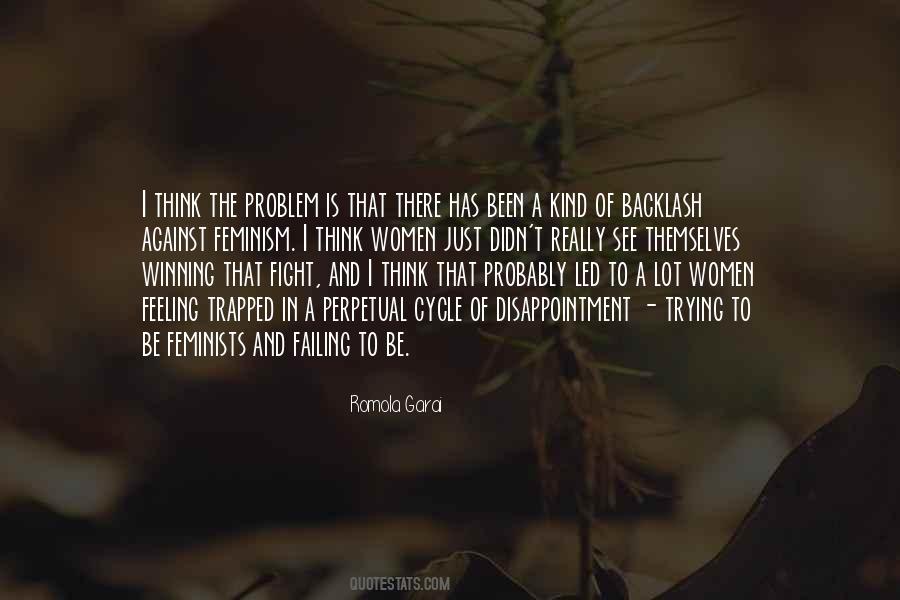 #26. The reason we start a war is to fight a war, win a war, thereby causing no more war! - Author: George W. Bush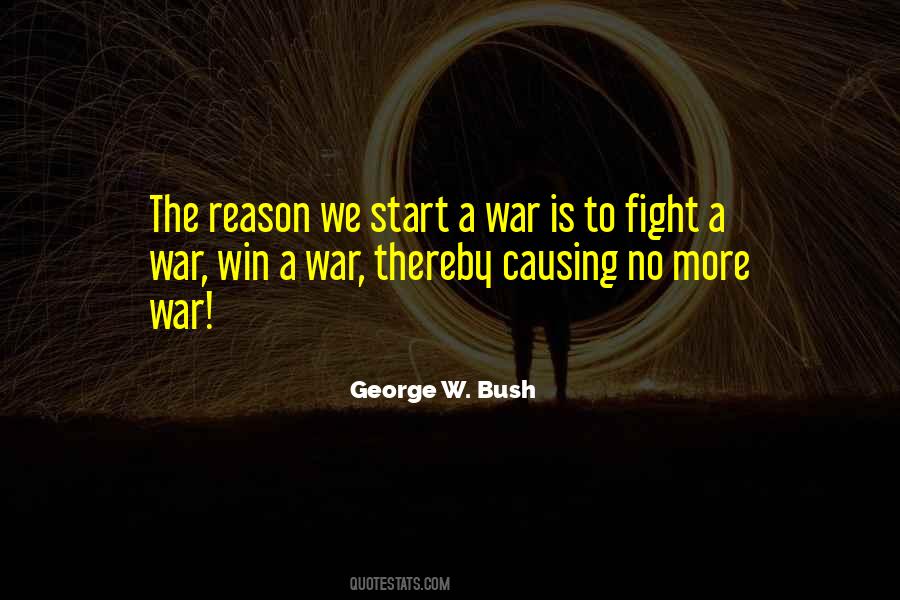 #27. War rages on the teeming earth;
The hot and sanguinary fight
Begins with each new creature's birth:
A dreadful war where might is right;
Where still the strongest slay and win,
Where weakness is the only sin. - Author: Mathilde Blind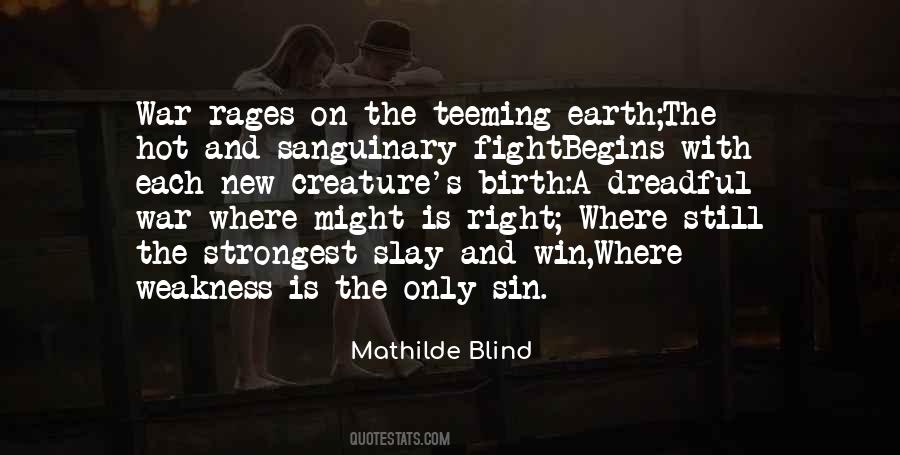 #28. We have been shown how to fight hate without becoming hate ourselves. We have been given a Companion and a Friend and not just a good idea. We have been given joy in the midst of failure, and not just a way of winning or being right. - Author: Richard Rohr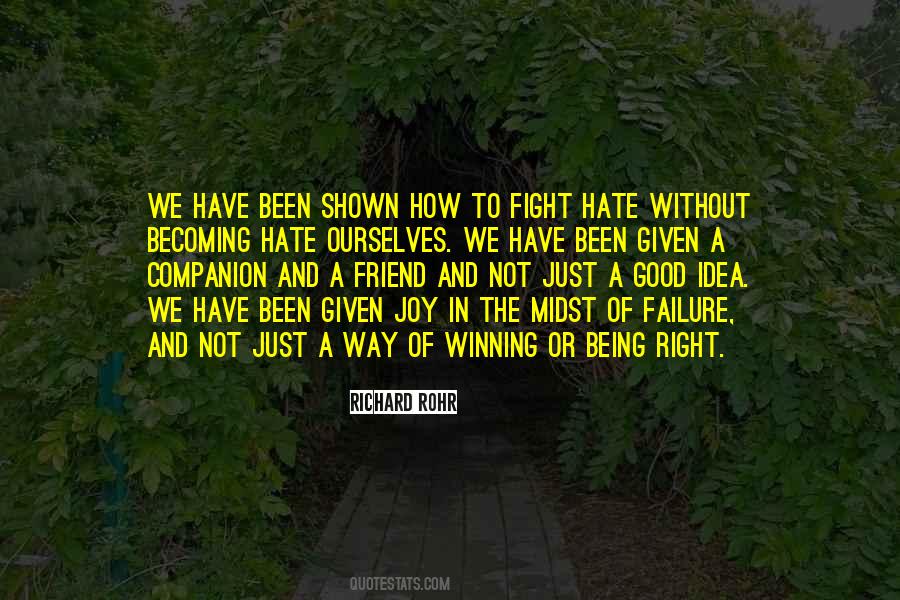 #29. We must ever keep in mind that collectivized socialism is part of the communist strategy. Communism is fundamentally socialism. We will never win our fight against communism by making concessions to socialism. - Author: Ezra Taft Benson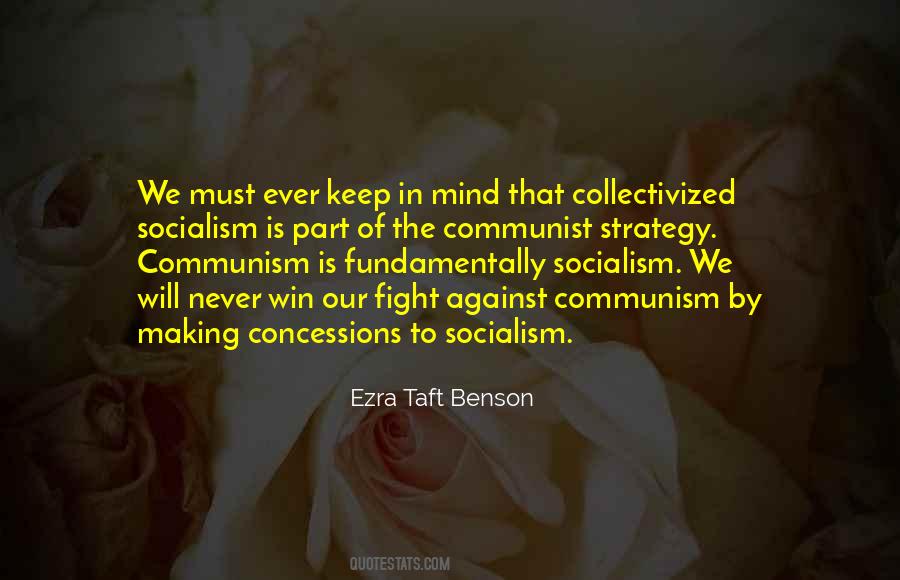 #30. Any fool can fight a winning battle, but it needs character to fight a losing one, and that should inspire us; which reminds me that I dreamed the other night that I was being hanged, but was the life and soul of the party. - Author: W.B.Yeats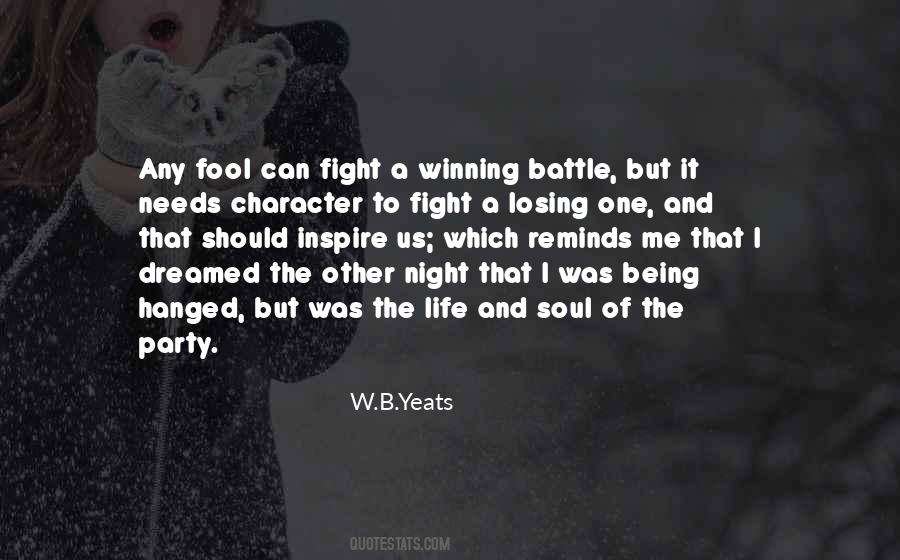 #31. We'll never surrender, we'll win or die
you've to fight the next generation and the next ...
and I'll live more than my hanger - Author: Omar Mukhtar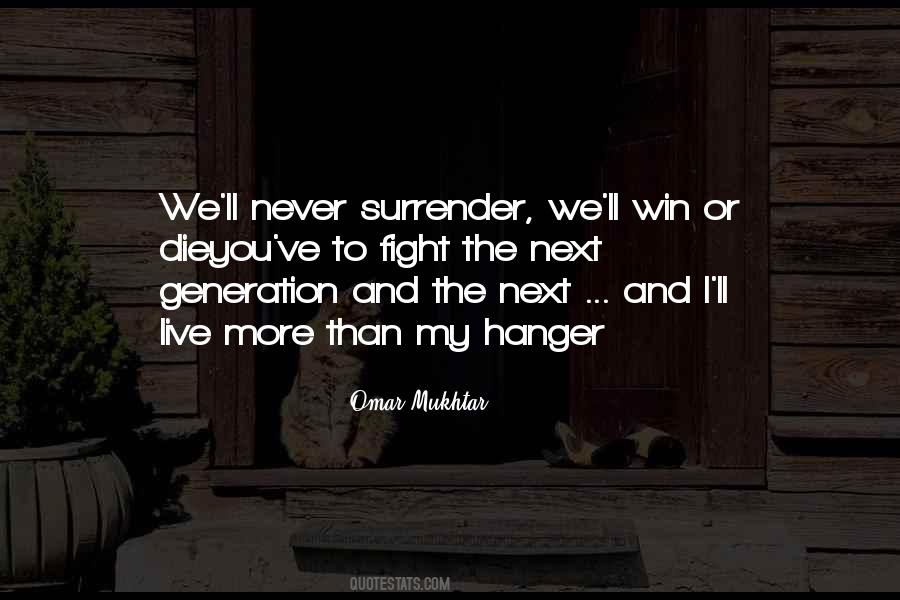 #32. To create a usable piece of software, you have to fight for every fix, every feature, every little accommodation that will get one more person up the curve. There are no shortcuts. Luck is involved, but you don't win by being lucky, it happens because you fought for every inch. - Author: Dave Winer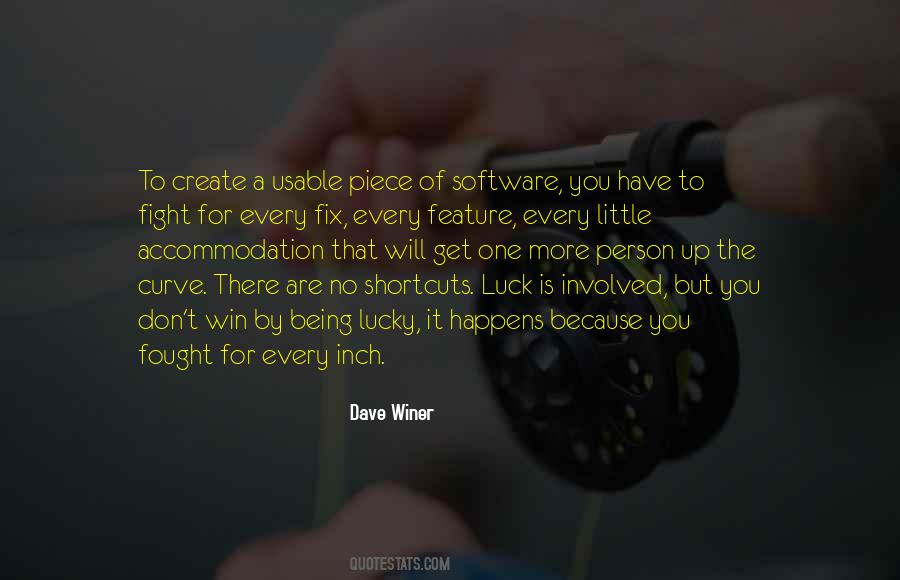 #33. The men in Vietnam weren't allowed to fight the war with any kind of concern to win by the government. It was like a war of attrition. - Author: Sylvester Stallone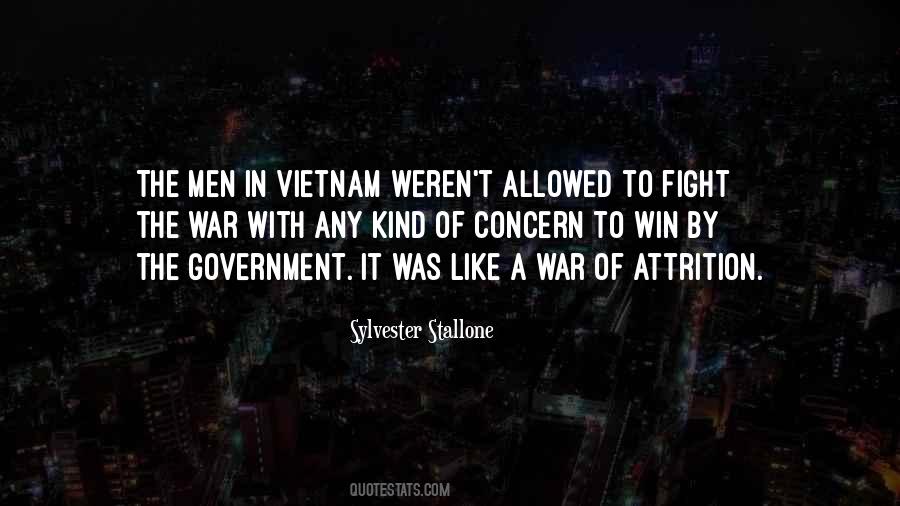 #34. If I am 100% prepared for the fight, my opponent has no chance to win the fight. I am saying what I mean: He has a 0% chance to win the fight. There is going to be no luck involved; there is going to be nothing else to stop me from winning the fight. - Author: Wladimir Klitschko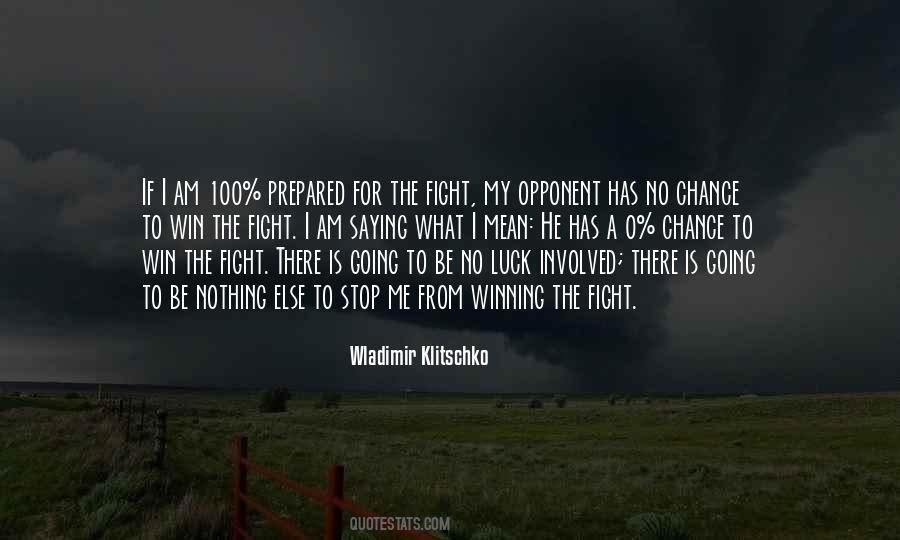 #35. I made this decision years ago, son. We have to fight the battles we have a chance of winning. - Author: Brandon Sanderson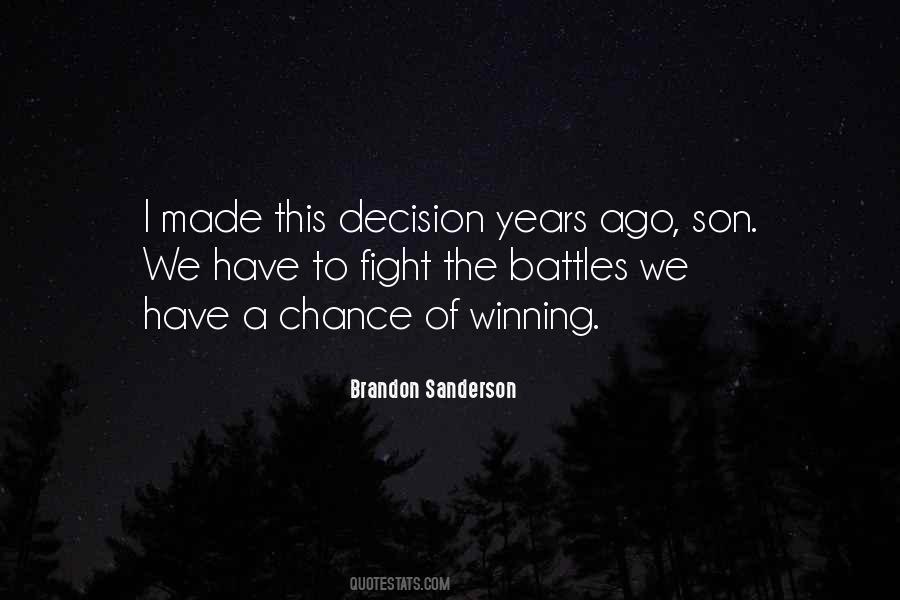 #36. It seemed romantic but also tragic - people would be winning but then lose it all, or crash but fight on, break bones but get back on their bikes and try to finish. Just getting to the end was seen as an achievement in itself. - Author: David Millar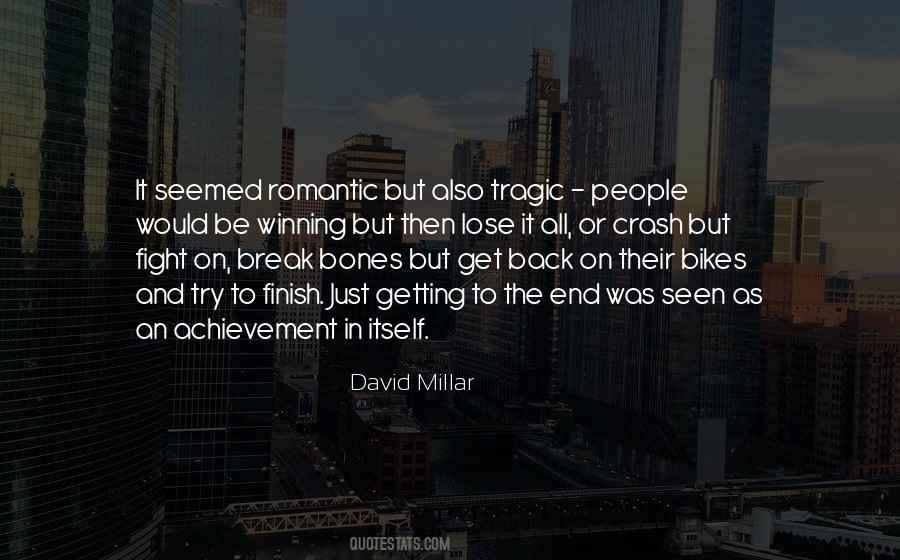 #37. And everybody praised the Duke Who this great fight did win. "But what good came of it at last?" Quoth little Peterkin. "Why, that I cannot tell," said he, "But 'twas a famous victory." - Author: Robert Southey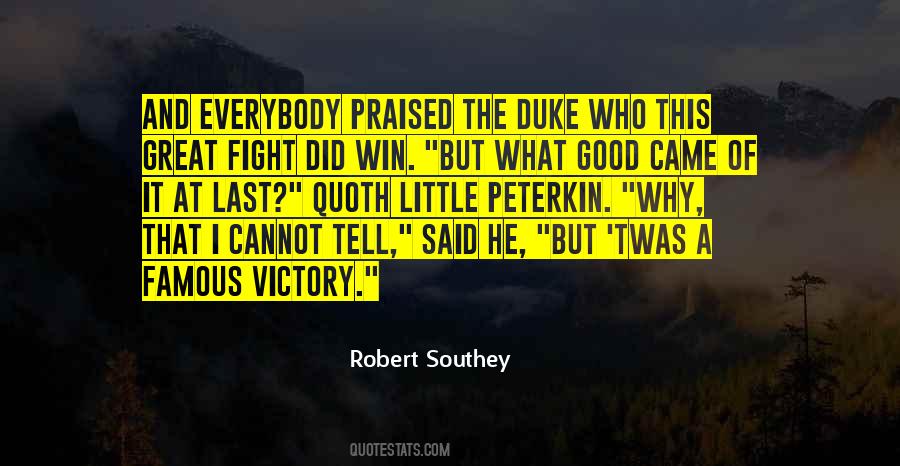 #38. The central fire is desire, and all the powers of our being are given us to see, to fight for, and to win the object of our desire. Quench that fire and man turns to ashes. - Author: Basil W. Maturin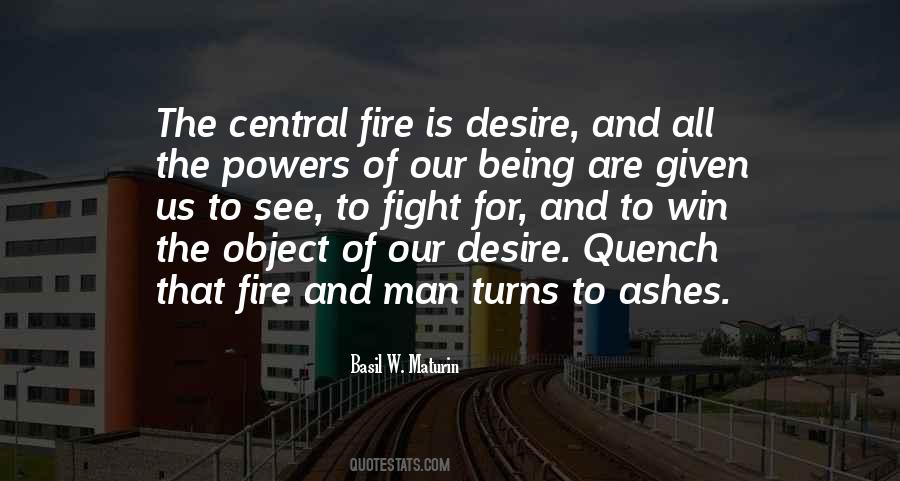 #39. I loved competing and winning and also wanted to continue my career for the fans, knowing they were there for me and enjoyed watching me fight. - Author: Floyd Mayweather Jr.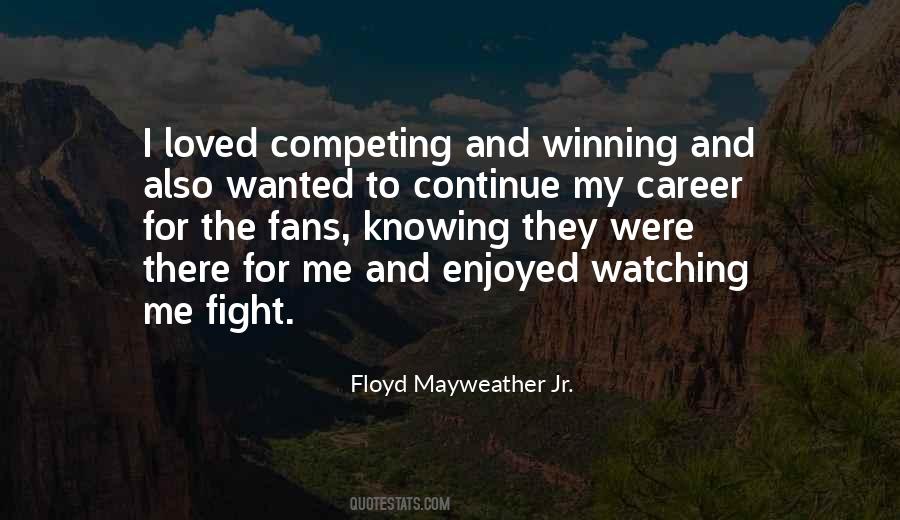 #40. So the Comic Book Legal Defense Fund is out there preserving and fighting for, and sometimes winning and sometimes losing, the fight for First Amendment rights in comics and, more generally, for freedom of speech. - Author: Neil Gaiman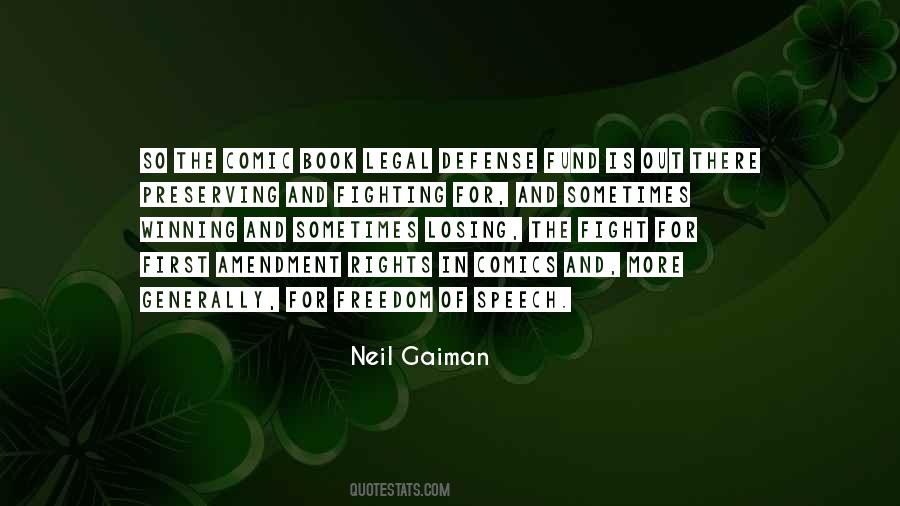 #41. If Al Gore loses his brazen attempt to win on the dimples, one reason will be that he finally convinced enough Republicans to fight like Democrats. - Author: Paul Gigot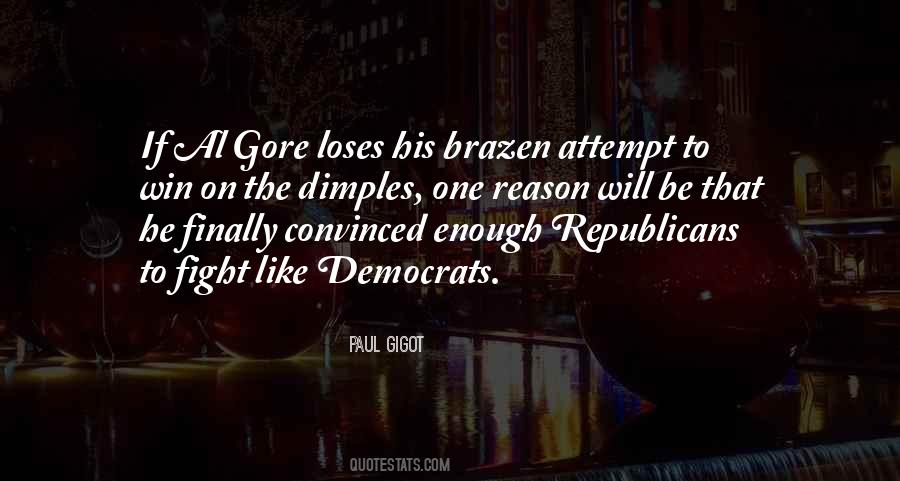 #42. If there is one thing that all players have in common it is that winning, competitive gene; the ability to overcome obstacles and fight for what you want from your career. - Author: Andres Iniesta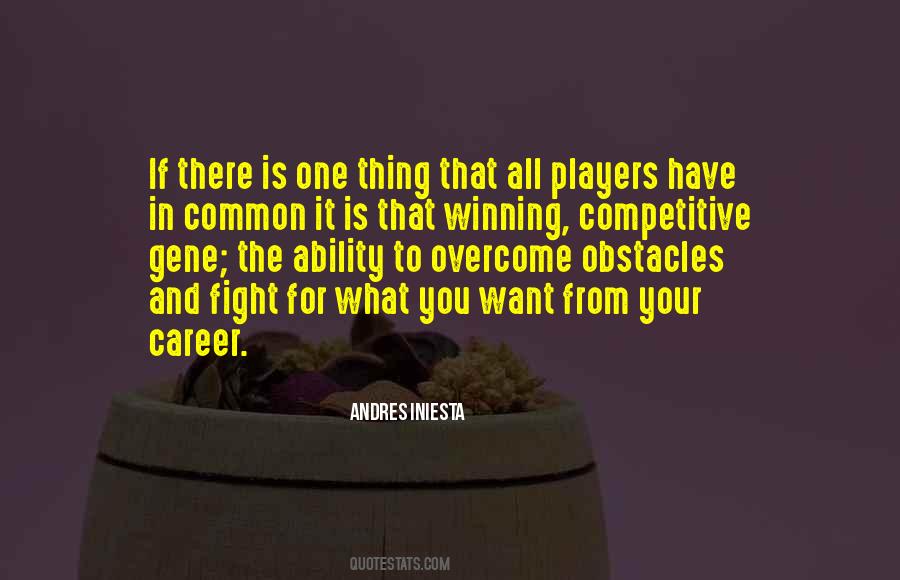 #43. When there is a fight of reason versus emotion and the mind wonders which one to follow, in most times, emotion wins over reason. But it is reason that should win and emotion shouldn't. - Author: Abu Sufyan Ibn Harb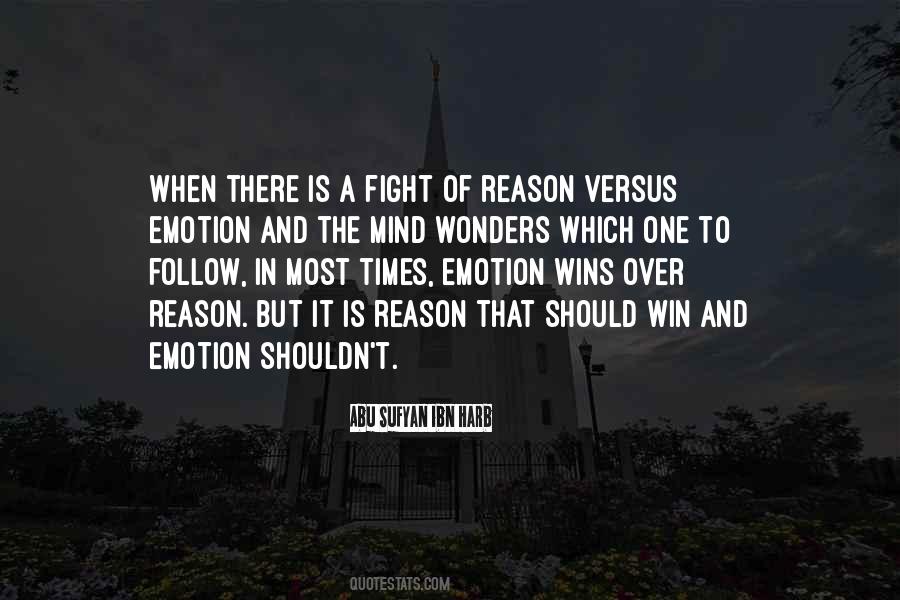 #44. You win the fight in the training camp, not on the day of the fight. - Author: Royce Gracie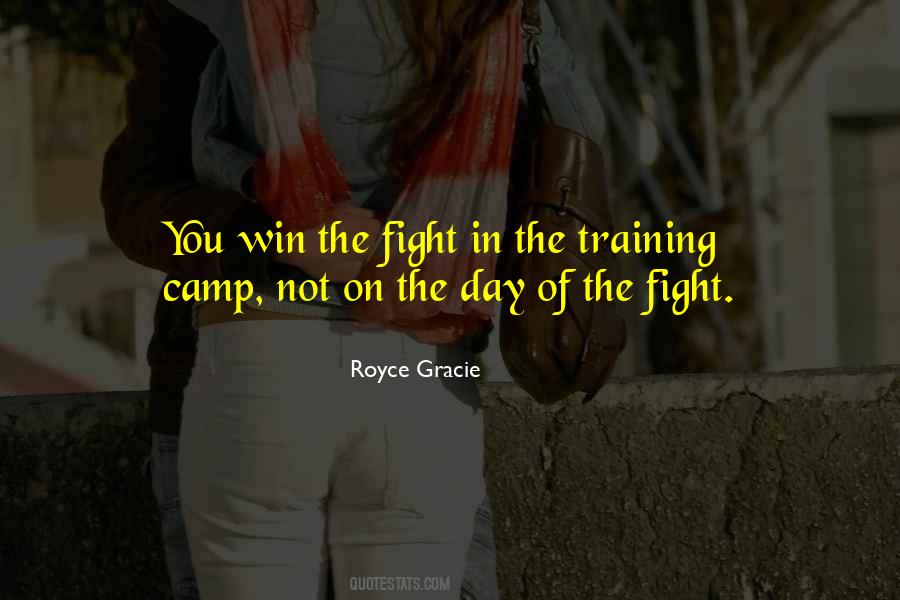 #45. Not only did I win the fight, but I won something that's more than a fight could ever give me and that is gaining back a family. - Author: Nonito Donaire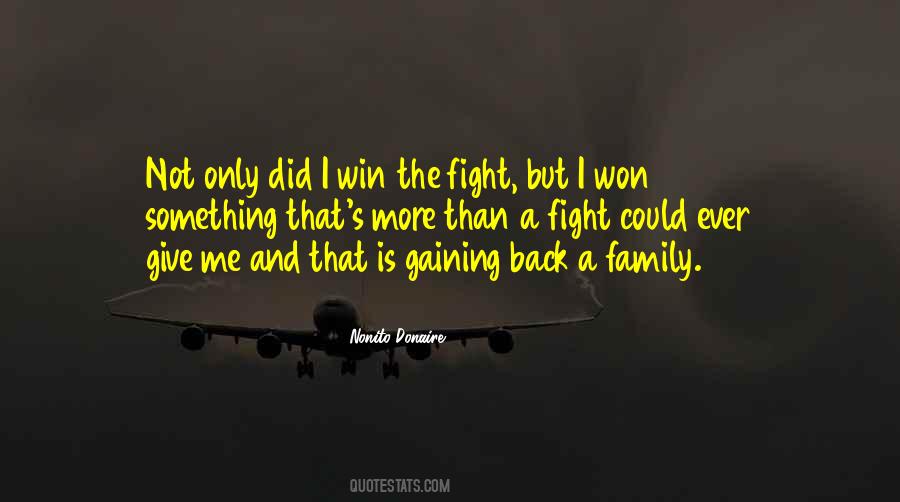 #46. So you want to tell me what a sixth grader was doing in the eighth-grade side of the locker room, in a eighth-grade fight?" he said.
"Winning," I said. - Author: Gary D. Schmidt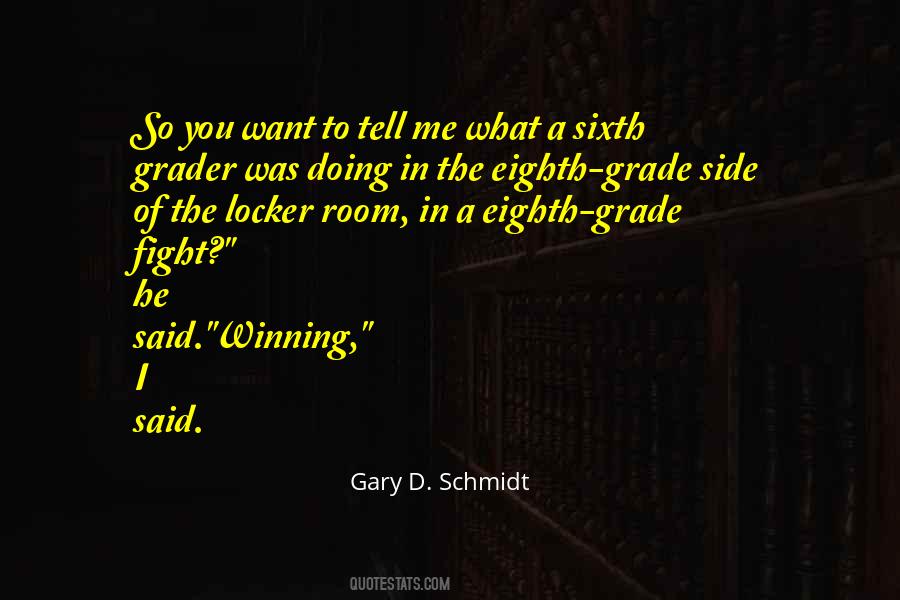 #47. Do not effort to win but try to lose if your Close one is there to fight
Happiness that is achieved after losing to our close one's ,that is not possible to achieved even after winning the world - Author: Mohammed Zaki Ansari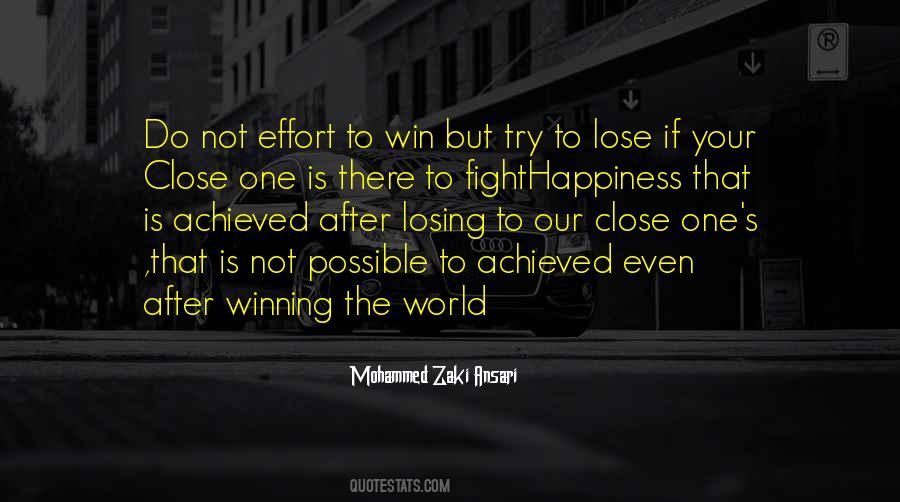 #48. Before you can win the fight, You've got to be in the fight. - Author: Bill Walsh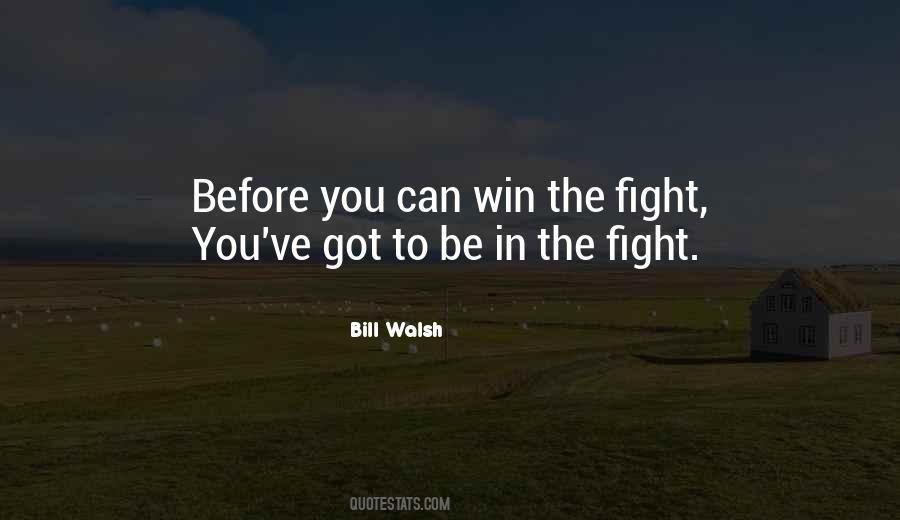 #49. The law of honor: Go along only on the paths of honor. Fight, and never be a coward. Leave the path of infamy to others. Better to fall in an honorable fight than win by infamy. - Author: Corneliu Zelea Codreanu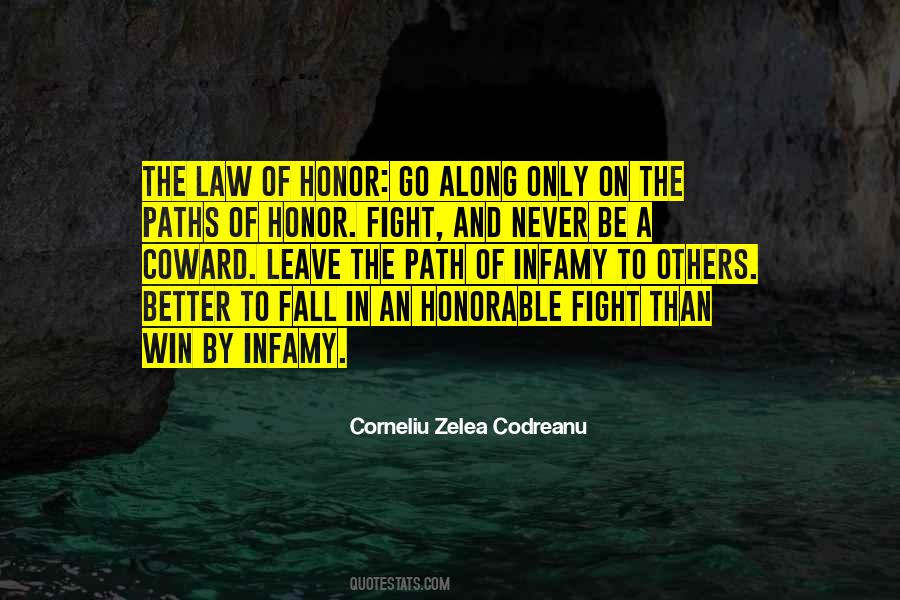 #50. Morality binds and blinds. It binds us into ideological teams that fight each other as though the fate of the world depended on our side winning each battle. It blinds us to the fact that each team is composed of good people who have something important to say. - Author: Jonathan Haidt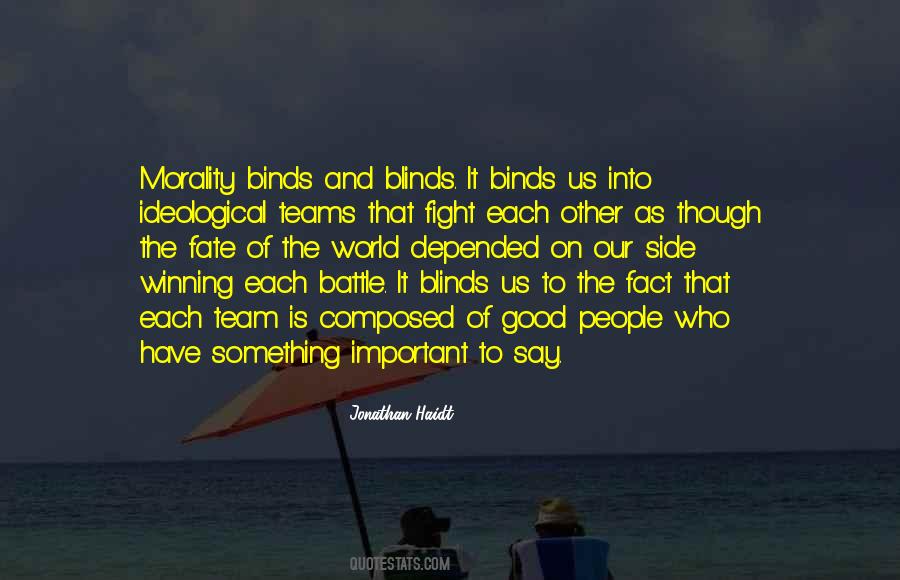 #51. I want to be on the floor. I want to fight for the win. - Author: Pau Gasol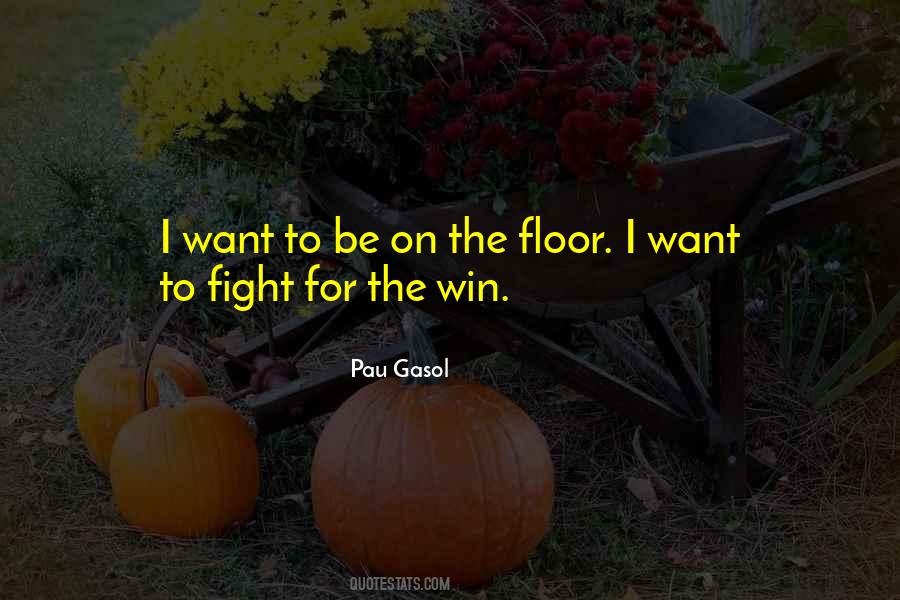 #52. You learn nothing about someone by the way they win the fight, you learn everything about the way they lose and keep coming back. - Author: Ben Jonson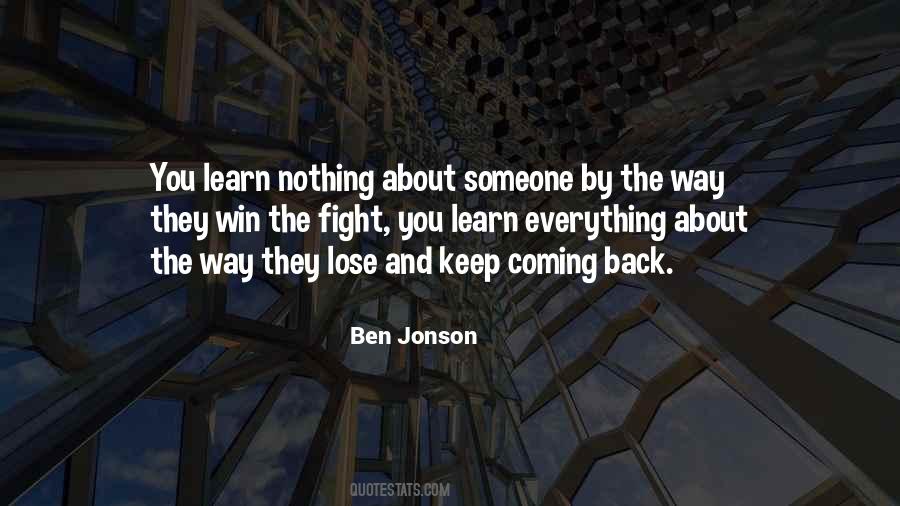 #53. We seem to have lost. We have not lost. To refuse to fight would have been to lose; to fight is to win. We have kept faith with the past, and handed on a tradition to the future. - Author: Patrick Pearse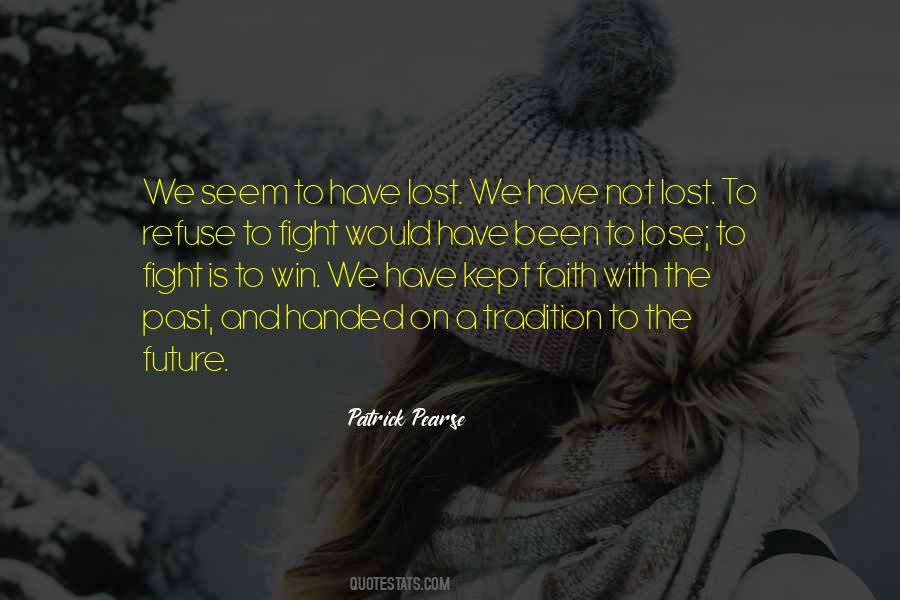 #54. This fight should be dubbed, 'No Excuses.' If Carl Froch beats me, there won't be any excuses. I beat Carl Froch, there shouldn't be any excuses. No judges, no referees, no nothing. May the best man win. - Author: Andre Ward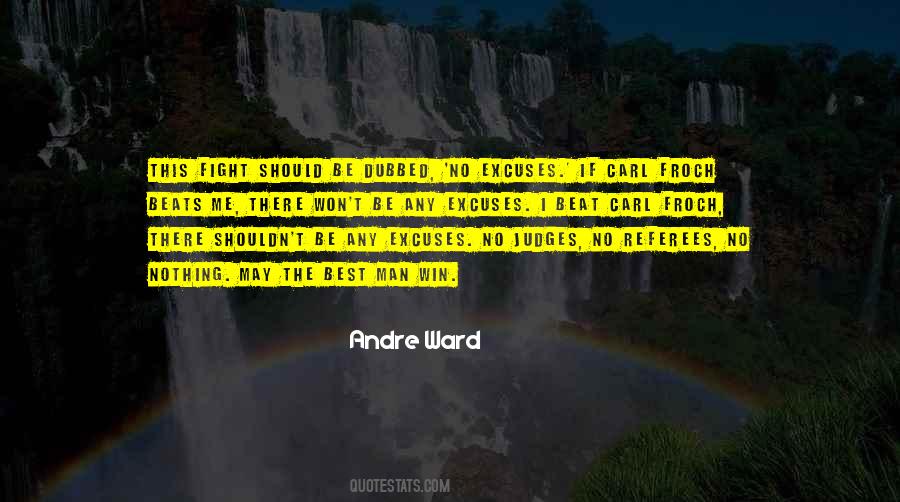 #55. Roll rocks down a ten-thousand-foot mountain, and they cannot be stopped - this is because of the mountain, not the rocks. Get people to fight with the courage to win every time, and the strong and the weak unite - this is because of the momentum, not the individuals. - Author: Du Mu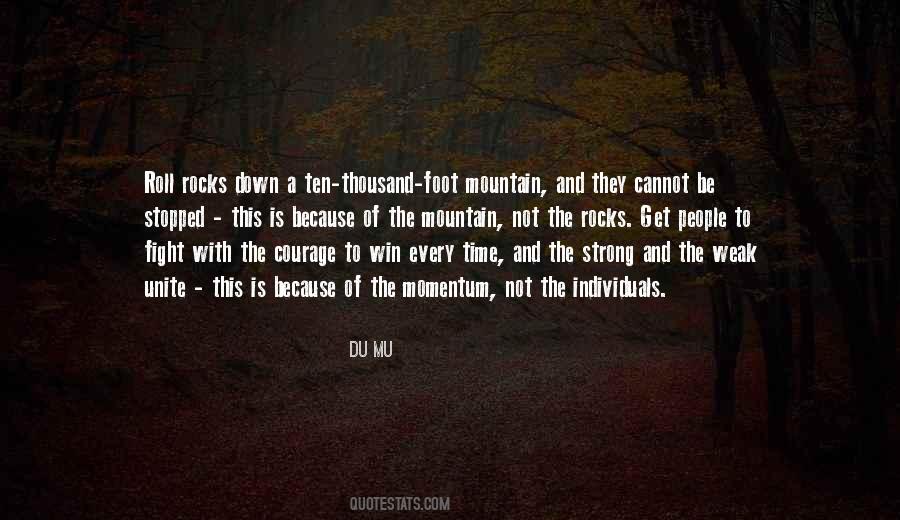 #56. If I lost all, at least I would have played for it. It had always been my philosophy that one must play, or be a loser two-fold. - Author: Anna Freeman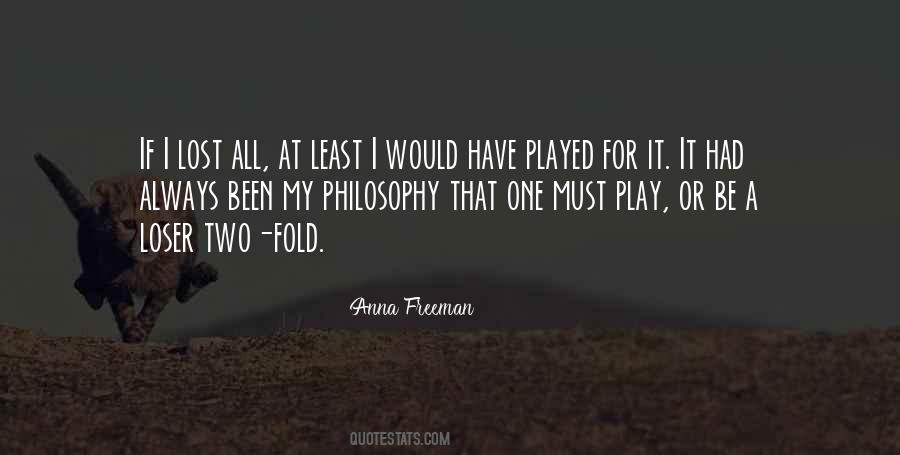 #57. The battle of the sexes and you're winning hands down. - Author: Margaret Way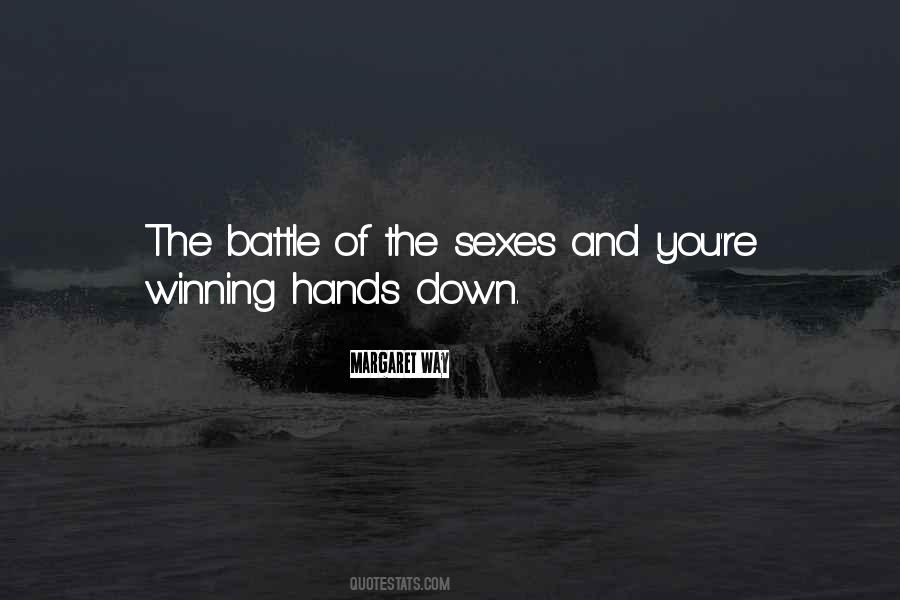 #58. The only reason a warrior is alive is to fight, and the only reason a warrior fights is to win - Author: Miyamoto Musashi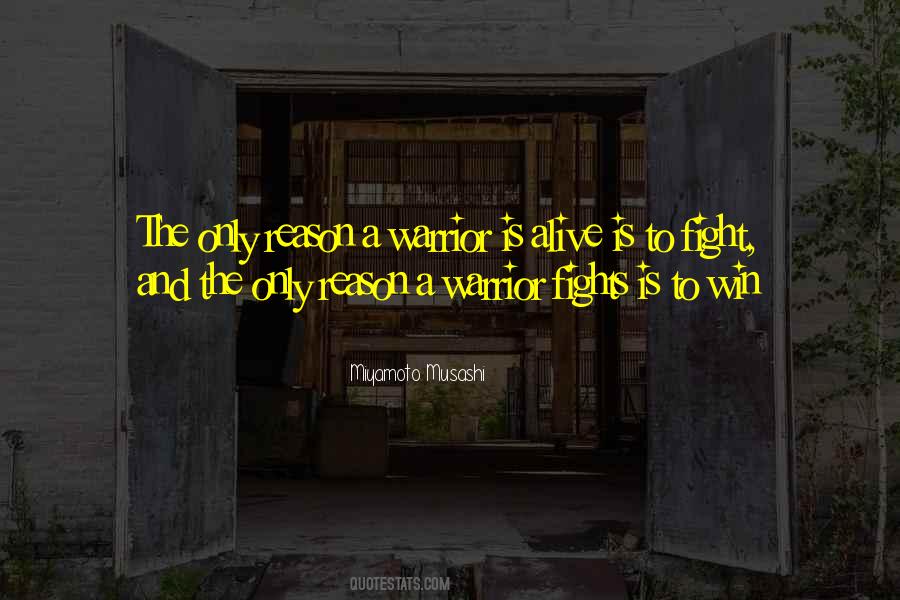 #59. You have to understand, in this fight, the physical condition and technical preparation are not as important as character and will. The one who's willing to go until the end will win the match. - Author: Ruslan Provodnikov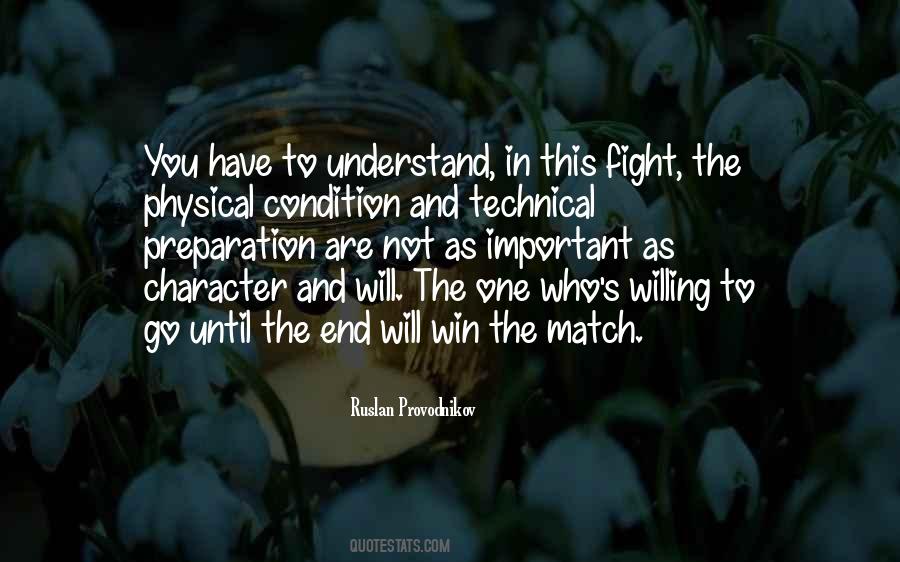 #60. It's not who wins the fight that's important, it's being willing to fight. If you get challenged and renege, everyone wants to take a shot at you. - Author: Barclay Plager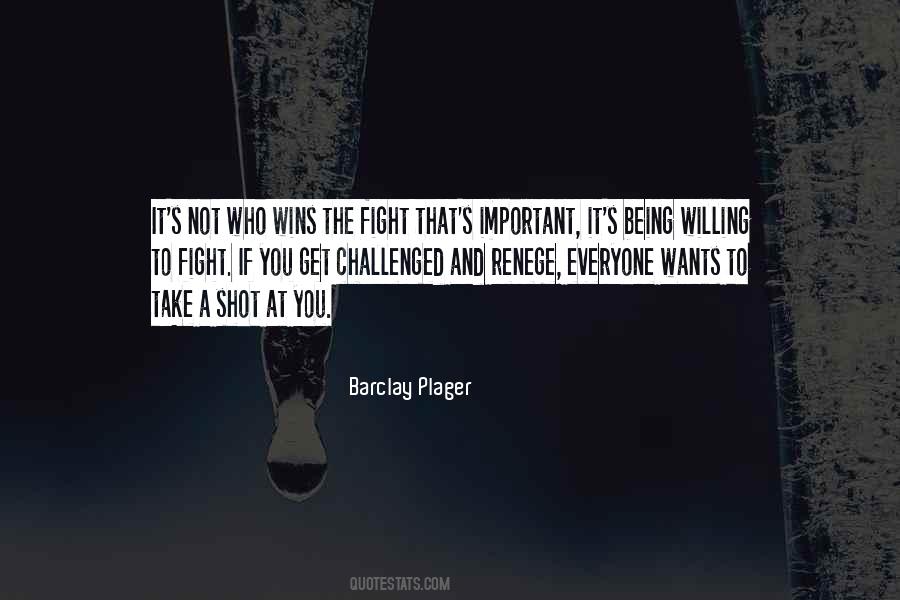 #61. I now have Youth Olympic, Olympic and European Games titles, which is a dream. I didn't fight that well and just scraped through a lot of the fights, but winning is a relief, and it's more points towards the Rio Olympics, which takes a bit of pressure off me. - Author: Jade Jones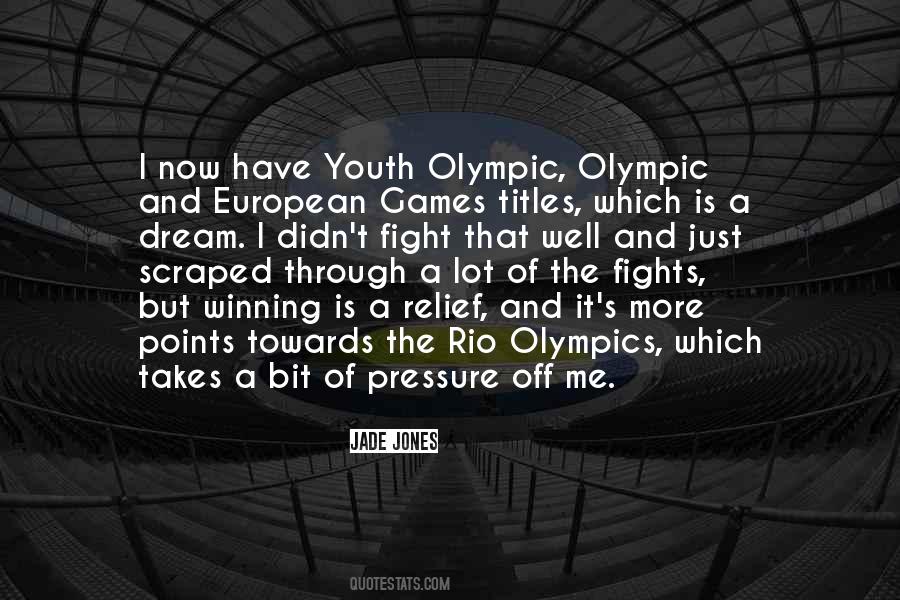 #62. Climate change is the biggest threat to our chances of winning the fight against hunger. - Author: Winnie Byanyima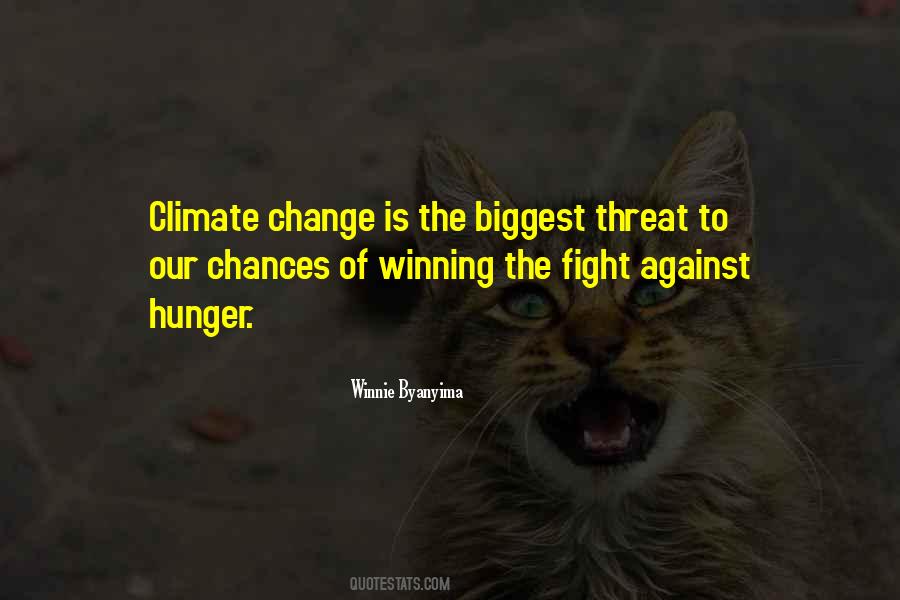 #63. Courage has nothing to do with winning," I quietly said. "Courage is about fighting the good fight. Stepping forward, even when stepping forward is the crappiest of all possible options. - Author: Chloe Neill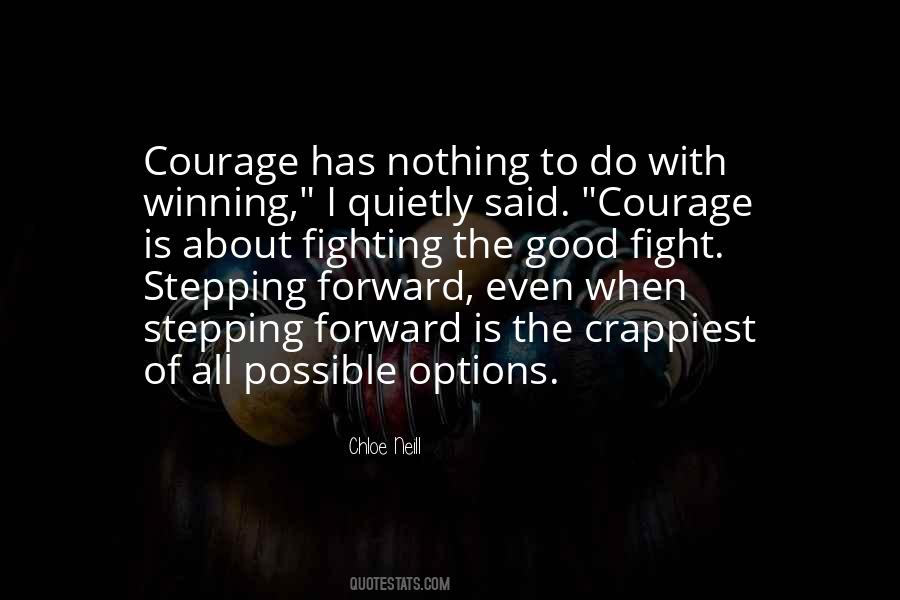 #64. If we fight a war and win it with H-bombs, what history will remember is not the ideals we were fighting for, but the methods we used to accomplish them. These methods will be compared to the warfare of Genghis Khan who ruthlessly killed every last inhabitant of Persia. - Author: Hans Bethe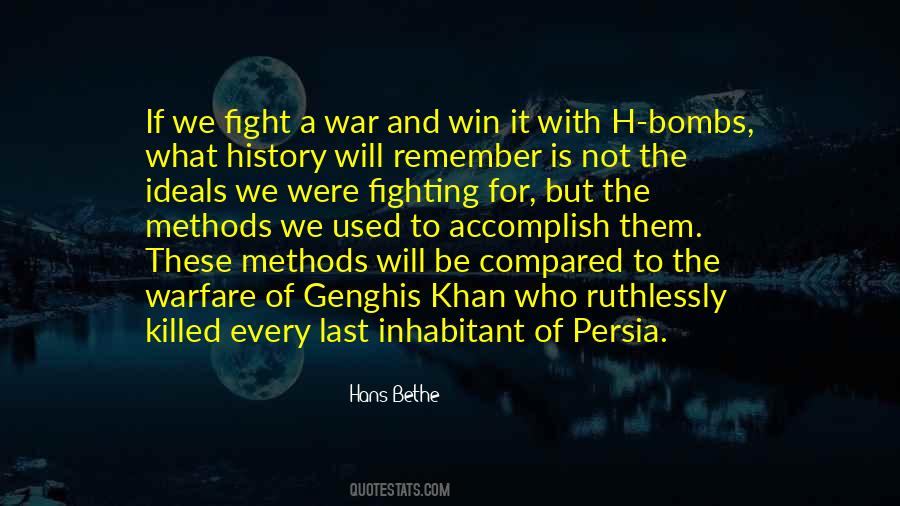 #65. To fight on the winning side was one thing; to survive, quite another. - Author: Diana Gabaldon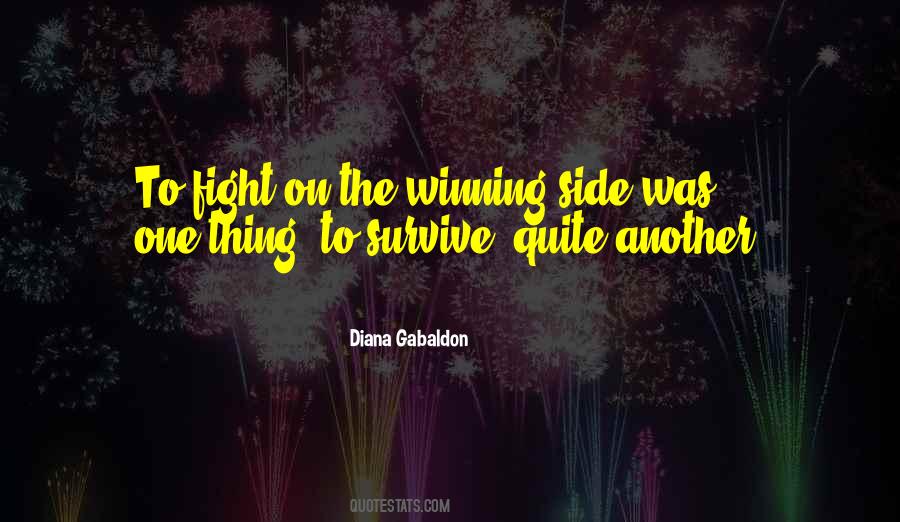 #66. The United States is more reliant on the technical systems. We're more reliant on the critical infrastructure of the internet than any other nation out there. And when there's such a low barrier to entering the domain of cyber-attacks we're starting a fight that we can't win. - Author: Edward Snowden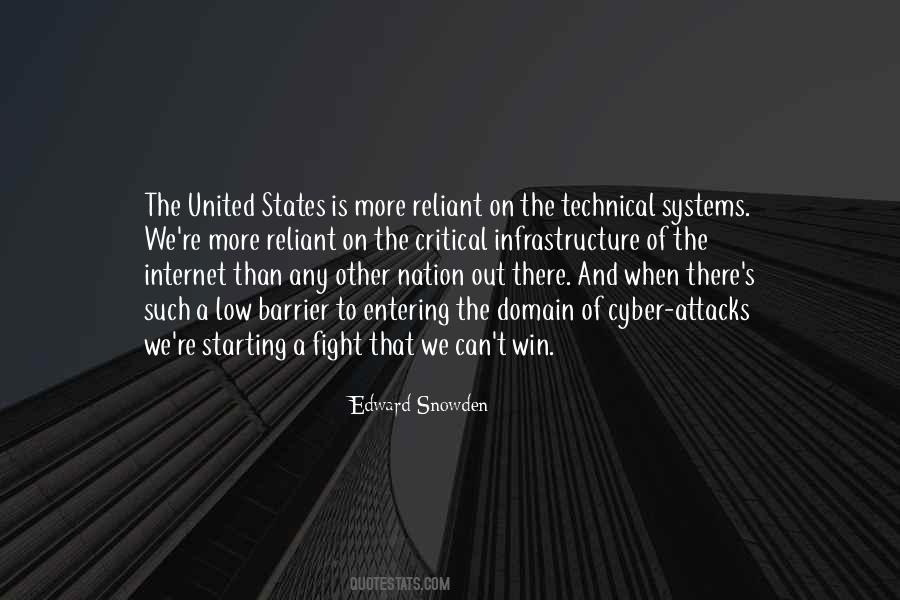 #67. Winning is important, but survival is even more important. If you don't survive, you don't get to fight the next battle. - Author: Donald Trump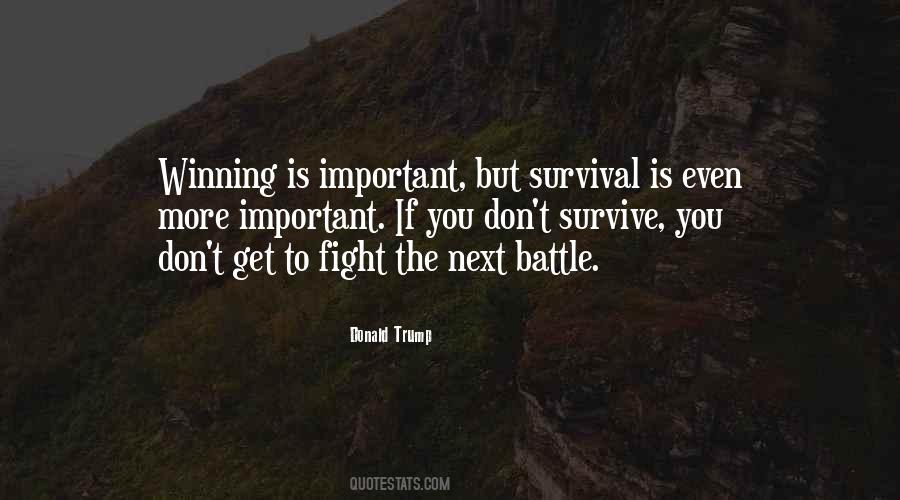 #68. Any coward can fight a battle when he's sure of winning; but give me the man who has pluck to fight when he's sure of losing. That's my way, sir; and there are many victories worse than a defeat. - Author: George Eliot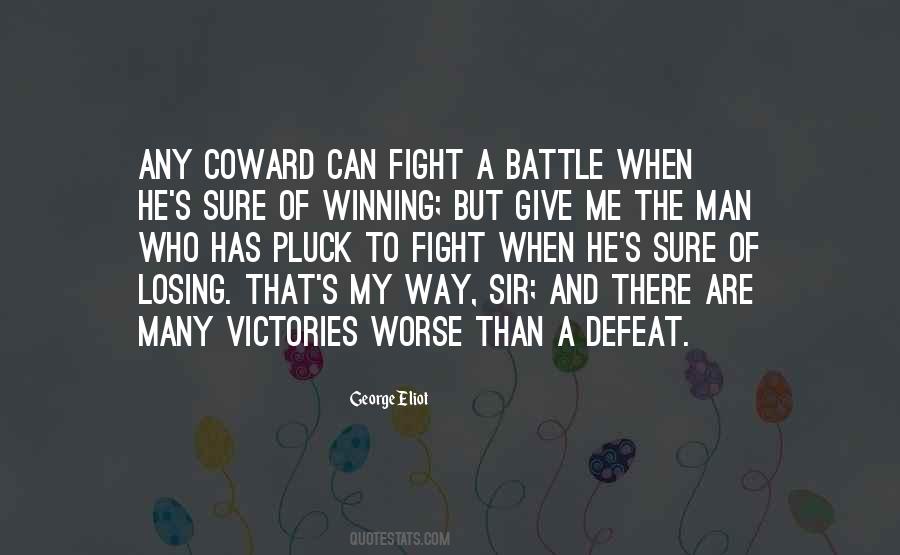 #69. Those who are skilled in combat do not become angered, those who are skilled at winning do not become afraid. Thus the wise win before they fight, while the ignorant fight to win. - Author: Sun Tzu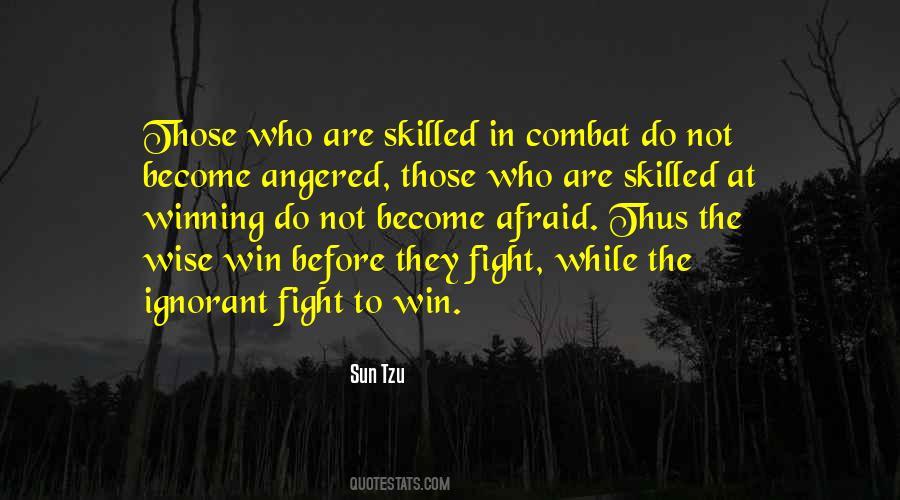 #70. We were either gonna win the game or win the fight. - Author: Anthony Mason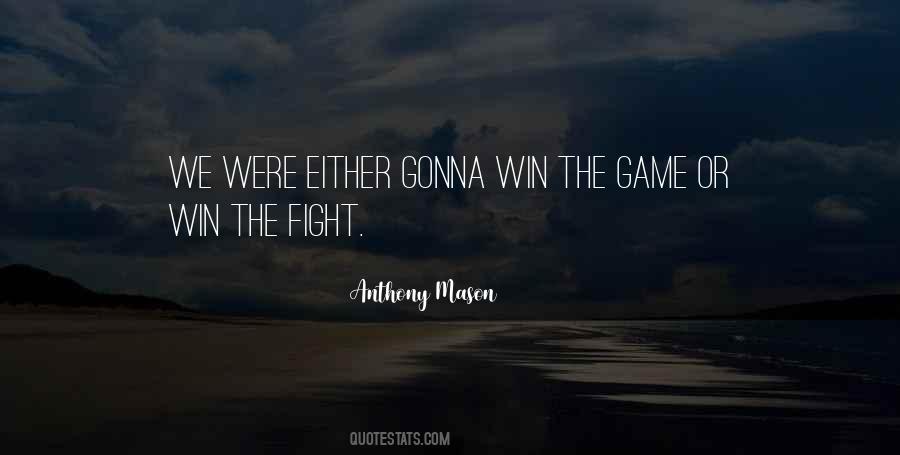 #71. I'm a former federal prosecutor, I've fought terrorists and won and when we get back in the White House we will fight terrorists and win again and America will be safe. - Author: Chris Christie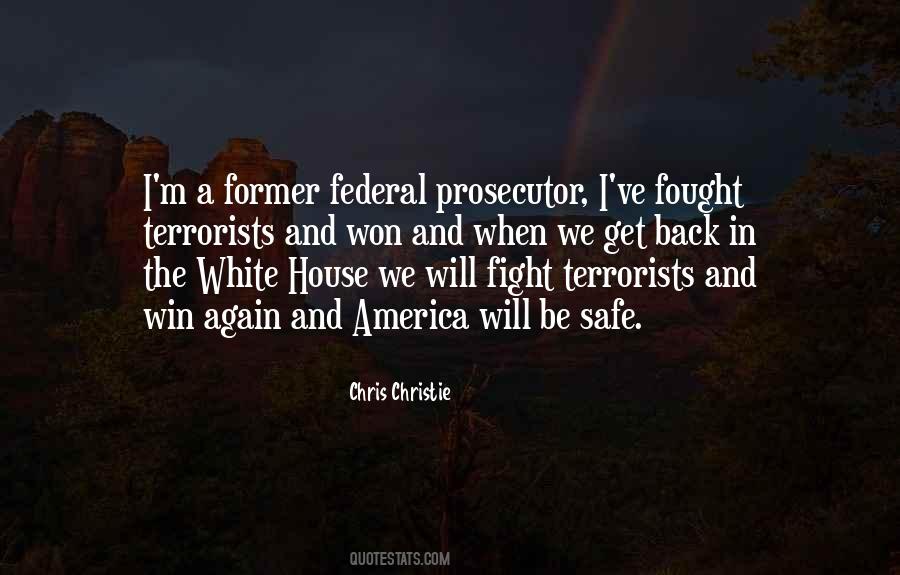 #72. Every team in the NFL is hard, but when we play our own division it's a fight. Our goal is to make it to the playoffs and to do that we have to win games within the division. We match up well against this division, it's just a matter of getting on the field and doing what we know we can do. - Author: Giovani Bernard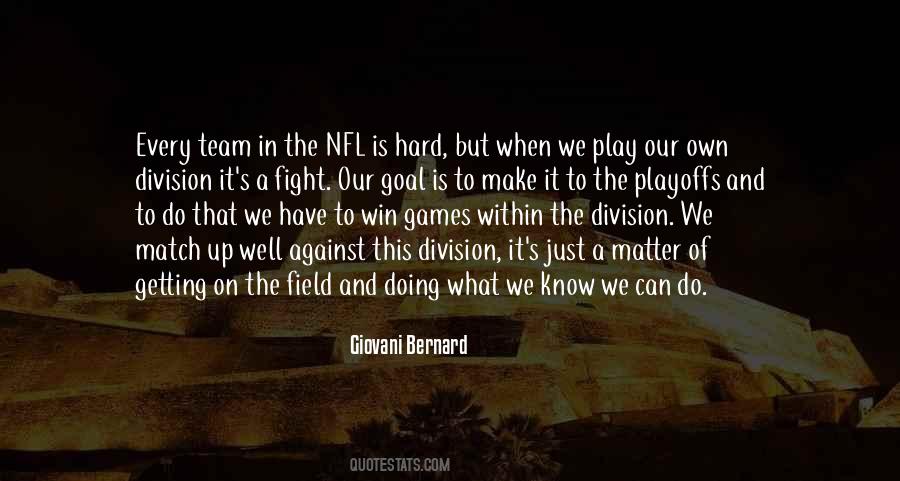 #73. Think about all of the times, situations, and circumstances where you have gotten caught up in making your self right rather than happy ... The harder you fight to win, the bigger you lose. - Author: Phil McGraw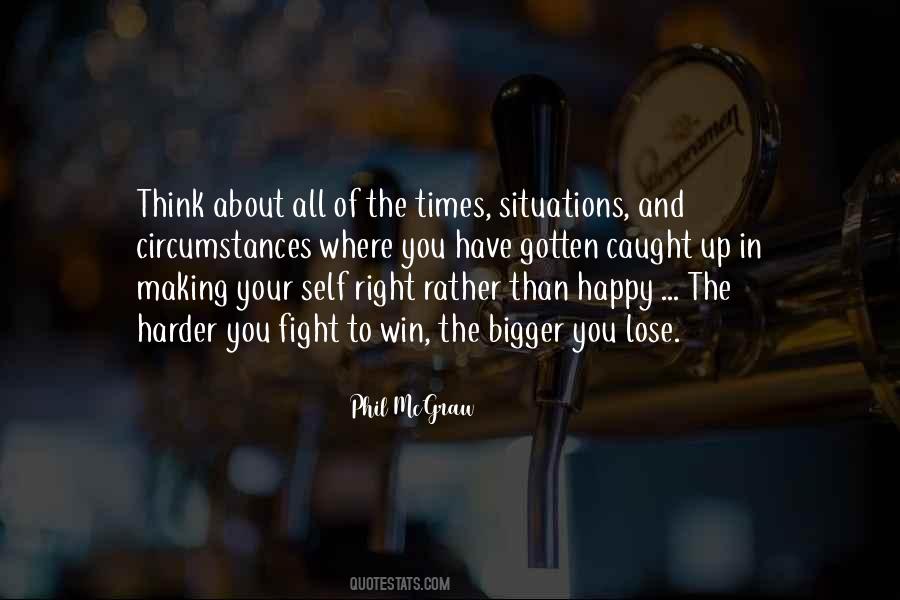 #74. World War II, you know, that was basically a fight between the sons of Zeus and Poseidon on one side, and the sons of Hades on the other. The winning side, Zeus and Poseidon, made Hades swear an oath with them: no more affairs with mortal women. They all swore on the River Styx.' Thunder boomed. - Author: Rick Riordan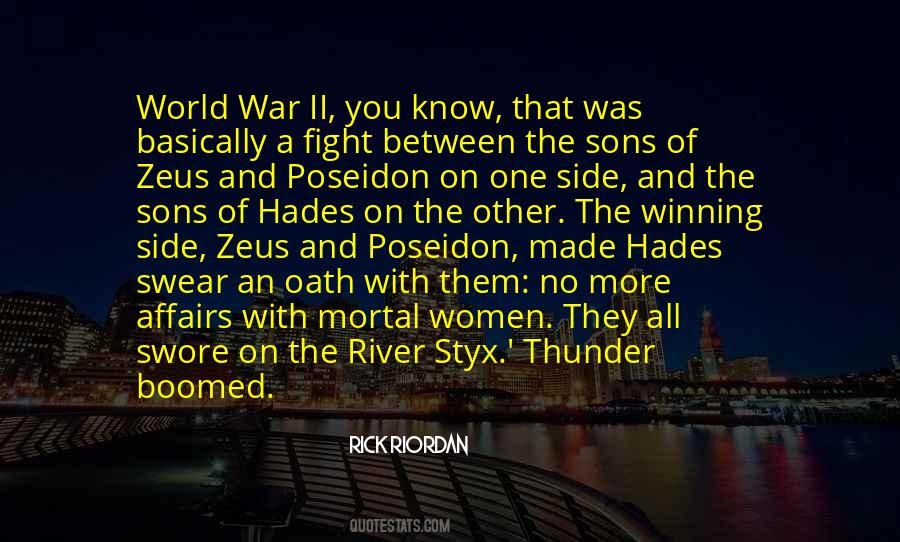 #75. So there are five ways of knowing who will win. Those who know when to fight and when not to fight are victorious. Those who discern when to use many or few troops are victorious. Those whose upper and lower ranks have the same desire are victorious. - Author: Sun Tzu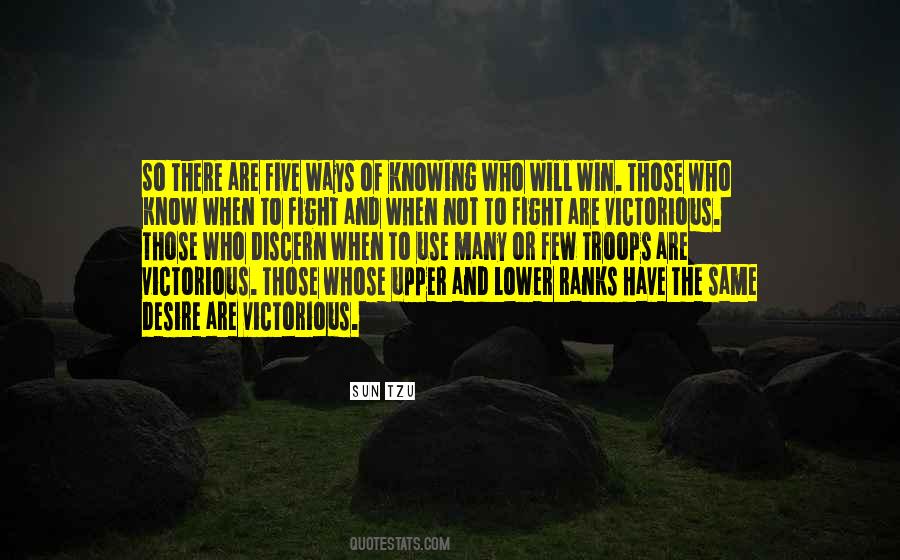 #76. I love Viacom. I love CBS. And so I don't want to die. I have a will to live. The same will to win that I've always had. And - I'm gonna fight death as long as I can. I like it here. I don't want to go anywhere else. - Author: Sumner Redstone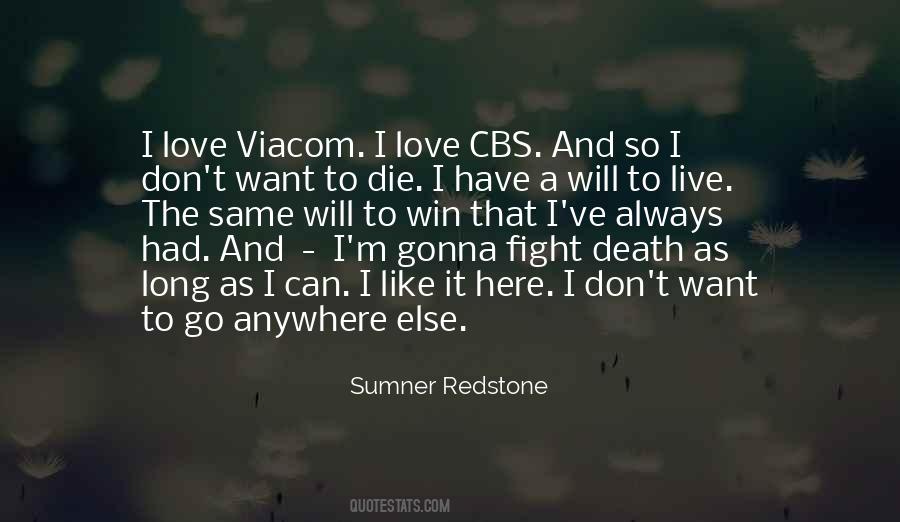 #77. When its back's against the wall, even positivity will come out fighting! - Author: Serina Hartwell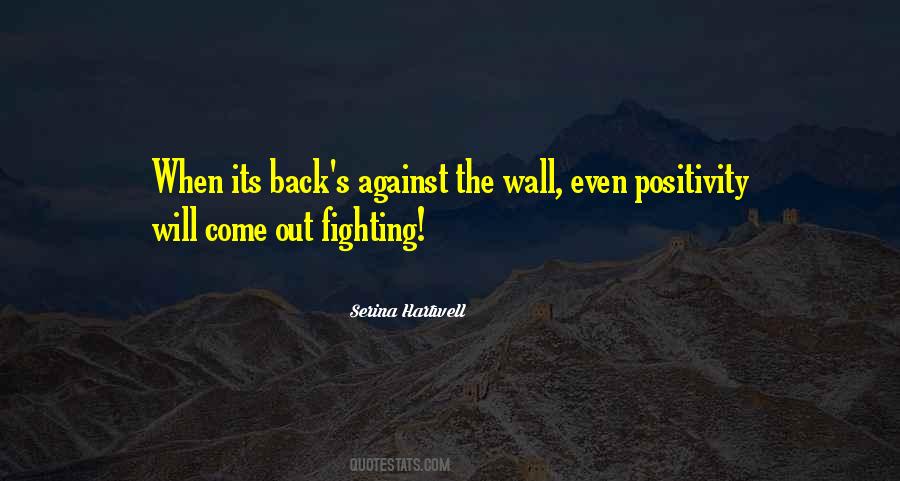 #78. There's a set of unspoken rules we live by when it comes to fighting. We can't help it. It comes from living in a civilized world. Even when you're fighting your hardest, somewhere deep down, you know how far you can go. But today the rules are gone. Today I fight not to win, but to destroy. - Author: Neal Shusterman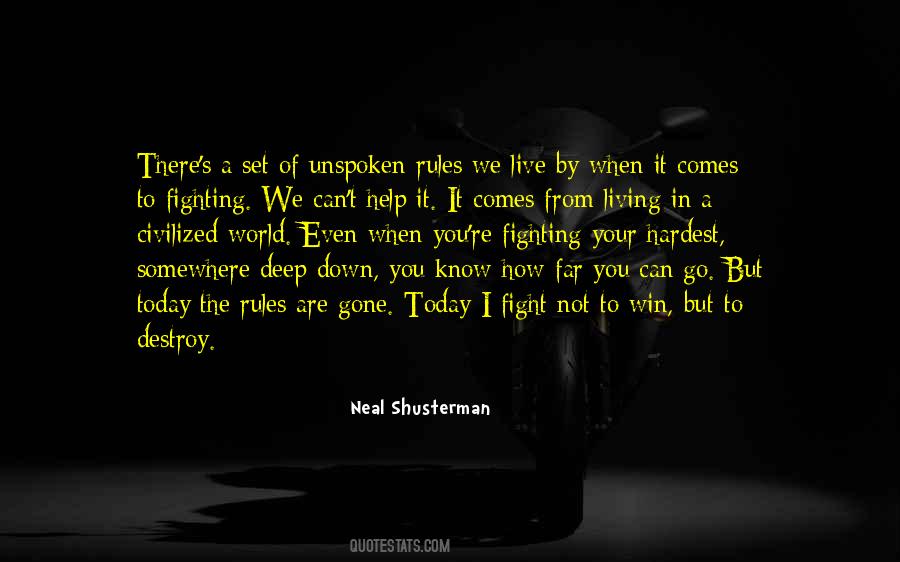 #79. Even if you don't win you learn. So there's no losing. You win the fight or you learn. - Author: Renzo Gracie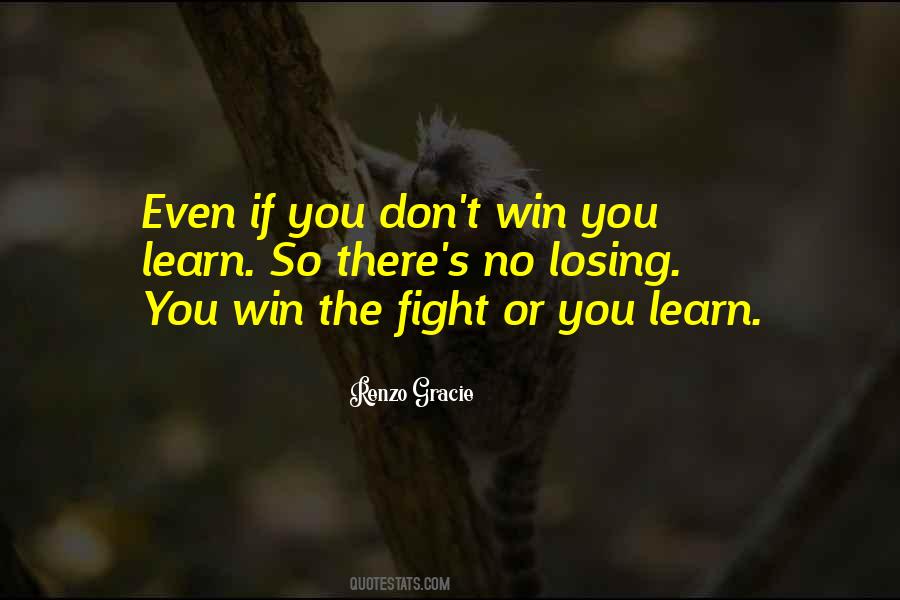 #80. One reason we're not winning the fight against depression is that our available treatments leave so many in partial recovery limbo. - Author: Jonathan Rottenberg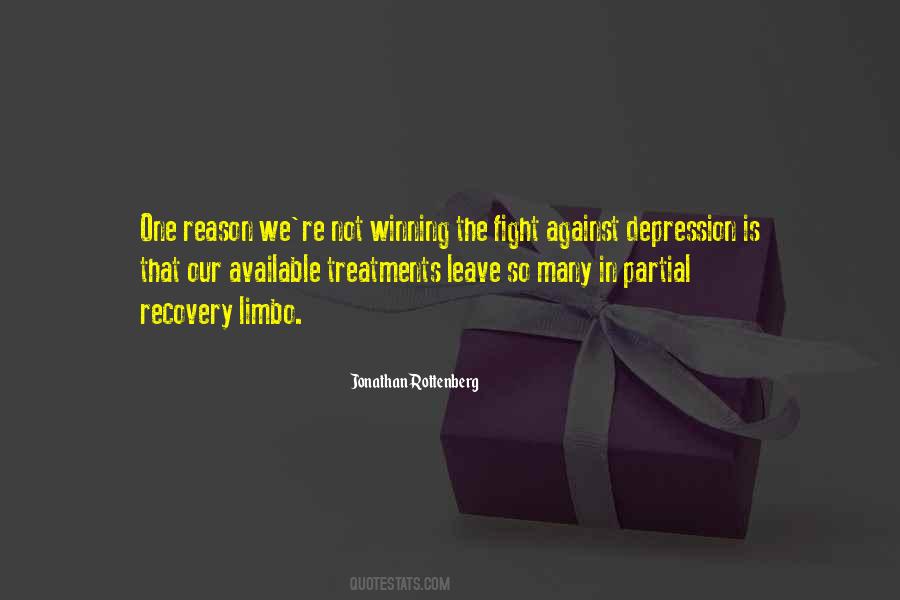 #81. It is not enough to fight. It is the spirit which we bring to the fight that decides the issue. It is morale that wins the victory. - Author: George C. Marshall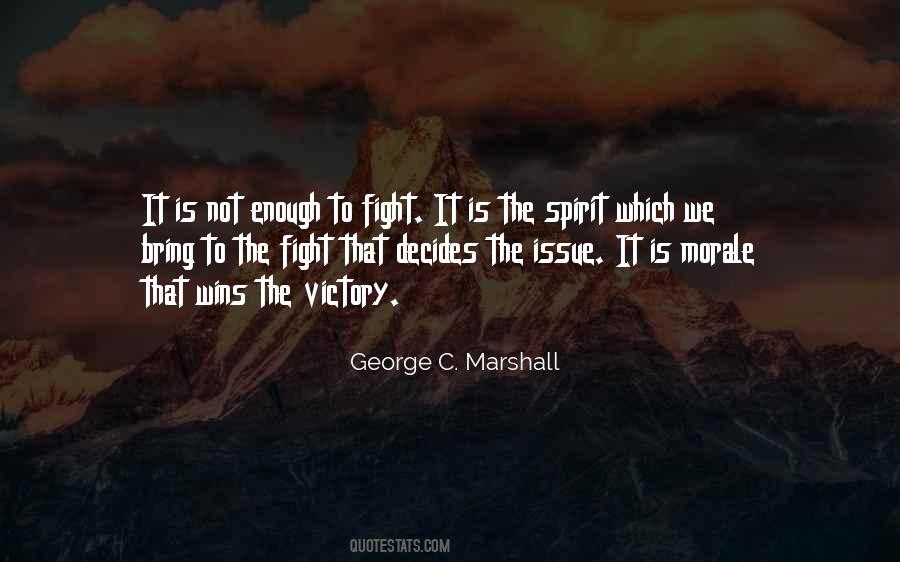 #82. Don't focus on the outcome, when you focus on the outcome it creates anxiety and it builds. I just need to enjoy the moment and let it be. If I just fight I know I'm going to go out there and perform and do it my best. Don't focus on winning or losing. - Author: Luke Rockhold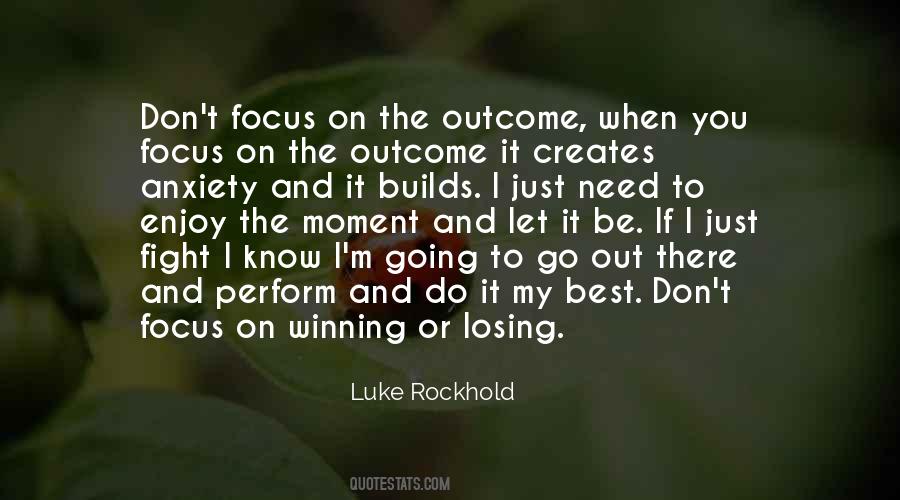 #83. One who has given up any hope of winning a fight or has clearly lost it wants his style in fighting to be admired all the more. - Author: Friedrich Nietzsche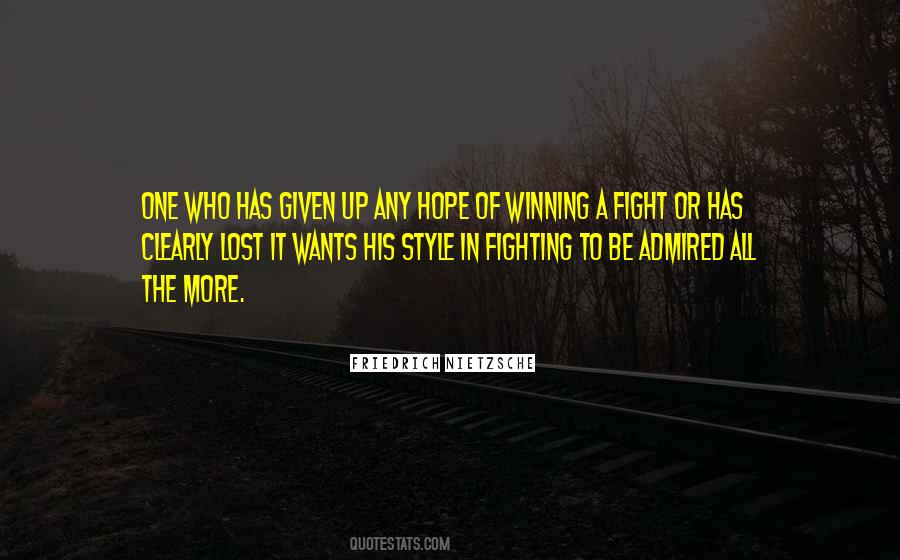 #84. Fighting evil by moonlight, winning love by daylight, never running from a real fight, she is the one named Sailor Moon! - Author: Naoko Takeuchi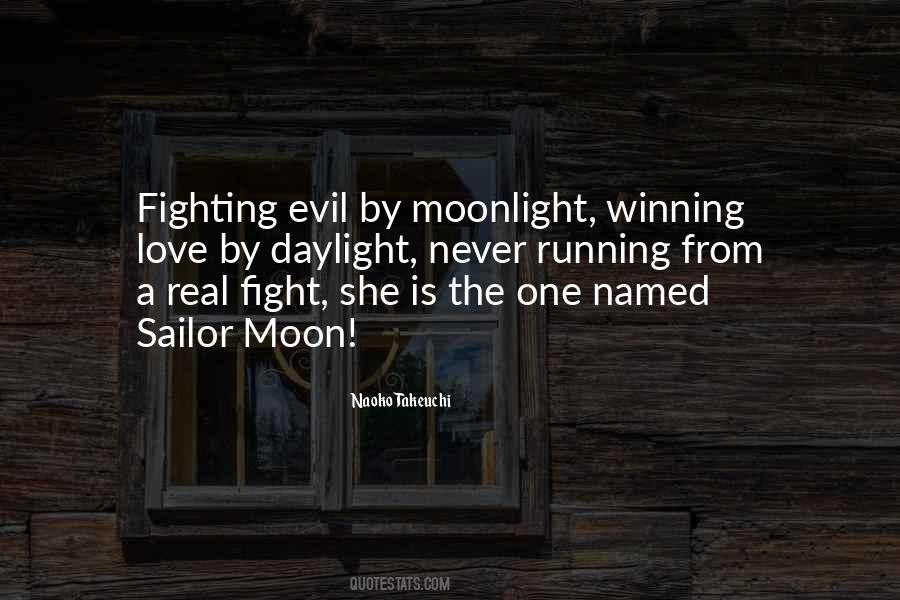 #85. I've already gone through all the reasons to ignore her. I've already tried to fight this for far too long. I'm not winning any awards for resistance. I never did. I threw in the towel many moons ago. - Author: Lauren Blakely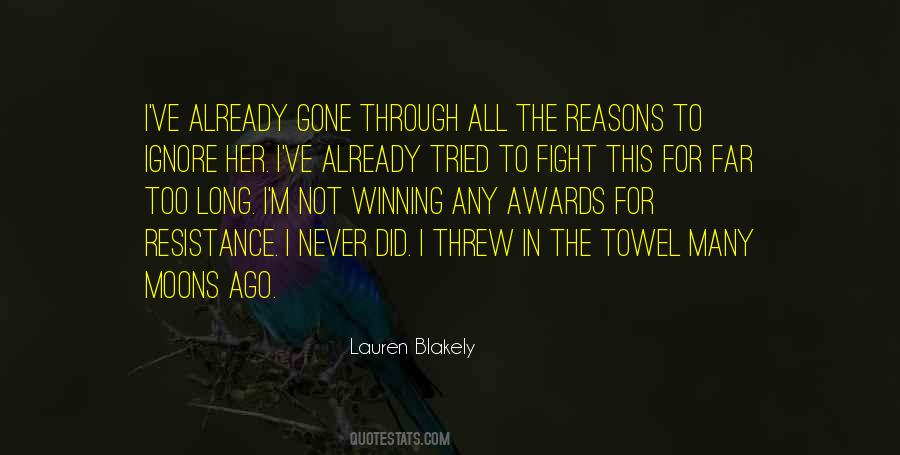 #86. Man can seldom - very, very, seldom - fight a winning fight against his training; the odds are too heavy. - Author: Mark Twain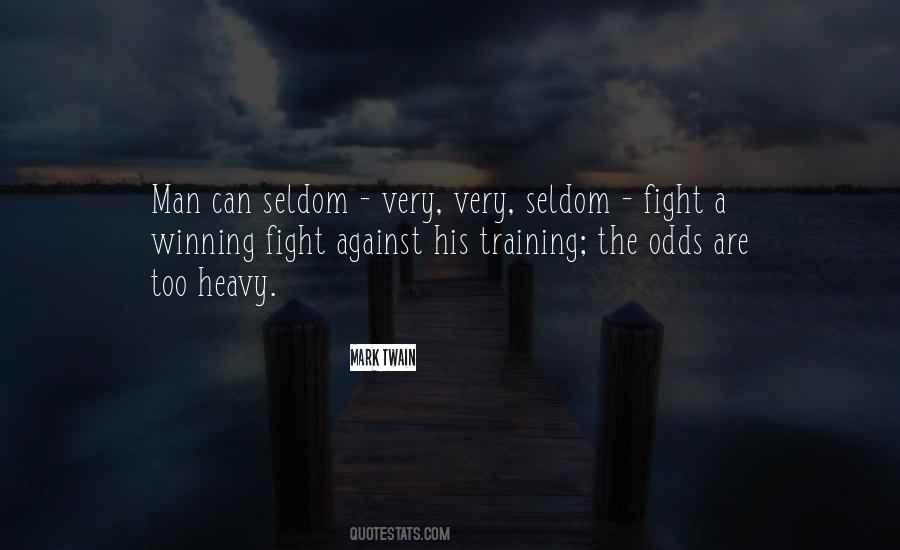 #87. The only fight you cannot win is the one you are not willing to fight. And the only dream that you cannot make come true is the one you cease to dream. - Author: Sergio Bambaren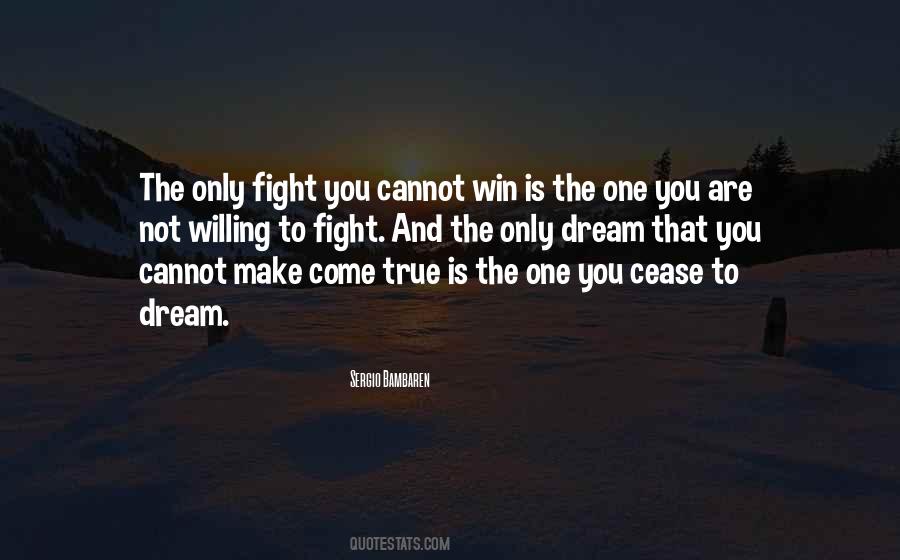 #88. The idea of winning a doctor's degree gradually assumed the aspect of a great moral struggle, and the moral fight possessed immense attraction for me. - Author: Elizabeth Blackwell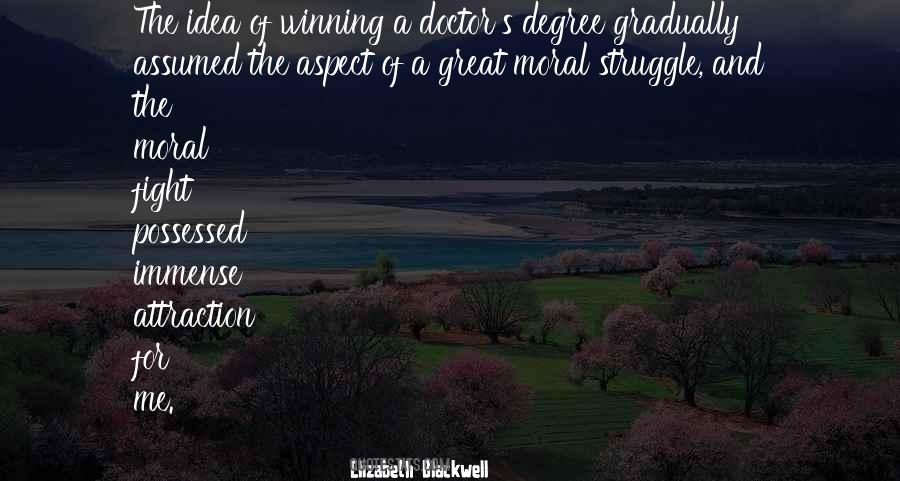 #89. Ferrari's only objective is to be at the top, in other words, to compete for the World Championship. That's our right. Winning is another matter. It wouldn't be a disgrace to come in second after a tough fight. - Author: Michael Schumacher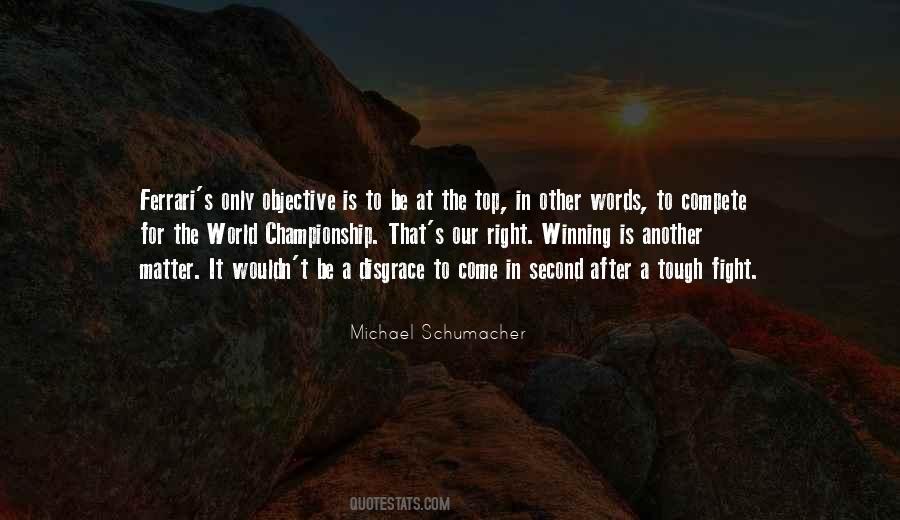 #90. As for whom I would like to fight, I always want to fight a guy coming off a win, because the guys coming off a loss are always very tough. They're fighting for their lives. - Author: Diego Sanchez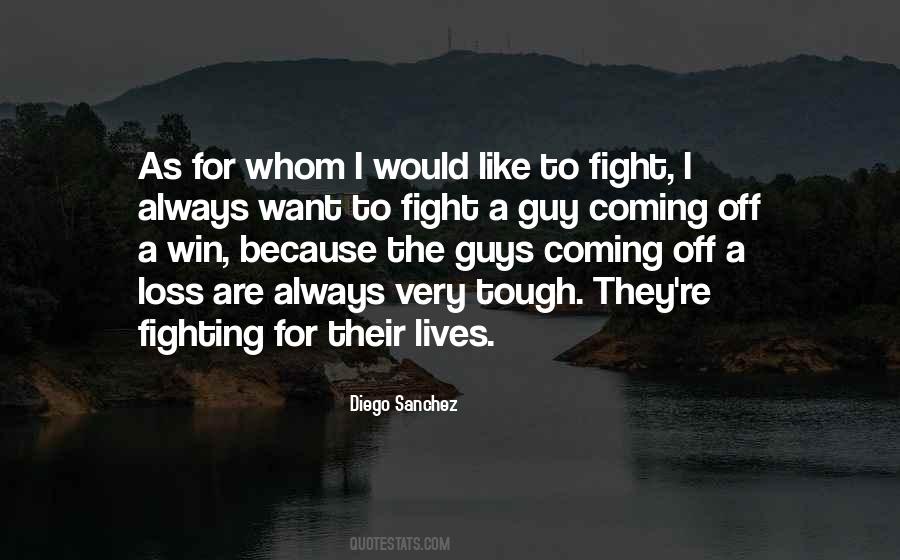 #91. In the first half of life, we fight the devil and have the illusion and inflation of "winning" now and then; in the second half of life, we always lose because we are invariably fighting God. - Author: Richard Rohr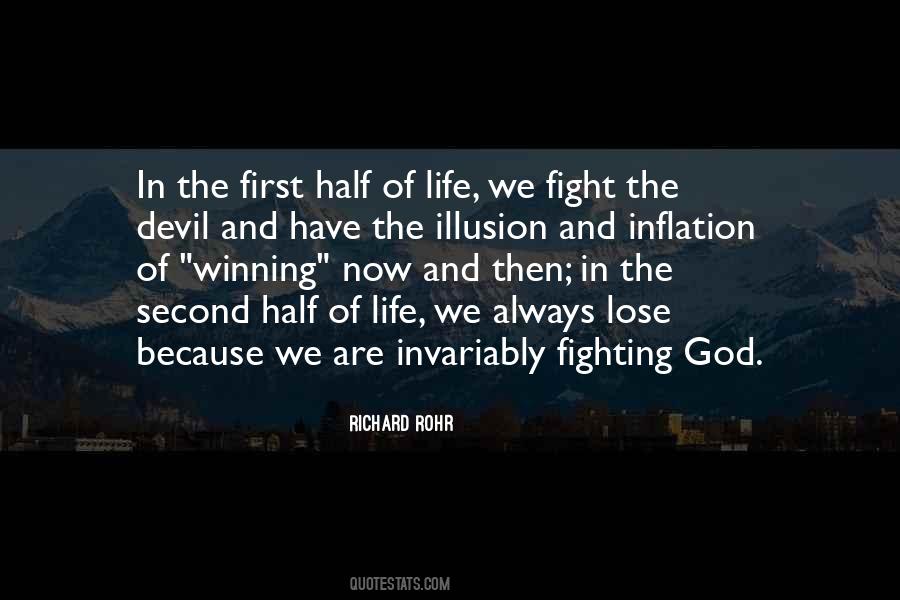 #92. Free men cannot start a war, but once it is started, they can fight on in defeat. Herd men, followers of a leader, cannot do that, and so it is always the herd men who win battles and the free men who win wars. - Author: John Steinbeck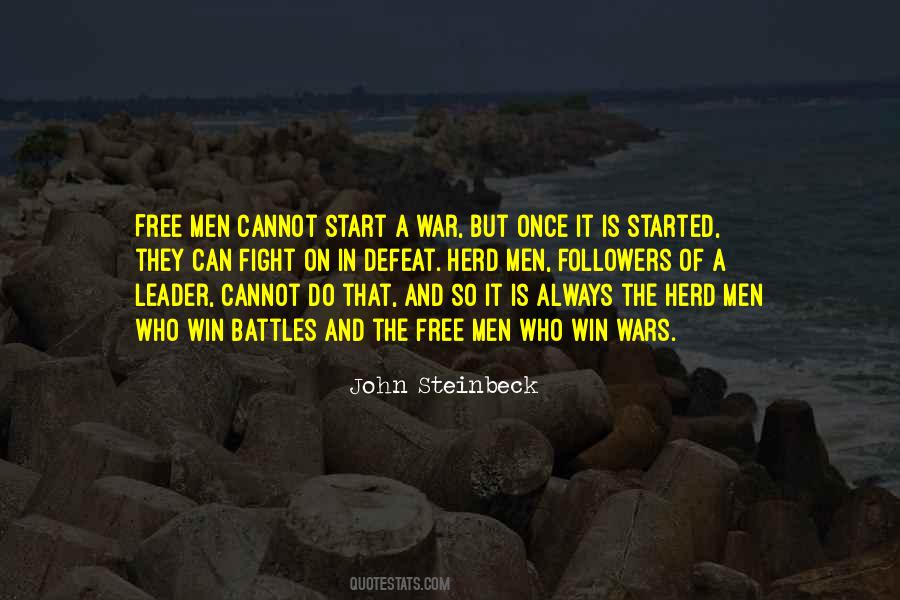 #93. EBay may be a shark in the ocean, but I'm a crocodile in the Yangtze River. If we fight in the ocean, we lose, but if we fight in the river, we win, - Author: Jack Ma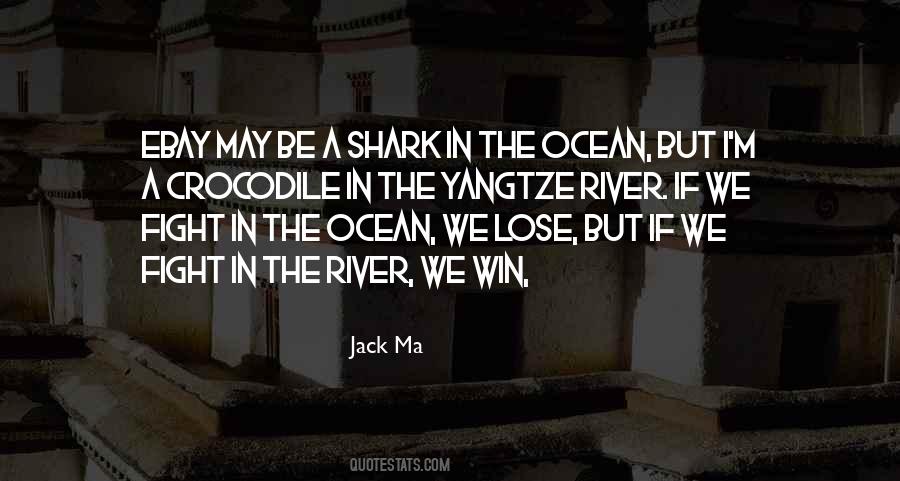 #94. I think the greatest legacy of the 1960s was the general feeling that not only can you fight the powers that be, but you can win. - Author: Abbie Hoffman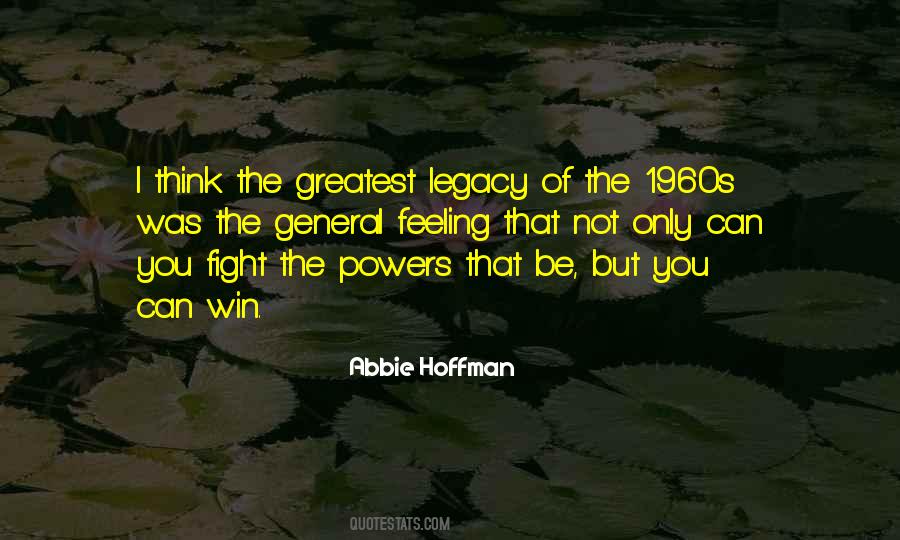 #95. A girl had supposedly disguised herself as a man to fight in her father's stead, had become companion to a military dragon and saved the empire by winning a great battle; - Author: Naomi Novik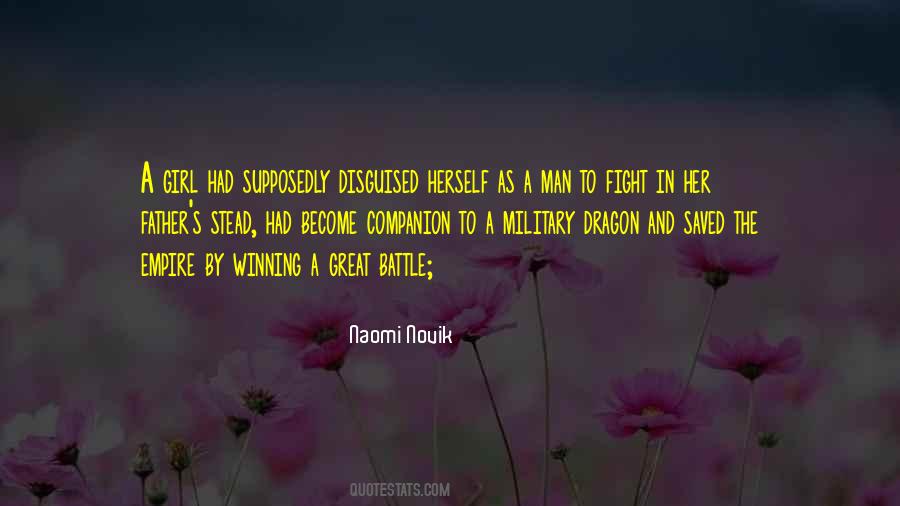 #96. 250,000 people turned up in Dublin to cheer me on an open-topped bus along O'Connell St after my world title winning fight in 1985. I'll never forget the sea of smiling faces that greeted me that day. - Author: Barry McGuigan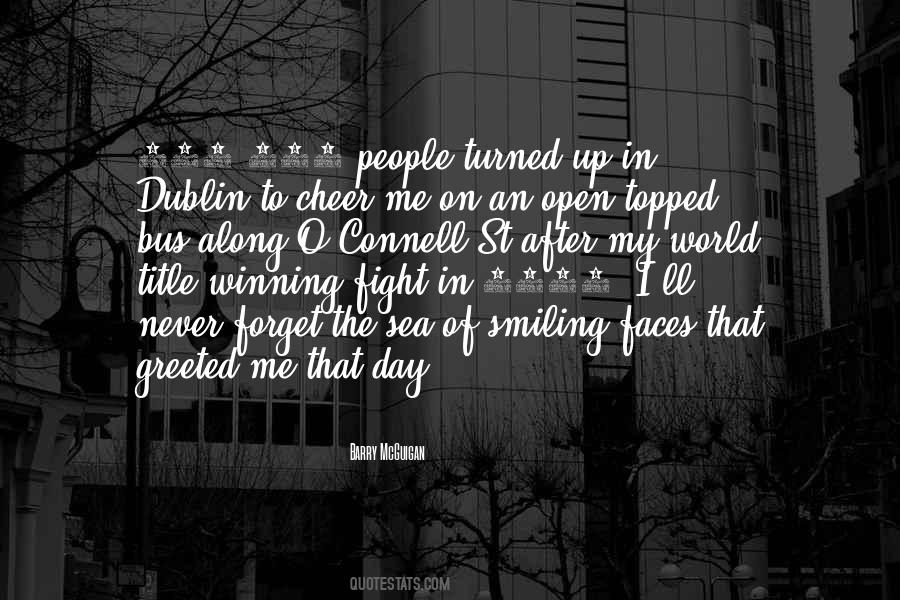 #97. If you believe you're right ... stand up and fight for your place in the sun. If you believe you can do it, hang in for the whole 15 rounds because even if you don't win, you will have earned the respect of everyone in the fight, including yourself, and in that sense you will have prevailed. - Author: Erin Brockovich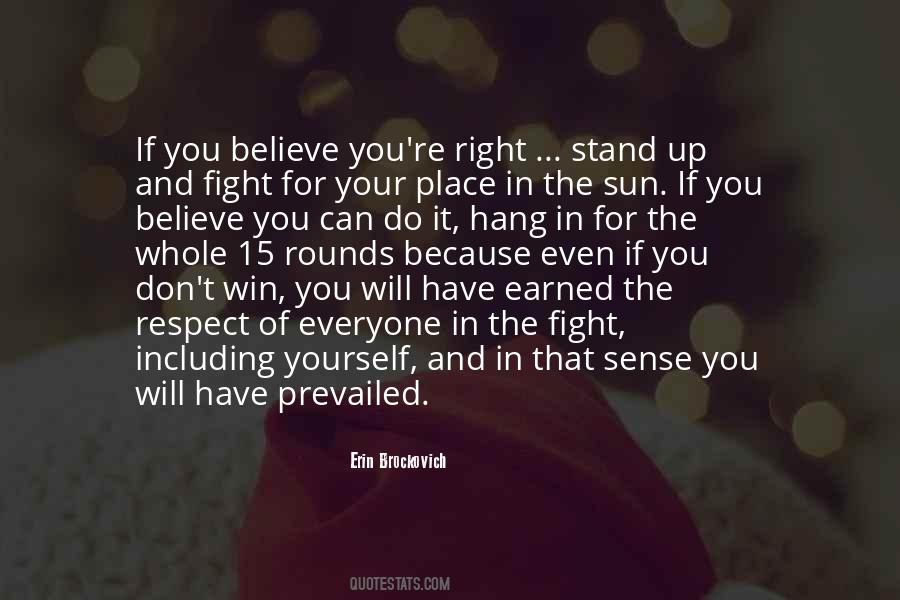 #98. The only way to win is to fight on the side of your adversaries. - Author: Francis Picabia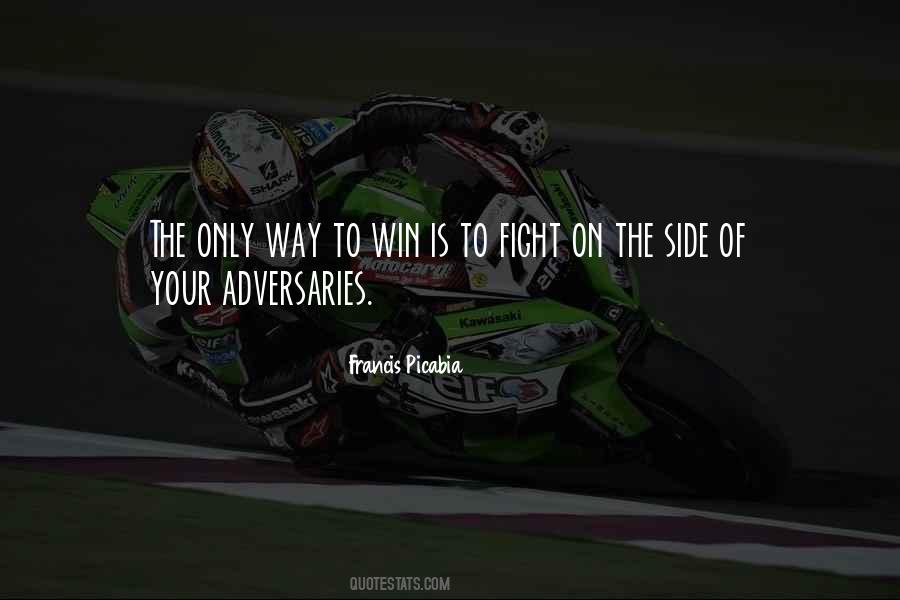 #99. Conservatives are tougher. They fight harder, they fight for their own, and they're willing to win for themselves and they're willing to impose pain on the opposition. Liberals are much less willing to do that. They're much more - they would much rather give to everybody. - Author: Thomas B. Edsall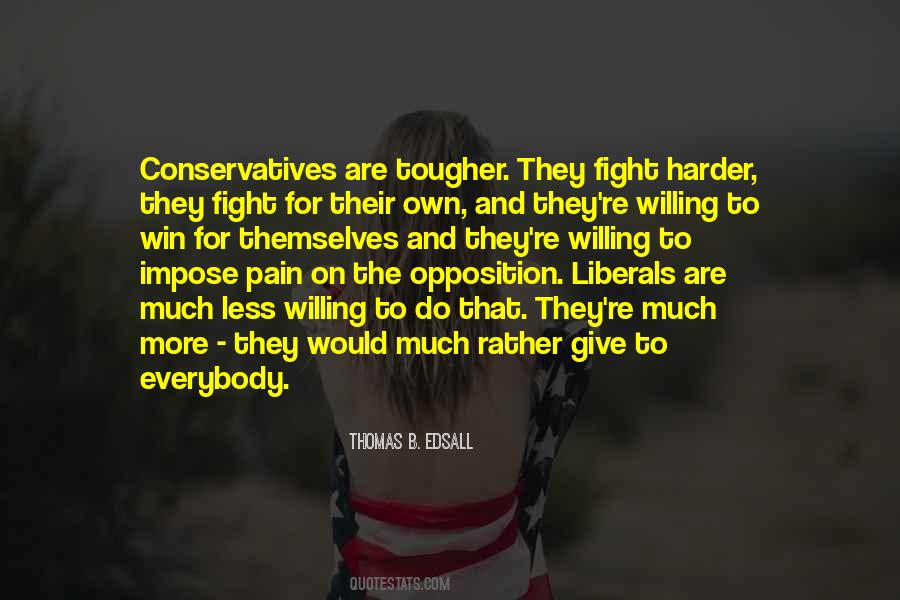 #100. Prepare, and be forewarned in time. If thou hast tried and failed, O dauntless fighter, yet lose not courage: fight on, and to the charge return again and yet again ...
Remember, thou that fightest for man's liberation, each failure is success, and each sincere attempt wins its rewards in time. - Author: H. P. Blavatsky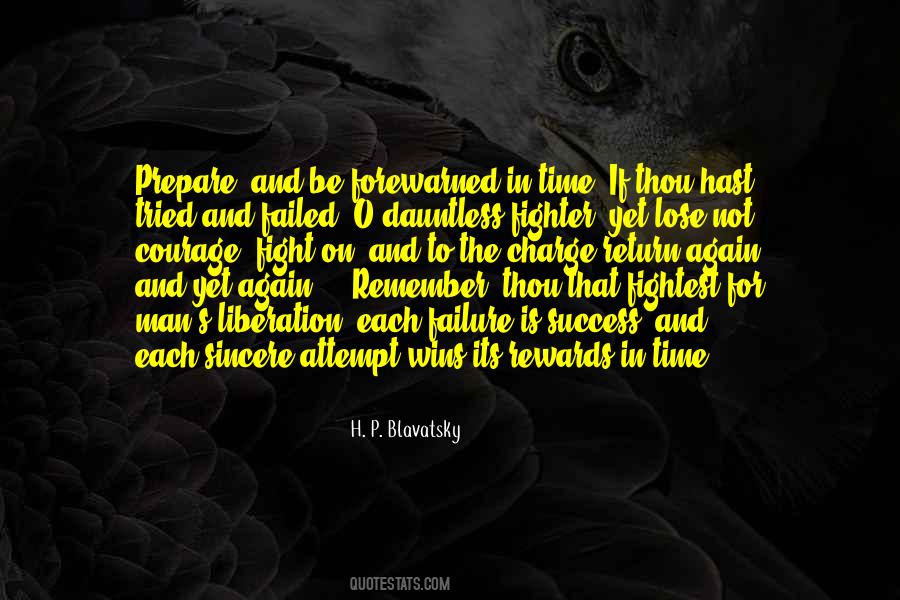 Famous Authors
Popular Topics