Wearing Too Much Makeup Famous Quotes & Sayings
List of top 34 famous quotes and sayings about wearing too much makeup to read and share with friends on your Facebook, Twitter, blogs.
Top 34 Quotes About Wearing Too Much Makeup
#1. Religion was used as an ideology, as a system of control. When they forced the veil upon women, they were using it as an instrument of control in the same way that in Mao's China people were wearing Mao jackets and women were not supposed to wear any makeup. - Author: Azar Nafisi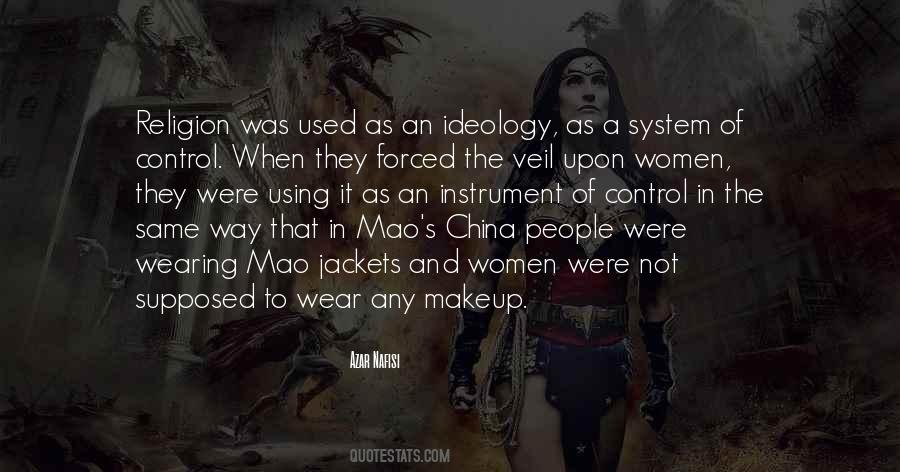 #2. She's not wearing makeup so her face just looks like skin. - Author: Chuck Palahniuk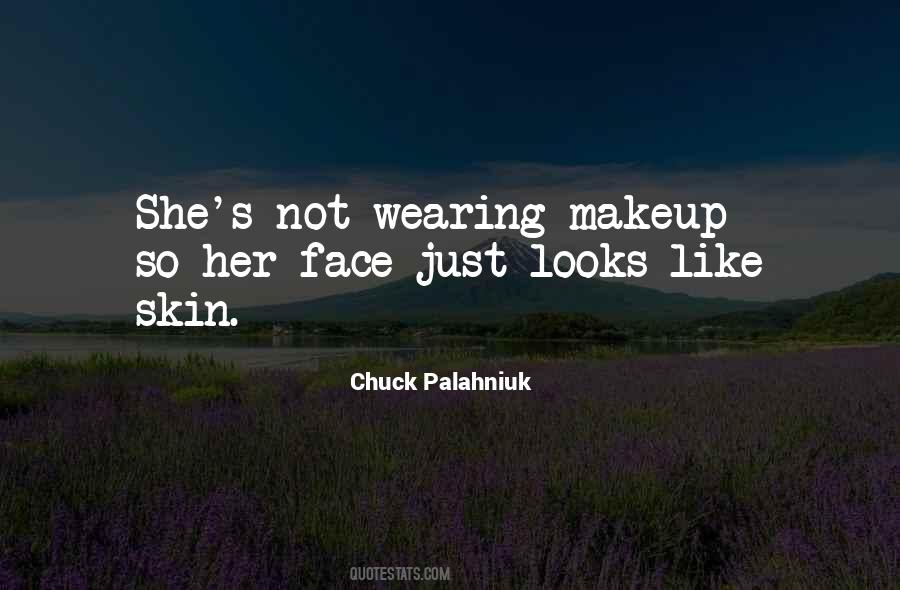 #3. Some people think wearing powder ages them, but try it anyway. For me it mattes my makeup and blends it well. - Author: Marcia Cross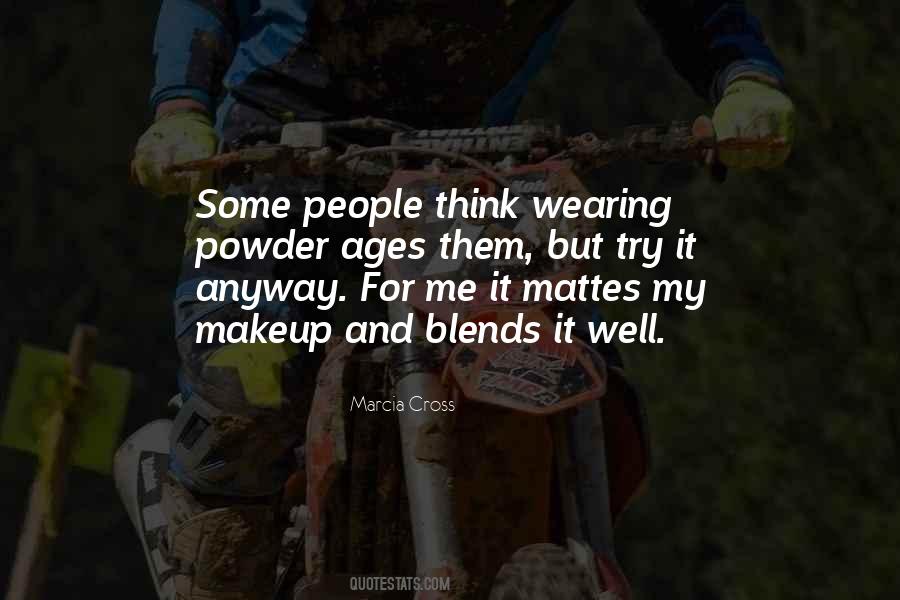 #4. Just recently Ive learned to be okay with myself without wearing makeup. I think it was a special someone telling me that I didnt need it. I started taking care of my skin and realized I didnt need as much as I thought I did. - Author: Vanessa Hudgens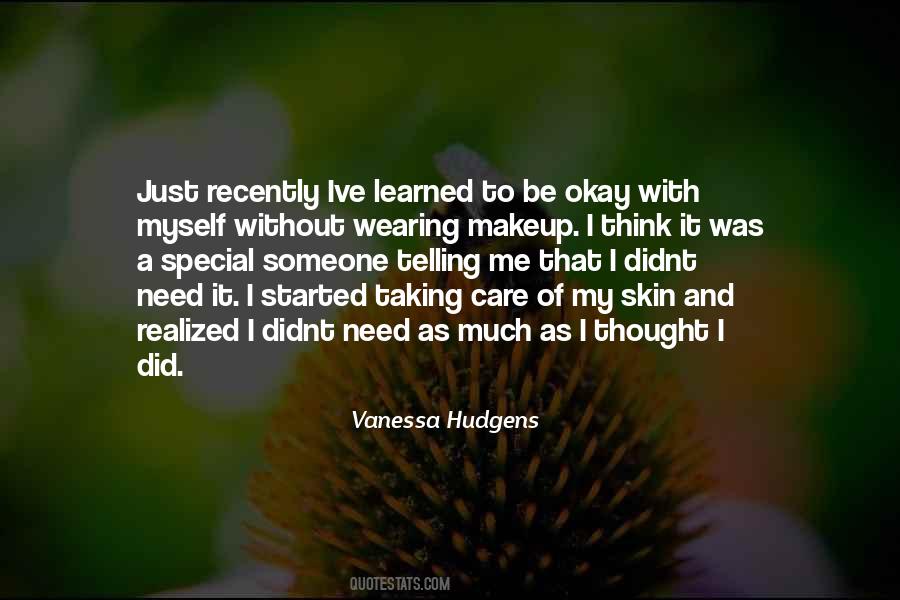 #5. I know this looks pathetic, but I'm wearing black elastic-waist pants just like my mother's, a hot-pink fleece hat, mismatched socks, and no makeup. I think it's safe to say that vanity is no longer my biggest concern. - Author: Lisa Genova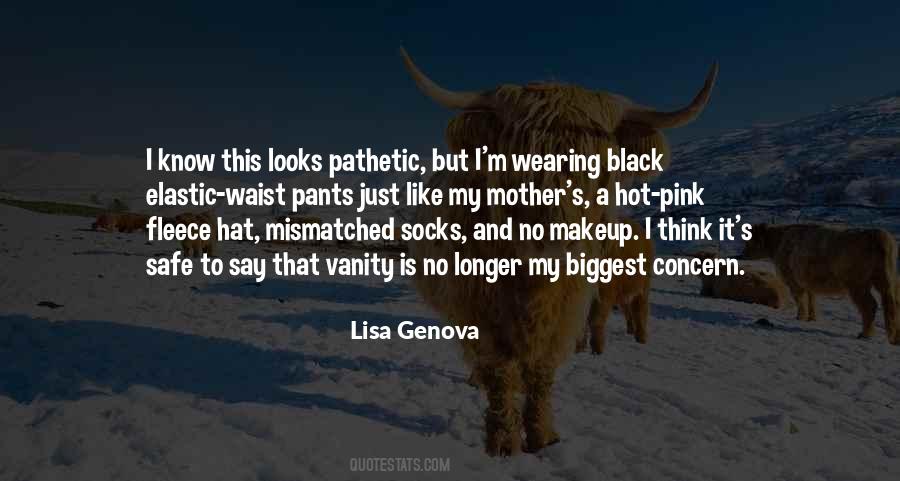 #6. We have a snap of my dad wearing blue eye shadow, which I would always make fun of. When I was about 12 and first started wearing lipstick, my dad would ask, 'Are you wearing makeup?' I would say back, 'You're wearing more makeup there than I am!' - Author: Georgia May Jagger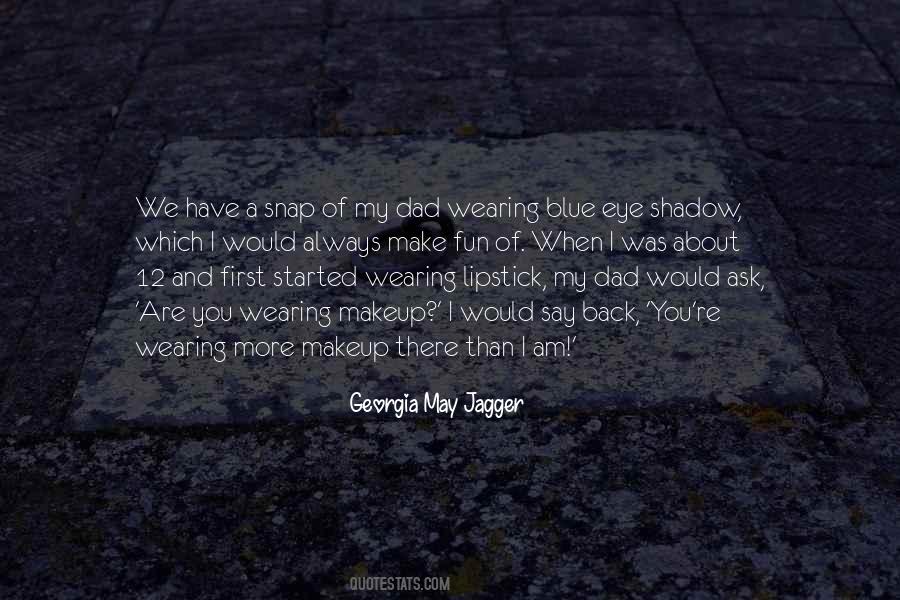 #7. She's wearing a tight red sweater and a red skirt and enough makeup to scare a hooker. - Author: Kathryn Stockett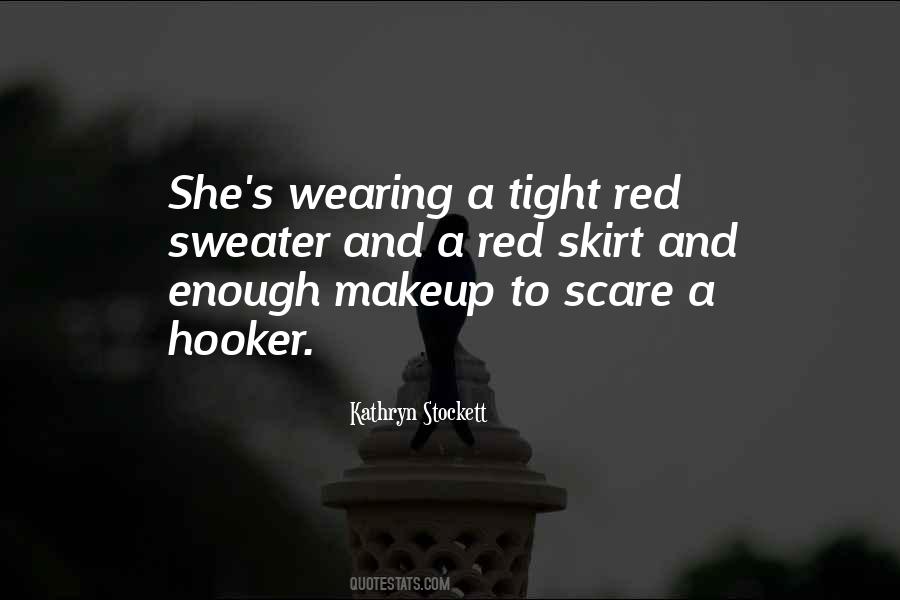 #8. I, Lesley, I like looking nice. I like doing my hair and wearing makeup and wearing nice clothes. But I don't care what my characters look like. - Author: Lesley Manville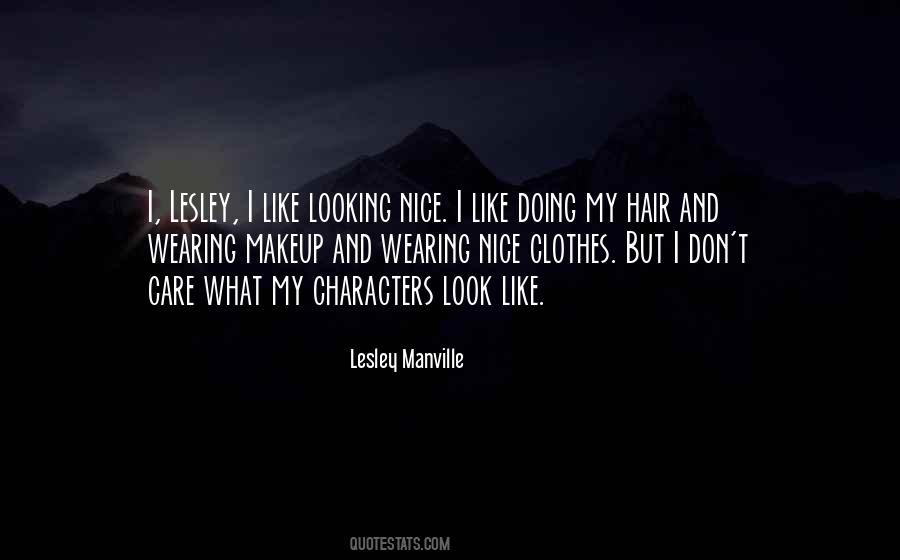 #9. I'm just not wearing any makeup. People thinking I'm wearing prosthetics of all sorts, I just don't have any makeup on. - Author: Gwendoline Christie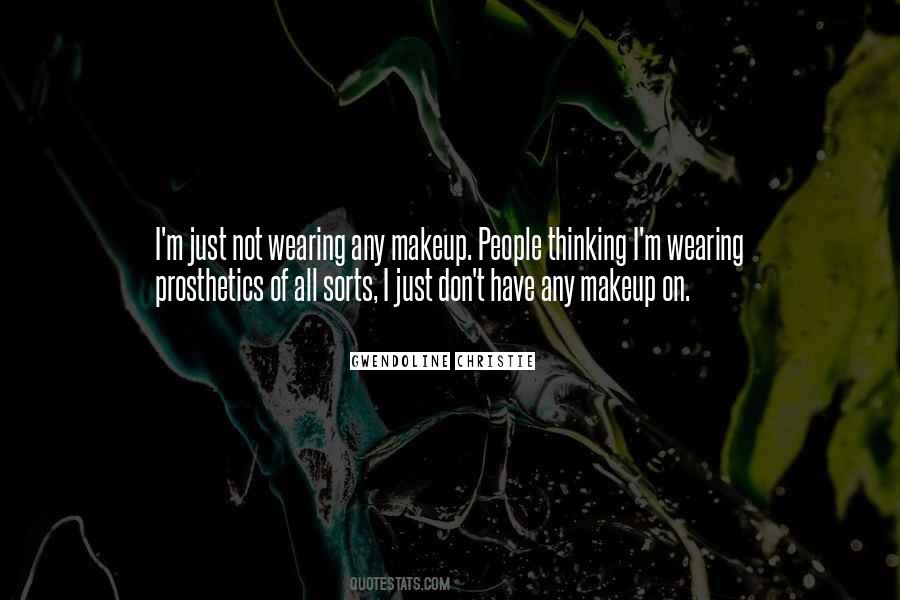 #10. Whether I'm wearing lots of makeup or no makeup, I'm always the same person inside. - Author: Lady Gaga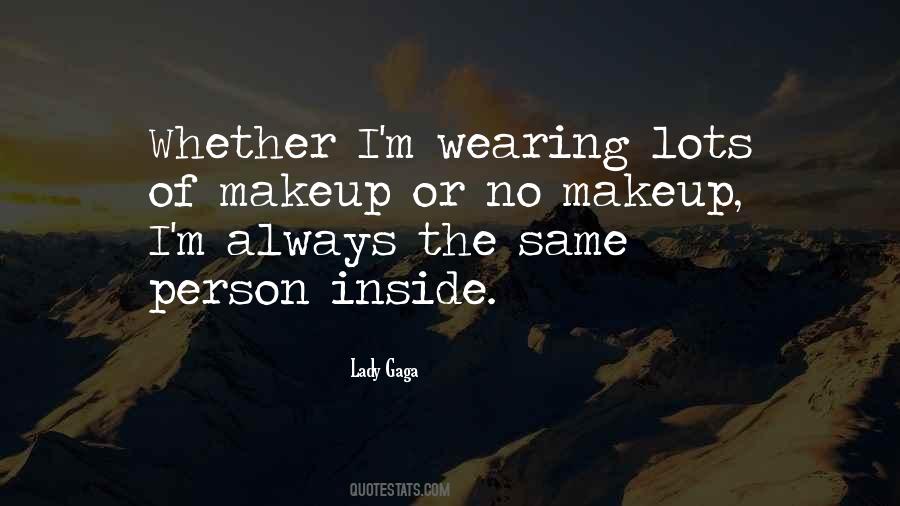 #11. I'm a bit of a contrarian, so I like the idea of going on stage without makeup, without the hair being done, in the jeans and shirt I've been wearing all day. At first that was an issue, because I didn't want to be disrespectful. - Author: Lou Doillon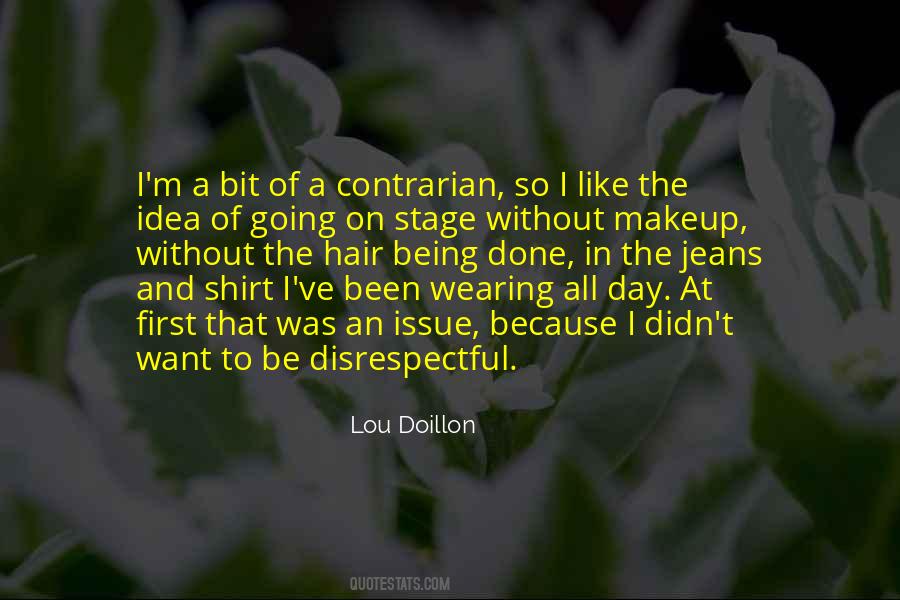 #12. In the early '90s, it was grunge; everybody was fully clothed. Alanis Morissette was one of the biggest artists in the world, never wore makeup, wearing Doc Marten boots, and then the Spice Girls turn up, and suddenly it all looks a bit burlesque; suddenly they're the biggest band in the world. - Author: Caitlin Moran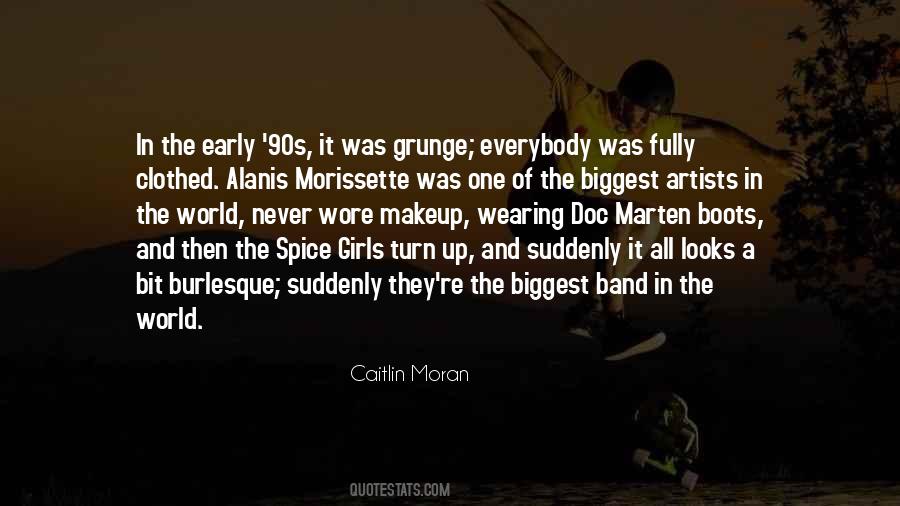 #13. When I am an old woman, I will stop trying to look beautiful. I will quit wearing makeup and buying uncomfortable clothes because they look good. Maybe I will take up nudism. - Author: Rachel Corrie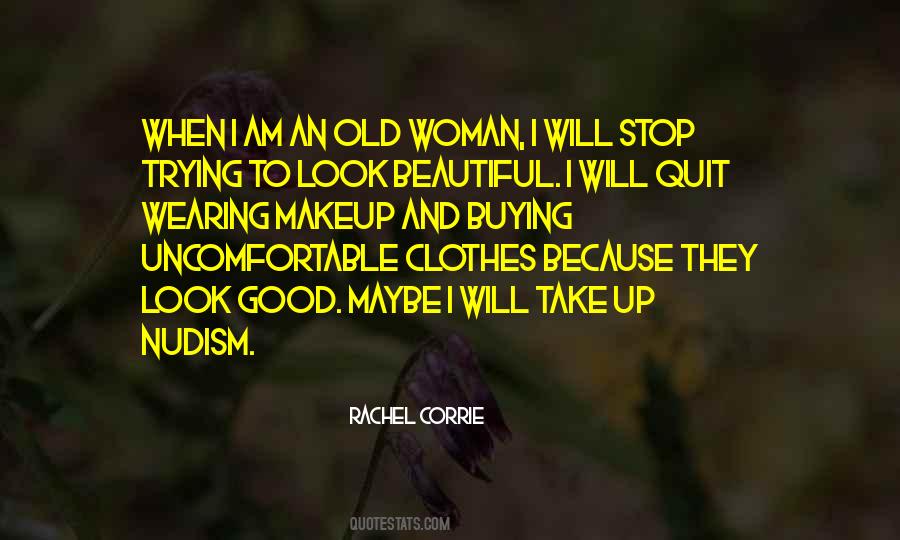 #14. In real life I've learned to love not wearing any makeup whatsoever, and I'm super low-maintenance when it comes to my hair. - Author: Leighton Meester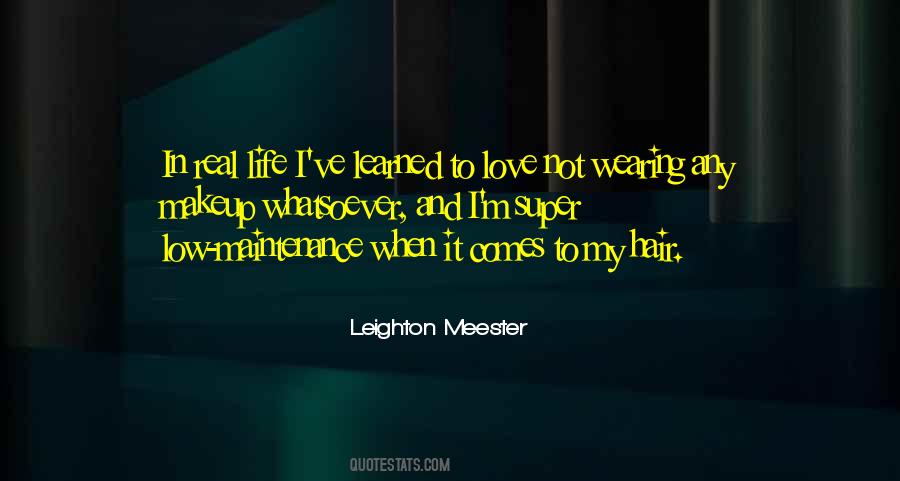 #15. I really don't have a problem showing the ugly side of people. If that means my wearing no makeup, that's fine. To me, that's beautiful. - Author: Amy Ryan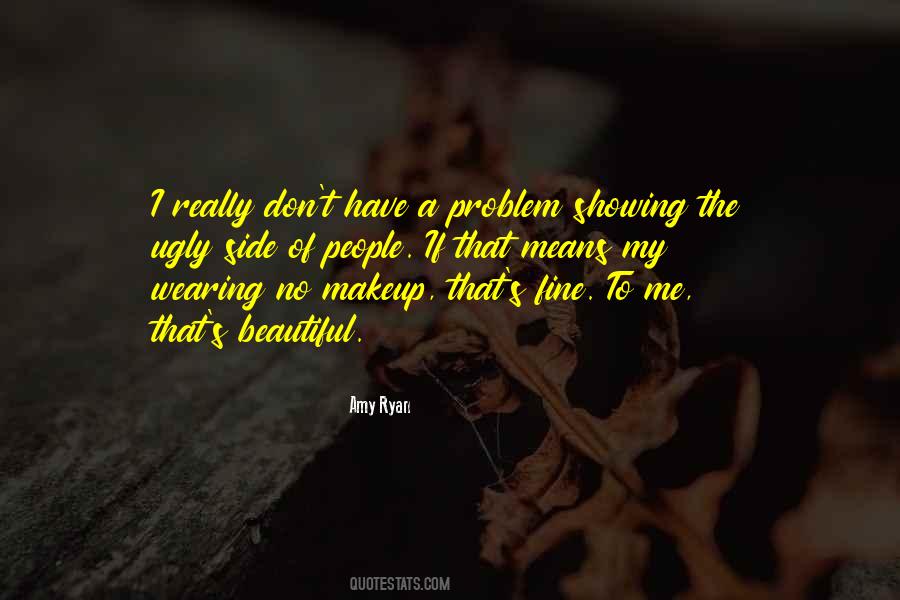 #16. Whenever I see young girls wearing way too much makeup ... you're young, you don't need that much. - Author: Sara Paxton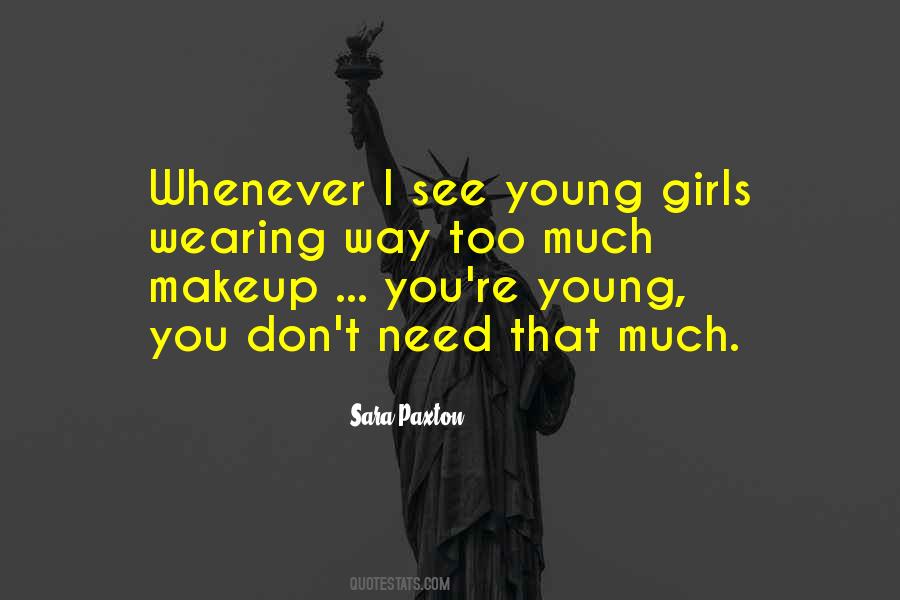 #17. I have calmed down my look. Is it really necessary to wear all that jewelry and makeup at 7 A.M.? When you're tired, you start to over-compensate by wearing too much bling. - Author: Jessie J.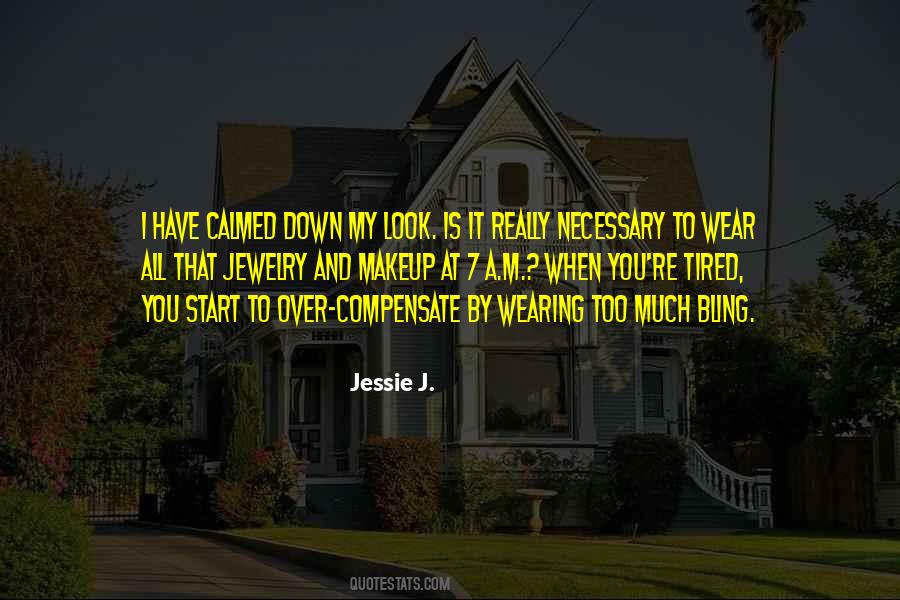 #18. Sometimes it's so weird just to do an interview. This morning I was back in my parents' house, with my brother, and we went for a jog together, then had breakfast as a family. And a couple of hours later I'm wearing high heels and a dress and makeup, and talking about my job. - Author: Carey Mulligan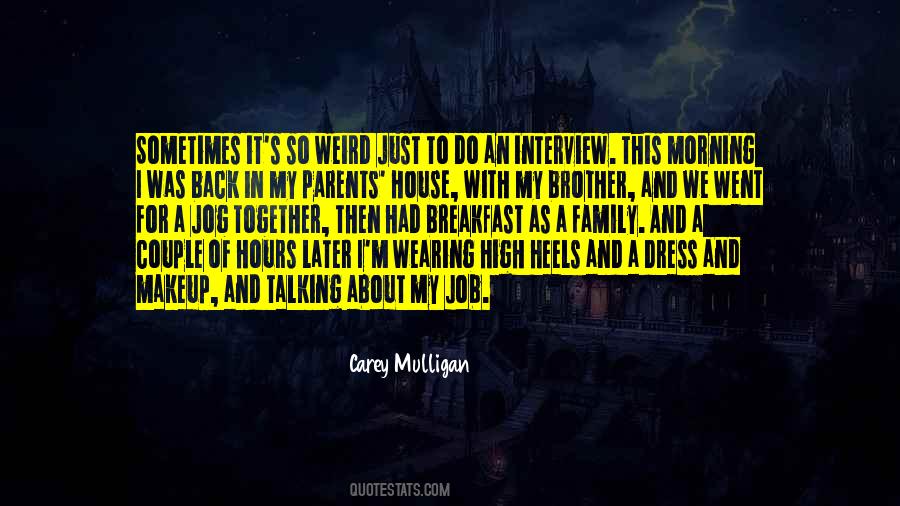 #19. I discovered makeup when I was 13, and it changed my life. I started wearing mascara, and overnight, people reacted to me in a very different way - I was more popular and I felt more confident. - Author: Charlotte Tilbury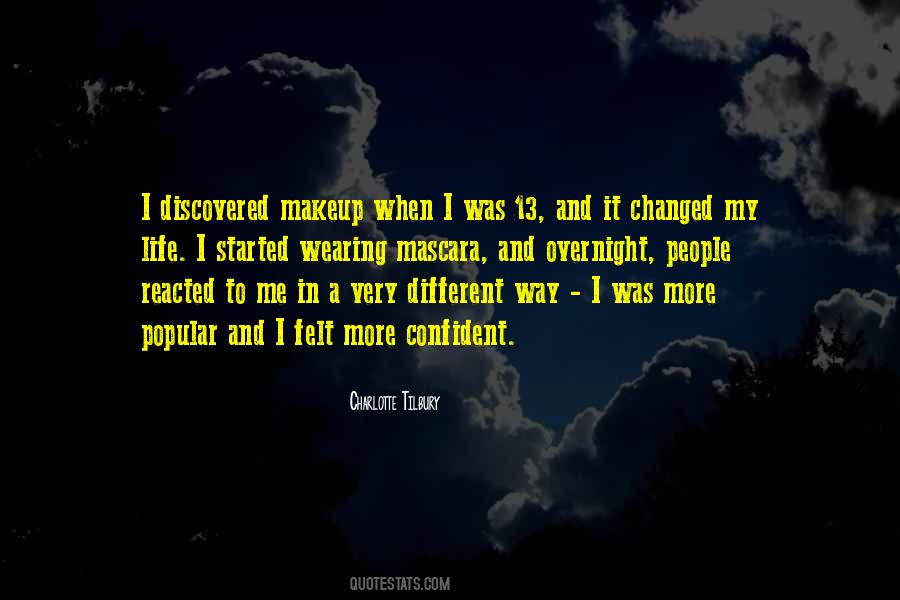 #20. I'm interested in learning more about myself and what I value in myself and letting that be the beautiful part of me, rather than putting on the makeup or wearing the right designer. - Author: Jessica Simpson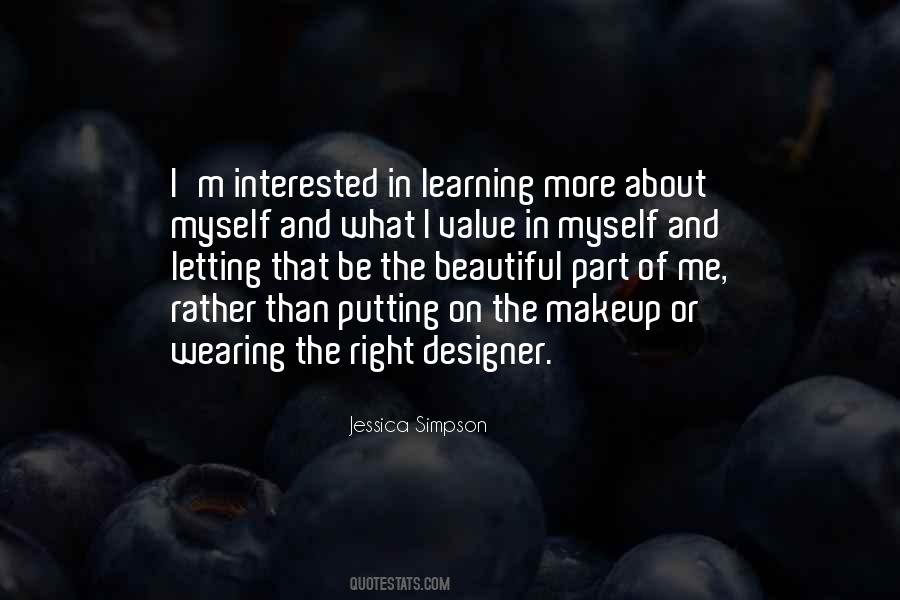 #21. My makeup artist likes to define my brows with Maybelline Brow Drama. We brush up on the part closest to my nose and it's straight after that. Then, I like to use the matte brown shades from Maybelline The Nudes Palette to shadow my eyes, but without it looking like I'm wearing much. - Author: Gigi Hadid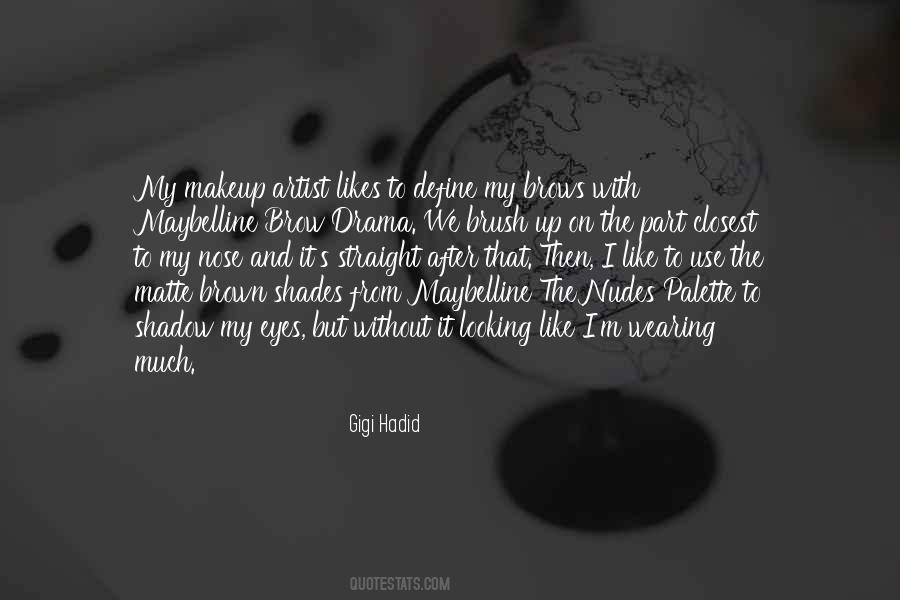 #22. I'm really into the Tom Ford lipsticks. I was always afraid to wear lip color because I thought it made me look too masculine, but my makeup artist Fiona Stiles got me into wearing coral, orange-y colors from his line, and now I wear lipstick all of the time. - Author: Nikki Reed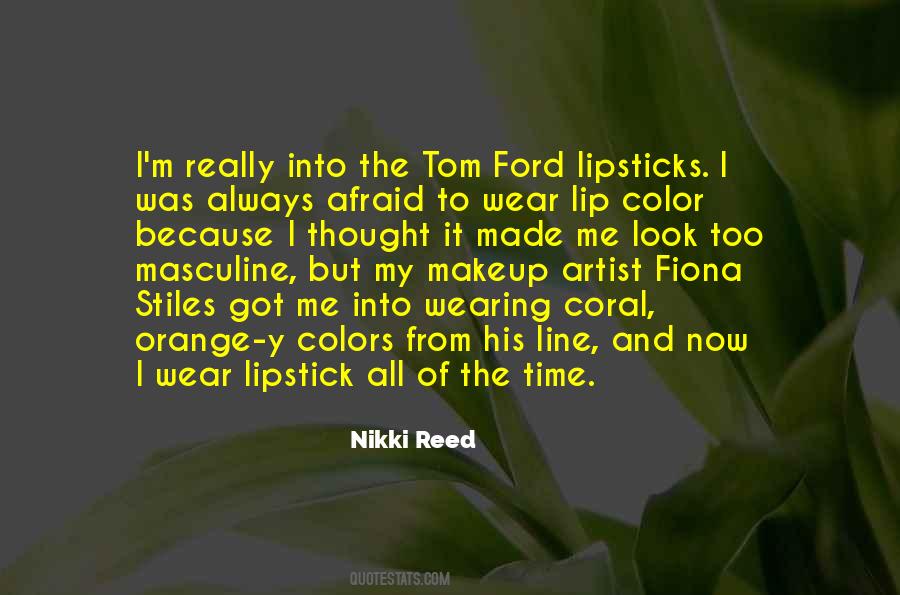 #23. Still teenagers, Harry and Peter Brant II have never disappointed when I've seen them out and about in New York, Paris, and Venice (Which is where all schoolkids go on field trips, right?) They're not afraid of wearing brooches, capes, embroidery, and even a dab-bing of makeup. - Author: Derek Blasberg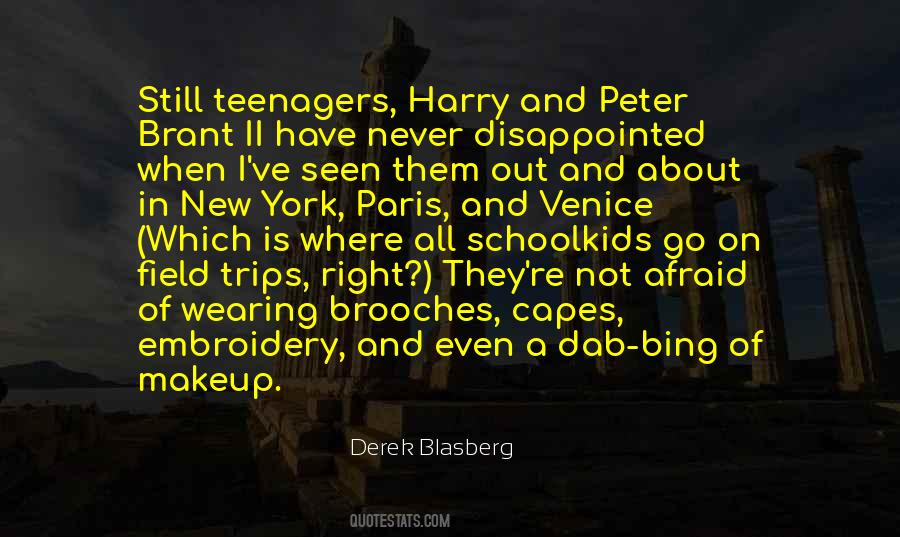 #24. I was left with the choice of wearing the pants either around my ankles or hitched up to my bellybutton. I decided the latter was the lesser of evils, so I went downstairs to have what would likely be the strangest meal of my life while dressed like a clown without makeup. - Author: Ransom Riggs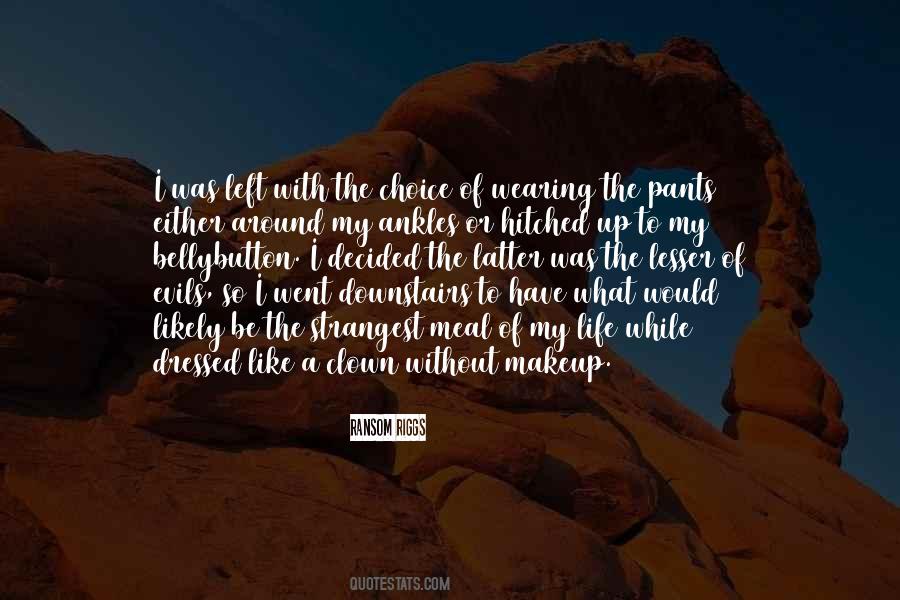 #25. I like to make my husband like me more, and he likes it when I'm wearing makeup. - Author: Gwen Stefani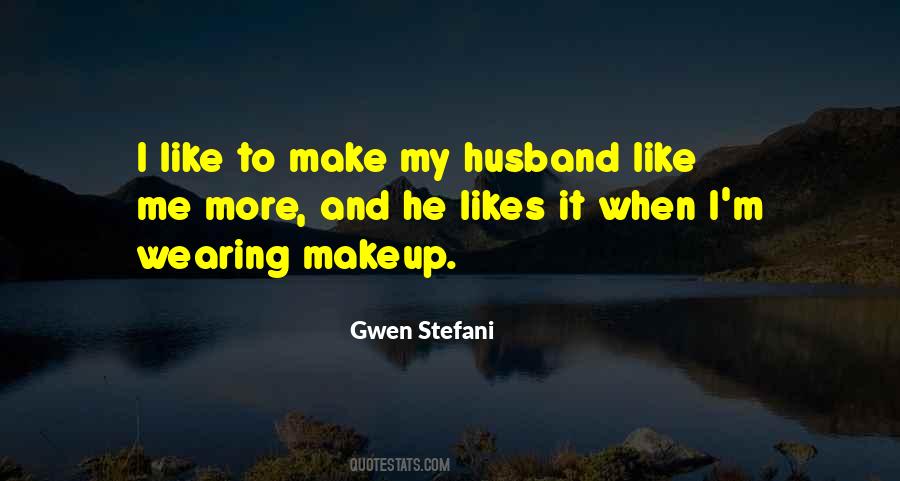 #26. Playing Destroyo, who was sort of a Silence Of The Lambs type character, I'd say I was wearing about 50 pounds of rubber and foam rubber and makeup. But I had no idea who The Tick was. I'm not a big graphic-novel guy. I don't even know if The Tick was a graphic novel! - Author: Kurt Fuller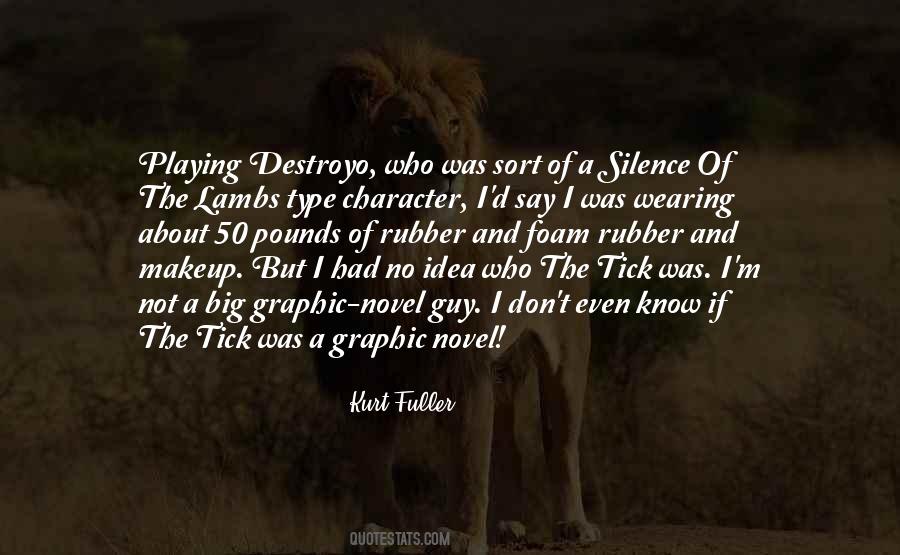 #27. How she looks is watered-down.
How she looks is disappearing.
How she looks is erased.
"Don't stress", she says. "This is just me not wearing any makeup. - Author: Chuck Palahniuk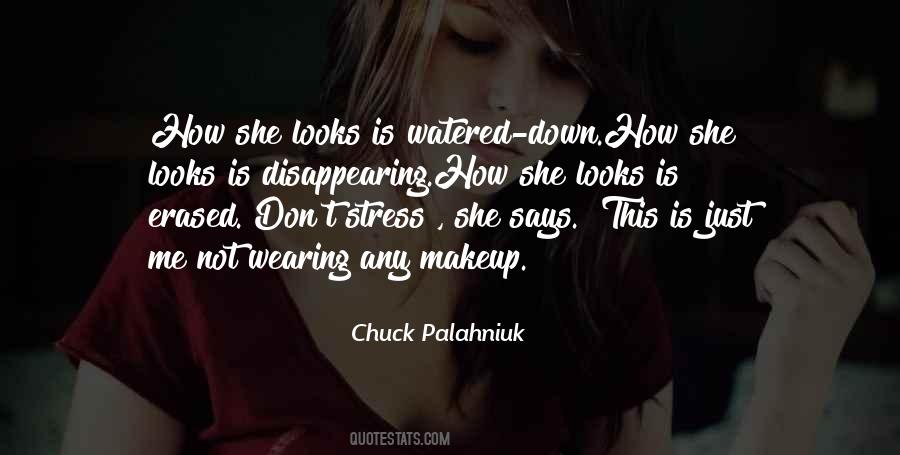 #28. When I hug her, I notice she's still wearing yesterday's false eyelashes.
Mom? You know those come off with a little makeup remover and a cotton pad?"
I'm not taking them off."
Why not?"
I spent $180 on that makeup job and I refuse to wash my face until I get my money's worth. - Author: Jen Lancaster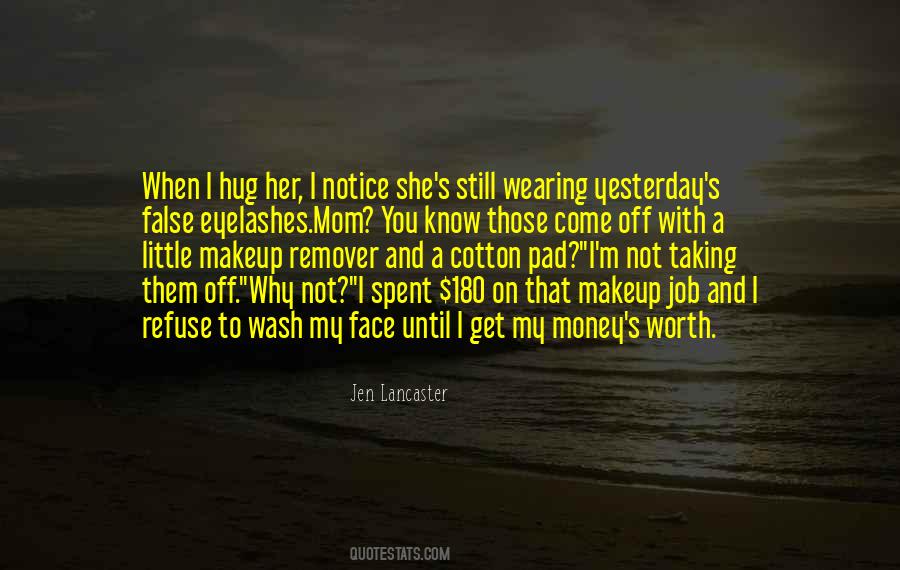 #29. I may be wearing makeup, but I can throw a fastball by you at the same time. - Author: Jennie Finch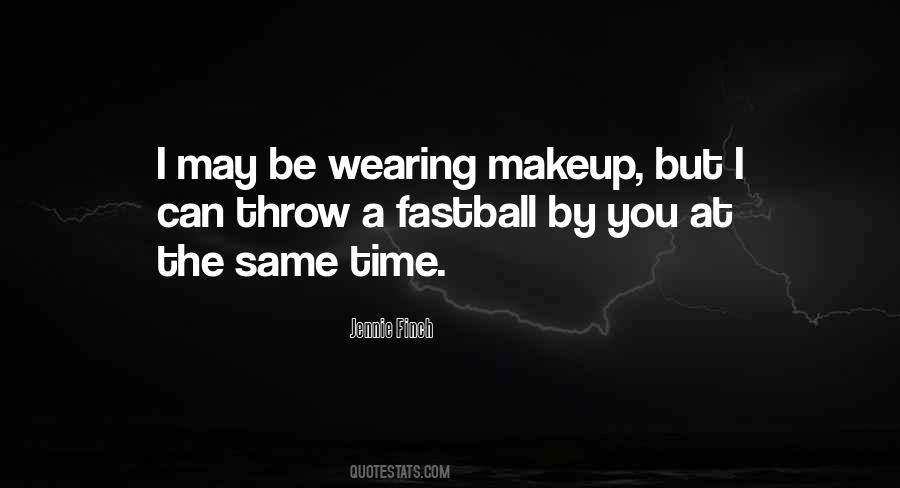 #30. Walking up to the Whisky some guys said to me 'the Scene is dead. Stop wearing makeup faggot!' All I could do was smile and think about the BVB Army and the legions of dedicated fans BVB has. I will wear my warpaint proudly, thank you very much! Seriously love you all. - Author: Jinxx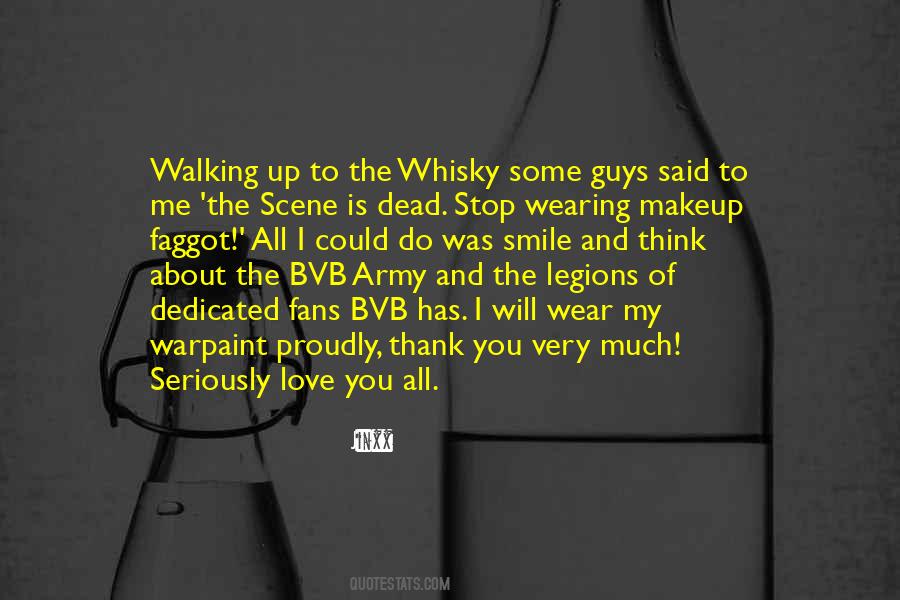 #31. Well, I was named after Mick Jagger's daughter, Jade Jagger. How emasculating is it to be named after a girl! But I think I handled it well, it's not like I ended up wearing makeup and girl's pants. - Author: Jade Puget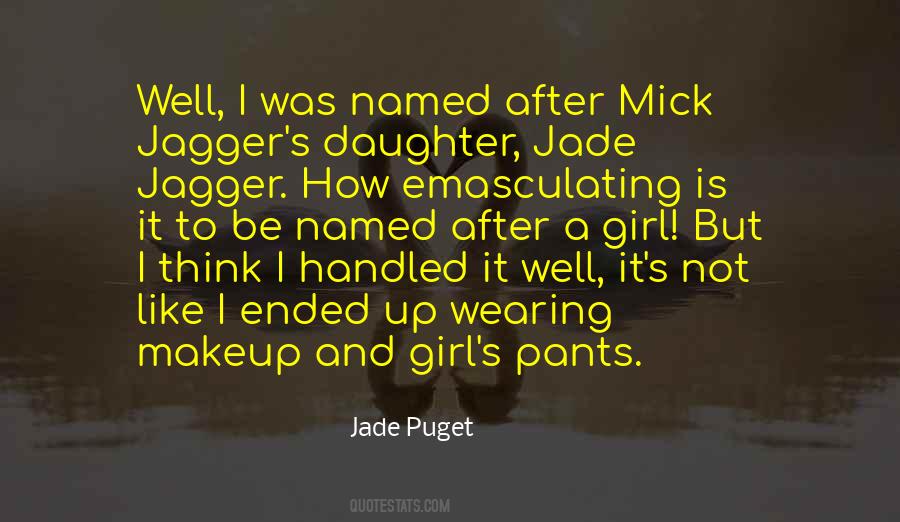 #32. Whenever you're going through stuff, it definitely reflects in the way you wear your makeup and hair. Wearing less makeup is more comfortable for me. - Author: Demi Lovato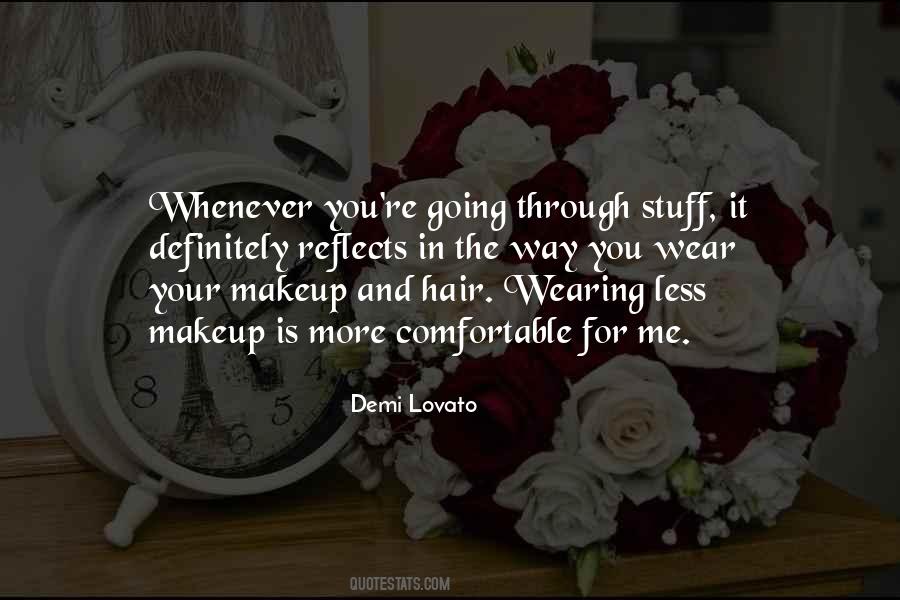 #33. After applying foundation and a little blush, dust your face with translucent powder, then mist skin with a rosewater spray and lay a Kleenex over for a second. It makes your face seem flawless in a way that looks as if you aren't wearing any makeup. - Author: Liv Tyler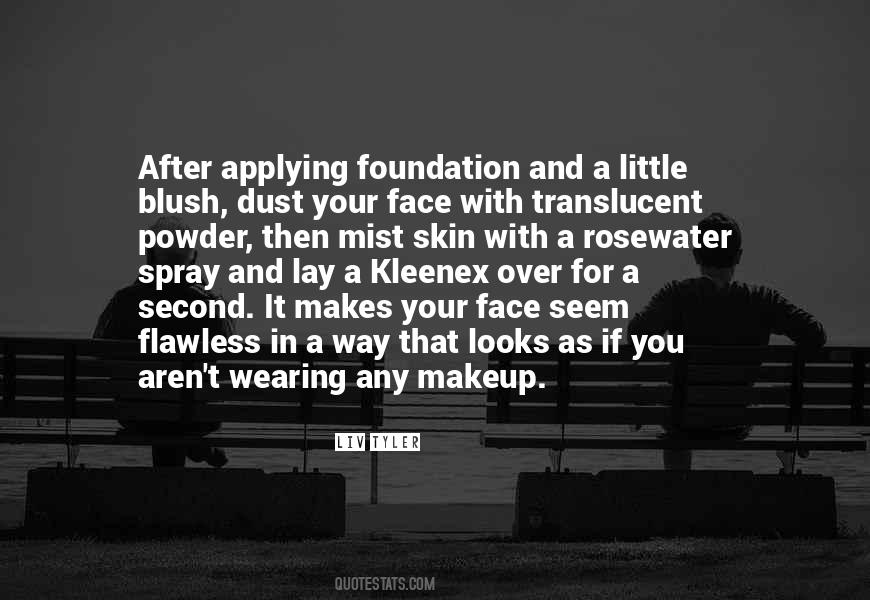 #34. I don't feel very glowing, especially after wearing makeup - and not necessarily my choice of makeup - for 12 hours straight on a movie set. When I'm playing a character, her look is sometimes different from my own. - Author: Jessica Biel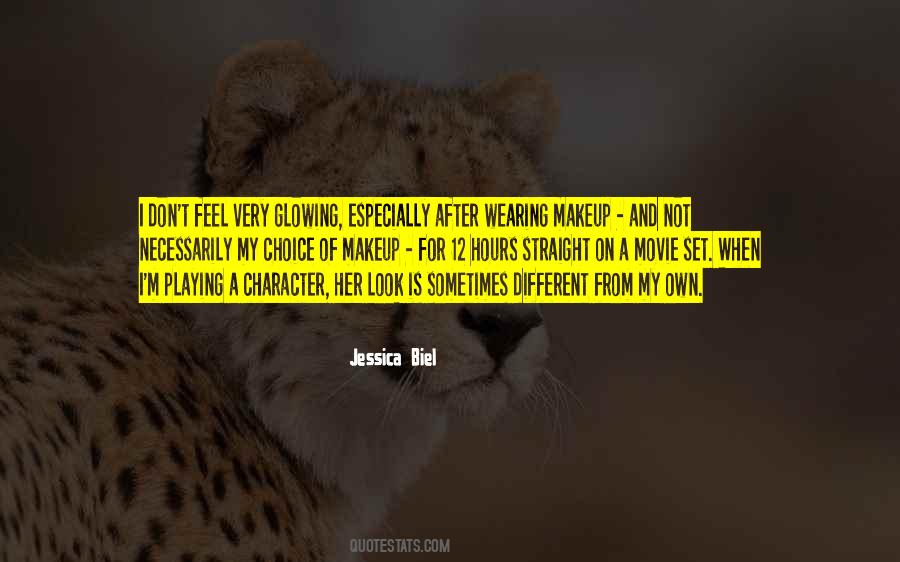 Famous Authors
Popular Topics