Trials In Life Famous Quotes & Sayings
List of top 100 famous quotes and sayings about trials in life to read and share with friends on your Facebook, Twitter, blogs.
Top 100 Quotes About Trials In Life
#1. Bad habits are demons that often push us into isolation because they know that in our loneliness they stand little chance of being overcome. - Author: Richelle E. Goodrich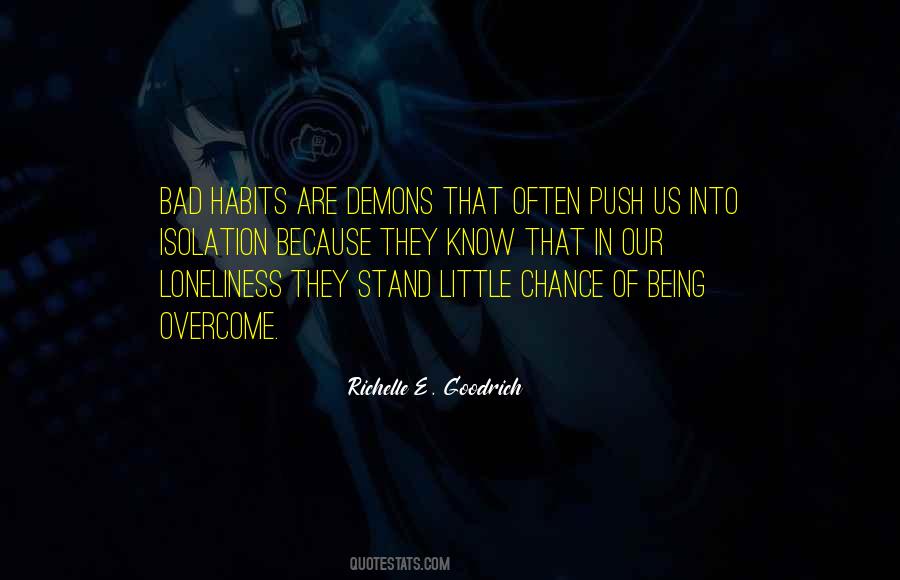 #2. Going through life has its struggles, but not sharing the trials in a way that engages great communication, is a loss of the physical realities through our everyday senses. - Author: Daniel B. Royer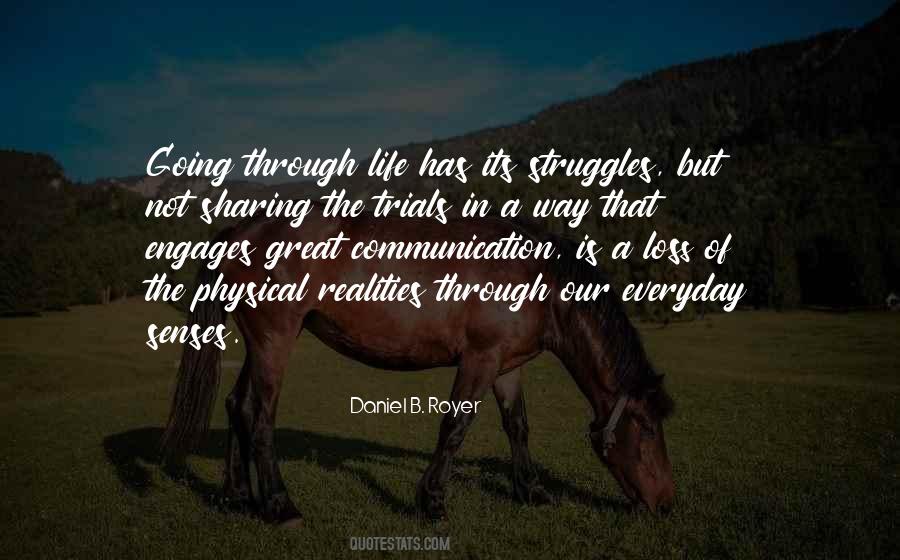 #3. (The death of his child) was the first experience of his life, so far as we know, which drove him to look outside of his own mind and heart for help to endure a personal grief. It was the first time in his life when he had not been sufficient for his own experience. - Author: Elton Trueblood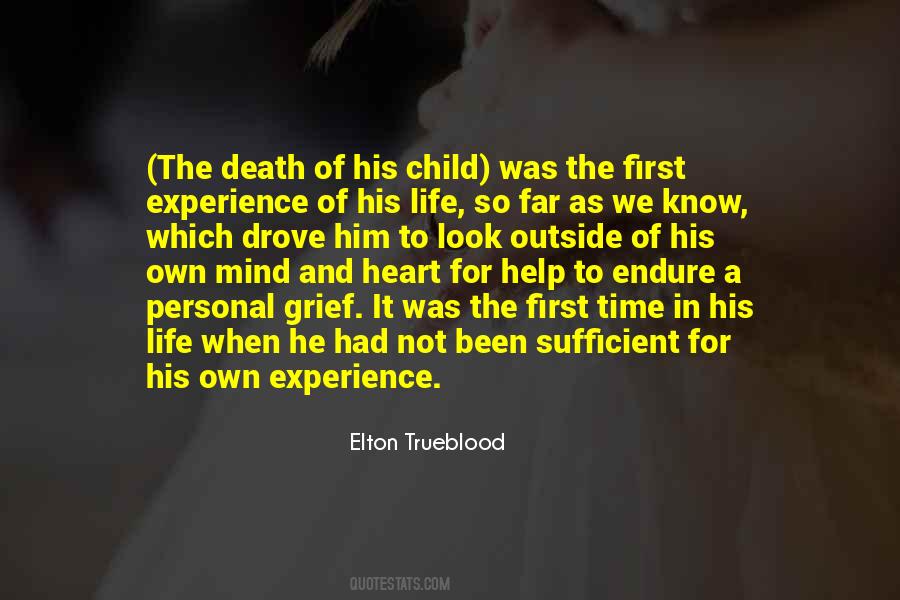 #4. It may seem like the dragons tormenting you are bigger and fiercer than those lurking in your neighbor's yard, but this is an illusion. We all face mighty dragons at home in some form. - Author: Richelle E. Goodrich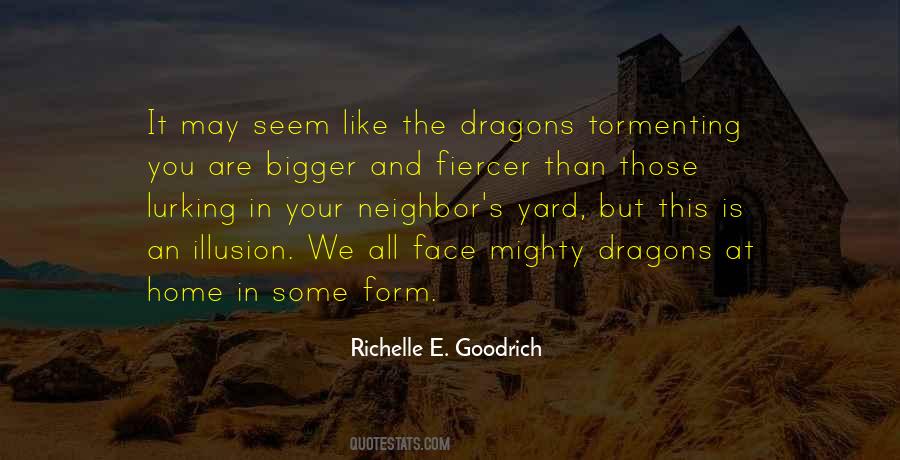 #5. It took me a long time to get to where I'm at, in my career and as a man. I was going through my trials and tribulations in life, and it gave me the strength to tackle things that have come my way. - Author: Bernie Mac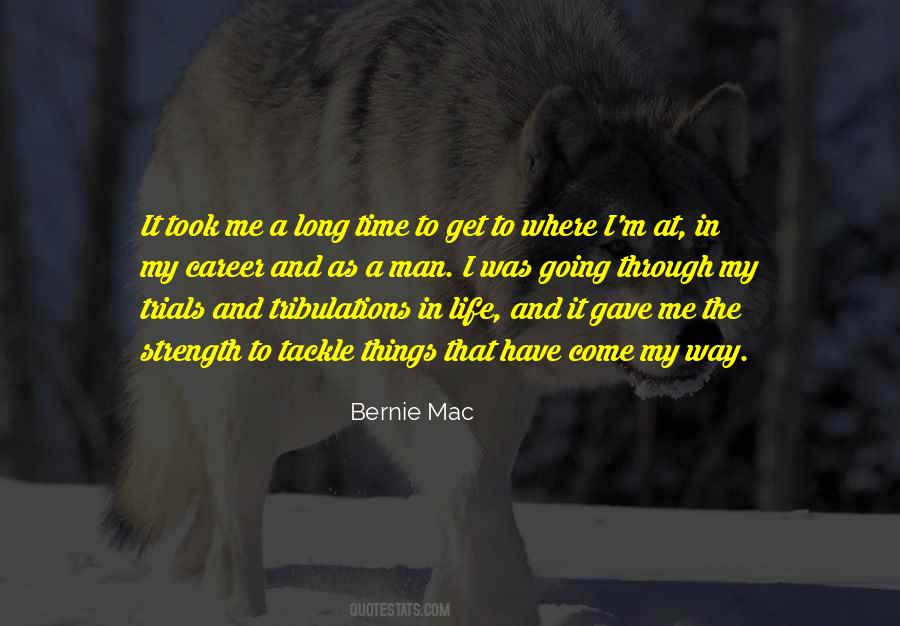 #6. Think about people in your own life who you have envied for one reason or another. It may surprise you to know that they do not see themselves the way that you do. Maybe they are all smiles on the outside but have personal struggles and trials that you would never guess from first glance. - Author: Lindsey Rietzsch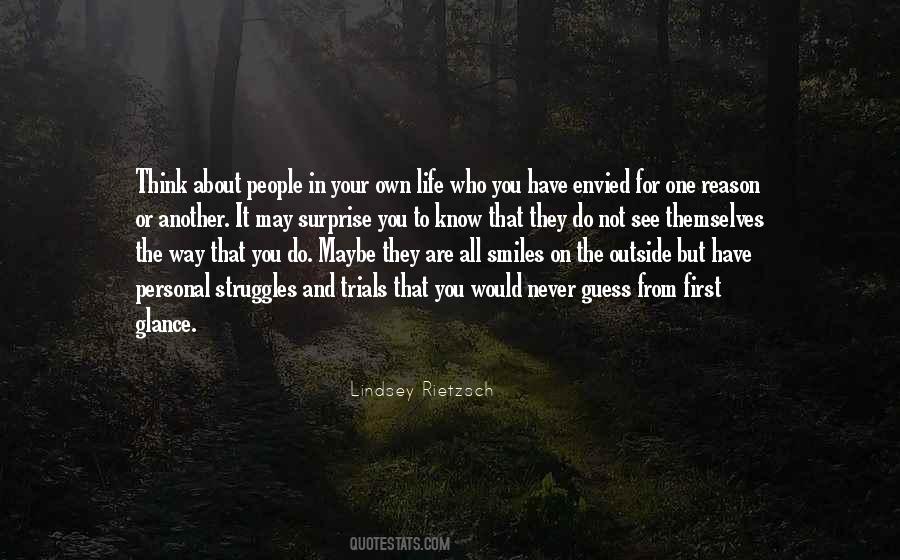 #7. This is what I would like to hold on to. Please help me memorize this feeling of contentment and help me always support it. I'm putting this happiness in a bank somewhere, not merely FDIC protected but guarded by my four spirit brothers, held there as insurance against future trials in life. - Author: Elizabeth Gilbert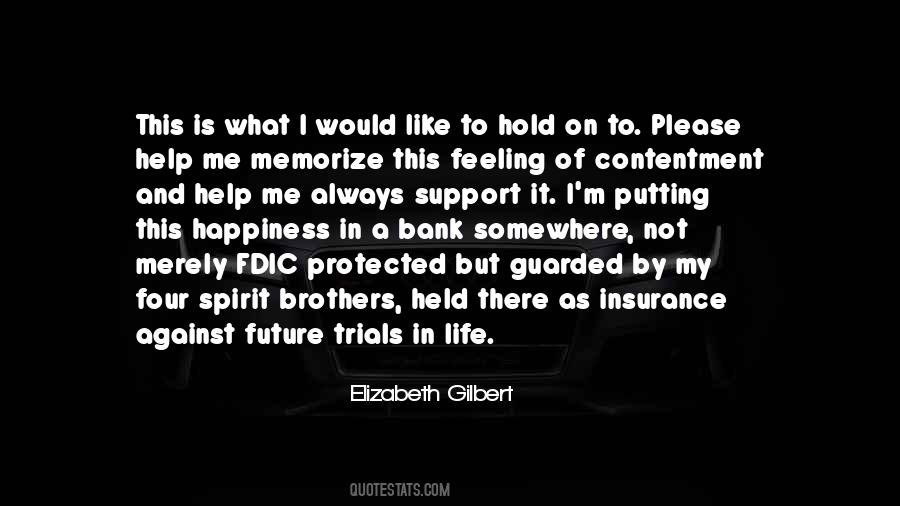 #8. True happiness comes only through sharing in the trials and successes of other persons and of our community. Hence it is essential that any true conception of happiness contain the promise of full commitment to the life of the society. - Author: Tsunesaburo Makiguchi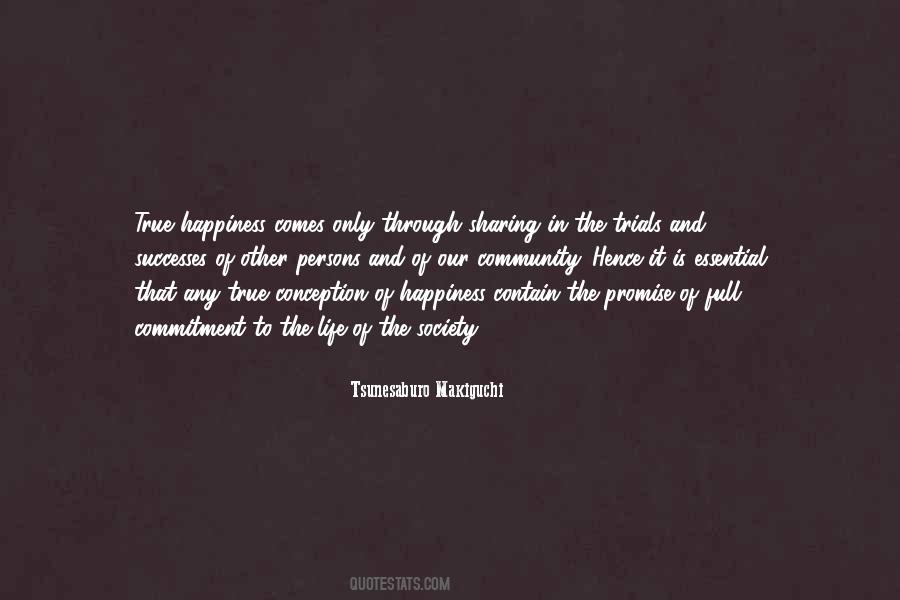 #9. Let not our trials of this day be our final sentence. For our difficulties of today is definitely shared by another in our world. Therefore, be encouraged and don't give up because tomorrow a new dawn will surely shine, and once we have life we have the most precious gift-Genevieve Sarpong. - Author: Genevieve Sarpong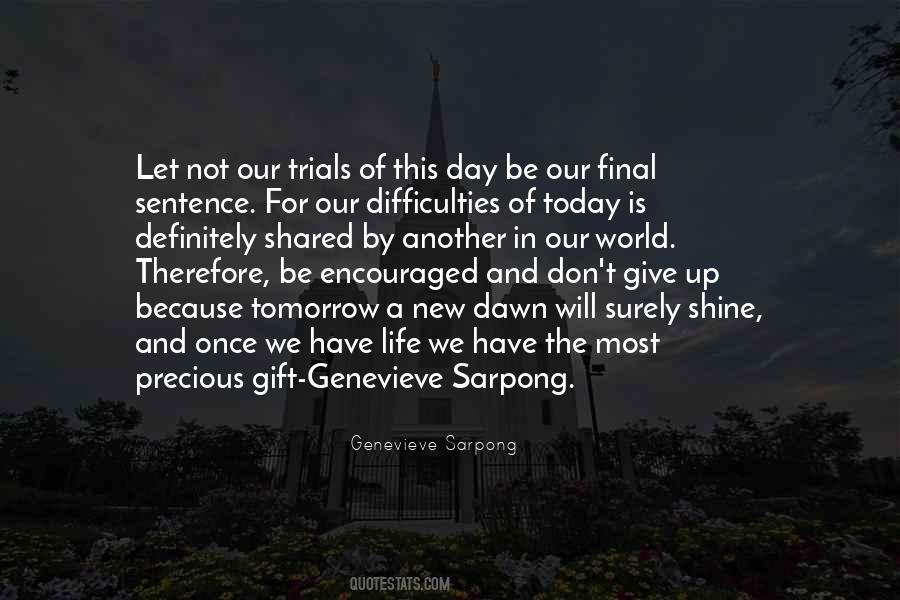 #10. I know a lot of us feel like that. We come to a place where we're walking through the fires and trials of life, and we don't know where to turn. What we need is a fresh start. We need our story to go in a new direction. What we need is a comeback of our own. - Author: Louie Giglio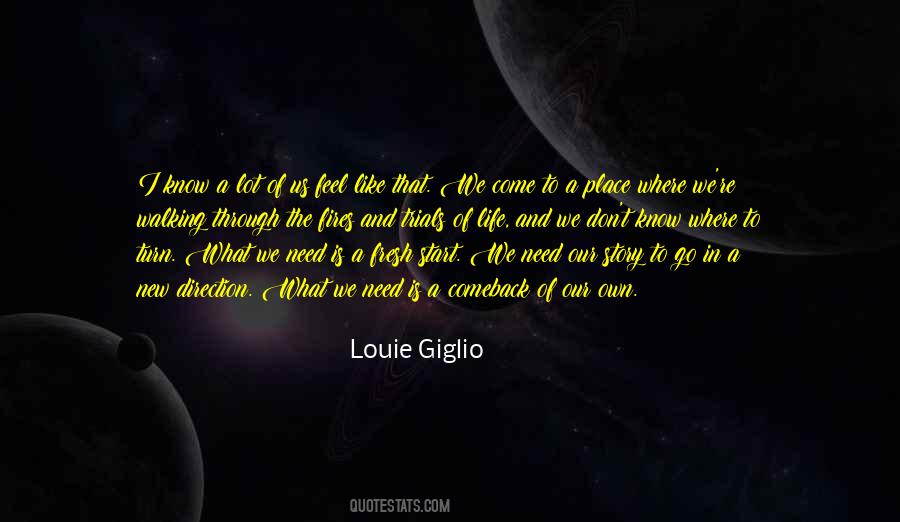 #11. Trials are a part of life, but there is value in sometimes experiencing adversity which will test (and so strengthen) our faith and also build an understanding of God and ourselves. - Author: Eric Ives
#12. What are trials in life but fire? They shape and mold. - Author: Amelia Hutchins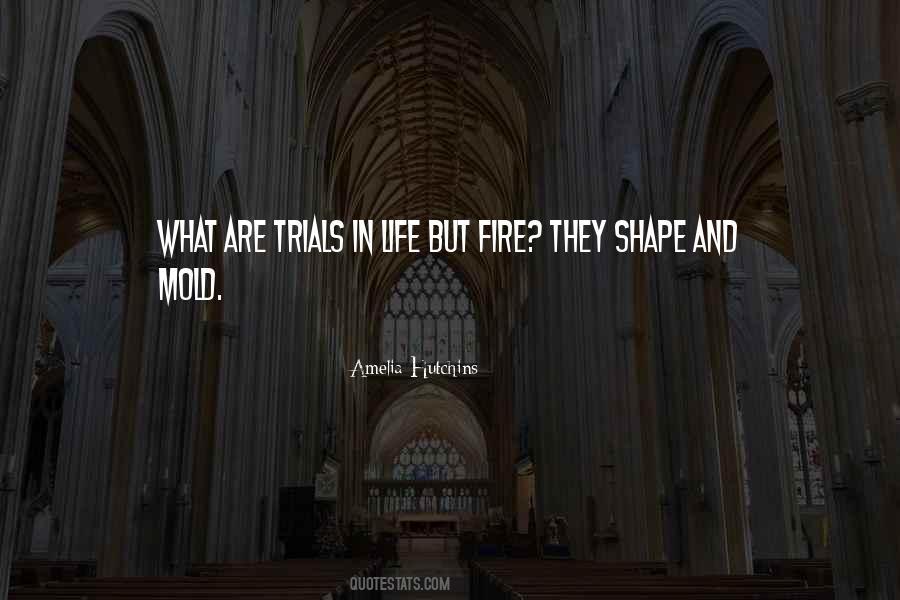 #13. Whoever desires Paradise, proceeds towards goodness; whoever fears Hell, refrains from the impulses of passions; whoever believes firmly in death, detests wordly life; and whoever recognises the worldly life, the trials and tribulations (of life) become slight for him. - Author: Ali Ibn Abi Talib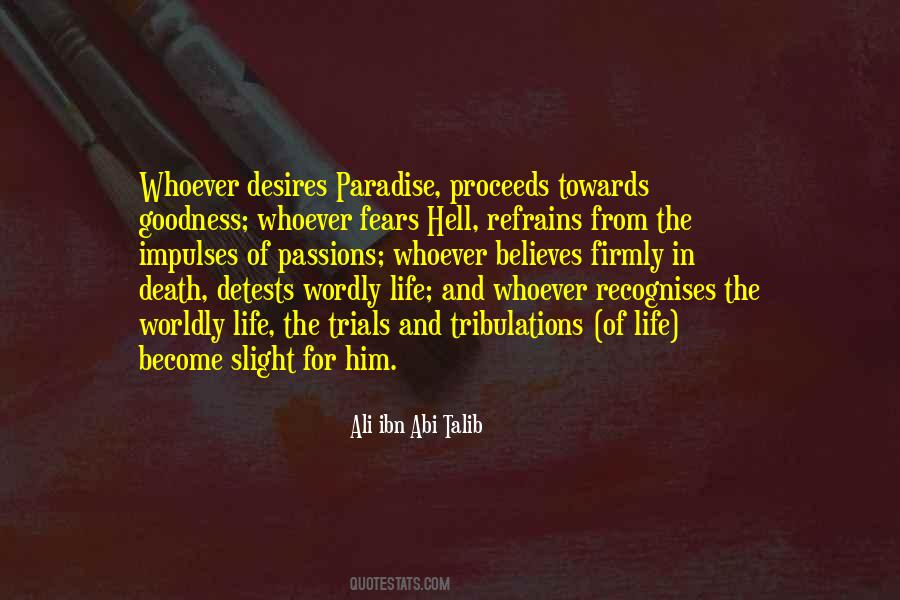 #14. Nothing in this world compares to the comfort and security of having someone just hold your hand. - Author: Richelle E. Goodrich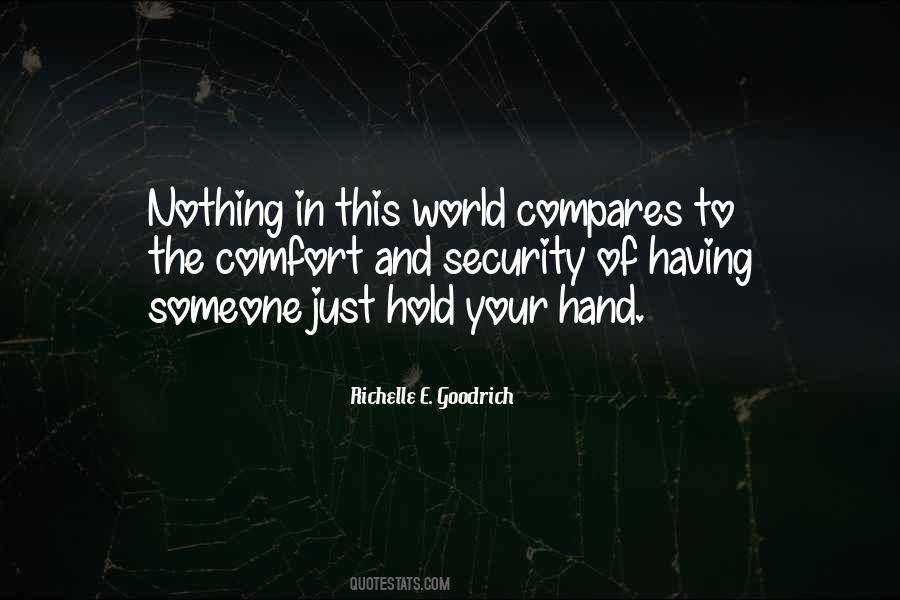 #15. Be faithful to God in your assignment and remember that in any case you will go through trials - Author: Sunday Adelaja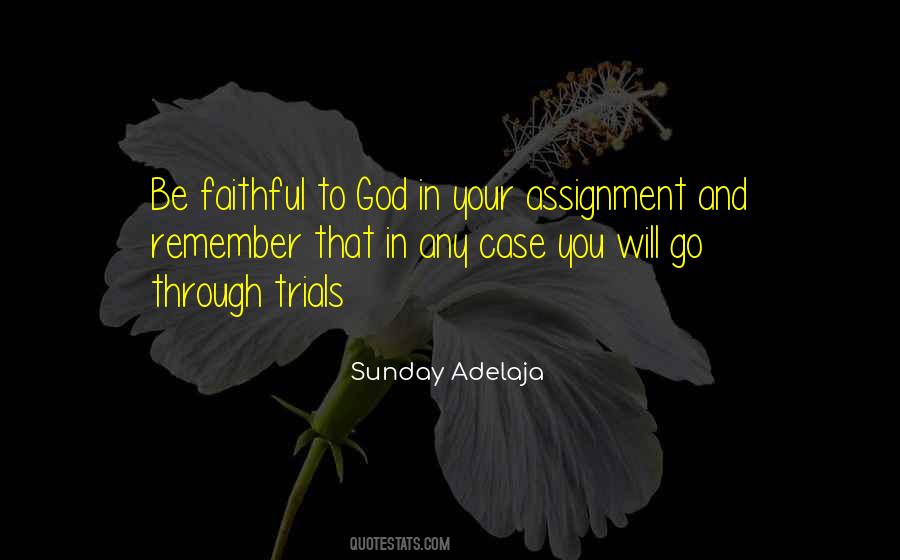 #16. I will use this period of spiritual training in my life to focus on the greatness of my God instead of the impossibility of my circumstances. - Author: John Bevere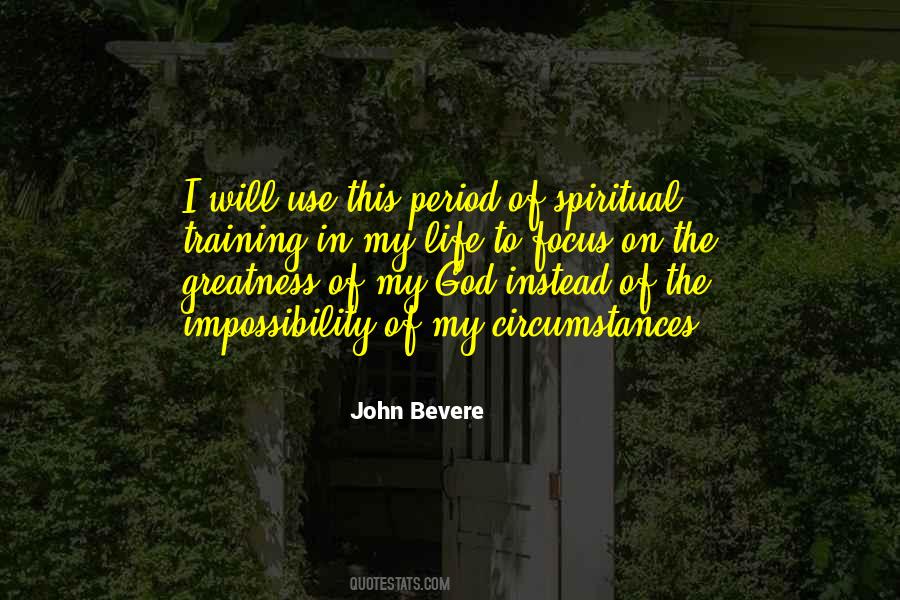 #17. If you're facing a season of trials, don't allow the enemy to have a field day by putting negative thoughts in your mind. Let go of stinking thinking. Instead of turning away from God in anger or confusion, run into His loving arms where He will comfort you. - Author: Dana Arcuri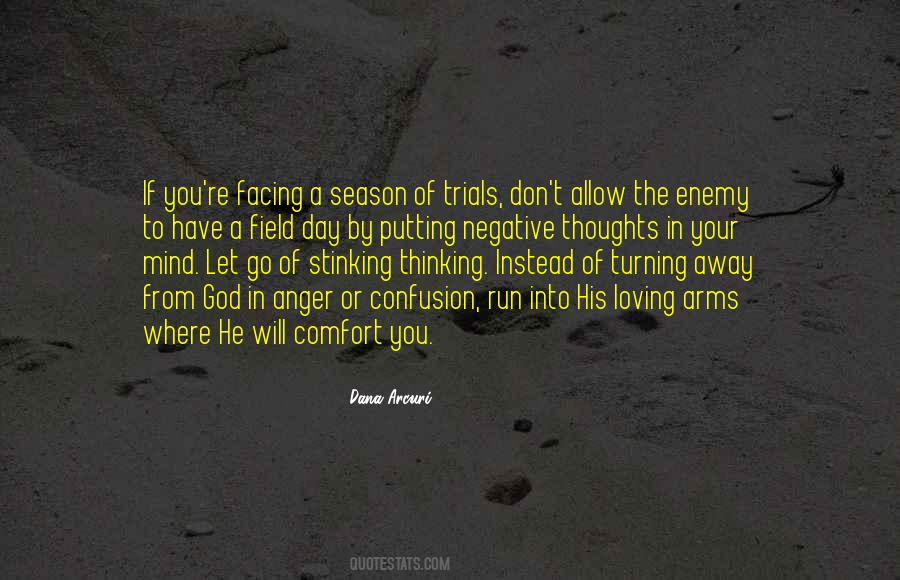 #18. Those things that challenge the worst in us tend to strengthen the best in us. - Author: Richelle E. Goodrich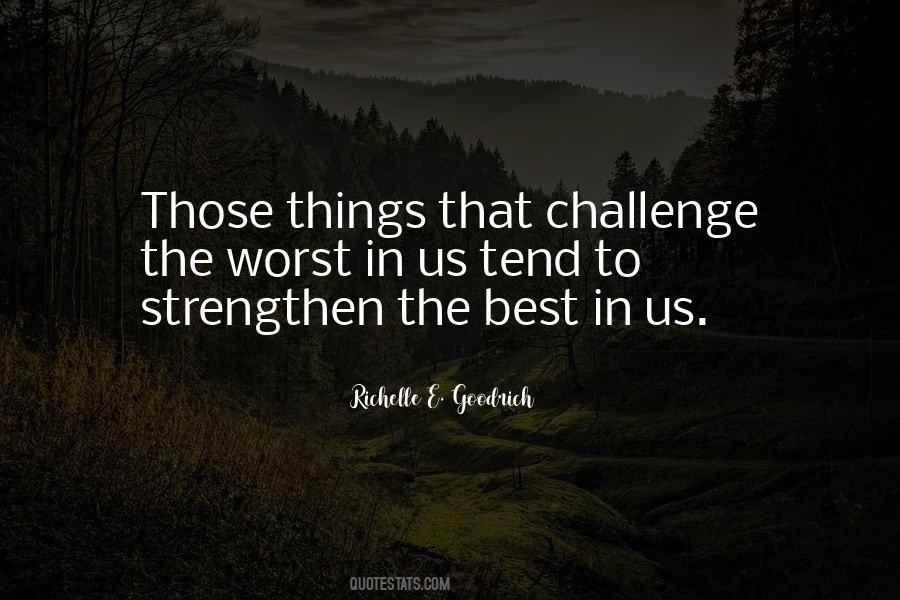 #19. We mustn't allow our circumstances and disappointments to become the excuse for the choices we make in life. God is greater than all of that, and He can bring beauty out of ashes. Our trials come, Augustine said, to prove us and to improve us. - Author: Alistair Begg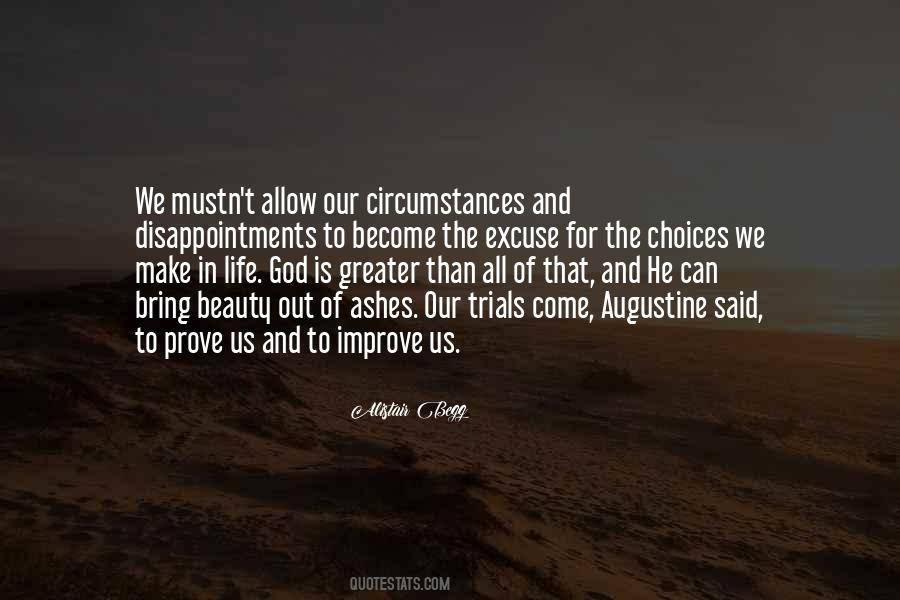 #20. Daily there have to be many troubles and trials in every house, city, and country. No station in life is free of suffering and pain, both from your own, like your wife or children or household help or subjects, and from the outside, from your neighbors and all sorts of accidental trouble. - Author: Martin Luther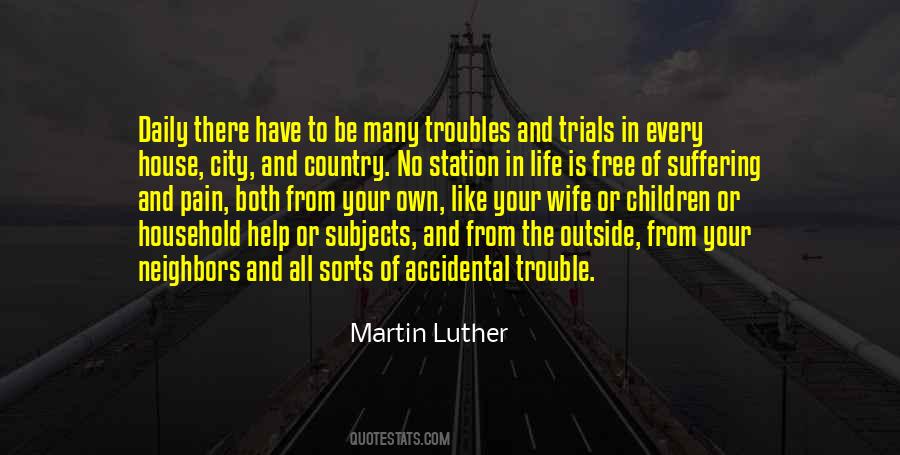 #21. The trials and tribulations in your life make you stronger. - Author: Taylor Swift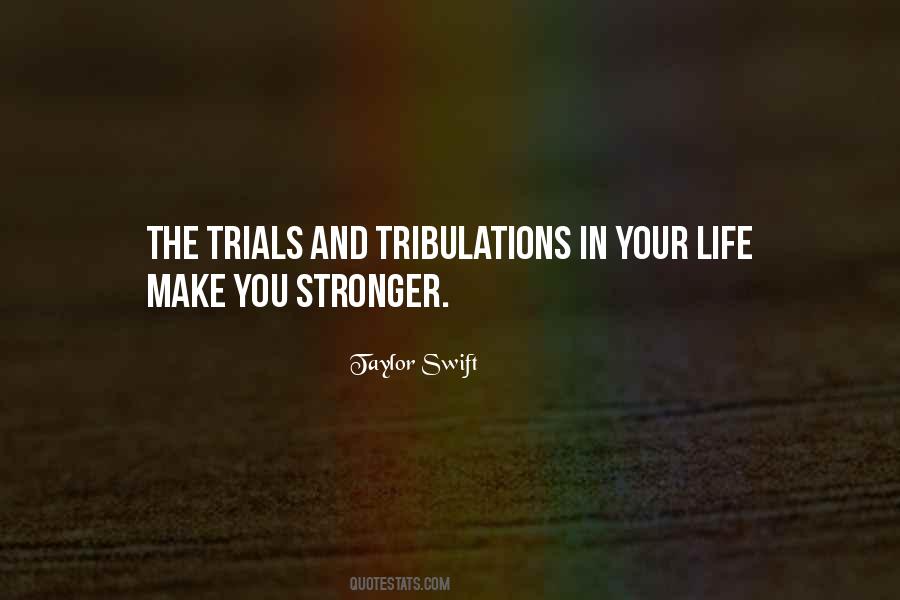 #22. Life's trials are not easy. But in God's will, each has a purpose. Often He uses them to enlarge you. - Author: Warren W. Wiersbe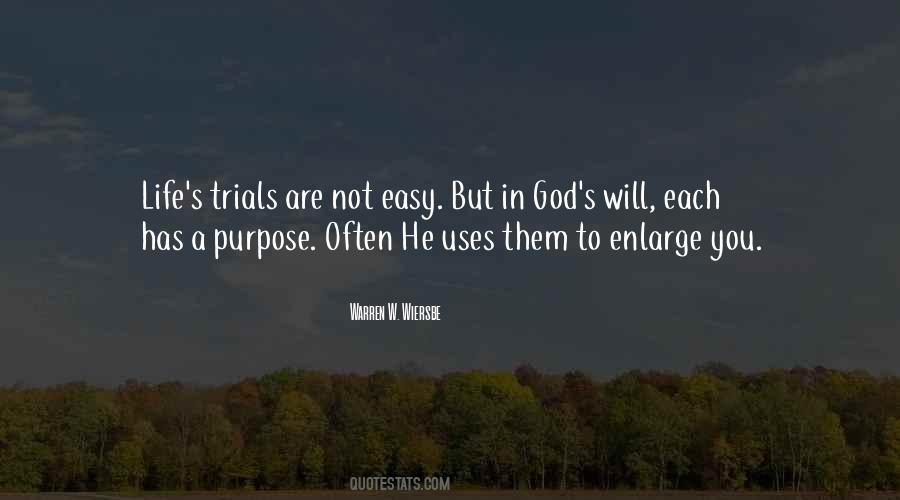 #23. The most difficult battles in life are those we fight within. - Old Chinese Proverb - Author: Camron Wright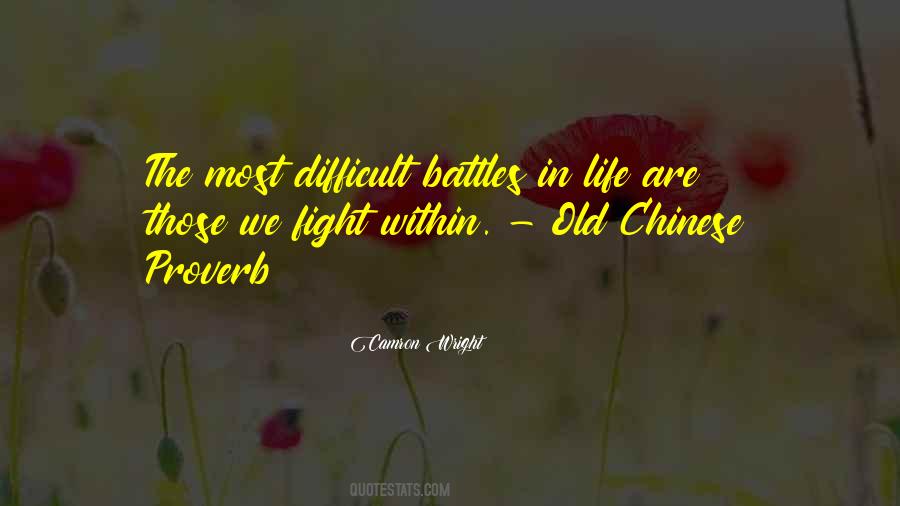 #24. Your first task is to be dissatisfied with yourself, fight sin, and transform yourself into something better. Your second task is to put up with the trials and temptations of this world that will be brought on by the change in your life and to persevere to the very end in the midst of these things. - Author: Saint Augustine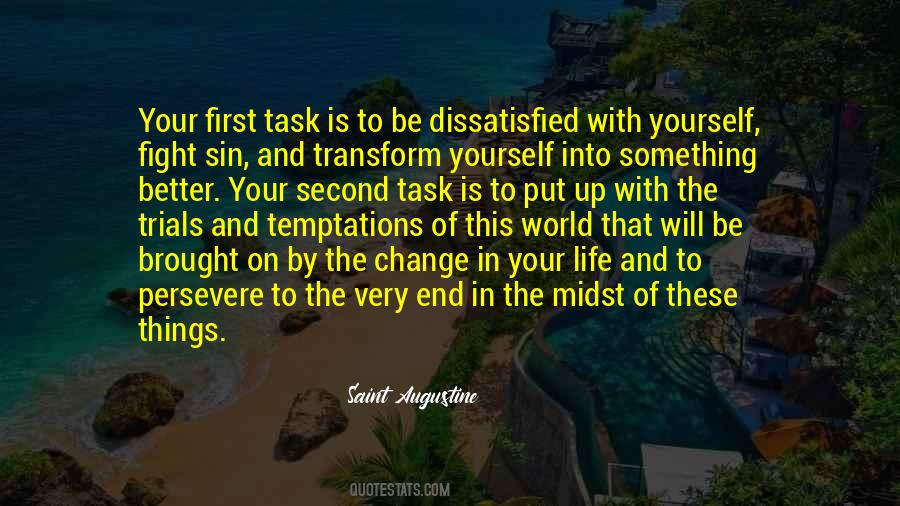 #25. God does not promise us that life will be free of sorrow and difficult trials, but He does promise us He will always be there to guide us through...wrapped in His arms of love. - Author: Kimberly McCormick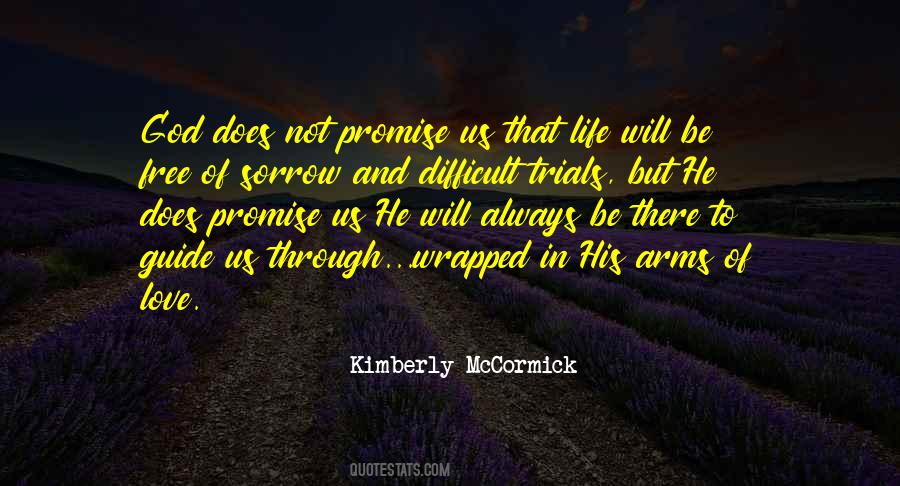 #26. In other words, God Himself will prepare the man to meet these trials. Joseph found himself in this situation - Author: Sunday Adelaja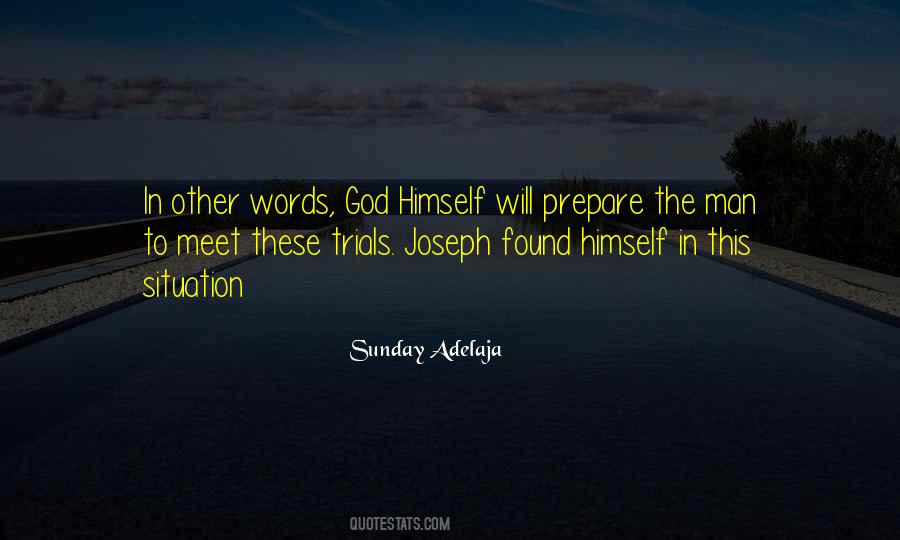 #27. As an adolescent I was convinced that France would have to go through gigantic trials, that the interest of life consisted in one day rendering her some signal service and that I would have the occasion to do so. - Author: Charles De Gaulle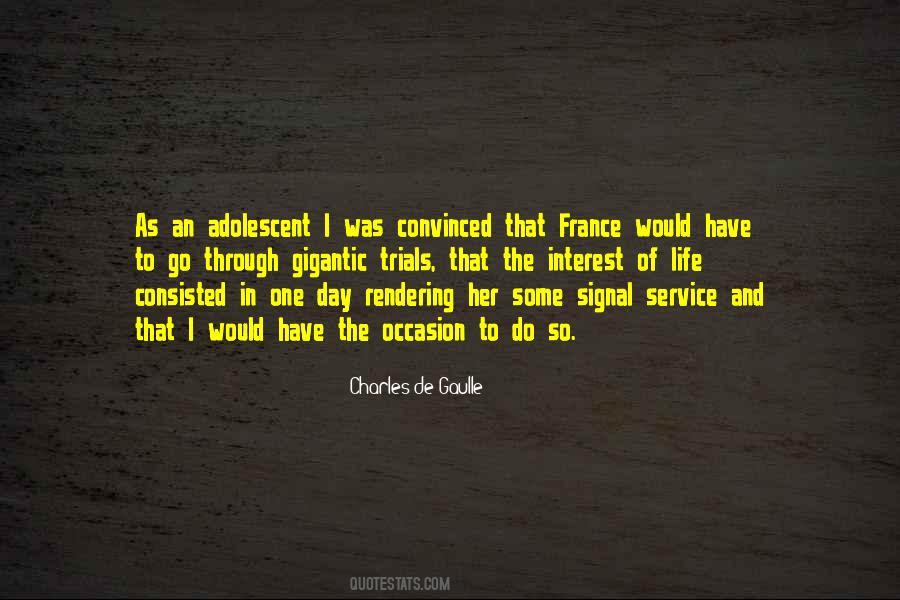 #28. Closing your eyes won't make the awfulness go away. It may be that nothing will. But dwelling on it, dreading the evil, playing out the misery in your head - doesn't this feed the monster? You can't close your eyes to life, but you can choose where your gaze lingers. - Author: Richelle E. Goodrich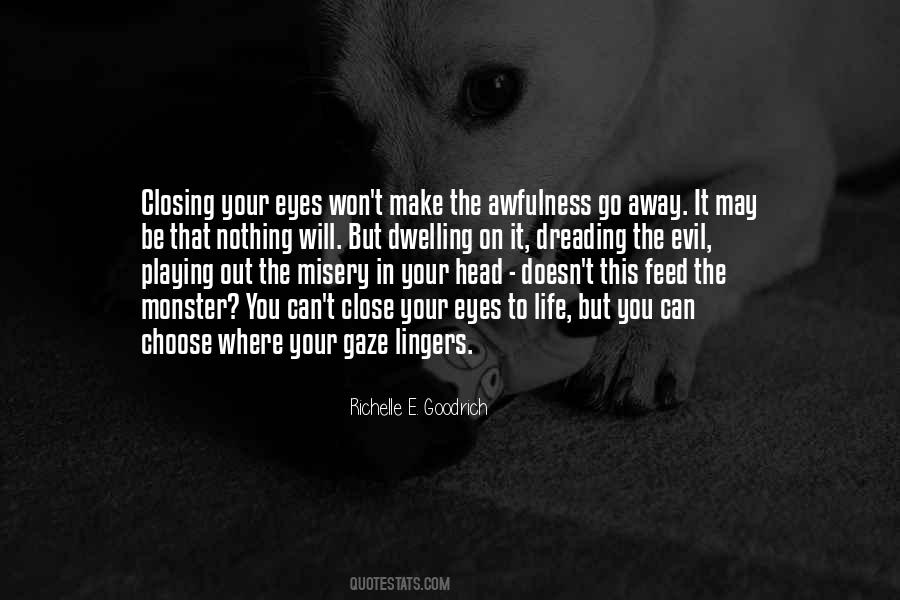 #29. It's hard sometimes, especially with a book like 'Scorch Trials,' to truly adapt to the way the book is because so many of the scenes that take place in the book are really graphed and painted for the imagination. Trying to bring that to life is a really big task. - Author: Dexter Darden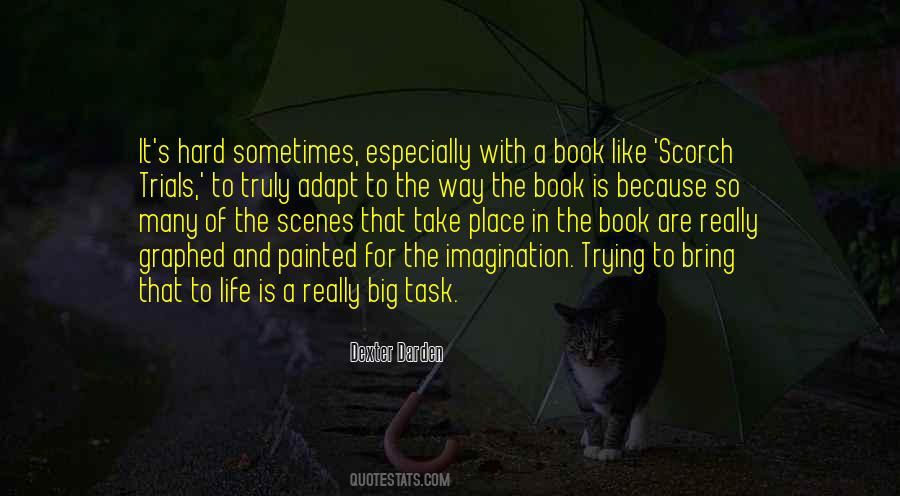 #30. No matter what each day brings -- the trials and tribulations that may cross my path, the turmoil, the ugliness -- when I look at this picture I'm reminded that life is precious and there is still beauty in this world. - Author: Ryan Troske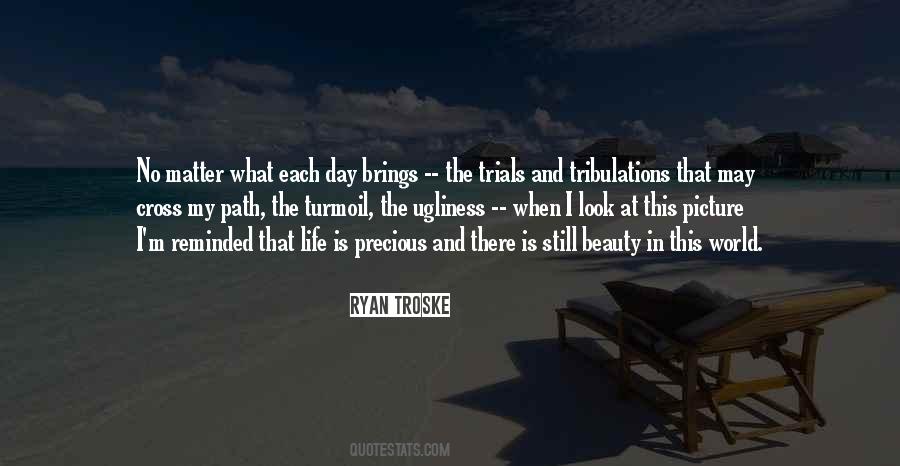 #31. I suppose they think me an old man and imagine it is nothing for one like me to resign a life so full of trials. But I am not old - at least in that sense; you know I am not. Oh, no man ever left the world with more inviting prospects, with brighter hopes, or warmer feelings - warmer feelings. - Author: Adoniram Judson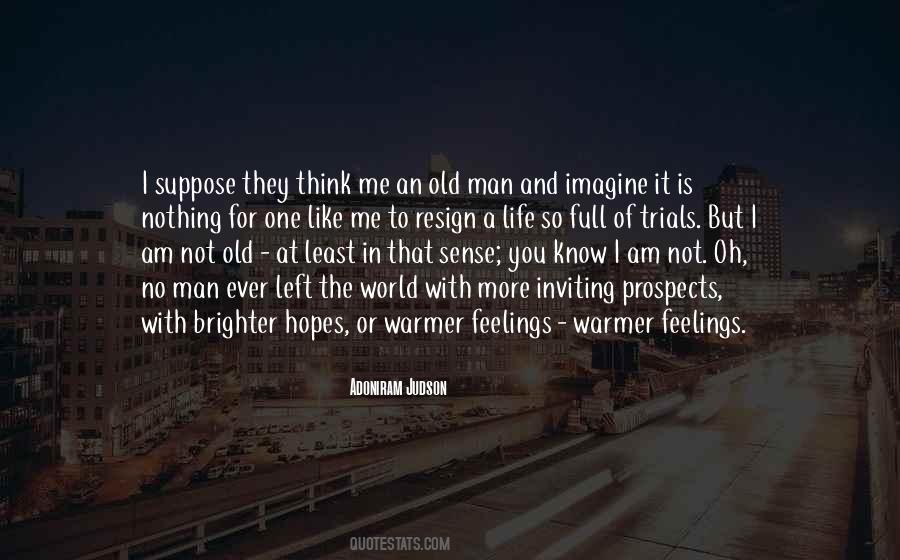 #32. Struggle and pain aren't something to fear. We will all face trials while here on earth. What matters is how we're dealing with the challenges that come our way. Do we let them mold us into stronger, better people, or do we grouse and complain about our lot in life? - Author: Colleen Coble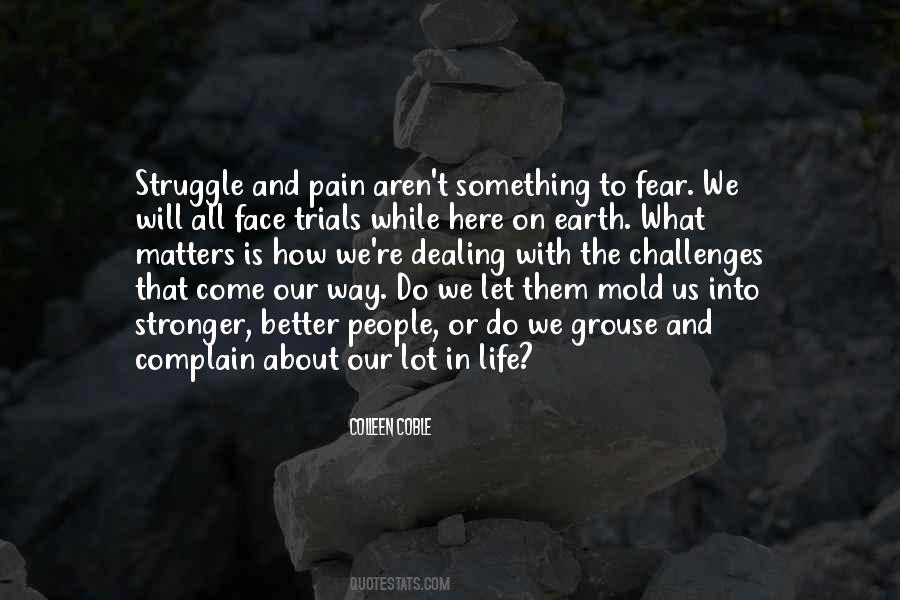 #33. We all face storms in life. Some are more difficult than others, but we all go through trials and tribulation. That's why we have the gift of faith. - Author: Joyce Meyer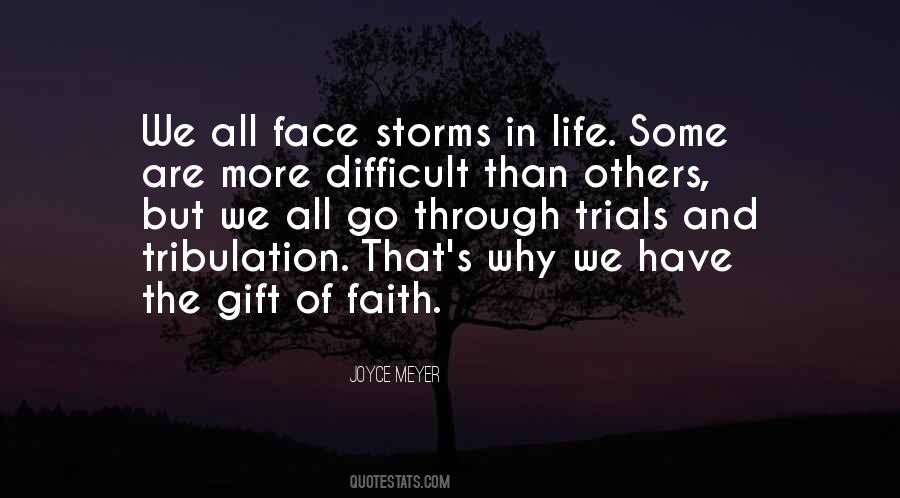 #34. You never really know what's coming. A small wave, or maybe a big one. All you can really do is hope that when it comes, you can surf over it, instead of drown in its monstrosity. - Author: Alysha Speer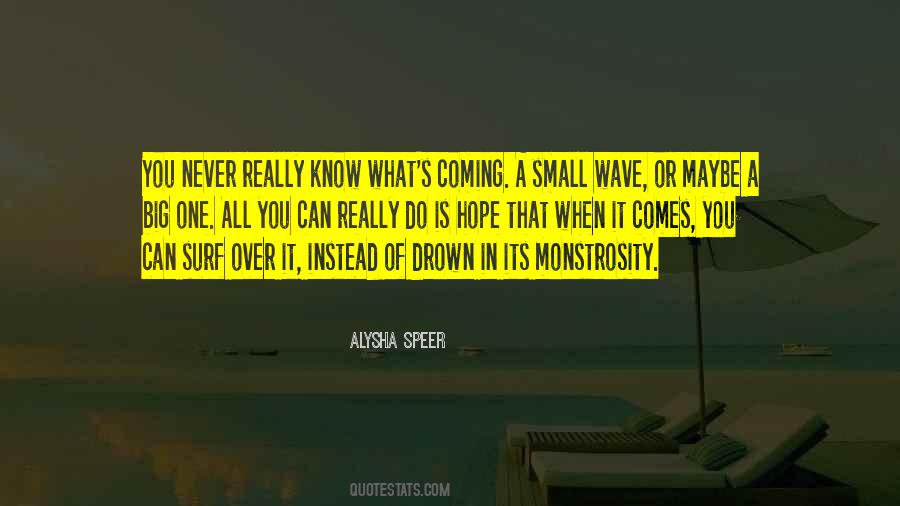 #35. The blues are what I've turned to, what has given me inspiration and relief in all the trials of my life. - Author: Eric Clapton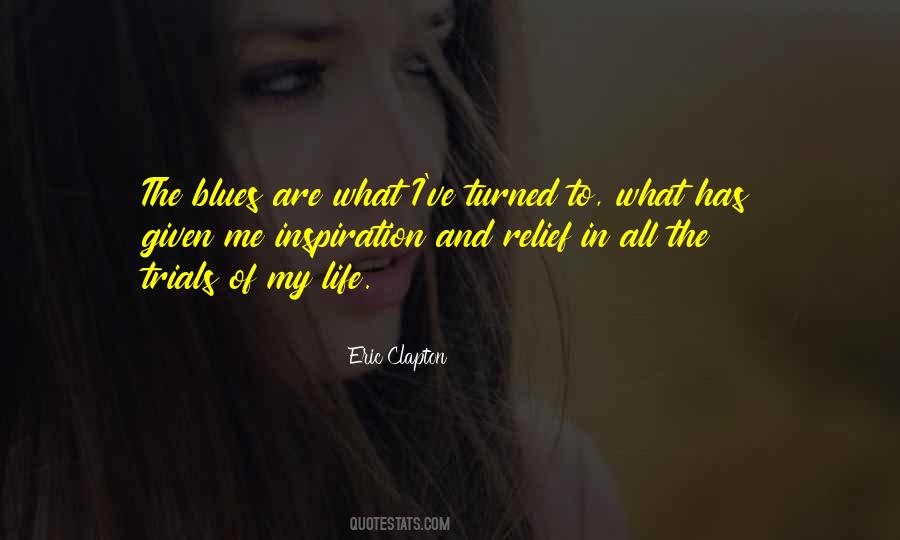 #36. Sometimes you have to walk through the fire, in order to reach your calling. - Author: Shannon L. Alder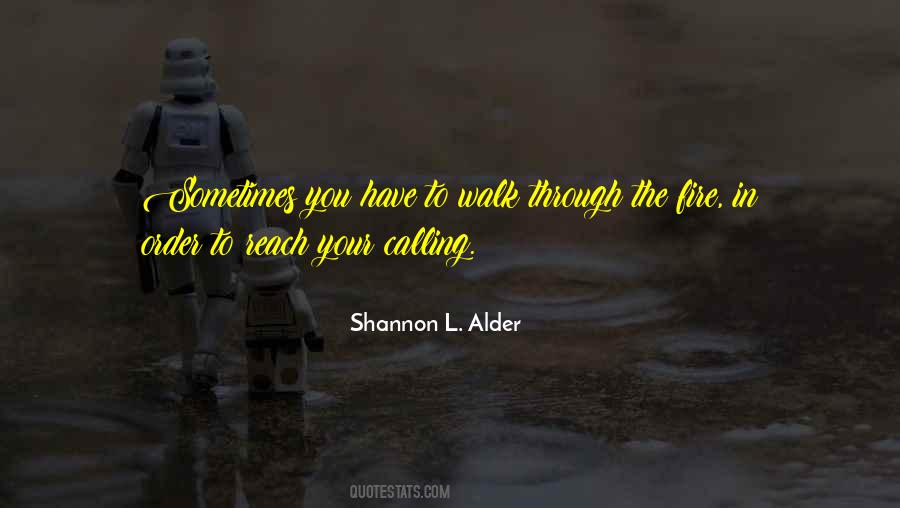 #37. It isn't so much life's problems that challenge us but the emotional turbulence stirred up while trying to deal with them. People possessing the gift of emotional detachment are lucky in that their personal problems seem far less problematic. - Author: Richelle E. Goodrich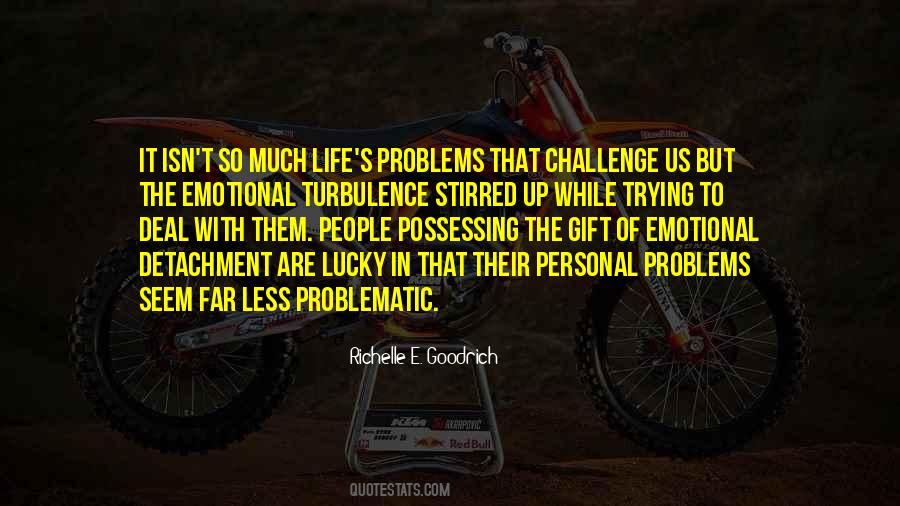 #38. My pastor used to say you're either coming out of a tough season, in the middle of a tough season, or heading into a tough season. - Author: Craig Groeschel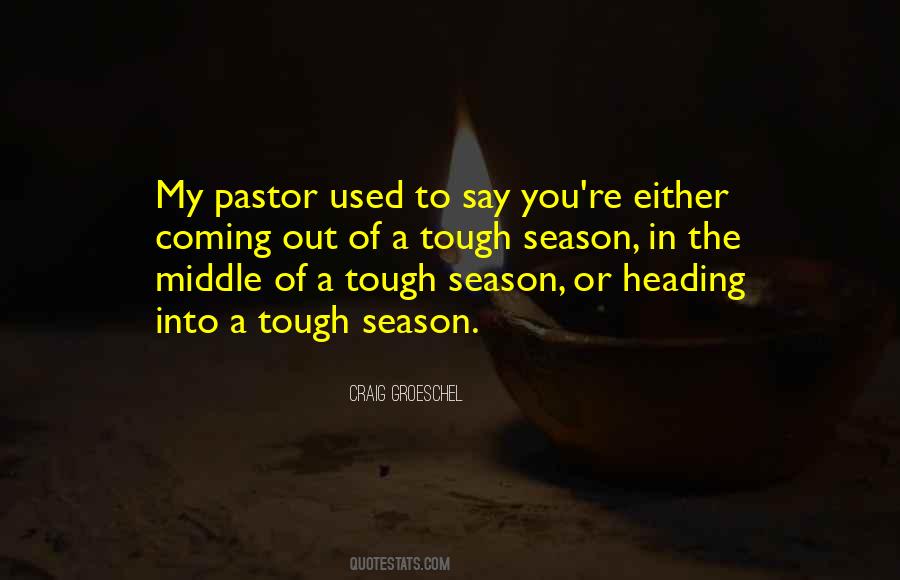 #39. Focusing intently on Christ naturally results in a lifestyle of increasingly greater selflessness. And it has another benefit. Gazing on Christ gives us greater ability to look past life's trials and remain calm in the midst of what others would call chaos. - Author: Charles R. Swindoll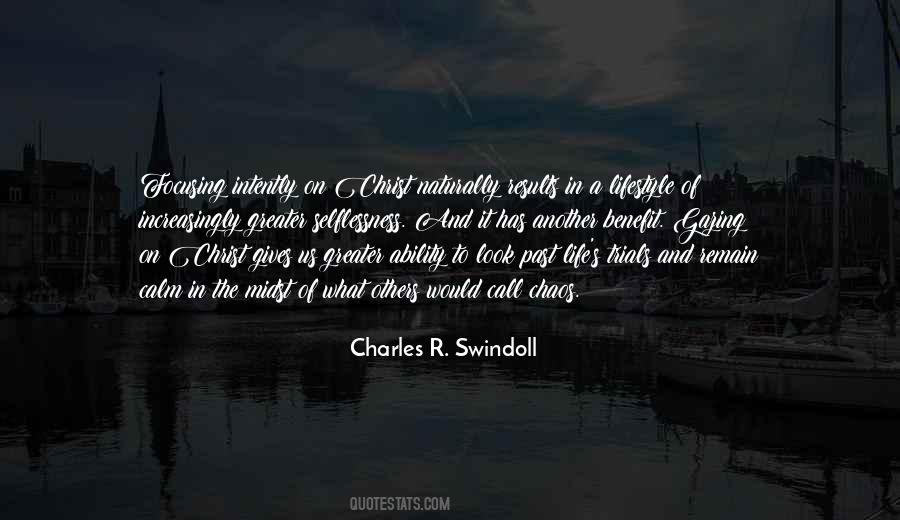 #40. In university, we are given a taught a lesson then given a test. Whereas in life, we are given a test that teaches us a lesson. #UniversityOfLife - Author: Habeeb Akande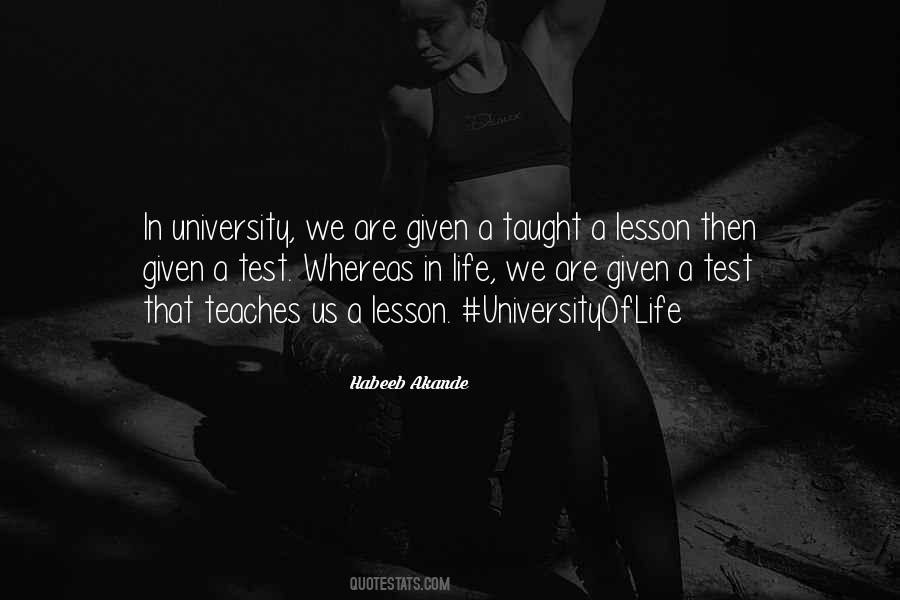 #41. There has already been the karmic work: that what life has transformed in me, this initiation brought on, of necessity, by trials. - Author: Isabelle Adjani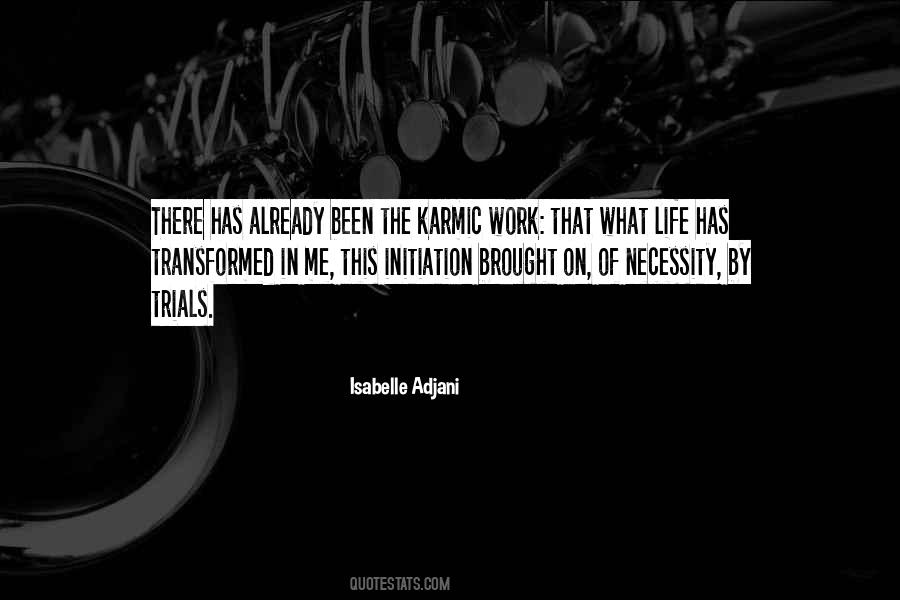 #42. Fears hide within fears.... - Author: Jacqueline Ripstein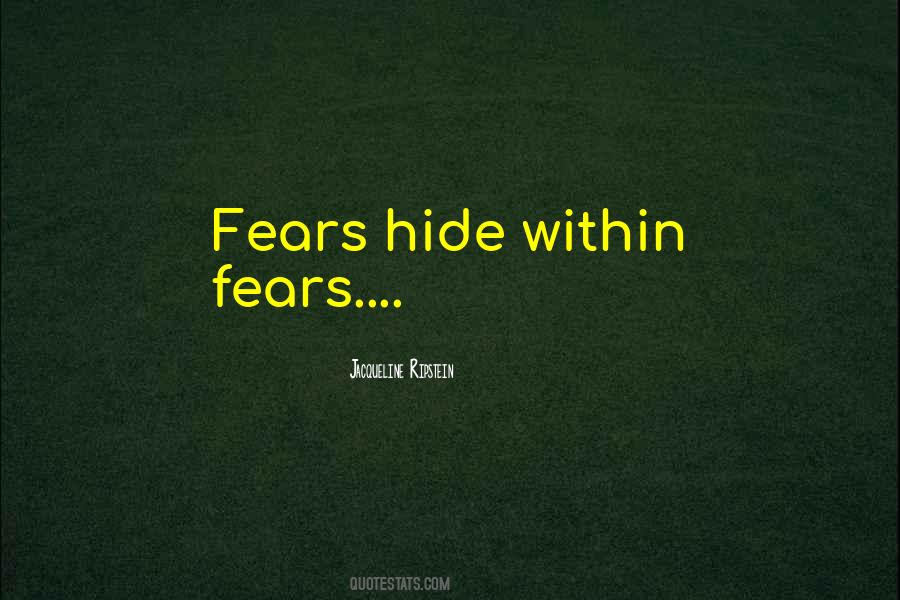 #43. I shared what we were learning, so that others might grow in their faith through the testing of ours. - Author: K. Howard Joslin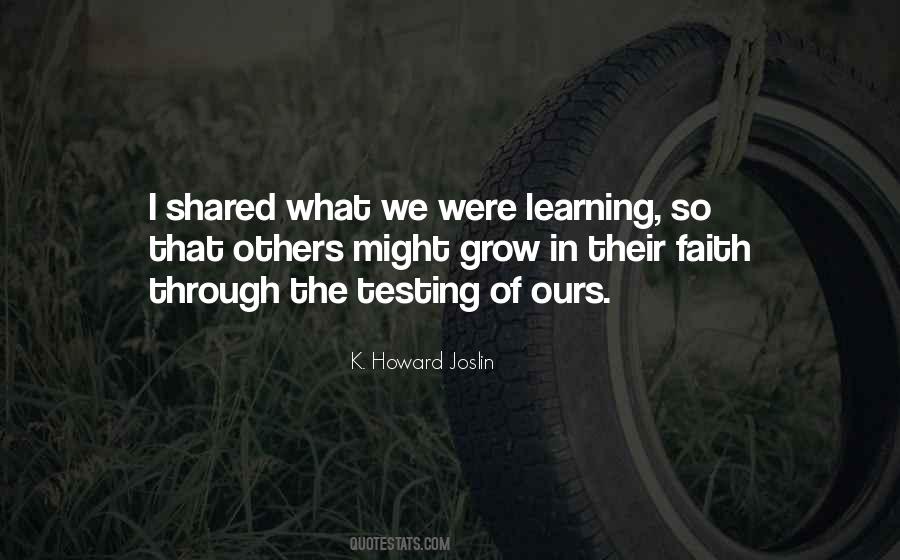 #44. In 15 years, we've raised $225 million, sequenced the myeloma genome, and opened 45 trials of 23 drugs - six approved by the FDA - which have doubled the life span of multiple myeloma patients. I've taken both Velcade and Revlimid, which we helped develop. - Author: Kathy Giusti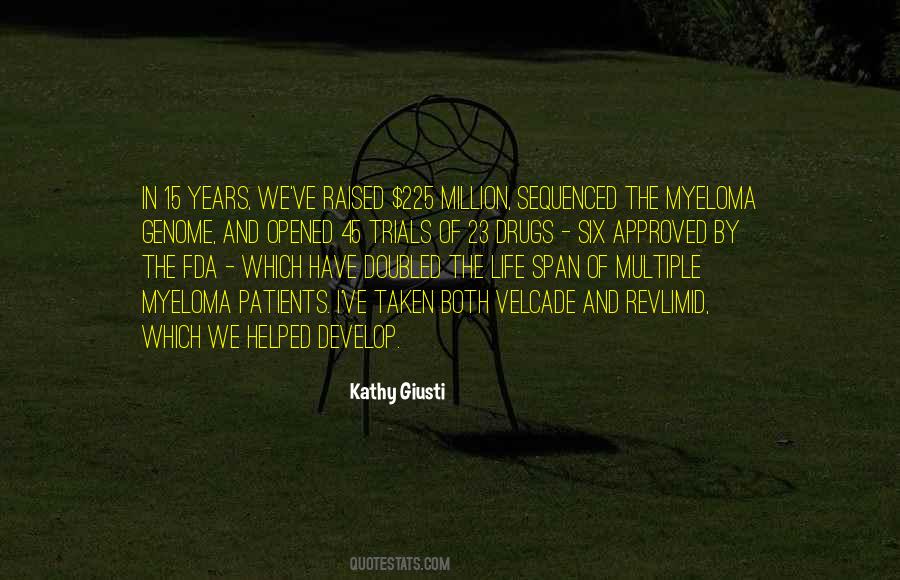 #45. Good habits are developed in the workshops of our daily lives. It is not in the great moments of test and trial that character is built. That is only when it is displayed. The habits that direct our lives and form our character are fashioned in the often uneventful, commonplace routine of life. - Author: Delbert L. Stapley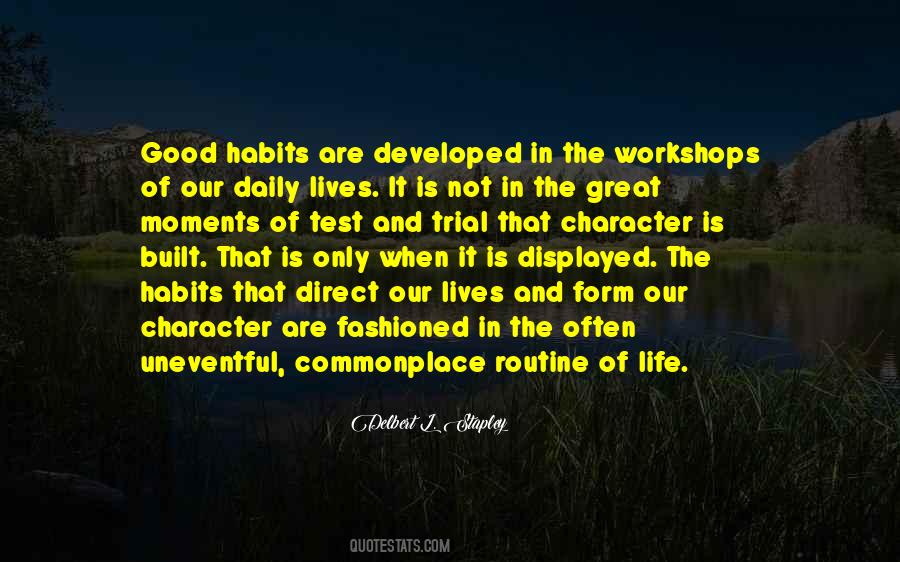 #46. Our most significant opportunities will be found in times of greatest difficulty. - Author: Thomas S. Monson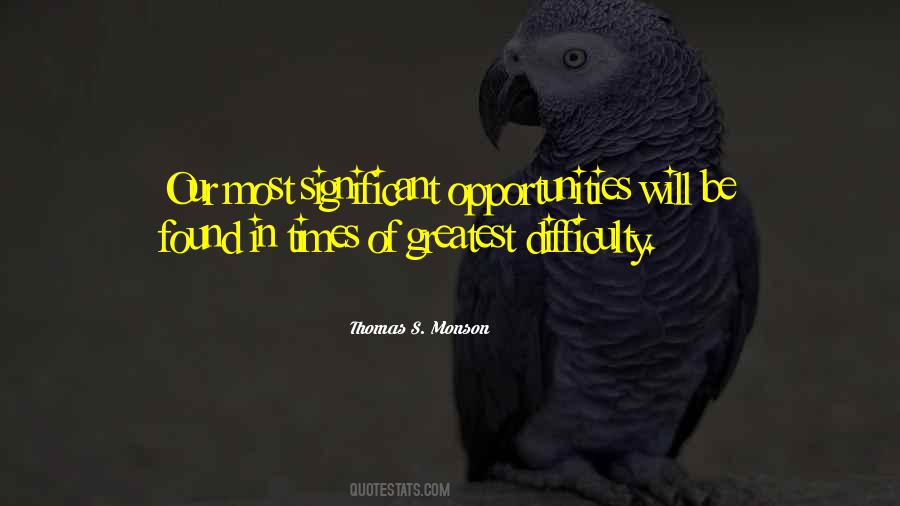 #47. In this life, there will be trials," Blessing murmured. "If we love, we suffer not only our own trials but those of our beloved. - Author: Lyn Cote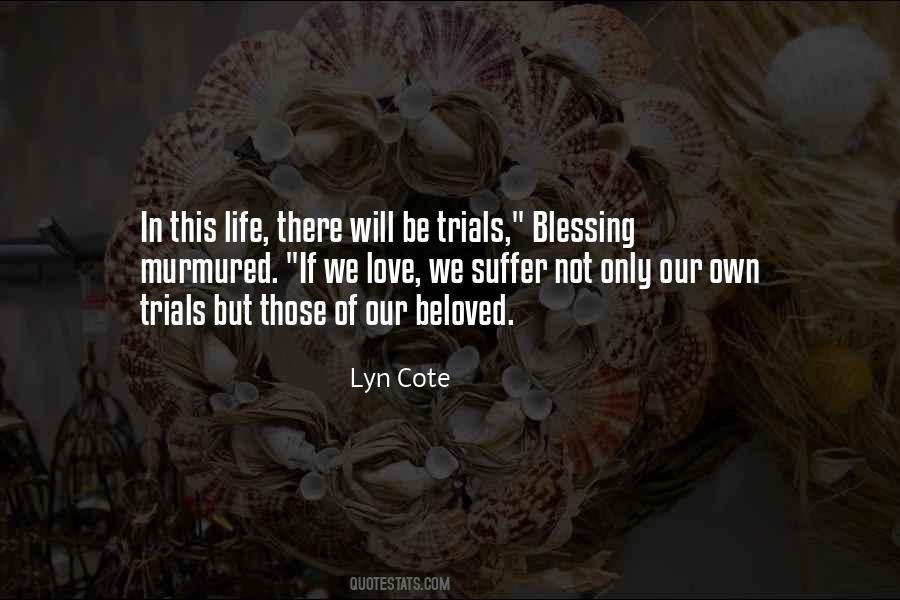 #48. Having lived a full and stimulating life before I had my kids, I've relished every minute I've had to spend with them and felt a degree of confidence in dealing with their trials and tribulations to date. - Author: Mariella Frostrup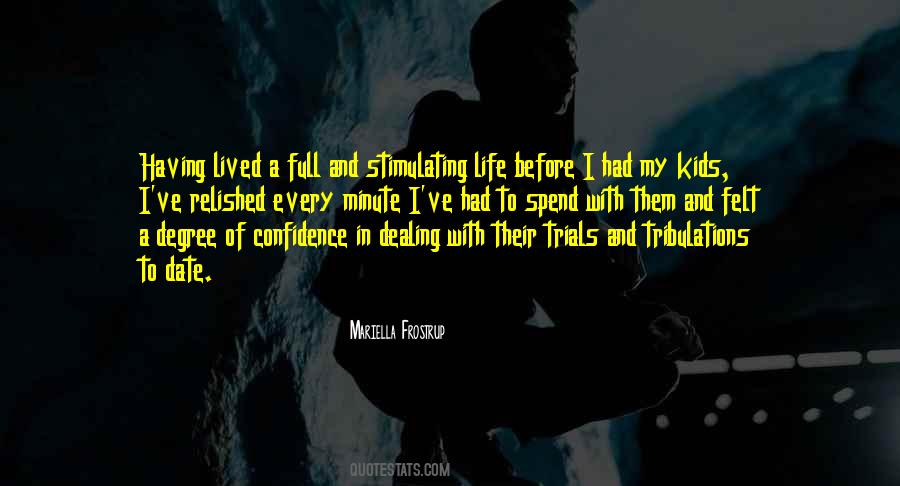 #49. We cannot always control everything that happens to us in this life, but we can control how we respond. Many struggles come as problems and pressures that sometimes cause pain. Others come as temptations, trials, and tribulations. - Author: L. Lionel Kendrick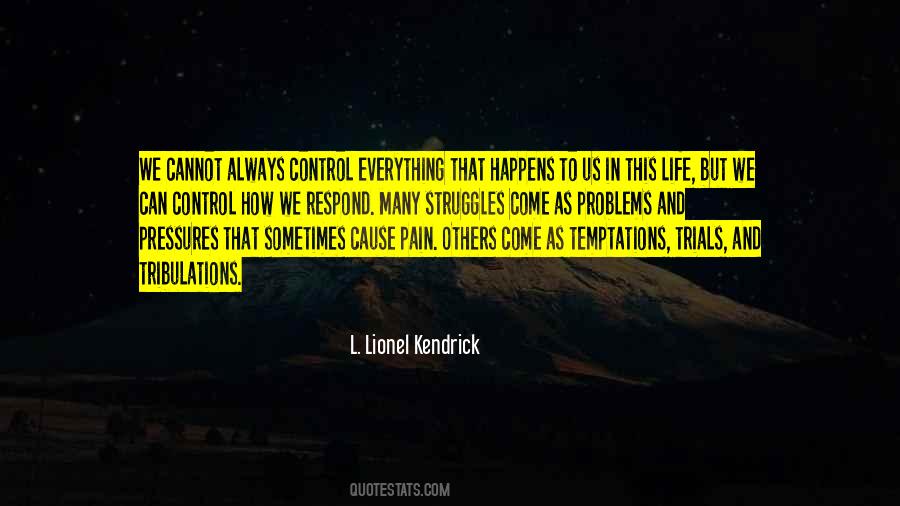 #50. And once the storm is over, you won't remember how you made it through, how you managed to survive. You won't even be sure, whether the storm is really over. But one thing is certain. When you come out of the storm, you won't be the same person who walked in. That's what this storm's all about. - Author: Haruki Murakami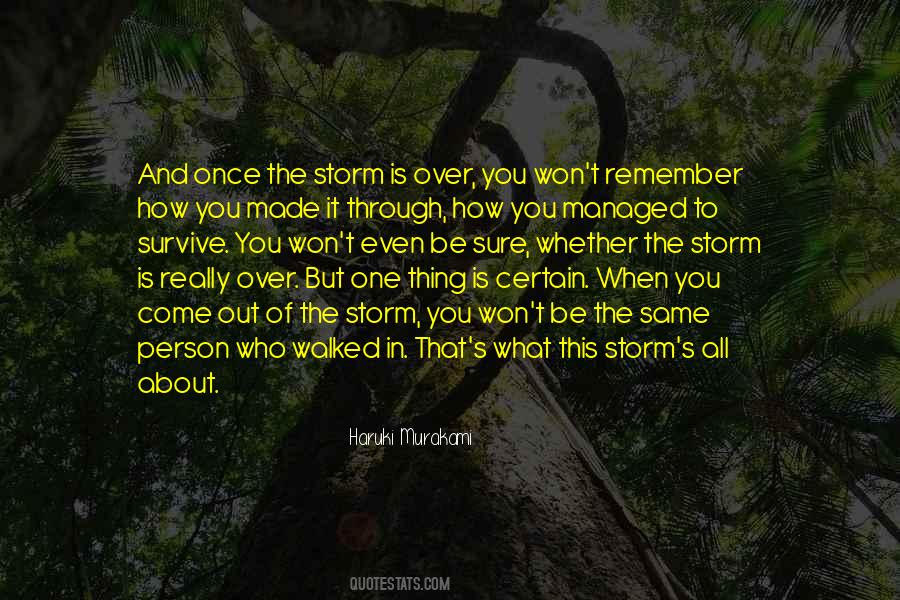 #51. Peace is not just safety or lack of war, violence, conflict and contention. Peace comes from knowing that the Savior knows who we are, knows that we have faith in Him, love Him, and keep His commandments, even and especially amid life's devastating trials and tragedies. - Author: Quentin L. Cook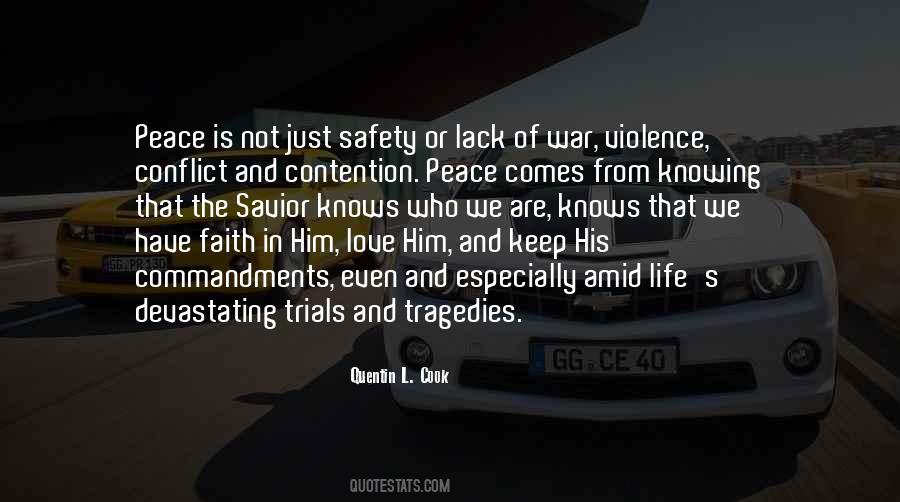 #52. No matter how difficult the trail ... we can take comfort in knowing that others before us have borne life's most grievous trials and tragedies by looking to heaven. - Author: M. Russell Ballard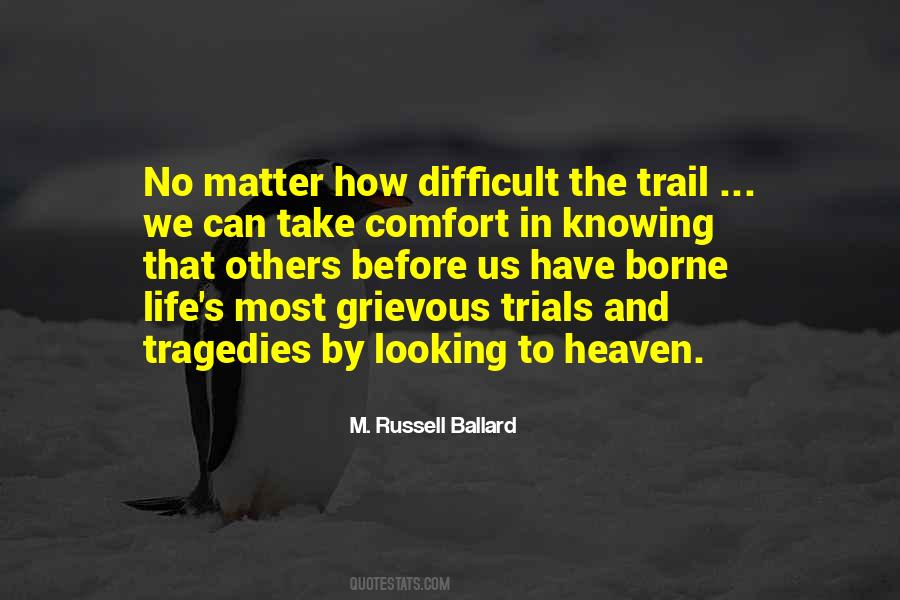 #53. Paul says that our troubles are "light." Granted I may not see them as light in the midst of trauma, but looking back on them, they may seem light. He also says they are "momentary." They only last for a short time. - Author: Lisa Bedrick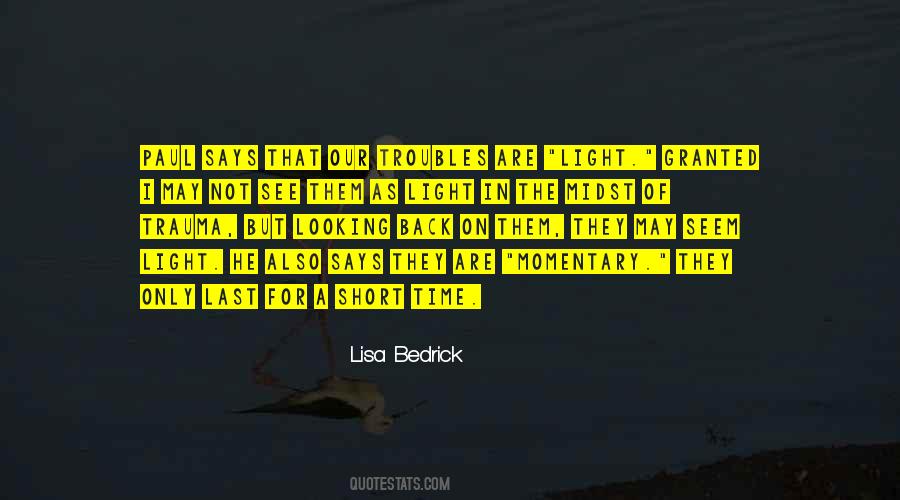 #54. At this moment, God is watching your life and at some point in this trial, He will say enough. You don't need to falter. - Author: James MacDonald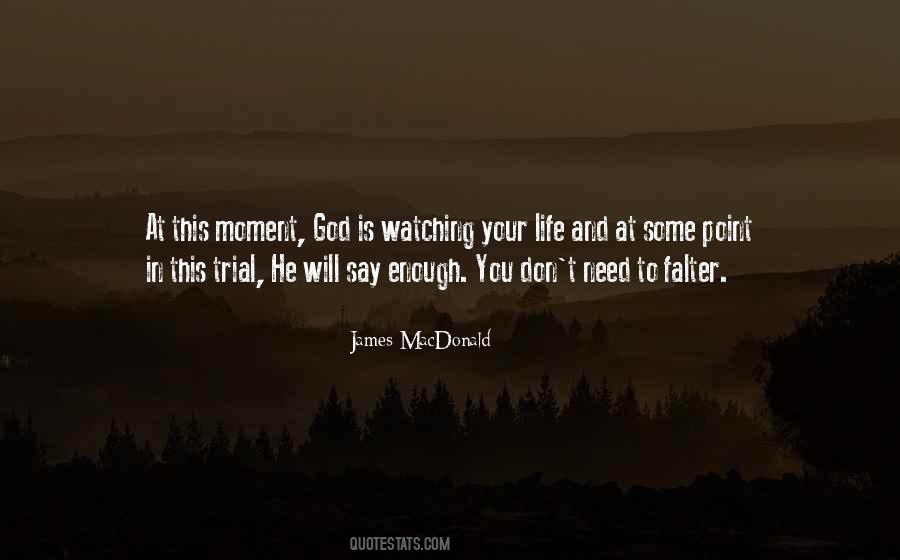 #55. Some parts of life are lived in the shadows where the only sunlight you feel is the light you pray for. - Author: Richelle E. Goodrich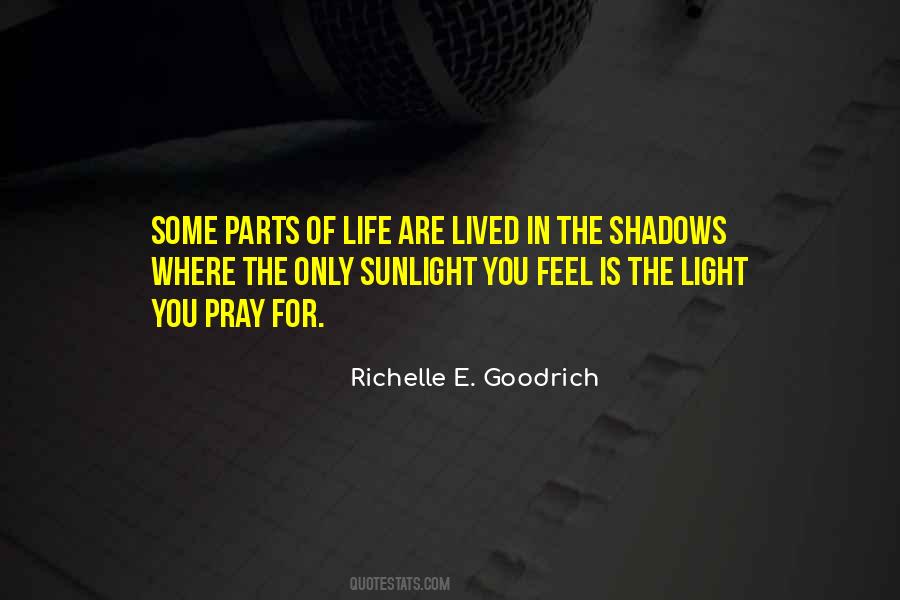 #56. Realize that the tests you endure will mold your character, persona, and will. The more heartbreak and pain you will feel with your trials in life, the greater your joy and glory will be once you've overcome. Not IF, not POSSIBLY, not MAYBE, but ONCE you have overcome. - Author: J. Junior Reynolds II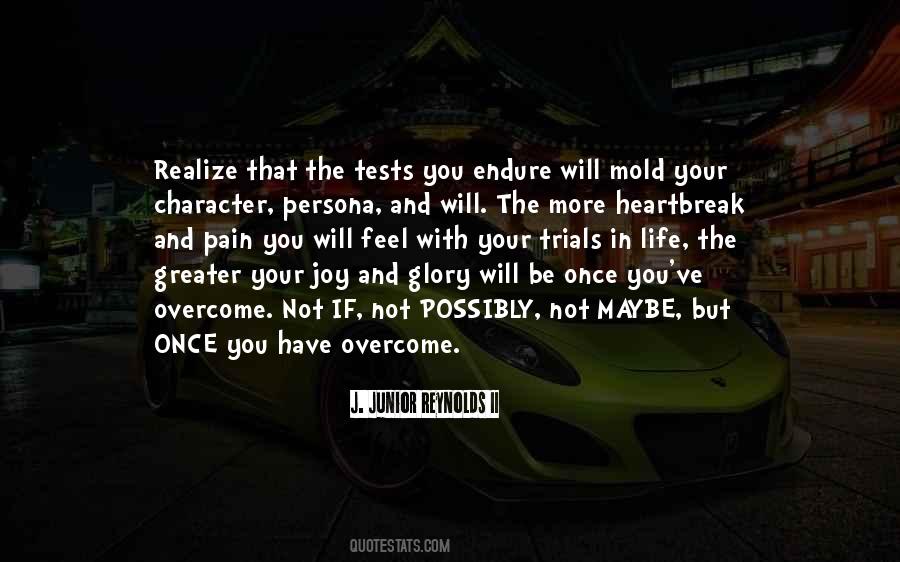 #57. I'd encourage Ann to cling to God's character in spite of what her circumstances screamed. - Author: K. Howard Joslin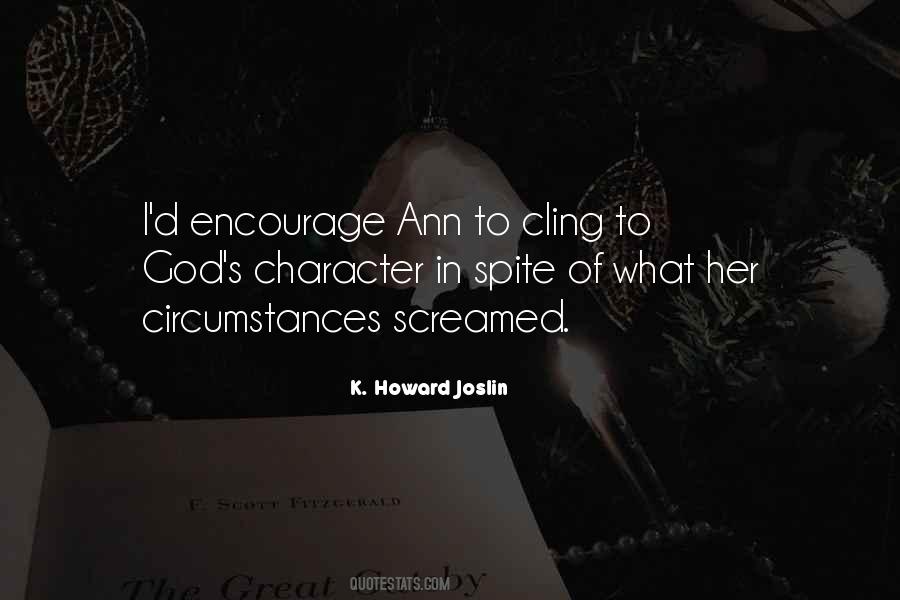 #58. Among our own people also the church sorely needs clergy in close touch with the ordinary life of the laity, living the life of ordinary men, sharing their difficulties and understanding their trials by close personal experience. - Author: Roland Allen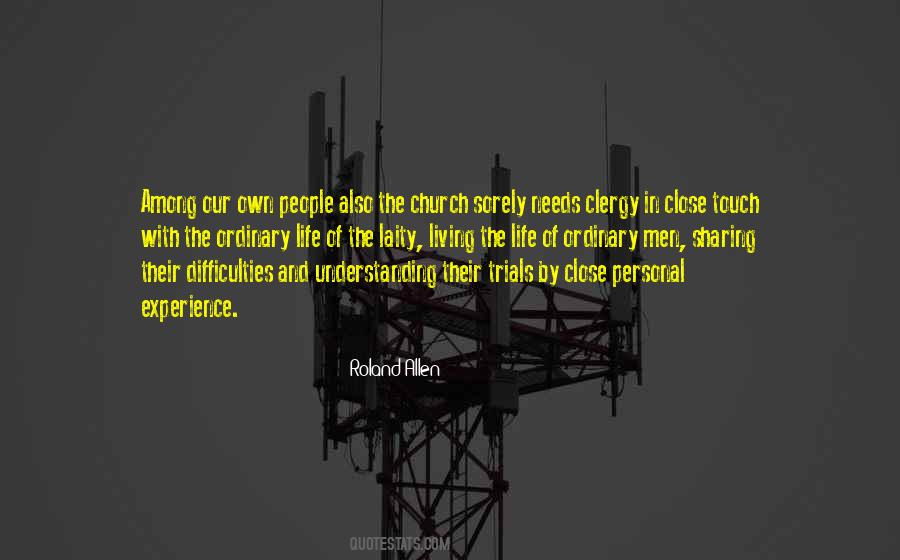 #59. Those who are unconquered in spirit are the real successes in life. If you can so train or condition your mind that you are content regardless of what you have or do not have, and if you can stand the challenge of all your trials and remain calm-that is true happiness. - Author: Paramahansa Yogananda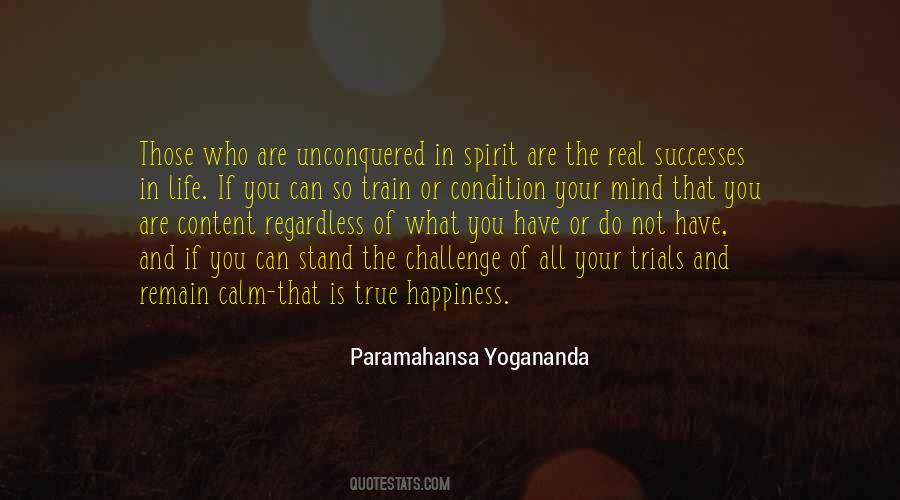 #60. Everybody in this life has their challenges and difficulties. That is part of our mortal test. The reason for some of these trials cannot be readily understood except on the basis of faith and hope because there is often a larger purpose which we do not always understand. Peace comes through hope. - Author: James E. Faust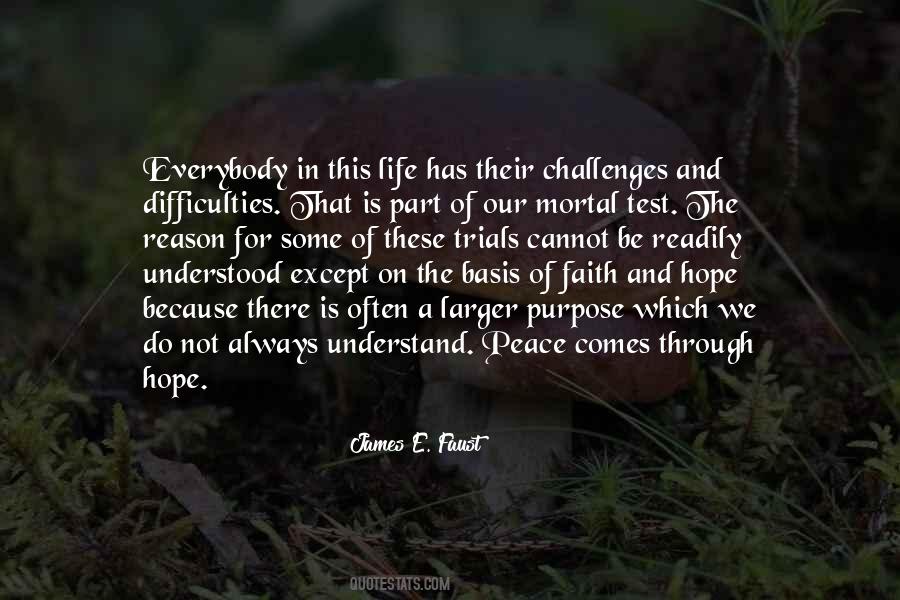 #61. Be calm and strong and patient. Meet failure and disappointment with courage. Rise superior to the trials of life, and never give in to hopelessness or despair. In danger, in adversity, cling to your principles and ideals. Aequanimitas! - Author: William Osler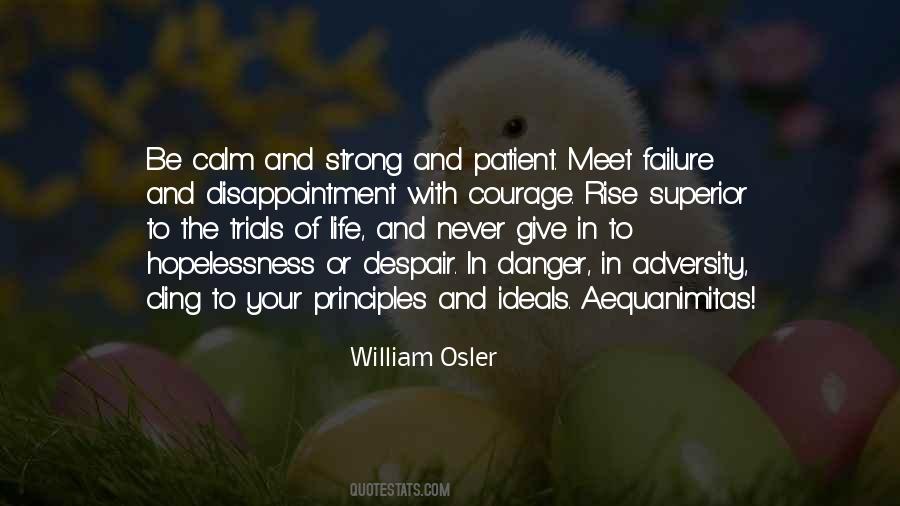 #62. All the trials and tribulations have paid off. In life, you have setbacks ... When you're in your valley, that's when you're tested the most -not when you're at your peak. - Author: Rashad Evans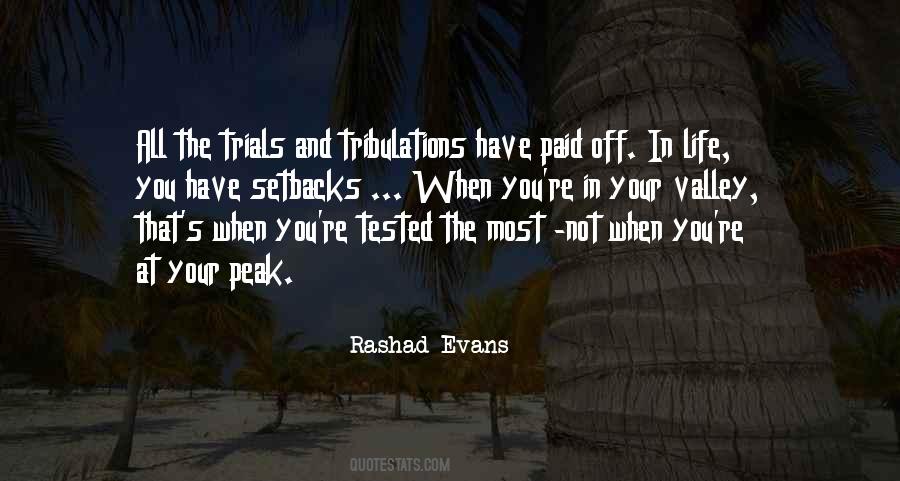 #63. I've learned through a series of trials and errors that the median space is actually what's missing in our daily walk. - Author: Carlos Wallace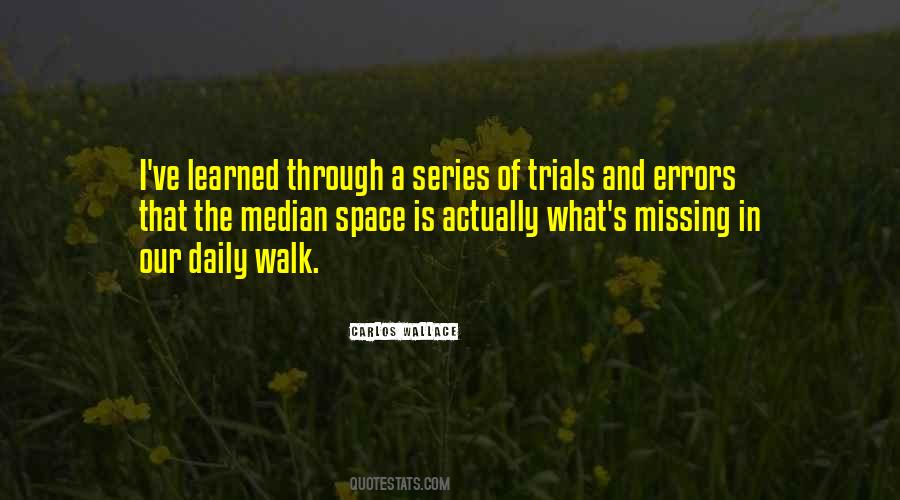 #64. Without mountains, we might find ourselves relieved that we can avoid the pain of the ascent, but we will forever miss the thrill of the summit. And in such a terribly scandalous trade-off, it is the absence of pain that becomes the thief of life. - Author: Craig D. Lounsbrough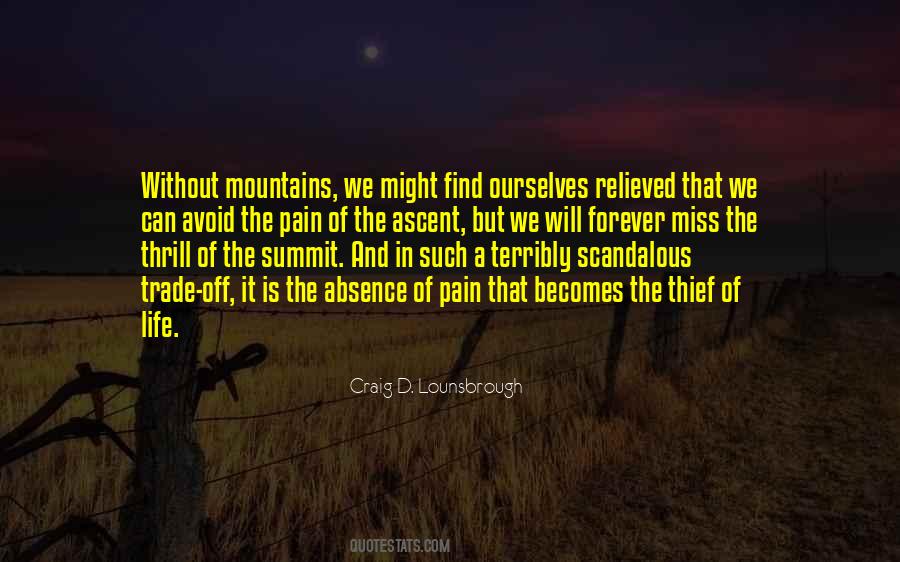 #65. Your trials equal the power of God that works in you. If your battles are intense, then what God has deposited in you is deep. - Author: Paul Gitwaza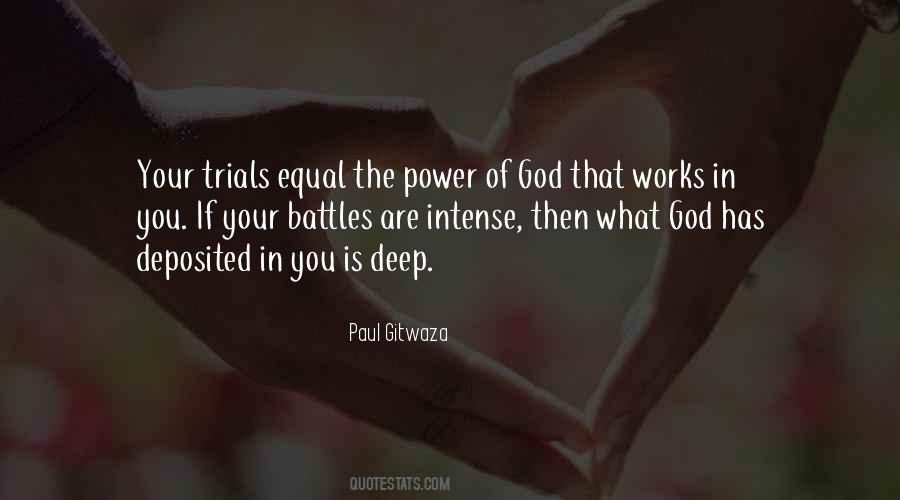 #66. Life would never be perfect or hold no trials, but He who loved us in our darkest hour would see us through while holding us in the palm of His hand - completely safe and secure - only asking the that we trust and obey. - Author: Shauna Williams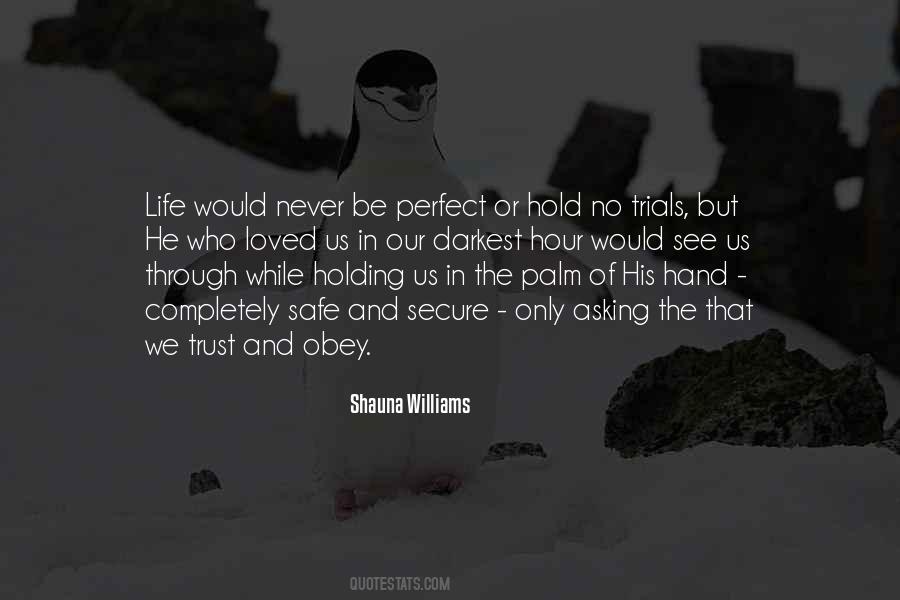 #67. I look at this life as a puzzle without all the pieces in the box. - Author: Jonathan Anthony Burkett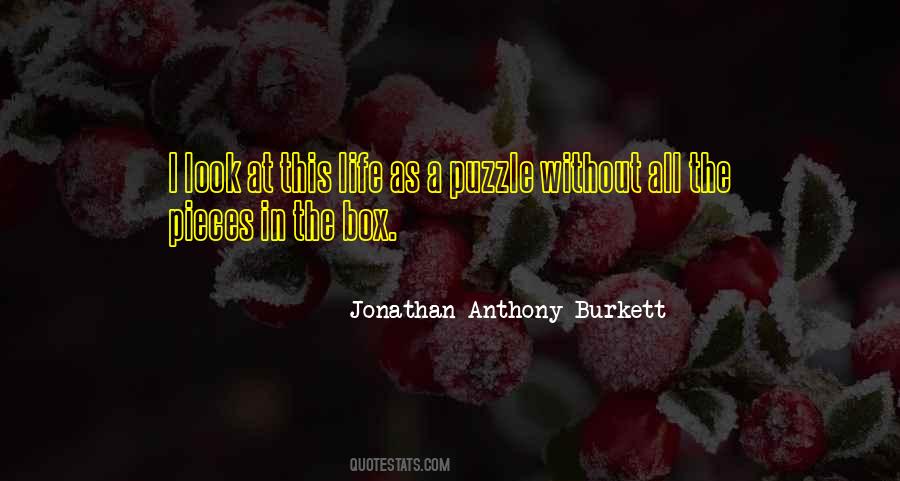 #68. Why wait? So precious is this life - this gift - this temporary blindness. Burn and drown and embrace the false dark, then grasp the unthinkable height of resulting joy. For in the end, in the light of truth when the flesh is cast off, there is nothing but this. - Author: Jennifer DeLucy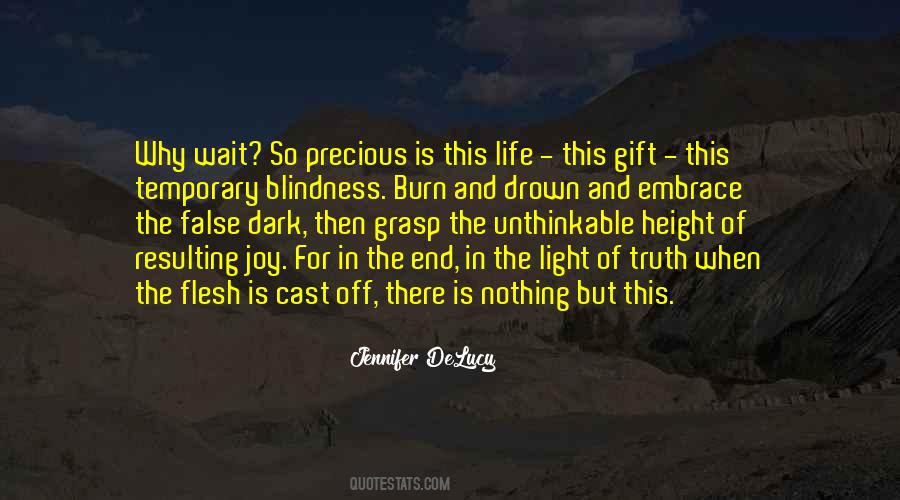 #69. When the same lessons of life that taught them teaches you, you get a good understanding of what made them become who and what they became; you appreciate them better and you uphold the dignity of their integrity in high esteem! - Author: Ernest Agyemang Yeboah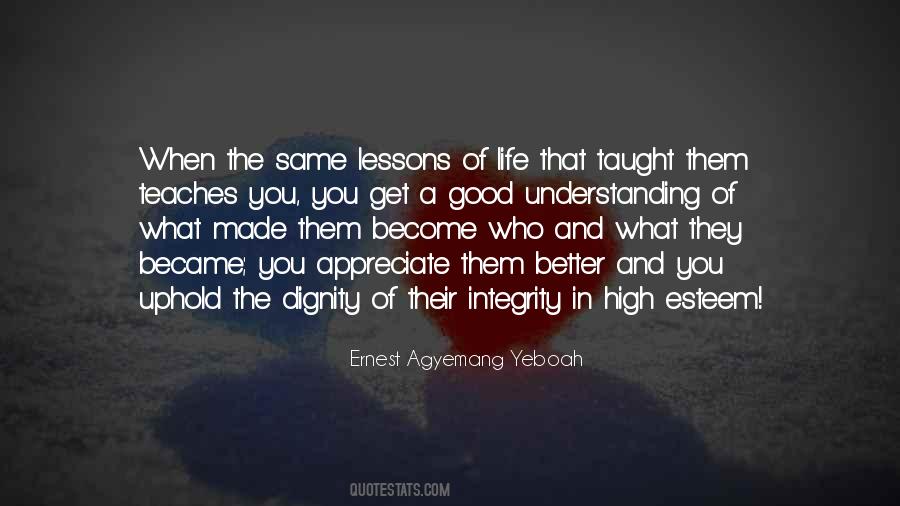 #70. If [we] have a good, miserable day once in a while, or several in a row, stand steady and face them. Things will straighten out. There is great purpose in our struggle in life. - Author: Boyd K. Packer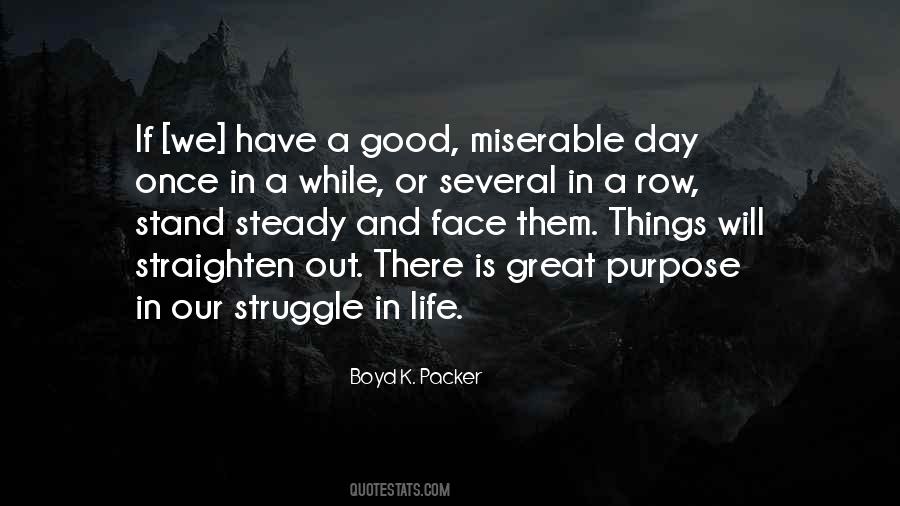 #71. In this life you will have some trials and tribulations. You cannot allow what happens to you to dictate who and what you become. Make a decision to do better and be better. - Author: Bobby F. Kimbrough Jr.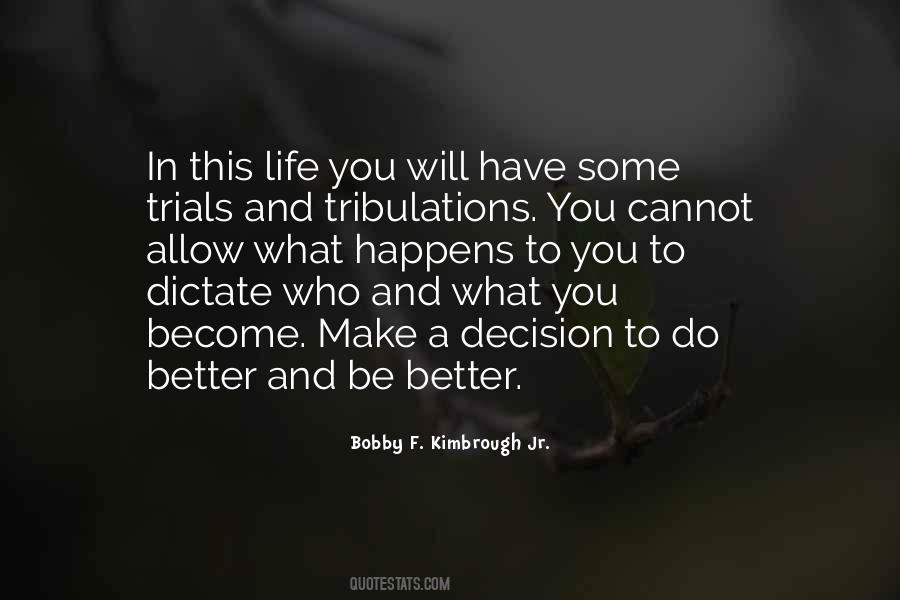 #72. Life is full of trials and tribulations. It's dramatic when you don't treat people right when you're in the tribulations, but I know now how to get out of it. You have to make a decision to say 'No more', and then you know what to do when the trials happen. - Author: Mary J. Blige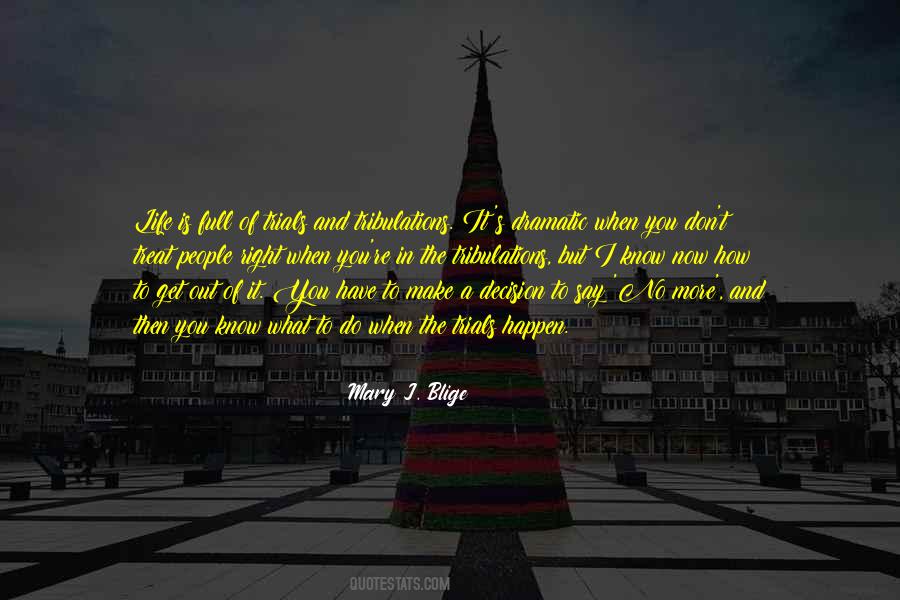 #73. What if trials of this life, the rain, the storms, the hardest nights, are Your mercies in disguise? - Author: Laura Story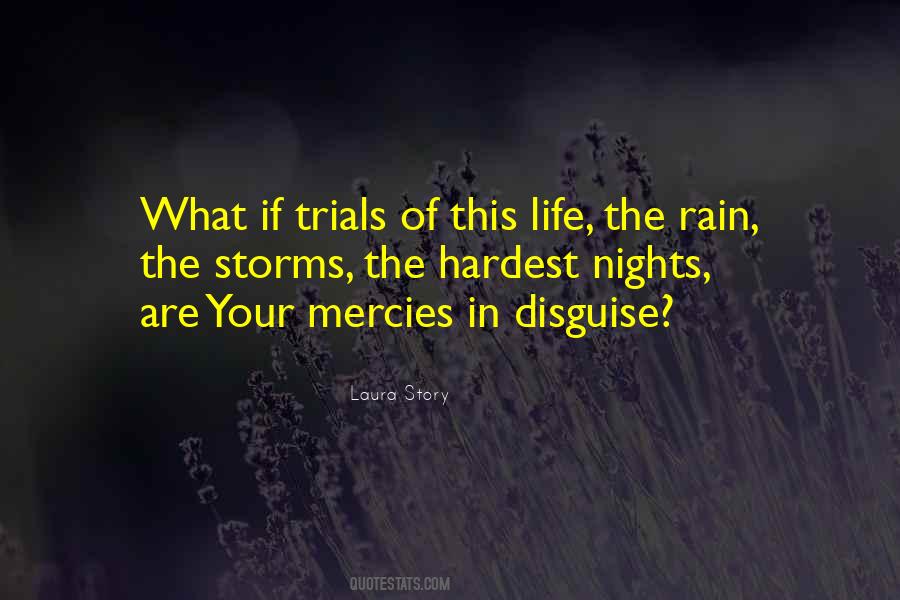 #74. There is only one way to overcome the trials of life.
And that is to, by faith, in Jesus name, overcome them. - Author: Calvin W. Allison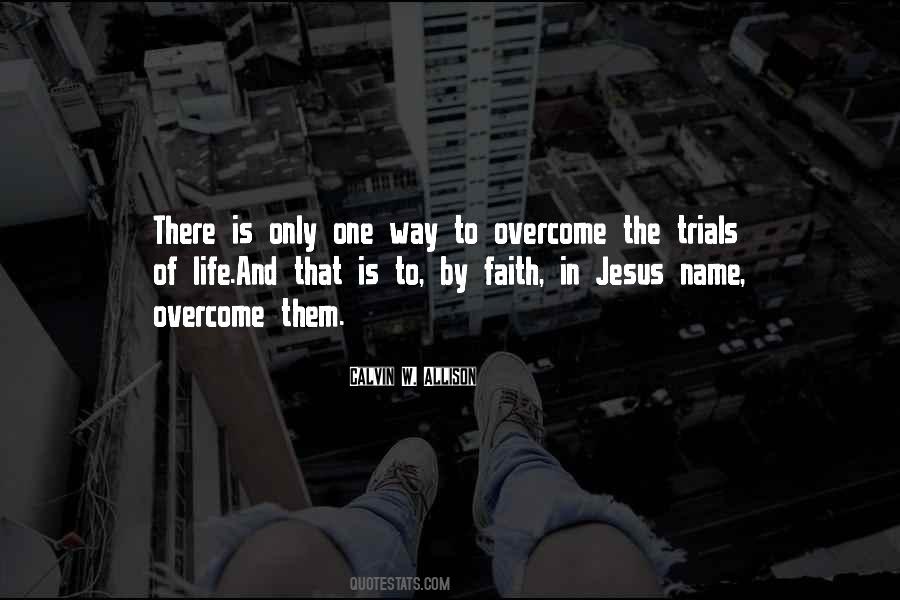 #75. God makes no mistakes. In all our trials and dramas there are lessons. Life is not a playground but a classroom. Our journey through life provides the course work and the tests needed for our education and development. - Author: Susan L. Taylor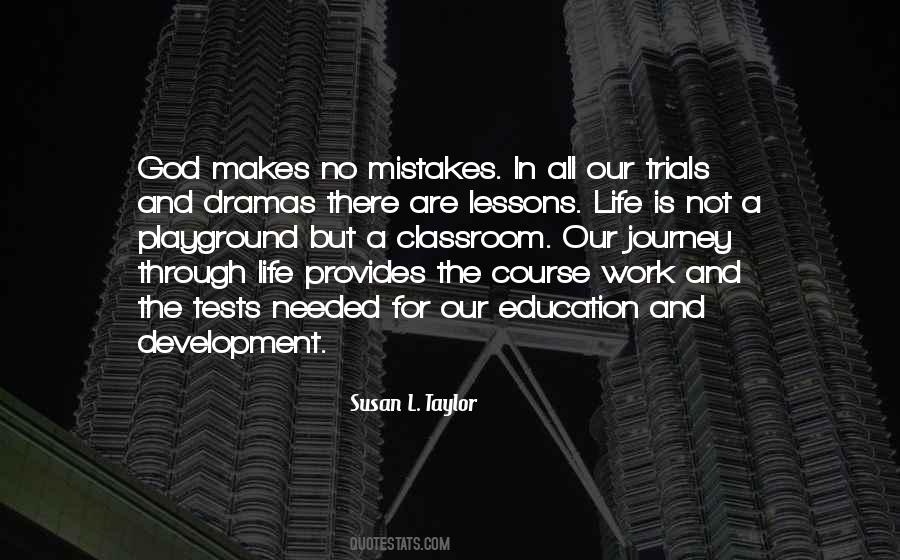 #76. But in every family there are bad people, and weak people, and some people who can't or won't withstand the trials of life, and who fail spectacularly. Their guardian angels weep; demons beholding them dance for joy.
But only The Maker decides what ultimately happens to them. - Author: Anne Rice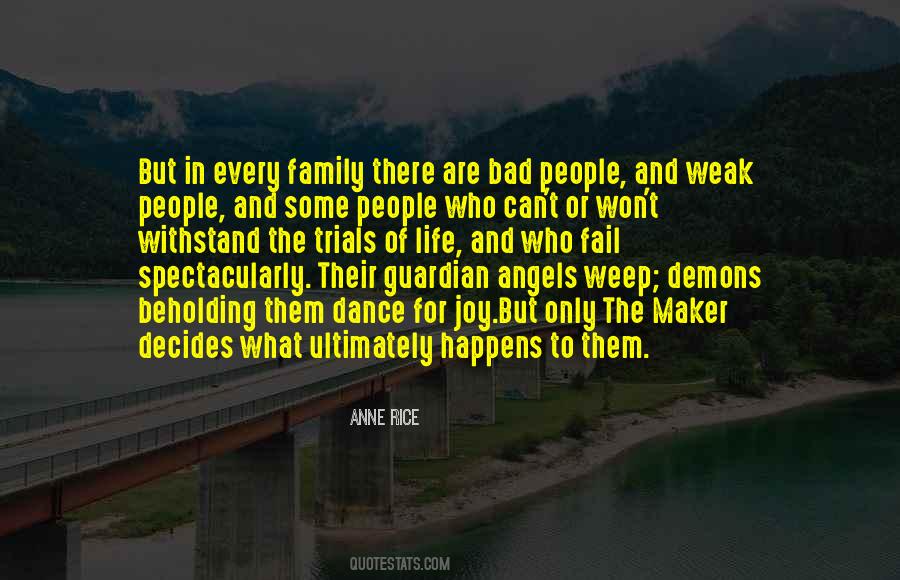 #77. Trials come. Tribulation comes. Fires of refinement come. The purpose of refinement is to bring to light the things hidden in darkness and then remove them - Author: Robin Bertram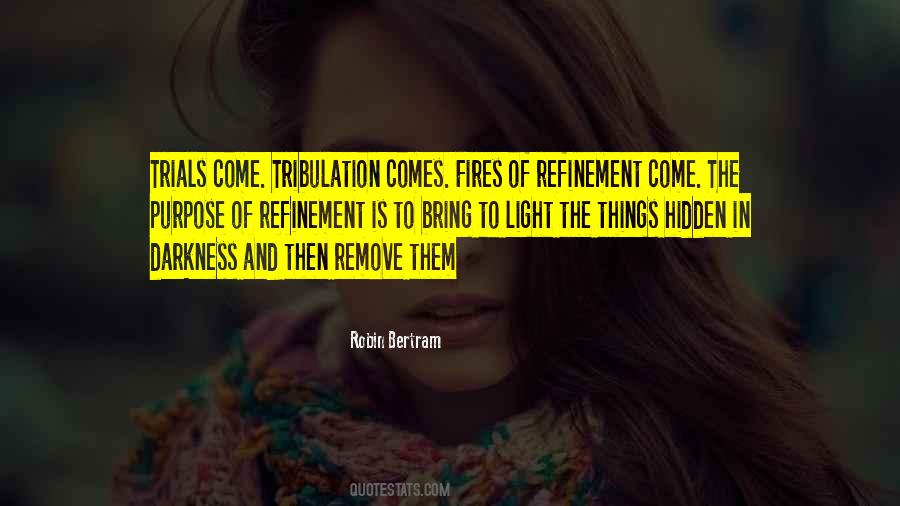 #78. It is not the trials in your life that develop or destroy you, but rather your response to those hardships. - Author: Charles Stanley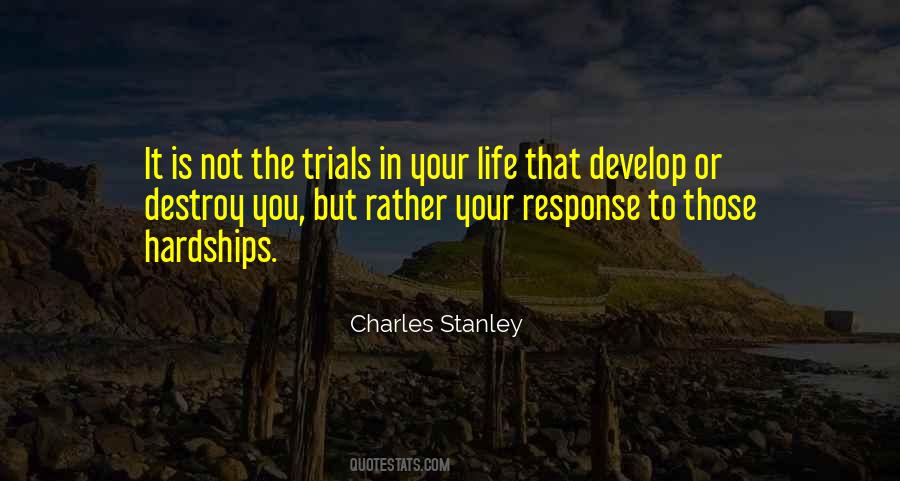 #79. Let the trials in your life guide you not define you - Author: Kim Cormack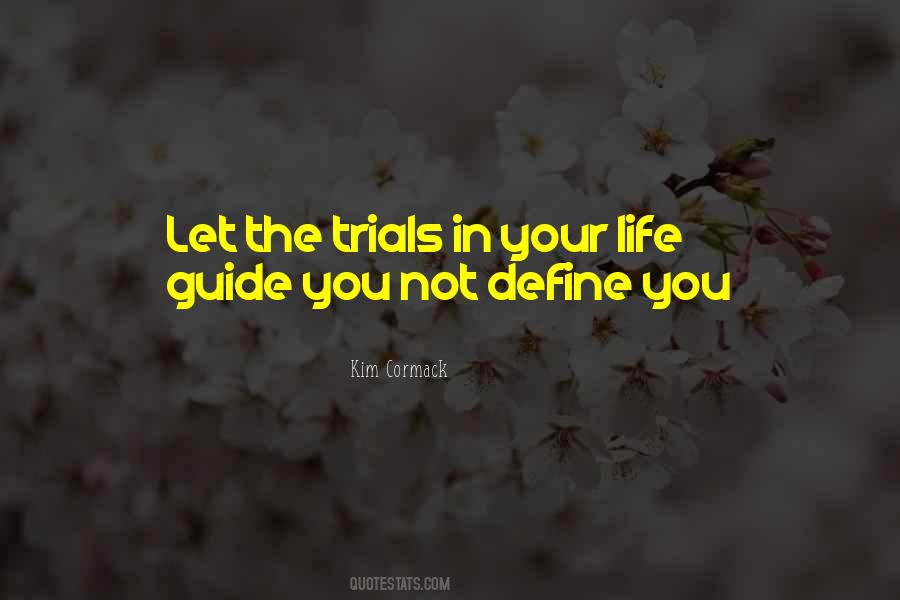 #80. Strong moral character results from consistent correct choices in the trials and testing of life. Your faith can guide you to those correct choices. - Author: Richard G. Scott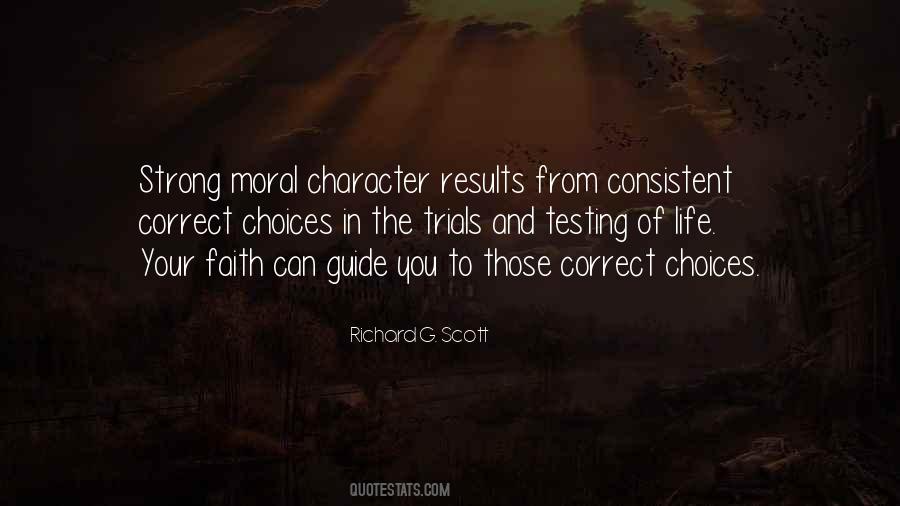 #81. If we are faithful to God in little things, we shall gain experience and strength that will be helpful to us in the more serious trials of life. - Author: Hudson Taylor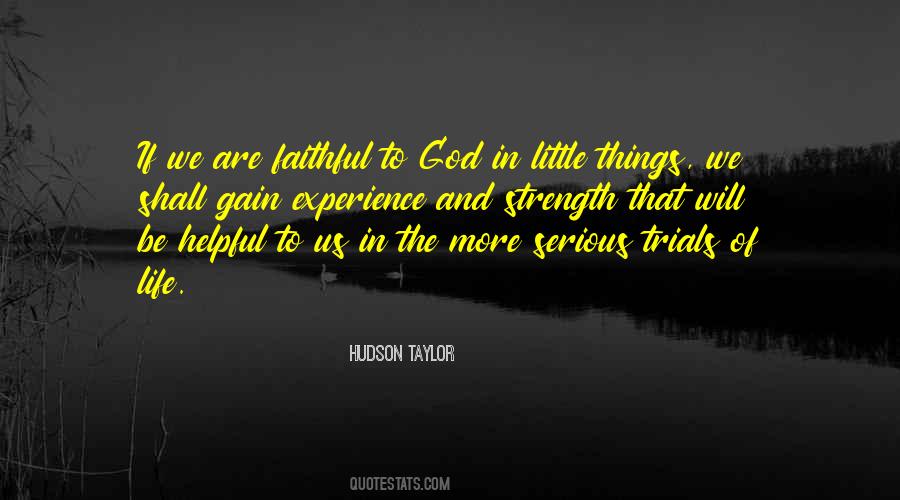 #82. We can actually live out the trials and temptations of the day before they come. We can in prayer deal with all our unrighteous aspirations, selfishness, perverse inclinations, impatience, anger, procrastination. This is a form of spiritual creation. - Author: Stephen Covey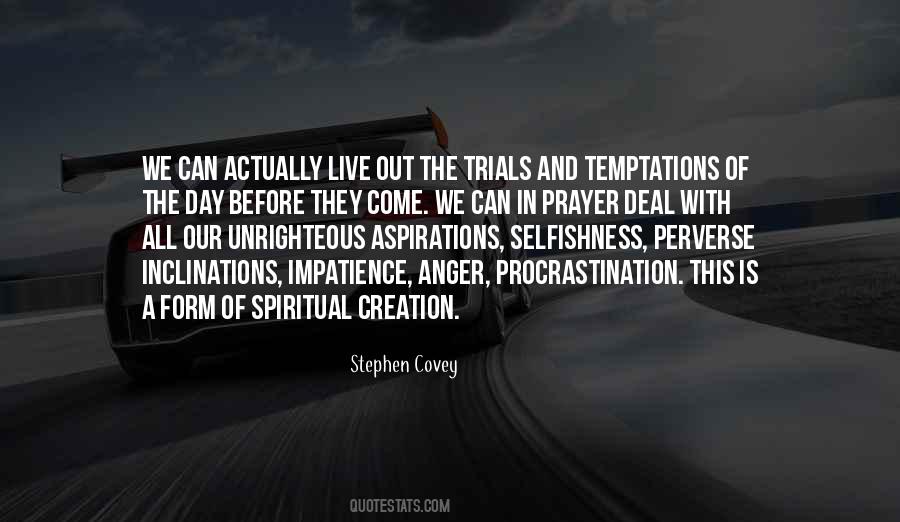 #83. Every difficulty in life presents us with an opportunity to turn inward and to invoke our own submerged inner resources. The trials we endure can and should introduce us to our strengths. - Author: Epictetus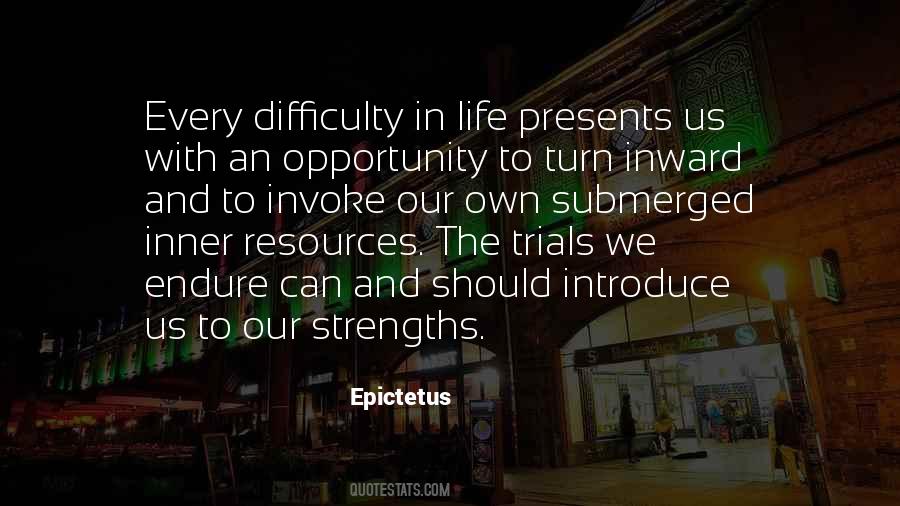 #84. Paul was focusing on what was happening in him, not to him. Likewise, we can be sure that when something is happening to us, God is doing something in us--something that will shape us for eternity. - Author: Chris Hodges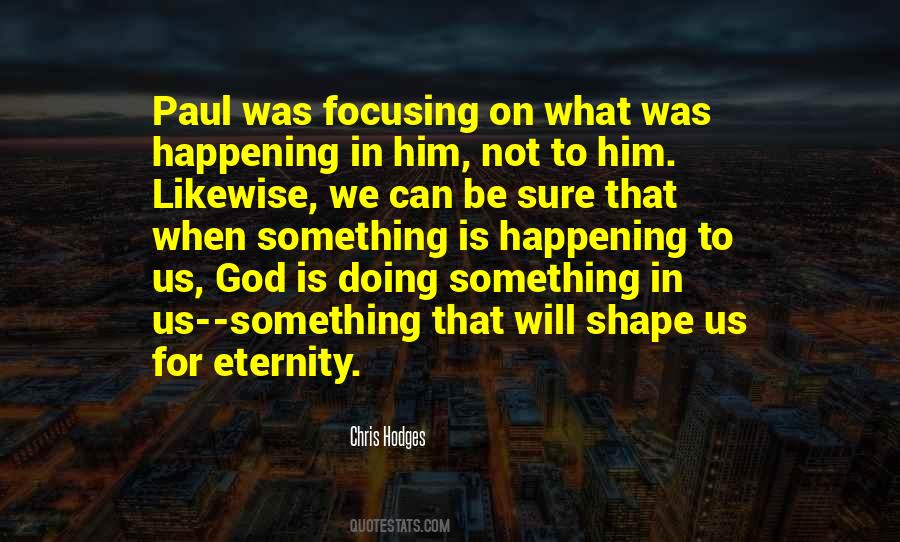 #85. In life we all go through trials and tribulations. So now tell me, will you pass or will you make a mess? - Author: Jonathan Anthony Burkett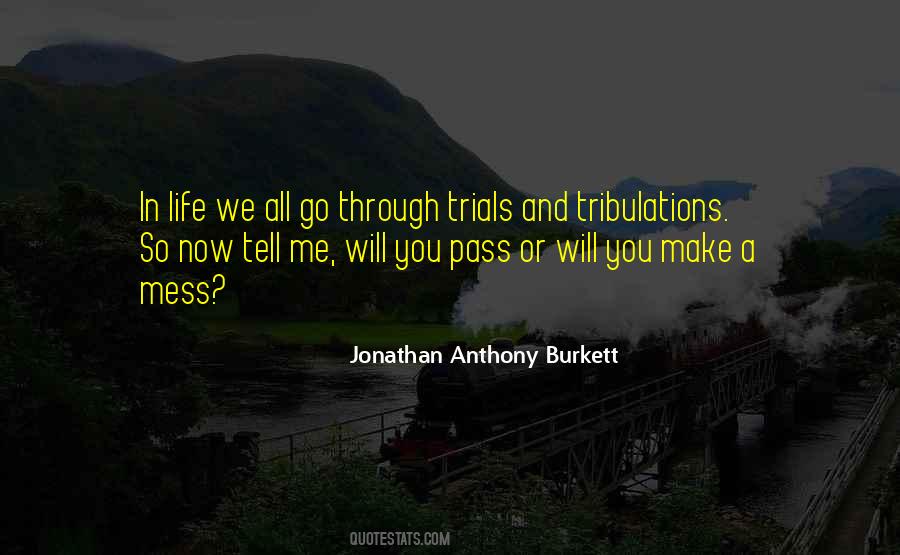 #86. One thing I've learned is that in the midst of your darkest moments of tribulation, there is no such thing as mass friends. - Author: Richelle E. Goodrich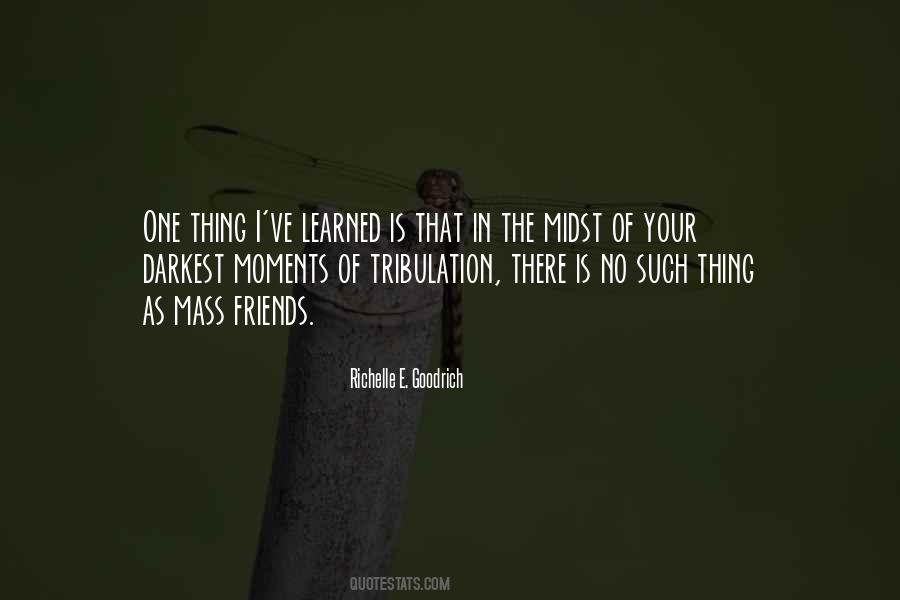 #87. I don't want to talk about my trials and tribulations. Once you reveal even part of what your real problems might be in life, they come back in a deformed way. - Author: W.G. Sebald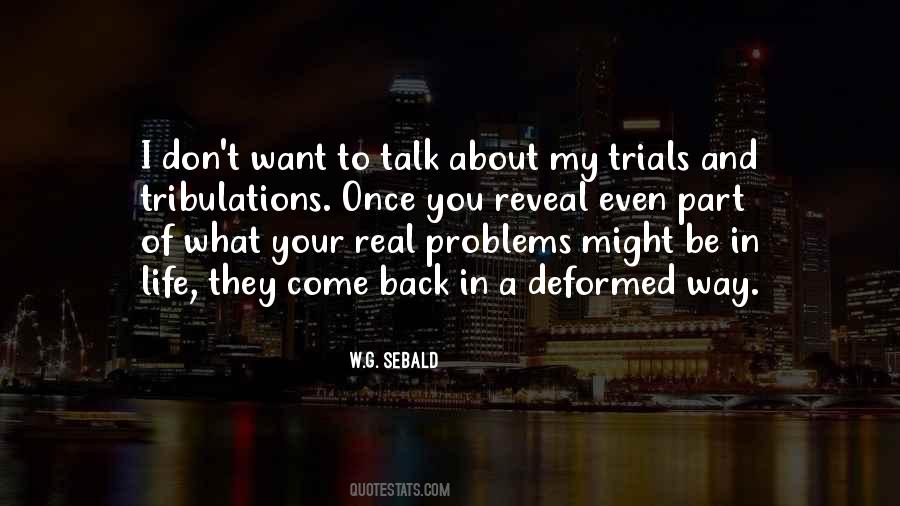 #88. I had to open my eyes, so I could see a new life! - Author: Jonathan Anthony Burkett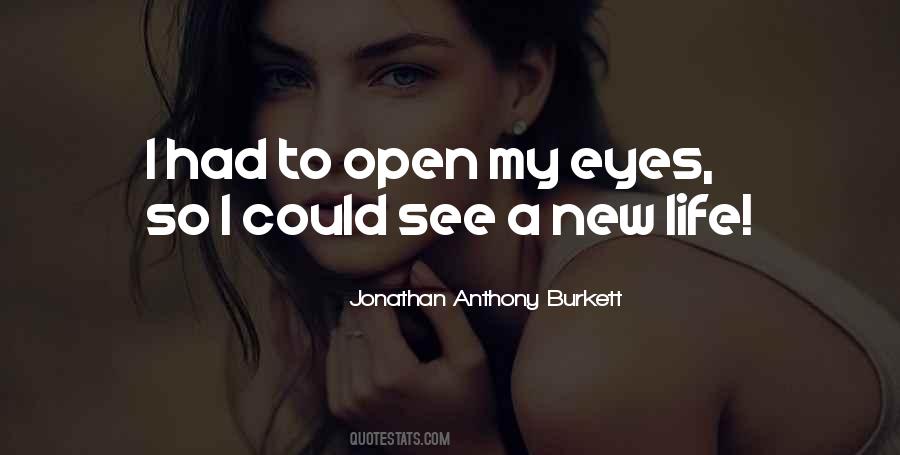 #89. Tom hunts alone. While shunned by all he sees, he grows aware that, in reality, life is lived alone. When with a hen, there's only an illusion of sharing; a pretence that life's trials are easier to endure. Even sleep is a barrier that can't be shared. - Author: Peter Gray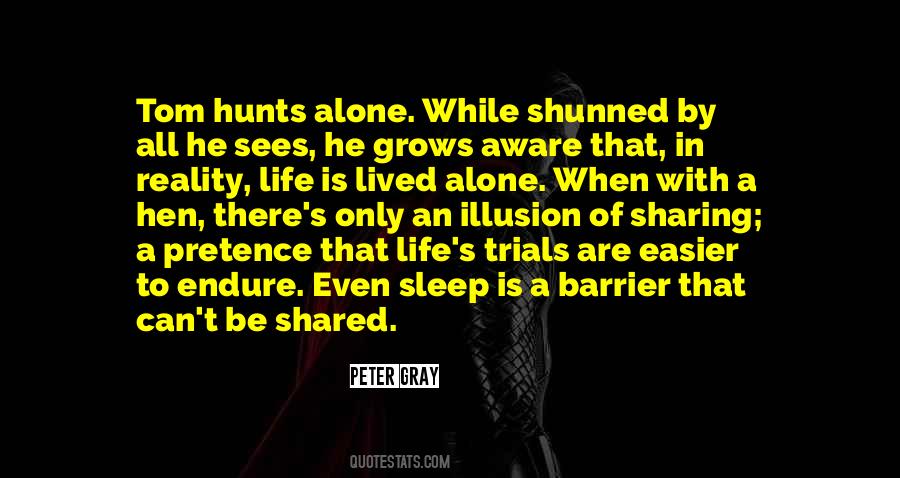 #90. Every single experience, every single thing that's happened in my life, struggle, obstacle, trials and tribulations, I think they've all molded me to become the character and the person who I am. - Author: Apolo Ohno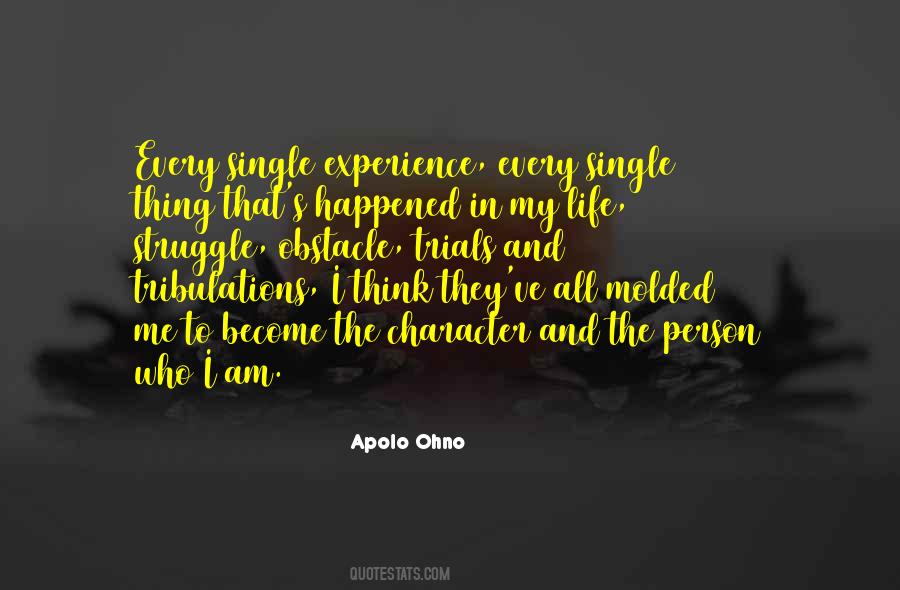 #91. Life is a test and this world a place of trial. Always the problems - or it may be the same problem - will be presented to every generation in different forms. - Author: Winston Churchill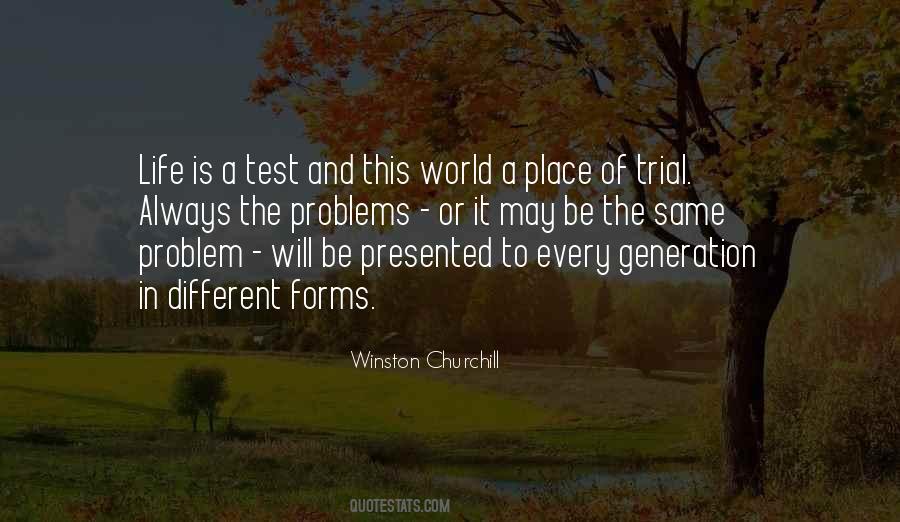 #92. Anger and bitterness are two noticeable signs of being focused on self and not trusting God's sovereignty in your life. When you believe that God causes all things to work together for good to those who belong to Him and love Him, you can respond to trials with joy instead of anger or bitterness. - Author: John C. Broger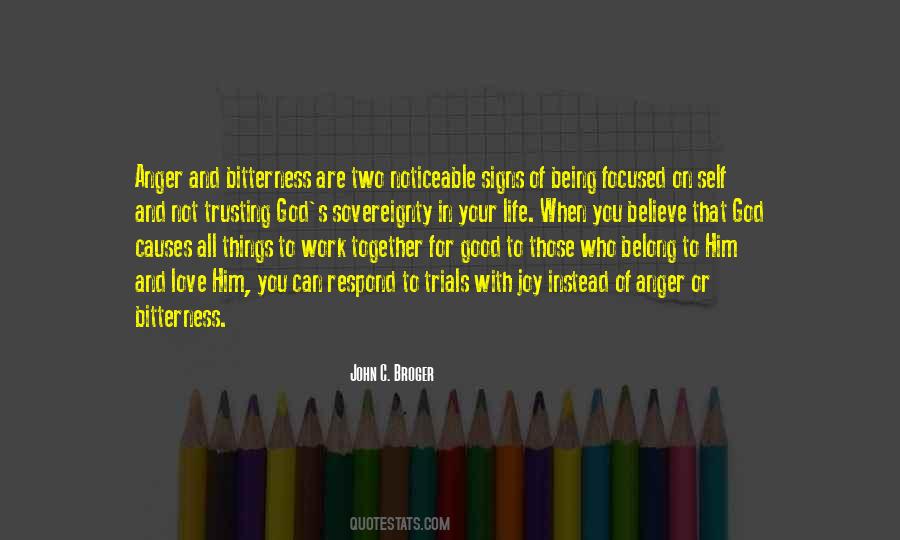 #93. I've been through many years of psychotherapy, psycho-drama, I've taken risks in my life. I've had trials and tribulations just like every body else. You have to really think about who you are. You can't just go through life and sail threw. - Author: Joy Behar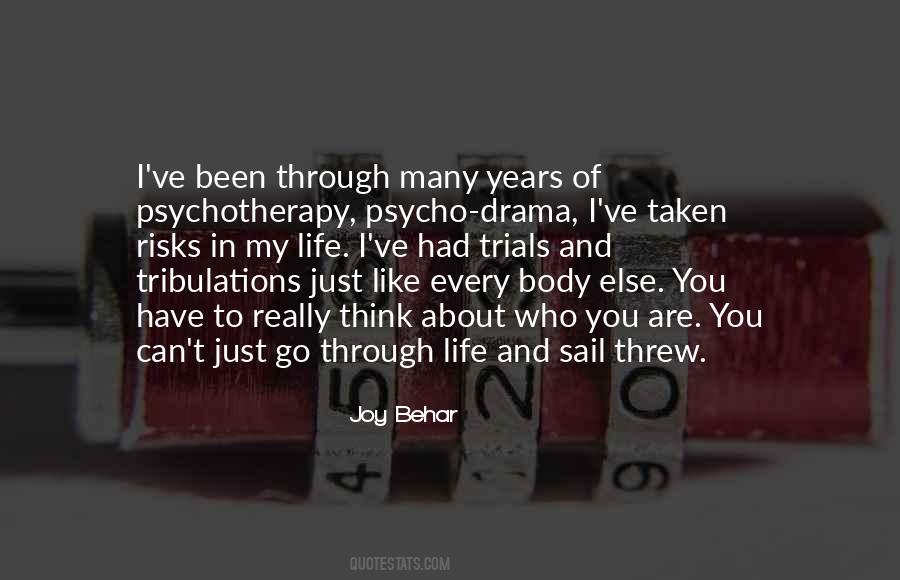 #94. The Father is always intimately entwined in our struggles".

~R. Alan Woods [2013] - Author: R. Alan Woods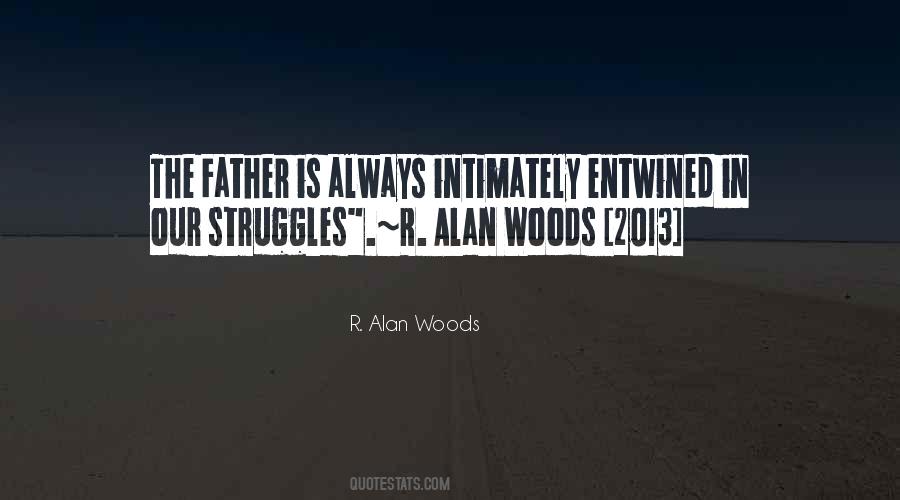 #95. There are trials in life that feel as tremendous as a quest to slay dragons. These trials are daunting. They require hard work, determination, and courage. But when the dragon is finally slain, the relief is immense. - Author: Richelle E. Goodrich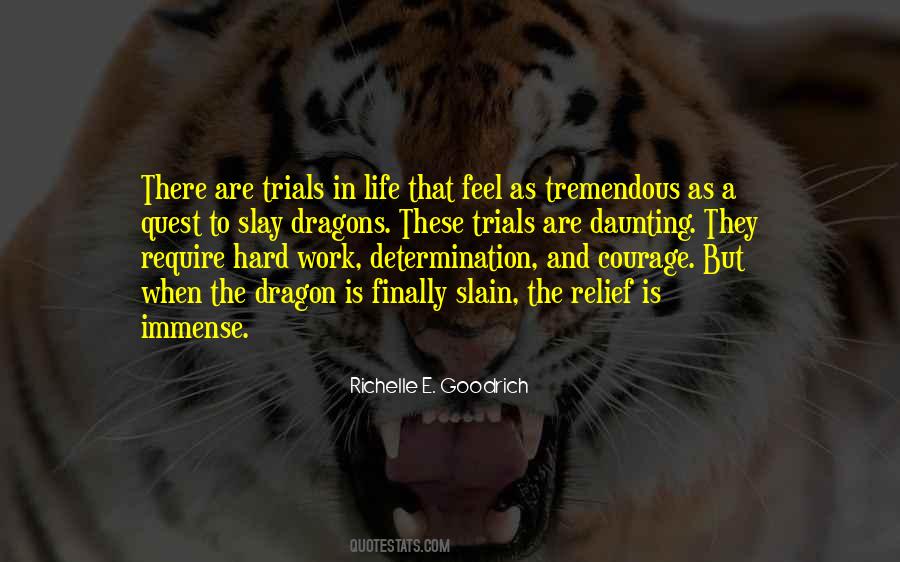 #96. I suppose sooner or later in the life of everyone comes a moment of trial. We all of us have our particular devil who rides us and torments us, and we must give battle in the end. - Author: Daphne Du Maurier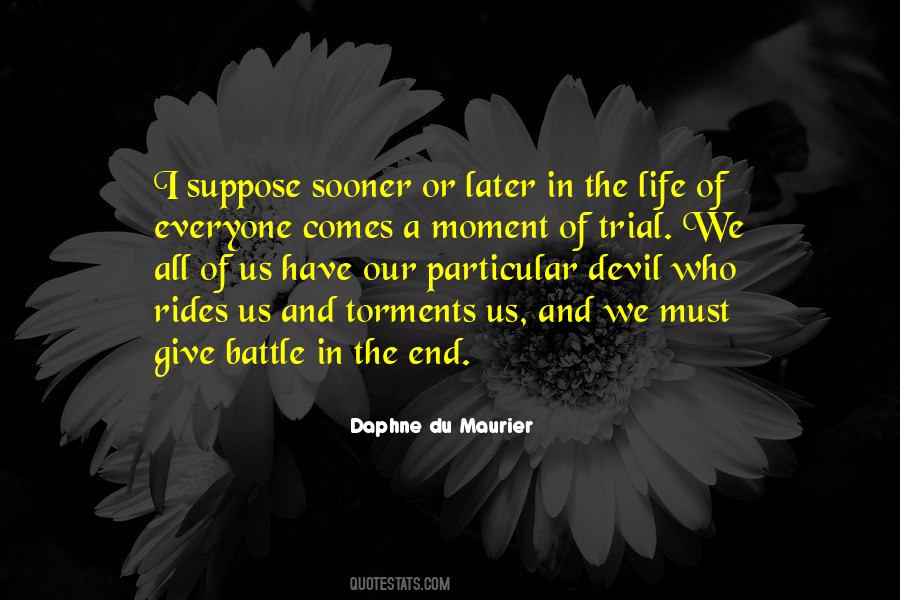 #97. You can believe what you've been told. You can imagine in vivid detail the things explained to you. You may even feel emotions assumed to accompany the related experience. But you absolutely cannot know something with any real degree of understanding until you've personally walked the road yourself. - Author: Richelle E. Goodrich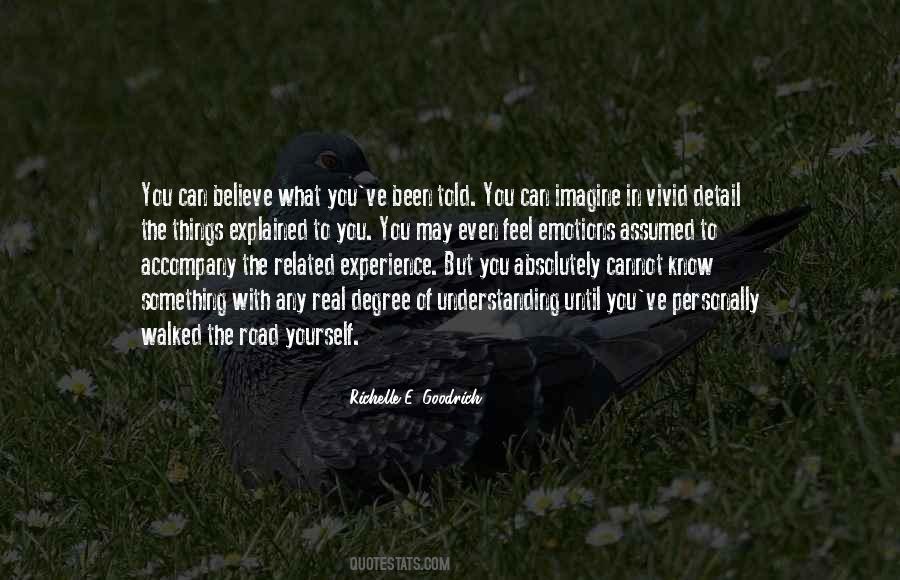 #98. In the priesthood we share the sacred duty to labor for the souls of men. We must do more than learn that this is our duty. It must go down into our hearts so deeply that neither the many demands on our efforts in the bloom of life nor the trials that come with age can turn us from that purpose. - Author: Henry B. Eyring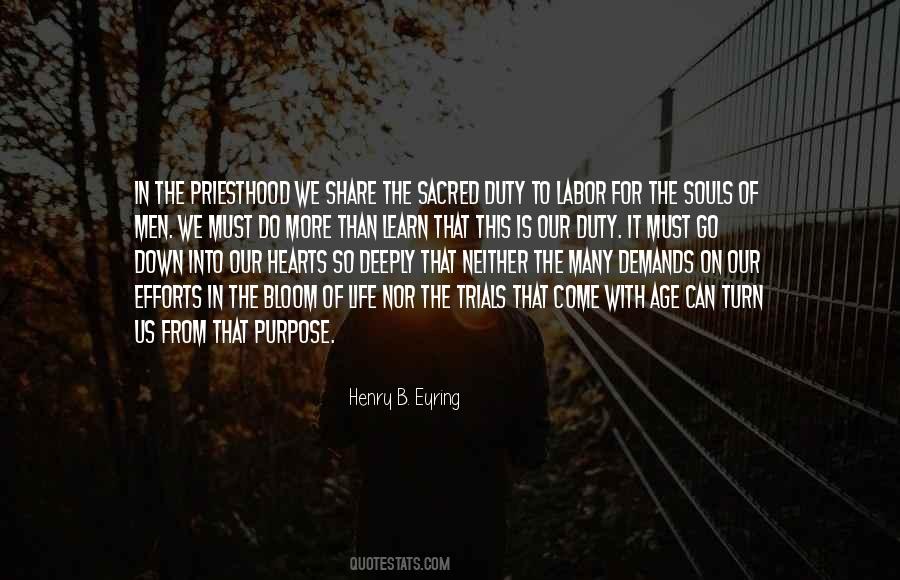 #99. What rings true is that everything we grow through in life will work out for our good. - Author: Tyler Perry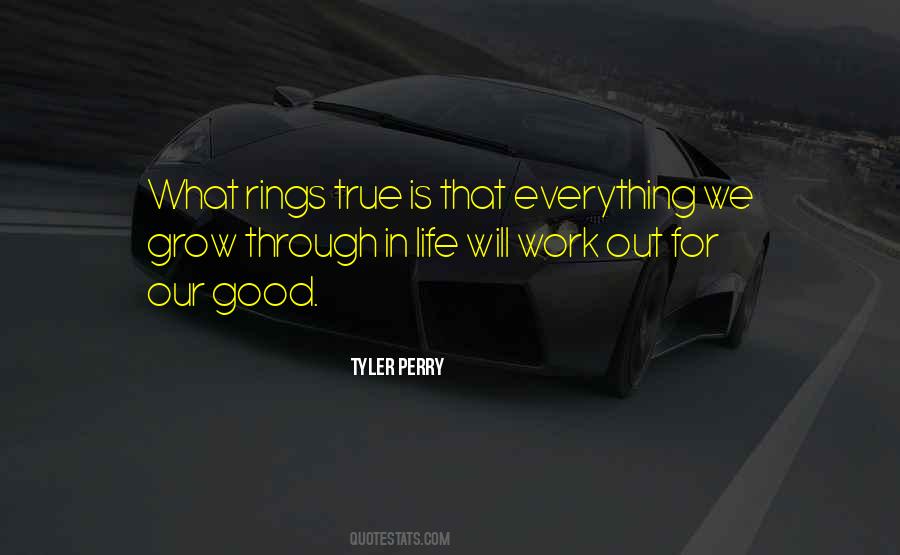 #100. The promises of eternal life stored up in our heart through the work of the Holy Spirit empower us to walk through the most difficult of life's trials and tragedies and glorify God in the process. - Author: Anonymous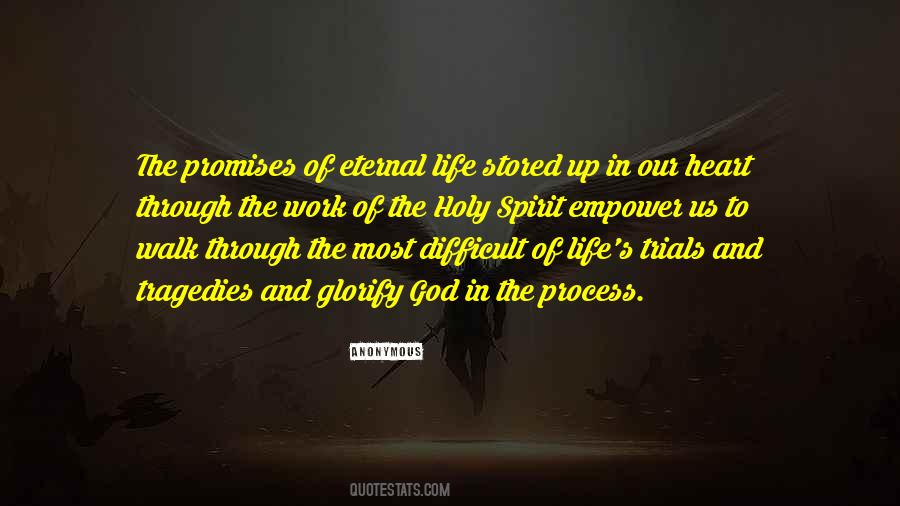 Famous Authors
Popular Topics