To Be Strong Famous Quotes & Sayings
List of top 100 famous quotes and sayings about to be strong to read and share with friends on your Facebook, Twitter, blogs.
Top 100 Quotes About To Be Strong
#1. I was recently looking at what they can actually do to reduce consumption of petrol. It would be quite possible to build automobiles out of carbon fibre that would be just as strong, weigh 10 times less and consume 10 times less petrol. - Author: Susan George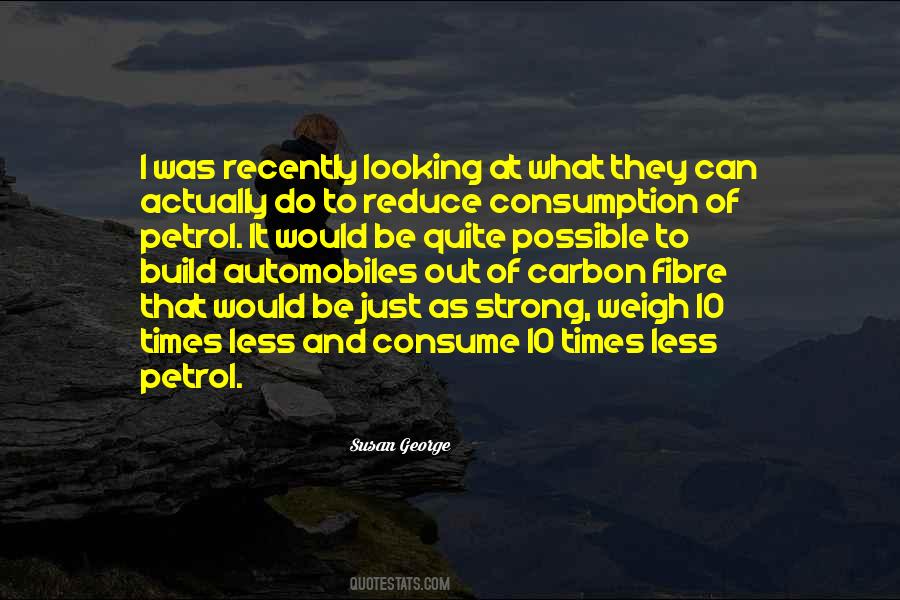 #2. When people are protecting something truly special to them, they truly can become ... as strong as they can be. - Author: Masashi Kishimoto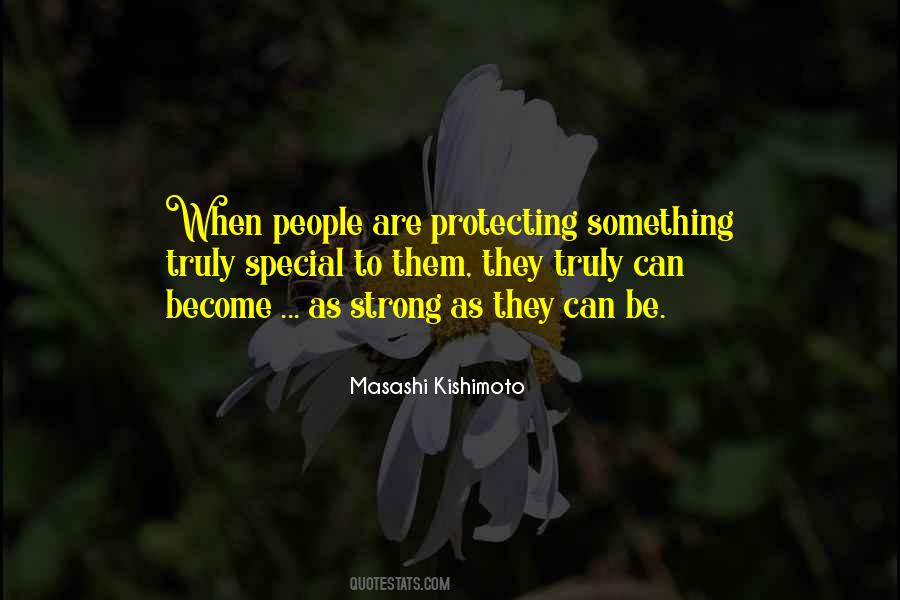 #3. The future is now. It's time to grow up and be strong. Tomorrow may well be too late. - Author: Neil LaBute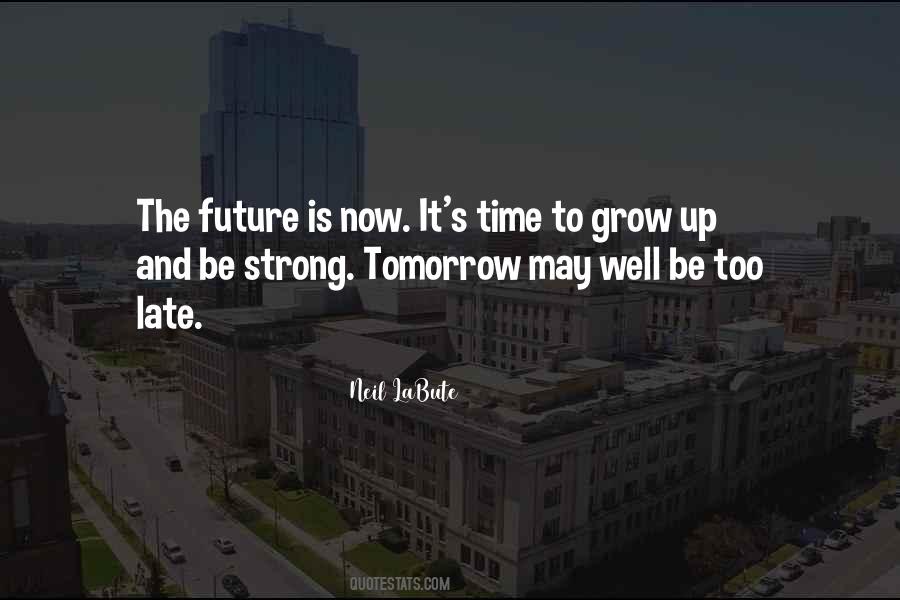 #4. When something flipping out to the worse, don't feel bad. But be strong and make yourself hard so that the situations stop taking chance to hurt you. - Author: Giridhar Alwar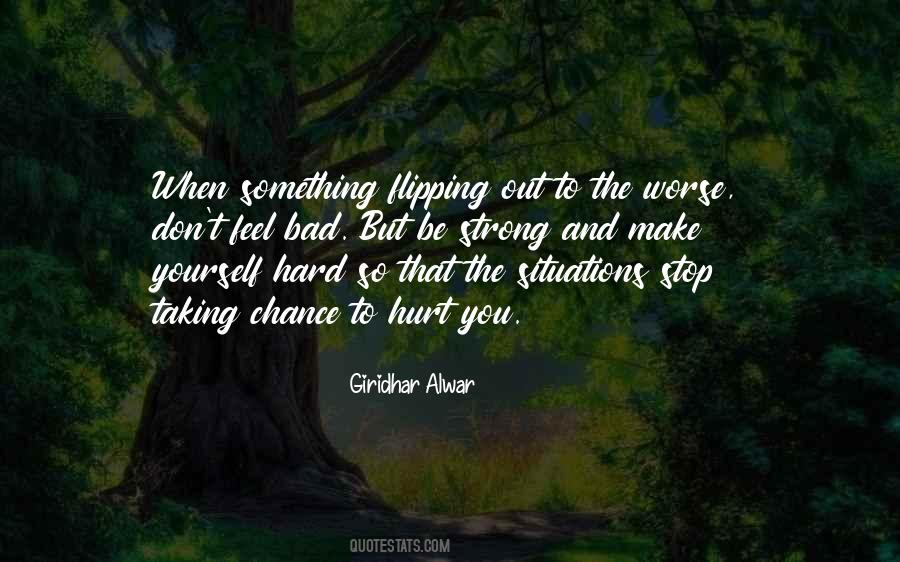 #5. Human decision-making is complex. On our own, our tendency to yield to short-term temptations, and even to addictions, may be too strong for our rational, long-term planning. - Author: Peter Singer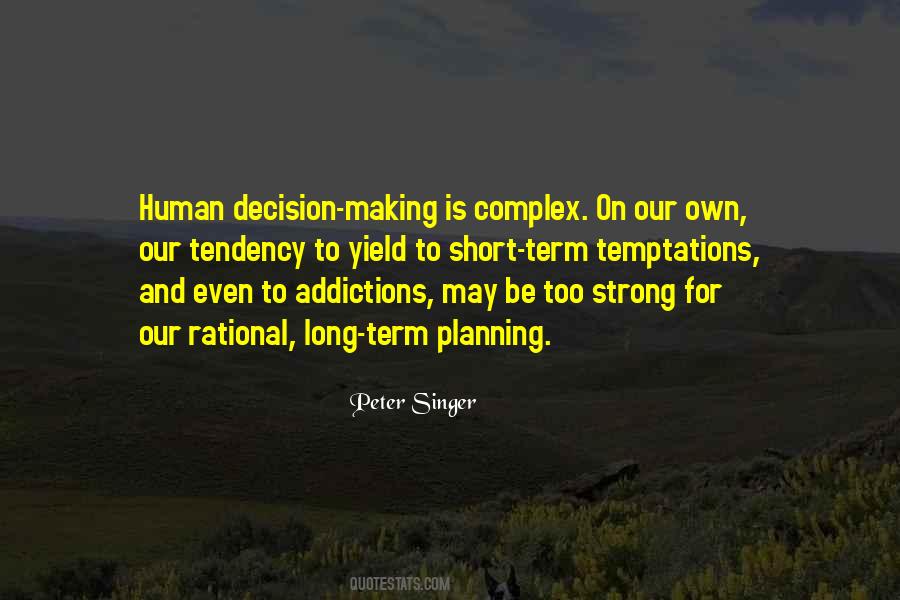 #6. I will be strong enough to go without the tablet. But there are other things I'm not strong enough to go without, and I intend to fight for them. (Cassia Reyes) - Author: Ally Condie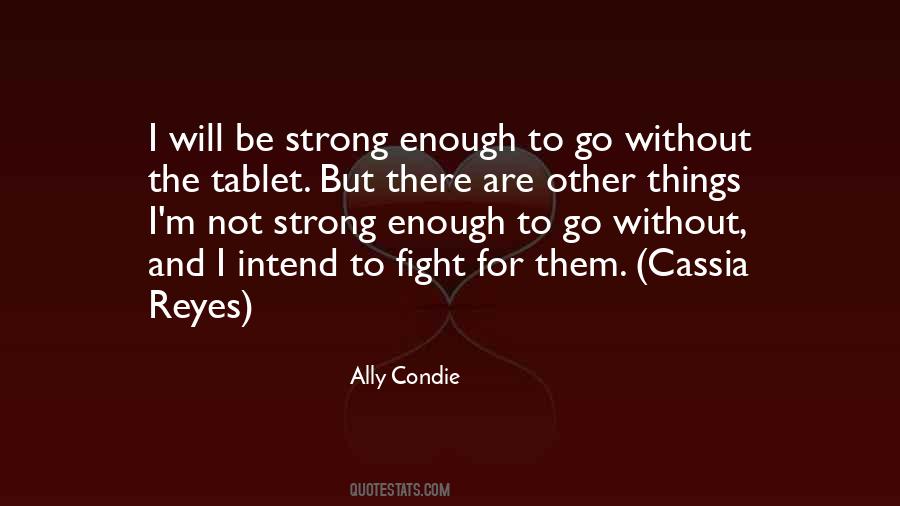 #7. Finaly, my brethren, be strong in the Lord and in the power of His might. Put on the whole armor of God, that you may be able to stand against the wiles of the devil.
-Ephesians 6:10-11 - Author: Anonymous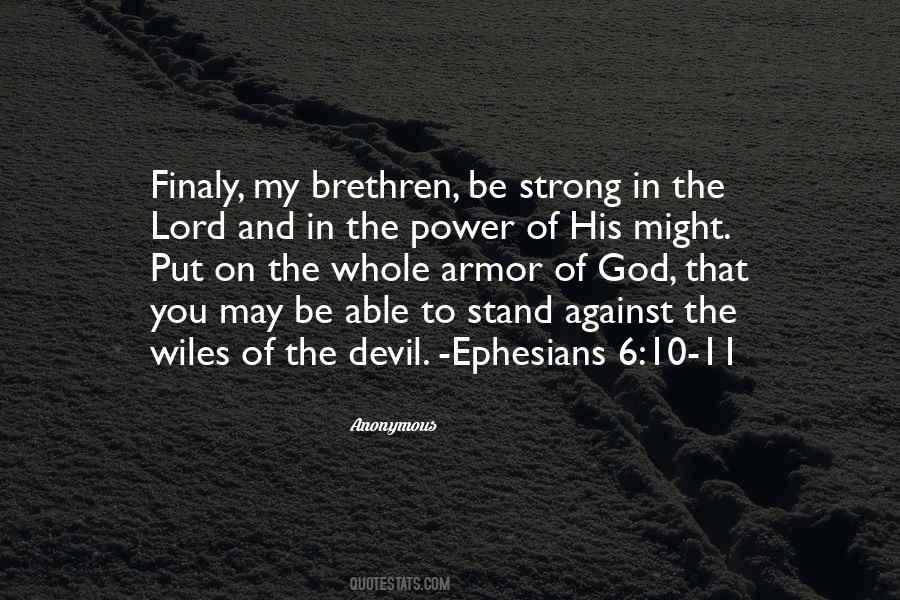 #8. Life is like a war. There will always be people trying to shoot you down. But it's your choice whether you're going to surrender, fight back, or dodge the bullet. - Author: Peyton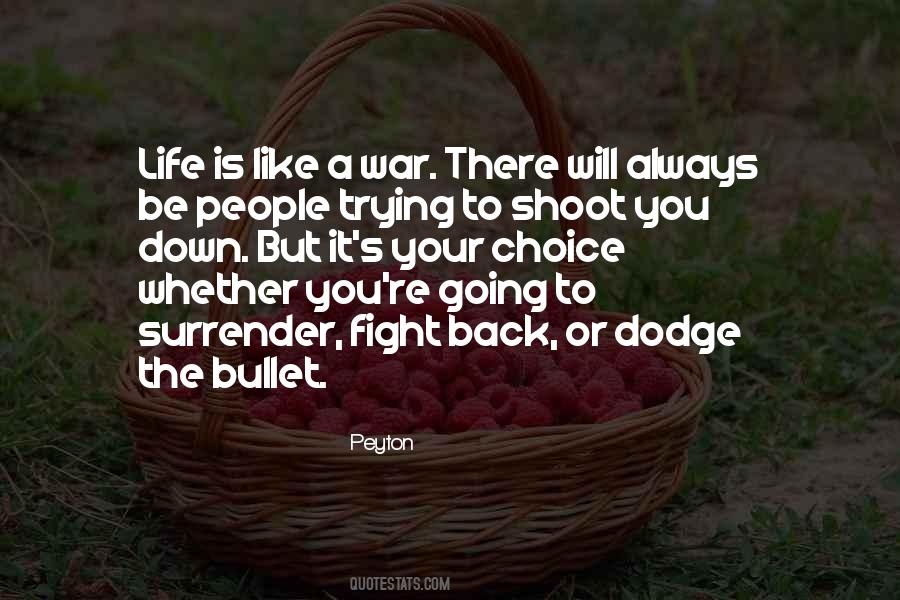 #9. It seems that Russia today - dominated by, and accustomed to, autocracy and empire, and lacking strong civic institutions especially after the shattering of its society by the Bolshevik Terror - is destined to be ruled by self-promoting cliques for some time yet. - Author: Simon Sebag Montefiore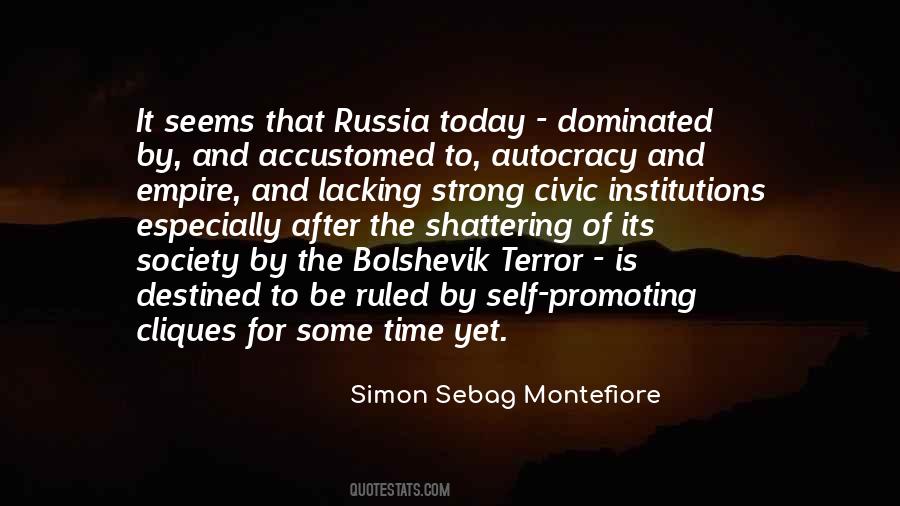 #10. We are like water, aren't we? We can be fluid, flexible when we have to be. But strong and destructive, too. And something else, I think to myself. Like water, we mostly follow the path of least resistance. - Author: Wally Lamb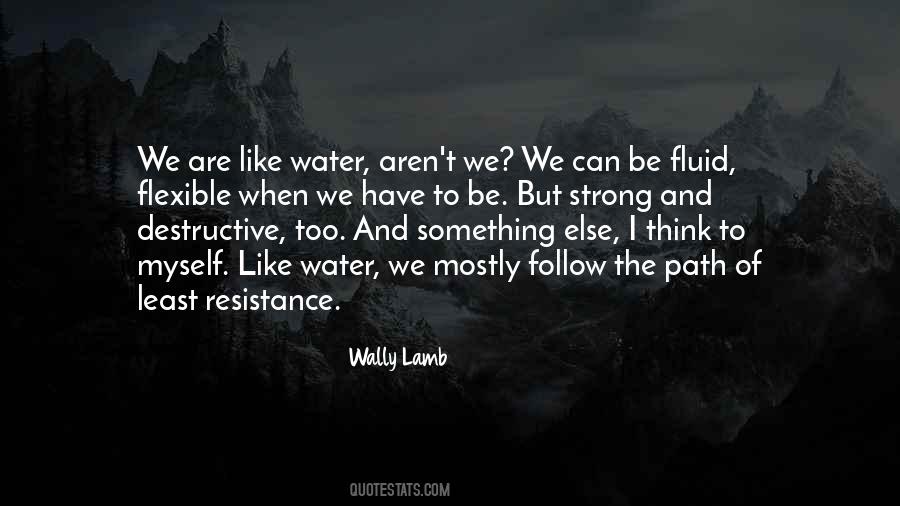 #11. My father was a Tuskegee Airmen captain in the Air Force and a very strong personality. He believed in fairness and ethics and living up to the commitments you make to others. He ultimately became a judge, and he would talk to me over and over about how important it is to be fair. - Author: John W. Rogers Jr.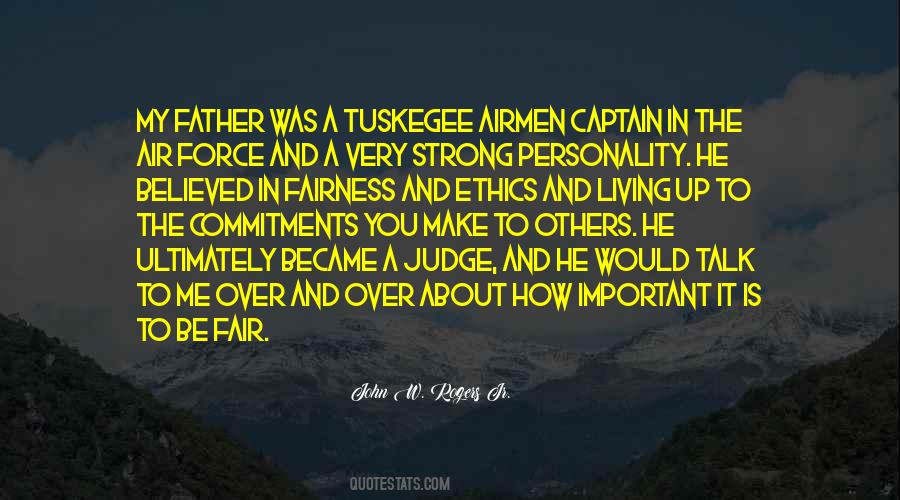 #12. It is better to be looked over than overlooked. - Author: Mae West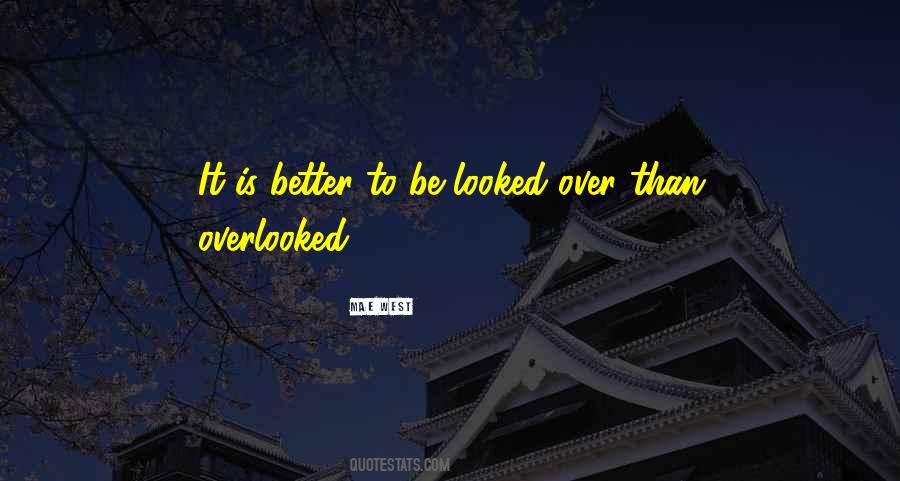 #13. I think athletically I can be okay with any role, but I'm willing to go over and beyond for my work. My fan base is so strong and loyal, and they wanna see me evolve. I'm where I'm supposed to be and I want to challenge myself with the people that are doing it real big. - Author: Pooch Hall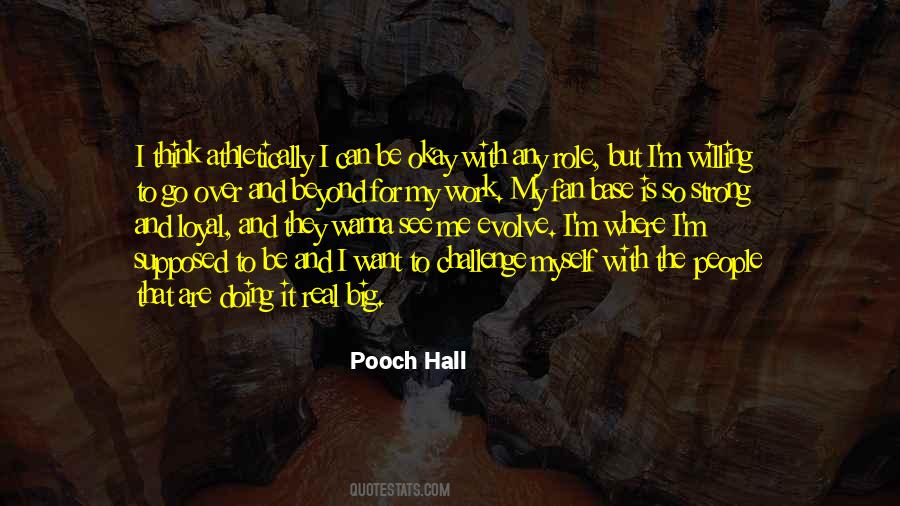 #14. I want a character to wake up one day and feel like, 'I can face it'. That, to me, is happy. I want the characters to rescue themselves, though you use the relationships you have, to make you strong enough to be able to do that. - Author: Cecelia Ahern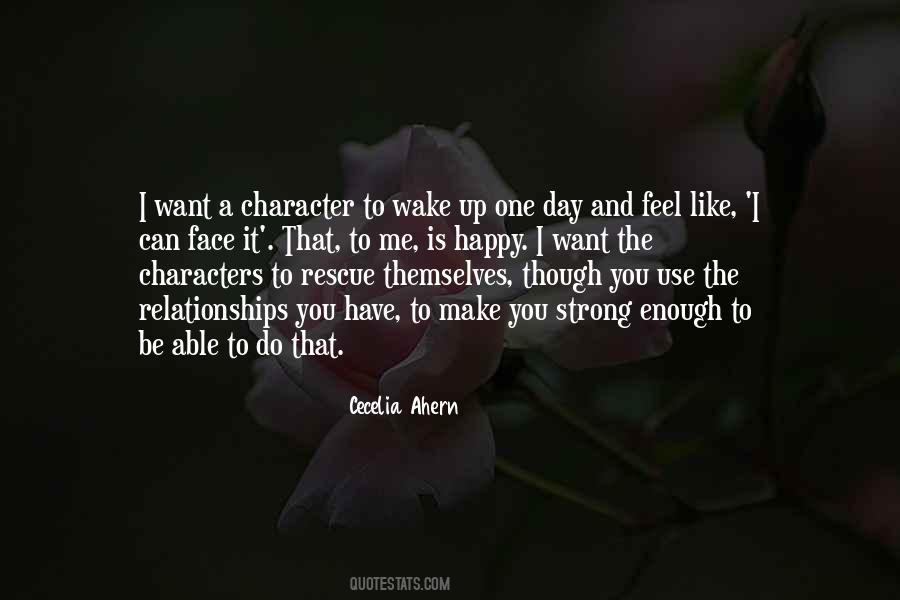 #15. To be strong is to be happy! - Author: Henry Wadsworth Longfellow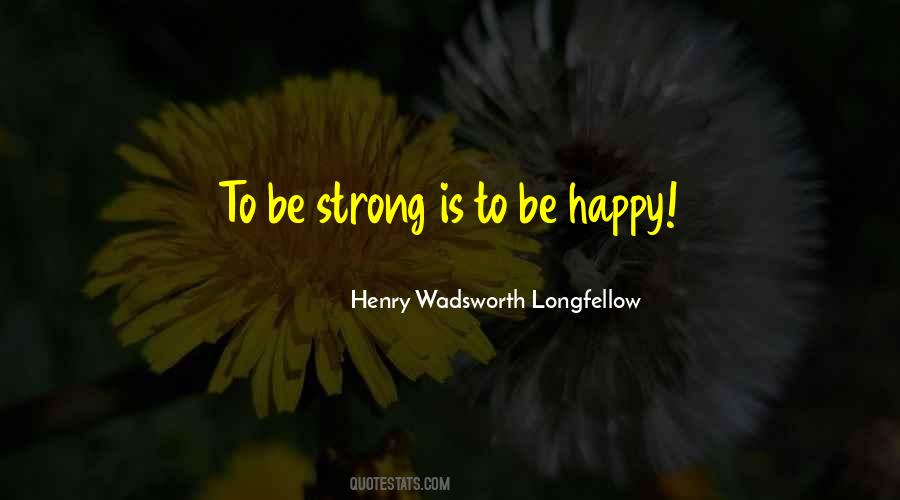 #16. The ethical system that will dominate the world-state will be shaped primarily to favor the procreation of what is fine and efficient and beautiful in humanity - beautiful and strong bodies, clear and powerful minds - and to check the procreation of base and servile type. - Author: H.G.Wells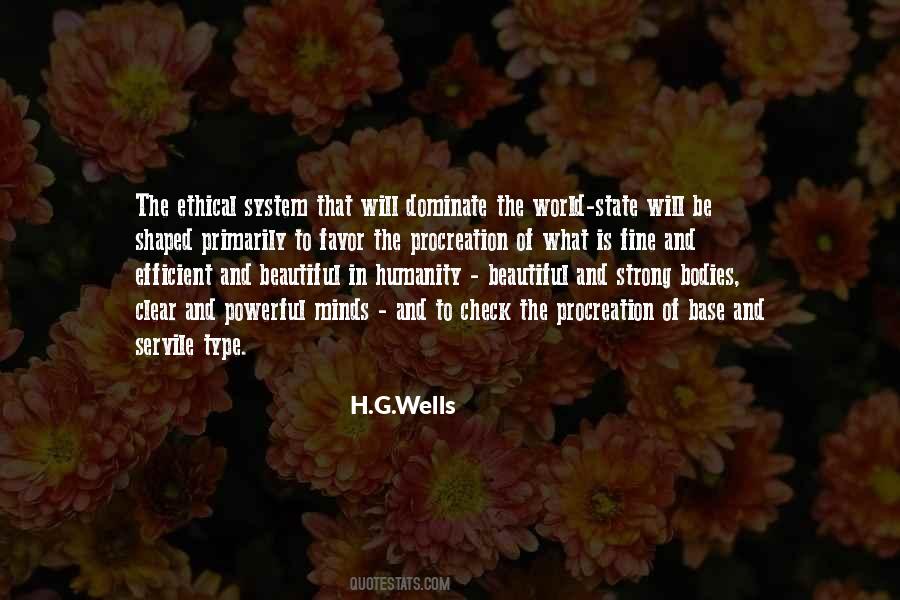 #17. I laughed. "What the hell are you learning from Ebony?" "How to be a strong black woman?" I - Author: Adrianne Brooks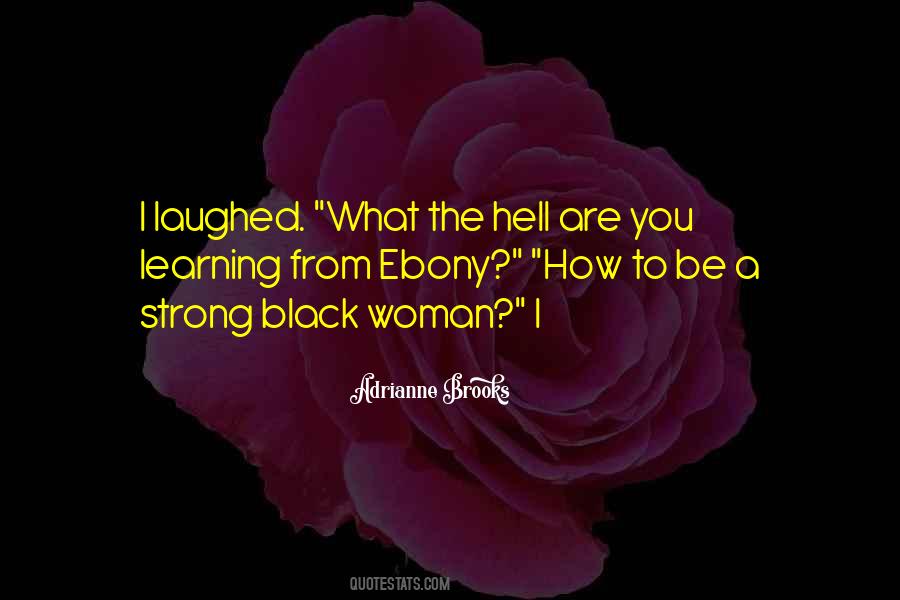 #18. For there were good men. As long as we women remembered to be strong. As long as we remembered to be ourselves - Author: Mindy Klasky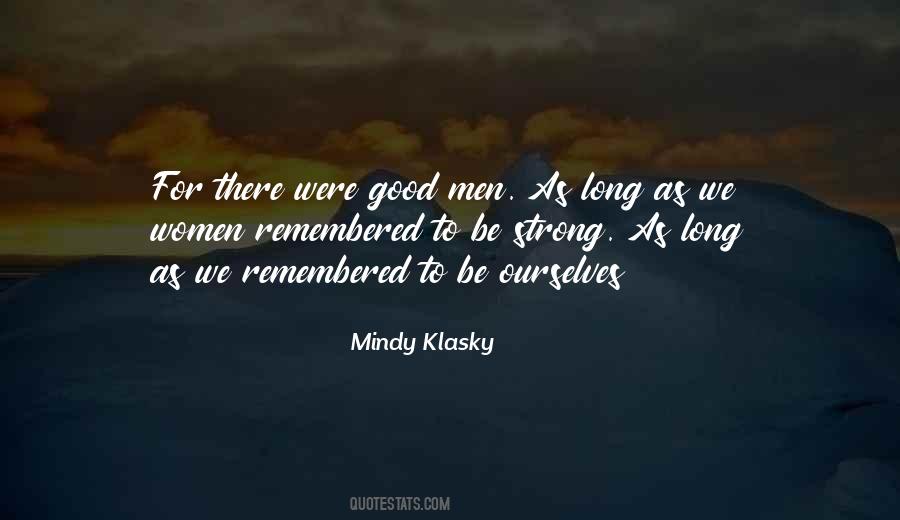 #19. Learn to control your emotions. Be able to glide through them. By practicing concentration exercises and meditation, you will find that when strong emotions strike, you will gain the ability to not be swayed by them. - Author: Frederick Lenz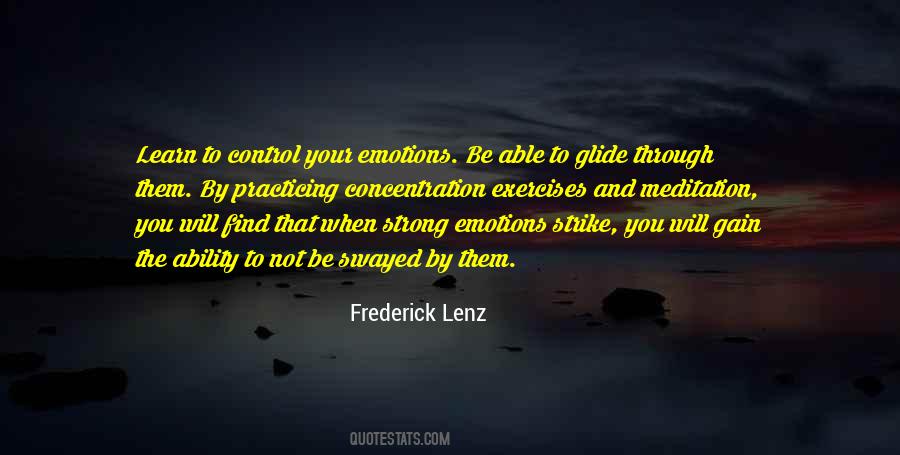 #20. Prayer cannot truly be taught by principles and seminars and symposiums. It has to be born out of a whole environment of felt need. If I say, "I ought to pray," I will soon run out of motivation and quit; the flesh is too strong. I have to be driven to pray. - Author: Jim Cymbala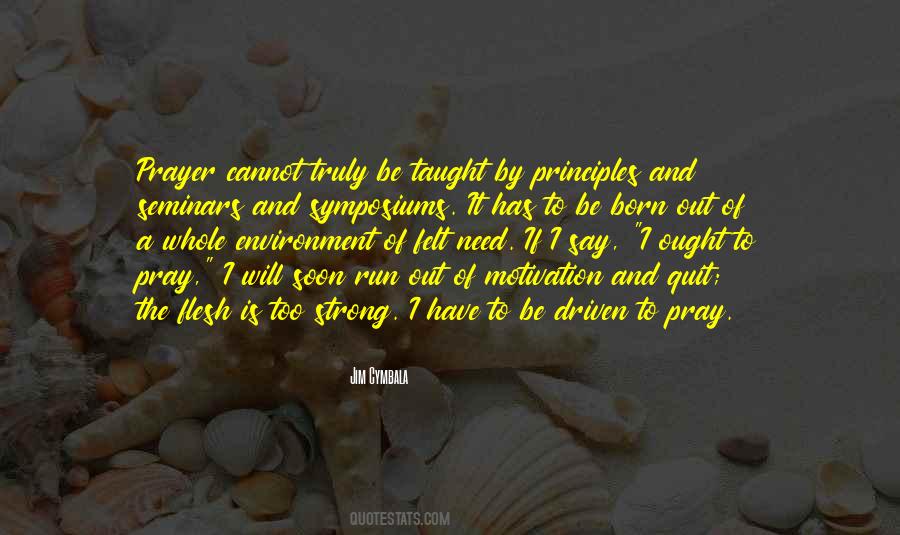 #21. The best way is to be strong enough to make your enemy think twice about attacking you, yet not so aggressive that he feels threatened. Keep your sword sheathed as long as you can, but once it is unsheathed, use it without hesitation. - Author: Lian Hearn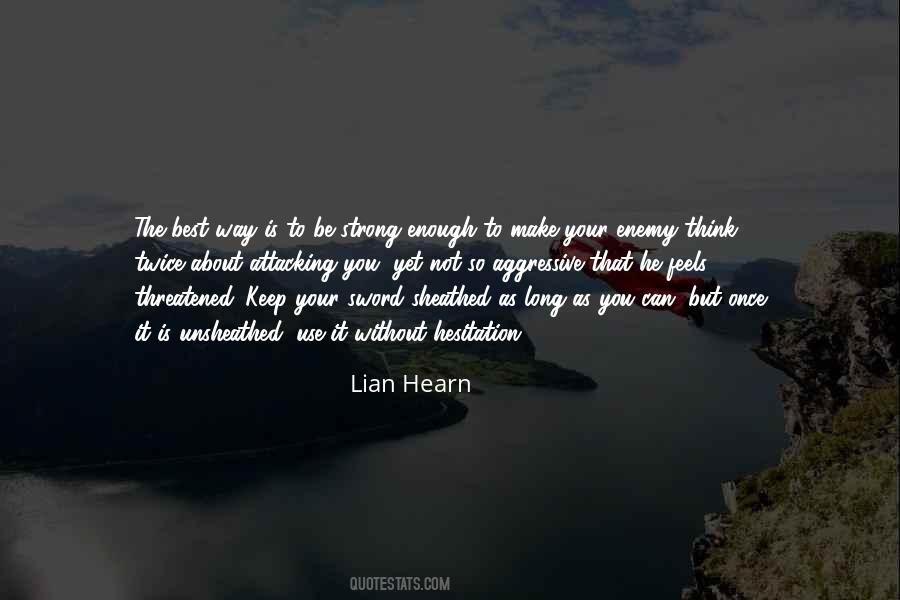 #22. Stewart loves me with a tiger's intensity, his need taking my breath away, his confidence in our relationship strong enough to not be bothered by the presence of another man. He stares into my soul as if he owns it, and shows his love with money, sex, and rare moments of time. - Author: Alessandra Torre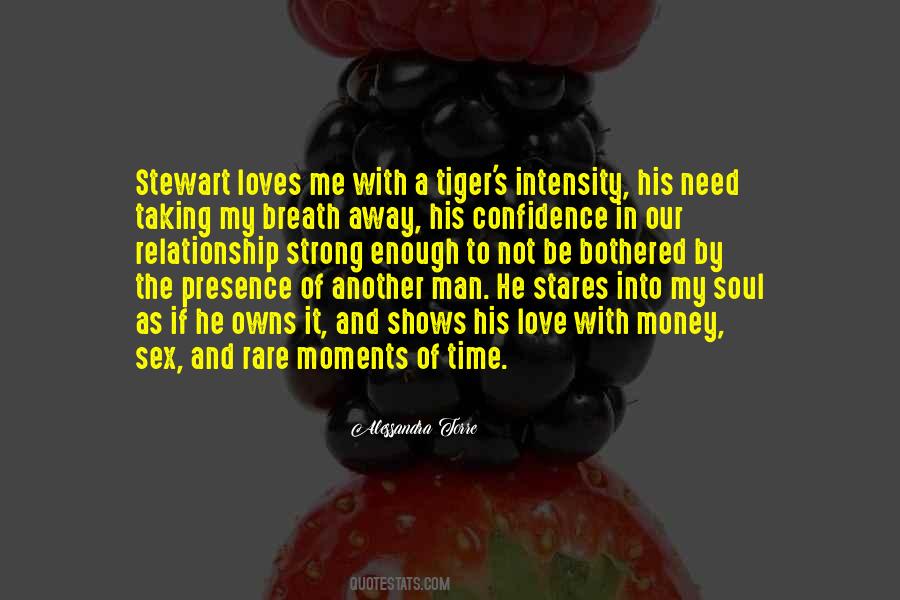 #23. Nobody deserves to be praised for goodness unless he is strong enough to be bad. - Author: Francois De La Rochefoucauld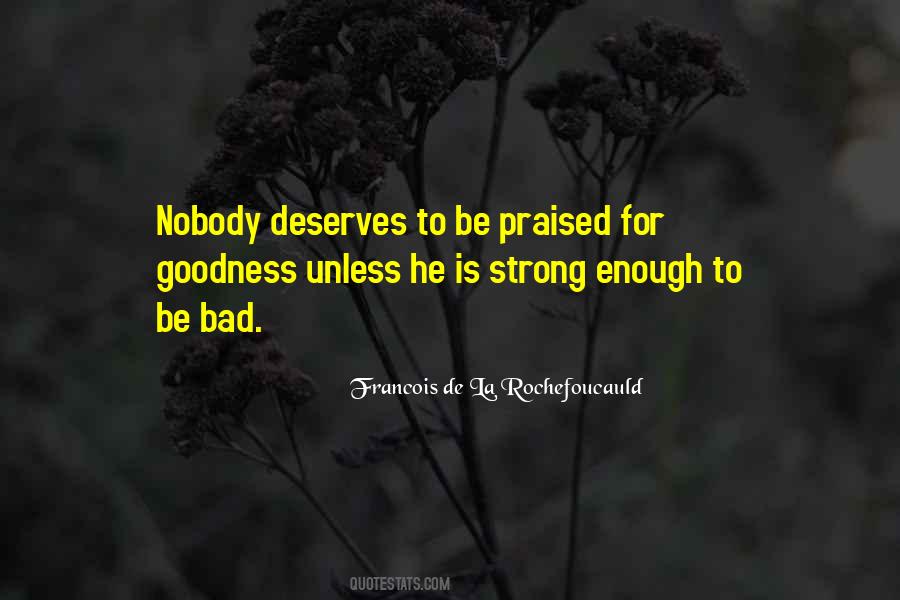 #24. How hard it is to have the beautiful interdependence of marriage and yet be strong in oneself alone. - Author: Anne Morrow Lindbergh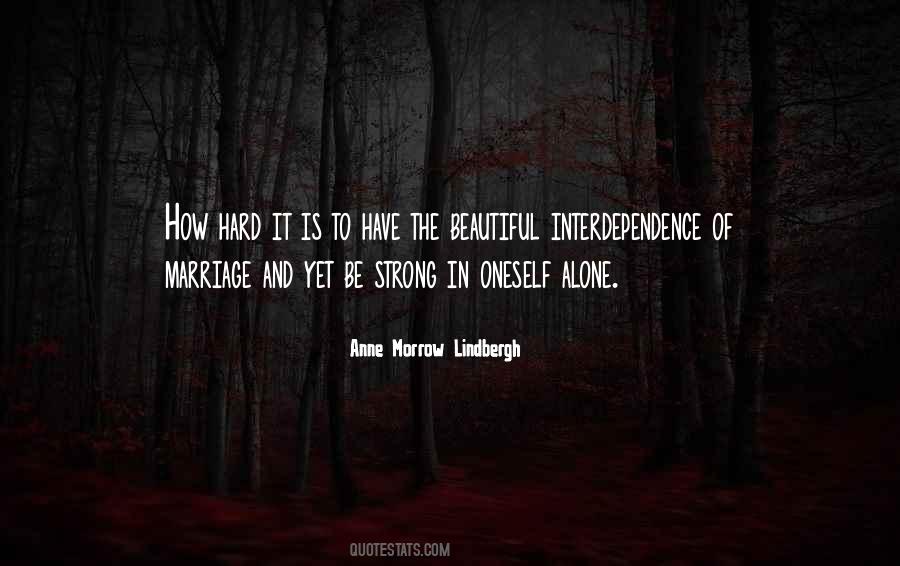 #25. You are not a lost cause. You are a hawk who has had her wings clipped for so long that she had forgotten to fly. But when they fully heal and you are let out of the cage, you are going to soar, Alyssa, so high above everyone else that we will be just dots below, forever forgotten. ~Caleb - Author: Kristi Strong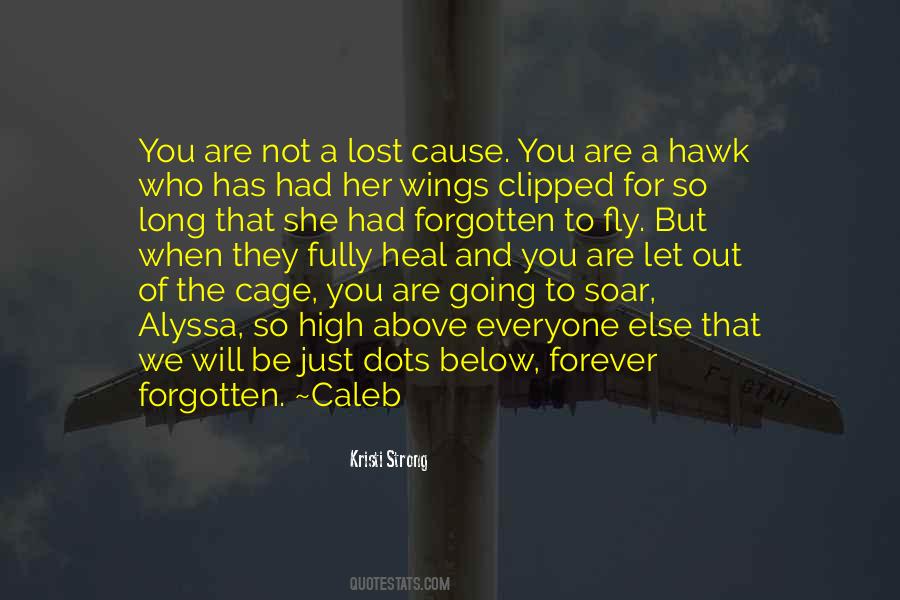 #26. The weak can be terrible because they try furiously to appear strong. - Author: Rabindranath Tagore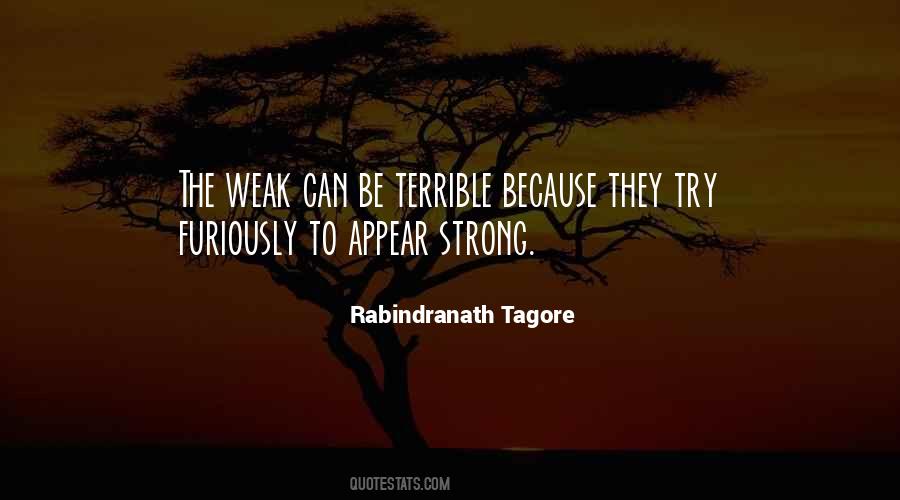 #27. Lasting and strong relations cannot be built on short-lived interests. A credible partnership is inconceivable without shared values and commitment to the same ideas. - Author: Serzh Sargsyan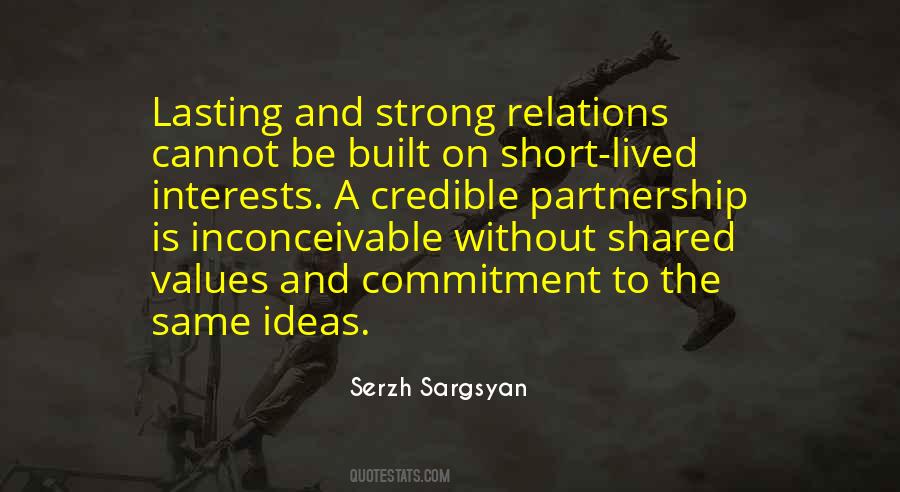 #28. If one of my daughters happened to be [gay], of course I would love them and I would accept them.That's what we're taught when we have strong faith. - Author: John Kasich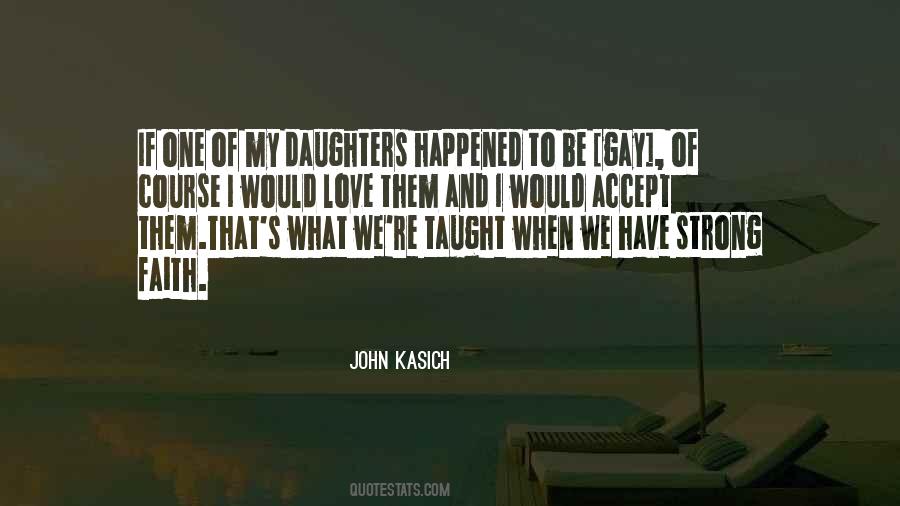 #29. Do you know what makes you weak?" said Holland. "You've never had to be strong. You've never had to try. You've never had to fight. And you've certainly never had to fight for your life. - Author: V.E Schwab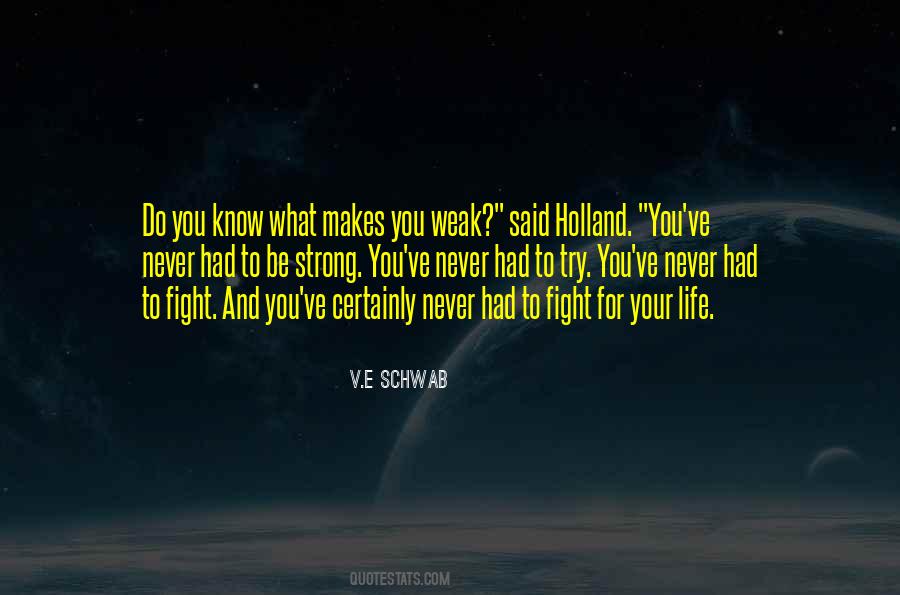 #30. I wanted to show that an African-American artist could make it in this country on a national level in the graphic arts. I want to be a strong role model for my family and for other African Americans. - Author: Jerry Pinkney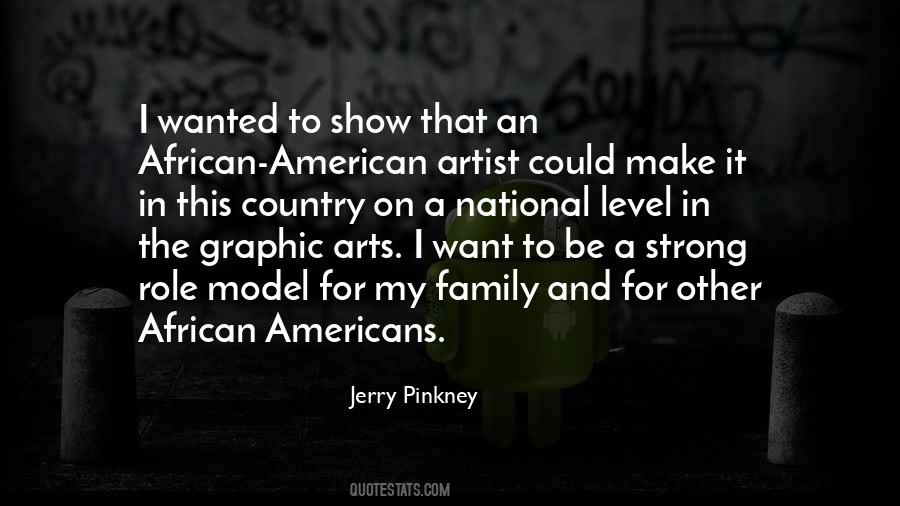 #31. Choose rather to be strong of soul than strong of body. - Author: Pythagoras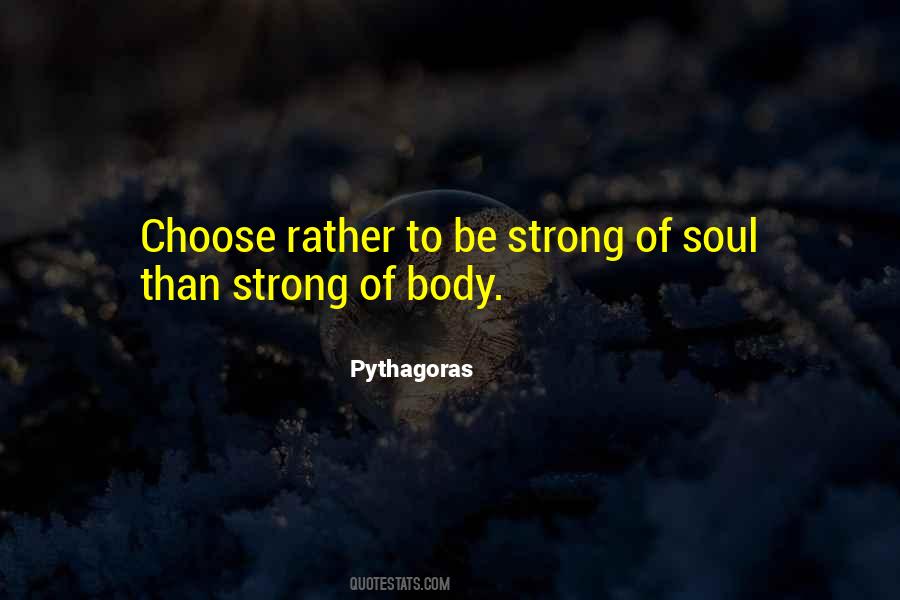 #32. For me Greece is Maria Farantouri. This is how I imagined Goddess Hera to be: strong, pure and vigilant. I have never encountered any other artist able to give me such a strong sense of the divine. - Author: Francois Mitterrand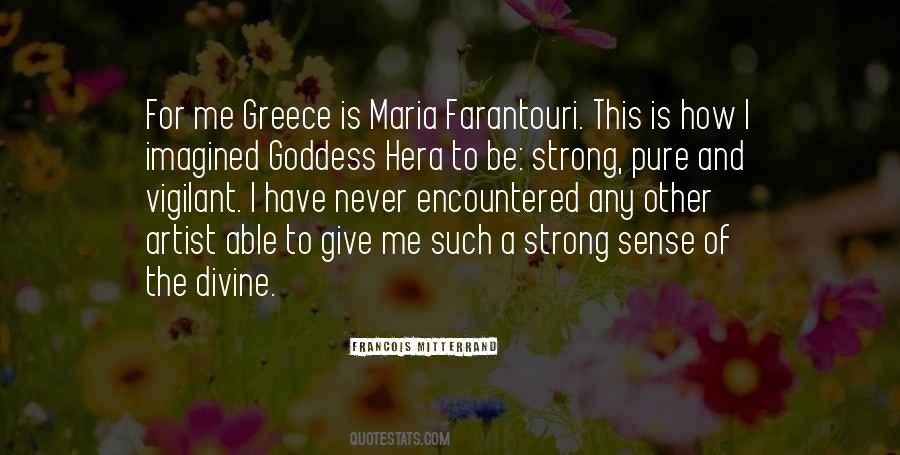 #33. I am so looking forward to it. I made sure I had a strong foundation before I became pregnant and I think that's the most important thing. There were a lot of things that I wanted to do personally so that when the time came, I really knew who I was and could be the best mother. - Author: Beyonce Knowles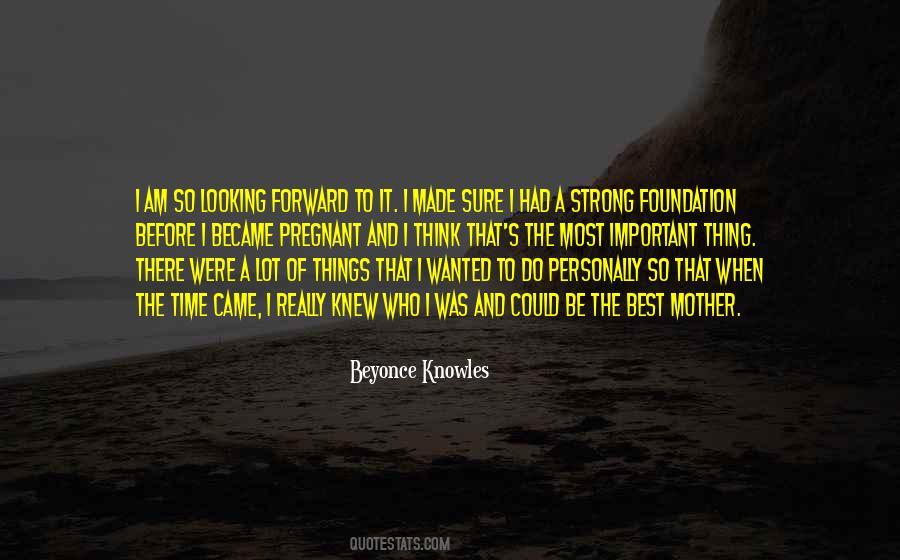 #34. He'd survived, his mind strong. Others ... others were broken. The healing process was going to be a long one, but Judd had pledged himself to it
That thought in mind, he headed to his room to wash up before going to Brenna. Not seeing her wasn't an option ... - Author: Nalini Singh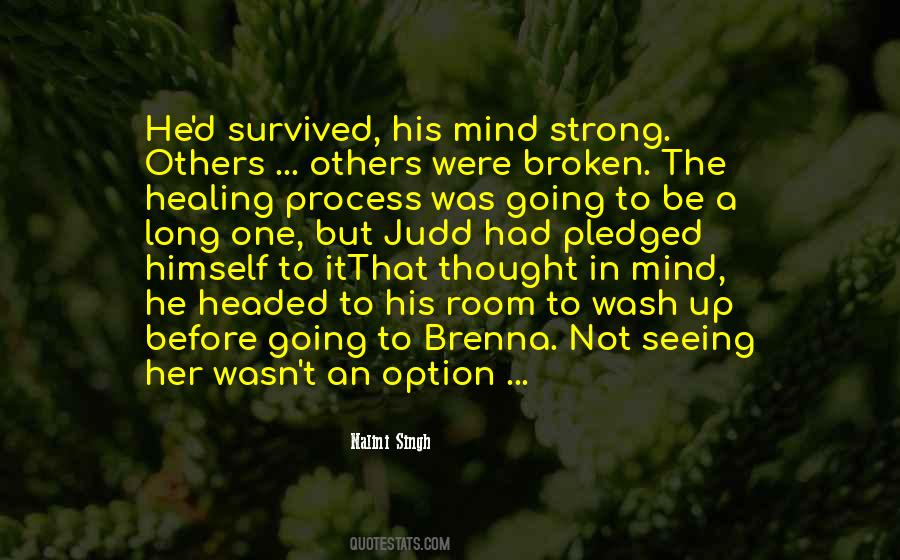 #35. Few would dispute with the rose her claim to be the queen of flowers, for where is her equal to be found? Is she not God's masterpiece? - Author: Patience Strong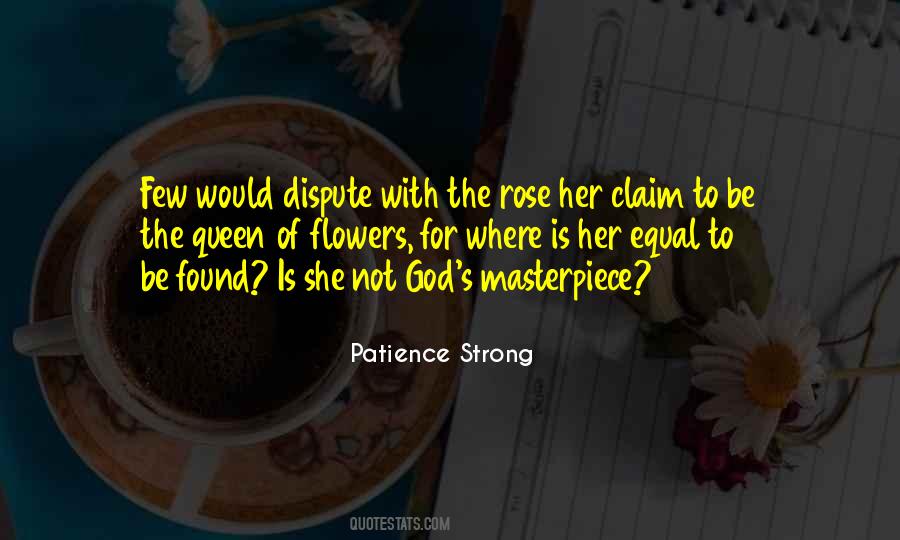 #36. If the evolutionary mechanism of natural selection depends on death, destruction, and violence of the strong against the weak, then these things are perfectly natural. On what basis, then, does the atheist judge the natural world to be horribly wrong, unfair, and unjust? - Author: Timothy Keller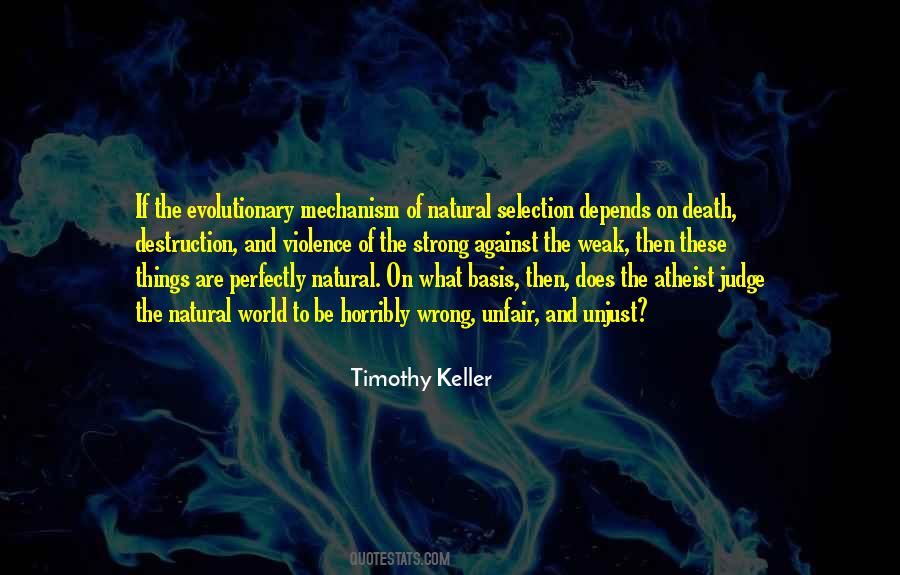 #37. Those who have a strong sense of love and belonging have the courage to be imperfect. - Author: Brene Brown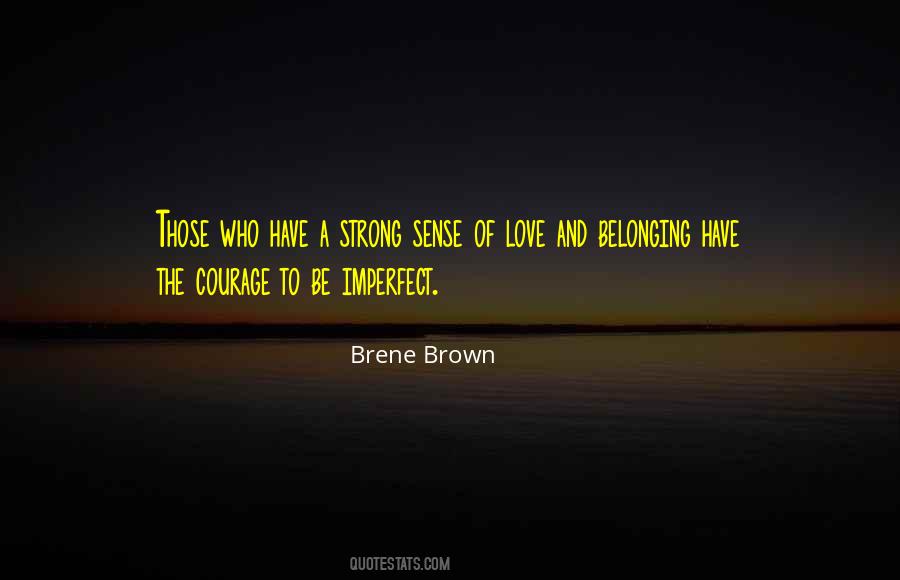 #38. angry and pushed the love aside, but it was too strong for me to fight. All my heart needed was to be near him again to remember that it beats for him. - Author: K.L. Grayson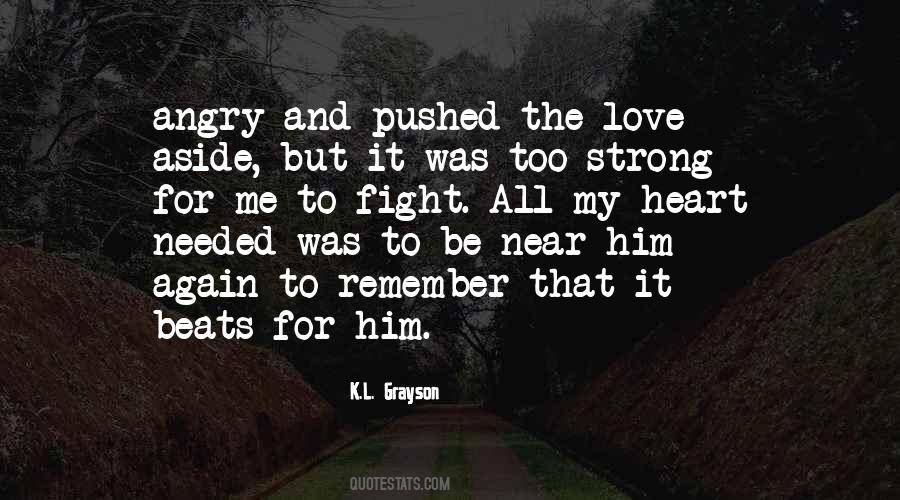 #39. It is vital to any organization, to be strong and effective, to be ethical. - Author: L. Ron Hubbard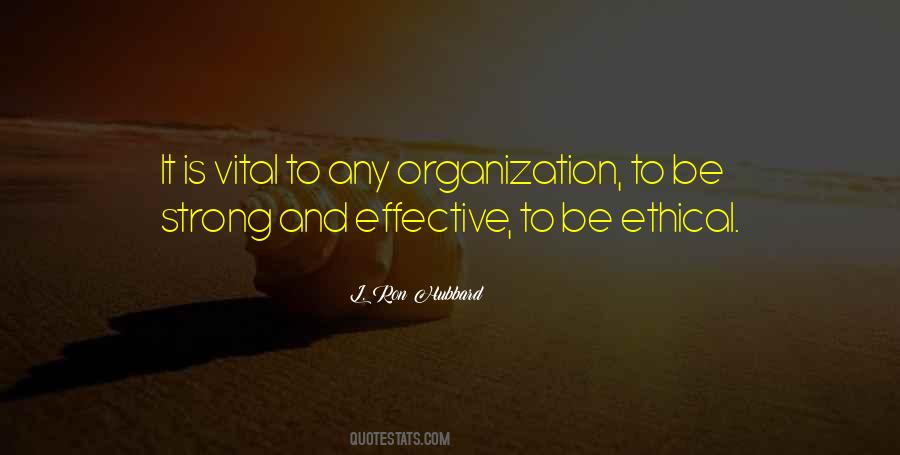 #40. The honest and good man ought to be exactly like a man who smells strong, so that the bystander as soon as he comes near him must smell whether he choose or not. - Author: Marcus Aurelius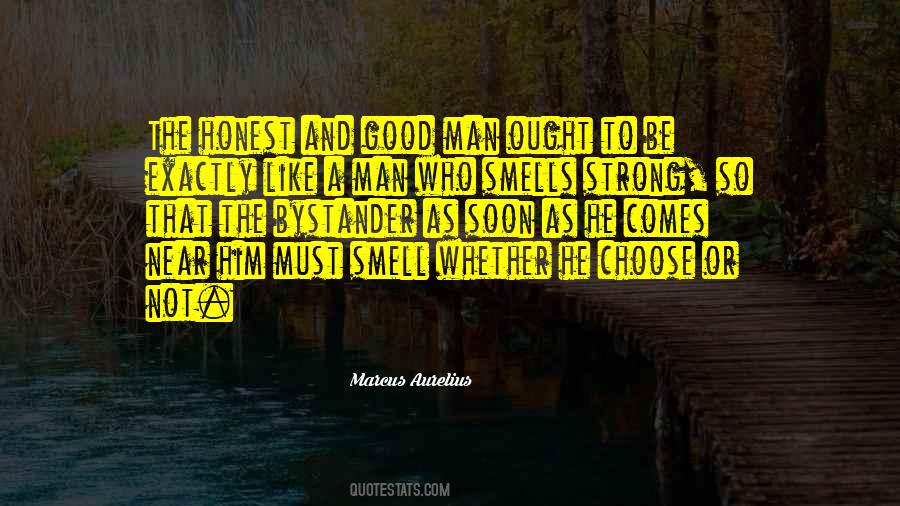 #41. When I was young, my voice was so strong, and I would annoy people because I had such a loud little voice. And then it changed, and I thought I wouldn't be able to sing again, because I thought you had to sing like Christina Aguilera to be a singer. - Author: Skylar Grey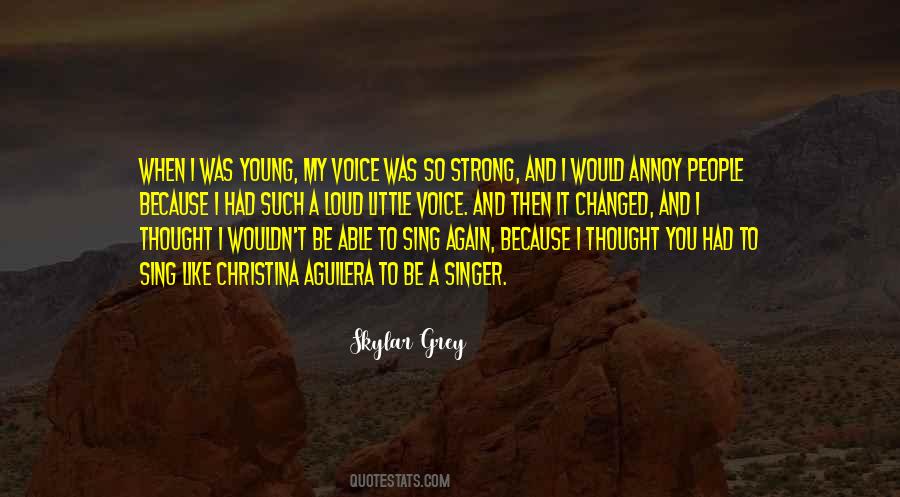 #42. Skylar Nixon could be the one woman who was strong enough, sweet enough, forgiving enough to be with me. The thought was both terrifying and beautiful. - Author: Melanie Harlow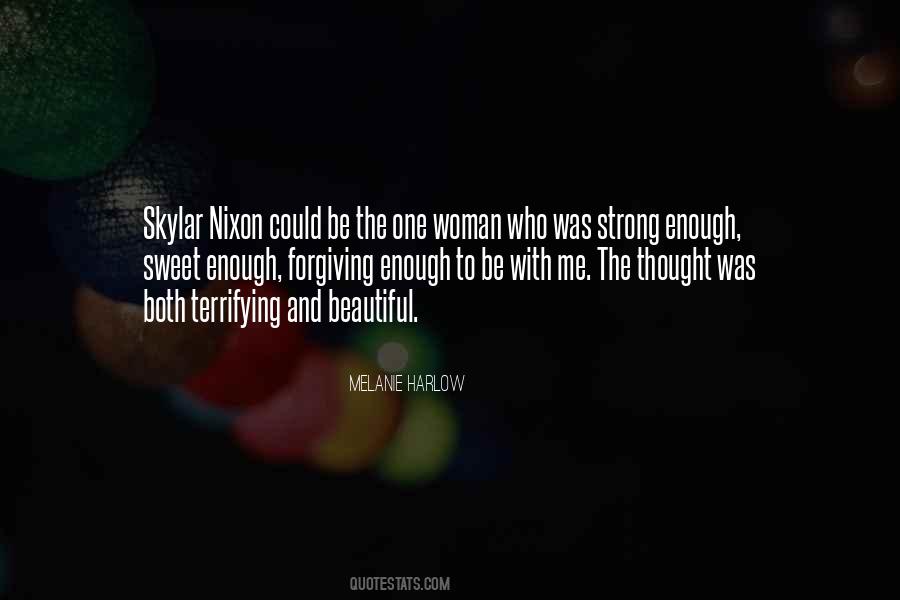 #43. Well, one of the most important things for Americans to be reminded of is that a lot of the exceptional nature of our country is founded in Judeo-Christian values that promotes individualism, personal responsibility, a strong work ethic, and a commitment to family, charity. - Author: Jim DeMint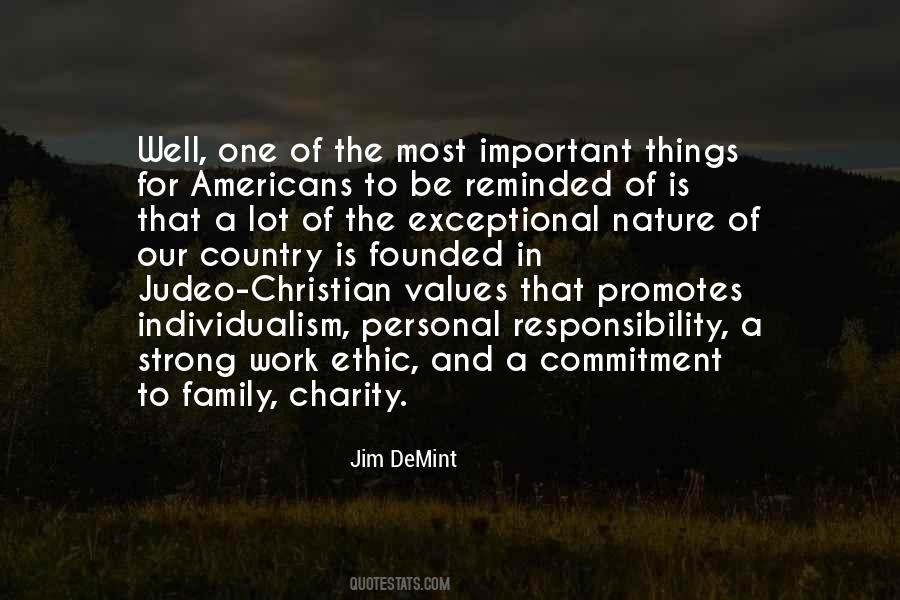 #44. I was born a strong, powerful woman, but was raised to be a victim. - Author: Sharon Law Tucker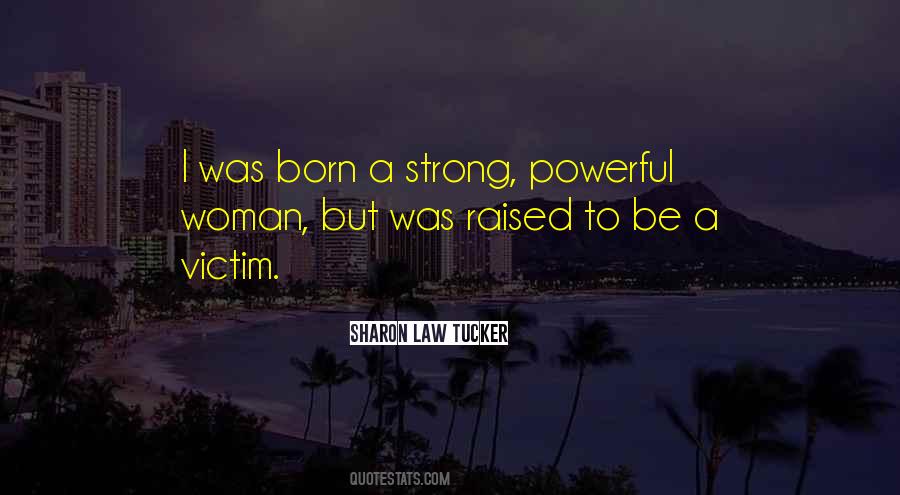 #45. At the start of the season you're strong enough to win the Premiership and the European Cup, but you have to be as strong in March, when the fish are down. - Author: Gianluca Vialli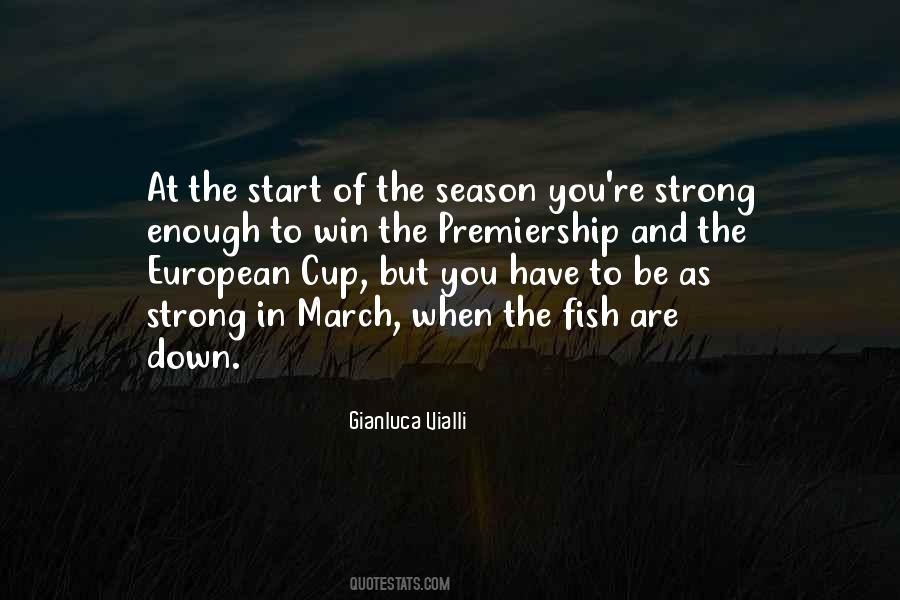 #46. Anybody can be decisive during a panic; it takes a strong man to act during a boom. - Author: V.S. Naipaul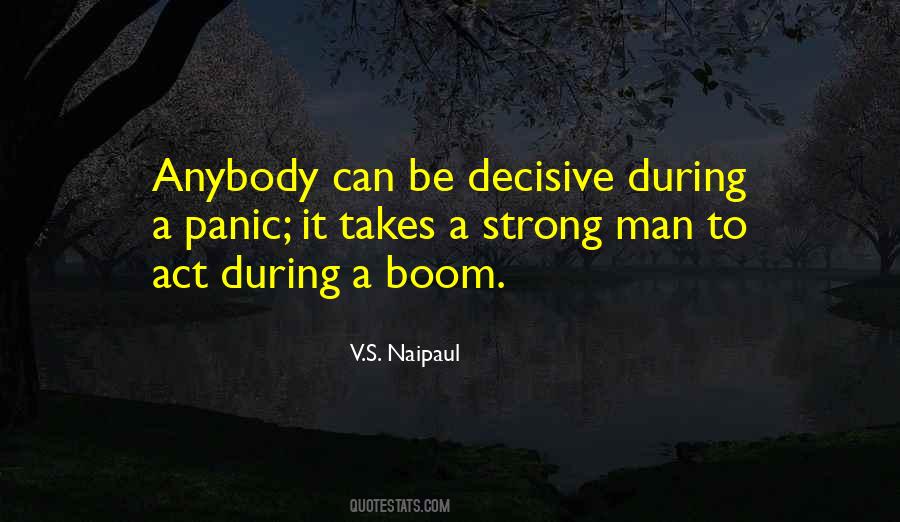 #47. Your goal should be to take your body and make it as healthy, strong, flexible and well-proportioned as you can. - Author: Jane Fonda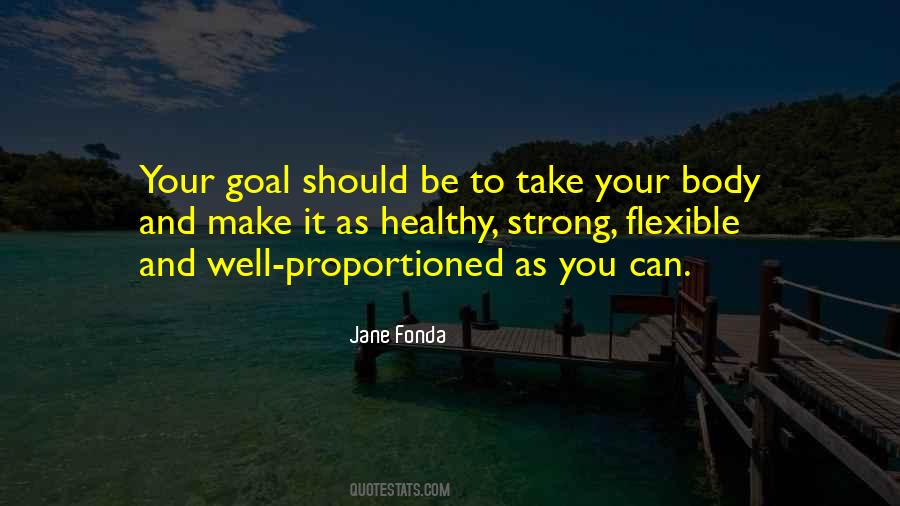 #48. I have the potential to be very strong and powerful, sometimes angry, sometimes passionate. I also can be shy and withhold that because I am afraid. I don't want to freak anybody out with my passion ... So I struggle with that all the time. - Author: Idina Menzel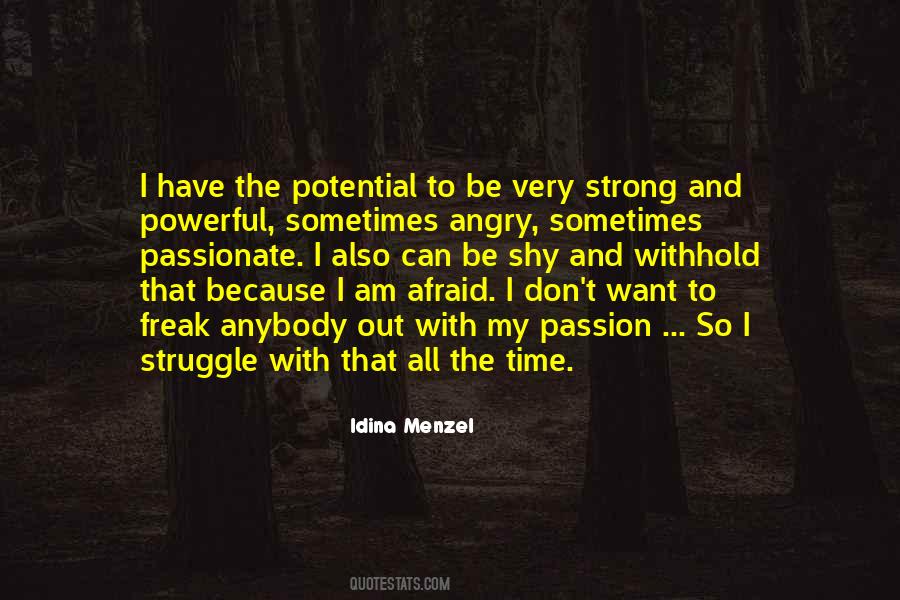 #49. I think the voice is an underrated instrument these days and it's easy to make up for lack of ability with effects. I think sometimes people are more wowed with effects than core craftsmanship. Strong voices are not as common as they used to be. - Author: Victoria Legrand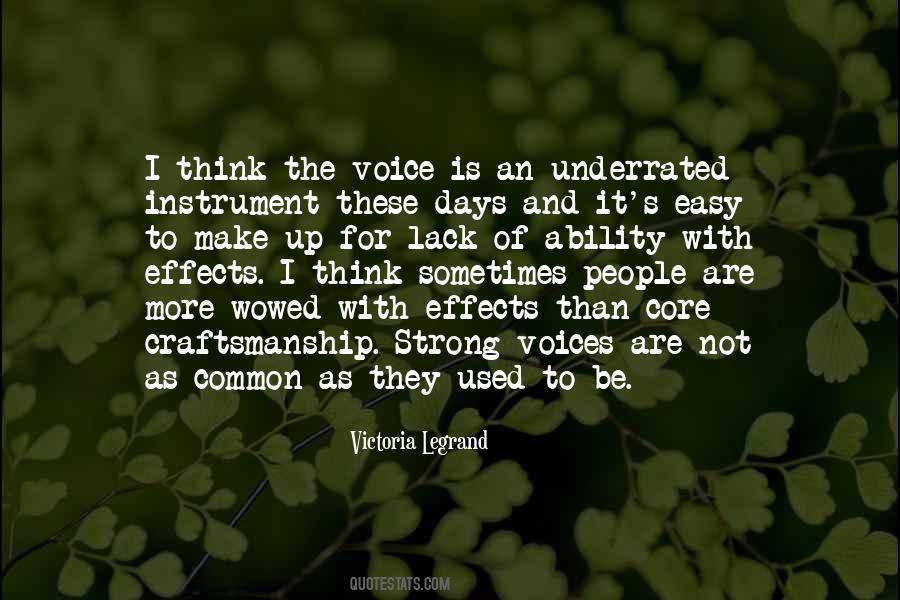 #50. Further, by acting decisively in Iraq, the United States has sent very strong signals to other nations that have been or could be terrorist sympathizers. - Author: Jim Gerlach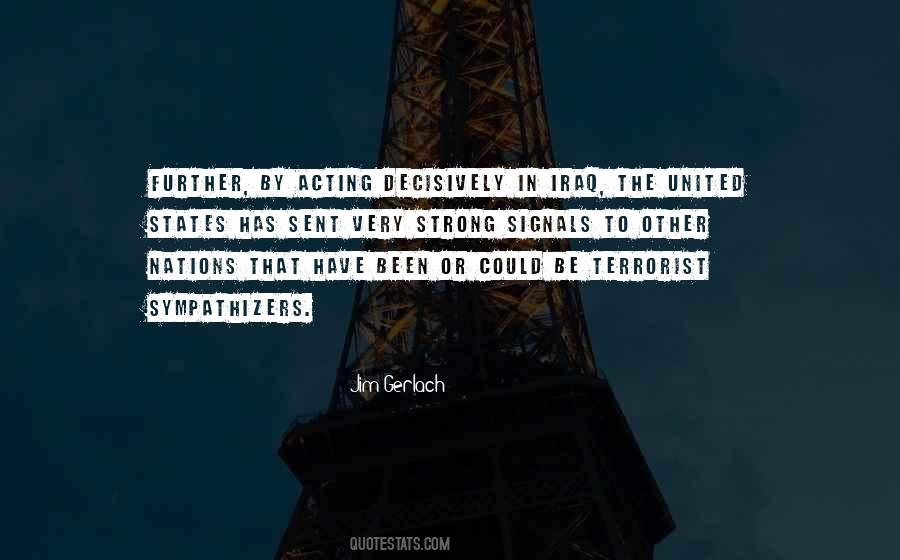 #51. Personally I have never been able to understand why the head of a big business, whether it be the Nation, the State or the Army, or Navy should not desire to have very strong and positive people under him. - Author: Theodore Roosevelt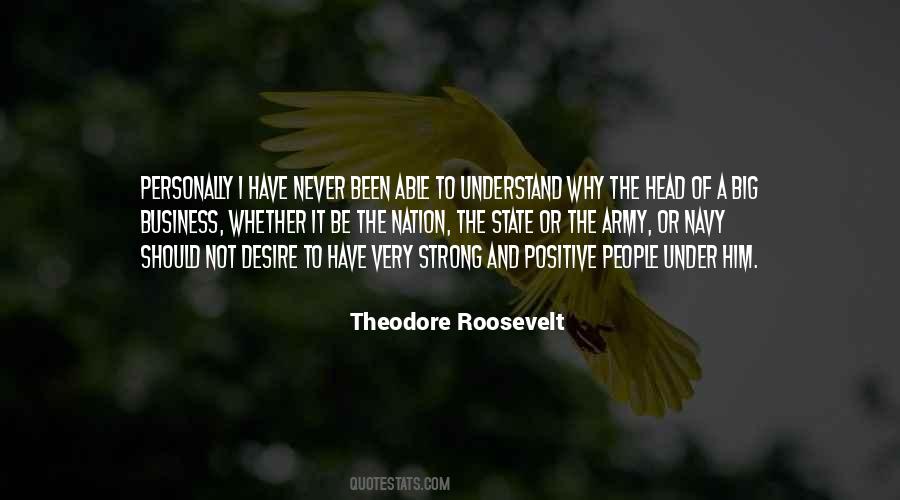 #52. I know I'm not strong enough to be everything that I'm supposed to be. I give up. I'm not stong enough. Hands of mercy won't you cover me? Lord right now I'm asking you to be Strong enough. Strong enough for the both of us. - Author: Matthew West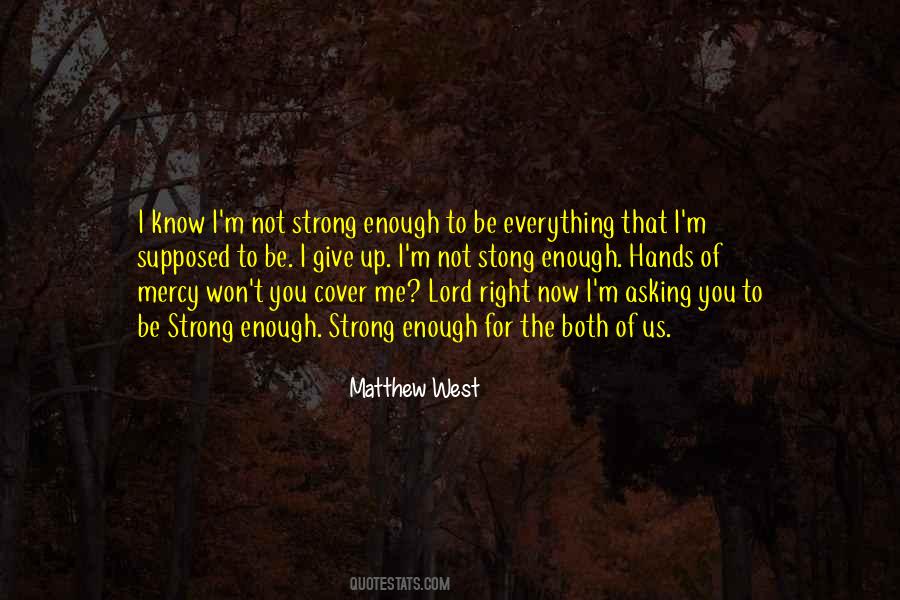 #53. I needed to save every penny ... I needed to be strong, and needed to find some way to secure a future. That's why I am always conservative. I never forget to maintain stability while advancing, and I never forget to advance while maintaining stability. - Author: Li Ka-shing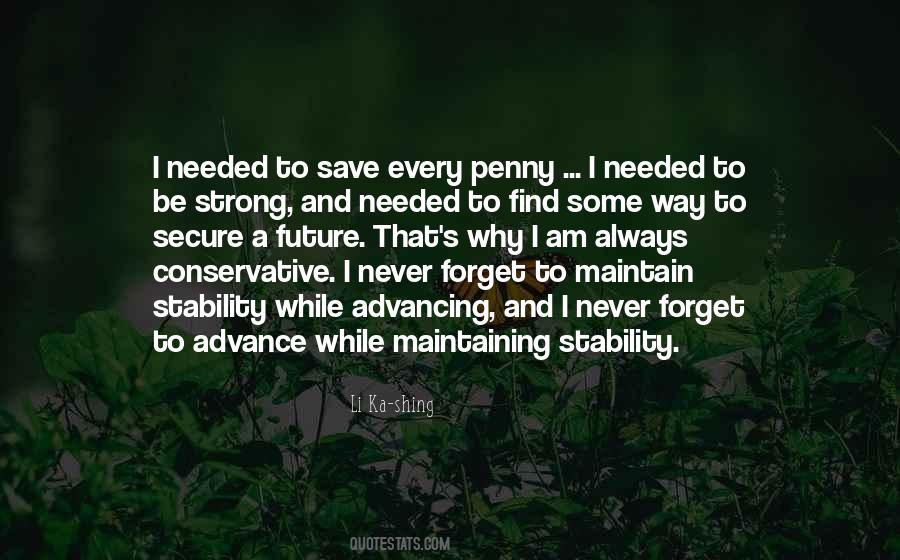 #54. You're pulling 4-5G for a lot of the corners around the lap. We build up lactic acid because there are a lot of vibrations in the car, and you have to have strong legs to hit the brake pedal. We need to be fit to do every lap at 100%. - Author: Jenson Button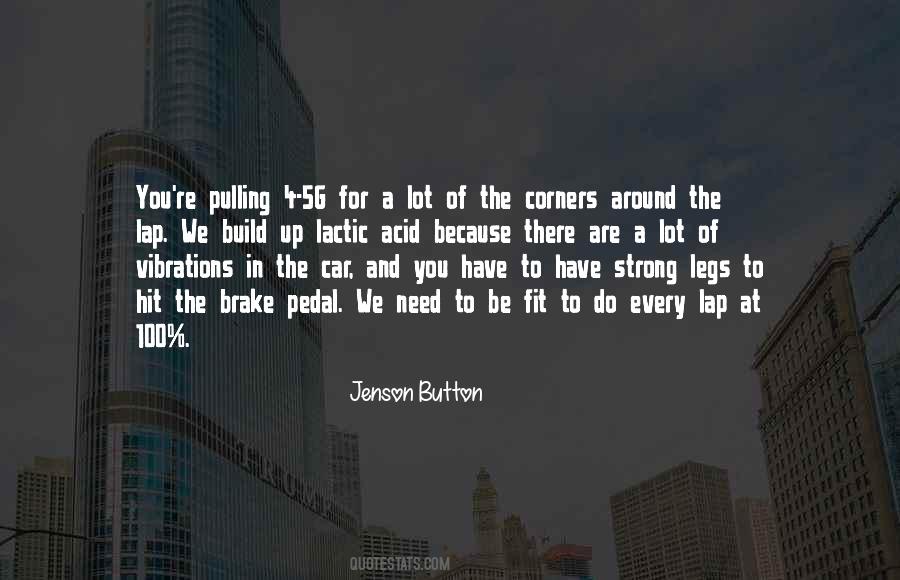 #55. He may be King Redrought Strong-in-the-Arm Lindenshield, Bear of the North, Defender of the Realm, Descendent of Thor, but to Thirrin he was just Dad, a man with a fondness for cats, a taste for comfy slippers and a huge laugh that could dent pewter at fifty paces. - Author: Stuart Hill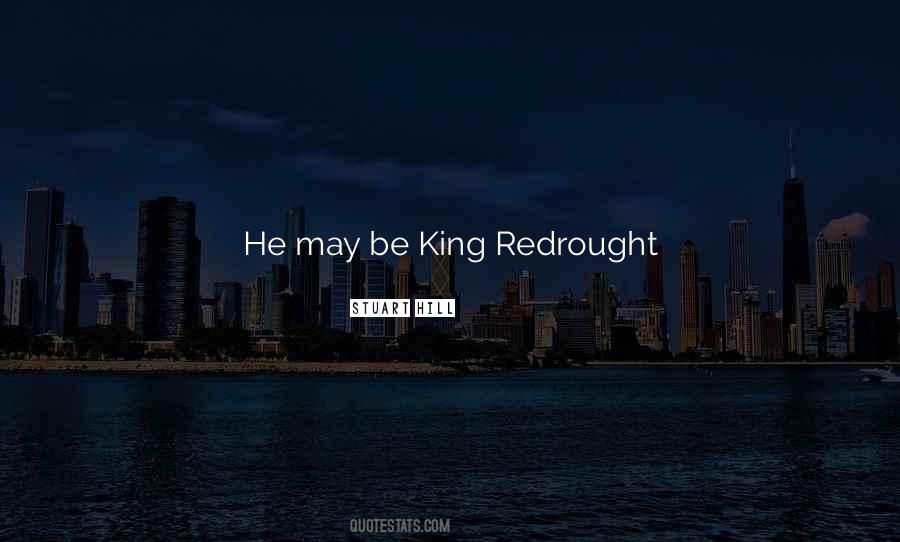 #56. Offended people still may experience miracles, words of utterance, strong preaching, and healing in their lives. But these are gifts of the Spirit, not fruits. We will be judged according to fruit, not gifting. A gift is given. Fruit is cultivated. - Author: John Bevere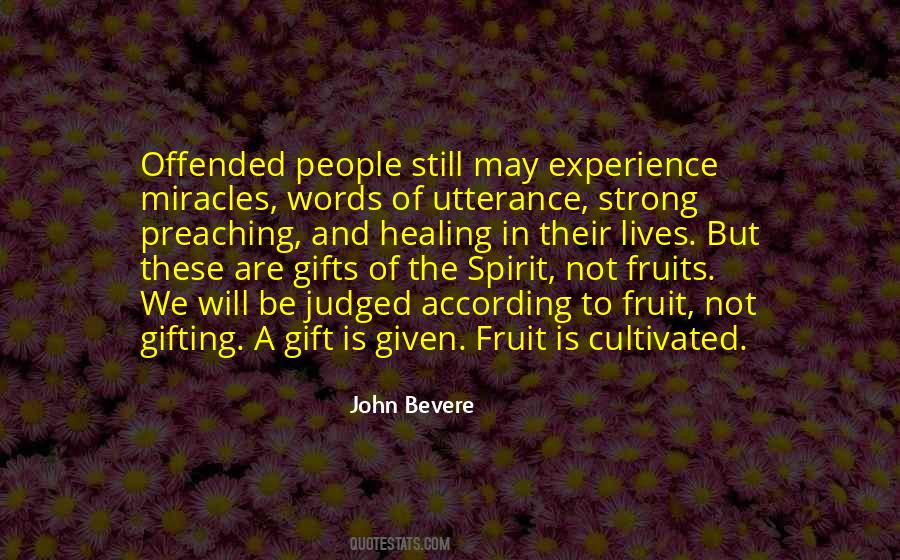 #57. If life was like a body of water, she had asked that she be allowed to walk again in its shallows; instead she had been abruptly seized by strong currents and pushed into deep water. - Author: Dorothy Gilman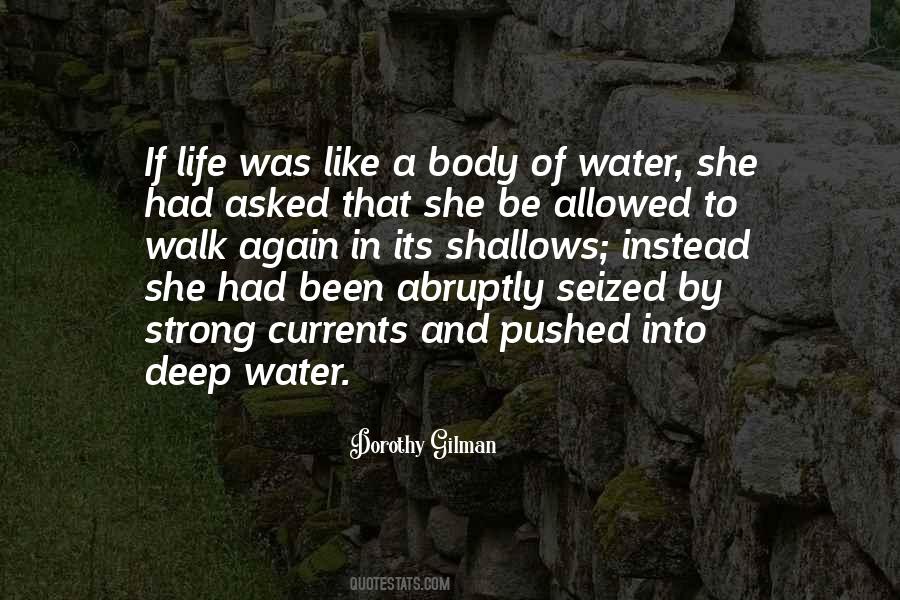 #58. The tear-stained letters of my regret will remain forever unread, for I am never going to be strong enough to give them to you. - Author: Courtney M. Privett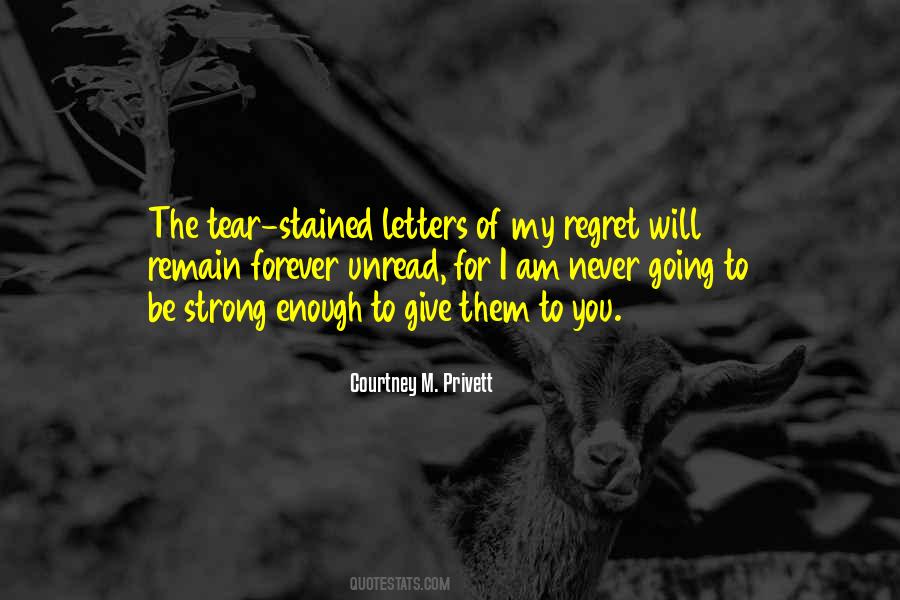 #59. I look for dancers who have all the technique in the world. But they must be dancers who are open-minded, who are willing to forget that they know anything. They also have to be gorgeous; they must have a clear image of themselves and strong personalities. - Author: Twyla Tharp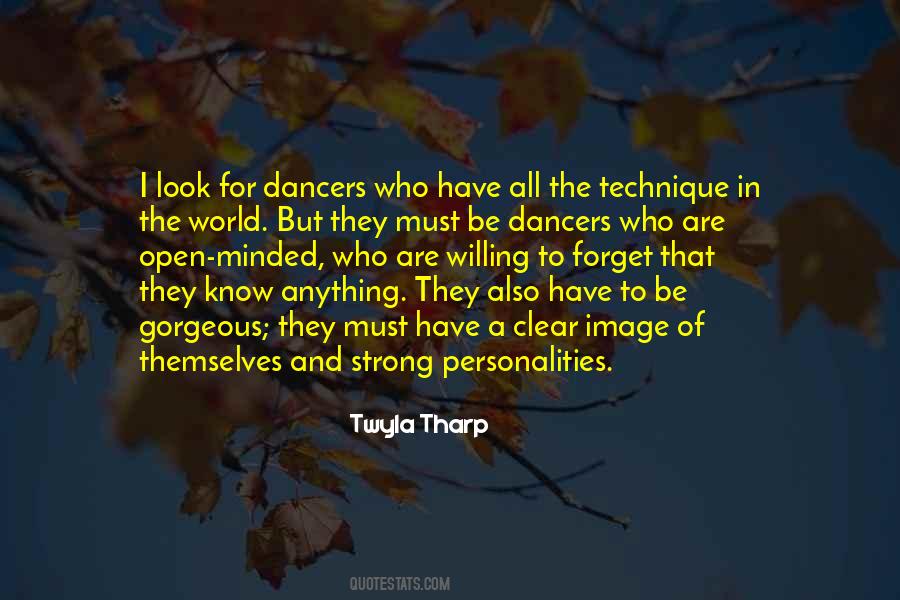 #60. You do not need any more strength. You only need to realize how strong you already are. - Author: Vironika Tugaleva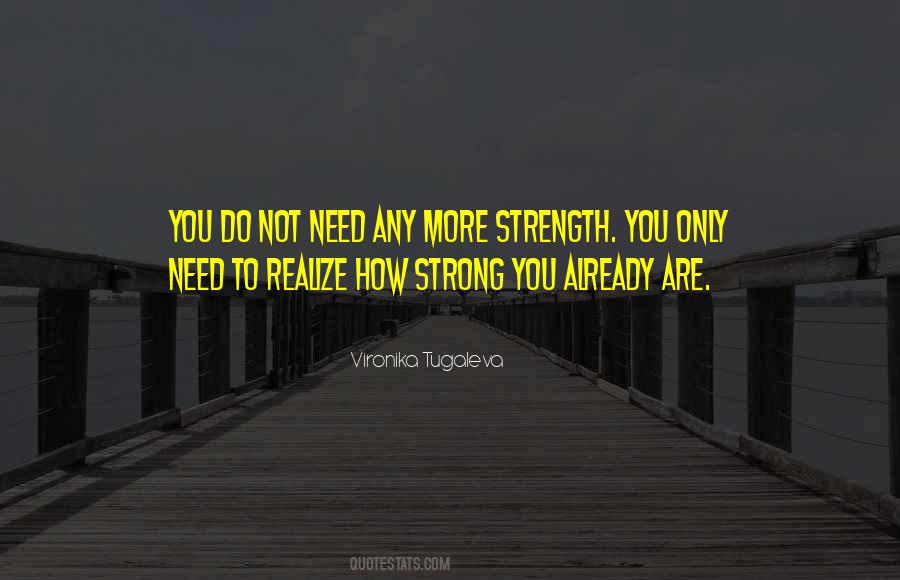 #61. Always have faith in yourself and the universe, for one will not get you anywhere without the other. Both must be equally strong to reach your desires, for they are the wings that will lift you to your dreams. - Author: Suzy Kassem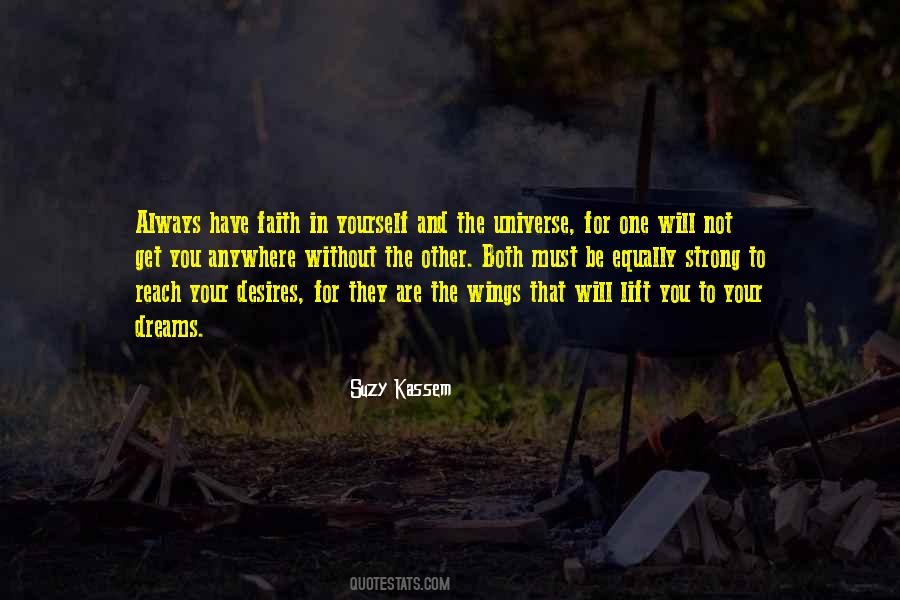 #62. I play Dr. Karen Boyer in 'Spies Like Us.' She's strong, intelligent and dedicated and just happens to be beautiful. - Author: Donna Dixon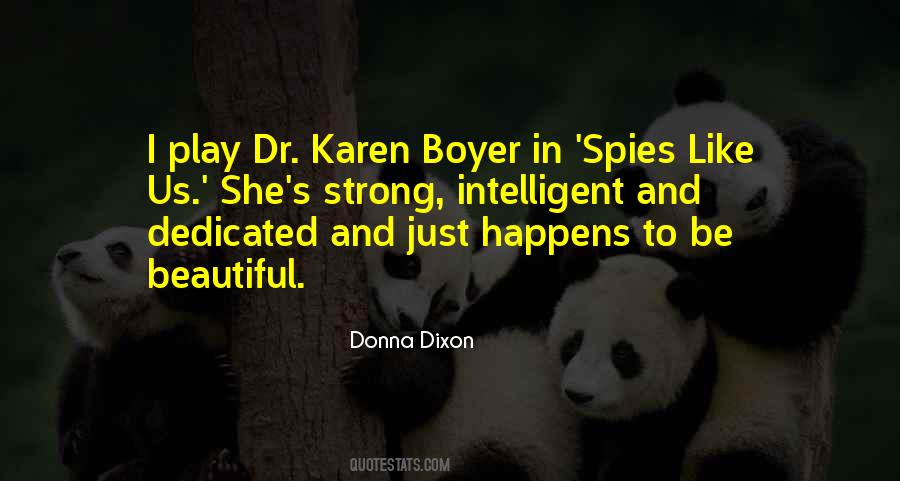 #63. You've got to be strong enough for love. It's very easy to be cool and cynical. It's very difficult to just let yourself go and be in love. You've got to be strong enough for that. - Author: Noel Gallagher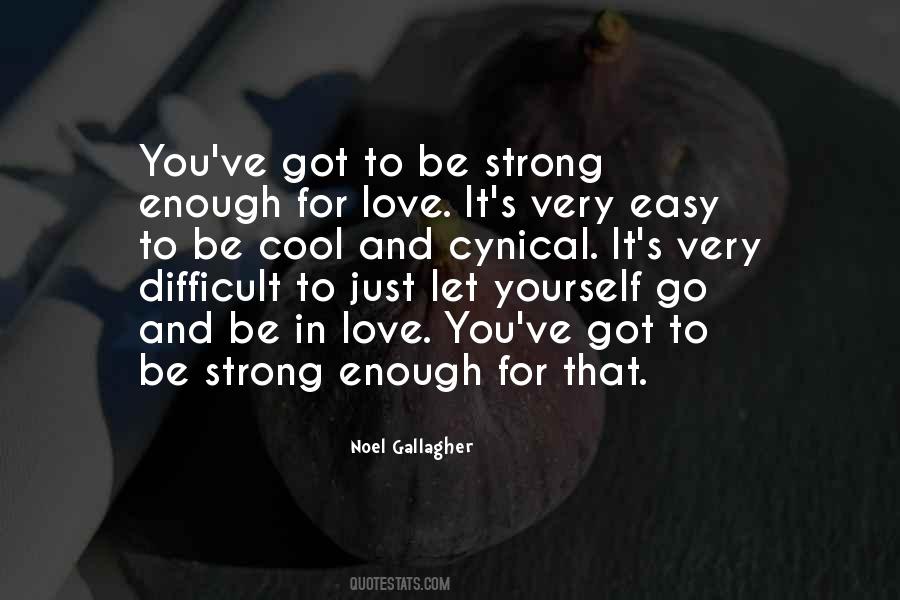 #64. It is very difficult for people to believe the simple fact that every persecutor was once a victim. Yet it should be very obvious that someone who was allowed to feel free and strong from childhood does not have the need to humiliate another person. - Author: Alice Miller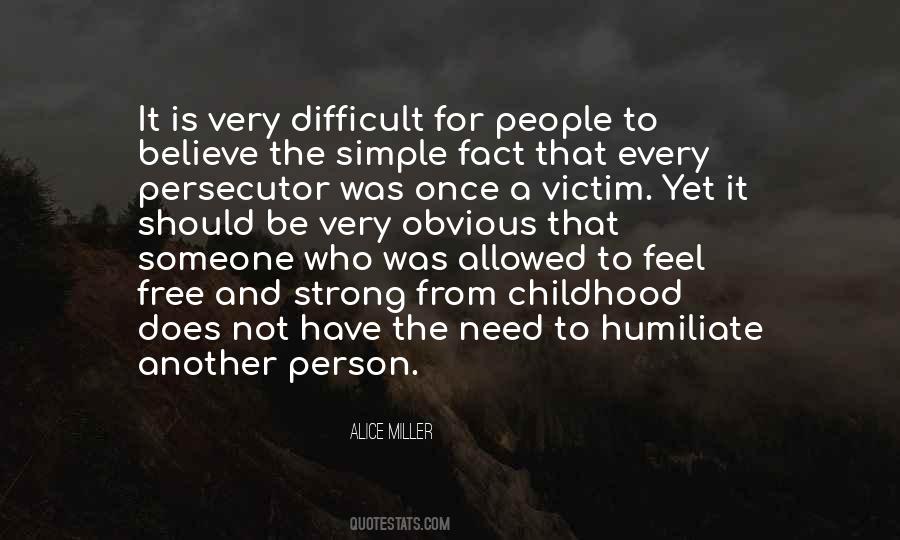 #65. it's hard to be spiritually strong and mentally alert when you are emotionally stressed or physically fatigued. - Author: Rick Warren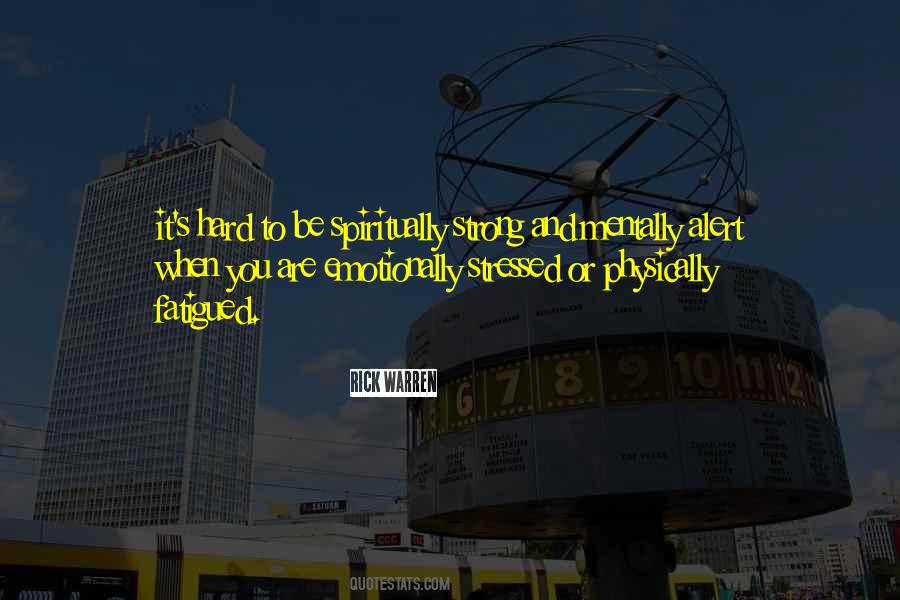 #66. Something within me is waking from long sleep, and I want to live and move again. Some zest is returning to me, some immense gratefulness for those who love me, some strong wish to love them also. I am full of thanks for life. I have not told myself to be thankful. I am just so. - Author: Alan Paton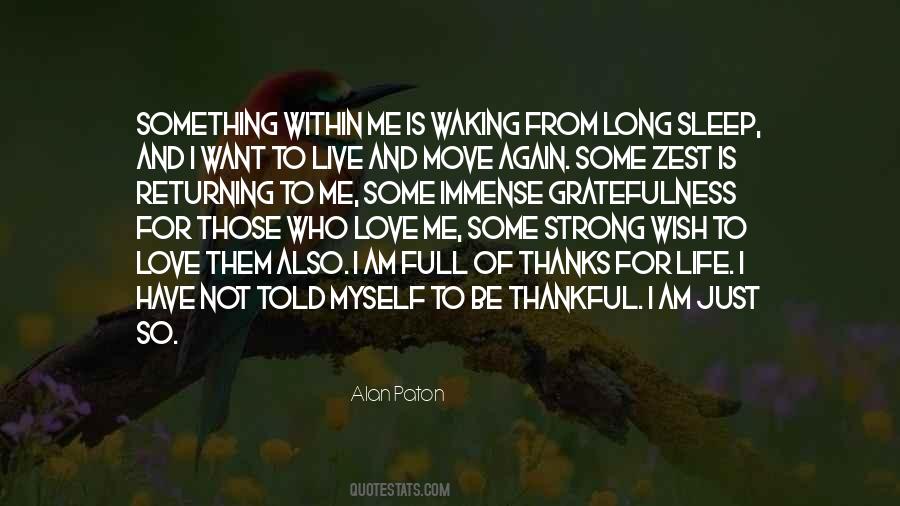 #67. The desire to procreate, in some, is so strong that it creates a sort of tunnel vision in the afflicted. One can't see beyond trying to make a baby, and they never stop to think about what it will really be like once said baby has in fact, arrived. - Author: Karen Fowler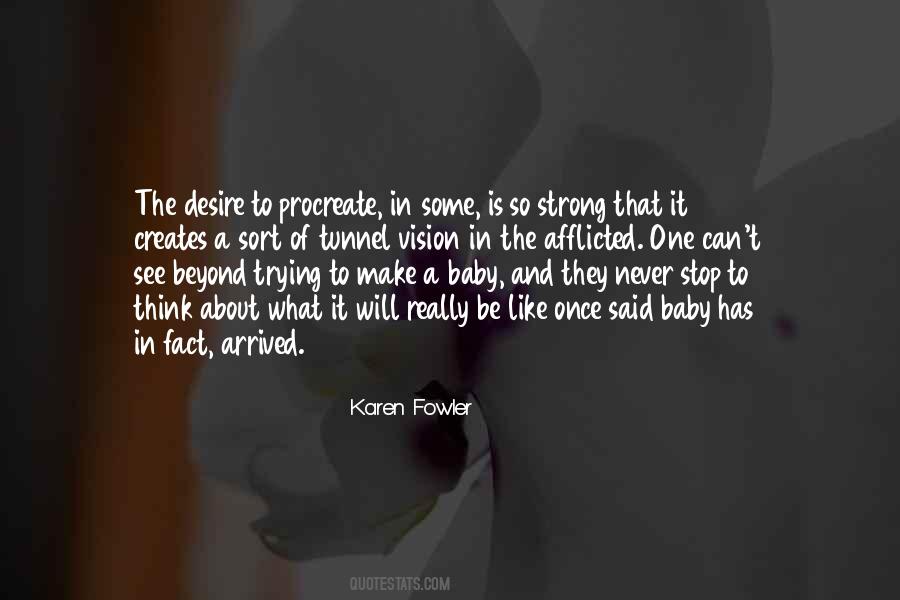 #68. The British Labour Party has always had a very strong "Atlanticist component," with an obsequiousness to American policies, and Blair represents this wing. He's clearly obsessed with Iraq. He has to be because the overwhelming majority of the people of Britain oppose a military action. - Author: John Pilger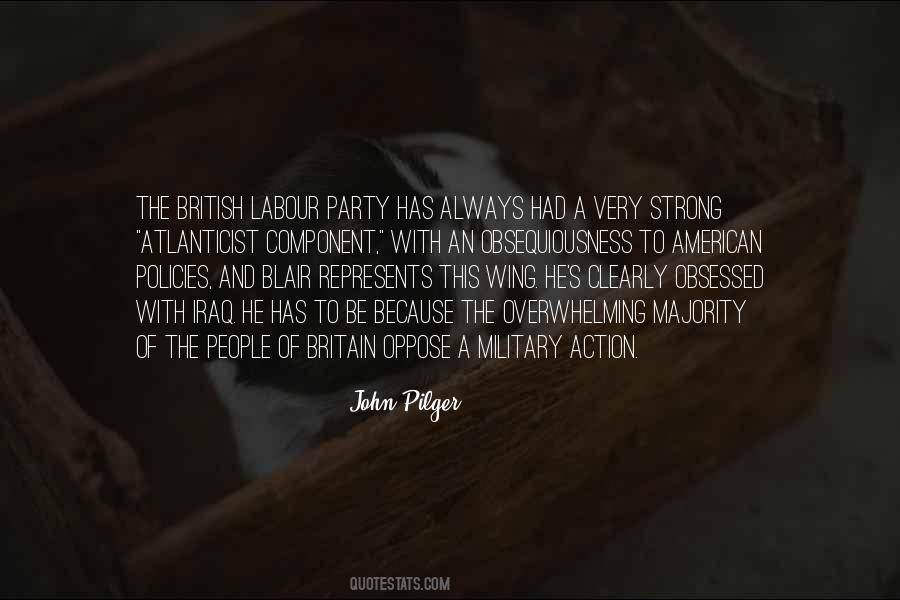 #69. Are there people to aspire to? Can people be strong enough to withstand all of this disillusionment? Maybe the time is right for people to emerge from the easy cynicism and try to get back to a place where we can actually believe in people and trust people to have proper motivations. - Author: Brendan Gleeson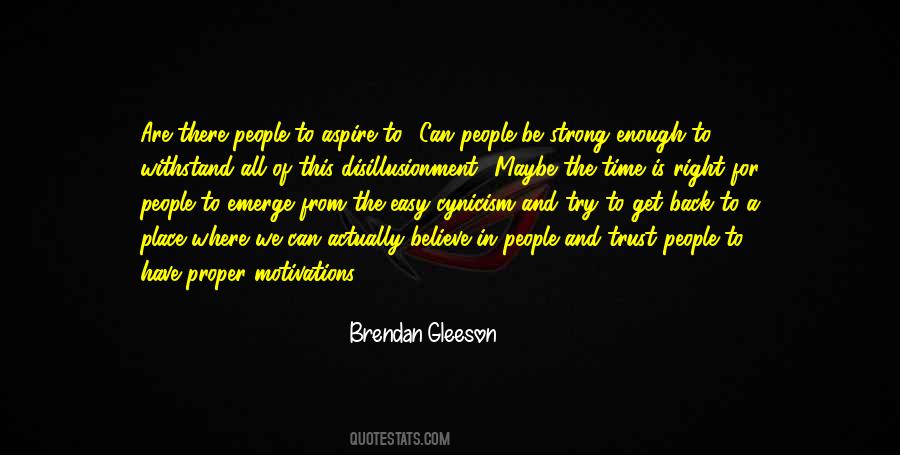 #70. I grew up thinking it was wonderful to be big and strong and to be able to knock down other children in the playground if I needed to. But I never felt the need. - Author: Maeve Binchy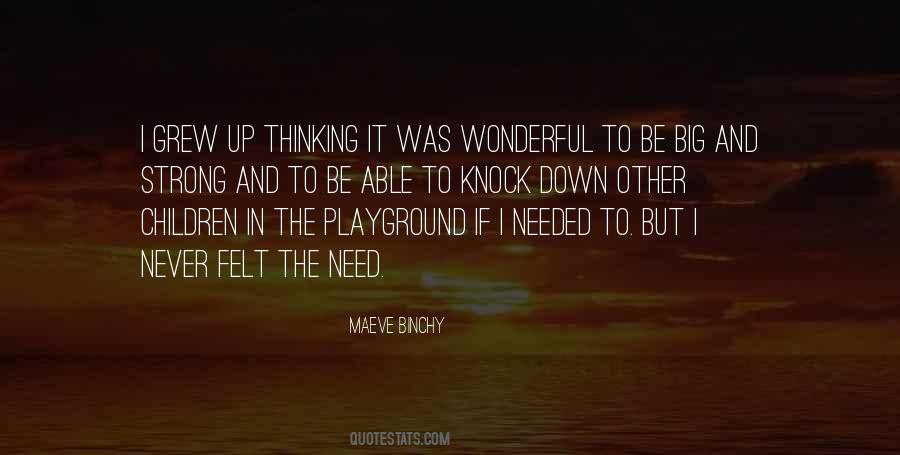 #71. With Crosby, Stills, and Nash and Crosby, Stills, Nash, and Young ... we're very strong individuals, and we want our lives to be led the way we want them to. - Author: Graham Nash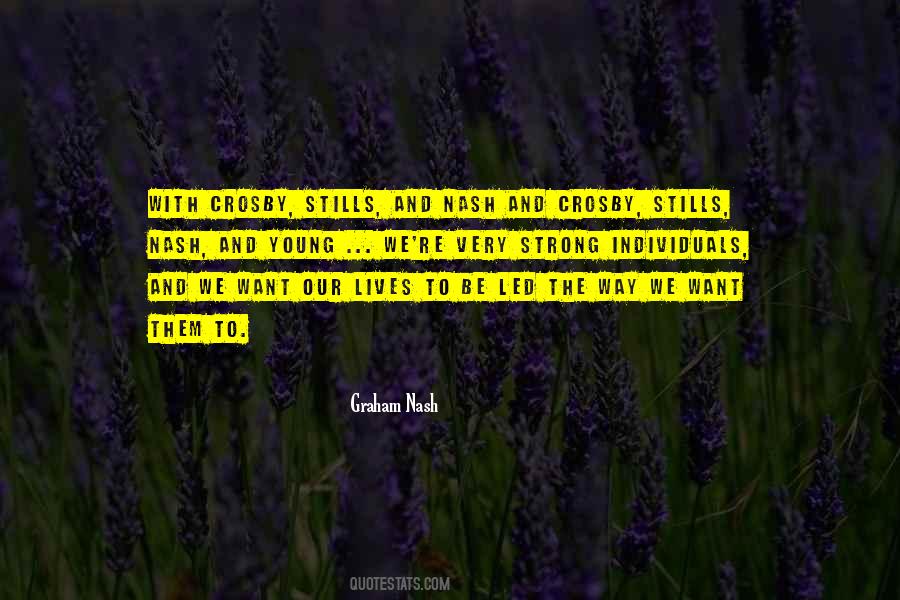 #72. You have to be really strong in the music industry, and I'm naturally very timid. That was really hard for me. You have to be tough. You have to make decisions and be a businesswoman. - Author: Rebecca Ferguson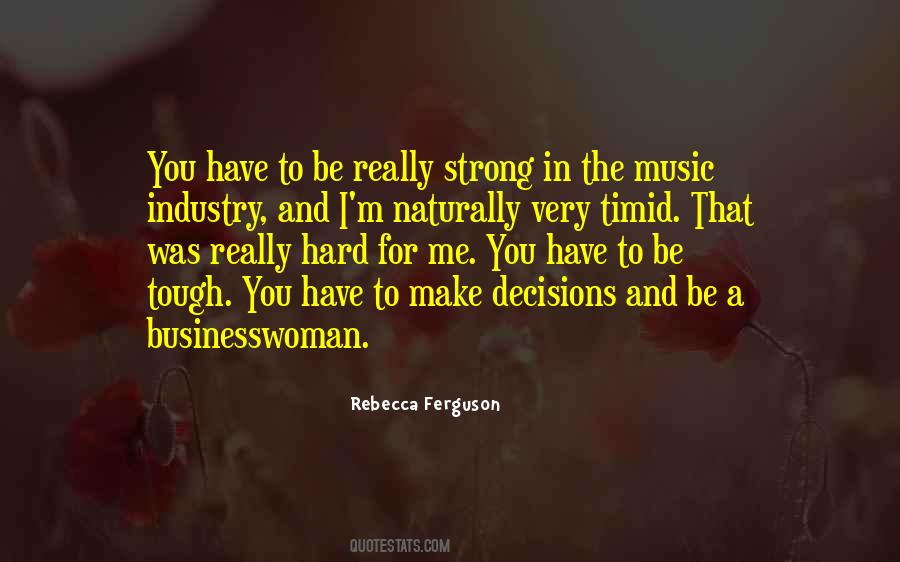 #73. Government of limited power need not be anemic government. Assurance that rights are secure tends to diminish fear and jealousy of strong government, and by making us feel safe to live under it makes for its better support. - Author: Robert H. Jackson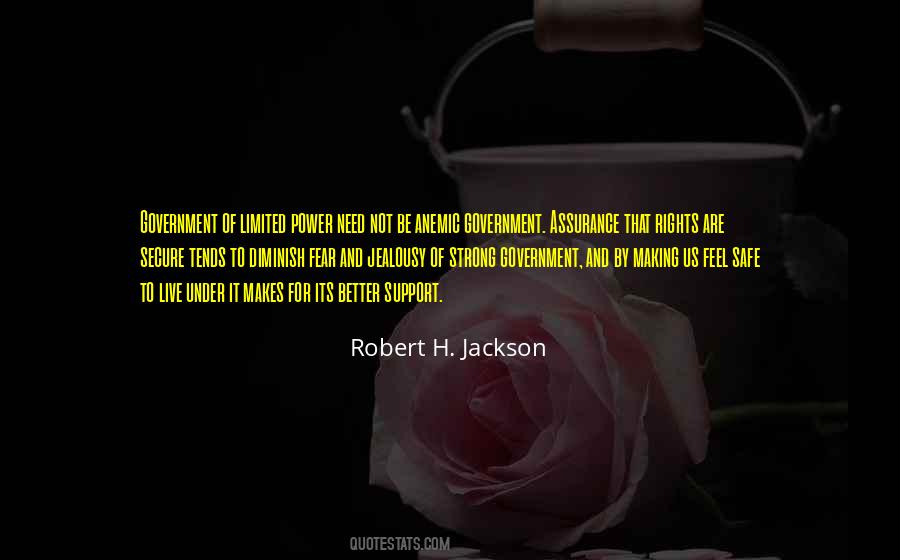 #74. The Olympic dream was born in 2010 during the qualifications to Vancouver. And when I was watching those Olympics from the sidelines, I felt that I wanted to have my Games. I understood that it wouldn't be easy to make them, especially now that in Russia there are a lot of strong girls. - Author: Adelina Sotnikova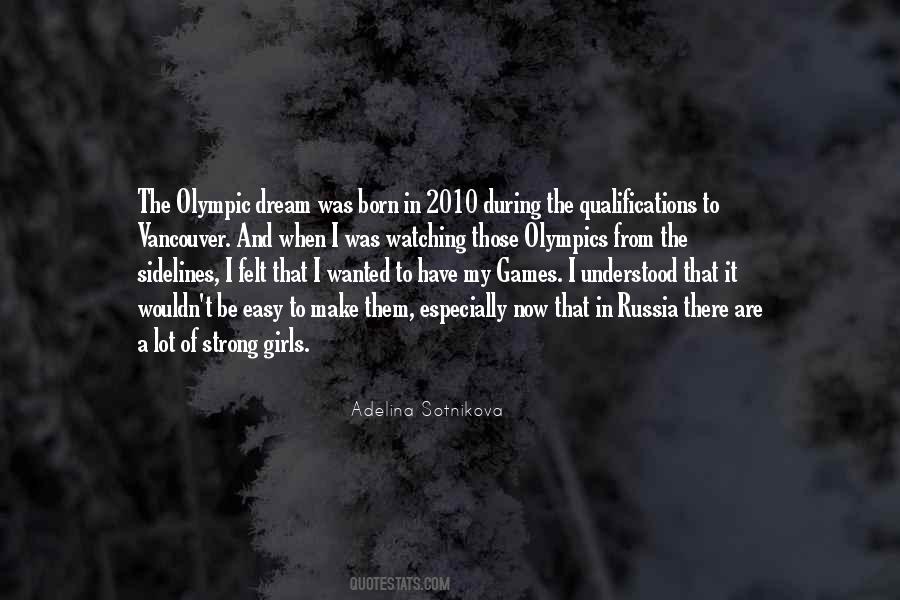 #75. I really want my career to be as an actor-writer-director-producer, you know? I don't know what will be stronger than the other. - Author: Danny Strong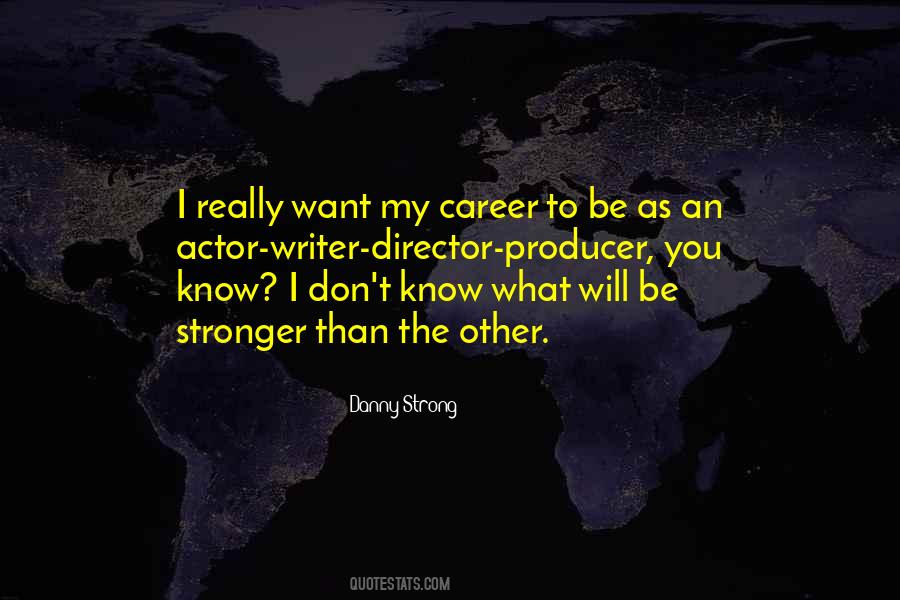 #76. Mastery of impulse is achieved through taking pauses during life's contrasting situations. Mastery of impulse is about developing strong willpower that can be used to redirect the flow of energy in any situation. Mastery of impulse is about responding to the world with a sense of reason and peace. - Author: Alaric Hutchinson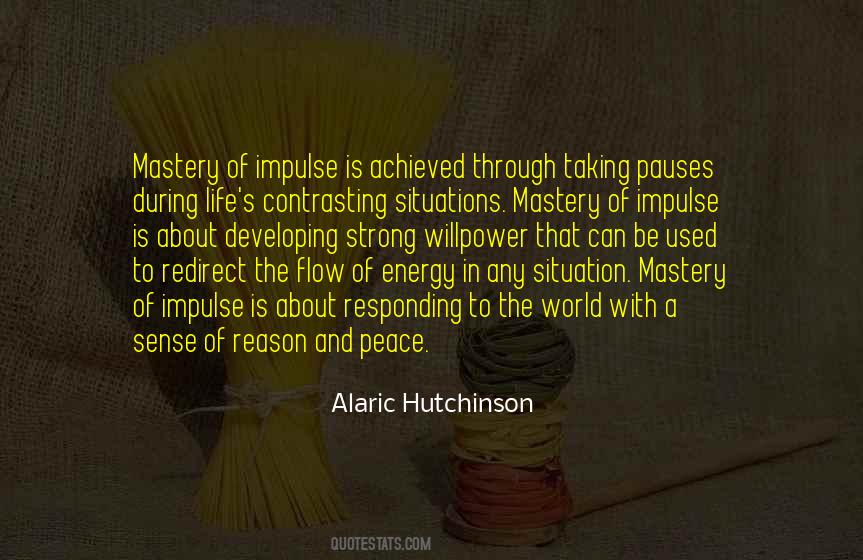 #77. Most families had four, five brothers. But because it was just me and Darryl, we had to be twice as strong. - Author: Barry White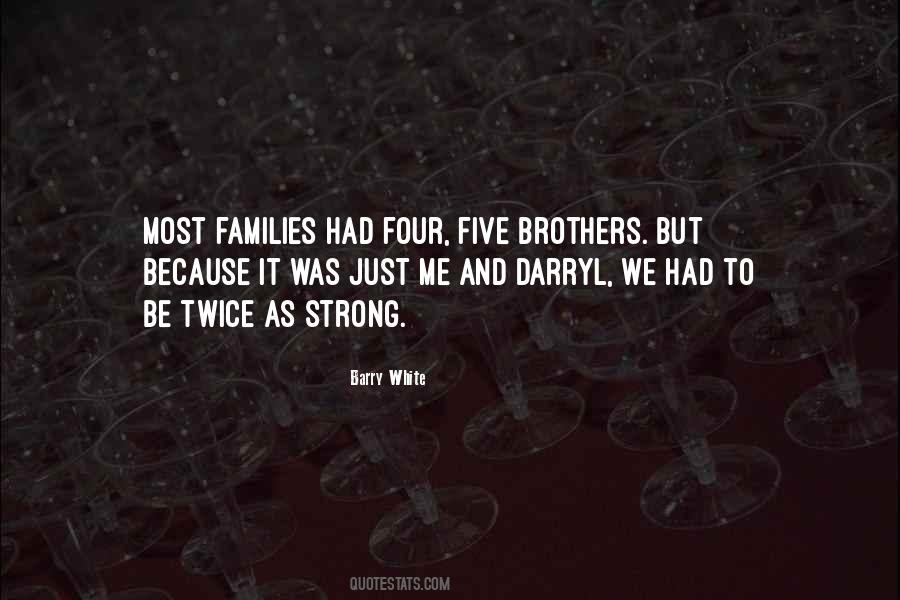 #78. On a planet that has given in... you must prepare to be very strong. - Author: Madeleine L'Engle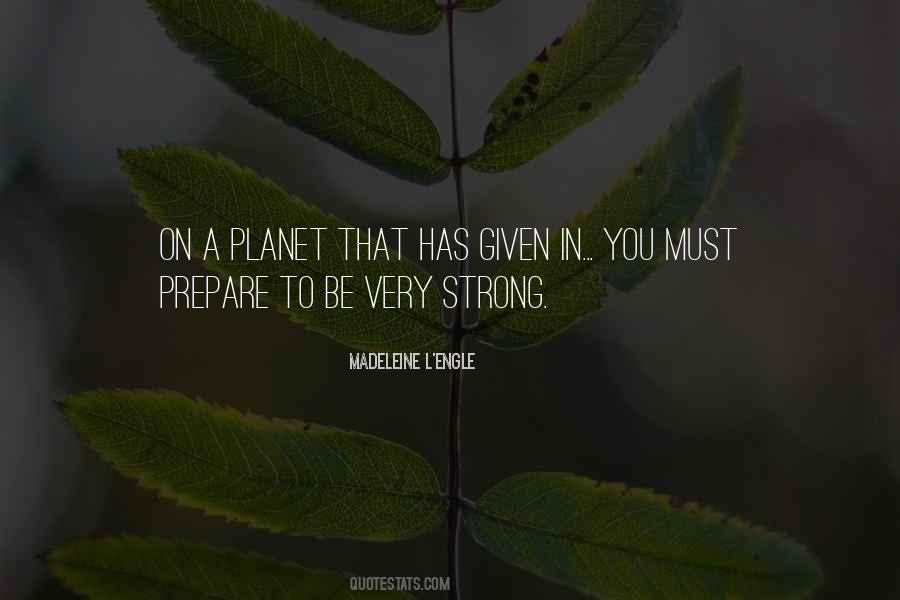 #79. Do you really love me? means, Will you accept me in process? Will you embrace what is different about me and applaud my efforts to become? Can I just be human
strong an vibrant some days, weak and frail on others? ... Will you love me even when I disappoint you? ... - Author: Angela Thomas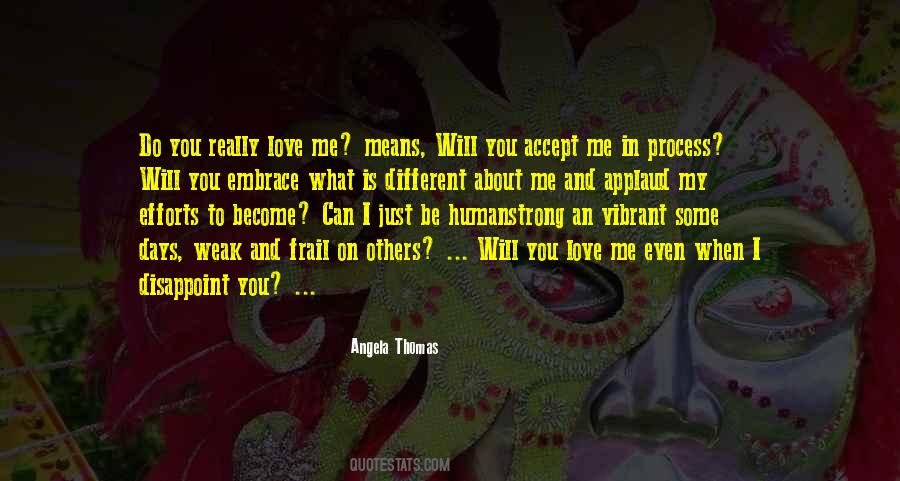 #80. I am ever mindful of the legacy of my grandfather, the founder of this Kingdom, who had said to me that he perceived his life as a link in a continuous chain of those who served our nation and that he expected me to be a new and strong link in the same chain. - Author: King Hussein I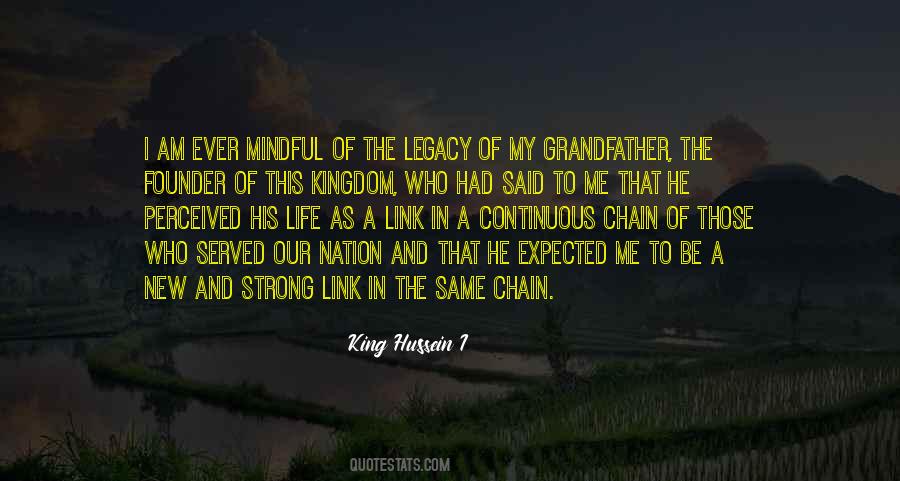 #81. Behind every strong man is a scared little boy wanting people to tell him it's going to be okay. Remember that, and men will no longer seem as stupid as you think they are. - Author: Anonymous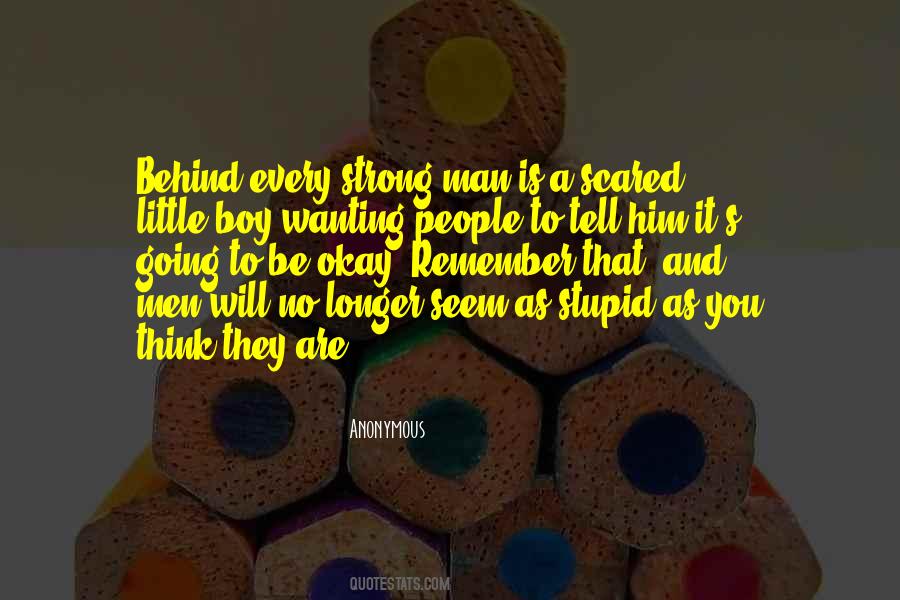 #82. Ideal love is fostered only between two sincere, mature and independent people. Real love is not two people clinging to each other; it can only be fostered between two strong people secure in their individuality. - Author: Daisaku Ikeda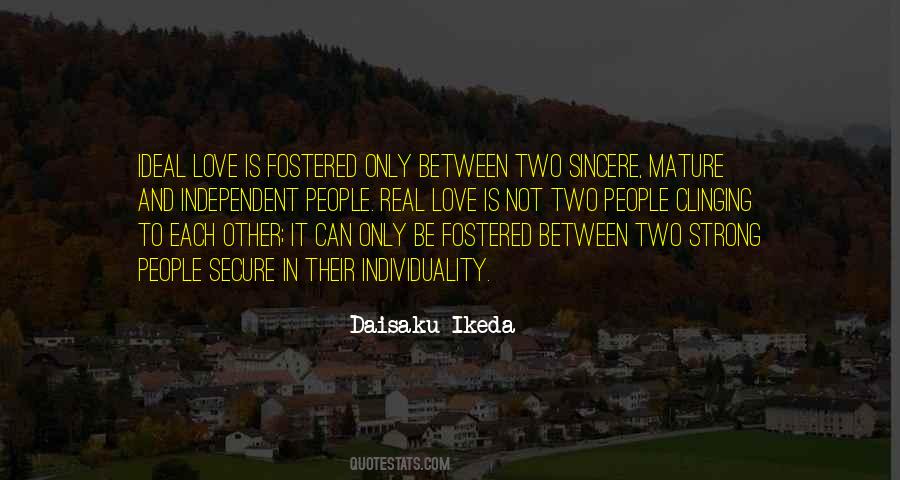 #83. It was Aomame's firm belief that the human body was a temple, to be kept as strong and beautiful and clean as possible, whatever one might enshrine there. - Author: Haruki Murakami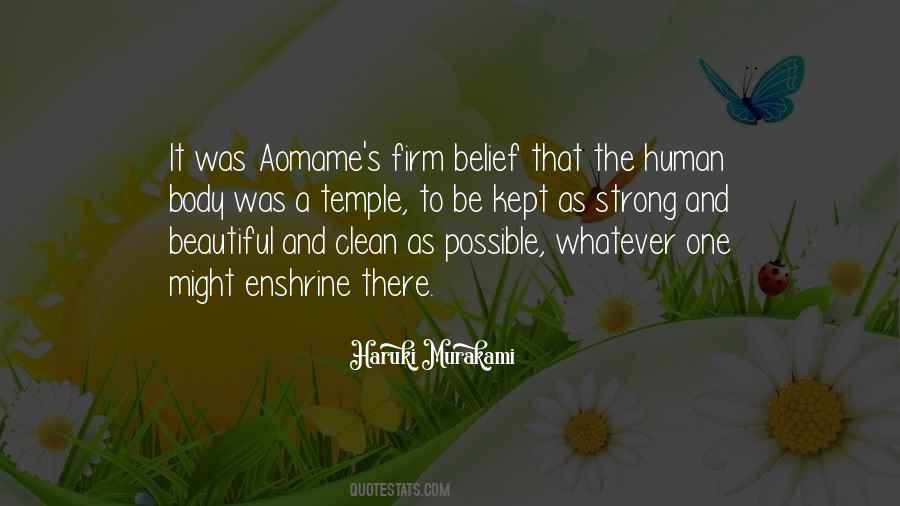 #84. Strong could be dealt with - but crazy? Oh no. You never knew what the crazy were going to do. - Author: Andrea Speed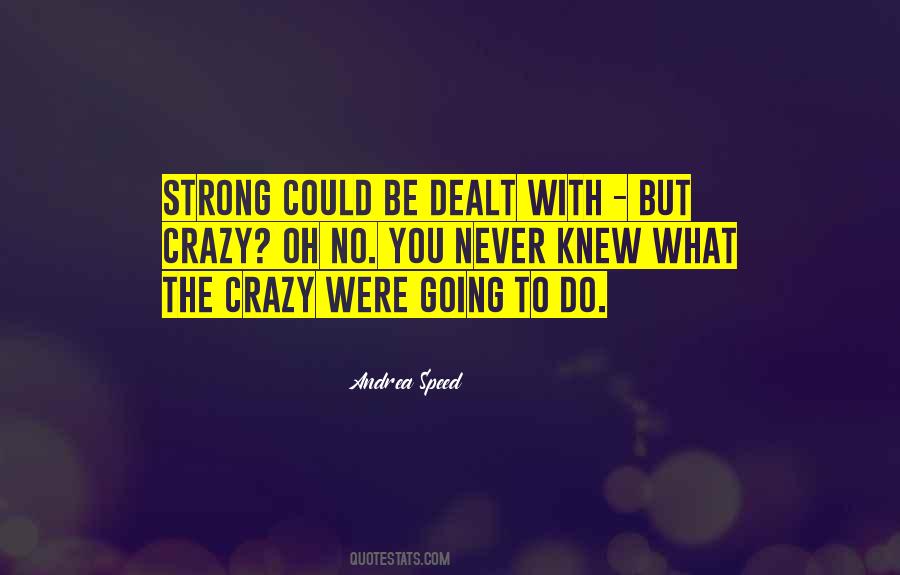 #85. The important thing is to keep the fire in your heart and be strong to overcome hard moments. - Author: Paulo Coelho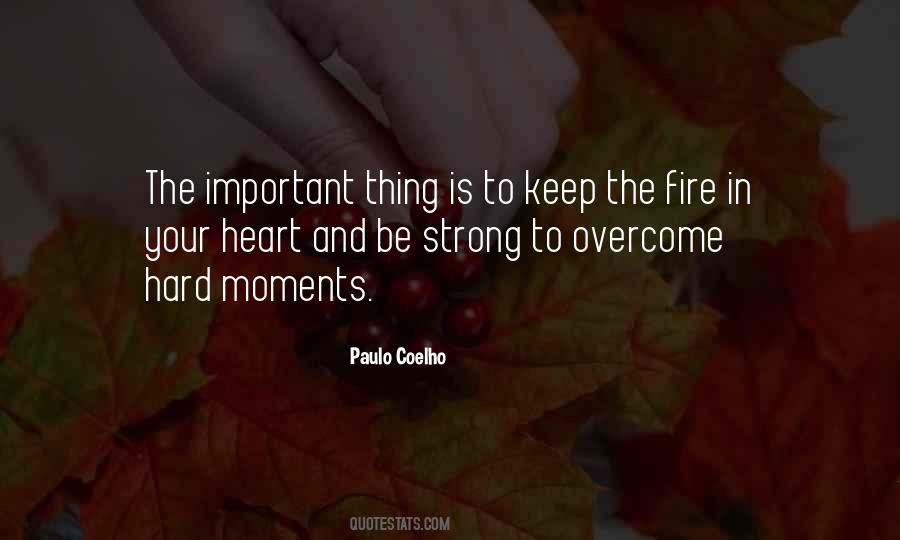 #86. Be so strong that no one can ignore you. By blaming others you never win, but you do lose to your conscience again and again. - Author: Debasish Mridha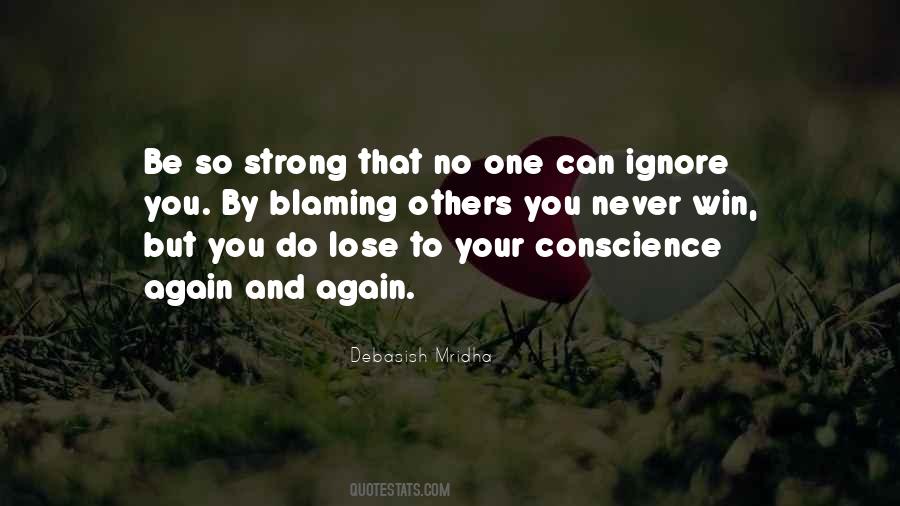 #87. History teaches that wars begin when governments believe the price of aggression is cheap. To keep the peace, we and our allies must be strong enough to convince any potential aggressor that war could bring no benefit, only disaster. - Author: Ronald Reagan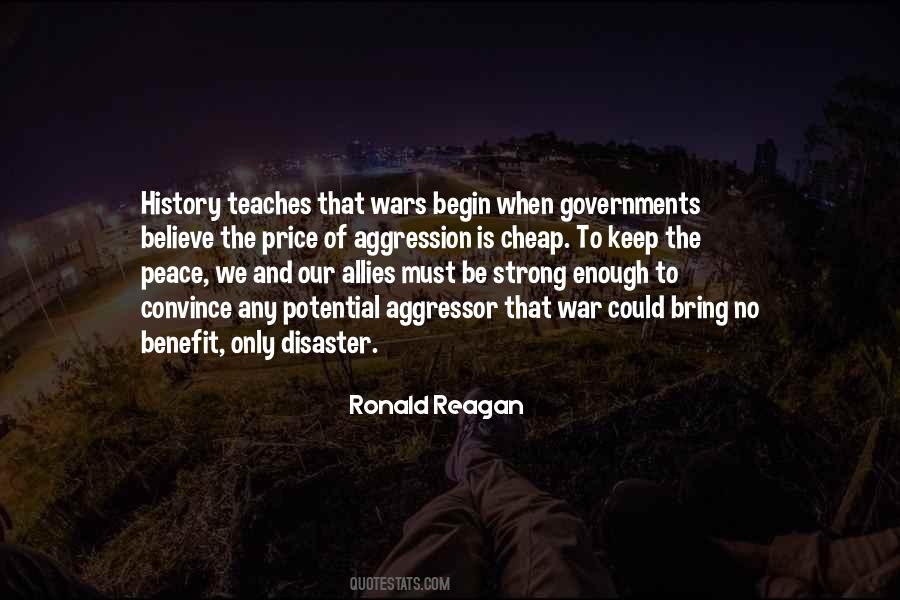 #88. This is a perilous time, and more than ever, the world needs a united and strong America. If, God forbid, we live to see Mr. Obama president, we will live through a socialist era that America has not seen before, and our country will be weakened in every way. - Author: Jon Voight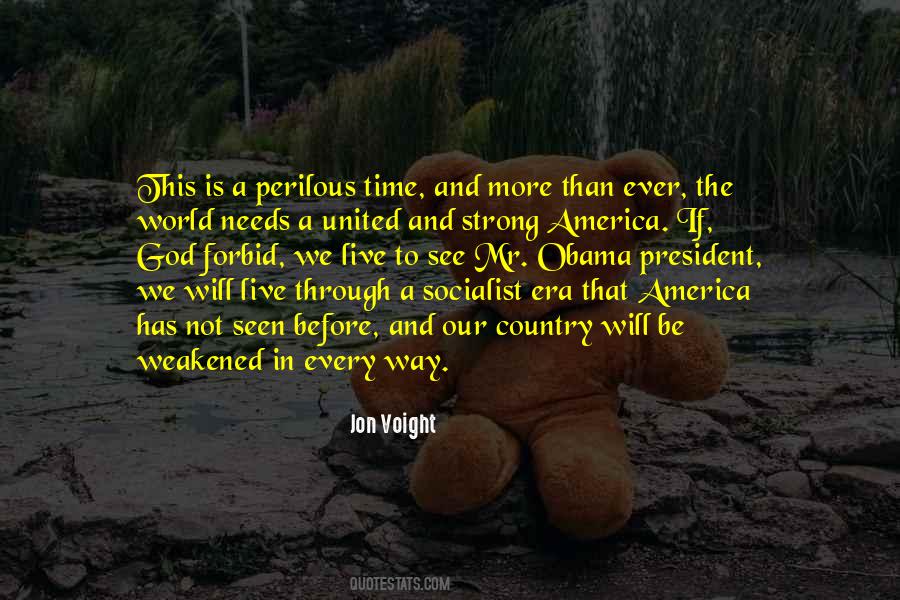 #89. I am a strong believer in grass roots communities, but I also believe government resources, when available, should be equally available to all people. - Author: Liane Holliday Willey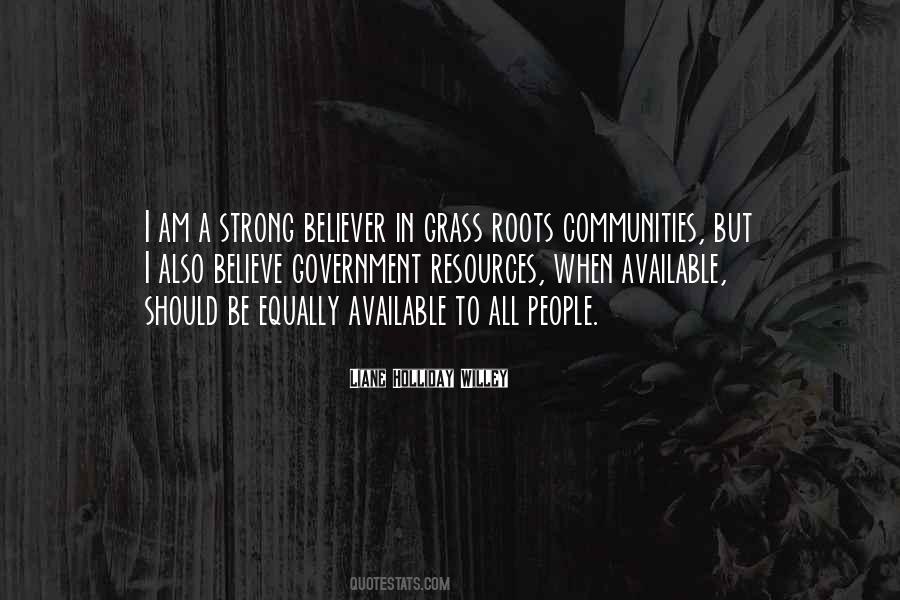 #90. There is nothing to lose in life. Be courageous! - Author: Lailah Gifty Akita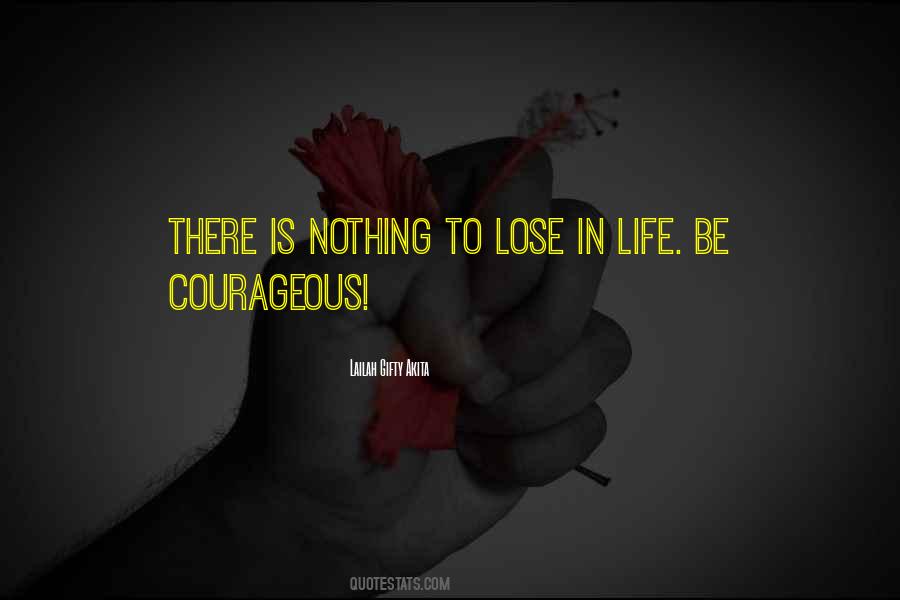 #91. Think Positively.
Network well.
Eat healthy.
Work Smart.
Stay Strong.
Build faith.
Worry less.
Read more.
Be happy.
Volunteer freely.
Relax often.
Love always.
Live eternally
and you will see doors open to your favor. - Author: Ifeanyi Enoch Onuoha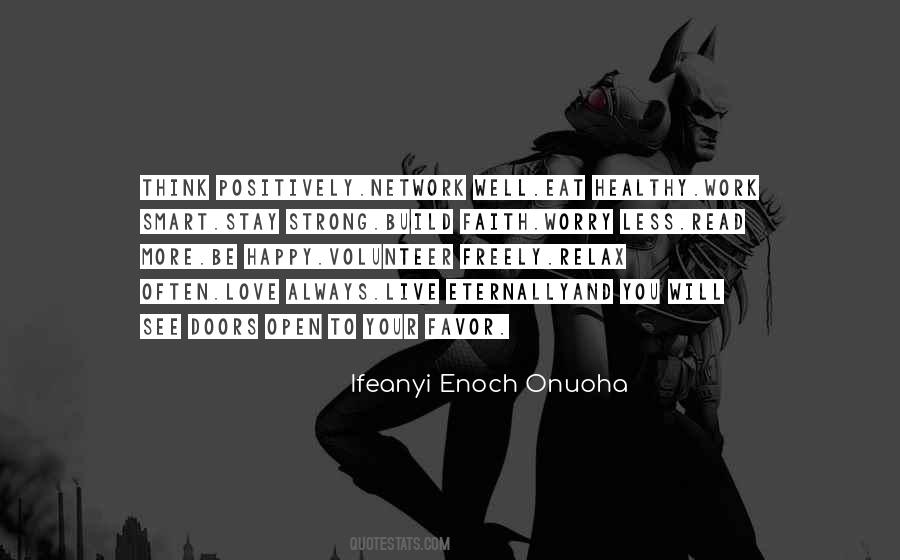 #92. It's highly virtuous to say we'll be good, but we can't do it all at once, and it takes a long pull, a strong pull, and a pull all together before some of us even get our feet set in the right way - Author: Louisa May Alcott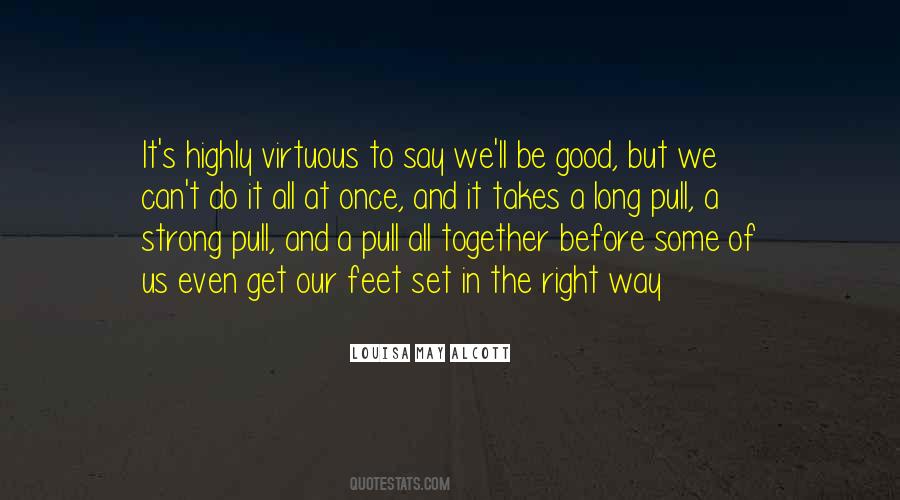 #93. I've often thought it unfair that women are expected to stay at home when there's a fight to be won. If a
woman has the strength to bear a child, she can swing a sword as well as any man. - Author: Karen Hawkins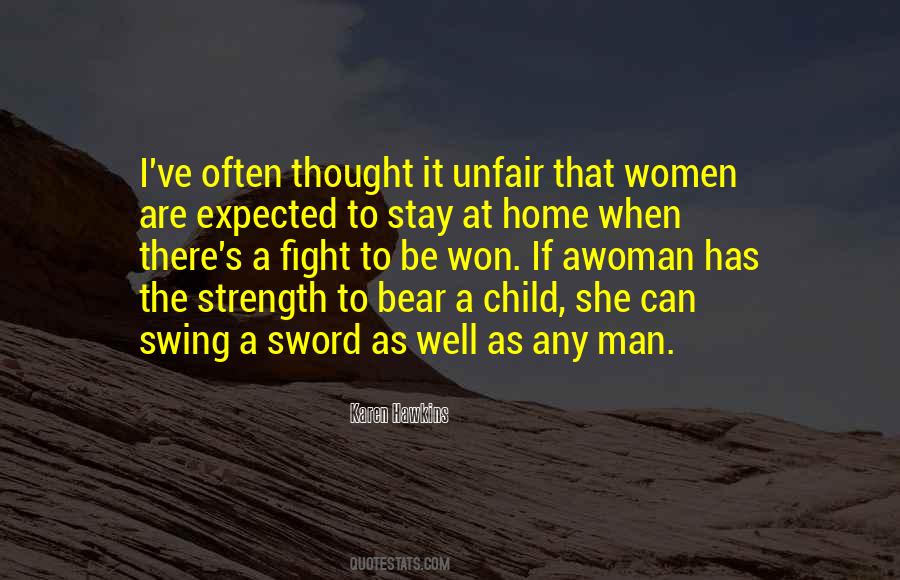 #94. Now, she had to be strong enough to look weak. - Author: Laini Taylor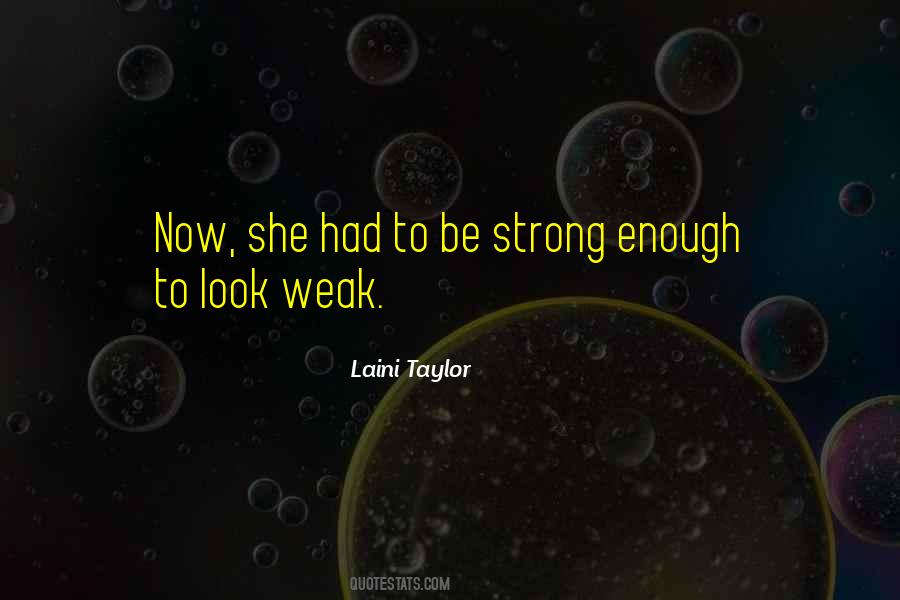 #95. Many women devlop the second attention, attract a great deal of sexual attention, and for many years, appear to be very vibrant and strong. - Author: Frederick Lenz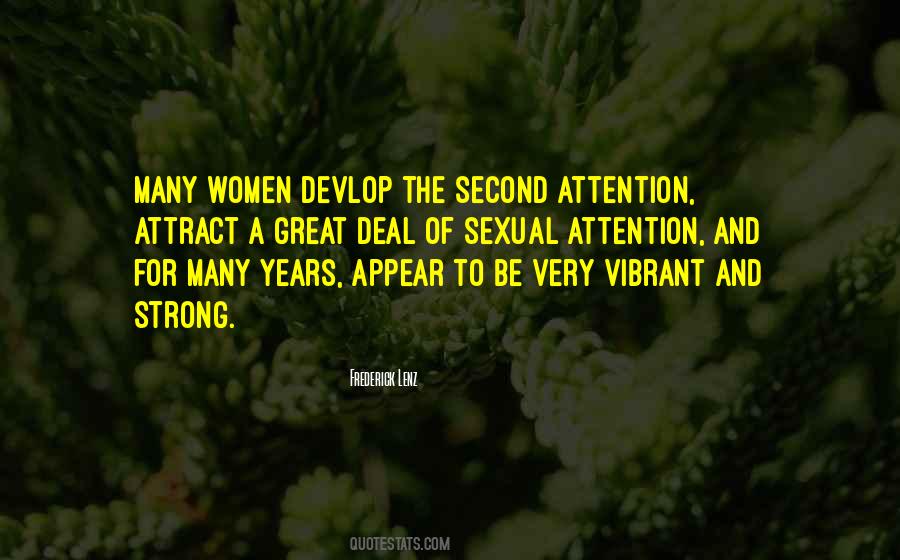 #96. Happy are all free peoples, too strong to be dispossessed. But blessed are those among nations who dare to be strong for the rest! - Author: Elizabeth Barrett Browning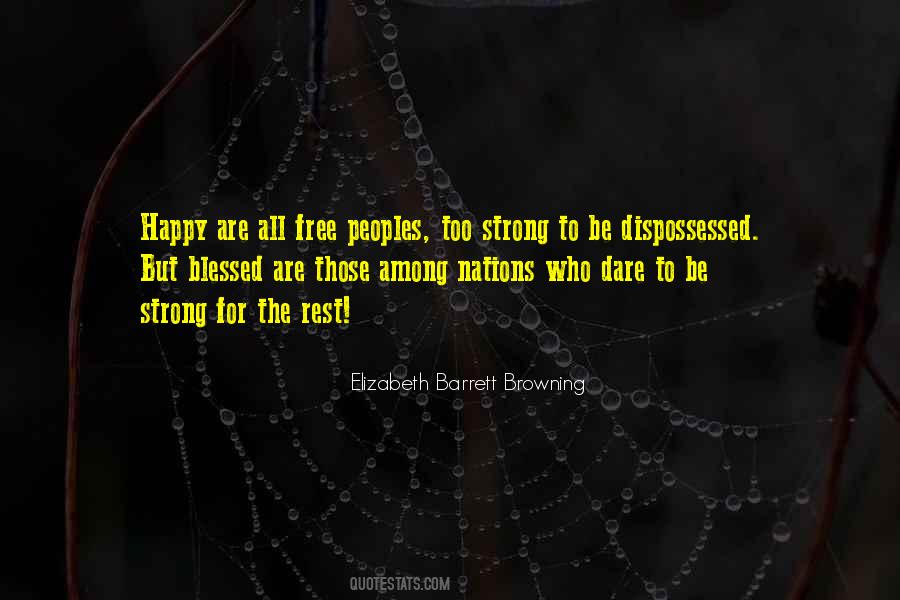 #97. I may not be loud but that doesn't mean I'm not strong within myself. My mum and dad instilled in me to stand up for what I believe in - and I do. - Author: Leona Lewis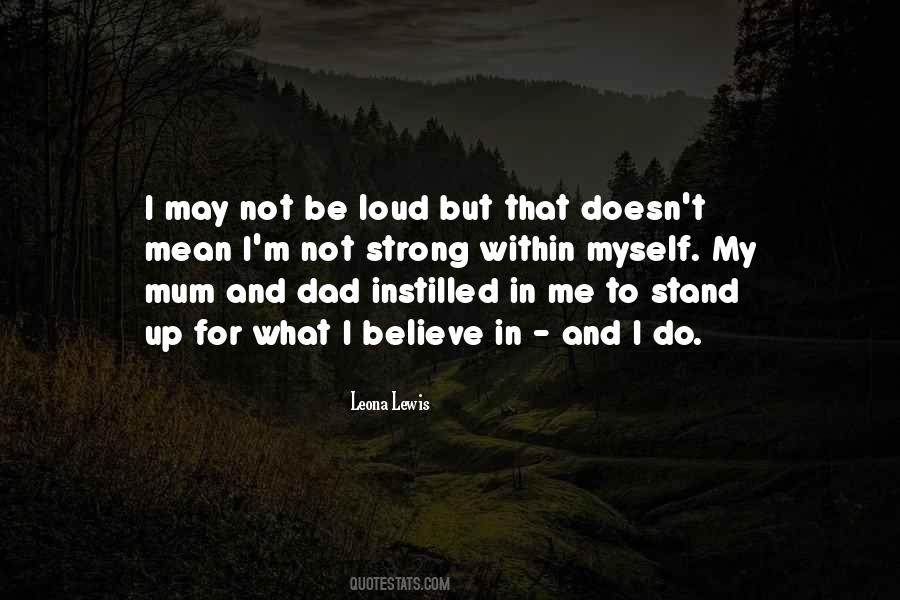 #98. Supreme Court Justice Anton Scalia should be commended for acknowledging that his views are so strong that - should the Pledge case reach the Supreme Court - he wouldn't be able to maintain the requisite impartiality. - Author: Michael Newdow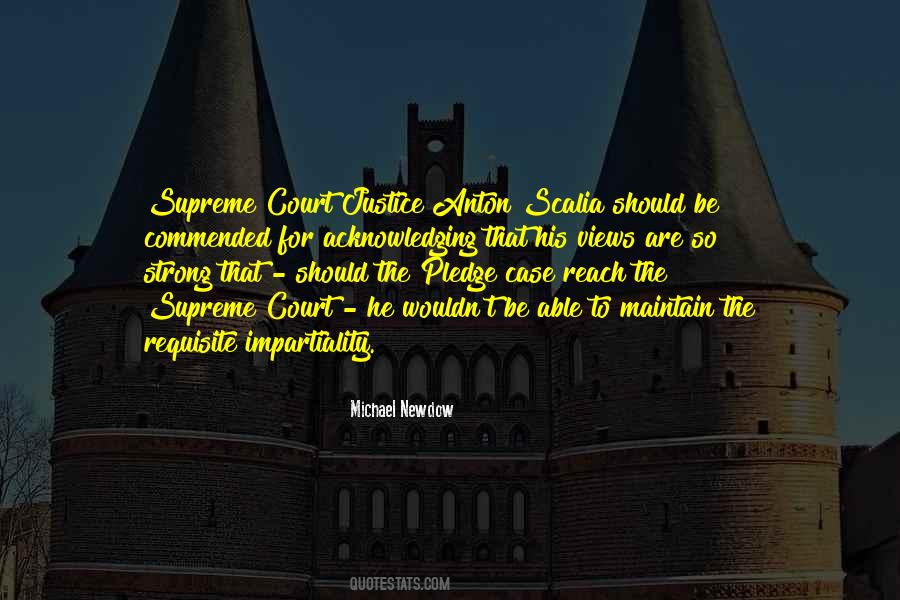 #99. God is not here to be demanded of, begged from, or criticized. He hands out burdens to those who are strong enough to carry them, and I feel profoundly uncomfortable with the idea of lining up with the other invalids and asking for mine to be alleviated. - Author: Ann Napolitano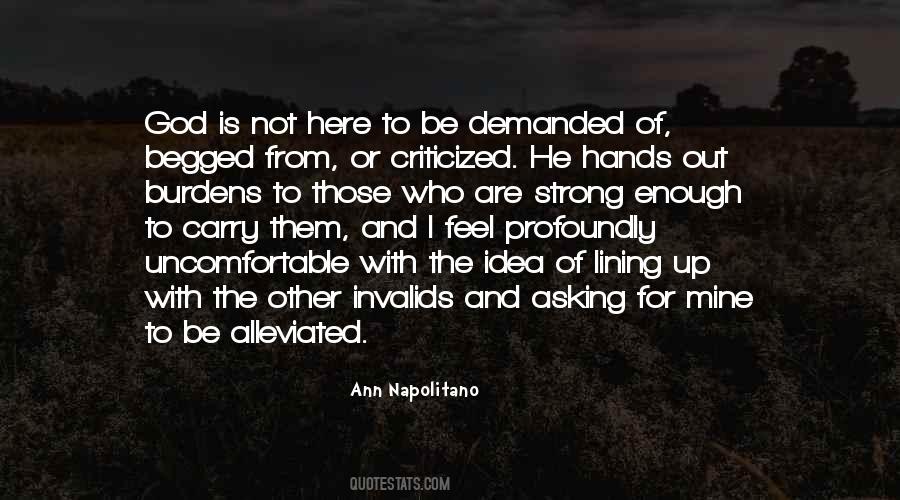 #100. It is a good thing to be rich and strong, but it is a better thing to be loved. - Author: Euripides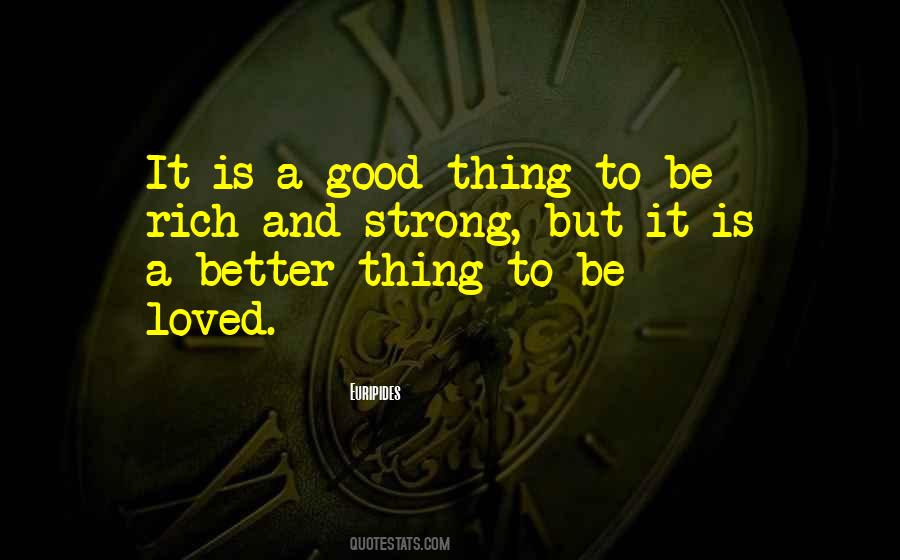 Famous Authors
Popular Topics