Tired Feet Famous Quotes & Sayings
List of top 32 famous quotes and sayings about tired feet to read and share with friends on your Facebook, Twitter, blogs.
Top 32 Quotes About Tired Feet
#1. Believe it or don't believe it, Madame. But my feet are tired too. Bloody tired. Like a dead man's. - Author: Jessie Burton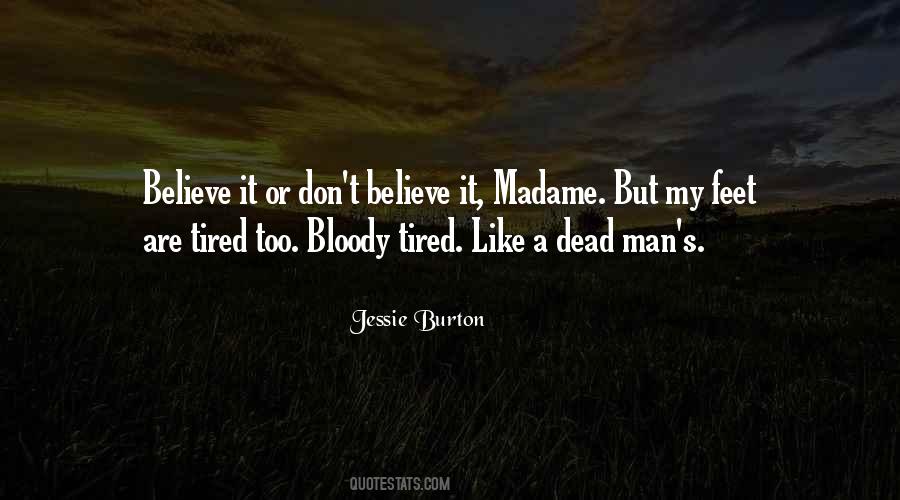 #2. I tell them that Im a lesbian but doesnt seem to matter to them - they see in the media is that we havent met the right guy yet, or that weve been raped or abused by our daddies and were just waiting for Mr. Right to come sweep us off our feet, and Im really tired of seeing that. - Author: Jill Bennett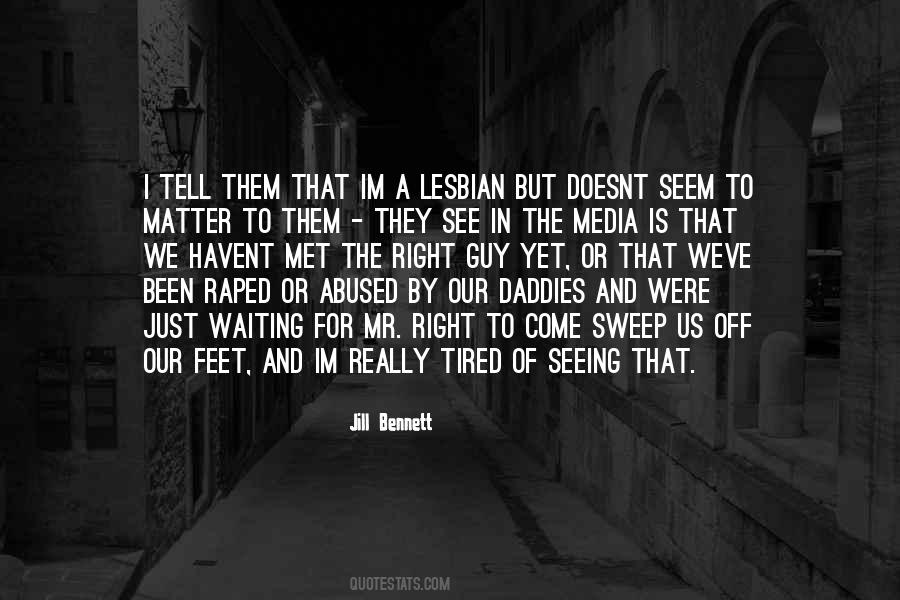 #3. Harold was so tired he could barely lift his feet, and yet he felt such hope, he was giddy with it. If he kept looking at the things that were bigger than himself, he knew he would make it to Berwick. - Author: Rachel Joyce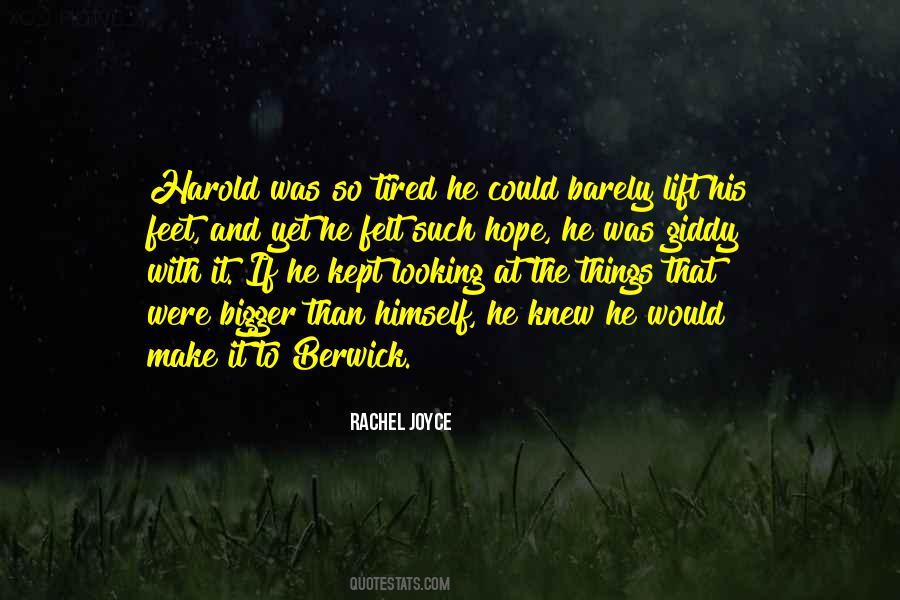 #4. This is hell. Today, in our times, hell must be like this. A huge, empty room: we are tired, standing on our feet, with a tap which drips while we cannot drink the water, and we wait for something which will certainly be terrible, and nothing happens and nothing continues to happen. - Author: Primo Levi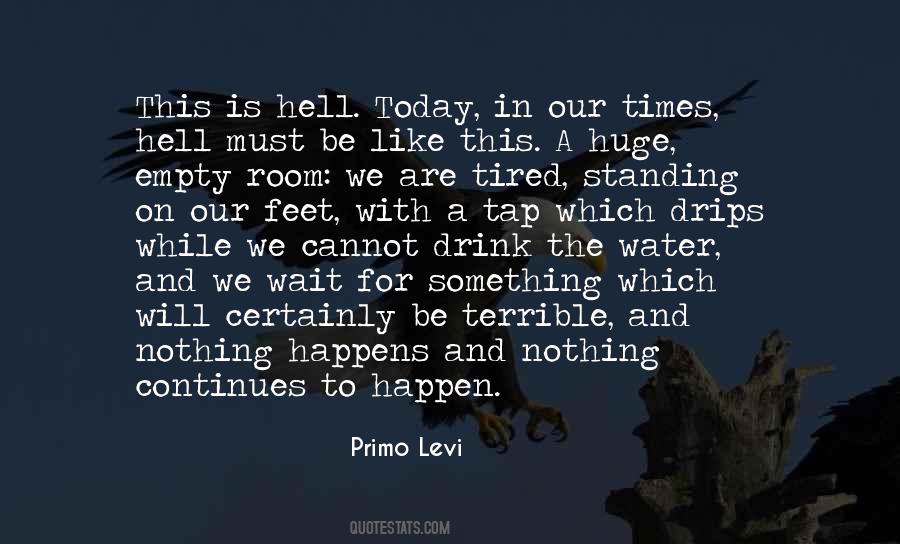 #5. A man must walk only his own path ... Never another's or his feet will grow tired and sore. And he will feel lost even when he arrives. - Author: Jo Ann Davis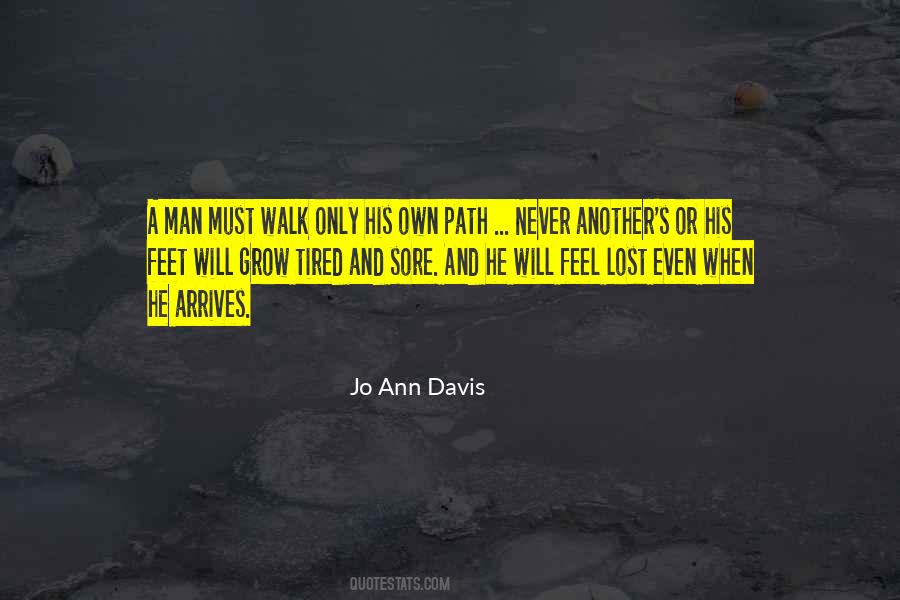 #6. Many people see a brick wall as an obstacle, when it's really a how to for success. You build both, one brick at a time. - Author: Rob Liano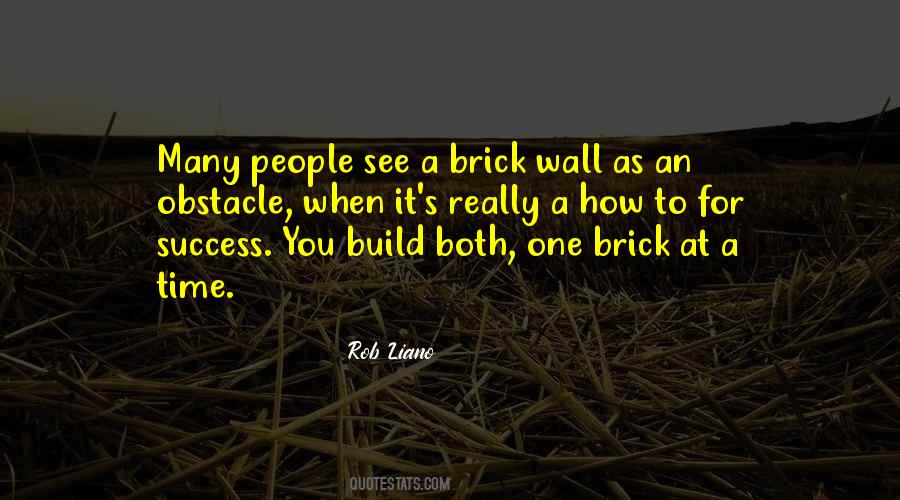 #7. If I have succeeded better than many who surround me, it has been chiefly - may I say almost solely - from universal assiduity. - Author: John Dalton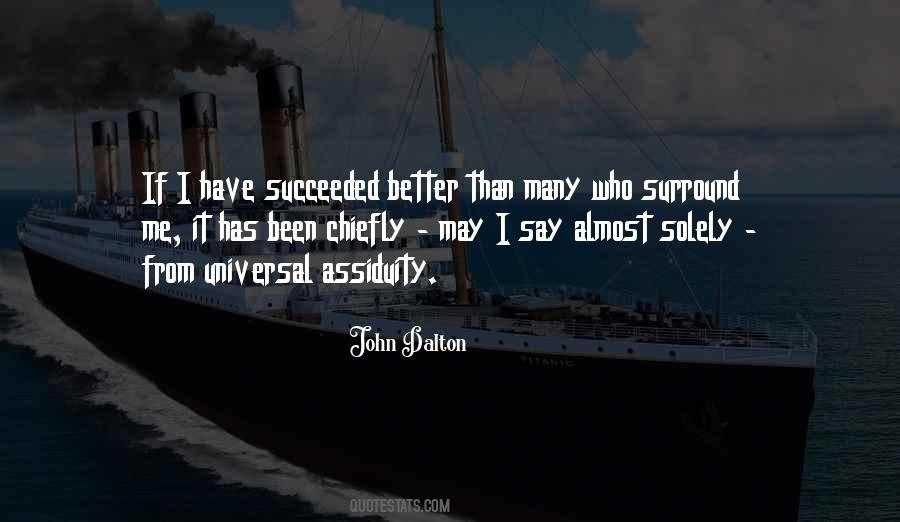 #8. I exist only in the soles of my feet and in the tired muscles of my thighs. We have been walking for hours it seems. But where? I cannot remember. - Author: Virginia Woolf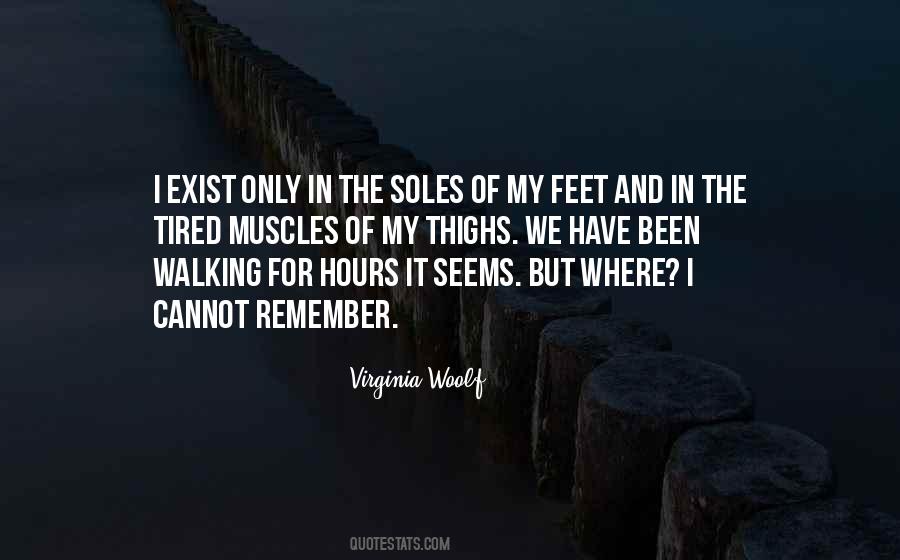 #9. The past wasn't a guest you could ask to leave when you tired of its company. No, the past put up its feet and meant to stay. - Author: Sonja Yoerg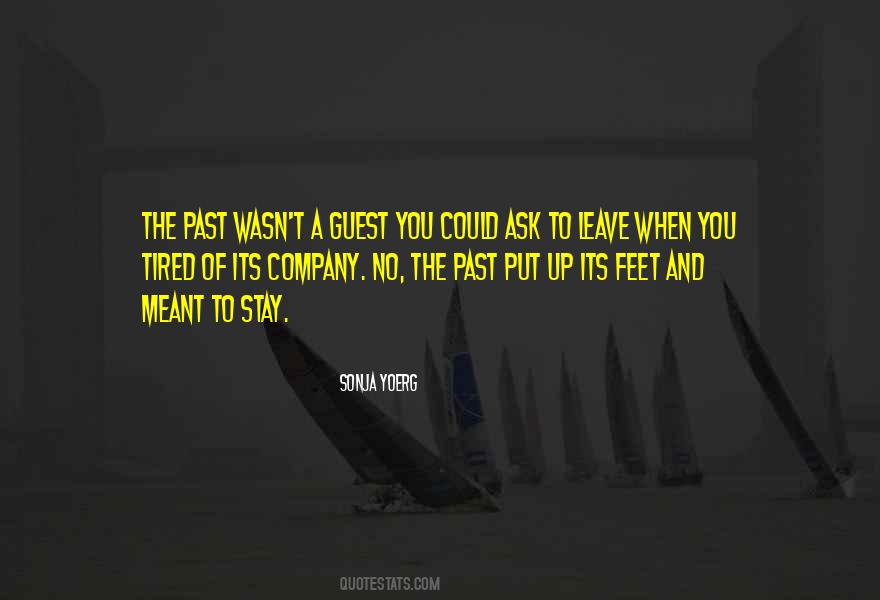 #10. May as well have painted the walls black, she thought with some amusement. - Author: Evan Currie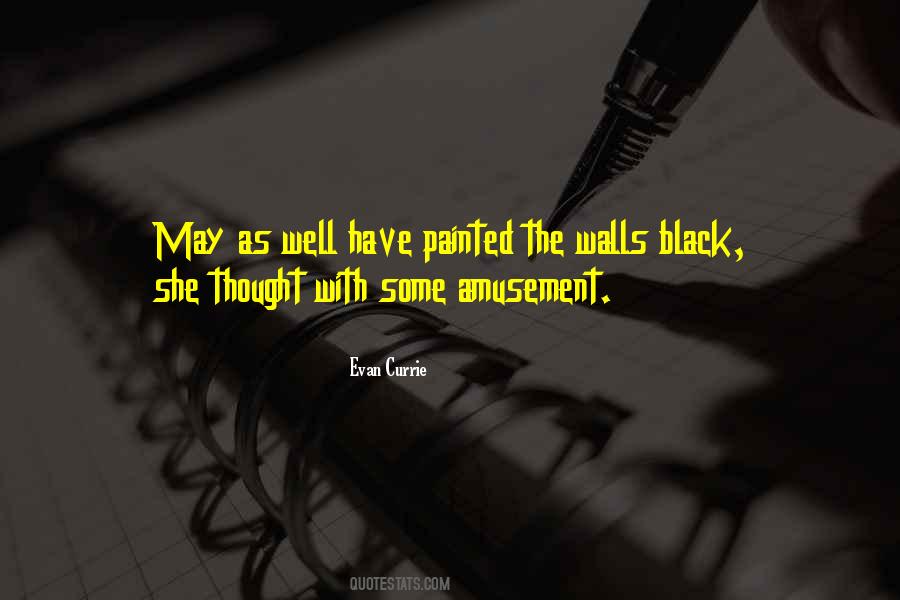 #11. As Jews, we are commanded to give tzedakah - an act of justice, not charity - because it is the righteous thing to do. - Author: Lynn Schusterman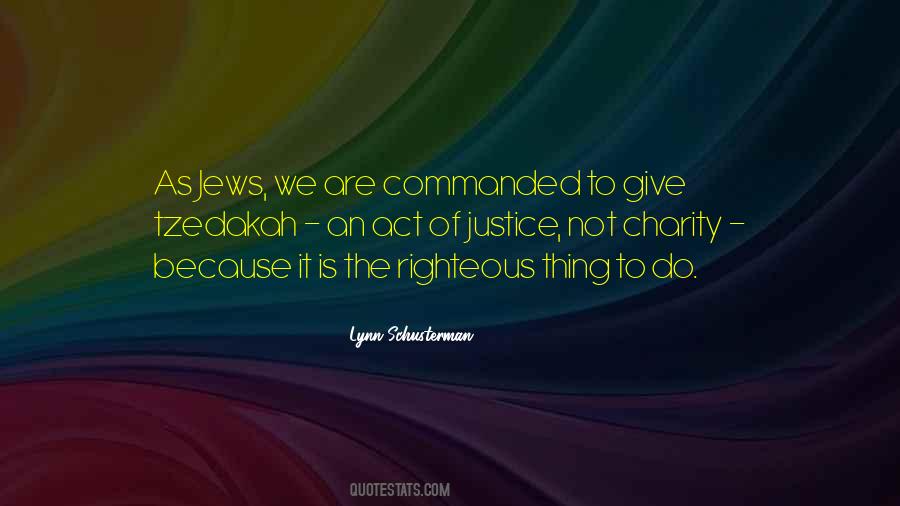 #12. This is the first time I've been in a WTA final so it's really great to make it here in Auckland. I'm so tired I can't stand on my feet any more. Today the key was to run and run and finally I put a lot of pressure on her and she started to miss on the big points. - Author: Marion Bartoli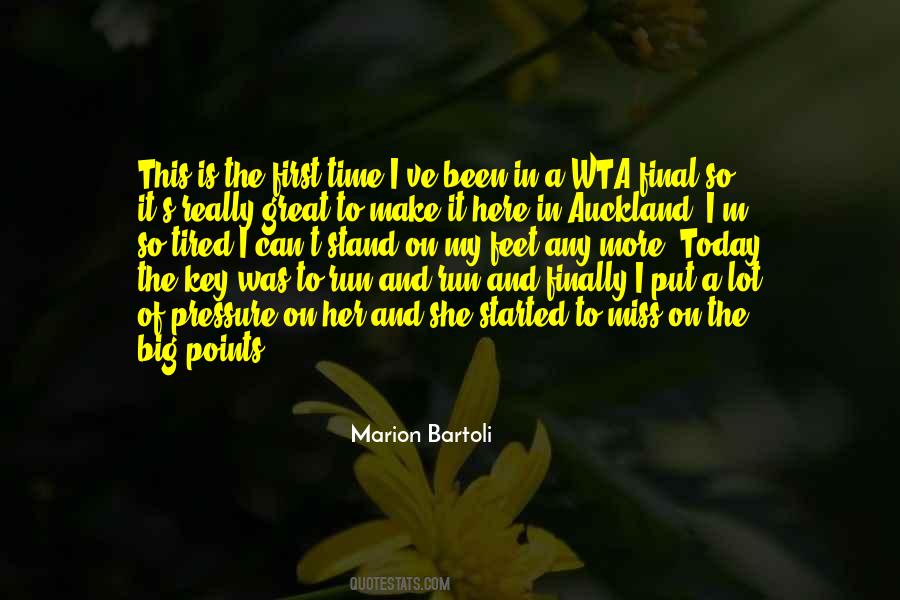 #13. There comes a time when people get tired of being trampled over by the iron feet of oppression. - Author: Martin Luther King Jr.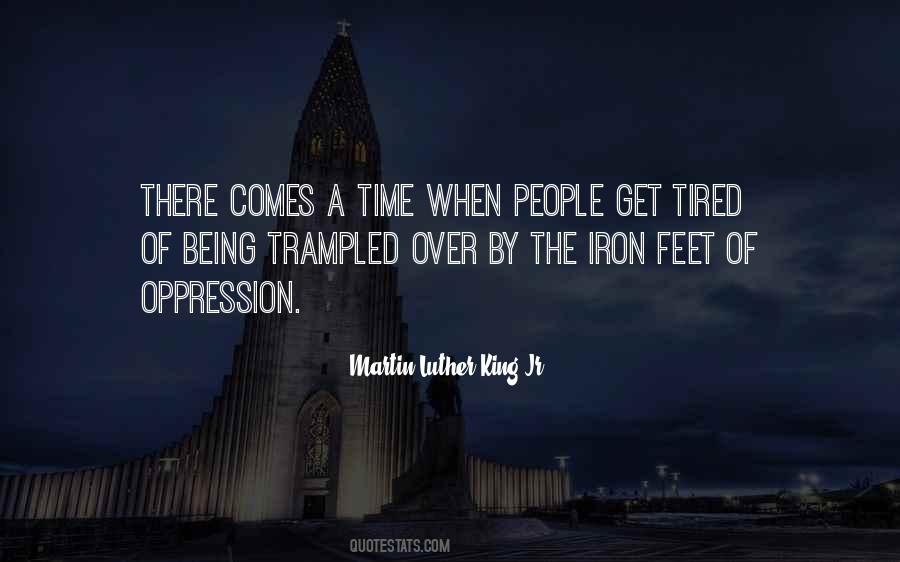 #14. In our times, hell must be like this. A huge, empty room: we are tired, standing on our feet, with a tap which drips while we cannot drink the water, and we wait for something which will certainly be terrible, and nothing happens and nothing continues to happen. What - Author: Primo Levi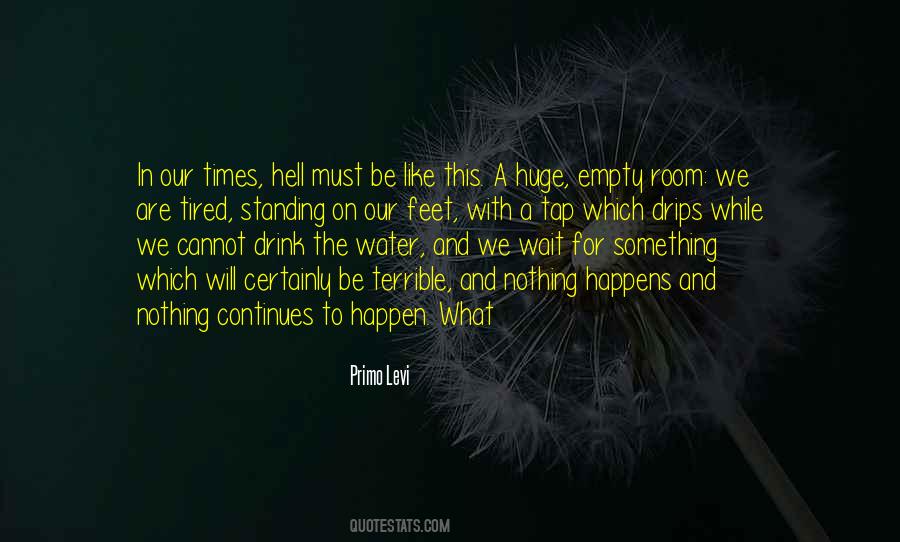 #15. Not another word was said for more than an hour. They only walked home together with aching feet and tired hearts. - Author: Markus Zusak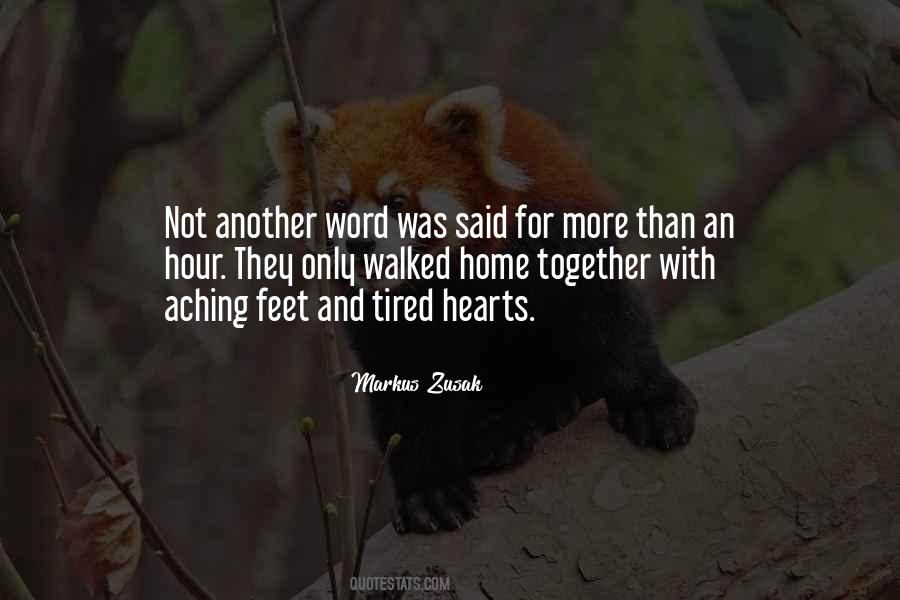 #16. I am tired. My arm aches. My head boils. My feet are cold. But I am not aware of any weakness. - Author: Zane Grey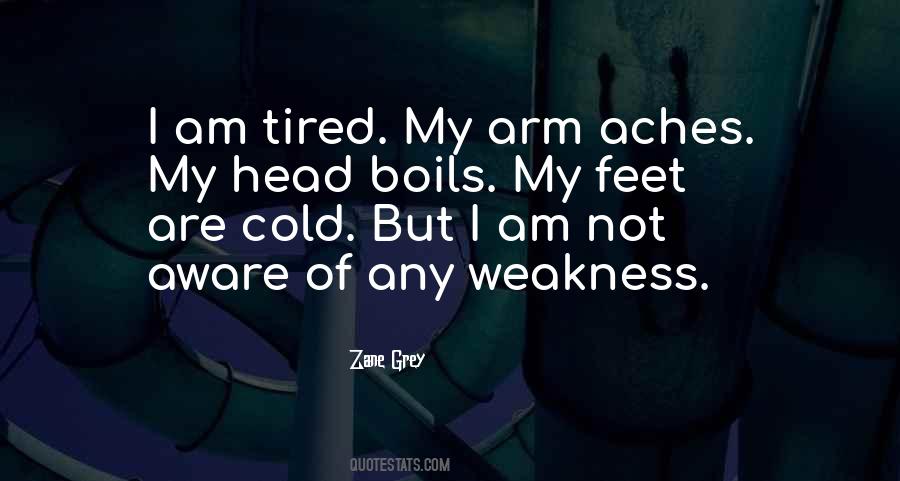 #17. Issie?"
After a second her voice comes out small and tired. "I'm not here."
"Oh." I back up so I can stare at the bathroom door. No feet. "Then I should probably freak out because the toilet is talking back to me, huh? A little too many pain meds for Zara today. - Author: Carrie Jones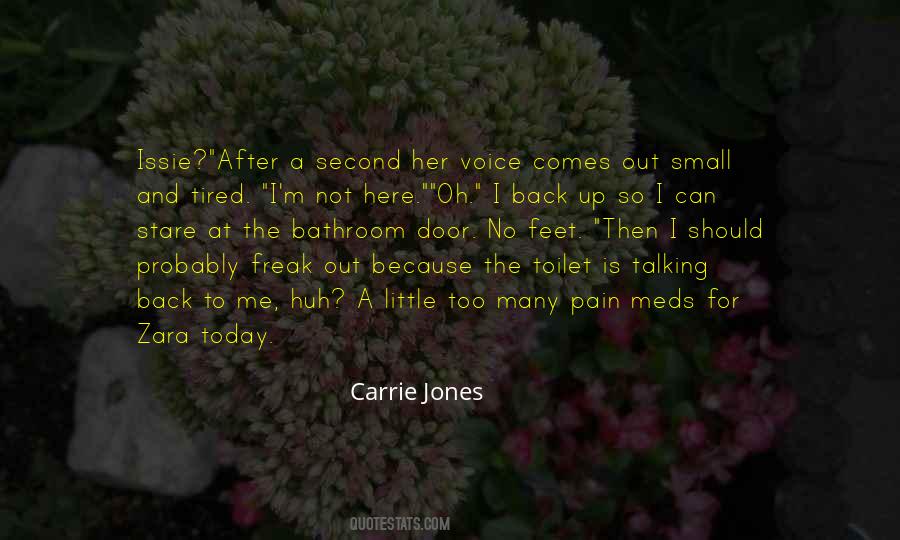 #18. Vocabulary is a matter of word-building as well as word-using. - Author: David Crystal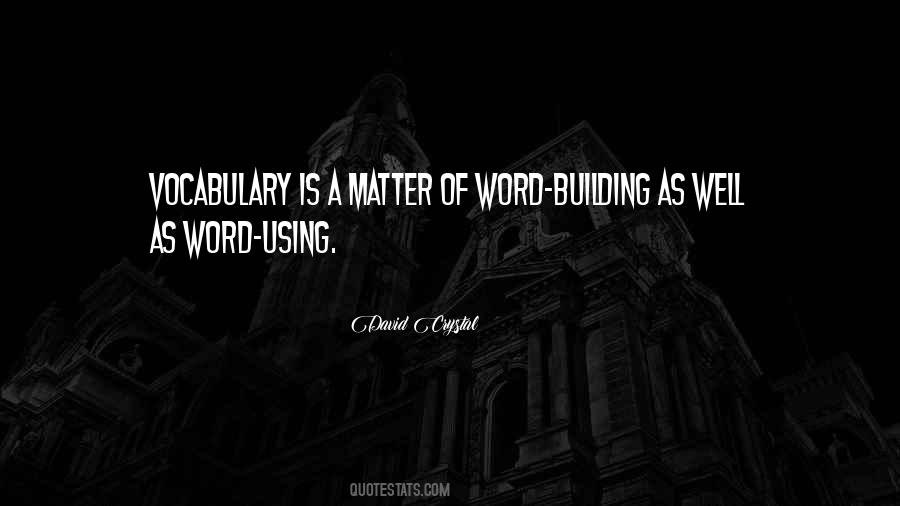 #19. I think you need someone in your life you can depend on, someone you can confide in when things go to hell at work, someone to massage your tired feet and your stiff shoulders, someone to bring you tea and cook a meal once
in a while. Someone to be there for you. - Author: Pamela Clare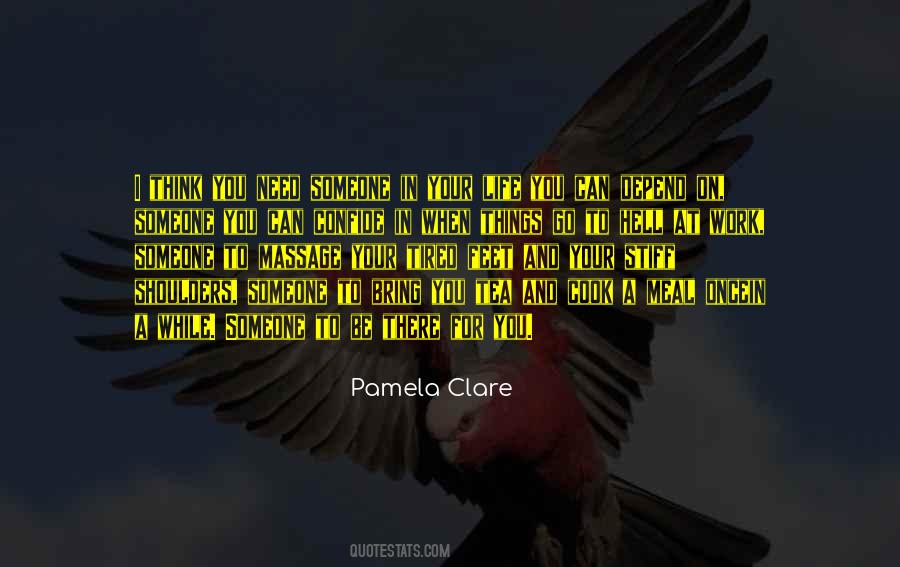 #20. I mean, its hard to be an actor in the city - trying to make it as an actor - because you waitress all night, you get home really late and you're super tired and your feet hurt. - Author: Piper Perabo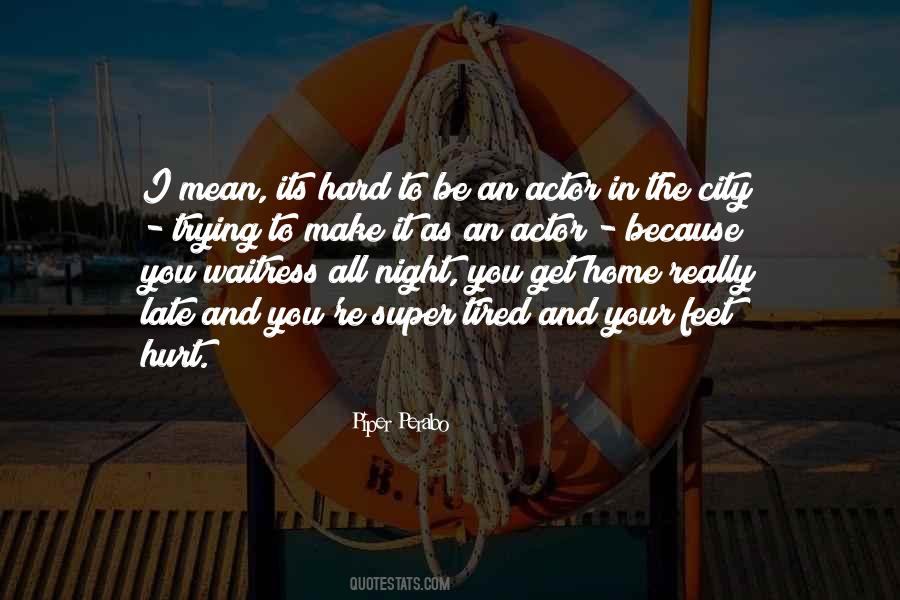 #21. Why now? Why not wait for a man to come along and ... sweep you off your feet?"
She gave a short laugh. "If the man you speak of had ever planned on coming, my lord, I'm afraid he has obviously lost his way. And, at twenty-eight, I find I have grown tired of waiting. - Author: Sarah MacLean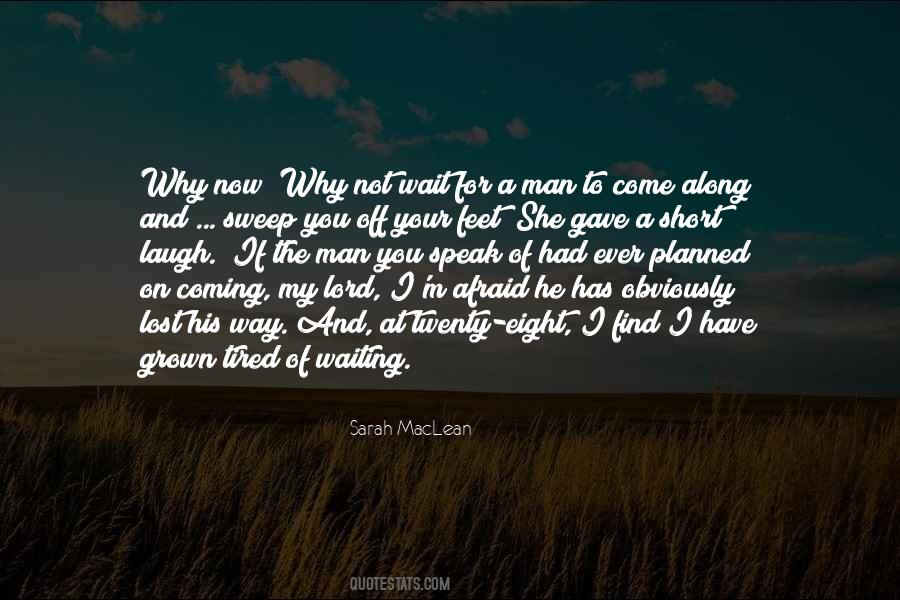 #22. We are using these to follow the Others home. We are maybe using these to end the war." "We are maybe using these to die in a new and exciting way. - Author: Tanya Huff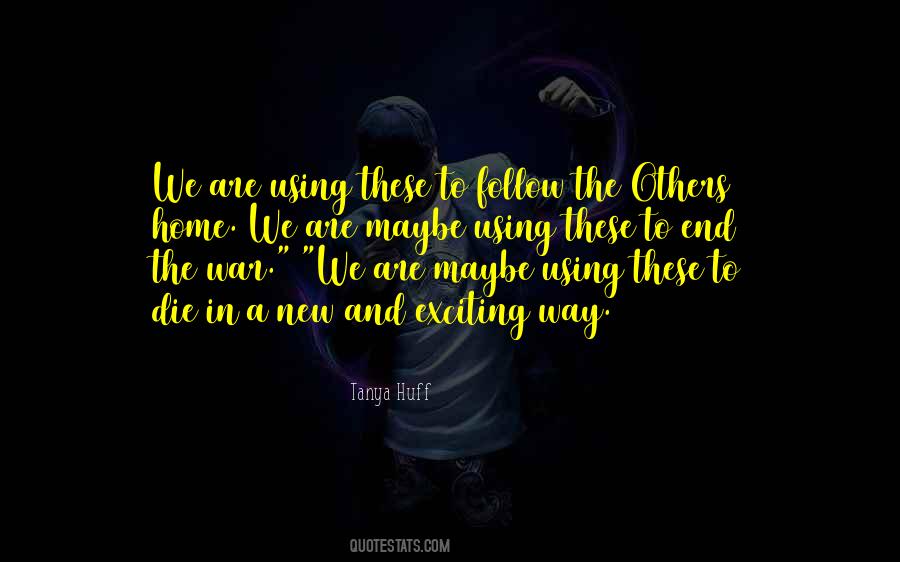 #23. Physics says: go to sleep. Of course you're tired. Every atom in you has been dancing the shimmy in silver shoes nonstop from mitosis to now. Quit tapping your feet. They'll dance inside themselves without you. - Author: Albert Goldbarth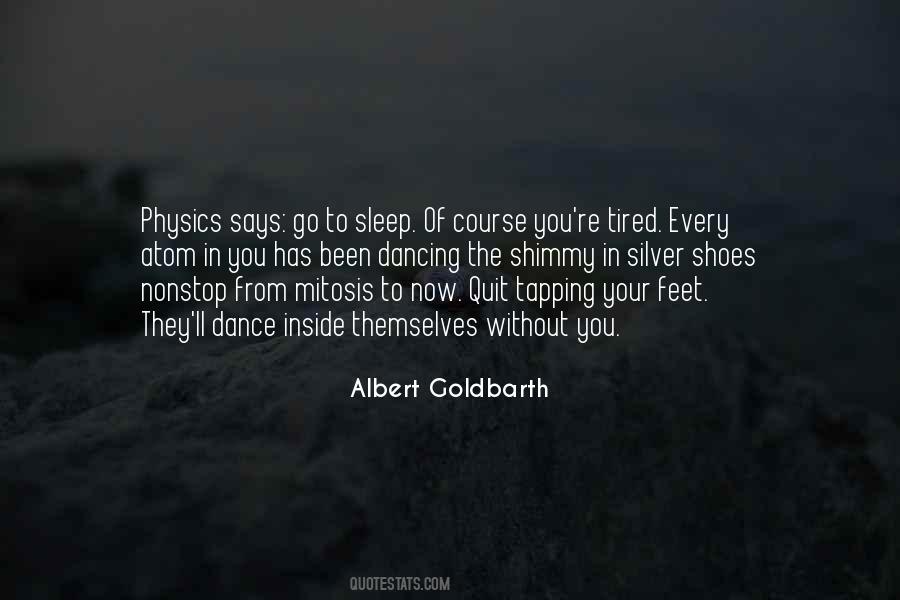 #24. As the sky prepares to settle its tired, aching feet
into the night's velvet slippers

I settle, into my armchair, soaking the teabag,
of my thoughts, into warm liquidy stars. - Author: Sanober Khan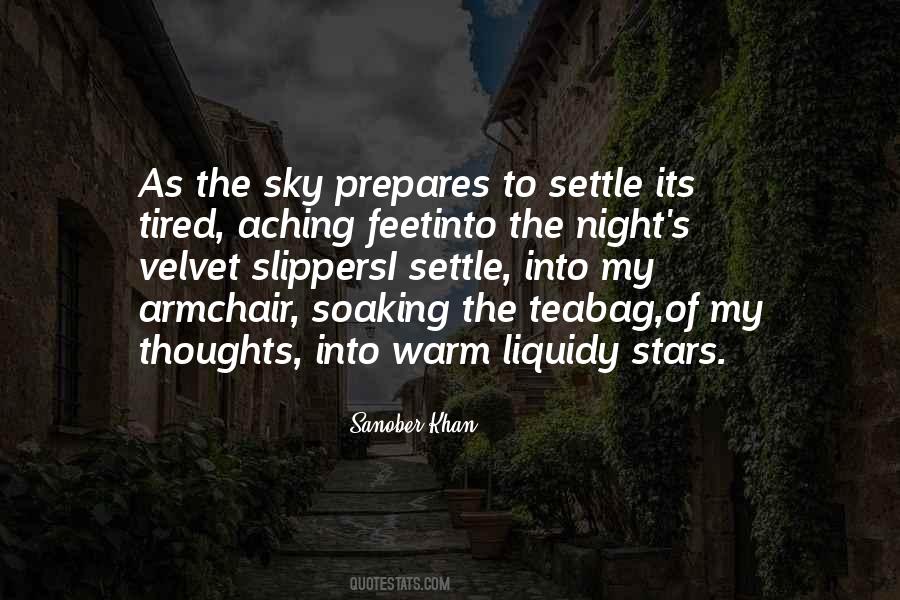 #25. Tired are my feet, that felt today the pavement;
Tired are my ears, that heard of tragic things-
Tired are my eyes, that saw so much enslavement;
Only my voice is not too tired. It sings. - Author: Aaron Kramer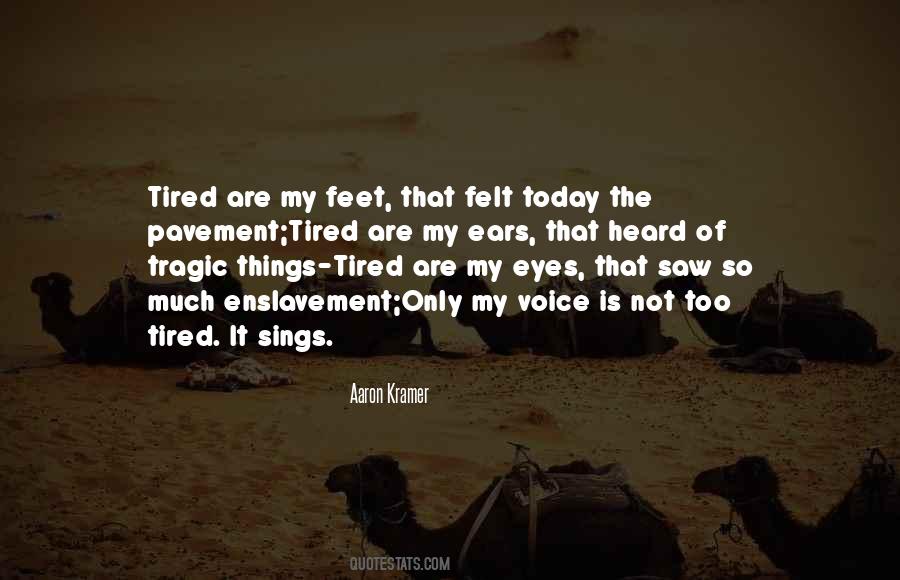 #26. King is delighted. He ask one old woman walking by if she wasn't too old for this, ask her if her feet not tired. My feet is tired she say, but my soul is rested. - Author: Arthur Flowers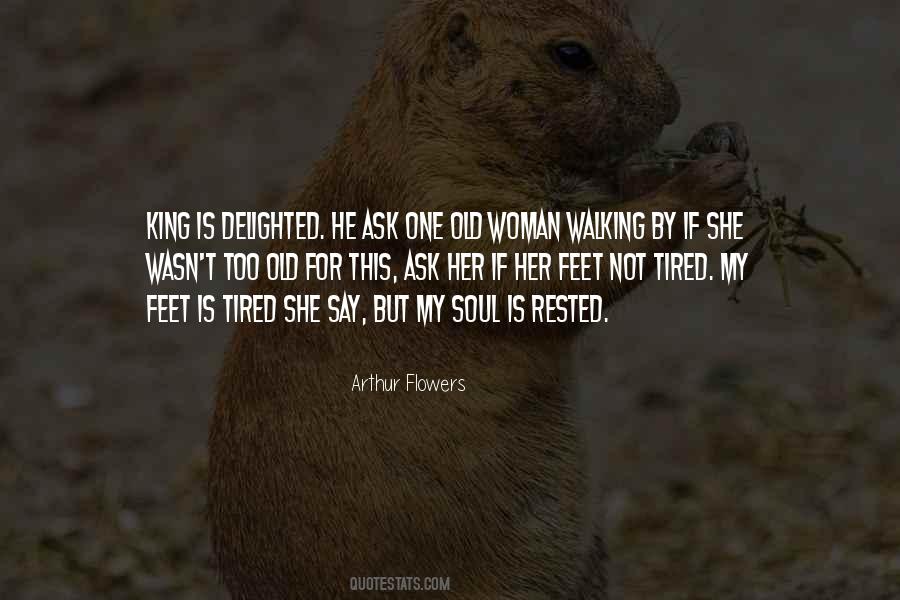 #27. There are two of us," Seth said quietly. "Everything changed the moment you were born. - Author: Jennifer L. Armentrout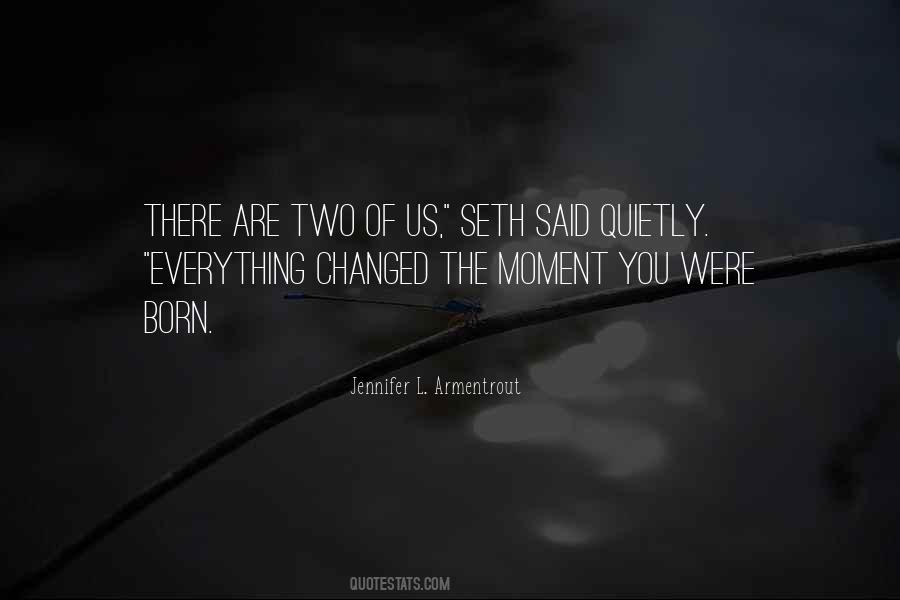 #28. Sometimes my feet are tired and my hands are quiet, but there is no quiet in my heart. - Author: W.B.Yeats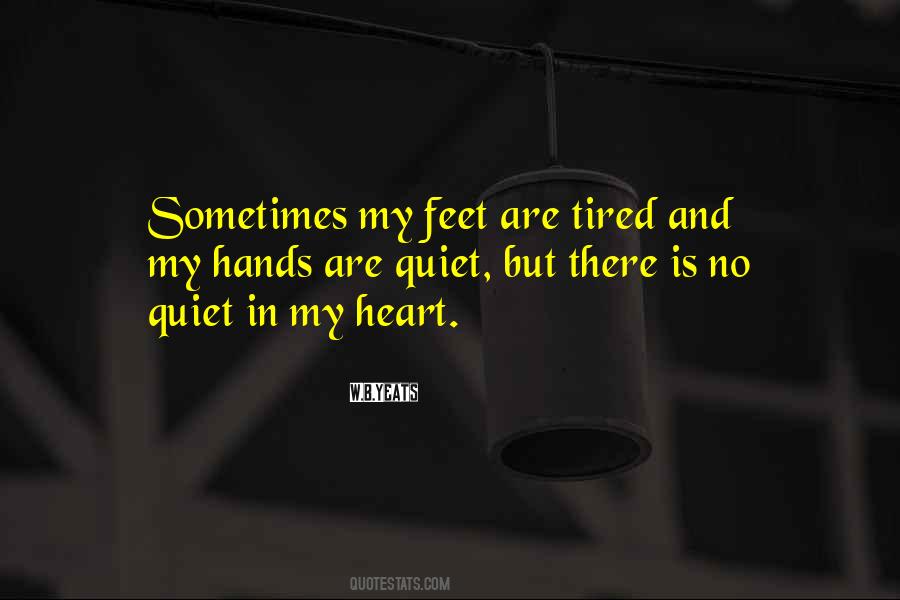 #29. The night still confuses me, we'd all get tired and have to sleep eventually. Regardless of the sun's demands. Regardless if it made much sense. - Author: Tegan Quin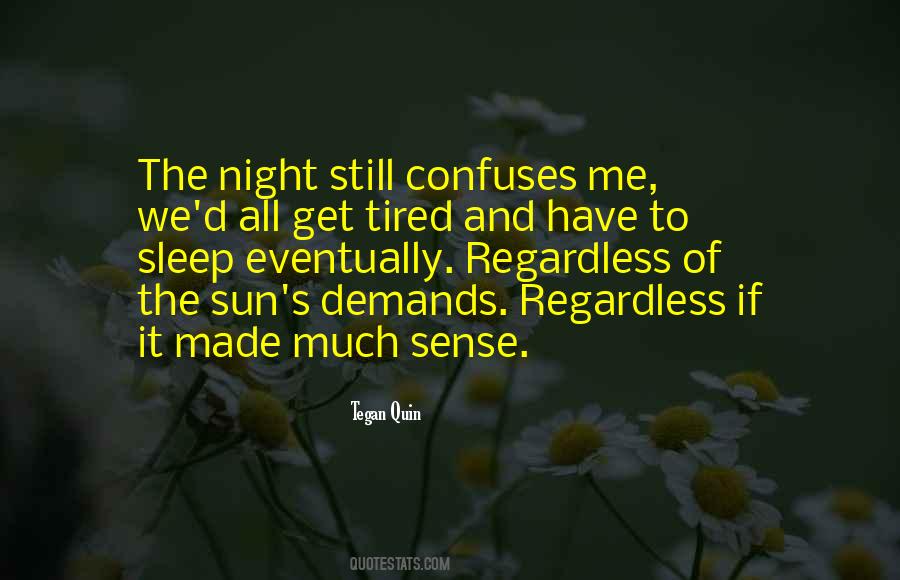 #30. The secret of drunkenness is, that it insulates us in thought, whilst it unites us in feeling. - Author: Ralph Waldo Emerson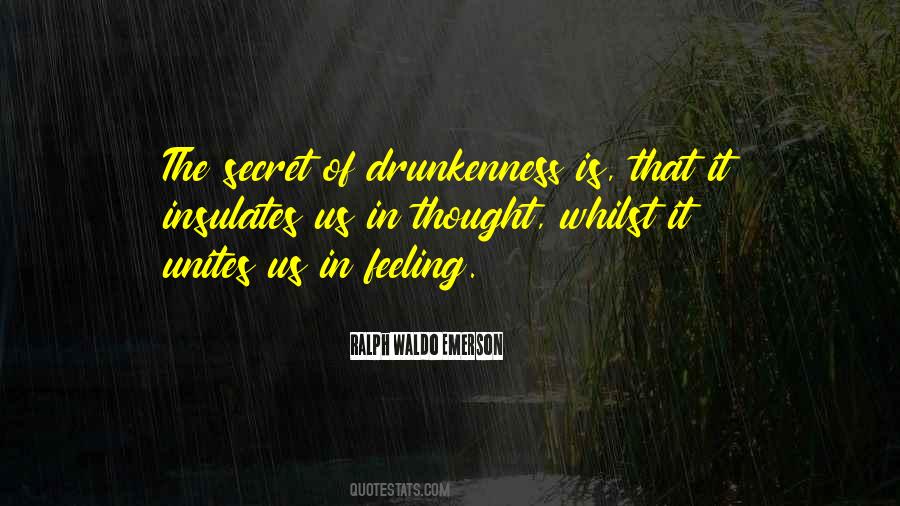 #31. But I'm not the girl who changes into flats because my feet are tired at the end of the night. I go the distance. I go all the way. - Author: Dita Von Teese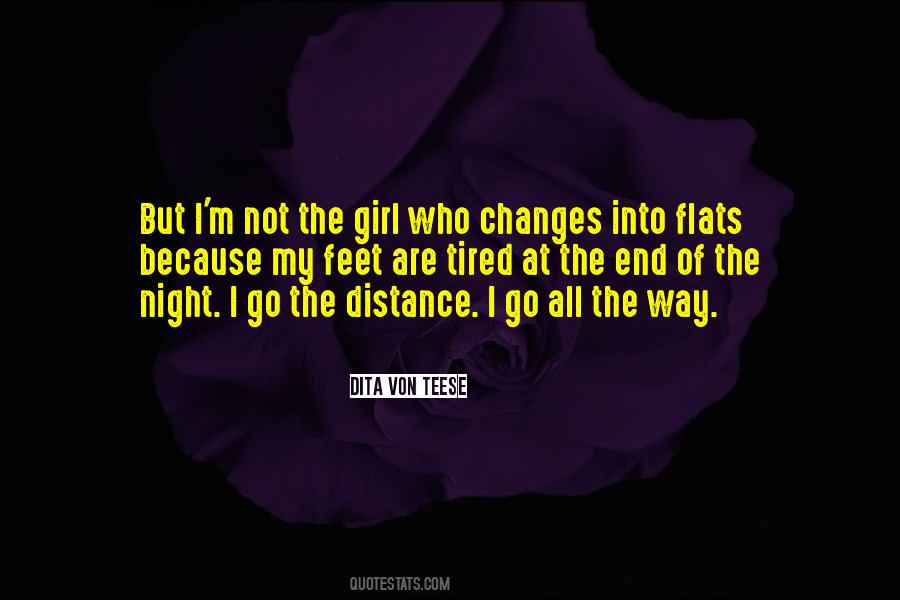 #32. Speaking with her always felt like sitting on a seashore. Hearing the waves and feeling them crashing into my feet, While gazing the setting sun and the way he colours the whole sky. I never got tired of it. - Author: Akshay Vasu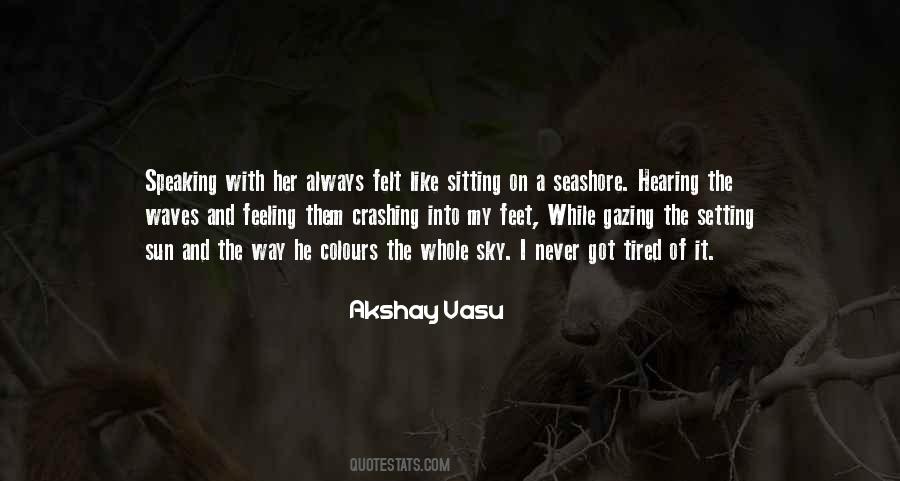 Famous Authors
Popular Topics