Time Movie Famous Quotes & Sayings
List of top 100 famous quotes and sayings about time movie to read and share with friends on your Facebook, Twitter, blogs.
Top 100 Quotes About Time Movie
#1. 'Evil Dead' was such a big movie in my life. It's one of the few that I really remember when I watched it for the first time. I mean, I don't remember when I first saw 'The Empire Strikes Back,' and it's one of my favourite movies. - Author: Fede Alvarez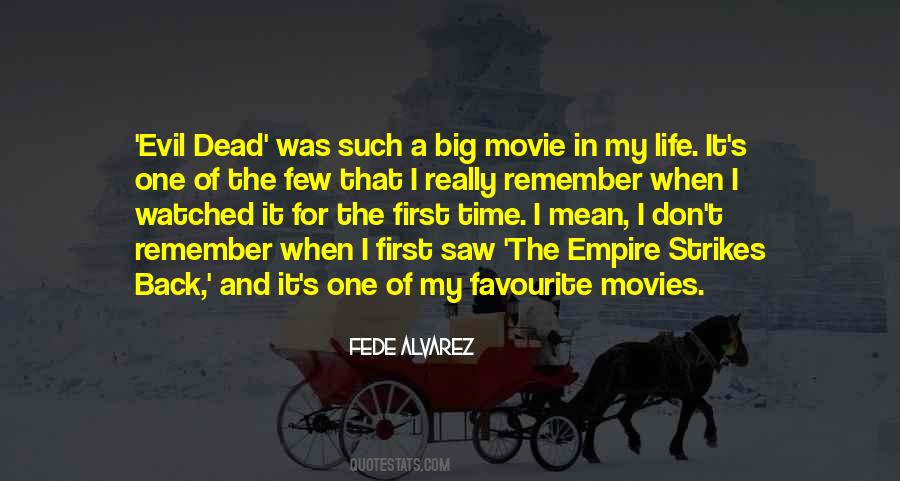 #2. You can have a role in a movie that was originally something minor in terms of screen time, and all of a sudden we see something and go, wow, that's cool. - Author: Avi Arad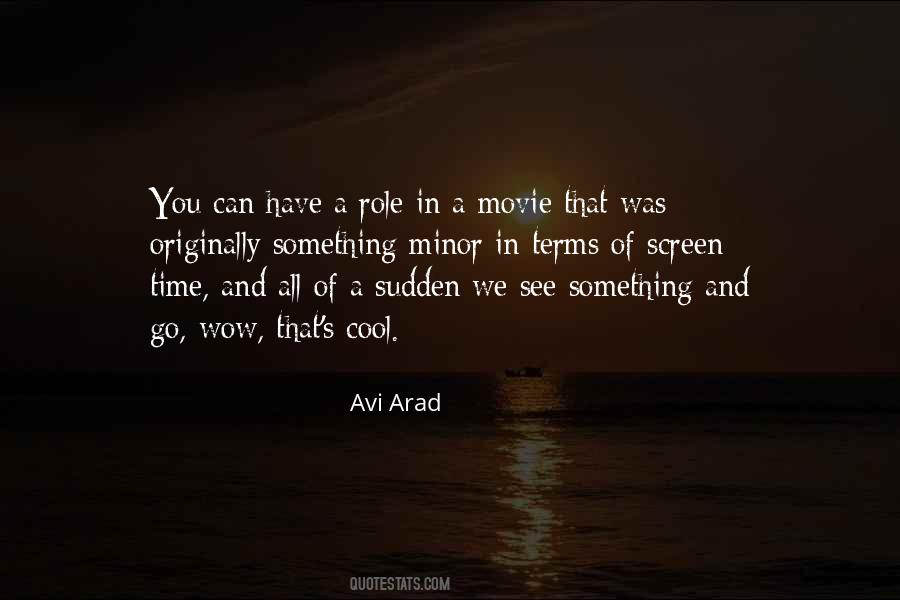 #3. I feel safe in saying this, and that is that Peter Weir is without a doubt one of the greatest filmmakers of all time. I'd open a door in a movie for him if he asked me to. - Author: Paul Bettany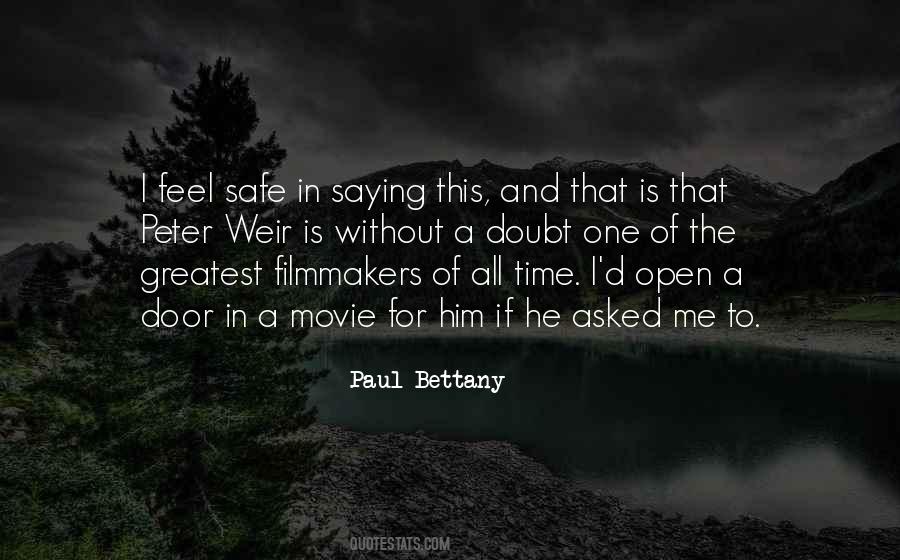 #4. In the time since I've done 'Bad Teacher,' I've produced an independent movie and directed two pilots. So I love to do all different types of things. - Author: Jake Kasdan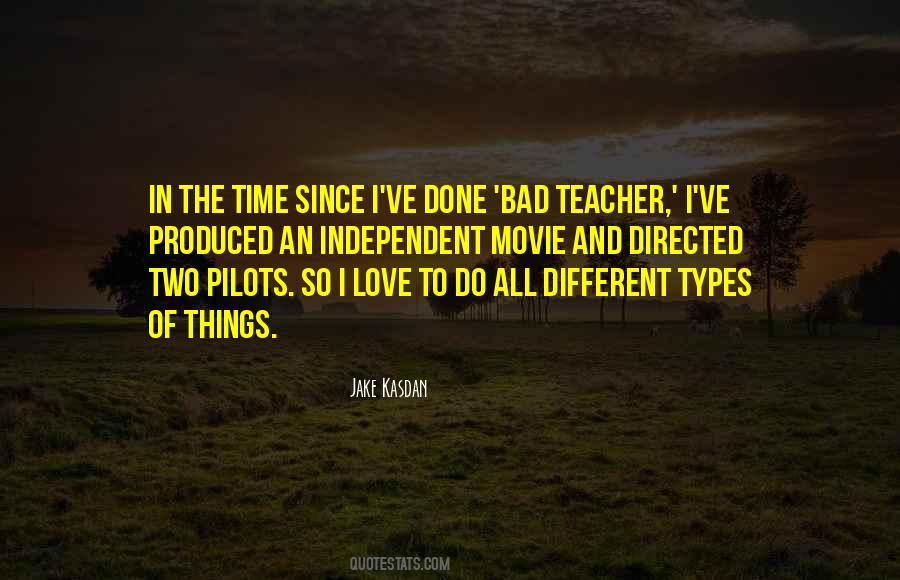 #5. I haven't had time to think about a relationship! I literally have not had a boyfriend in almost five years. I've never even hooked up with anybody I've worked on a movie with. - Author: Shailene Woodley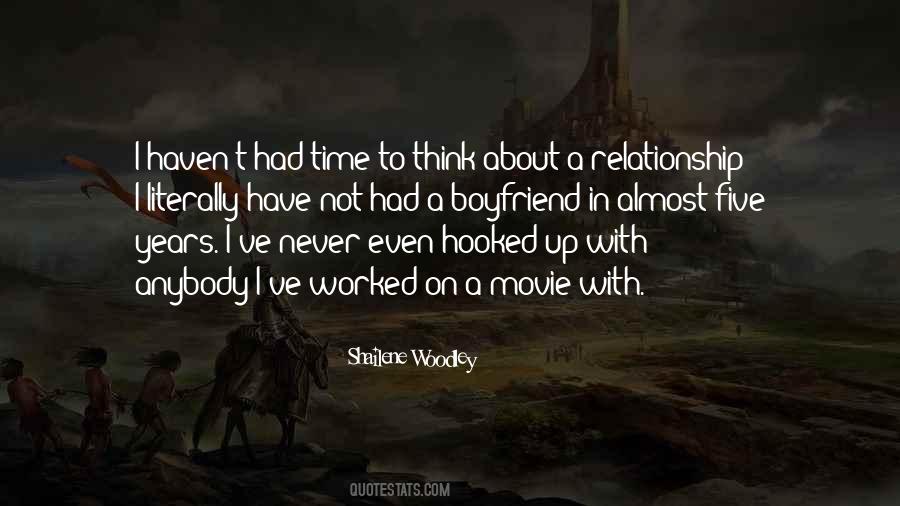 #6. How do you shoot a 150-day movie? You shoot it one day at a time. - Author: David Fincher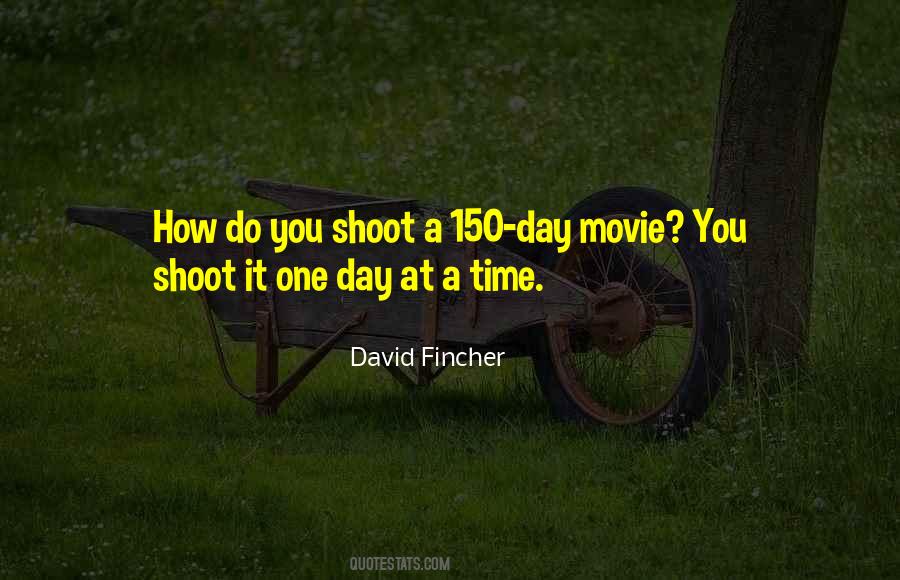 #7. I am excited when I get a movie and I get to move somewhere for a certain amount of time. But I am a Cali girl. - Author: Halston Sage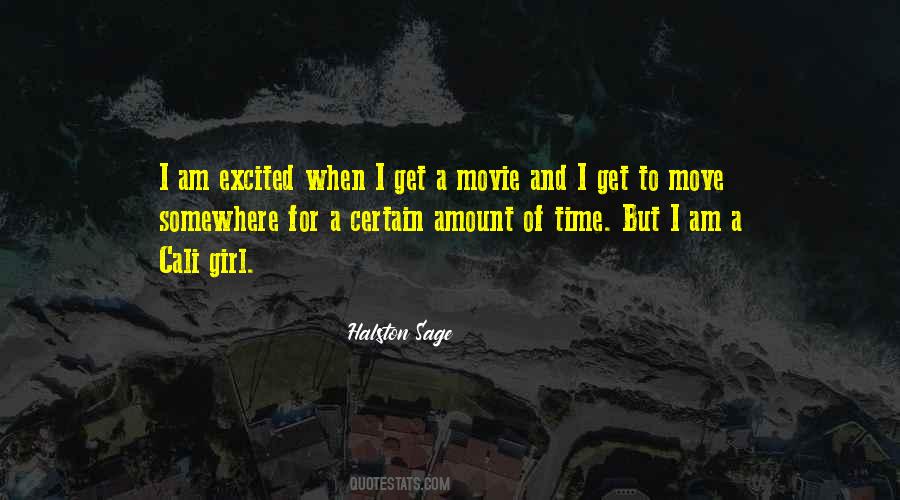 #8. I try not to think about that [getting Oscar] ahead of time. You just try to do the best work you can, and then you get the movie out there, and we've been hearing good things. But you never know, you don't want to get too high, and you don't want to get too low. - Author: Denzel Washington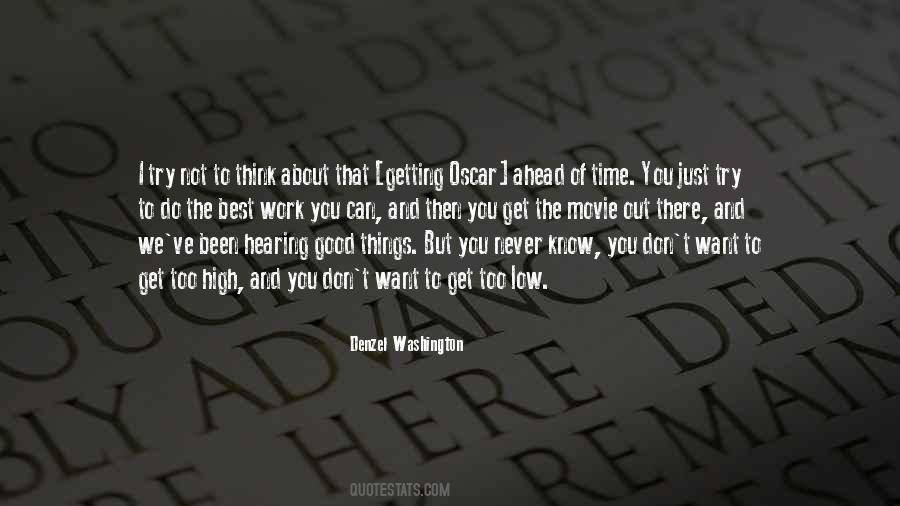 #9. You know, every time a summer movie comes out, people think they're gonna get rich off of the merchandise. - Author: Aaron McGruder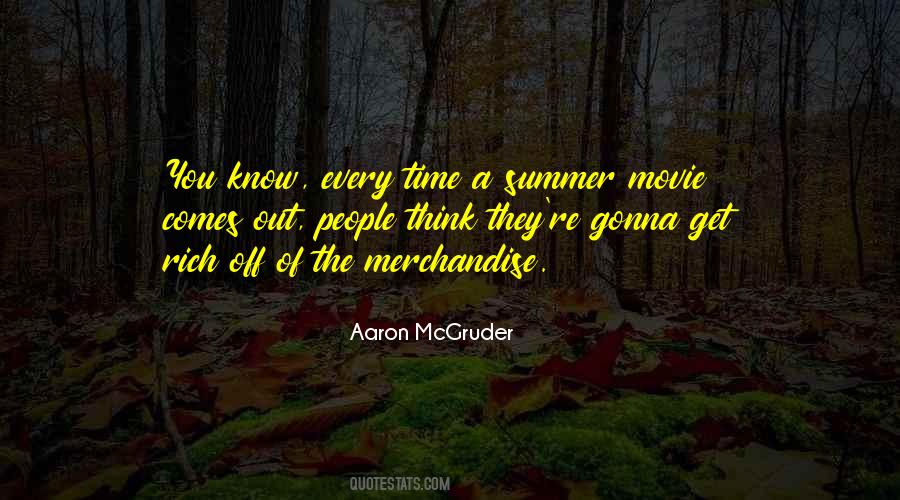 #10. When I was working on 'Men of Honor' with Robert De Niro, there's a pipe that he has in the movie, and it took us about six weeks to find the right pipe for him to use and feel comfortable with. It was a great choice, because it was really about what worked with the camera at that time. - Author: George Tillman Jr.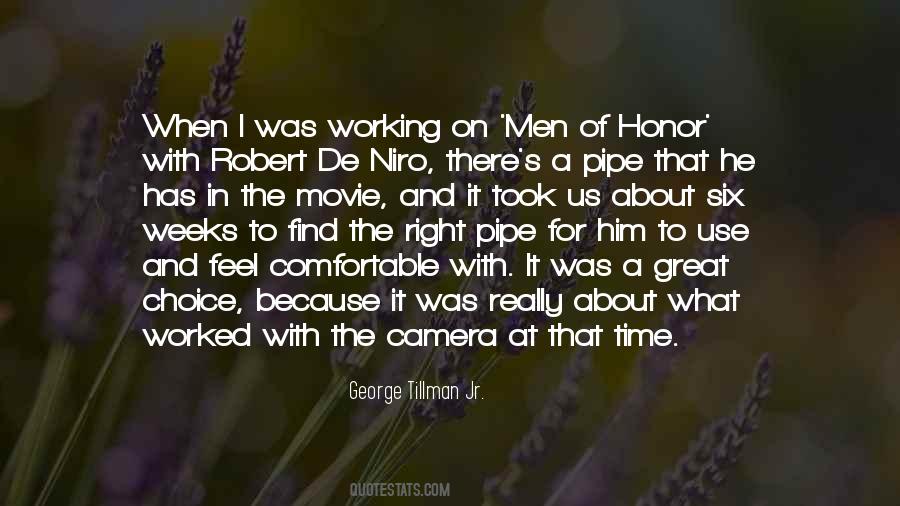 #11. When I read the 'Country Strong' script, I thought, 'Can't they just hand-double it? Can't I just do the rest of the movie and not have to do the performing?' It took me six months to learn to sing and play guitar at the same time. - Author: Garrett Hedlund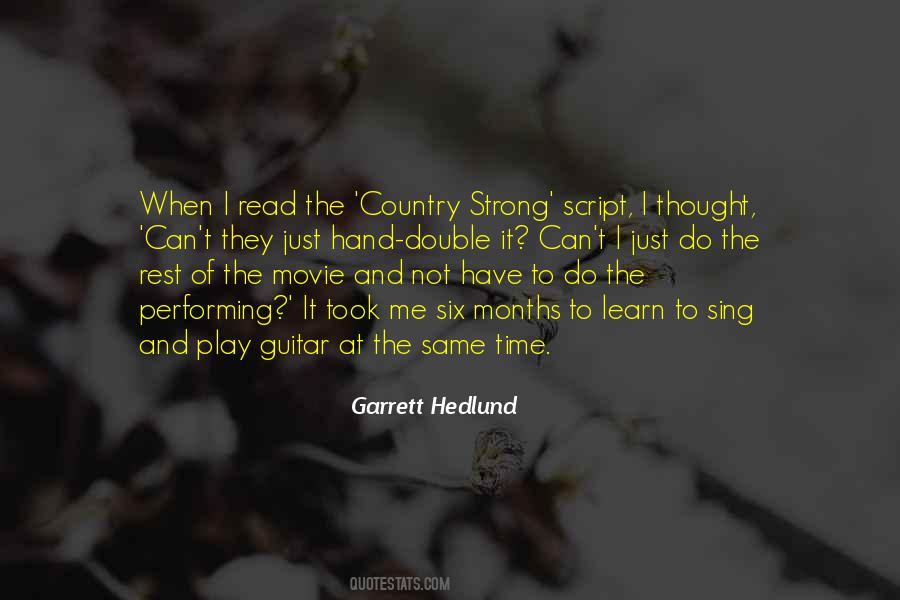 #12. I've seen 'Silence of the Lambs,' like, fifty or sixty times. That's my favorite movie of all time. - Author: Rachel Nichols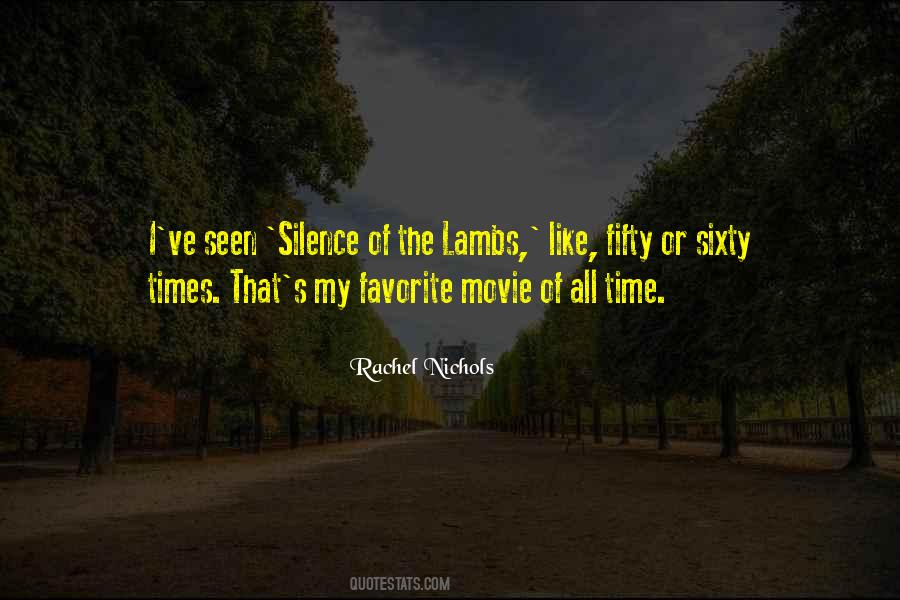 #13. I've tried like hell to make bad movies good, and I can't. Maybe Marlon Brando has been able to do that at times. But even he has a hard time making 'The Appaloosa' a good movie. - Author: Dylan McDermott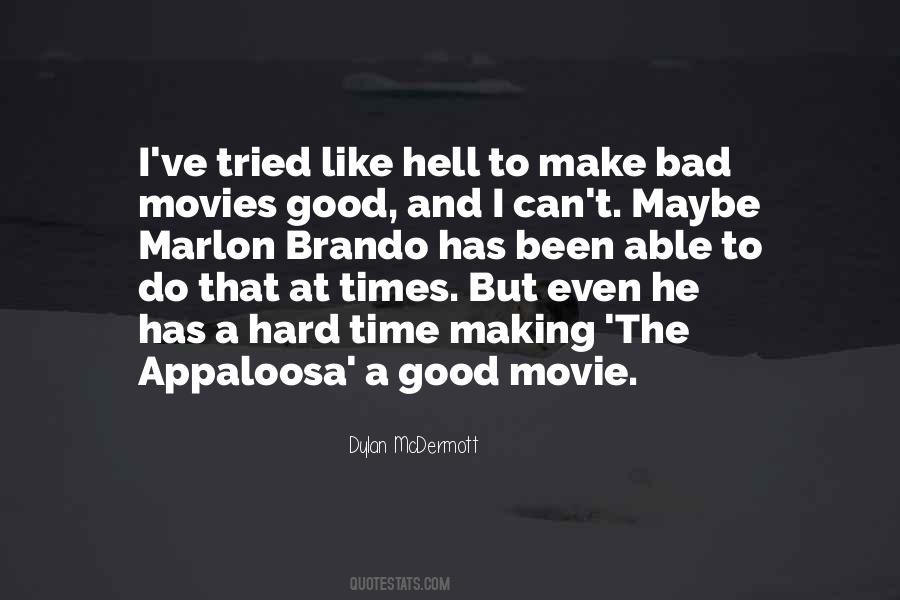 #14. The shock of photographed atrocities wears off with repeated viewings, just as the surprise and bemusement felt the first time one sees a pornographic movie wear off after one sees a few more. - Author: Susan Sontag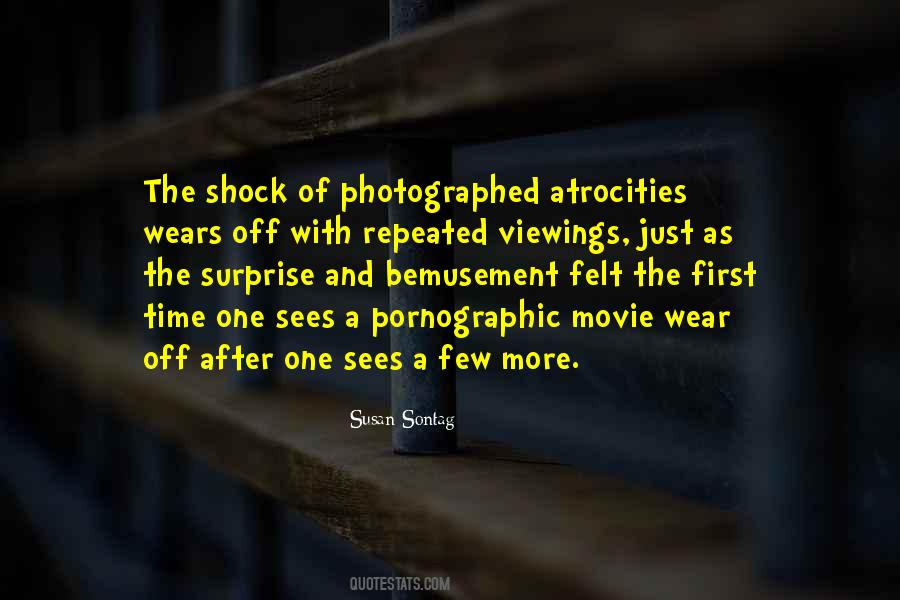 #15. I really didn't want to leave the show, but I got a chance to do a movie, which meant I would have had to miss two shows, and at the time Lorne had a policy where you can't miss shows, so I left. - Author: Jon Lovitz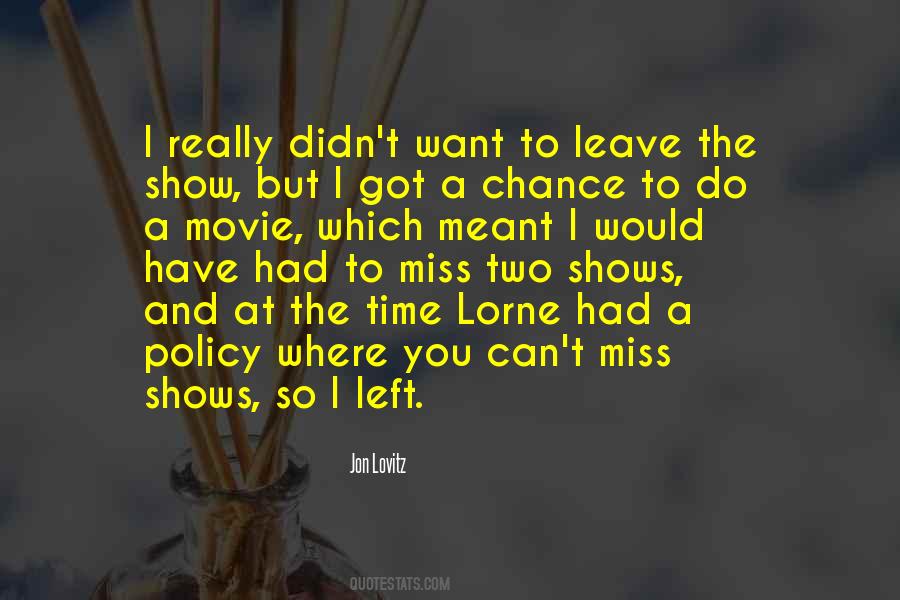 #16. Every time you get a movie, you get a medical. So you know, you know you're alright for a couple of weeks. - Author: Michael Caine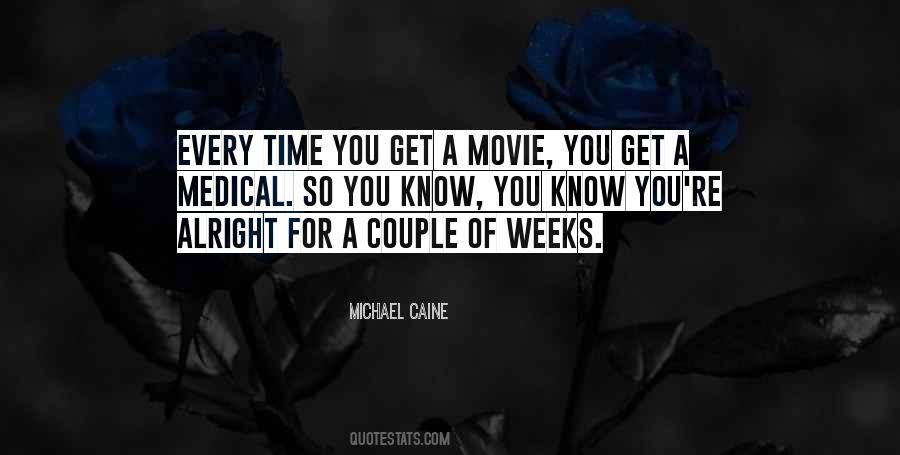 #17. I knew Vincent Price from films - he was a big movie star - but the first time I met him was when we filmed 'The Oblong Box.' - Author: Christopher Lee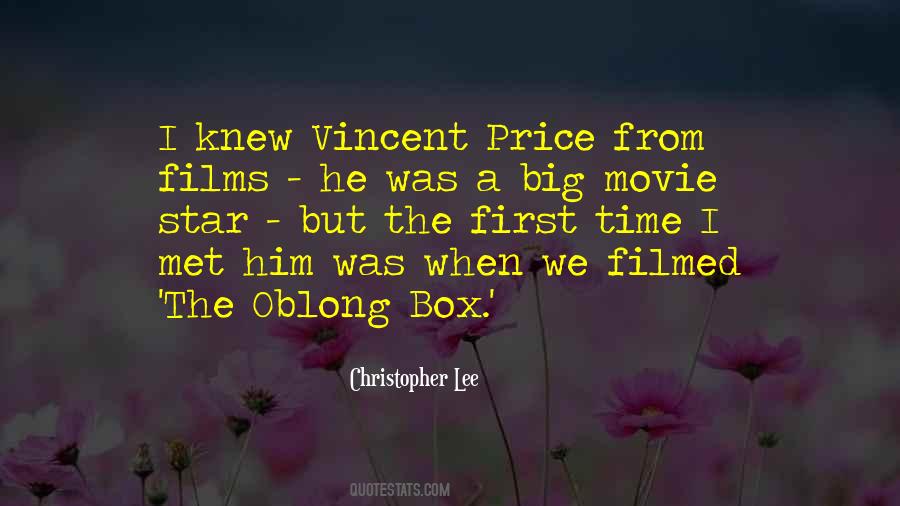 #18. I would love to work with my sister in a movie one day - like play sisters or something like that, because we've never been on-screen at the same time together. - Author: Elle Fanning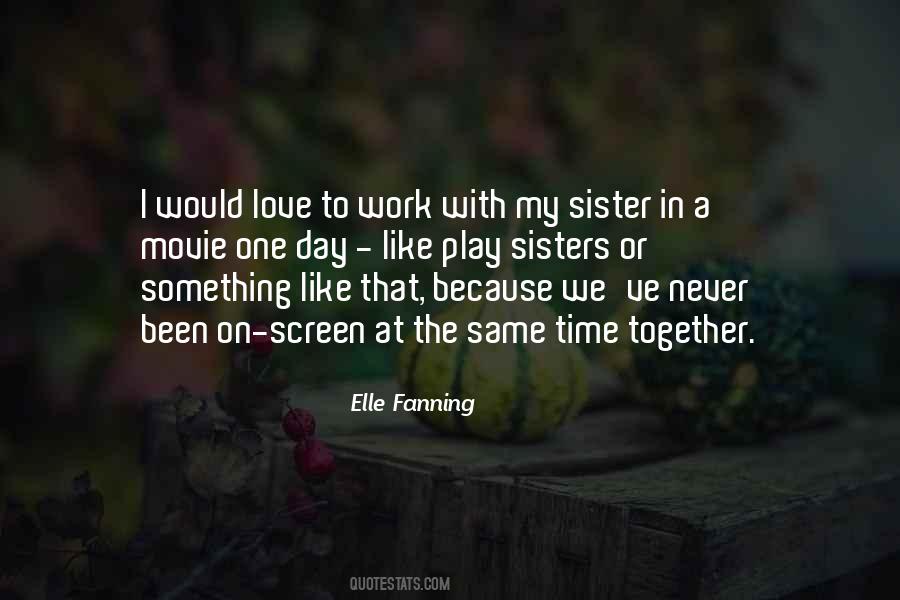 #19. We not only romanticize the future; we have also made it into a growth industry, a parlor game and a disaster movie all at the same time. - Author: Eugene Kennedy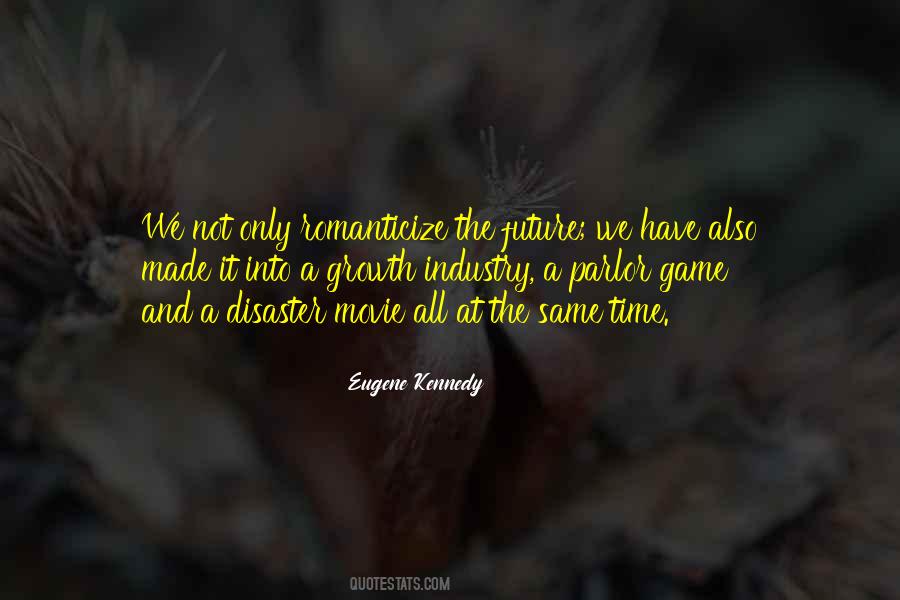 #20. I was diagnosed with hypoglycemia, an abnormal decrease of sugar in the blood. Eventually I learned to eat five small meals a day. Now if I'm making a movie and get hungry, I call time out to eat some crackers. - Author: Carol Alt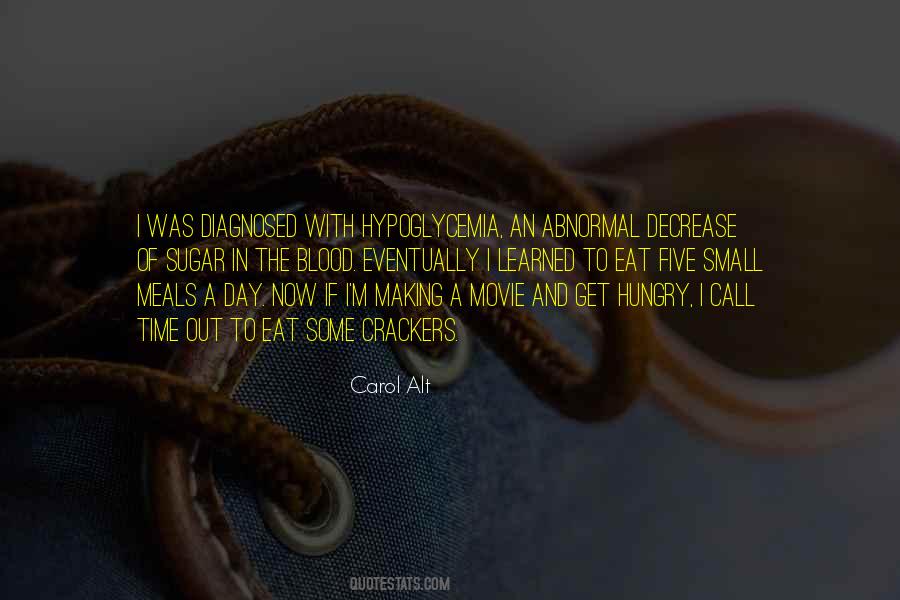 #21. I had a great time making the last movie, 'Eclipse.' We shot my back-story stuff from the 1930's. But I was waiting for 'Breaking Dawn' because I love the relationship Rosalie has with Jacob and the rest of her family and Bella. She also provides comic relief. - Author: Nikki Reed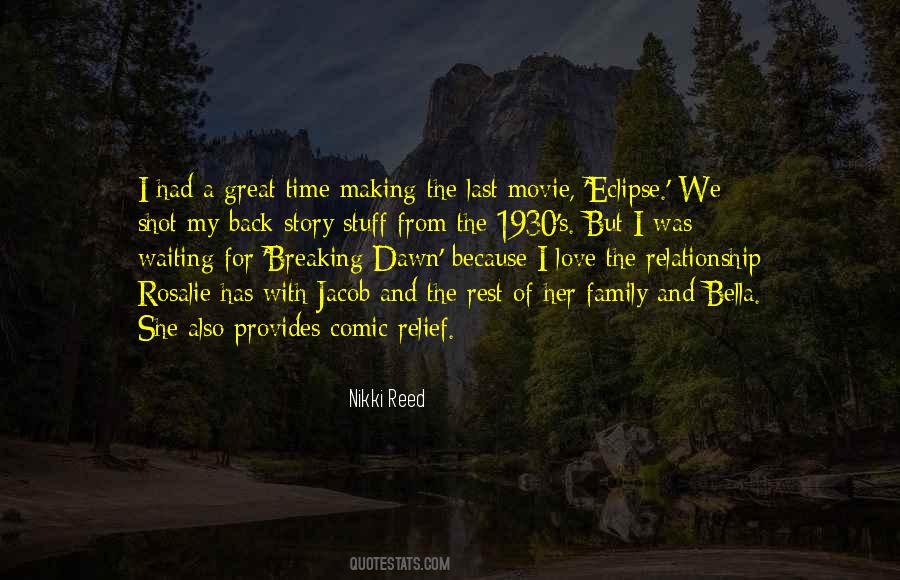 #22. Acting is a weird profession. It's very disquieting, and at the time it just made me so confused. It's only when you step away from a movie for several weeks or months that you start to put things in perspective. - Author: Jesse Eisenberg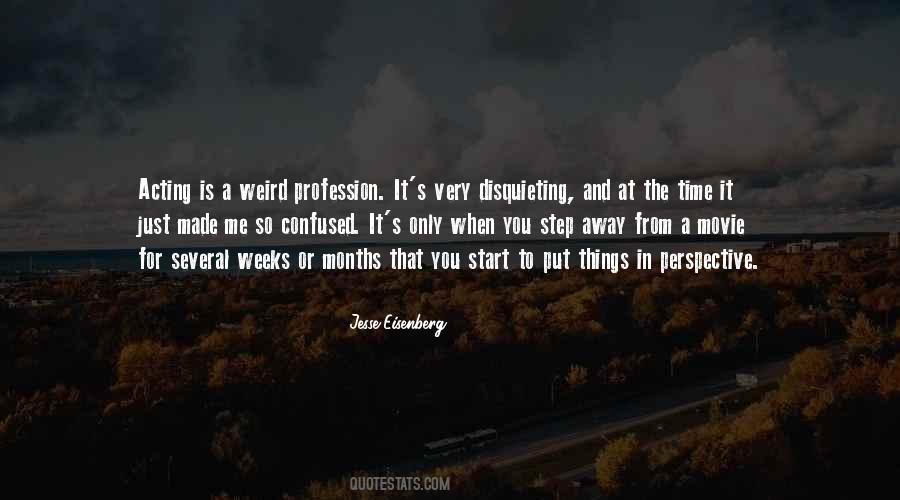 #23. It was the most fun I've ever had on a movie. It was one of the happiest times in my life. I was living in New York, and I really enjoyed acting at the time. Also, it's funny because that was also the time when I went downhill. - Author: Mickey Rourke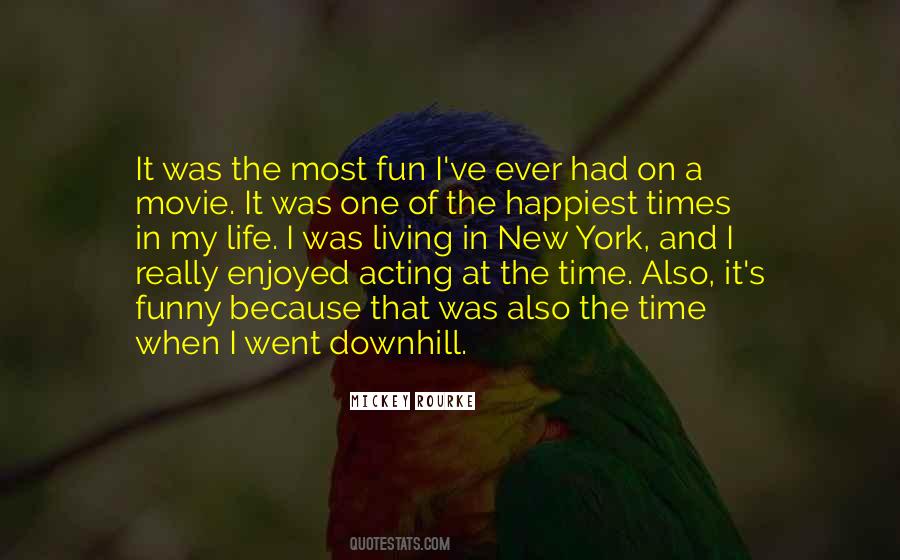 #24. According to the director, Primer is a movie about the relationship between risk and trust. This is true. But it also makes a concrete point about the potential purpose of time travel - it's too important to use only for money, but too dangerous to use for anything else. - Author: Chuck Klosterman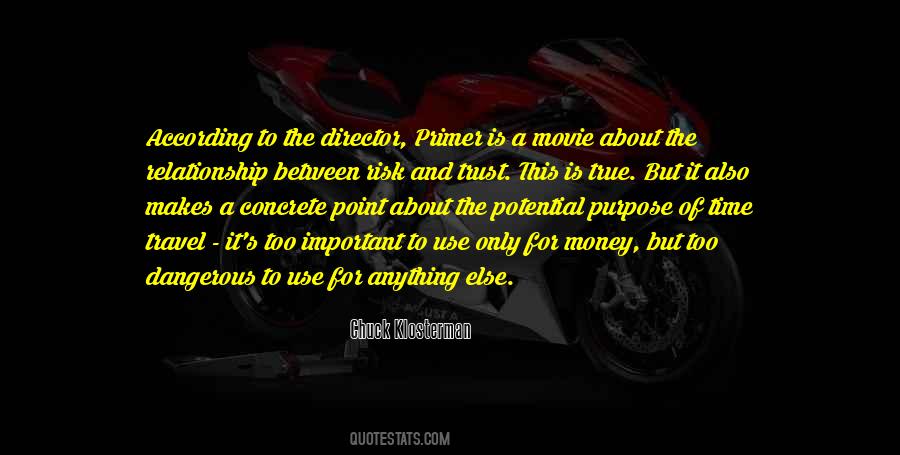 #25. I've done so many movies with first-time directors, and honestly I just go with gut instinct. People that usually can tell me a good story, and talk to me about why the movie is the movie they want to make. I just go with my gut. - Author: Neal H. Moritz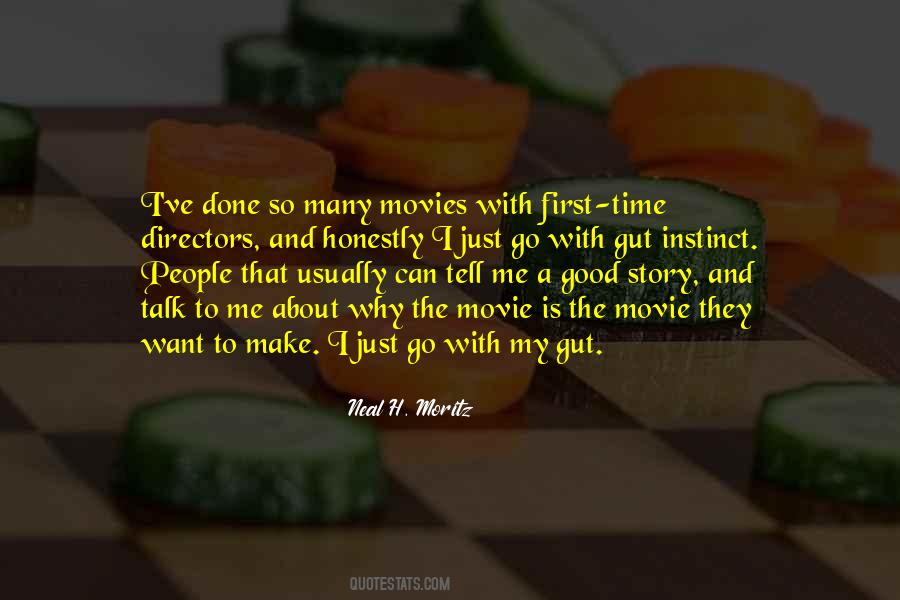 #26. 'The Squid and the Whale' I shot in 23 days. I would have loved more time for it at the time, but in some ways that kind of kamikaze way of shooting was right for that movie. - Author: Noah Baumbach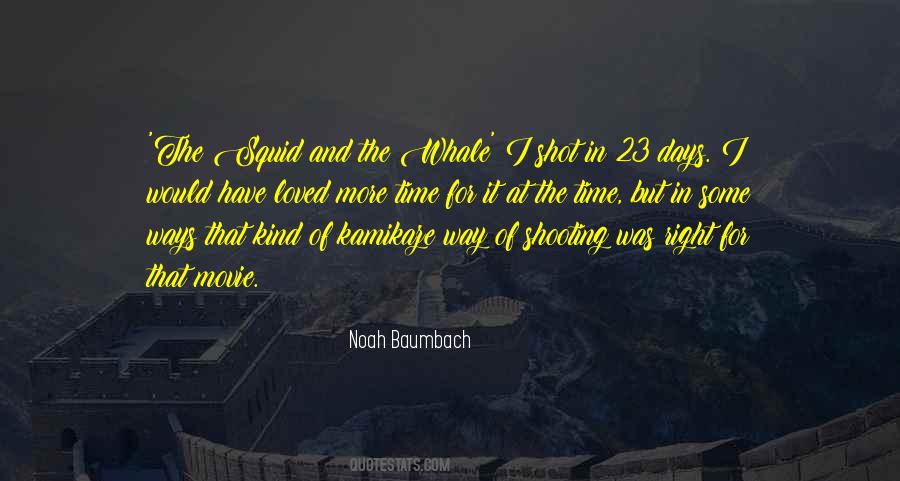 #27. Theater will always be my first love. The time and dedication that goes into the rehearsal process with the cast and crew is something that TV/Movie acting does not offer. - Author: April Parker Jones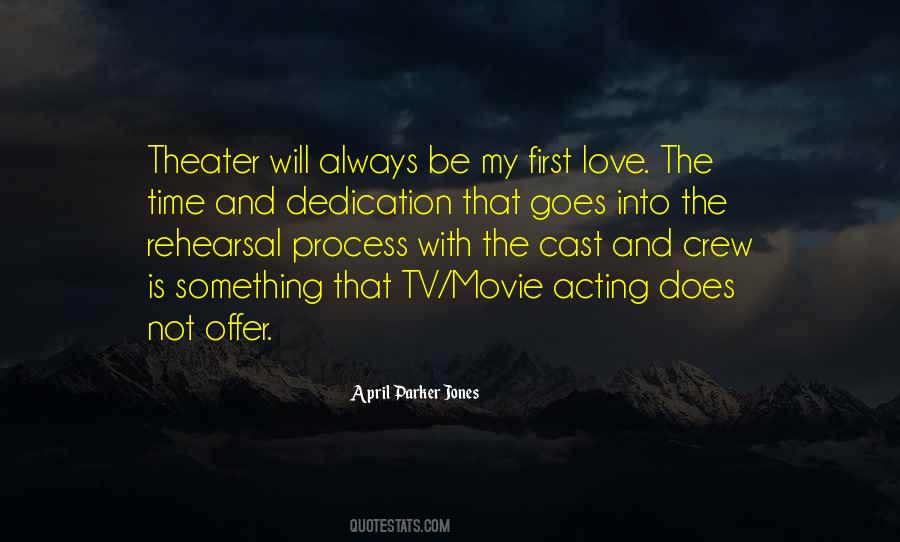 #28. What are we blaming? Is this Vietnam? We made a movie, it didn't make much money. I'm gonna be really happy if somebody watches it in 10 years' time and really enjoys it. - Author: Kevin Costner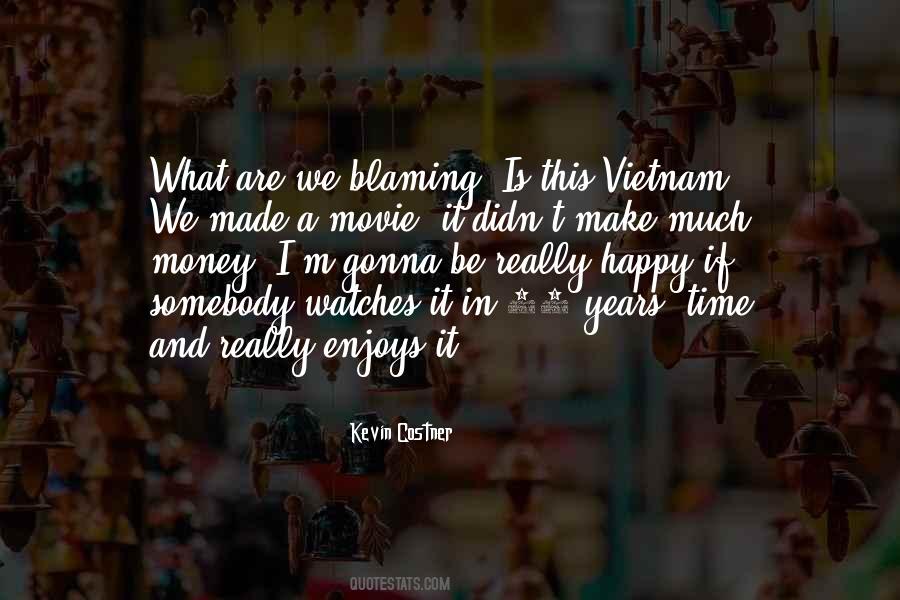 #29. At the end of the day, I want to spend time with my daughter, and this schedule enables me to do that while still having fun hosting '106 & Park.' I'm not really eager to get back into music just yet; I'm really eager to get into another movie before I put out an album. - Author: Bow Wow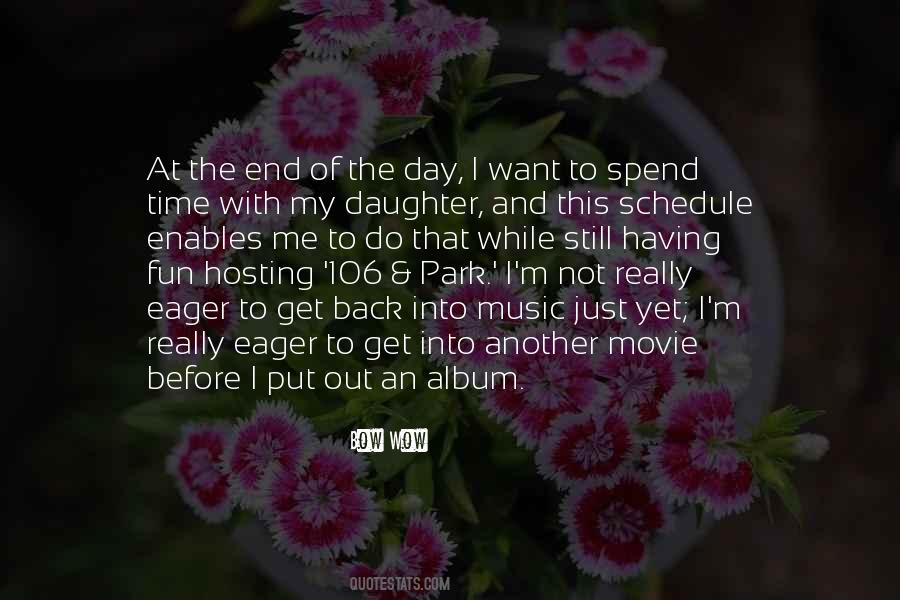 #30. Working on a film is so great because you have the luxury of more time when you're on a movie than when you're on television. - Author: Tamara Tunie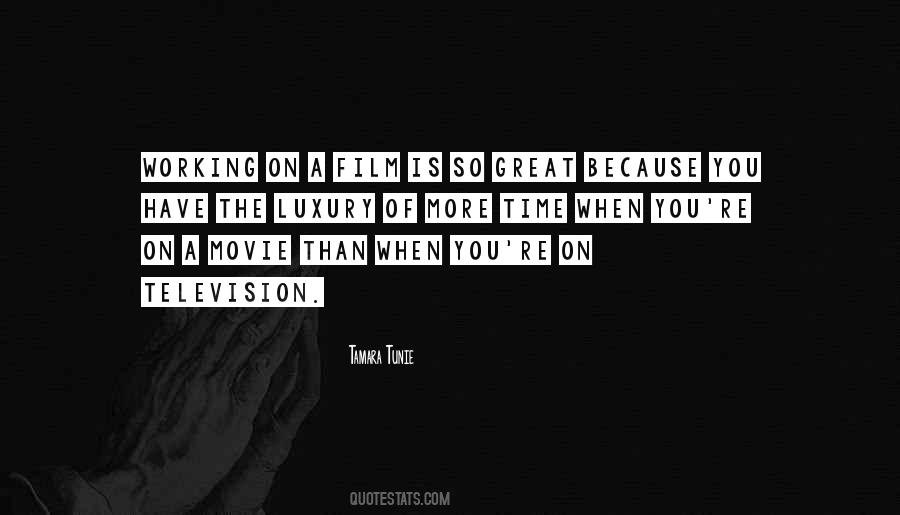 #31. The fact is Jerry Weintraub, the handsome, bearish movie producer, the man with the long career, who worked with Arthur Godfrey and Elvis Presley and Frank Sinatra and George Clooney, is a great storyteller - he's this as much as he's anything else. He takes time telling stories, too. - Author: Rich Cohen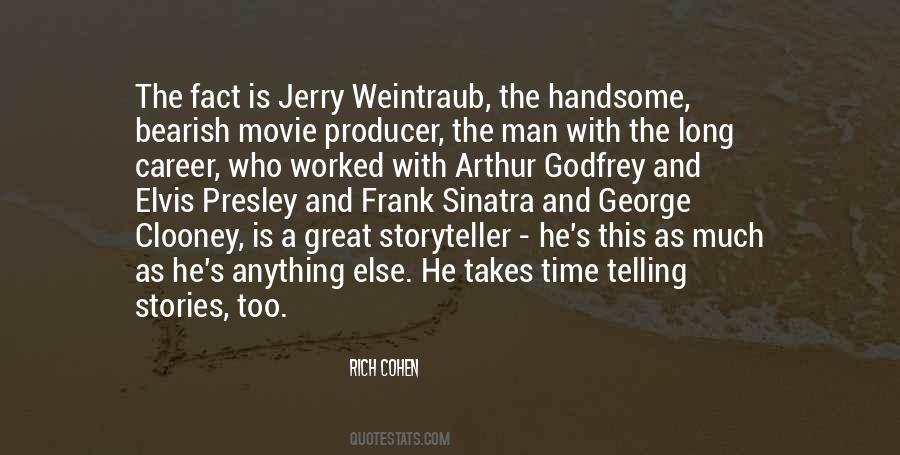 #32. I love so much what I do that I spend so much time thinking about it, and then I go home, and then I'm thinking about it, so it's nice sometimes when a movie is over, and then the niggling feelings about whether you've did it right or not start to ebb away. - Author: Joel Edgerton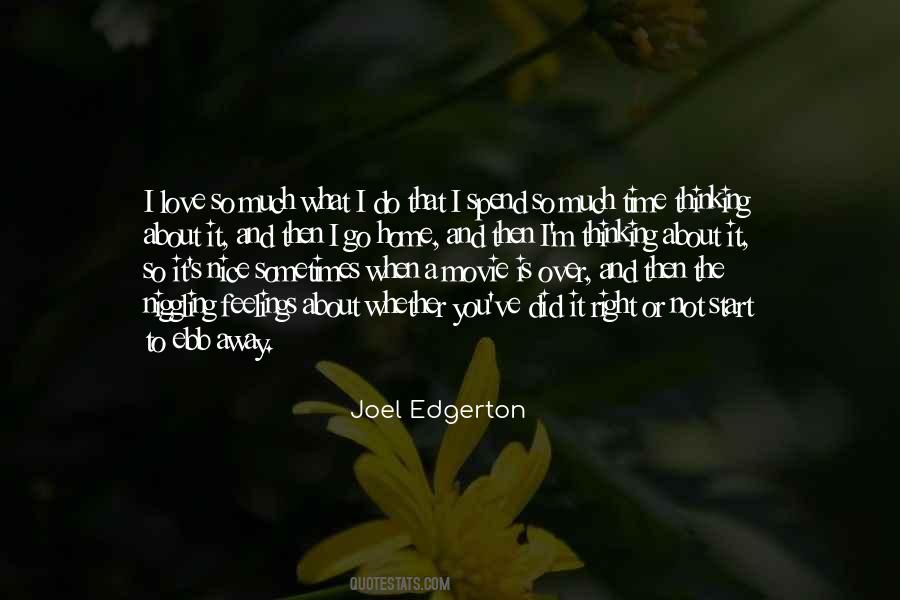 #33. I just saw Twilight on TV, for the first time, a few days ago, and, when my song came on, I was just thinking that is so bazaar that I actually had a song in the movie. - Author: Robert Pattinson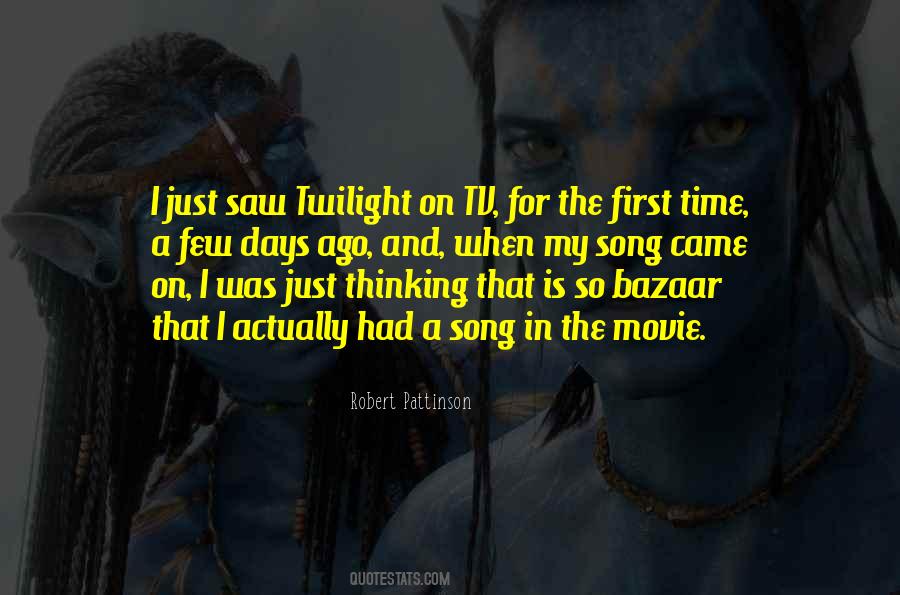 #34. America puts killers on the cover of 'TIME' magazine, giving them as much notoriety as our favorite movie stars. - Author: Marilyn Manson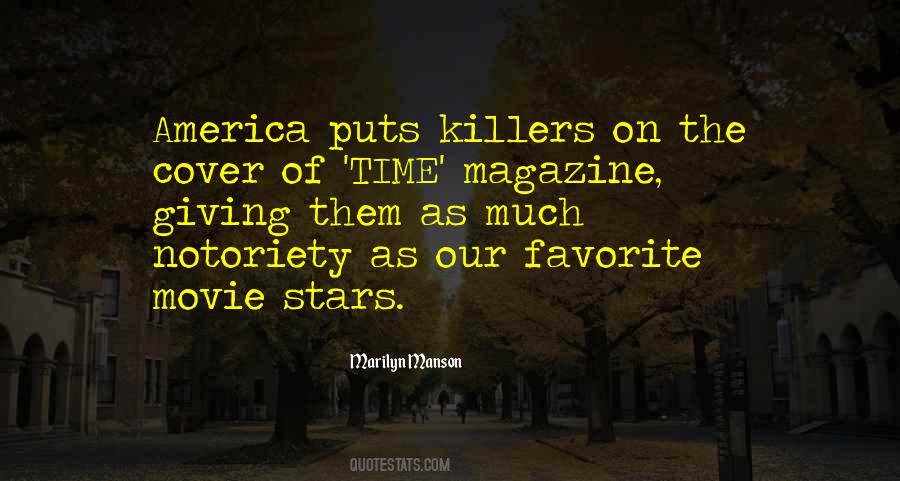 #35. I watch television all the time, mostly PBS and old movies like 'The Quiet Man,' my favorite Wayne movie. It's marvelous. I just loved the man and still do. - Author: James Arness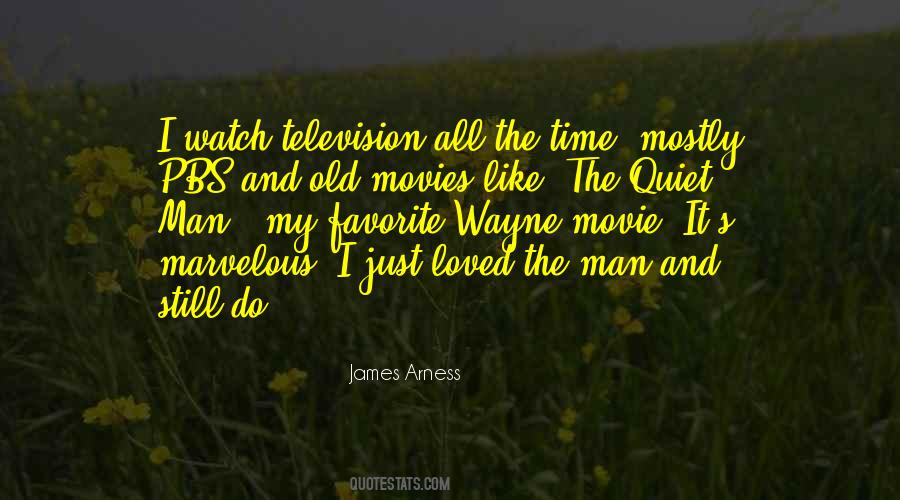 #36. Friends give me a hard time about the pants I'm wearing, which are made in China. Well, how do you find the right clothes? Or the right movie studio? The right people giving you checks? Good luck doing the right thing all the time. - Author: Adam McKay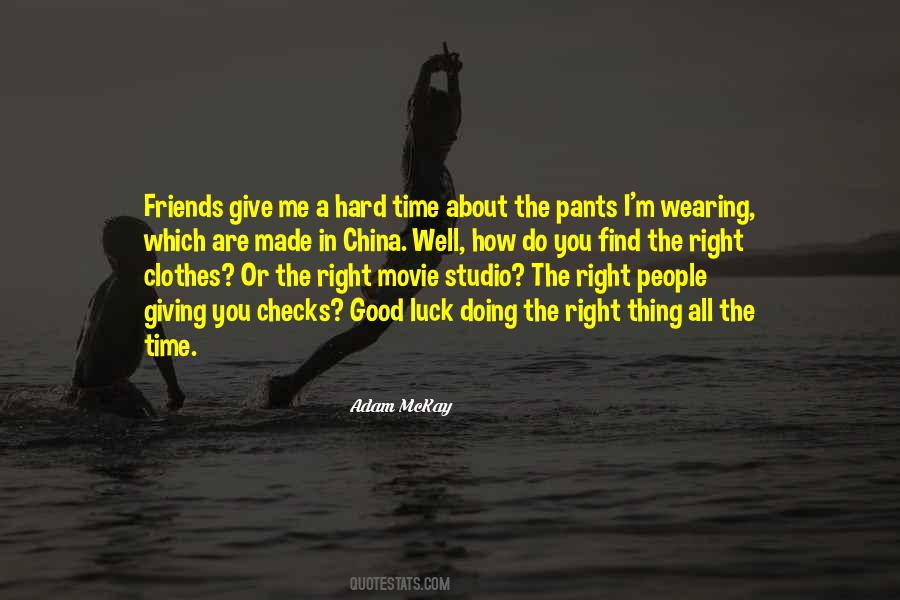 #37. I can't imagine how much time it took Matt Bucy to cut up 'The Wizard of Oz' and reassemble every word of dialog into alphabetical order. The resulting movie is called 'Of Oz the Wizard.' - Author: Mark Frauenfelder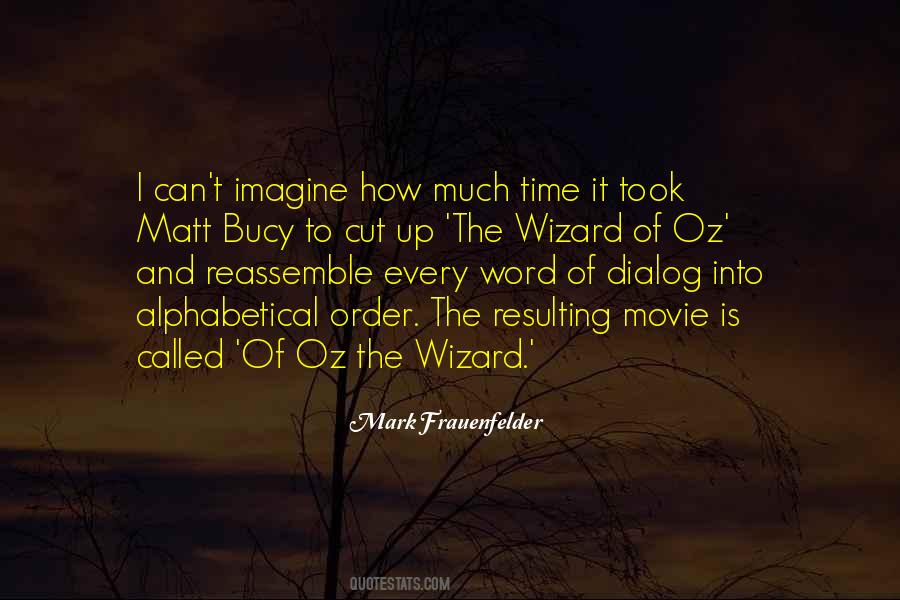 #38. Hey, T-Rex? Remind me next time I want to get smartass with you that it's a really stupid move on my part? (Talon)
Oh, no, you don't, you wuss. You told me the next time you saw Ash you were going to ask him if he'd seen the movie 10,000 BC and if it'd made him homesick. (Wulf) - Author: Sherrilyn Kenyon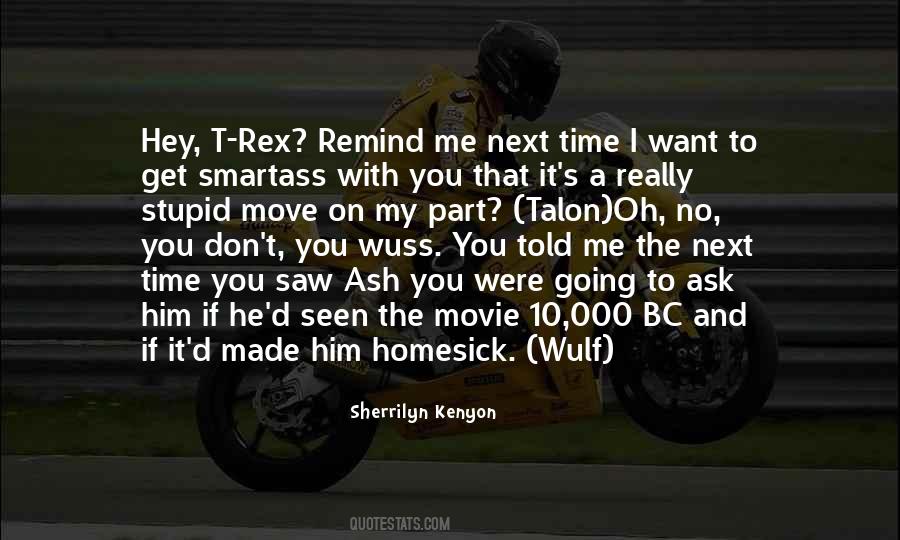 #39. I feel like every time I take on a movie, it's important that the possibility of failure exists, and of the unknown, because it's a challenge to do something I haven't done before and something I have to try to work out. - Author: Marc Forster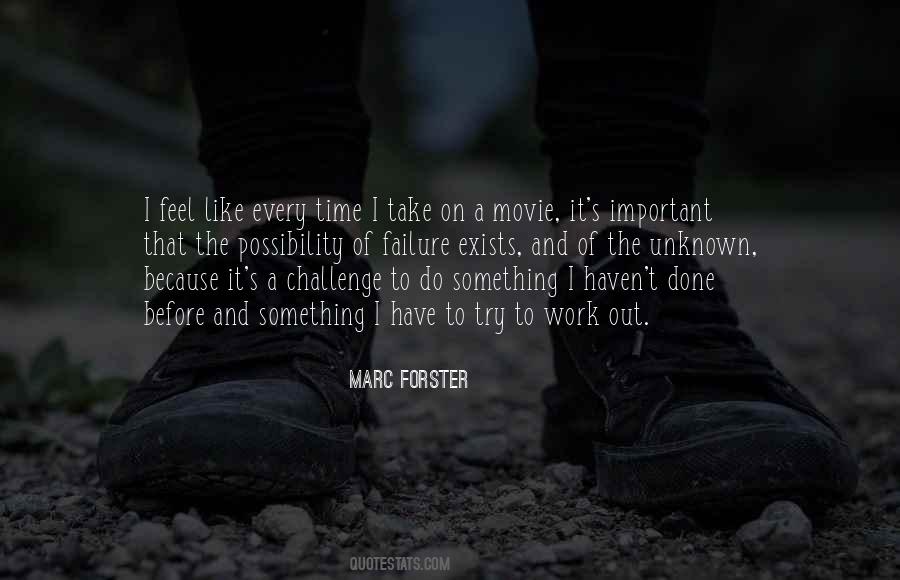 #40. Despite the demands of this job, one of the things my wife and I try to do is to spend time together alone. And one of the things we really enjoy doing together is seeing a good movie. - Author: Warren Christopher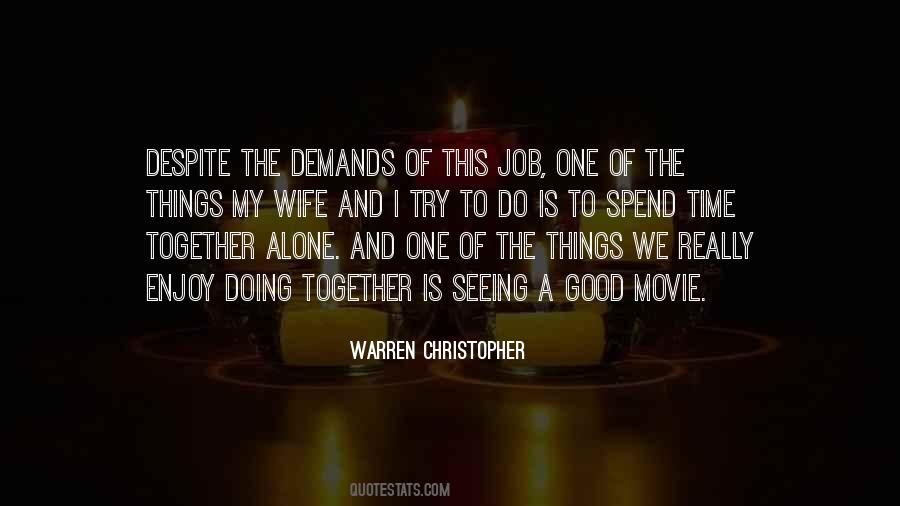 #41. It has never ever been a bad thing in Hollywood to be sleeping with a director who's just won an Oscar or the hot new movie star whose face is on the cover of 'Time' magazine. - Author: Kelly Rutherford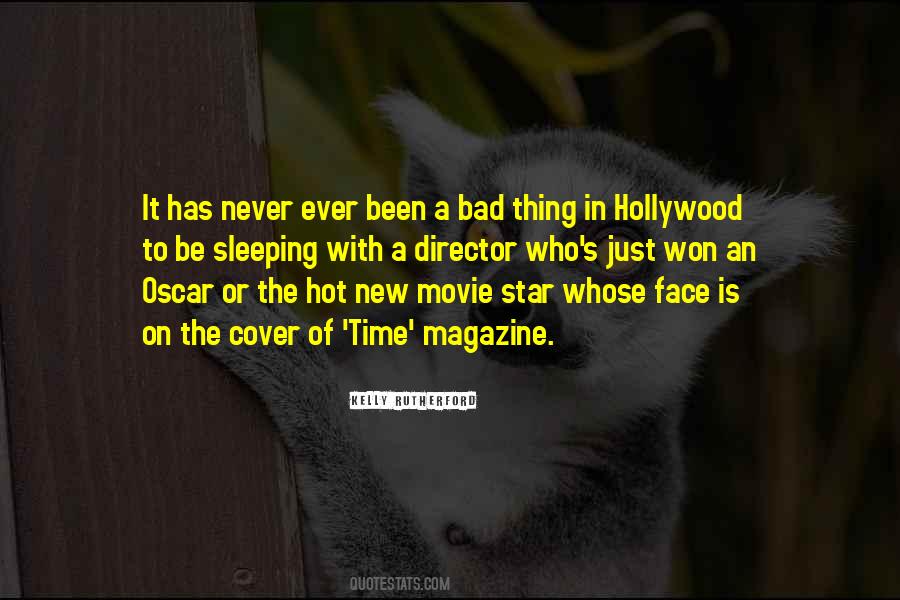 #42. Every time a bell rings, an angel gets his wings. - Author: Karolyn Grimes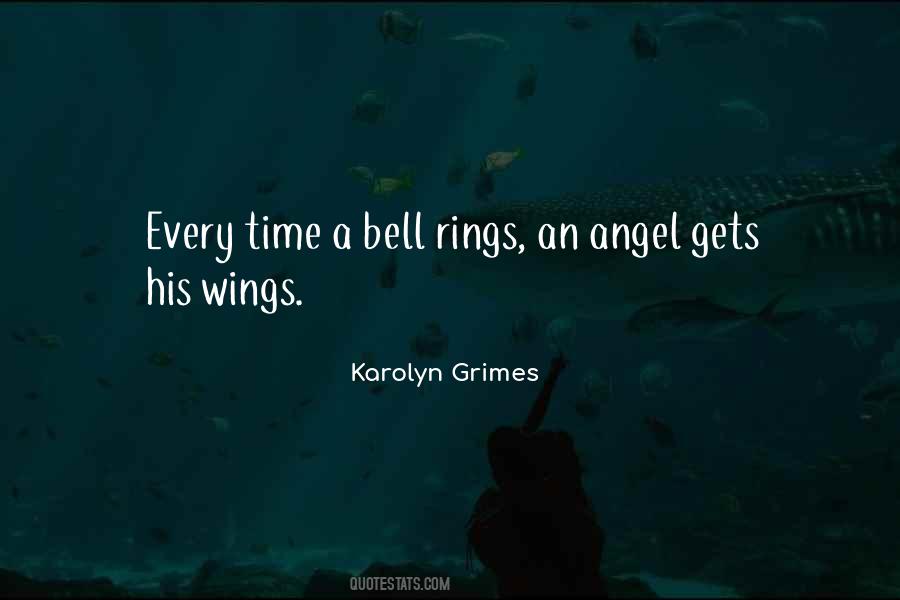 #43. The strong man lit a cigarette. It looked too frail for his hand. They looked like King Kong and Fay Wray, that hand, that cigarette. There was a movie going on right under his nose and he didn't even know. The guy had about one brain cell and he was doing time in it. - Author: Rupert Thomson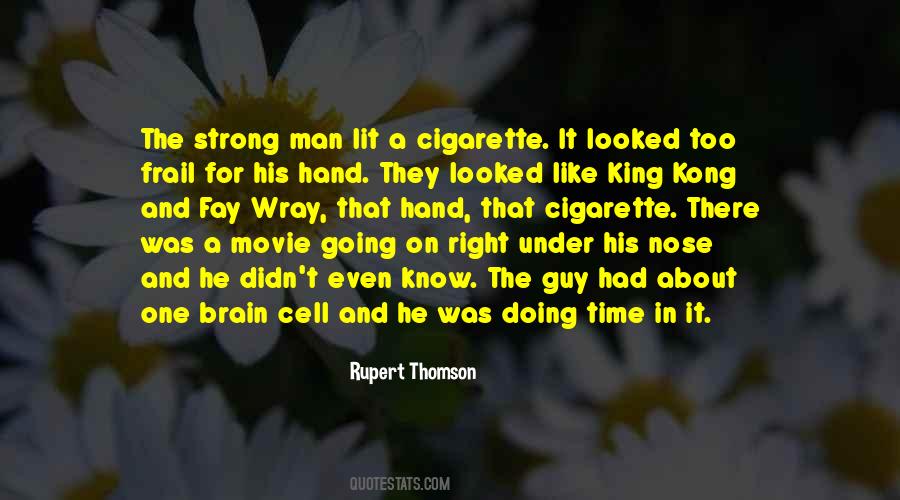 #44. Even exciting places are boring most of the time. Wars. Movie sets. Emergency rooms. - Author: Ann Brashares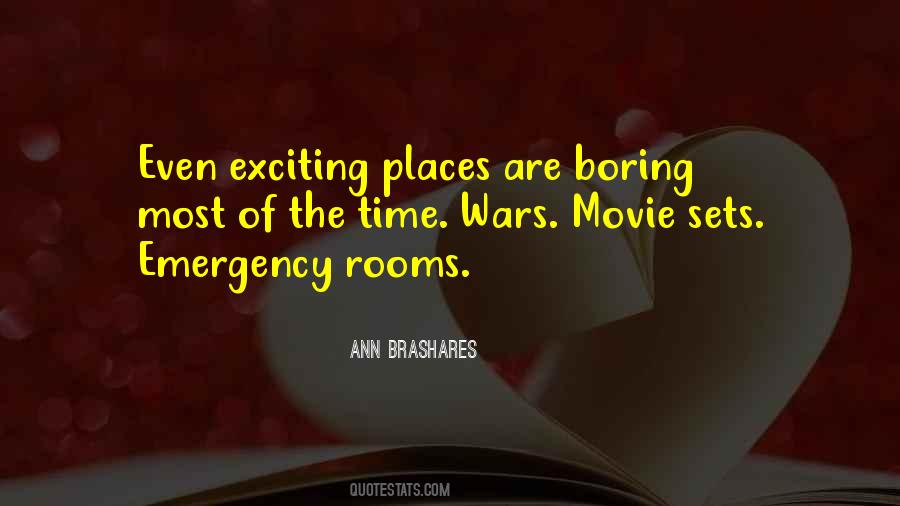 #45. I know it's hard to blame the time, but there's a bit of an expectation for a summer movie. I think that 'Superman Returns' was a bit nostalgic and romantic, and I don't think that was what people were expecting, especially in the summer. - Author: Bryan Singer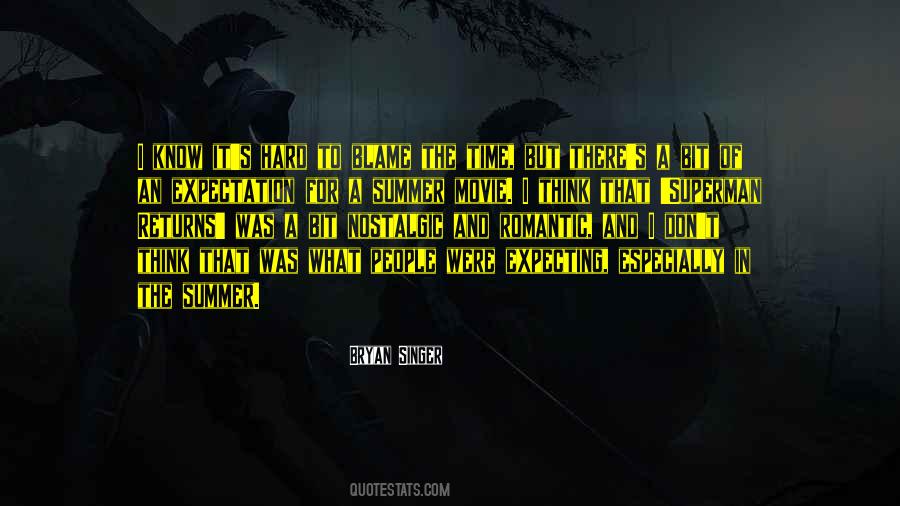 #46. The idea of a youth-based society that you live in for a certain time and then you no longer live anymore is an interesting idea for a movie, but you need young people that people want to go see. - Author: Joel Silver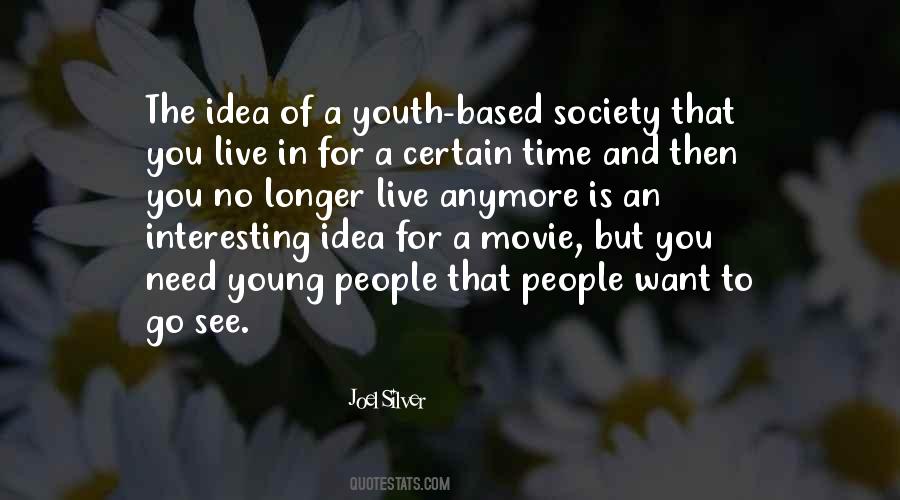 #47. I grew up in a big movie house, we watched movies all the time, so I had an awareness at a very young age that that was a job that you could have. - Author: Mary Elizabeth Winstead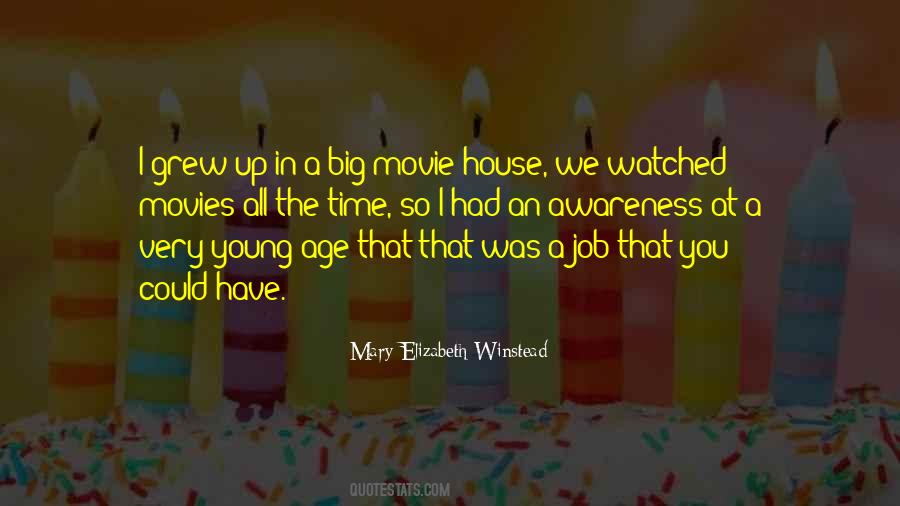 #48. Picard only saw the movie, which had the entire Tales of the Black Starship subplot removed for time. - Author: Wil Wheaton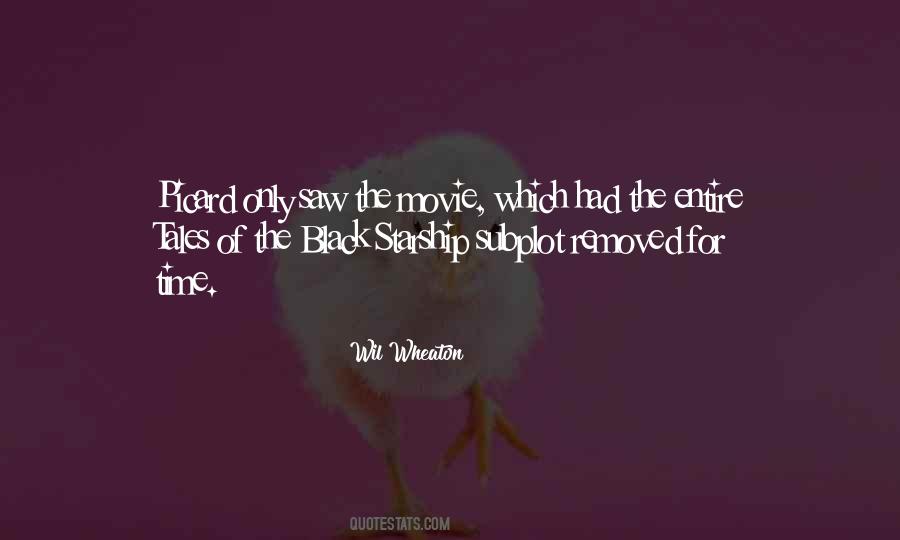 #49. It wasn't a little kiss, Not like your first peck or like the time you made out with your junior high boyfriend behind the movie theater. It was throw-your-arms-around-his-neck, bury-your-fingers-in-his-hair, why-haven't-we-done-this-before kissing - Author: Jenna Evans Welch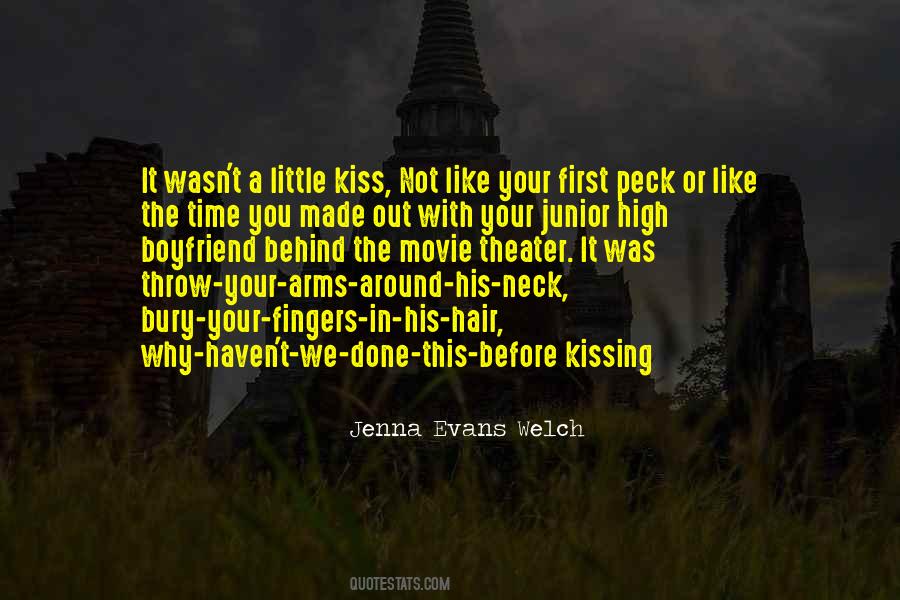 #50. The experience you have making the movie is all you have; when the movie's finished, that's for other people. But while you're doing it, that's your time on the planet, so you want it to be good. - Author: Cary Elwes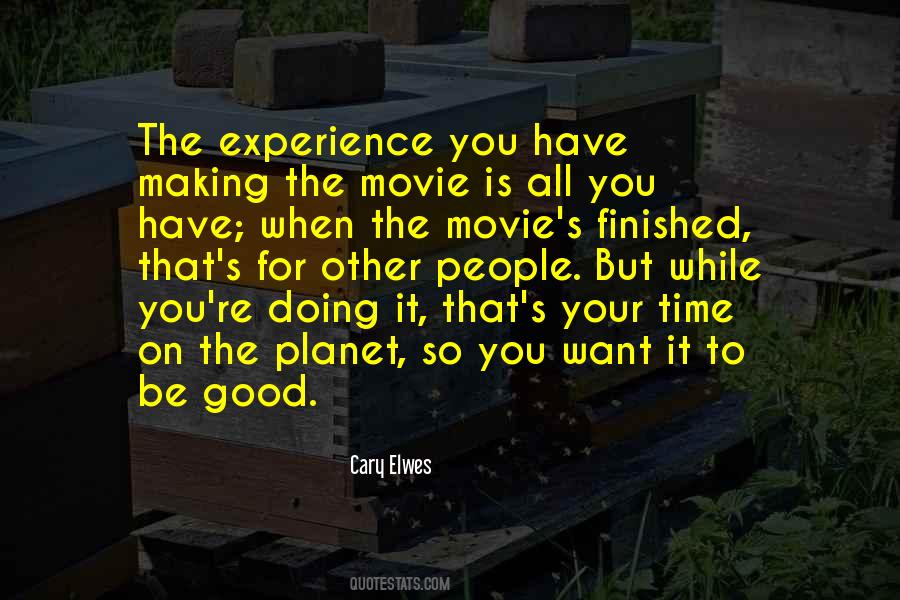 #51. Michael Myers is a very famous character. This is the ninth movie with Michael Myers, and when you put on that mask for the first time, you get a little chill going down your spine. - Author: Tyler Mane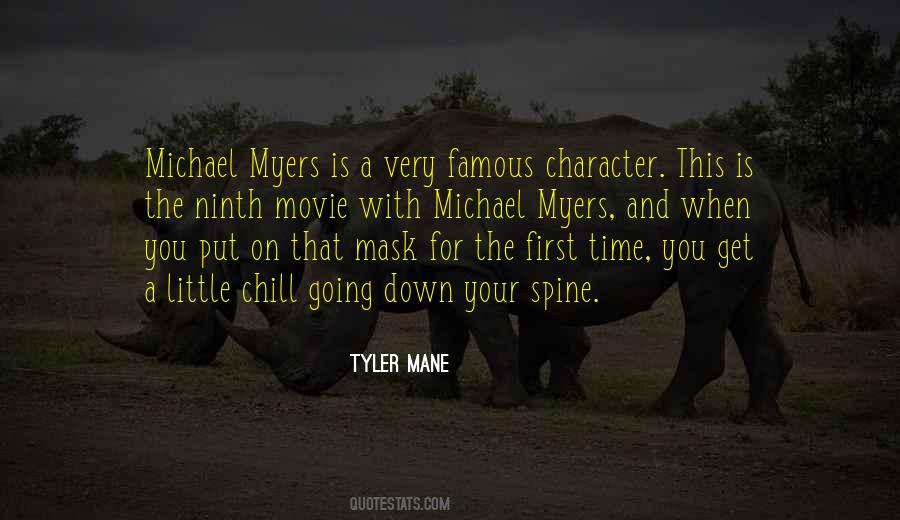 #52. I love to go to the movies with people, but a lot of the time it's me in a room with a bunch of other movie critics, which is fine. - Author: Wesley Morris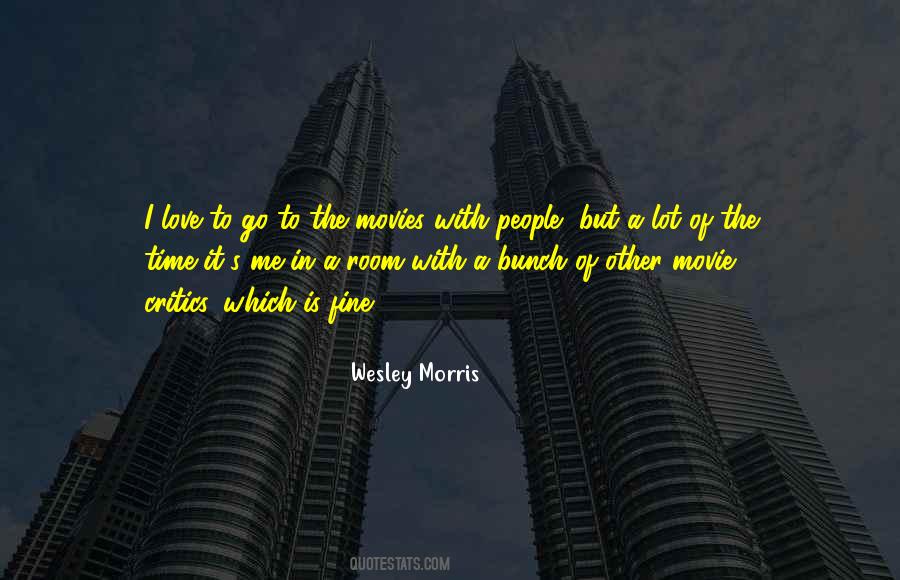 #53. It's too hard to make a movie if you don't care about what happens to it, or even what the product is. I can't even imagine that. It's not worth the time and effort if you don't care about the product. - Author: Bradley Cooper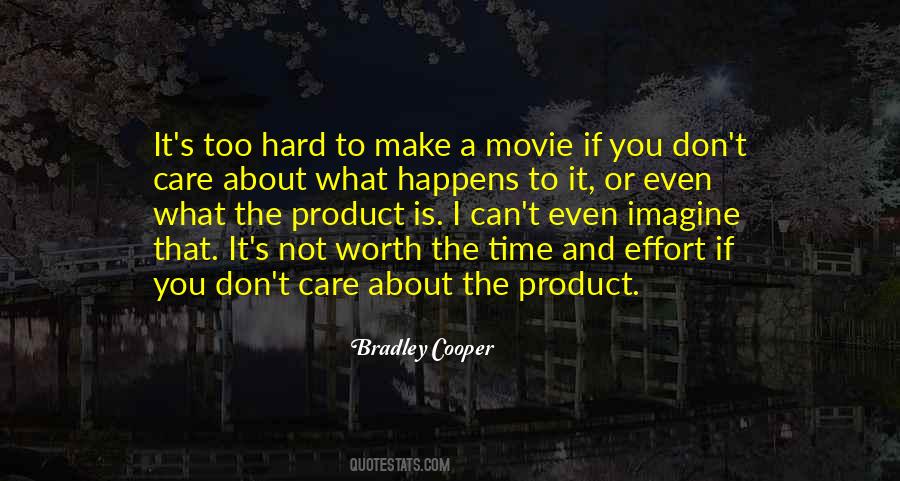 #54. He is always Mr. Calm, Cool, and Collected. The only time he was remotely this excitable was when they announced they were making the Lord of the Rings movie. - Author: Alice Clayton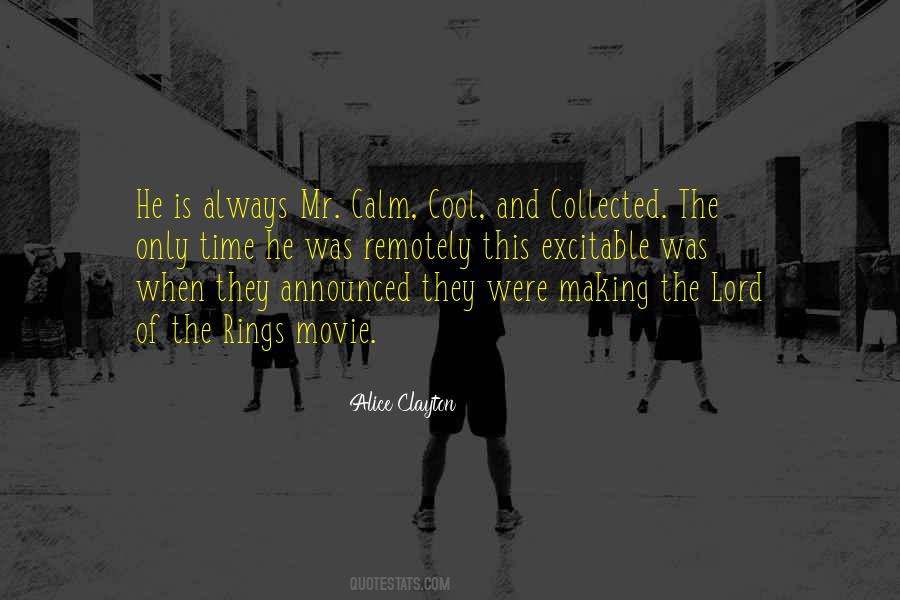 #55. My role in 'Legally Blonde' was really rewarding, because I had so much fun working on the movie. I've had really rewarding experiences on tiny low budget films that you'll never see but where I had a cool time creating characters as well. I love almost all of the characters I've played. - Author: Alanna Ubach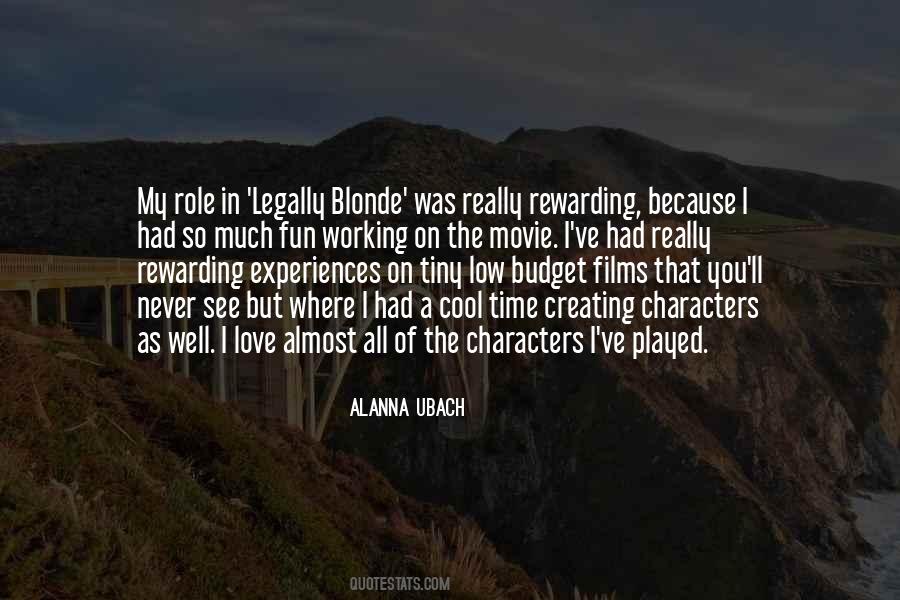 #56. My girlfriend is much better than I am at working hard then resting, and she demands that from me, too. She insists on having time when we don't do anything. We leave the housework and watch a movie. - Author: Cynthia Nixon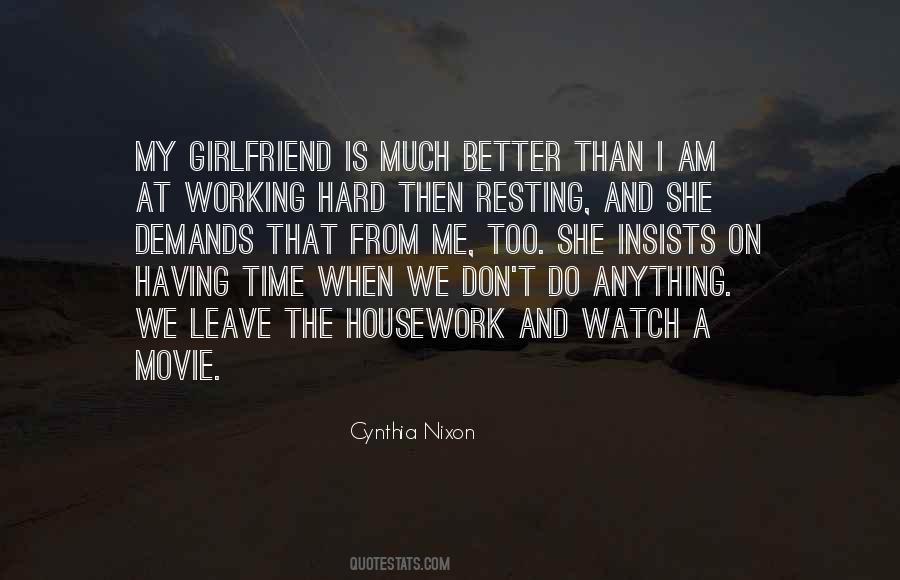 #57. I've never played a Dane in a movie. I've had offers to be in Danish movies, including for some good directors, but I either had a job at the time or, when I was available, the movie just didn't happen. Hopefully someday I'll do one. - Author: Viggo Mortensen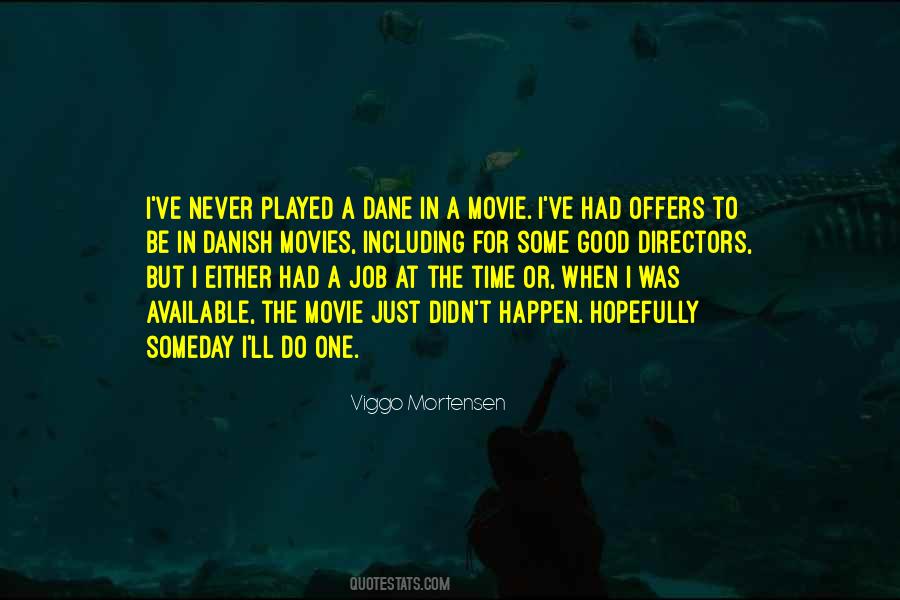 #58. If they make me watch that movie one more time, I will fall down on my knees and beg for mercy - Author: Wendy Mass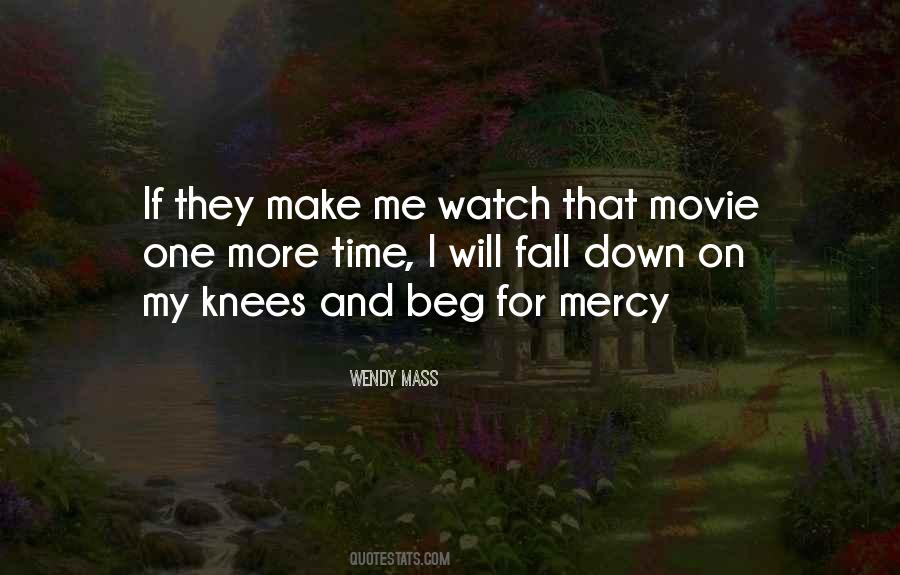 #59. When I get a script, it's the only time that I get to be an audience member with the first-time experience of that movie. That's the first and only time. - Author: Dennis Quaid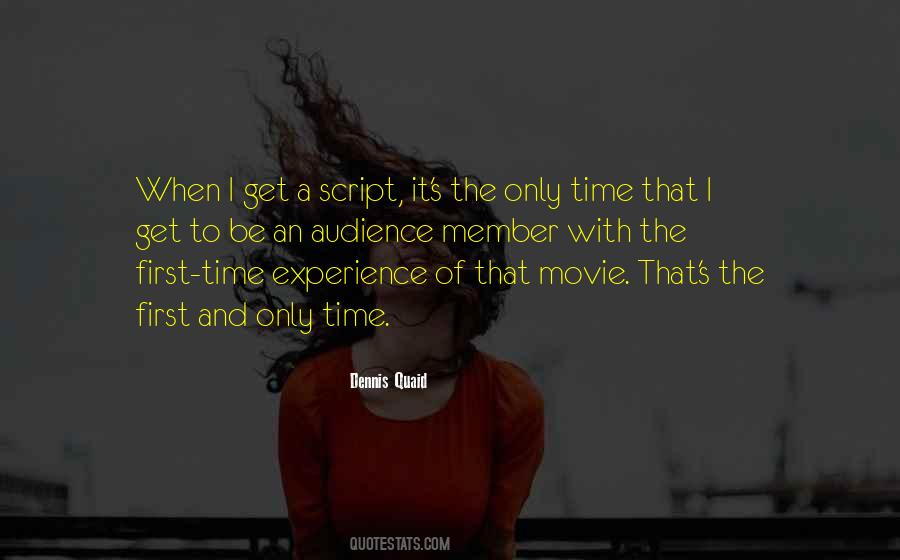 #60. Ninety-nine percent of the time, when it comes down to it, if I have the choice between a great role and seeing a new guy, I would probably go for the great role because I figure if the guy's really that great that he'll be around once I'm done with the movie. - Author: Madeline Zima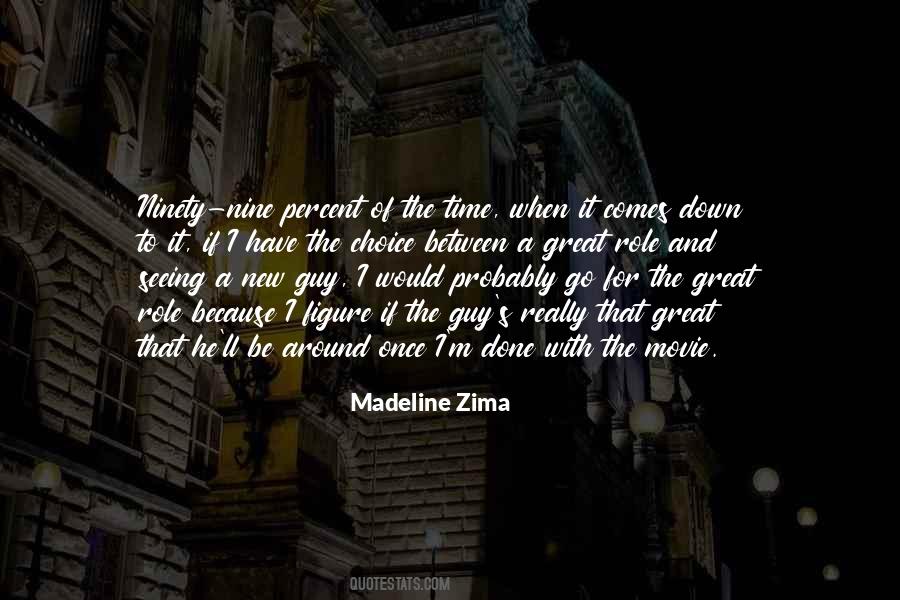 #61. I mean, any time an actress gets to work with another actress, it's like, 'Oh, there are two of us in a movie! How are you? Let's sit in the hair chair together!' We're lonely women. - Author: Jennifer Garner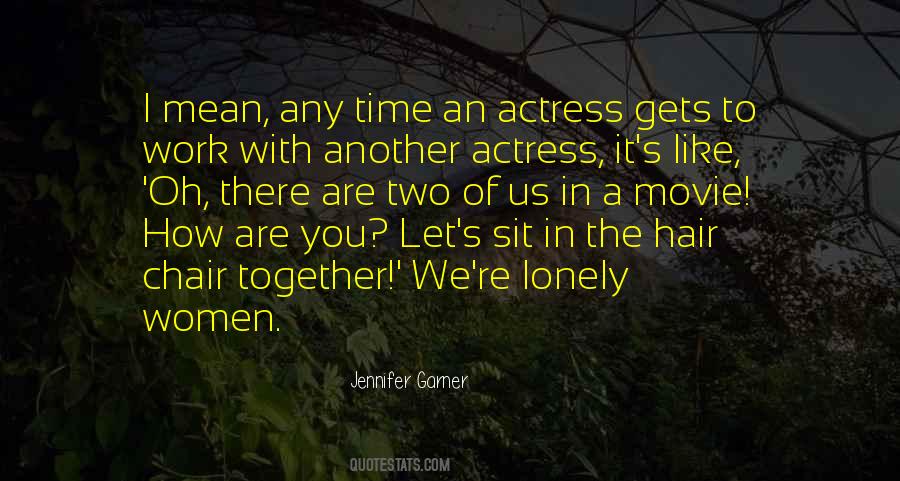 #62. I would rather make feature movies because, let's face it, you take more time. You take seven days to do a show, and you take three or four months to do a movie. - Author: Farrah Fawcett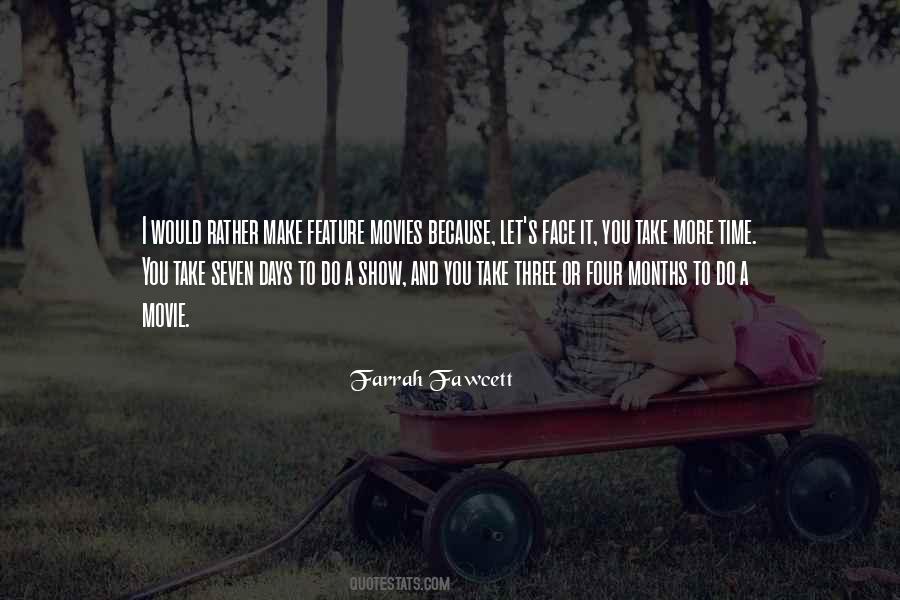 #63. It's crazy because people expect you to be funny all the time and every day is not a funny day. I go to funerals and people are like 'tell a joke' and 'say one of your lines in a movie.' It's a funeral, man! - Author: Chris Tucker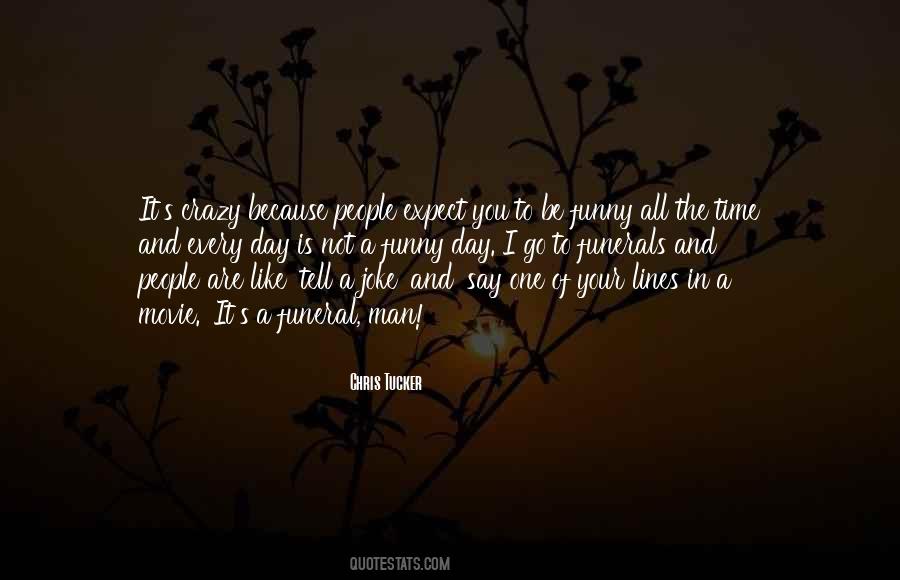 #64. I don't believe that you can judge the worth of a movie in the atmosphere in which it comes out the first time. There's just so many reasons why some pictures don't catch on. - Author: Joe Dante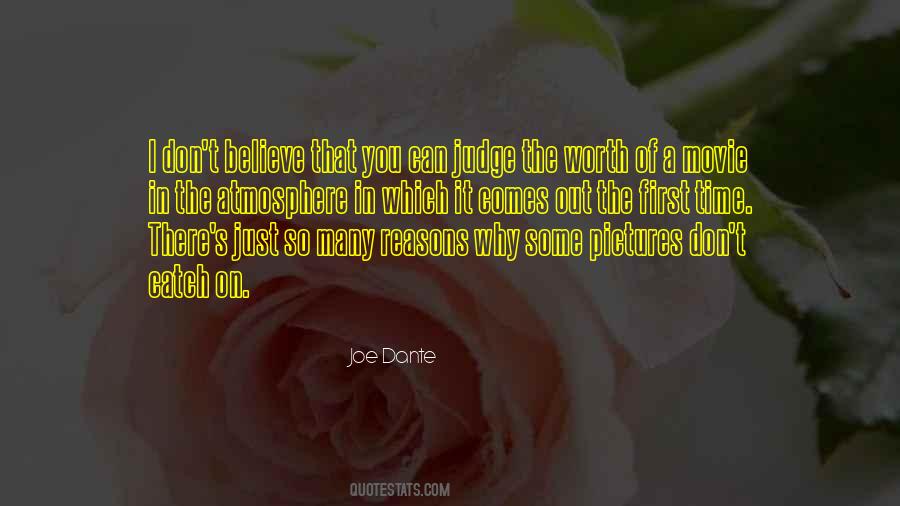 #65. When I'm making a movie, I don't like to know what's going to happen next. I like to watch something and be surprised all the time, and just not know, and let it take me wherever. - Author: Julian Schnabel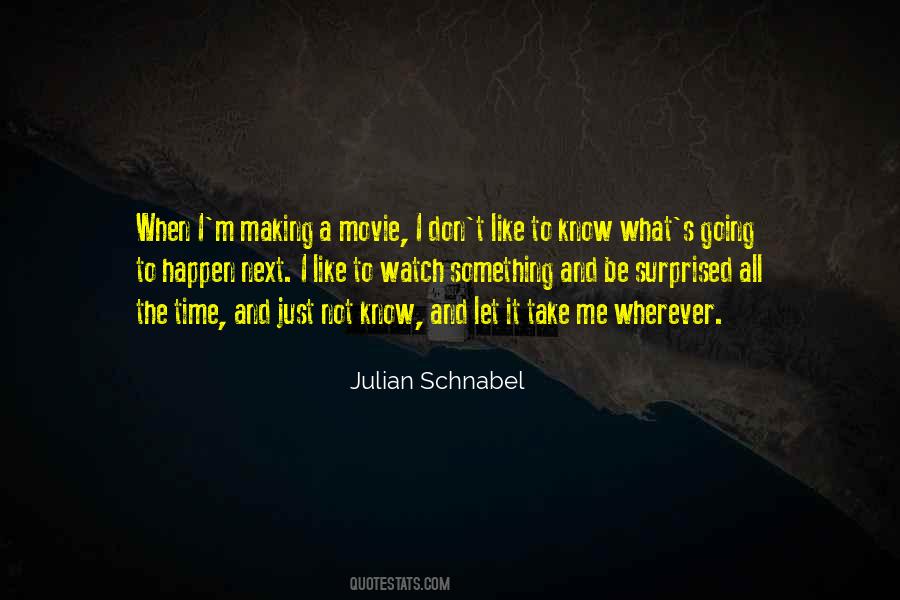 #66. I don't consider that I have to judge any of the movies I make all the time, but people are always asking me, 'What's your favorite movie?' And I never know what to say. - Author: Teri Garr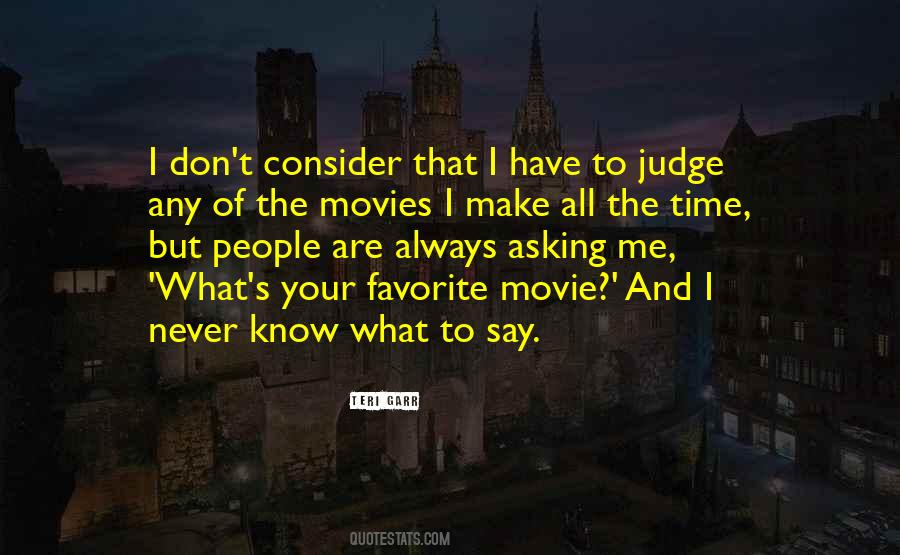 #67. Time moves on but Barbara Hershey's doing good and John Heard, they're all people working. I know there were a couple of kids in that movie who I used who have been in other movies since Beaches. - Author: Garry Marshall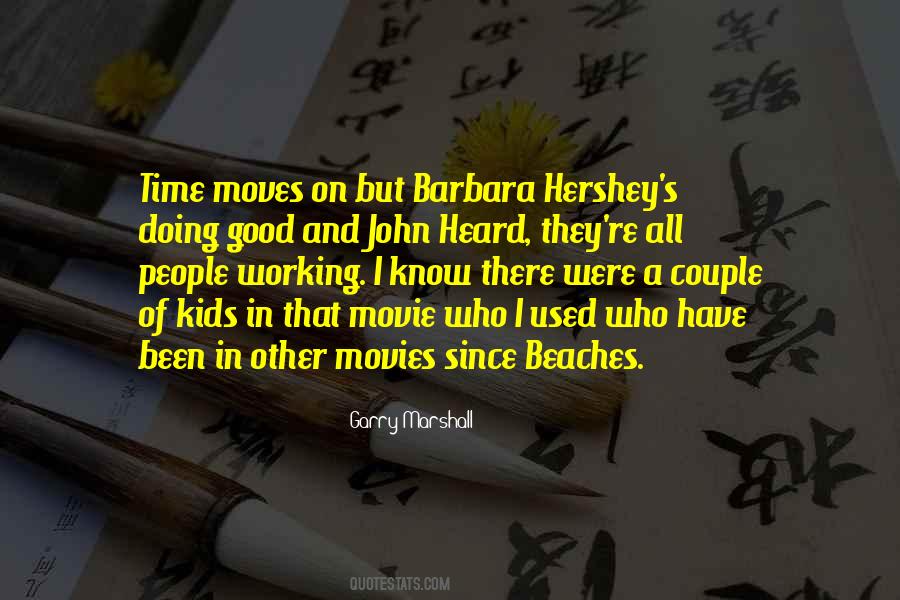 #68. I remember telling the 'Tangled' crew about grimace moments: how when you watch a movie that you worked on and you think, 'Ah, I wish we could have done that scene better,' or, 'I wish that we'd had the time or the money to fix that particular story problem.' - Author: Roy Conli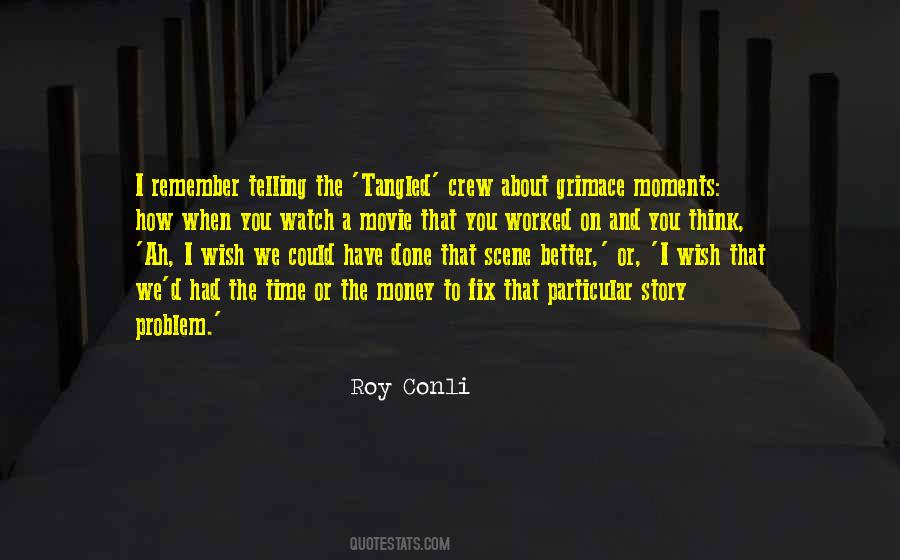 #69. Movie acting suits me because I only need to be good for ninety seconds at a time. - Author: Bill Murray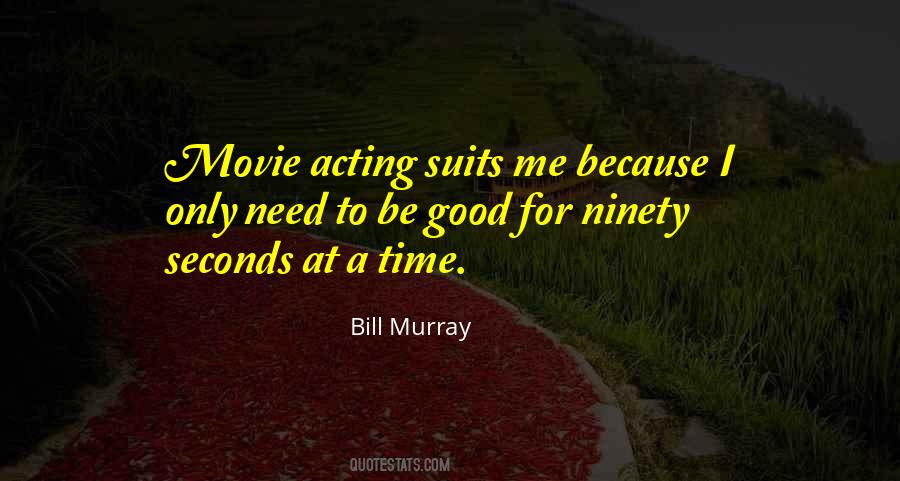 #70. Any athlete or any actor who's preparing for a long time to step on a stage or step on a field or step on a movie set, who suffers an injury right before you're getting ready to perform or to execute - it is a massive challenge that's thrown your way that you didn't expect. - Author: Dwayne Johnson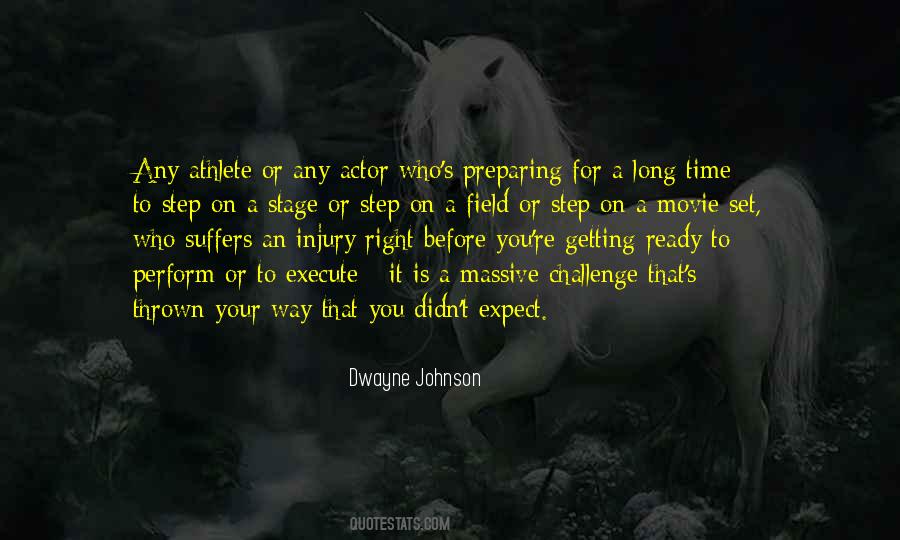 #71. Plus, doing a zombie movie is quite liberating. It's fun not to take myself seriously all the time. - Author: Sarah Polley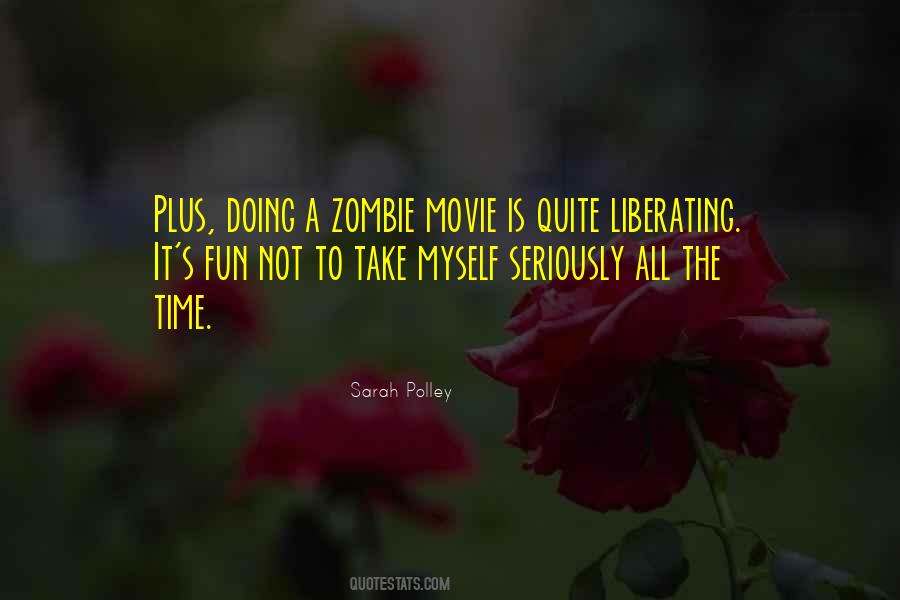 #72. Time spent for temporary happiness like movie or outing or weekend on a beach is all synthetic; with shelf life of a day or two. Work for your bigger dreams that should last for whole life. Then movie and beach would seem more interesting, realising that you have done something. - Author: Vikrmn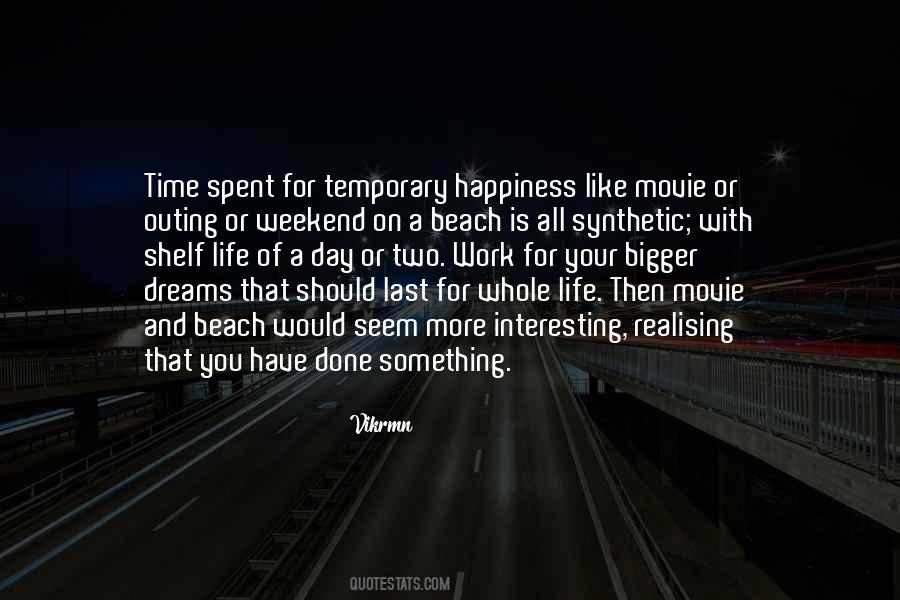 #73. 'Point Break' is a movie that I and all of my friends grew up loving, watching all the time, quoting, living and being. - Author: Luke Bracey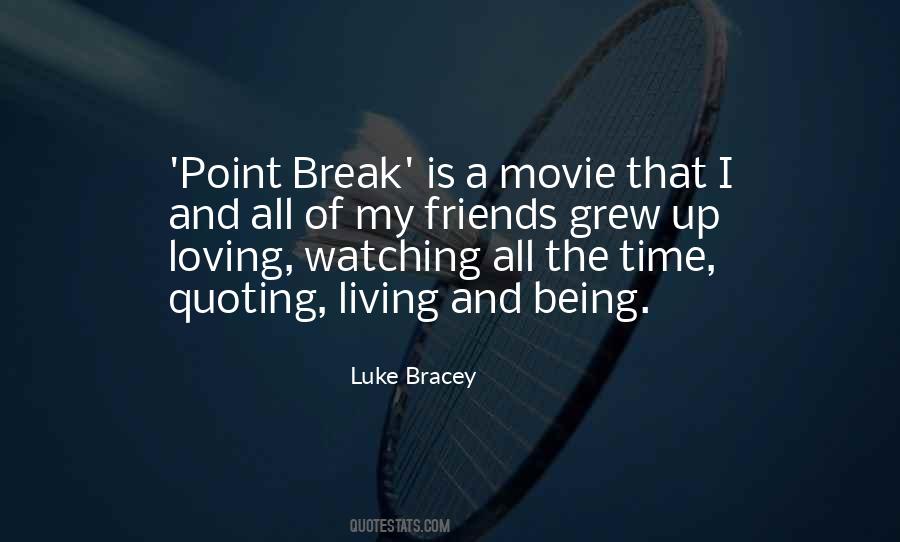 #74. You pay to have a good time, you don't always want to pay to be schooled or sad or reminded how bad you got it. To me a movie theater ain't always the place for that. - Author: Ice Cube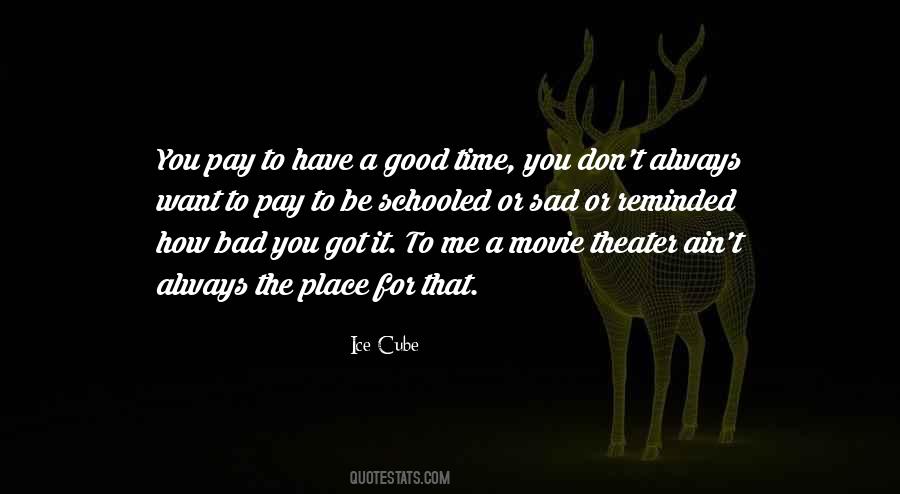 #75. I just think it was time [in THe Neon Demon]to do a film about women. But not just women, I wanted to do a movie about a teenage girl. It was a great counter to the masculinity of "Drive." - Author: Nicolas Winding Refn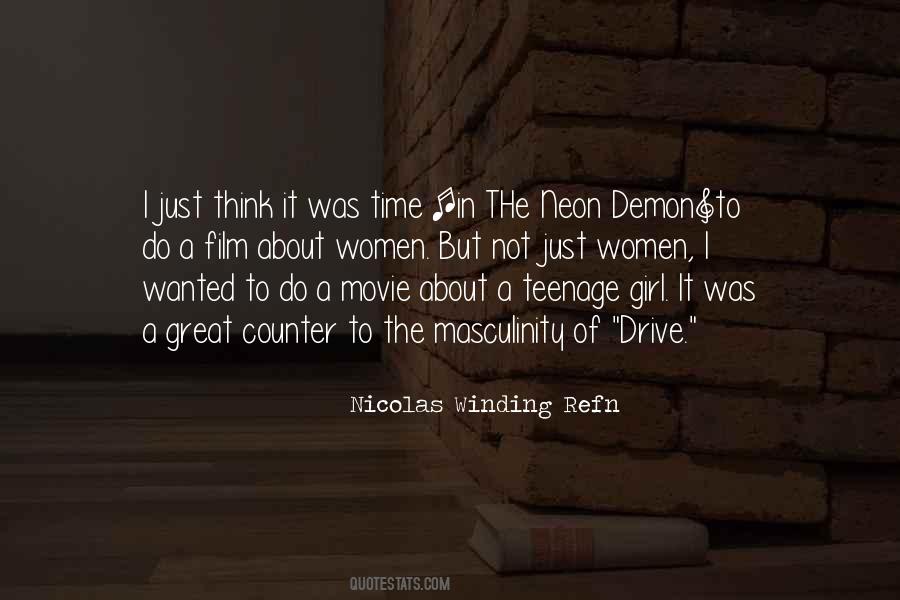 #76. I remember when I first came around, the computer-generated stuff was pretty wicked. I was like, 'Wow!' but I feel like then for the longest time, we saw so much of it, after a while, you might as well just be watching an animated movie. - Author: Paul Walker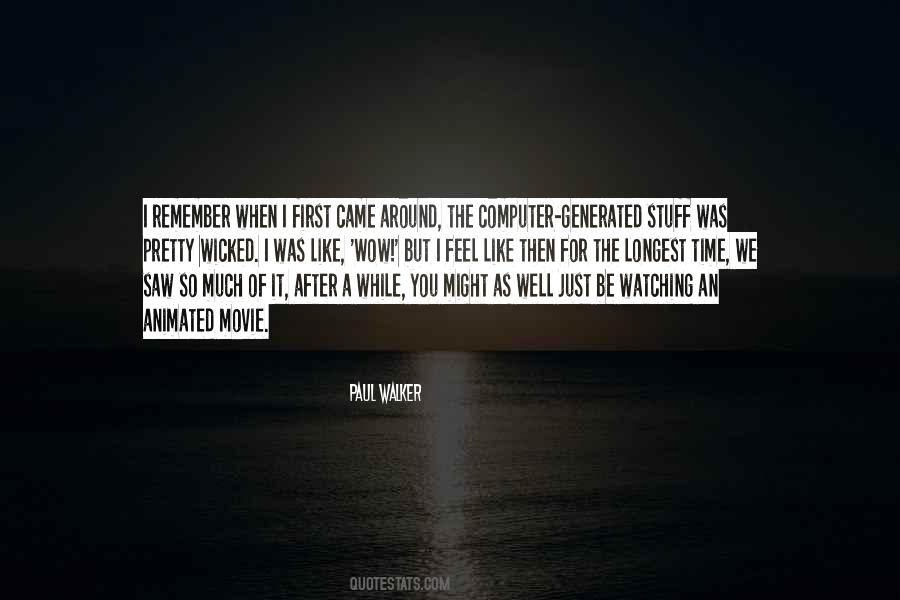 #77. The movie Ed Wood, about the worst director of all time, was made to prepare us for Stargate. - Author: Roger Ebert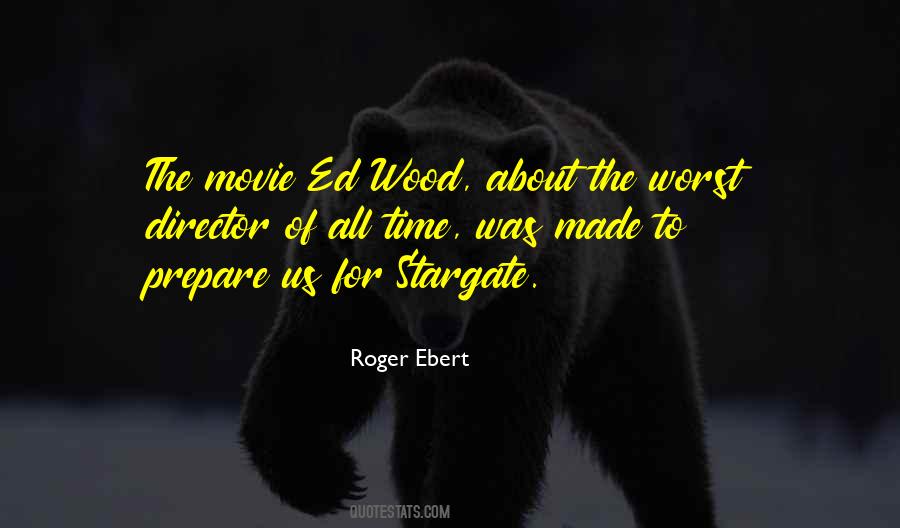 #78. Every time you make a movie it's an adventure. - Author: Shia Labeouf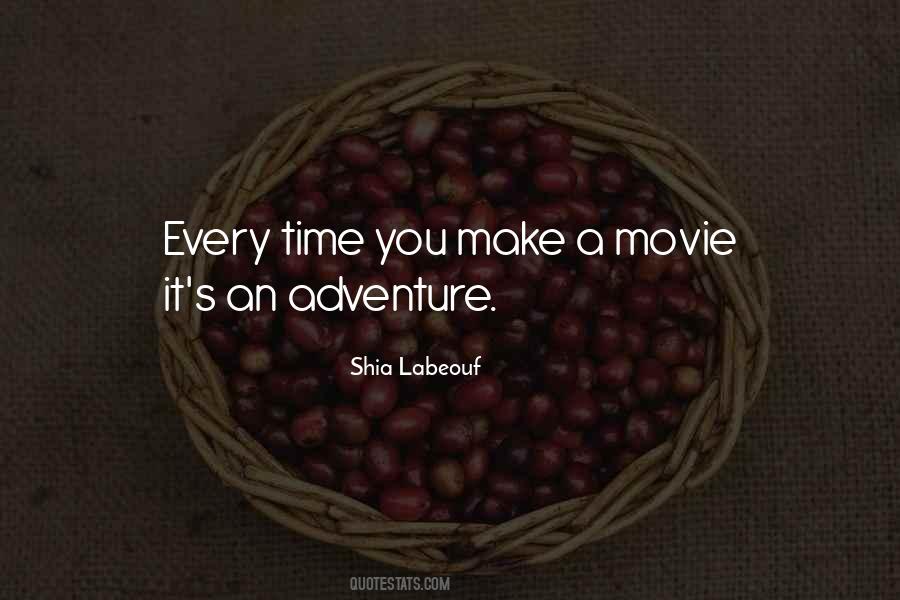 #79. The challenge with 'Watchmen' is making sure that the ideas that were in the book got into the movie. That was my biggest stretch. I wanted people to watch the movie and get it. It's one of those things where, over time, it has happened more. - Author: Zack Snyder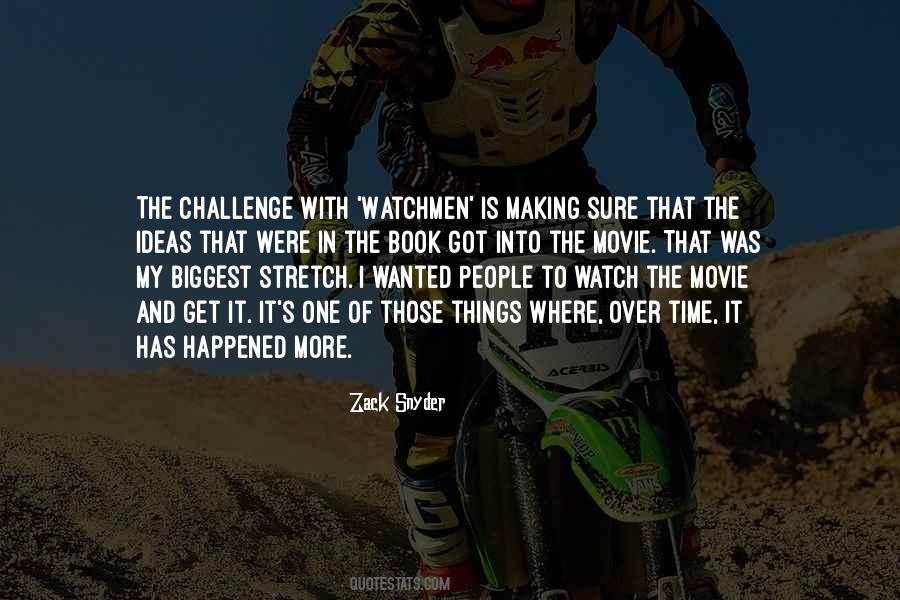 #80. When I saw the first I couldn't believe I was in another great movie that would be made into a trilogy. This movie is quite visible and I think it will stand the test of time. I think kids and parents will love this movie for a long time. - Author: Orlando Bloom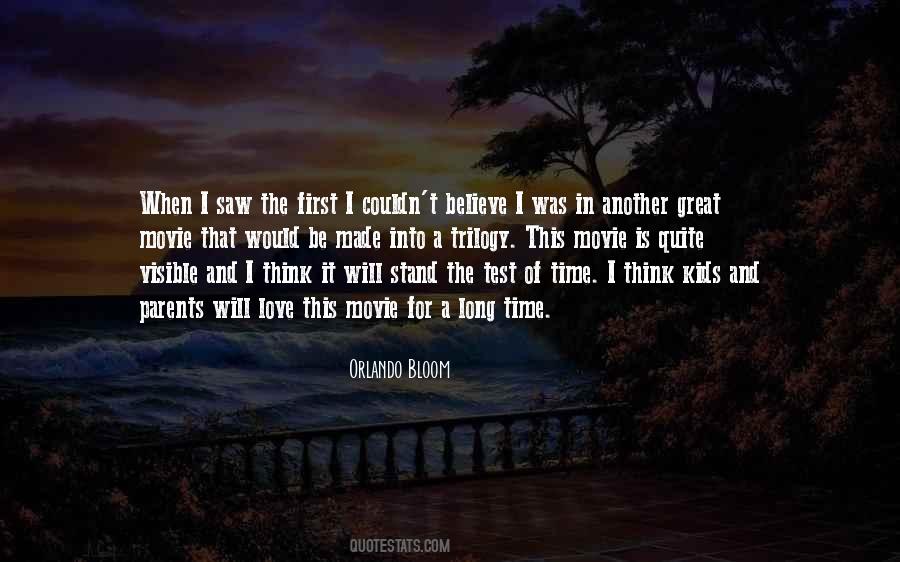 #81. I can't wait to see The Grinch. It's so out of the world. Every time a movie like that comes out, I'm stoked. It's like real life. - Author: Tina Yothers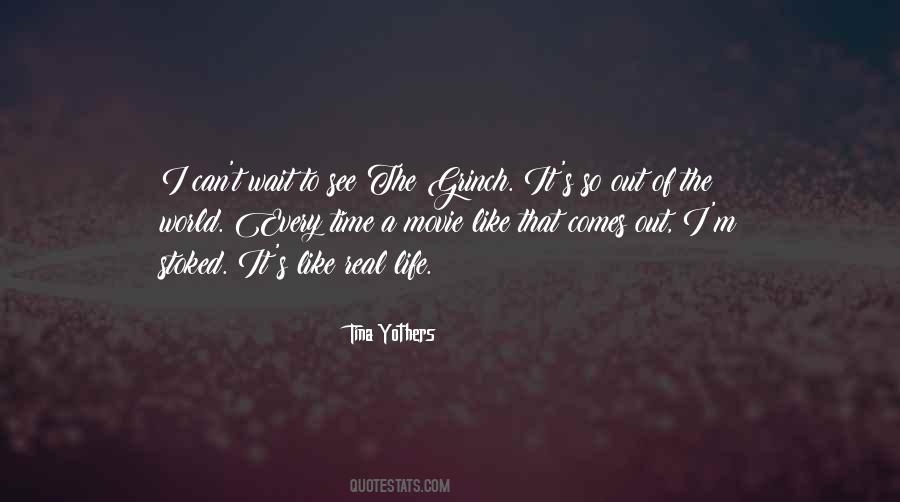 #82. I think audiences have always wanted to see women in the movies, but every time a movie like 'Bridesmaids' comes out, everyone says, 'Oh how funny, people do want to see women in the movies.' - Author: Isla Fisher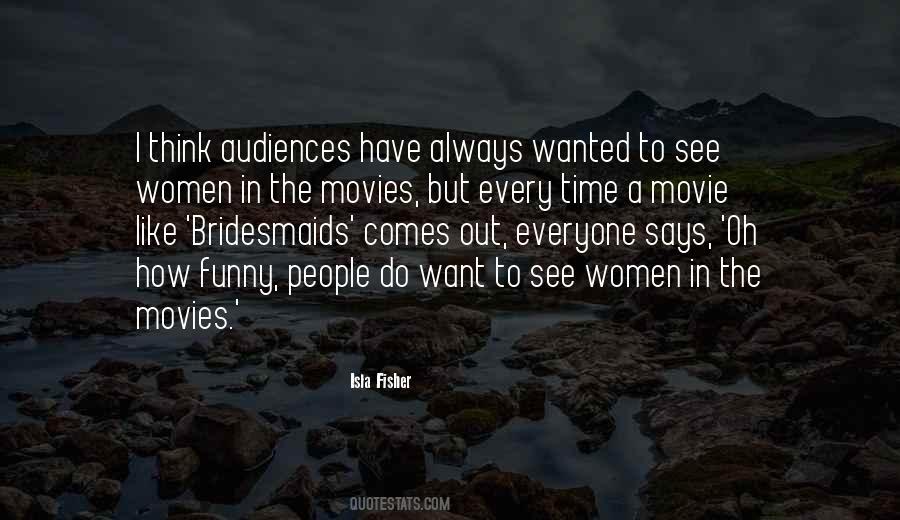 #83. I thought Rounders was a comic movie in its way. First time I directed a movie, I wanted to do a comedy. I don't like things that are superficially one thing or another, mainly. My favorite comedies are really smart, too, and have a lot of levels to them as well. - Author: Edward Norton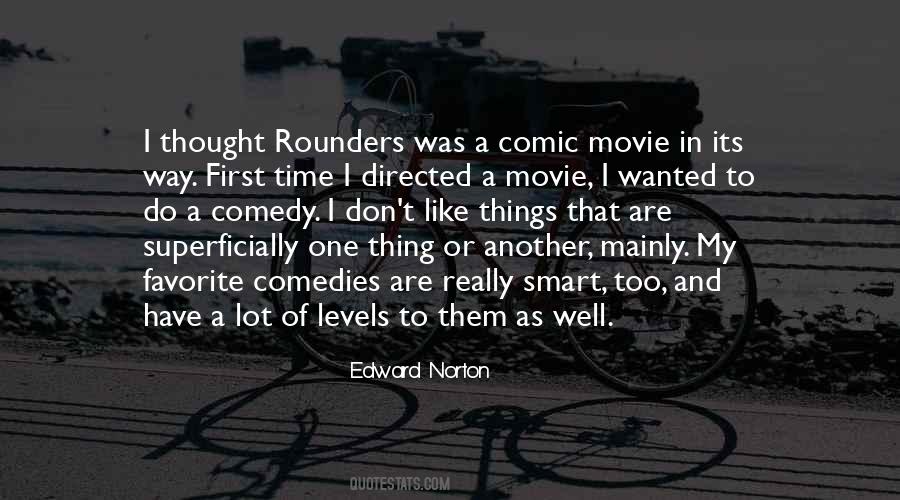 #84. That was certainly true the first time, when I did Body Heat, the first movie that I directed. I was looking for a vessel to tell a certain kind of story, and I was a huge fan of Film Noir, and what I liked about it was that it was so extreme in style. - Author: Lawrence Kasdan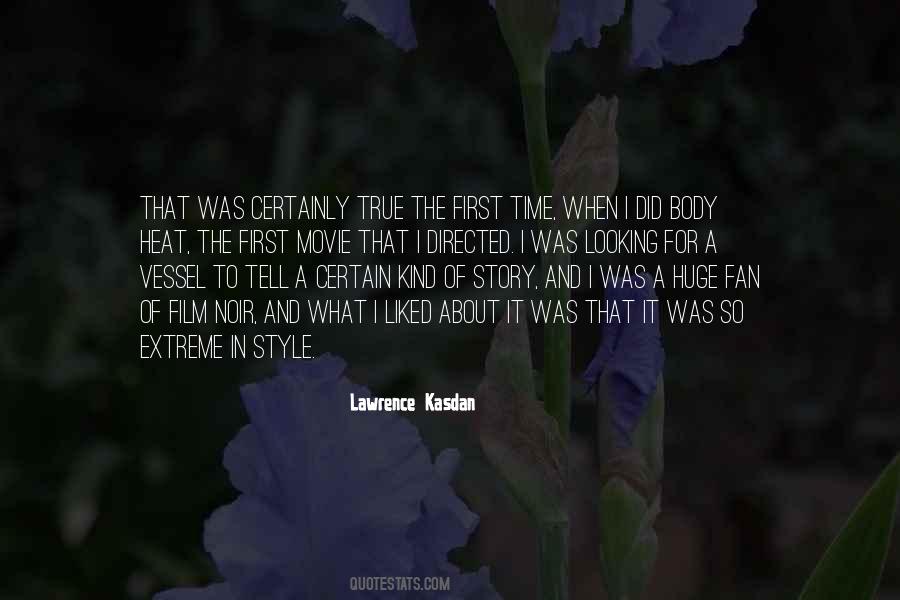 #85. Look, it's a mainstream animated movie, and how often are those considered thought provoking? It's meant to be a great time at the theater, but it's also designed to work on more than one level. - Author: Brad Bird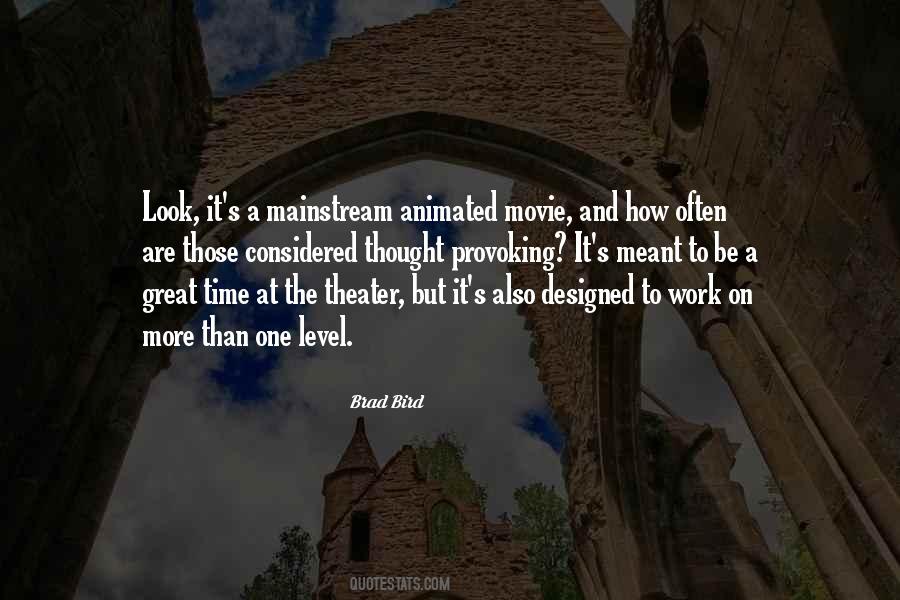 #86. Pizza and a movie (Escape to Witch Mountain, my all-time Disney favorite) - Author: Wendy Mass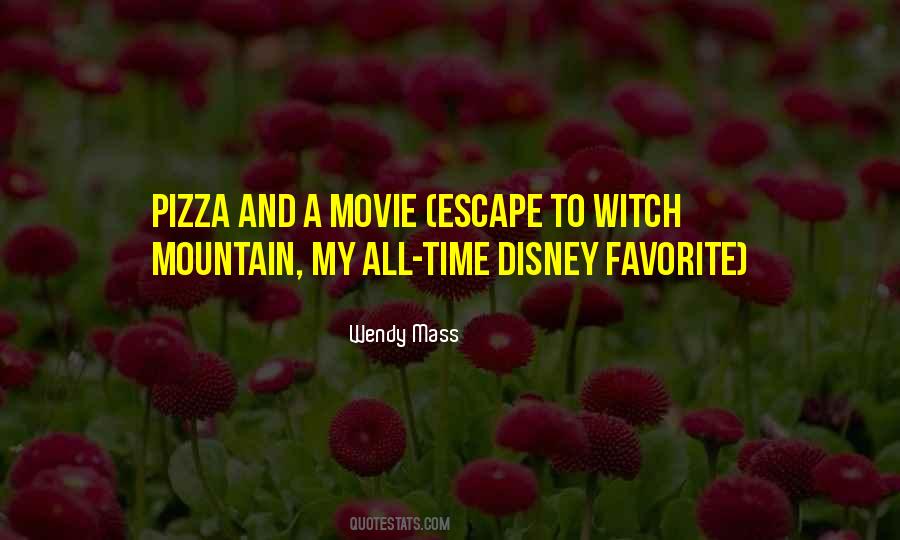 #87. I think, having done 'The Princess Diaries,' it was a fun experience, and it's cool to have made fans that are now into all this music. That movie is still so relevant to our culture. It's always on. It's kind of a rare, nostalgic thing. I get tweets all the time about it. - Author: Robert Coppola Schwartzman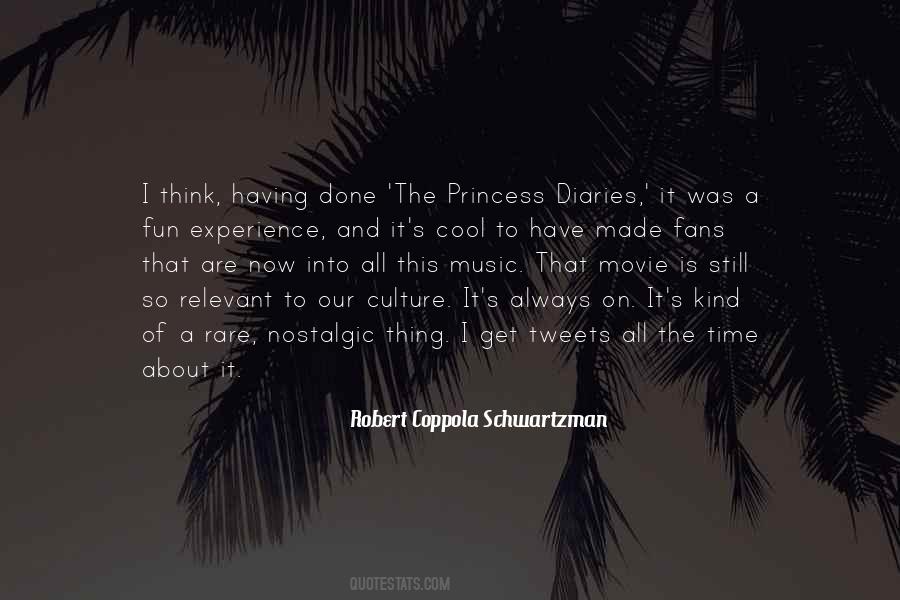 #88. The tour bus is always fun, and there's plenty of time to watch movies. Actually, Kanye introduced me to the movie 'Step Brothers.' We were sitting there, watching it and clowning around - it was so funny, man. - Author: Kid Cudi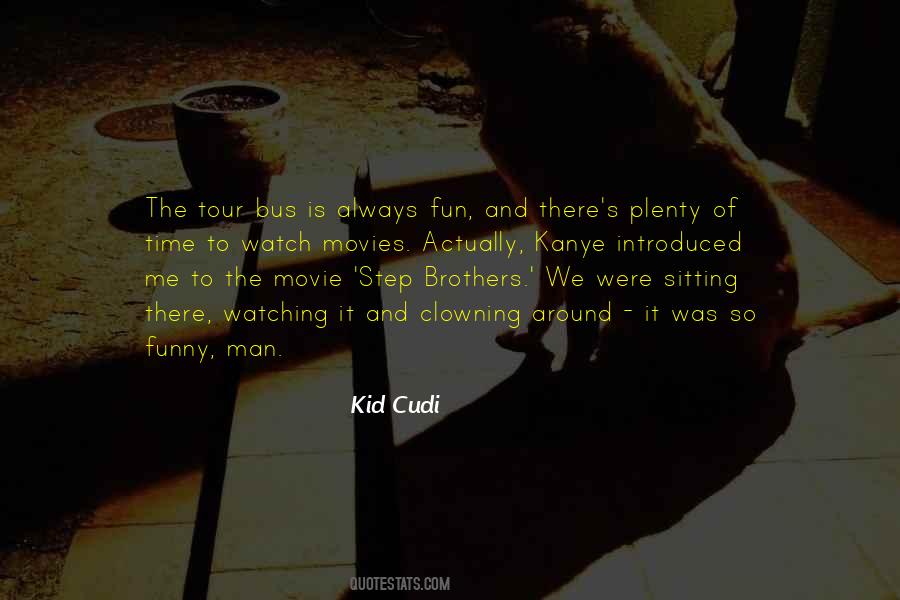 #89. My favorite movie of all time is 'Home Alone 3.' - Author: Jacob Latimore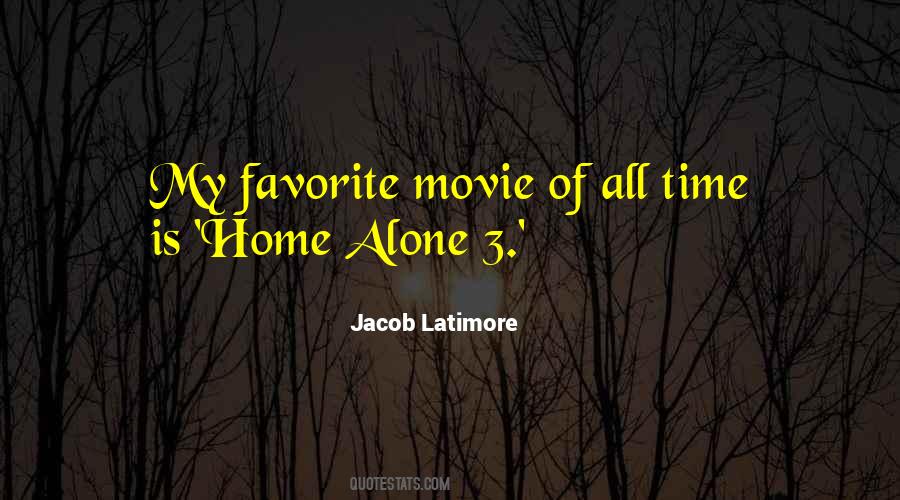 #90. I developed that for a long time. I also developed 'Sugar Sweet Science' at New Line and that didn't happen. That was a boxing movie. And between all that there were a couple of other things. - Author: Danny DeVito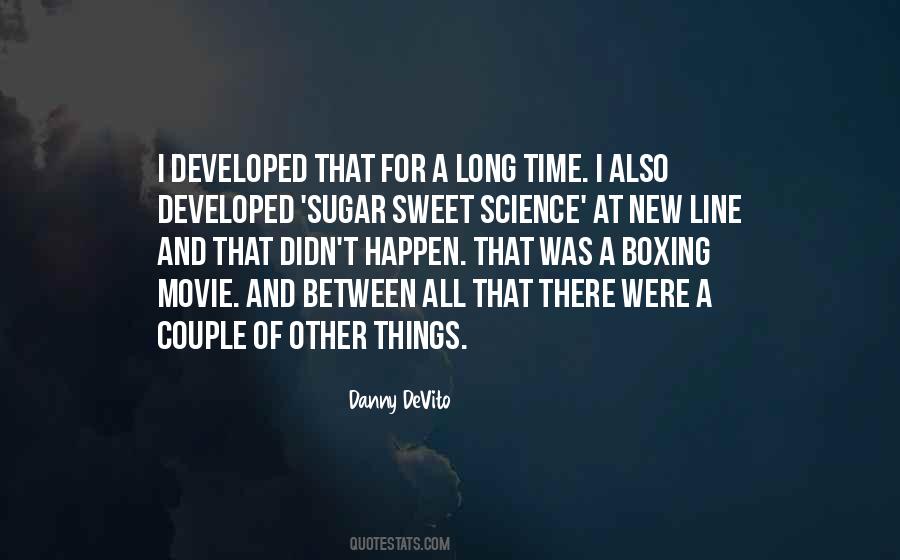 #91. This happens to be that the power of laughter and love would beat out the power of fear every time. You know, I hate to sound corny about it but it's true, and I think that's what this movie is about. - Author: John Goodman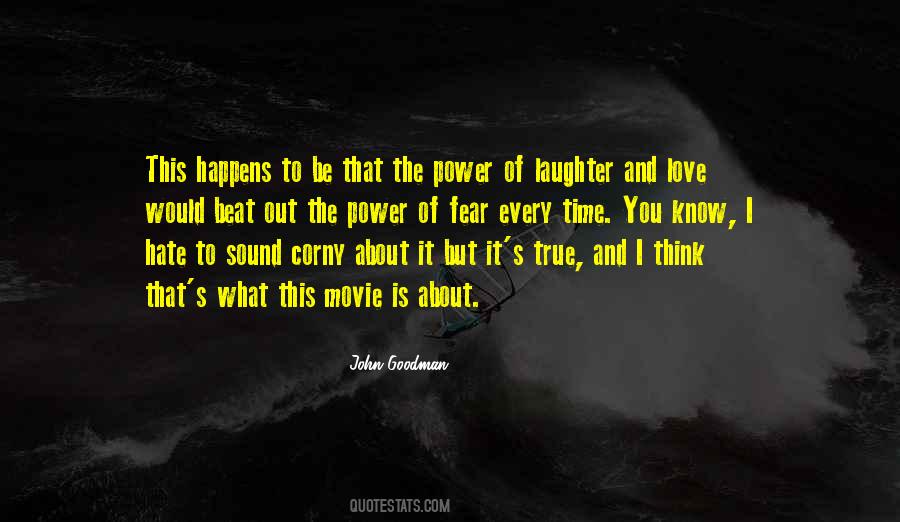 #92. It might sound a small thing, but if you want to get Tom Cruise into your movie, without a track record or without those agents knowing you, it's almost impossible. Now I can get through to pretty much anyone I want. Of course, 90 per cent of the time they still say no. - Author: Eric Fellner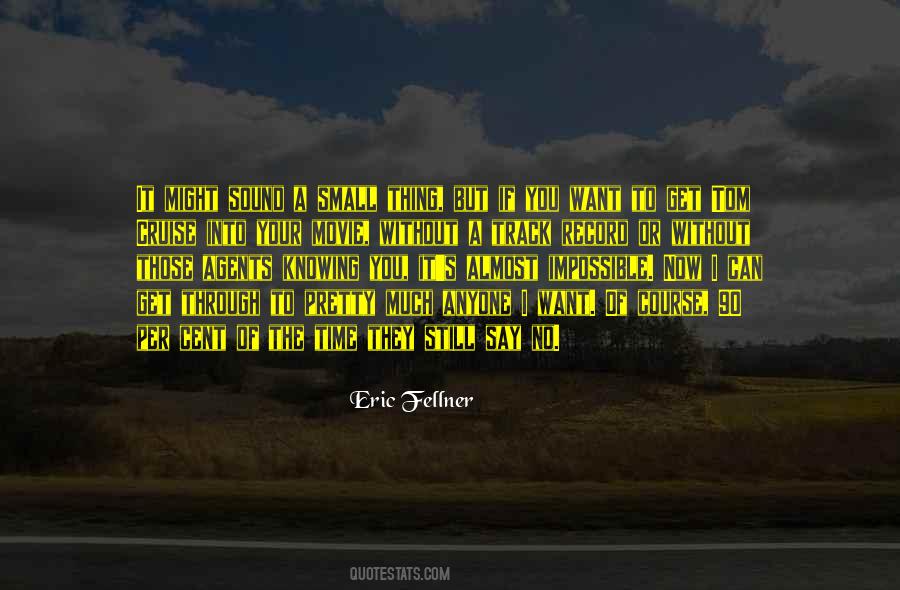 #93. My absolute favorite movie of all time is Pink Floyd's 'The Wall.' Nothing compares to it. I have seen it thousands of times and still watch it every few weeks. - Author: Pauley Perrette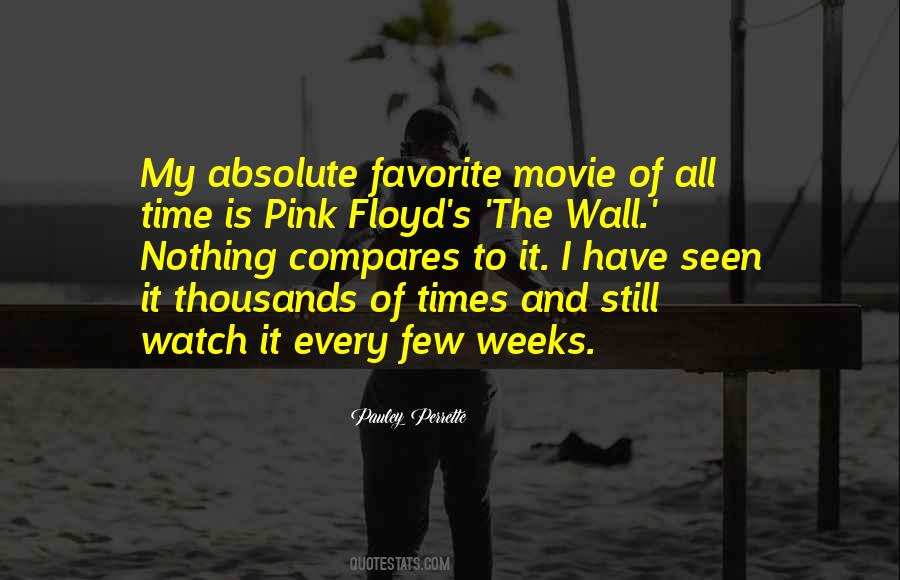 #94. Directing a movie is the greatest job in the world. I could not be more envious of the guys who get to do it all the time. - Author: Jason Bateman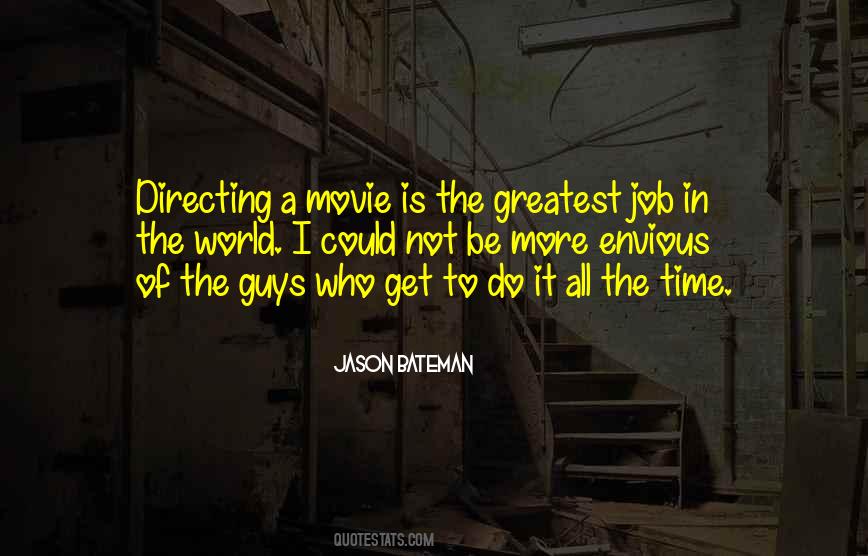 #95. Every time I design clothes, I'm making a movie. - Author: Ralph Lauren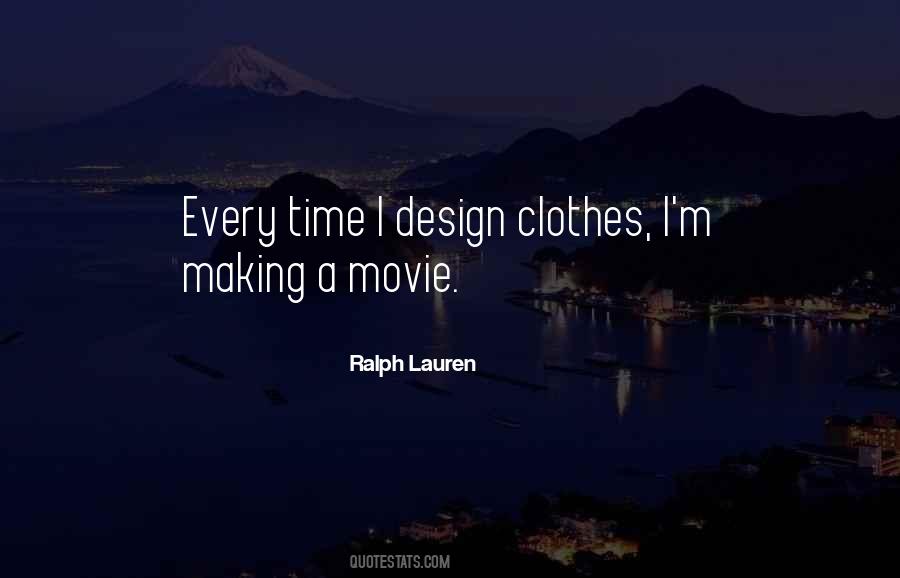 #96. In the acting world, you can really only become good by practicing and doing it, and I just think every time you walk onto a set you just become better and better. I think I'm in a totally different space than I was back then on that first movie set. - Author: Terrence J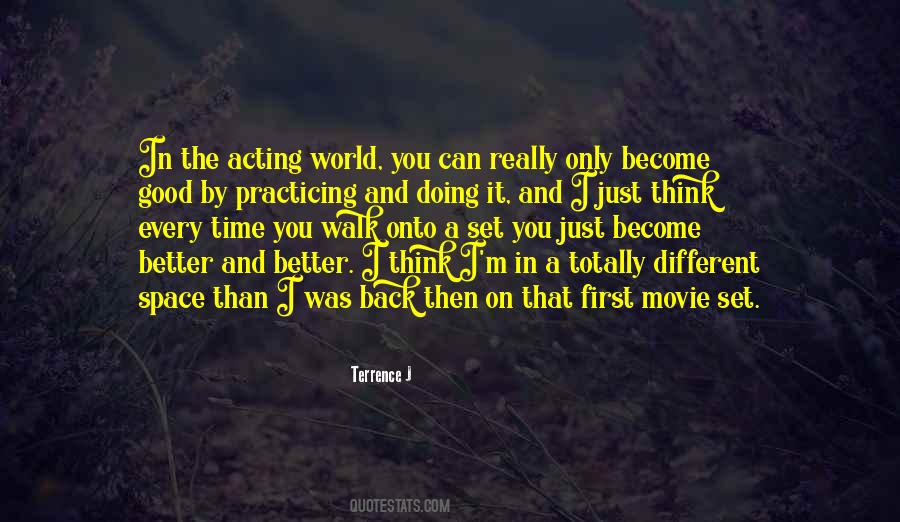 #97. Nobody in Hollywood ever sets out to make a bad movie ever but about 99% of the time, that's what happens. - Author: Thomas Lennon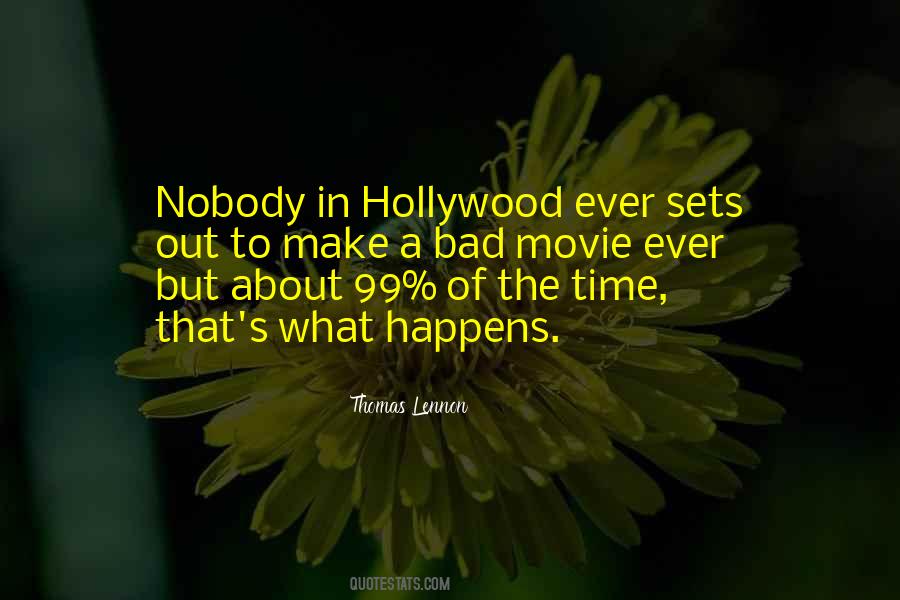 #98. But I would say maybe just from an actress's perspective, probably 'Woman Under the Influence' is the best movie of all time. The style of filmmaking and the performances ... you don't feel like you're watching a film. - Author: Olivia Thirlby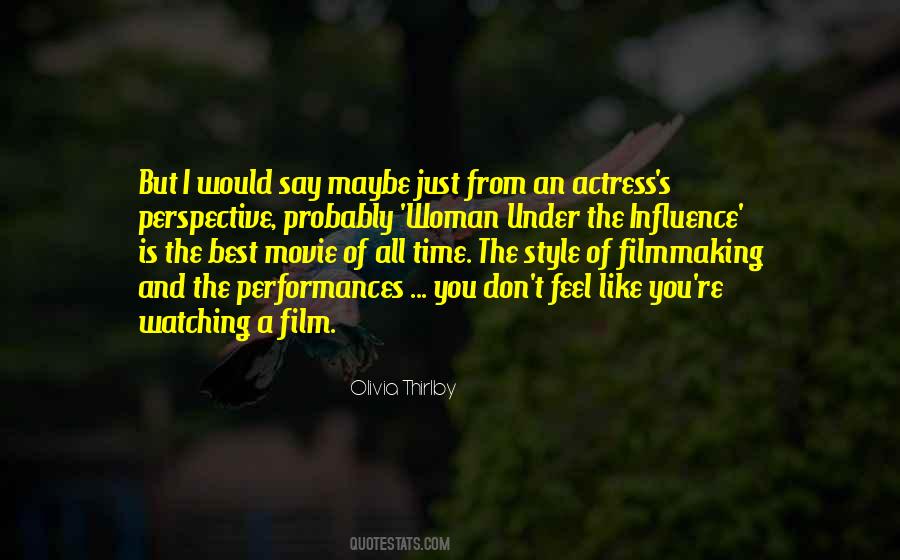 #99. Well, you always worry about being pin holed. I haven't been yet. You always worry about that, no matter which genre you do. Luckily for me so far, every time I've done a movie it's been a completely different genre. - Author: Sylvain White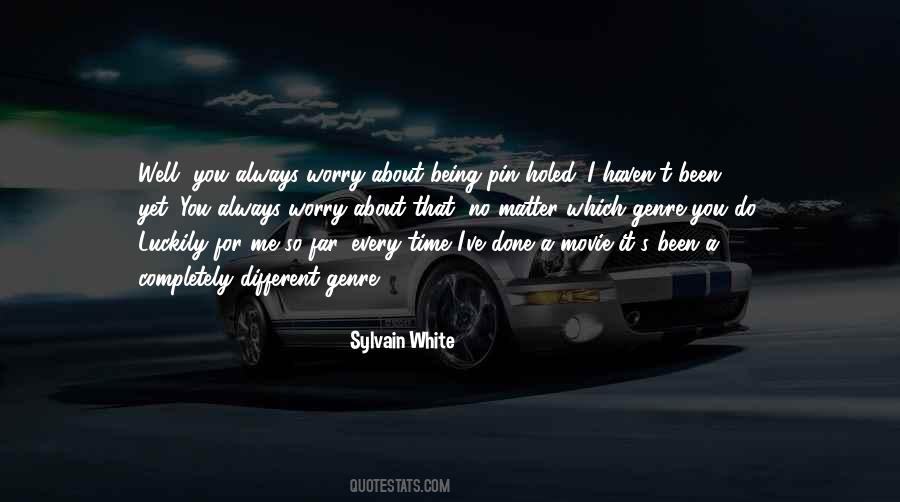 #100. The average development time for a Hollywood movie is nine years. Nine years for a studio film. And a lot of what you do is abstract. - Author: Stephen Gaghan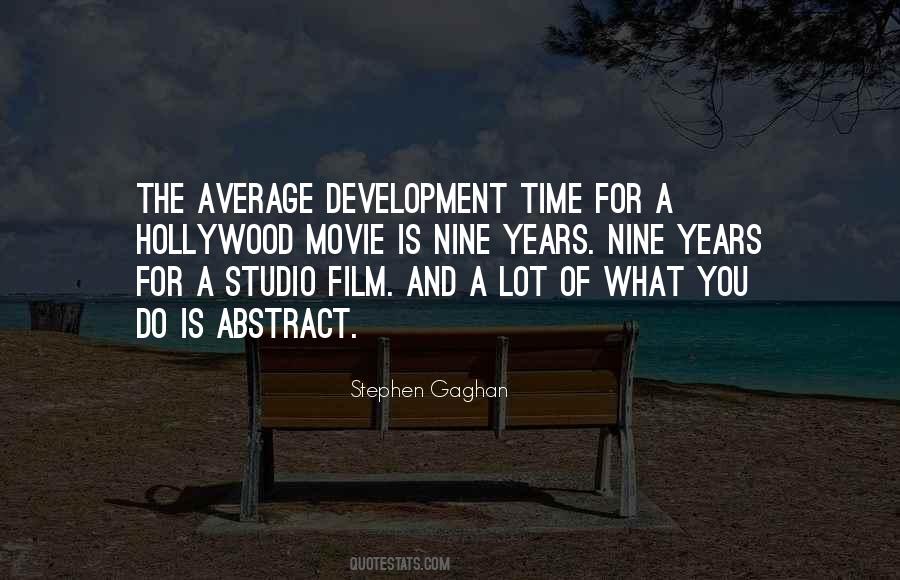 Famous Authors
Popular Topics