List of top 36 famous quotes and sayings about time by philosophers to read and share with friends on your Facebook, Twitter, blogs.
Top 36 Quotes About Time By Philosophers
#1. It is the obvious which is so difficult to see most of the time. People say 'It's as plain as the nose on your face.' But how much of the nose on your face can you see, unless someone holds a mirror up to you?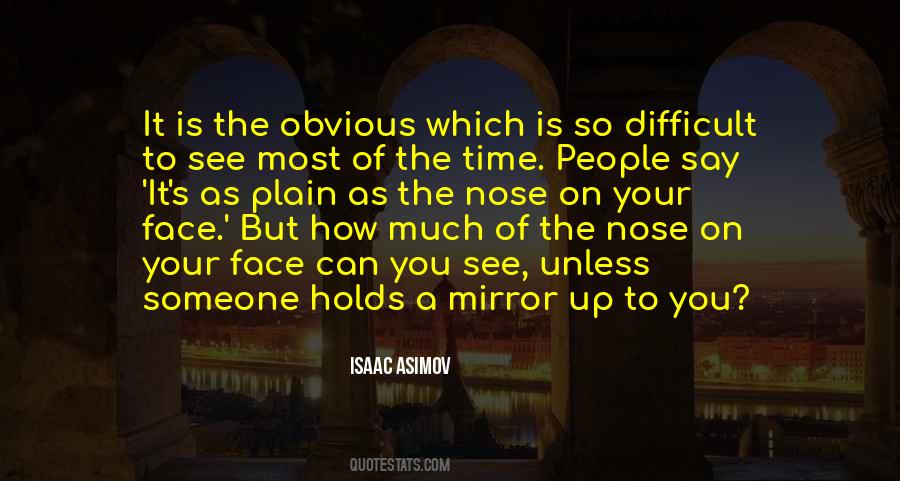 #2. Future generations may or may not judge Wittgenstein to be one of the great philosophers. Even if they do not, however, he is sure always to count as one of the great personalities of philosophy. From our perspective it is easy to mistake one for the other; which he is time will tell.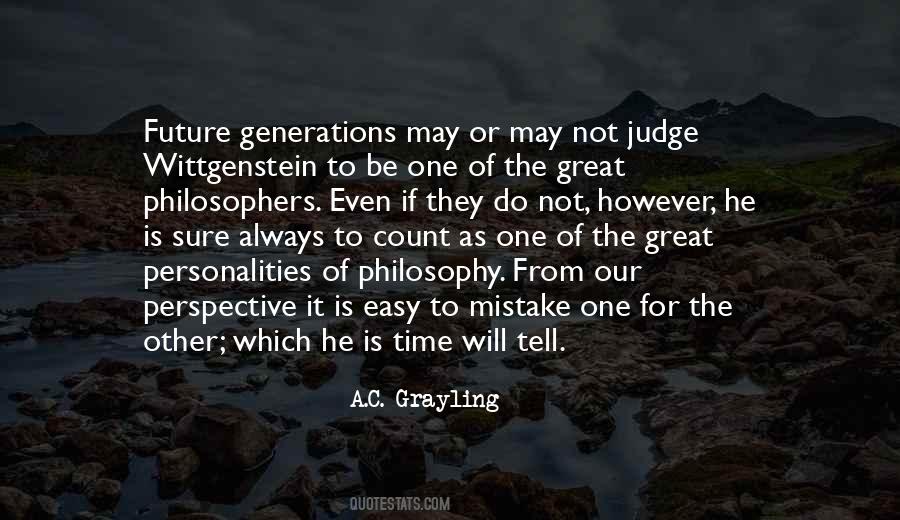 #3. And so I ask, "Would You agree that sex is where philosophy begins?" But God, who is the oldest of the philosophers, answers in his weary cryptic way, "Rather think of Sex as Time, and Time as the connection of new circuits.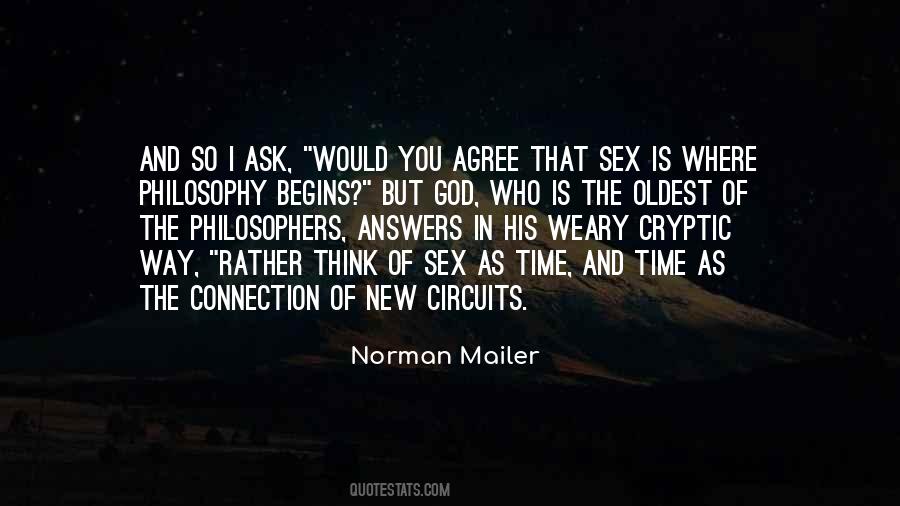 #4. Philosophers have argued without a trend toward order; time would lack meaning. The future would be indistinguishable from the past. Sequences of events would be just so many random scenes from a thousand novels. History would be indistinct, like the mist slowly gathered by treetops in evening.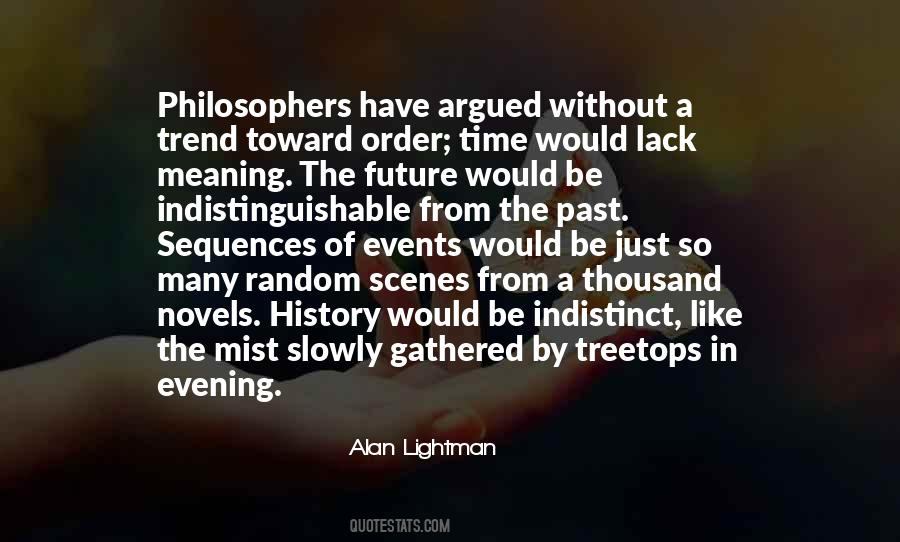 #5. Only fools and philosophers waste time on the unknowable.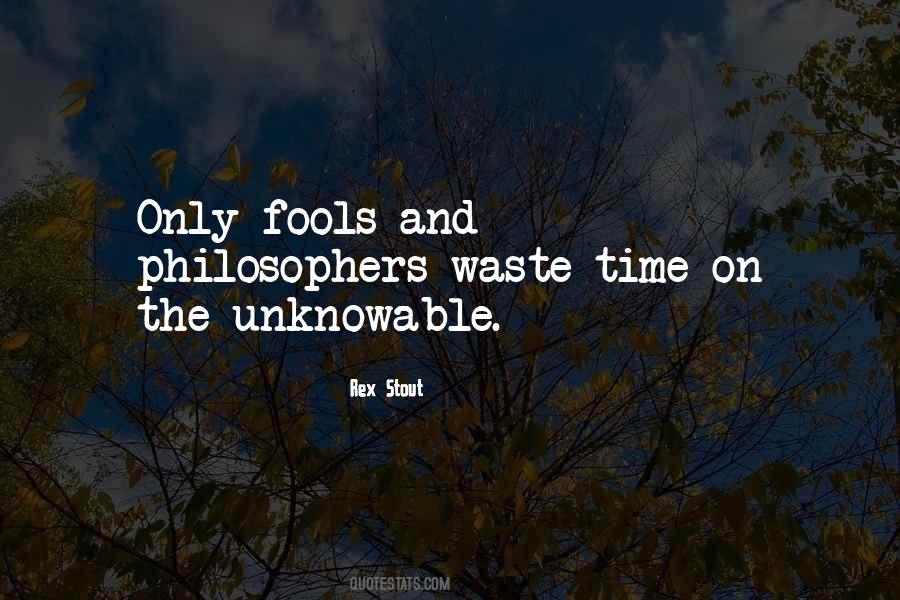 #6. It has been a long time since philosophers have read men's souls. It is not their task, we are told. Perhaps. But we must not be surprised if they no longer matter much to us.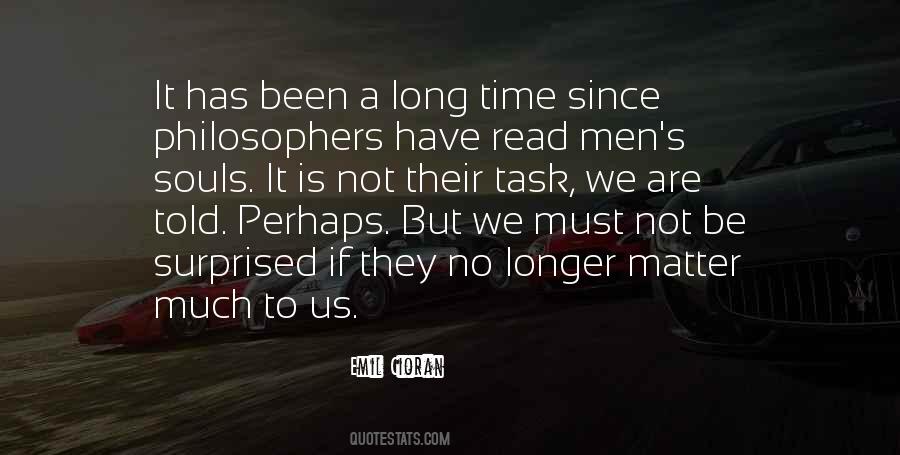 #7. The poets and philosophers I once loved had it wrong. Death does not come to us all, nor does the passage of time dim our memories and reduce our bodies to dust. Because while I was considered dead, and a headstone had been engraved with my name, in truth my life was just beginning.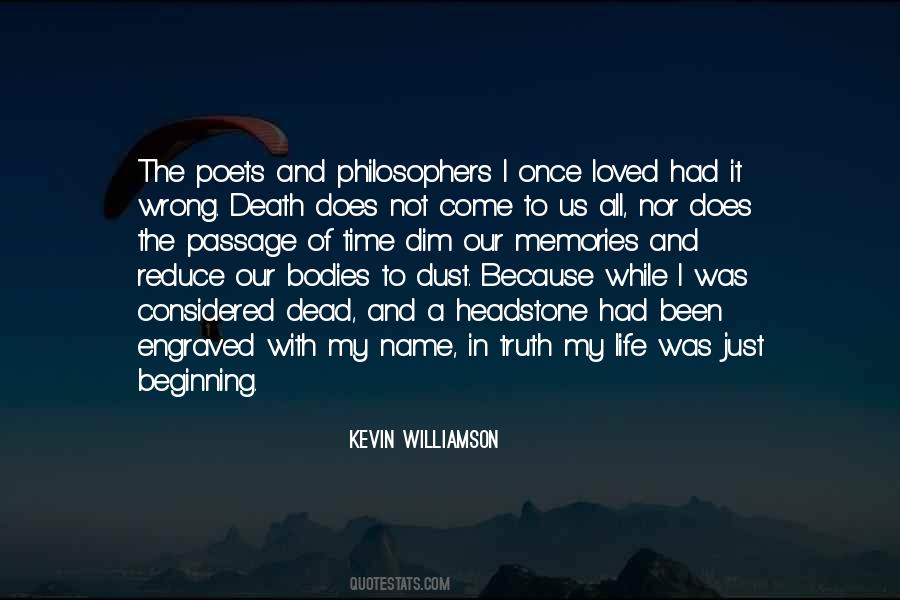 #8. Time was being served behind the walls of Newgate jail, and wasted by philosophers in cafes on the Strand; it was lost by those who wished the past were present, and loathed by those who wished the present past.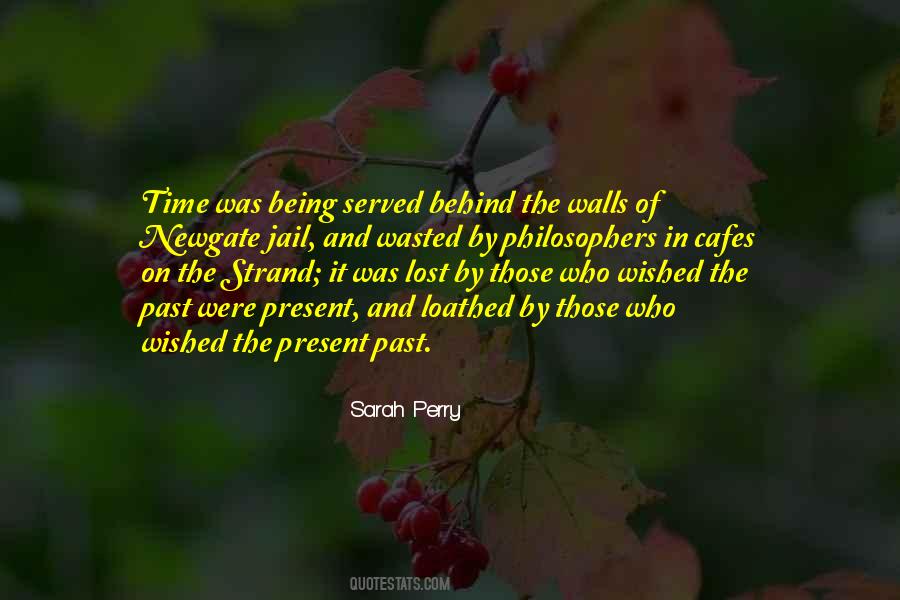 #9. Nature's God really descends from an ancient Greek tradition that was passed along to the early modern philosophers. And these were quite radical thinkers who were really challenging the ways of thinking of their time and the established religion.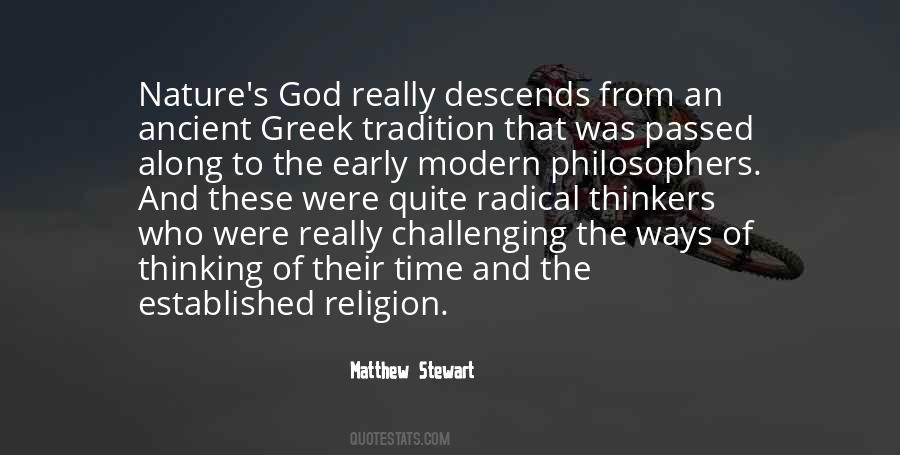 #10. Politicians, ideologists, theologians and philosophers try time and again to provide solutions with nothing remaining: prefab solved problems.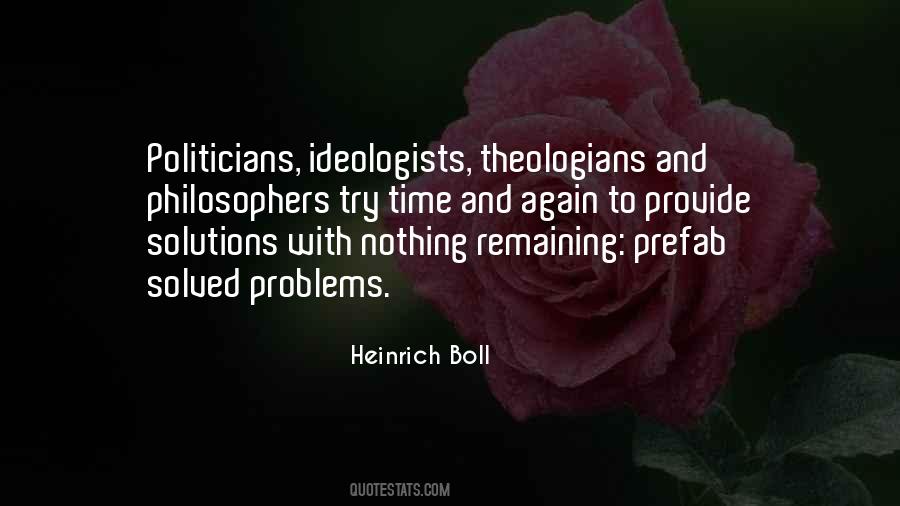 #11. For one thing, I think that there are questions which philosophers raise which, although science bears on them, are not typically the central focus of those who work in the sciences. At the same time, I don't have a view of philosophy which marks it out as different in kind from scientific work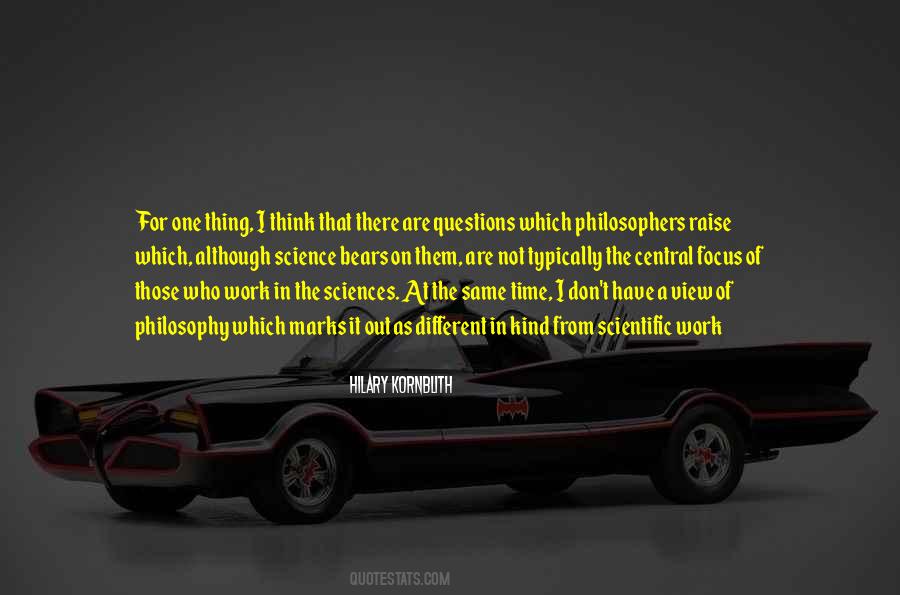 #12. Socrates, one of the greatest philosophers of all time, took his whole life to get to the point where he said, As for me, all I know is that I know nothing.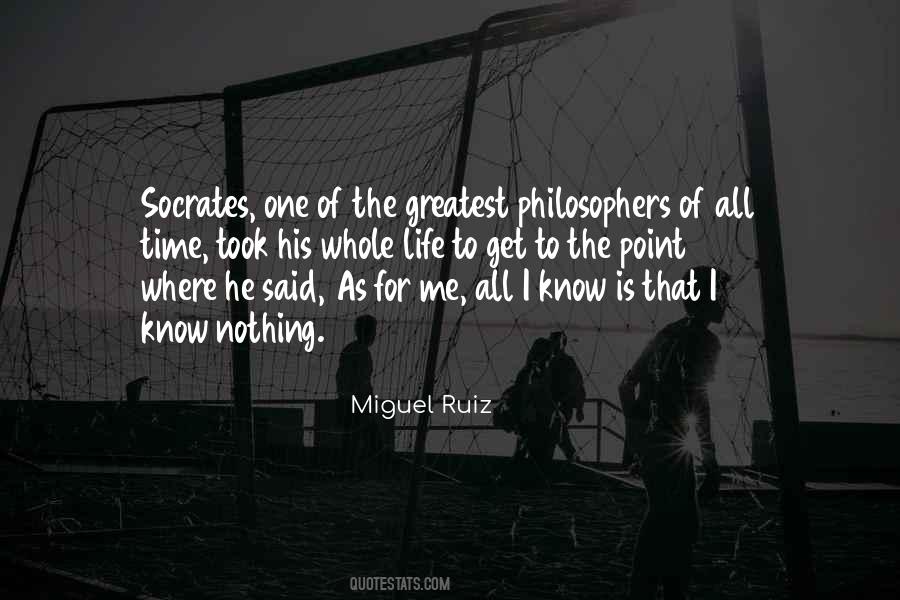 #13. This queer crotchet [of Hamilton's] that algebra is the science of pure time has attracted many philosophers, and quite recently it has been exhumed and solemnly dissected by owlish metaphysicians seeking the philosopher's stone in the gall bladder of mathematics.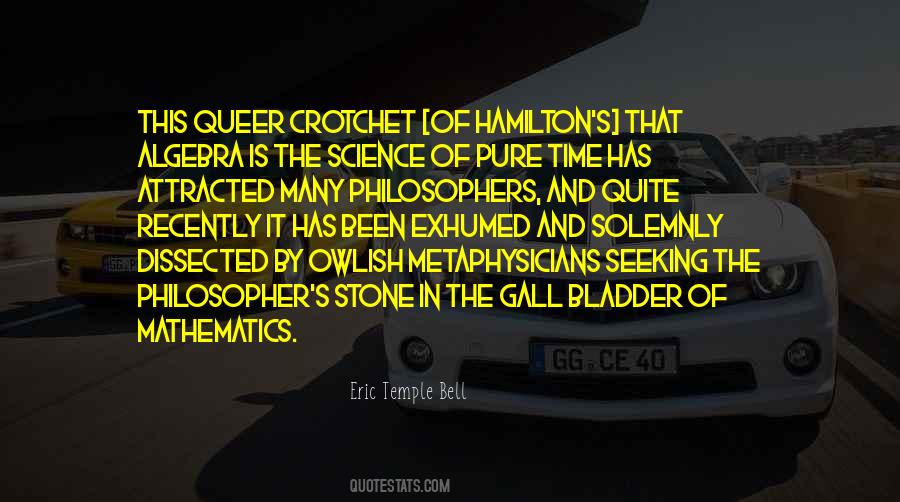 #14. Many scientists think that philosophy has no place, so for me it's a sad time because the role of reflection, contemplation, meditation, self inquiry, insight, intuition, imagination, creativity, free will, is in a way not given any importance, which is the domain of philosophers.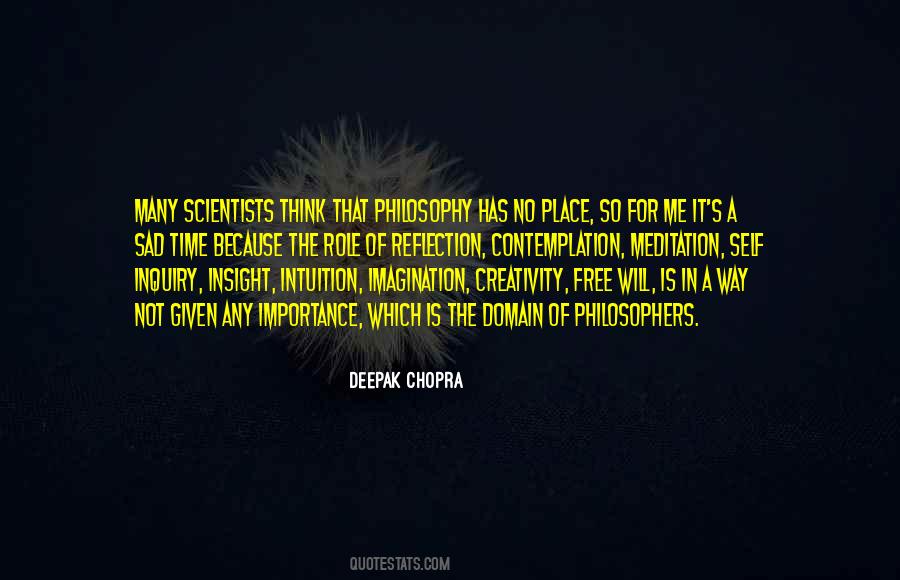 #15. Take time for good books; time to absorb the thoughts of poets and philosophers, seers and prophets.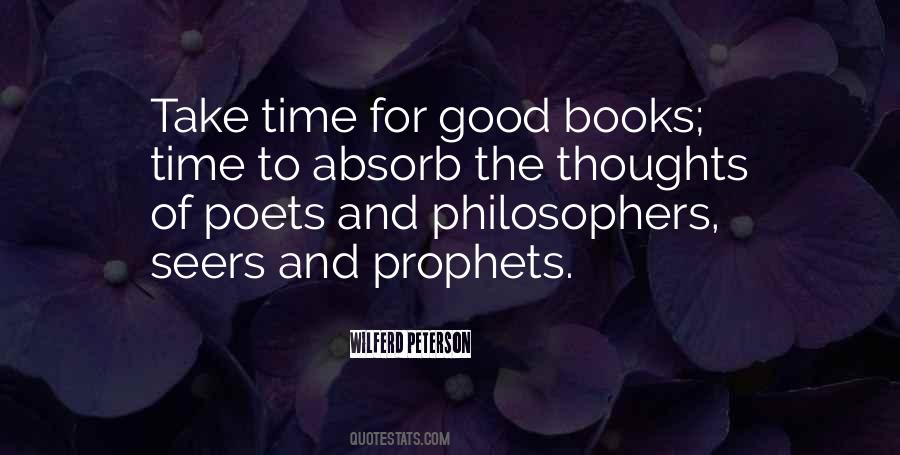 #16. A growing and increasingly influential movement of philosophers, ethicists, law professors and activists are convinced that the great moral struggle of our time will be for the rights of animals.
#17. Comedians and jazz musicians have been more comforting and enlightening to me than preachers or politicians or philosophers or poets or painters or novelists of my time. Historians in the future, in my opinion, will congratulate us on very little other than our clowning and our jazz.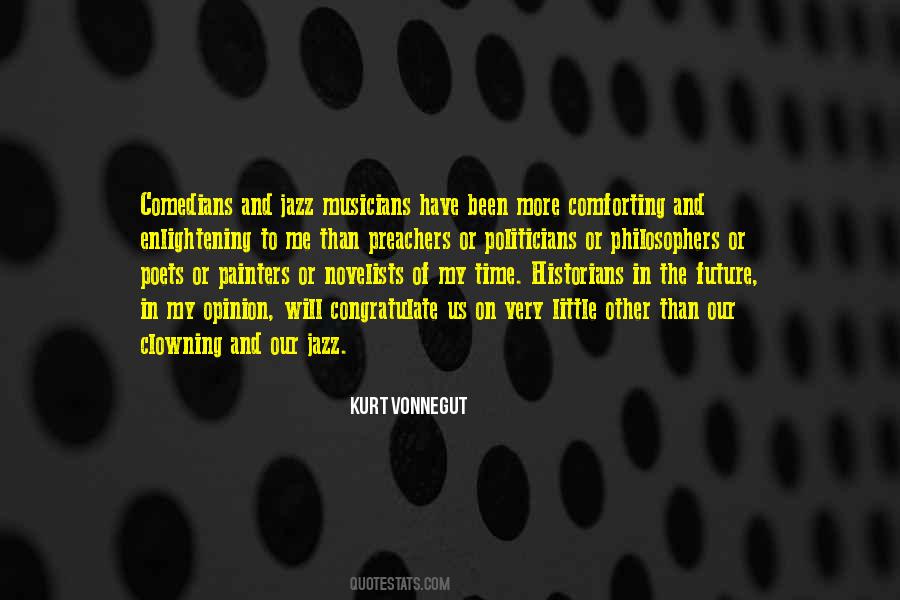 #18. Spending that many hours in the saddle gave a man plenty of time to think. That's why so many cowboys fancied themselves Philosophers.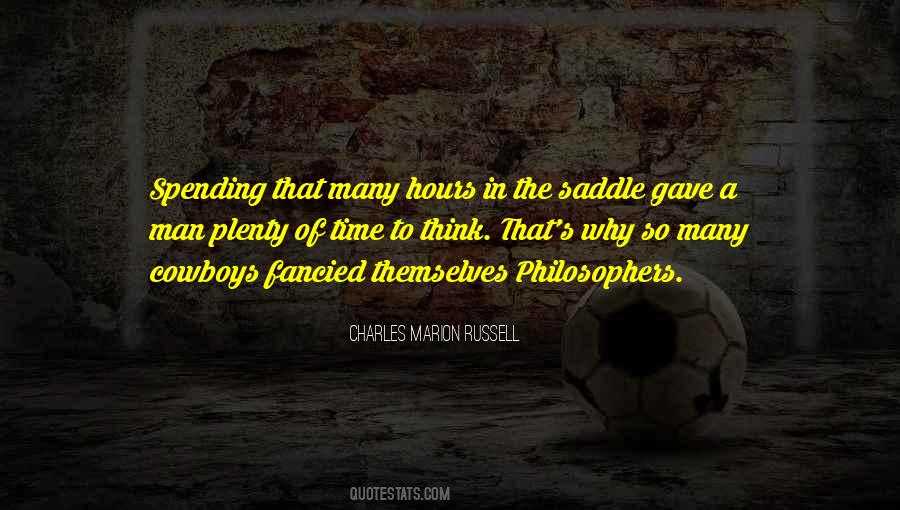 #19. There is a present because it works with my theories. If you find a better one than mine, then I may reconsider, but for the sake of the universe - and oh, how we philosophers make the universe weep - there is a present, and it is the time you just left.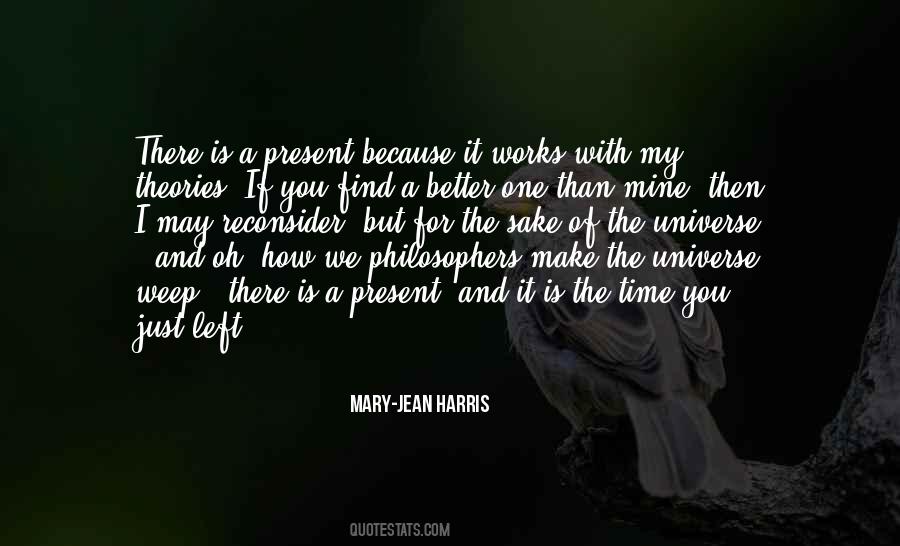 #20. If the attitude of many non-Catholic modern philosophers toward Catholic thought could be summarized in a single sentence, it would be: It has been tried, it has produced its definitive results, which have been found lacking, and now its time is past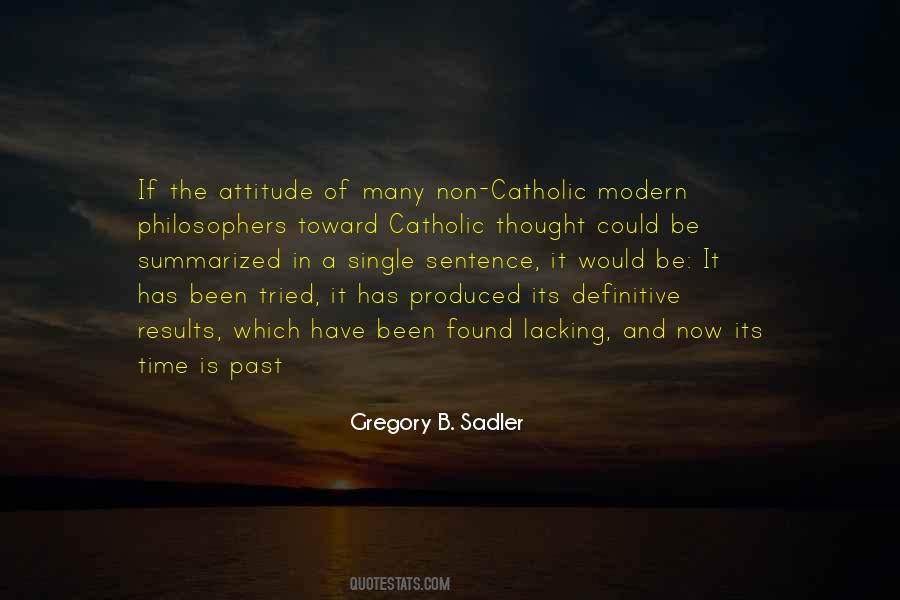 #21. It appears that the solution of the problem of time and space is reserved to philosophers who, like Leibniz, are mathematicians, or to mathematicians who, like Einstein, are philosophers.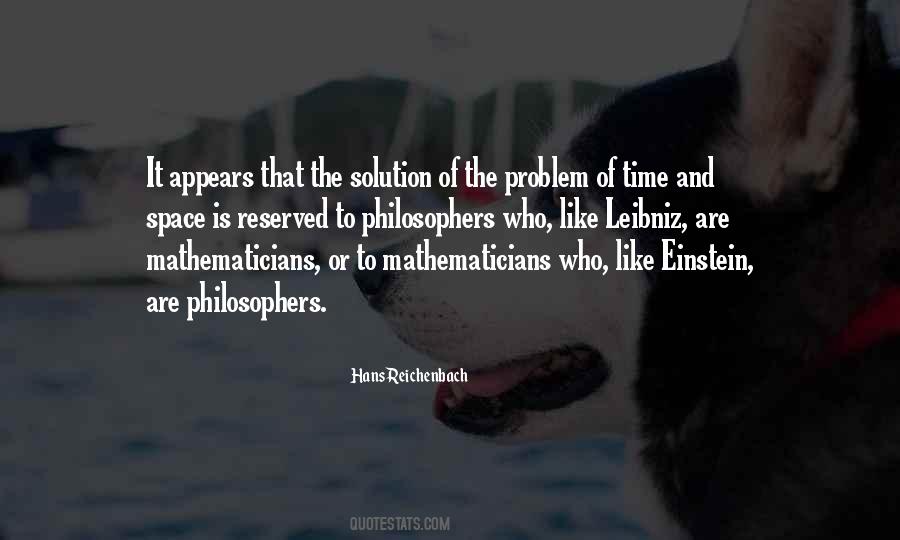 #22. Philosophers say the Soul is double-faced, her upper face gazes at God all the time and her lower face looks somewhat down, informing the senses; and the upper face, which is the summit of the soul, is in eternity and has nothing to do with time: it knows nothing of time or of body.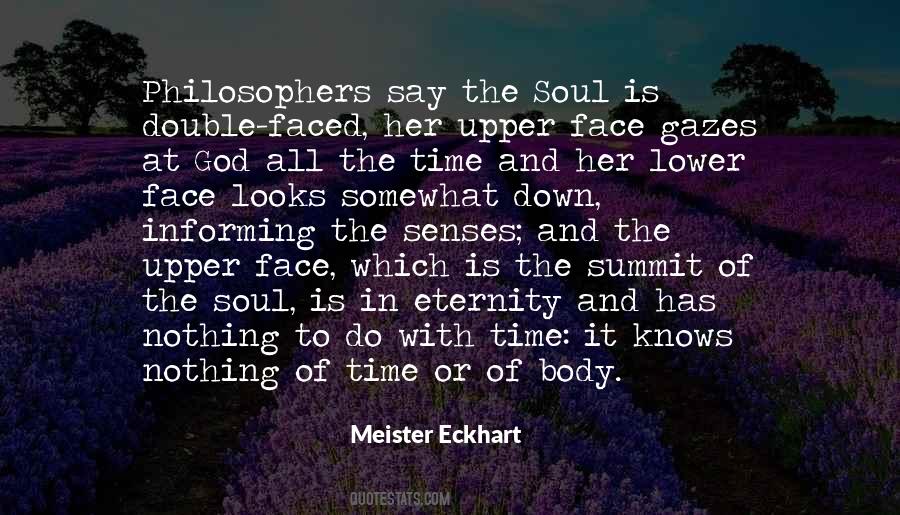 #23. she's offering me more cryptic phrases with a depth to them that even the top-ranked philosophers would have a difficult time decoding.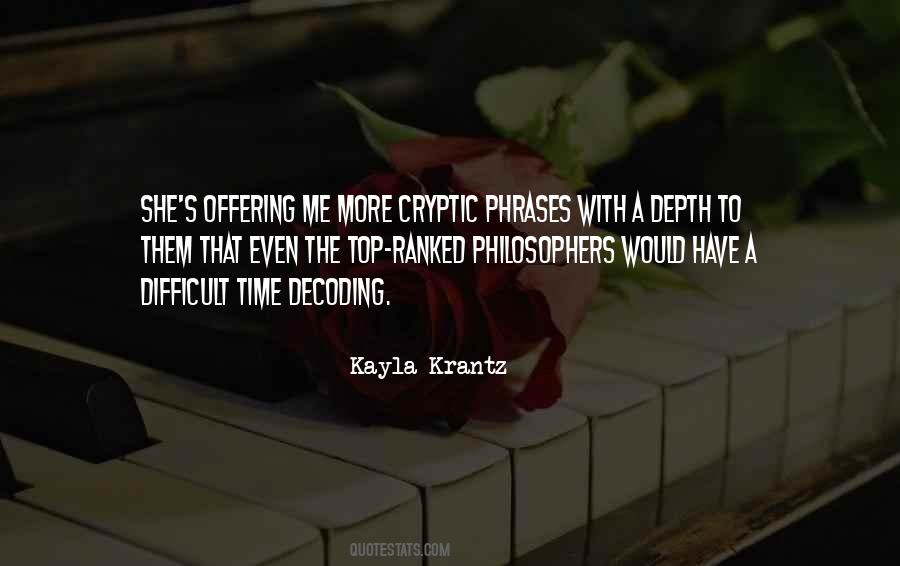 #24. The precise origins of the Mage Wars have been lost in the fogs of Time, but Disc philosophers agree that the First Men, shortly after their creation, understandably lost their temper.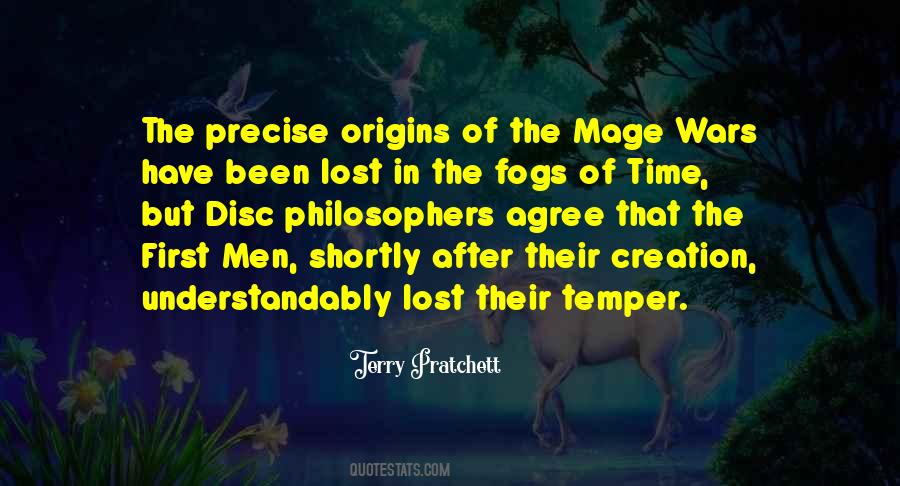 #25. There is nothing so absurd or ridiculous that has not at some time been said by some philosopher. Fontenelle says he would undertake to persuade the whole public of readers to believe that the sun was neither the cause of light or heat, if he could only get six philosophers on his side.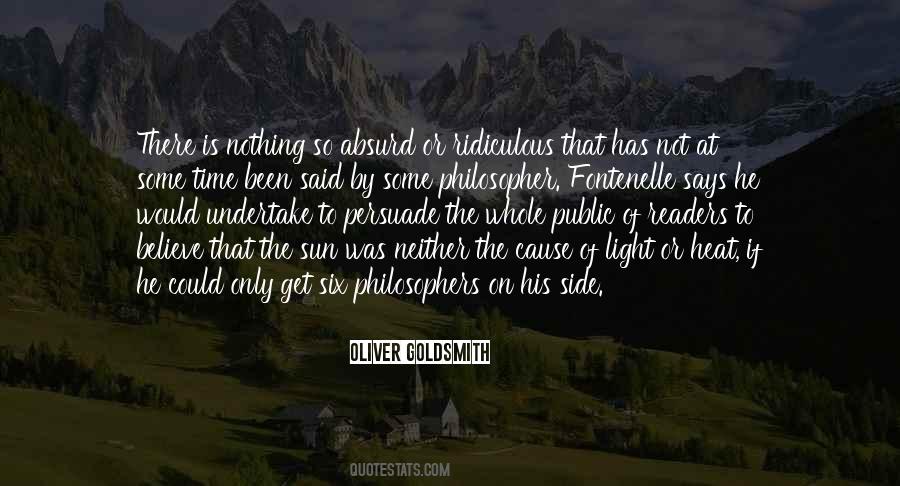 #26. Since the time of Plato and Aristotle philosophers have had an interest in taking note of common fallacies in reasoning.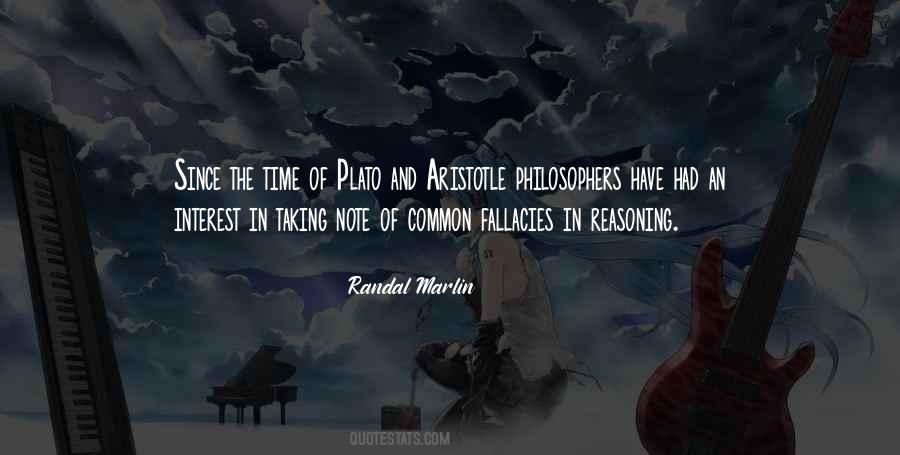 #27. Conclusions that philosophers first establish by way of torturous reasoning have a way, over time, of leaking into shared knowledge.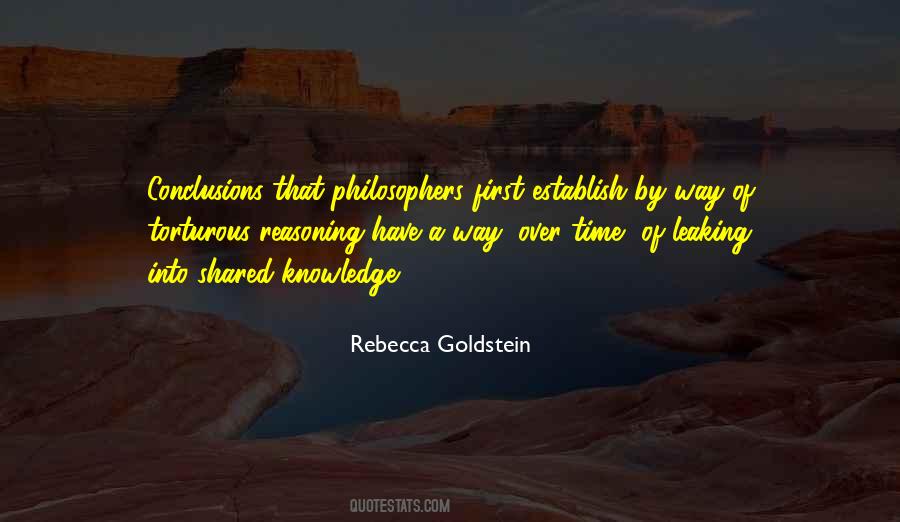 #28. The brainless rushing about makes us feel time starved, which, he writes "does not result in death, but rather, as ancient Athenian philosophers observed, in never beginning to live."6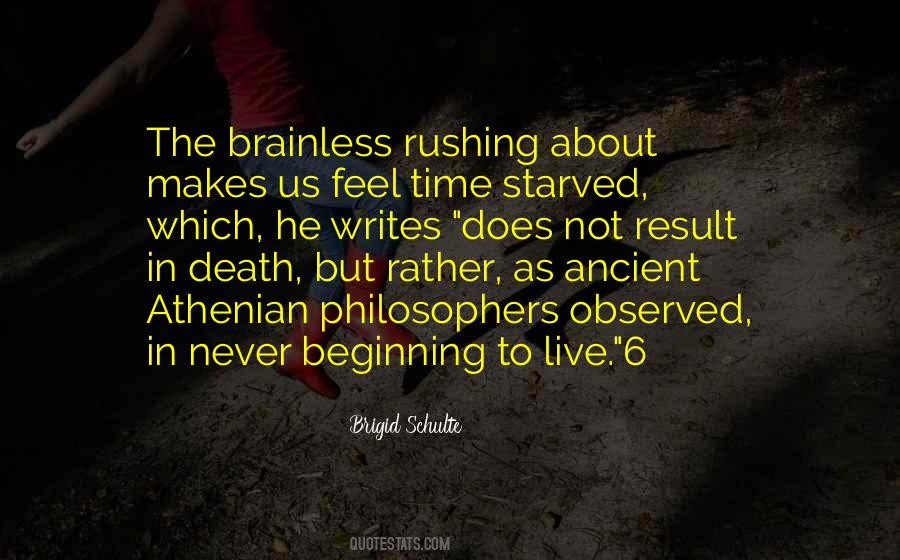 #29. Hope was other people, no matter what the philosophers said. And this was a time that needed hope.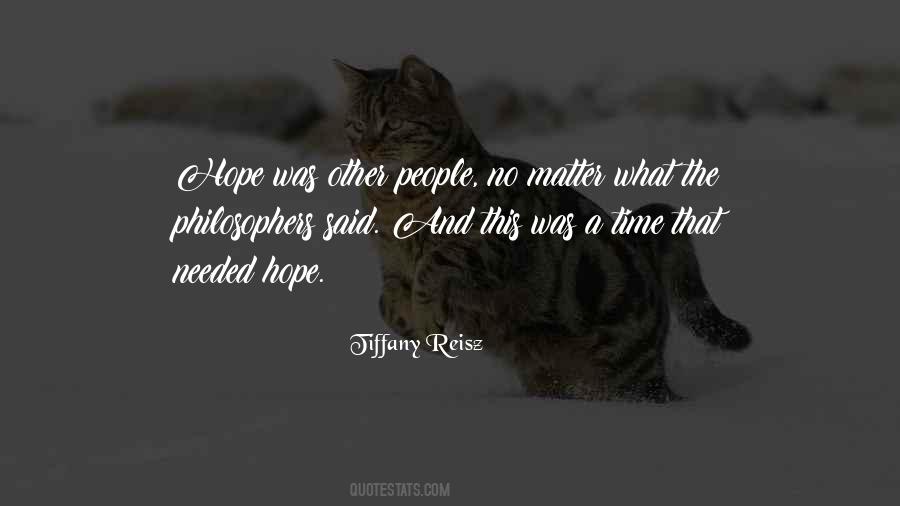 #30. What can a philosopher show for himself? His life. If someone writes a book, but it is not accompanied by a philosophical life, it is not worth our time. Wisdom is measured in details: it is found in what one says and doesn't say, what one does and doesn't do, what one thinks and doesn't think.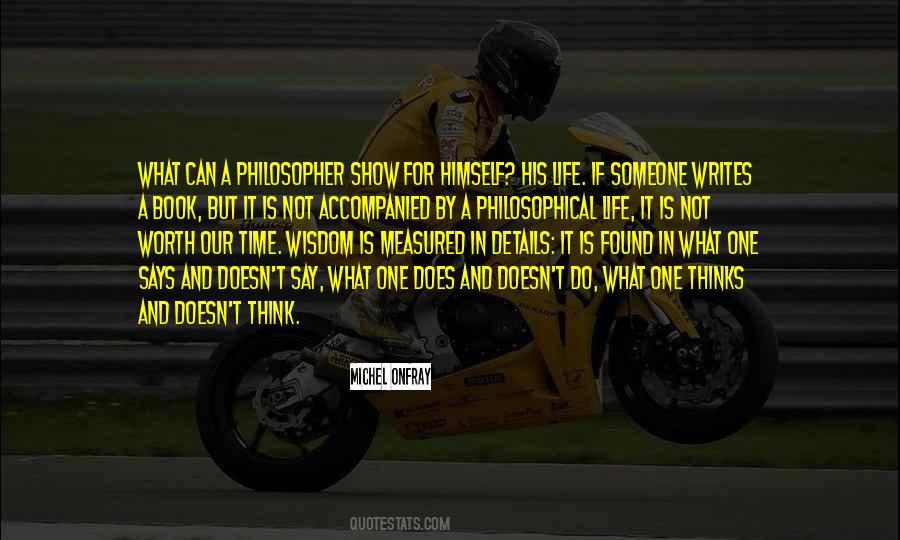 #31. Philosophers are never quite sure what they are talking about - about what the issues really are - and so often it takes them rather a long time to recognize that someone with a somewhat different approach (or destination, or starting point) is making a contribution.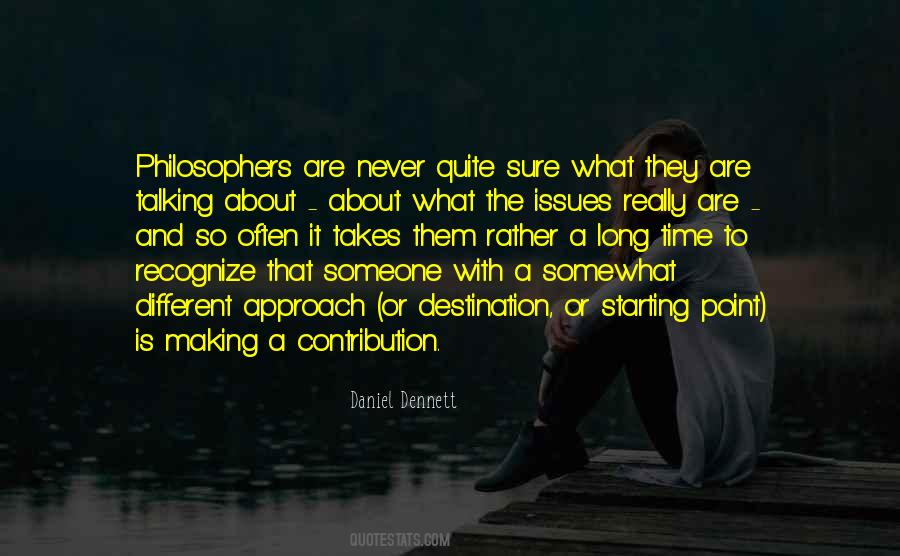 #32. This is how philosophers should salute each other: 'Take your time.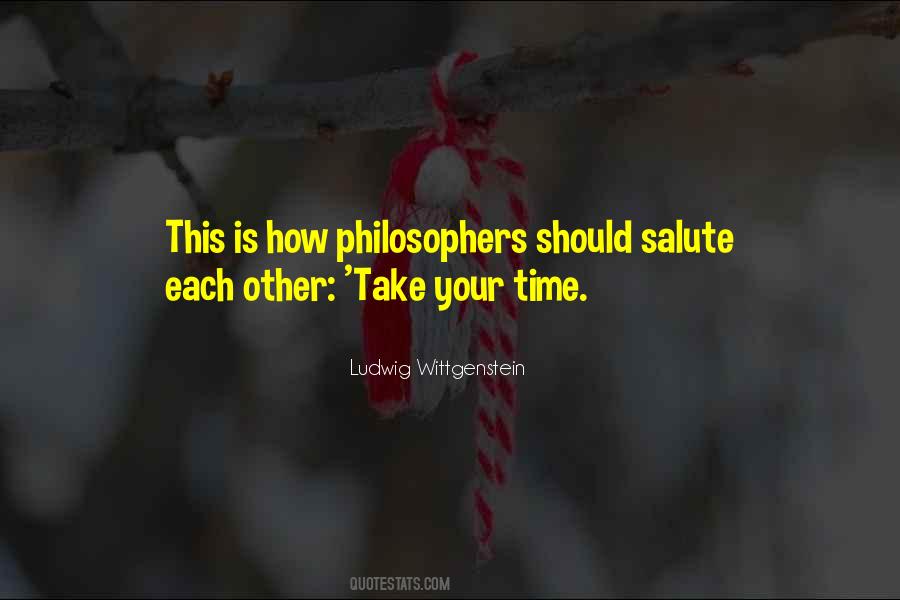 #33. Philosophers are never happy here. Now is not their time, and here is not their space. They live there, they live somewhere else.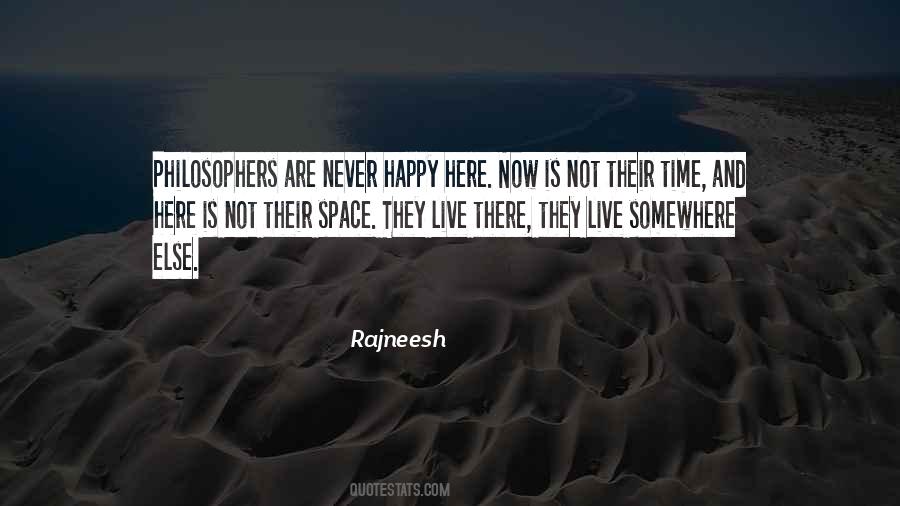 #34. Athletes have studied how to leap and how to survive the leap some of the time and return to the ground. They don't always do it well. But they are our philosophers of actual moments and the body and soul in them, and of our maneuvers in our emergencies and longings.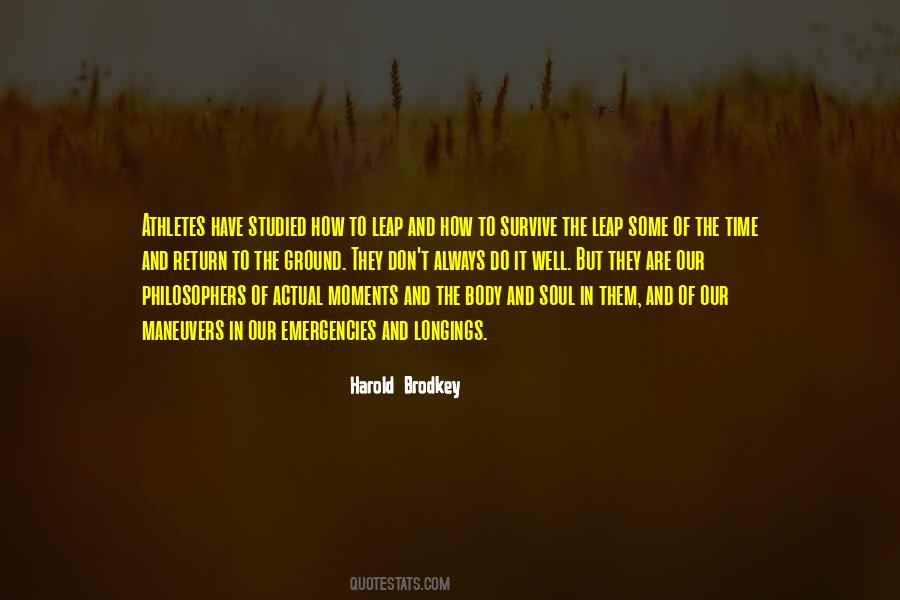 #35. Some philosophers see into themselves, and some into their times; still others forge an alliance with the future.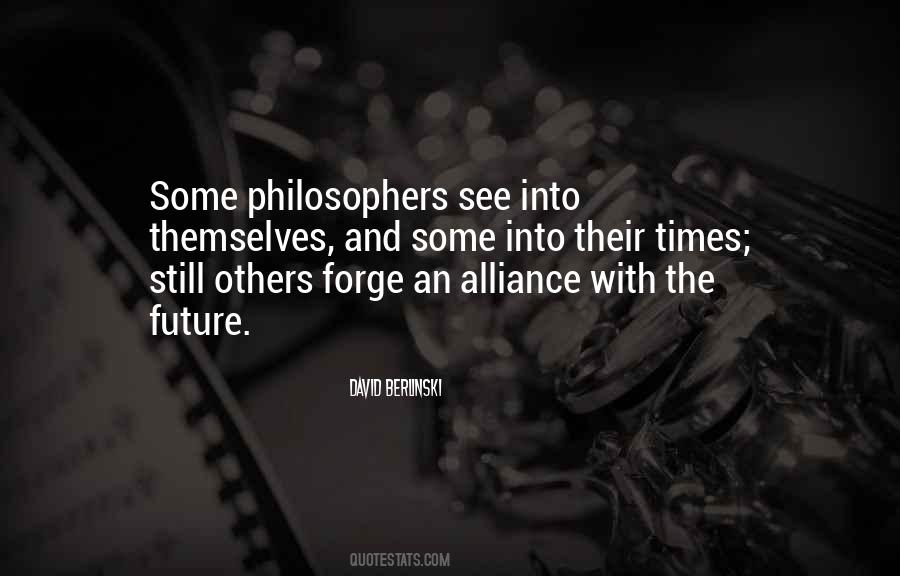 #36. French philosophers had been able to admire Mao and his works because they did not have to live in China at the time.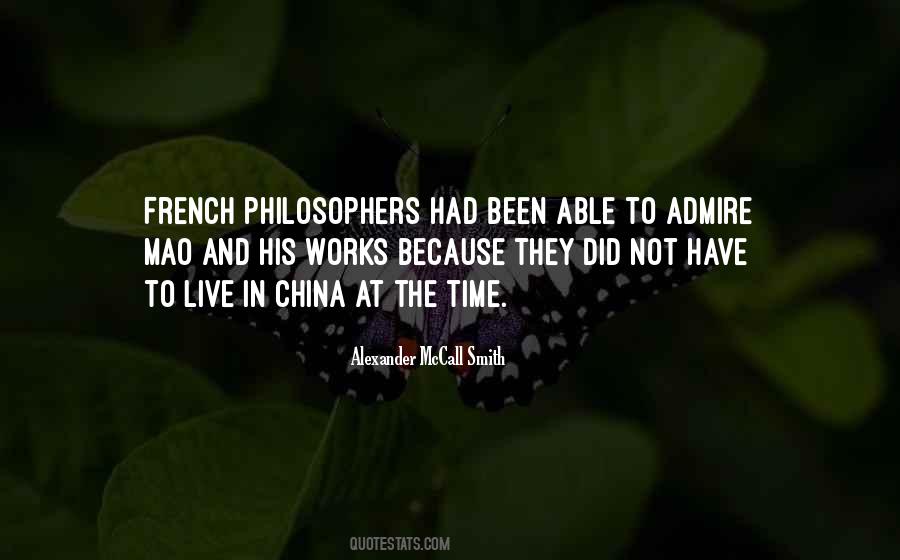 Famous Authors
Popular Topics