Time And Money Famous Quotes & Sayings
List of top 100 famous quotes and sayings about time and money to read and share with friends on your Facebook, Twitter, blogs.
Top 100 Quotes About Time And Money
#1. A company has only so much money and managerial time. Winning leaders invest where the payback is the highest. They cut their losses everywhere else. - Author: Jack Welch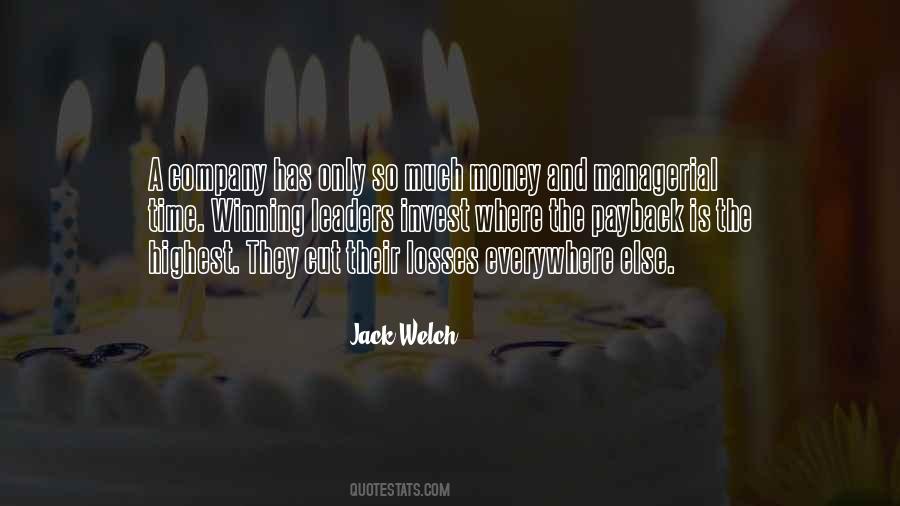 #2. I am sometimes asked, 'Why do you spend so much of your time and money talking about kindness to animals when there is so much cruelty to men?' I answer: 'I am working at the roots.' - Author: George Thorndike Angell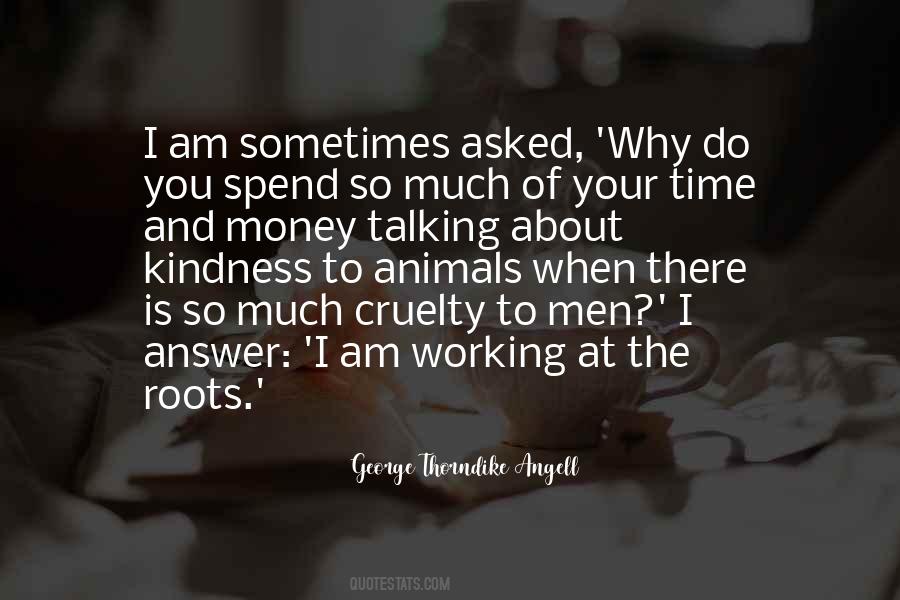 #3. The person who is rich is the one who possess kindness, caring, help others when needed, gives things that money can't buy, and spend time with those who need someone to listen to their stories. Sometimes money isn't needed. - Author: Ellen J. Barrier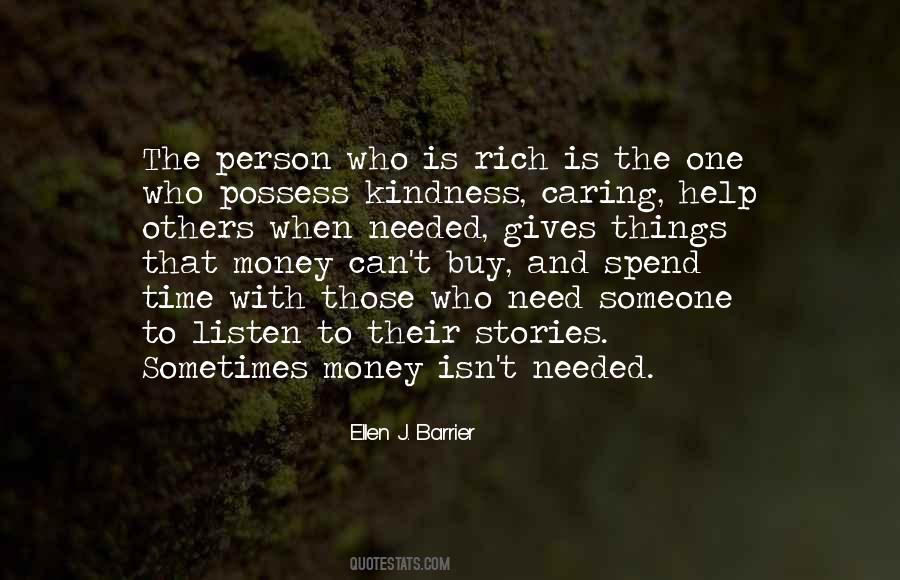 #4. He wasn't, but producers are by definition annoying because they have a different agenda from you. They're trying to stop you spending money and you're trying to not spend money, but at the same time we're great artists. - Author: Michael Apted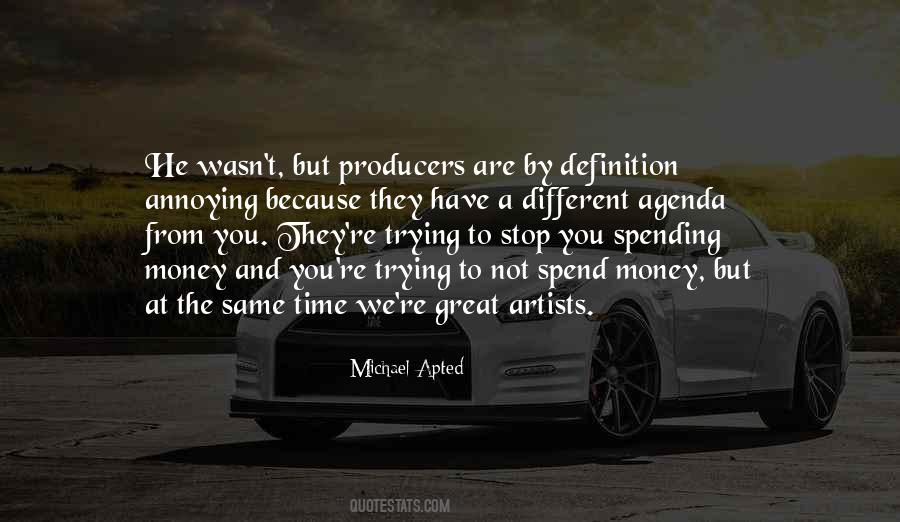 #5. What we do with a little time, a little talent, and a little money tells God a lot. - Author: Randy Alcorn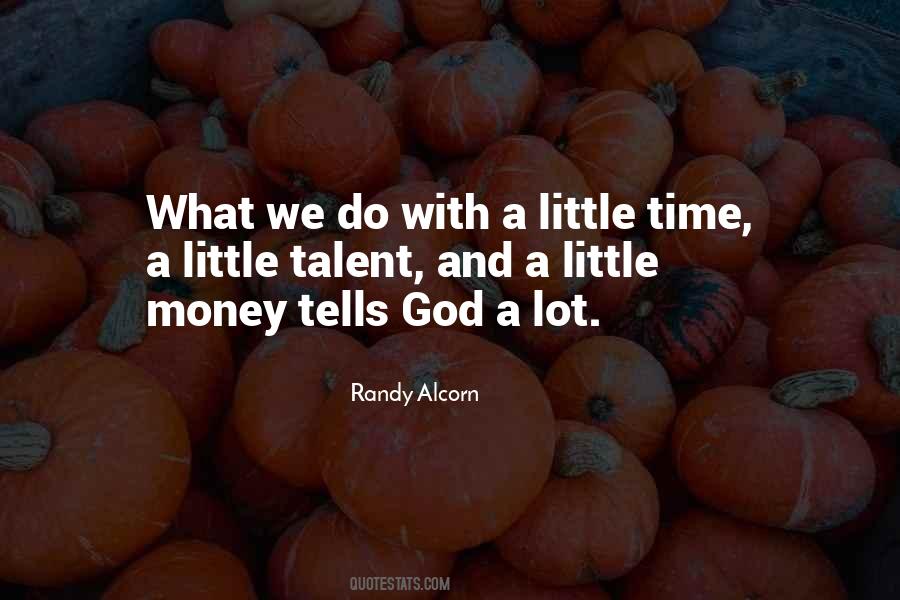 #6. Perhaps the most important use of money - It saves time. Life is so short, and there's so much to do, one can't afford to waste a minute; and just think how much you waste, for instance, in walking from place to place instead of going by bus and in going by bus instead of by taxi. - Author: W. Somerset Maugham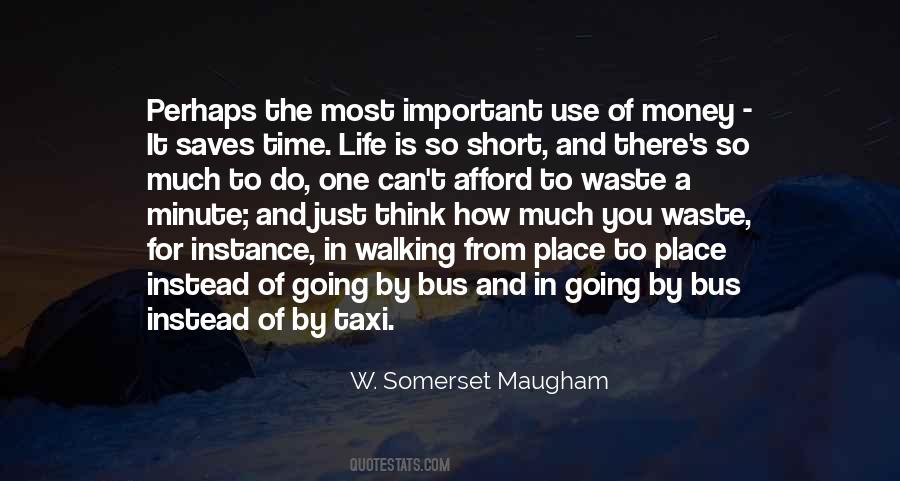 #7. If you ask me, over time, I am a believer in the Indian financial saving story getting stronger; a lot more savers are moving money away from gold and real estate into banks, mutual funds, insurance and equities. - Author: Uday Kotak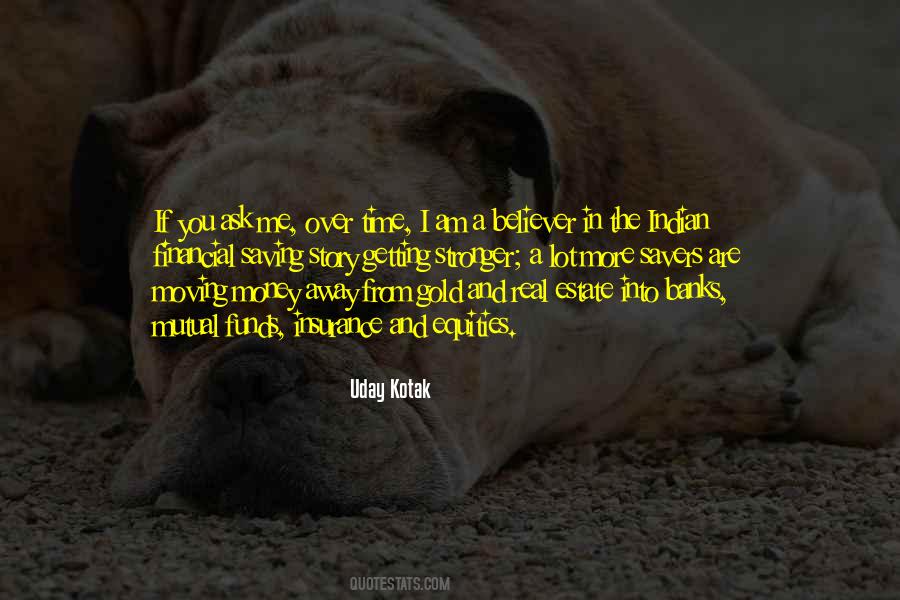 #8. It's time we admitted that there's more to life than money, and it's time we focused not just on GDP, but on GWB - general well-being - Author: David Cameron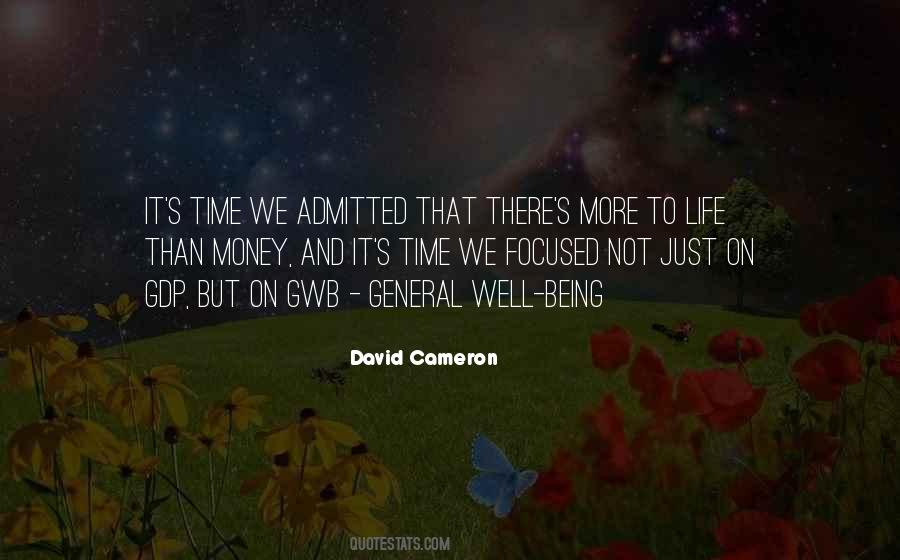 #9. If you look at the paths of other actors, most people have a curve where you hit it and there's a time where you make a lot of money and they let you make your movies, and then they take it away and it's gone. - Author: Casey Affleck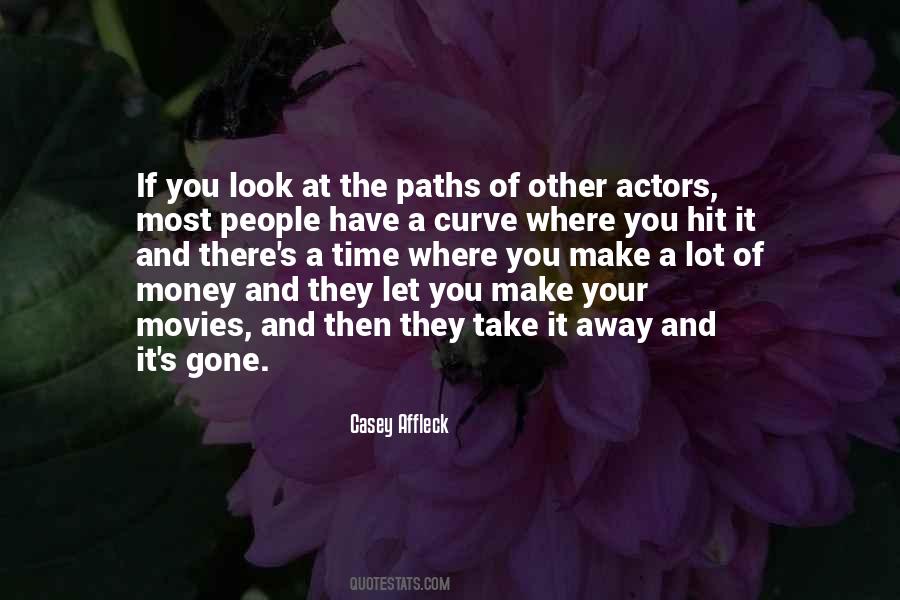 #10. The music rights at the time cost me $12,000 in 1964 money, which is about double now or whatever. But I cleared everything. I had a lawyer in New York. And it was cleared for use in a short subject, not a feature. - Author: Kenneth Anger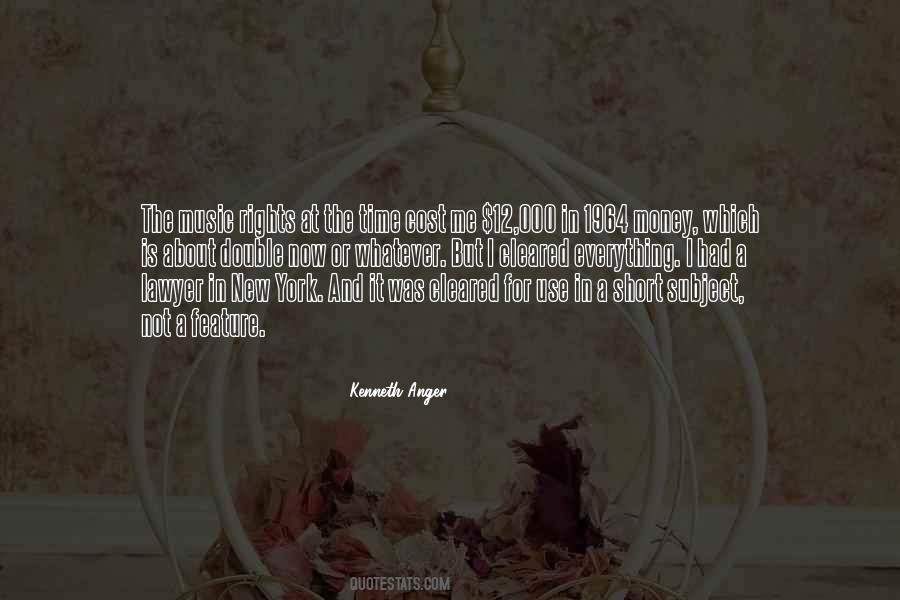 #11. Monitor and control every passing day so as to live without regrets - Author: Sunday Adelaja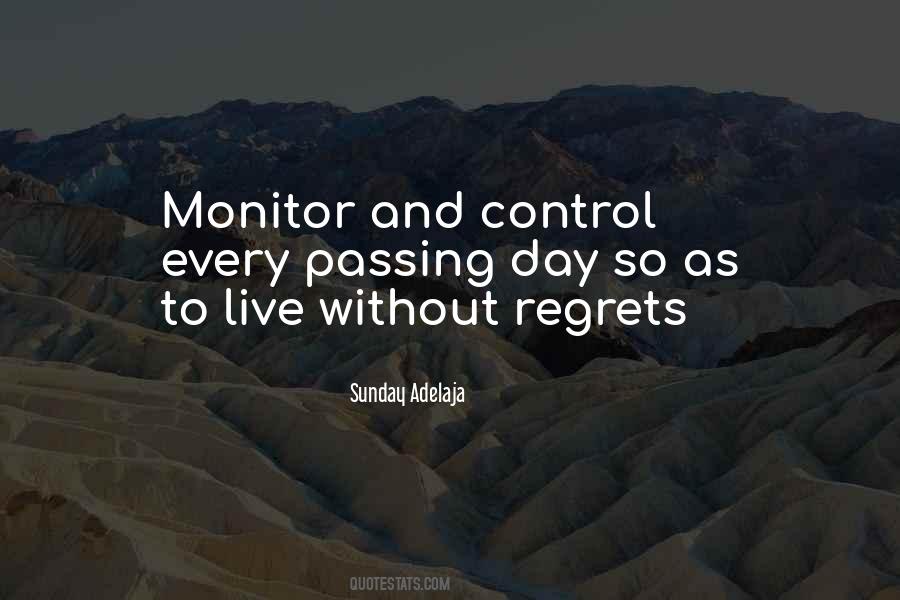 #12. I trade musical favours like cattle. I can't remember the last time I did a remix for actual money. For me, I try and get a good swap. - Author: Calvin Harris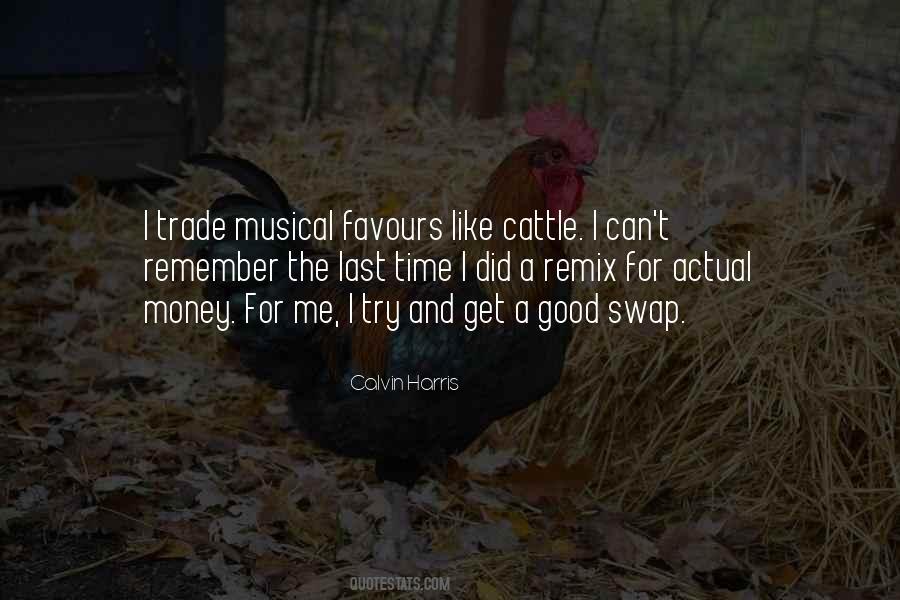 #13. (I invented rock and roll. You wouldn't believe the things I've invented. Anal sex, obviously. Smoking. Astrology. Money ... Let's save time: Everything in the world that distracts you from thinking about God. Which ... pretty much ... is everything in the world, isn't it? Gosh.) - Author: Glen Duncan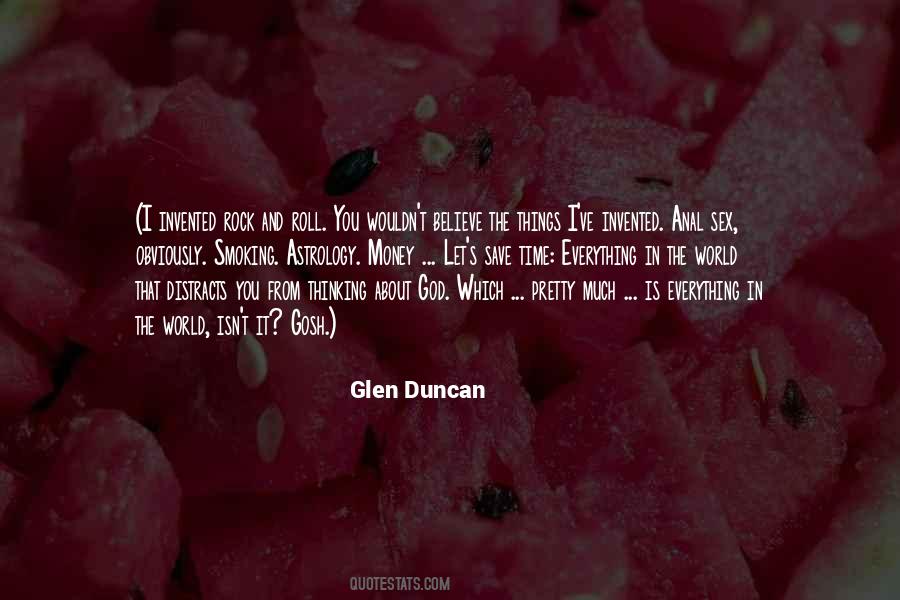 #14. Time is valuable, and when it is gone, it is gone. Time is wealth, and unlike money, when it is gone, you cannot replace it - Author: Napoleon Hill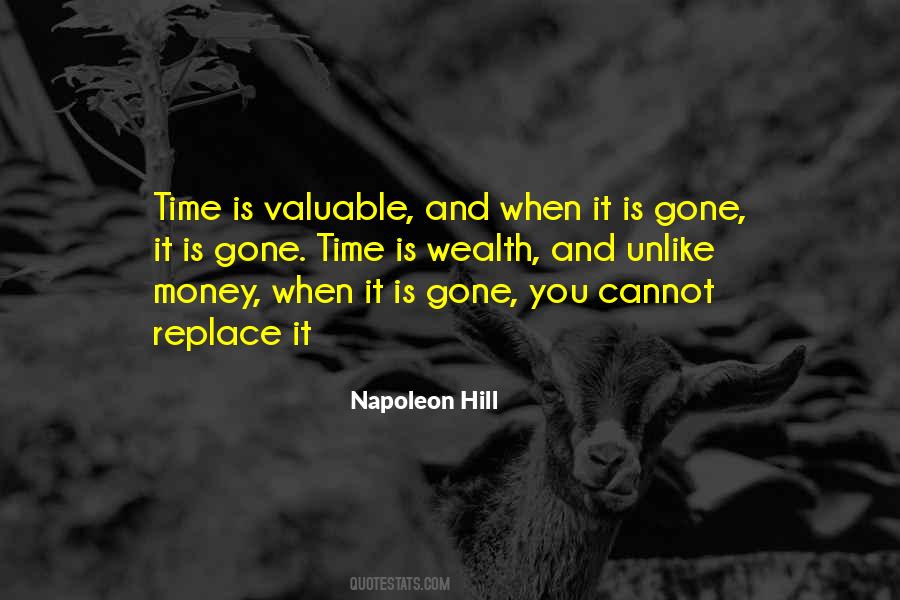 #15. As a proponent of big-picture analysis, media pioneer and Time founder Henry Luce asserted, there was more money to be made in slow news than fast news. - Author: David Halberstam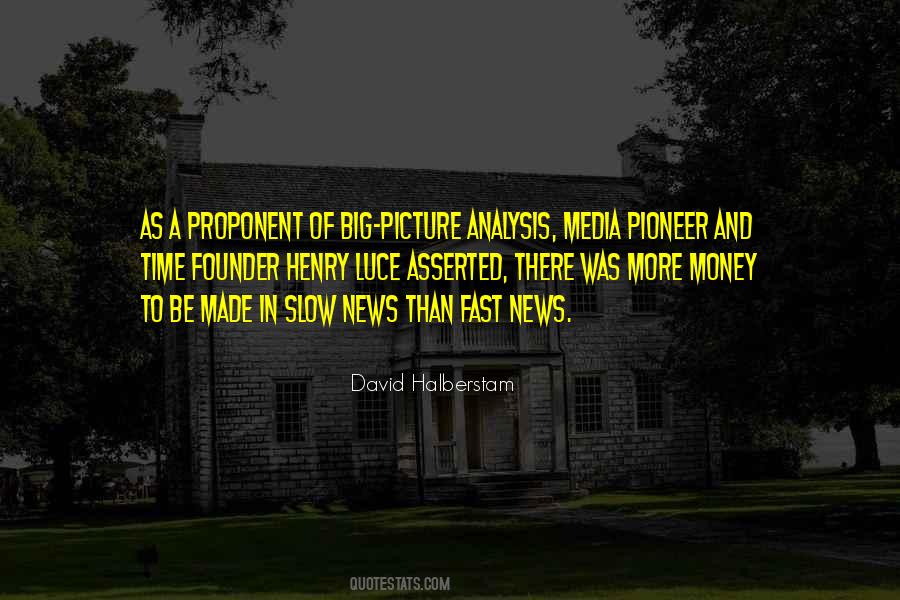 #16. I don't get involved in politics. I think that it is a waste of time and money because very often a politician cannot do much, and if you give him money, you embarrass him, so he can't do anything. - Author: Harry Triguboff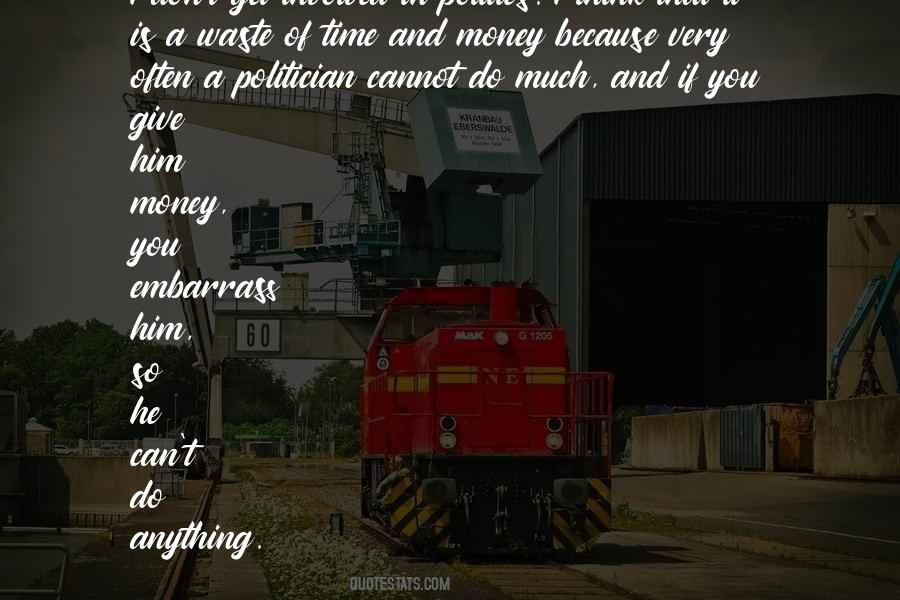 #17. People who need therapy are in Afghanistan. They've seen horrible human cruelty and degradation, but they don't have time or the money for therapy. - Author: David Chase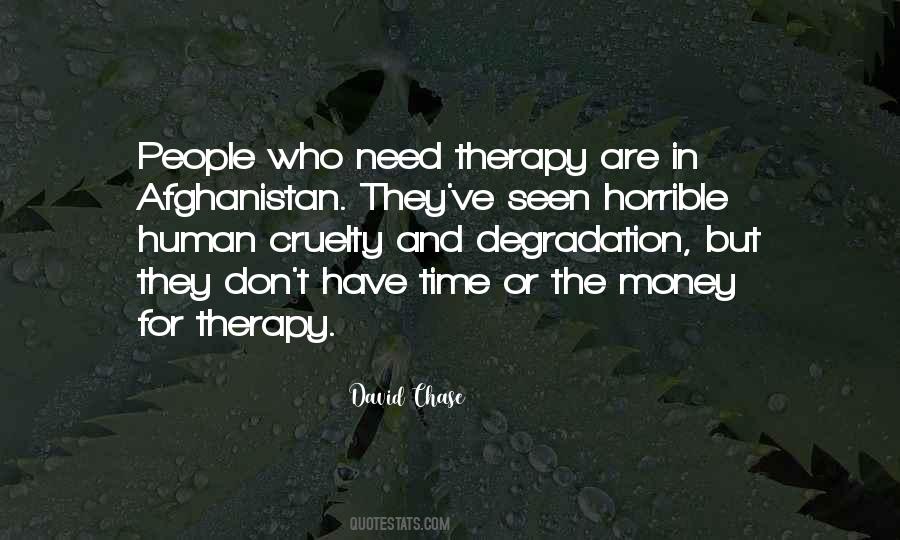 #18. I was bargaining for time away from Hollywood, and Columbia was bargaining for money. I got what I wanted and they got what they wanted. They knew I was so anxious to do Born Yesterday that I'd have done it for a dollar. They gave me the next best thing. - Author: Judy Holliday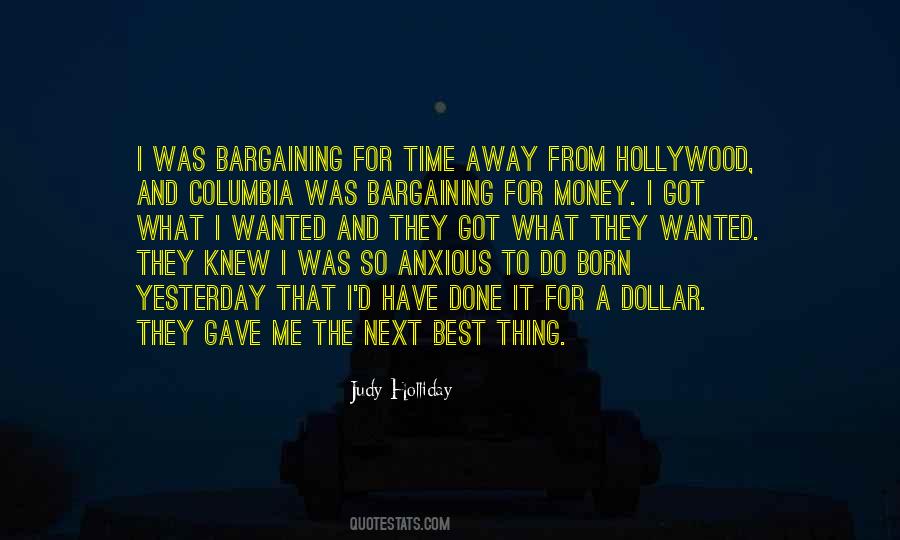 #19. The U.S. have printed money; they intend to tax the rich in order to avoid the fiscal cliff. These are things that sees anyone who dares to propose them in Greece and Europe labeled an extremist, when at the same time, it's what Obama does. - Author: Alexis Tsipras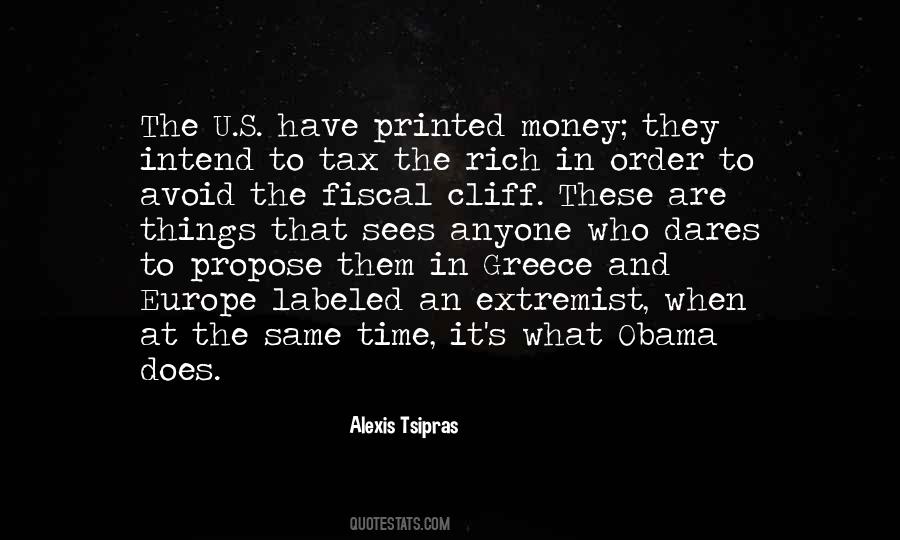 #20. You cannot earn money from any artistic career. You have to spend all the time if you want to develop, and keep presenting shows that are always better, always new. - Author: Nagwa Fouad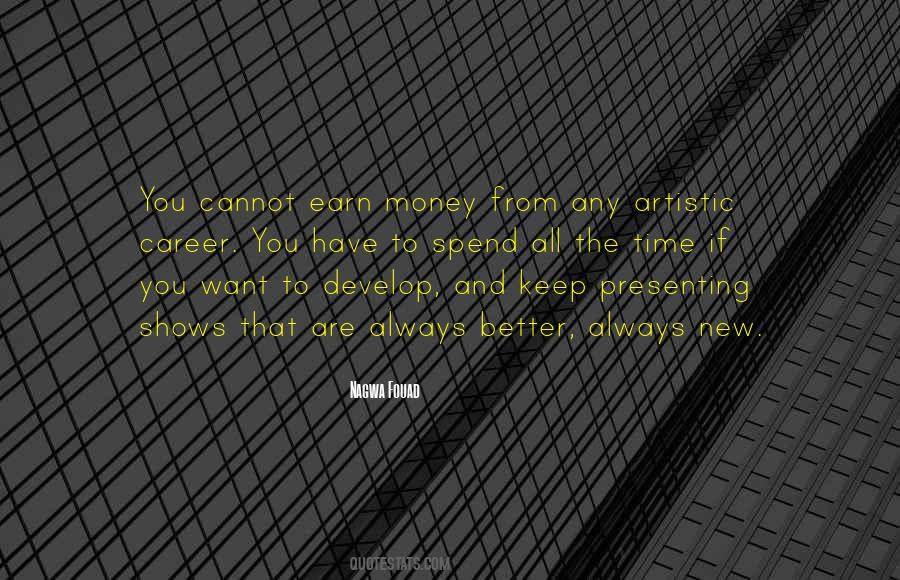 #21. We easily become trapped in the 'someday' mentality. Someday I'll have all the money I need to enjoy life. Someday I'll be able to spent more time with my family. Someday I'll have time to relax and do what i love doing. - Author: Nick Vujicic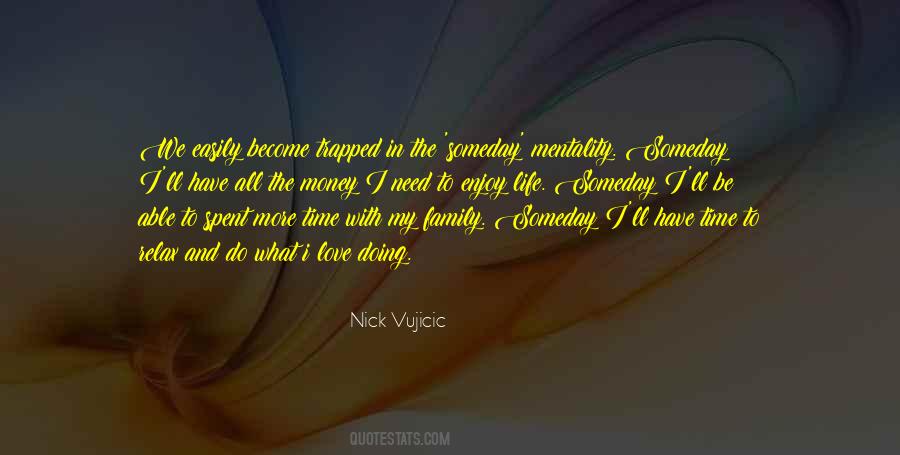 #22. Don't just exchange your time for money, your life is worth more than that, do something that is meaningful and purposefully - Author: Bernard Kelvin Clive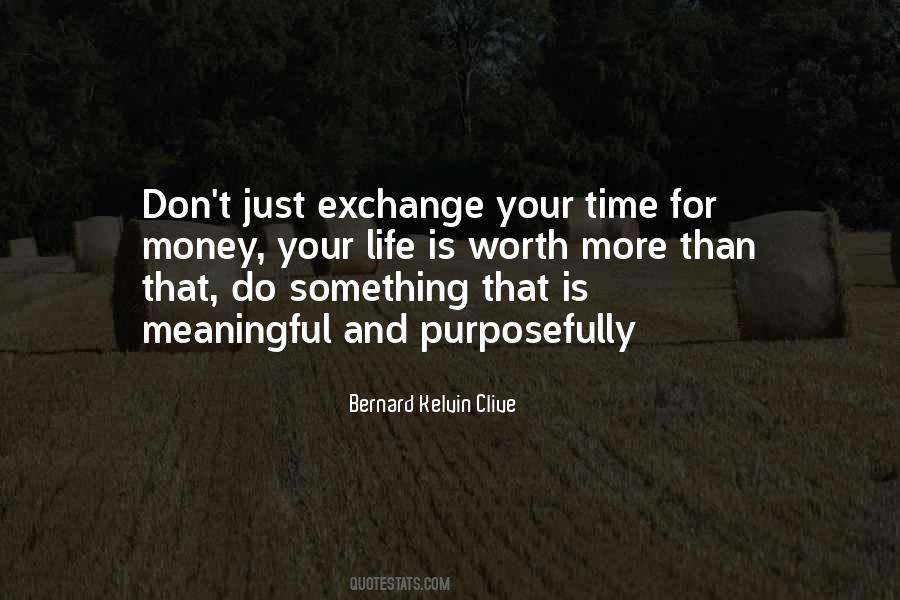 #23. Discipline allows you to trade effectively. You can take your ego out of it. You can go wrong 60, 70% of the time and still make a lot of money. If you ignore the discipline of managing risk, you have to be right 80% of the time or more, and I don't know anyone who's that good. - Author: Larry Rosenberg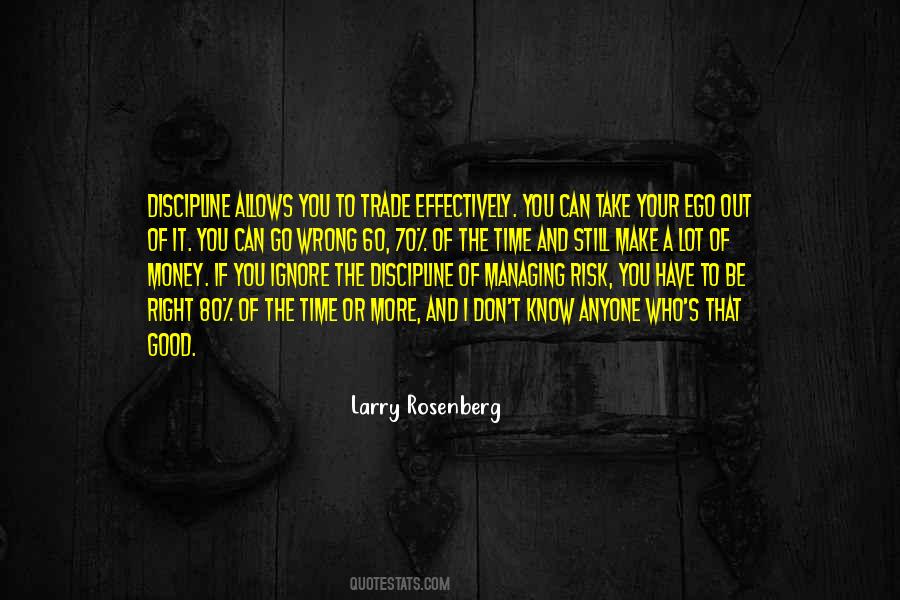 #24. It's time to start thinking differently about money and debt and start the healing process - and the process toward wealth and freedom. 'Freedom from Bad Debt' can get you started. - Author: Robert Kiyosaki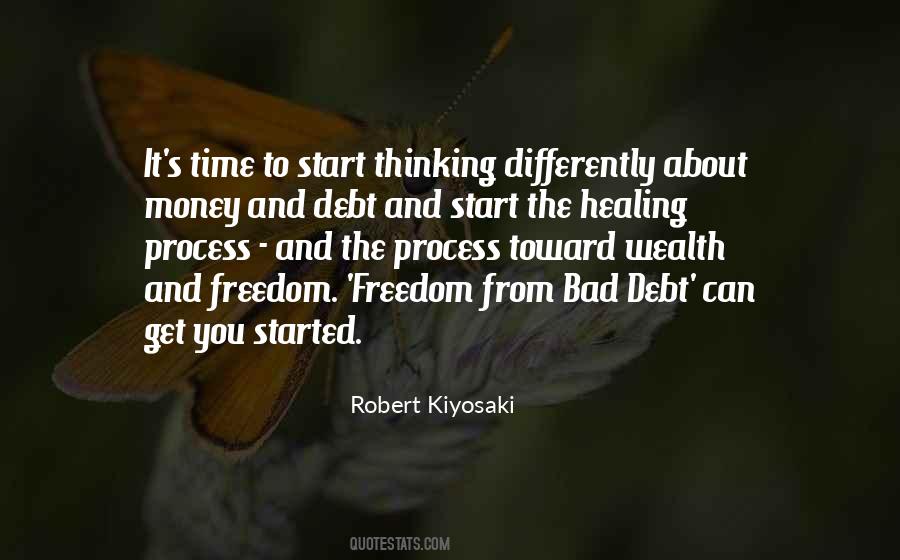 #25. Time and money spent in helping men to do more for themselves is far better than mere giving. - Author: Tim Sanders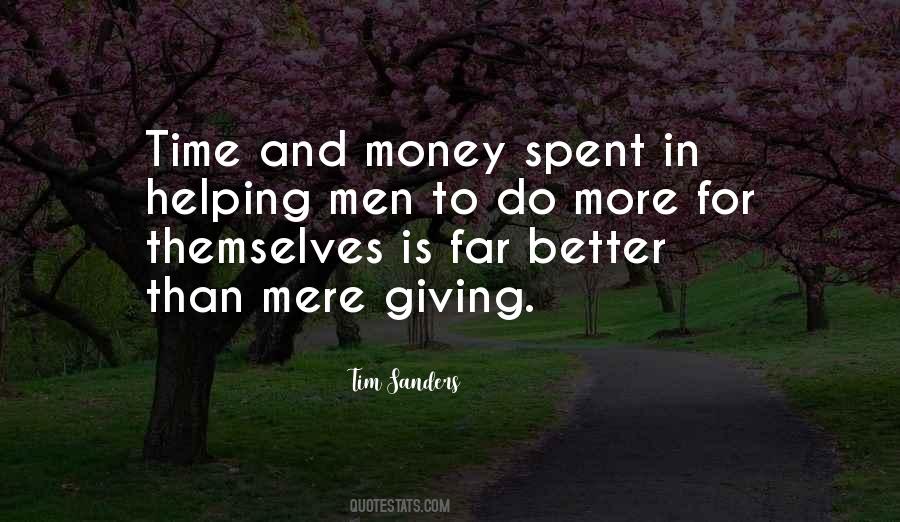 #26. In my opinion a lot of people who may seem happy now would do what I did or similar things if they had the money and the time. I - Author: John Fowles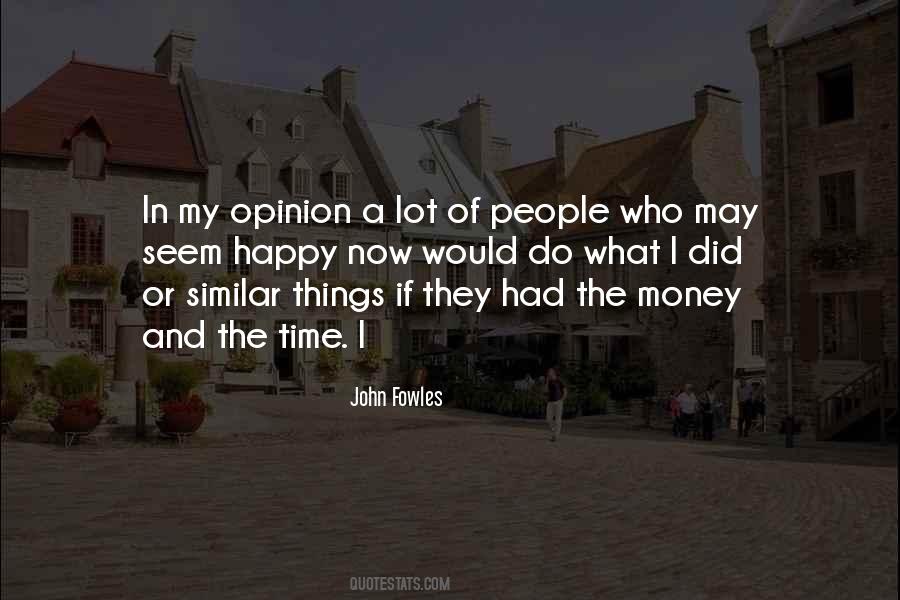 #27. You might think of consumption as a fairly passive activity, but buying new products and services is actually pretty risky, at least if you value your time and money. - Author: James Surowiecki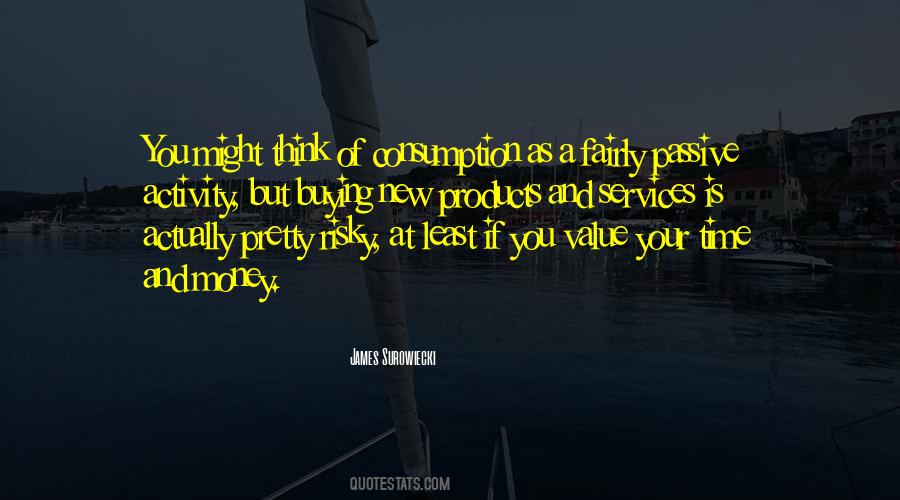 #28. You can't measure time by days, the way you measure money by dollars and cents, because dollars are all the same while every day is different and maybe every hour as well. - Author: Jorge Luis Borges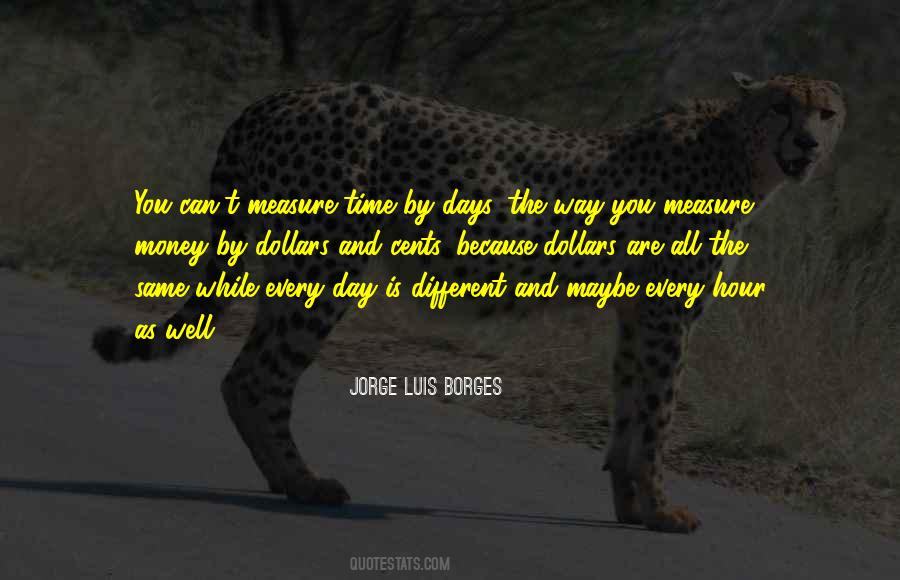 #29. Your spiritual and physical growth depends mainly on your time management and personal relationship with God - Author: Sunday Adelaja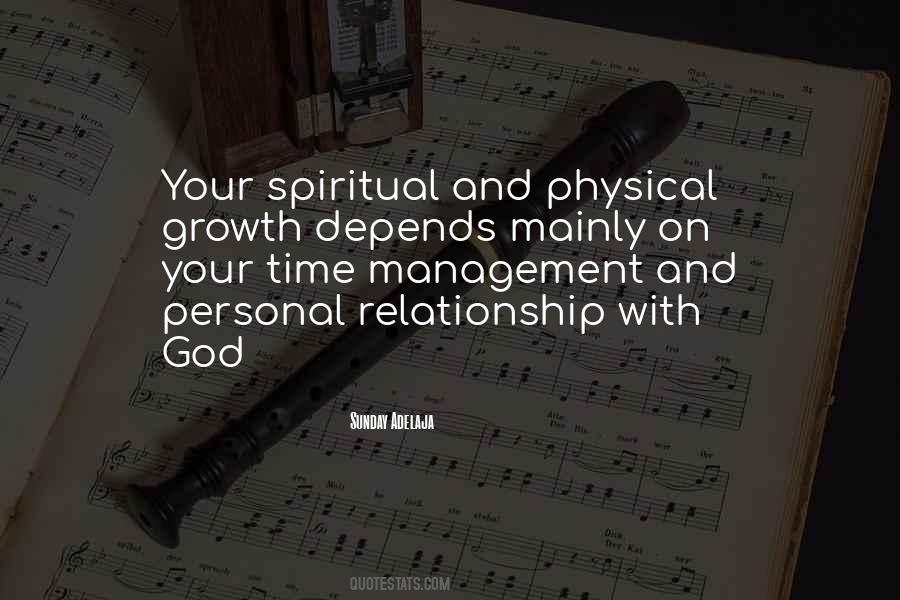 #30. I saw money becoming more and more important everywhere. It's one of the most abstract and important inventions by human beings. At the same time, money is capable of extraordinary corruption in every kind of relationship. I tried to see how and why, more and more, money is becoming a religion. - Author: Costa-Gavras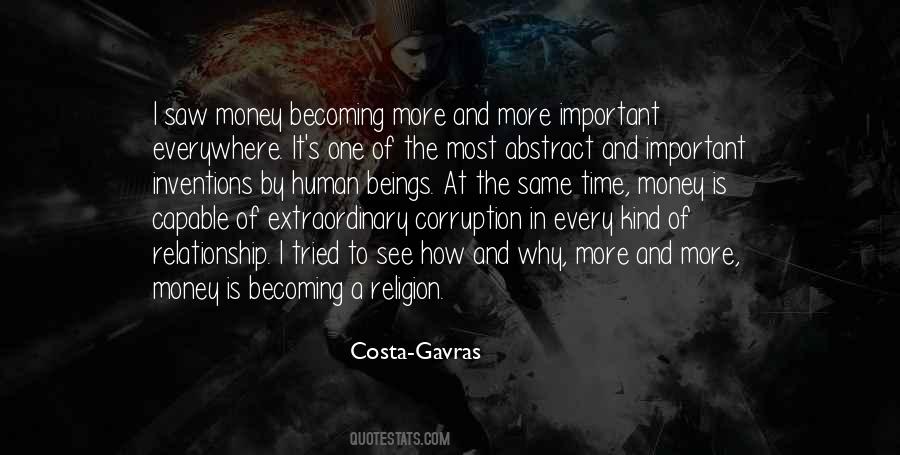 #31. Is there a choice in life? It's always been like this. I am jealous that you have a lot of leisure and free time. You are jealous that I have a lot money. - Author: Yao Ming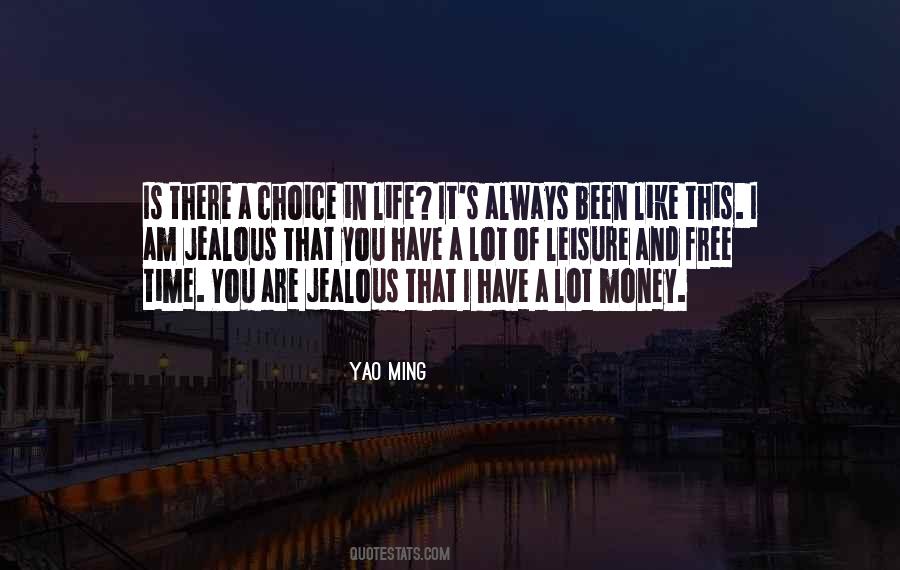 #32. Money, financial matters were to help people, to help them survive, not to have a bigger house or a bigger car and that sort of thing, because I hear that from so many kids, they often don't know why their father won't spend more time with them. - Author: Bernie Siegel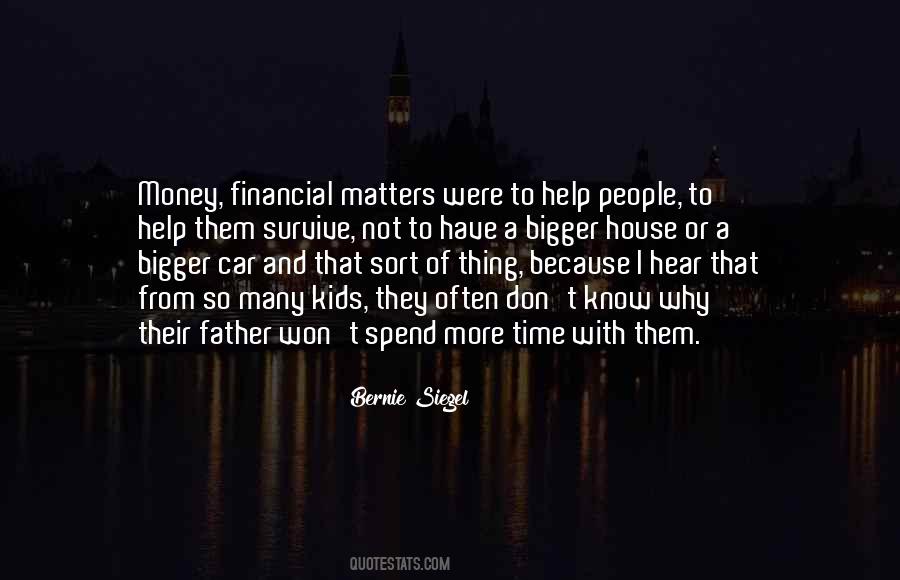 #33. We sold a certain, steady amount of product for them and they could count on it. When it came time to ask for the money for this new record, they dropped us. It was fine with us. It was a dead fish. - Author: Gene Ween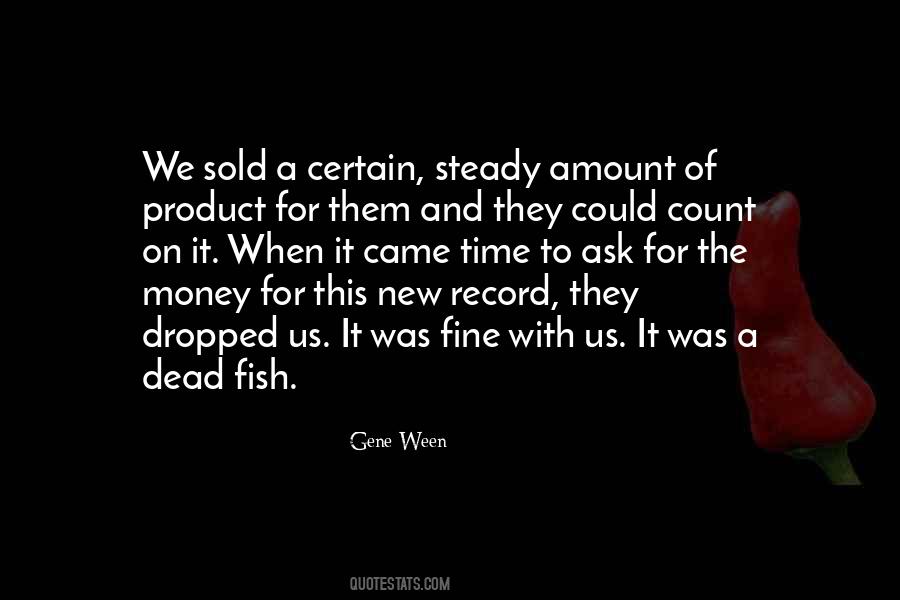 #34. The real difficulty for smaller films, when they're made independently and it's time to go for a distributor, sometimes if it's a tough film and the people who financed it need their money back right away, it's much easier and lucrative to take a DVD deal. - Author: Willem Dafoe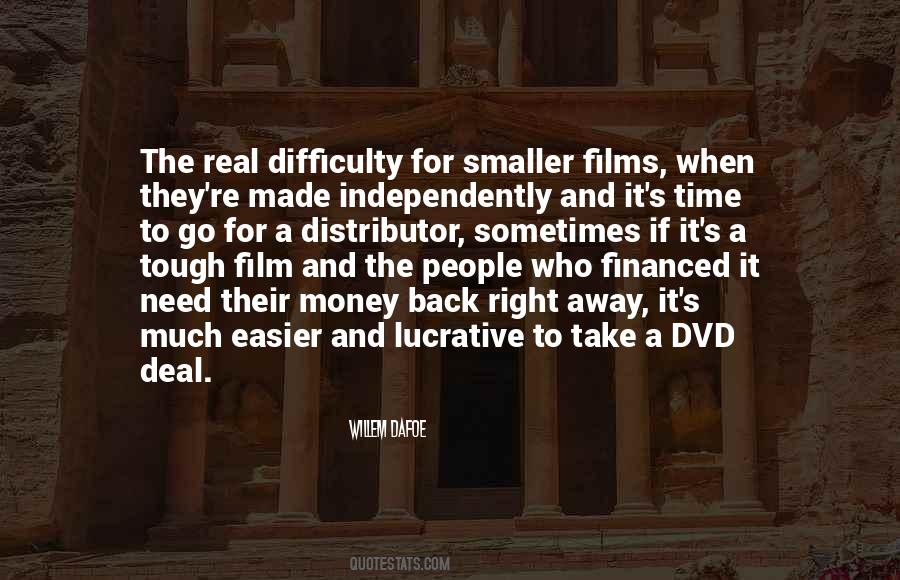 #35. I get a phone call once every 18 months from some mad person who wants me to do something for less than no money and they give me about a week's notice. That's my film career, most of the time. - Author: Dylan Moran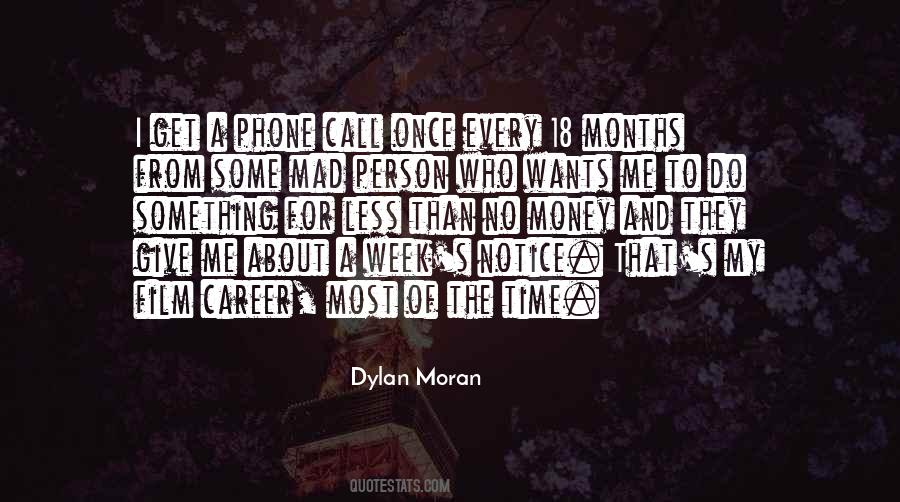 #36. A fast food job, for most people, should be an entry level position. If you see no path for advancement beyond that, it's time to take a real fast look at your human capital and learn a skill that will make you more money. - Author: William J. Bernstein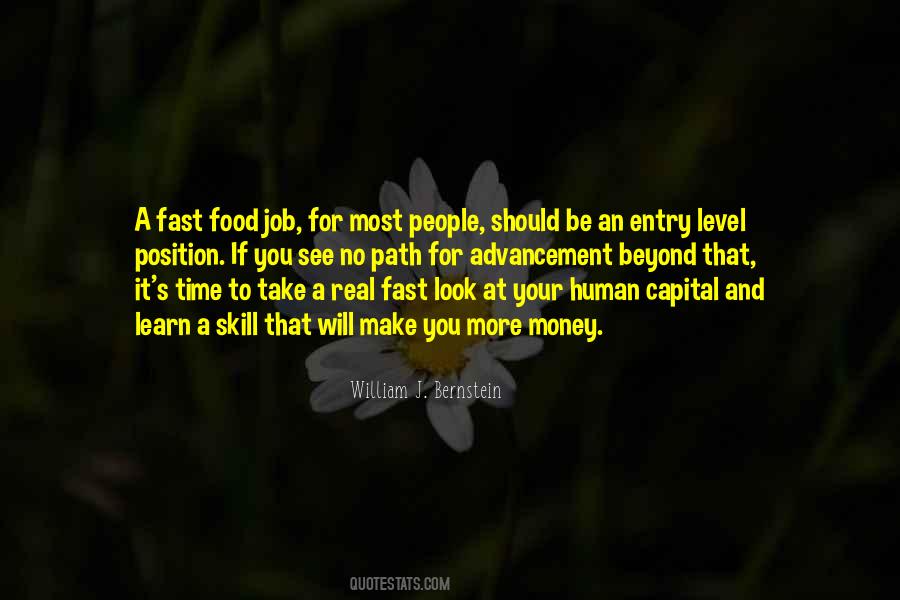 #37. First you spend a lot of time and money making the grass grow, just so you can spend a lot of time and money cutting it down again a little while later. - Author: Lee Child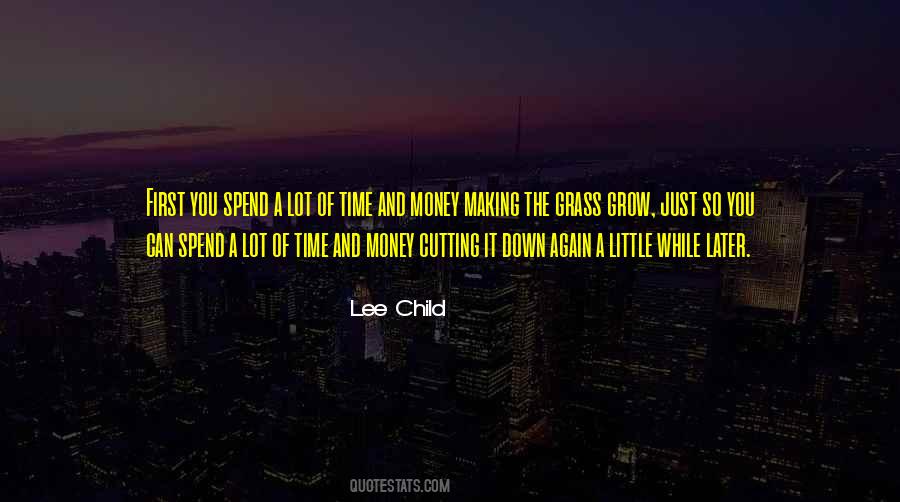 #38. This tendency to defend a belief structure is true in all cases, even the rational. Never underestimate our ability to convince ourselves of what we wish to be true, especially if we have invested time and money in our beliefs. - Author: Gudjon Bergmann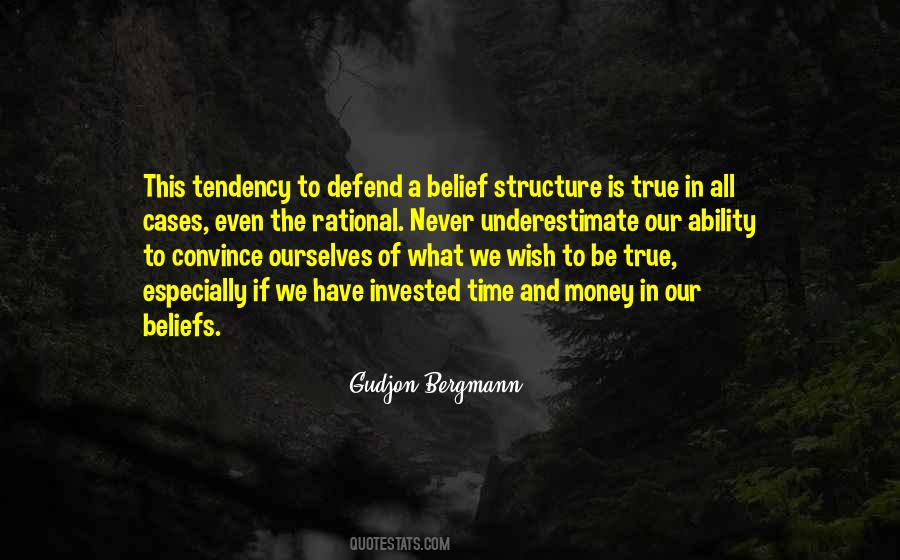 #39. This may sound funny, but as much as the 'Today' show matured me, it also was something of a cocoon. I'd been happy there. I never went into the boss's office and pounded my fist on the desk, saying, 'Give me more money! Give me a prime-time show!' - Author: Jane Pauley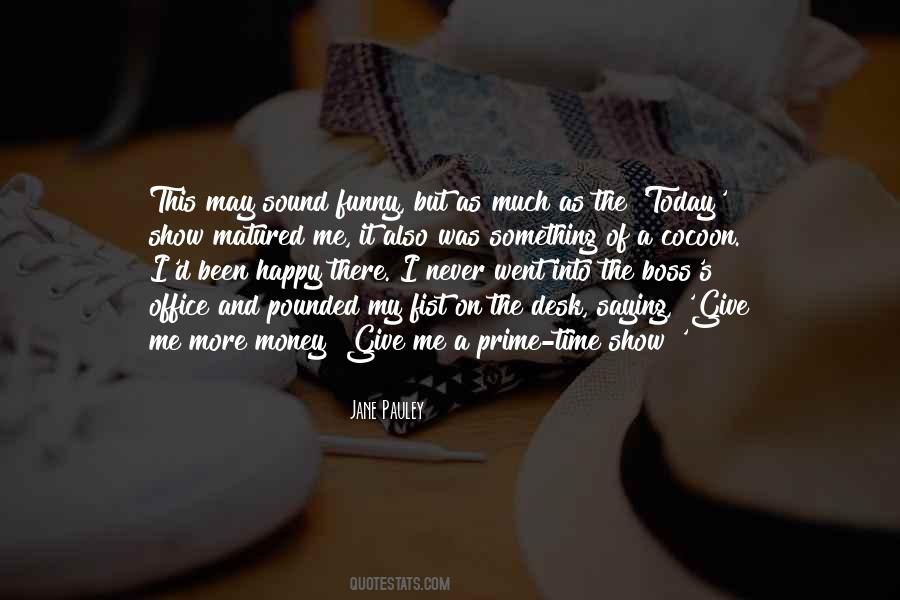 #40. Two good indicators of revealed preferences are things the people tend to value a lot: time and money. If you look at how they spend their time and how they spend their money, you can infer quite a lot about their real preferences. - Author: Douglas W. Hubbard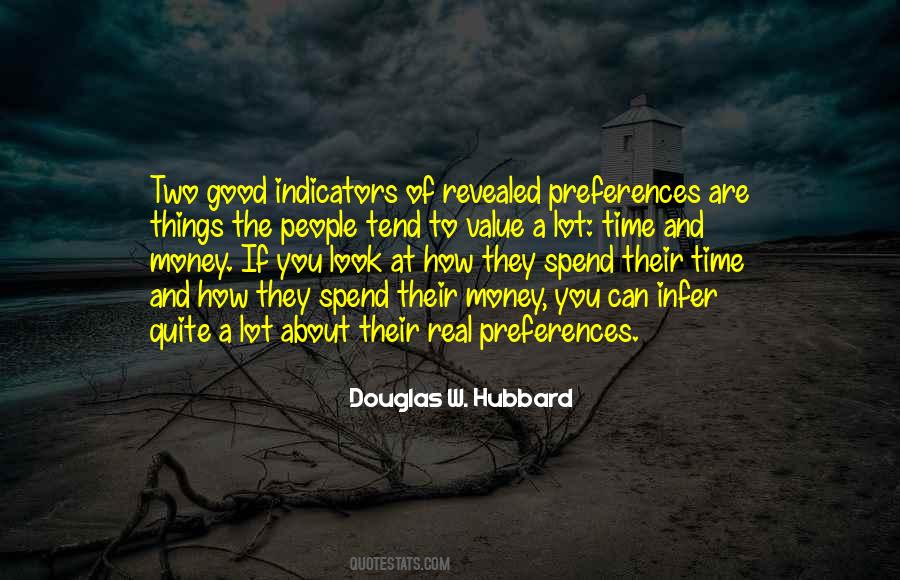 #41. Be persistent and diligent in the way you spend your time daily - Author: Sunday Adelaja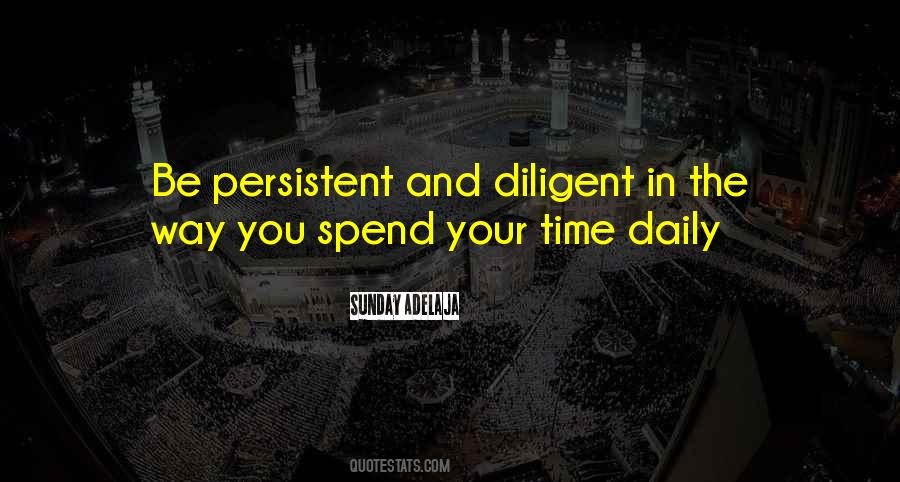 #42. My daughter finished high school the same month I got my master's degree. I'm glad I didn't know when I gave birth to her at 21 what it would cost in terms of time, money and sacrifice to bring her to that graduation day. - Author: Regina Brett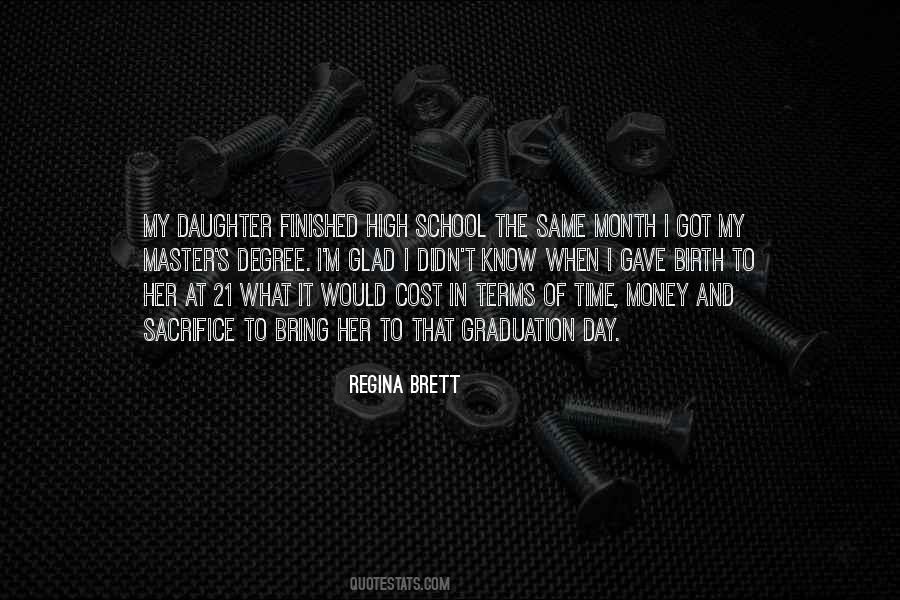 #43. If there is a public perception at all, they see the producer as a big old guy who smokes a cigar and has lots of money and lots of power. That's not what a producer is and, if it ever was what a producer was, it certainly hasn't been for a long time. - Author: Marshall Herskovitz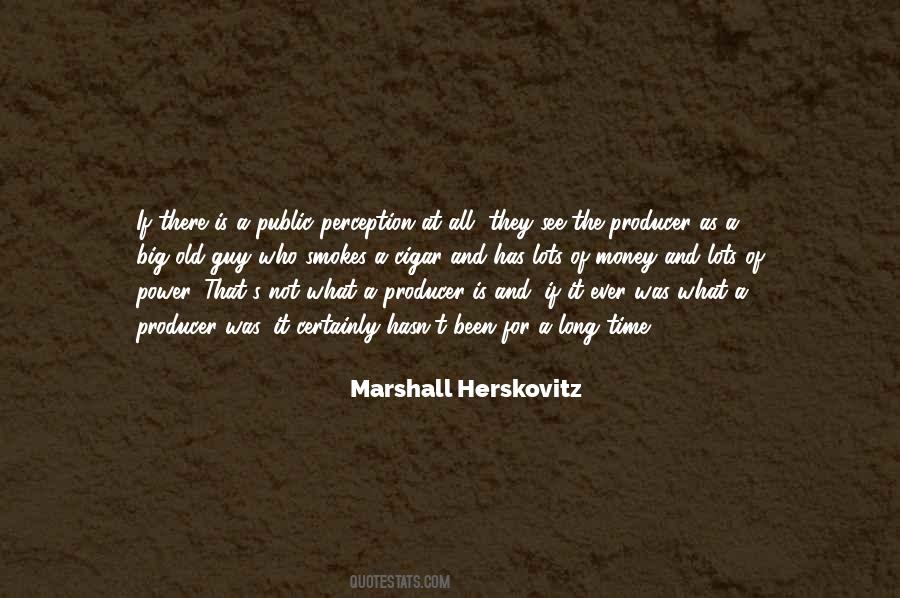 #44. Now, I don't want to come over all cynical, but doesn't that imply that you could dispense with the entire democratic process and simply award power to the party with the most money in its campaign fund? Yes. It does. Maybe not always, just every, single time in history so far. - Author: Russell Brand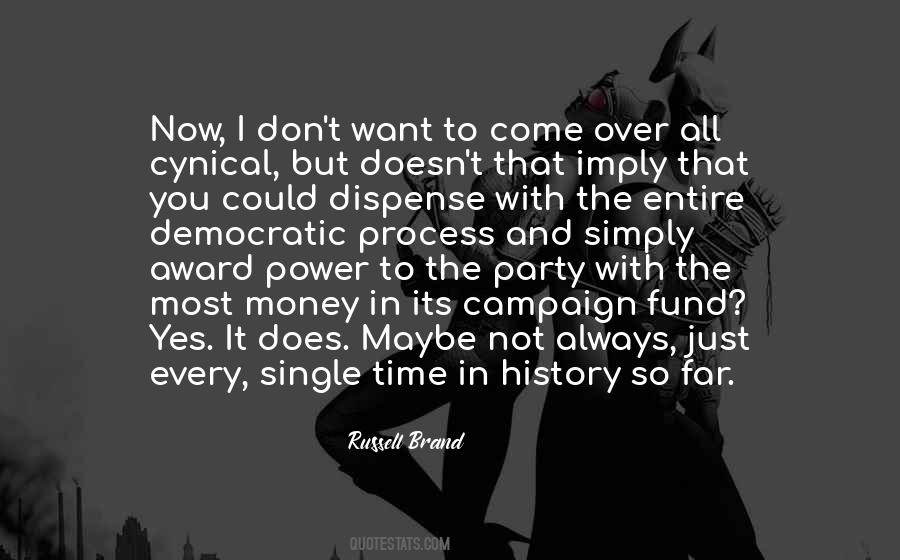 #45. I believe women who are supported by men are prostitutes; that is that, and I am heartbroken to live through a time where Wall Street money means these women are not treated with due disdain. - Author: Elizabeth Wurtzel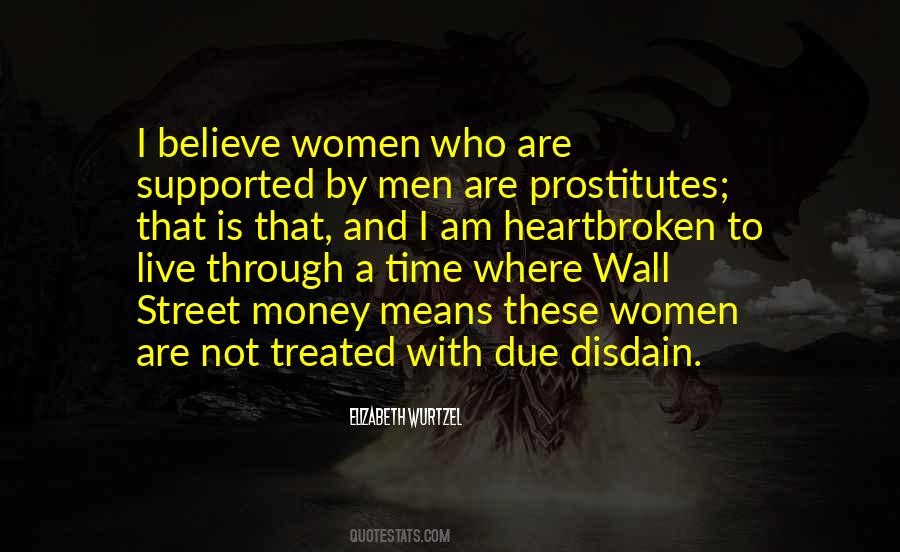 #46. There was a time when a fool and his money were soon parted, but now it happens to everybody. - Author: Adlai E. Stevenson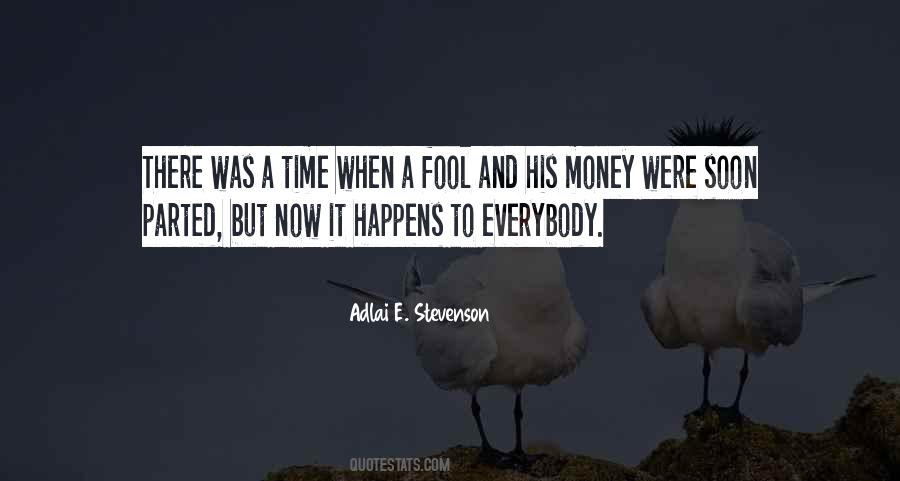 #47. When people don't know whom to vote, it is just waste of time and money. - Author: M.F. Moonzajer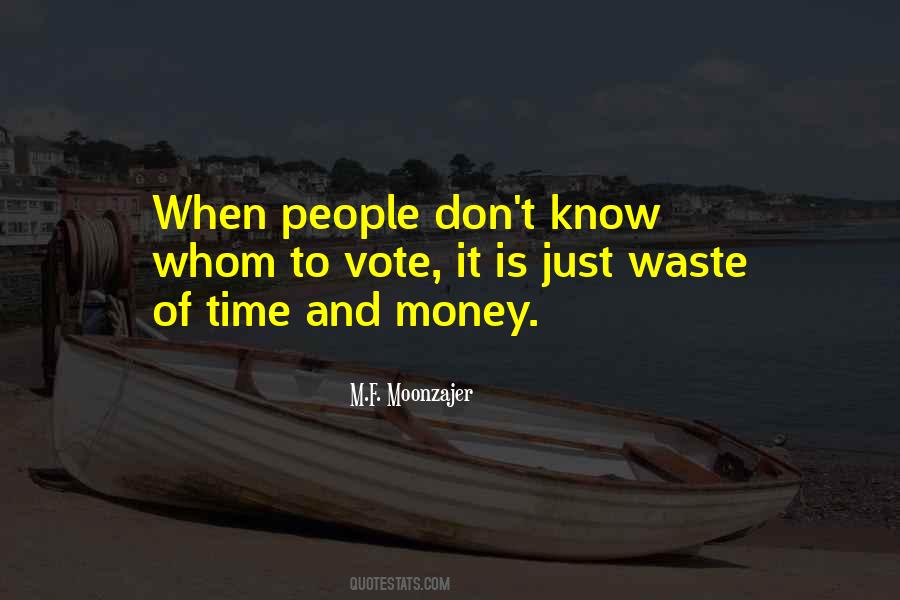 #48. (A WOMBAT is a Waste Of Money, Brains, And Time: the non-IT equivalent of a PEBCAK. (A PEBCAK is a Problem that Exists Between Chair And Keyboard. (You get the picture: it's parenthesized despair all the way down.))) - Author: Charles Stross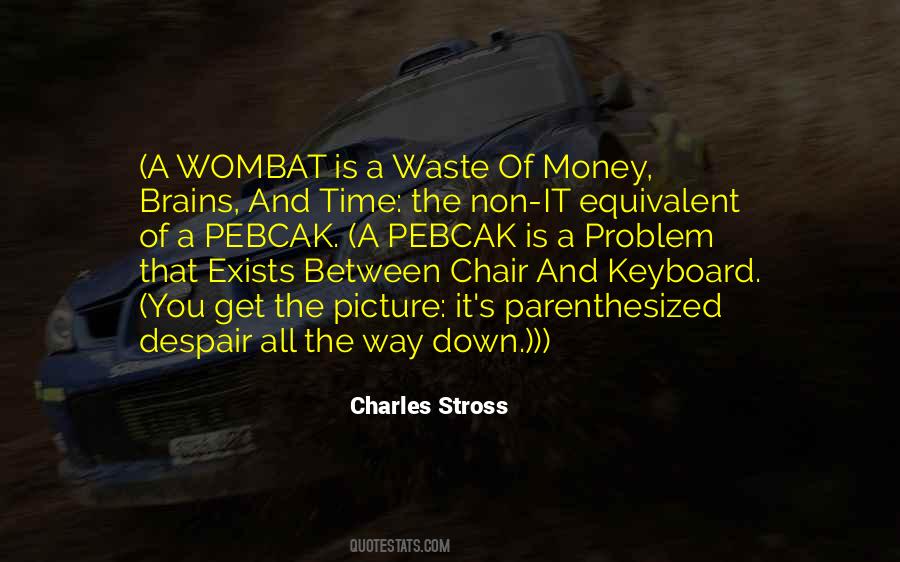 #49. There are millions of women who are trapped in lower-paying jobs and don't have the skills for a higher-paying job, and don't have the money or the time to access the higher education that they need for a better job. - Author: Marco Rubio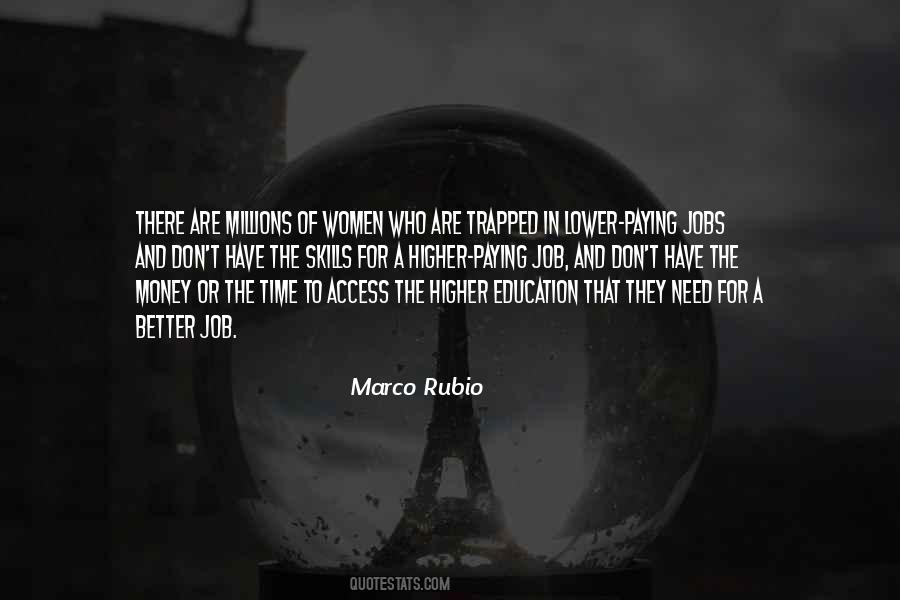 #50. English wine is like Belgian rock or German disco: a waste of everyone's time and money. - Author: Jay Rayner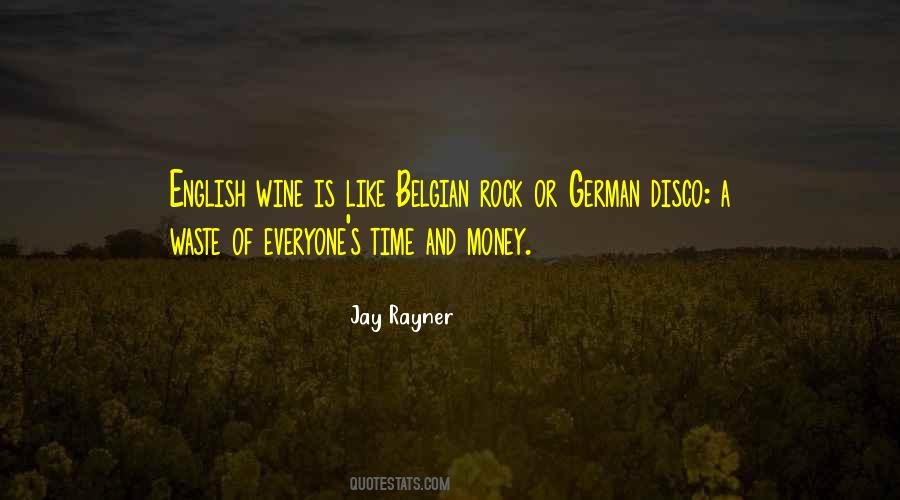 #51. Fathering imposed an obligation that was more than your money, your body, or your time, a presence neither physical nor measurable by clocks: open-ended, eternal, and invisible, like the commitment of gravity to the stars. - Author: Michael Chabon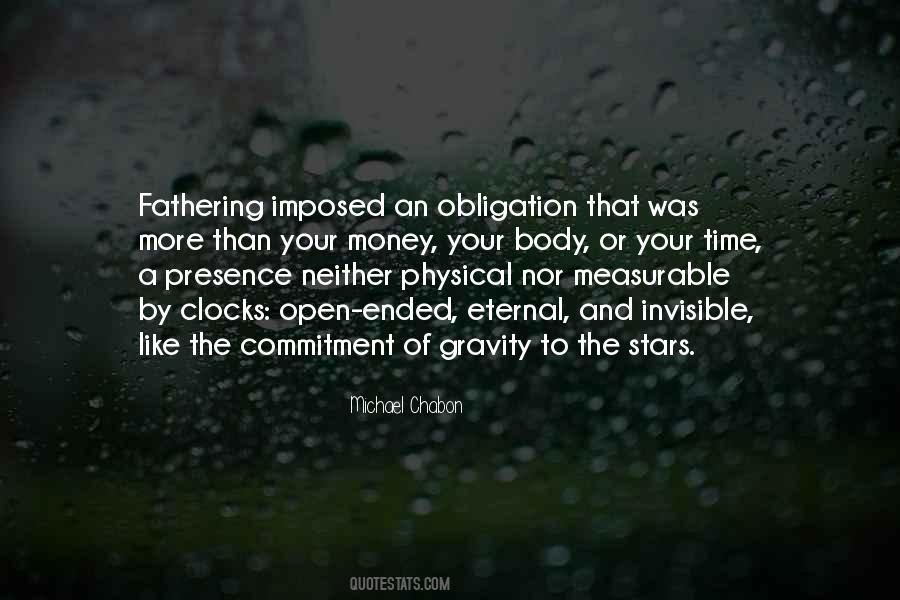 #52. A lot of young musicians get the money at the wrong time. They get it for something they don't feel great about, and it'll make you feel so bad it'll destroy you and kill you. - Author: Iggy Pop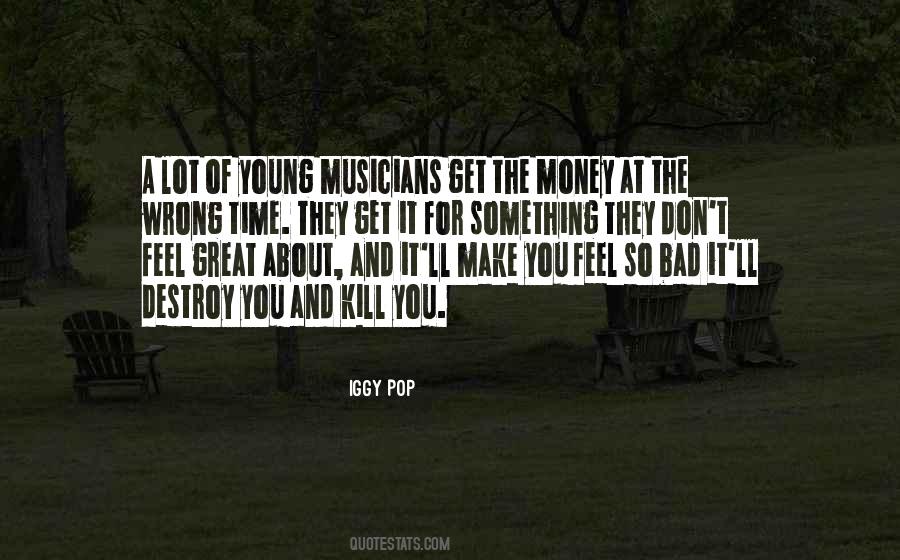 #53. Stewart loves me with a tiger's intensity, his need taking my breath away, his confidence in our relationship strong enough to not be bothered by the presence of another man. He stares into my soul as if he owns it, and shows his love with money, sex, and rare moments of time. - Author: Alessandra Torre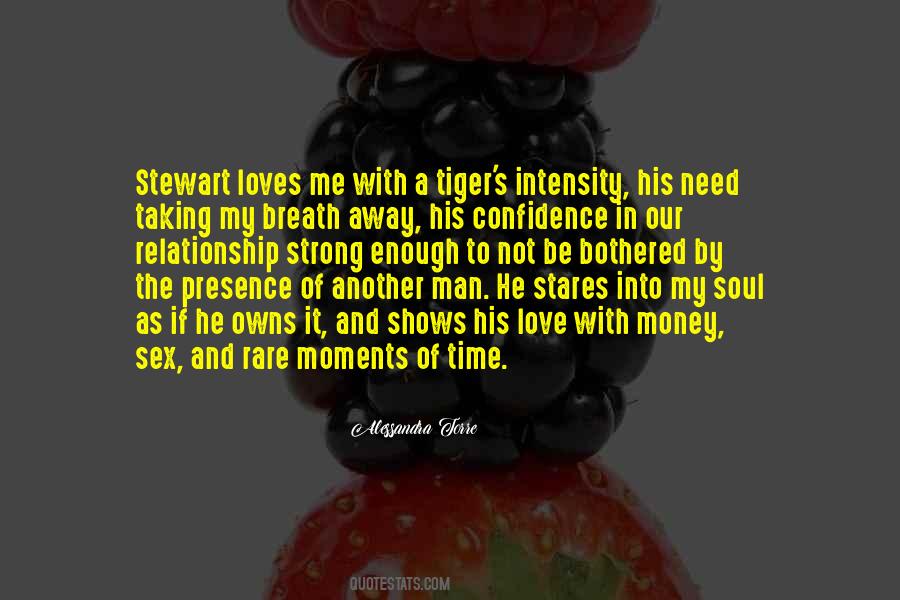 #54. It would be a divine injustice to allow only those people who were learned and who had the time and money to buy expensive books to have access to true knowledge. - Author: Paulo Coelho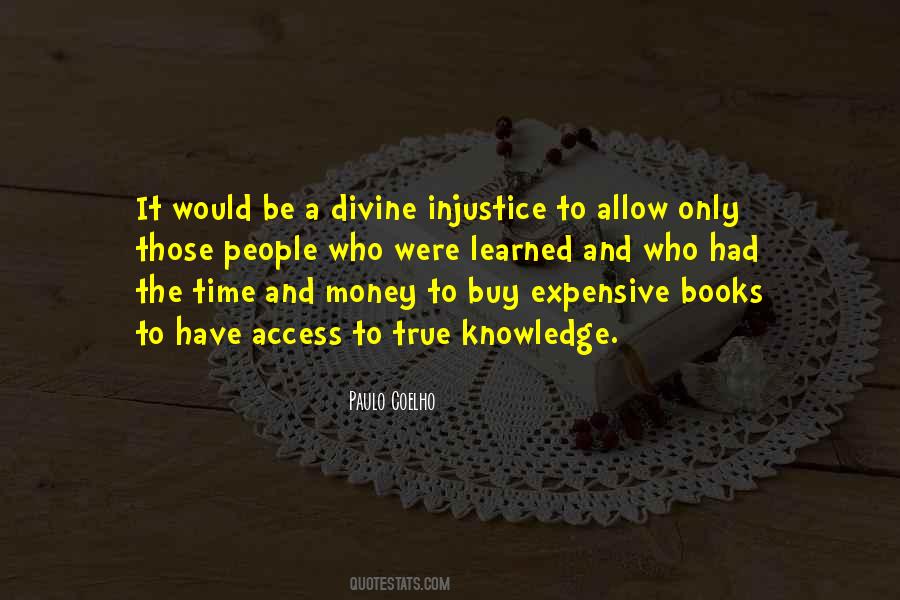 #55. All I wanted to do was write - at the time, poems, and prose, too. I guess my ambition was simply to make money however I could to keep myself going in some modest way, and I didn't need much, I was unmarried at the time, no children. - Author: Paul Auster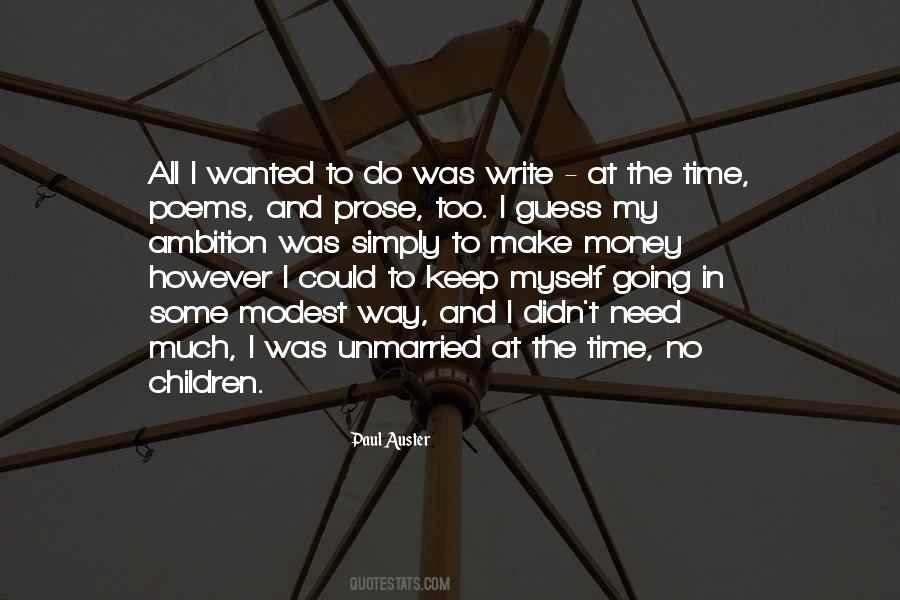 #56. You can lose money and make it back, you can't do that with time. - Author: Tim Ferriss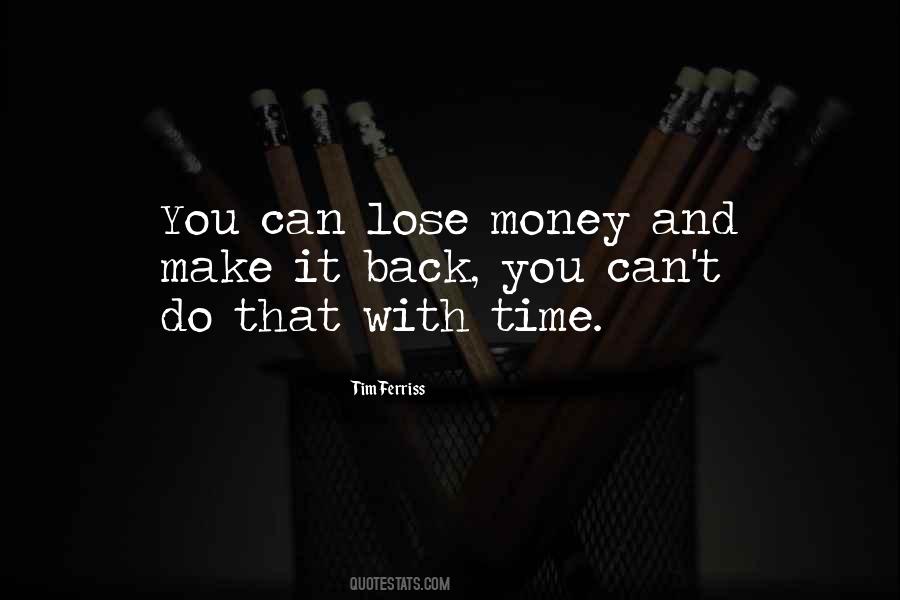 #57. It's easy: You simply follow the trail of your time, your affection, your energy, your money, and your allegiance. At the end of that trail you'll find a throne; and whatever, or whoever, is on that throne is what's of highest value to you. On that throne is what you worship. - Author: Louie Giglio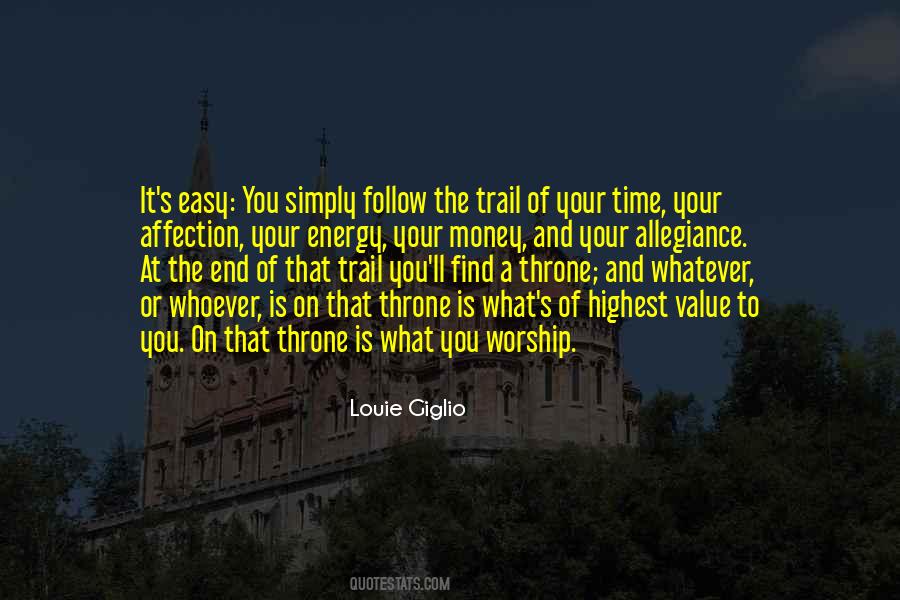 #58. Pittsburgh isn't fancy, but it is real. It's a working town and money doesn't come easy. I feel as much a part of this city as the cobblestone streets and the steel mills, people in this town expect an honest day's work, and I've it to them for a long, long time. - Author: Willie Stargell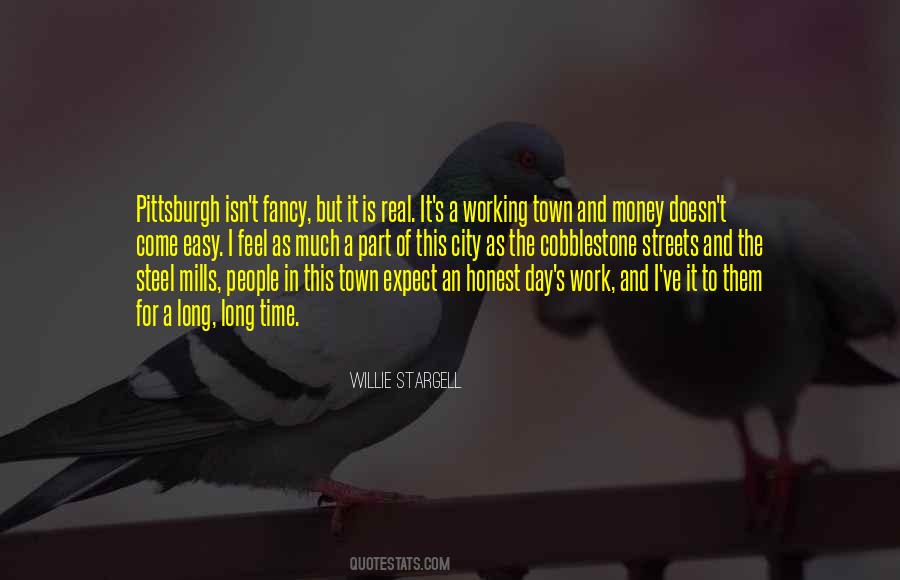 #59. We can possess nothing - no property and no person ... It is God who owns everything, and we are but stewards of His property during the brief time we are on earth. - Author: Billy Graham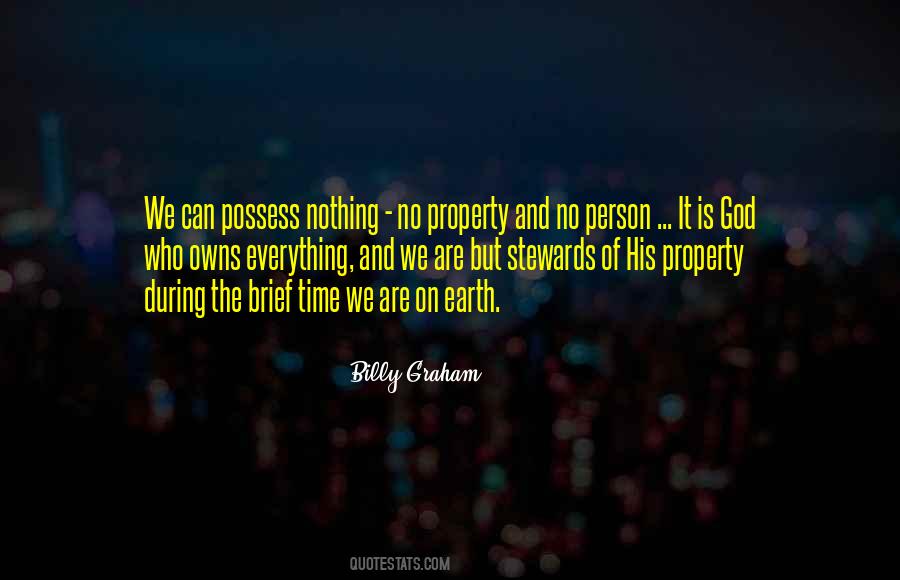 #60. The way to wealth is as plain as the way to market. It depends chiefly on two words, industry and frugality: that is, waste neither time nor money, but make the best use of both. Without industry and frugality nothing will do, and with them everything. - Author: Benjamin Franklin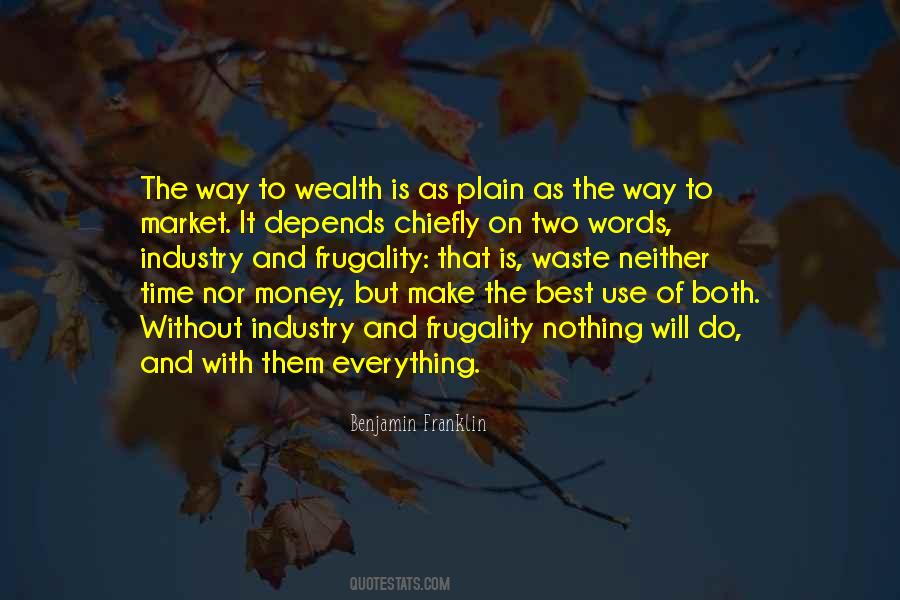 #61. Always be intentional and purposeful in life - Author: Sunday Adelaja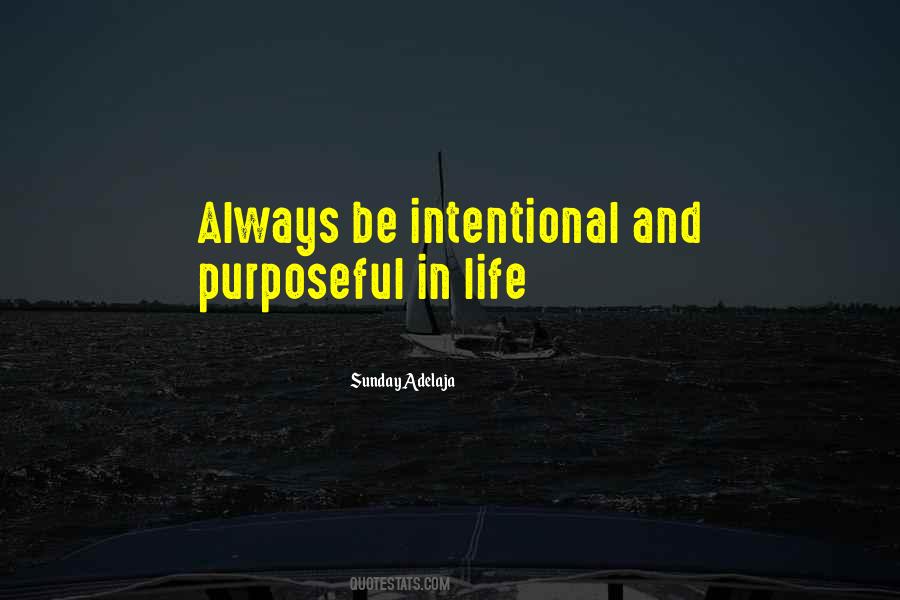 #62. We'll set up a demo session and try to knock out eight or ten songs and make them sound as close as we can to a record with the money and time we have. - Author: Shane McAnally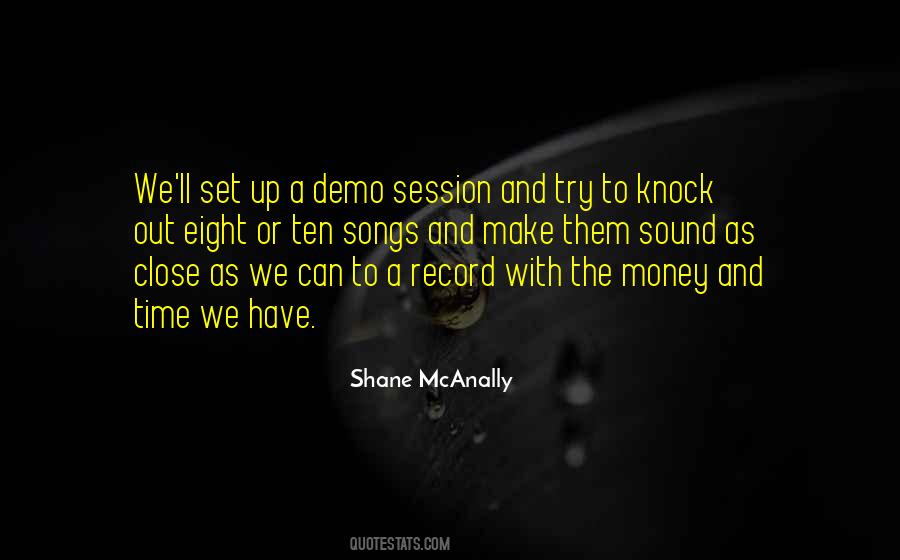 #63. One thing that took a while to really adjust to was, you do it for the the art, for the money, for being together and having a good time, but you do it for all those people out there who really care about the show. We are now talking about a show we did over 20 years ago. - Author: Steve Kanaly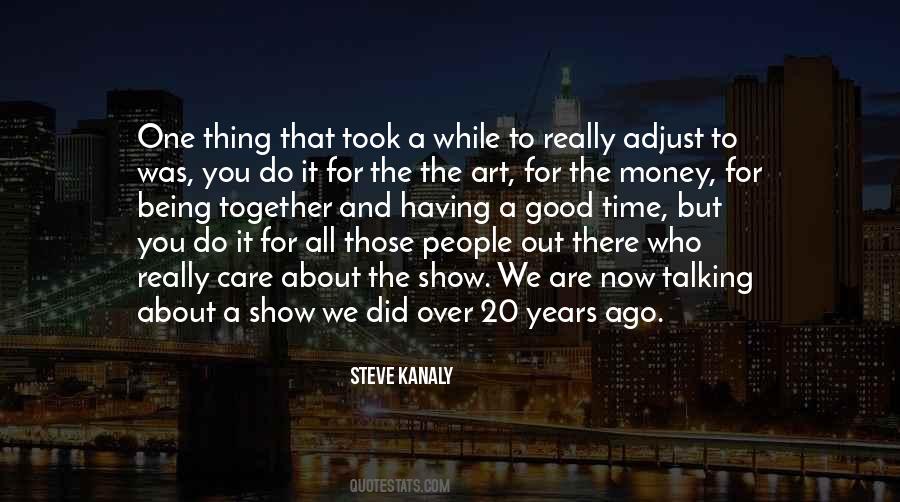 #64. Everybody loves to spend money at least some of the time - because everybody loves the stuff you can buy with it. The key to the pleasure level of any transaction is the balance between the pain of the payment and the reward of the purchased object. - Author: Jeffrey Kluger
#65. Grasping the realities of the Middle East is never easy. This is not primarily because they change quickly, but because so much time, effort, and money is spent to prevent reality from breaking through. - Author: Elliott Abrams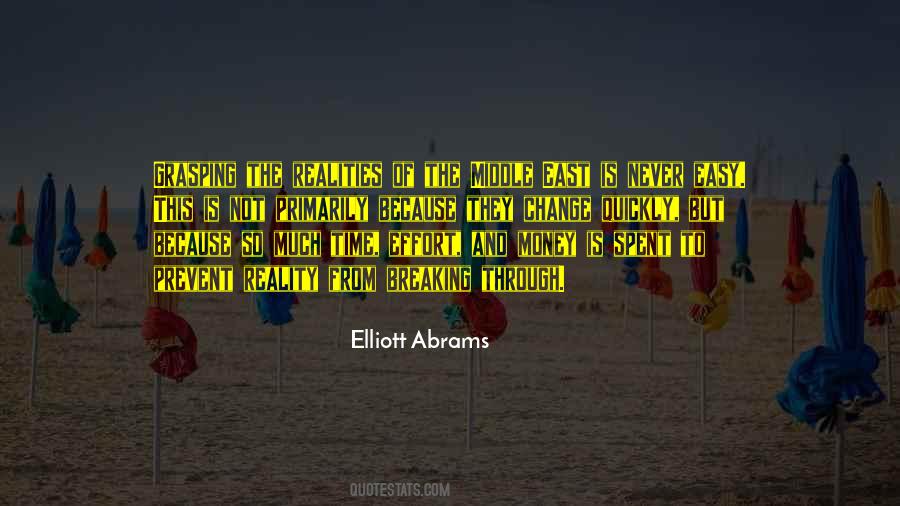 #66. Very well then; emancipation from usury and money, that is, from practical, real Judaism, would constitute the emancipation of our time. - Author: Karl Marx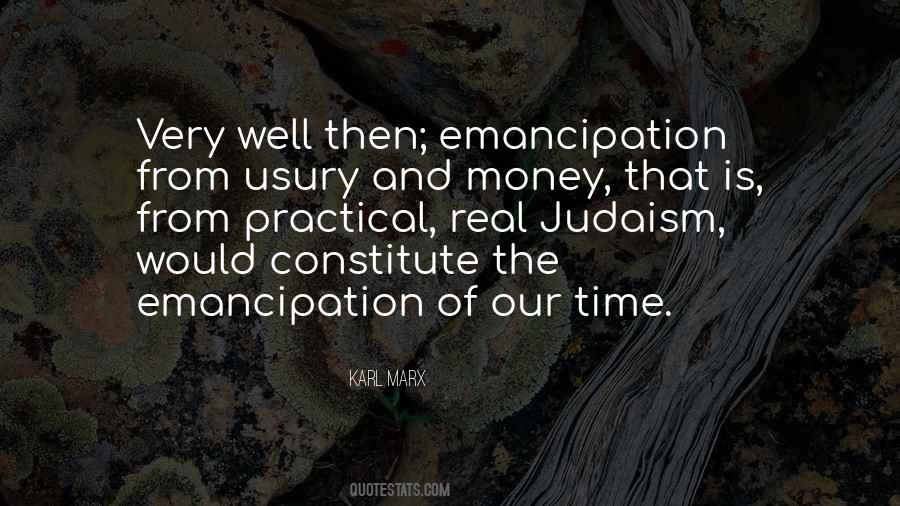 #67. May the time come when rich men and great men would think it an honor to support whole stations of missionaries in Africa, instead of spending their money on hounds and horses. - Author: David Livingstone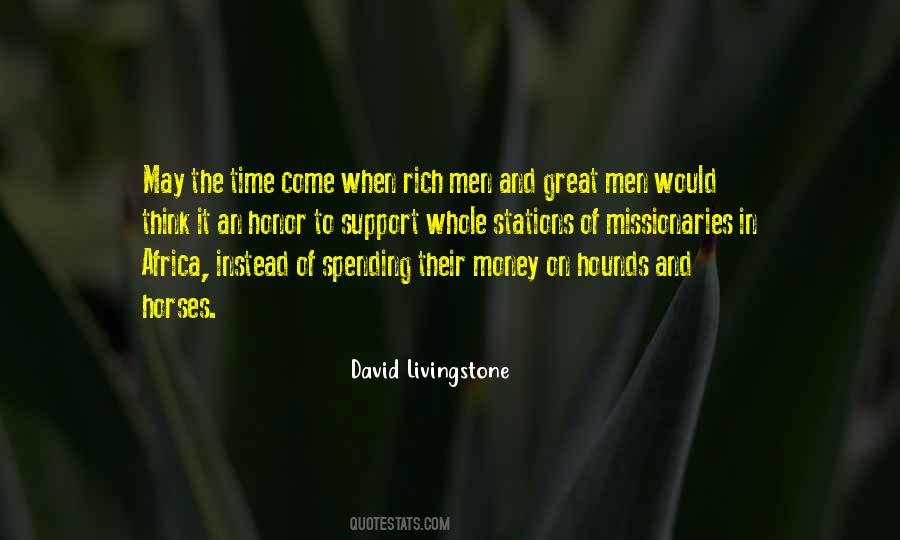 #68. In a time of polarized politics there's one thing that more than ninety percent of Americans agree on, that our government is broken, and broken because of the money in politics. - Author: Lawrence Lessig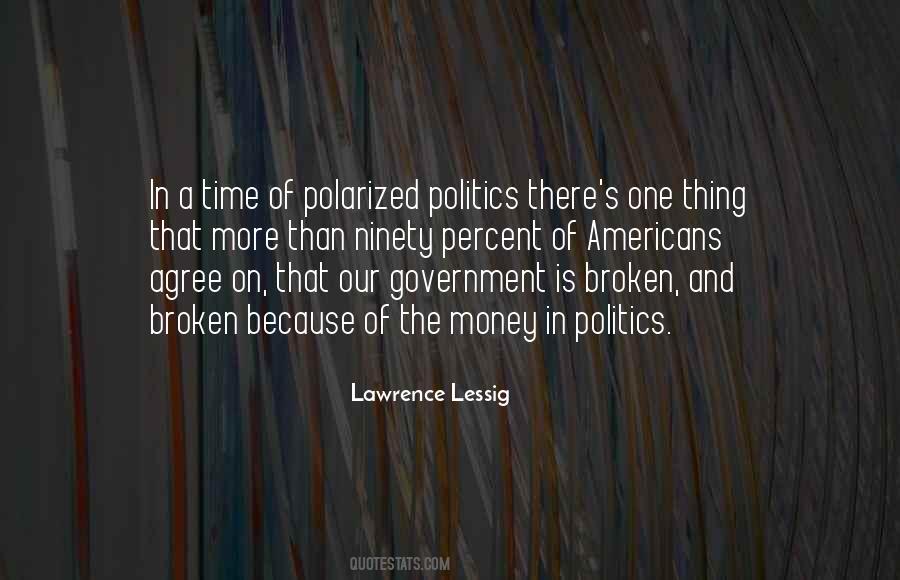 #69. First, I had time, but no money; then I had money, but no time. Finally, I had time and money, but no health to make use of my wealth.-RVM - Author: R.v.m.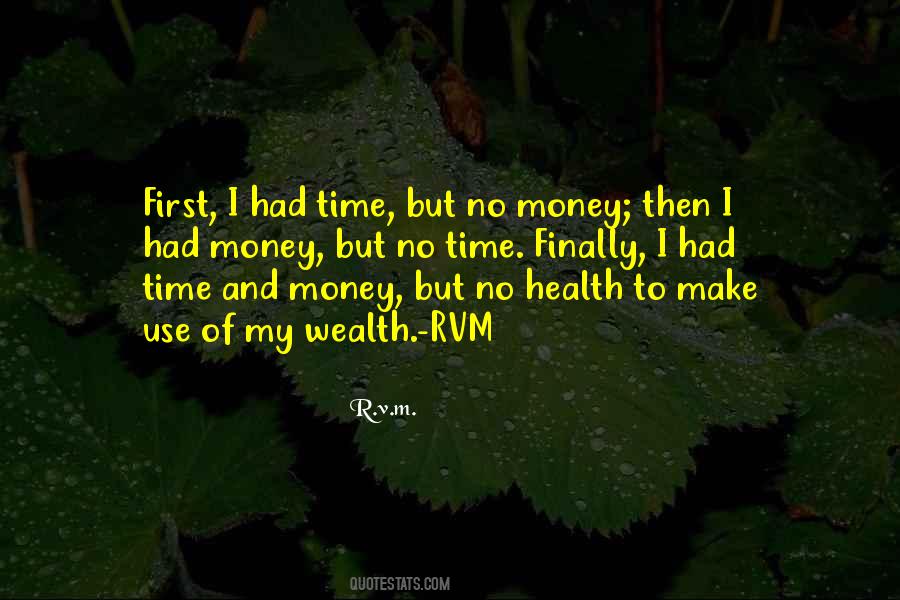 #70. Time is money, as they say, and it was never more apropos than on a television show, where a minute is worth about $200! - Author: Dirk Benedict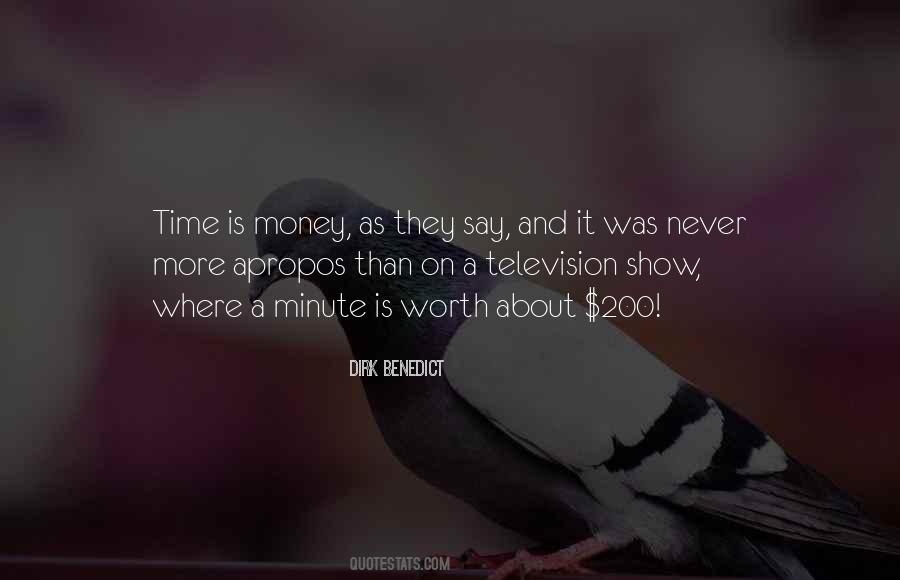 #71. Reflect and meditate on yourself and discover ways to multiply yourself - Author: Sunday Adelaja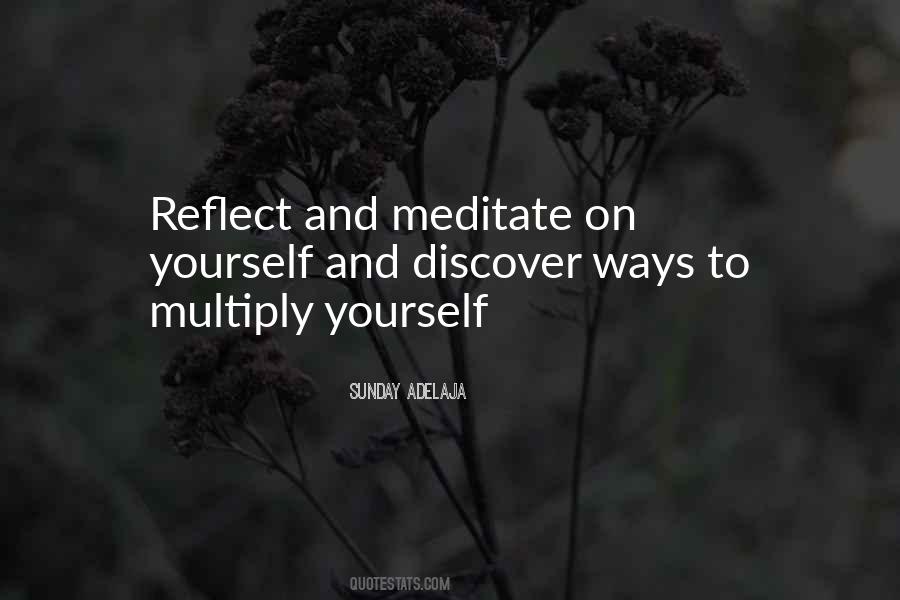 #72. Give yourself a set period of time to grieve and heal before focusing on financial matters. - Author: Lois P Frankel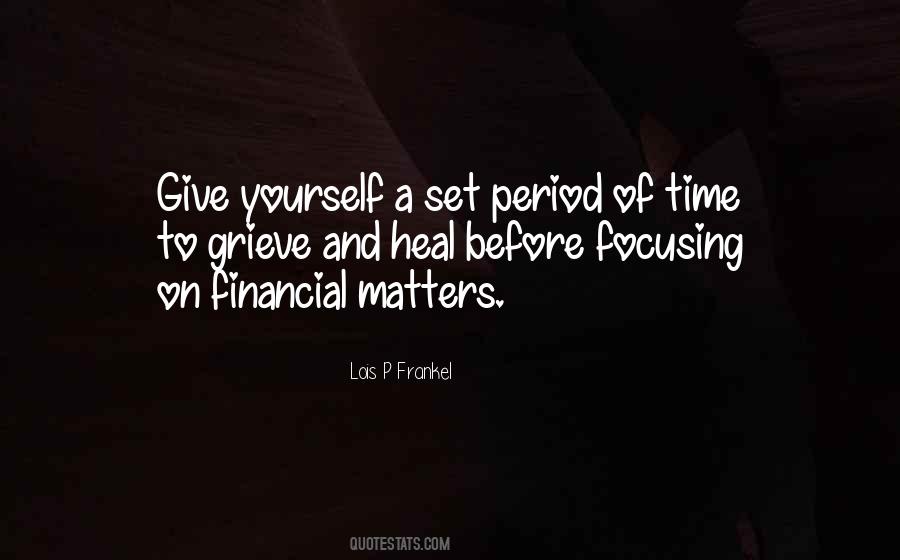 #73. As a kid, I saw that Dad lost a lot of money in casinos, and I didn't understand that. I thought this must be a great business. At the same time, I saw when I was with him - and I was with him a lot of the time - that this was a really cool business, and it was fun and glamorous. - Author: James Packer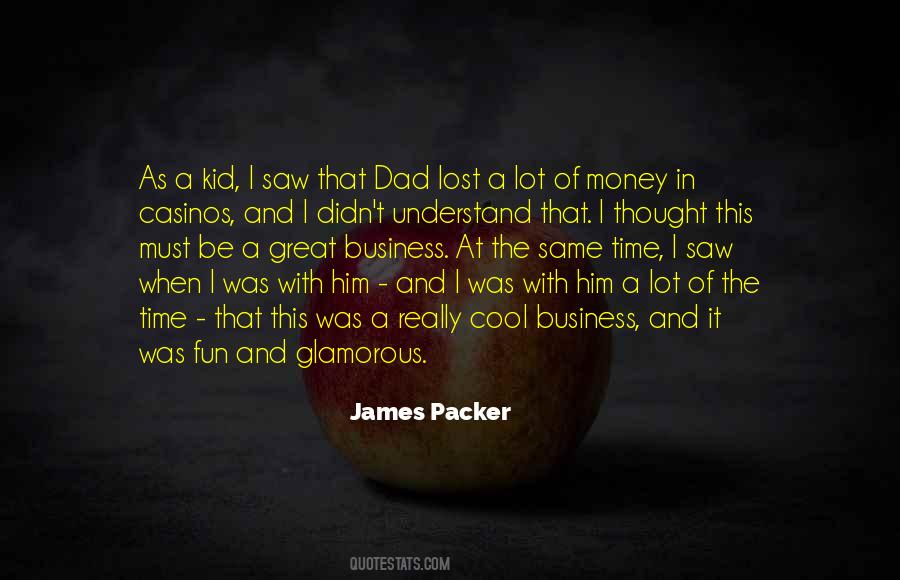 #74. Most couples get married because it's time, not because they're in love. They might have money issues, parental pressure, or they're simply tired of being alone - so they pick Mr. Good Enough and tie the knot. - Author: H.M. Ward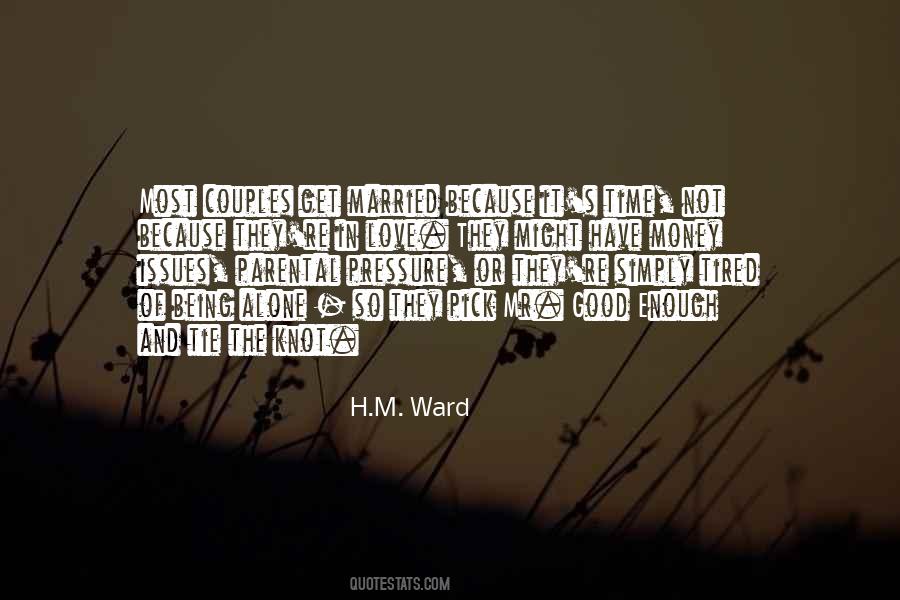 #75. Be generous with your time and money - it has an amazingly fast payback. Be in the moment with everyone you love - and this frequently means tuning out work completely. And drive slow in parking lots. - Author: Scott Weiss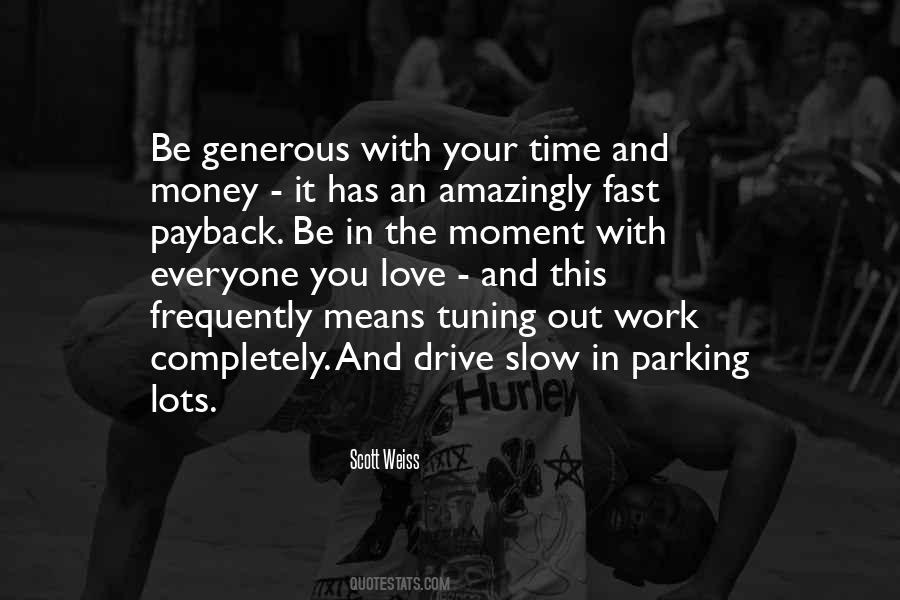 #76. He who gives money gives some, he who gives time gives more, and he who gives of himself gives all. - Author: Thomas S. Monson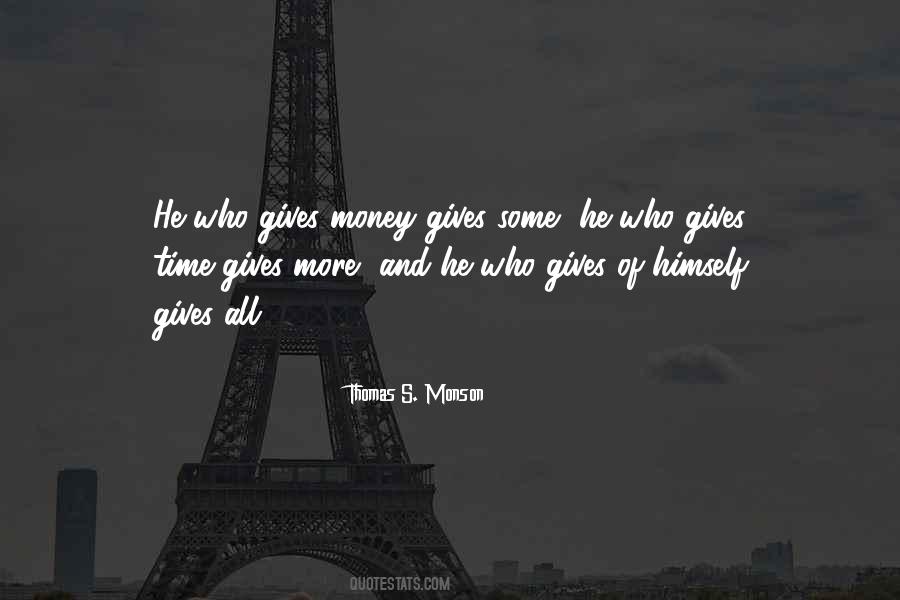 #77. I wish Americans thought more like Europeans when it comes to money and work. They take time off, they do what they love. We think work is the most valued commodity. Really the most valued commodity is time. - Author: Bryan Cranston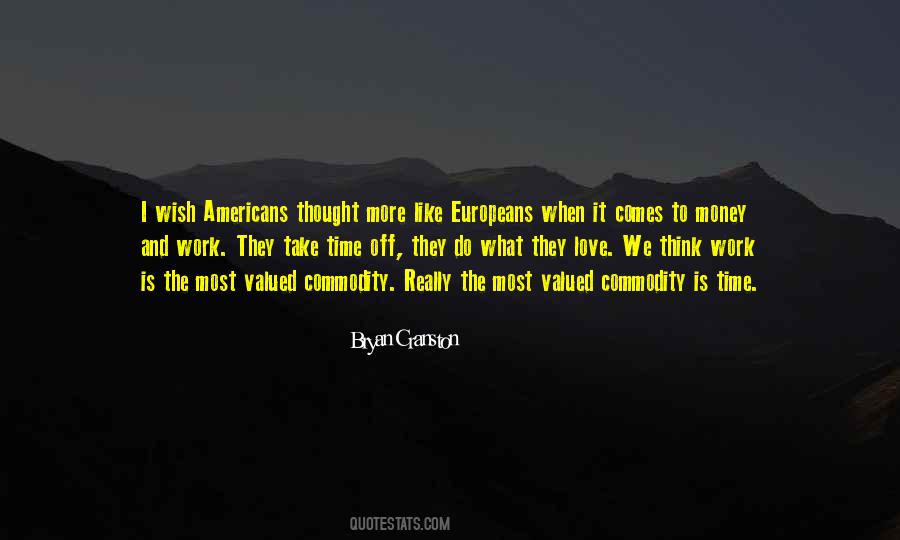 #78. When I was a baby, my mom used to have a dance school, and she used to teach classes there. We didn't have money for a babysitter, so she always brought me with her to the dancing school. Back then, I was already watching and listening to Michael Jackson for a long time. - Author: Afrojack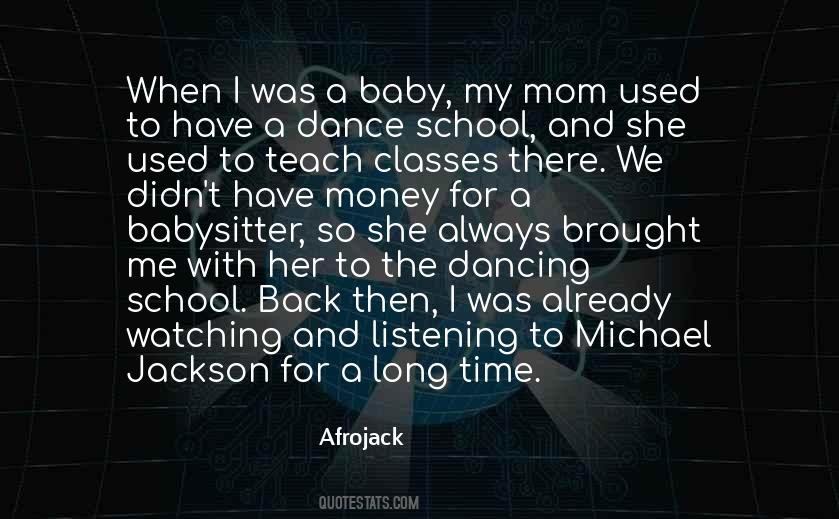 #79. It's complicated, being an American, Having the money and the bad conscience, both at the same time. - Author: Louis Simpson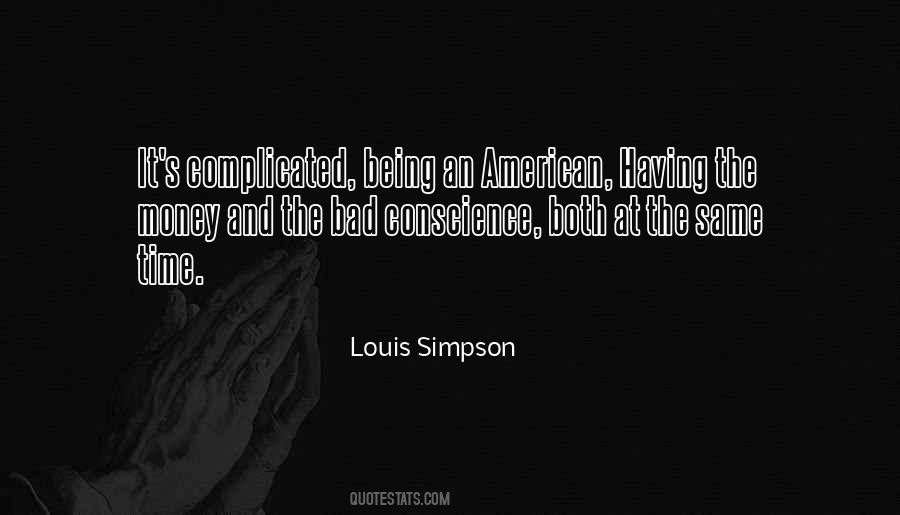 #80. What are we blaming? Is this Vietnam? We made a movie, it didn't make much money. I'm gonna be really happy if somebody watches it in 10 years' time and really enjoys it. - Author: Kevin Costner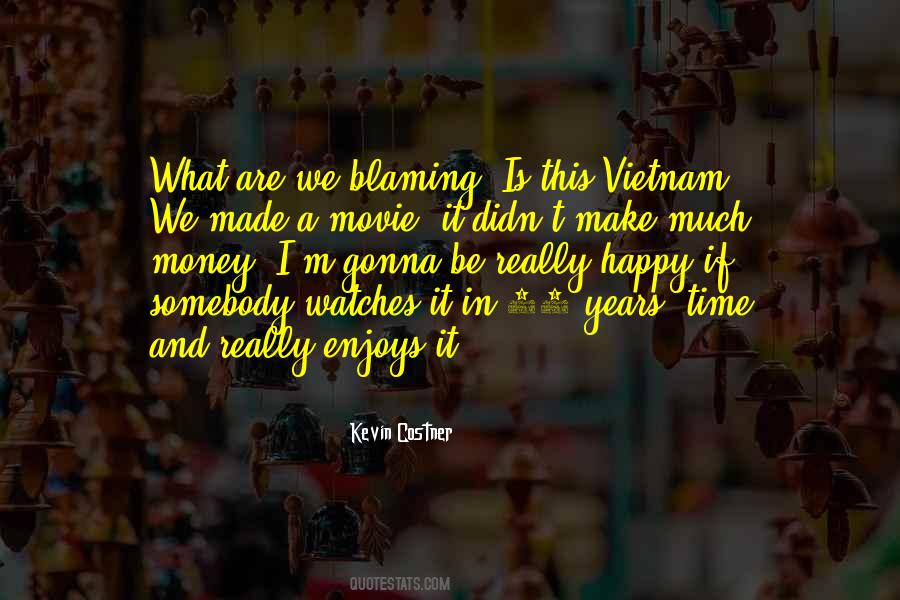 #81. As a writer of criticism, the consumer thing is the least interesting thing, but as a critic, the single worst thing you can do is send a reader to waste time and money on something - even if it's something you personally love. You have to indicate the reasons why you love it and they'll hate it. - Author: Jonathan Gold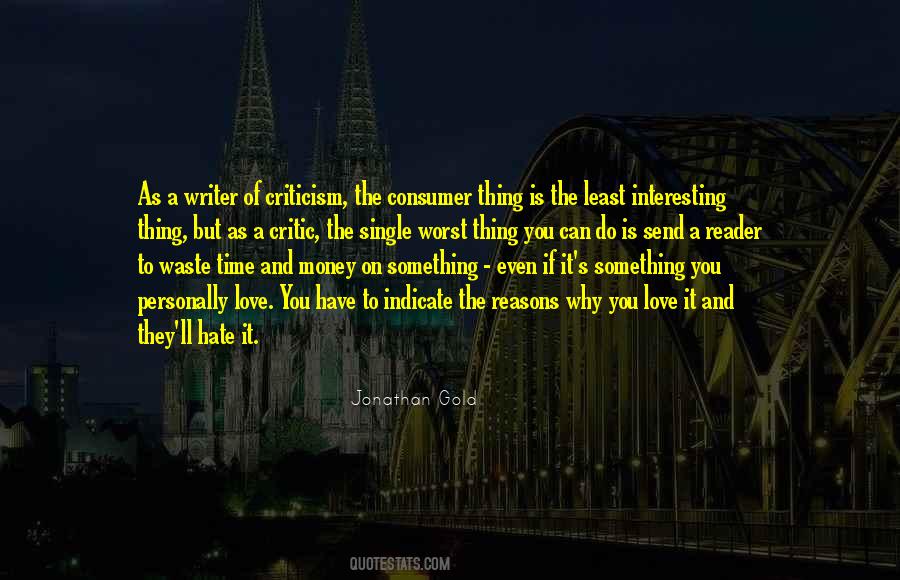 #82. Change is a pesky notion. For many folks, the biggest challenge in changing their eating habits isn't money, time, or education; it's reframing their connection between food and love. - Author: Kris Carr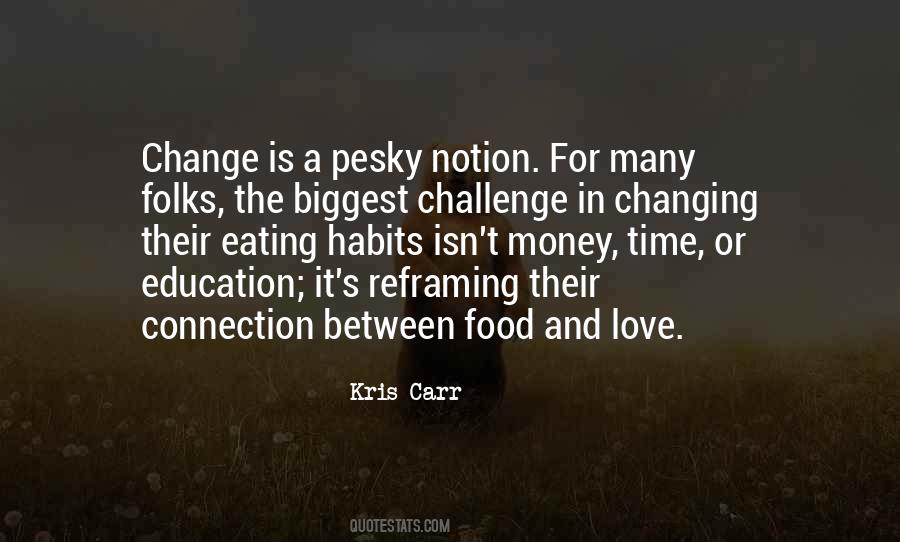 #83. There are some who become spies for money, or out of vanity and megalomania, or out of ambition, or out of a desire for thrills. But the malady of our time is of those who become spies out of idealism. - Author: Max Lerner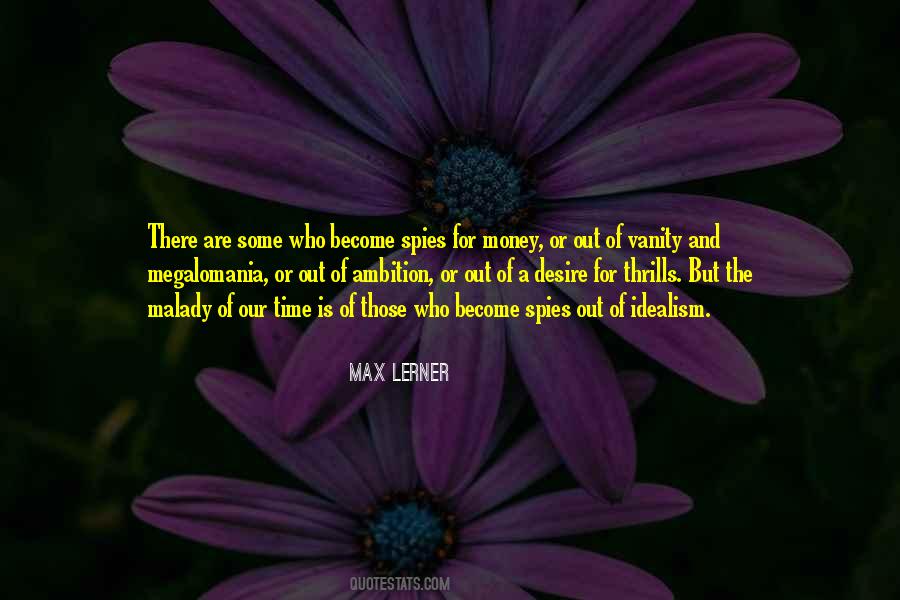 #84. I had a great time on News Radio, I got to make tons of money in relative obscurity and learn a lot about the TV biz and work on my standup act constantly. It was a dream gig. - Author: Joe Rogan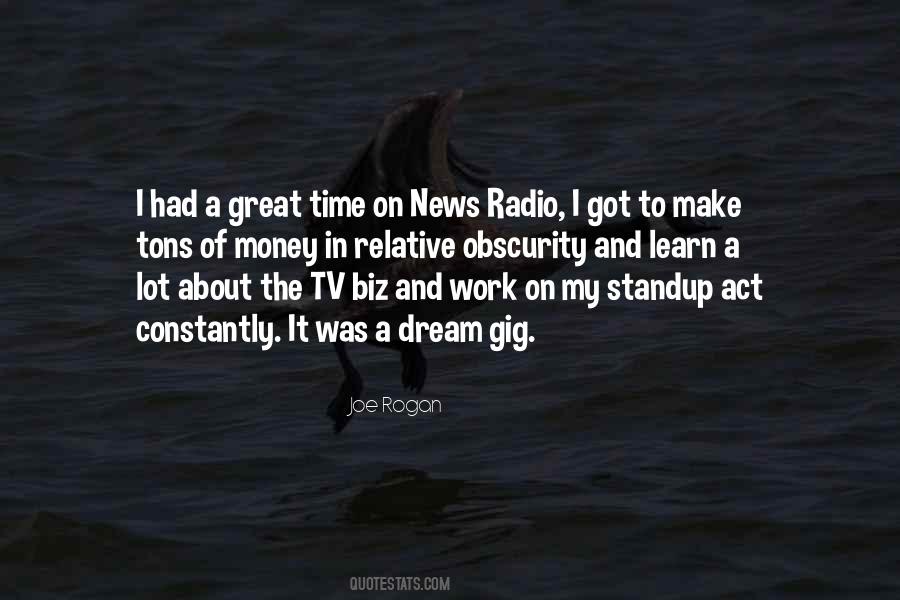 #85. Wealthy people are often criticized for being obsessed with money, but the truth is, it's the poor, working, and middle class that spend the most time thinking about it. - Author: Steve Siebold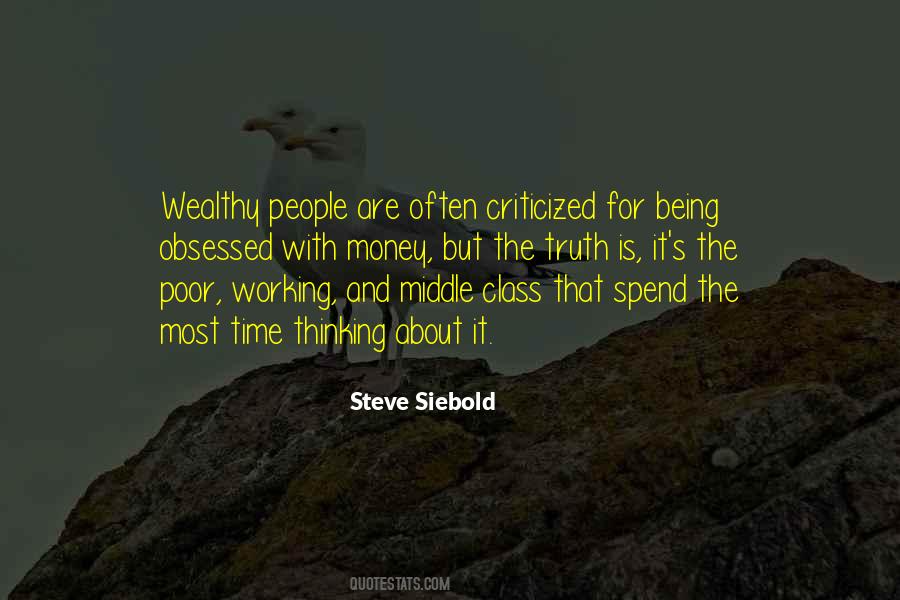 #86. With 4chan, the cost of hosting it added up very quickly and at that time when I was 18, I didn't have the income of my own so it was a challenge to make money and break even on it. - Author: Christopher Poole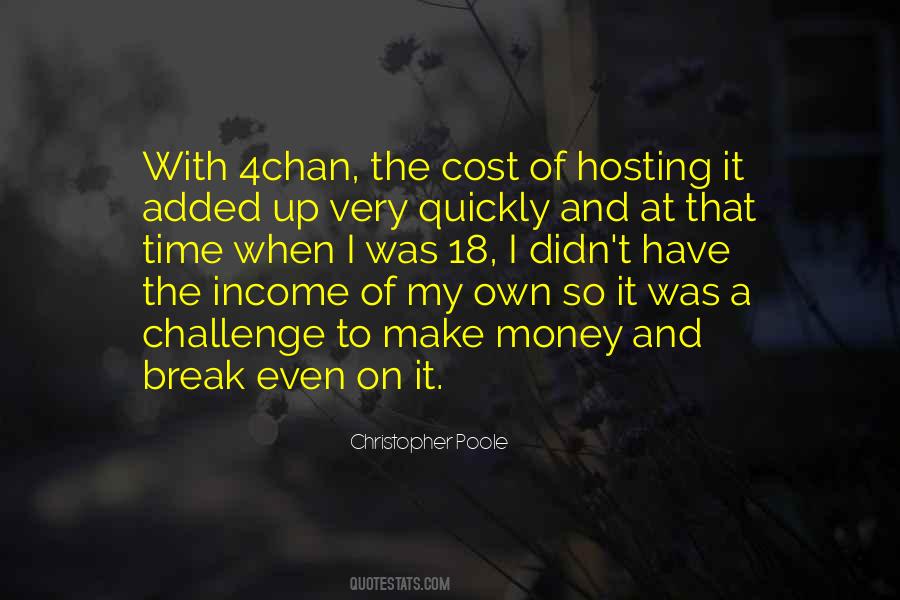 #87. Success demands a price that only a few are willing to pay ... blood, flesh, time, money, pride, heartbreak and energy. Anyone who has ever succeeded has the battle scars to prove the sacrifices they've made. - Author: Toni Sorenson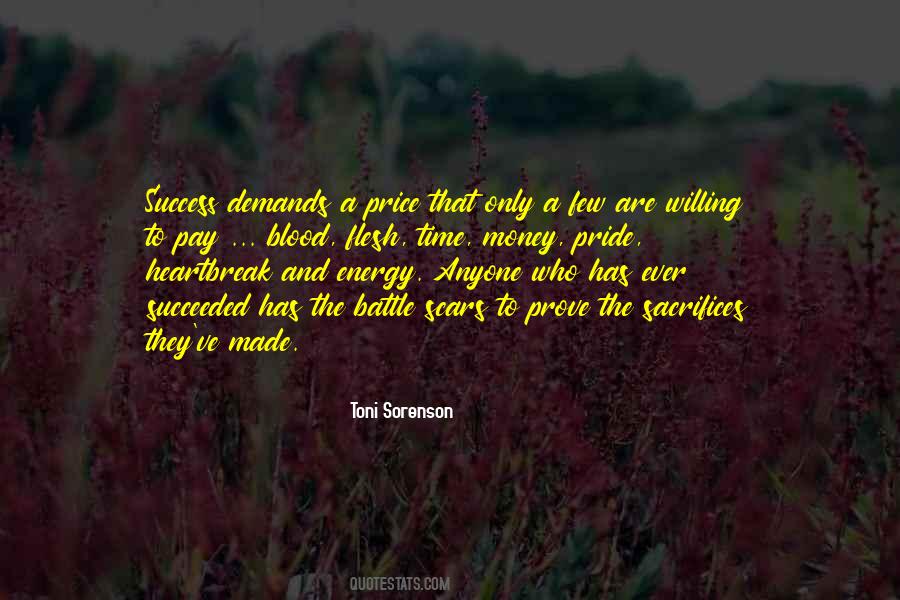 #88. Direct your attention to men and find ways to put smiles on their faces - Author: Sunday Adelaja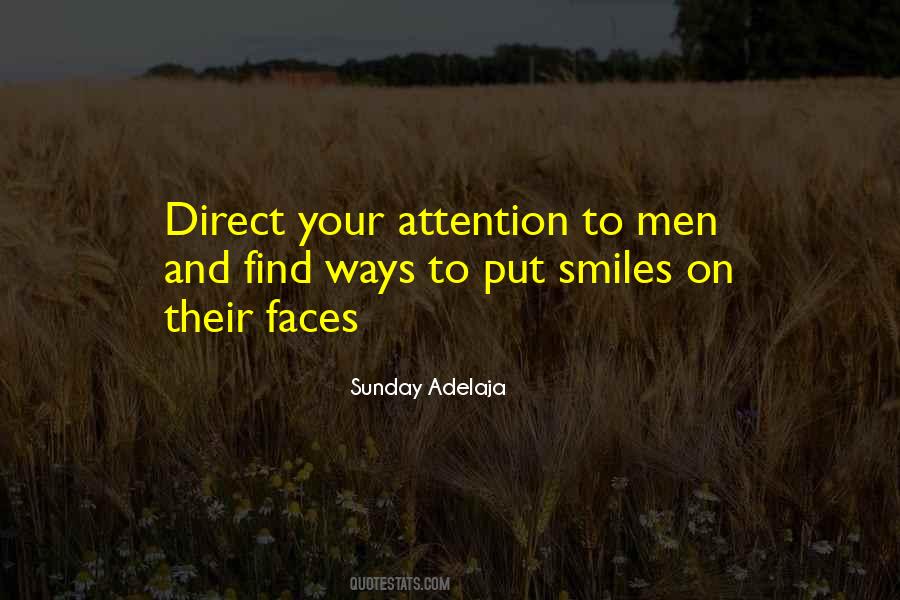 #89. Good grooming is integral and impeccable style is a must. If you don't look the part, no one will want to give you time or money. - Author: Daymond John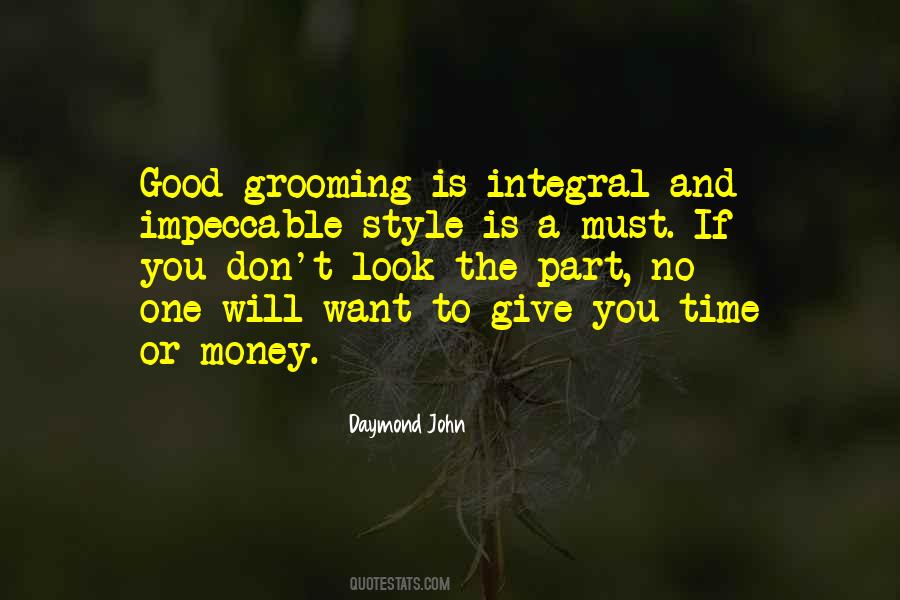 #90. According to the director, Primer is a movie about the relationship between risk and trust. This is true. But it also makes a concrete point about the potential purpose of time travel - it's too important to use only for money, but too dangerous to use for anything else. - Author: Chuck Klosterman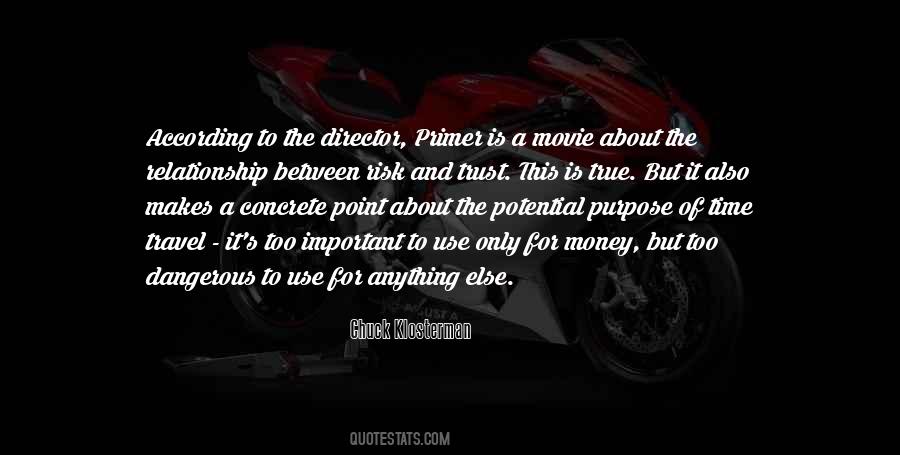 #91. If time is money, it seems moral to save time, above all one's own, and such parsimony is excused by consideration for others. One is straight-forward. - Author: Theodor Adorno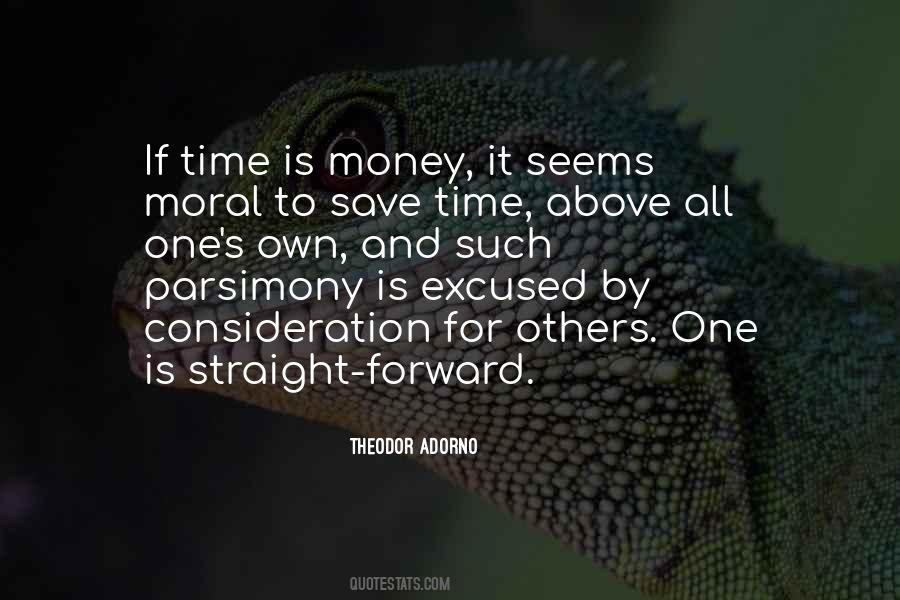 #92. We focus on money, getting money and winning. We let the rest of them chase the women. We focus on winning cuz getting women is slight work. That's all the time with us. - Author: Yo Gotti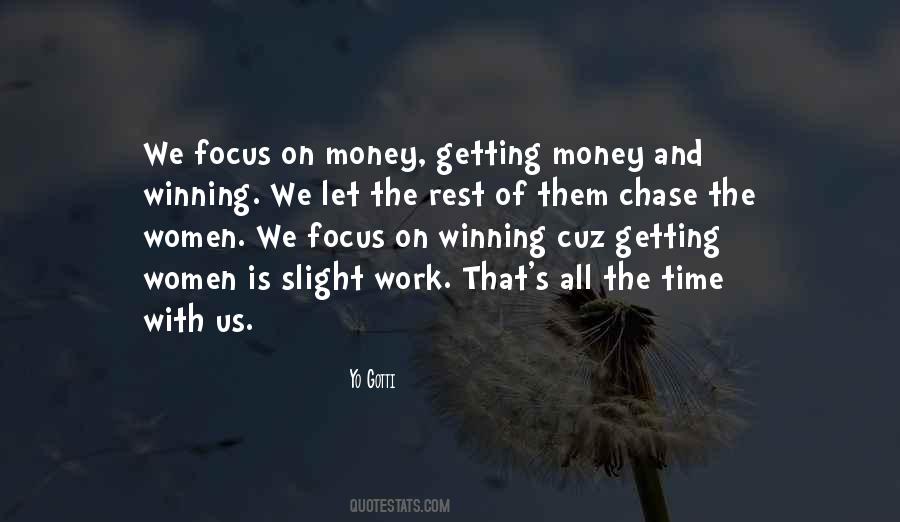 #93. Always invest your life in your calling and purpose - Author: Sunday Adelaja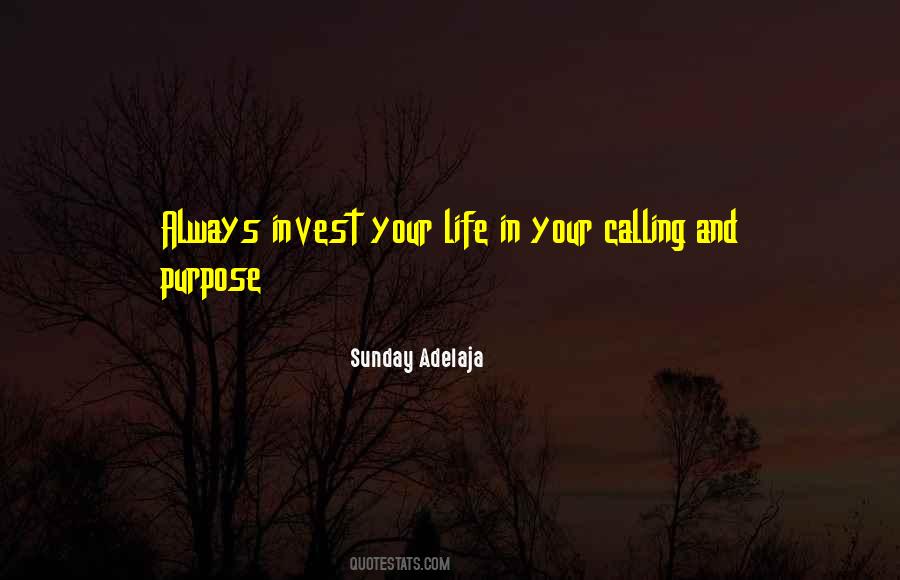 #94. Always evaluate and determine the product of your life - Author: Sunday Adelaja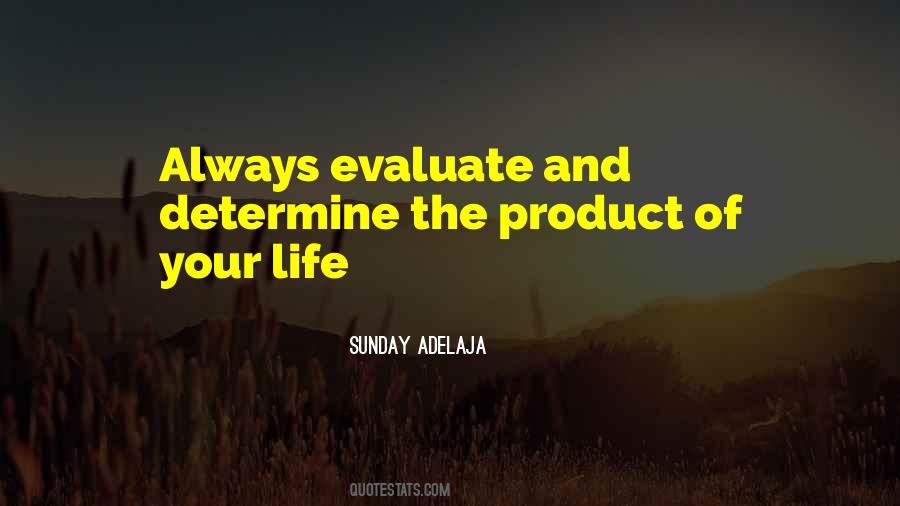 #95. I have no use for eight houses, 88 cars and 500 suits. I can't eat but one steak at a time. I don't want but one woman. It's silly to have as one's sole object in life just making money, accumulating wealth. - Author: Johnny Carson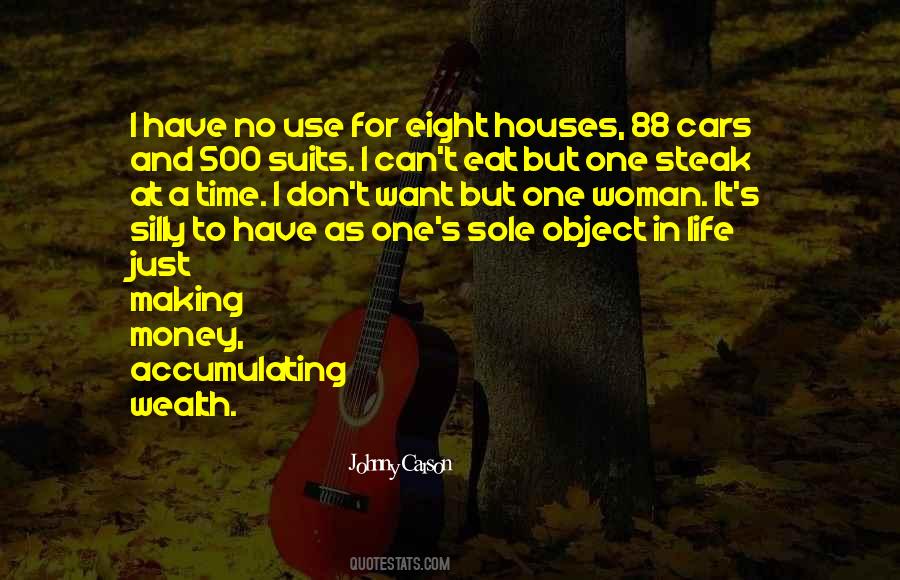 #96. The original idea before Mint was a life and goal planning system I called Carpe Viva. The idea was that all of life's goals, from buying a house, getting an MBA, or learning Spanish could be quantified in both time and money. - Author: Aaron Patzer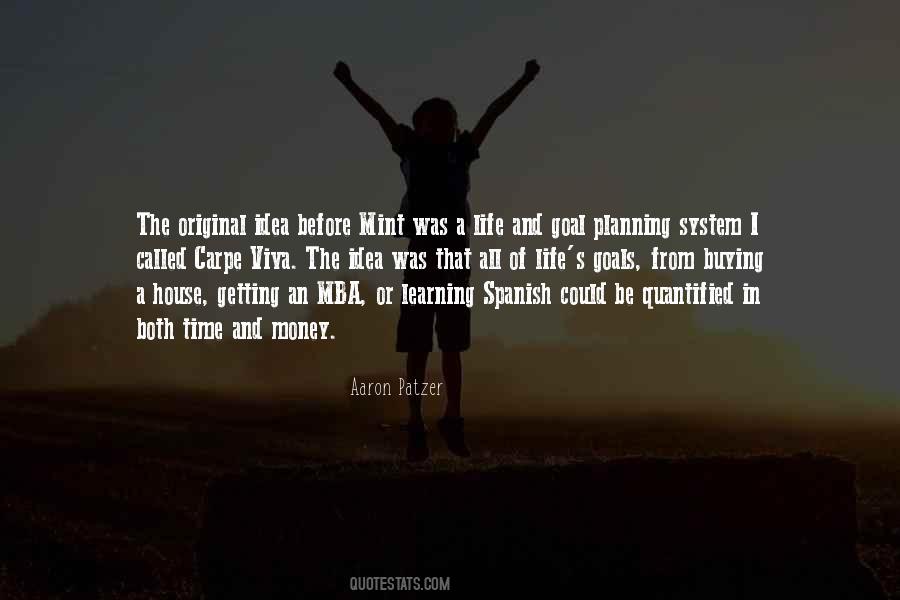 #97. Time and consistency in savings multiplies money. - Author: Sunday Adelaja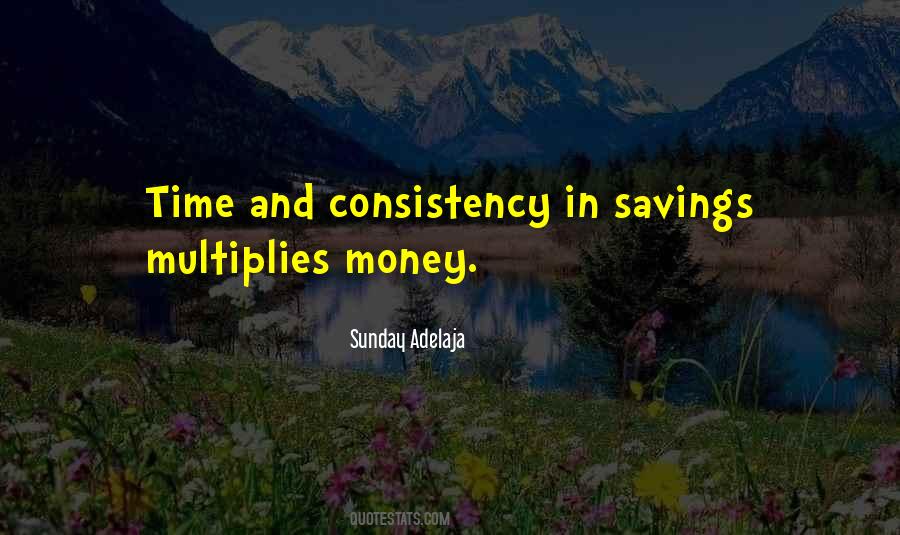 #98. Without realizing it, I had said goodbye to traditional employment. I never punched a clock again. I made my own time and my own money. - Author: Patti Smith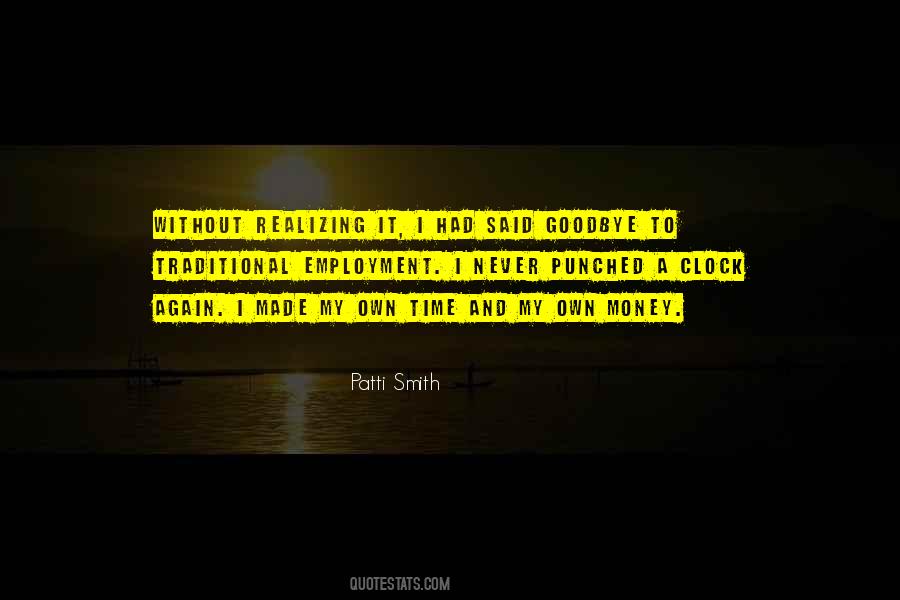 #99. I taped my first series for PBS in 1982 at WJCT-TV in Jacksonville, Florida. The show, called 'Everyday Cooking with Jacques Pepin,' was about saving time and money in the kitchen - and it was a celebration of simple and unpretentious food. - Author: Jacques Pepin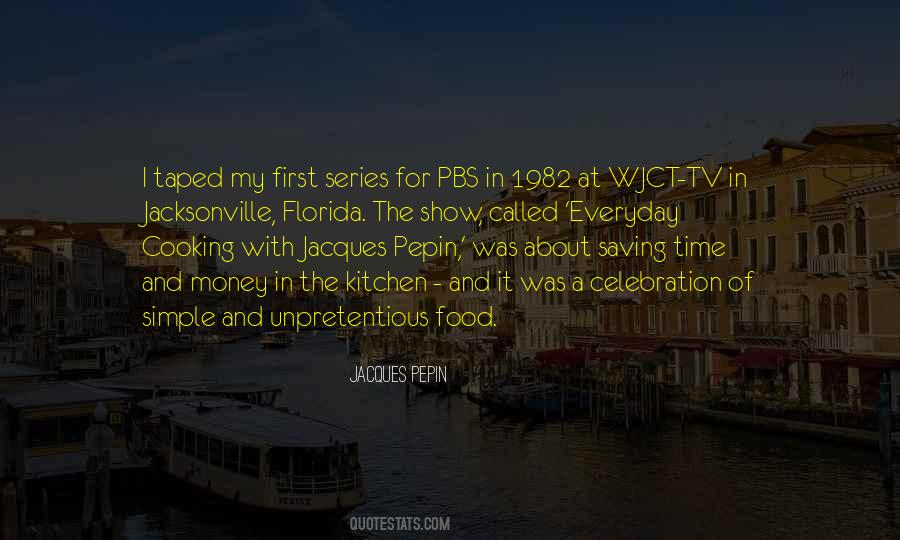 #100. At one time I thought he wanted to be an actor. He had certain qualifications, including no money and a total lack of responsibility. - Author: Hedda Hopper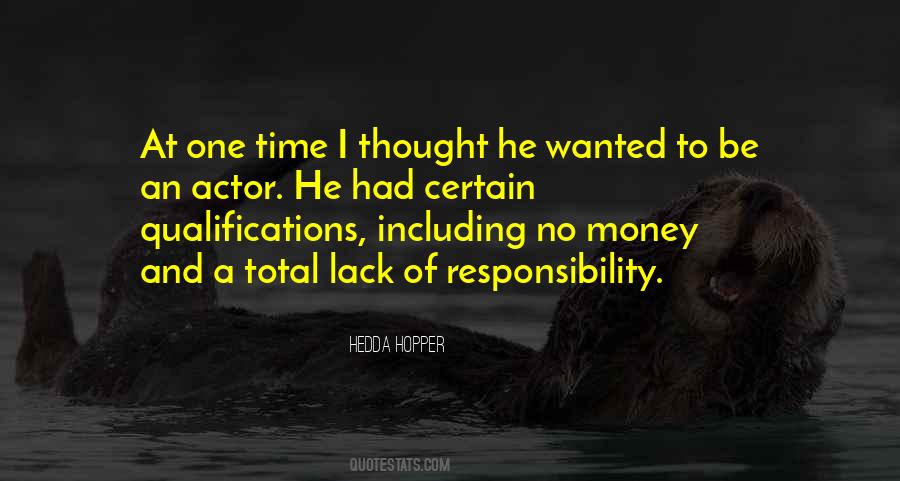 Famous Authors
Popular Topics