The Old Friends Famous Quotes & Sayings
List of top 100 famous quotes and sayings about the old friends to read and share with friends on your Facebook, Twitter, blogs.
Top 100 Quotes About The Old Friends
#1. I can see getting married and having a family, because it is the next thing on the agenda. You can only do this for so long. I'm old, and my friends all have kids. And I'm single, still blow drying my hair! - Author: David Spade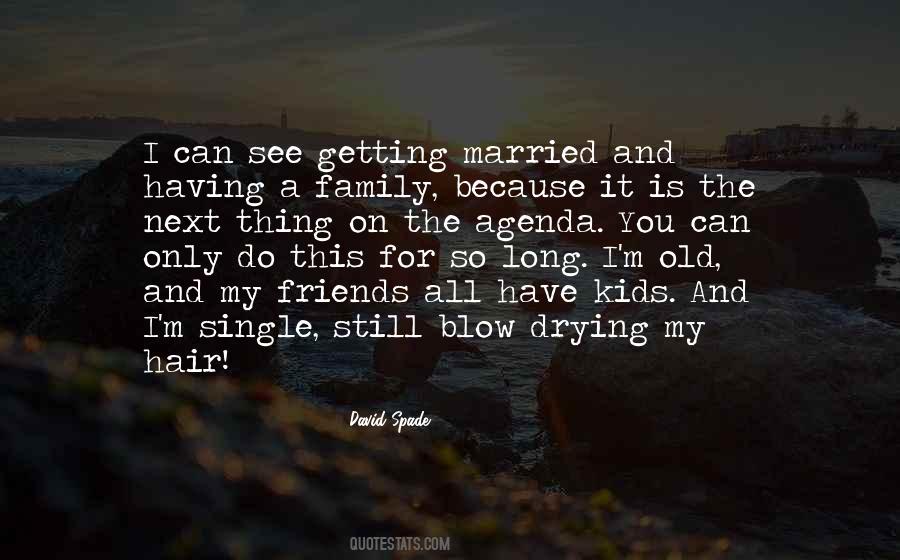 #2. When we are young, friends are, like everything else, a matter of course. In the old days we know what it means to have them. - Author: Edvard Grieg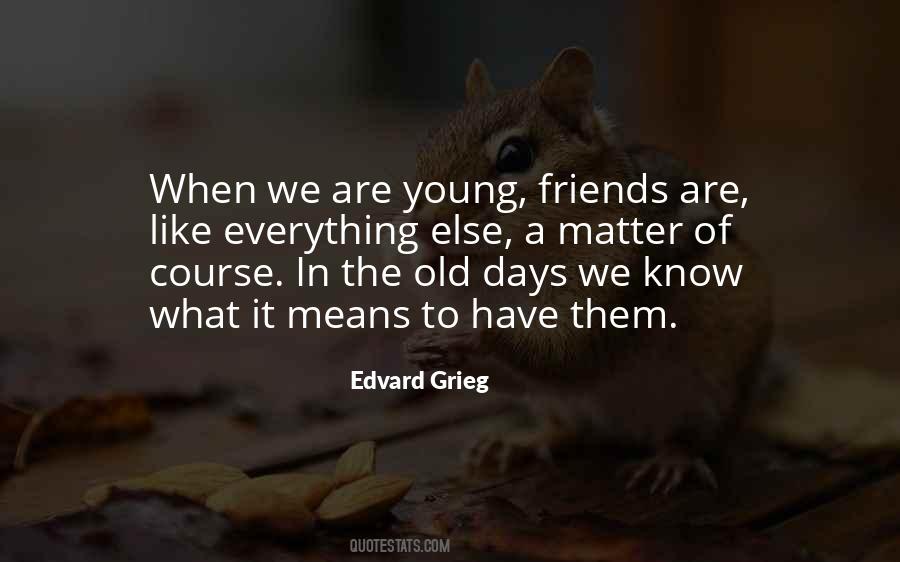 #3. They asked me to do a show, and I was planning on showing my figure paintings. But my friends told me I shouldn't - the paintings were good but a little old-fashioned. They said, "Why don't you show the other stuff?" I had also been making rather strange objects, more in the Freudian tradition. - Author: Claes Oldenburg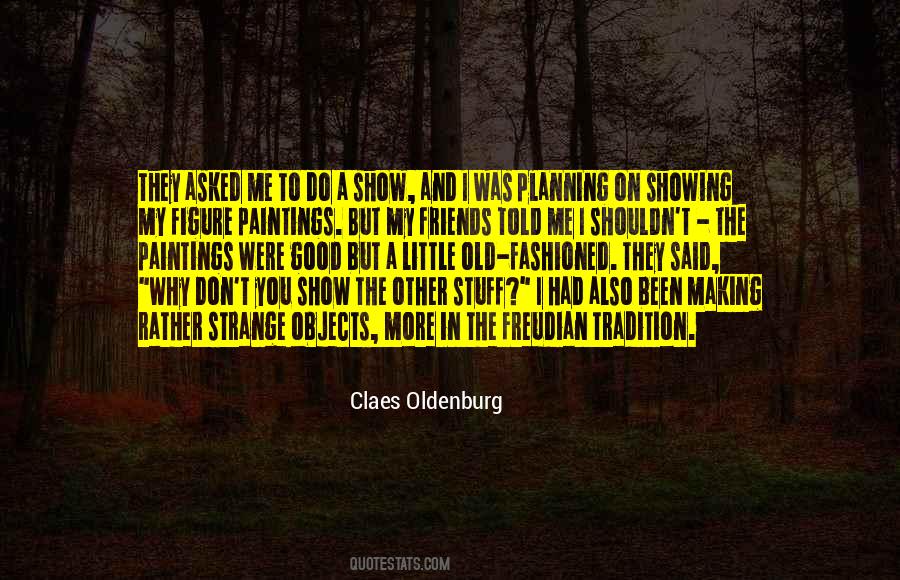 #4. From about eight years old I was always making things on the sewing machine. Friends would see me making dresses and costumes, and I'd use difficult fabrics such as Lycra and elastic. But you know, my dad was creative and my brother is inventive too. - Author: Melissa George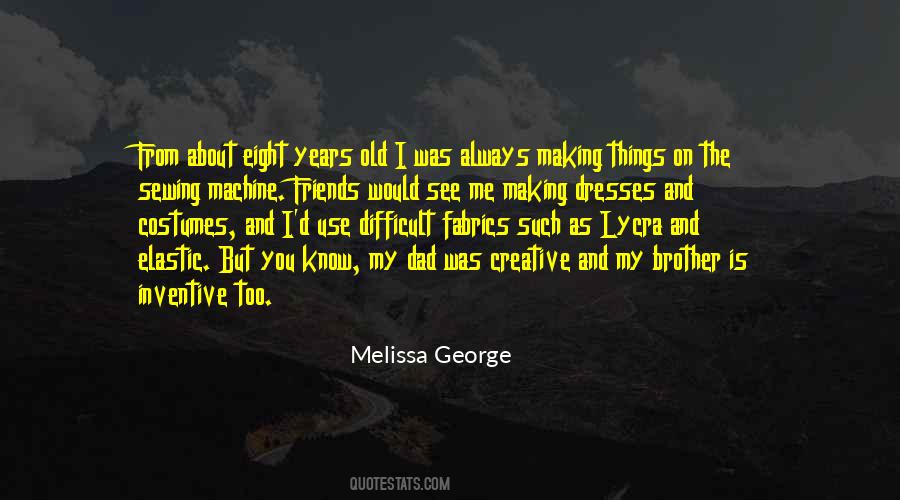 #5. Especially as I was an old friend, or at least I was a person she had known for a long time, which after a certain point is almost the same thing ... - Author: Julian Fellowes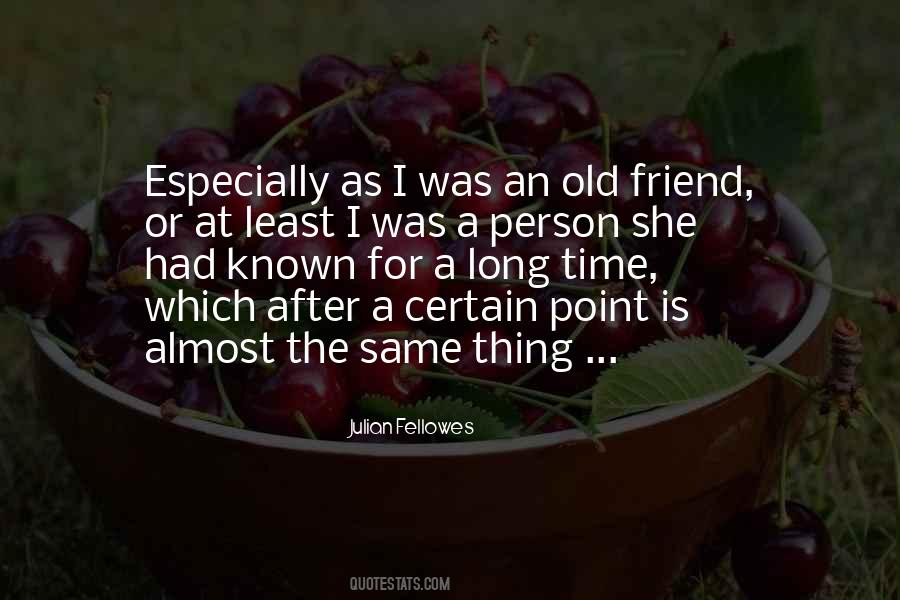 #6. It is always painful to part from people whom one has known for a brief space of time. The absence of old friends one can endure with equanimity, But even a momentary separation from anyone to whom one has just been introduced is almost unbearable. - Author: Oscar Wilde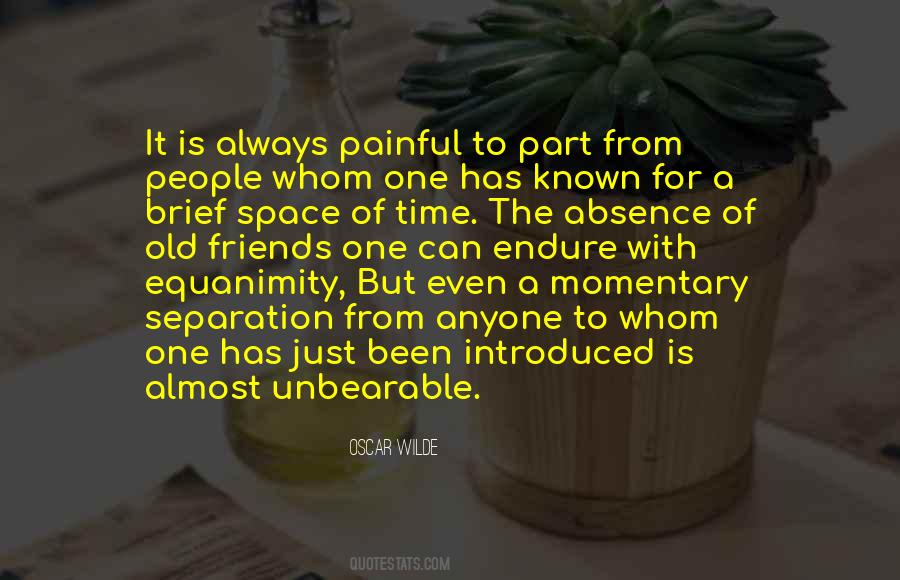 #7. The two of them just sort of clicked, like old friends who'd just met. Friends-at-first-sight, if there was such a thing. - Author: Michael J. Sullivan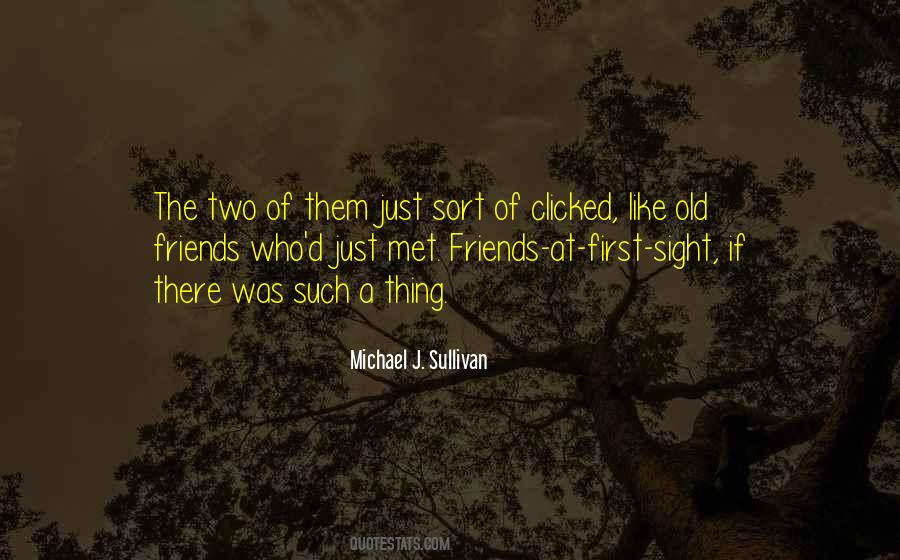 #8. As though on a seedling whose blossoms ripen at different times, I had seen in old ladies, on that beach at Balbec, the dried-up seeds and sagging tubers that my girl-friends would become. But, now that it was time for buds to blossom, what did that matter? - Author: Marcel Proust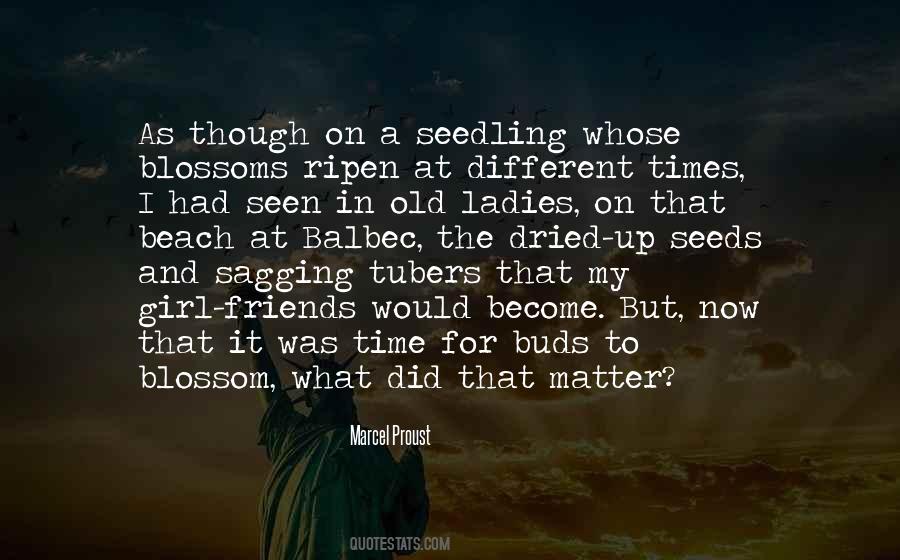 #9. Ah,' said Zultan. 'I, too. I keep many books at my home.' He gestured to the books in the tent. 'These are only a few. Those I think might need on this trip, and those I have yet to read and might want, and those old friends that I cannot bear to leave behind. - Author: T. Kingfisher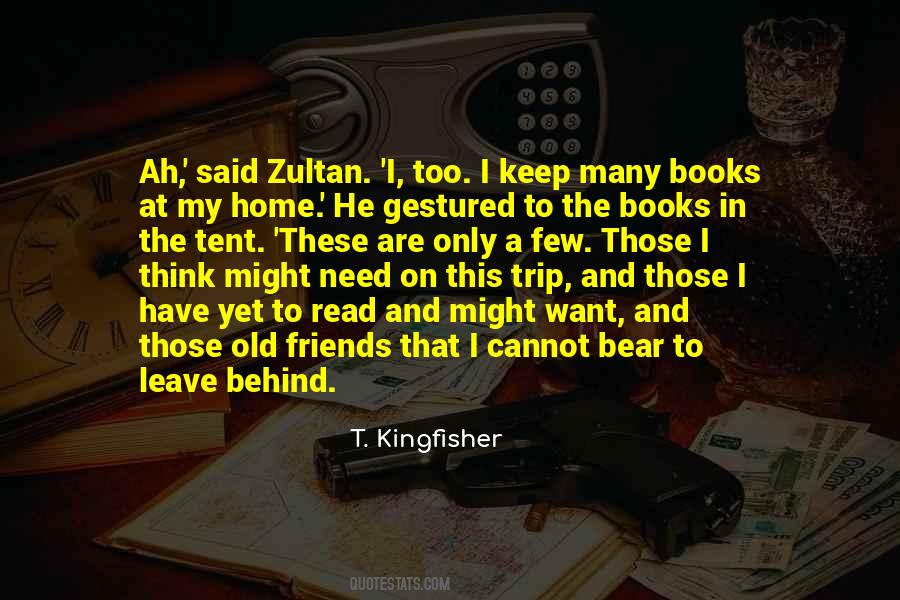 #10. It's not proper for seventeen-year-old princesses to be alone with young men who have questionable intentions."
She laughed. "And what about young men who she's been best friends with since she was barely old enough to walk?"
He shook his head. "Those are the worst. - Author: Marissa Meyer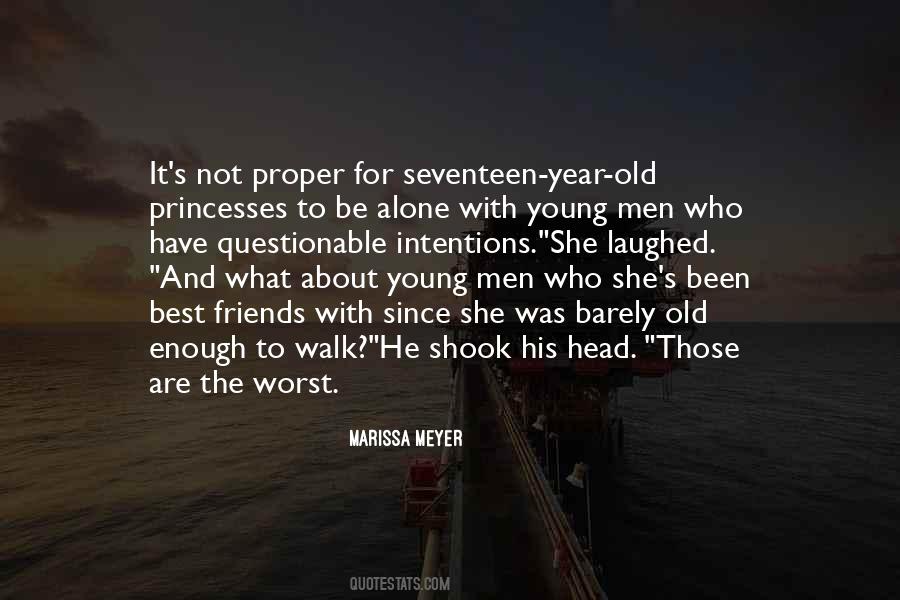 #11. The two old friends stood silently in the fading light, though you wouldn't have known it to look at them. That they were old friends, I mean. Anyone could see it was getting dark. - Author: Daniel Polansky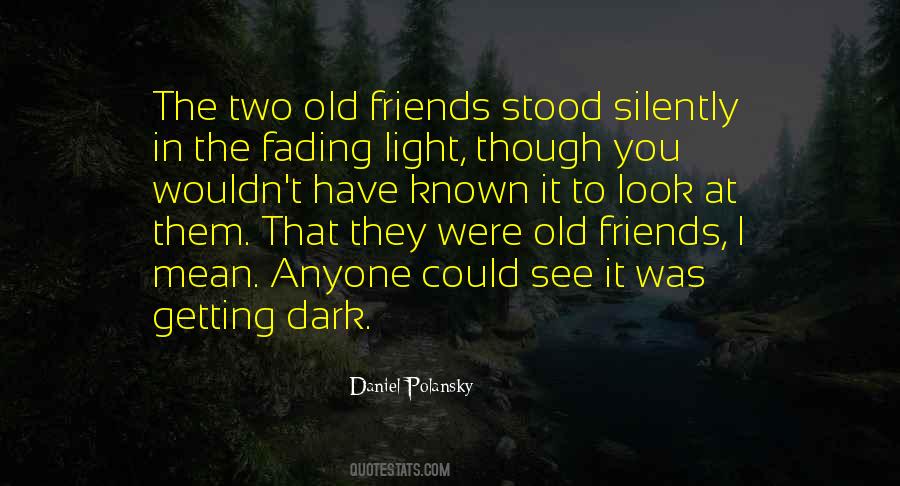 #12. These songs are old friends I have entertained myself with when I'm washing the dishes, driving to the store and walking down the aisles. The ones that you sing when you're driving in the car and as a singer you always go back to them. - Author: Al Jarreau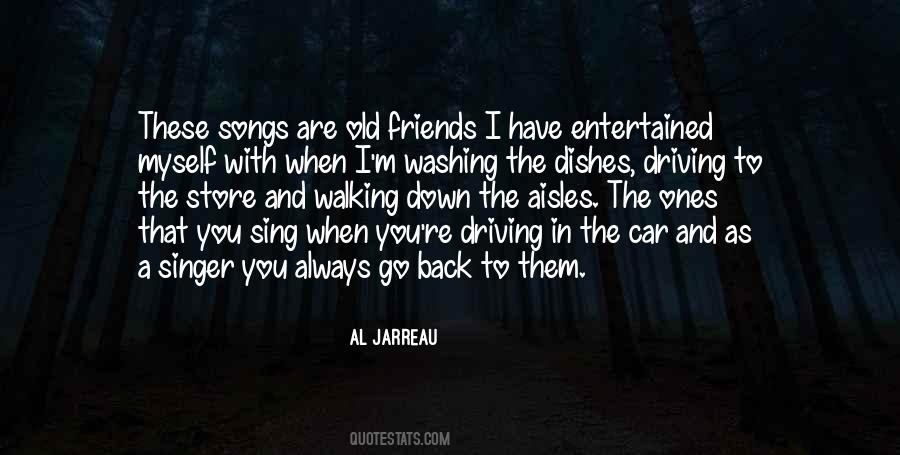 #13. When I was 5 years old, my best friends were Mary-Kate and Ashley Olsen because we lived across the street from each other. - Author: Troian Bellisario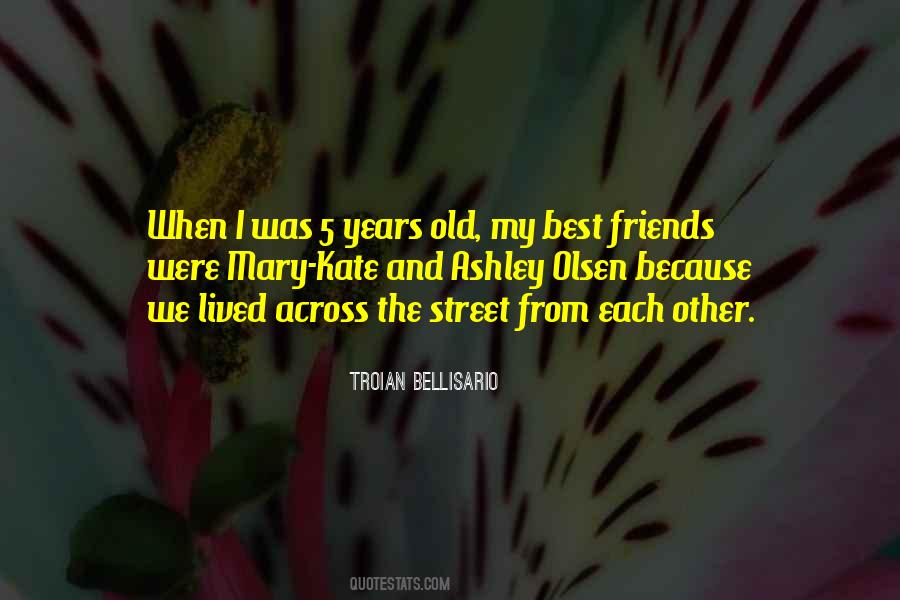 #14. I like America anyway. In Japan we are much more formal. If two friends are separated for a long time and they meet they bow and bow and bow. They keep bowing without exchanging a word. Here they slap each other on the back and say: Hello, old man, how goes everything. - Author: Sessue Hayakawa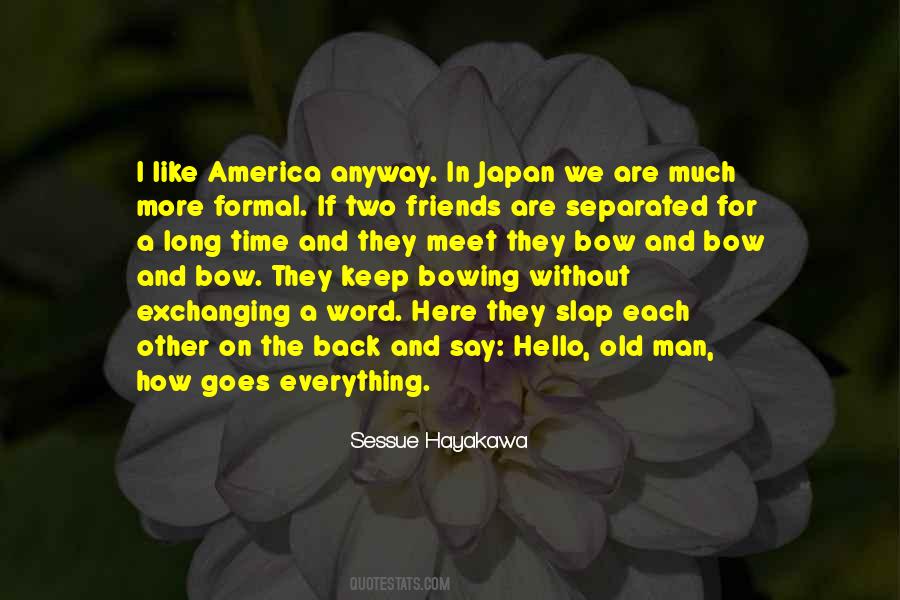 #15. Creation, even when it is a mere outpouring from the heart, wishes to find a public. By definition, creation is sociable. Yet it can be satisfied with merely one single reader: an old friend, a lover. - Author: Lu Xun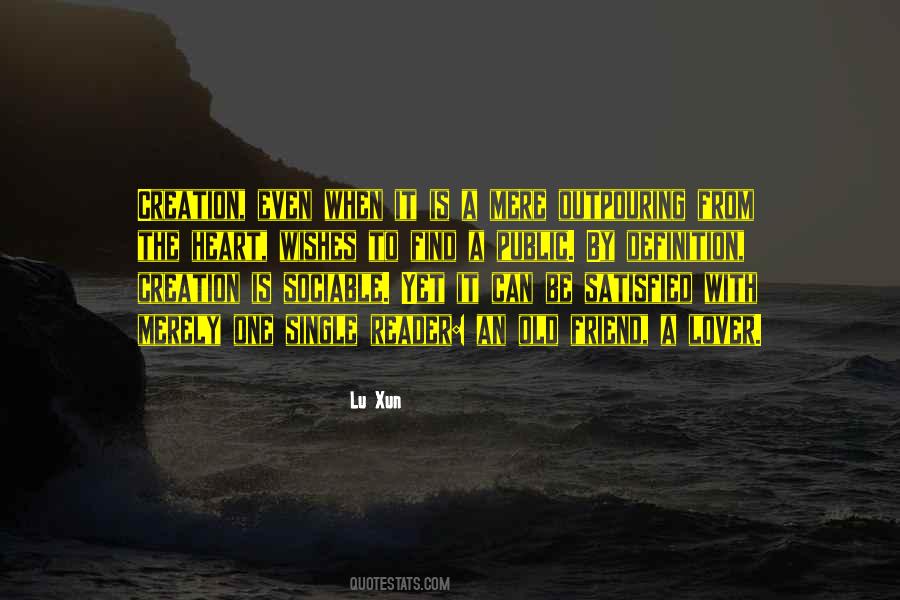 #16. The soil of friendship is worn out with constant use. Habit may still attach us to each other, but we feel ourselves fettered by it. Old friends might be compared to old married people without the tie of children. - Author: William Hazlitt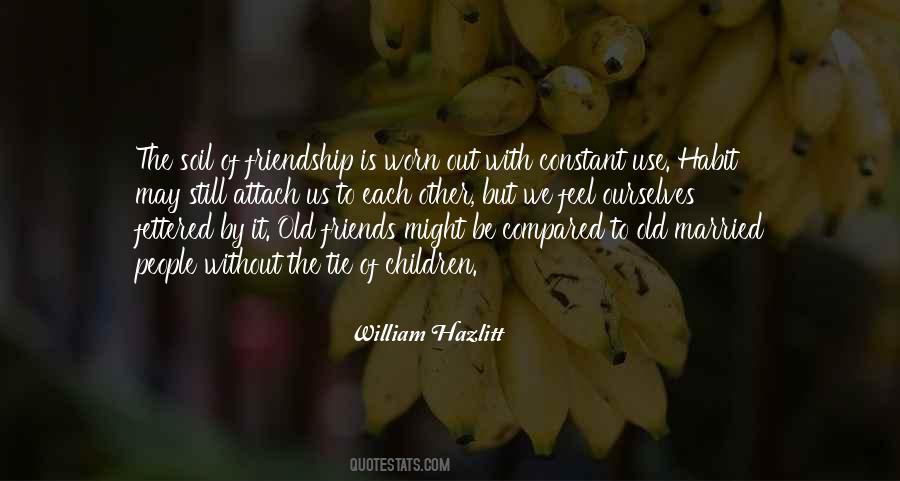 #17. It's an insane world but in it there is one sanity, the loyalty of old friends - Author: Stephen Boyd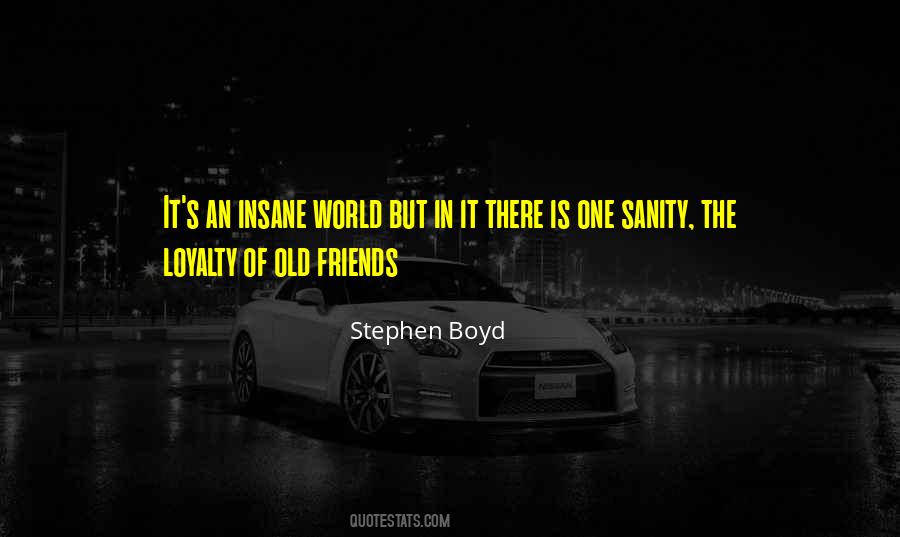 #18. While they talked they remembered the years of their youth, and each thought of the other as he had been at another time. - Author: John Edward Williams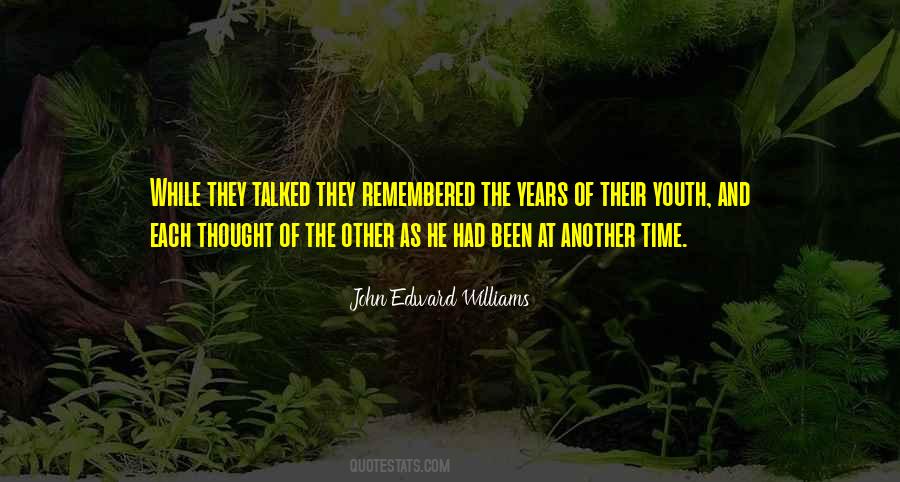 #19. I was ten years old in 1969, and while we lived in Arizona that year, I spent most of the summer staying with family friends in Portland, Oregon while my parents visited Spain. It was an adventure all around. - Author: Patrick Nielsen Hayden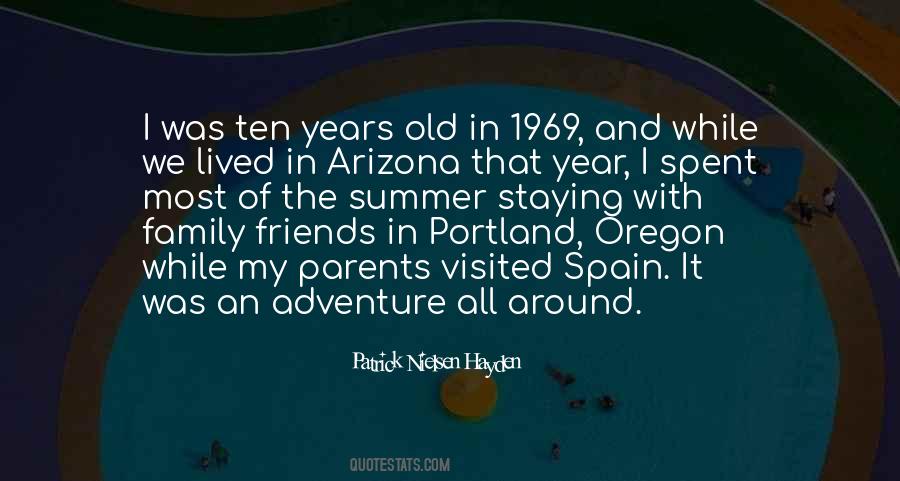 #20. Breaking with old friends is one of the most painful of the changes in all that piling up of a multitude of small distasteful changes that constitutes growing older. - Author: John Dos Passos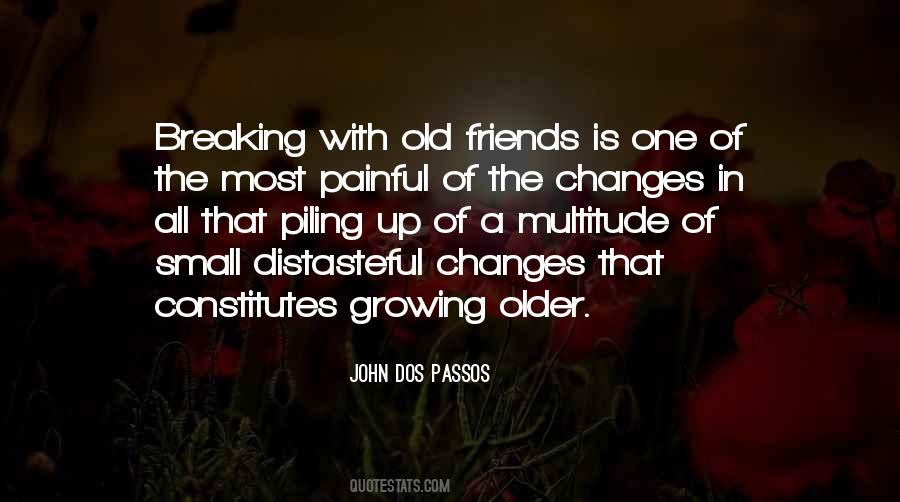 #21. Archer had reverted to all his old inherited ideas about marriage. It was less trouble to conform with the tradition and treat May exactly as all his friends treated their wives than to try to put into practice the theories with which his untrammelled bachelorhood had dallied. - Author: Edith Wharton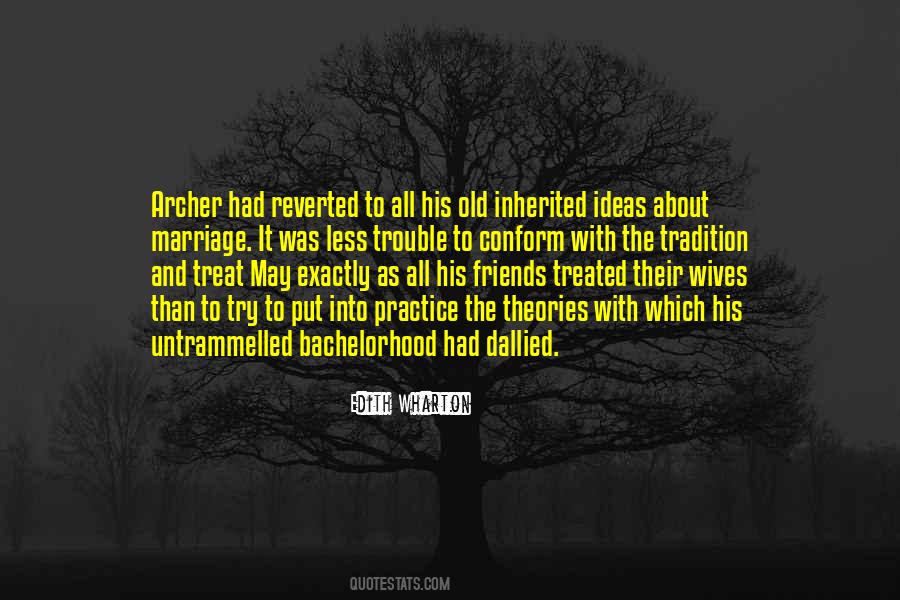 #22. The first time I read an excellent book, it is to me just as if I had gained a new friend. When I read a book over I have perused before, it resembles the meeting with an old one. - Author: Oliver Goldsmith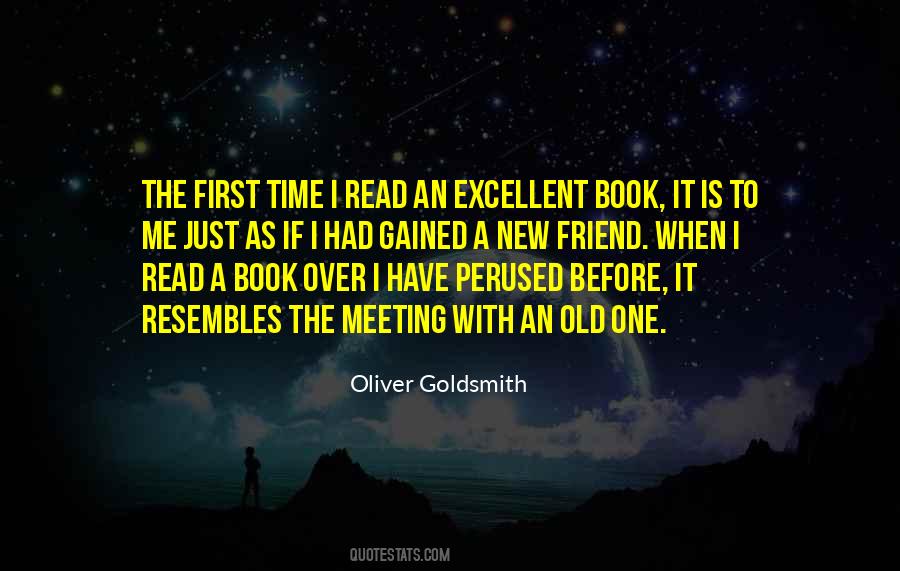 #23. Cabal took her arm, and they processed towards the cafe like old friends, or at least the sort of old friends in which the lady wears a somewhat smug smile while the gentleman scowls darkly. - Author: Jonathan L. Howard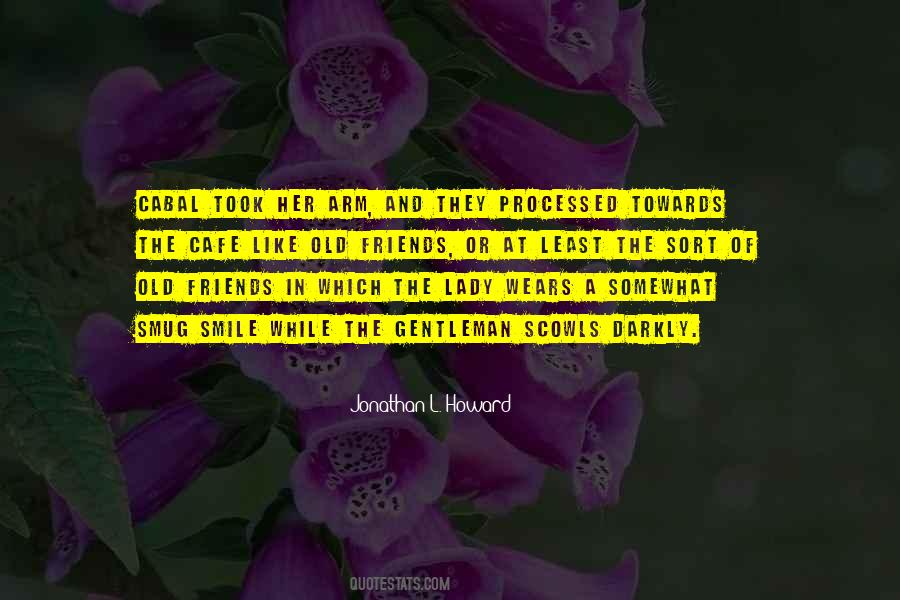 #24. I was at Disney for about four years, so I made good friends there. It was a time of not a lot of creativity. It was the end of the first great era, with a few of the original animators. They called them the Nine Old Men. I learned a lot from them, but it wasn't going to be a future home for me. - Author: Henry Selick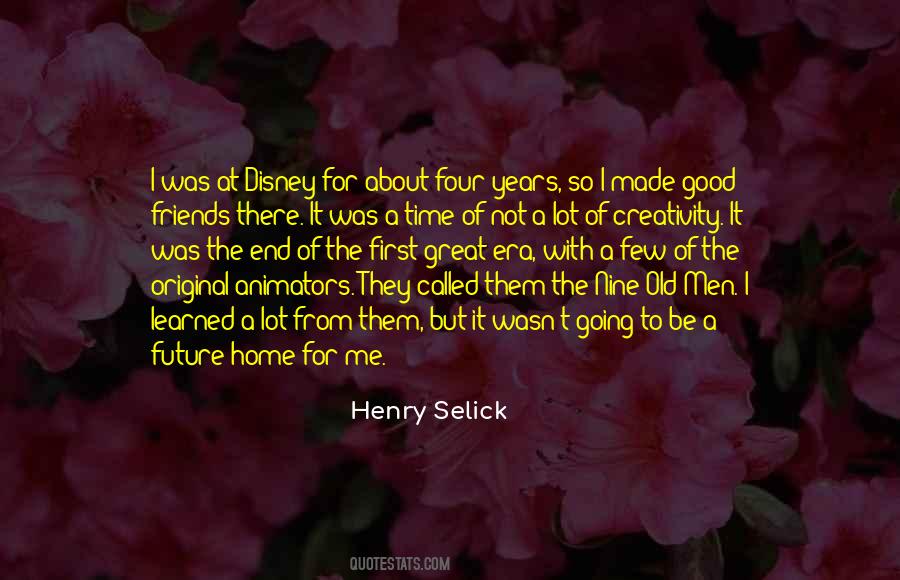 #25. Never again do you find friends like the ones you have when you're fifteen years old. - Author: Fredrik Backman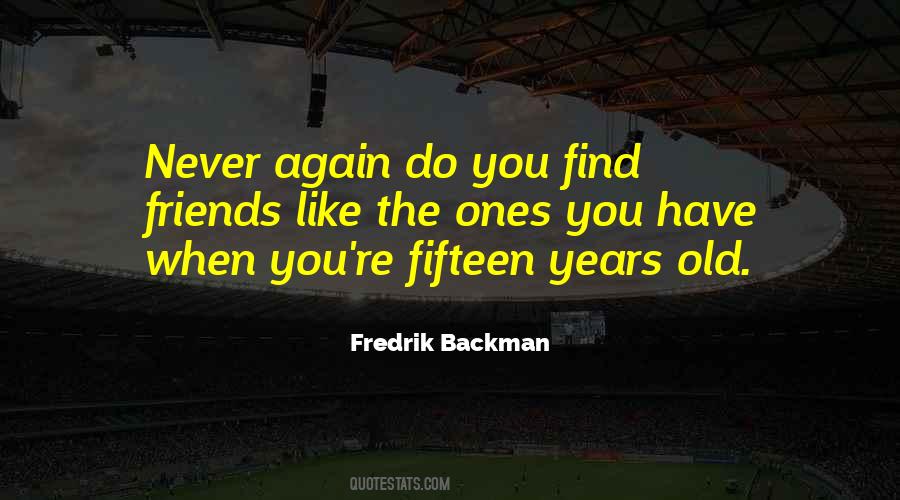 #26. They walked as old friends walk, without often speaking, sharing the kind of silence that is not so much silence as a kind of still communication. - Author: Susan Cooper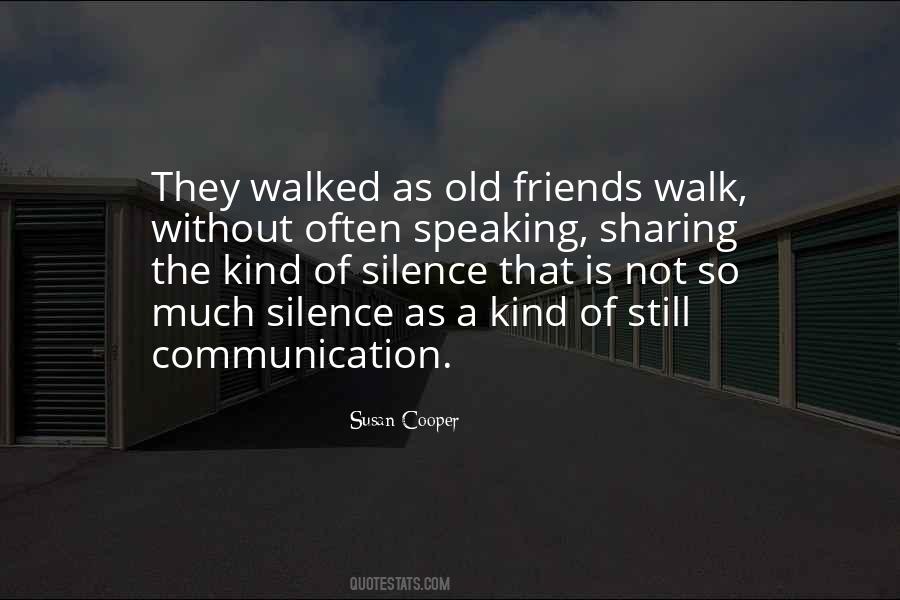 #27. These people are real to me, and situations keep coming up where their emergence feels natural. It's like meeting old friends. I hope readers feel the same way. - Author: Jonathan Kellerman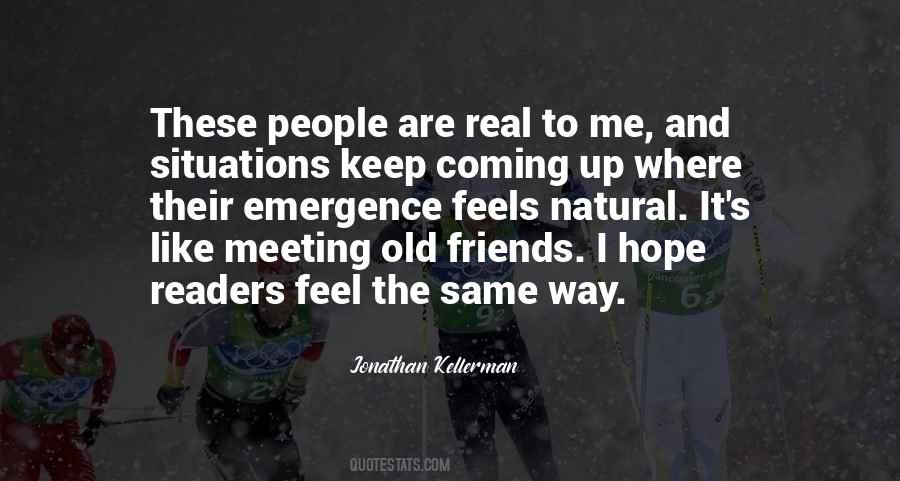 #28. Instead of friends, I see in Washington only mortal enemies. Instead of loving the old flag of the stars and stripes, I see in it only the symbol of murder, plunder, oppression, and shame. - Author: Rose O'Neal Greenhow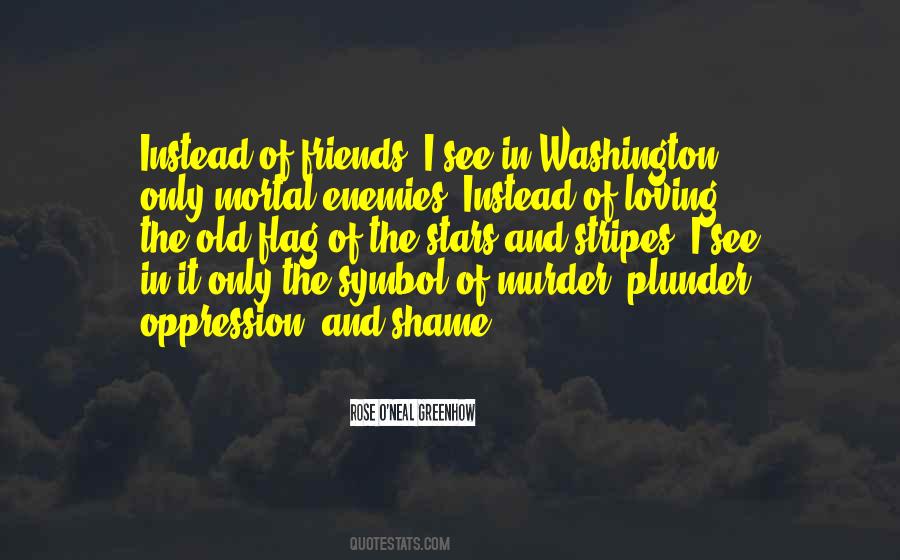 #29. As soon as I heard there were people in Germany who wanted to restore the old part of Dresden, I wanted to help. Even before the Nobel, I had started this group, the Friends of Dresden. The destruction of Dresden made a big impression on me when I was a child, and I wanted to do this. - Author: Gunter Blobel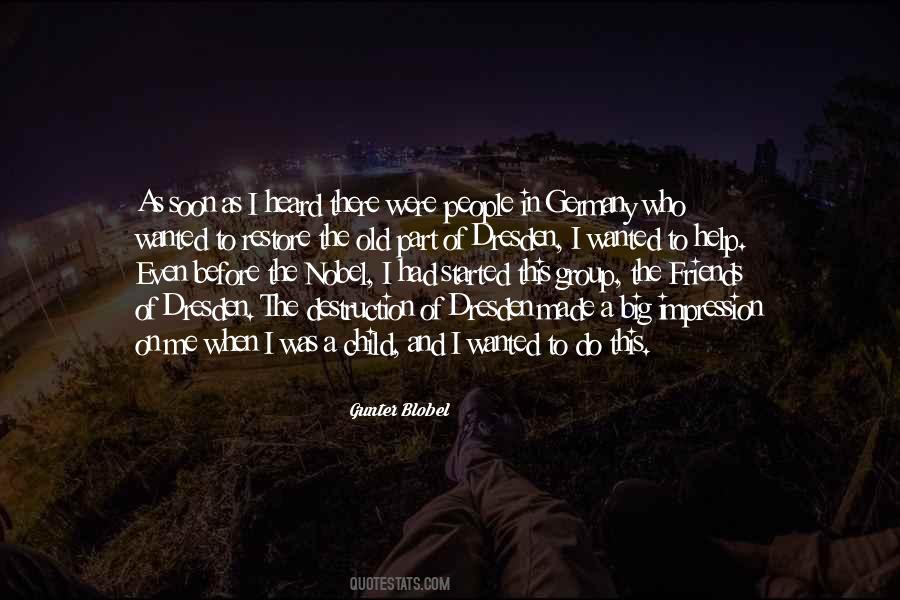 #30. Adam searched out old friends from the neighborhood. They drank beer together in the garden of the Stag & Hounds, trading stories and trying their best to ignore the inescapable truth - that the ties that once bound them were loosening by the year and might soon be gone altogether. - Author: Mark Mills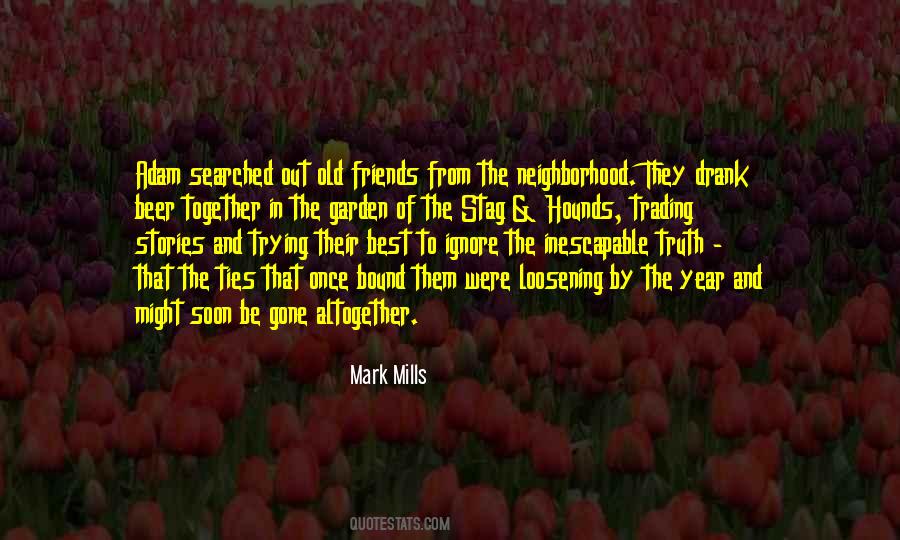 #31. I started when I was 15 years old. And at that time, I was not thinking about changing the world, I was doing graffiti - writing my name everywhere, using the city as a canvas. I was going in the tunnels of Paris, on the rooftops with my friends. Each trip was an excursion, was an adventure. - Author: JR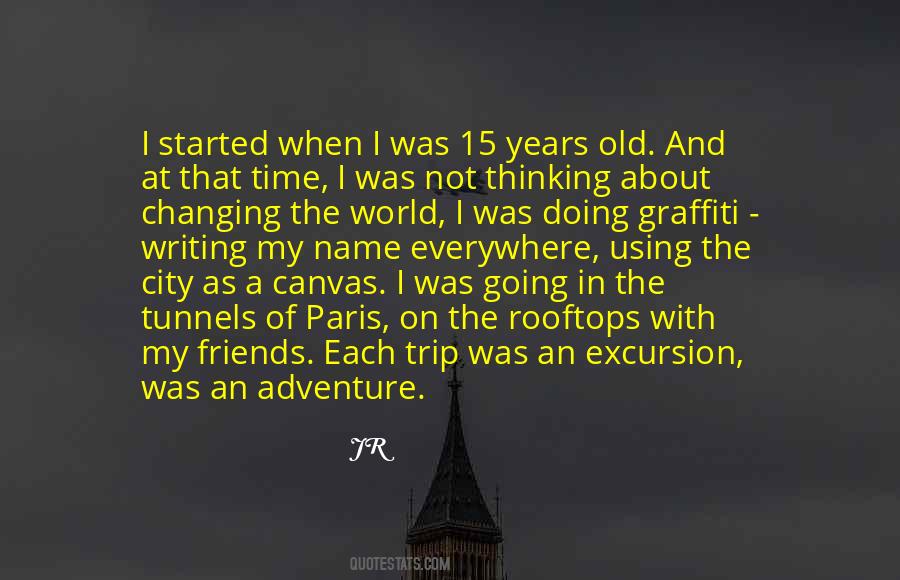 #32. Certain faults are necessary for the existence of the individual. We would resent it if old friends were to get rid of certain peculiarities. - Author: Johann Wolfgang Von Goethe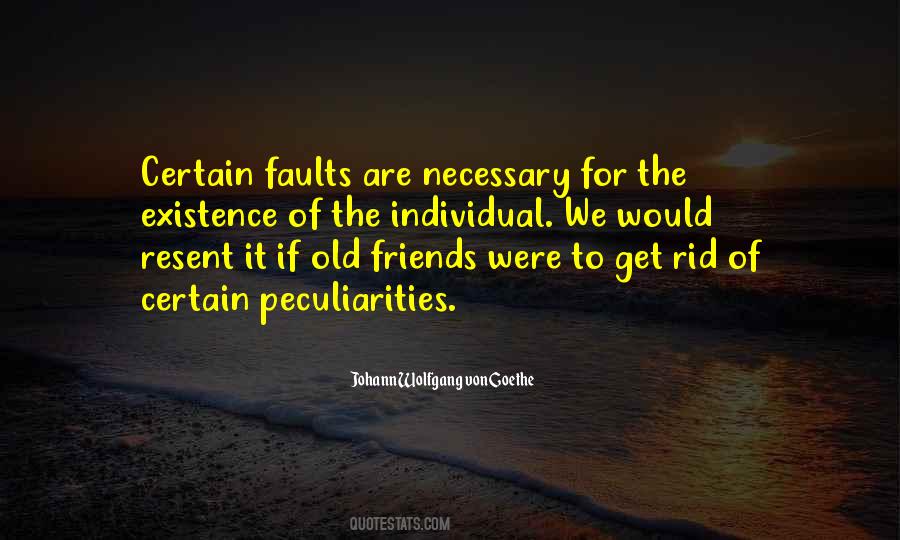 #33. When you go off in the world and make your life, and you come back to your home town, and you find your old high-school friends driving in the same circles, doing the same things, that's what Hollywood's like. It's a little block, little town. It doesn't really grow or change. - Author: Robert Rodriguez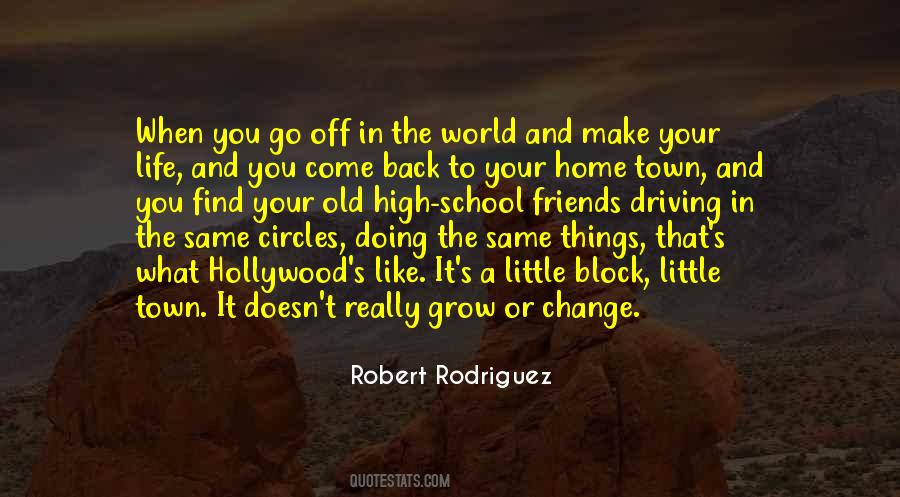 #34. It's always interesting to see what the real enthusiasts think, but they're rarely representative of the tastes of the wider audience, so I tend to write for myself, for an imagined smart 14-year-old, and for a couple of friends who are still big comics fans. - Author: Grant Morrison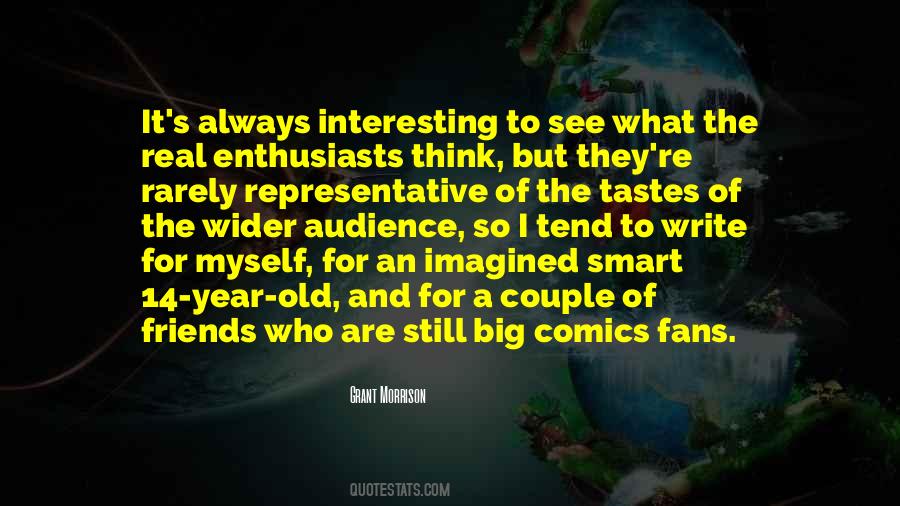 #35. Old friends are best. King James used to call for his old shoes; they were the easiest for his feet. - Author: John Selden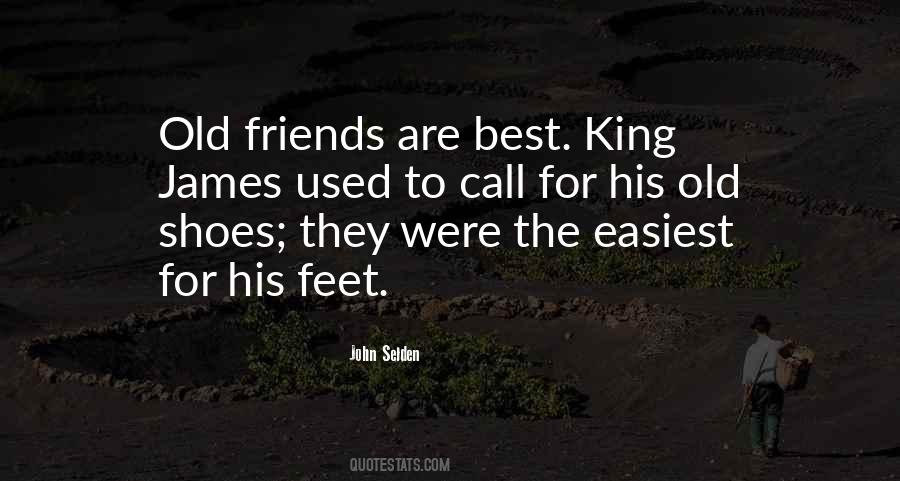 #36. After four tortured years, more than 400 over life-sized figures, I felt as old and as weary as Jeremiah. I was only 37, yet friends did not recognize the old man I had become. - Author: Michelangelo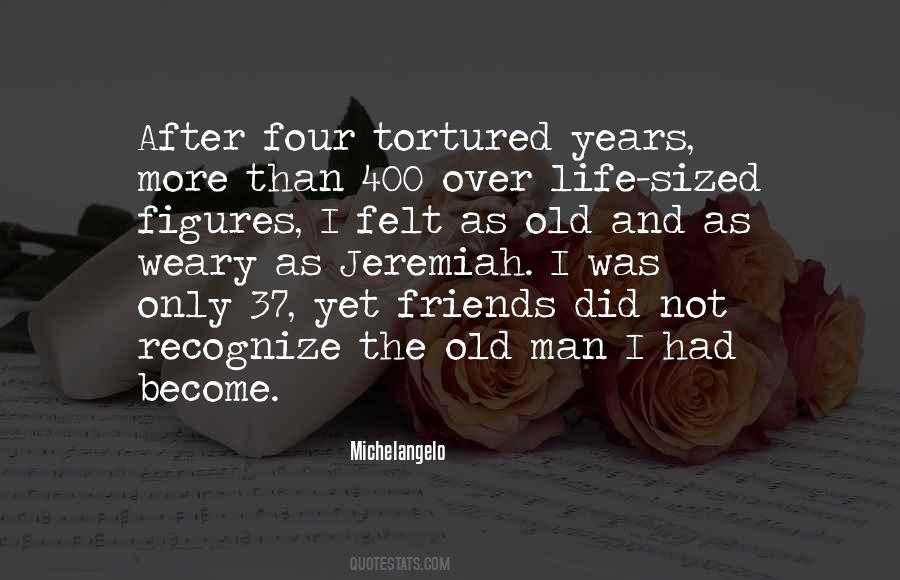 #37. The new is older than the old;
And newest friend is oldest friend in this:
That, waiting him, we longest grieved to miss
One thing we sought. - Author: Helen Hunt Jackson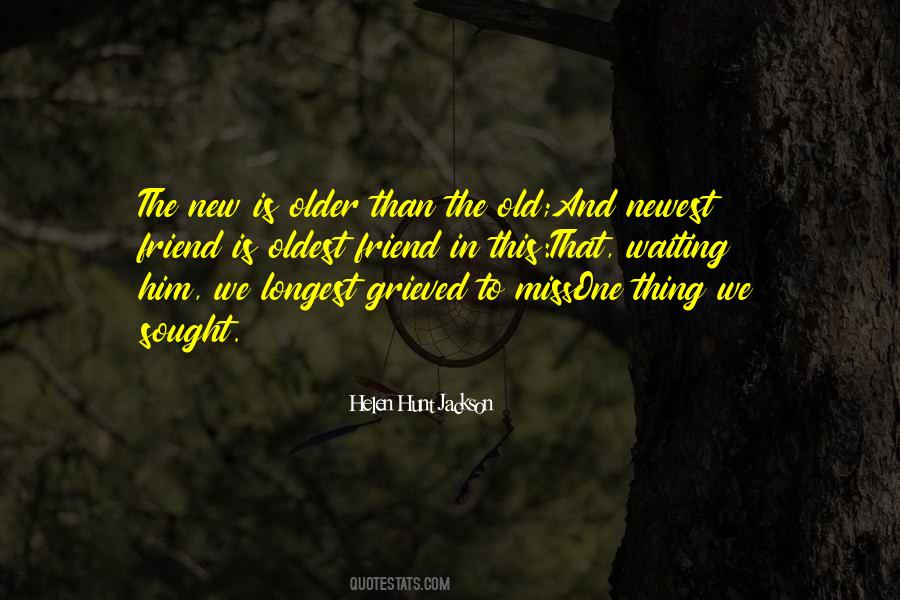 #38. She was a soul-sucking vampire and I was a sixteen-year-old cheerleader, but I was damned if she was going to suck the life out of all my friends. High school was hard enough. - Author: Marlene Perez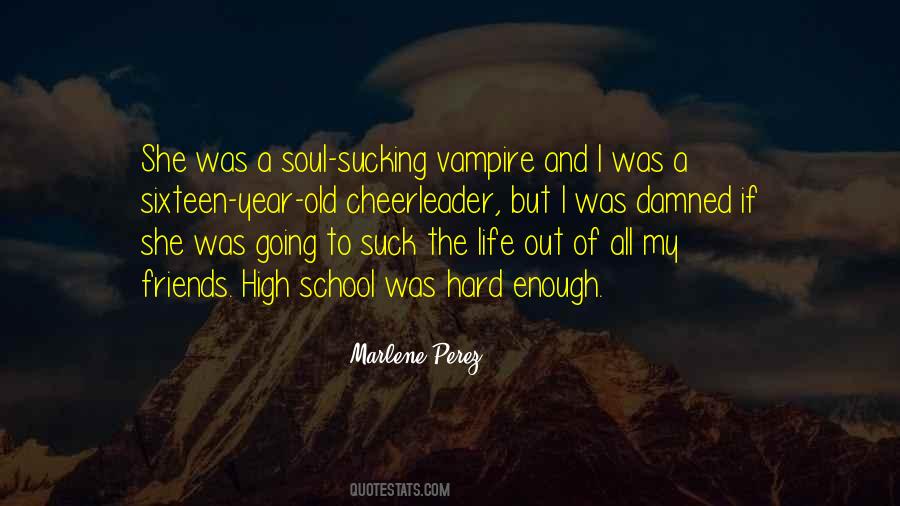 #39. From the time I was 9 years old, I loved magic. I was an only child, and I think that had a big impact on me. I always had grown-up friends even though I was a little kid. I would take the train from Lido Beach into Manhattan, and I'd hang out in magic shops. - Author: Rick Rubin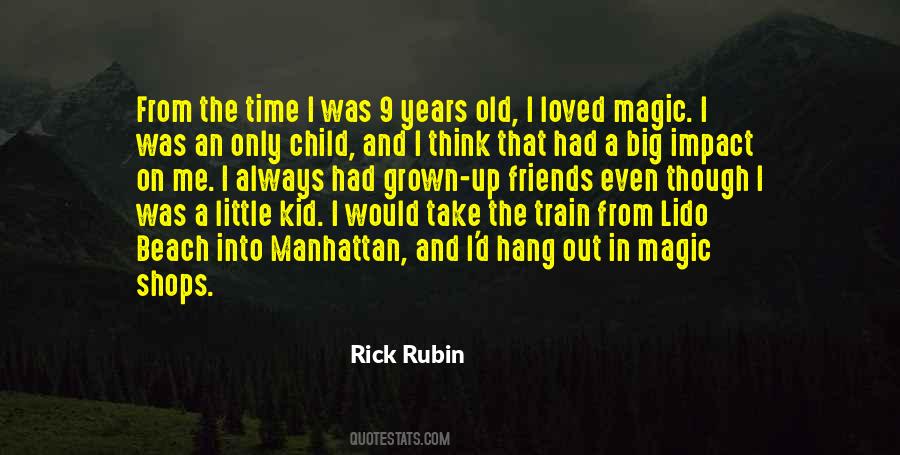 #40. You know, my friends, with what a brave carouse I made a Second Marriage in my house; favored old barren reason from my bed, and took the daughter of the vine to spouse. - Author: Omar Khayyam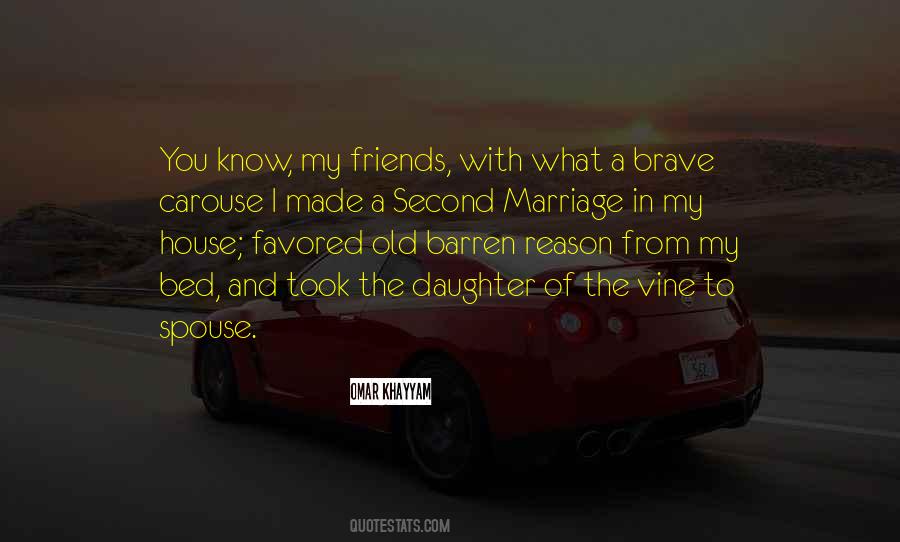 #41. Twenty years is, after all, a long time. We are not the same people we were. Old friends, lovers, even family members: they are strangers who happen to wear a familiar face. We have no right to claim to know anyone after such a distance. - Author: Graham Joyce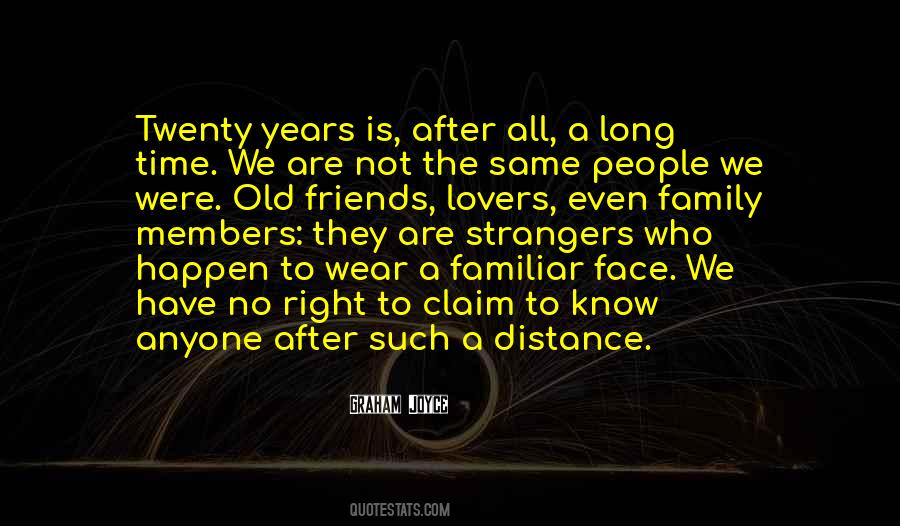 #42. Old friends are the bricks and mortar of your life. - Author: Nora Roberts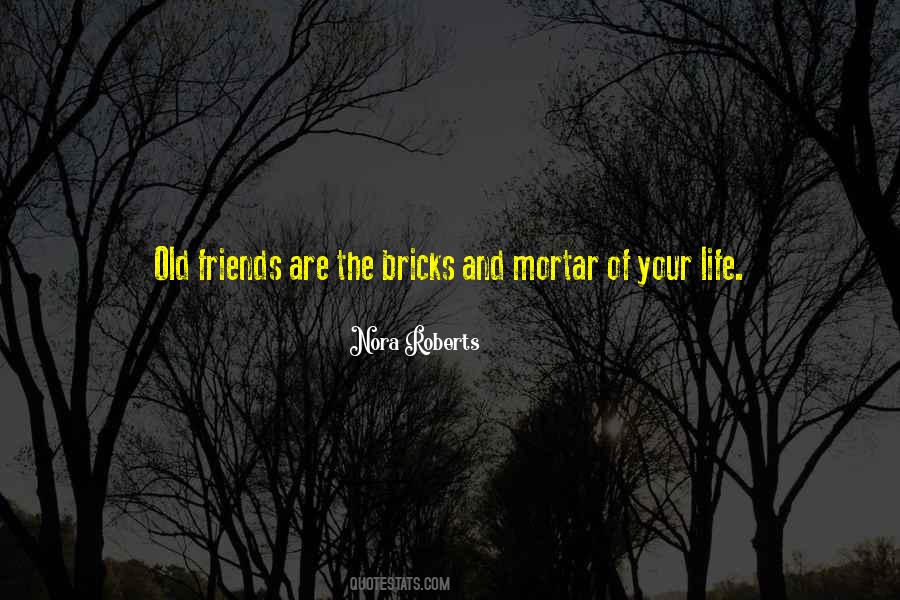 #43. And I was bitter. Bitterness and I were old friends by now, but at the moment bitterness was trying to go down my bra in public. - Author: Jennifer Echols
#44. Old age: I fall asleep during the funerals of my friends. - Author: Mason Cooley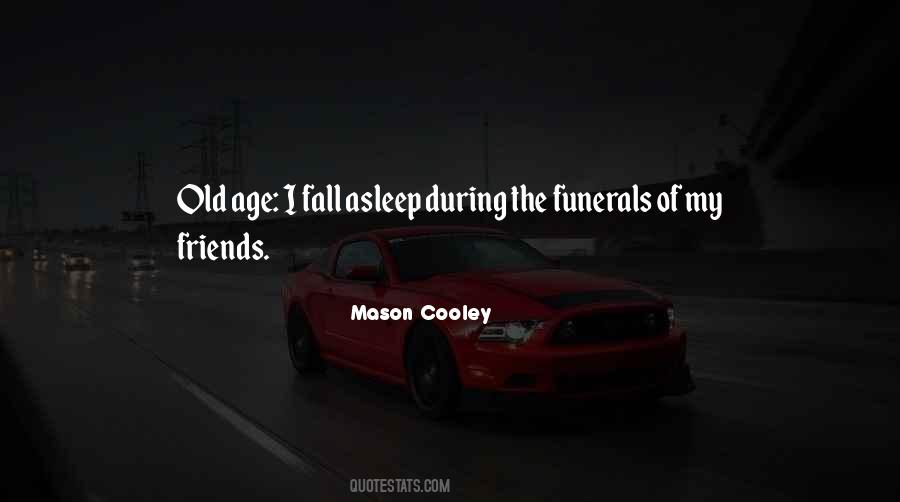 #45. If there is anything in life in which I take a pardonable pride, it is my friendship for certain old woodsmen and hunters; obscure men, as far as the world is concerned, but faithful friends, loyal comrades. - Author: Archibald Rutledge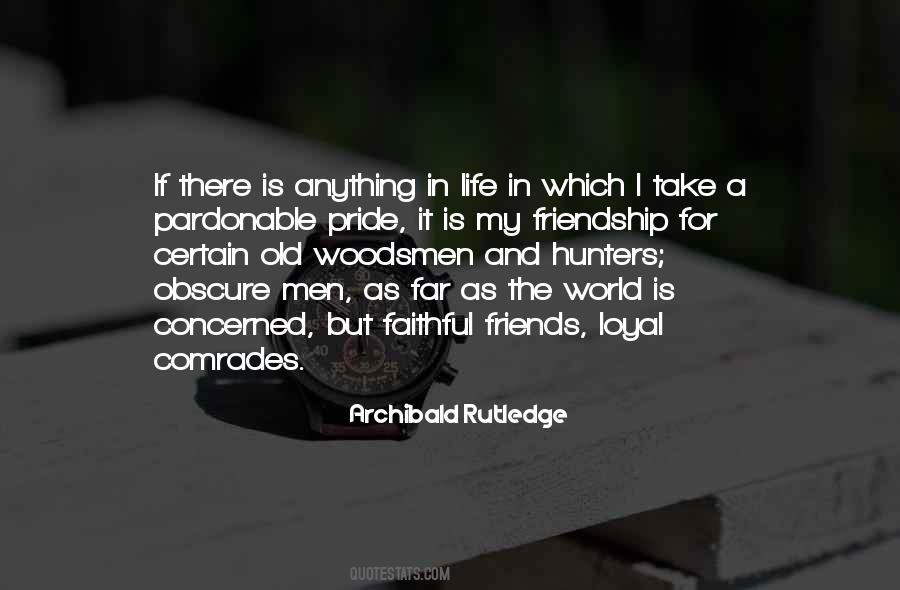 #46. And like the old stereotype, I overcame my shyness by making my friends laugh. - Author: Paul Merton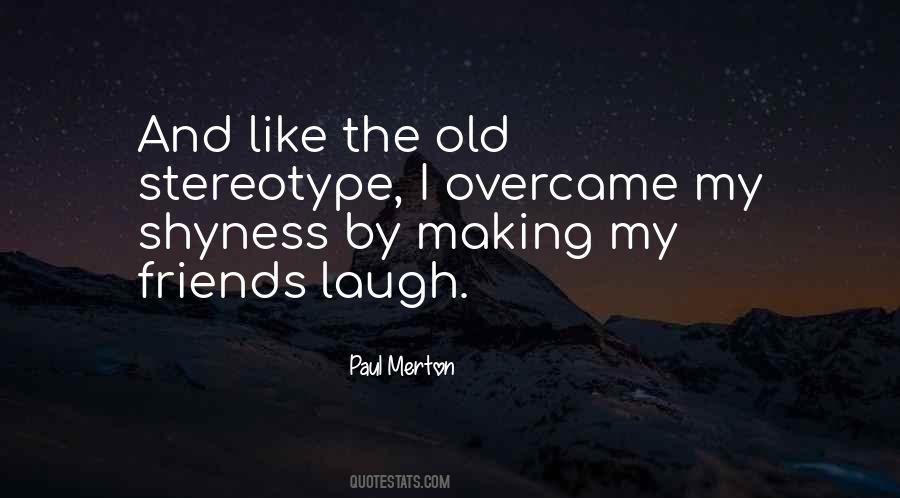 #47. Holding myself to perfectionistic standards, I used to think I had to become lifelong friends with everyone who entered my life. This was exhausting, and I now know it's not true. I believe the old saying that people come into your life for a reason, a season, or a lifetime. (127) - Author: Jenni Schaefer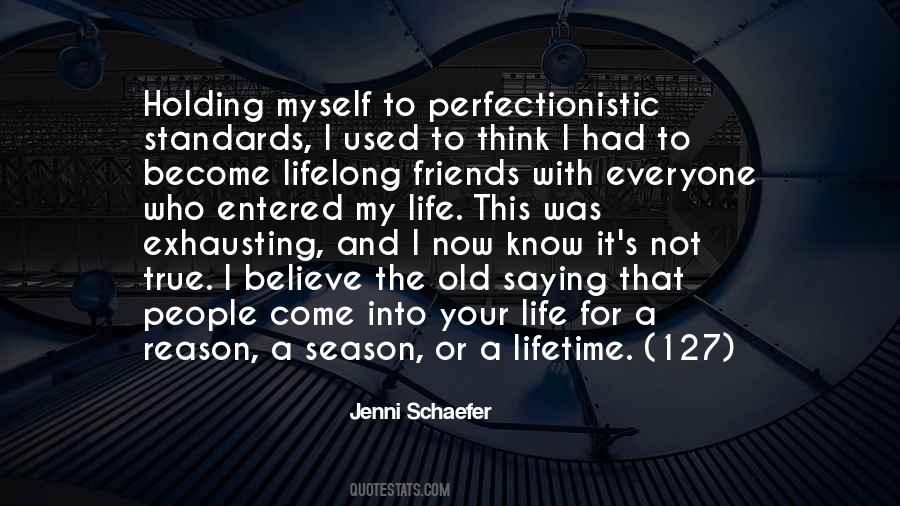 #48. I like the old words better. They're like old friends. - Author: Benjamin Alire Saenz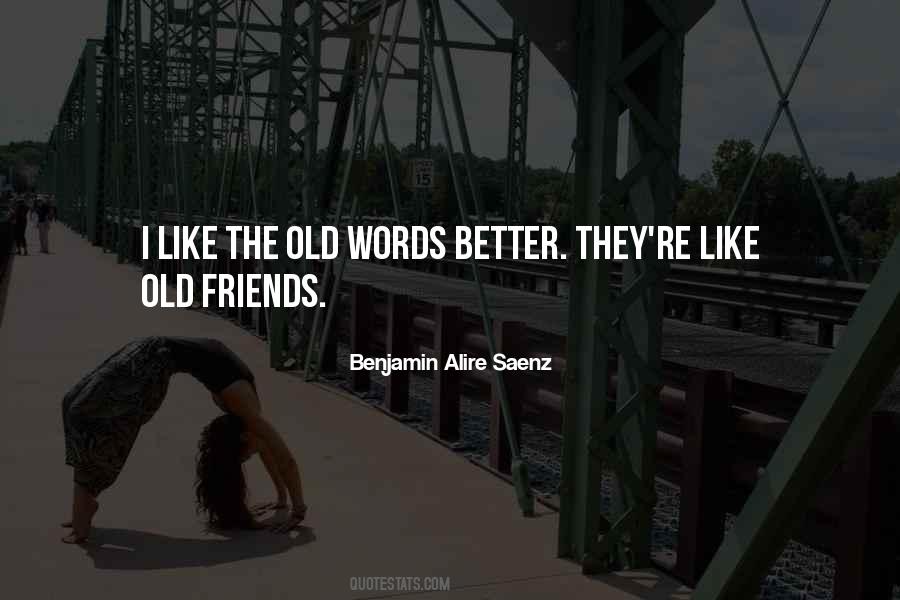 #49. Friendship matters, especially in old age, when death reduces the number of one's friends. - Author: Marilyn Yalom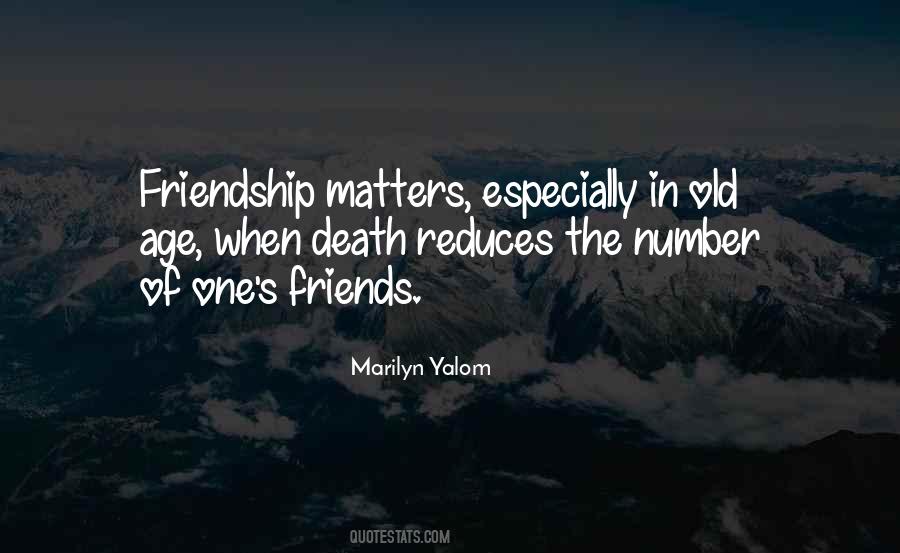 #50. There were times I used to go to parties when I was, you know, like 15-, 16-years-old, and I'd always bring my guitar, and all my friends would be like, sing one of the Smokey songs. And everything I sang was his music, and I could sound just like him. - Author: Teena Marie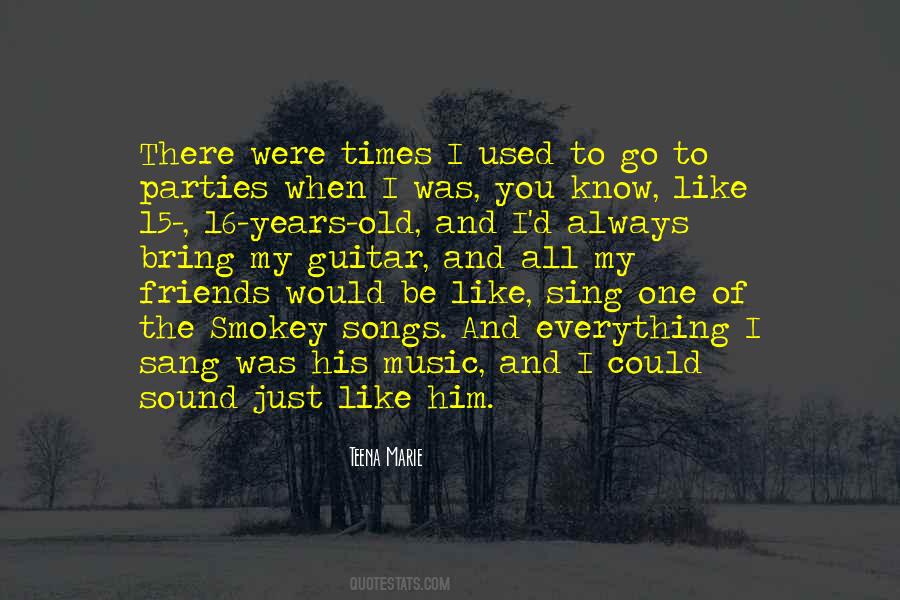 #51. Since childhood she had walked the Devon rivers with her father looking for flowers and the nests of birds, passing some rocks and trees as old friends, seeing a Spirit everywhere, gentle in thought to all her eyes beheld. - Author: Henry Williamson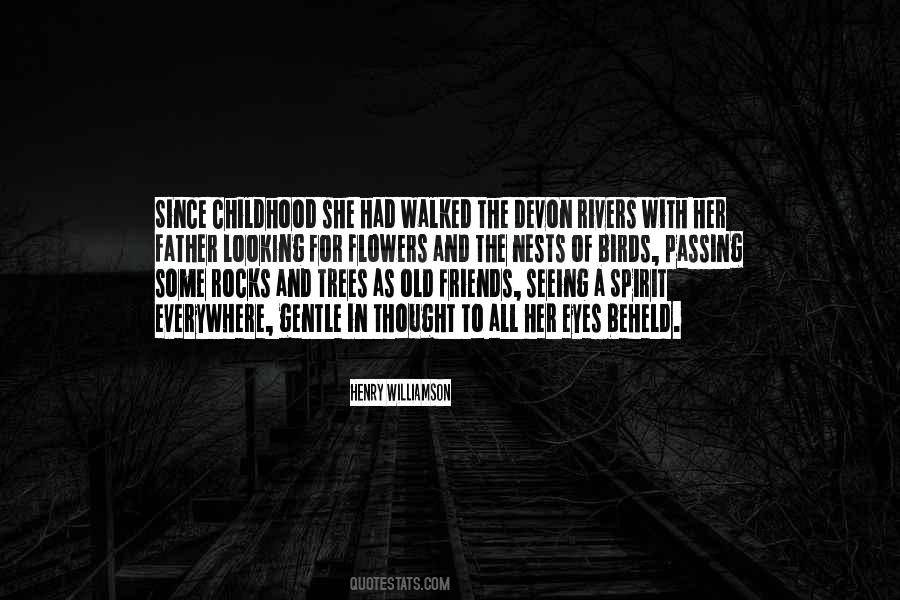 #52. Among the games I did not develop myself, my most frequently played game is definitely "Doppelkopf," a traditional German card game; for more than 40 years now, I play it regularly with old school friends. - Author: Klaus Teuber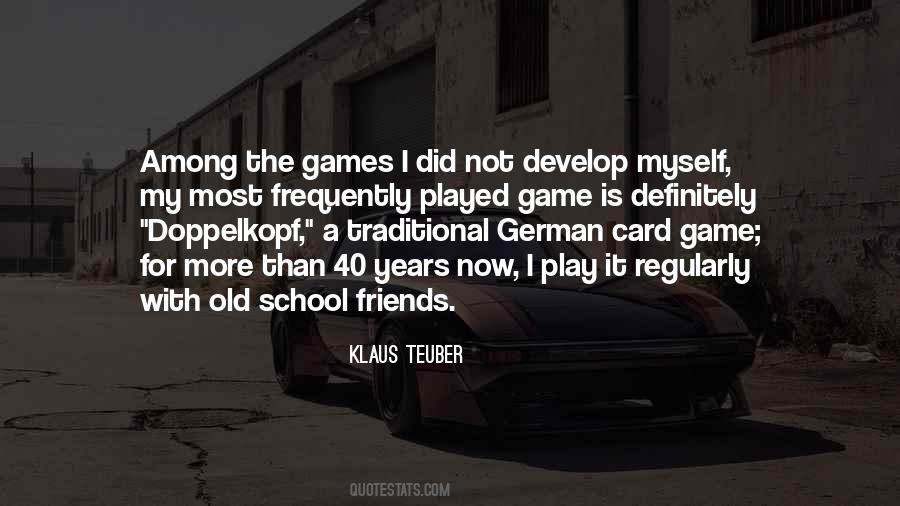 #53. 'Backwash' is an old-school, slapstick-y romp between three eccentric loser friends who inadvertently rob a bank, armed solely with a salami and a sweat sock, and then find themselves on the run pursued by singing cops. It's kind of a classic piece, a sophisticated piece, if you will. - Author: Joshua Malina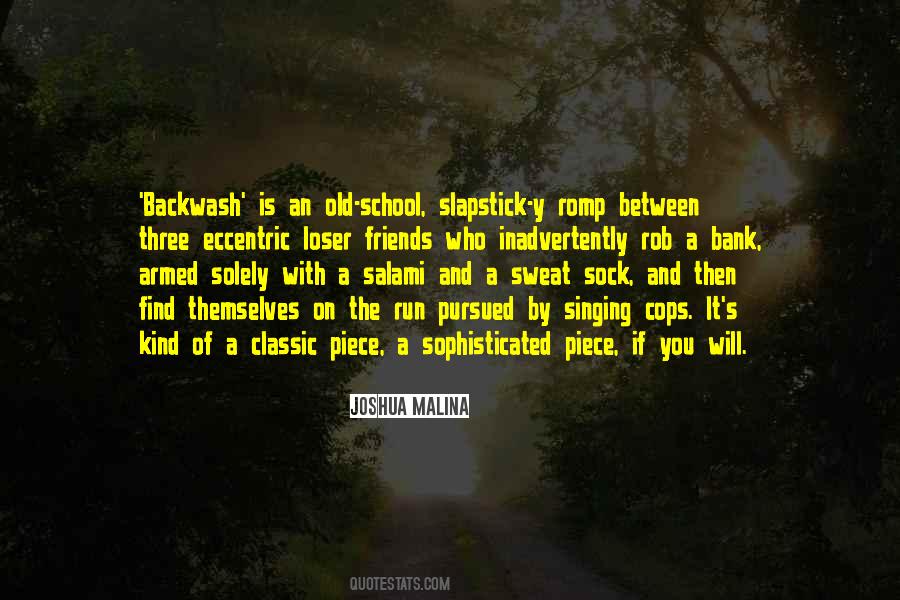 #54. I've had my own anecdotals with old friends, here's a gentleman quoted in the Times about, "I believe my government is suppose to protect me but it has let me down. I resent having to defend myself; I shouldn't have to but at this point I don't feel like I have a choice." - Author: Chuck Todd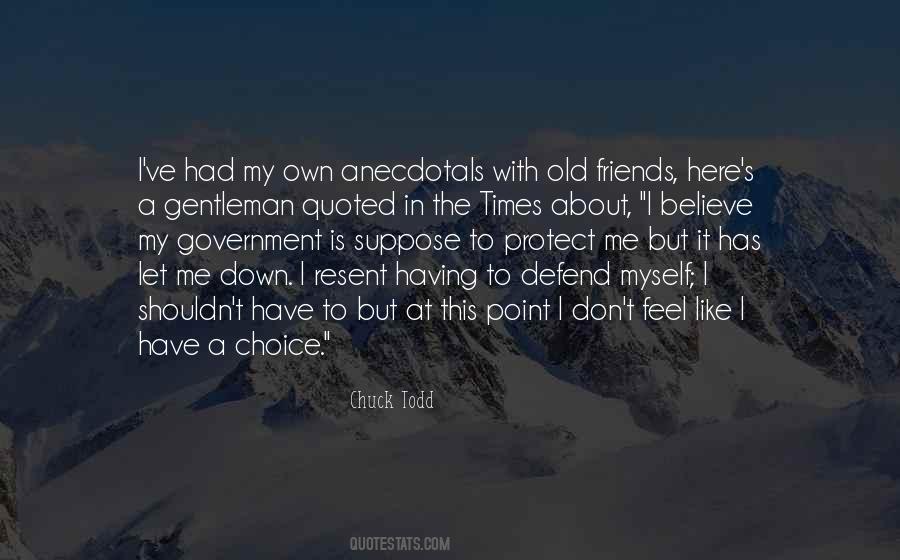 #55. You end up as you deserve. In old age you must put up with the face, the friends, the health, and the children you have earned. - Author: Judith Viorst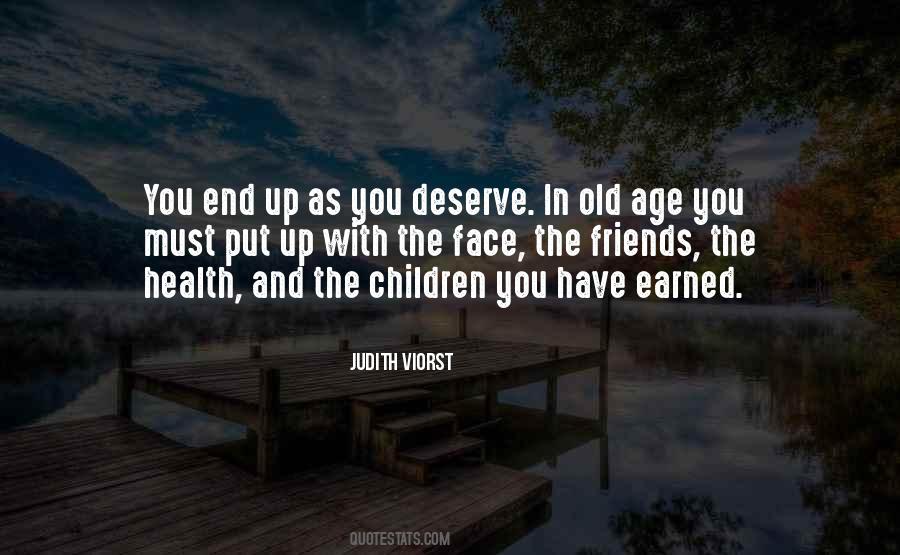 #56. Books that children read but once are of scant service to them; those that have really helped to warm our imaginations and to train our faculties are the few old friends we know so well that they have become a portion of our thinking selves. - Author: Agnes Repplier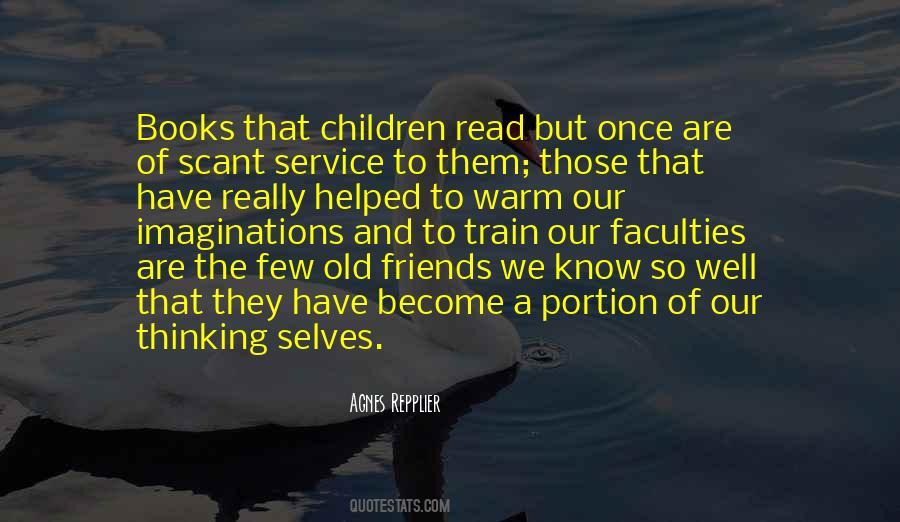 #57. New friends may be poems but old friends are alphabets. Don't forget the alphabets because you will need them to read the poems. - Author: William Shakespeare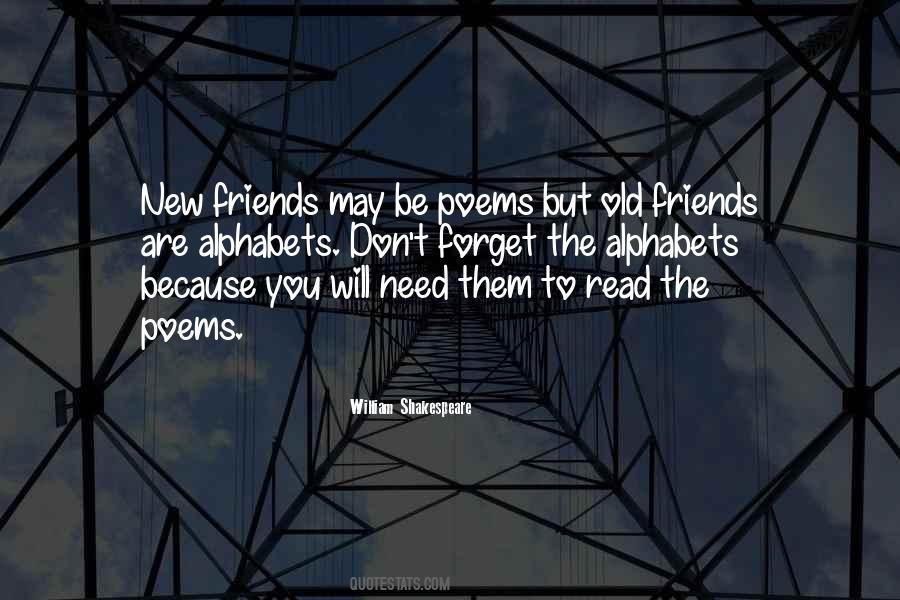 #58. Their friends had got so old that whenever Connie bought a get-well card she also bought a sympathy card at the same time, to save herself the trouble of going back to the newsagent when they didn't 'get well'. - Author: Liane Moriarty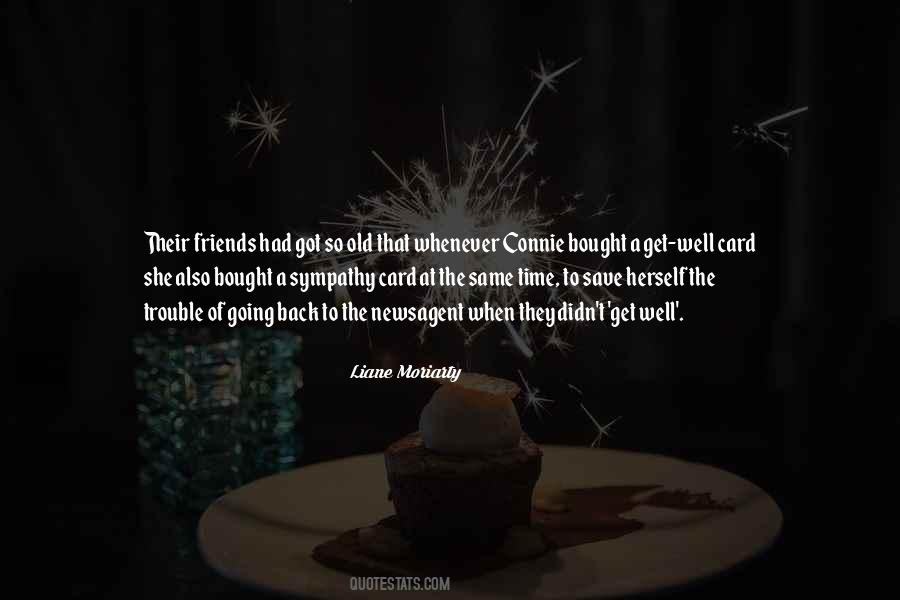 #59. I have been blessed with friends who do things rather than buy things: friends who will change books at the library, take a bag of your old clothes to a thrift store, bring you cuttings and plant them in a window box, fill the bird feeder in your garden when you can't get out. - Author: Maeve Binchy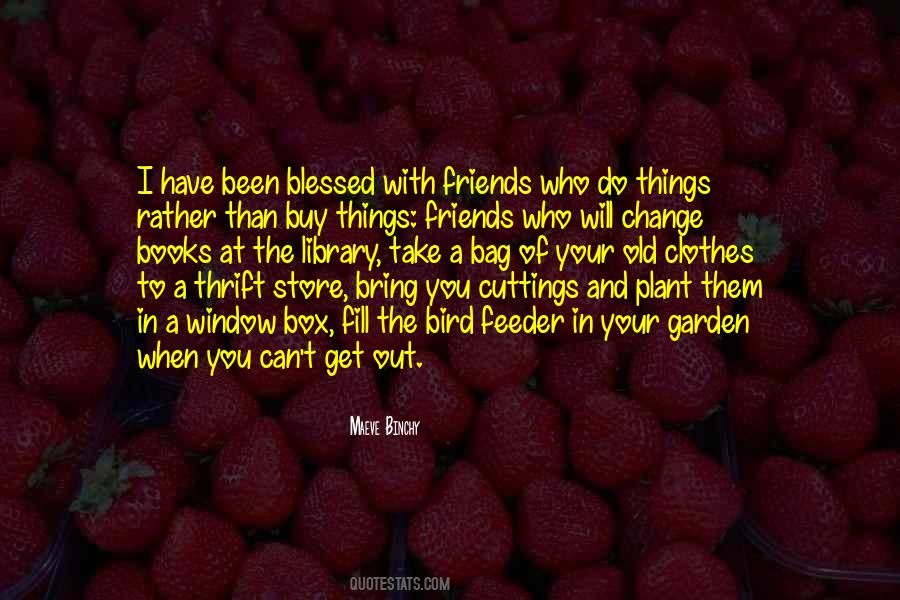 #60. No one survives in times of war unless they make war their home. How did I get so old and wise, but for welcoming war into my house and making friends with him? Better to befriend the enemy and hang on. Something worse might come along, which might be amusing or might not. - Author: Gregory Maguire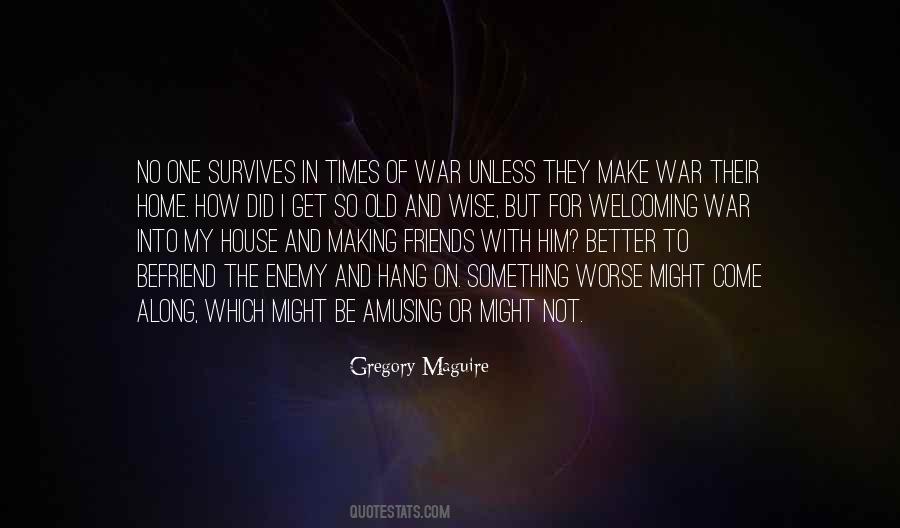 #61. For the young, death is an enemy they wish to try their strength against. For those of us a little older, she is an old friend, an old lover, but one we are not eager to meet again soon. - Author: Robert Jordan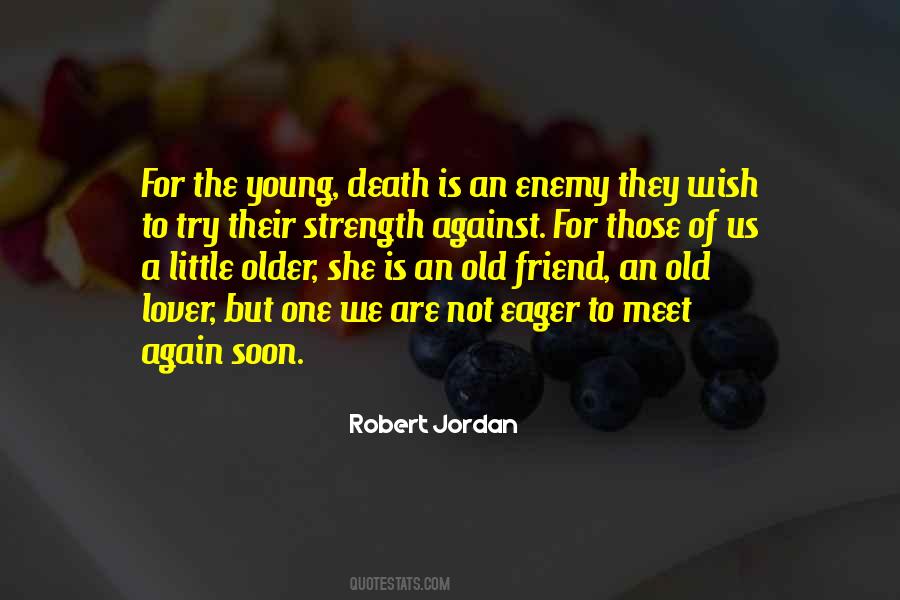 #62. Old friends are like old clothes: they fit the best. - Author: Ken Liu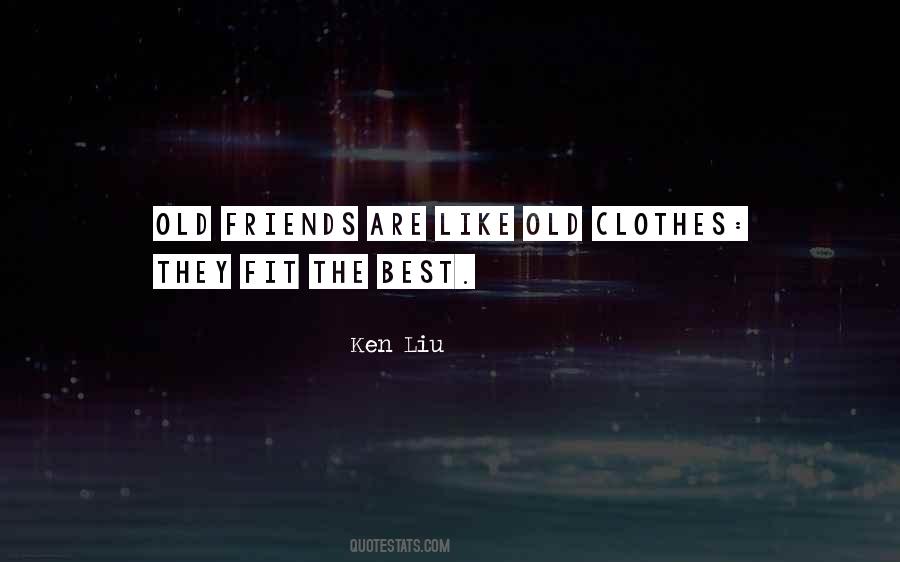 #63. Going to a restaurant is one of my keenest pleasures. Meeting someplace with old and new friends, ordering wine, eating food, surrounded by strangers, I think is the core of what it means to live a civilised life. - Author: Adam Gopnik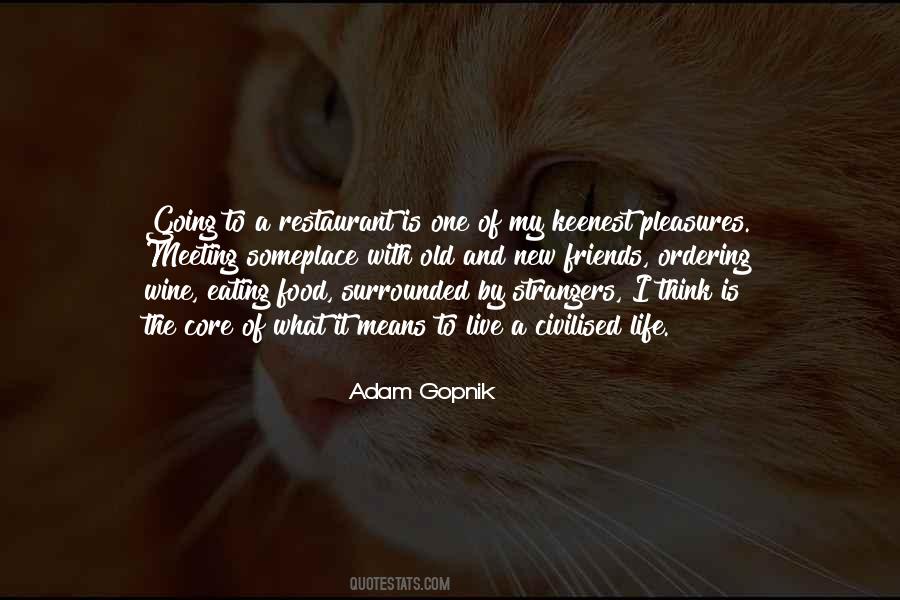 #64. Dear old al-Maarri was a great skeptic poet. He wrote a parody of the Koran, and his friends would tease him and say, "al-Maarri, but no one says your Koran." And he said, "Yes, but give me time. Give me time. If people recite it for twenty years it will become as popular as the other one." - Author: Tariq Ali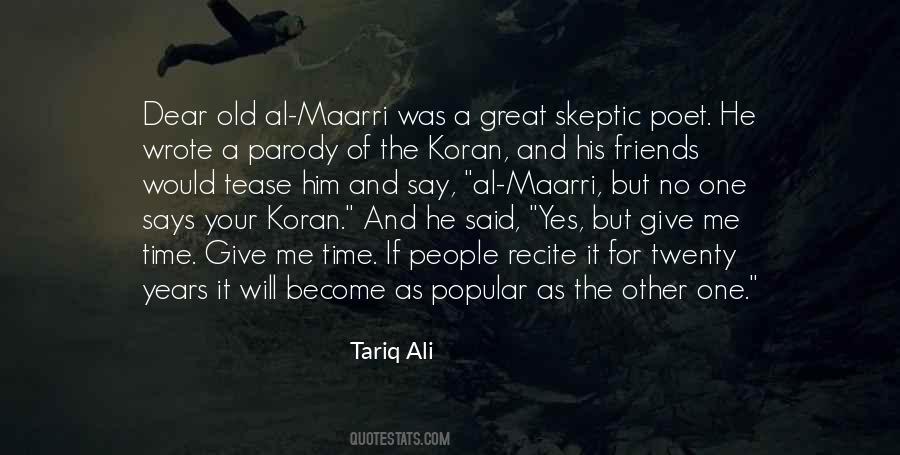 #65. Cultivate poverty like a garden herb, like sage. Do not trouble yourself much to get new things, whether clothes or friends. Turn the old; return to them. Things do not change; we change. Sell your clothes and keep your thoughts. God will see that you do not want society. - Author: Henry David Thoreau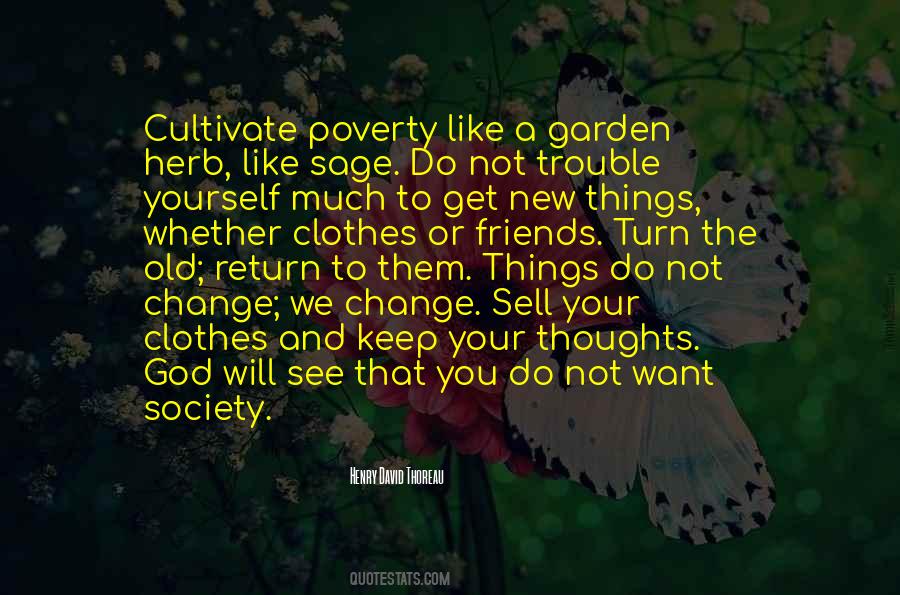 #66. That wasn't Josh Hartnett; that kid was eighteen years old," Kate said.
I told you, they age slower out here. It's all the fresh California air," Val replied.
Yes, because that's exactly what Los Angeles is known for," Kate said dryly. "Clean air. - Author: Julie James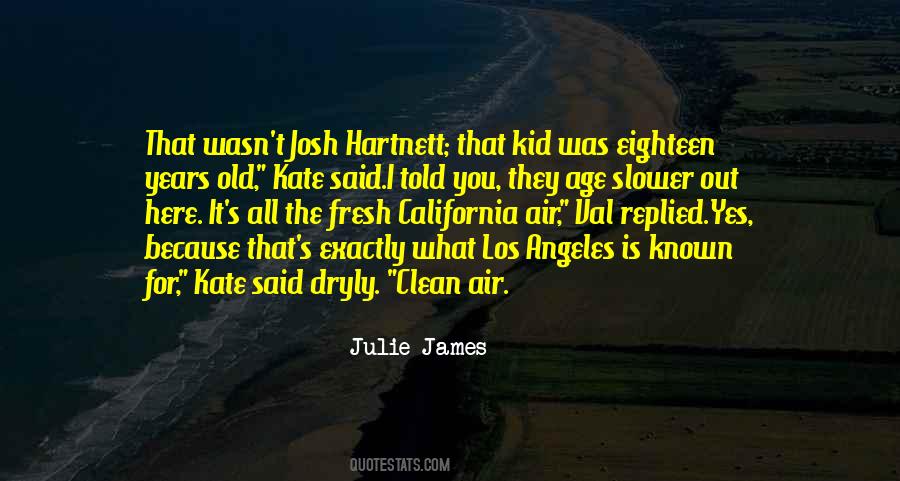 #67. It's interesting because a lot of my 16-year-old kids' friends know me from 'Wedding Crashers,' and not so much Bond. My kids have a good laugh. I was 20 then. The look I had then was the look that a lot of their friends are assuming now. They think it's cool. What goes around comes around. - Author: Jane Seymour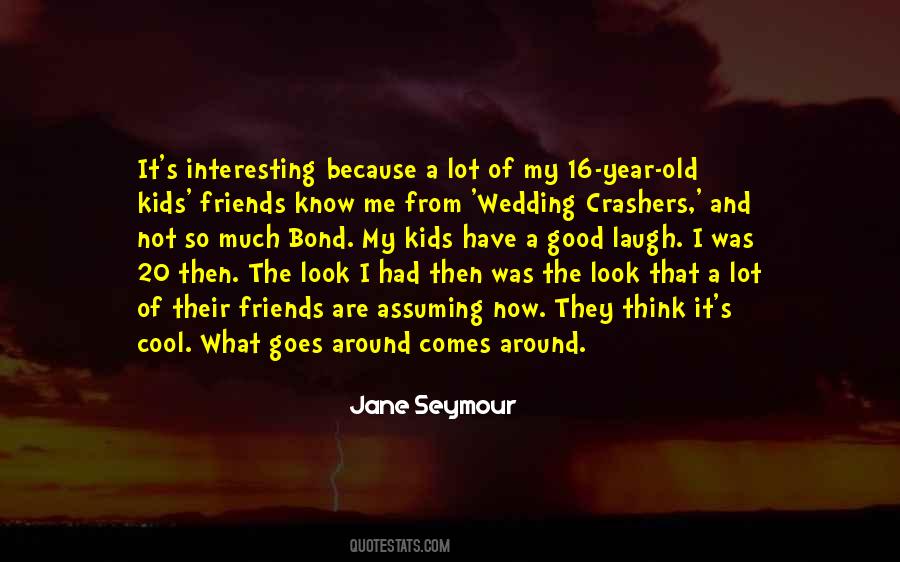 #68. I spend a lot of time thinking about this business of letting go - letting go of the children God gives to us for such a brief time before they go off on their own; letting go of old homes, old friends, old places and old dreams. - Author: Susan Estrich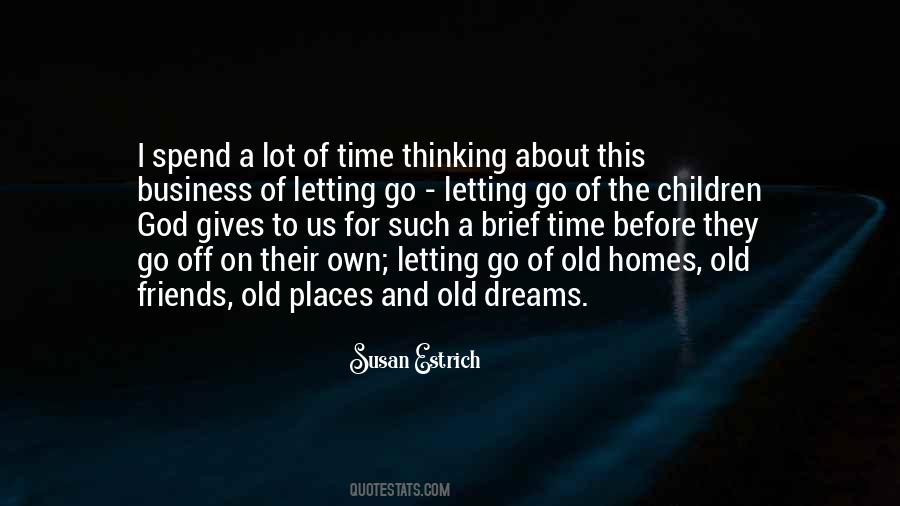 #69. And that touched off something else ... old sorrows, good friends gone down into the earth. Sometimes I picture death as a wide stone stair-case, filled with a silent procession of those being led away. - Author: Sue Grafton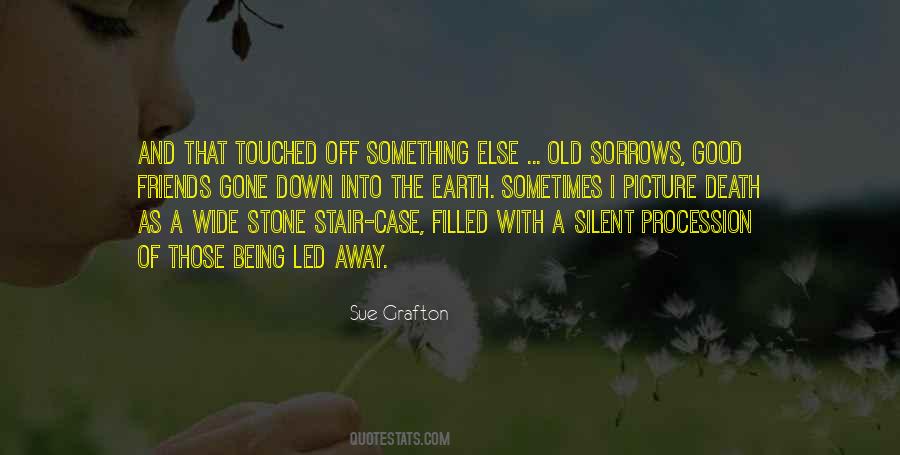 #70. The dynamics are pretty much the same among me and my friends as they were when I was 18 years old. - Author: Danny McBride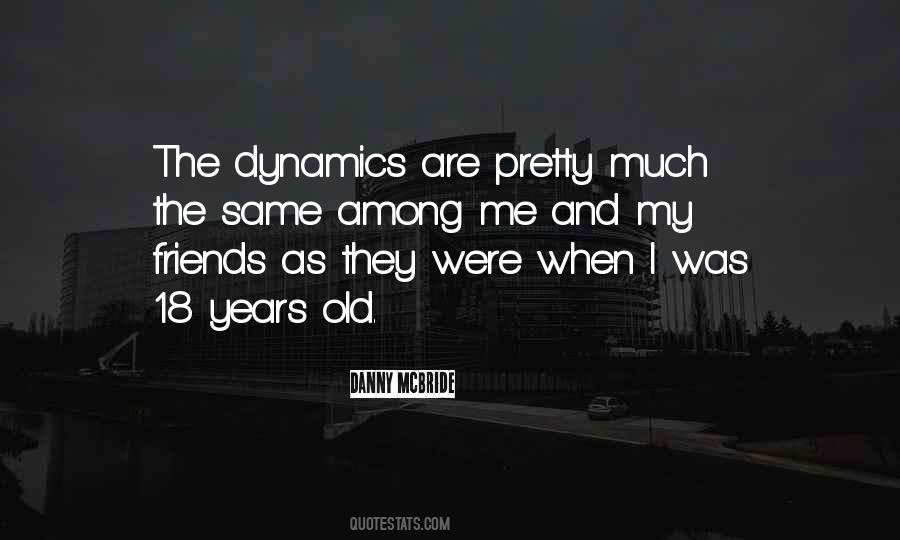 #71. He entered the city asked a blind man if he had ever heard the name Enkidu, and the old man shrugged and shook his head, then turned away, as if to say, 'It is impossible to keep the names of friends whom we have lost - Author: Herbert Mason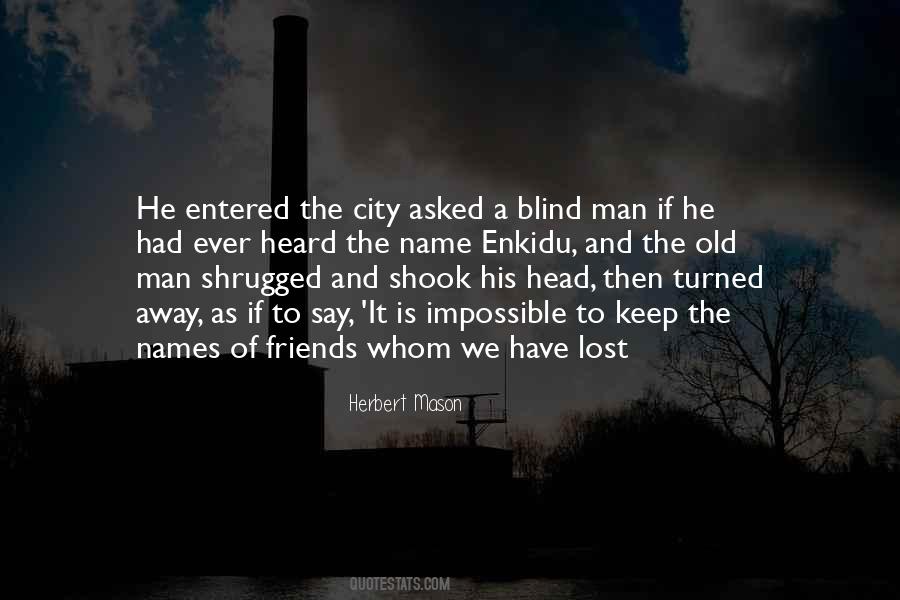 #72. I consider myself to be a true friend of the Israeli people. But I define friendship as someone who takes care of a friend, who just doesn't use or exploit a friend. And, you know, there's that old adage: 'Friends don't let friends drive drunk'. - Author: Scott Ritter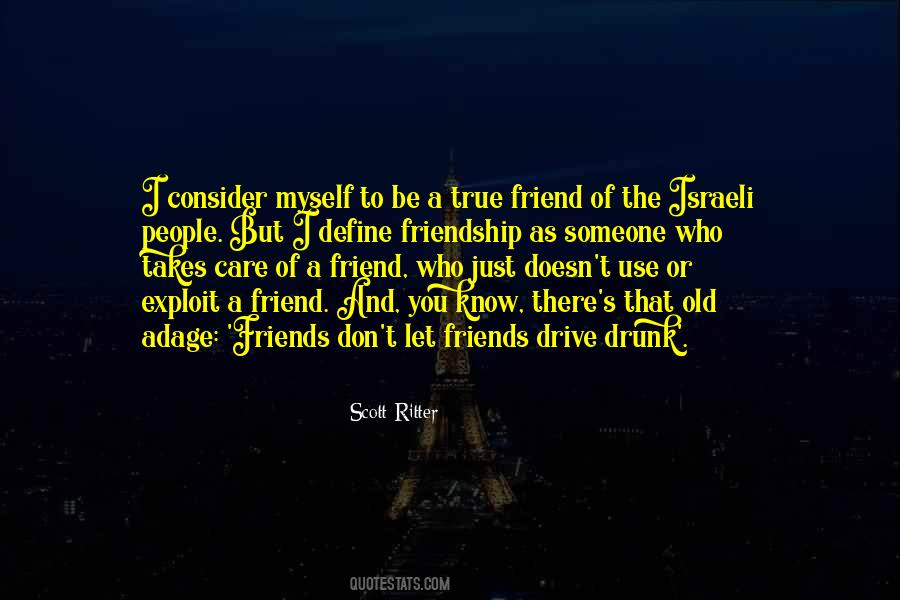 #73. The place where two friends first met is sacred to them all through their friendship, all the more sacred as their friendship deepens and grows old. - Author: Phillips Brooks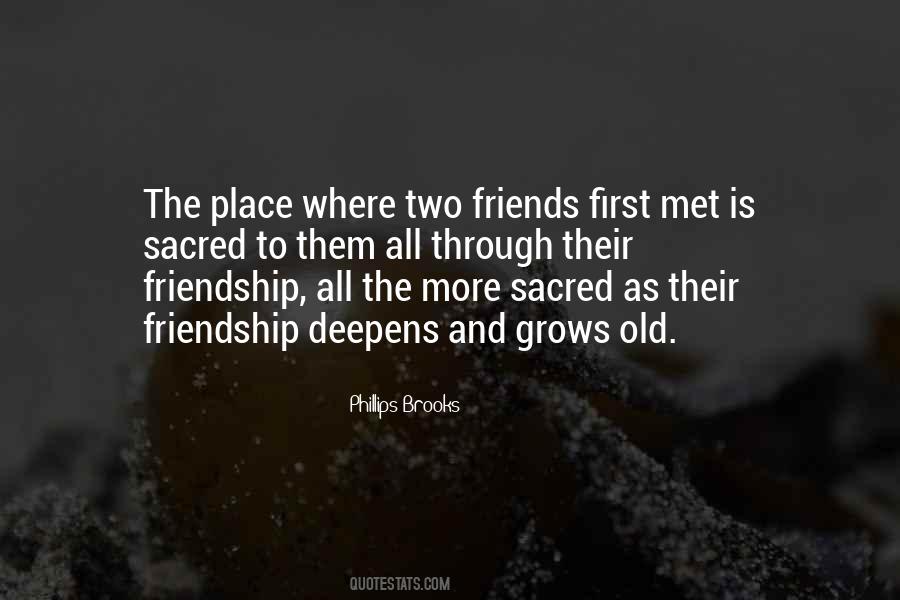 #74. sixty years old and lives for the 3 f's--friends, family, and France. - Author: Jamie Ivey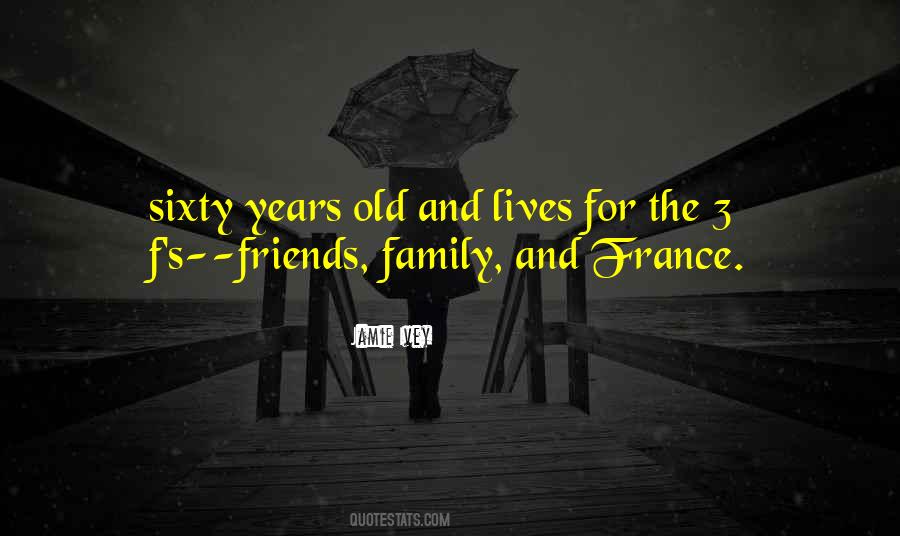 #75. When my father was growing up inside the Old City of Jerusalem, he and his friends liked to trade desserts after diner. - Author: Naomi Shibab Nye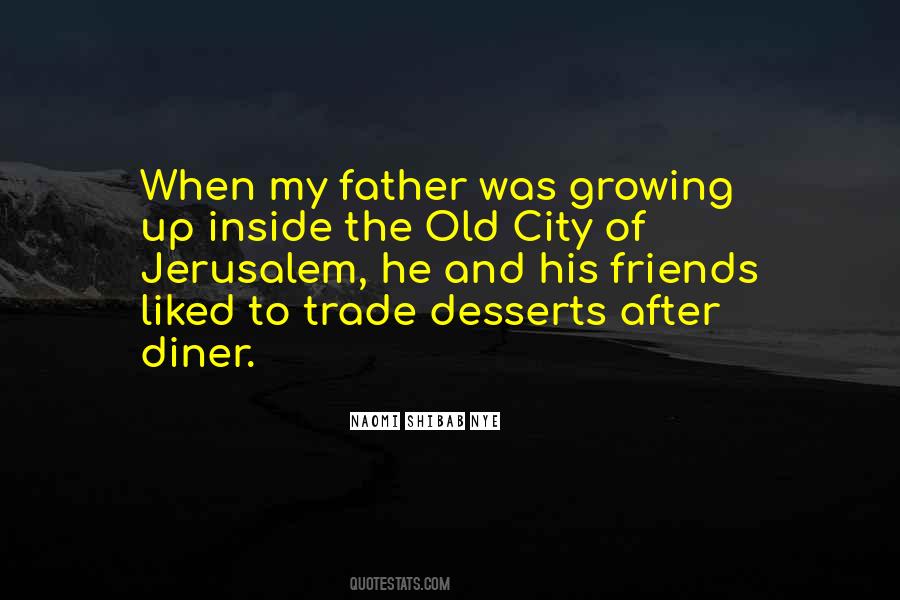 #76. Unknown Make new friends but keep the old ones; one is silver and the other's gold. - Author: Muhammad Ali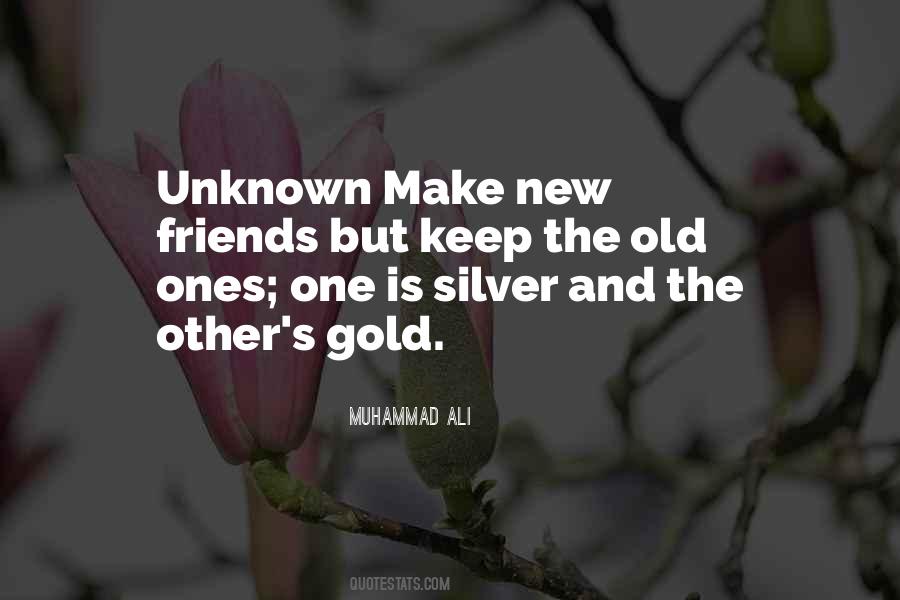 #77. Remember that the most valuable antiques are dear old friends. - Author: H. Jackson Brown Jr.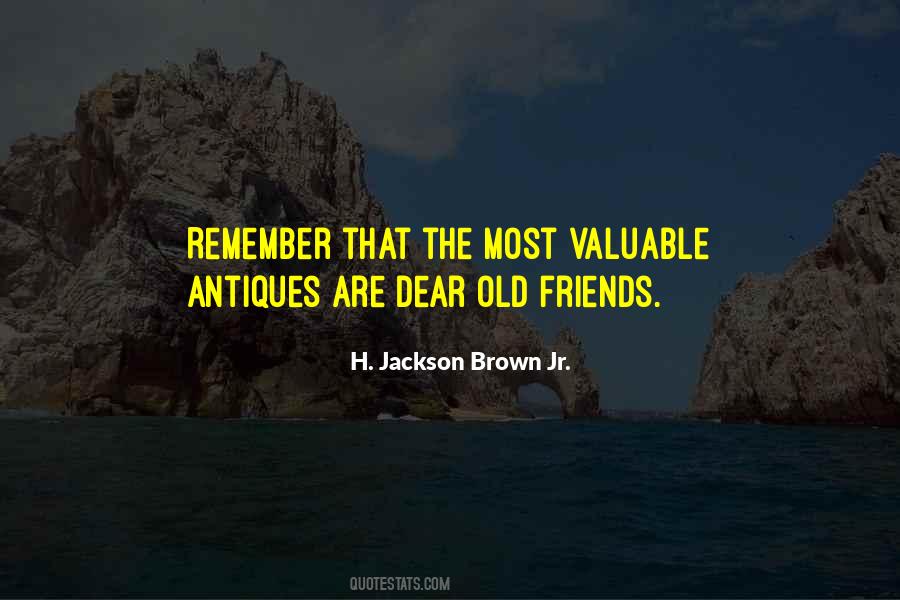 #78. The first time I ever saw snow skis was when I was 62 years old and that was 19 years ago and I'm still skiing. So, we'll be skiing with some very close friends of the Carter Center letting them know what the Carter Center is doing around the world. We have programs in over 65 countries. - Author: Jimmy Carter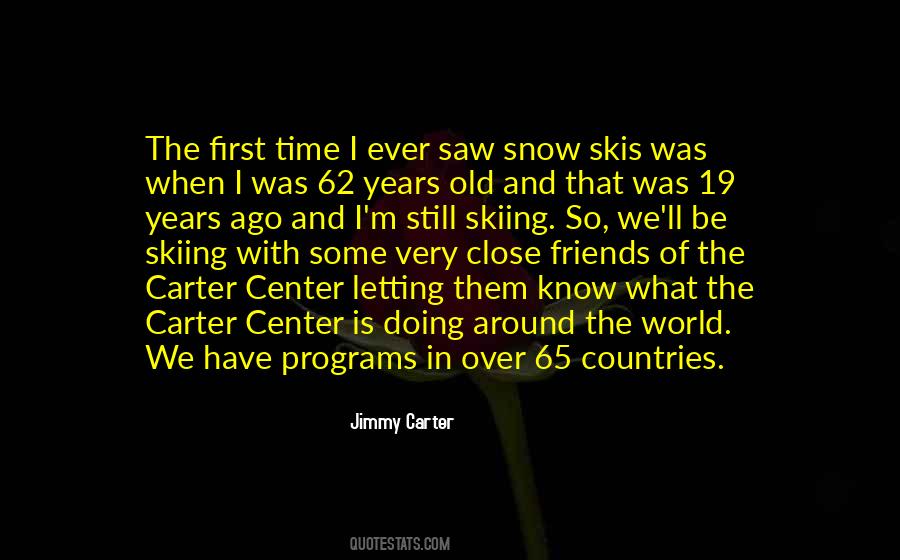 #79. CHAPTER XII IN WHICH OLIVER IS TAKEN BETTER CARE OF, THAN HE EVER WAS BEFORE. AND IN WHICH THE NARRATIVE REVERTS TO THE MERRY OLD GENTLEMAN AND HIS YOUTHFUL FRIENDS - Author: Charles Dickens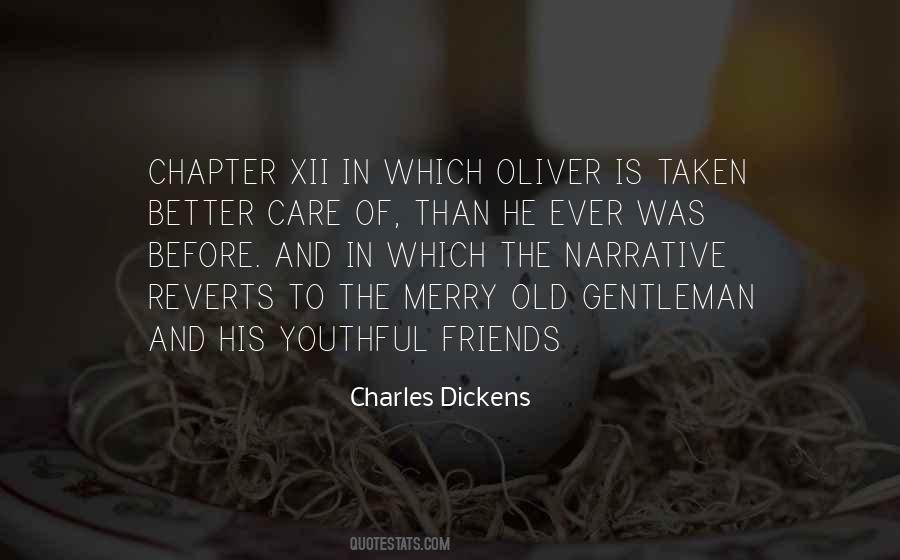 #80. Probably Providence has implanted peevishness and ill-temper in sick and old persons, in compassion to the friends or relations who are to survive; as it must naturally lessen the concern they might otherwise feel for their loss. - Author: Laurence Sterne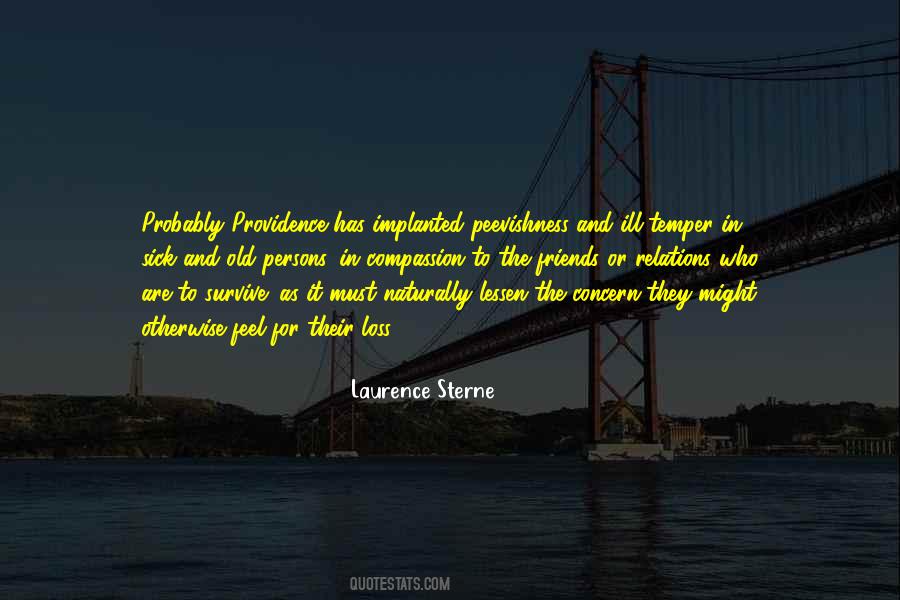 #81. Two may talk together under the same roof for many years, yet never really meet; and two others at first speech are old friends. - Author: Mary Catherwood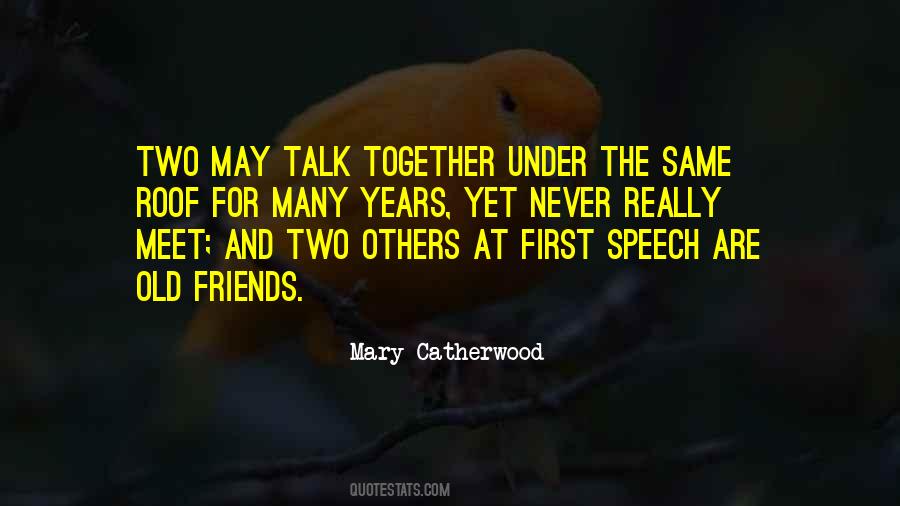 #82. It was a time of great loneliness. He had a group of friends, and suddenly I had no one and did not understand why. I felt excluded. Some days, the majority was in high school and did not know who to talk to. And that is something really terrible when you're twelve years old. - Author: Taylor Swift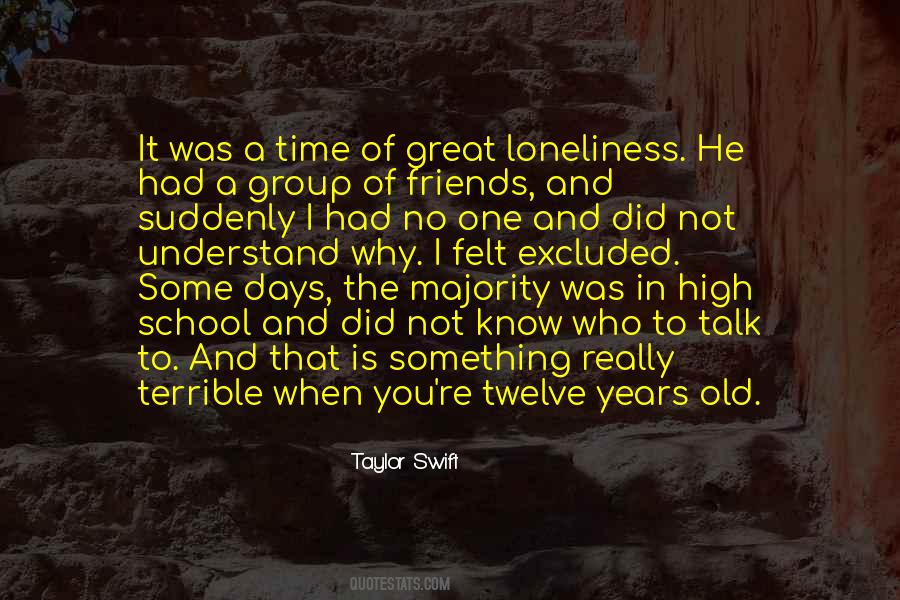 #83. I never had a ton of male friends and it's always been something that's really interesting to me, what brings guys together? The bonding. 'Old School' is a good example of that. And even 'Starsky' and even 'Road Trip.' - Author: Todd Phillips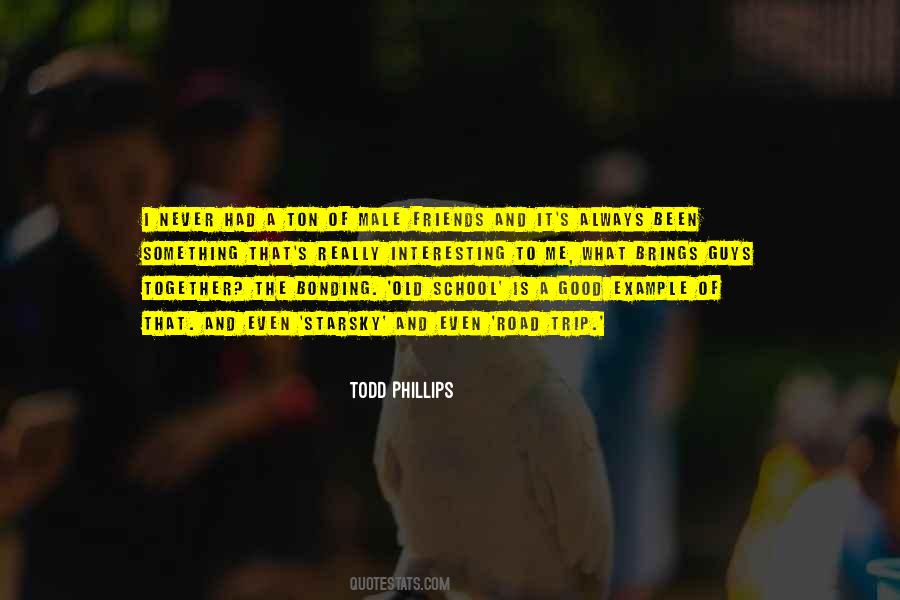 #84. The only good thing about going to the fights is you can go into the green room and you can see some of your old friends that you haven't seen in a long time. - Author: Robert Goulet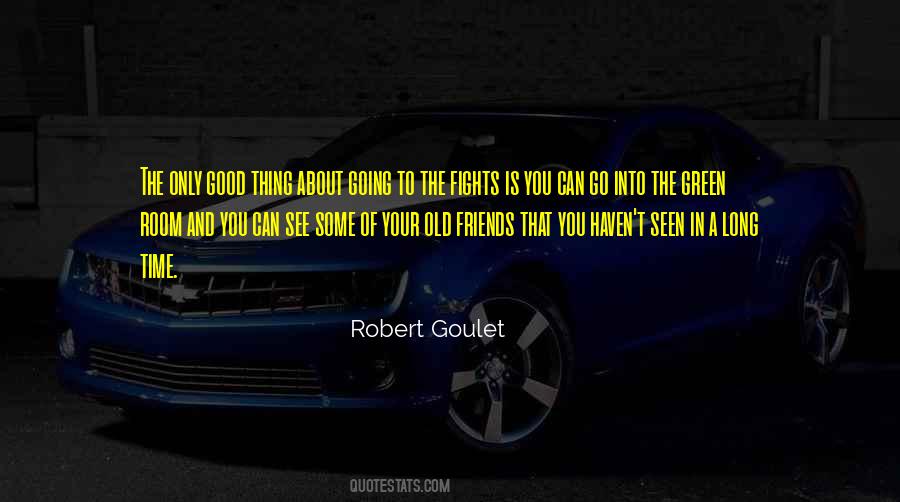 #85. I miss all of my old friends who have passed away. Sometimes you just don't understand why they were taken so soon. I loved and miss Johnny Cash. I miss my old buddy Johnny Paycheck, who happens to be buried in an area of the cemetery that I bought for my family. - Author: George Jones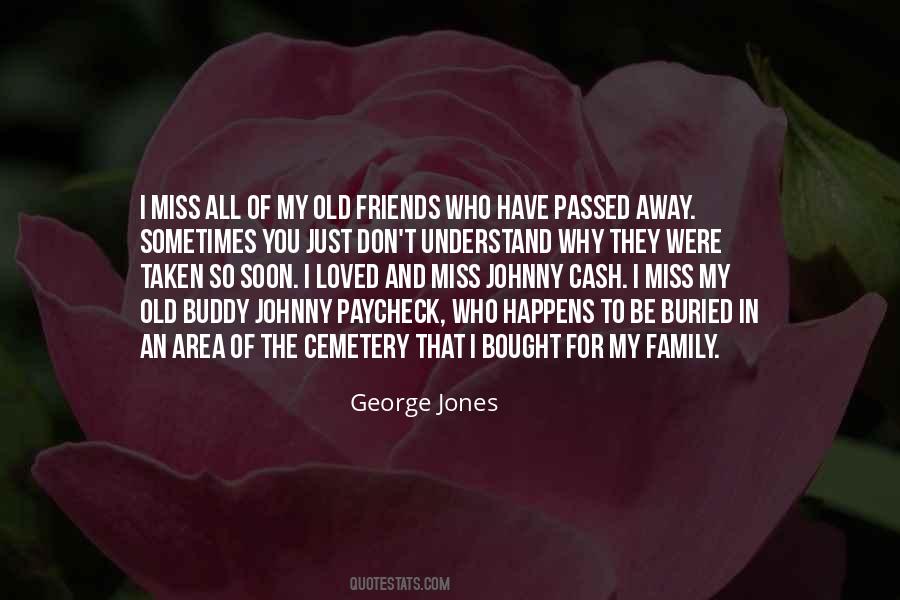 #86. I love to snuggle up on the sofa wrapped in my duvet watching old black and white films, and catching up with friends and family on the phone. - Author: Martine McCutcheon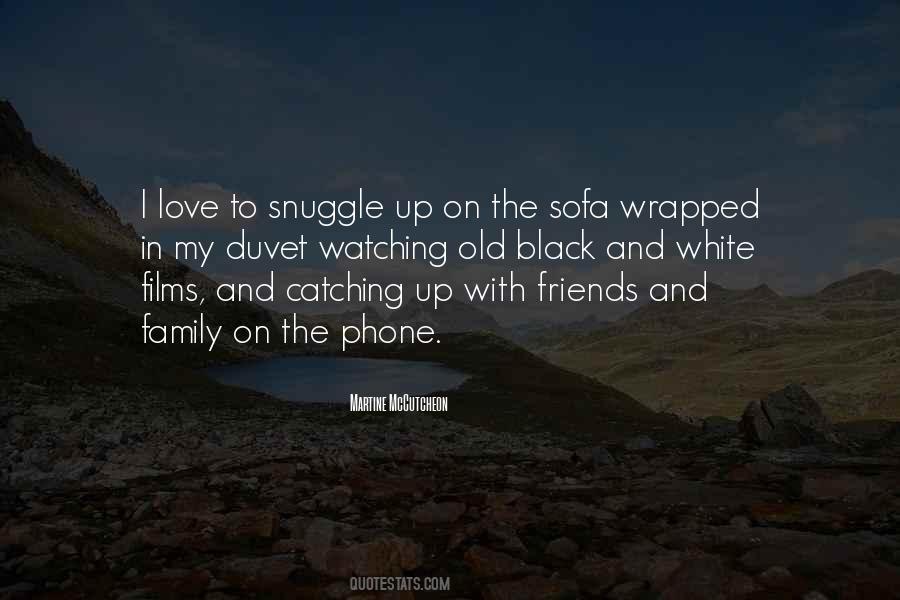 #87. The happiest adults are those who never buried old toys or abandoned imaginary friends. - Author: Richelle E. Goodrich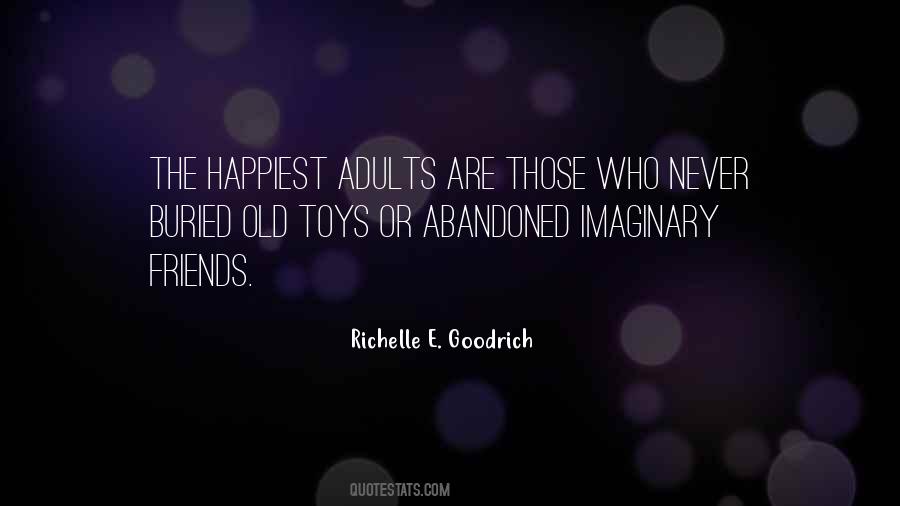 #88. Best friends forever. They'd believed it would last, that vow, that someday they'd be old women, sitting in their rocking chairs on a creaking deck, talking about the times of their lives, and laughing ... - Author: Kristin Hannah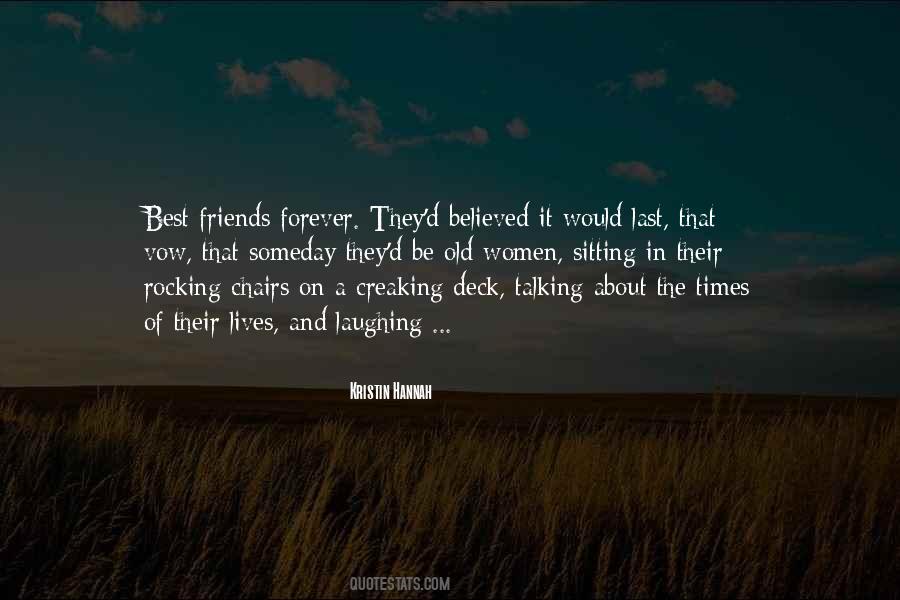 #89. It is not easy to watch the world change around you. To see an entire way of life change and change and change again. It isn't easy to watch friends grown old and die, nor is it easy to be constantly moving on from place to place before people begin to wonder why you never age. - Author: Michael Scott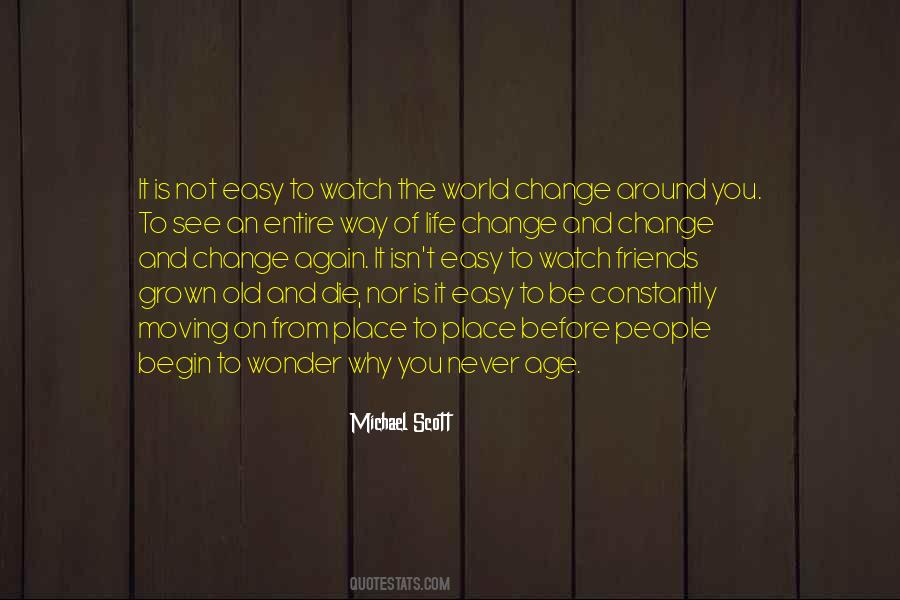 #90. The books I read are the ones I knew and loved when I was a young man and to which I return as you do to old friends. - Author: William Faulkner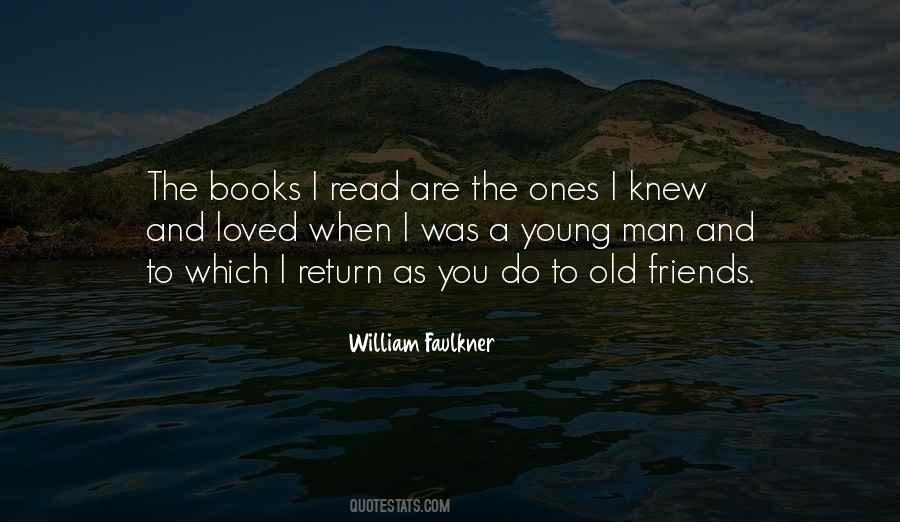 #91. Old man, everyone!! And you.. Luffy. Even though I've been good for nothing my whole life, even though I have the blood of a demon within me ... You guys still loved me! Thank you so much!! - Ace's last words to his family and friends. - Author: Eiichiro Oda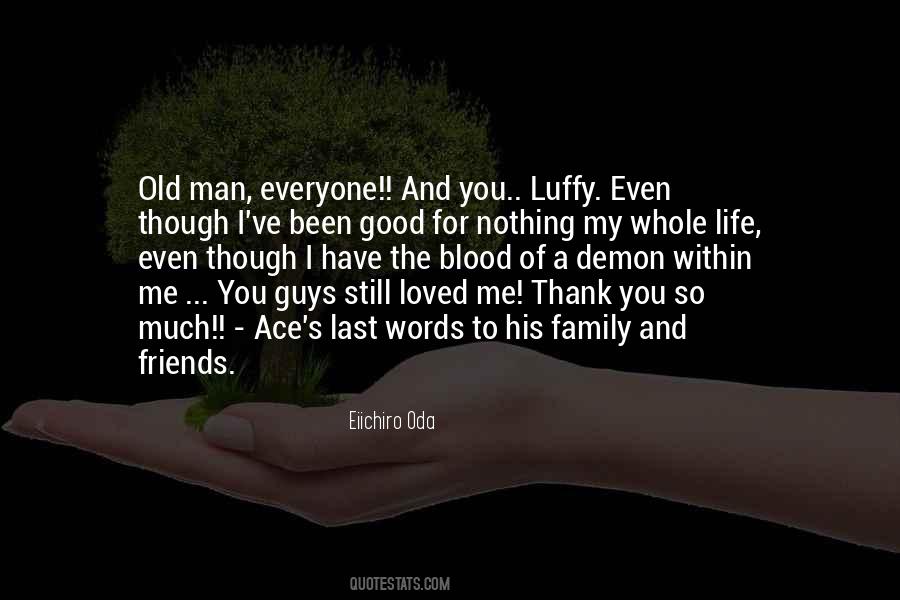 #92. I was away from the front lines for a while this spring, living with other troops, and considerable fighting took place while I was gone. When I got ready to return to my old friends at the front I wondered if I would sense any change in them. - Author: Ernie Pyle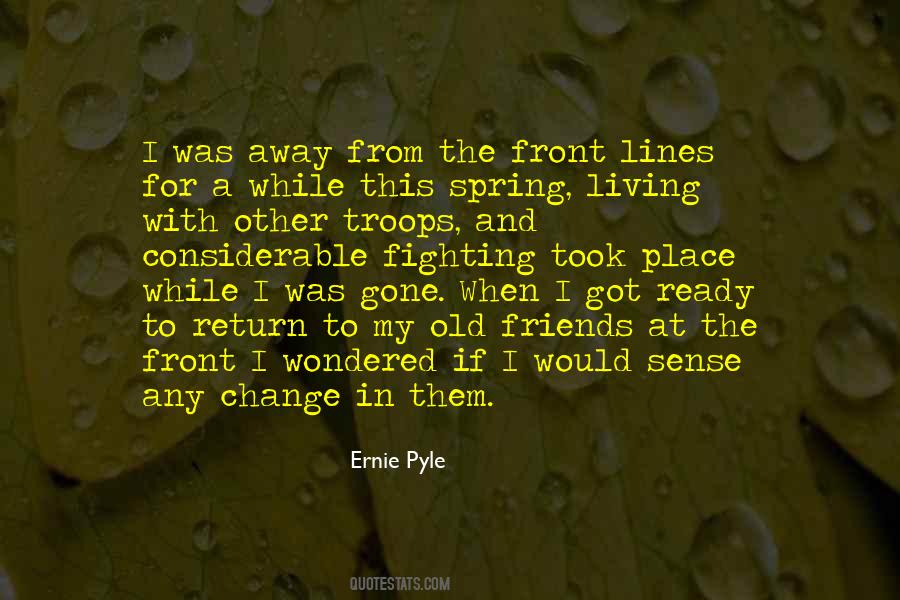 #93. The most enjoyable part in writing a series is being able to visit a world I have created and revisit old friends. The challenges are making the book fresh and new for readers who have started from the beginning while still adding old information for new readers. - Author: Christine Feehan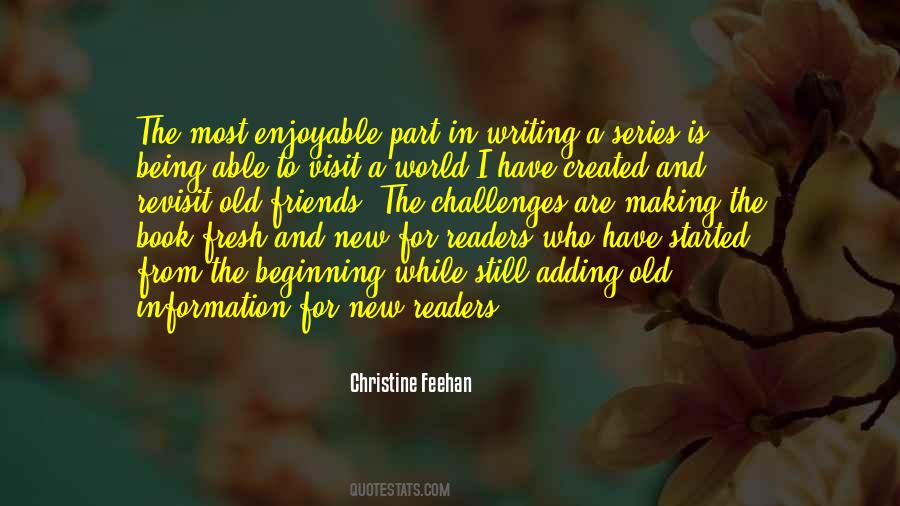 #94. Had Ben grown up in the old world, Ethan would probably have entered his son's bedroom to find him glued to an iPhone. Texting friends. Watching television. Playing video games. Twitter and Facebook. Ethan didn't miss those things. - Author: Anonymous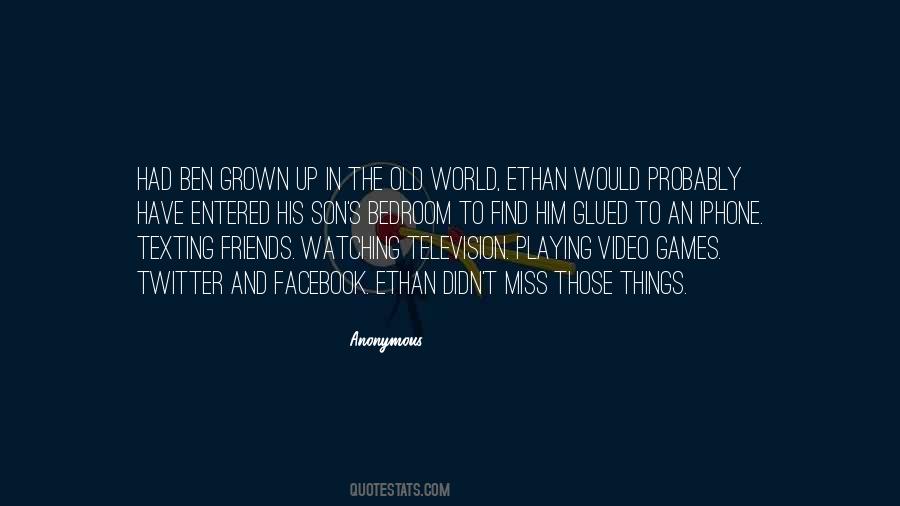 #95. Sexual freedom and liberation has to be of your own making. I'm stunned when I hear about friends' children, ten or twelve years old giving blow jobs. I just don't like the girls being used or exploited in that way. It's just indiscriminate sexual relating. It's just the isolated things. - Author: Lily Tomlin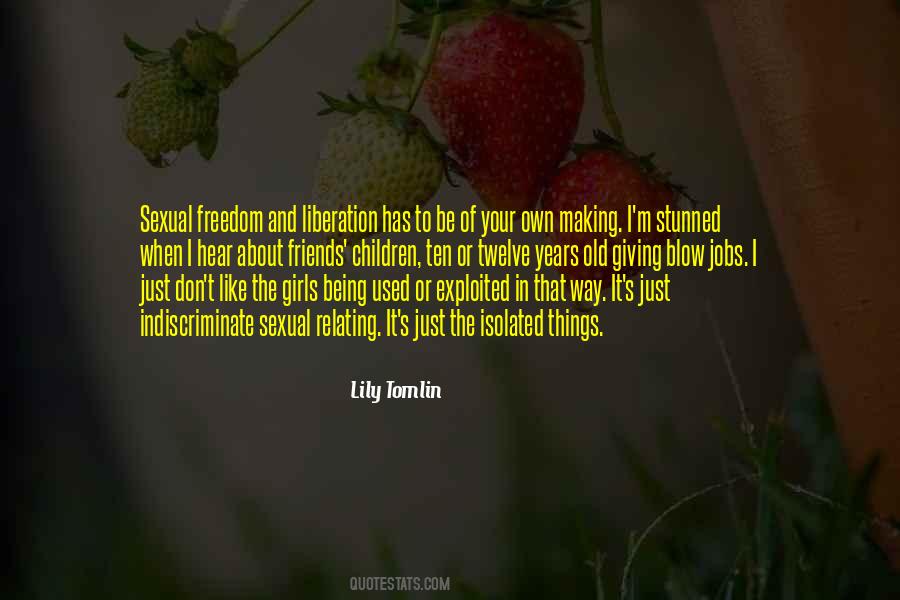 #96. All I can say, in answer to this kind queries [of friends] is that I have not the distemper called the Plague; but that I have allthe plagues of old age, and of a shattered carcase. - Author: Lord Chesterfield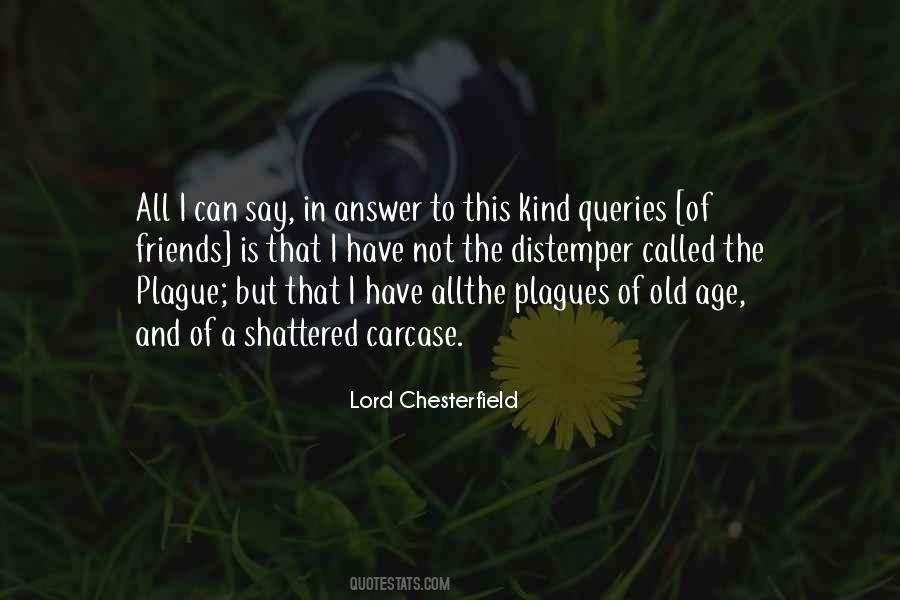 #97. And the only sign of life is the ticking of the pen, introducing characters to memory like old friends. - Author: Fish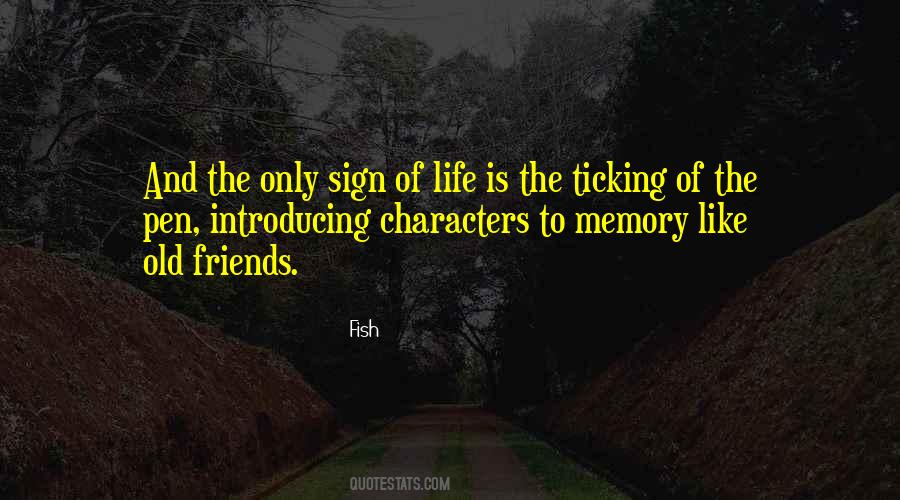 #98. A melancholy lesson of advancing years is the realisation that you can't make old friends. - Author: Christopher Hitchens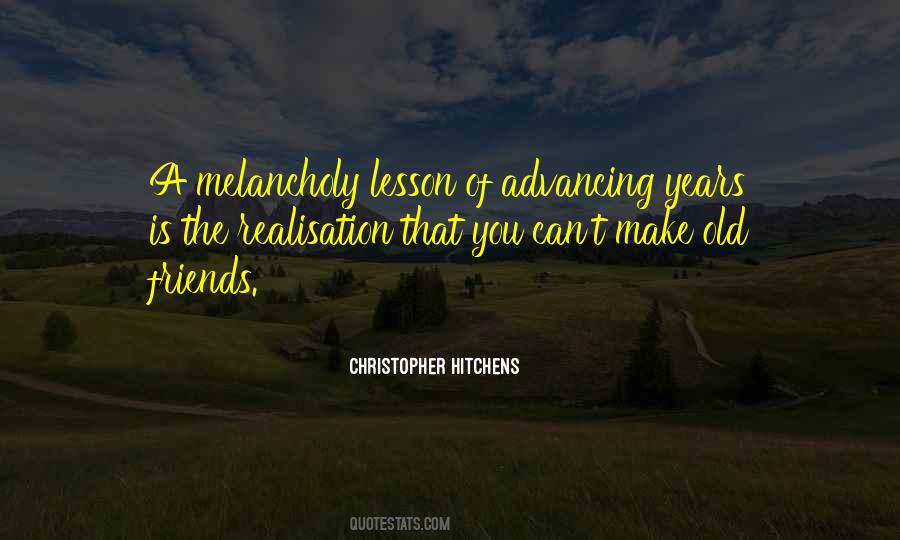 #99. This is the way he was when he still had wars to fight and men to lead and his old friends around him," she thought. "How he was before the world moved on and he moved on with it, chasing that man Walter. This is how he was before the Big Empty turned him inward on himself and made him strange. - Author: Stephen King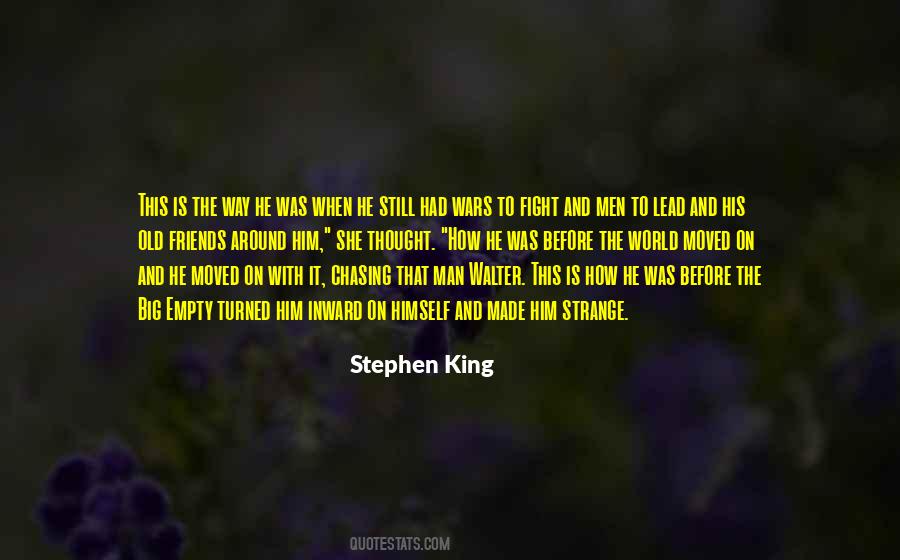 #100. Sometimes I think of rebuilding my friendship with old friends. But at the same time, there's a reason why we fell off. Shit happens, but life's good. - Author: Manasa Rao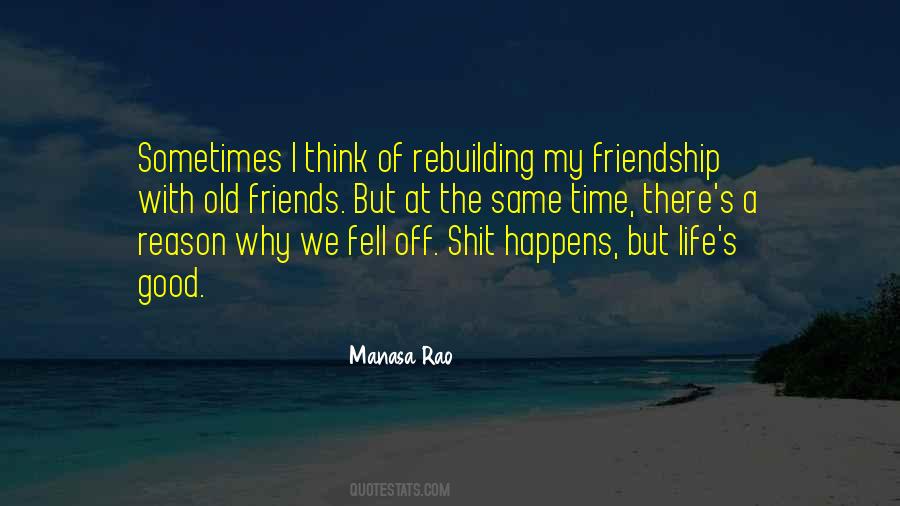 Famous Authors
Popular Topics