List of top 36 famous quotes and sayings about the journey of learning to read and share with friends on your Facebook, Twitter, blogs.
Top 36 Quotes About The Journey Of Learning
#1. The truth to succeeding at leadership is recognizing that it's a never-ending journey of discovery and learning.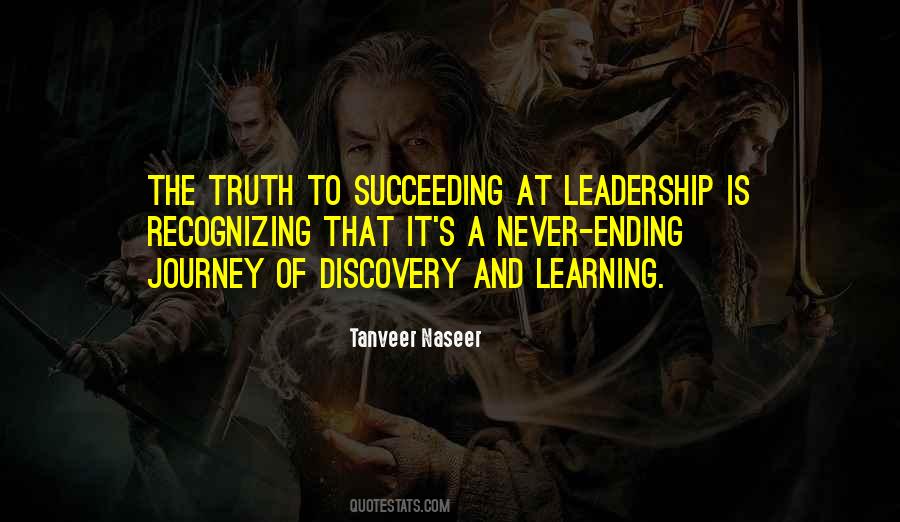 #2. It's the journey that matters. Learning is more important than the test. Practice well, and the games will take care of themselves.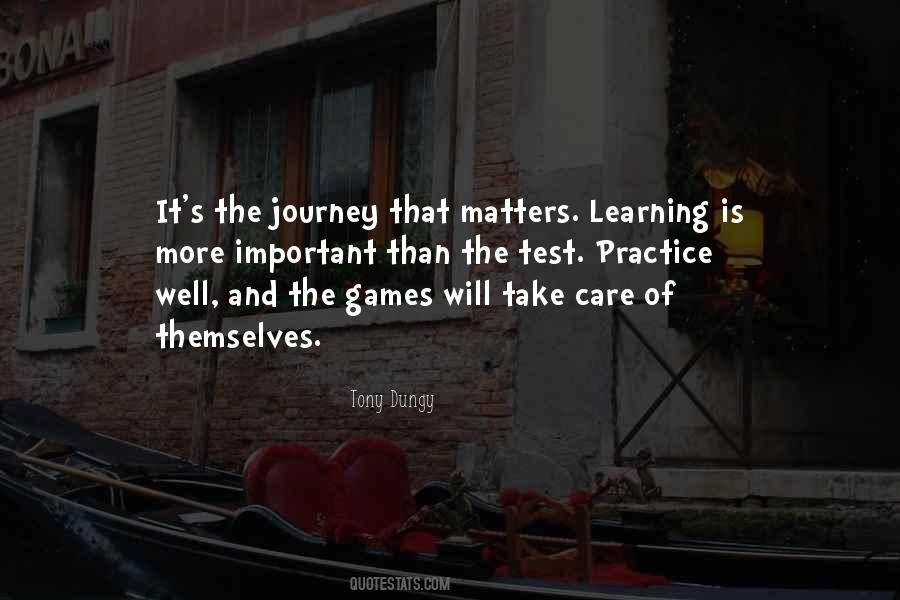 #3. Take a great adventure to a place, learn the rich history and make your own observation about the place.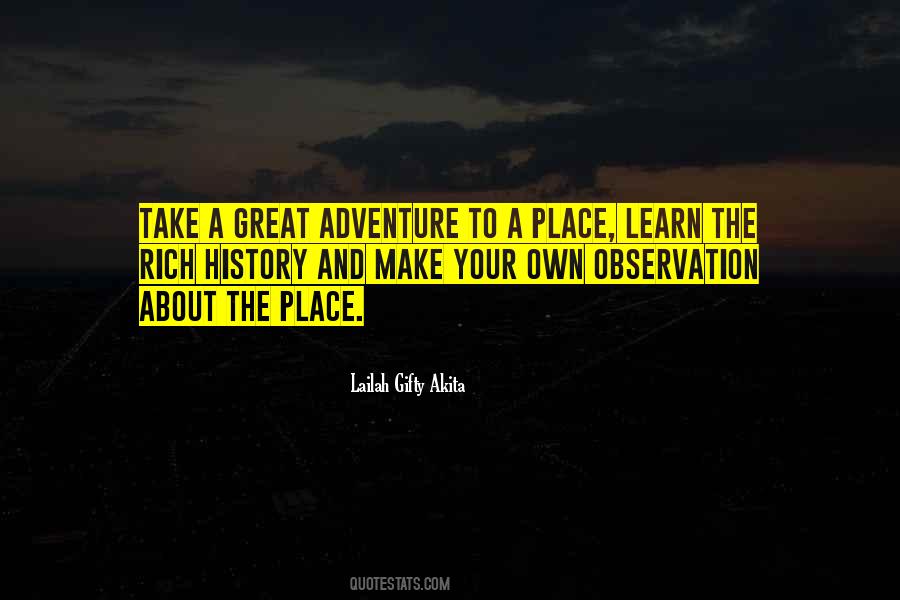 #4. I think that most of us feel like something is missing from our lives. And I wondered then if Knight's journey was to seek it. But life isn't about searching endlessly to find what's missing. It's about learning to live with the missing parts.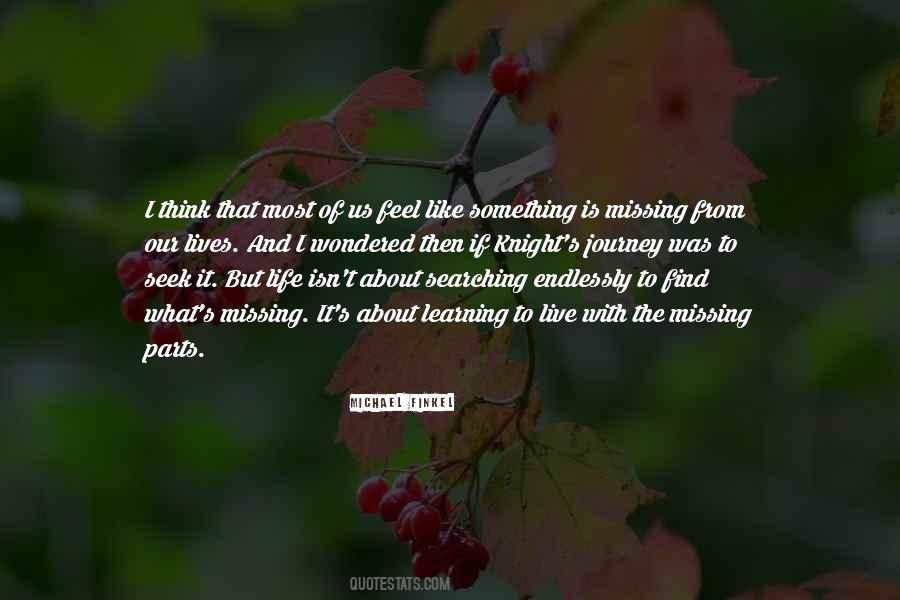 #5. What do I believe? It has been a long journey of discovery. There have been hesitations and errors along the way, and no doubt will be more, because I am still learning, both about myself and about life.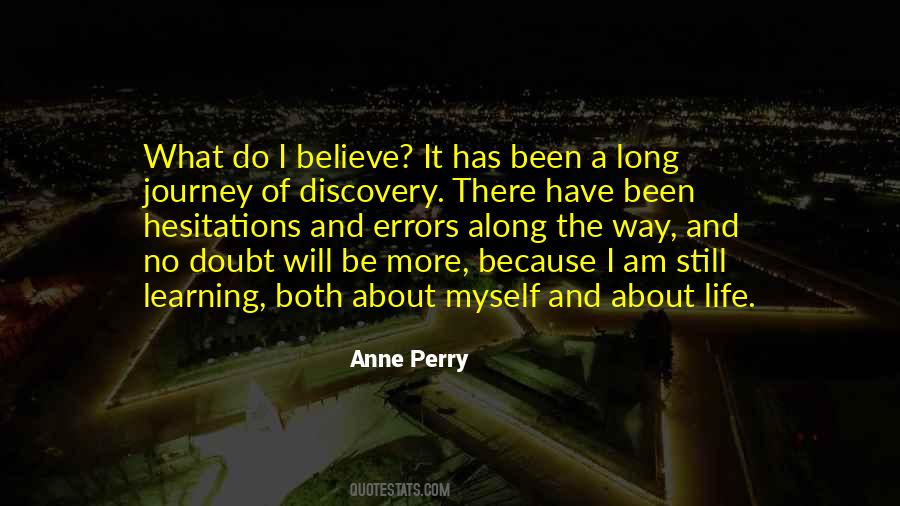 #6. The journey you start now can take you on the adventure of a lifetime ... it's up to you. Education is a life-long process. Determine now to never stop learning and to never give up on your dreams.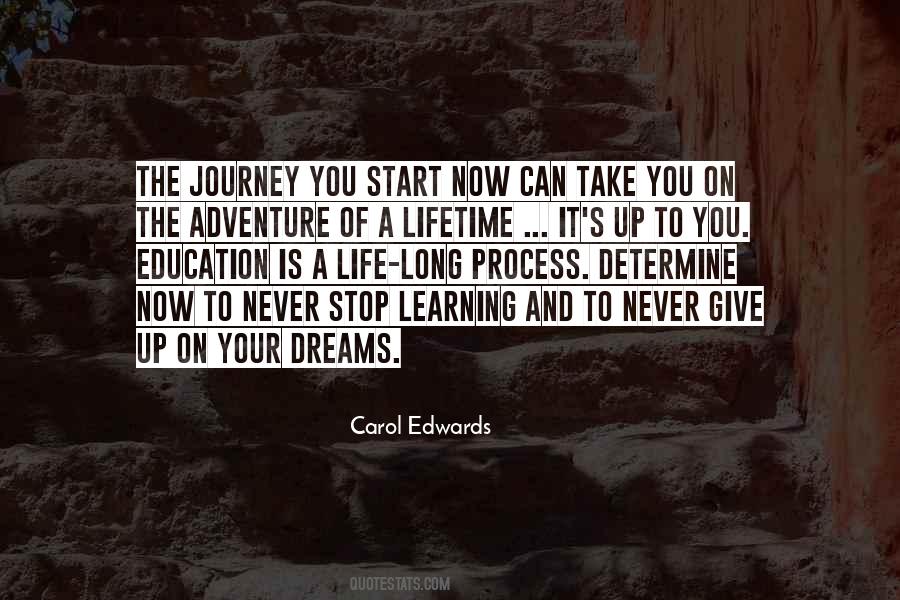 #7. The beginning [of a journey] is a terrible time to plan. It's the moment of greatest ignorance. In self-directed education, a lot of the value comes from exploiting opportunities that arise well out to sea, once I've seen some things and begun the learning process.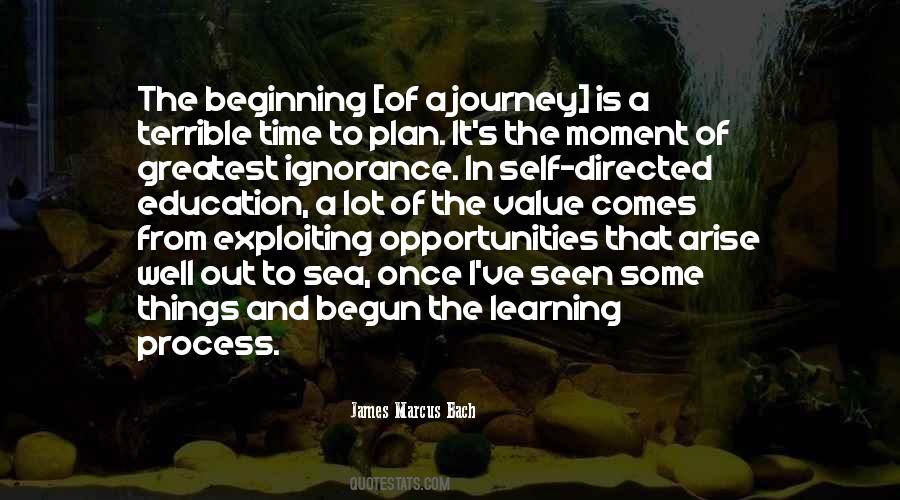 #8. Learning to decipher words had only added to the pleasures of holding spines and turning pages, measuring the journey to the end with a thumb-riffle, poring over frontispieces. Books! Opening with a crackle of old glue, releasing perfume; closing with a solid thump.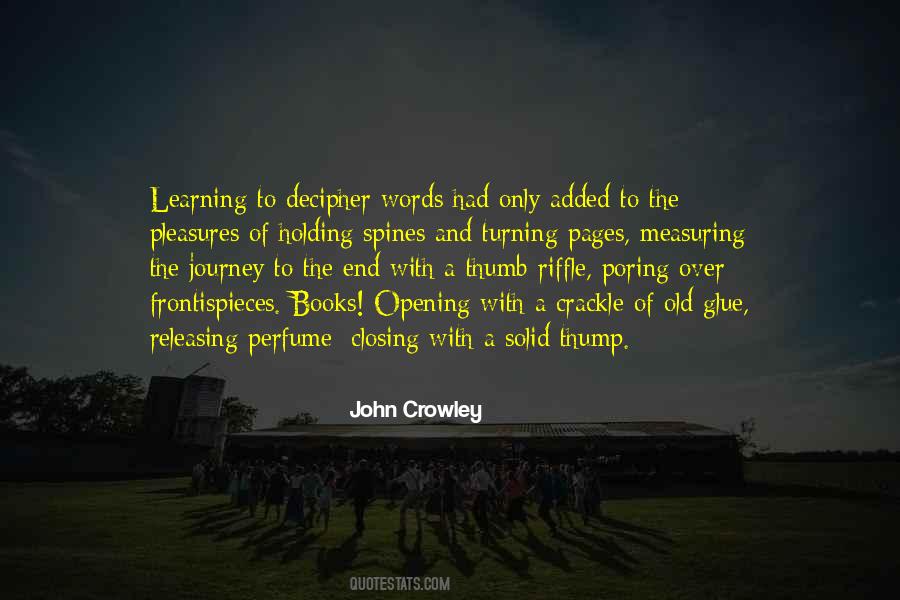 #9. When you travel, learn the history of the place.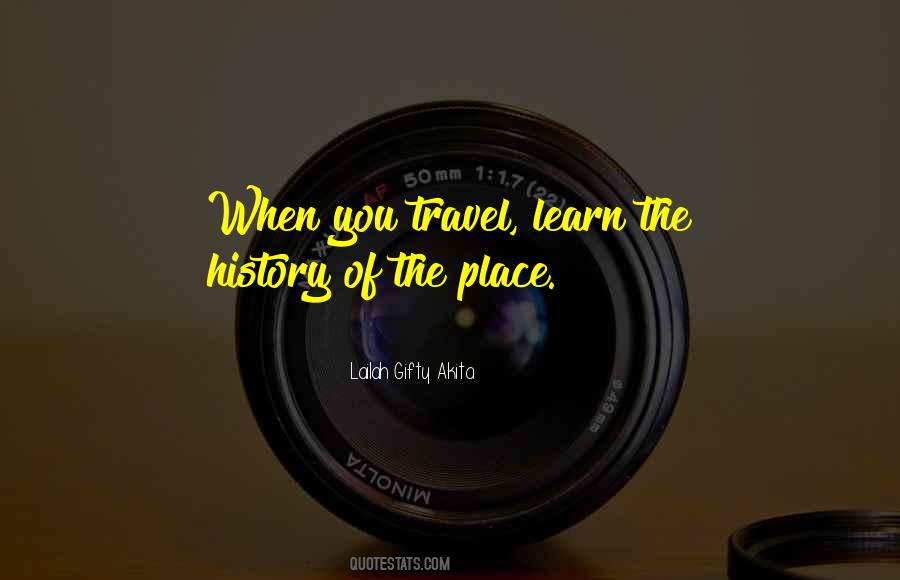 #10. Learning how to transcend consciousness to a higher consciousness is a blissful journey and the ultimate essence of life.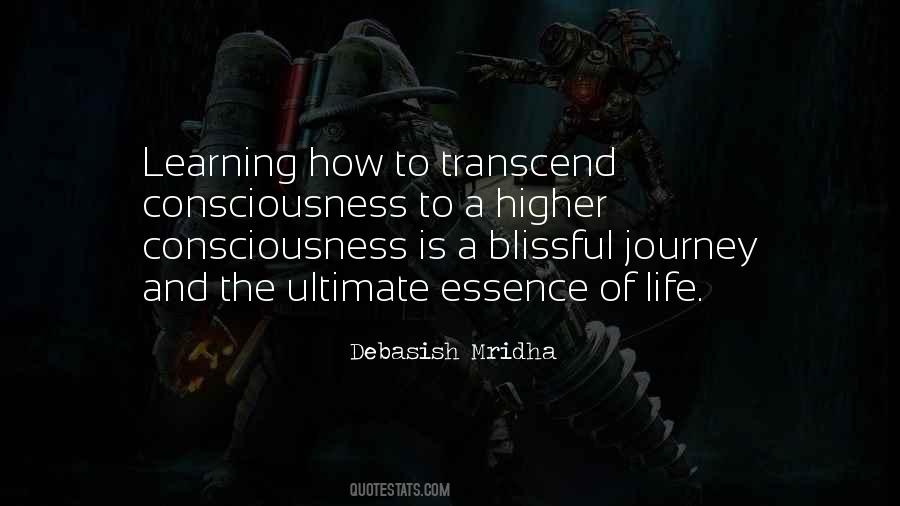 #11. Maybe learning how to be out in the big world isn't the epic journey everyone thinks it is. Maybe that's actually the easy part. The hard part is what's right in front of you. The hard part is learning how to hold the title to your very existence, to own not only property, but also your life.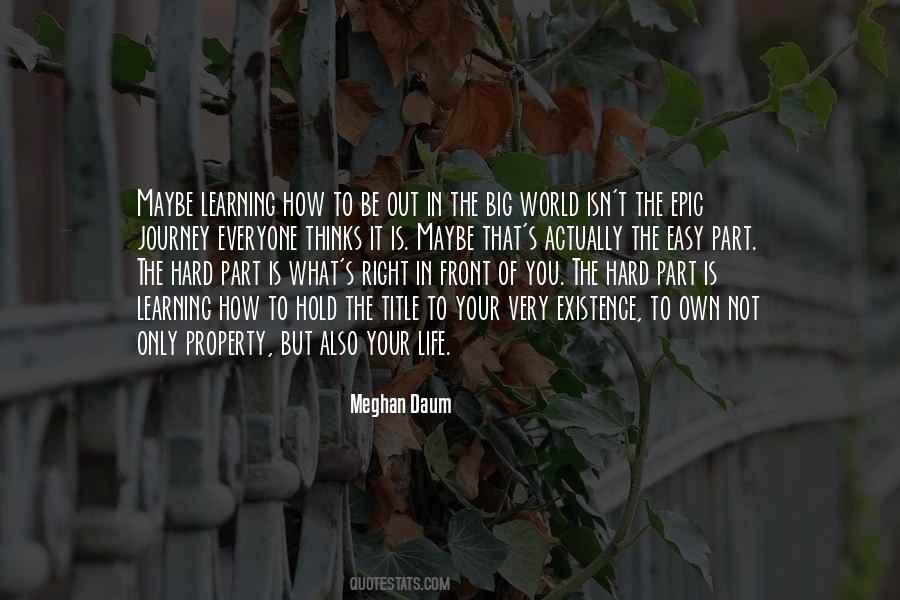 #12. She was learning something important: how to live within the sound of her own slow breathing, how to love the view when her eyes were shut.
#13. One of the greatest journeys in life is overcoming insecurity and learning to truly not give a shit.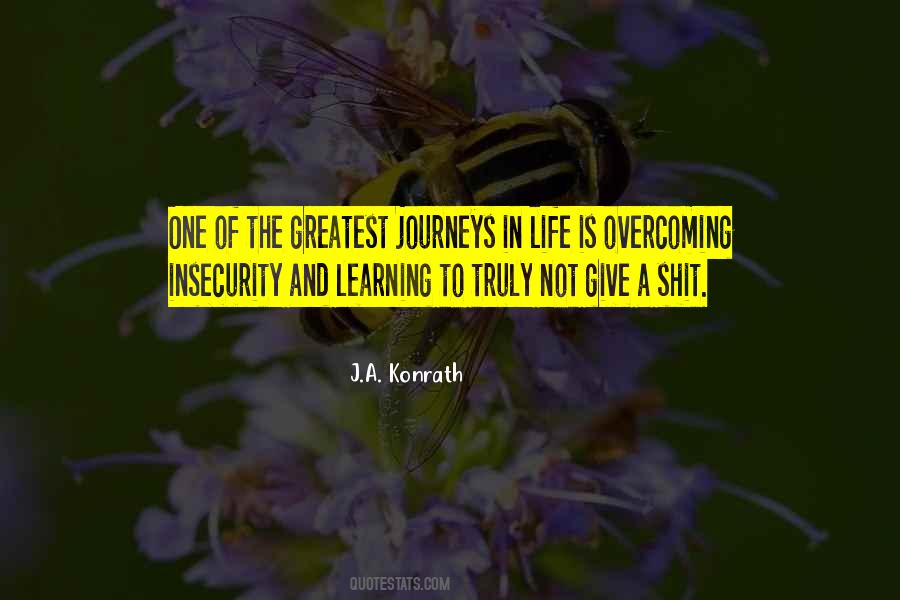 #14. Part of my journey is sort of learning the ways that I'm unconsciously blocked and trying to open them up. I'm a complete "work in progress" in that area.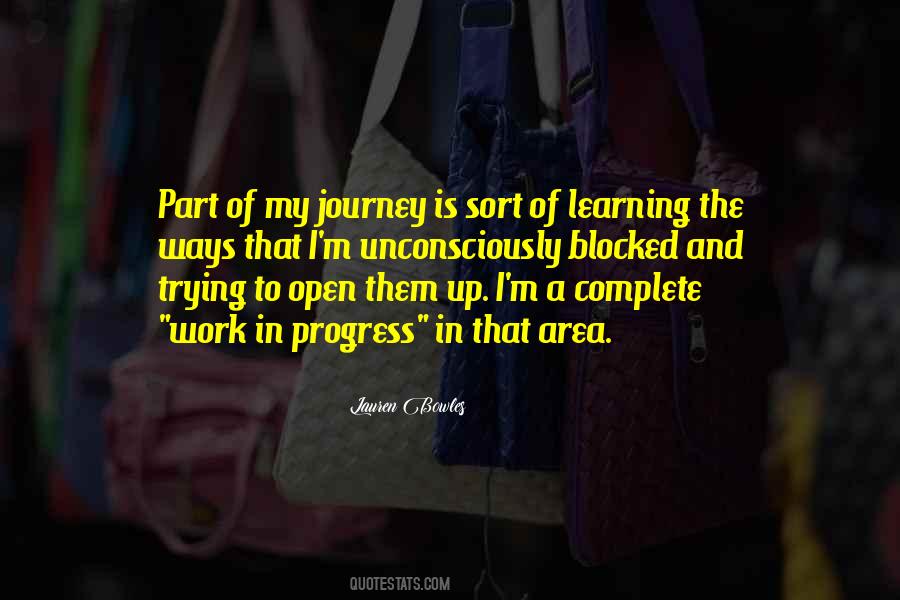 #15. From birth to death we explore and seek, and in the end we arrive where we started, the past having made one great slow turn on a carousel to become our future, and if we have learned anything worth learning, the carousel will bring us to the one place we most need to be.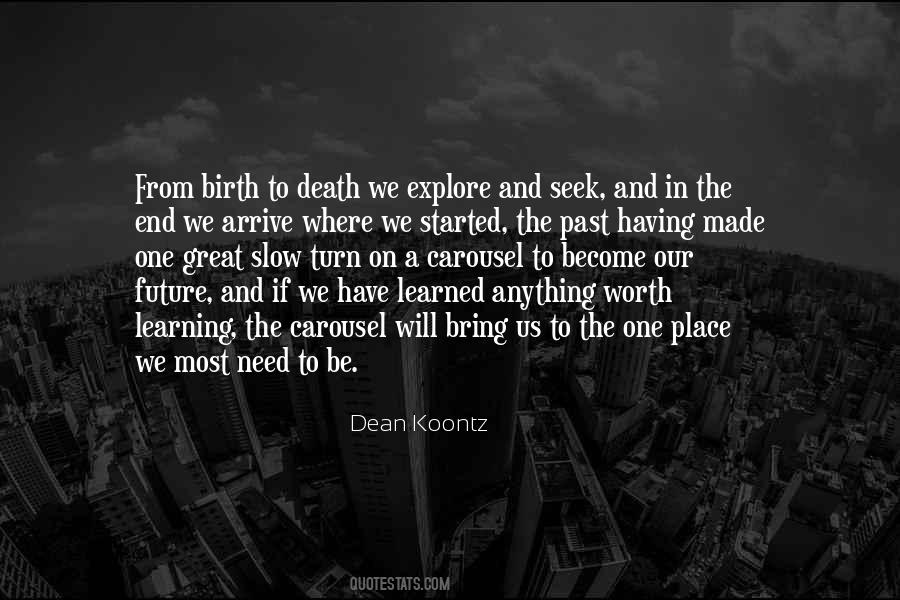 #16. Every journey taken always includes the path not taken, the detour through hell, the crossroads of indecision and the long way home.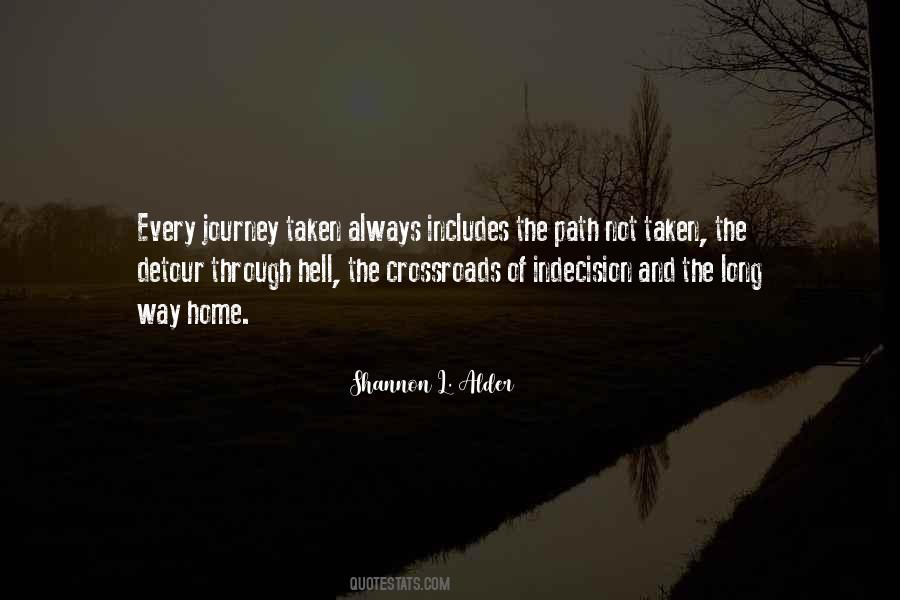 #17. Do what you feel called to do, but also be prepared to accept that you don't necessarily know what you're going to learn. Be willing to be surprised by forces beyond your control, and realize that a major learning on the journey is the art of surrender.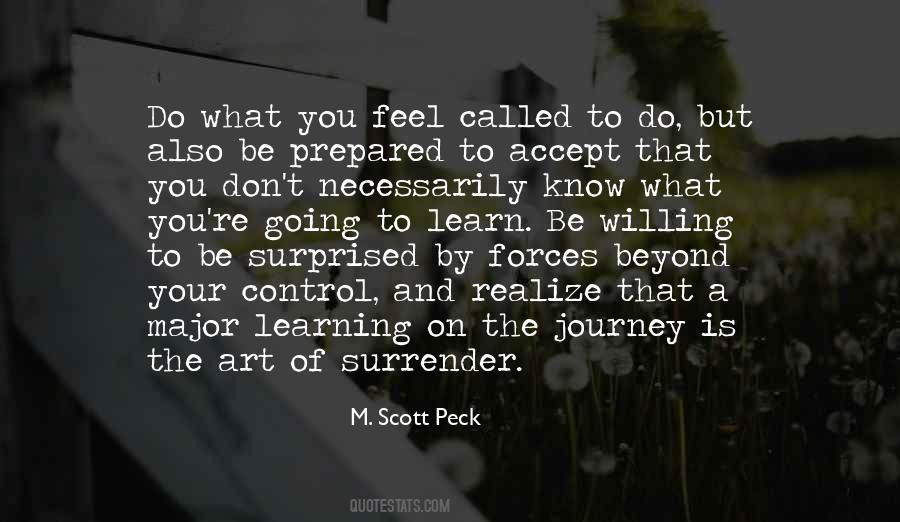 #18. The dairy man had a Ph.D. in mathematics, and he must have had some training in philosophy. He liked what he was doing and he didn't want to be somewhere else - one of the few contented people I met in my whole journey.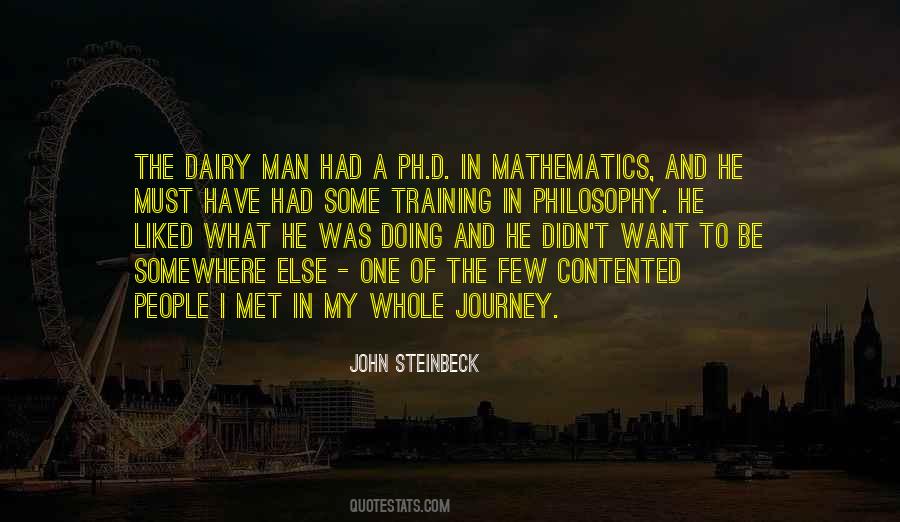 #19. Learning is the part of our lives, it's an endless journey we should embrace at all times. And we should learn from those who have been there before us. We shouldn't try to compete with them because they are here to guide us and help us to reach our destinies.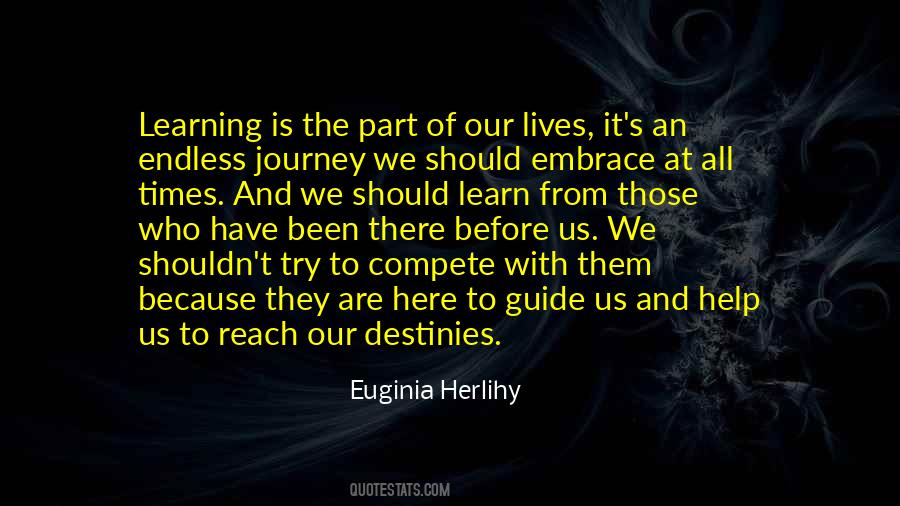 #20. You don't learn how to be in love. It's not like learning how to walk or talk. It's innate, like breathing. I think love is something we do to survive. To live your life to the fullest, you gotta love every bit of the journey. Remember that.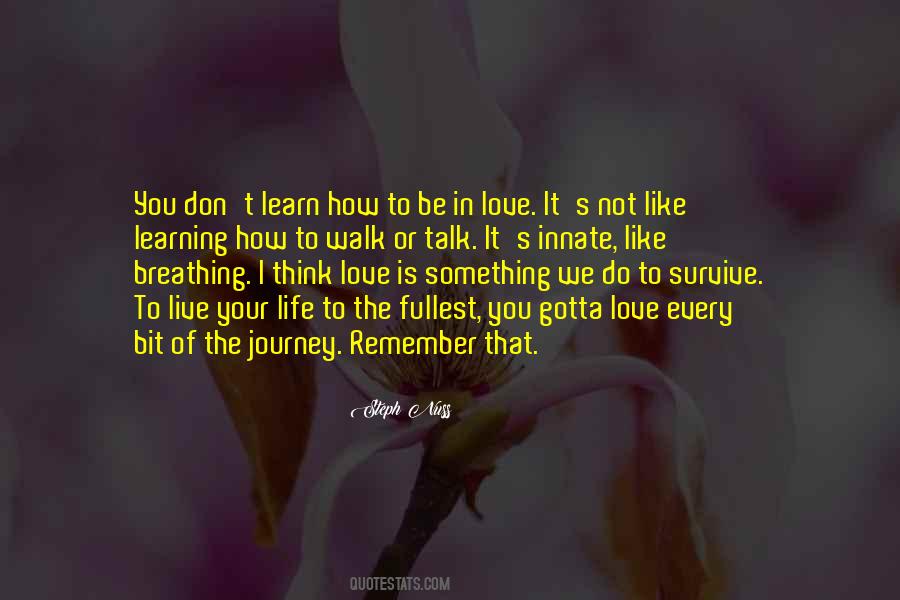 #21. Graduation day was a milestone in the most important journey of all - to the centre of oneself.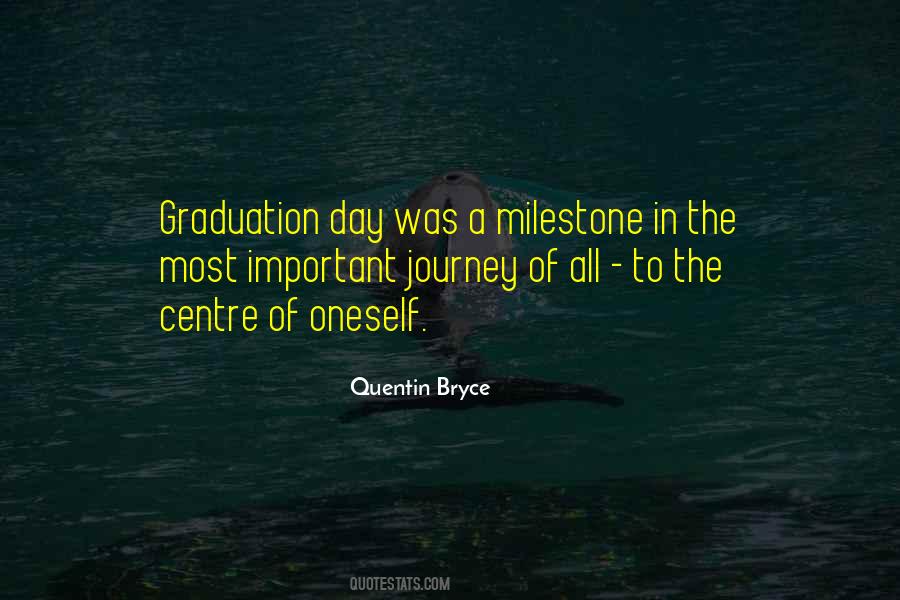 #22. ...the whole 'know thyself' thing isn't a journey to a fixed destination. Learning about myself changes me, forcing me to learn more. 'Know thyself' isn't a goal; it's a road.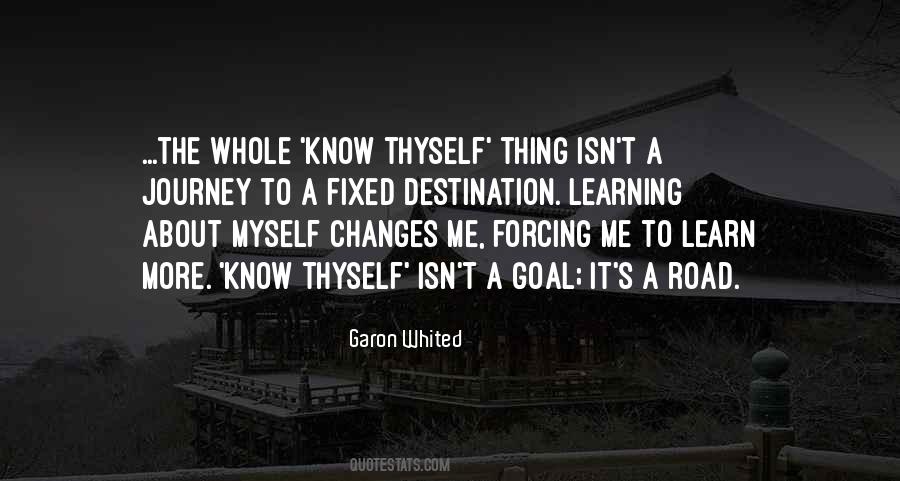 #23. The spiritual journey is one of continuous learning and purification. When you know this, you become humble.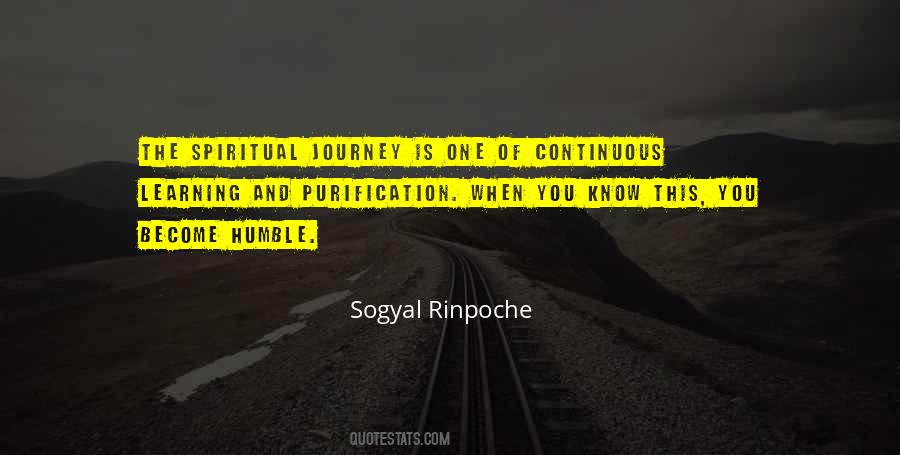 #24. That wonderful and terribly frightening journey of self-discovery. That process of growth, of being an independent person, of learning who you are and what you want from life, is the real secret of life, happiness and beauty.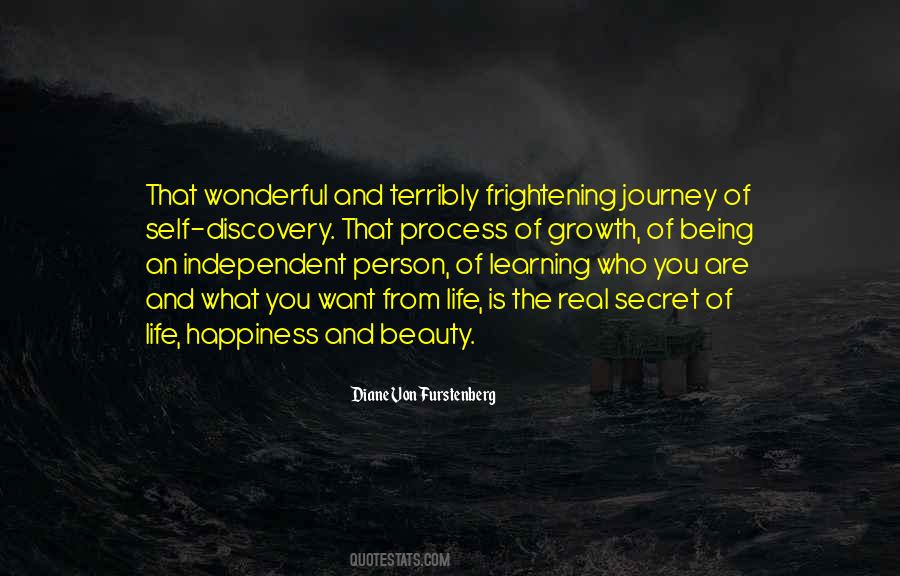 #25. The true voyage of discovery is not a journey to a new place; it is learning to see with new eyes.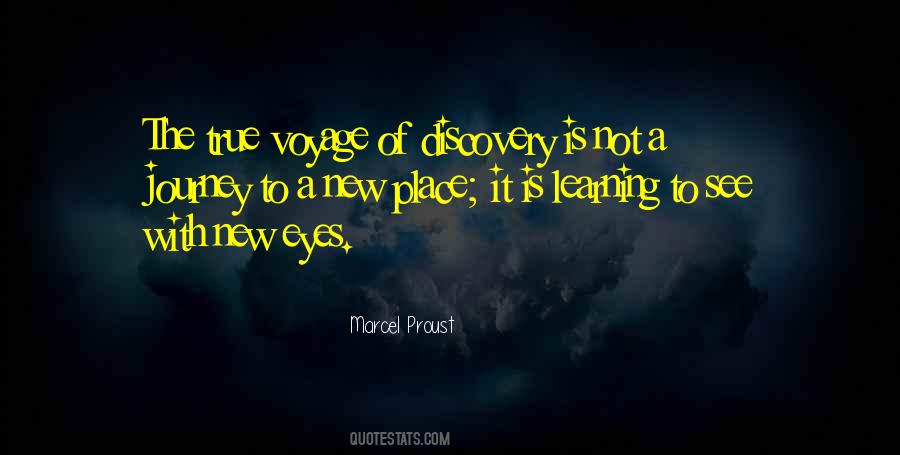 #26. Part of the journey here on Earth is learning how to discipline ourselves to set aside all of the voices and get to that deep voice within.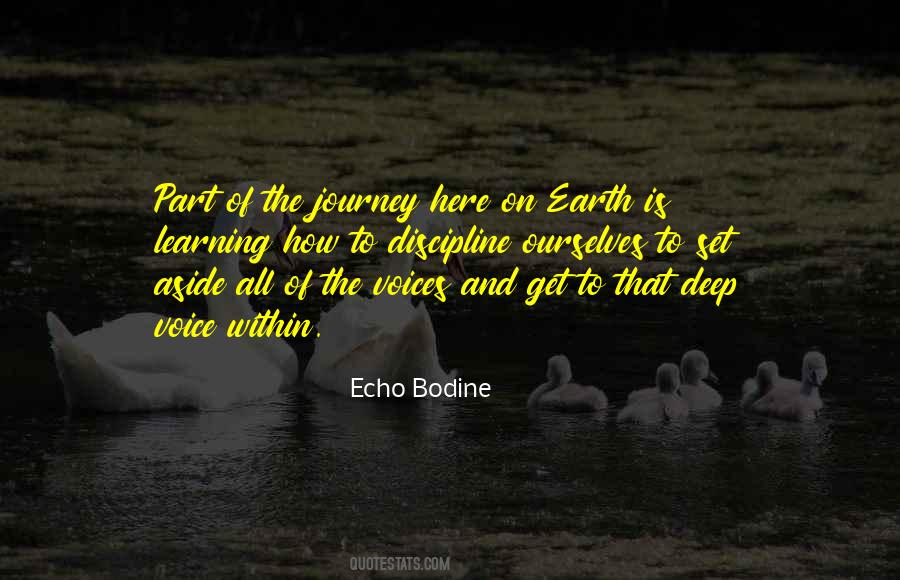 #27. The journey that I have undertaken, meeting people from all walks of life and learning from them, has been my biggest achievement.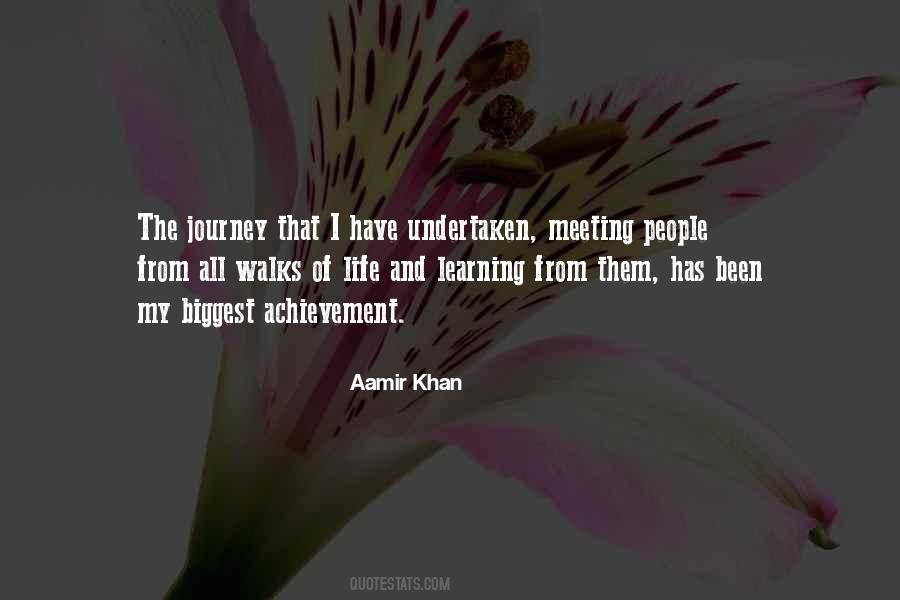 #28. Philosophy is a kind of journey, ever learning yet never arriving at the ideal perfection of truth.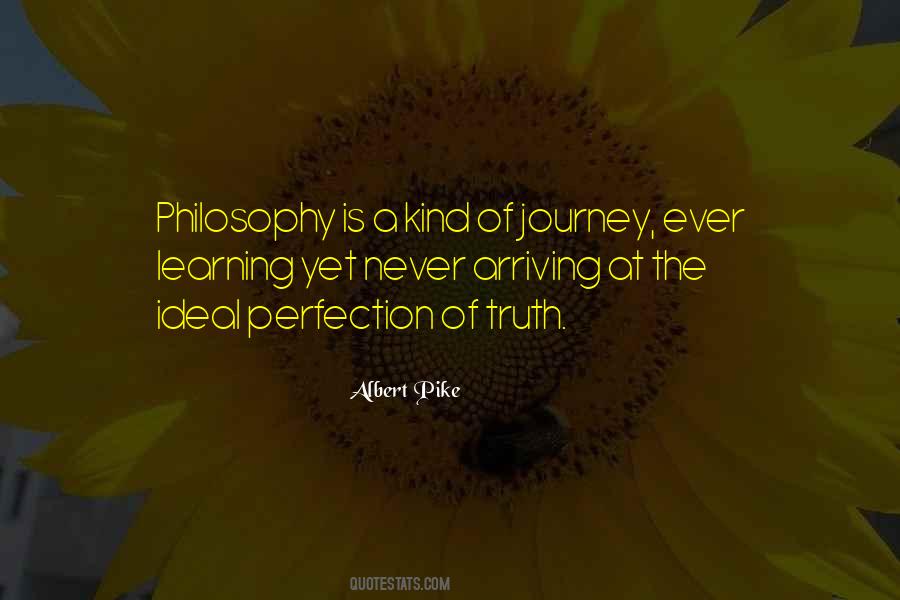 #29. You can never appreciate the scent of a flower by another's description. Some things are left to experience. Journey of self.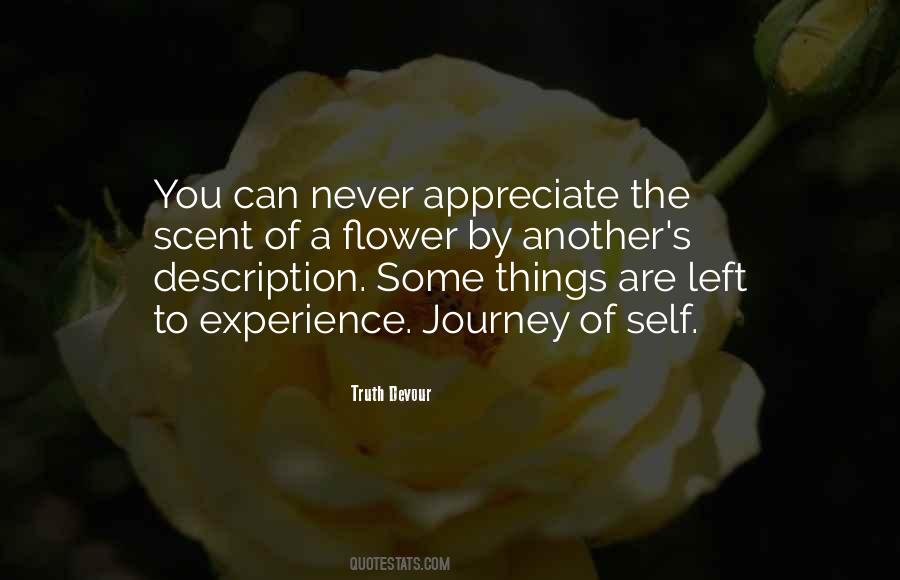 #30. I was faced with a choice: to deny my addiction and embrace that 'comfortably numb' but 'magicless' existence, or accept the burden of insight, take the road less travelled, and embark on the often painful journey to discover who I was and where I fit.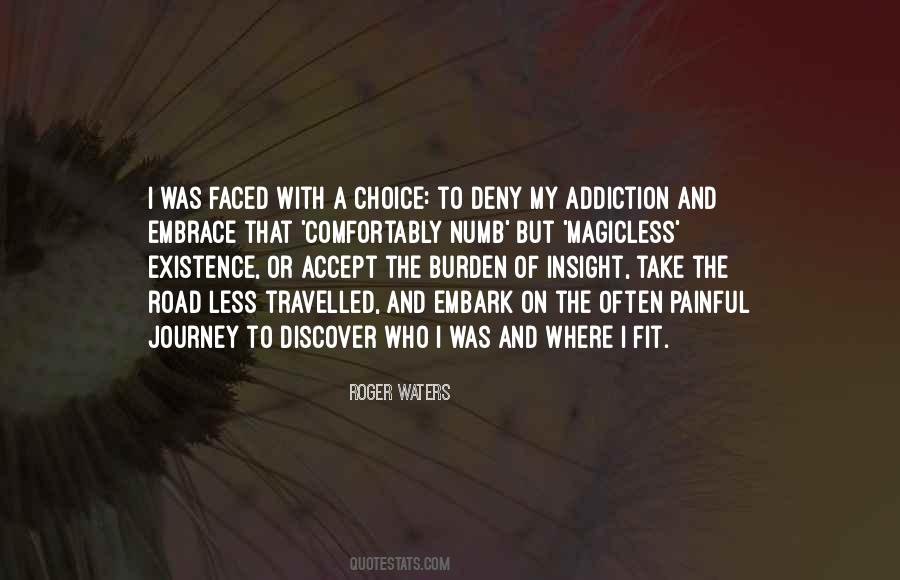 #31. It may seem paradoxical, but you really do experience greater happiness when you choose to stop trying to control everything. And on a spiritual level, you evolve by learning the power of surrender and of love.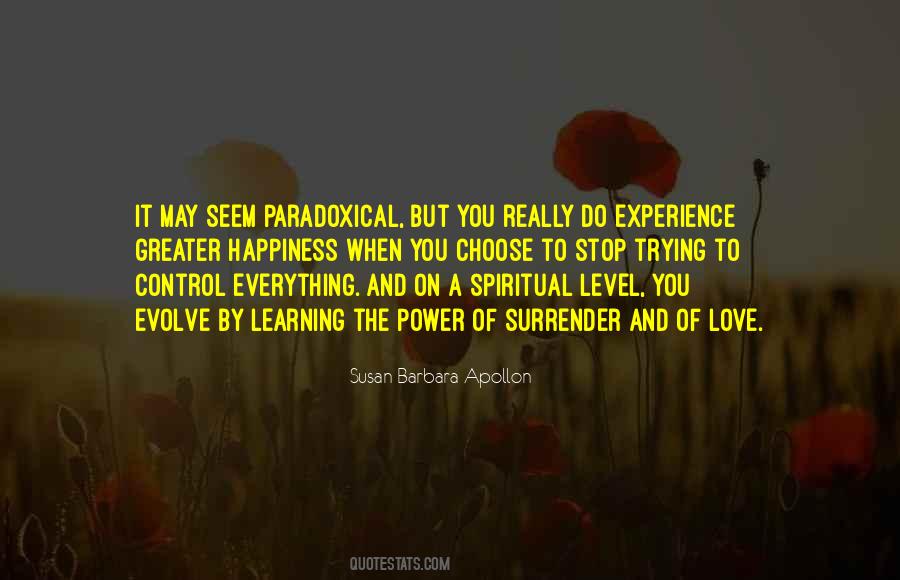 #32. The Tibetan Book of Living and Dying says that death is the graduation ceremony, while living is just a long course in learning and preparing for the next journey. If we acknowledge death as the beginning, then how can we fear it?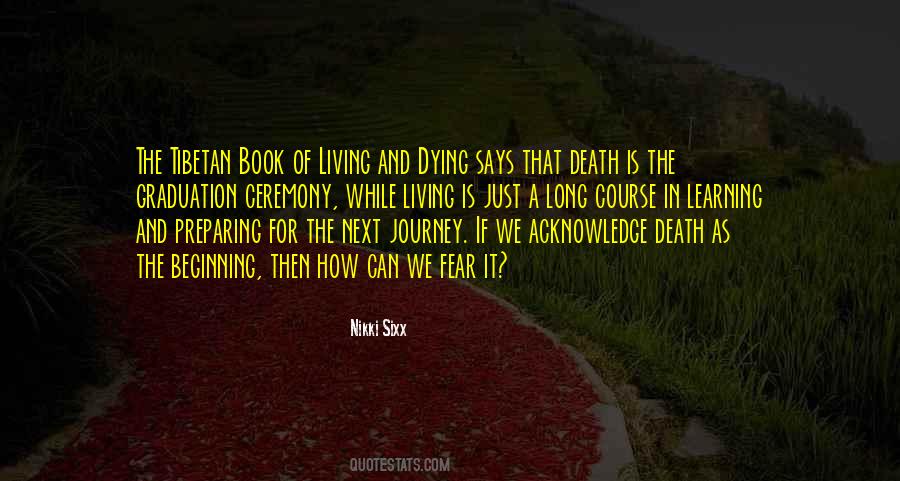 #33. The journey of learning the secret language of dreams is fascinating and well worth the effort.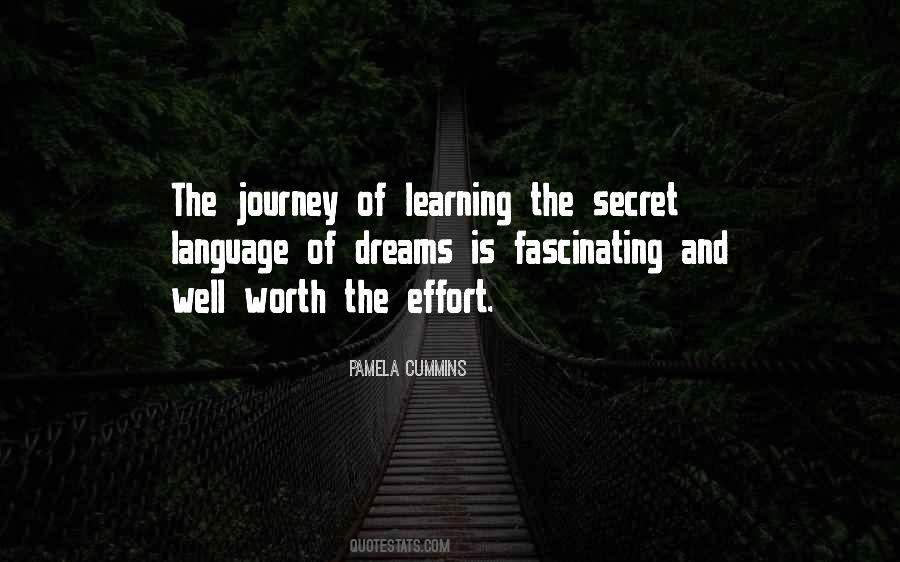 #34. You take a step, then another. That's the journey. But to take a step with your eyes open is not a journey at all, it's a remaking of your own mind.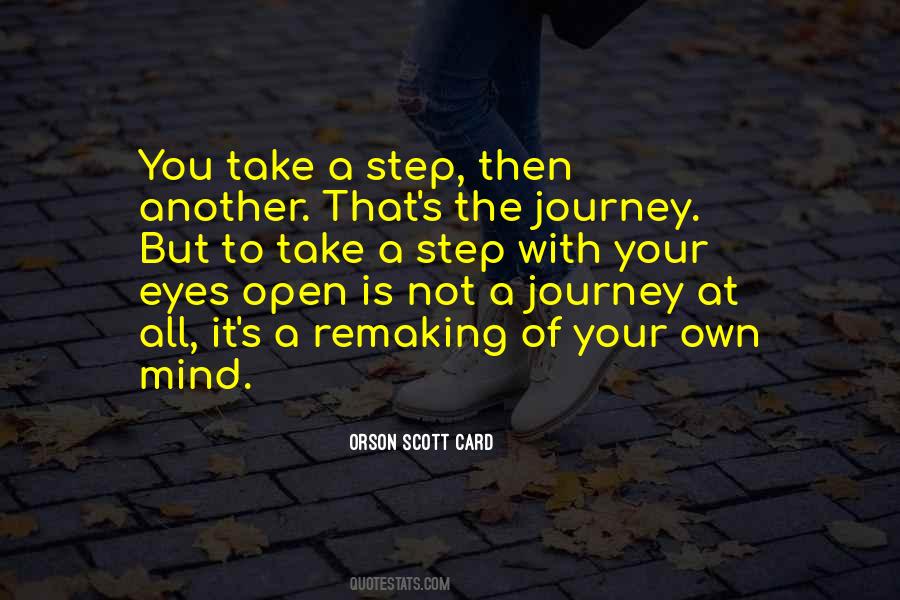 #35. My father did not have to trade dying alone for the joys of the road. My mother did not have to give up a journey of her own to have a home. Neither do I. Neither do you.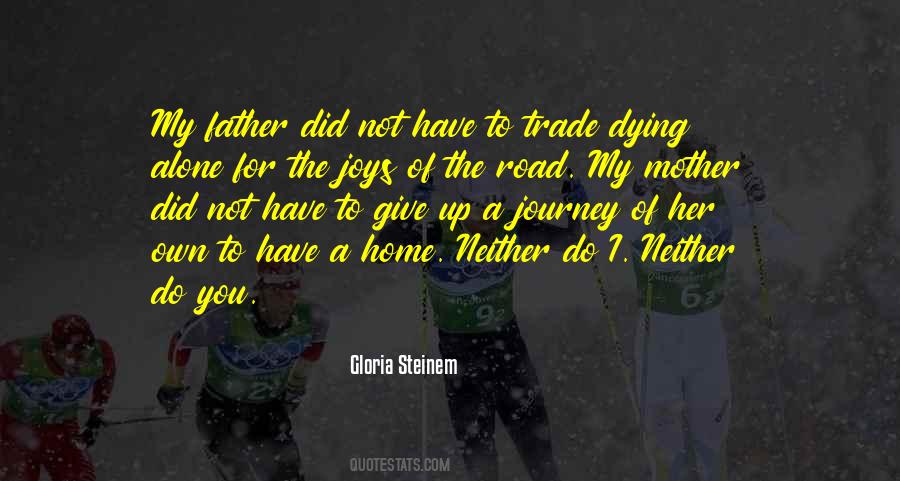 #36. Now I realized that life supplies us with everything we need for the journey. Everything I had acquired either actively or passively, everything I had learned either voluntarily or by osmosis, was coming back to me as the real riches of my life, even though I had lost everything.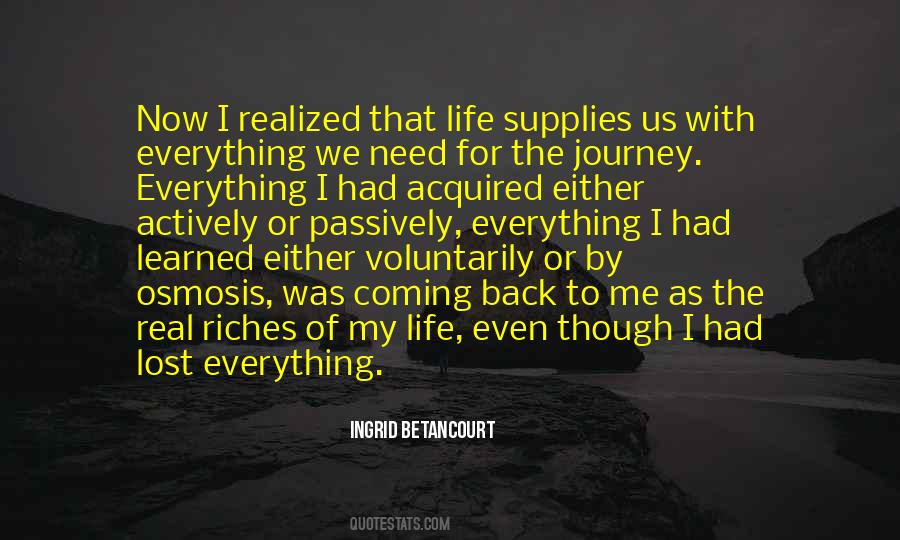 Famous Authors
Popular Topics