The Cure For Cancer Famous Quotes & Sayings
List of top 40 famous quotes and sayings about the cure for cancer to read and share with friends on your Facebook, Twitter, blogs.
Top 40 Quotes About The Cure For Cancer
#1. With certainty, I can predict that there will never be a cure to cancer. The only hope for any of us is to concentrate on cause and prevent the misery. - Author: Richard Diaz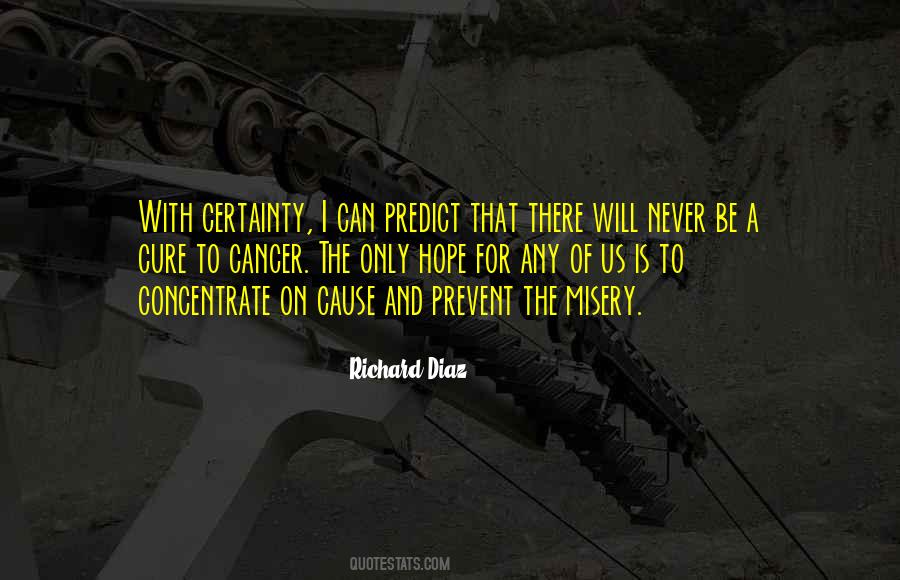 #2. If I found the cure for dystrophy tomorrow, I would do a telethon in four weeks for acute pain that in this country is a bigger problem than cancer, heart, sickle cell, anemia, name it. It is - it's hitting 70 million Americans. - Author: Jerry Lewis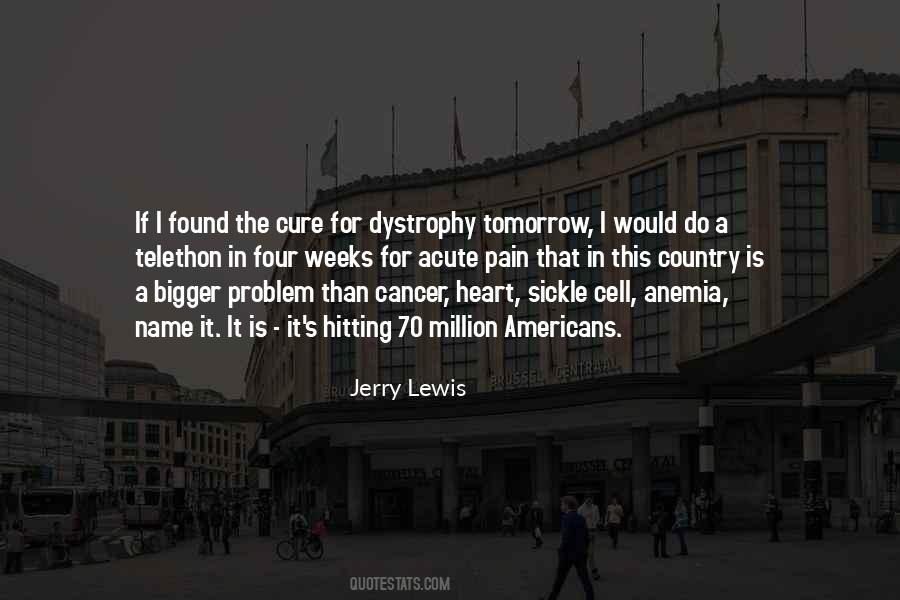 #3. But in AIA, Anna decides that being a person with cancer who starts a cancer charity is a bit narcissistic, so she starts a charity called The Anna Foundation for People with cancer Who Want to Cure Cholera. - Author: John Green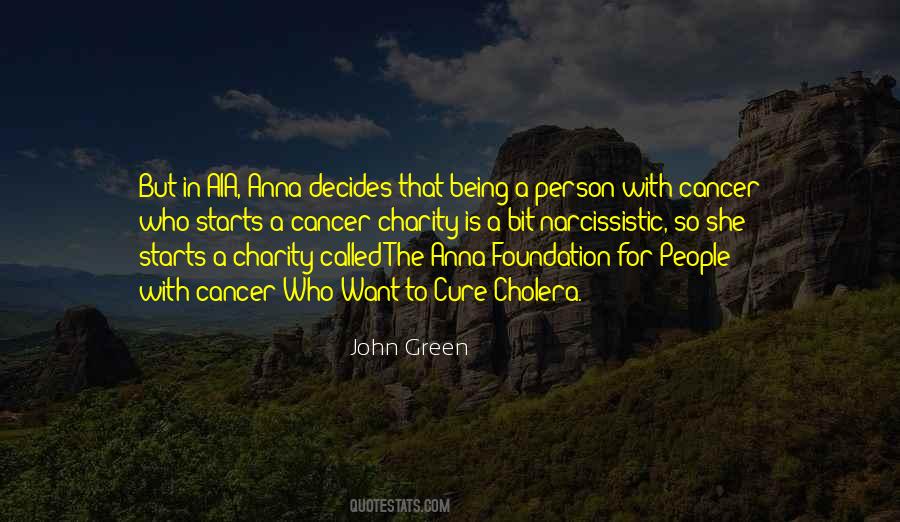 #4. Just deleting vandalism on the Chuck Norris page," Radar said. "For instance, while I do think that Chuck Norris specializes in the roundhouse kick, I don't think it's accurate to say, 'Chuck Norris's tears can cure cancer, but unfortunately he has never cried. - Author: John Green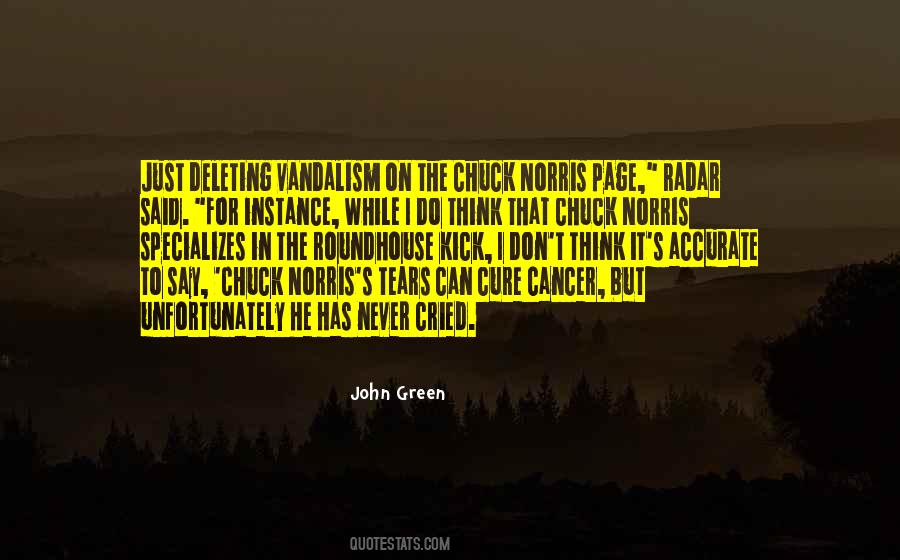 #5. When I was doing standup, I always wanted to get out of the standup world and take it back into the theatrical world, like with 'No Cure For Cancer.' - Author: Denis Leary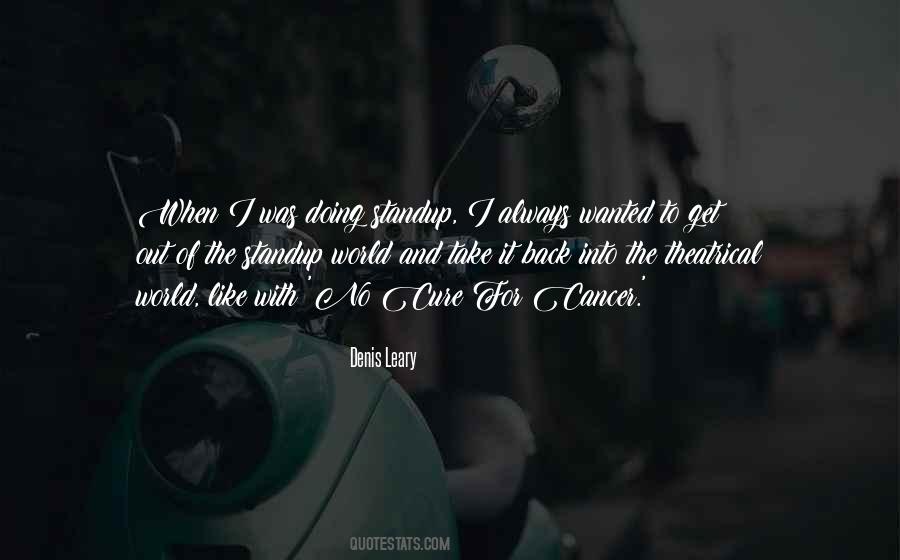 #6. I have a lot of wonderful women in my life and each one means so much to me. That's why I'm passionate about finding the cures. Let friendship inspire your passion to fight breast cancer. Join me and go Passionately Pink for the Cure today! - Author: Melina Kanakaredes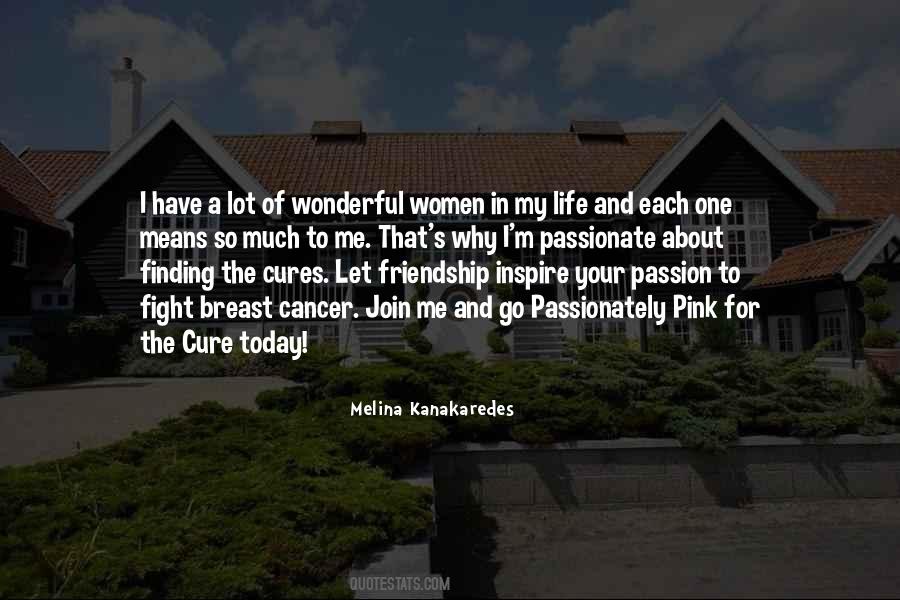 #7. I do a lot of races for the cure for breast cancer. - Author: Mary Ann Mobley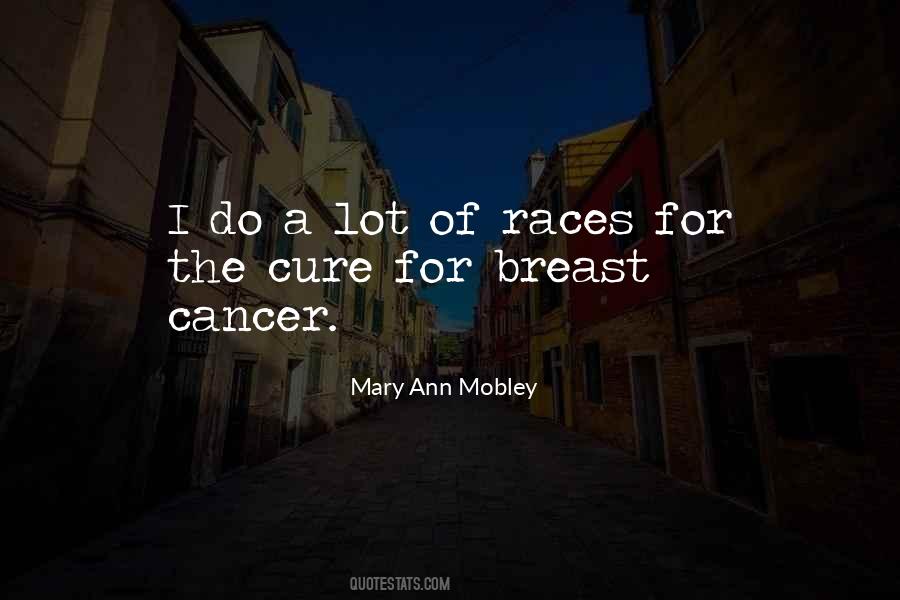 #8. No, she didn't want to find a cure for cancer or make the world a better place for an endangered owl species. She just wanted to be pretty. - Author: Devan Sipher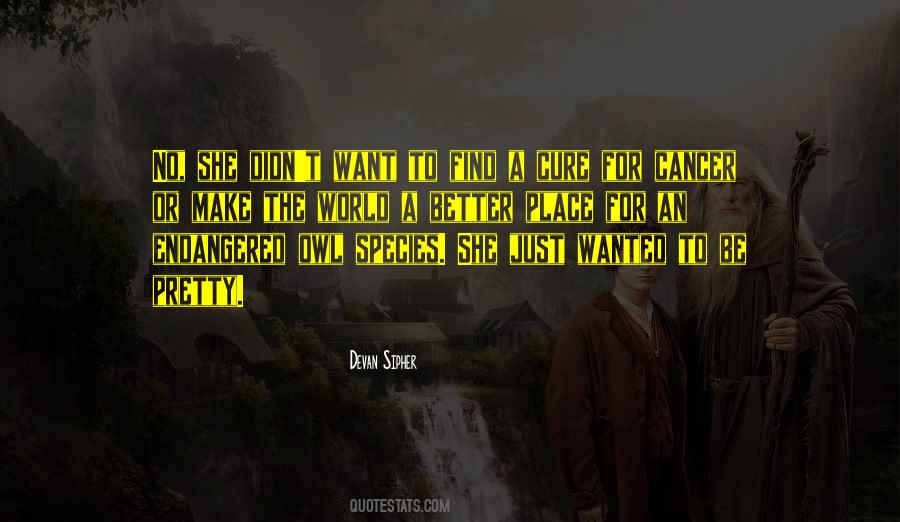 #9. We are losing the war on cancer because we are on an incessant search for the impossible-to-find cure, when in fact removing the causes is the only way to win. - Author: Joel Fuhrman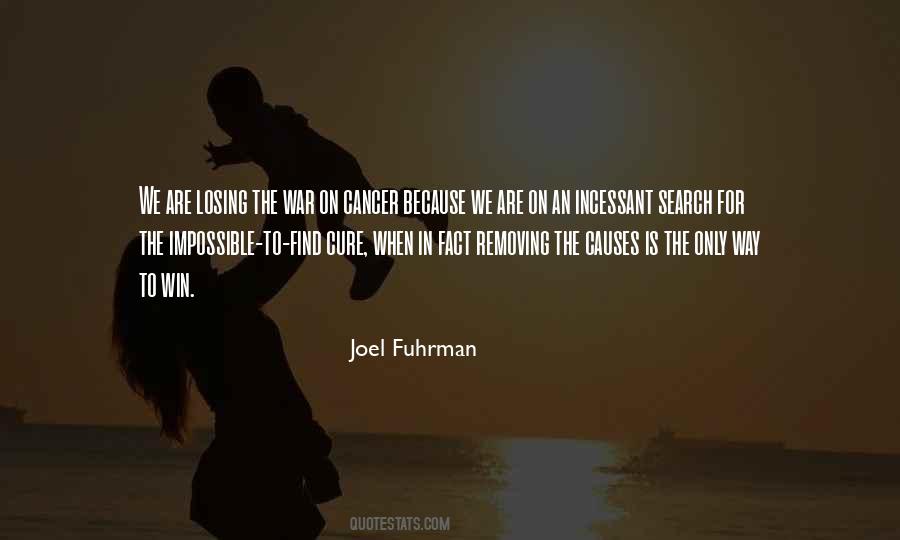 #10. I get a kick out of it, but it would be stupid to let it go to my head. It's modeling I didn't find the cure for cancer. - Author: Marisa Miller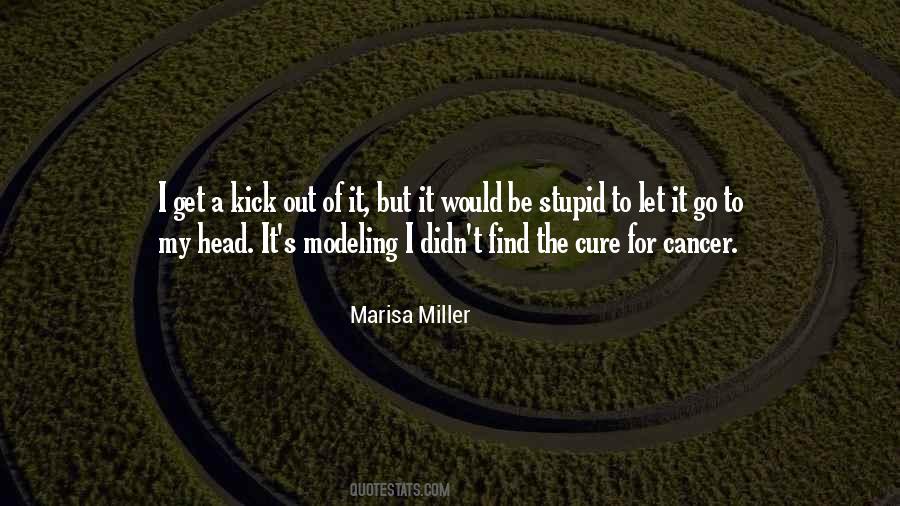 #11. I'm telling you, the ingenuity of alcoholics is something else. If only it could be put to some kind of good use. I mean, if you said to an alcoholic, 'Look, the only way for you to get another drink is to cure cancer,' the disease would be history in five seconds. - Author: Ozzy Osbourne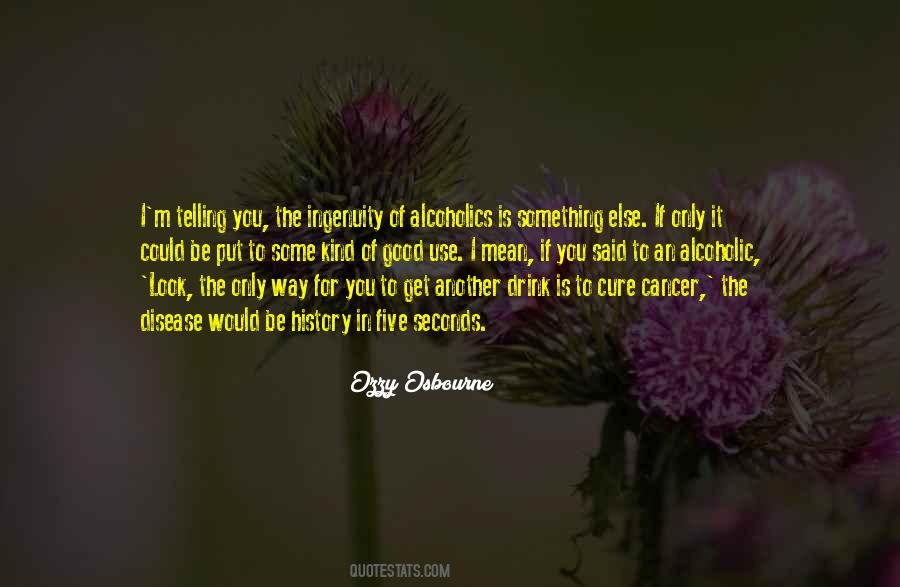 #12. What if the Cure for Cancer was trapped inside the mind of someone who can't afford an education - Author: Tumblr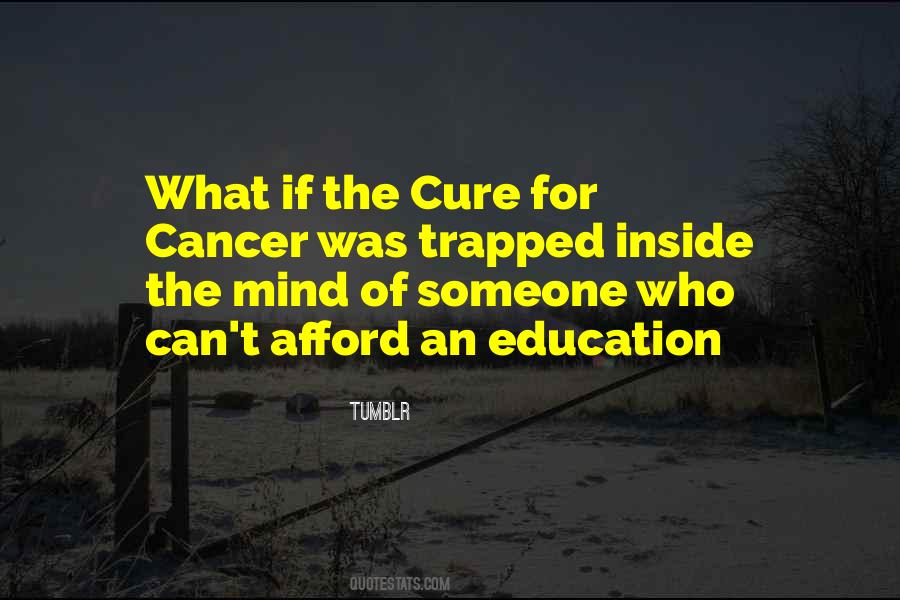 #13. now had a cure for all forms of cancer, which had eradicated the disease in a matter of weeks. - Author: Ernest Cline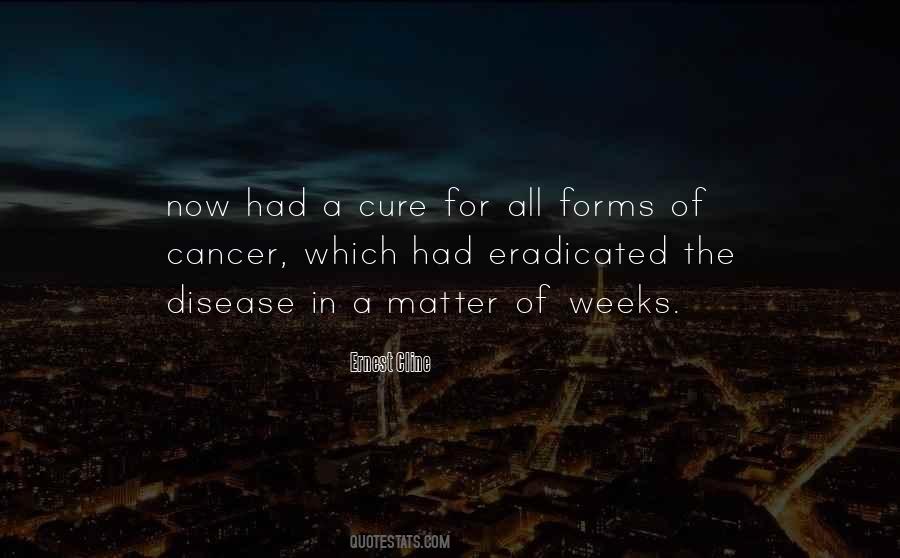 #14. Don't ask God to cure cancer and world poverty. He's too busy finding you a parking space and fixing the weather for your barbecue. - Author: Richard Dawkins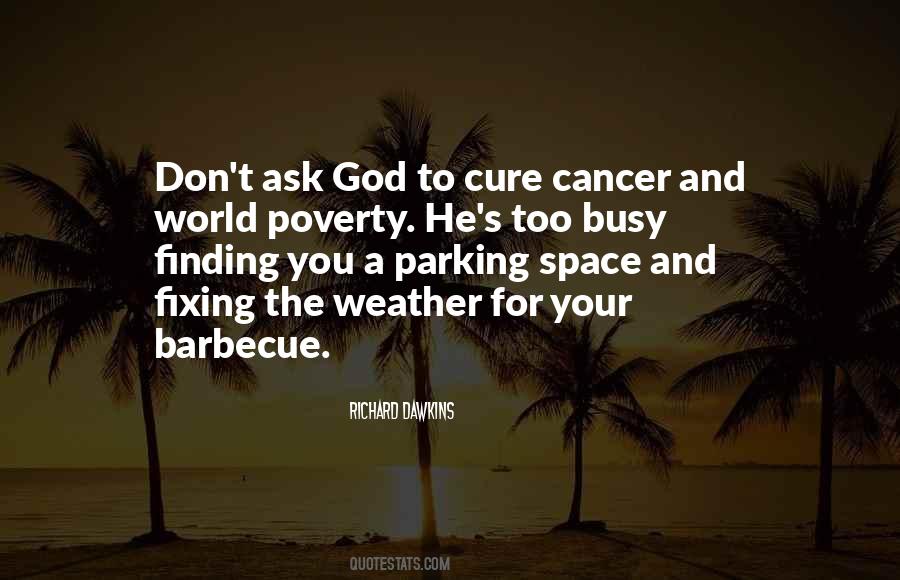 #15. I bet if cancer of the penis was more prevalent there'd be a cure for this fucker. I bet if dicks were being amputated or dropping off left, right and centre there'd have been a cure decades ago. There'd be a whole fucking government dick department dedicated to it. - Author: Amy Andrews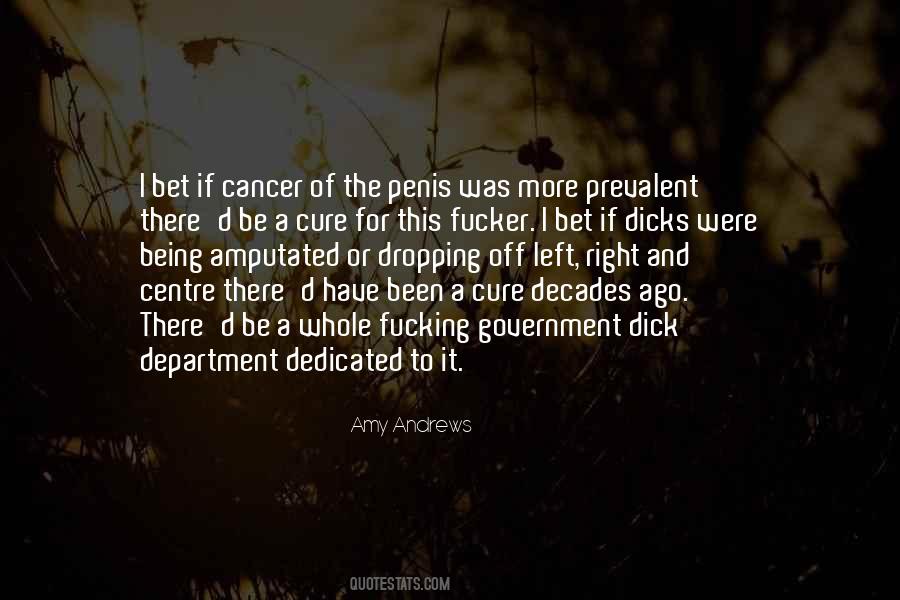 #16. If you found a cure for cancer, wouldn't it be inconceivable to hide it from the rest of mankind? How much more inconceivable to keep silent the cure from the eternal wages of death. - Author: Dave Davidson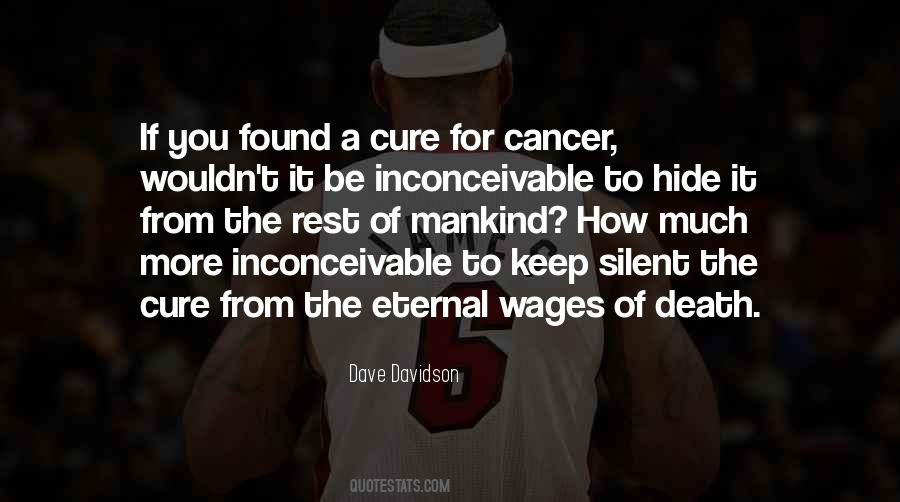 #17. The baby will talk when he talks, relax. It ain't like he knows the cure for cancer and just ain't spitting it out. - Author: Justin Halpern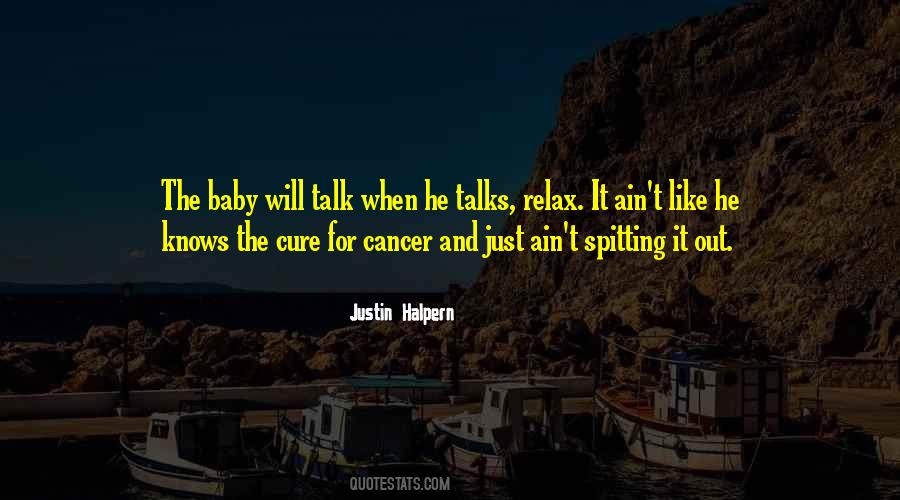 #18. Mother says she doesn't need the medication anymore, that the only cure for cancer is having a daughter who won't cut her hair and wears dresses too high above the knee even on a Sunday, because how knows what tackiness I'd do to myself if she died. - Author: Kathryn Stockett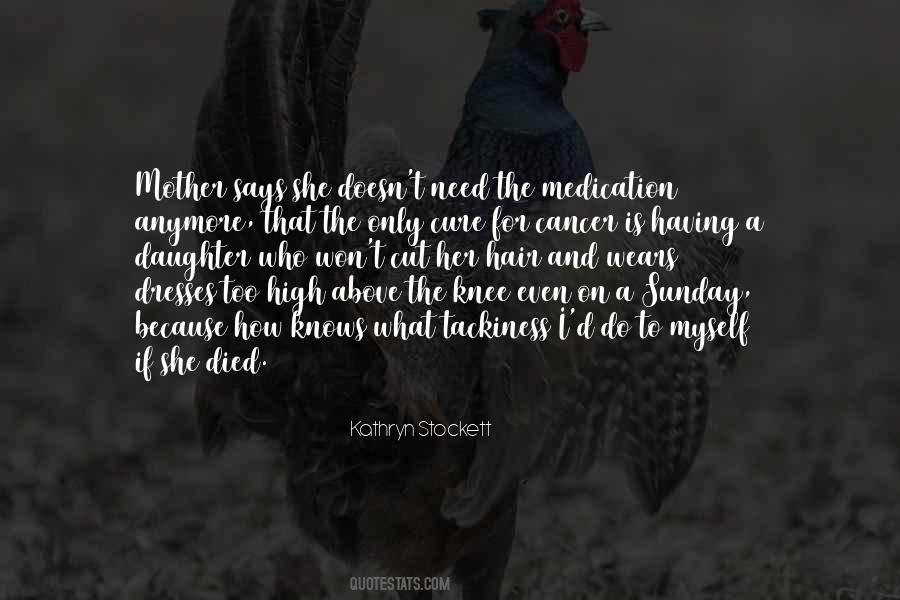 #19. To me, this one brief moment proved to be my most meaningful memory at the park because it symbolized what we mean to people: We are not a cure for cancer, we are not going to save the world, but if we can make people that happy for a few hours or for a day, then we are doing something worthwhile. - Author: Jack Lindquist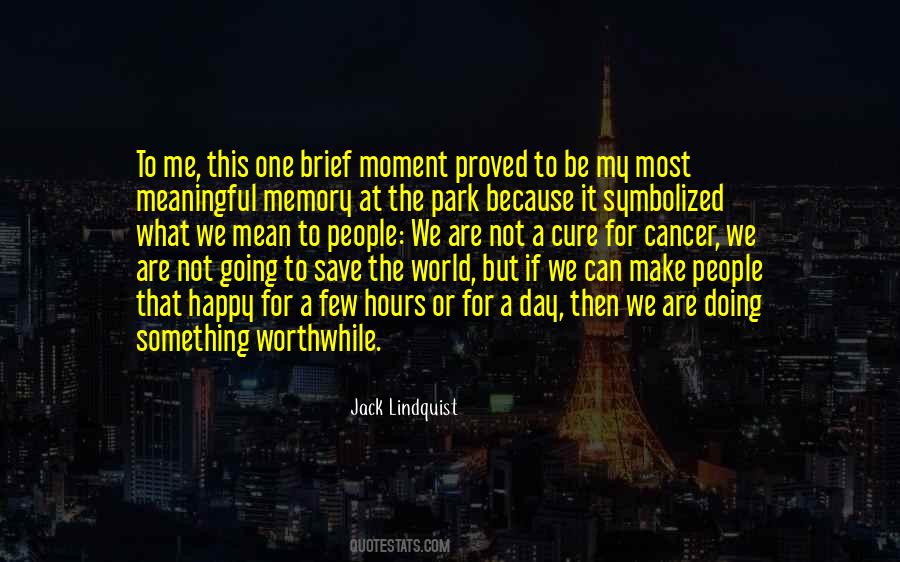 #20. Christian, you are the state lottery, the cure for cancer, and the three wishes from Aladdin's lamp all rolled into one - Author: E.L. James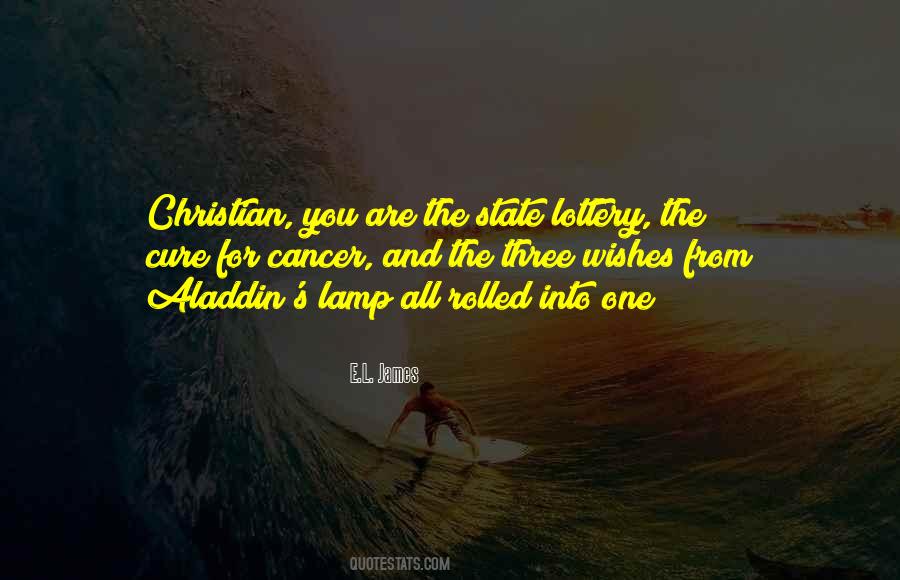 #21. I don't think we will find a cure for all cancers in the next 50 years let alone 20. I think it's foolishness to say that. - Author: Robert Winston
#22. You know, l don't kid myself about the show. If it doesn't get ratings, it's off. Look, if I came up with the cure for cancer and it didn't get ratings, they wouldn't put it on. That's how vicious that business is. - Author: Donald Trump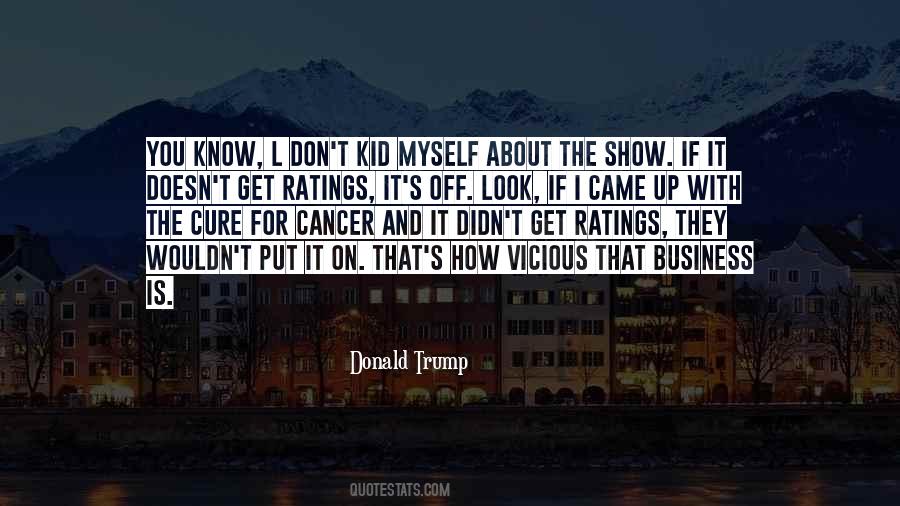 #23. Though we don't have a cure for cancer we at least have stopped being too ashamed to even say the name of the disease - and the trajectory of the AIDS epidemic is edifying, isn't it? Shame shuts down productive thinking, and I'd like to open the doors. It's a first step. - Author: Laura Mullen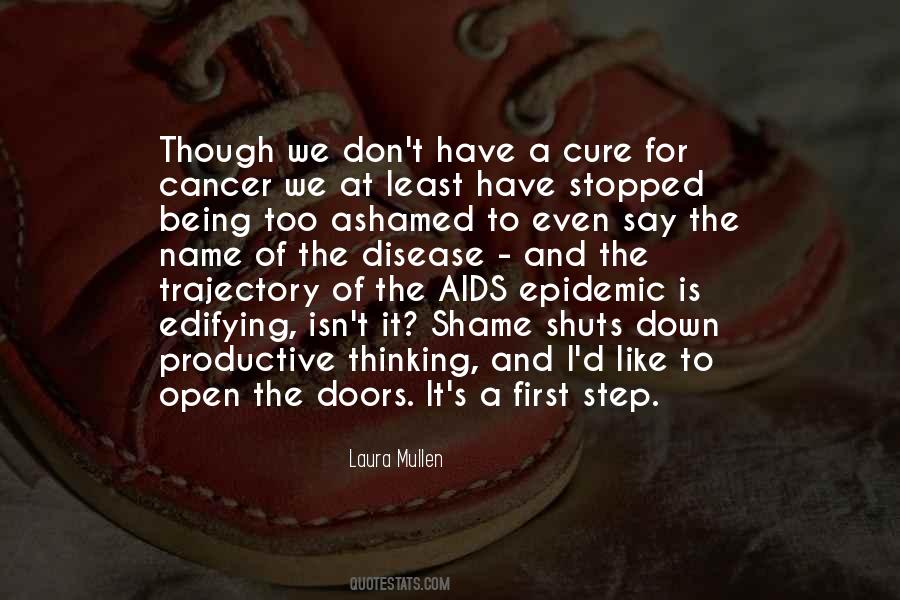 #24. We're fighting internal struggles, I am the cancer for my own cure. - Author: El-P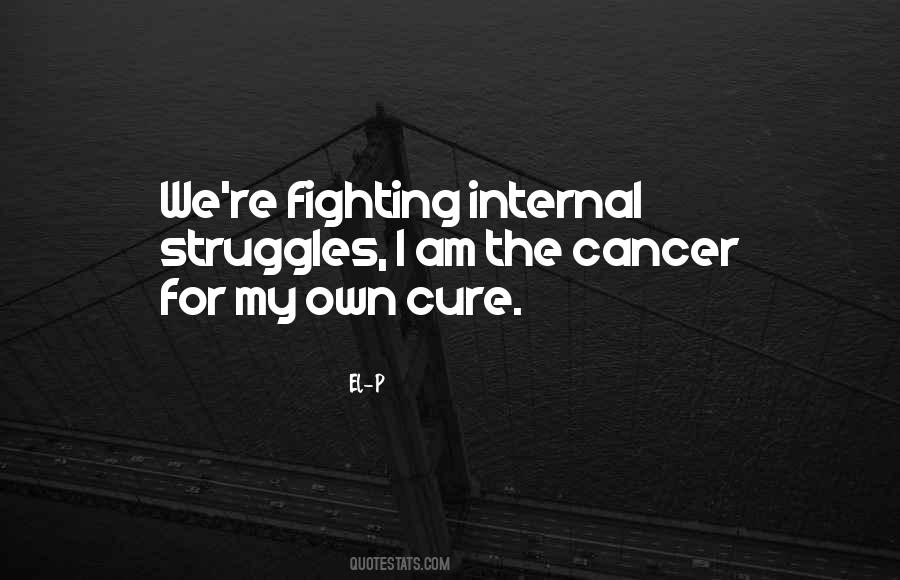 #25. Ninety percent of cancers are curable in stage one. We spend billions of dollars and over 40 years searching for a cure, and we're not really that close. So why aren't we teaching people the only cure we have now? Early detection is one sh**ty year, versus the rest of your life. - Author: Yael Cohen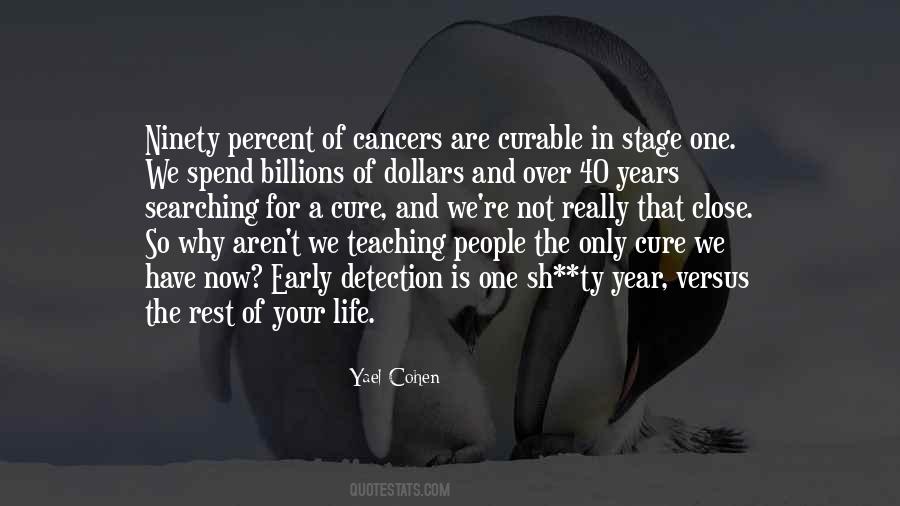 #26. Not everyone can find a cure for cancer. Someone has to make the dinners and sort the socks. - Author: Marian Keyes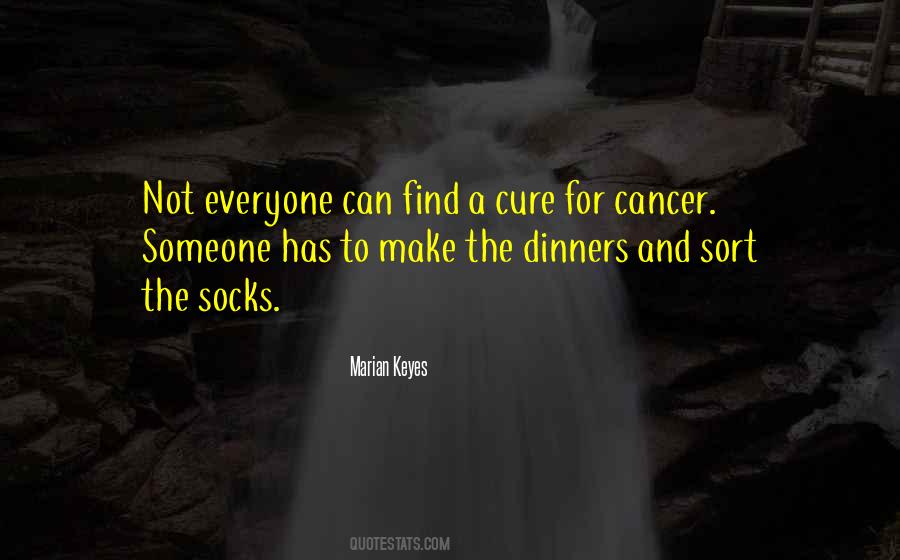 #27. I don't mind being an advocate for weed. It's not as bad as tobacco, alcohol or firearms, for that matter. There's no reason it shouldn't be legalized. You can make all kinds of stuff out of hemp. I think the cure for cancer's probably in cannabis-who knows? - Author: Method Man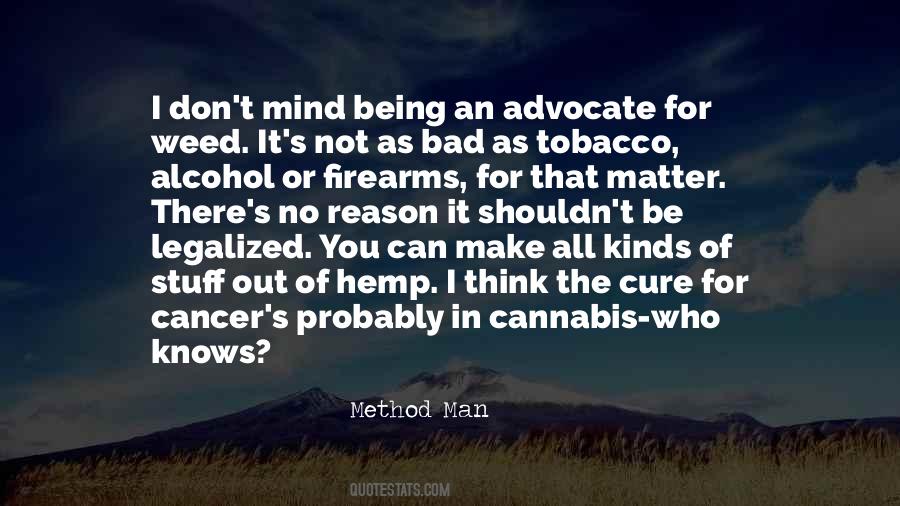 #28. It would be really great if I discovered a cure for cancer, but it would only be a little bit less great if my neighbor did. So I am pretty happy when my neighbor becomes wealthier, better educated and more innovative. I feel the same about China and India. - Author: Alex Tabarrok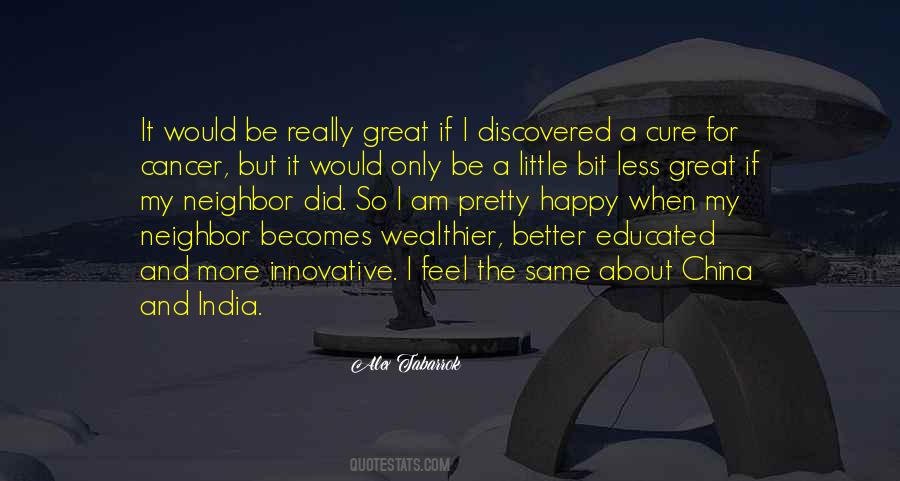 #29. In the frantic search for an elusive 'cure,' few researchers stand back and ask a very basic question: why does cancer exist? What is its place in the grand story of life? - Author: Paul Davies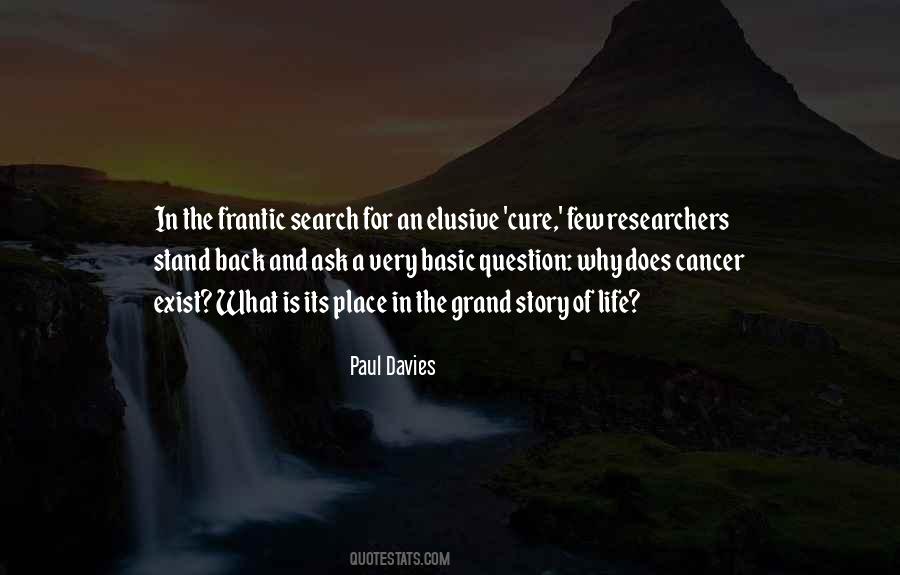 #30. It is important to emphasize again and again and again that finding a cure is not the problem The cures for many cancers, if not most cancers, exist. But they are not being offered to the patient who has cancer ... Being legally permitted to use an alternative cancer therapy is the problem - Author: Barry Lynes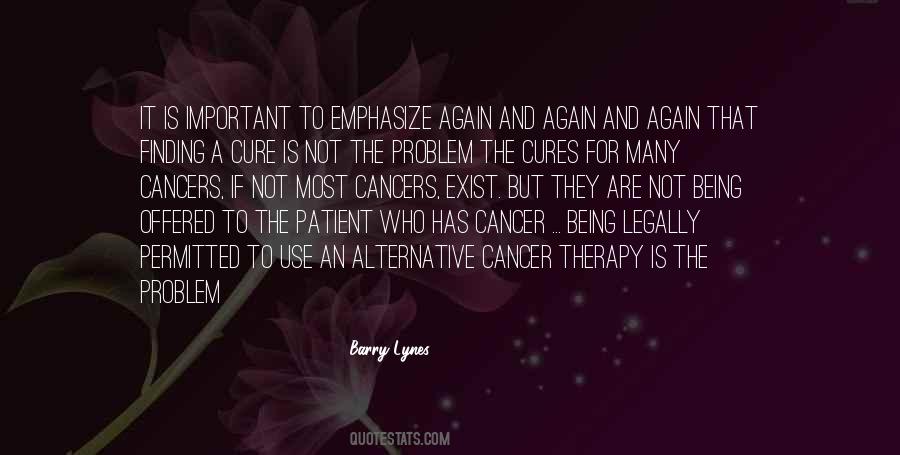 #31. This fact provides a rebuttal to the argument "What if a young woman aborts a baby who would have gone on to become a doctor and find the cure for cancer?" A rejoinder is, "What if a young woman who would have gone on to become a doctor and find the cure for cancer dies in childbirth? - Author: Michael Shermer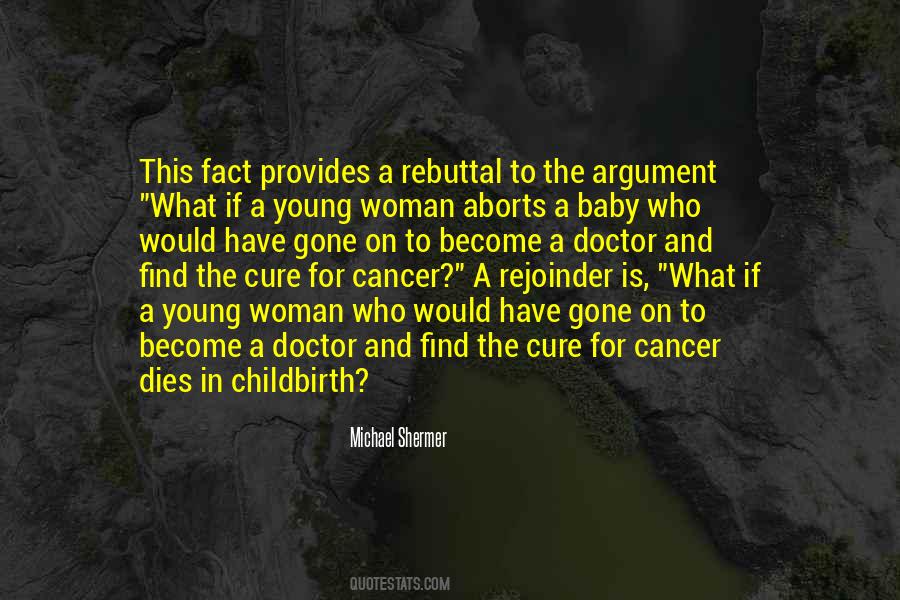 #32. It is exciting to work with students thinking about issues of the day, from closing the achievement gap to finding a cure for cancer. - Author: Freeman A. Hrabowski III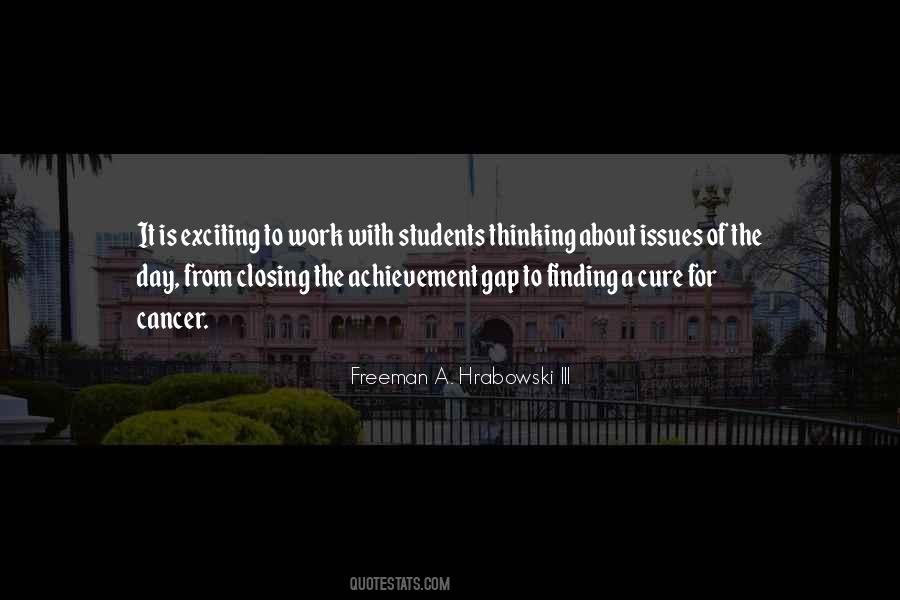 #33. It's OK for China to invent cancer drugs that cure patients in the United States. We want them to catch up. But as the leader, we want to keep setting a very, very high standard. We don't want them to catch up because we're slowing down or, even worse, going into reverse. - Author: Bill Gates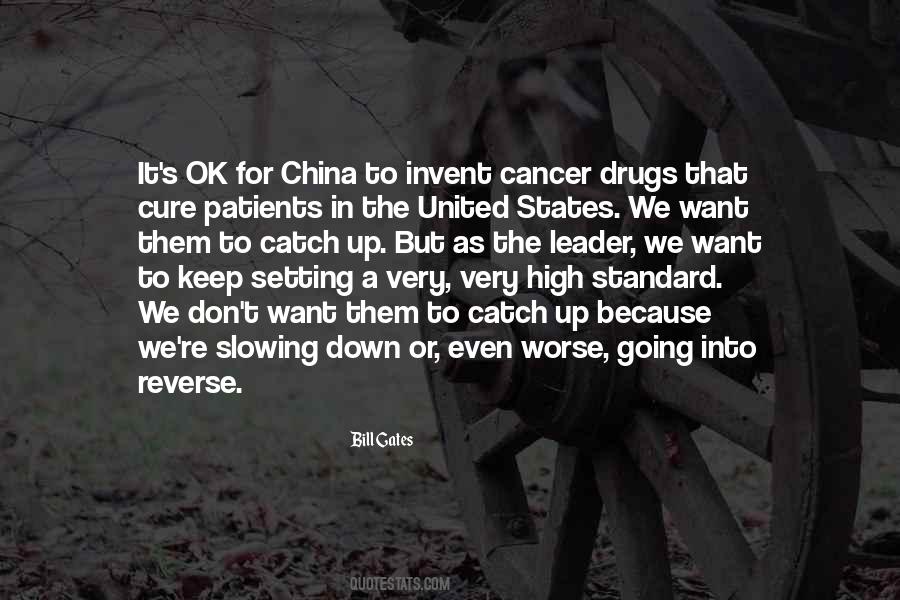 #34. The all-encompassing cure for cancer, heartbreak, irrationality, drug addiction, and every other ailment that plagues humanity?

Fire. - Author: V.K. McAllister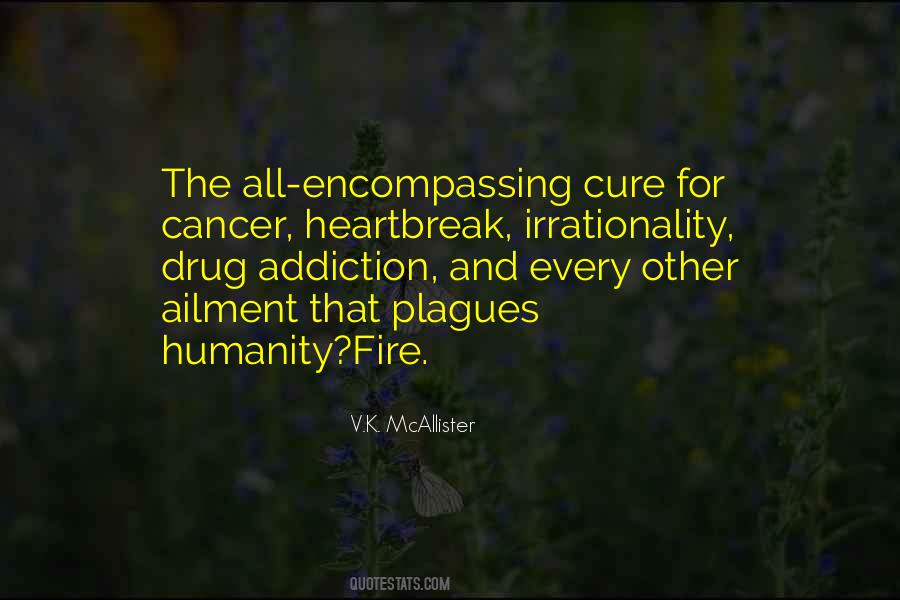 #35. One of the big tensions in my life is that I have known the stresses of financial hardship since I was a little kid, and it is the cancer for which I am seeking a cure. - Author: Andy Richter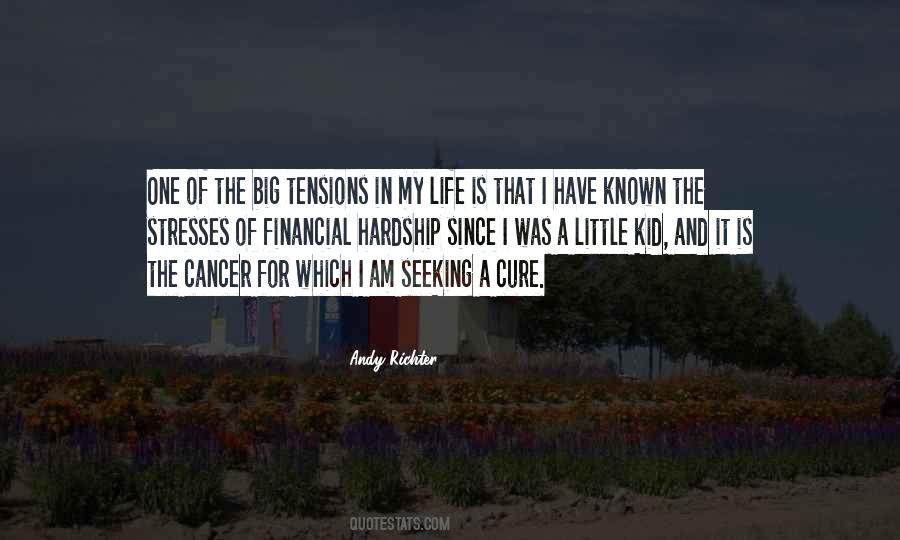 #36. You see, I don't know why I did it, he declared as if he had
just discovered the cure for cancer. But the only thing he had
discovered was yet another way to piss me off. - Author: Danka V.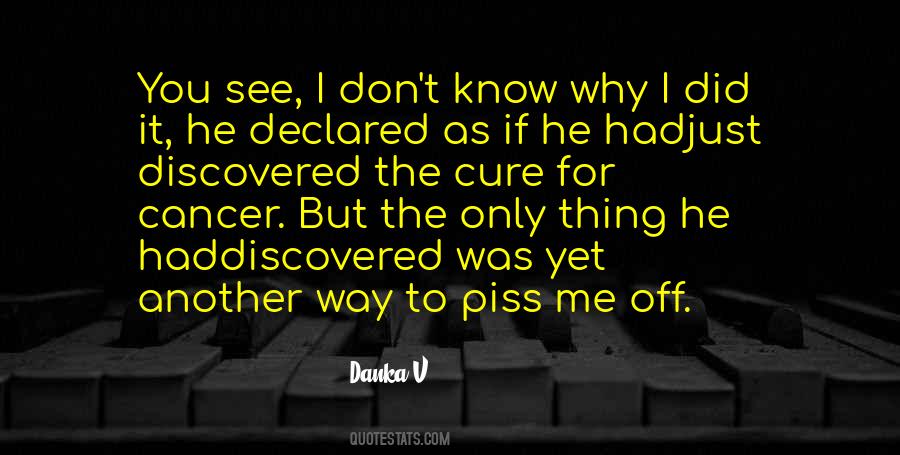 #37. Everybody who's a physician, who makes vaccines, who wants to find the cure for cancer. Everybody who wants to do any medical good for humankind got the passion for that before he or she was 10. - Author: Bill Nye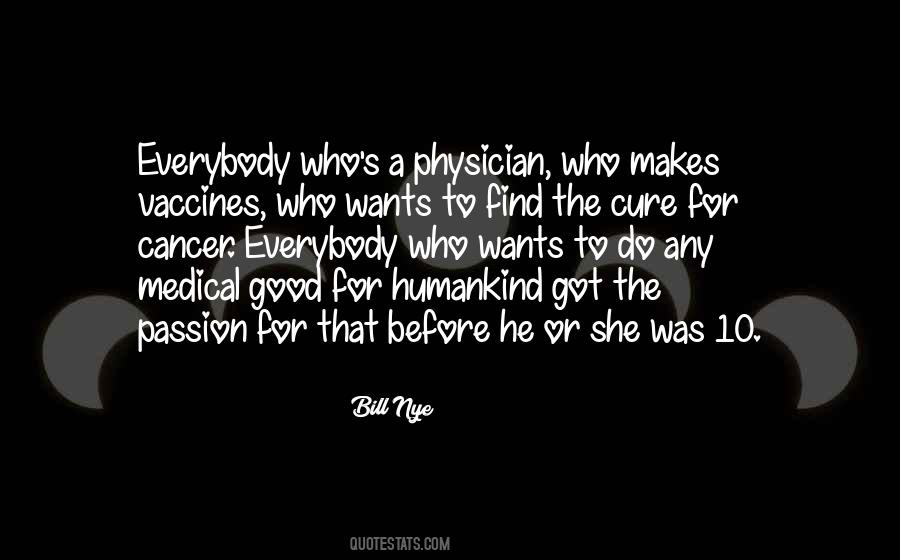 #38. What's so brave about being bald? I've not fought for my country or found the cure for cancer - I've just gone out without my hat on! - Author: Gail Porter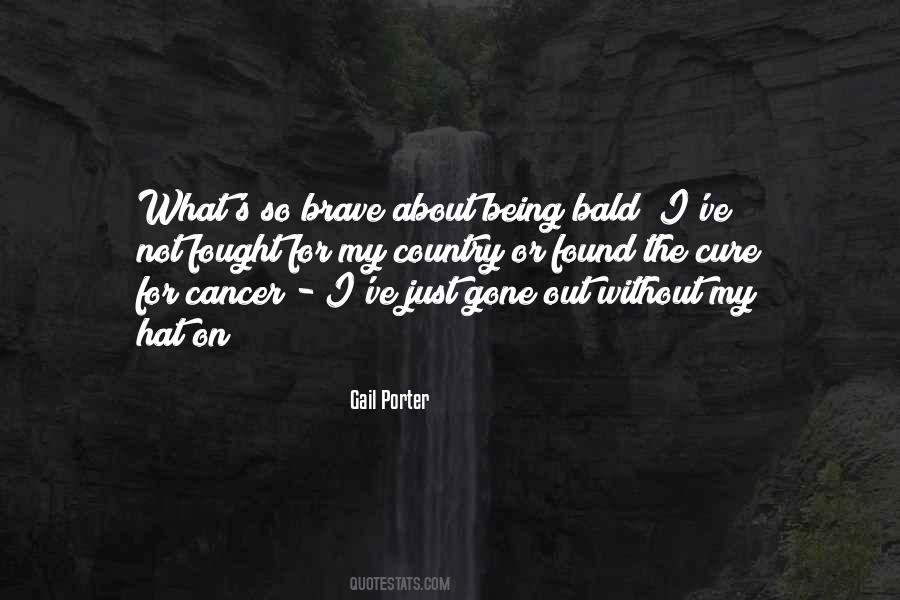 #39. I may have found the cure for cancer, and I think it might be Thom Yorke Serum. - Author: Thom Yorke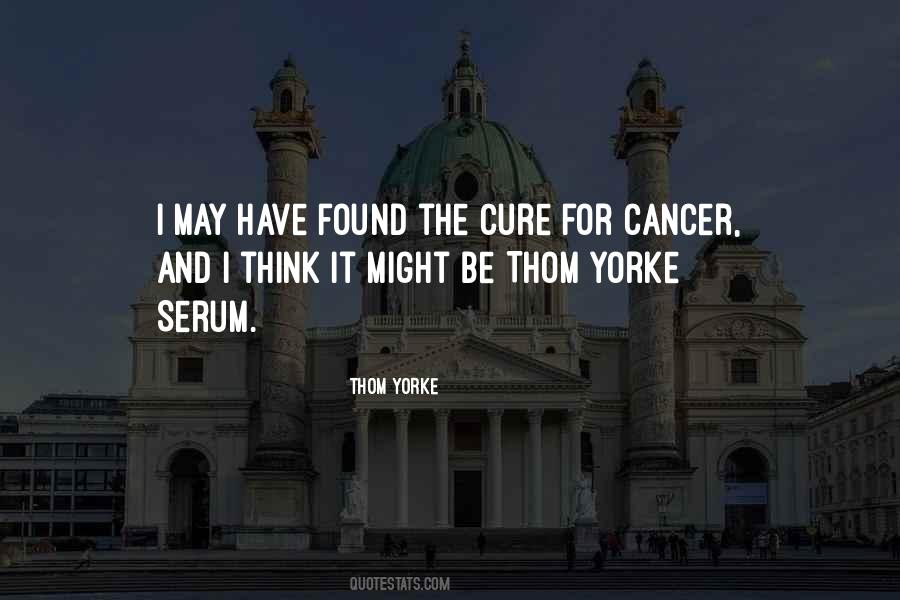 #40. All science is a two-edged sword. It is pure only in the mind, at conception, as an idea, an equation, or just some new way of looking at things. But once it's out there in the world, it becomes whatever the world wants it to be. Germ warfare, nuclear holocaust, or a cure for cancer. - Author: David Ambrose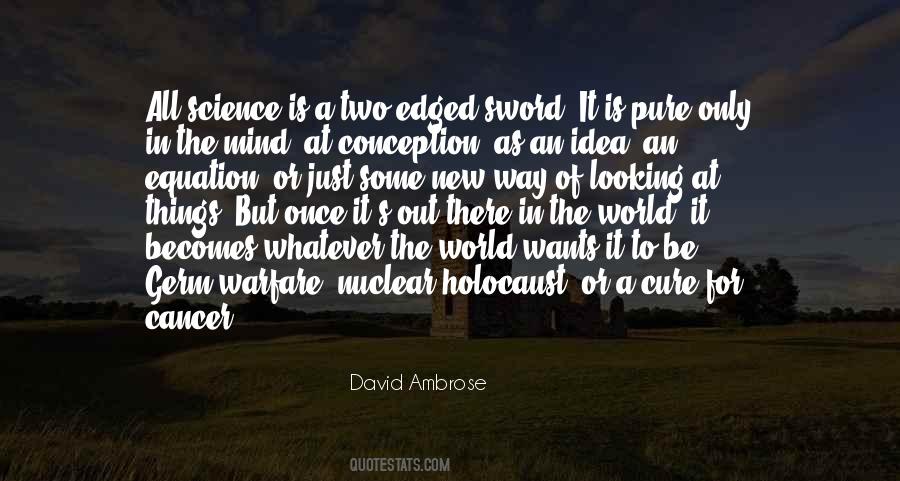 Famous Authors
Popular Topics