The Blessings Of God Famous Quotes & Sayings
List of top 100 famous quotes and sayings about the blessings of god to read and share with friends on your Facebook, Twitter, blogs.
Top 100 Quotes About The Blessings Of God
#1. Among life's sweetest blessings is fellowship with men and women whose ideals and aspirations are high and noble. Next to a sense of kinship with God comes the helpfulness, encouragement, and inspiration of friends. - Author: David O. McKay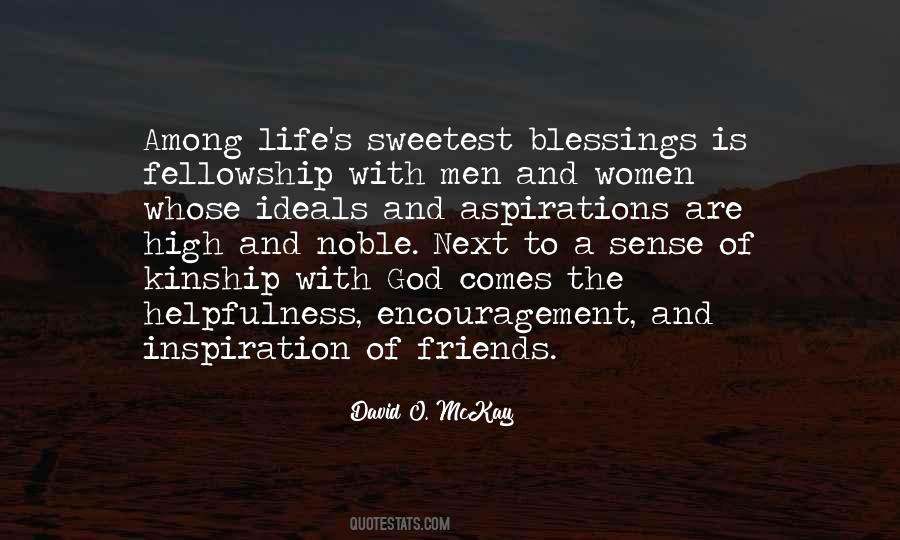 #2. The Eucharist profoundly enables the grace of God to be received with all its glories and blessings. - Author: Scot McKnight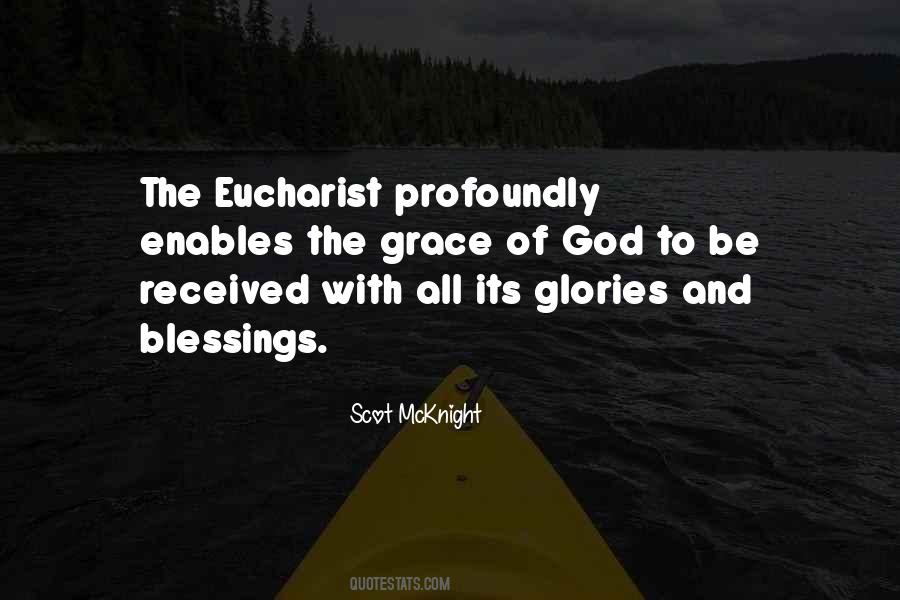 #3. It is time to get strengthened in faith and know that the blessings of God are stronger than the devil's attack - Author: Sunday Adelaja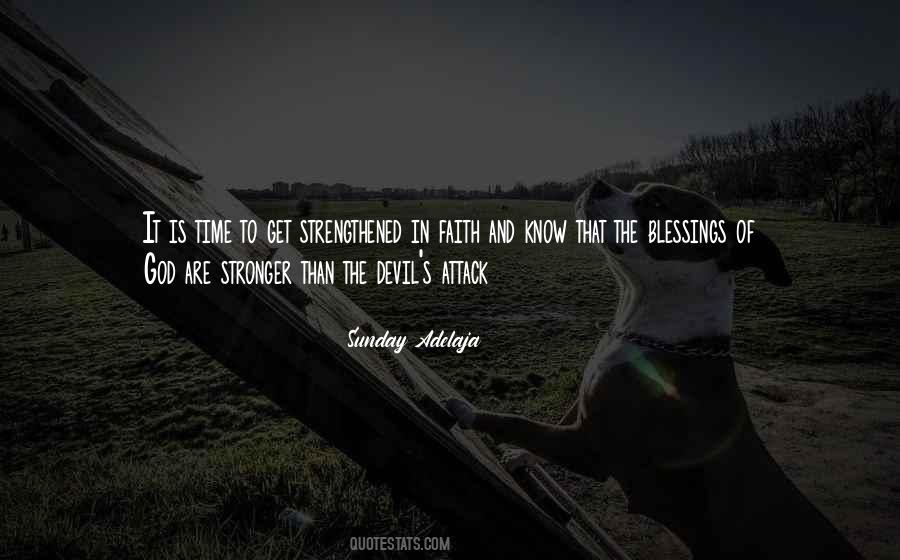 #4. The Spirit of the Lord says that God is placing a crown of manifestation on the heads of His faithful, diligent, chosen saints - a crown of great favor and authority with God and men - a new and greater installment of the fruits and blessings of the Spirit. Another measure, and another, and another. - Author: Todd Bentley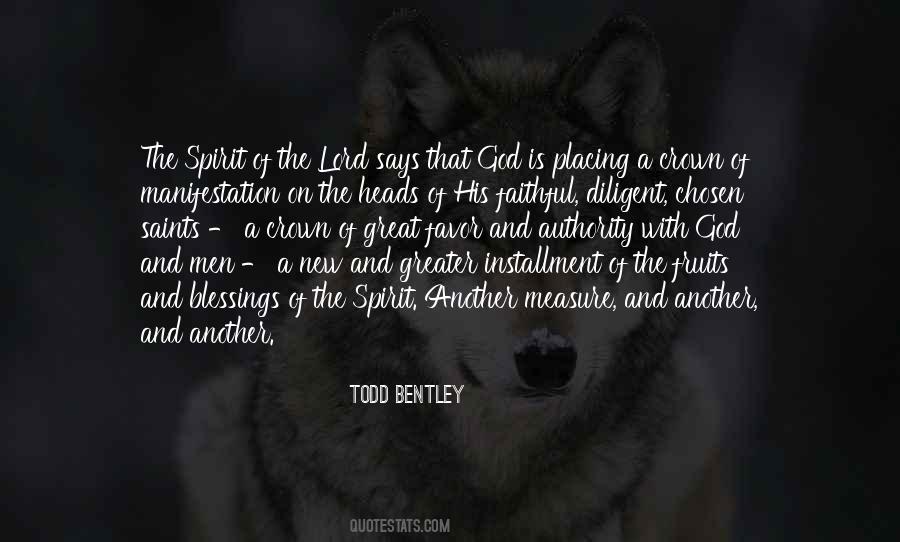 #5. The epic explosion of praise for our blessings in Christ (Ephesians 1:1-14) deepens our appreciation of God's almighty rule; - Author: Richard Coekin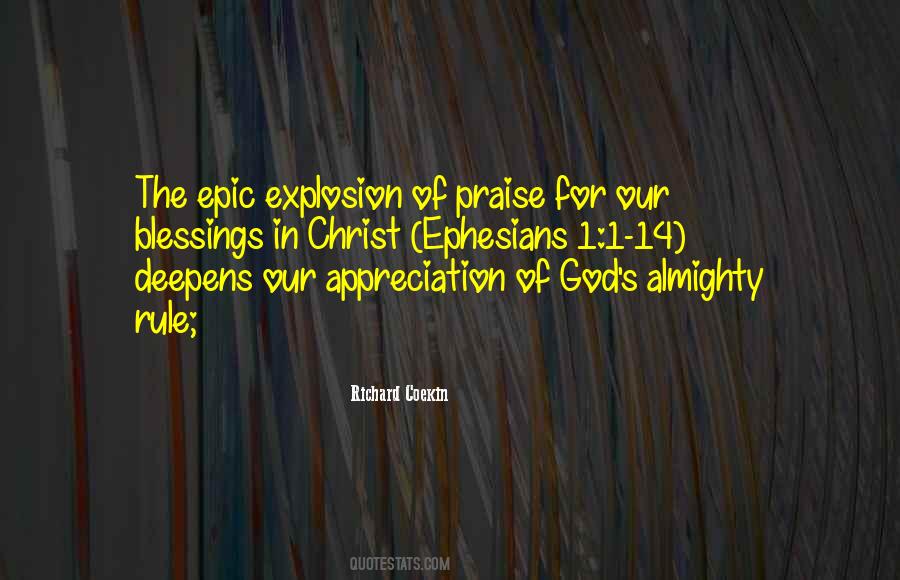 #6. You don't need to understand. You need only to obey and then reap the blessings of that obedience. - Author: Jim George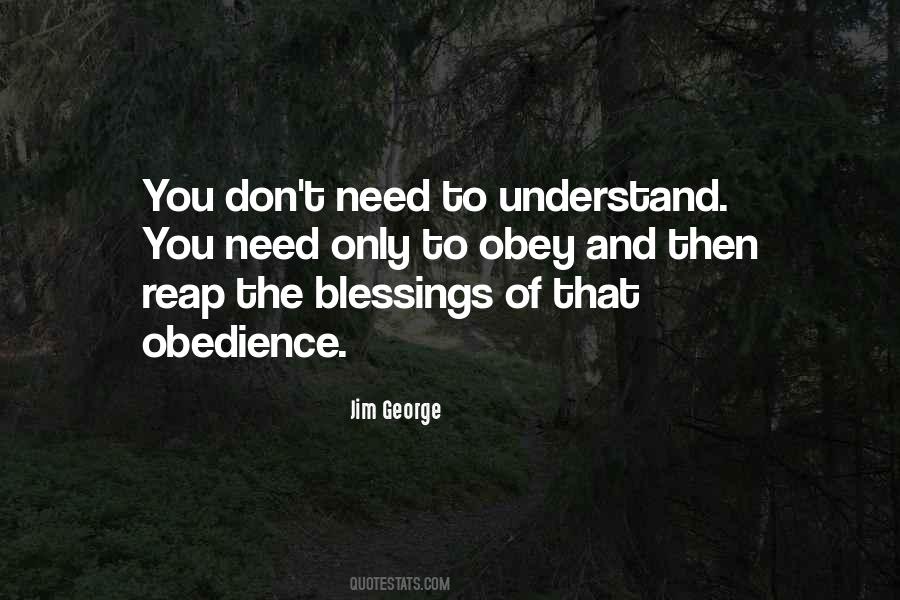 #7. Today we thank God for all the blessings He has bestowed upon this great Country and ask Him to continue to heal our land and meet our needs - and we do so through the power of prayer. - Author: Nick Rahall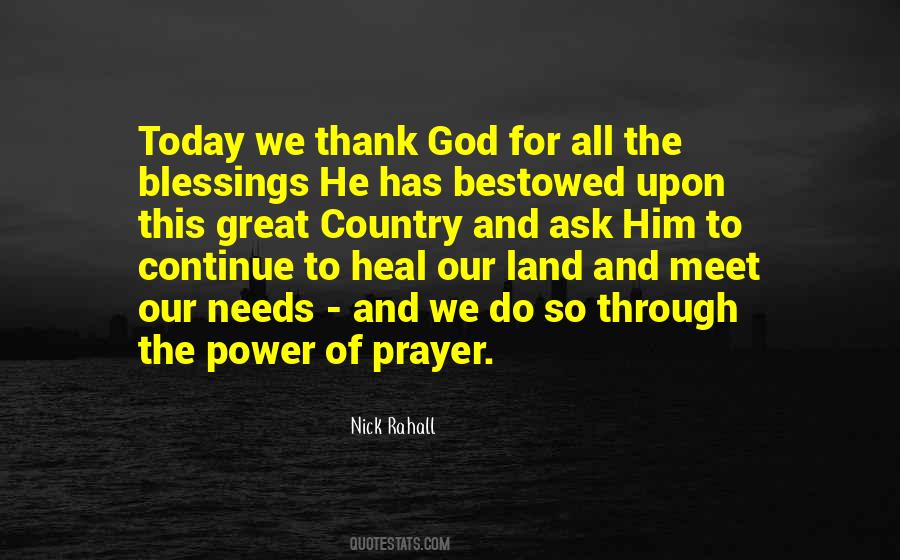 #8. This is the secret of how the Jewish people have created a hedge against chaos in their partnership with God. Sharing creates room in your life for more blessings to come in. Giving creates an endless circuit. You earn, you give, and then you earn more. - Author: Celso Cukierkorn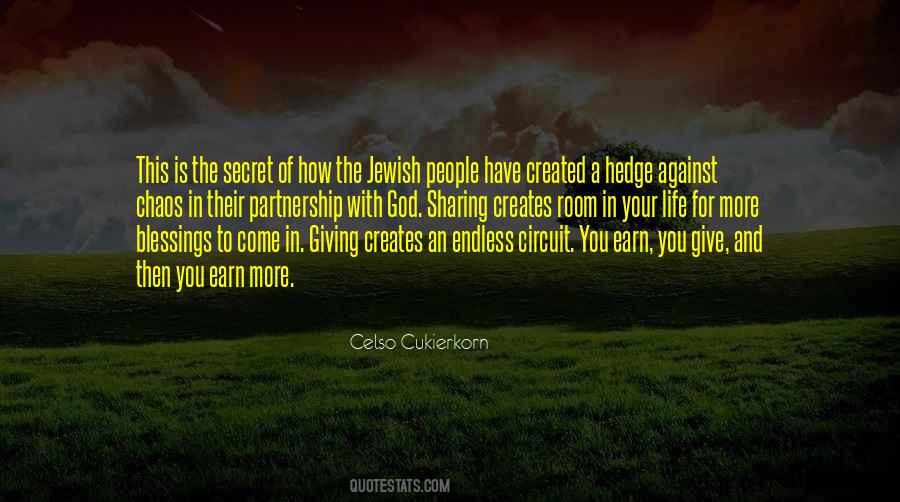 #9. Should we not have respect enough to God to make a record of those blessings which He pours out upon us and our official acts which we do in His name upon the face of the earth? I think we should. - Author: Wilford Woodruff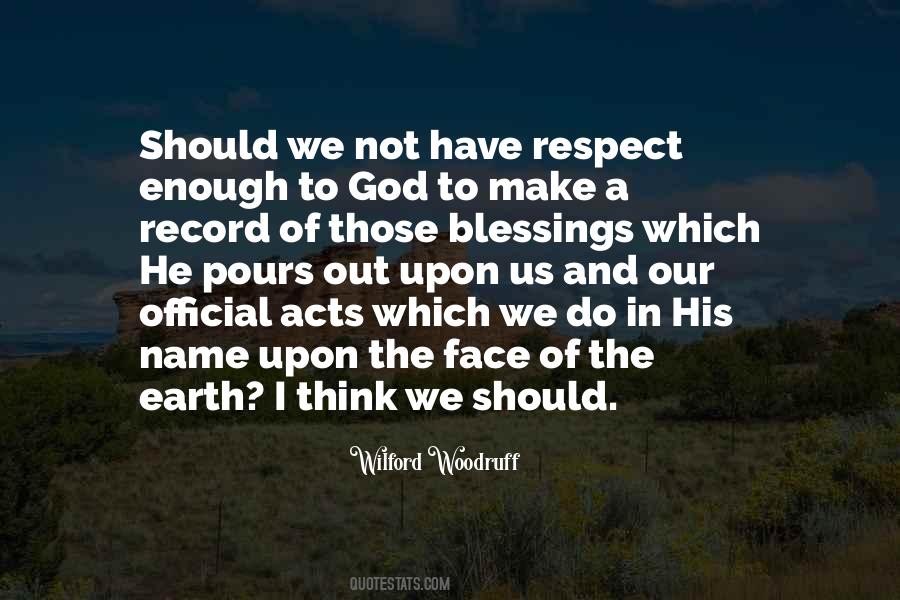 #10. How apostles are received is a key measuring stick as to how the Lord will release blessings or judgements on a territory. Apostles also have authority over the demonic rulers of a region. They have the ability to demonstrate supernatural power that draws a whole region to our life-giving God - Author: Chuck Pierce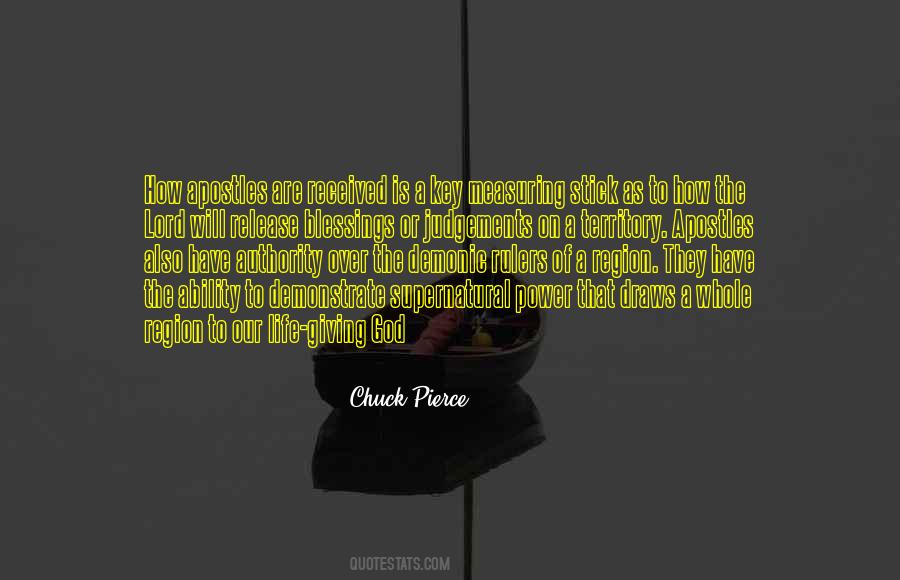 #11. May God's richest blessings be upon you both today and throughout the year and may those blessings flow through you to touch the lives of everyone you meet. - Author: Gary Smalley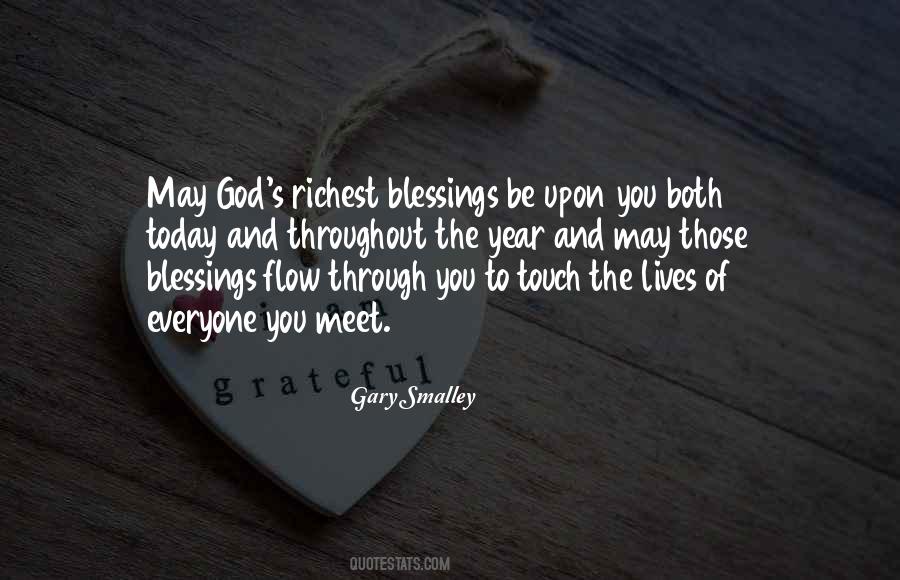 #12. When our children obey the Lord and go to the temple to receive their blessings and enter into the marriage covenant, they enter into the same order of the priesthood that God instituted in the very beginning with father Adam. - Author: Ezra Taft Benson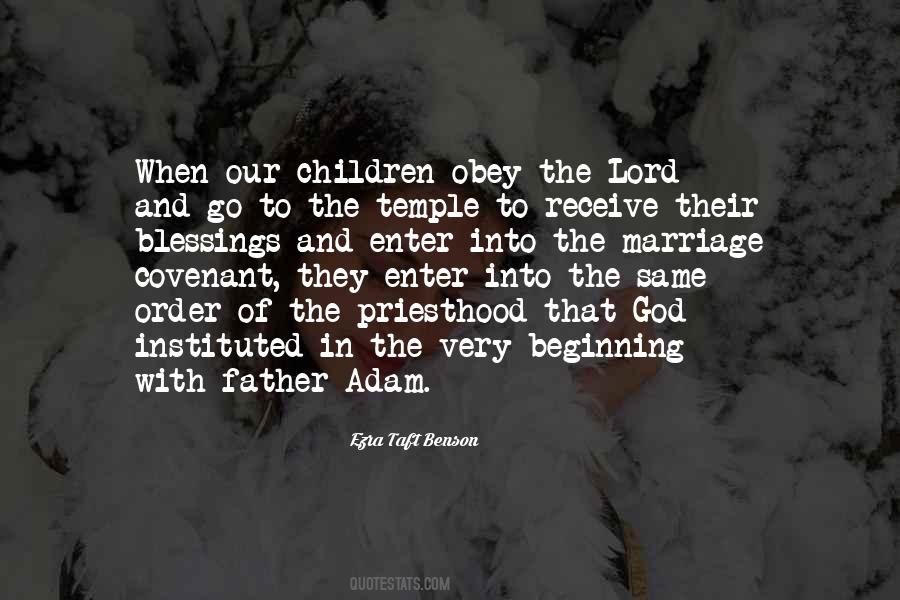 #13. We each were endowed at birth with a unique gift, something we were born to do or become that no one else can achieve the way we can. God's purpose is that we bear abundant fruit and release the blessings of our gift and potential to the world. - Author: Myles Munroe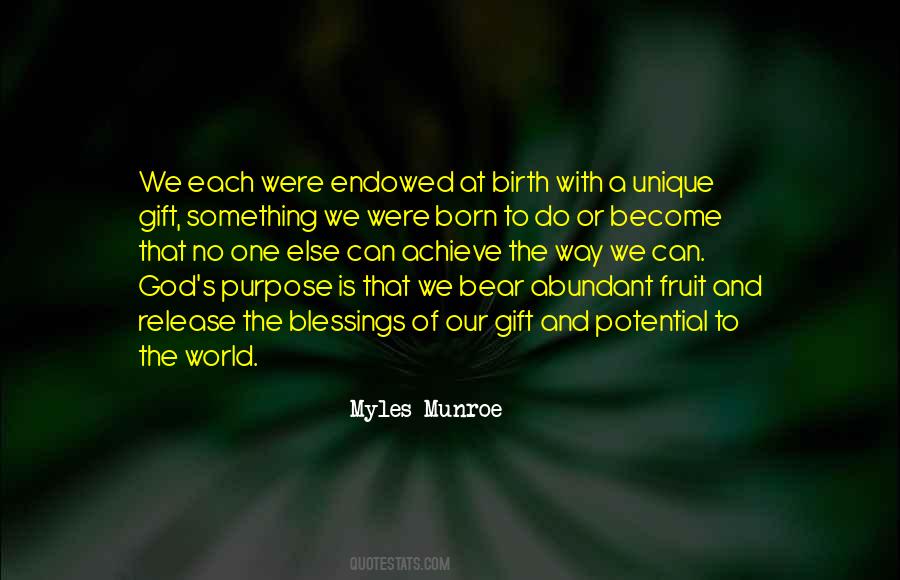 #14. You have to do something first and let God bless - Author: Sunday Adelaja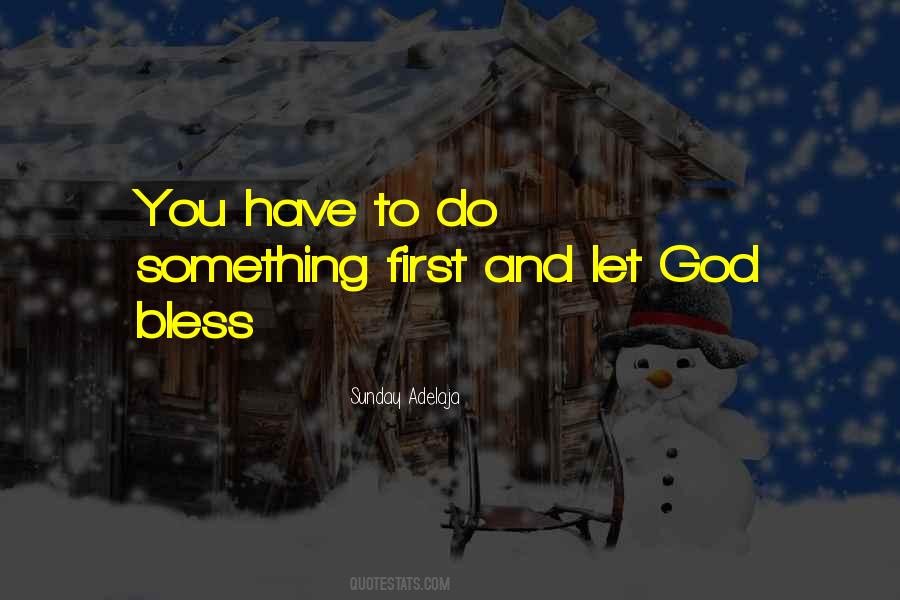 #15. Confidently receive God's abundant blessings. Think abundance, prosperity, and the best of everything. - Author: Norman Vincent Peale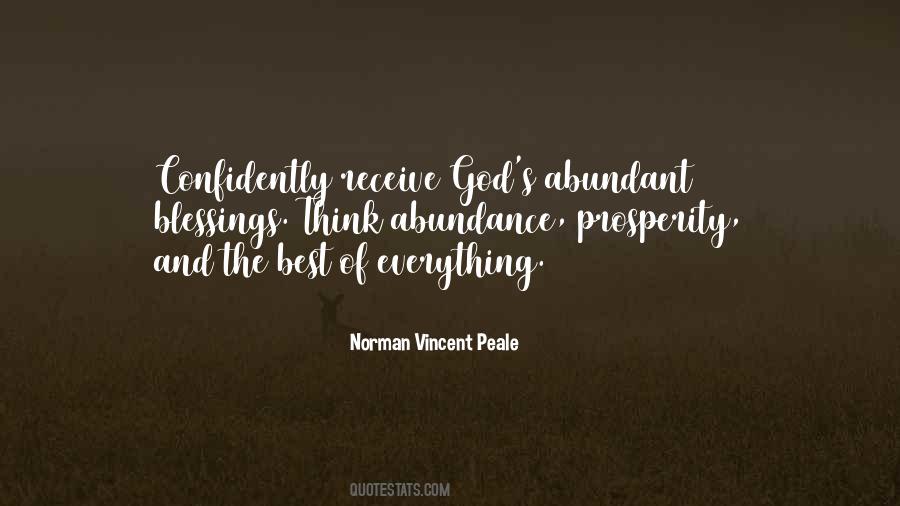 #16. I do believe that children are all blessings from god. And I feel it's all positive, it's positive experience. You know, I don't like to dwell on any of the negative. And - a lot of people do. - Author: Nadya Suleman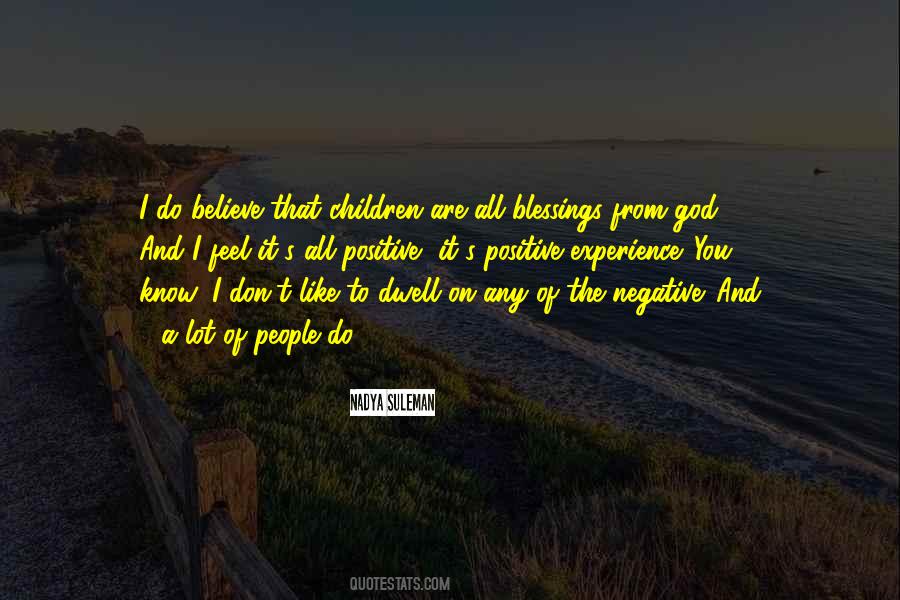 #17. Your work is a very sacred matter. God delights in it, and through it, He wants to best His blessings on you. This praise of work should be inscribed on all tools, on the forehead and the faces that sweat from toiling. - Author: Martin Luther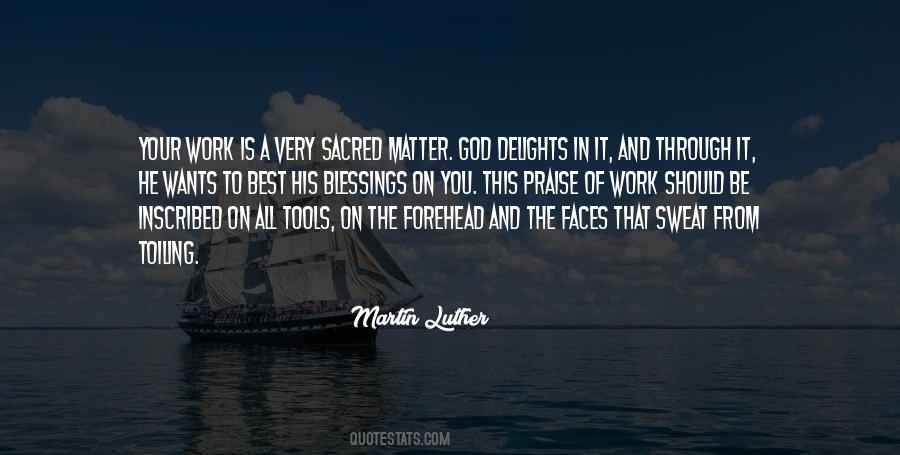 #18. The liberty enjoyed by the people of these states of worshiping Almighty God agreebly to their conscience, is not only among the choicest of their blessings, but also of their rights. - Author: George Washington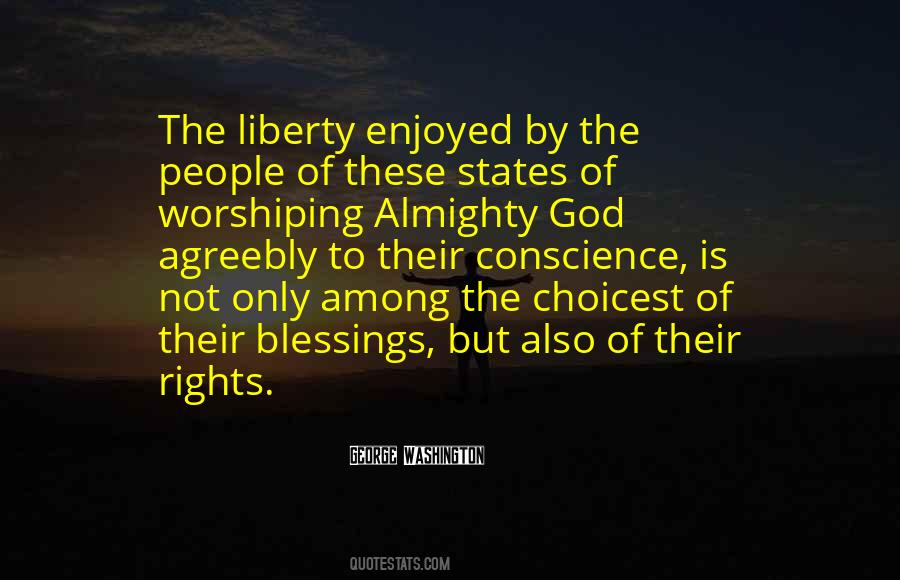 #19. A search of one's life and soul will reveal the hand of God. The outpouring of his blessings come with our afflictions, not in spite of them. Afflictions be praised! - Author: Elaine A. Cannon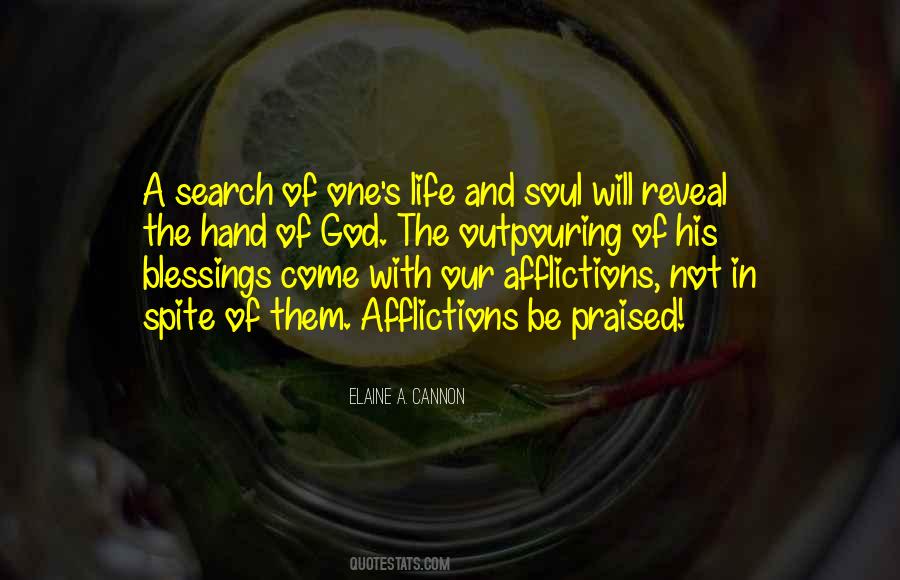 #20. Freedom prospers only where the blessings of God are avidly sought, and humbly accepted. - Author: Ronald Reagan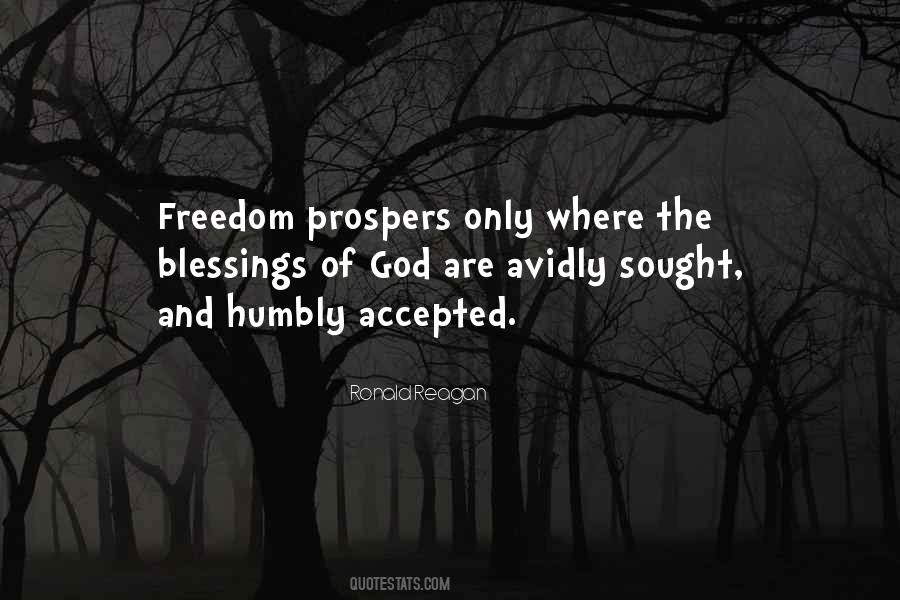 #21. It never ceases to amaze me when God wants to take someone to the next level in their life and they let fear of the unknown rob them of tremendous blessings. I think there are two common problems with Christians- They are scared to death of being truly free and of God's overwhelming love. - Author: R. Alan Woods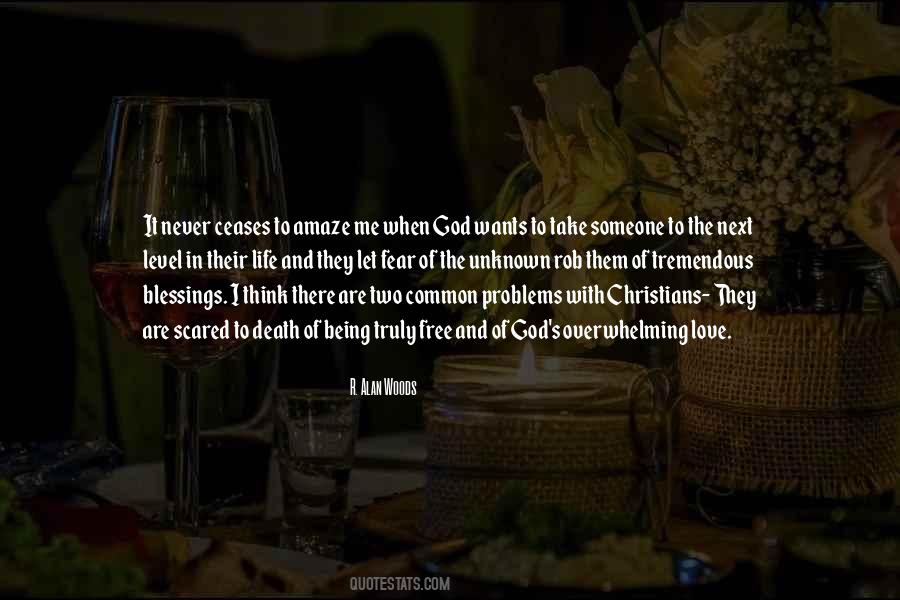 #22. God would have us cherish even the smallest of blessings, for in taking a blessing for granted we are well on our way to taking it to its grave. - Author: Craig D. Lounsbrough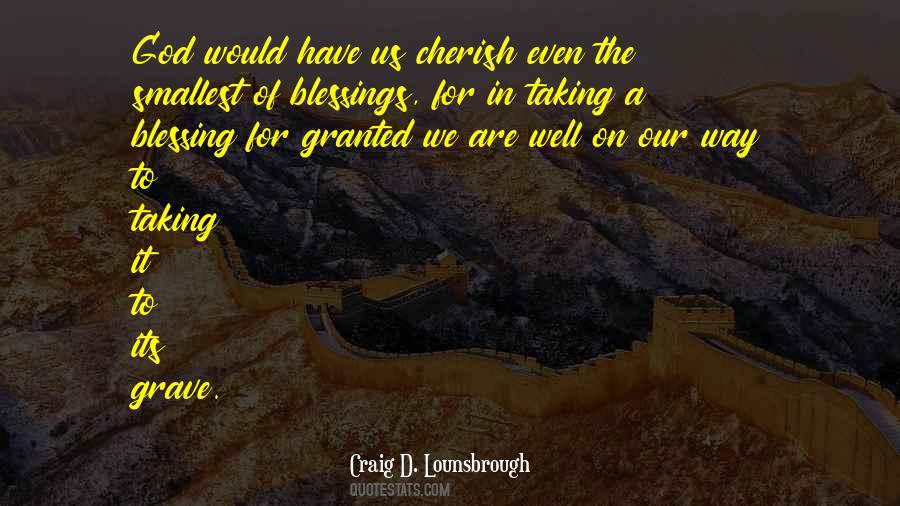 #23. The speaker says one of the blessings of the family of God is that the enthusiasm of children influences their elders while experience seasons the younger members. - Author: Matt Chandler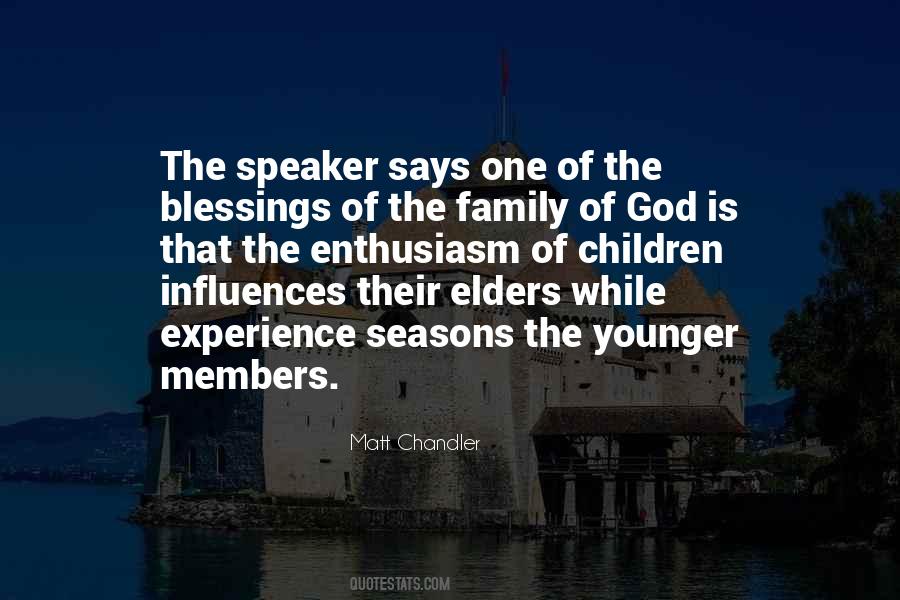 #24. I want them [female fans] to not be afraid to live life, to not be afraid to make bad decisions because there are a lot of lessons and blessings in those decisions. Sometimes, if you don't fall into the pit, you won't reach out to God. - Author: Karrine Steffans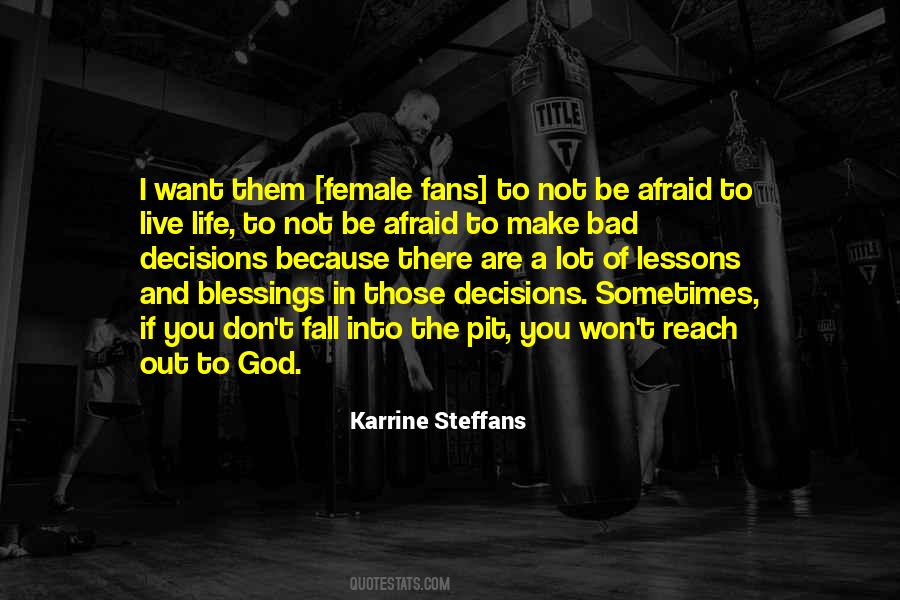 #25. I hope we can be happy where we are, be grateful for our blessings-now-here, accept the challenge that is ours and make the most of it, and don't be envious of others. God help us to be grateful. - Author: Ezra Taft Benson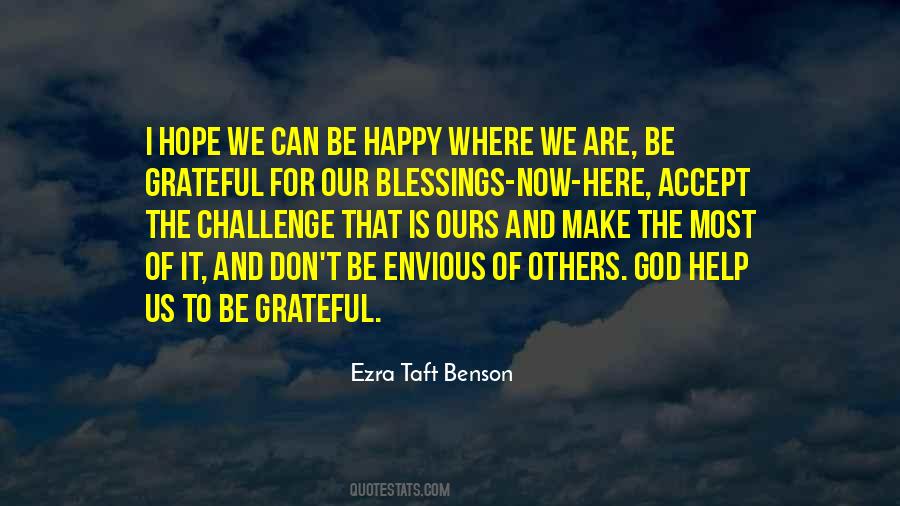 #26. Mercy is compassion, kindness, empathy, forgiveness. While grace might be described as blessings and favor from God that we do not necessarily deserve, mercy represents not receiving what we do deserve because of the patience, love, and atonement of the Master. - Author: Brent L. Top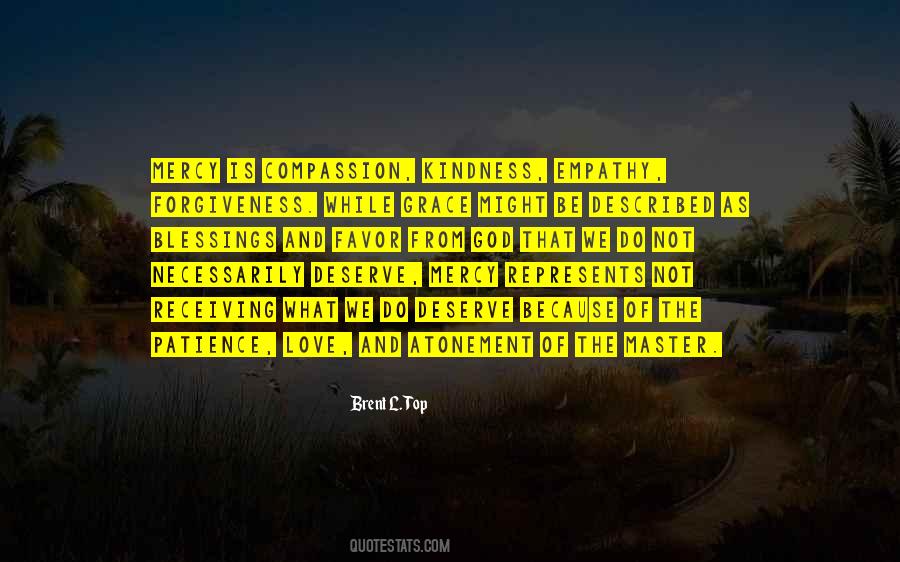 #27. The object of our prayers should not be to present a wish list or a series of requests but to secure for ourselves and for others blessings that God is eager to bestow, according to His will and timing. - Author: David A. Bednar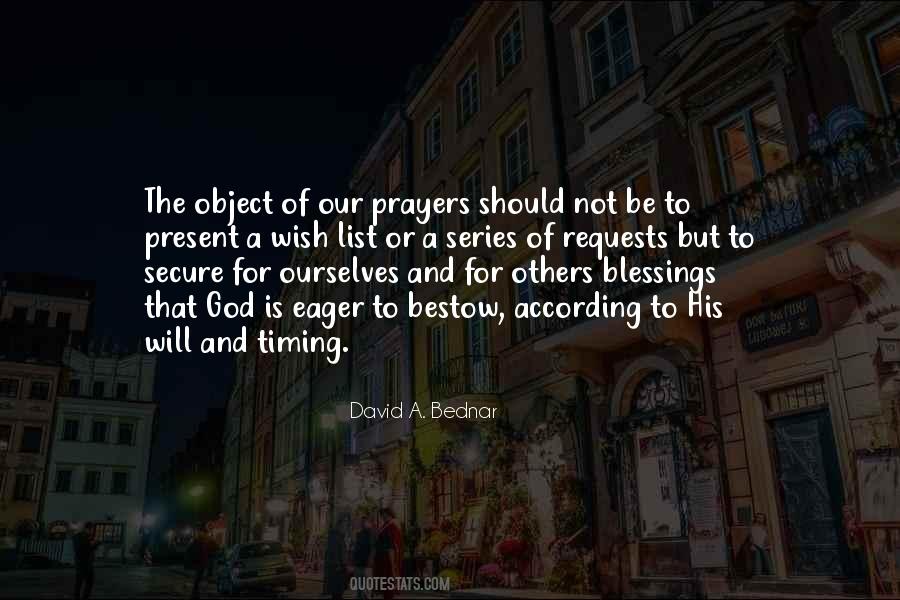 #28. Thanksgiving is a time for families and friends to gather together and express gratitude for all that we have been given, the freedoms we enjoy, and the loved ones who enrich our lives. We recognize that all of these blessings, and life itself, come not from the hand of man but from Almighty God. - Author: George W. Bush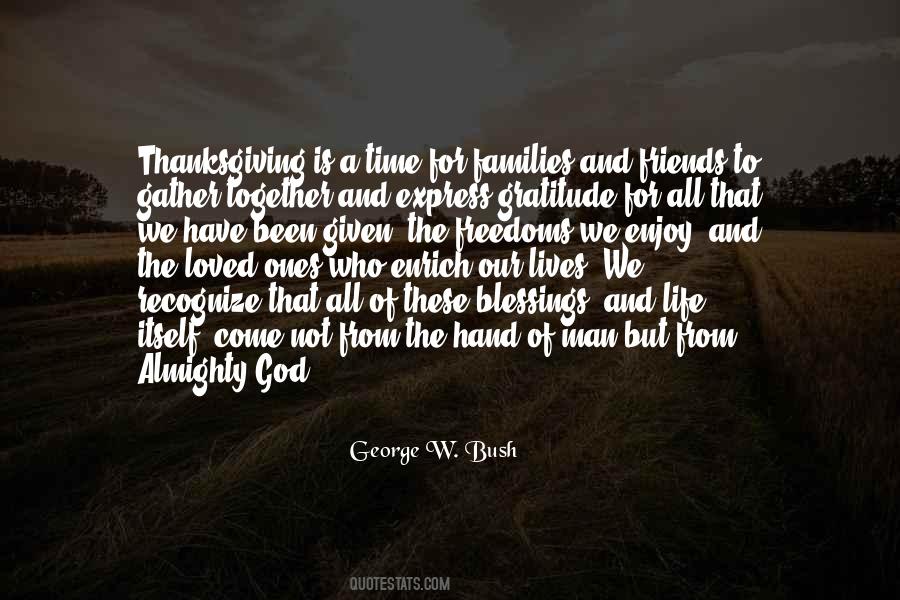 #29. God, I thank you for my family. I thank you that my parents life for me. I pray for your blessings and that your promises will manifest and bring harvest to my bloodline today. I pray that your love will surround my family members for the rest of their days. Amen. - Author: M. Johnson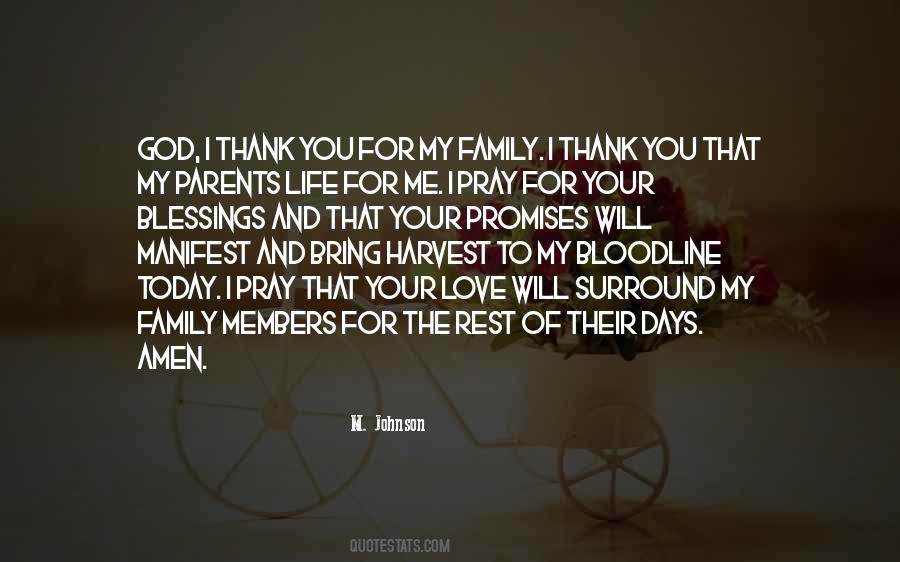 #30. Through the lens of spirituality, we see all the commandments of God as invitations to blessings. - Author: Dallin H. Oaks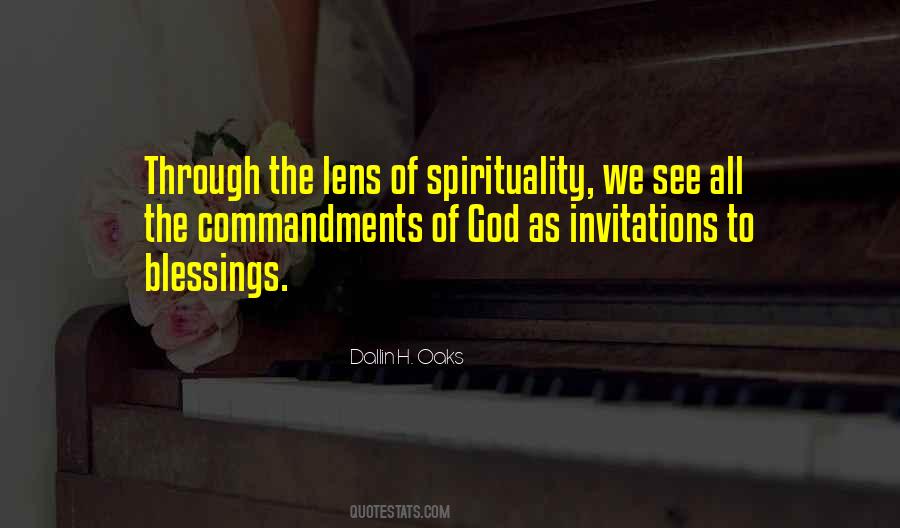 #31. The best standard of living will be attained when your house will be filled with God's blessings. - Author: Moazzam Shaikh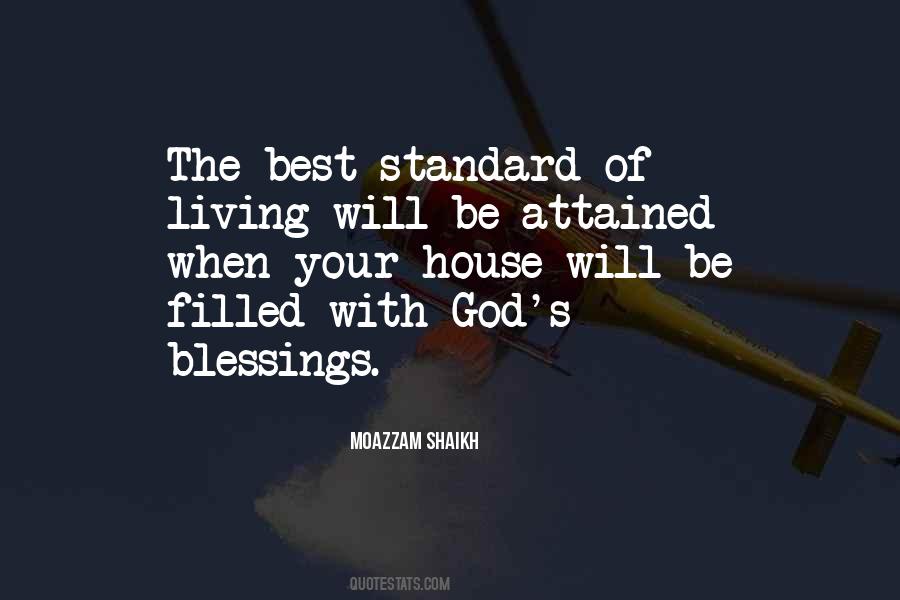 #32. Effective prayer is the fruit of a relationship with God, not a technique for acquiring blessings. - Author: D. A. Carson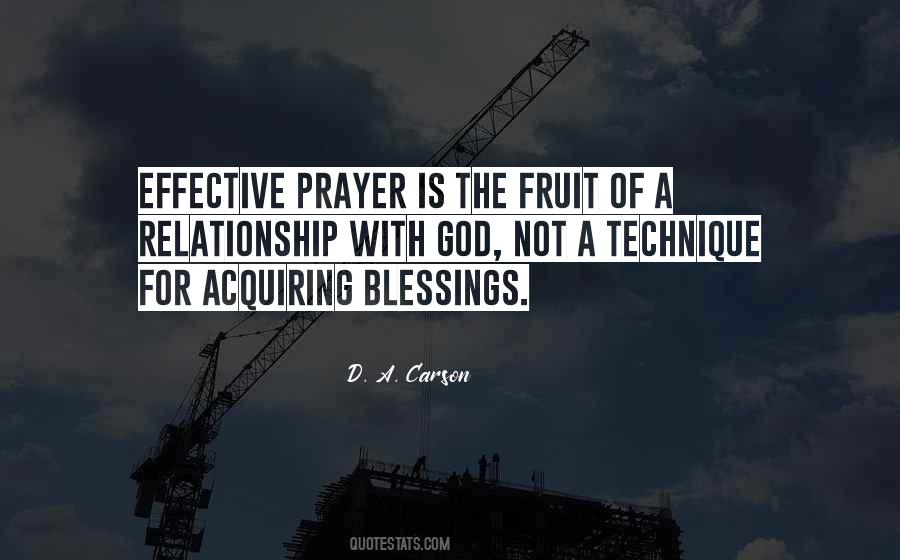 #33. God's timing is such that I did not fully realize the impact of His blessings until many years later when the full cause and effect of His promise on my life was fulfilled. - Author: Adam Gellert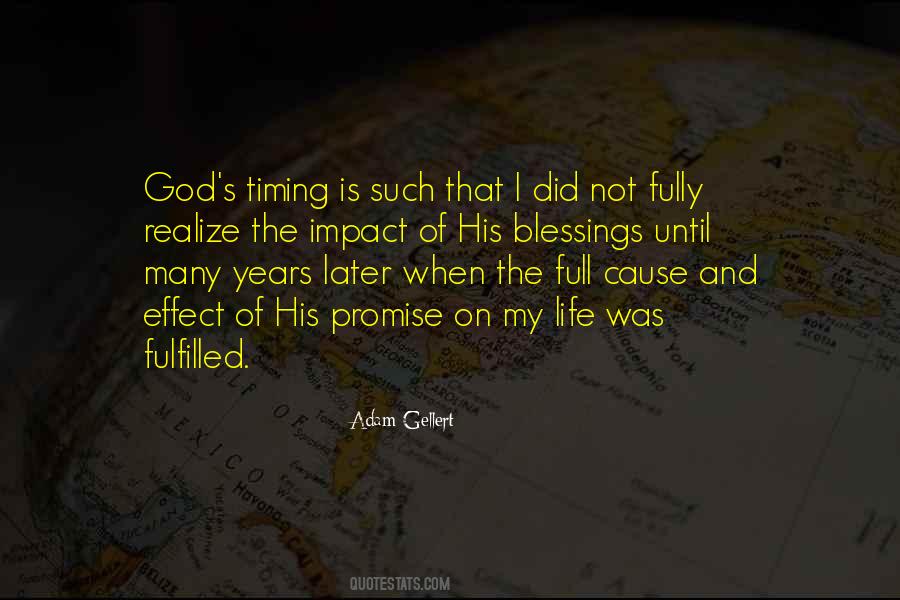 #34. The blessings of the Lord is my greatest wealth. - Author: Lailah Gifty Akita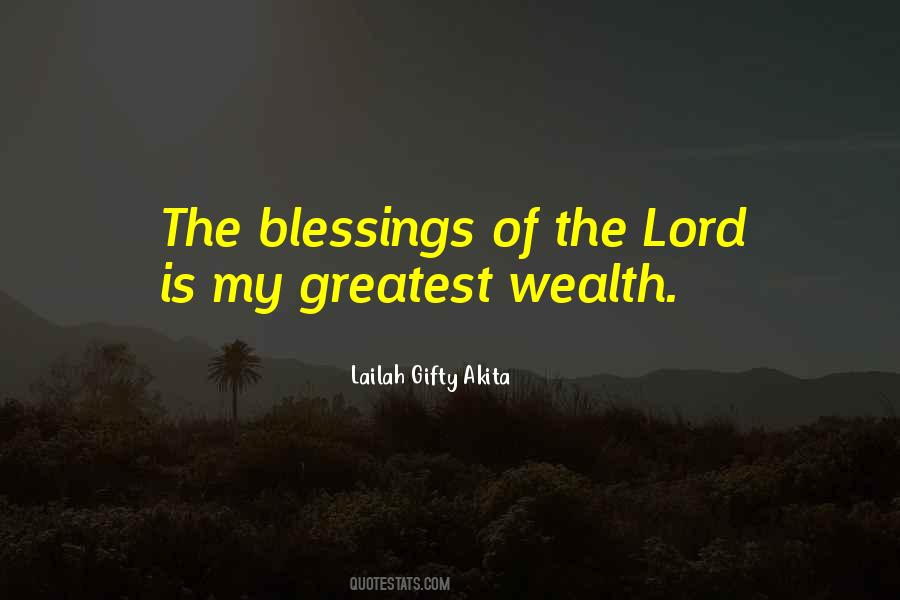 #35. Sin is the willful transgression of divine law. The Atonement of Jesus Christ is the gift of God to His children to correct and overcome the consequences of sin. The gift of the Atonement of Jesus Christ provides us at all times and at all places with the blessings of repentance and forgiveness. - Author: Dieter F. Uchtdorf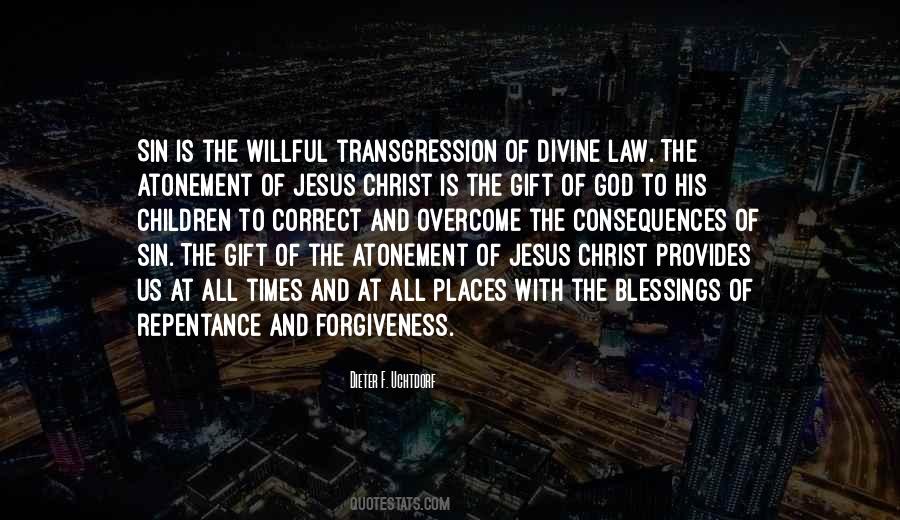 #36. God is able to transform the hostile intentions of wicked people into blessings for His people. - Author: Max Anders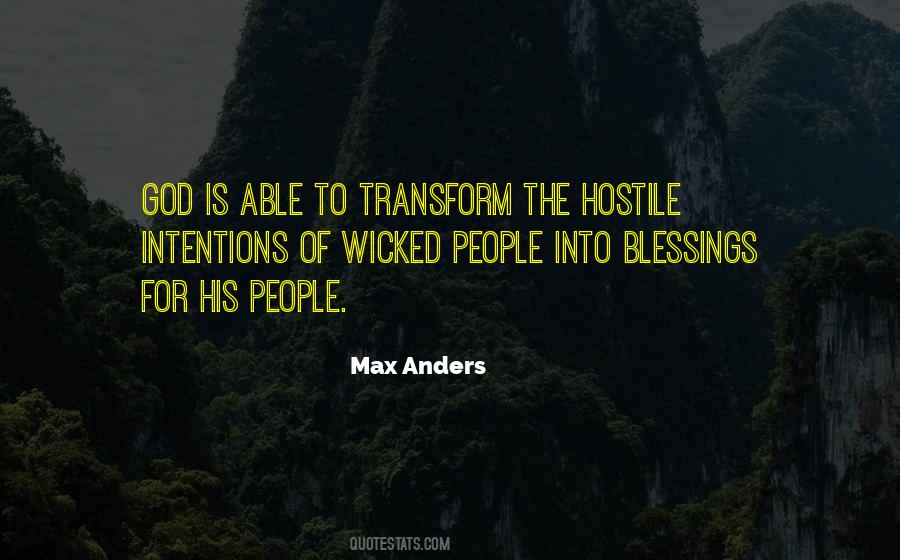 #37. Would it not be well if the people of God had always tell-tale faces, evincing the blessings and gladness of salvation so clearly that unconverted people might have to call conversion "becoming joyful" instead of "becoming serious"? - Author: Hudson Taylor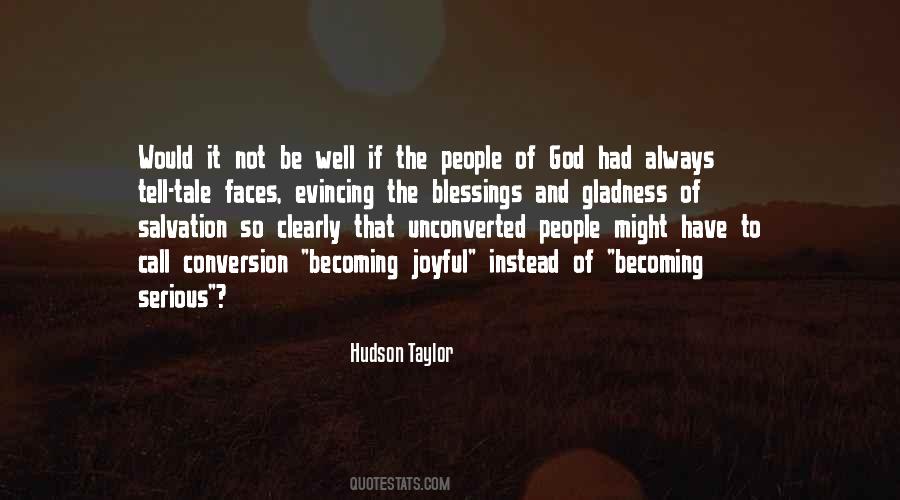 #38. My brothers and sisters, do we remember to give thanks for the blessings we receive? Sincerely giving thanks not only helps us recognize our blessings, but it also unlocks the doors of heaven and helps us feel God's love. - Author: Thomas S. Monson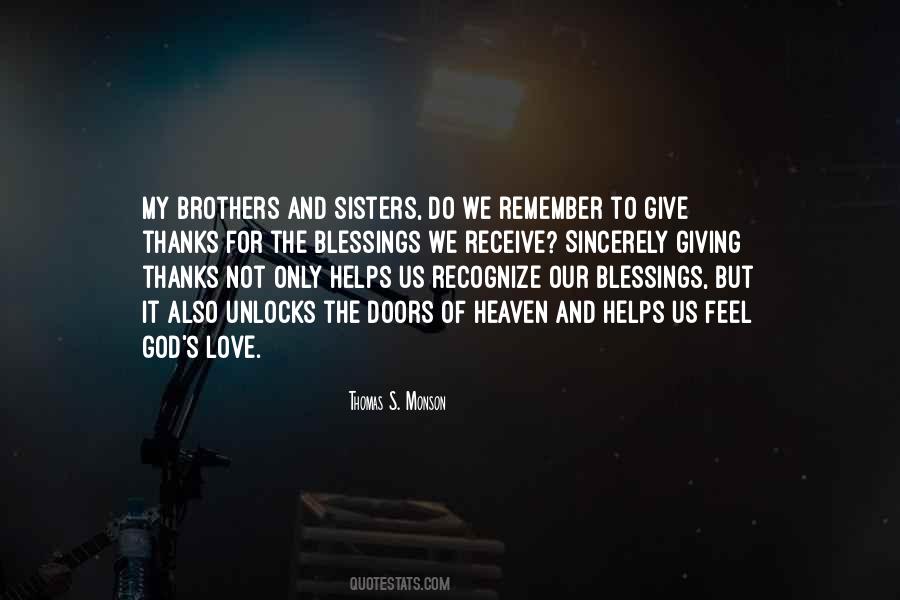 #39. Pray that God is the most important thing in your life, so much so that hurting him wold hurt you. When that happens, and your choices line up with his, it produces an amazing ripple effect of blessings
in your life, that of your family, and for the man you eventually marry. - Author: Julie Lessman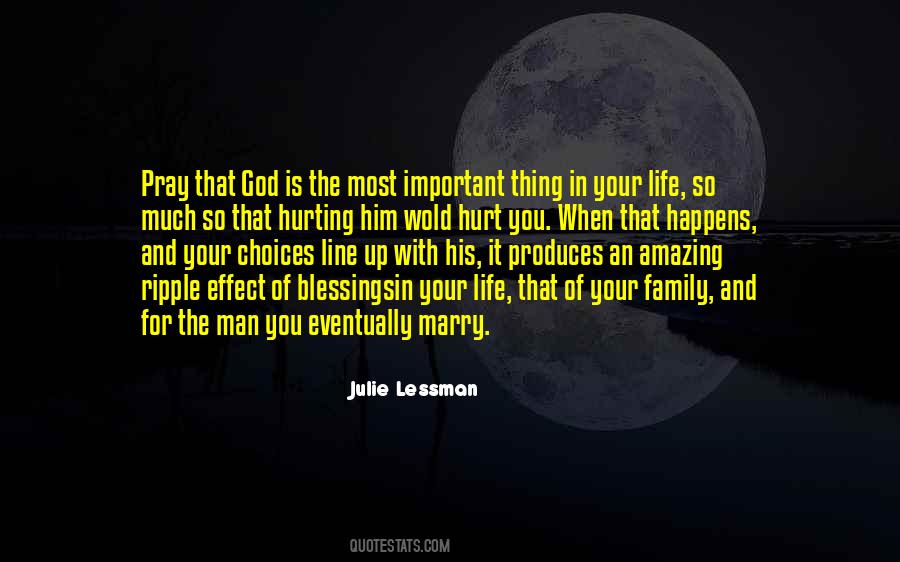 #40. America indeed has become a progressive nation, if we understand "progressive" to mean progressing away from God, his incomparable blessings, and the moral foundation that made America great, and advancing toward a mythical utopia where mankind is in control of mankind (think "Lord of the Flies"). - Author: Ron Brackin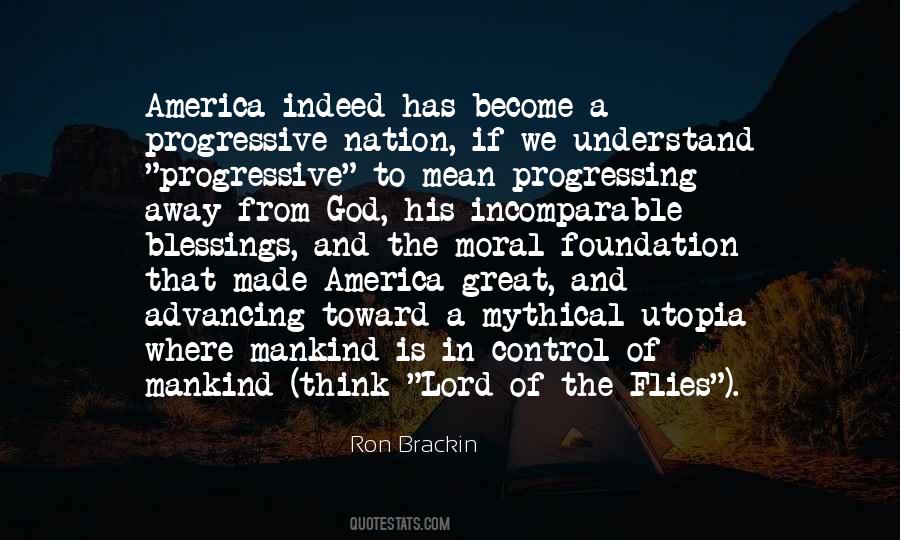 #41. The more we express our gratitude to God for our blessings, the more he will bring to our mind other blessings. The more we are aware of to be grateful for, the happier we become. - Author: Ezra Taft Benson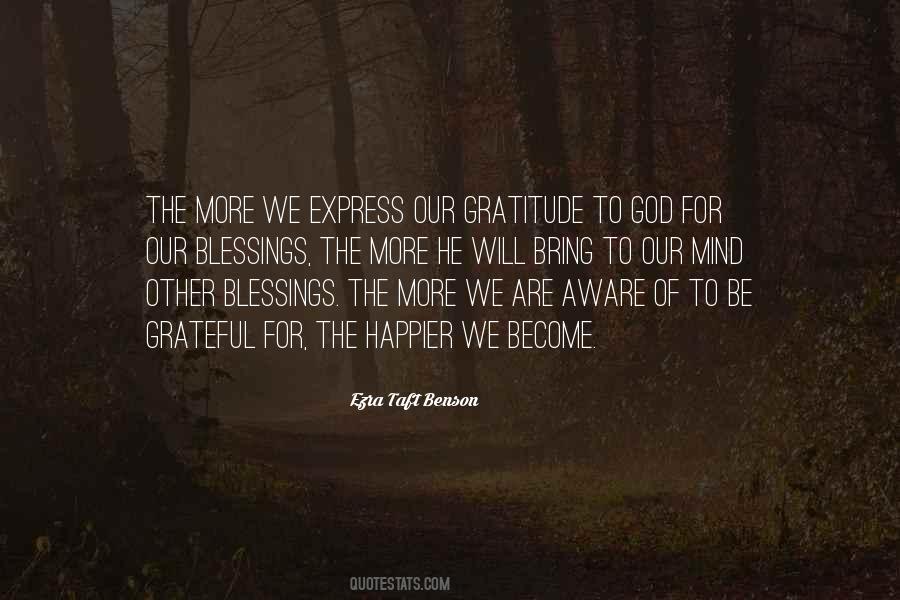 #42. It is attachment to creatures and to self-satisfaction that weakens the blessings of love in your heart. You must die to all that, if you wish the pure love of God to reign therein. - Author: Margaret Mary Alacoque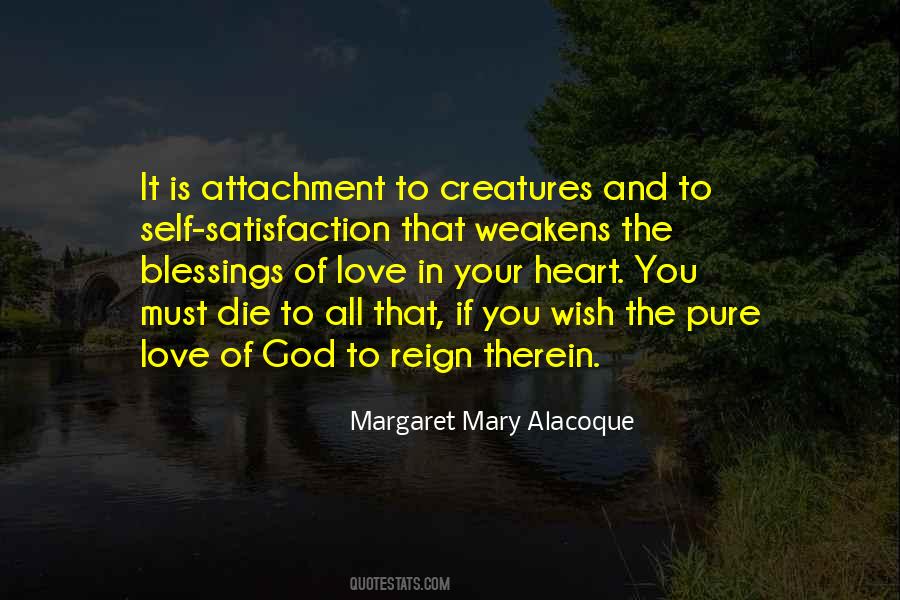 #43. We need to learn and remind ourselves every day that God's favor - His blessings and answers to prayer - comes to us not on the basis of our works, but on the basis of the infinite merit of Jesus Christ. - Jerry Bridges, The Gospel for Everyday Life - Author: Matt Perman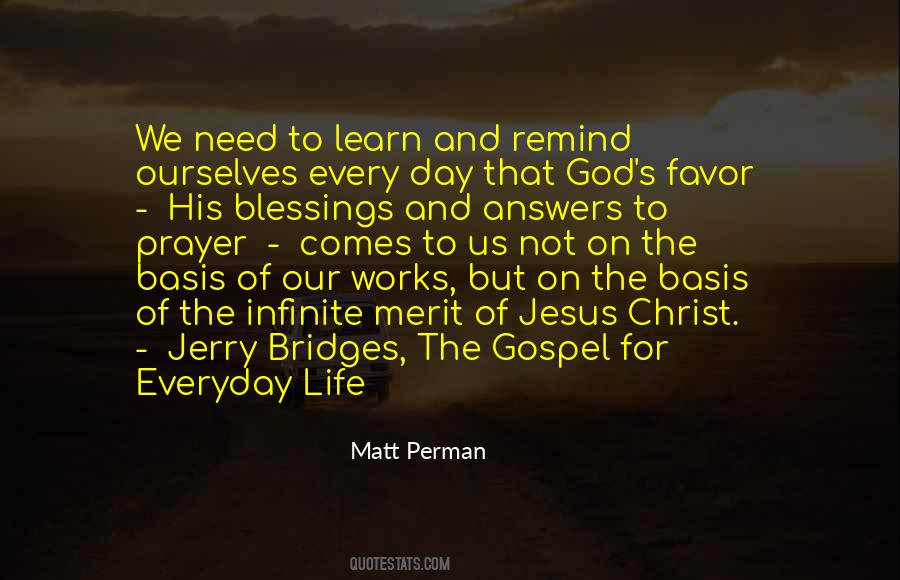 #44. You have seeds of greatness in you! I believe our lives as Christians should be the most exciting because we have the favor and blessings of God on our side! - Author: Victoria Osteen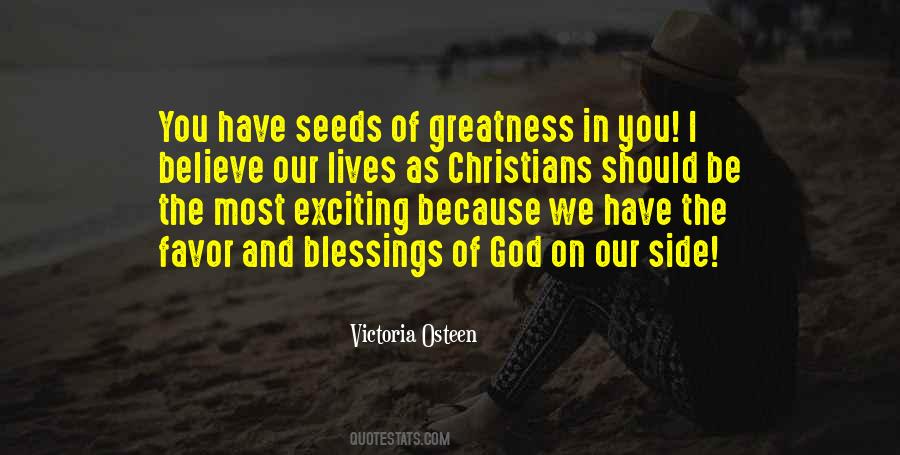 #45. The gift of life is the most valuable wealth. - Author: Lailah Gifty Akita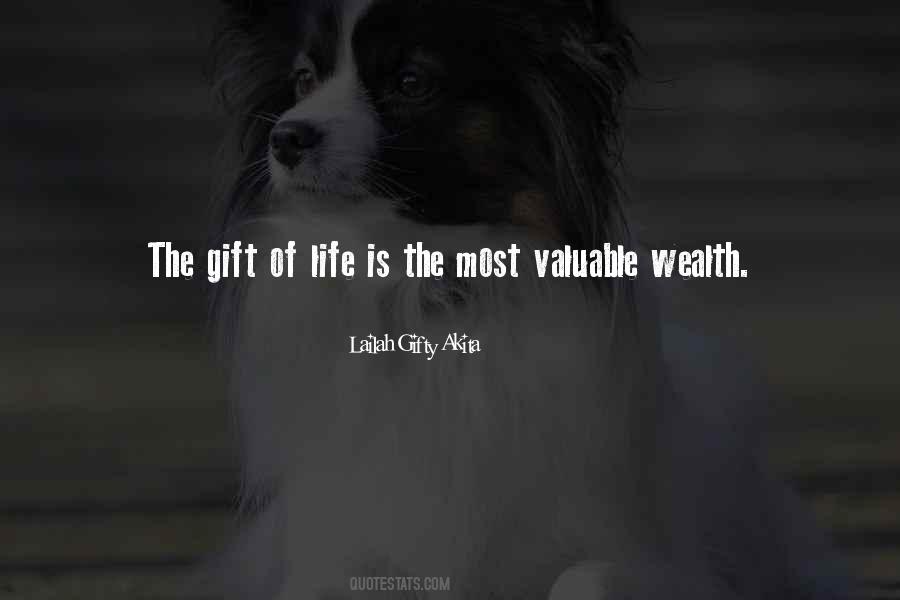 #46. If a person starts neglecting the blessings of God and takes all God has given him as his own, then pride is inevitable - Author: Sunday Adelaja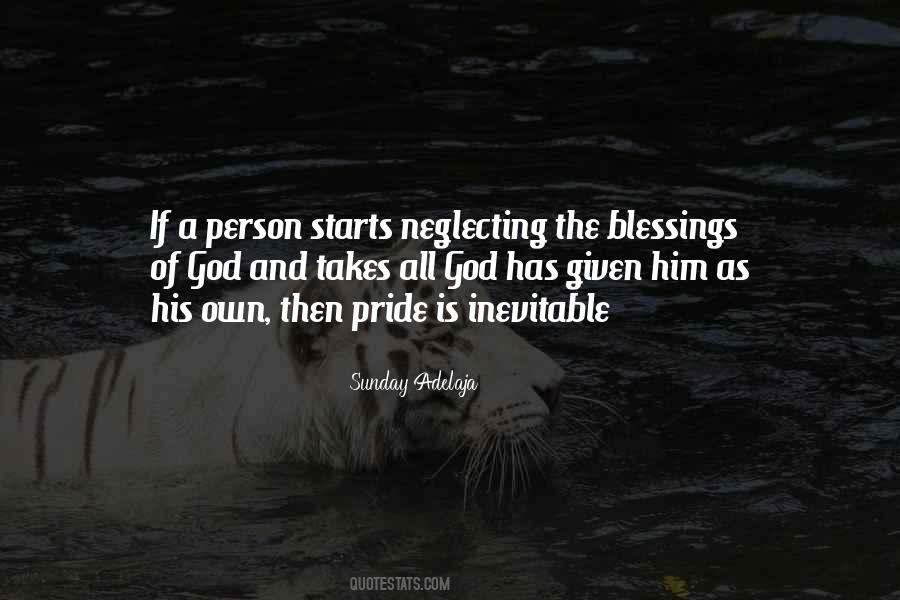 #47. God is very good to those who trust in Him, and often surprises them with unlooked for blessings. Little do we know what may happen to us to-morrow. Chance is banished from the faith of Christians, for they see the hand of God in everything. - Author: Charles Haddon Spurgeon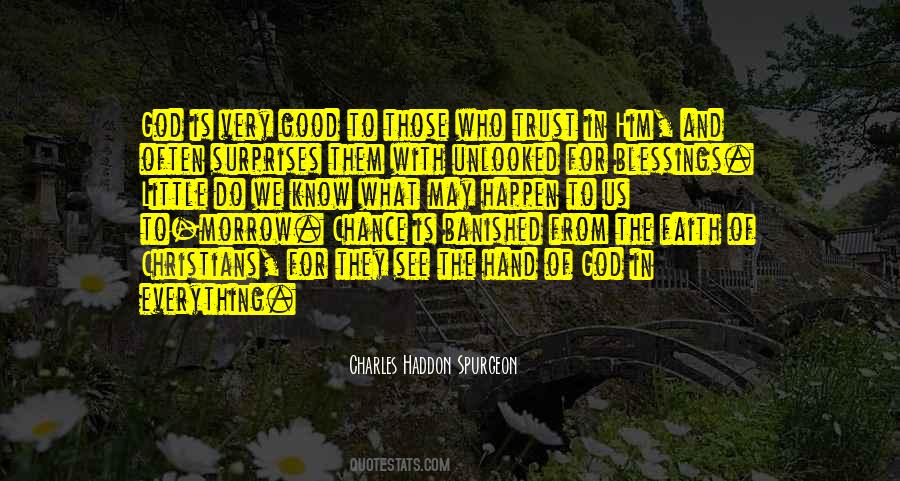 #48. God was in the business of bringing blessings out of unexpected circumstances, but Lucy didn't want this twist to her life. ... but didn't God ask the seemingly impossible at times? - Author: Colleen Coble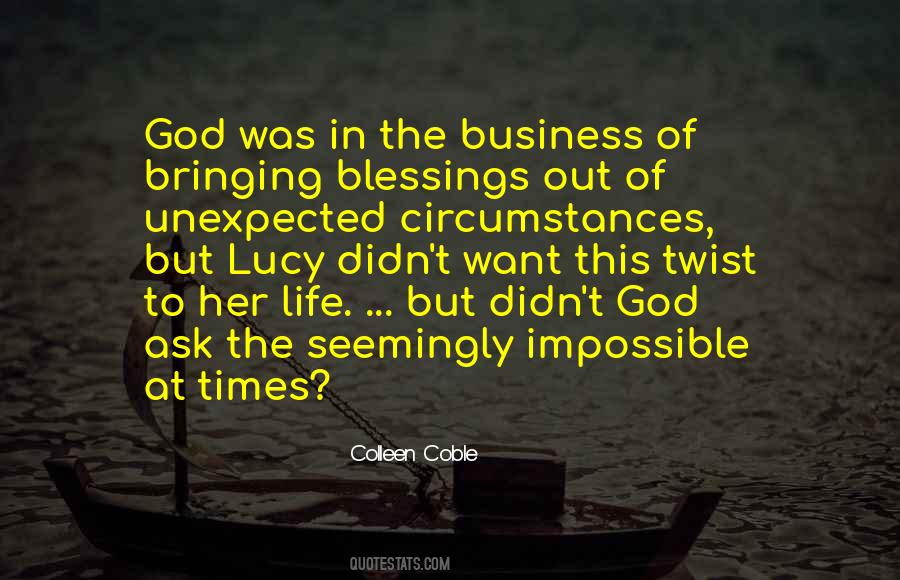 #49. Giving thanks to God for both His temporal and spiritual blessings in our lives is not just a nice thing to do - it is the moral will of God. Failure to give Him the thanks due Him is sin. - Author: Jerry Bridges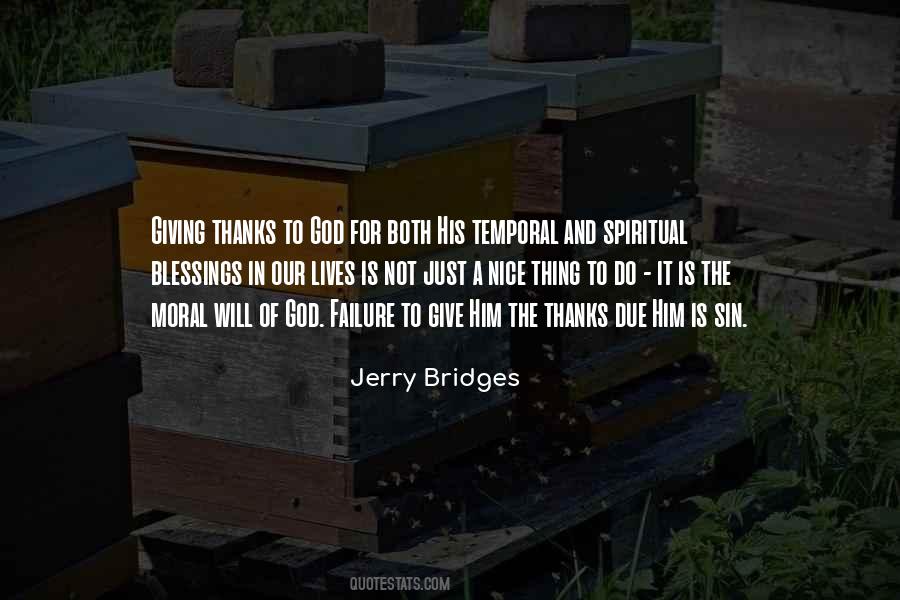 #50. I wake up each and everyday happy because of all of the great things that I have going on in my life and I think about all of the blessings that God has bestowed upon me. - Author: Vernon Davis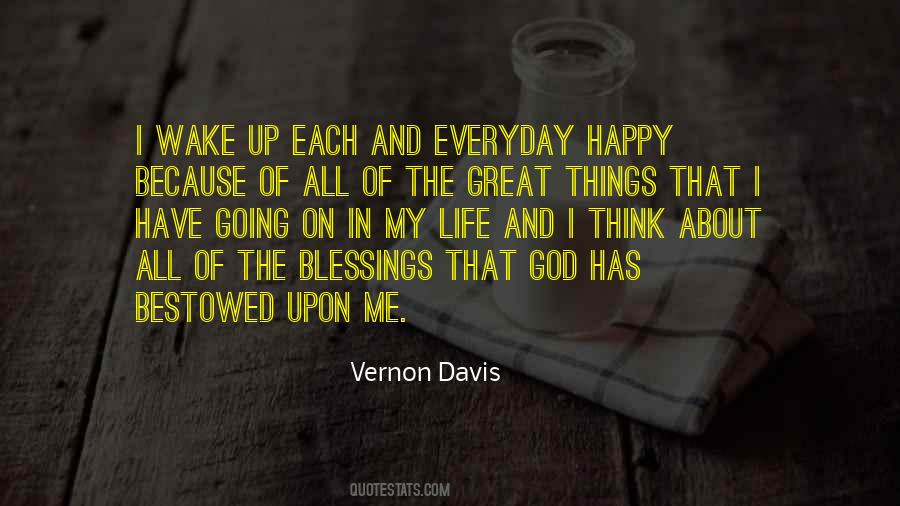 #51. It is one of God's blessings that we cannot foreknow the hour of our death; for a time fixed, even beyond the possibility of living, would trouble us more than doth this uncertainty. - Author: King James I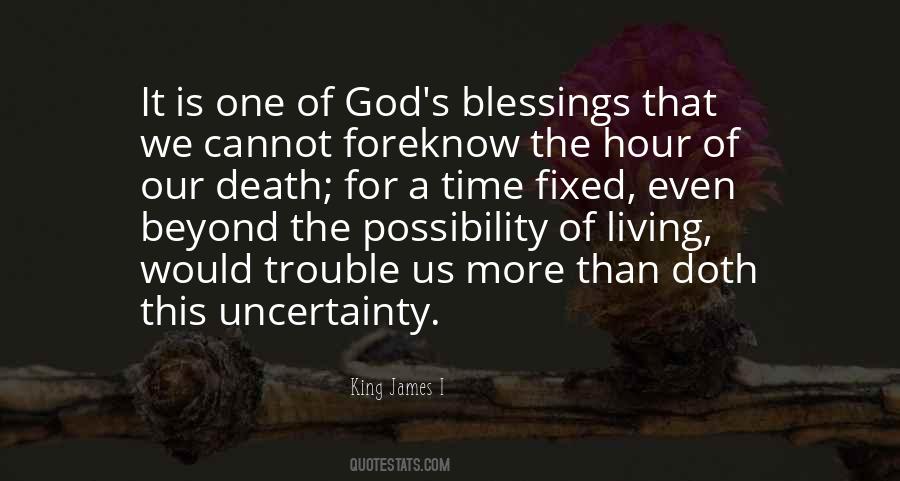 #52. [God] is waiting and anxious to pour out blessings, and glory, and honor, and exaltation upon his people, far more than we have ever received, and far more than we are capable of receiving; and the only reason we have not received it long ago is because there was no place found for it. - Author: Erastus Snow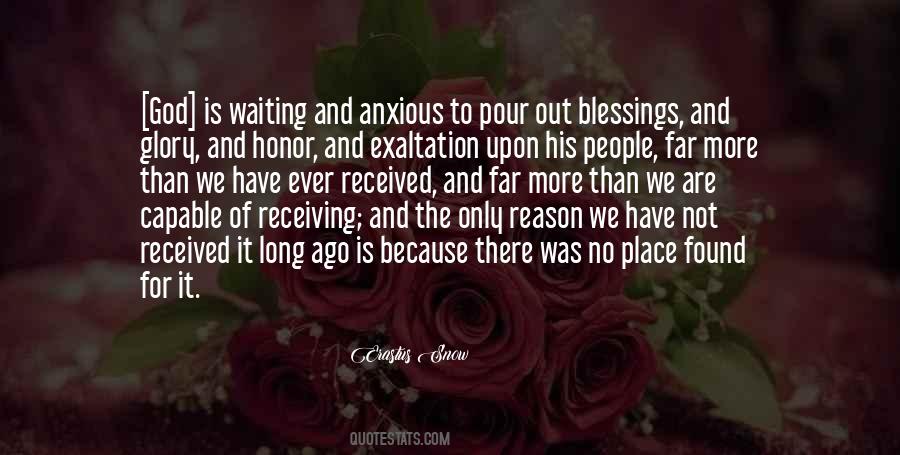 #53. Every time you make a decision to be less than what God wants for you, you're denying yourself some of God's blessings. It's up to you. You can live a life with God's blessings, or just exist with all the consequences of choosing wrong. - Author: Terri Blackstock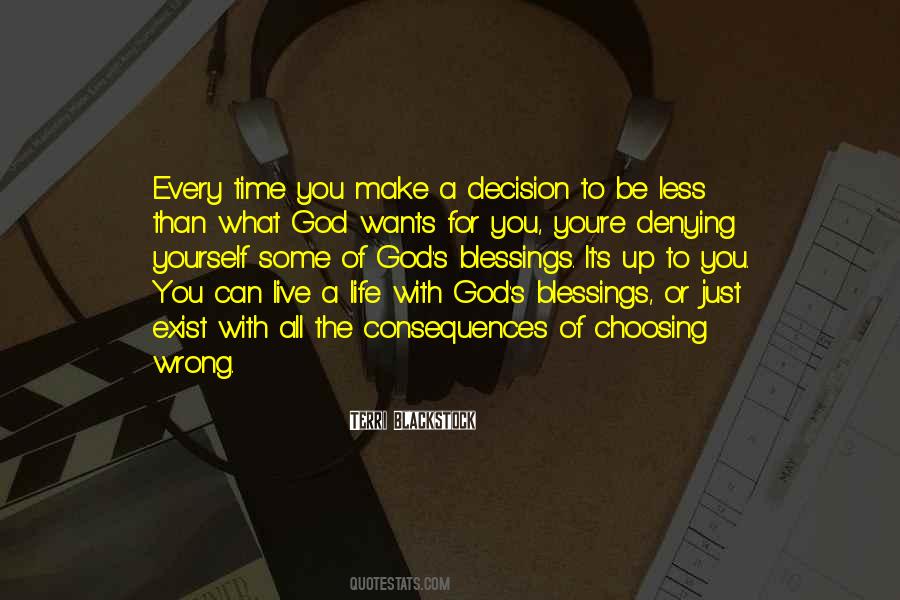 #54. When you lie down on your bed to sleep, remember with thanksgiving the blessings and the providence of God. - Author: Anthony The Great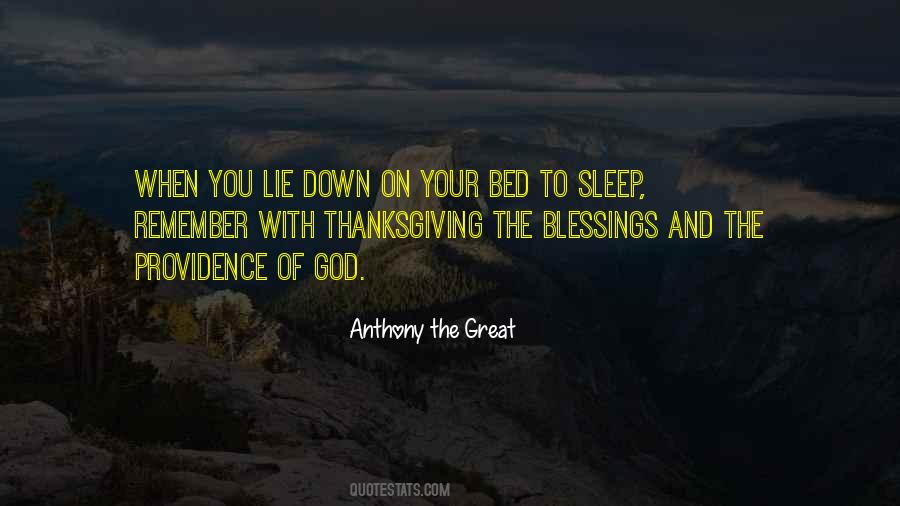 #55. There is no limit to the potential of brethren working together in complete brotherhood and selflessness toward spiritual goals. The power of God working through such channels will bring unimaginable blessings to all concerned. - Author: Joseph B. Wirthlin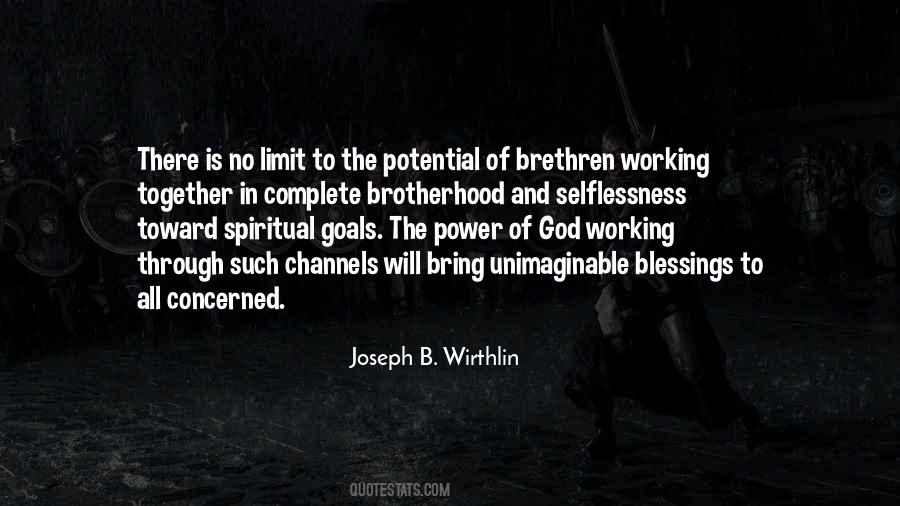 #56. Morning brings refreshing thoughts.
The first thought in the morning, 'Thank God' for the gift of a new day and wonders. - Author: Lailah Gifty Akita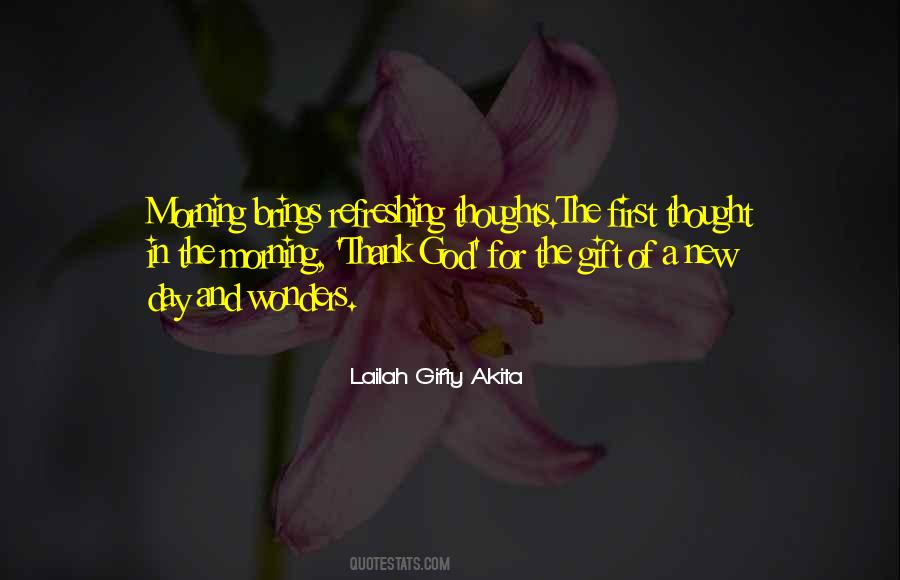 #57. God showers us with a lot of things that we should be grateful for. We do not need to look far and wide. One look at the mirror and a look under our noses, and we already find beautiful blessings that we should be thankful for. - Author: Kcat Yarza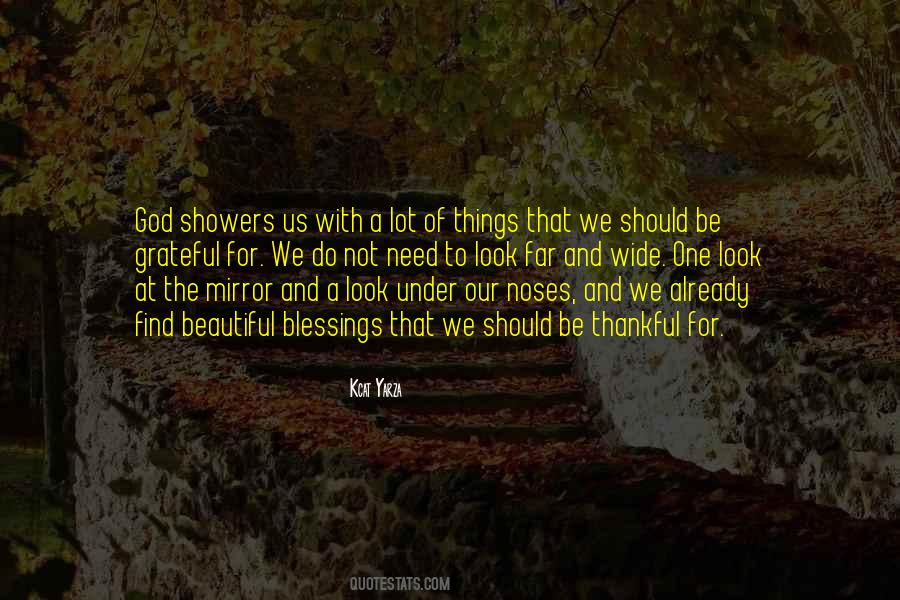 #58. The design of redemption is to exhibit the grace of God in such a manner as to fill all hearts with wonder and all lips with praise. - Author: Elizabeth George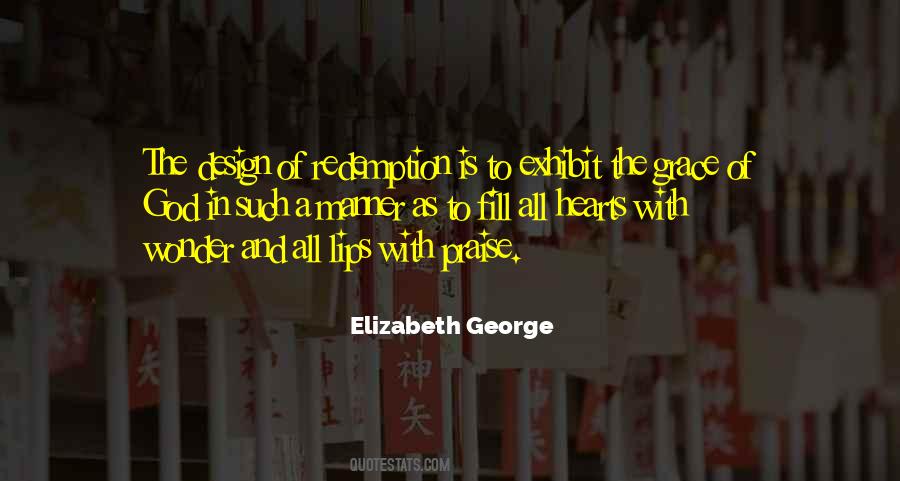 #59. God's blessings are dispensed according to the riches of his grace, not according to the depth of our faith. - Author: Max Lucado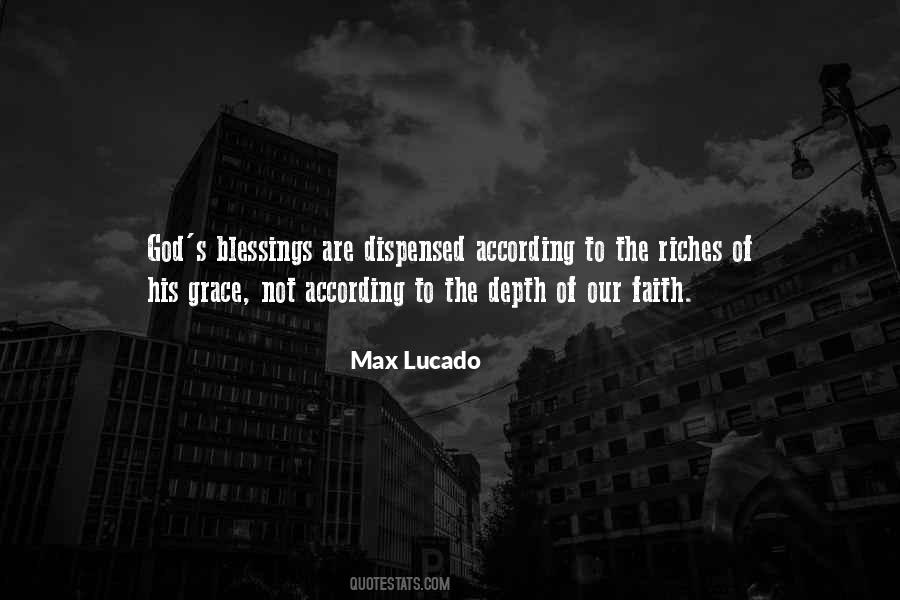 #60. Participation in the blessings of the union with Christ comes when the faithful have all the things needed to live well and blessedly to God. - Author: William Ames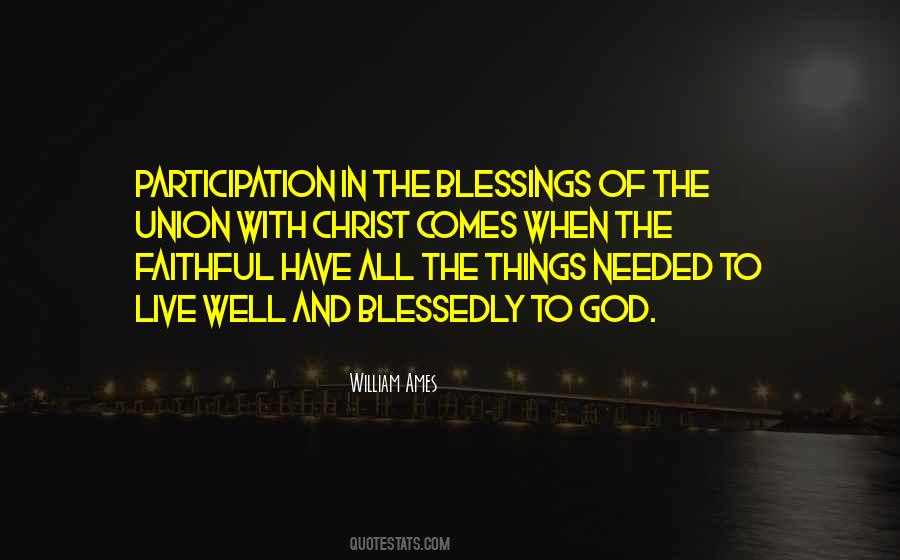 #61. Out of the lavishness displayed in the marvelous variety and richness of creation itself, God continues to pour out his common blessings on all people. Therefore, we neither hoard possessions as if God's gifts were scarce nor deny ourselves pleasures as if God were stingy. - Author: Michael S. Horton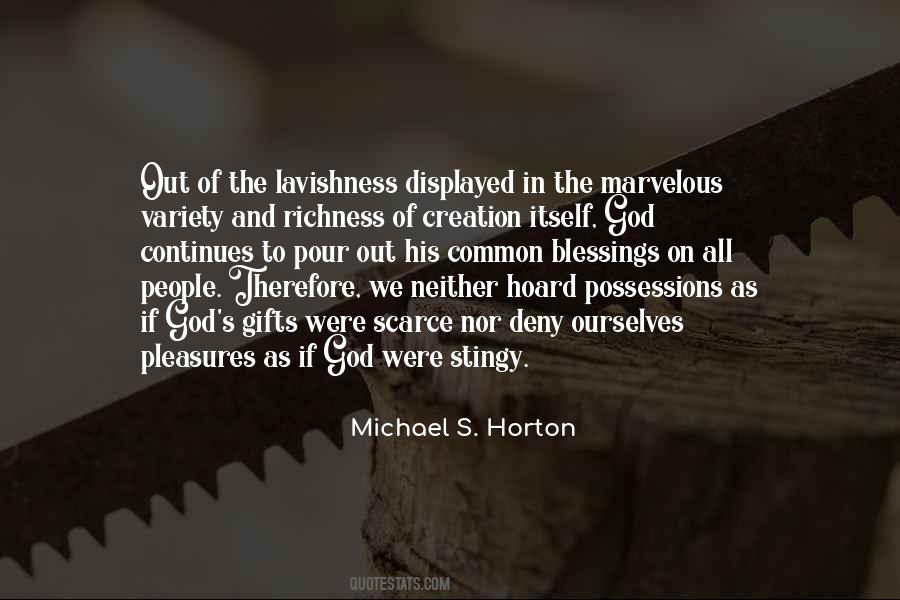 #62. I thought that all of the sacrifices and blessings of the whole history of mankind have devolved upon me. Thank you, God. - Author: Ben Stein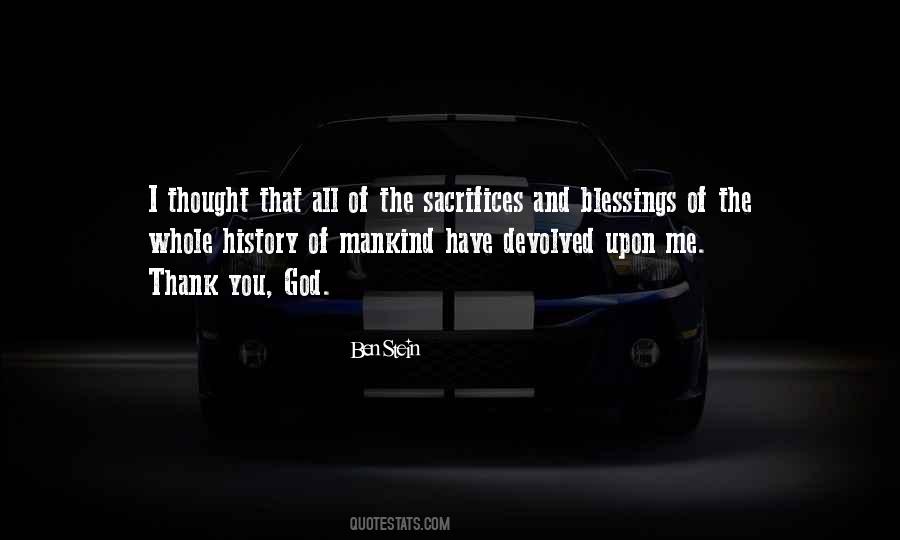 #63. How silently, how silently The wonderous gift is given! So God imparts to human hearts The blessings of his heaven. No ear may hear his coming, But in this world of sin, Where meek souls will receive him still, The dear Christ enters in. - Author: Phillips Brooks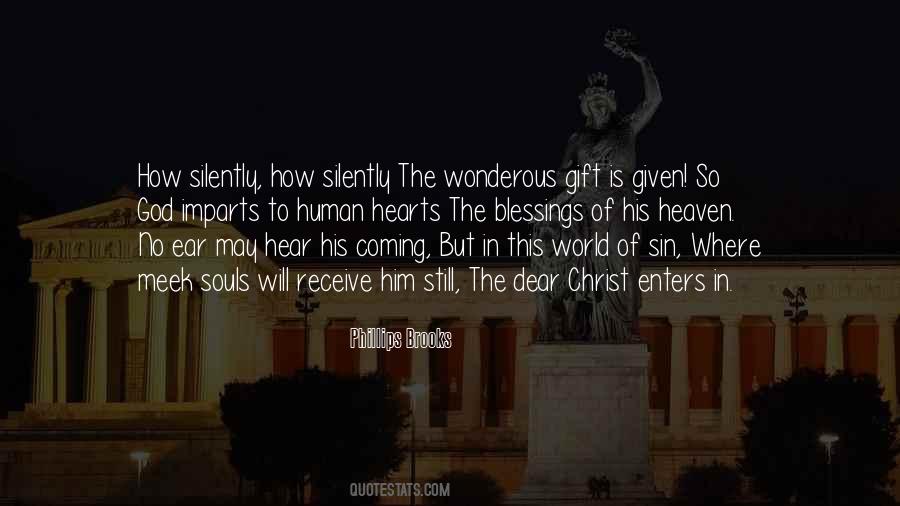 #64. We pray for trifles without so much as a thought of the greatest blessings; and we are not ashamed many times, to ask God for that which we should blush to own to our neighbor. - Author: Seneca The Younger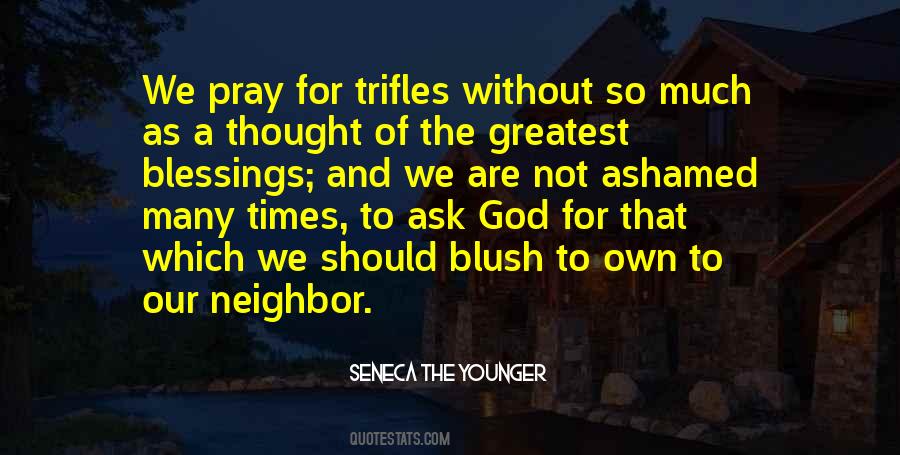 #65. Daughters of God know that it is the nurturing nature of women that can bring everlasting blessings, and they live to cultivate this divine attribute. - Author: Margaret D. Nadauld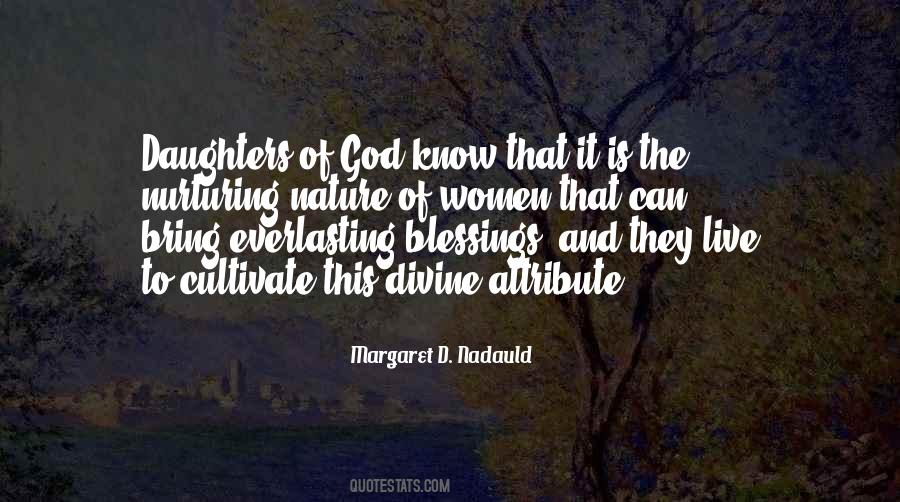 #66. In the name of Jesus Christ, who was never in a hurry, we pray, O God, that You will slow us down, for we know that we live too fast. With all of eternity before us, make us take time to live
time to get acquainted with You, time to enjoy Your blessings, and time to know each other. - Author: Peter Marshall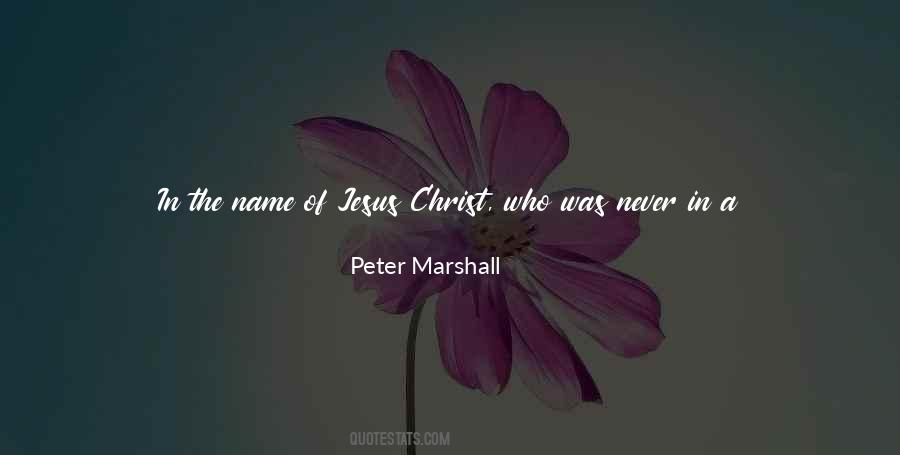 #67. Life is the greatest grace. - Author: Lailah Gifty Akita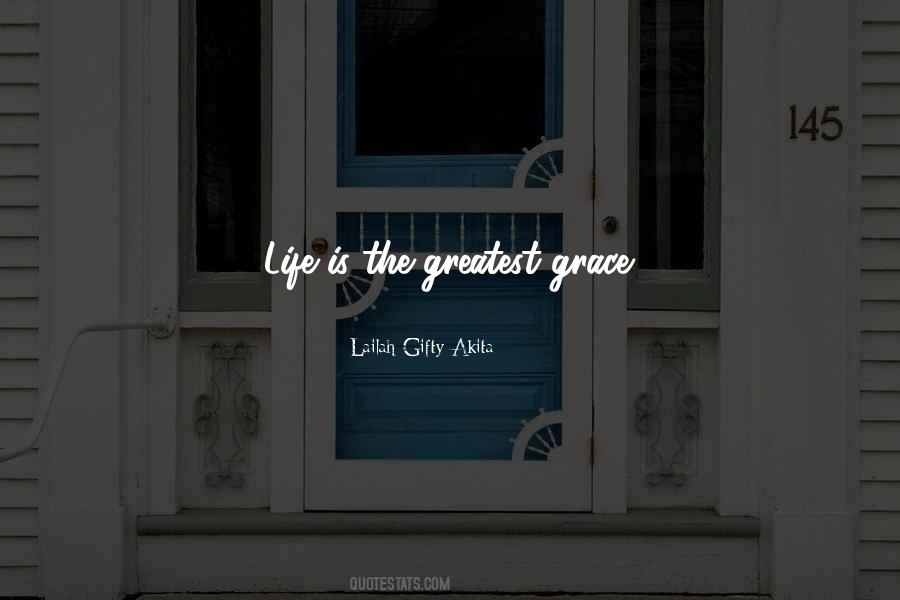 #68. Love is one of the most subtle blessings that the All-Merciful One has bestowed upon humanity. - Author: Fethullah Gulen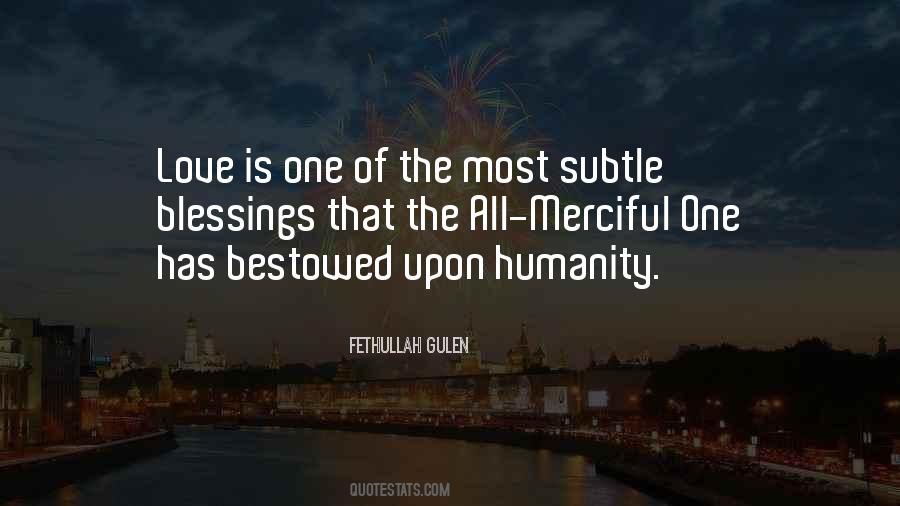 #69. To an unbelieving person nothing renders service or work for good. He himself is in servitude to all things, and all things turned out for evil to him, because he uses all things in impious way for his own advantage, and not for the glory of God. - Author: Martin Luther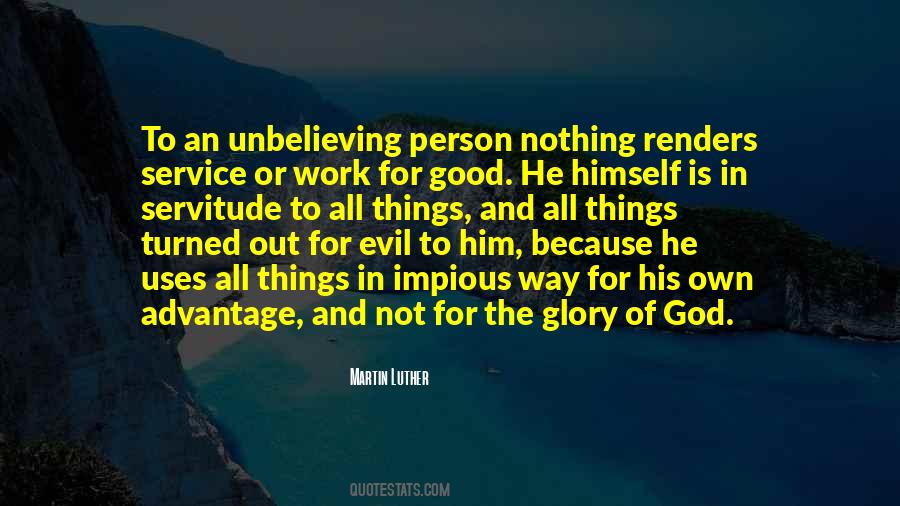 #70. We don't ask any people to throw away any good they have got; we only ask them to come and get more. What if all the world should embrace this Gospel? They would then see eye to eye, and the blessings of God would be poured out upon the people, which is the desire of my whole soul. - Author: Joseph Smith Jr.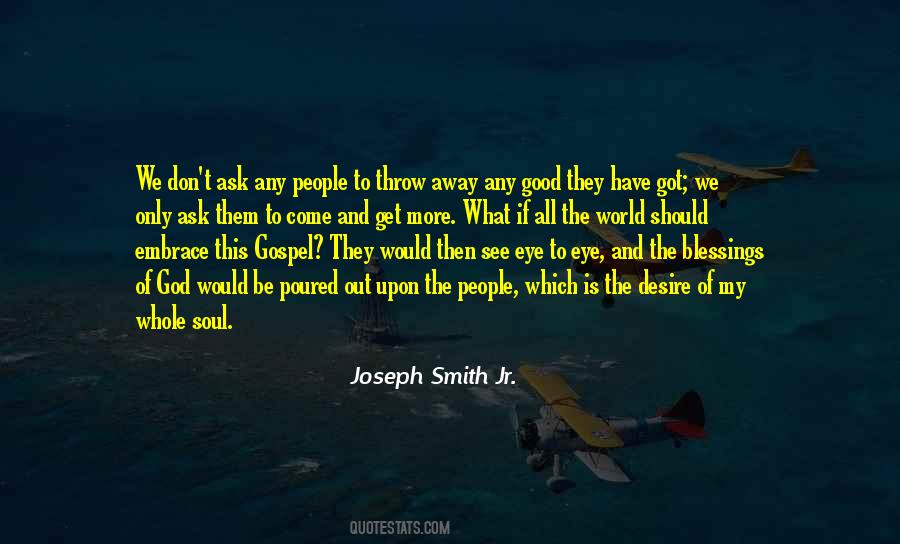 #71. May you also remember this Thanksgiving not only the obvious gifts that God has given you, but His spiritual blessings, as well. The greatest gift of all is Jesus Christ, and the salvation God offers us in Him. - Author: Billy Graham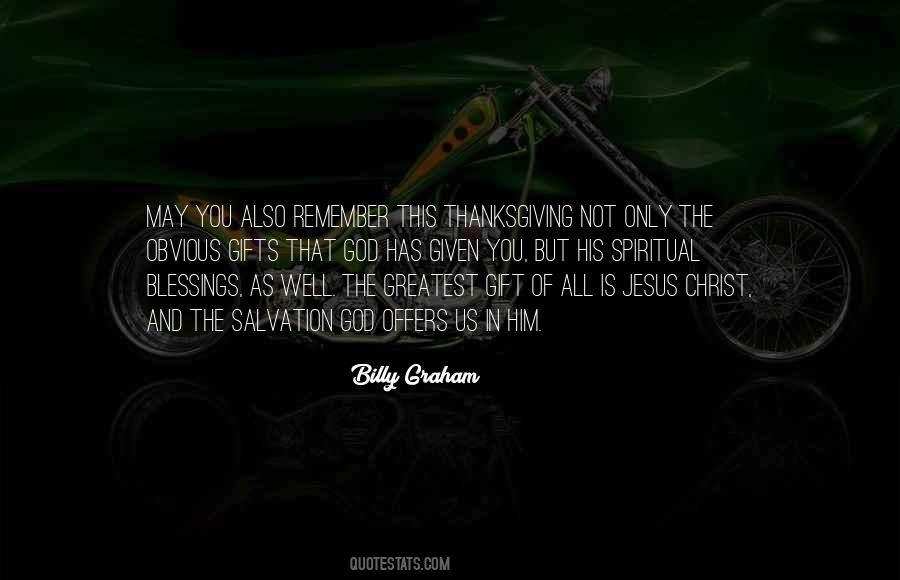 #72. The Bible is one of the greatest blessings bestowed by God on the children of men. It has God for its Author, salvation for its end, and truth without any mixture for its matter. It is all pure, all sincere; nothing too much; nothing wanting! - Author: John Locke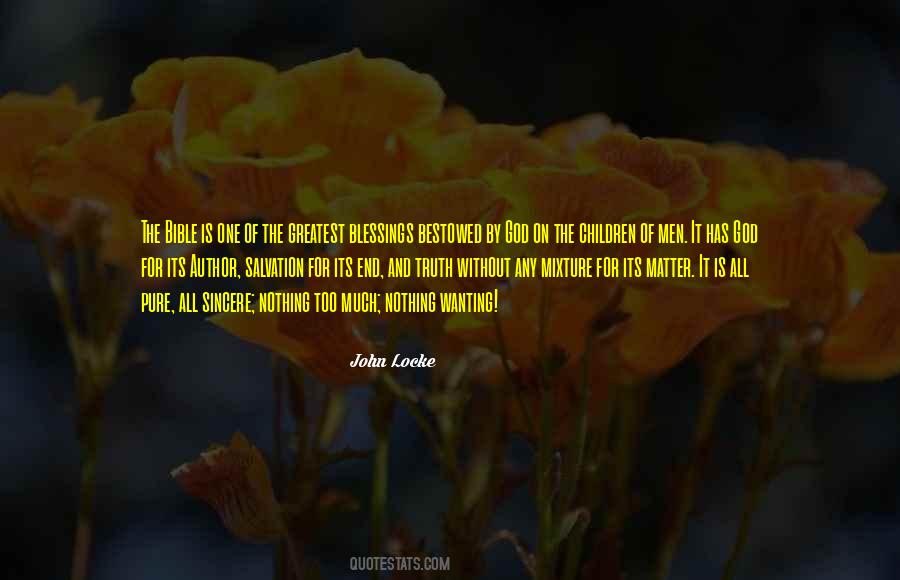 #73. The only thing that is limiting the blessings of God is our old way of thinking and a - Author: Sunday Adelaja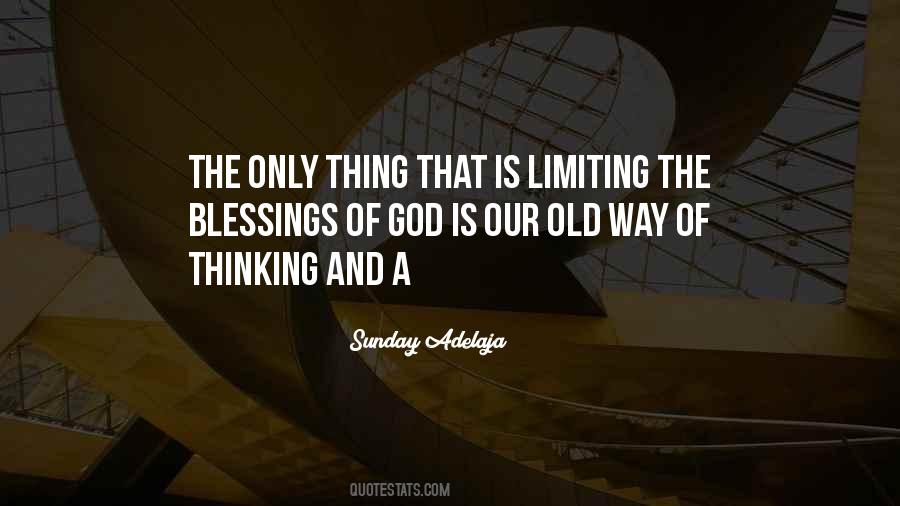 #74. Before all else, we seek, upon our common labor as a nation, the blessings of Almighty God. - Author: Dwight D. Eisenhower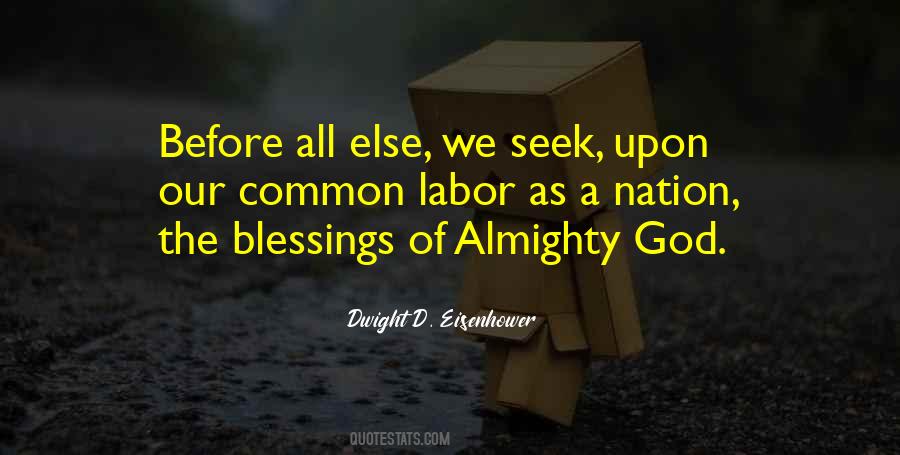 #75. God help us to be grateful for our blessings, never to be guilty of the sin of ingratitude, and to instill this same gratitude into the lives of our children. - Author: Ezra Taft Benson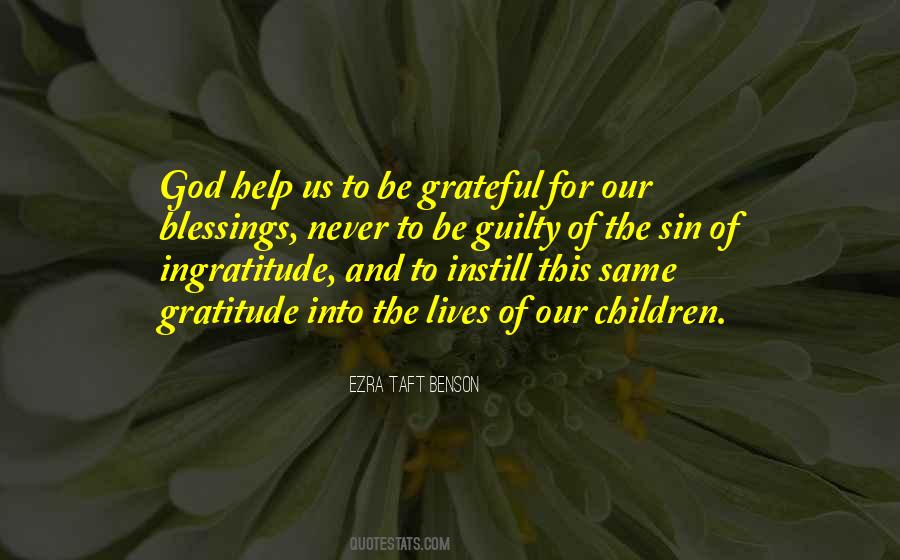 #76. Life can be stressful! When the world Shouts "Chaos" God's messages of Love whisper "Seek My Peace" Encourage Children to search out God's Blessings in life! - Author: Dianna Wyles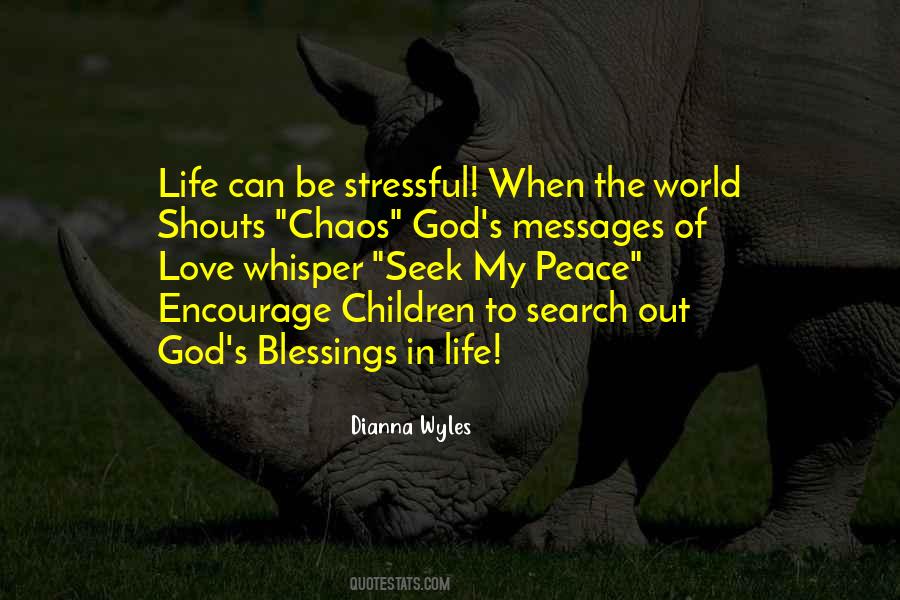 #77. True contemplation is reflecting on the blessings of God in your life. - Author: Harold Klemp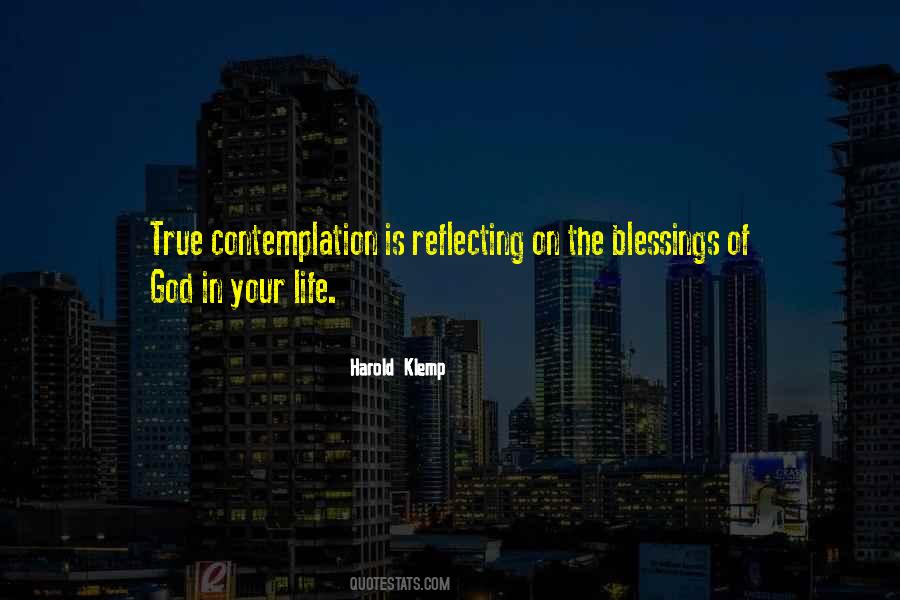 #78. And let us not trust to human effort alone, but humbly acknowledging the power and goodness of Almighty God, who presides over the destiny of nations, and who has at all times been revealed in our country's history, let us invoke His aid and His blessings upon our labors. - Author: Grover Cleveland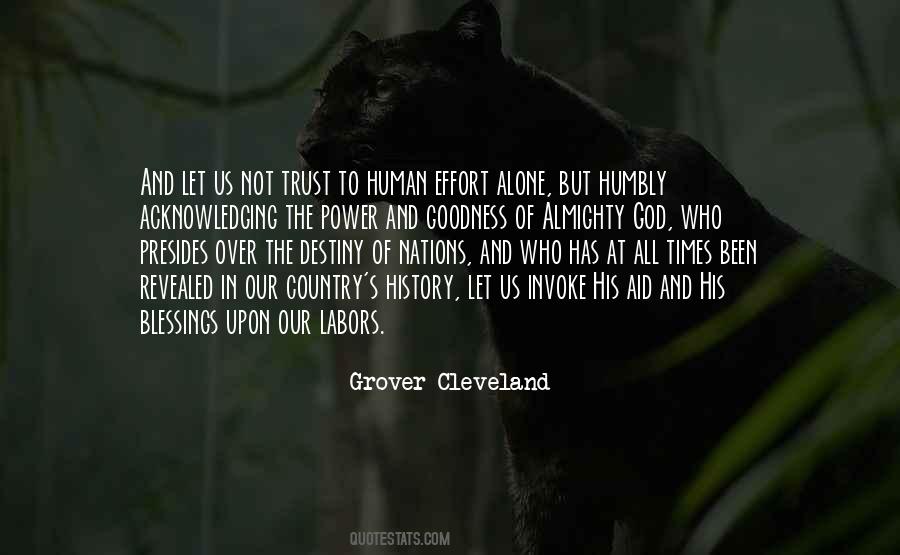 #79. This counting blessings was the unlocking of the mystery of joy, joy, "the gigantic secret of the Christian," joy hiding in gratitude ... God had used the dare to give me this; led me all he way to give me this, live fully, fully live. Page 83 - Author: Ann Voskamp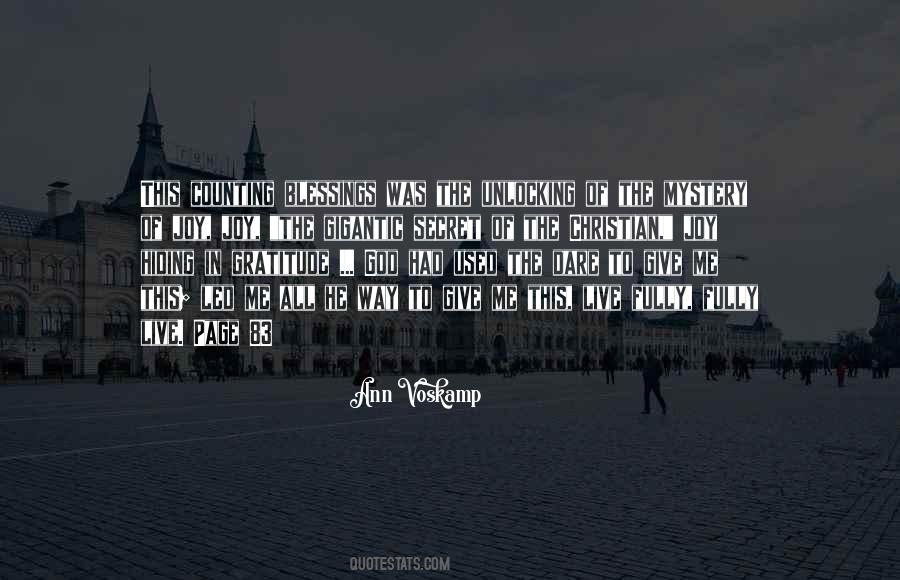 #80. Perhaps parents' greatest heritage to pass on to their children is the ability to perceive the multitude of God's daily blessings and to respond with continual gratitude. We should be "abounding in thanksgiving" (Colossians 2:7). - Author: Randy Alcorn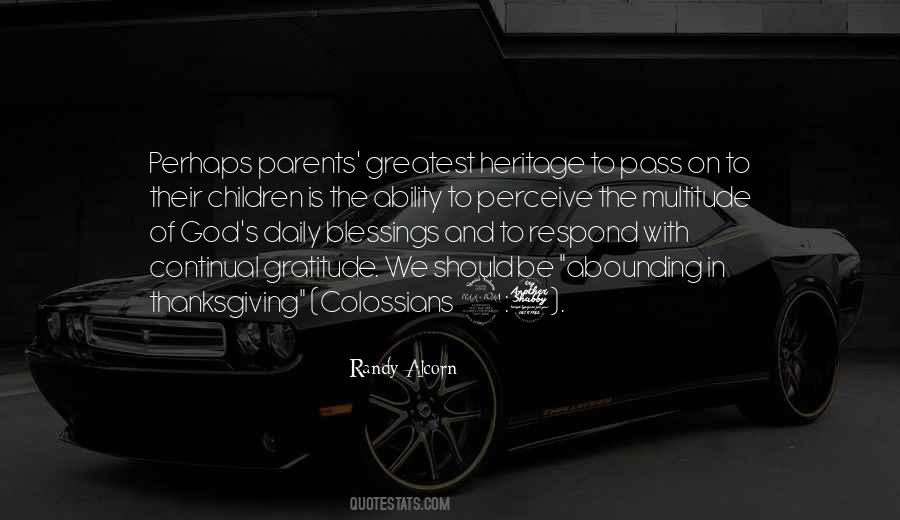 #81. The blessings and grace of God is my greatest wealth. - Author: Lailah Gifty Akita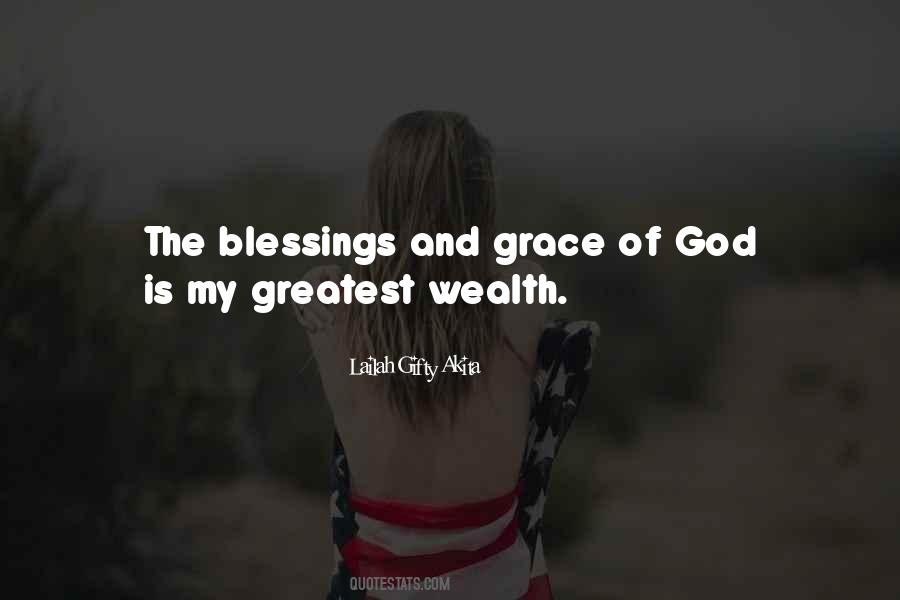 #82. The vast majority of mankind never gives a thought of gratitude towards God for all His care and blessings. - Author: Donald Barnhouse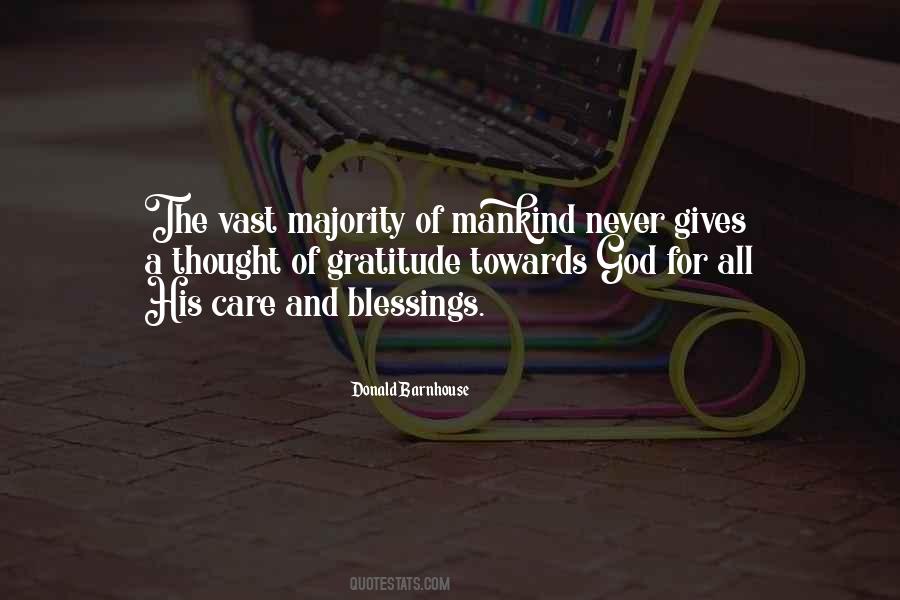 #83. Prayer is the way and means God has appointed for the communication of the blessings of His goodness to His people. - Author: Arthur W. Pink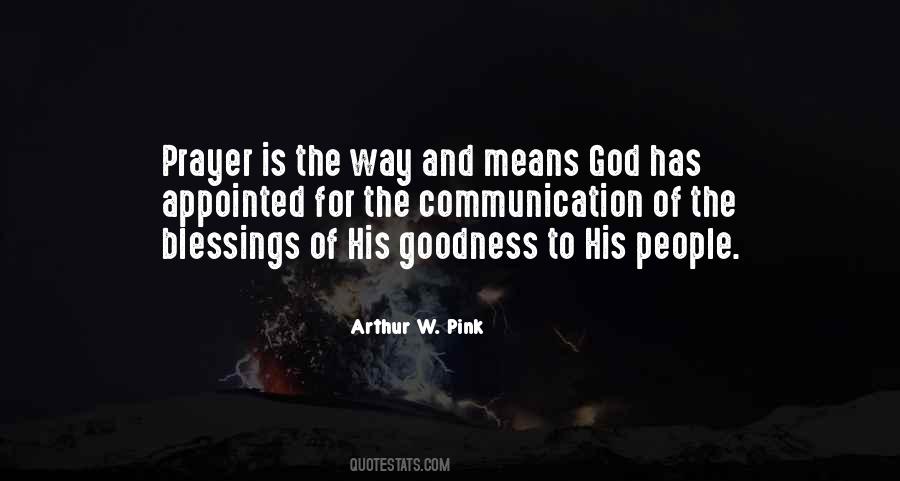 #84. The sweet companionship of eternal marriage is one of the greatest blessings God has granted to His children. - Author: Joseph B. Wirthlin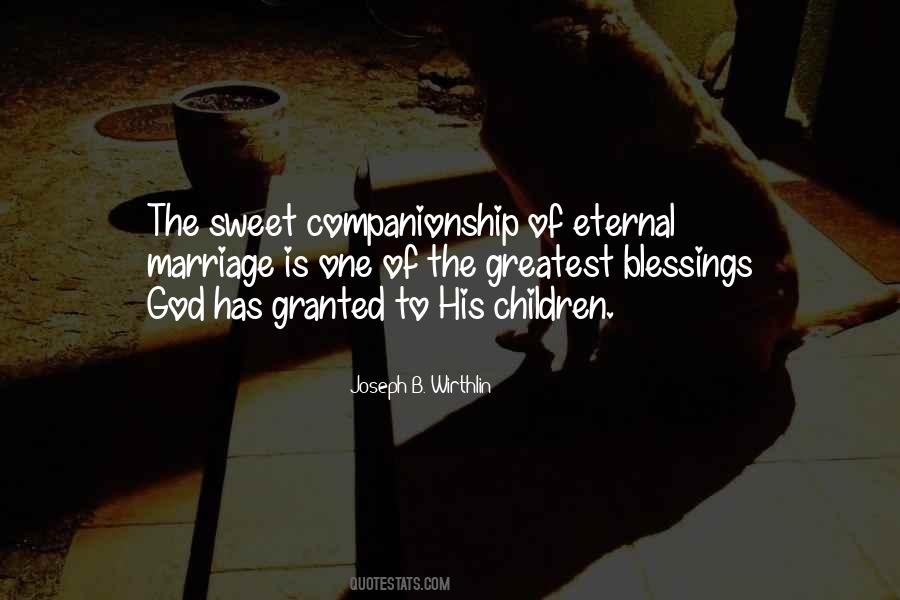 #85. A Mormon knows that the promises of God are true, and He said that all will be tried; realizing these things the Latter-day Saints will acknowledge their Maker not only in blessings but also in tribulations. - Author: Heber J. Grant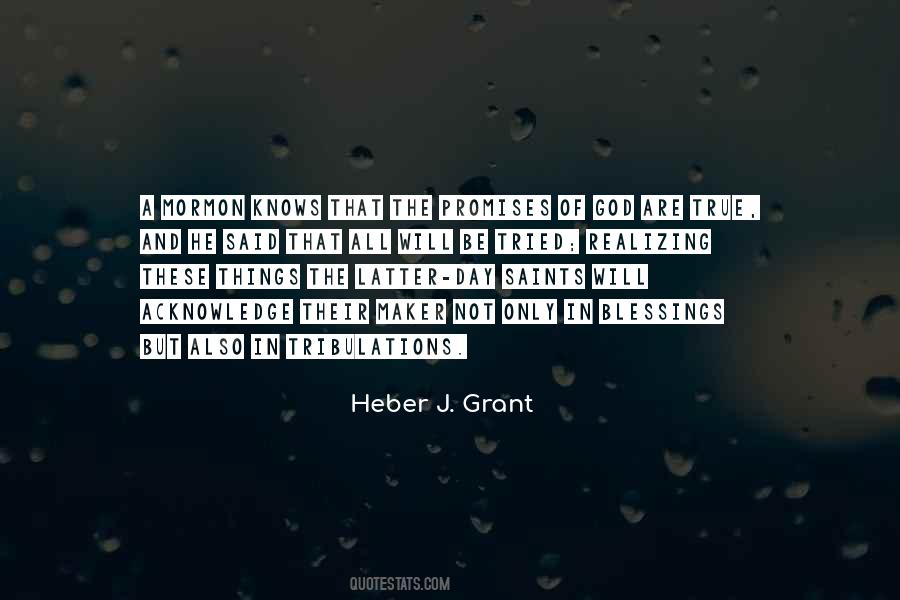 #86. When I was released from prison everybody thought I'd go back to doing the same things I did before, but I had no desire to do any of that anymore. That stuff steals, kills, and destroys your life and robs you of all the blessings that God has for you. - Author: Christian Hosoi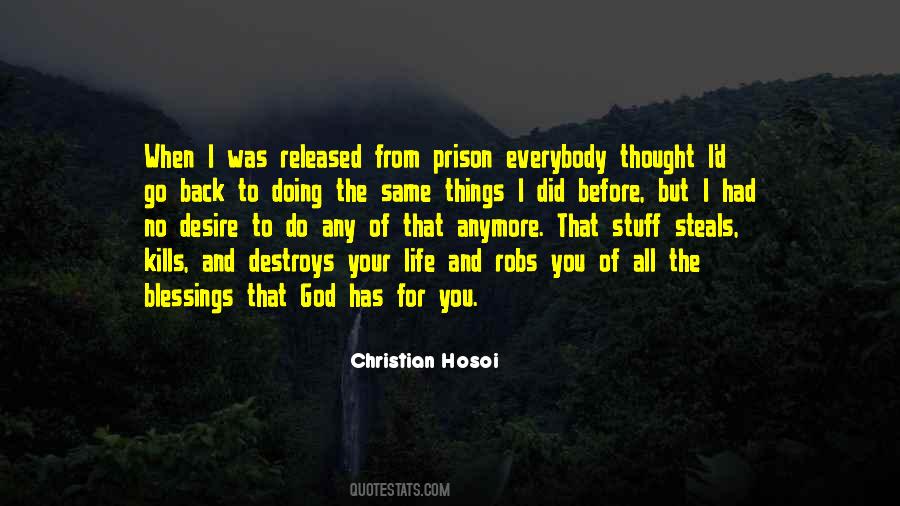 #87. God asks that we give thanks to Him for whatever blessings we receive from Him. It is easy for us to become mechanical in our prayers of gratitude, often repeating the same words but without the intent to give our thanks as a gift of the heart to God. - Author: Henry B. Eyring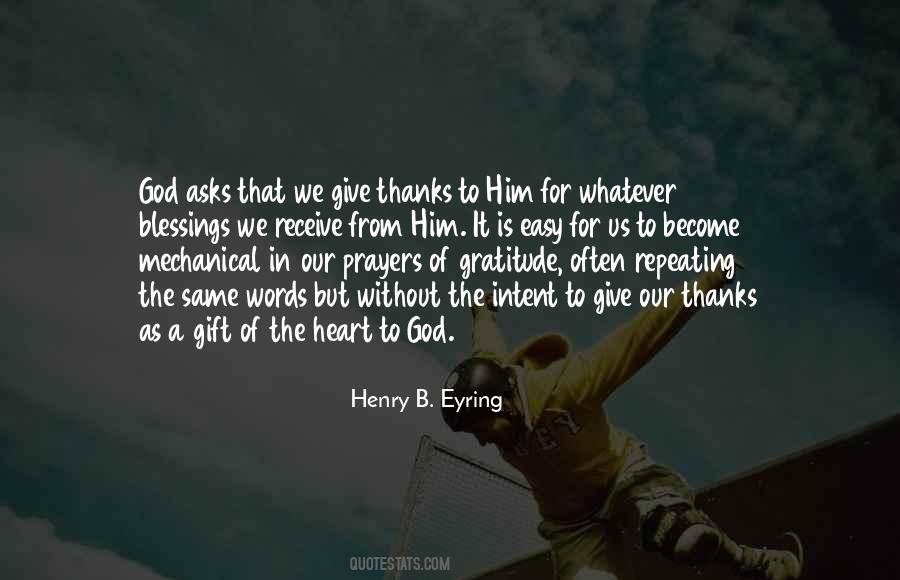 #88. But we know that the very God who gave us life, gave us liberty at the same time. And sometimes we're called upon to defend both life and liberty - God's blessings to Americans, and indeed, to all of His creation. - Author: Sonny Perdue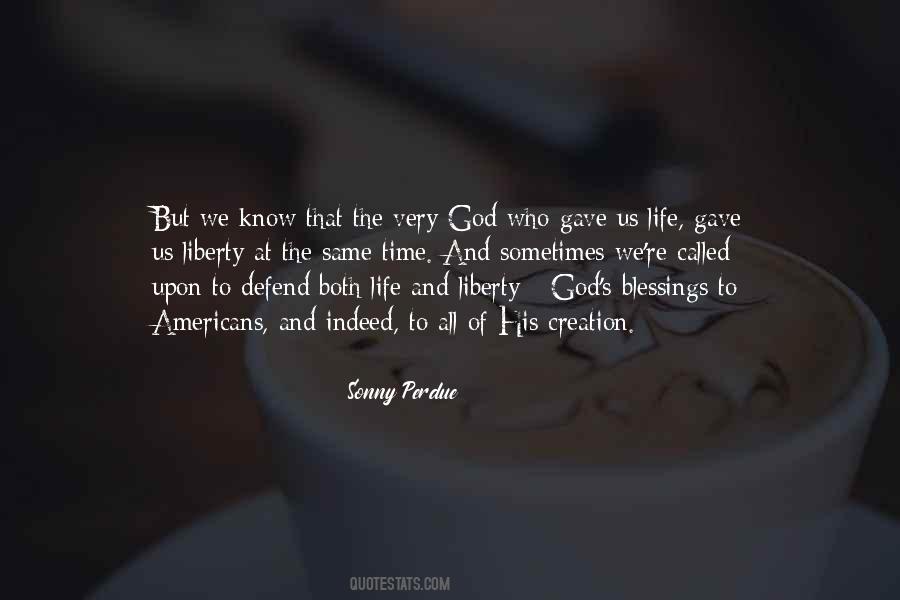 #89. Change your understanding and then even the negative side of the blessings will make you rejoice in God's blessings - Author: Sunday Adelaja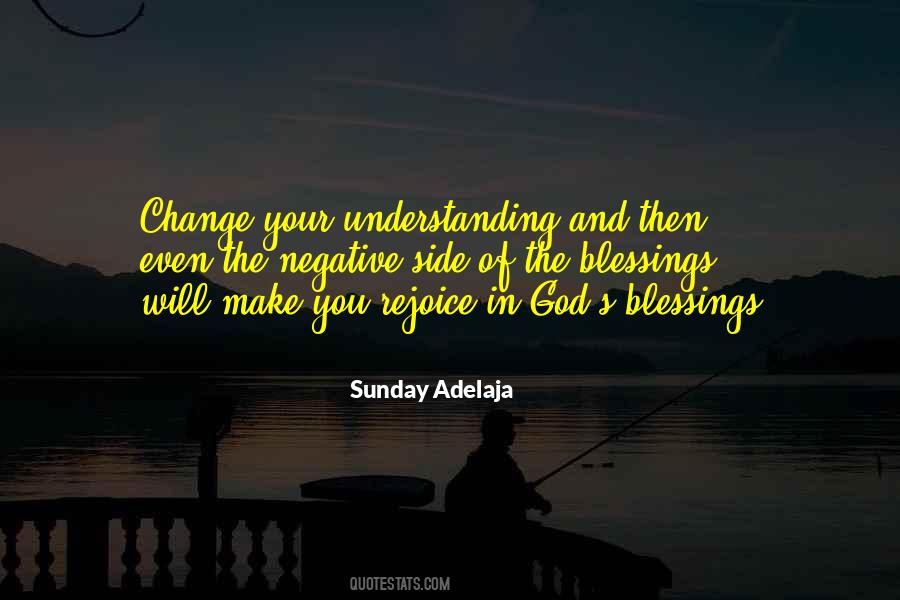 #90. God is the source of my supply. His riches flow to me freely, copiously, and abundantly. All my financial and other needs are met at every moment of time and point of space; there is always a divine surplus. - Author: Joseph Murphy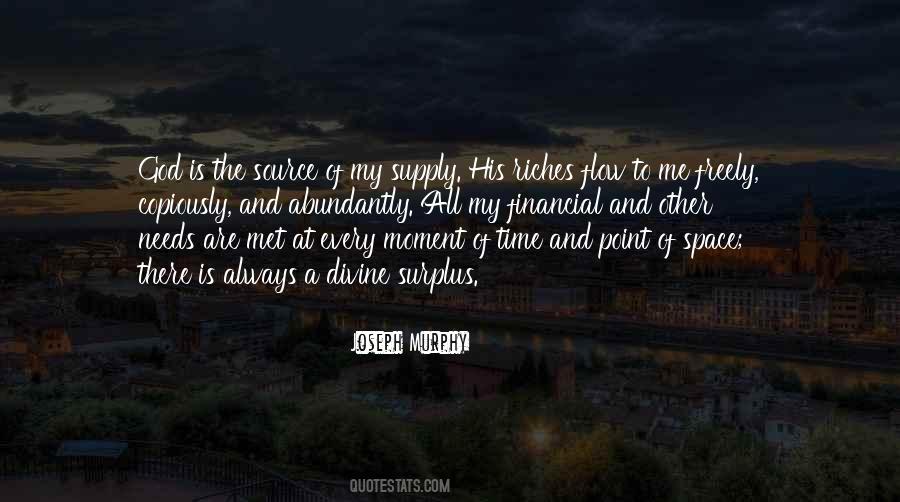 #91. Prayer is the connection that opens the door for all of God's blessings to be manifested in our lives. It is the process of granting permission for Heaven to show up with the finished works of Jesus. - Author: Paul Silway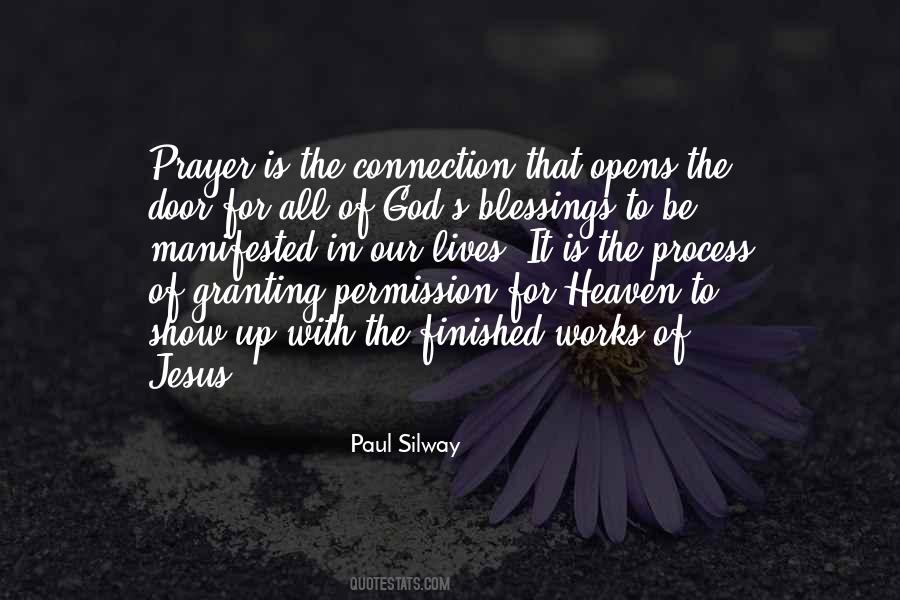 #92. If you expect the blessings of God, be kind to His people. - Author: Abu Bakr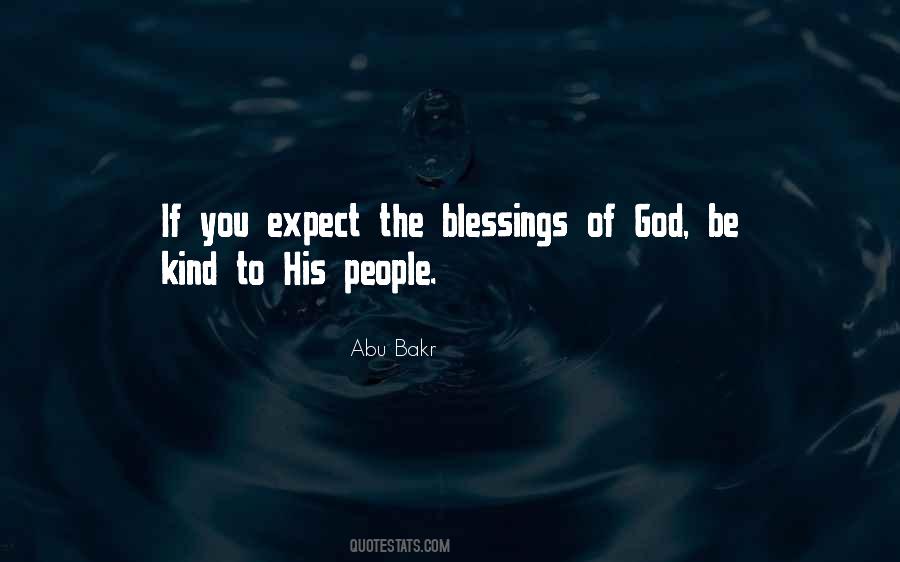 #93. God's eternal blessings are contingent upon our obedience and adherence to the word of the Lord that is revealed to us through His holy prophets - Author: L. Tom Perry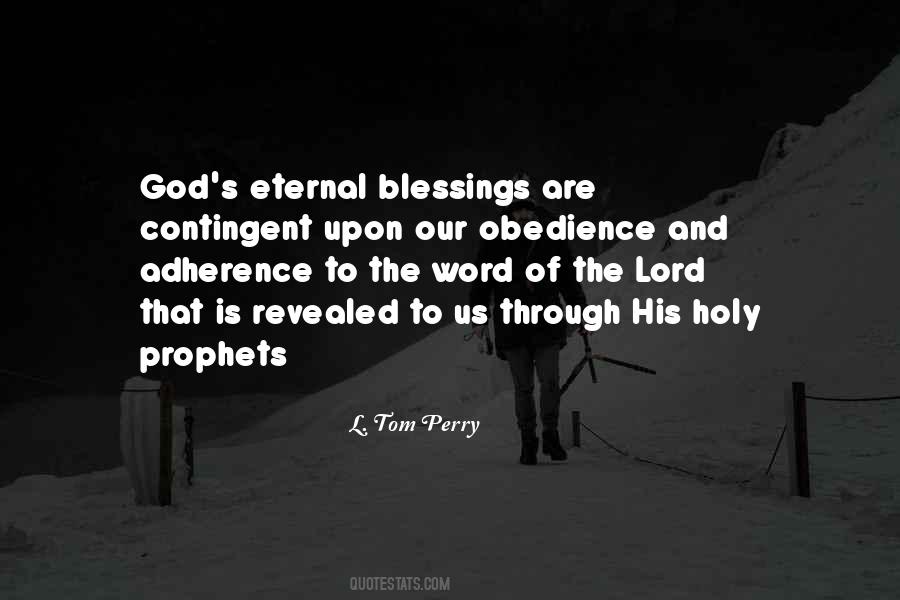 #94. Revelation is communication from God to His children on the earth and one of the great blessings associated with the gift and constant companionship of the Holy Ghost. - Author: David A. Bednar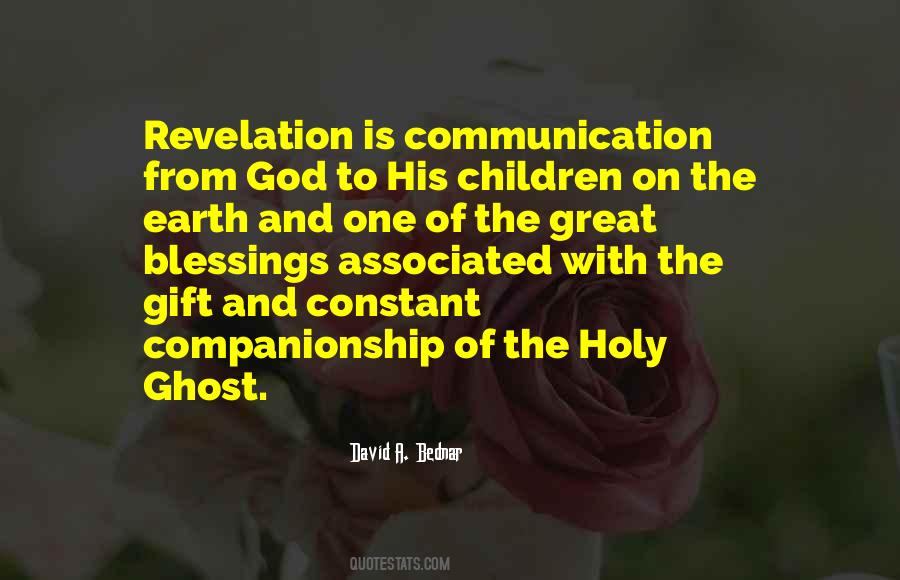 #95. I hope that God forgive us, all of us sinners turn us back into beginners, put us up where the winners go, Holy apartments in the gardens in which the rivers flow, thank you for all your blessings and all of your miracles. - Author: Lupe Fiasco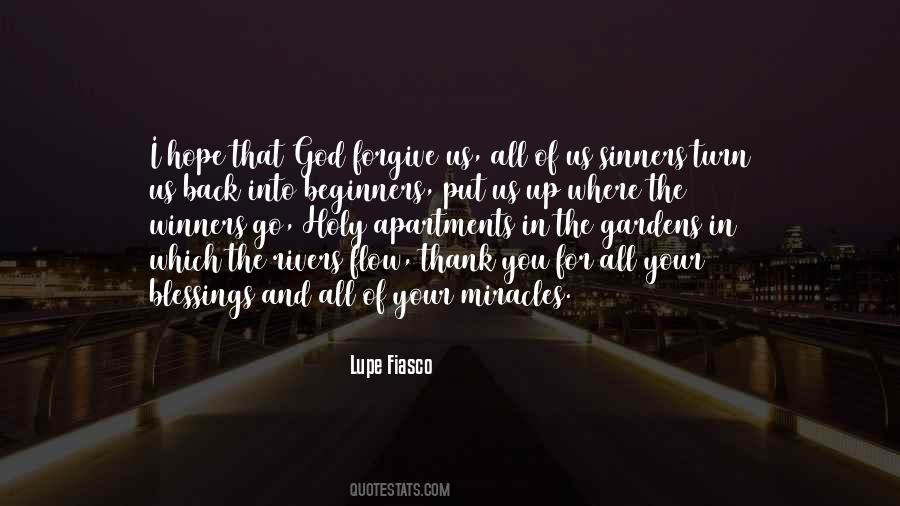 #96. Until you have entered the house of the Lord and have received all the blessings which await you there, you have not obtained everything the Church has to offer. The all-important and crowning blessings of membership in the Church are those blessings which we receive in the temples of God - Author: Thomas S. Monson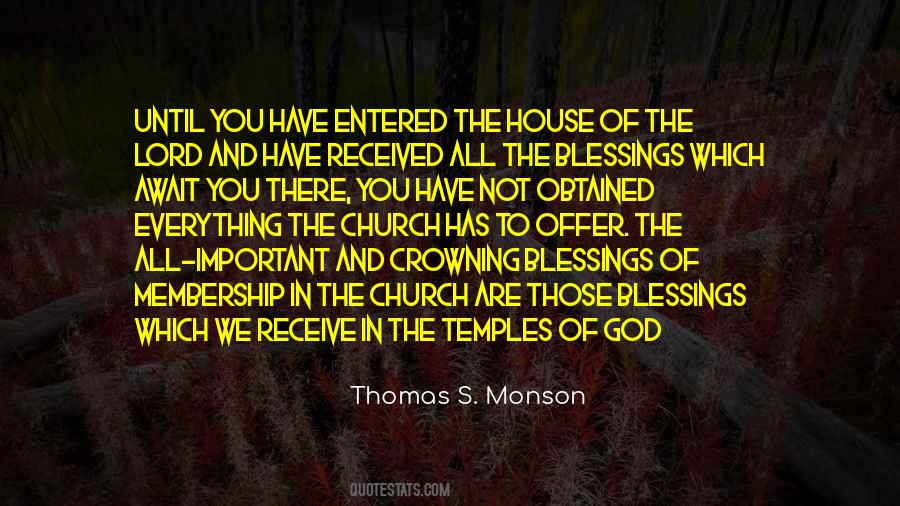 #97. The Holy Ghost brings back memories of what God has taught us. And one of the ways God teaches us is with his blessings; and so, if we choose to exercise faith, the Holy Ghost will bring God's kindnesses to our remembrance. - Author: Henry B. Eyring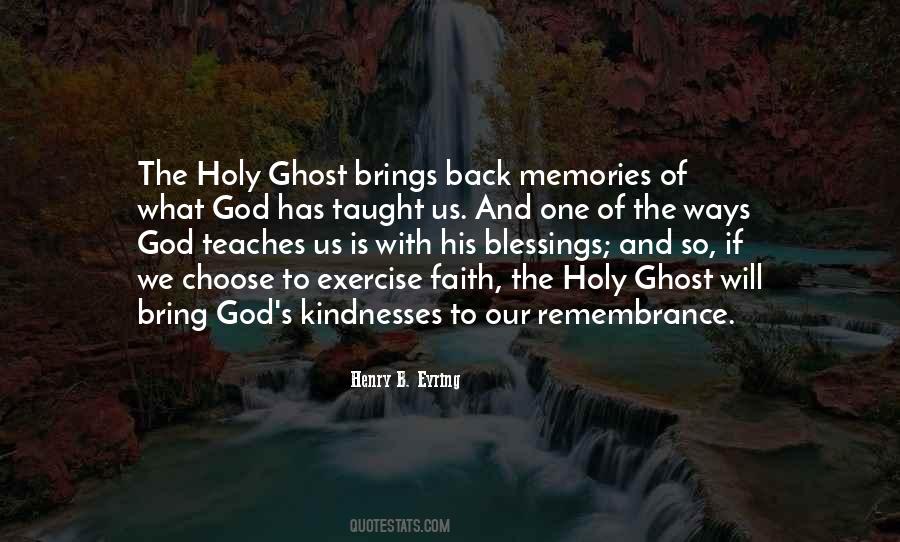 #98. Torah is not merely a collection of prohibitions, rigid strictures and boring observances. Rather, it is a narrative of the blessings and promises of God initially offered to one person and family, but through which the whole world will ultimately be blessed. - Author: Walter C. Kaiser Jr.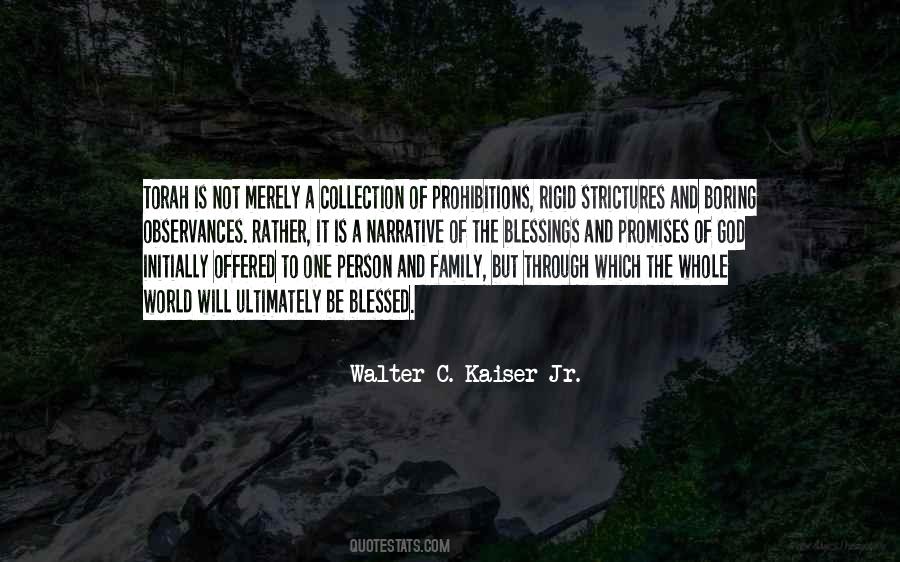 #99. Though the world is becoming more wicked, the youth of Christ's Church can become more righteous if they understand who they are, understand the blessings available, and understand the promises God has made to those who are righteous, who believe, who endure. - Author: David B. Haight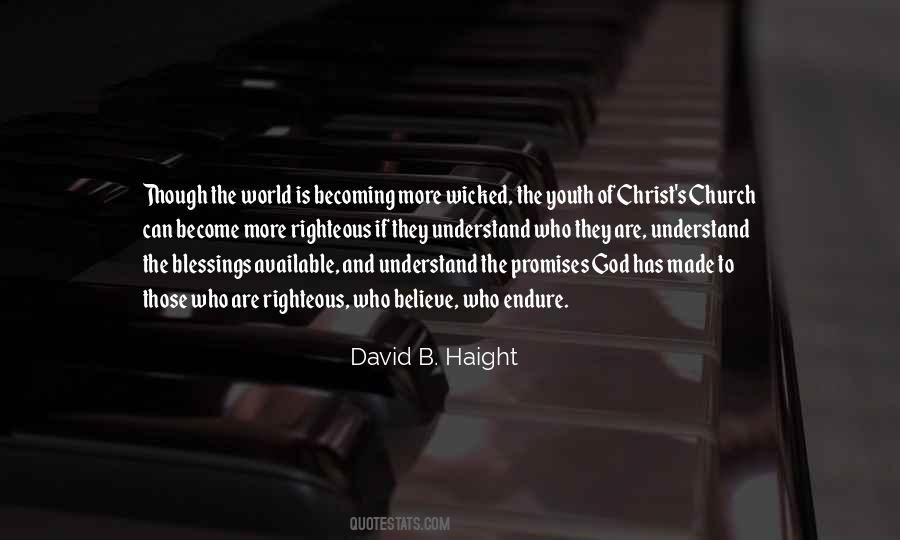 #100. Don't ever let the blessings from your hand take my gaze off the beauty of your face or my pursuit of the beating of your heart. - Author: BJ Richardson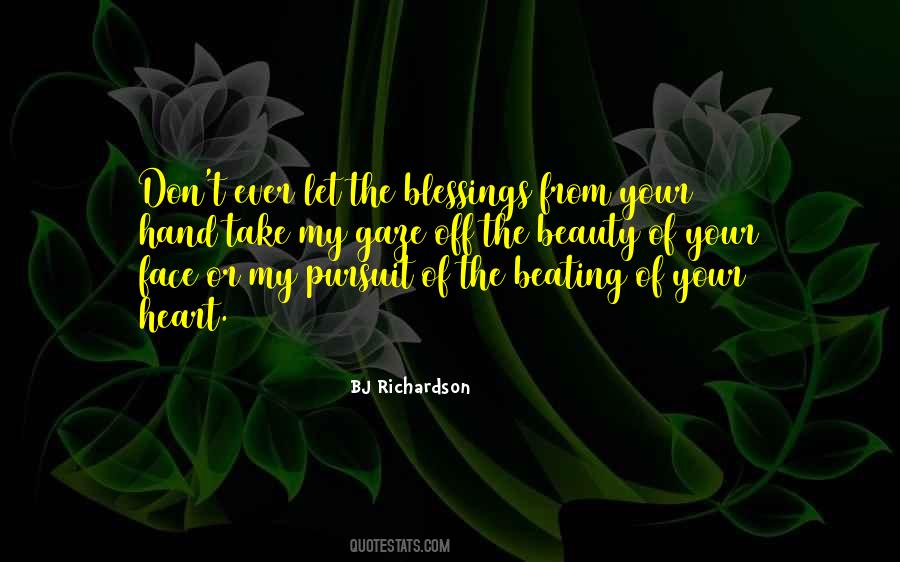 Famous Authors
Popular Topics