The Best Part Of Me Famous Quotes & Sayings
List of top 100 famous quotes and sayings about the best part of me to read and share with friends on your Facebook, Twitter, blogs.
Top 100 Quotes About The Best Part Of Me
#1. The piece of you that loves a part of me tries its best to hold onto the rest,
but my heart is a thousand-piece puzzle of a faraway galaxy, deep purple,
colors blending together and impossible to place. - Author: Kris Kidd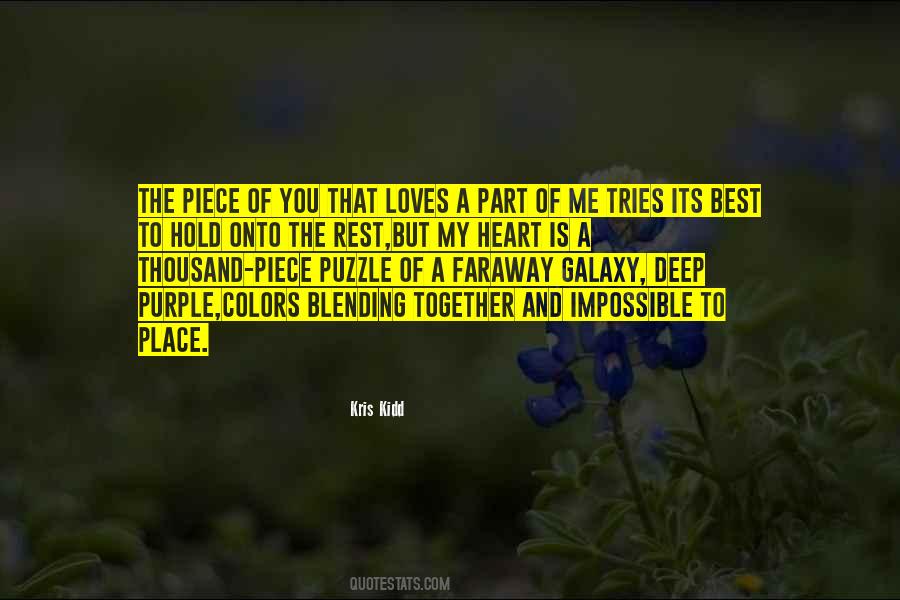 #2. I really wanna do a Spanish album. I have that Latin culture background. It's a part of me. I'm not the best Spanish speaker, but I have a longing to connect with that. I just think how supportive the Latin community has been, even during 'Idol.' I'd like to give back with something like that. - Author: David Archuleta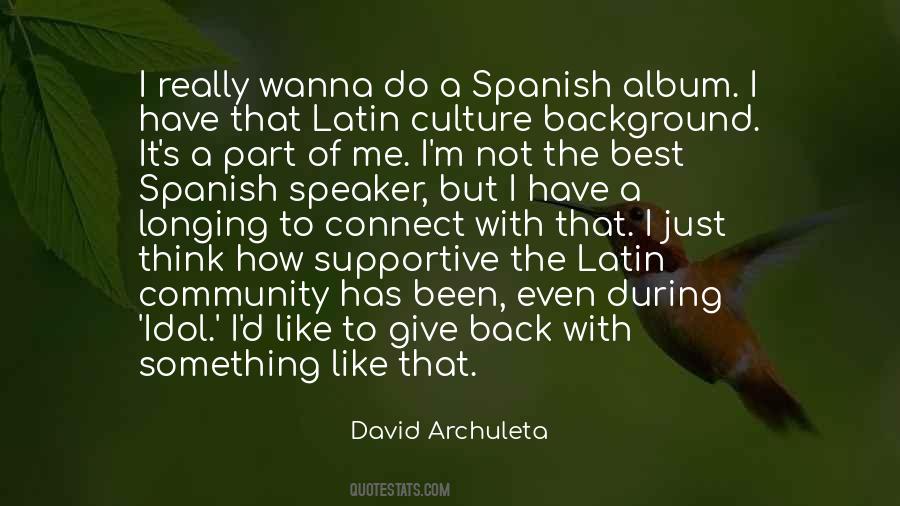 #3. Go then, mere jaan." My life. Because that was what she was. The best part of him. "Just remember - the next ten or so lifetimes, you're spending with me. - Author: Nalini Singh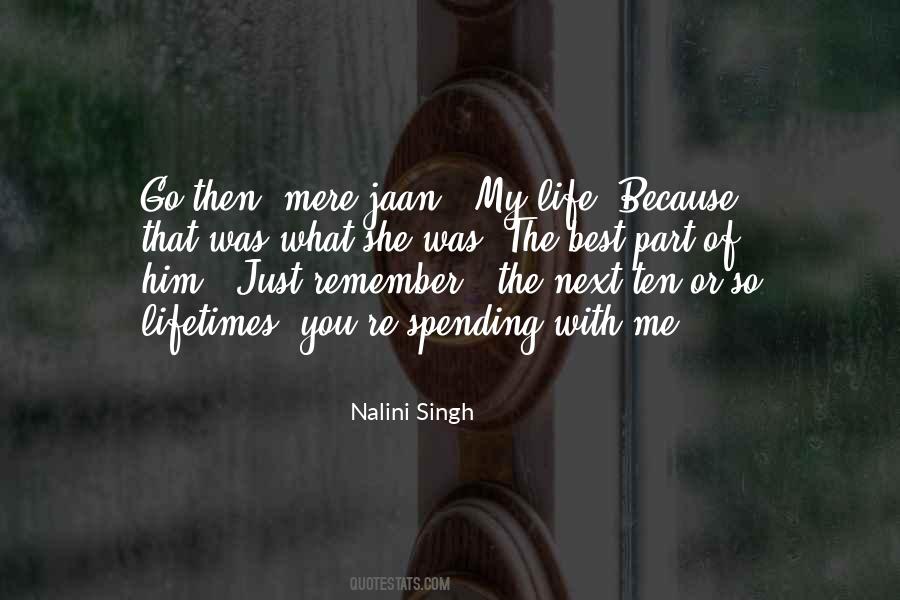 #4. I was the best man at my younger brother's wedding and at the time part of my roast to him was I appreciated that he's done the only profession that makes me look good, running a used car dealership. - Author: David Plouffe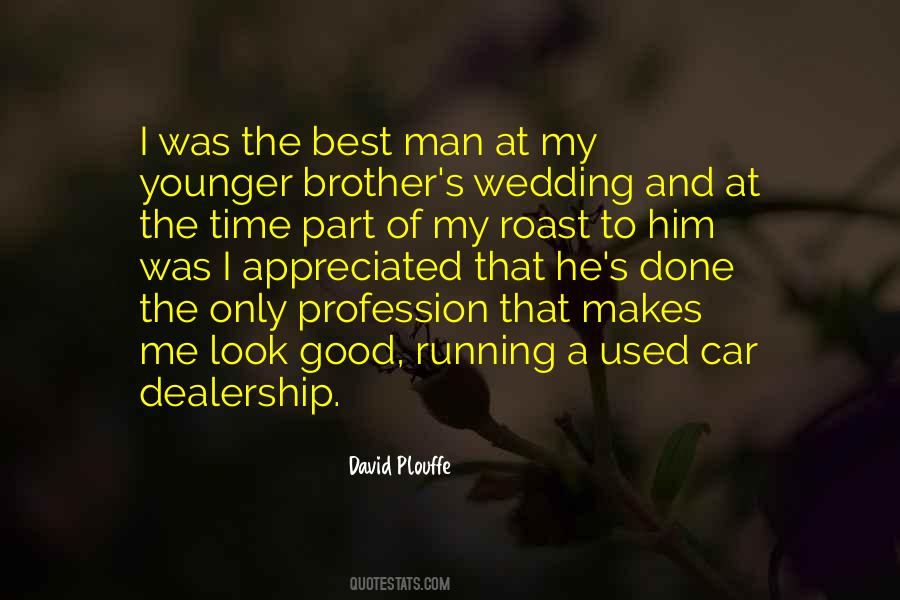 #5. There are people out there who hate me and who say I'm arrogant, vain, and whatever. That's all part of my success. I am made to be the best. - Author: Cristiano Ronaldo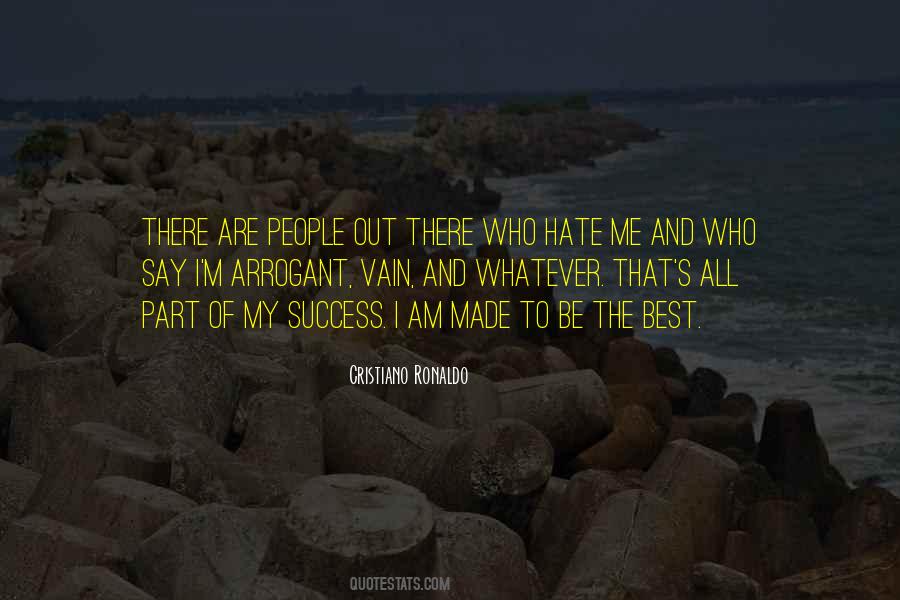 #6. I'm playing better than I've ever played, and I m feeling better. I have this crazy idea that the best part of my career is ahead of me. I really believe that with all my heart. - Author: Roger Williams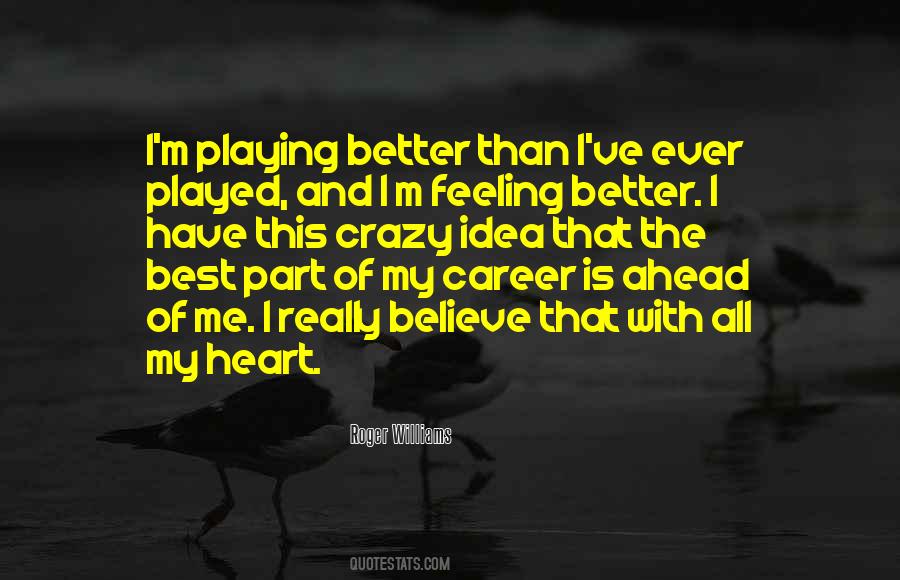 #7. I know I will have to come to forgiveness and acceptance of what has happened for me to go on and be happy in the future. And I know I will get there eventually. I wish him all the best in the future, as a person and as an athlete ... I feel privileged to have witnessed a part of his golfing career. - Author: Elin Nordegren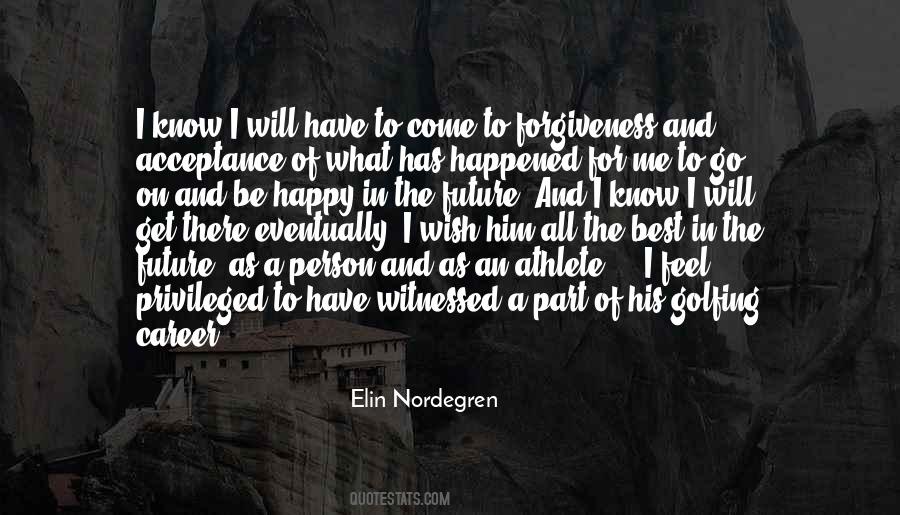 #8. Part of her had hoped he would say something like, "I want you, Katie. You belong to me now. I'll take care of you." He didn't say that. But his answer was the best one, really. "You belong to Christ, Katie. - Author: Robin Jones Gunn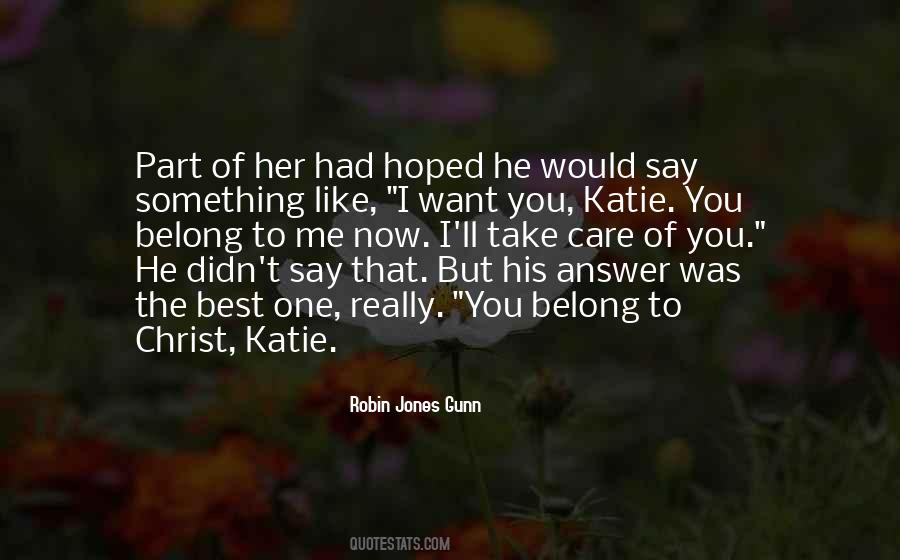 #9. The best part of being an angel investor is seeing these kids coming up with companies that get way more traffic than Reddit had when we sold it. I think, 'Are you kidding me? They're just kids, and they've done so much.' - Author: Alexis Ohanian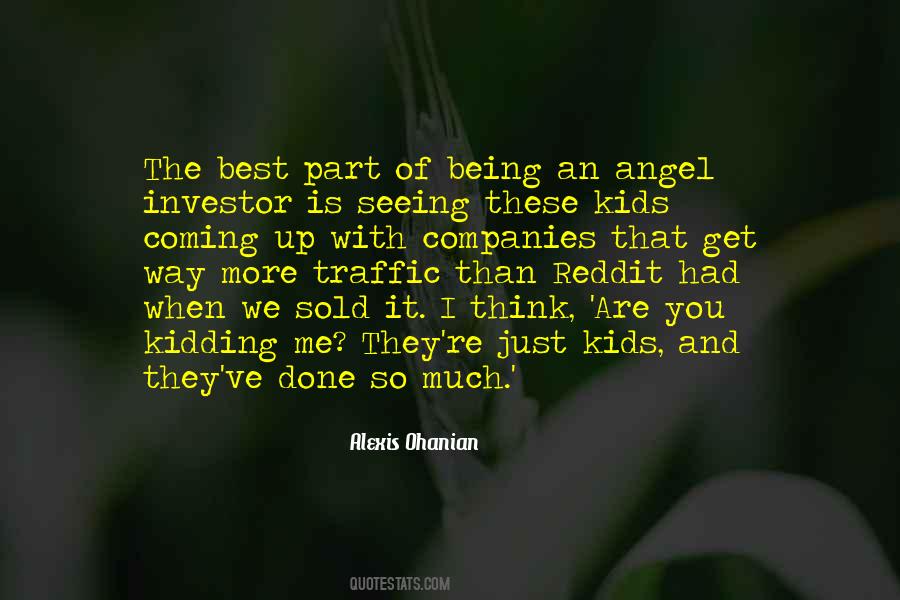 #10. I'm raised by a single mom and didn't have pops around for the most part of my life. And she, by any means necessary, gave me the best opportunities that she knew how to give me. - Author: Shemar Moore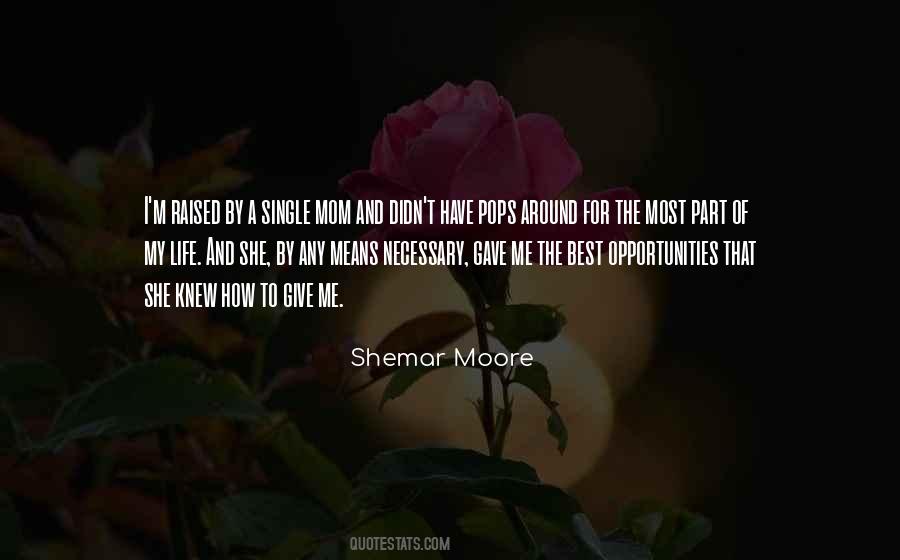 #11. Love is an energy, love is a mystery, love is meant to be true. Love is a part of me, love is the heart of me, love is the best thing we do. - Author: Ashlee Simpson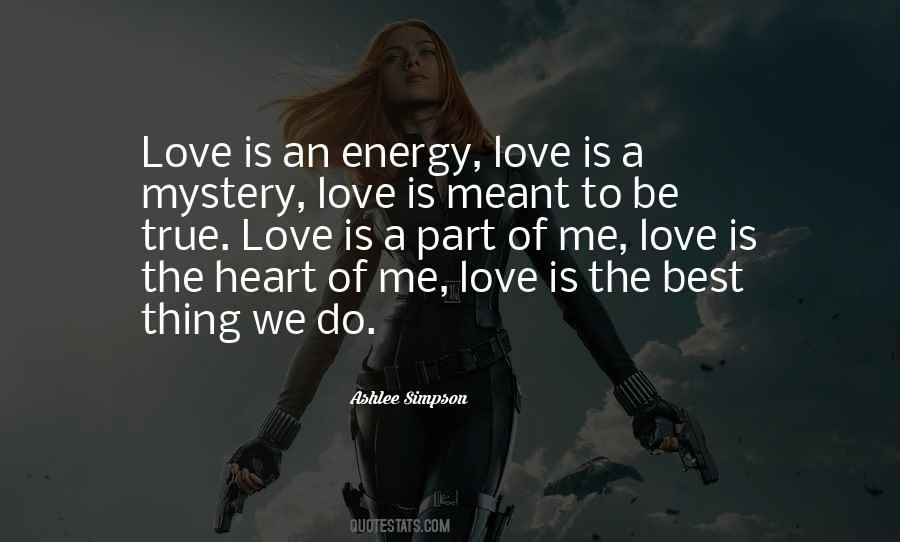 #12. Being on stage was all about the palpable energy of a rapt audience hopefully buying into a life onstage. The immediate connection with the audience was the best part for me. The camera is not as fun, but your work is preserved forever. There's immortality to it. - Author: David Walton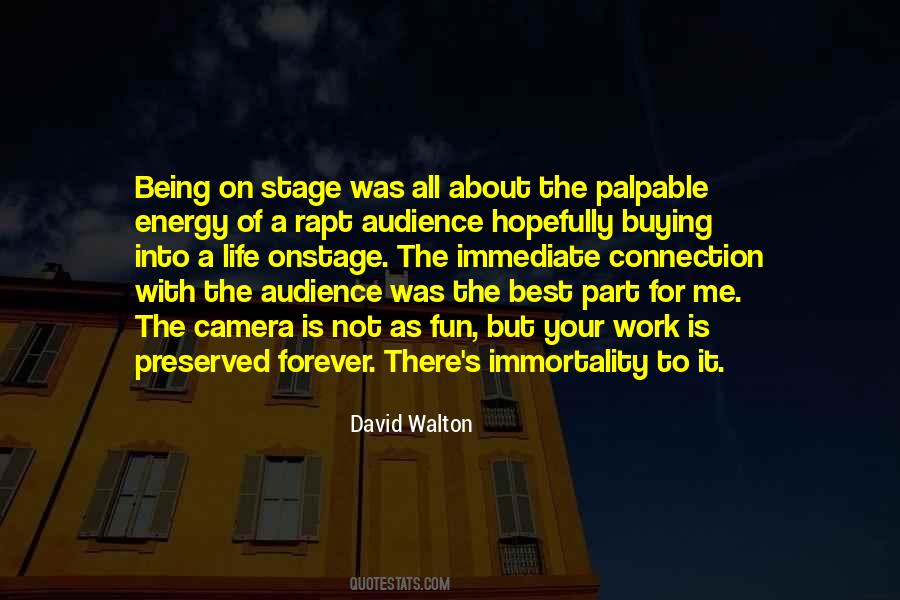 #13. My heart skipped a beat. 'I'm scared,' I admitted, needing to tell him. 'I'm scared to death of what I feel for you, of how you affect me. I feel like I'm falling.' 'Ah,' he breathed, 'don't you know, falling is the best part of flying. - Author: Micalea Smeltzer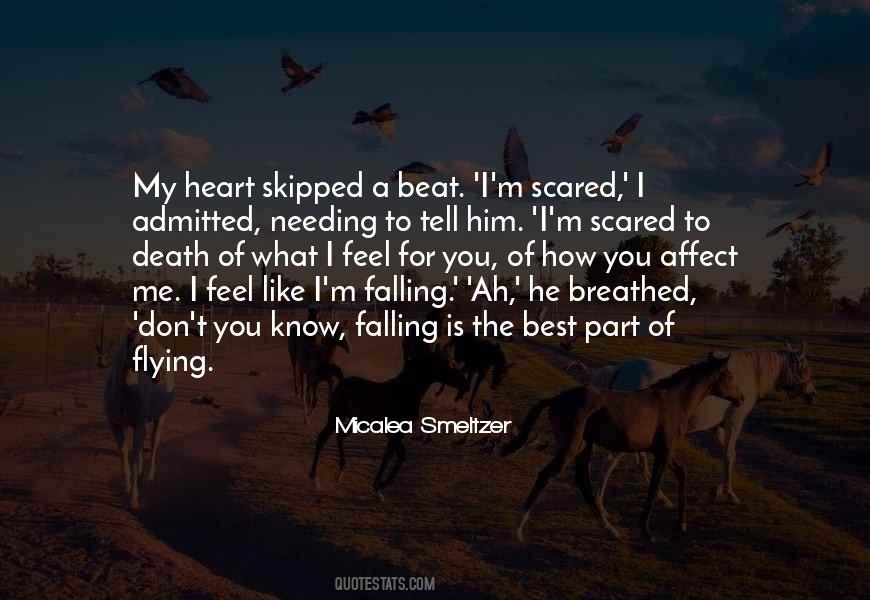 #14. I loved Vinny like he was a part of me, and he loved me like a stick of gum. He'd spat me out when the flavor went, unwrapped another, and stuffed it in, and not just anyone, but Stella Yearwood. My best mate. - Author: David Mitchell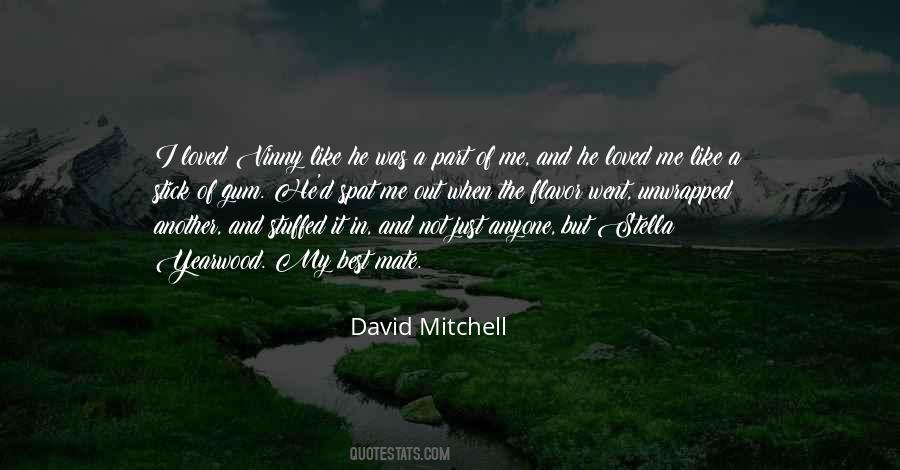 #15. A part of me died," he says. "And it was the best part. - Author: E. Lockhart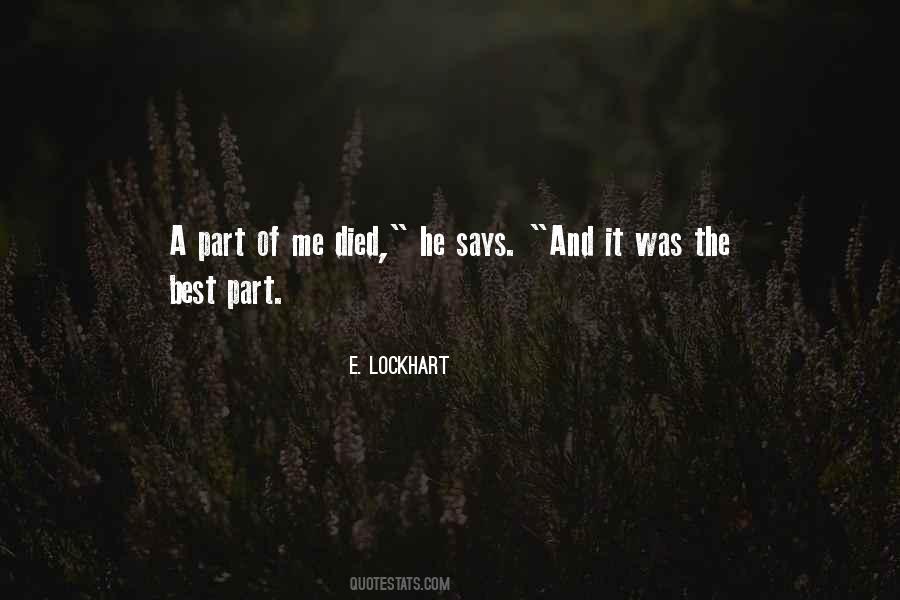 #16. The best part of having two babies at once, a son and a daughter, is mostly everything. You're just having that feeling of love inside you all the time and motherhood is such a fulfilling place to be. I kind of wish it would have happened to me earlier in my life. - Author: Jennifer Lopez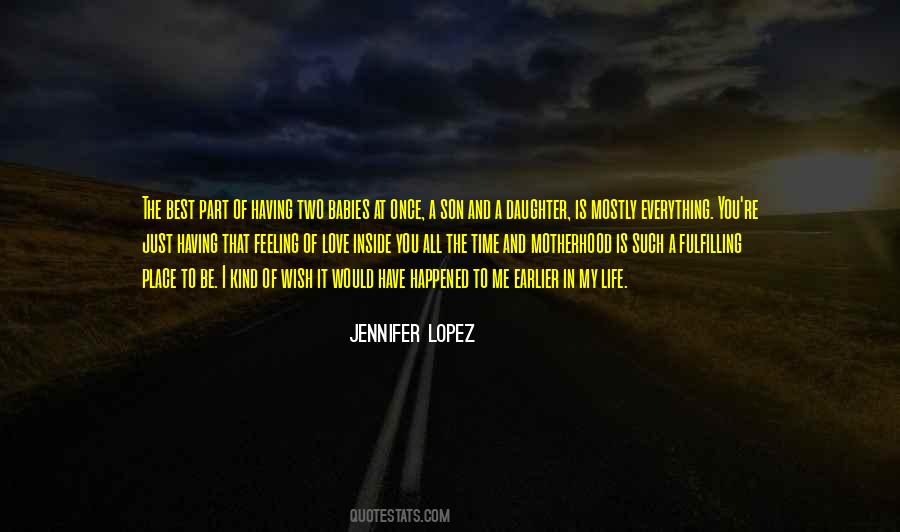 #17. It's the warmest, loveliest community I've ever set foot in. For me, it's the perfect place to live. It's the best part of America. - Author: Nicole Kidman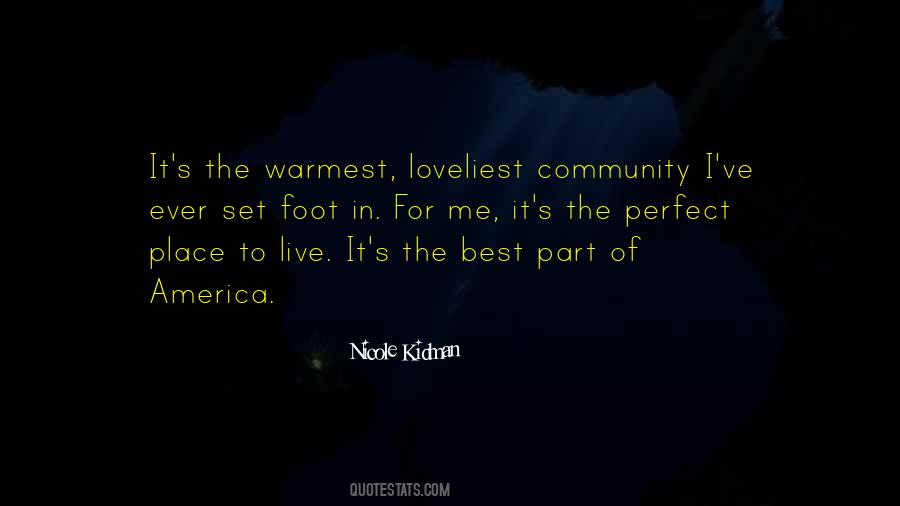 #18. I can't help smiling. He's the reminder of the best part of our family. He's me and not me. Better than me, because he sees me from afar and still loves me in a way that I can't always love myself. And who can do that? Stop judging themselves? - Author: Susan Conley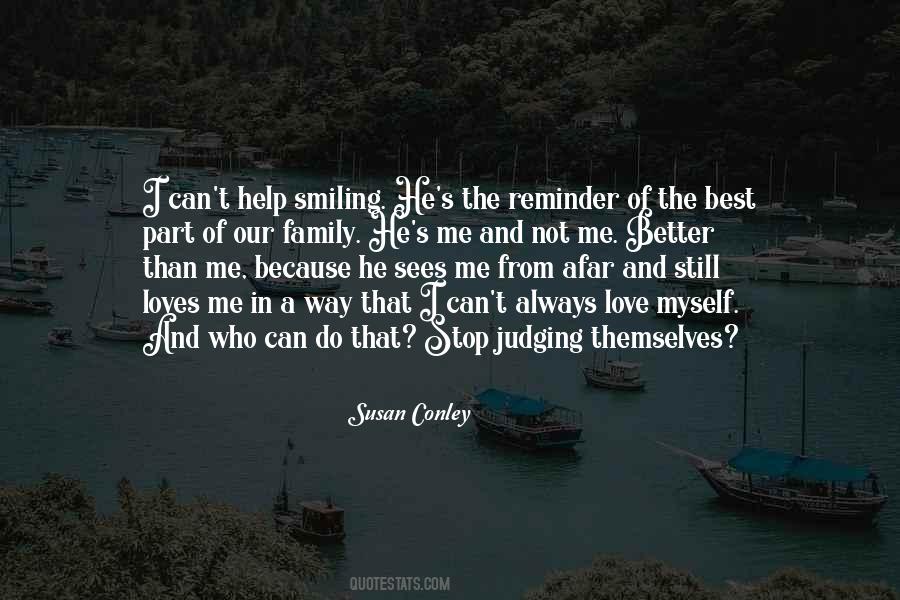 #19. You are the best part of my day, Tink. You make me feel whole and happy and when I'm not with you, I'm thinking about you. I'm not in love with you, but I know that I can't live without you. - Author: R.L. Mathewson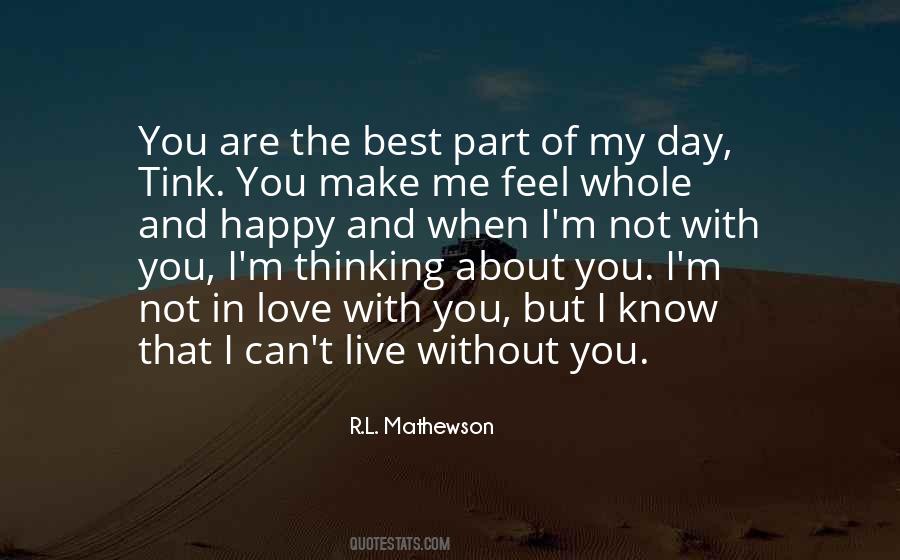 #20. But perhaps the best part of all was that I, Sydney Katherine Sage, guilty of constantly analyzing the world around me, well, I stopped thinking. - Author: Richelle Mead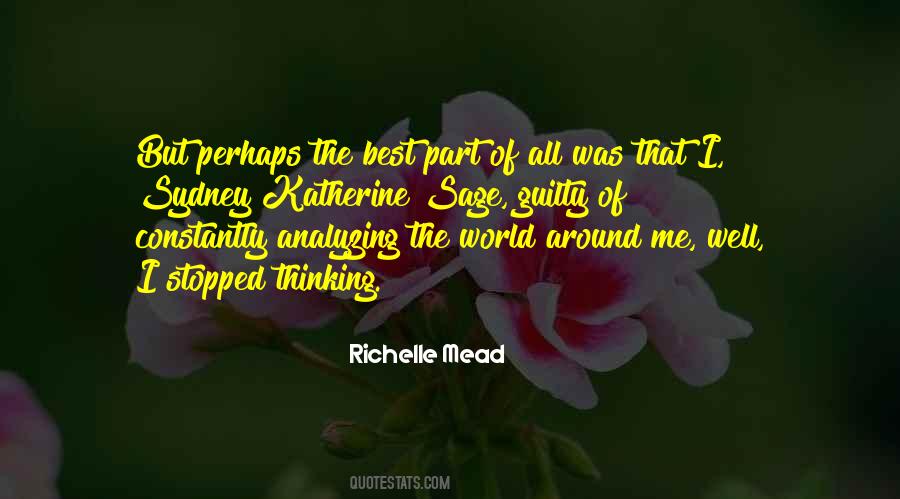 #21. I'm an explorer by nature, and being an entrepreneur allows me to explore new opportunities and technologies. And that's the best part of it. - Author: Anousheh Ansari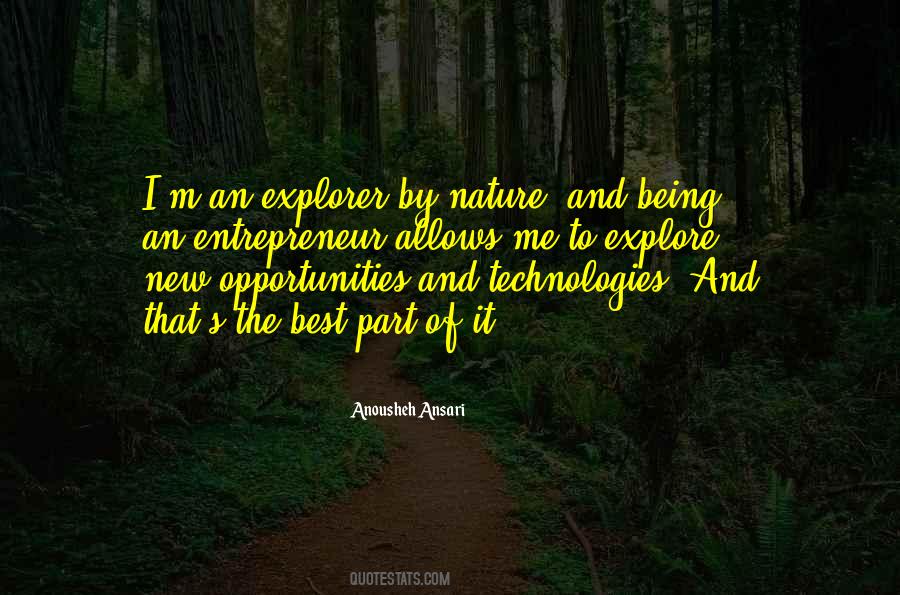 #22. Healing is a deeply private process and, honestly, you're not welcome to be a part of it. But you will have given me a short furlough from the dark, sorry prison of my mind, and that gift, precious in its own right, is really the best you can hope to offer. - Author: Jonathan Tropper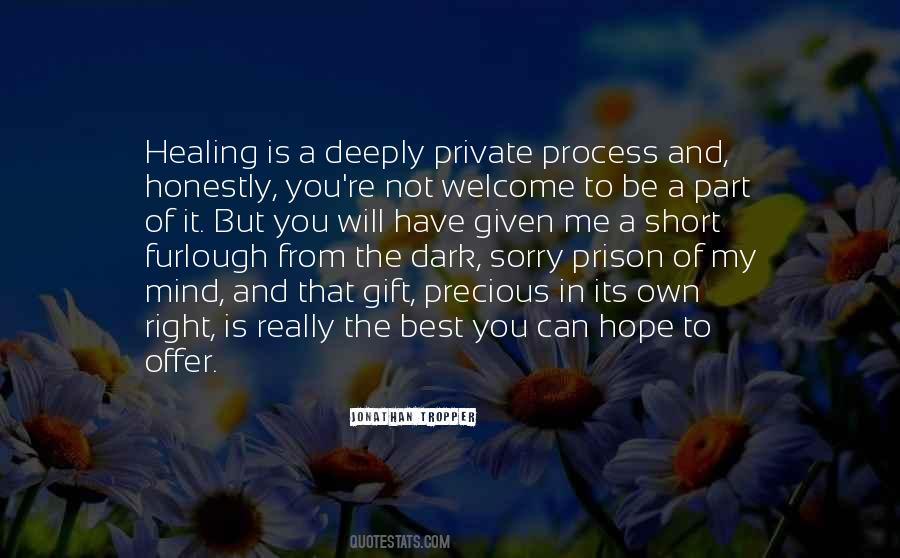 #23. I love the part of Hector as it takes me back to playing eccentric parts. He is a funny character, which is fine by me as I've been playing for laughs for decades now! It's lovely to get a laugh; it's the best thing in the world! - Author: Richard Briers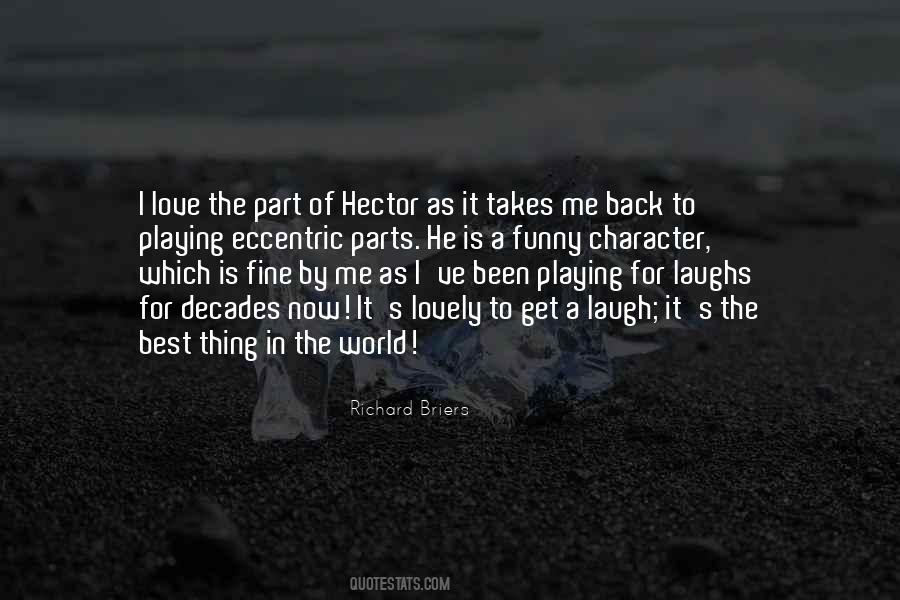 #24. I know it is possible to feel this way about other people," I began, pointing to my heart, "I know that there are a lot of ways to love and that each person I date will bring out a different part of me and I will love them all differently. But I always like how I liked you the best. - Author: Elna Baker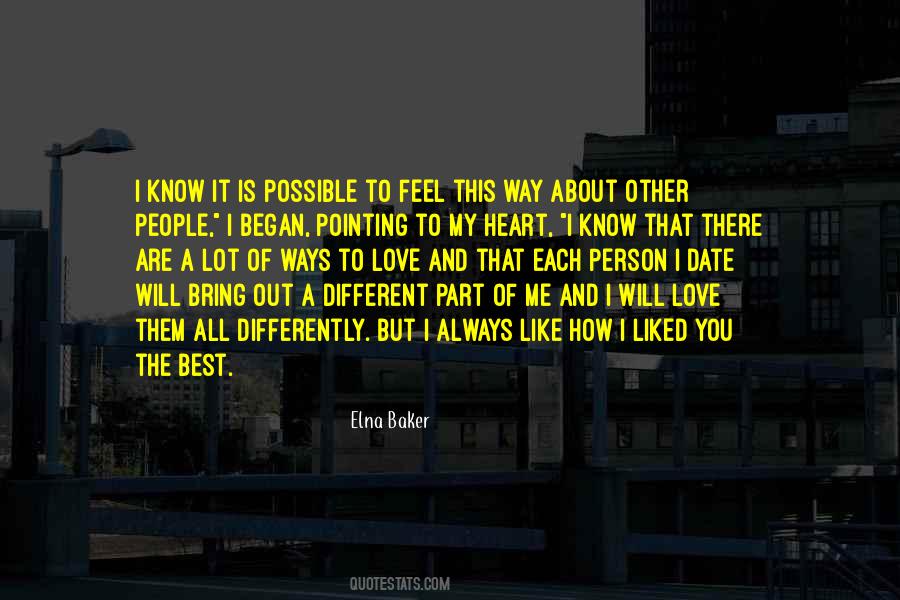 #25. Discontents are sometimes the better part of our life. I know not well which is the most useful; joy I may choose for pleasure, but adversities are the best for profit; and sometimes those do so far help me, as I should, without them, want much of the joy I have. - Author: Owen Feltham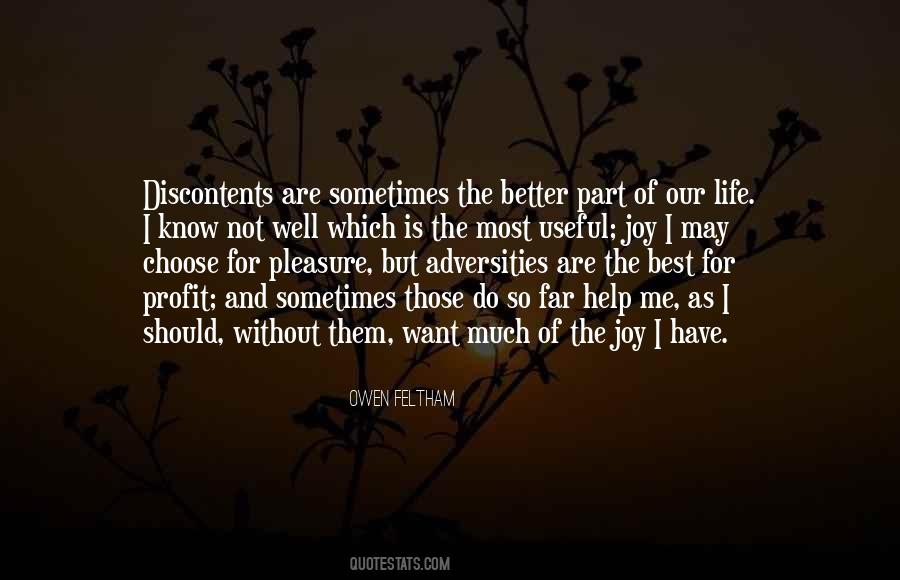 #26. There's nothing wrong with making the best of one's declining years, but what does annoy me is the fatalism. Now that we're seriously in range of finding therapies that actually work against ageing, this apathy, of course, becomes an enormous part of the problem. - Author: Aubrey De Grey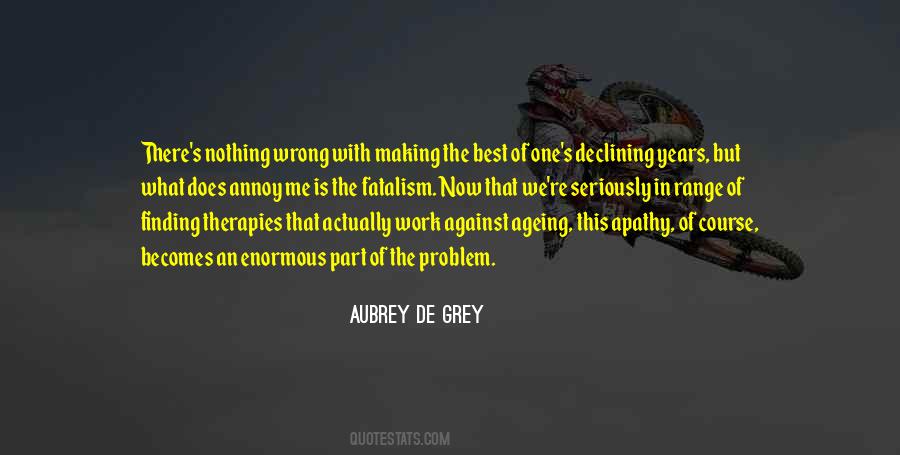 #27. A part of me genuinely wanted to be the worst because I was so sick of everyone fighting to be the best. - Author: Criss Jami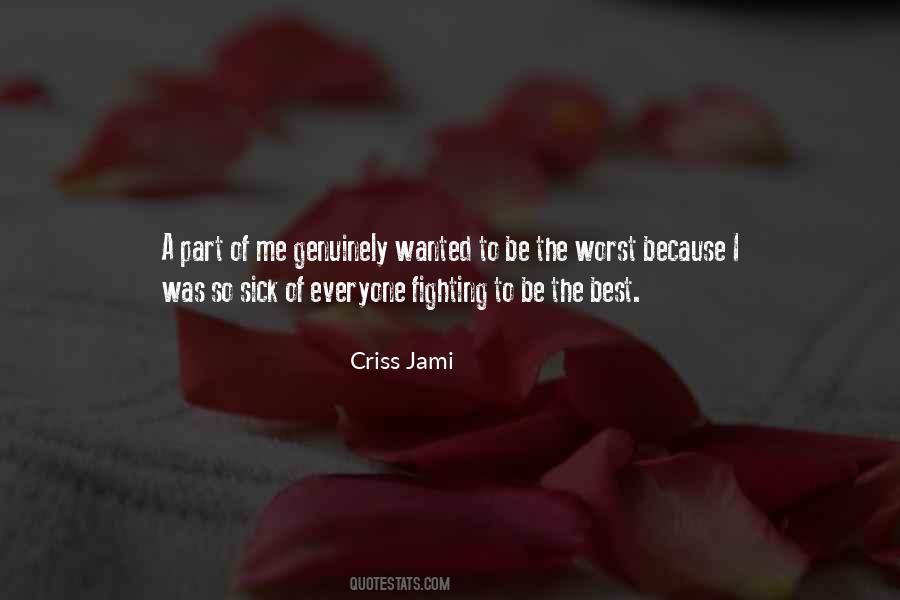 #28. I remember you explaining the bases to me in this dugout. The best baseball conversation we ever had."
I lean forward and claps my hands together. "Maybe you missed part of the conversation, because I wasn't explaining baseball."
... "I know, but I still enjoyed the demonstration. - Author: Katie McGarry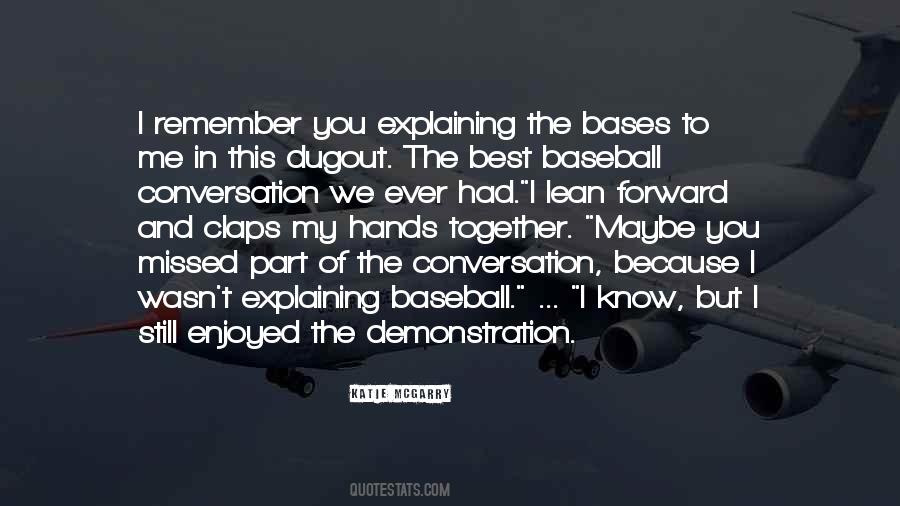 #29. She doesn't even tell me it'll be okay when every single ounce of whatever was left inside my chest is propelled out of me the moment I realize that the very best part of me is dead. - Author: Colleen Hoover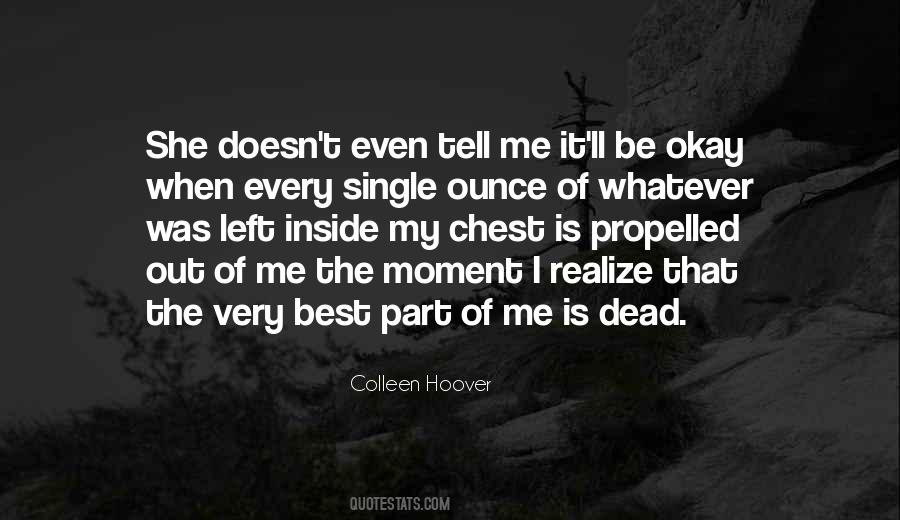 #30. Between takes I find it difficult to switch off and then try and re-emerge myself in the part, so I try to stay in that frame of mine all day. It can be exhausting and you lose a sense of self, but it is the method that works best for me. - Author: Hayden Christensen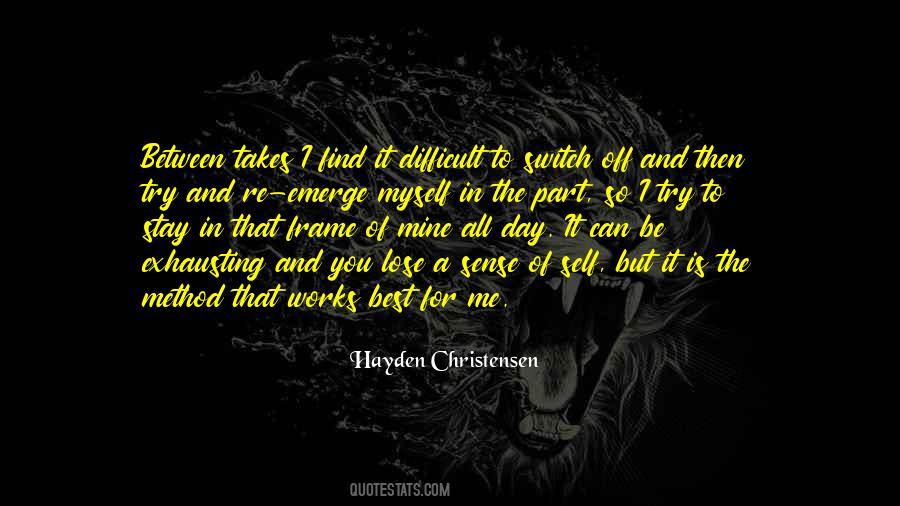 #31. For me, I think everybody with half a heart tries to do their best to do their part of good during the holiday season. - Author: Darren Criss
#32. What am I supposed to do when the best part of me was always you?
And what am I supposed to say when I'm all choked up and you're ok? - Author: The Script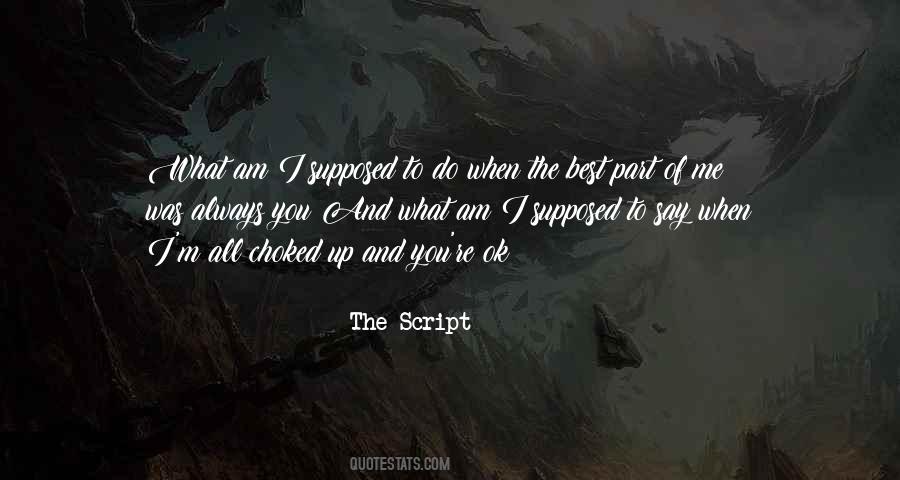 #33. My faith in God is a huge part of my life, and yeah He has blessed me with an amazing family, and group of friends. In the Bible he tells us to think positively about ourselves, to not be down on ourselves. So I just try to live the way He wants me to, and make the best decisions I can. - Author: Bethany Hamilton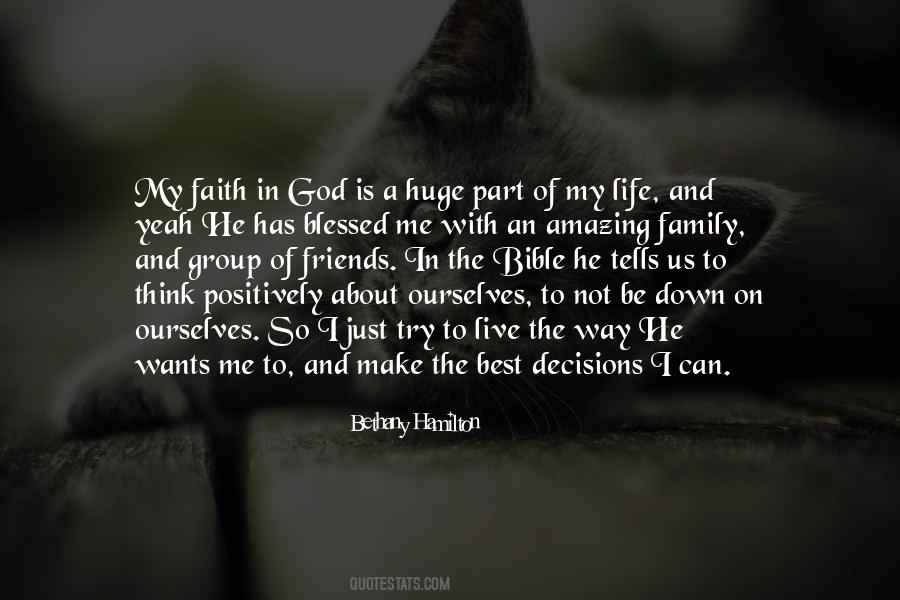 #34. You are the best part of me. Everything good that has come into my life only came after I met you. I love you with all I am. - Author: Loni Flowers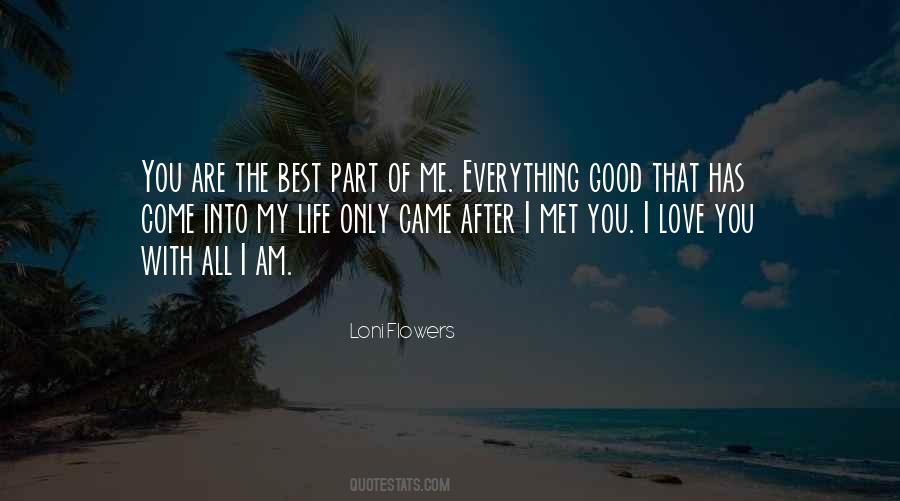 #35. I guess I feel that I was following my instincts, and at the same time being guided by the best. I became totally intrigued with Louisiana - the people, the food. It is a part of my life. Everything that has happened for me since moving here has just been icing on the cake. - Author: Emeril Lagasse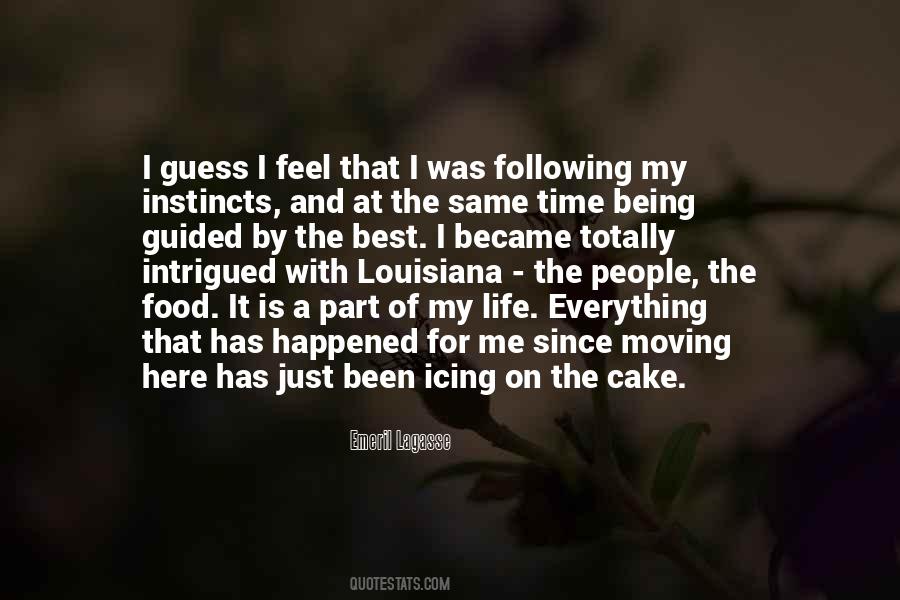 #36. To me, breakfast is my most important meal. It's often the meal you play a game on. I make sure I have oatmeal, milk, and fruit. It's the fuel you use to hopefully do your best, so eating right is a big part of being a professional athlete. I wish I paid more attention to it earlier in my life. - Author: Andrew Luck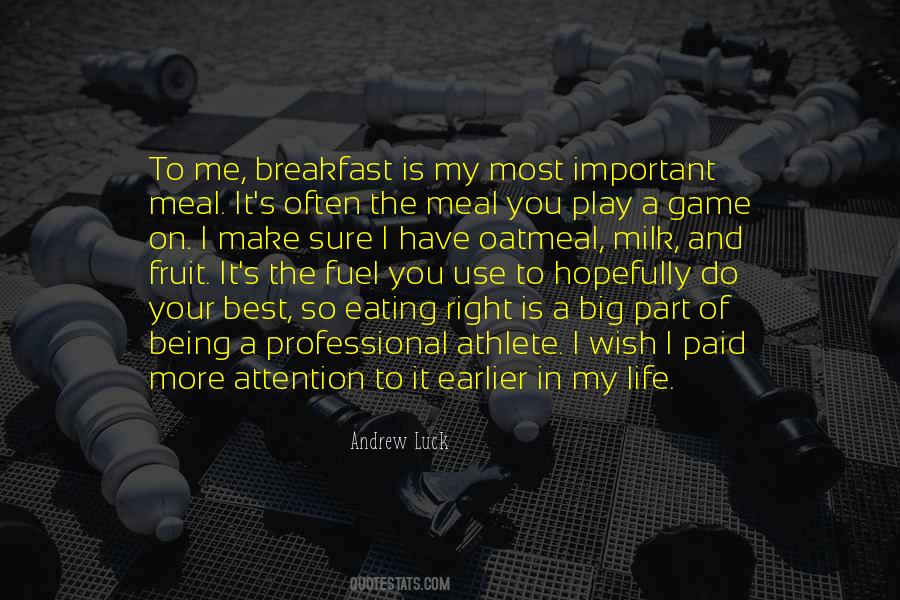 #37. Walking away from you was like walking away from the best part of me. I almost didn't recognize him.Walking away from you was like walking away from the best part of me. I almost didn't recognize him. - Author: Amy Lane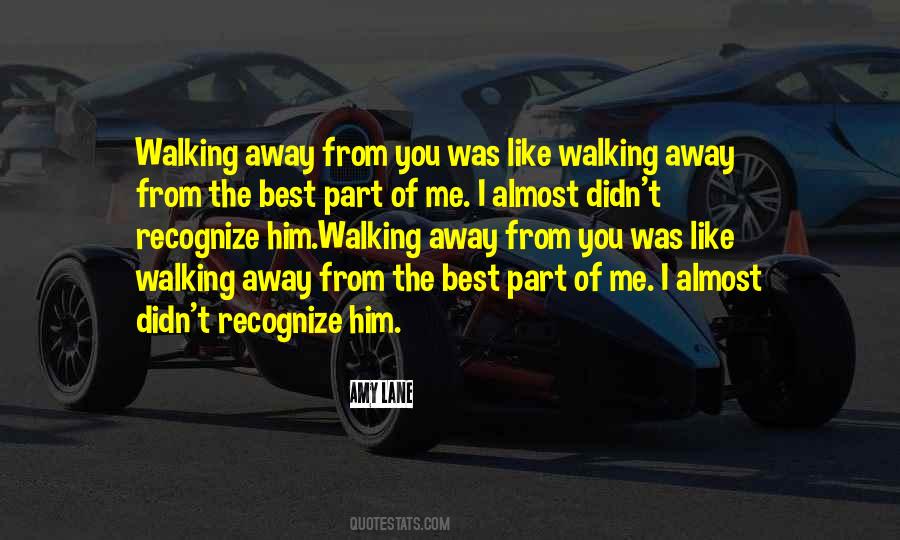 #38. My dad took me to all the best rock and punk shows when I was growing up and music has always been a part of my life. So I'm very interested in the music scene and I suppose that's why I've ended up going out with musicians. Dave Pirner is still one of my best friends. - Author: Winona Ryder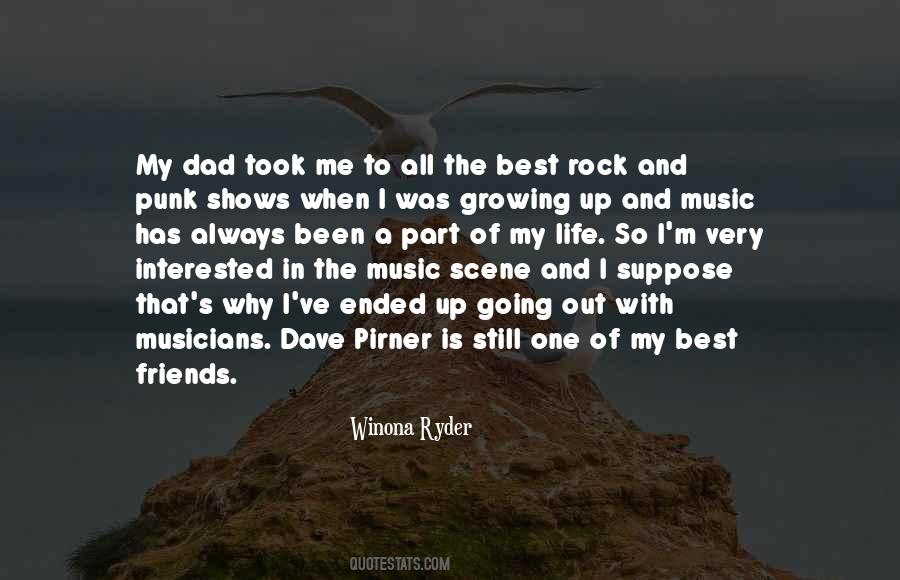 #39. We'll always be fucking, Gillian" He smiled, biting my lip before tossing me onto the bed. "That's the best part of us. - Author: Whitney G.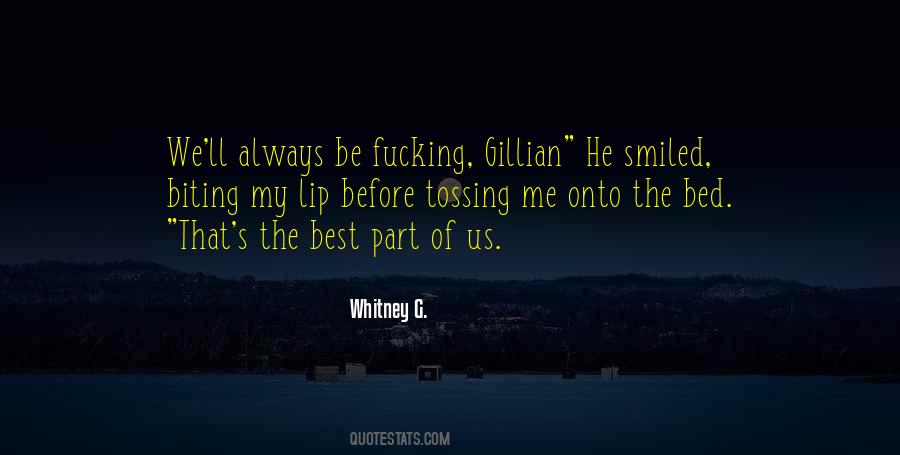 #40. I don't like anything that's "just an escape." To me the best part of golf is that, unlike my tennis game, I can actually get better. I've probably reached my plateau in tennis, but in golf I have a lot of room for improvement. I really enjoy working on my game. I like practicing. I chart my rounds. - Author: Condoleezza Rice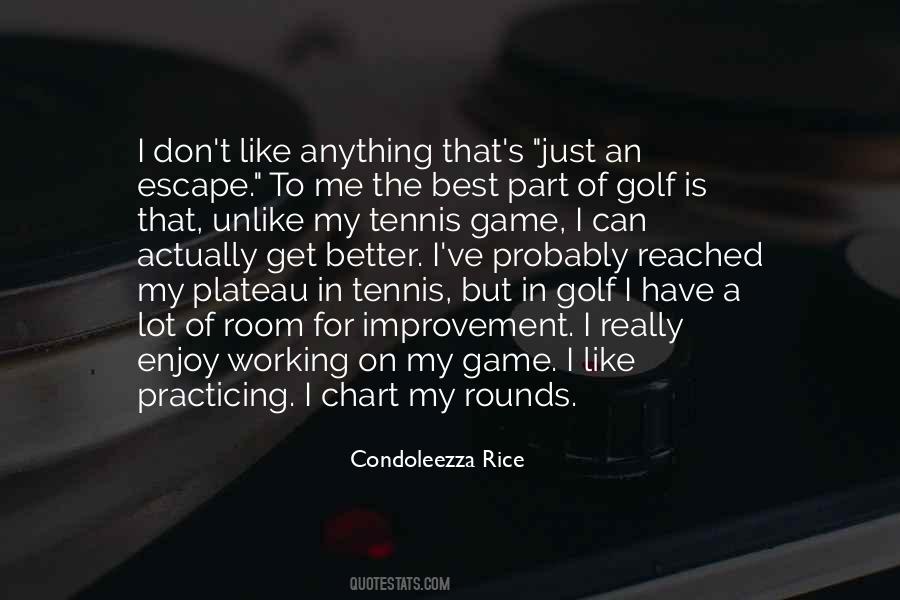 #41. People fascinate the hell out of me. I never get tired of watching people, listening to people. The best part is not getting up in front of people but meeting people. - Author: Andre Dubus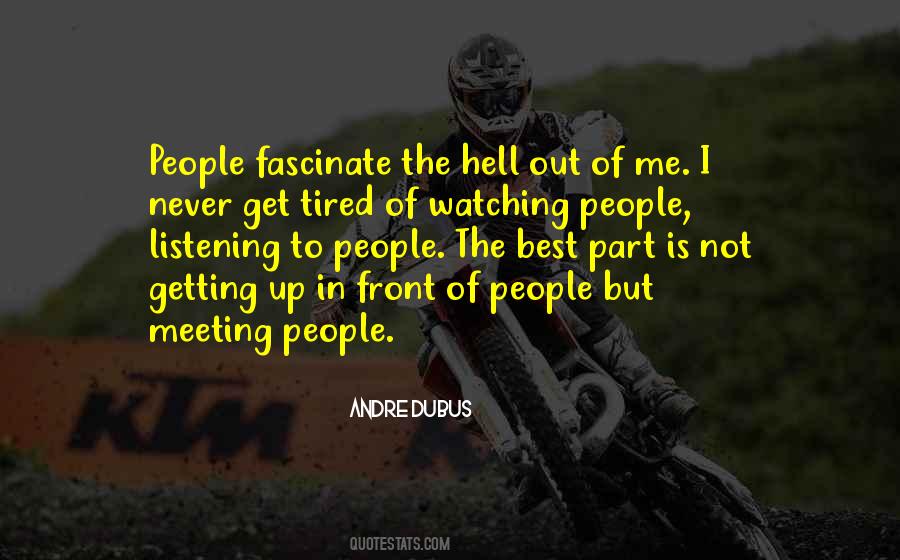 #42. This spending of the best part of one's life earning money in order to enjoy a questionable liberty during the least valuable part of it reminds me of the Englishman who went to India to make a fortune first, in order that he might return to England and live the life of a poet. - Author: Henry David Thoreau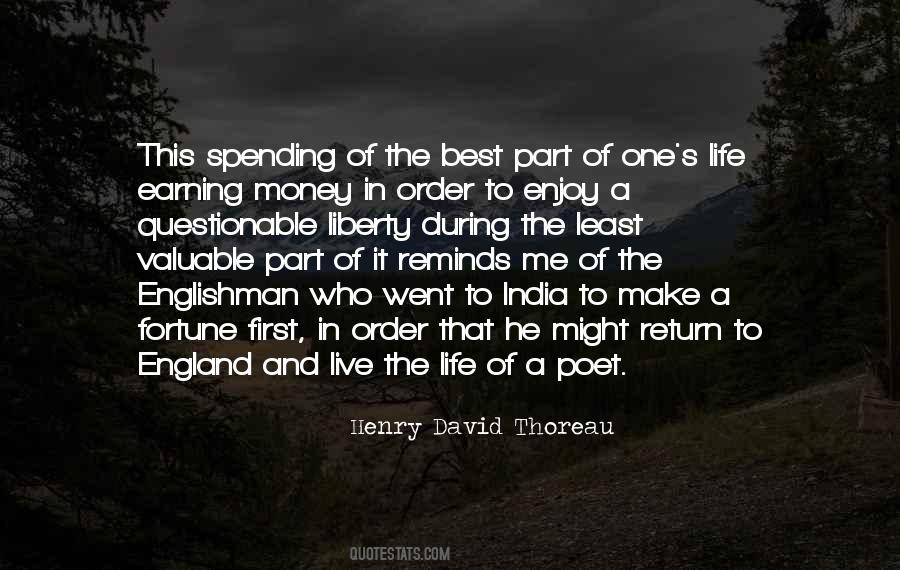 #43. Your memories of me are part trees and part ocean and part magic, and I don't know if I will ever be that girl again. She was the best version of me. - Author: Amy Reed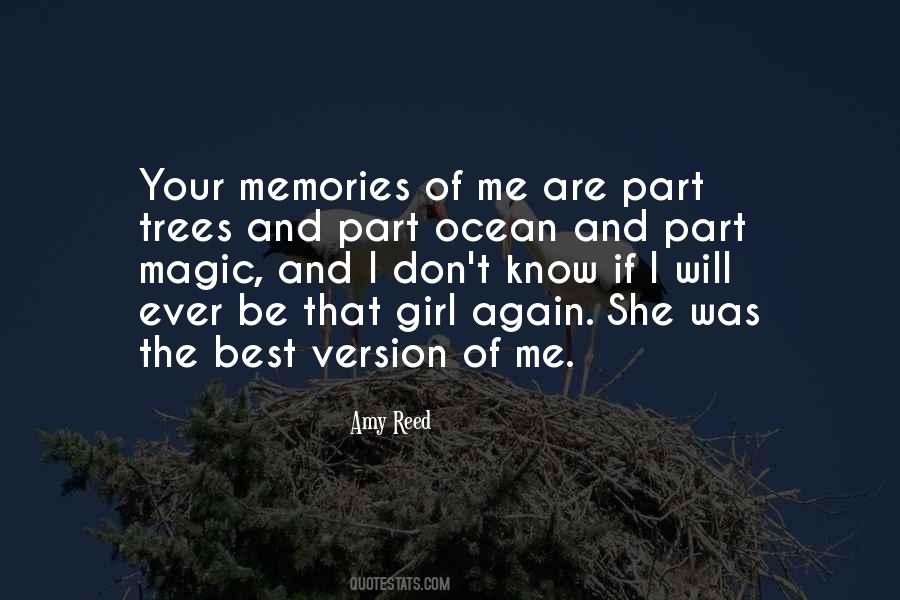 #44. Performing at my best is important to me and should be to everyone. I am blessed that my dad is a chiropractor. Getting adjusted regularly - along with practicing other good health habits that my mom helped me to establish - are all part of my goal to win in life and on the field. - Author: Aaron Rodgers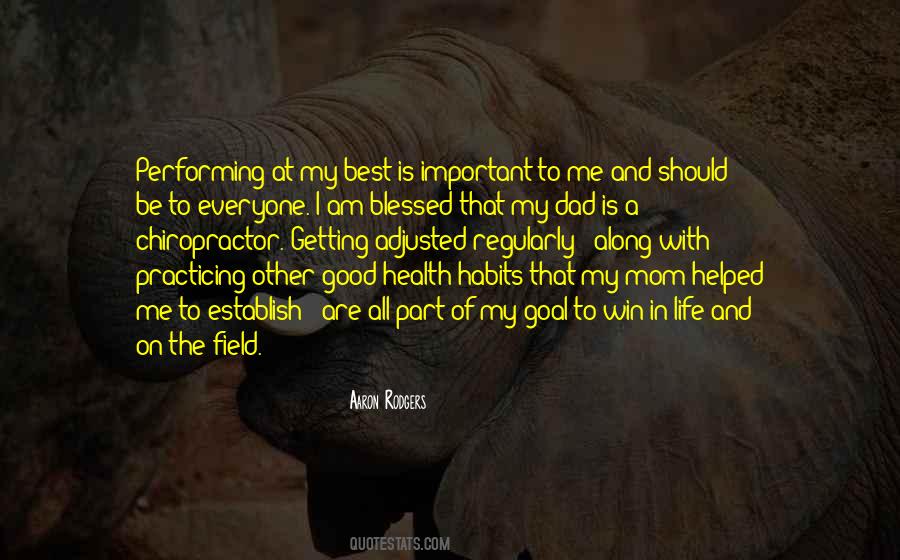 #45. I could always accept not being the prettiest or the smartest
Because I had the best of friends.
A and A they called us.
But, Anna, somehow, I failed you.
And now I've lost the best part of
Me. - Author: Terri Fields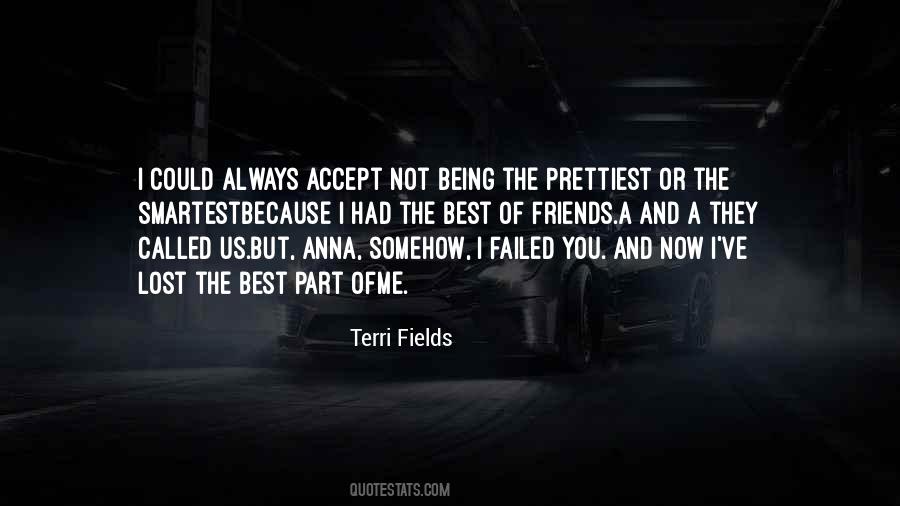 #46. My 'fear' is my substance, and probably the best part of me. - Author: Franz Kafka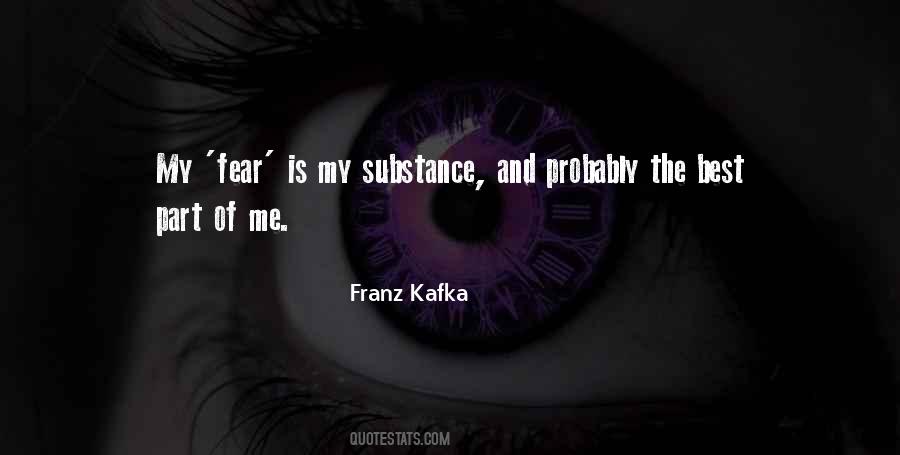 #47. I love you, Mia. Every part of you. The best and worst. The broken and perfect. The bad, the good. You're it for me, babe. I see only you. - Author: Samantha Towle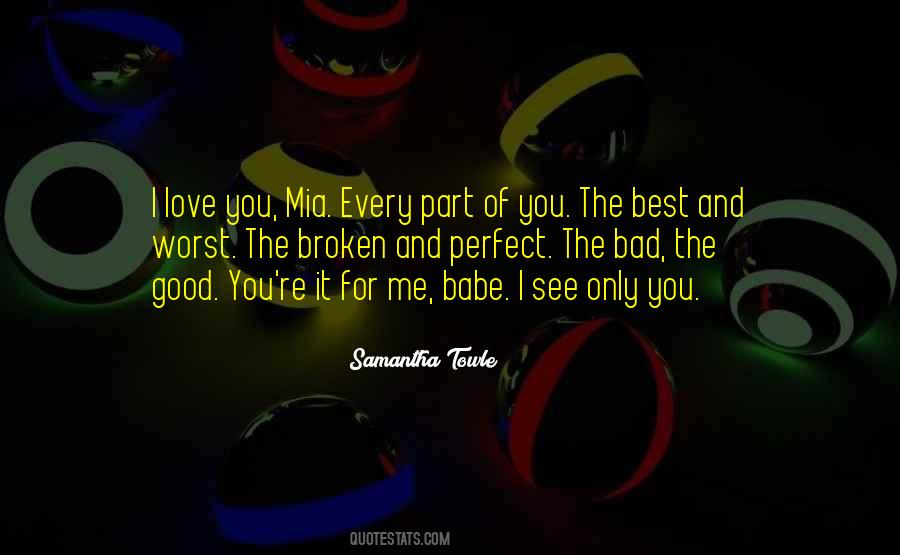 #48. That's the best thing that's ever happened to me, bar none, is having grandchildren and living by them and being part of their lives. - Author: Helen Garner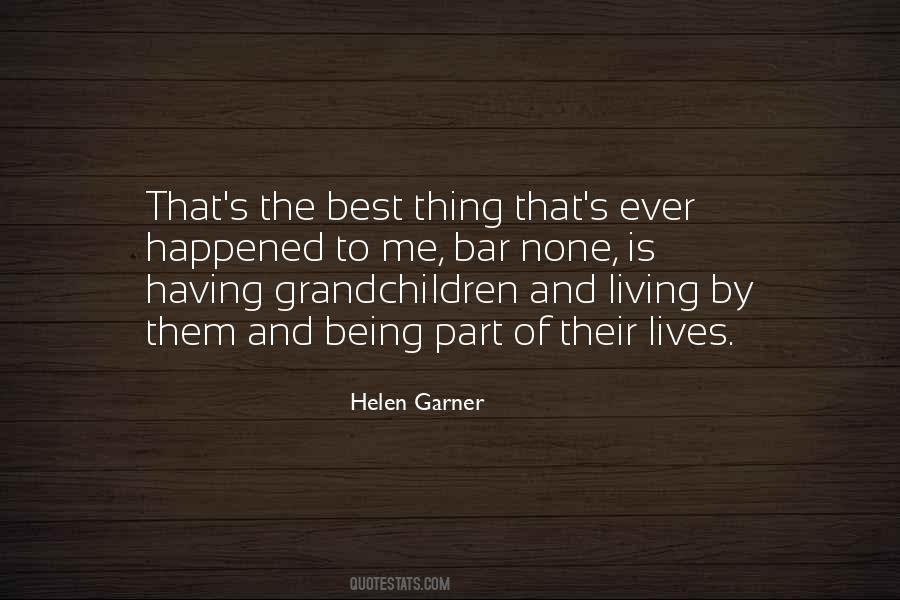 #49. This is what I wanted. They tell me that London is the best field in history. I wanted to be part of that. Because everyone will be there it will be a wonderful challenge for me. You can see the best runners, how they look, how they run. For me to beat the best is what counts. - Author: Haile Gebrselassie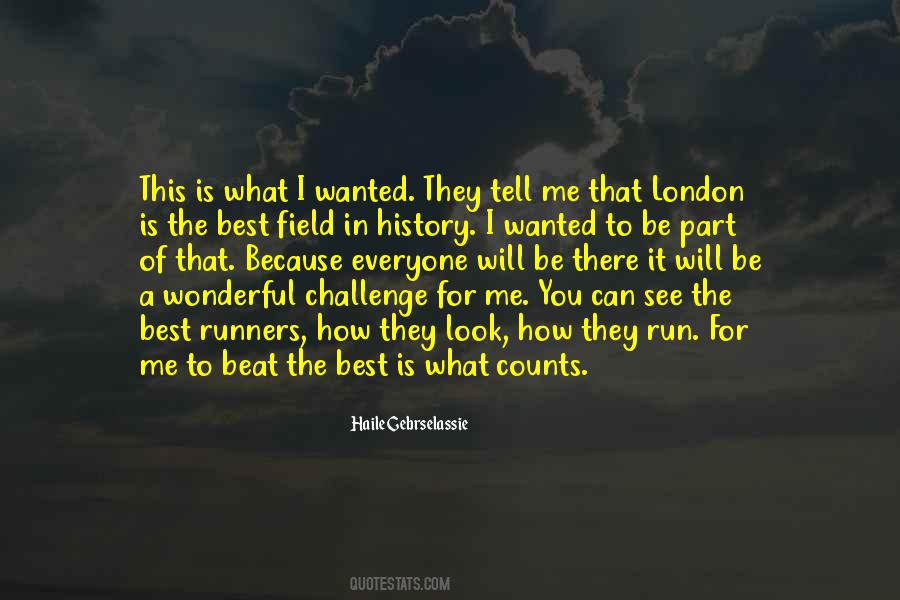 #50. My Jewel, I can't give you my whole heart. But the part of it I can give you is the part that isn't scarred and isn't broken. I'll give you the best of me and protect you from the worst for the rest of my life. - Author: Tiffany Reisz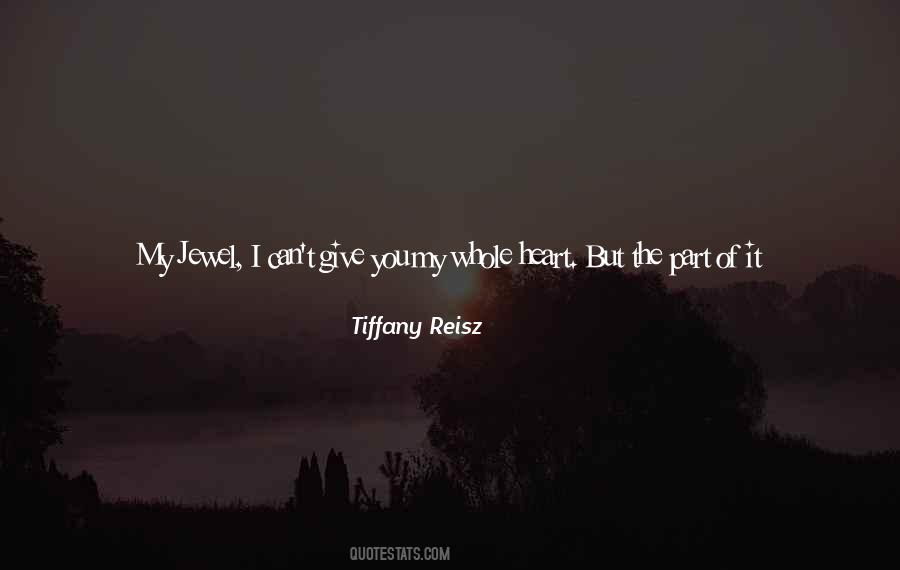 #51. His version of 'real' love isn't sufficient for me, I don't think anyone should settle for so little. It wasn't love - not in the true sense. On my part, it was neediness, insecurity, dependence, habit - desperate to feel loved by a man who was often ambivalent towards me. - Author: Freya North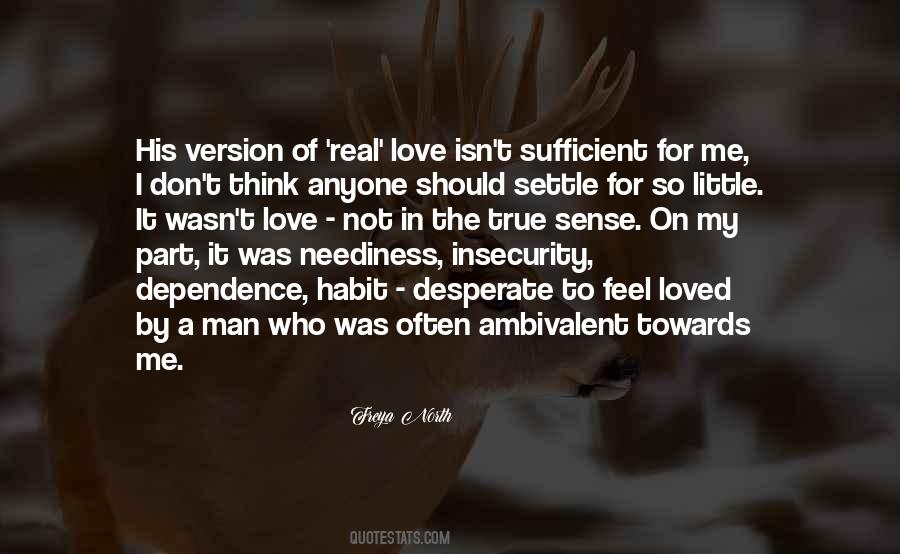 #52. For me, the best part of being in a band is playing shows, all the raw energy. - Author: Chino Moreno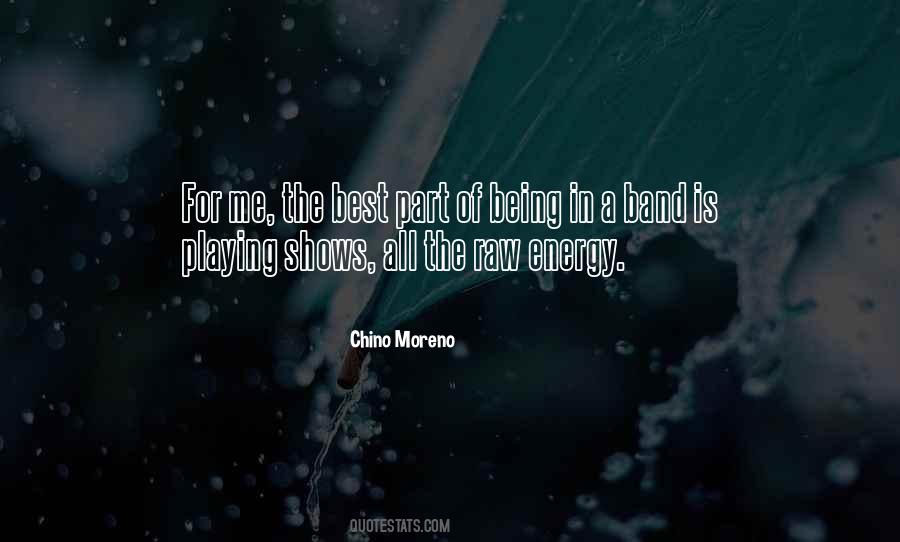 #53. Developmental readings are actually the best part of being an actor for me. I once spent a month doing so many developmental readings at the Roundabout that we all joked that I was an 'artist in residence' there. But to me, it's such a special time to be involved with a new play. - Author: Sarah Steele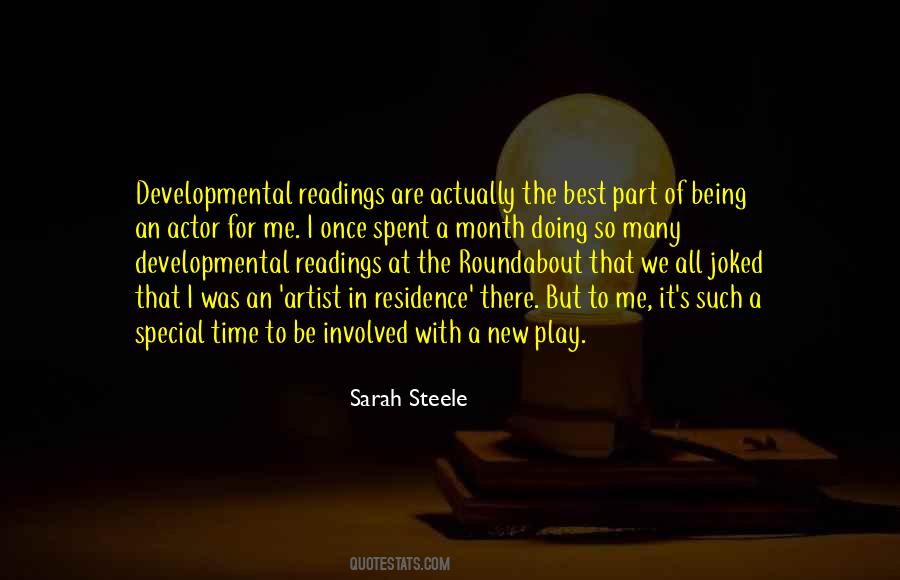 #54. I guarantee that tomorrow there will be something that will happen, that has never happened before.
That is something to look forward too.
And the best part of tomorrow is that there is another one just a day later. - Author: JohnA Passaro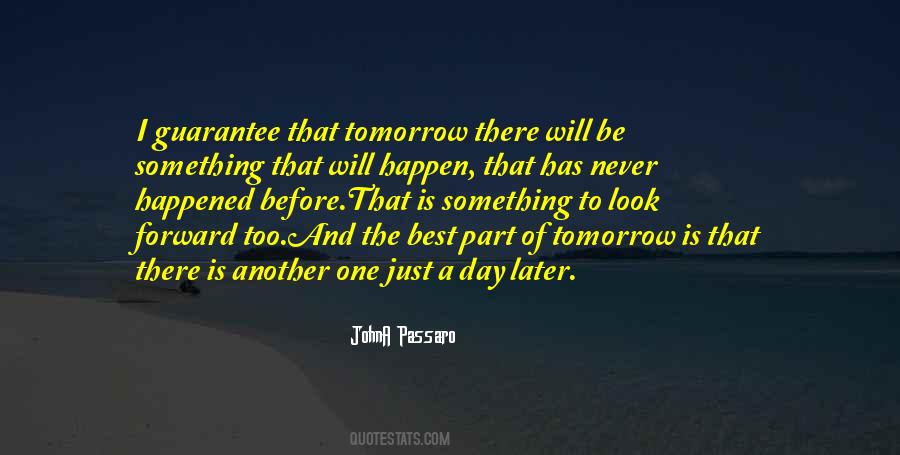 #55. About 1960, it became clear that it was best for me to bring the experimental part of my research program to a close - there was too much to do on the theoretical aspects - and I began the process of winding down the experiments. - Author: Rudolph A. Marcus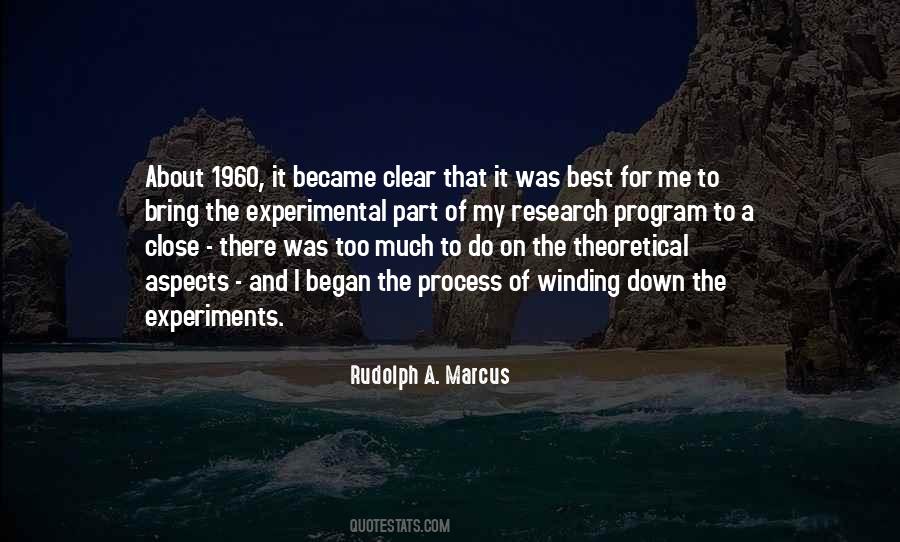 #56. I crossed a thousand leagues to come to you, and lost the best part of me along the way. Don't tell me to leave. - Author: George R R Martin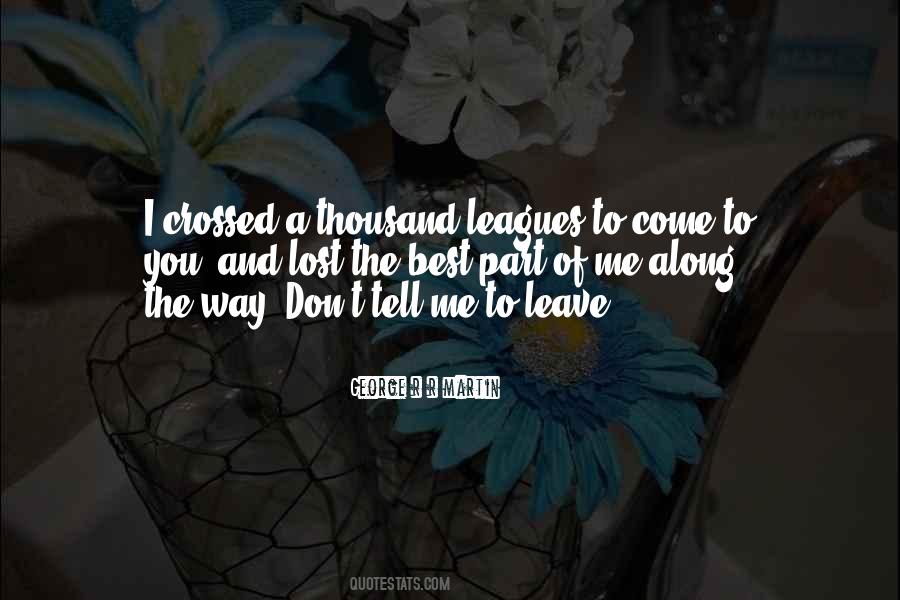 #57. Being Mormon is a big part of who I am, and I try very hard to live the right way, but I don't know that I'm an example. I hate to say, 'Yes, look at me. I'm a good example of being Mormon.' I want to be the best person I can be, so in that aspect, maybe I'm a good example. - Author: Stephenie Meyer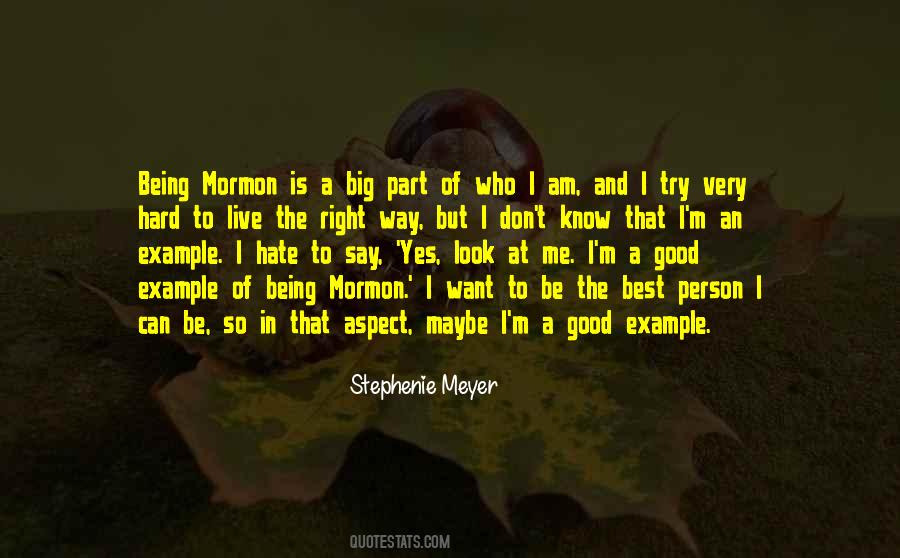 #58. For me, I think the best part of all and the most fun was just being a part of such an amazing movie and such an amazing show because 'Into The Woods' is just so incredible. - Author: Lilla Crawford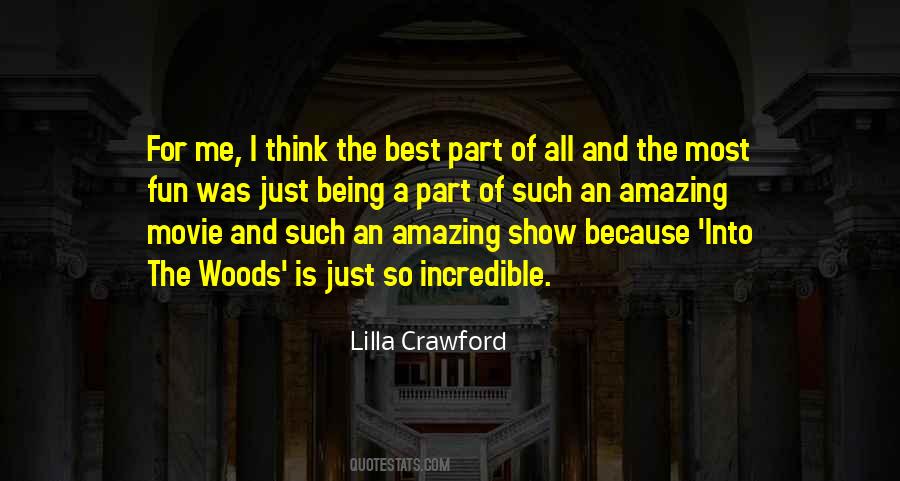 #59. Do you still miss Gran?" I ask him as we head toward New Clairmont. "Because I miss her. We never talk about her." "A part of me died," he says. "And it was the best part." "You think so?" I ask. "That is all there is to say about it," says Granddad. - Author: E. Lockhart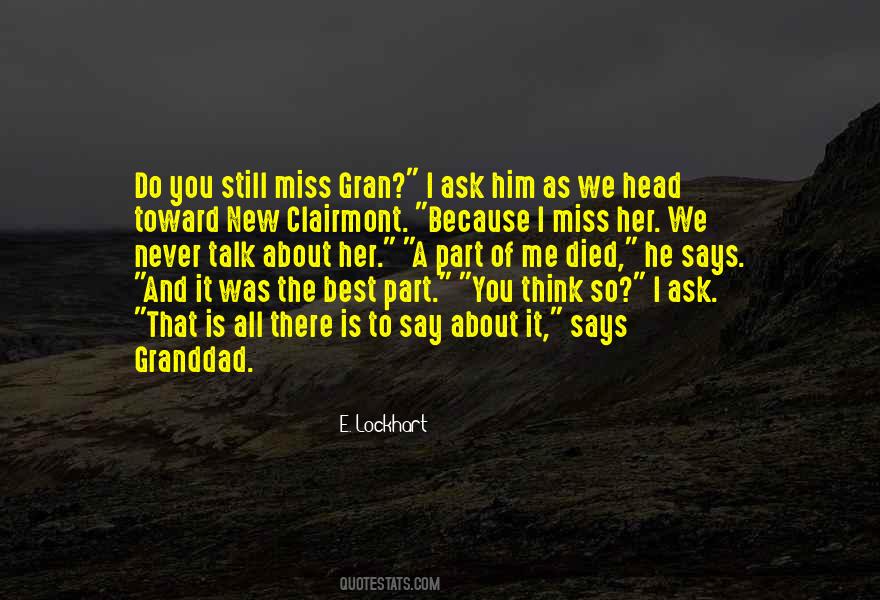 #60. The best part of making music, for me, is collaborating and working with new people and fresh sounds and all those things that gets people excited to continue in this business that we all love so much. - Author: Mariah Carey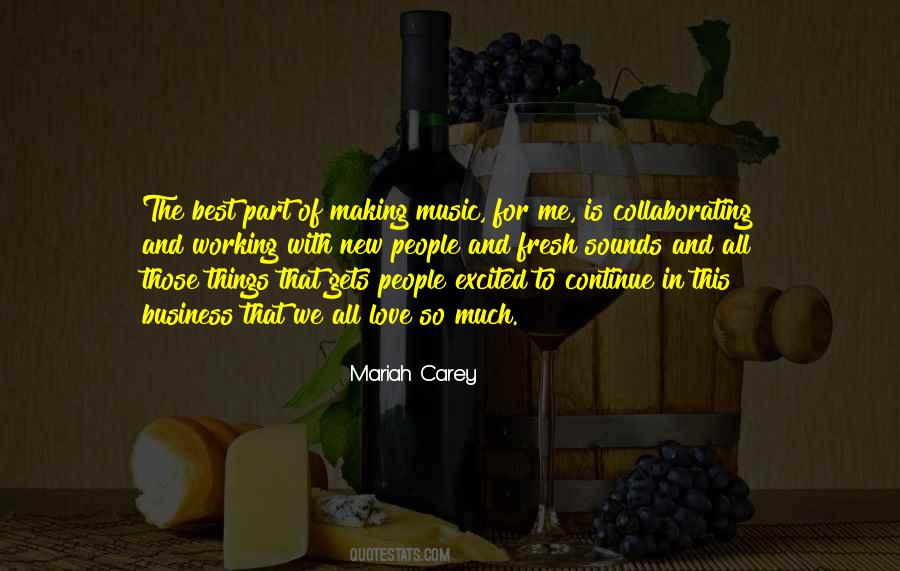 #61. I had loved her as a mother, and though she had put forth her best effort to love me as a son, a difference existed after she learned the truth from Delia. Yet I did not hold her responsible; how could I blame her for an inability to love the part of me that I, too, loathed? - Author: Kathleen Grissom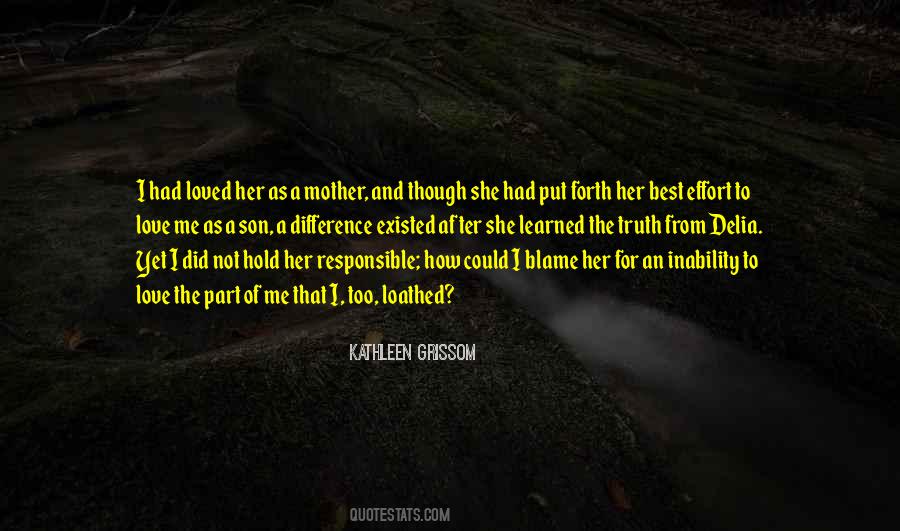 #62. You are everything good in my life. Even when I thought all I had was the darkness, you were there. And you gave me something to live for. I couldn't let you go. No matter how hard I tried. I know now that's because to lose you would be losing the very best part of myself. - Author: A Meredith Walters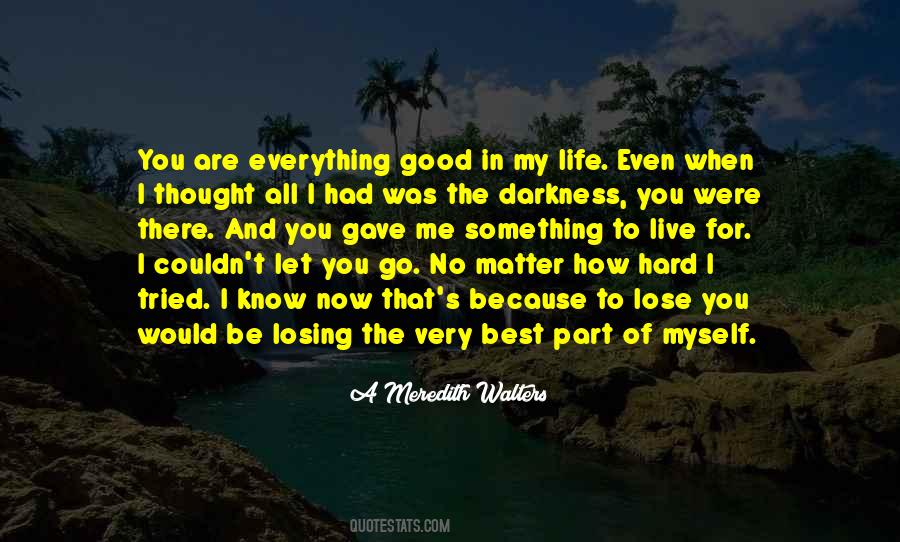 #63. The best part of being me is that everyone underestimates the depths of stupidity I'm willing to plumb in order to win out. Azrael - Author: Tim Marquitz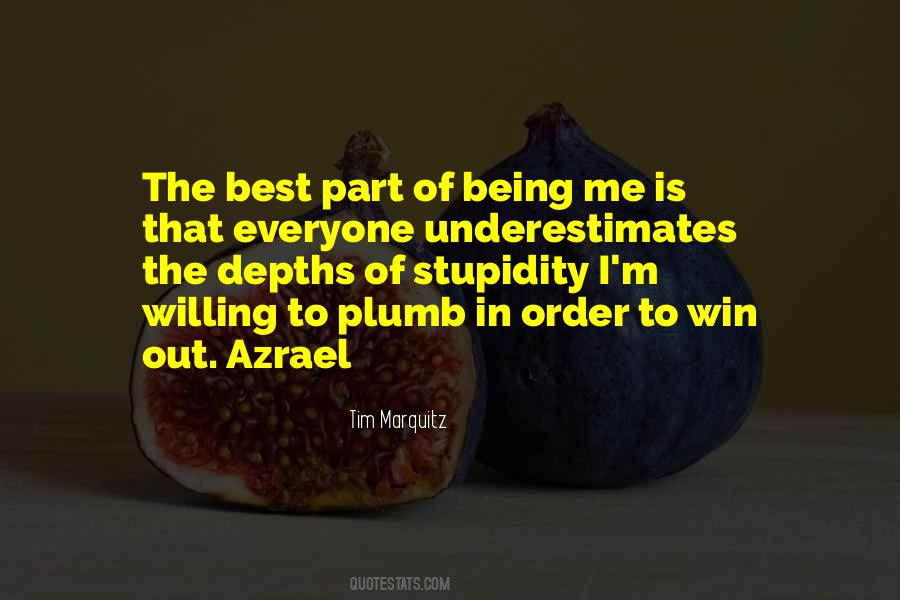 #64. When I first came to L.A., I worked at the Magic Castle, and it was so much fun. But the best part of magic for me these days is not having to do it for a living. It's being able to pull a trick out when people least expect it, when they don't know that you do magic. - Author: Steve Valentine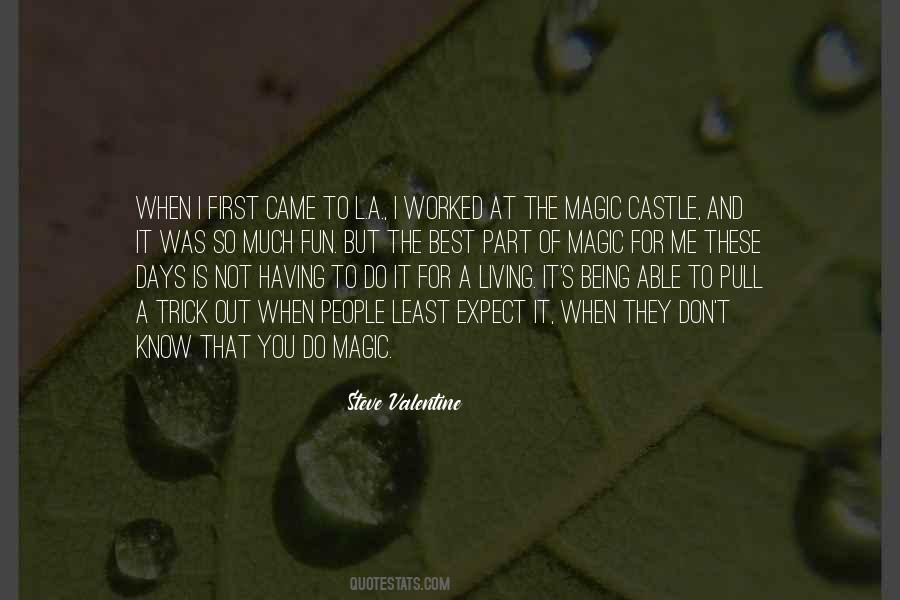 #65. The best order of things, as I see it, is the one that includes me; to hell with the most perfect of worlds, if I'm not part of it. - Author: Denis Diderot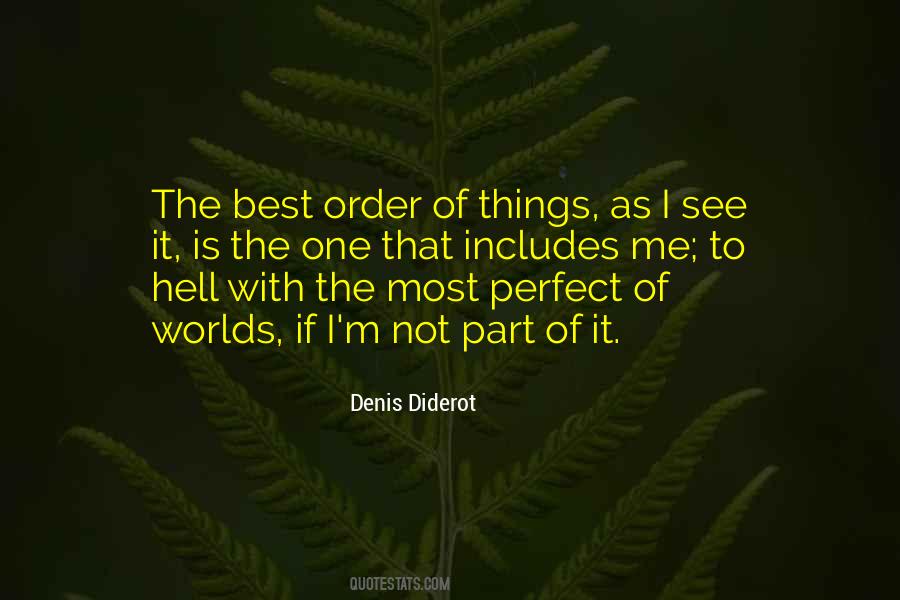 #66. To Me, The Best Part Of Success, Is The Journey! - Author: Latif Mercado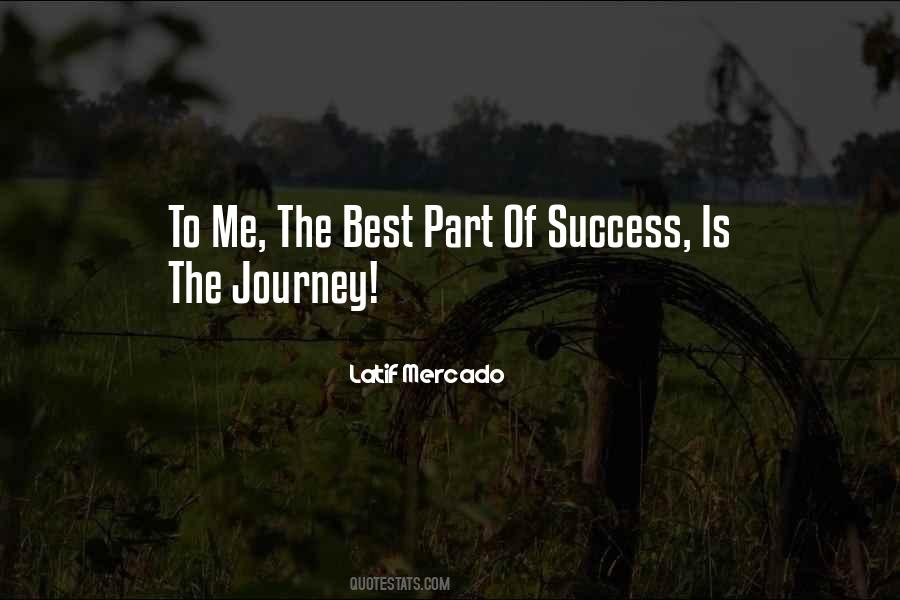 #67. You have never let me down. You are always there for me. You are the best part of me, who I want to be, and every time I look at you I can hardly believe how lucky I am to be with you and I hope you know that. - Author: Dawn Metcalf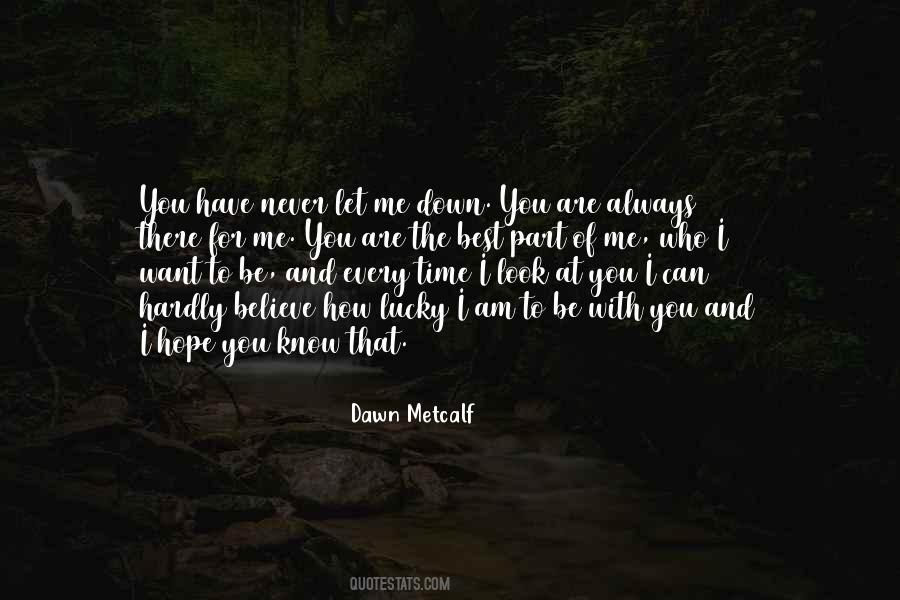 #68. Or," she looked down into the drink, "I used to. Now it feels like the best part of me has got lost in the way I live. - Author: Keri Hulme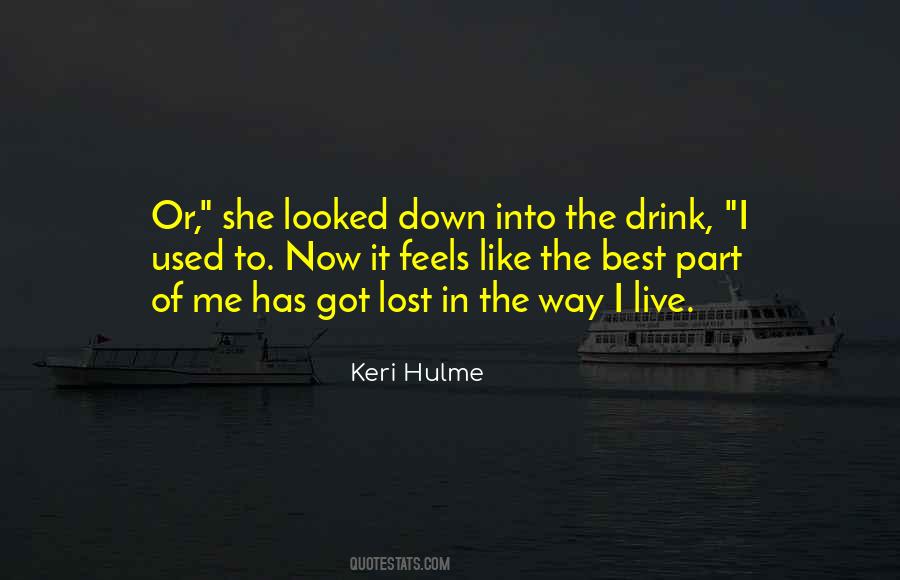 #69. The best part of being a mom to me is the unconditional love. I have never felt a love as pure, a love that's as rewarding. - Author: Monica Denise Brown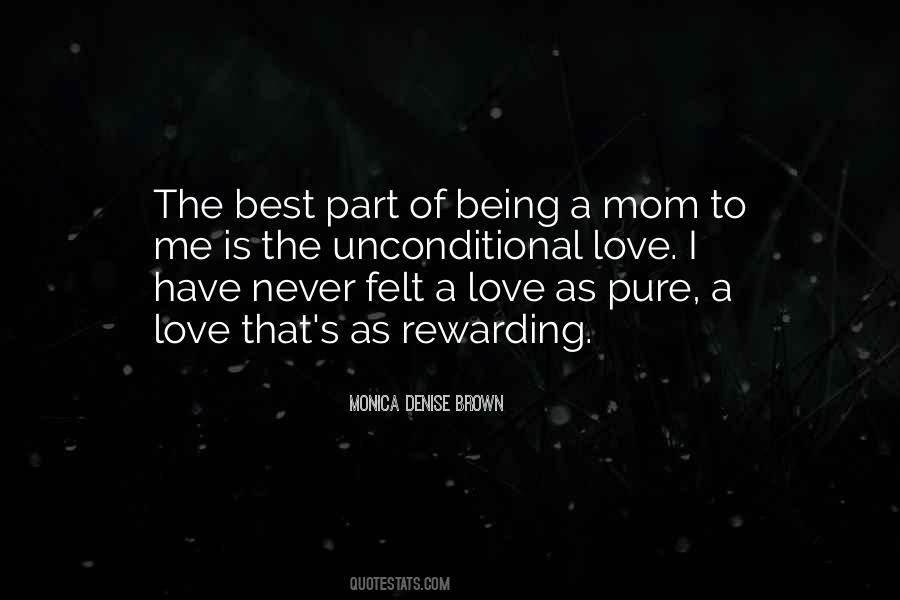 #70. One of the best things a father can do for his daughter is let her know that she has met his expectations. My father did that for me, and no amount of effort on my part can fully repay the debt. I'd do anything for him, and for my mother. Now - Author: Lisa Wingate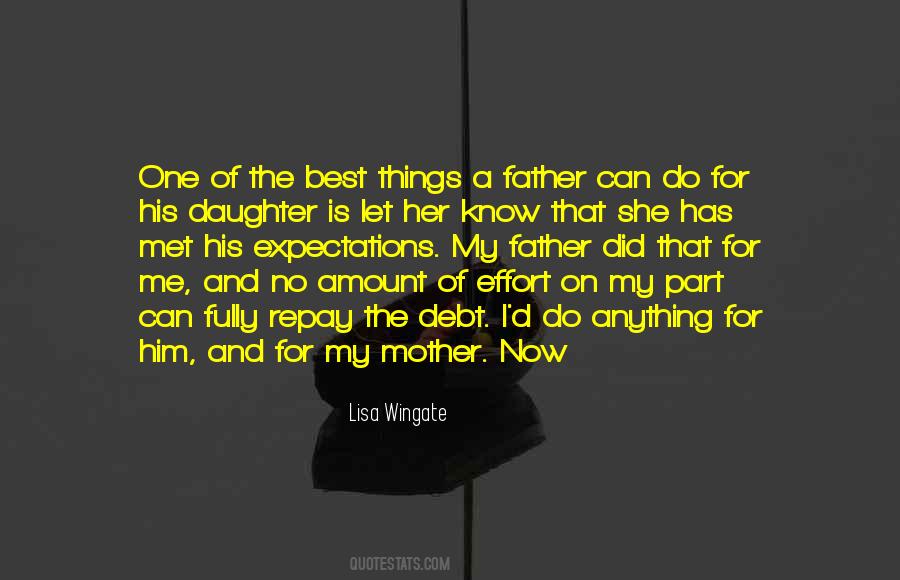 #71. The best part of it for me is the idea that this group of young men, who came together and believed in themselves, bought the team concept completely, took the names off the back of the jerseys, checked the egos at the door. - Author: Tom Coughlin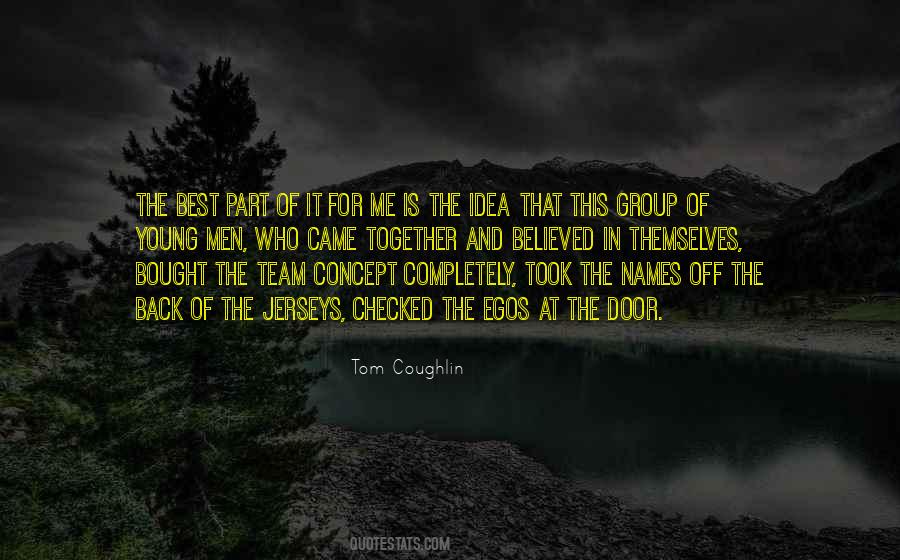 #72. The best part of one's life is the working part, the creative part. Believe me, I love to succeed ... However, the real spiritual and emotional excitement is in the doing. - Author: Garson Kanin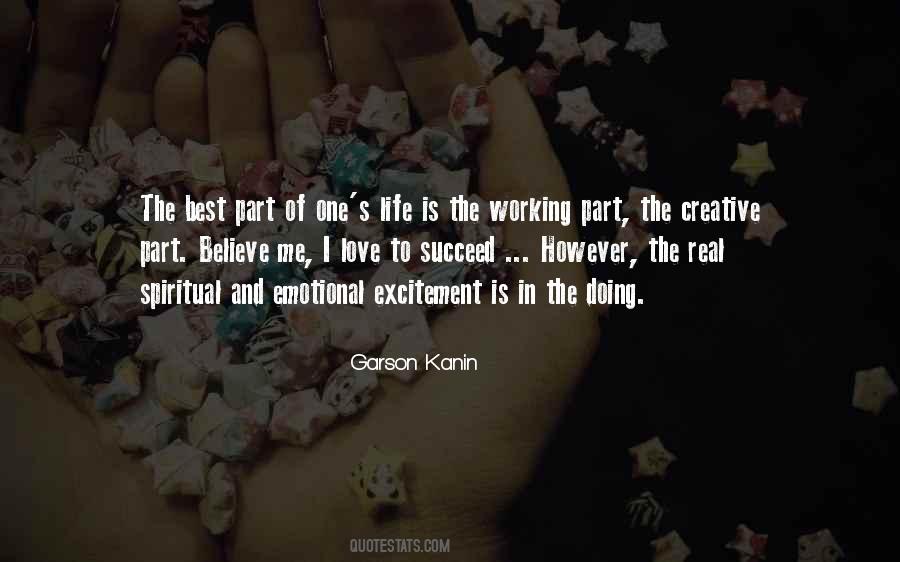 #73. When I get to do whatever I want, I'm perfectly happy. I've found that the best scenario is that I just do what I do, and if somebody wants to be part of it, they should work as a conduit for what vision I have. They should help me complete the universe. - Author: Ariel Pink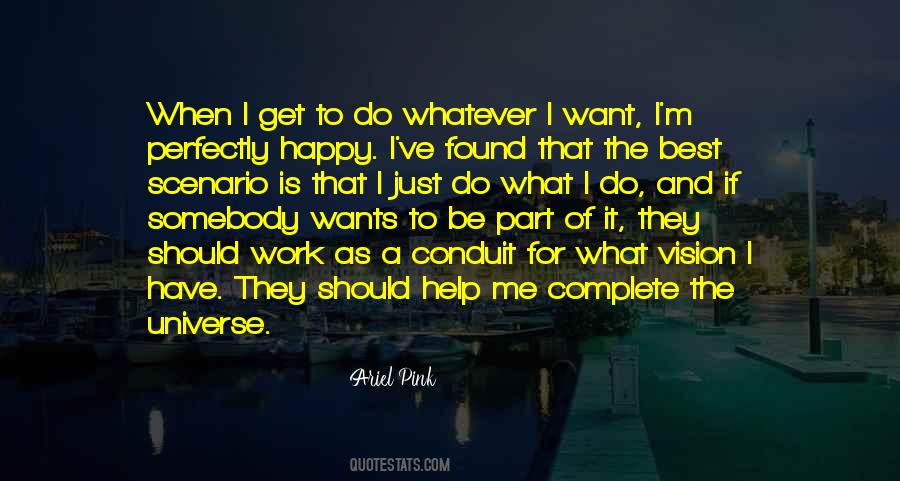 #74. The best part is still ahead of me - I haven't experienced my 'good old days' yet. - Author: Luther Vandross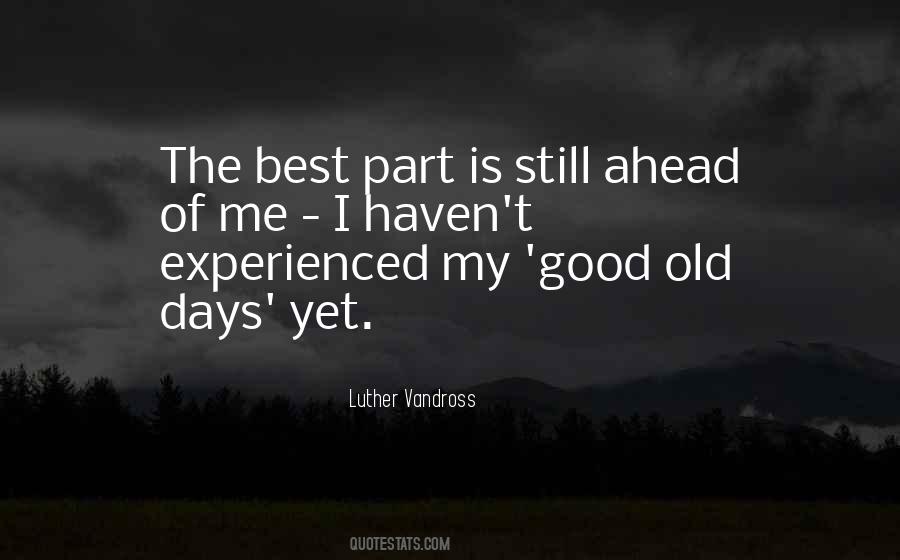 #75. My own heart is in my characters. My novels are my memories; they are the best part of me. - Author: Gabrielle Dubois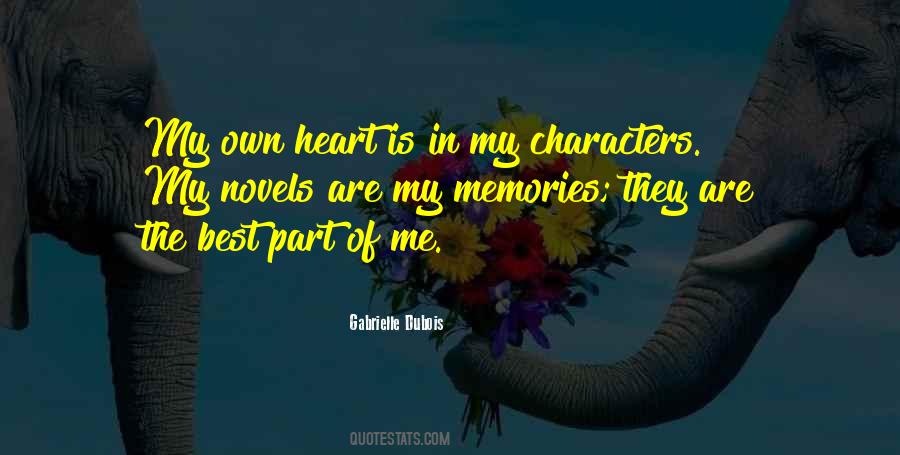 #76. My heart is quite the best part of me. - Author: L. Frank Baum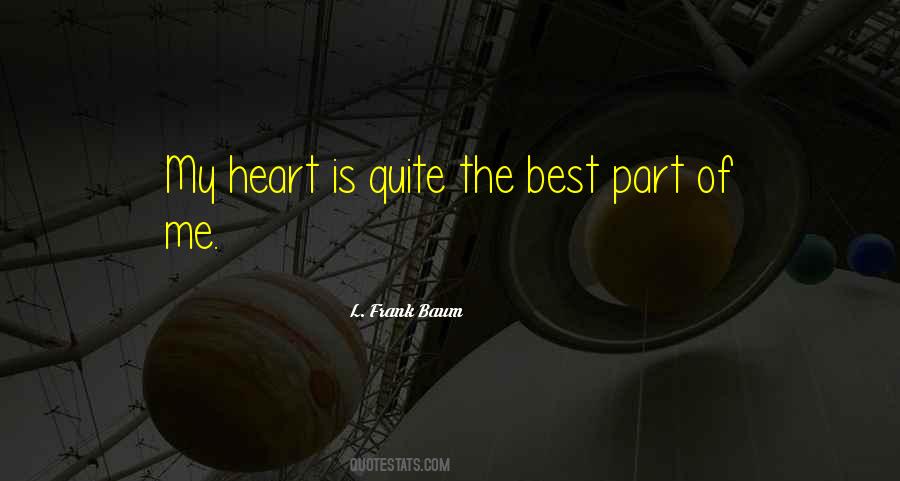 #77. Why is it amazing that I don't act my age? Why should I act my age? Or more to the point, how is someone my age supposed to act? Old age is part fact, part state of mind, part luck, and wholly something best left for other people to ponder, not you or me. Why waste your time? I don't. - Author: Dick Van Dyke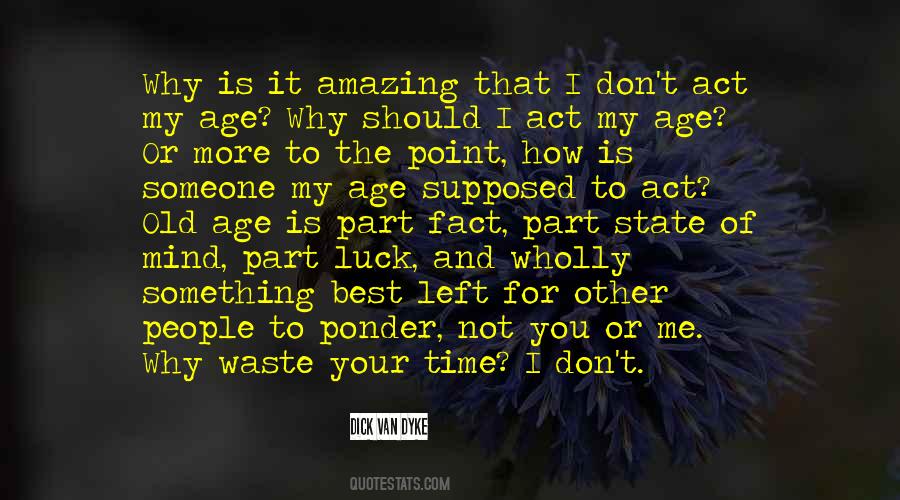 #78. The best part of me is you. The only part that matters is the one you have, the one you hold in the palm of your hand. - Author: M. Leighton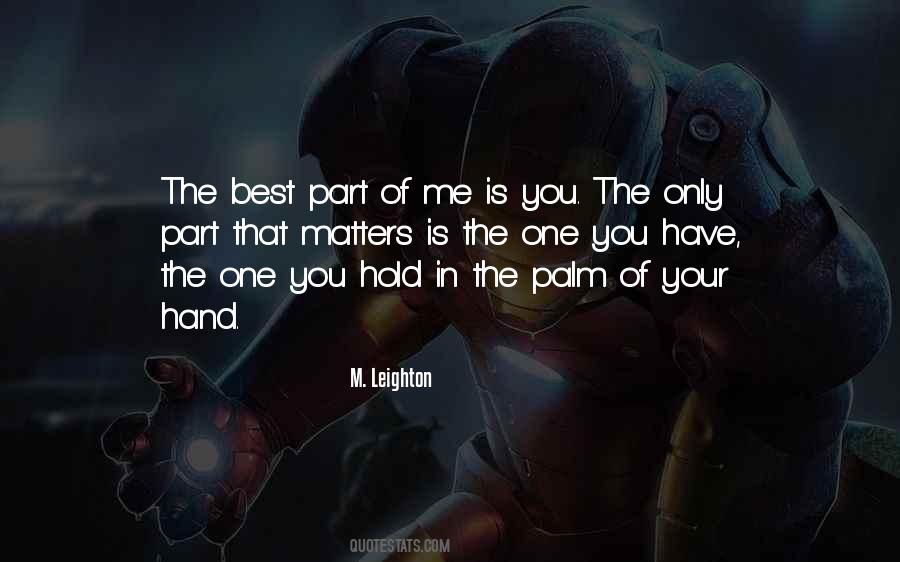 #79. I like myself better when I'm with you. I think you bring out the best in me, Kendall - a side I haven't seen for a really long time. Kinda forgot that part of me even existed anymore until you got on my plane. - Author: Penelope Ward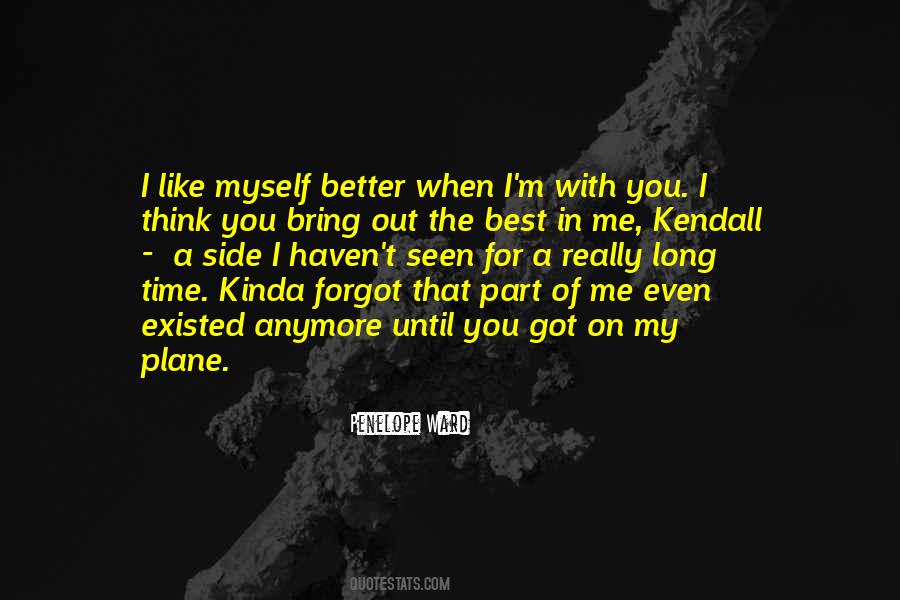 #80. My father is an atheist. My mother is Buddhist. They encouraged my siblings and me to take the best part of other religions to make our own belief system. - Author: Winona Ryder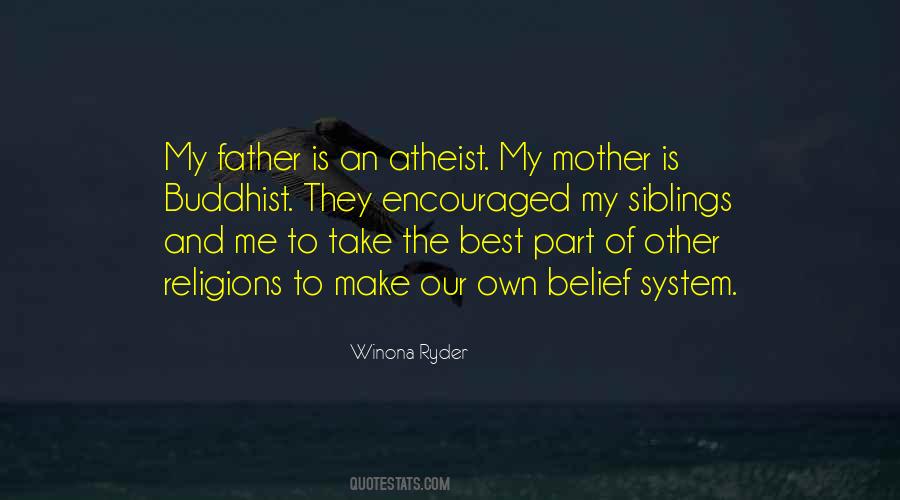 #81. After she left, after that summer, things were the same and they weren't. She and I were still friends, but not best friends, not like we used to be. But we were still friends. She'd know me my whole life. It's hard to throw away history. It was like you were throwing away part of yourself. - Author: Jenny Han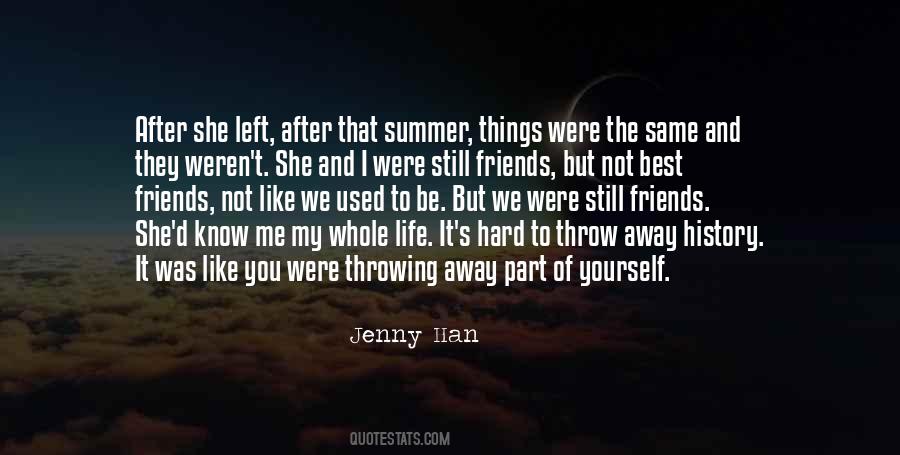 #82. The best part of touring is playing the shows. I mean, that is the point of touring, at least for me. I have been blessed in that I've always gotten to play with other good musicians. - Author: Buzz Osborne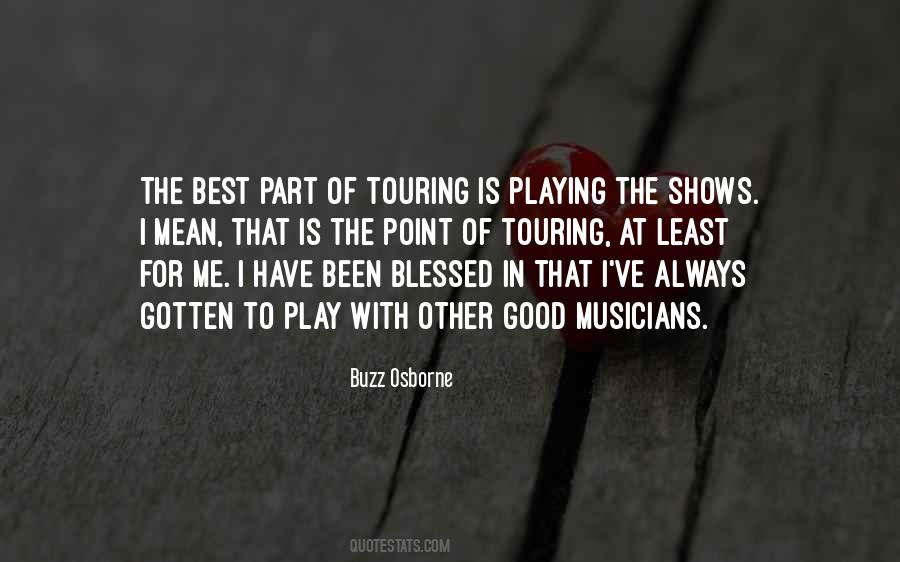 #83. Love is stupid. So I don't care if it's love. You're the best part of every damn day. You're sunshine, and laughter, and the fucking oxygen in my lungs. If this life is a game, you make me want to play it forever, be damned who wins or loses. - Author: Jewel E. Ann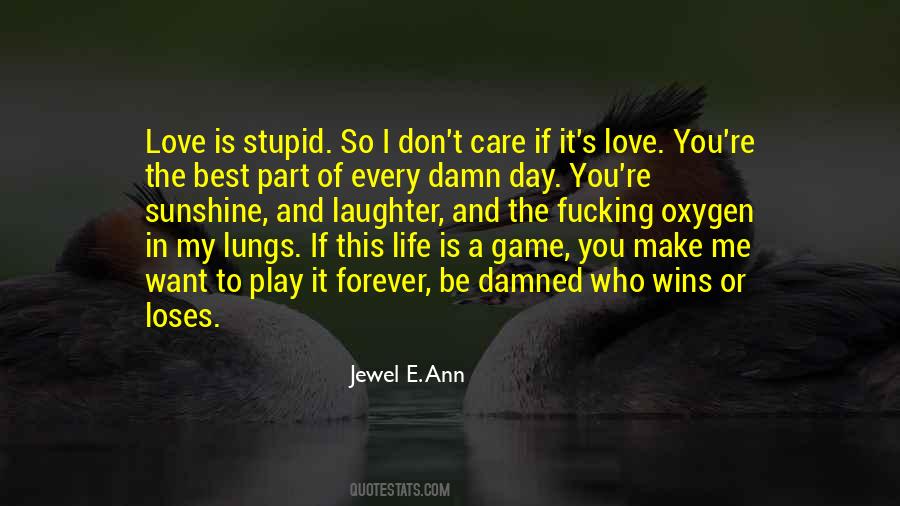 #84. Part of me loves to control and to exert power, but it's not the best part of me at all. What I am slowly learning is that allowing others to have power too makes us a better organisation - many brains are simply better than one. - Author: Carne Ross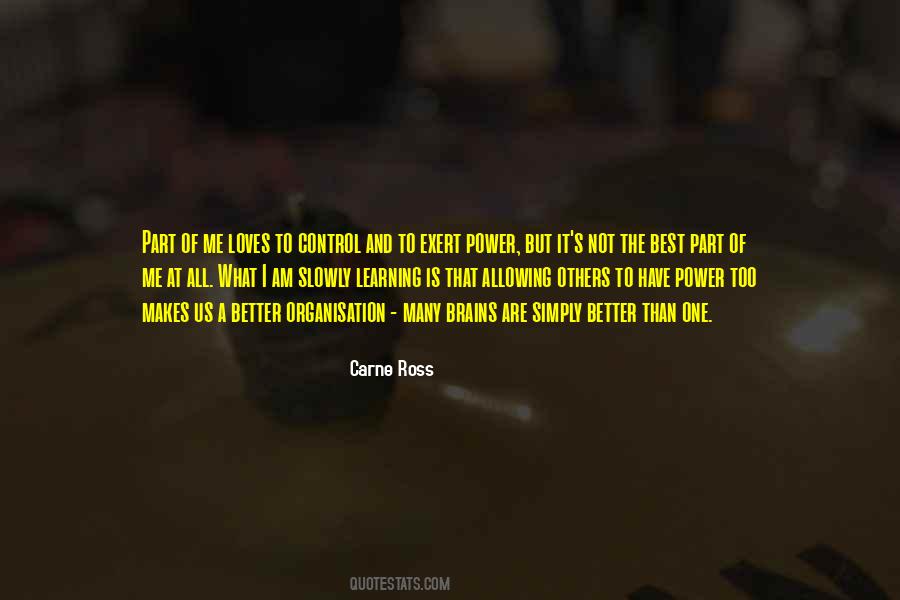 #85. My mother told me that everything in life happened for a purpose. She said all things were part of God's plan, even the most disheartening setbacks, and in the end, everything worked out for the best. - Author: Ronald Reagan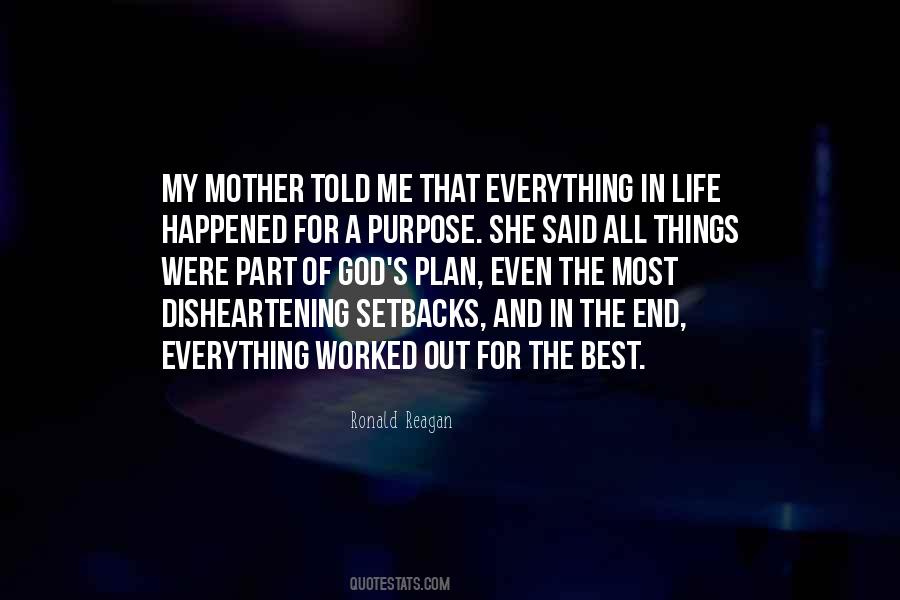 #86. I like writing, but I like a lot of things. Maybe out of those things, I'm best at writing. Maybe it's what I like best of all. Maybe it's where I've always felt most at home. Or maybe the writing part of me is over. Maybe there's something else I'm supposed to do instead. I don't know. - Author: Jennifer Niven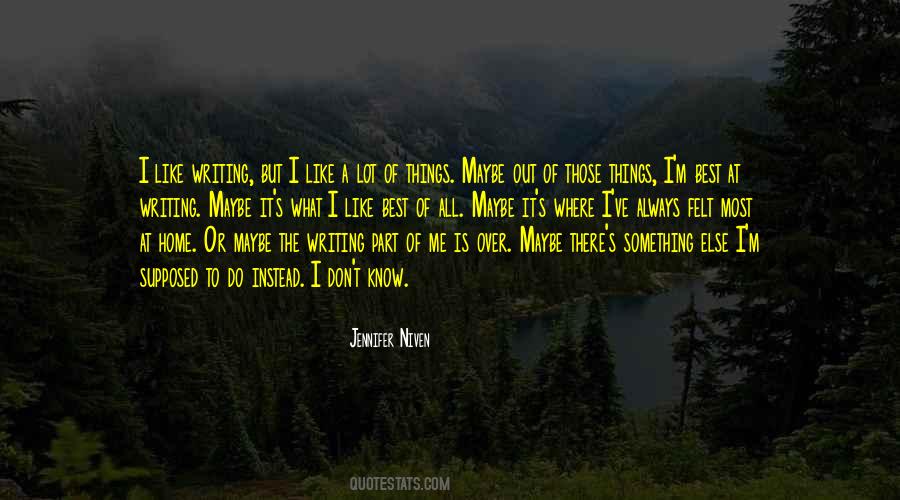 #87. Her Brooklyn accent only comes out when she's angry. This is the best part ... I pick at my pancakes while she tells me, simply, "It's ok to change your mind." About a feeling, a person, a promise of love. I can't stay just to avoid contradicting myself. I don't have to watch him cry. - Author: Lena Dunham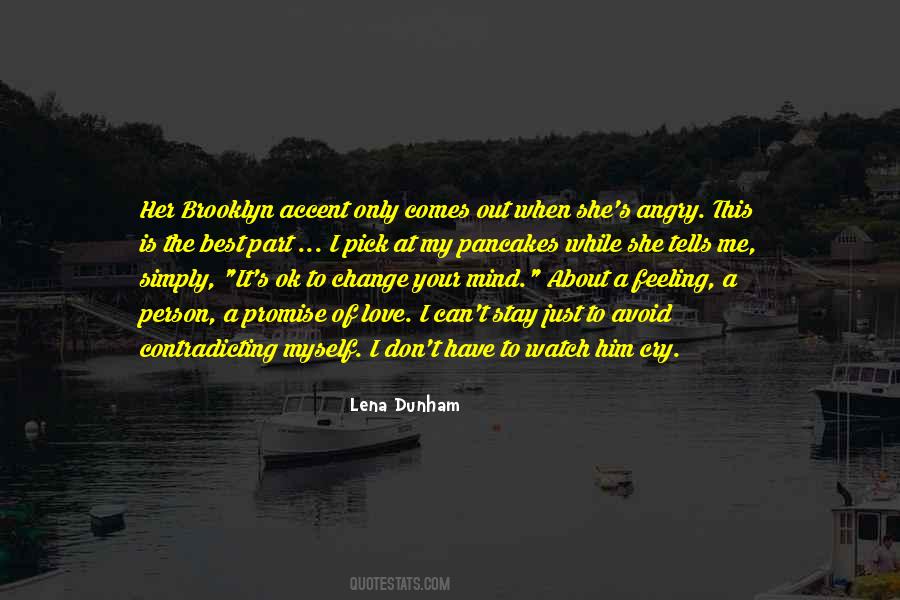 #88. You don't want to hear what I have to say. You only want me to say what you want to hear. But trust me when I tell you that you won't ever get all you want. You'll just grow frustrated and bitter, and you'll end up doing things that will kill the best part of you. - Author: William Lashner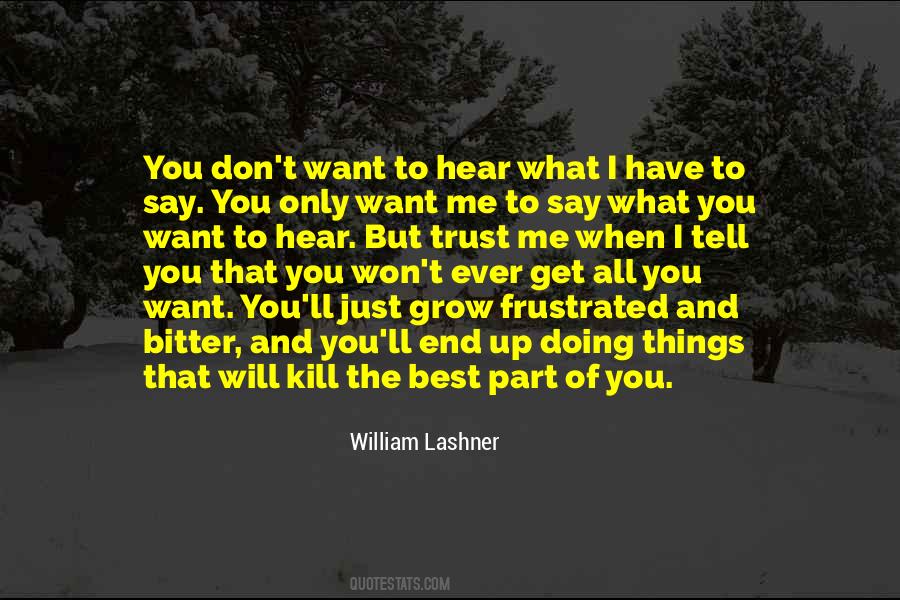 #89. I don't even know what made me start wanting to do music. It just ... happened. Because I sat in my basement all the time, and music was my best friend, and I just wanted to be a part of it. - Author: Clinton Sparks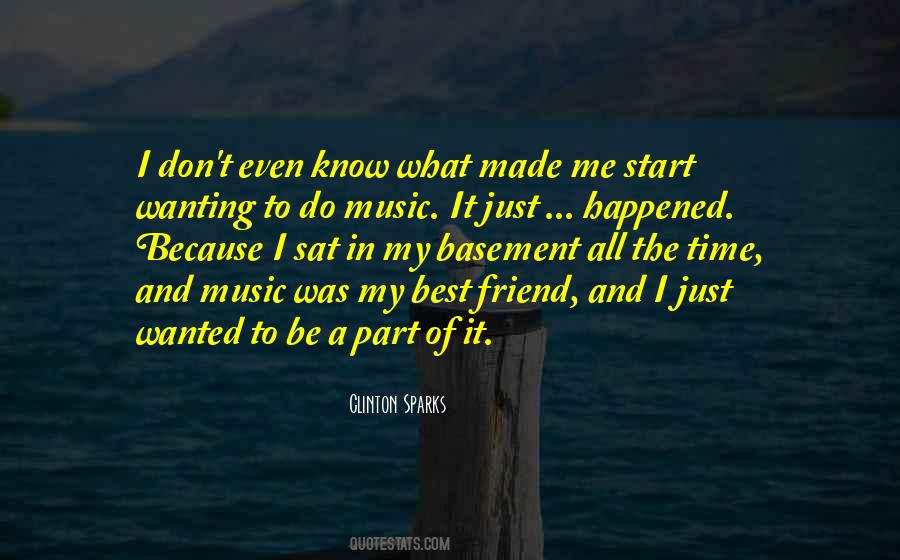 #90. My battered heart will always be
where the ocean meets the sand, I
will break over and over
Every day. That is the best and
worst part of me. - Author: Clementine Von Radics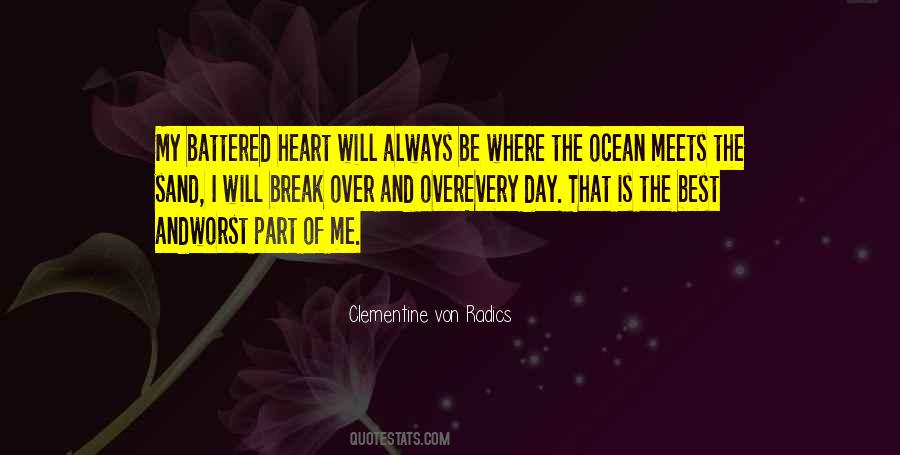 #91. Chiropractic care is an important part of keeping me in the best condition so I can perform at an optimal level. - Author: Perdita Felicien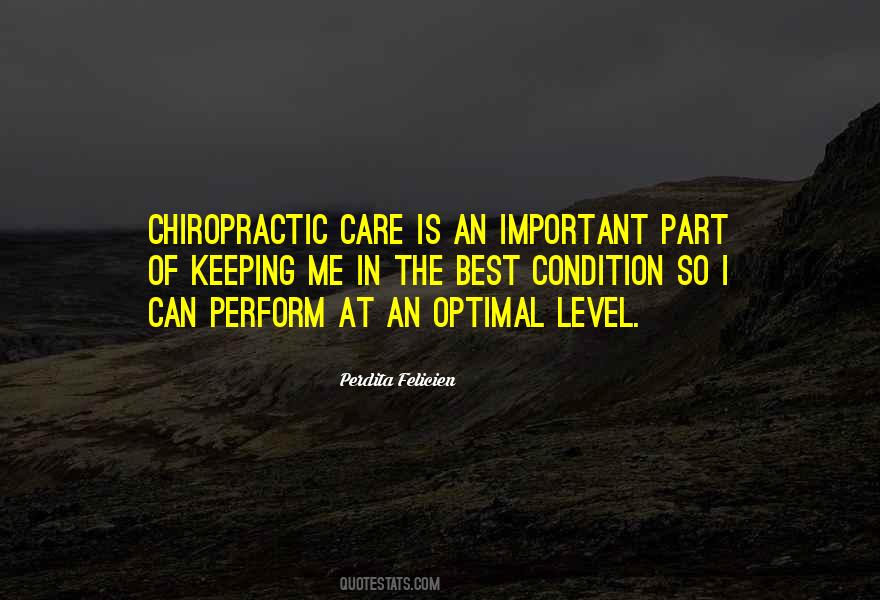 #92. I used to think the best part of me died with Les, but the best part of me is standing right here in front of me. - Author: Colleen Hoover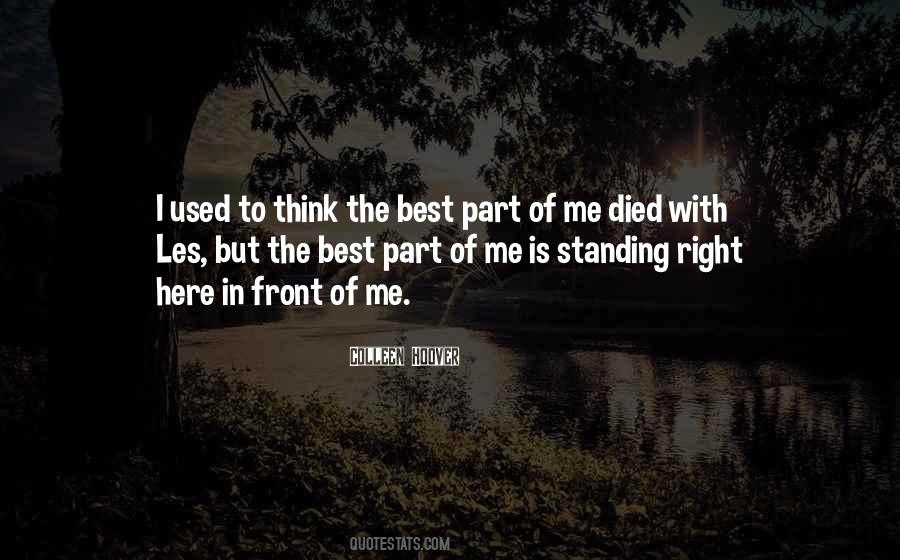 #93. I'm trying to find the truth in myself. To play somebody else doesn't interest me. It's not the focus of my life. I can get through most scenes and do the acting part of it, and at best, I'm going to be mediocre. - Author: Neil Diamond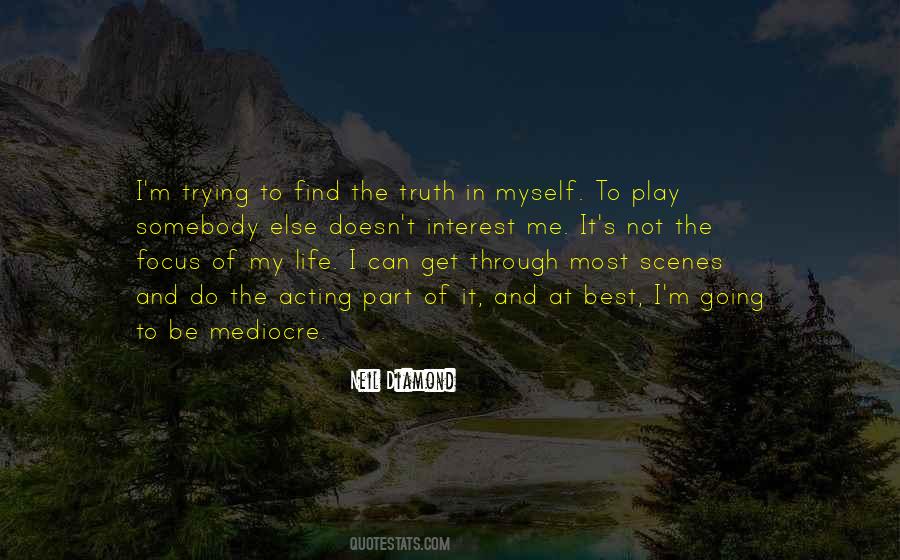 #94. Me and music are not good friends, so I do my best to augment the music part [of my films] and come up with something worth watching. - Author: Jon Jon Augustavo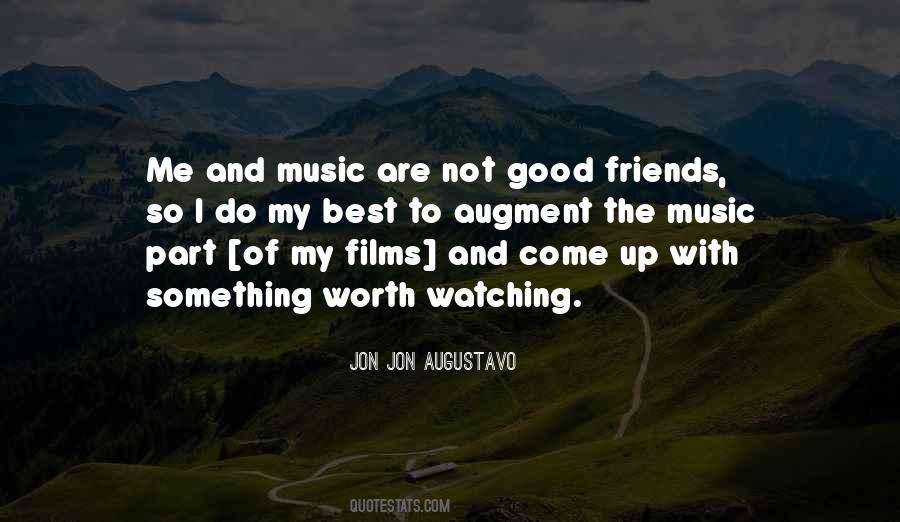 #95. You feel deep. You give everything you got. And the best part of all that, you got a lot to give and you give most of it to me. - Author: Kristen Ashley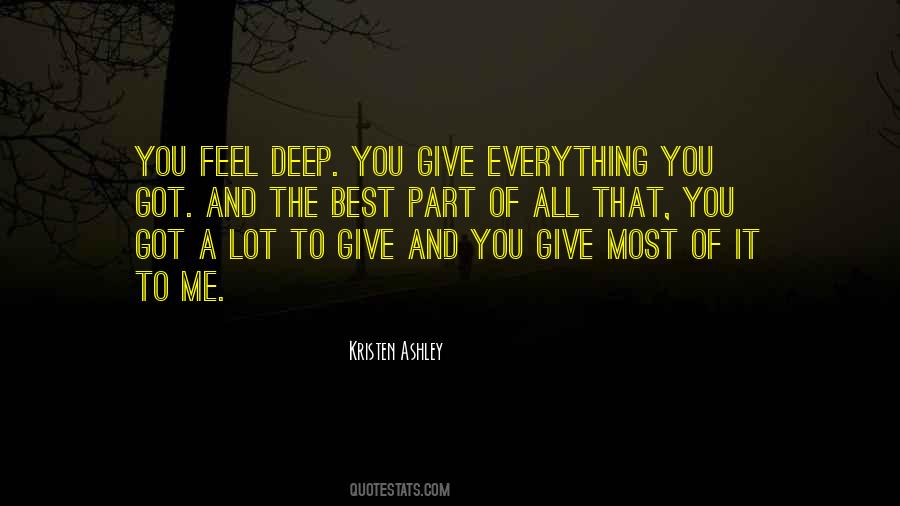 #96. And I think they loved me because I loved being part of their team, you know, and I quite often say to kids, that I was the worst player in the world's best football team - and that was good enough for me. - Author: Craig Johnston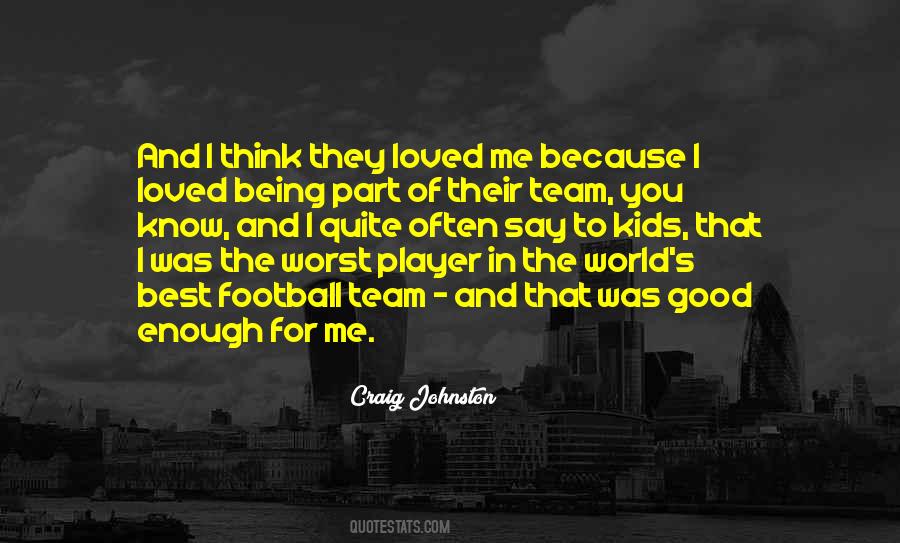 #97. The best part is it's a dream come true. I've always wanted to be a working actor, and the good part of it ... it's all good! I work long hours, but it's amazing. They pay me. That's amazing! I get to kiss Keri Russell, and that ain't too bad. - Author: Scott Foley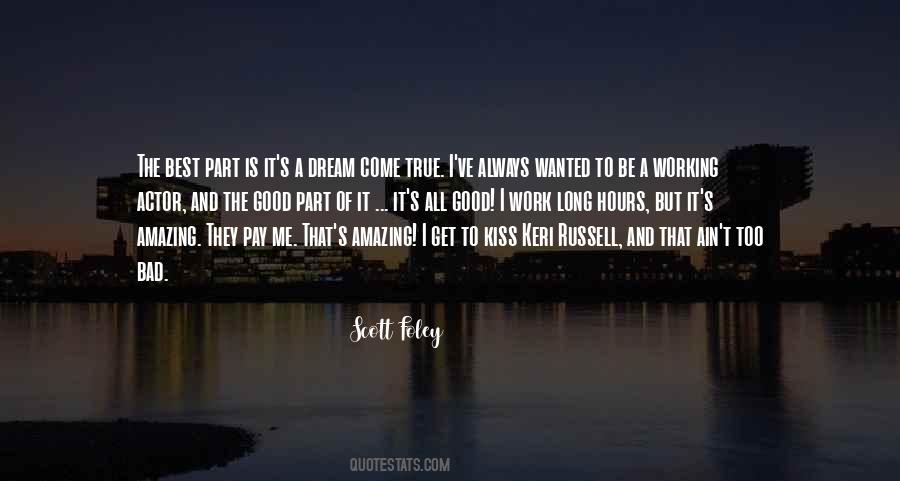 #98. The best part of being signed by a major label was having the support of a big company behind me and the ability to meet new artists and producers. - Author: Jessica Sanchez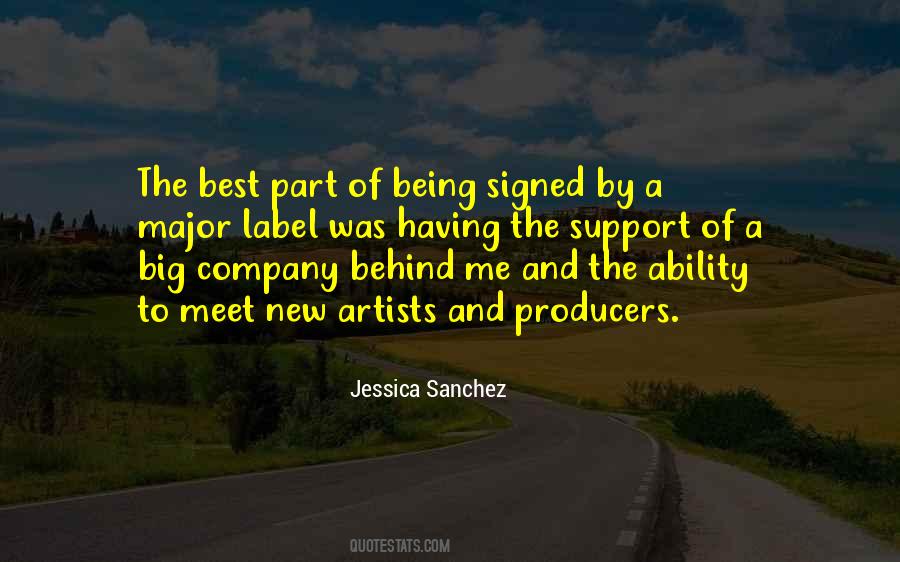 #99. Because the biggest mistake of his life - his infidelity - had given me the best part of mine. - Author: Christina Lauren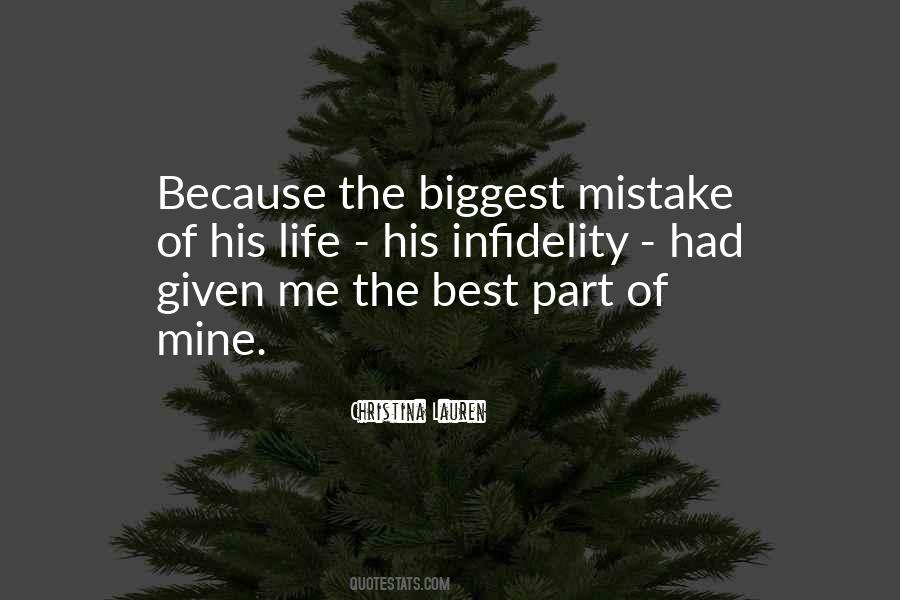 #100. My mother's influence in molding my character was conspicuous. She forced me to learn daily long chapters of the Bible by heart. To that discipline and patient, accurate resolve I owe not only much of my general power of taking pains, but of the best part of my taste for literature. - Author: John Ruskin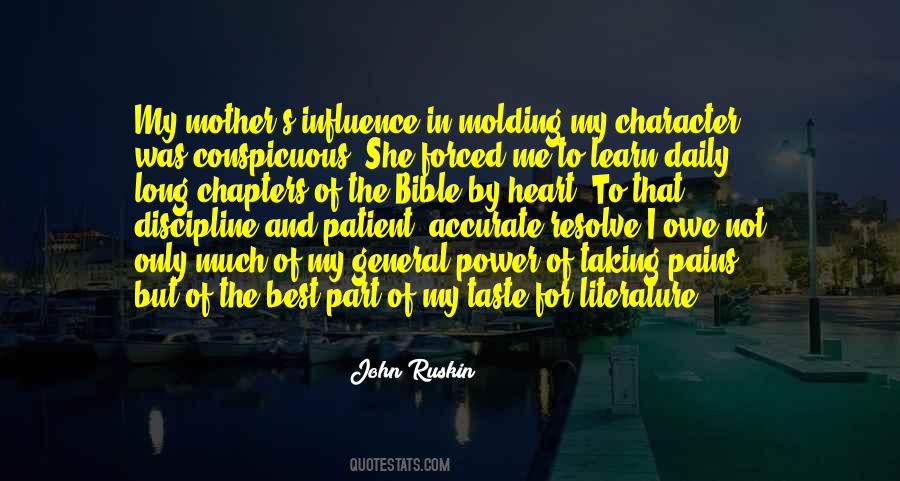 Famous Authors
Popular Topics