Survival Of Love Famous Quotes & Sayings
List of top 79 famous quotes and sayings about survival of love to read and share with friends on your Facebook, Twitter, blogs.
Top 79 Quotes About Survival Of Love
#1. Love ... is also a form of poison, for to fall in love is to want and to need everything necessary for survival from one all-powerful and barely differentiated Other. - Author: Colette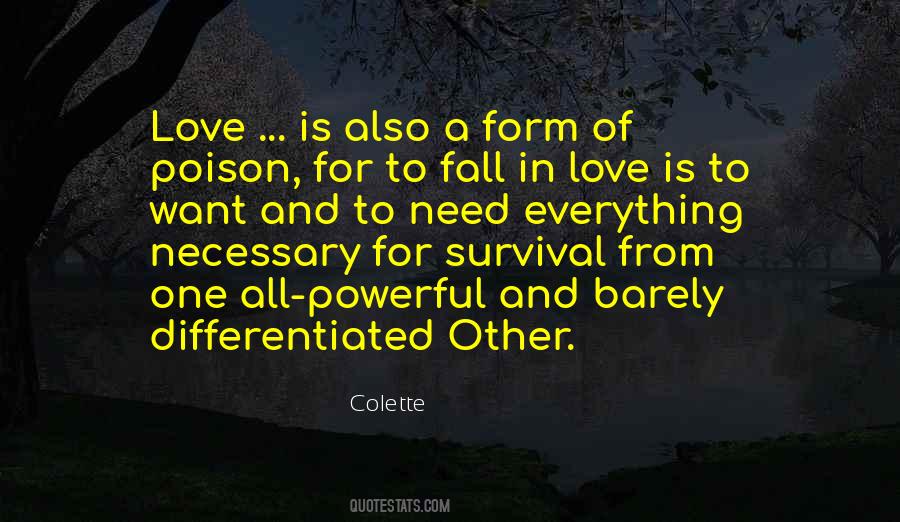 #2. She would never be caught unprepared again, she swore to herself. She would never trust. Never love. Never put faith in other human beings again. She would learn all she could of the shape and substance of the world, and she would find a way to survive in it. - Author: David Anthony Durham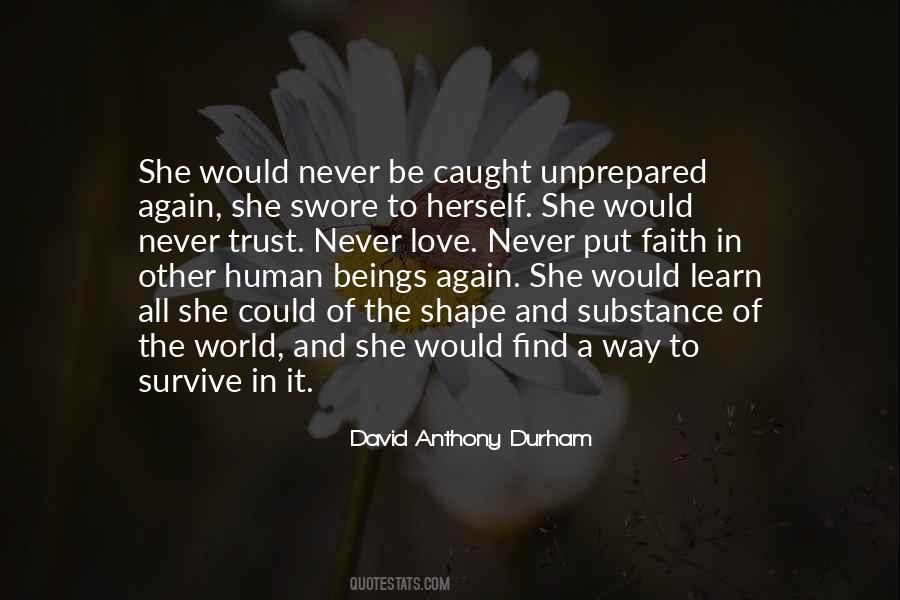 #3. I'm not... I'm not without a heart,' he heard Sophia say, her chin raised, eyes straight ahead. 'I'm not. I just don't have the luxury of being soft. I am trying to survive. - Author: Alexandra Bracken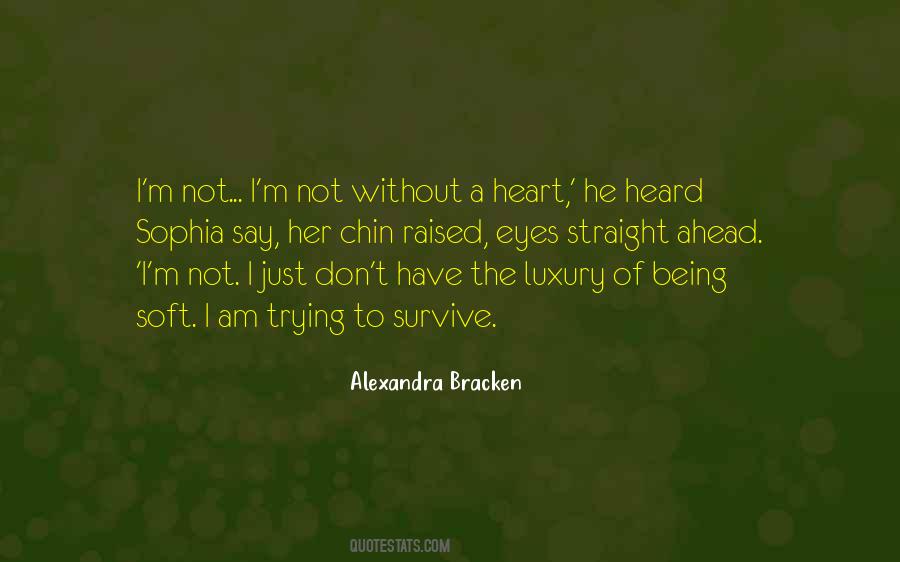 #4. Because survival and love are the immortal truths of humankind, no generation is a total stranger to the forerunner generations of humankind. - Author: Kilroy J. Oldster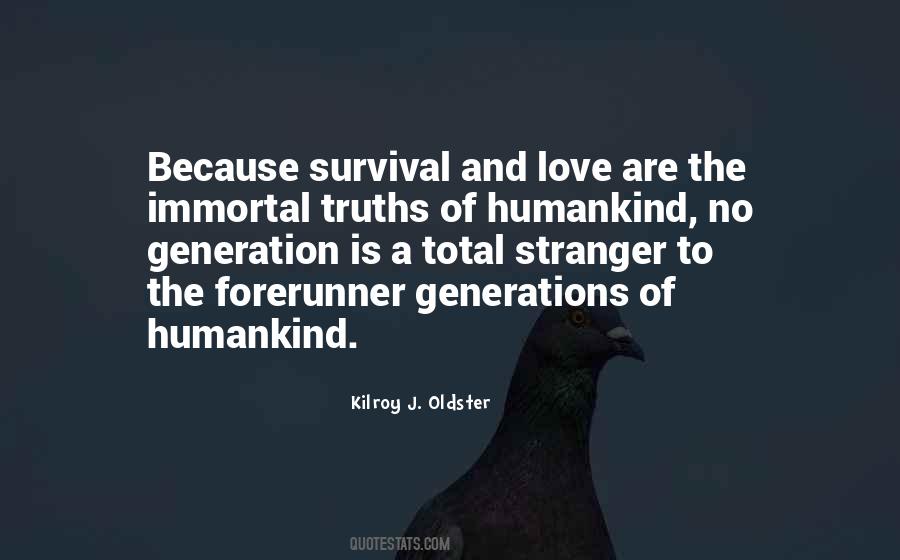 #5. Survival is for the human animal; fear the motivation. For the spiritual being survival is irrelevant. Curiosity, compassion and creativity are the name of the game; unconditional love the motivation. - Author: Peter Shepherd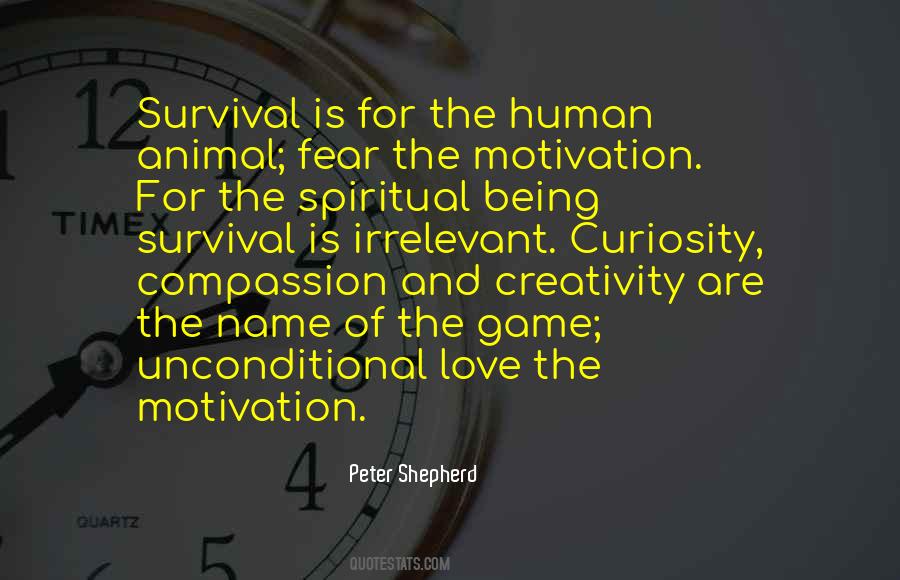 #6. People say that scars are the sign of victory; the winning marks against what broke them. But how about the wound that never heals? What would that make you? A winner, a loser, a survivor? - Author: E. Mellyberry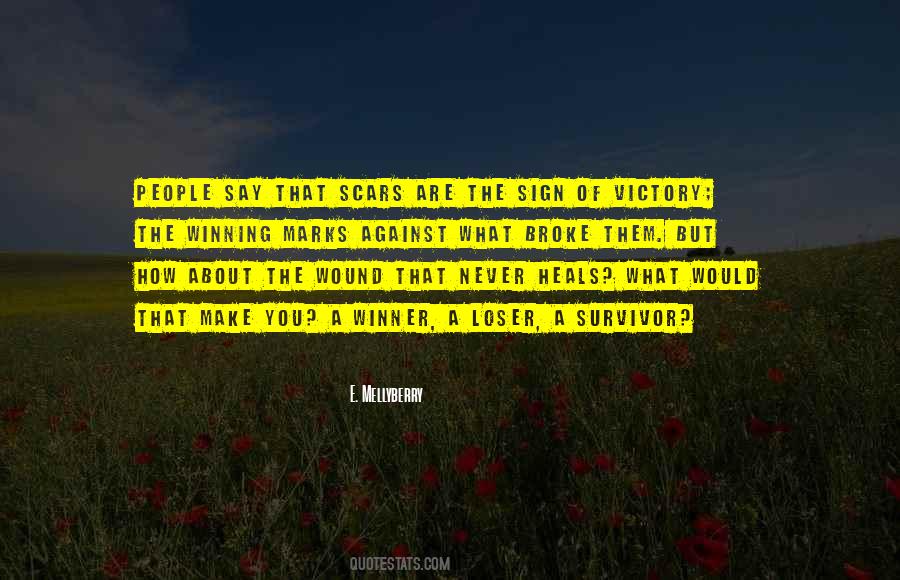 #7. Our survival depends on the healing power of love, intimacy and relationships. As individuals. As communities. As a country. As a culture. Perhaps even as a species. - Author: Dean Ornish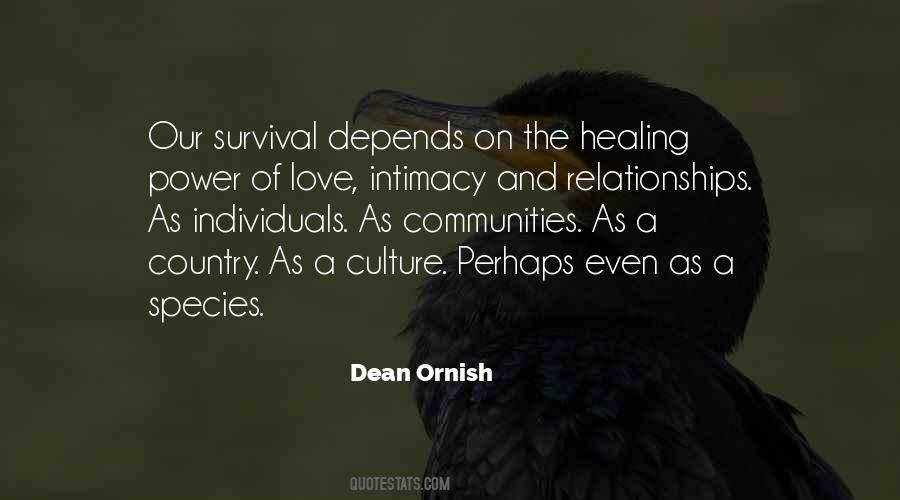 #8. At the end of the day, we're all striving to be touched, somehow. - Author: Crystal Woods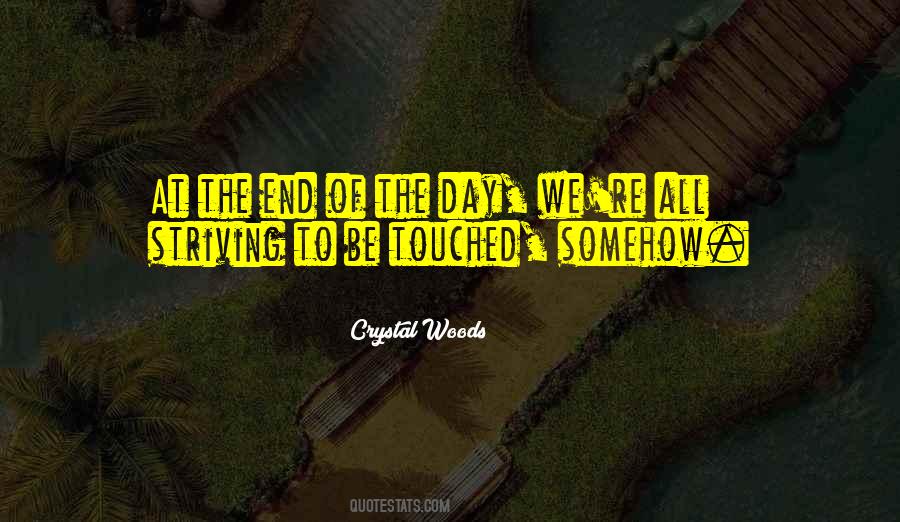 #9. I hold on to my adopted shore, chanting private vows: wherever I am, let me never forget to distinguish want from need. Let me be a good animal today. Let me dance in the waves of my private tide, the habits of survival and love. - Author: Barbara Kingsolver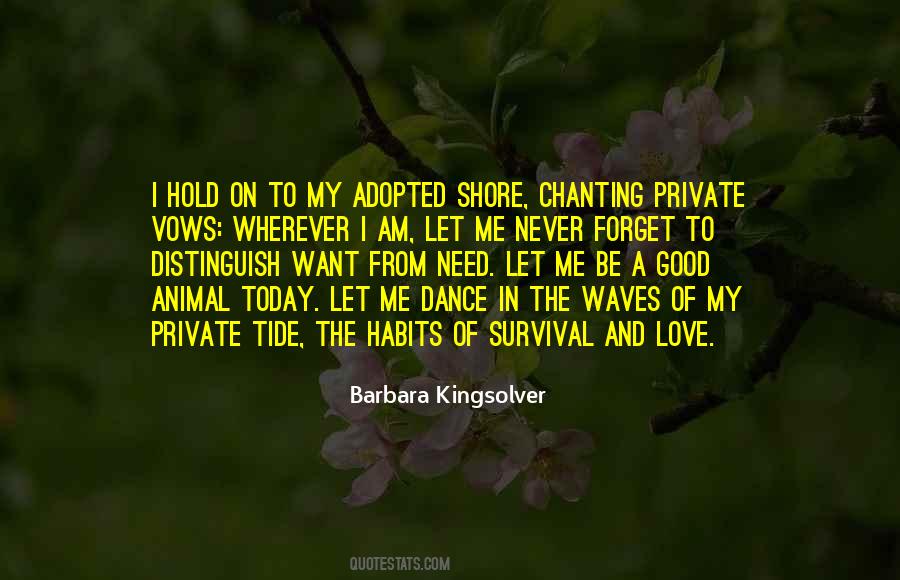 #10. It's like this. Terror might make someone kill, but love will make someone die. People die for love. They would give up anything for love, even their life. And don't you see, that's a denial of the most basic of all human instincts: survival. - Author: Benjamin Percy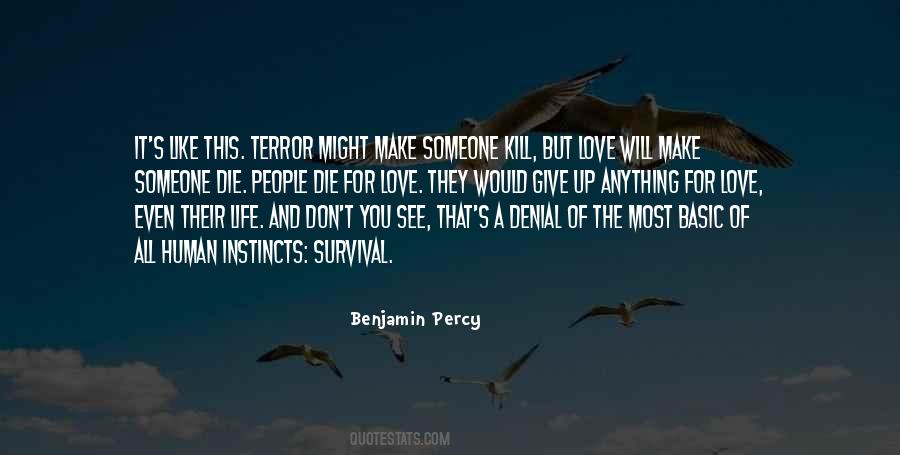 #11. Some enemies are part and parcel of our lives, we cannot destroy them without risking our own survival - Author: Bangambiki Habyarimana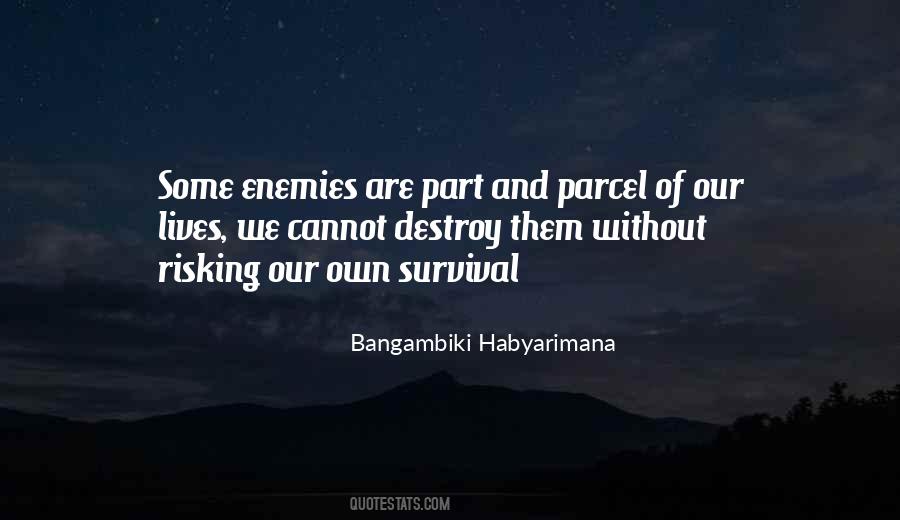 #12. Music speaks of Platonic truth - the ideal river rather than the polluted reality, love as we dream it rather than we experience it, grief noble and uplifting rather than our distracted weeping. It is necessary to our survival and our sanity. - Author: Pam Brown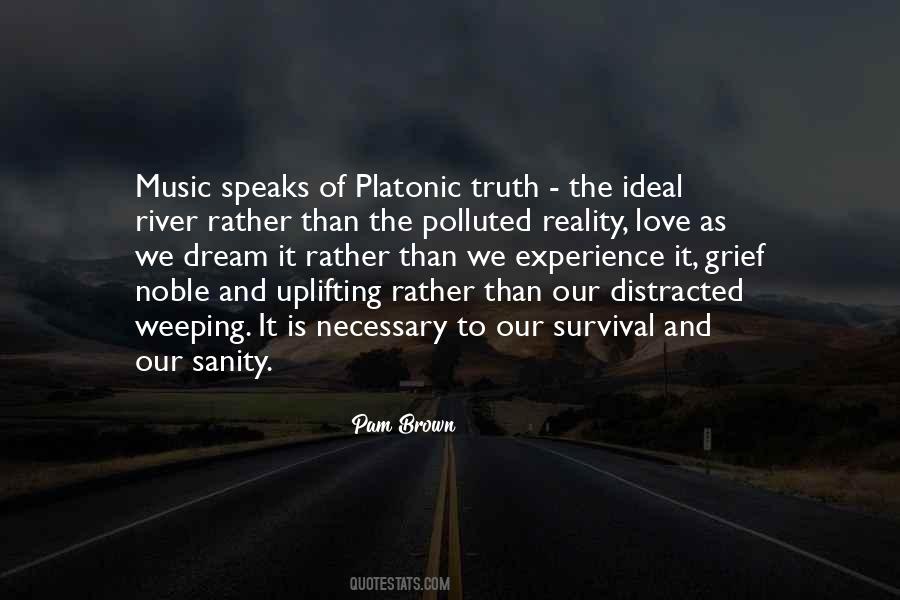 #13. People open bookstores because they want their souls back.
(from "Two Women" published in Do Me: Tales of Sex & Love from Tin House) - Author: Elizabeth Tallent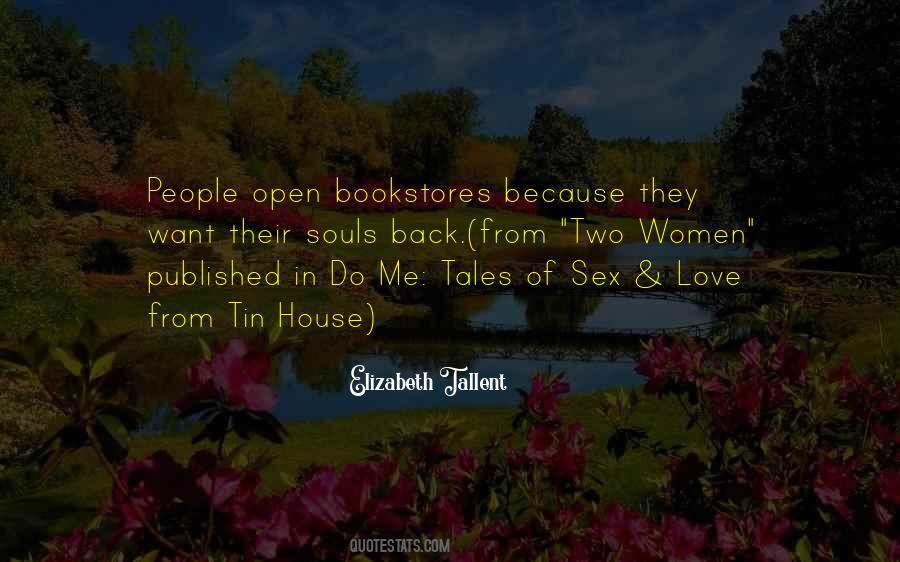 #14. Hope is the supernatural grace of God for
survival of hard times. - Author: Lailah Gifty Akita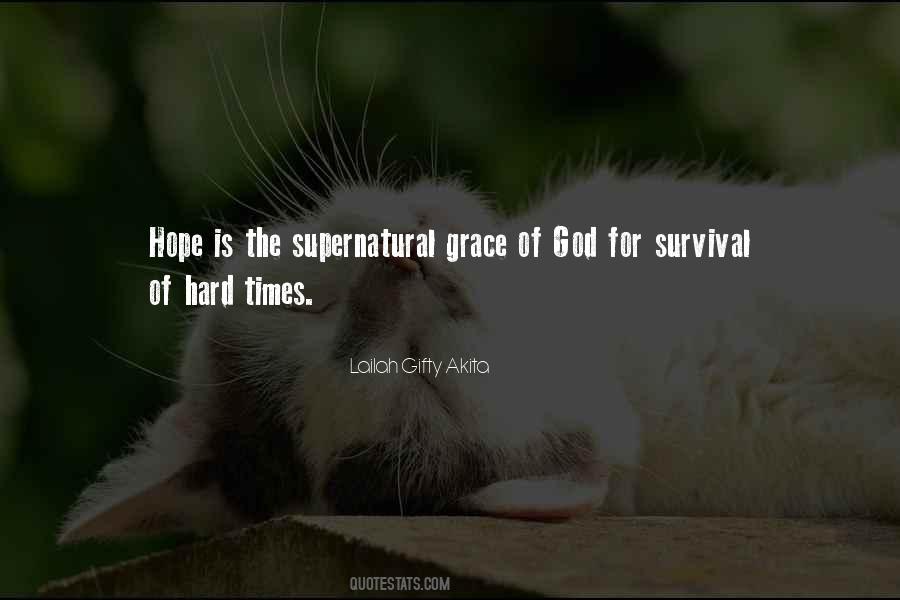 #15. Calamities are unavoidable, in love and travel.

All it takes to make it to the end of the road are some good Survival Tips. - Author: Vivian Swift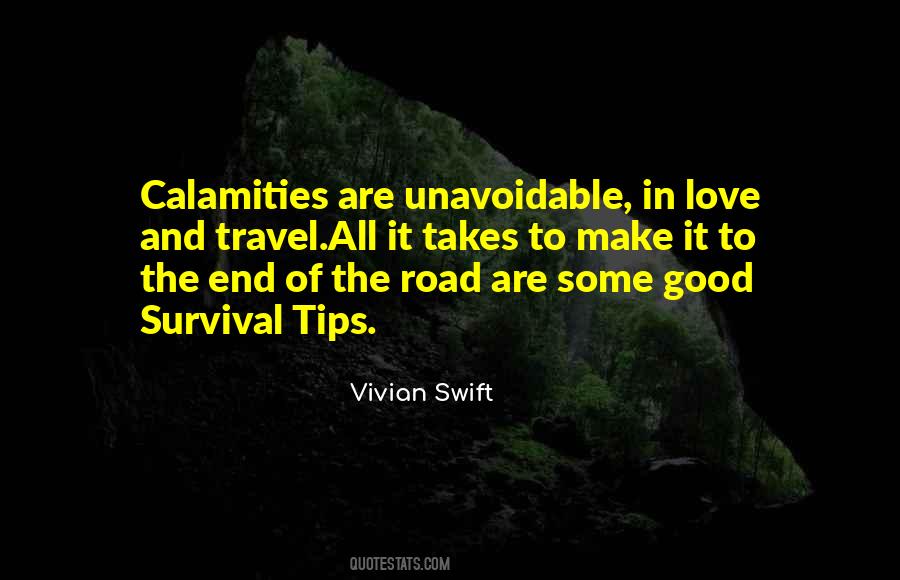 #16. If we have any hope for survival of the music that we all love, compassion must replace name-calling, fairness must replace greed, and we need to come together as a musical community and try to understand each other's problems. - Author: John Mellencamp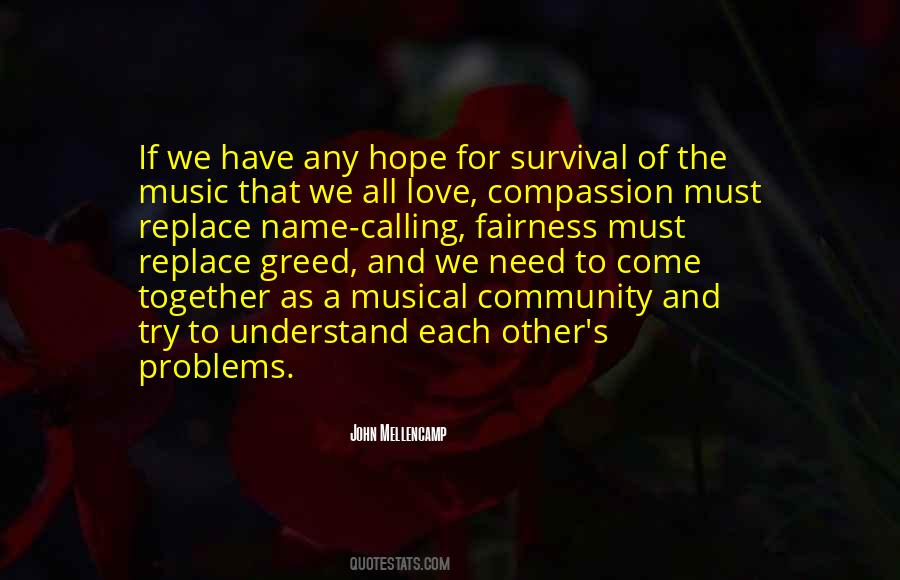 #17. There is a land of the living and a land of the dead and the bridge is love, the only survival, the only meaning. - Author: Thornton Wilder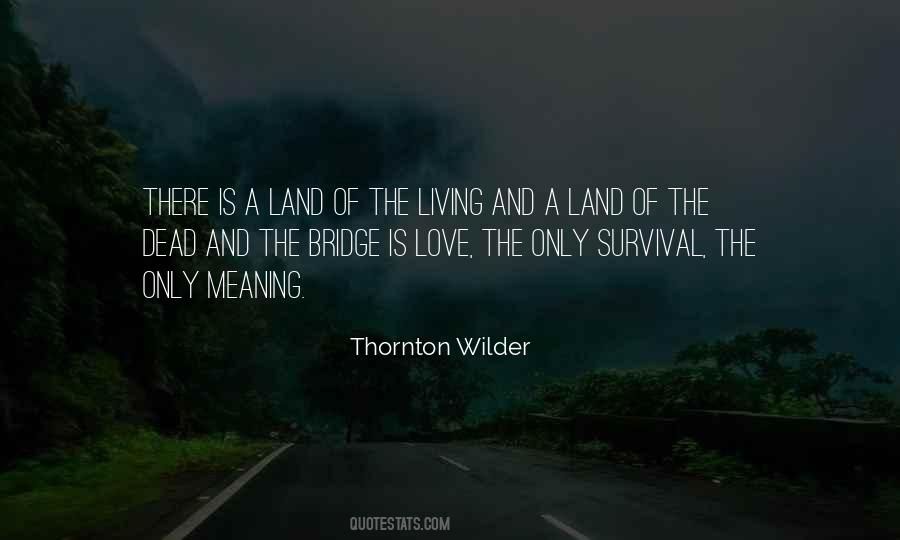 #18. Whenever there is love beyond boundaries ...
Whenever trust flows deeper than oceans ...
Nevertheless, a Trial is born ...
You pass that trial, sacred you shall be ... if you don't, your are immortal !!!! - Author: M.W.Latif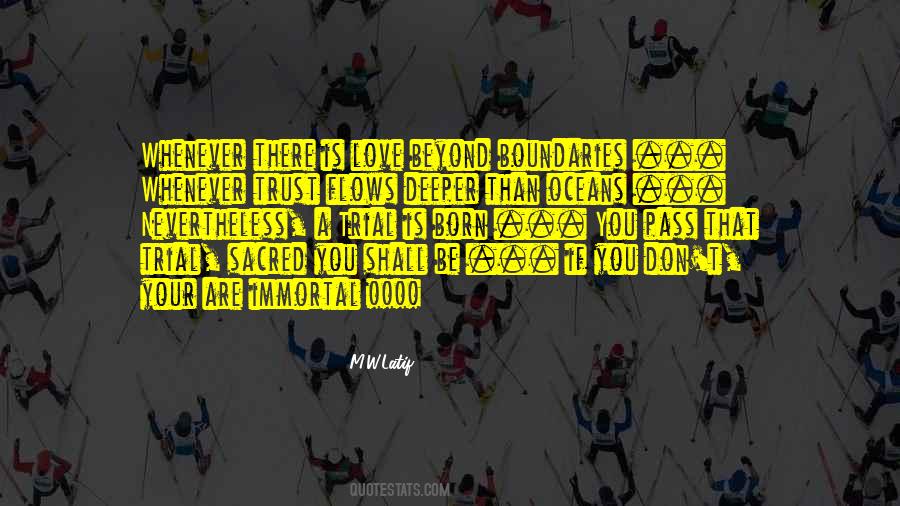 #19. Fear and Love are the two emotional pillars of survival. - Author: Abhijit Naskar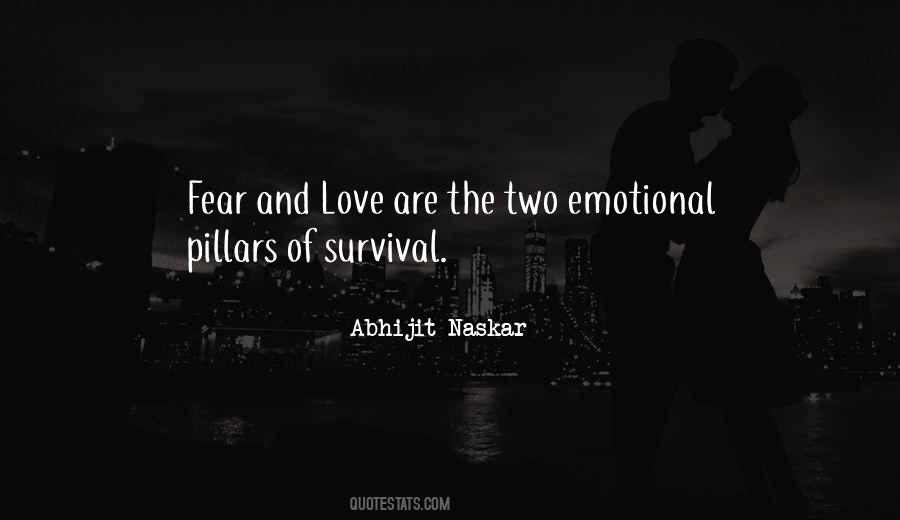 #20. Sometimes even now I entertain the hope that Love lives in the world independently of us, but when I am most courageous, I believe that love was born within the human heart, and that the survival of love in the world, as well as its ultimate triumph, is entirely our responsibility. - Author: Catherine M. Wilson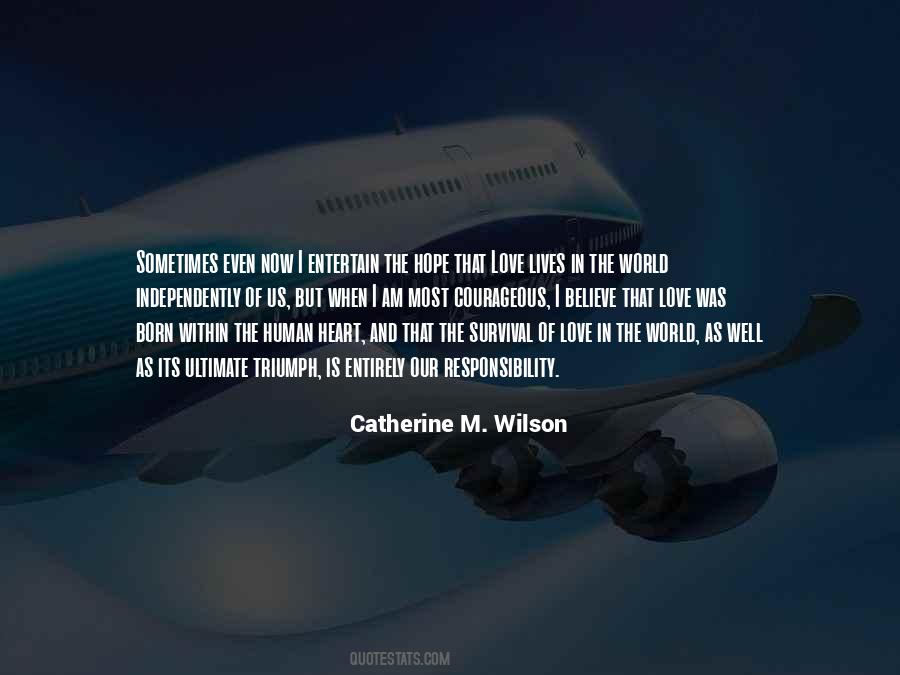 #21. Searching for a mind long lost I found it shaping colors and history near the cliffs of your heart. - Author: Aberjhani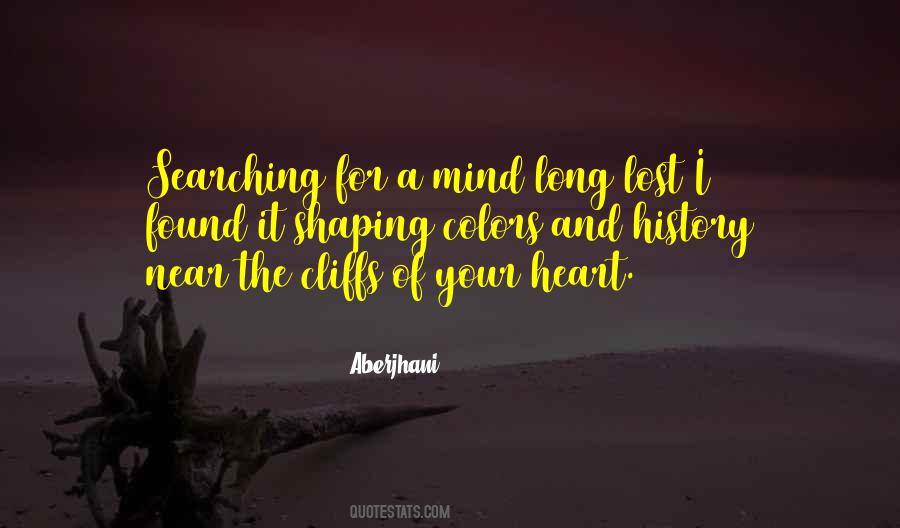 #22. Love. The only indestructible thing. The only wealth and the only reality. The only survival. At the end of it all there was nothing else. - Author: Elizabeth Goudge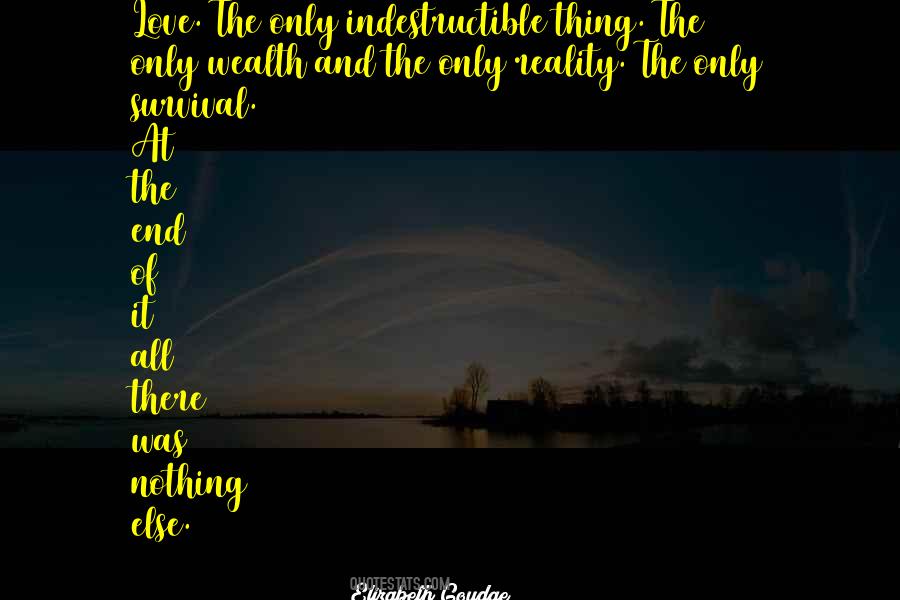 #23. The act of choosing whether or not to have a child is often an act of love, and always an act of survival. - Author: Merle Hoffman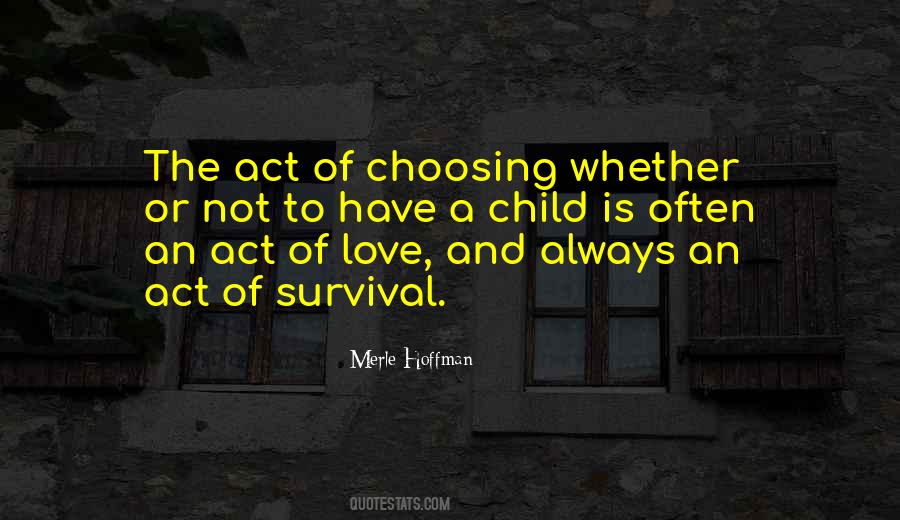 #24. More and more clearly every day, out of biology, anthropology, sociology, history, economic analysis, psychological insight, plain human decency and common sense, the necessary mandate of survival that we shall love all our neighbors as we do ourselves, is being confirmed and reaffirmed. - Author: Ordway Tead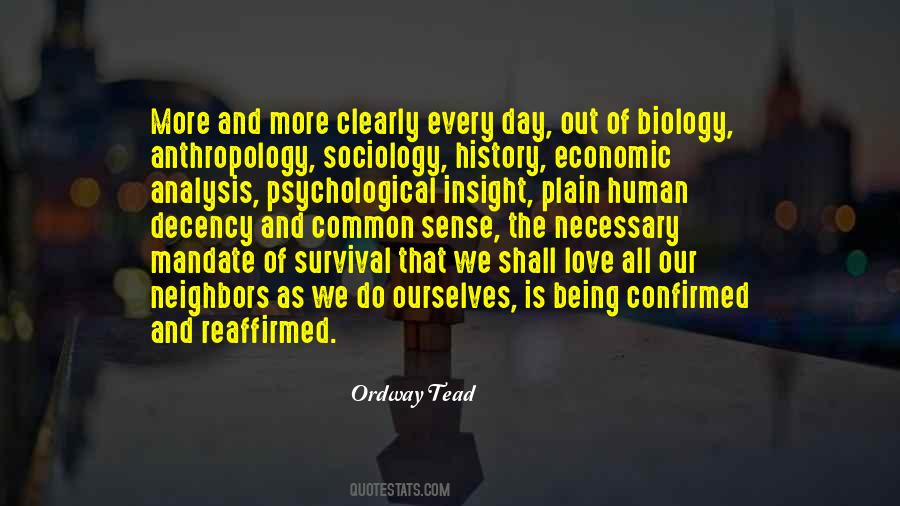 #25. There were two choices in life. Survive or succumb. And most people weren't even conscious of the path they chose. Because they chose for all the wrong reasons. Love, principles, dreams, desire. The world hadn't changed. It had always been survival of the fittest. - Author: Claire Merle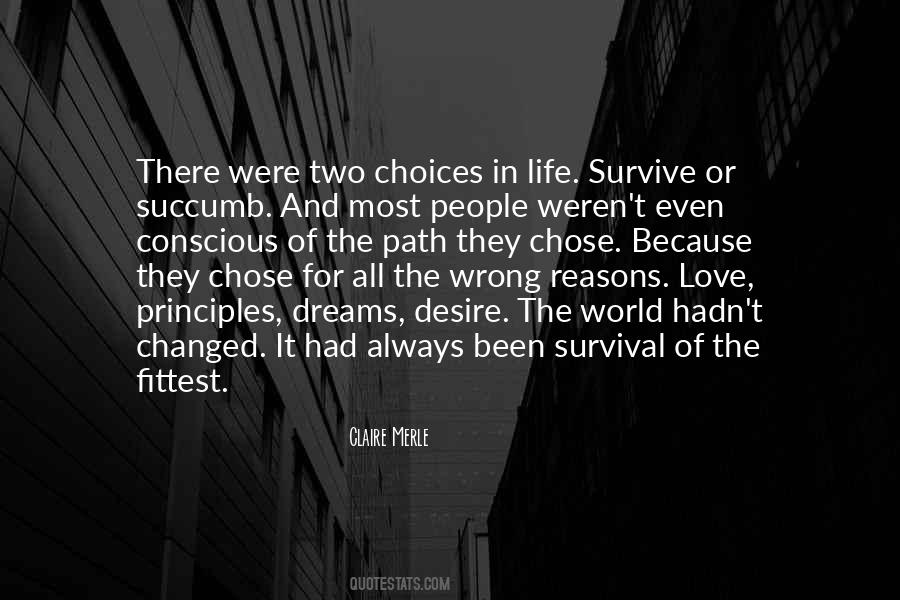 #26. You don't know me from the wind
you never will, you never did
I'm the little jew who wrote the Bible.
I've seen the nations rise and fall
I've heard their stories, heard them all
but love's the only engine of survival. - Author: Leonard Cohen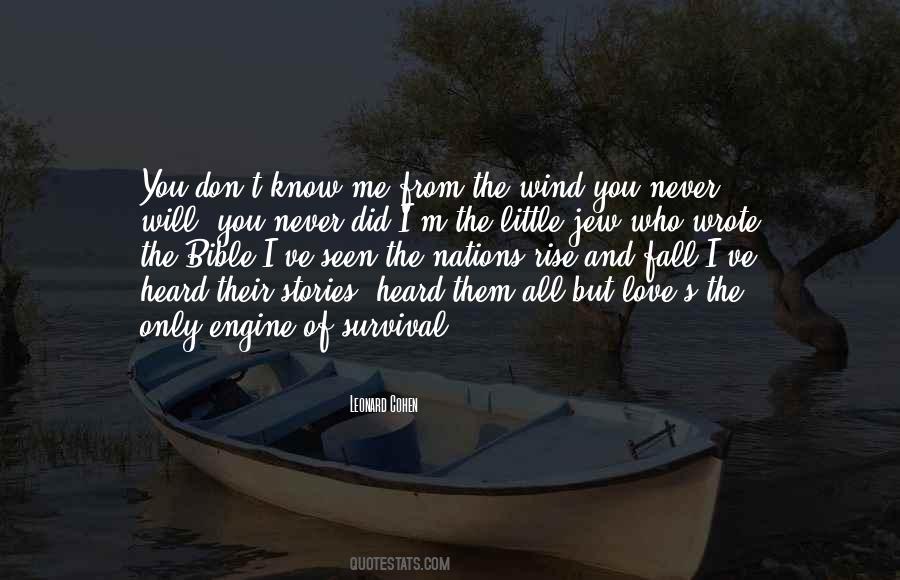 #27. Our ability to transcend betrayal is directly tied to our willingness to identify ourselves as love activists rather than victims of the Universe. - Author: Lyna Jones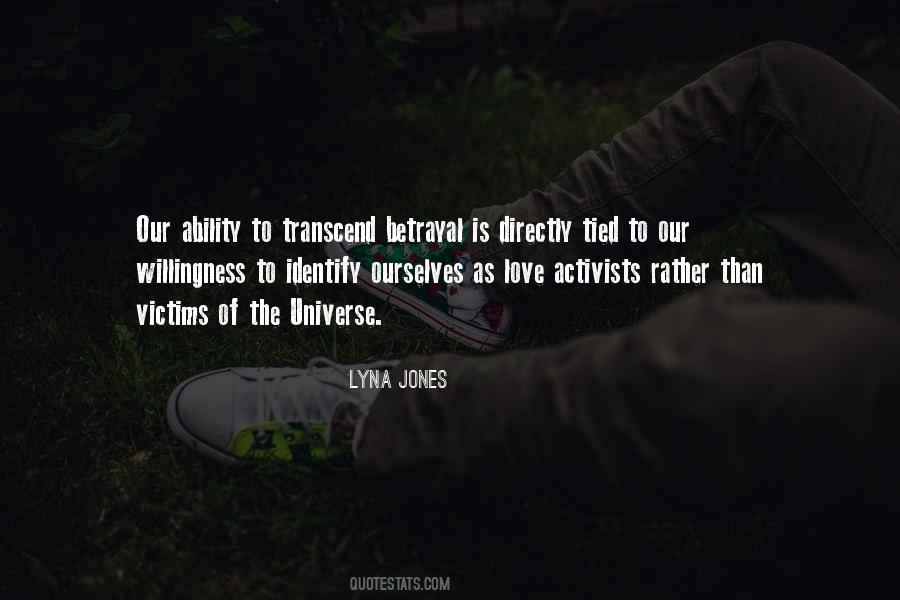 #28. Compassion and love is the source of external and internal peace and is also the root of racial survival. - Author: Dalai Lama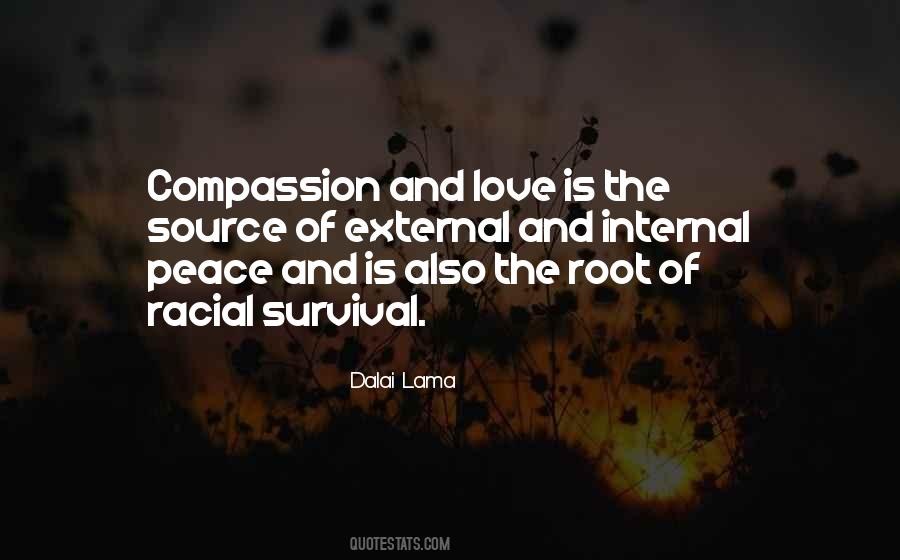 #29. But it is imperative, for our own survival, that we avoiid one another, and what more successful means of avoidance are there than words? Language will keep us safe from human onslaught, will express for us our regret at being unable to supply groceries or love or peace. - Author: Janet Frame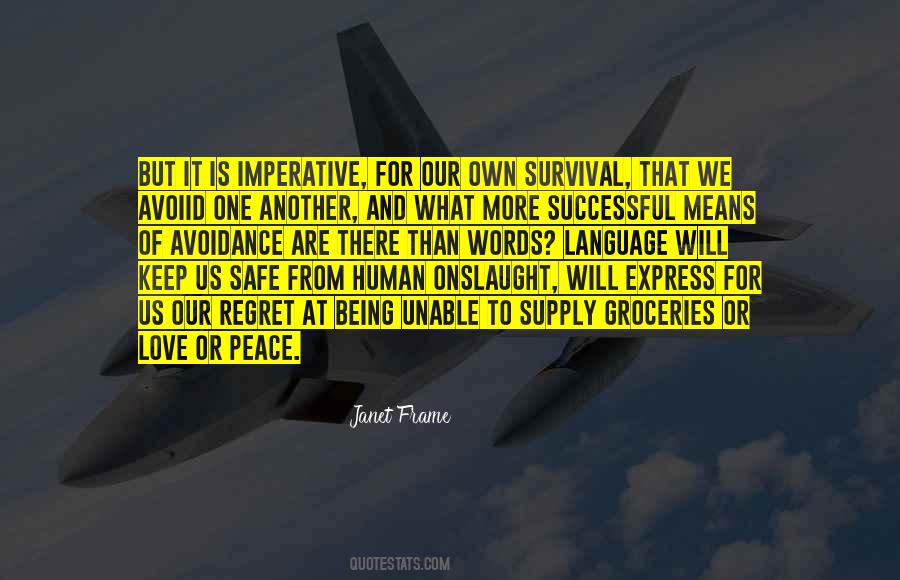 #30. For thousands of years, most marriages were in Stage I
survival-focused. After World War II, marriages increasingly flirted with Stage II
a self-fulfillment focus ... Love's definition is in a transition. - Author: Warren Farrell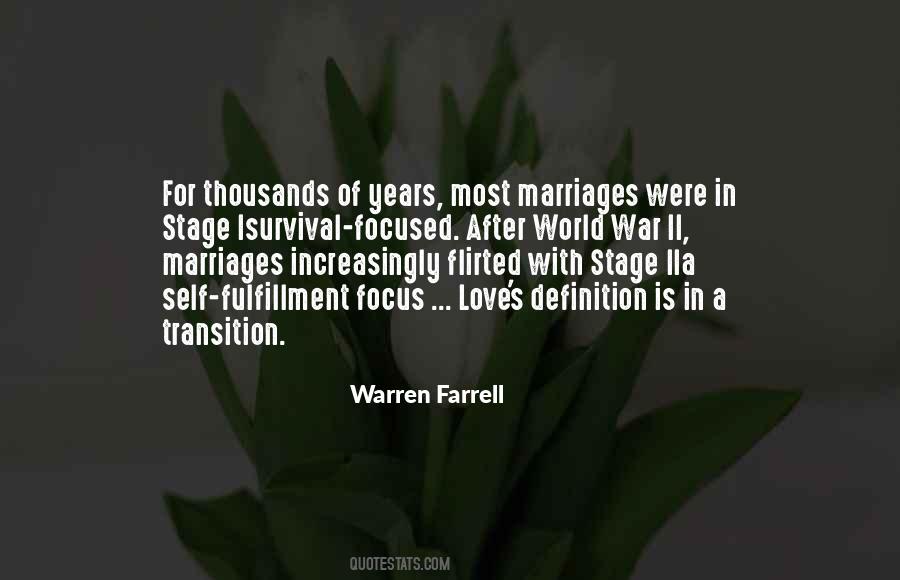 #31. Mind led body
to the edge of the precipice.
They stared in desire
at the naked abyss.
If you love me, said mind,
take that step into silence.
If you love me, said body,
turn and exist. - Author: Anne Stevenson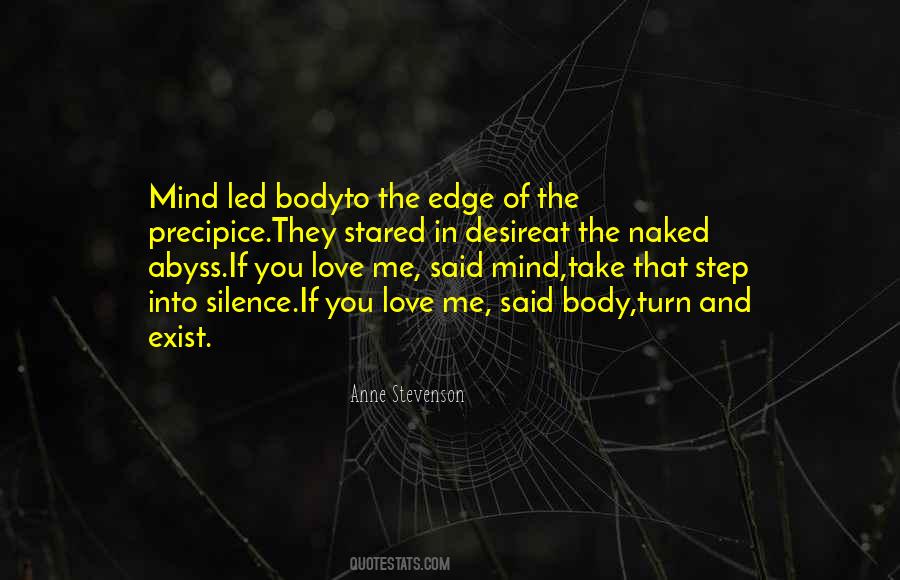 #32. Growing up, my mom had a catering business. I used to help her pretty early on and loved doing it. My mom is an amazing cook, and she helped me cultivate a love for food. She taught me that food can be beautiful. We eat not just for survival, but we survive to eat. It's part of who I am. - Author: Kelis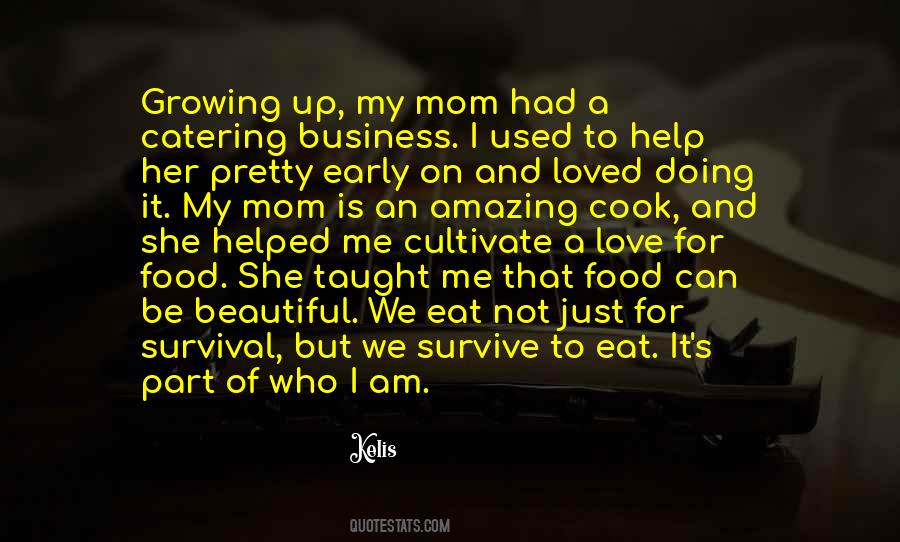 #33. Loving oneself
Is the most primal
Of all survival mechanisms - Author: Karen Hackel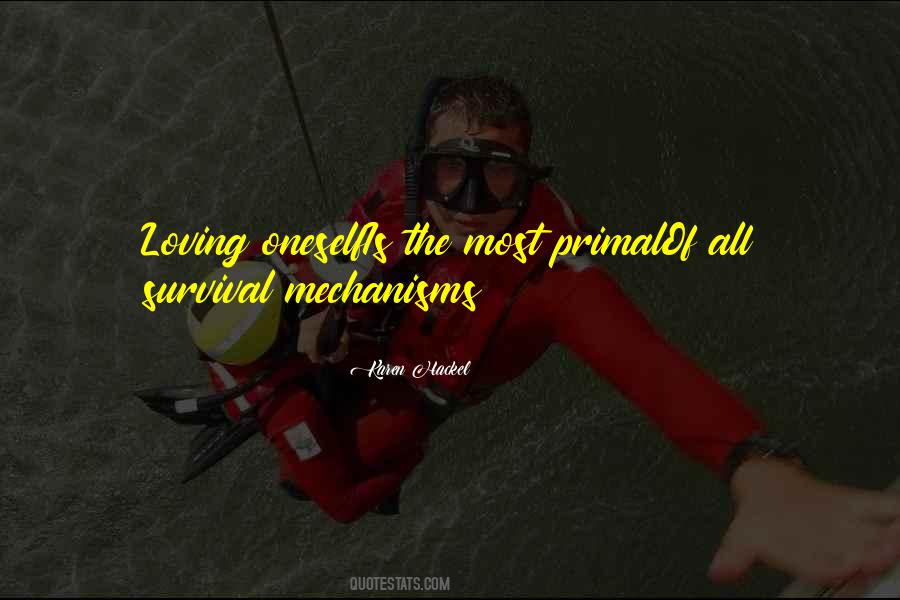 #34. The mother's battle for her child with sickness, with poverty, with war, with all the forces of exploitation and callousness that cheapen human life needs to become a common human battle, waged in love and in the passion for survival. - Author: Adrienne Rich
#35. So often the end of a love affair is death by a thousand cuts, so often its survival is life by a thousand stitches. - Author: Robert Breault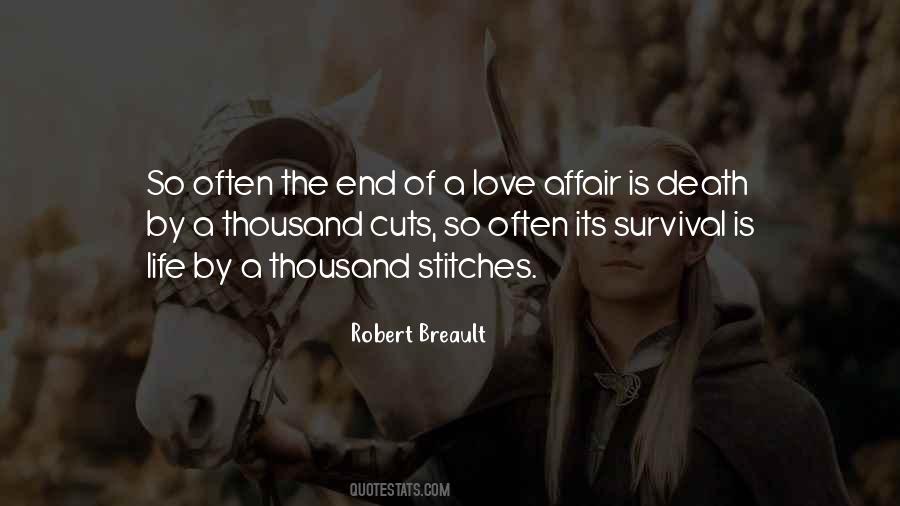 #36. I love writing in compressed time periods because the act of survival in the midst of panic and fear, that's where true heroism comes. If you have a uniform, and you're expected to do things, it's a sort of incremental heroism. - Author: Peter Landesman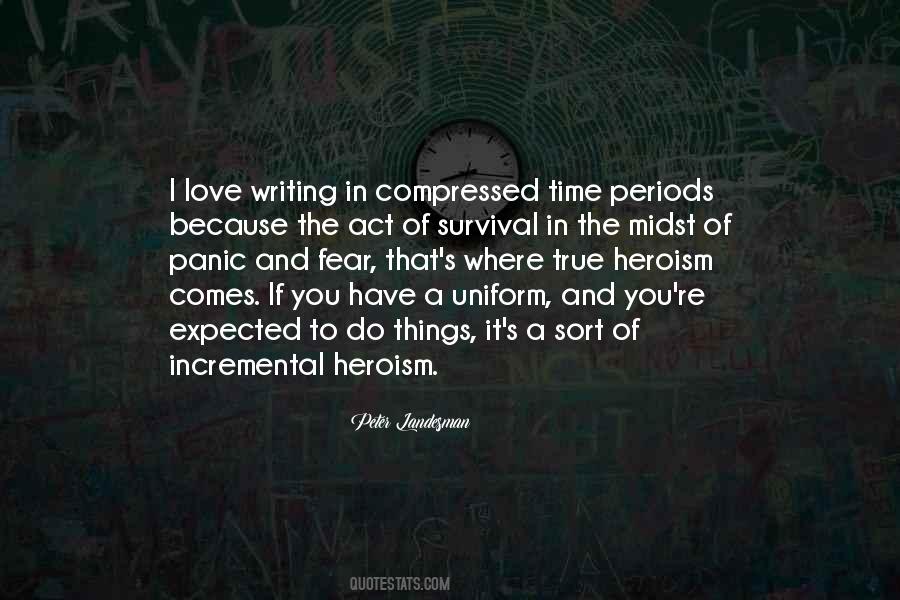 #37. Being with her is my survival; loving her is effortless. She is the shining center of my universe and her love is the moon that pulls the tide of my heart. - Author: Jewel E. Ann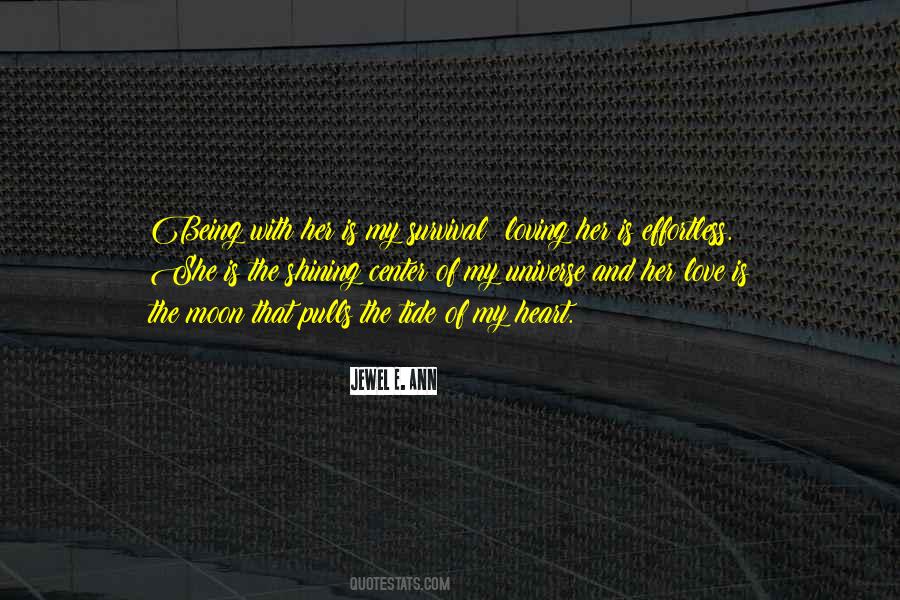 #38. Doubt is easy when it is not a matter of survival: we are as sceptical as we can afford to be, and it is easiest to be sceptical about things that do not fundamentally sustain us. It is easy to doubt the existence of a table, it is hell to doubt the legitimacy of love. - Author: Anonymous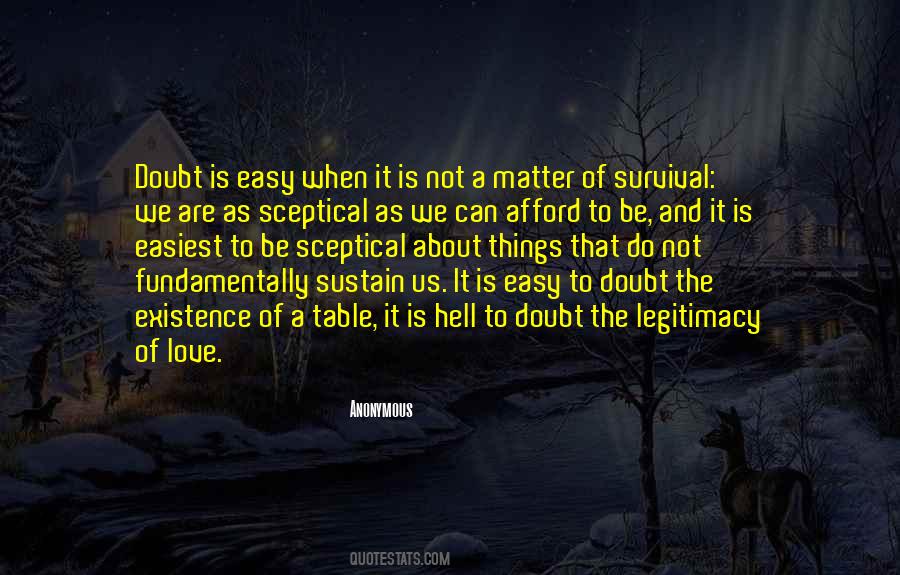 #39. Work is not about survival alone - Author: Sunday Adelaja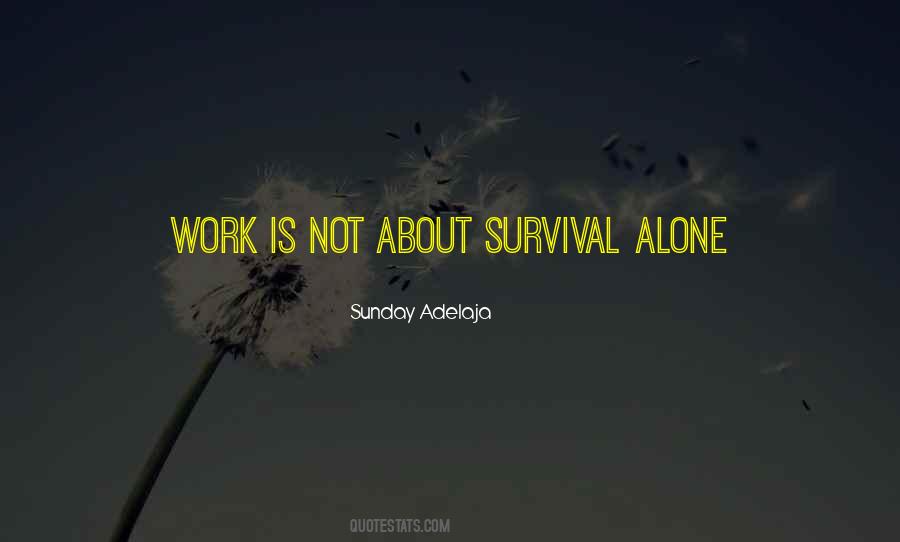 #40. Love and kindness are the very basis of society. If we lose these feelings, society will face tremendous difficulties; the survival of humanity will be endangered. - Author: Dalai Lama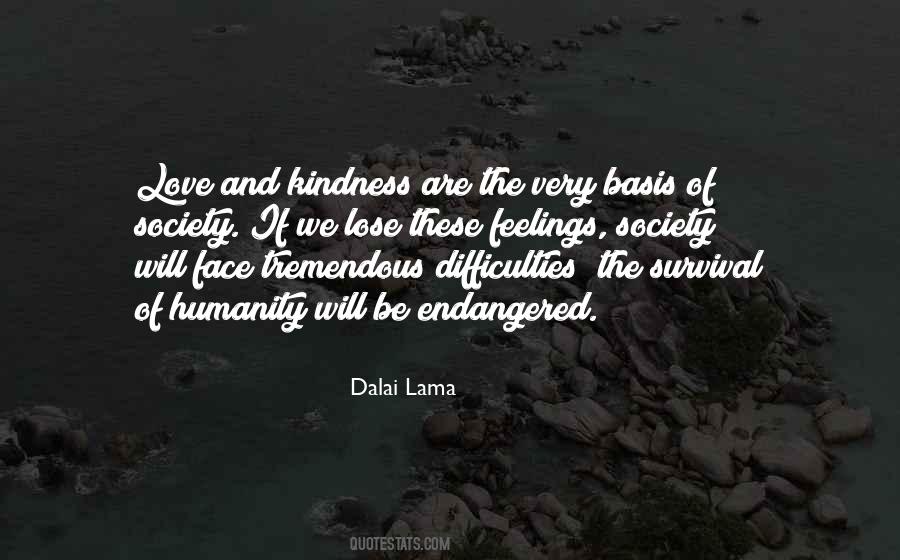 #41. I would love to do Tammi Terrell's story. I love stories of the underdog coming out on top and stories of survival. - Author: Wendy Raquel Robinson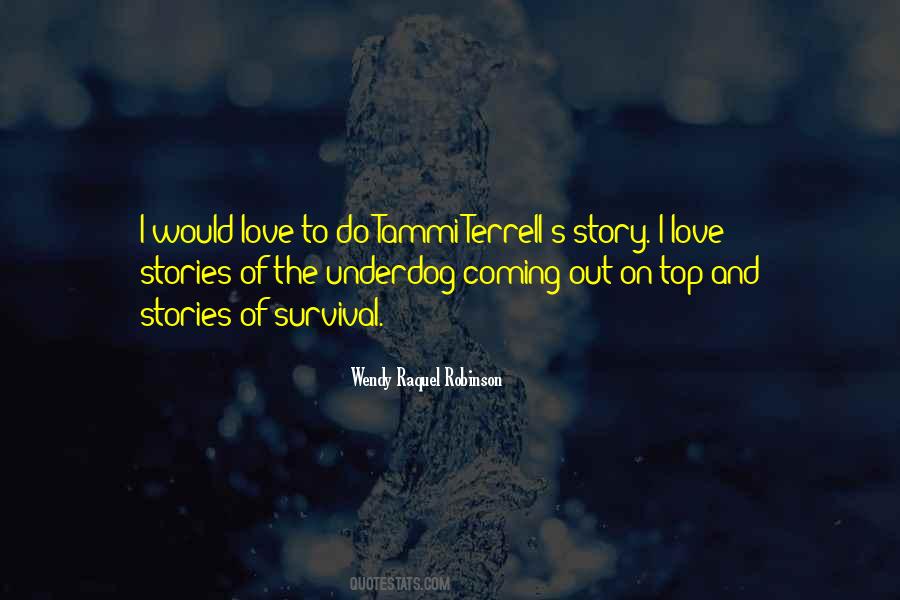 #42. Love is the most powerful healing force of all. But past
demons have a way of ripping open old wounds, and
threatening the survival of even the strongest friendship ... - Author: Cherrie Lynn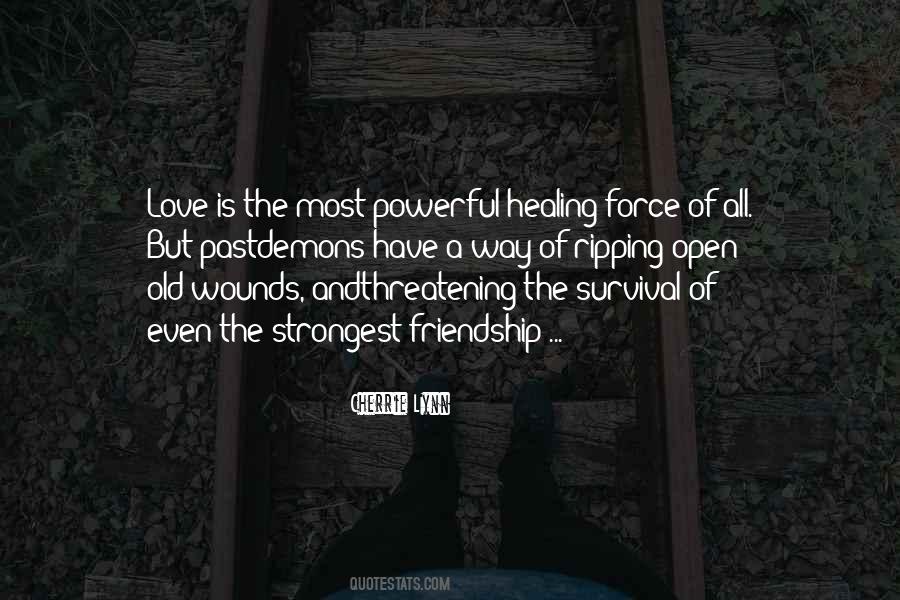 #43. Love is the only engine of survival - Author: Leonard Cohen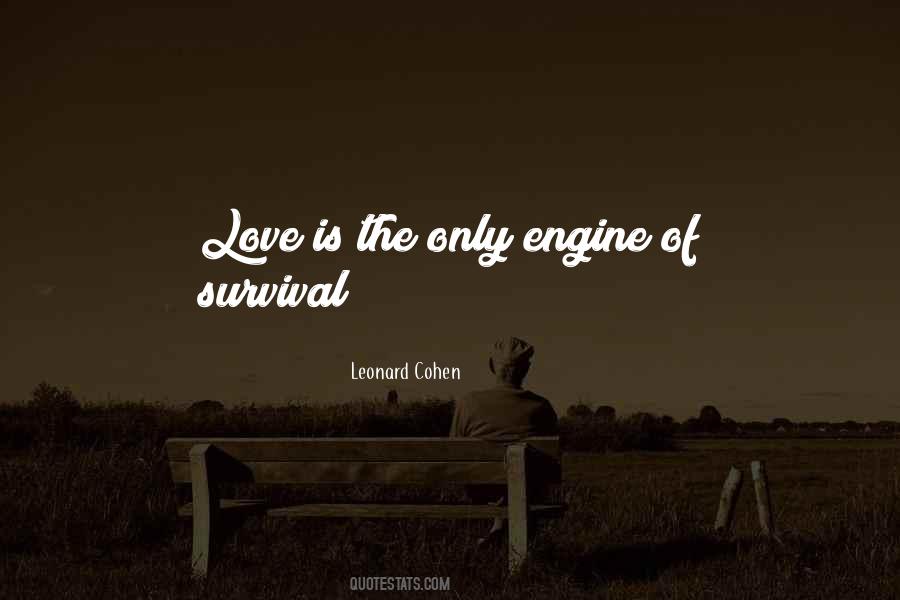 #44. Our survival as spiritual beings depends upon our ability to open our wild
hearts in love and resonance with all of nature. - Author: Gail Faith Edwards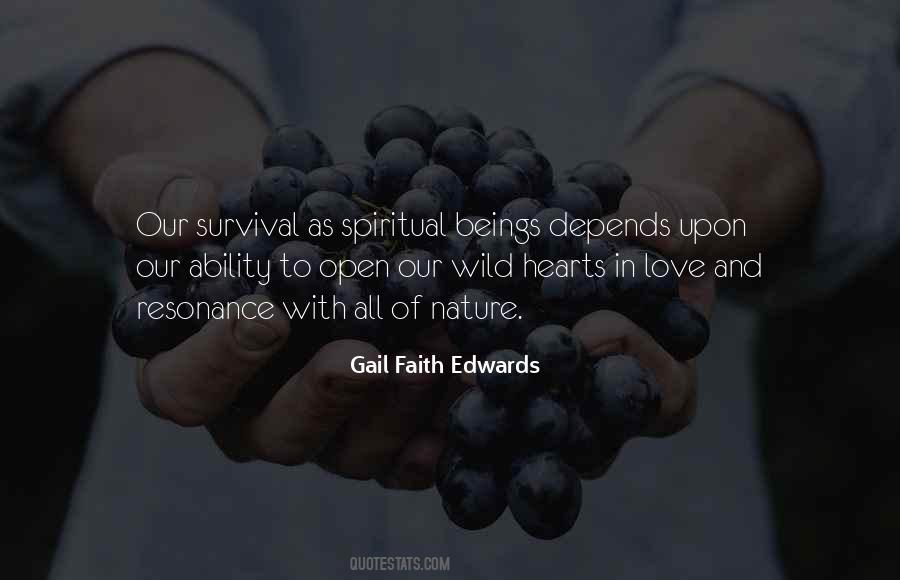 #45. Our survival as a human community may depend as much upon our nurture of love in infancy and childhood as upon the protection of our society from external threats. - Author: Selma Fraiberg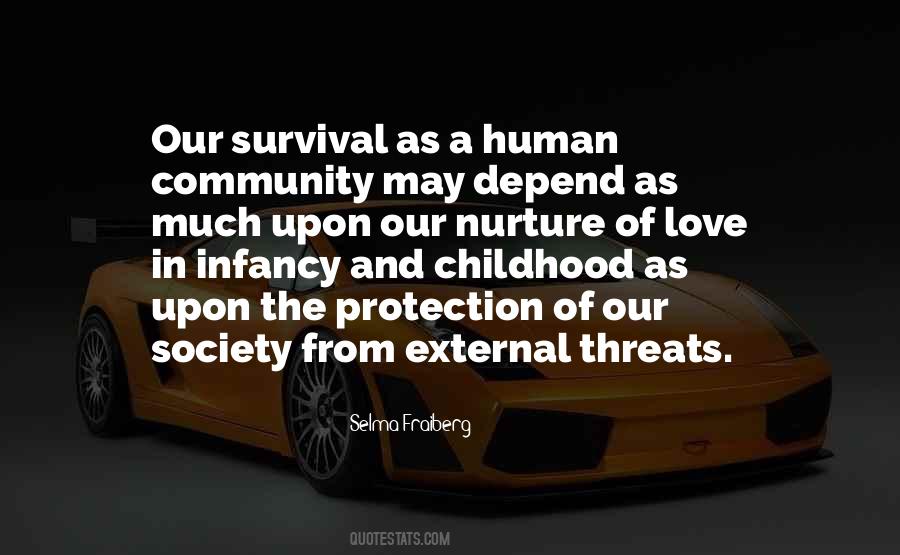 #46. To only responsible choice I can make is to be love and happiness." Vincellent
"Love the world as you love yourself".Lao Tze
"The next step in mans evolution will be the survival of the wisest. - Author: Deepak Chopra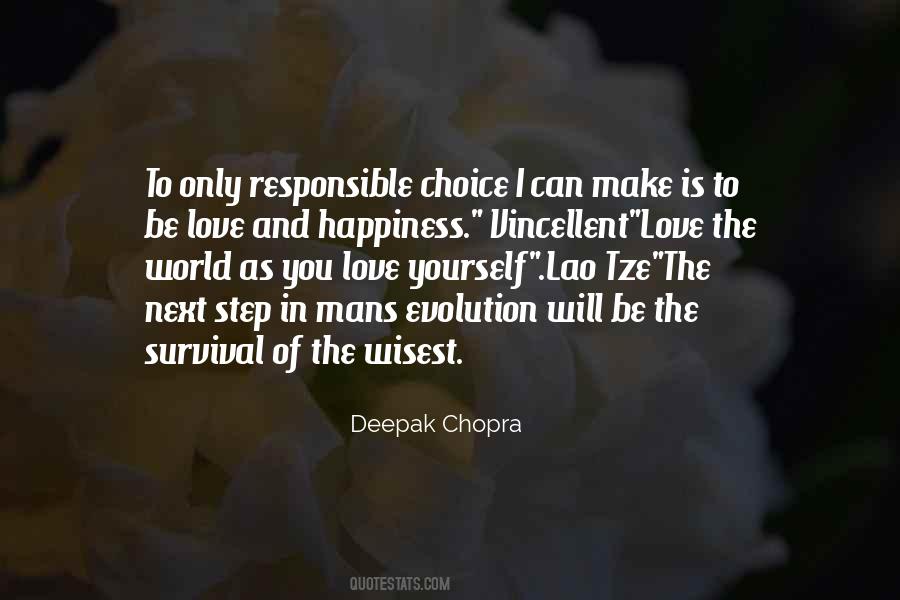 #47. The beauty of existence is my joy. - Author: Lailah Gifty Akita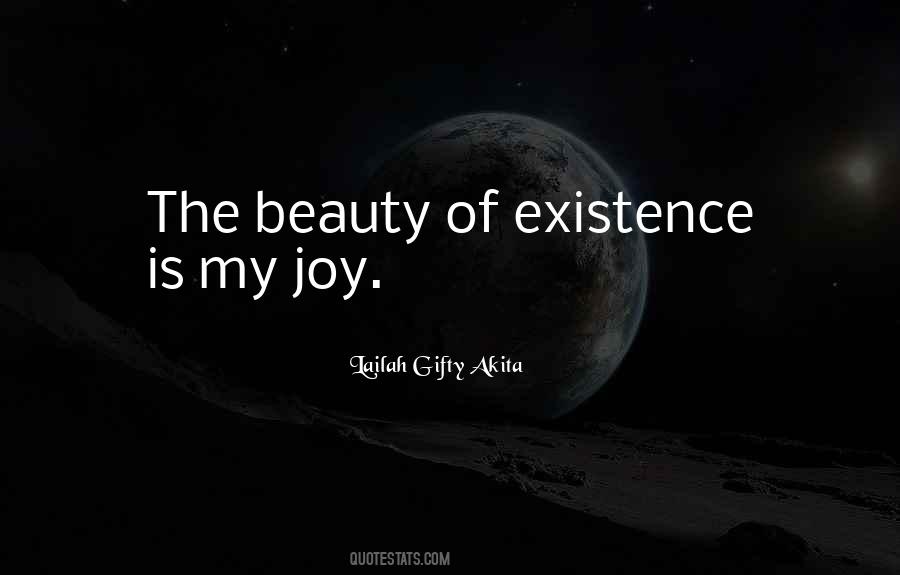 #48. There are no rules.
Love.
Survival.
Truth.
Freedom.
I write my words. I savor them. They have taste and strength and memory and rhythm.
Outside my window, I see the morning star. And I watch it until it winks out in the light of dawn. - Author: Katherine Longshore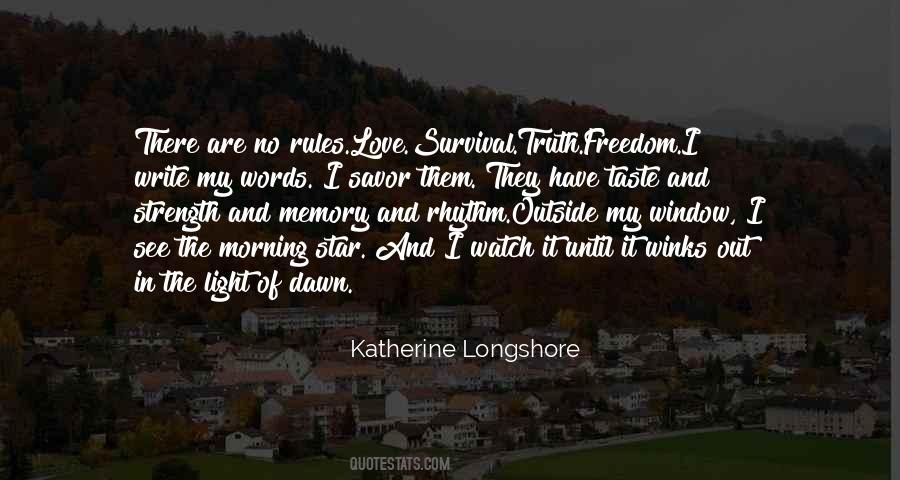 #49. Not just survival but a good life, full of learning, full of love, Emilio thought, and took a step closer to the death he felt inside himself. He - Author: Mary Doria Russell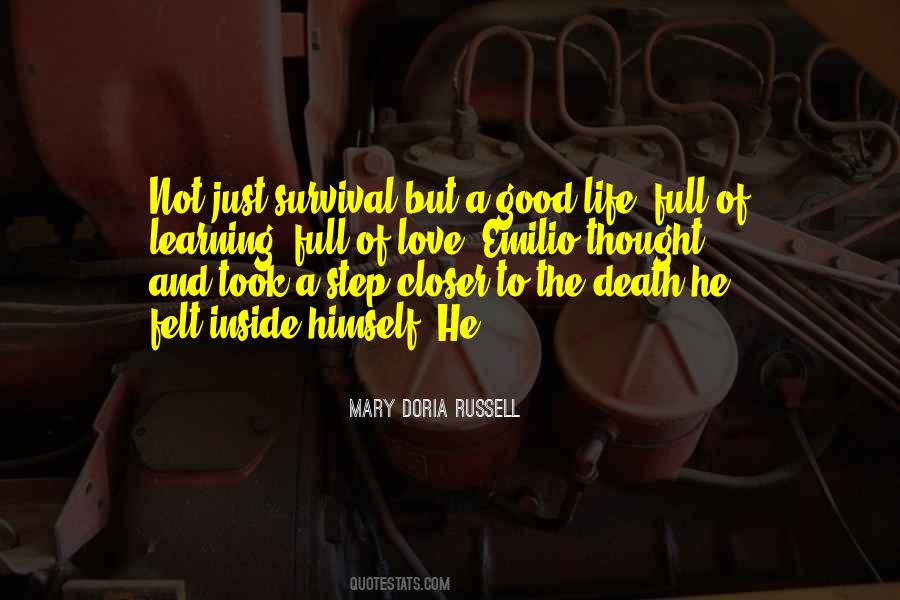 #50. We all want survival, safety, security, peace, prosperity, opportunity, health, happiness, and love. Yet we seem utterly unable to produce it for any but the tiniest minority of us - even after trying for thousands of years. - Author: Neale Donald Walsch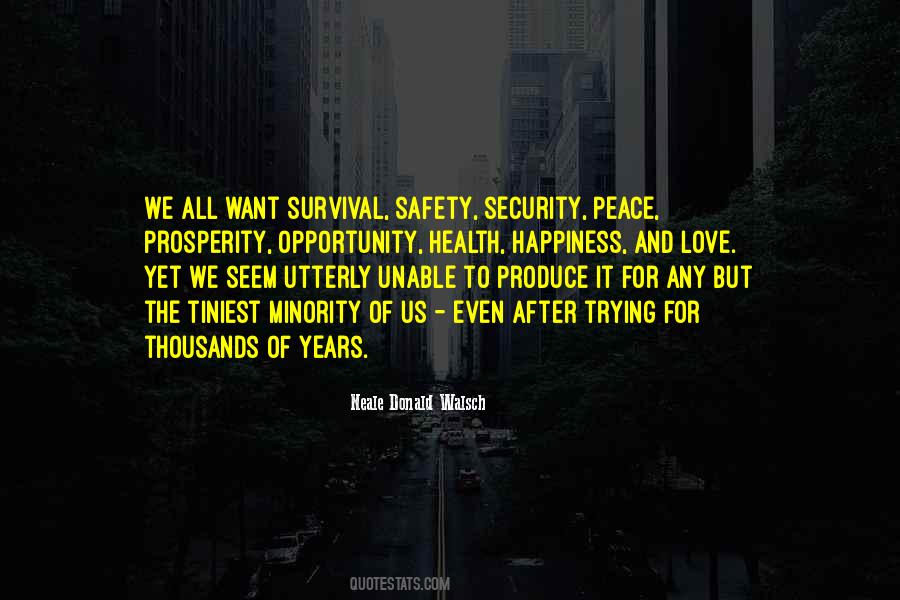 #51. Even memory is not necessary for love. There is a land of the living and a land of the dead and the bridge is love, the only survival, the only meaning." - Thornton Wilder, The Bridge of San Luis Rey - Author: Nancy Herkness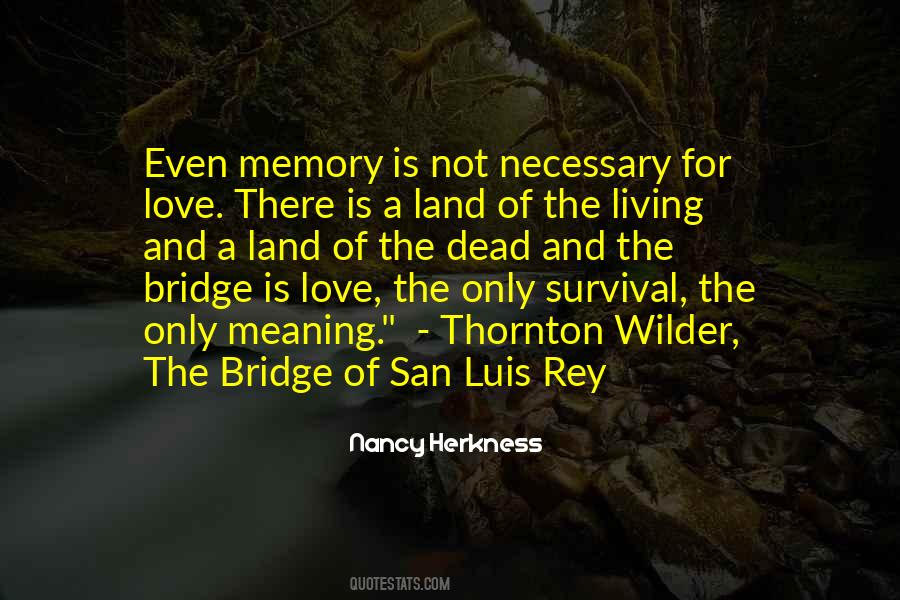 #52. Our most basic instinct is not for survival but for family. Most of us would give our own life for the survival of a family member, yet we lead our daily life too often as if we take our family for granted. - Author: Paul Pearsall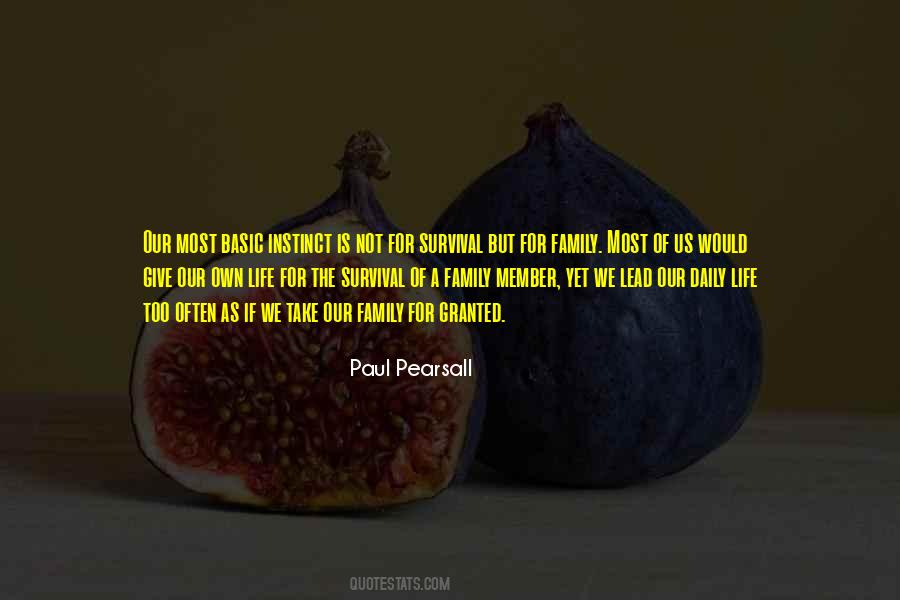 #53. The bully mind is not capable of loving or respecting others nor can it love or respect itself. Life's subtleties and the means of survival require its pretense of both these qualities. - Author: Rick Stein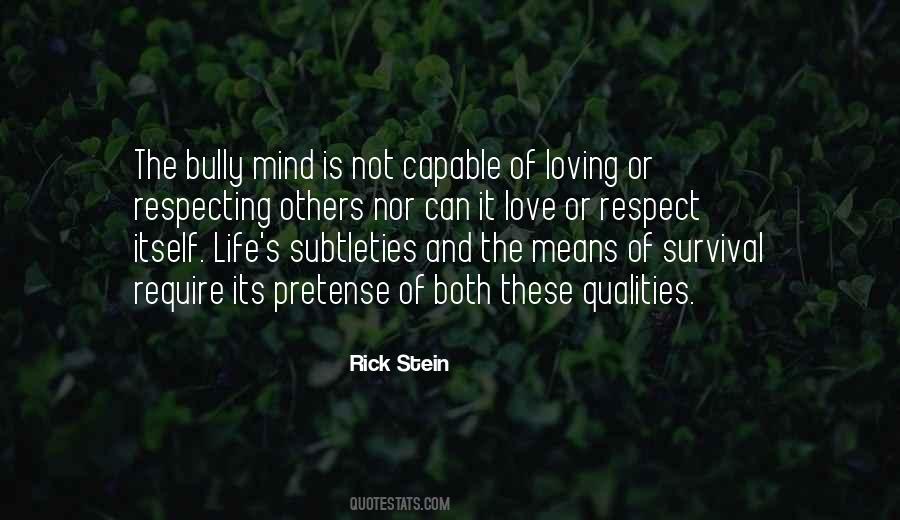 #54. People need stories. Stories of love, hope, survival, wisdom and sometimes pain. Maybe you don't tell them the full truth; maybe you tell them lies. But what is this world? A lie in itself. - Author: Savi Sharma
#55. We cannot love 'our people' unless we love each of us ourselves, unless I love each piece of myself, those I wish to keep and those I wish to change - for survival is the ability to encompass difference, to encompass change without destruction. - Author: Audre Lorde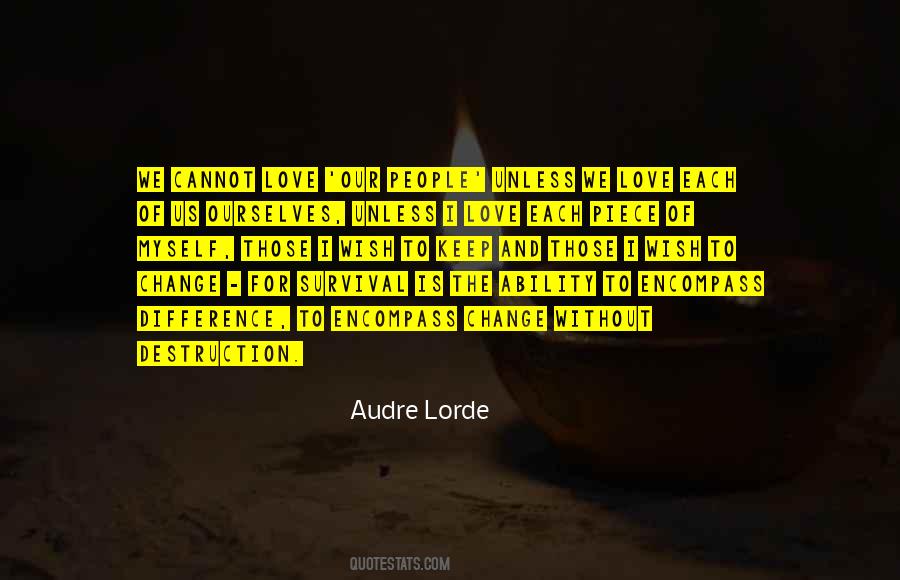 #56. Heterosexuality is the traditional way of expressing love and romance; the act of enjoyment between opposite sexes. It is not only for the purpose of enjoyment and pleasure, but also the human general survival. Whilst homosexuality is the freedom of enjoyment and pleasure from any means and ends. - Author: M.F. Moonzajer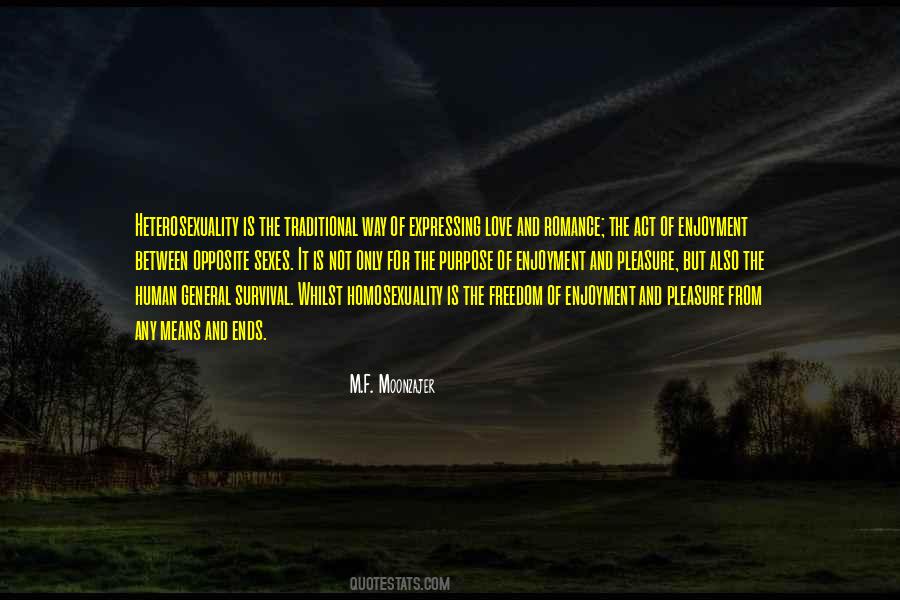 #57. The survival of love depends on the management of change. - Author: Ari Kiev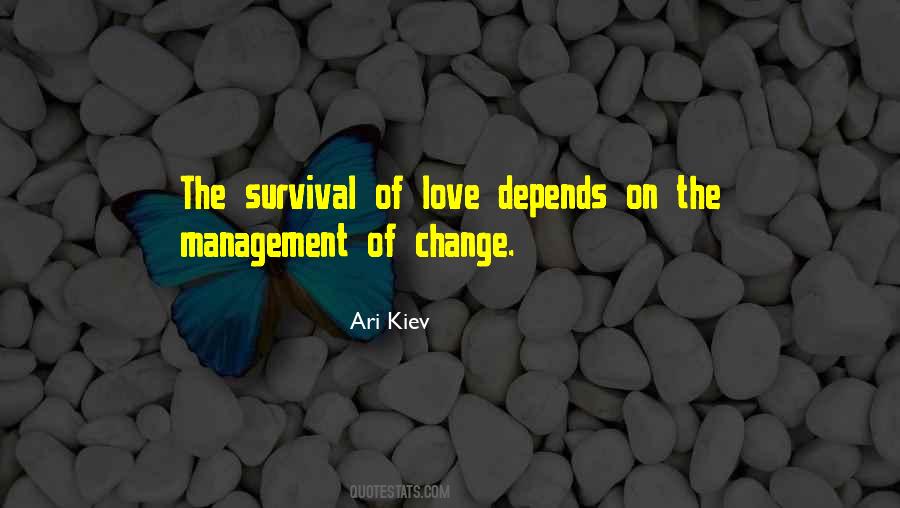 #58. You love fear. The ending of fear is death, and you don't want that to happen. I am not talking of wiping out the phobias of the body. They are necessary for survival. The death of fear is the only death. - Author: U.G. Krishnamurti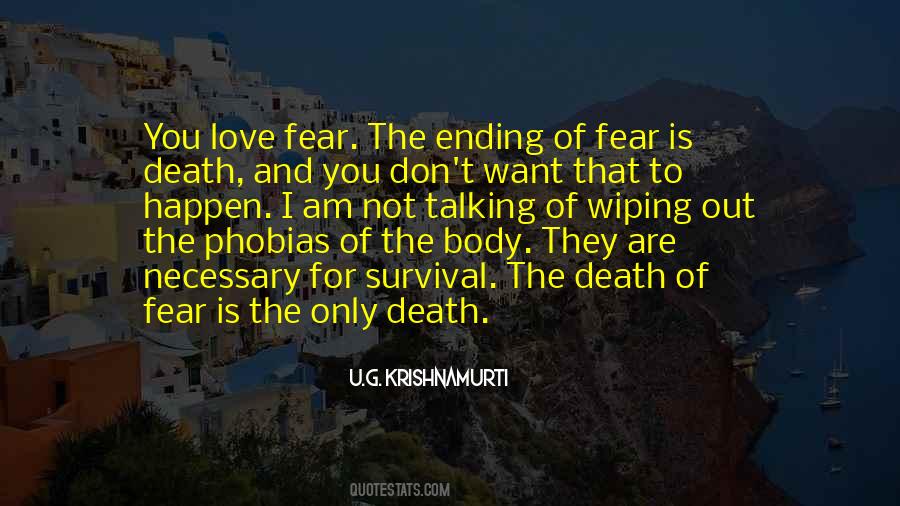 #59. As he journeyed alone toward the monster that is death, we could do nothing to help him, nor the others still alive; all the words of strength on our lips melted away, our love not great enough to bind them to life, and our hope not enough to will them to live. - Author: Alfred Nestor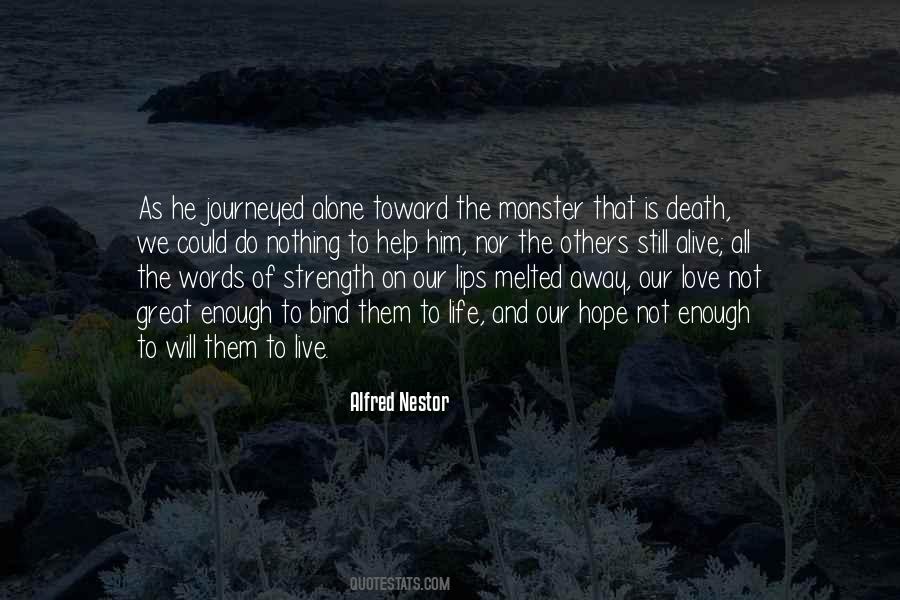 #60. Love is antithetical to human nature. Humans seek their own good. Their own survival. Their own glorification. But love seeks the good of the other, even to the detriment of the self. Even to the detriment of others. - Author: Christina Daley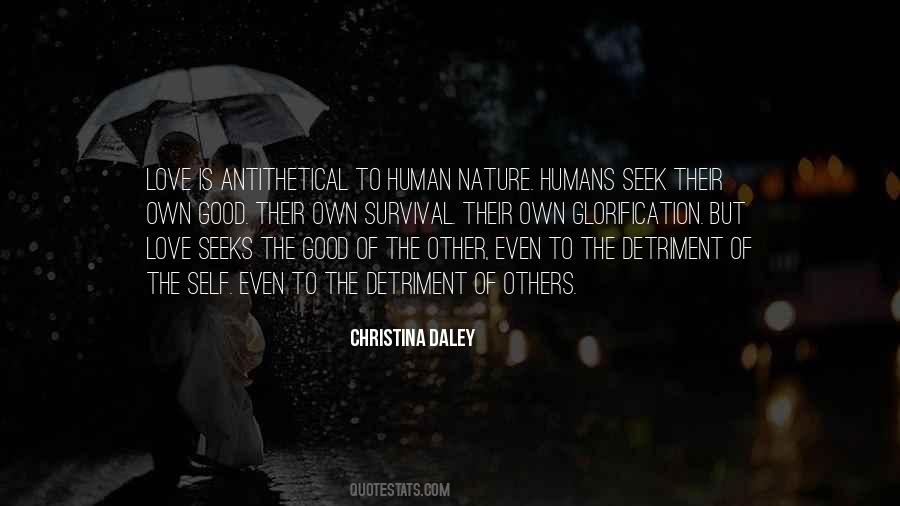 #61. Loving Your Enemies ... Far from being the pious injunction of a utopian dreamer, this demand is an absolute necessity for the survival of our civilization. Yes it is love that will save our world and civilization; love even for our enemies. - Author: Martin Luther King Jr.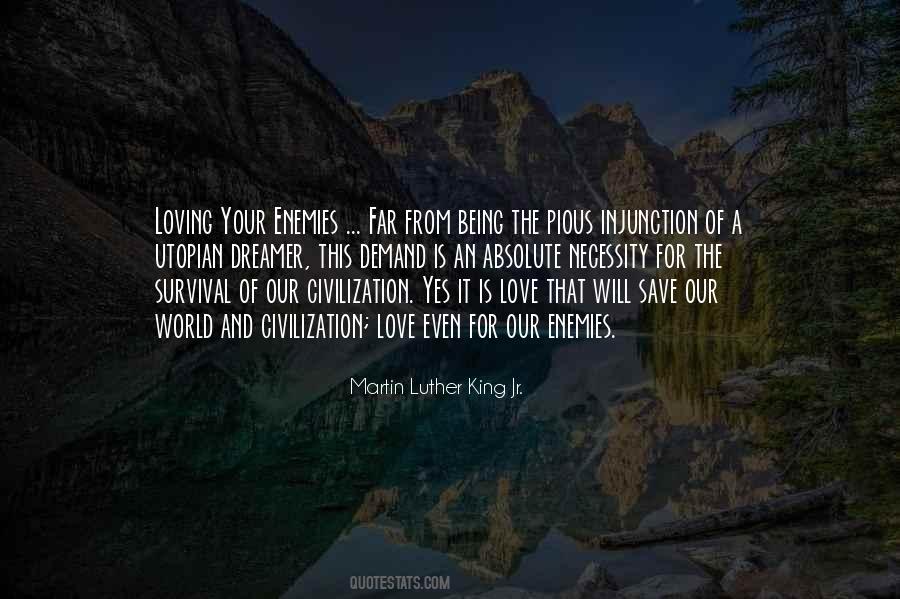 #62. Fate was a reality, but it wasn't a beautiful or angelic thing. It was a heart-wrenching nightmare. And we'd fallen blindly into it. We had no escape. It was happening, and it was up to me to guarantee our survival of it. (Eric) - Author: Shannon A. Thompson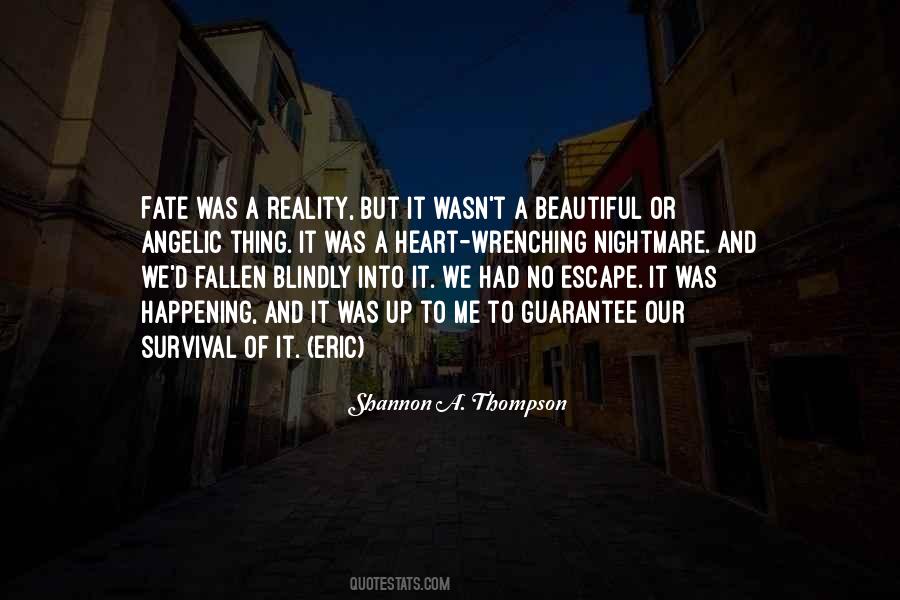 #63. Helen Tse tells a gripping tale of struggle, laughter, love and food that marks Sweet Mandarin as a must read book. It is not only an immigrant account of life but also a universal touching story of survival that will move your soul as well. - Author: Ken Hom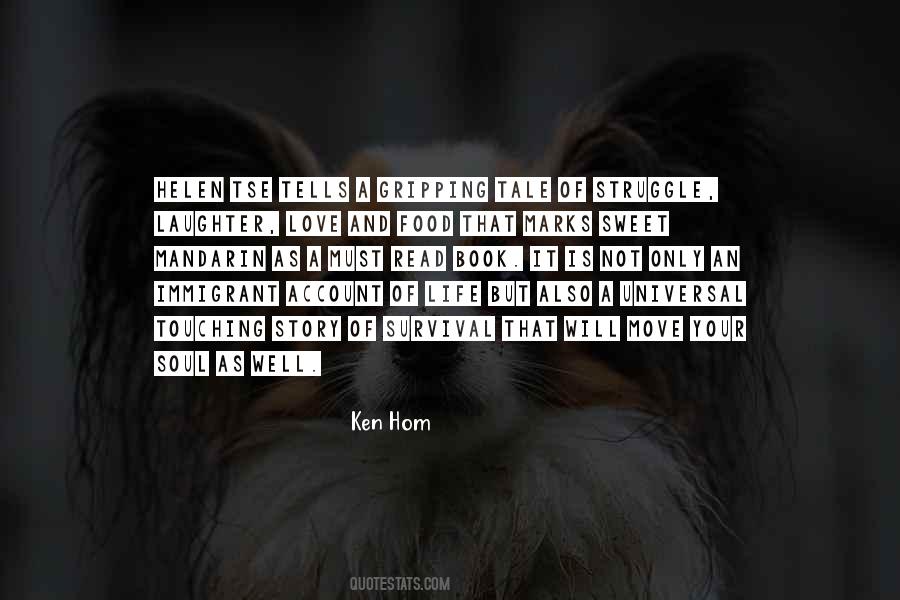 #64. Love when you can, cry when you have to, be who you must, that's a part of the plan. Await your arrival with simple survival, and one day we'll all understand. - Author: Dan Fogelberg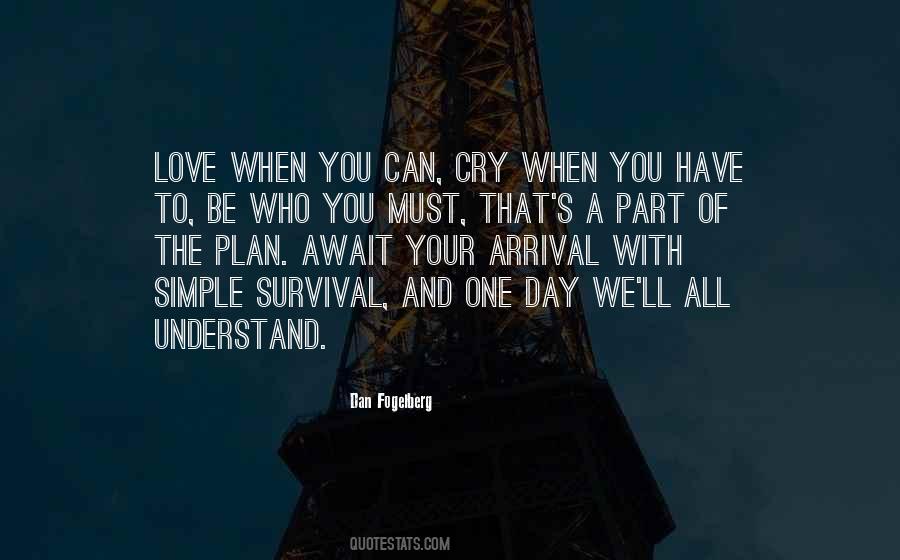 #65. Hunger, love, pain, fear are some of those inner forces which rule the individual's instinct for self preservation. - Author: Albert Einstein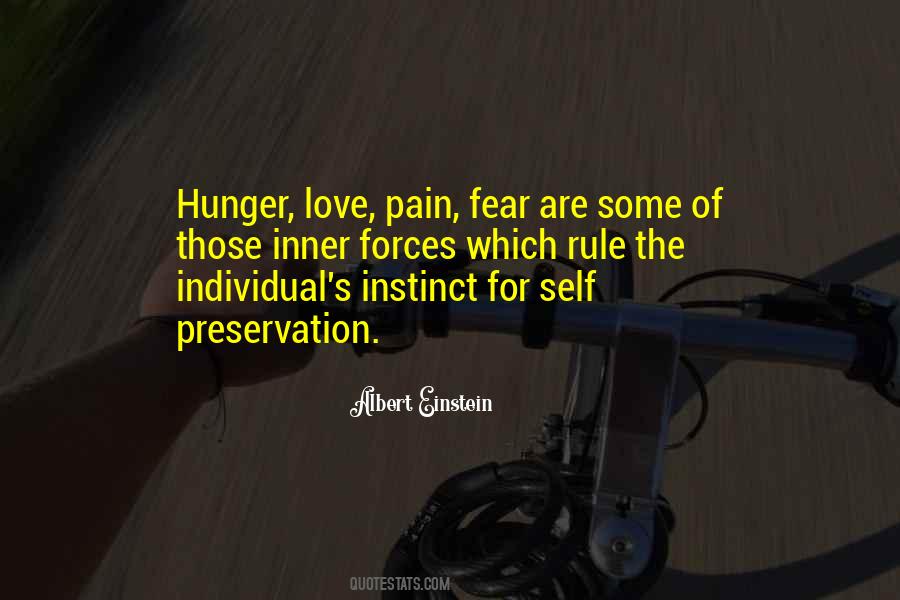 #66. You ought to find the joy, hope and love of existence. - Author: Lailah Gifty Akita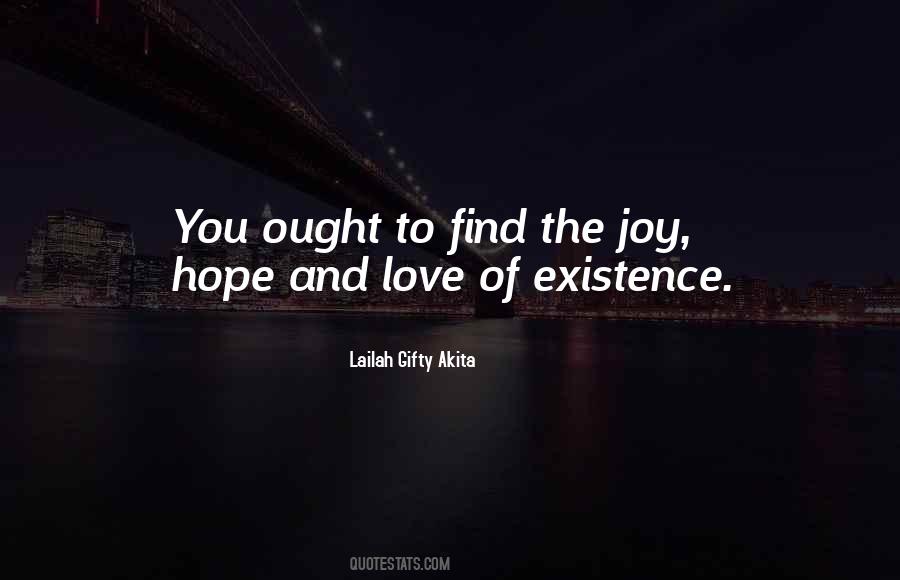 #67. You all set?" he asked, tossing me a pair of sunglasses.
"Wow, nice." I felt the frame, rubbing my finger over the lenses to wipe away a smudge. "Not bad, Phoenix."
"Twinkies." He slid his pair on and adjusted the gun across his chest. "Told you. Breakfast of champions."
- Skylla and Jet - Author: Rachael Wade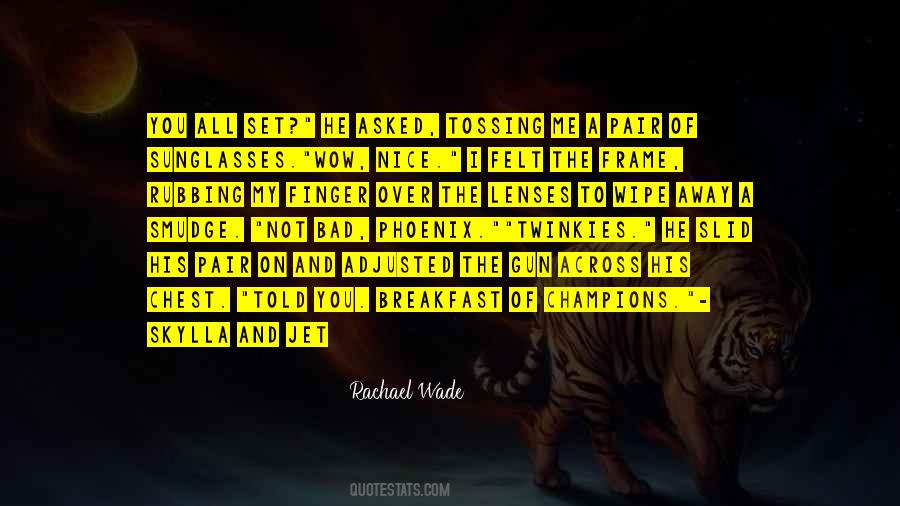 #68. Life is usually loved more than our most sacred love. In that knowledge lies the beginning of our cruelty and of our survival. - Author: Josephine Hart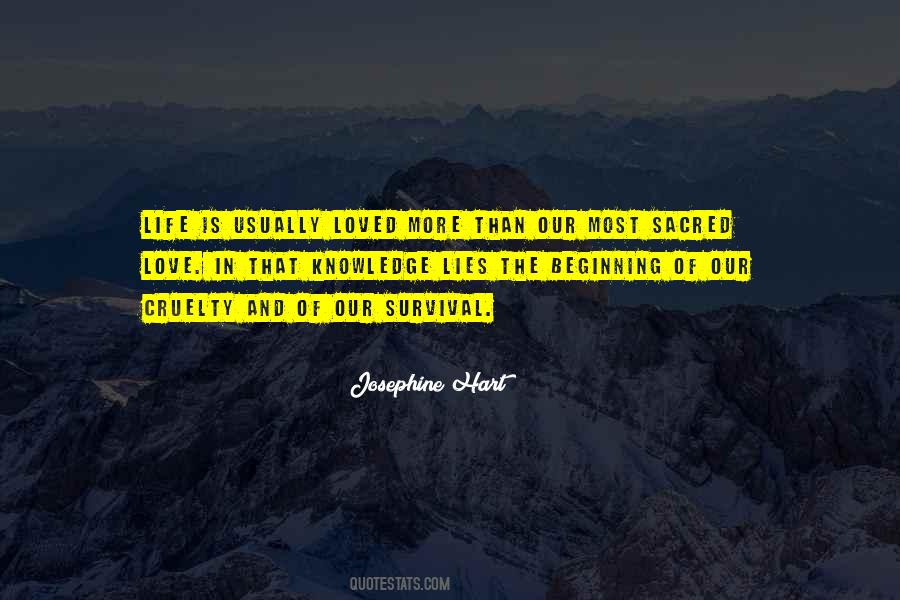 #69. I love you, Dominique. As selfishly as the fact that I exist. As selfishly as my lungs breathe air. I breathe for my own necessity, for the fuel of my body, for my survival. I've given you, not my sacrifice or my pity, but my ego and my naked need. This is the only way I can want you to love me. - Author: Ayn Rand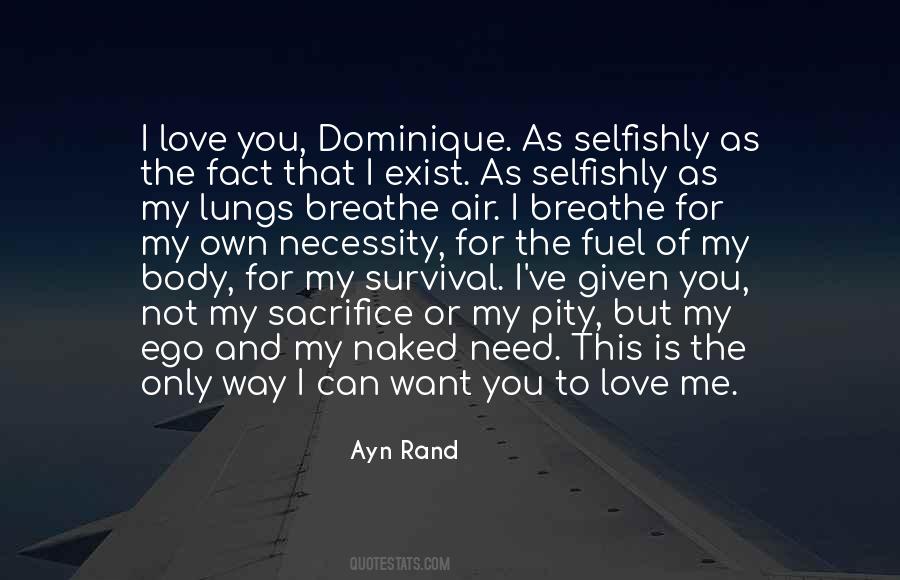 #70. Never tell anyone to be careful, never ask what that noise was, and for the love of God, never, ever say that you'll be right back. - Evelyn Baker - Author: Seanan McGuire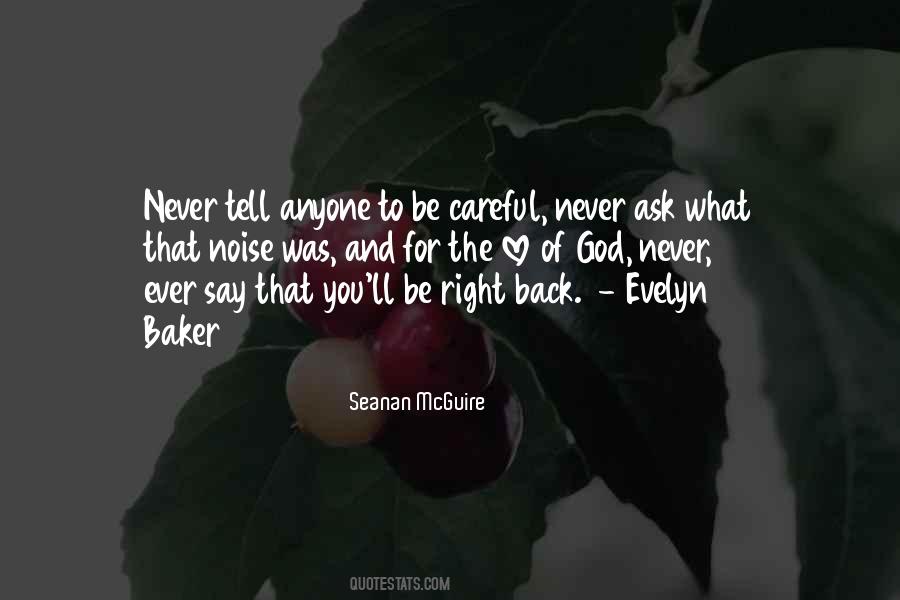 #71. Love is a very ancient force, which served its purpose in its day but no longer is essential for the survival of the species. - Author: Frank Herbert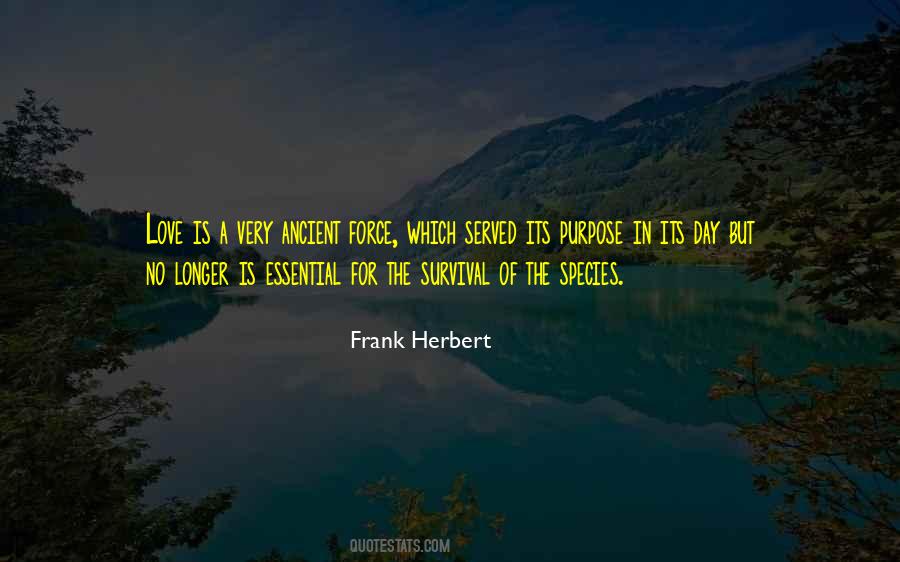 #72. I think 'The Hunger Games' has a really powerful message about survival, and sacrificing for the ones you love. It's almost like a warning for us to not lose touch of our humanity. We live in a world in which we watch other's misfortunes for entertainment. - Author: Amandla Stenberg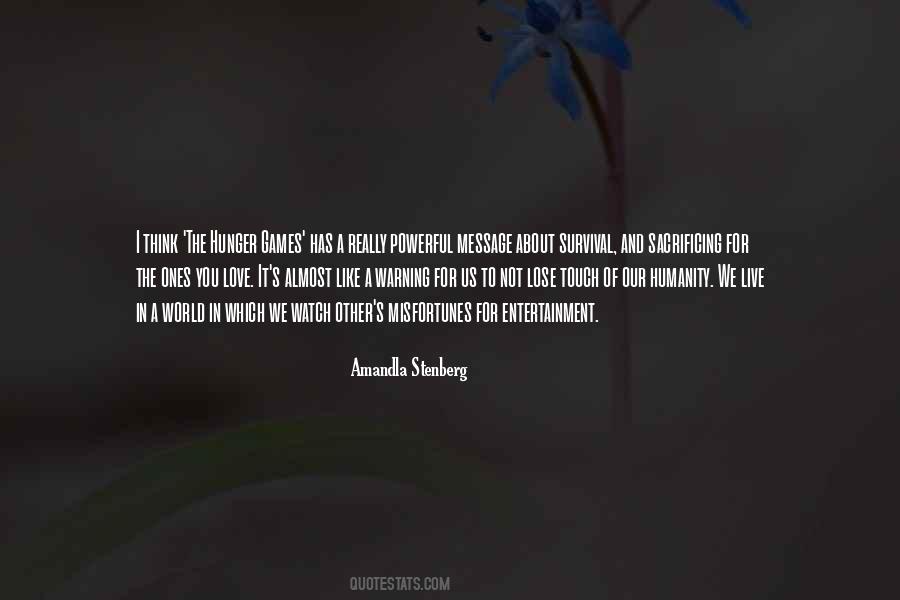 #73. Greed is rightly considered a "deadly sin" because it erodes the moral values that encourage us to care for the common good. Greed violates the spirit of connectedness and community that is natural to human survival [...] replacing this awareness with harmful self-centeredness. - Author: Bell Hooks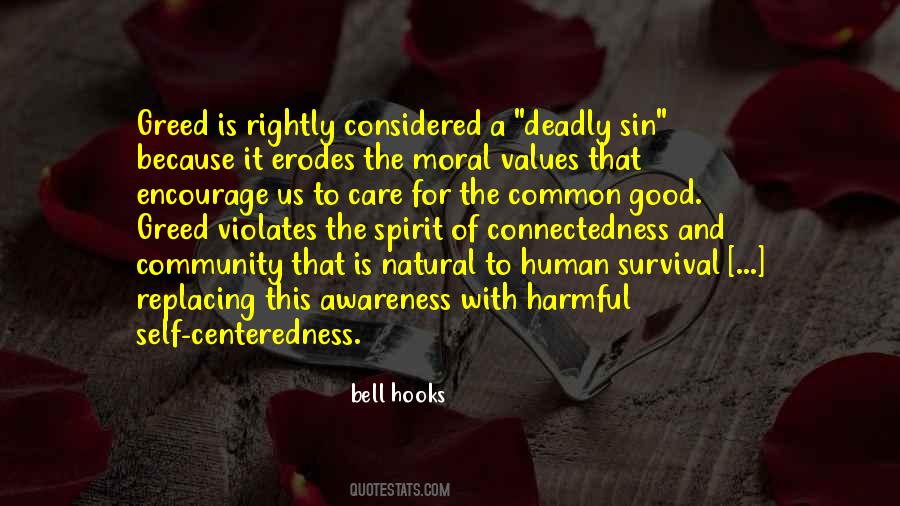 #74. When we attempt to clear up the mess others have made, or when we love the unlovely, we demonstrate the kind of weirdness God likes. We give the lie to the evolutionary survival of the fittest maxim ... - Author: Ann Benton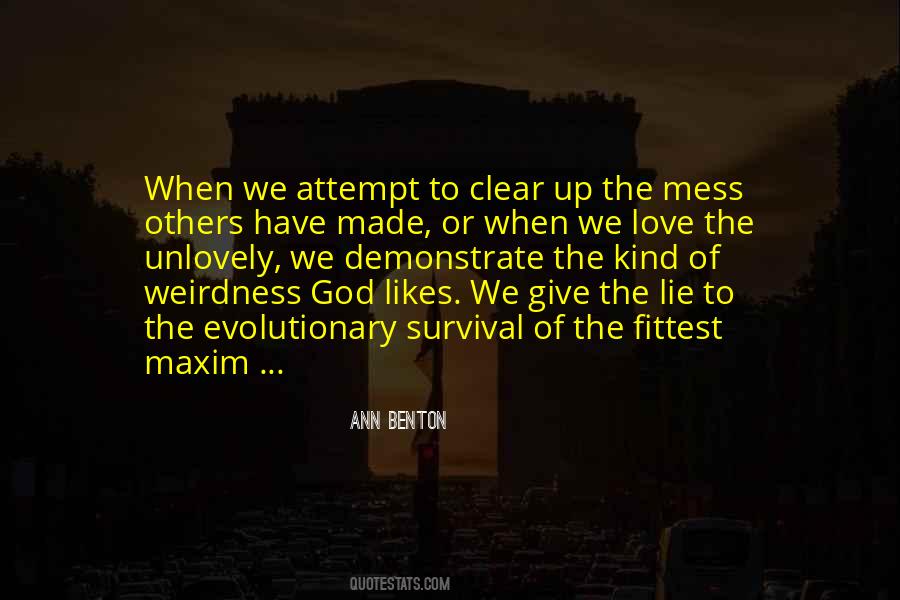 #75. We are not afraid of predators, we're transfixed by them, prone to weave stories and fables and chatter endlessly about them, because fascination creates preparedness, and preparedness, survival. In a deeply tribal way, we love our monsters ... - Author: E. O. Wilson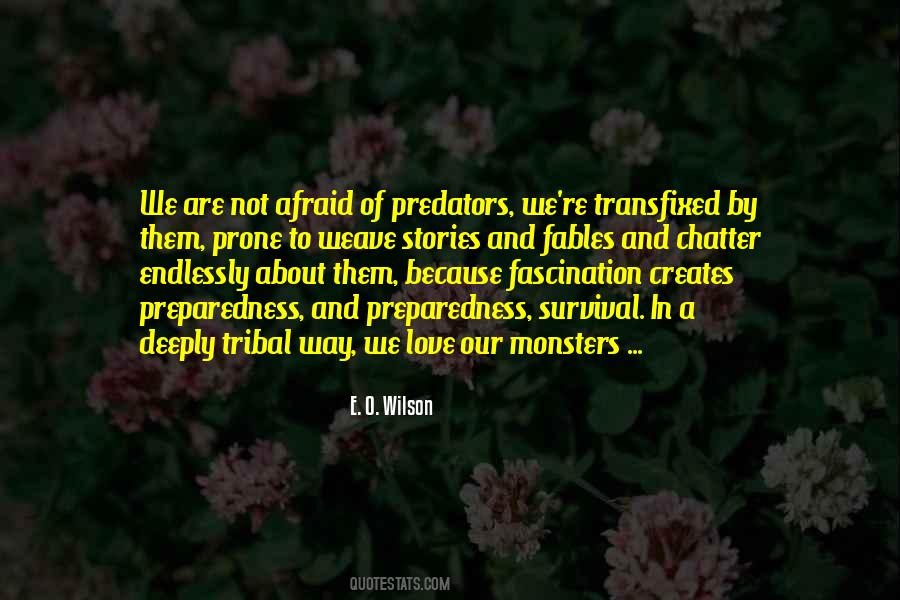 #76. Dare to conquer your soul. - Author: Lailah Gifty Akita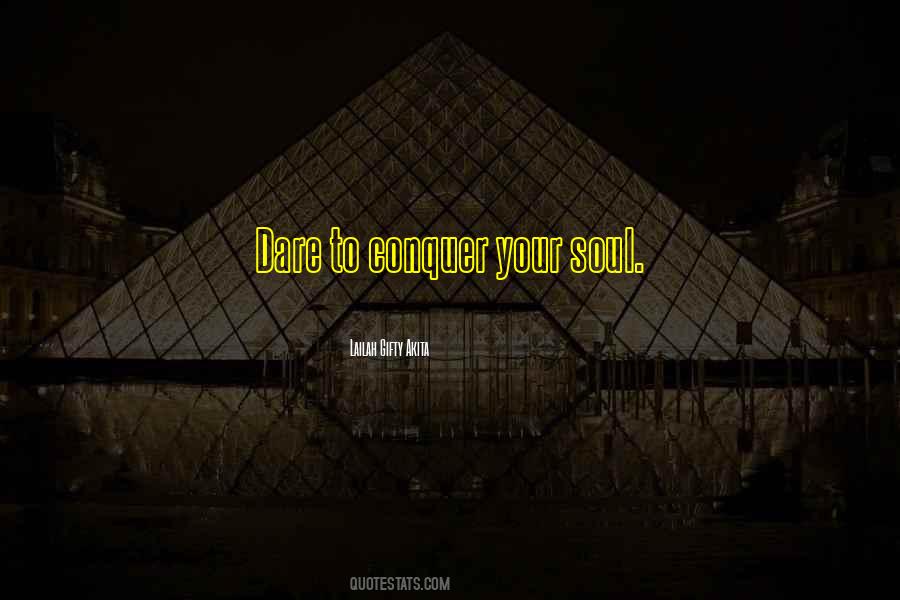 #77. We are built to desire free will and to choose our own destiny. It's not about being right or wrong; it's about the celebration of life, your free will. The human spirit must constantly be fed. It is what makes us survive. - Author: DeiAmor Verus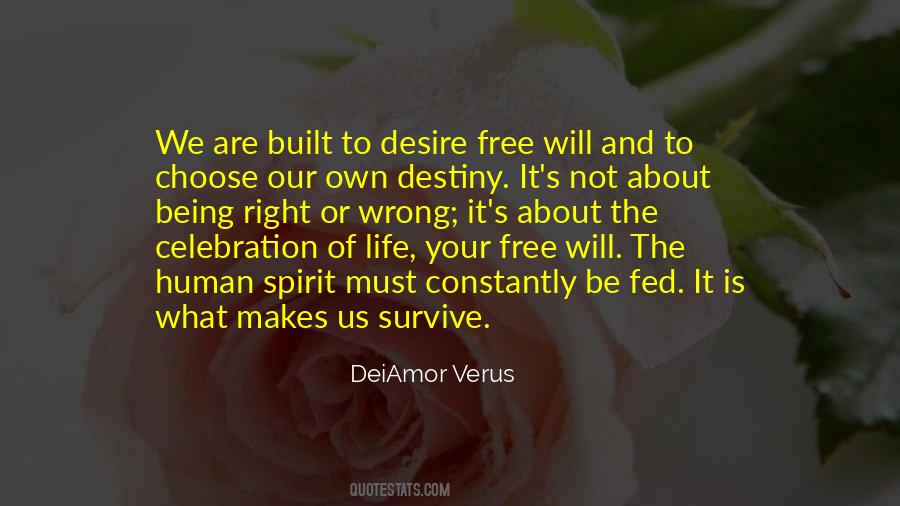 #78. For the person and for the species love is the form of behavior having the highest survival value. - Author: Ashley Montagu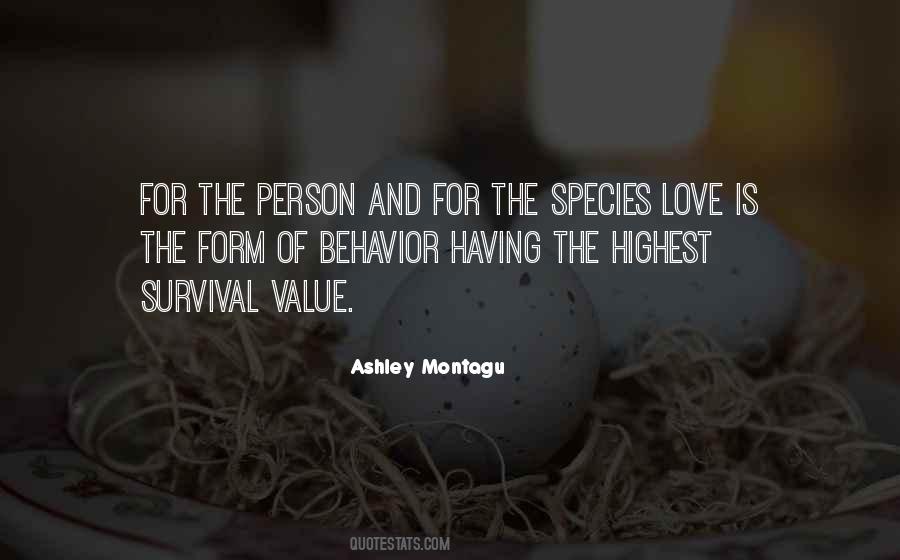 #79. Let go of the pain. Dwell on positive thoughts. - Author: Lailah Gifty Akita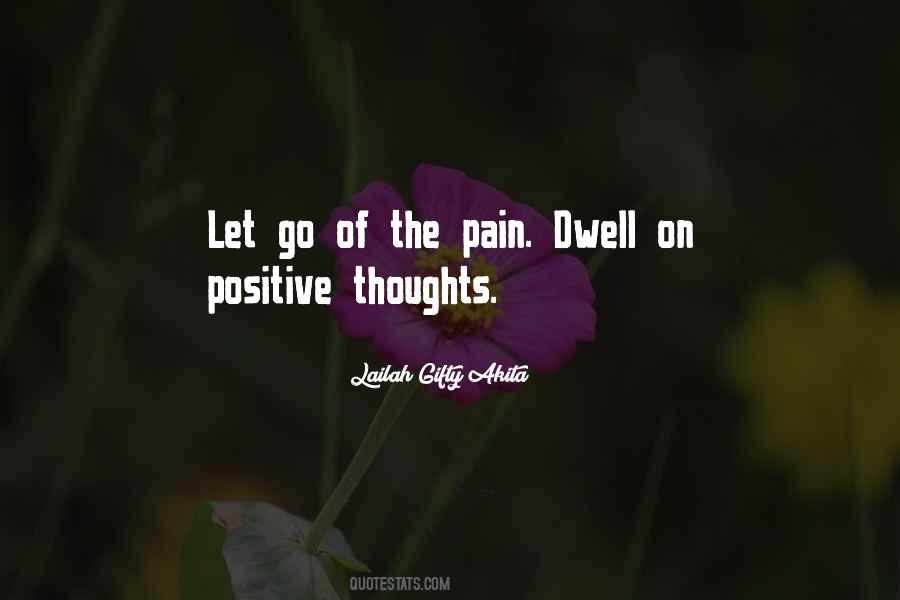 Famous Authors
Popular Topics