Something To Live For Famous Quotes & Sayings
List of top 100 famous quotes and sayings about something to live for to read and share with friends on your Facebook, Twitter, blogs.
Top 100 Quotes About Something To Live For
#1. Before, I always lived in anticipation ... that it was all a preparation for something else, something "greater," more "genuine." But that feeling has dropped away from me completely. I live here and now, this minute, this day, to the full, and the life is worth living. - Author: Etty Hillesum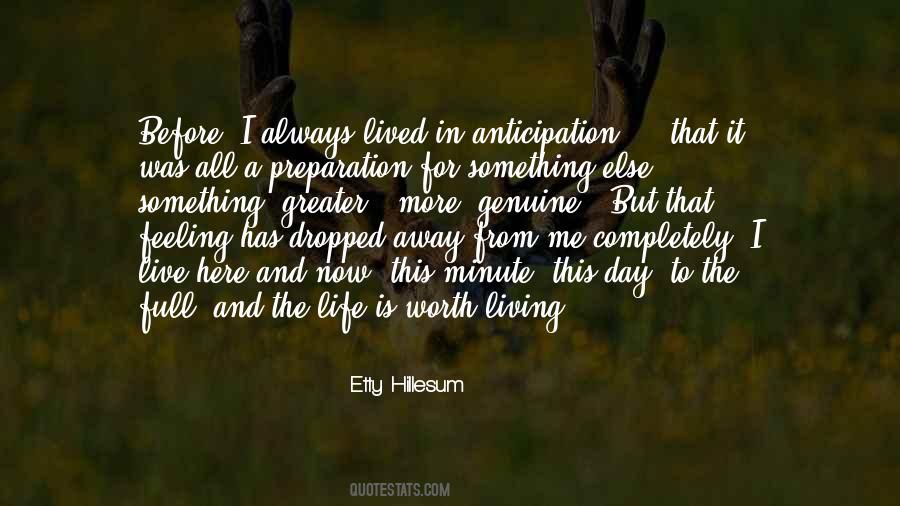 #2. A man walks into a hospital feeling unwell and the doctor says: "Sorry, you've only got three minutes to live." The man said: "Can you do something for me?" "Yes," he said. "I'll boil you an egg." - Author: Frank Carson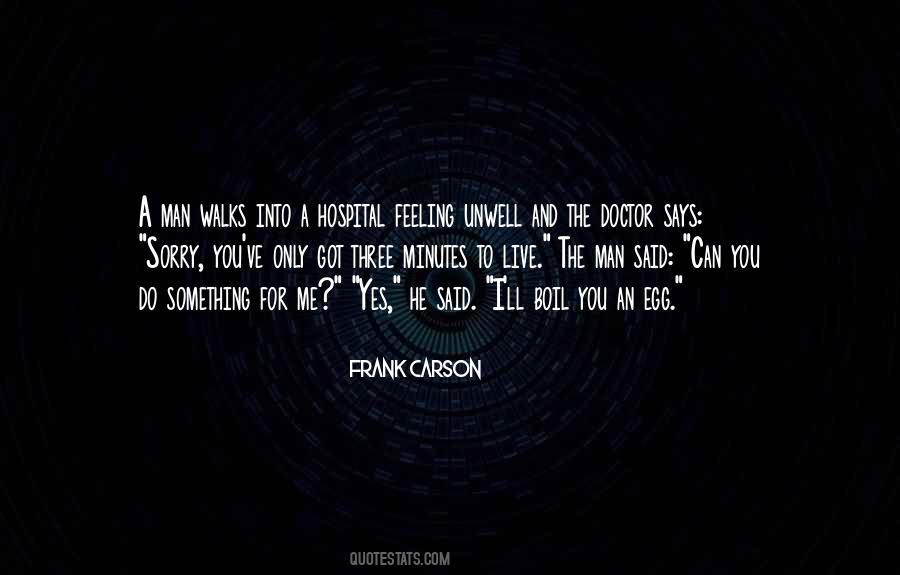 #3. And for me the only way to live life is to grab the bull by the horns and call up recording studios and set dates to go in recording studios. To try and accomplish something. - Author: John Frusciante
#4. Come! Let us lay a lance in rest,
And tilt at windmills under a wild sky!
For who would live so petty and unblest
That dare not tilt at something ere he die;
Rather than, screened by safe majority,
Preserve his little life to little end,
And never raise a rebel cry! - Author: John Galsworthy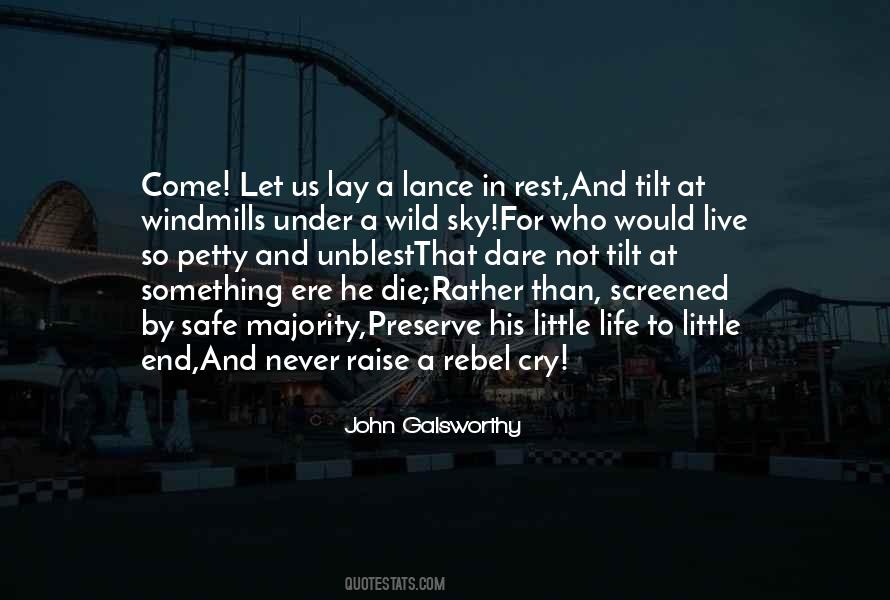 #5. When you live without someone for as long as I have, love becomes this abstract concept, something you attach to a memory. And when memories are that old, they feel like dreams, and you wonder if any of it was real, or if your mind created it all. - Author: Laura Thalassa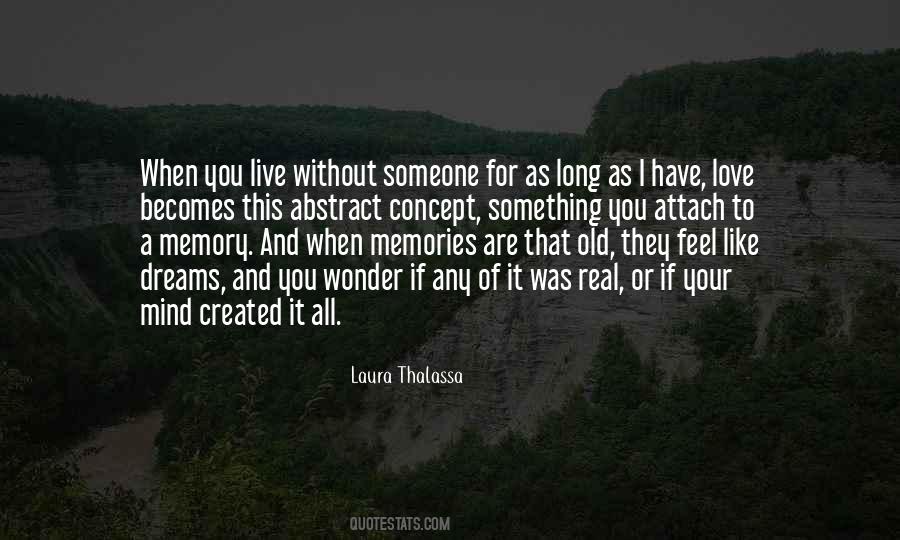 #6. He could hope for many things, though he had stopped doing so long ago. If one didn't hope, then disappointment didn't visit. Hoping meant you had somehting to live for, and living for something or someone else was asking for pain. -Nik - Author: Lora Leigh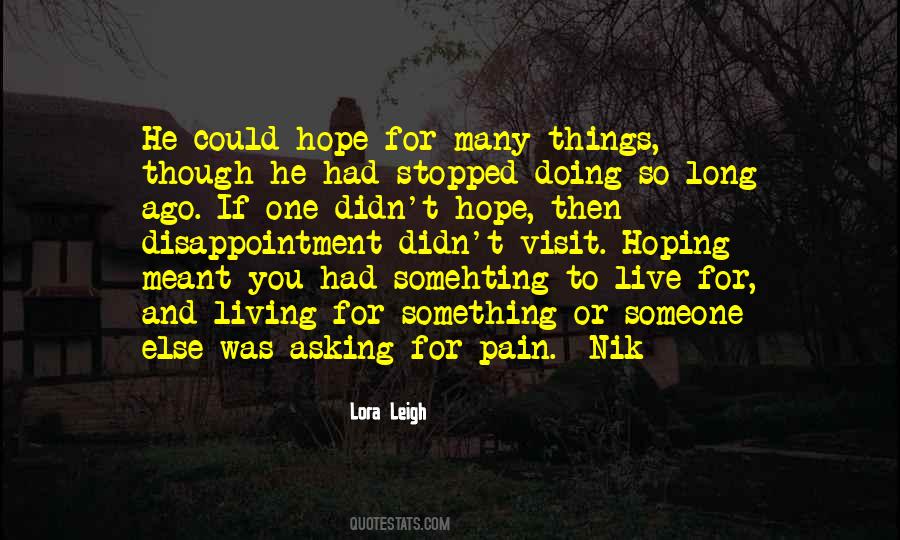 #7. What do you live for when everyone and everything you love is gone? Do you keep going, keep stumbling through the dark, or do you find something new to cherish? Maybe neither. Maybe you walk silently and ignore the blows time takes on your heart. - Author: Courtney M. Privett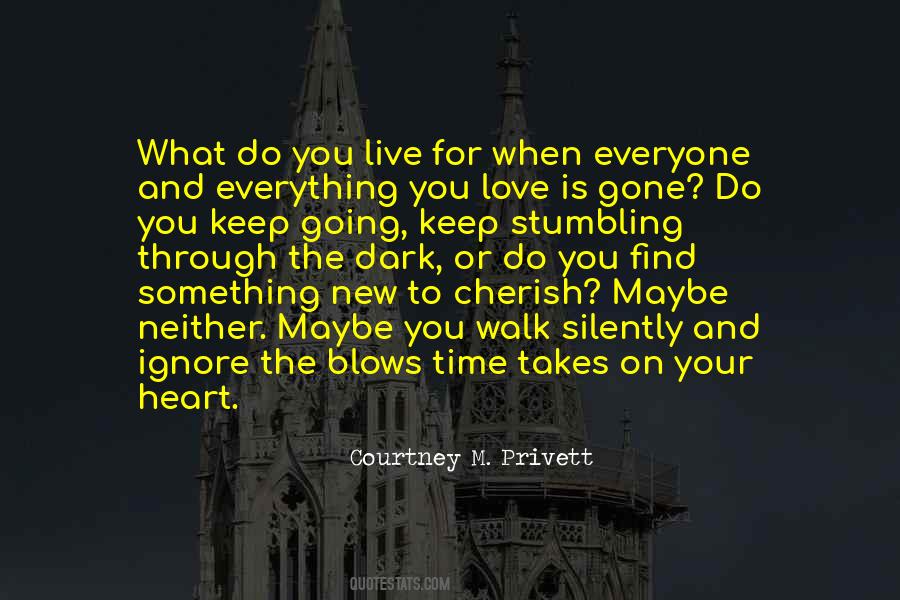 #8. Becca wanted to say something to get through to her, but she knew it was useless. Only God could do the wooing. All she could do was try to live in such a way as to make others thirsty for the Living Water. - Author: Colleen Rhoads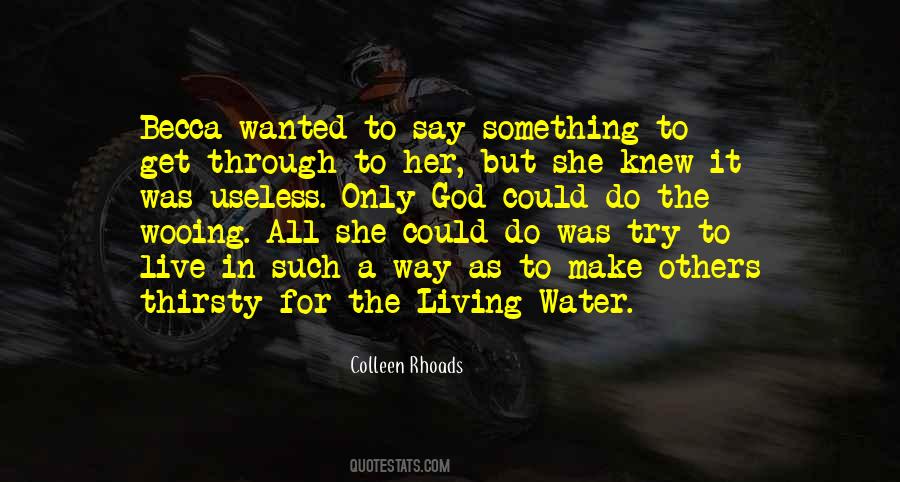 #9. You didn't find strength when you couldn't live without it. You found it when you had someone or something you loved so much that it forced you to stretch the edges of yourself further than you thought was possible. - Author: Martina Boone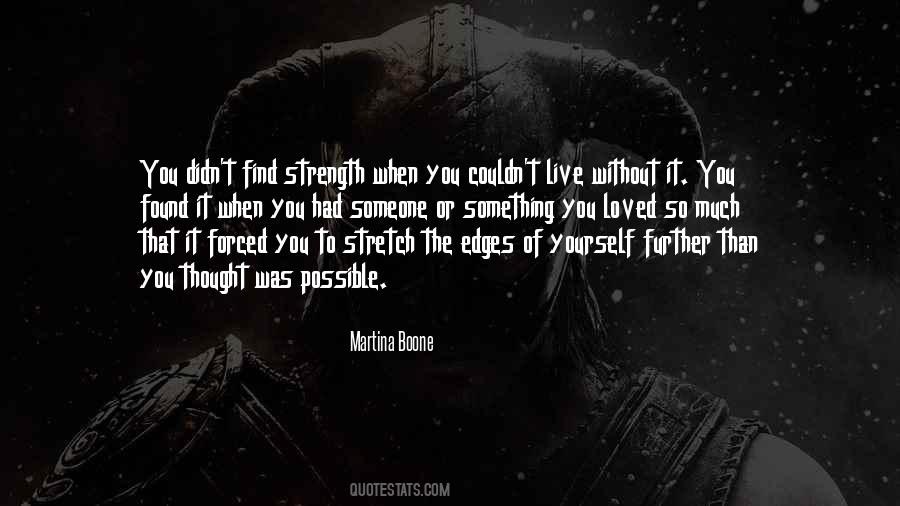 #10. Live every single day doing something relevant; single days sum up to make great ages! - Author: Israelmore Ayivor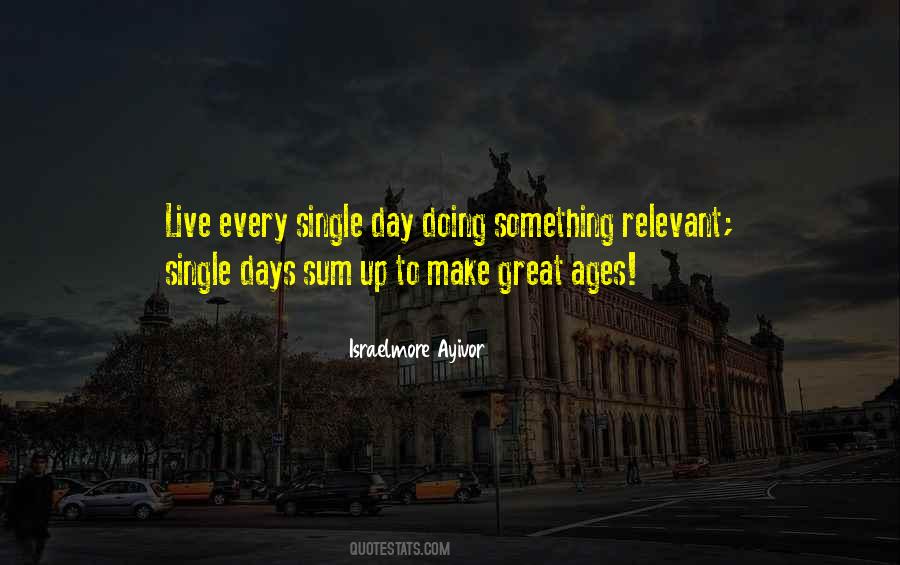 #11. We need objects to remind us of the commitments we've made. That carpet from Morocco reminds us of the impulsive, freedom-loving side of ourselves we're in danger of losing touch with. Beautiful furniture gives us something to live up to. All designed objects are propaganda for a way of life. - Author: Alain De Botton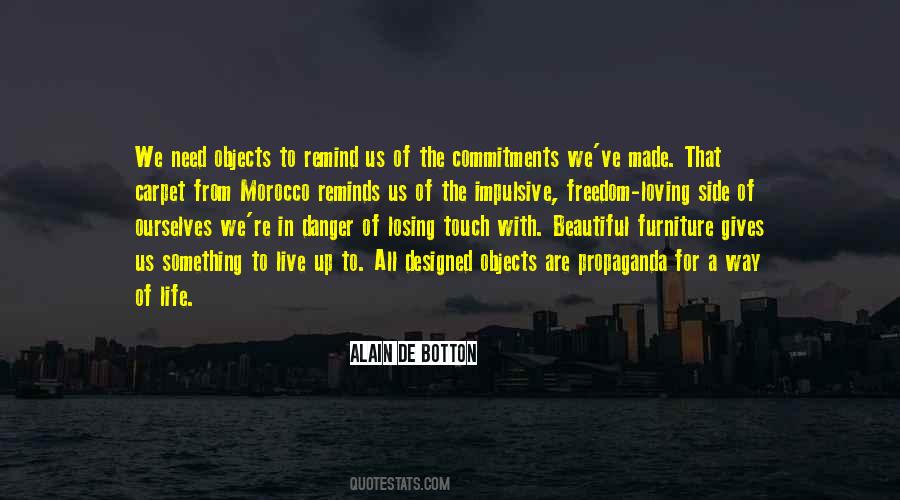 #12. A static action is never an action. A real action is an action in motion! Dare to do something! - Author: Ernest Agyemang Yeboah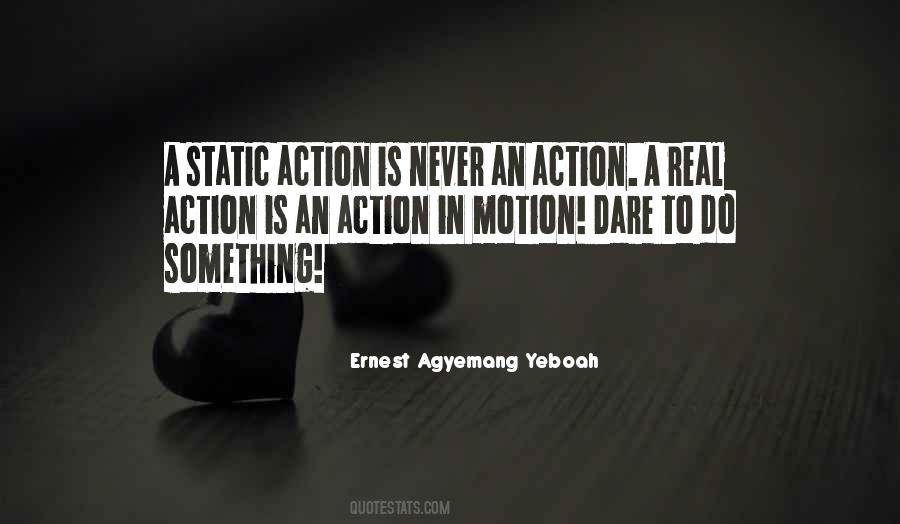 #13. Do not act as if you had ten thousand years to throw away. Death stands at your elbow. Be good for something while you live and it is in your power. - Author: Marcus Aurelius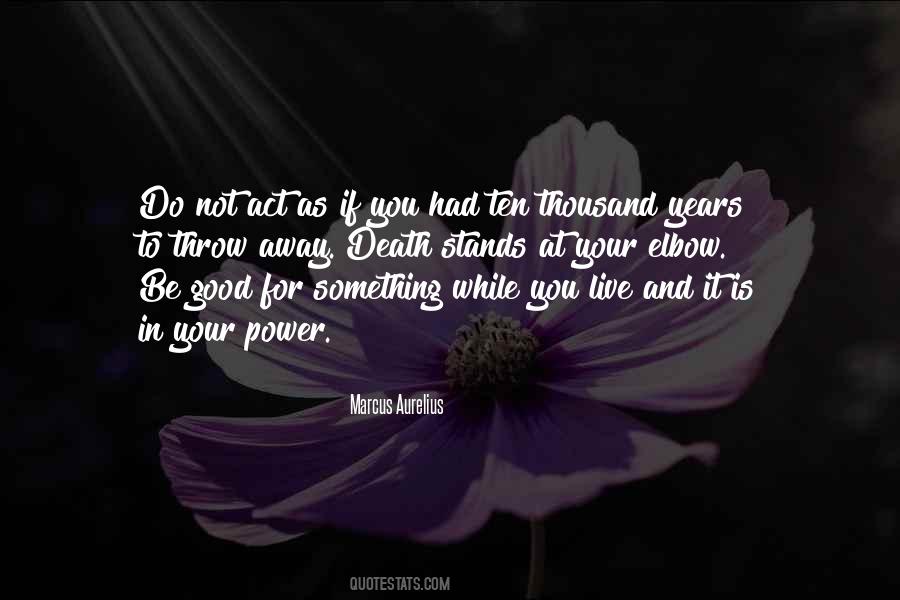 #14. I'm not used to not having enough time to live with the songs. Usually, if I write something, I live with it for a little while. - Author: Fiona Apple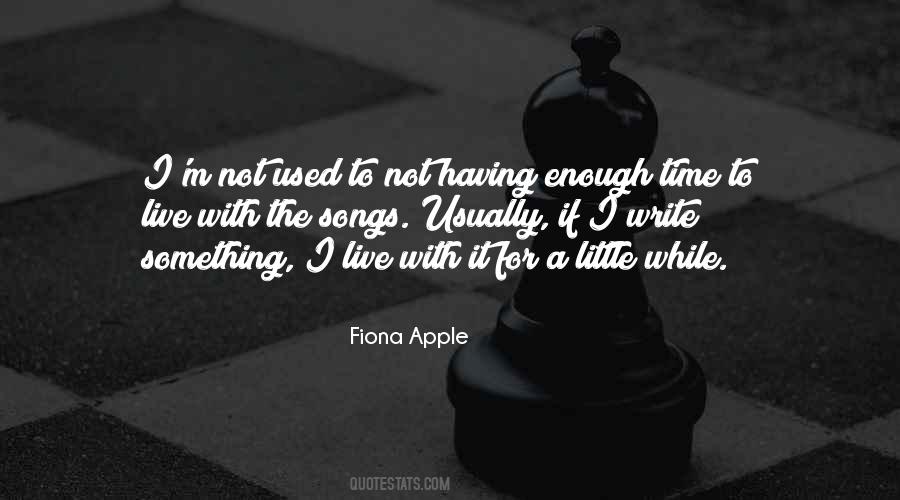 #15. Youth is something I never wanna take for granted. I just want to smile and live life. - Author: Tyler, The Creator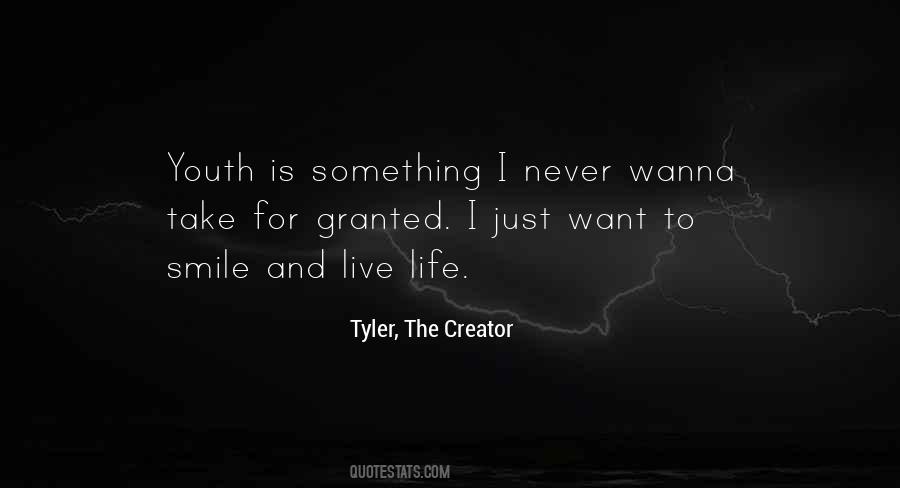 #16. O happiness! our being's end and aim!
Good, pleasure, ease, content! whate'er thy name:
That something still which prompts the eternal sigh,
For which we bear to live, or dare to die. - Author: Alexander Pope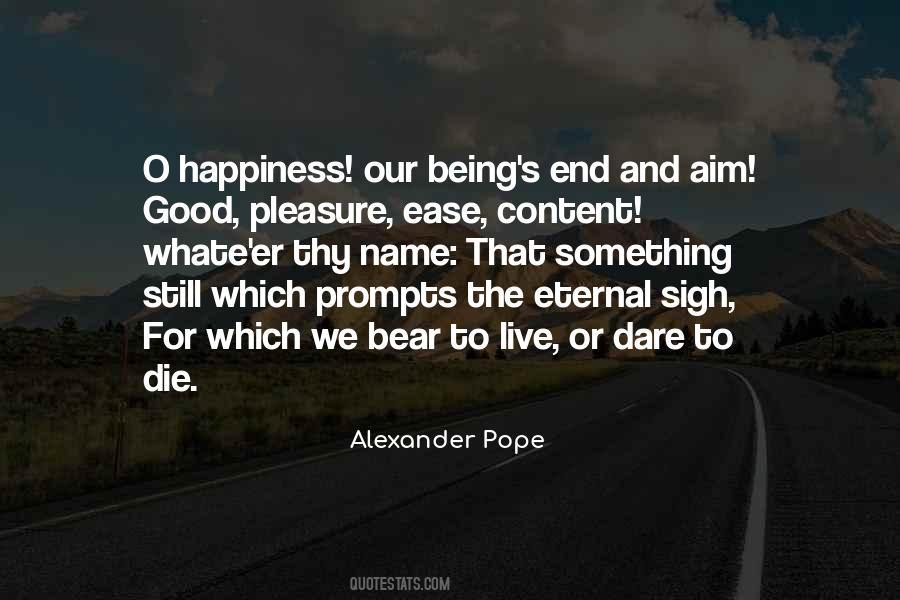 #17. What if...what if that is the price one has to pay for staying on? Perhaps that is how they look at it: perhaps that is how I should look at it too. They see me as owing something. They see themselves as debt collectors, tax collectors. Why should I be allowed to live here without paying? - Author: J.M. Coetzee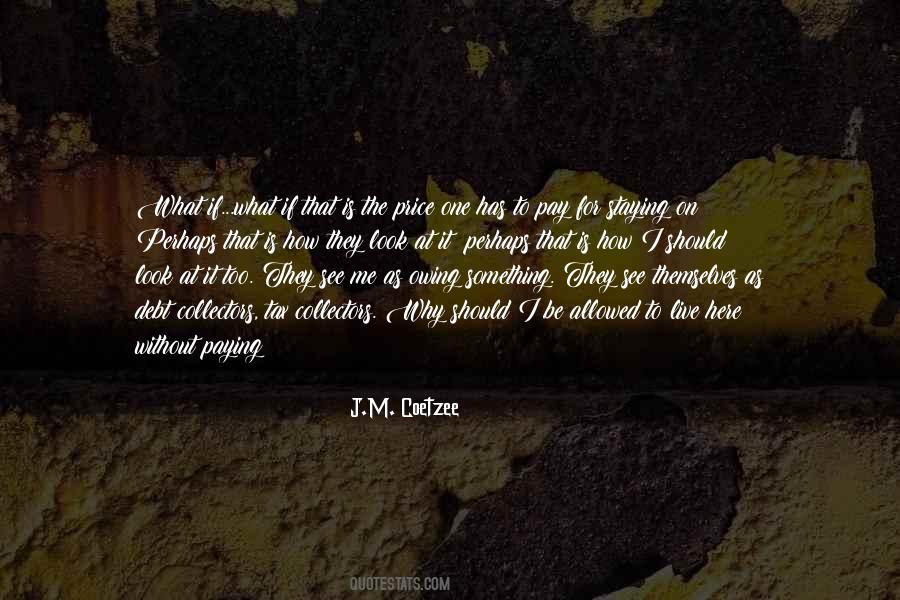 #18. Now I know the truth. Ethan's love won't fix me. I have to do that myself. So, no, his love isn't the cure. But it is something to live for. Without him, I might not want to fix myself. Ethan Dexter makes me want to be a better person. To be brave. - Author: Kristen Callihan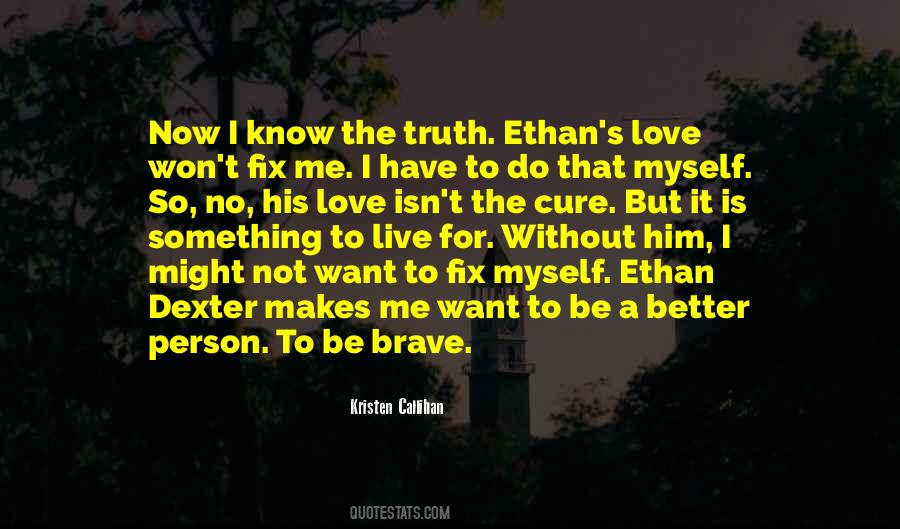 #19. This is the core of the human spirit ... If we can find something to live for - if we can find some meaning to put at the center of our lives - even the worst kind of suffering becomes bearable. - Author: Viktor E. Frankl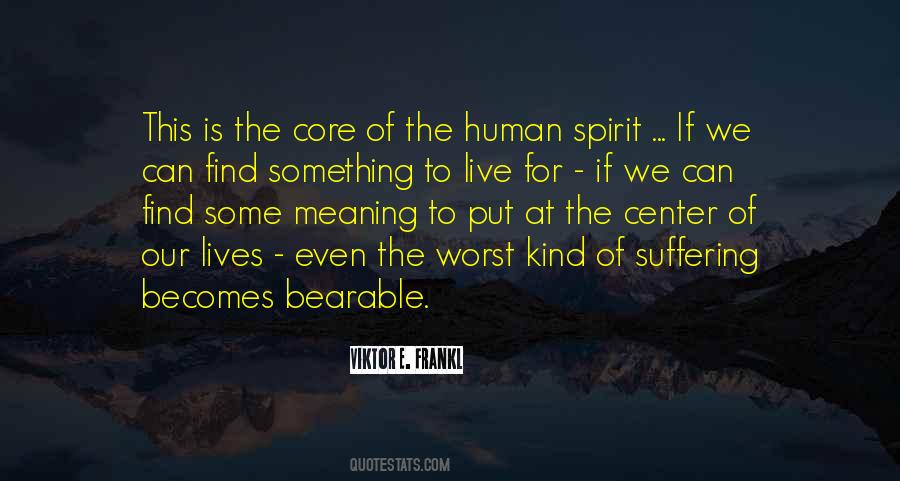 #20. To truly live without regrets, pay attention. Ask yourself hard questions and see where they lead. Do I really want this job? Is this relationship right for me? If I could do anything, would it be what I'm doing today ... or something different? - Author: Chris Guillebeau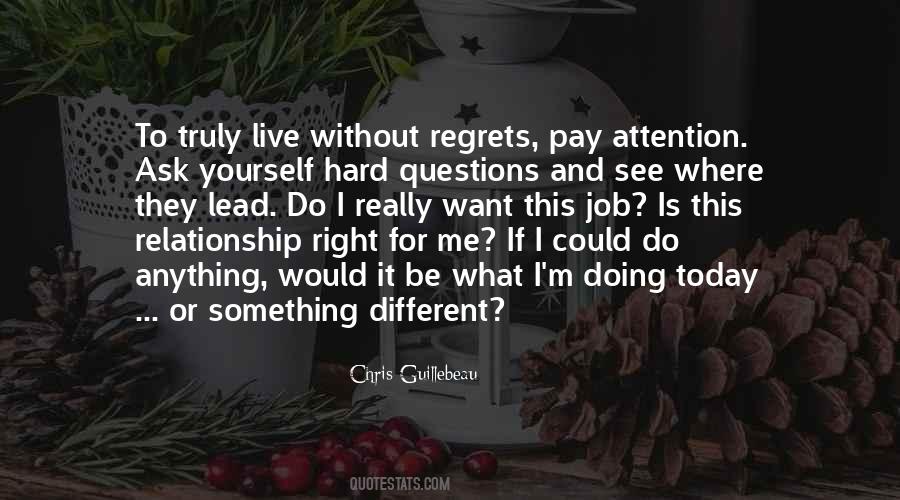 #21. If, however, I am allowed to think that you and yours feel an interest in my fate and actions, it may be the means - it may put me on my guard - at least, it may be something to live for. - Author: Jane Austen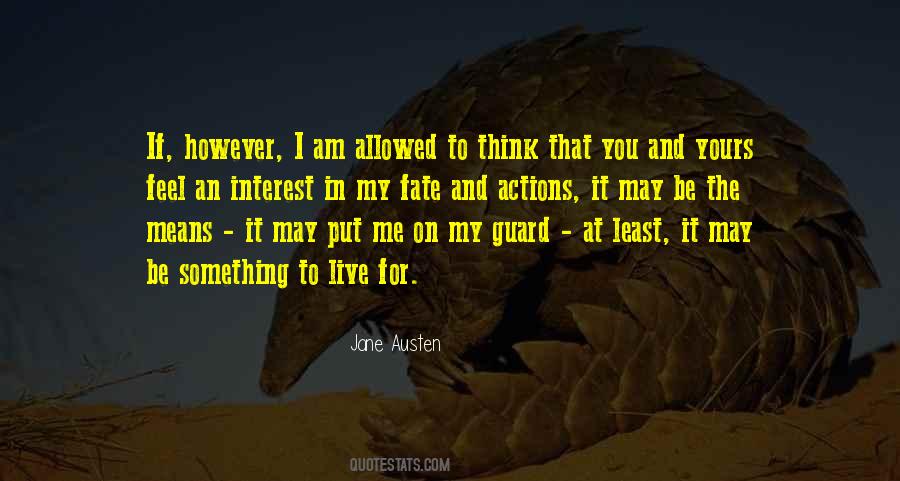 #22. Life is something that really cannot be explained. It got to be experienced! For experiencing life to its fullest an attitudes of openness, gratefulness, happiness, flexibility are required. But most of all 'being in love' is crucial to live life to its fullest potential. - Author: Vishwas Chavan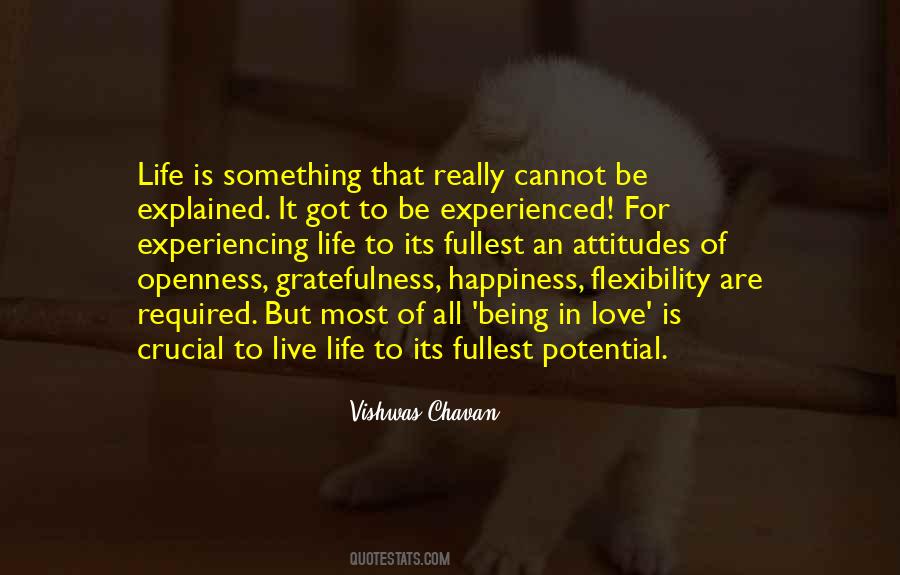 #23. Playing in front of an audience was just such a turn-on for me, and you have 200 people in the audience and it's like doing live theater. And filming something that goes to millions of people several weeks later, it's an interesting dynamic. - Author: Jenna Elfman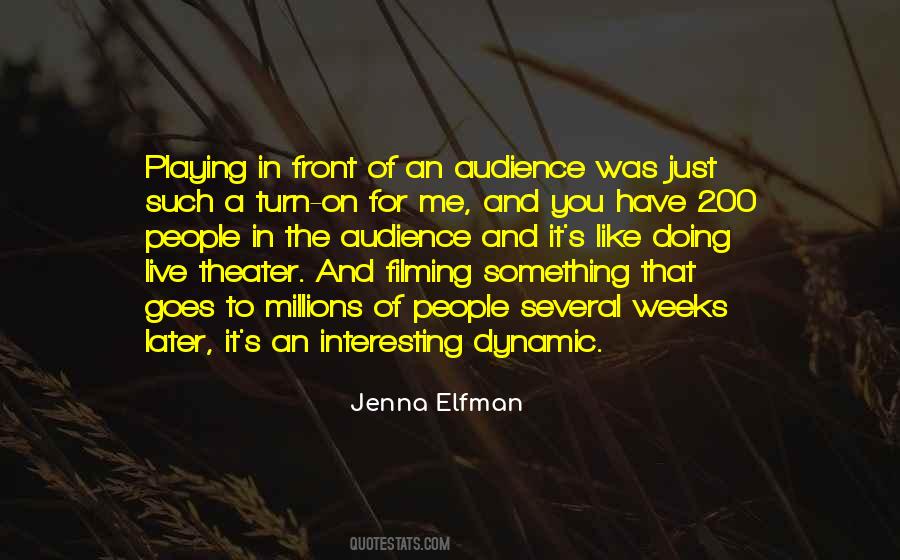 #24. All it takes for a contagious manly culture to form is for one genuine man to live out genuine manhood. It creates a model, something for other men to feed upon and pattern themselves after. It also gives other genuine men a vital connection that sustains and extends who they are. - Author: Stephen Mansfield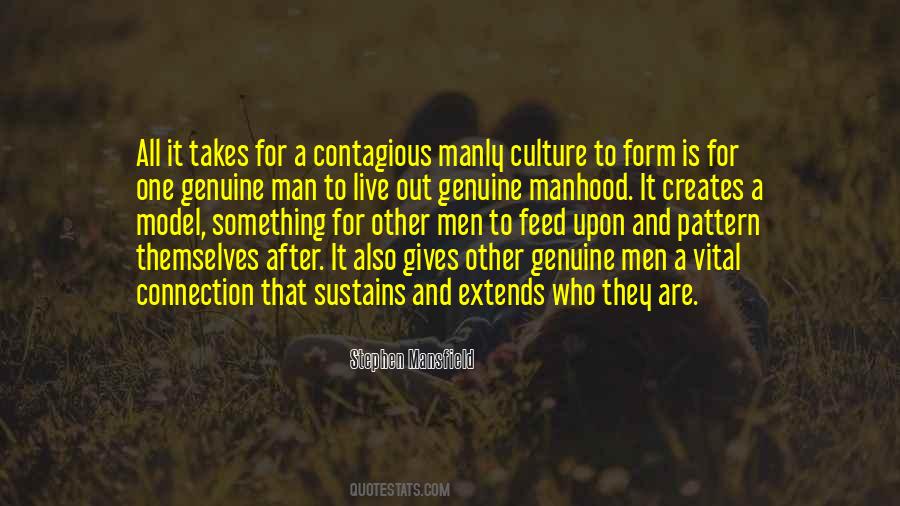 #25. If you haven't found something you're willing to die for, than you don't deserve to live - Author: Martin Luther King Jr.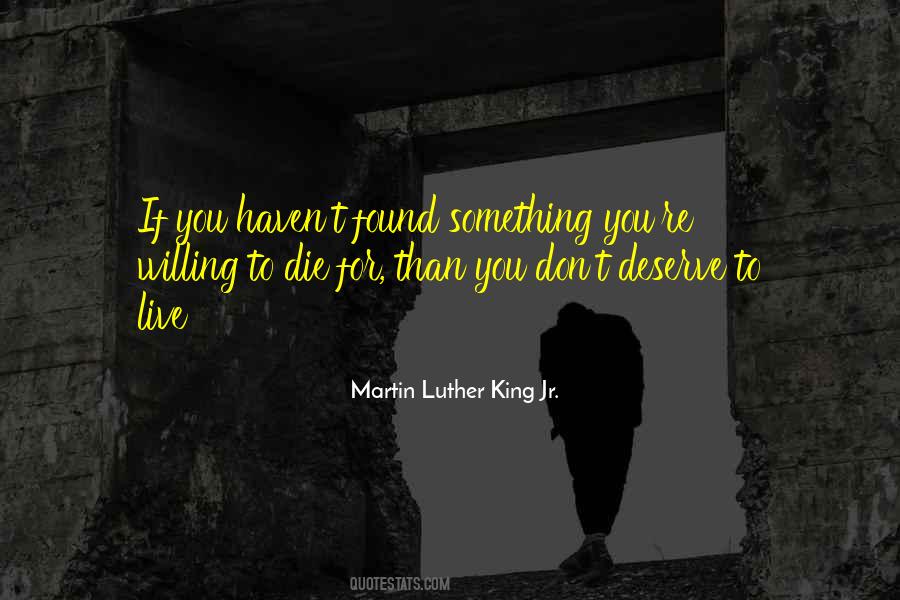 #26. The secret of man's being is not only to live but to have something to live for. - Author: Fyodor Dostoyevsky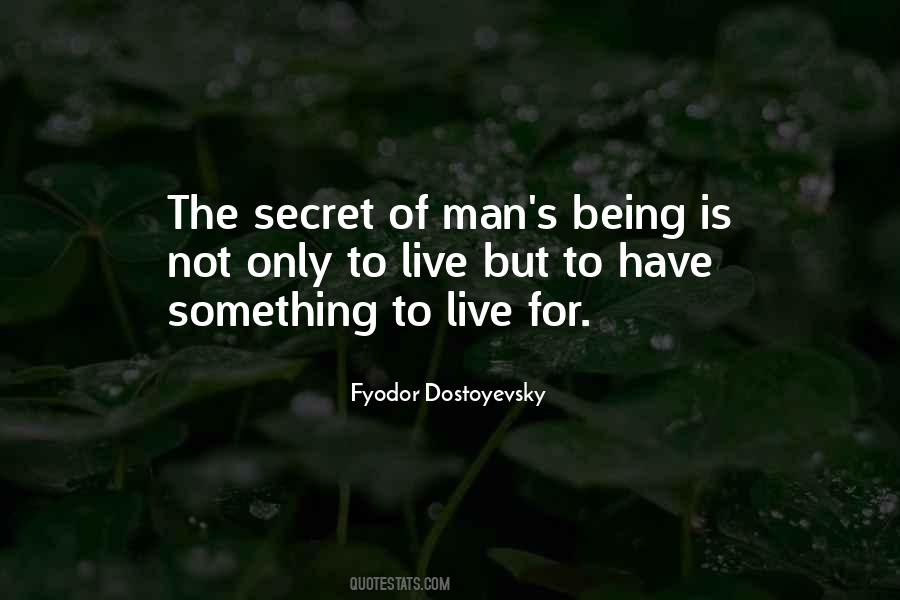 #27. He tasted like a dark, decadent dessert. I had a feeling I could live on that taste alone for months; that his kiss was something I could become addicted to. - Author: Nichole Chase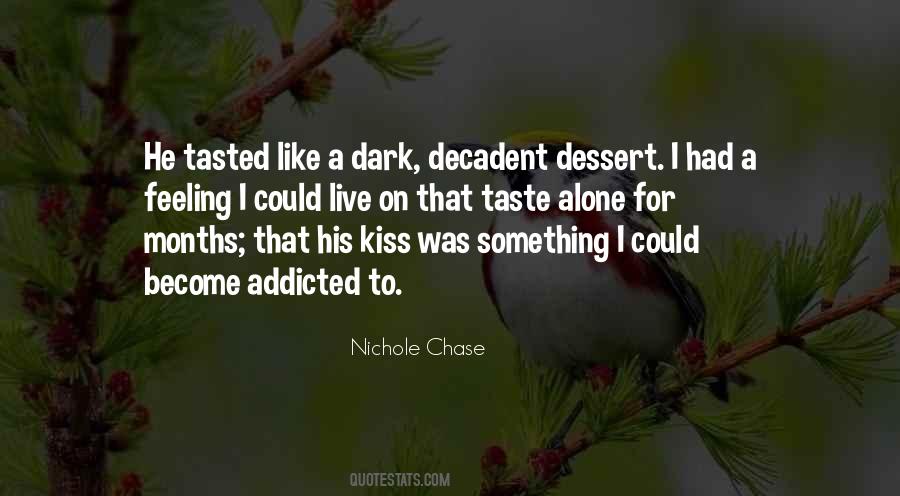 #28. This is the trap of having something to live for:
Everything else seems lifeless. - Author: David Levithan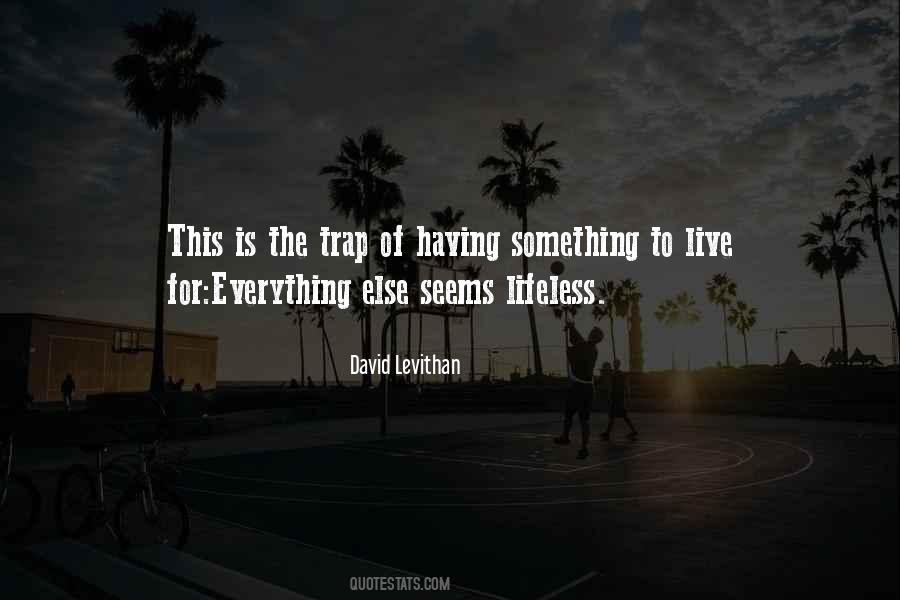 #29. They died less from lack of food or medicine than from lack of hope, lack of something to live for. - Author: Viktor E. Frankl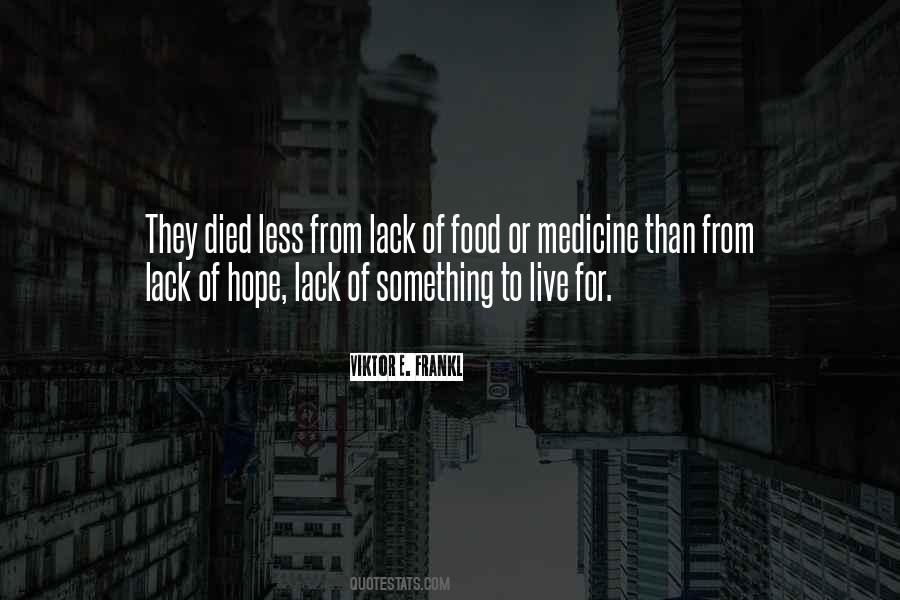 #30. Everyone comes to live in New York because they want to achieve something, and for that reason, there's this energy in the city that is just electrifying and inspiring. - Author: Daniel Humm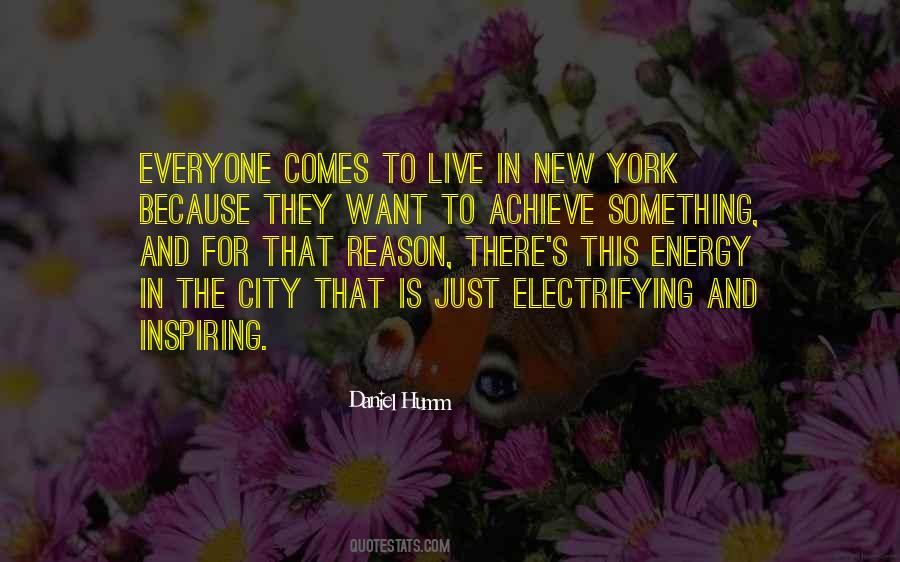 #31. I've got something to live for, because I always wanted to be an artist; I always wanted to be famous. - Author: Daniel Johnston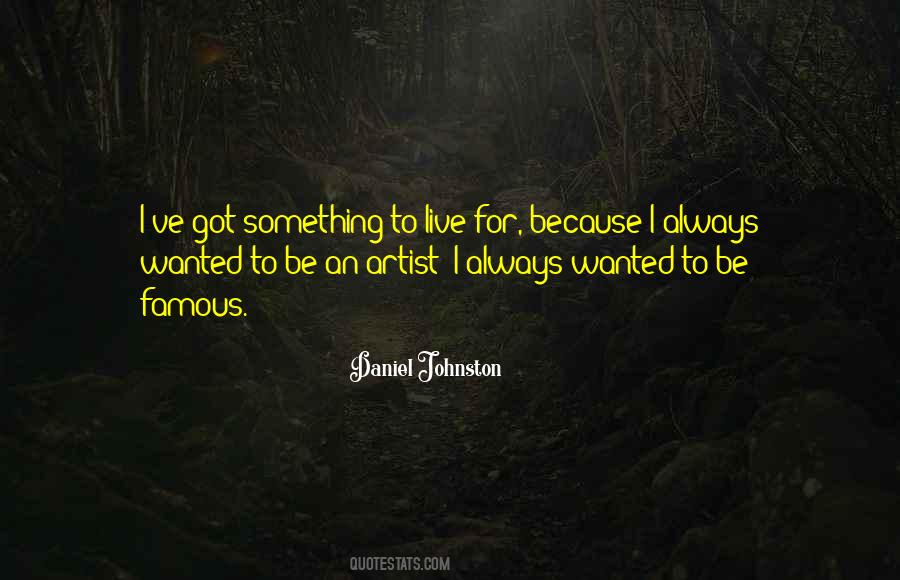 #32. I love bad movies, whereas going to the theater for me is a painful experience. I think it's really hard to sit and watch actors do something live and have it not go well. - Author: Zoe Kazan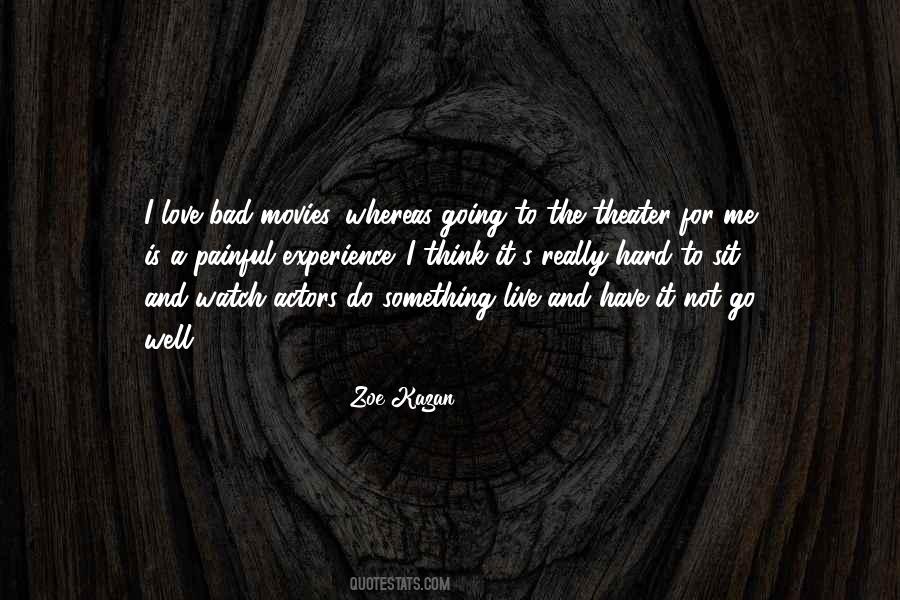 #33. Whenever I see a taboo, I just think that's something we need to drag screaming out into the light and discuss. Because taboos are where our fears live, and taboos are the things that keep us tiny. Particularly for women. - Author: Caitlin Moran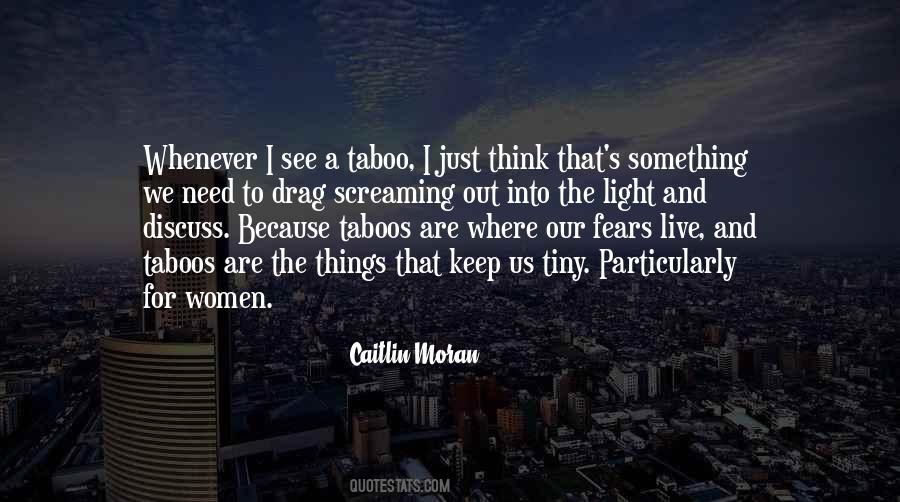 #34. One of the quiet agonies of life, is seeing people who love something, lose touch with what made them happy. It can happen to anybody.

No matter what you do for a living, where you live, or who you're with, it's important to remember why you wanted to do something for the first time. - Author: Jason Gay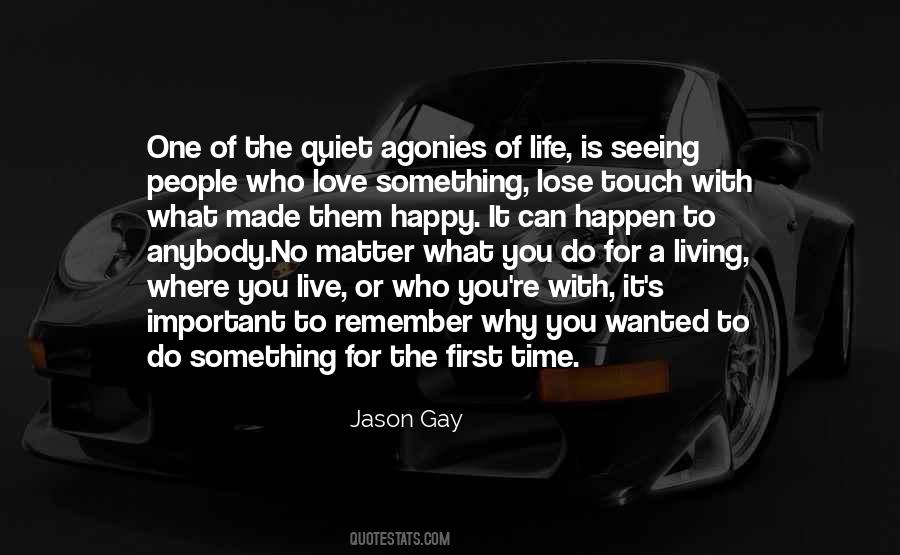 #35. We live in the best of worlds. But still, it's like we've lost something on the way to here: a sense of life. I can't know for sure, I might be the only one who's lost it. Maybe everybody else is living the now, thinking they're having it well. Anyhow, that motivated me to write the books. - Author: Karl Ove Knausgard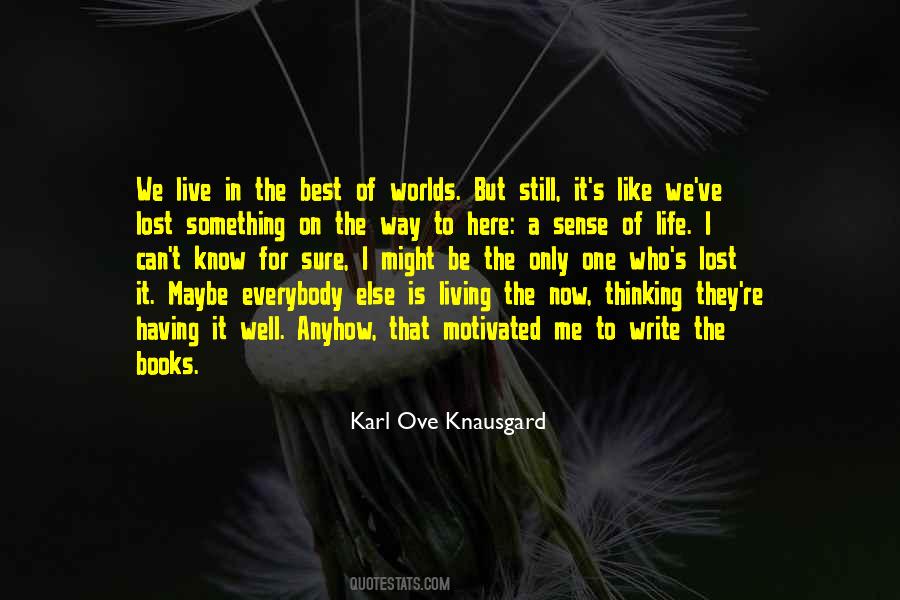 #36. life is the reason for living and death is the reason for dying if we are to live, why die ? there is a ending for everything and being alive gives us a chance to do something and enjoy it. - Author: Pamela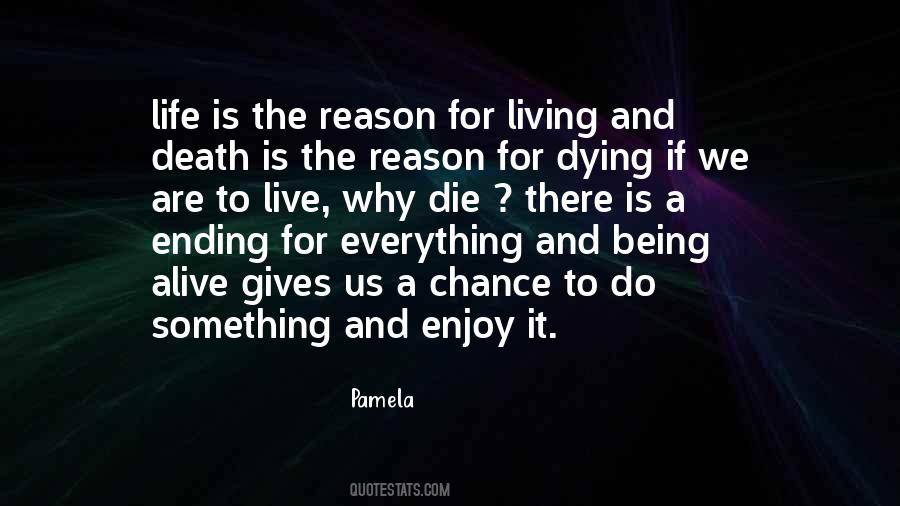 #37. A place like this wears down everything, and tolerance is no exception. In here, coexistence passes for forgiveness. You do not learn to like something you abhor; you come to live with it ... You live and let live, and eventually that becomes enough. - Author: Jodi Picoult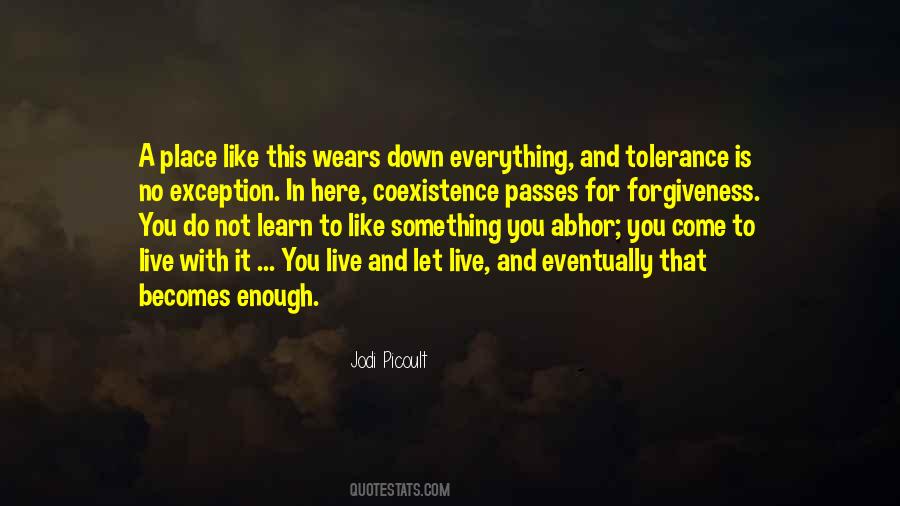 #38. People who found something to live and die for always live in the hope of success. They never allow doubts to create distances between them and their harvest time. That is also their decision. - Author: Israelmore Ayivor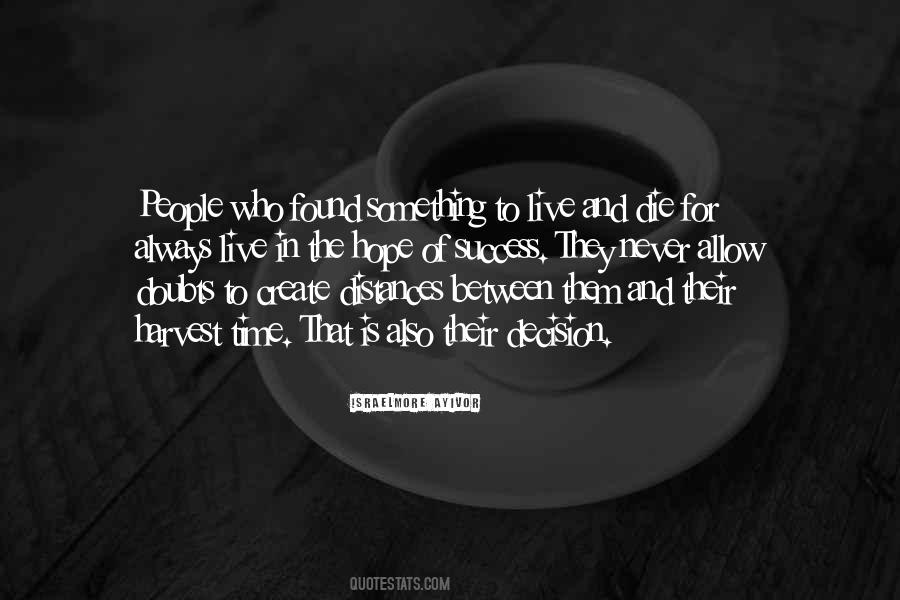 #39. But only someone who is ready for everything, who excludes nothing, not even the most enigmatical, will live the relation to another as something alive and will himself draw exhaustively from his own existence. - Author: Rainer Maria Rilke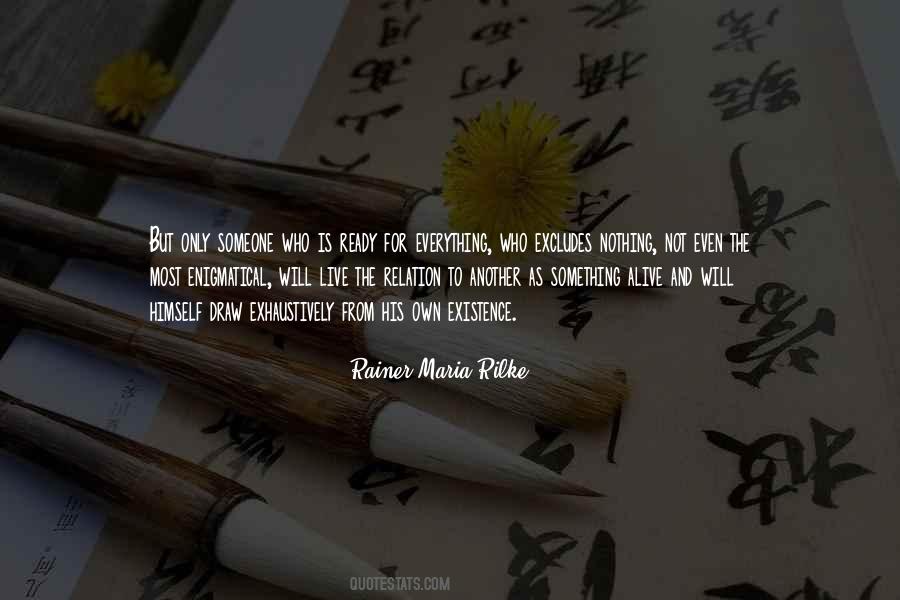 #40. We need not only a purpose in life to give meaning to our existence but also something to give meaning to our suffering. We need as much something to suffer for as something to live for. - Author: Eric Hoffer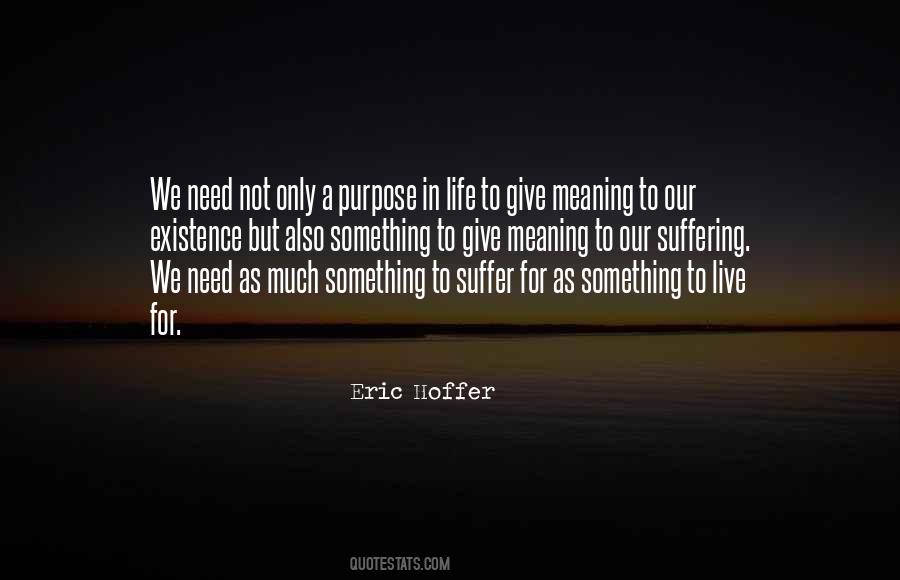 #41. Hoping meant you had something to live for, and living for something or someone else was asking for pain. - Author: Lora Leigh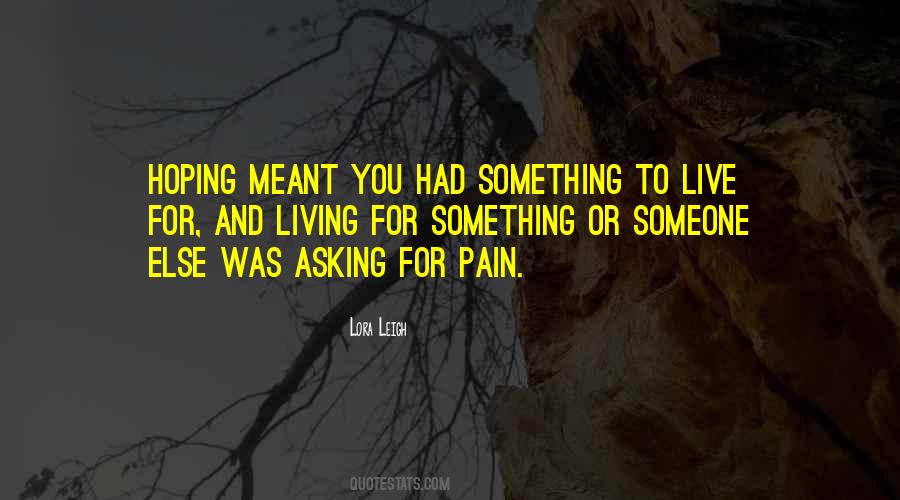 #42. I guess you can't live at full-on intensity forever. Lying on the bed of my cell in the dark, trembling, waiting for the soldiers to come in and shoot me - you just can't keep doing that. There's something in the human spirit that won't let you live that way. - Author: John Marsden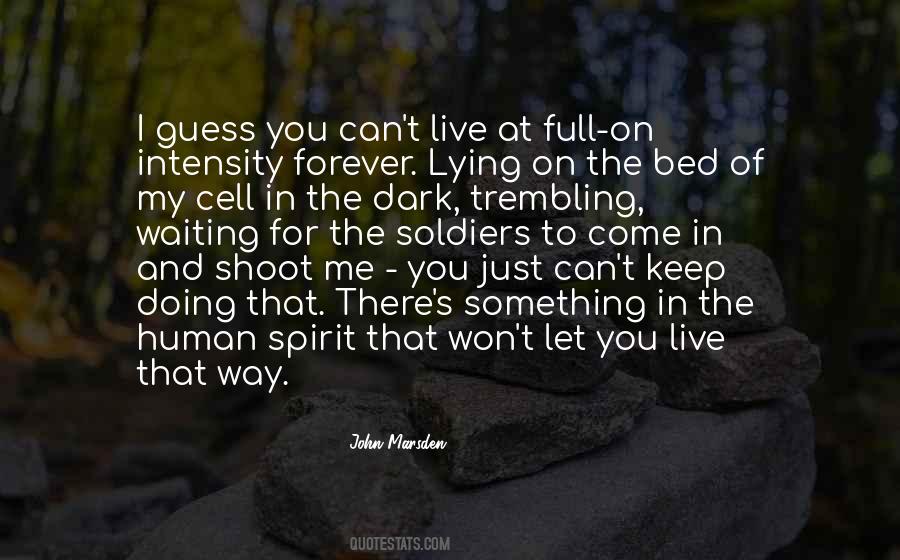 #43. God's dreams might be bigger and better and something completely unexpected. So I just try to follow what He's go day in and day out. I'm here to live for Him no matter what that looks like or where I might be. - Author: Luke Zeller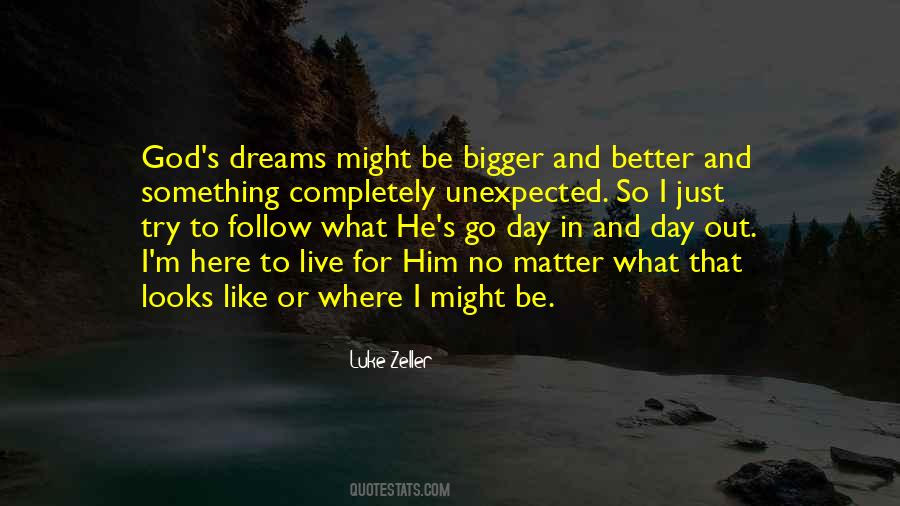 #44. Maybe the word welfare should be changed to something of, 'a transitional living fund.' For that is what it is - for people to be able to live. - Author: Sheila Jackson Lee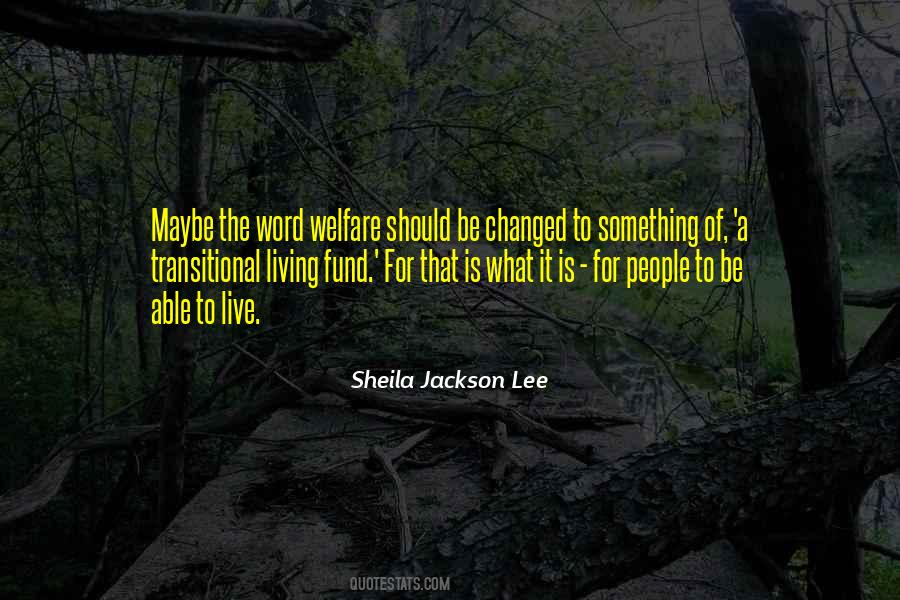 #45. You gave me something ... no, someone ... to live for. There was no reason for my existence before you. - Author: Shay Savage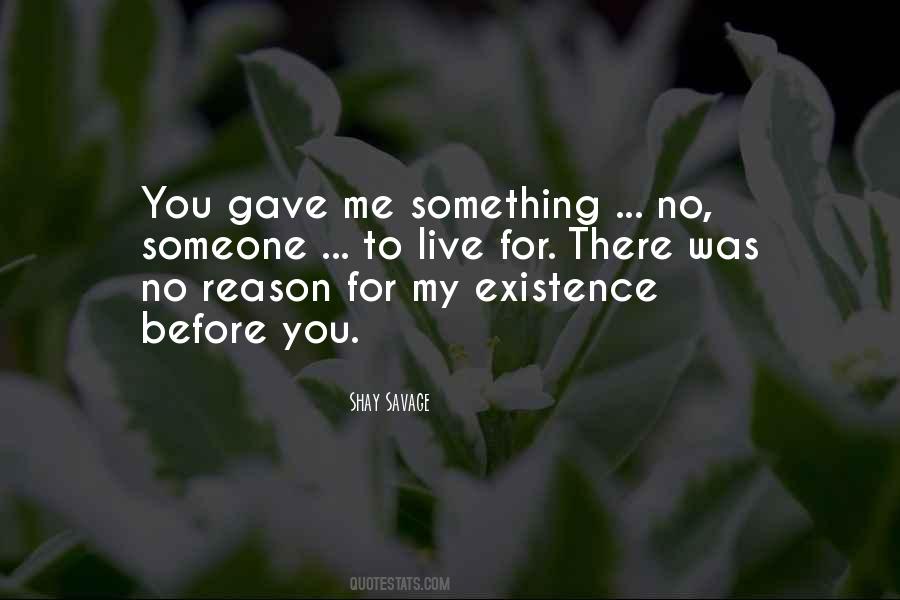 #46. From the way they all gaped at her, one would think he'd announced something truly shocking. Something like, "Lucy is a spy for Napoleon," or "Lucy only has six months to live," or "Lucy has decided to take up the harp. - Author: Tessa Dare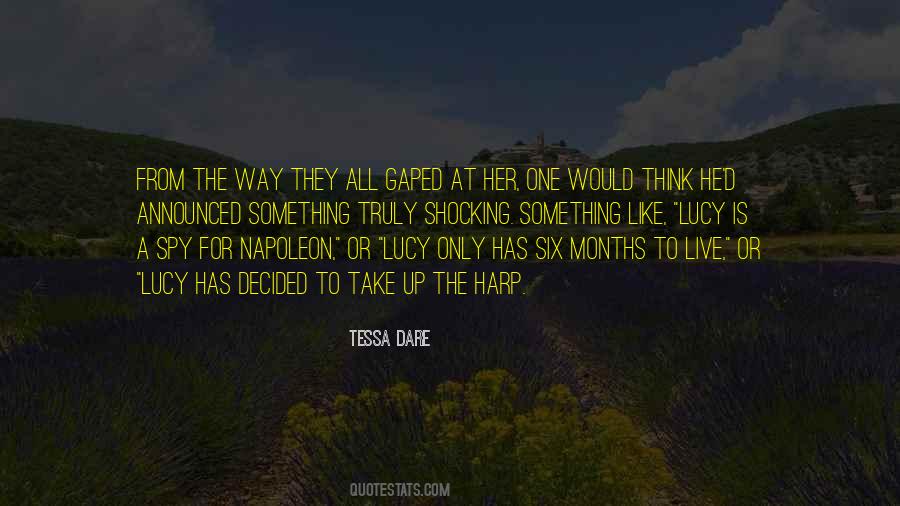 #47. A big part of willpower is having something to aspire to, something to live for. - Author: Mark Shuttleworth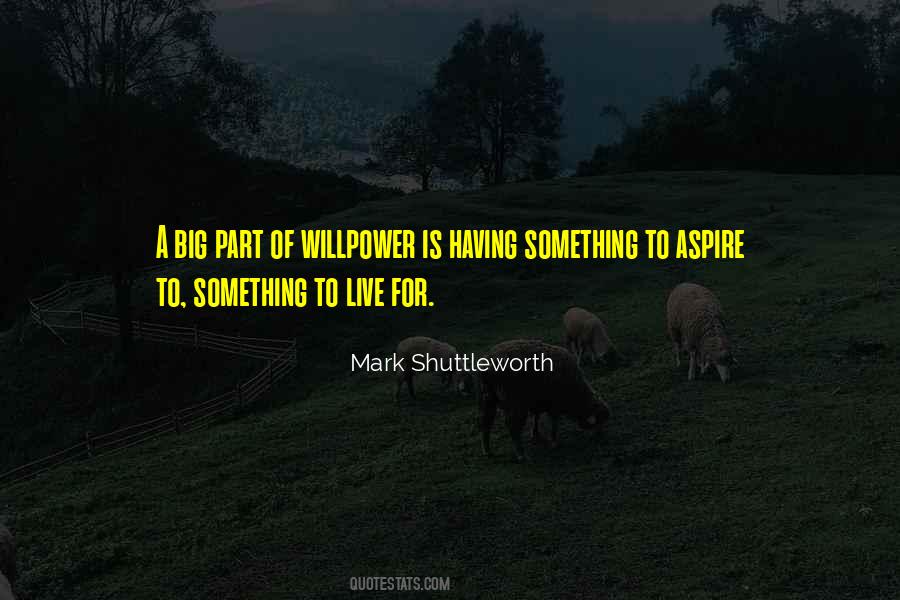 #48. Sometimes when you take chances you lose chances. And sometimes when you lose chances, you gain something else. Don't live for chances. Sometimes it's better to lose chance and gain purpose. Live for today. You'll find so much more joy. - Author: Marilyn Grey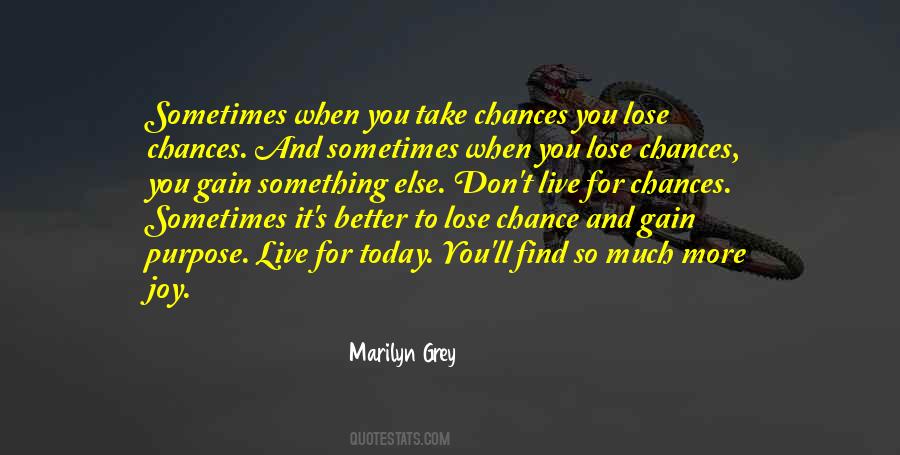 #49. Dear World, I am not hot for Will Grayson. But world, there's something else you should know about Will Grayson." And then he begins to sing, a Broadway baritone as big as his waist, "I can't live without him! - Author: John Green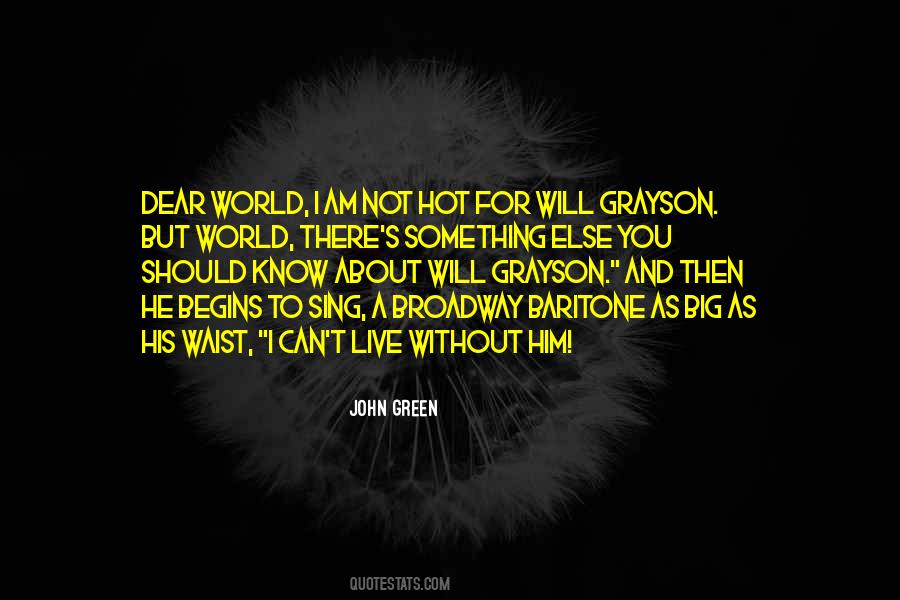 #50. Every time I close my eyes blowing that trumpet of mine, I look right into the heart of good old New Orleans. It has given me something to live for. - Author: Louis Armstrong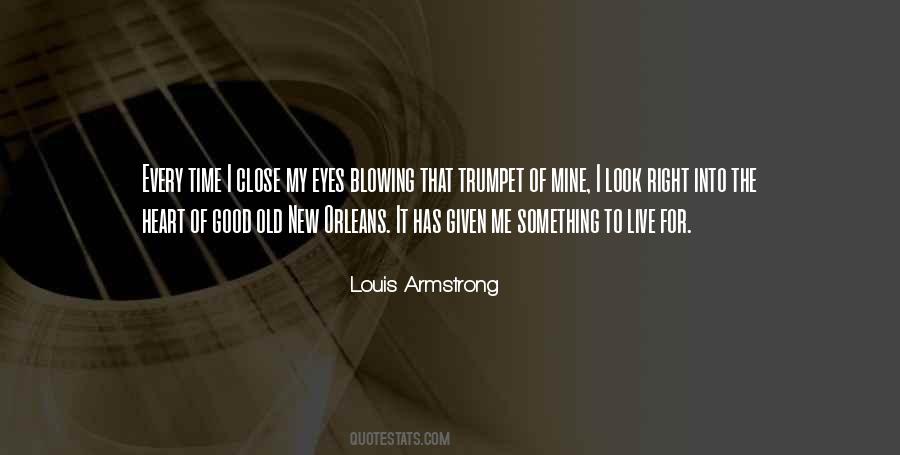 #51. Oh, I'll stay in the East, don't you worry," he said, glancing at Daisy and then back at me, as if he were alert for something more. "I'd be a God damned fool to live anywhere else. - Author: F Scott Fitzgerald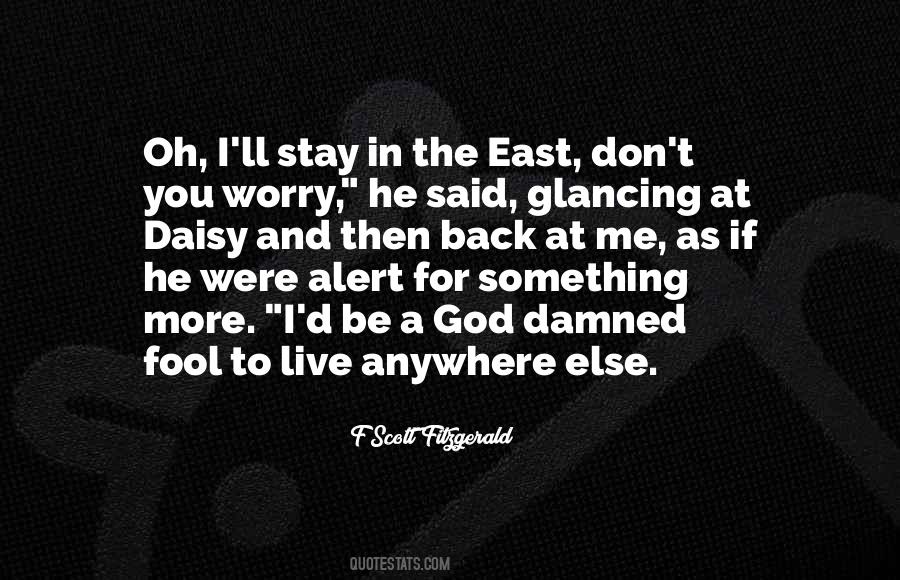 #52. I want people to understand something I learned only recently: that for those of us lucky enough to live the American Dream, the demons of the life we left behind continue to chase us. There - Author: J.D. Vance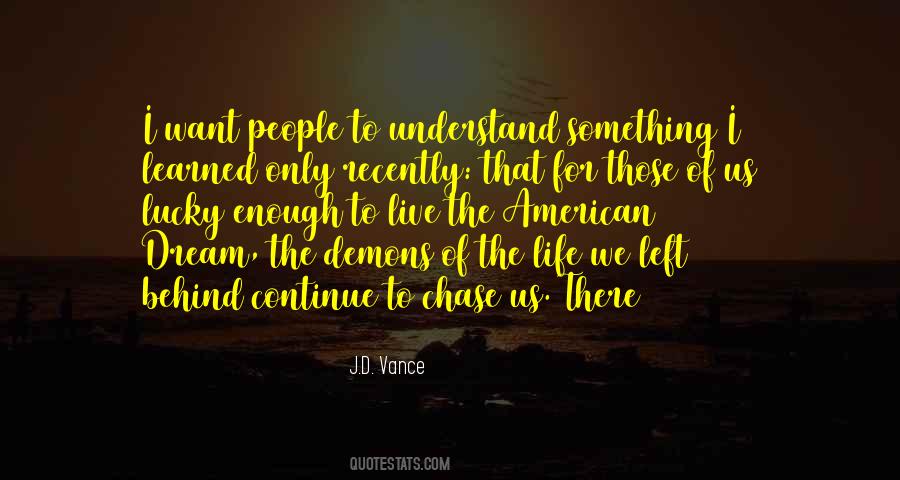 #53. It was time for me to take charge and live my life instead of letting something that had happened to me lead it for me. So many people had told me the same thing, hundreds of times. It was something I had to learn for myself. - Author: Chelsea M. Cameron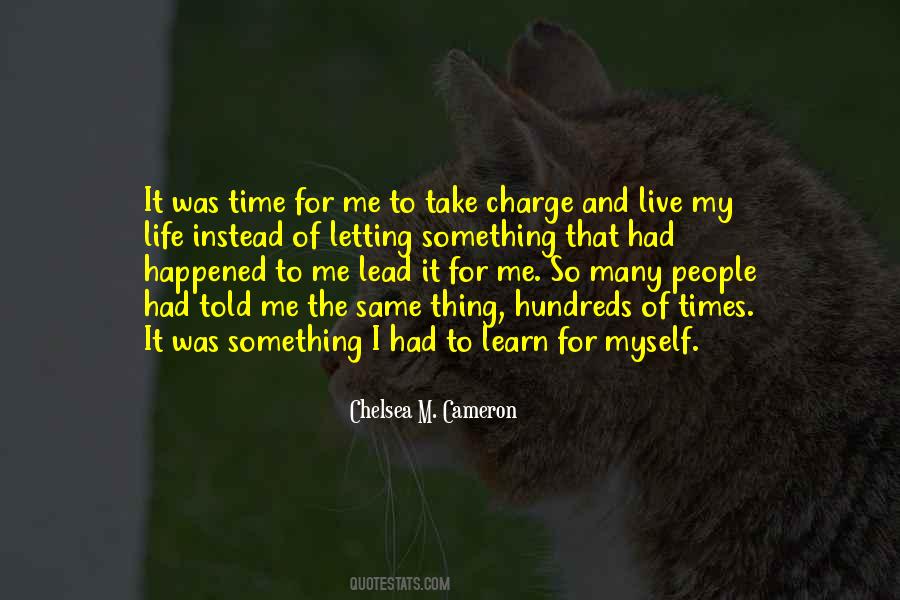 #54. the best use of one's life is to spend it for something that will outlast it. Life's value is not its duration but its donation - not how long we live but how fully and how well.1 - Author: J. Oswald Sanders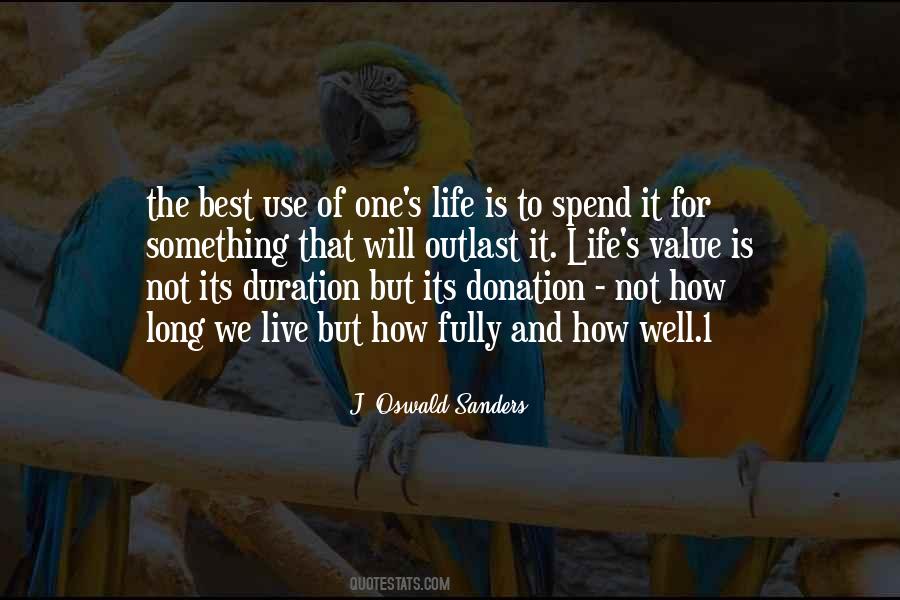 #55. I lived in New York City, and when I was about 24 in the 1980s, I decided to get out of here. I wanted to go live in Australia for a year or something, and it ended up being 18 years. - Author: John Curran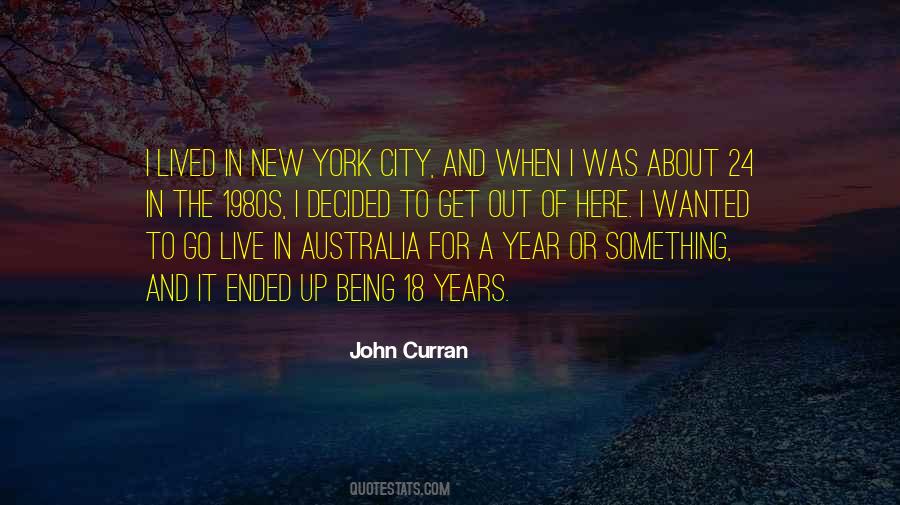 #56. What am I dying for? he cried back. I'm dying because this world I'm living in isn't worth dying for! If something is worth dying for, then you've got a reason to live. - Author: Viet Thanh Nguyen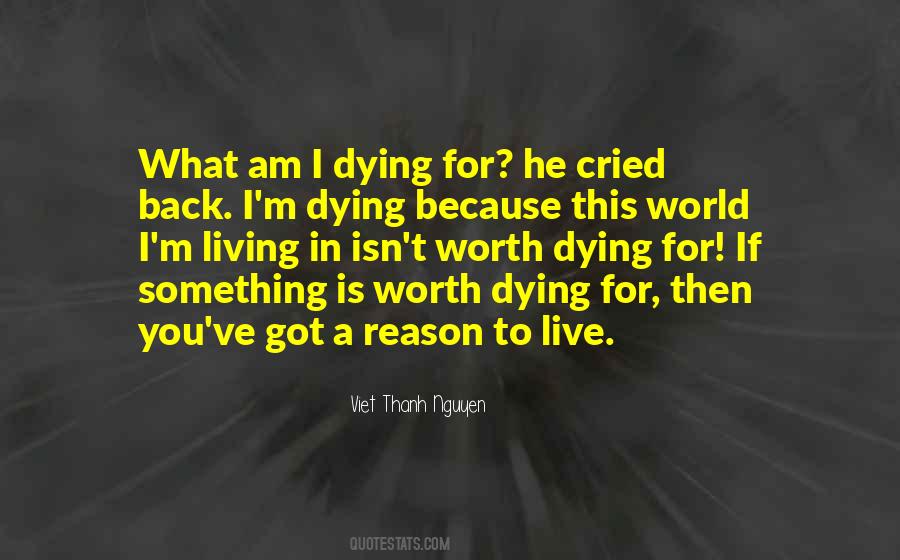 #57. We all need something to struggle against and to struggle for. The aim in life is not to avoid struggles, but to have the right ones; not to avoid worry, but to care about the right things; not to live without fear, but to confront worthy fears with force and - Author: Eric Greitens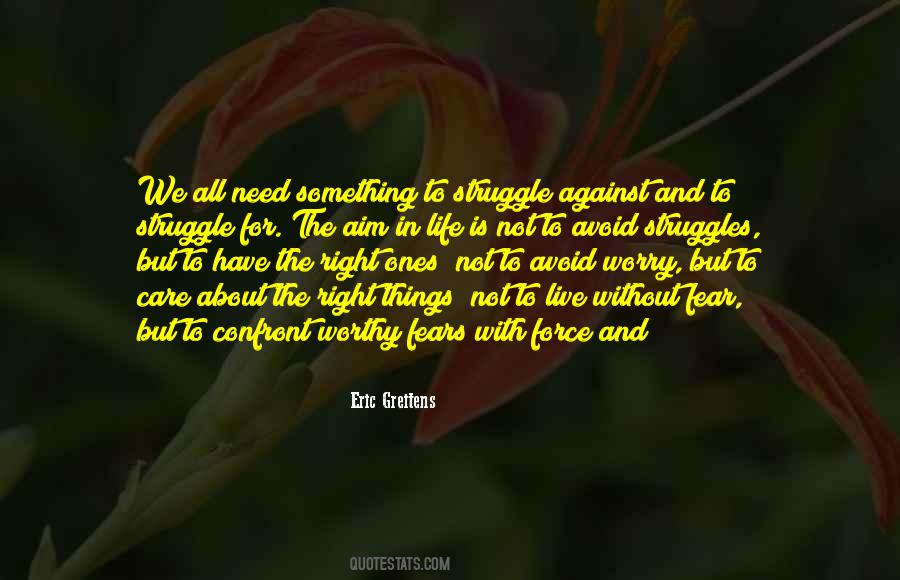 #58. With the cross around his neck he could be his old self again, he could have it all back if he wanted it, but it wasn't worth having. If you were going to live in hell on earth, there was something to be said for being one of the devils. - Horns p.381 - Author: Joe Hill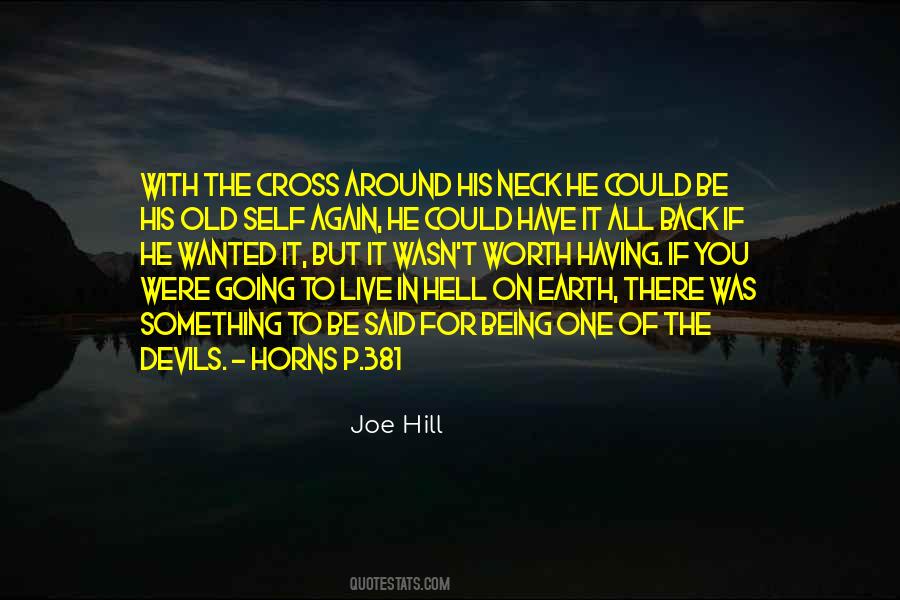 #59. The mystery of human existence lies not in just staying alive, but in finding something to live for. - Author: Fyodor Dostoyevsky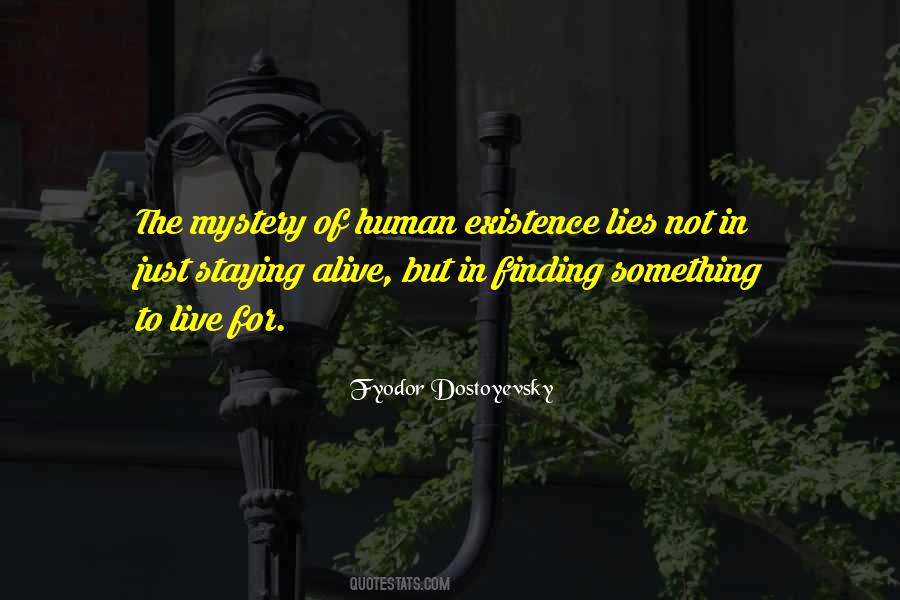 #60. If you can't have faith in what is held up to you for faith, you must find things to believe in yourself, for a life without faith in something is too narrow a space to live. - Author: George Edward Woodberry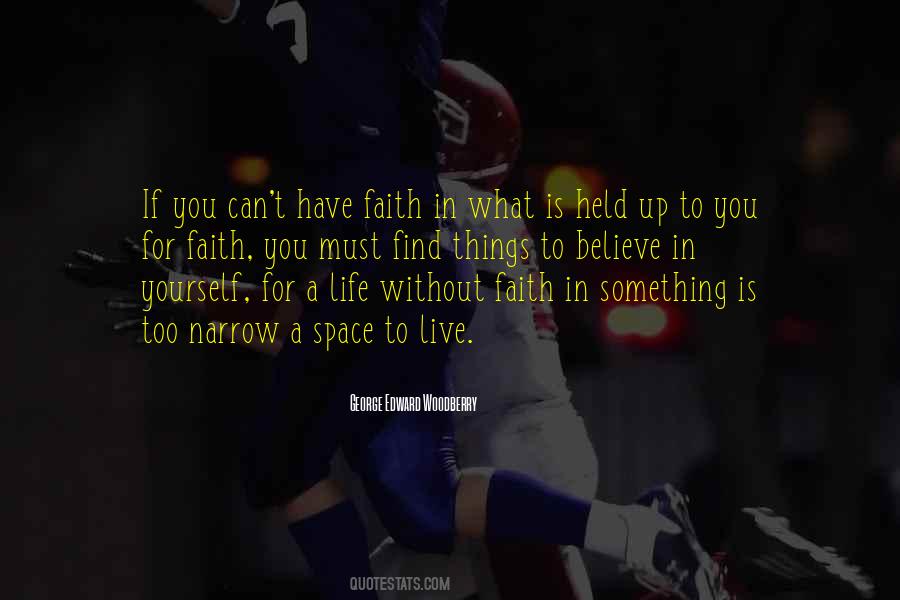 #61. You've got to wish for something the whole time when you're seventeen. You've got to, or there's nothing to live for. However impossible you've got to think you want it ... When I couldn't think of a thing I wanted I nearly died. - Author: Charlotte Bingham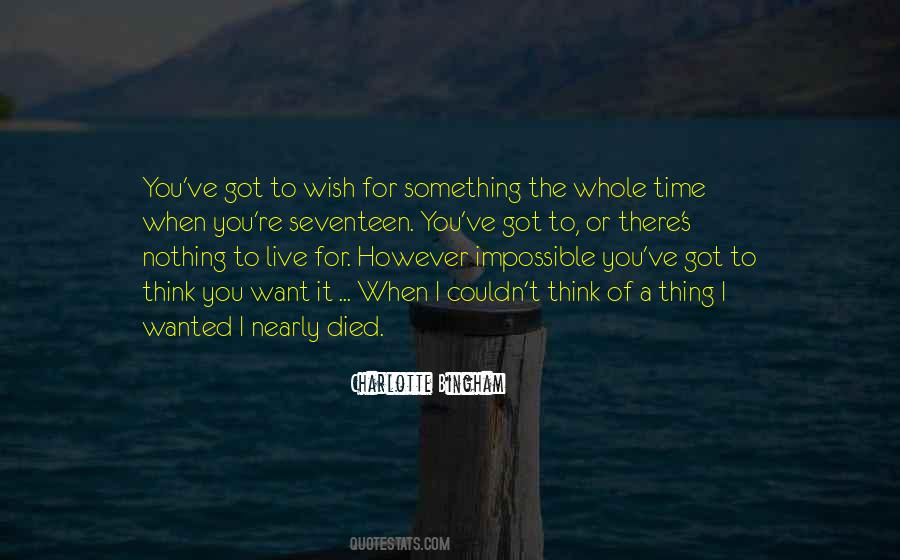 #62. Run faster, jump higher, reach farther, and you'll always win!
live life expecting the worst, hoping for the best, and living for the future!
Somebody has to do something, and it's just incredibly pathetic that it has to be us. - Author: Jerry Garcia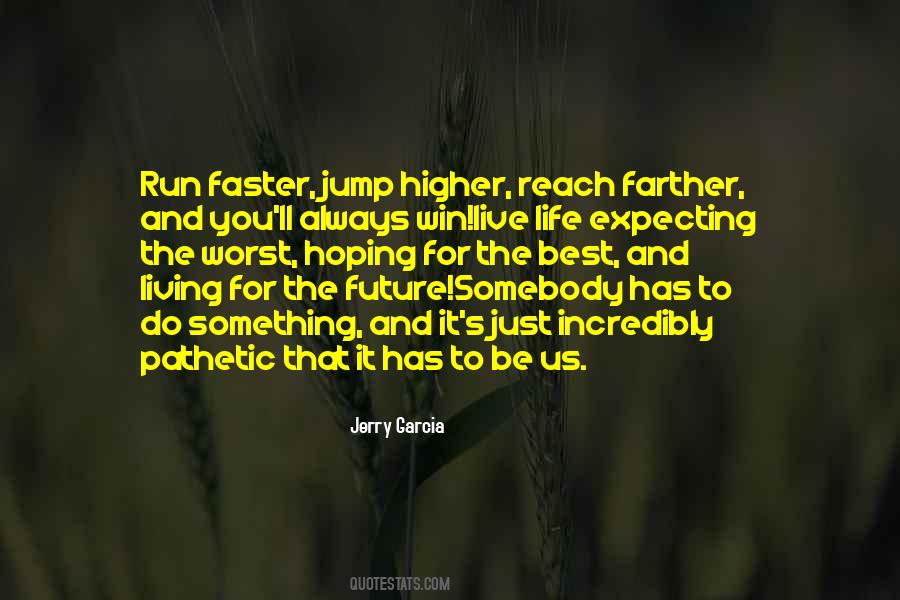 #63. The secret to living long is to have something to live for. - Author: David Levithan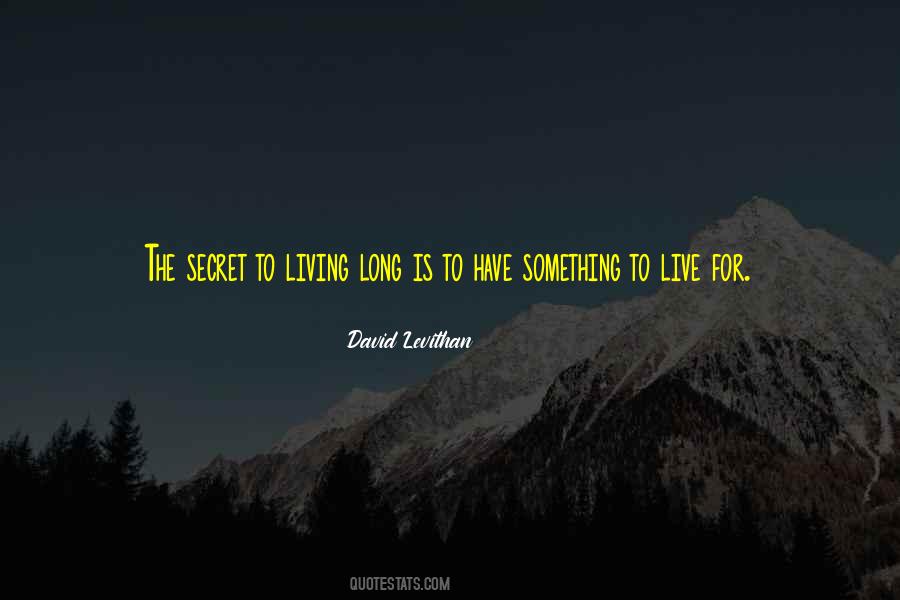 #64. We're a new generation of people. We need to be happy. We need to love each other. We need to accept each other for who we are and stop judging each other. Live life and love. Stop judging just to keep yourself secure. Look deeper. There's always something deeper than what it is. - Author: Lil B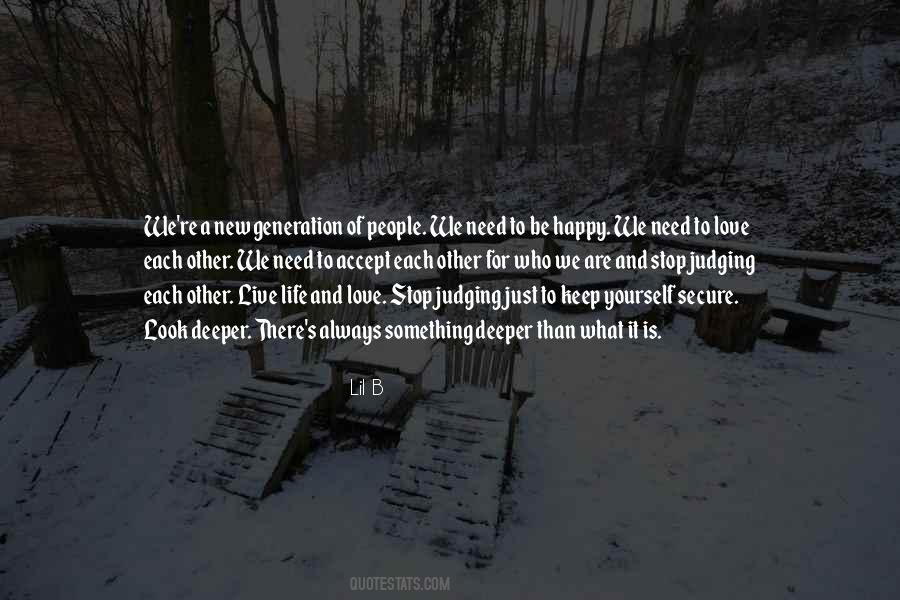 #65. I usually write for the individual reader -though I would like to have many such readers. There are some poets who write for people assembled in big rooms, so they can live through something collectively. I prefer my reader to take my poem and have a one-on-one relationship with it. - Author: Wislawa Szymborska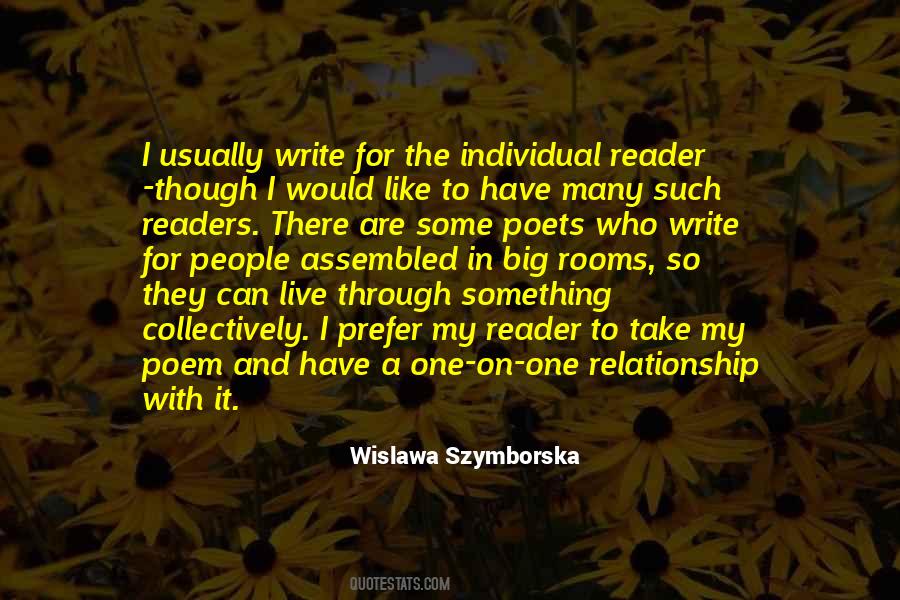 #66. For generations, Americans have expected something new and better in their lives with every passing day - something that will make life a little more fun to live and a little more enlightening to behold. Exploration accomplishes this naturally. All we need to do is wake up to this fact. - Author: Neil DeGrasse Tyson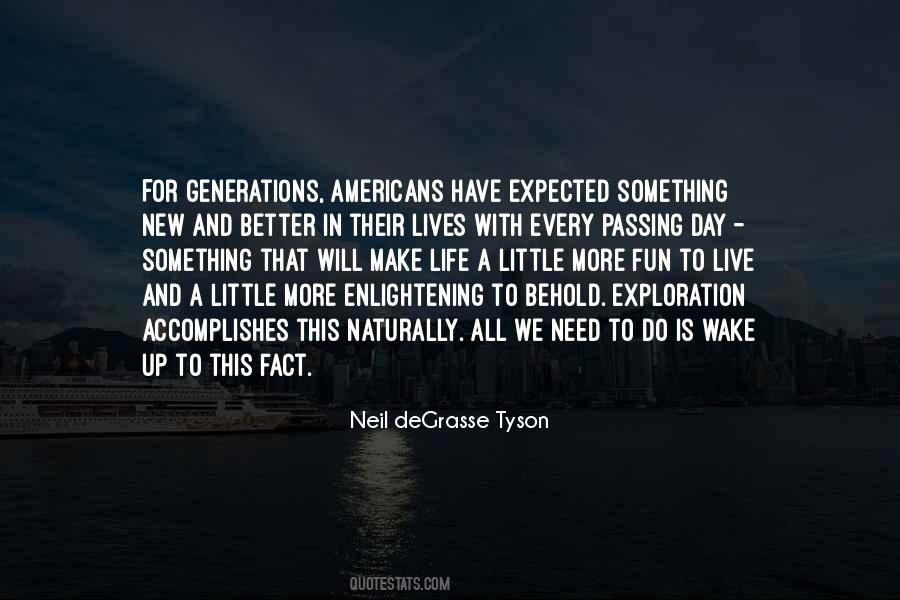 #67. Learning to live for others isn't something that just comes naturally to anybody. You have to train yourself to do it. - Author: Joyce Meyer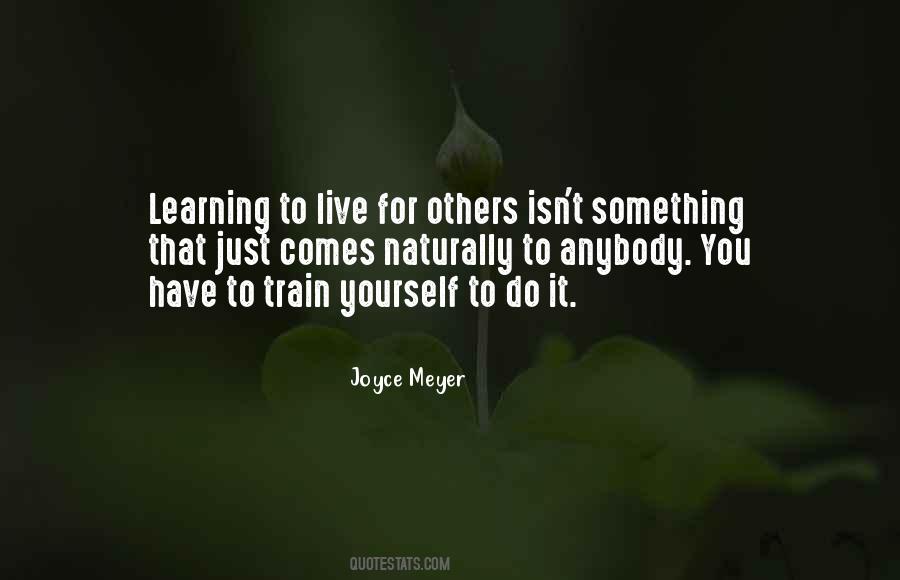 #68. It's okay to be afraid, it means you have something to live for. - Author: Alicia D'Aversa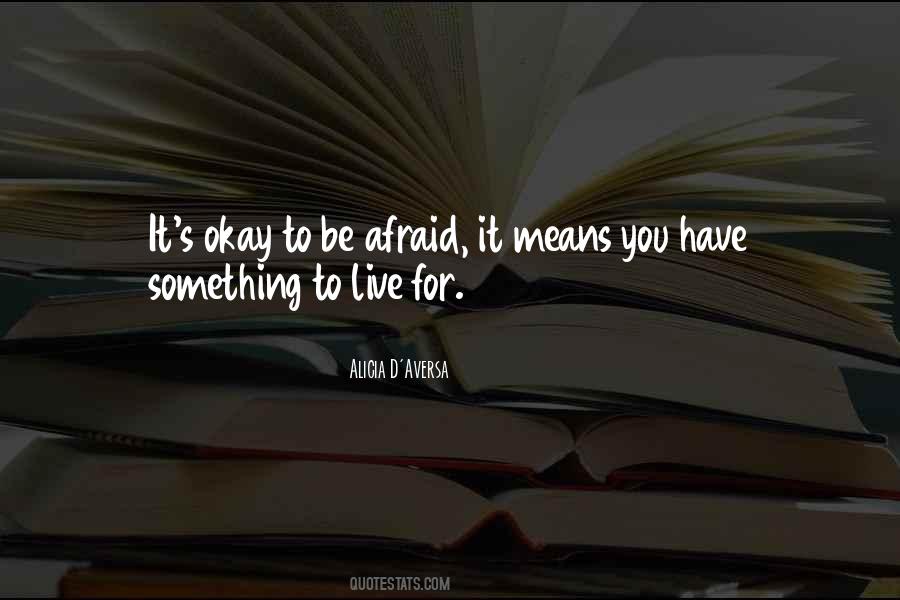 #69. A soul cannot live without loving. It must have something to love, for it was created to love. - Author: St. Catherine Of Siena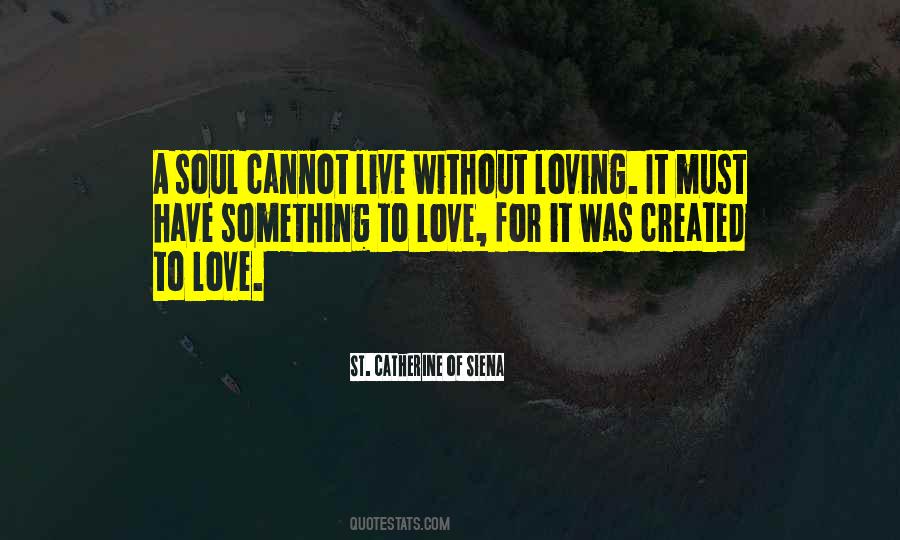 #70. For the secret of man's being is not only to live but to have something to live for. Without a stable conception of the object of life, man would not consent to go on living, and would rather destroy himself than remain on earth, though he had bread in abundance. - Author: Fyodor Dostoyevsky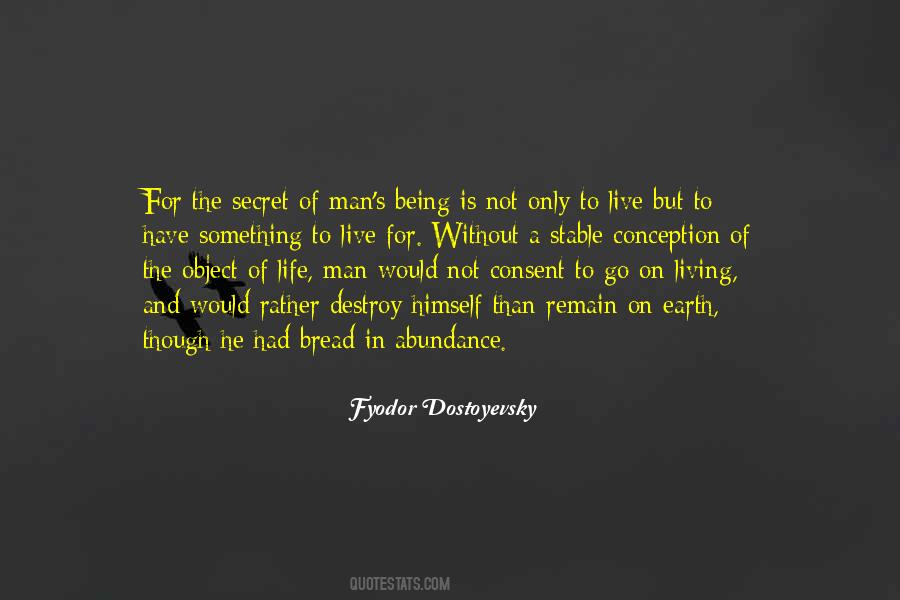 #71. Stumblingblocks? If you are facing one right now, be grateful for two reasons. It landed in front of you not on top of you. And now you have something to climb on top of so that you can see farther than you ever could before. Live large my friends, live deliberately. - Author: Jim Killon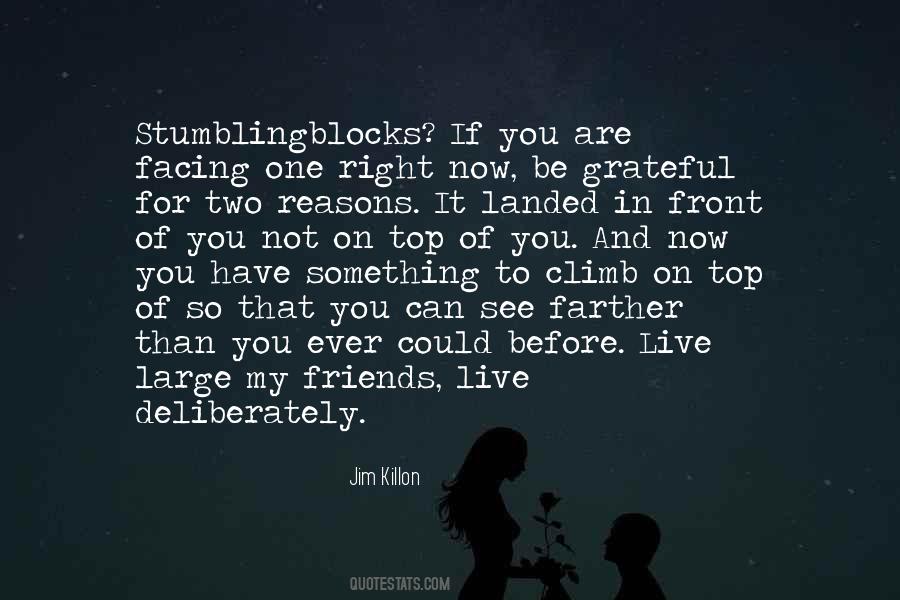 #72. You only get so many days on this earth, everyday that you live try to redeem yourself for something that you regret. - Author: Austin V. Songer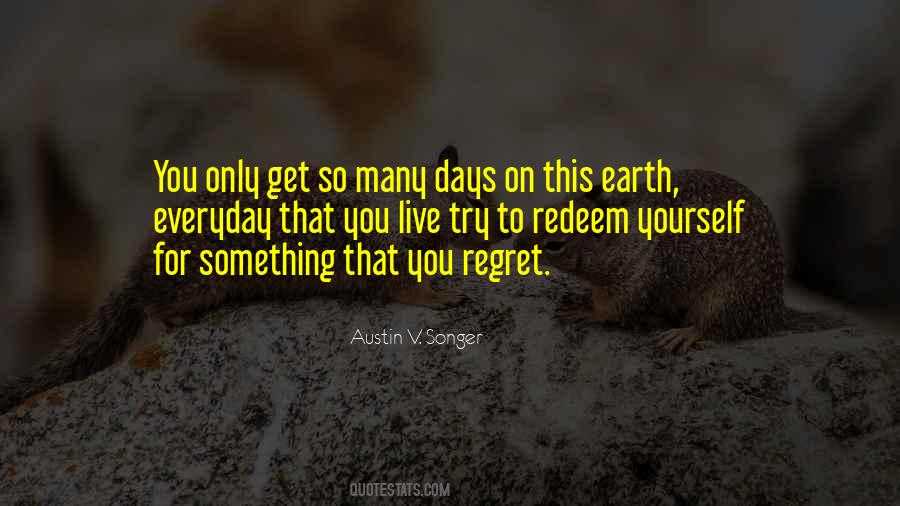 #73. She never seemed to be truly happy; she just seemed to be passing time while she waited for something else. She was tired of just existing; she wanted to live. - Author: Cecelia Ahern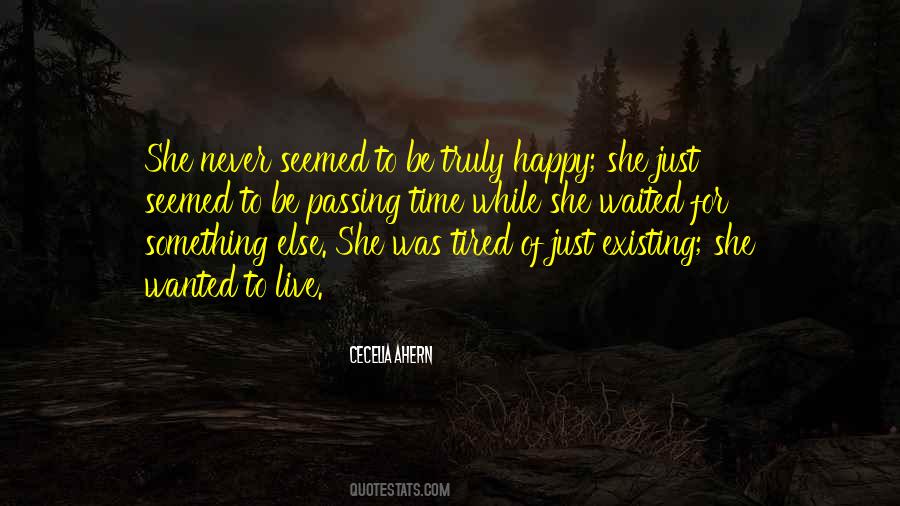 #74. We need to discover once again that we have something to die for, for it is only when we have something to die for that we have something to live for. - Author: Dwight Longenecker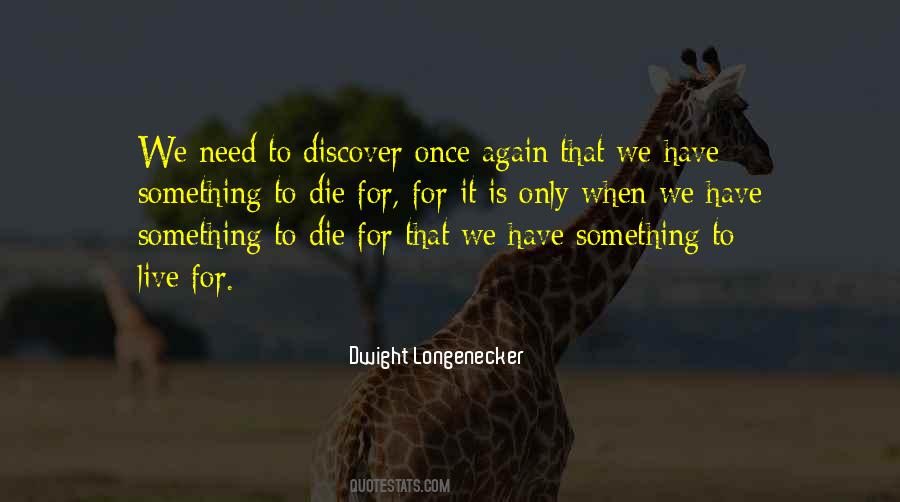 #75. Something within me is waking from long sleep, and I want to live and move again. Some zest is returning to me, some immense gratefulness for those who love me, some strong wish to love them also. I am full of thanks for life. I have not told myself to be thankful. I am just so. - Author: Alan Paton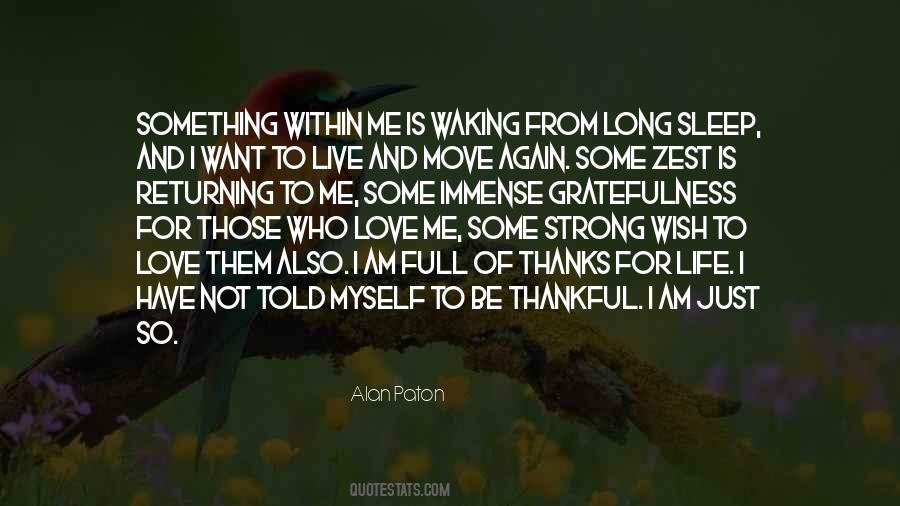 #76. I know that when a fighter is out of the ring for more than two years, when he comes back he isn't the same anymore. Each fighter is different. But each must think, even if something goes wrong, 'I have to make this decision and live with it for the rest of my life.' - Author: Marvin Hagler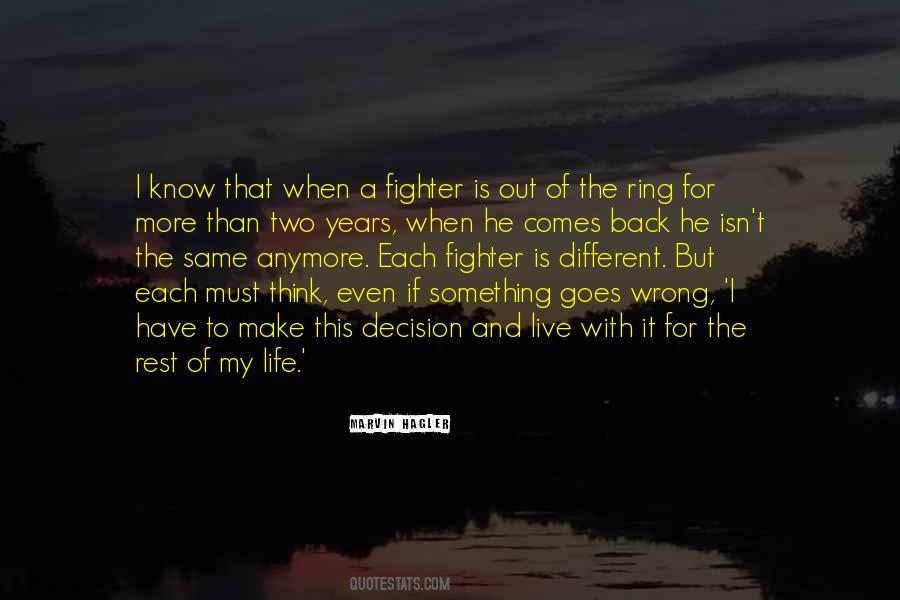 #77. If I have learned anything over this last year it's that you have to live your own life too so that if something we hoped for doesn't work out, you still have two legs to stand on, you still have your own path. - Author: T.S. Krupa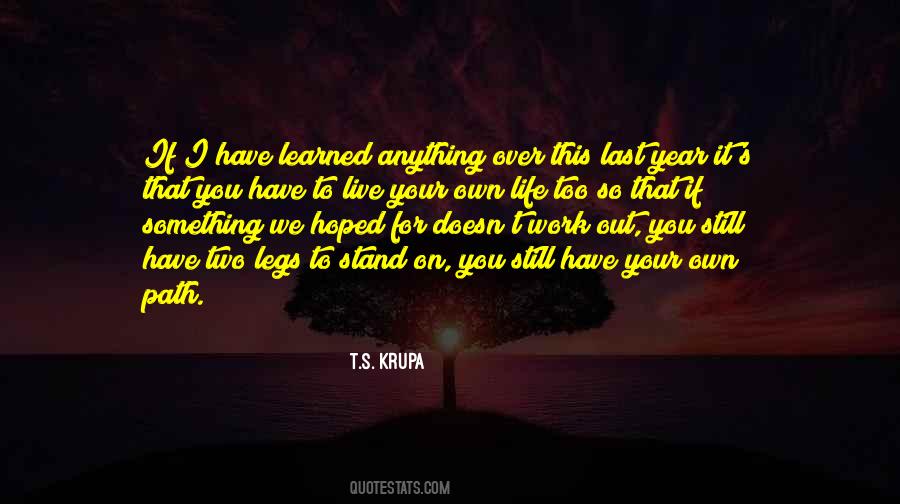 #78. It's hard for anyone in the 24-hour news cycles that we all live in now to follow something that the first round is played in March and the final finishes in December. I understand the challenges there. - Author: Jim Courier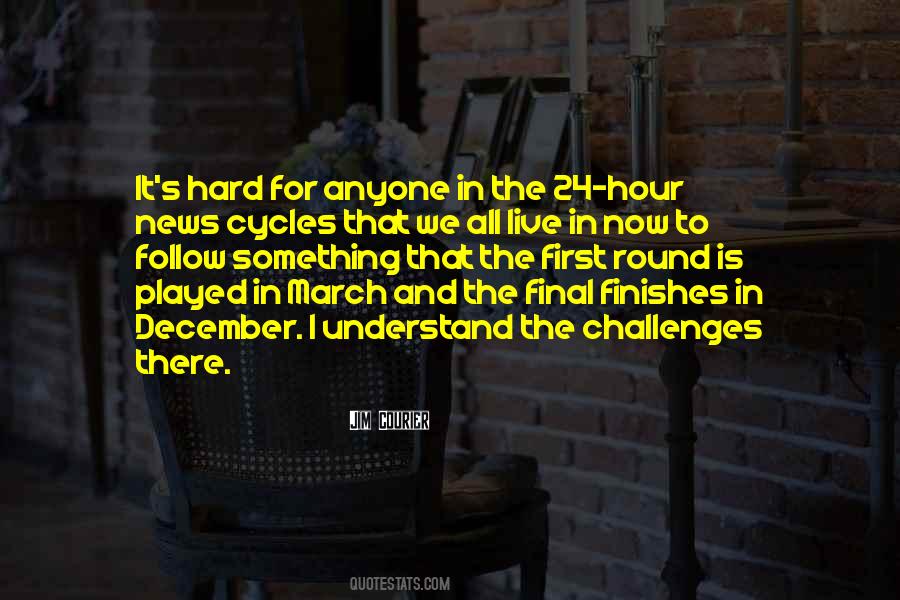 #79. I don't agree with the idea that you have to live in a bubble and sacrifice all your time to something if you want to succeed. I need to be interested in things outside my sport, and I need to meet new people. For me, judo is an expression of the harmony I achieve in my life. - Author: Ryoko Tani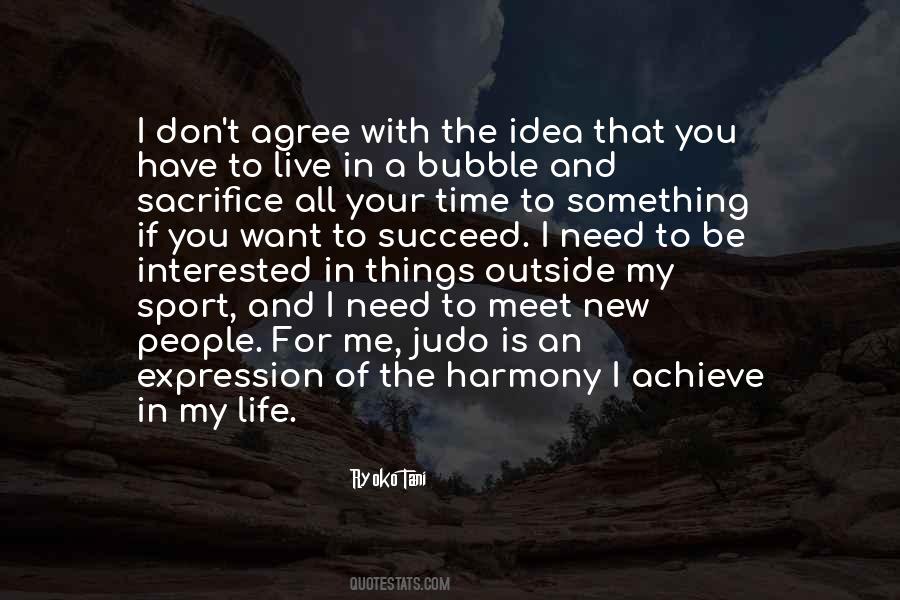 #80. Pray that your loneliness may spur you into finding something to live for, great enough to die for. - Author: Dag Hammarskjold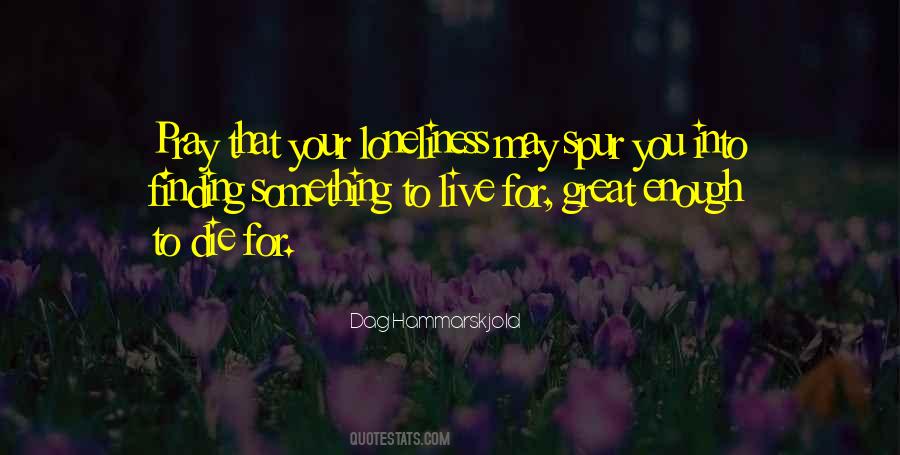 #81. I want to live for something. I don't want to live to get charity food to give me enough strength to go back to get more charity food. - Author: Betty Smith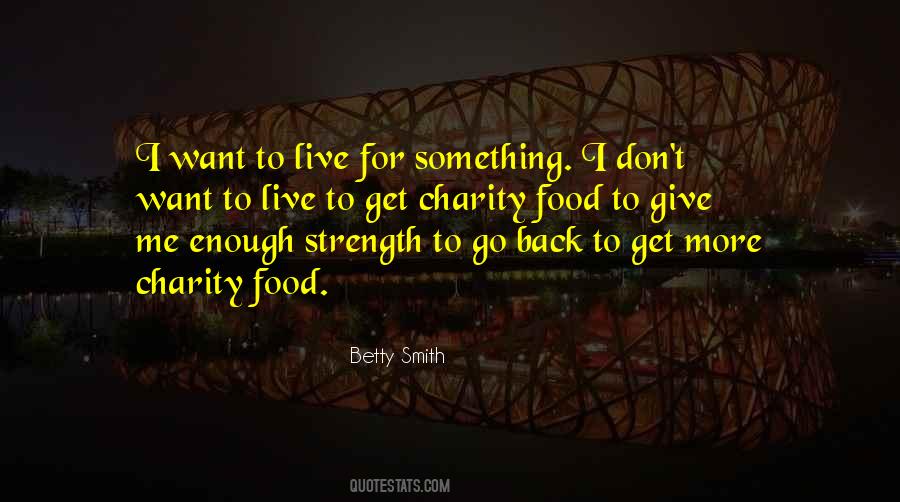 #82. It is easy to criticize, particularly in a political season. But to lead is something altogether different. The leader must live in the real world of the price that might be paid for the goal that has been set. - Author: Norm Coleman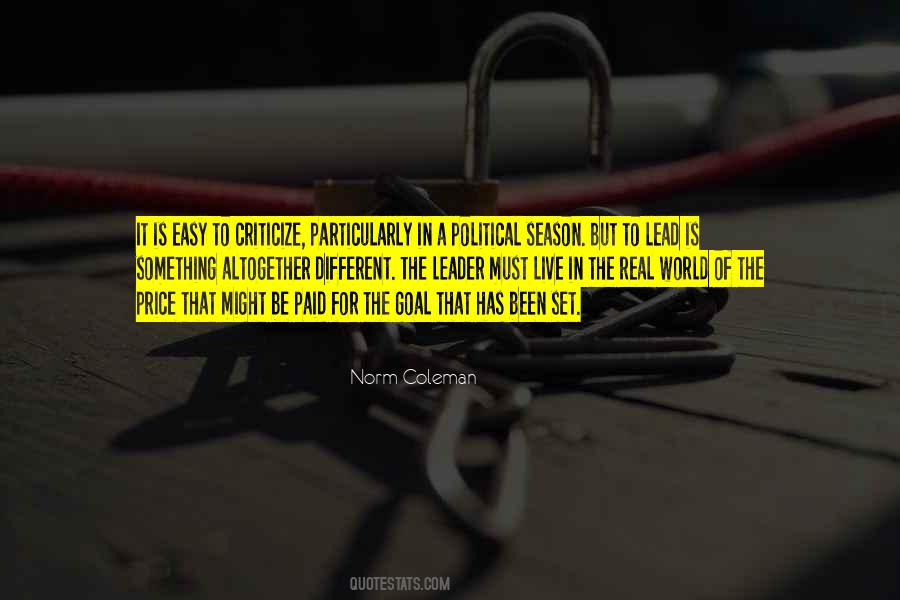 #83. For missionary entrepreneurs, the dream outcome is to build an 'Internet treasure' - a brand that defines a generation, proves that we are better than our parents, and becomes something we couldn't live without. - Author: Bing Gordon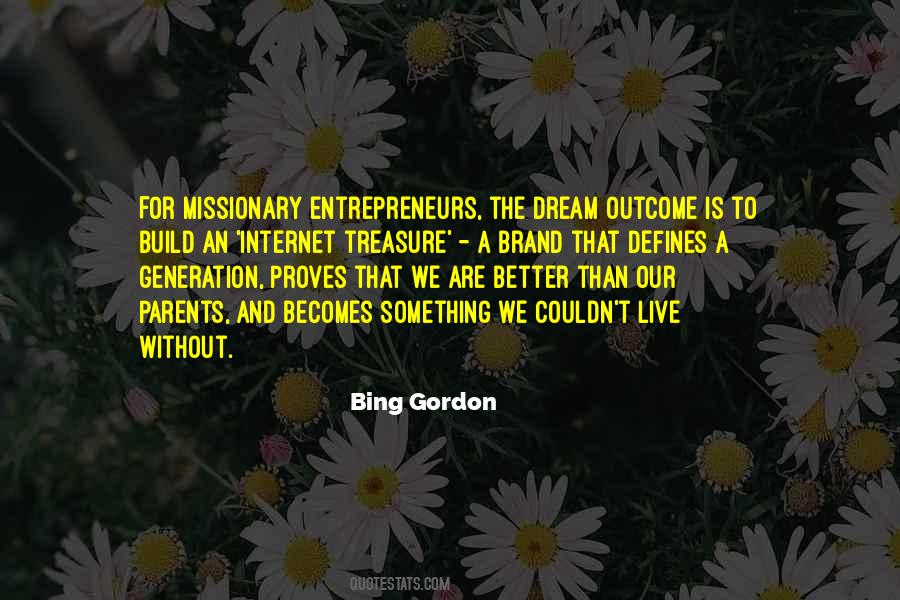 #84. Being killed for Allan's cause is a great honor achieved by only those who are the elite of the nation. We love this kind of death for Allah's cause as much as you like to live. We have nothing to fear for. It is something we wish for. - Author: Osama Bin Laden
#85. I'm not a religious person. I don't have any desire. To me it's imitative of a conventional culture. I'm all for it for anybody. I totally have a free and open feeling about how other humans want to live their lives. It's just not something that has any real significance for me. - Author: Lily Tomlin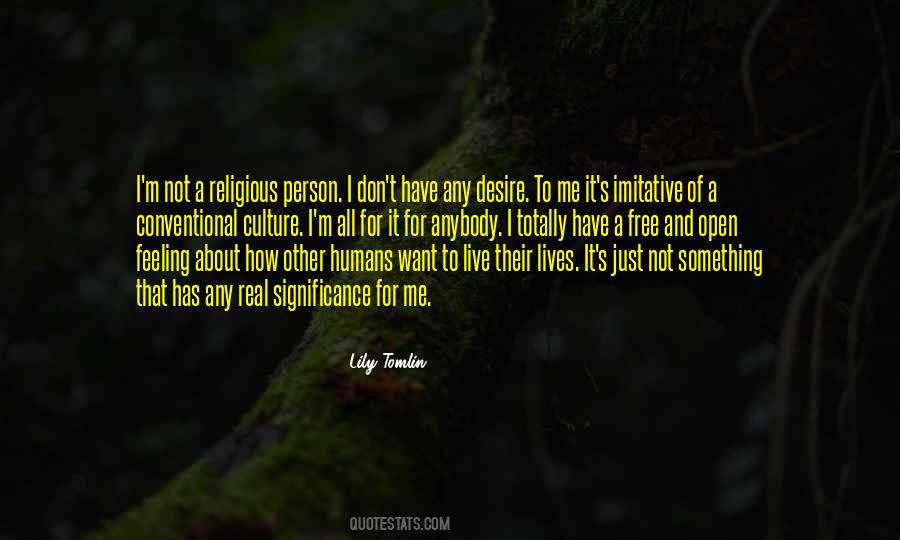 #86. When a person has found something which he prefers to life itself, he for the first time has begun to live. - Author: Gilbert K. Chesterton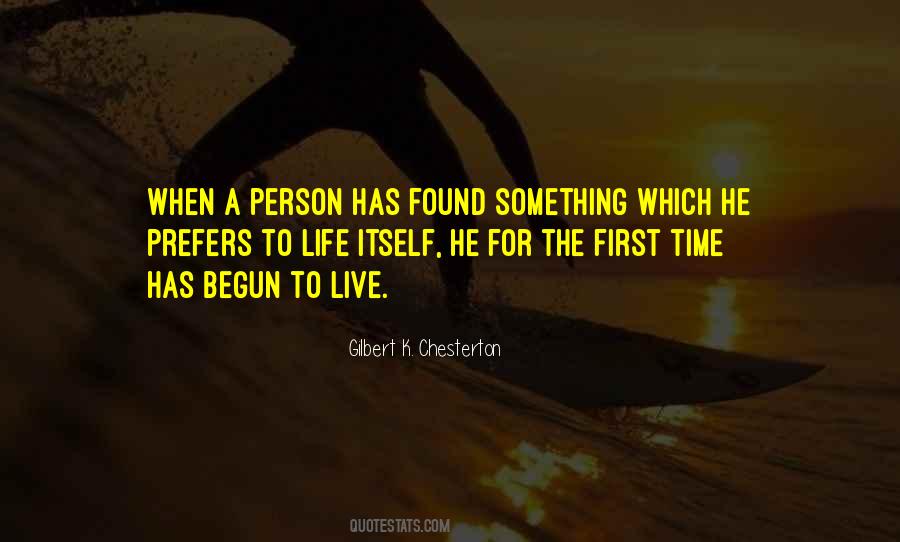 #87. We cannot be sure of having something to live for unless we are willing to die for it. - Author: Ernesto Che Guevara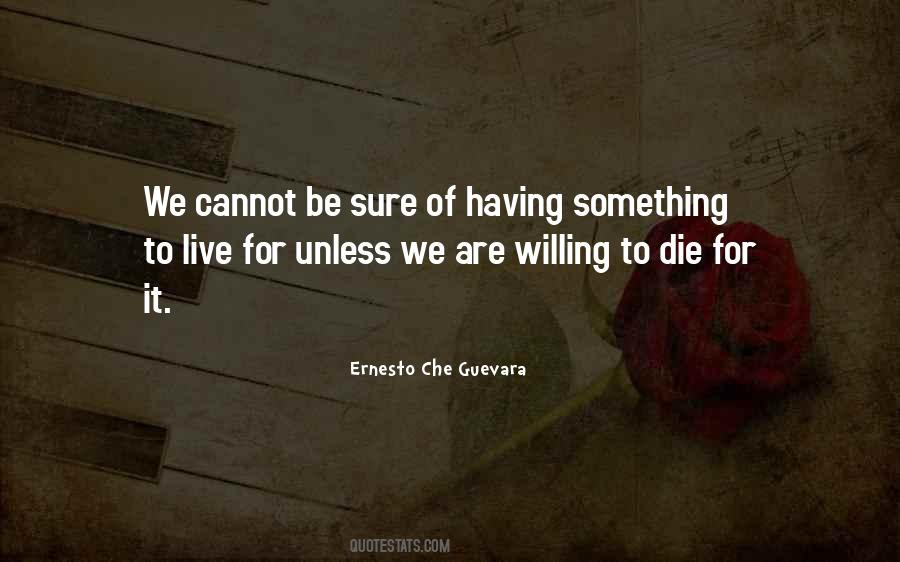 #88. To live an honest life you have to strive hard, get involved, fight, make mistakes, begin something and give it up, begin again, struggle endlessly, and suffer loss. As for tranquility - it's spiritual baseness. - Author: Leo Tolstoy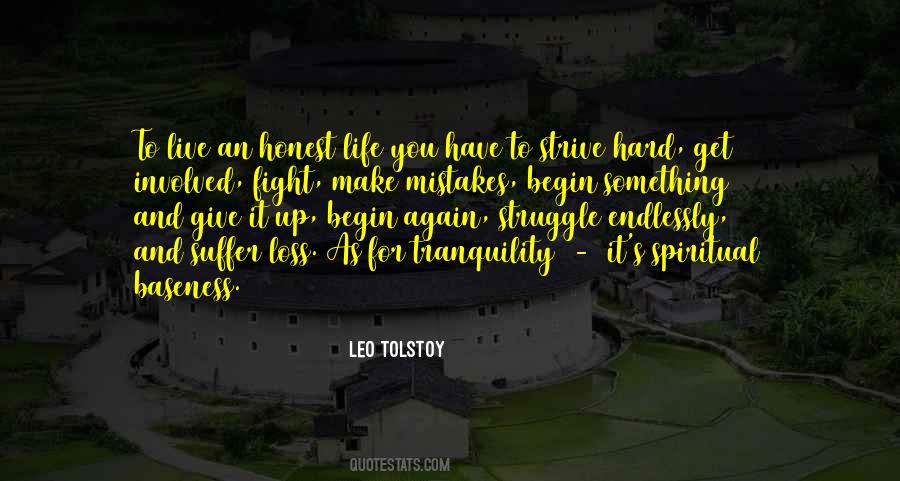 #89. Everybody now seems to be talking about democracy. I don't understand this. As I think of it, democracy isn't like a Sunday suit to be brought out and worn only for parades. It's the kind of a life a decent man leads, it's something to live for and to die for. - Author: Dalton Trumbo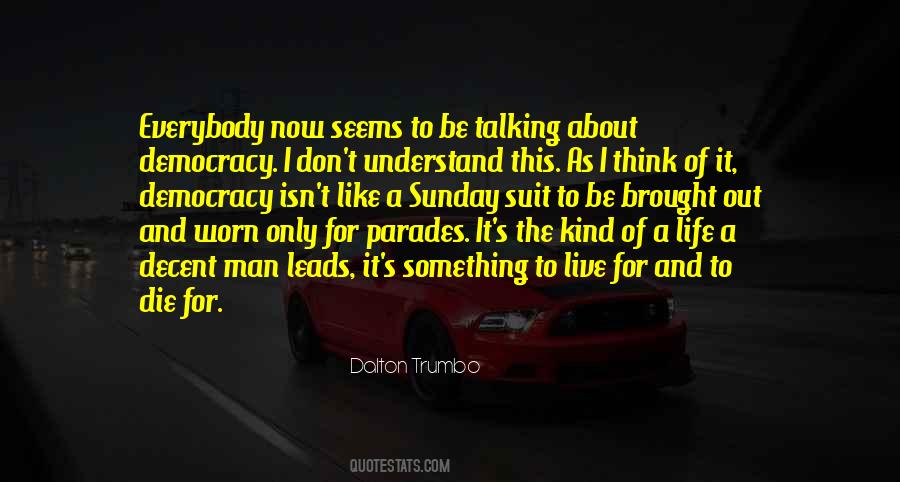 #90. All the games were selected for them by supervisors and had to have some useful, educational purpose. The children learned these new games but unlearned something else in the process: they forgot to be happy, how to take pleasure in little things and last, but not least, how to dream - Author: Michael Ende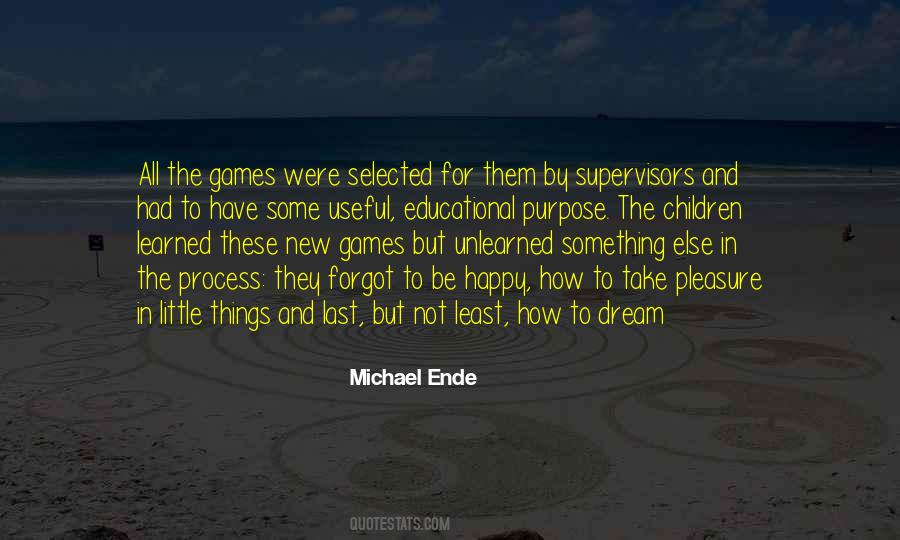 #91. I live for my work, apart from my family who come first. And I live to tell stories and pretend to be other people, it's something I've been doing since I was 3 years old. Maybe it's because I'm intrinsically bored with myself, and I find other people more interesting. - Author: Jacki Weaver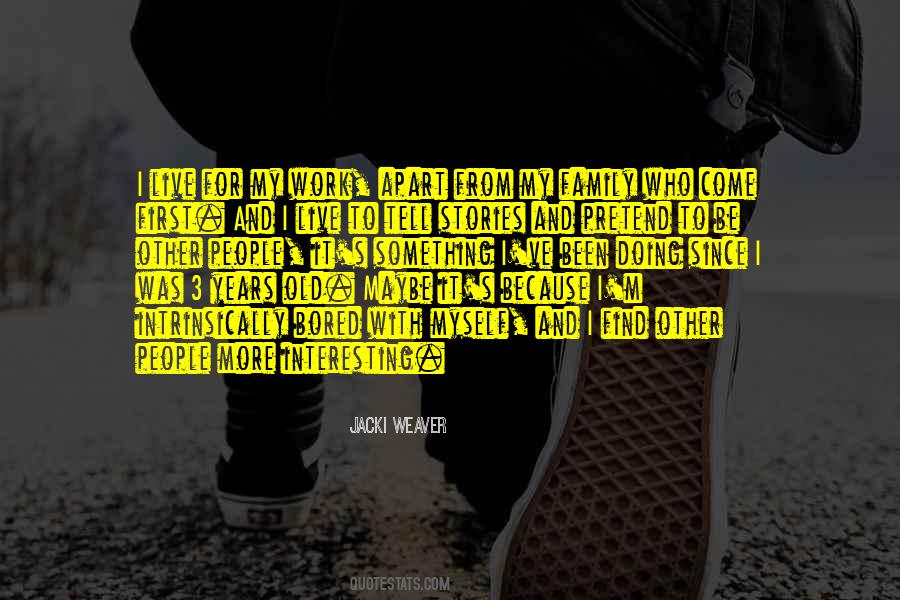 #92. It's real easy for me to write a lot of stories. I just go and I live through something, and I go home and write about it. It's that quick. - Author: Harvey Pekar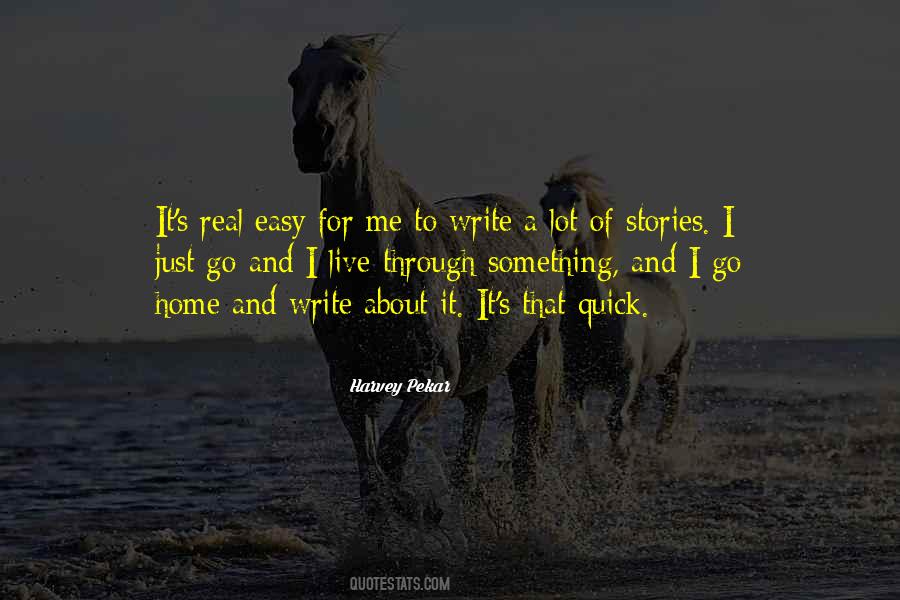 #93. We simply weren't constructed to live only for ourselves. We were placed on earth to be part of something bigger than the narrow borders of our own survival and our own little definition of happiness. The - Author: Paul David Tripp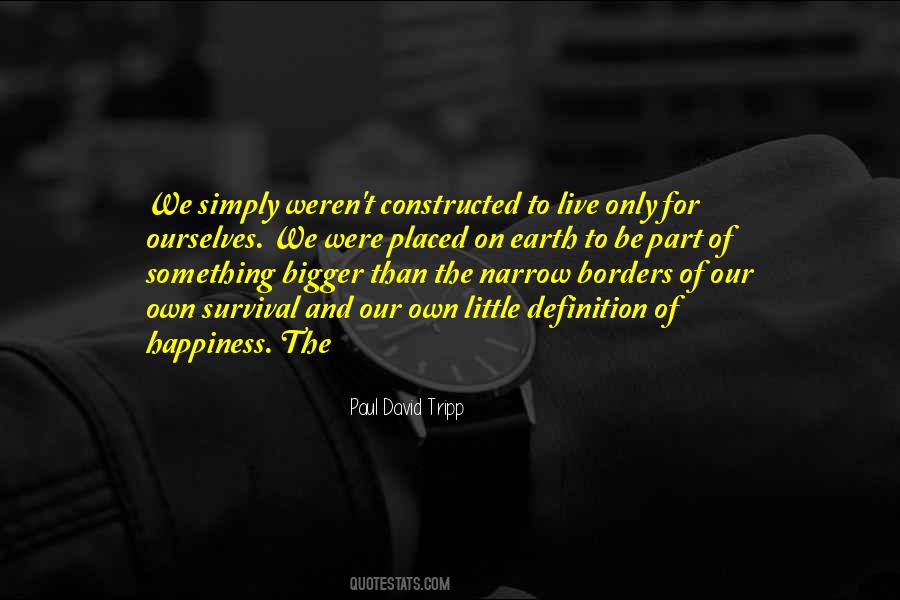 #94. Gentleman, God created you with the heart of a warrior. Until there's something you're willing to die for, you can't truly live. - Author: Craig Groeschel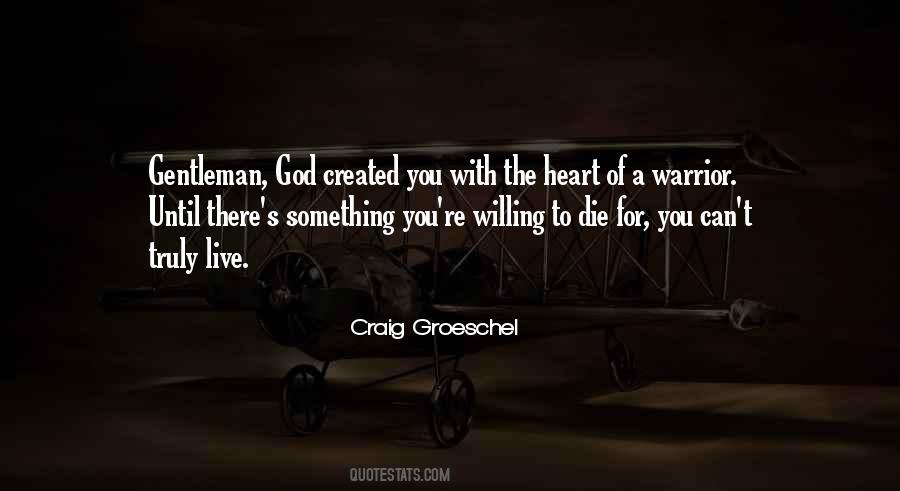 #95. That's something you'll have to decide for yourself.. I think you have a right to live however you want. Whether you're fifteen or fifty-one, what does it matter? But unfortunately society doesn't agree.
~Oshima, page 198 - Author: Haruki Murakami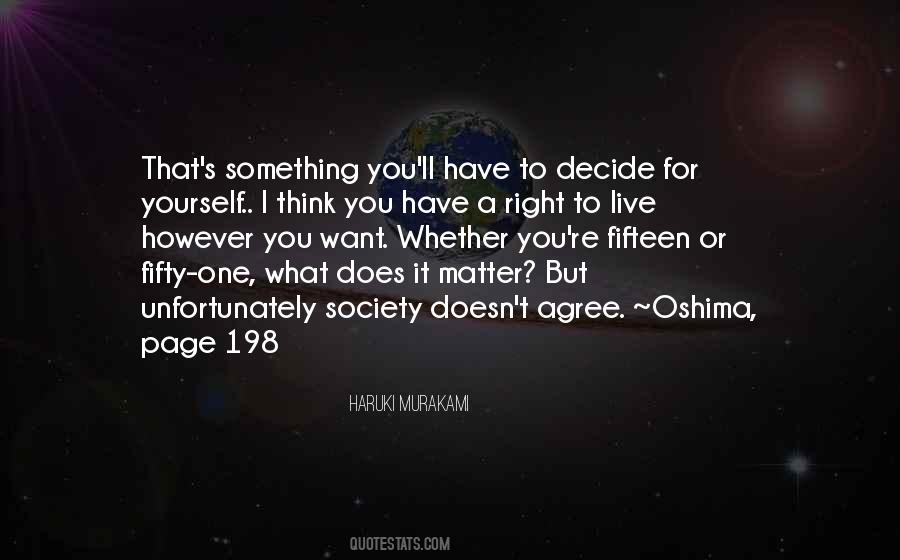 #96. Remember, there are cookies waiting here for you. - Author: Dean Koontz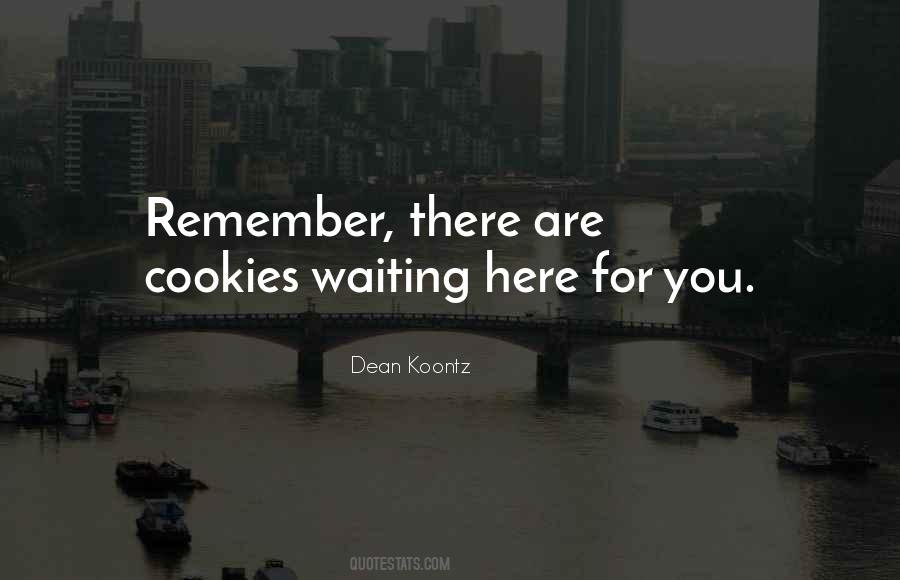 #97. Kaladin hoped for something else. Hoped. Yes, he'd discovered that he could still hope. A spear in his hands. An enemy to face. He could live like that. - Author: Brandon Sanderson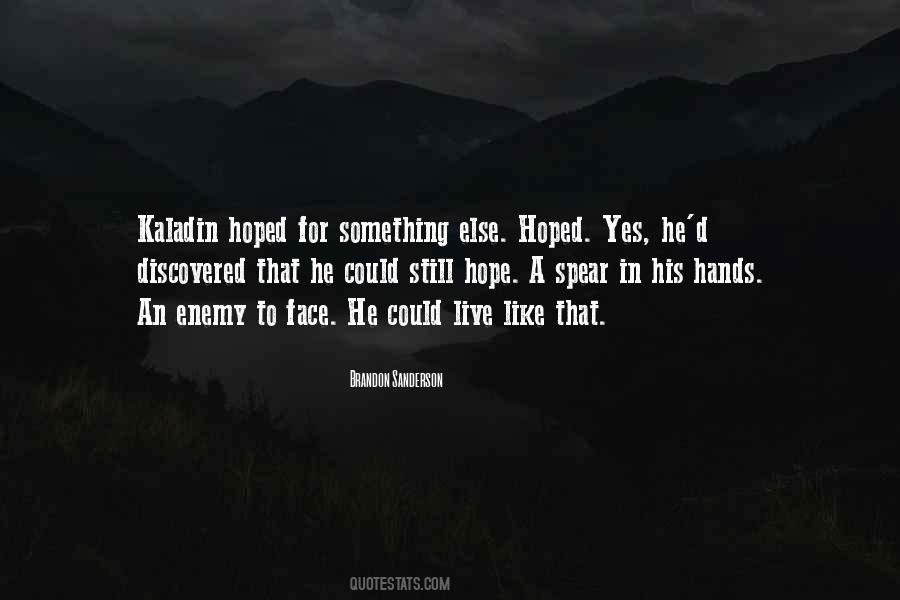 #98. Everything is destined sometimes we think something and happens opposite to it. This is the fact and the truth we all live with this verity. We are all the tools of God uses us for its own purpose. - Author: Sadashivan Nair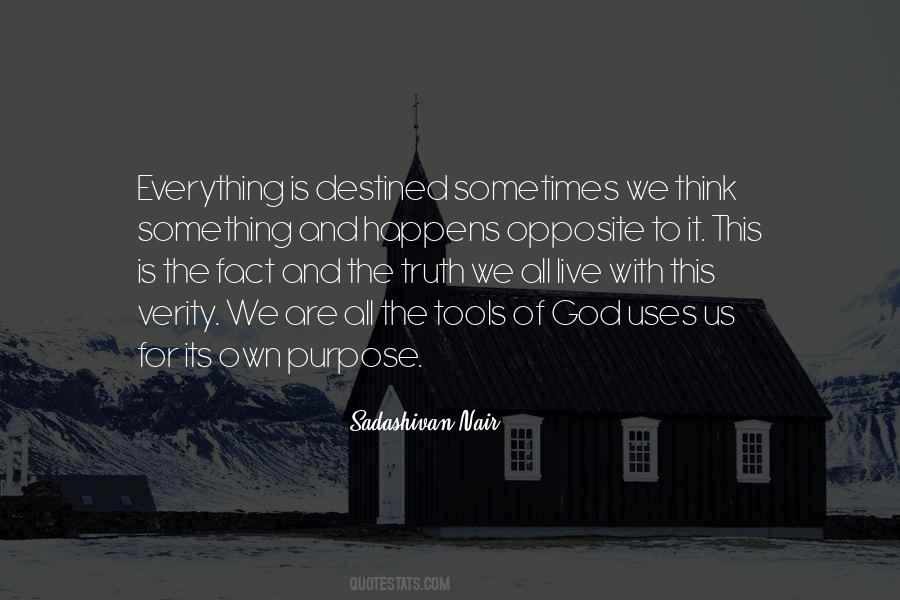 #99. It frightens me that when I'm writing I seem to have some awful second sight, or something like it, an intuition of some kind; a kind of intelligence is at work that is much too painful to use in ordinary life; one couldn't live at all if one used it for living. - Author: Doris Lessing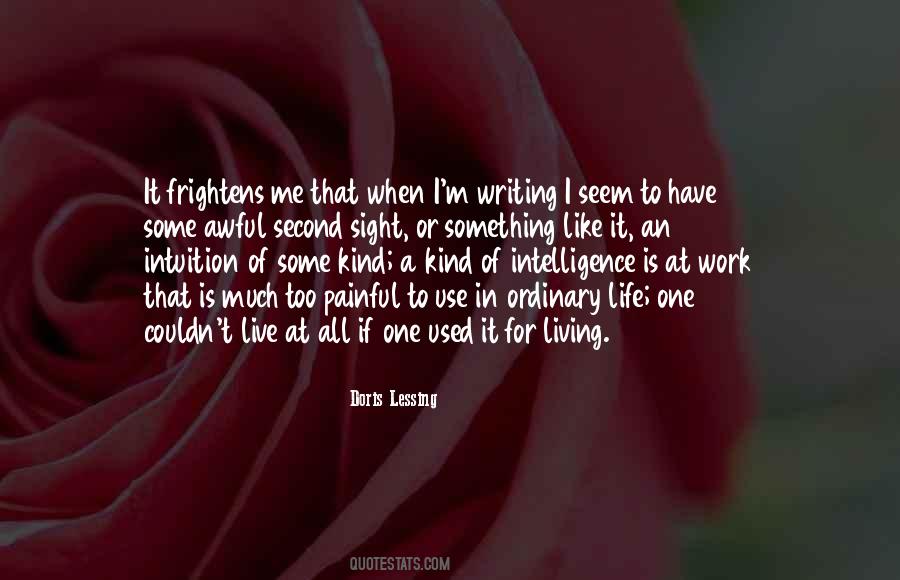 #100. And in that I never saw more truth...than to truly live, was to have something worth dying for. - Author: N. Gemini Sasson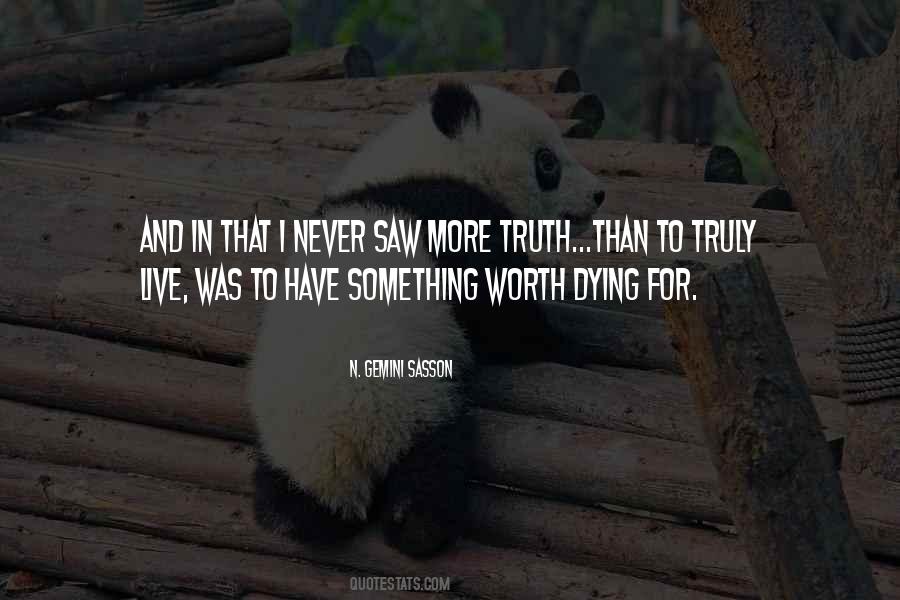 Famous Authors
Popular Topics