Smile And Laugh Famous Quotes & Sayings
List of top 100 famous quotes and sayings about smile and laugh to read and share with friends on your Facebook, Twitter, blogs.
Top 100 Quotes About Smile And Laugh
#1. I like how you smile and how you laugh. I like how you love and defend your family and I like how you're trying to love mine. I love how you trust. But mostly, Emily, I love you. - Author: Katie McGarry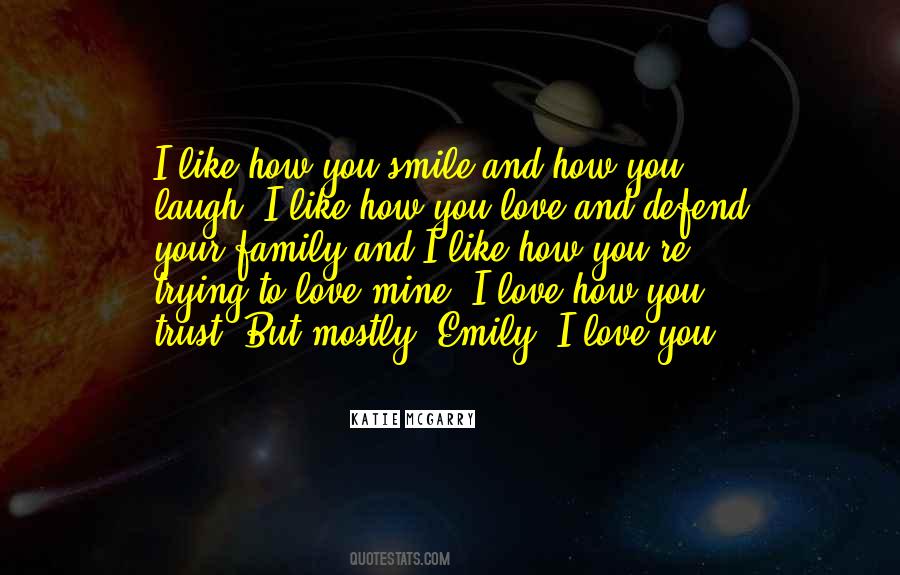 #2. How will you use the years God gives you? Will you be remembered for being a fault-finder? Or will you be known for your quick smile, the laugh lines around your eyes, and the twinkle deep within? After all, God gives you your face, but you provide the expression! - Author: Barbara Johnson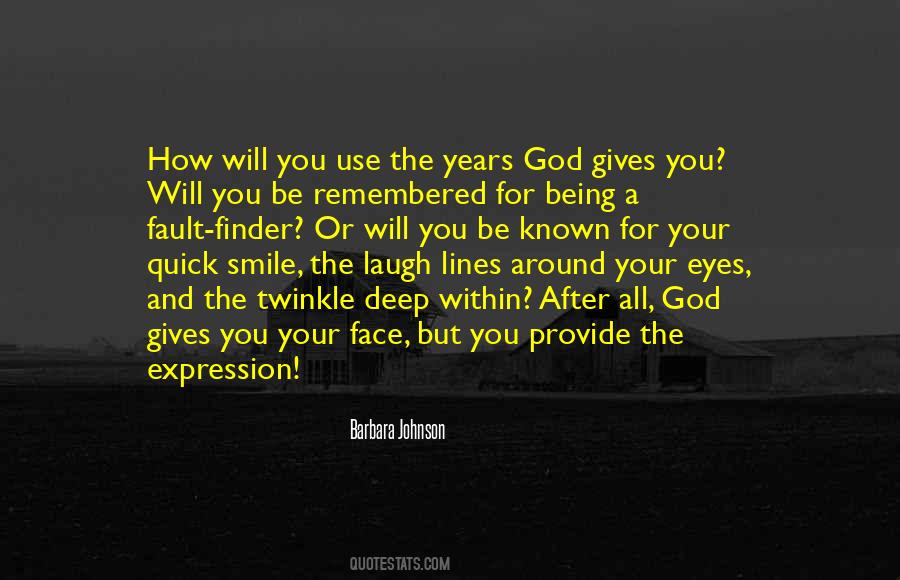 #3. I like to laugh, I like to smile, and I don't take myself too seriously. I can be a goofball. - Author: Boris Kodjoe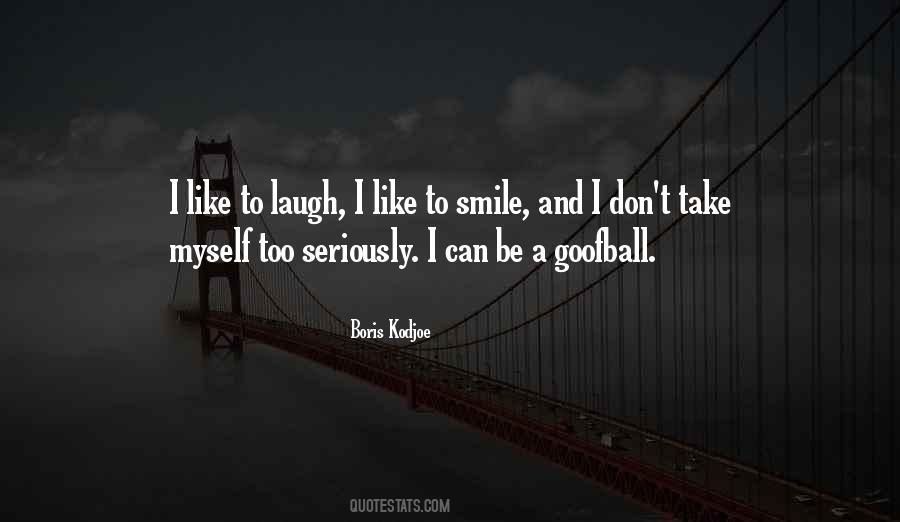 #4. Someday, everything will make perfect sense. So for now, laugh at the confusion, smile through the tears, be strong and keep reminding your self that everything happens for a reason. - Author: John Mayer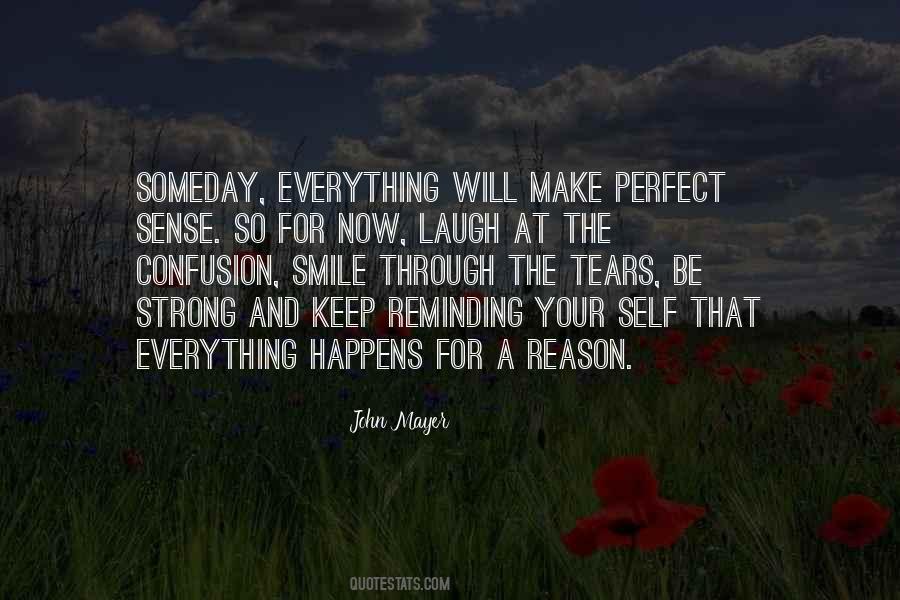 #5. Jude used to try to make me laugh, and when I'd crack a smile he'd keep the joke going , like breath on an ember, making it grow into a fit of giggles that'd echo around the whole forest and make all the birds in the trees quiet. - Author: Stephanie Oakes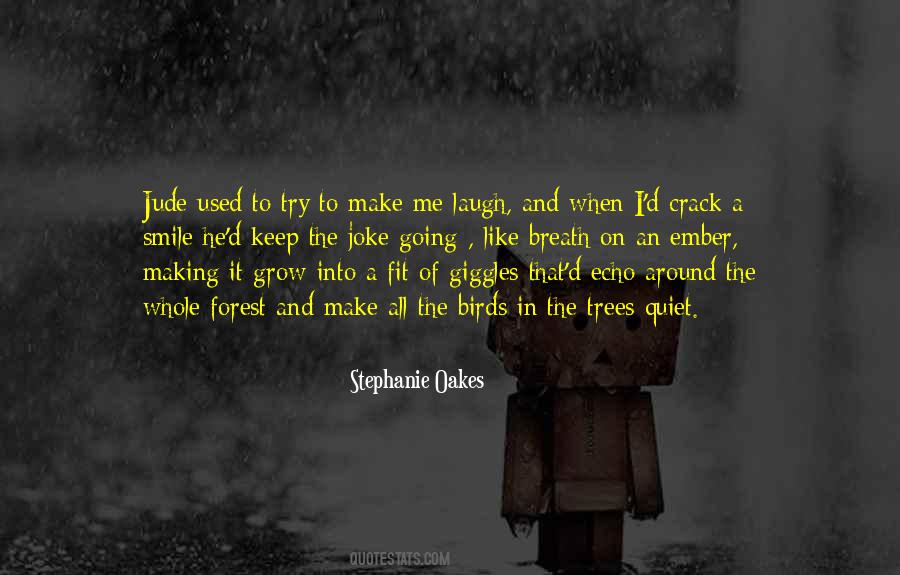 #6. The next time you and somebody are in an elevator alone, give them the creepiest stare followed by the creepiest smile ever. While they're leaving, give them a crazy laugh and say, 'It was a meet to pleasure you'. - Author: Dan Cummins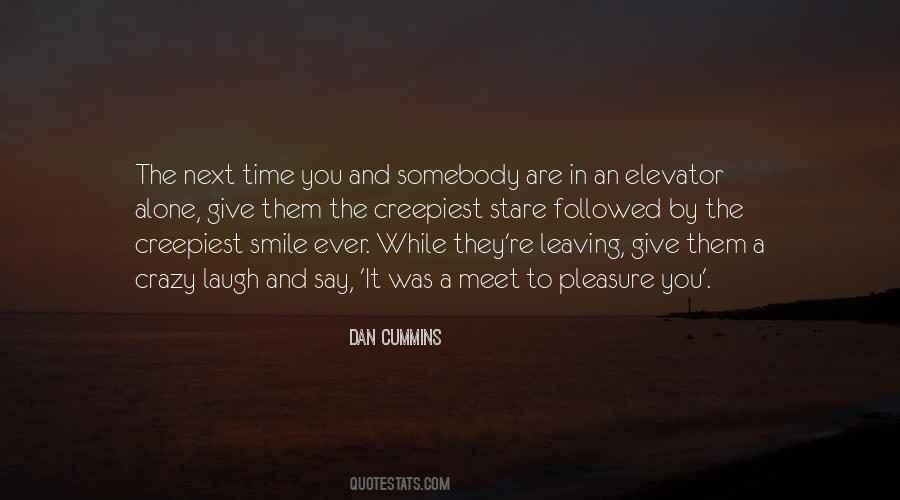 #7. I don't smile much, and I never laugh. If you'd been through what I've been through, you wouldn't be smiling, either. - Author: Charlie Sifford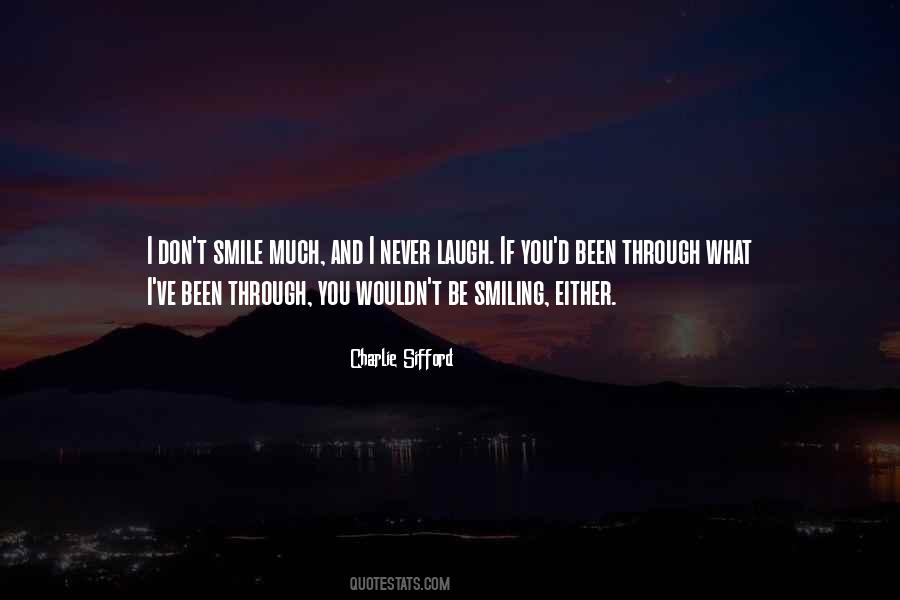 #8. Riley's smile saturated her entire face with beauty. This was the sister Maisy had left all those years ago. The sister with the full laugh and the face of an angel who was unaware of her beauty. Gone was the sister who pulled her hair back into a baseball cap. - Author: Patti Callahan Henry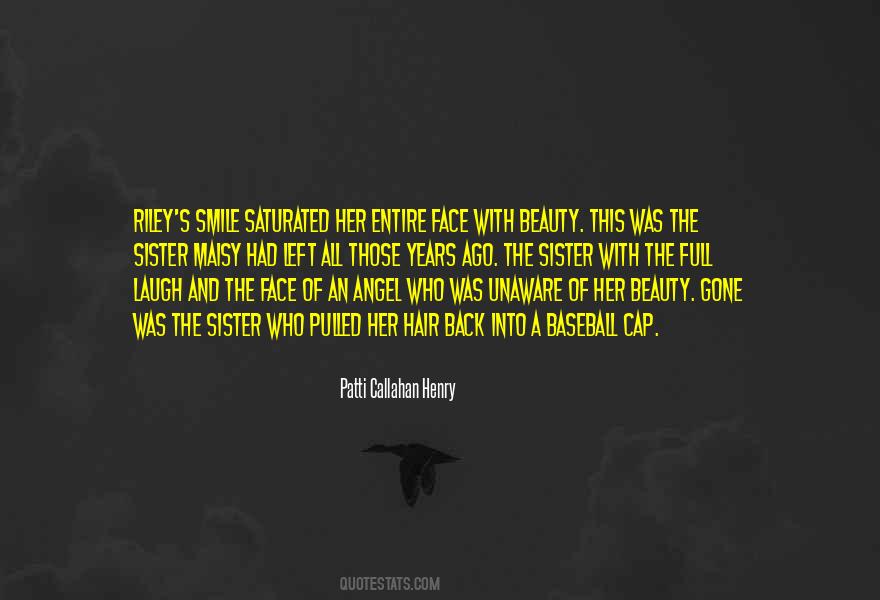 #9. A smile and a laugh are the duct tape of life; they can fix anything. - Author: Mike Wallace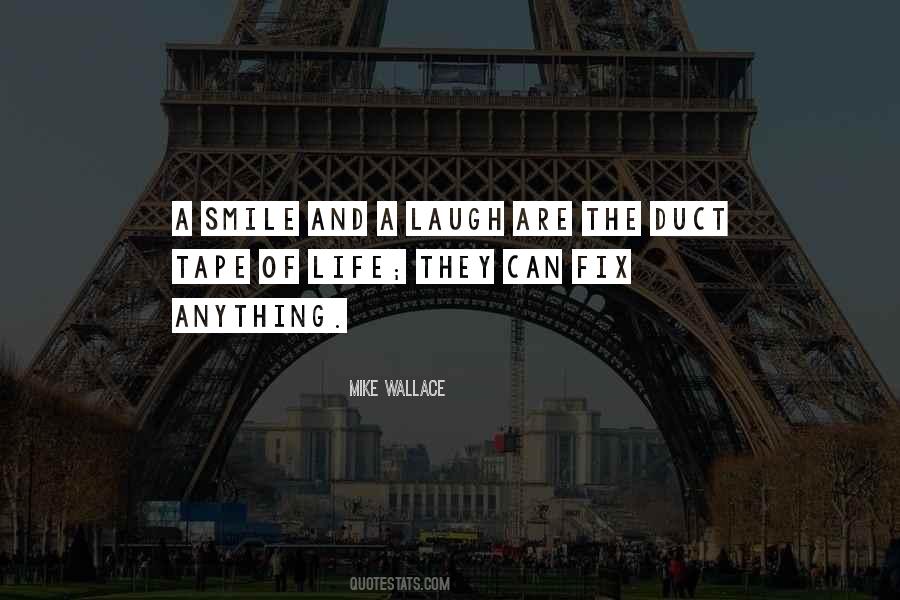 #10. Some people make you laugh a little louder, your smile a little brighter, and your life a little better. - Author: Anonymous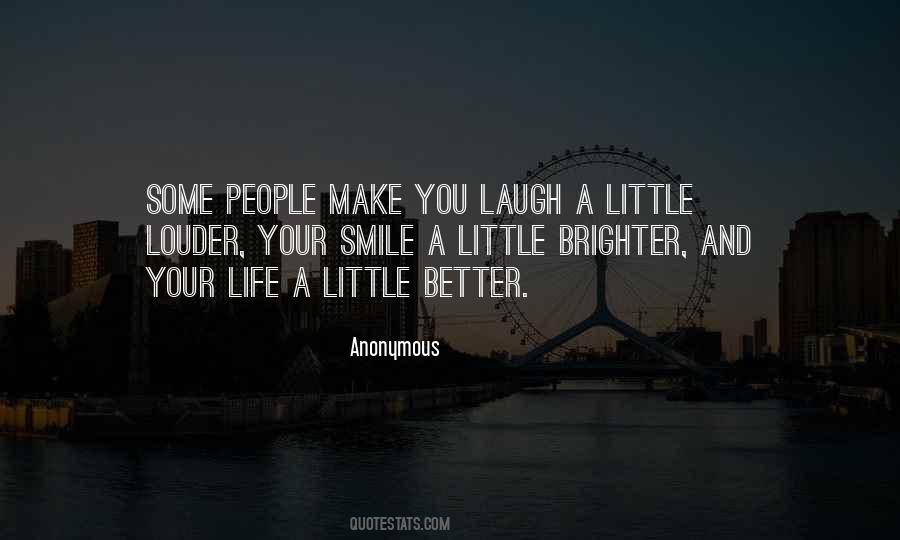 #11. He laughed. I suddenly wanted to laugh, to laugh with him, to sit here, or maybe outside in the rain, and just laugh with him. But I couldn't. I couldn't even smile. - Author: Tablo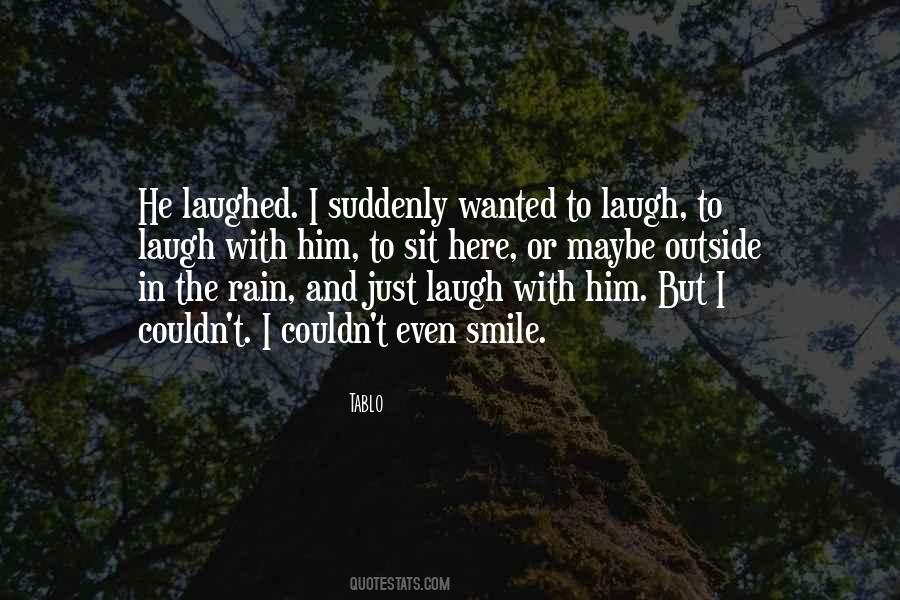 #12. Who are you, Zane?"
Zane cocked his head. "I'm an artist. I'm a geek." He felt Ty smile. "I am one badass motherfucker on a motorcycle."
Ty began to laugh.
Zane dipped his head until they were staring into each other's eyes. "And I'm yours. - Author: Abigail Roux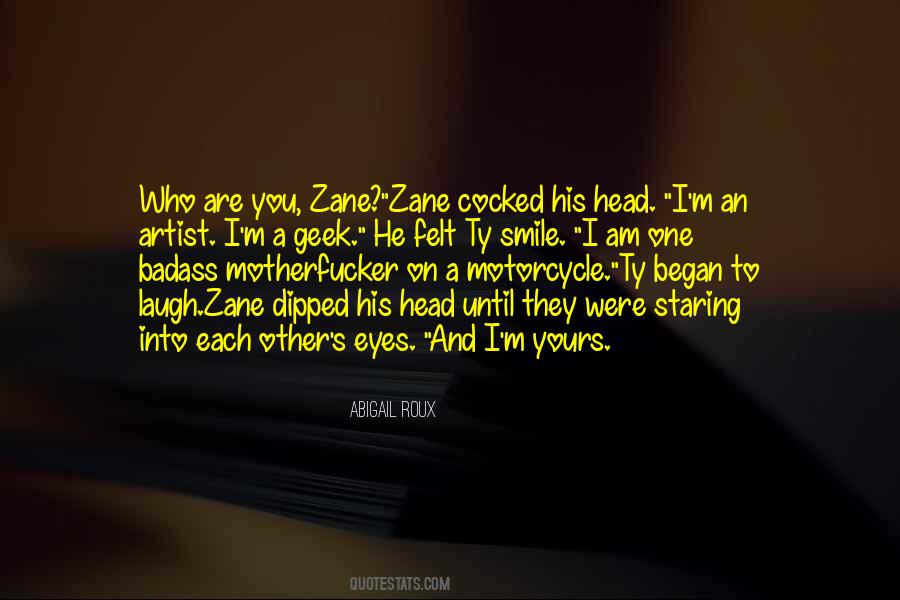 #13. With my father and sister being very depressed for most of their lives, it was incumbent on me to try to make them laugh, in this ridiculous way. They were the wittiest people I knew, but to get a smile from them was like winning the lottery. - Author: Miriam Toews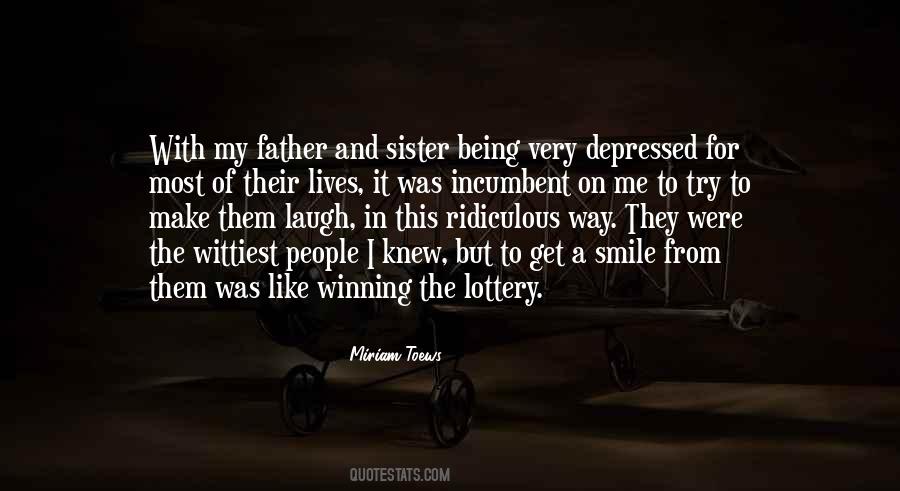 #14. Moriarty rarely smiled,and then usually to terrify some poor victim. The first time I heard him laugh, I thought he had been struck by a deadly poison and the stutter escaping through his locked jaws was a death rattle. - Author: Kim Newman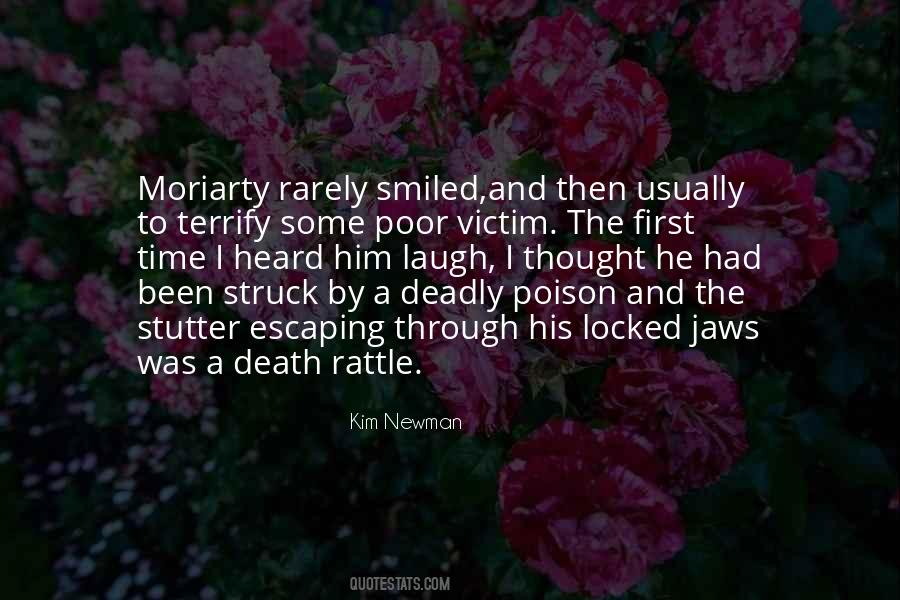 #15. When kindhearted people smile, demons shrink and turn away as if tormented by the gesture. But when those beautiful smiles are made to fade, every awful creature in the world stands surer. So do yourself and mankind a favor and smile BIG whether you feel like it or not. - Author: Richelle E. Goodrich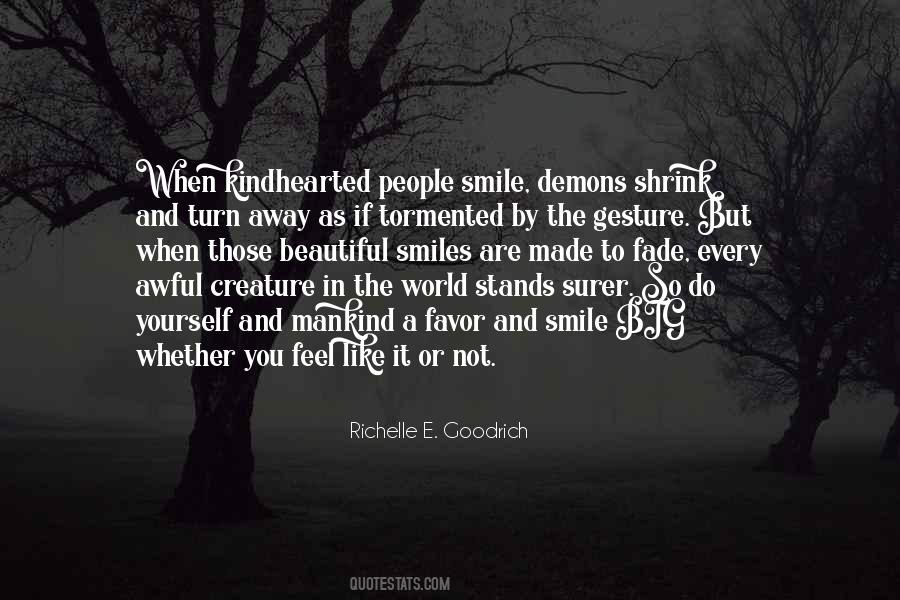 #16. Ever since I was 2 or 3, I loved to perform for people. I would walk up to another table in a restaurant and crack a joke, sing a song, do a dance, or something entertaining, and the 'audience' would almost always smile and laugh. - Author: Maxim Knight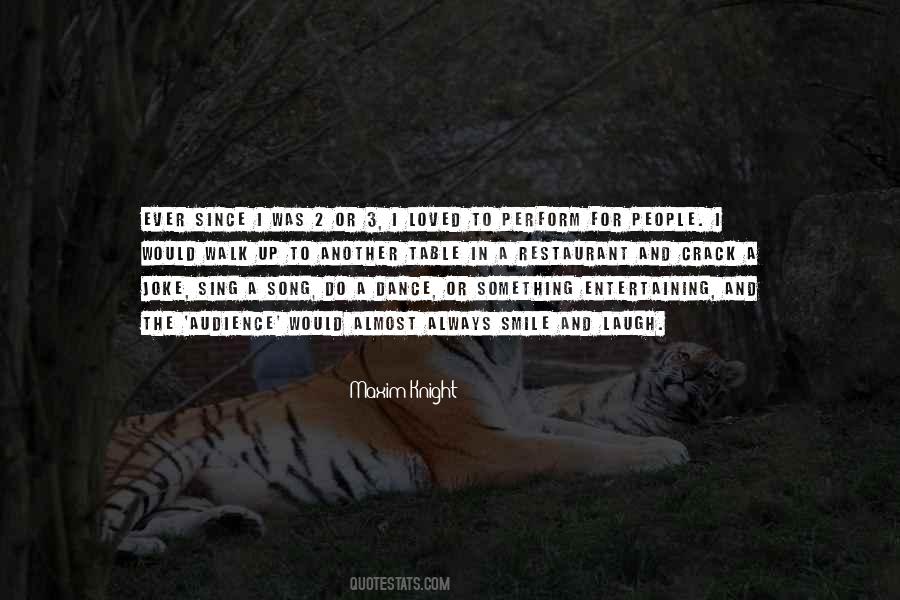 #17. Irony is the bringing together of two contradictory truths and to make out of the contradiction a new truth, with a laugh or a smile. - Author: Anne Hathaway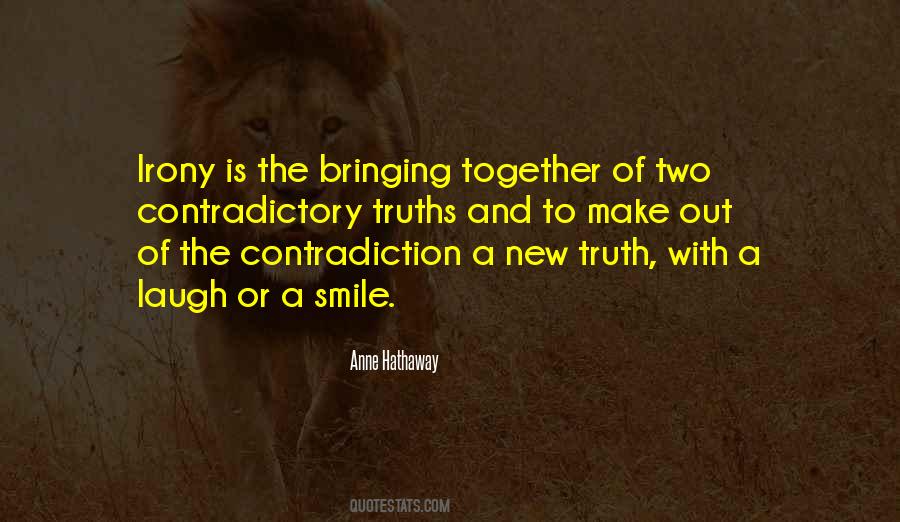 #18. The noise of the air base became a dull roar, and he fell asleep dreaming of James - his laugh, his smile, and the pine box he'd come home in. - Author: Garrett Leigh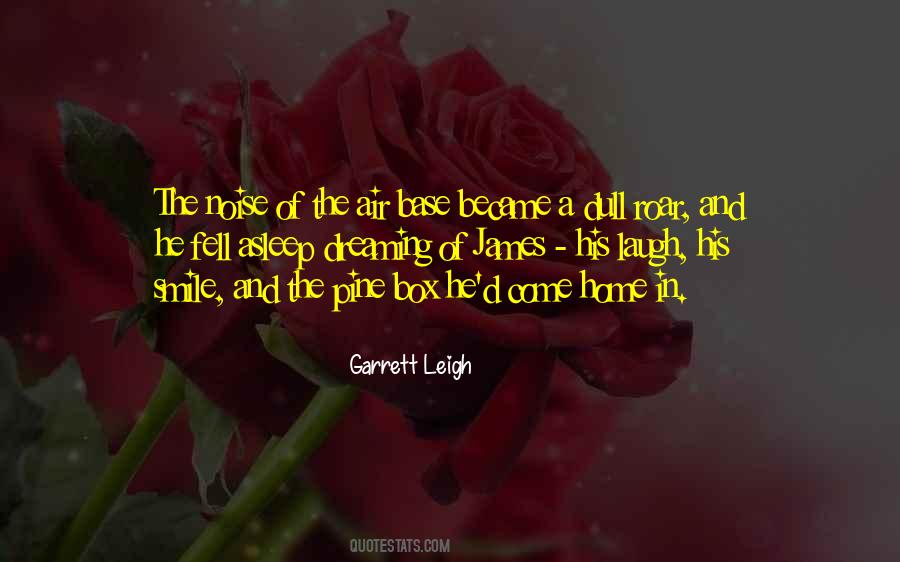 #19. The heart, yeah, sometimes I didn't get it. But if we were making each other laugh and smile, maybe it was part of the way human beings loved each other. - Author: Benjamin Alire Saenz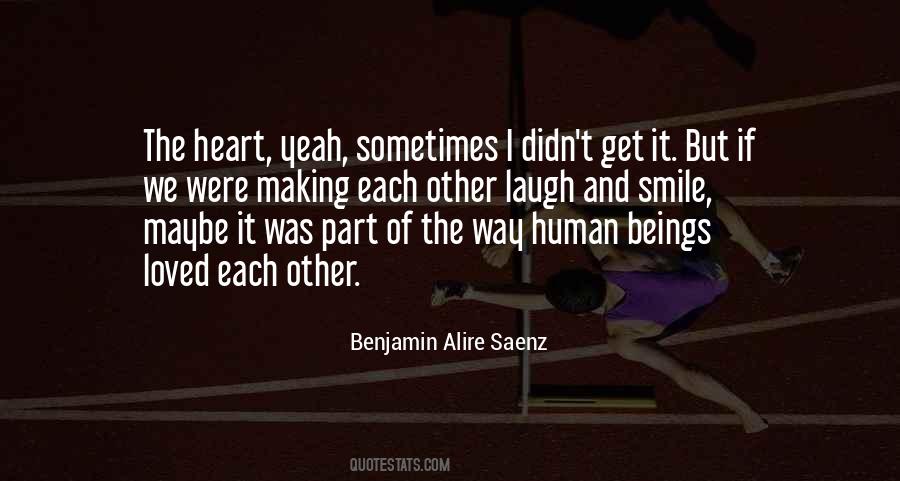 #20. How funny." I say flatly. "and I was hoping for a battle of wits but you appear to be unarmed." His laugh fills the silence and brings a smile to my face. - Author: K. Lars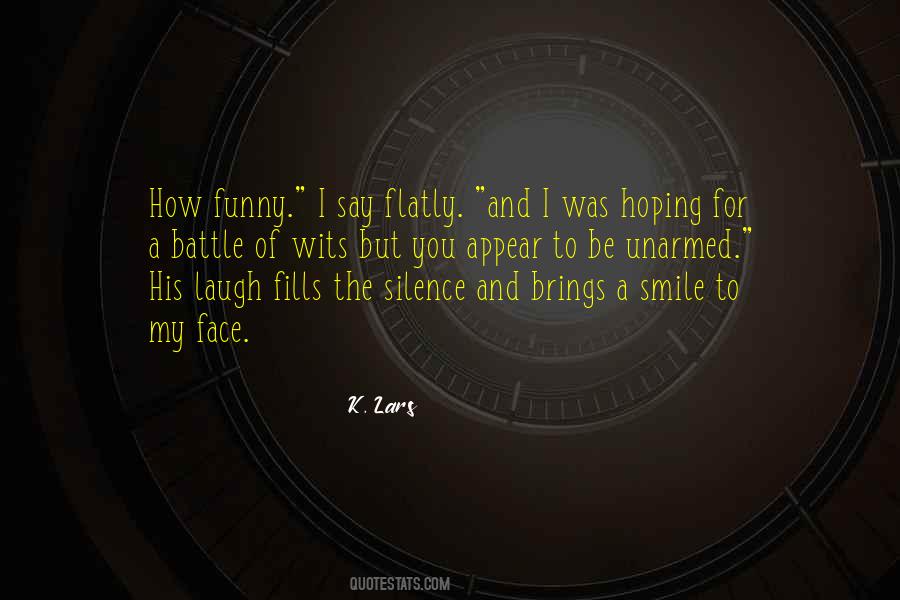 #21. Observe it, the vulgar often laugh, but never smile, whereas well-bred people often smile, and seldom or never laugh. A witty thing never excited laughter, it pleases only the mind and never distorts the countenance. - Author: Lord Chesterfield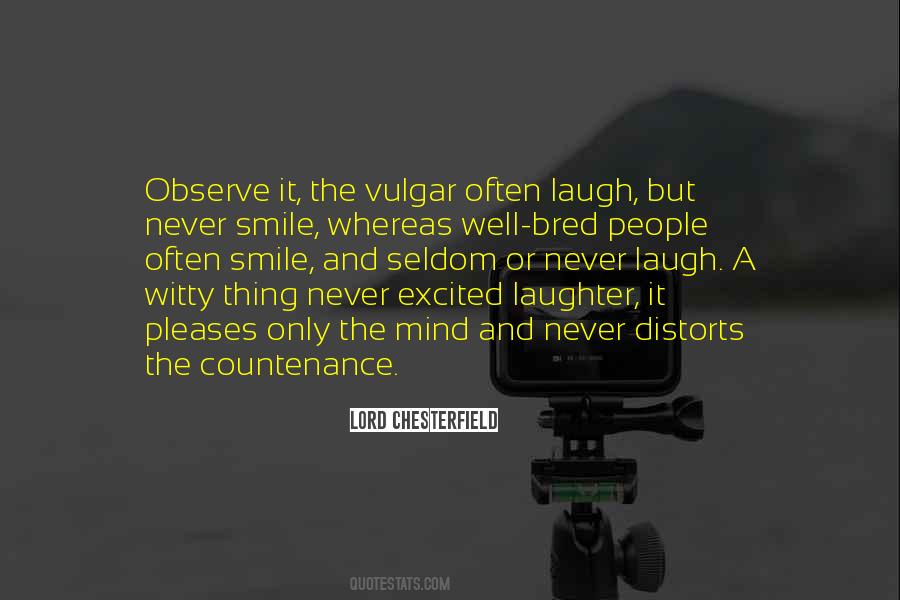 #22. Suddenly a dog bayed in the wood, and the dancers stopped, and going up two by two, knelt down, and kissed the man's hands. As they did so, a little smile touched his proud lips, as a bird's wing touches the water and makes it laugh. But there was disdain in it. - Author: Oscar Wilde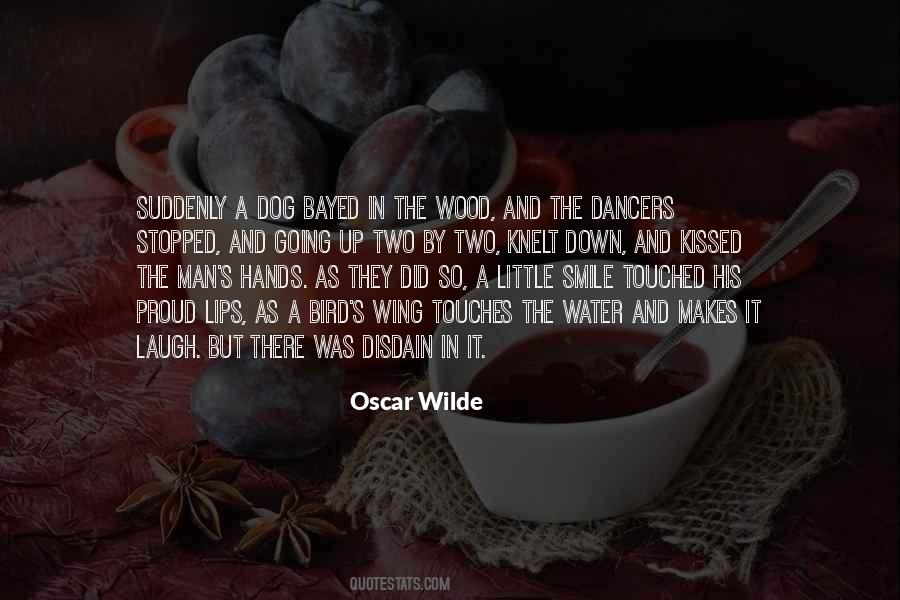 #23. To manage to smile and have a good laugh in the midst of difficult times makes you look younger. - Author: Euginia Herlihy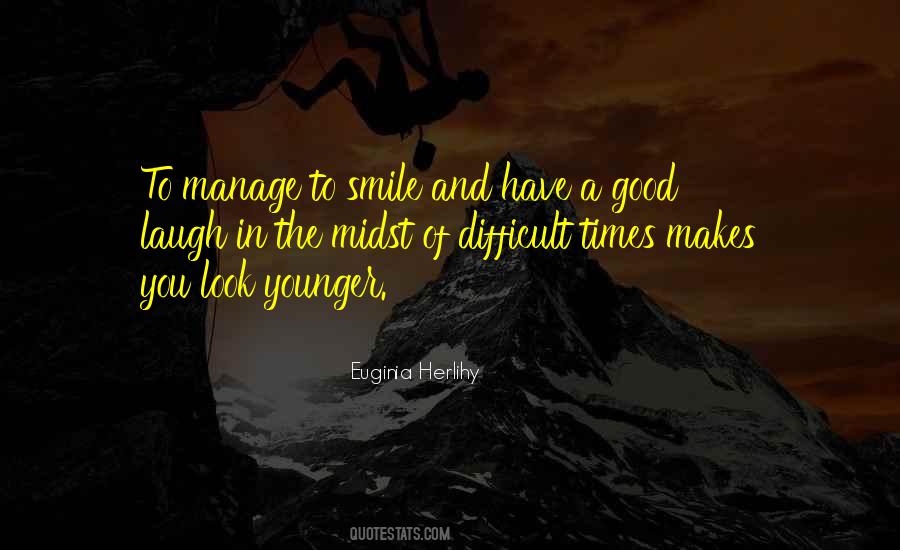 #24. Will you please stop peeking at me like that? This is degrading enough as it is."
"Did it ever occur to you," I said, with a sly smile and a wink, "that you're irresistibly handsome, I can't keep my eyes off of you?"
He threw his head back in a laugh. "Of course. I should have realized. - Author: Lani Woodland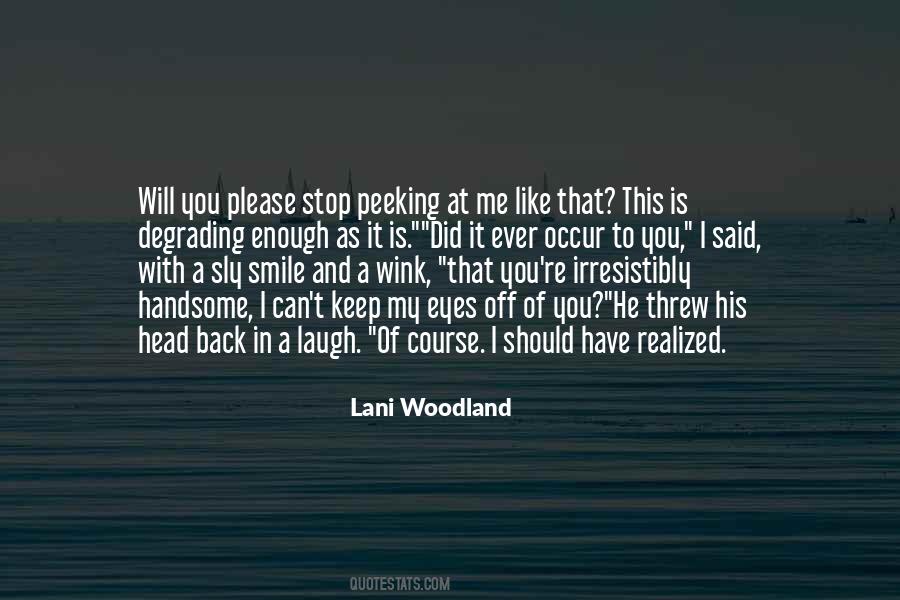 #25. I have done this - made the sad prince laugh. Made his grieving parents smile. None but me. Think you only kings have power? Stand on a stage and hold the hearts of men in your hands. Make them laugh with a gesture, cry with a word. Make them love you. And you will know what power is. - Author: Jennifer Donnelly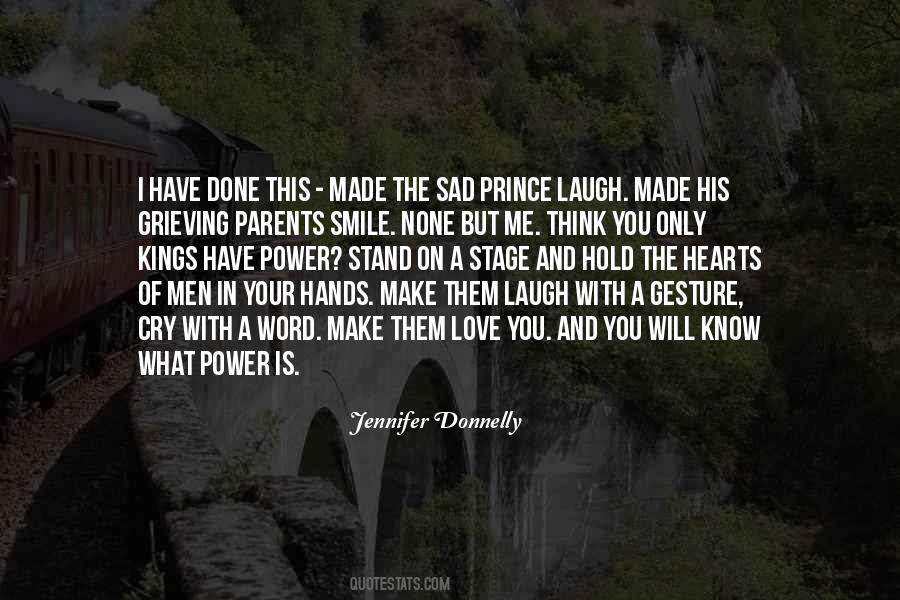 #26. Everything was soft about her, her voice, her smile, her laugh; her eyes, which were small and pale, had the softness of flowers; her manner was as soft as the summer rain. - Author: W. Somerset Maugham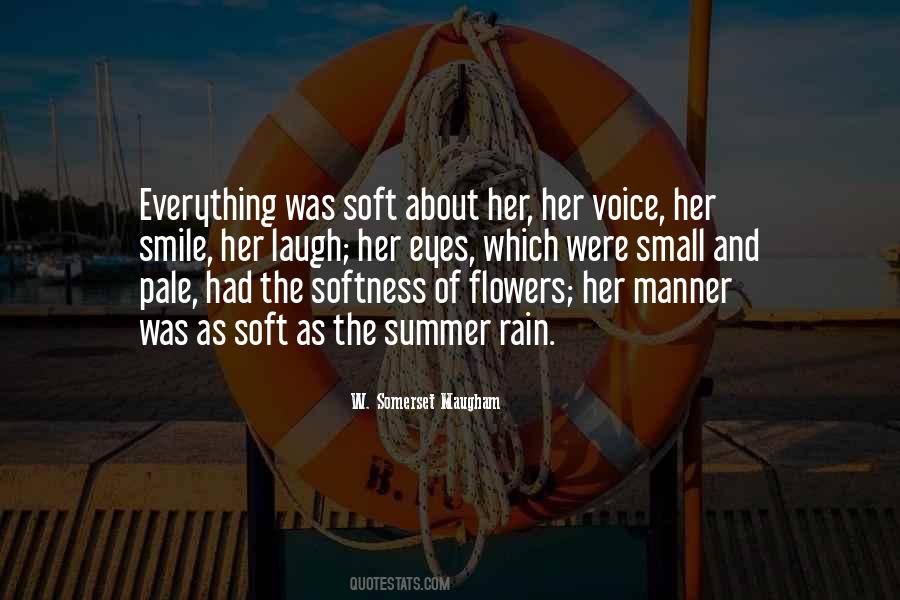 #27. He sat there looking at her smiling and laughing, watching her hair fall over her eyes and she setting it back behind her ear, He turned away bowed his head down and smiled himself looking back at the sky. - Author: Akshay Vasu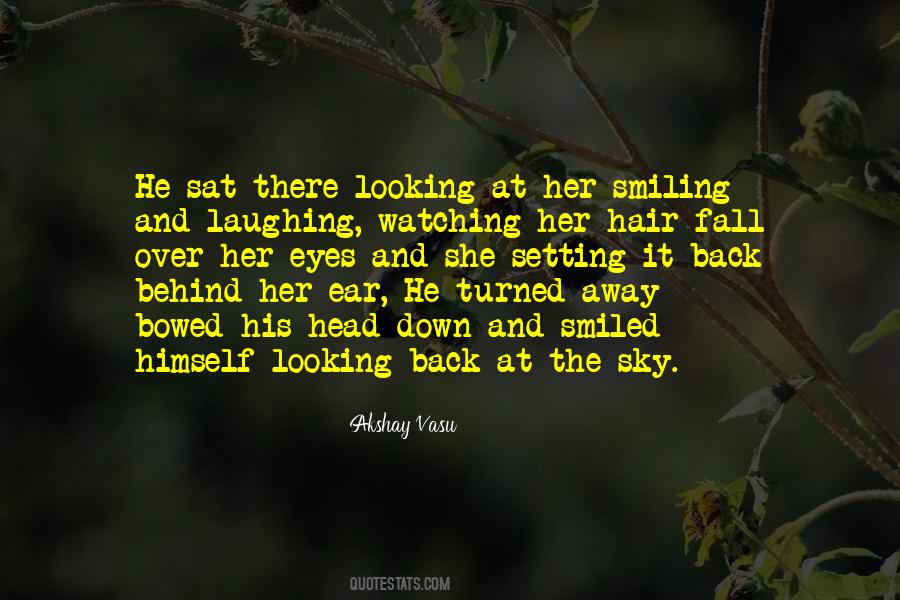 #28. Get a woman to smile, and she will like you; get her to laugh, and she will desire you; get her to blush, and she will court you; get her to melt, and she will marry you. - Author: Matshona Dhliwayo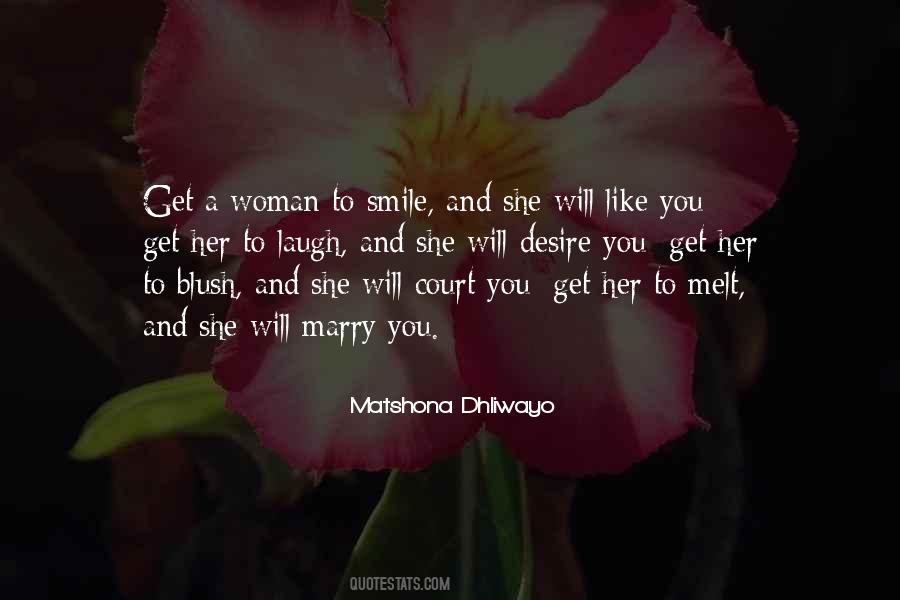 #29. With that, I splashed some water on my face, fixed on a smile, and stepped out. I would find Jerome. I would make him explain to me what I was missing. We would laugh, then we would kiss with tongue, and all would be well. - Author: Maureen Johnson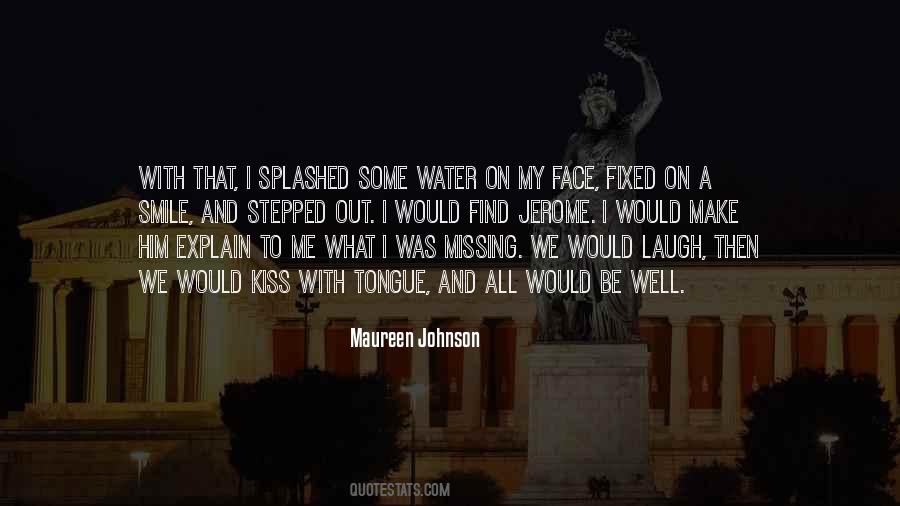 #30. I want to grab your hand, allow you to pull me through, to take us wherever you want to go, fill my calendar with your smile and laugh the way we used to - Author: Eric Gansworth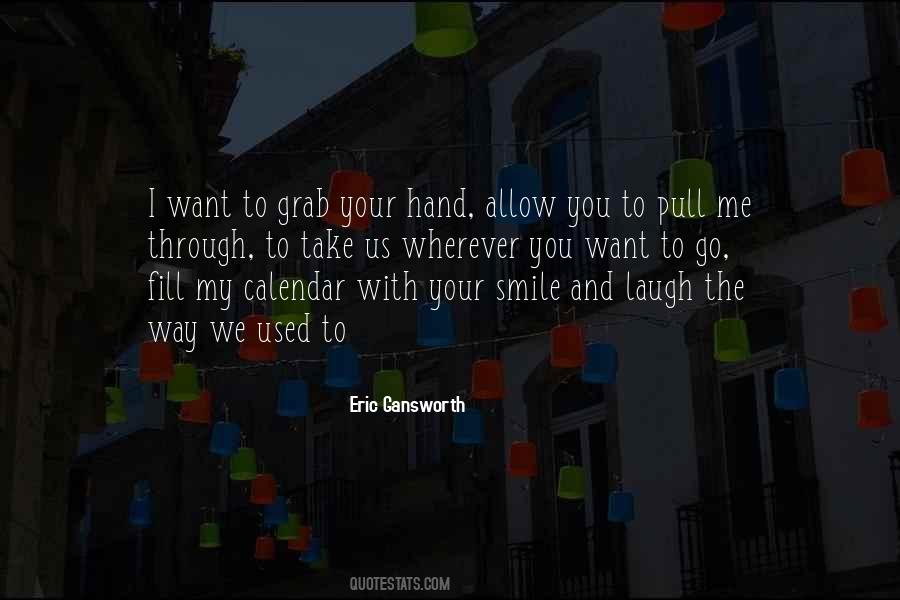 #31. Life is short, so forgive quickly, believe slowly, love truly, laugh loudly and never avoid anything that makes you smile. - Author: Anonymous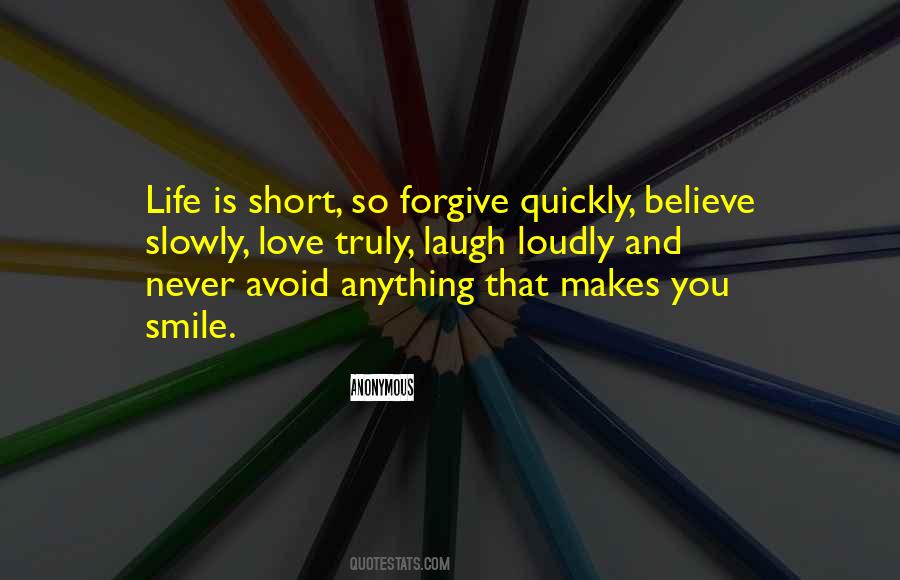 #32. If you smile and laugh, people think you're happy. If you act calm and collected, people think you have it together. - Author: Brooklyn James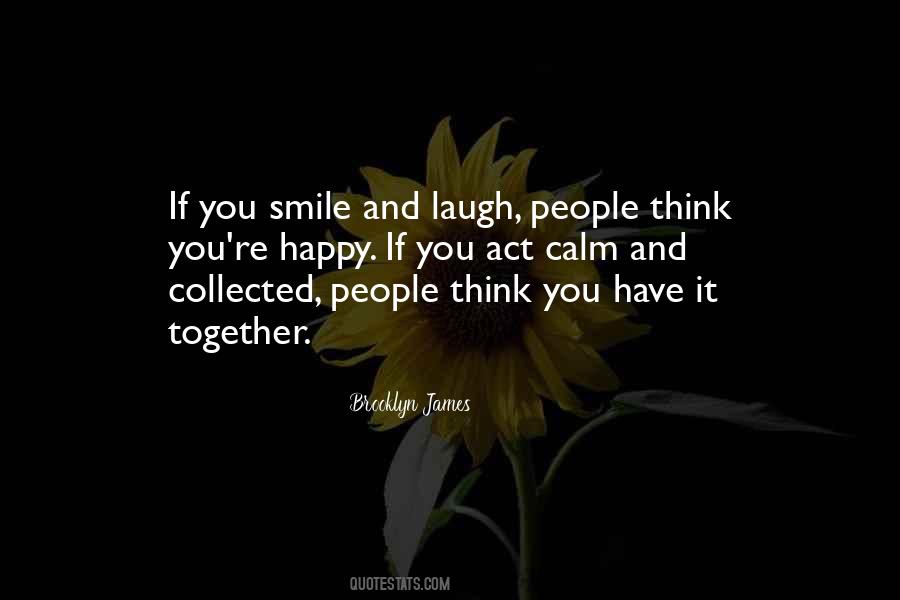 #33. You see, with me, when I'm nervous, I smile and laugh. - Author: Paula Radcliffe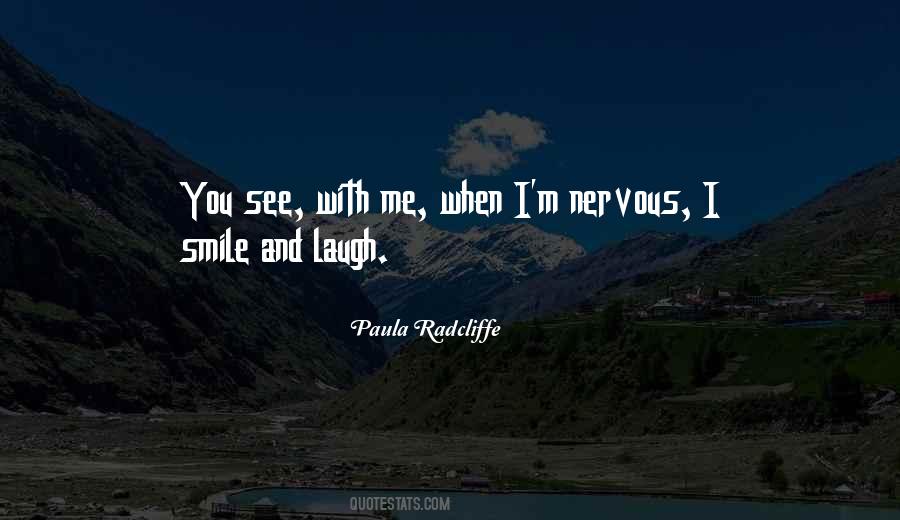 #34. In junior high school, I was an object of pure ridicule for my dress, withdrawal, and asocial manner. Dozens of times, I saw individuals laugh and smile more in ten to fifteen minutes than I did in all my life up to then. - Author: Arthur Bremer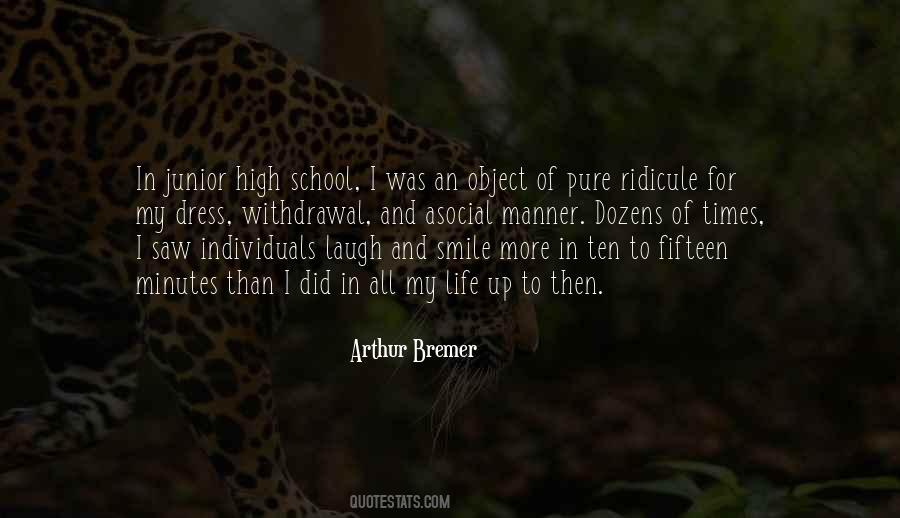 #35. My eyes are different sizes, my nose is too broad at the bridge and squishes up when I laugh, and my lips are sorta funny when I smile. - Author: Terry Farrell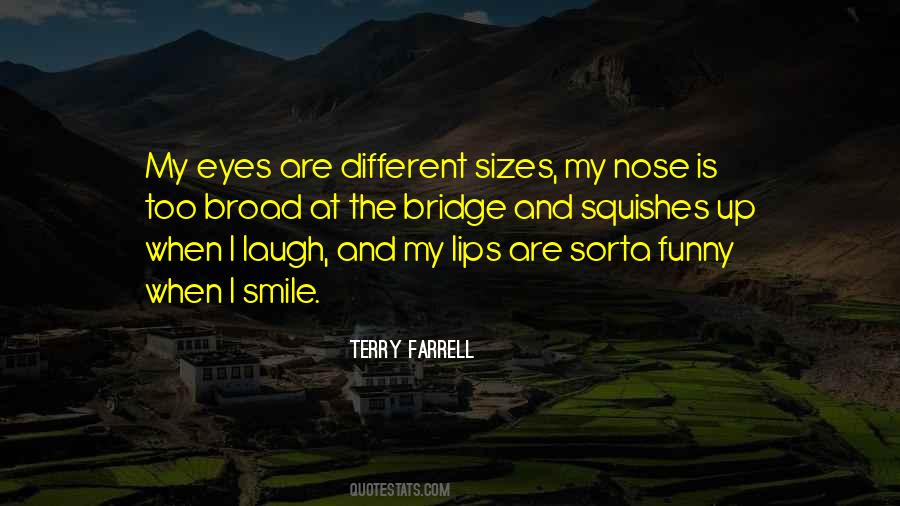 #36. There is something really amazing about you.. Your unique ideas and thoughts that you bring to this world. Your smile, your laugh.. It's you and you are valuable, worthy and cherished.. - Author: Rachel Hamilton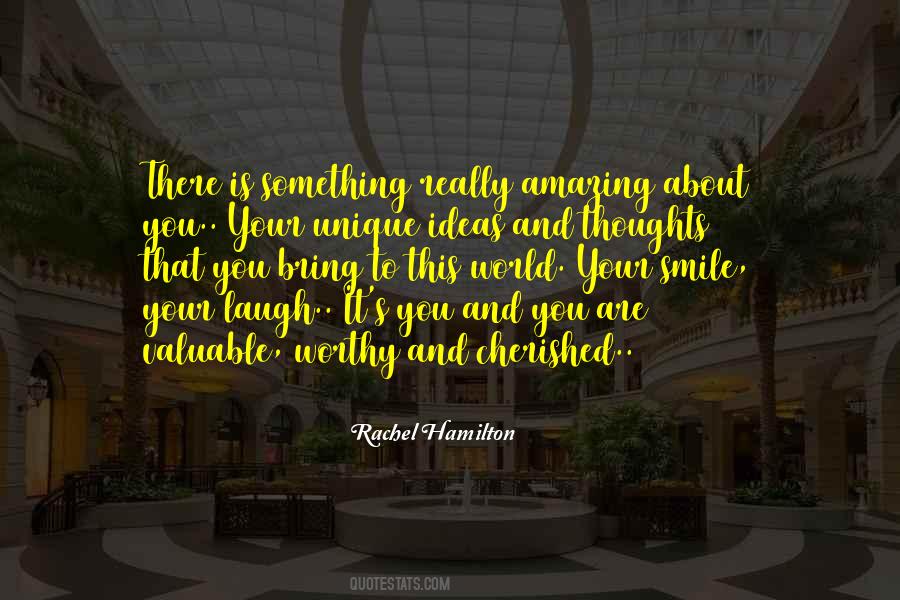 #37. A minute to smile and an hour to weep in, A pint of joy to a peck of trouble, And never a laugh but the moans come double; And that is life! - Author: Paul Laurence Dunbar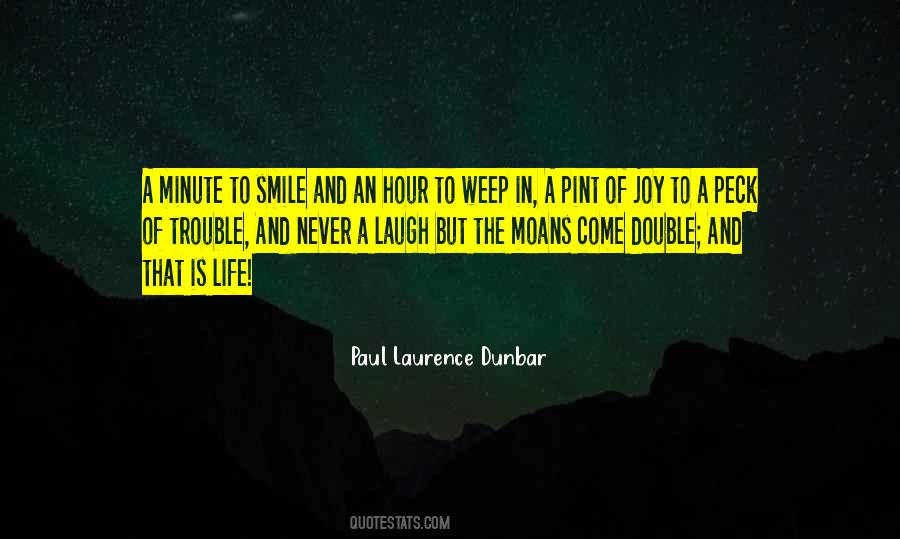 #38. Not only did he have the body of a Greek fucking god, but his smile, his eyes, and his laugh lit my life. - Author: Adriane Leigh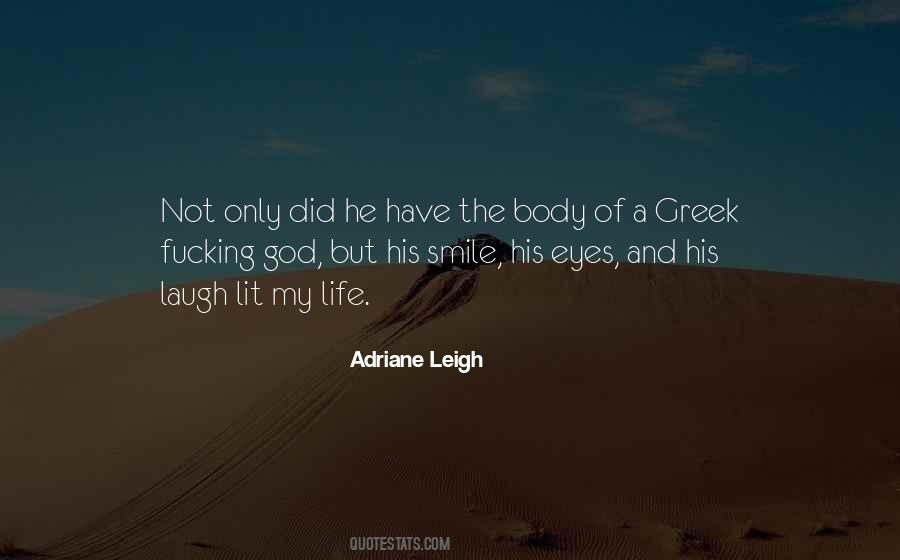 #39. The really happy man never laughs - seldom - though he may smile. He does not need to laugh, for laughter, like weeping is a relief of mental tension - and the happy are not over strung. - Author: Francis Aveling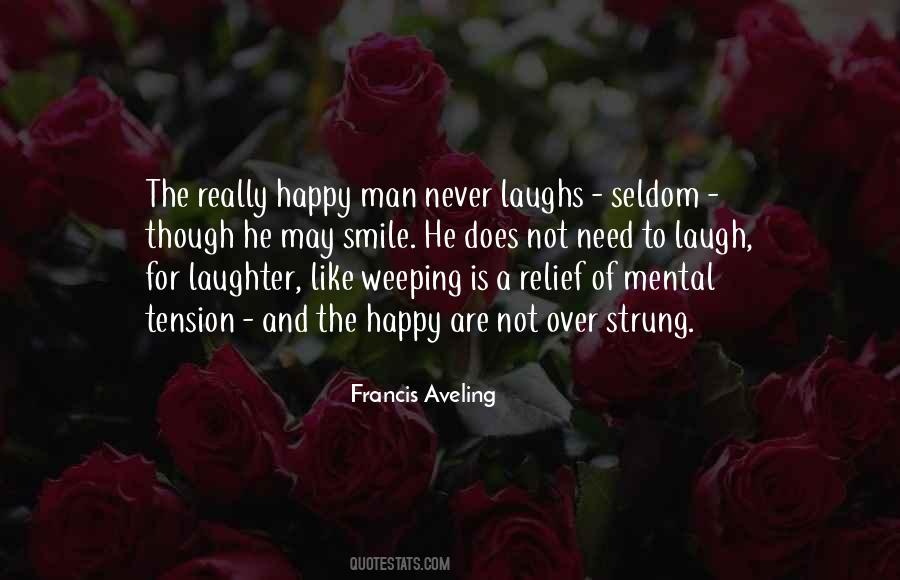 #40. Fun. It's this crazy thing where people smile and laugh and are generally pleased. I could have sworn I saw you smile at least once - Author: Agatha Bird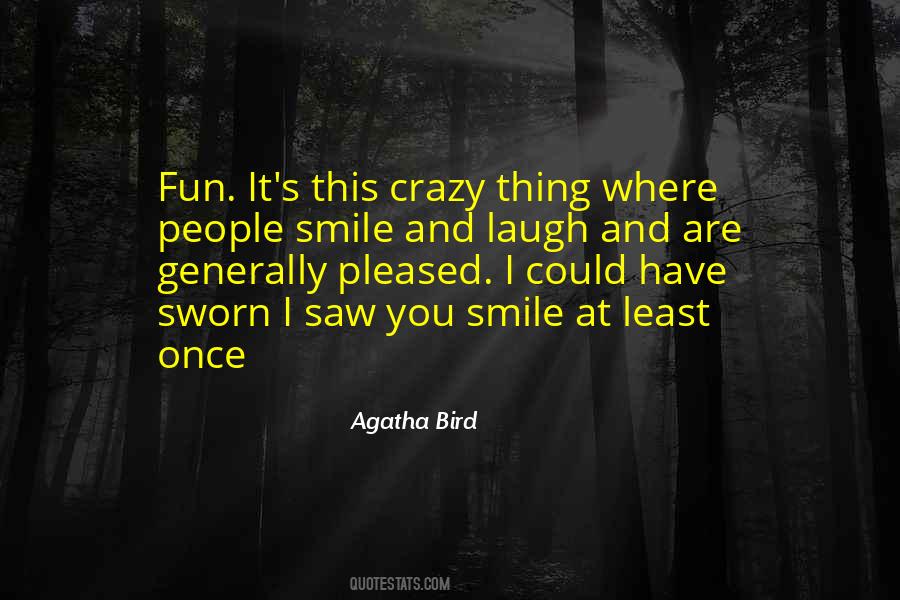 #41. The reign of tears is over. The slums will soon be only a memory. We will turn our prisons into factories and our jails into storehouses and comcribs. Men will walk upright now, women will smile, and the children will laugh. Hell will be forever for rent. - Author: Billy Sunday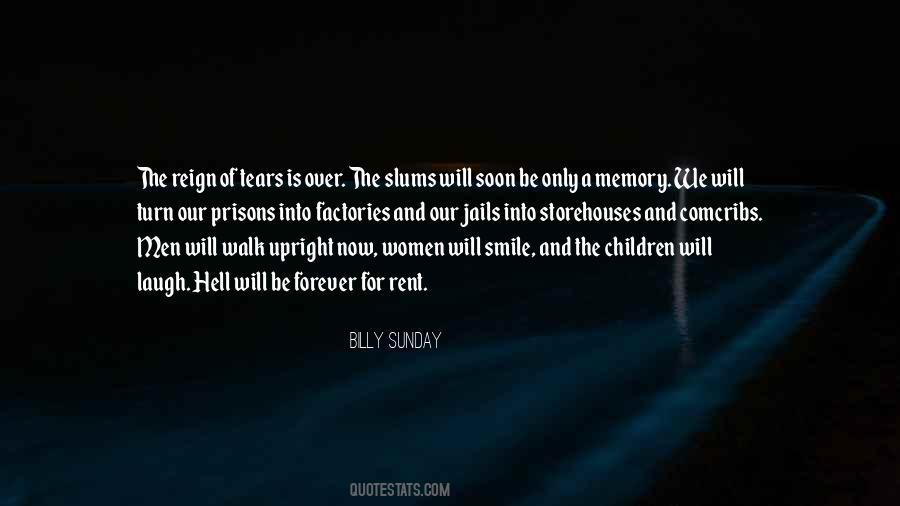 #42. Do you ever smile, boy?" he demanded. "If you can't laugh and smile, life is worthless. Do you hear me?" he yelled. "It's NOTHING! - Author: Avi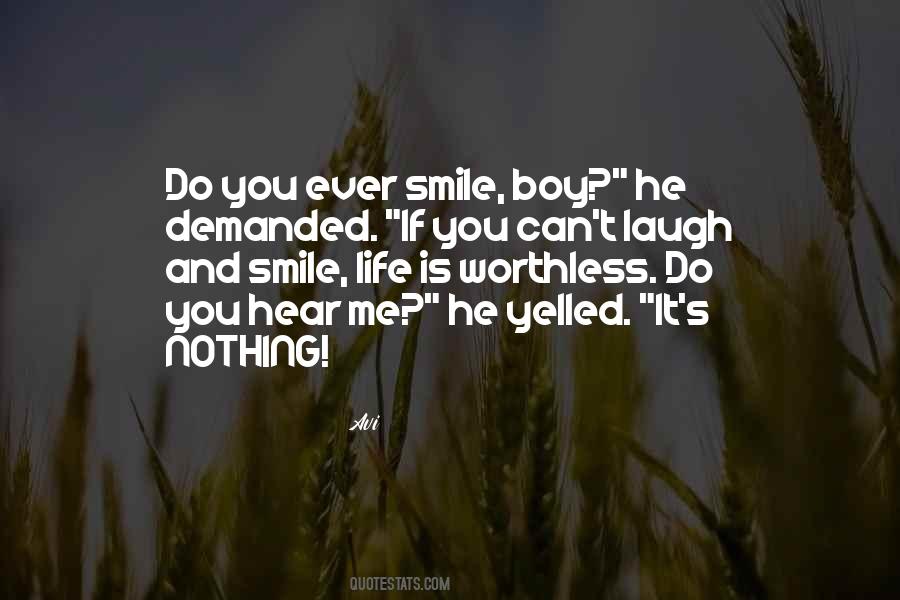 #43. Behind my smile is a hurting heart.
Behind my laugh, I'm falling apart.
Look closely at me and you will see,
the girl I am
...isn't me - Author: Unknown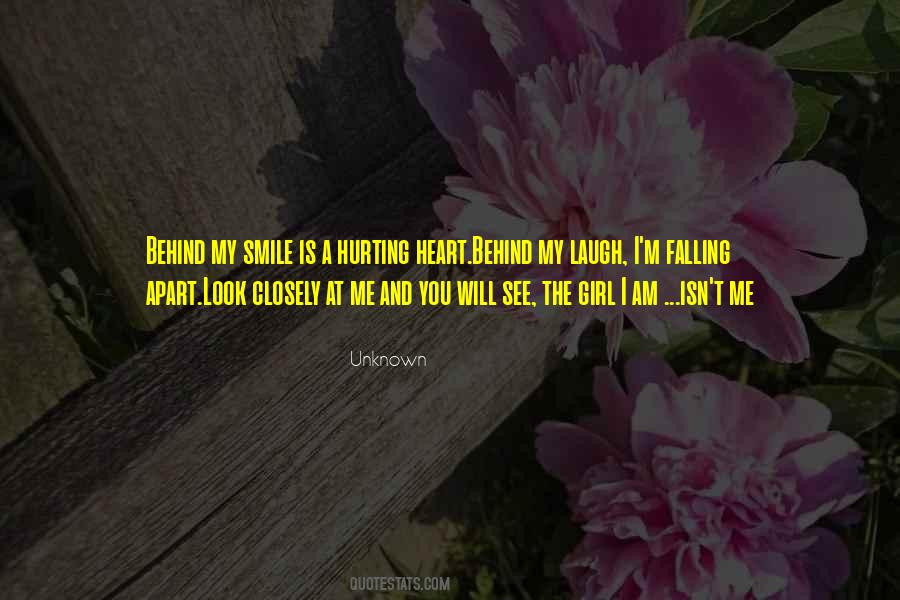 #44. When you are having a really crappy day, and life seems to be kicking your ass, try to force your self to laugh. If you can achieve a smile and a laugh, you can chase any demons away - Author: L.F.Young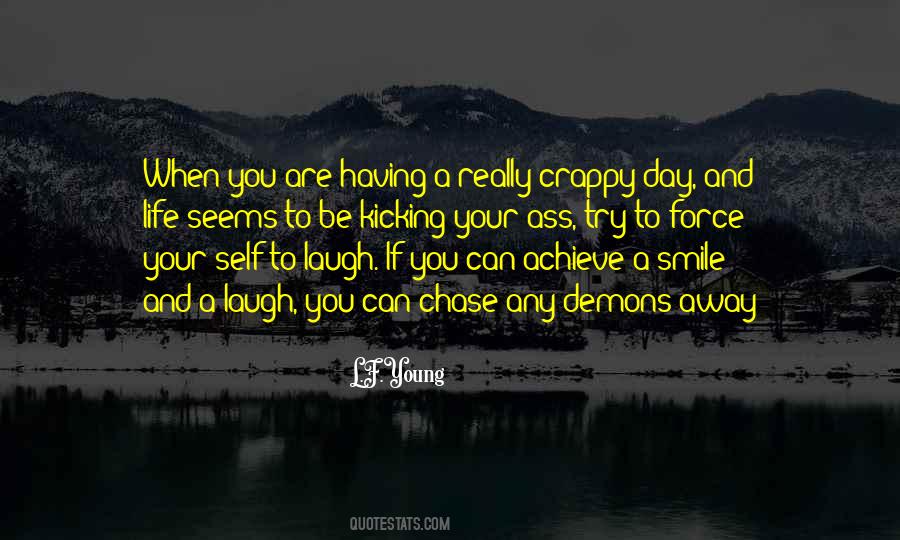 #45. Every now and then, someone will tell me that one of my books has made them laugh out loud. I never believe them because: a.) my books don't make me laugh out loud; and b.) sometimes I have said this to a writer, when really what I meant was, 'Your book made me smile appreciatively.' - Author: Mary Roach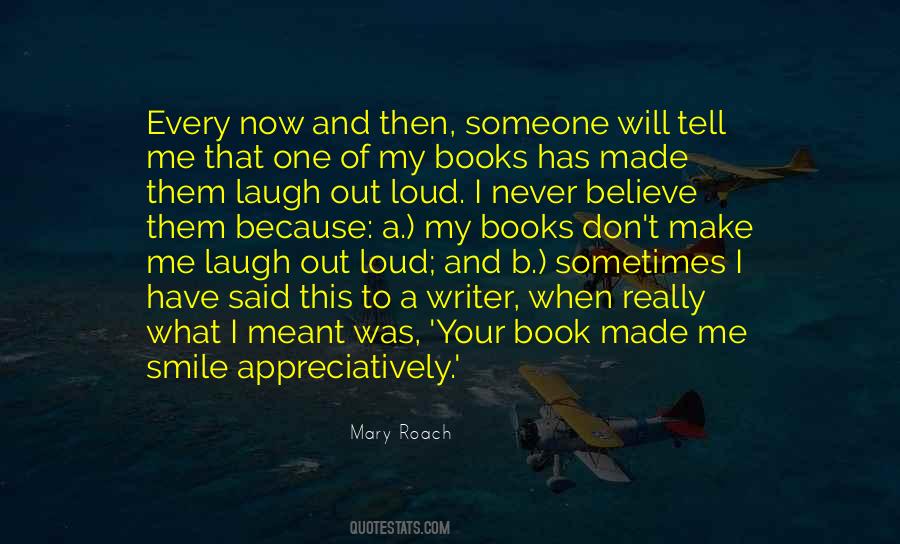 #46. Whatever makes you smile and laugh more." His fingers toy with my bottom lip. "Let me make you smile. - Author: K.A. Tucker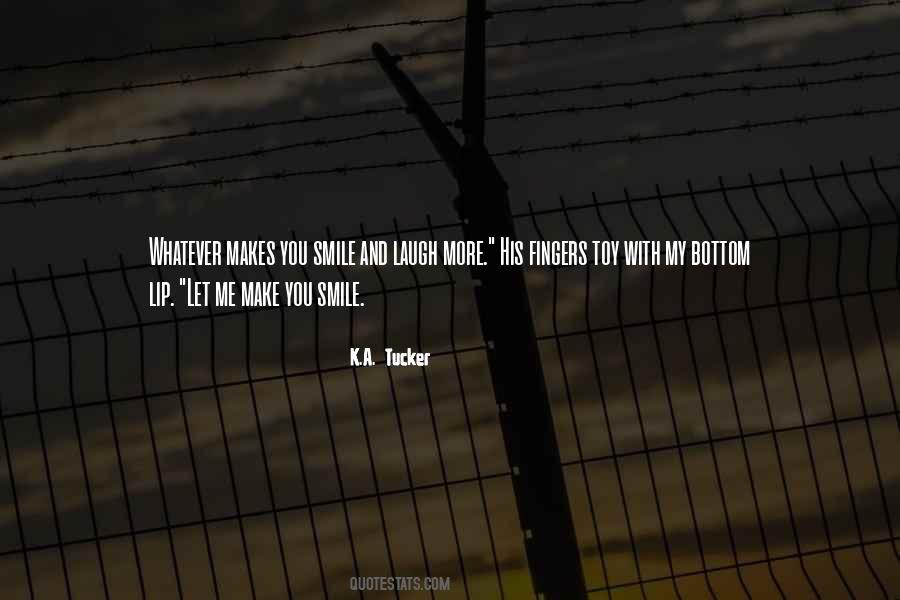 #47. When you laugh ... I want to smile. And when you cry ... ' She brushed the tears off of my face. 'I want the tears to roll down my cheeks.' She shook her head once, whispering, 'I'm not leaving you ... won't. - Author: Charles Martin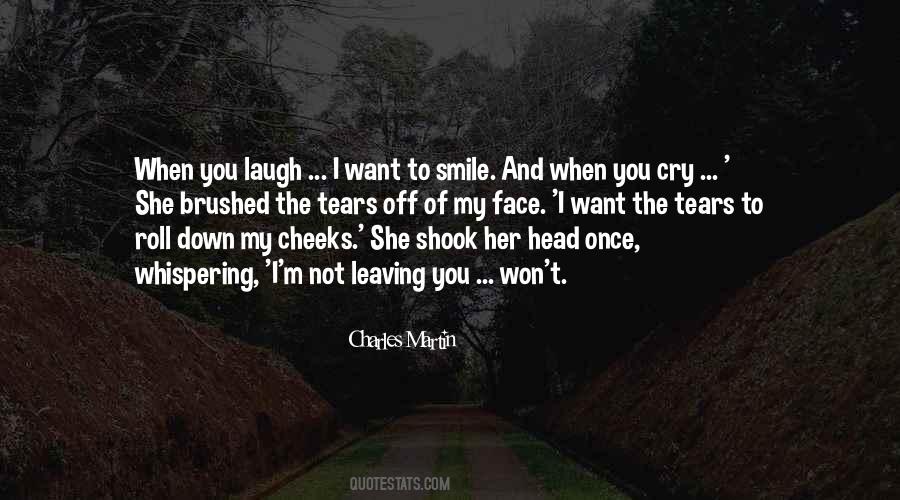 #48. Her smile, though, no, it was her laugh, a dusky, deep cascading laughter that caught the joy, implied and mocked the sorrow in every joy. - Author: Lucia Berlin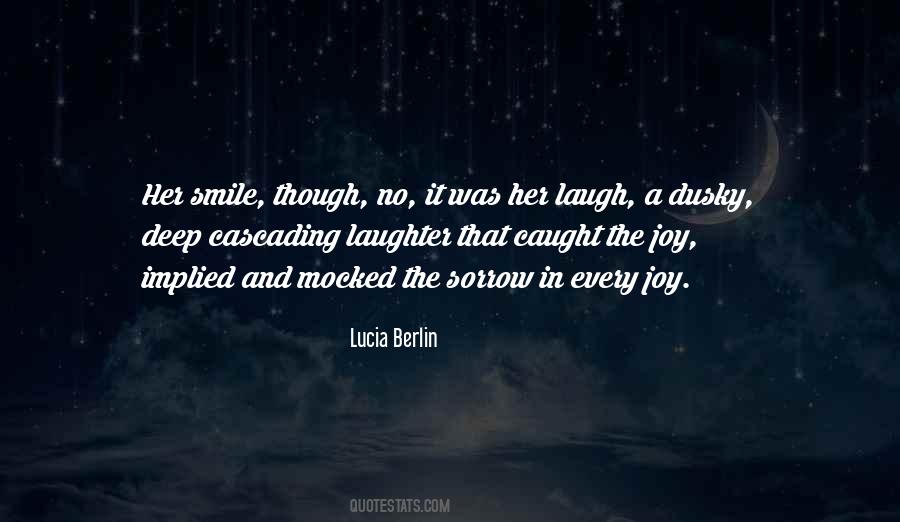 #49. His mouth would have given despair to even the drollest of fools; it was a mouth made for frowns and scowls and sharply worded commands, all thin pale lips and clenched muscles, a mouth that had forgotten how to smile and had never known how to laugh - Author: George R R Martin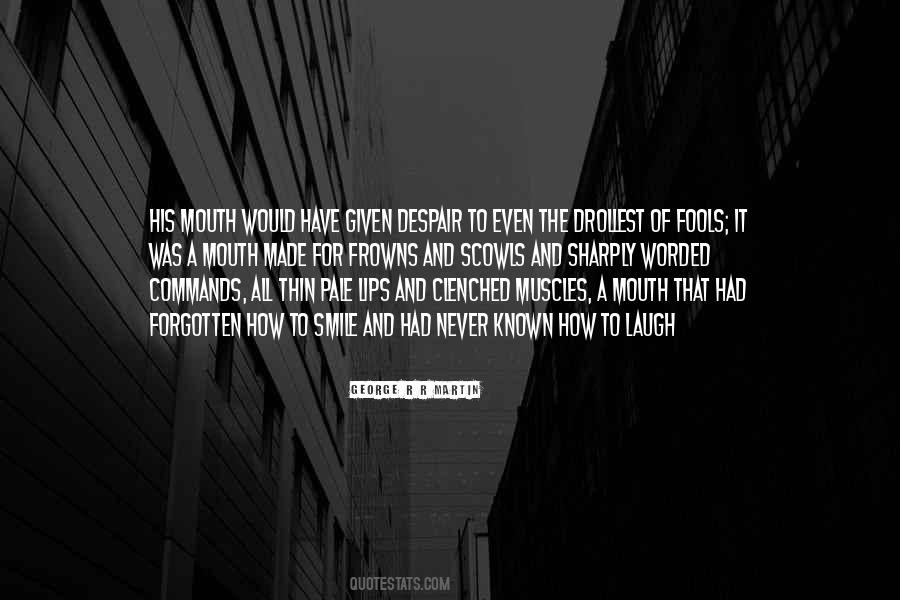 #50. My children are the reason I laugh, smile and want to get up every morning. - Author: Gena Lee Nolin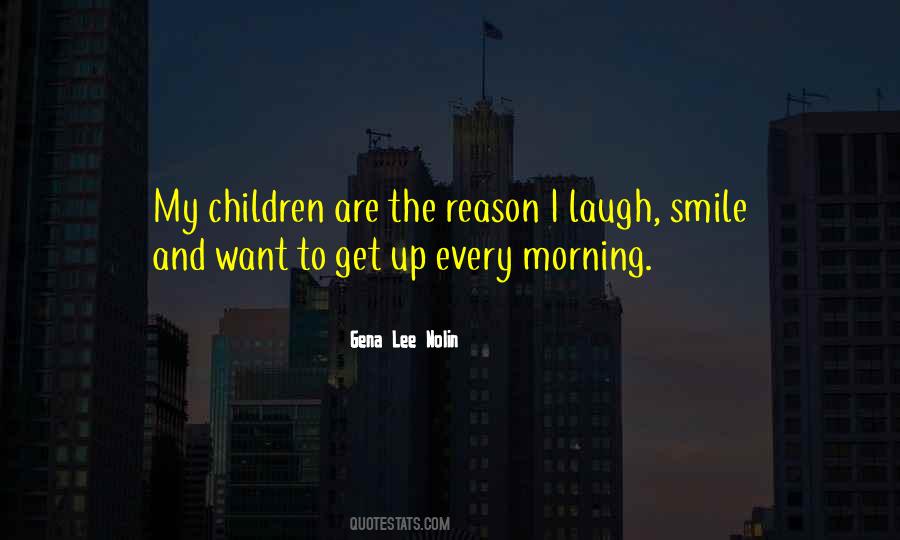 #51. It's lovely to work with a group of actors who make you laugh and smile. - Author: Kelly Reilly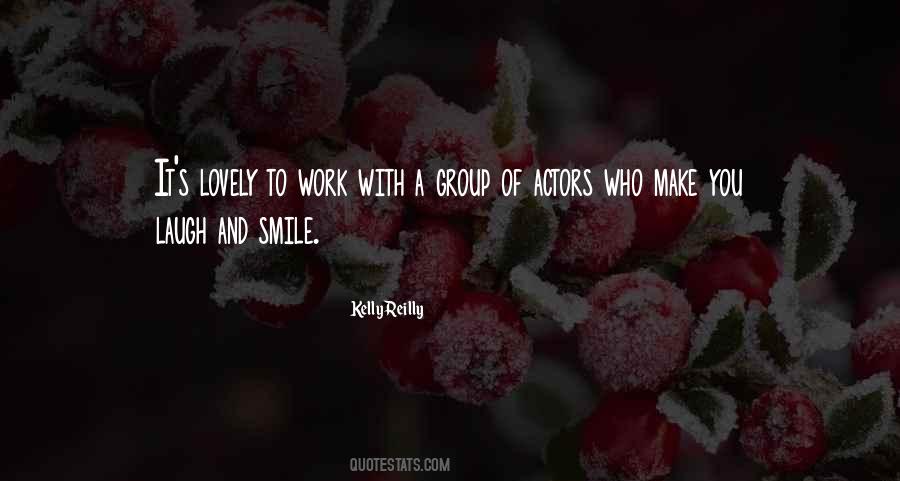 #52. Laugh longer, smile wider, and Love endlessly. - Author: Derrick L. Randall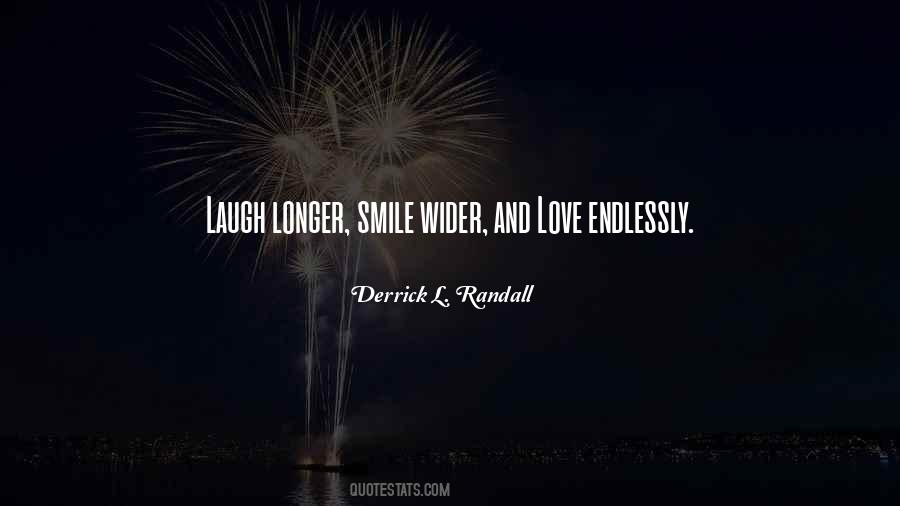 #53. You'll make a sucky father someday," I tell him with a smile. "I feel sorry for the kid that doesn't get to burst into light to get out of your house."
He chokes out a laugh. "Is it my sarcasm?"
"Definitely. And that obnoxious accent. - Author: Suzanne Young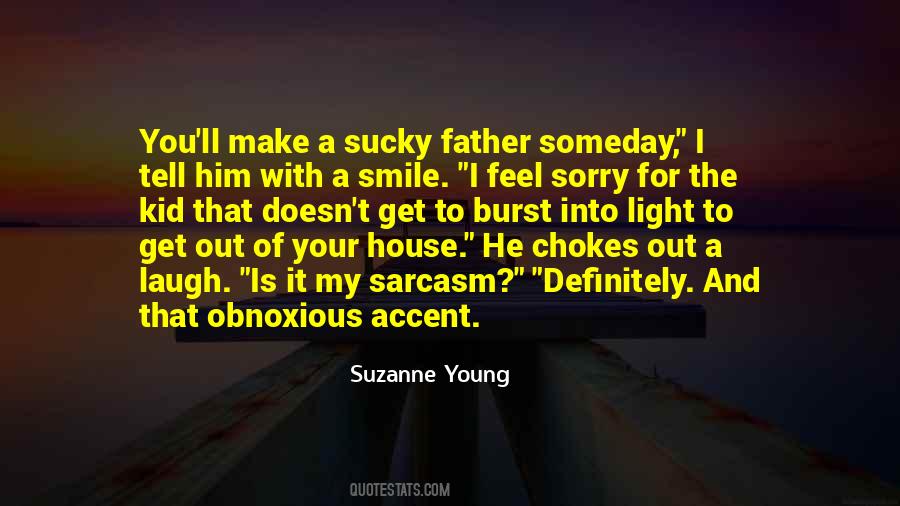 #54. Now they were inclined to only creep instead of fly, and smile instead of laugh. - Author: V.C. Andrews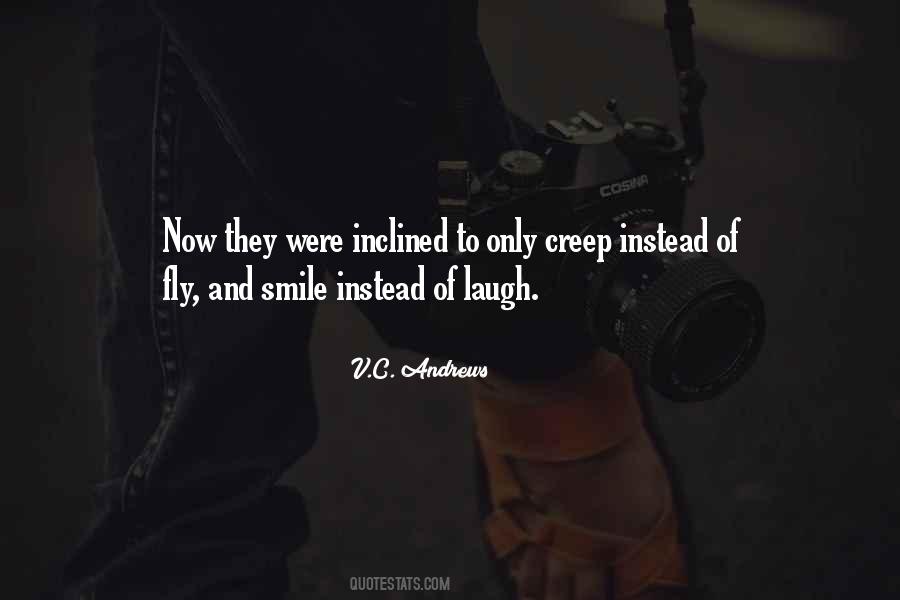 #55. Everything has its place and time. We men of the nineteen-forties can smile at the mistakes of the nineteen-thirties, and, in turn, the men of the nineteen-fifties will laugh at the mistakes of the nineteen-forties. It is this historical perspective that shall save us. - Author: Lin Yutang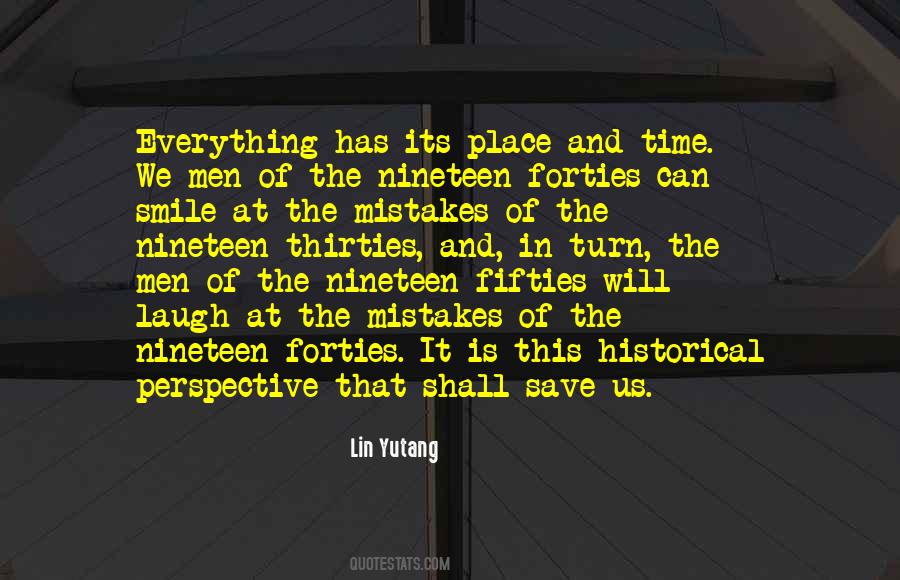 #56. Music is also one of the great heart openers. Sometimes, you hear the lyrics of a song and you dance, laugh, smile, or perhaps even cry. - Author: Michael Franti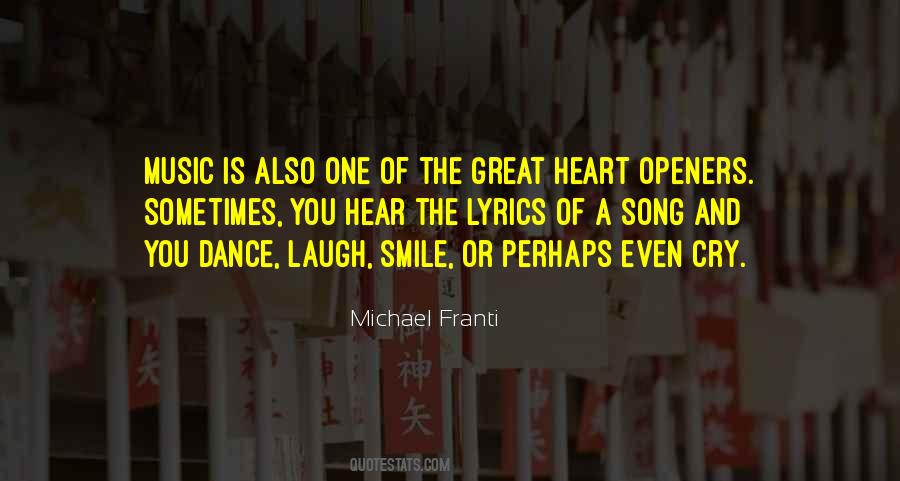 #57. I can fake a smile. I can force a laugh. I can dance and play the part of that's what you ask. Give you all I am. But I am only human. I bleed when I fall down. I'm only human I crash and I break down. Your words in my head. Knives in my heart. You build me up and then I fall apart. - Author: Christina Perri
#58. I'd lived for her smile and I would've done anything to make her laugh. It always made me feel like I'd accomplished something when that dimple appeared in her cheek. Things were different now, but that didn't mean that I couldn't help her out this once. - Author: Komal Kant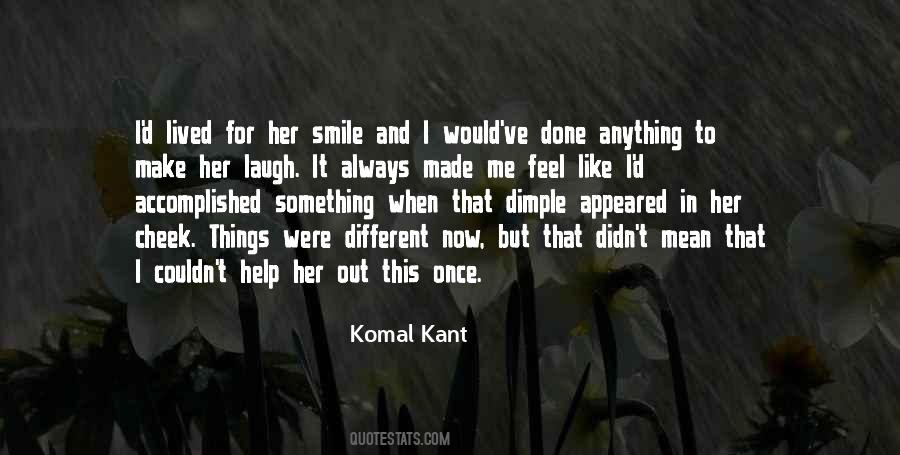 #59. Make her smile, make her laugh and make her happy; because this is the only Truth, Meaning & Beauty act any human can ever achieve. - Author: Sameh Elsayed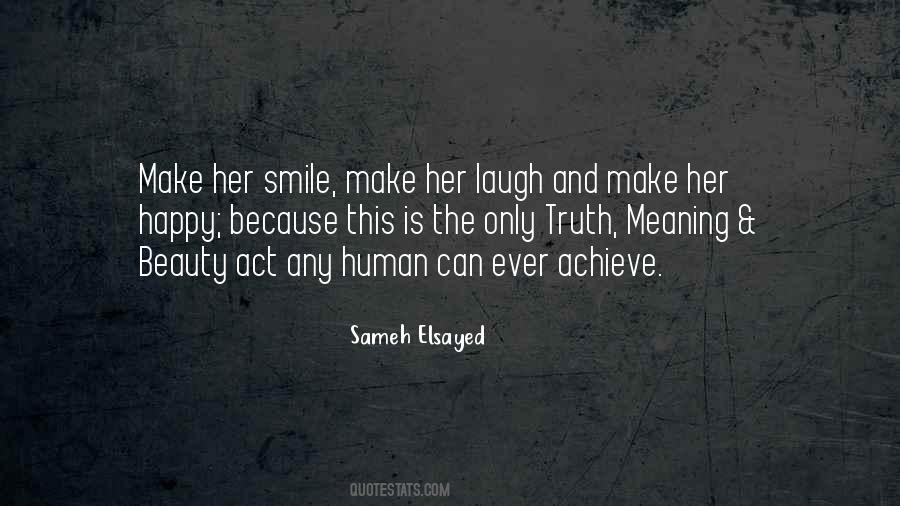 #60. I saw the hurt on your face when you escaped the party with Evelyn. And each smile, each frown, each laugh, and each flash of pain in your eyes were like wounds to me, Nikki, because I wasn't the one sharing them with you. - Author: J. Kenner
#61. And to the casual observer it looks like I have moved on since I go around wearing my little happy mask all day. I smile and laugh and carry on like my heart's still in one piece, but beneath it all, I am dying. - Author: Melody Carlson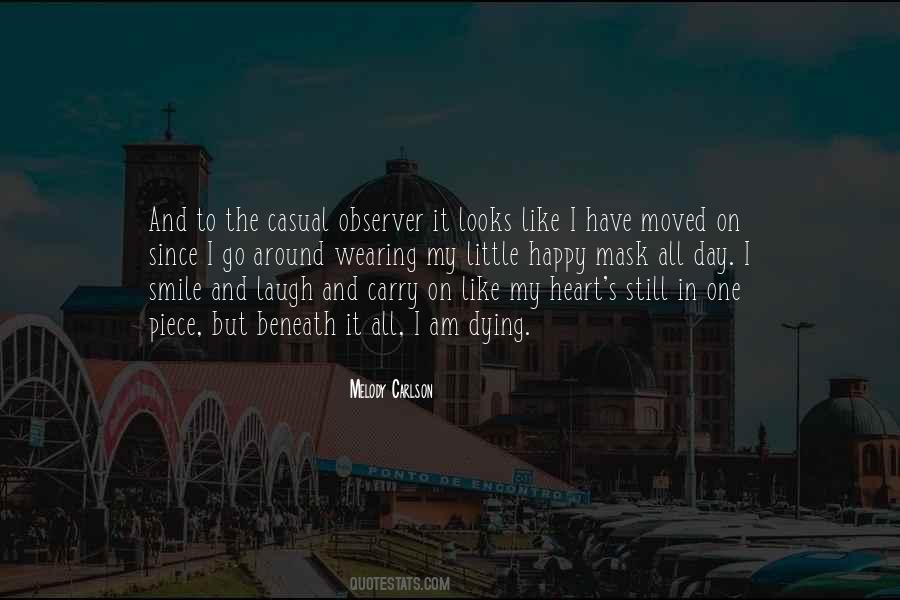 #62. A laugh bubbles from my lips and her smile expands. "You know, I always feel so special whenever I get you to smile. Like I discovered some sort of rare gem."
I want to kiss her right there, eternally seal my lips to hers.
Okay, maybe I'm not cured.
Maybe I can't be cured.
Of anything. - Author: Jessica Sorensen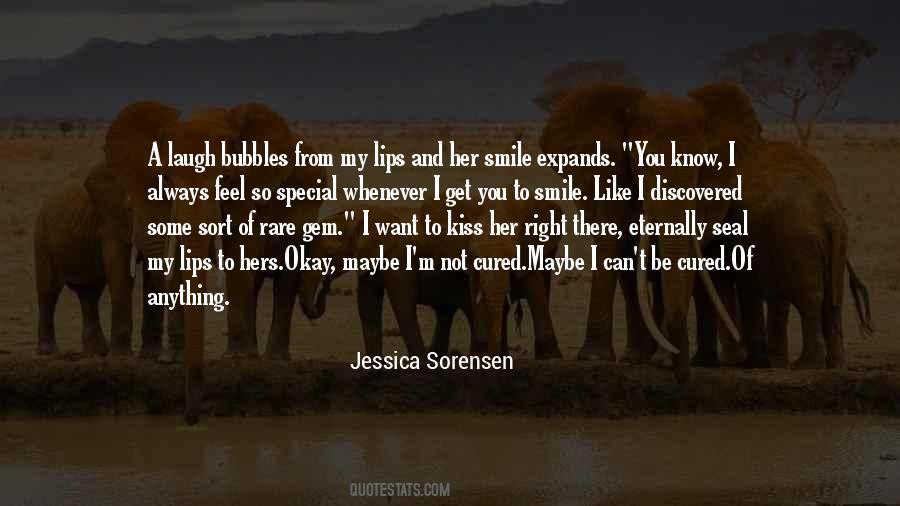 #63. I love to see people laugh and put a smile on peoples' faces. Anytime I'm doing that I'm happy. - Author: Dexter Darden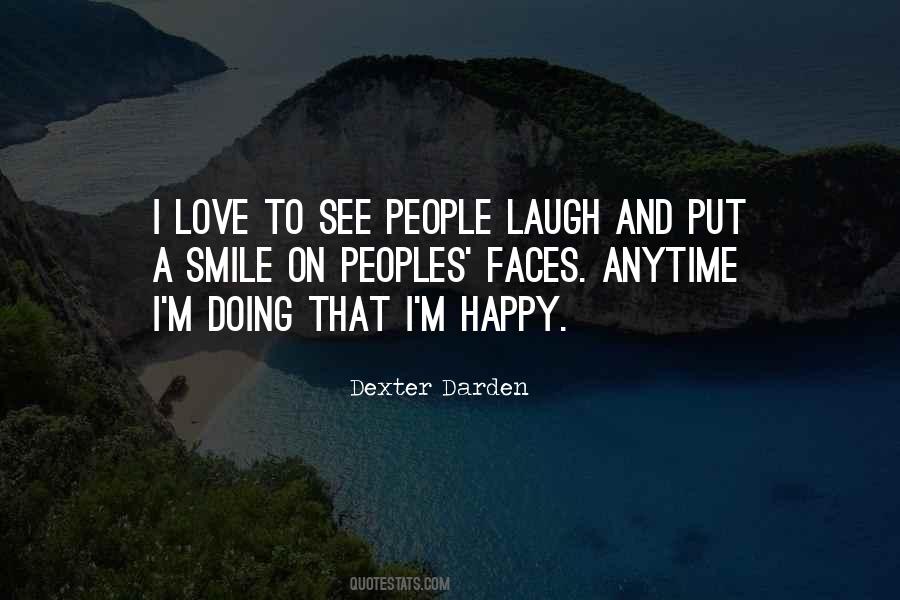 #64. They want me to smile so I smile. They want me to laugh so I laugh. Doesn't mean it was real. I hide it and let them see what they want to. Doesn't mean it's real. Doesn't mean I'm not hurting. - Author: Anynomous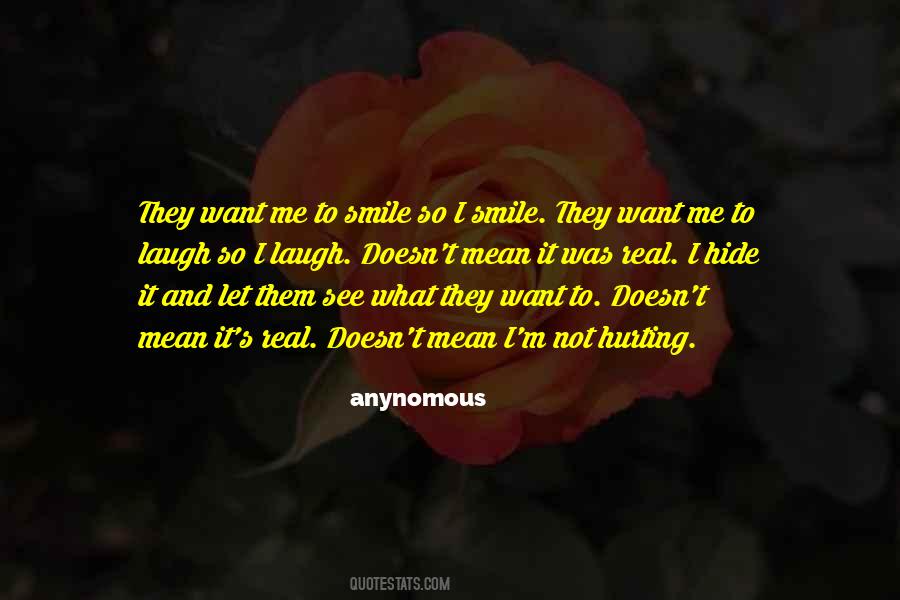 #65. God, you have a beautiful laugh, and your smile. Jesus, it knocks the breath out of me."
"You can't talk to me like that, nobody says things like that to a woman he just met. It's insane."
"I just did. And I plan to keep saying them until you believe every word. - Author: Maya Banks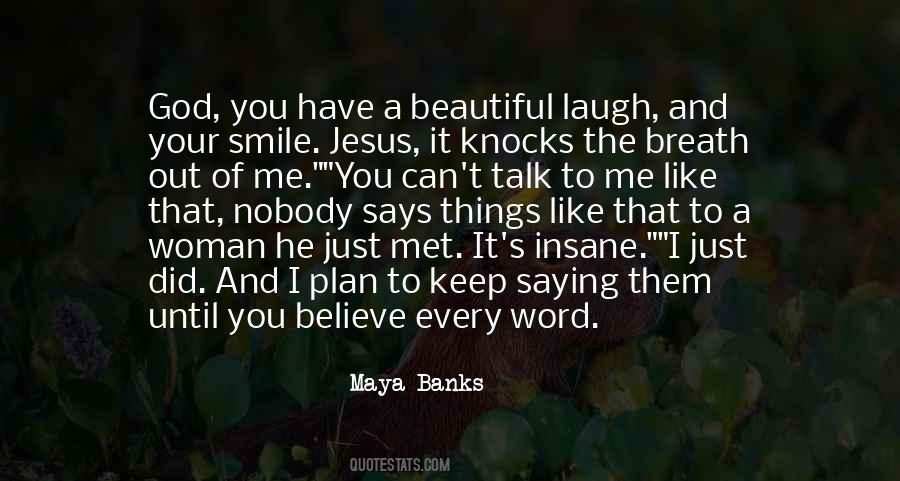 #66. Lighten up, just enjoy life, smile more, laugh more, and don't get so worked up about things. - Author: Kenneth Branagh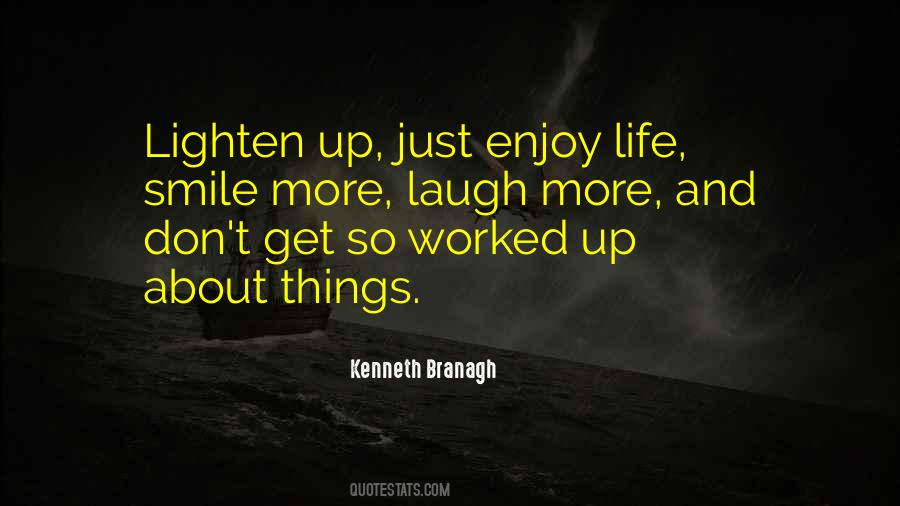 #67. I knew you were the one when I realized your smile was my heaven, your laugh my favorite song, and your arms my home. - Author: Steve Maraboli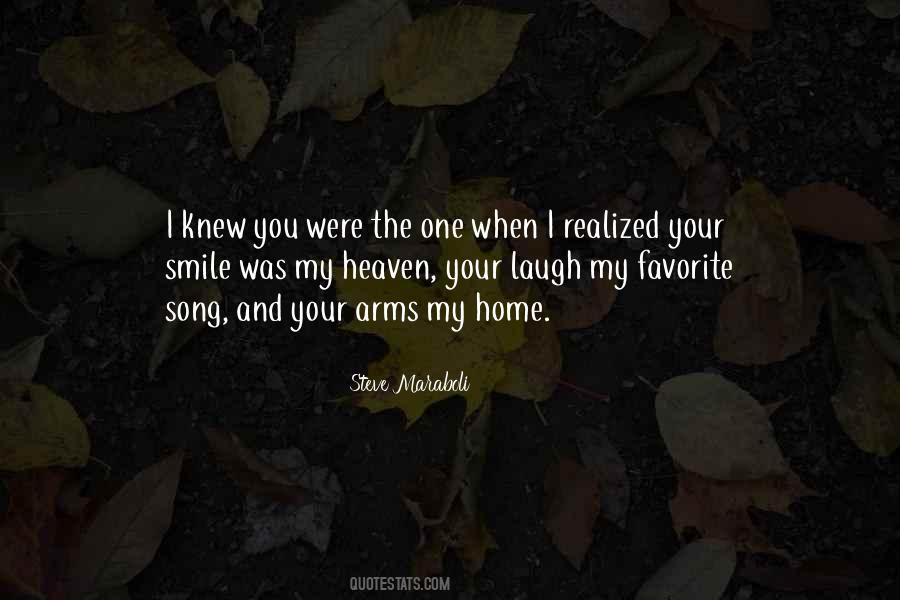 #68. You will change your mind; You will change your looks; You will change your smile,laugh, and ways but no matter what you change, you will always be you - Author: Martin Luther King Jr.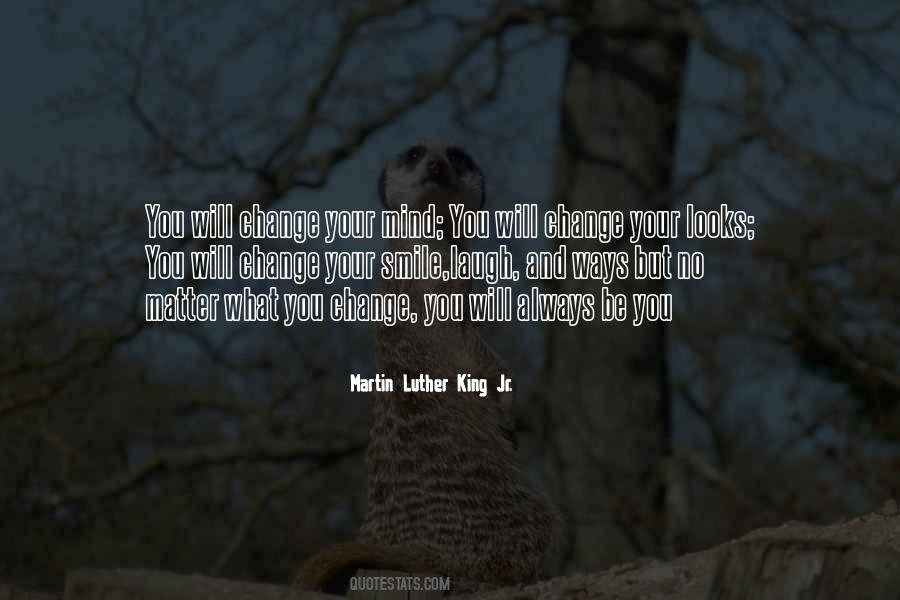 #69. I've learned that the heart does not lie. The thought of never being with him or having him in my life again shattered me. Not a day went by that I didn't think of his smile or remember his laugh, his touch, and how that alluring Scottish accent always made my knees tremble. - Author: Victoria Roberts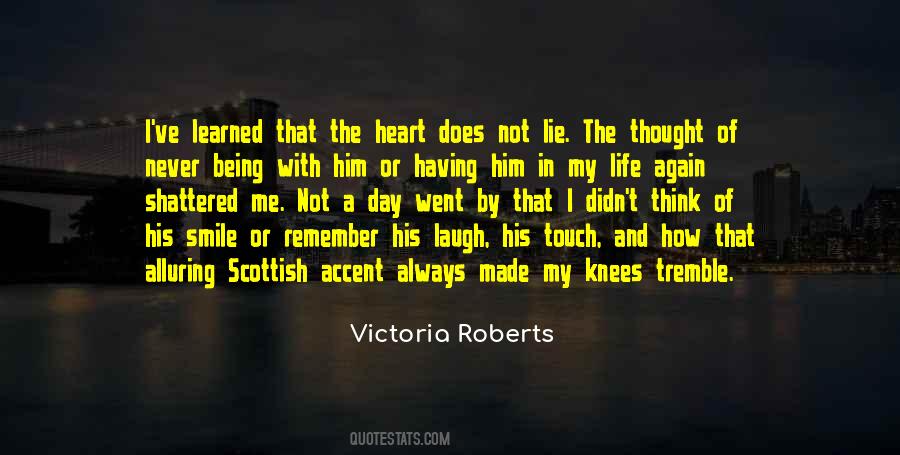 #70. Make a right, 40th Ave., that's when i smile and laugh - Author: Intelligent Hoodlum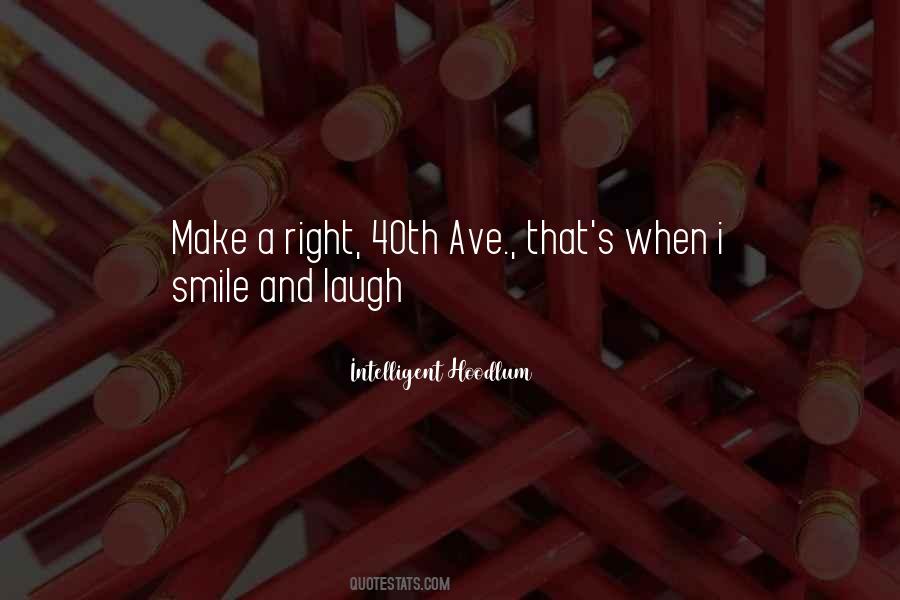 #71. Smile and Laugh, Eight Days A Week. - Author: William Clark Gayton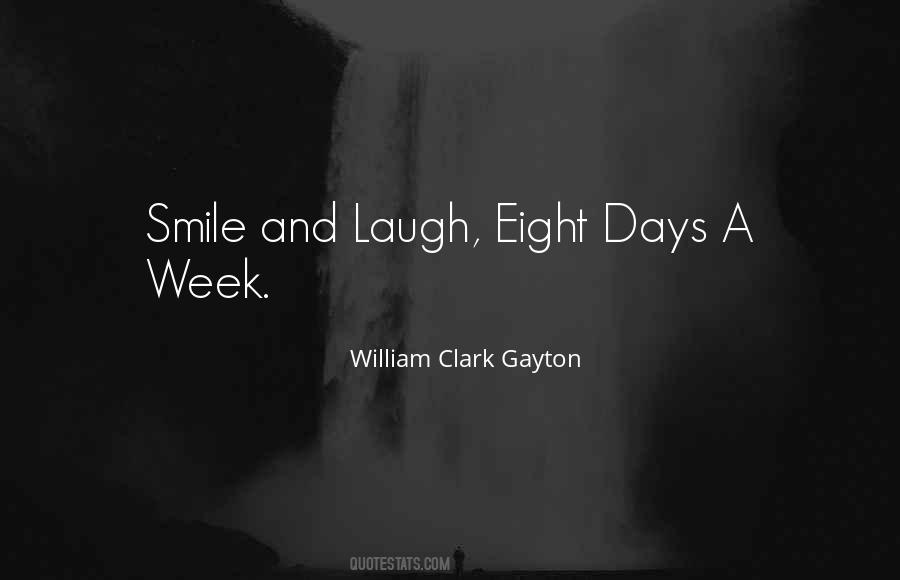 #72. I am thankful for a new day, to live, to love, to talk, to smile, to laugh to walk, to dream, to share, to write, to hope, to pray, to praise God and to fulfill my purpose of life. - Author: Lailah Gifty Akita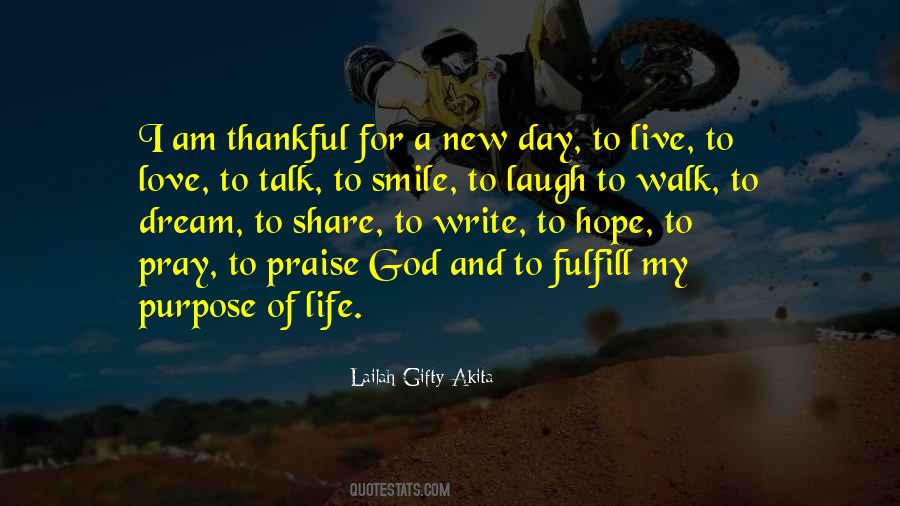 #73. I remember her smile and her laugh when I was my best self and she looked at me like I could do no wrong and was whole. I remember how she looked at me the same way even when I wasn't. - Author: Jennifer Niven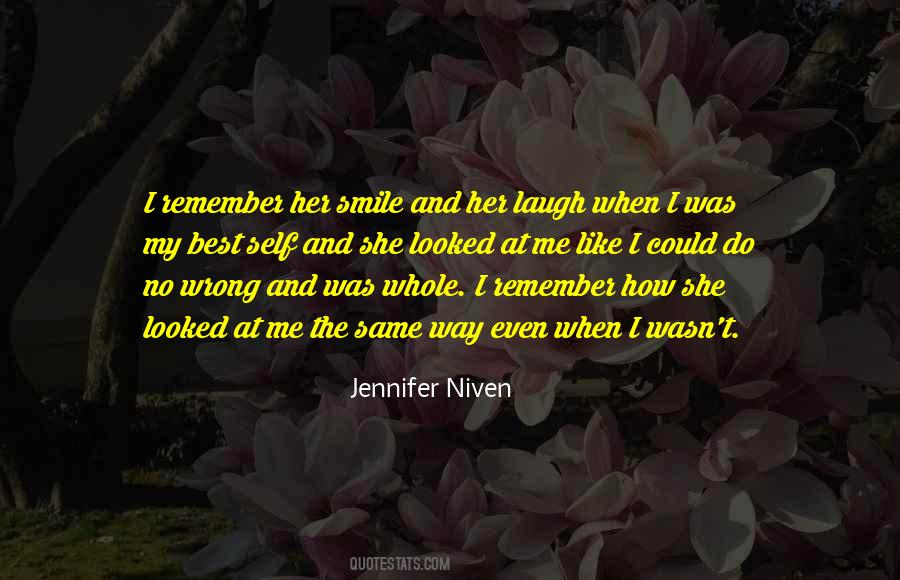 #74. A loud smile is often a fake laugh. - Author: Saahil Prem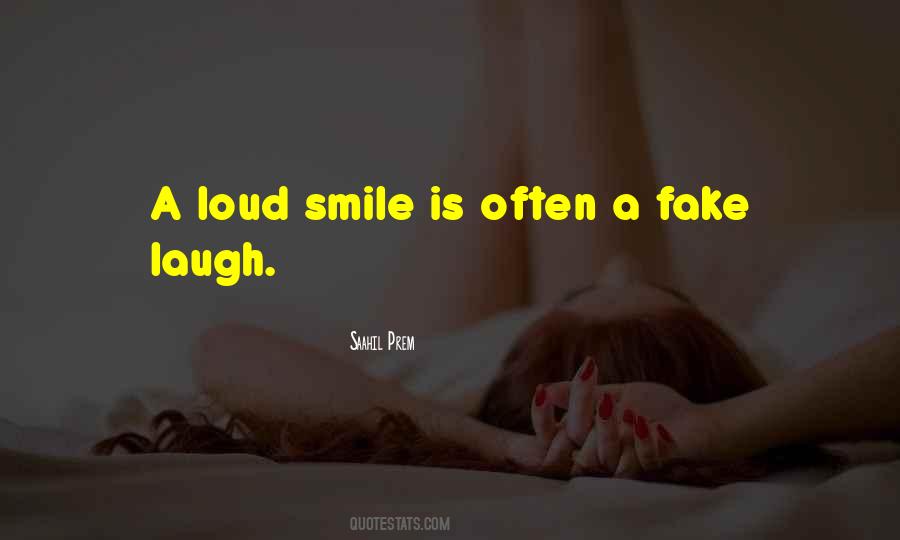 #75. He'd made her laugh and smile. He'd made her feel beautiful.
For the first time in her life.
For the only time in her life. - Author: Sarah MacLean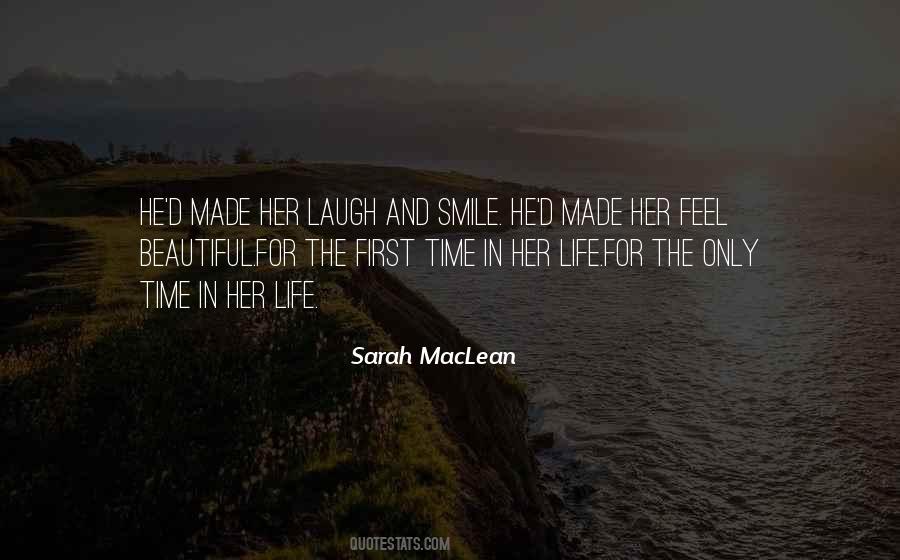 #76. I know that when I am dying, looking back, it will be women that I regret having argued with, women I sought to impress, to understand, was tortured by. Women I wish to see again, to see them smile and laugh and say, It was all as it should have been. - Author: Lena Dunham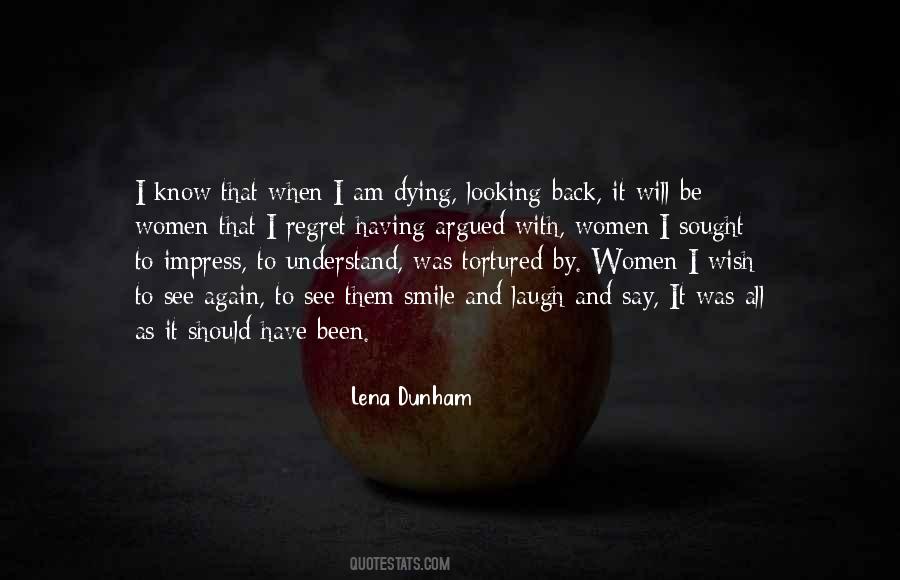 #77. When I was two and a half or three, my mom got a call from someone asking if wanted to go on an audition. I ended up getting the job; it was a commercial for Hasbro. It was my first audition and first commercial. I just had to smile and laugh and dance around. - Author: Megan Charpentier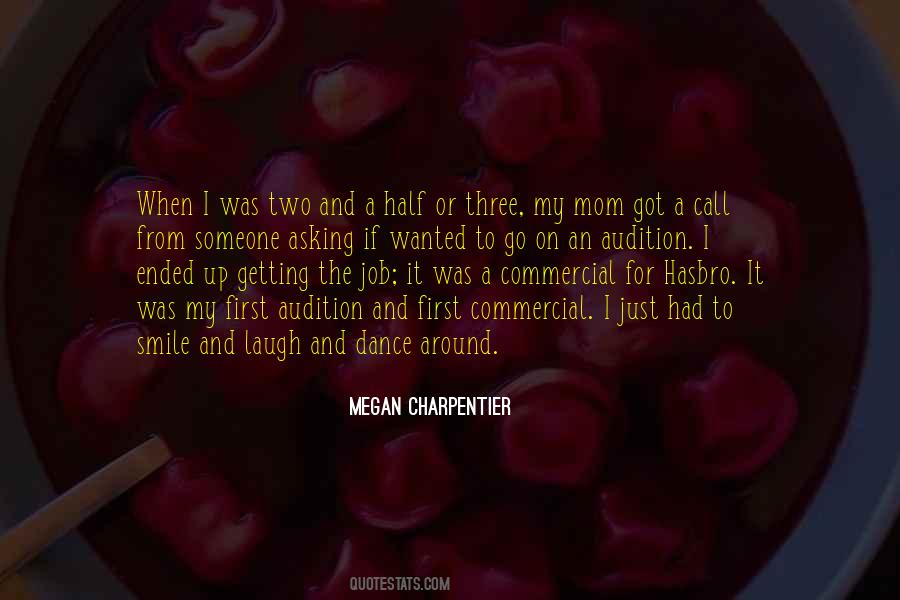 #78. I laugh until I weep And weep until I smile - Author: Ray Bradbury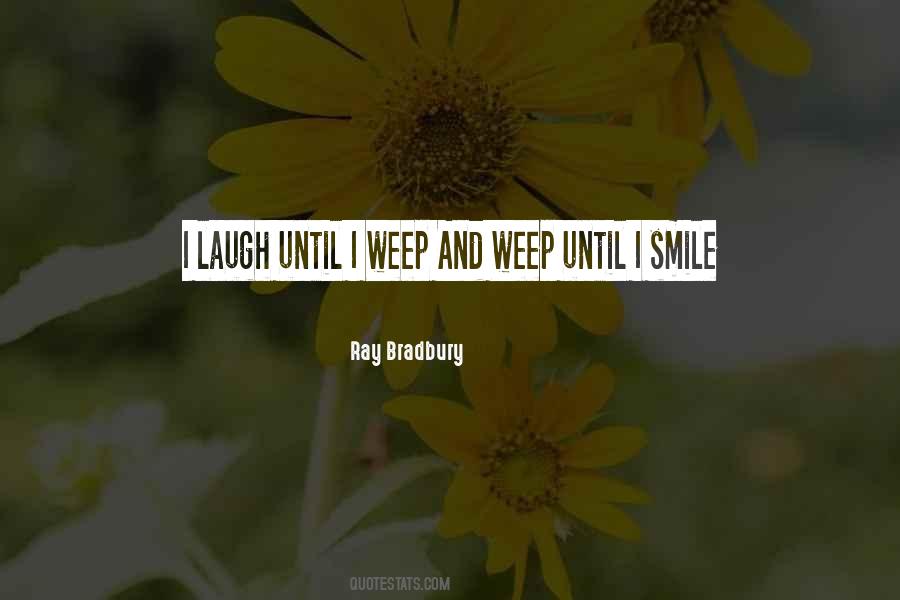 #79. She's smiling wider than I've ever seen her smile. "Daniel Wesley, where'd you learn those smooth moves?" I laugh.
"Not moves, Six. Charisma. - Author: Colleen Hoover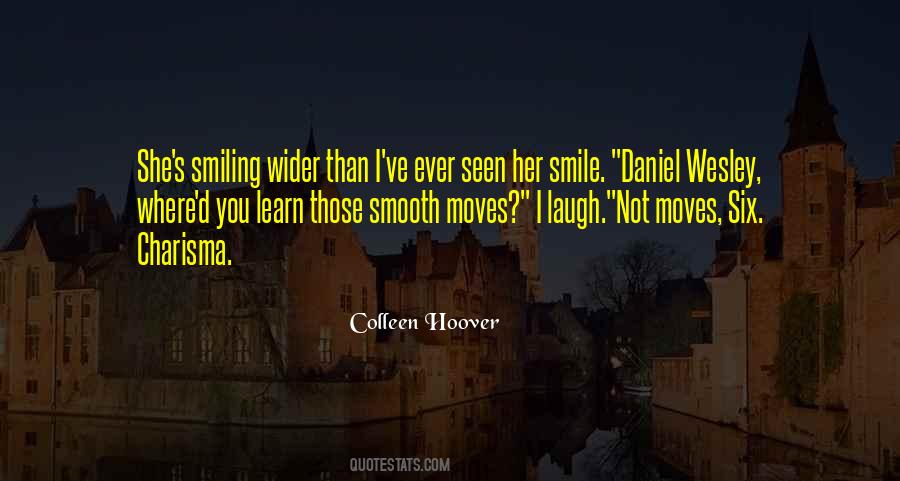 #80. I wanted to do another movie that could make us laugh and cry and feel good about the world. I wanted to do something else that could make us smile. This is a time when we need to smile more and Hollywood movies are supposed to do that for people in difficult times. - Author: Steven Spielberg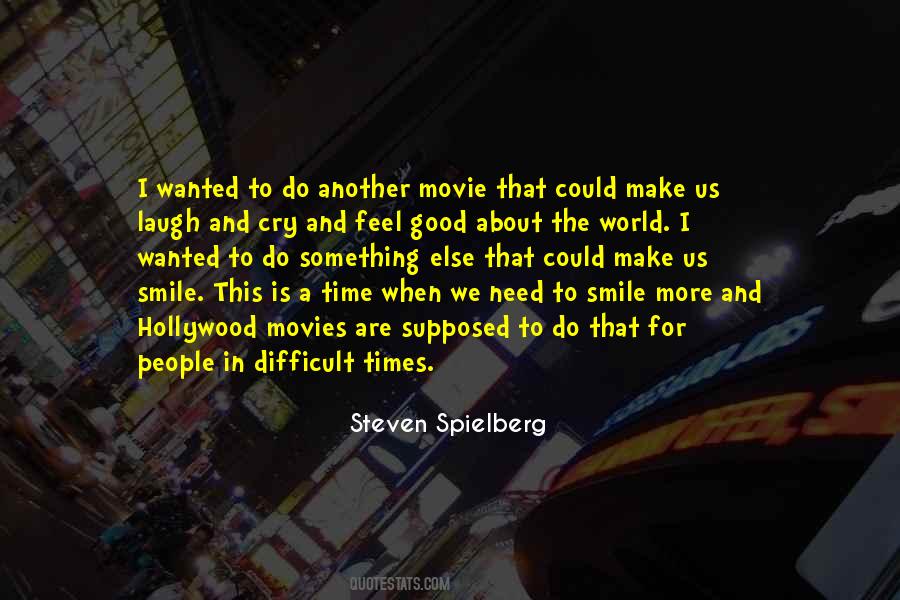 #81. My new dressing goal is to make little kids and babies smile at all the bright, clashing colours I can wear at once. It makes me laugh when I catch sight of my own reflection - life is too short not have fun! - Author: Liz Goldwyn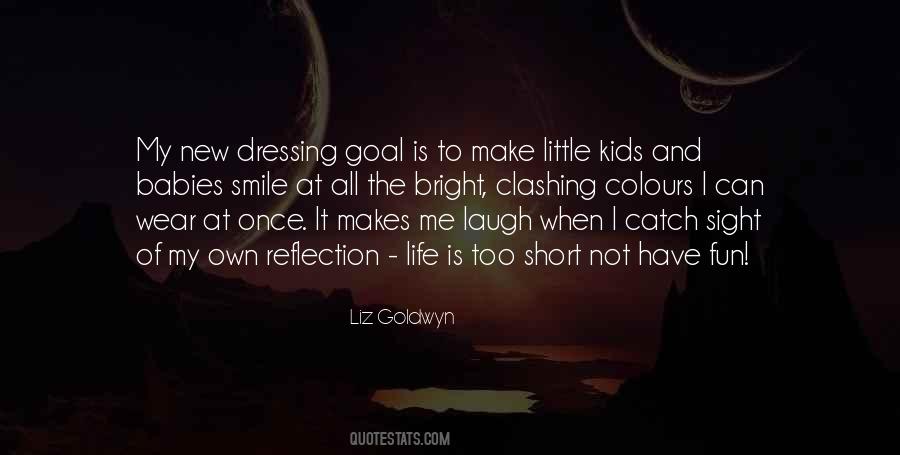 #82. You take away all the other luxuries in life, and if you can make someone smile and laugh, you have given the most special gift: happiness. - Author: Brad Garrett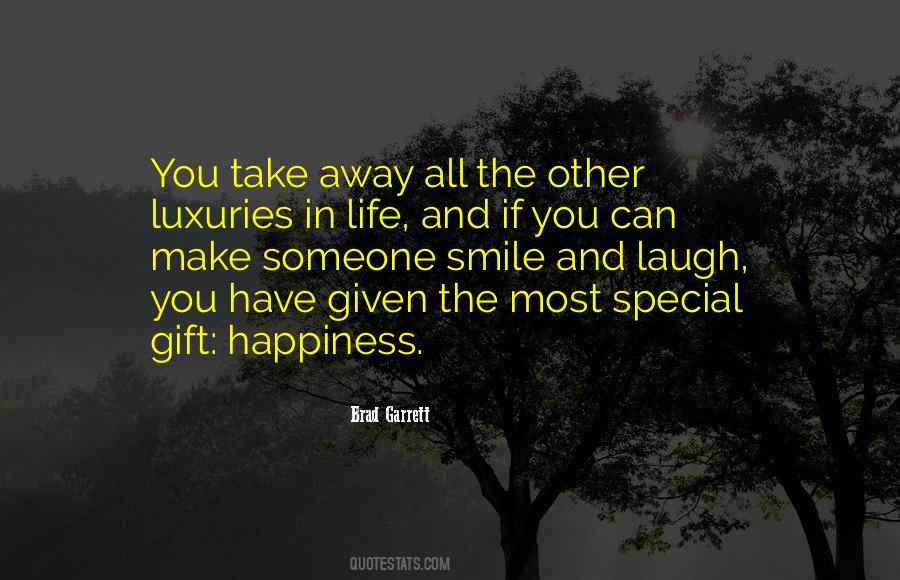 #83. People usually feel funny, smile and laugh when I tell them
about my strong belief in the very existence of prehistoric
advanced technology and great civilizations of wilier races.
I just can't wait to see their faces at time the truth is revealed. - Author: Toba Beta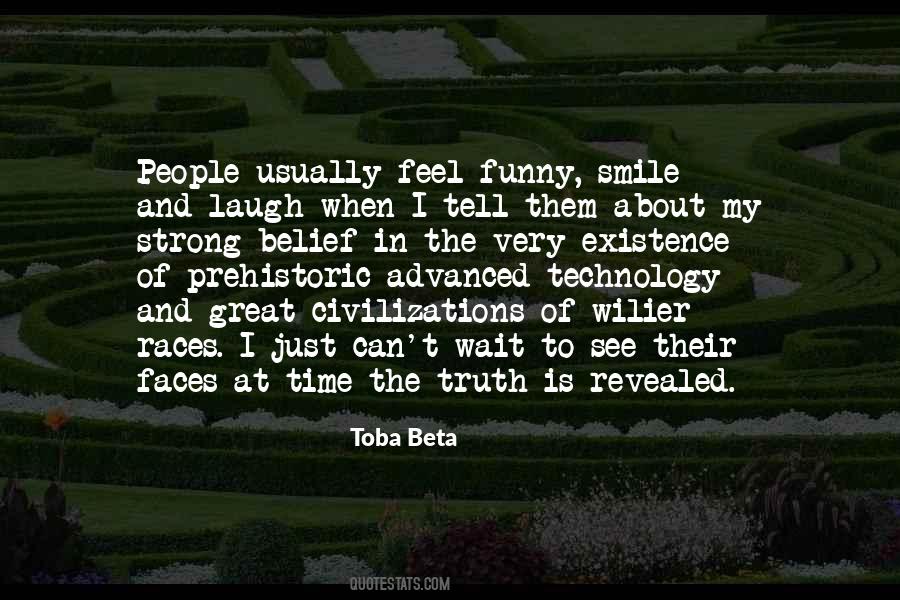 #84. I just want to spend the rest of my life with someone who makes me smile, laugh, feel special, and supports me. - Author: Taylor Swift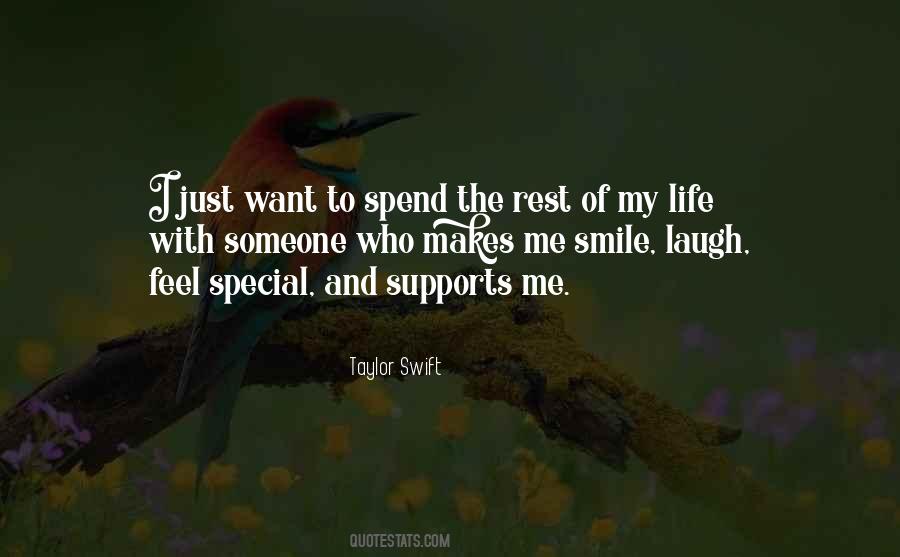 #85. Every day, I take steps to resolve all my karmic ties, live with intention, smile and laugh often, express my love, and act on what brings me fulfillment. Why wait until we have one foot in the grave to suddenly become spiritual, forgiving, and at peace with the world? - Author: Alaric Hutchinson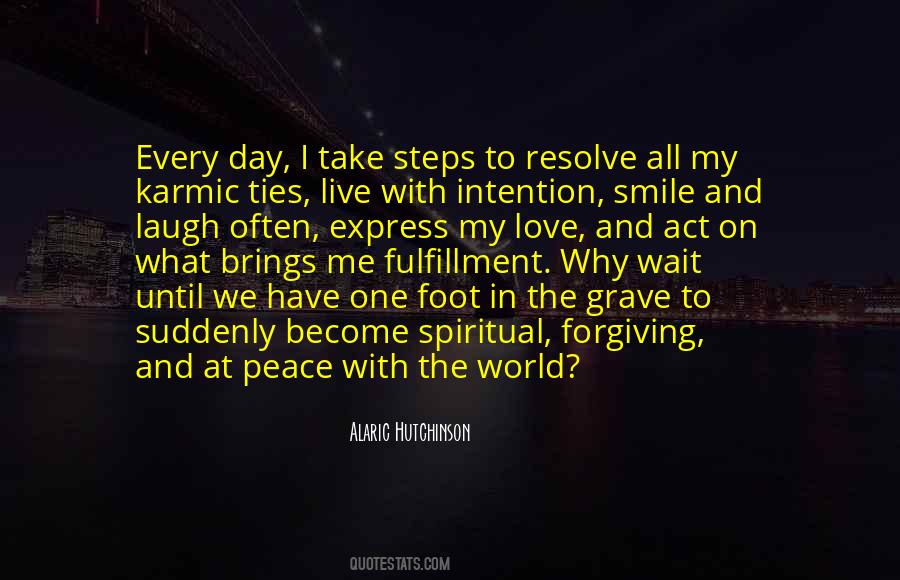 #86. You learn to laugh at yourself and you also lean on comedy as a crutch to kind of take the edge off because comedians often are self-deprecating and they cross lines that they shouldn't. Stuff like that brings a smile to my face every once in a while when needed. - Author: John Cena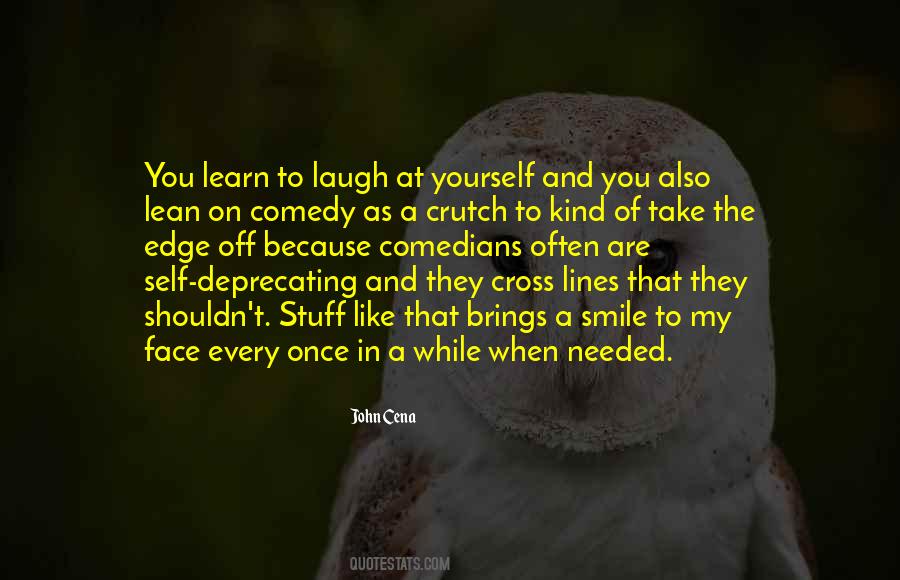 #87. He'd built a wall around his heart to protect it, and she was slowly brick by brick, smile by smile, laugh by laugh, kindness by kindness, tearing it down. Tomorrow he'd refortify it.
Tonight he simply wanted the haven she could provide. - Author: Lorraine Heath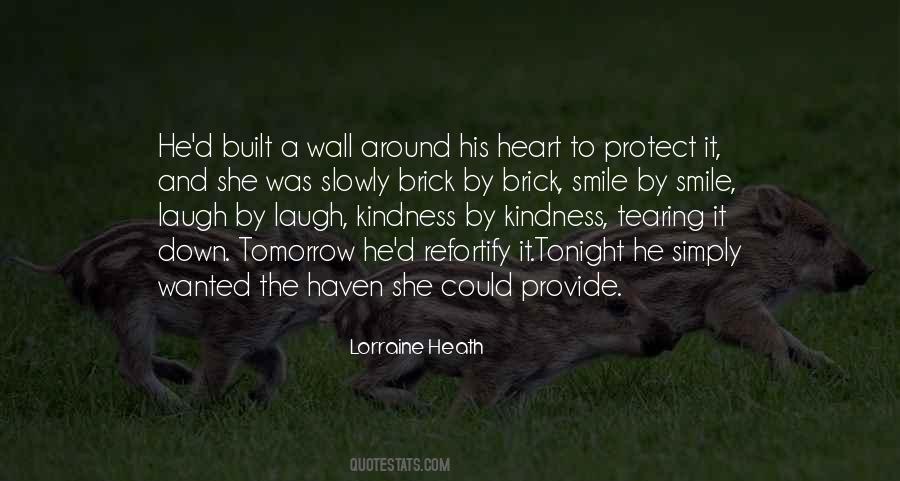 #88. The kids who come backstage that have cancer or whatever, make them laugh and smile for a little while, what's the problem with that? There isn't any. - Author: Jeff Dunham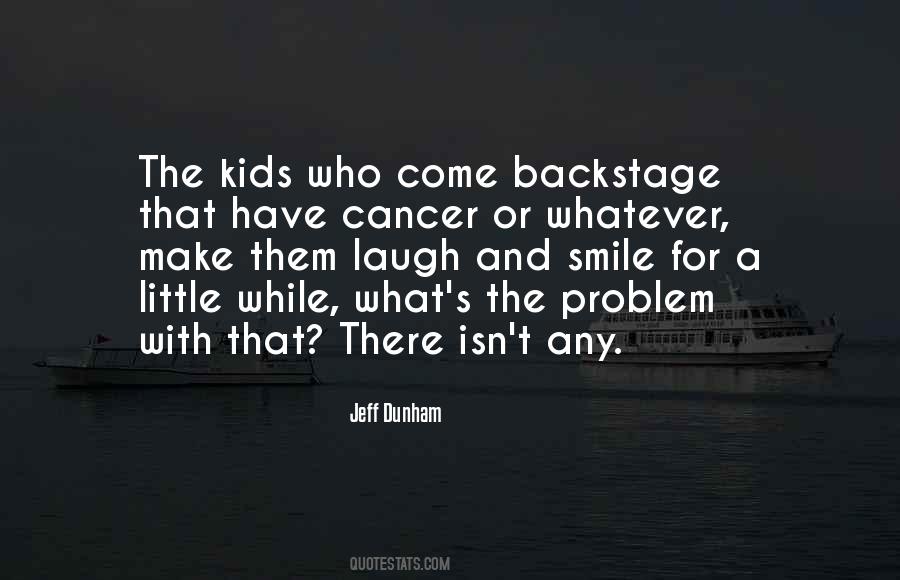 #89. To be happy with myself and always make others happy. To be confident and give others confidence in themselves. To smile, to surf, to laugh and make others laugh. To read more widely. To try to be more tolerant of my weaknesses and of others, and not to be so hard on myself all the time. - Author: Chrissie Wellington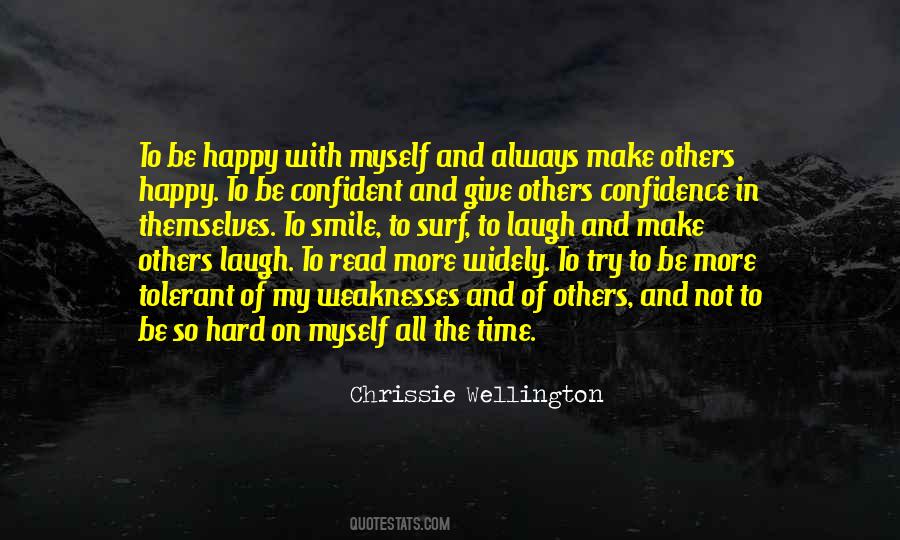 #90. He laughed, and the sound startled me. I turned back, taking in the sight of his hair blowing in the wind and the huge smile on his face. He looked so carefree. And his laugh...oh, Lord, his laugh. It melted my heart a little and chipped away at the carefully constructed wall I'd built. - Author: Kelley R. Martin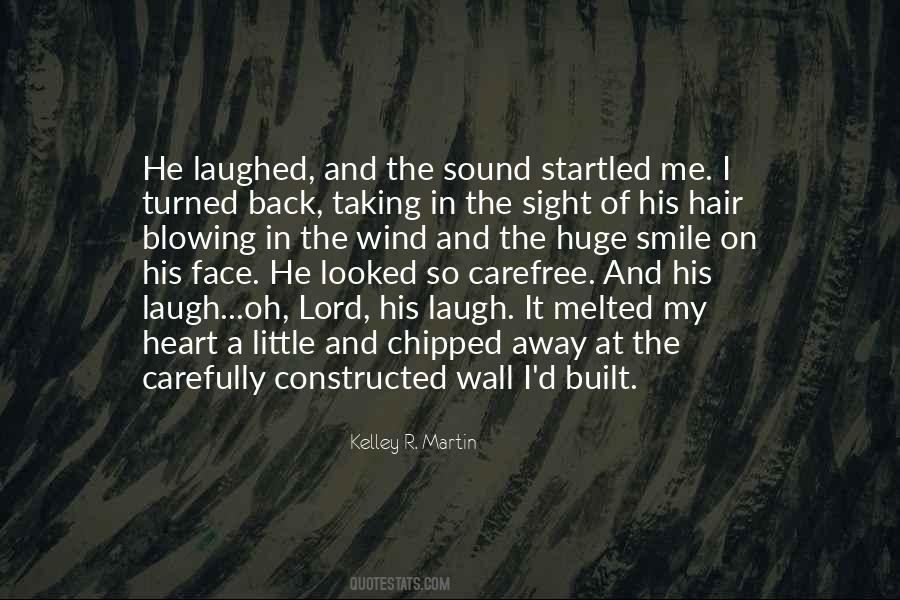 #91. In the modern conflict between the Smile and the Laugh, I am all in favor of laughing. The recent stage of culture and criticism might very well be summed up as the men who smile criticizing the men who laugh. - Author: Gilbert K. Chesterton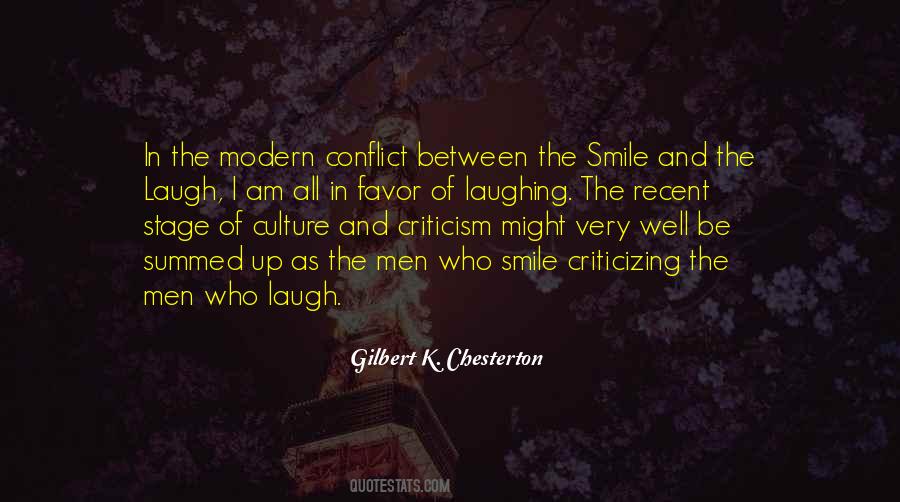 #92. A good life is when you assume nothing, do more, smile often, dream big, laugh a lot and realize how blessed you are for what you have. - Author: Zig Ziglar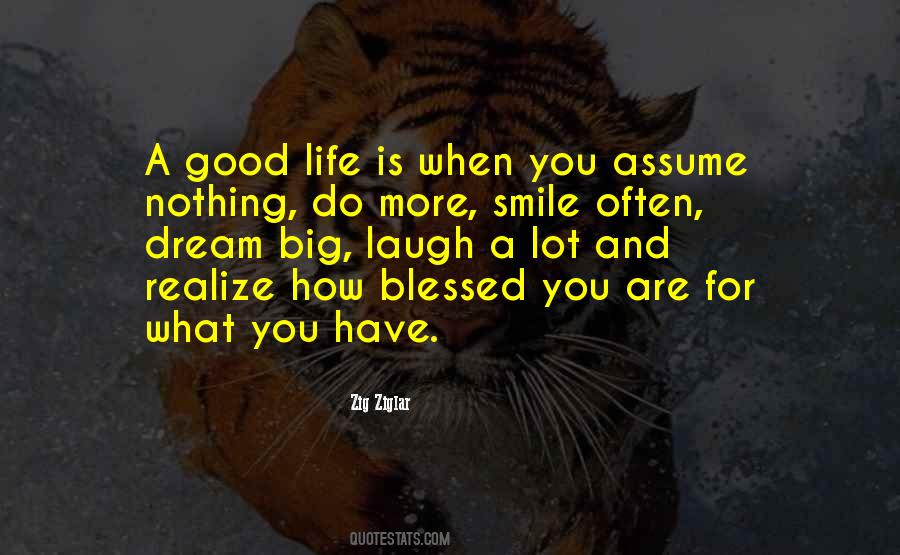 #93. Do the things make you happy. Be with the one that makes you smile. Laugh as much as you breathe and live happy. - Author: Timothy Pina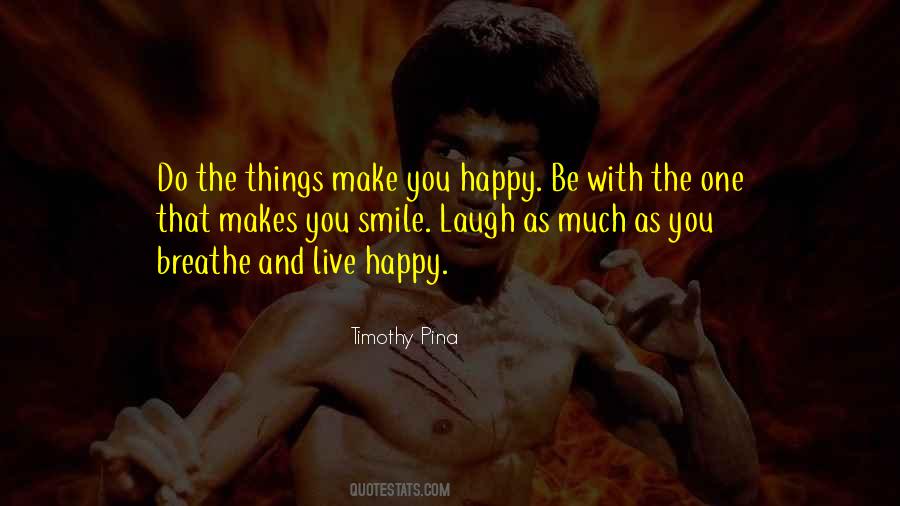 #94. We never know what a day will bring us, but one thing we do know is that every morning we can wake up, smile and hope for the best. SMILE IT'S A NEW DAY - Author: Ellen K. Wookey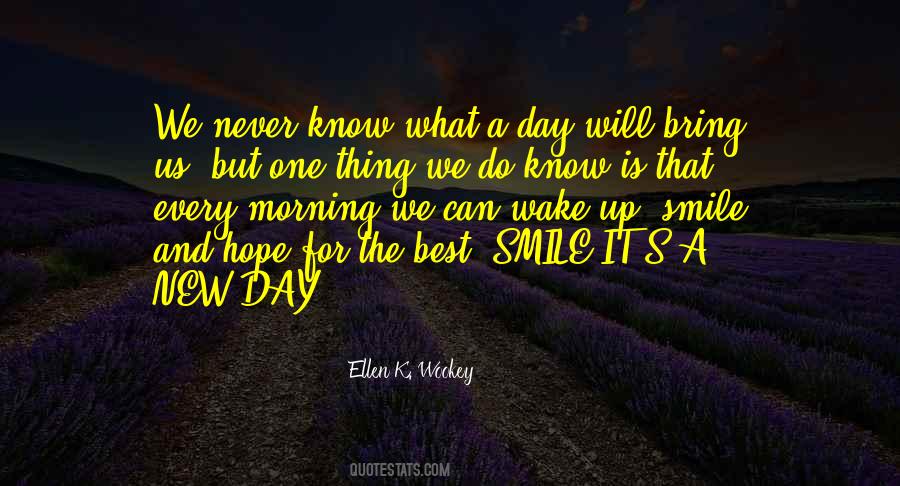 #95. Often we may even smile or laugh at adversity, but all people share the same passions. They are merely manifest differently according to one's culture and conditioning. - Author: Yasuo Kuwahara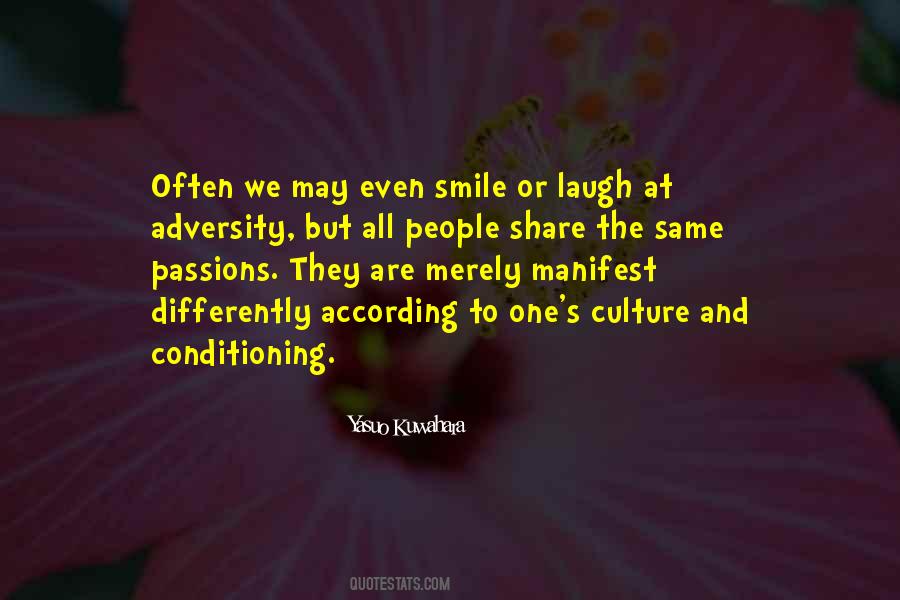 #96. Laugh as if it's funny, embrace as if it's love, and smile anyway. - Author: Richelle E. Goodrich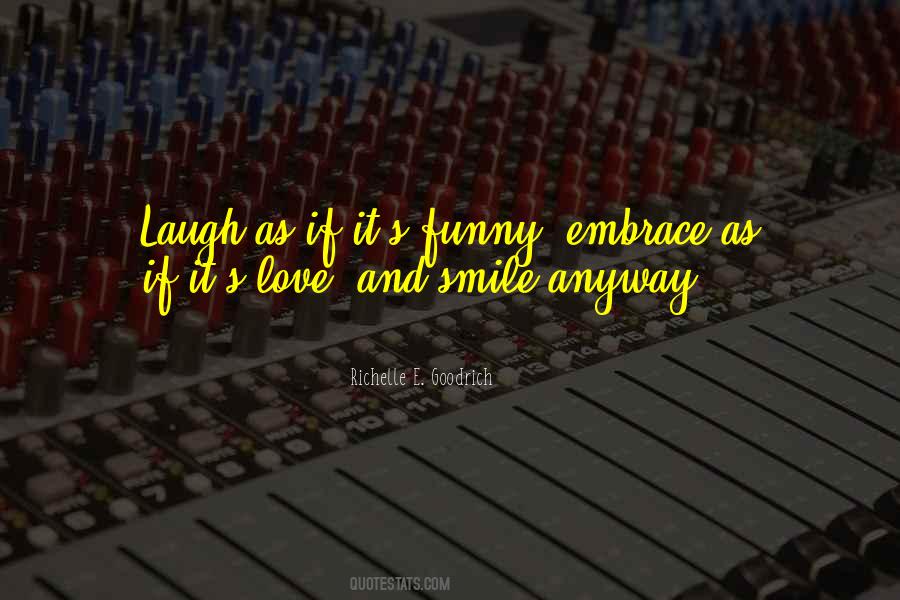 #97. Every day, they gave him new reasons to smile, laugh, worry, and wonder. - Author: C.J. Milbrandt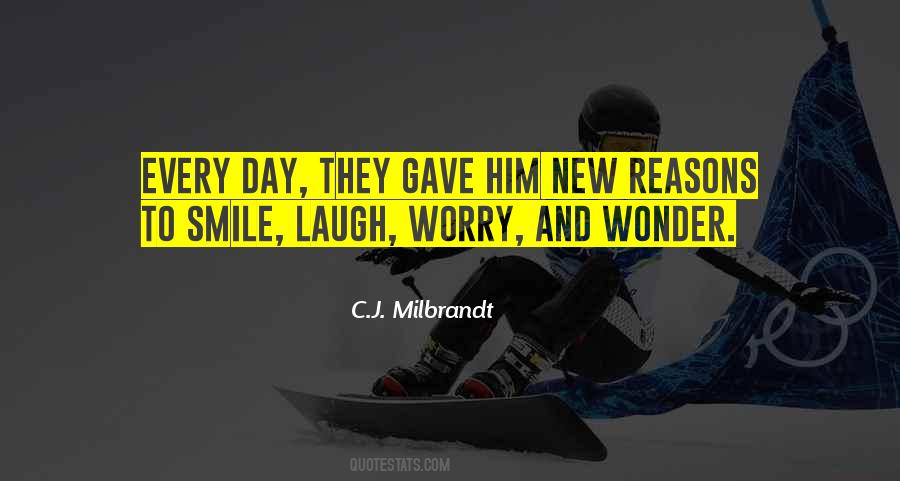 #98. I encourage you to deliberately look for something to smile or laugh about every day, and be sure to share a smile or a laugh with someone else and brighten their day too! - Author: Joyce Meyer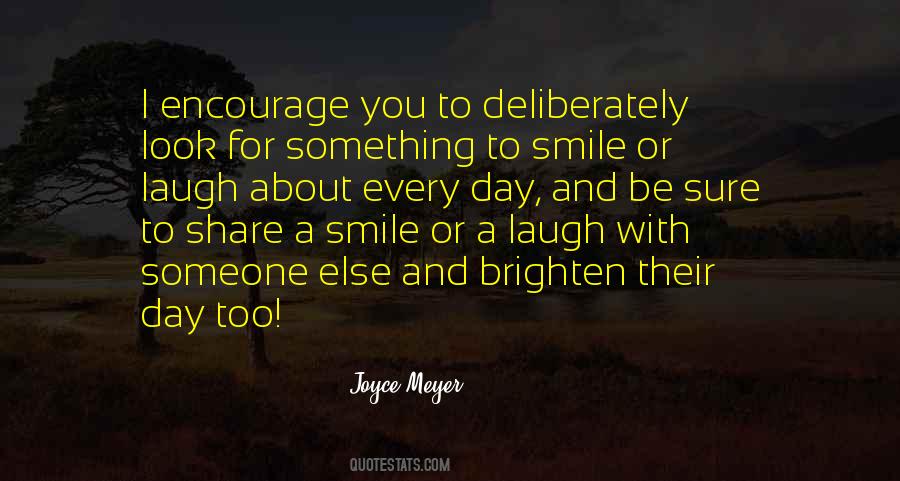 #99. No matter what else you came up against, if you could smile and laugh while a monkey did you with chestnuts in a dank concrete basement while somebody took pictures, well, any other situation would be a piece of cake - Author: Chuck Palahniuk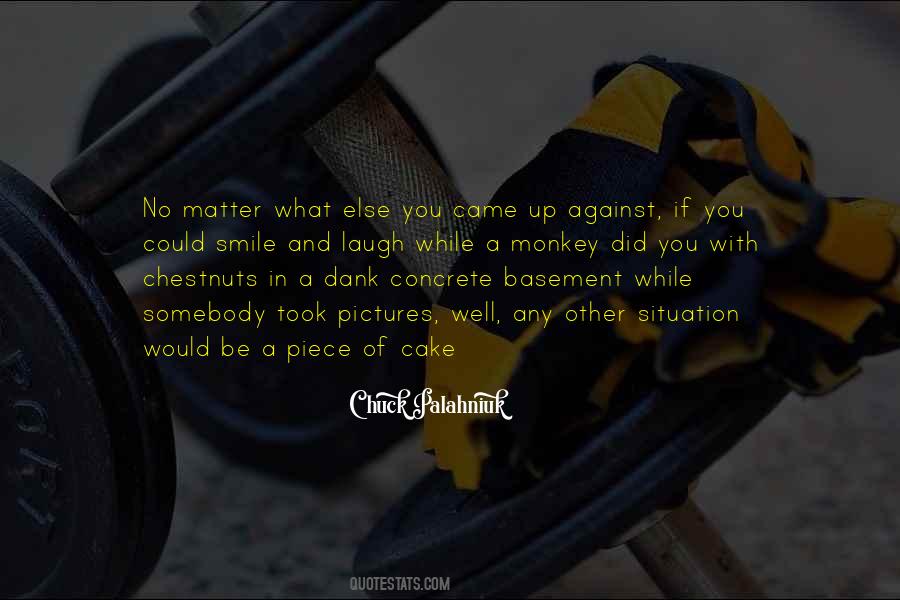 #100. My grandma loved to be on stage entertaining people. She loves to make people smile and laugh. She loves to brighten other people's day. She often calls perfect strangers her angel, as a way of witnessing, but also to encourage and build their self-esteem. - Author: Lisa Bedrick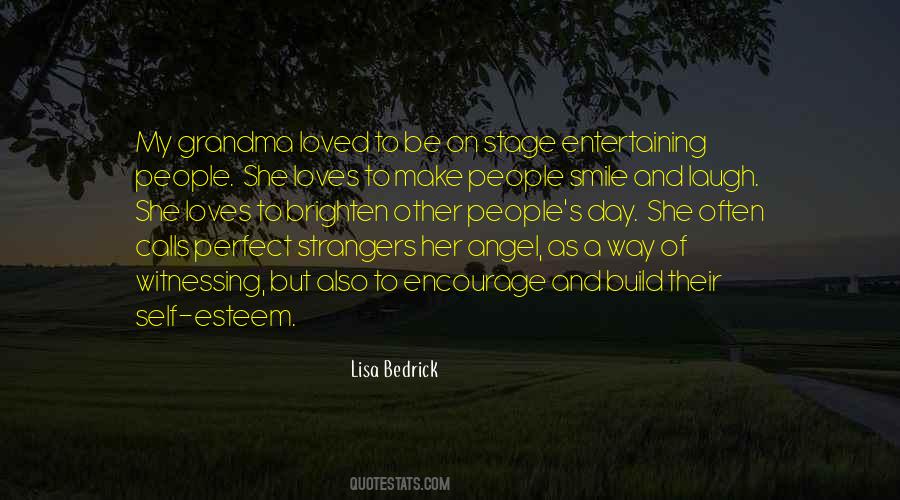 Famous Authors
Popular Topics