List of top 30 famous quotes and sayings about shared dreams to read and share with friends on your Facebook, Twitter, blogs.
Top 30 Quotes About Shared Dreams
#1. I have shared my whole life. My private and my show business life. It helps me actually to feel my songs and to go on with my dreams.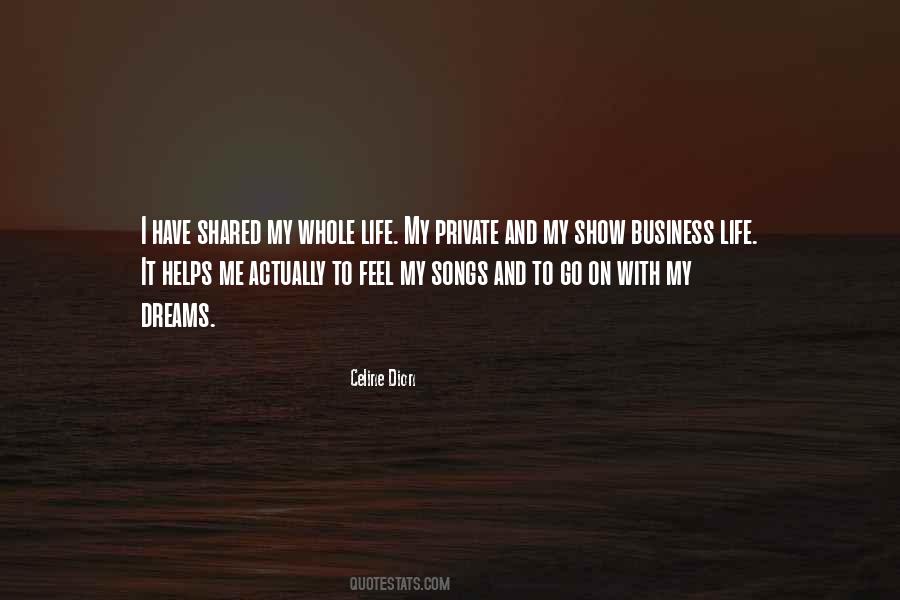 #2. A life without imagination would not be a life well lived. Colour your thoughts and paint the shared skies with your dreams for all to see.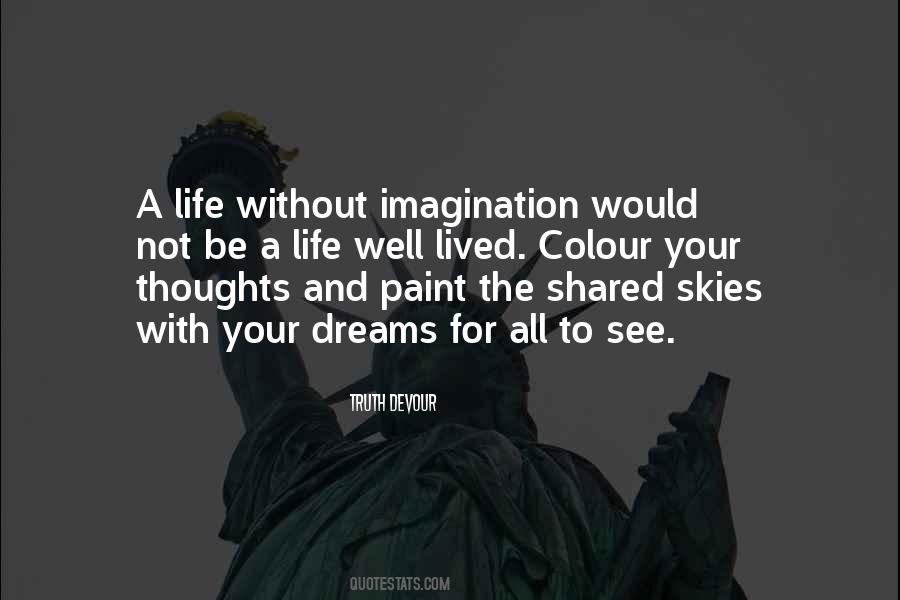 #3. We had common interests in the beauty of the French language. We both had a tremendous love of jazz. We shared dreams of getting married and having a family, living in the country, leading an idyllic life.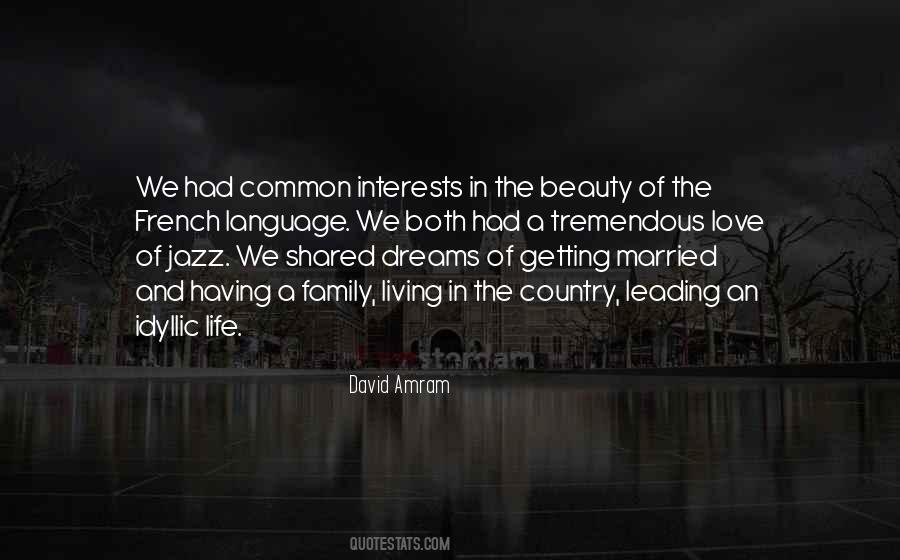 #4. Dreams are private myths; myths are shared dreams").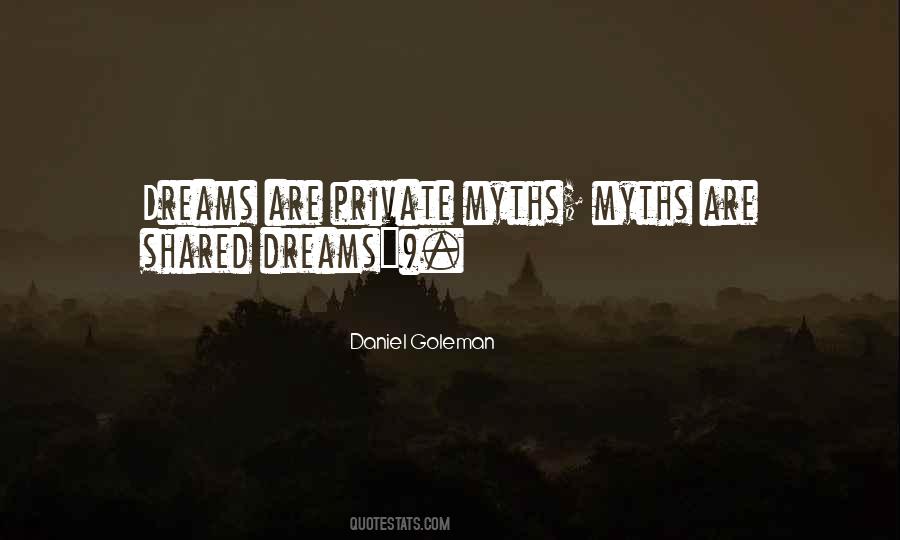 #5. Sometimes living with memory, with the thought of what friends, those who shared your soul and dreams, will do to you is worse than taking a bullet or having someone stab your flesh. There is a way of bleeding from one's soul.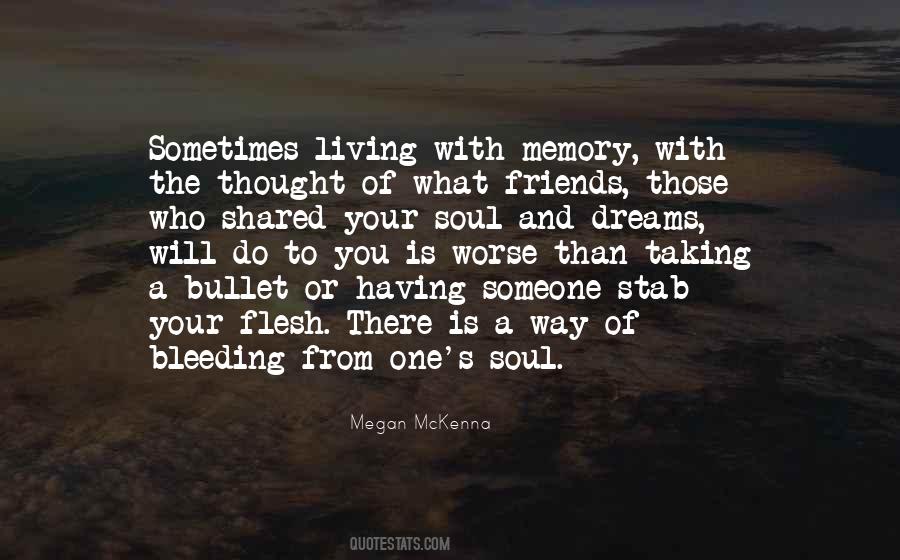 #6. Happiness held is the beginning; happiness shared is the blossom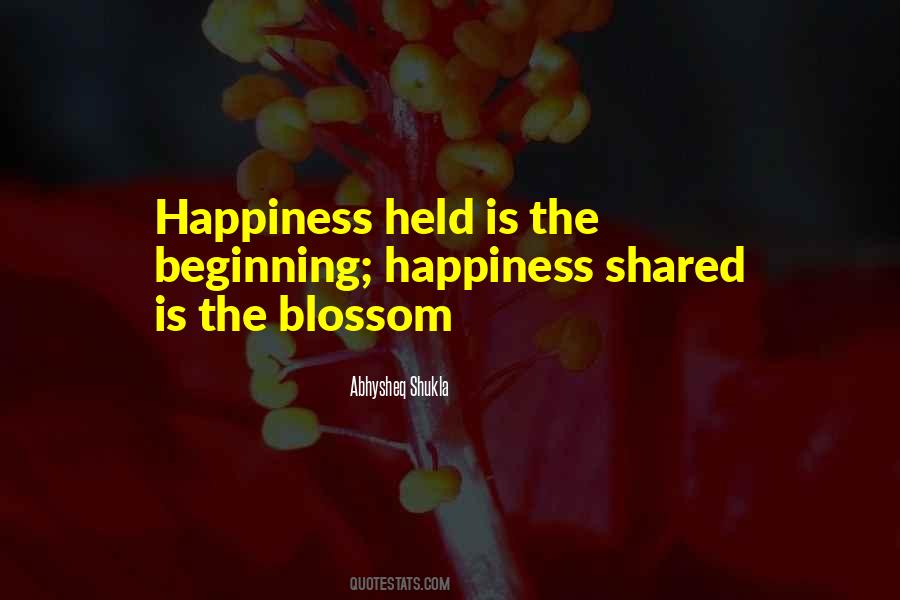 #7. Everybody carried their unique hopes, dreams, and passions in their hearts. The trick was finding someone who shared them. Or would at least listen.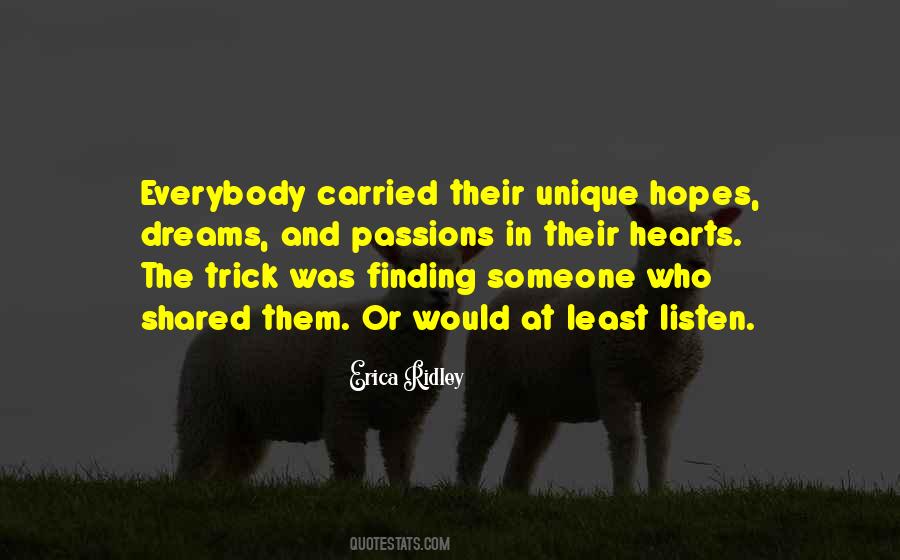 #8. I had a dream about you last night... we tried to joke but neither could make any sense. We realized that puns are present in every language, though not shared by any of them.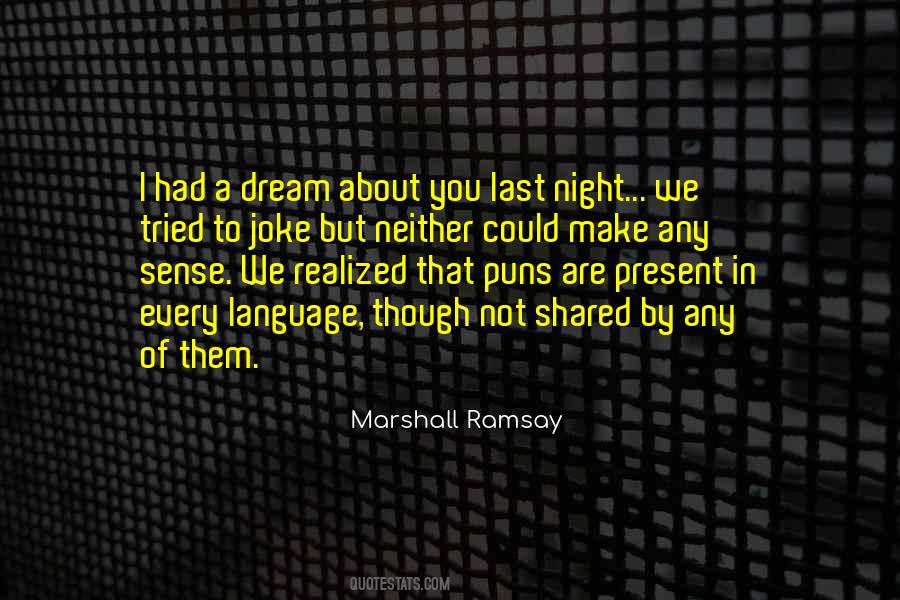 #9. They share a look filled with meaning. Realized dreams, old fears, shared hopes, and a lifetime of memories. They clasp hands and step beneath the canopy together where the Seelie Court officiant is standing.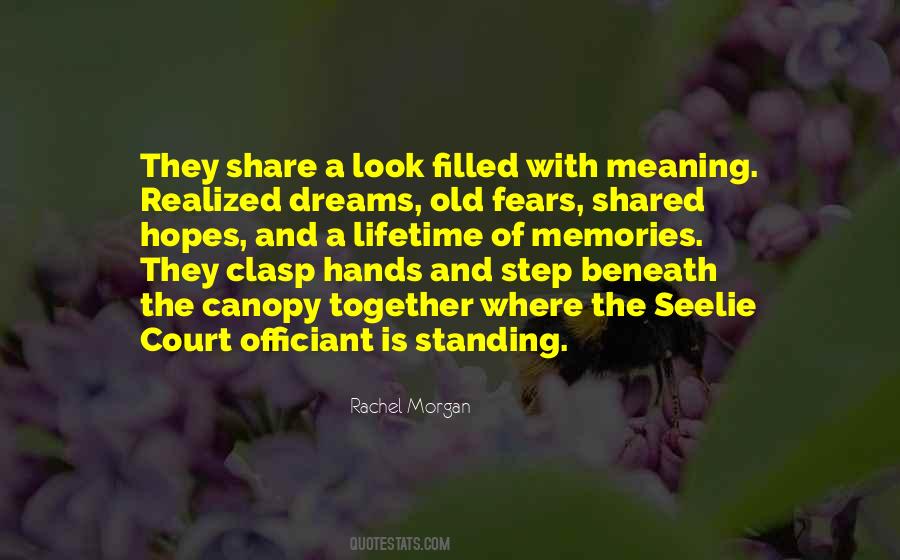 #10. In our increasingly secular society, with so many disparate gods and different faiths, superhero films present a unique canvas upon which our shared hopes, dreams and apocalyptic nightmares can be projected and played out.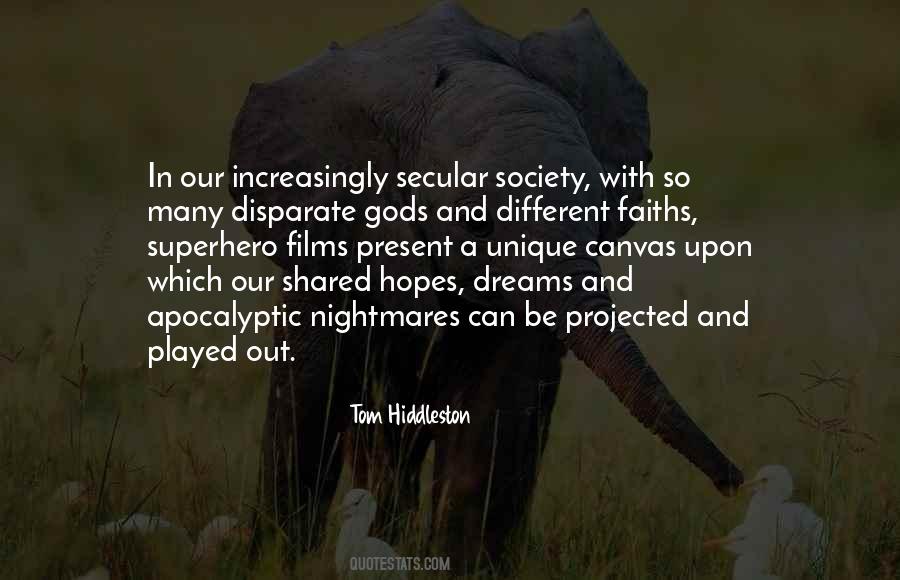 #11. Well, we actually never went around. We worked together, struggled through the corporate maze, shared our dreams, and, somewhere along the way, we came closer to each other. At the end, we touched each other's heart. The impact was profound, much more than I thought it was initially.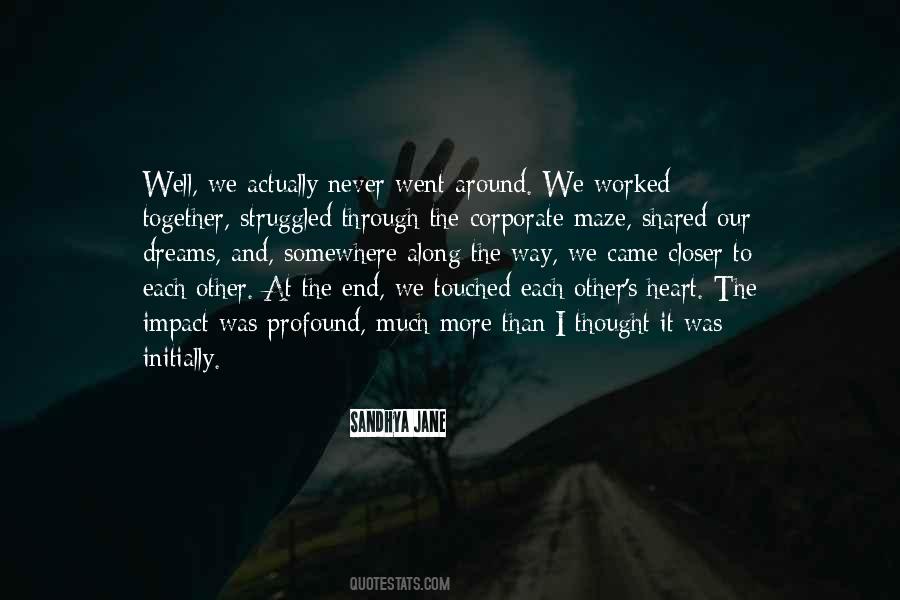 #12. We're connected by millions of shared experiences and dreams and nightmares, all tied together with compassion.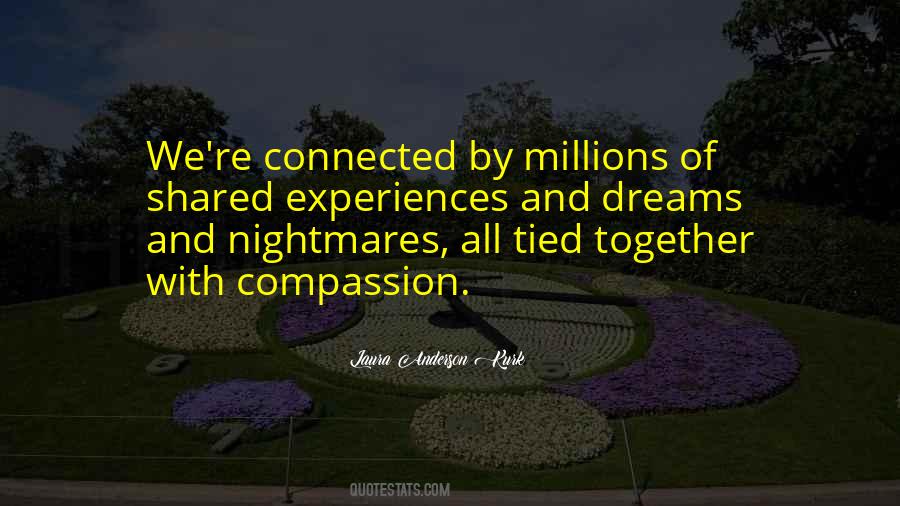 #13. The greatest things to have can't be possessed, they exist within yet can be shared, like freedom, love, trust, integrity, fun, dreams, creativity, wisdom, peace.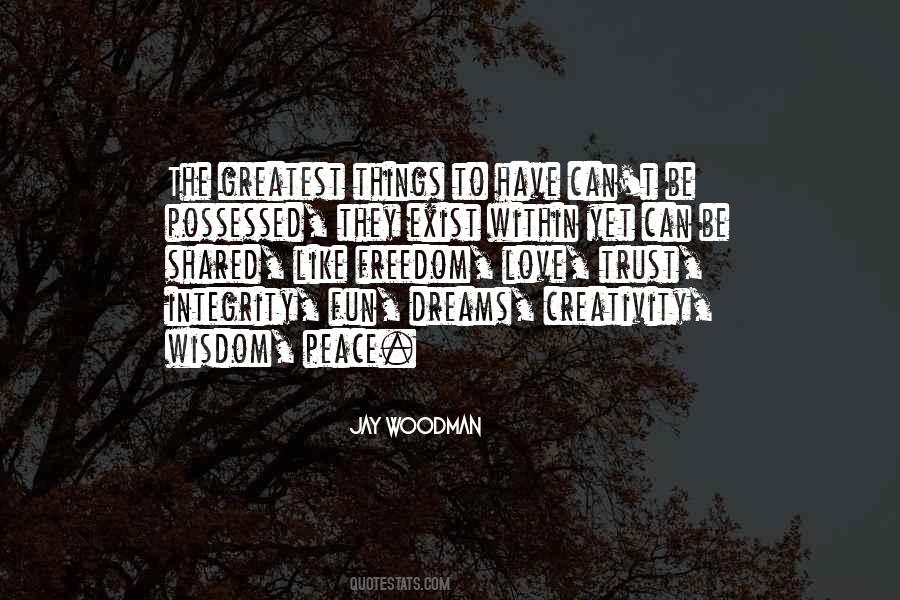 #14. Every tomorrow is better because you opened your eyes, but still, memories from your past are meant to be shared and cherished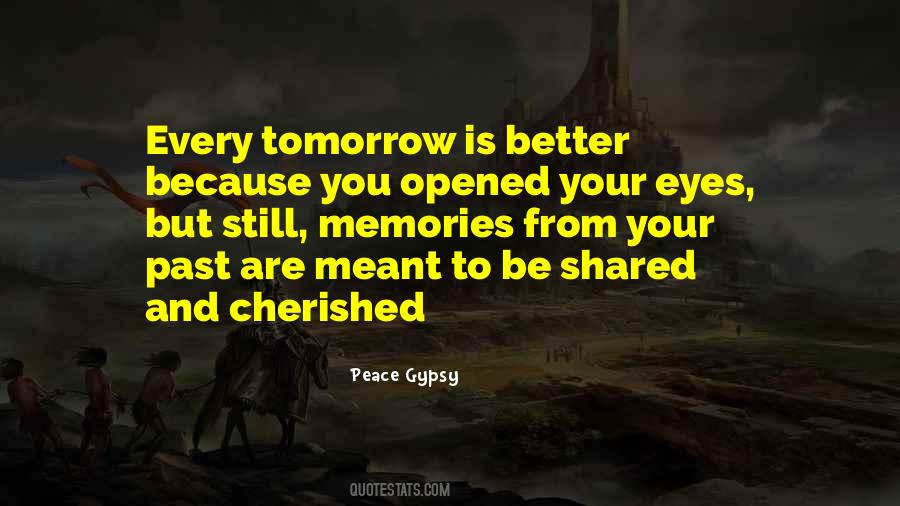 #15. All her life, Sophie had been taught that books are precious. Each one holds people and worlds. Each one is a piece of someone's heart and mind that they chose to share. They were shared dreams.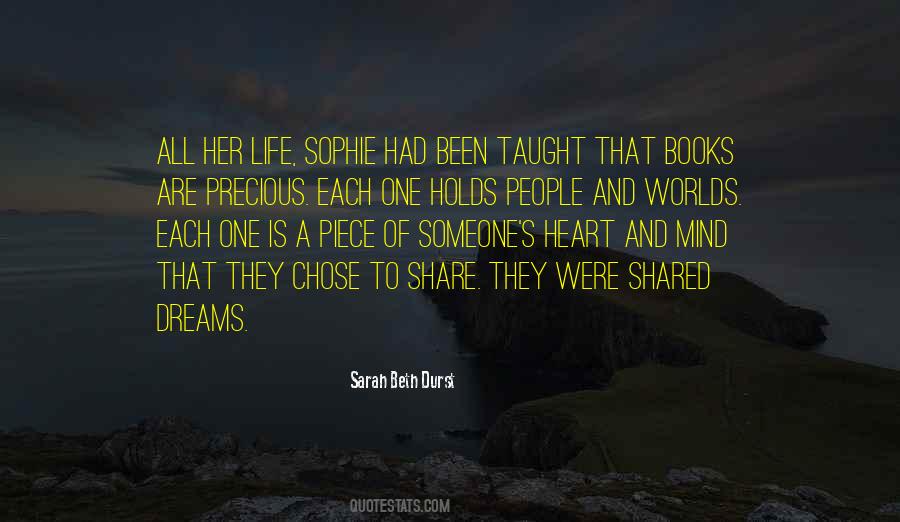 #16. In the end, a lack of compatibility is what ruins relationships. You can't force someone to be an eagle when they are a duck. Nobody wants to fly solo. Dreams were meant to be shared together.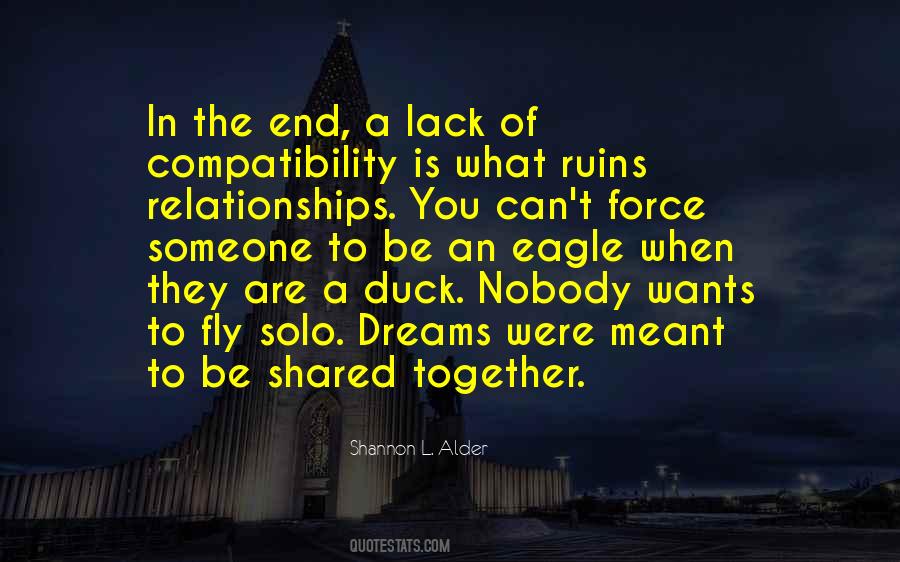 #17. Then - in the dark - is when he sneaked inside her heart. When all of her defenses were down, and he'd asked her about her dreams and wishes. Things she'd never shared with anyone.
The one and only man she'd ever said "I love you" to.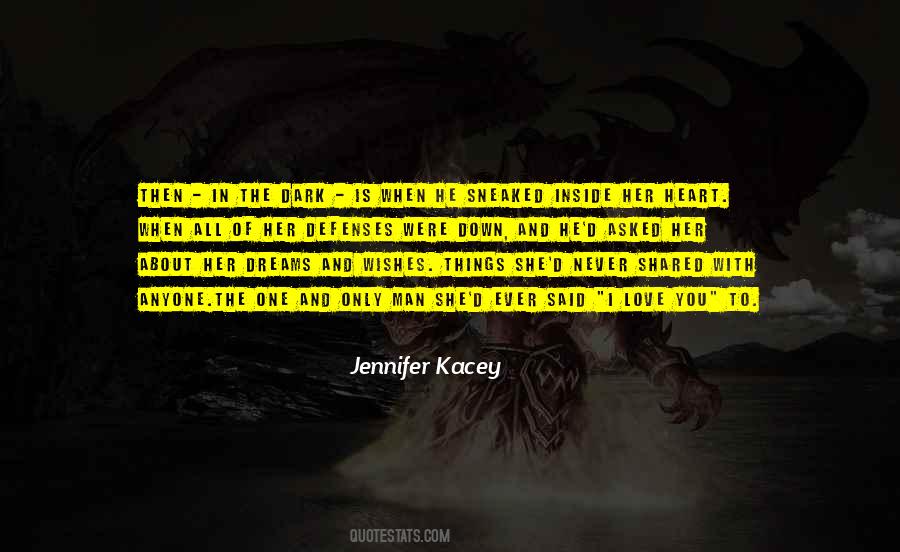 #18. Love isn't just about feeling sure of the other person, knowing what he would give up for you. It's knowing with certainty what you are willing to surrender for his sake. Make no mistake; each partner gives up something. Individual dreams are surrendered for a shared one.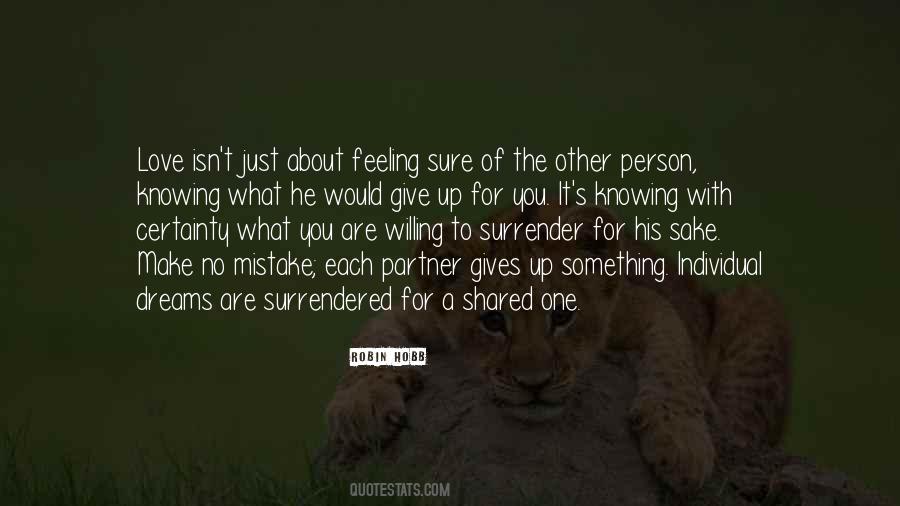 #19. But I understood, now, that we don't live only for ourselves. We're connected by millions of shared experiences and dreams and nightmares, all tied together with compassion.
I learned that even when we're going through our darkest winter, spring is waiting to appear.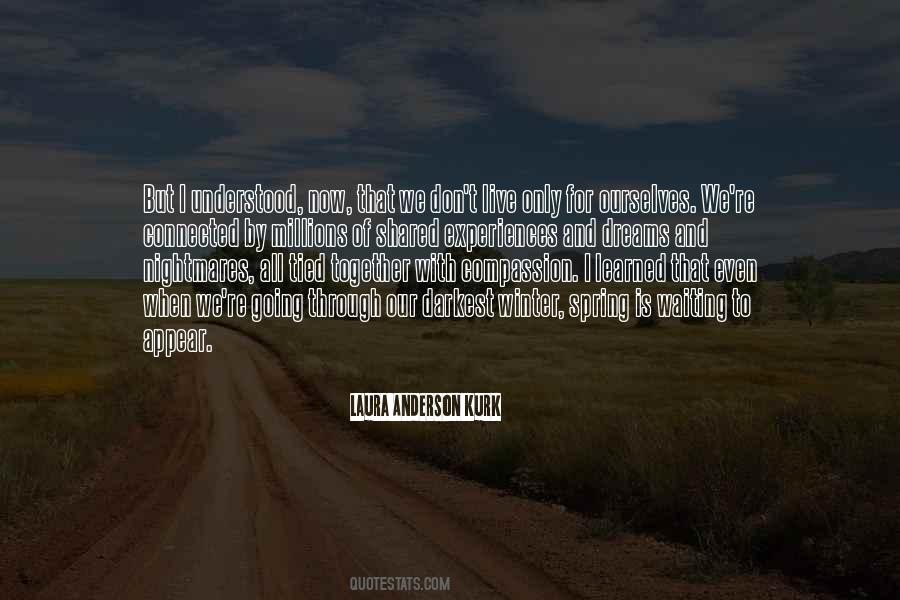 #20. I liked lots of 'Doctor Who' books, but my favourite tale was a spooky story about two invalid children - who've never met in the real world - who get trapped in a shared dreamscape when they fall asleep. It's called 'Marianne Dreams' by Catherine Storr.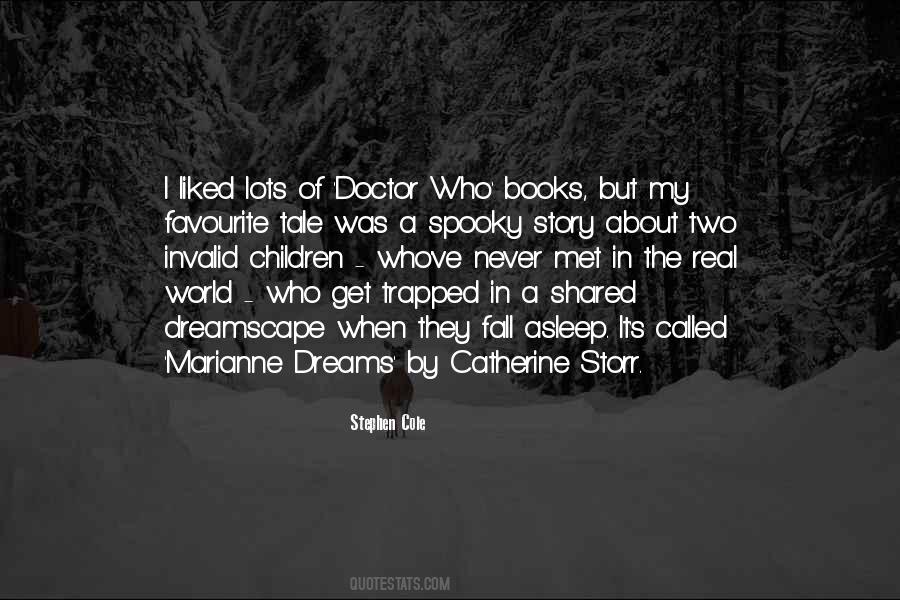 #21. A residual sea of symbols which is shared by all mankind, usually accessed through dreams or altered states, and from which cultures draw images on which to found their religions.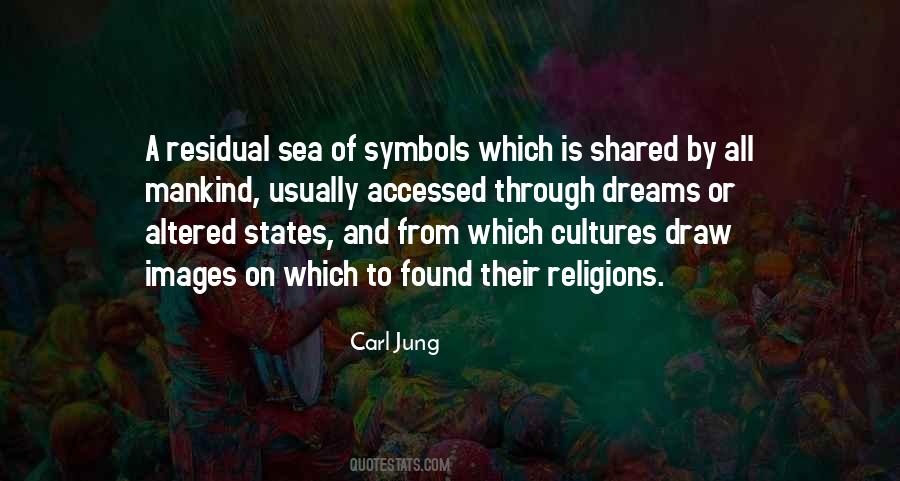 #22. The thought filled me with grief, grief for the dreams we'd shared, for the love I'd felt, for the hopeful girl I would never be again.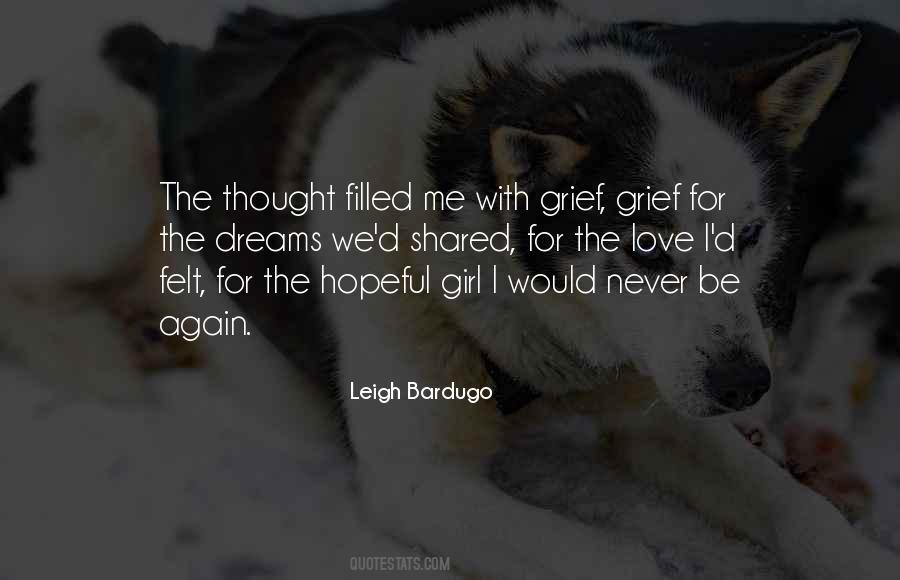 #23. If the whole world shared such experiences, we would then have common dreams and everybody could begin thinking about tomorrow. And if everybody thinks about tomorrow, then someday we can visit the sky together.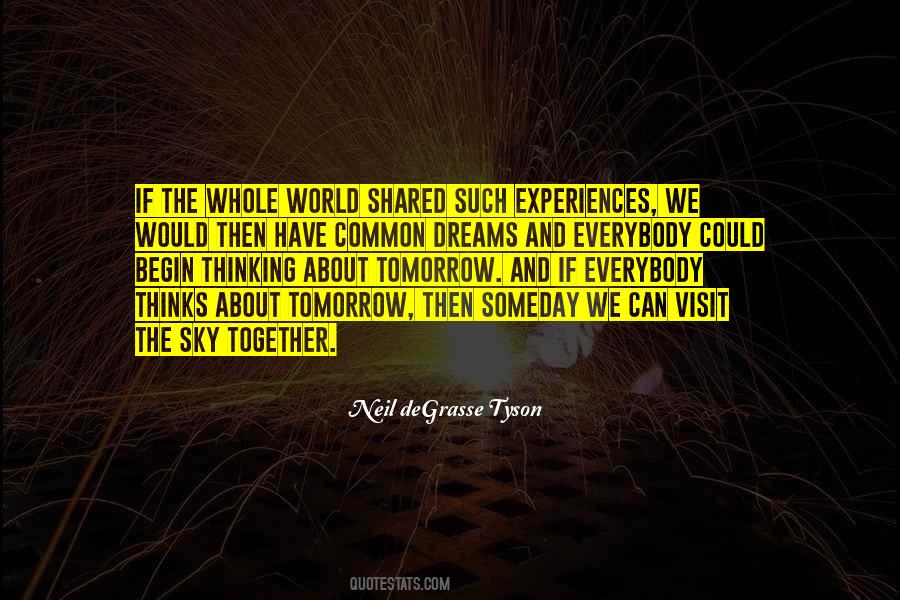 #24. We exercise kindness in any moment when we recognize our shared humanity - with all the hopes, dreams, joys, disappointments, vulnerability, and suffering that implies.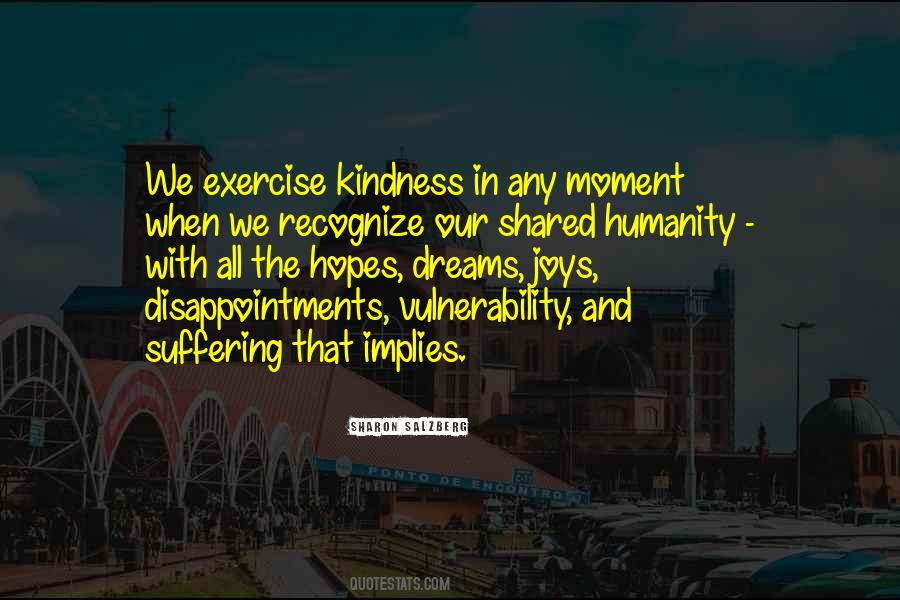 #25. I missed the crowds in those big stadiums, the flashbulbs, the roaring cheers - the majesty of the whole thing. I missed it bitterly. So did my father. We shared a thirst to return; unspoken, undeniable.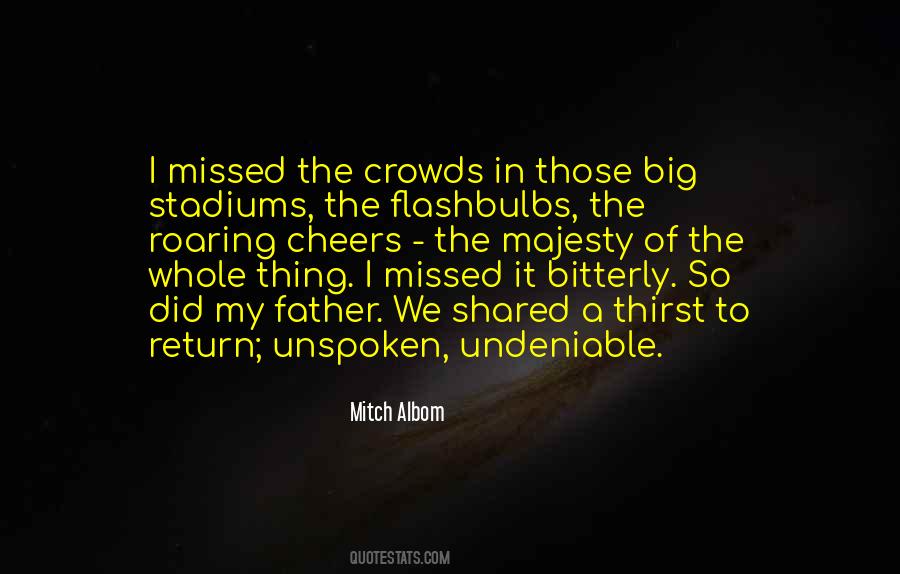 #26. We are a constellation of shared dreams.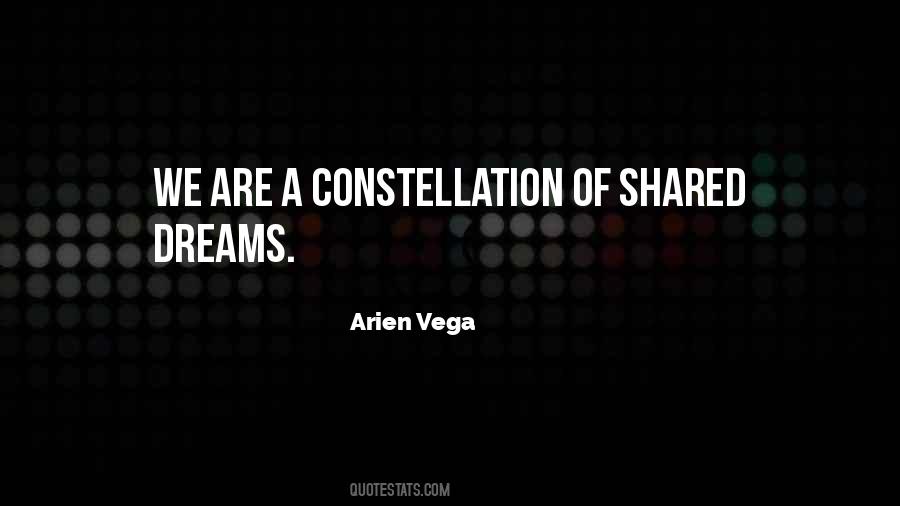 #27. You became the sonnet that was etched in my minds eye. Existing outside the dreams we shared in the presence of our eternal love.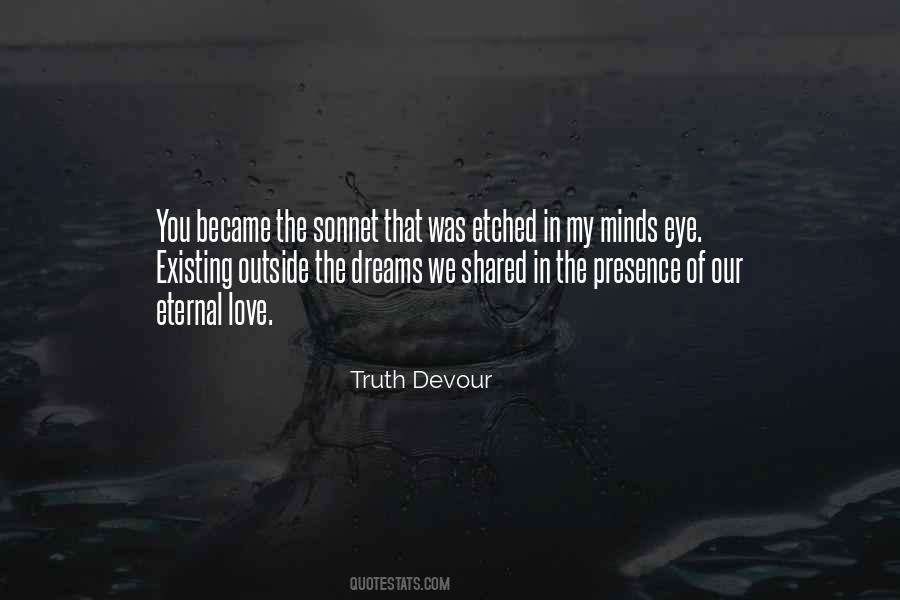 #28. Doing what you love, with those you love, is an adventurous type of success. The kind that can not be taken away, often discovered by those who have had much taken away, and saw it as an opportunity to re-access their path, and reset from the crucible of shared and beneficial dreams.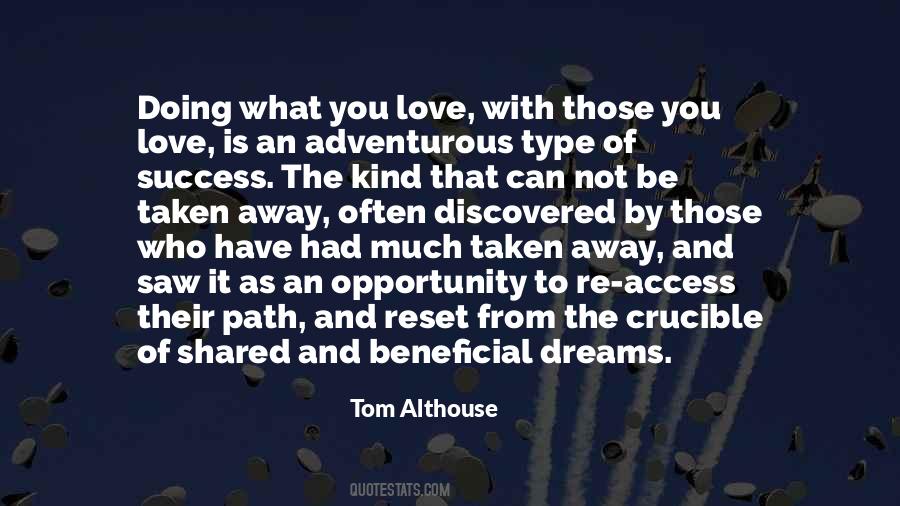 #29. The feeling that dreams show us the real nature of reality is something that's shared by many indigenous groups around the world.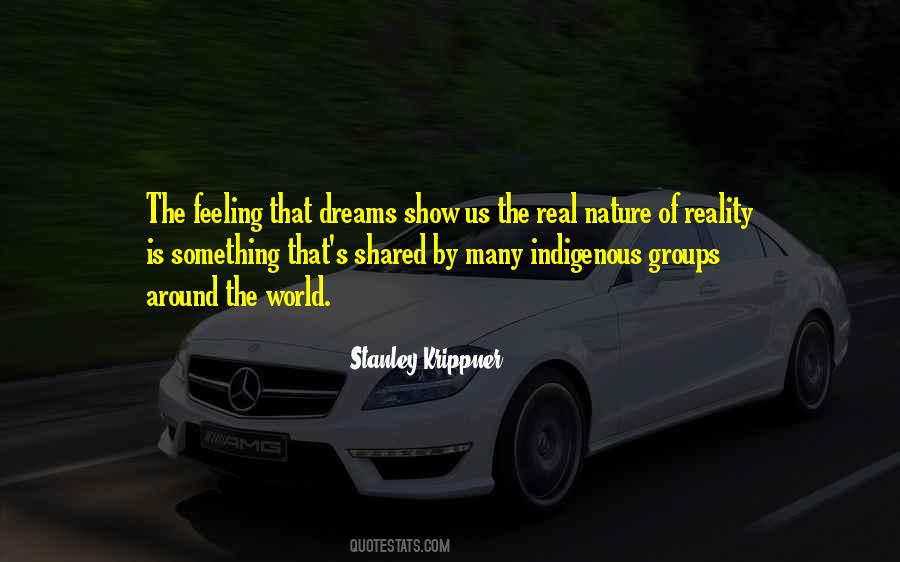 #30. There are dreams that are meant to be shared and dreams to be kept hidden in our hearts. It's sometimes difficult to know which is which.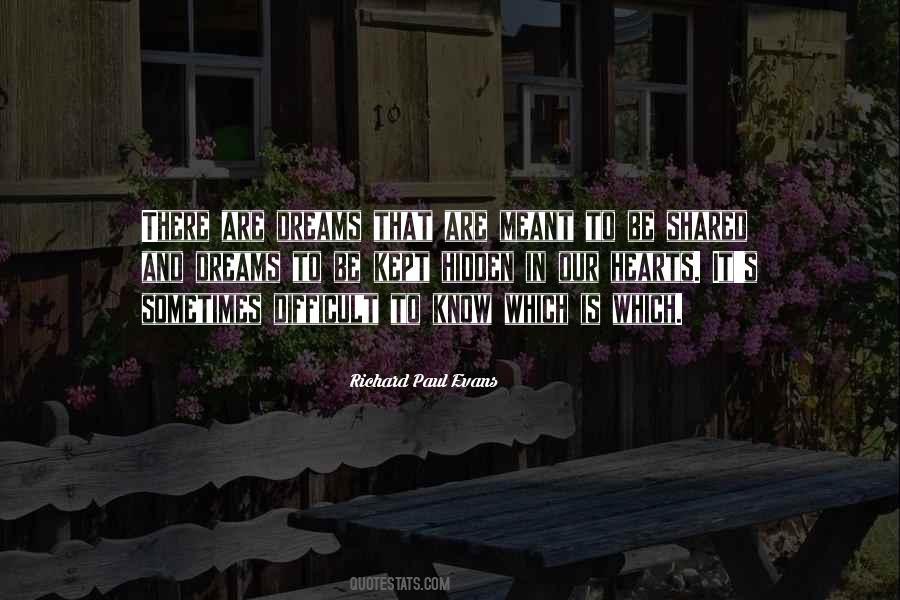 Famous Authors
Popular Topics