Rockefeller Famous Quotes & Sayings
List of top 100 famous quotes and sayings about rockefeller to read and share with friends on your Facebook, Twitter, blogs.
Top 100 Quotes About Rockefeller
#1. Social Security got passed because John D. Rockefeller was sick of having to take money out of his profits to pay for his workers' pension funds. Why do that, when you can just let the government take money from the workers? - Author: Aaron Swartz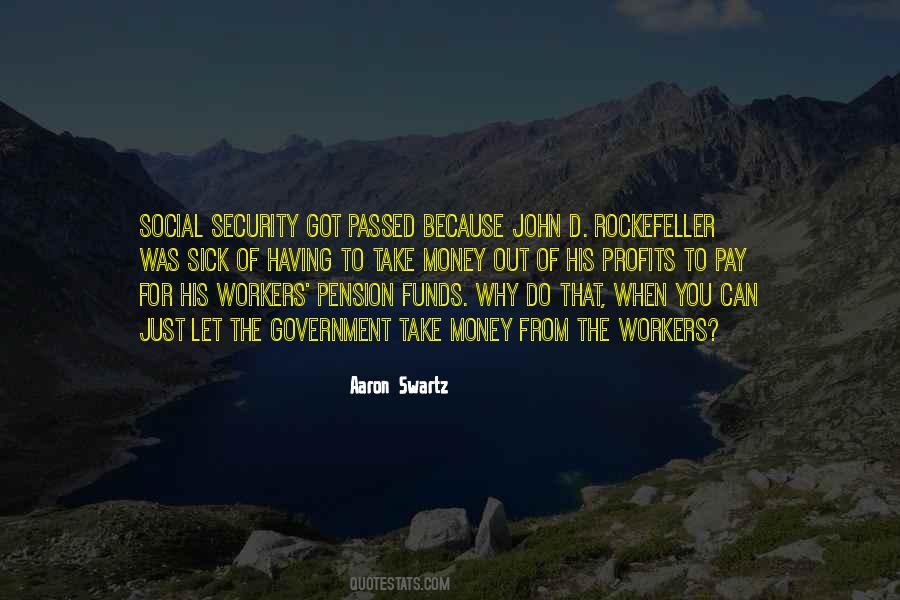 #2. I have enjoyed the personal use of money; but I have gotten the greatest satisfaction from using it to advance my beliefs in human relations, human values. - Author: Winthrop Rockefeller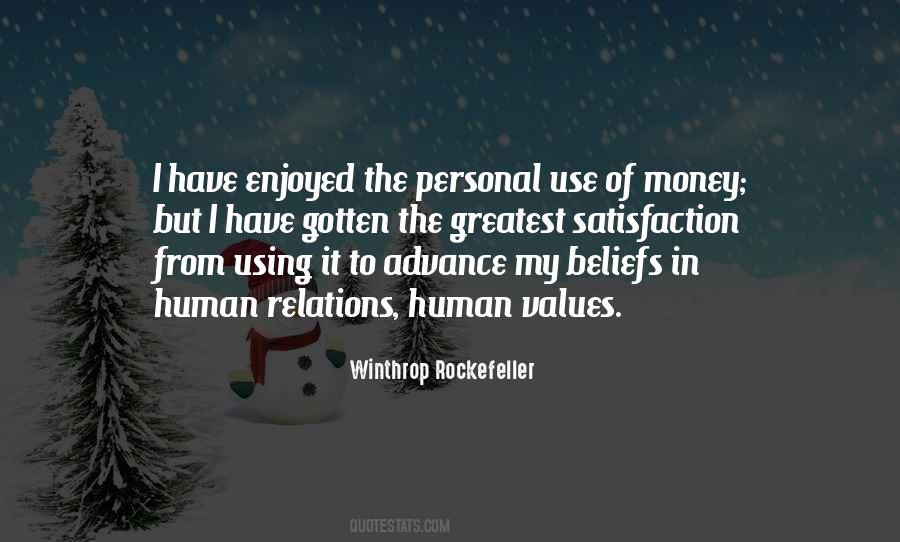 #3. One year after the United States led the invasion of Iraq, the country remains extremely dangerous not only to our troops, but also to the stability of the world. - Author: Jay Rockefeller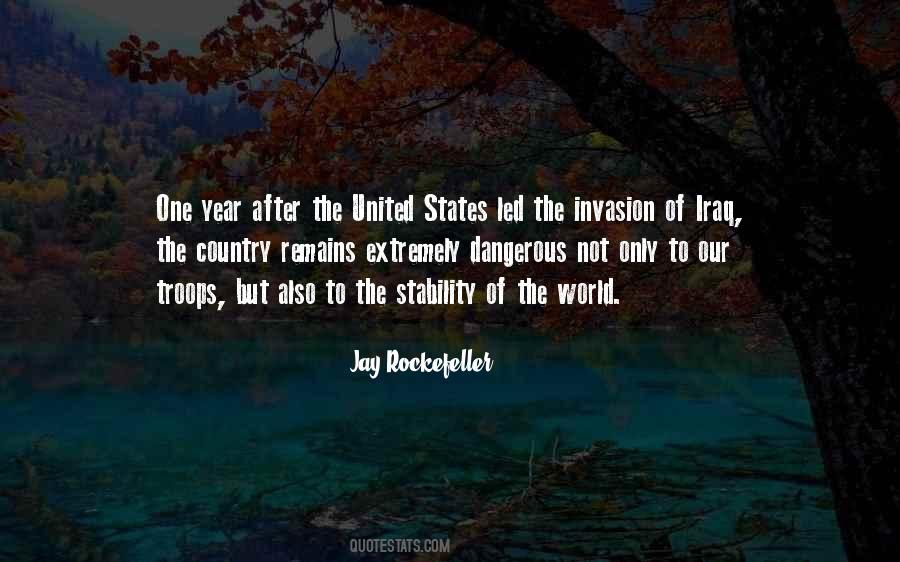 #4. I believe the power to make money is a gift from God ... to be developed and used to the best of our ability for the good of mankind. - Author: John D. Rockefeller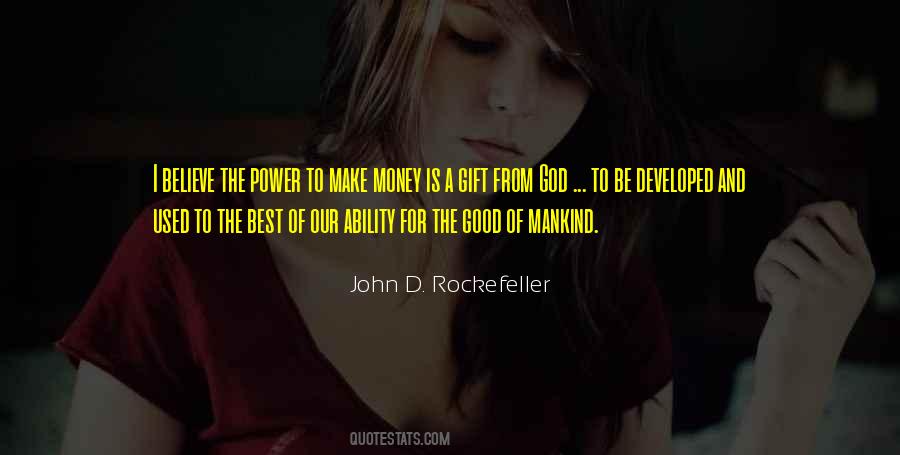 #5. Courting Peggy McGrath provided me with a very pleasant diversion and eventually with the most important relationship of my life. - Author: David Rockefeller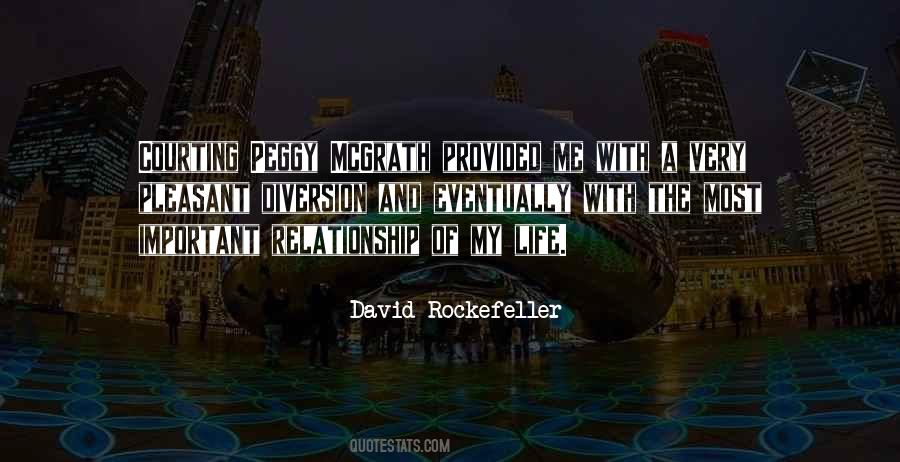 #6. I would rather earn 1% off a 100 people's efforts than 100% of my own efforts. - Author: John D. Rockefeller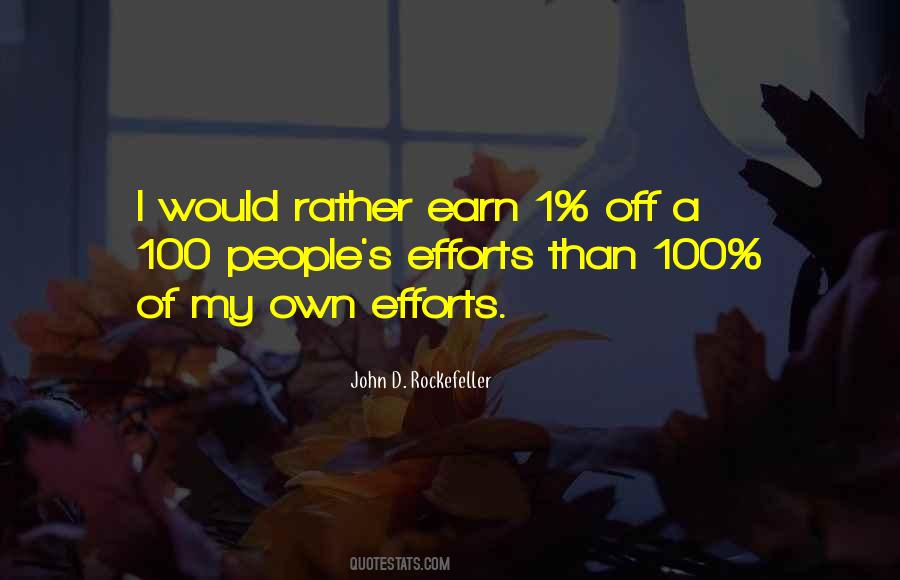 #7. The Japanese banks are not having an easy time as they once had. - Author: David Rockefeller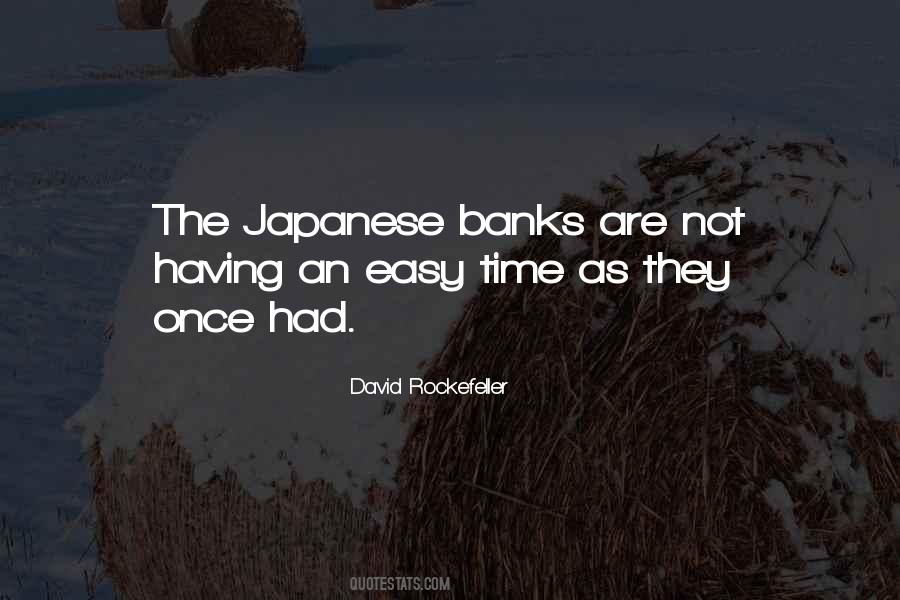 #8. Mother's interest in contemporary American artists emerged during the 1920s. - Author: David Rockefeller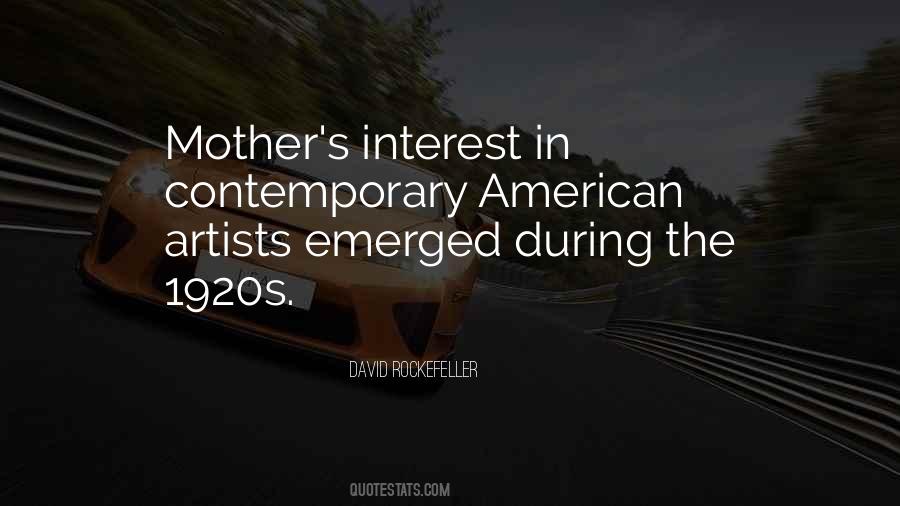 #9. A man has no right to occupy another man's time unnecessarily - Author: John D. Rockefeller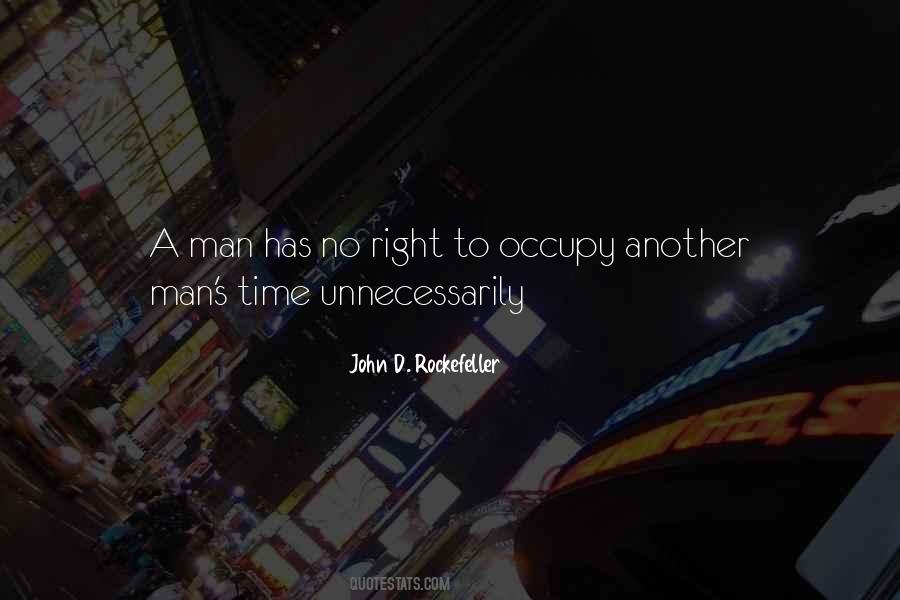 #10. Successful charitable fund-raising has much in common with managing a business: It requires leadership, persistence, and creativity. - Author: David Rockefeller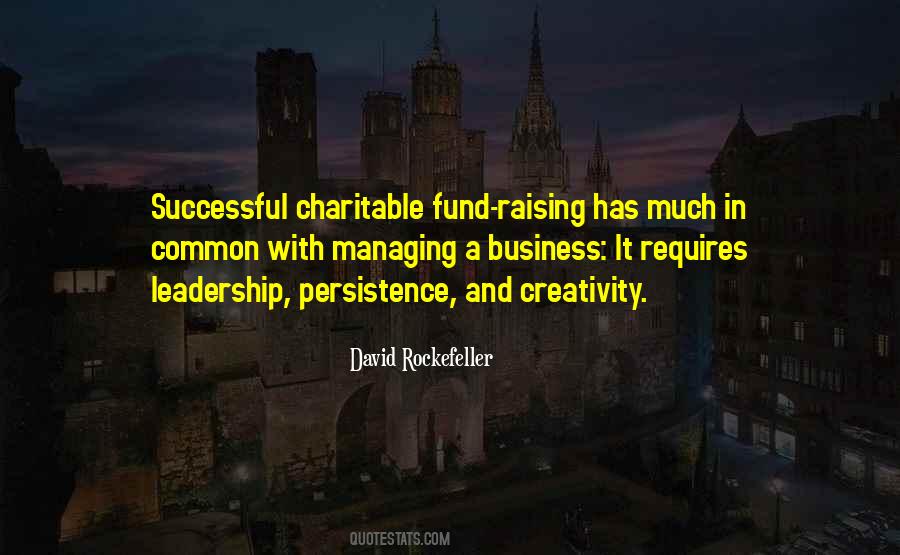 #11. The only thing which is of lasting benefit to a man is that which he does for himself. Money which comes to him without effort on his part is seldom a benefit and often a curse. - Author: John D. Rockefeller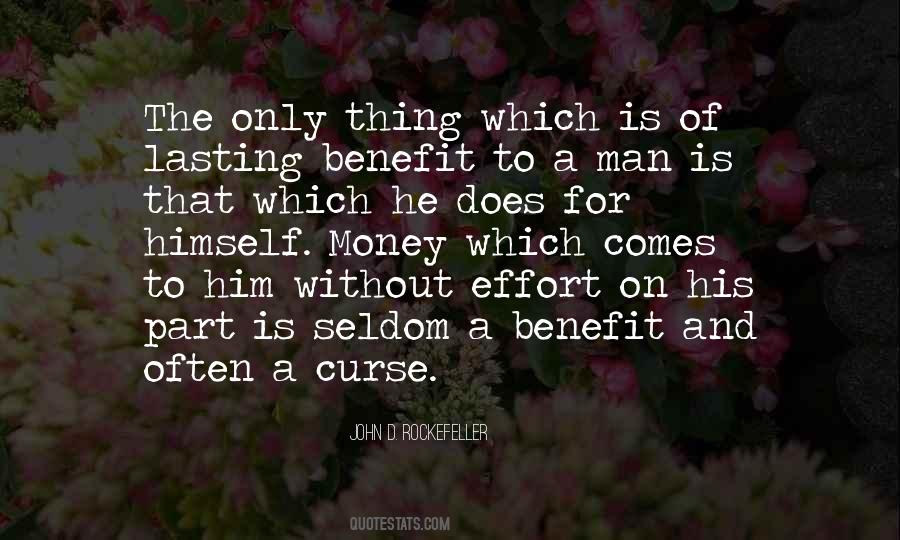 #12. We need a new, deeper appreciation of the ethnic histories of the American people, not a reduction of American history to ethnic histories. - Author: Steven C. Rockefeller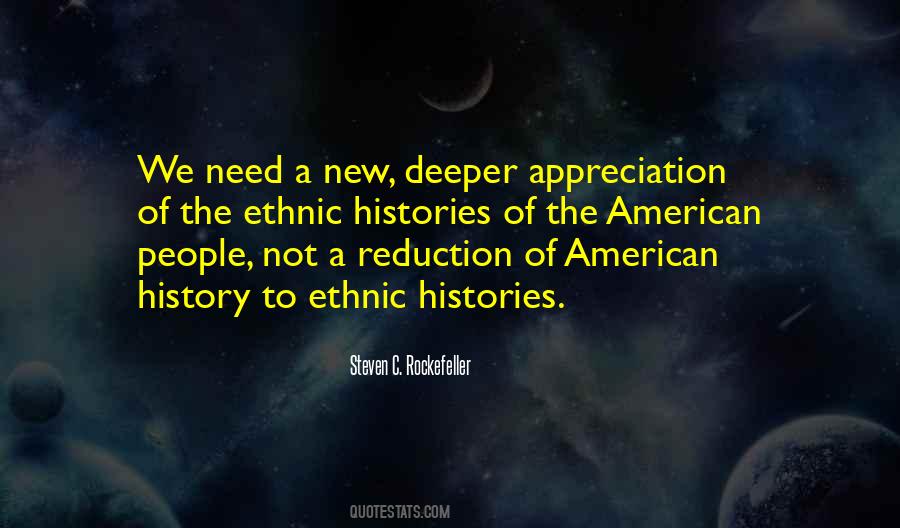 #13. If the Council on Foreign Relations (CFR) raises the hackles of the conspiracy theorists, the Bilderberg meetings must induce apocalyptic visions of omnipotent international bankers plotting with unscrupulous government officials to impose cunning schemes on an ignorant and unsuspecting world. - Author: David Rockefeller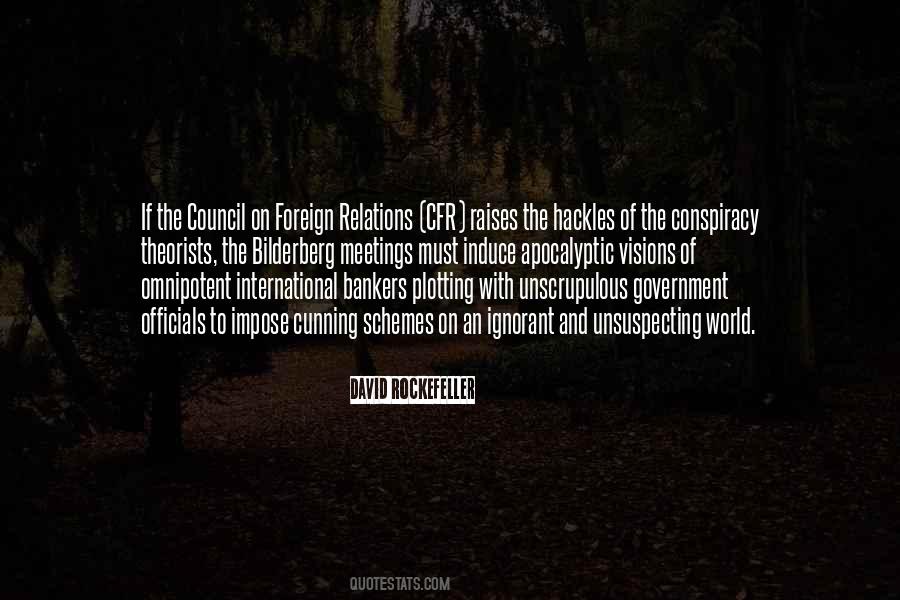 #14. In the Eisenhower era, when earnings over $400,000 were subject to 91 percent taxes and the world was a smaller place, you could count the truly wealthy on one hand: Getty, Dupont, Mellon, Rockefeller, though even those fortunes were being dispersed to children as the old robber barons died off. - Author: Michael Shnayerson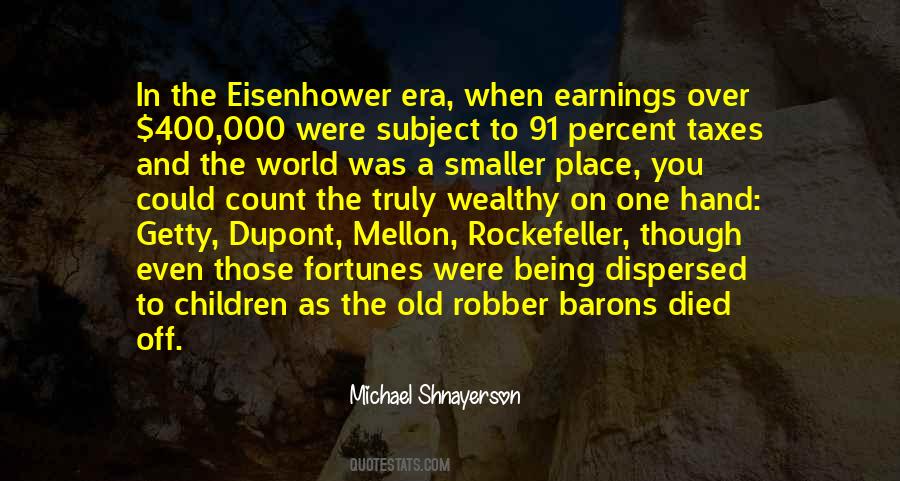 #15. We were told by the president that we had no alternative but to go into Iraq because of the threat that Saddam Hussein's weapons of mass destruction posed, but to date, these weapons have not been found. - Author: Jay Rockefeller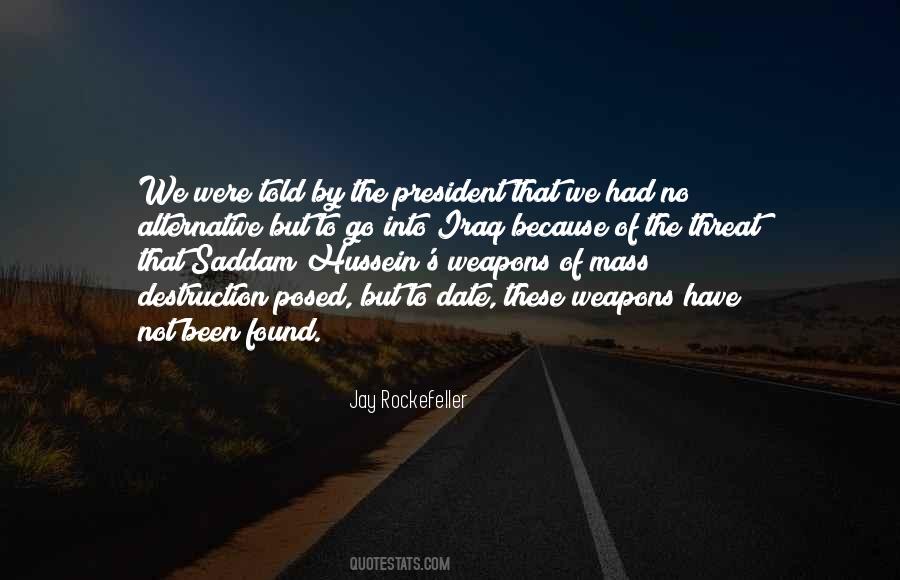 #16. Get rich by taking something common and making it uncommon. - Author: John D. Rockefeller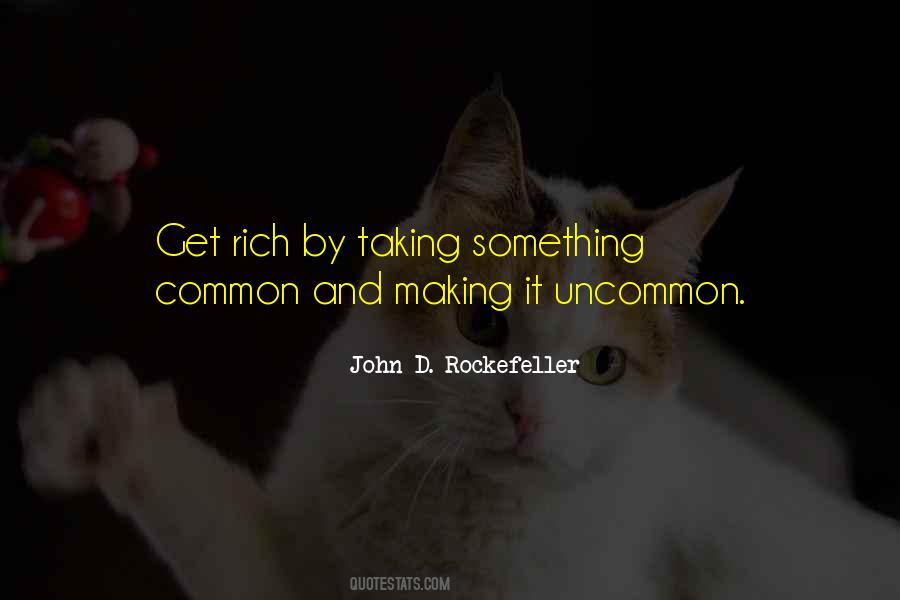 #17. I'm giving my whole life to breaking the butterfly of a John Rockefeller upon the wheel of my ponderous articles, - Author: Doris Kearns Goodwin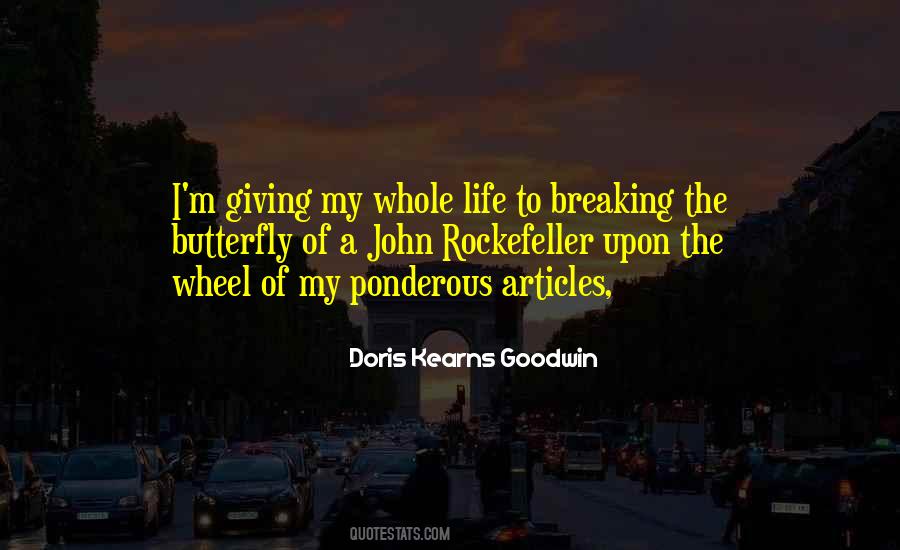 #18. I am of the opinion that the appreciation and the desire for what is good takes more study and insight than does the understanding and test for the best music and art. - Author: Laurance Rockefeller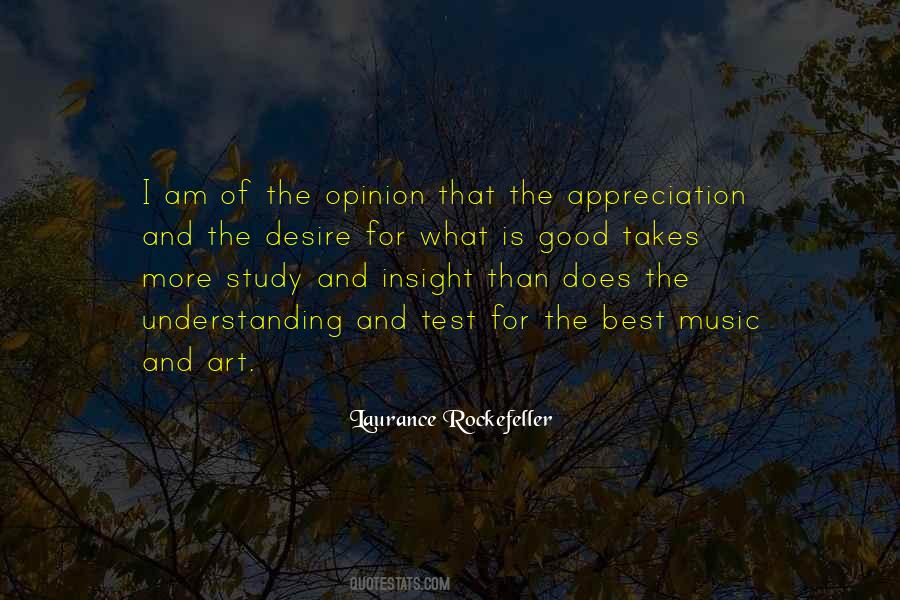 #19. John D. Rockefeller said that he found friendships based on business to be far more long lasting and profitable than the reverse. I think there's something to that. A company can end up being very Confucian, where the good of the individual is subjugated to the good of the whole. - Author: Ben Horowitz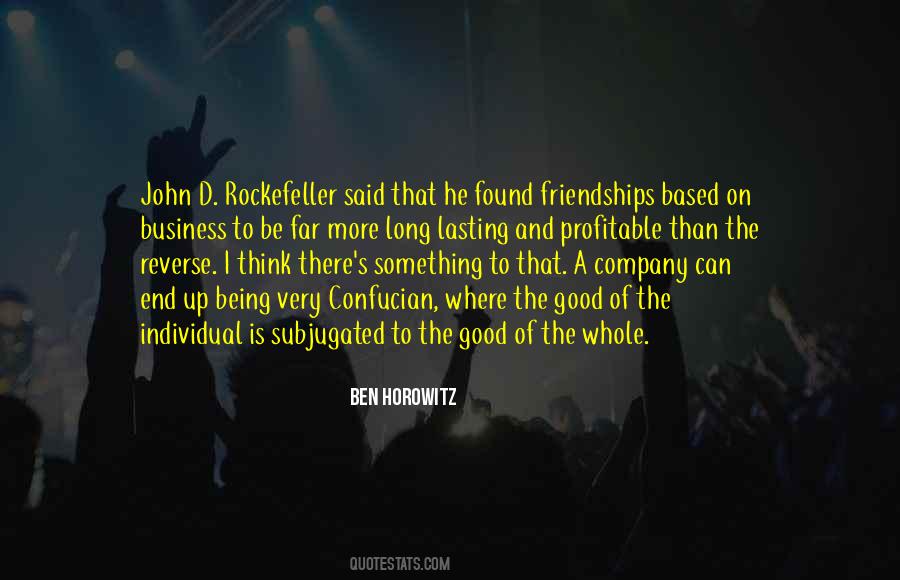 #20. He had a great general's ability to focus on his goals and brush aside obstacles as petty distractions. "You can abuse me, you can strike me," Rockefeller said, "so long as you let me have my own way. - Author: Ron Chernow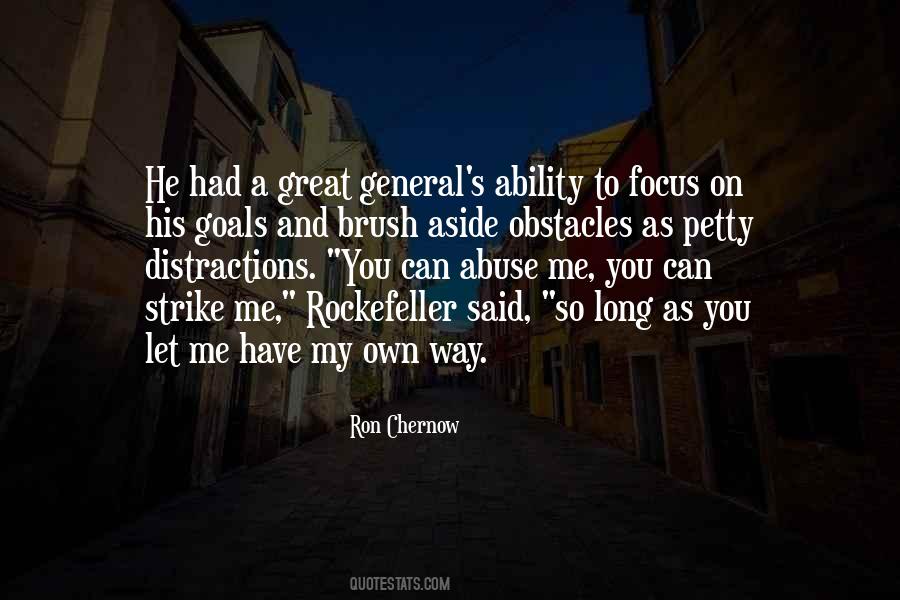 #21. After it is all over, the religion of man is his most important possession. - Author: John D. Rockefeller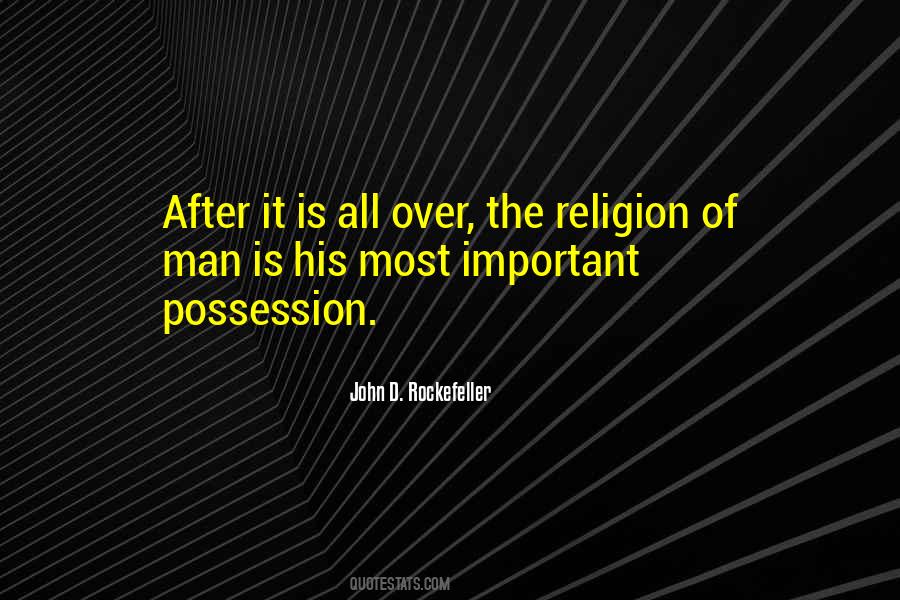 #22. You know who invented the twist, right?" asked the man next to him. "It was John D. Rockefeller. He was a germophobe, and citrus was a natural disinfectant, so Rockefeller always asked his bartenders to run a lemon peel around the rim of his glass. - Author: Elin Hilderbrand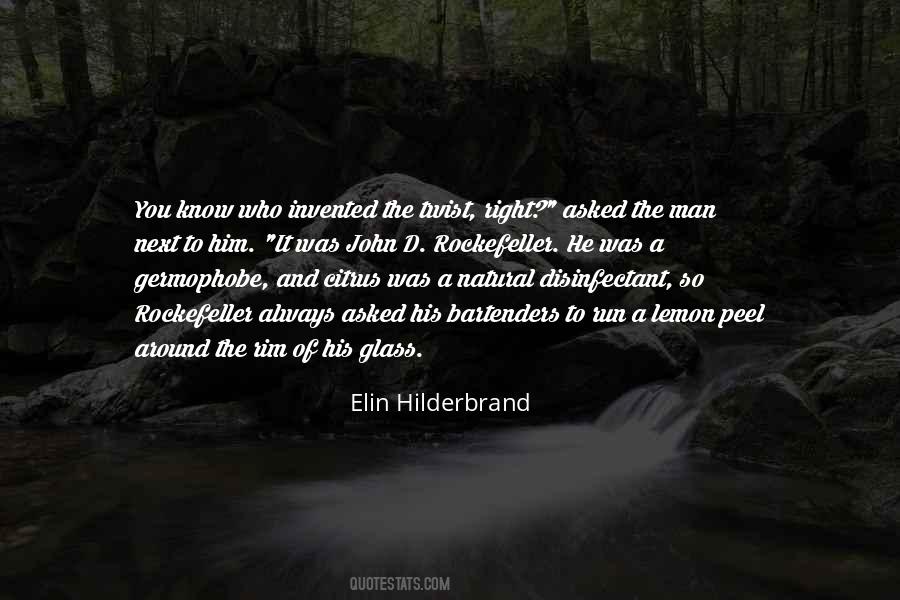 #23. The poorest man I know is the man who has nothing but money. - Author: John D. Rockefeller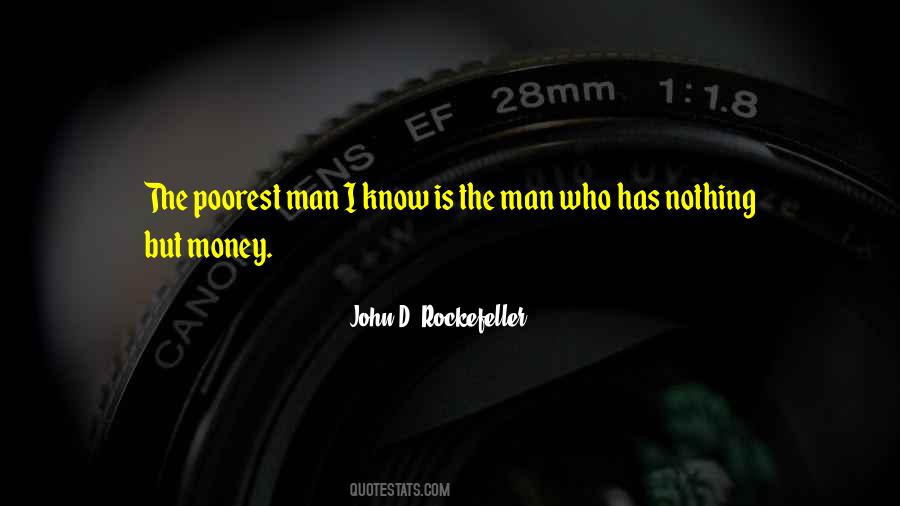 #24. The president's economic plan doesn't do enough to create new jobs and that has to be a national priority. While there are some signs the economy is improving, it is not translating into jobs. - Author: Jay Rockefeller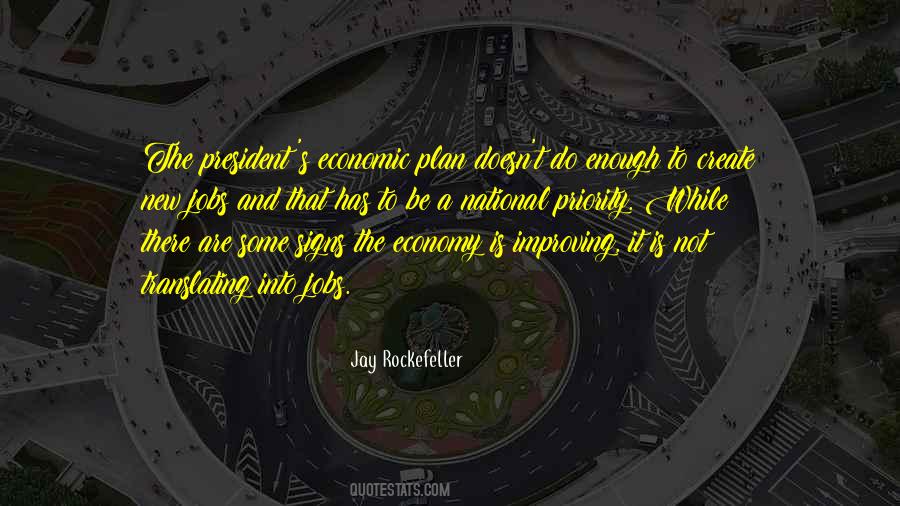 #25. John D Rockefeller read his Bible religiously, but kept his ledger in a different drawer. - Author: H.W. Brands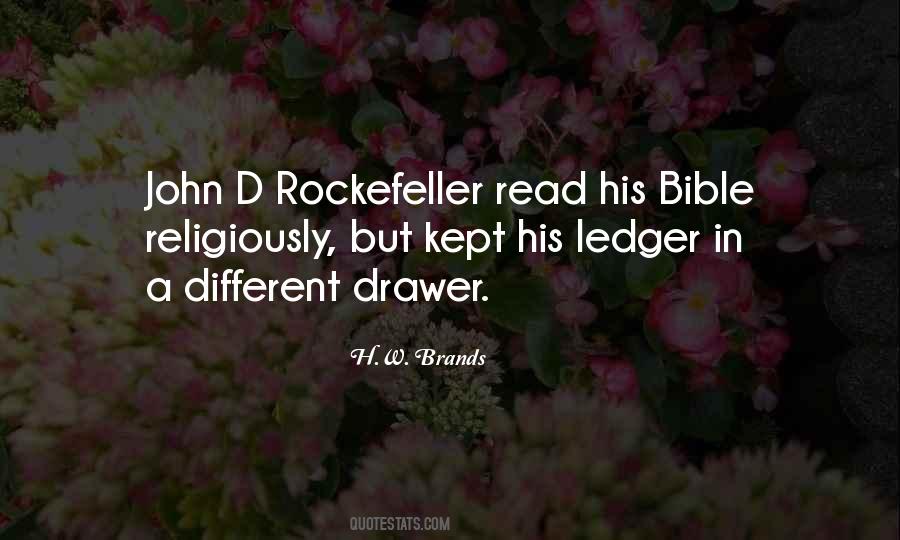 #26. Philanthropy is involved with basic innovations that transform society, not simply maintaining the status quo or filling basic social needs that were formerly the province of the public sector. - Author: David Rockefeller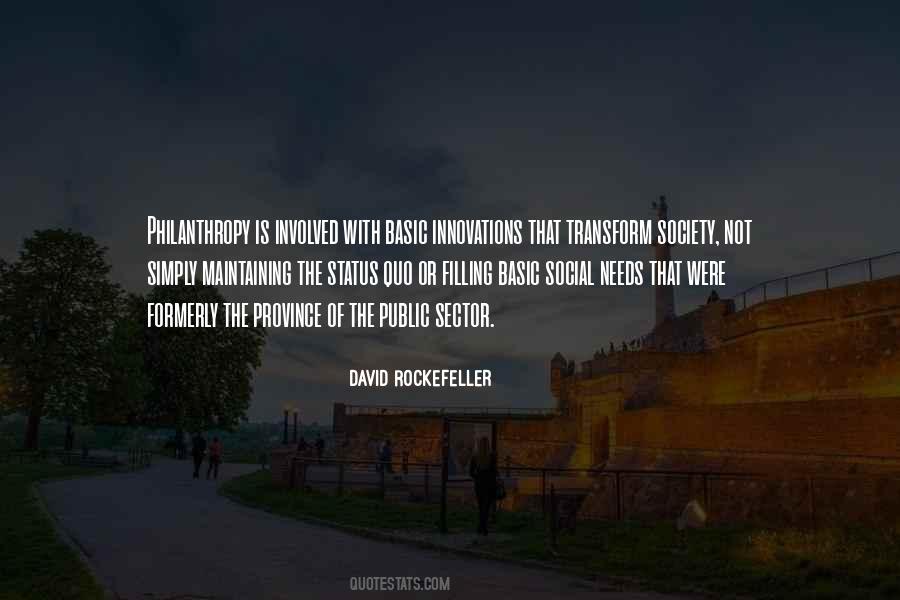 #27. And what happens doesn't happen in words. I want to smother all the French beaches I'll never see. Imagine stalking elk through the damp canyon forests around Rockefeller Center. - Author: Chuck Palahniuk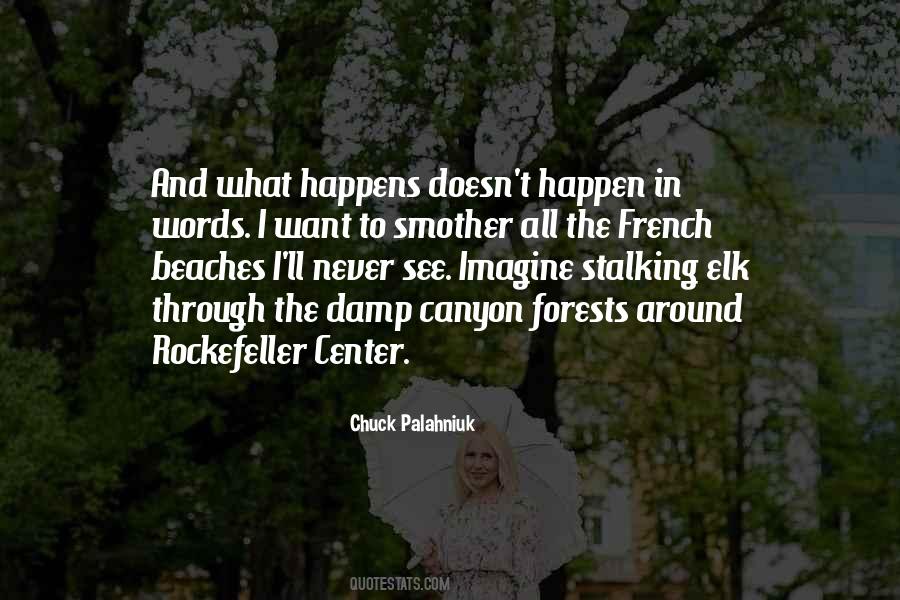 #28. Why should not Africa give to the world its Black Rockefeller, Rothschild and Henry Ford? Now is the opportunity. Now is the chance for every Negro to make every effort toward a commercial, industrial standard that will make us comparable with the successful business men of other races. - Author: Marcus Garvey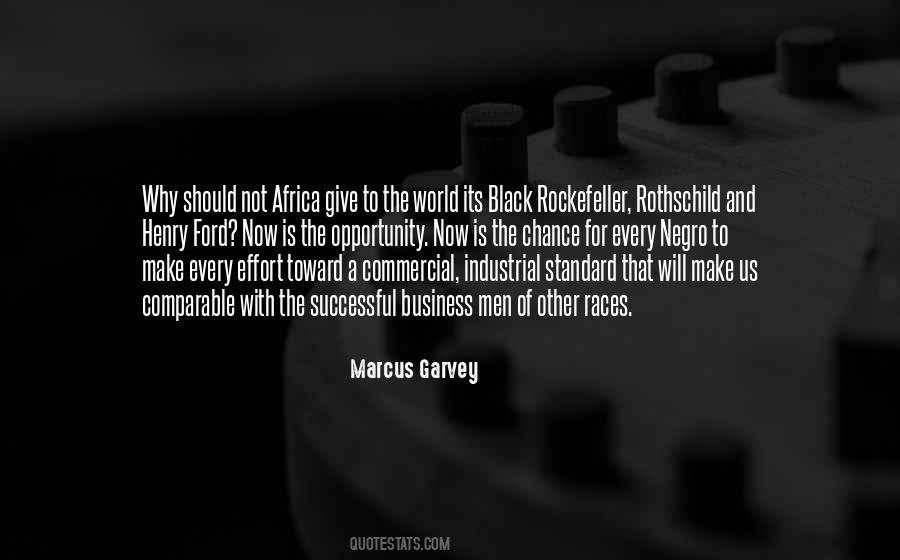 #29. I hope the Guggenheim plan will be revived. - Author: David Rockefeller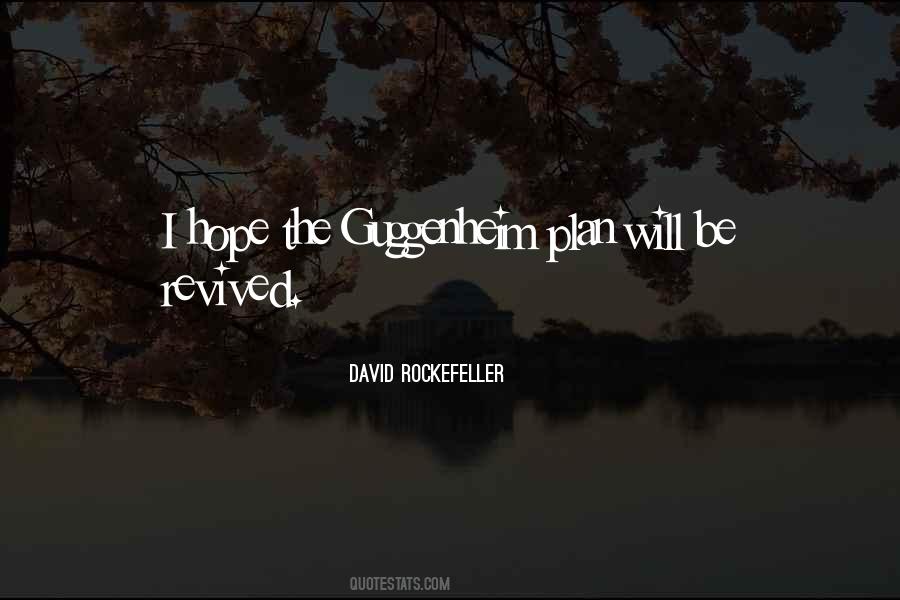 #30. Why is the Rockefeller Commission so Single-Minded About a Lone Assassin in the Kennedy Case?, - Author: Cyril Wecht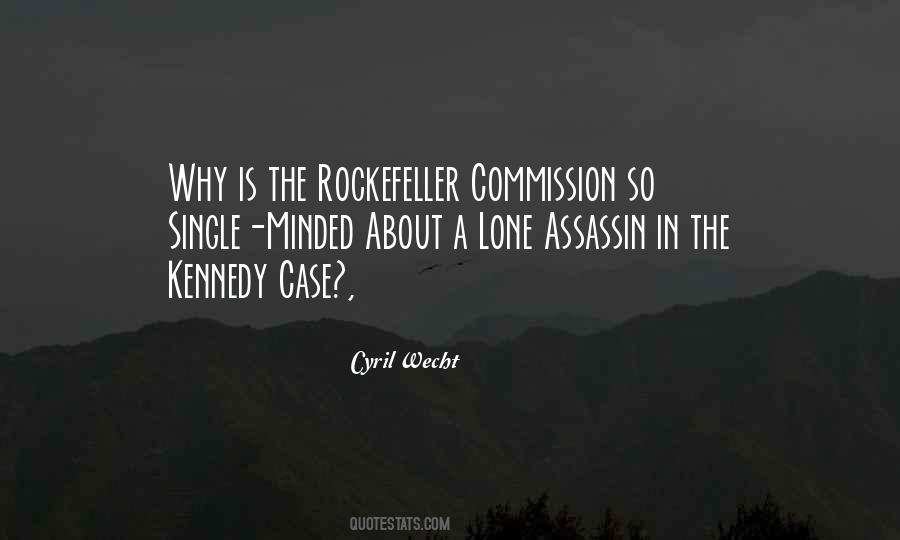 #31. It is true that I am often startled and even angered and repulsed by the strange directions and provocative content of new forms that seem to pop up every few months. - Author: David Rockefeller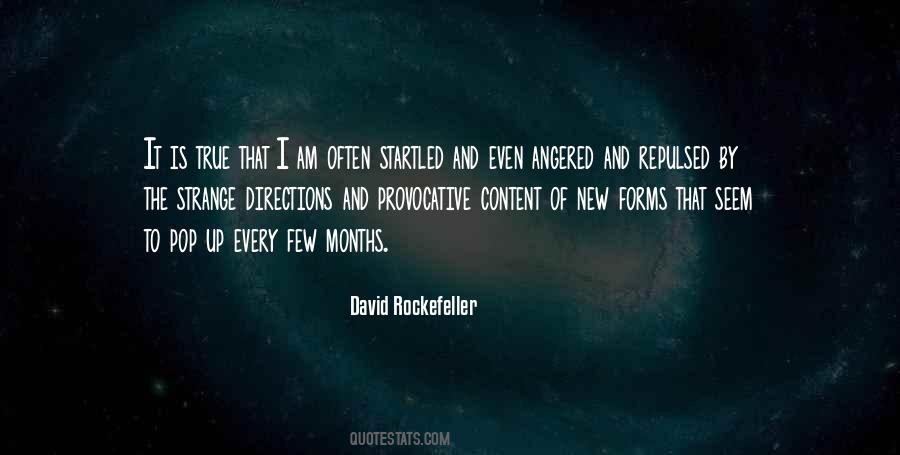 #32. Often-times the most difficult competition comes, not from the strong, the intelligent, the conservative competitor, but from the man who is holding on by the eyelids and is ignorant of his costs, and anyway he's got to keep running or bust! - Author: John D. Rockefeller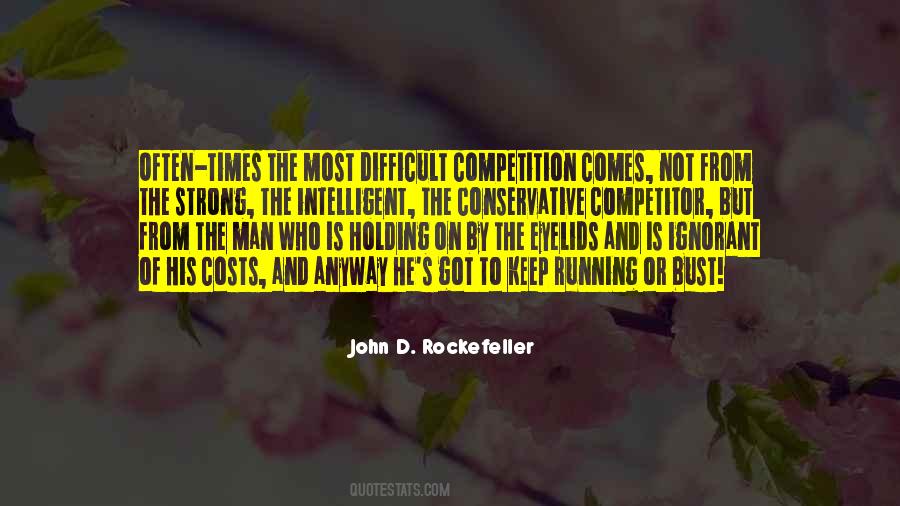 #33. And we are never too old to study the Bible. Each time the lessons are studied comes some new meaning, some new thought which will make us better. - Author: John D. Rockefeller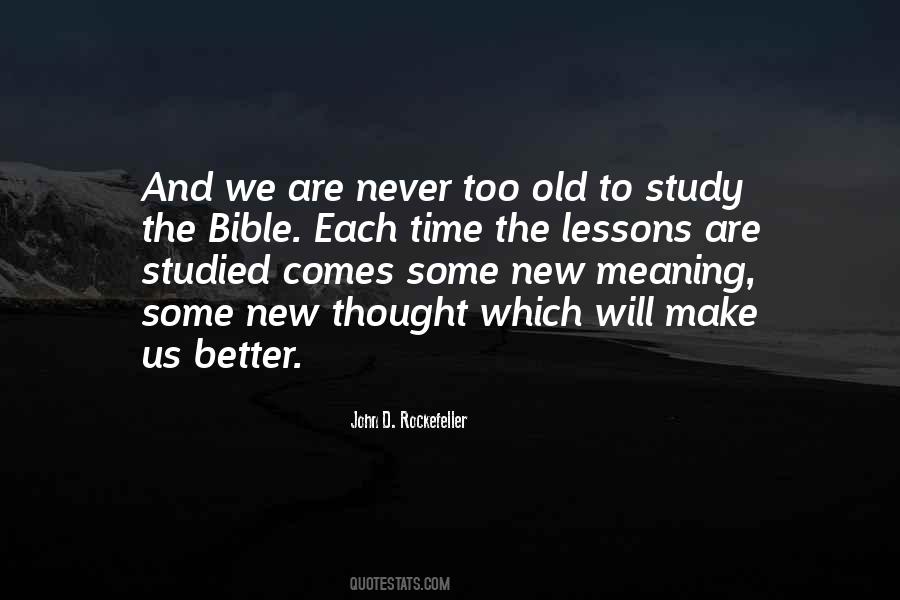 #34. For more than 40 years, I have advocated the creation of a 'round the clock' community. This would mean, at the least, housing, schools and shops of various kinds alongside the commercial buildings. That kind of community had appeared in lower Manhattan in nascent form before Sept. 11, 2001. - Author: David Rockefeller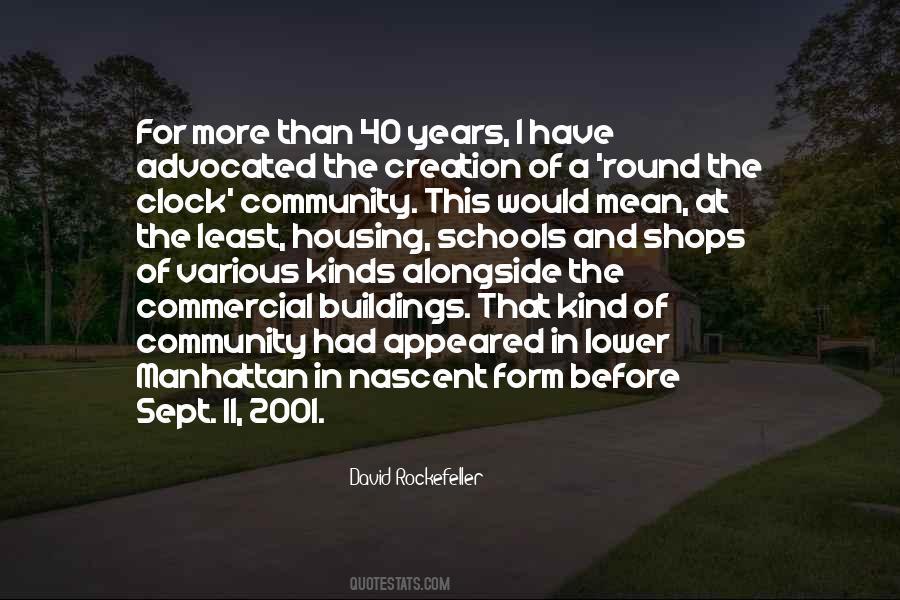 #35. Musk's vision, and, of late, execution seem to combine the best of Henry Ford and John D. Rockefeller. With - Author: Ashlee Vance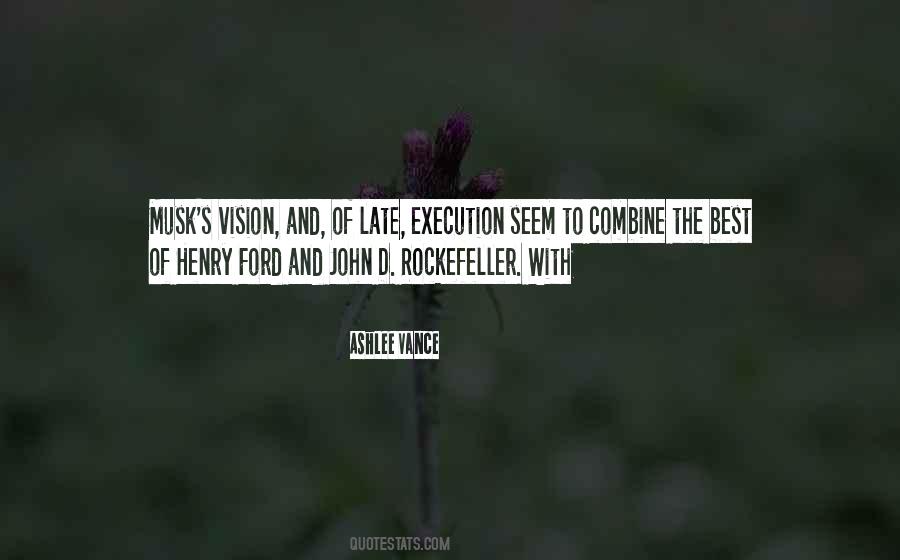 #36. The role of a museum of modern art is to make a good selection and identify what we believe to be the coming movements, and that requires taste. - Author: David Rockefeller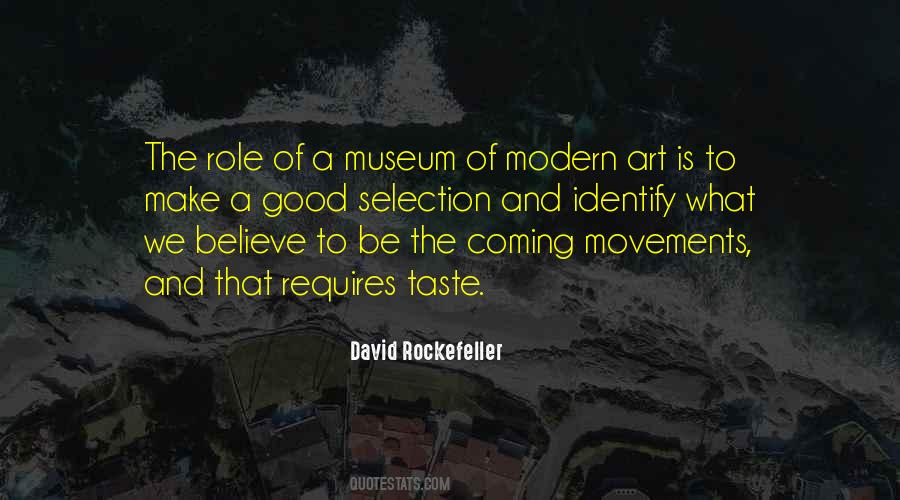 #37. These international bankers and Rockefeller Standard Oil interests control the majority of newspapers and the columns of these papers to club into submission or drive out of public office officials who refuse to do the bidding of the powerful corrupt cliques which compose the invisible government. - Author: Theodore Roosevelt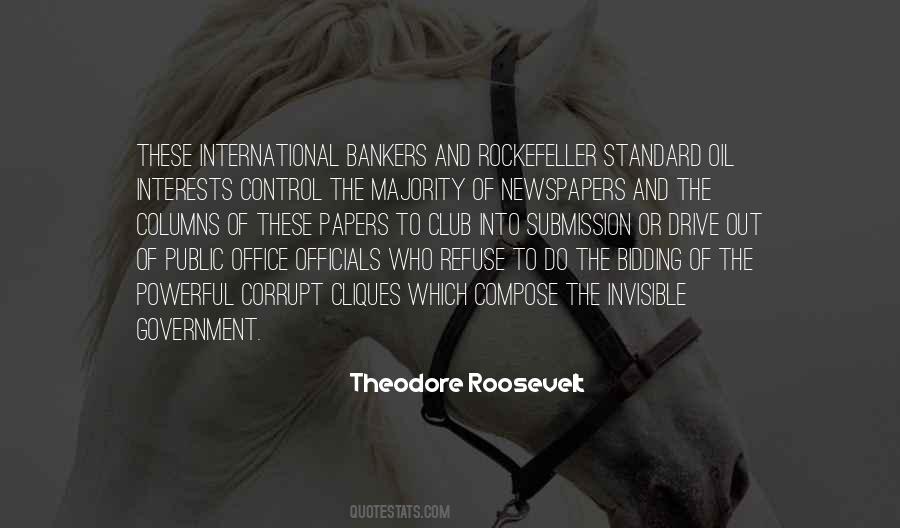 #38. The only question with wealth is, what do you do with it? - Author: John D. Rockefeller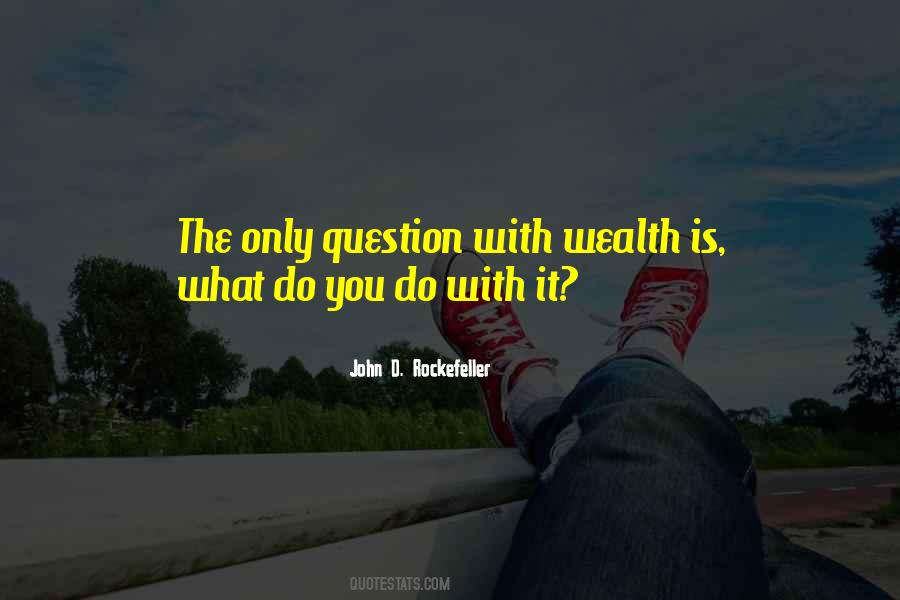 #39. The conventional notions of art have changed, and a lot of things done today are considered works of art that would have been rejected in the past. - Author: David Rockefeller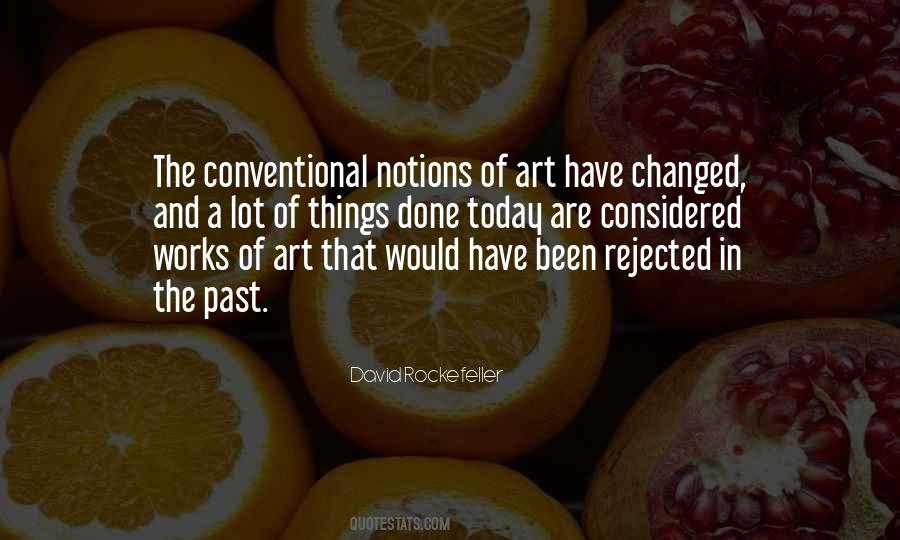 #40. Today is a great day, not only of healing and reconciliation, but also coming together. I'm so glad the whole Little Rock Nine was alive and here to see this. - Author: Winthrop Rockefeller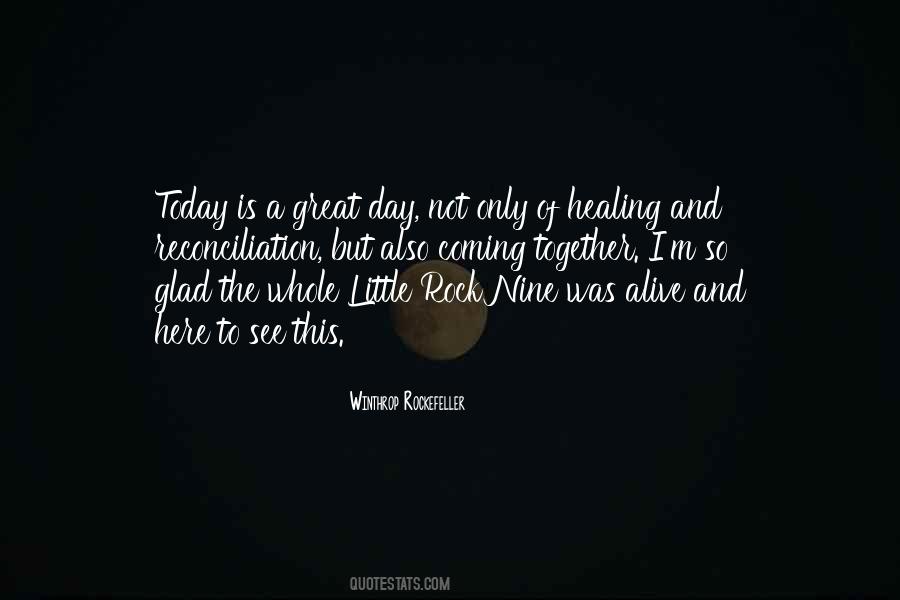 #41. I think there's a lot to learn from Rockefeller on how to pass legislation. - Author: Andrew Cuomo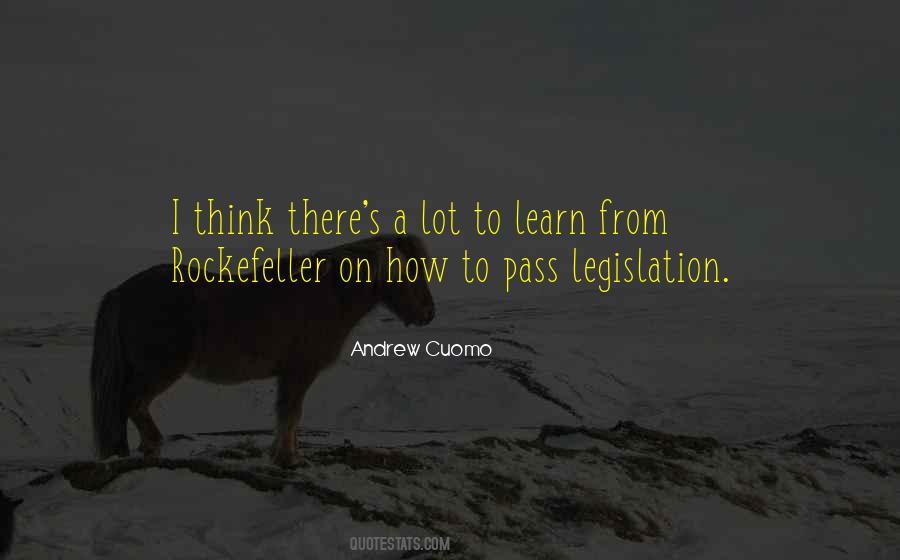 #42. I was 14 years old in August of 1968 and had earned the money and had managed to get tickets as a guest of the Massachusetts delegation to the Republican convention in Miami and where I was on the floor in the Rockefeller demonstrations. - Author: Richard Norton Smith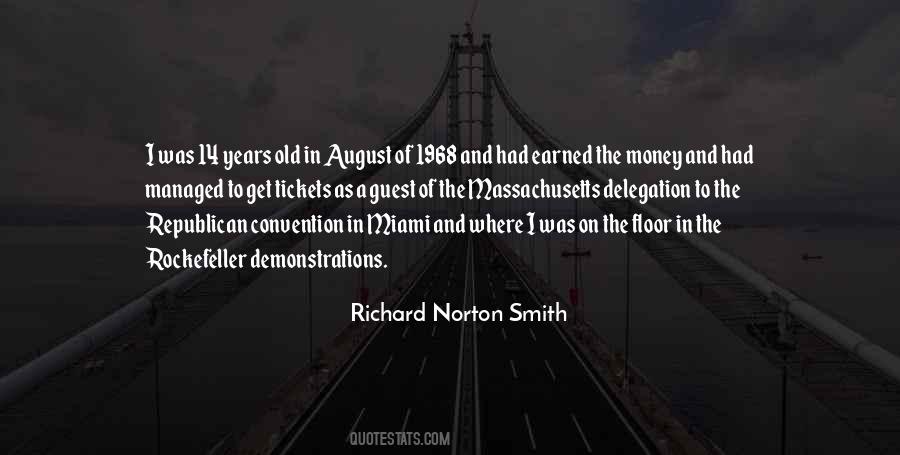 #43. I never would have been able to tithe the first million dollars I ever made if I had not tithed my first salary, which was $1.50 per week. - Author: John D. Rockefeller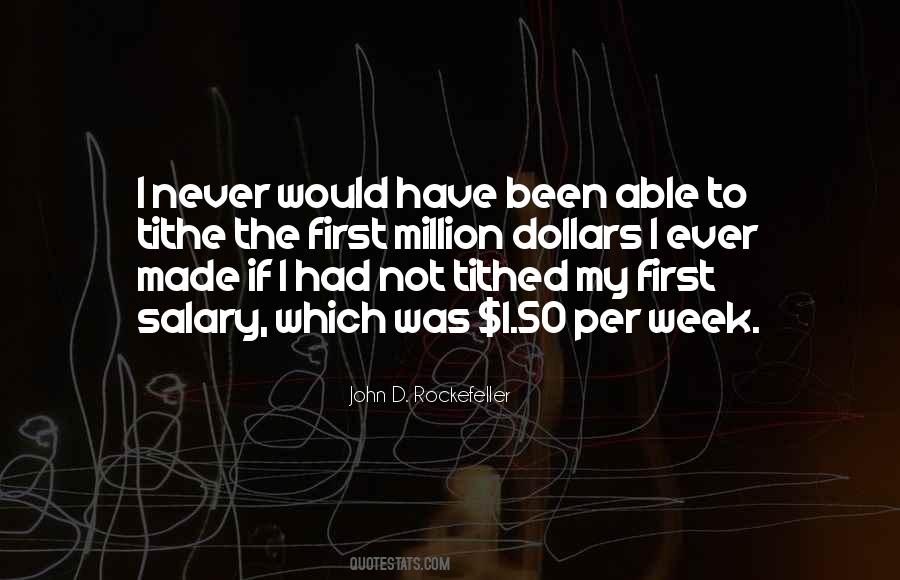 #44. I believe that thrift is essential to well-ordered living. - Author: John D. Rockefeller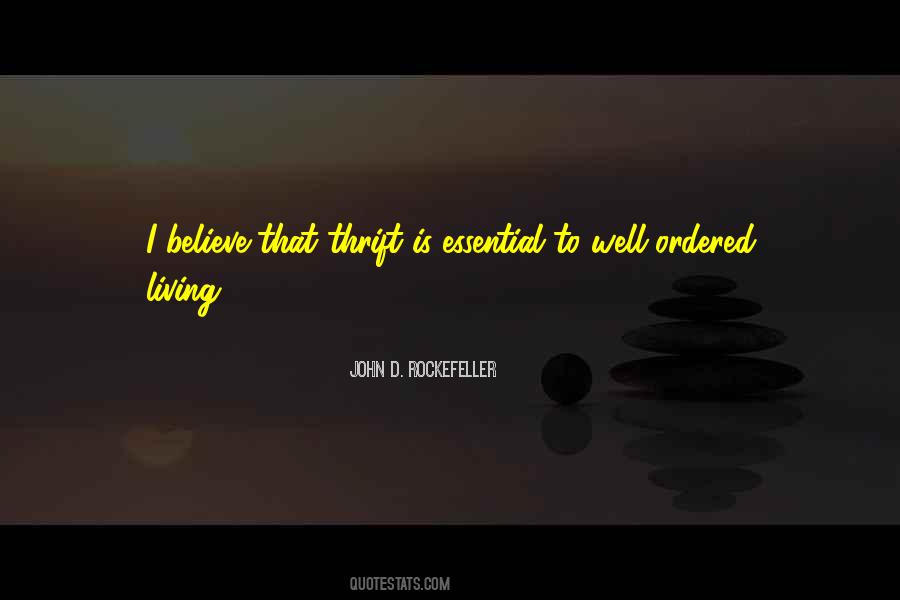 #45. There is no feeling in this world to be compared with self-reliance
do not sacrifice that to anything else. - Author: John D. Rockefeller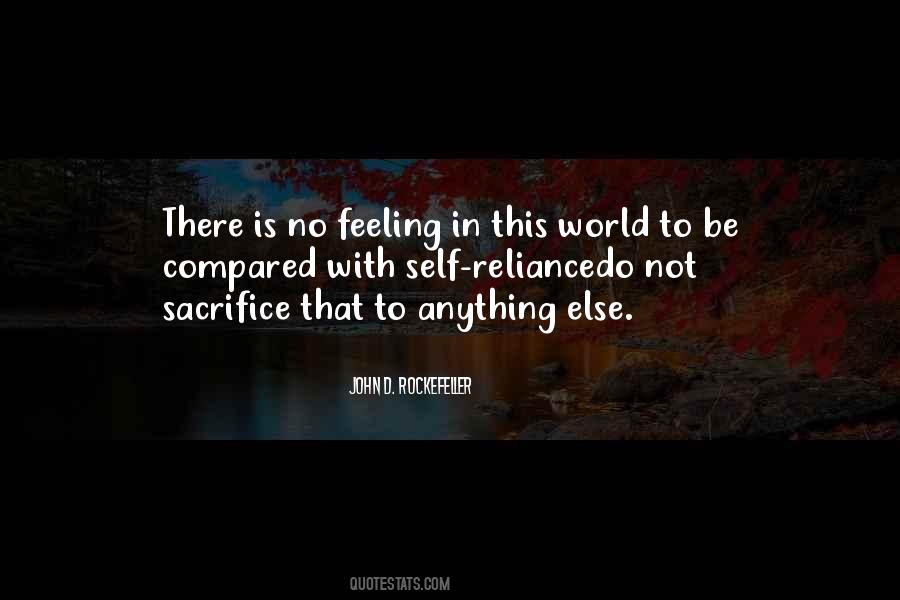 #46. One of my problems, so to speak, is that, in America, we tend to think in relatively short-term. In the Middle East and Asia and other parts of the world, they think in terms of centuries or 500 years or 1,000 years. - Author: Jay Rockefeller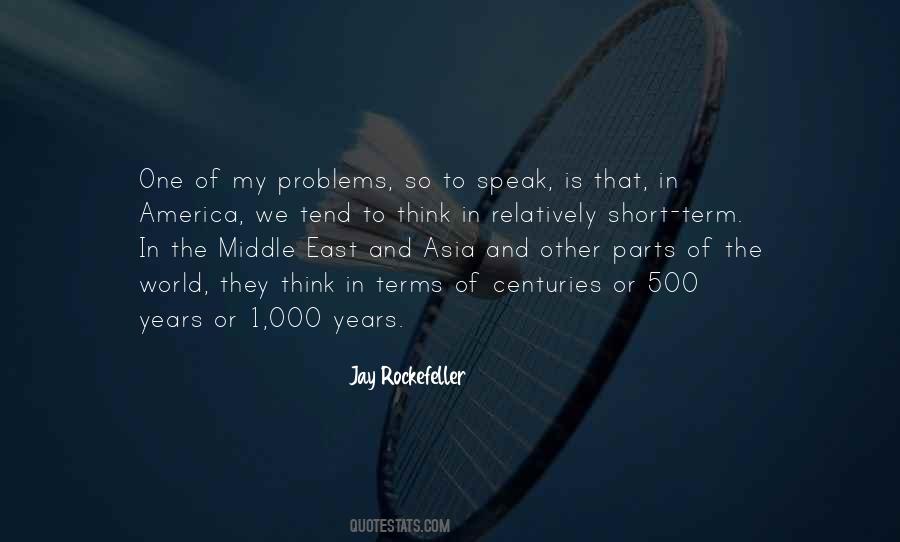 #47. Mr. Rockefeller is due to entertain munificently at breakfast, and make his pitch. My advice to one invited guest was: Order caviar, and then say No. - Author: William F. Buckley Jr.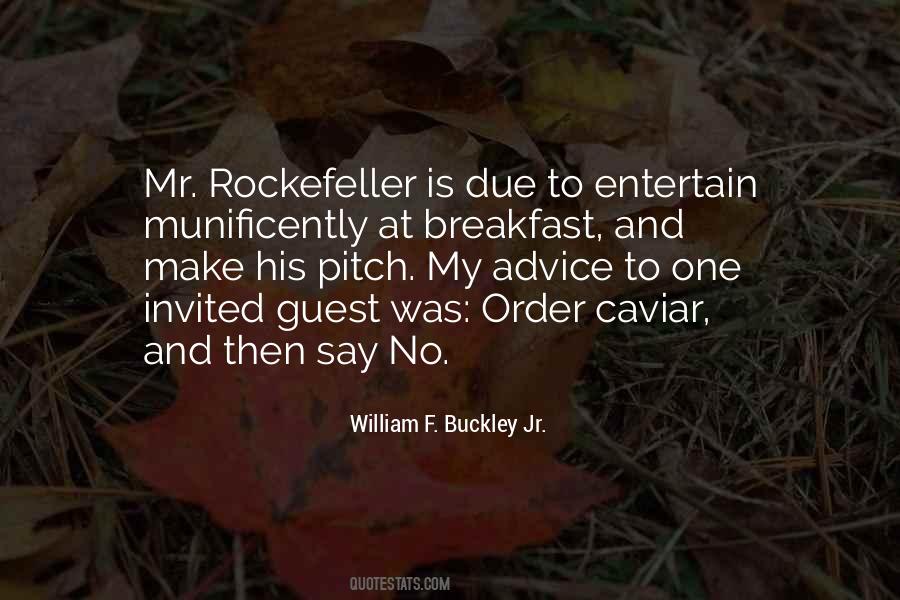 #48. When I was a girl, my grandmother would take me during the holidays to see the windows at Saks and Rockefeller Center. - Author: Michael Learned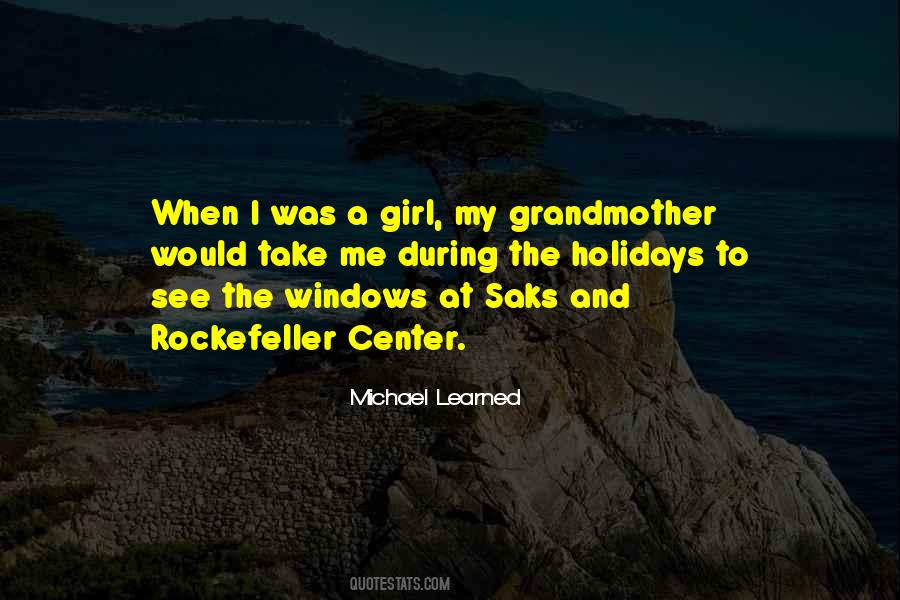 #49. I am convinced that material things can contribute a lot to making one's life pleasant, but, basically, if you do not have very good friends and relatives who matter to you, life will be really empty and sad and material things cease to be important. - Author: David Rockefeller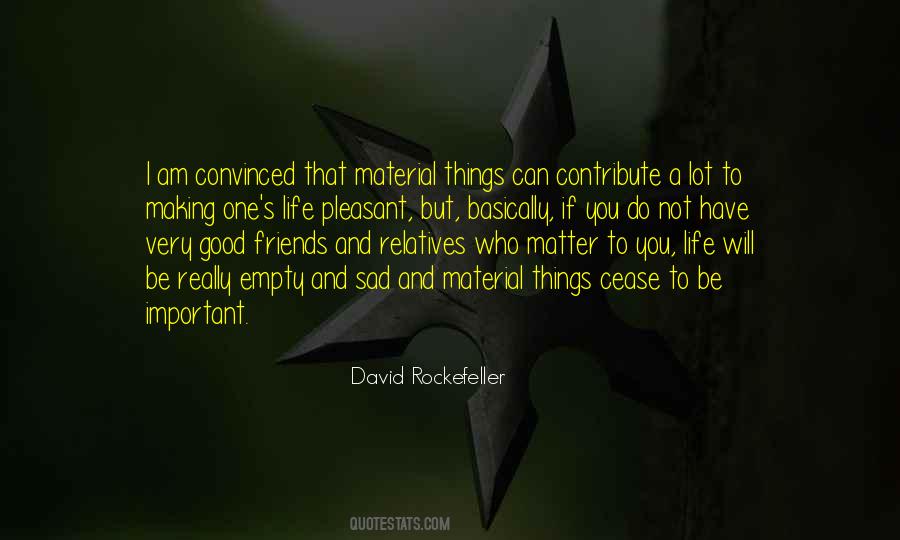 #50. As children we recognized that we belonged to an unusual, even exceptional, family, but the effect was different on each of us. - Author: David Rockefeller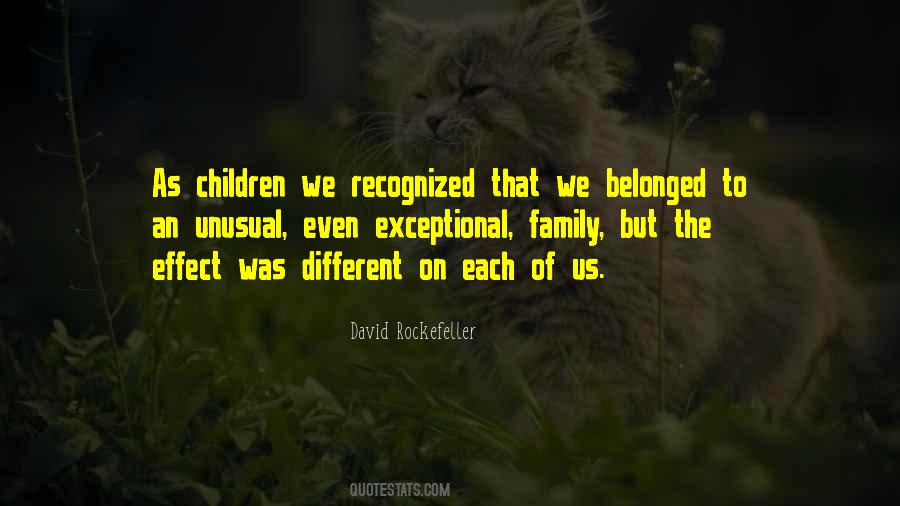 #51. I should say in general the advantage of education is to better fit a man for life's work. I would advise young men to take a college course, as a rule, but think some are just as well off with a thorough business training. - Author: John D. Rockefeller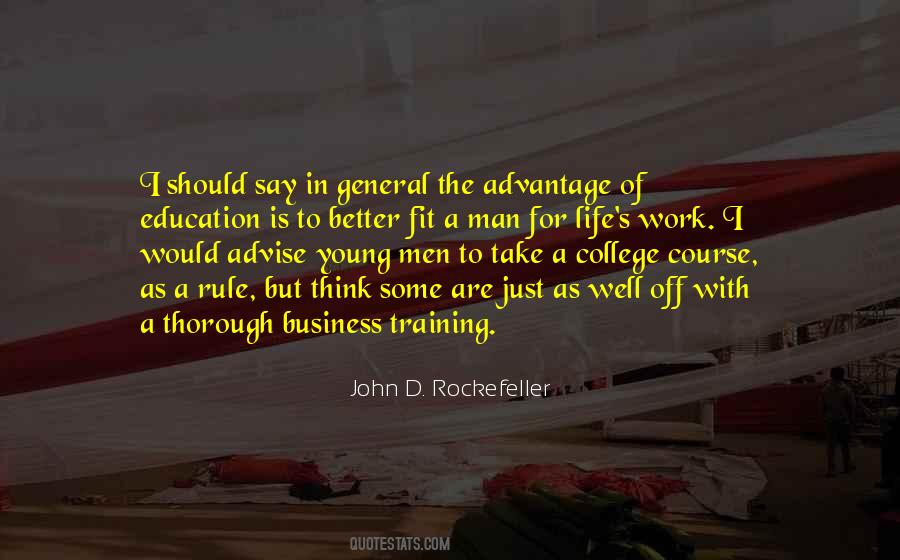 #52. If I was as rich as Rockefeller I'd be richer than Rockefeller, because I'd do a bit of window cleaning on the side. - Author: Ronnie Barker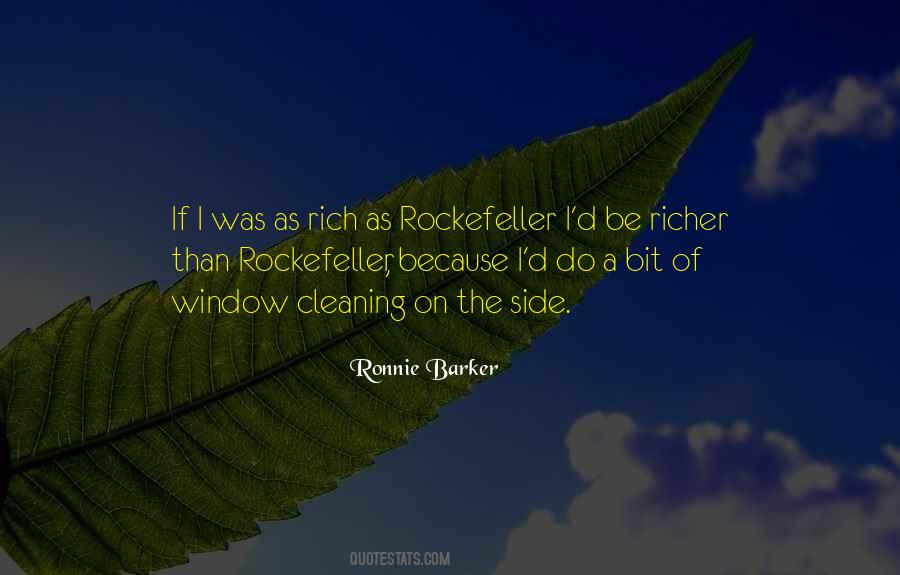 #53. This present window of opportunity, during which a truly peaceful and interdependent world order might be built, will not be open for too long - We are on the verge of a global transformation. All we need is the right major crisis and the nations will accept the New World Order. - Author: David Rockefeller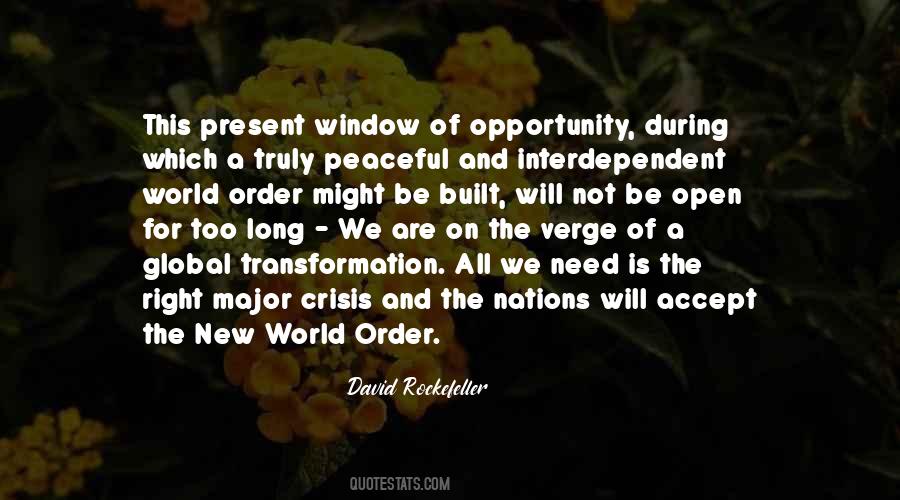 #54. In 1983, I became the Vincent and Brook Astor Professor at The Rockefeller University, where I established a new Laboratory of Neurobiology and continued my close collaboration with Charles Gilbert on the circuitry of primary visual cortex. - Author: Torsten Wiesel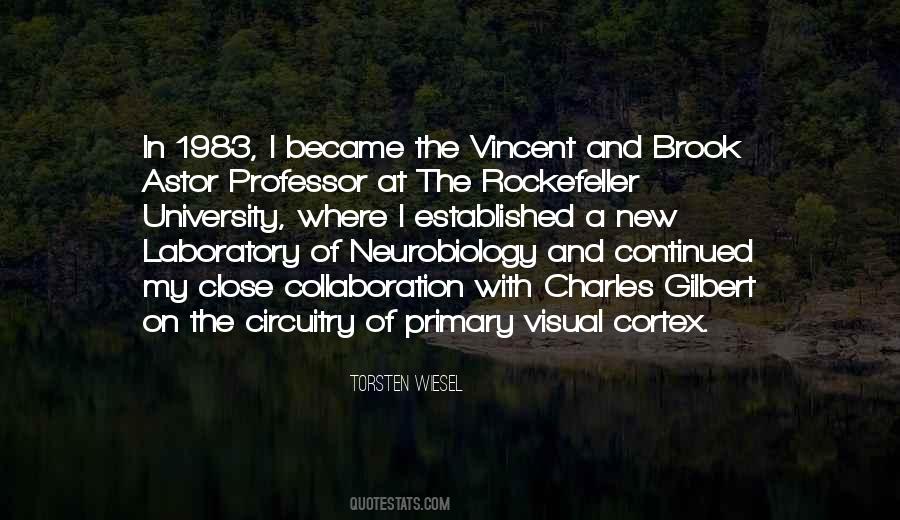 #55. Allowing the U.N. into Iraq will demonstrate to the Iraqis that the international community as a whole is committed to bringing stability and safety to their country. - Author: Jay Rockefeller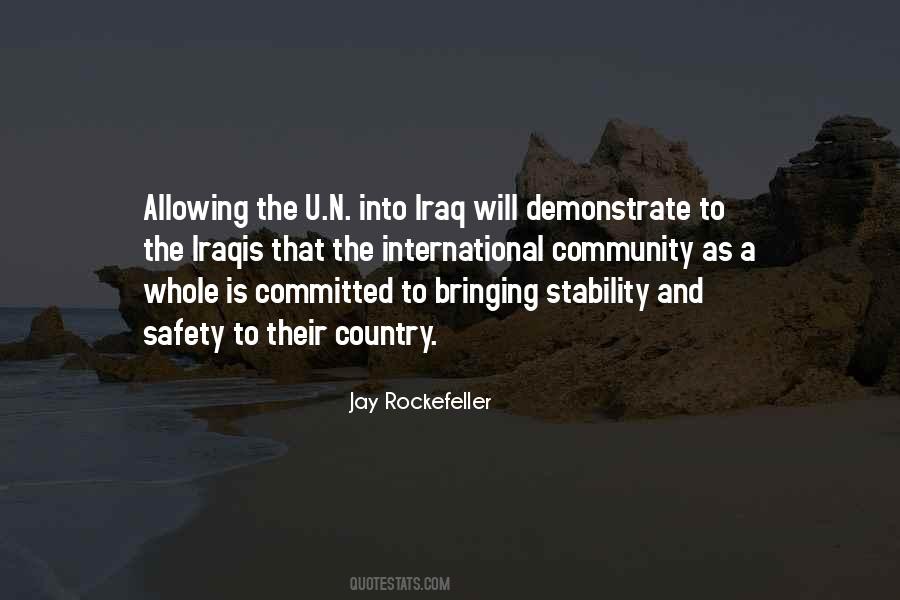 #56. What I would like you always to do is what I try humbly to do myself, that is, never to say or to do anything which would wound the feelings or the self-respect of any human being, and to give special consideration to all who are in any way repressed. - Author: Abby Aldrich Rockefeller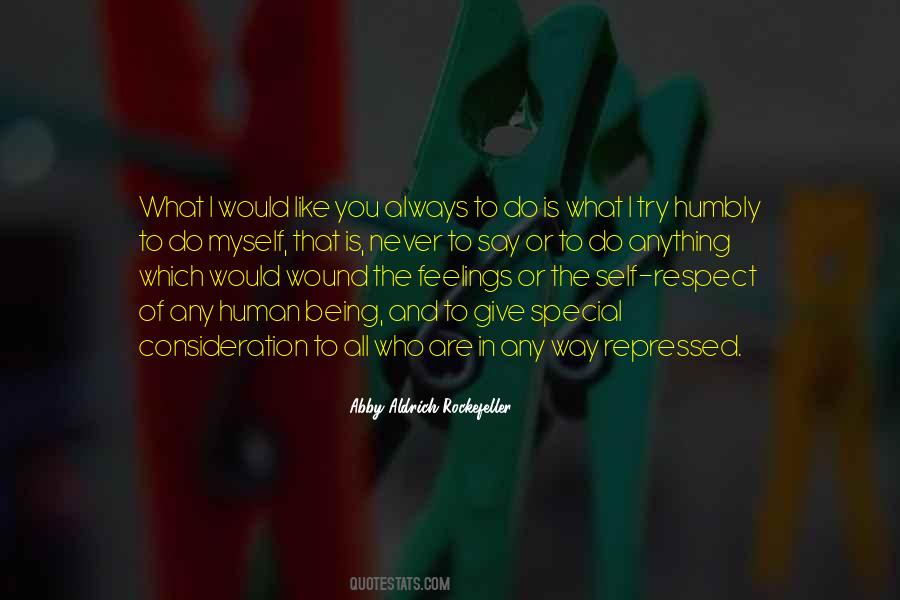 #57. The day of combination is here to stay. Individualism has gone, never to return. - Author: John D. Rockefeller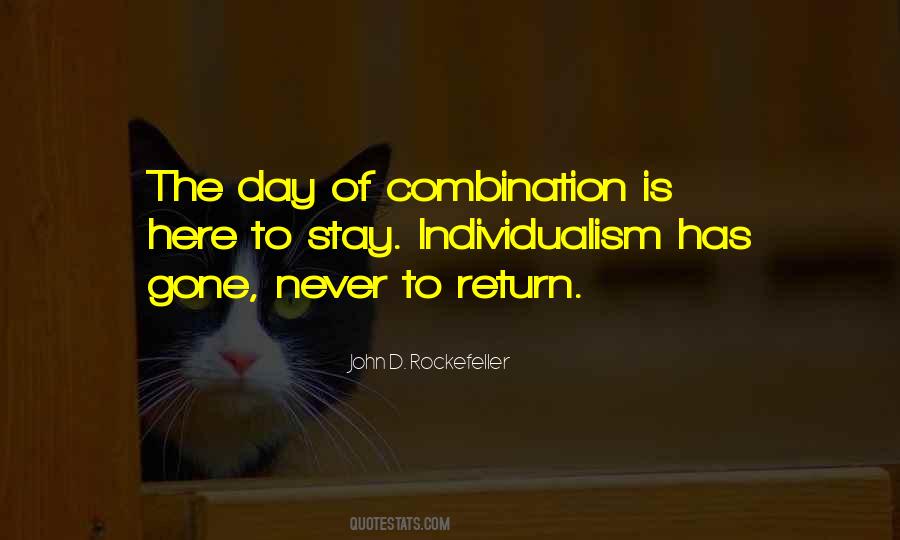 #58. I shall never forget the despair and agony on the parents' faces on the awful day of the funeral when the 13 little children, victims not only of John D. Rockefeller, but of the government of the state of Colorado were buried. - Author: Ella R. Bloor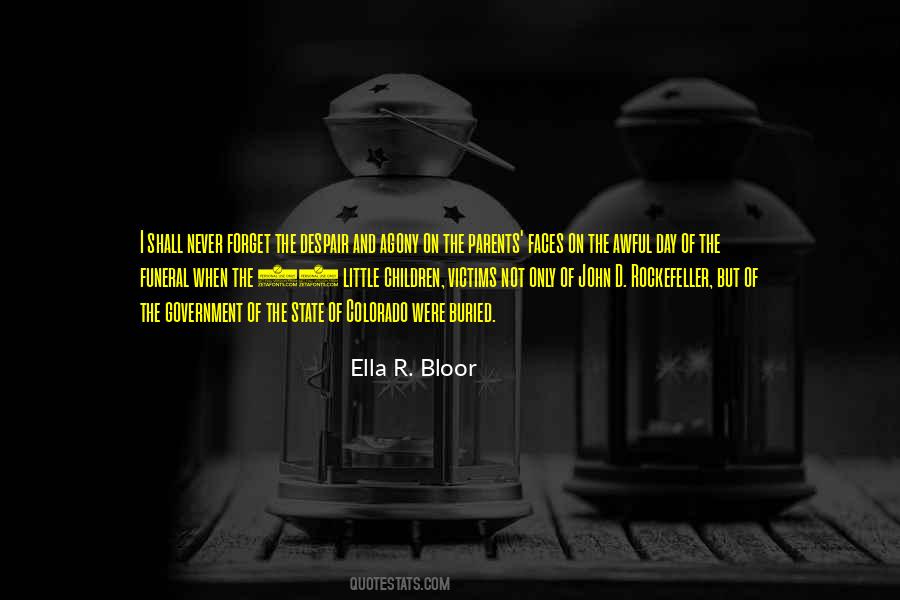 #59. Bilderberger Meeting: The world is now more sophisticated and prepared to march towards a world government ... - Author: David Rockefeller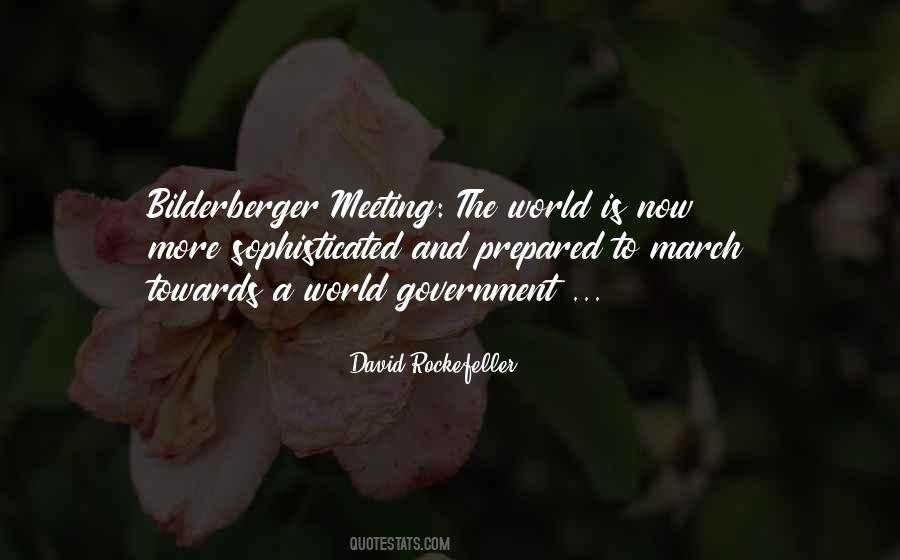 #60. How much money does it take to make a man happy? Just one more dollar. - Author: John D. Rockefeller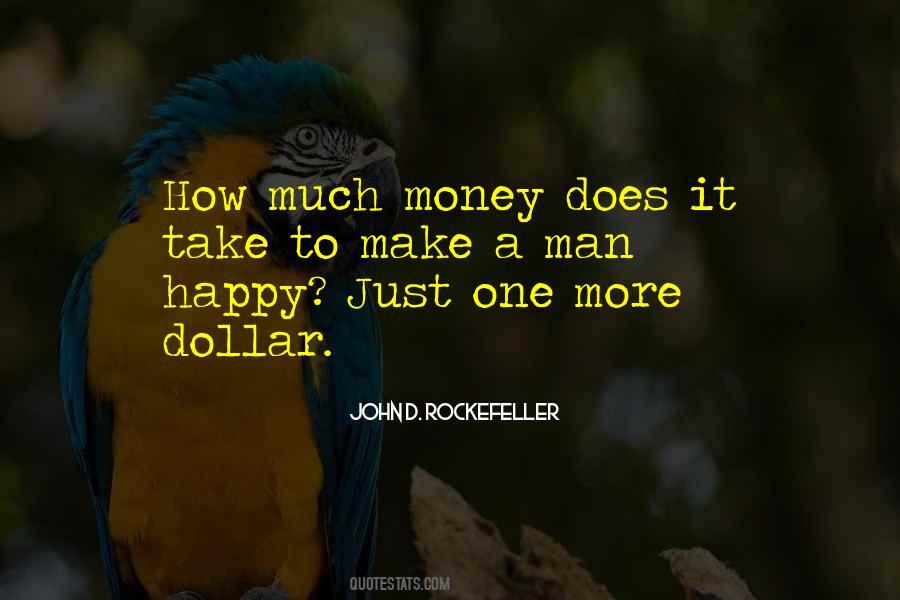 #61. I do not believe wealthy candidates should spend vast resources in their own campaigns. - Author: Laurance Rockefeller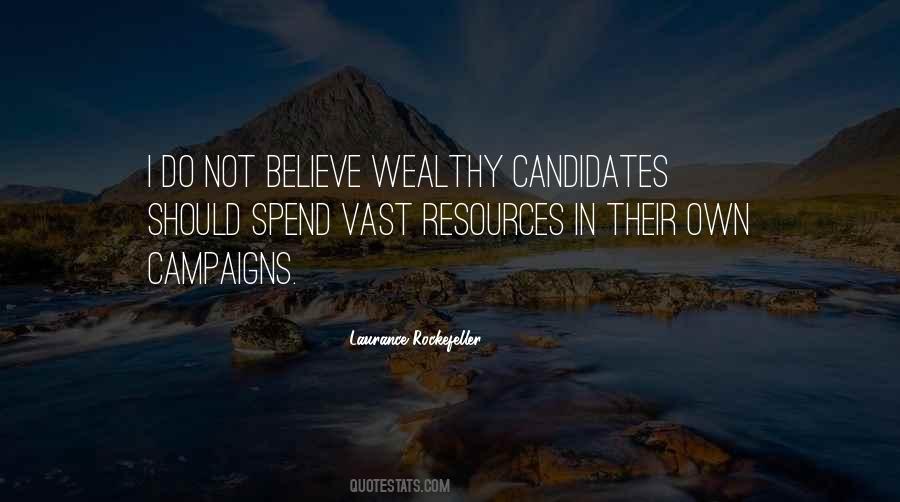 #62. Taxation has its limitations as a method of achieving better economic distribution since for this purpose it is essentially remedial. We must also take a positive approach by finding new ways to spread ownership of future capital growth more broadly in our society. - Author: John D. Rockefeller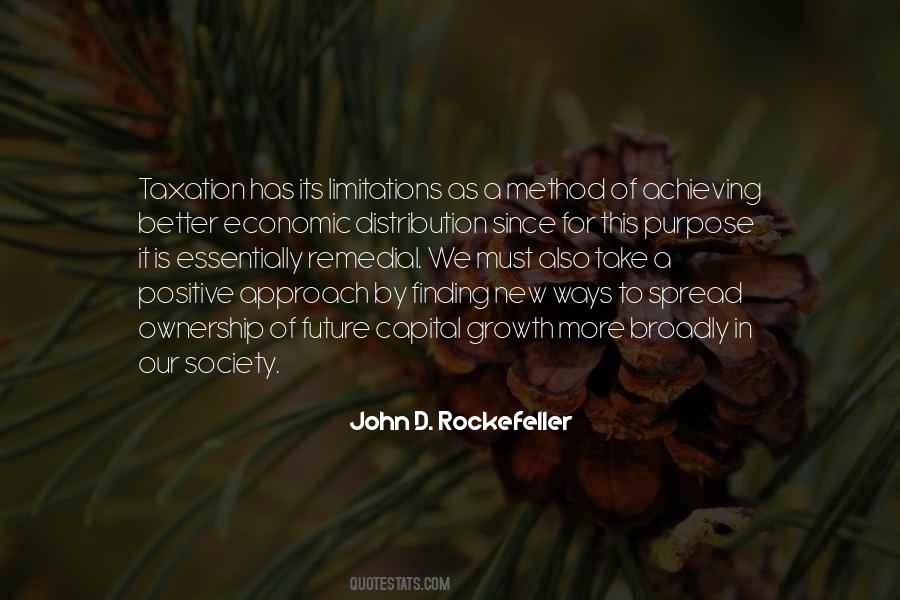 #63. The road to happiness lies in two simple principles: find what it is that interests you and that you can do well, and when you find it put your whole soul into it-every bit of energy and ambition and natural ability you have. - Author: John D. Rockefeller III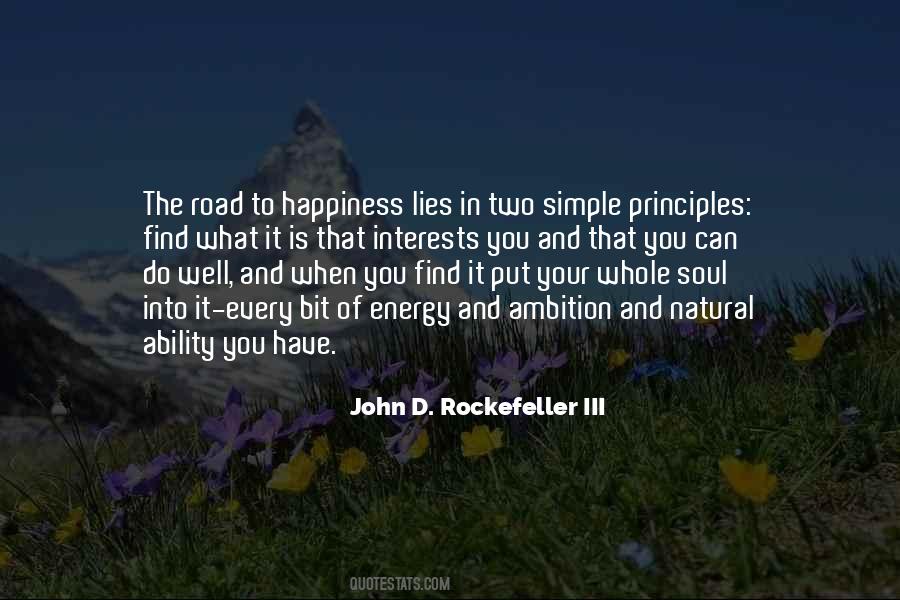 #64. Giving should be entered into in just the same way as investing. Giving is investing. - Author: John D. Rockefeller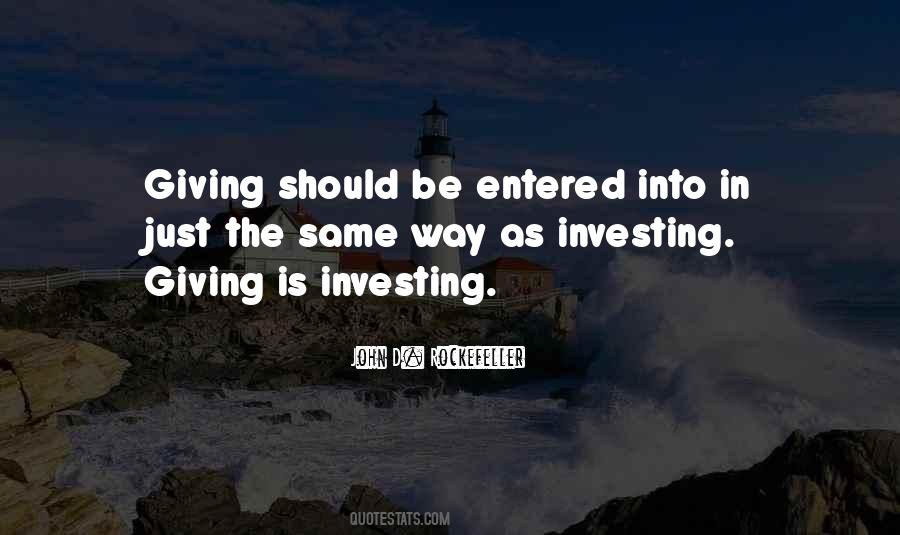 #65. The Christmas Tree, I swear, is so large it looks like it gave birth to the one in Rockefeller Center. - Author: Julie Sarff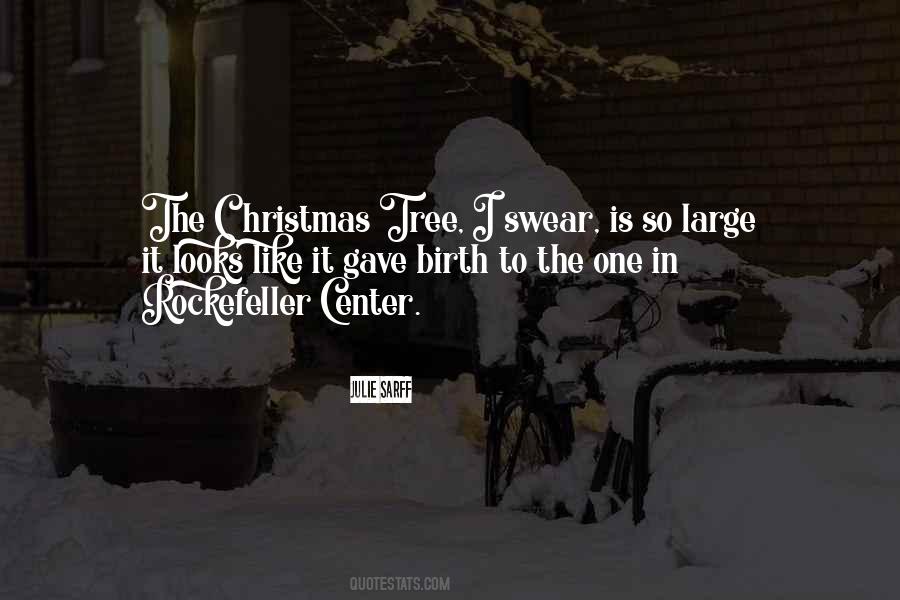 #66. You know, gentlemen, that I do not owe any personal income tax. But nevertheless, I send a small check, now and then, to the Internal Revenue Service out of the kindness of my heart. - Author: David Rockefeller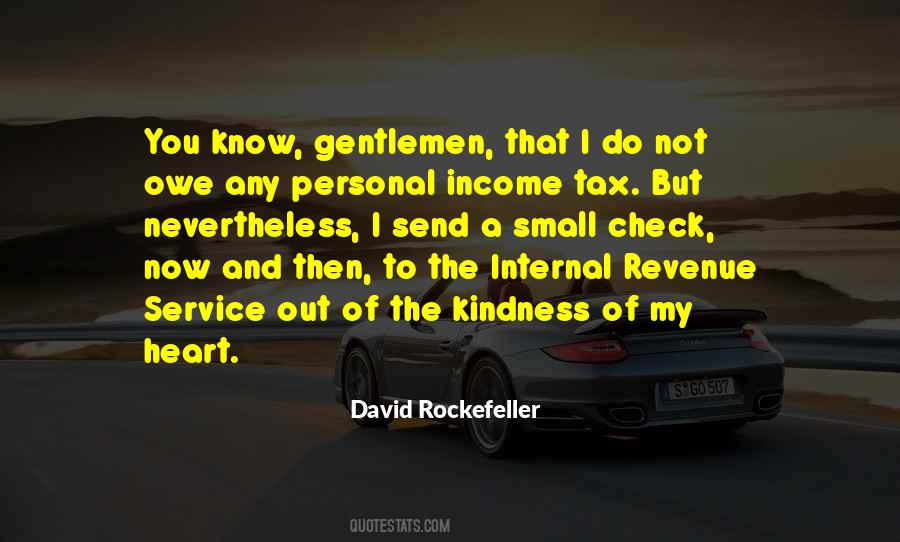 #67. The bankers' Satanic Conspiracy is the source of anti Semitism. The sooner Jews rise up to oppose it; the sooner anti-Semitism will end.. Obviously, many Christians are involved. When I criticize Rockefeller, no one says anything about 'anti-Christianism.' - Author: Henry Makow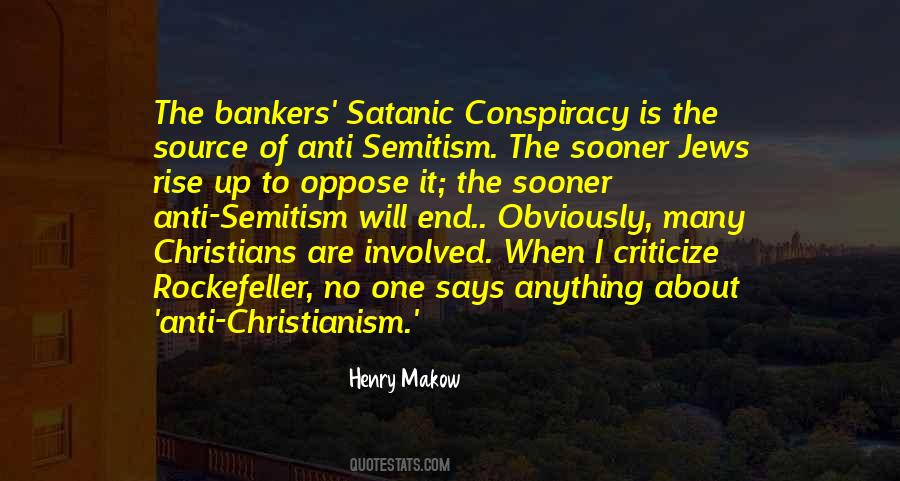 #68. I have made many millions but they have brought me no happiness. - Author: John D. Rockefeller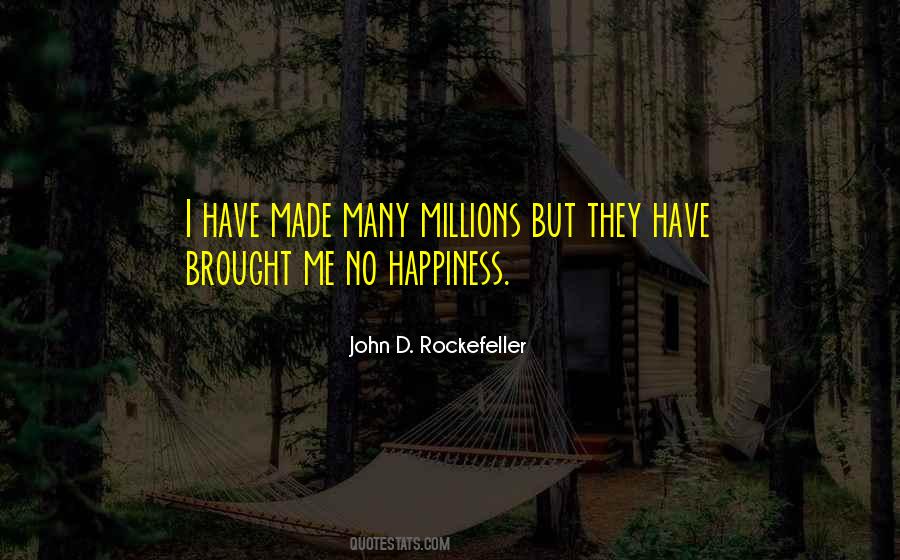 #69. The extraordinary genius of John D. Rockefeller and Andrew Carnegie 100 years ago was their recognition that the great wealth they had amassed could be put to public good and used to solve the complex problems for which there were no other sources of capital. - Author: Judith Rodin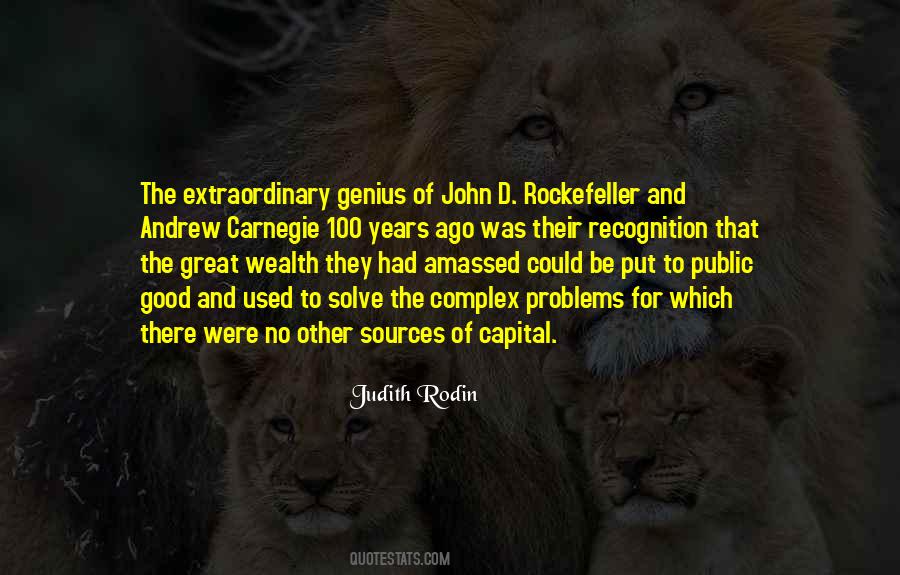 #70. They decided to establish a museum of modern art where works by contemporary artists would be shown. Mother was viewed as a very progressive person, and not everybody liked the paintings she bought. - Author: David Rockefeller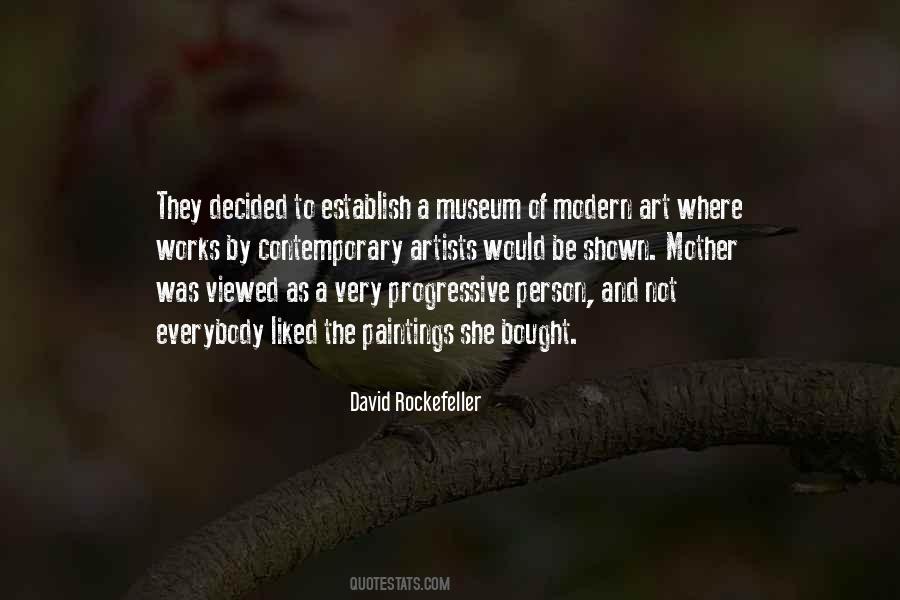 #71. Everything is about accountability to the American people, accountability of the executive branch ... [and] accountability of the oversight of the Congress - Author: Jay Rockefeller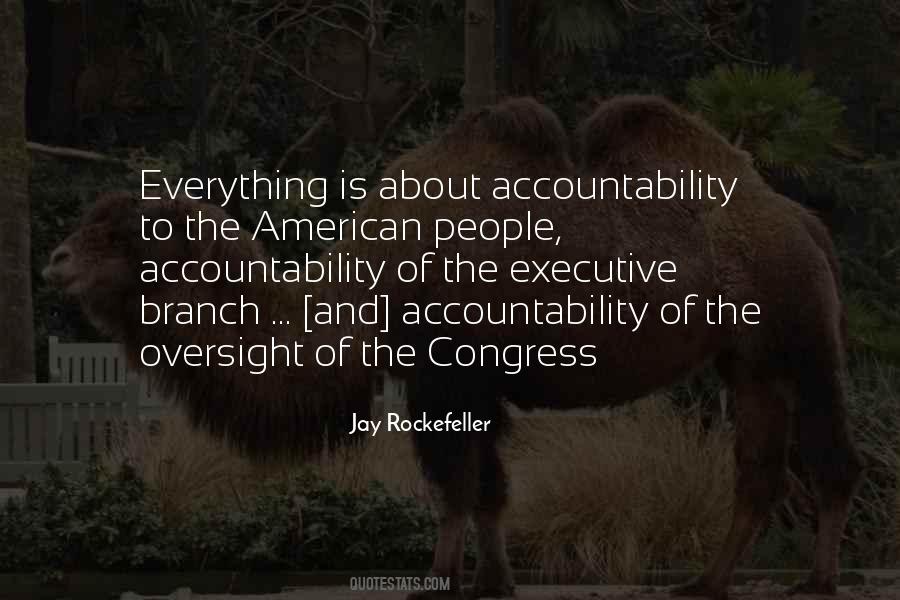 #72. Rockefeller viewed his philanthropy through the lens of his business, and it really mirrored the Industrial Revolution. It was highly centralized, it was top down, it was based on experts, and it was big-picture. - Author: Jacqueline Novogratz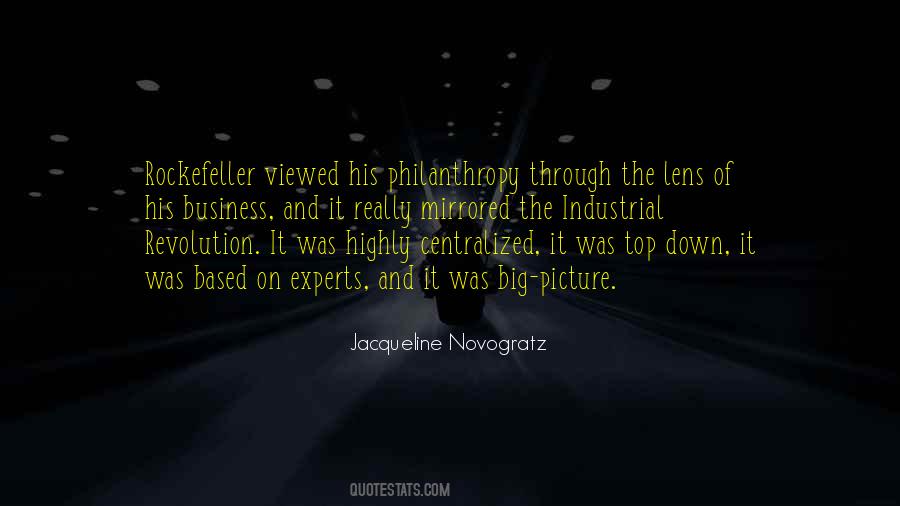 #73. Think of giving not only as a duty but as a privilege. - Author: John D. Rockefeller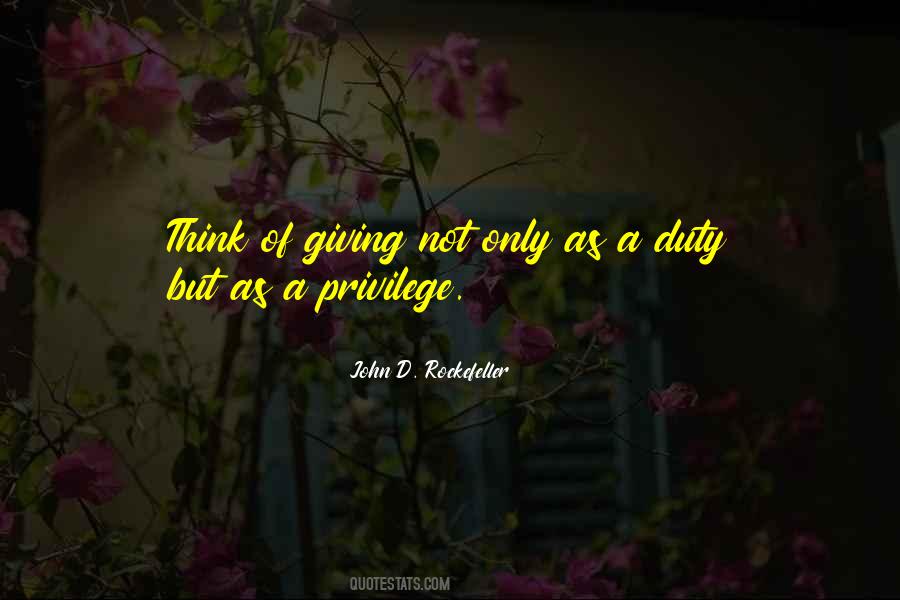 #74. No matter what the fight, don't be ladylike! God almighty made women and the Rockefeller gang of thieves made the ladies. - Author: Mary Harris Jones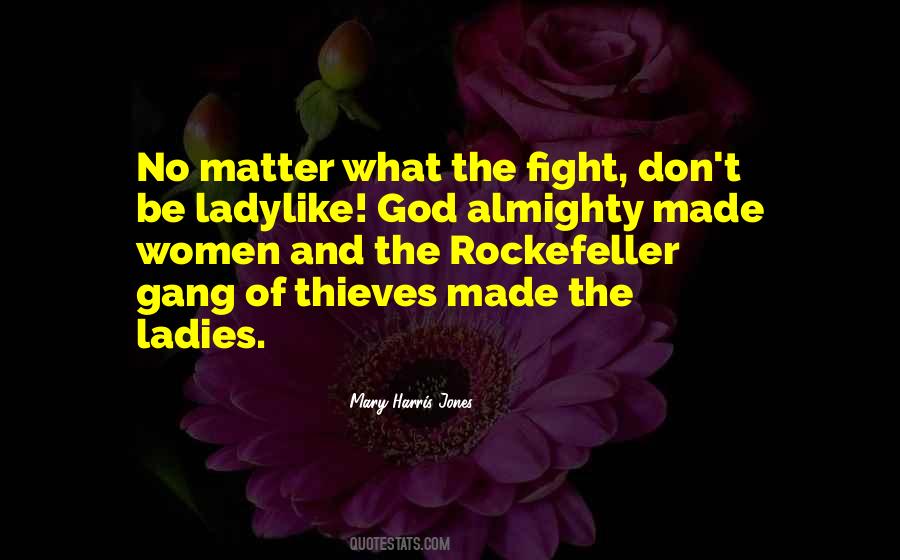 #75. I profoundly feel that the art of living is the art of giving. You're fulfilled in the moment of giving, of doing something beyond yourself. - Author: Laurance Rockefeller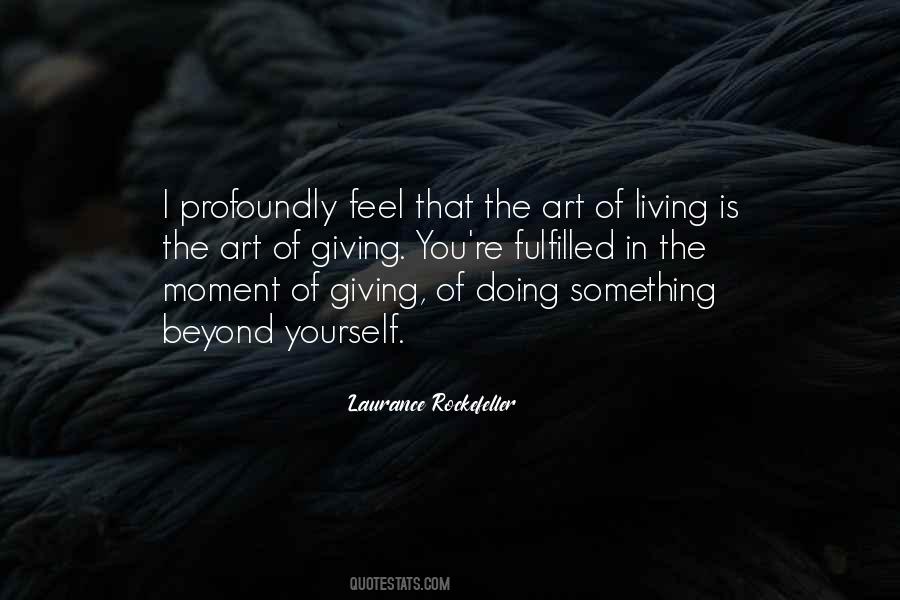 #76. The task is simple. We will organize children and teach them in a perfect way the things their fathers and mothers are doing in an imperfect way. - Author: John D. Rockefeller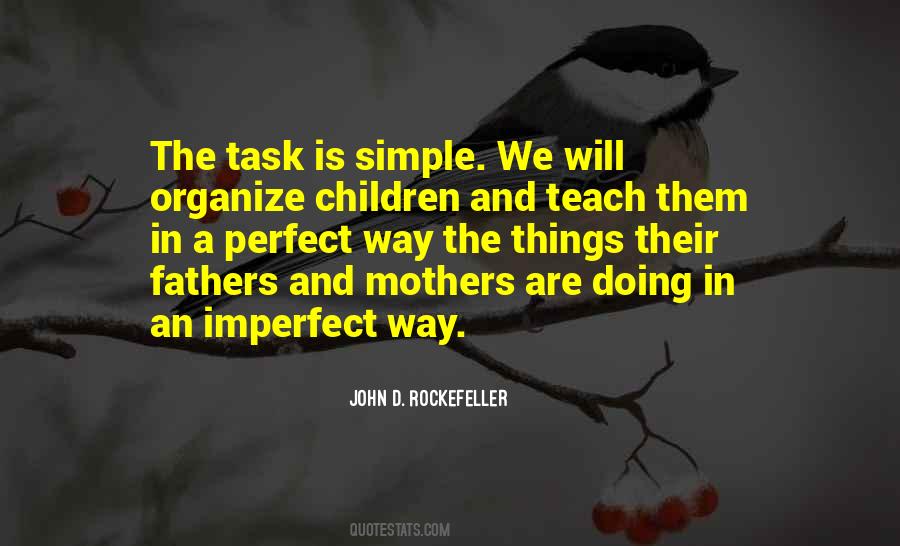 #77. When I arrived in the Senate, the moderate so-called Rockefeller Republicans held the balance of power. - Author: Edward Brooke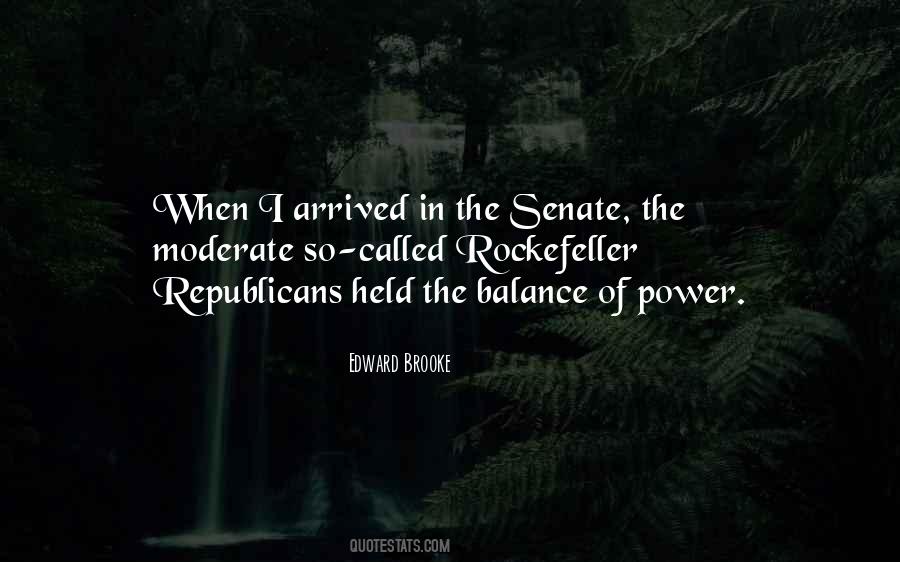 #78. I think it is a man's duty to make all the money he can, keep all that he can and give away all that he can. - Author: John D. Rockefeller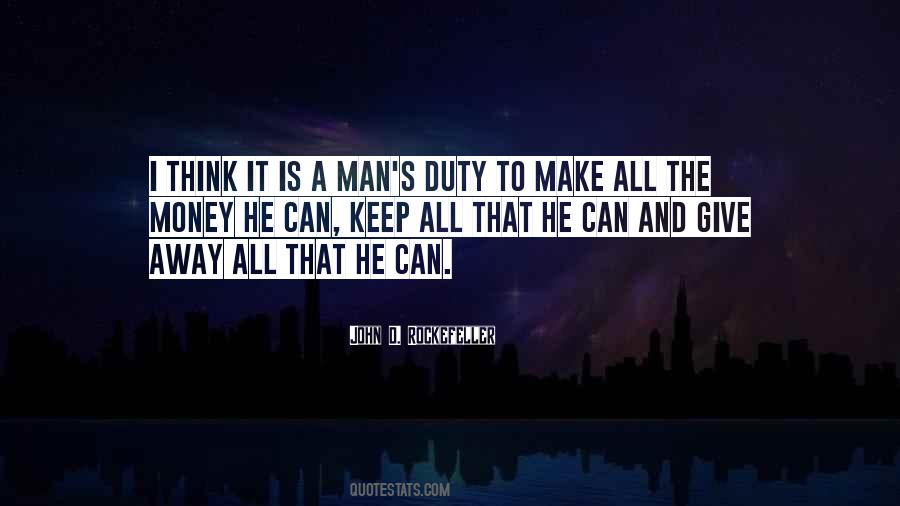 #79. If my name were John D Smith IV I wouldn't have been elected to anything. - Author: John D. Rockefeller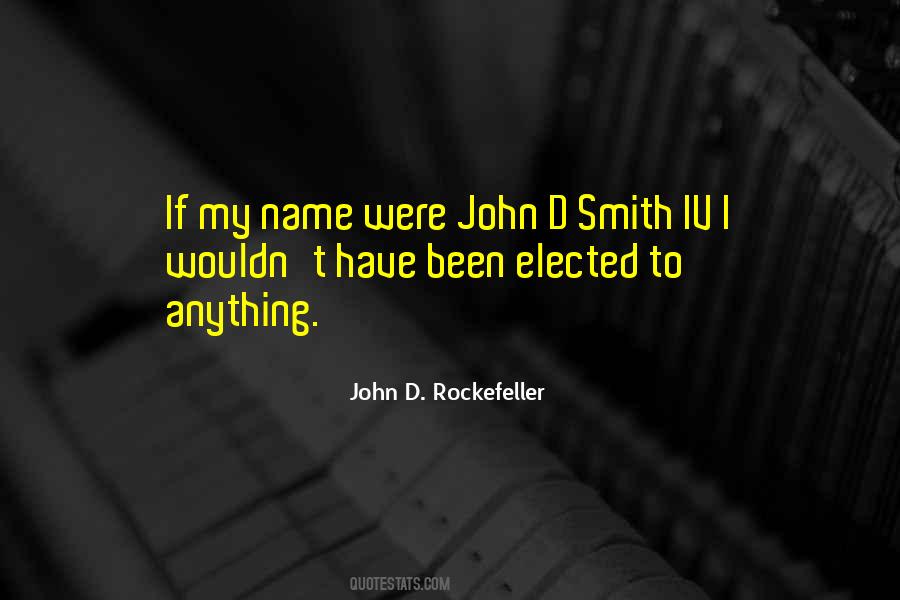 #80. My grandfather, along with Carnegie, was a pioneer in philanthropy, which my father then practiced on a very large scale. - Author: David Rockefeller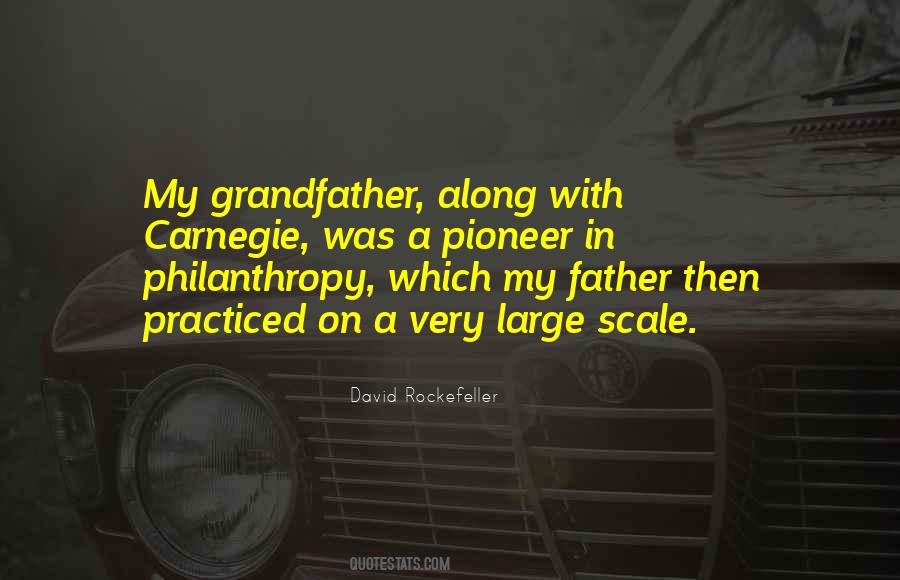 #81. John D. Rockefeller apparently became more of a tightwad the richer he got. I don't know if it is true, but one story I read was about one of his sons having to wear his older sister's clothes in order to save money. - Author: Robert Kiyosaki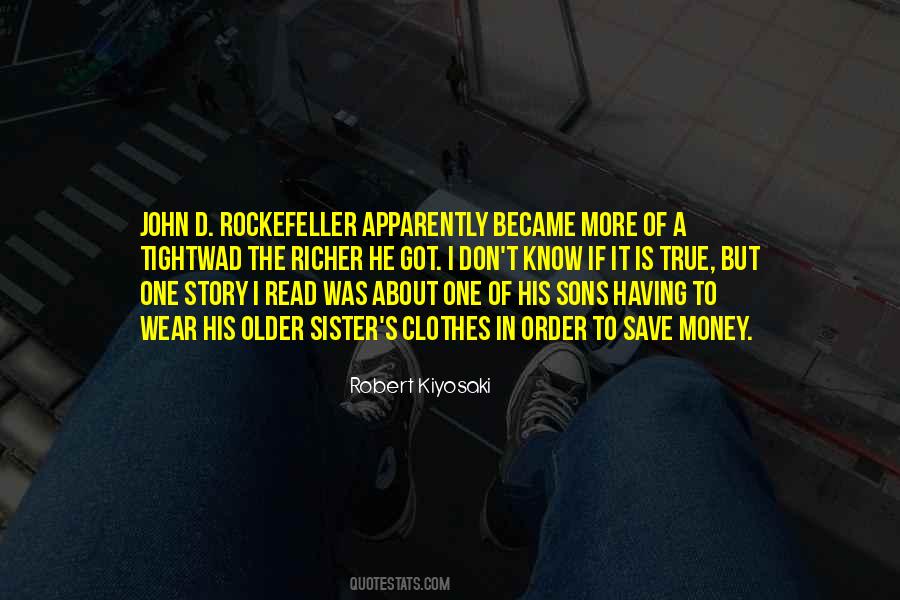 #82. There are three periods in life: youth, middle age and 'how well you look'. - Author: Nelson Rockefeller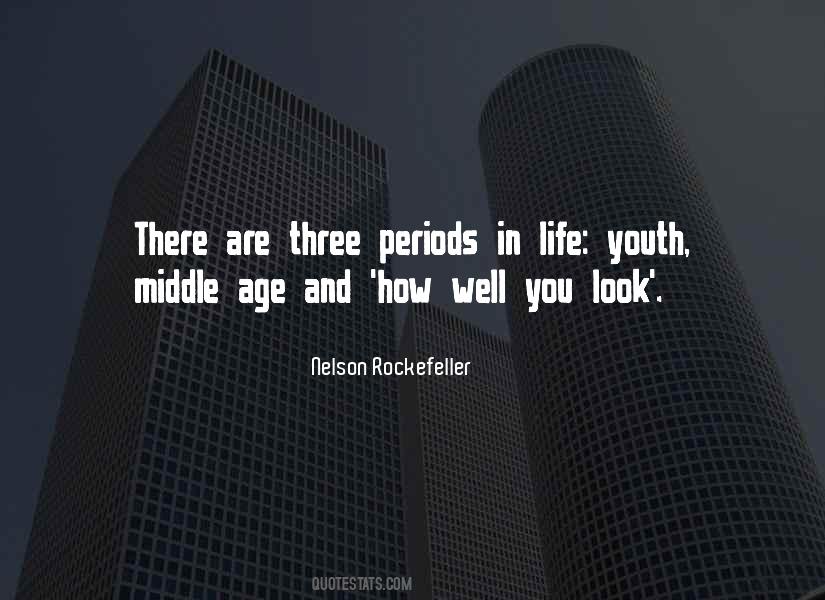 #83. Much corporate giving is charitable in nature rather than philanthropic. - Author: David Rockefeller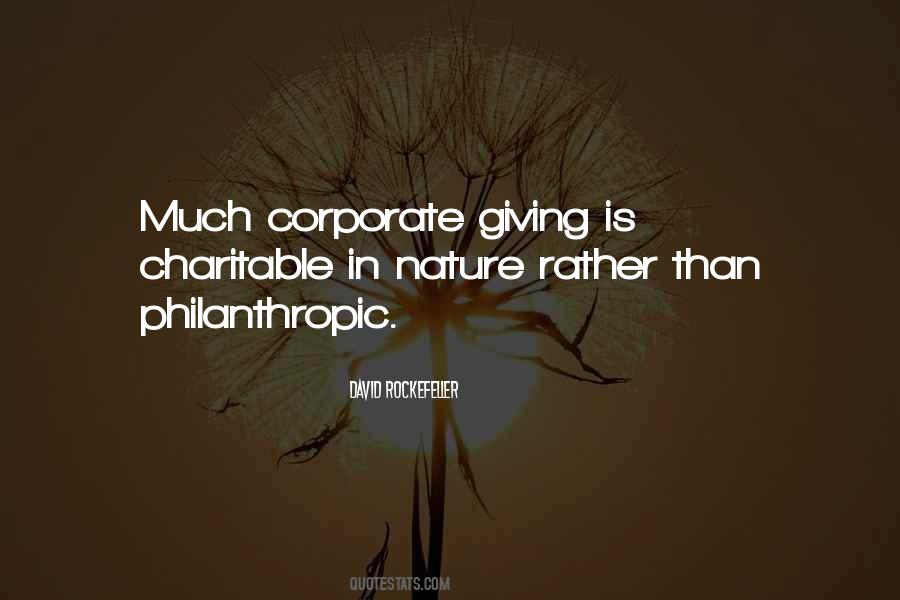 #84. Rockefeller and his associates did not build the Standard Oil Co. in the board rooms of Wall Street banks. They fought their way to control by rebate and drawback, bribe and blackmail, espionage and price cutting, by ruthless efficiency of organization. - Author: Ida Tarbell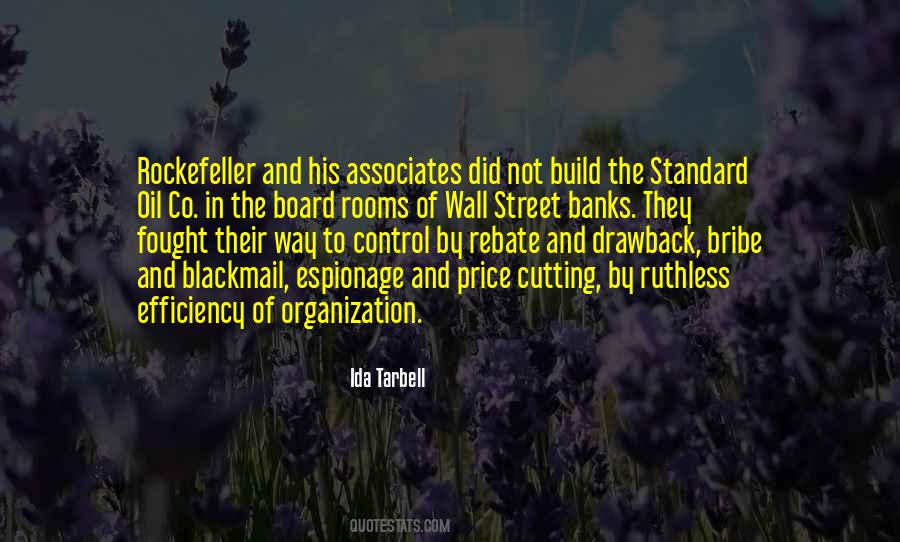 #85. If you want to succeed you should strike out on new paths, rather than travel the worn paths of accepted success. - Author: John D. Rockefeller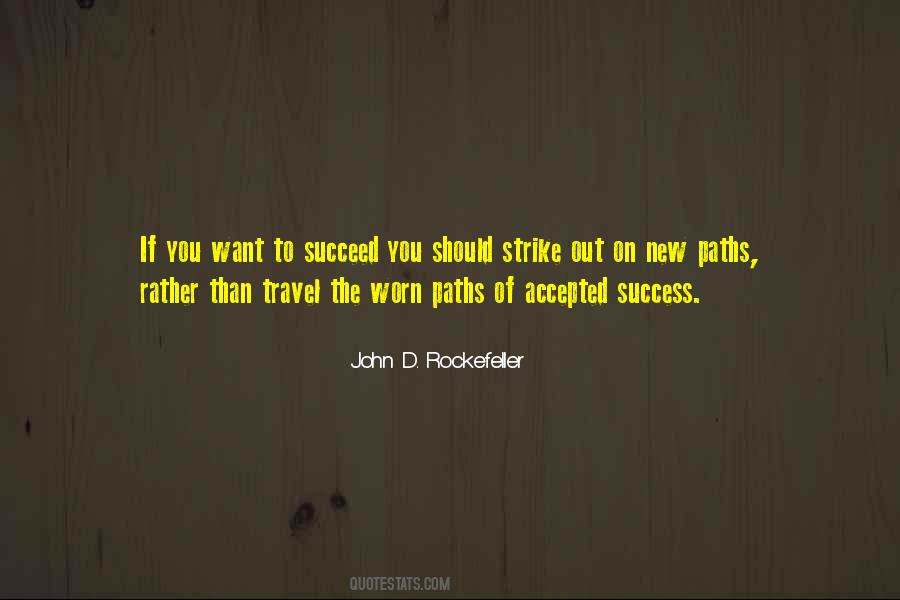 #86. We are coming to see that there should be no stifling of labor by capital, or of capital by labor; and also that there should be no stifling of labor by labor, or of capital by capital. - Author: John D. Rockefeller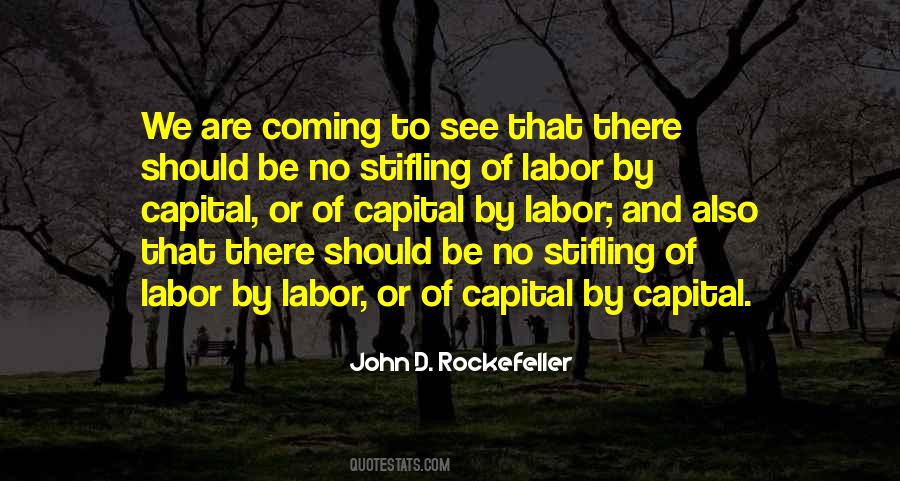 #87. Save when you can and not when you have to. - Author: John D. Rockefeller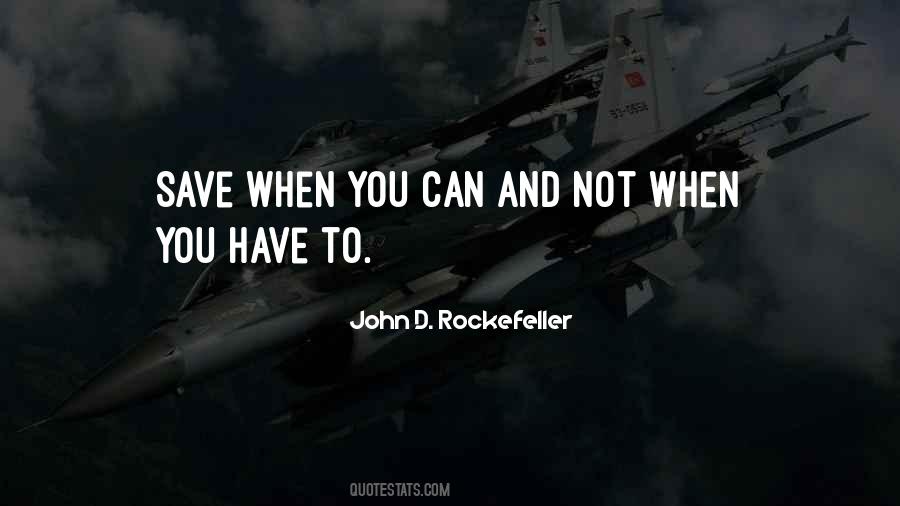 #88. Good leadership consists of showing average people how to do the work of superior people. - Author: John D. Rockefeller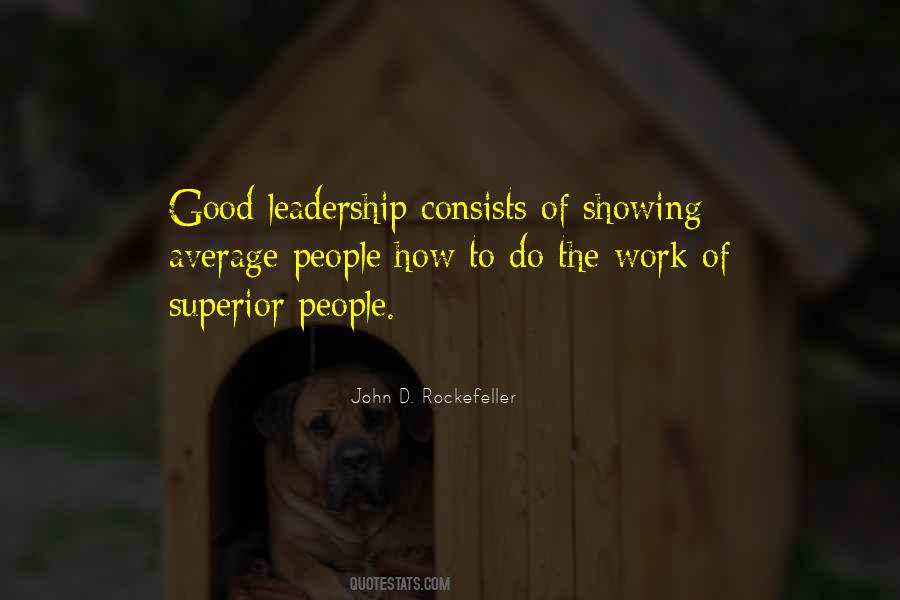 #89. Whatever you do, if you do it hard enough you'll enjoy it. The important thing is to work and work hard. - Author: David Rockefeller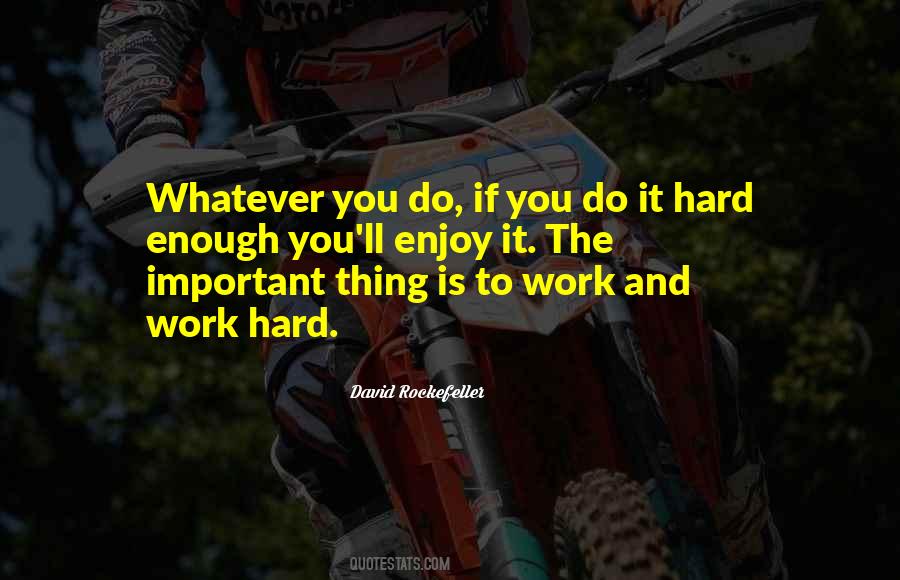 #90. Princess Anlei to the newly knighted Lord Knight Corann: A princess does not need to rush into the fray like some ... starving creature, but moves deliberately, with a purpose. I did not think for a moment that this gathering would end without you speaking to me at some point. - Author: Laurel A. Rockefeller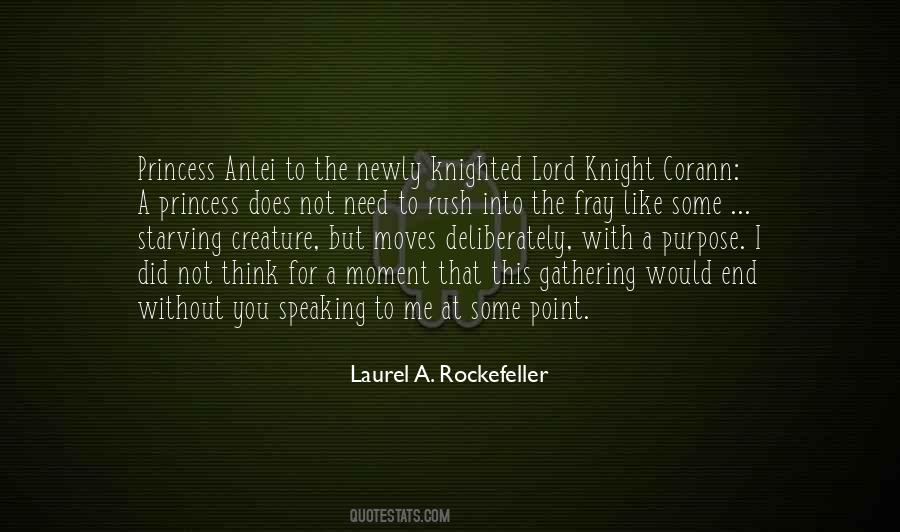 #91. Politics, of course, requires sweat, work, combat, and organization. But these should not be ugly words for and free people. - Author: Nelson Rockefeller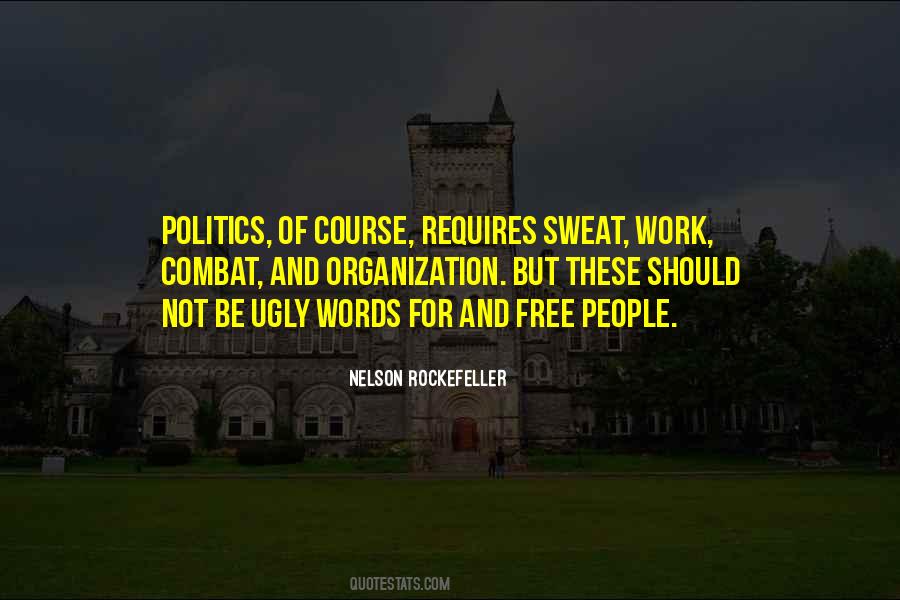 #92. Somebody has to take governments' place, and business seems to me to be a logical entity to do it. - Author: David Rockefeller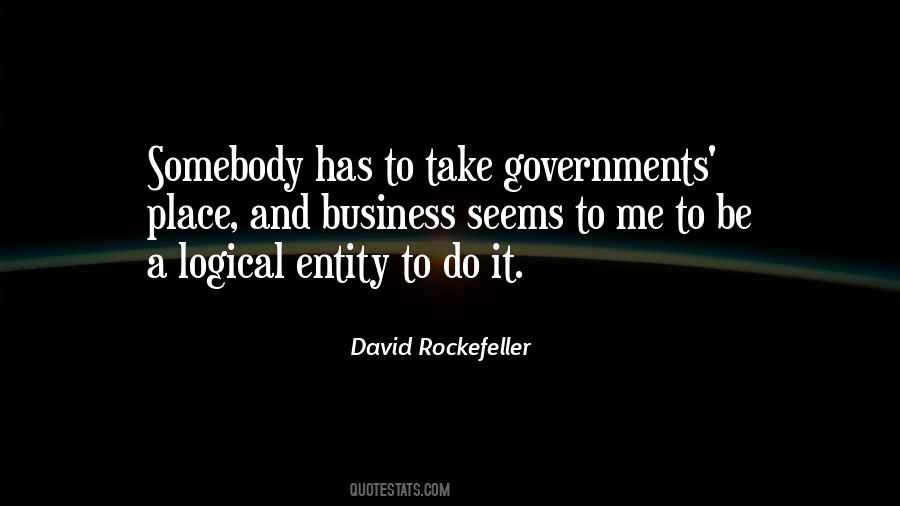 #93. The negative impact of population growth on all of our planetary ecosystems is becoming appallingly evident. - Author: David Rockefeller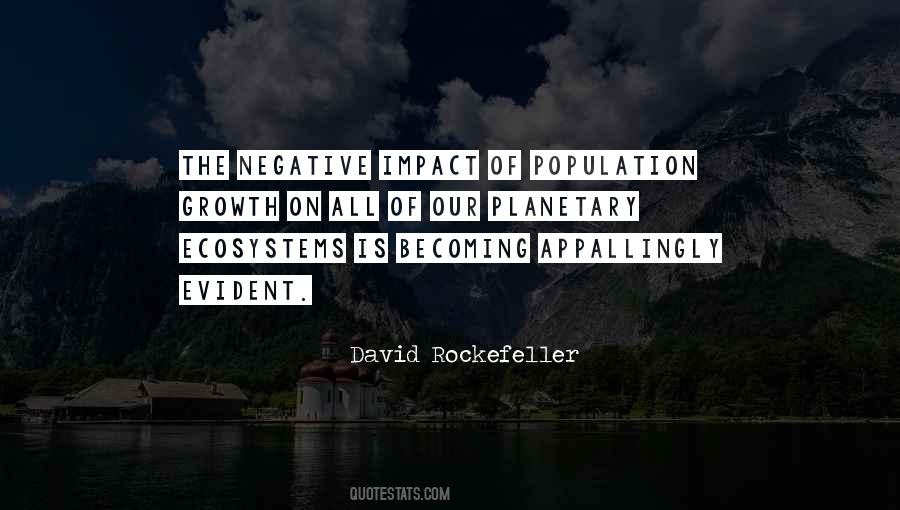 #94. Be sure that you are not deceiving yourself at any time about actual conditions. - Author: John D. Rockefeller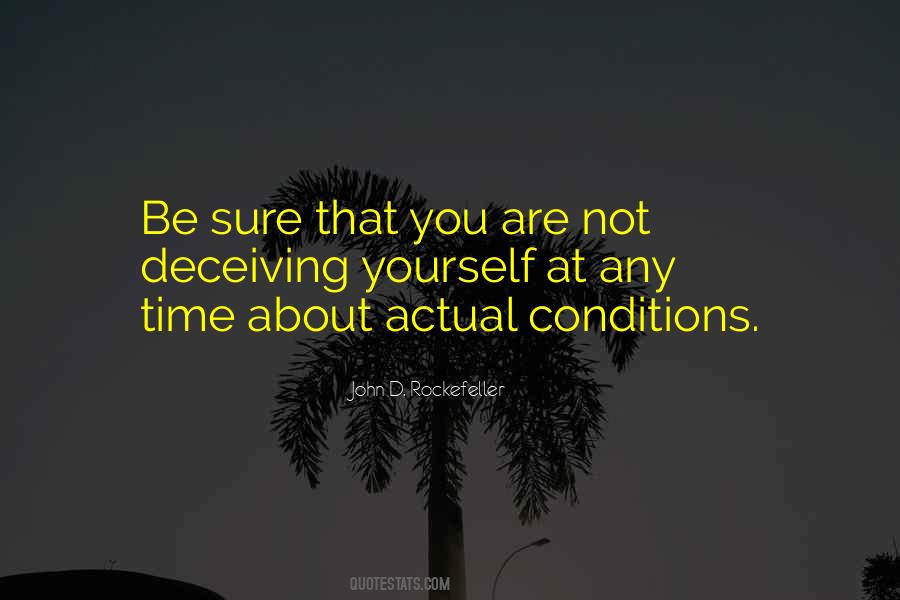 #95. Singleness of purpose is essential for success in life. - Author: John D. Rockefeller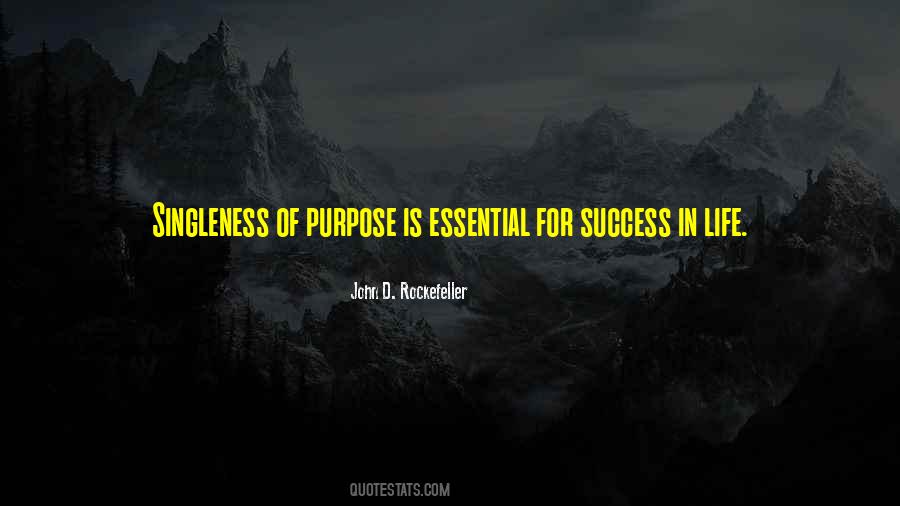 #96. I shall use such influence as I have in emphasizing the basic truths common to all denominations, in lowering denominational barriers and in promoting effective cooperation among Christians of whatever creed. - Author: John D. Rockefeller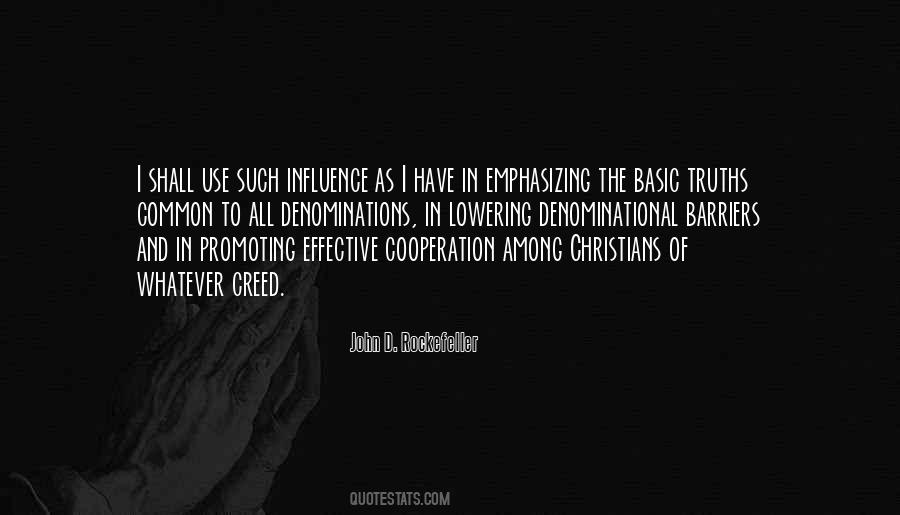 #97. My own interest in art was because of my mother. My father didn't like contemporary art, so he didn't give her large sums to spend. So, she began buying prints and drawings. During my school days, I remember sitting in on many of the early meetings. - Author: David Rockefeller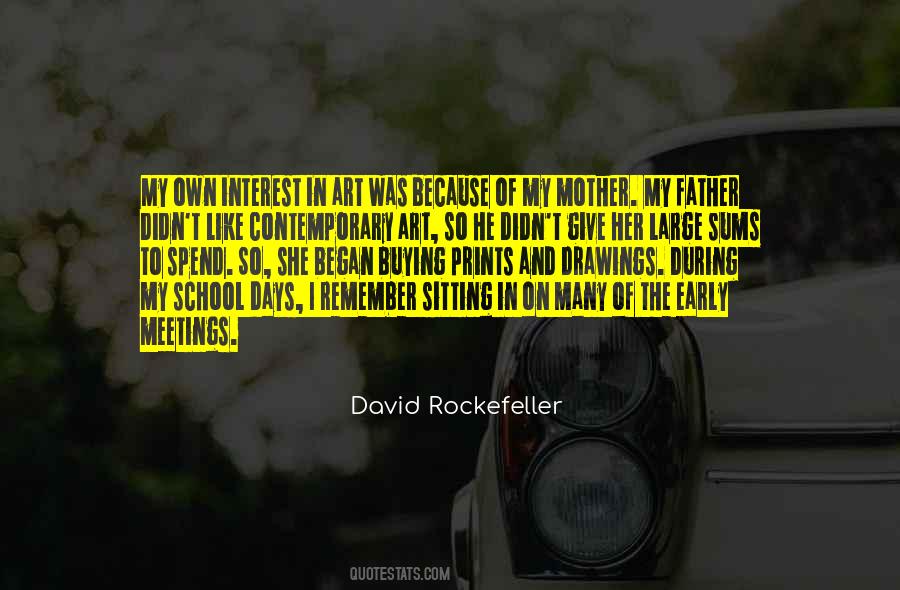 #98. Americans will not and should not respond to a political creed that cherishes the past solely because it offers an excuse for shutting out the hard facts and difficult tasks of the present. - Author: Nelson Rockefeller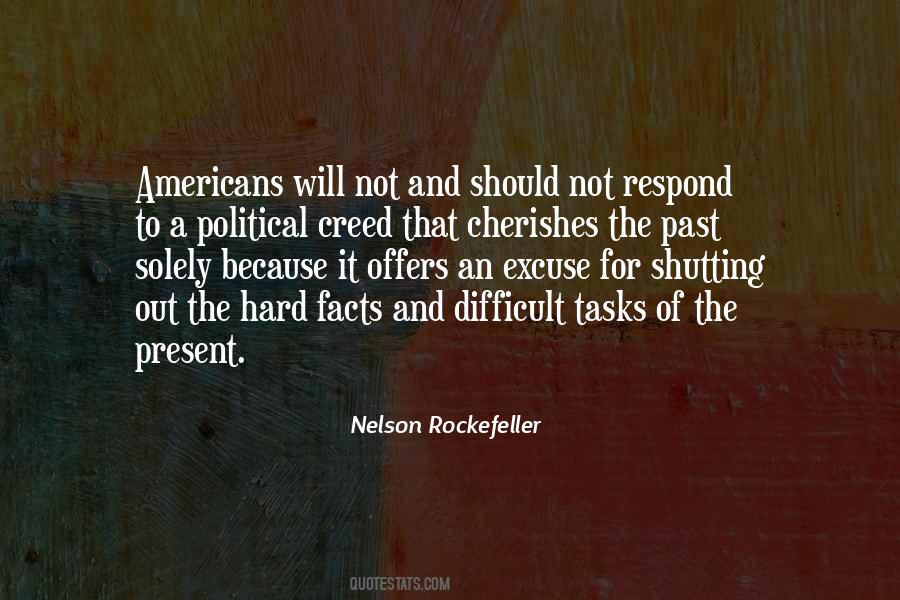 #99. Mark Zuckerberg will be a hero to many young entrepreneurs 20 years from now. Bill Gates will be a hero to others, and they will look to those [people] like I read books when I was in my teens about Rockefeller or Carnegie. - Author: Warren Buffett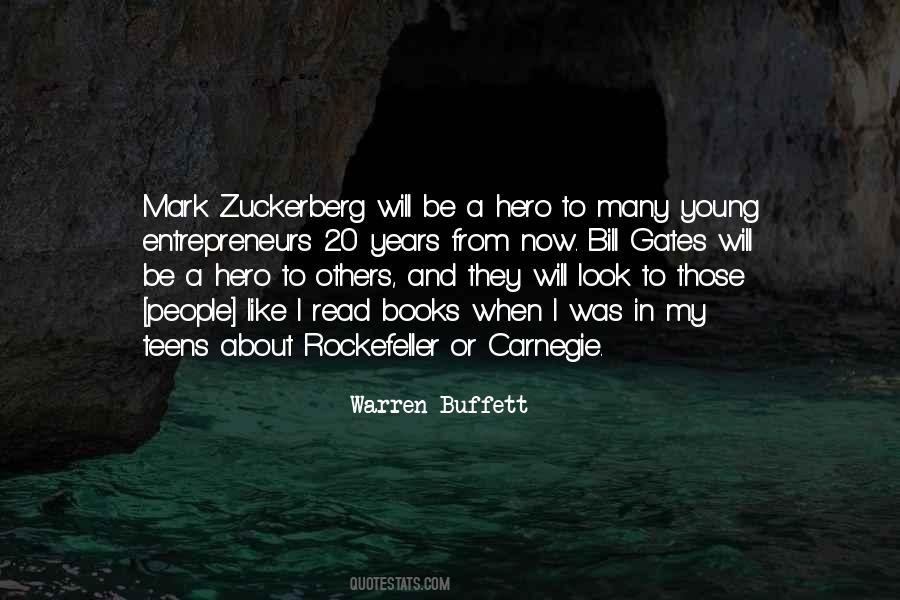 #100. Well, I know I worked for Governor Rockefeller the last time he ran for his fourth term, and I obviously ran against Governor Cuomo the time he ran for his fourth term. - Author: George Pataki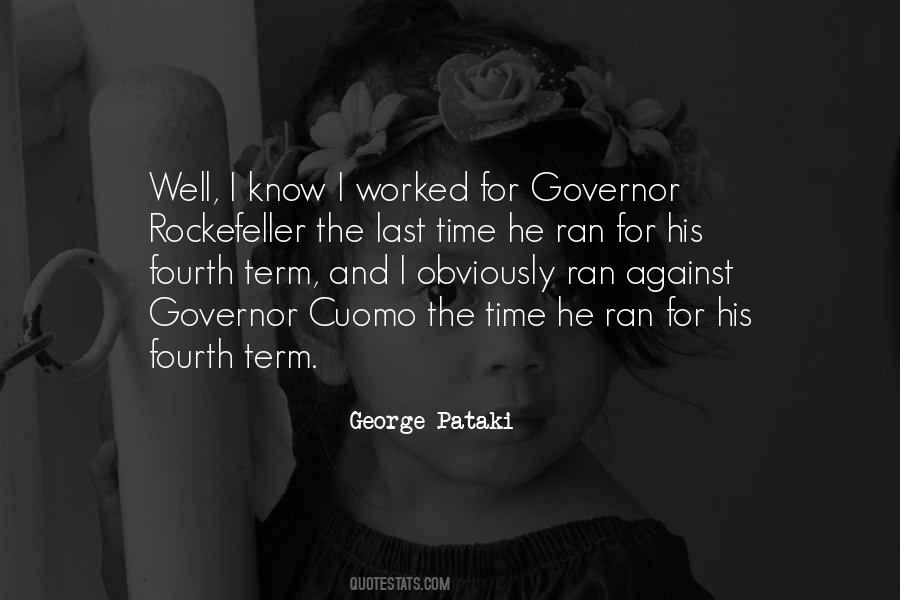 Famous Authors
Popular Topics