Riff Famous Quotes & Sayings
List of top 86 famous quotes and sayings about riff to read and share with friends on your Facebook, Twitter, blogs.
Top 86 Quotes About Riff
#1. Life is like a great jazz riff. You sense the end the very moment you were wanting it to go on forever. - Author: Sheila Ballantyne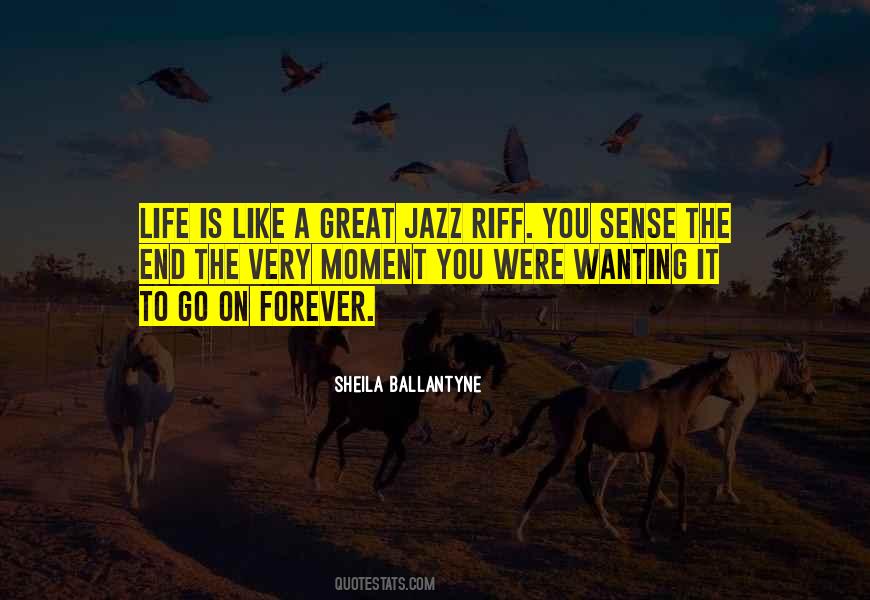 #2. I am part of a circuit called 24 Hours of LeMons, where it's a sort of riff on 24 Hours of Le Mans. It's a poor man's weekend warrior racer event. - Author: Michael Trucco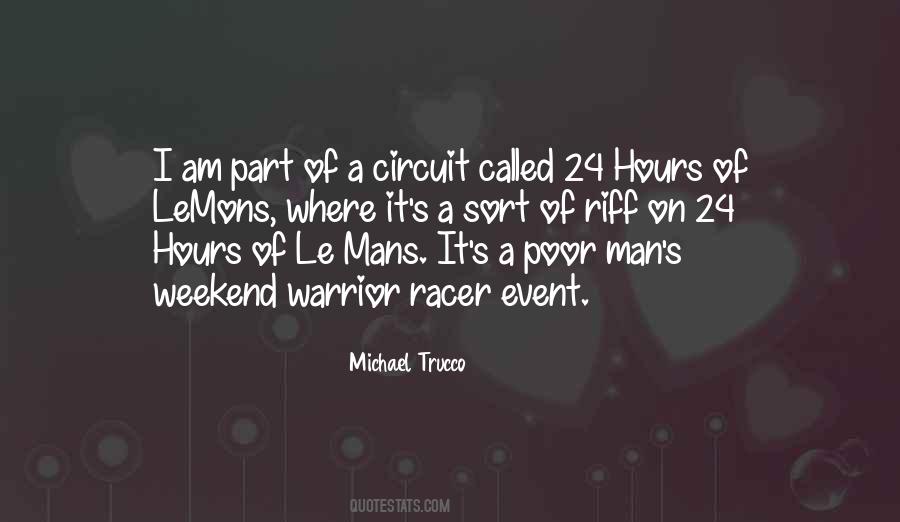 #3. I have encountered in this world riff-raff and good people. I lose. I win. I defend myself when I am attacked. I take when someone has taken from me. But I beg you to believe me; I have never done an act of espionage against France. Never. Never. - Author: Mata Hari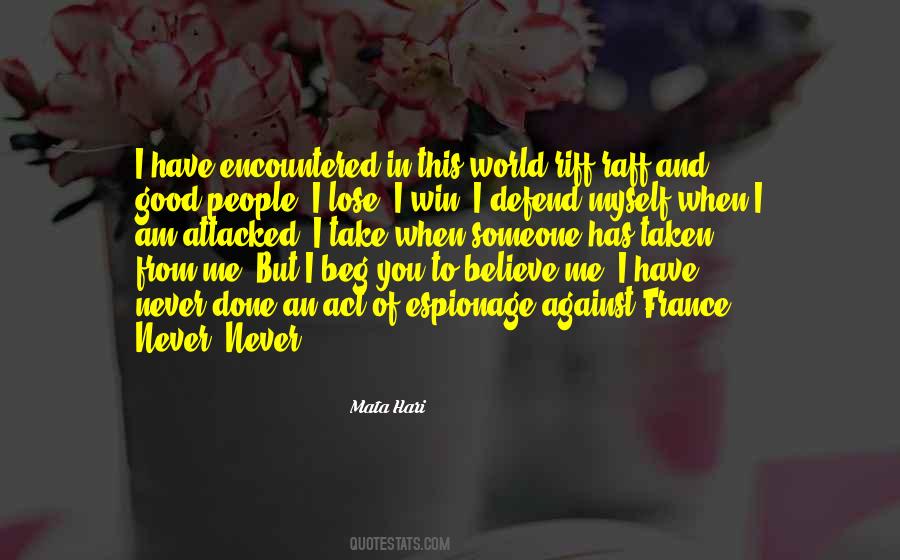 #4. Well, I think writing is basically about time and rhythm. Like with jazz. You have your basic melody and then you just riff off of it. And the riffs are about timing. - Author: Kathy Acker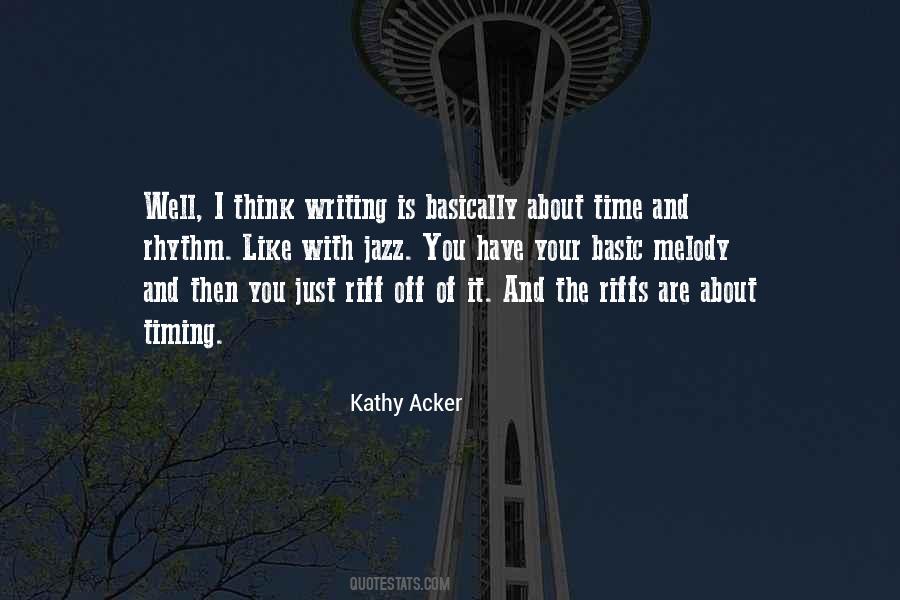 #5. I really connect with music that has a point, that's not just a heavy riff and cool sounds. I always like it to have a purpose. - Author: Piggy D.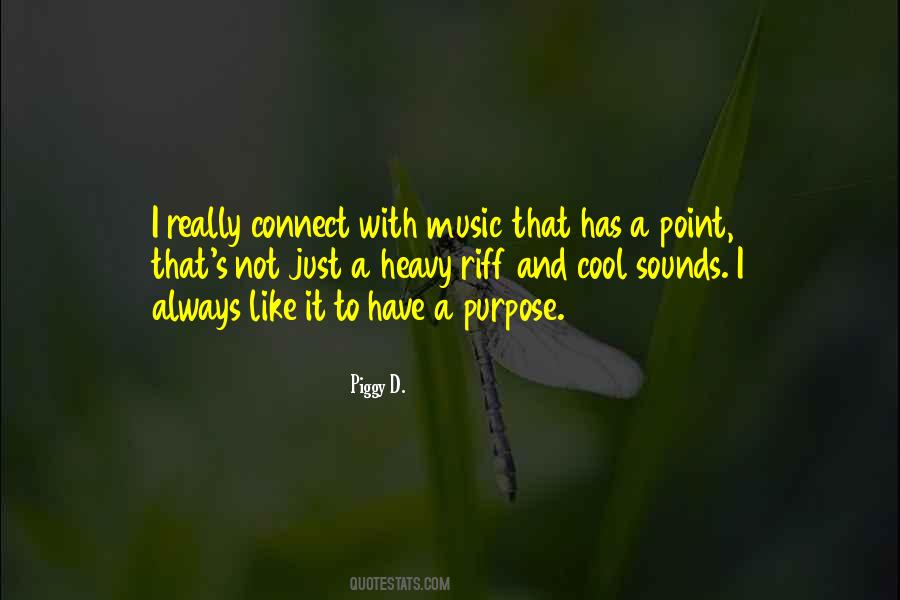 #6. When I write a song, it's all about the riff - the riff first, then the words come later. - Author: Evan Dando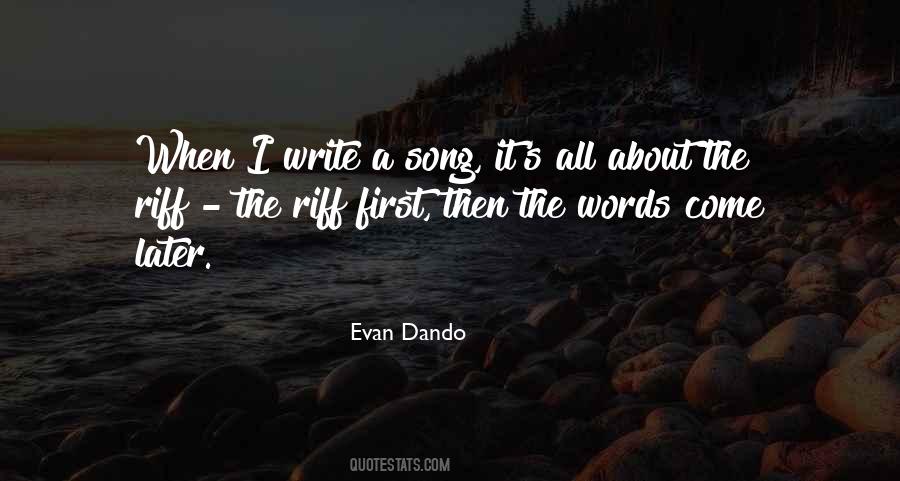 #7. For me, the music dictates the melody. Give me a riff to sing over, you know? - Author: Zakk Wylde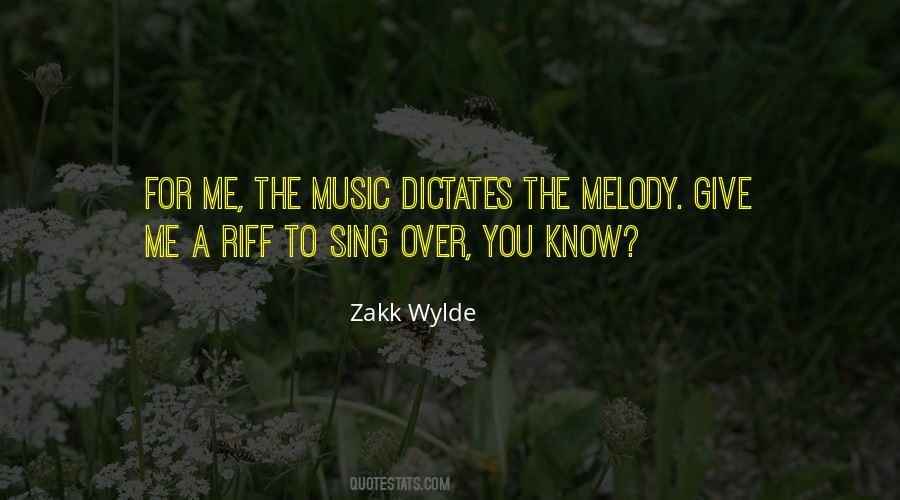 #8. It's nice that psychedelic music is kind of a buzzword. When I started with Vincent Black Shadow, stoner-rock was getting big, but it was more of a riff-oriented thing. Now people are starting to get into the 60's-Pink Floyd-acid-pop viewpoint. - Author: Mike Romano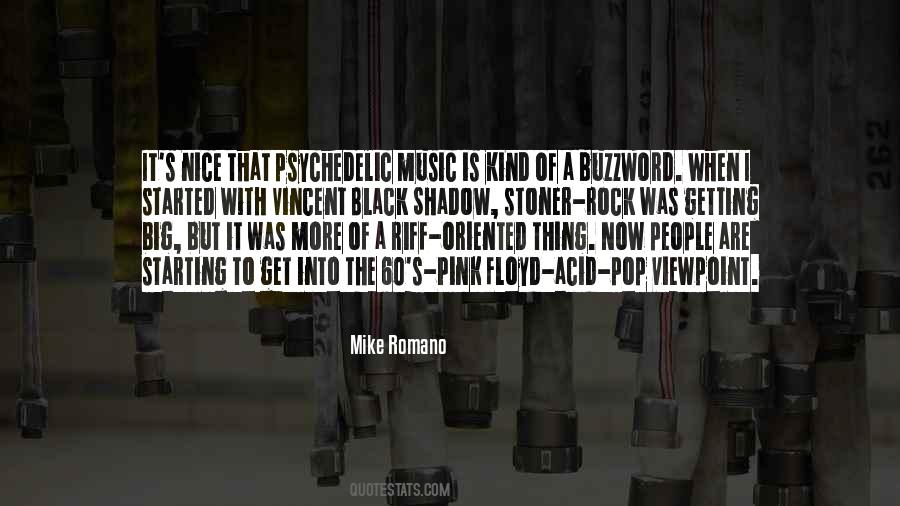 #9. The vocals are the very last thing I do. So, it's kinda the opposite: with country. it's singing and guitar first, but with rock, I worry about the riff and music, vocals last. - Author: Hank Williams III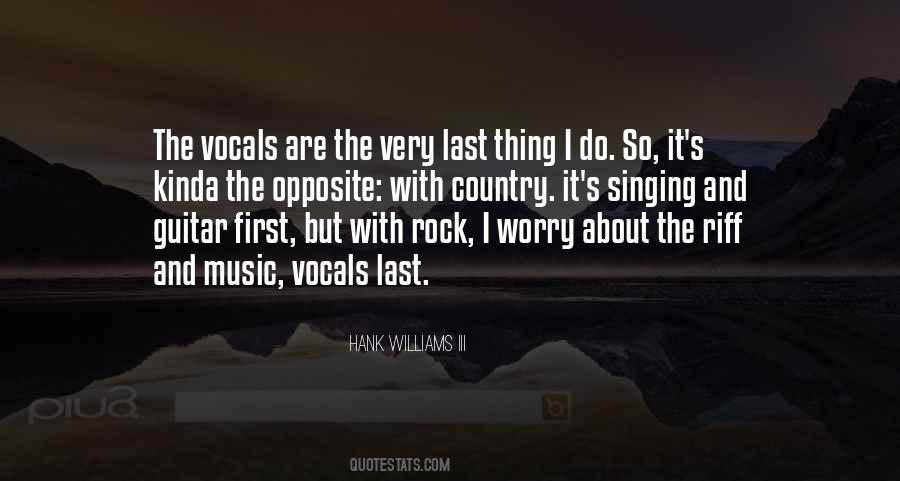 #10. Every word I say, you can document it and put it in the history books. - Author: Riff Raff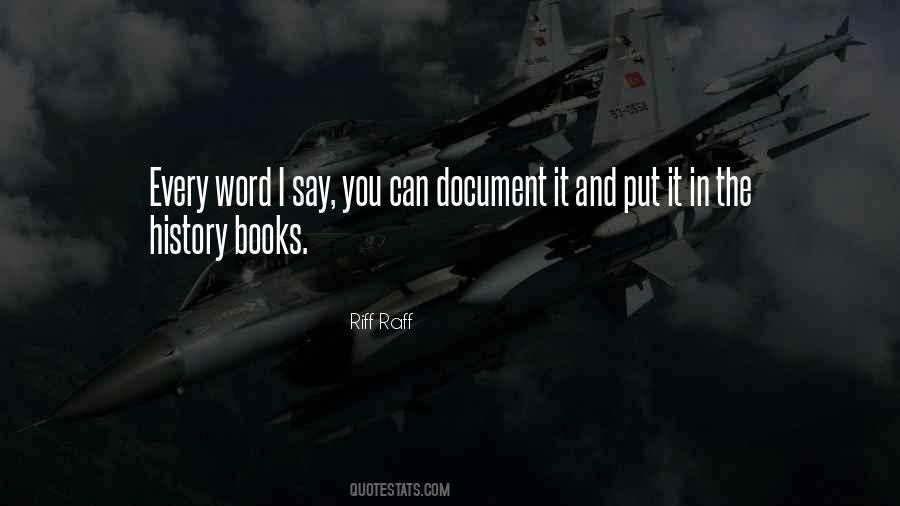 #11. Trunk steady knocking/ Floating through the sky, Mary Poppins. - Author: Riff Raff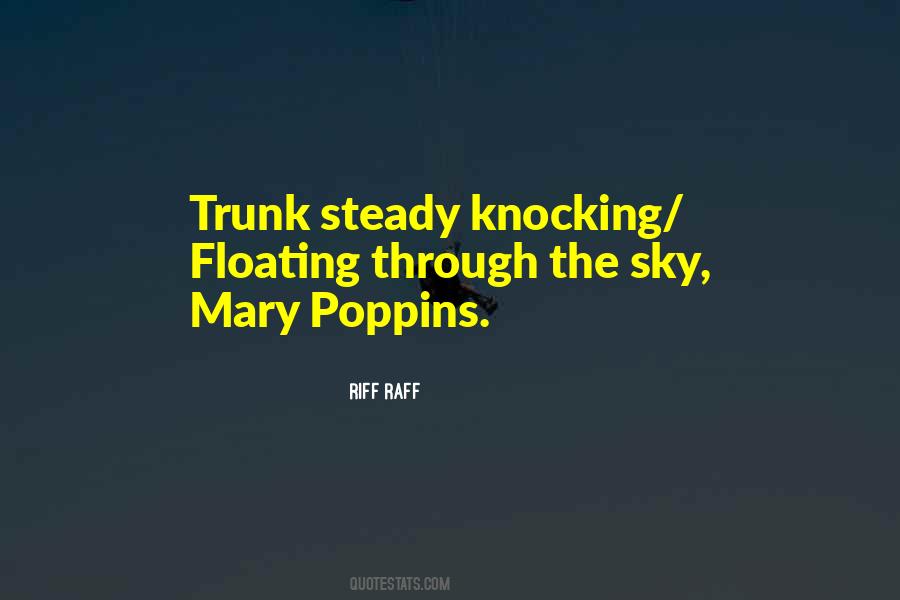 #12. To be a truly conscientious artist, you have to look at what's not working and challenge it. You riff on things. - Author: Kara Walker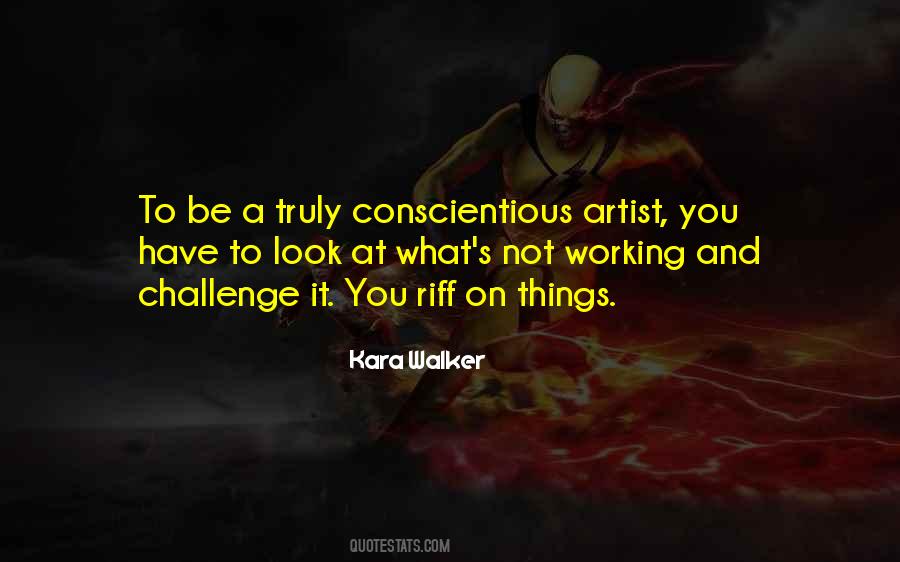 #13. Those dogs of democrats and liberal riff-raff will see that we're the only chaps who haven't been stultified by the ghastly period of peace. - Author: Karl Marx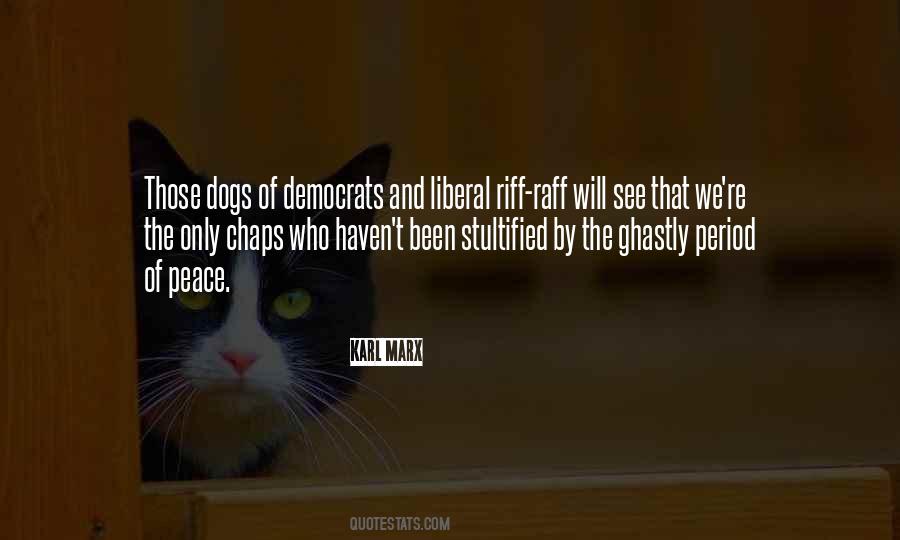 #14. Cliches work by appealing to the collective unconscious. They are the Pachbel's Canon in D of writing, something familiar the talented can riff off to create a distinct work. - Author: Thomm Quackenbush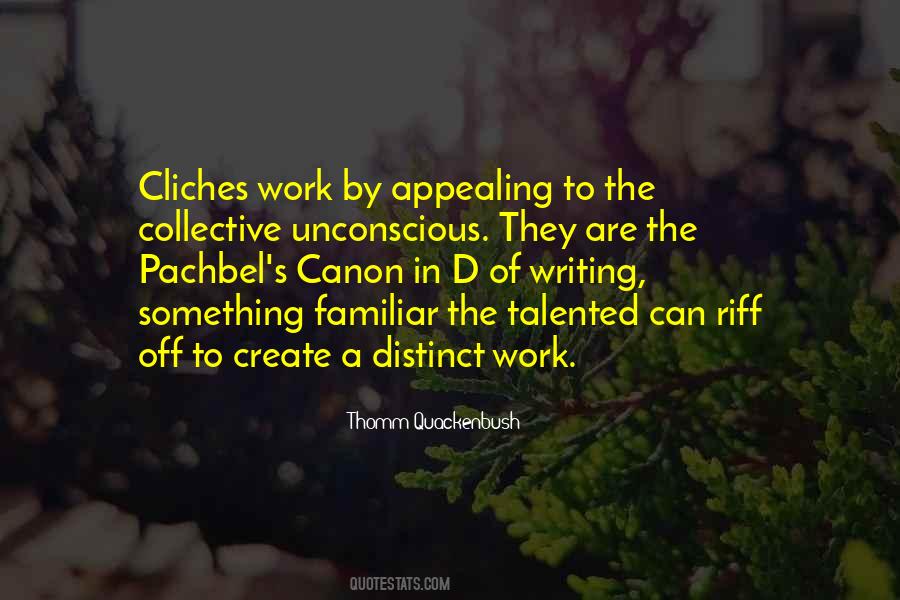 #15. Everyone wants to label me, but I don't want to be labeled as a rapper or a movie actor. - Author: Riff Raff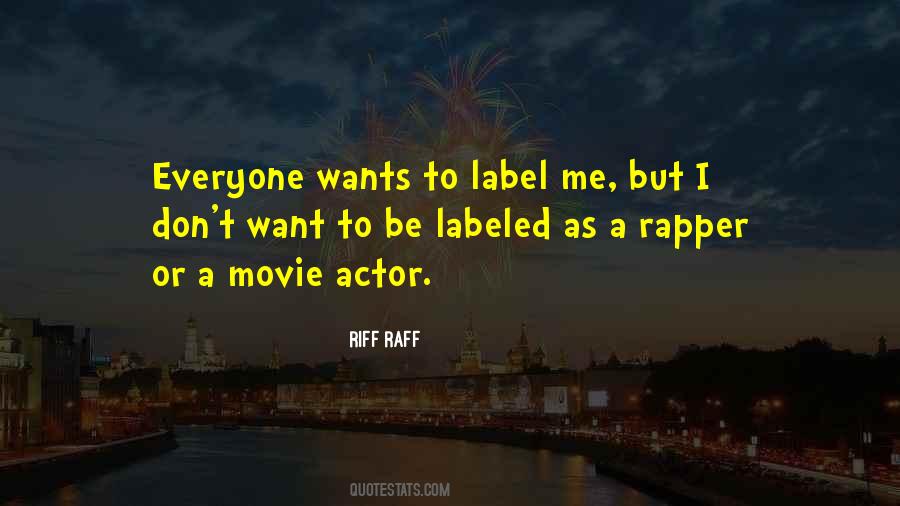 #16. I love a good Slash guitar riff. It's sexy! - Author: Malin Akerman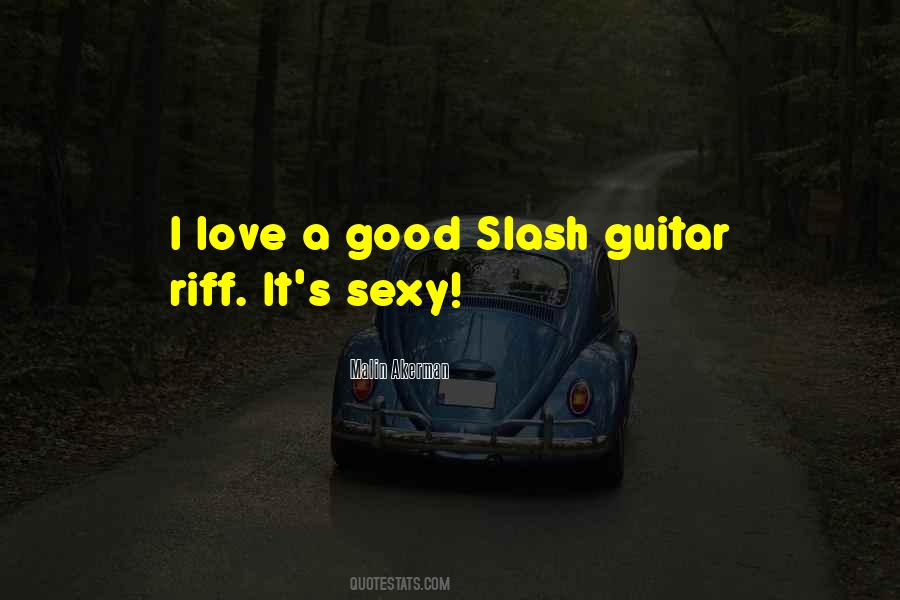 #17. I like to decide the night before Thanksgiving that I'm gonna do it, and I'll see what riff raff is around. Then I get that last-minute surge of energy. But if I had two weeks to plan, sometimes I wish I wasn't doing it. But very seldom does that happen. - Author: Amy Sedaris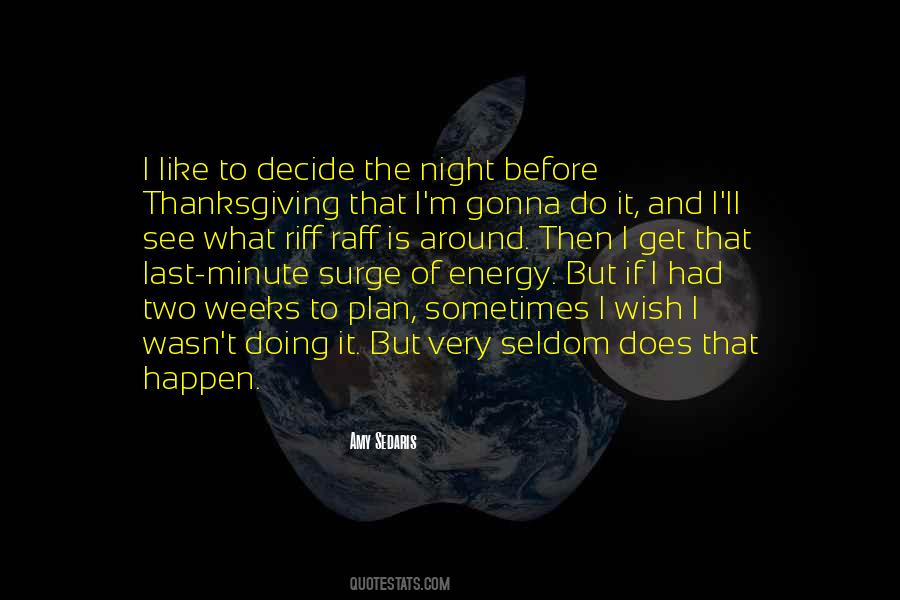 #18. Until the album is perfect and every track sounds like a single and has a world-renowned icon on it, it's not done. - Author: Riff Raff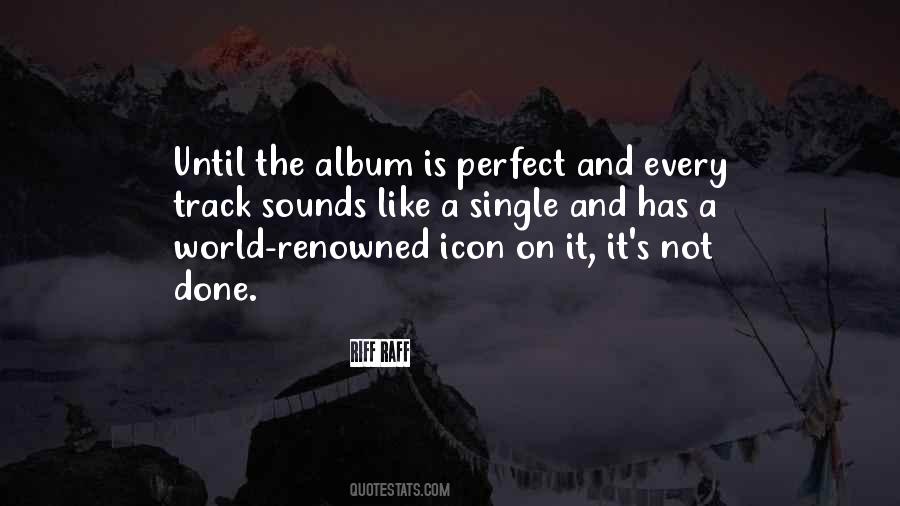 #19. To me, the hook of the riff is what makes a great guitar recording. It's the backbone of the whole song. When you have a strong riff, it's the rocket fuel for the track. - Author: Dwight Yoakam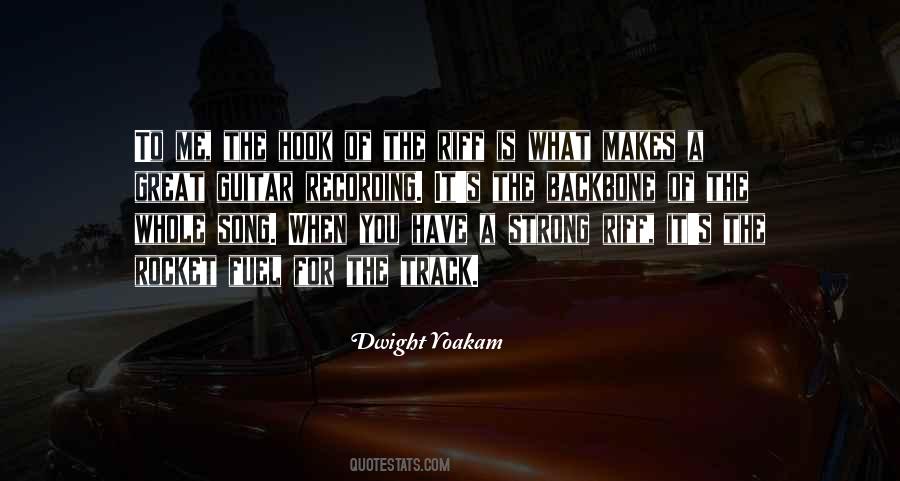 #20. I think often times if a guitar riff is centered around the chorus or if it follows the chorus, then it often times turns into the actual hook. - Author: Ryan Tedder
#21. I think people will always love a heavy Sabbath riff because it's fundamental to rock. - Author: Stone Gossard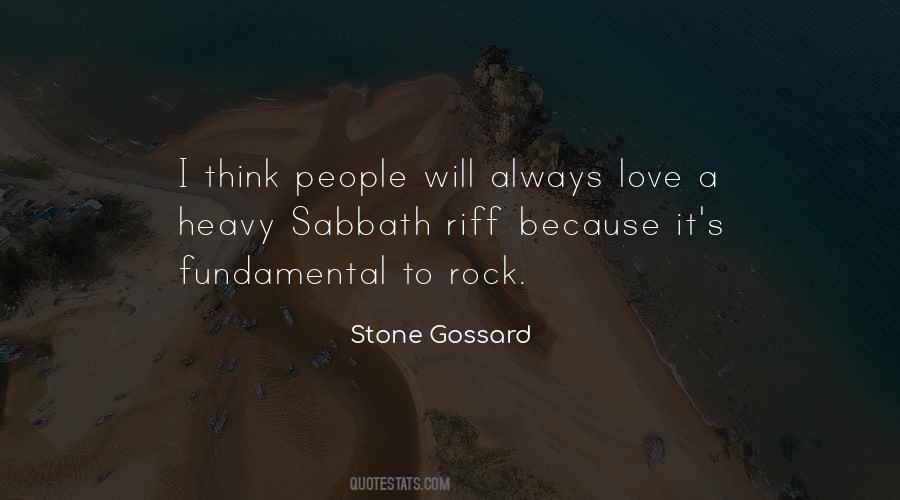 #22. I don't view myself from the past present or future tense i like to think of the world from my own personal point of view at whatever time i feel that is relayed to me in conjunction with my well being to progressively grow successfully finacially as well as mentally. - Author: Riff Raff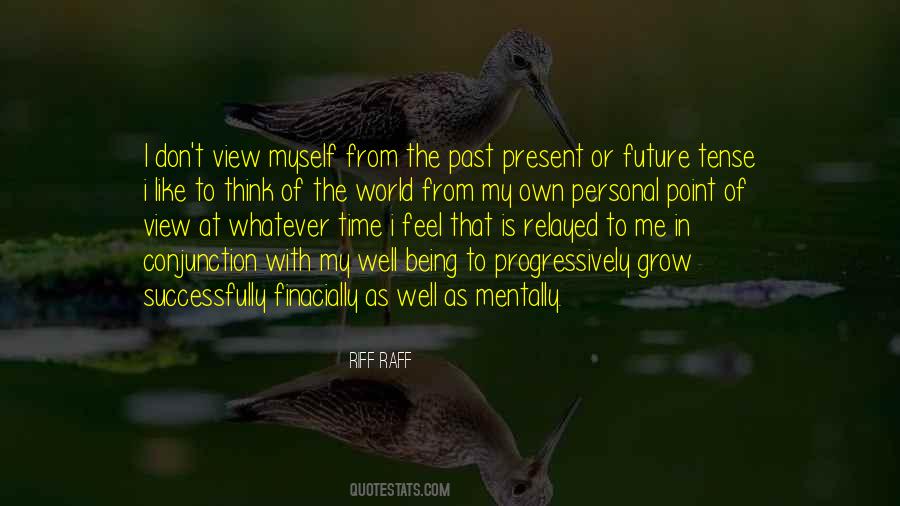 #23. It was Scotty Moore's guitar riff [in "I Want You, I Need You, I Love You"] when he was doing The Steve Allen Show that got me into rock music. - Author: Elton John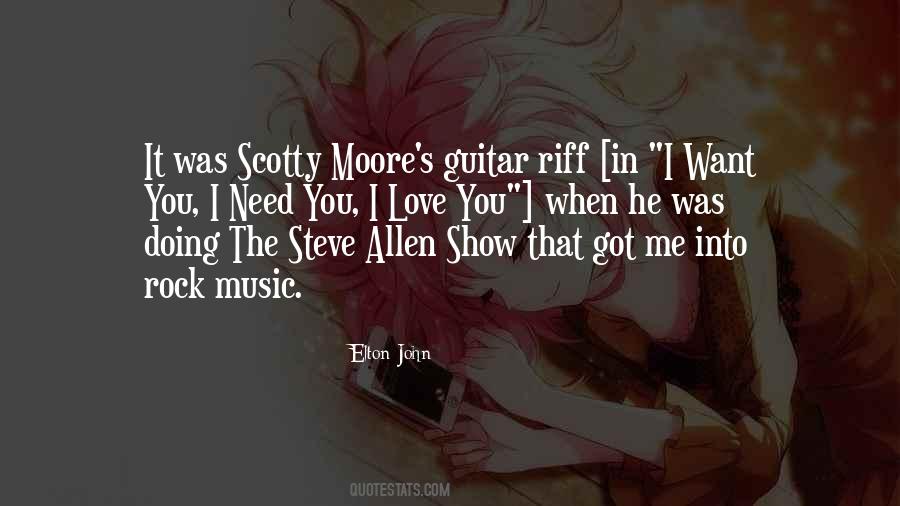 #24. It goes to extremes - from people saying I'm the best of all-time to people saying, "I hate that white boy." Who cares? At the end of the day, if people don't like you, they're not your friends anyway. - Author: Riff Raff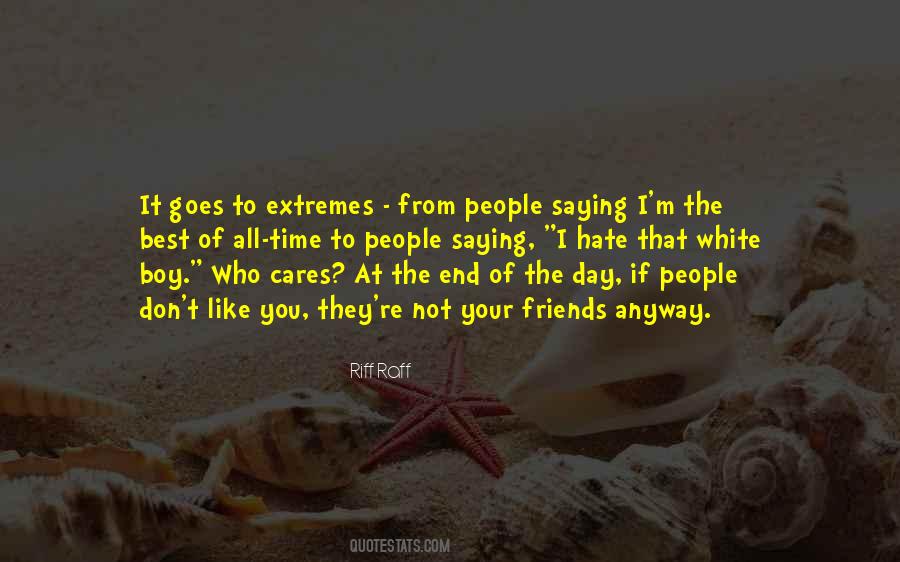 #25. I've never written jokes. I mean, I'll write things on a piece of paper and riff on them onstage. - Author: David Cross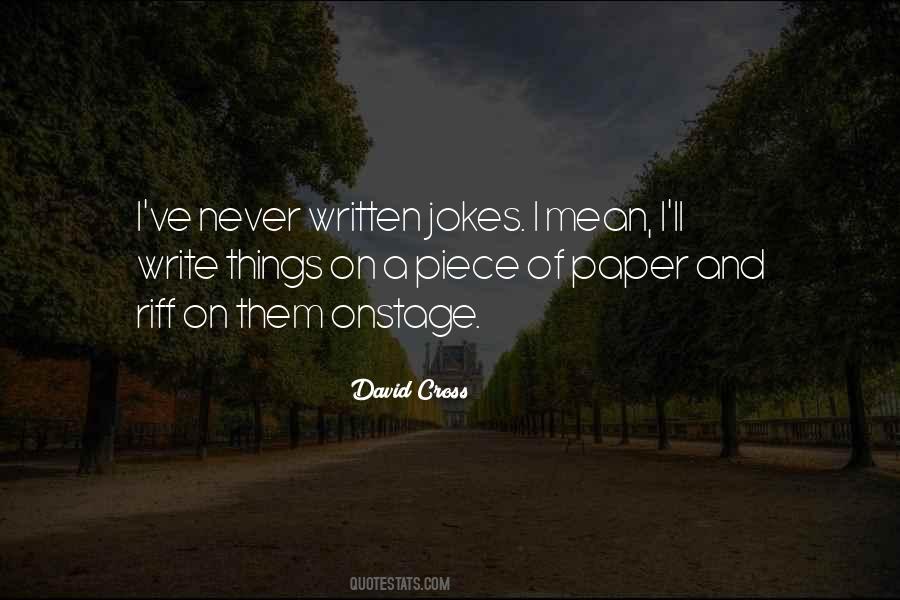 #26. One of my favorites has always been 'Swap Meet.' One of the reasons why I like that is it's a song that's in a drop-D tuning, and of course, also being a guitar player, it's one of the songs that I really like the riff on it. - Author: Chad Channing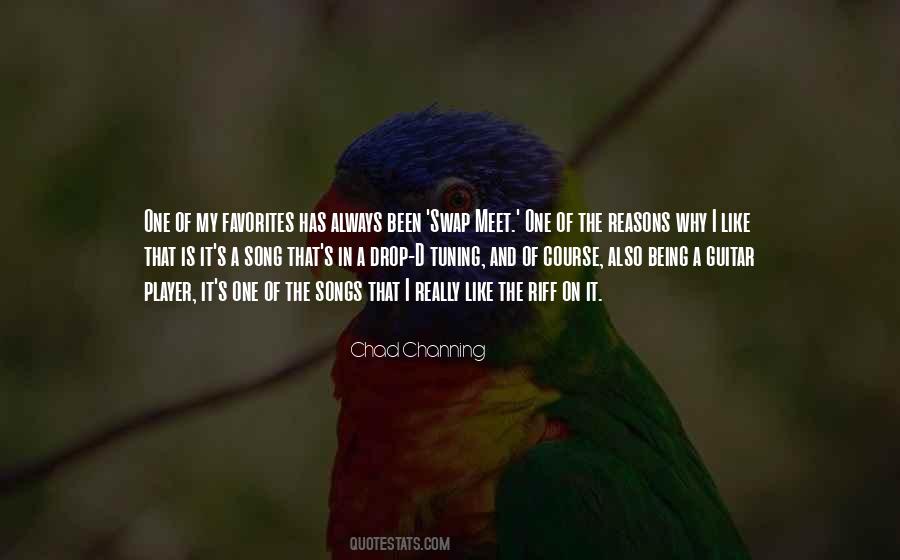 #27. Comedians are really writers who don't have pens and pencils about them, but they riff. - Author: Carl Reiner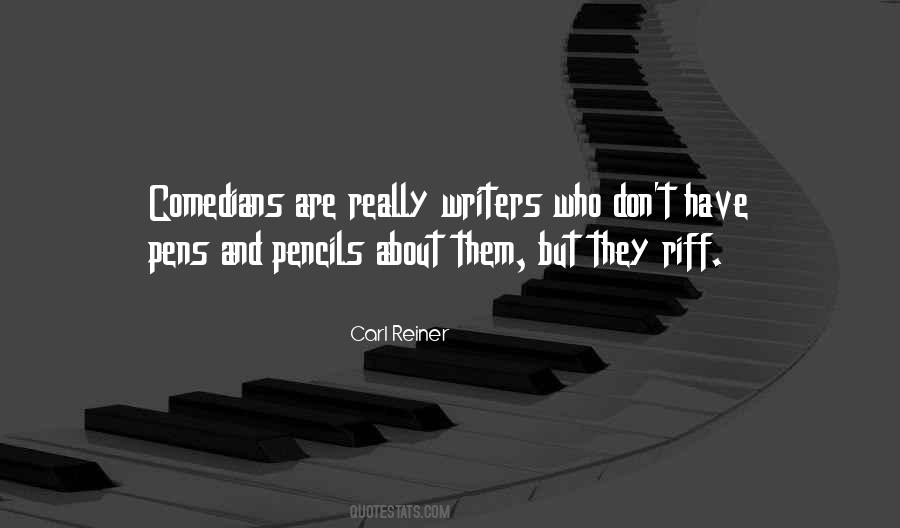 #28. James Franco has diligently studied my style for months on end and he should win a Grammy. - Author: Riff Raff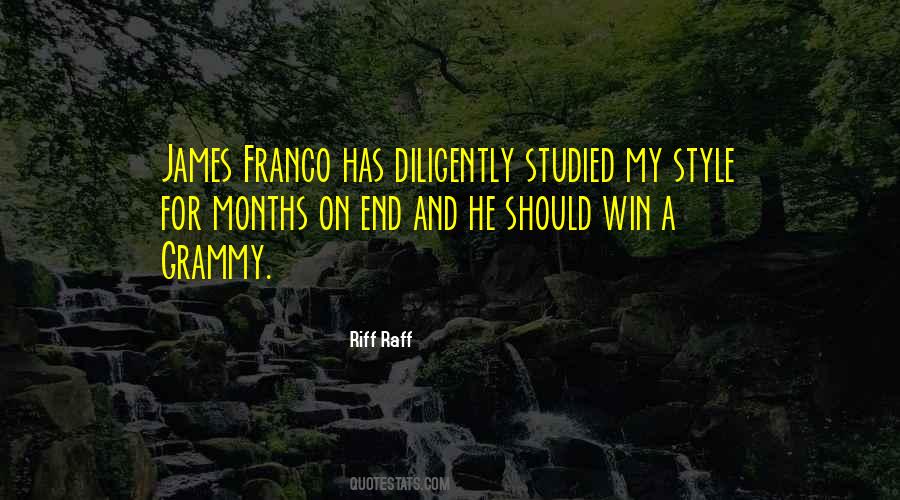 #29. Sometimes I say some things people may think are just outlandish, but I'm going to have the last laugh. - Author: Riff Raff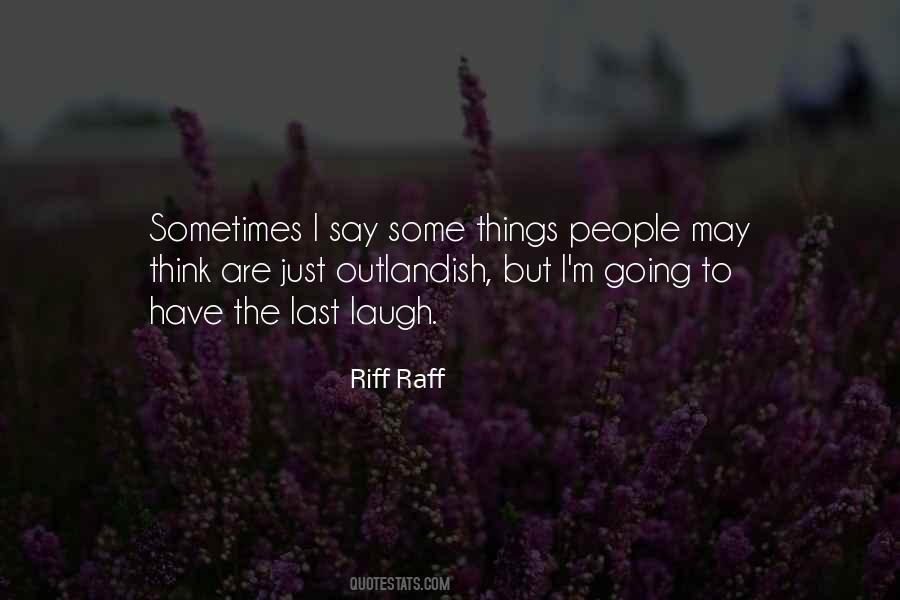 #30. When the world was born, everybody was naked. - Author: Riff Raff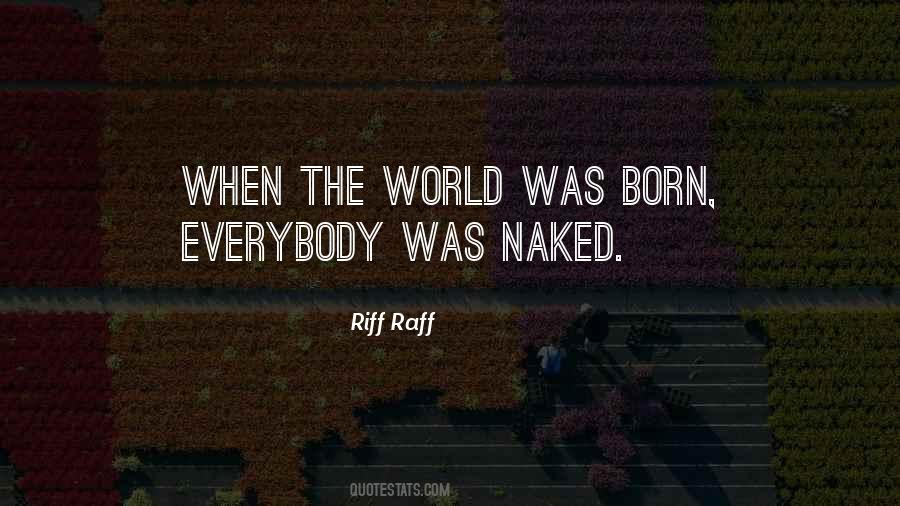 #31. So that's the challenge for me and that has always been the challenge - finding that melody, that riff, that thing that just lights me up and makes me feel like it's Christmas. - Author: Steve Vai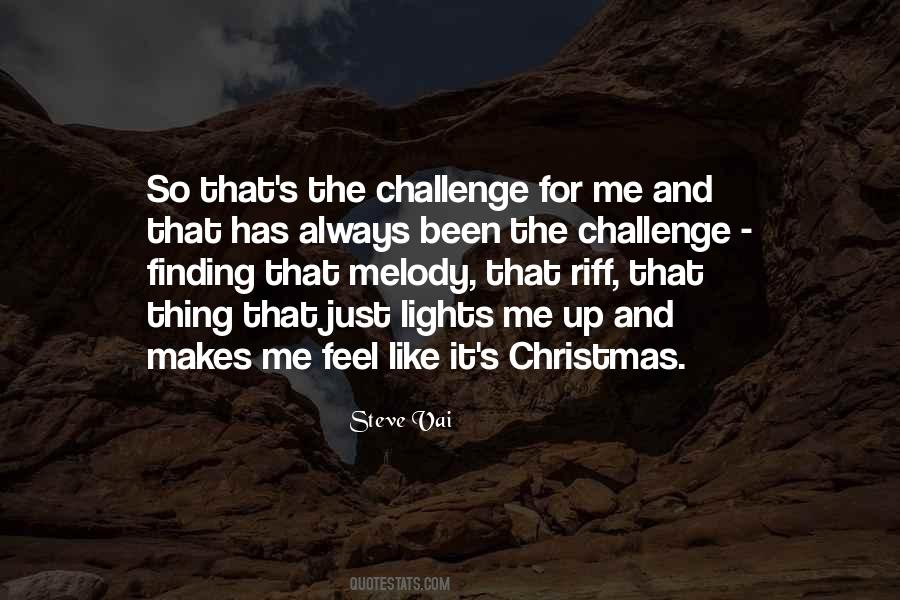 #32. Every cool riff has already been written by Black Sabbath. You're either playing it faster or slower or backwards, but they wrote it first. - Author: Rob Zombie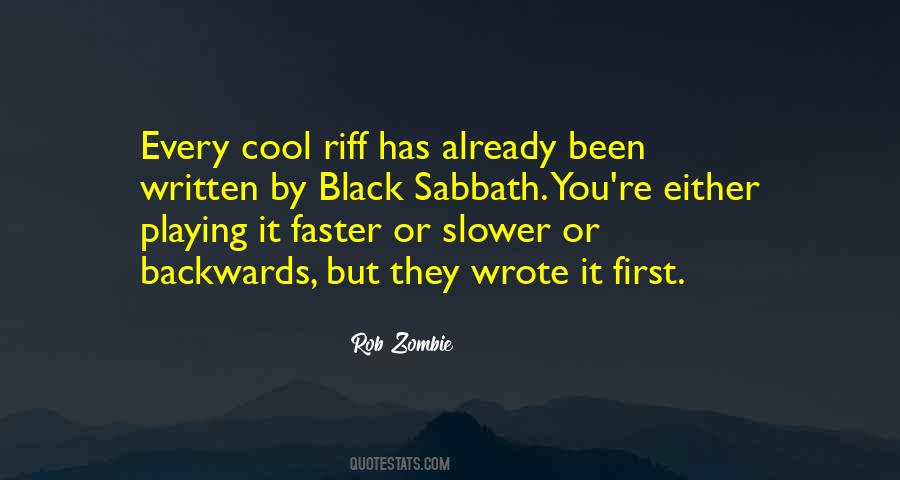 #33. Everybody knows that Black Sabbath started everything and almost every single thing that people are playing today has already been done by Black Sabbath. They wrote every single good riff ... ever. - Author: Rob Zombie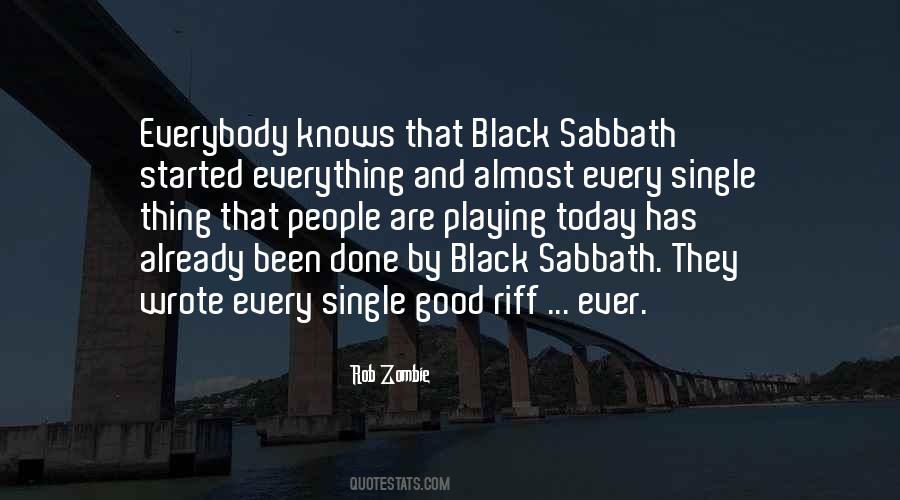 #34. The great American denial riff is that you can do whatever you like and you always triumph at the end. The world is saying no, you can do what you like, but there are consequences. And maturity is to be able to turn to the consequences and accept them. - Author: George Saunders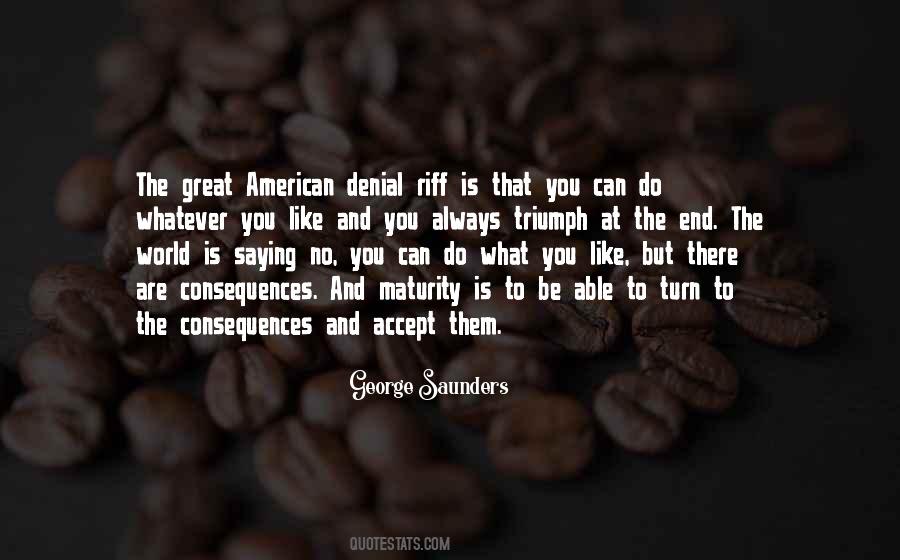 #35. Excuse me while I light my spliff, Good God I gotta take a lift, From reality I just cant drift, That's why I'm staying with this riff - Author: Bob Marley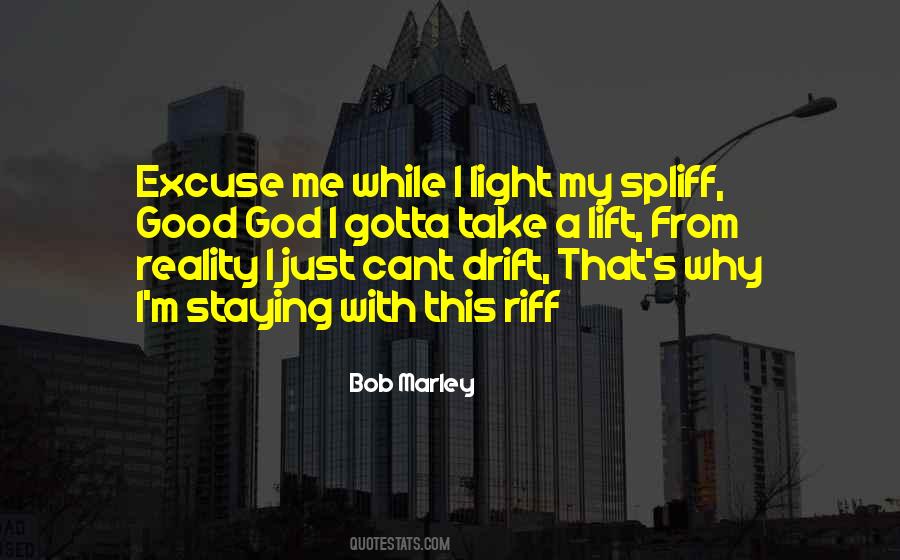 #36. I'd cuddle with you, but I don't want to sweat off my riff and solo."
She laughed. "That must be the first time that excuse has ever been used to avoid after-sex cuddling. - Author: Olivia Cunning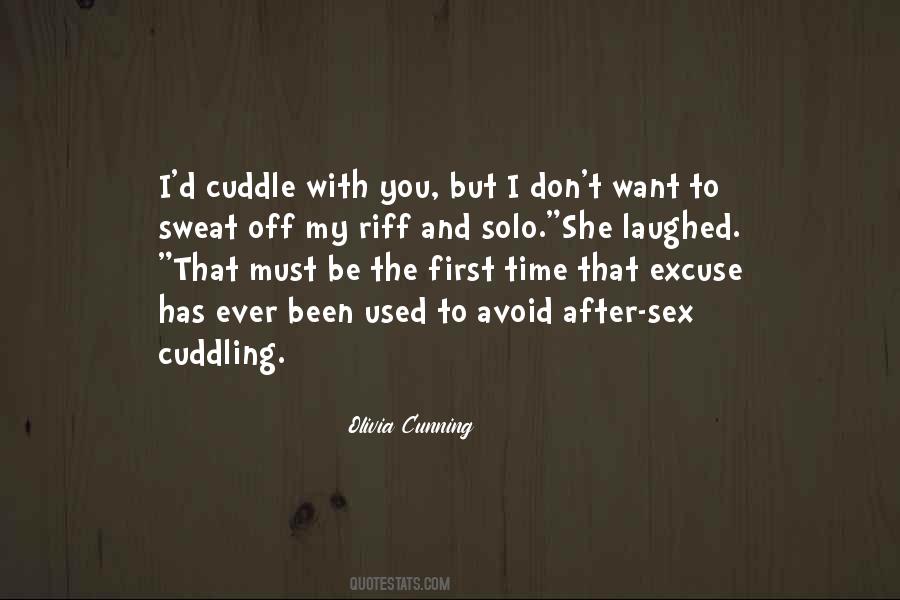 #37. I'm the most underrated, most hated, greatest of all time. I constantly have people who quit their jobs just to go on the internet and try to stop me at any and all costs. People flag my videos thousands of times. - Author: Riff Raff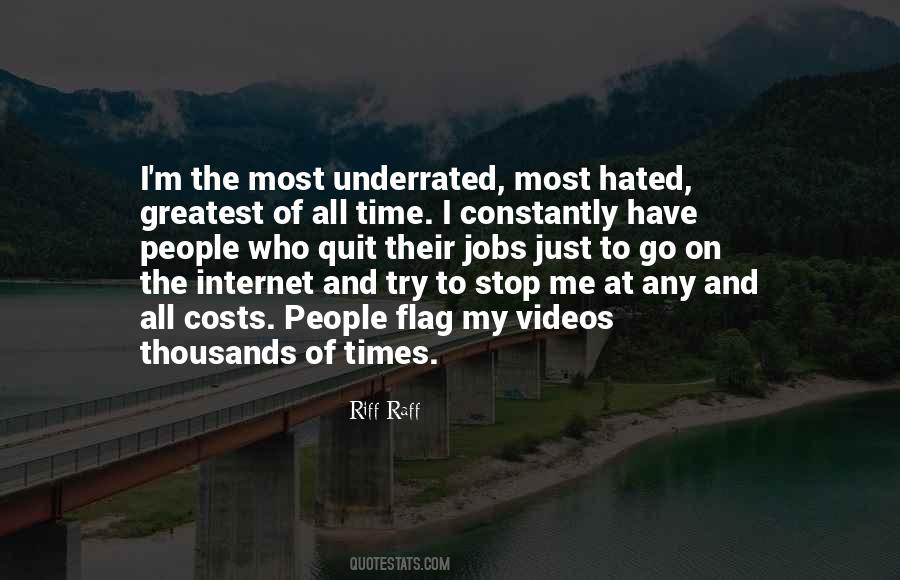 #38. You would find in a lot of Zep stuff that the riff was the juggernaut that careered through and I worked the lyrics around this. - Author: Robert Plant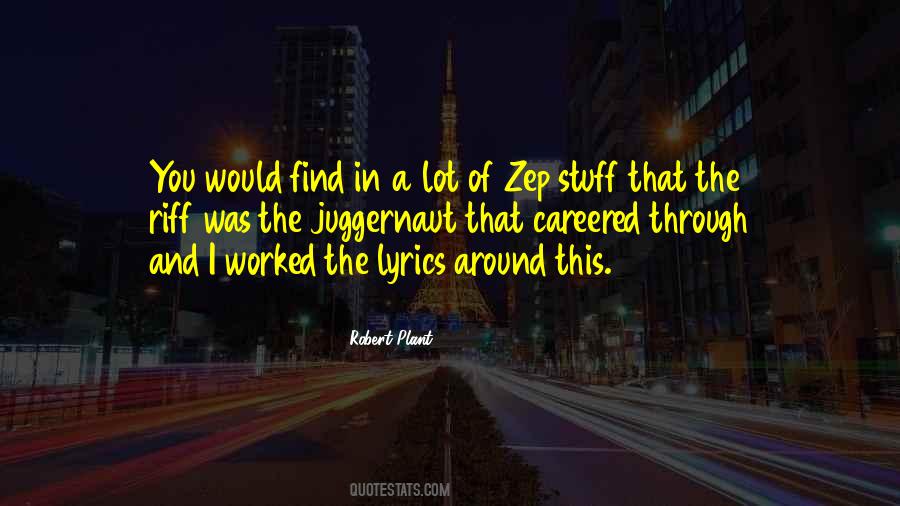 #39. When you really do find a new idea or you're in and it's all working, that's the gift. It's like a musician when they hit a riff, that's when you're like all right, it's mellow. You back off and just ride it. - Author: Robin Williams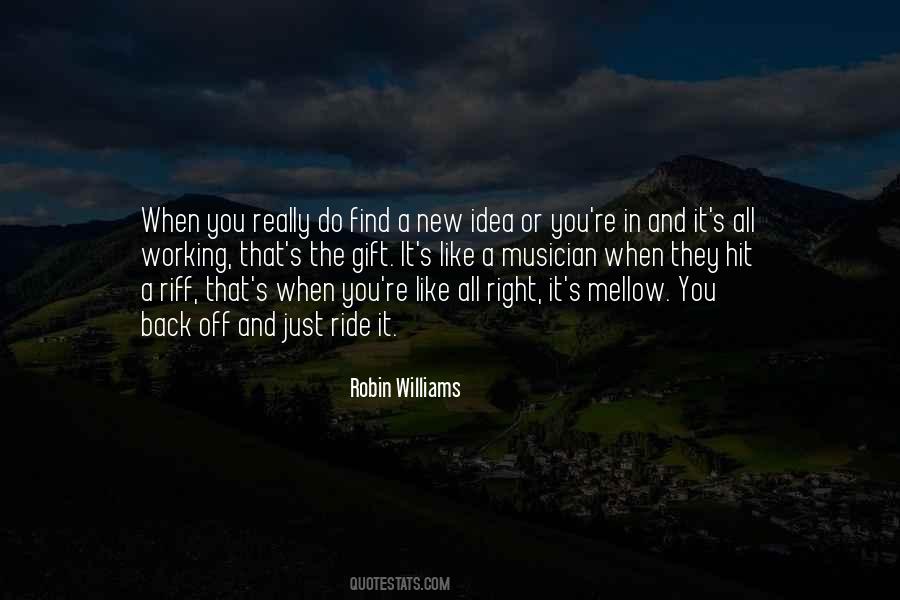 #40. When I need to nail that riff to the cross, Marshall will always provide the hammer! - Author: Dan Hawkins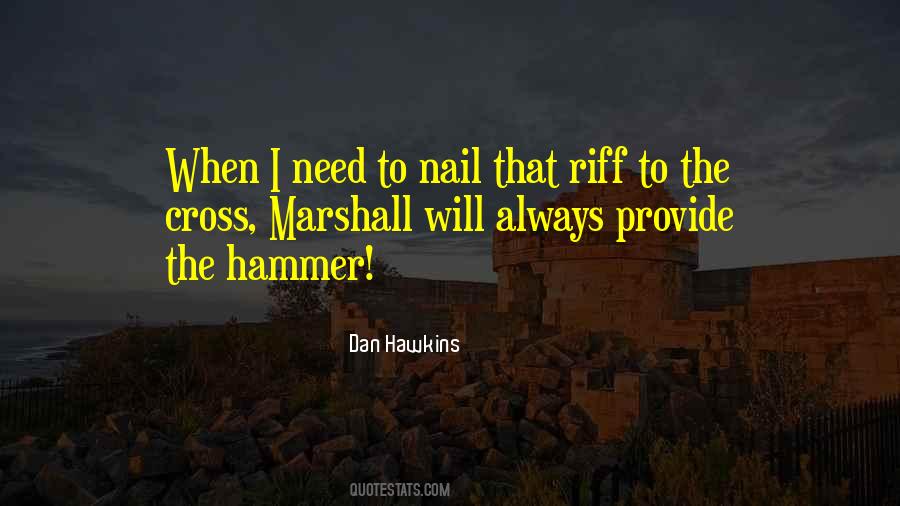 #41. If you improvise a riff and the crowd immediately reacts to it, you know you're on to something. - Author: Dimebag Darrell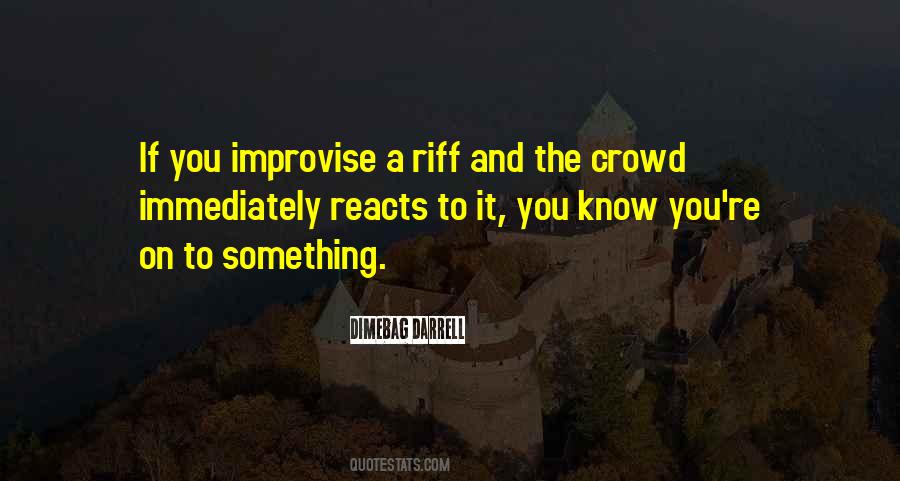 #42. I don't want you to play me a riff that's going to impress Joe Satriani; give me a riff that makes a kid want to go out and buy a guitar and learn to play. - Author: Ozzy Osbourne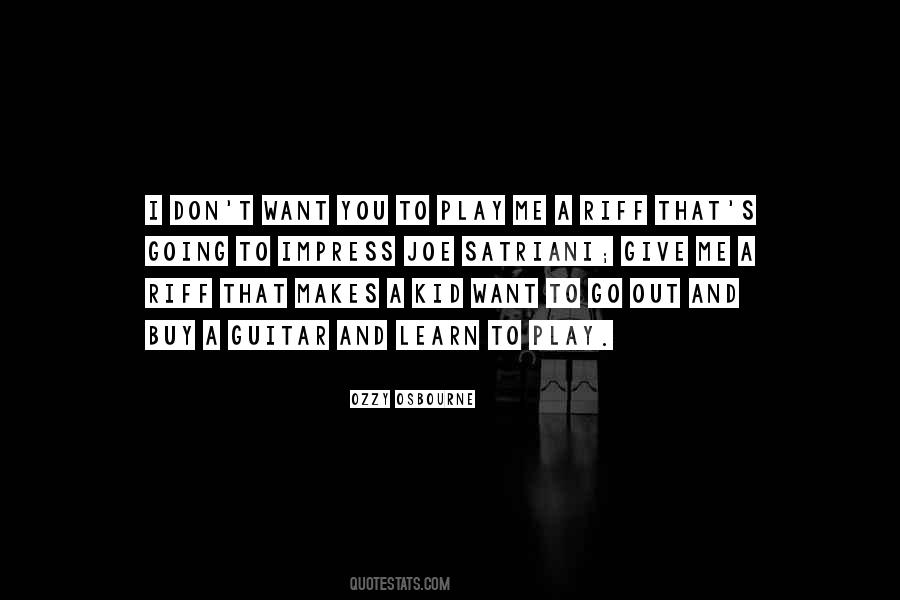 #43. I'm a good collaborative writer. I can usually come in and add a couple lines to something, and add a riff or a B-section, or a bridge that will tie things together. I can do stuff like that. But to write a whole song, I don't have the patience for that, I guess. - Author: James Young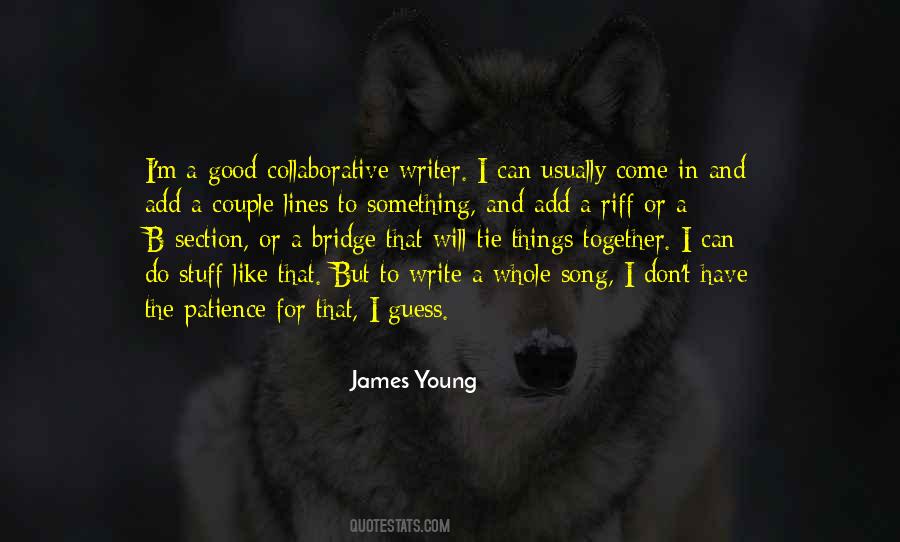 #44. The worst thing to happen at the Oscars would be if nothing happened. You want something unscripted, something to riff on, something kinda out there. - Author: Seth MacFarlane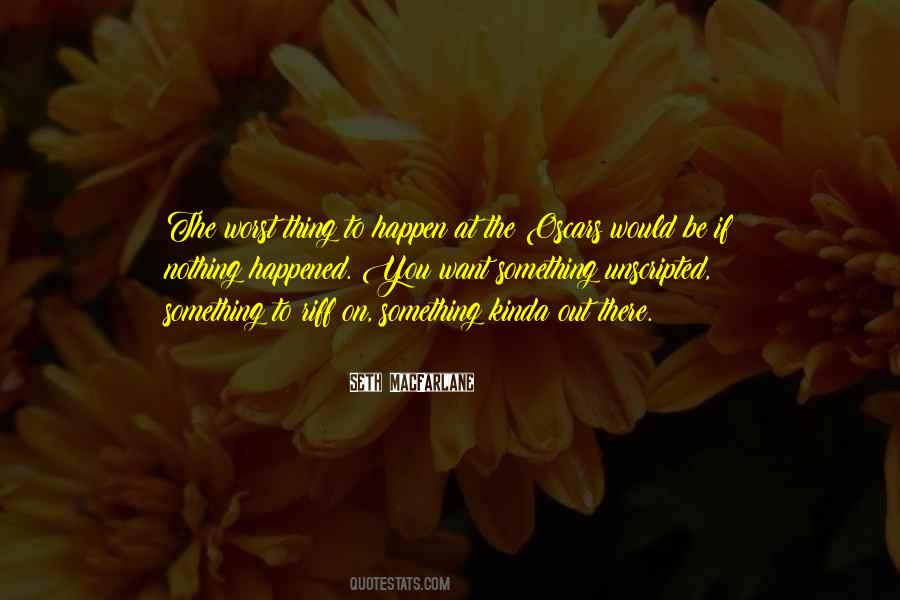 #45. The Thieves of Manhattan is a sly and cutting riff on the book-publishing world that is quite funny unless you happen to be an author, in which case the novel will make you consider a more sensible profession-like being a rodeo clown, for example, or a crab-fisherman in the Bering Sea. - Author: Carl Hiaasen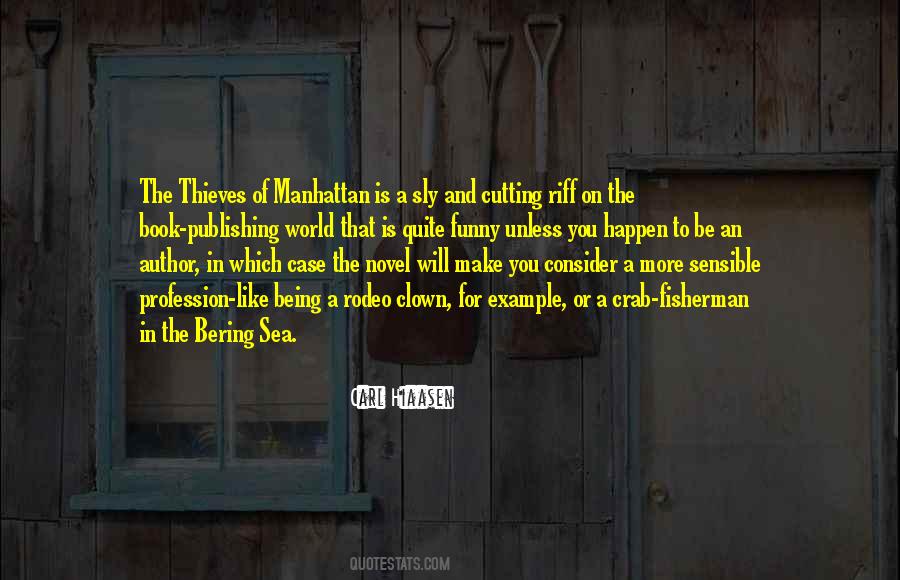 #46. The first song that made me interested in music was 'Oh, Pretty Woman' by Roy Orbison. It was the guitar intro, that riff, that I really liked and made me listen in a different way. - Author: Geddy Lee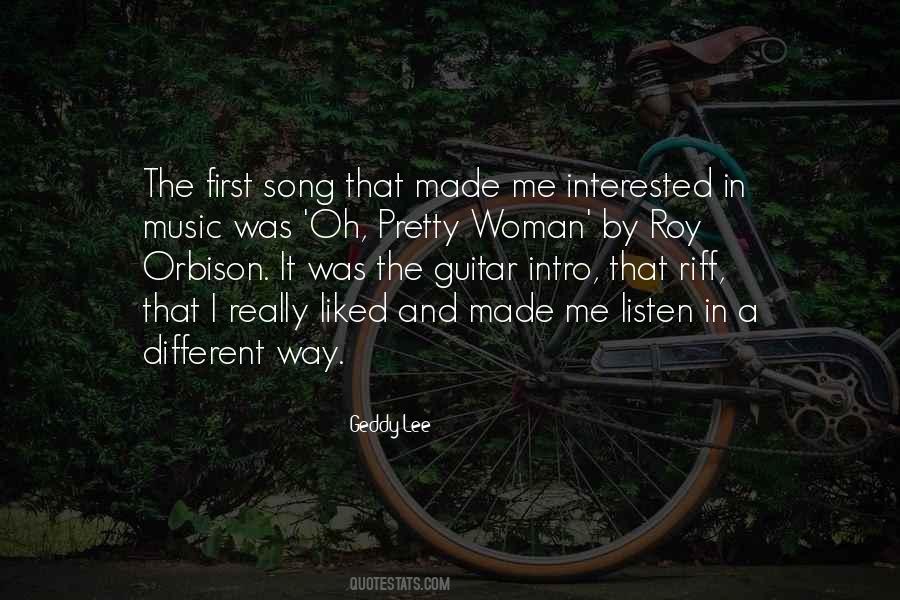 #47. There are a lot of people who are successful and have a lot of money, but you can almost see their limitations because they have these walls around them. Harmony Korine exceeds those walls, and those are the types of people who go on to exceed people's expectations. - Author: Riff Raff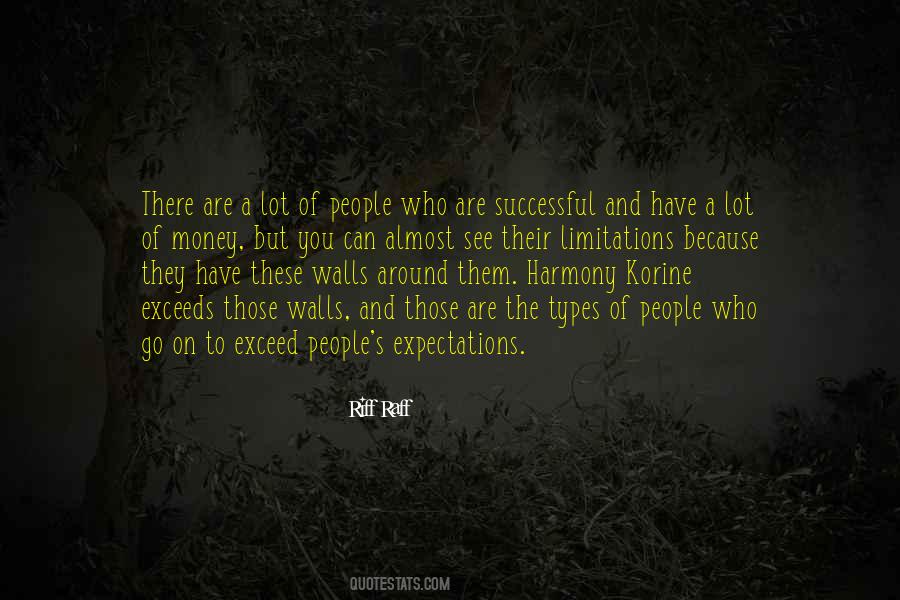 #48. I was just obsessed with soul singers who had these big powerful voices. I used to listen to Aretha, Whitney, Mariah and try and imitate them, note for note and riff for riff. - Author: Jess Glynne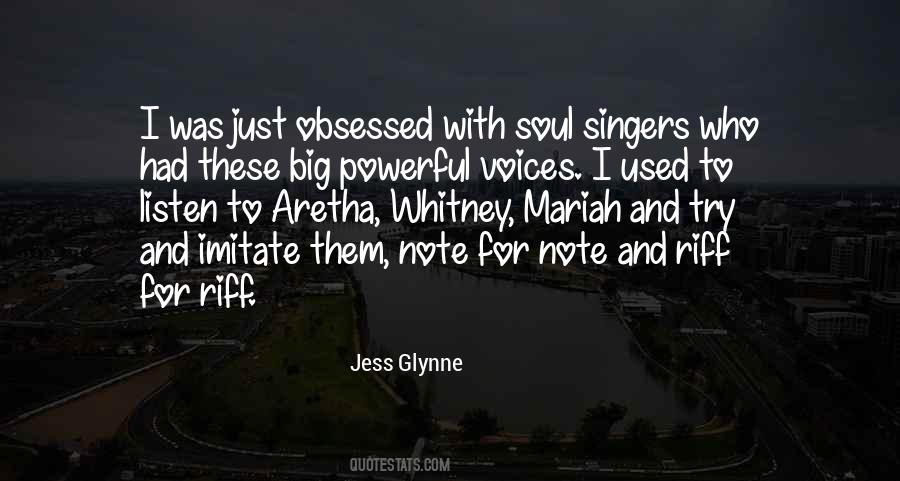 #49. The main riff for 'SandMan' was just something I wrote one night. - Author: Kirk Hammett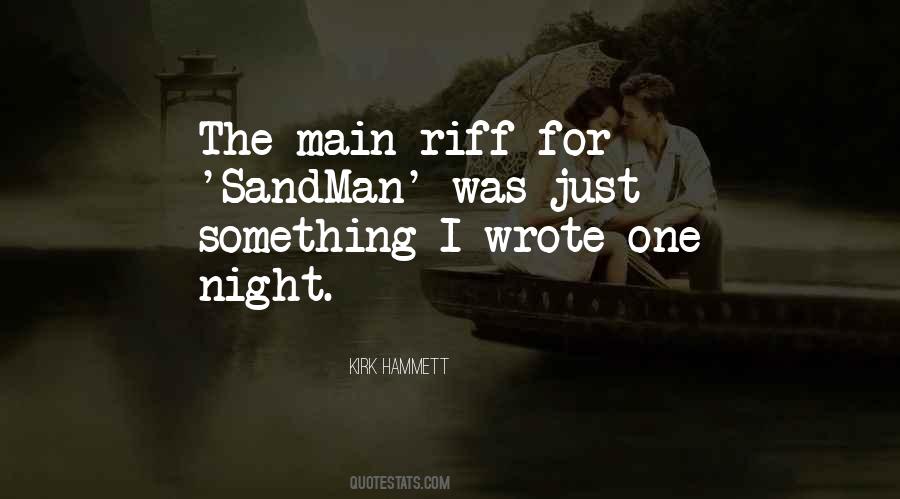 #50. A guitar riff played on a piano doesn't come close to the purity of it being played on a guitar but I faked it enough to get by. - Author: Barry Mann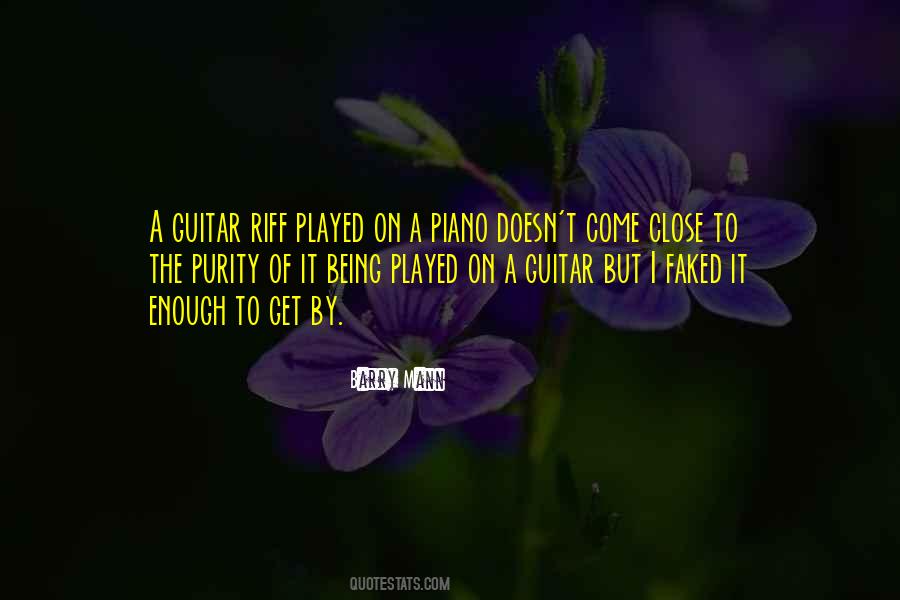 #51. I didn't even write the lyrics down. I got in the booth, I put down a little guitar riff and the idea I had was it was going to be really simple, I just want it to be all about the lyrics and I just literally sang the lyrics. - Author: Benji Madden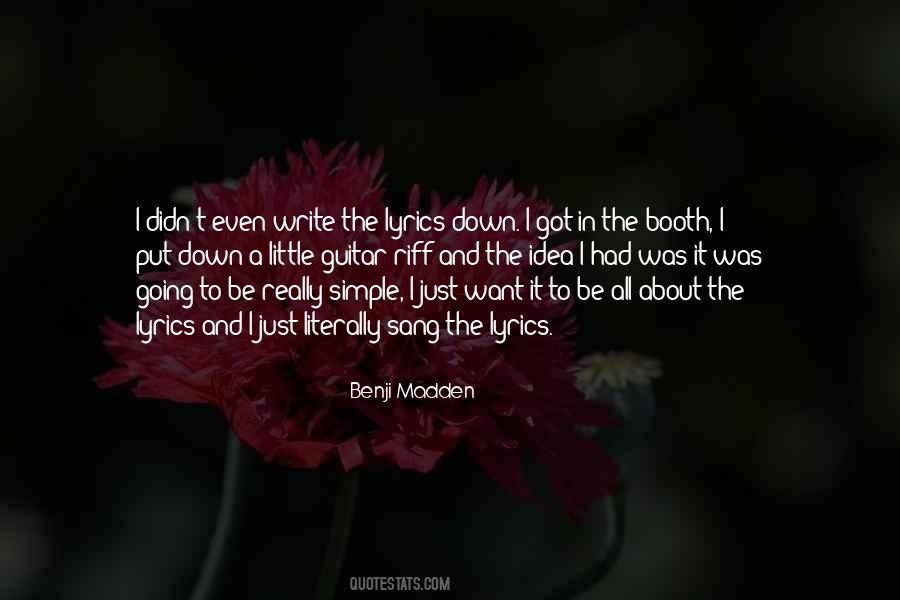 #52. I want to do some different kind of songs, but say I want to do riffs, but I don't come up with any riffs that I really think are great. Then I can't do a riff album. I'm more of a song, melody person. - Author: Stephen Malkmus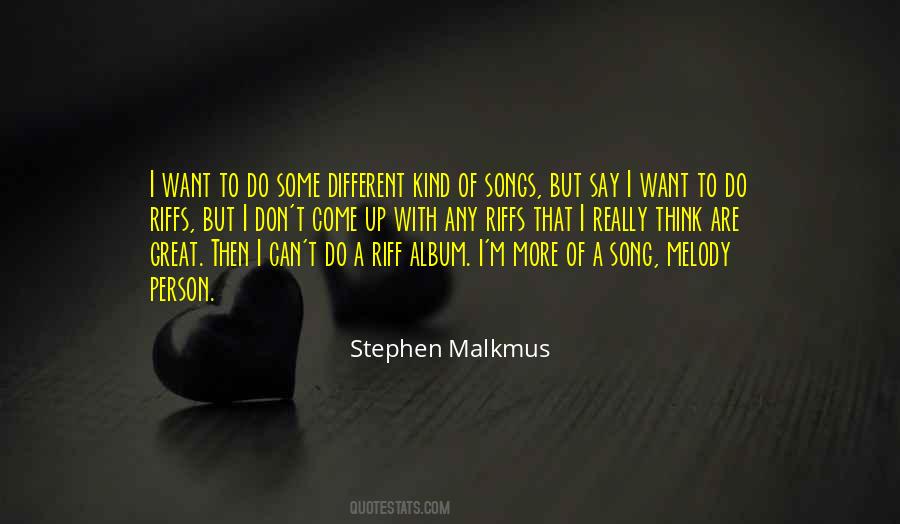 #53. My tattoos remind me of all that I have been through. - Author: Riff Raff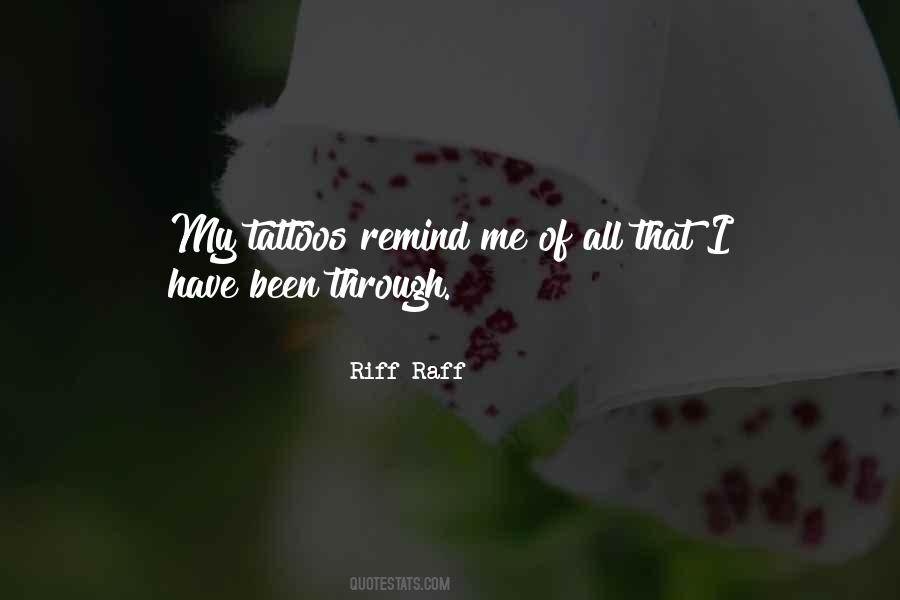 #54. The silence was suddenly too much. He hit the CD button on the car's radio. Brian Jones's sitar riff opened for Charlie Watts tribal-like drumbeat thundering from the speakers. Keith Richards' jangly guitar joined in, followed by Mick singing about seeing a red door that he wanted to paint black. - Author: Glenn Rolfe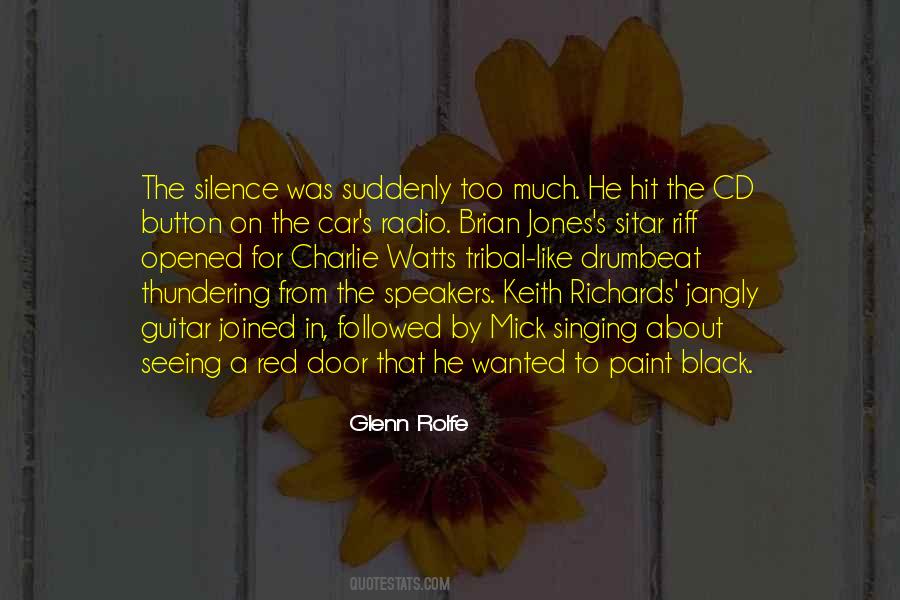 #55. Once upon a time ... " "In the beginning was ... " That's the way it always starts off. Every story, gospel, history, chronicle, myth, legend, folktale, or old wives' tale blues riff begins with "Woke up this mornin' ... - Author: Steven Tyler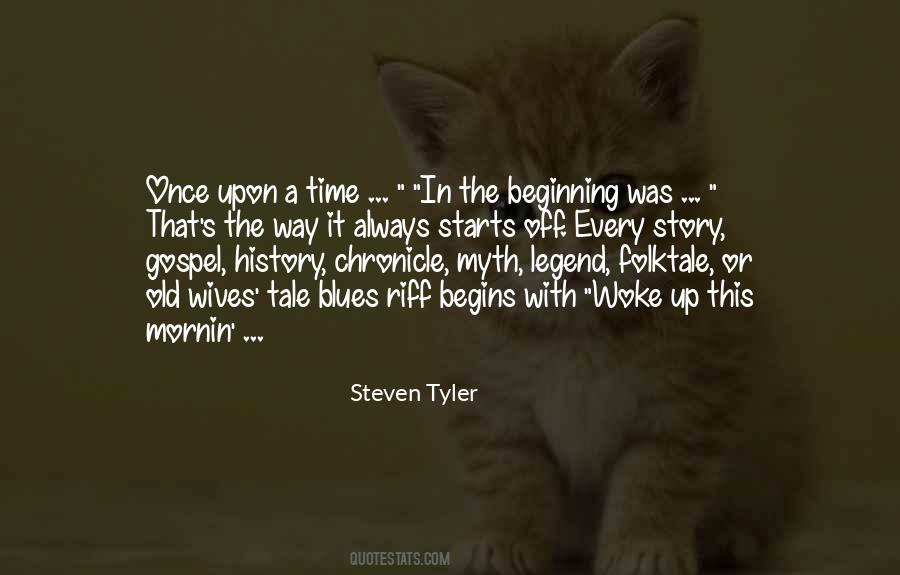 #56. In OK Computer, the guitar was already moving towards a tone generator as well as a riff generator. - Author: Colin Greenwood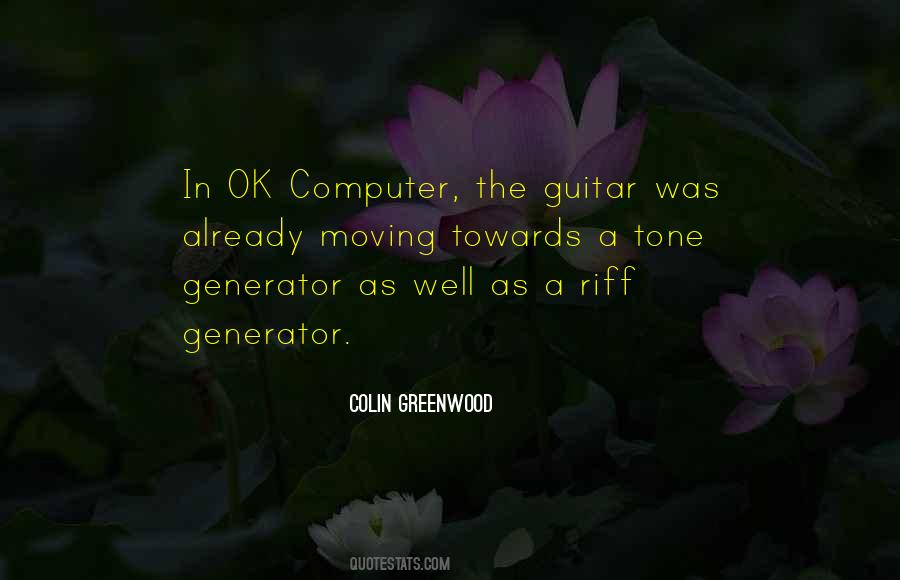 #57. 'Back In The Saddle' - I never realised what a good riff that was, or at least how much it satisfied me. And when we play it live, it comes across much better than I ever expected it to. - Author: Joe Perry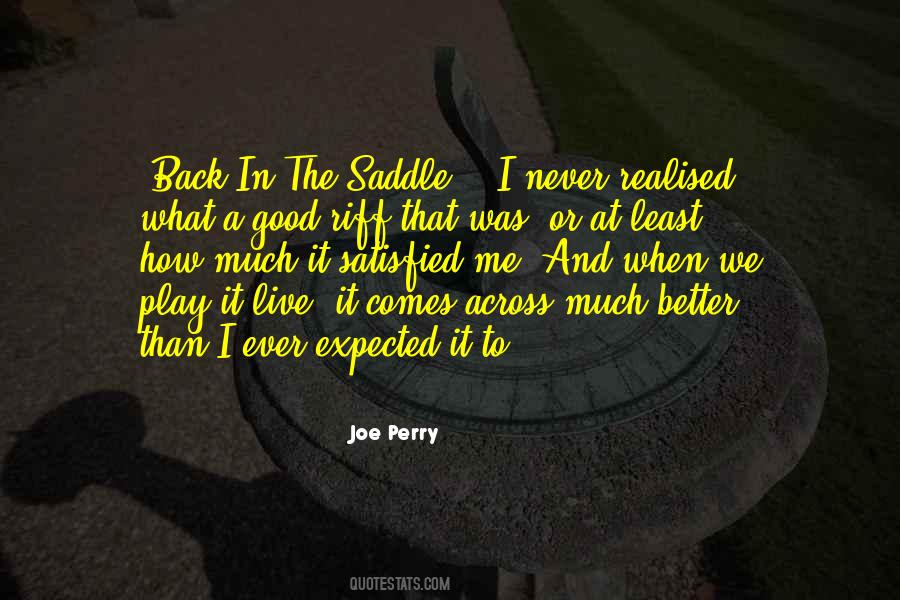 #58. When you have a clear idea of what your character is trying to accomplish, it makes it a lot easier to riff on things. - Author: Glenn Howerton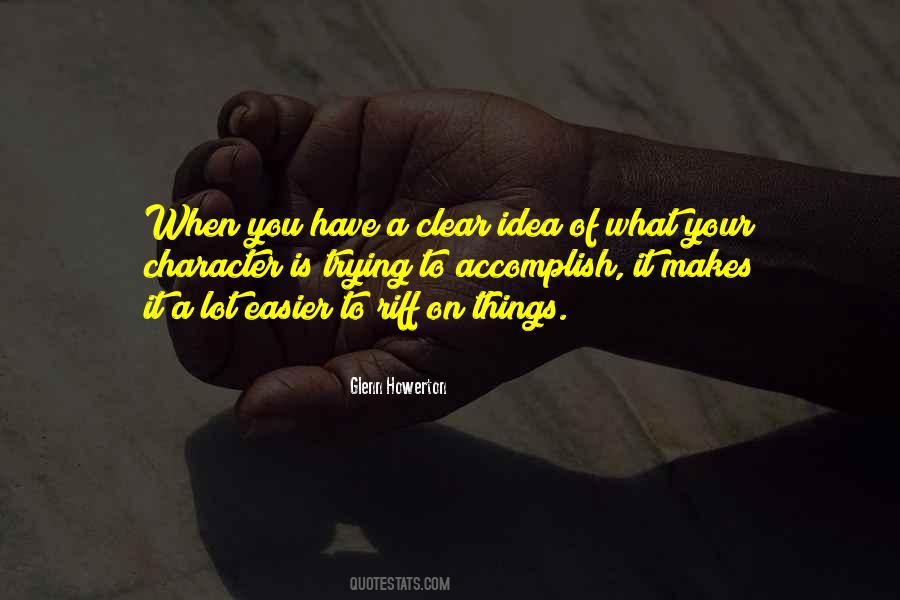 #59. I'm still trying to write. I wrote a play a few years ago, so I'm trying to start writing again. The play was called The Commons Of Pensacola. It was at MTC [Manhattan Theatre Club] with Sarah Jessica Parker and Blythe Danner. It was kind of like a riff on Ruth Madoff. - Author: Amanda Peet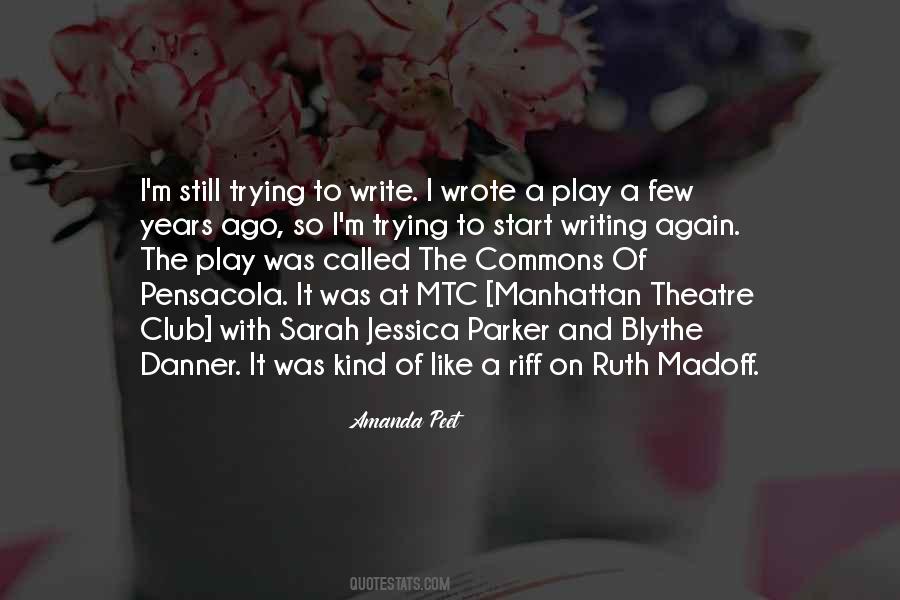 #60. Once you understand that there's a spiritual math, add soul to the science and subtract the riff-raff. 24-7-365, cause 9 to 5 ain't alive. - Author: Kool Moe Dee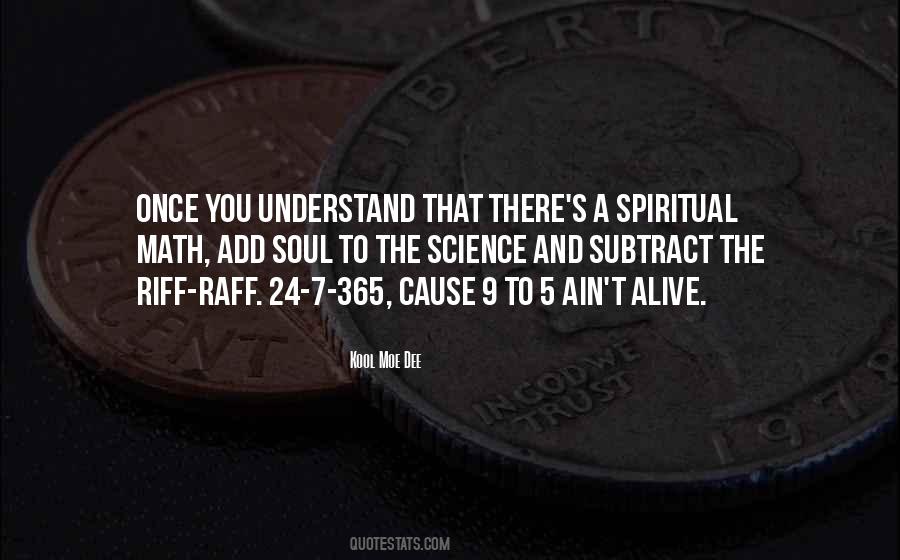 #61. Why would I talk about the past when I got a bright future? What kind of money is the past gonna make me? Everyone wants to know information. Now, if you wanna know information, if you want history, you're gonna read a history book. The past ain't gonna make you no cash. - Author: Riff Raff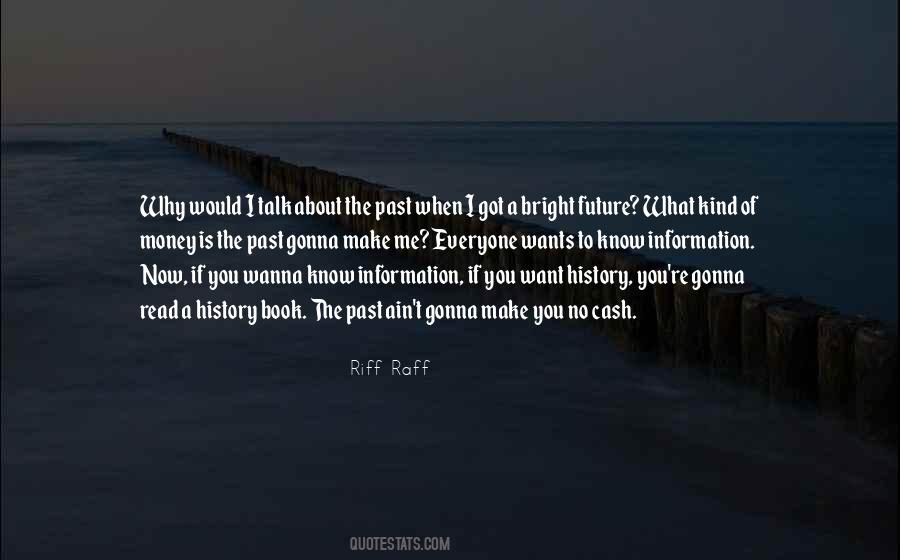 #62. Where Snah [Hans Magnus Ryan] is a melody and texture man, I am more of a riff, rhythm and concept guy. I am much better than him in certain fields, and he surely wipes the floor with me in others, and we both know it's like that. - Author: Bent Saether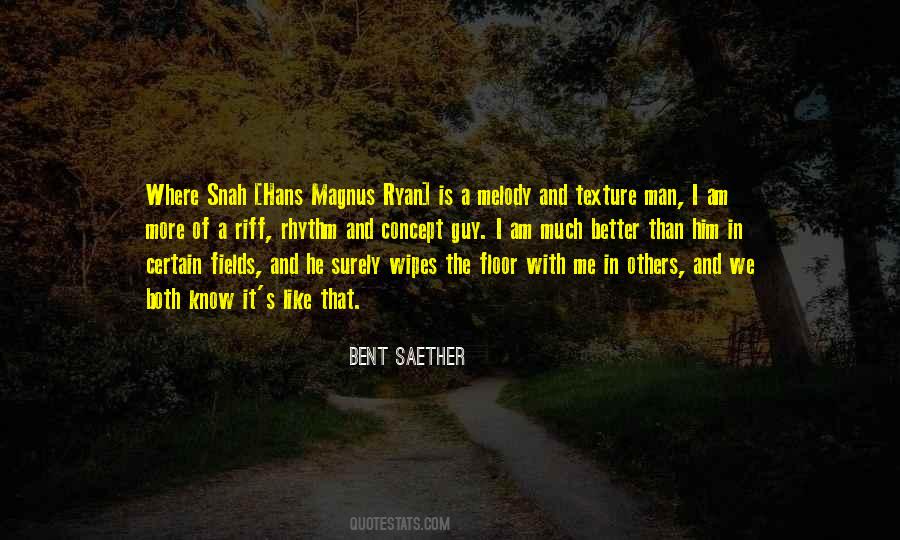 #63. The song could start with a riff that I base the song around. Or a chord progression or a melody I have, I just write a story about it. Lyric-wise, it's cool to have someone else's input too. - Author: Orianthi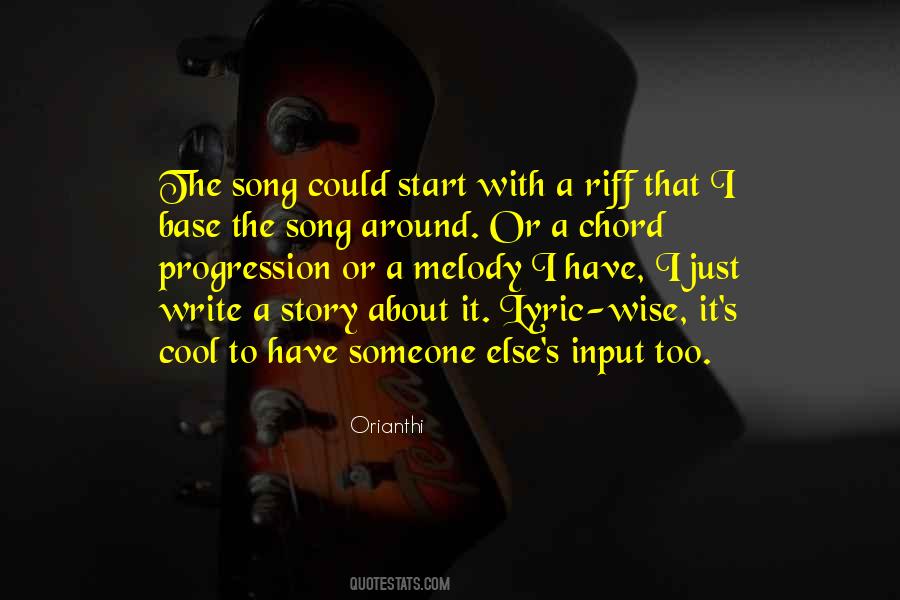 #64. Of all the things I've done, the first 'Strongman' story was one of the easiest things to write. It was almost fully formed from the get-go. It's almost a 'Dark Knight Returns' riff, except you have a battle-worn Mexican wrestler instead of Batman. - Author: Charles Soule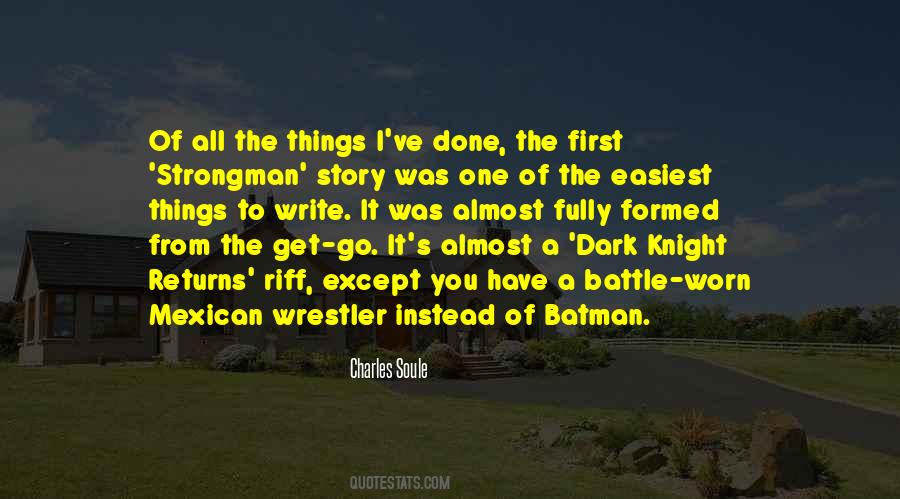 #65. I'm always in Malibu, and I'm a big fan of surfing and stuff. I love the beach. Someday I will live on the beach. - Author: Riff Raff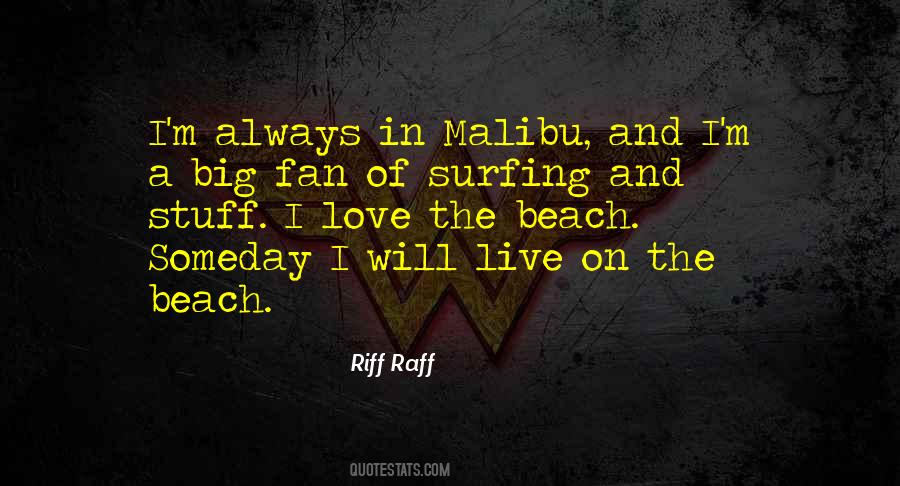 #66. I haven't had a big-ass feature, somebody put me on a label, cash money didn't come scoop me up. I've literally put myself into millionaire position. All the stuff I've done and I'm doing has nothing to do with nobody. I don't owe anybody anything. No wife, no kids - I don't owe nobody nothin'. - Author: Riff Raff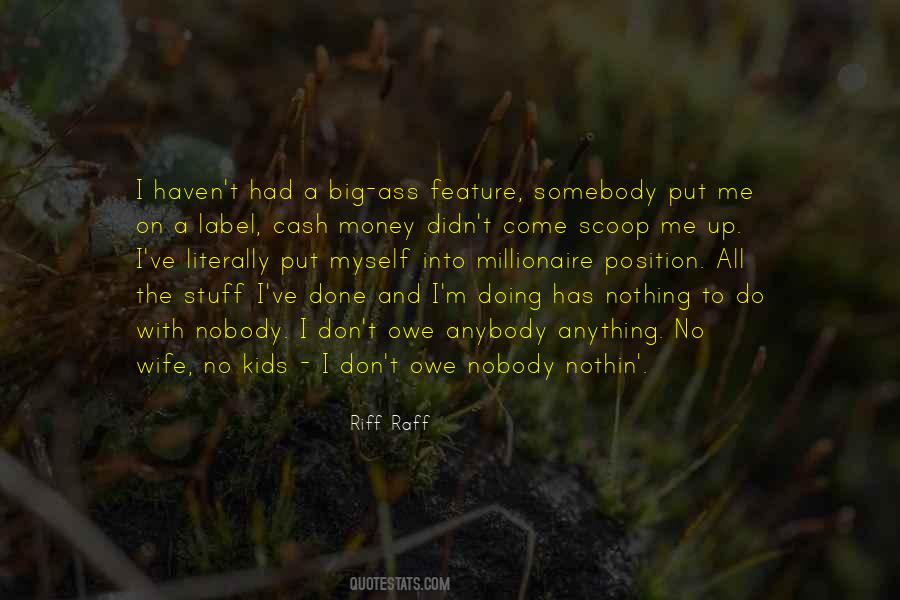 #67. Riff needed the pain in his body to mask the pain inside. Once he'd enjoyed the pain only because it brought pleasure with it, but that distinction had gotten lost. - Author: Marguerite Labbe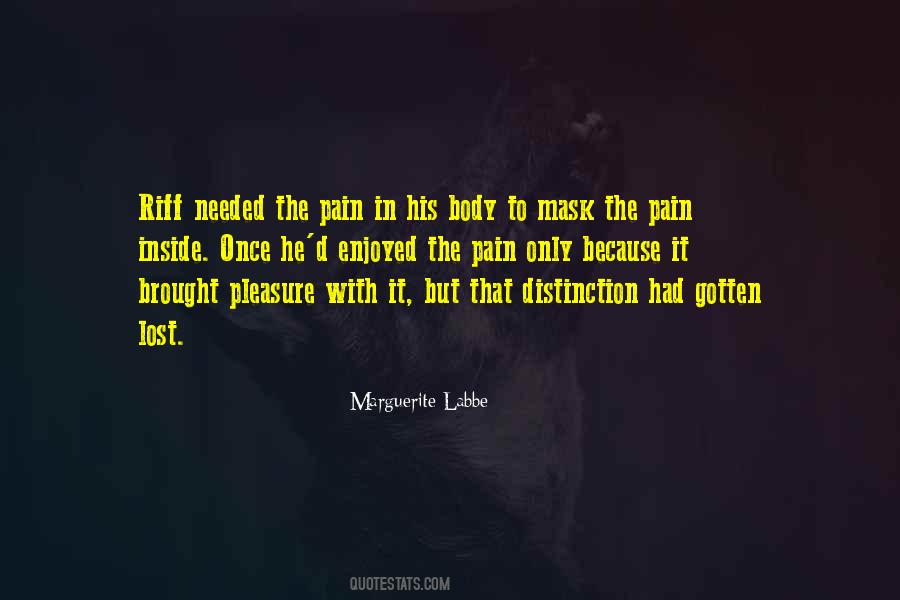 #68. There's such a huge difference between a great arrangement of riffs and a song. Sometimes the two can be the same. But the difference is a song doesn't necessarily need a riff, whereas a riff doesn't necessarily mean you've got a good song on your hands. - Author: Corey Taylor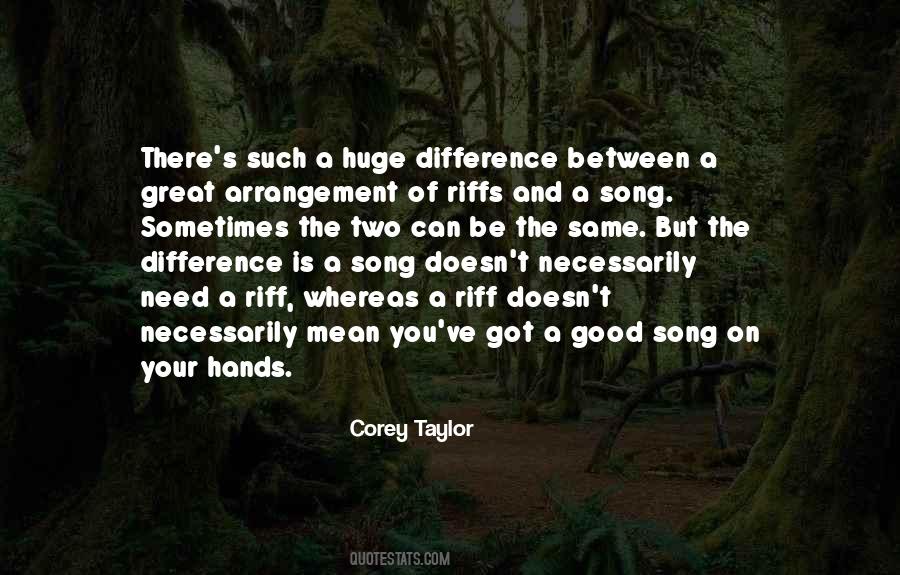 #69. Rap game Julio Franco, Chuck Norris, Texas Ranger/ Ice on my fingers look like I slap-boxed a penguin. - Author: Riff Raff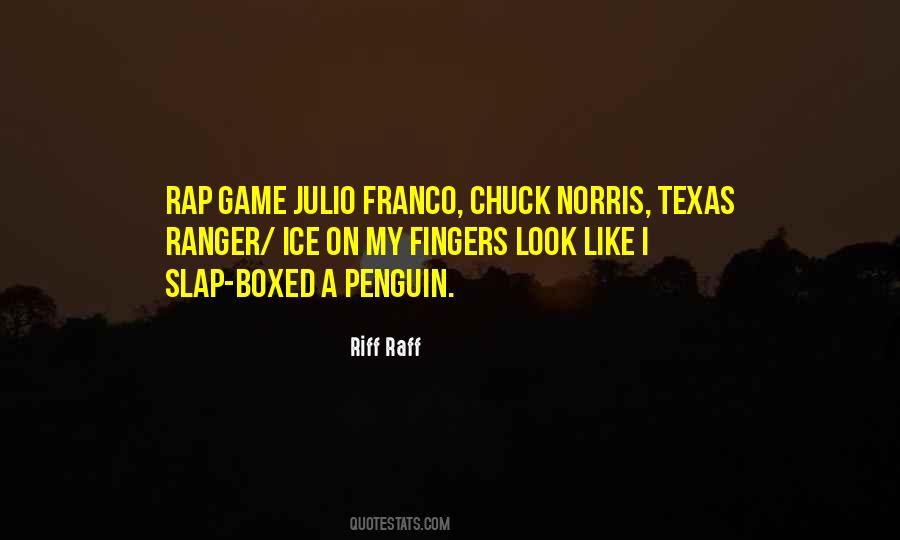 #70. One thing will lead to another and somebody will come up with a riff or a line or something we build from. - Author: Johnny Rivers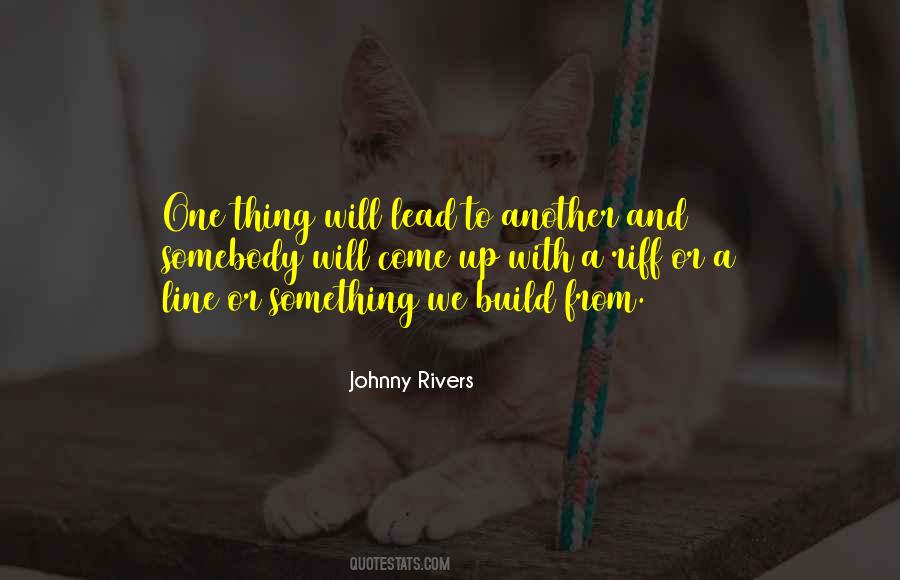 #71. If I ever get some free time I end up thinking about what to make next. I don't pick up a guitar and start playing the songs I already know; I immediately try to write a riff. - Author: Chaz Bundick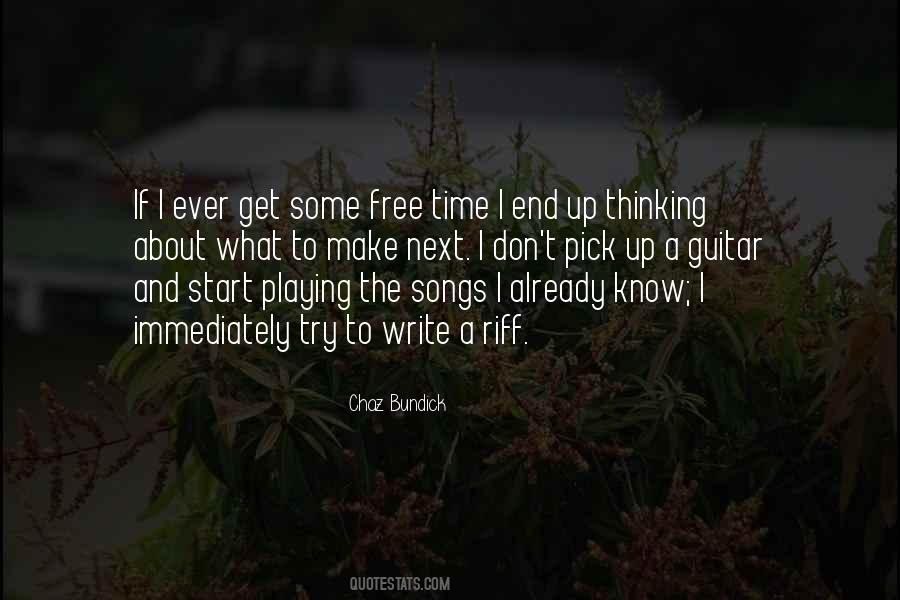 #72. Songs are out there - they're waiting to be grabbed. I start with a phrase, musical and lyrical, words like 'I don't think so' and a nice riff. It rolls from there. - Author: Ronnie Wood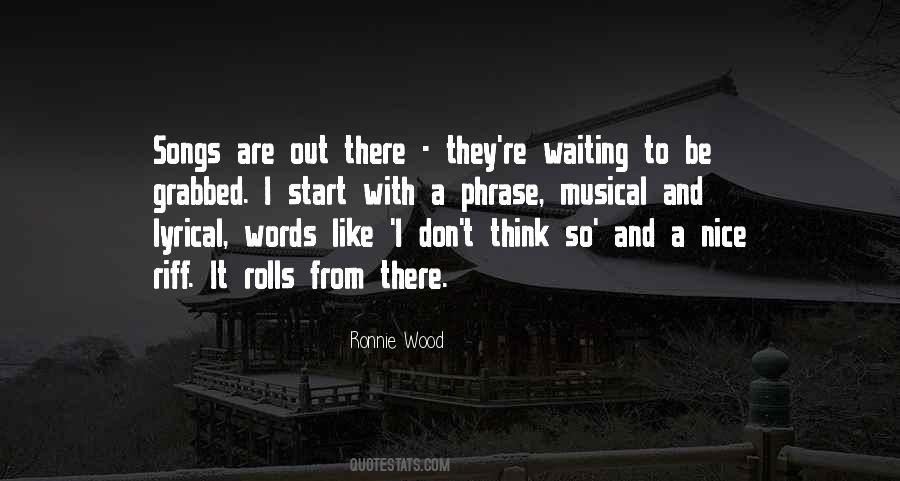 #73. I always have my setlist planned out, but the best moments are when the energy of the crowd just gets your mind working and you are able to come up with new tags for jokes and just riff off things in the room. - Author: Aziz Ansari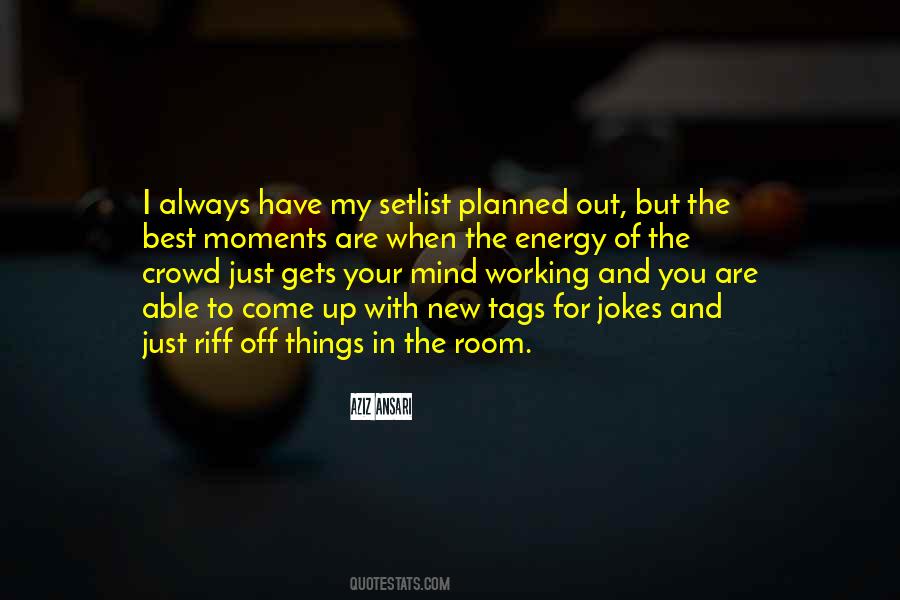 #74. Sometimes one of us will have a riff or a bass line from home but it really gels when we come together. We really have a strong special chemistry that we take advantage of when we get together. - Author: Chad Smith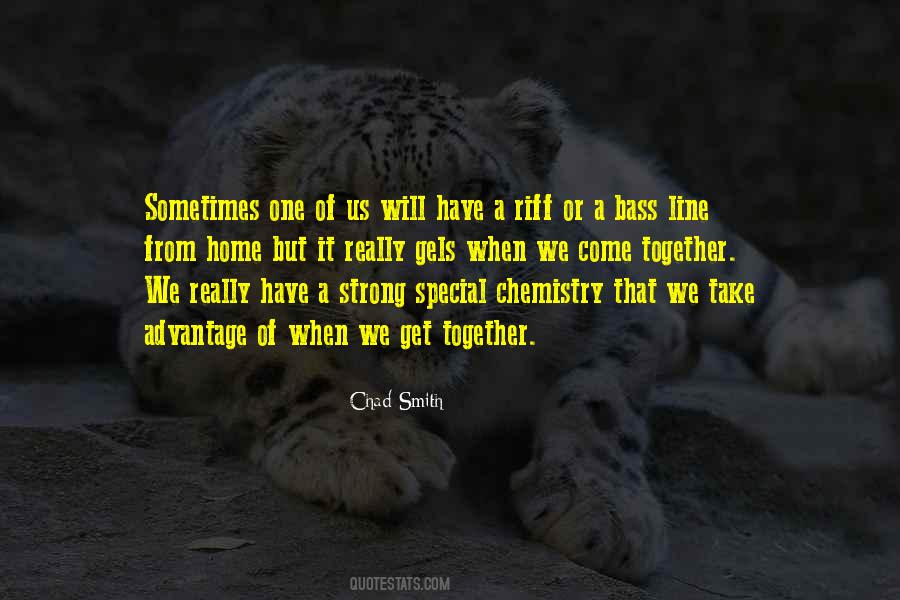 #75. Whenever I work on the computer, I have folders and you know how you always give everything working titles, if you have a riff or a motif or a chord progression or a lyric written on a page, it's just a line or a word or something so I always give everything a working title when I'm making a folder. - Author: Page Hamilton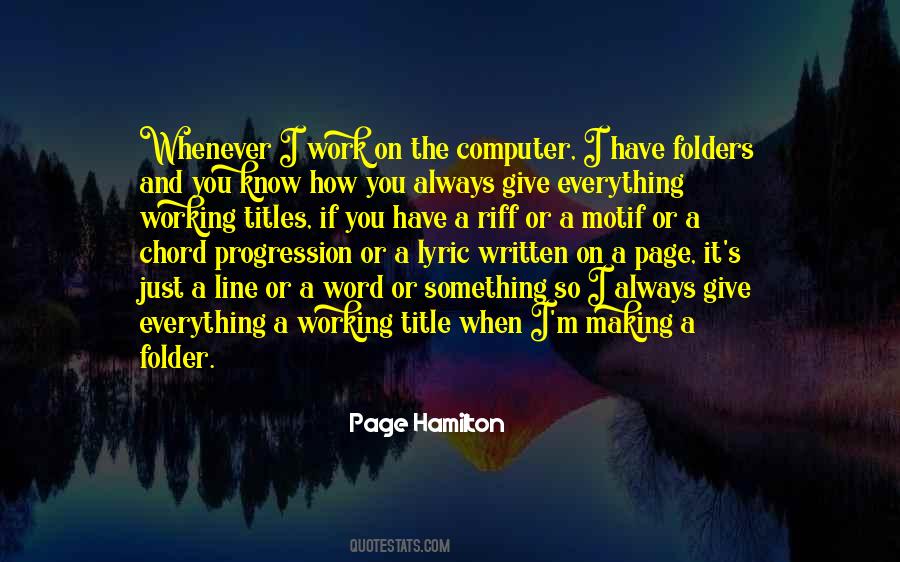 #76. I'm dying to fool around with the distance between Selina Kyle and Catwoman. And, you know, the whole double identity thing is endlessly fascinating. I mean, you can always find another riff for it. - Author: Ann Nocenti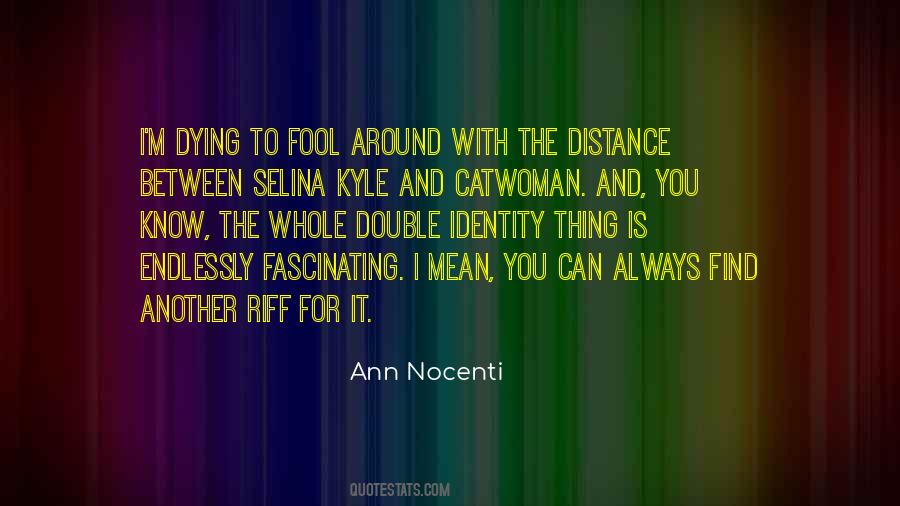 #77. The idea of a hypnotic riff as the prime mover of a piece of music has been around for a long time, whether you're talking about the Delta blues or music from Middle Eastern and African cultures. - Author: Jimmy Page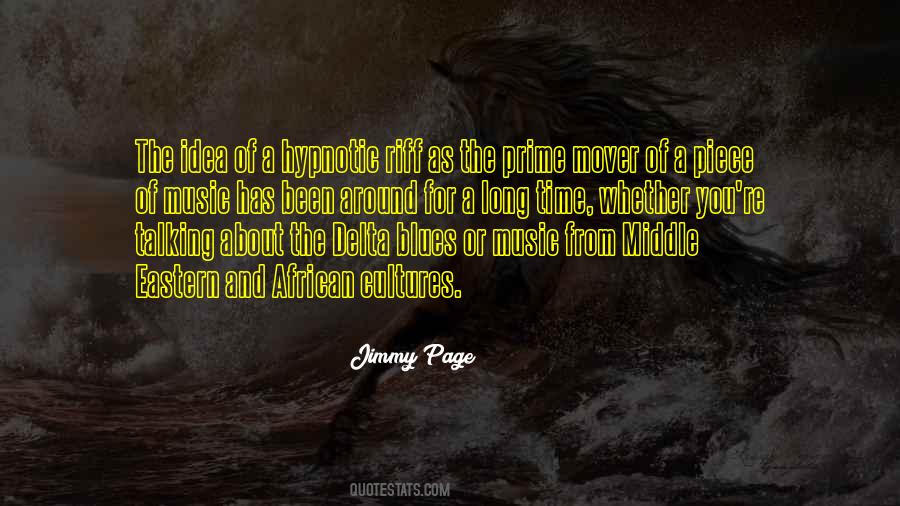 #78. What do you see when you touch me now?" Riff asked, his gaze searching Zed's face. Once again, Zed sensed that electric zing of sexual awareness. Riff Definitely knew what he wanted, "Enough heat to set me on fire. Hunger that matches my own. - Author: Marguerite Labbe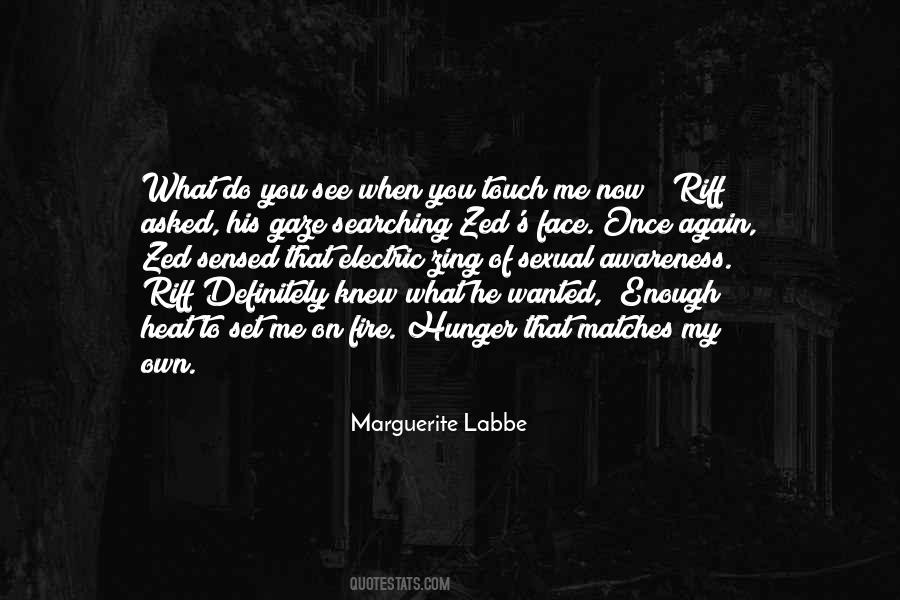 #79. Woodrell's storytelling is as melodic, jangly and energetic as a good banjo riff ... Sammy Barlach's story is a tragedy, but the telling of it is a pleasure. - Author: Valerie Sayers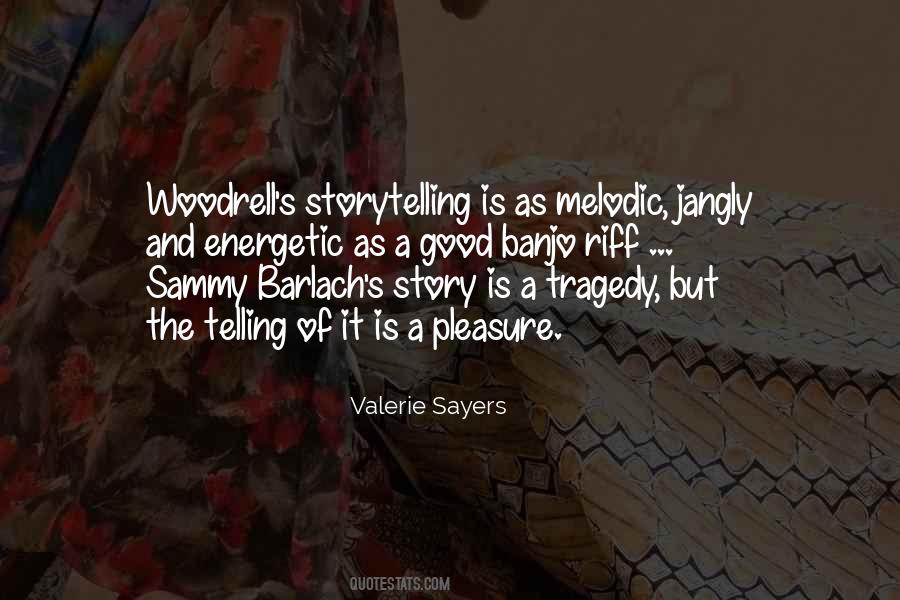 #80. Cause everything I've done - there's no smokescreen. Everything the people have seen me do, they've literally seen me start from the bottom and rise to the top. So there is no falling down once you've done the stuff I've done. - Author: Riff Raff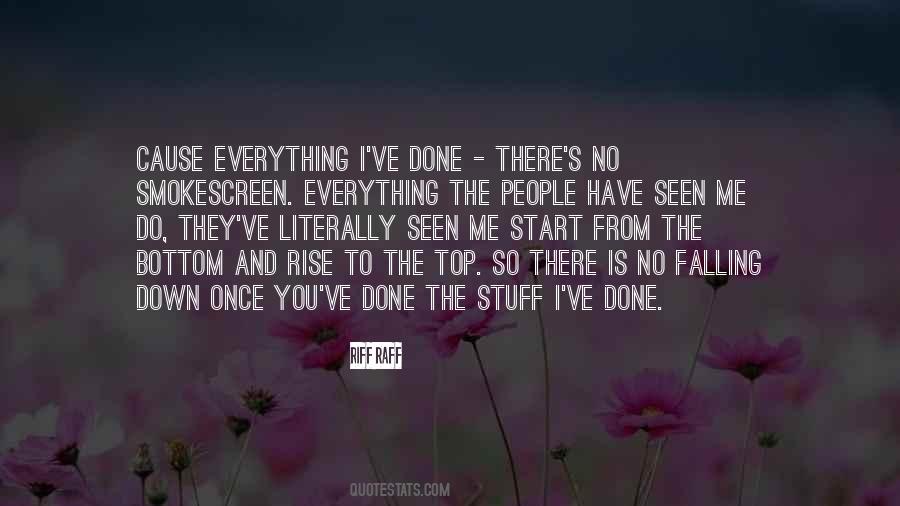 #81. The truth is, laughter always sounds more perfect than weeping. Laughter flows in a violent riff and is effortlessly melodic. Weeping is often fought, choked, half strangled, or surrendered to with humiliation. - Author: Anne Rice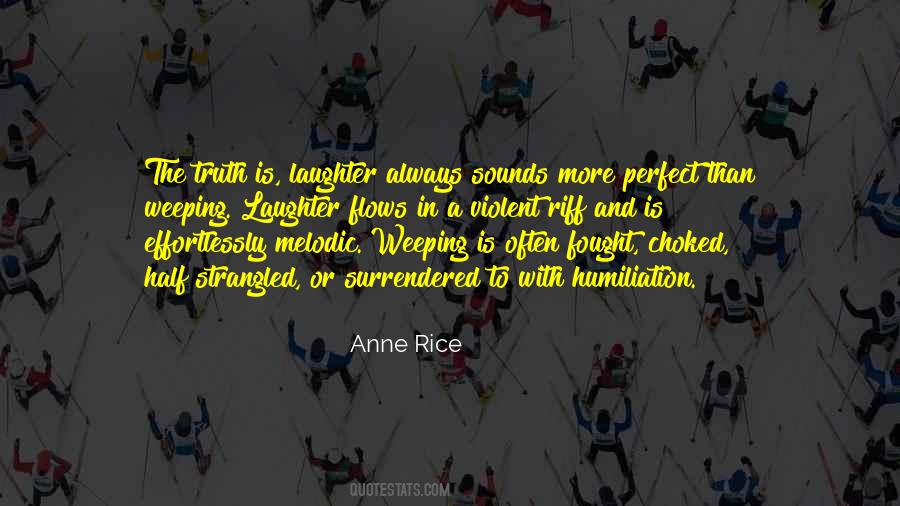 #82. No one in the world can beat Ella Fitzgerald as a riff singer. - Author: Ethel Waters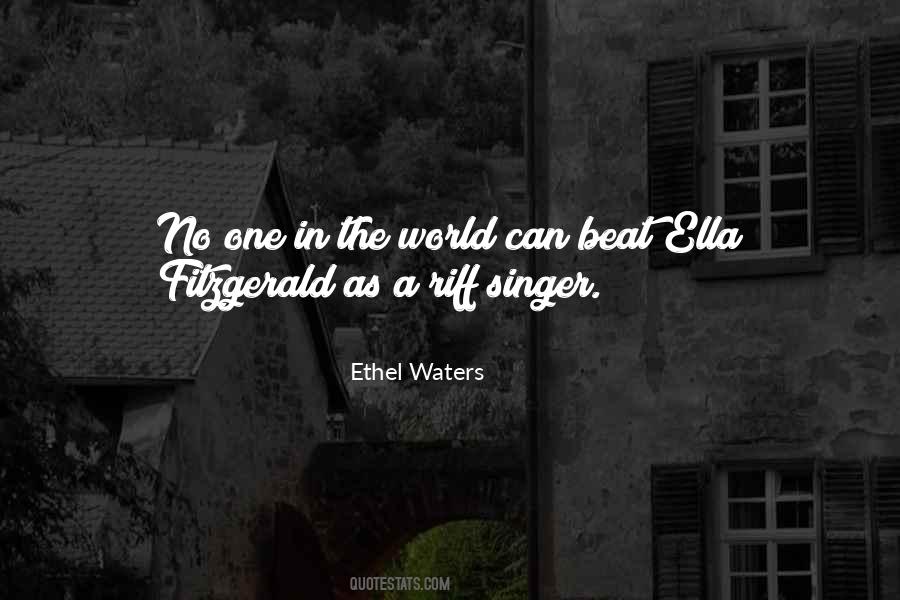 #83. A lot of people aren't familiar with me, but it's not my job to make people familiar with me. There's millions of artists out there. I'm just gonna do what I wanna do, and if people feel the stuff that I'm doing, then great. - Author: Riff Raff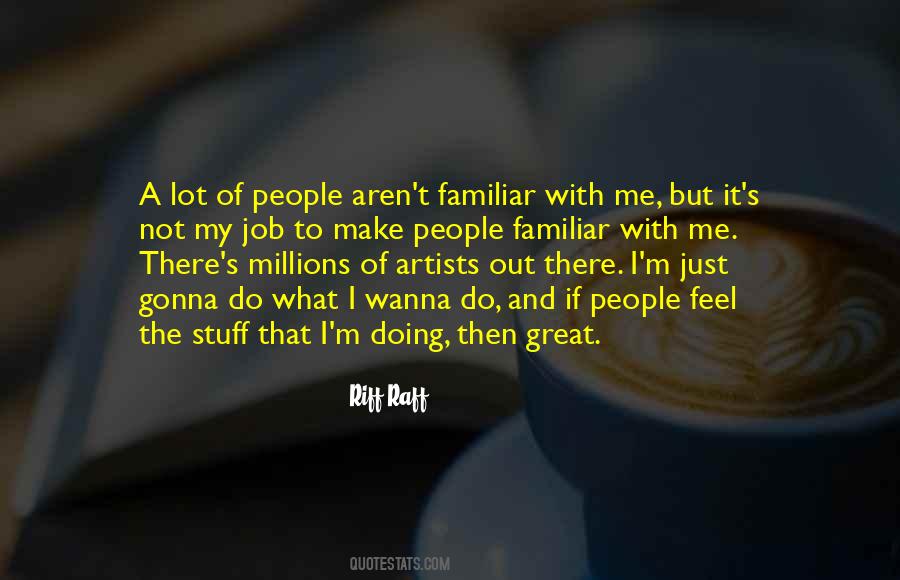 #84. I am never happy with what I do, so I try not to watch stuff that is filmed with me in it because I am always like, 'Oh, I could have done that a little bit better,' or, 'I could have done that differently - that riff could have been a little better.' - Author: Josh Young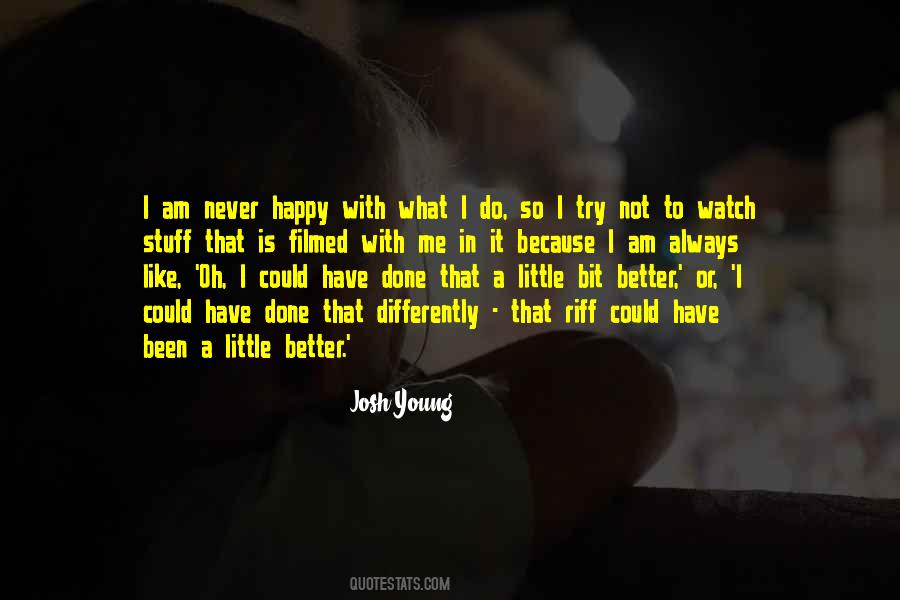 #85. As a writer, I find it very satisfying when a lyric suddenly ties together more neatly than you expected it to. But for the listener, hearing a good lyric is not generally as exciting as hearing a great beat or a great riff or a great melody or even a distinctive singing voice for the first time. - Author: Adam Schlesinger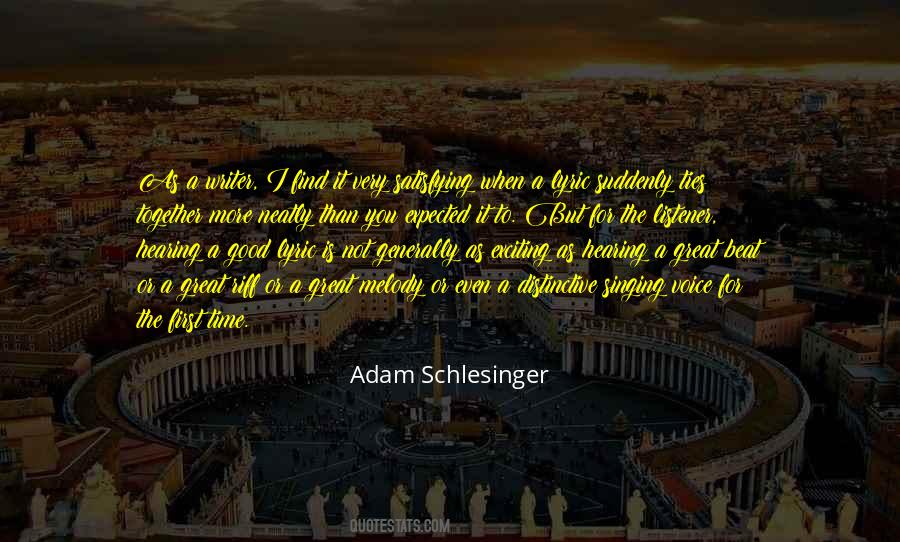 #86. People got so many questions. Why you got so many questions when my whole life is on the Internet? If you wanna know about me, you can go on the Internet and look at my YouTube videos. I used to drop one every day. You can go on my YouTube channel, go on my Vine, my Twitter. - Author: Riff Raff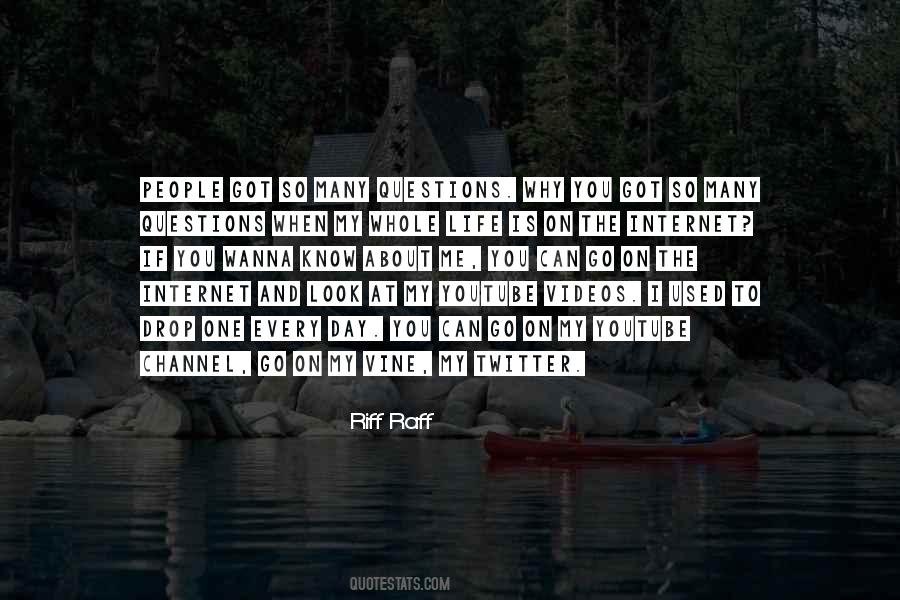 Famous Authors
Popular Topics