Rejection Love Famous Quotes & Sayings
List of top 90 famous quotes and sayings about rejection love to read and share with friends on your Facebook, Twitter, blogs.
Top 90 Quotes About Rejection Love
#1. The more self-love we have, the less we will experience self-abuse. Self-abuse comes from self-rejection, and self-rejection comes from having an image of what it means to be perfect and never measuring up to that ideal. - Author: Miguel Ruiz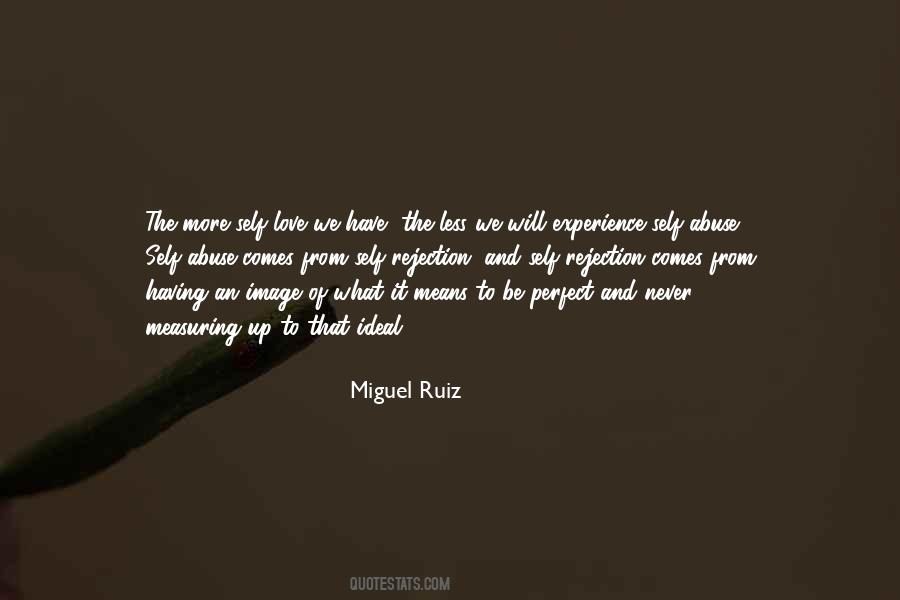 #2. It was the best start of the day. A day started with a rejection.
Maybe, by the end of the day, I would spend the majority of my vitality making the thing occur all alone.
Maybe, tonight would be distinctive. - Author: Nishikant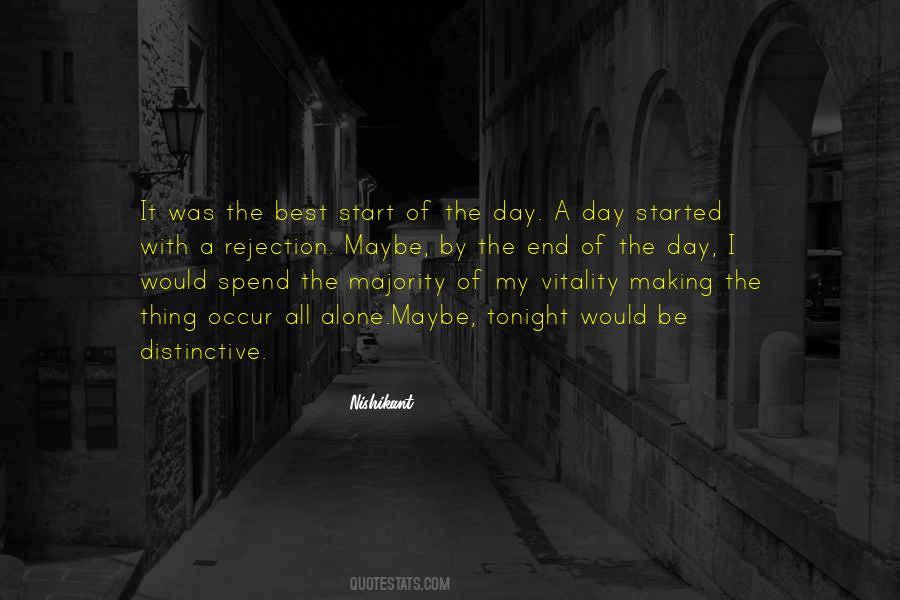 #3. How can one know when he is stabilized in love? First, he is able to pour out his love upon others without demanding reciprocation. He can love without being loved. Second, he can meet recurrences of rejection with forgiveness. He will not react wrongly by anger, resentment or self-pity. Be - Author: Frank Hammond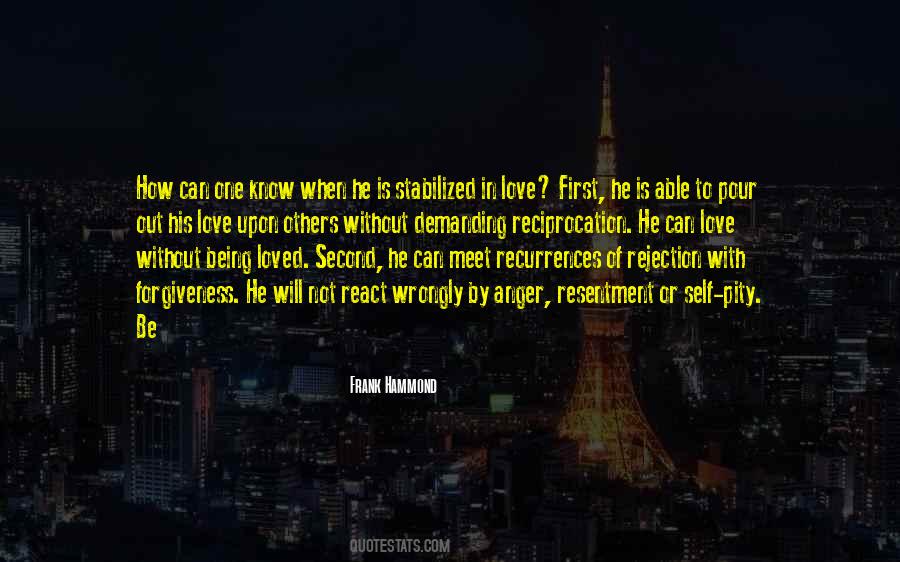 #4. The wall that protects you from rejection also keeps out love and success. Accept your abundance. - Author: Randy Gage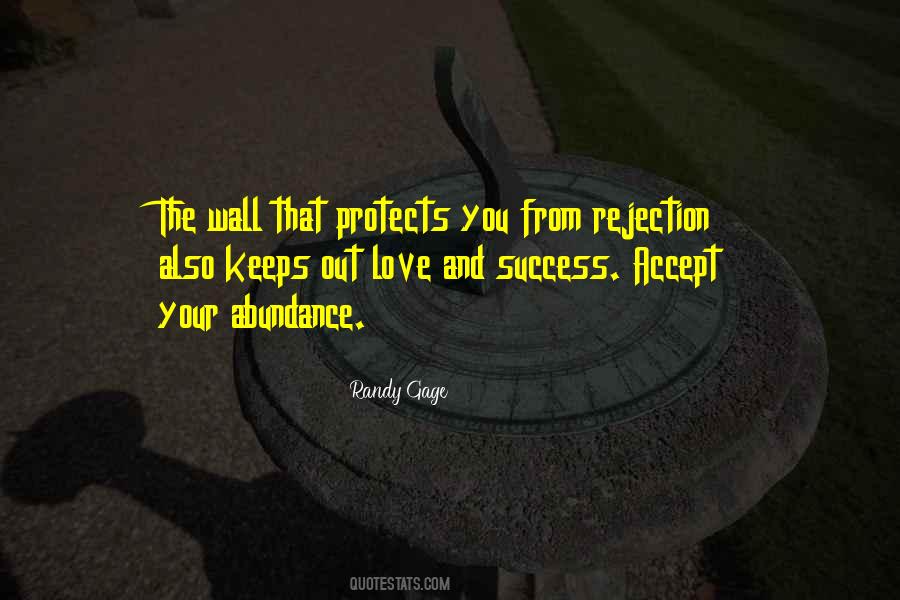 #5. After you've found love, and you look back on the path you took to reach it, it all seems a bit silly. We spend so much time fearing rejection, when what we really should fear is not trying at all. - Author: Mitch Rowland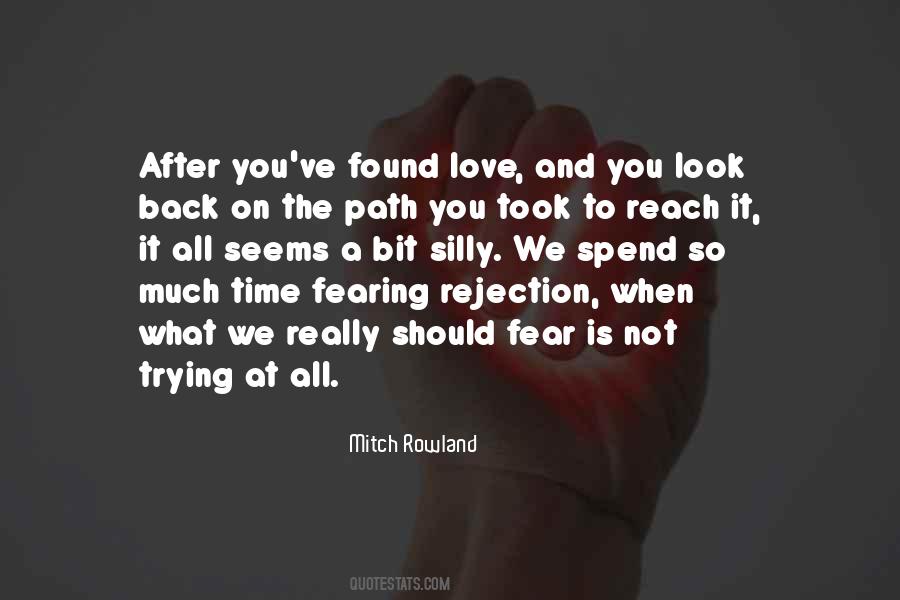 #6. Rejection brings out the worst in people. Love and acceptance bring out the best. - Author: Stormie O'martian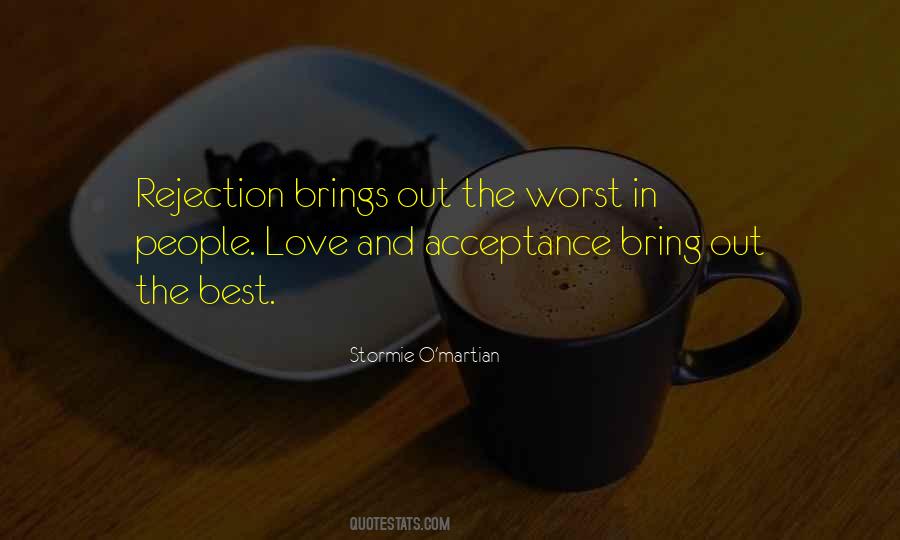 #7. We are always afraid to ask because we aren't afraid of the answer but the feeling of rejection - Author: Anna R.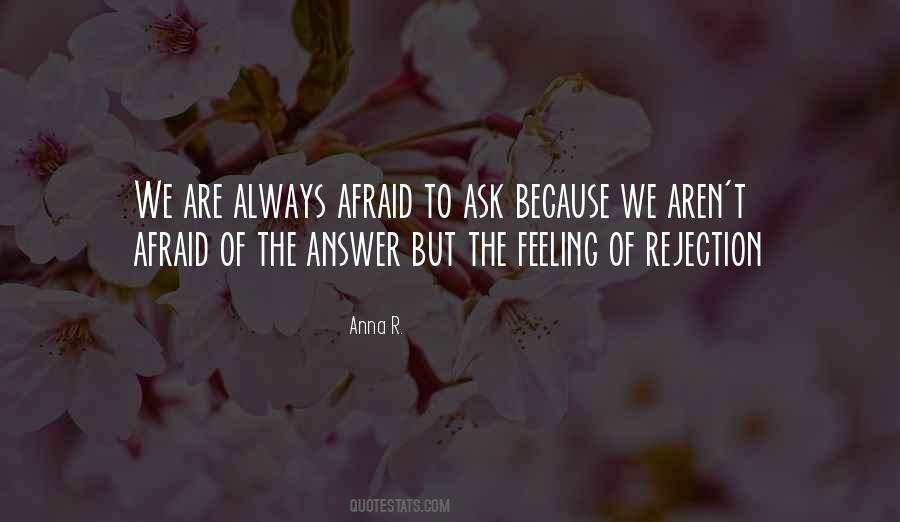 #8. To love God is to cooperate with His grace. And since I'm so very aware of my own need for grace, I must be willing to freely give it away. Each hole left from rejection must become an opportunity to create more and more space for grace in my heart. - Author: Lysa TerKeurst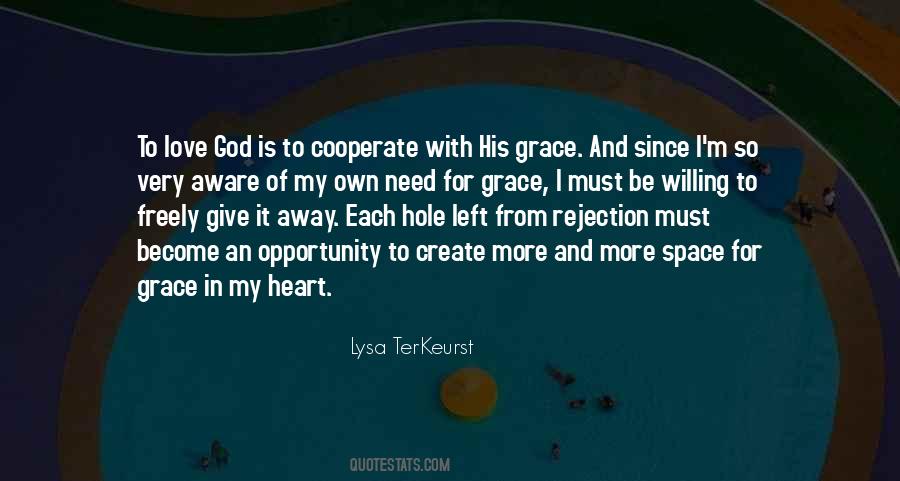 #9. You've got to love this business. You have to be able to take rejection. - Author: Jessica Biel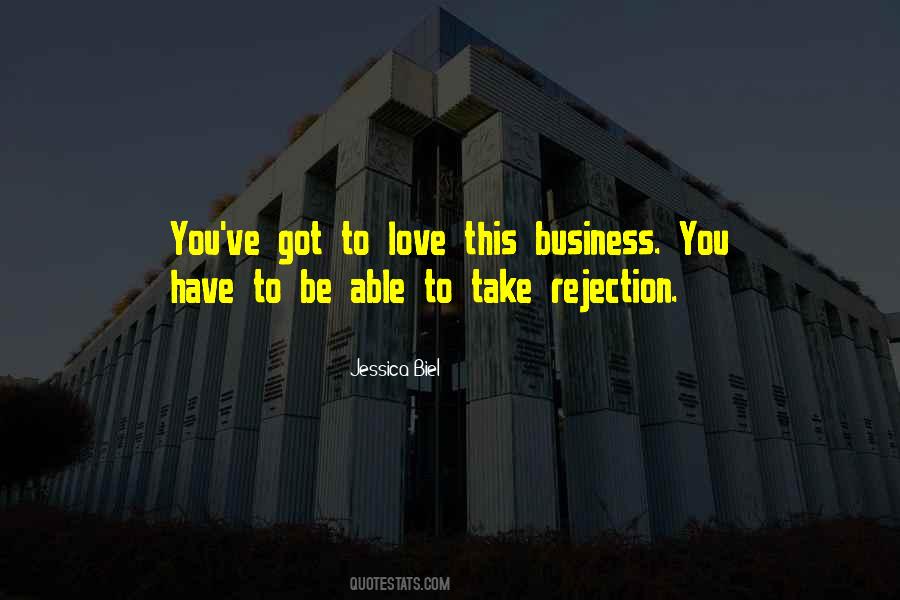 #10. When a child is forced to prove himself as capable, results are often disastrous. A child needs love, acceptance, and understanding. He is devastated when confronted with rejection, doubts, and never ending testing. - Author: Virginia Mae Axline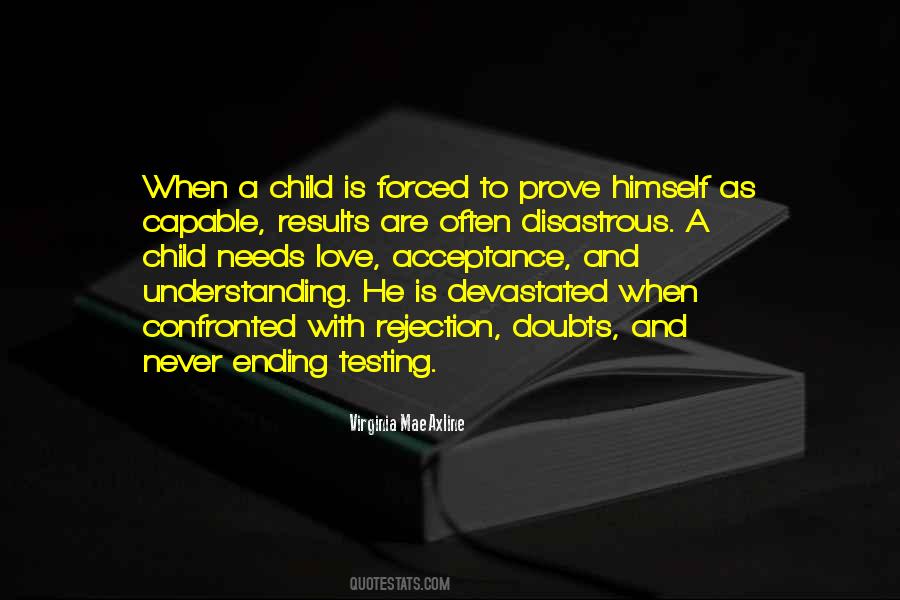 #11. Someone should have warned me about love's dark underbelly, about the rejection and despair. - Author: Victoria Scott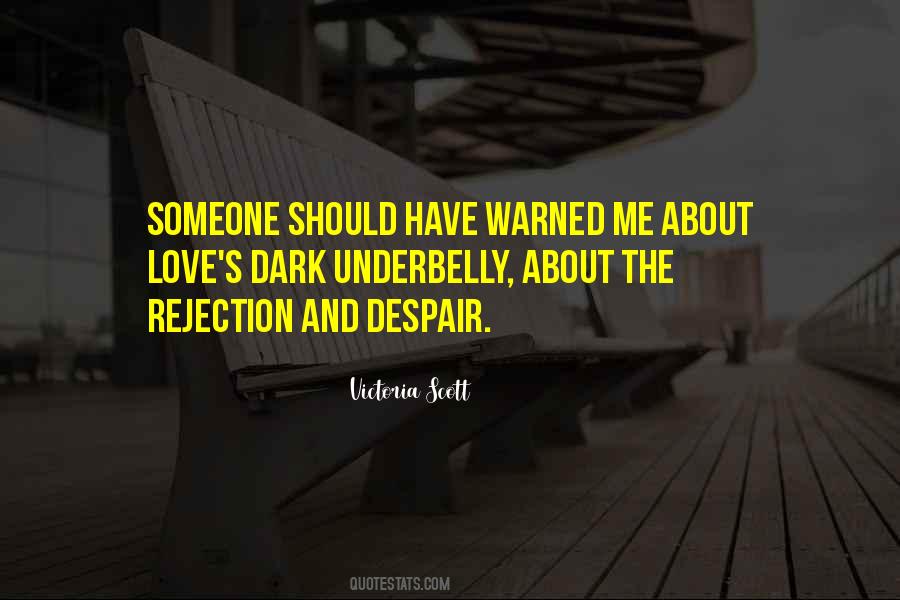 #12. If you mean your words, people who lust over your lovely ways won't dare to reject you. - Author: Auliq Ice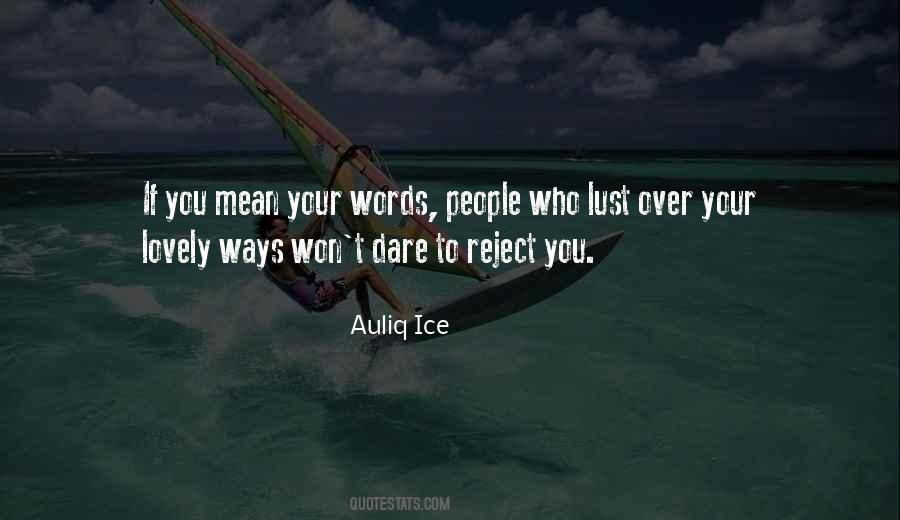 #13. In the Dodge City of romantic love, crowded with betrayal, abandonment and rejection, it was better to fire first than to take the risk of being gunned down. - Author: Edward St. Aubyn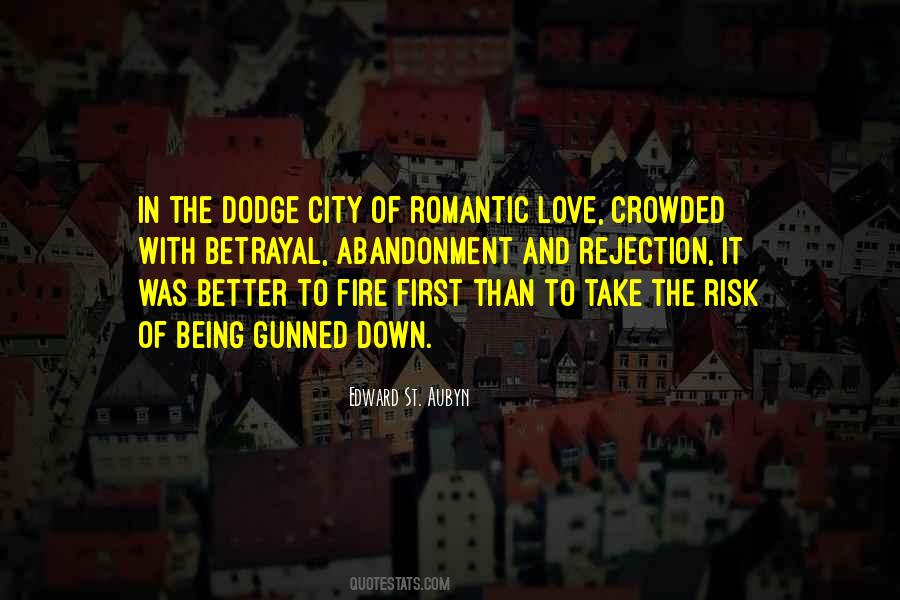 #14. Chastity by no means signifies rejection of human sexuality or lack of esteem for it: rather it signifies spiritual energy capable of defending love from the perils of selfishness and aggressiveness, and able to advance it towards its full realization. - Author: Pope John Paul II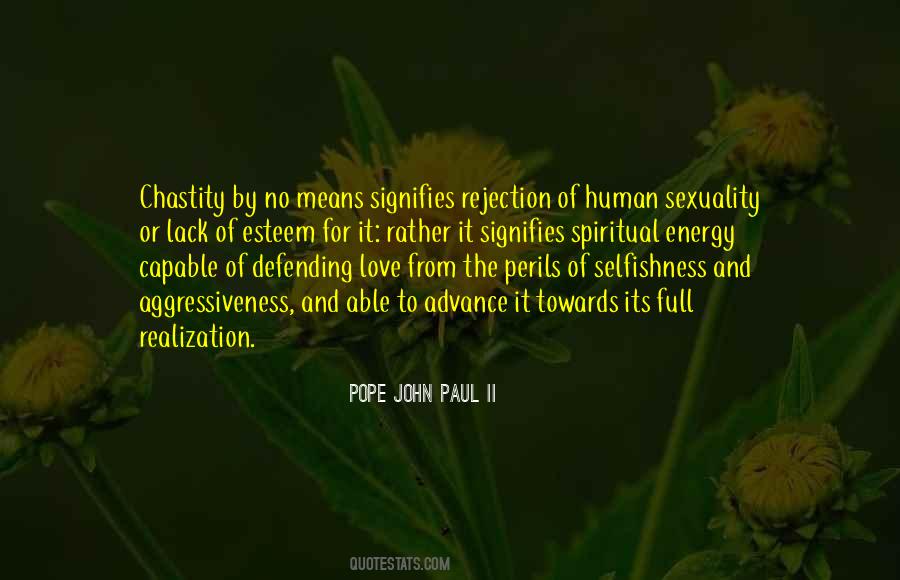 #15. Love anyone and everyone, don't fear for rejection. Love is an inner perception, there is only love, no place for rejection. - Author: Debasish Mridha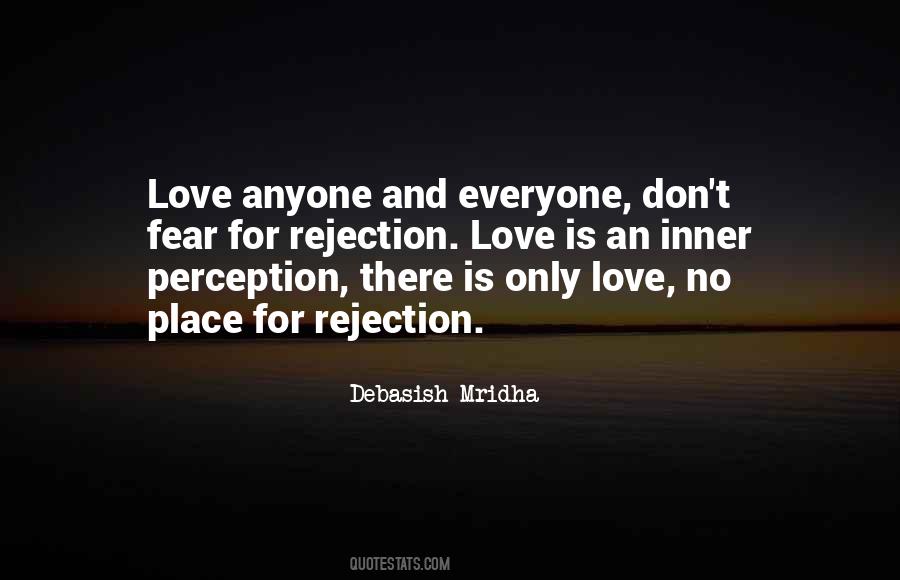 #16. A terrible sadness threatened to overwhelm me as I wondered how two people capable of such love for each other had eventually felt so little for the child they had produced between them. - Author: Toni Maguire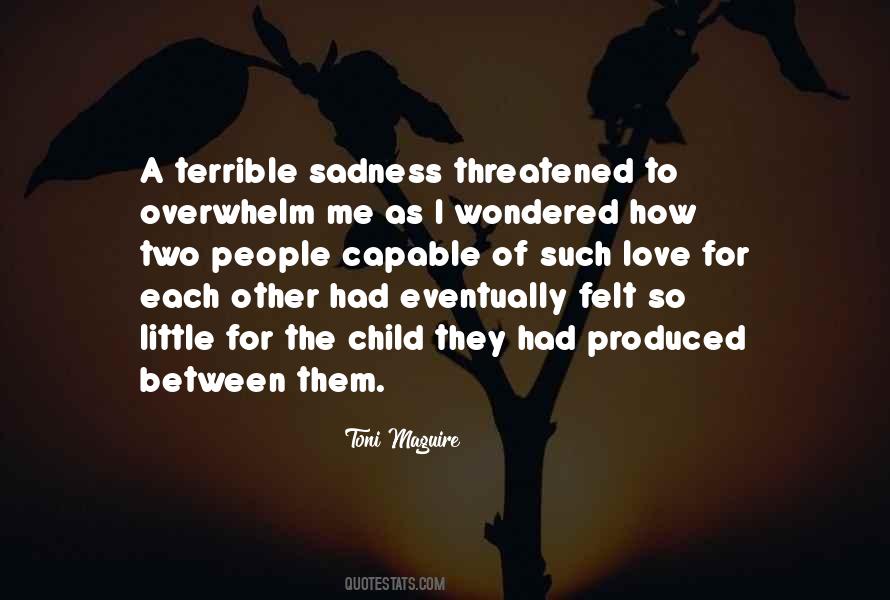 #17. Once you forgive yourself, the self-rejection in your mind is over. Self-acceptance begins, and the self-love will grow so strong that you will finally accept yourself just the way you are. That's the beginning of the free human. Forgiveness is the key. - Author: Miguel Angel Ruiz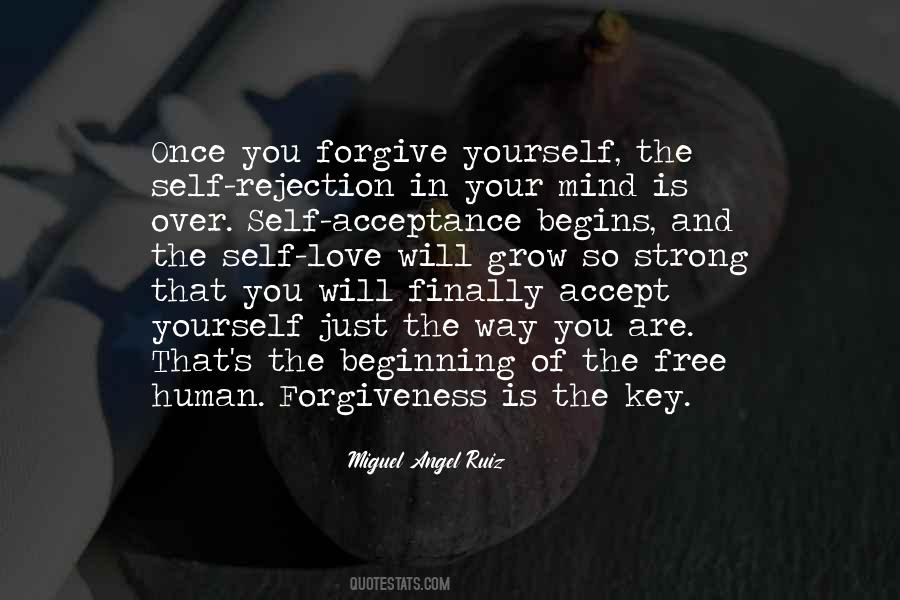 #18. Self-love is the most important love to have. When we love ourselves we're much happier and need less from others. There can still be loneliness, rejection, and loss in our lives, but we handle these things much better when we're happy with who we are. - Author: Darryl Duke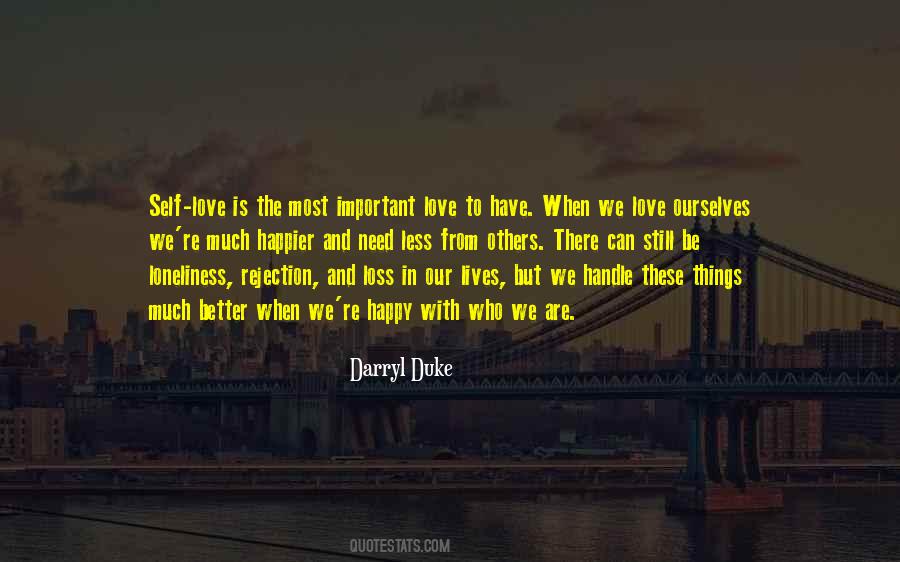 #19. We are all hungry for love, acceptance and belonging. Rejection can still feel like death. - Author: Julian Short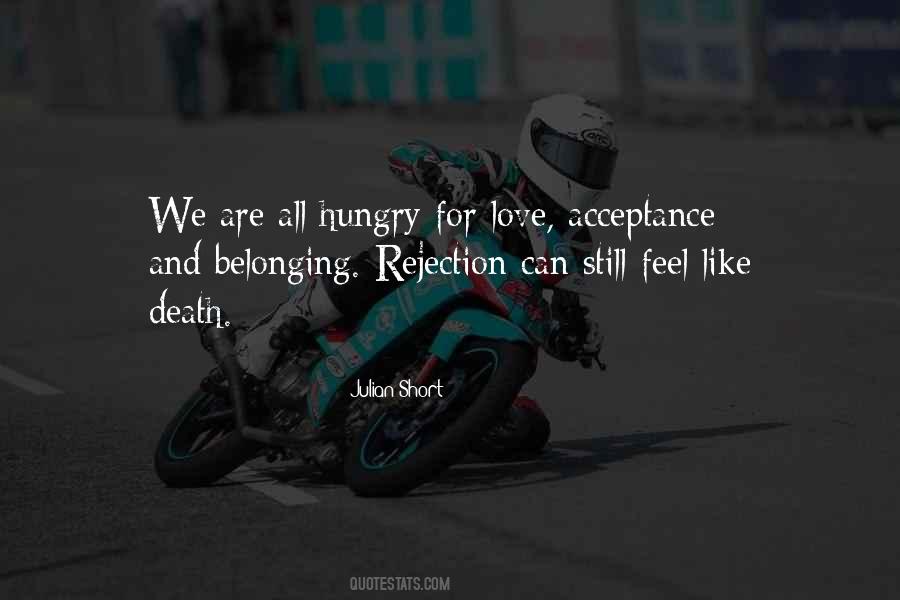 #20. I'm free to give my love, but you're not the one I'm thinking of. - Author: Neil Young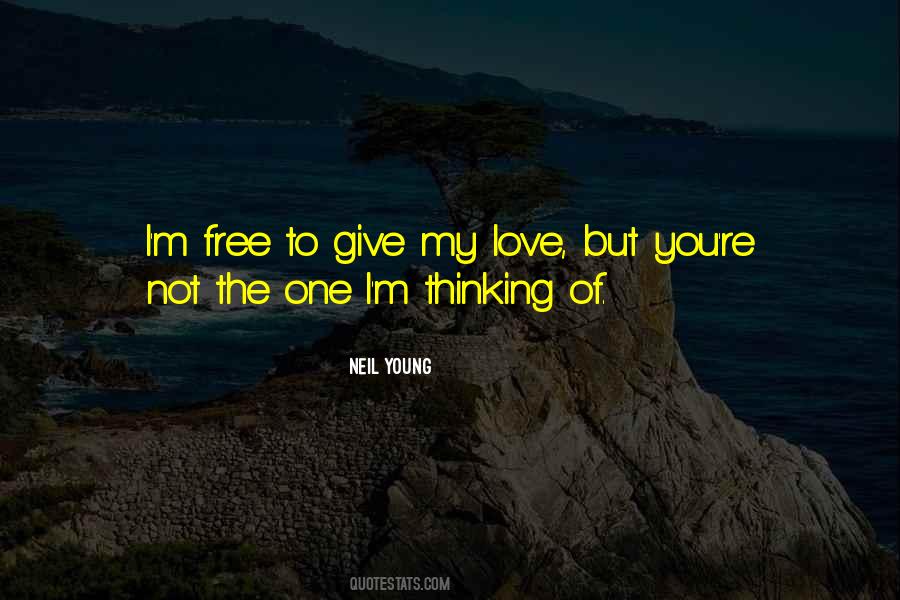 #21. The world of romance and business works on this principle - You may be rejected several times, but not everyone will reject you. - Author: Amit Kalantri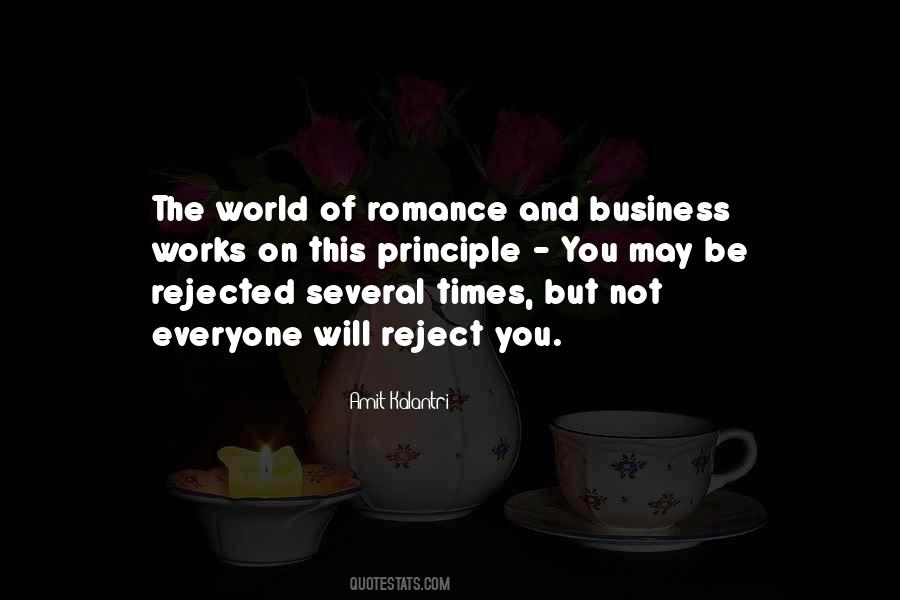 #22. When you give yourself permission to communicate what matters to you in every situation you will have peace despite rejection or disapproval. Putting a voice to your soul helps you to let go of the negative energy of fear and regret. - Author: Shannon L. Alder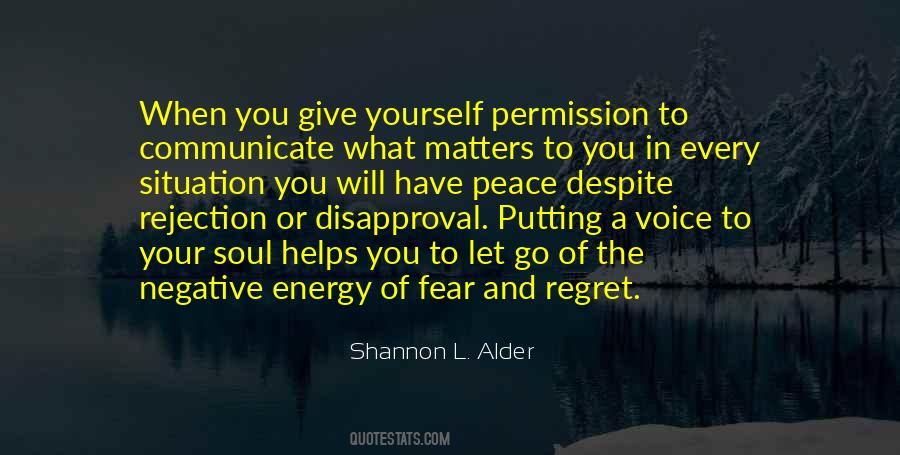 #23. Your belief in love wasn't strong enough to overcome your fear of rejection. - Author: Mulan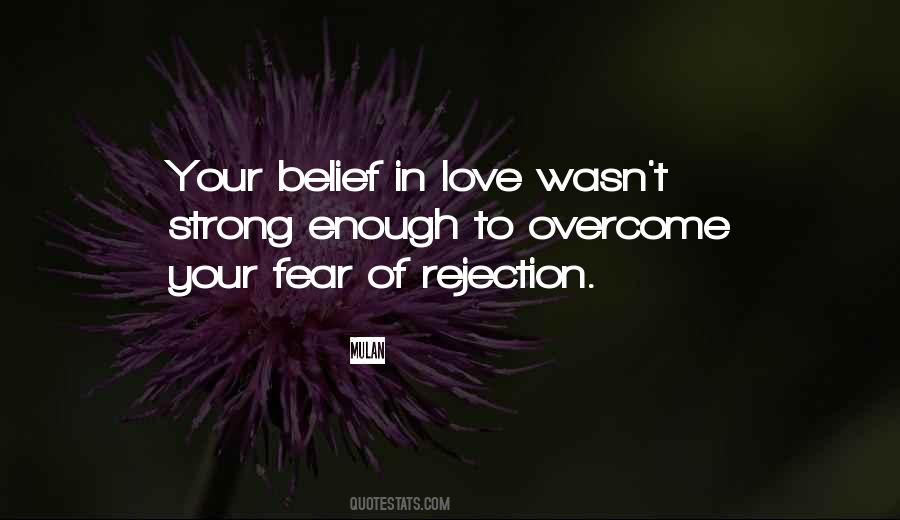 #24. It far easier to find a reason not to love someone, than otherwise. Rejection requires only one reason. Love requires complete acceptance. - Author: Adrian Tan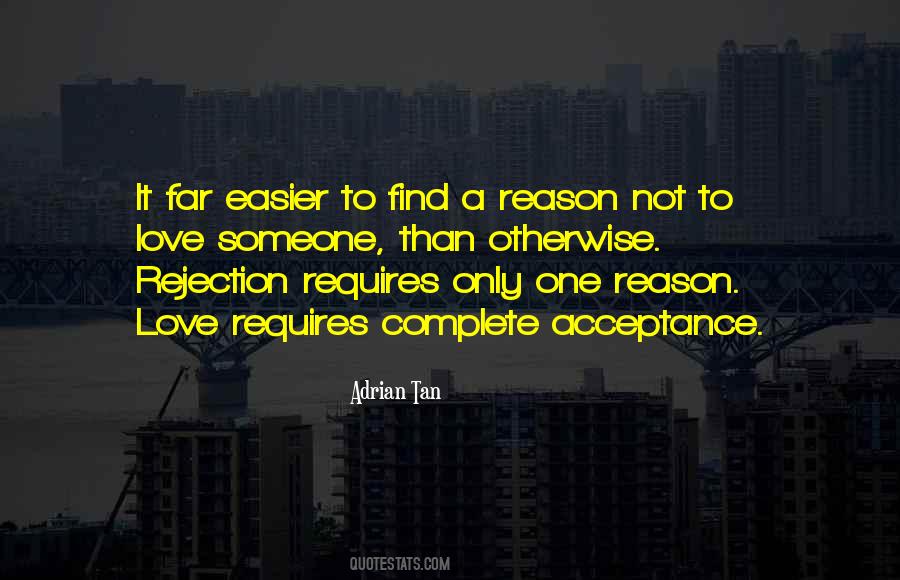 #25. It's quite commonplace for a young man to fall in love and equally commonplace for him to be rejected, but come what may, I'll always be fond of you. - Author: Margaret Way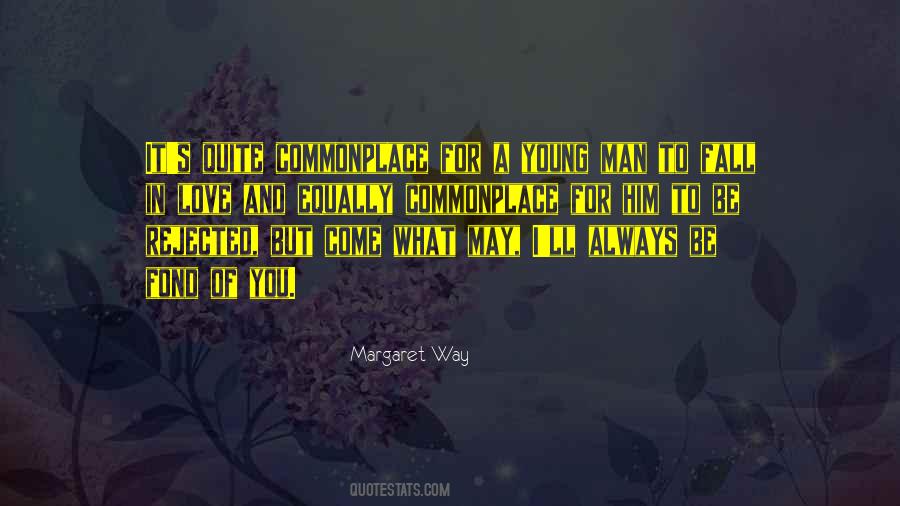 #26. Every broken heart has screamed at one time or another, "I want to know why! - Author: Shannon L. Alder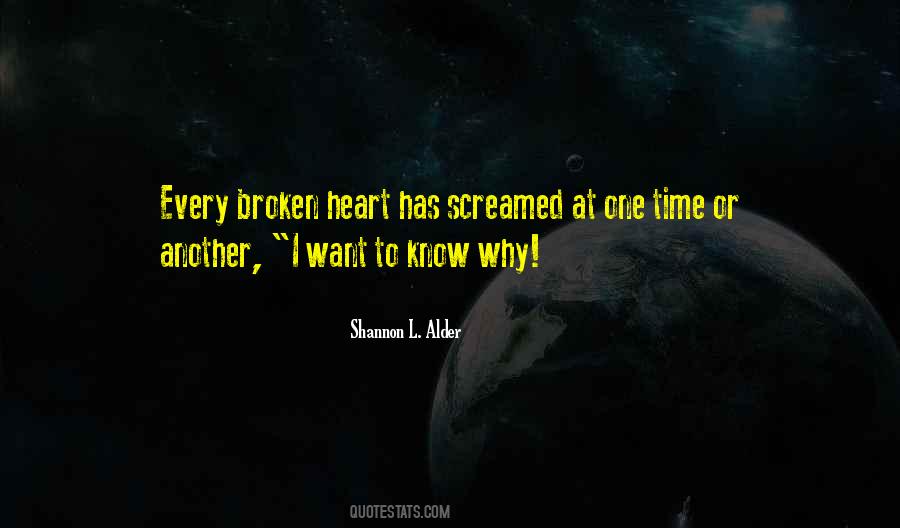 #27. You know how comfortably you go on as a bachelor, and how very much you would dislike to be tied to a wife's apron-strings."

He laughed a little ruefully, but denied it. "I shouldn't dislike being tied to your apron-strings. - Author: Georgette Heyer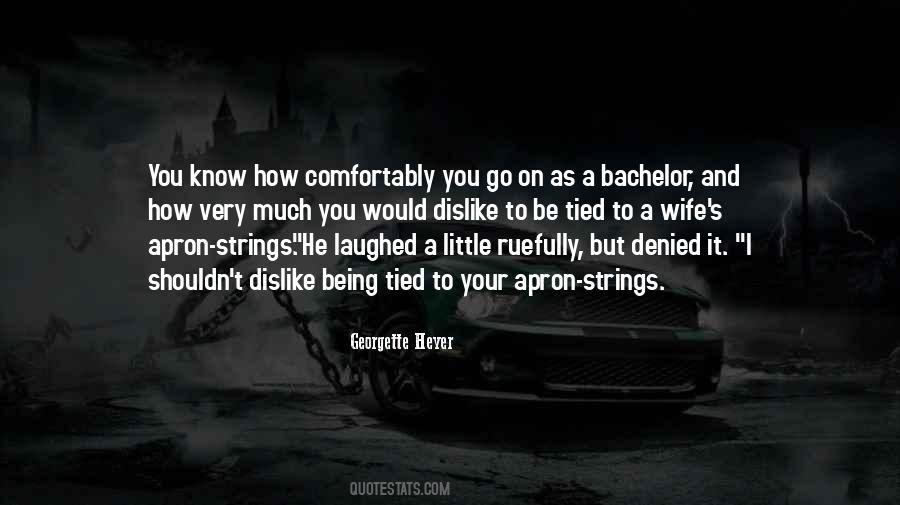 #28. If you are not sensitive to rejection, doesn't that also mean you're indifferent to love? - Author: Wendy Shalit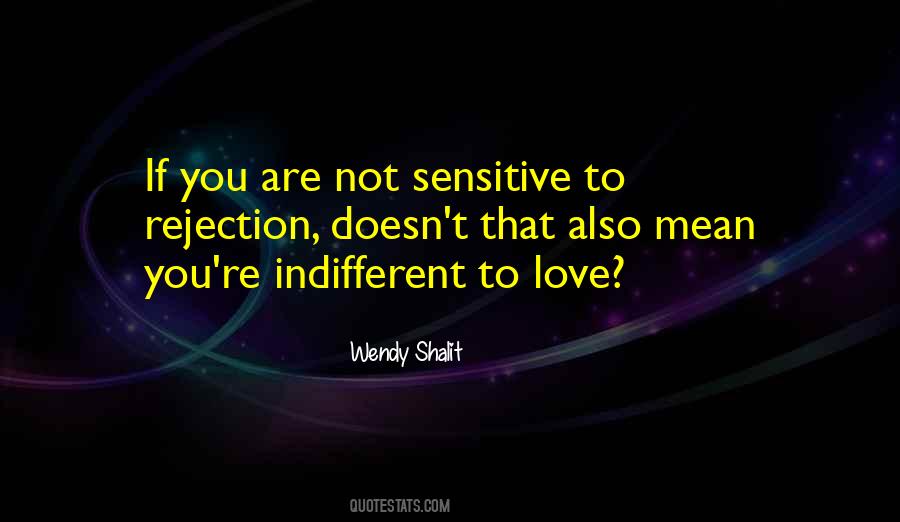 #29. The more I love the person, the more rejection I recieved. - Author: OhMJ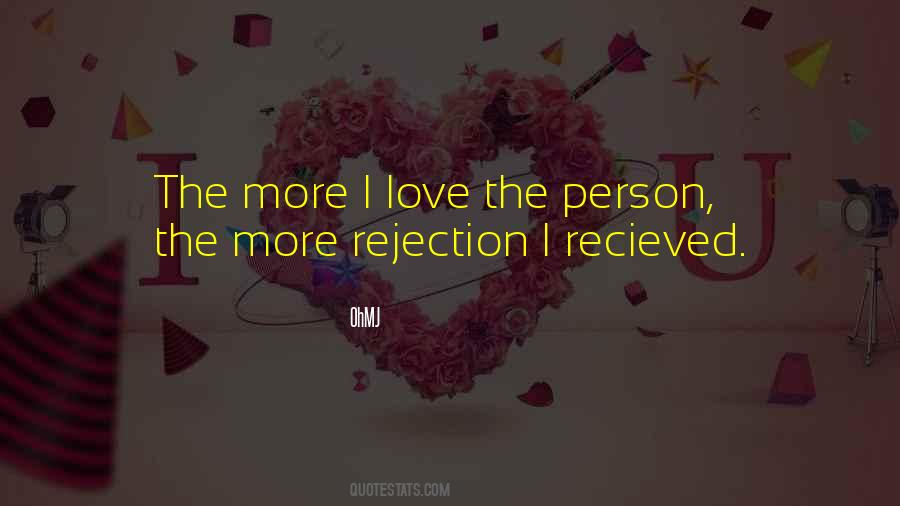 #30. I'd been rejected, but I was still in love, so I decided to start over. - Author: Steve Jobs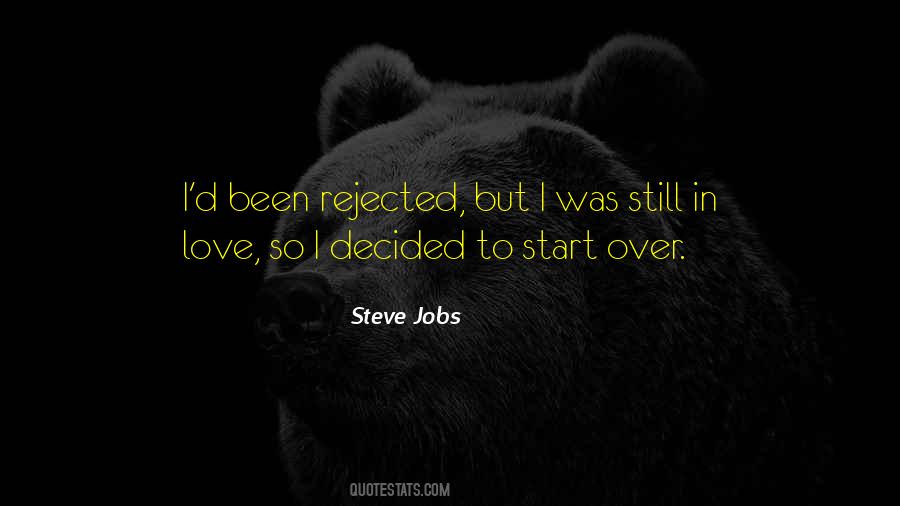 #31. I feared rejection.
I feared that love wouldn't last.
I feared that love would be used against me. To hurt me.
I feared that no one could really love me. - Author: Willow Aster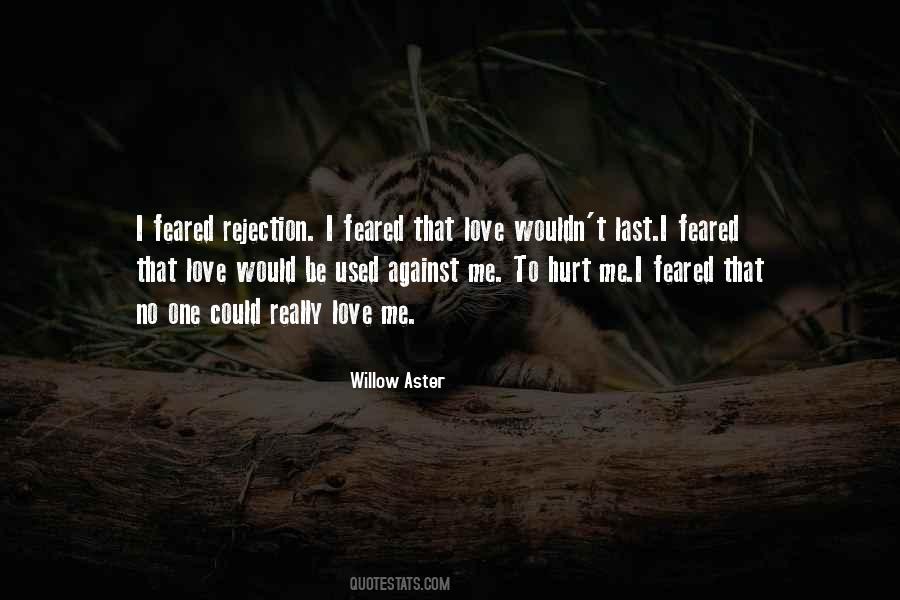 #32. To hate the hate was just more hate; to reject the rejection was just more rejection; to judge the judging, just more judging. - Author: T. Scott McLeod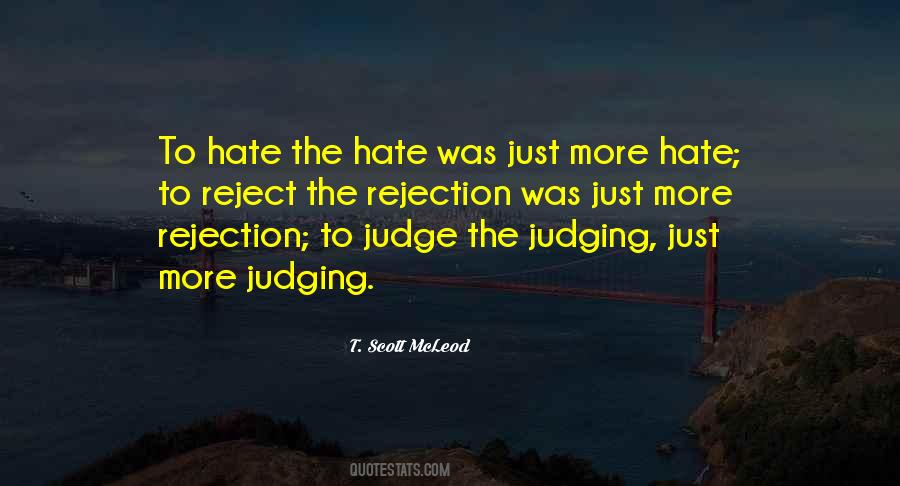 #33. The more we love, the more we fear. Rejection, or what others might think, these are just the beginning. In a perfectly happy relationship, we fear losing the other person to disease or chance. - Author: Jay Bell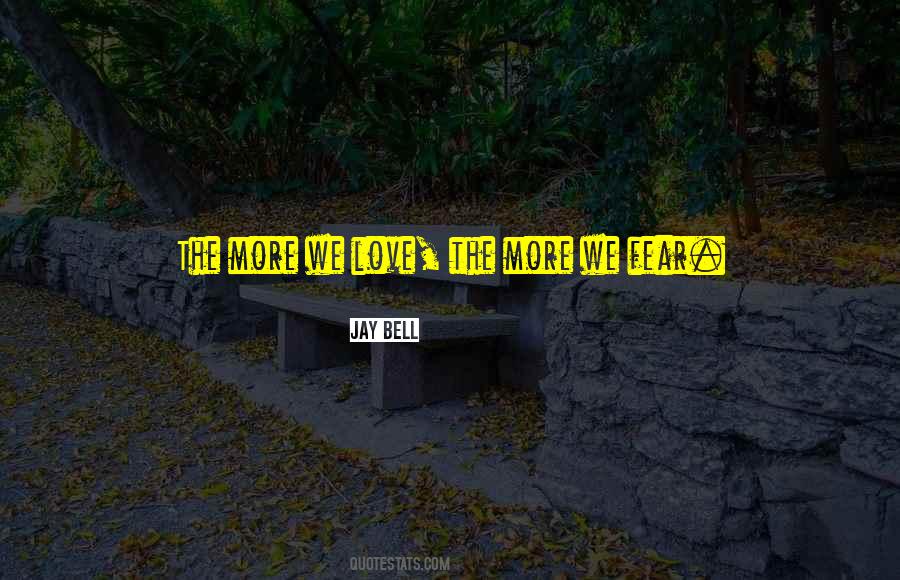 #34. What if you knew before you were born that love will not be a given? If you learned that rejection would be the blueprint for your entire life? If you were the one calling the shots, would you still choose to be born? - Author: Ina Catrinescu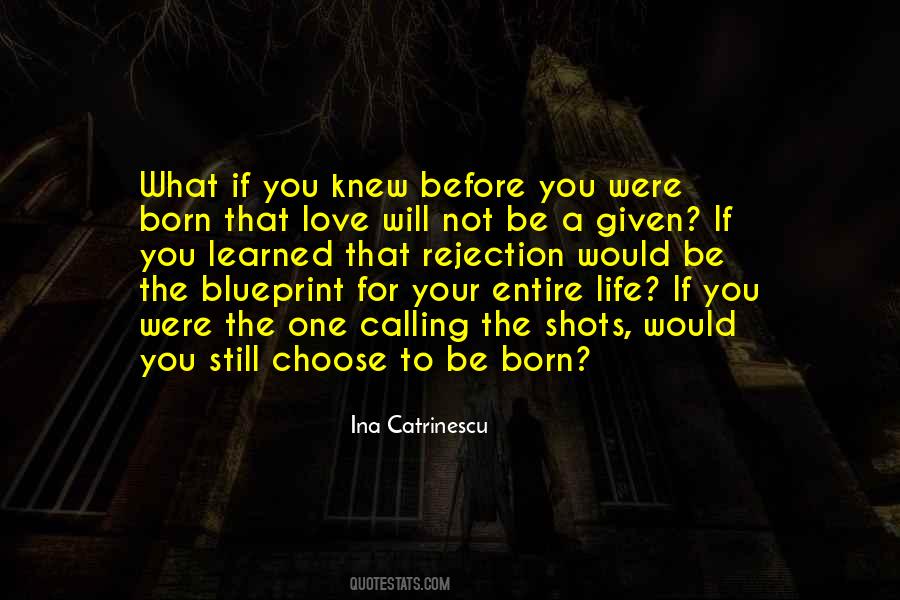 #35. And then it happens, the most dreaded response in the world, more terse than any word, more withholding than a "no," and strictly verboten for someone as in love with language and me as you claim to be.

You: "K - Author: Caroline Kepnes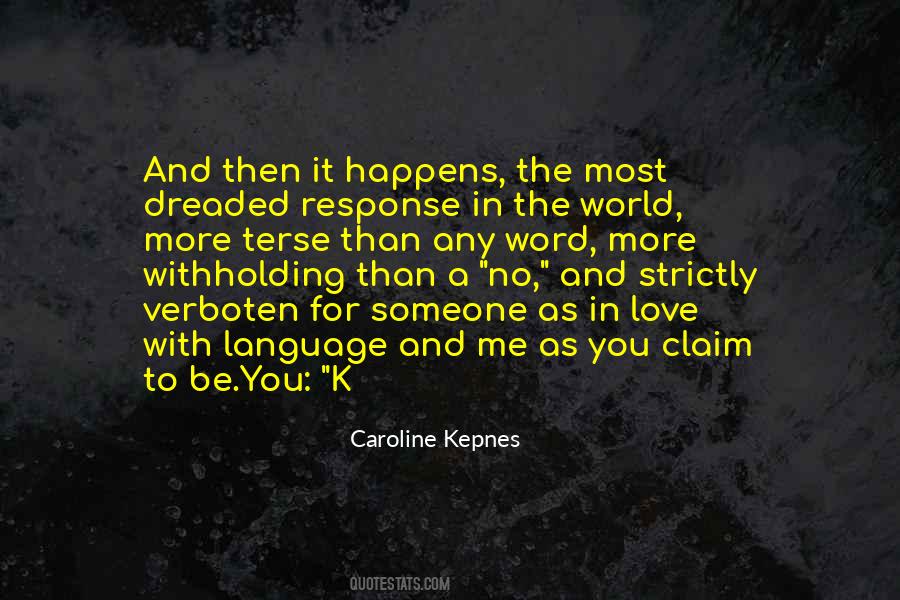 #36. When you are in love, there is not much that hurts as deeply as rejection. - Author: Anne Perry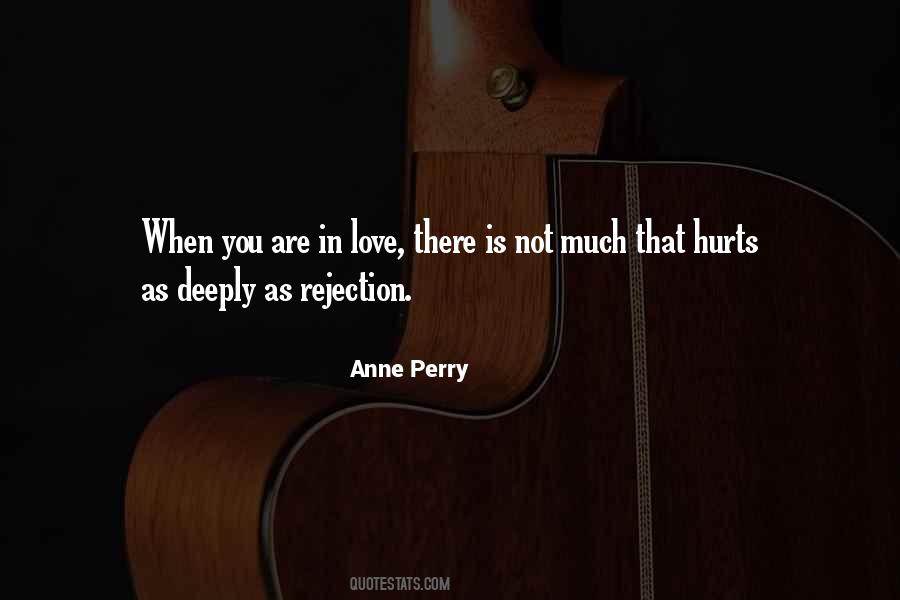 #37. For the Warrior of Light there is no such thing as an impossible love. He is not intimidated by silence, indifference or rejection. He knows that, behind the mask of ice that people wear, there beats a heart of fire. Without love, he is nothing. - Author: Paulo Coelho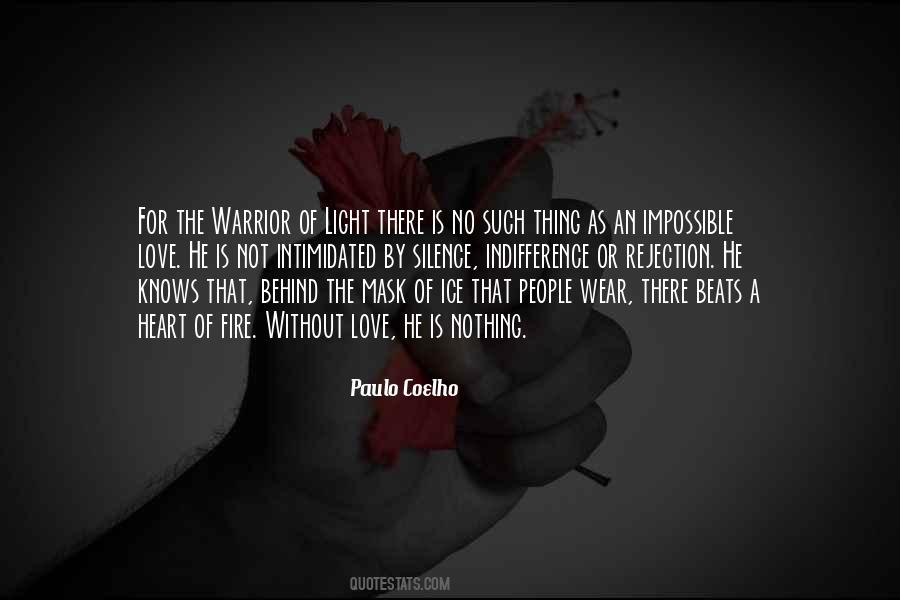 #38. It had taken her a good deal of time before she believed that she was worth all that fierce affection he lavished upon her. To have it stolen away unjustly was that much more cruel. - Author: Gail Carriger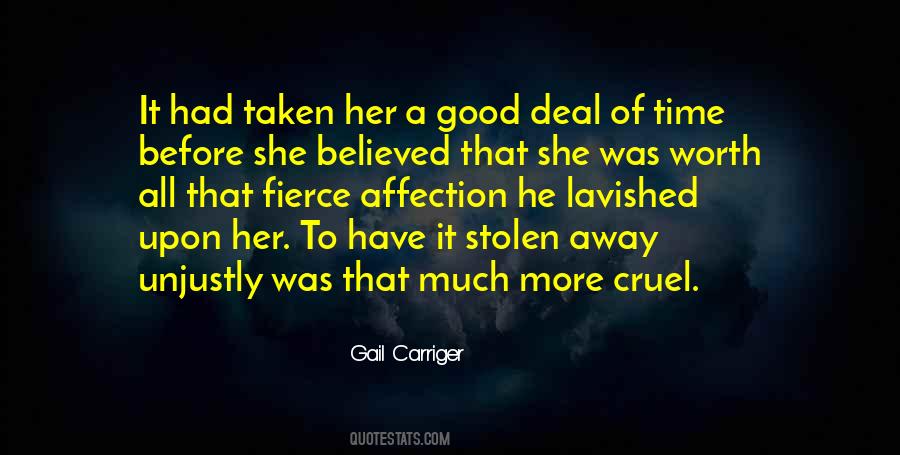 #39. Taking risks is part of life, but to take risks invites the possibilty of failure and rejection, but also the possibility of true happines. - Author: Morten Hogsberg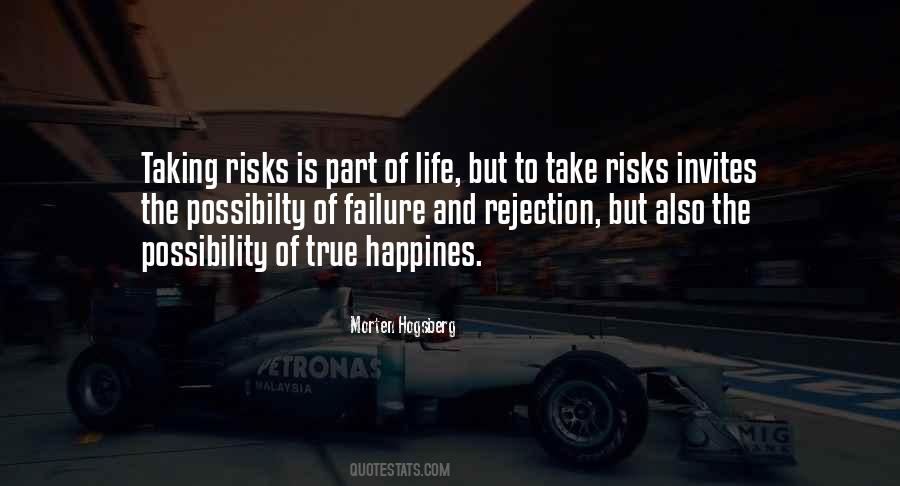 #40. It's a withdrawal of love, coupled with rejection. That combination is hard to accept, and often triggers feelings of not good enough, failure at relationship, insecurity, lack of trust and other feelings. - Author: John Robert Seeley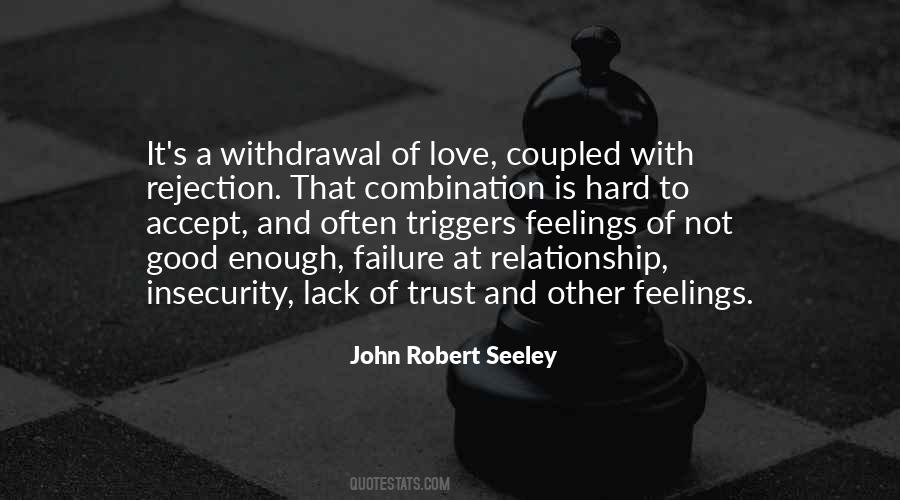 #41. When you can't reach the standards of another's heart you must ask yourself,
What value do I put on my soul that I would subject myself to such rejection? - Author: Shannon L. Alder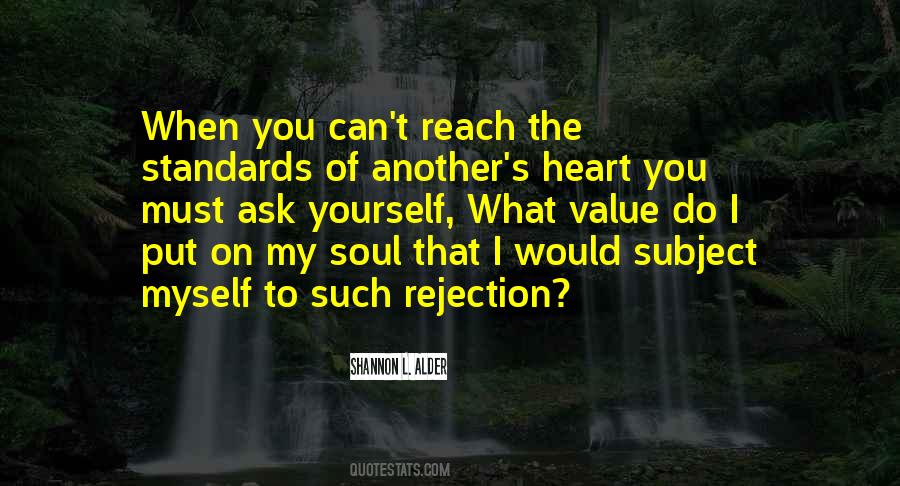 #42. True unconditional love is sacrificial - it is not easily offended, self-focused, or afraid of rejection. It seeks only the good of the other person. - Author: Charles F. Stanley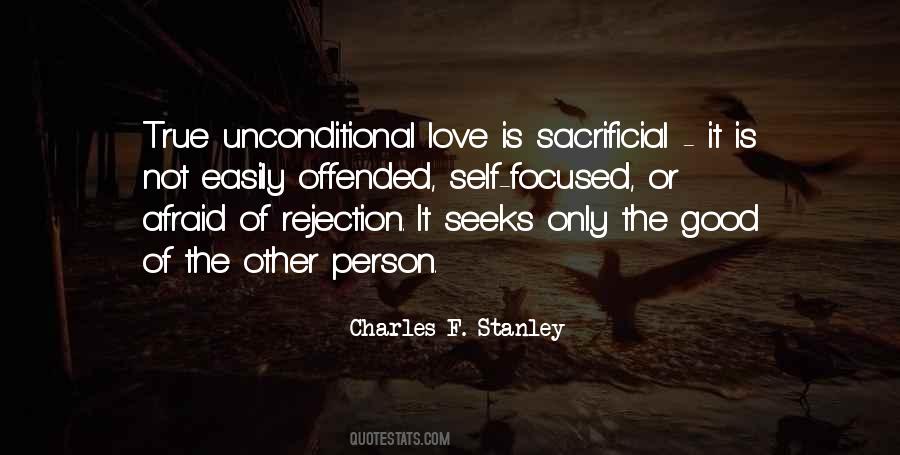 #43. After all perhaps the greatness of art lies in the perpetual tension between beauty and pain, the love of men and the madness of creation, unbearable solitude and the exhausting crowd, rejection and consent. - Author: Albert Camus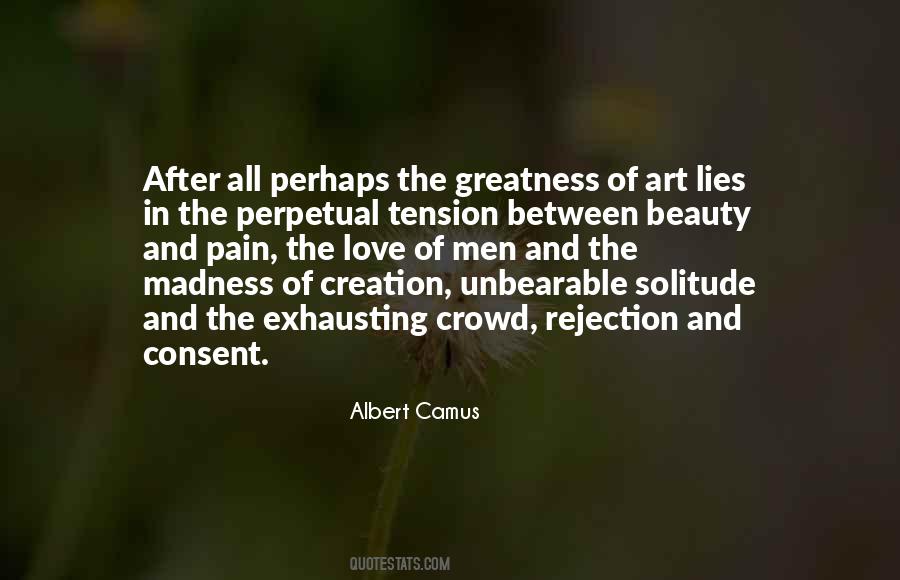 #44. Marriage is not comfortable and harmonious. Rather it is a place of individuation where a person rubs up against oneself and against the partner, bumps up against the person in love and in rejection, and in this fashion learns to know oneself, the world, good and evil, the heights and the depths. - Author: Adolf Guggenbuhl-Craig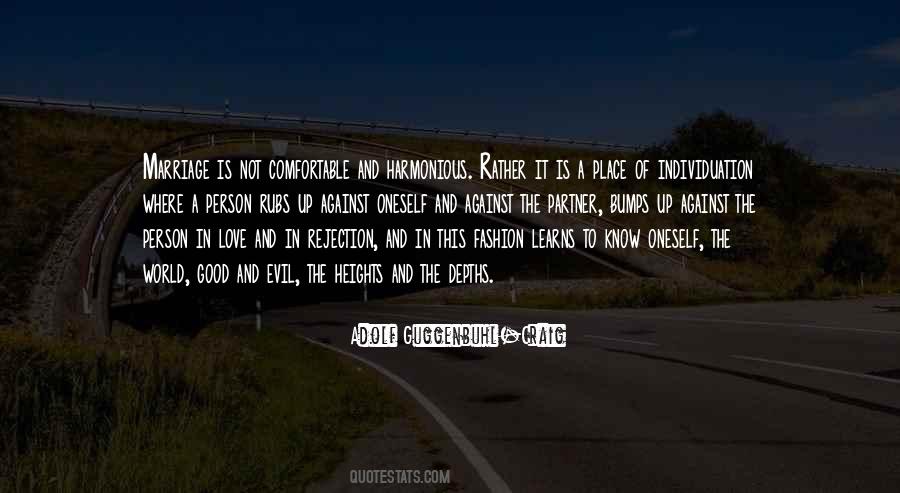 #45. I loved a woman whose beauty Like the moon moved all the humming heavens to music till the stars with their tiny teeth burst into song and I fell on the ground before her while the sky hardened and she laughed and turned me down softly, I was so young. - Author: Peter Meinke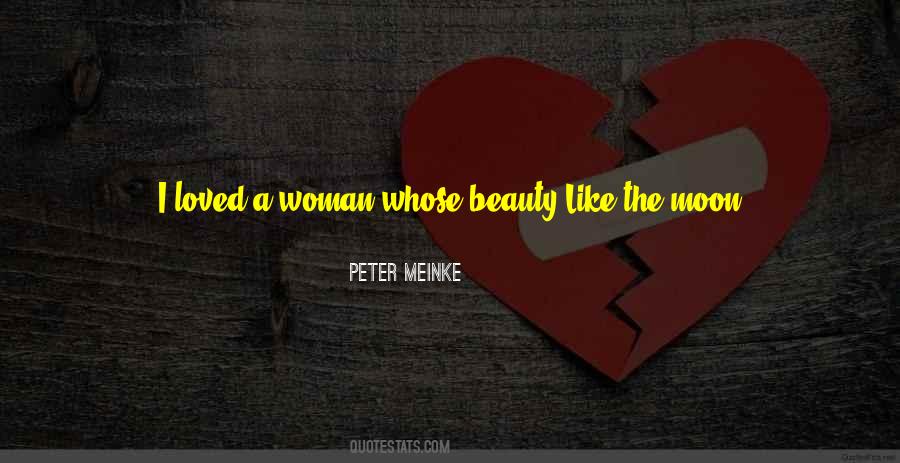 #46. She was invisible. Forgettable. Forgotten. - Author: Johnny Worthen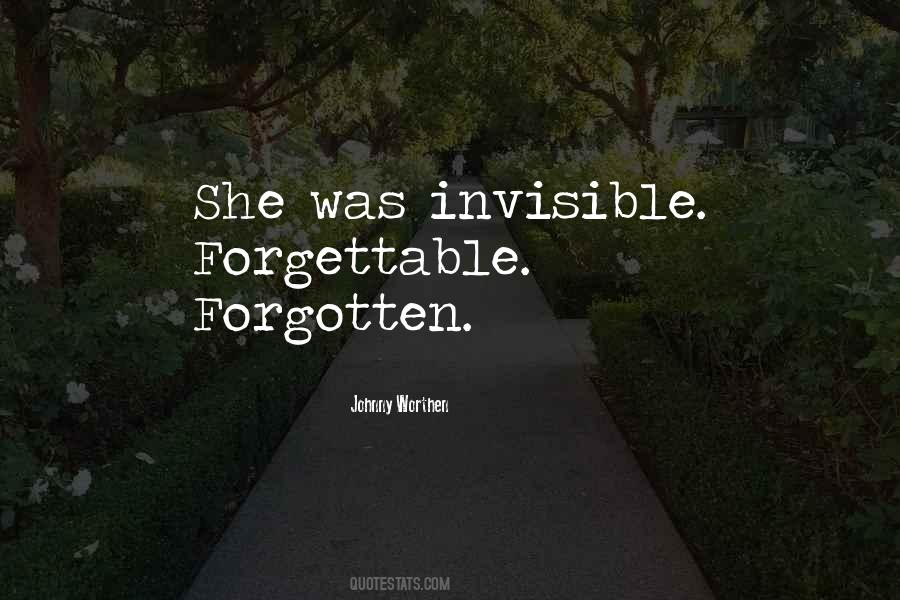 #47. Give yourself more opportunities for privacy, when you are not bombarded with duties and obligations. Privacy is not a rejection of those you love; it is your deserved respite for recharging your batteries. - Author: Wayne Dyer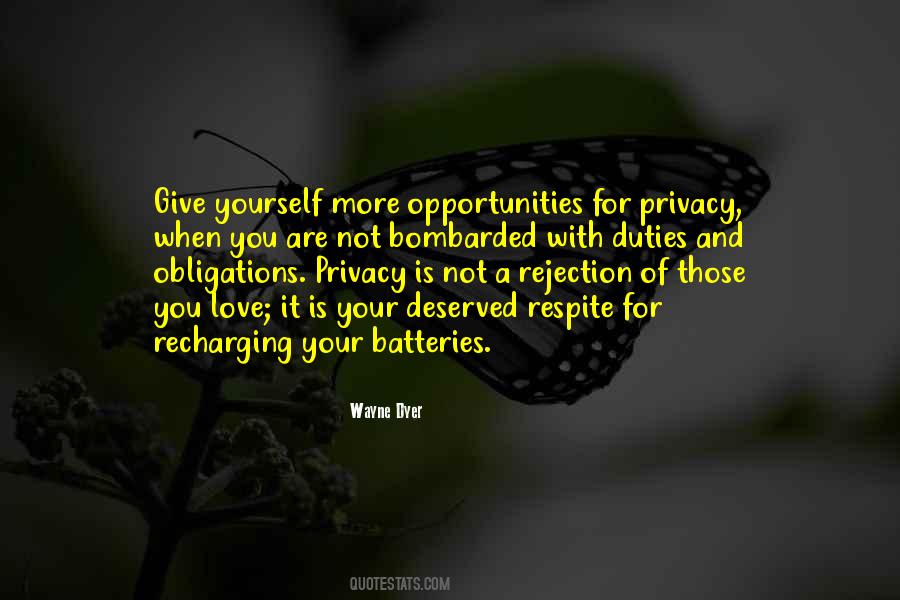 #48. When reentering society and risking rejection, the library is a good place to start. They have low expectations. I love the library. Also church. Both have to take you in. - Author: Glennon Doyle Melton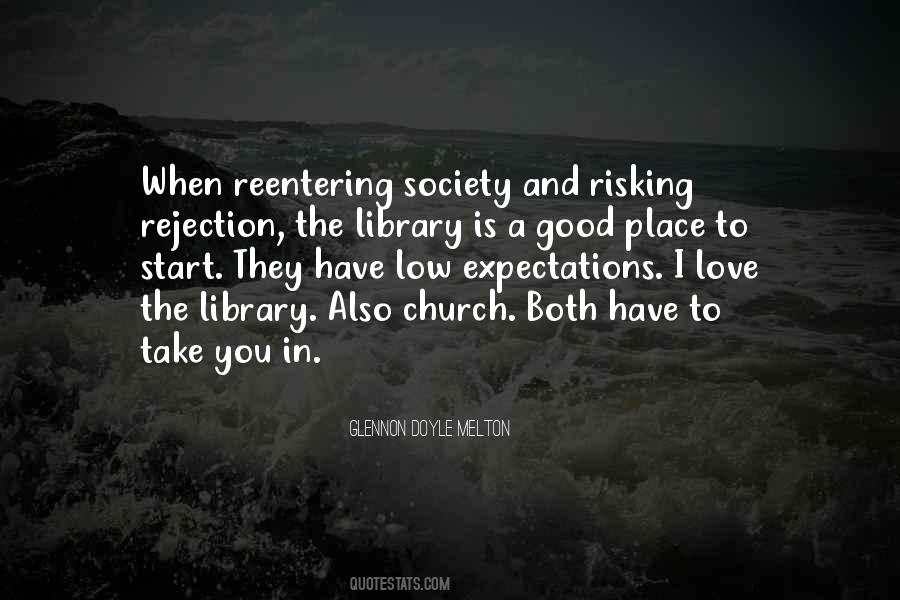 #49. But where pain was, healing could come; where loneliness was, new relationships could be formed; where rejection was, new love could be found. It was a moment. And moments changed. She would have to live through the moment to get to the next. - Author: Cecelia Ahern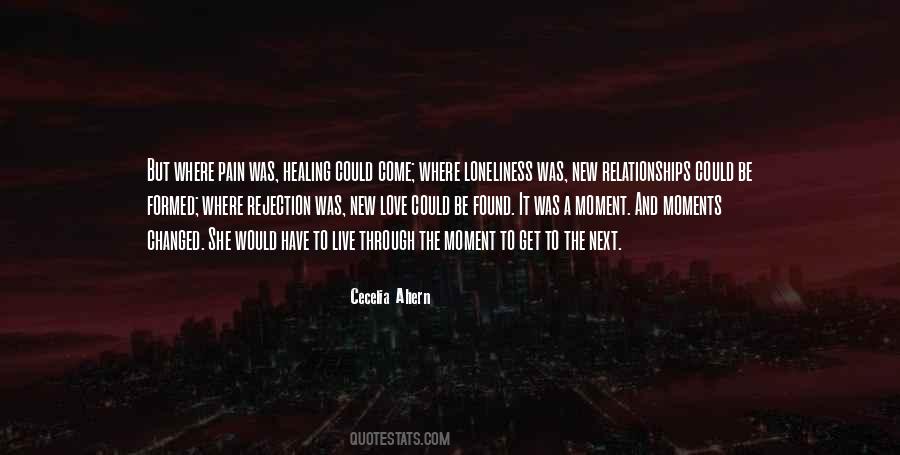 #50. Don't hide love. If you feel it, express it-not to demand that others love you back, but simply to live outwardly the best of what you feel inwardly. The worst that can happen to your heart is not rejection by another person but failure to act on the love you feel. - Author: Martha Beck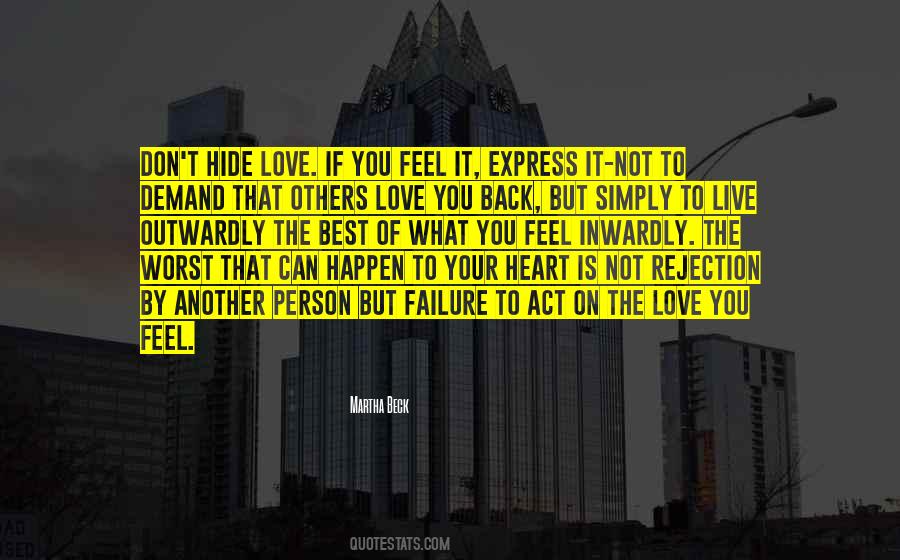 #51. How His electing grace and predestined purpose can stand beside His love for the world and desire that the gospel be preached to all people, still holding them responsible for their own rejection and condemnation, is a divine mystery. - Author: John F. MacArthur Jr.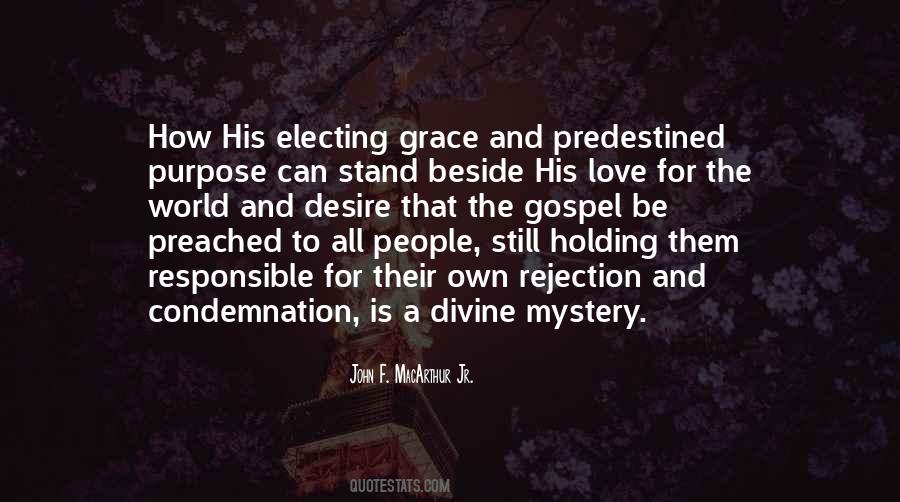 #52. This is what it feels like to care about someone who doesn't feel the same. I'd only known how it felt to love someone who loved me just as fiercely. I'd never known rejection. I'd never wanted someone who didn't want me. The longing didn't go away with rejection. - Author: Abbi Glines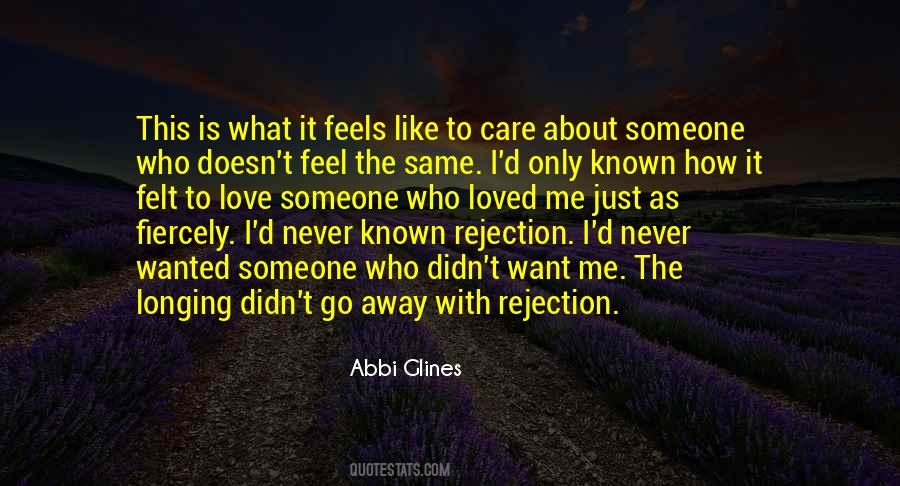 #53. He was lying there on his death bed, and he asked for her as his last wish.
She came with tears in her eyes. He held her hand and said with a smile," I wish I died daily", And then a flat line. - Author: Nishikant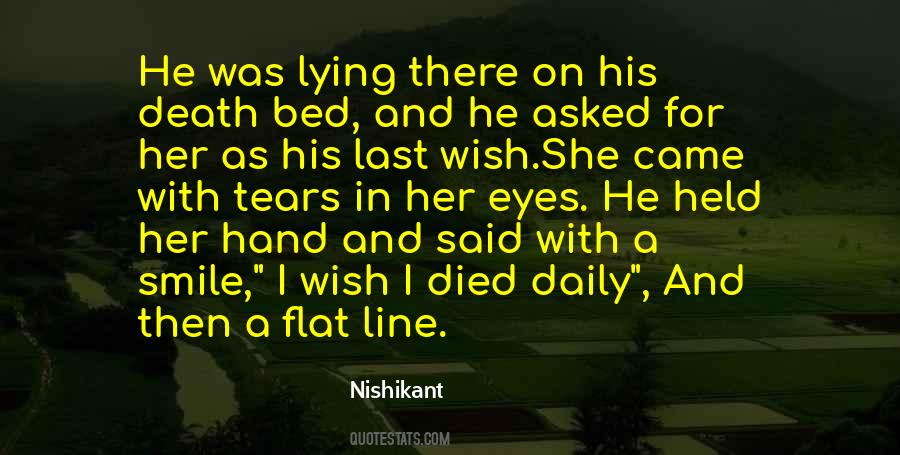 #54. Hungry not only for bread - but hungry for love. Naked not only for clothing - but naked of human dignity and respect. Homeless not only for want of a home of bricks - but homeless because of rejection. - Author: Mother Teresa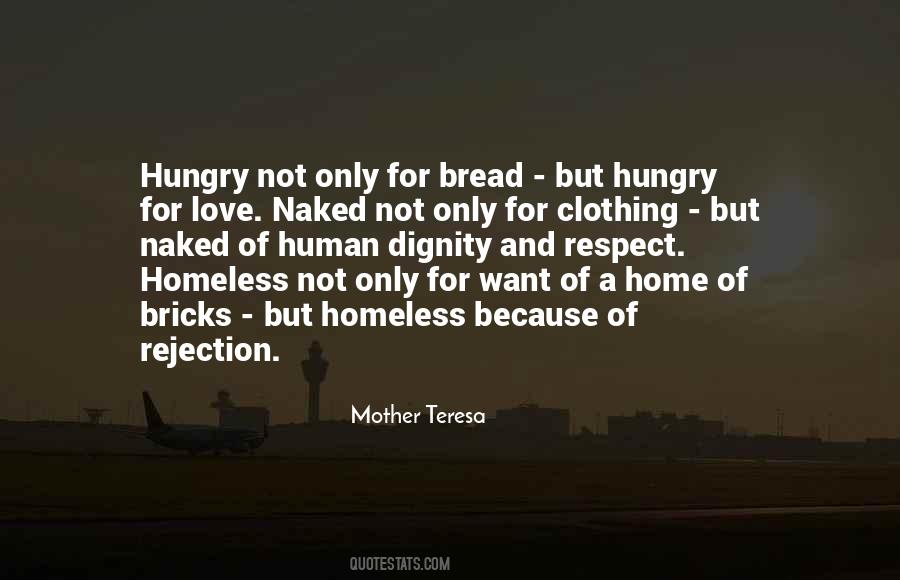 #55. The message of love can never come into a human soul, and pass away from it unreceived, without leaving that spirit worse, with all its lowest characteristics strengthened, and all its best ones depressed, by the fact of rejection. - Author: Alexander MacLaren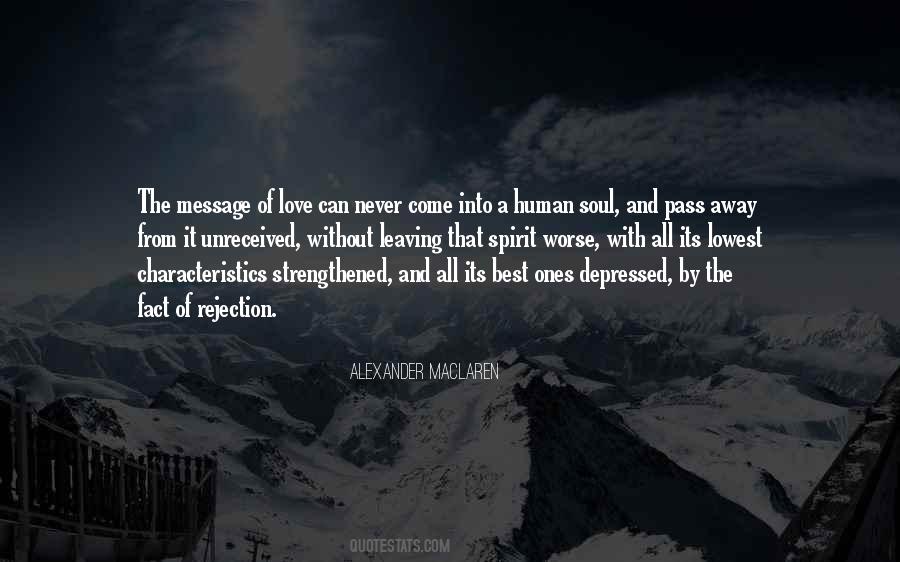 #56. My whole life so far, my whole experience has been that our failure has been not to love enough. This conviction brought me to a rejection of the radical movement after my early membership in the Socialist Party, the Industrial Workers of the World, and the Communist affiliates I worked with. - Author: Dorothy Day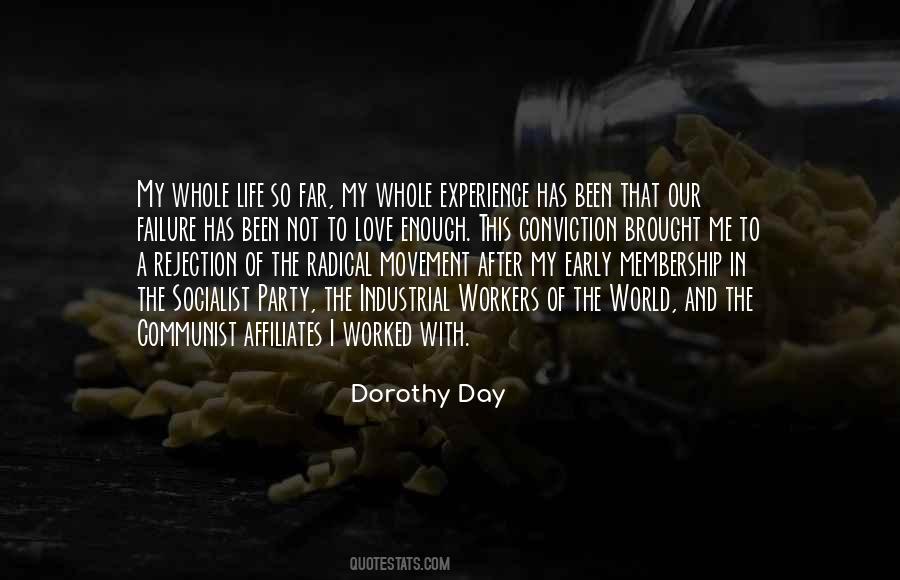 #57. It is better to be unhappy with rejection of love than never love. - Author: Debasish Mridha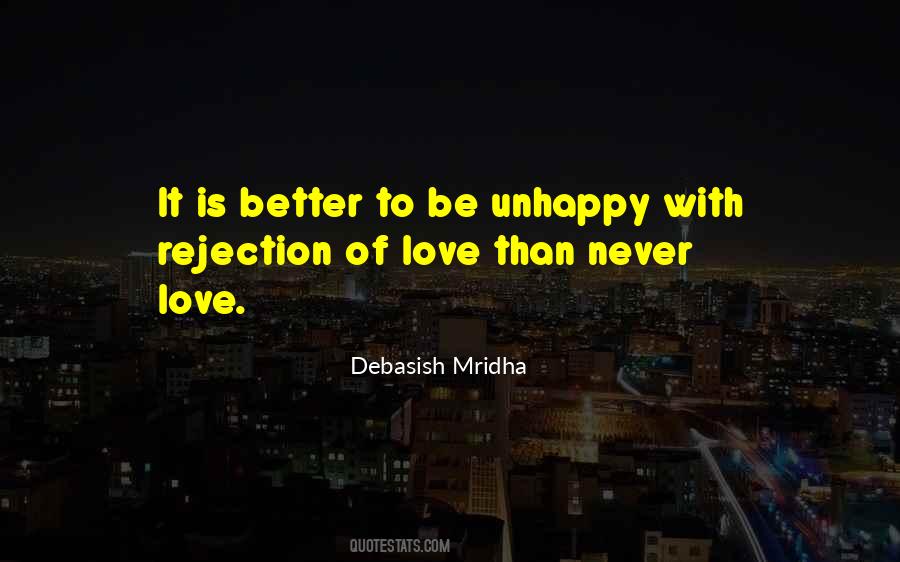 #58. I'm following hot on her heels, smarting from her latest rebuttal, and I can't contain my temper as the flood of rejection washes over me, tossing me precariously close to the edge. - Author: Siobhan Davis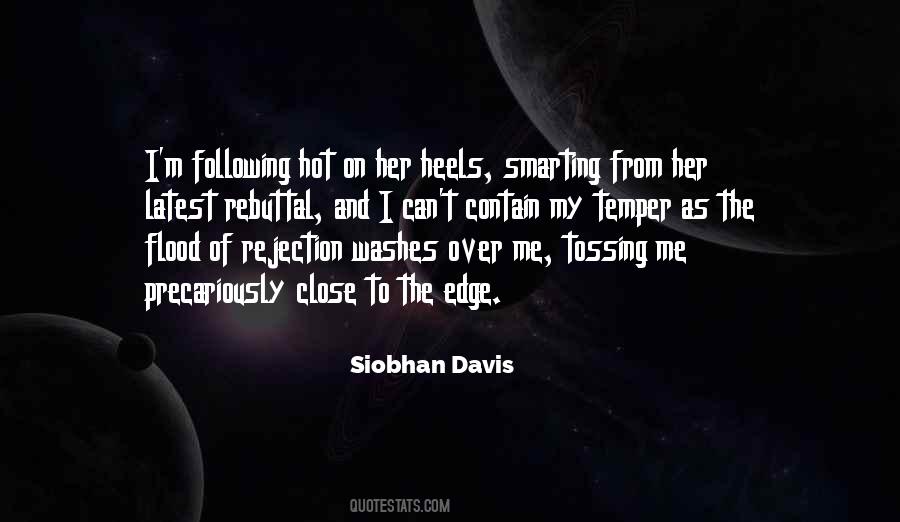 #59. The substance of what it means to be a geek is essentially someone who's brave enough to love something against judgment. The heart of being a geek is a little bit of rejection. - Author: Felicia Day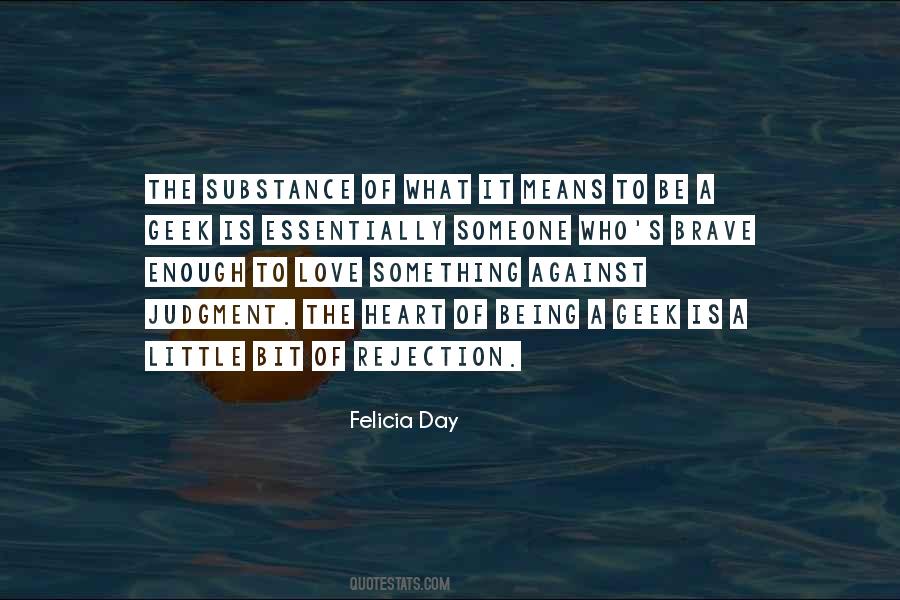 #60. It's easy to cry when you realize that everyone you love will reject you or die. - Author: Chuck Palahniuk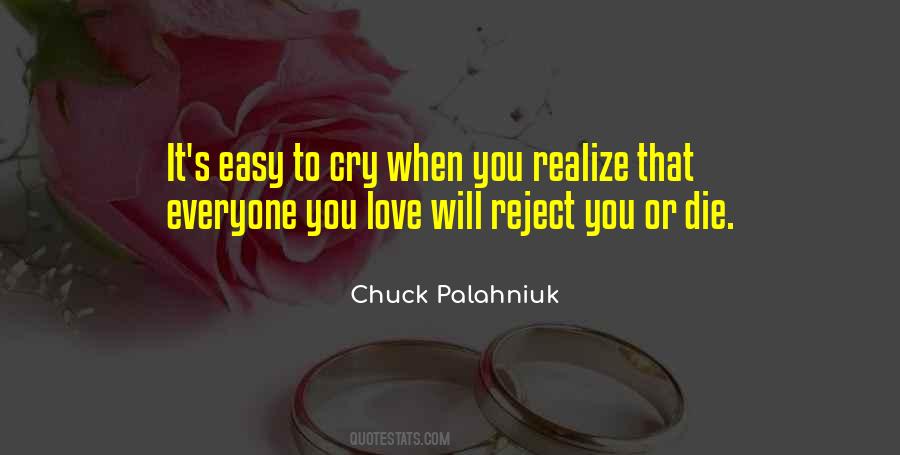 #61. Stretched and skewed
Tap of the 8-ball and the cue
Scratches fall through
They are the scars of you - Author: Criss Jami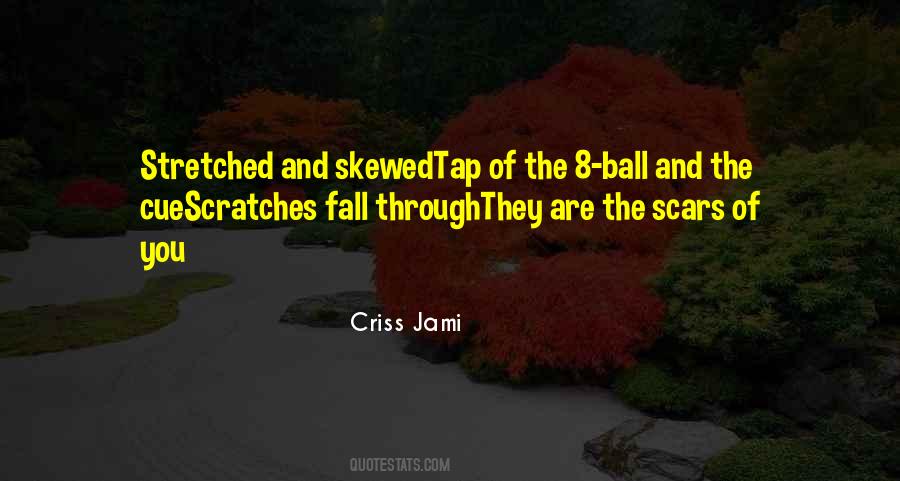 #62. It was gratitude; gratitude, not merely for having once loved her, but for loving her still well enough to forgive all the petulance and acrimony of her manner in rejecting him, and all the unjust accusations accompanying her rejection. - Author: Jane Austen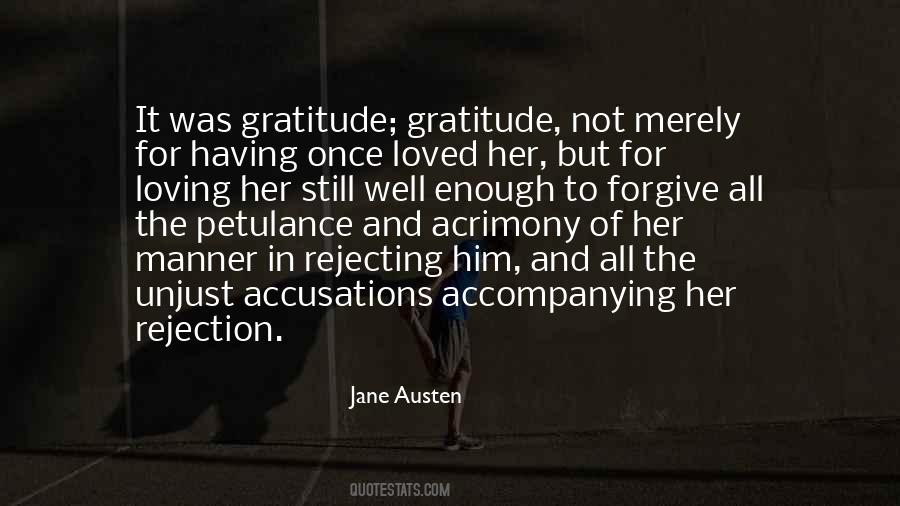 #63. Rejection is a form of self-assertion. You have only to look back upon yourself as a person who hates this or that to discover what it is that you secretly love. - Author: George Santayana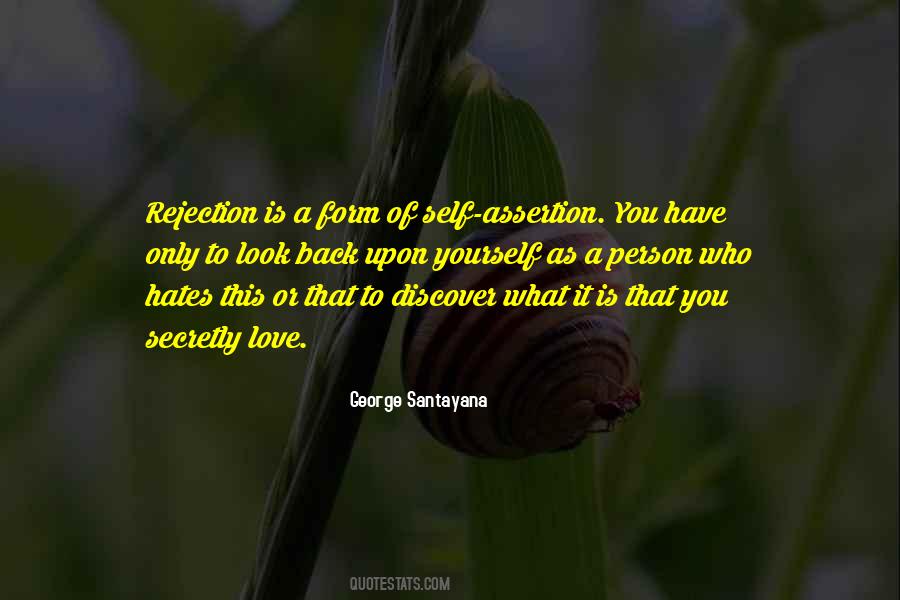 #64. Not everyone deals with what they don't like or understand in a positive way. Some people are going to judge you. Sometimes it's someone you really love and being rejected by them is incredibly painful. - Author: Lauren Dane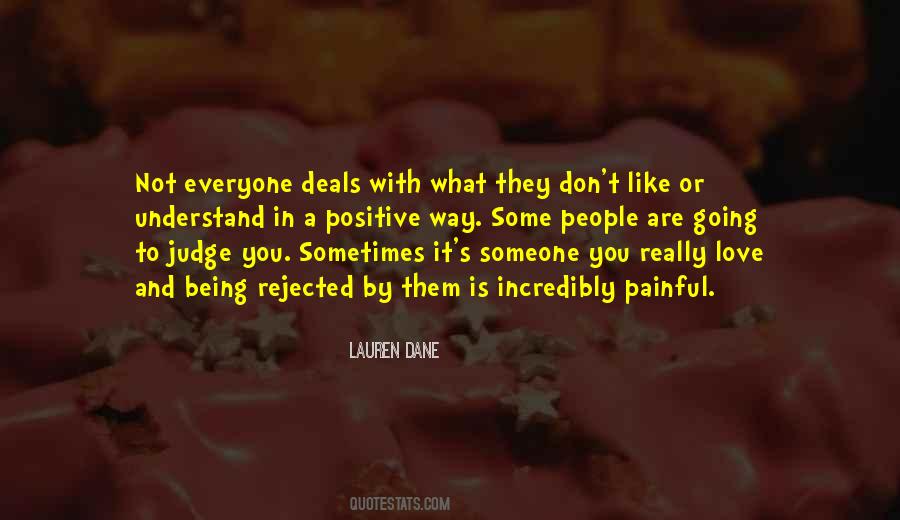 #65. I realise that love isn't painful. It's the not having love that hurts. The rejection. The betrayal. The loneliness. They hurt. Love doesn't. The - Author: Sue Fortin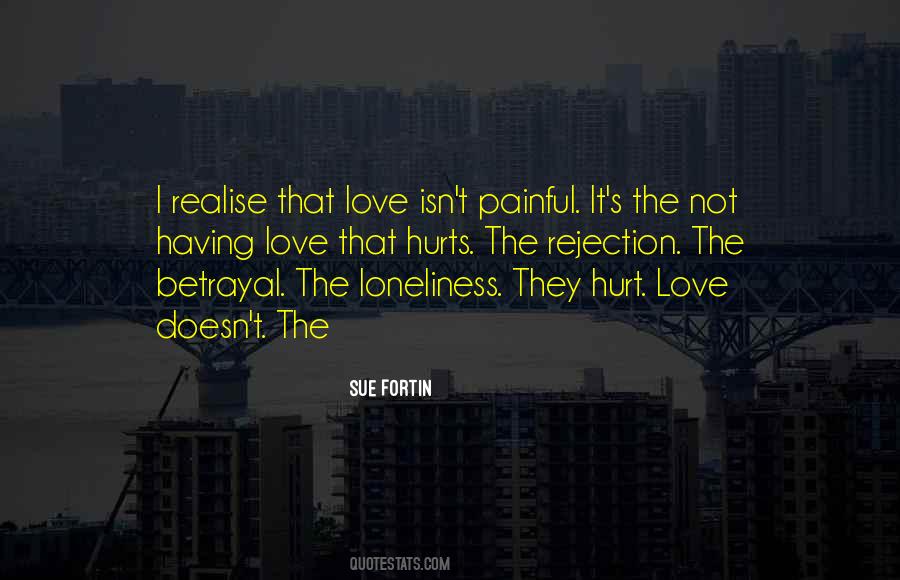 #66. Following your heart means allowing the possibility of finding true love to be stronger than the fear of rejection. - Author: Susane Colasanti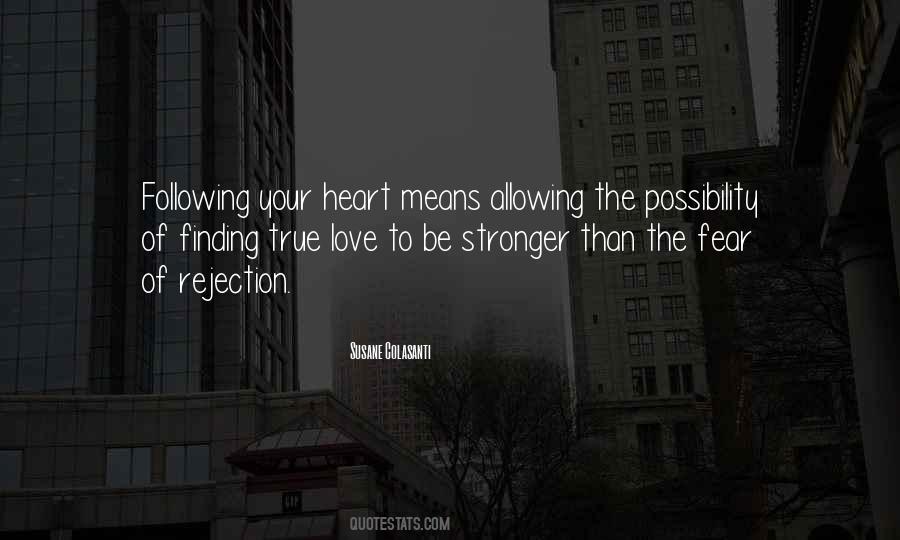 #67. He offered his love ... she could not bother,
She gives her love to the other! The other! - Author: E.A. Bucchianeri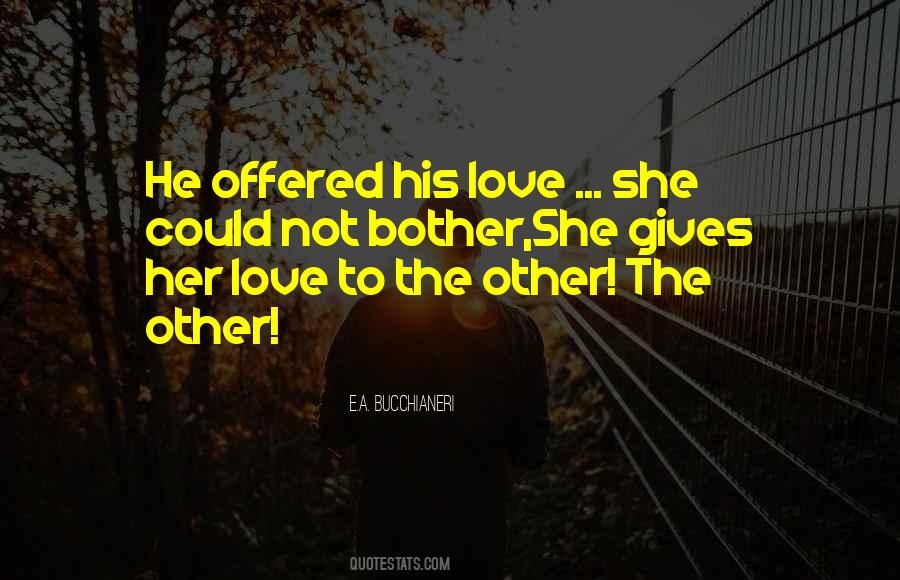 #68. I tell writers to keep reading, reading, reading. Read widely and deeply. And I tell them not to give up even after getting rejection letters. And only write what you love. - Author: Anita Diament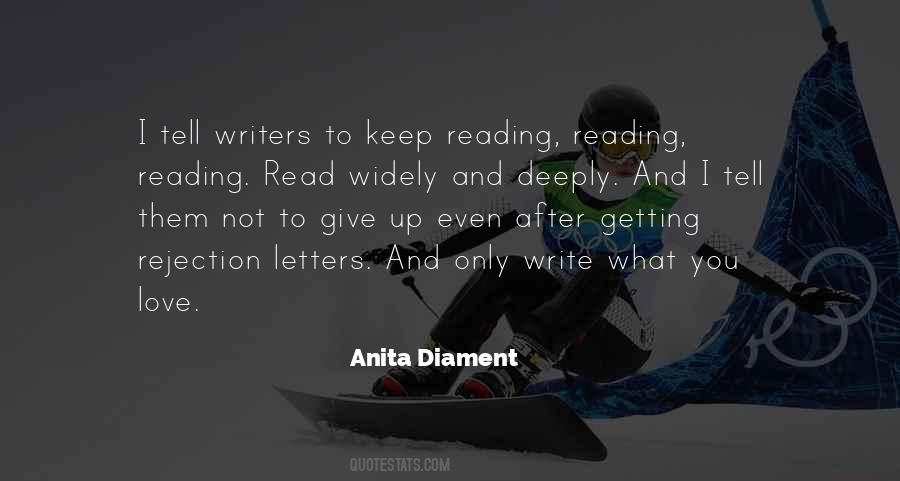 #69. For one more time, he decided to give away smoking.
And then, she happened one more time in his head. - Author: Nishikant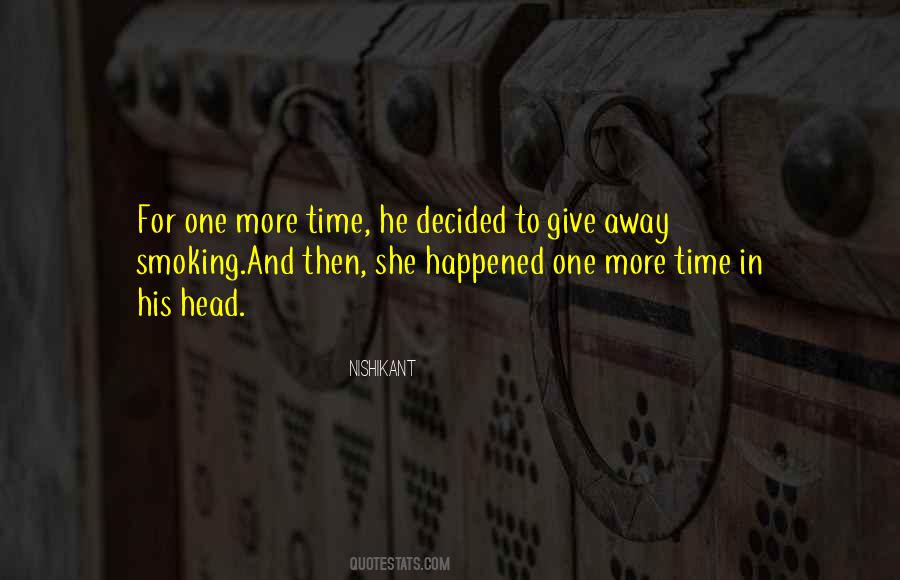 #70. For Christians, the problem is not how to reconcile homosexuality with scriptural passages that condemn it, but how to reconcile the rejection and punishment of homosexuals with the love of Christ. - Author: William Sloane Coffin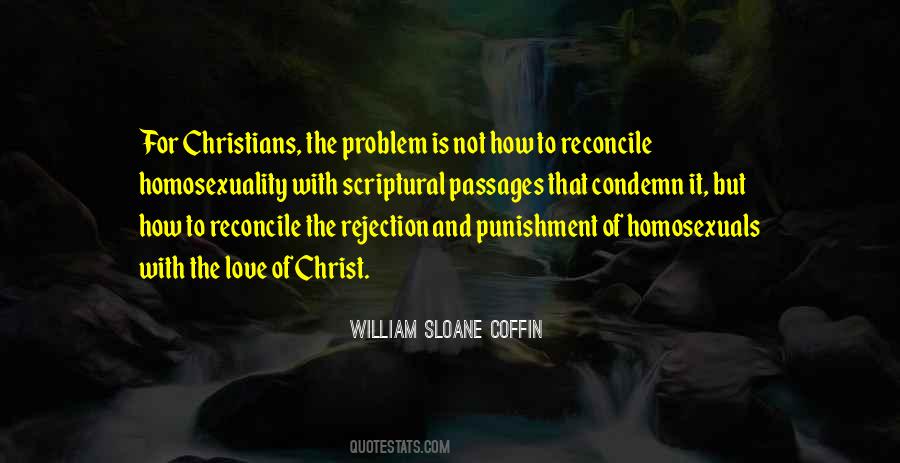 #71. No amount of negative self-image fed to us by the media can harm us as much as the rejection suffered from those meant to love us unconditionally, above all else. - Author: Esther M. Soto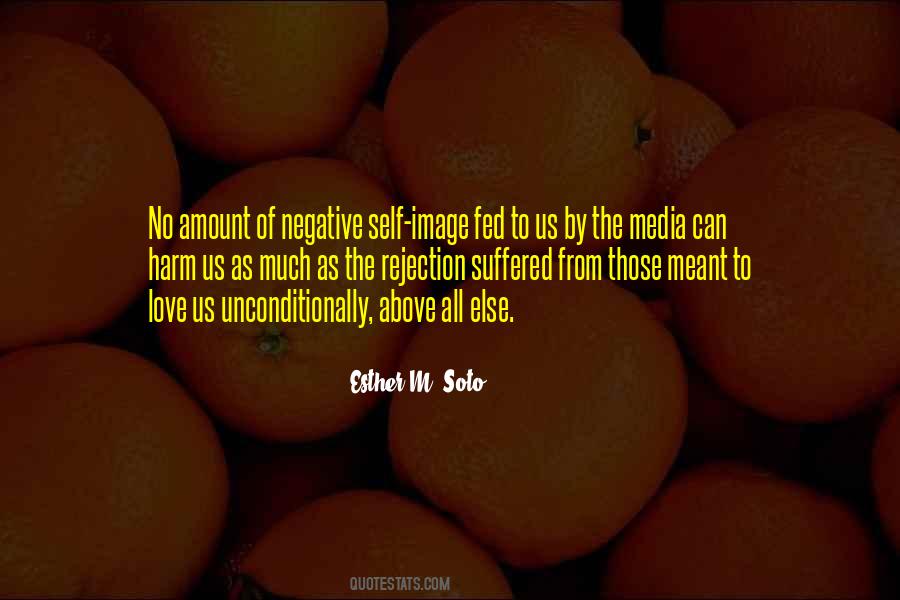 #72. Dear to us are those who love us ... but dearer are those who reject us as unworthy, for they add another life; they build a heaven before us whereof we had not dreamed, and thereby supply to us new powers out of the recesses of the spirit, and urge us to new and unattempted performances. - Author: Ralph Waldo Emerson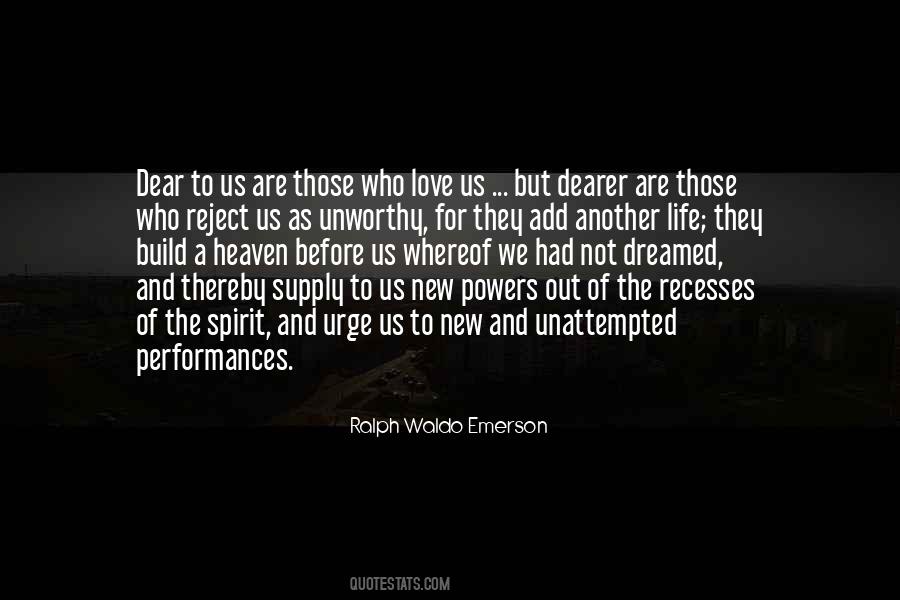 #73. Isn't that the greatest tragedy? When someone rejects us, no matter how they abuse our love, we hope against reason that somehow they will come back to us. - Author: Suzanne Elizabeth Anderson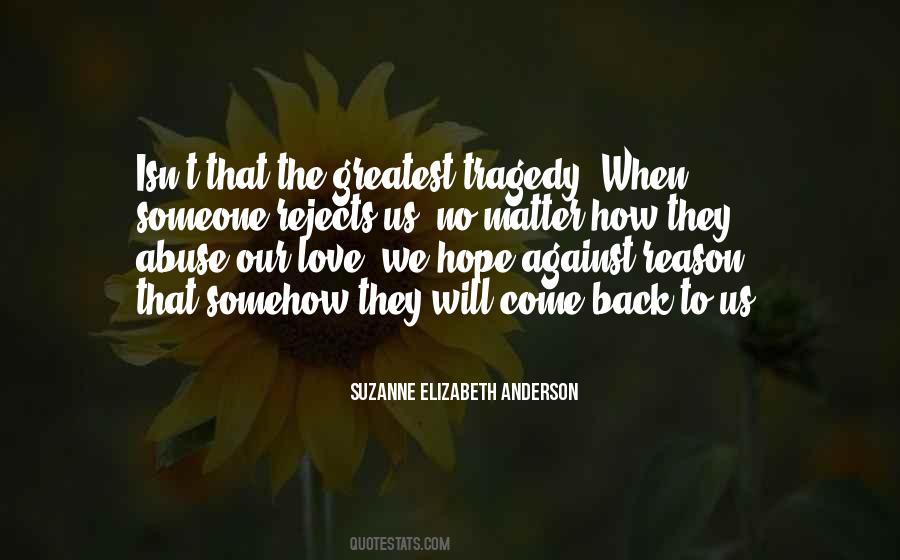 #74. I realized I wasn't going to find a man until I was willing to expose myself to possible harm, to assume the risks of rejection and betrayal and heartbreak that came along with caring about someone. Someday, I promised myself, I would be ready for that kind of risk. - Author: Lisa Kleypas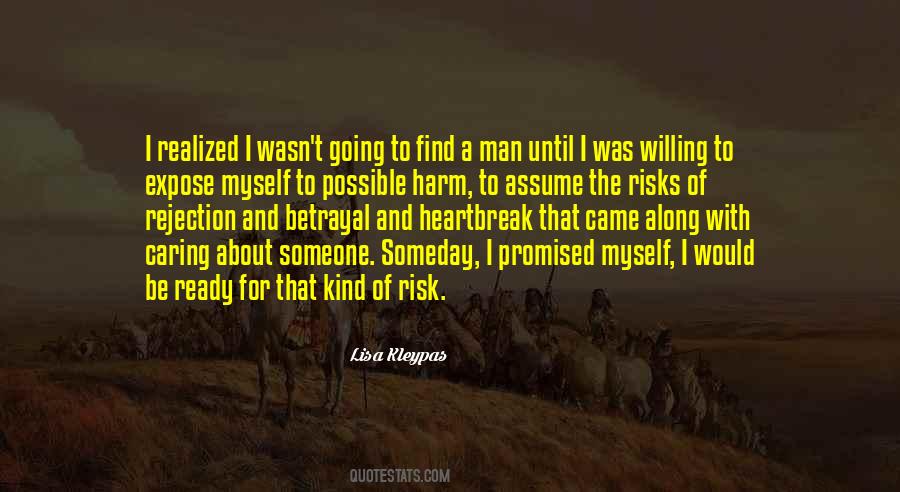 #75. When you are passionate, you always have your destination in sight and you are not distracted by obstacles. Because you love what you are pursuing, things like rejection and setbacks will not hinder you in your pursuit. You believe that nothing can stop you! - Author: Mike Krzyzewski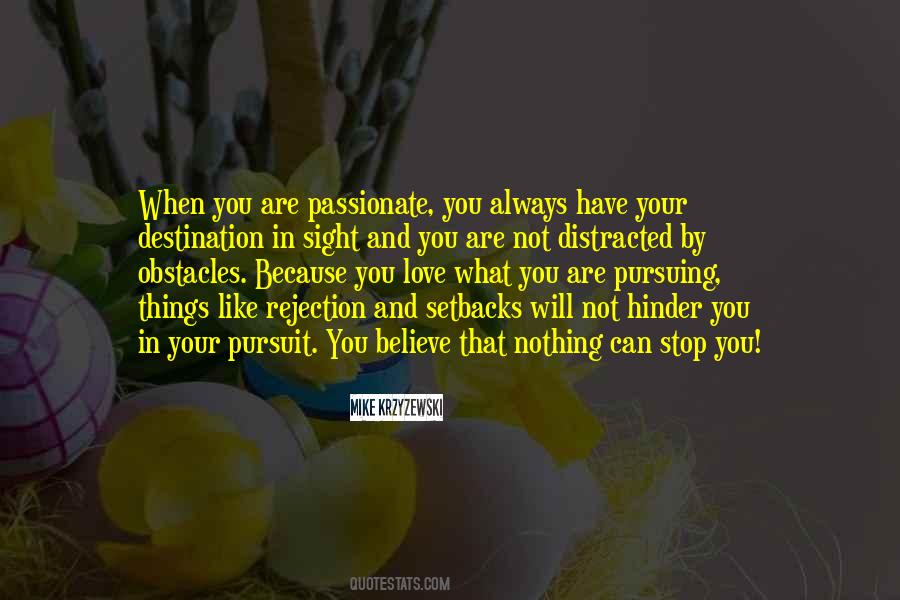 #76. How do people do this? How do people work up the courage to be themselves even if it means facing rejection from people who love them? Why don't people get medals for this? - Author: Sara Farizan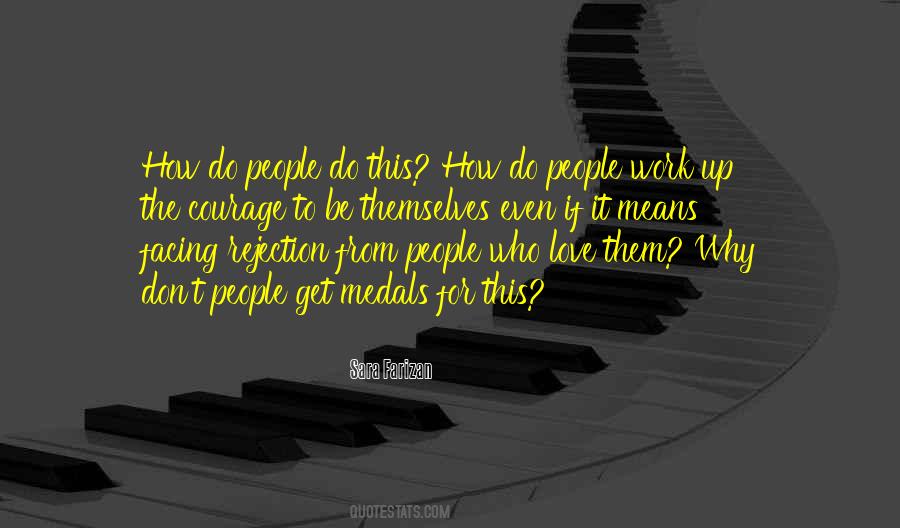 #77. Instead of looking at life with the hope of receiving love, I started expecting rejection. - Author: Lysa TerKeurst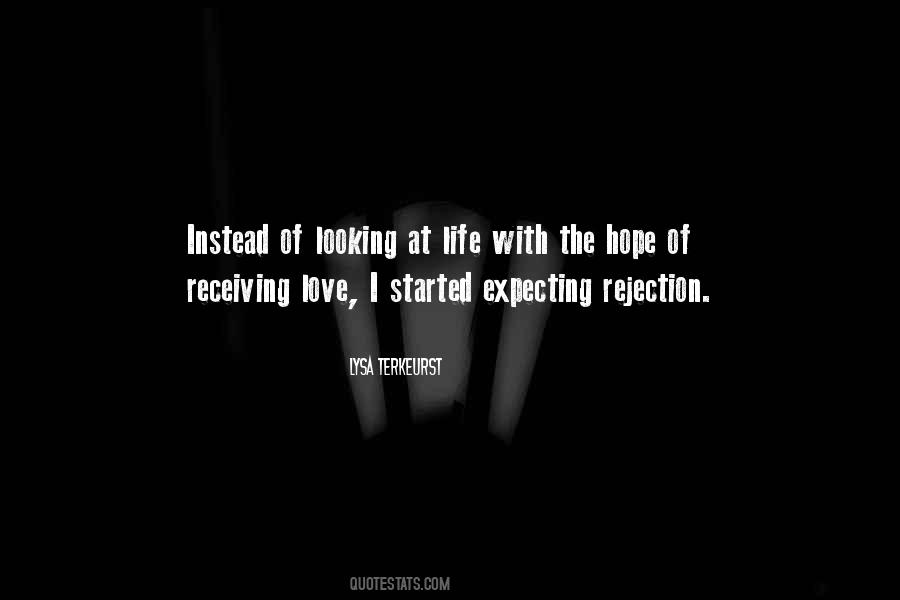 #78. Love is no conditions. Love is given, despite hurt or rejection. Love is life and breath and touch. Love is helping someone live. - Author: Misty Upham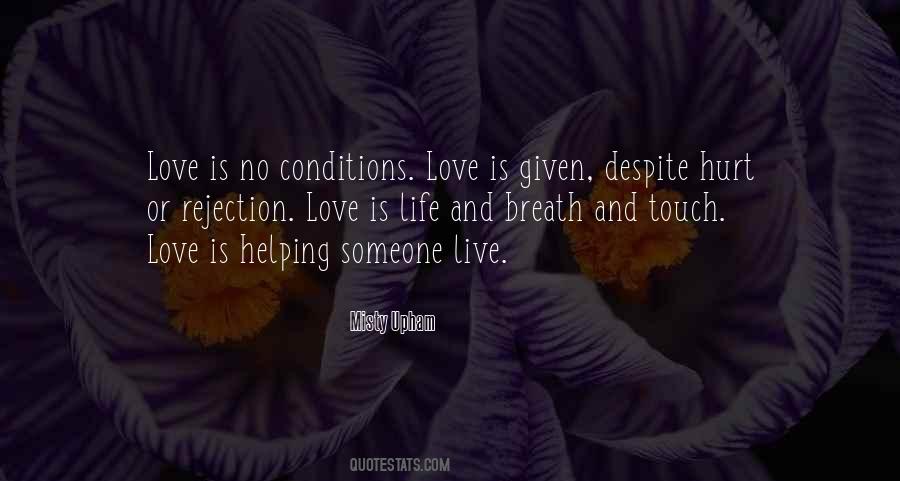 #79. Woke the next day and found her note. Love ya, goodbye, that's all she wrote. - Author: David Gates
#80. Neither of us wanted to say it first. But our two souls had become one in a realm no one else could venture into. The immortal coil of passion had wrapped around us forever. It had begun with lust and attraction and blossomed into so much more. Fear of rejection kept us from declaring it. - Author: Sherry Soule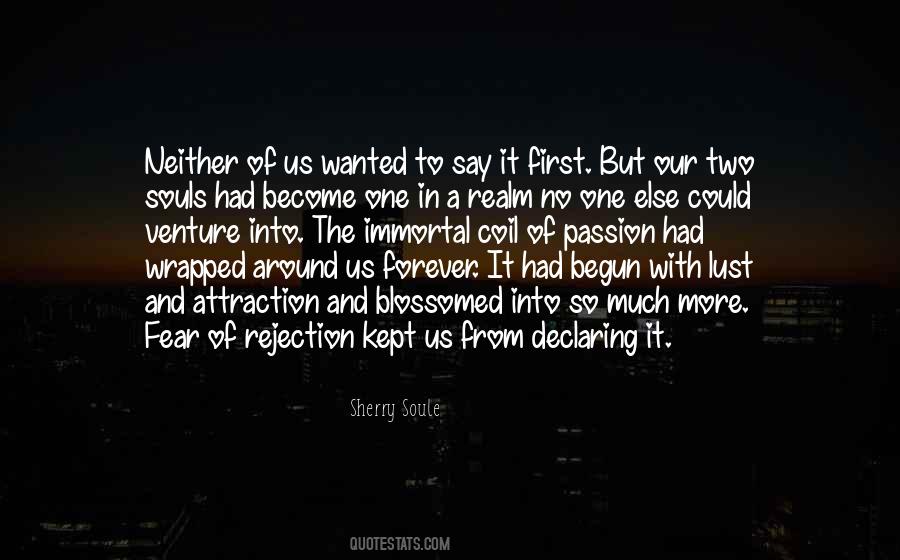 #81. REJECT THE LIES AND VIOLENCE. STAND FOR LOVE, TRUTH, DECENCY AND THE COMMON GOOD. - Author: Bryant McGill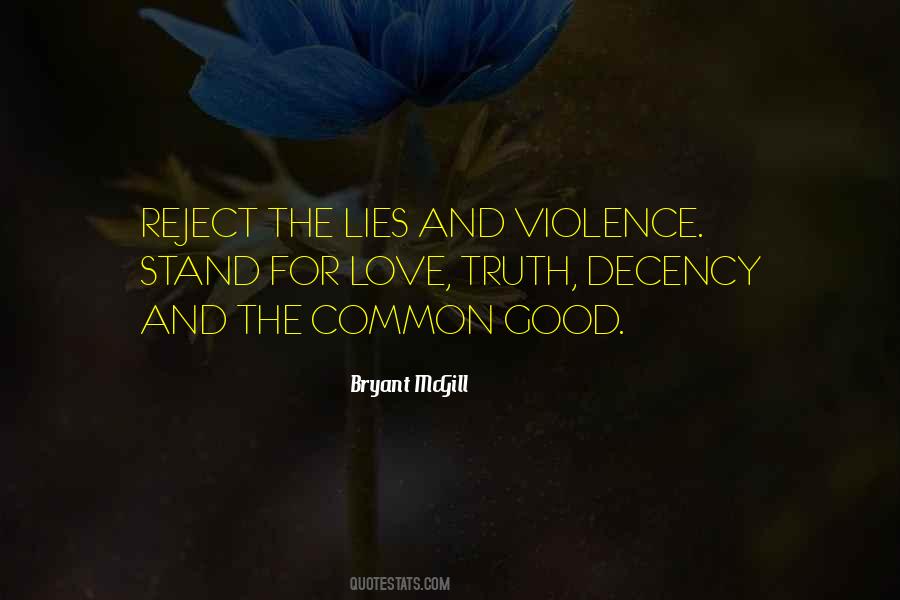 #82. People block abundance of love by closing their hearts, growing weeds, like fears and rejection, around their hearts. That's why they are stuck in relationships or become withdrawn. - Author: Hina Hashmi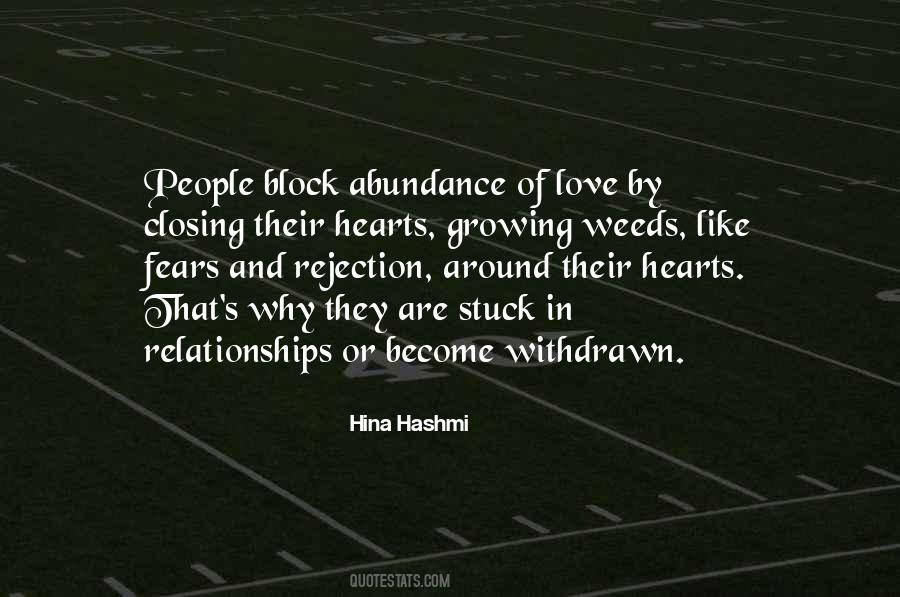 #83. Until I knew that it was you inside me, who has so much to say, I hesitated writing. - Author: Nishikant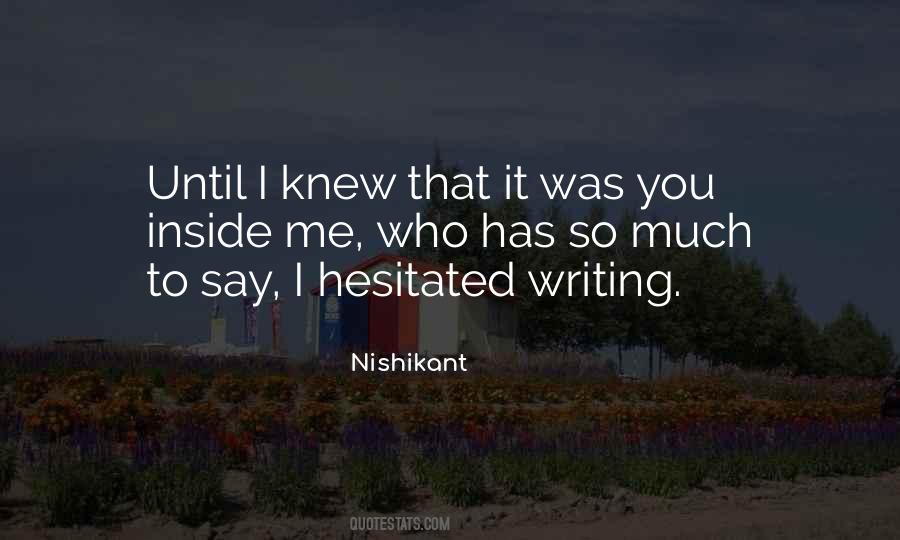 #84. Once upon a time, loss of love, rejection, weakness and loss of territory all meant death. Now it just feels that way. - Author: Julian Short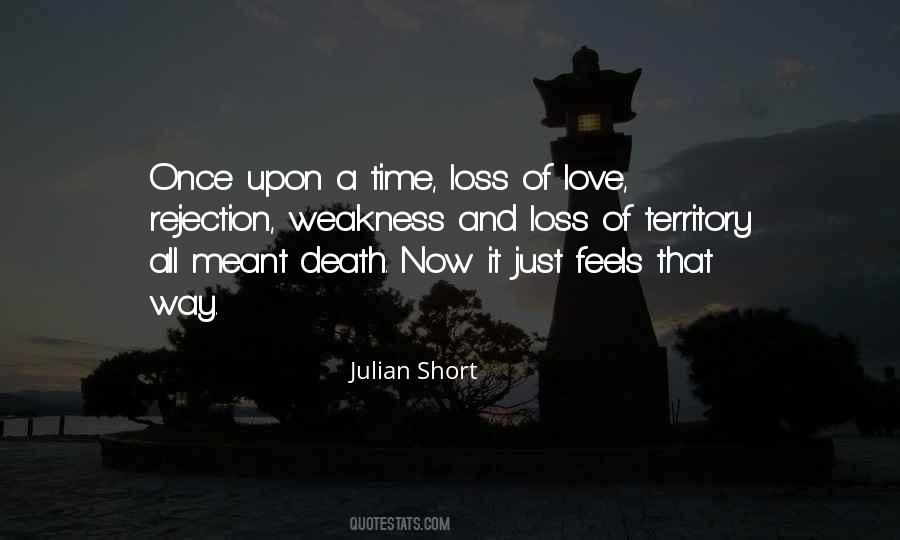 #85. If you love somebody then tell them how you feel dont be scared of their reaction or rejection life is too short. you should take a chance and if things dont work out as you plan dont worry cuz life moves on and true love will be waiting for you again. - Author: Atul Purohit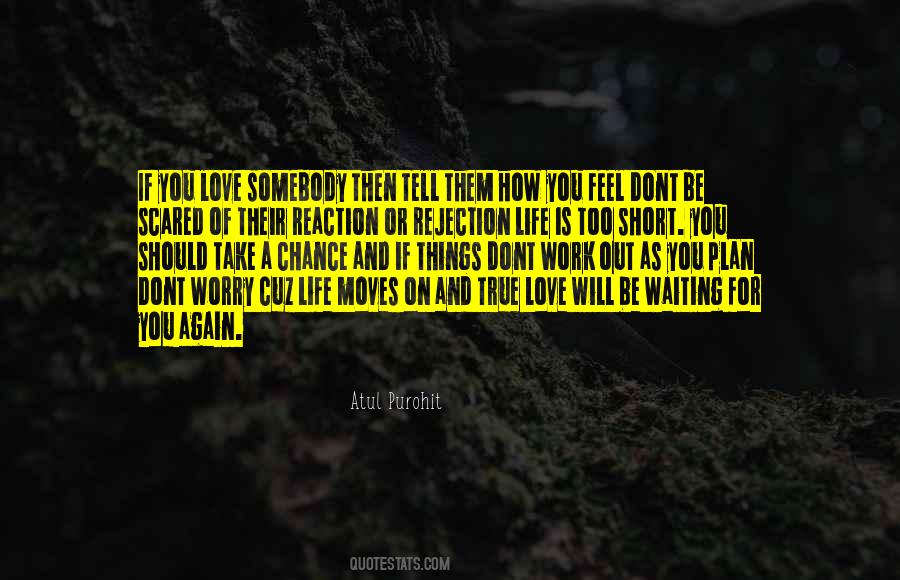 #86. My love wants to change the world
she thinks she has so much to give
not realizing how much she takes from others
my love is loyal until she senses rejection of any kind
then she flies like a bird but has less memory
of where she came from
i would like to protect you from my love - Author: Francesca Lia Block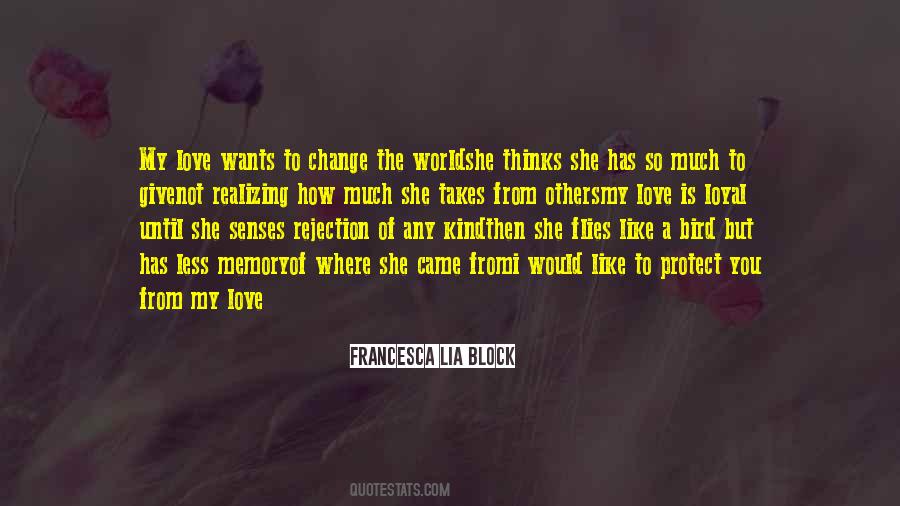 #87. There are billions of people in this world that don't believe or act exactly as we do. It is not our place to reject them, only accept them. Again, we don't have to agree with everything they believe or do, but we do need to love and accept who they are. - Author: Daniel Willey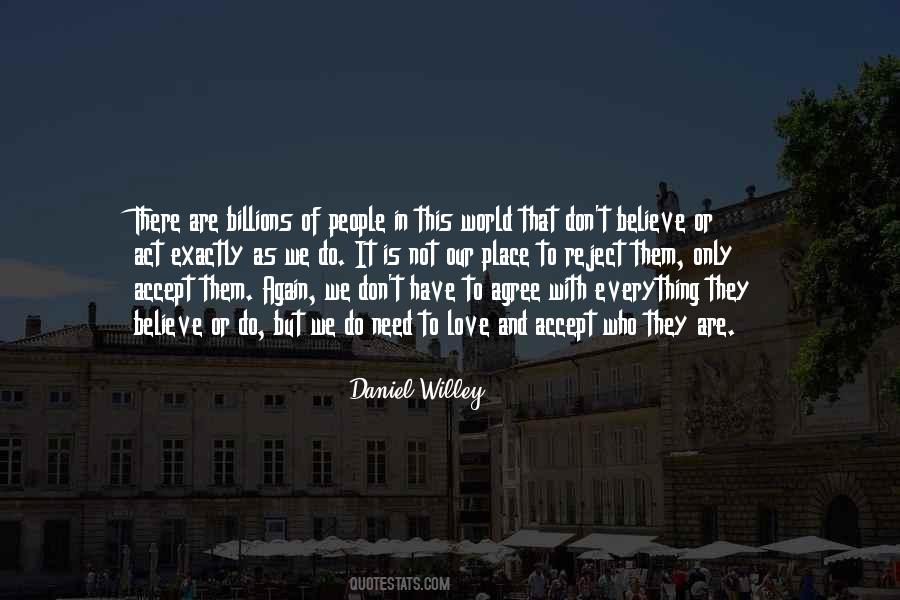 #88. I love my rejection slips. They show me I try. - Author: Sylvia Plath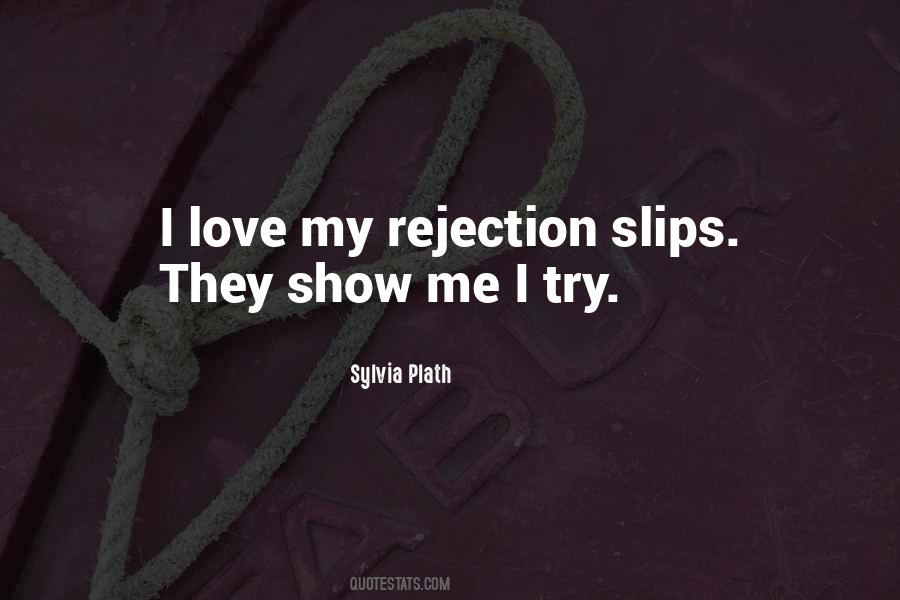 #89. Everyone says that loves hurts, but that's not true. Loneliness hurts. Rejection hurts. Losing someone hurts. Everyone confuse these things with love but reality, love is the only thing in this world that covers up all the pain and makes us feel wonderful again. - Author: Anonymous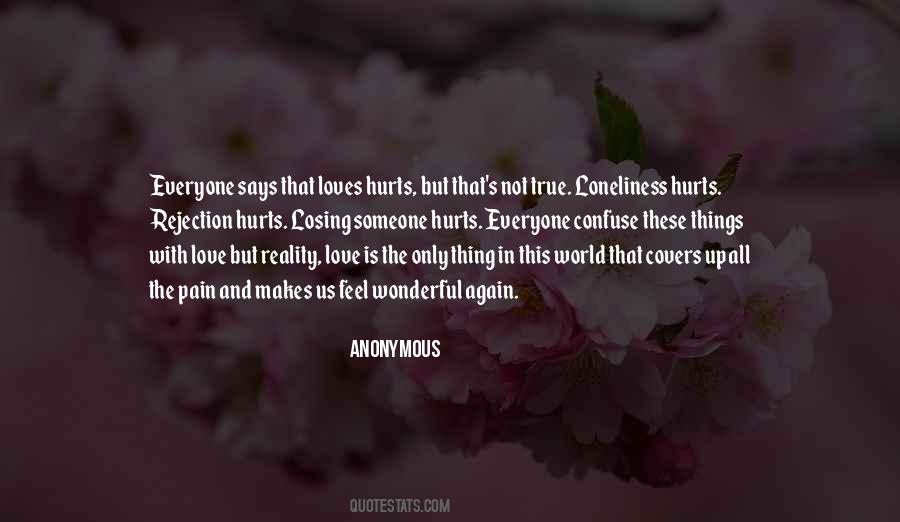 #90. Pain is increased by rejection, love all the beloveds who've put a dagger in your
heart. - Author: Sandeep Gupta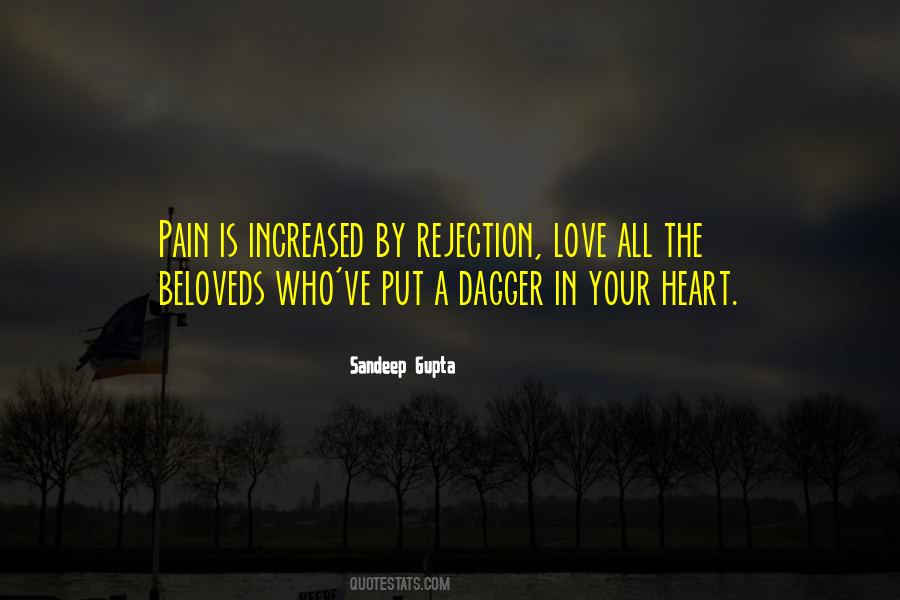 Famous Authors
Popular Topics