Ready To Die Famous Quotes & Sayings
List of top 100 famous quotes and sayings about ready to die to read and share with friends on your Facebook, Twitter, blogs.
Top 100 Quotes About Ready To Die
#1. The two gentlemen stood back to back, ready to shoot, and ready to die. - Author: Paul Andrews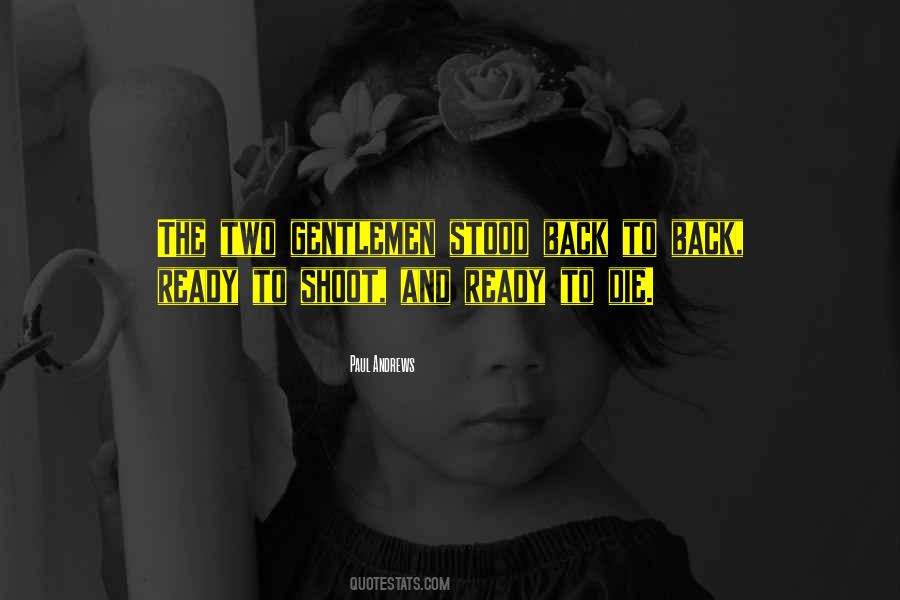 #2. ...life's about accumulating wrinkles, deep as rivers and as wide as is needed to travel along their path, so that by the time you're ready to die, your life can be read. - Author: Liam Howley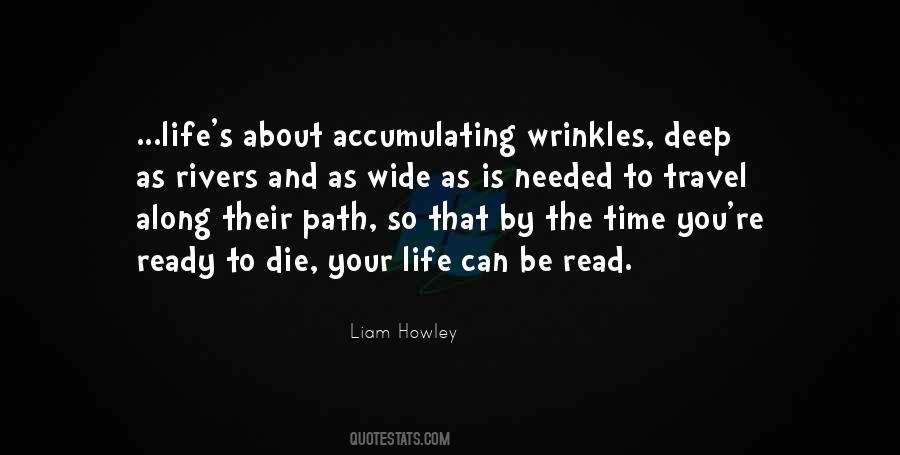 #3. I've been writing more songs in my head," he said, "about being a ghost and a shade." His face turned smooth and solemn. "How I'd die all over again just to touch you. - Author: Jeri Smith-Ready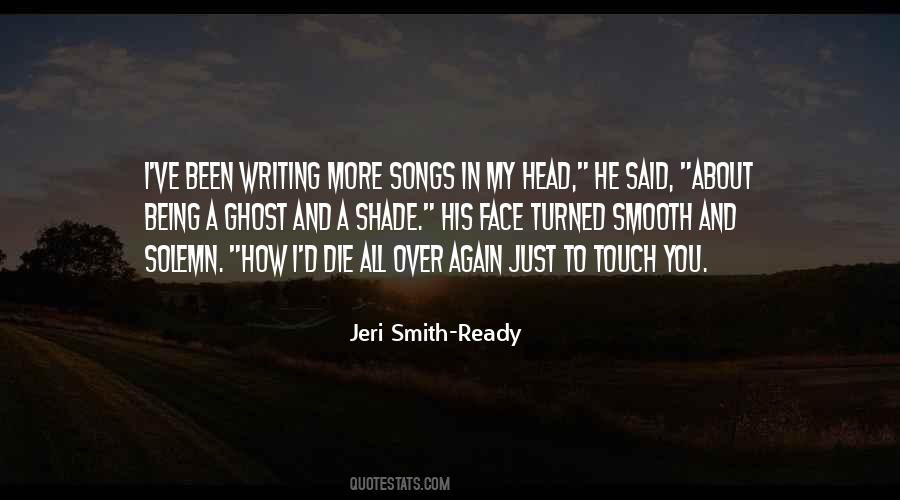 #4. Love was love, one could find it with anyone, one could find it anywhere. It was just that you could never keep it. Not unless you were ready to die for it. - Author: Norman Mailer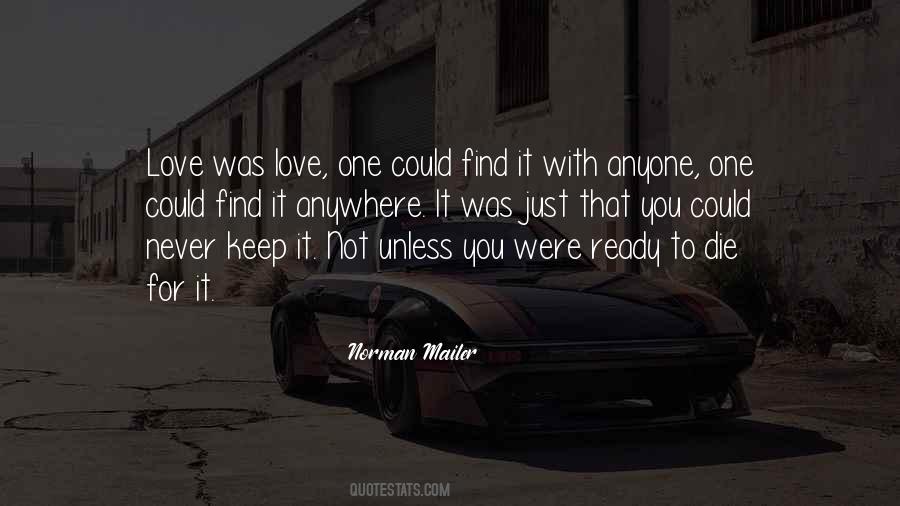 #5. I don't believe in men waiting until they are ready to die before using any of their money for helpful purposes. - Author: George Eastman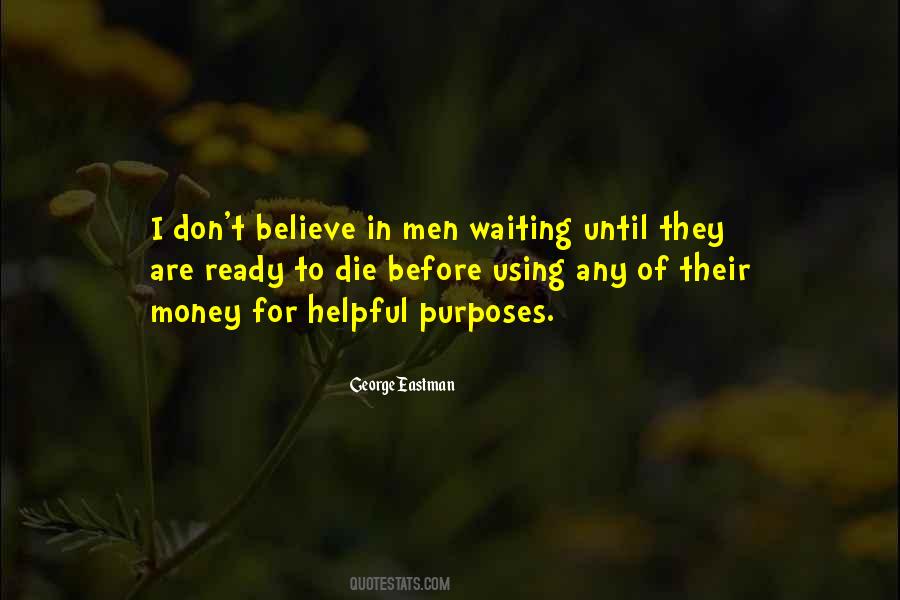 #6. A man must be prepared not only to be a martyr, but to be a fool. It is absurd to say that a man is ready to toil and die for his convictions if he is not even ready to wear a wreathe around his head for them. - Author: G.K. Chesterton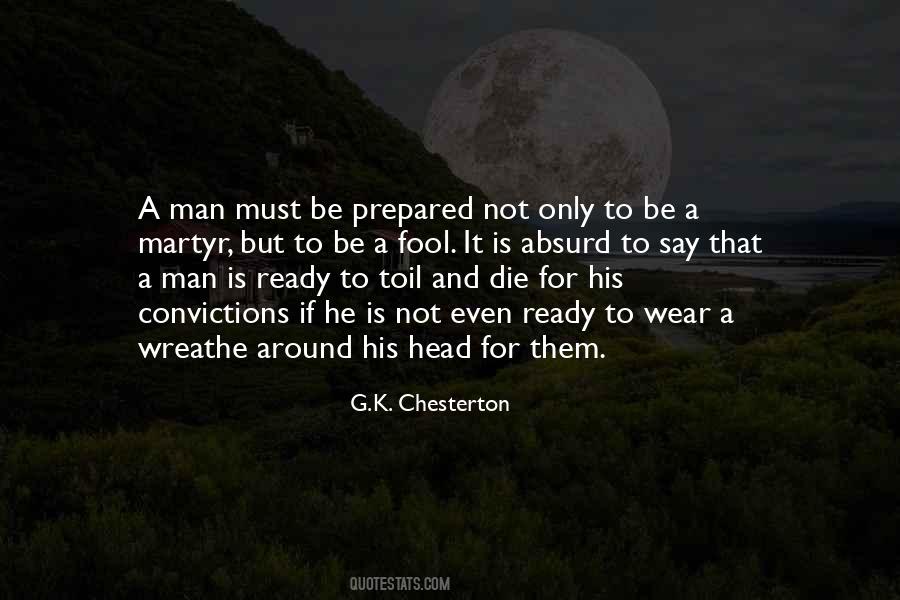 #7. I am ready to die for my Lord, that in my blood the Church may obtain liberty and peace. - Author: Thomas Becket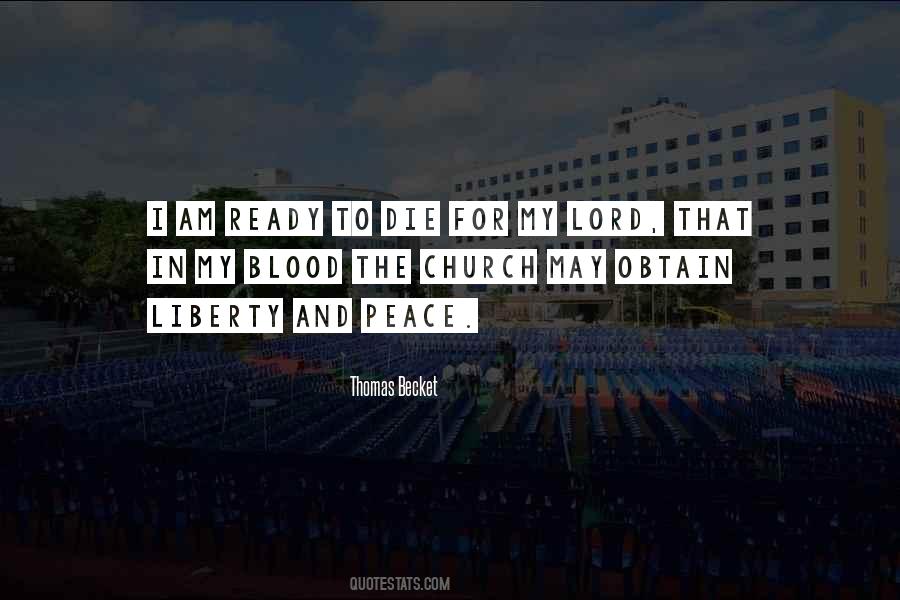 #8. No democracy has ever long survived the failure of its adherents to be ready to die for it. My own conviction is this, the people must either go on or go under. - Author: David Lloyd George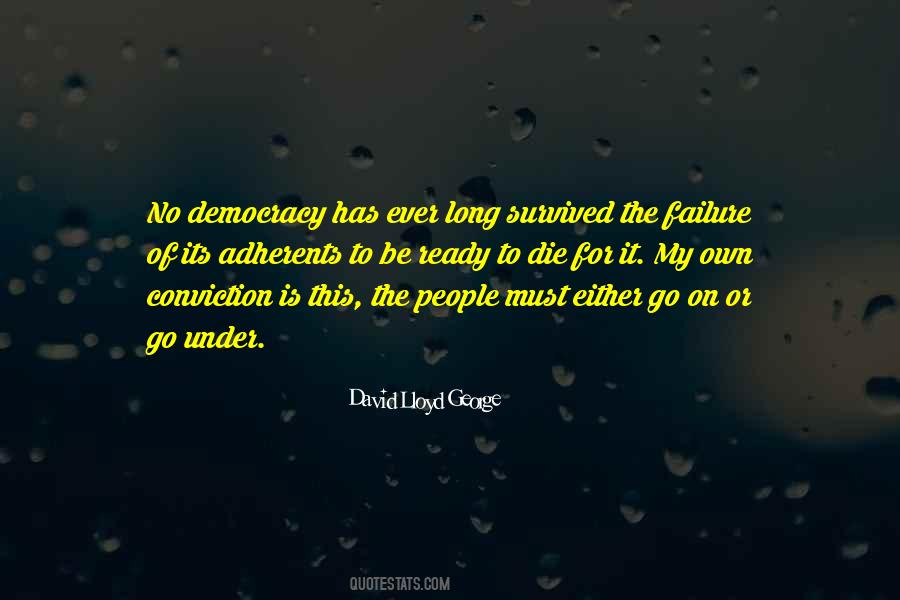 #9. If you're not ready to die for it, take the word 'freedom' out of your vocabulary. - Author: Malcolm X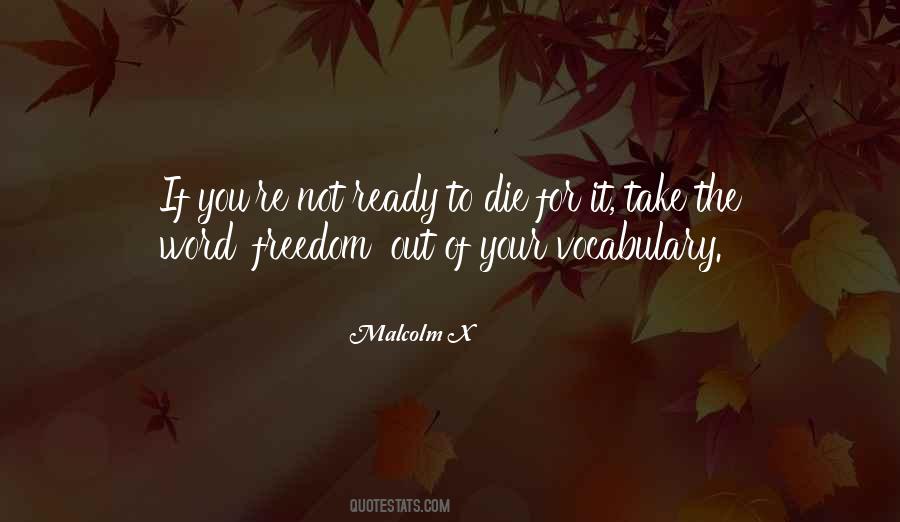 #10. Retiring is getting ready to die. - Author: Rodger Ward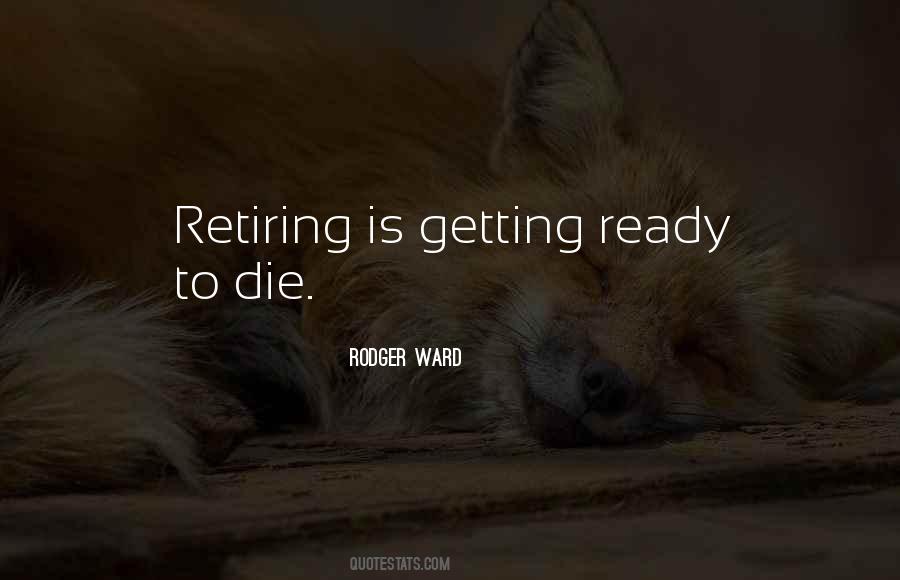 #11. Every day, have a little bird on your shoulder that asks, 'Is today the day? Am I ready? Am I doing all I need to do? Am I being the person i want to be? Is today the day I die? - Author: Mitch Albom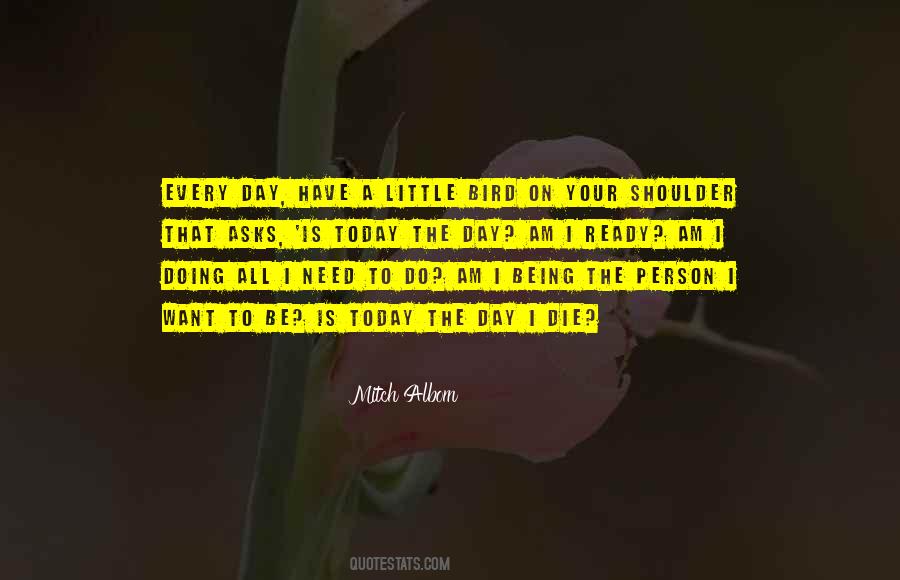 #12. From the middle of life onward, only he remains vitally alive who is ready to die with life. - Author: Samuel Johnson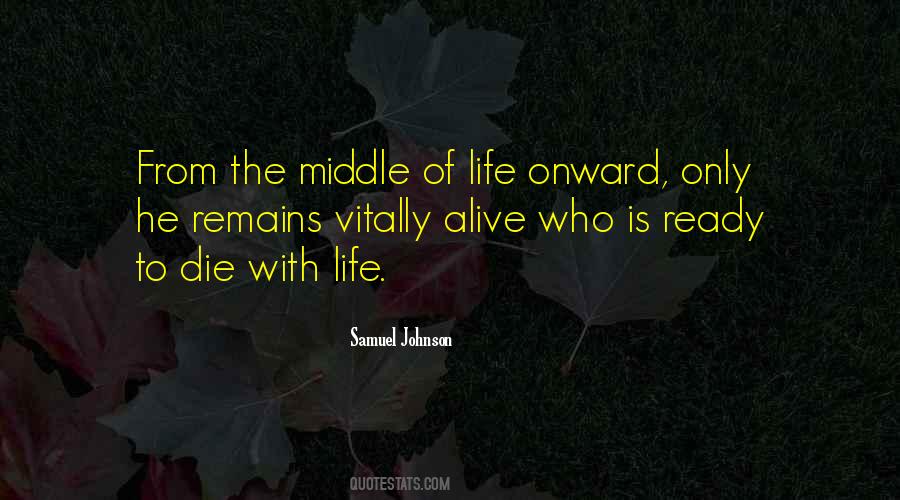 #13. I am not ready to die, / But I am learning to trust death / As I have trusted life. - Author: May Sarton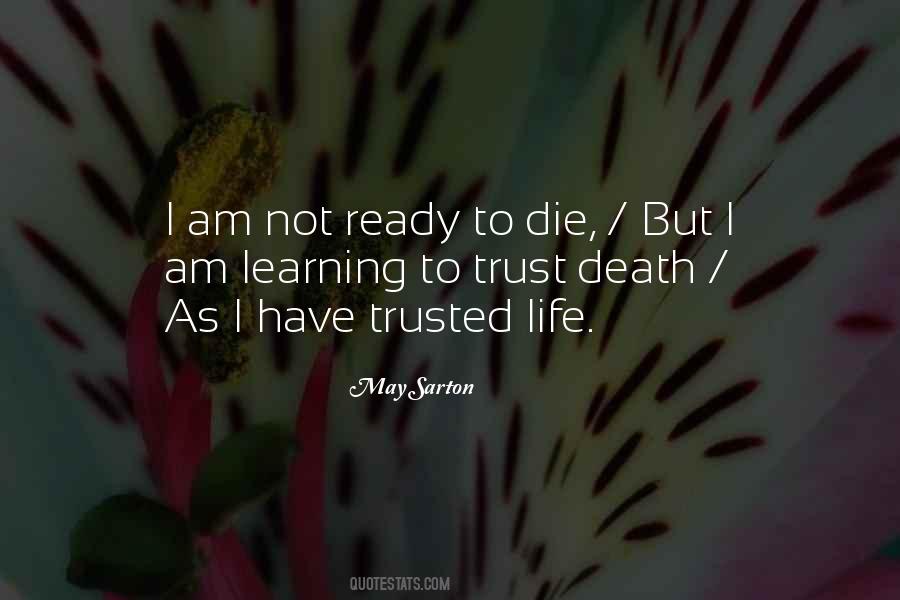 #14. You're not living until it doesn't matter a tinker's damn to you whether you live or die. At that point you live. When you're ready to lose your life, you live it. - Author: Anthony De Mello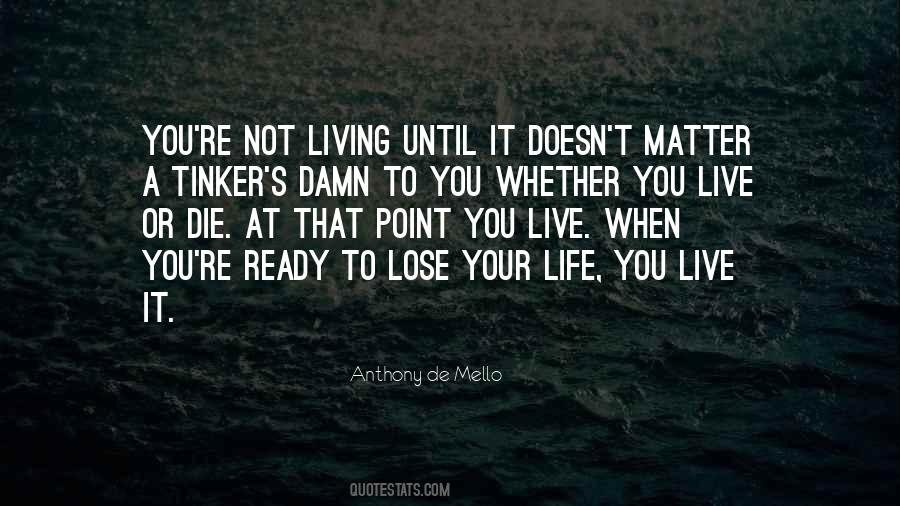 #15. The Politician's goal is to build a fortune, ours is to build our homeland flowering and strong. For her we will work and we will build. For her we will make each Romanian a hero, ready to fight, ready to sacrifice, ready to die. - Author: Corneliu Zelea Codreanu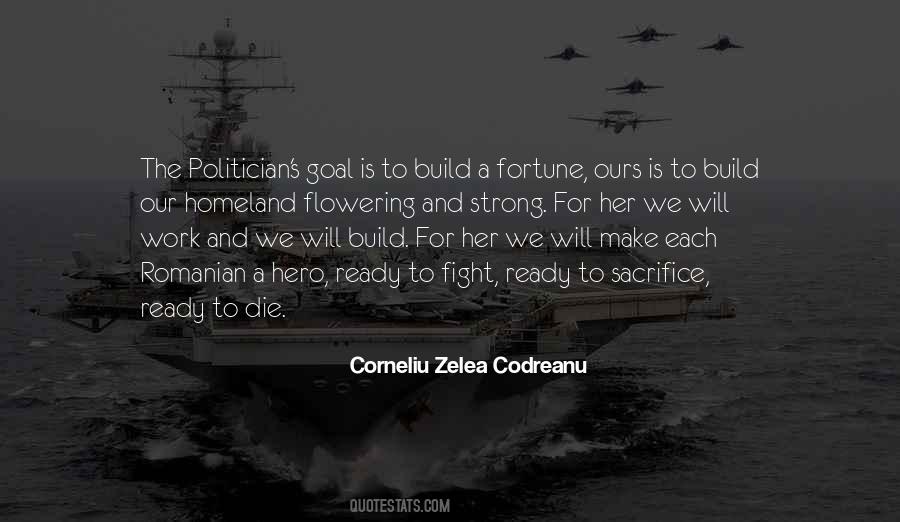 #16. Explorers have to be ready to die lost. - Author: Russell Hoban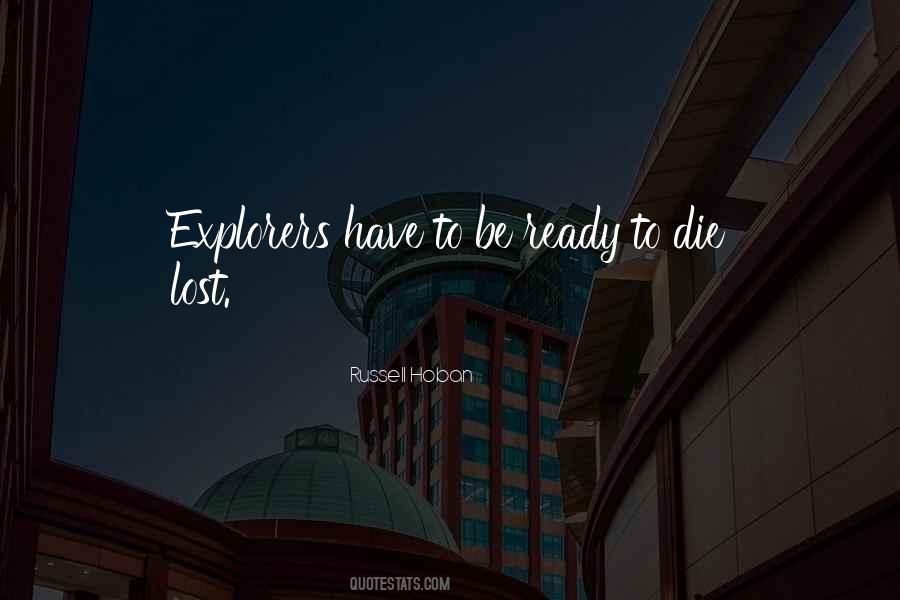 #17. It's terrible to realize you don't learn how to live until you're ready to die, and then it's too late. - Author: Edna Ferber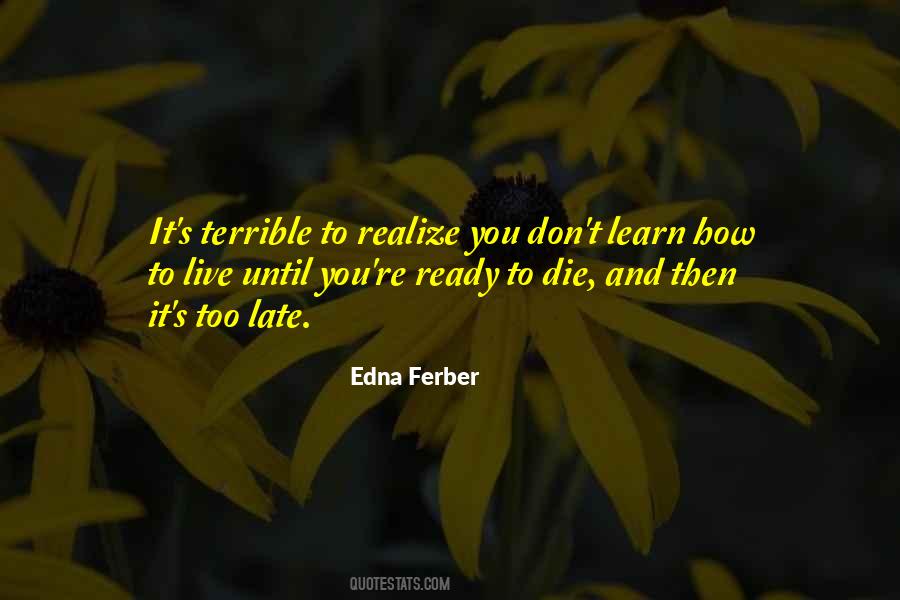 #18. At the last moment she thought, I'm not ready.
But she already knew the answer to that.
Nobody was ever ready. - Author: L.J.Smith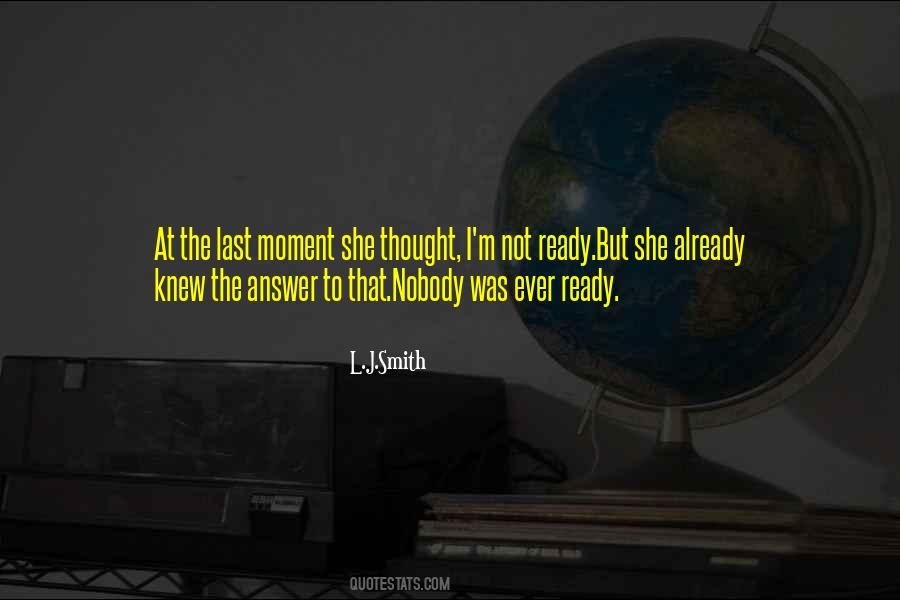 #19. I pray that we will not wait until we are ready to die before we truly learn to live. - Author: Dieter F. Uchtdorf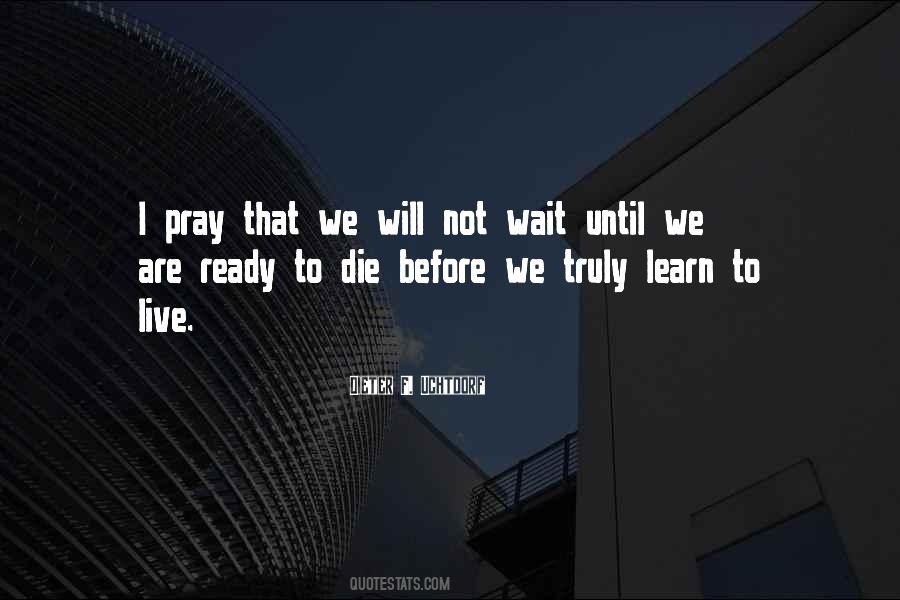 #20. When you're scared, you're still hanging on to life. When you're ready to die, you let it go. A sort of emptying out occurs, a giving up on the world that seems oddly familiar even if you've never done it before. - Author: Sebastian Junger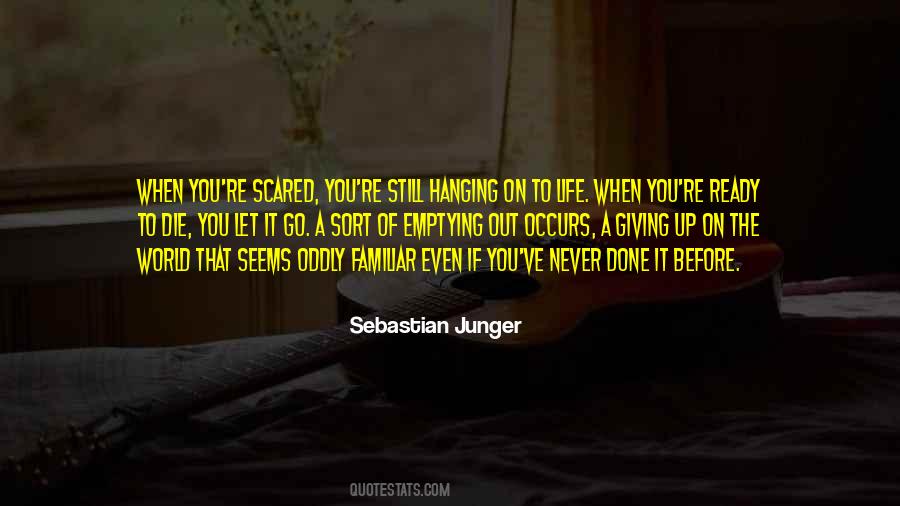 #21. If you're not ready to die, then how can you live? - Author: Charles De Lint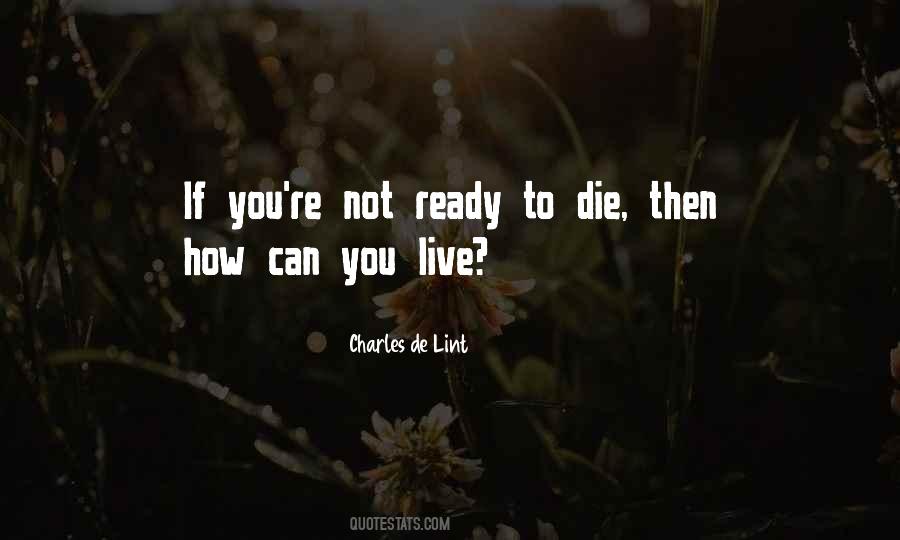 #22. I have seen enough. I am ready to see the world die. - Author: Robin Sacredfire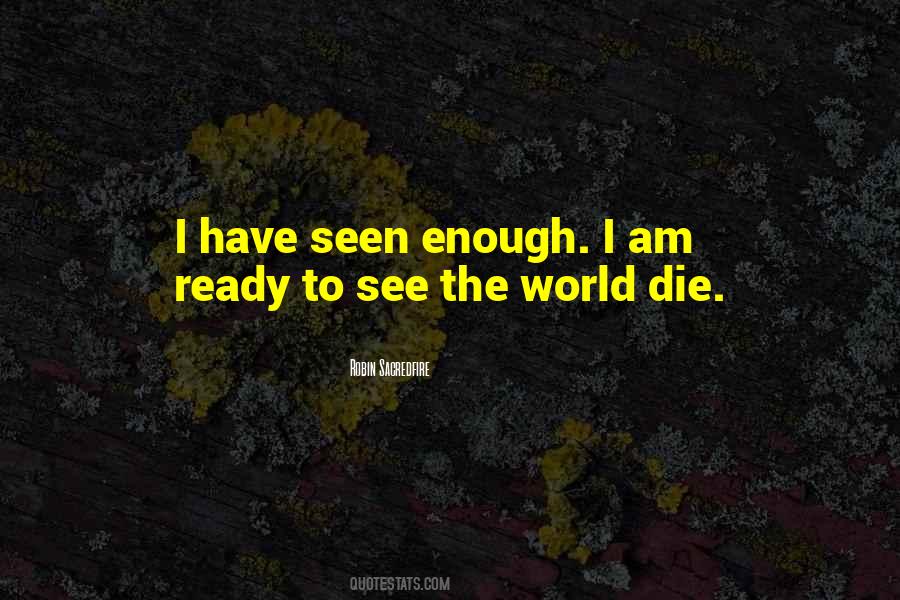 #23. If you go to Madison Square Garden, you better have your A game ready, because here goes the thing, they love boxing. They either like you, or they don't like you. They're either cheering for you, or they're cheering for you to die ... They want you to kill, or be killed. - Author: Roy Jones Jr.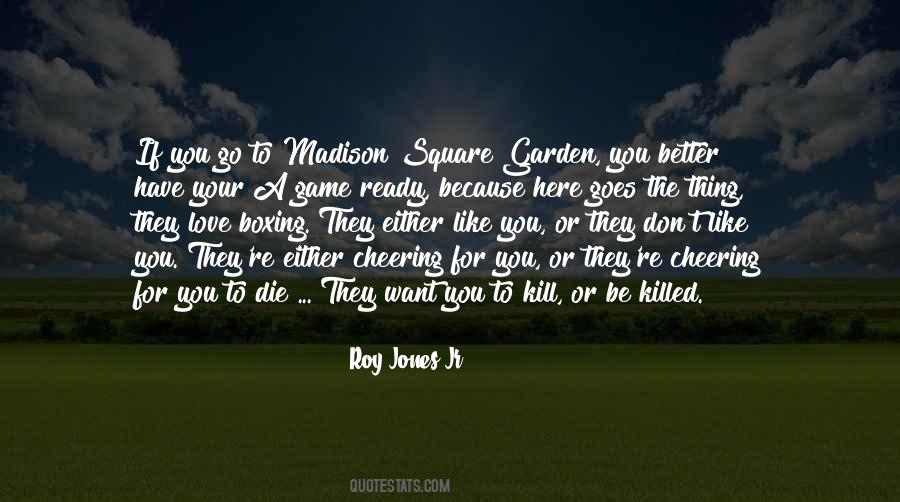 #24. We're young men; we're not ready to die. - Author: Kevin Cosgrove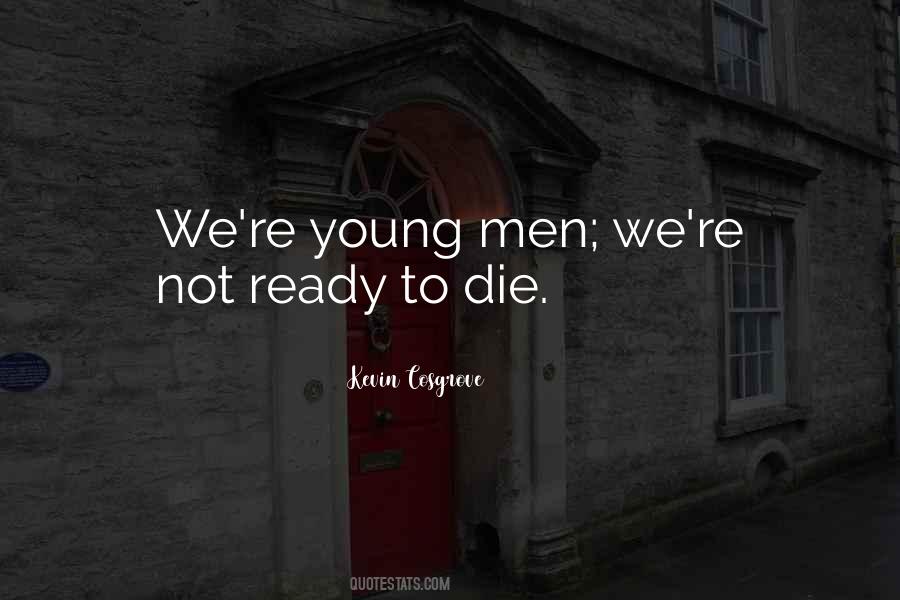 #25. Get ready to die, tell God I say hi. - Author: The Notorious B.I.G.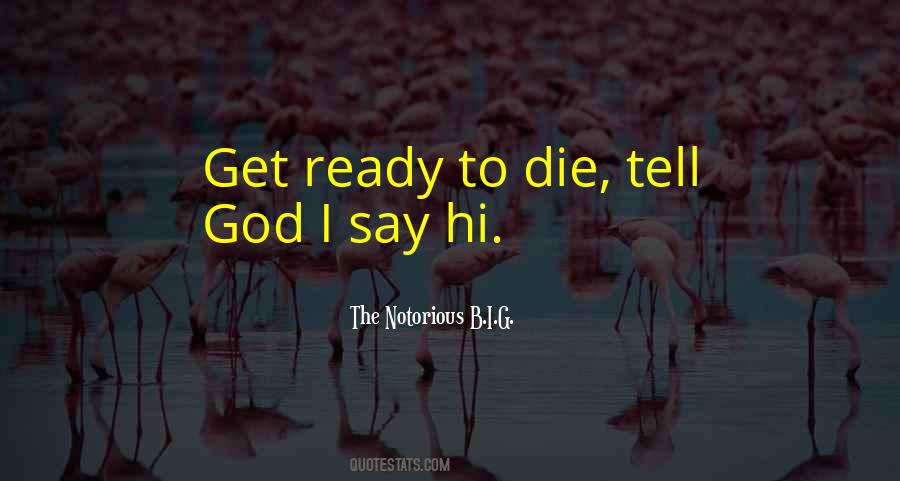 #26. I have always done my duty. I am ready to die. My only regret is for the friends I leave behind me. - Author: Zachary Taylor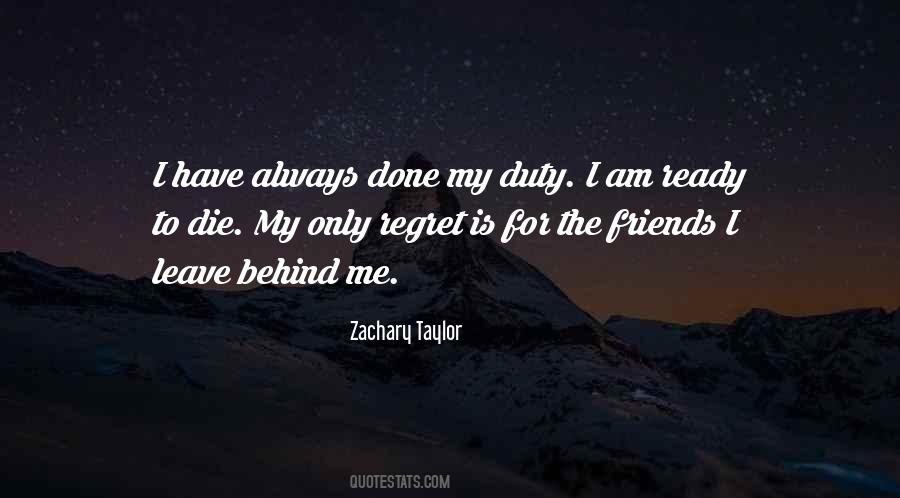 #27. Idiots, don't get ready to die, get ready to kill (Shuri, Basara, Vol. 9) - Author: Yumi Tamura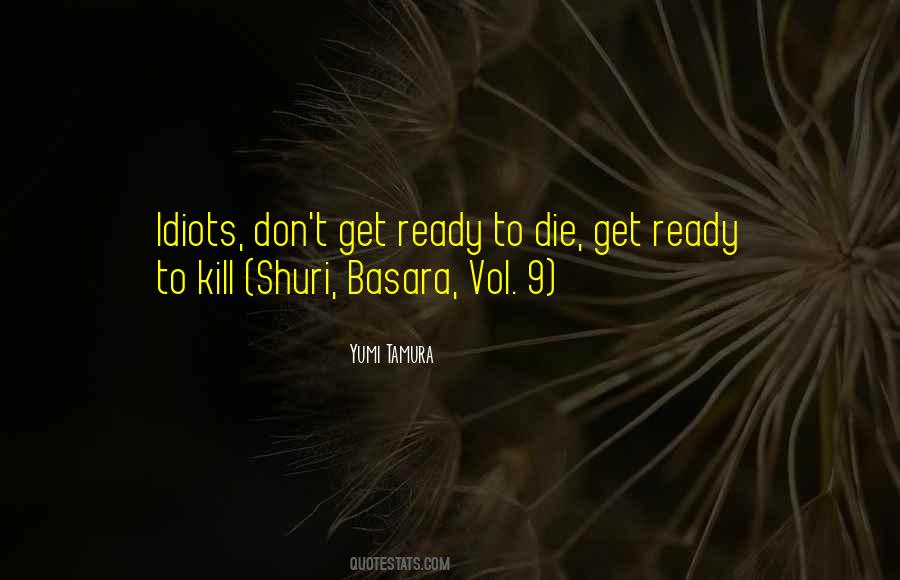 #28. Perhaps everyone had their own way of preparing to die. Life got you ready. - Author: Lorrie Moore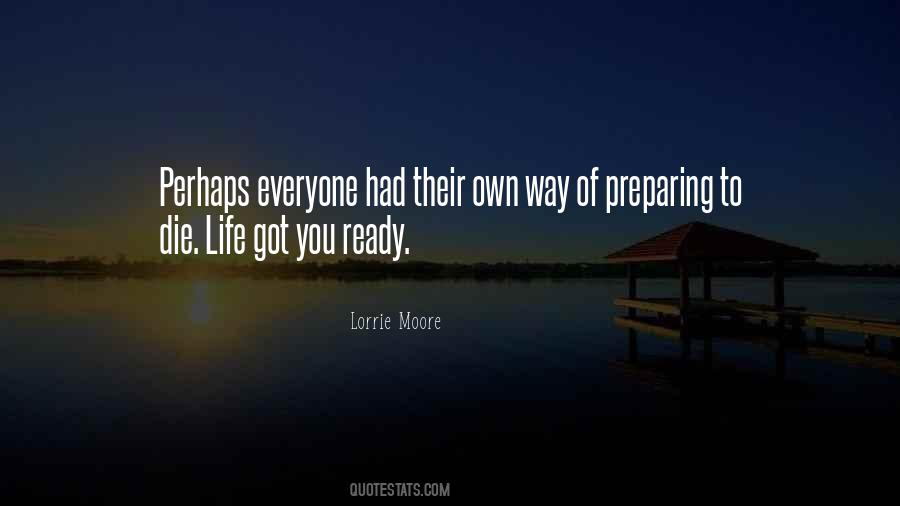 #29. You work for the devil, you better be ready to die for him. - Author: Garth Ennis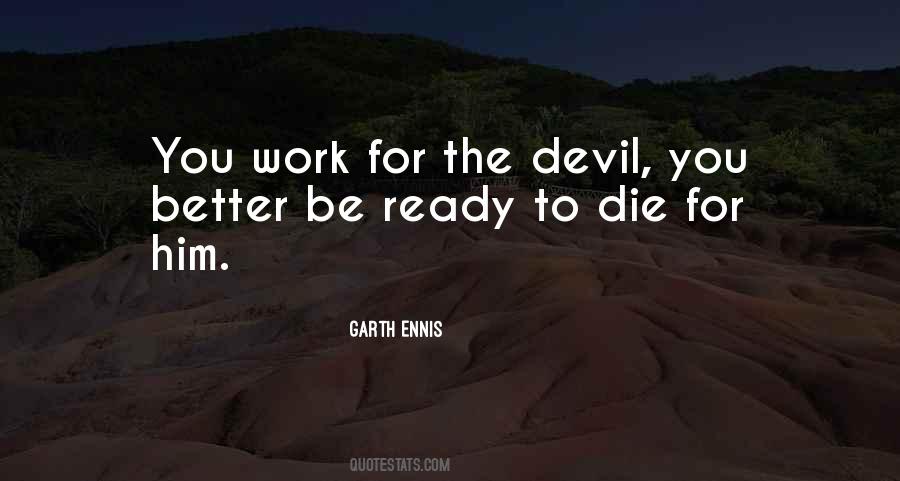 #30. Youth is feeling seventy years old, misanthropic, and ready to die at fifteen - Author: Nikolai Grozni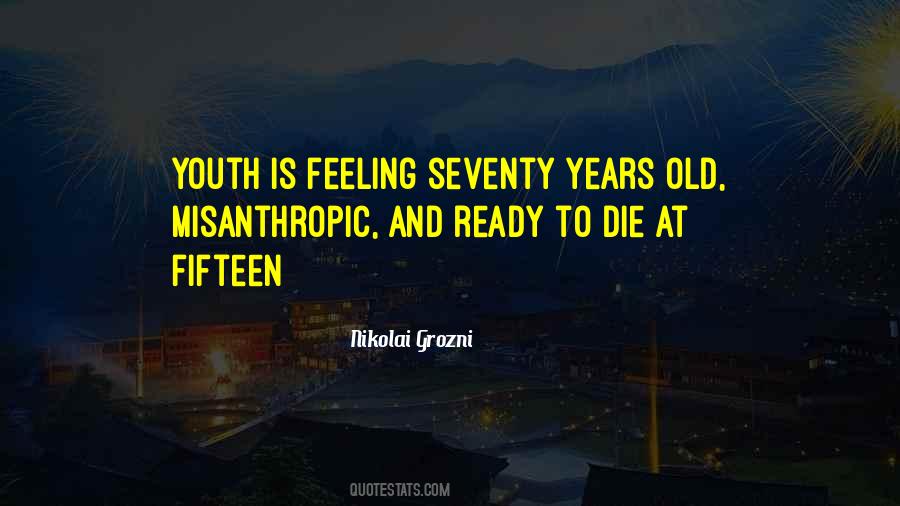 #31. For love, we live
For love, we die
For love, we dream and get ready to be lied - Author: Yarro Rai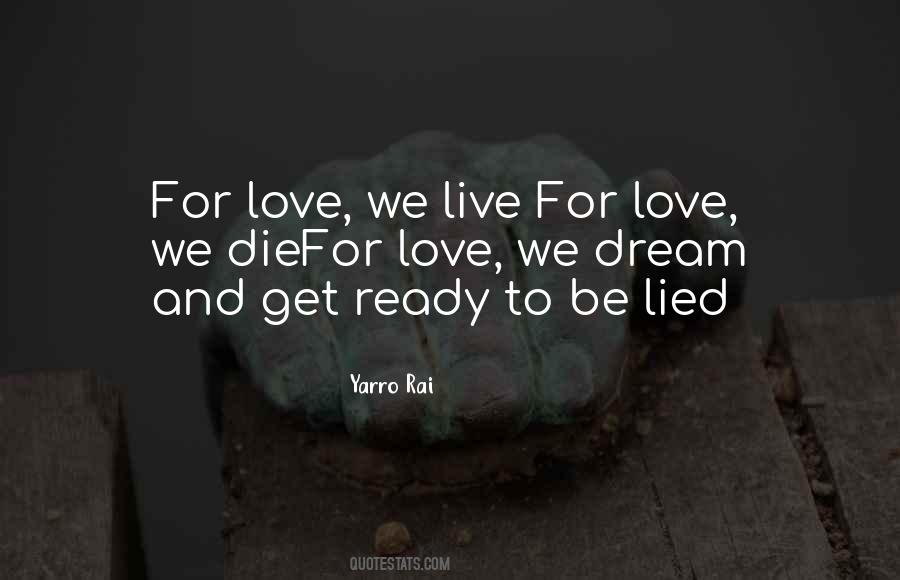 #32. Mormons can testify whether I am willing to lay down my life for a Mormon; If it has been demonstrated that I have been willing to die for a Mormon I am bold to declare before heaven that I am just as ready to die for a Presbyterian, a baptist or any other denomination. - Author: Joseph Smith Jr.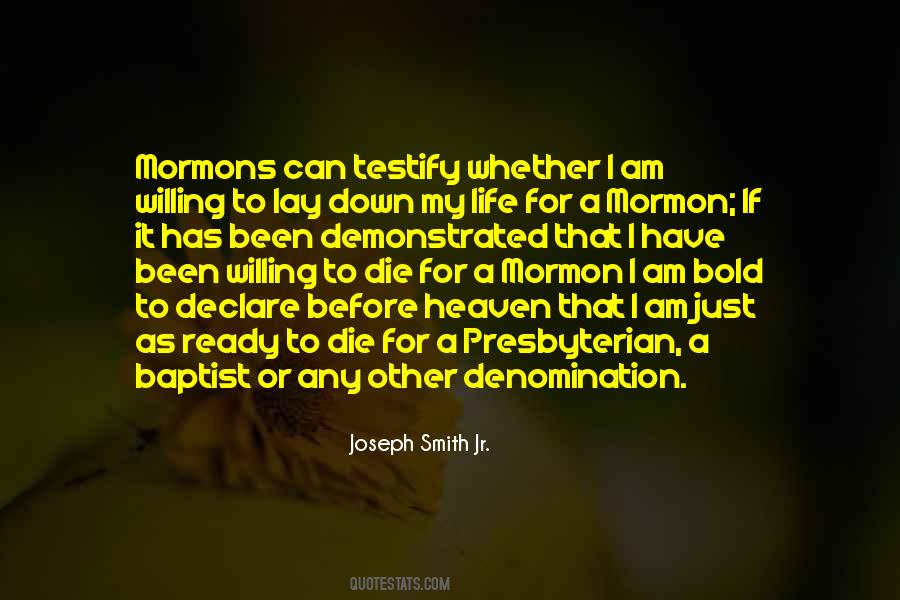 #33. I'm so not ready to die. It petrifies me. I go alone. I go to a place I don't know. It might be painful. It might be the end. My thought is that it is the end. I become nameless, and I spent a lifetime being known. - Author: William Shatner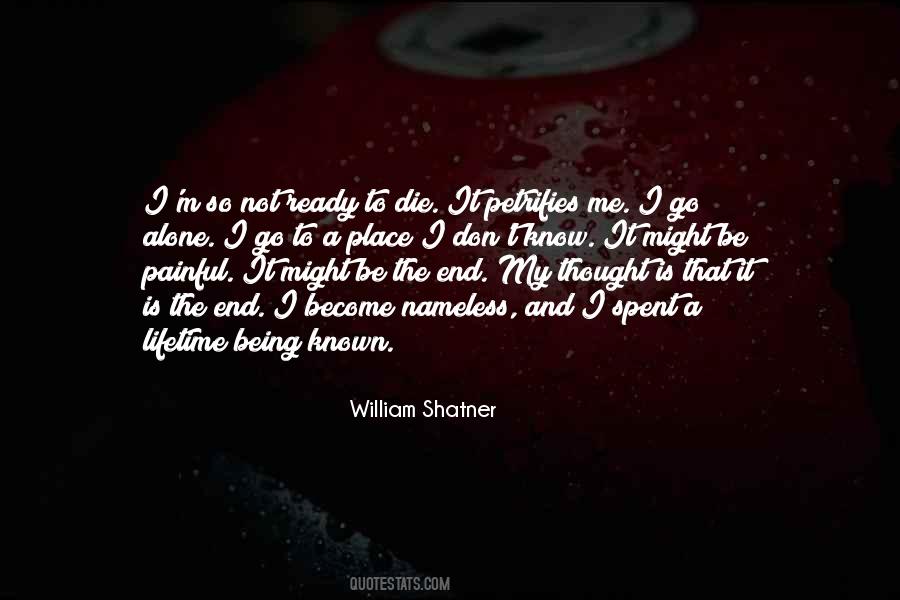 #34. You came to the earth with loads of inspirations and influence. Dare to offload them out of you before you die. Give out all you carry along into the world and when you are ready to go back, go empty handed! - Author: Israelmore Ayivor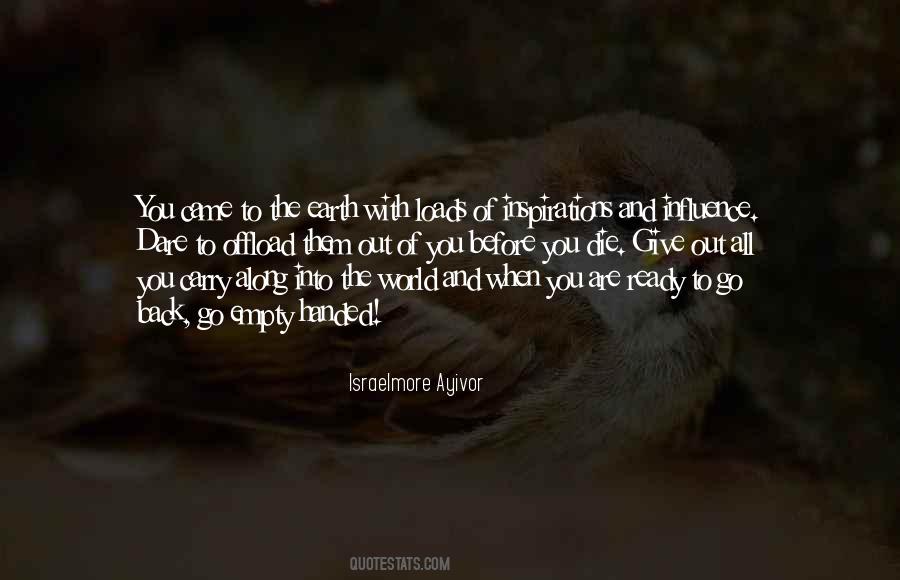 #35. I'm not afraid to die, for I know the joys of heaven are waiting. My greatest desire is to live today in anticipation of tomorrow and be ready to be welcomed into His home for all eternity. Will you be making the journey with me? - Author: Billy Graham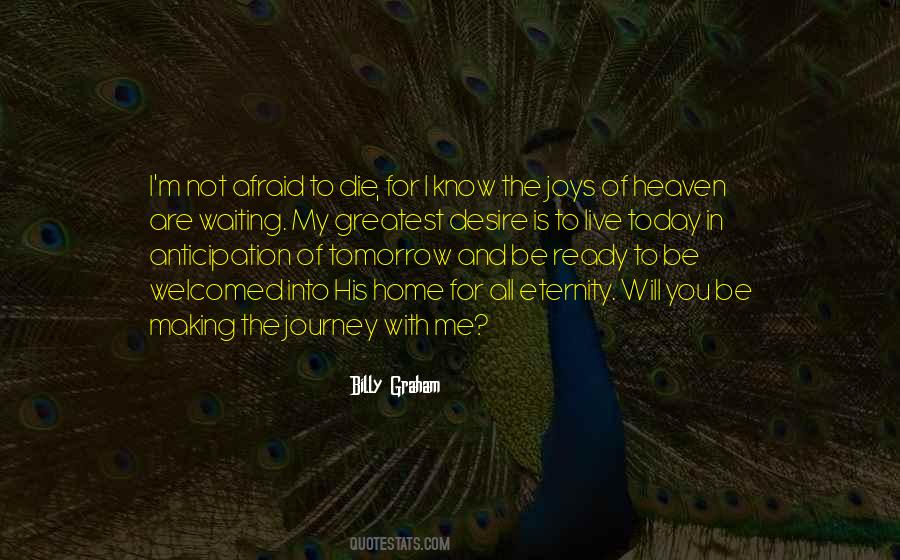 #36. I know that words cannot move mountains, but they can move the multitude - we've proven that time and time again. People are more ready to fight and die for a word than for anything else. Words shape thought, stir feeling, and force action. They kill and revive, corrupt and cure. - Author: Dan Abnett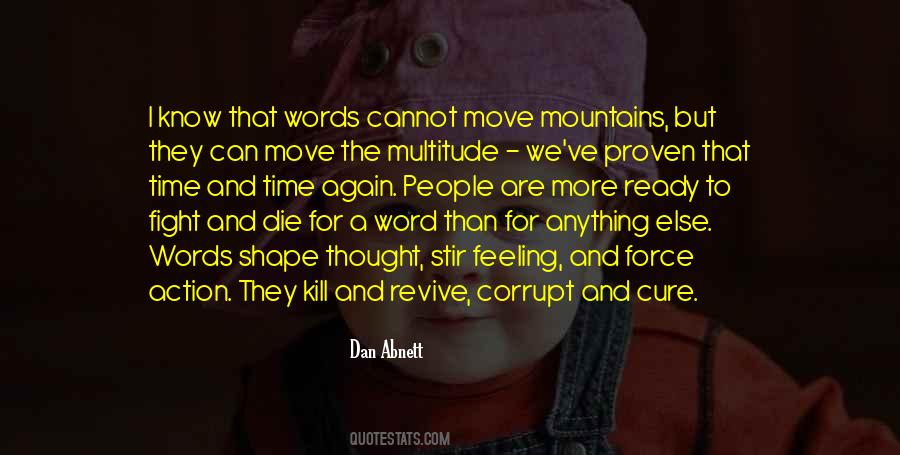 #37. Men are always ready to die for us, but not to make our lives worth having. Cheap sentiment and bad logic. - Author: Louisa May Alcott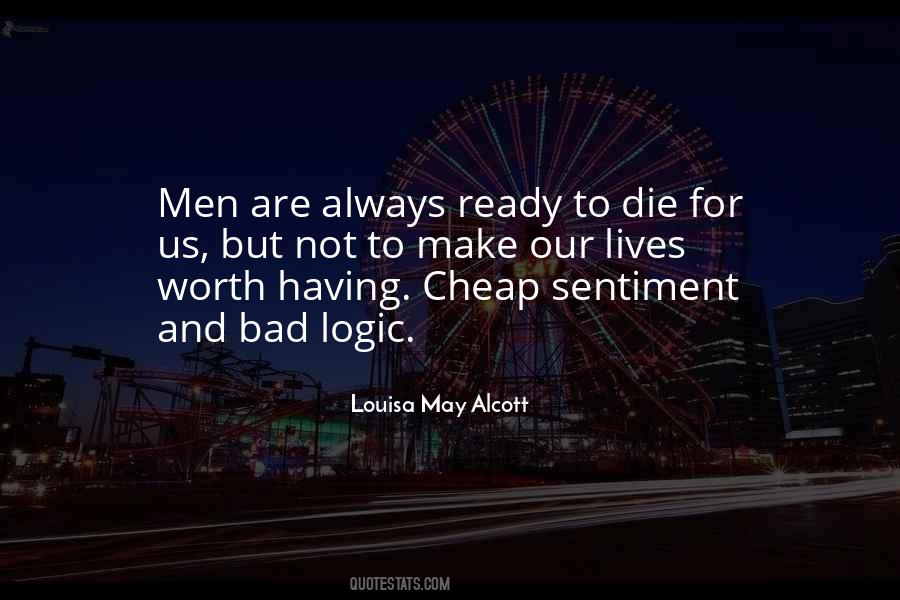 #38. You won't understand life and death until you're ready to set aside any hope of understanding life and death and just live your life until you die. - Author: Brad Warner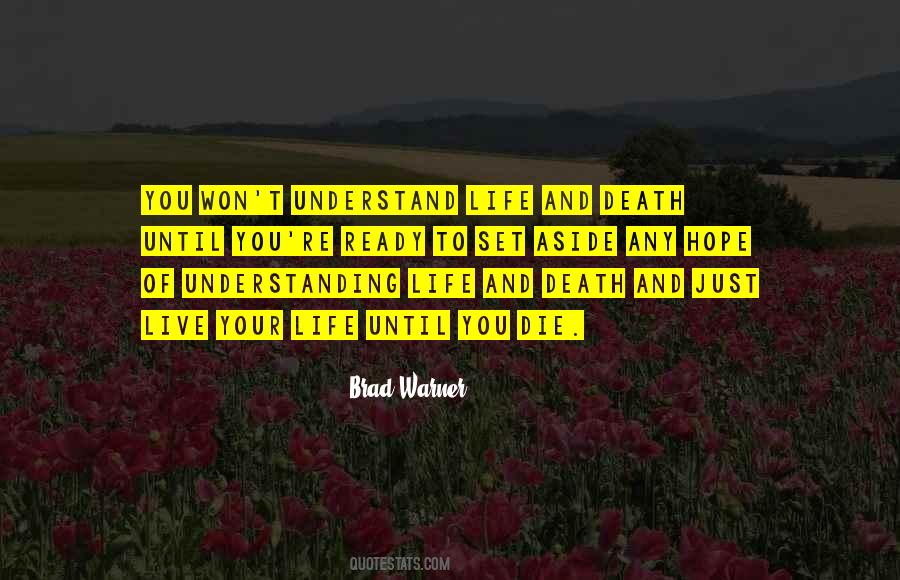 #39. The golden flower blooms if you are ready to die to the past, if you are utterly in the present. And you can be utterly in the present only if you have no desire to be anywhere else in the future, if you have no desire to be somebody else. This I call enlightenment. - Author: Osho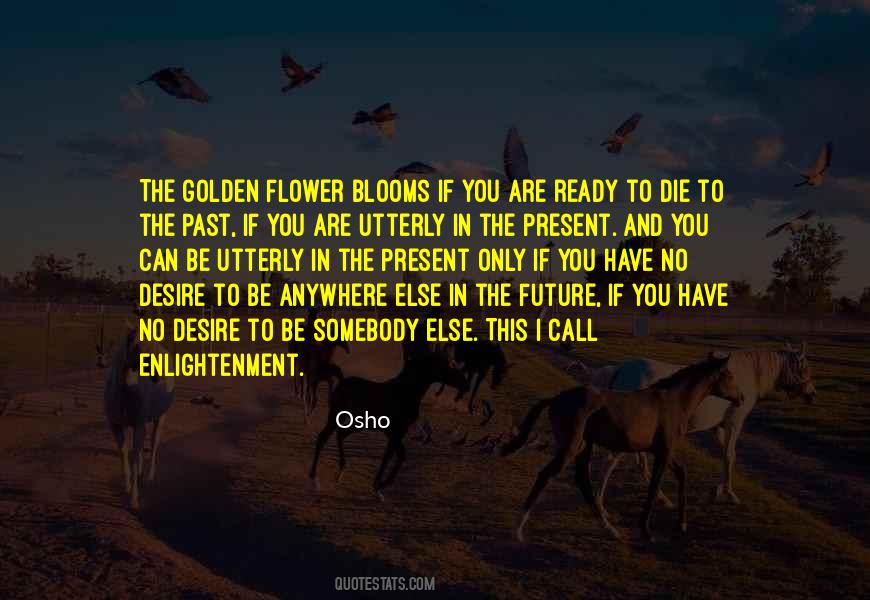 #40. I didn't really want to die; I just wasn't ready to live. I was merely surviving ... one reluctant heartbeat at a time. - Author: Wendi Cassel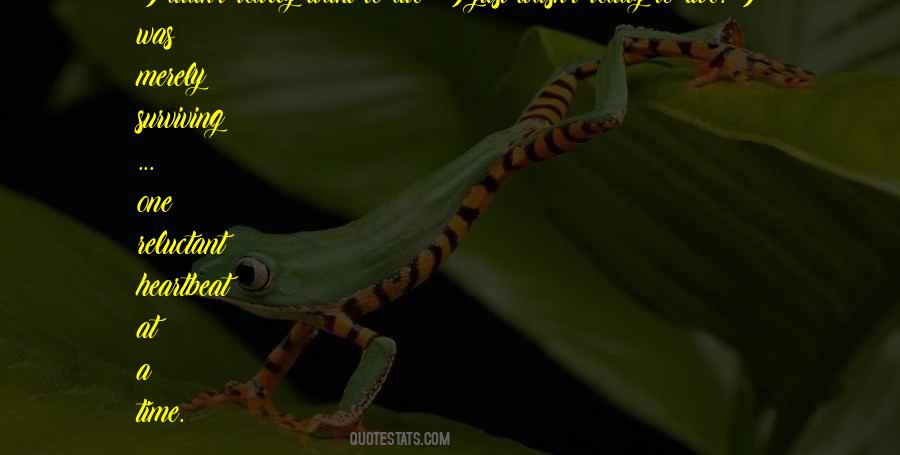 #41. Billions of dreams die off every year. I believe yours will not be part of that proportion if only you are ready to shape them! - Author: Israelmore Ayivor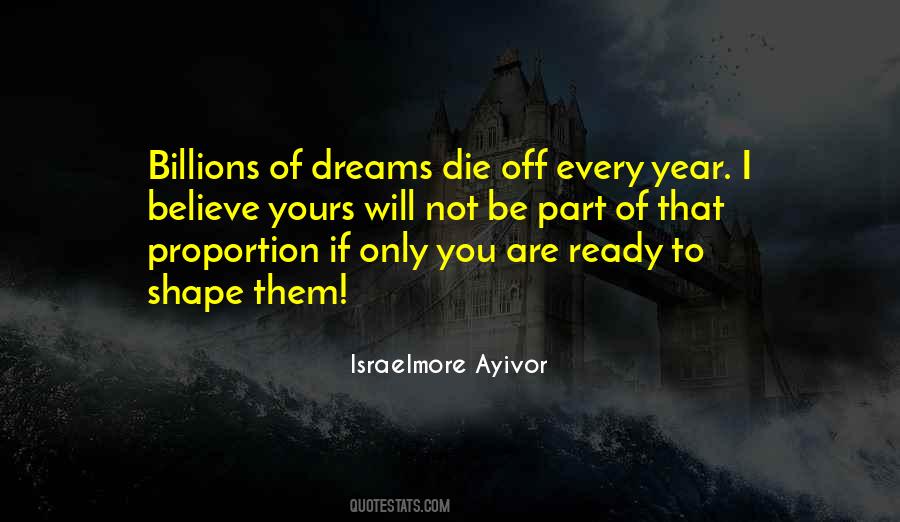 #42. The day you were born, it was already written down the day you're gonna check out. Now, I'm not gonna throw myself under a truck, but I'm not gonna worry about when I die. I'm ready to move on when that day comes. - Author: Carroll Shelby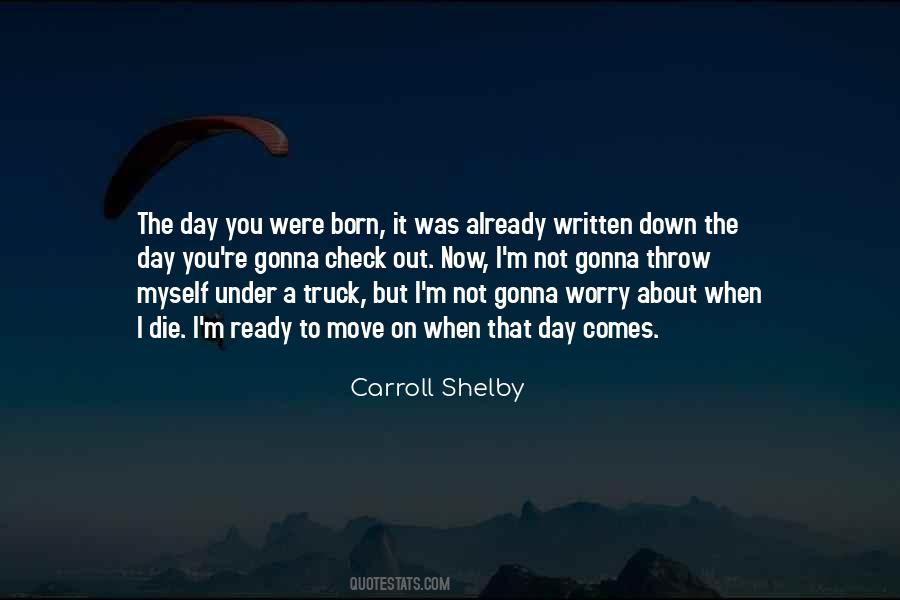 #43. There's a thing I've dreamed of all my life, and I'll be damned if it don't look like it's about to come true-to be King of the Zulu's parade. After that, I'll be ready to die. - Author: Louis Armstrong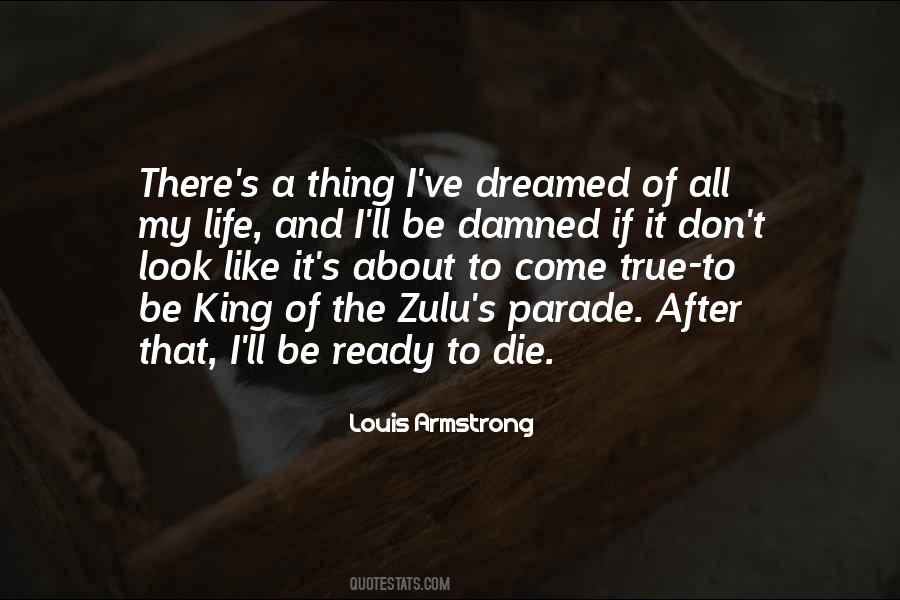 #44. For what lover would not choose rather to be seen by all mankind than by his beloved, either when abandoning his post or throwing away his arms? He would be ready to die a thousand deaths rather than endure this. - Author: Plato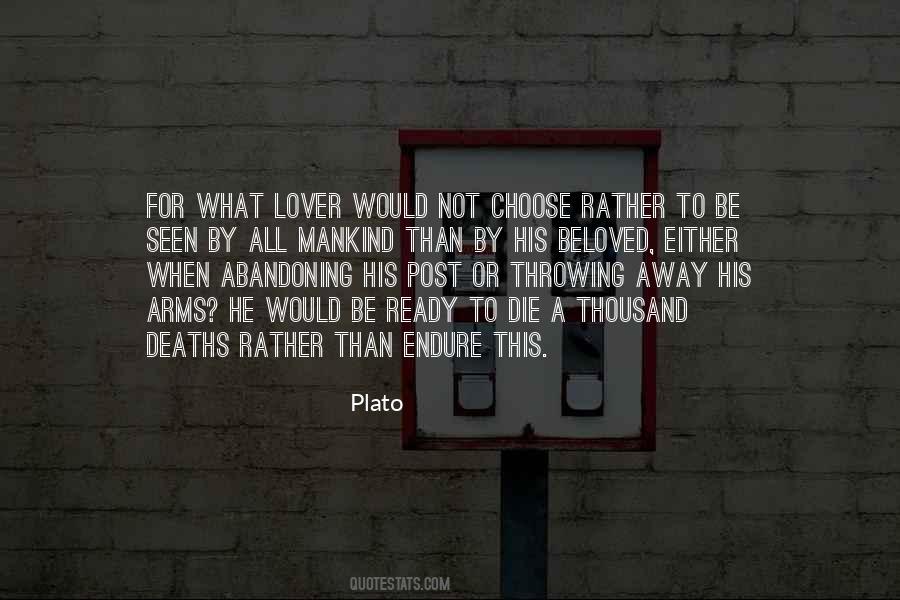 #45. We are ready to die for an opinion but not for a fact: indeed, it is by our readiness to die that we try to prove the factualness of our opinion. - Author: Eric Hoffer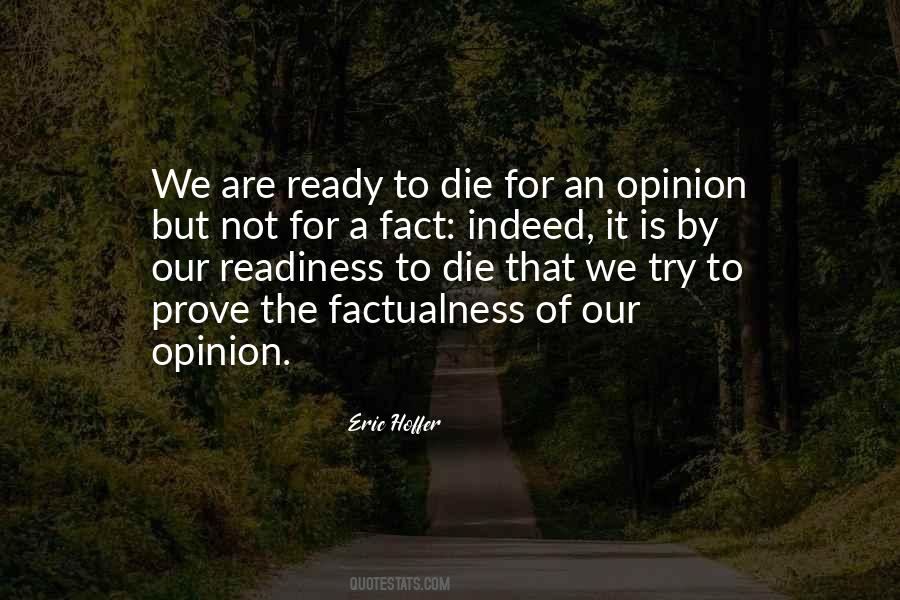 #46. A samurai never worries about losing his life. He worries about losing his honour. Being shamed is far worse than losing your life. A samurai is always ready to die - for his lord, for his honour. That's the samurai way - Author: Lesley Downer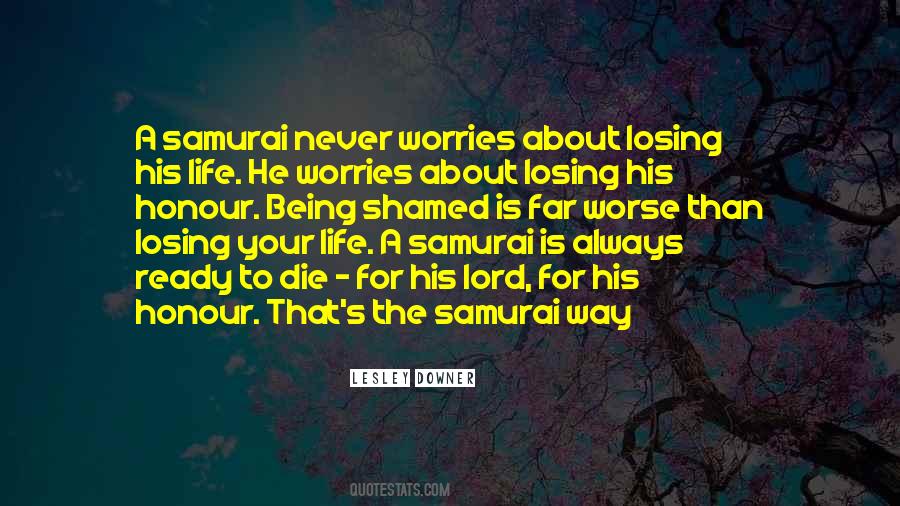 #47. I thought I was going to die. I was a teenager. It was the hardest thing I'd ever gone through. It'd be contradictory if I said I wasn't pro-choice. I wasn't ready. I didn't have anything to offer a child. - Author: Nicki Minaj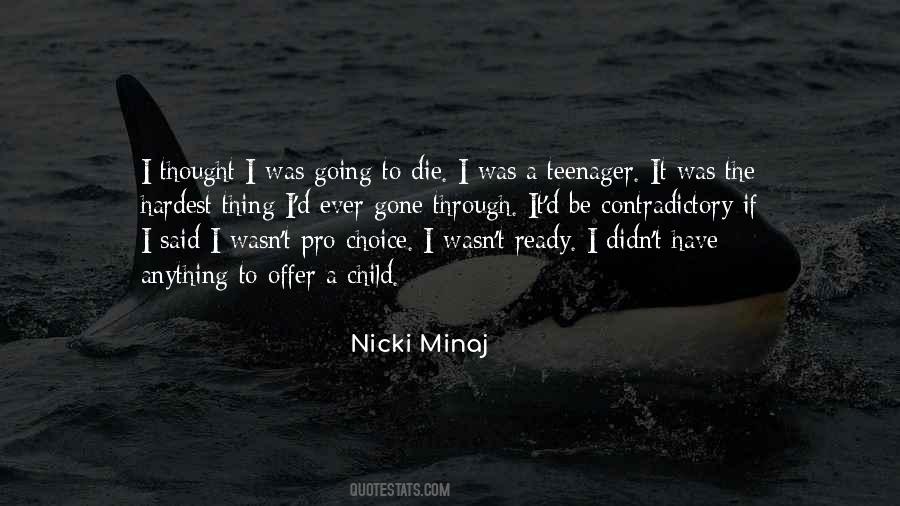 #48. My mistress has come home; at last I've seen her. Now I'm ready to die. - Author: Anton Chekhov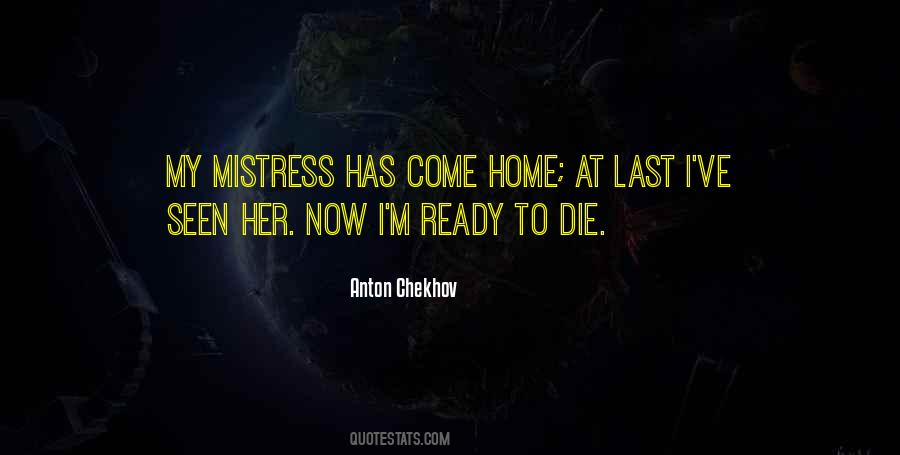 #49. He who is ready to die for his country is a fool. For he didn't choose where he was born; and where he was born didn't choose him. - Author: Mokokoma Mokhonoana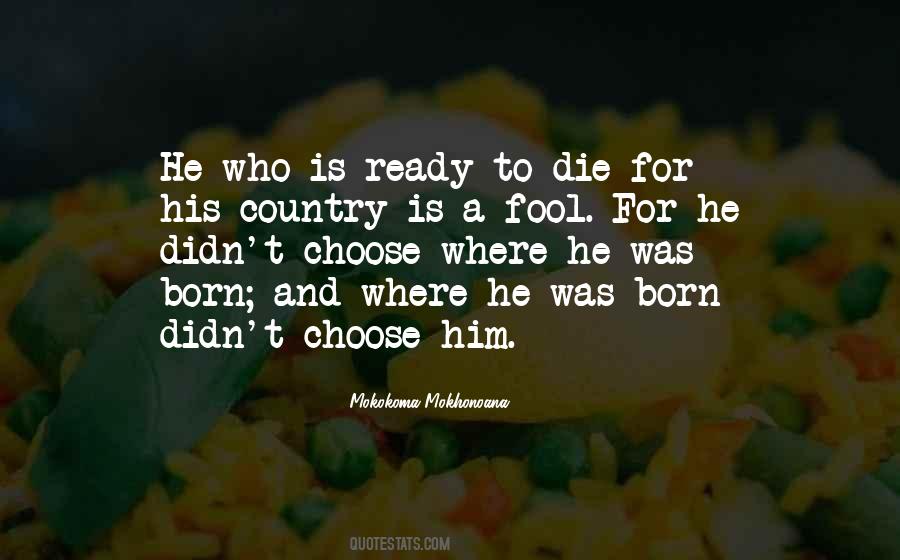 #50. For having expressed an opinion, however far-fetched, we straightway become its slave, ready to die defending it, and even ready to believe it. And many continue to be martyrs to causes which have ceased to exist, their crowns rusting upon their heads as tin wreaths rust upon forgotten tombs. - Author: Paul Eldridge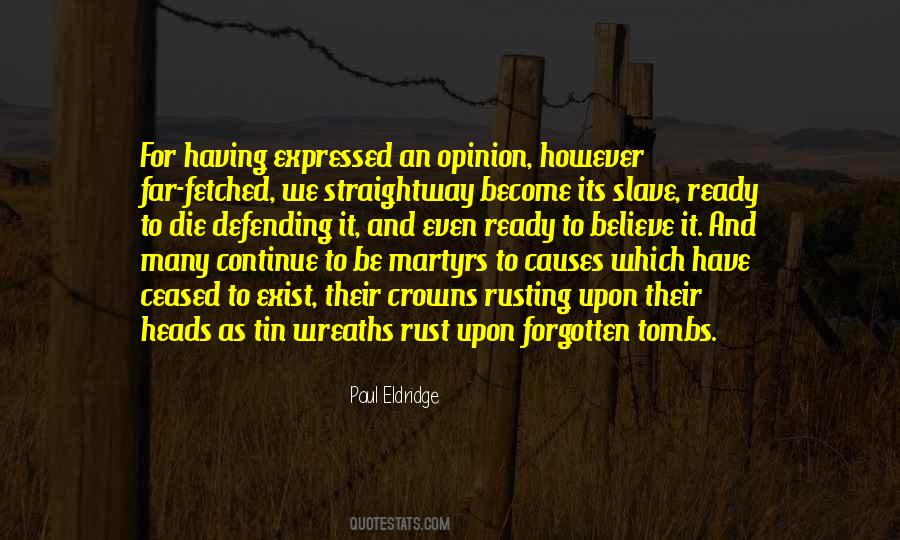 #51. All the body wants to do biologically is decompose. Once you die, it's, 'Let me out here! I'm ready to shoot my atoms back into the universe!' - Author: Caitlin Doughty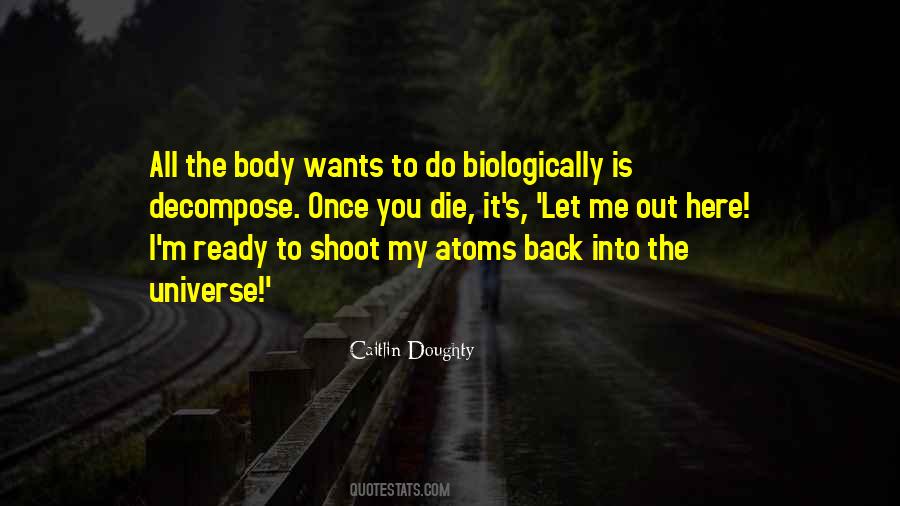 #52. Man is ready to die for an idea, provided that idea is not quite clear to him. - Author: Paul Eldridge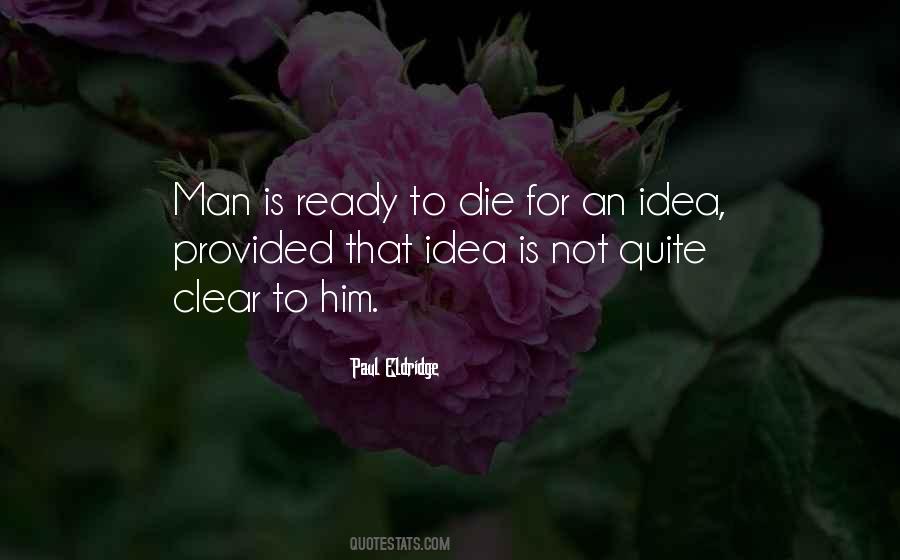 #53. Many people die with their music still in them. Too often it is because they are always getting ready to live. Before they know it time runs out. - Author: Oliver Wendell Holmes, Sr.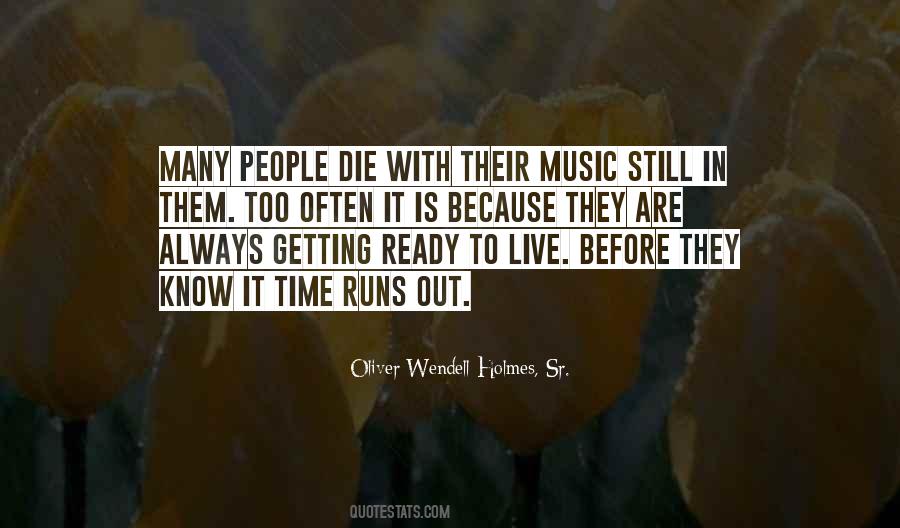 #54. I don't think we are ready to die, any of us, not without being escorted. - Author: J.M. Coetzee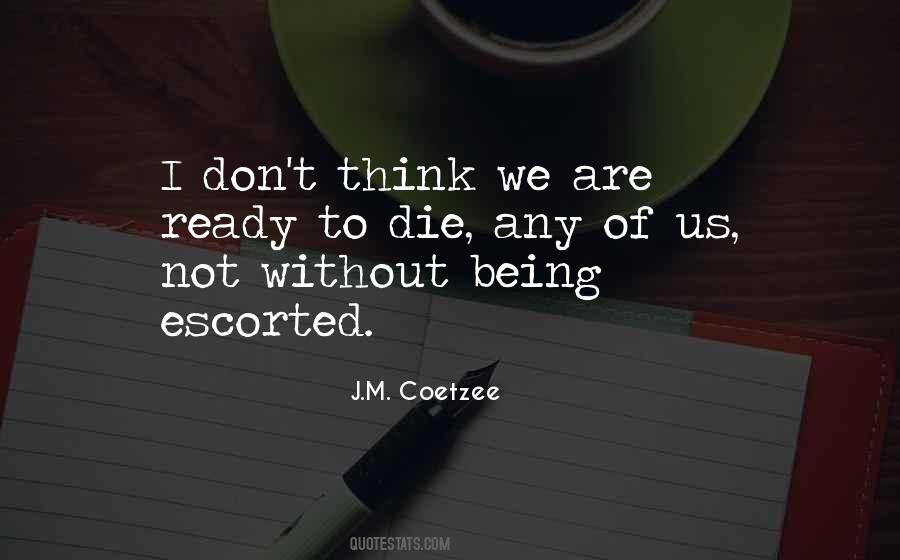 #55. When you have been born in a war like me, living in a war as a child, when you have been in wars as a war correspondent all your life - trust me! You develop a form of fatalism; you are always ready to die. - Author: Oriana Fallaci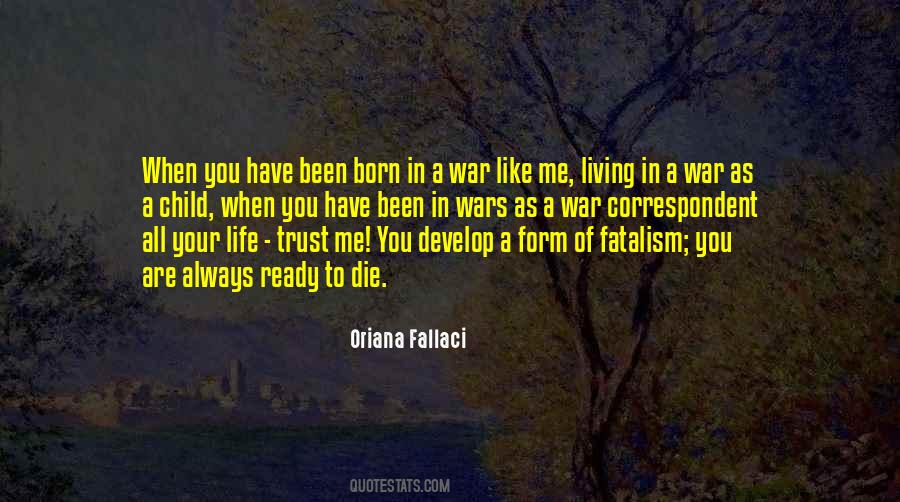 #56. If it's true your life flashes past your eyes before you die, then it is also the truth that your life rushes forth when you are ready to start to truly be alive. - Author: Amy Hempel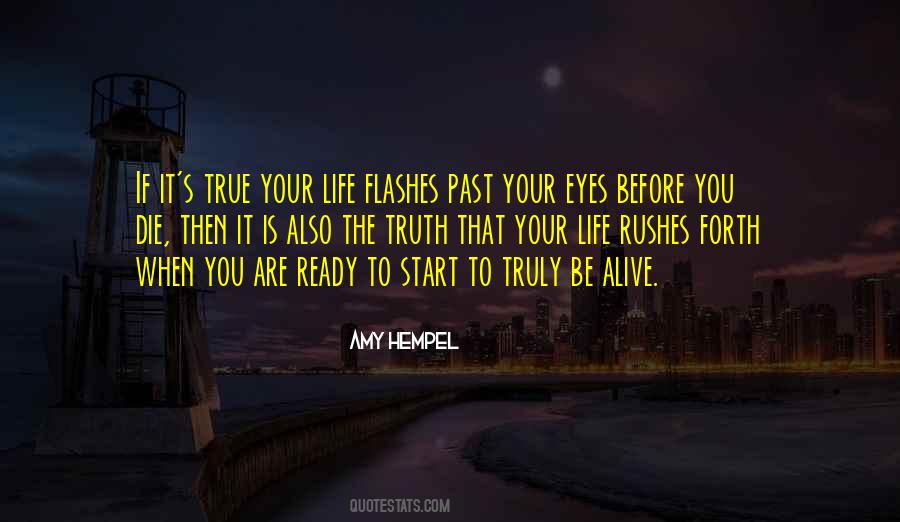 #57. Everybody's scared for their ass. There aren't too many people ready to die for racism. They'll kill for racism but they won't die for racism. - Author: Florynce Kennedy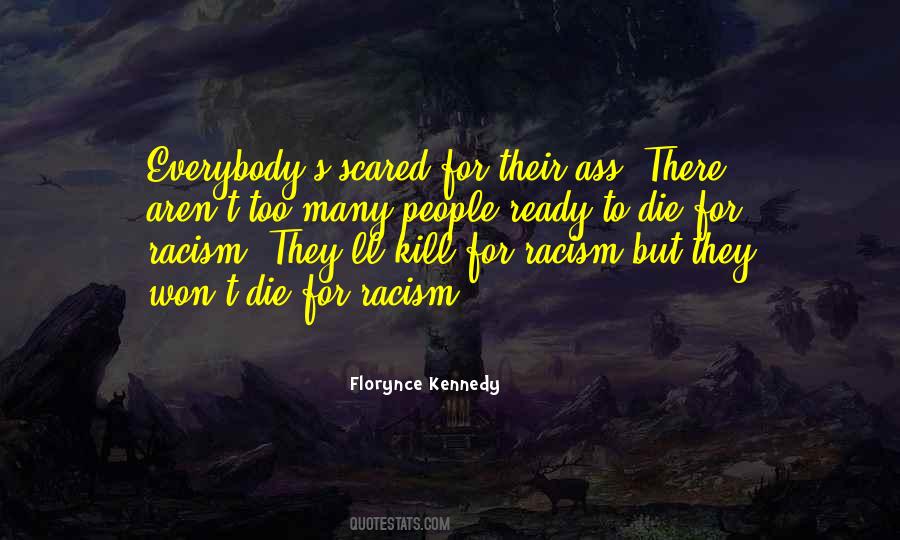 #58. Power does not always shout its presence, my Lady, and each of the two hundred men armed behind you on this road represent a thousand more ready to die at your command. Every word you speak has the weight of those men. - Author: Jean Gill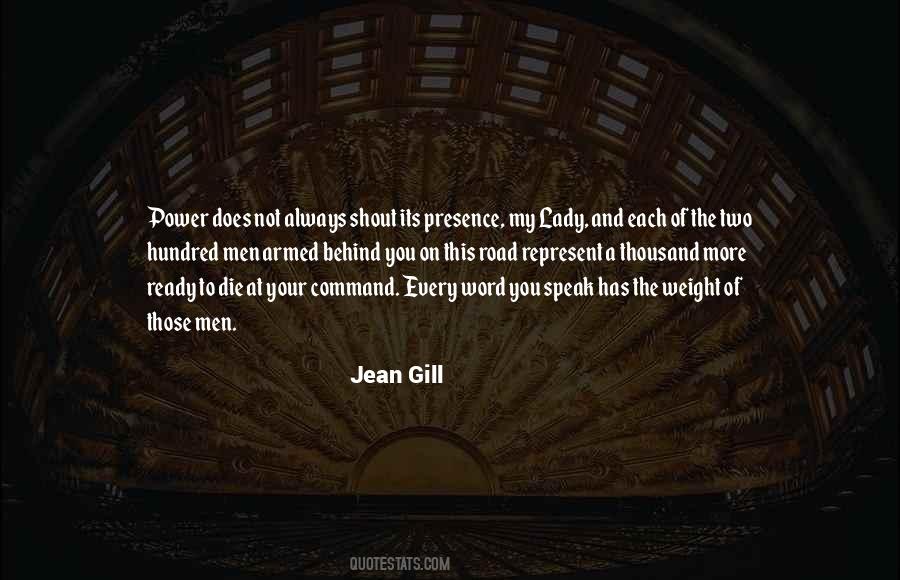 #59. I am ready to die out of nature, and be born again into this new yet unapproachable America I have found in the West. - Author: Ralph Waldo Emerson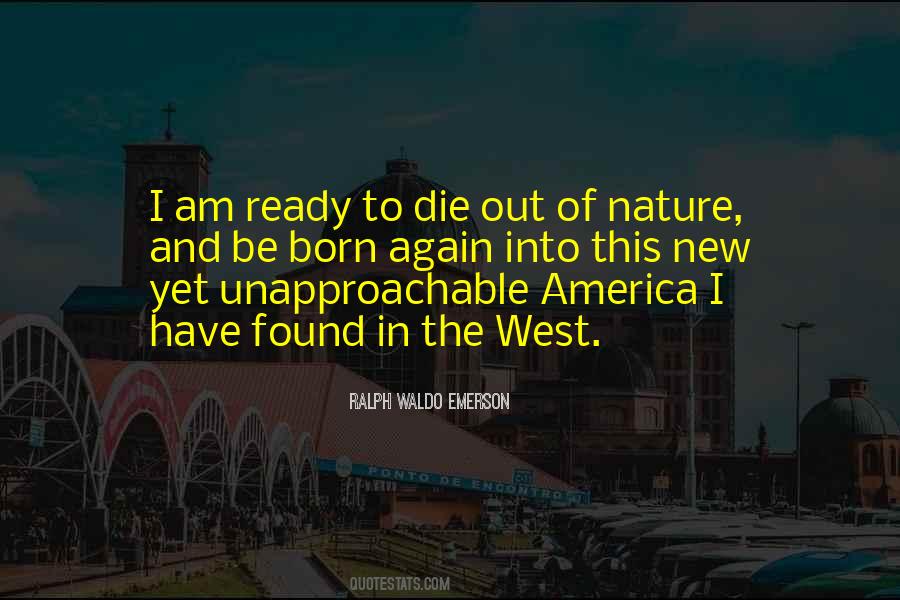 #60. So long as I can stay mentally alert - inquiring, curious - I want to keep going. I love my wife and my children, but I don't want to sit around at home with them. We go on safaris and things like that. I can do that for a couple of weeks a year. I'm just not ready to stop, to die. - Author: Rupert Murdoch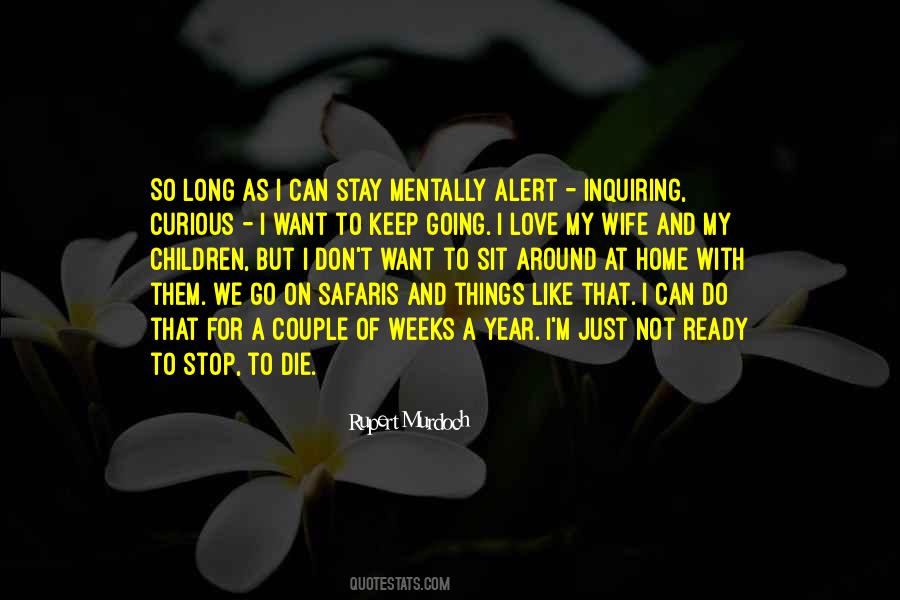 #61. No matter how long the preparation,
you will never feel ready to write an
exam, to start a business, to be parent
or even to die. Just go for it. - Author: Moffat Machingura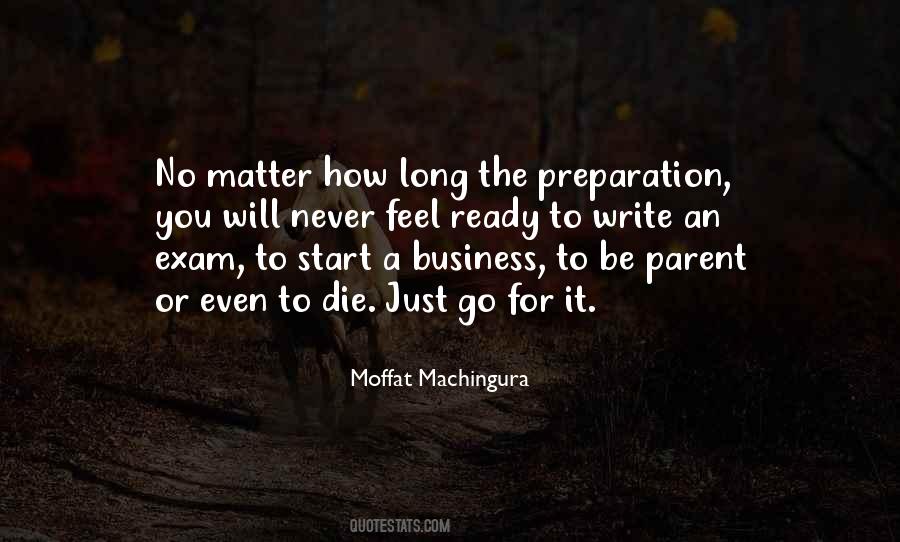 #62. It was a life I didn't want to leave behind.It was a life I didn't want to forget. - Author: Maggie Stiefvater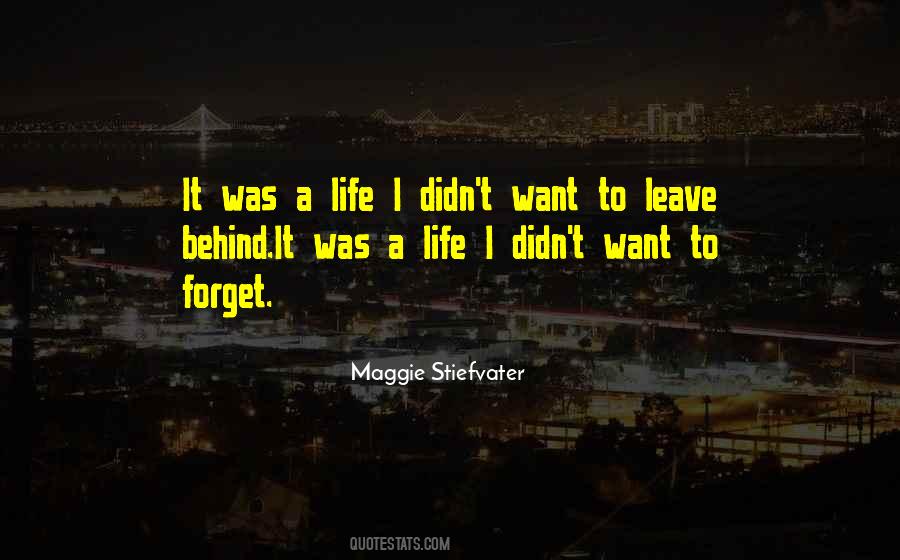 #63. When people are ready to, they change. They never do it before then, and sometimes they die before they get around to it. You can't make them change if they don't want to, just like when they do want to, you can't stop them. - Author: Andy Warhol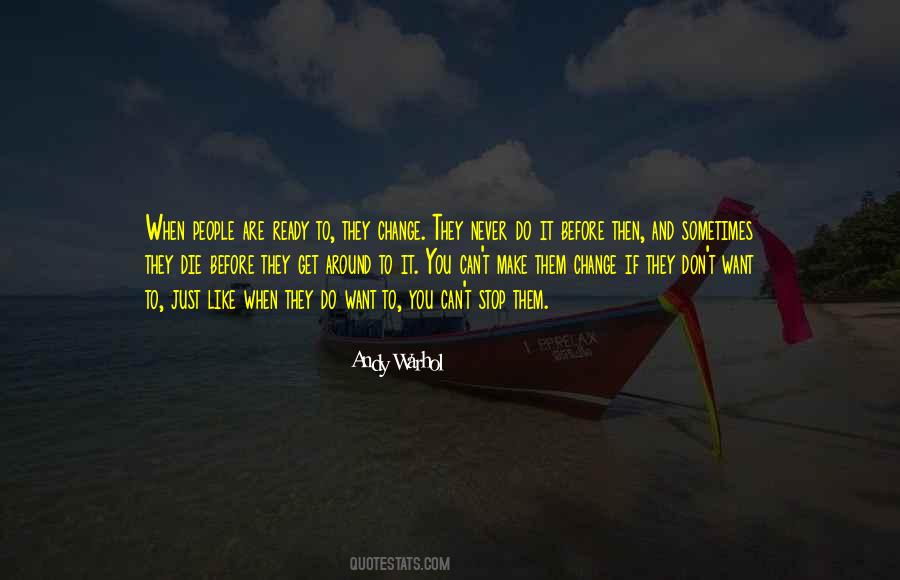 #64. When people die,' she said softly, 'It doesn't necessarily mean you're ready to give them up. - Author: C.A. Belmond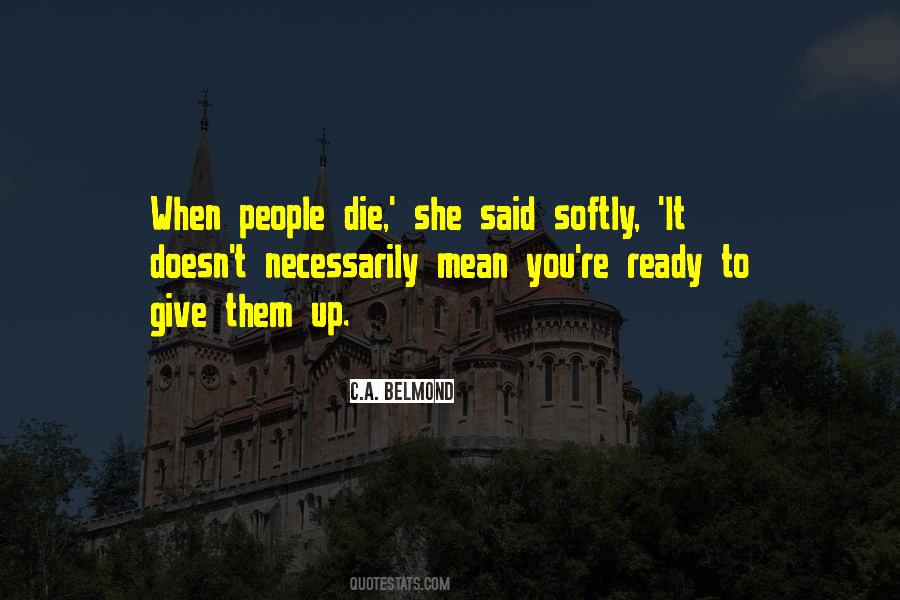 #65. Even if death were to fall upon you today like lightning, you must be ready to die without sadness and regret, without any residue of clinging for what is left behind. Remaining in the recognition of the absolute view, you should leave this life like an eagle soaring up into the blue sky. - Author: Dilgo Khyentse Rinpoche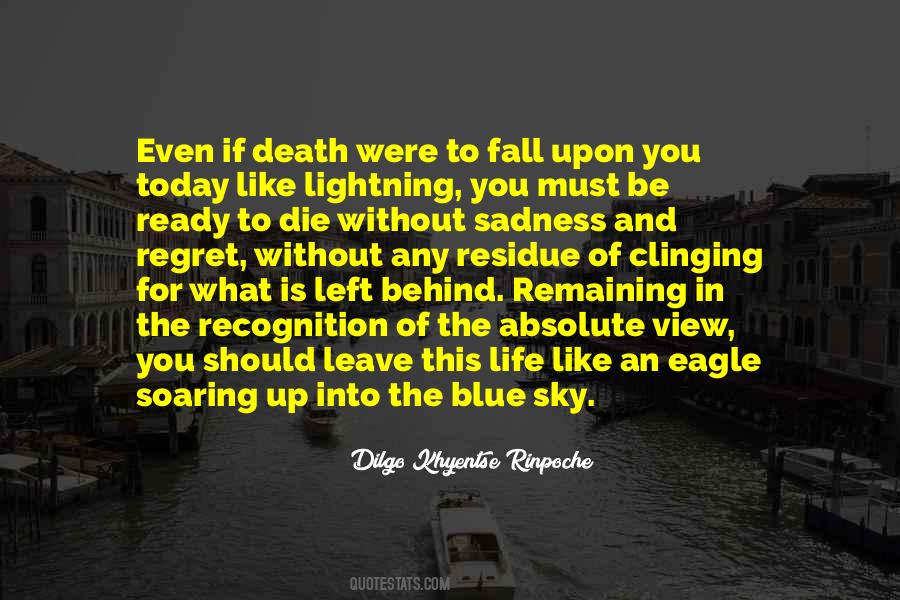 #66. If the snake sheds his skin before a new skin is ready, naked he will be in the world, prey to the forces of chaos. Without his skin he will be dismantled, lose coherence and die. Have you, my little serpents, a new skin? - Author: Tony Kushner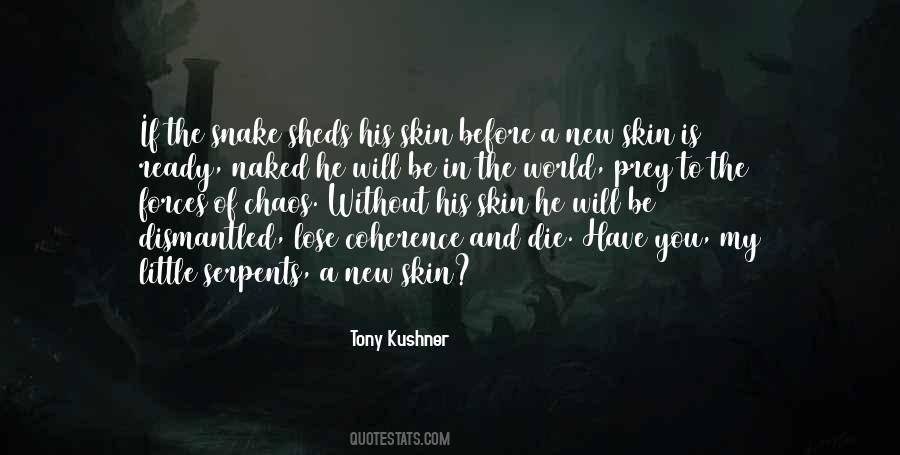 #67. It's so odd, isn't it? That know we are all going to die, & that we have these difficult passages to go through with our parents & friends, & other people we love & care about who are also going to die, & yet it's almost as if we are never really ready. - Author: Kris Radish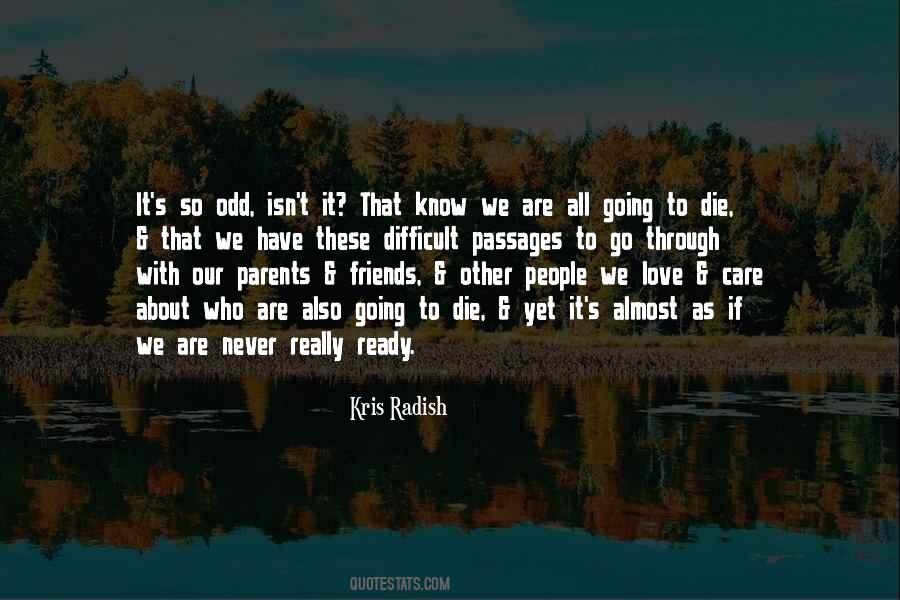 #68. You can work all your life and make all the waters in all the rivers on Earth drinkable, but if, when you die, you are not ready to meet God, it doesn't matter. - Author: Anne Graham Lotz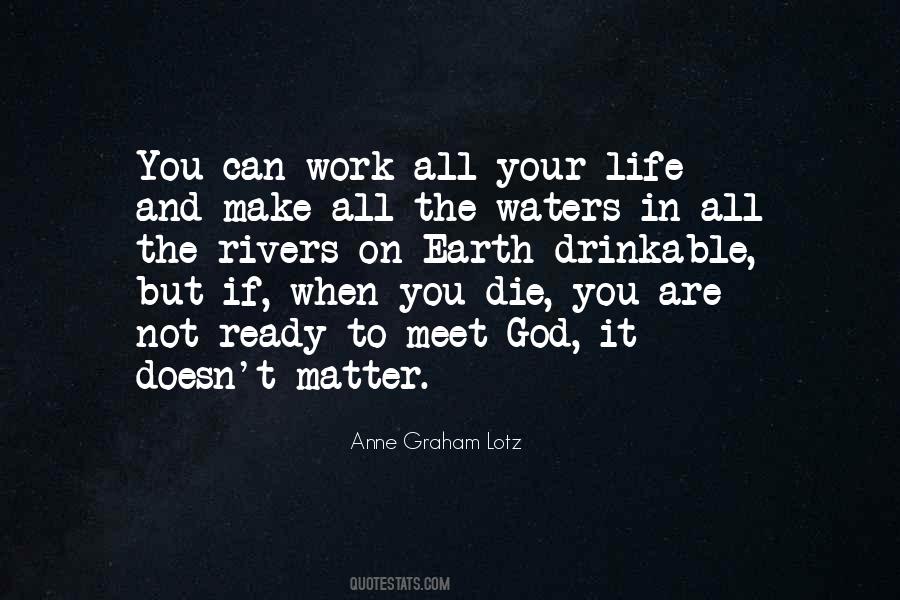 #69. Zsadist: I didn't make up the rules of this scenario
Wrath: You'll die if you go by yourself.
Zsadist: Well ... I'm kind of ready to get off the ride.
Phury felt his skin get tight all over. - Author: J.R. Ward
#70. The world has become lovelier. I am alone, and I don't suffer from my loneliness. I don't want life to be anything other than what it is. I am ready to let myself be baked in the sun till I am done. I am eager to ripen. I am ready to die, ready to be born again. The world has become lovelier. - Author: Hermann Hesse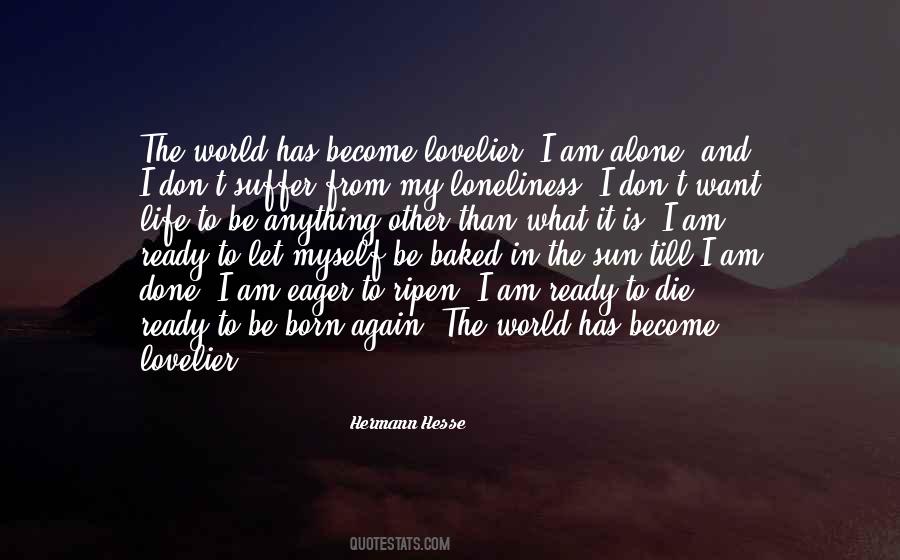 #71. Jesus invited us not to a picnic, but to a pilgrimage. He offered us, not an excursion, but an execution. Our Savior said that we would have to be ready to die to self, sin, and the world. - Author: Billy Graham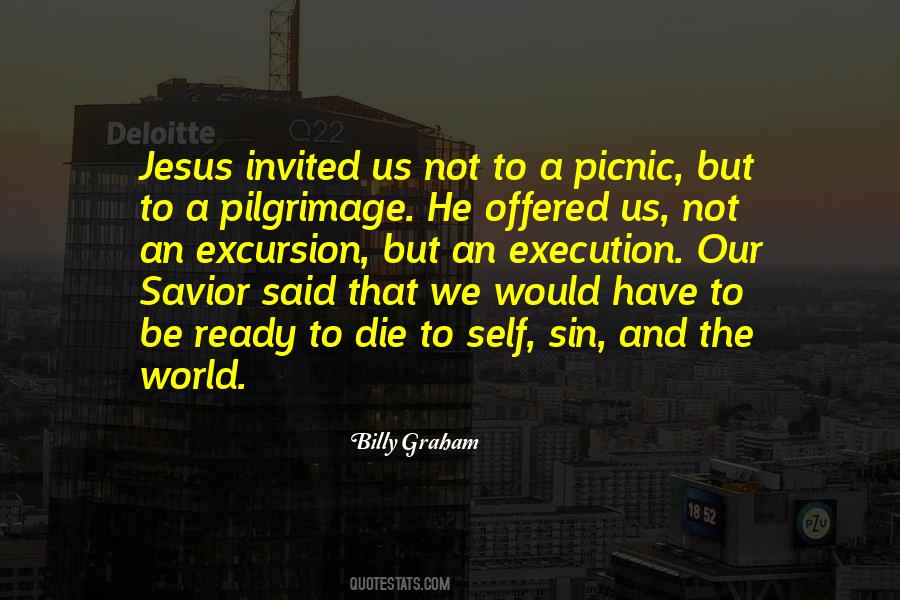 #72. Stars of love burn bright
'till they're ready to die
the broken spend their lives
staring at the sky - Author: Marina And The Diamonds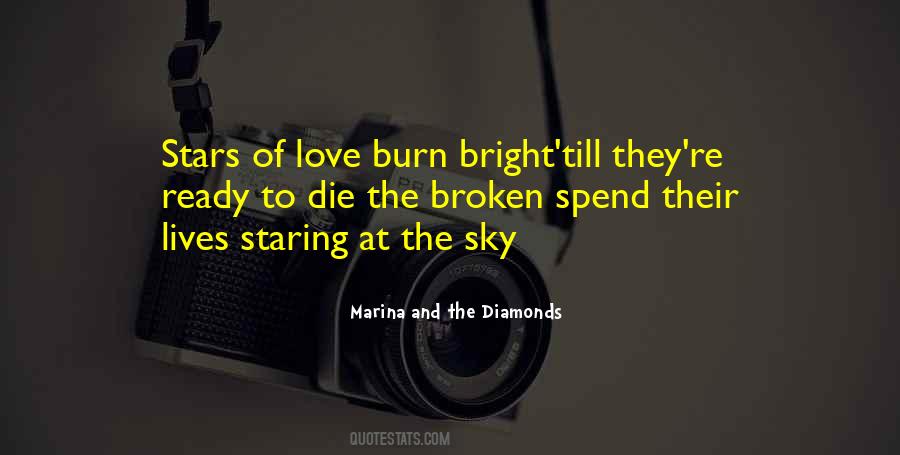 #73. A man really believes not what he recites in his creed, but only the things he is ready to die for. - Author: Richard Wurmbrand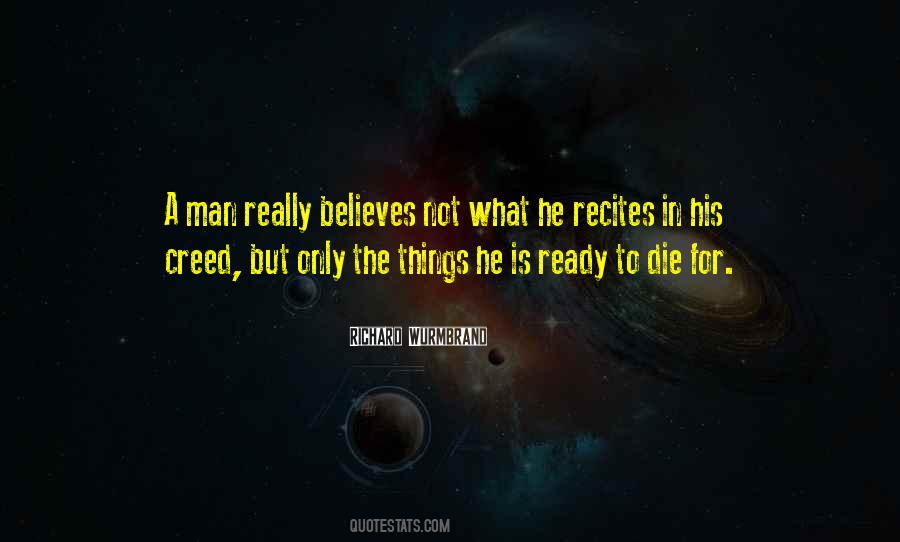 #74. I'm not ready to let the youthful part of myself go yet. If maturity means becoming a cynic, if you have to kill the part of yourself that is naive and romantic and idealistic - the part of you that you treasure most - to claim maturity, is it not better to die young but with your humanity intact? - Author: Kenneth Cain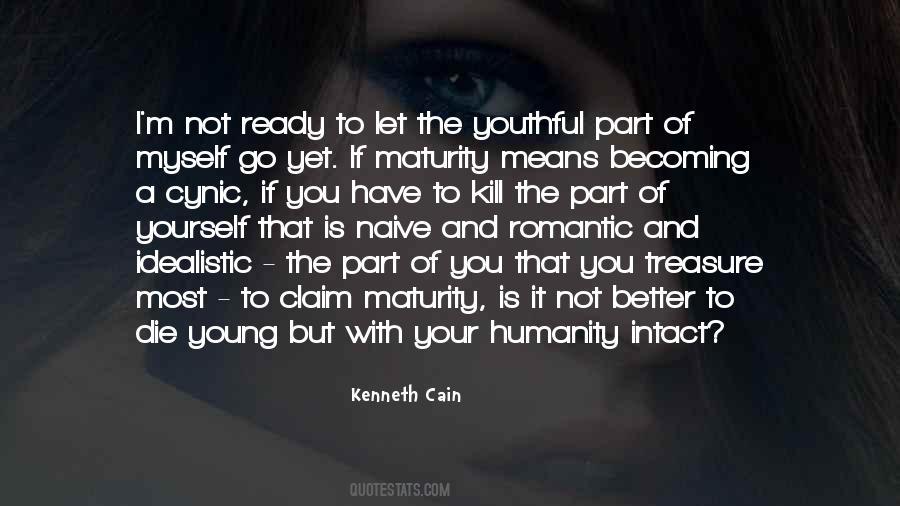 #75. I intend to live as a happy man, though I am not quite ready to live as one, which means I'm not quite ready to die; whatever it is, I'm working on it, trust me - Author: Glen Phillips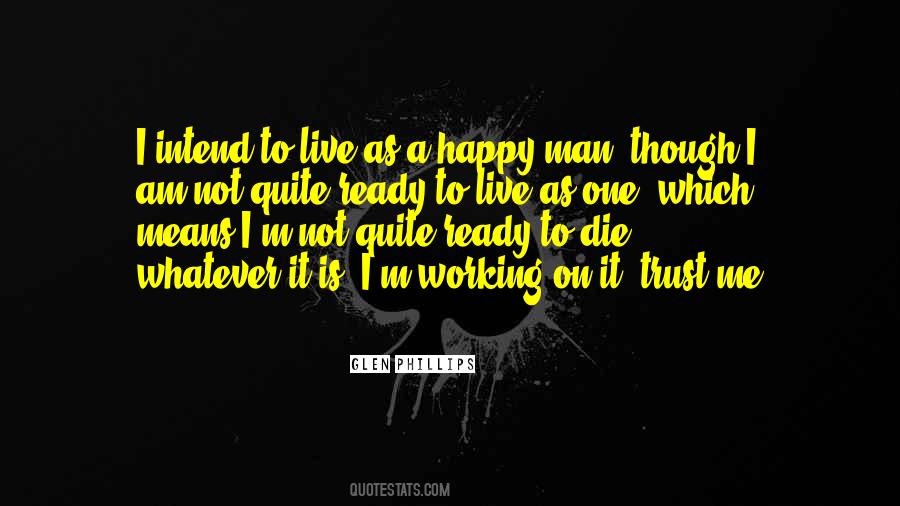 #76. The Count himself was ready to die, and he would be glad to die here alone, without pretence and mockery, with no troop of expectant relatives about his bed. The world was not what he had thought it at twenty
or even at forty. - Author: Willa Cather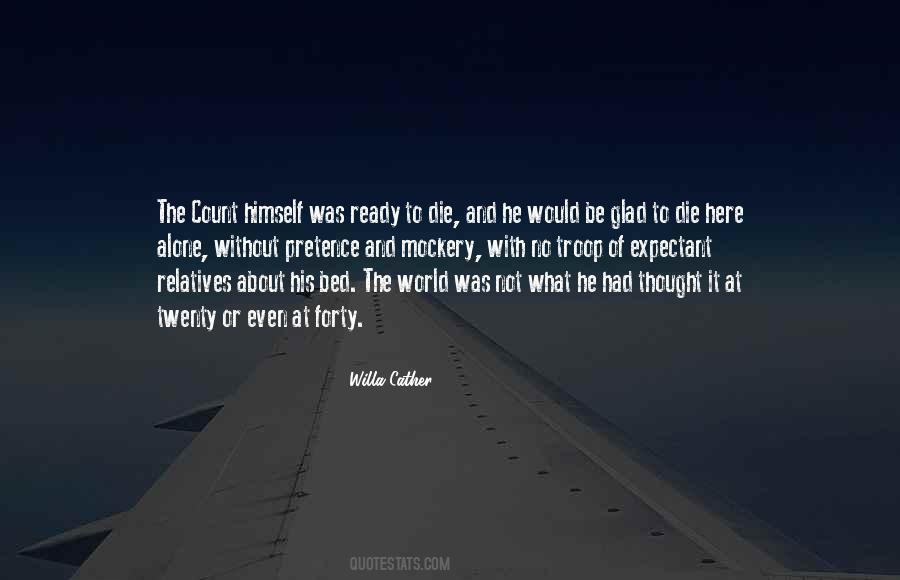 #77. If you feel that you're not ready to die, never fear; nature will give you complete and adequate assistance when the time comes. - Author: Edward Abbey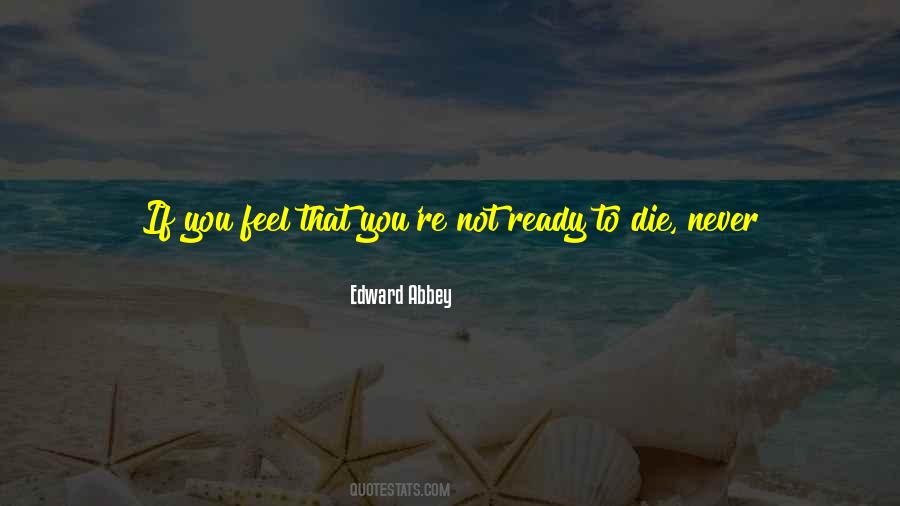 #78. Then I made her understand that, where she was concerned, I was only a poor dog, ready to die for her. But that she could marry the young man she pleased because she had cried with me, and mingled her tears with mine. ~ Erik - Author: Gaston Leroux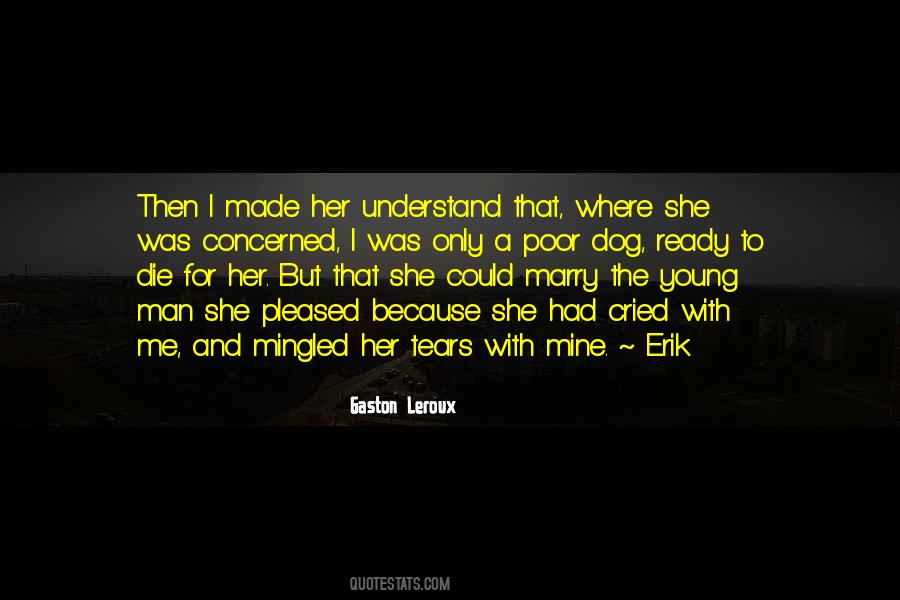 #79. With you I should love to live, with you be ready to die. - Author: Horace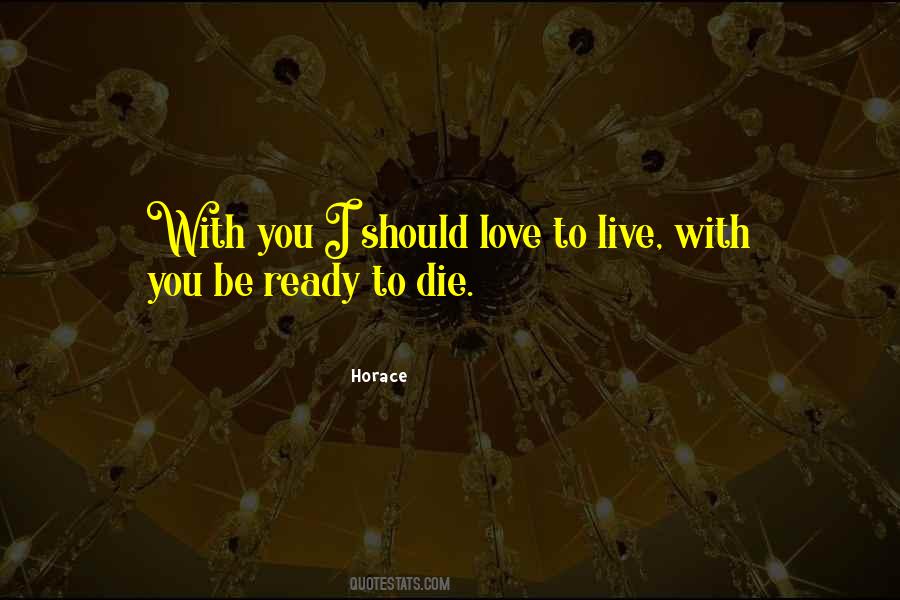 #80. It is good to live like this. Once you are ready to die, you do not suffer so badly from the horror. - Author: Chris Cleave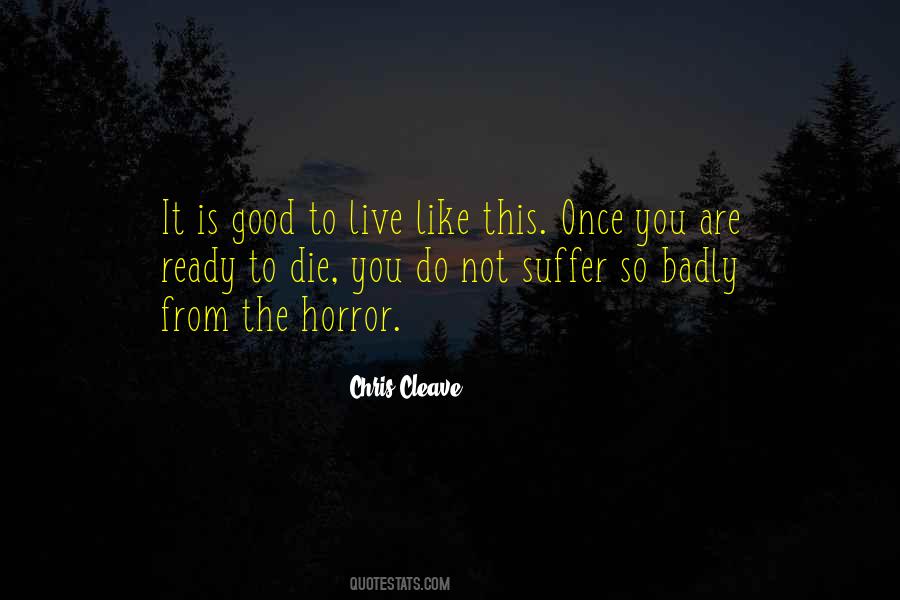 #81. We were all ready to die for the country but what we did not discover was we have to live for the country. - Author: Jim Paredes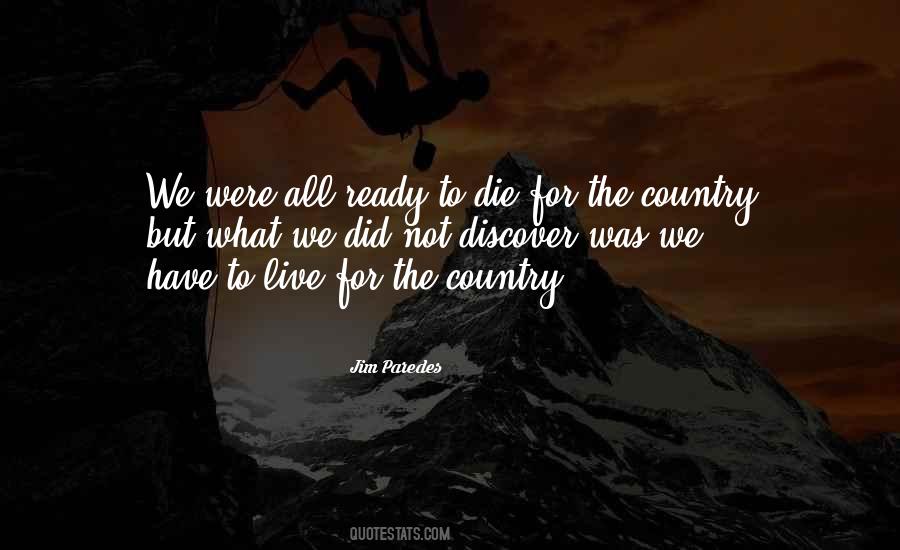 #82. If you are ready to die, then you are ready to live. - Author: Rickson Gracie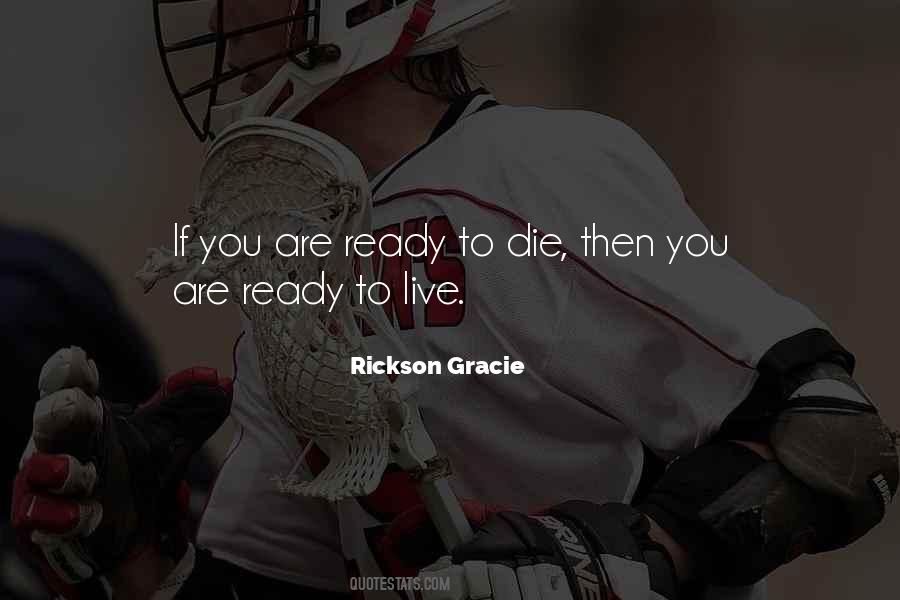 #83. Peace is a militant thing ... any peace movement must have behind it a higher passion than the desire for war. No one can be a pacifist without being ready to fight for peace and die for peace. - Author: Mary Heaton Vorse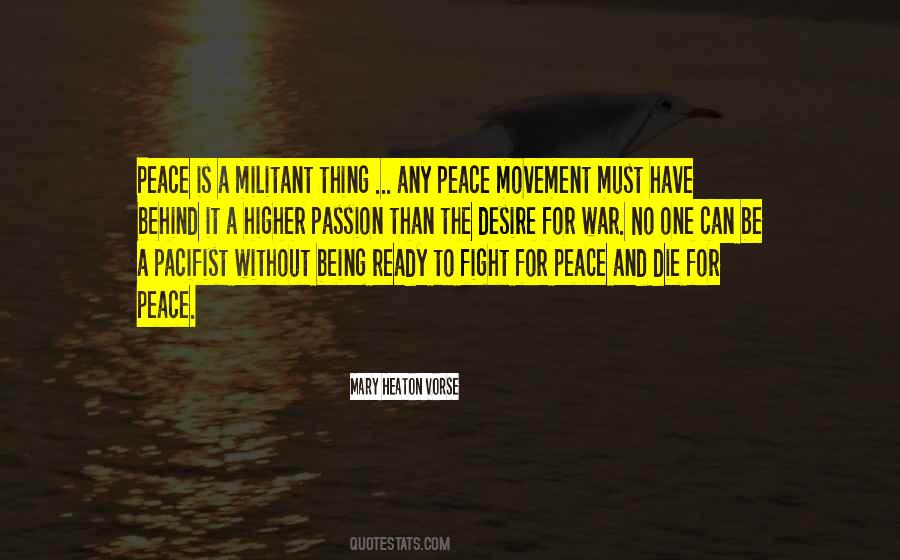 #84. If you really want to be secure, you will have to live a life of insecurity. If you really want to be alive, you will have to be ready to die at any moment. This is the illogic of life! If you want to be authentically true, then you will have to risk. Repression is a way to avoid the risk. For - Author: Osho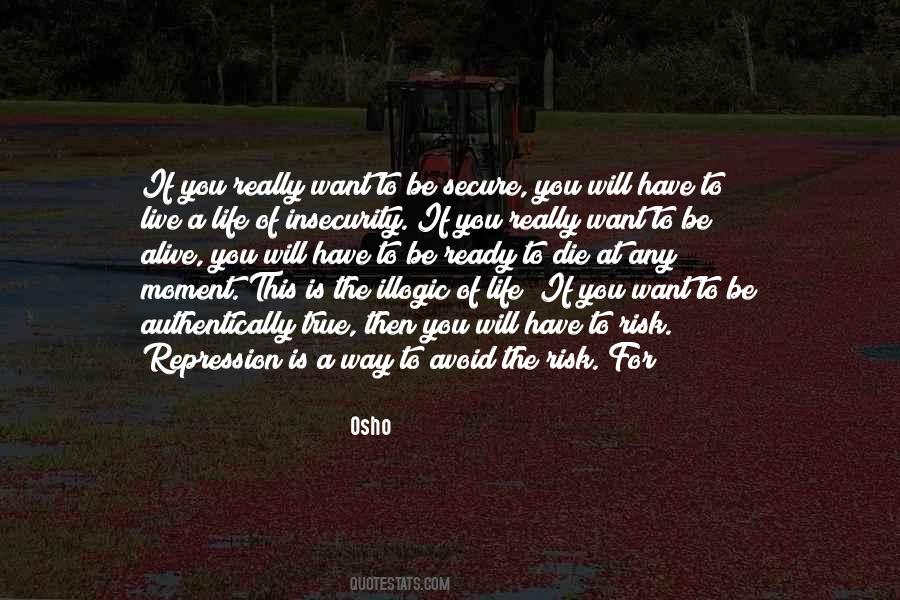 #85. I'm not ready to die. Period. To begin with, I cannot imagine a future without me in it. Can't do it. - Author: Robert Schimmel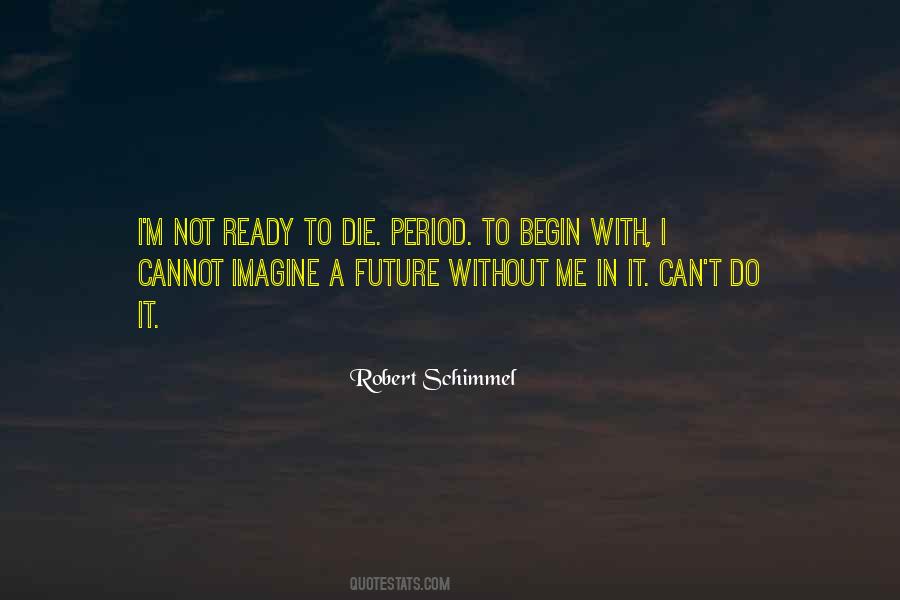 #86. Broke with nothing to live for and damn ready to die young. I'm the shadow behind the gun, look what I've become. - Author: Ja Rule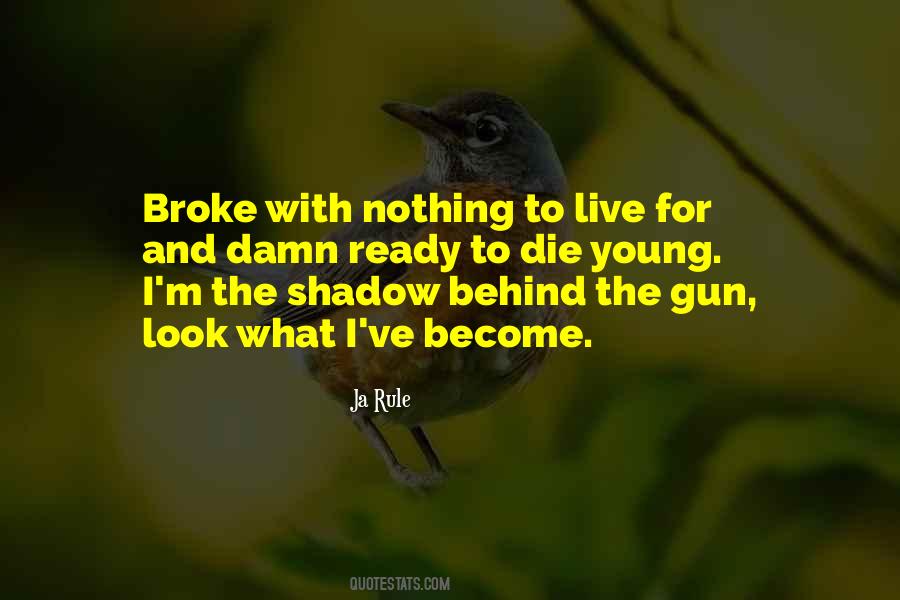 #87. May the power of your love, Lord Christ, fiery and sweet as honey, so absorb our hearts as to withdraw them from all that is under heaven. Grant that we may be ready to die for love of your love, as you died for love of our love. - Author: Francis Of Assisi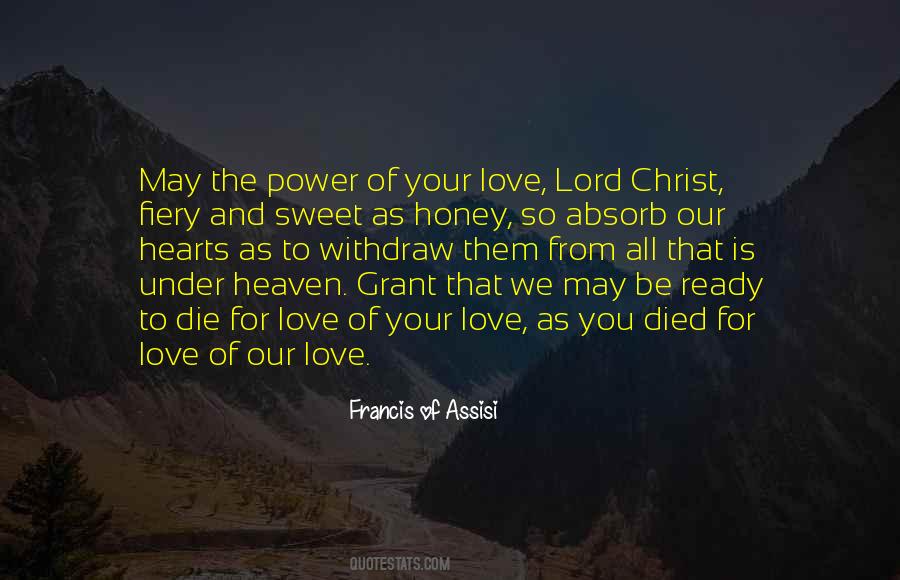 #88. The nearer we live to God while we live, the more ready we will be to dwell forever in His presence when we die. - Author: J.C. Ryle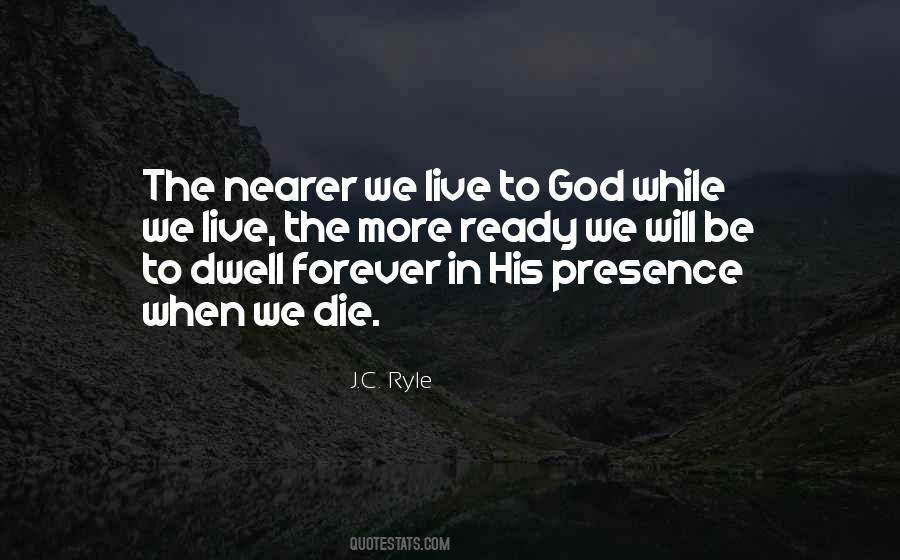 #89. To live fully, one must be free, but to be free one must give up security. Therefore, to live one must be ready to die. How's that for a paradox? - Author: Tom Robbins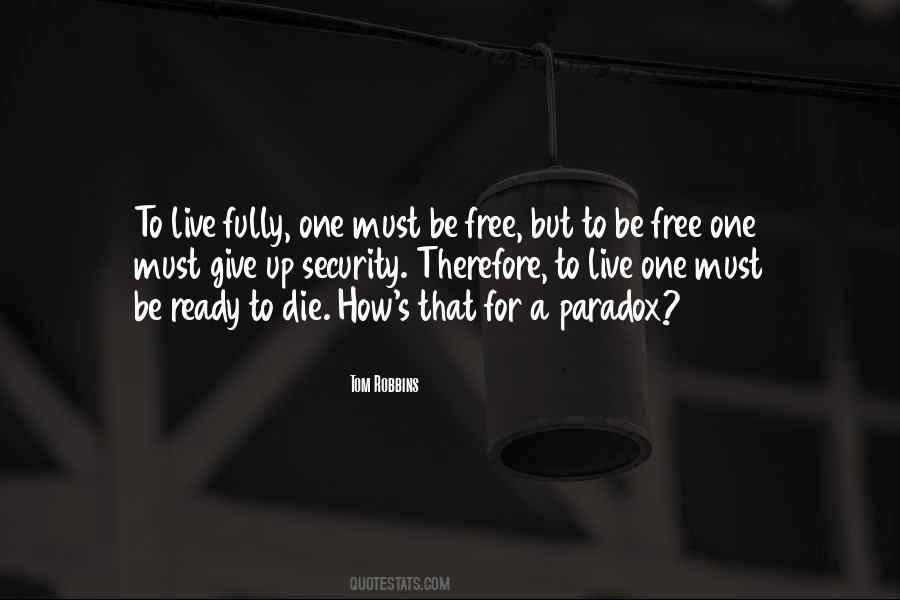 #90. We are ready to die and shall die cheerfully and proudly, you must not grieve for all of this. - Author: Patrick Pearse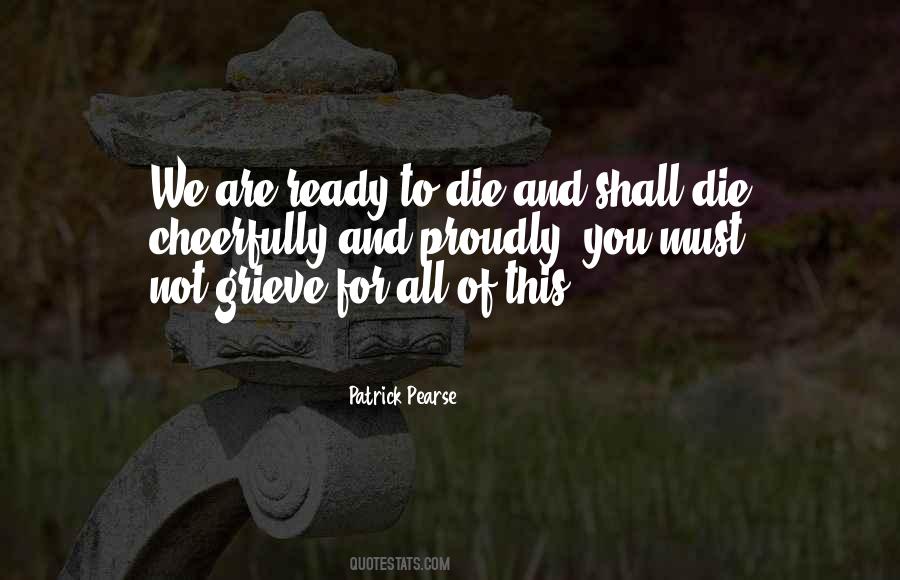 #91. You got to be ready to die every day - then you got a chance. - Author: Daniel Woodrell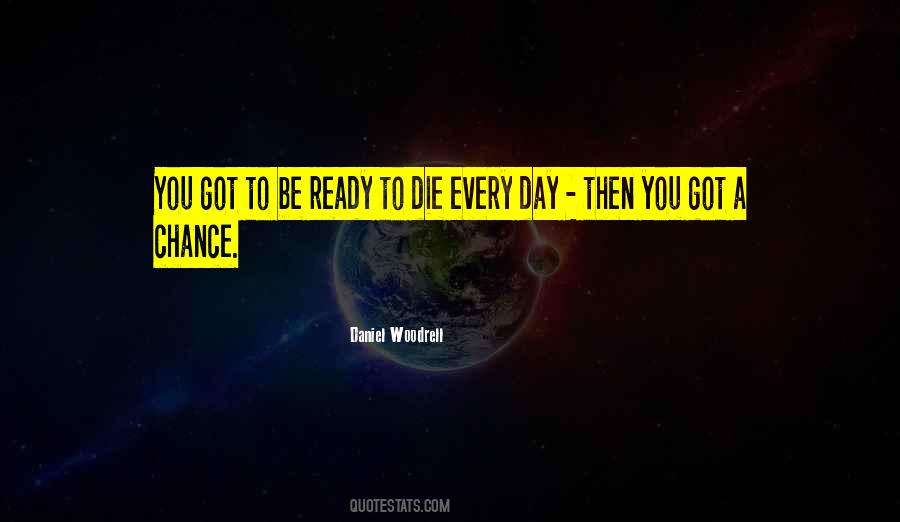 #92. Maybe that's why his lovers hadn't worked out so far. Maybe before you got someone who would fight to have you, you had to be ready to kill or die for them first. - Author: Amy Lane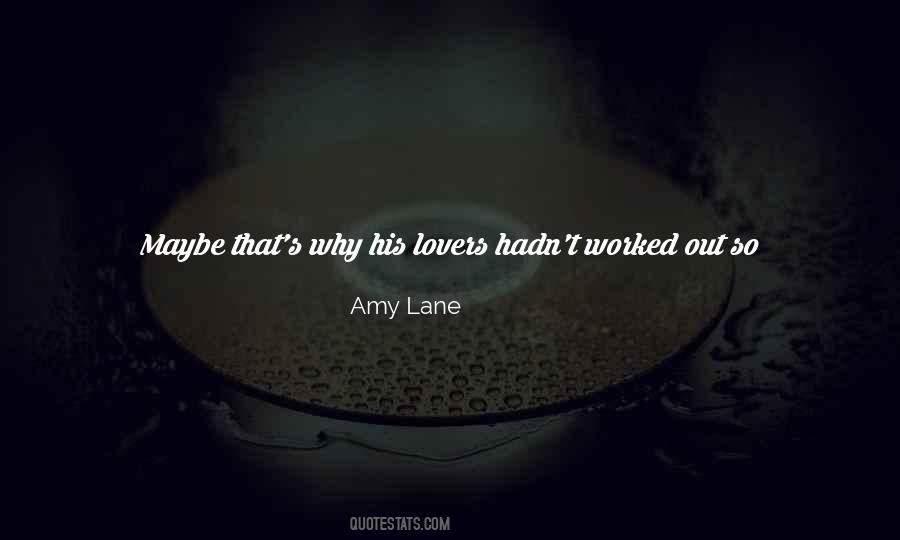 #93. Philosophers should be willing and ready to die, that seems strange, - Author: Anonymous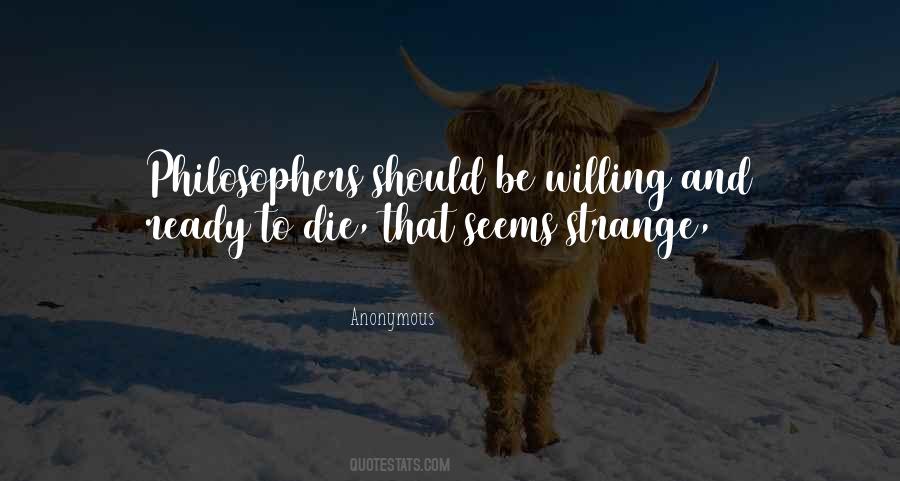 #94. Firstly, the farmers, the most stupid set of people in existence, who, clinging to feudal prejudices, burst forth in masses, ready to die rather than cease to obey those whom they, their fathers and grandfathers, had called their masters; and submitted to be trampled on and horse-whipped by. - Author: Friedrich Engels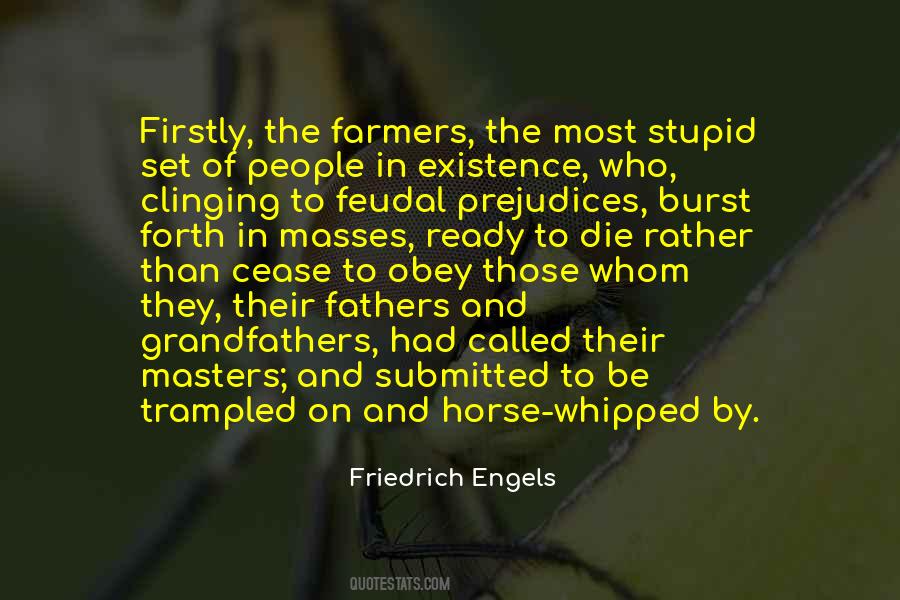 #95. Men die, heroically or fruitlessly, but man carries on. In Israel it is the same: the farmer must till the fields, the young must make love, and the photographer must, I suppose, be ready to photograph it all. - Author: Leonard Freed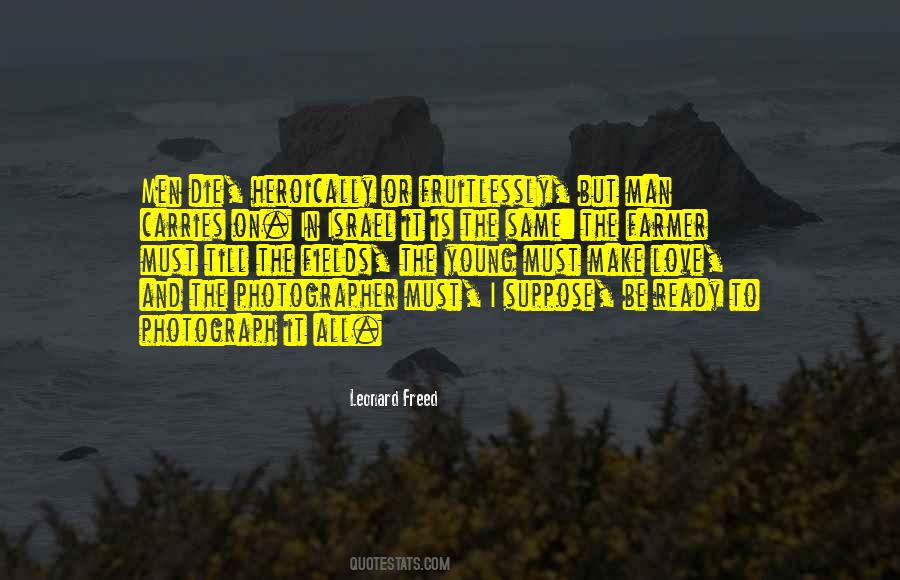 #96. For me it has always been easier here, where only the fundamentals count, to learn what every man must learn in this world."
"And that, my lord?"
"Enough of the meaning of life to be ready to die. - Author: Margaret Craven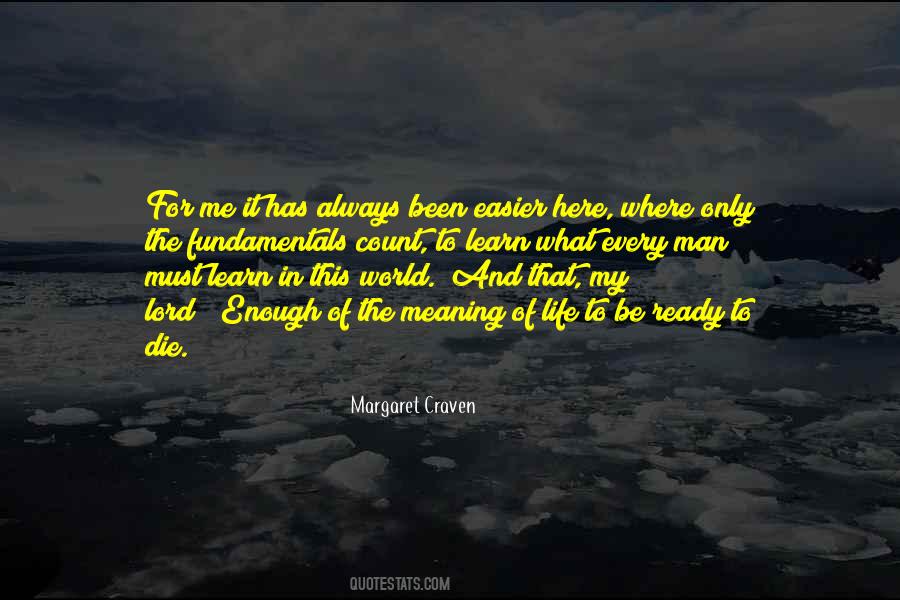 #97. You're not really ready to live unless you know what you're willing to die for. - Author: Rick Warren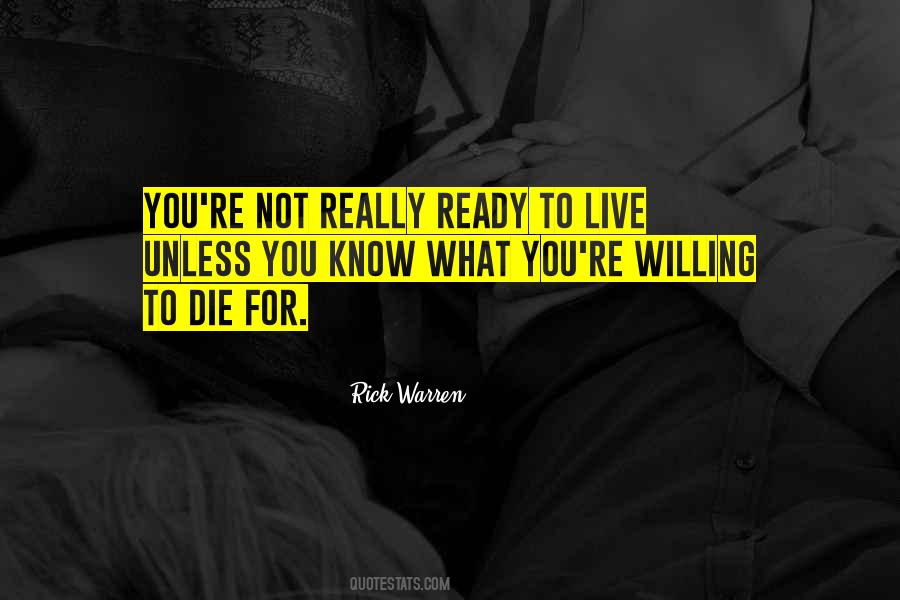 #98. My father's death from prostate cancer in 1993 was tragic. He never complained about pain. He was a fighter. By the time he was ready to die he wasn't able to die in the way that he wanted to, which seemed an outrage to me. - Author: Zoe Wanamaker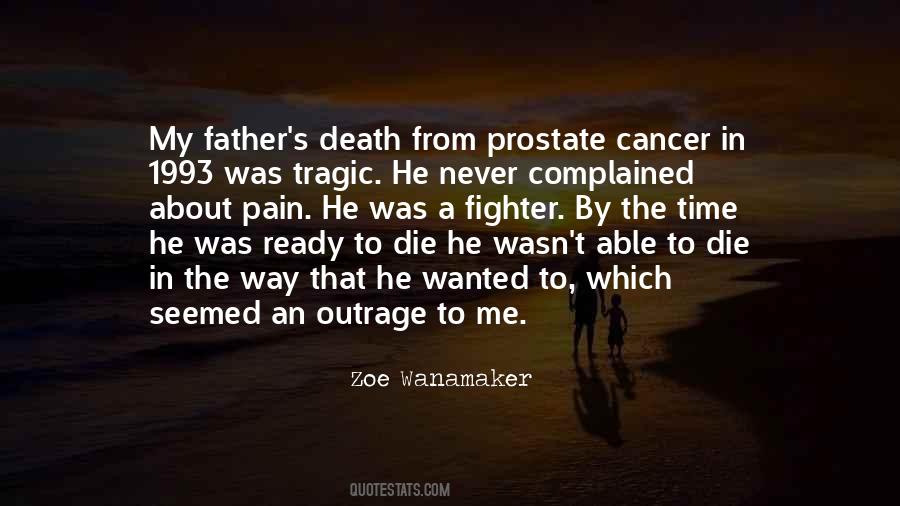 #99. This is the way brown people have to fight, my grandfather says. You can't just put your fist up. You have to insist on something gently. Walk toward a thing slowly. But be ready to die, my grandfather says, for what is right. Be ready to die, my grandfather says, for everything you believe in. - Author: Jacqueline Woodson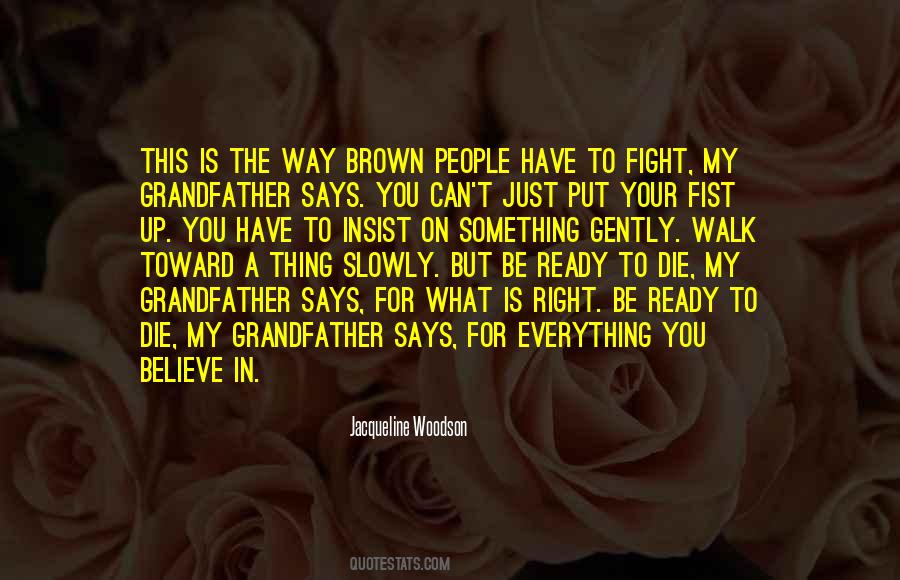 #100. I don't know what's waiting for us when we die
something better, something worse. I only know I'm not ready to find out yet. - Author: Charles De Lint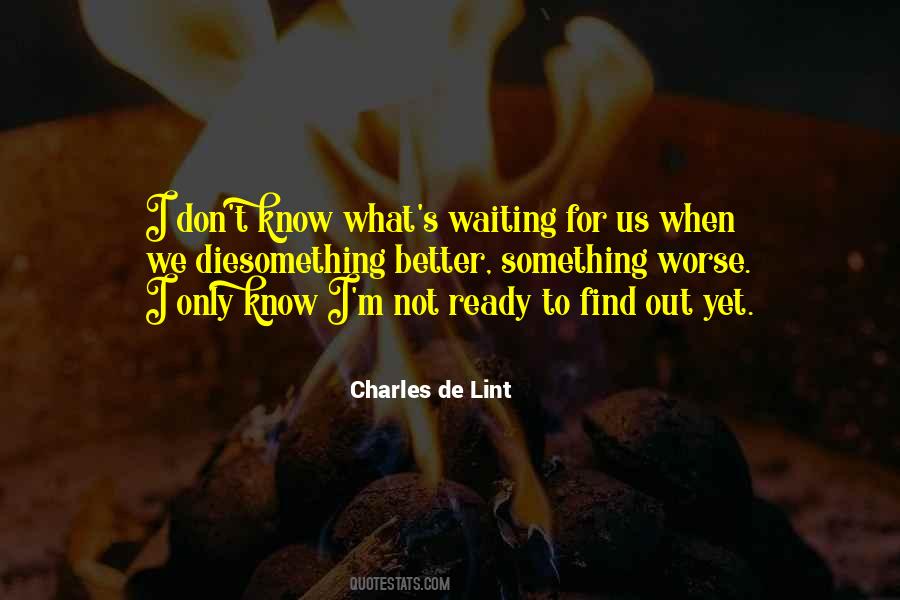 Famous Authors
Popular Topics