Proud Of Your Country Famous Quotes & Sayings
List of top 100 famous quotes and sayings about proud of your country to read and share with friends on your Facebook, Twitter, blogs.
Top 100 Quotes About Proud Of Your Country
#1. We are a big country, with lots of advantages and history. We are proud to be French. We have to call on patriotism at this time ... to ask for an effort in the battle against debt. - Author: Francois Hollande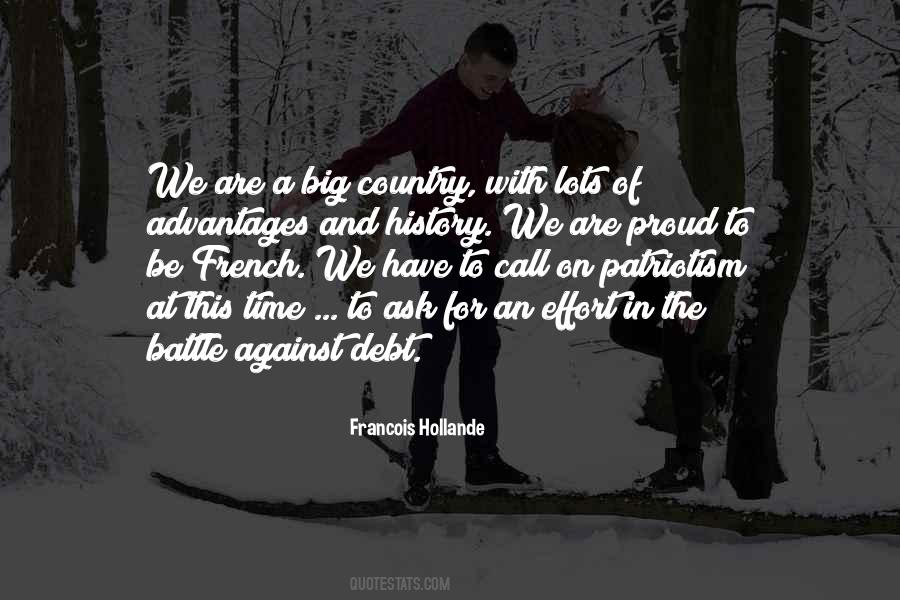 #2. I am very proud of what we have built in Spain, because it is not a traditional Formula 1 country. I think we have found passionate fans, and built up a strong culture for the sport - and things are improving every day, with more and more people getting interested. - Author: Fernando Alonso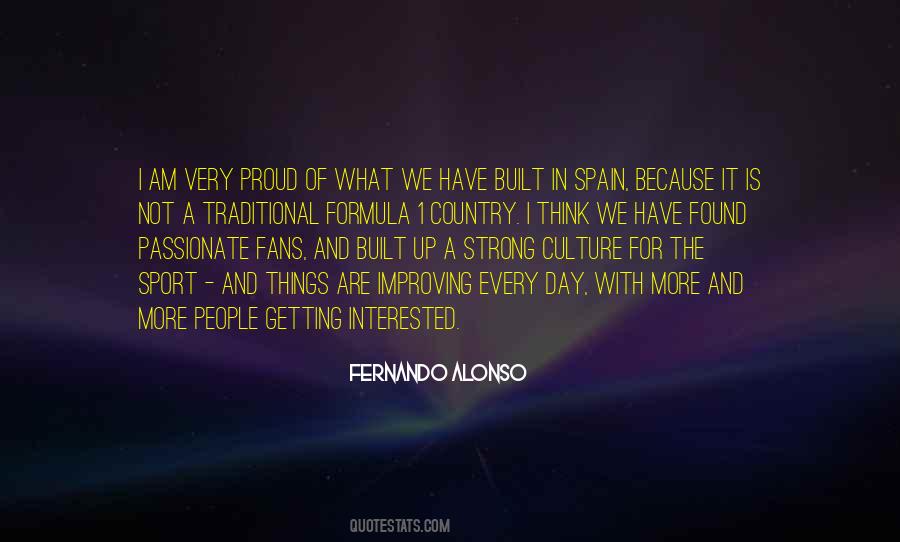 #3. Neurotics make poor patriots; if you're ashamed of something as big as yourself, it's hard to be proud of something as small as your country. - Author: Mignon McLaughlin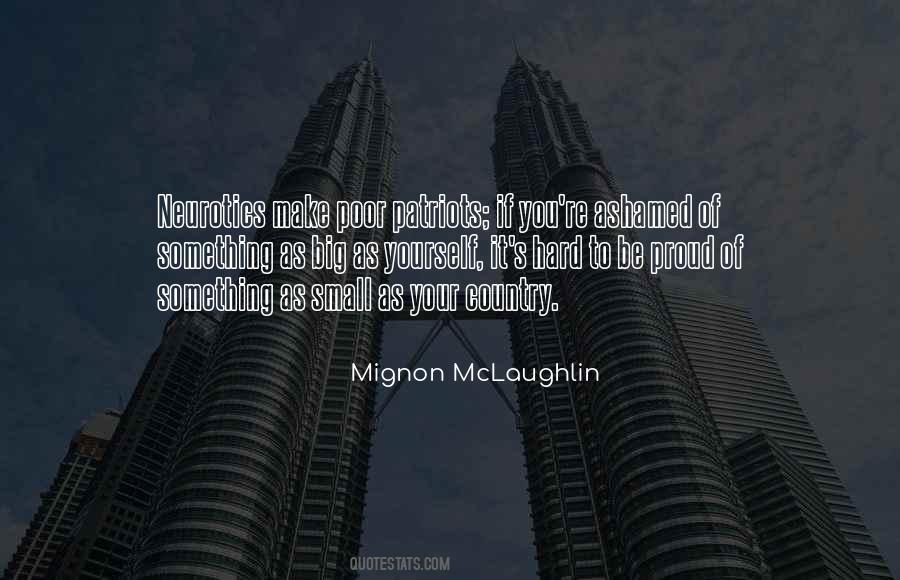 #4. I sing from my heart, I love country music and I love the people that respond to it. You never see yourself as others do but I've always beeen proud to be part of country music and I hope that the format is proud of me. - Author: George Jones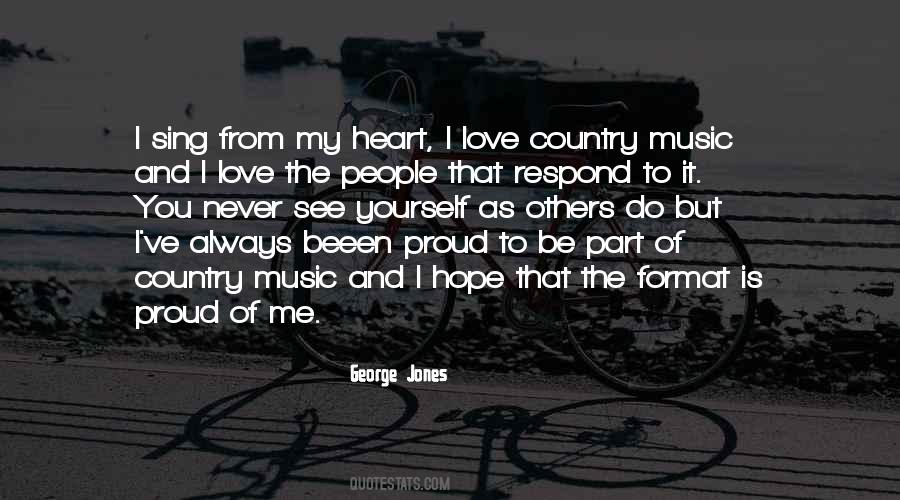 #5. Thus, only in a hopeful and confident temper, in a proud and constructive spirit, will we rescue the present and safeguard the future of our beloved country. - Author: Bainbridge Colby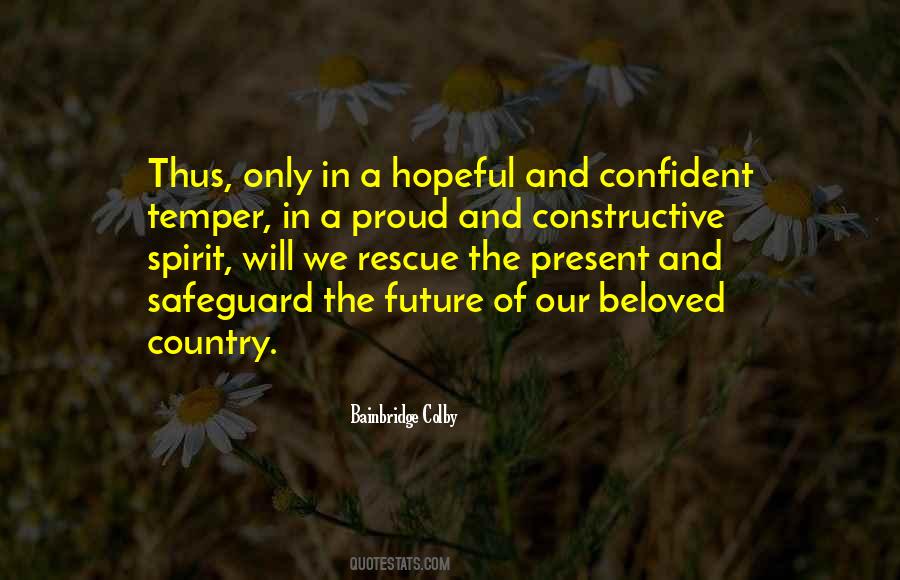 #6. One of the things I'm most proud of about my country is the fact that we did lick McCarthyism back in the fifties. - Author: Pete Seeger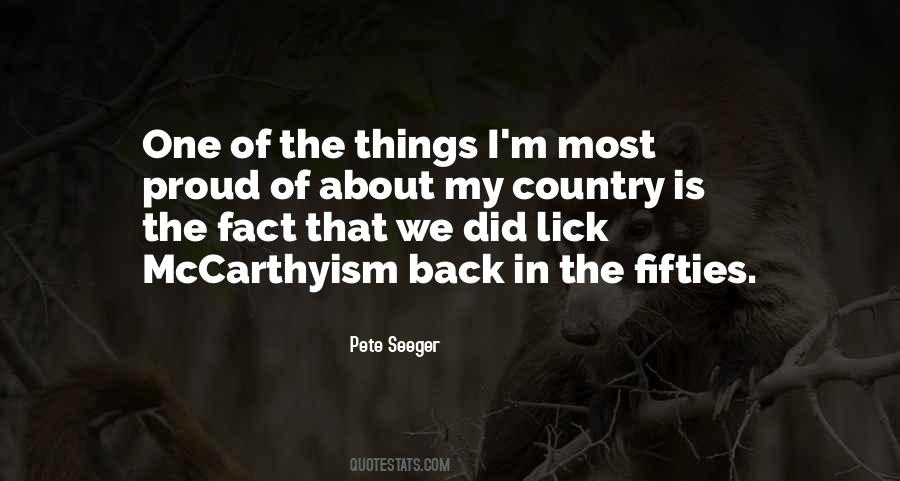 #7. I showed what I can do with butter, right? Eighty-five percent increase in sales. I'm very proud of them Country Life ads. They were funny and clever and classy like the Toblerone ads I grew up with. - Author: John Lydon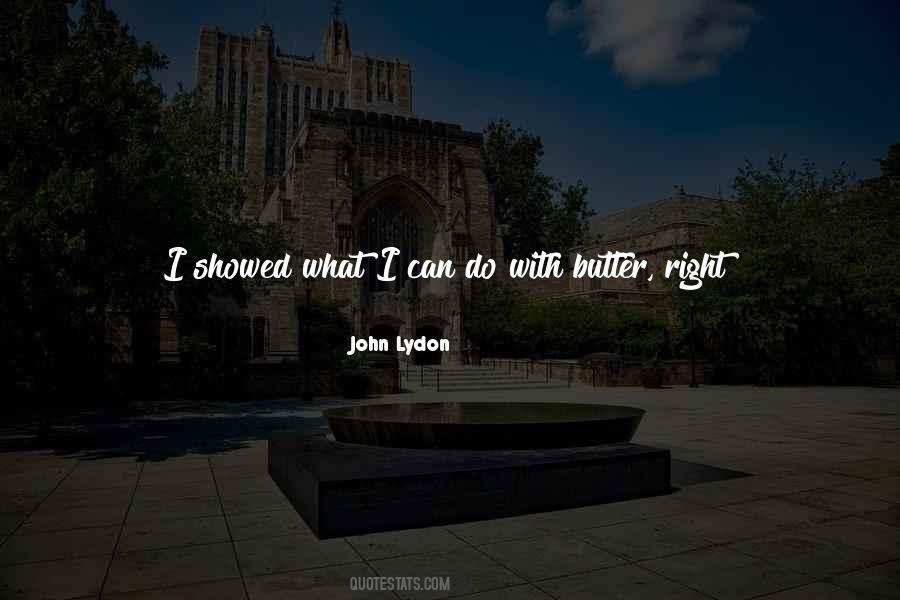 #8. If you're true to yourself, it doesn't matter where you record your music or where you say you're from. I am an artist from Texas, proud to be from Texas, but I play my own kind of music, my brand of country music. - Author: Cody Johnson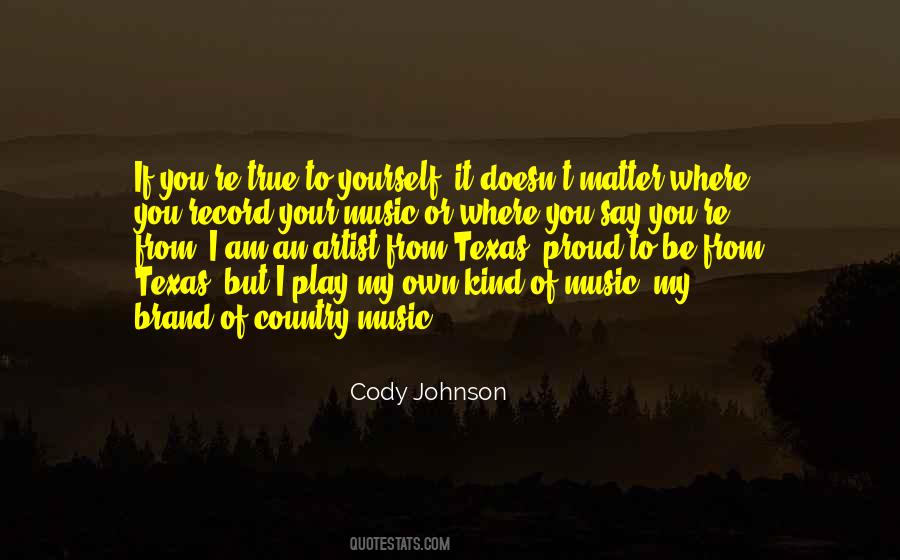 #9. As for my country, I don't live there, but obviously I'm very proud to be Canadian. - Author: Mike Weir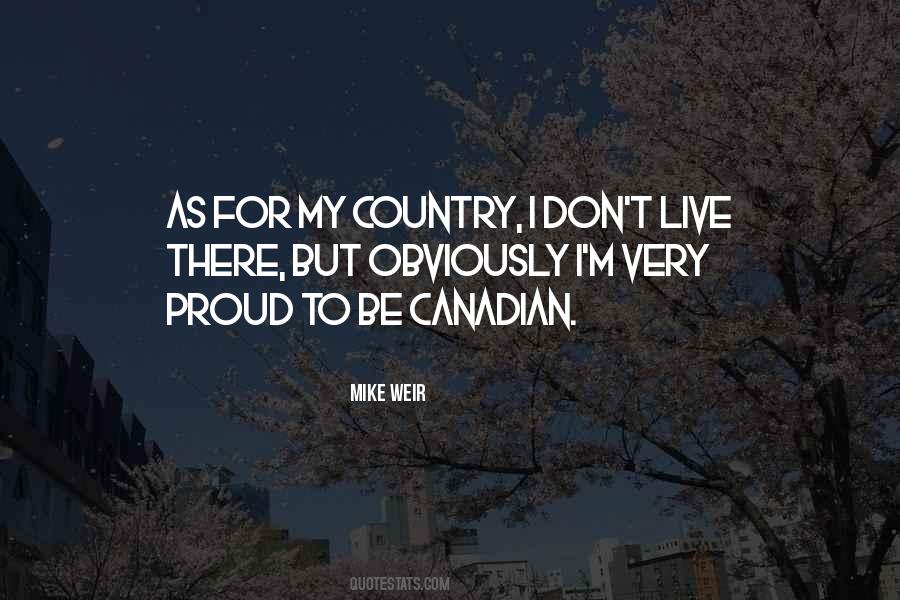 #10. This country has a proud history of opening its doors to generations of people fleeing personal persecution, civil unrest and war. - Author: Charles Kennedy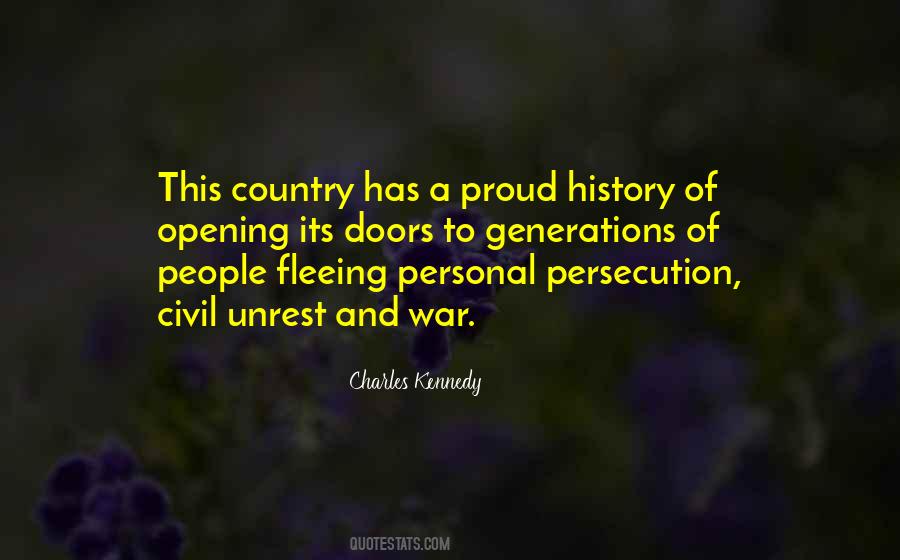 #11. Gay people can't be proud of the country and want to defend it too. What's the army afraid is going to happen if gay people are in it. Private, shoot that man! I can't, he's adorable. - Author: Jon Stewart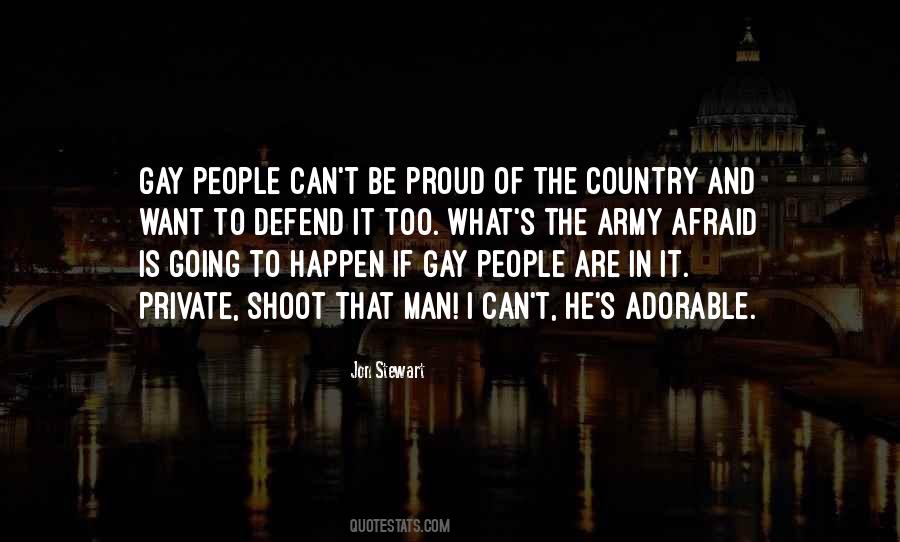 #12. Bad things are happening, Madame. Impossible things. I trained to be a soldier, to fight for my country and make my family proud. It was an honorable choice. What will be thought of us upon our return? What will be thought of me? - Author: Kristin Hannah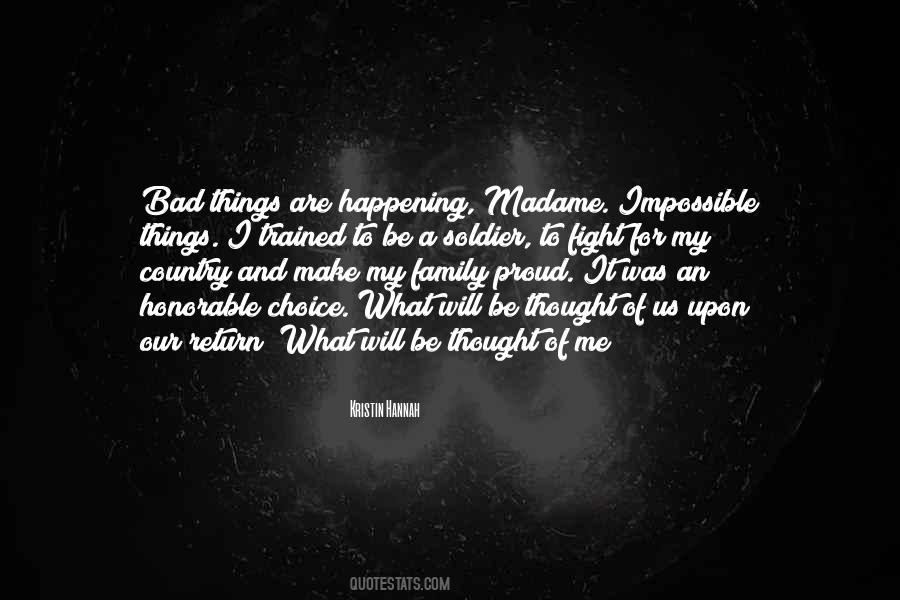 #13. Rose worked and played so hard that kids all across the country - not just in Cincinnati - were emulating him on sandlots everywhere, proud to dirty their jerseys doing a headfirst "Pete Rose" dive into cardboard boxes used for bases ... whether they needed to slide or not. - Author: Tucker Elliot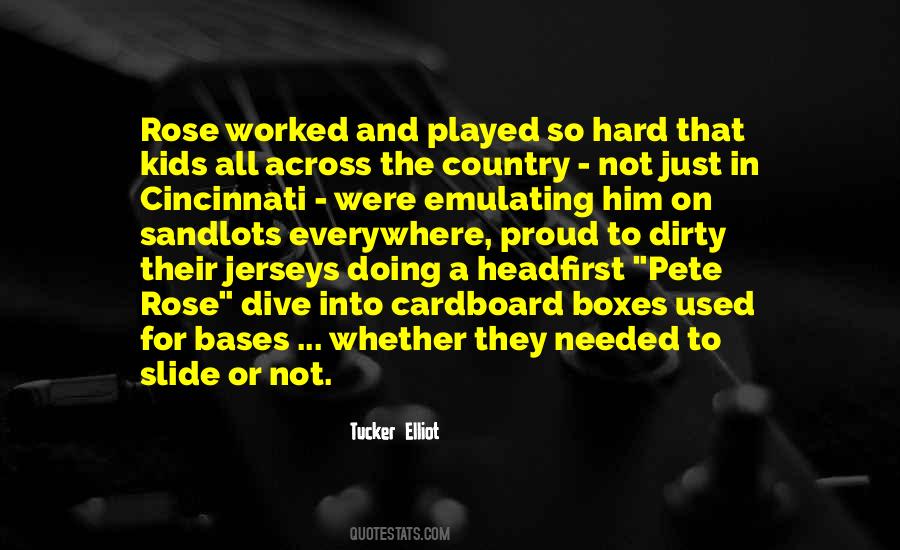 #14. Today we are a nation at peace with itself, united in our diversity, not only proclaiming but living out the contention that South Africa belongs to all who live in it. We take our place amongst the nations of the world, confident and proud in being an African country. - Author: Nelson Mandela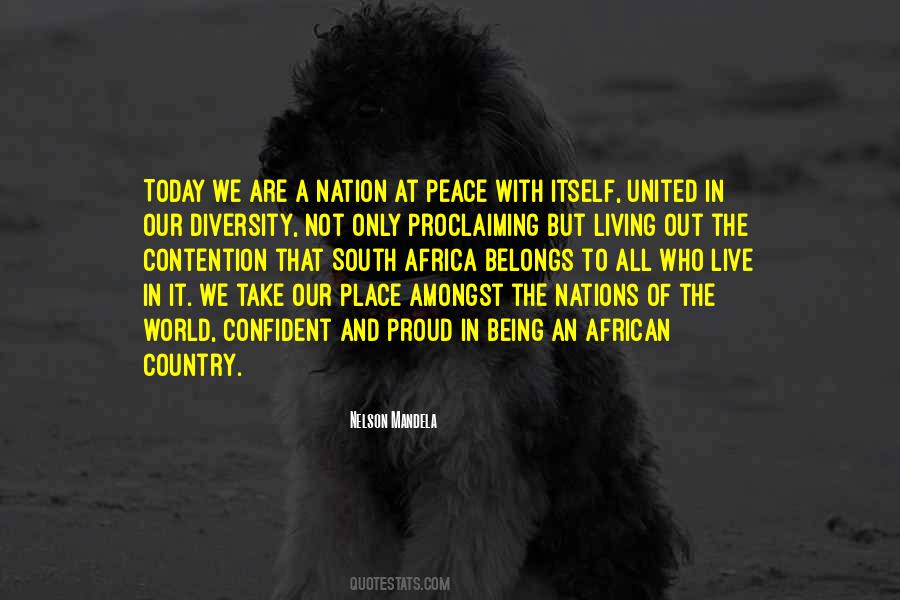 #15. Peking welcomed me with tremendous parades and gun salutes. The people with me are proud of me, proud that our downtrodden country has taken its place among the great nations. And now, people of America, I ask you, why didn't Eisenhower accord me the same respect? - Author: Sukarno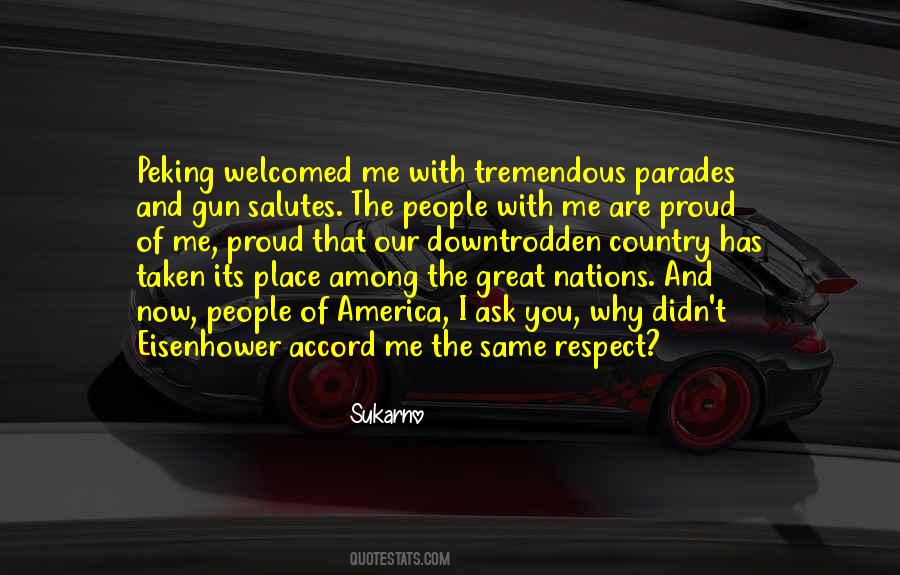 #16. I'm very proud that President [George W.] Bush took on AIDS relief. It was the largest single response by any country to a major international health crisis, and there are millions of people who are alive today in Africa and other developing countries because of that program. - Author: Condoleezza Rice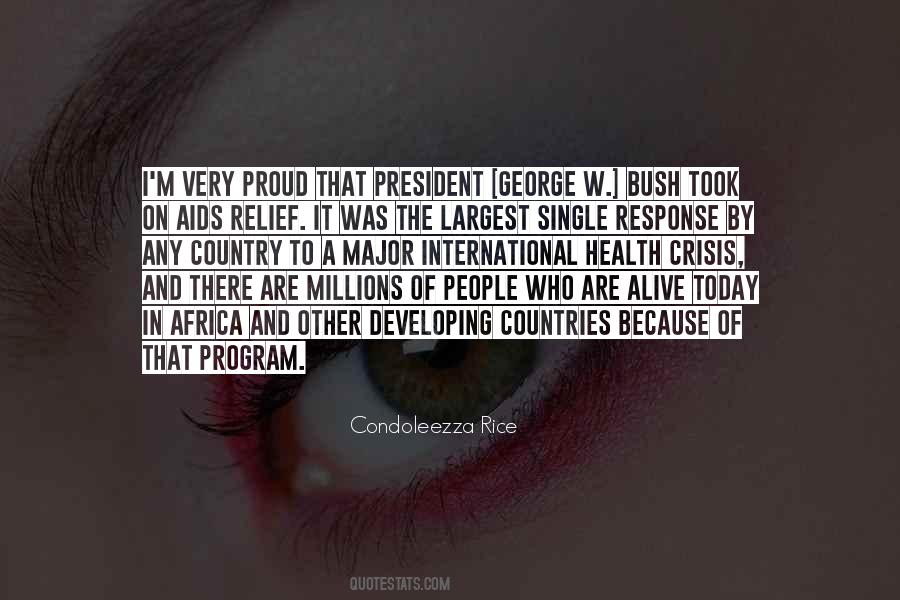 #17. I'm proud of our country that we elected Barack Obama. I mean, it says something about us nationally. You know, it's kind of like crowning your checker when you get to the end of your checker board. Here's another thing that says America's special: Barack Obama, president of the United States. - Author: Tom Coburn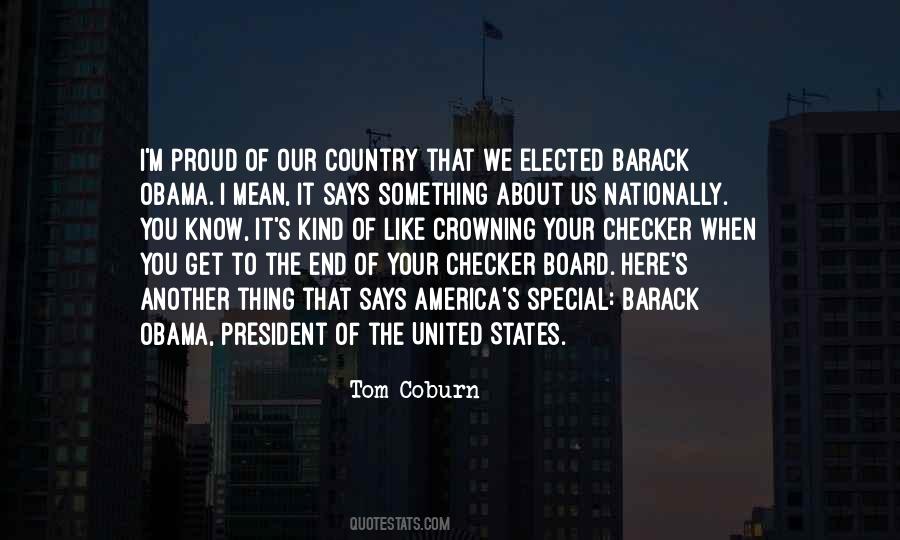 #18. When I was a kid you always heard about the Israeli army and you always heard about this tiny little country and how everyone around them wants them gone, and every time somebody comes after them they take care of business. And so as a Jewish kid you were proud of that. - Author: Adam Sandler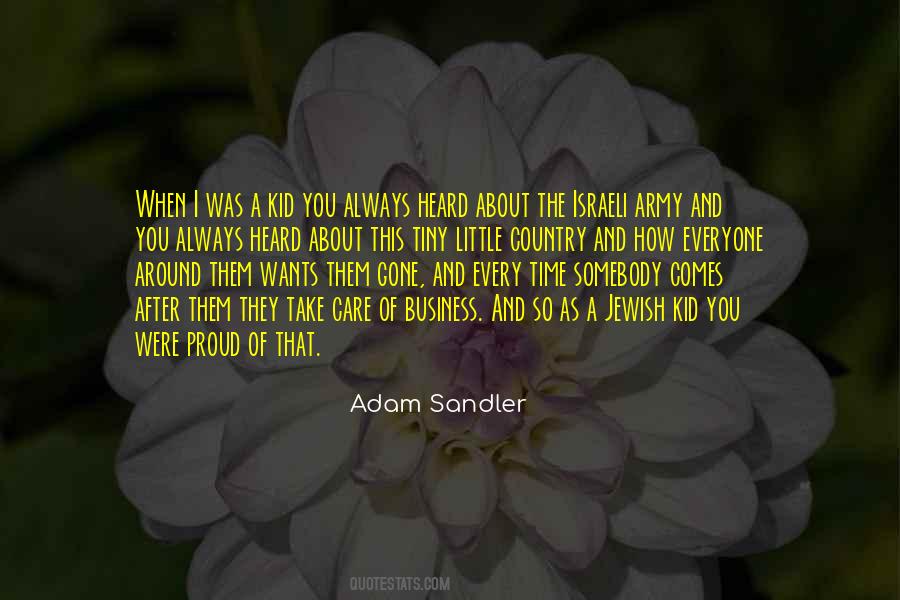 #19. France is the country with the highest taxes in Europe along with Sweden ... something of which I am not proud. - Author: Nicolas Sarkozy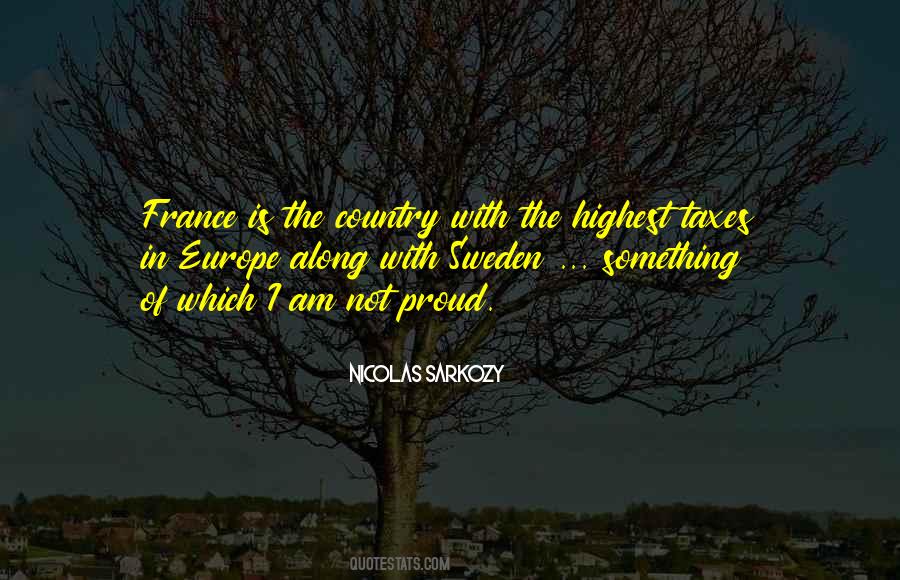 #20. My work is my life, and my life is my work. I invented this assault rifle to defend my country. Today, I am proud that it has become for many synonymous with liberty. - Author: Mikhail Kalashnikov
#21. After the fall of the Soviet Union, if you start the clock, then 47 journalists, reporters, cameramen, photographers have been killed in Russia since the fall of communism. That makes it the third most deadly country on Earth to practice journalism. That's not a record to be proud of. - Author: Daniel Silva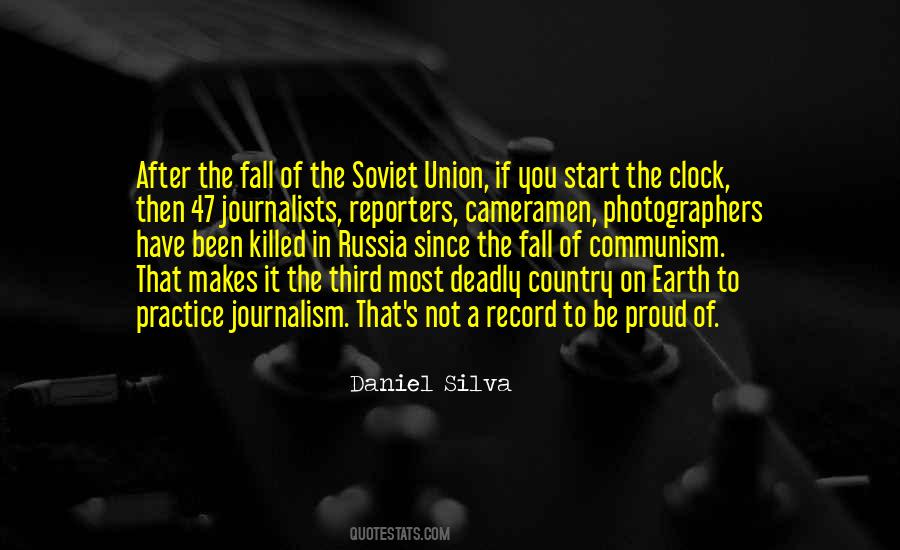 #22. I want to say this about my state. When Strom Thurmond ran for president, we voted for him. We're proud of it. And if the rest of the country had followed our lead, we wouldn't have had all these problems over all these years either. - Author: Trent Lott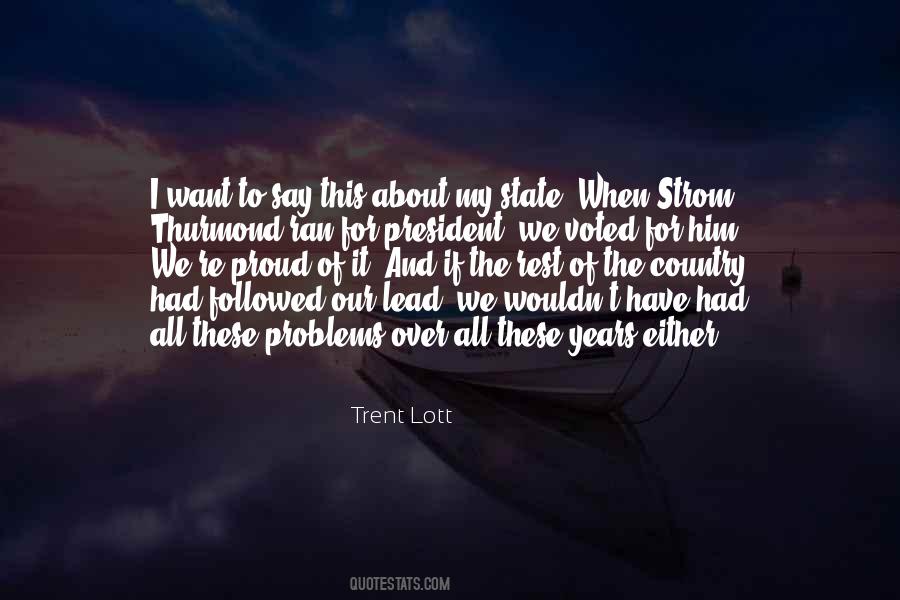 #23. There are times when I haven't been proud of America or really proud. But there have been times that I've been incredibly proud of the country. - Author: Whoopi Goldberg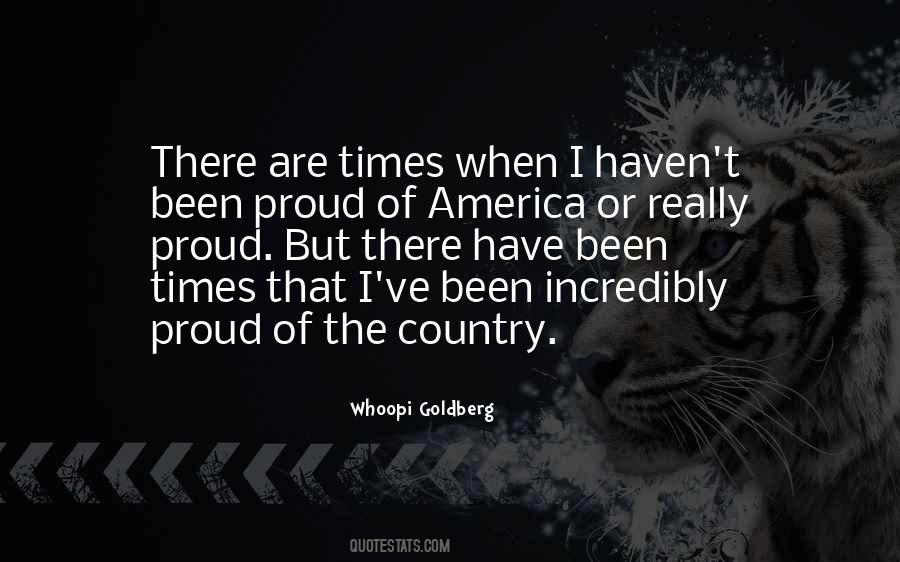 #24. Because I believe in my ... proud citizen of this country should be doing. And that is to try and put in as much as he takes out. I guess it's to the hard knocks of life that I attribute this conclusion. - Author: Stompin' Tom Connors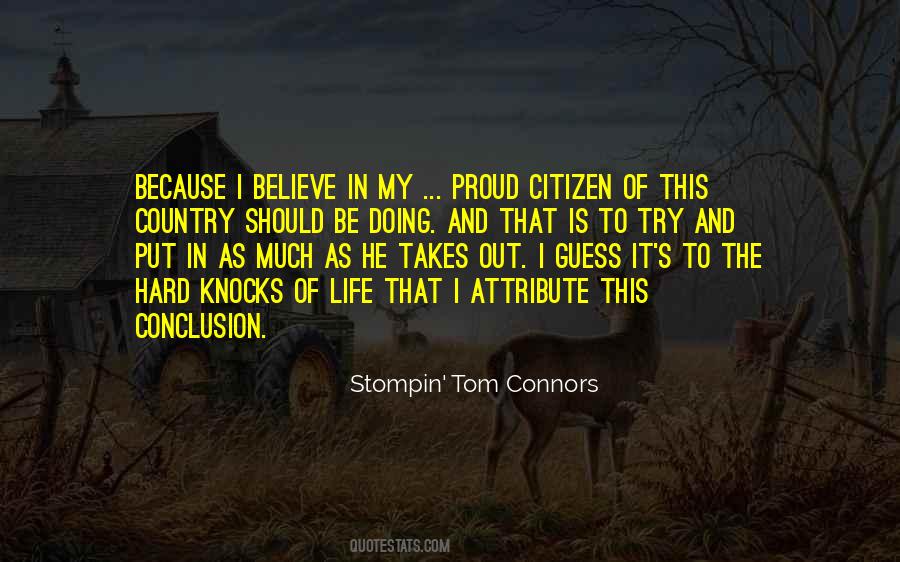 #25. When you won that title you should know now that you are representing a whole country or nation with your actions and you are now in a glass house or under a microscope and you better be ready to make your people proud. - Author: Alexis Arguello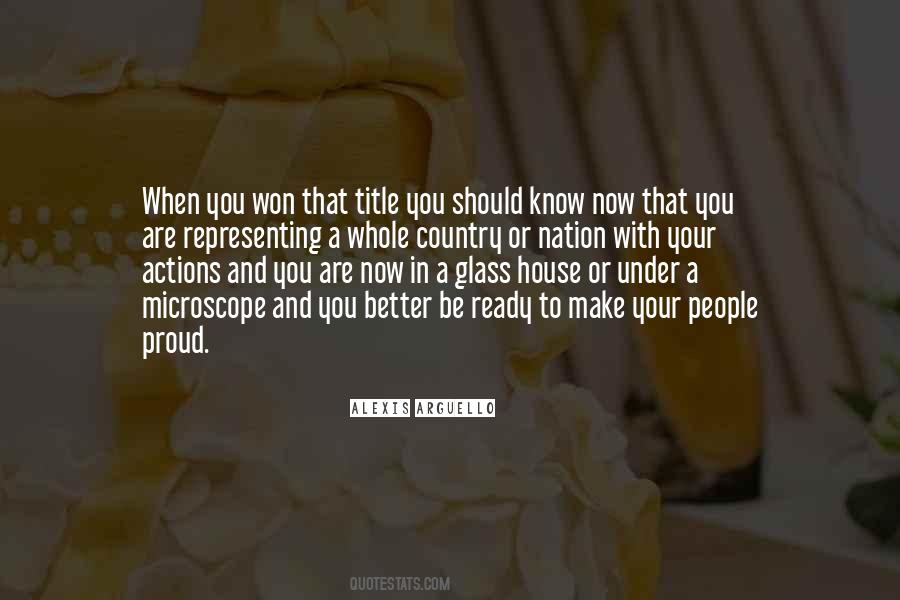 #26. I am extremely proud of my service with the government and my efforts to help safeguard public health and protect our country against the scourge of offensive biological warfare. - Author: Steven Hatfill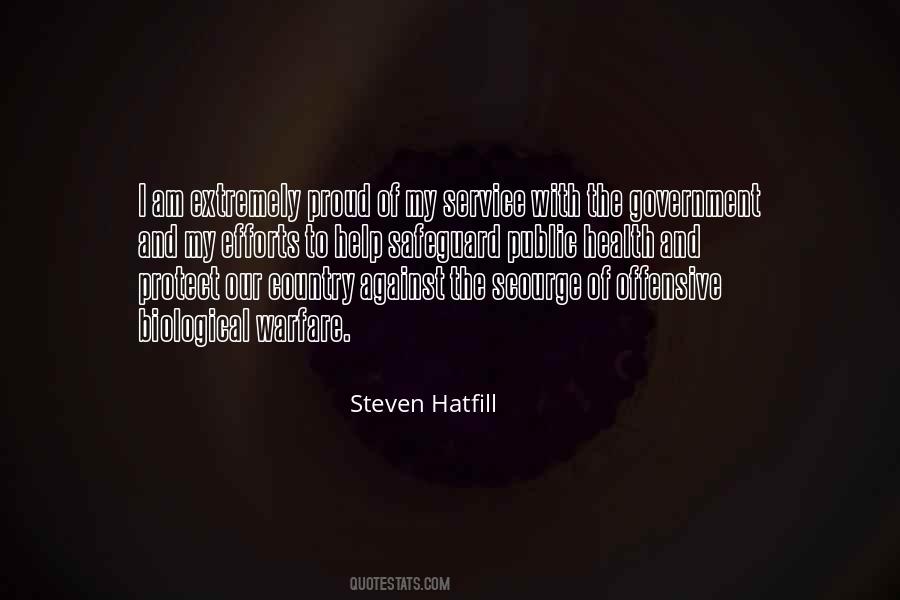 #27. First and foremost I am an American athlete and I am proud to live in a country that encourages diversity, openness and tolerance, - Author: Brian Boitano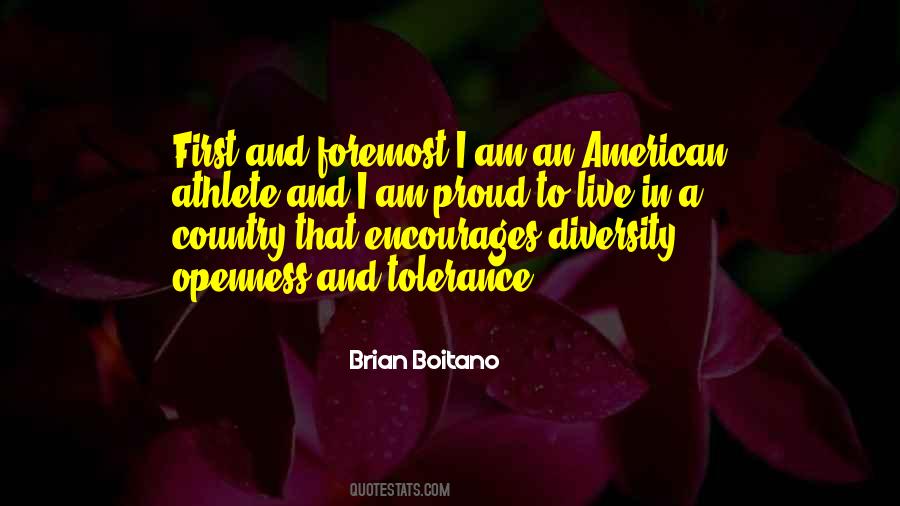 #28. Arizonians are deeply proud of Justice Sandra Day O'Connor's service to this country. She will always be remembered by Arizonans and all Americans as an extraordinary public servant. - Author: Jon Kyl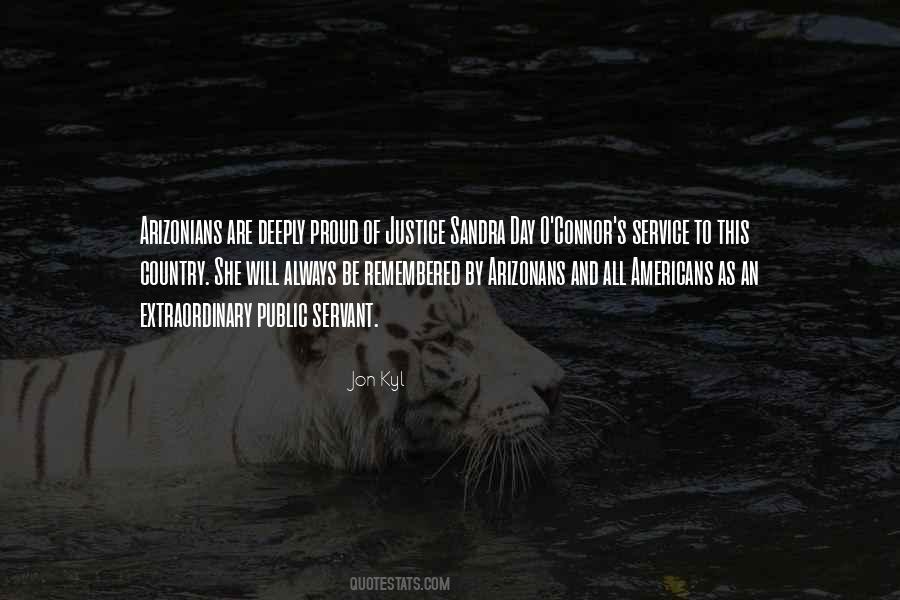 #29. I'm proud I'm English and I'm passionate about my country. - Author: Wayne Rooney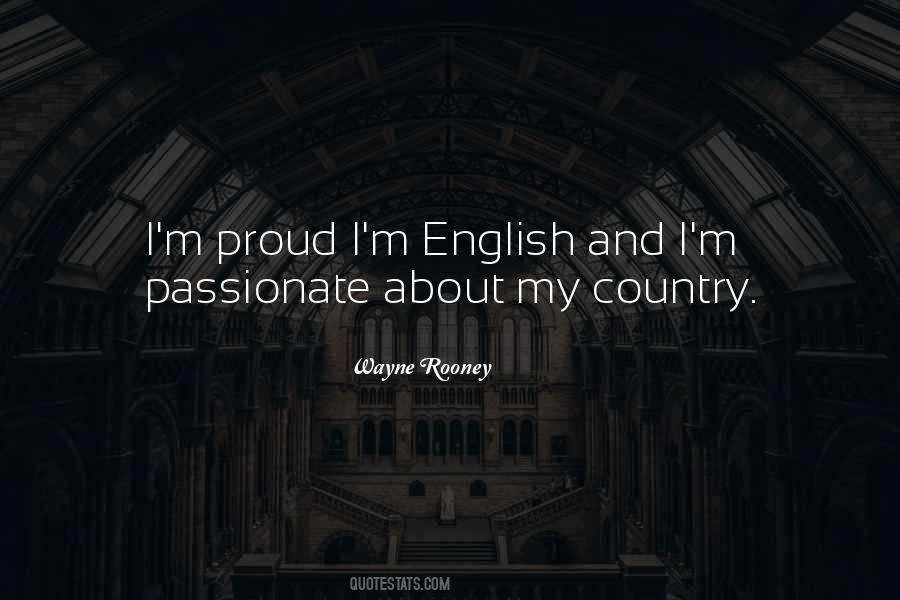 #30. She had been proud of his decision to serve his country, her heart bursting with love and admiration the first time she saw him outfitted in his dress blues. - Author: Nicholas Sparks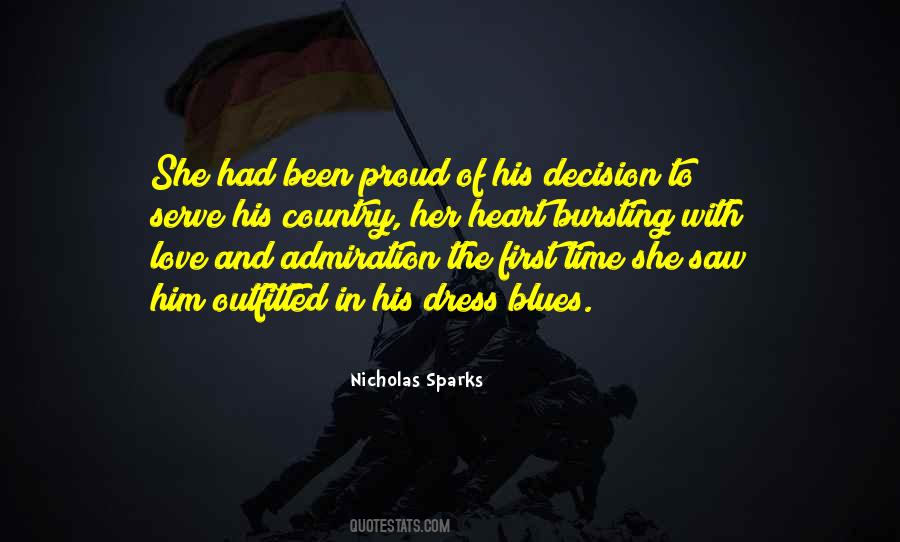 #31. I think at times the very strong feelings I have about my country coincide with my musical ability, and I'm able to actually turn it into music, a song or even hopefully a memorable song, sometimes. You may find it surprising, but I'm a very intense, proud American. I love being an American. - Author: John Fogerty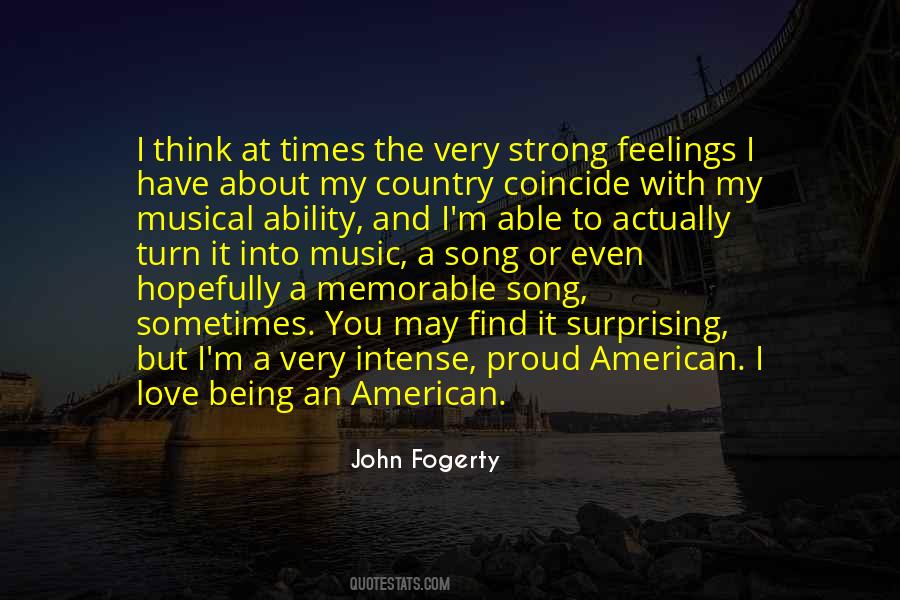 #32. I come from a fragmented society. A country proud to serve as a bridge between Europe and Asia yet unable to bridge its own differences. - Author: Safak Pavey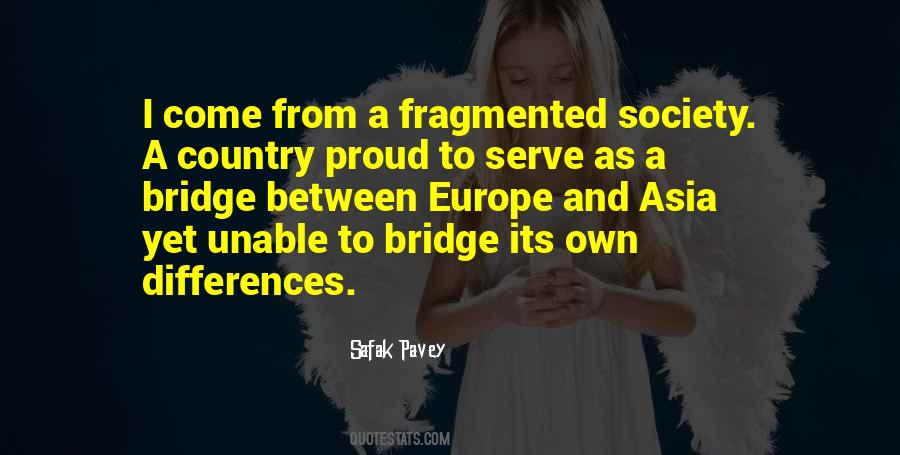 #33. You can be proud of your country and culture and, at the same time, recognize that there is something that's wrong that needs to be changed. - Author: Sarah Benson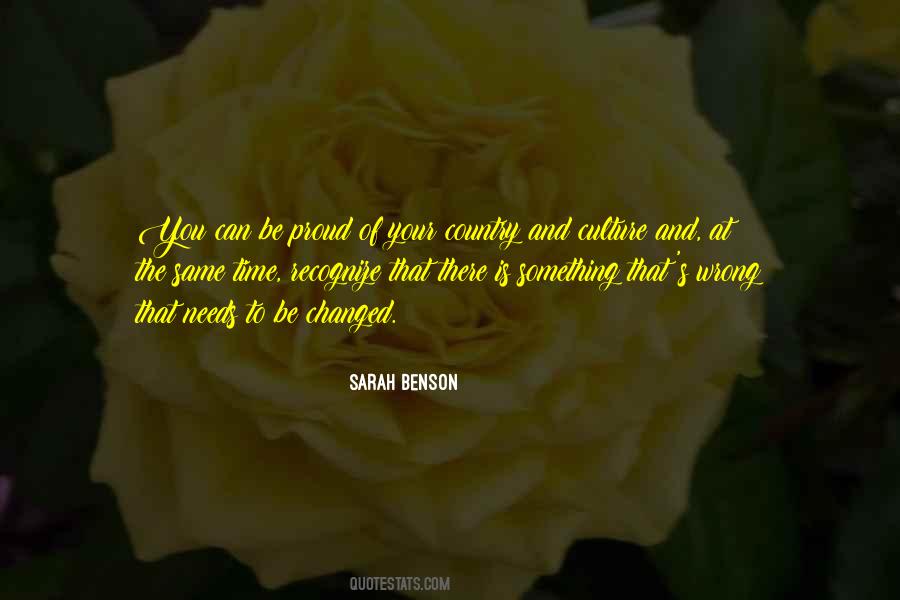 #34. IT'S NOT RACIST
TO BE PROUD
OF YOUR COUNTRY!'

no, but it is fucking
stupid
to think it makes
you a better man. - Author: Andy Carrington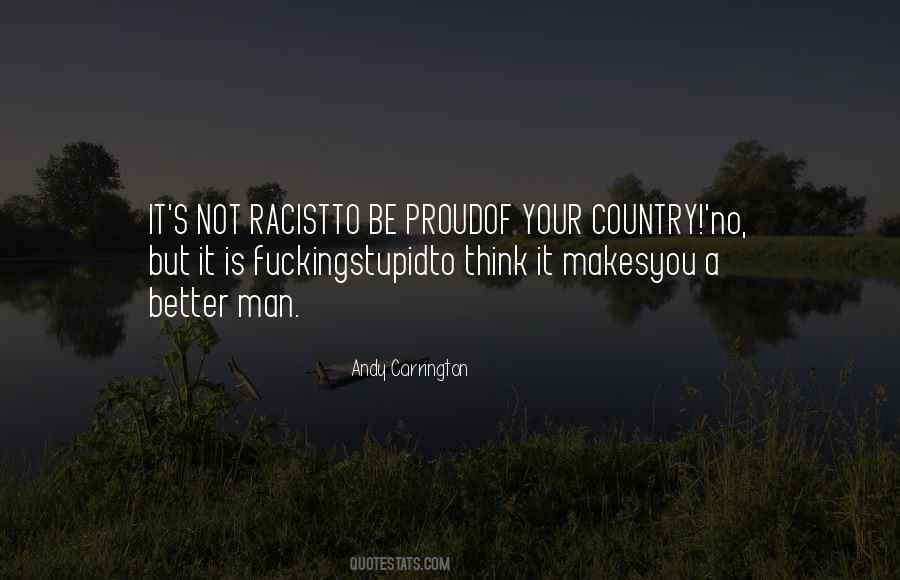 #35. For I can assure you that we love our country, not for what it was, though it has always been great - not for what it is, though of this we are deeply proud - but for what it someday can, and, through the efforts of us all, someday will be. - Author: John F. Kennedy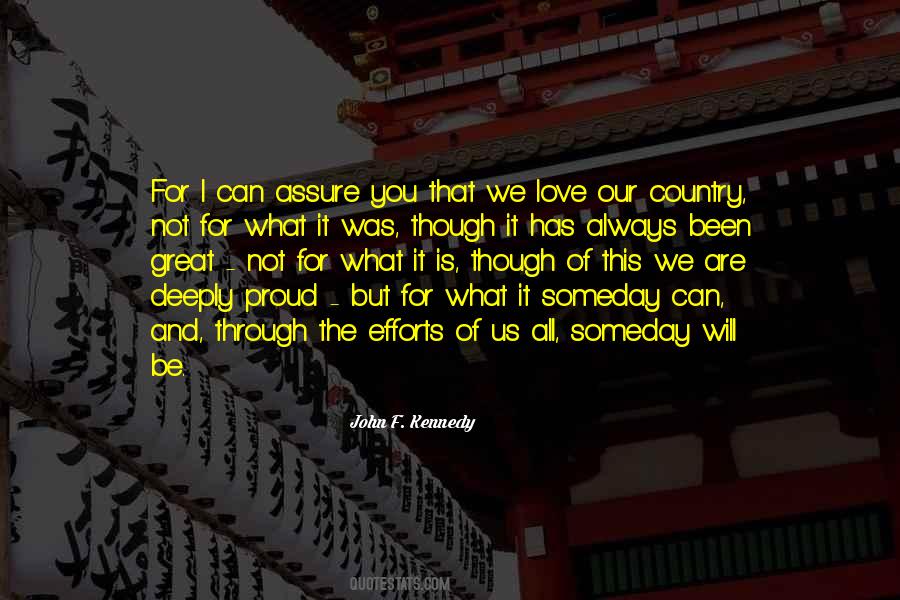 #36. What I've accomplished for myself is beyond my wildest dreams. What I accomplished for my country is one of my most proud achievements. - Author: Li Na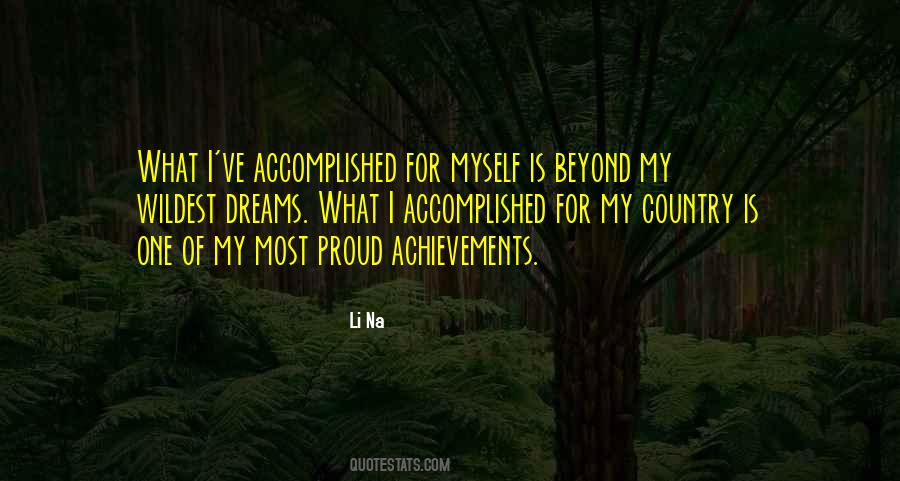 #37. No. I am not a royalist. Not at all. I am definitely a republican in the British sense of the word. I just don't see the use of the monarchy though I'm fierce patriot. I'm proud proud proud of being English, but I think the monarchy symbolizes a lot of what was wrong with the country. - Author: Daniel Radcliffe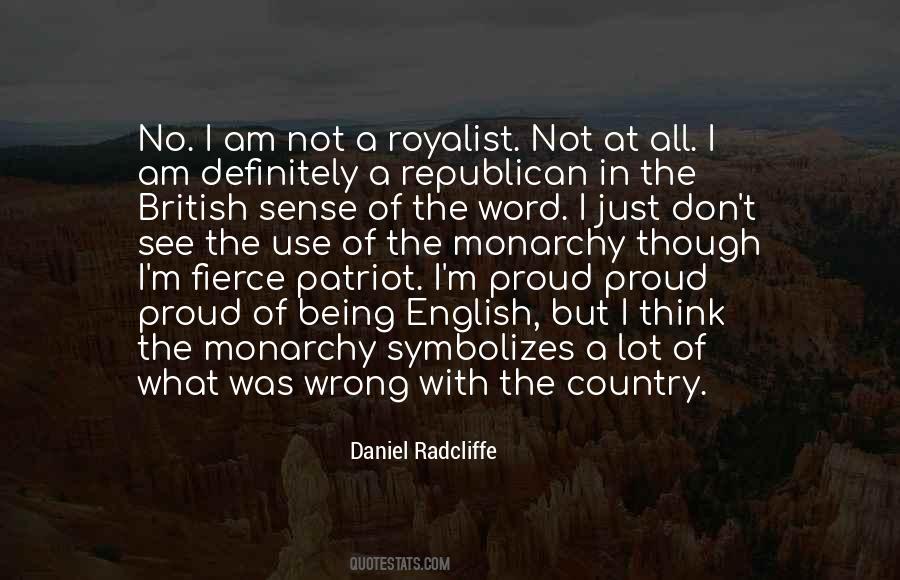 #38. I am a country boy and proud of it. - Author: Lionel Richie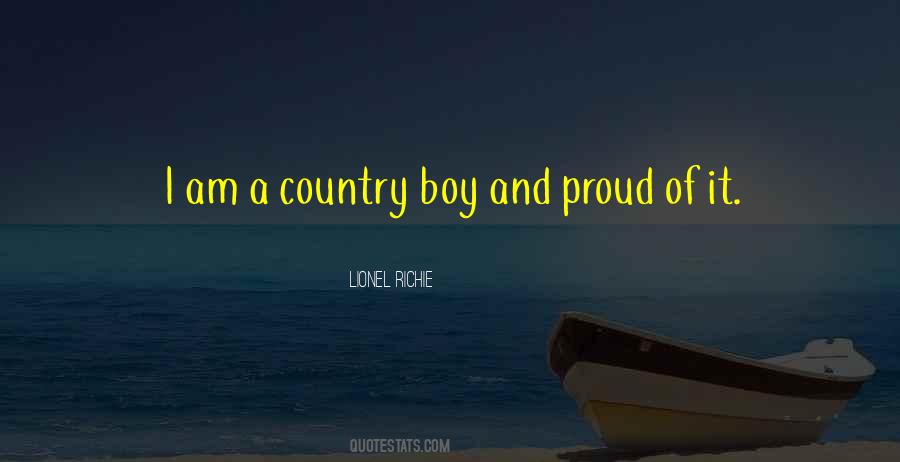 #39. I have never felt so alive - so free - so proud. I love my country. I love my America. - Author: Debasish Mridha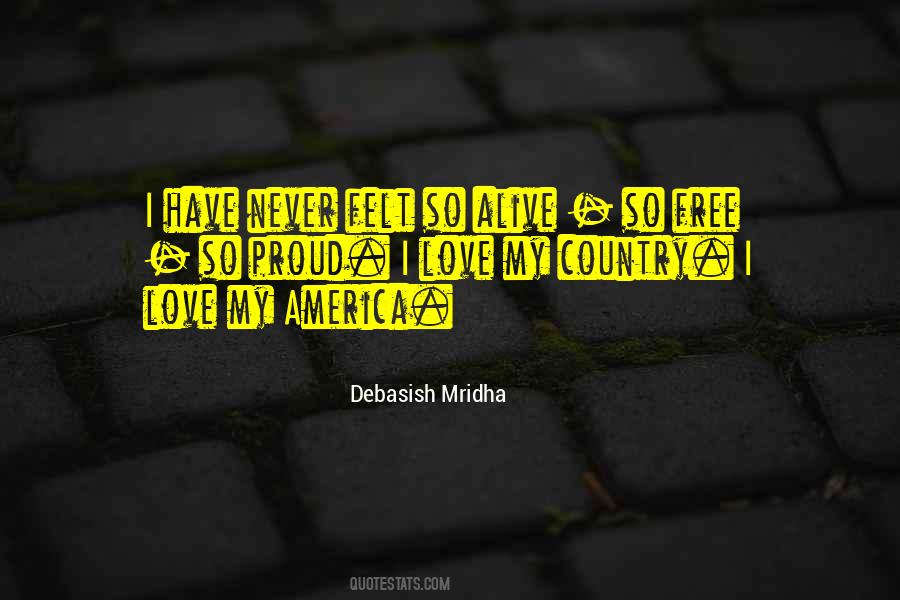 #40. I wasn't on the board of Lehman Brothers. I was a banker, and I was proud of it and I traveled the country and learned how people make jobs. - Author: Sean Hannity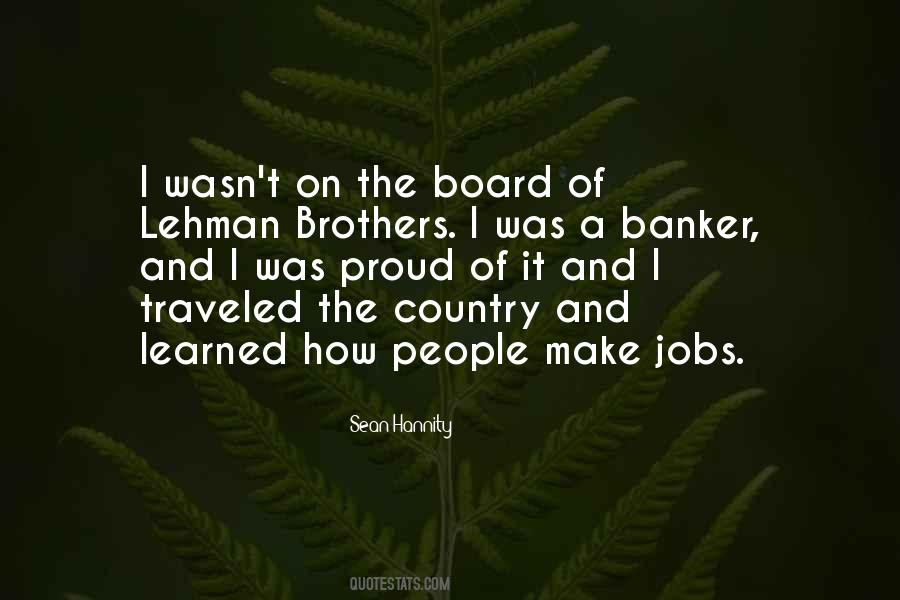 #41. I guess that's one achievement I'm really proud of. Saving Chrysler was more than jobs, more than shareholder value. Saving Chrysler was a good idea for the whole country. - Author: Lee Iacocca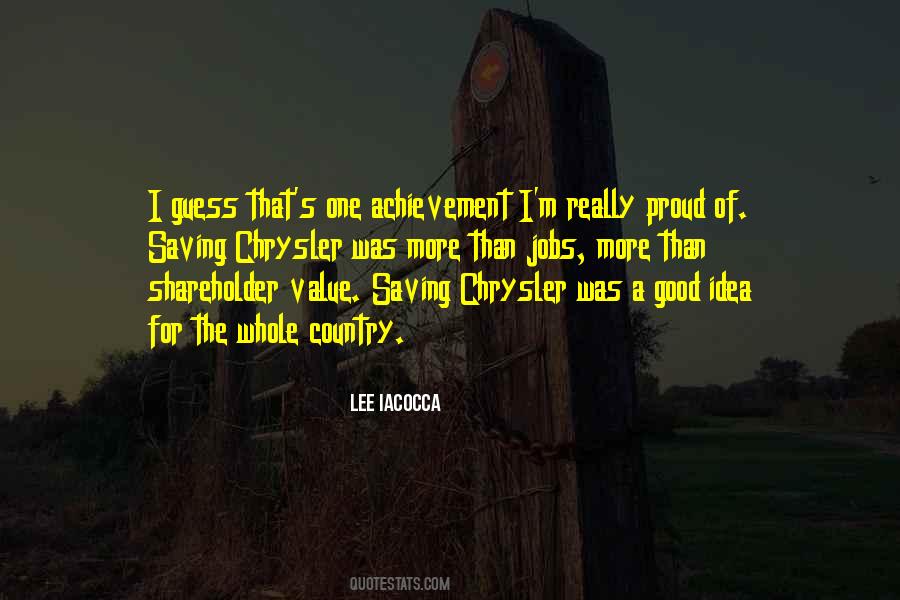 #42. More than ever I'm proud to be an American, to live in a country that respects the rights of all to marry whomever they love. The Supreme Court decision gives new meaning to the freedoms we cherish. - Author: Ralph Lauren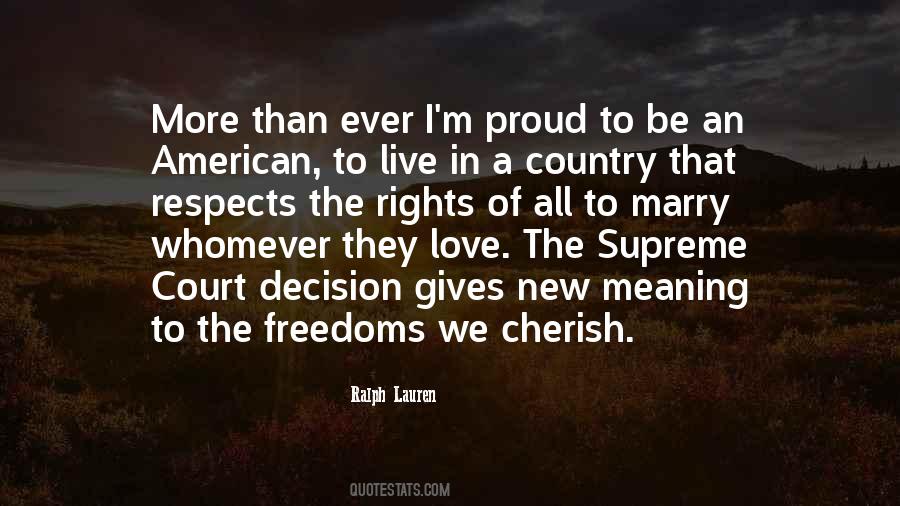 #43. I haven't been baptised. My dad's not in the church and is not a religious person. My mum is more spiritual - she does Thai-chi and goes to Stonehenge and things like that. I'm proud to be pagan. Finland is not really a religious country. I'm still looking for my god. - Author: Ville Valo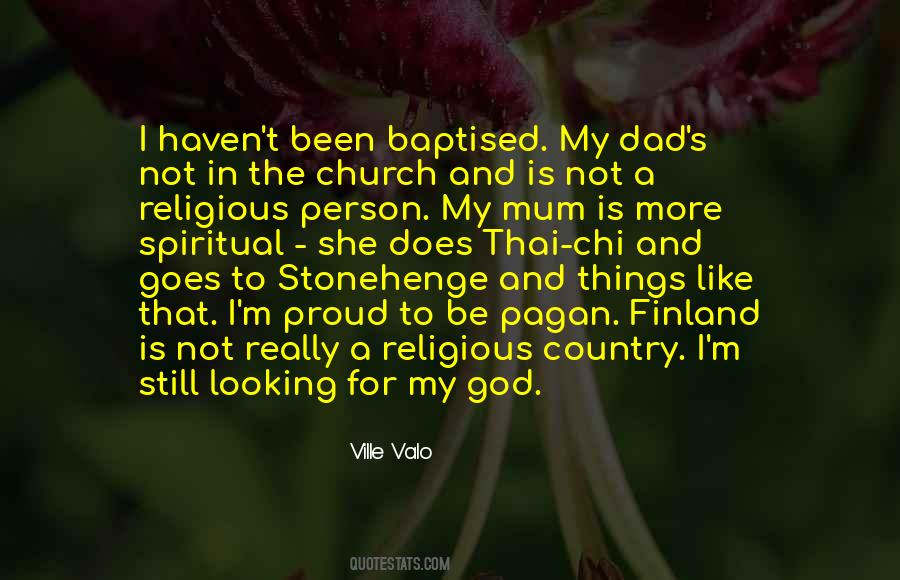 #44. I'm Shahar Peer. I came here to play tennis. I know I'm from Israel and I'm proud of my country and that playing tennis is what I'm going to do tomorrow. - Author: Shahar Pe'er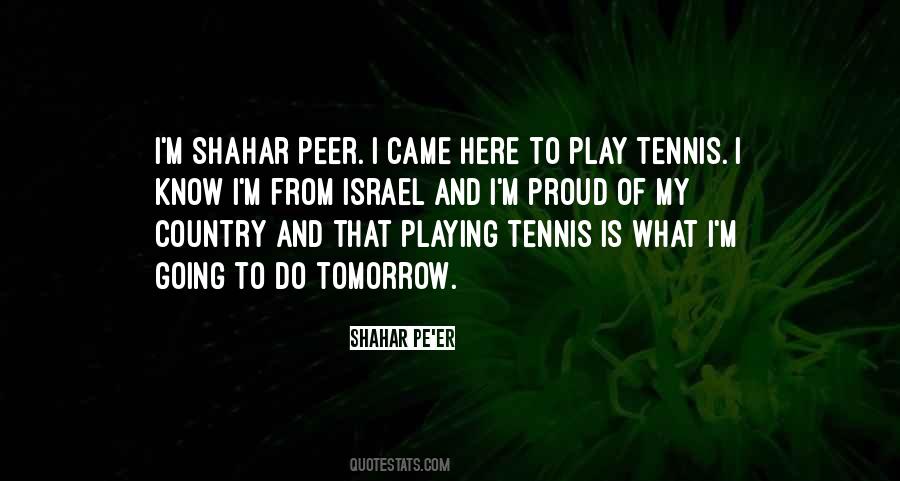 #45. This is America's Team and we are confident this outstanding group of athletes will make our country proud. - Author: Peter Ueberroth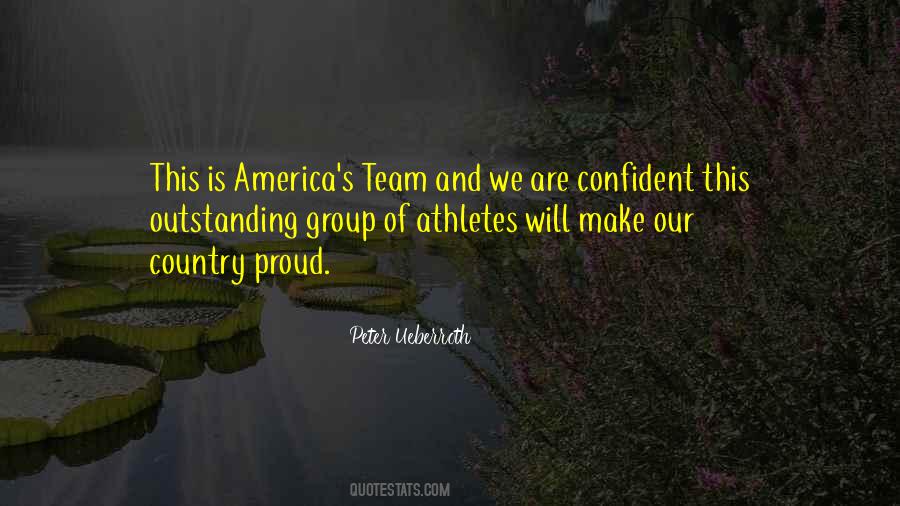 #46. In every country I visit, I am proud to present Jasmine and what we are doing here. I am in no doubt that we will soon be called upon to teach others the model we have been developing for the past decade, for the promotion of women-owned businesses. - Author: Ofra Strauss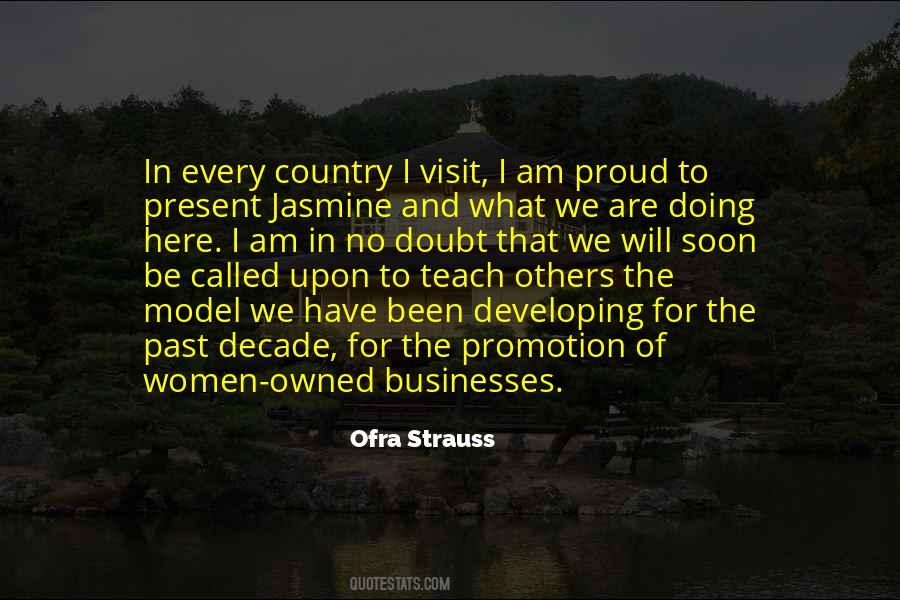 #47. That is why we wholeheartedly support the American-led effort to free the people of Iraq. And though we are a small country with a small military, we are proud to stand side by side with our allies in the fight to end the reign of terror in Baghdad. - Author: Fatos Nano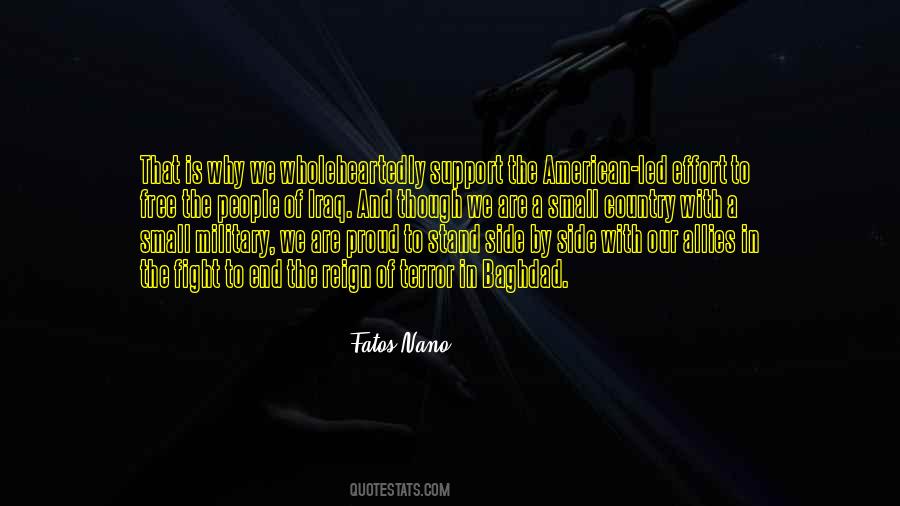 #48. I'm a very, very proud Canadian, and having the privilege to represent my country on the international level was the highlight of my 18-year career. - Author: Paul Henderson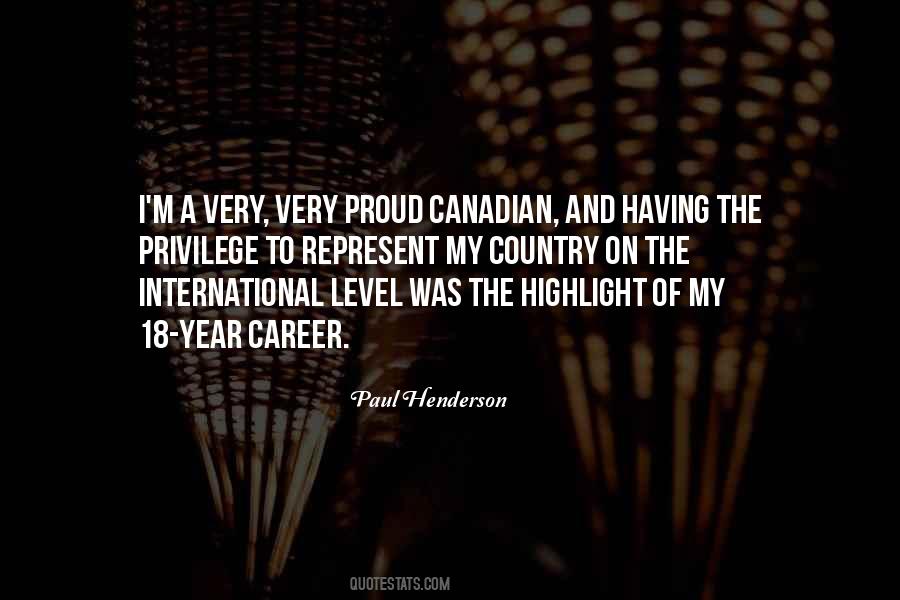 #49. Michelle, I love you so much. The other night, I think the entire country saw just how lucky I am. Malia and Sasha, we are so proud of you - and yes you do have to go to school in the morning. And Joe Biden, thank you for being the best Vice President I could ever hope for. - Author: Barack Obama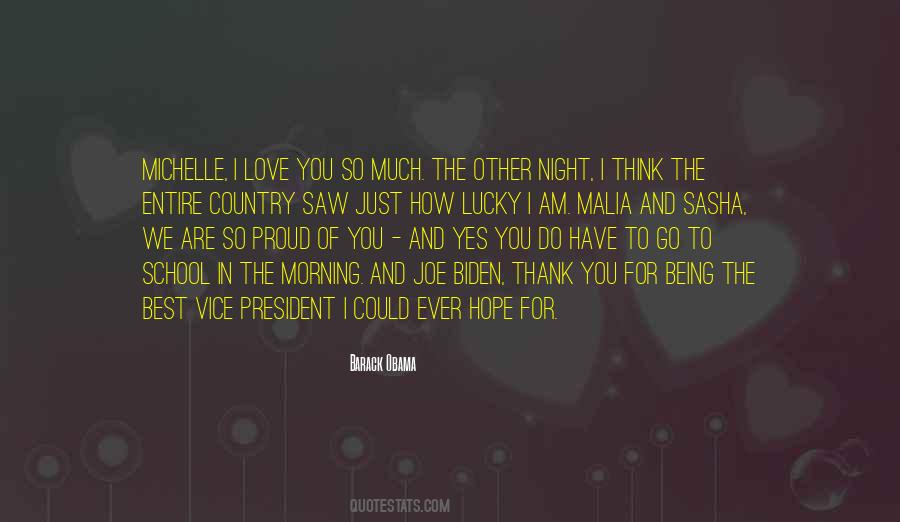 #50. Think of a country where people were admired for running away in battle, or where a man felt proud of double-crossing all the people who had been kindest to him. You might just as well try to imagine a country where two and two made five. - Author: C.S. Lewis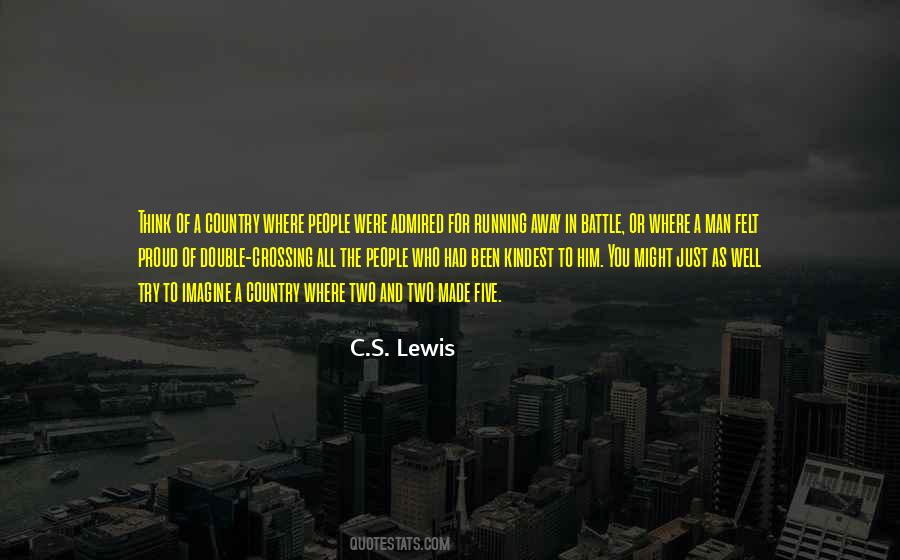 #51. The United Kingdom Is Not A Country That Anybody Can Be Proud Of - Author: Craig Murray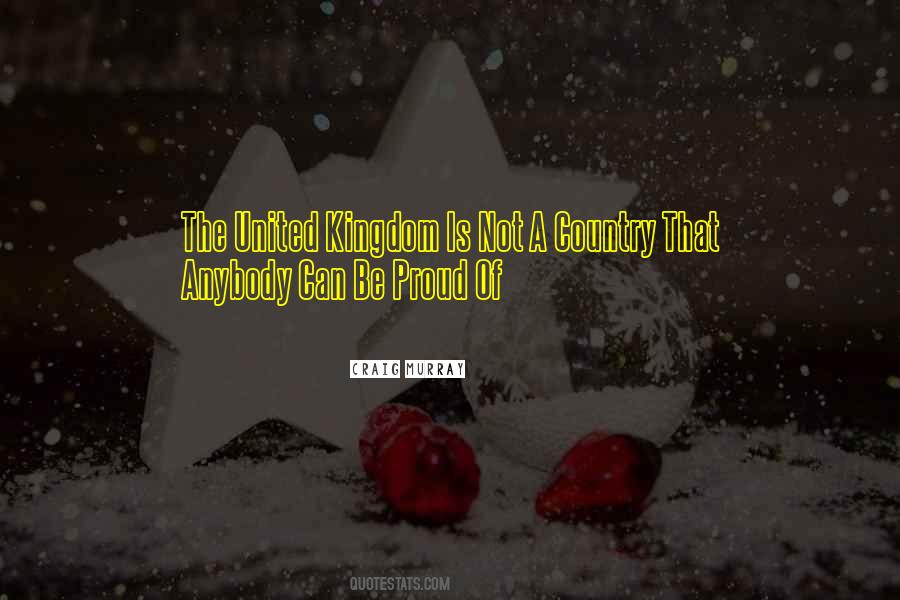 #52. The United States is proud to be the first country to recognize the existence of a Jewish State - just 11 minutes after Israel's independence was declared. - Author: Denis McDonough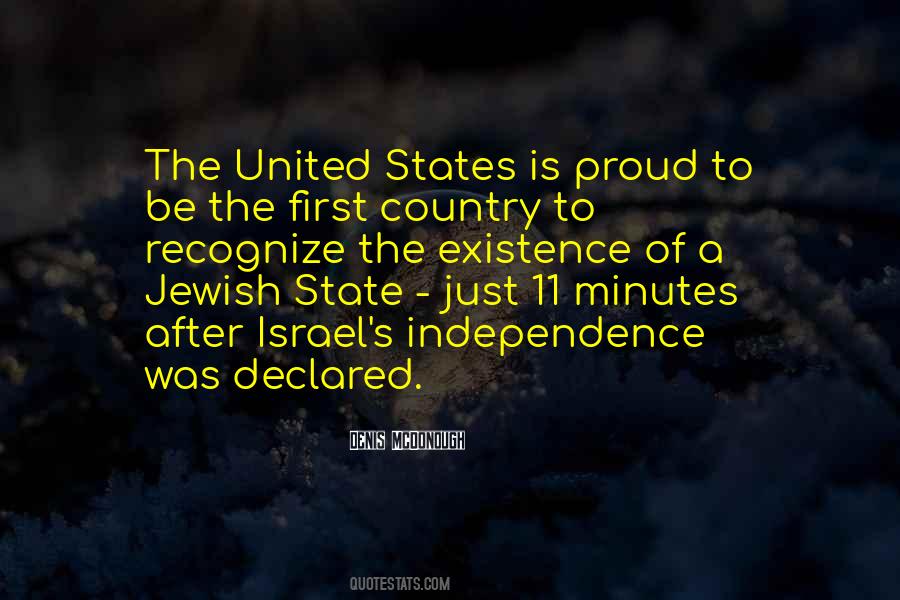 #53. It makes me proud not just to be a Canadian writer but to be a Canadian, to live in a country where we treat our writers like movie stars. - Author: Lynn Coady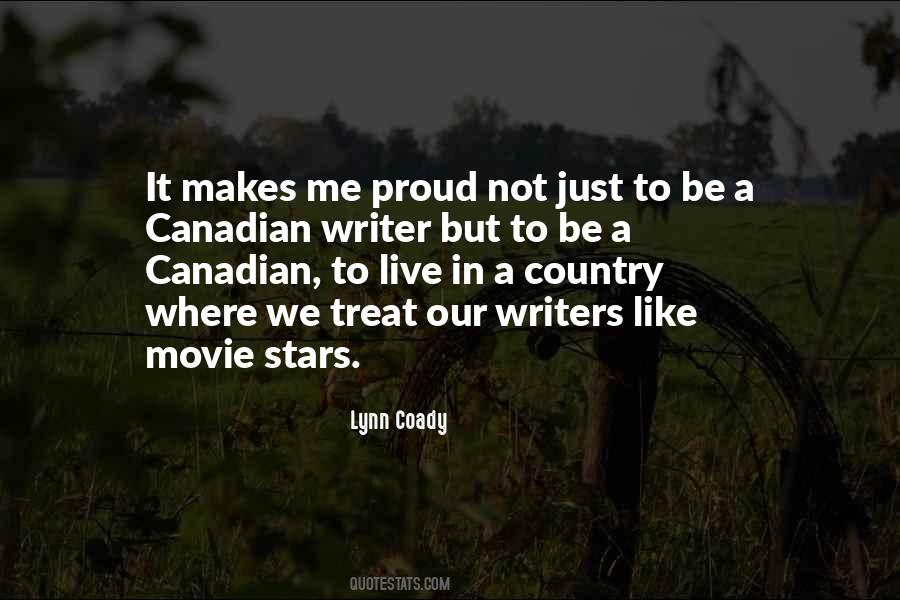 #54. For the first time in my adult life, I am proud of my country because it feels like hope is finally making a comeback. - Author: Michel'le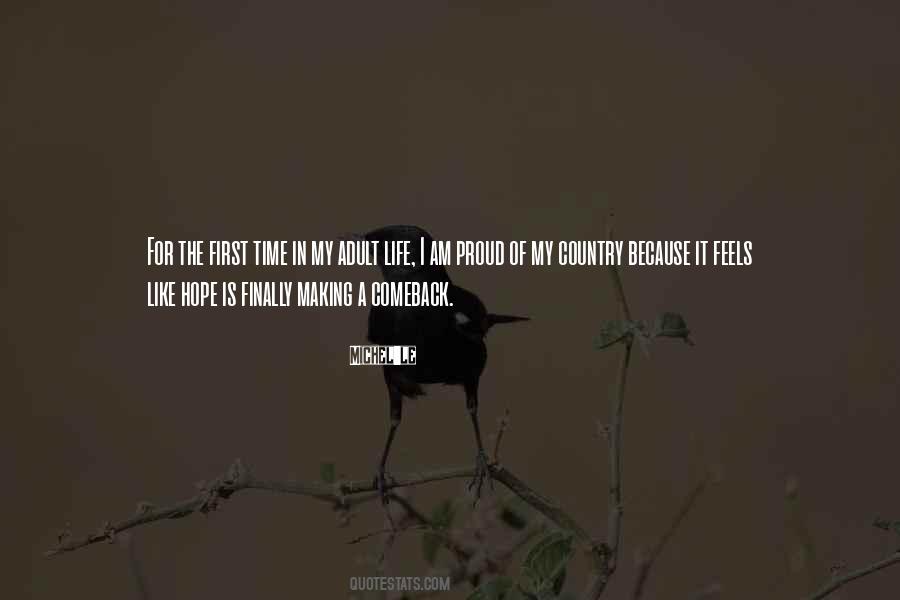 #55. We're all doing it for the love of the sport. We want to make Canada proud. I'm so fortunate to skate in a country like Canada. - Author: Cindy Klassen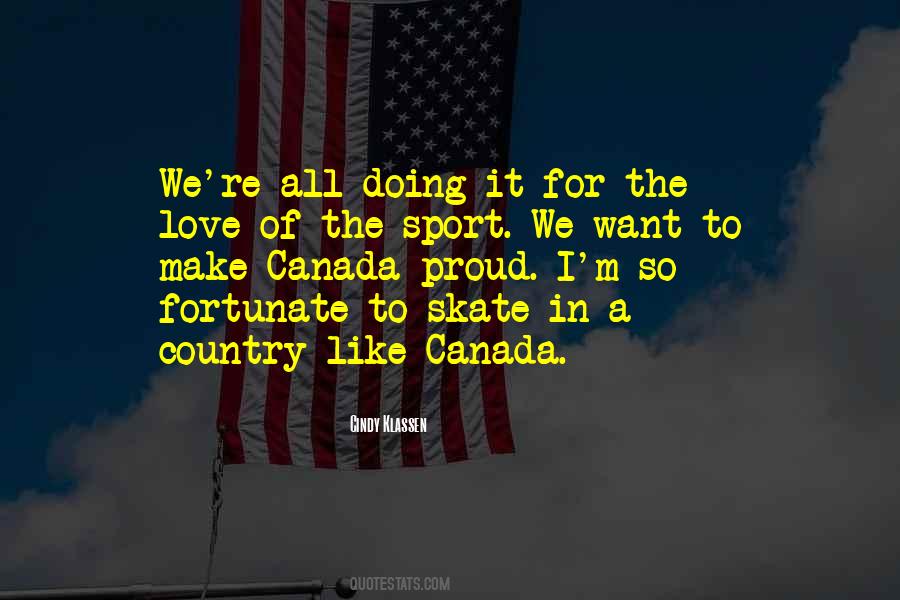 #56. We can never fully repay the debt of our proud nation to those who have laid down their lives for our country. The best we can do is honor their memory, ensure that their sacrifice is not in vain, and help provide for their families. - Author: Susan Collins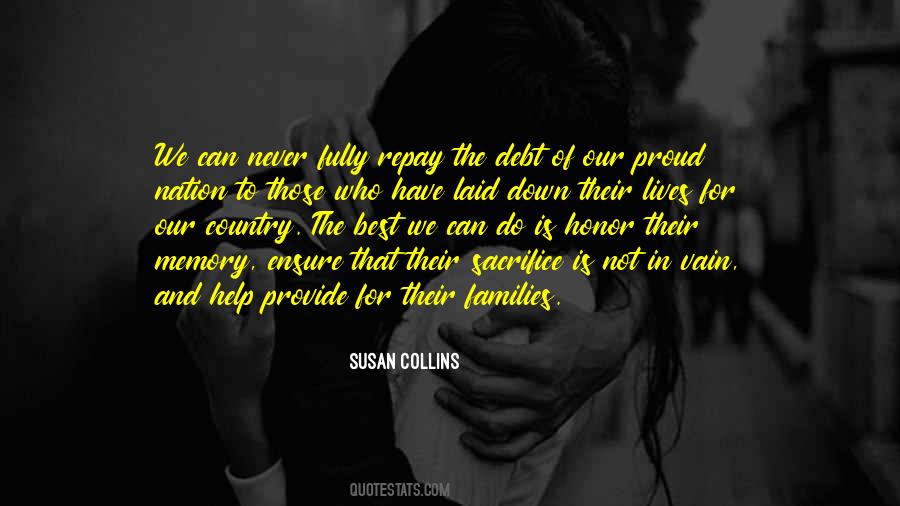 #57. From the halls of Montezuma to the shores of Tripoli, We will fight our country's battles in the air, on land and sea. First to fight for right and freedom, and to keep our honor clean, We are proud to claim the title of United States Marines. - Marine Corps Hymn - Author: Tom Clancy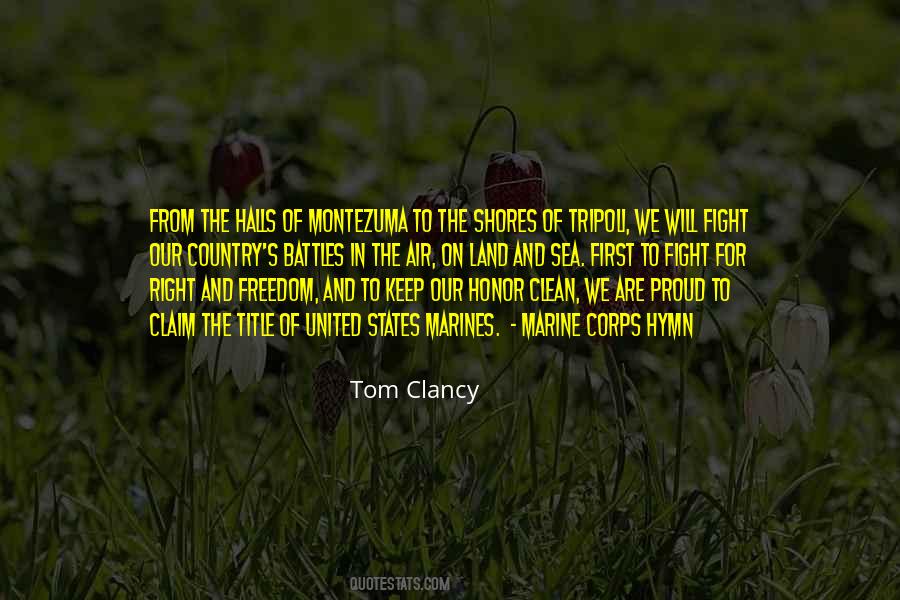 #58. All those countries who keep their aid promises should be proud of what they've done - Author: David Cameron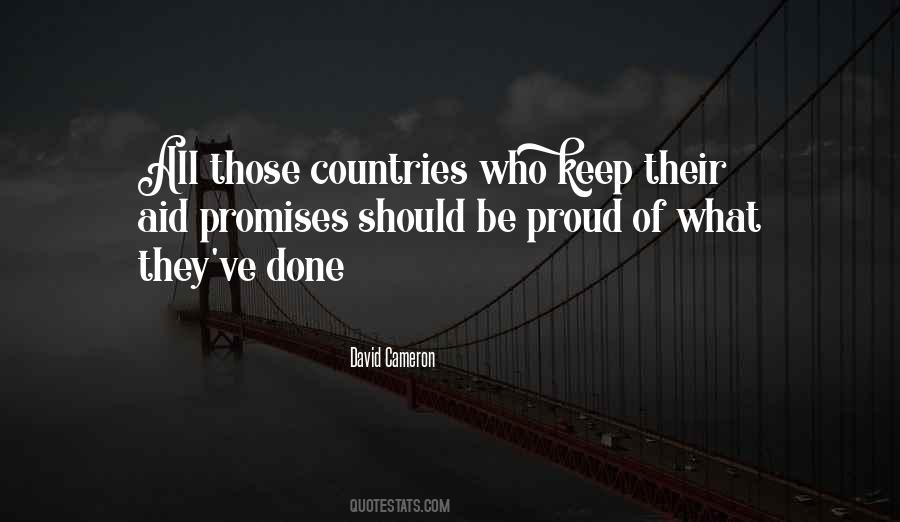 #59. We Americans can be rightly proud of the fact that the right to the free and unfettered exercise of religion is a primary principle in the vision and founding of our country. It defines us as a people, and has uniquely contributed to making this nation great. - Author: Salvatore J. Cordileone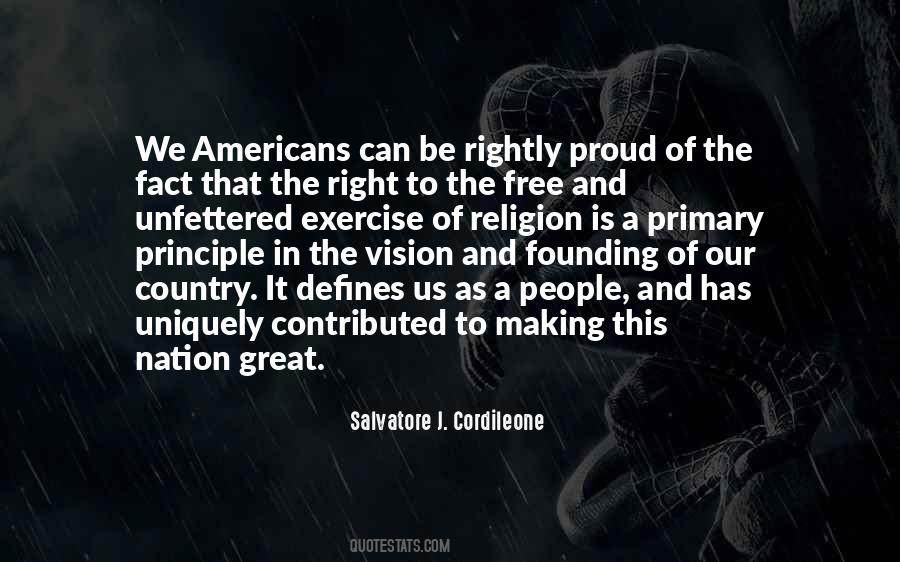 #60. What we have done with the American Indian is its way as bad as what we imposed on the Negroes. We took a proud and independent race and virtually destroyed them. We have to find ways to bring them back into decent lives in this country. - Author: Richard M. Nixon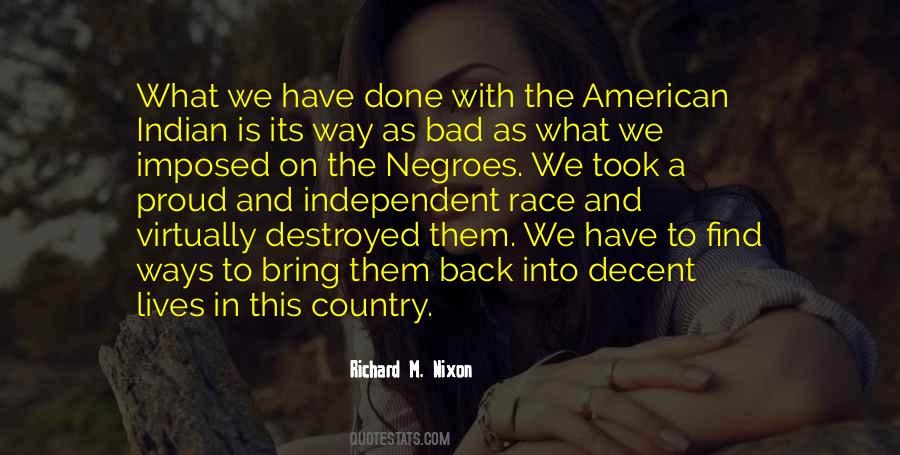 #61. I am proud to offer my endorsement of Donald J. Trump for President of the United States. He is a successful executive and entrepreneur, a wonderful father, and a man who I believe can lead our country to greatness again. - Author: Jerry Falwell Jr.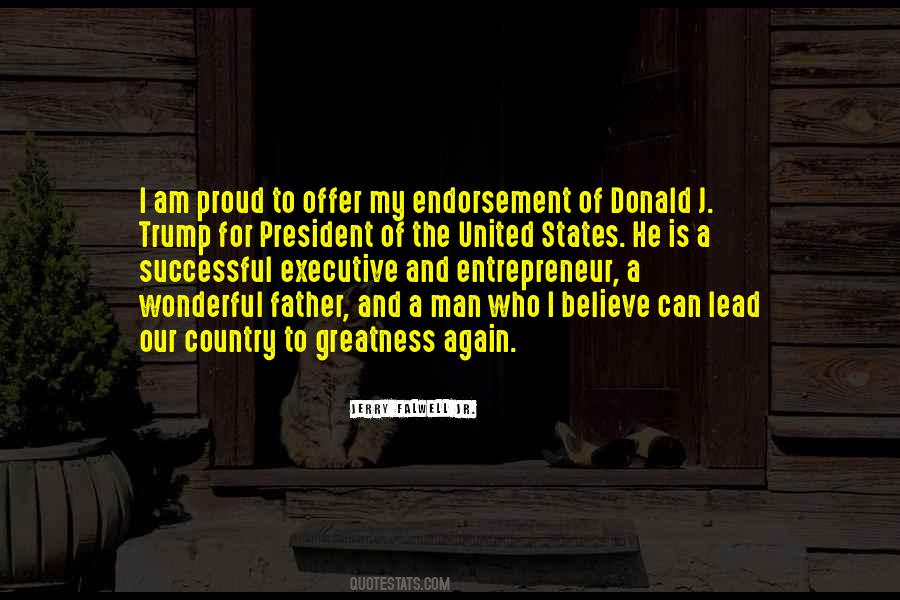 #62. In a way players at the top should try to promote the game in their own countries as that is the legacy that makes you feel proud. If you have not done that you have failed as a sportsperson. - Author: Viswanathan Anand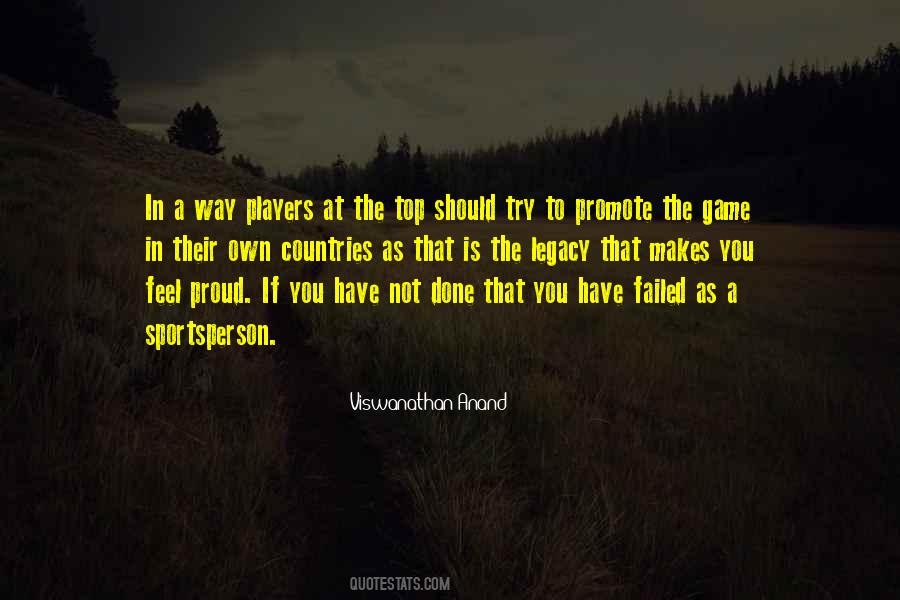 #63. Ironically, since Obama was elected, for the first time in my life I'm sometimes not proud of my country. - Author: Ann Coulter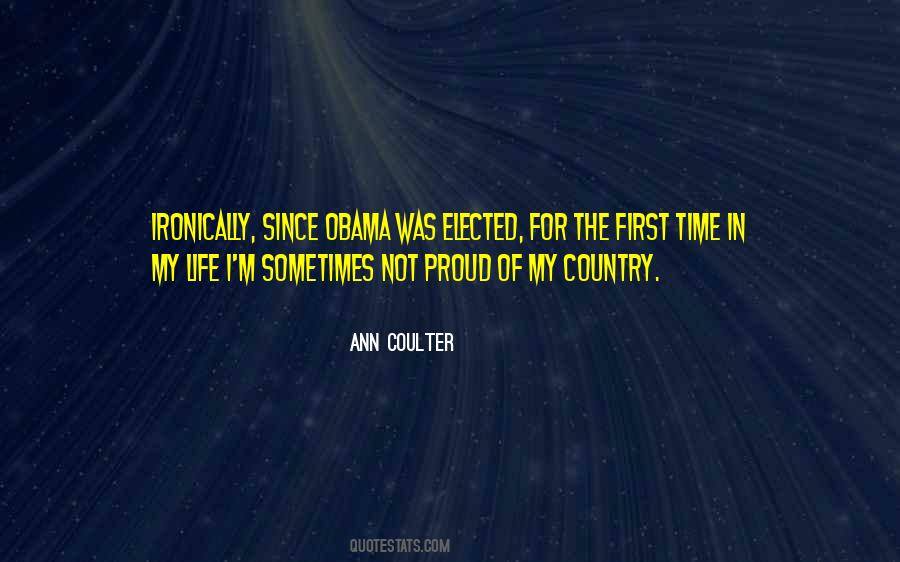 #64. Whenever I go to New York or any European country, they say: 'Nawal, why don't you get a facelift?' I tell them, 'I am proud of my wrinkles. Every wrinkle on my face tells the story of my life. Why should I hide my age?' - Author: Nawal El Saadawi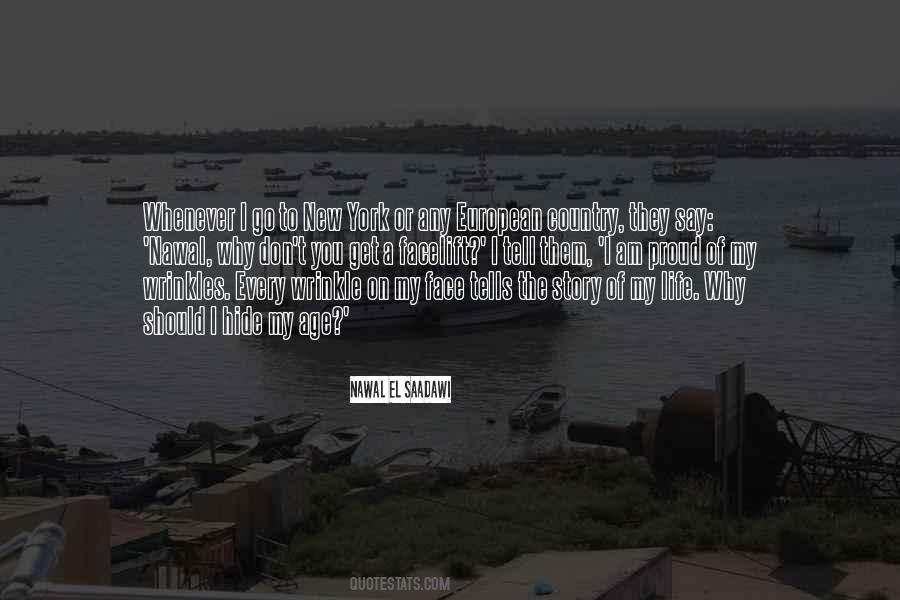 #65. I'm really proud to be a woman representing Country music - Author: Kacey Musgraves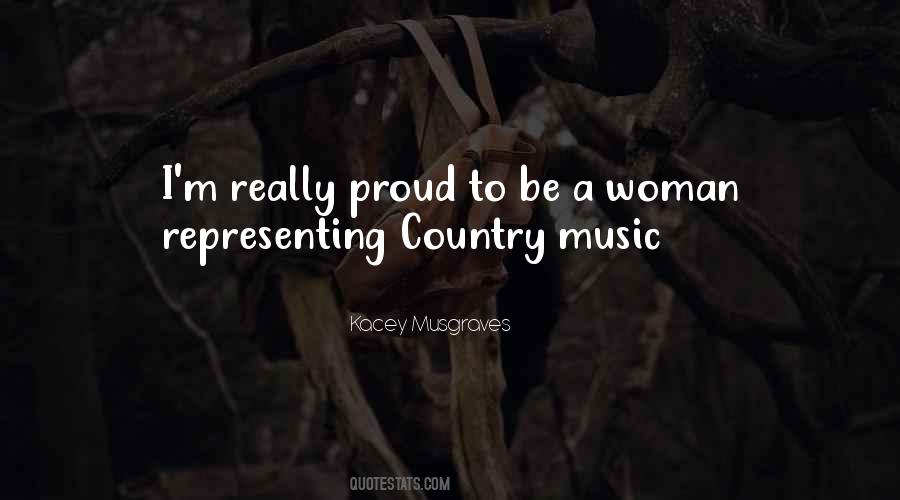 #66. I'm thrilled that country music fans like my stuff, but so do a lot of people outside of country music, people who just love music. My goal is more to reach music lovers than to appeal to a genre. I love country music, and I'm proud to represent it, but I don't obsess over it as a category. - Author: Kacey Musgraves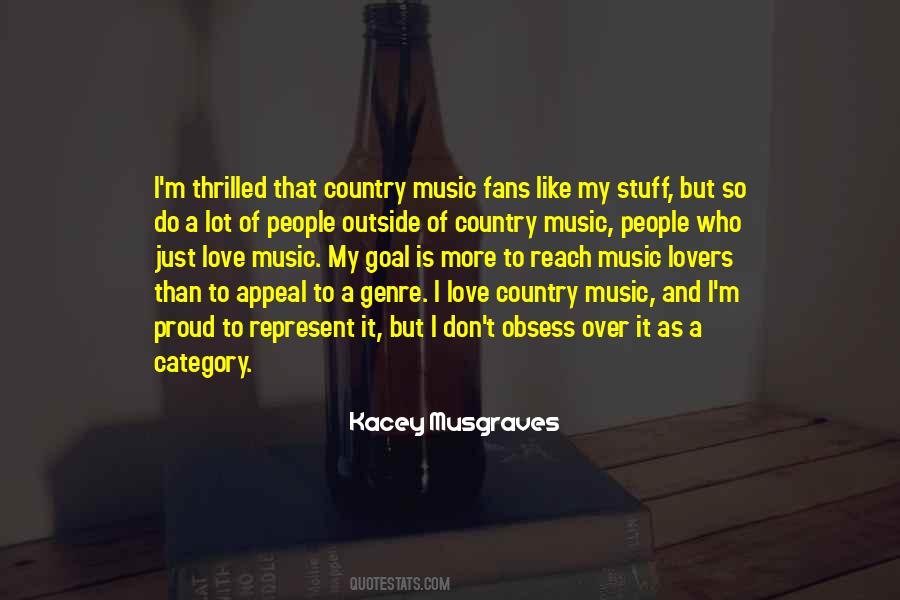 #67. But you know we couldn't compare what we do with what the British athletes did at the Olympics. We are very proud to be British and if we have done our bit to promote Britain in a historic year for the country that's brilliant. - Author: Louis Tomlinson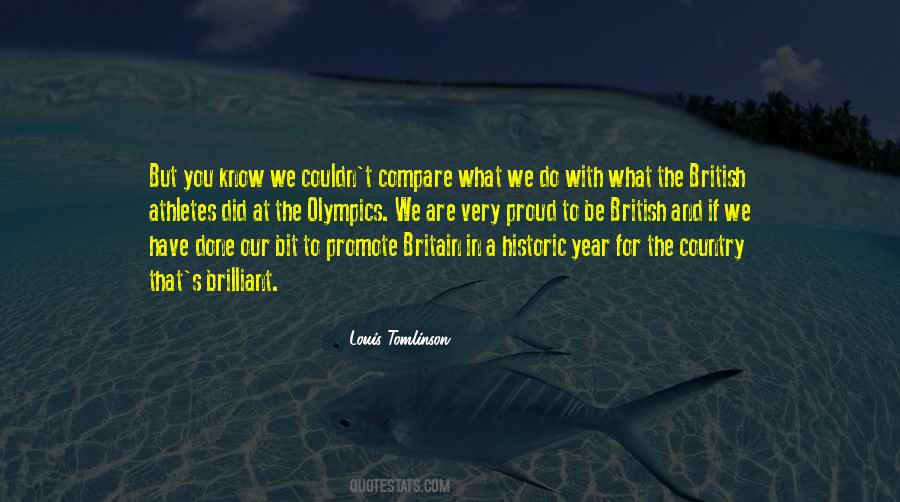 #68. Everyone should be proud of who they are and where they come from because America is a big melting pot of diverse ethnicities. It's great to be part of this wonderful country. - Author: Rima Fakih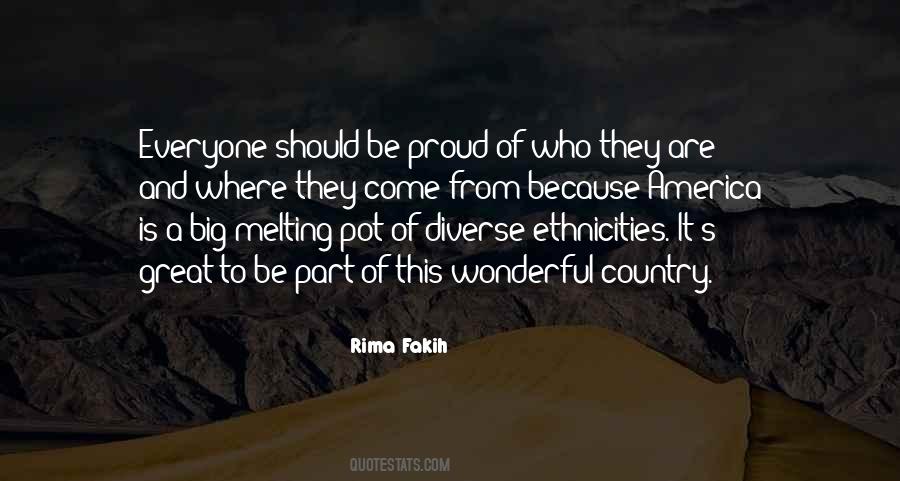 #69. I've always been proud to represent my country, whether it be World Cups, European Championships or just friendly games, I've always been a proud person, I'm very patriotic. - Author: David Beckham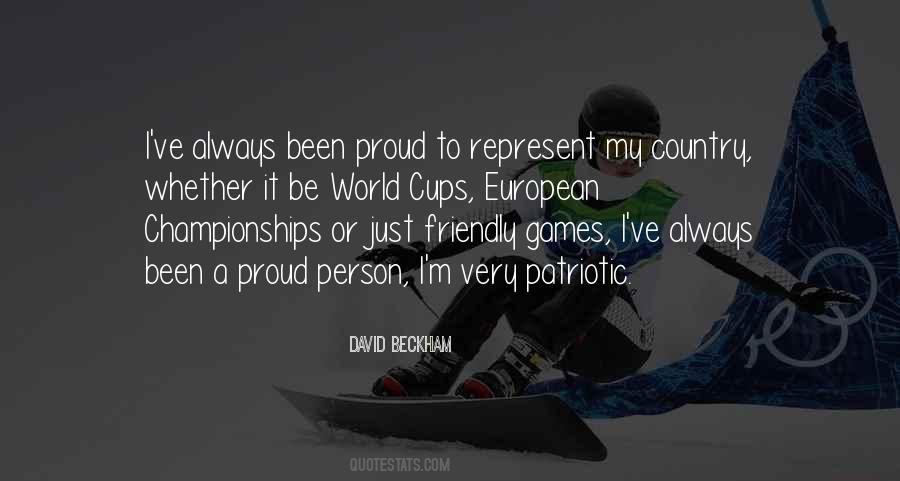 #70. These are important reforms. Infrastructure, education, health, hospitals, closing the gap with indigenous Australians. Also the Apology to the first Australians. As Prime Minister of the country I am proud of each and every one of these achievements. - Author: Kevin Rudd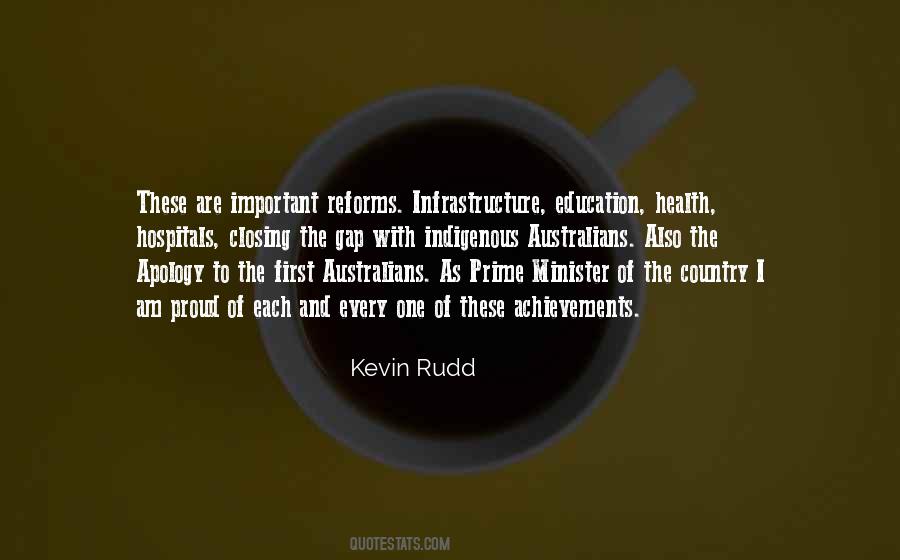 #71. I care about people's human rights and, as a country, we have a very proud record indeed. But I'm also realistic about what we can do ... we can raise those issues with leaders and we can talk about those issues, and we do that. - Author: John Key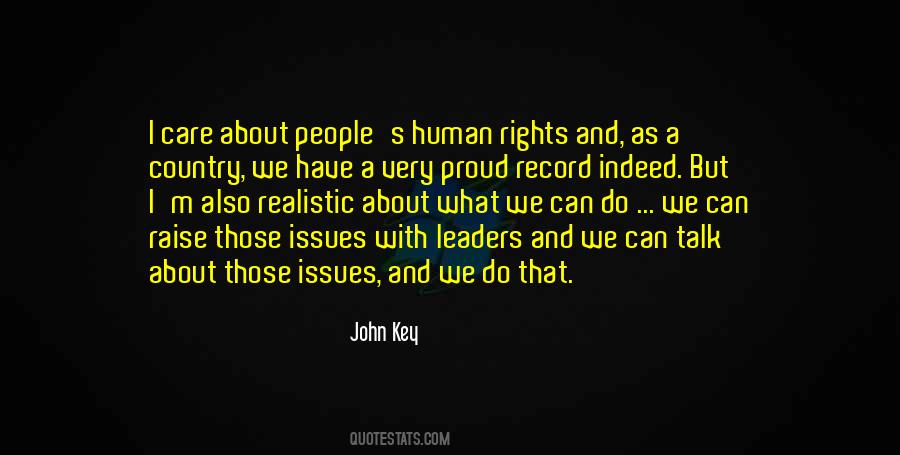 #72. We used to be so proud that our country offered far more economic opportunities than the feudal system in Great Britain, with its royal family, princesses and dukes. But social mobility in the UK is higher than in the US. Our social rift is as big as it was in the 1920s. - Author: Robert Reich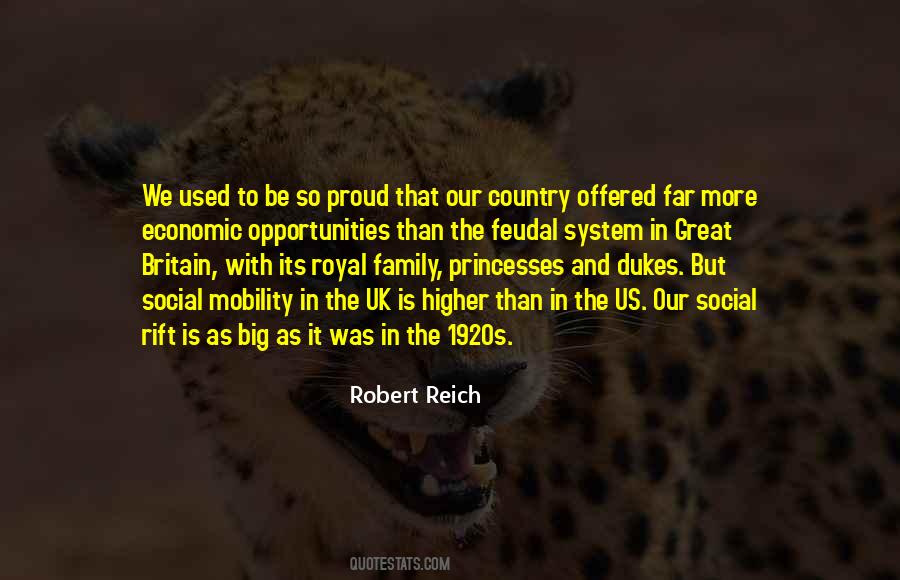 #73. I was proud of my Soviet country, of wearing Young Pioneer uniform, bombarded by my mother's Communist propaganda. - Author: Roustam Tariko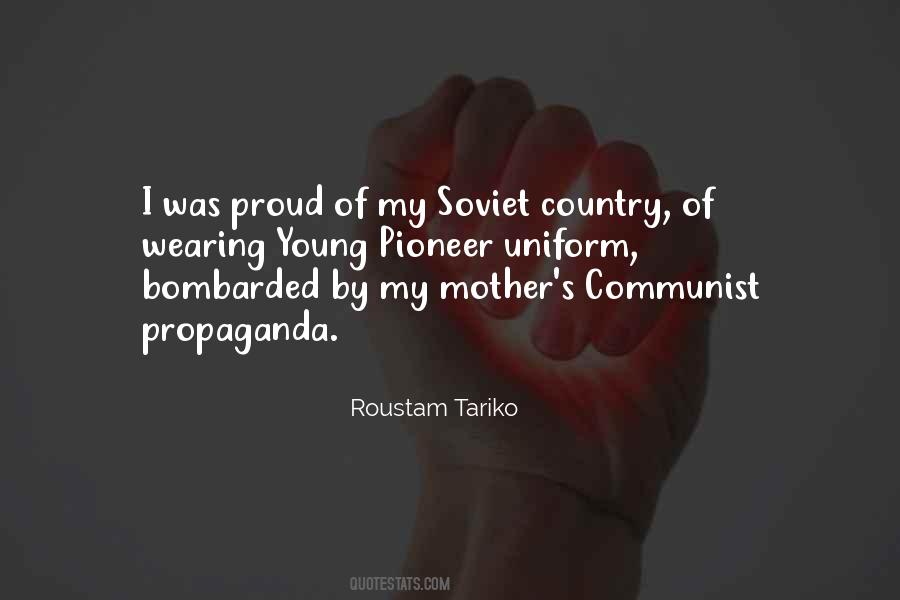 #74. I feel like the people from Iceland have a different relationship with their country than other places. Most Icelandic people are really proud to be from there, and we don't have embarrassments like World War II where we were cruel to other people. - Author: Bjork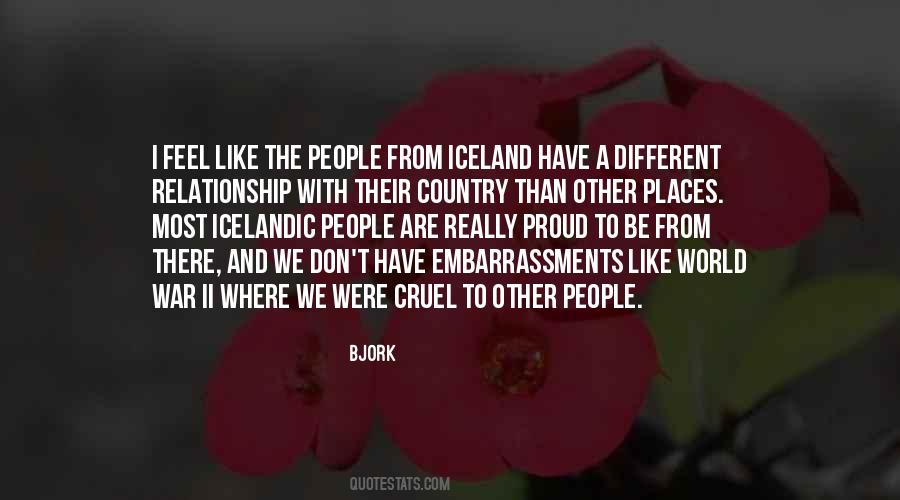 #75. I think there is a heritage which I'm proud of, which is a fight for democracy, a fight for social justice, a fight for freedom. My grandfather went to jail or exile six times in his life, fighting for his principles for democracy, or for his country. And my father twice. - Author: George Papandreou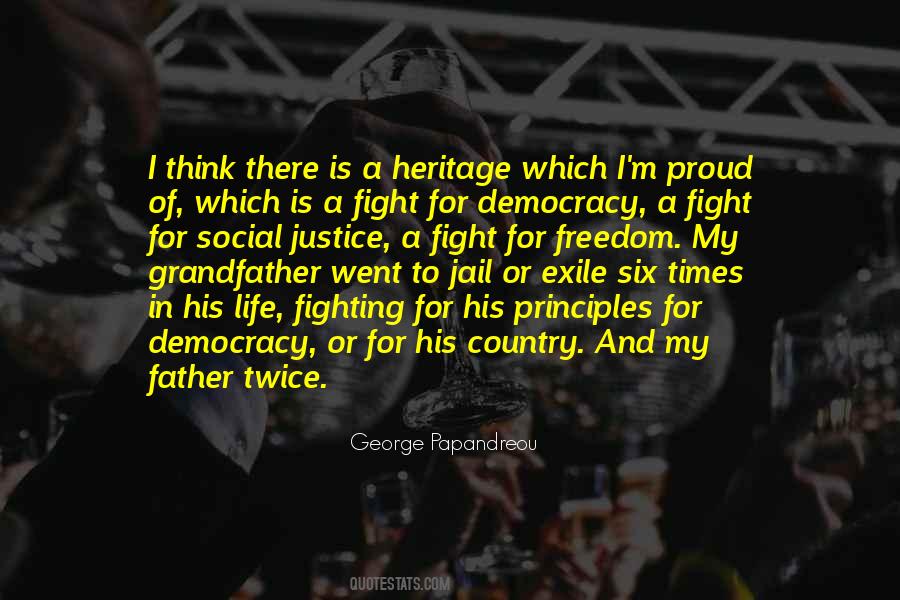 #76. I am proud of my work for my country. - Author: Abdul Qadeer Khan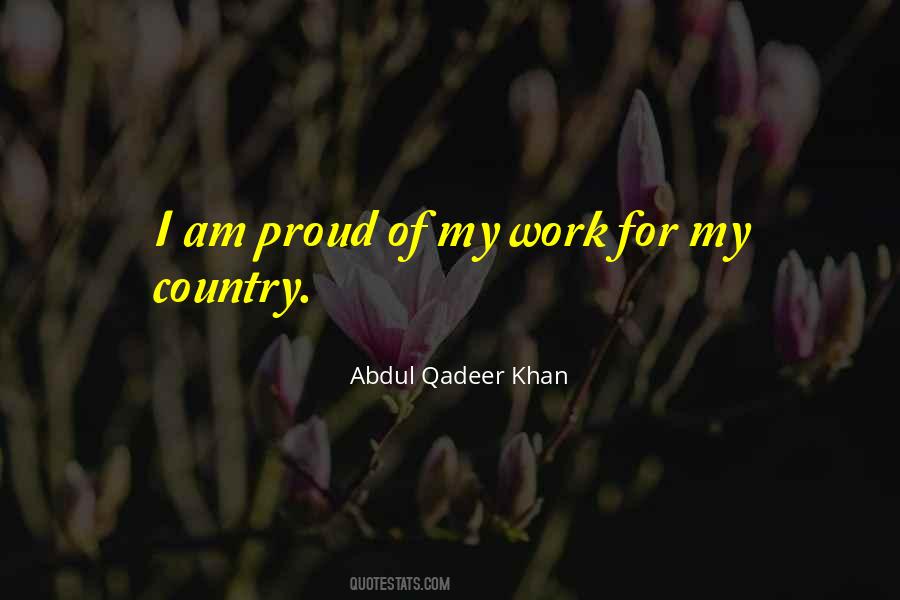 #77. I've seen country music go uptown, like we say, and I'm proud I was there when it happened. - Author: Loretta Lynn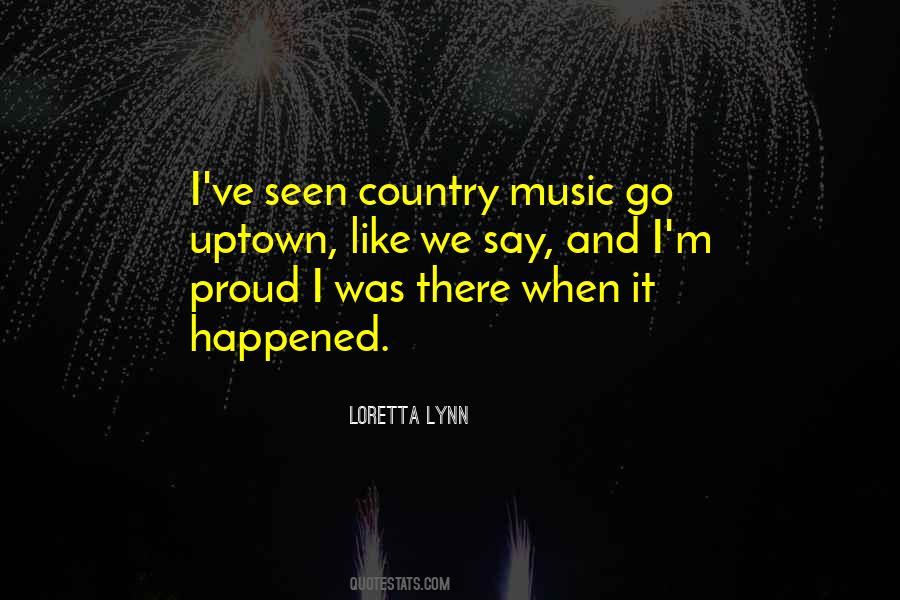 #78. It's great that after 700 years William Wallace has finally had a proper burial. He did so much for the country. You should be proud of what you have achieved through devolution. - Author: Mel Gibson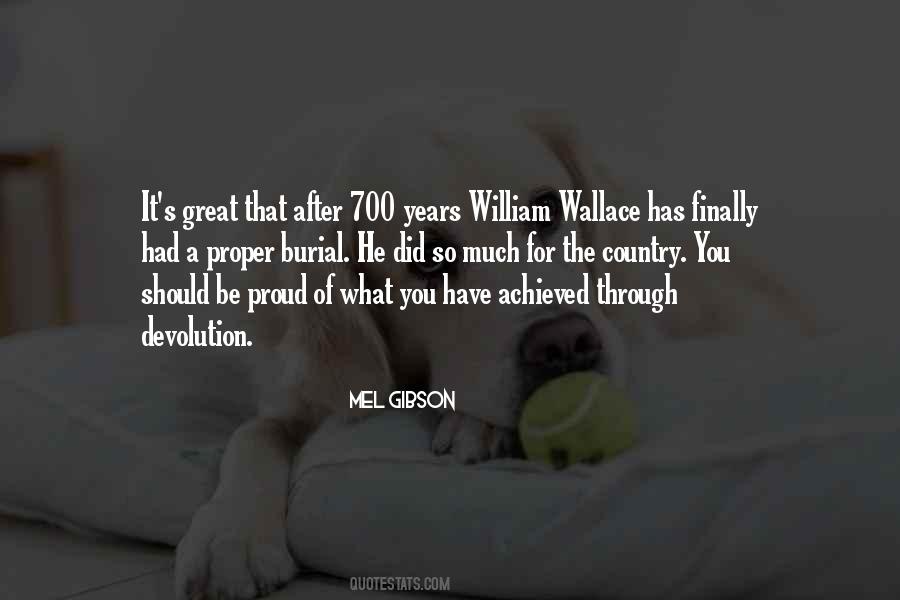 #79. America is a great country. We have a lot to be proud of, and a lot to look forward to being proud of. But let's not ever forget to look back into the past, learn from it, and embrace it, for to deny the past is a dark path to go down. - Author: Lauren Lola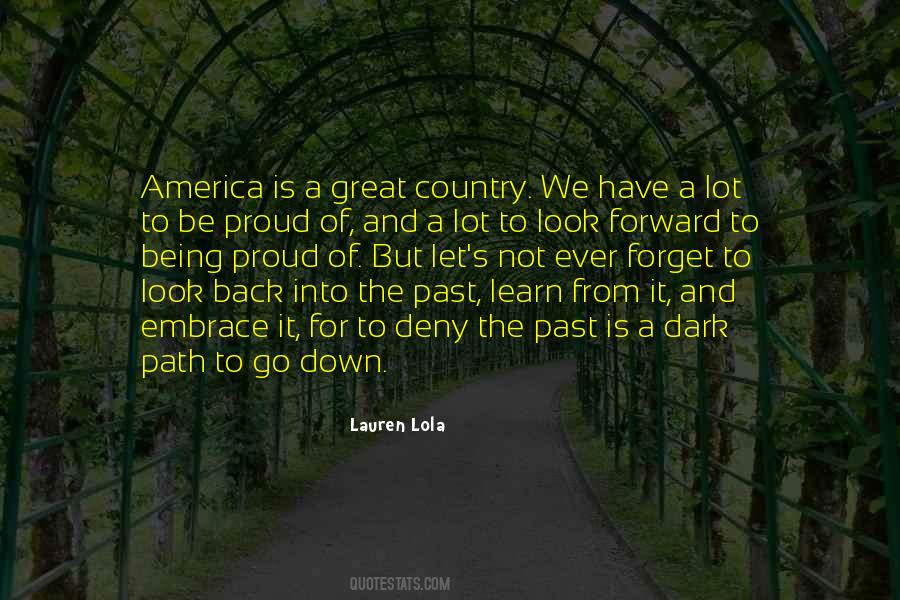 #80. Sleep is a god too proud to wait in palaces, and yet so humble too as not to scorn the meanest country cottages. - Author: Abraham Cowley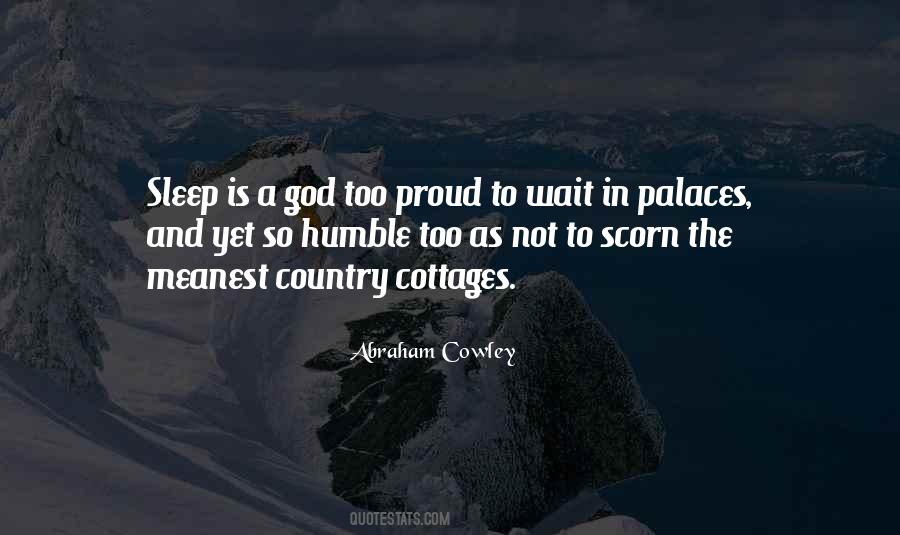 #81. If we want to be proud of our country, if we want to be proud as Americans, if we want to be proud of our history, then we can't talk about the things that are inconsistent with pride, about which we can have no pride. - Author: Bryan Stevenson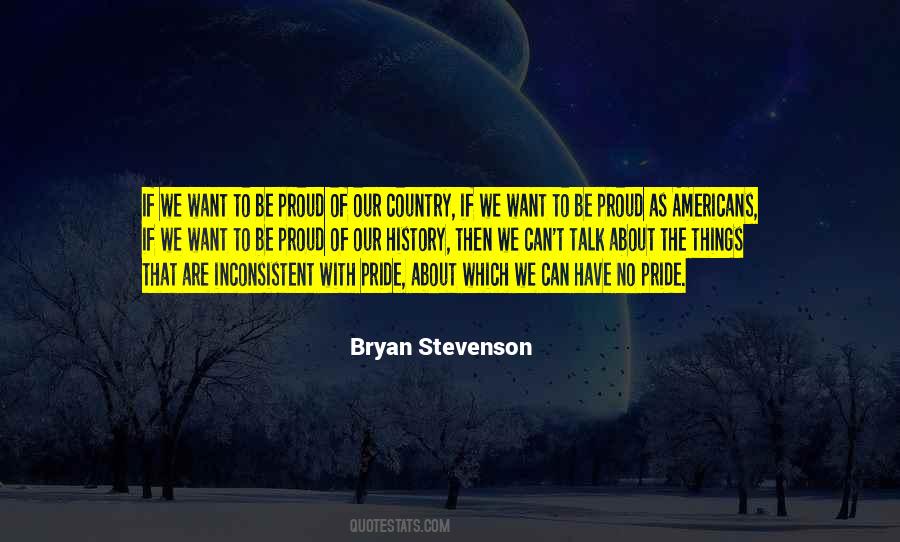 #82. The things that unite us-America's past of which we are so proud, our hopes and aspirations for the future of the world and this much loved country-these things far outweigh what little divides us. - Author: Ronald Reagan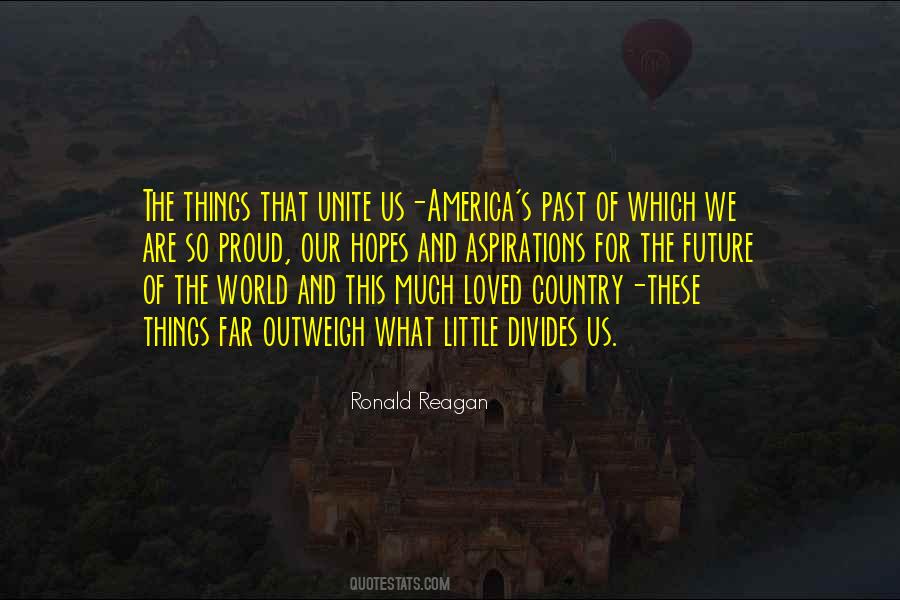 #83. It is shallow people who think beauty is frivolous or excessive. If you are bringing beauty and god, you are enriching the country. Rice feeds the body, books feed the mind, beauty feeds the soul. It is one thing I can really be proud of and stand tall in the world. - Author: Imelda Marcos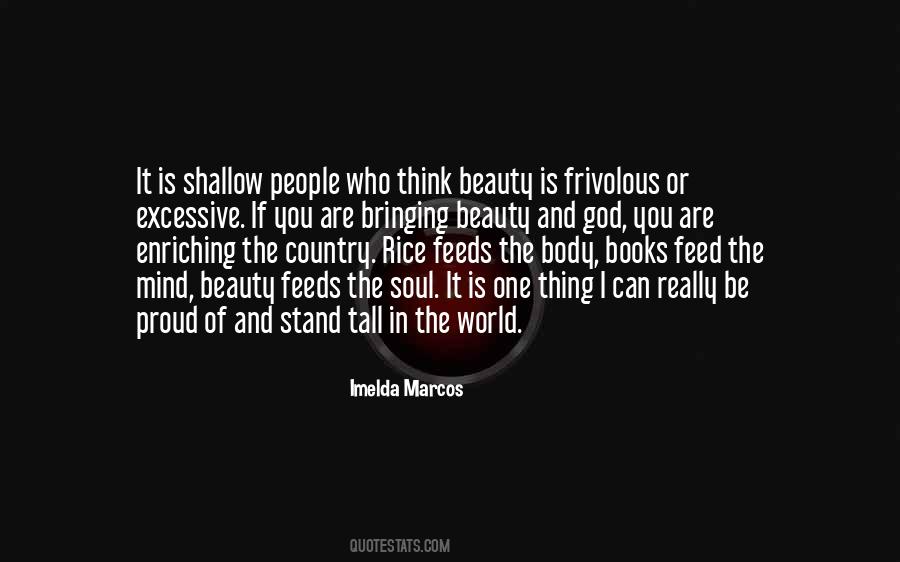 #84. The U.S. was the immigration country of choice even for alien jellyfish things that turned humans into scary monsters. It made you proud, really. - Author: Gini Koch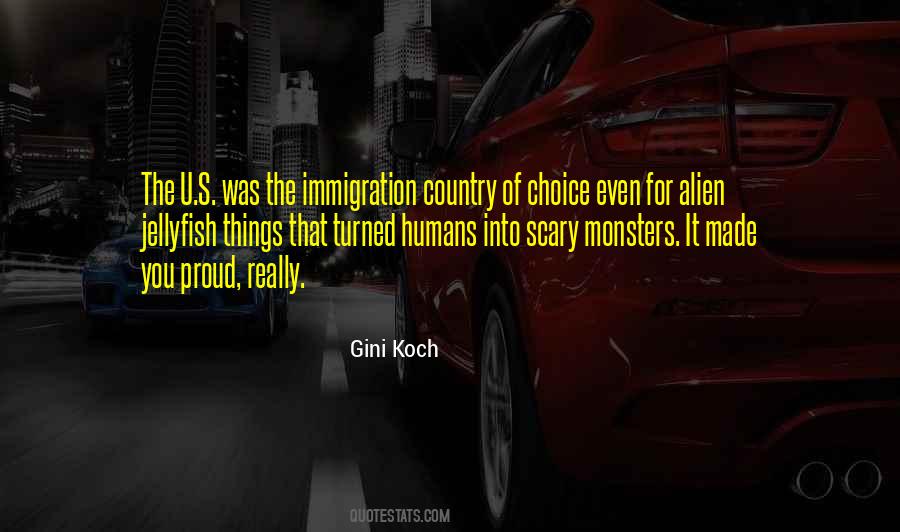 #85. The majority of people think their children's lives will not be as good as theirs. Nearly half of all Americans are no longer proud of their country. Politicians have become a despised breed. - Author: Kathleen Troia McFarland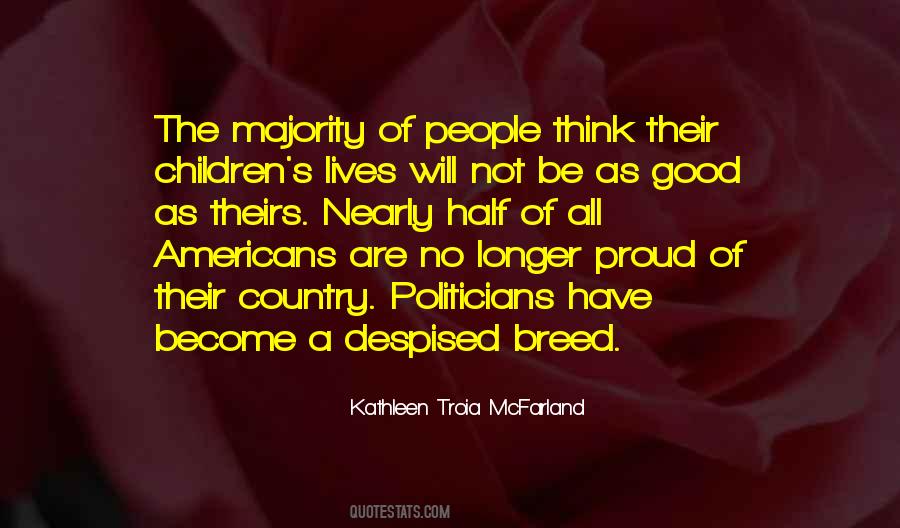 #86. They, and we, are the legacies of an unbroken chain of proud men and women who served their country with honor, who waged war so that we might know peace, who braved hardship so that we might know opportunity, who paid the ultimate price so that we might know freedom. - Author: Barack Obama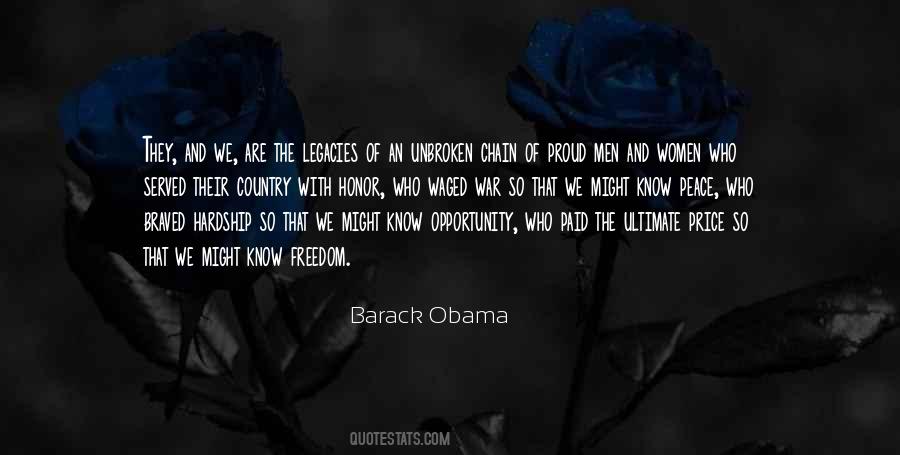 #87. I hope for my children, and for all Mexicans, that they can be proud to be Mexican, proud of their heritage, and proud that they have a peaceful, inclusive, vibrant country that is playing a role in the world. - Author: Enrique Pena Nieto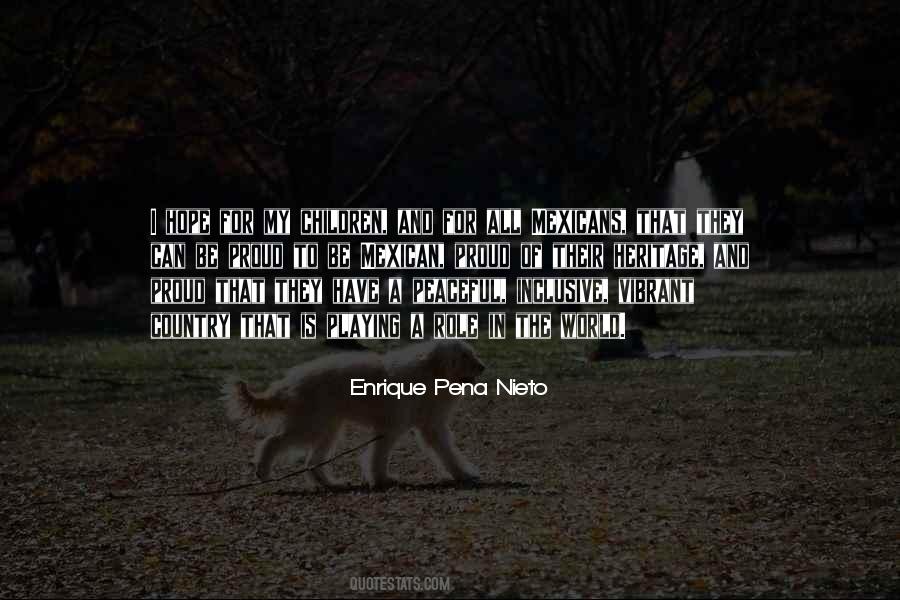 #88. Western civilisation came to this country in 1788 and I'm proud of that - Author: Tony Abbott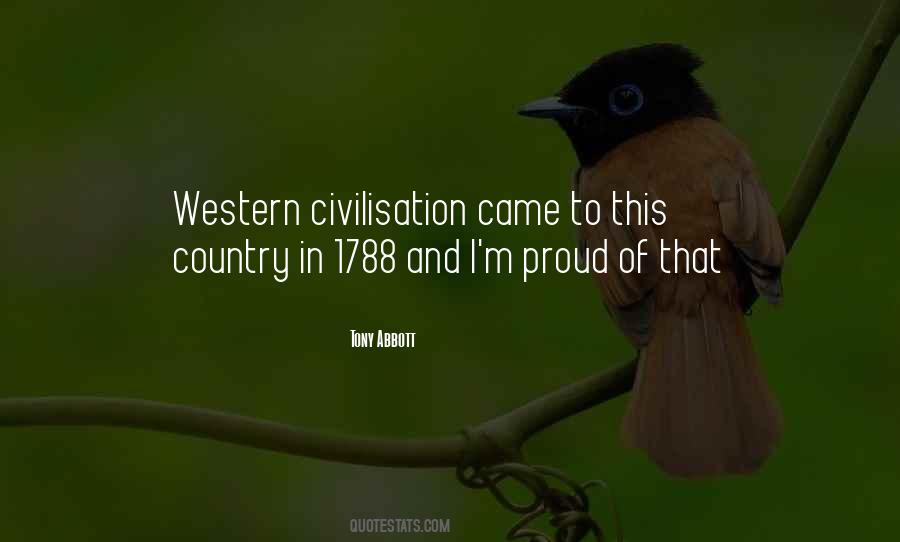 #89. I'm proud to be Japanese and I wanted my country to succeed. I believed my system was a way that could help us become a modern industrial nation. That is why I had no problem with sharing it with other Japanese companies, even my biggest competitors. - Author: Taiichi Ohno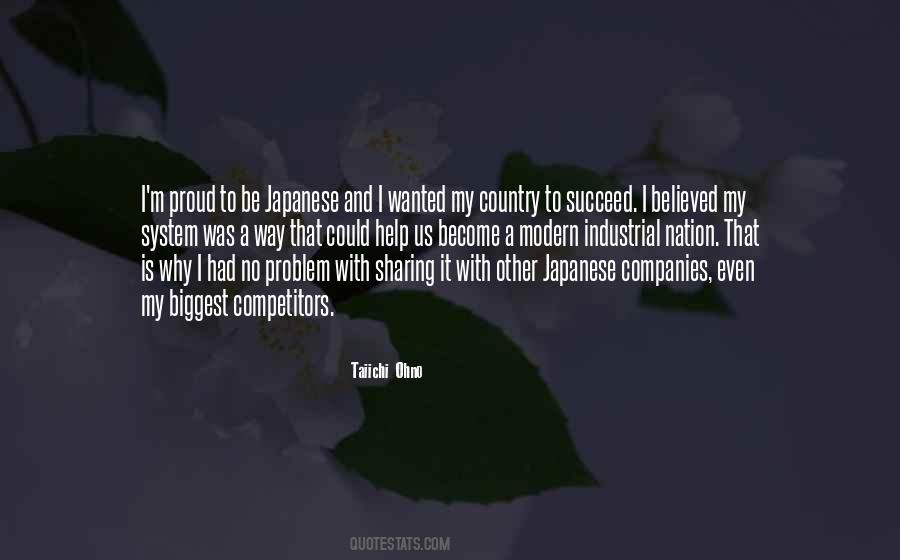 #90. I am very proud to be British. I'm very conscious of carrying my country with me wherever I go. I feel I need to represent it well. - Author: Julie Andrews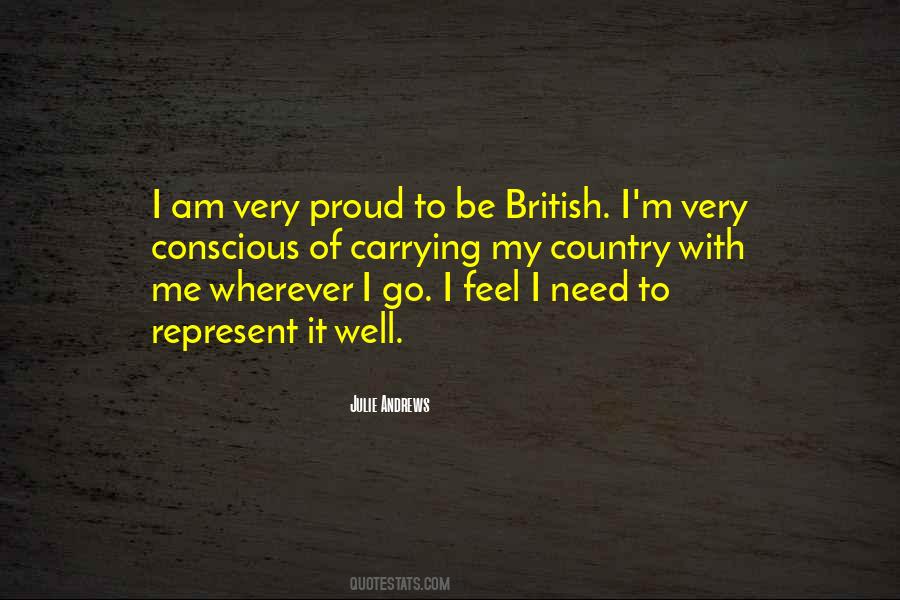 #91. The Ford Falcon holds the proud title of Slowest Car Ever Built. In certain areas of the country you can go to a stoplight and find Falcon drivers who pressed down on their accelerators in 1963 and are still waiting for their cars to move. - Author: Dave Barry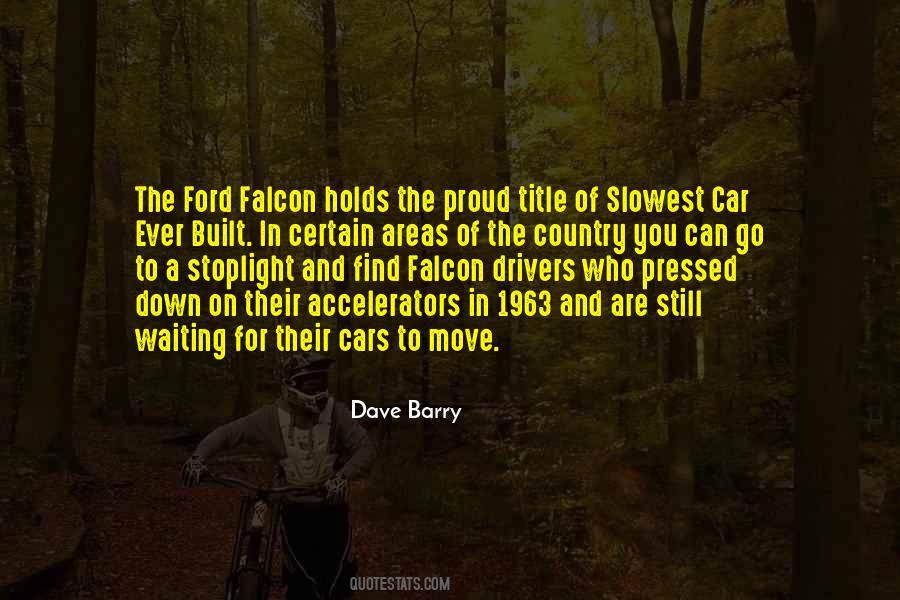 #92. I've always felt very proud of Wales and being Welsh. People are a bit surprised when I say I'm Welsh. I was born in Wales, went to school in Wales and my mother was Welsh. I'm Welsh. It's my place of birth, my country. - Author: John Prescott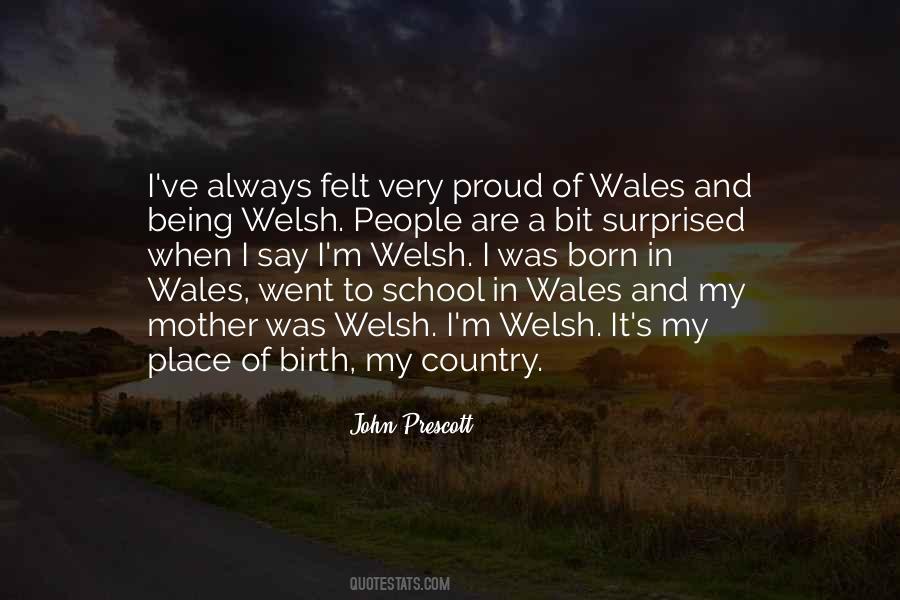 #93. Old Hank would be proud, and Elvis would too, cause we like our country mixed with some big city blues. - Author: Hank Williams Jr.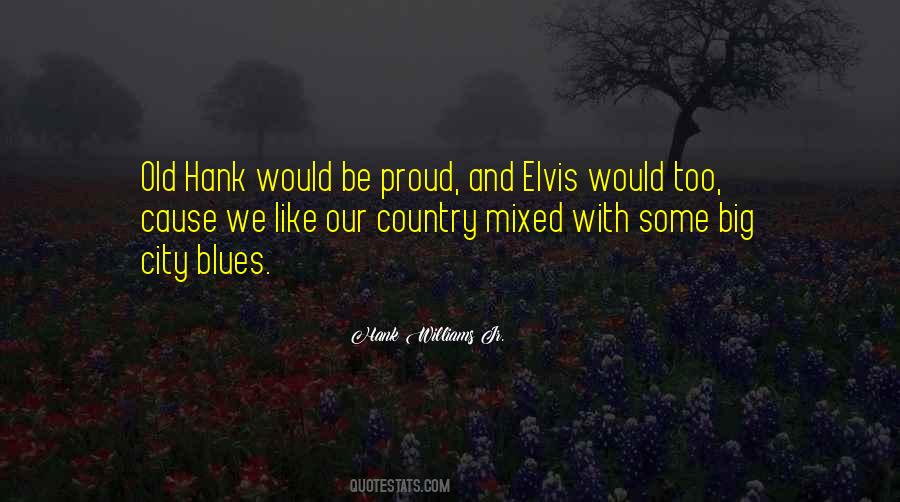 #94. The jazz chord substitutions in a country song ... that was another thing that bent people's ears. I guess that my favorites are the unique ones. It's not how fast you play. It's that unique blending of different stuff I'm most proud of. - Author: Brian Setzer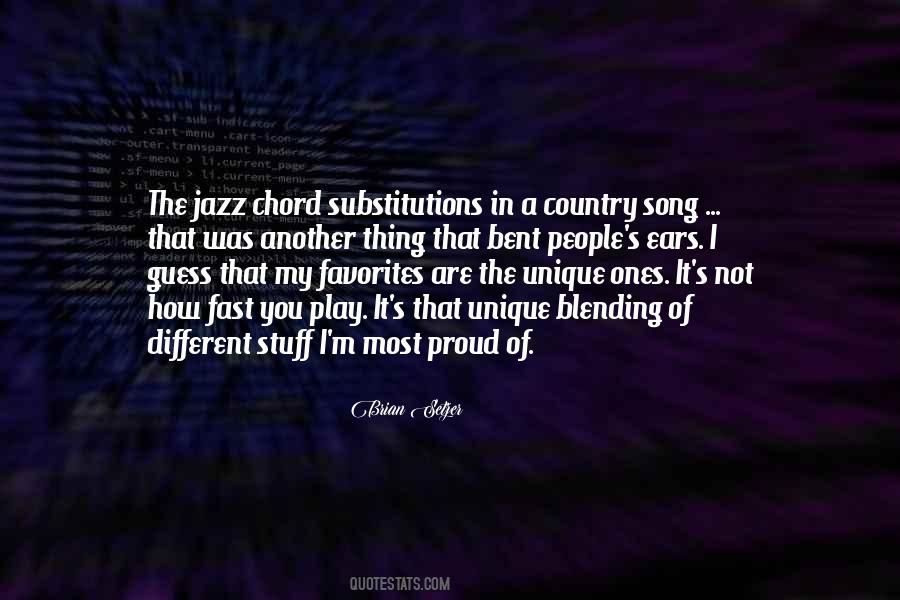 #95. I am very proud to be an American. This country has so much potential, I'd just like to see things better, or whatever, and I think it will be. - Author: Hank Aaron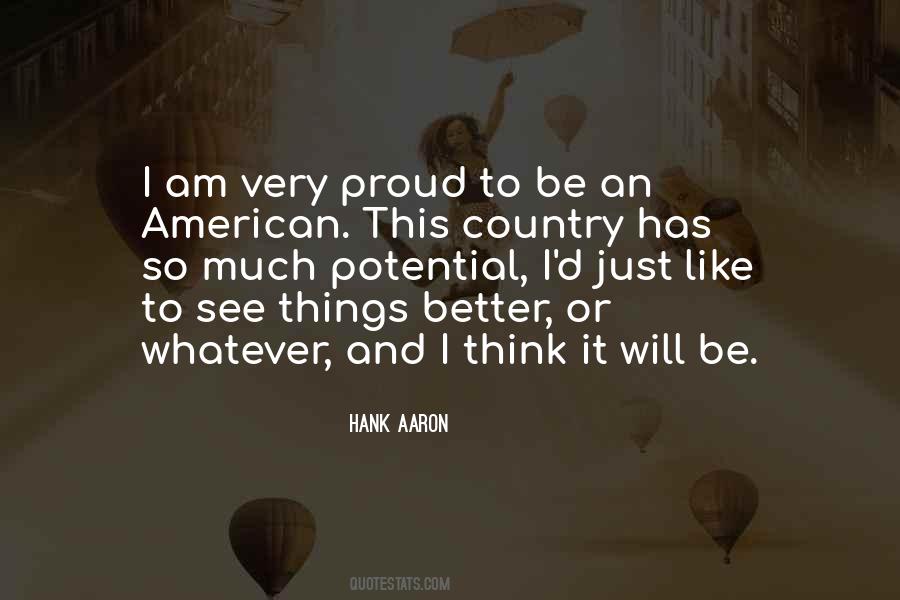 #96. Well, I'm British. I'm proud to be British and I love this country. I'm going nowhere. - Author: Jay Kay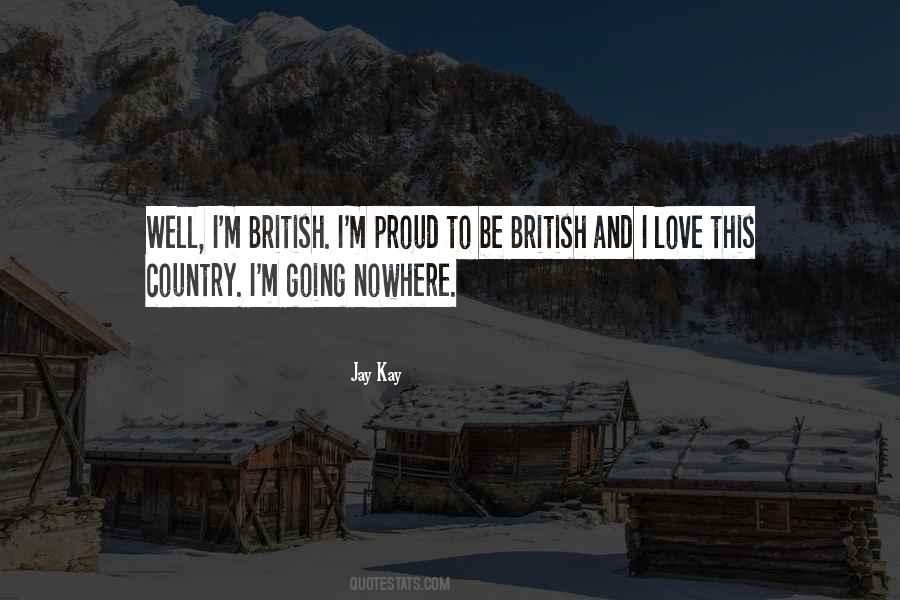 #97. If proud Americans can be who they are and boldly stand at the altar with who they love then surely, surely we can give everyone in this country a fair chance at that great American Dream. - Author: Michelle Obama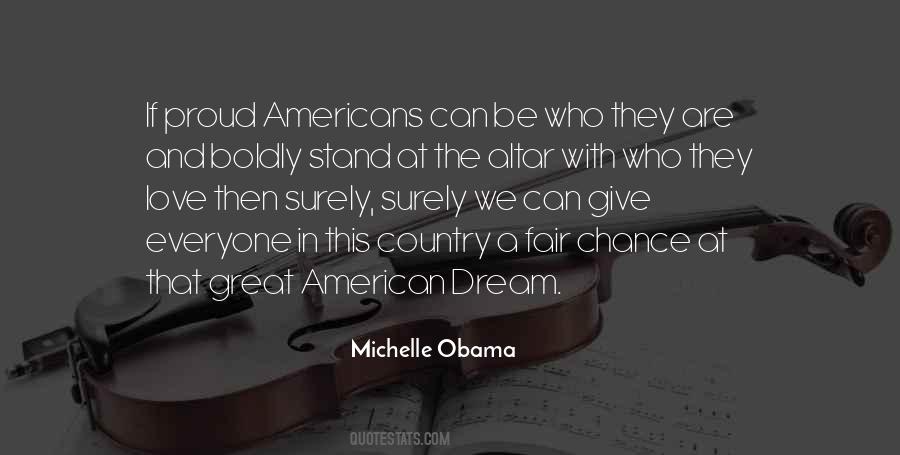 #98. Labor in this country is independent and proud. It has not to ask the patronage of capital, but capital solicits the aid of labor. - Author: Daniel Webster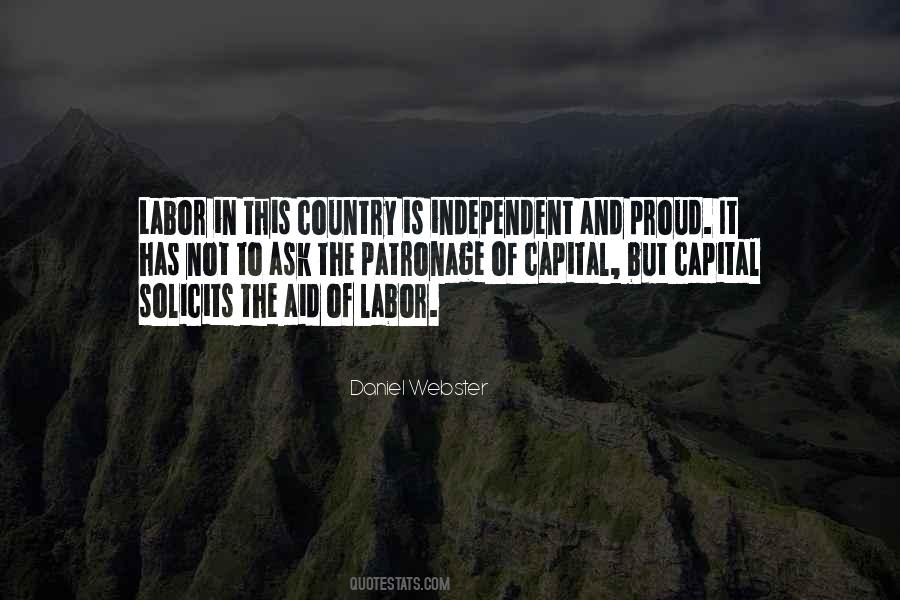 #99. I am a loyal American. I am extremely proud of the work I have done for the United States and for my country and her people. I expect to be treated as such by the representatives of my government and those who report its work. - Author: Steven Hatfill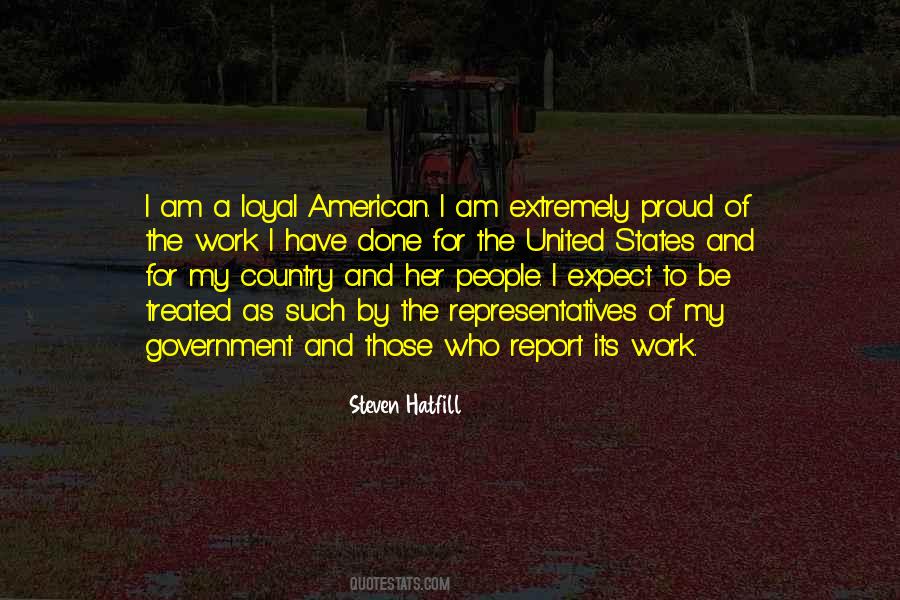 #100. North Carolina is home to some of the largest financial institutions in the country, and a vibrant network of community banks. We're a banking state, and we're proud of that distinction. But we also understand that responsible financial regulation protects consumers and businesses. - Author: Kay Hagan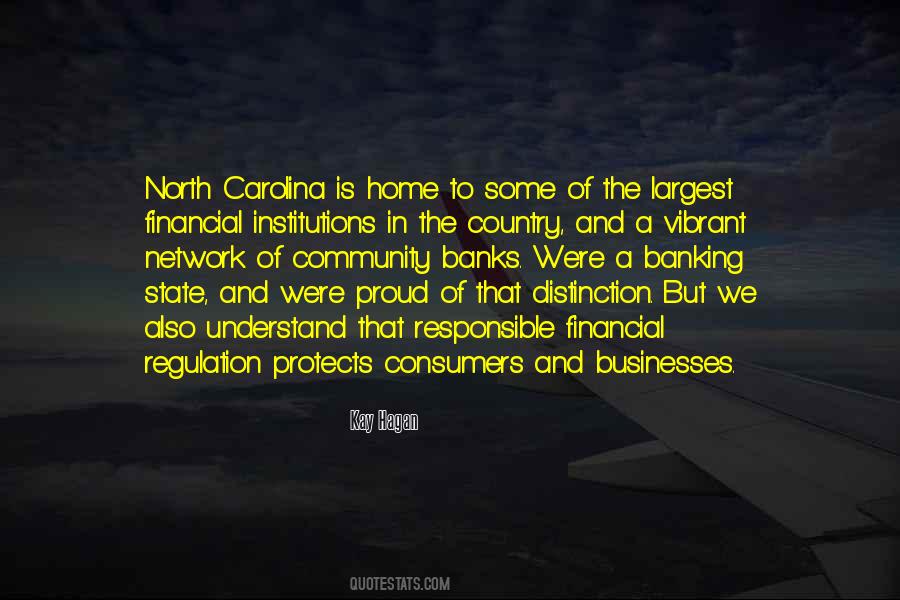 Famous Authors
Popular Topics