Problem Of Evil Famous Quotes & Sayings
List of top 57 famous quotes and sayings about problem of evil to read and share with friends on your Facebook, Twitter, blogs.
Top 57 Quotes About Problem Of Evil
#1. There is...no easy answer to the evil and suffering problem and no easy road to its solution. But Christ tackled the matter radically and realistically by winning the allegiance of a few men and women to a new way of living...They were to be the spearhead of good against evil. - Author: J.B. Phillips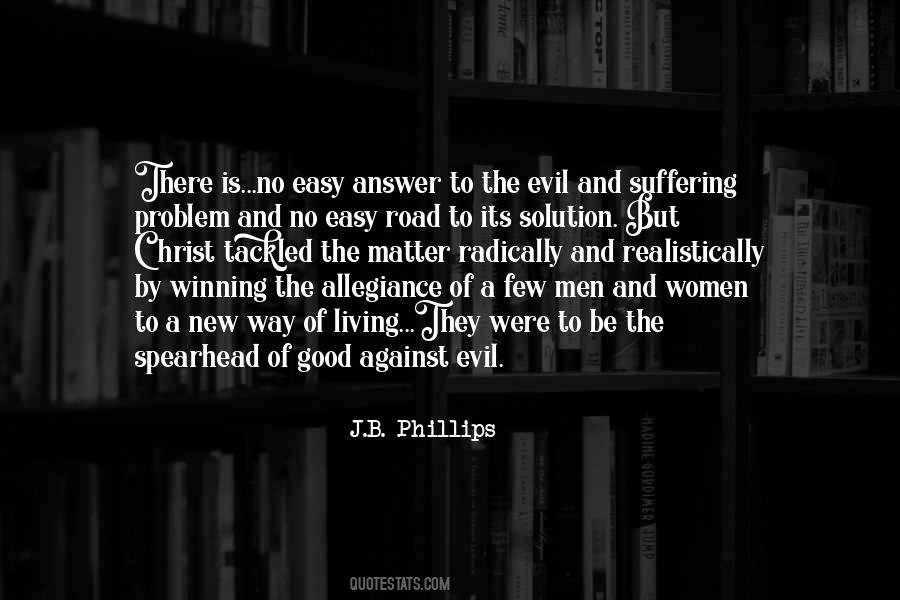 #2. Here's the problem: the description of the world is always reduced to yes or no, black or white. Superficial stories. Superhero stories. One side is the good one. The other one is evil. - Author: Marjane Satrapi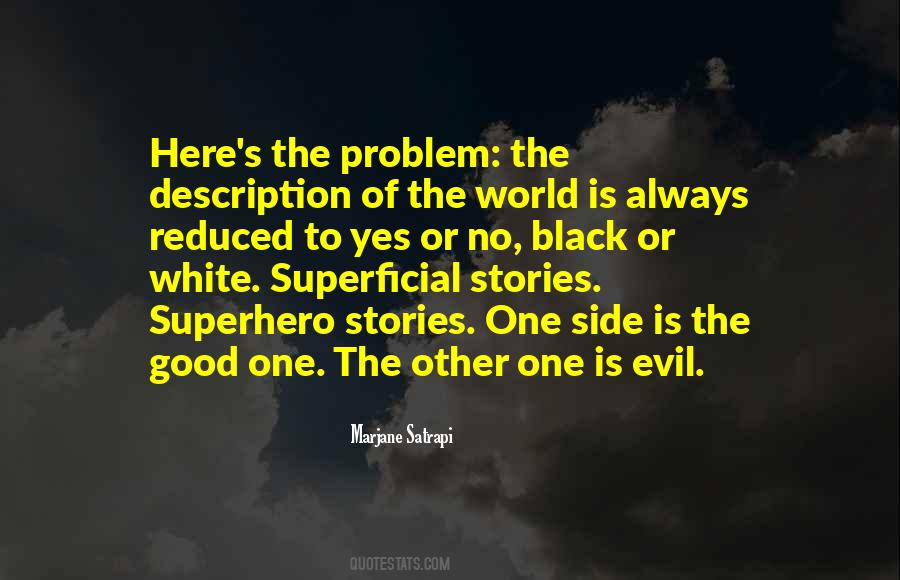 #3. The idea of being vulnerable leaves a lot of room for choice. There is always room to be less foldable, more evil. - Author: Sherry Turkle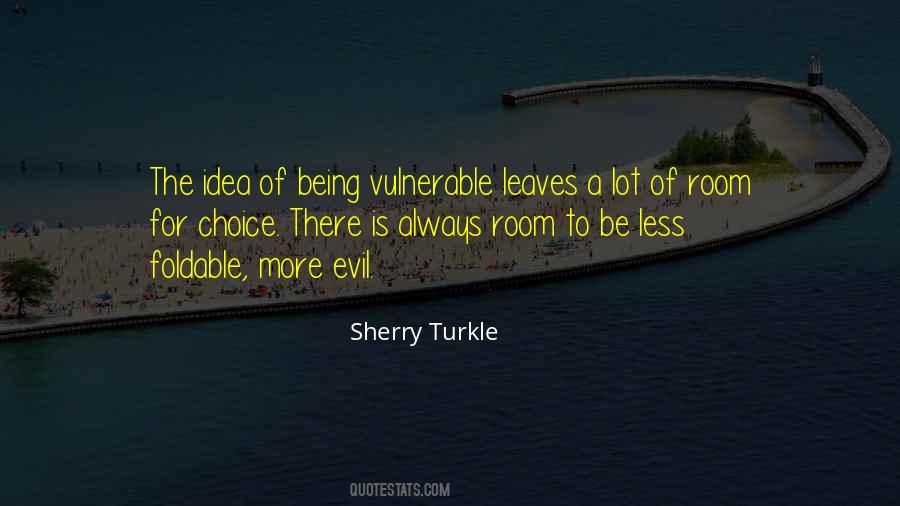 #4. The best answer to the problem of evil is not one so much found on paper but on wood. - Author: Peter Kreeft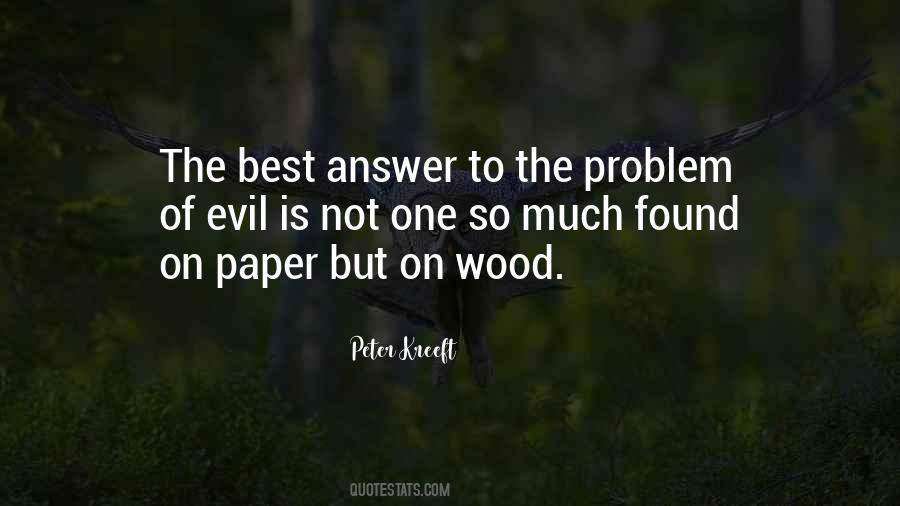 #5. Evil is the most difficult problem in the world. It is also the strongest objection to God's existence. If God does exist, it is also the most problematic challenge to his nature and power. As a Christian, it is my greatest temptation for doubt and unbelief. - Author: Jon Morrison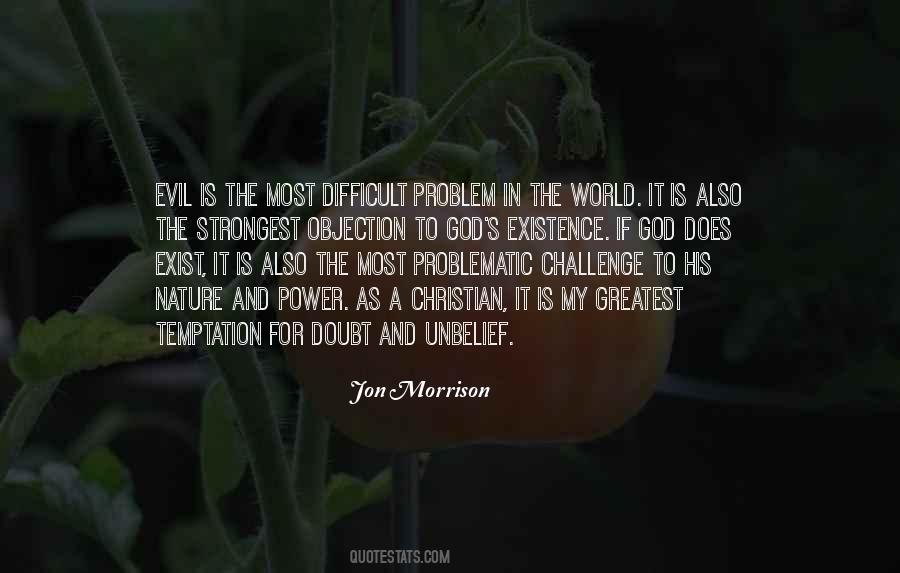 #6. If in my lifetime the problem of non-free software is solved, I could perhaps relax and write software again. But I might instead try to help deal with the world's larger problems. Standing up to an evil system is exhilarating, and now I have a taste for it. - Author: Richard Stallman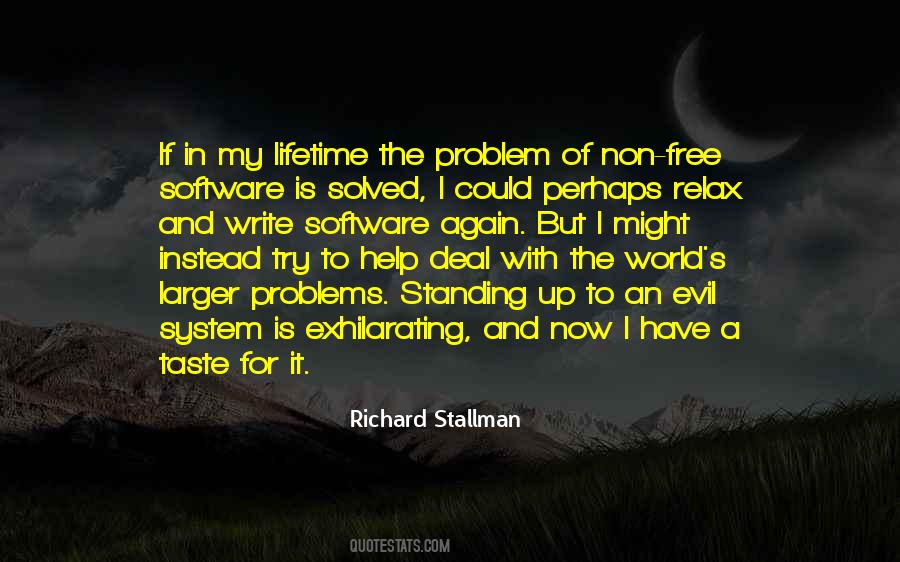 #7. Um, sorry we touched your precious," I say, pointing to his guitar. He chuckles. "Normally I'd want to break your fingers but since you knew what you were doing and used her for good instead of evil, I'll say it's no problem." "What constitutes evil?" "Taylor Swift. - Author: Anne Mercier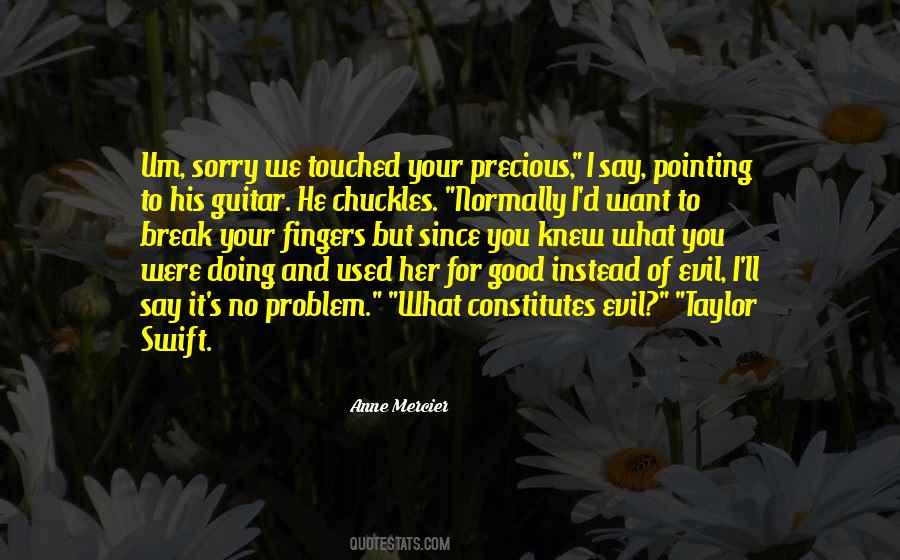 #8. The Jewish problem is as old as history, and assumes in each age a new form. The life or death of millions of human beings hangs upon its solution; its agitation revives the fiercest passions for good and for evil that inflame the human breast. - Author: Emma Lazarus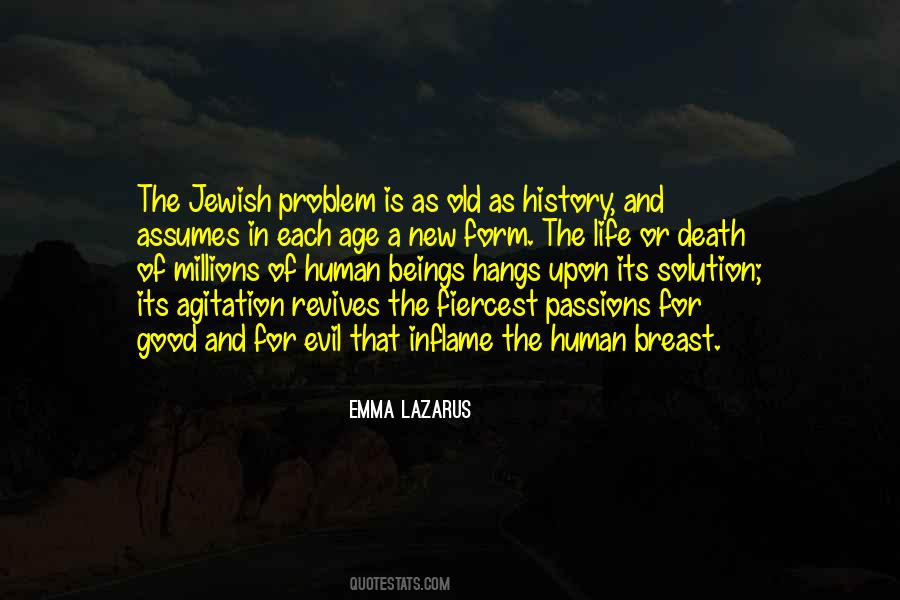 #9. These days, all I ask of Fate is that the people she hurls into my life, whether they are evil or good, or morally bipolar, should be amusing to one degree or another ... Most good people have a sense of humor. The problem is finding smile-inducing evil people, because the evil are mostly humorless. - Author: Dean Koontz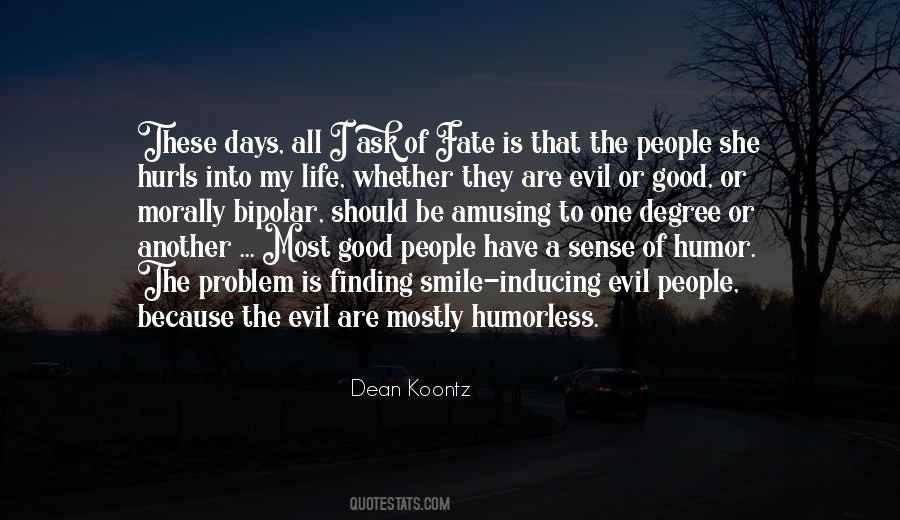 #10. The ancient Greeks did not have to wrestle with the philosophical problem of the existence of evil. They did not claim their gods were good, just magnificent. - Author: Margaret Visser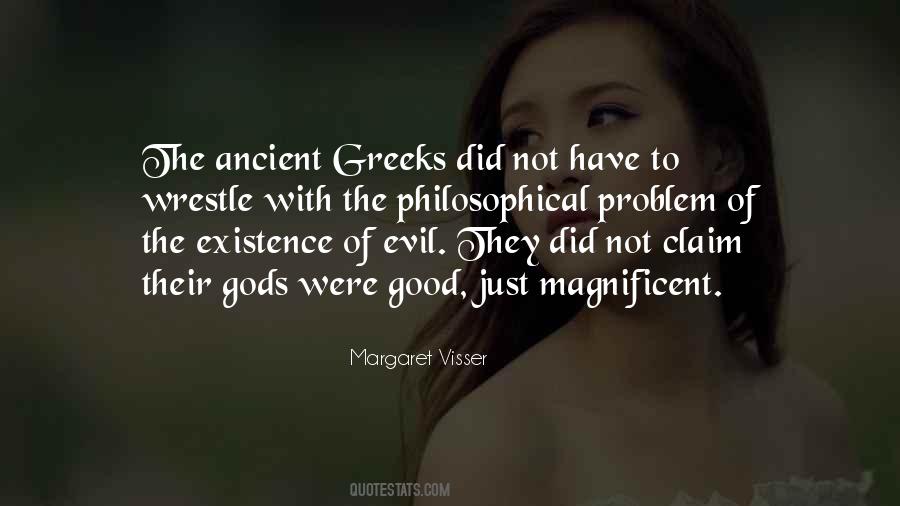 #11. Let the whole world tag you wrongly, brand you with evil and create a different you, and let God give you a solemn tag of dignity and see you differently, you have no problem at all! - Author: Ernest Agyemang Yeboah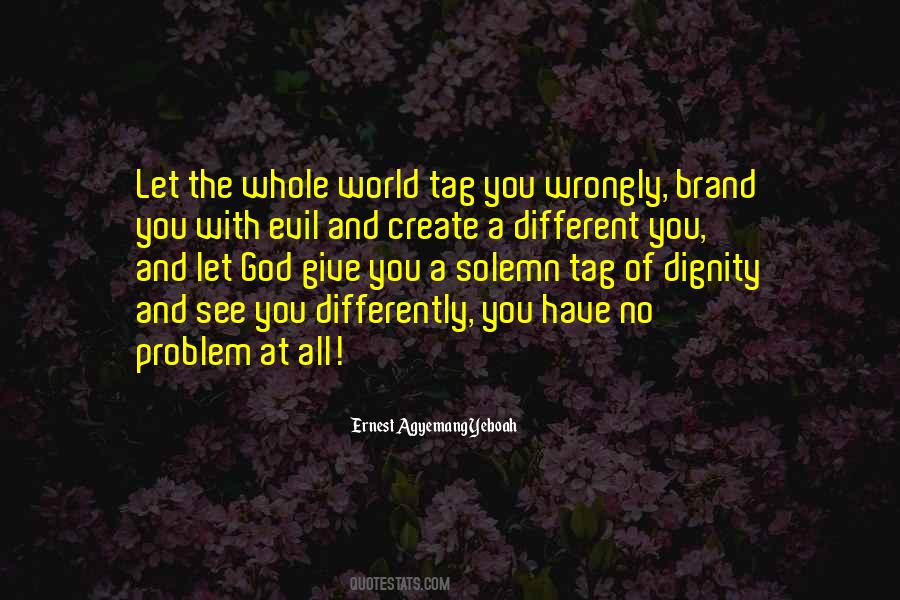 #12. The existence of poverty in the US should not be accepted as a necessary evil or insoluble problem, but should be considered a crisis requiring emergency measures. It is a matter of will and priorities, not a matter of resources. - Author: Martin Luther King Jr.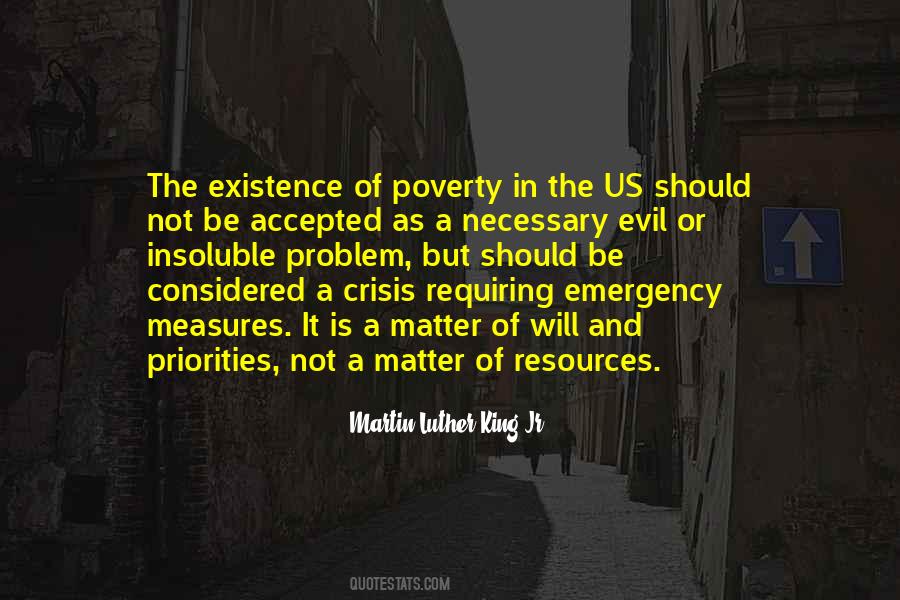 #13. The problem of racism, the problem of economic exploitation, and the problem of war are all tied together. These are the triple evils that are interrelated. - Author: Martin Luther King Jr.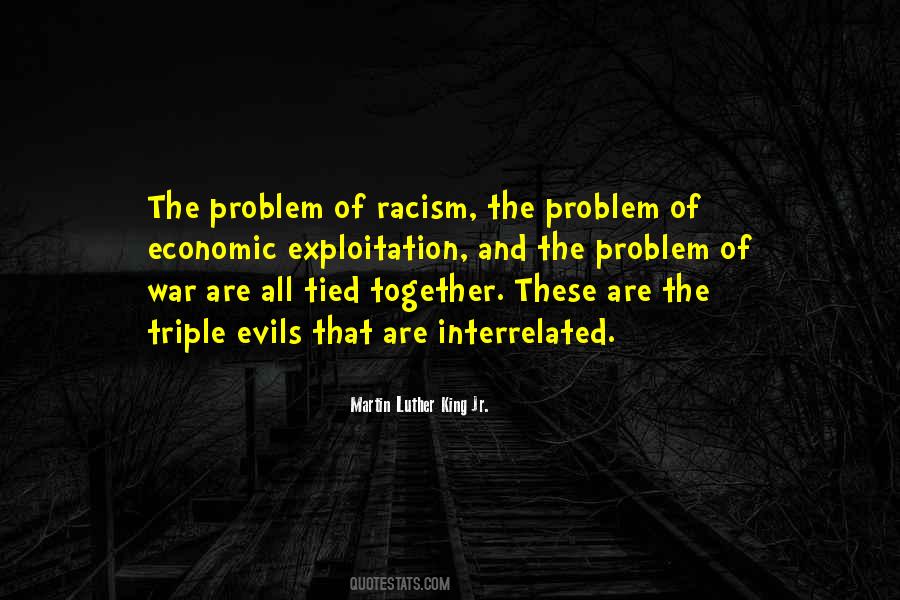 #14. THE PROBLEM OF EVIL: WHY UNCONDITIONALLY BAD THINGS HAPPEN TO UNCONDITIONALLY GOOD PEOPLE
They never do. - Author: Jonathan Safran Foer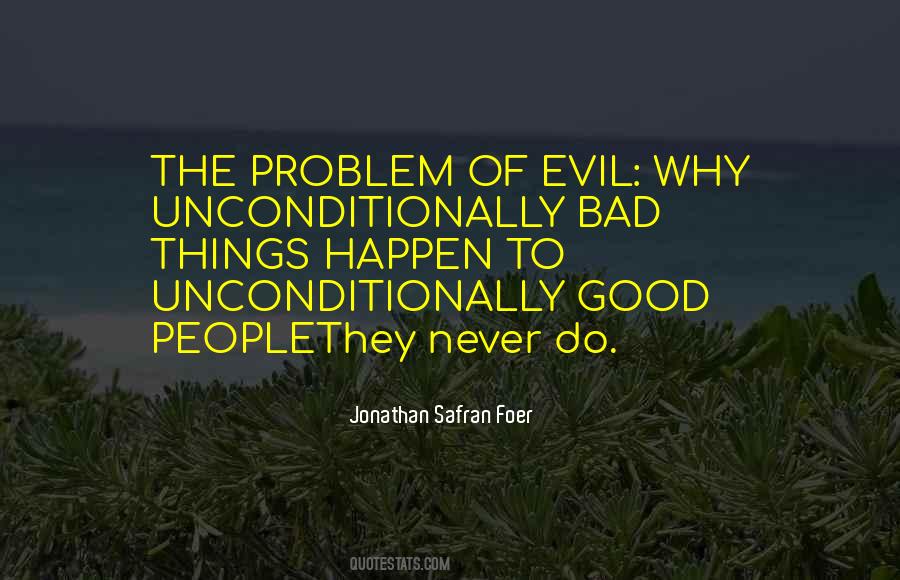 #15. As is a rock in the hand of one with evil intentions. It is not the rock that is the problem, but the heart of man. - Author: Donita K. Paul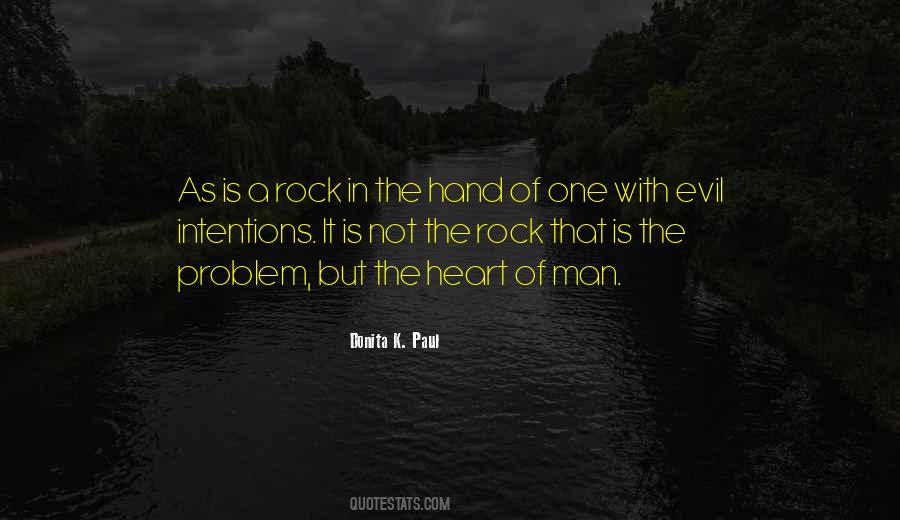 #16. The problem of evil ... Why does God permit it? Or, if God is omnipotent, in which case permission and creation are the same, why did God create it? - Author: William Temple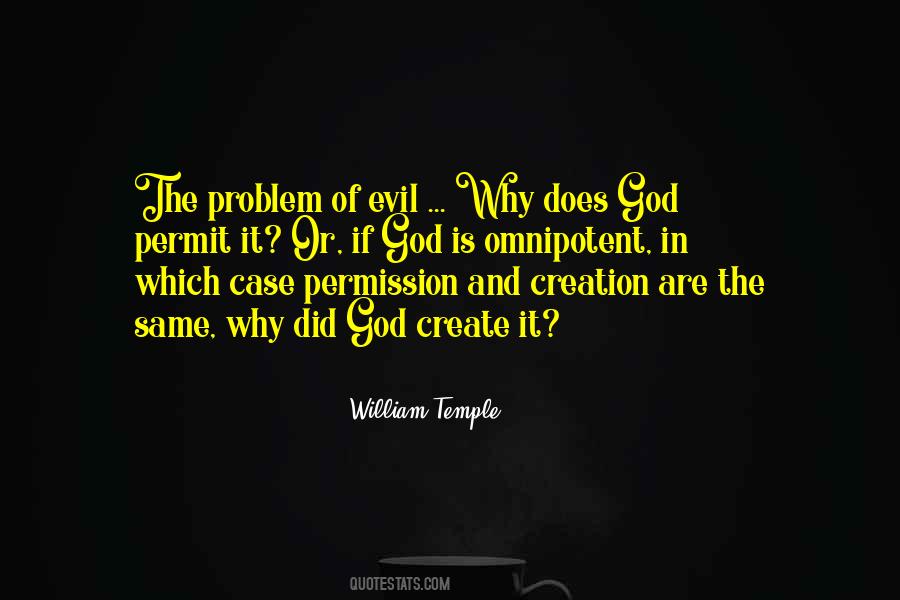 #17. The problem of Palestine was that everyone wanted things simple: everyone was an extremist because everyone wanted things simple. It was the problem of humanity. Good and evil, as if there were only those two. The interesting thing was to seek truth and then face it. - Author: Amy Wilentz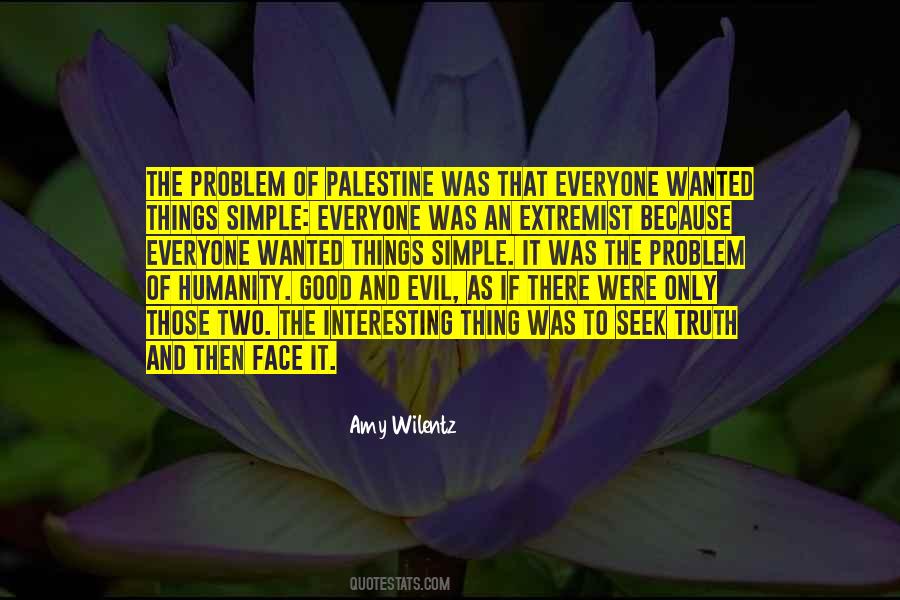 #18. perhaps the problem of evil is a human problem, one of an egotistical mind-set, an anthropocentric bent in our thinking and perspective. - Author: Jacob M. Held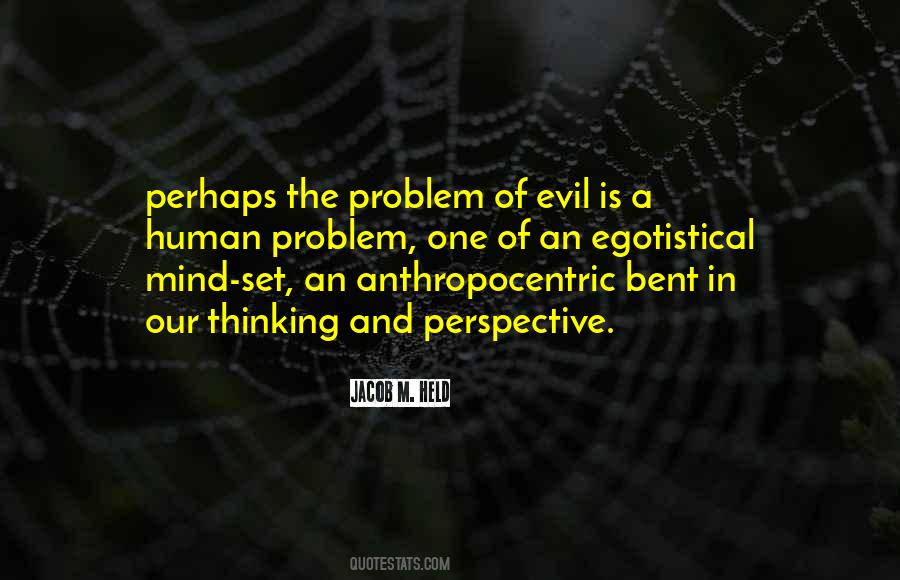 #19. The problem of evil is raised more often by spectators of life than the actual combatants. You will hardly ever find that the great sufferers are the great skeptics. - Author: James Stewart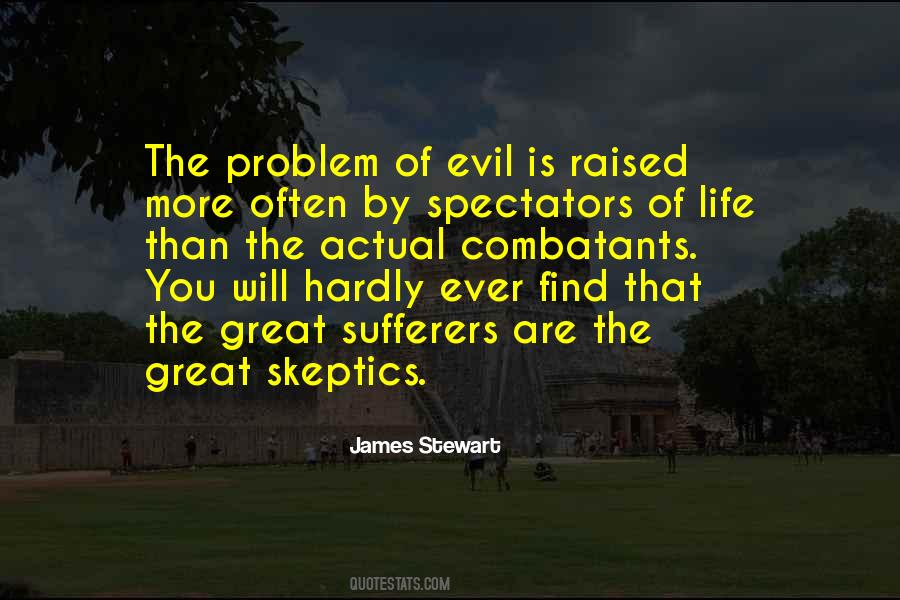 #20. He is the organiser of half that is evil and of nearly all that is undetected in [London]. He is a genius, a philosopher, an abstract thinker. He has a brain of the first order. Sherlock Holmes in 'The Final Problem - Author: Anonymous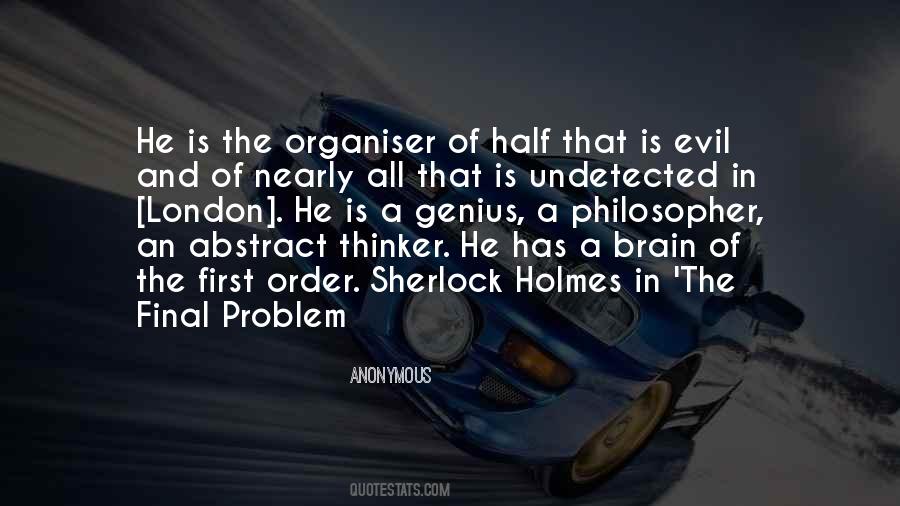 #21. The problem of good and evil is not the problem of good and evil, but only the problem of evil. In opposition to good there are evil characters, but there are no good characters in opposition to evil. Evil is arguable, but good is not. Therefore the Devil always wins the argument. - Author: Laura Riding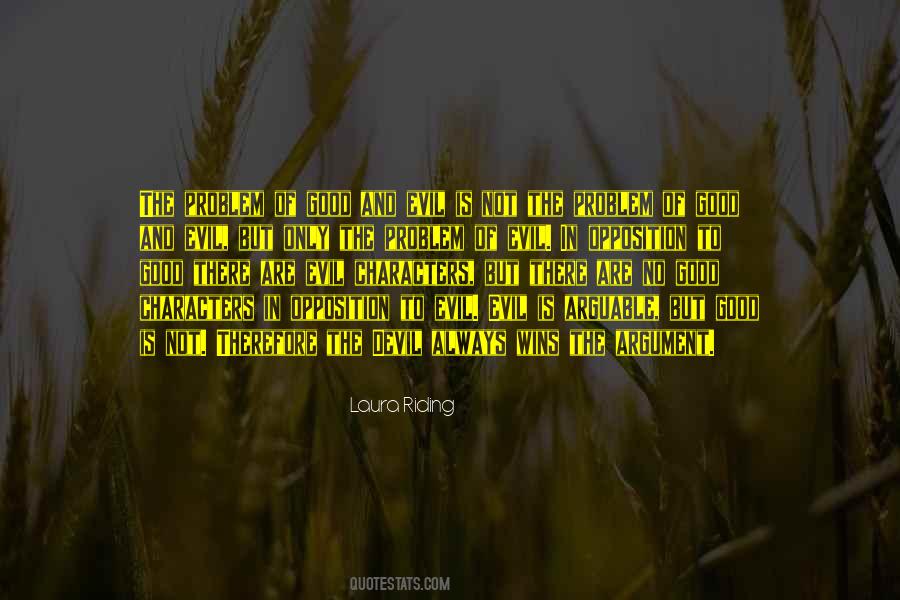 #22. To be willing to suffer in order to create is one thing; to realize that one's creation necessitates one's suffering, that suffering is one of the greatest of God's gifts, is almost to reach a mystical solution of the problem of evil. - Author: J. W. N. Sullivan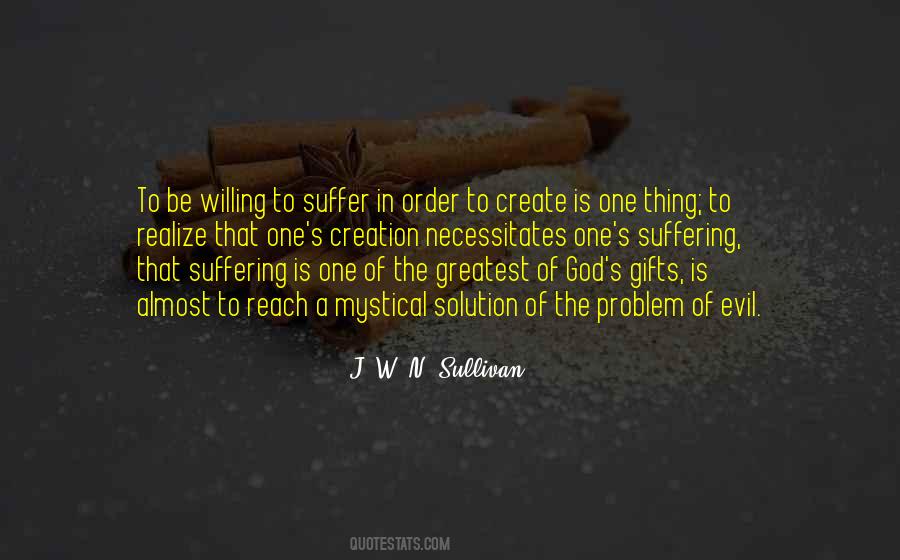 #23. Your intentions will be good. Without consideration and forethought, however, your actions could still be evil. That is the problem, of course, evil is always easy and resisting it is never so. Evil is relentless; and anyone, if they tire, if they are not vigilant, can fall prey to it. - Author: Michael A. Stackpole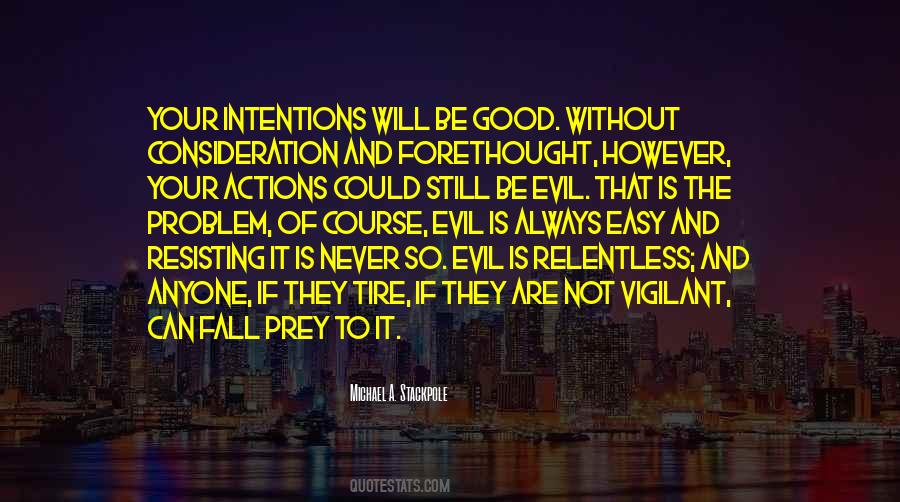 #24. It is straightforward - and never mind, for now, about plagues and famines: if God existed, and if he cared for humankind, he would never have given us religion. - Author: Martin Amis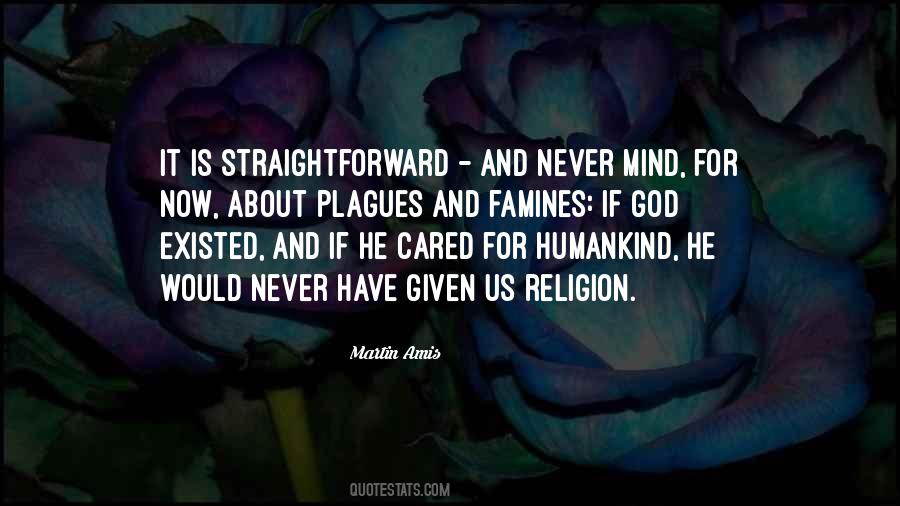 #25. I think God gives medication that heals some illnesses. But I think when you deny the reality of evil, you want to use medicine to solve every problem, and it doesn't solve every problem. - Author: Robert Jeffress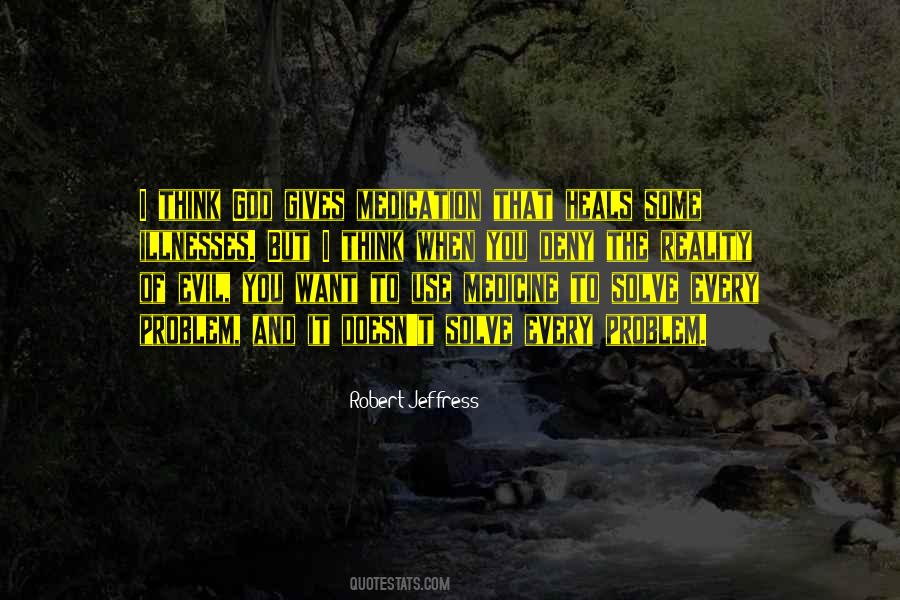 #26. Don't confuse the evil of avoiding pregnancy by itself, with abortion. Abortion is not a theological problem, it is a human problem, it is a medical problem. You kill one person to save another, in the best case scenario. - Author: Pope Francis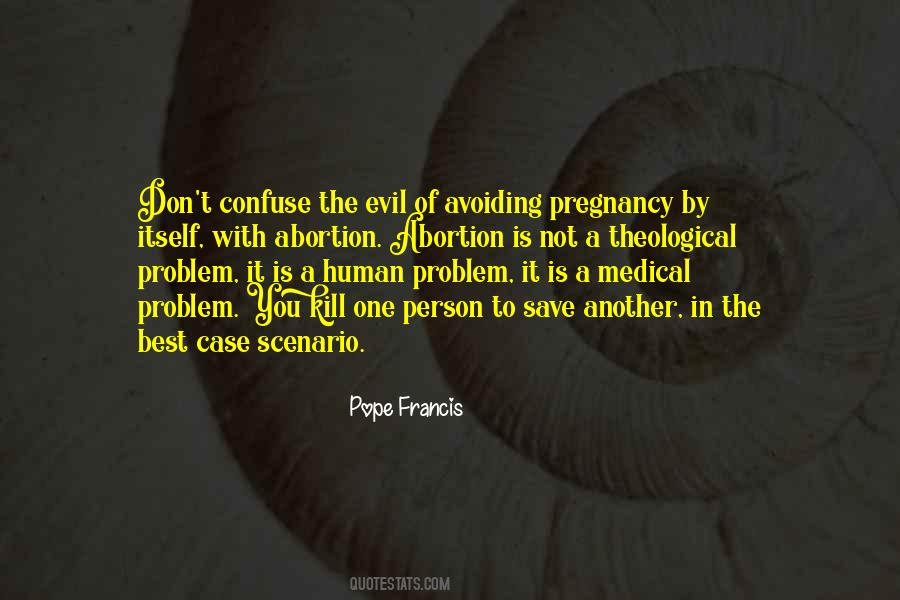 #27. The problem isn't money. Money isn't the root of all kinds of evil, but the love of money is. - Author: Kyle Idleman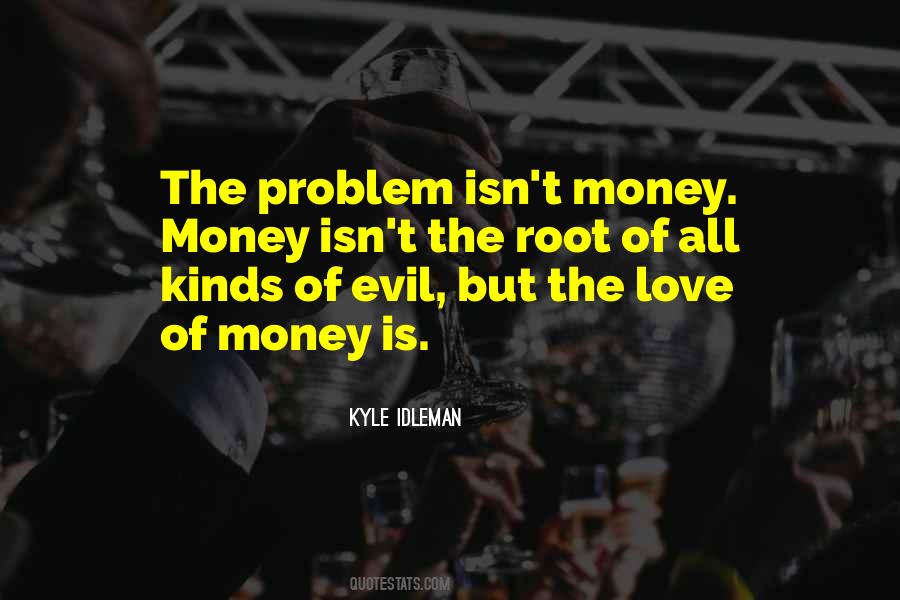 #28. Science has taught us how to put the atom to work. But to make it work for good instead of for evil lies in the domain dealing with the principles of human duty. We are now facing a problem more of ethics than physics. - Author: Bernard Baruch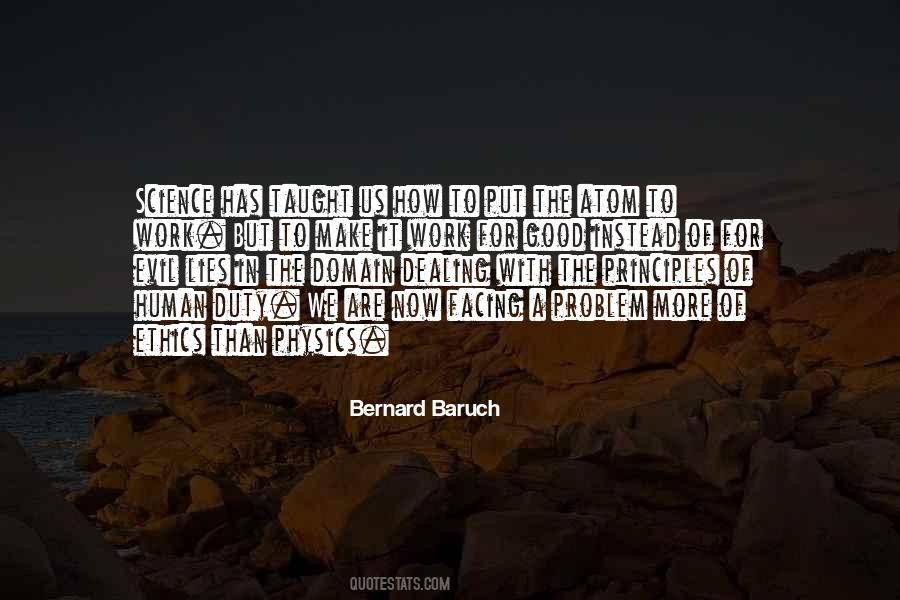 #29. The heart of man will always be dark. There will always be evil people. The problem is that there is nothing we can humanly do to change them. - Author: Leon Bridges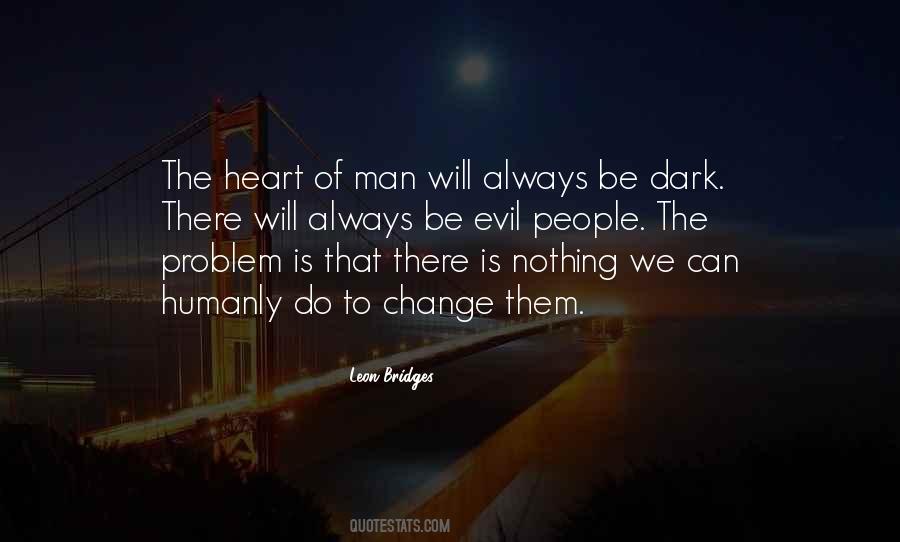 #30. War is only one facet of the larger problem of evil which has been with the human race since the beginning ... This same evil tried to destroy the greatest human being who ever lived, nailing Him to a cross. - Author: Billy Graham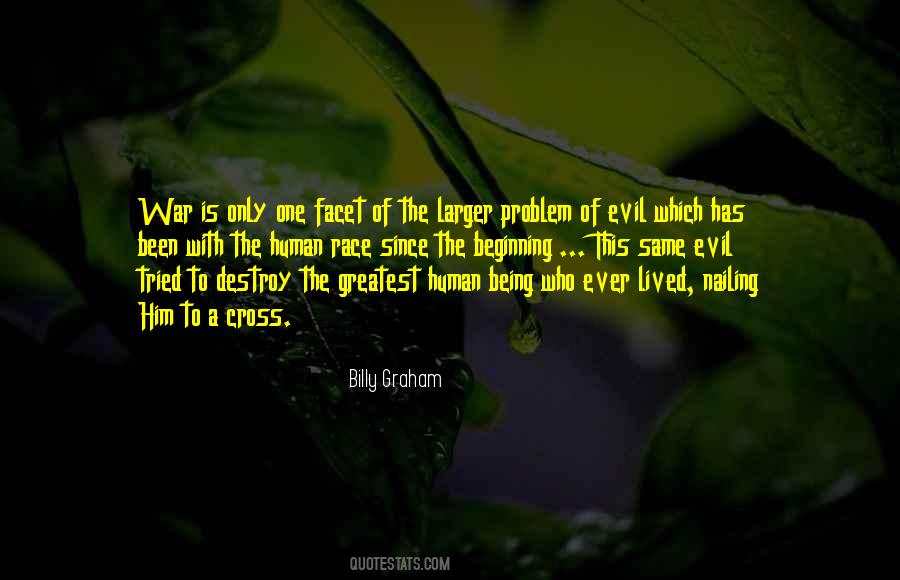 #31. Of course, that was probably a problem with being an Evil Overlord. You didn't regret the right things. - Author: Holly Black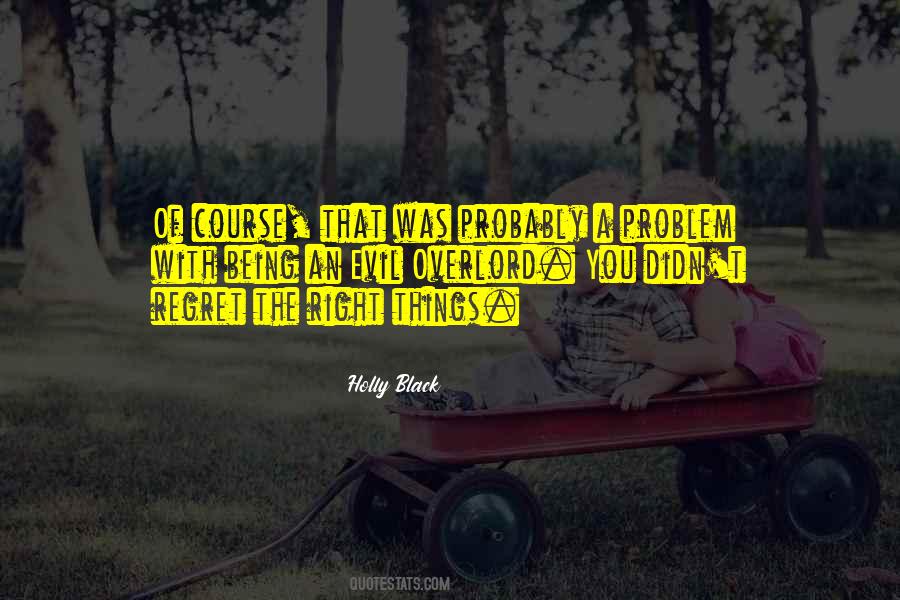 #32. You know," Naomi said, "if you're looking at hundreds of people burning to death as a problem solving itself, that may be more evidence that you're on wrong side. - Author: James S.A. Corey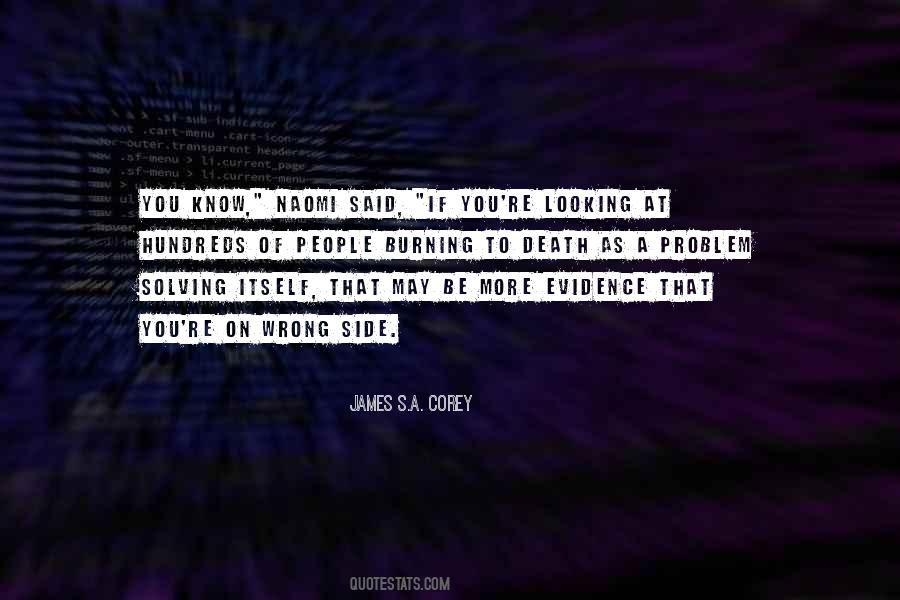 #33. The banality of evil transmutes into the banality of sentimentality. The world is nothing but a problem to be solved by enthusiasm. - Author: Teju Cole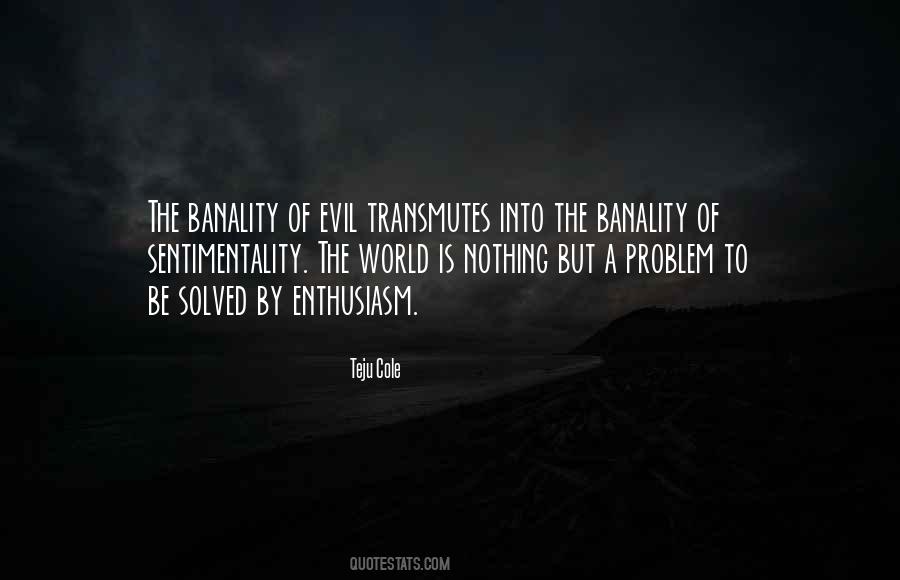 #34. The problem with evil people is that they can see only evil in others. It is one of the worst curses of being evil, that you can no longer experience good. - Author: Michael Gruber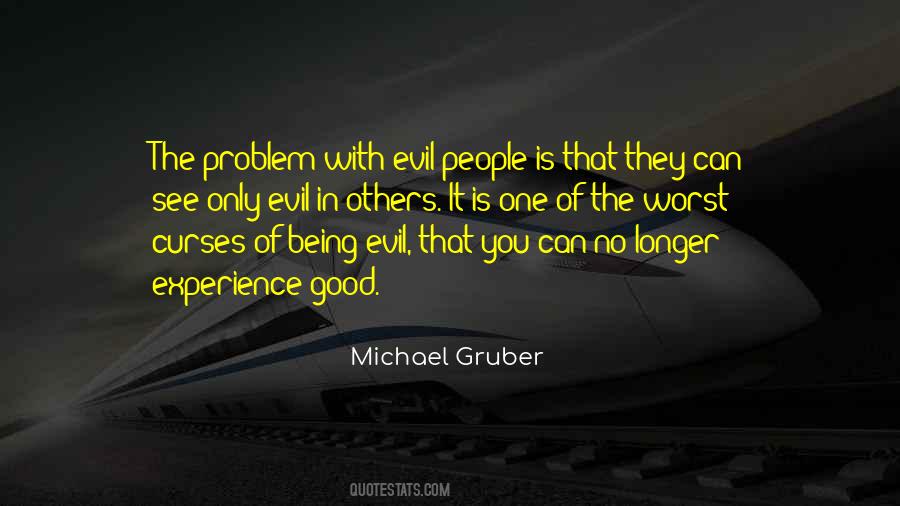 #35. So the problem of Evil never really existed. To expect the universe to be benevolent was like imagining one could always win at a game of pure chance. - Author: Arthur C. Clarke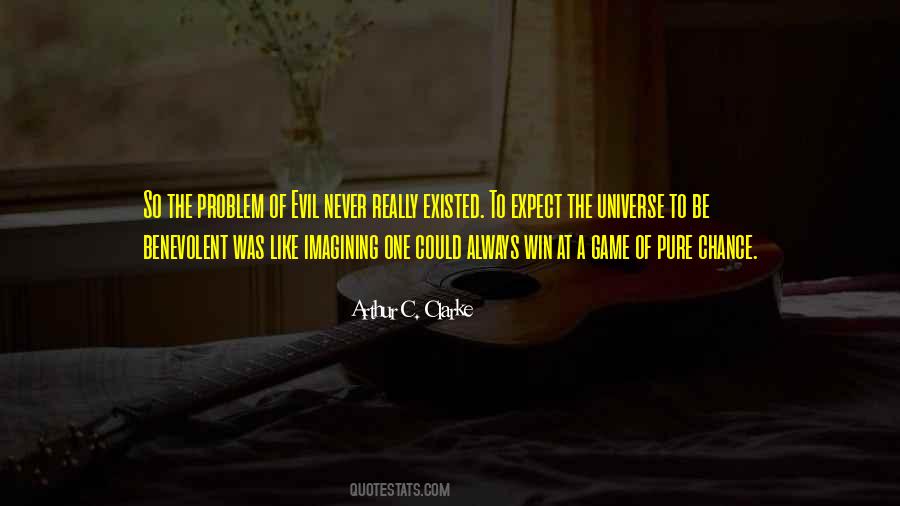 #36. God's solution to the problem of evil is his Son Jesus Christ. The Father's love sent his Son to die for us to defeat the power of evil in human nature: that's the heart of the Christian story. - Author: Peter Kreeft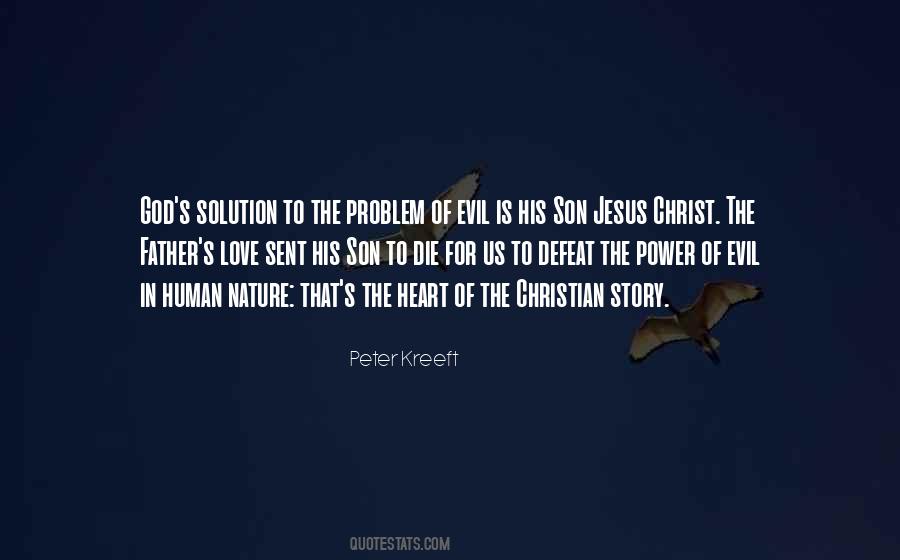 #37. Marriage: This terrible insoluble problem of civilisation, which created all the evil. This unnatural state of union in disunion which exacted impossibilities and forced together elements absolutely and inherently antagonistic to each other! - Author: Rosa Campbell Praed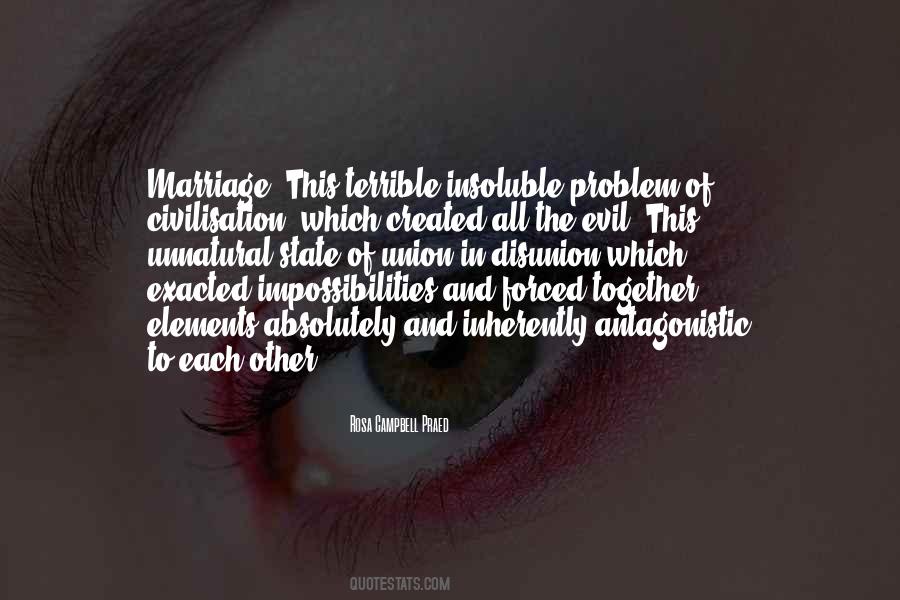 #38. The problem was the journalists who also did not understand much of my music, but they wrote about it. I think you fell into the usual trap laid out by parts of the press and other writers: that the poor musician has always to fight the evil companies and managers. - Author: Klaus Schulze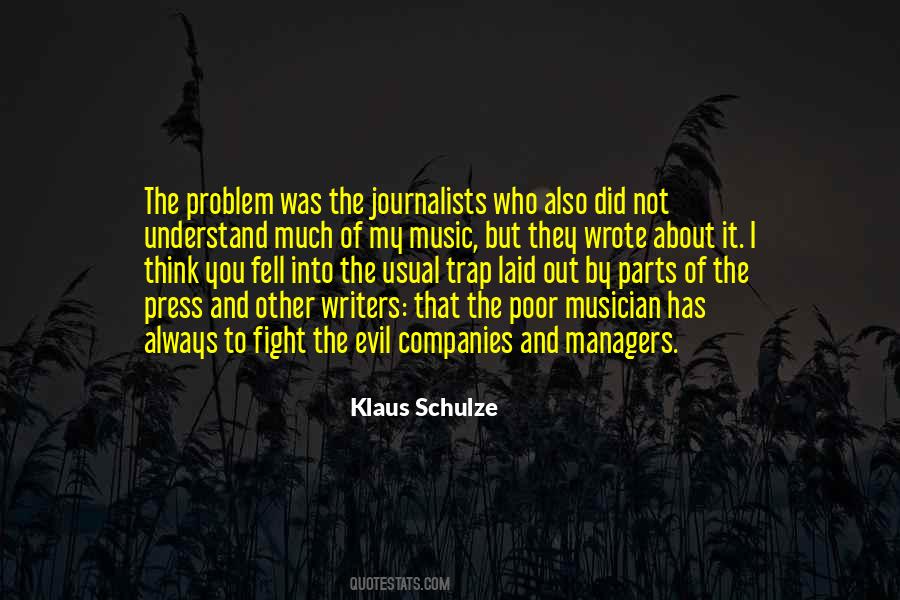 #39. I believe you find life such a problem because you think there are good people and bad people. You're wrong, of course. There are, always and only, the bad people, but some of them are on opposite sides. - Author: Terry Pratchett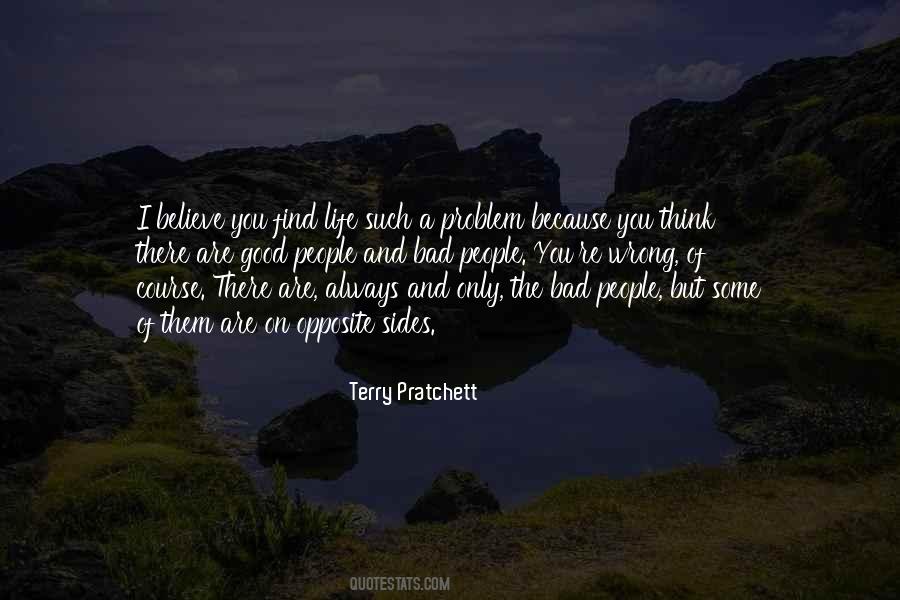 #40. Injustice upon earth renders the justice of of heaven impossible. - Author: Robert G. Ingersoll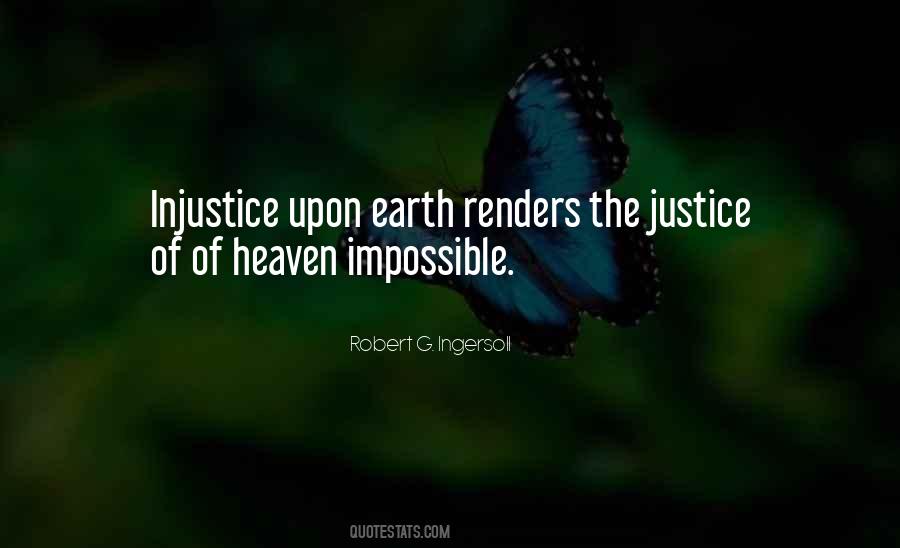 #41. We often represent God to ourselves as being able to draw from non-being a world without sorrows, faults, dangers - a world in which there is no damage, no breakage. This is a conceptual fantasy and makes it impossible to solve the problem of evil. - Author: Pierre Teilhard De Chardin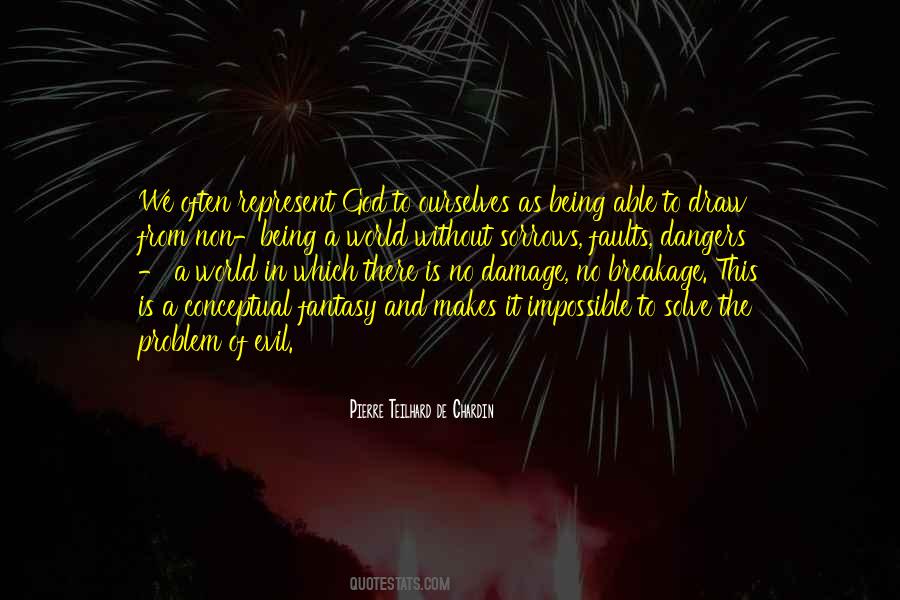 #42. The problem, kid," Shorty said, "is there is no one on either side of the fence keeping measurements about what you do. God is an idea, and the devil is us. - Author: Joe R. Lansdale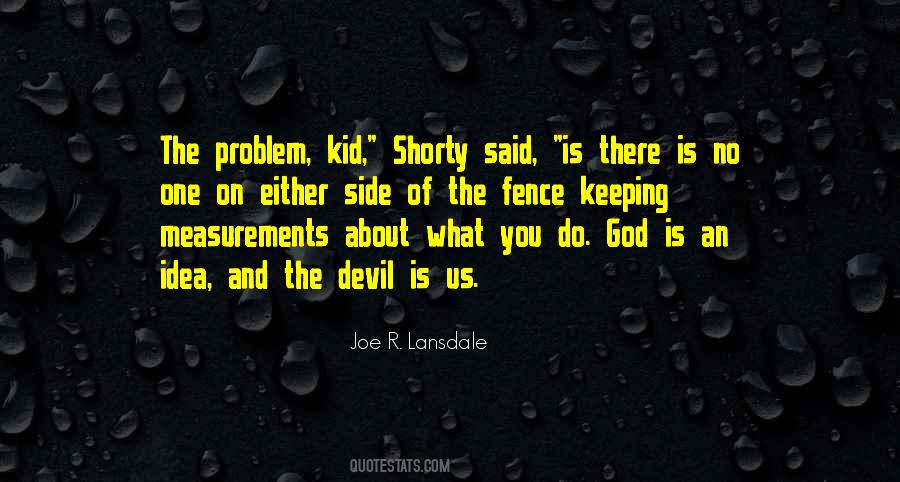 #43. What's undeniable is that monotheists have a hard time dealing with the Problem of Evil. - Author: Yuval Noah Harari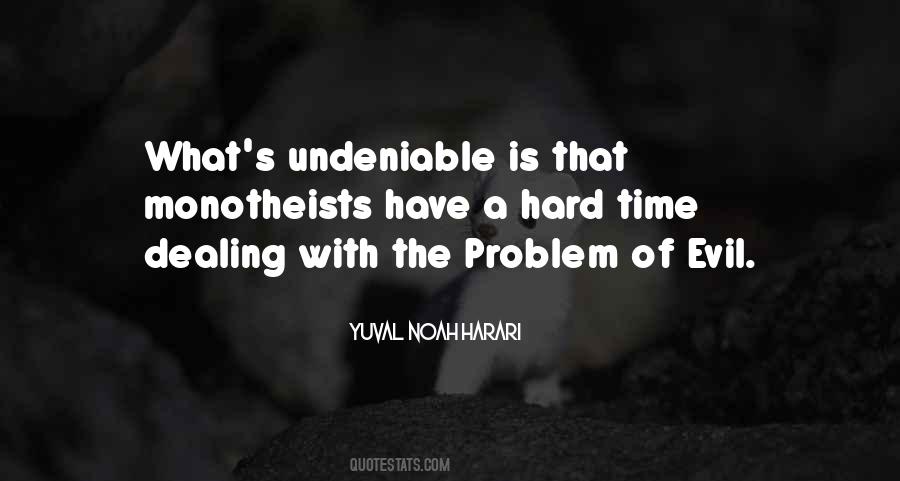 #44. To create a State and give it the power of life and death does not solve the problem of human evil. It merely transforms the shallow desire for easy property to the bottomless lust for political power. - Author: Stefan Molyneux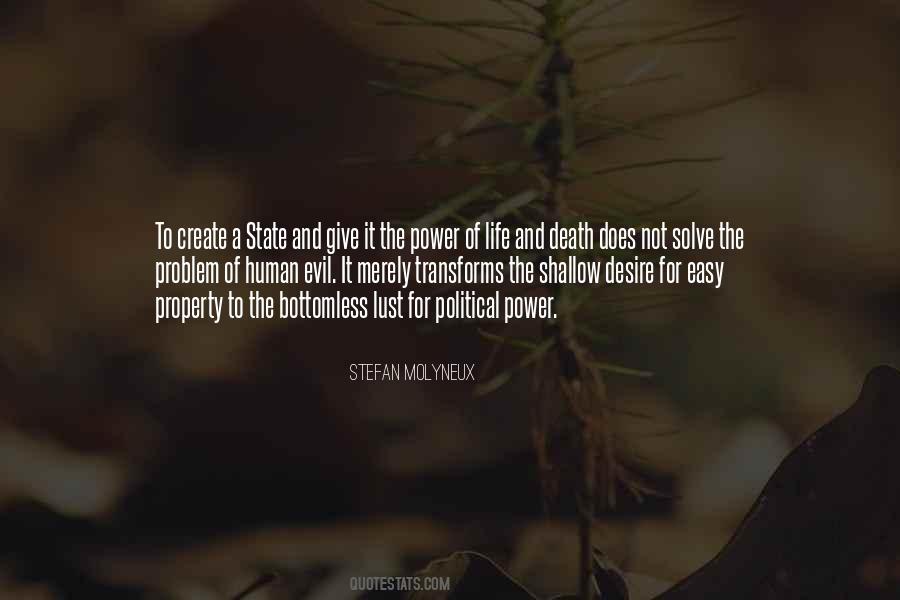 #45. I've often said in the past that I thought MTV was sort of evil incarnate and signified the beginning of the end. And I don't know if I'm entirely wrong about that, but they did sign my paychecks a year ago, so I guess I'm part of the problem. - Author: Martha Plimpton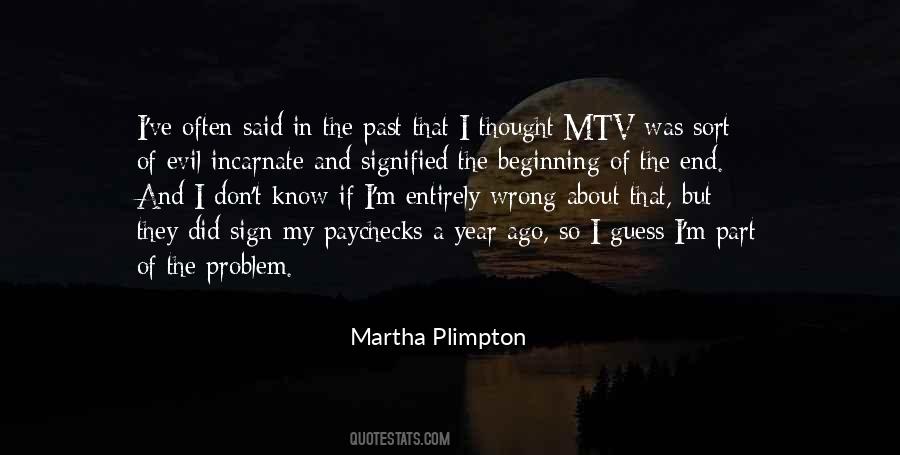 #46. We have spent centuries of philosophy trying to solve "the problem of evil," yet I believe the much more confounding and astounding issue is the "problem of good." How do we account for so much gratuitous and sheer goodness in this world? Tackling this problem would achieve much better results. - Author: Richard Rohr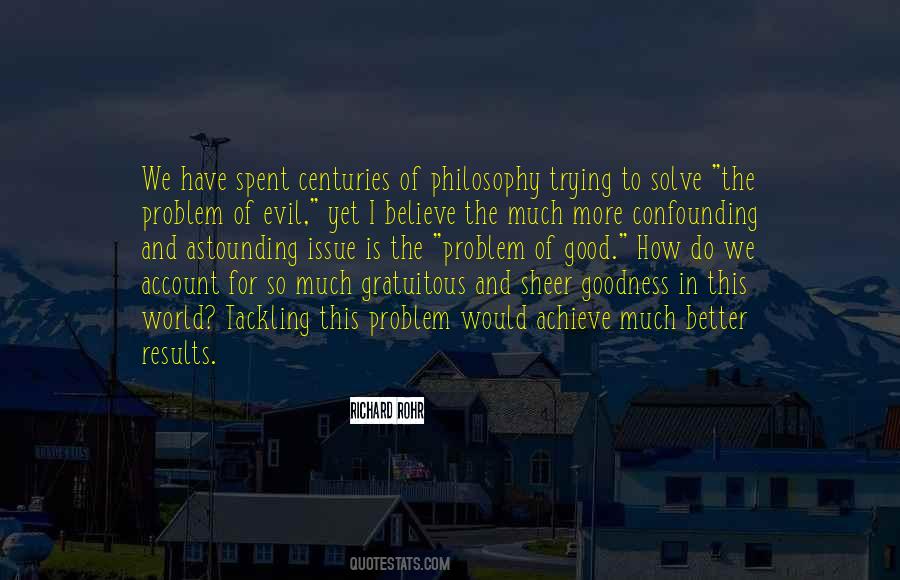 #47. Any analysis of 'sin' or 'evil' or 'demonic influence' or 'negative thinking' or 'systemic evil' or 'antisocial behavior' that fails to see the lack of self-dignity as the core of the problem will prove to be too shallow. - Author: Robert H. Schuller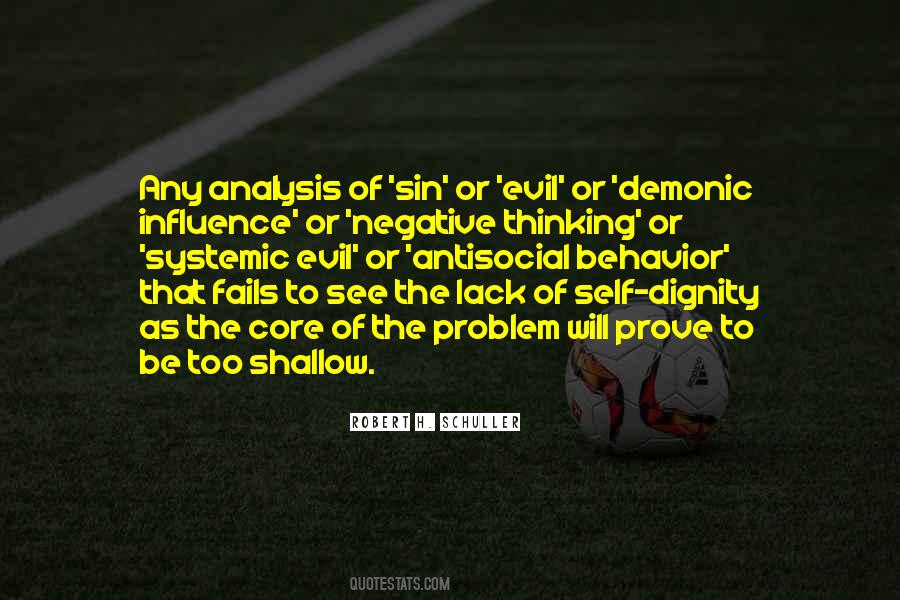 #48. The great human problem of evil stems from the illusion of separateness. Whenever this illusion is overcome, we behave lovingly to one another. - Author: Barbara Marx Hubbard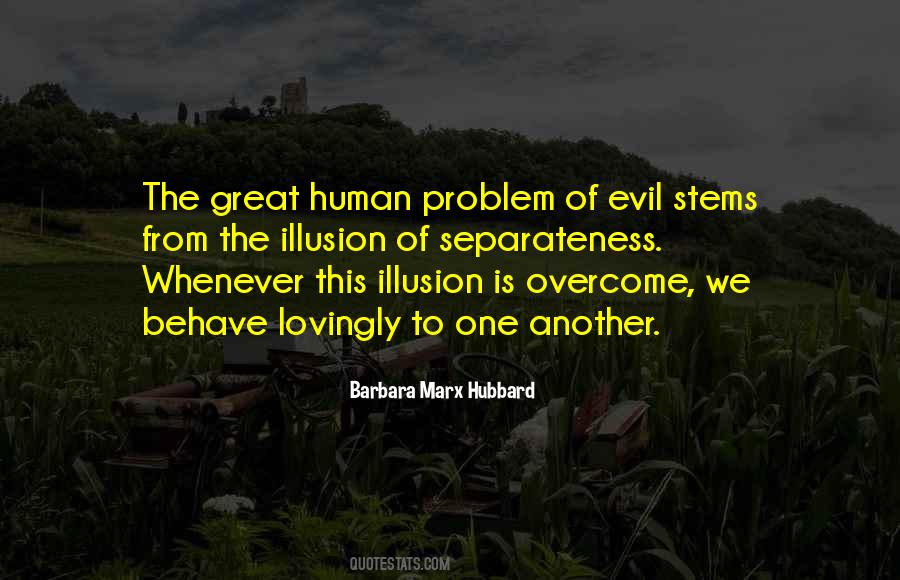 #49. The problem of good as it faces the atheist is this: Nature, which is the nuts-and-bolts reality for the atheist, has no values and thus can offer no grounding for good and evil. Values on the atheist view are subjective and contingent. - Author: William A. Dembski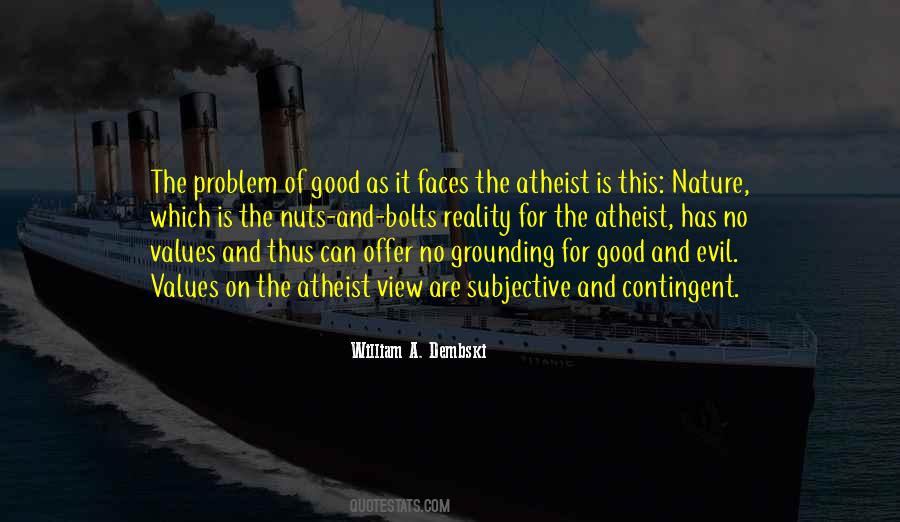 #50. Evil is never in a rush. It creeps up slowly. It doesn't hide, but confronts you in broad daylight. It gives decades of warnings, even centuries at times. Time is never the problem when you battle Evil. The problem is the will to fight it. - Author: Amish Tripathi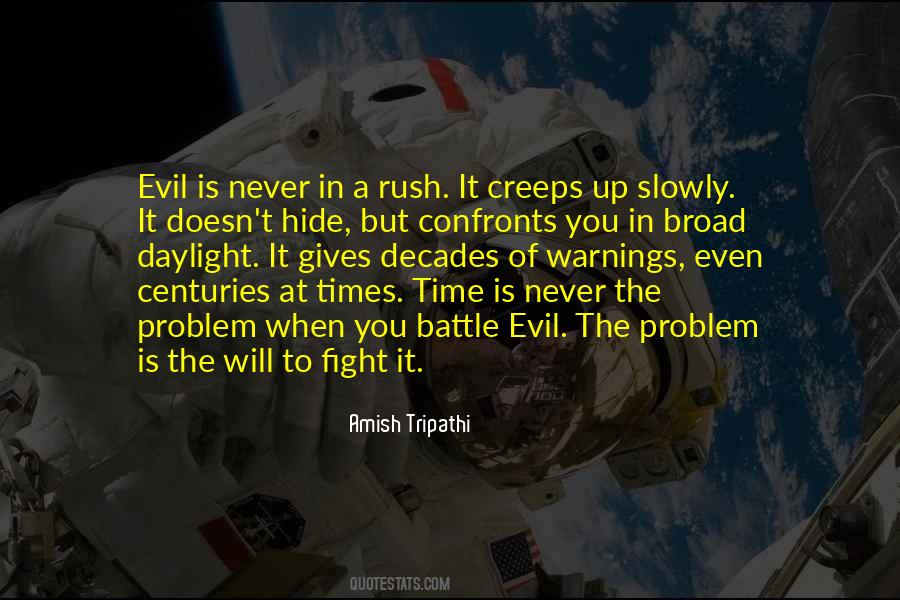 #51. There's one problem with California." I wasn't eager to listen, but the sentence had a promising beginning. "It has no understanding of evil. - Author: Pico Iyer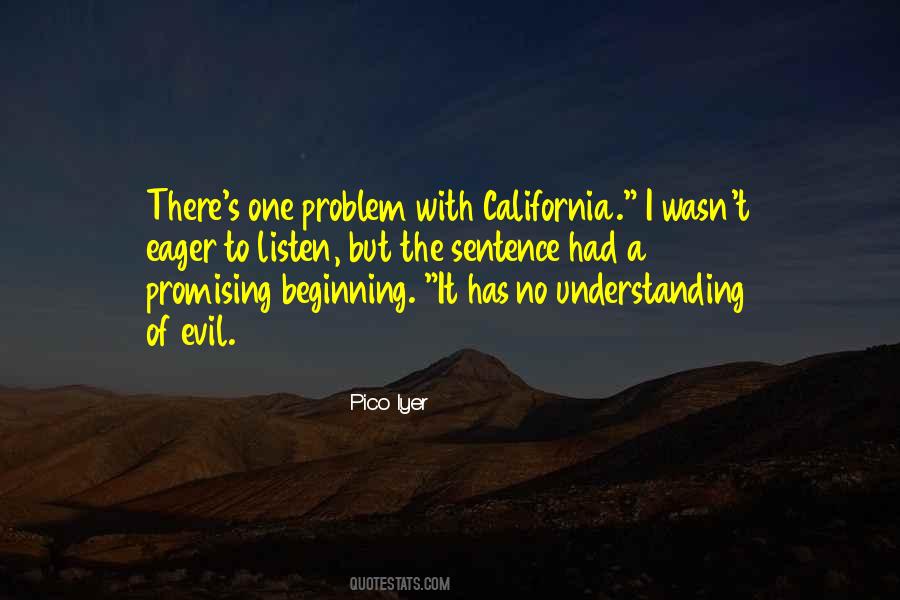 #52. The problem of evil, that is to say the reconciling of our failures, even the purely physical ones, with creative goodness and creative power, will always remain one of the most disturbing mysteries of the universe for both our hearts and our minds. - Author: Pierre Teilhard De Chardin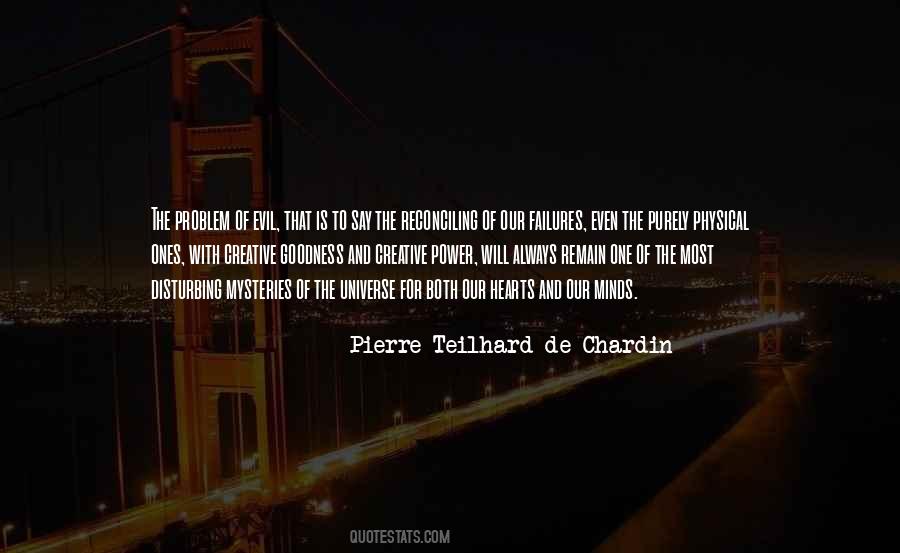 #53. As things stand the "intellectuals" only come out to lick the bones left over by the tyrant. - Author: Nilantha Ilangamuwa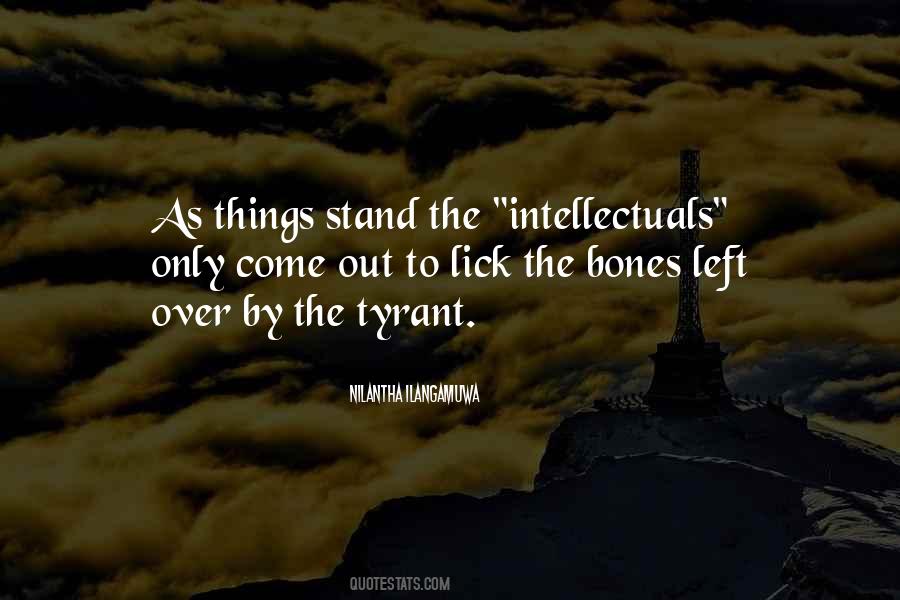 #54. All people naturally hate. My kid bites people now. I didn't teach my kid to bite anybody. Kids say mean stuff. Only through love do we get this evil out of them. Only through love and structure and discipline do they not hate. The kids that hate didn't learn anything, that's the problem. - Author: Chris Rock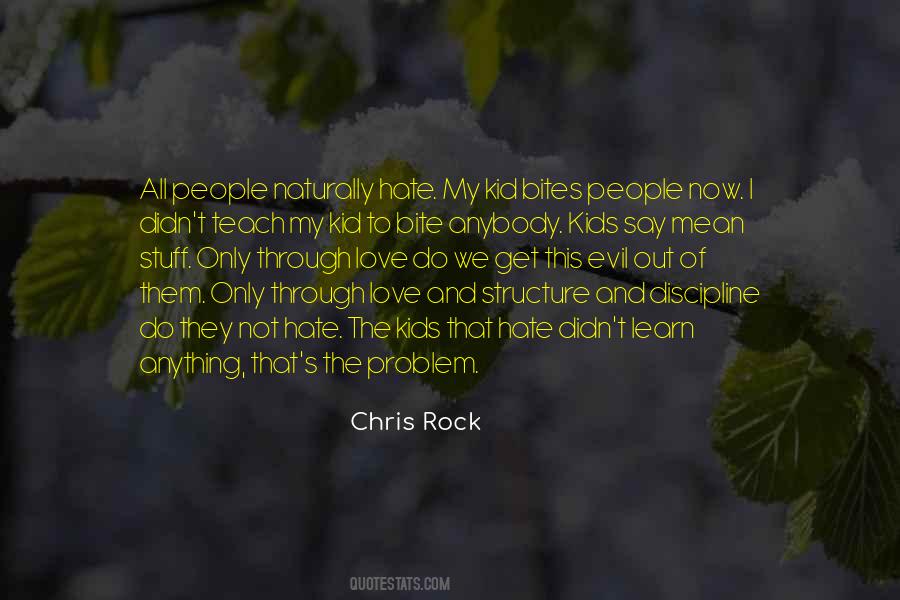 #55. God is good only when everything is good. When everything is bad, the devil takes control; god reappears when everything is in order once again. That's what my pastor taught me. - Author: Bangambiki Habyarimana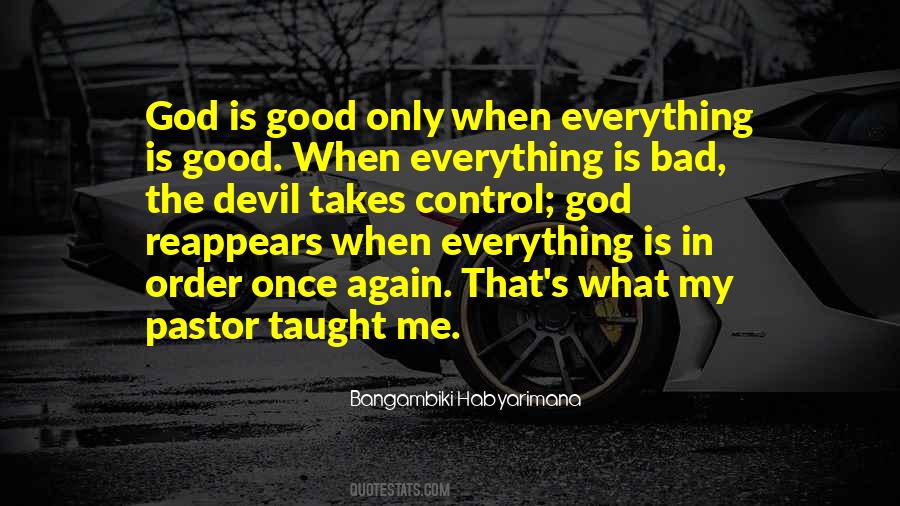 #56. The problem of vindicating an omnipotent and omniscient God in the face of evil is insurmountable. Those who claim to have surmounted it, by recourse to notions of free will and other incoherencies, have merely heaped bad philosophy onto bad ethics. - Author: Sam Harris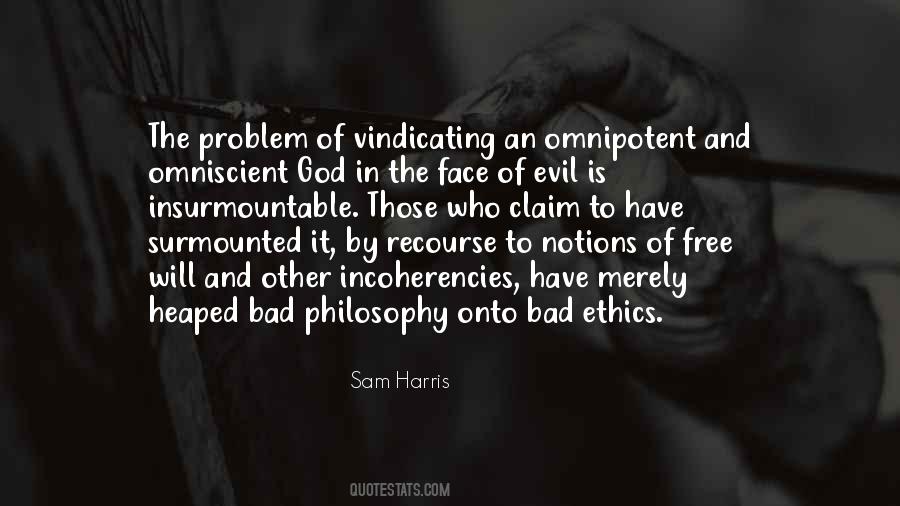 #57. What's distinctively shocking about Machiavelli is that he didn't care. He believed not only that politicians must do evil in the name of the public good, but also that they shouldn't worry about it. He was unconcerned, in other words, with what modern thinkers call 'the problem of dirty hands.' - Author: Michael Ignatieff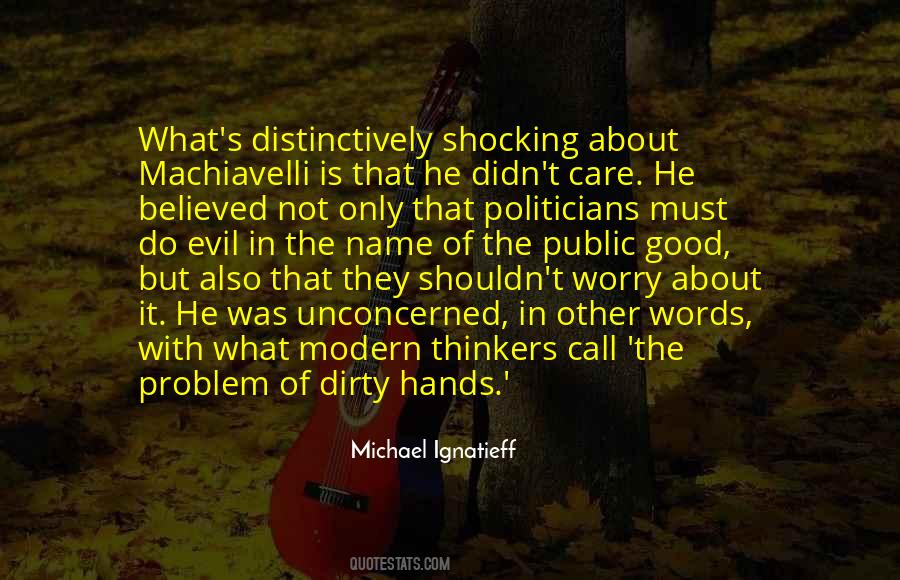 Famous Authors
Popular Topics