President Lincoln Famous Quotes & Sayings
List of top 87 famous quotes and sayings about president lincoln to read and share with friends on your Facebook, Twitter, blogs.
Top 87 Quotes About President Lincoln
#1. If she were a president, she'd be Baberham Lincoln. - Author: Garth Brooks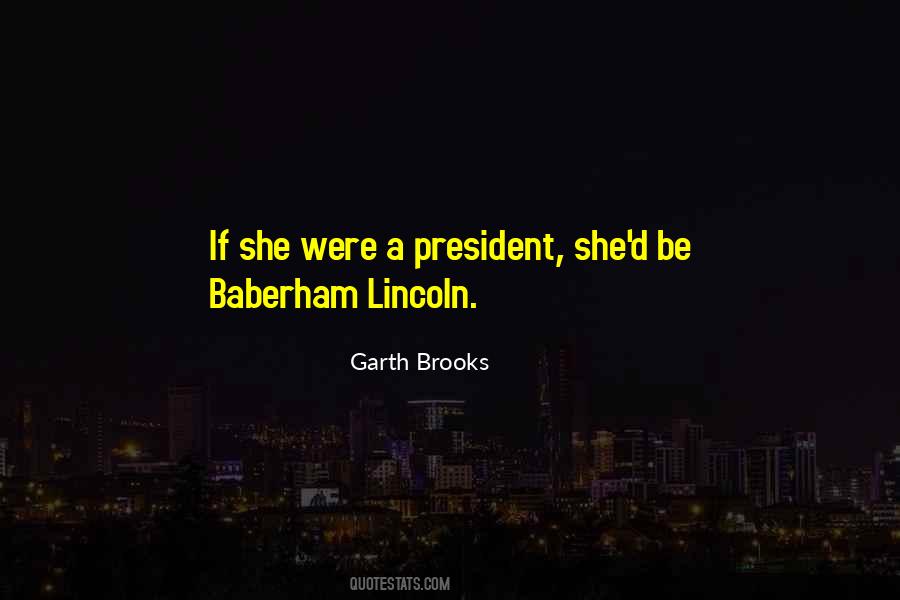 #2. For example, a man who might not have enormous charisma, who could be president 40 years ago, and who was a deserving president, I don't know that George Washington would be a president today, I don't know that Abe Lincoln would, I don't know that Roosevelt would. - Author: Sydney Pollack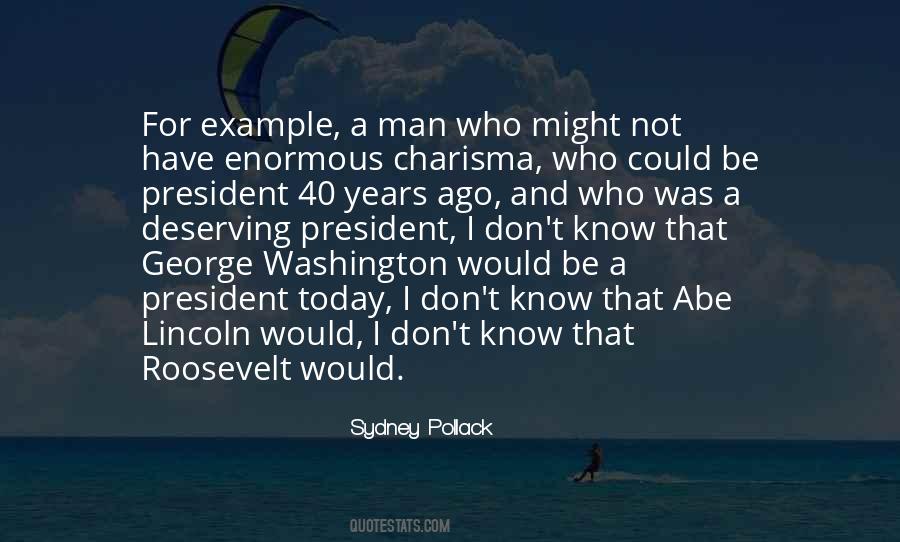 #3. Being President is like the man who was tarred and feathered and ridden out of town on a rail ... A man in the crowd asked how he liked it, and his reply was that if it wasn't for the honor of the thing, he would much rather walk. - Author: Abraham Lincoln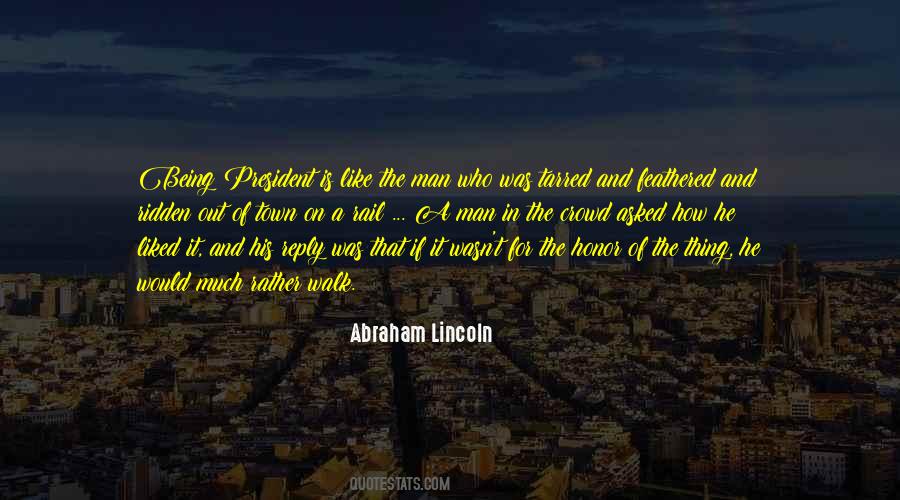 #4. Keeping the Union together, freeing slaves and being assassinated all added up to creating 'Lincoln the myth.' He overcame a lot of his own prejudices and became what many would consider the first black man's president. - Author: Henry Louis Gates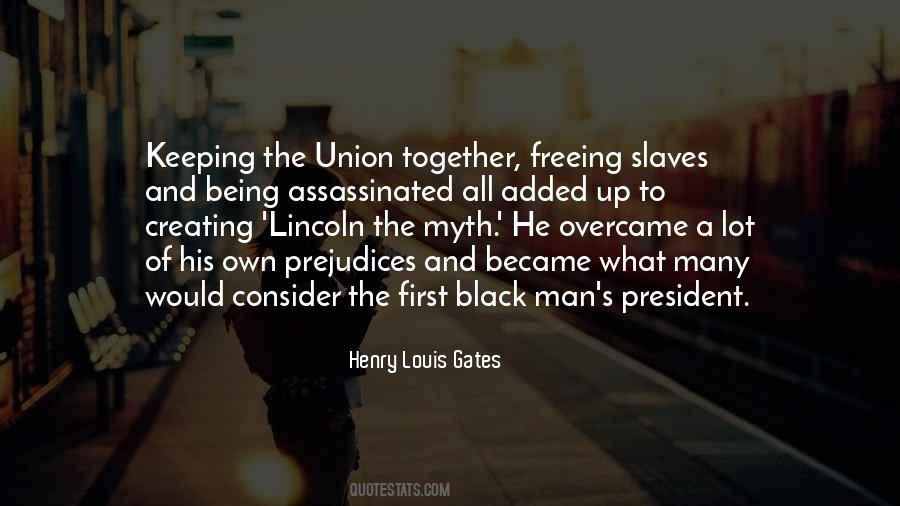 #5. Some day I shall be President. - Author: Abraham Lincoln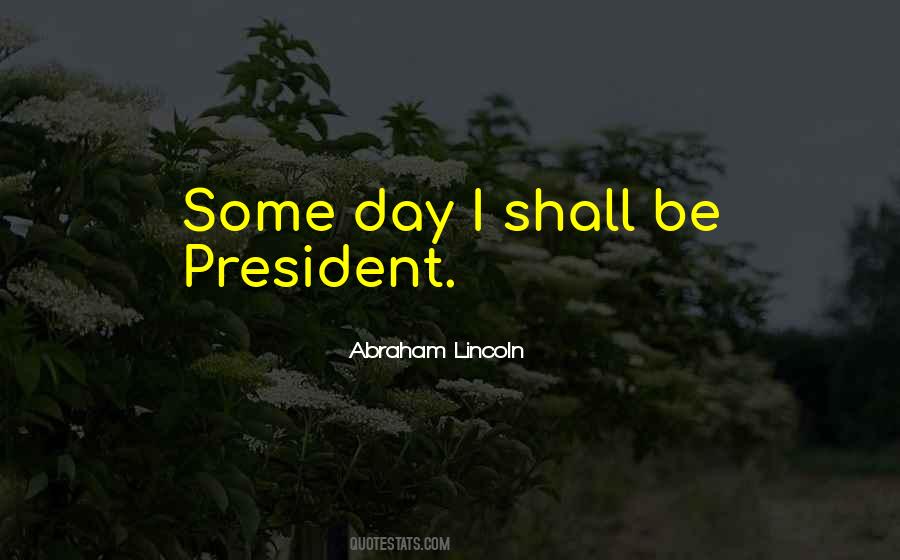 #6. From "boyhood up," as Lincoln once confided to his old friend Ward Hill Lamon, "my ambition was to be President. - Author: Harold Holzer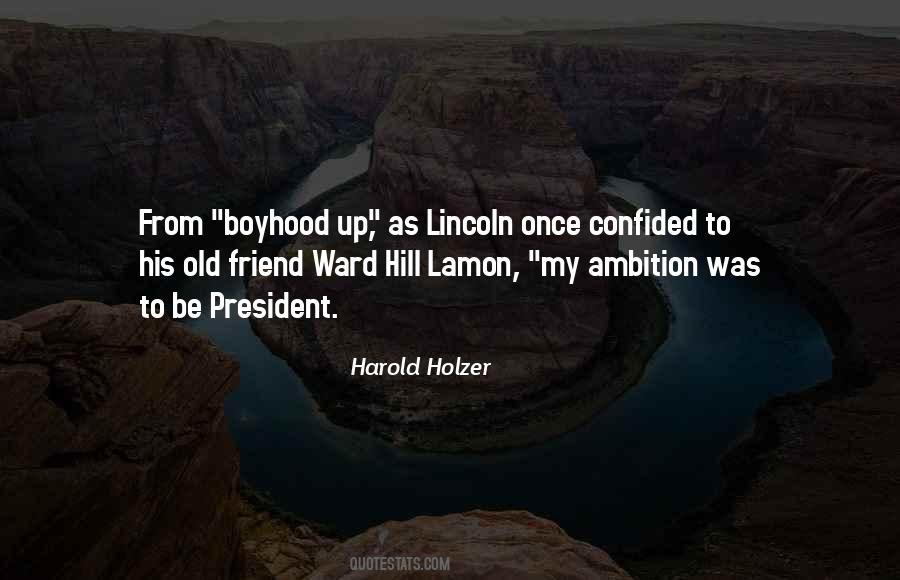 #7. The president is the cube of ice one places in the pot of a houseplant, providing a steady amount of nourishment over the course of a hot day. A good description of the job and also a fantastic bit of practical household advice. - Author: Abraham Lincoln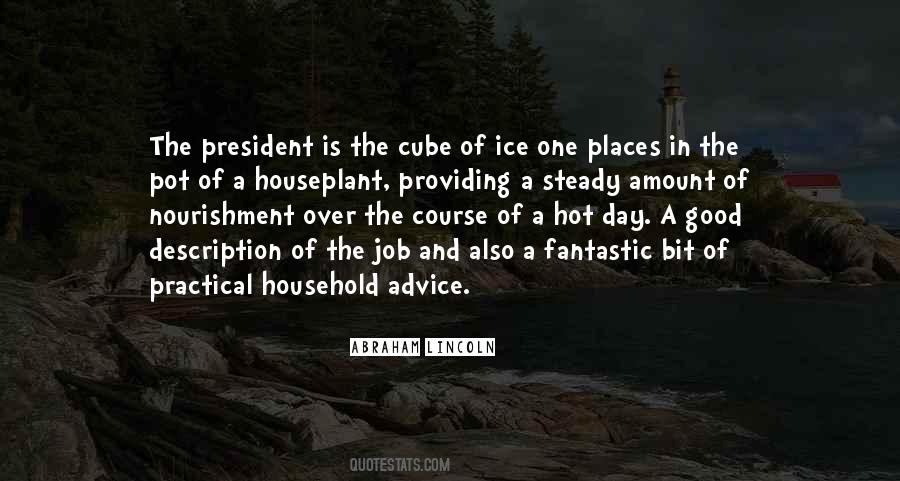 #8. After his failed political career, Lincoln often pondered the question of the purpose of the meaning of life. In 1850 [ten years before he was elected President], Lincoln told Herdon [his law partner] How hard, oh how hard it is to die and leave one's country no better than if one had never lived. - Author: Ronald C. White Jr.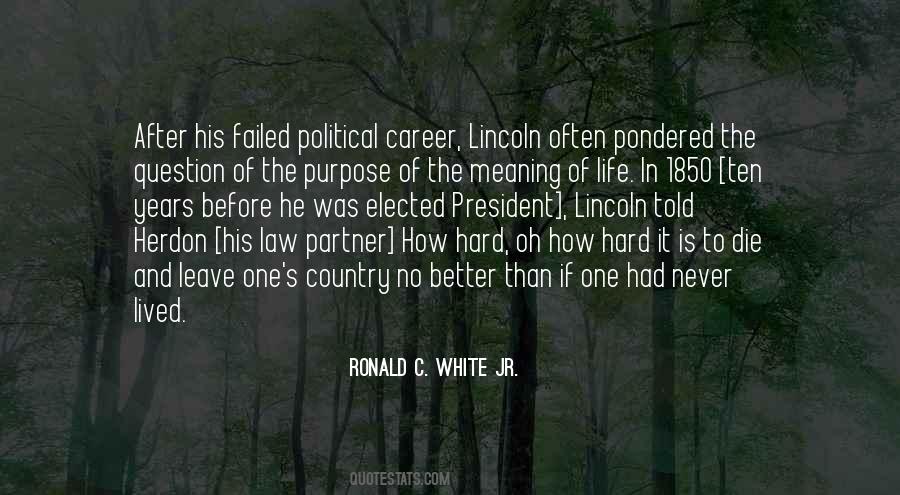 #9. We should honor Franklin Delano Roosevelt today as the greatest commander in chief of the Armed Forces of the United States in our history, bar none - including President Lincoln. - Author: Nigel Hamilton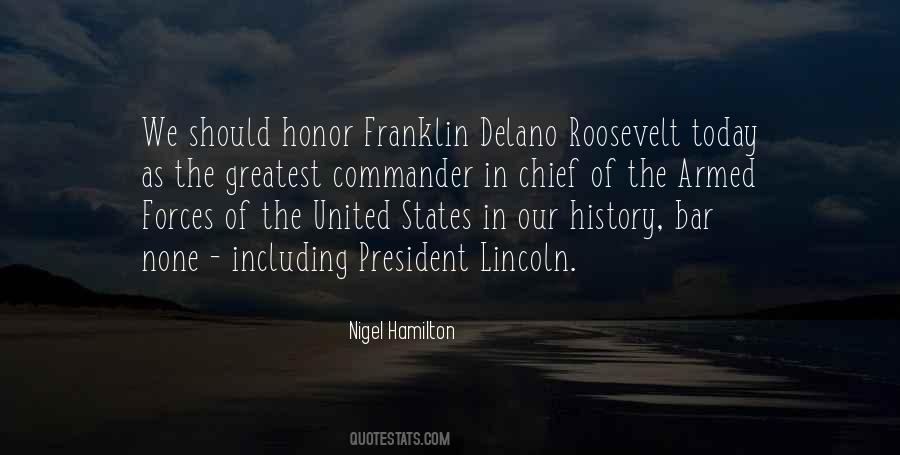 #10. In giving freedom to the slave, we assure freedom to the free
honorable alike in what we give, and what we preserve. We shall nobly save, or meanly lose, the last best hope of earth - Author: Abraham Lincoln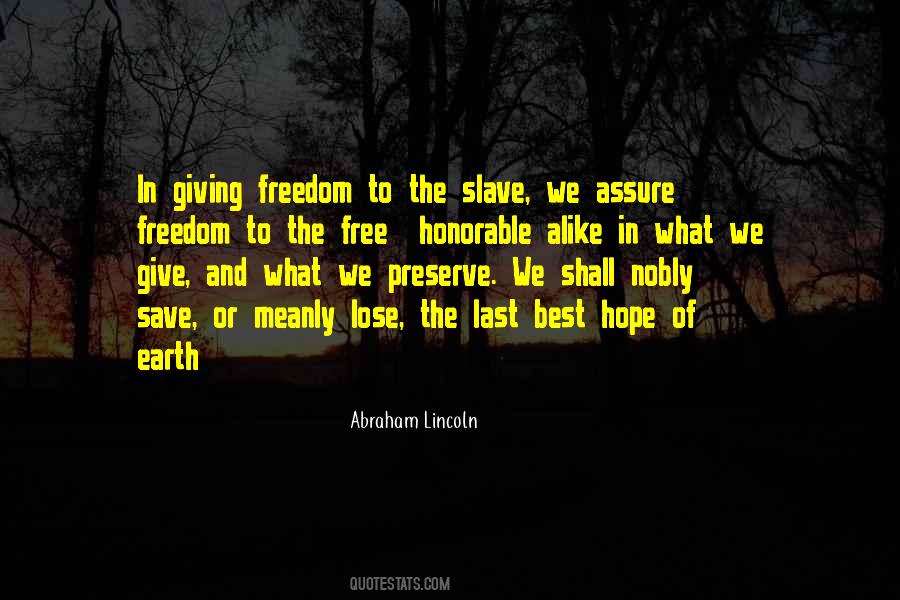 #11. Lincoln replied:"There is a difference between secession against the Constitution and in favor of the Constitution. - Author: Clint Johnson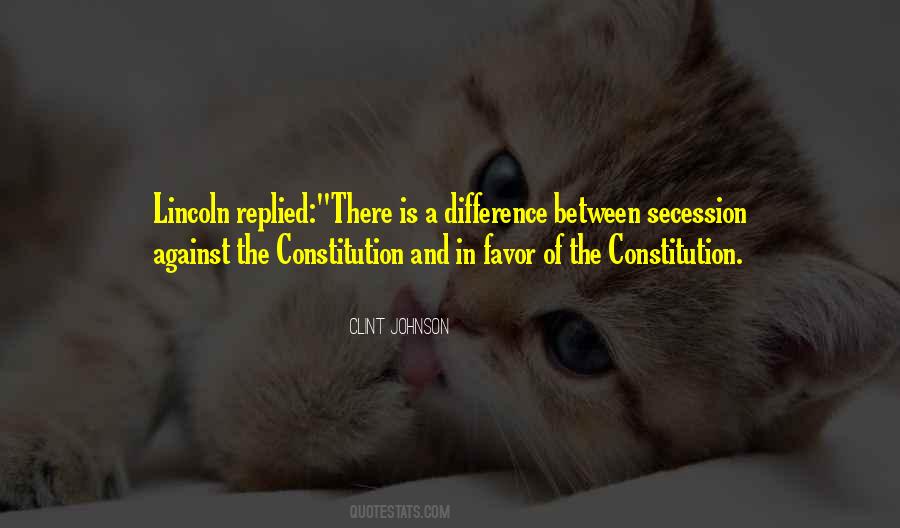 #12. Today is the anniversary of the Gettysburg Address. President Lincoln wrote it on his way to the site of the speech on the back of an envelope. One guy on the back of an envelope wrote the great Gettysburg Address - while every night it takes six guys to write this crap! - Author: David Letterman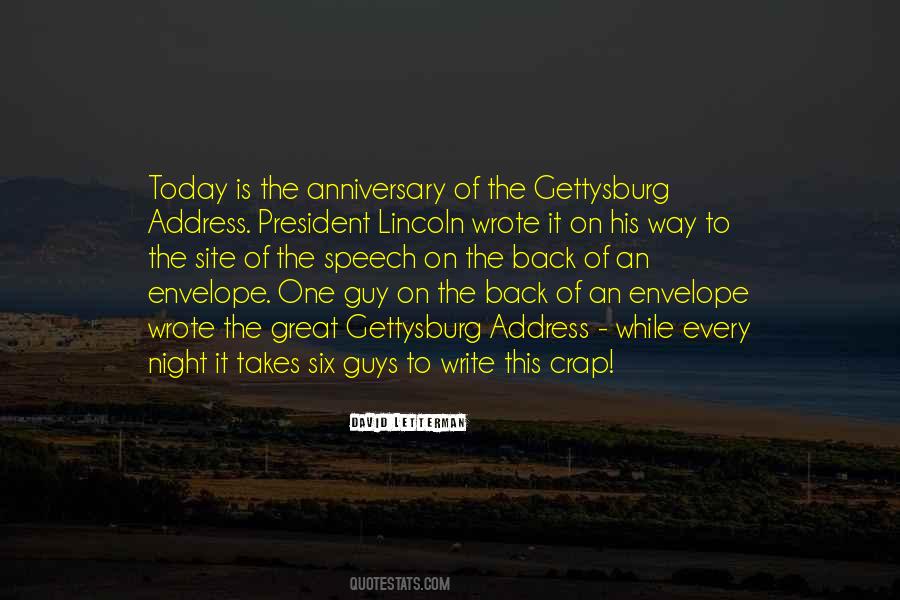 #13. When someone asked Abraham Lincoln, after he was elected president, what he was going to do about his enemies, he replied, "I am going to destroy them. I am going to make them my friends." - Author: Abraham Lincoln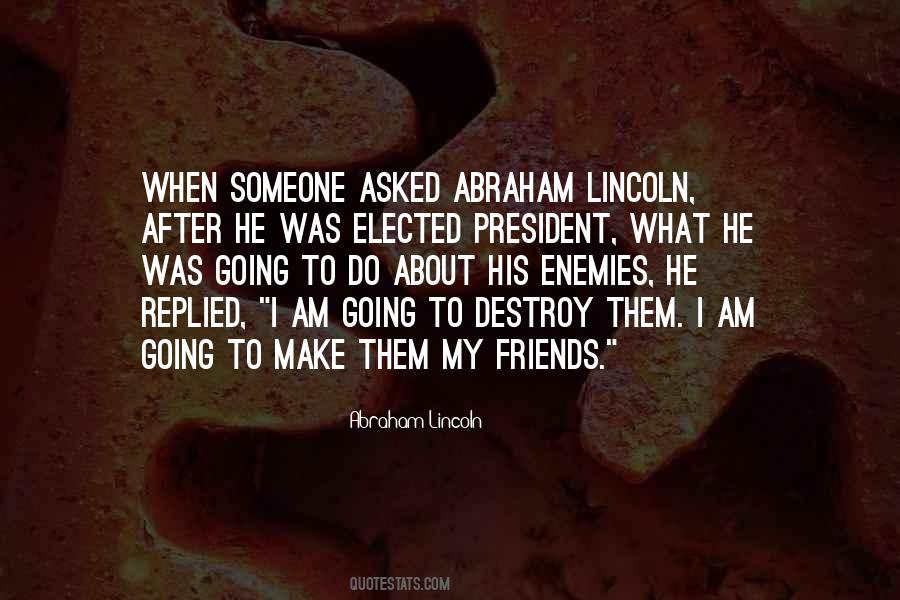 #14. Abraham Lincoln, in order to maintain the unity of the United Statesresorted to the use of force.so, I think Abraham Lincoln, president, is a model, is an example. - Author: Zhu Rongji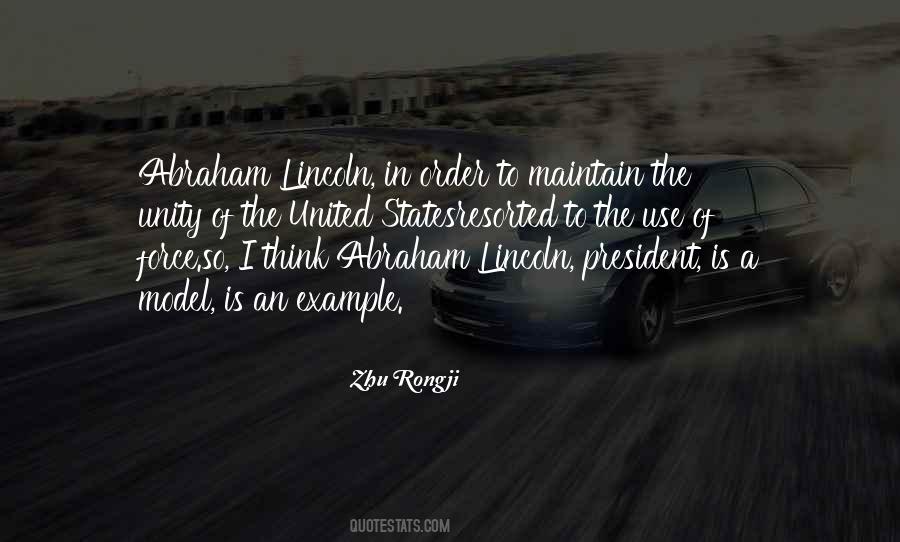 #15. Women are the only people I am afraid of who I never thought would hurt me - Author: Abraham Lincoln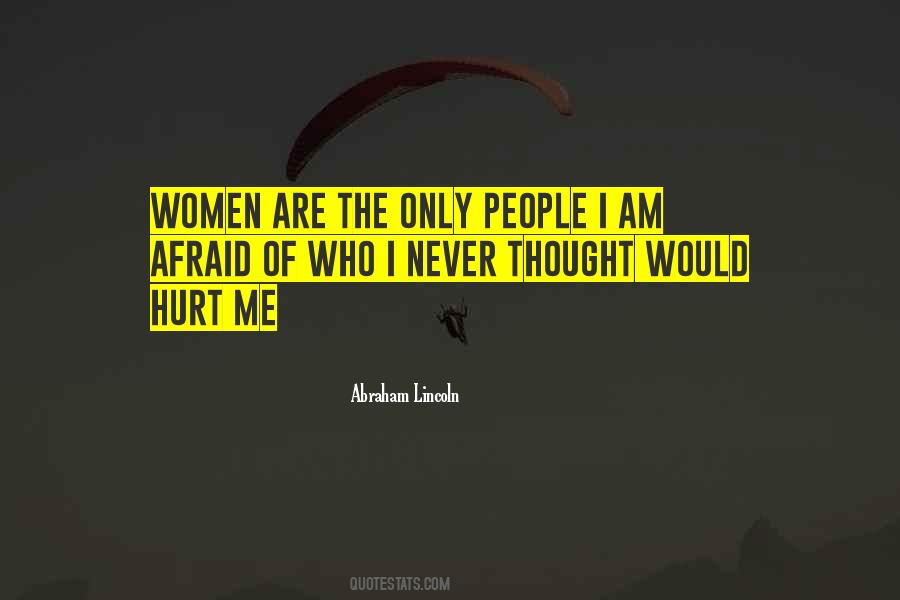 #16. Since Obama has expressed admiration for the portrait of Abraham Lincoln that Doris Kearns Goodwin paints in 'Team of Rivals,' he could do the 16th president one better: He should name Hillary Clinton as his running mate in 2012. That would be both needed change and audacious. - Author: Douglas Wilder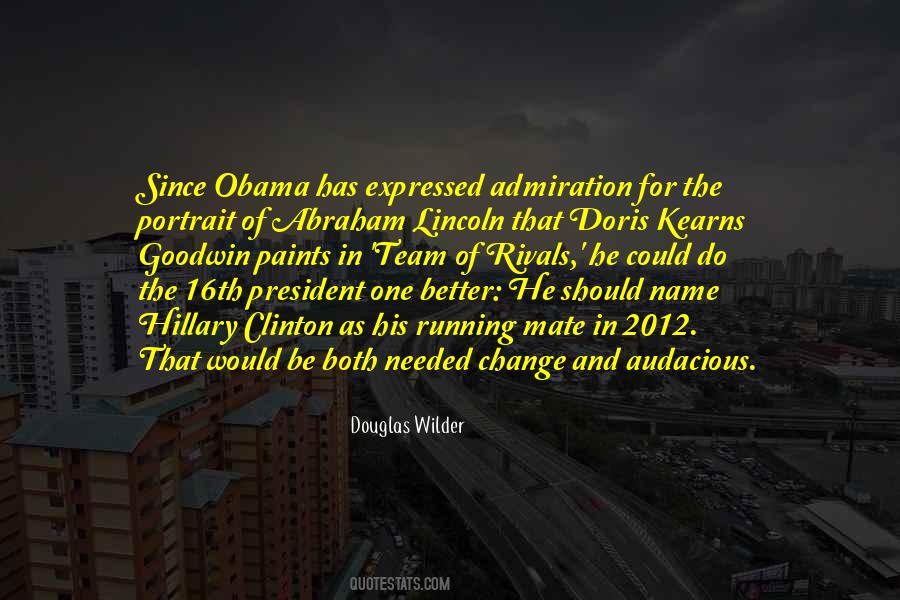 #17. President Lincoln chose to fight a bloody and unpopular war because he believed the enemy had to be defeated. He was right. - Author: Pete Hegseth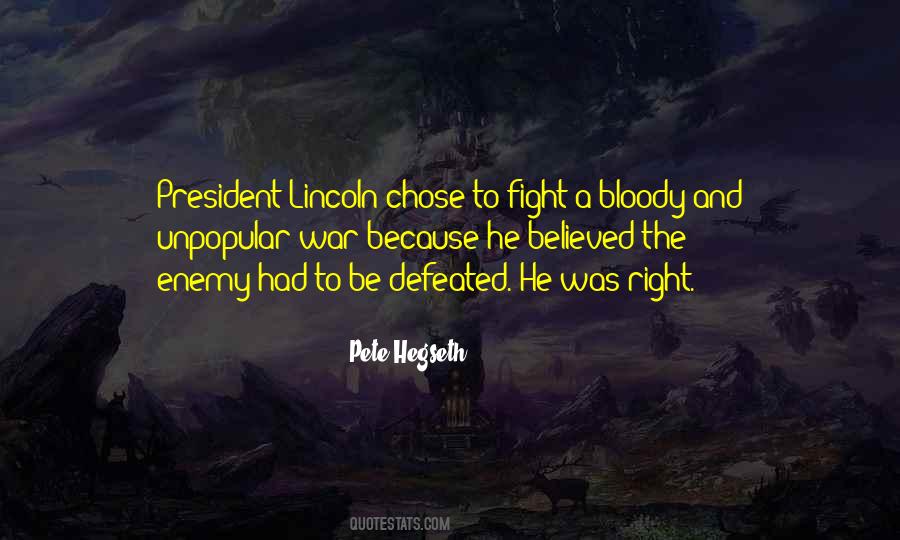 #18. What Lincoln did is he gathered people around him the way that I believe President Obama is doing by calling Republicans, talking to them, trying to work with them. And when that happens, big things get solved. - Author: Ray LaHood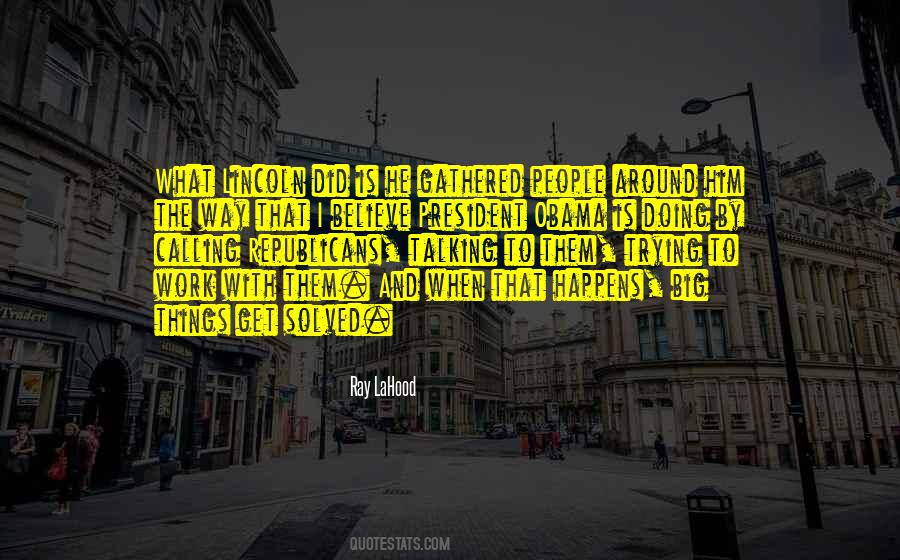 #19. They all start competing against Lincoln as the greatest president. And the [library] building becomes the symbol, the memorial to that dream. - Author: Doris Kearns Goodwin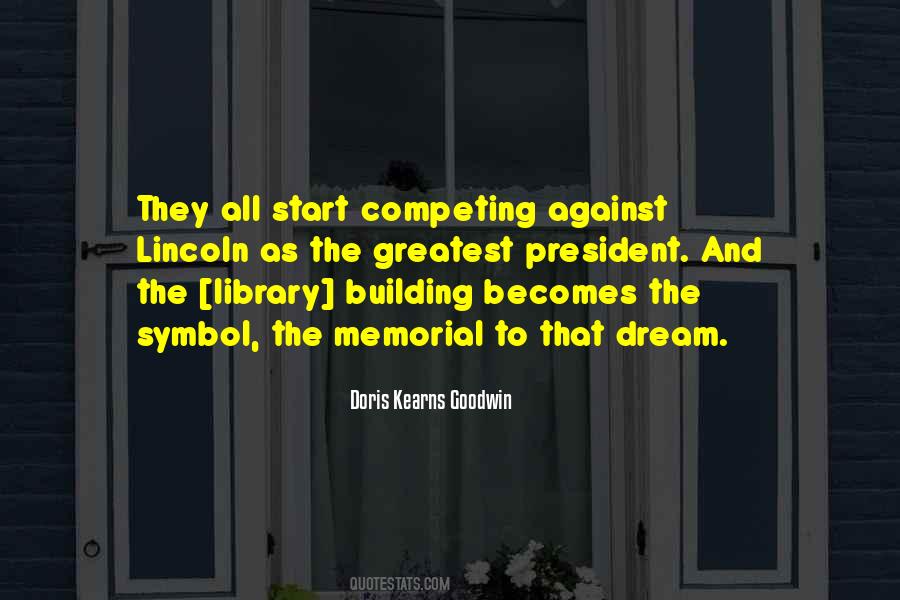 #20. No president has come near to rivaling Lincoln as a writer. - Author: Jonathan Raban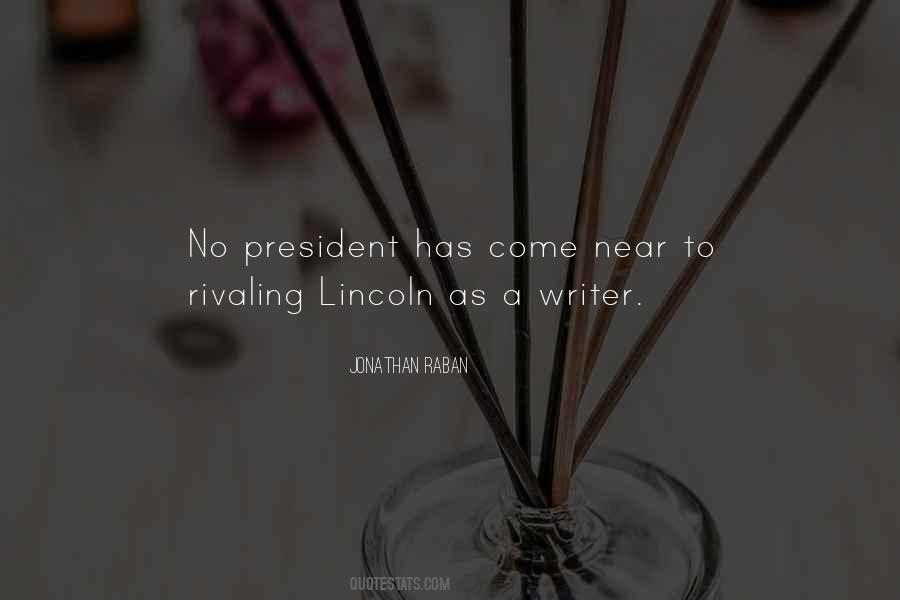 #21. He bowed jokingly, and everyone laughed as Mrs.Anderson shook her head. "Did you even read the material?"
"of course I did."
"Who was the leader of the North?"
"Lincoln."
"No, he was the president."
"Yes, which means he was the fucking leader of everyone."
Carmine - Author: J.M. Darhower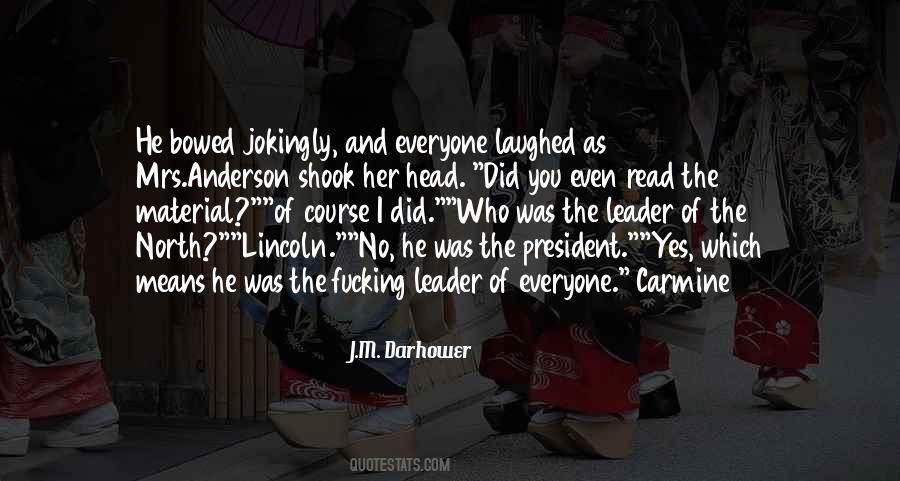 #22. Presidents in wartime, embattled presidents, unpopular presidents, they all look to Lincoln. He's their patron saint because no president was more embattled or more unpopular than Lincoln was during his presidency. We think he was born on Mount Rushmore. Not so. - Author: Richard Norton Smith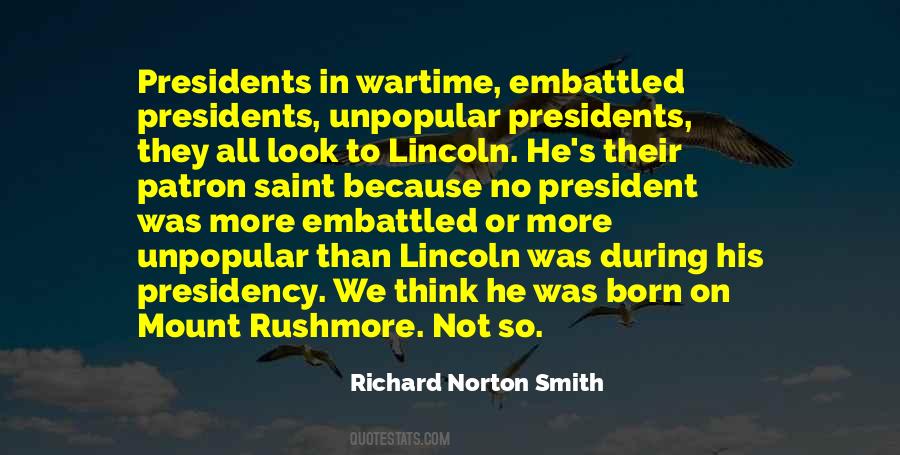 #23. If my father's son can become President of these United States, then your father's son can become anything he wishes. - Author: Abraham Lincoln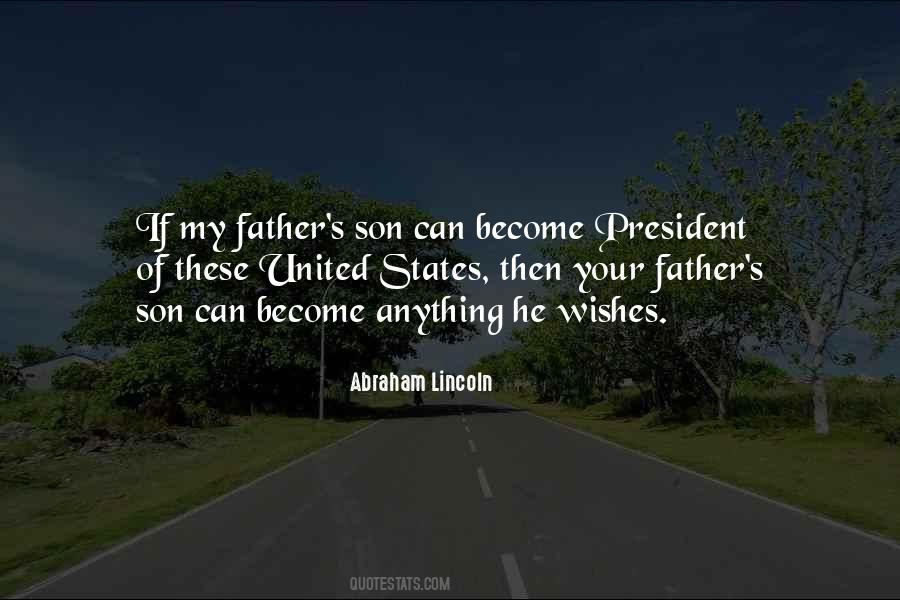 #24. George, I know you're tired. But President Lincoln, he didn't free us to be lazy and no good. He freed us to work hard and improve ourselves.-George's Grandmother. - Author: George Dawson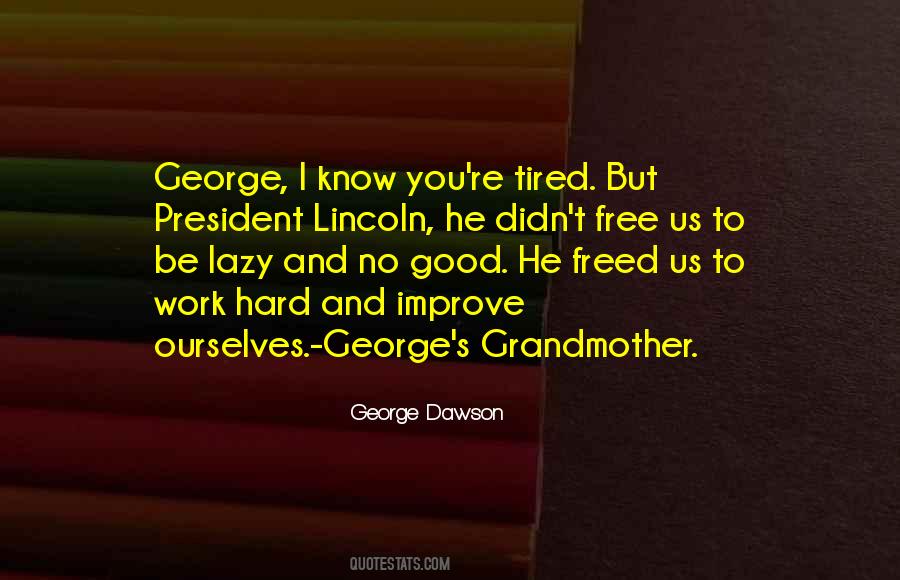 #25. From Jefferson to Jackson to Lincoln to FDR to Reagan, every great president inspires enormous affection and enormous hostility. We'll all be much saner, I think, if we remember that history is full of surprises and things that seemed absolutely certain one day are often unimaginable the next. - Author: Jon Meacham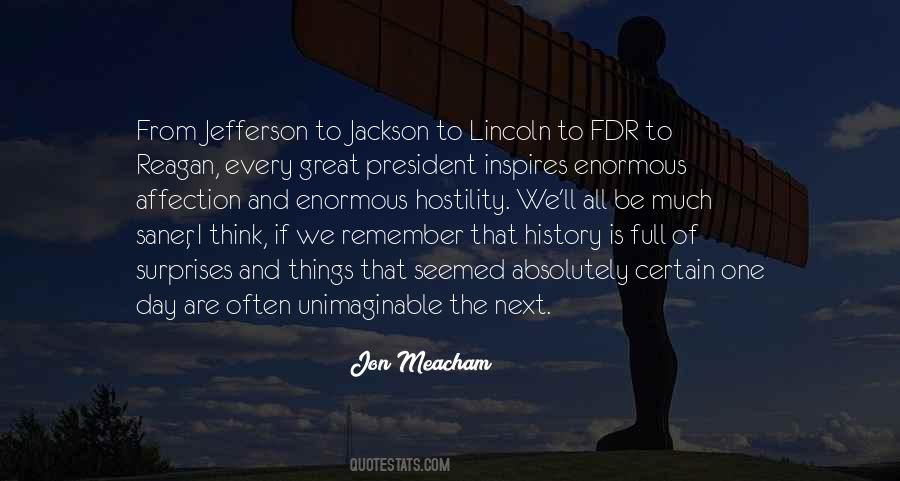 #26. I never heard him abuse an enemy. Some of the cruel things said about President Lincoln, particularly in the North, used to pierce him to the heart; but never in my presence did he evince a revengeful disposition. - Author: Ulysses S. Grant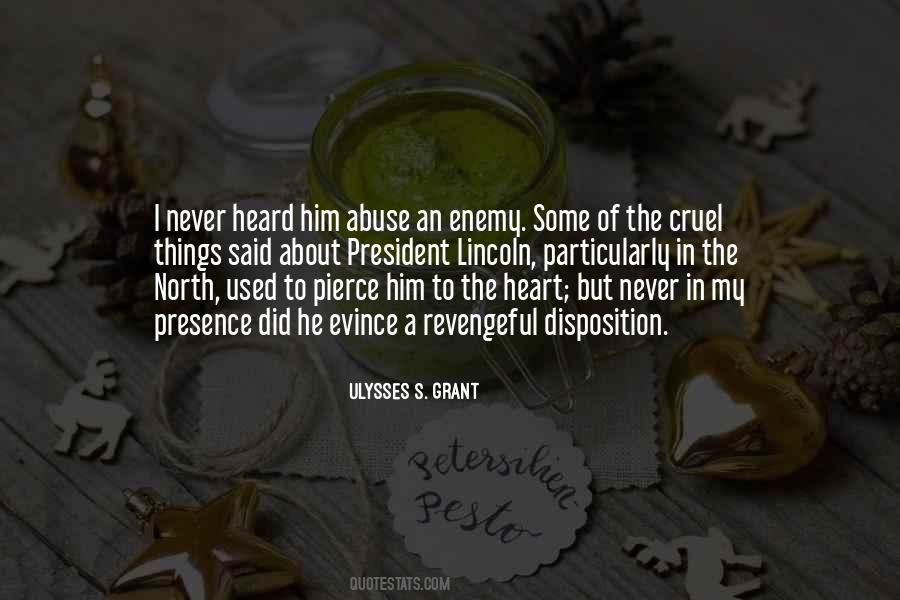 #27. Based on what you know about him in history books, what do you think Abraham Lincoln would be doing if he were alive today? 1) Writing his memoirs of the Civil War. 2) Advising the President. 3) Desperately clawing at the inside of his coffin. - Author: David Letterman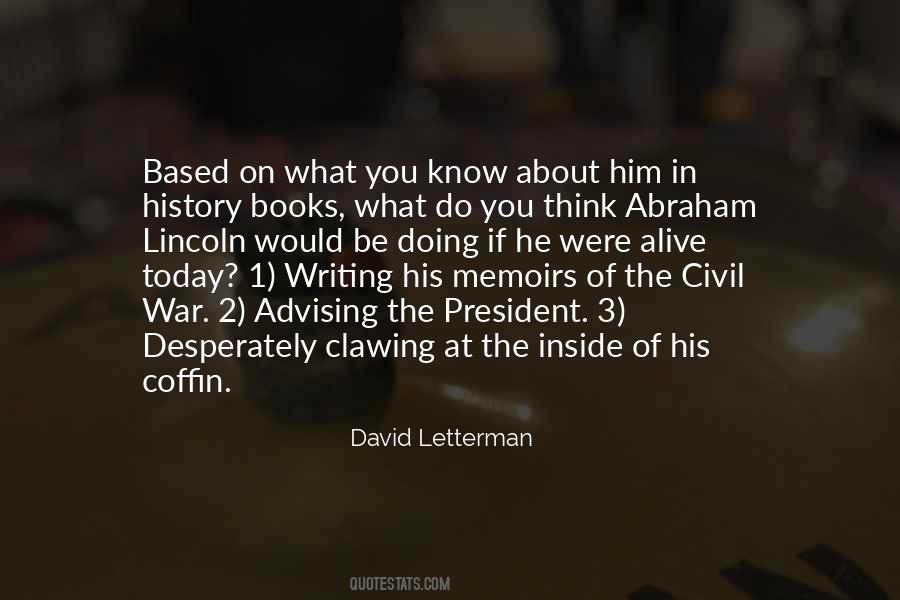 #28. In Lincoln's day a President's religion was a very private affair. There were no public prayer meetings, no attempts to woo the Religious Right. Few of Lincoln's countrymen knew anything at all of his religious beliefs. - Author: David Herbert Donald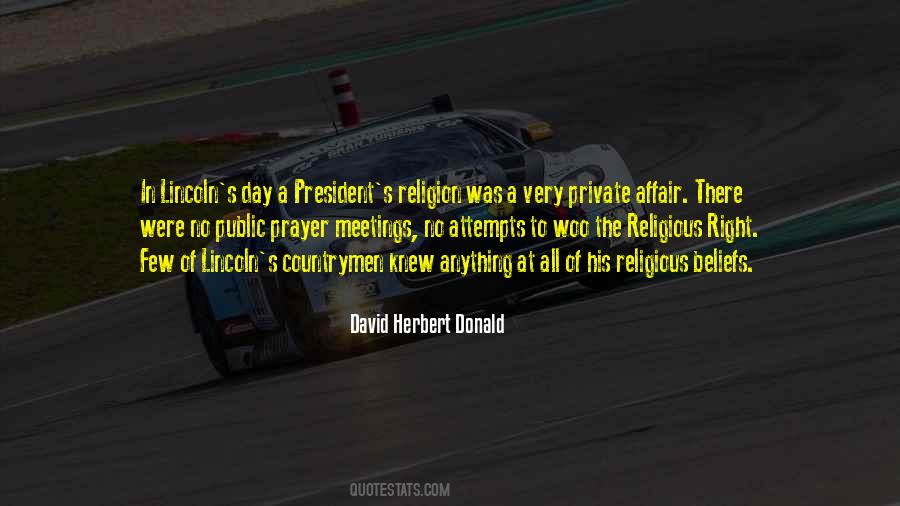 #29. President Lincoln was once criticized for his attitude toward his enemies. "Why do you try to make friends of them?" asked an associate. "You should try to destroy them." "Am I not destroying my enemies," Lincoln gently replied, "when I make them my friends?" - Author: Abraham Lincoln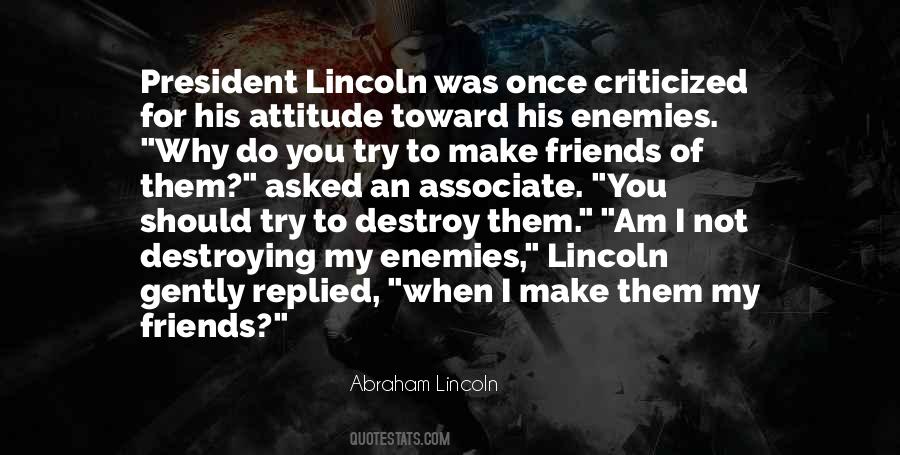 #30. Lincoln said you cannot be President without spending some item on your knees. I have repeated that and a bunch of Atheists got all over me. Wait a minute. Does that mean that you cannot be President if you are an Atheist? I say yea that does mean that. - Author: George H. W. Bush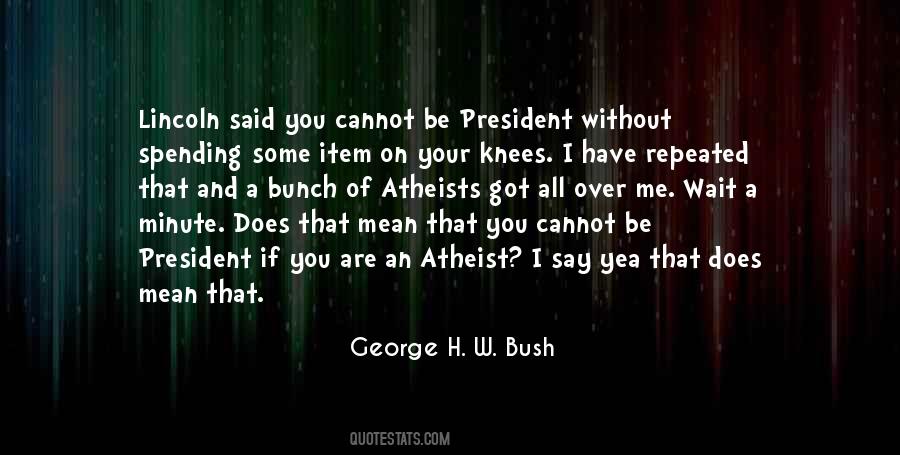 #31. Messrs. Washington and Lincoln would be appalled and saddened by what their successor, President Obama, and the modern Democratic Party are doing to the nation they dedicated their lives to keep alive. - Author: Monica Crowley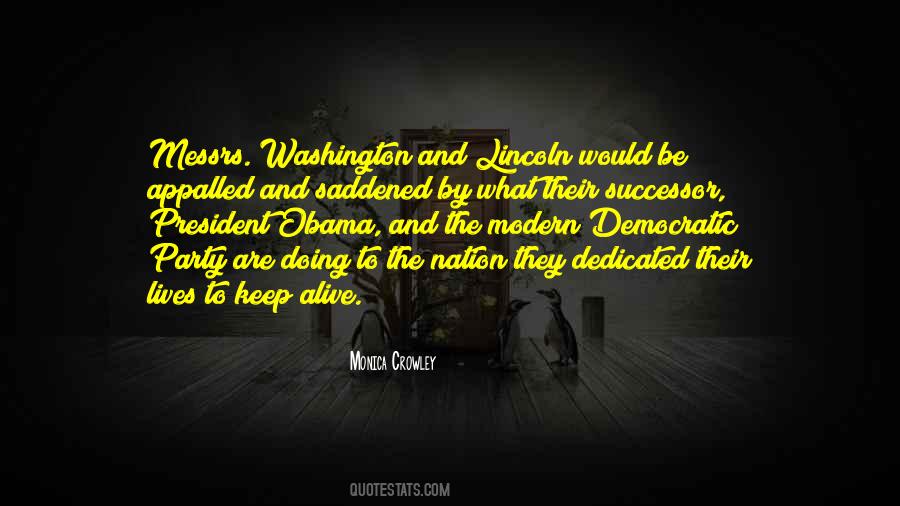 #32. Abraham Lincoln and Millard Fillmore had the same title. They were both presidents of the United States, but their tenure in office and their legacy could not be more different. - Author: Barack Obama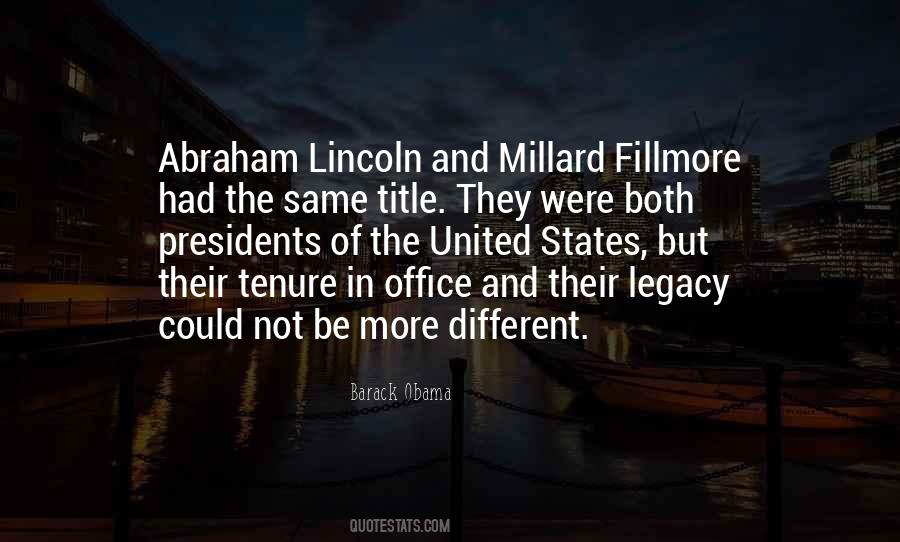 #33. I will either be America's greatest president or its last. - Author: Abraham Lincoln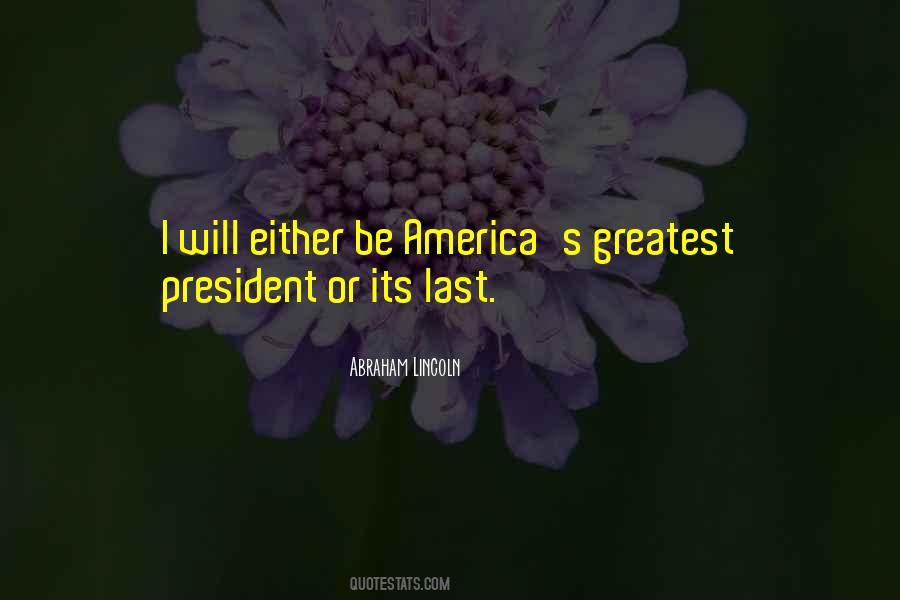 #34. On the issues that I care deeply about - the environment, Roe vs. Wade, the war in Iraq, with no weapons of mass destruction, the tax cuts that are now leading to deficits, I've got some deep issues with the president. - Author: Lincoln Chafee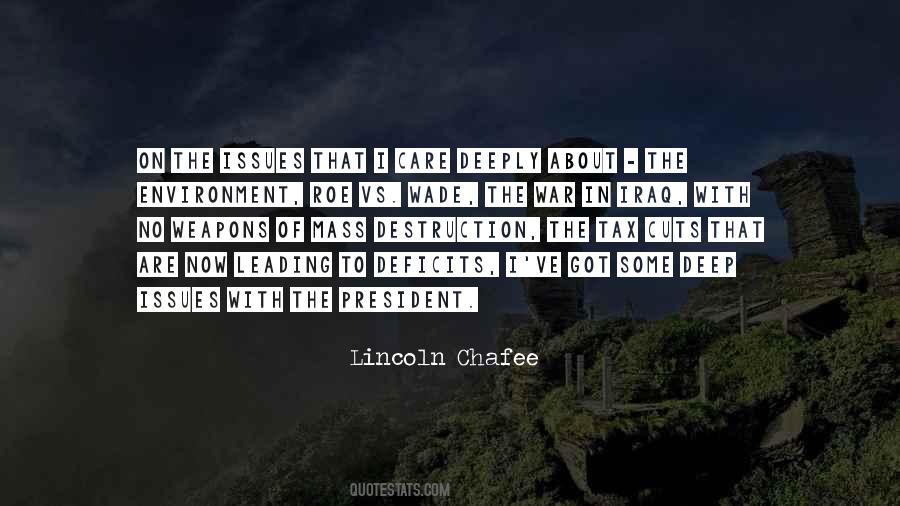 #35. President Abraham Lincoln never lost his ardor for the United States to remain united during the Civil War. - Author: Douglas Brinkley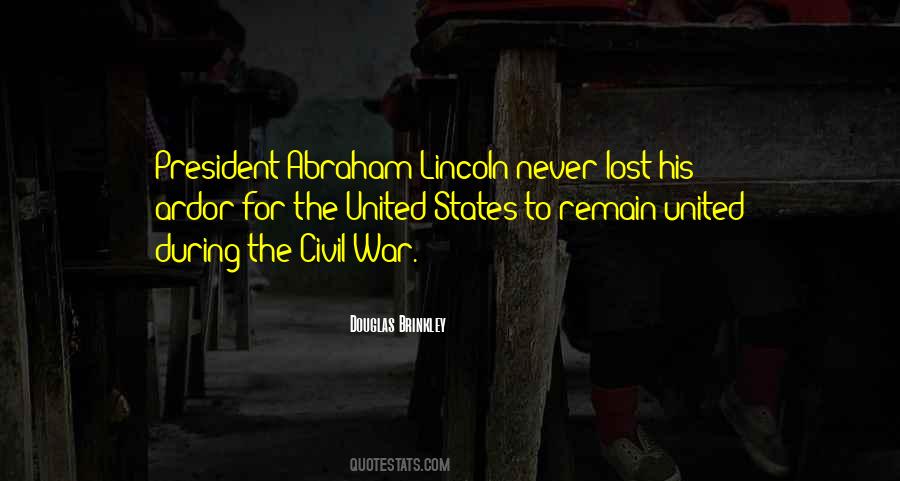 #36. Presidents Lincoln, Jefferson, Jackson, presidents have understood that the Supreme Court cannot make a law. They cannot make it. The legislature has to make it, the executive branch has to sign it and enforce it. - Author: Mike Huckabee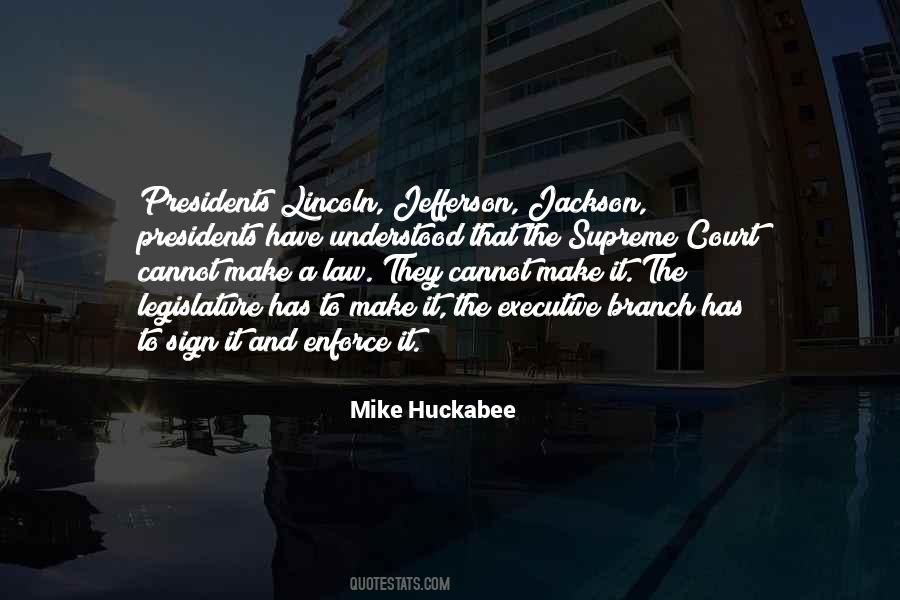 #37. Ohio claims they are due a president as they haven't had one since Taft. Look at the United States, they have not had one since Lincoln. - Author: Will Rogers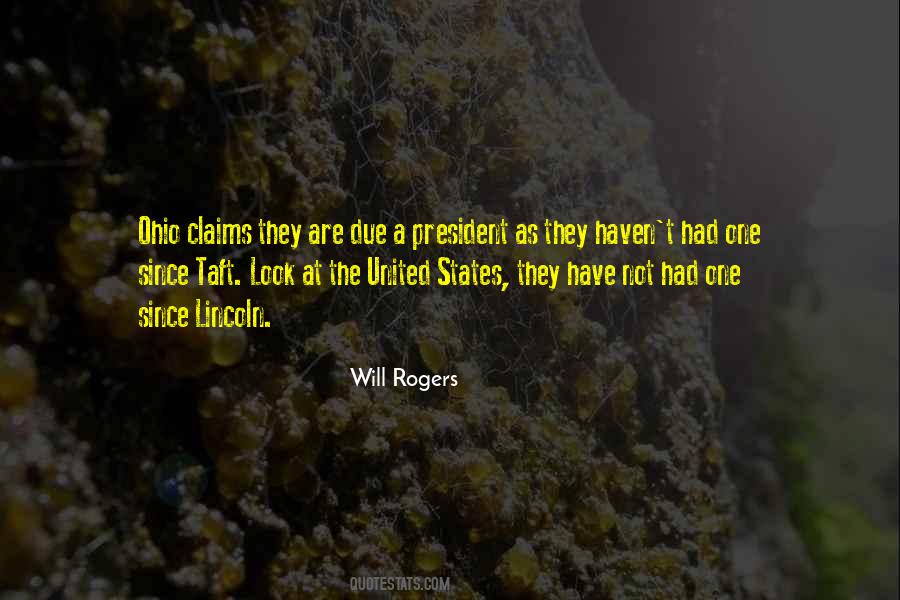 #38. New Rule: If you married a manic-depressive, three of your children died, and while you were president civil war broke out and someone shot you in the head, your coin really shouldn't say, In God We Trust. - Author: Bill Maher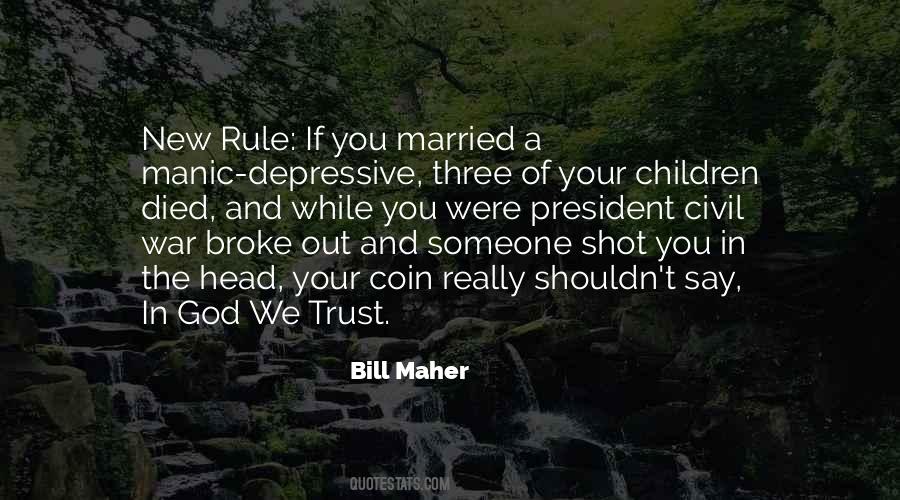 #39. President Obama knows that wars are not to be entered into lightly; he knows that overseas conflicts don't only do damage in the land in which they are fought, but in the land of those who fight them, as well. - Author: Lincoln Chafee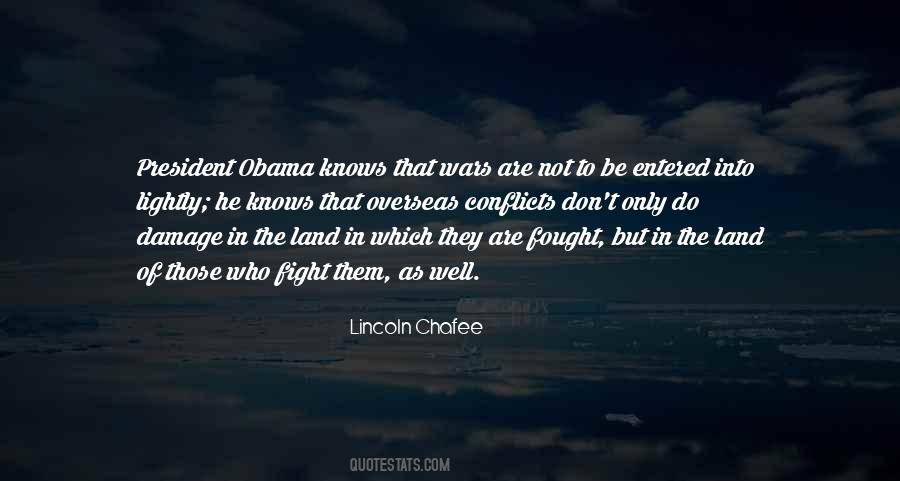 #40. Mr. Lincoln was not only a great President, but a great man - too great to be small in anything. In his company I was never in any way reminded of my humble origin, or of my unpopular color. - Author: Frederick Douglass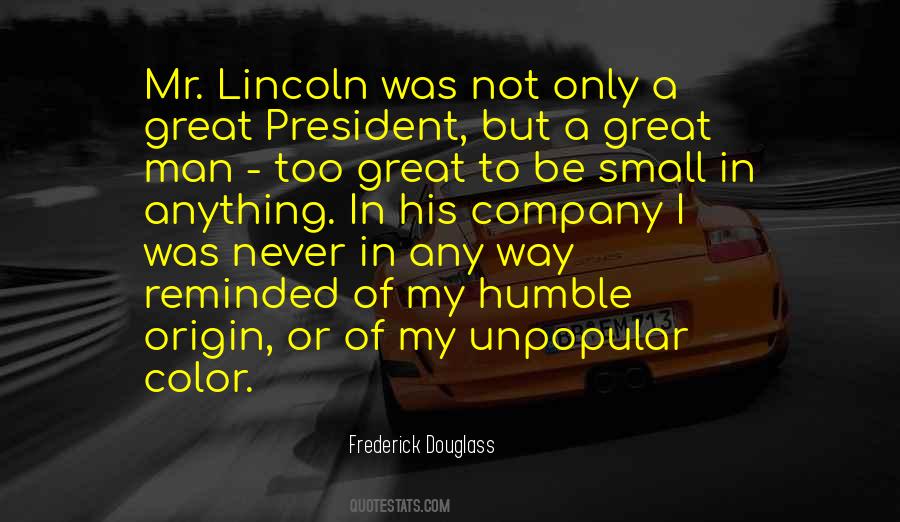 #41. Lincoln had a tremendous capacity for personal growth - more than any other American President. - Author: Henry Louis Gates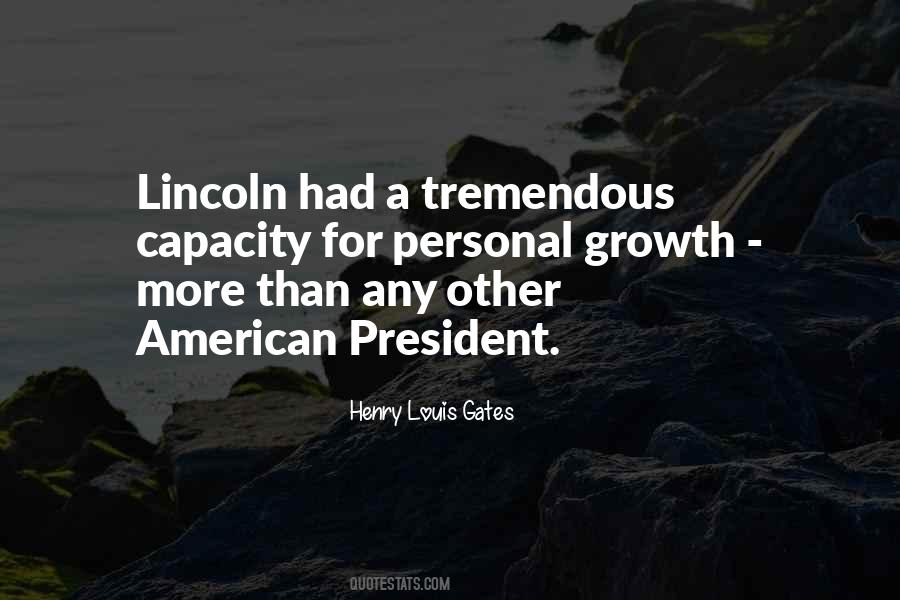 #42. Whereas, the Senate of the United States, devoutly recognizing the Supreme Authority and just Government of Almighty God, in all the affairs of men and of nations, has, by a resolution, requested the President to designate and set apart a day for National prayer and humiliation ... - Author: Abraham Lincoln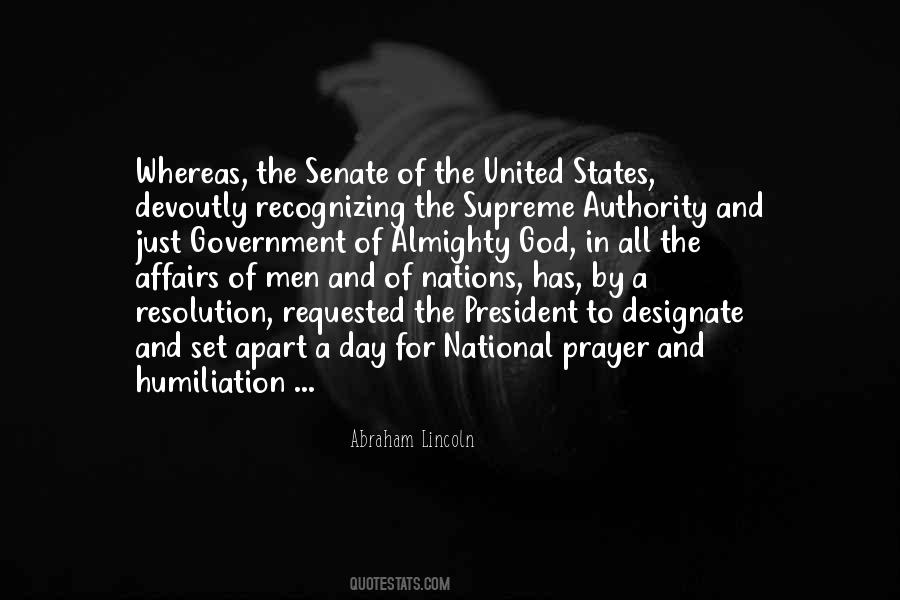 #43. Rail-splitting produced an immortal president in Lincoln, but golf hasn't produced even a good Congressman. - Author: Will Rogers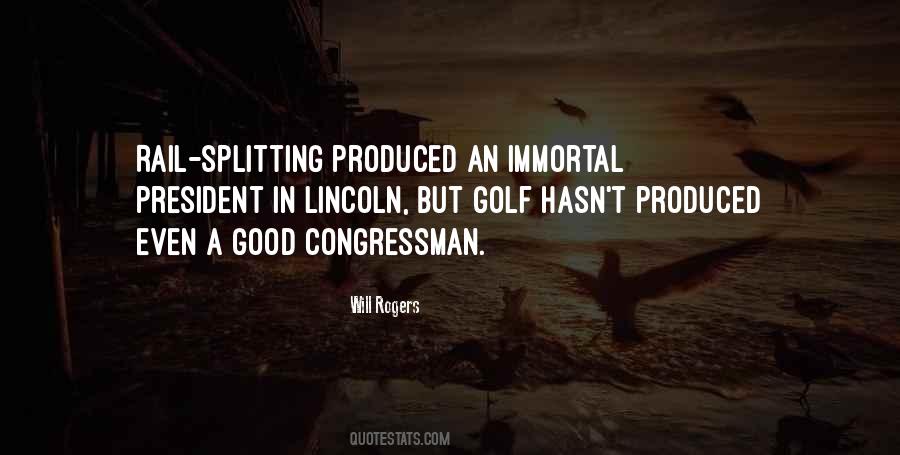 #44. Everybody faces obstacles. And I looked to people who had been through many to succeed in life. Abraham Lincoln, born to a poor family, faced defeat through most of his life. Lost eight elections, failed two businesses, had a nervous breakdown, and still became president. - Author: Dave Winfield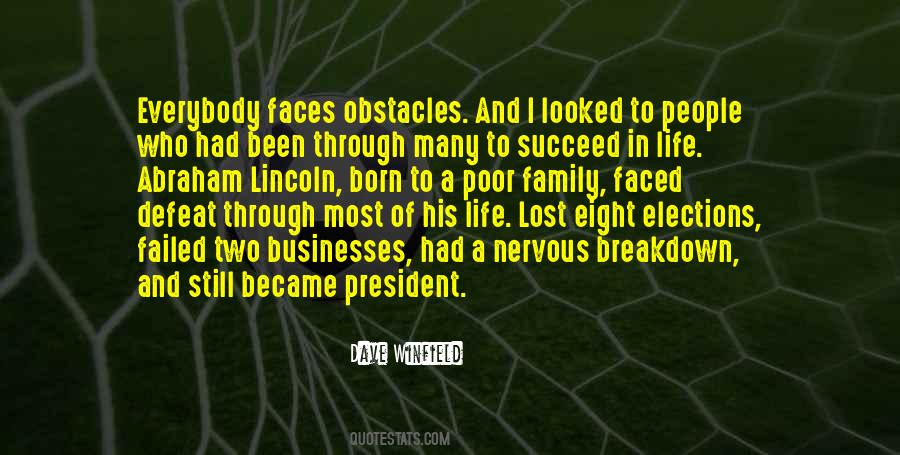 #45. I walked out of Spielberg's 'Lincoln' having such a thirst for more. It used such a microscopic albeit enormous event in American history. It used such a small piece of his presidency to illustrate him as a president through the lens of that event. - Author: Jesse Johnson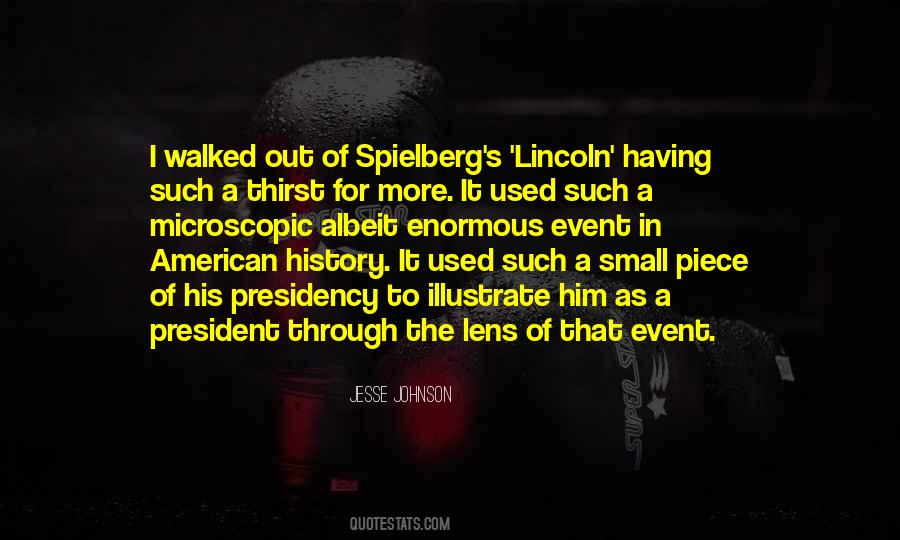 #46. There have been many amazing Presidents in American history, including George Washington, Abraham Lincoln, Dwight Eisenhower and Ronald Reagan, all of whom I greatly admire. - Author: Donald Trump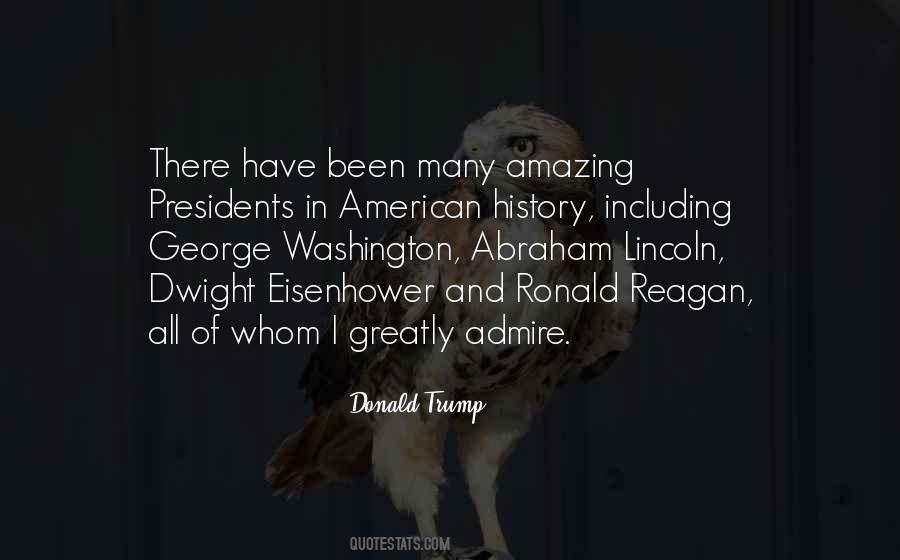 #47. Let's assume for the moment that the logic behind Presidents Day is actually sound for certain presidents. Why not have a separate holiday for Lincoln and one for Washington - as we used to do, before we became so concerned with the 'Every President Gets a Trophy' ethos? - Author: Ben Shapiro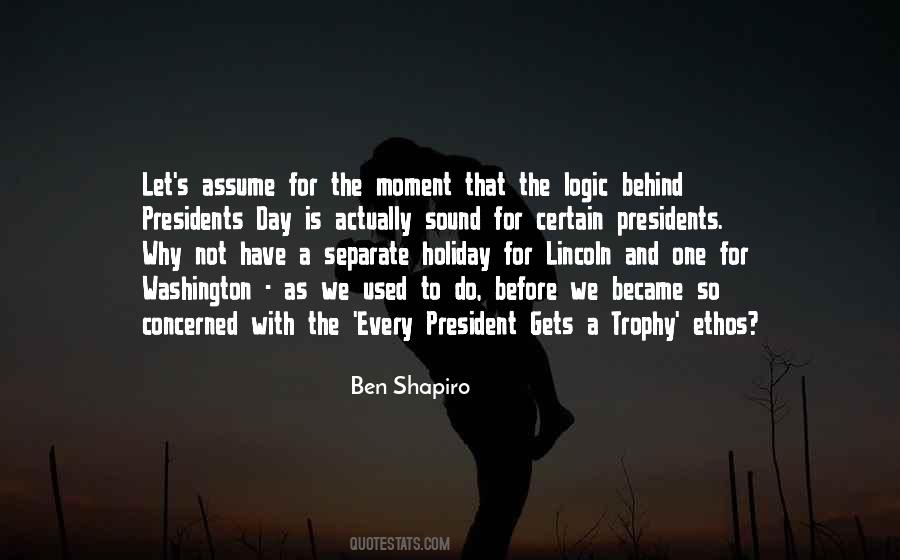 #48. Our state will not ... secede. Have no doubt but Lincoln will make a good president - at least we ought to give him a fair trial. - Author: John Hunt Morgan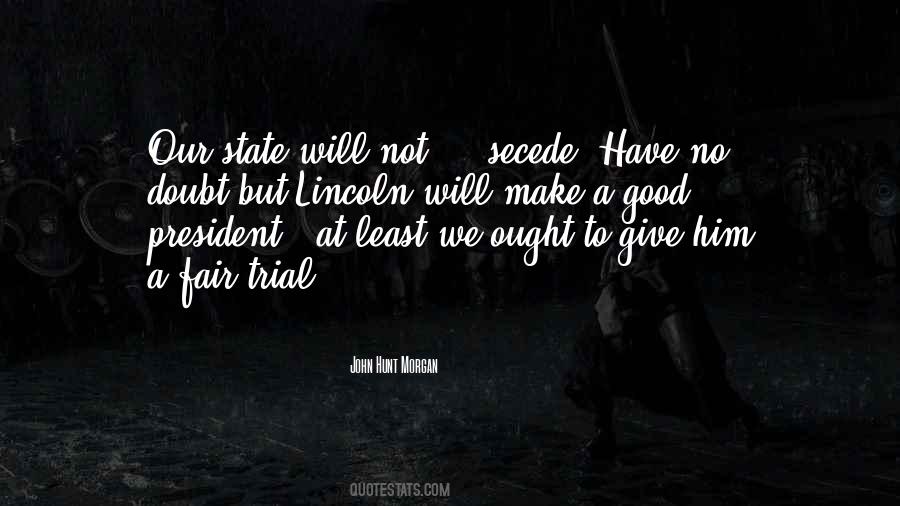 #49. You cannot be President of the United States if you don't have faith. Remember Lincoln, going to his knees in times of trial in the Civil War and all that stuff. - Author: George H. W. Bush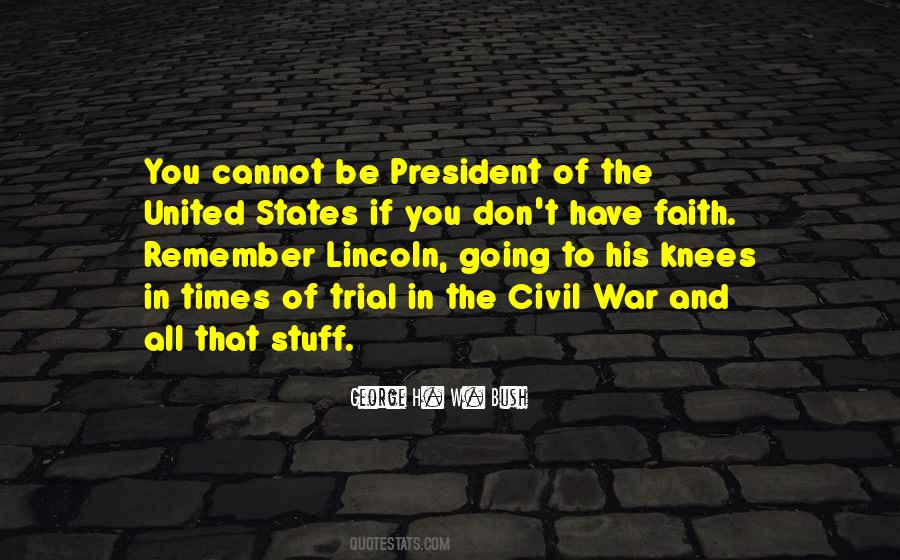 #50. My memoirs were written, and a portion of them already in the hands of the publishers, when the startling news came which has thrilled all Europe and filled her inhabitants with horror - the assassination of Abraham Lincoln, President of the United States. - Author: Belle Boyd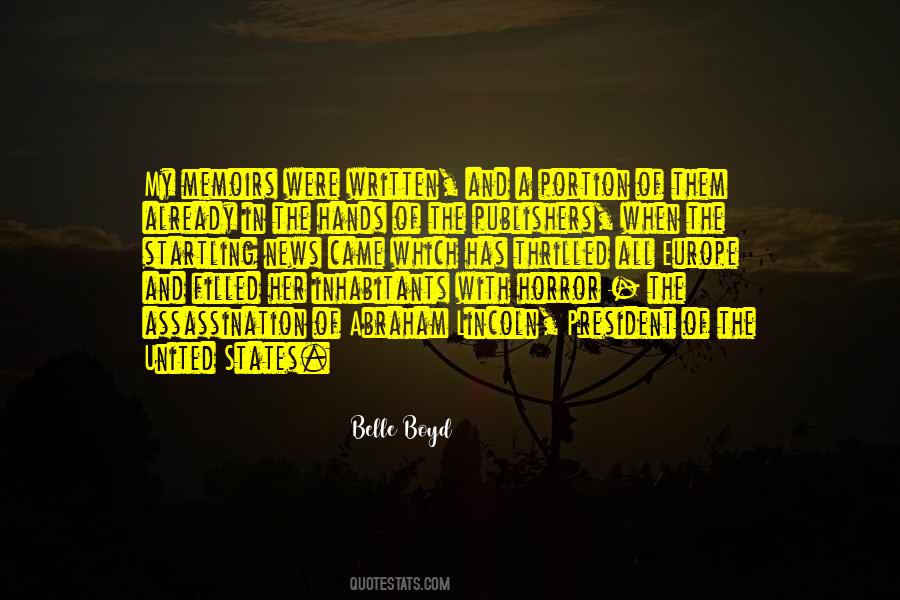 #51. Put down your guns and go home. Let's rebuild the nation together. This was President Lincoln's vision, to which Grant subscribed. - Author: Bill O'Reilly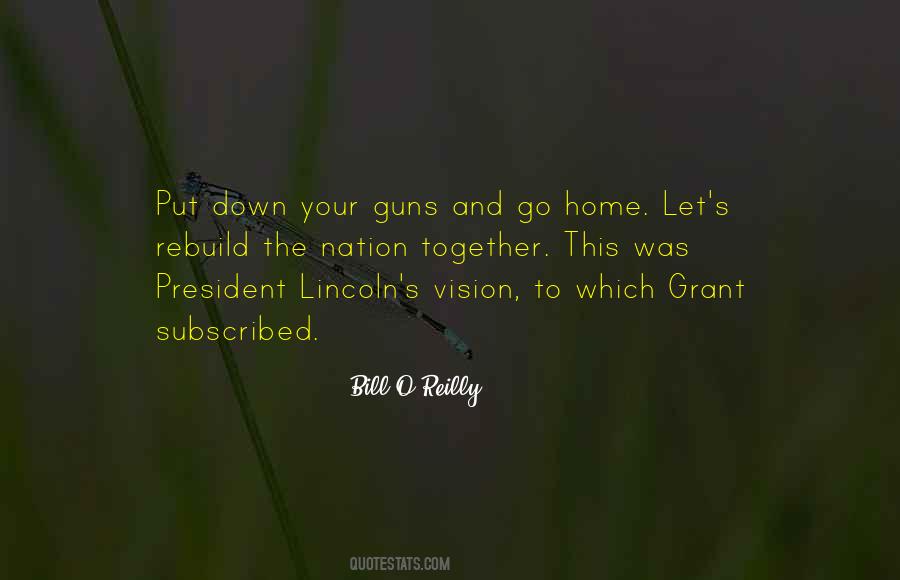 #52. Historian David M. Potter pointed out in 1942 that as president-elect, Lincoln was no more than "simply a lawyer from Springfield, Illinois - a man of great undeveloped capacities and narrowly limited background. He was more fit to become President than to be President. - Author: Harold Holzer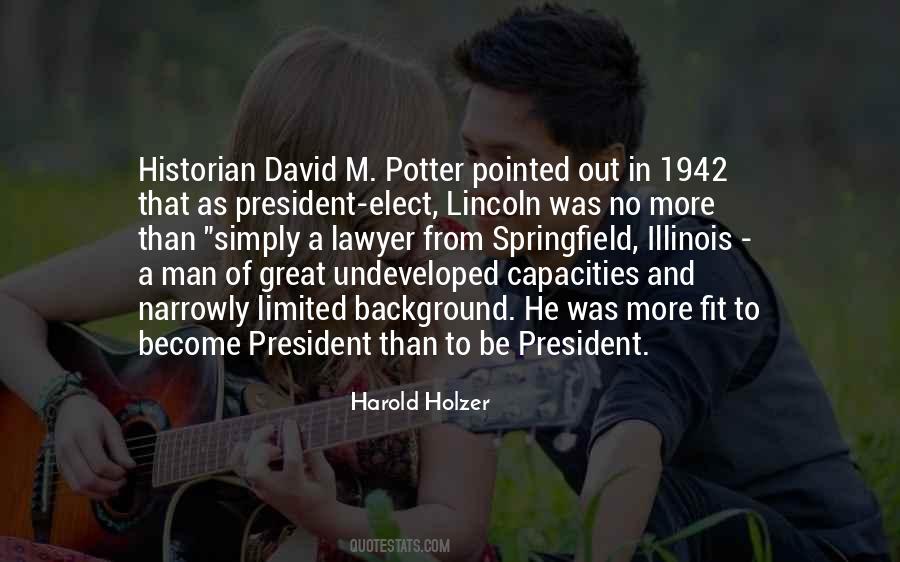 #53. When Lincoln ran into trouble during the Civil War, he got new generals. He brought in Grant. I hope that President Obama will bring in some new generals on the financial front. - Author: Marcy Kaptur
#54. If you go to the Lincoln Memorial, the Second Inaugural is probably the most religious speech ever given by an American President. In its 732 words, it references God 14 times and has two verses of the Bible. - Author: Newt Gingrich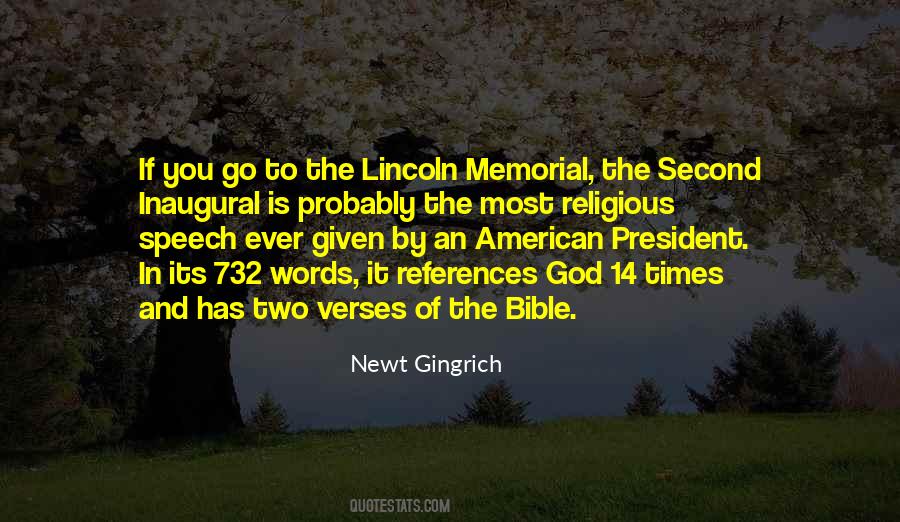 #55. The more I have studied Lincoln, the more I have followed his thought processes, the more I am convinced that he understood leadership better than any other American president. - Author: David Herbert Donald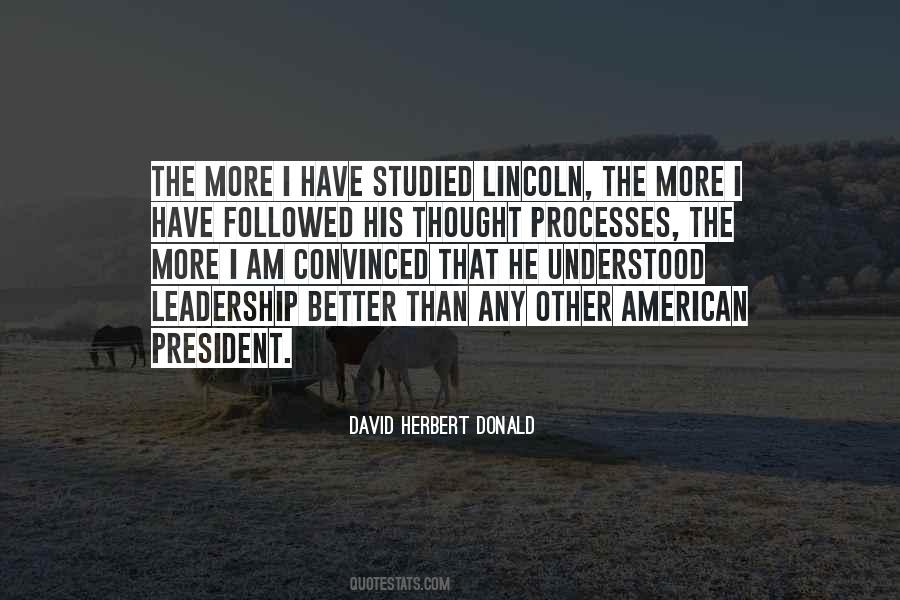 #56. By privately endorsing Seward's spirit of compromise while projecting an unyielding public image, President-elect Lincoln retained an astonishing degree of control over an increasingly chaotic and potentially devastating situation. - Author: Doris Kearns Goodwin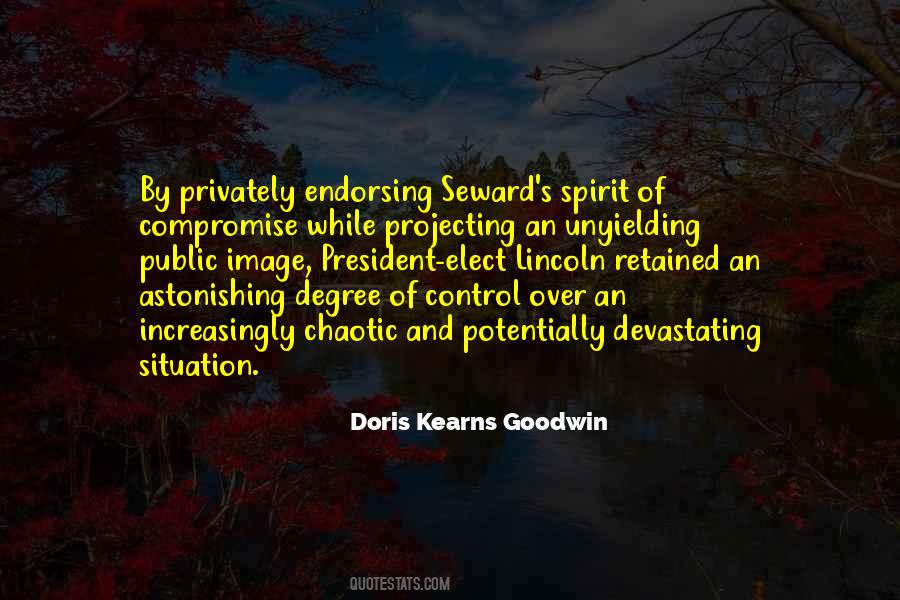 #57. In my opinion, assassination theories will continue to revolve around these assassinations as they have around several other significant assassinations in American history. The assassination of President Lincoln comes to mind. - Author: Louis Stokes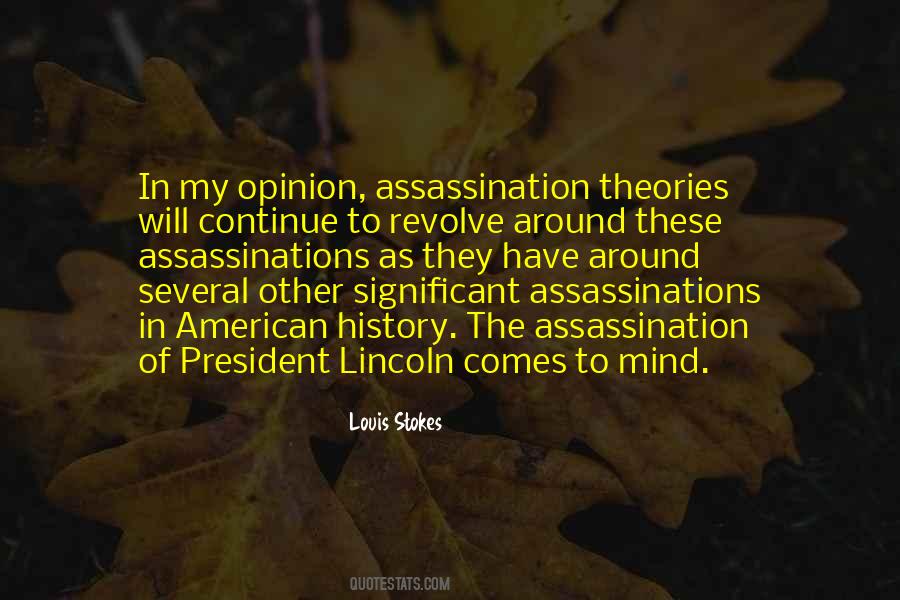 #58. That this nation, under God, shall have a new birth of freedom - and that government of the people, by the people, for the people, shall not perish from the earth.
- President Abraham Lincoln, Gettysburg address, November 19, 1863 - Author: Abraham Lincoln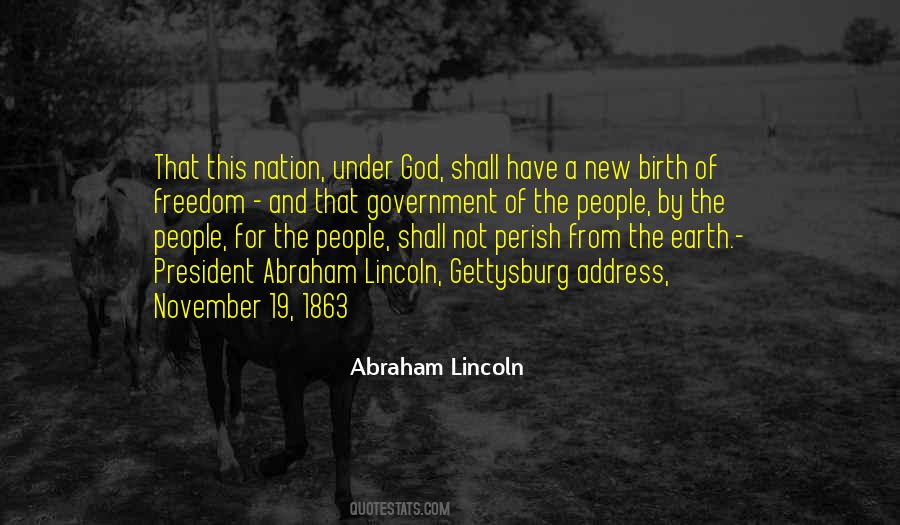 #59. An elderly black man stepped forward and prayed aloud for Lincoln's safety. Much to Coffin's surprise, the President "lifted his own hat from his head and bowed to the old man."24 - Author: Noah Andre Trudeau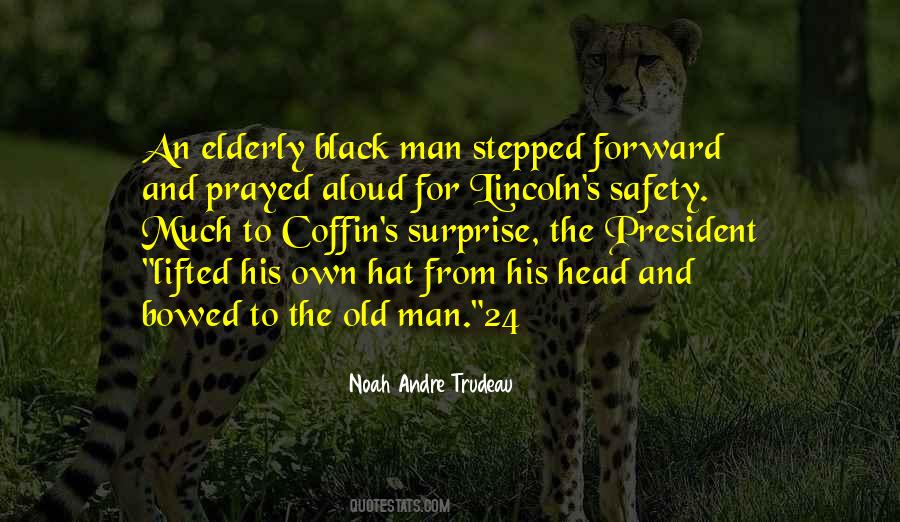 #60. With malice toward none, with charity for all, with firmness in the right, as God gives us to see the right, let us strive on to finish the work we are in, to bind up the nation's wounds. . .' President Lincoln. Sam - Author: Michael Grant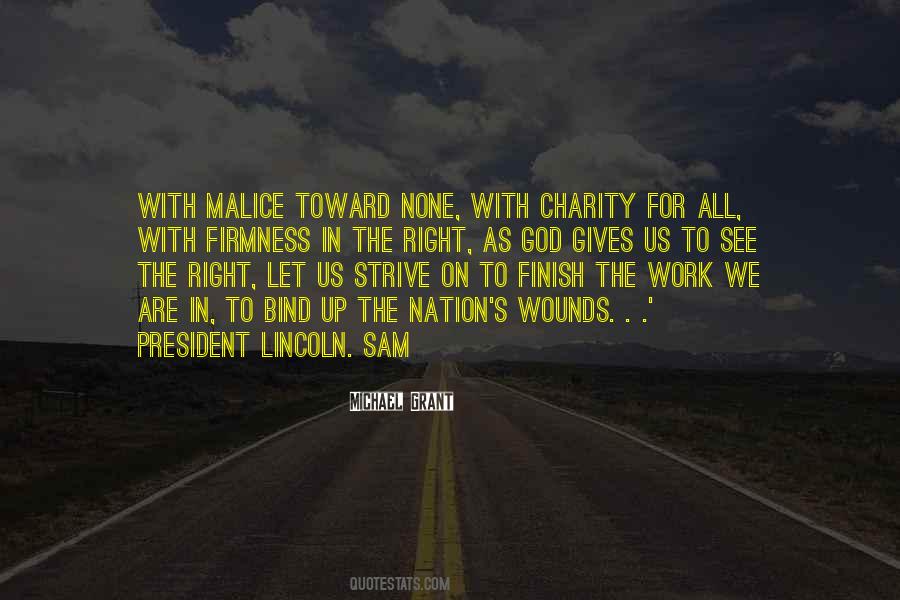 #61. We had so many different presidents, including Jefferson, Jackson, Lincoln - there were other founders like Hamilton, Adams - who made it very clear that the courts can't make a law. The Constitution is expressly clear that that's a power reserved to Congress. - Author: Mike Huckabee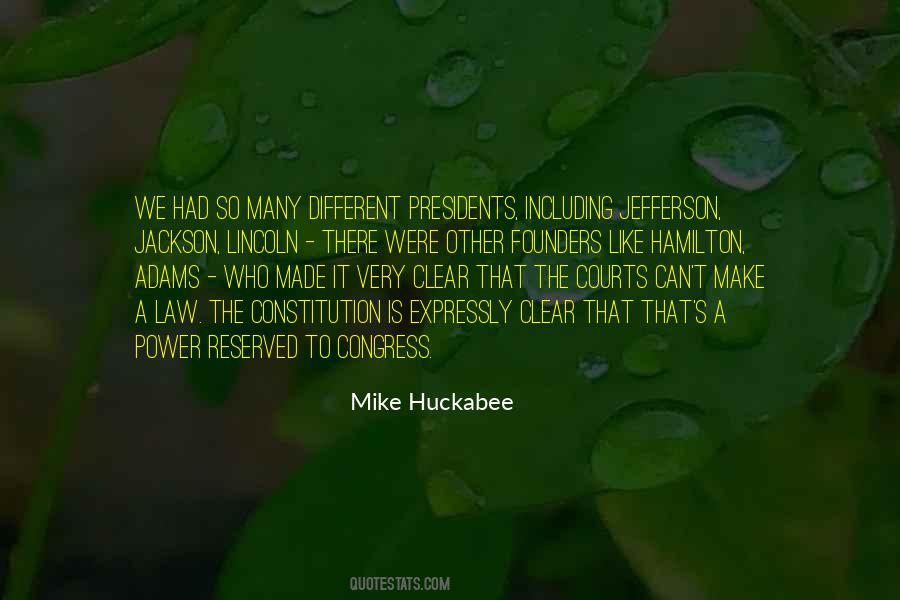 #62. Abe Lincoln is my favorite president of all time - and he pulls off that top hat pretty well. - Author: Ryan Lochte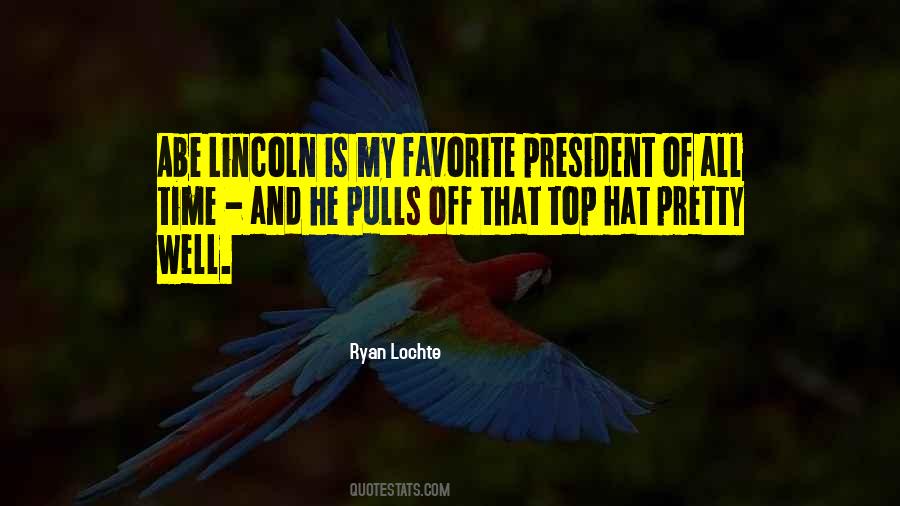 #63. Nobody has ever expected me to be President. In my poor, lean, lank face, nobody has ever seen that any cabbages were sprouting out. - Author: Abraham Lincoln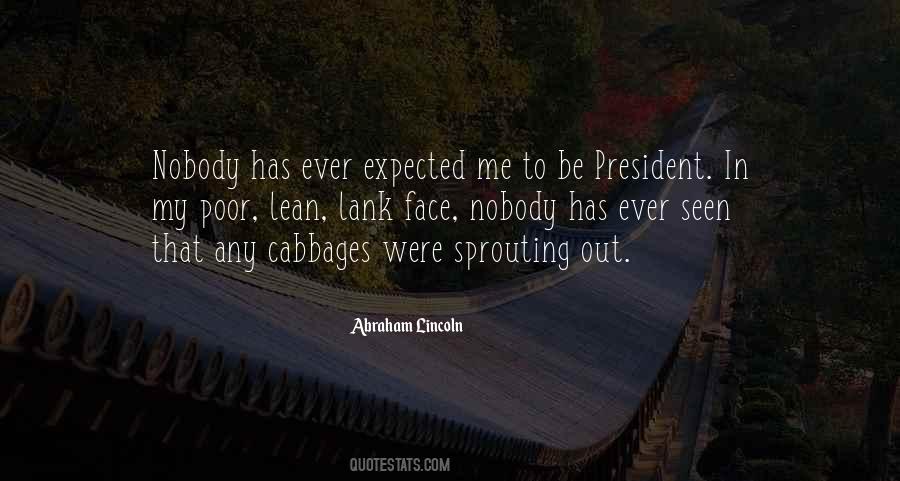 #64. President Bush's 'Mission Accomplished,' declaration from the USS Abraham Lincoln in 2003 was not just premature, but an untruth. - Author: Greg Barron
#65. I am the president of the United States of America, clothed in immense power! You will procure me those votes! - Author: Abraham Lincoln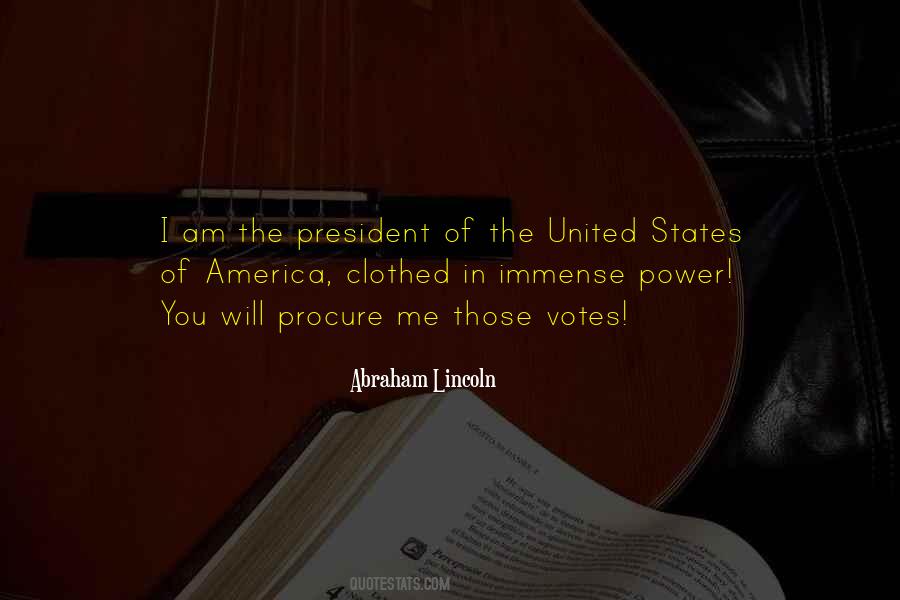 #66. The Emancipation Proclamation, signed by President Abraham Lincoln, was put into effect on January 1, 1863, but news of the Proclamation and enforcement did not reach Texas until after the end of the Civil War almost two years later. - Author: Corrine Brown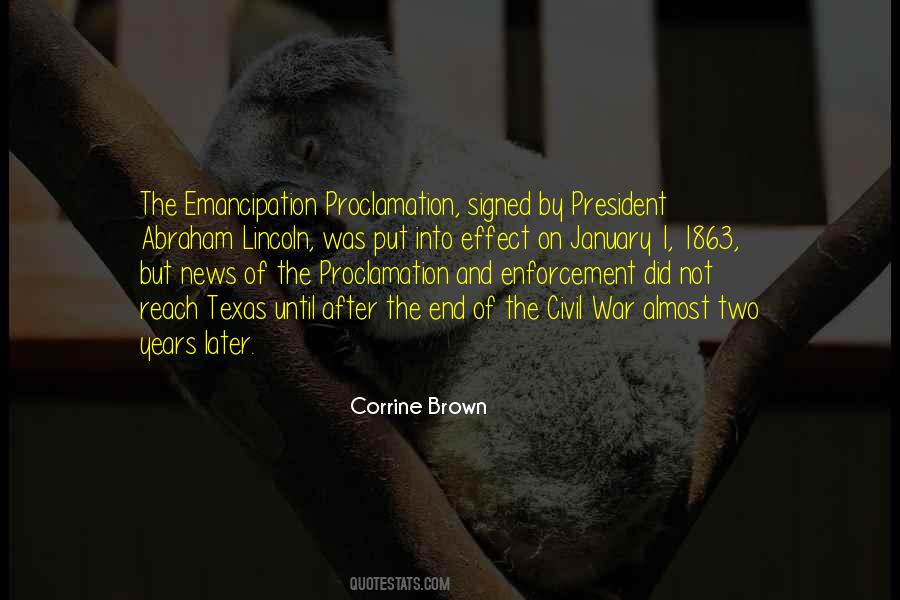 #67. As President, I have no eyes but constitutional eyes; I cannot see you. - Author: Abraham Lincoln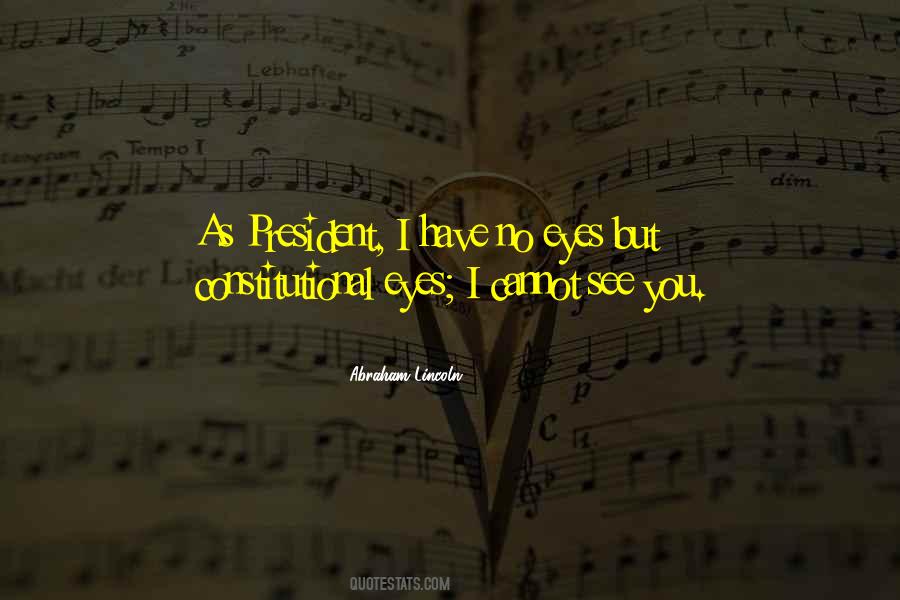 #68. The issue here is not gonna be a list of accomplishments. As you said yourself, Steve, you know, I would put our legislative and foreign policy accomplishments in our first two years against any president - with the possible exceptions of Johnson, F.D.R., and Lincoln. - Author: Barack Obama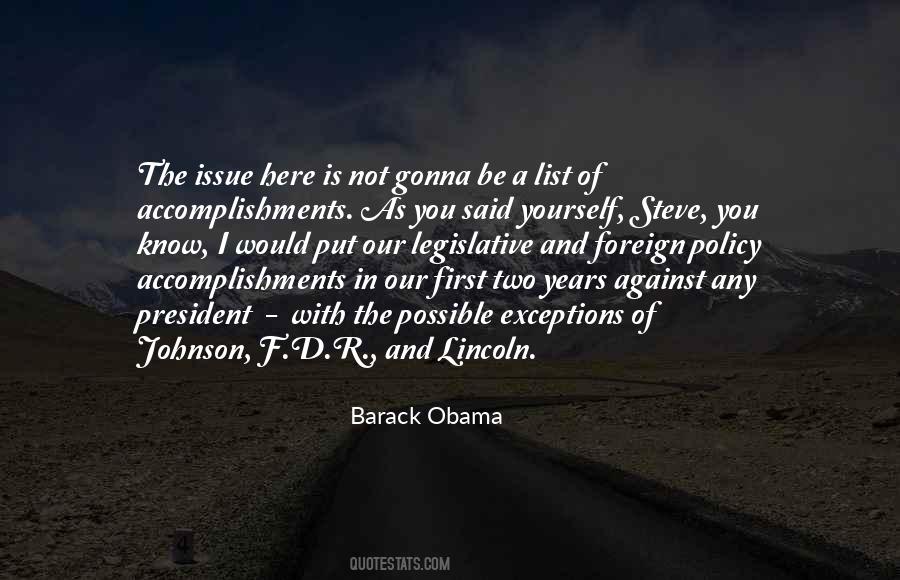 #69. My heart has been heavy and I have deliberated within my own conscience, knowing that my decision should not come out of my initial emotion of anger toward the President for such reckless behavior, but should be based on the facts. - Author: Blanche Lincoln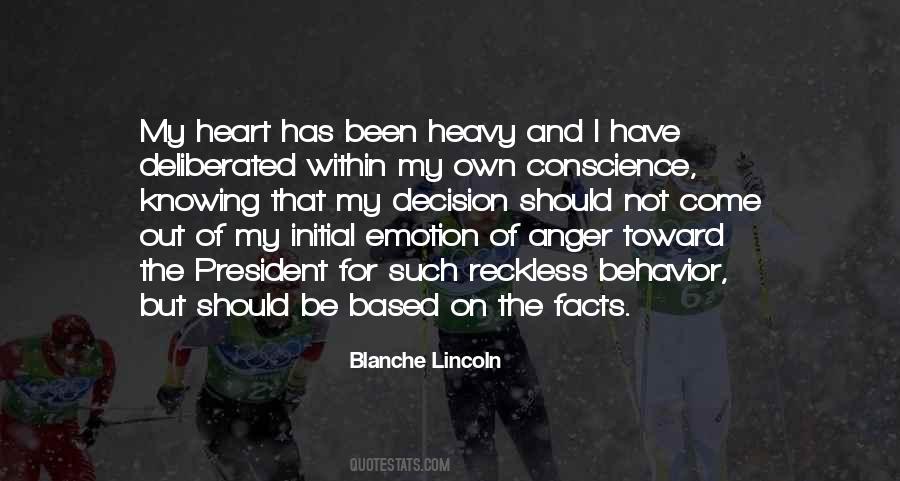 #70. One of the things that you learn, having been in this [President's] office for four years, is the old adage of Abraham Lincoln's. That with public opinion there's nothing you can't do and without public opinion there's very little you can get done. - Author: Barack Obama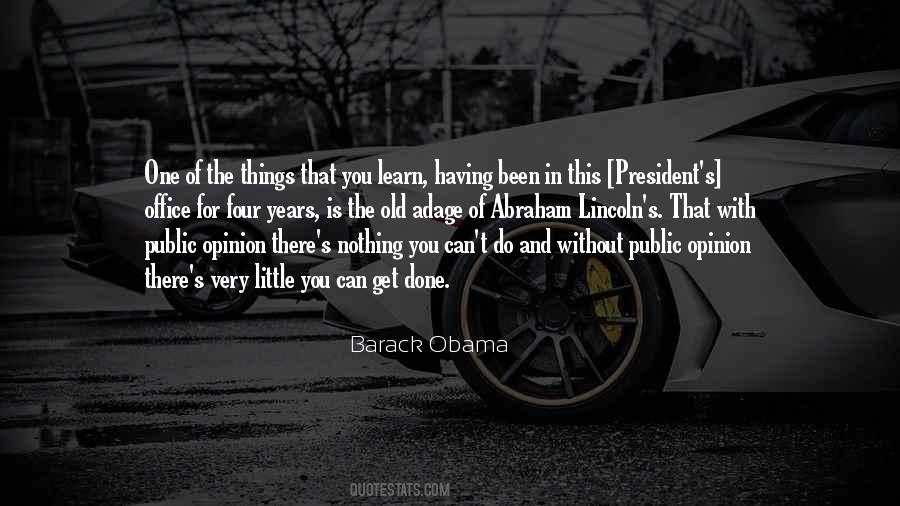 #71. Harvard students rallied on campus to offer formal, but "cordial," congratulations to their fellow student, Robert T. Lincoln, son of the president-elect and newly dubbed - in honor of the Prince of Wales's recent triumphant American tour - the "Prince of Rails. - Author: Harold Holzer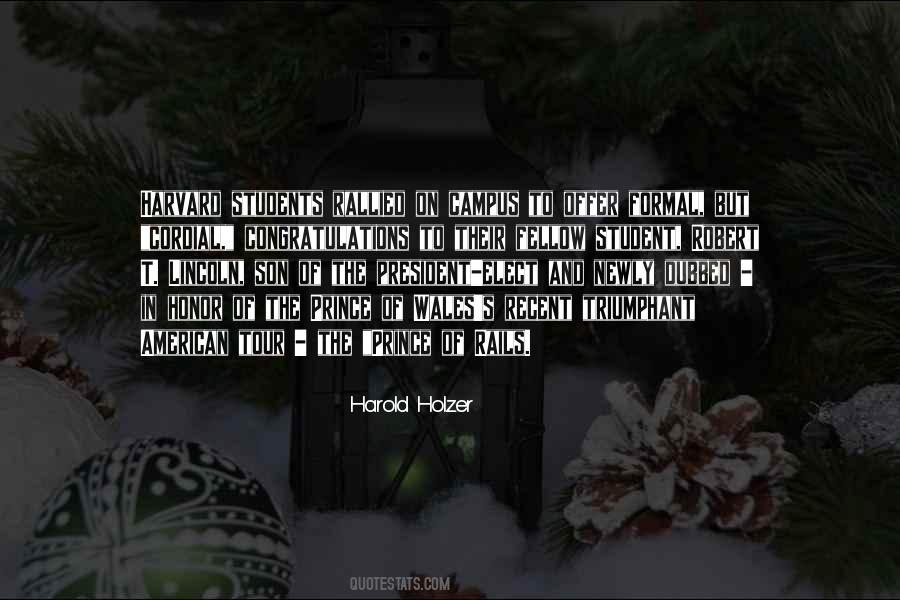 #72. Students of America, working families of America: President Obama will not turn his back on you. - Author: Lincoln Chafee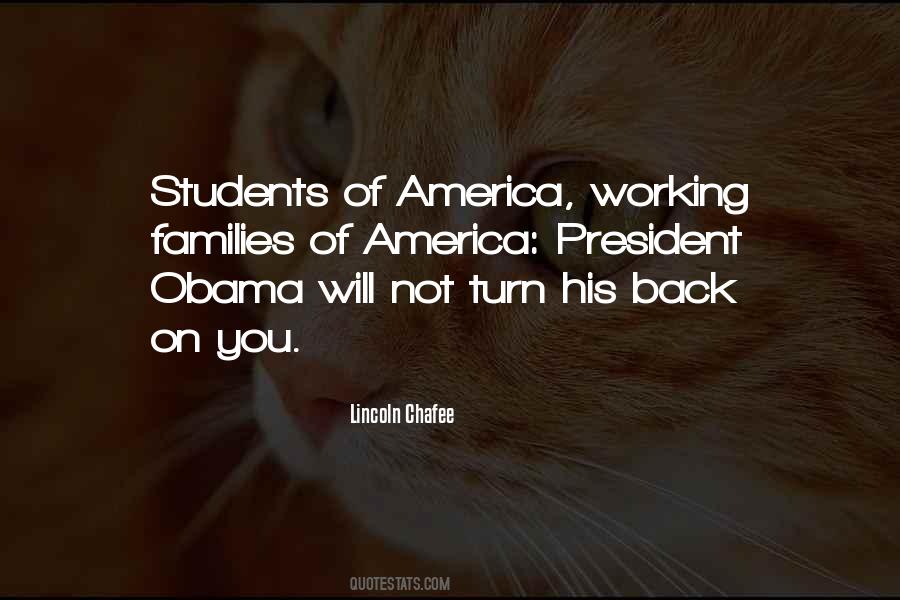 #73. [If not re-elected in 1864] then it will be my duty to so co-operate with the President elect, as to save the Union between the election and the inauguration; as he will have secured his election on such ground that he can not possibly save it afterwards. - Author: Abraham Lincoln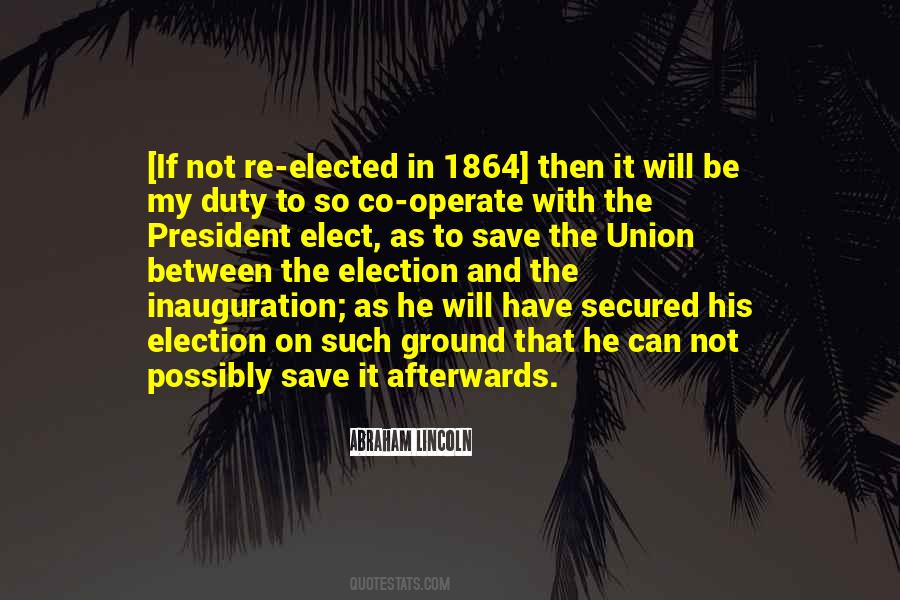 #74. In our government-controlled schools we are taught that Lincoln was our greatest president because his war ended slavery and saved the Union. As usual, the other side of the story - the side that reflects poorly on the government - somehow gets lost. - Author: Richard J. Maybury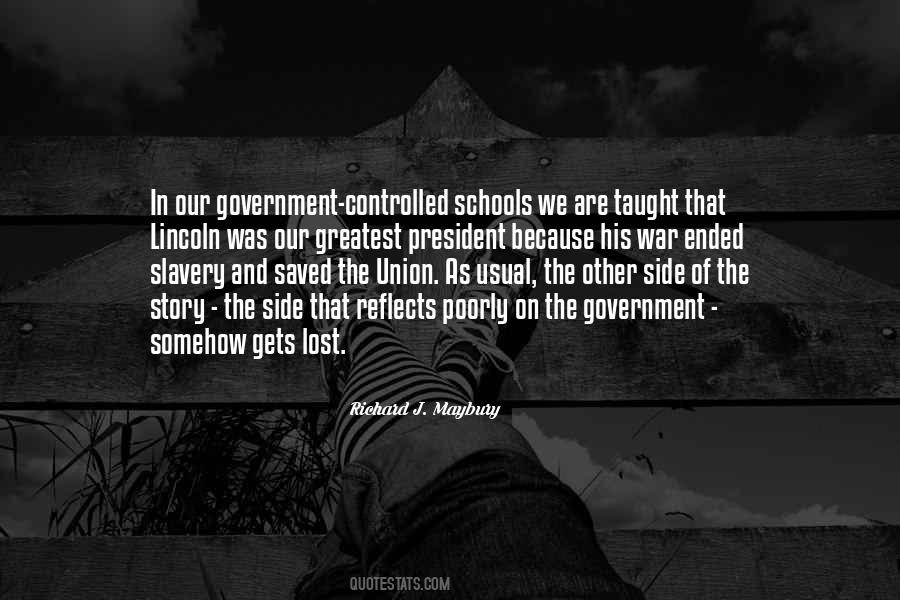 #75. Six days later, the president named a postmaster for New Salem, Illinois, a twenty-four-year-old lawyer who had lost a race for the state legislature. He was a Clay man, but the post was hardly major, and Abraham Lincoln was happy to accept the appointment. - Author: Jon Meacham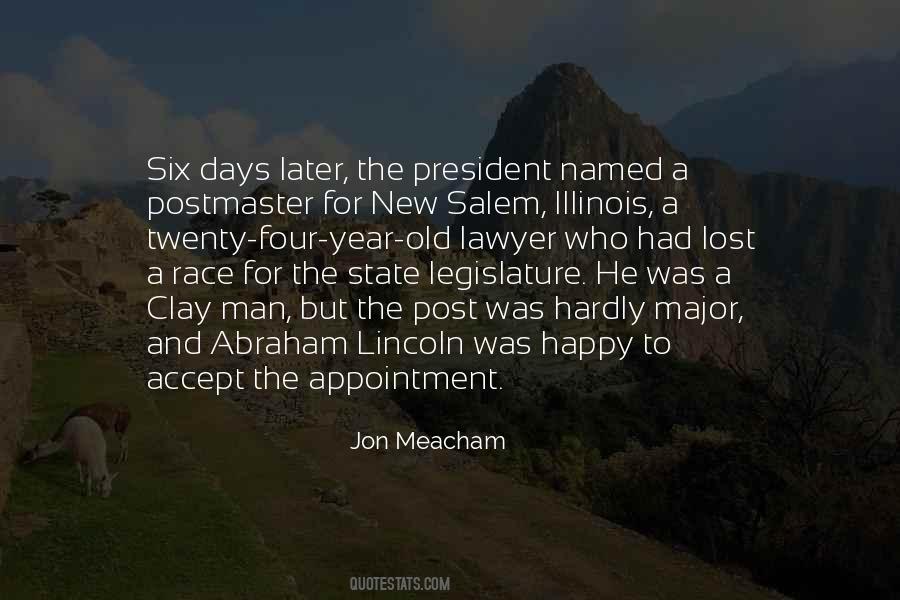 #76. To the new president, Abraham Lincoln: Sir, if on attaining the presidency you are as happy as I am upon leaving it, then, sir, you are a happy man indeed. - Author: James Buchanan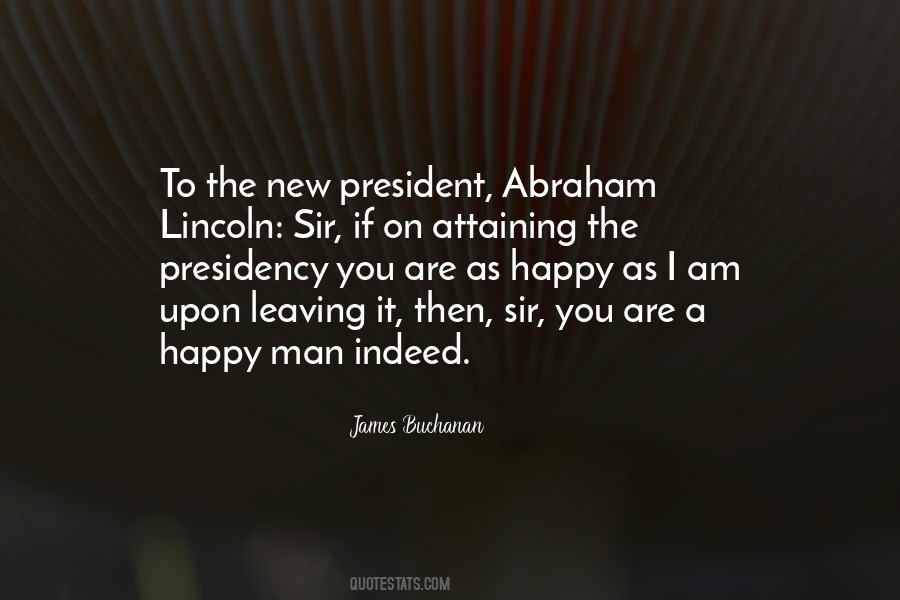 #77. There are no accidents in my philosophy. Every effect must have its cause. The past is the cause of the present, and the present will be the cause of the future. All these are links in the endless chain stretching from the finite to the infinite. - Author: Abraham Lincoln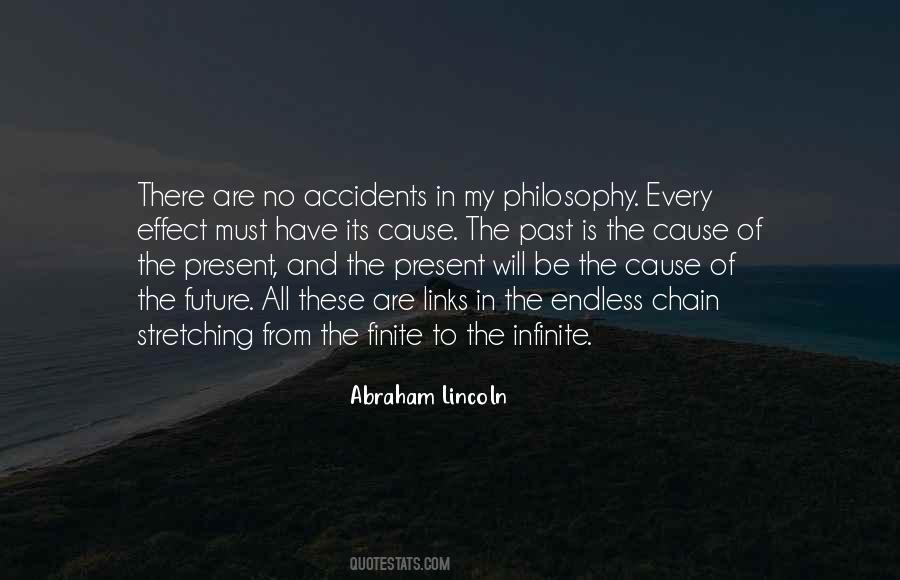 #78. That settled Abraham Lincoln with me. I was thoroughly satisfied that no such man ought to be President; but I could not yet conceive it possible that such a monster would be the choice of a majority of the people for President. - Author: John Sergeant Wise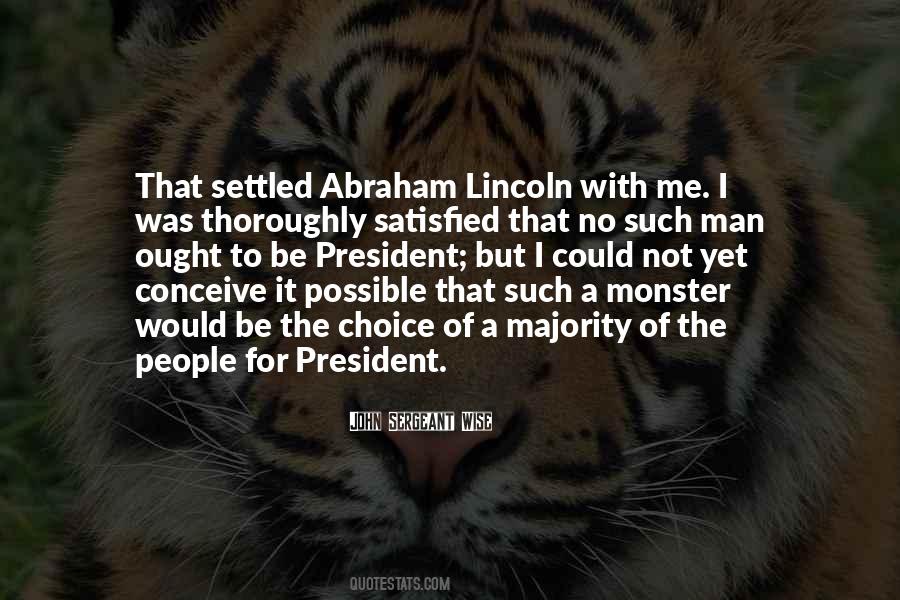 #79. President Abraham Lincoln once remarked, "Nearly all men can stand adversity, but if you want to test a man's character, give him power." Few people have more power than an American president. Being the so-called leader - Author: John C. Maxwell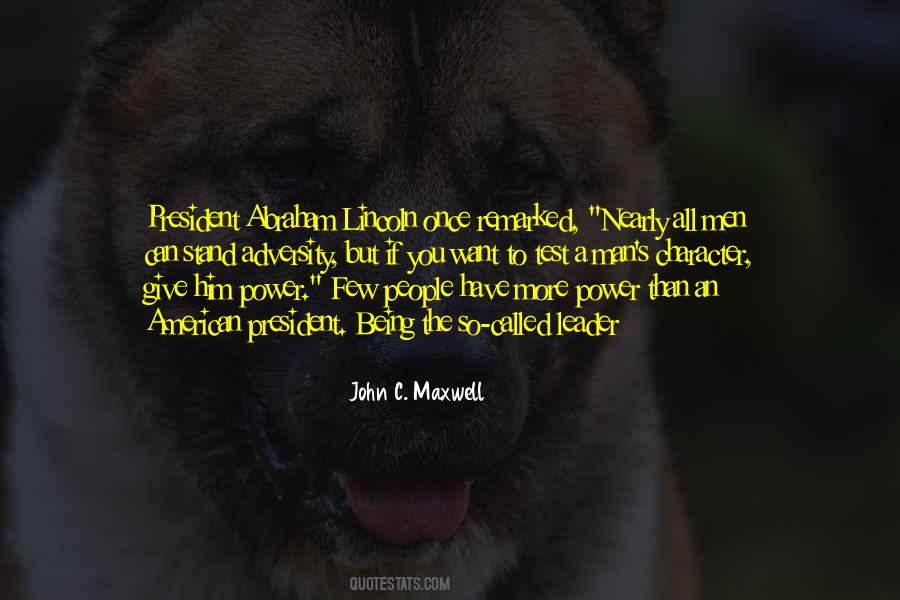 #80. President-elect Lincoln to his confidants: "The people of the South do not know us. They are not allowed to receive Republican papers down there. - Author: Harold Holzer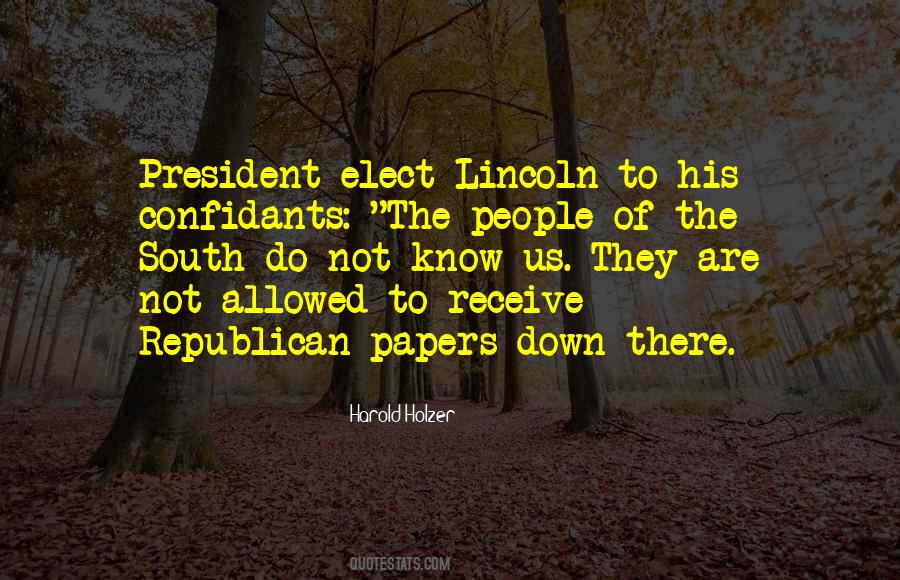 #81. President Abraham Lincoln said, I don't think much of a man who is not wiser today than he was yesterday. - Author: John C. Maxwell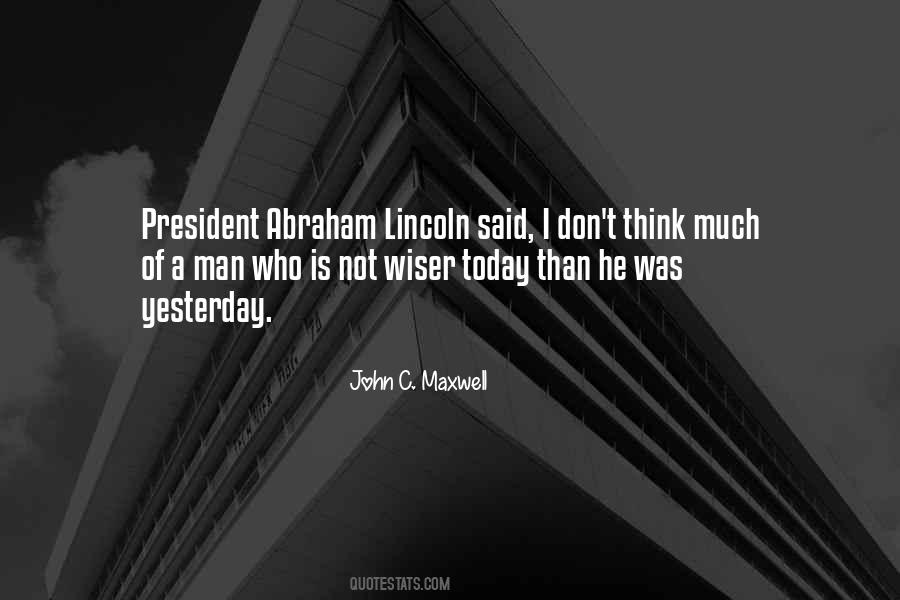 #82. If Lincoln freed the slaves and preserved the Union, how come
'Lincolnesque' just means tall? - Author: Calvin Trillin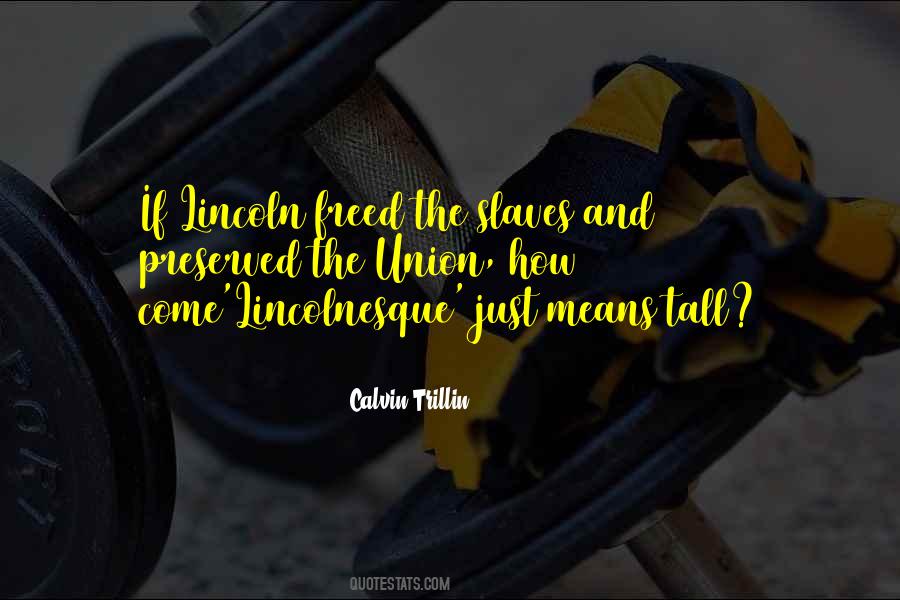 #83. Upon being given a Bible, President Abraham Lincoln replied, In regard to this Great book, I have but to say, it is the best gift God has given to man. - Author: Elton Trueblood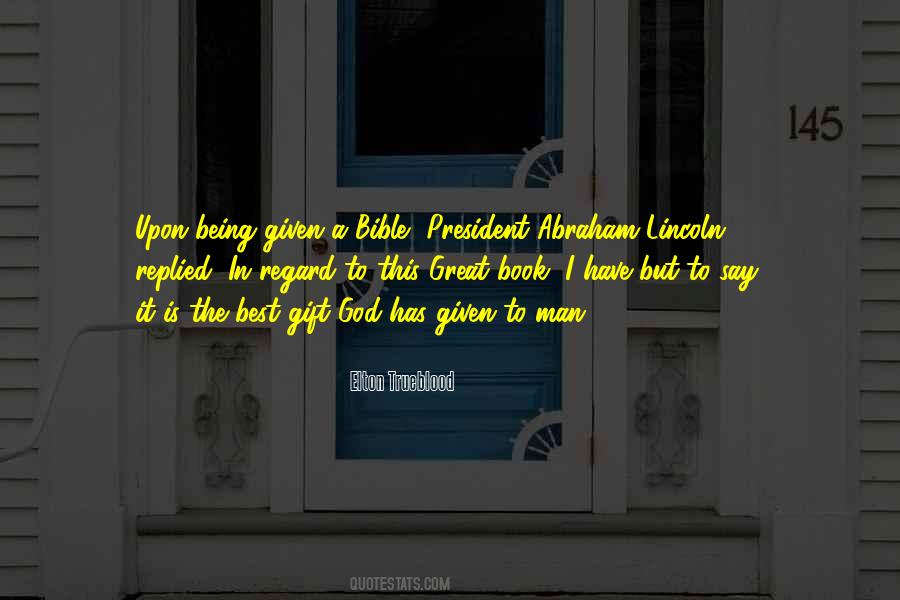 #84. President Reagan, expanding on President Lincoln's phrase, referred to America as 'the last, best hope of man on Earth.' But this last, best hope is beginning to fade. - Author: Edwin Meese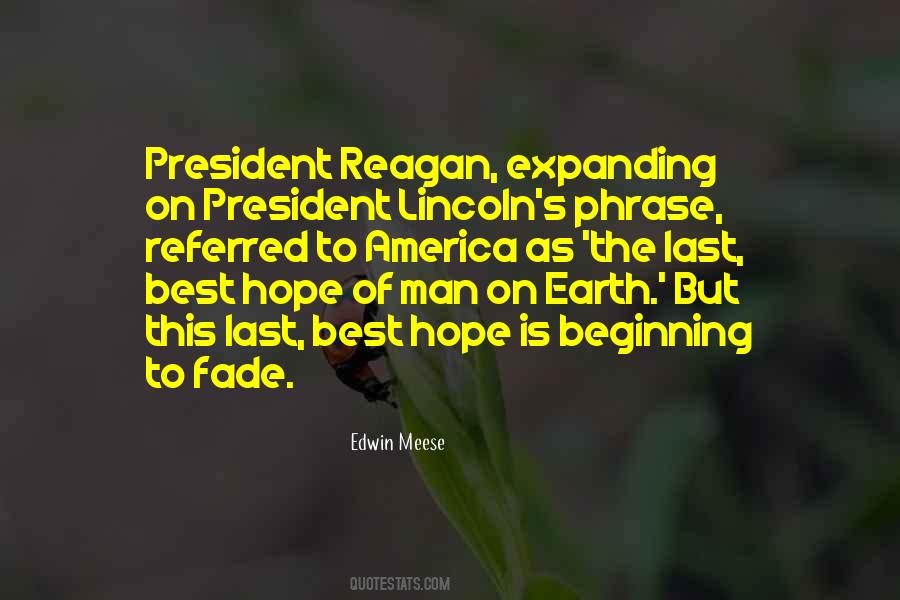 #85. You do not know the dishonest purposes of these men as well as I do," Douglas told Lincoln of the secessionists. "If I were president, I'd convert or hang them all within forty-eight hours. - Author: Scott Farris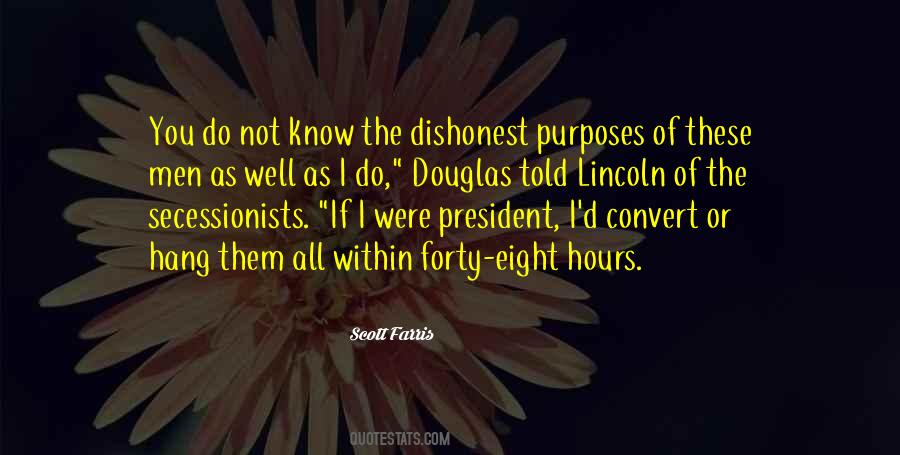 #86. In Lincoln's mind, at least as Lamon interpreted the story, "the illusion was a sign." Both the president-elect and his wife believed it meant he would not only survive his term in office, but four years later win reelection to a second one, only to die before it ended. - Author: Harold Holzer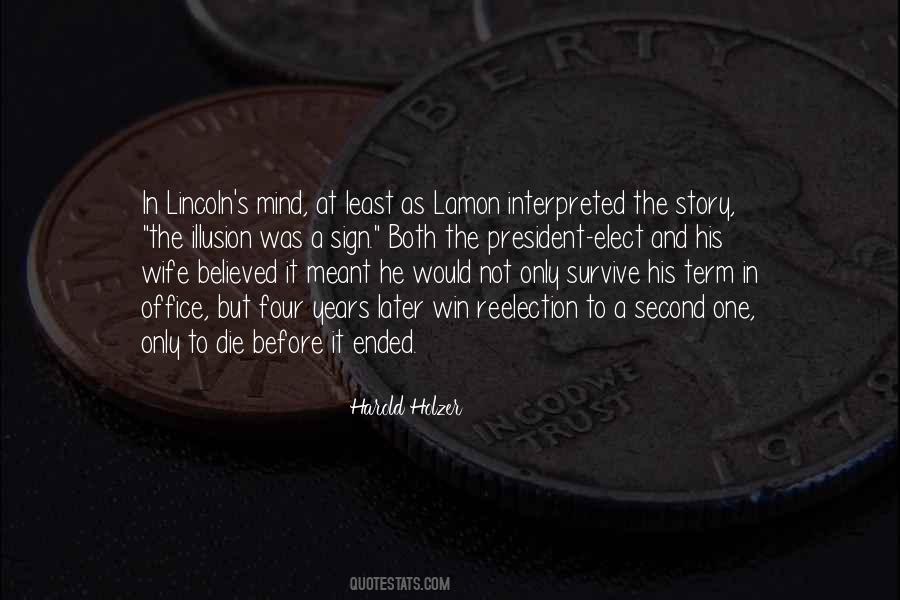 #87. It's interesting how Obama's adorers in the press keep comparing him to Lincoln and Reagan. Apparently they can't think of a Democrat president worthy of being compared to. - Author: Ann Coulter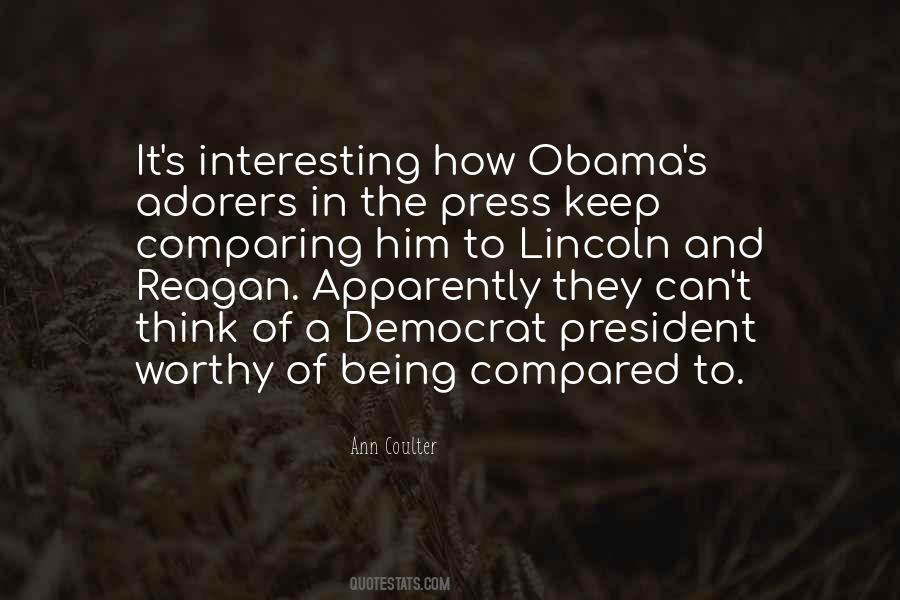 Famous Authors
Popular Topics