Power And Peace Famous Quotes & Sayings
List of top 100 famous quotes and sayings about power and peace to read and share with friends on your Facebook, Twitter, blogs.
Top 100 Quotes About Power And Peace
#1. The best, the surest and the most effective way of establishing PEACE on the face of the earth is through the great power of Perpetual Adoration of the Blessed Sacrament. - Author: Pope John Paul II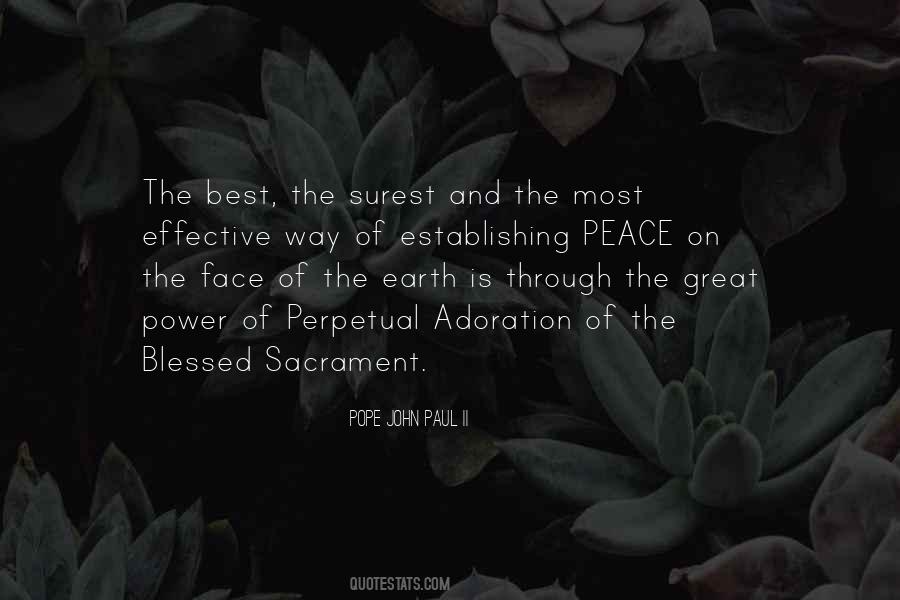 #2. Joy brings smiles on our faces, it brings power, peace and sound mind. - Author: Euginia Herlihy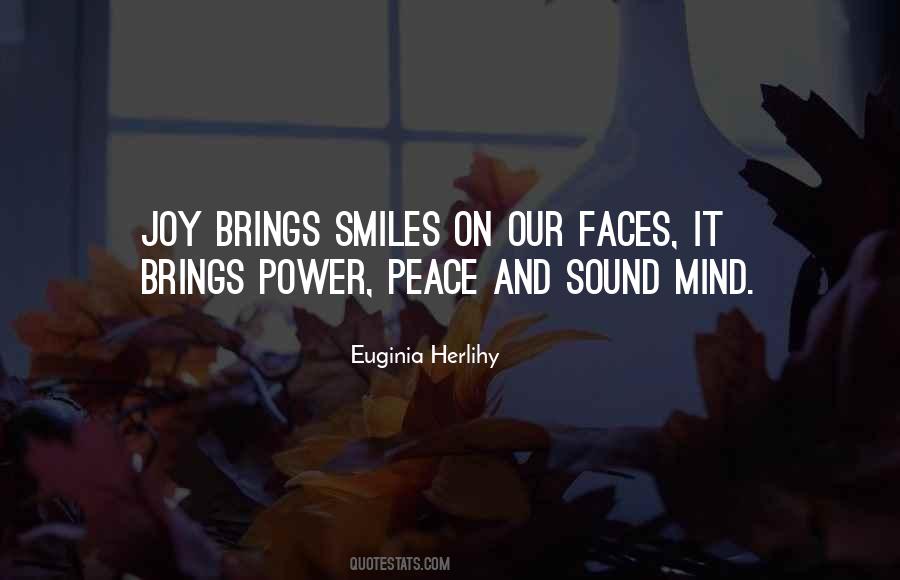 #3. Atoms for peace. Man is still the greatest miracle and the greatest problem on earth. [Message tapped out by Sarnoff using a telegraph key in a tabletop circuit demonstrating an RCA atomic battery as a power source.] - Author: David Sarnoff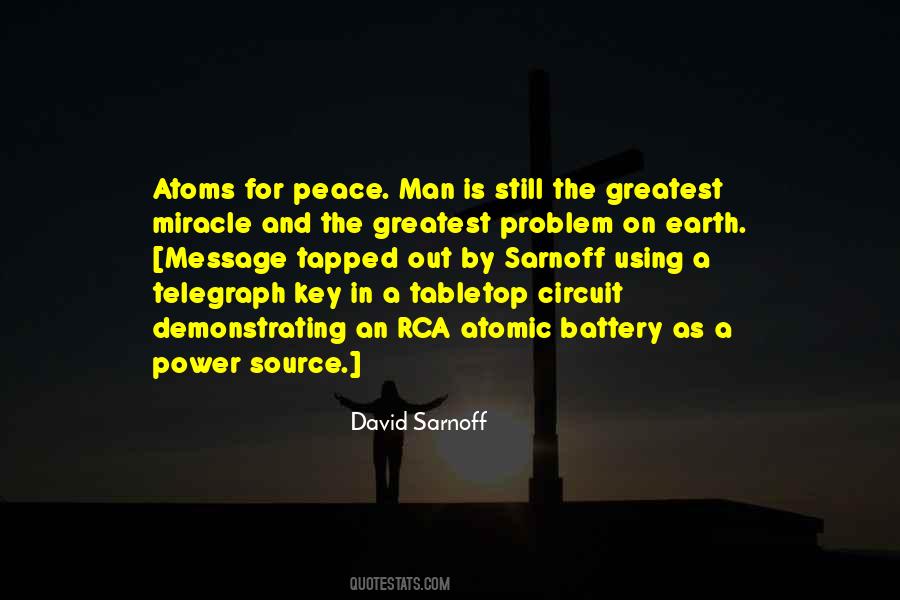 #4. It is not in the interest of the German people or in the interest of world peace that Germany should become a pawn or a partner in a military struggle for power between the East and the West. - Author: James F. Byrnes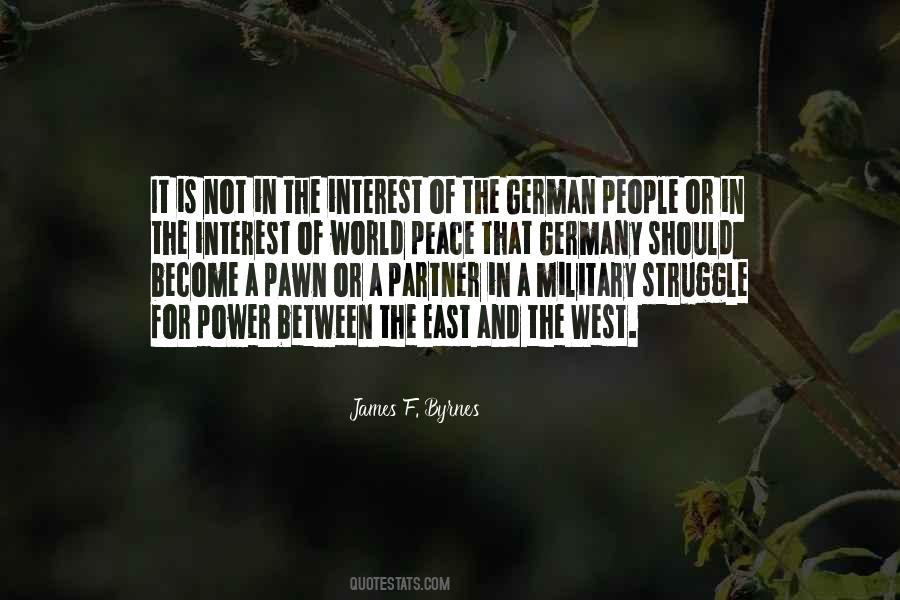 #5. And so long as they were at war, their power was preserved, but when they had attained empire they fell, for of the arts of peace they knew nothing, and had never engaged in any employment higher than war. - Author: Aristotle.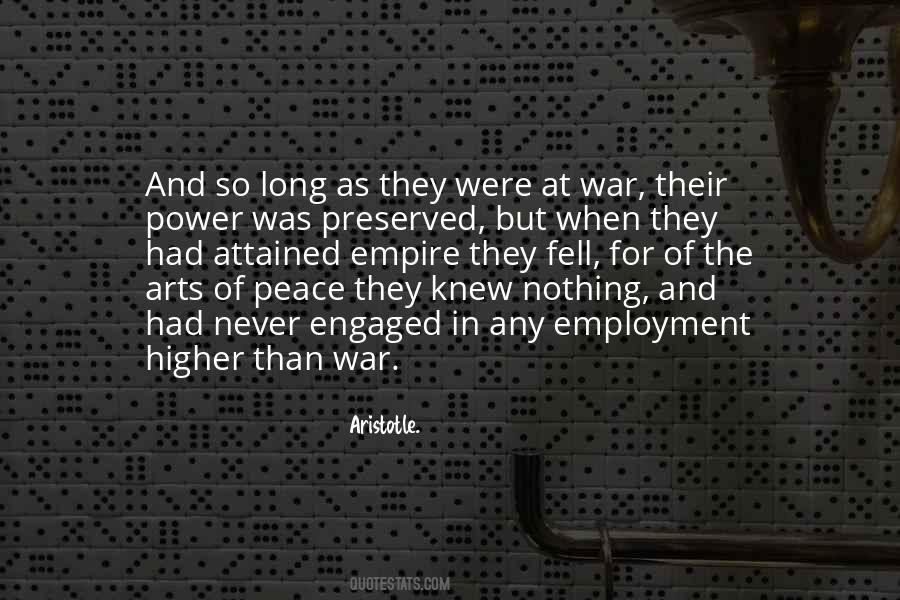 #6. Civilisation will not last, freedom will not survive, peace will not be kept, unless a very large majority of mankind unite together to defend them and show themselves possessed of a constabulary power before which barbaric and atavistic forces will stand in awe. - Author: Winston Churchill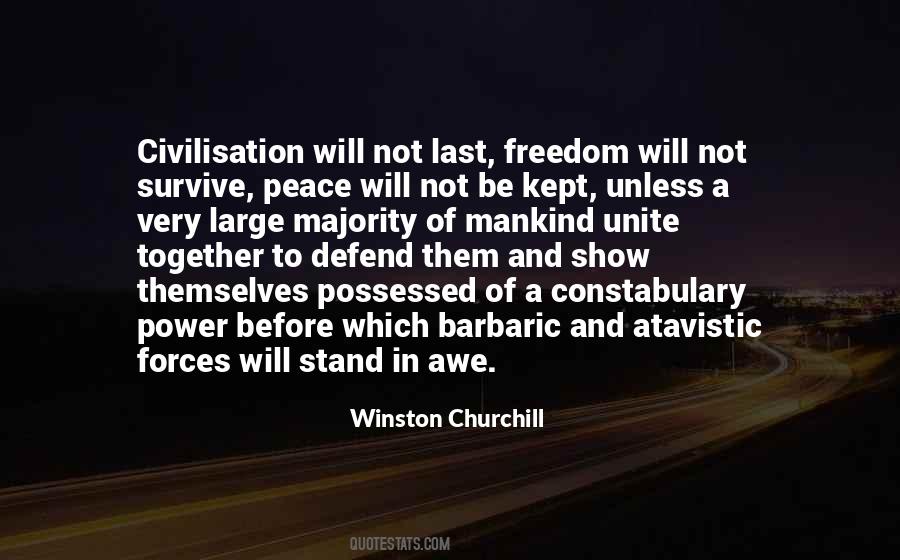 #7. No person, no place, and no thing has any power over us, for 'we' are the only thinkers in our mind. When we create peace and harmony and balance in our minds, we will find it in our lives. - Author: Louise L. Hay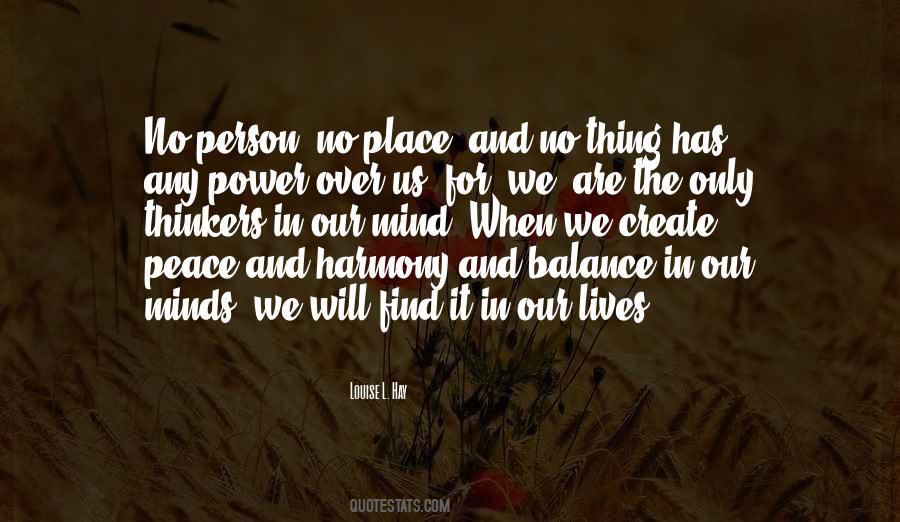 #8. Assistance will come unto you through the Holy Ghost as spiritual guidance. It is a power, beyond your own capability, that a loving Heavenly Father wants you to use consistently for your peace and happiness. - Author: Richard G. Scott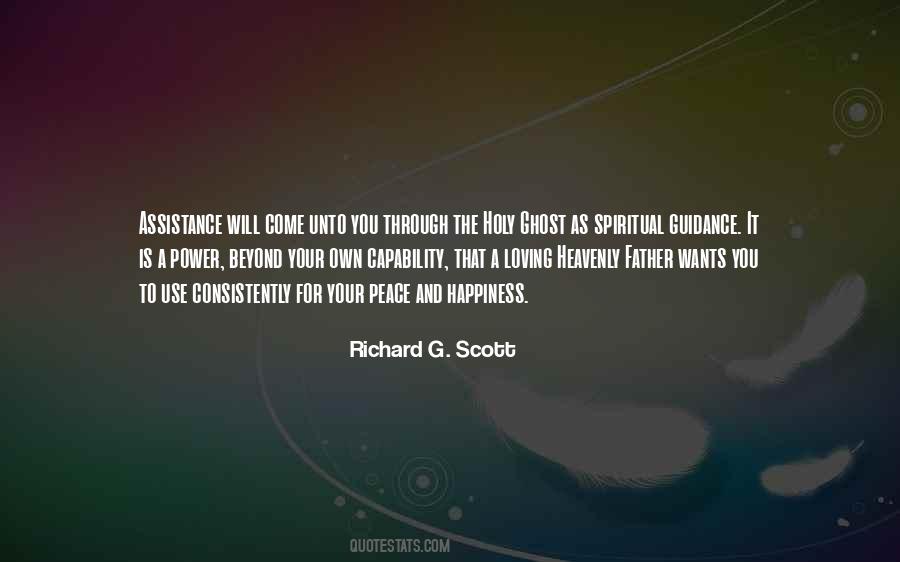 #9. A power that can't be used for good? Like a bad girl power? I wouldn't mind being clairvoyant, but I wouldn't want it if I couldn't use it for good. Peace and love, man. Peace and love. - Author: Alicia Sixtos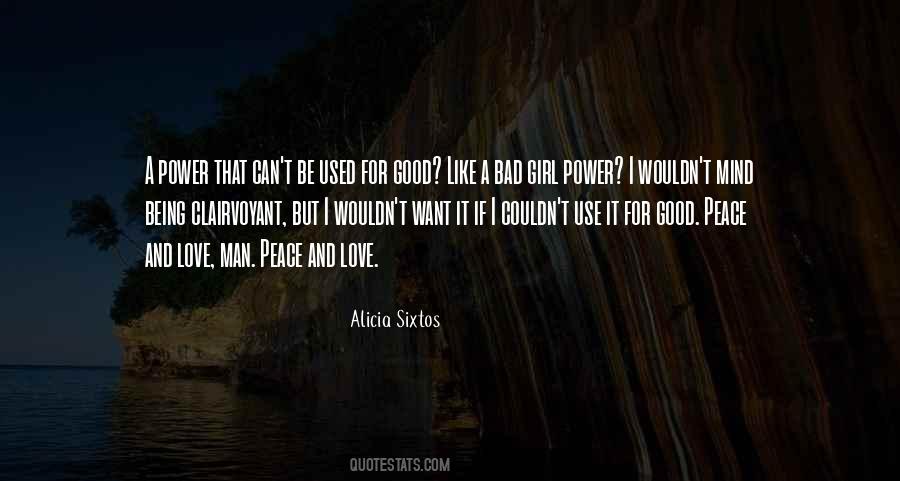 #10. It is all about the individual. And we can all become a better world if we become better, more loving individuals ourselves. There is no other way that will ever work better than love. - Author: Dan Pearce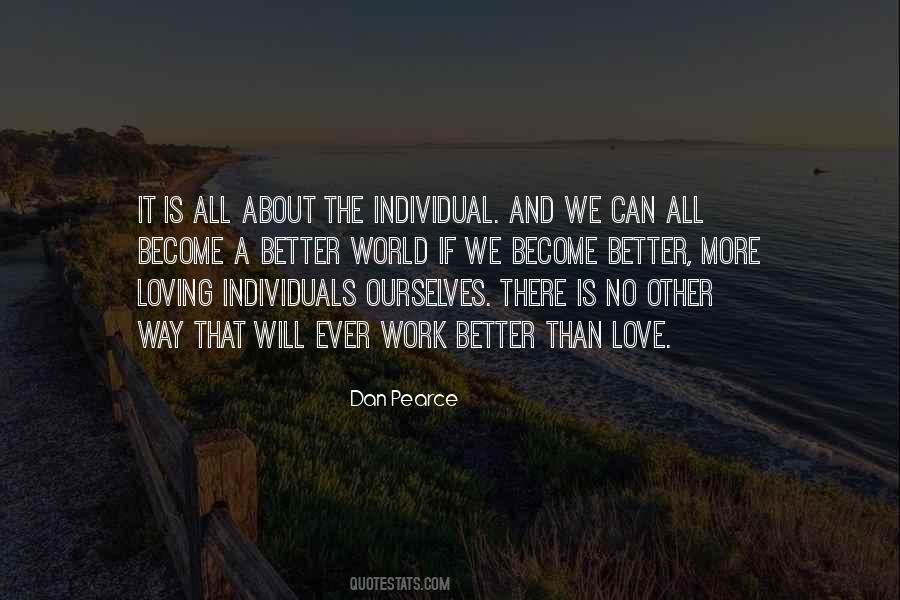 #11. There are many kinds of powers in the world - military power, power of the written word, intellectual power. We've tried and failed to bring peace with these kind of powers. The greatest power is the power of love. - Author: Mata Amritanandamayi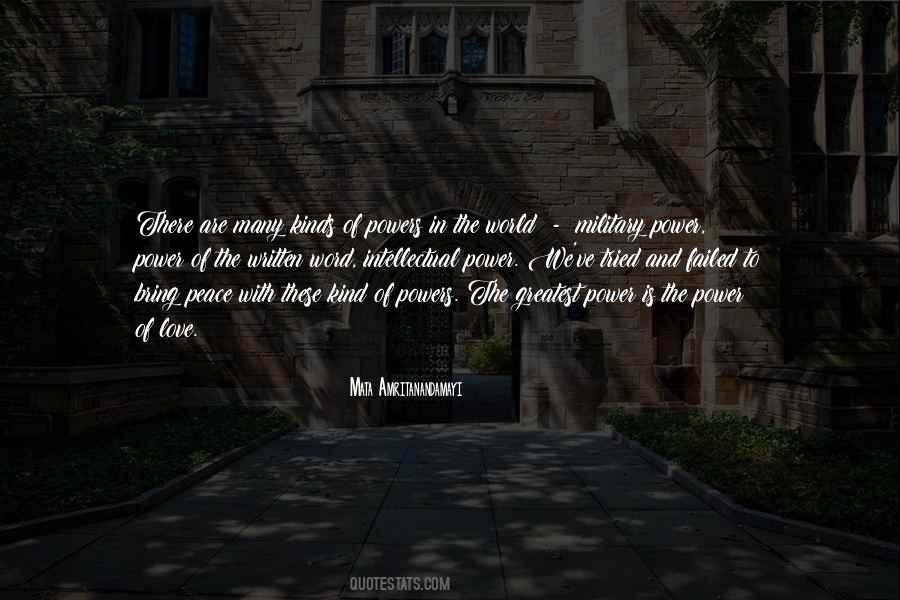 #12. For me, it is essential to have the inner peace and serenity of prayer in order to listen to the silence of God, which speaks to us, in our personal life and the history of our times, of the power of love. - Author: Adolfo Perez Esquivel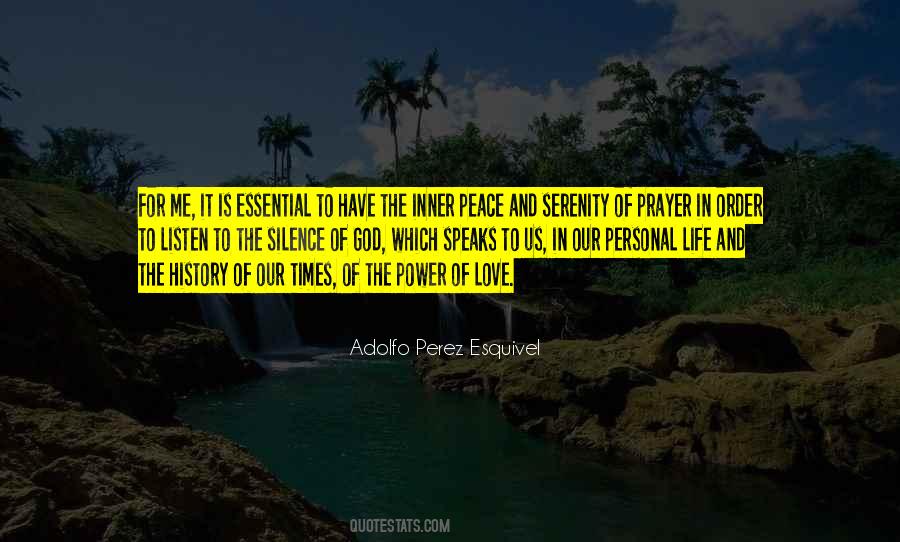 #13. Have you ever attempted to organize something like peace? The moment you do, you have power conflicts and group wars within the organization. The only way to have peace is to let it grow wild. - Author: Anthony De Mello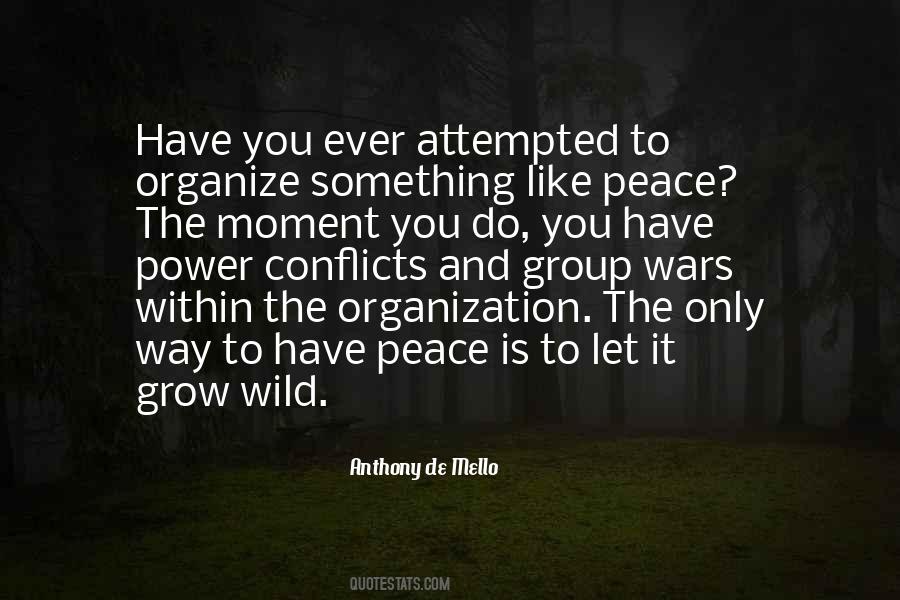 #14. If this phrase of the 'balance of power' is to be always an argument for war, the pretext for war will never be wanting, and peace can never be secure. - Author: John Bright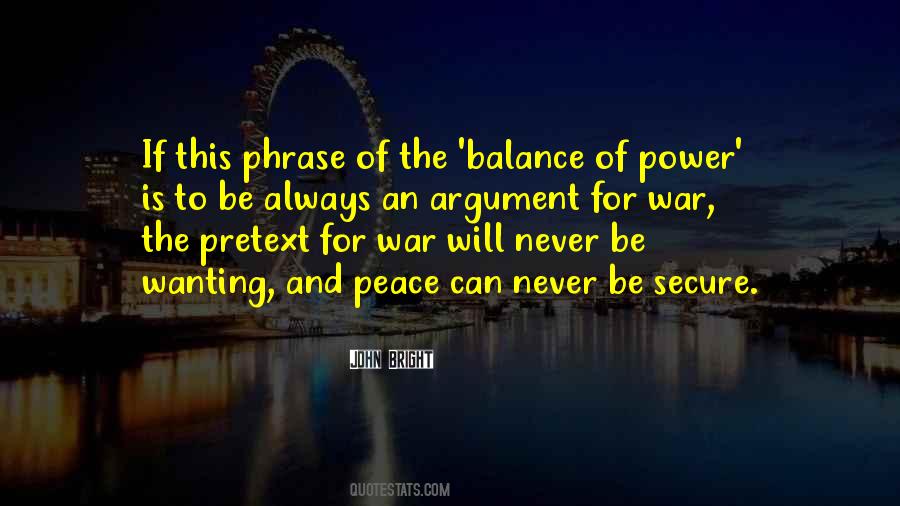 #15. Huge difference between being happy at will, and chasing euphoric moments as an escape. One doesn't cost a dime, the other will tax your soul. - Author: T.F. Hodge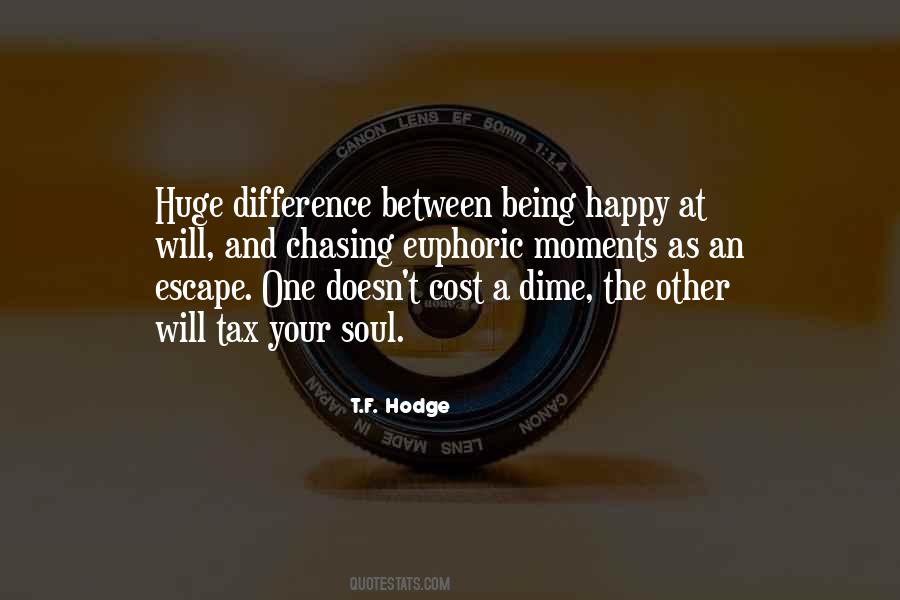 #16. How can you consider flower power outdated? The essence of my lyrics is the desire for peace and harmony. That's all anyone has ever wanted. How could it become outdated? - Author: Robert Plant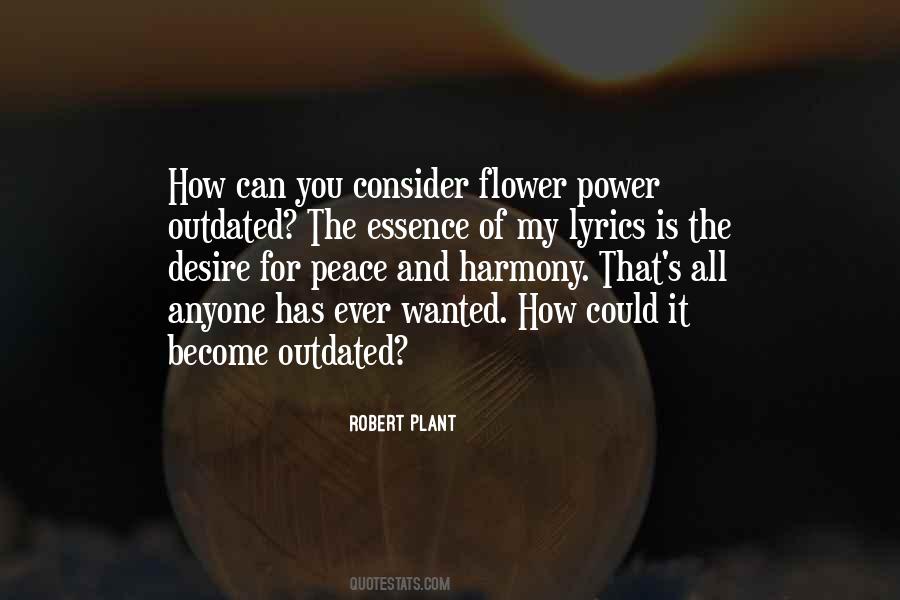 #17. The energy of our thoughts, words, actions, and emotions collectively create the frequency of our vibrational aura. - Author: Alaric Hutchinson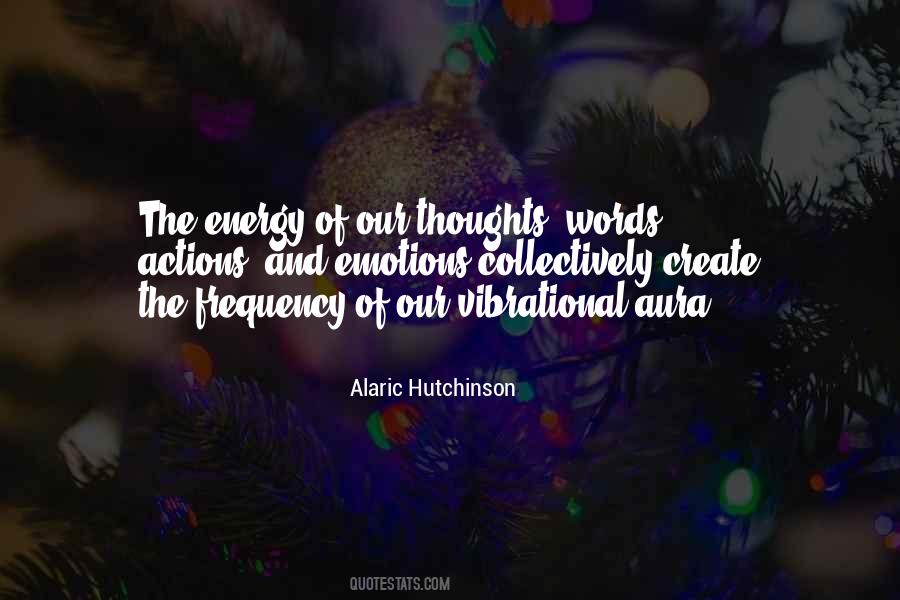 #18. As the saints of God meet together Jesus still manifests Himself. And seeing Him, there comes to us a new joy and peace, a new sense of the purpose and worthfulness of life. Seeing Him there comes to us a new power for battle and for conquest. - Author: Clovis Chappell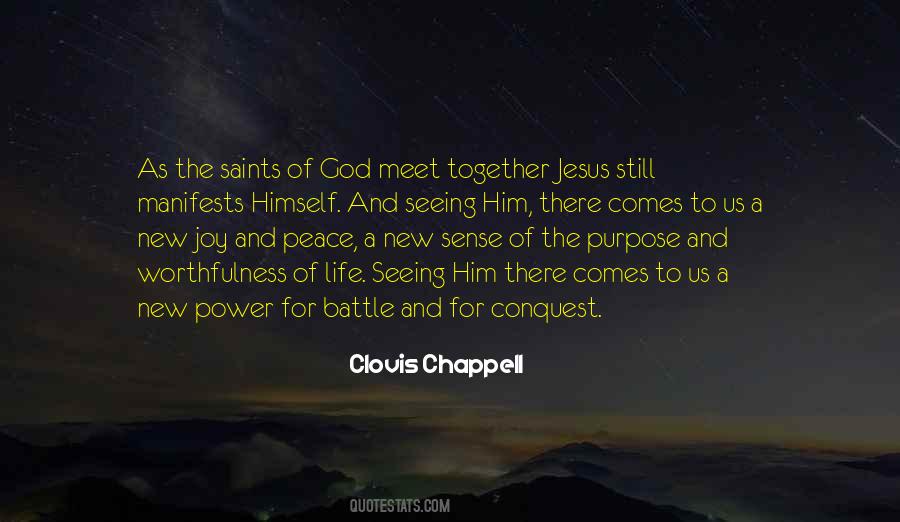 #19. Peace, like war, can succeed only where there is a will to enforce it, and where there is available power to enforce it. - Author: Franklin D. Roosevelt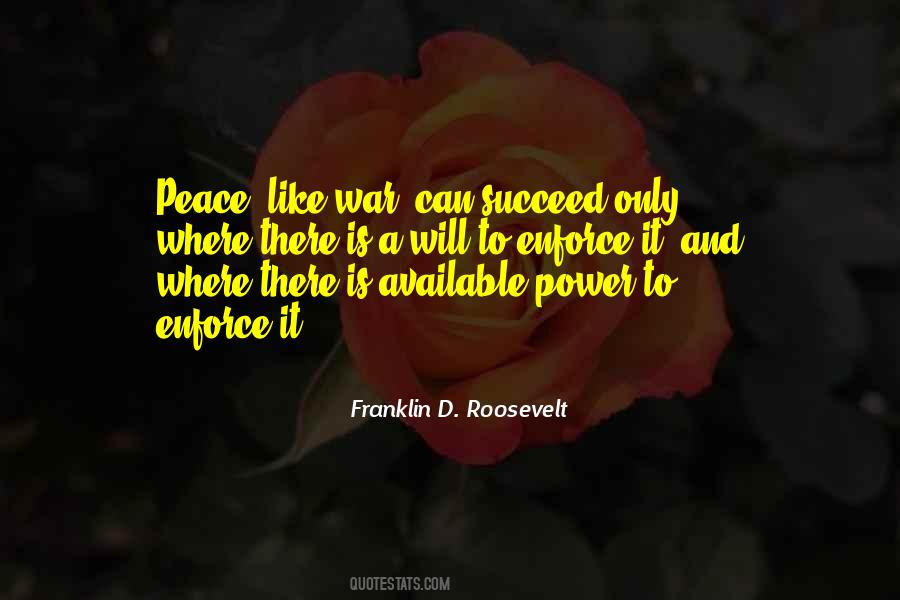 #20. Power is not happiness. Security and peace are more to be desired than a man at which nations tremble. - Author: William Godwin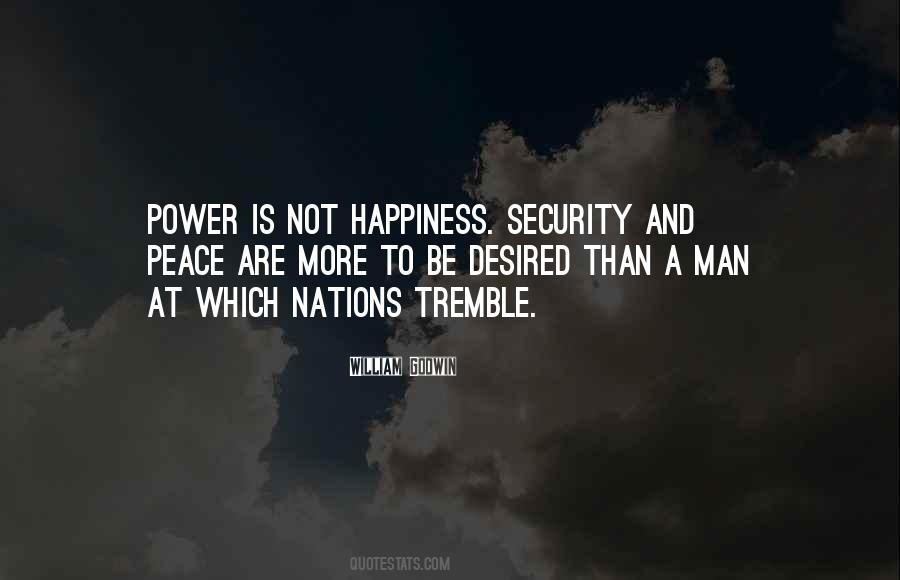 #21. 'Knowledge, without common sense,' says Lee, is 'folly; without method, it is waste; without kindness, it is fanaticism; without religion, it is death.' But with common sense, it is wisdom with method, it is power; with charity, it is beneficence; with religion, it is virtue, and life, and peace. - Author: Austin Farrer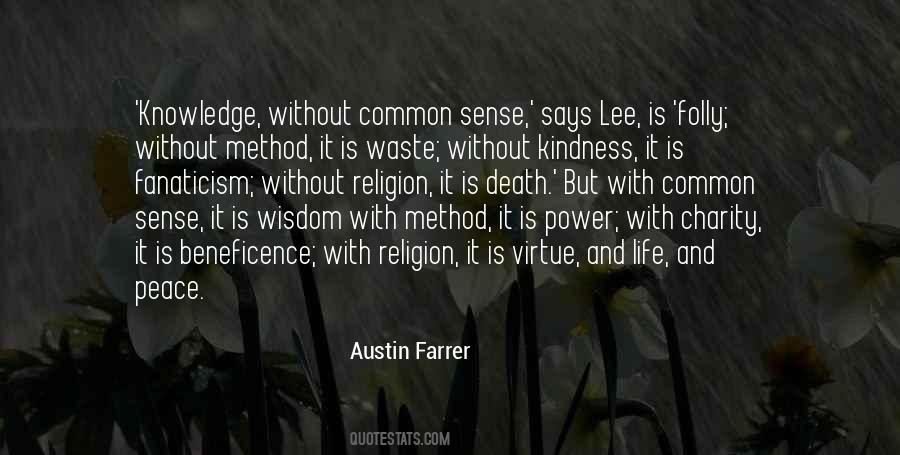 #22. Simon, imagine what we could do with your power and my spells. We could finish the Humdrum off by dinner - and then take on hunger and world peace. - Author: Rainbow Rowell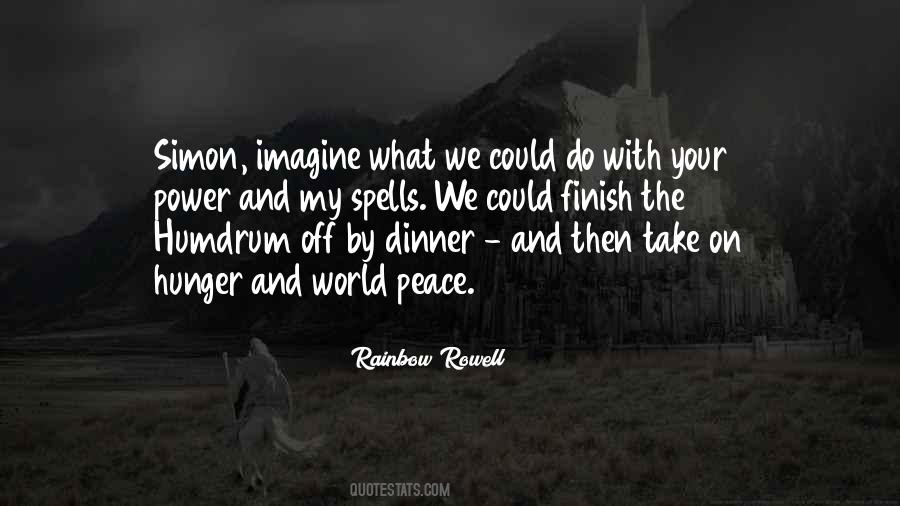 #23. Be aware of things you say because words have power. When you speak truth. It's Beautiful. And, that beauty illuminates! - Author: Amaka Imani Nkosazana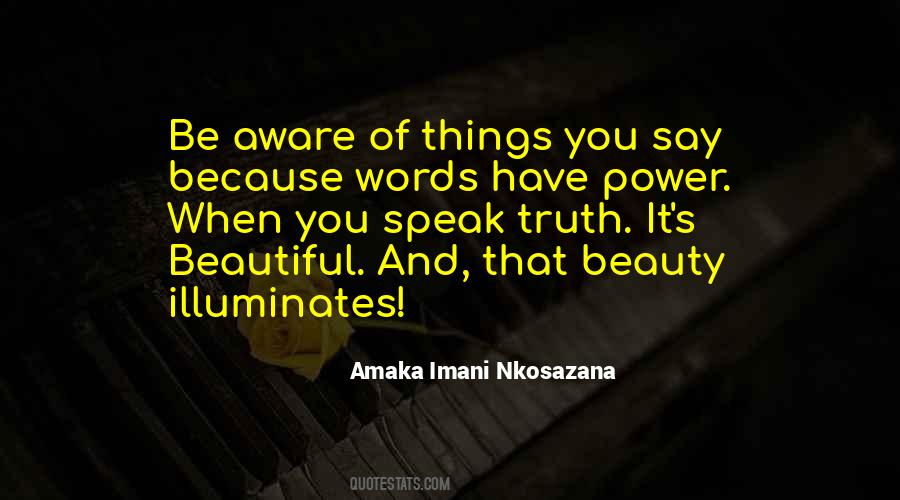 #24. We recognize the universal power of music to touch the hearts of men and women everywhere and in all generations-to inspire and encourage, to sustain and lift, to comfort and bring peace. - Author: Gordon B. Hinckley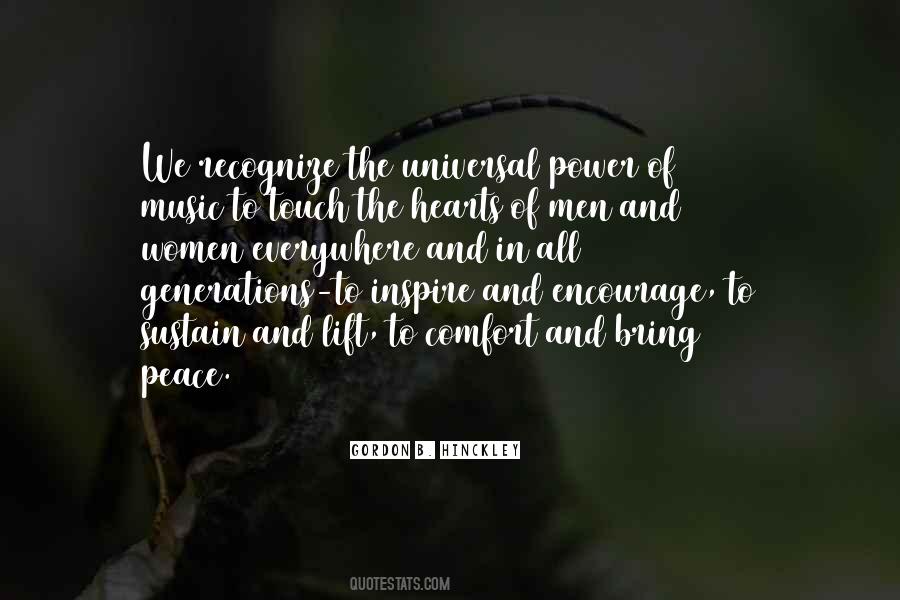 #25. I fear that some of us understand just enough about the gospel to feel guilty
guilty that we are not measuring up to some undefinable standard
but not enough about the Atonement to feel the peace and strength, the power and mercy it affords us. - Author: Sheri Dew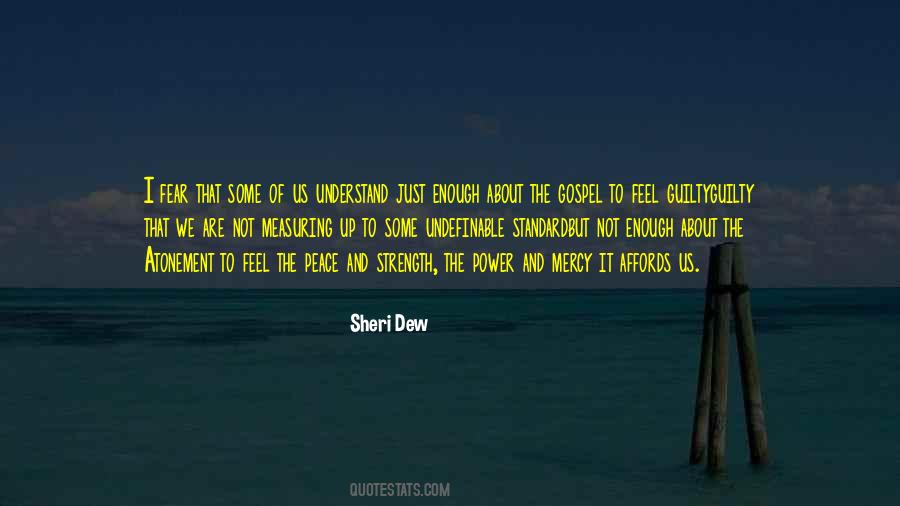 #26. If nothing's working for you, if you feel as though you're pushing forward against the grain, the most productive and proactive thing you can do is nothing. Nature is turning you inward, to gain power through peace, rather than outward to gain power through activity. - Author: Martha N. Beck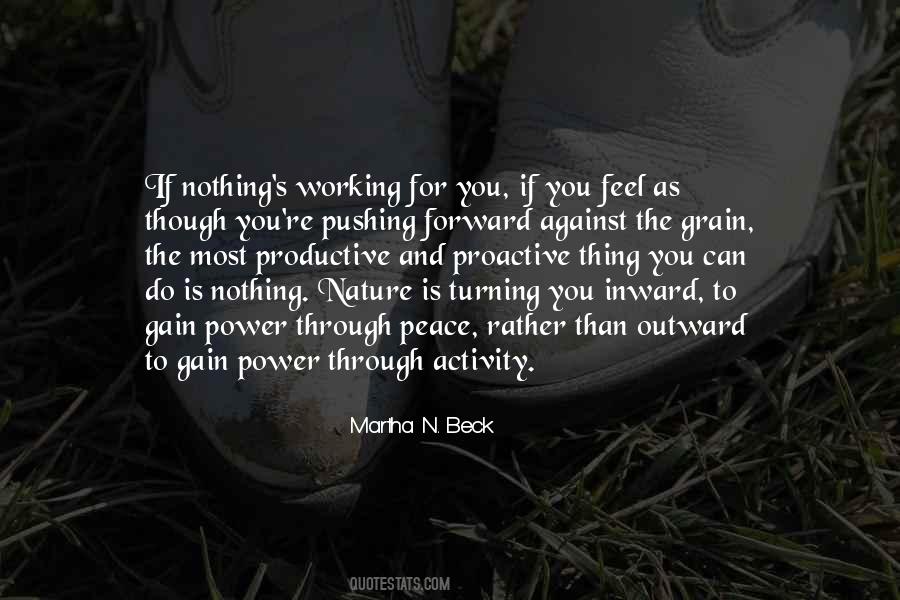 #27. We have within us, a power that is greater than anything we shall ever contact in the outer, a power that can overcome every obstacle in our life and set us safe, satisfied and at peace, healed and prosperous, in a new light, and in a new life. - Author: Ernest Holmes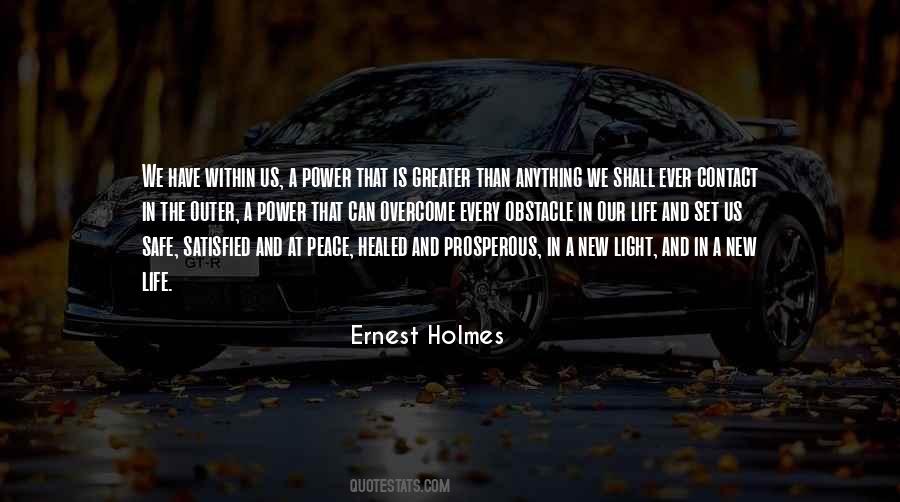 #28. Remember, each one of us has the power to change the world. Just start thinking peace, and the message will spread quicker than you think. - Author: Yoko Ono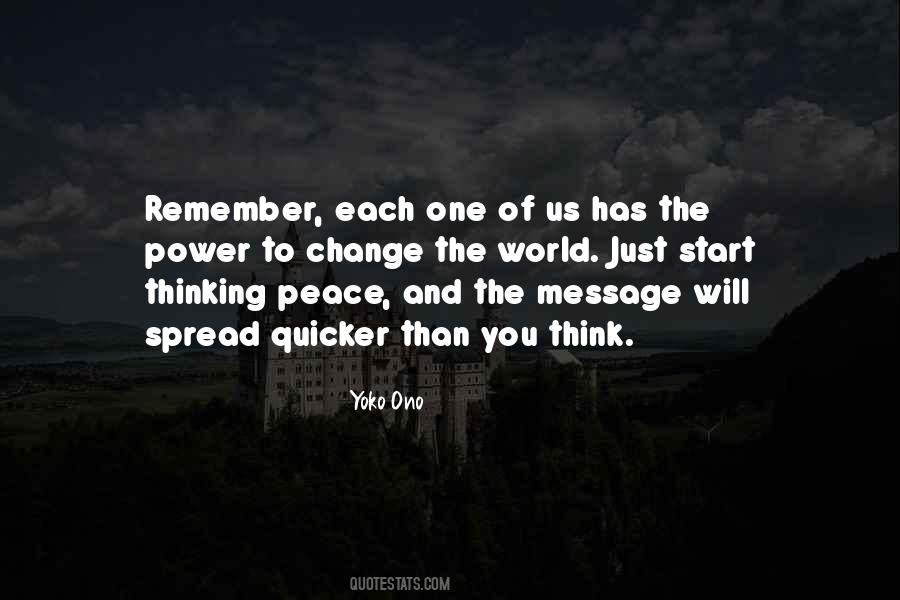 #29. You have the power to shape your life the way you want it to be. Every though, every word, every action guides you with a purpose. And that purpose is to fulfill your destiny. Some may say you're just a dreamer. But everything imagined began with a dream. - Author: Amaka Imani Nkosazana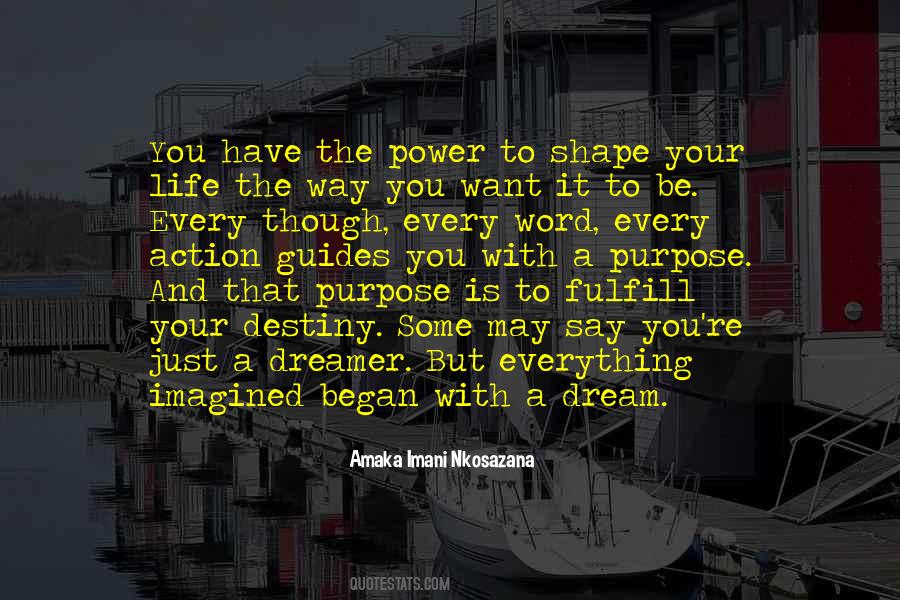 #30. I know that within you there is an energy of forgiveness that forgives me and sets me free. My words and actions have no power over you. You are free and I am free. All is well between our spirits. Peace is the order of the day. - Author: Michael Bernard Beckwith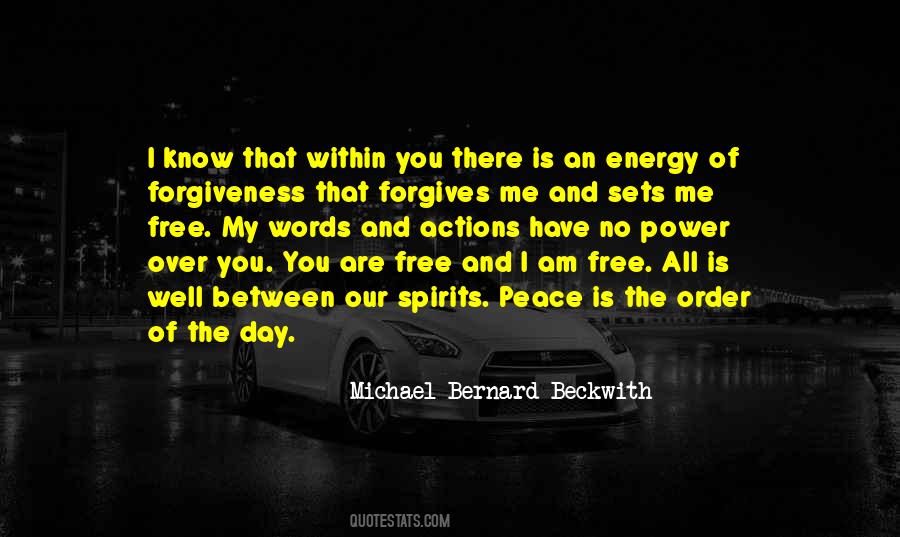 #31. Don't underestimate the power of humor and the ability to laugh at yourself to deliver peace and serenity. - Author: Charles F. Glassman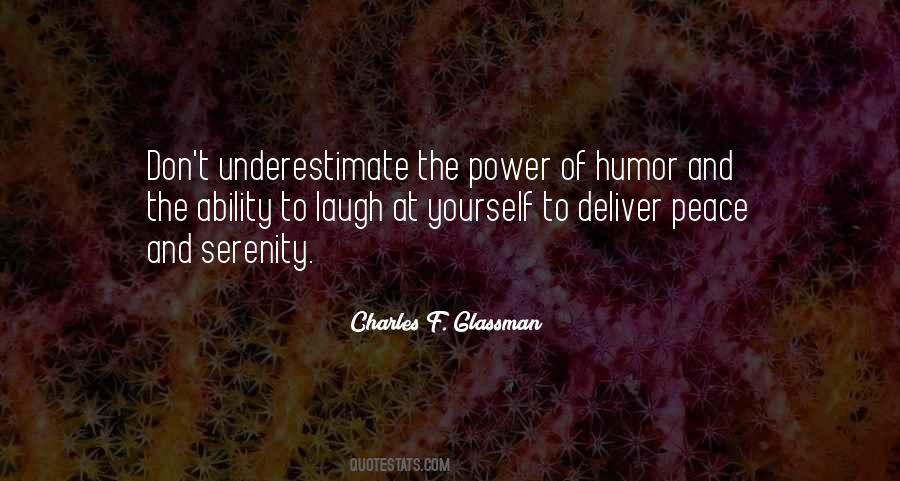 #32. So then, we are all equally guilty, every day. How, then, does one find and know peace and power in this life when surrounded by such a great cloud of witnesses who only pretend to be clean by whitewashing their reputations while pointing fingers of judgment? - Author: Ted Dekker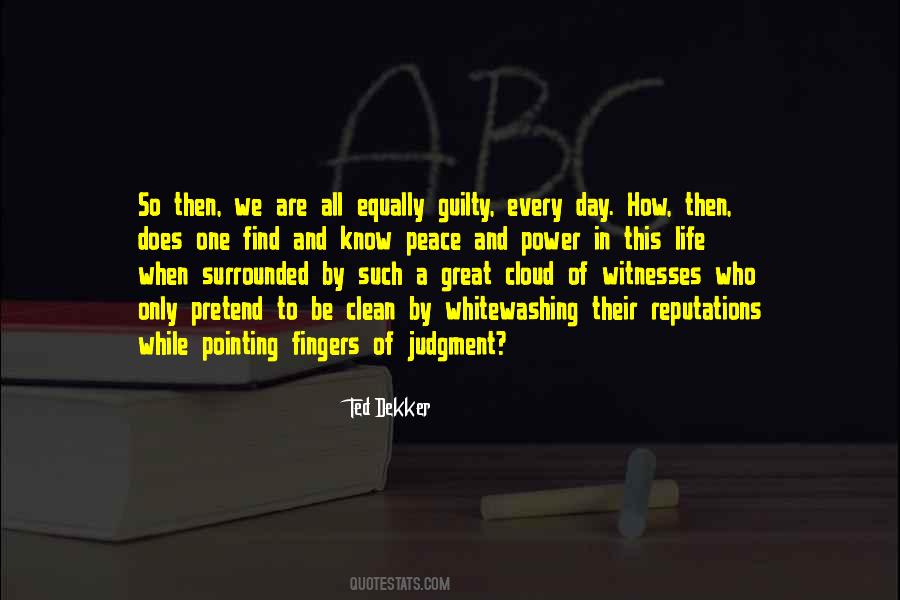 #33. The aesthetic value of creation cannot be overlooked. Our very contact with nature has a deep restorative power; contemplation of its magnificence imparts peace and serenity. The Bible speaks again and again of the goodness and beauty of creation, which is called to glorify God. - Author: Pope John Paul II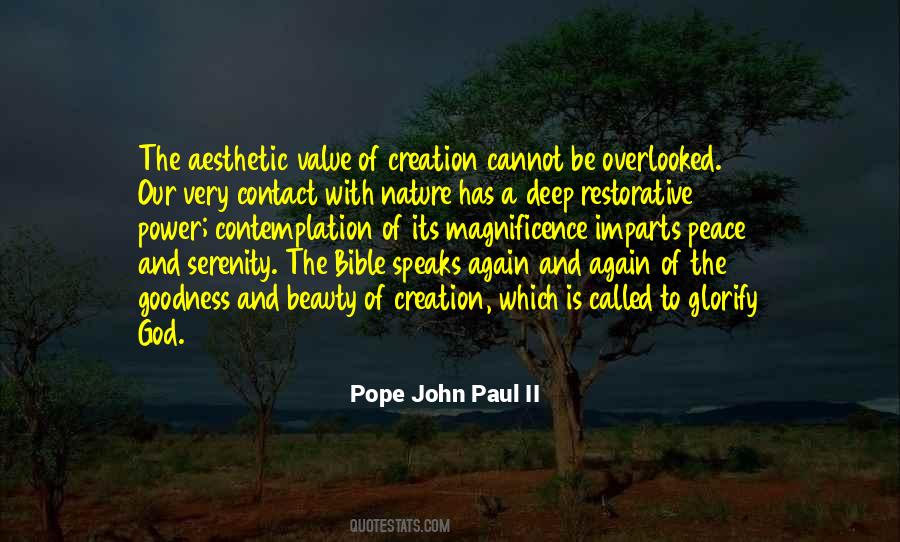 #34. Read thousands of books and I will power myself with knowledge. Pens and books are the weapons that defeat terrorism. - Author: Malala Yousafzai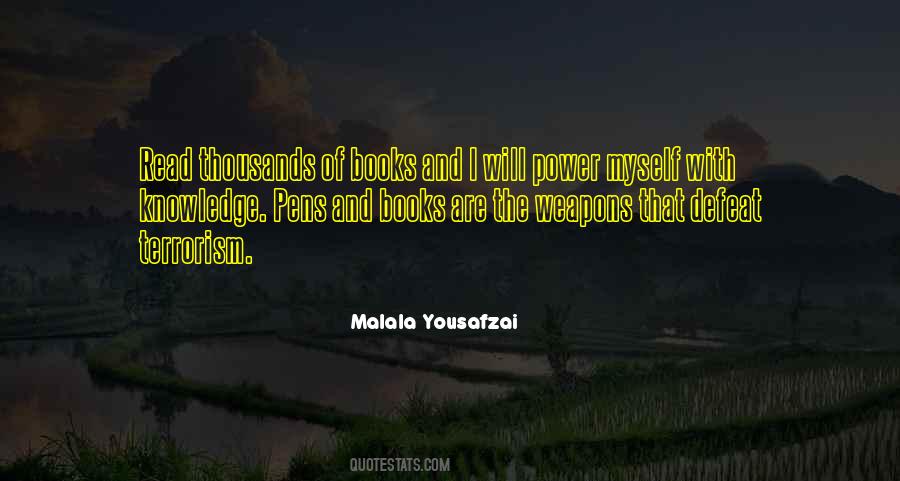 #35. By talking to yourself every hour of the day, you can direct yourself to think thoughts of courage and happiness, thoughts of power and peace. By talking to yourself about the things you have to be grateful for, you can fill your mind with thoughts that soar and sing. - Author: Dale Carnegie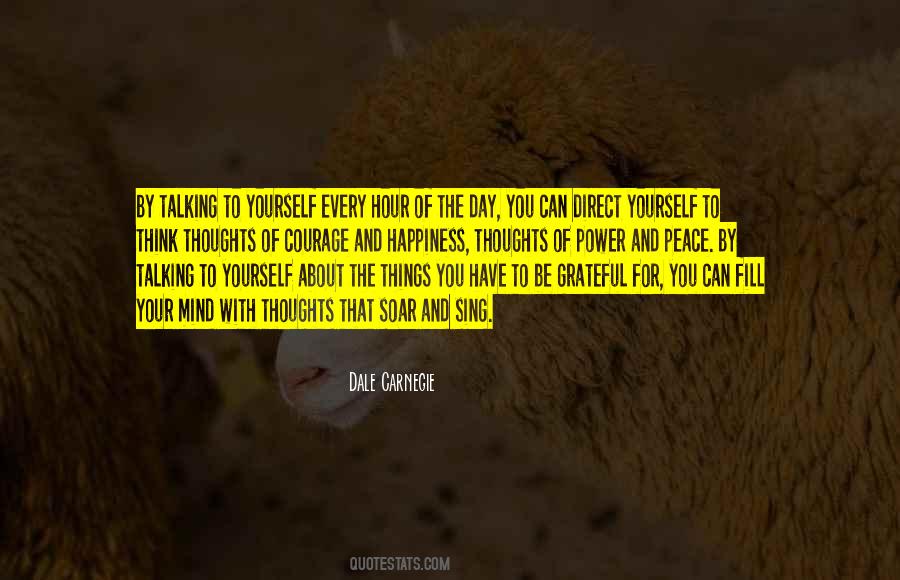 #36. Love is a weapon of Light, and it has the power to eradicate all forms of darkness. That is the key. When we offer love even to our enemies, we destroy their darkness and hatred ... - Author: Yehuda Berg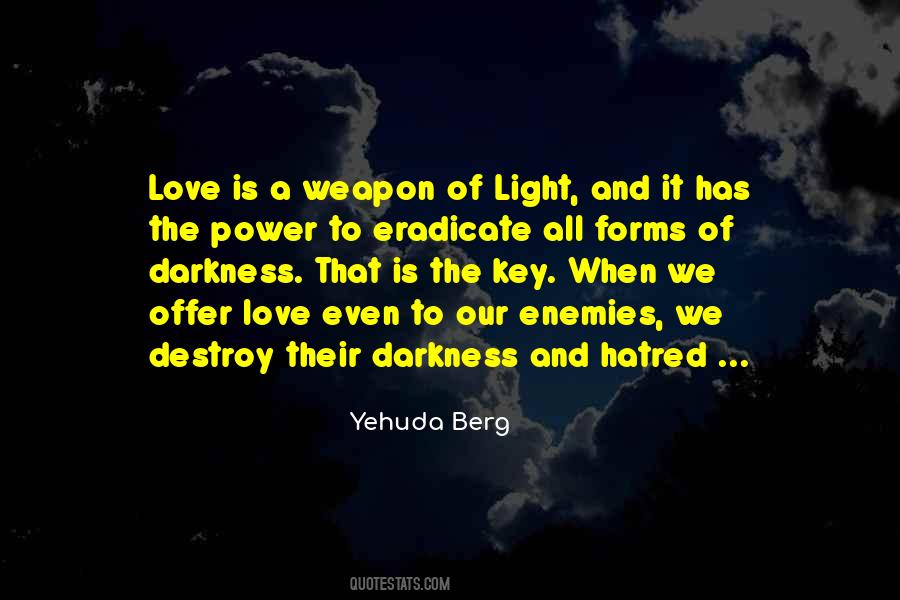 #37. The seizure of power by armed force, the settlement of the issue by war, is the central task and the highest form of revolution. This Marxist-Leninist principle of revolution holds well universally, for China and for all other countries. - Author: Mao Zedong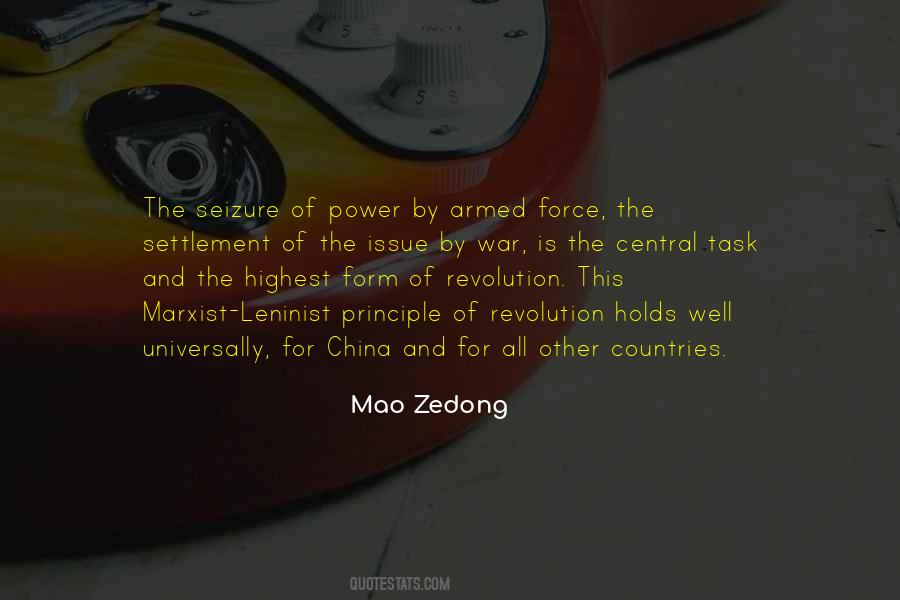 #38. The purposes of the United States should not be doubted. The Security Council resolutions will be enforced - the just demands of peace and security will be met - or action will be unavoidable. And a regime that has lost its legitimacy will also lose its power. - Author: Colin Powell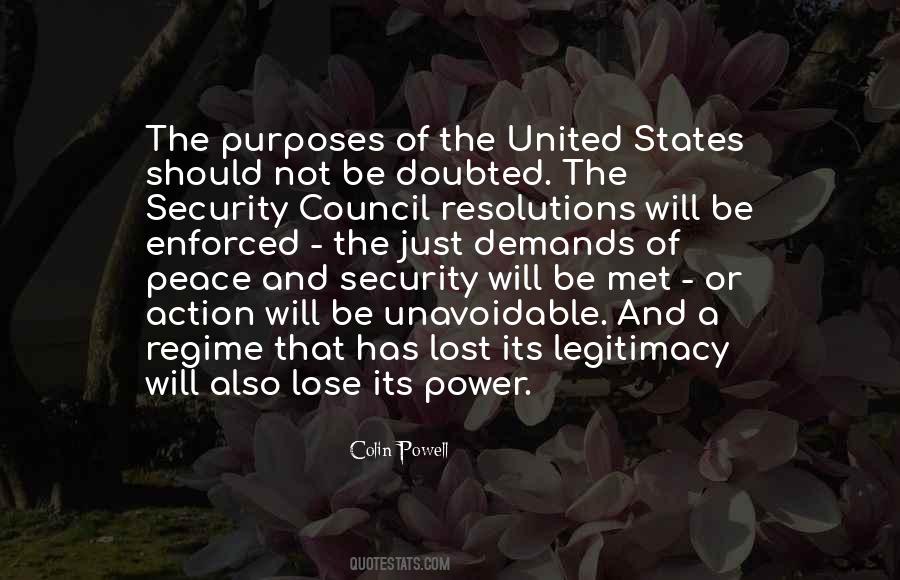 #39. The money power preys on the nation in times of peace, and conspires against it in times of adversity. It is more despotic than monarchy, more insolent than autocracy, more selfish than bureaucracy. It denounces, as public enemies, all who question its methods or throw light upon its crimes. - Author: Abraham Lincoln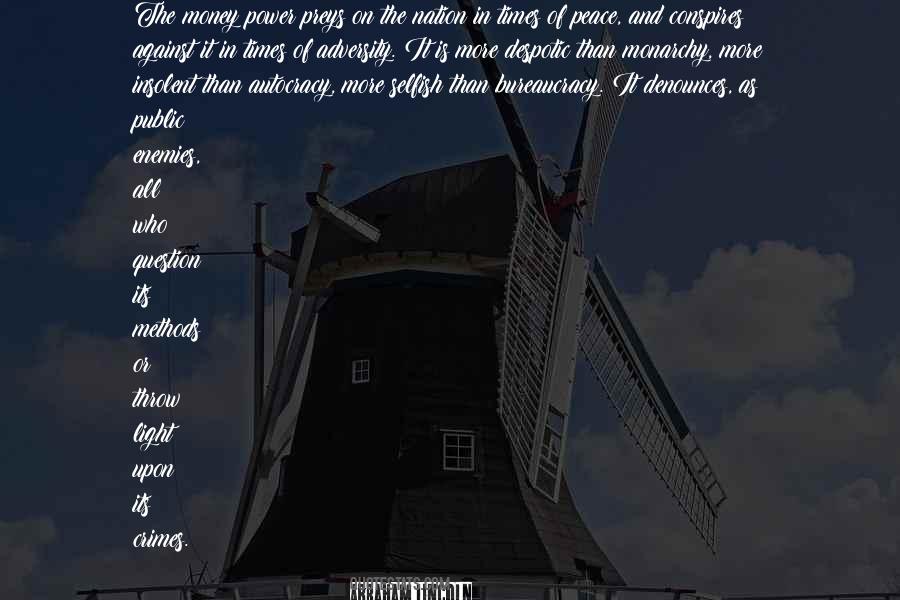 #40. Peace is more than just a feeling. It's the mental and physical frequency where you'll find all your real power. - Author: Martha Beck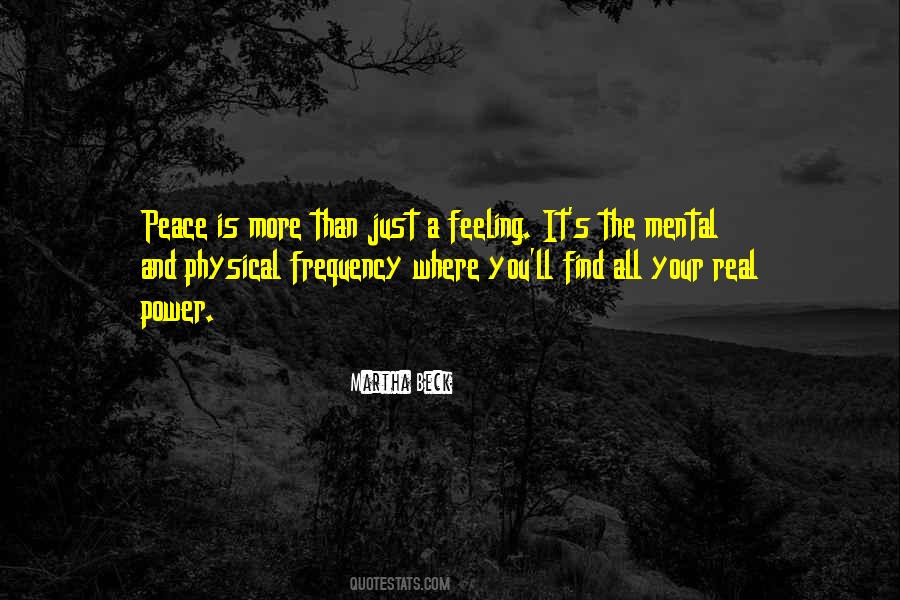 #41. Must we, under the happy hope of a false tranquility, sacrifice to the people in power the public welfare, and under vain pretence of preserving the peace, abandon the empire to robbers who would plunder it - Author: Claude Adrien Helvetius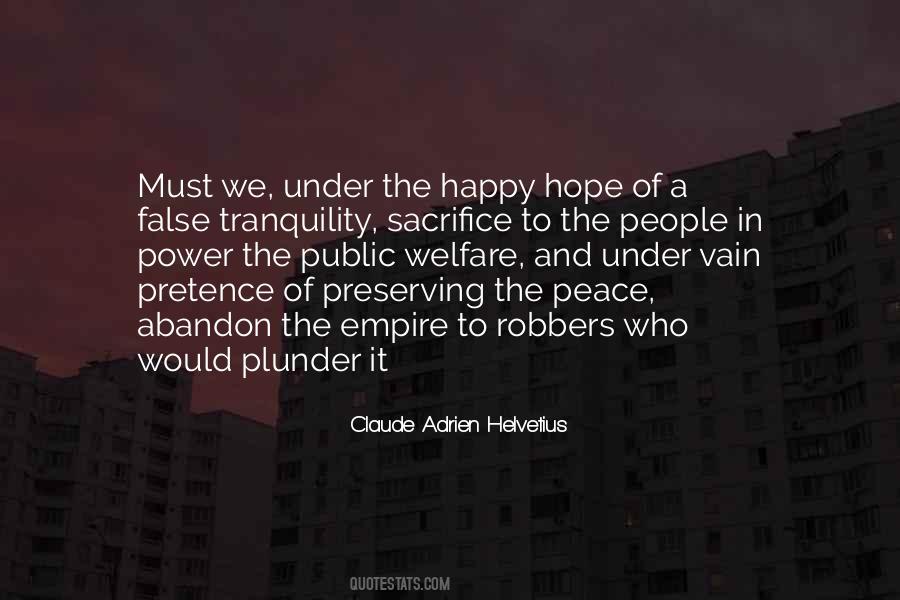 #42. Better and safer is an assured peace than a victory hoped for. The one is in your own power, the other is in the hands of the gods. - Author: Livy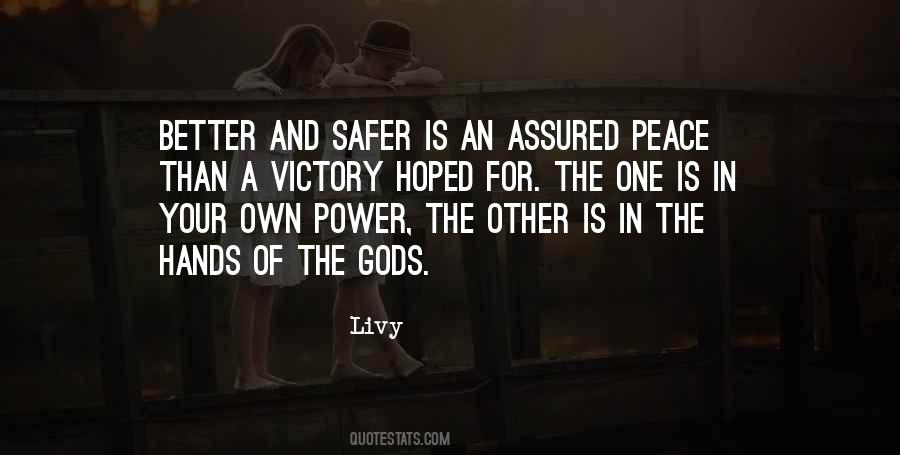 #43. The aim of all struggles for liberty is to keep in bounds the armed defenders of peace, the governors and their constables. The political concept of the individual's freedom means: freedom from arbitrary action on the part of the police power. - Author: Ludwig Von Mises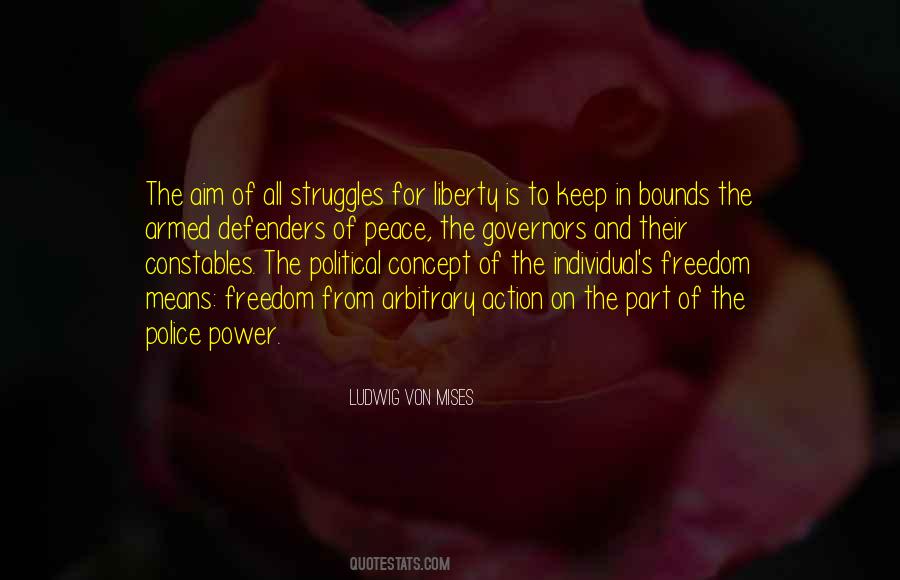 #44. And in weeping there was power. The power to heal, the power to release pain and let go, the power to endure love and to shoulder loss. And as the weeks became months, I cried less and smiled more. And peace became a more frequent companion. - Author: Amy Harmon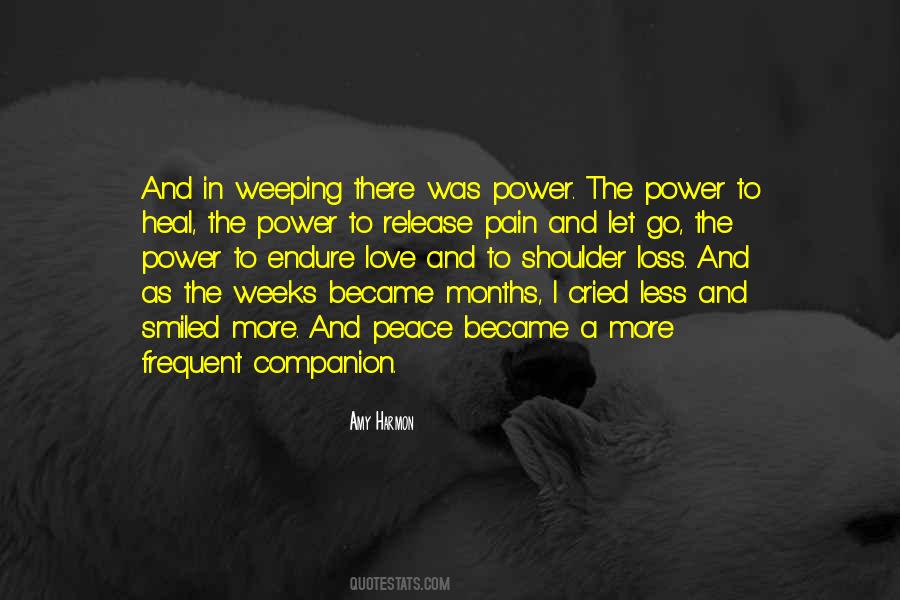 #45. I do not believe war the most certain means of enforcing principles. Those peaceable coercions which are in the power of every nation, if undertaken in concert and in time of peace, are more likely to produce the desired effect. - Author: Thomas Jefferson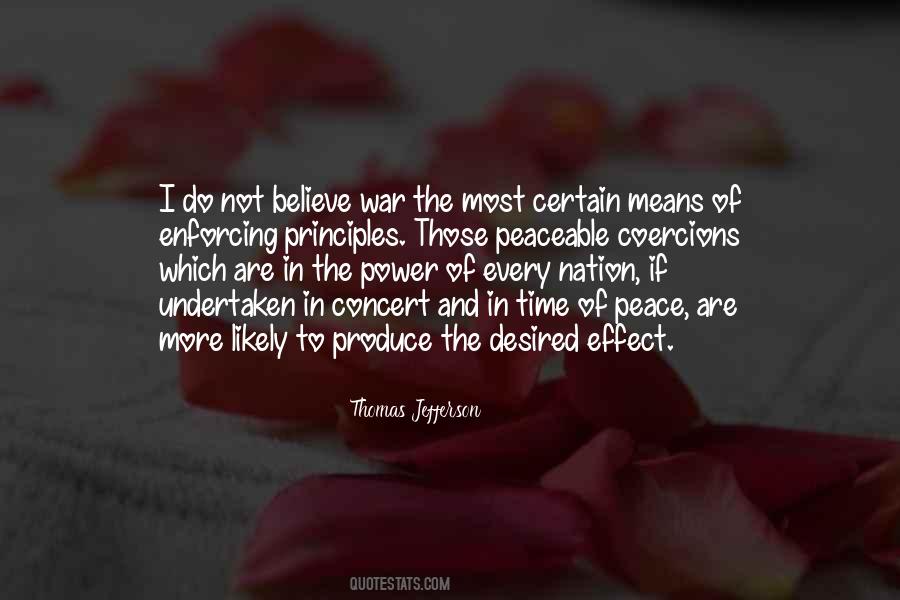 #46. There is only one way by which the nations can be brought into unity and into peace and into brotherhood. This is not through guns, nor might, nor force, but through the power of God and the love of our fellowmen that is in the hearts of this people. - Author: Melvin J. Ballard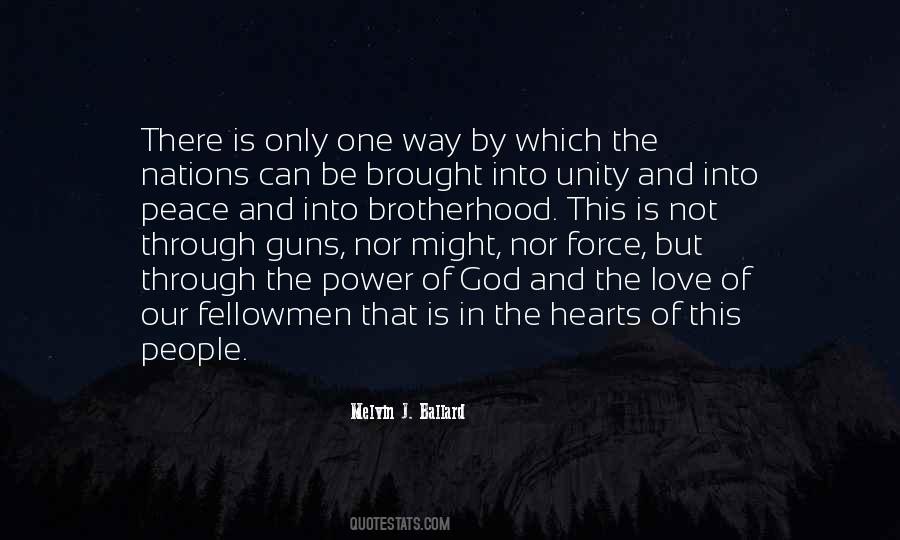 #47. True Happiness doesn't come from Prosperity, Pleasure, and Power, but from PEACE.-RVM - Author: R.v.m.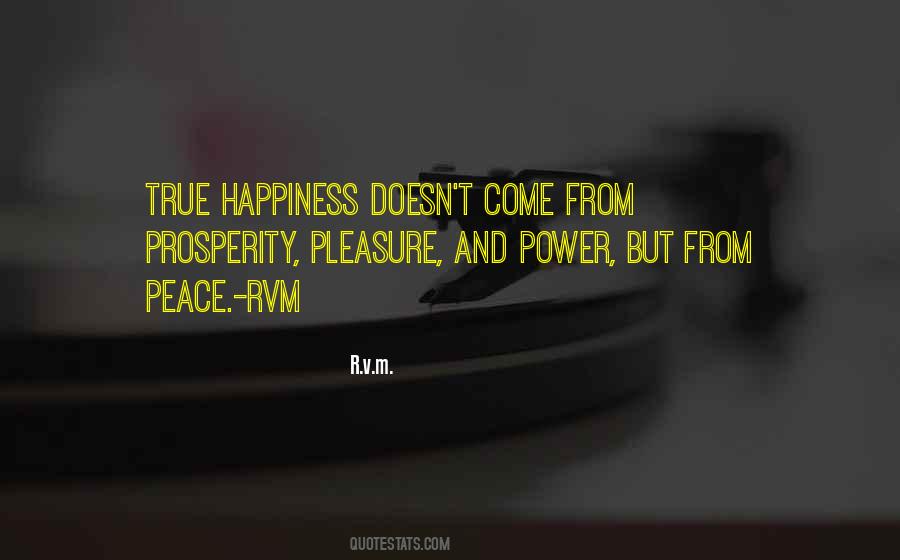 #48. Perpetual Adoration, Eucharistic Adoration offers to our people the opportunity to join those in religious life to pray for the salvation of the world, souls everywhere and peace on earth. We cannot underestimate the power of prayer and the difference it will make in our world - Author: Mother Teresa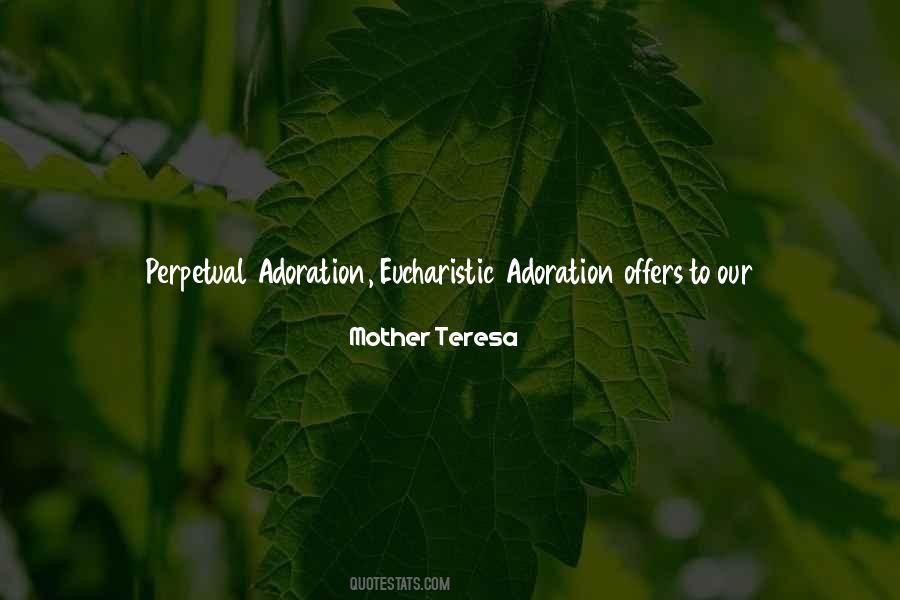 #49. The most fascinating revelation is that humanity can tune into a consistently higher frequency through the power of peace and inner stillness. - Author: Christopher Dines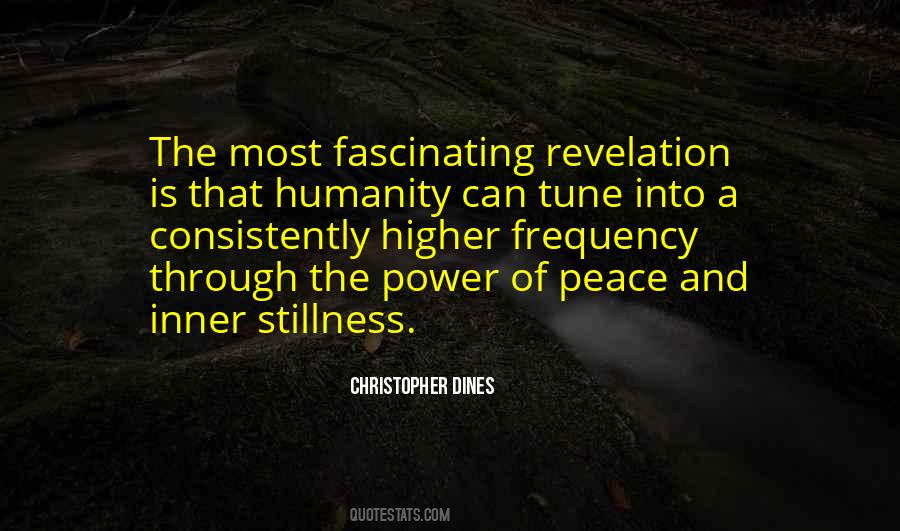 #50. You may be able to conquer the whole world and gain everything in action,
But you'll live in torment if you can't find peace of mind and satisfaction. - Author: Mouloud Benzadi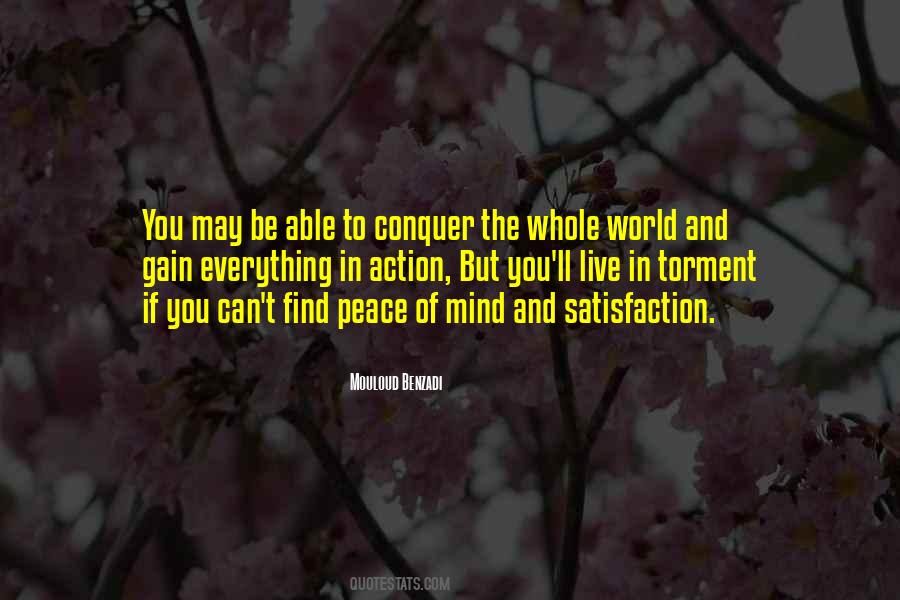 #51. If you do not find peace within, you will not find it anywhere else. The Goal of Life is the attainment of Peace and not the achievement of power, name, fame and wealth. - Author: Sivananda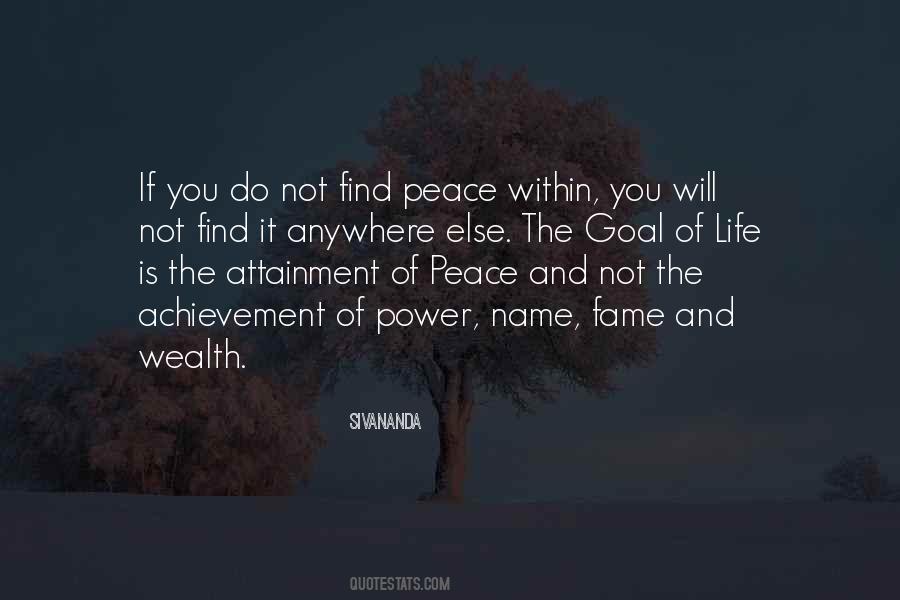 #52. When you stop worrying about your problems and start praising God for His magnificent power you will experience His peace. - Author: Elizabeth George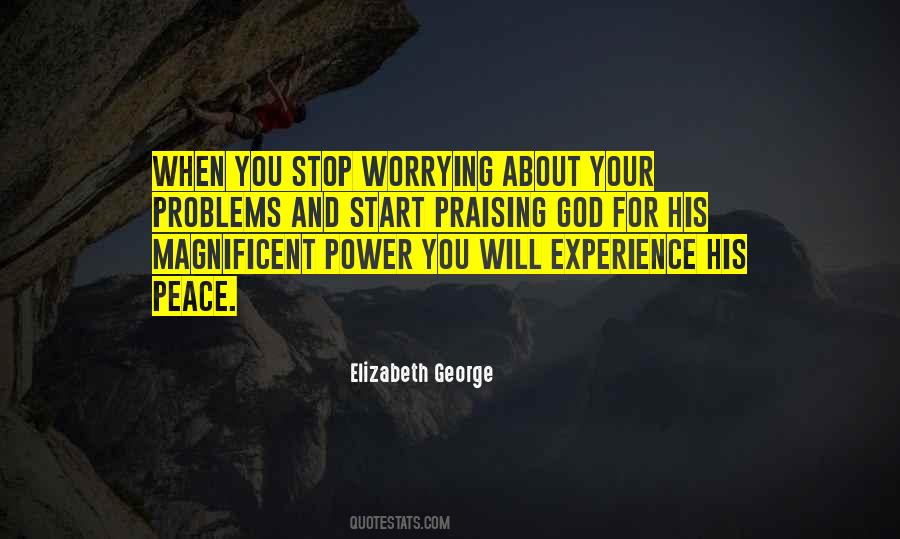 #53. Our very contract with nature has a deep restorative power; contemplation of its magnificence imparts peace and serenity. - Author: Pope John Paul II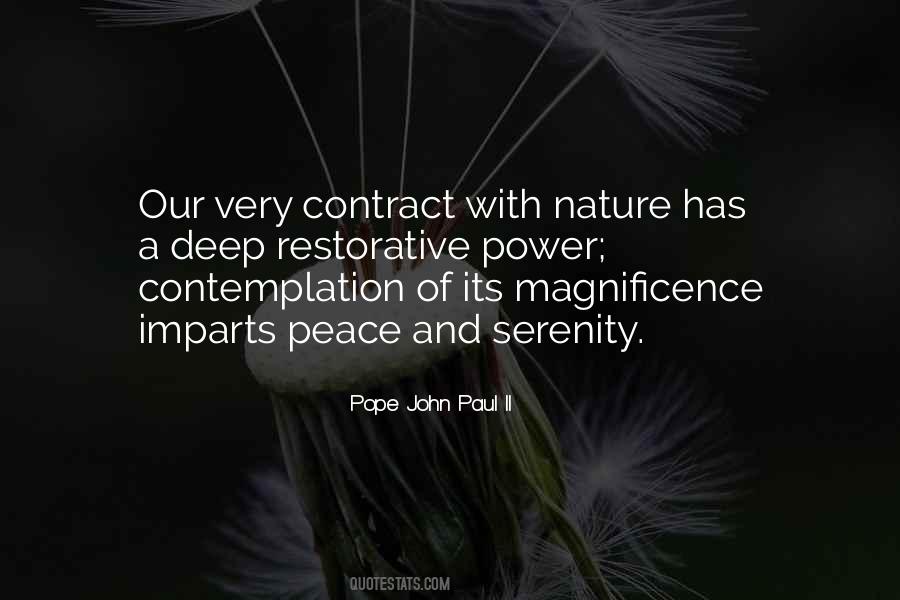 #54. If you would force me to be unarmed and helpless I would have to do everything in my power to neutralize you ... Peace and love will get you killed. That doesn't sound like a hippie. - Author: Ted Nugent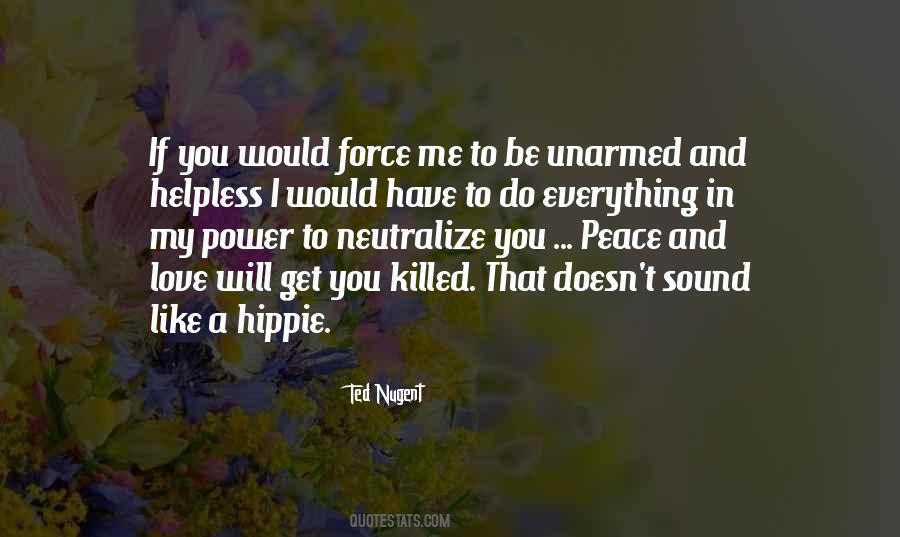 #55. I have seen the poor suffer when nobles seek the purity of ideals. I have seen the powerless die when princes believe in the nostalgia of their dreams. I have seen the common people torn from peace and thrown into war when kings yearn to test the clarity of their vision. - Author: Ken Liu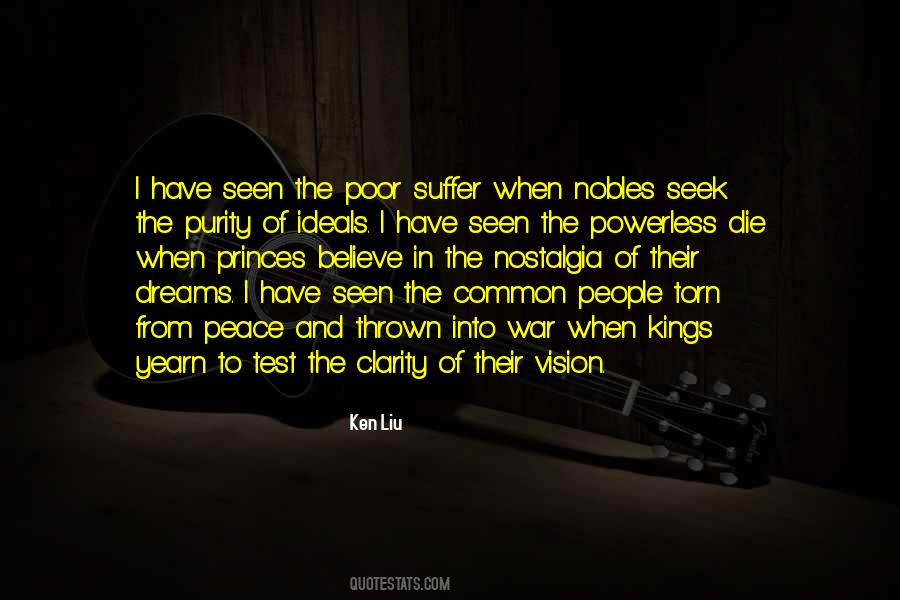 #56. That is the power of a good story. It can encourage you, it can make you laugh, it can bring you joy. It will make you think, it will tap innto your hidden emotions, and it can make you cry. The power of a story can also bring about healing, give you peace, and change your life! (p.15) - Author: Jeff Dixon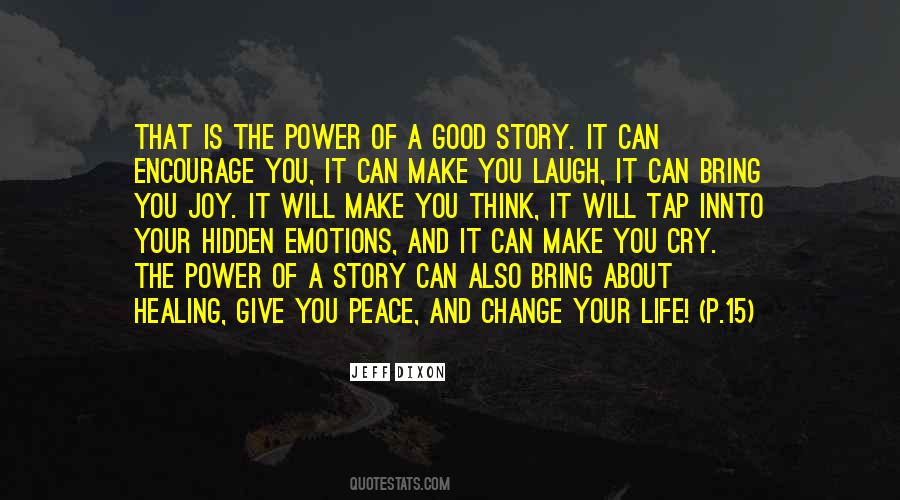 #57. Music with all its subtlety has immense power to unite people, spread love and bring peace in the world! - Author: Sanchita Pandey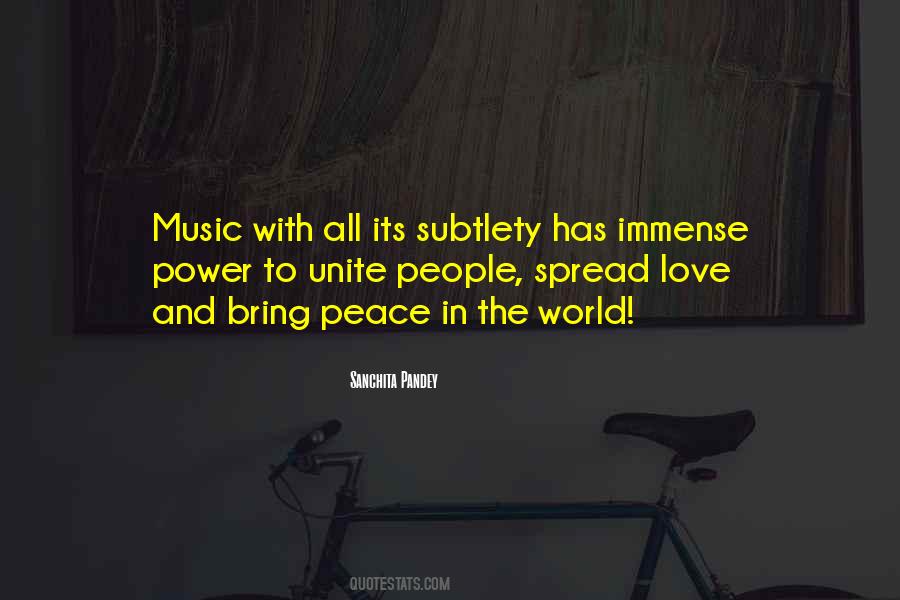 #58. The hard fact is that so long as Saddam remains in power, he threatens the well-being of his people, the peace of his region, and the security of the world. - Author: William J. Clinton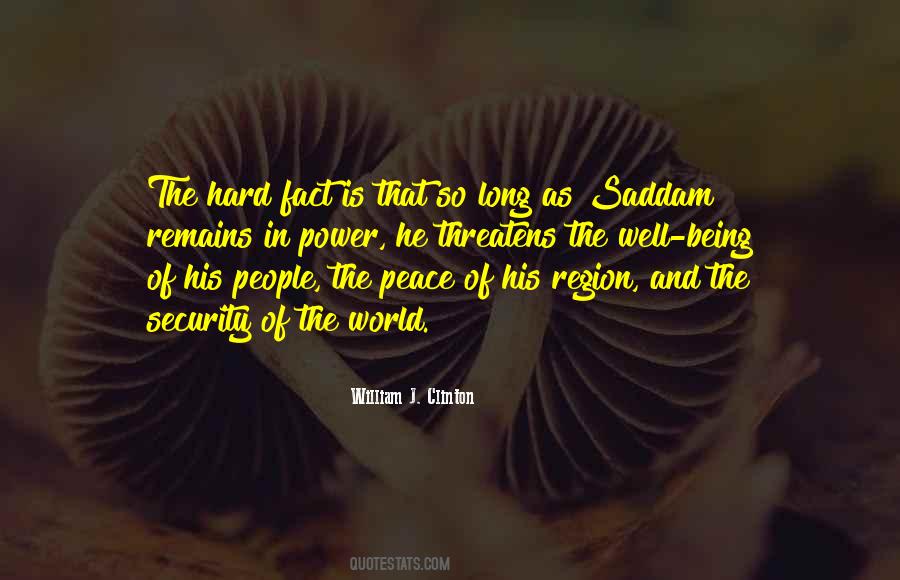 #59. Each time a woman has the courage to act and share her truth, she plants wonderful seeds. Each such seed offers freedom and power to those around her, and in this way we bring the world closer together and closer to peace. - Author: Jodie Evans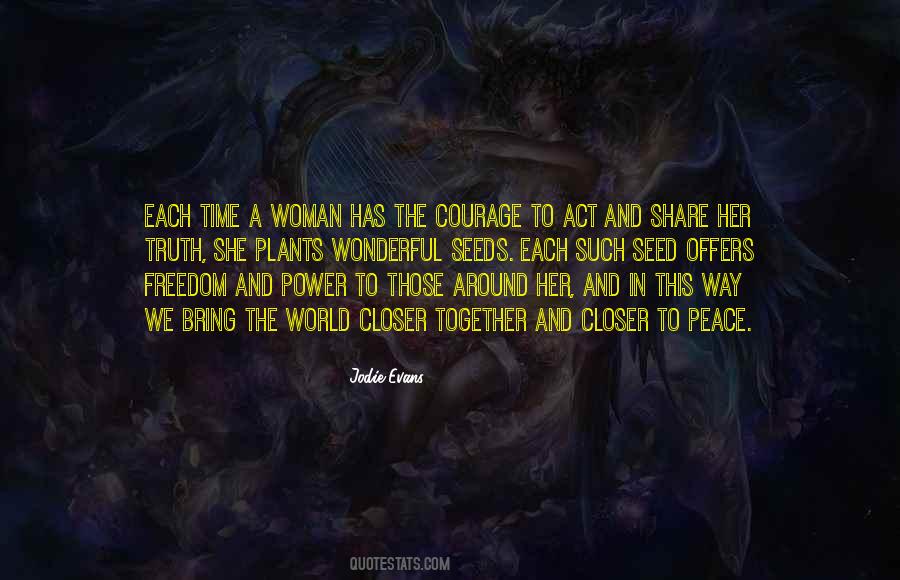 #60. Every hour of your life that ticks by, there are numerous points and moments when you can choose to pause - and be aware of your mental and physical state. At any given point, you can freeze the flow that is your life, and be fully conscious for a moment. - Author: Kevin Michel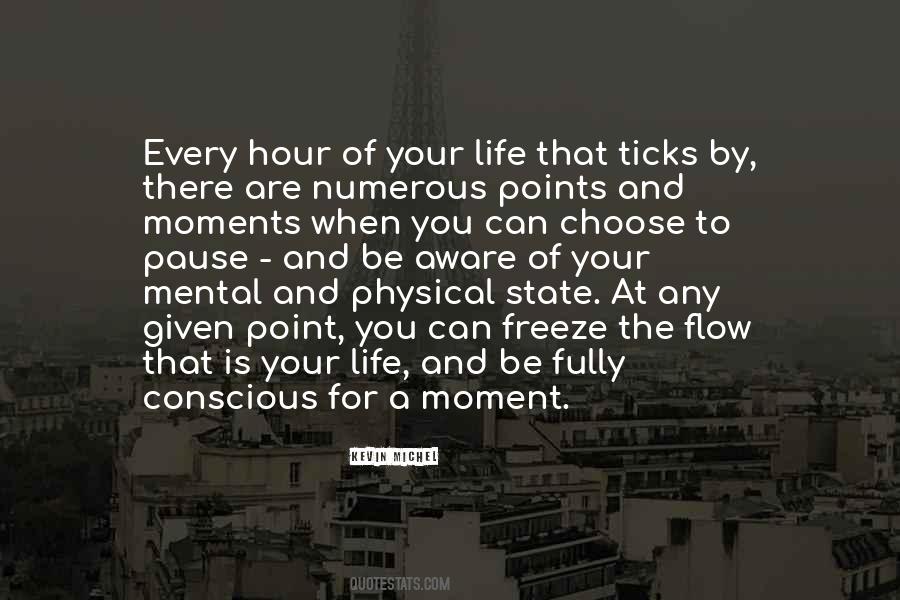 #61. If you focus on the actions of others and allow them to constantly upset you, then you are handing your peace over to them and giving away your power. - Author: Victoria Osteen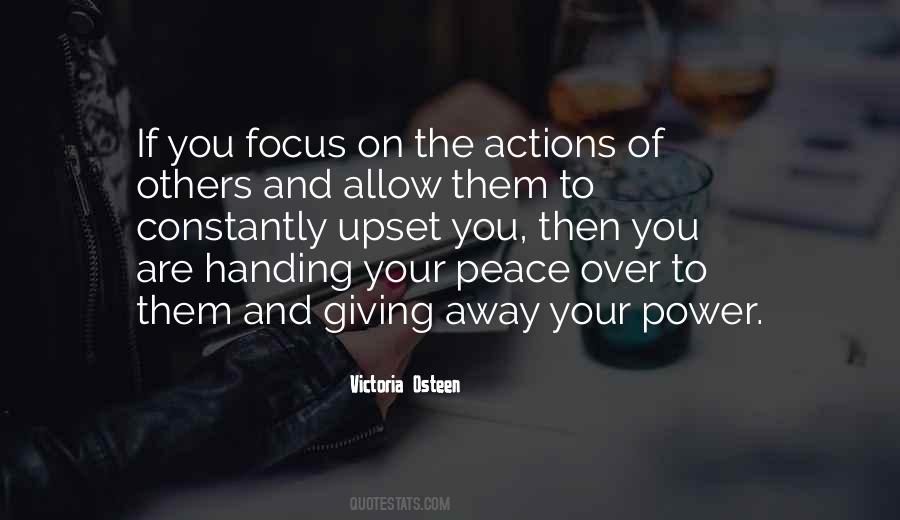 #62. In war, State power is pushed to its ultimate, and, under the slogans of "defense" and "emergency," it can impose a tyranny upon the public such as might be openly resisted in time of peace. - Author: Murray N. Rothbard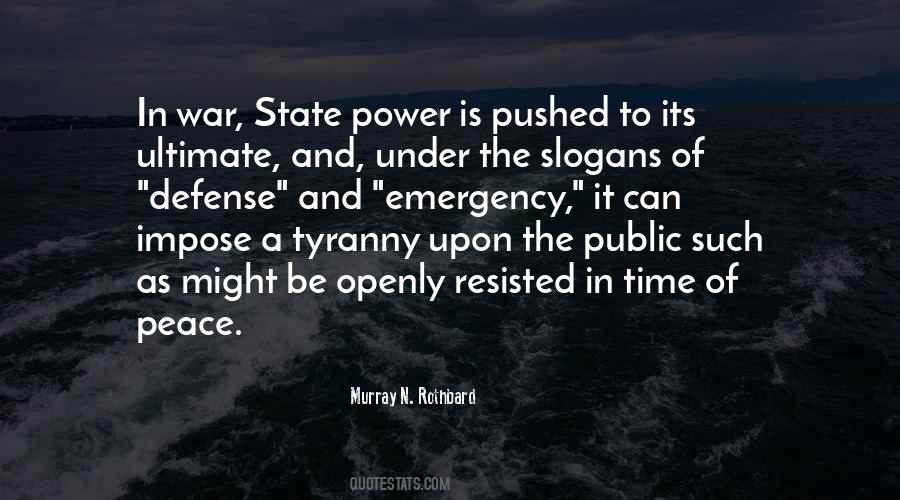 #63. All conflicts can be resolved. Wars and conflicts are not inevitable. They are caused by human beings. There are always interests that are furthered by war. Therefore those who have power and influence can also stop them. Peace is a question of will. - Author: Martti Ahtisaari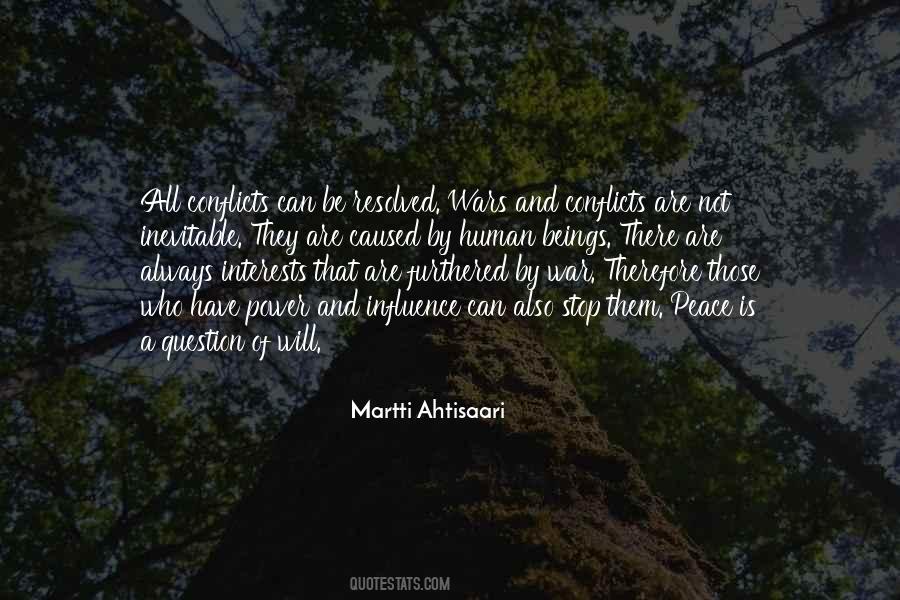 #64. Revolutions and revolutionary wars are inevitable in class society, and without them it is impossible to accomplish any leap in social development and to overthrow the reactionary ruling classes and therefore impossible for the people to win political power. - Author: Mao Zedong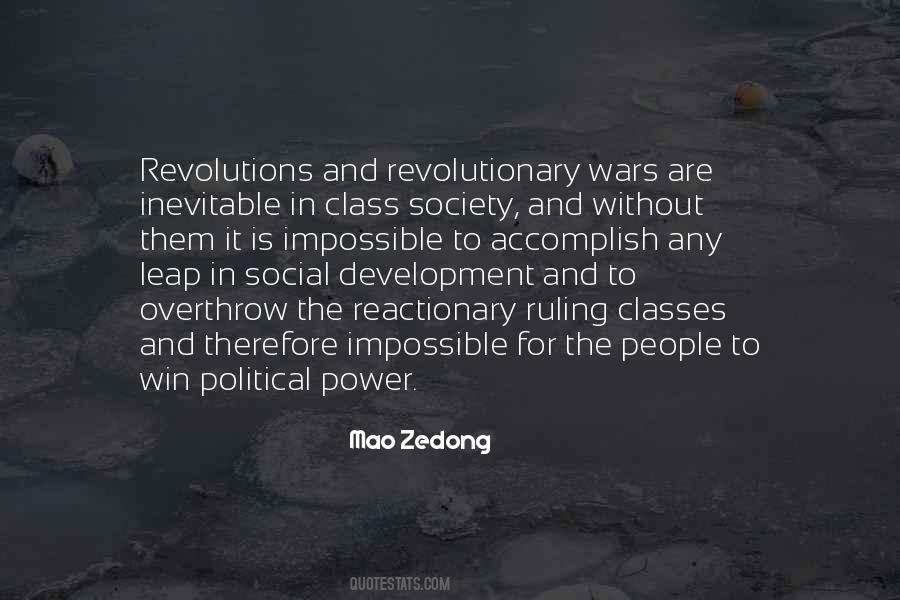 #65. I said, "Don't you have other things to deal with?"
"Of course I do," he said, shrugging. "I have so many things to deal with that I'm sometimes tempted to unleash my power across the world and wipe the board clean. Just to buy me some damned peace. - Author: Sarah J. Maas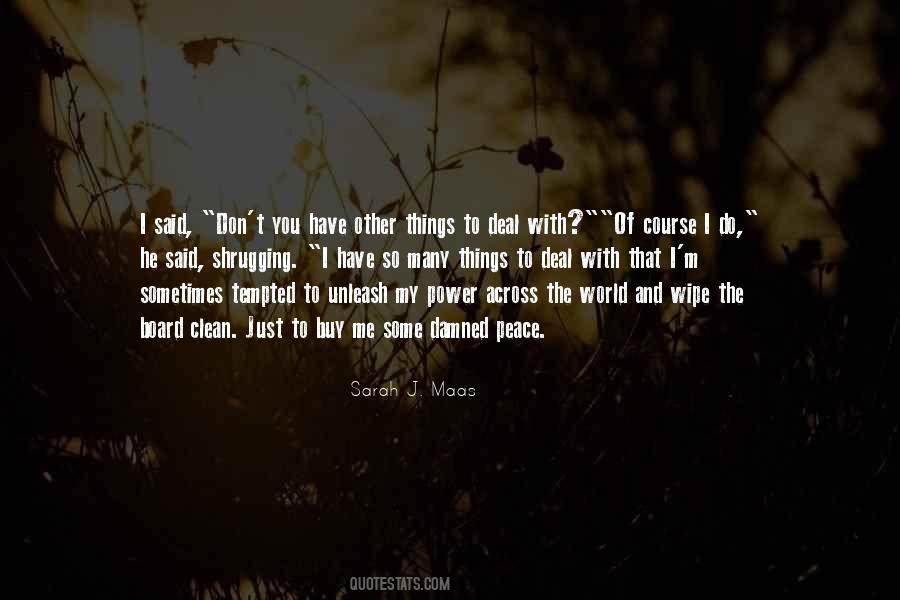 #66. Come forward as servants of Islam, organize the people economically, socially, educationally and politically and I am sure that you will be a power that will be accepted by everybody. - Author: Muhammad Ali Jinnah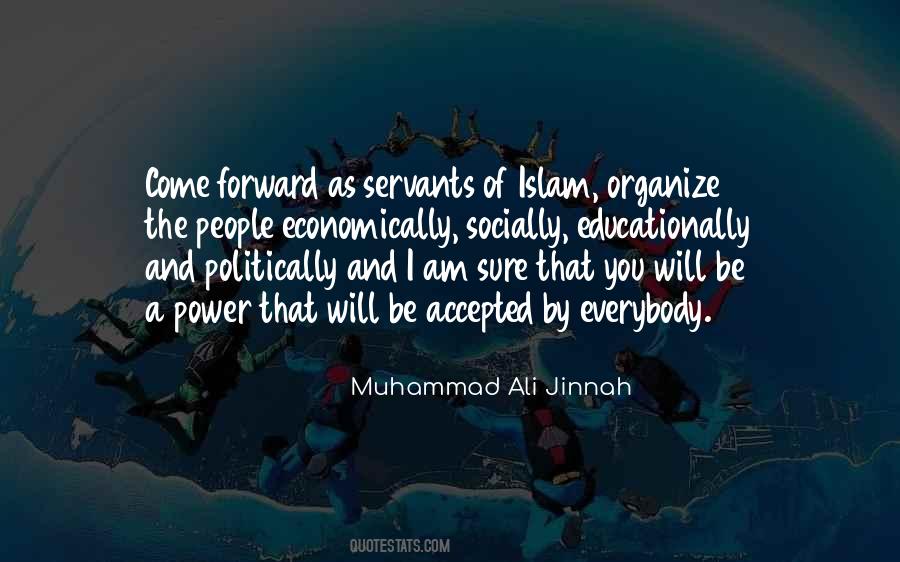 #67. Letting go of anger is the best way to find peace of mind, a healthier pain-free body, and an indomitable spirit. - Author: Charles F. Glassman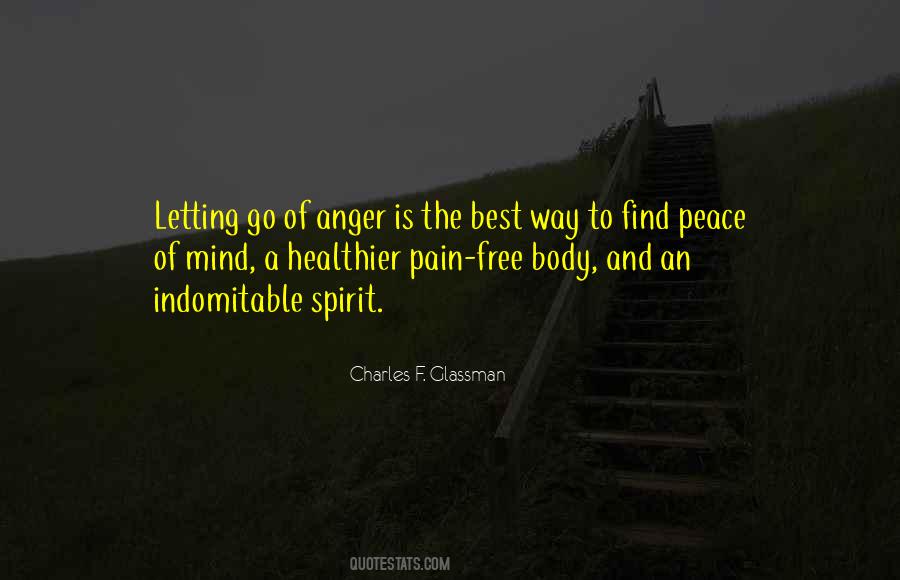 #68. You and I are the creators and benefactors of peace. We must reclaim our own responsibility and right to peace. You have the power to change the direction of humanity towards peace. - Author: Ilchi Lee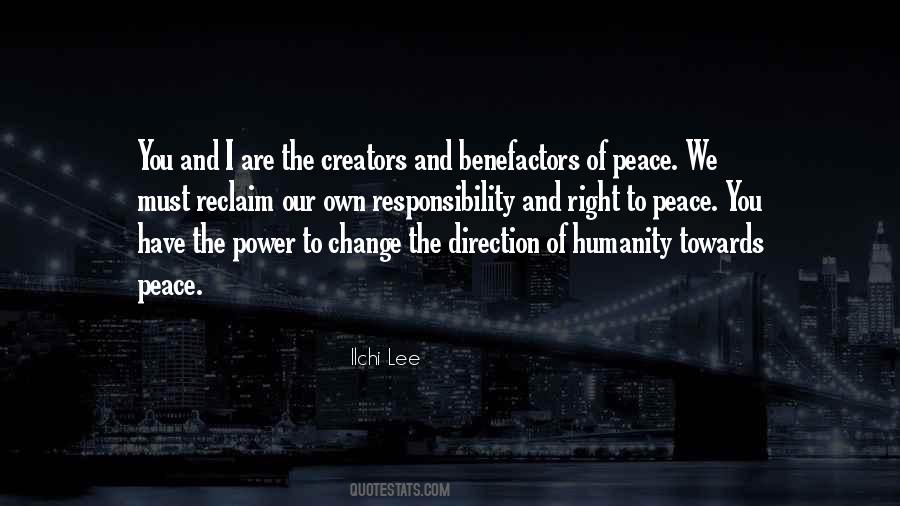 #69. Your words contain great power. So declare that you will prosper despite every difficulty that you may encounter in your life. You are not here just to survive ... So overcome and thrive! - Author: Timothy Pina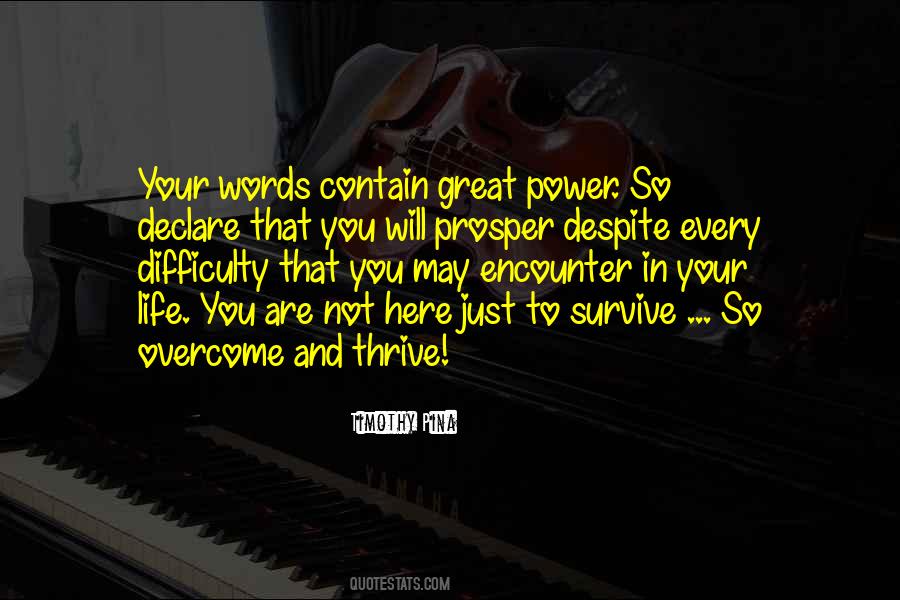 #70. There were millions of such families anxious only for peace and quiet in their own little nests. These were the mounting blocks by which the criminals climbed to power and kept it. - Author: Simon Wiesenthal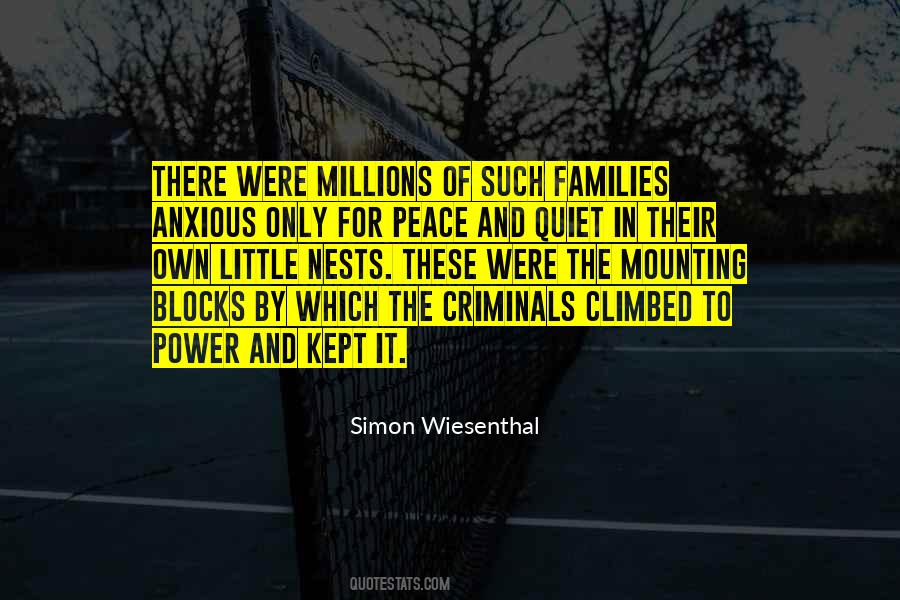 #71. When we will learn to use the power of kindness and love we will fill the world with peace and happiness. - Author: Debasish Mridha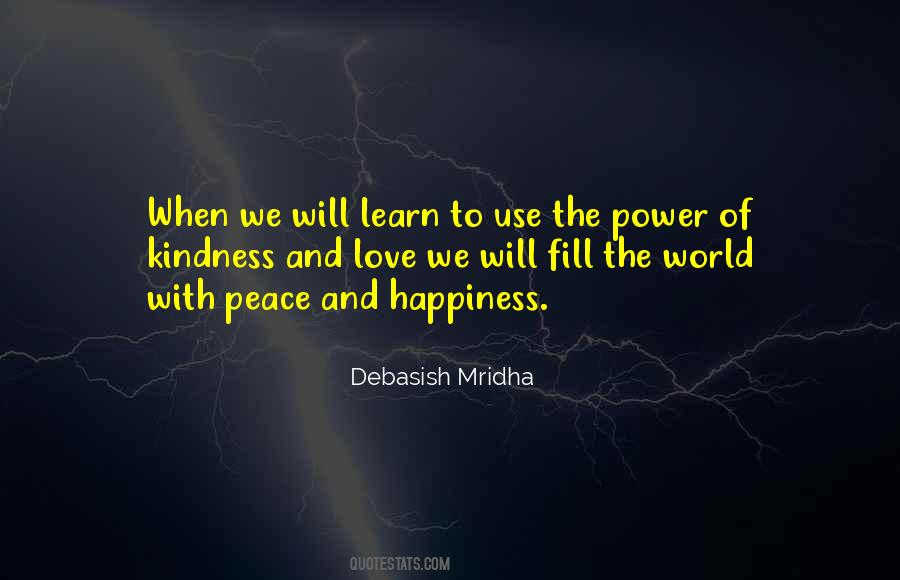 #72. As a mighty river which when properly harnessed by dams and canals, creates a vast reservoir of water, prevents famine and provides abundant power for industry; so also the mind, when controlled, provides a reservoir of peace and generates abundant energy for the human uplift. - Author: B.K.S. Iyengar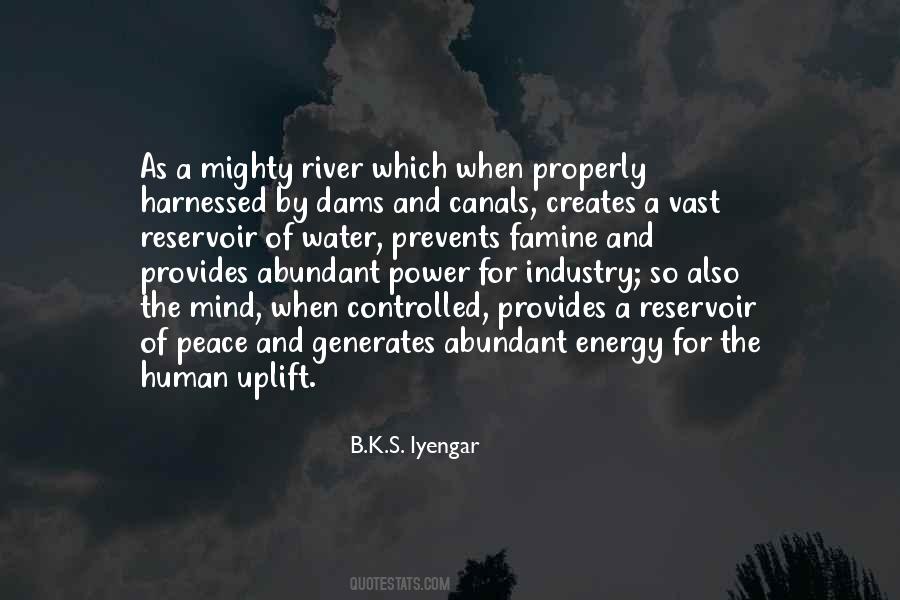 #73. When we understand the illusory nature of life and the profound power of eternal love, which enables us to create miracles and experience the presence of our deceased loved ones, we find ourselves living with joy, hope and peace. - Author: Susan Barbara Apollon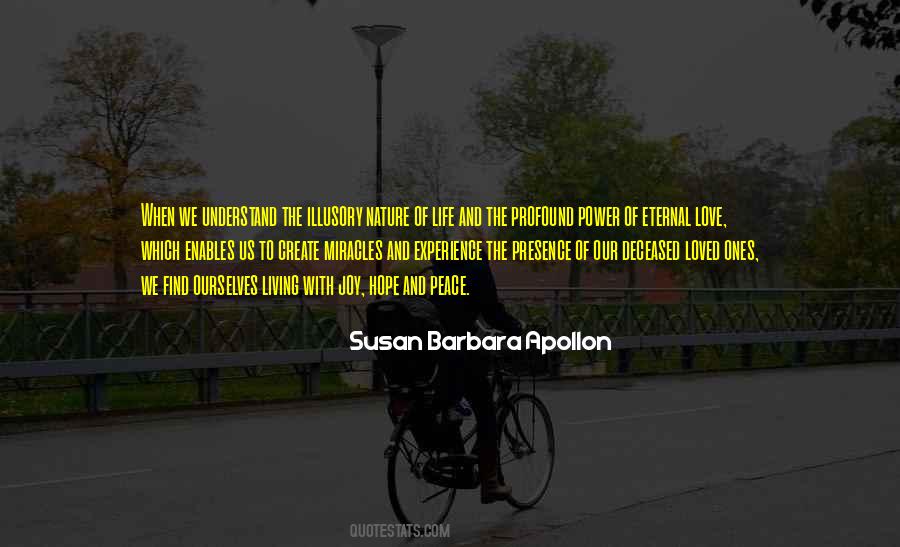 #74. Today the real test of America's power and wisdom is not our capacity to make war but our capacity to prevent it. Prevention must be our overriding objective. It can be done. Surrendering to the inevitability of combat only paves the way for its occurring. - Author: Dale E. Turner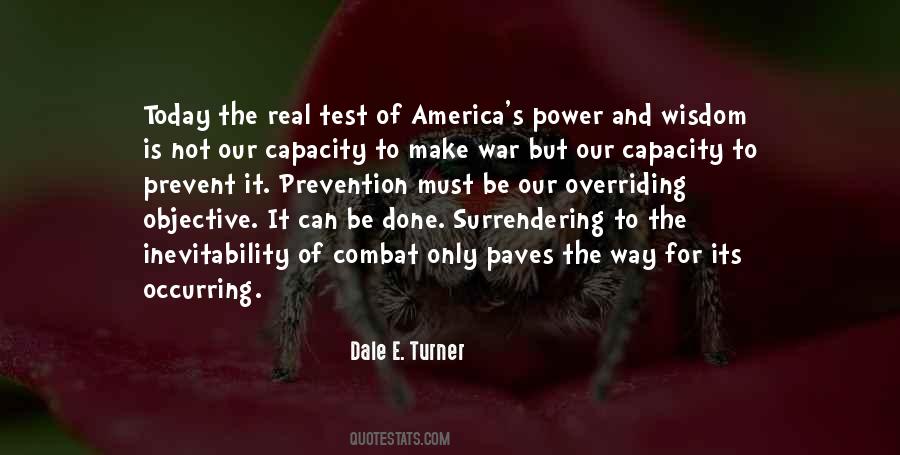 #75. In this distribution of powers the wisdom of our constitution is manifested. It is the province and duty of the Executive to preserve to the Nation the blessings of peace. The Legislature alone can interrupt those blessings, by placing the Nation in a state of War. - Author: Alexander Hamilton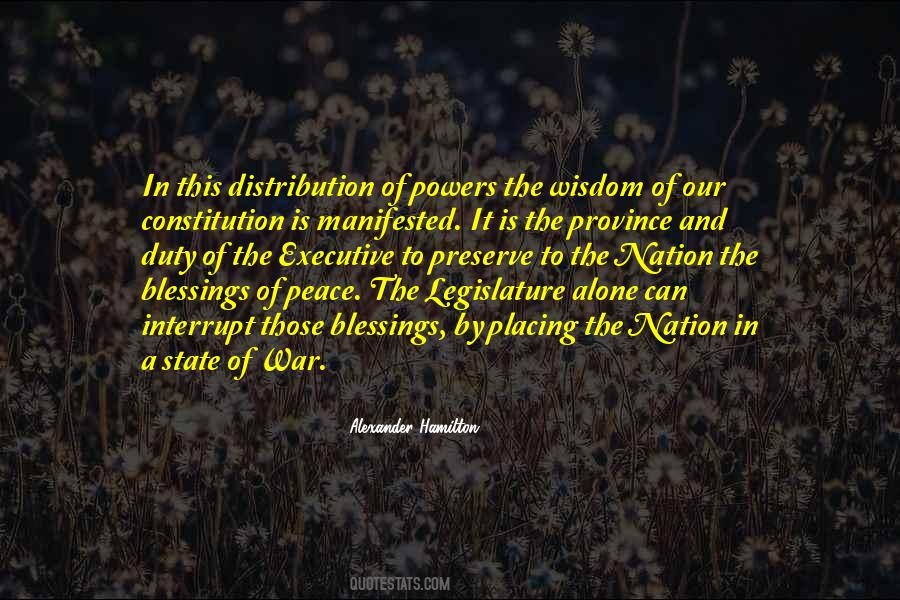 #76. You have much more power when you are working for the right thing than when you are working against the wrong thing. And, of course, if the right thing is established wrong things will fade away of their own accord. - Author: Peace Pilgrim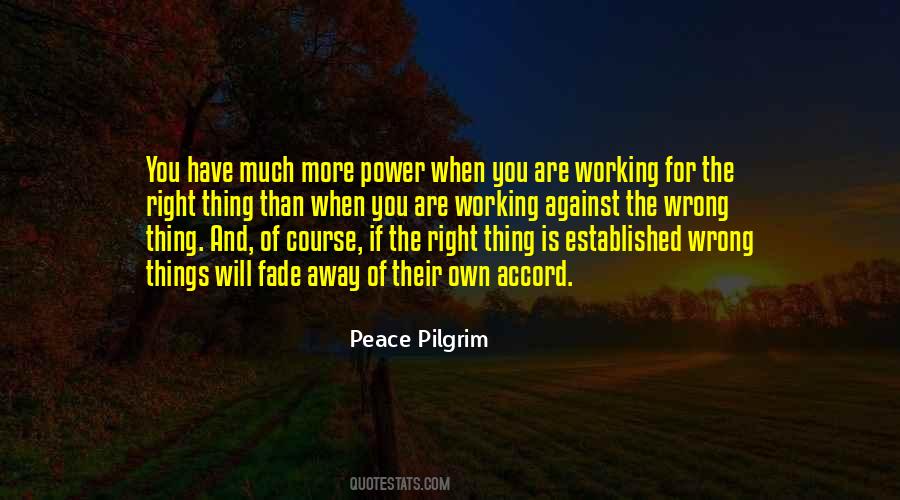 #77. Meditation is not thinking about the image of a person of the past. It is more about focusing and channelizing the power of your emotions and imagination for fulfilling a bigger dream - the dream that will bring more life, energy peace, happiness and meaning to you and the society. - Author: Amit Ray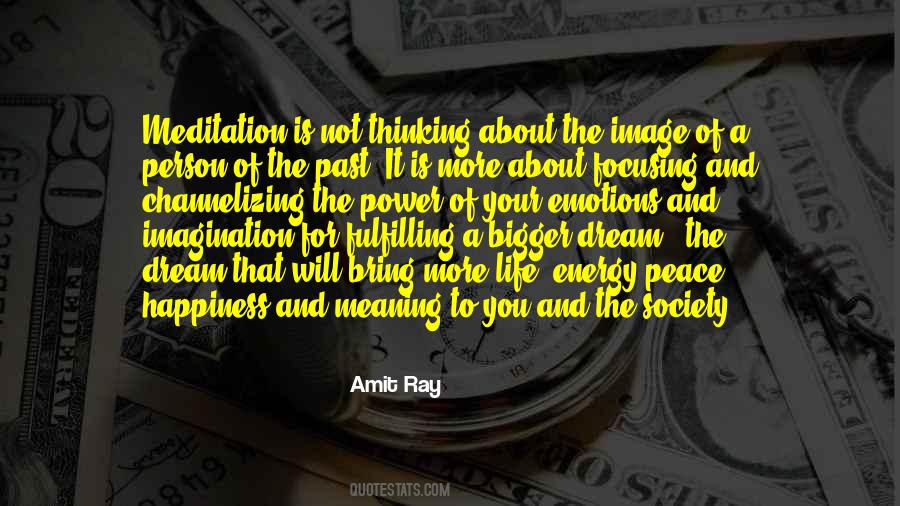 #78. Peace and friendship are an amiable thing among men. They be so indeed, and we ought to seek them to the uttermost of our power. But yet for all that, we must set such store by God's truth, that if all the world should be set on fire for the maintenance thereof, we should not stick at it. - Author: John Calvin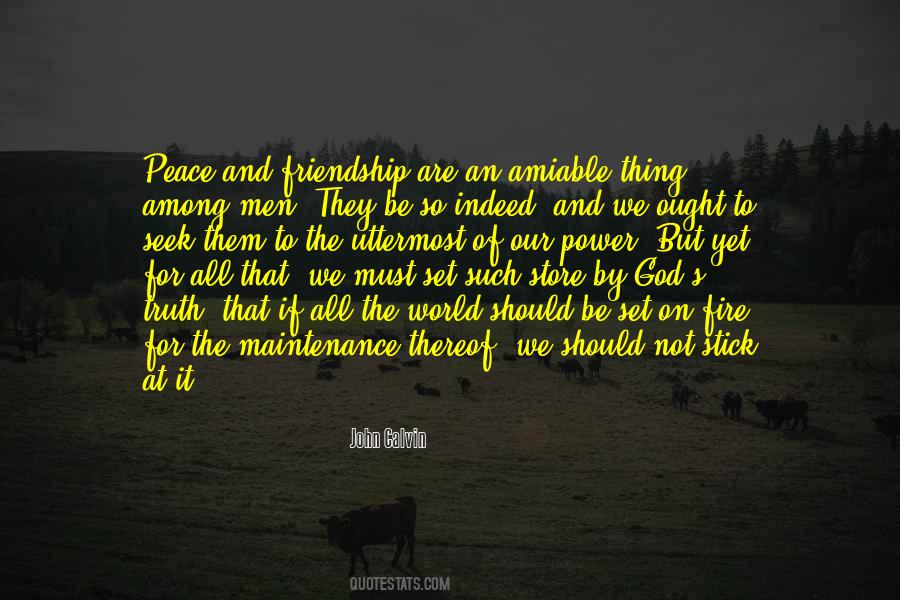 #79. The Westphalian peace reflected a practical accommodation to reality, not a unique moral insight. It relied on a system of independent states refraining from interference in each other's domestic affairs and checking each other's ambitions through a general equilibrium of power. - Author: Henry Kissinger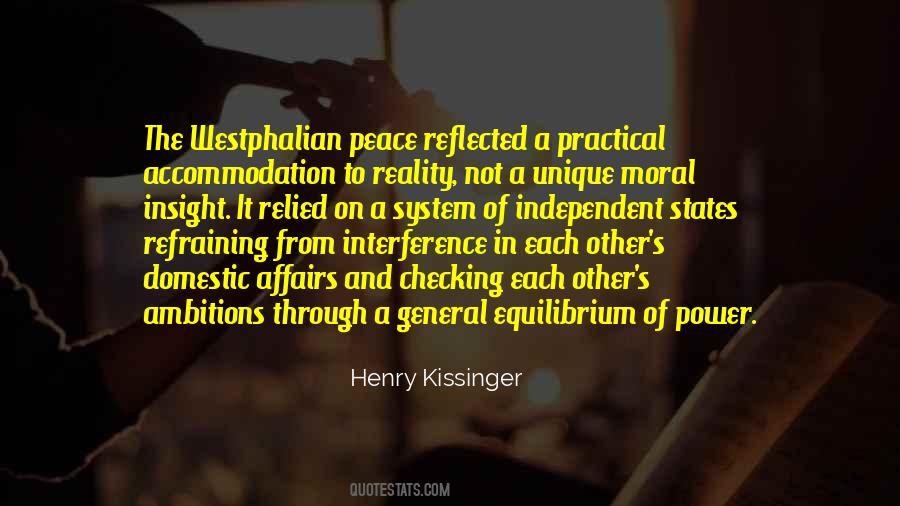 #80. Truth is Evidence of Love. And, Nothing Can Stop the Power of Trusting and Loving Unconditionally. - Author: Amaka Imani Nkosazana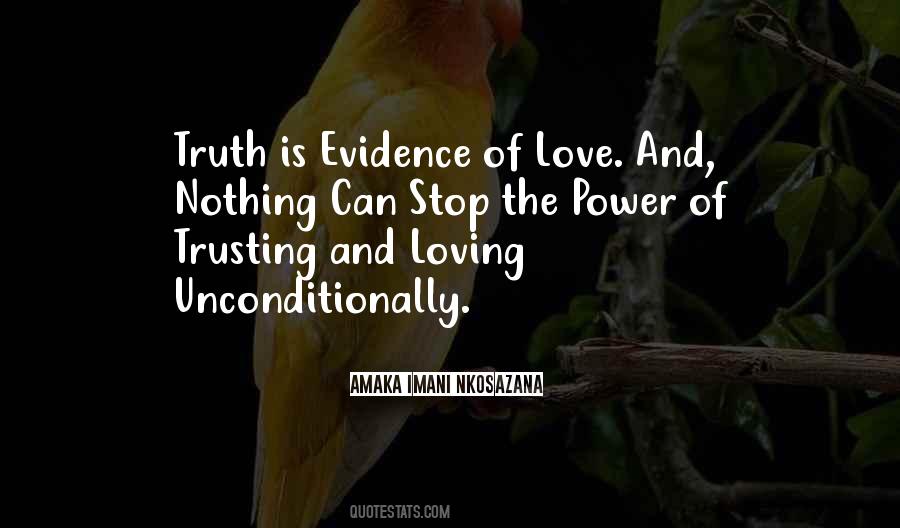 #81. Admitting the weighty problems and staggering disappointments, Christianity affirms that God is able to give us the power to meet them. He is able to give us inner equilibrium to stand tall amid the trials and burdens of life. He is able to provide inner peace amid our outer storms. - Author: Martin Luther King Jr.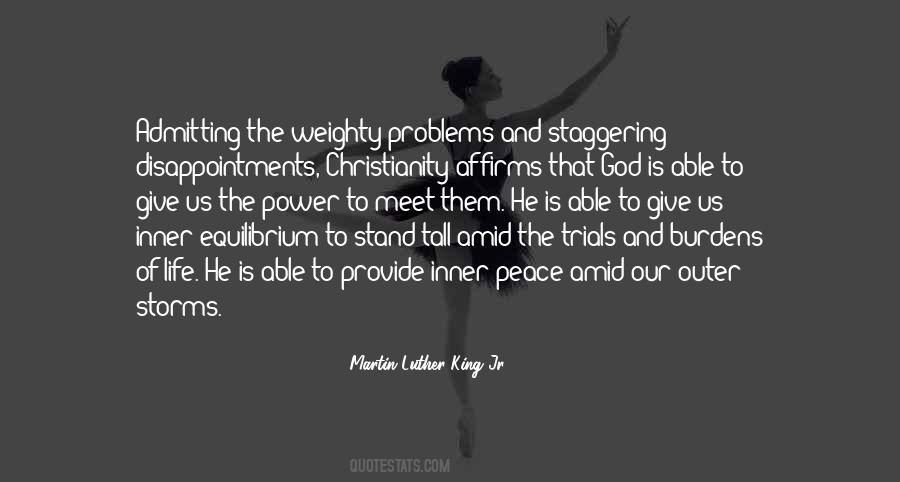 #82. When Numa died, Rome by the twin disciplines of peace and war was as eminent for self-mastery as for military power. - Author: Livy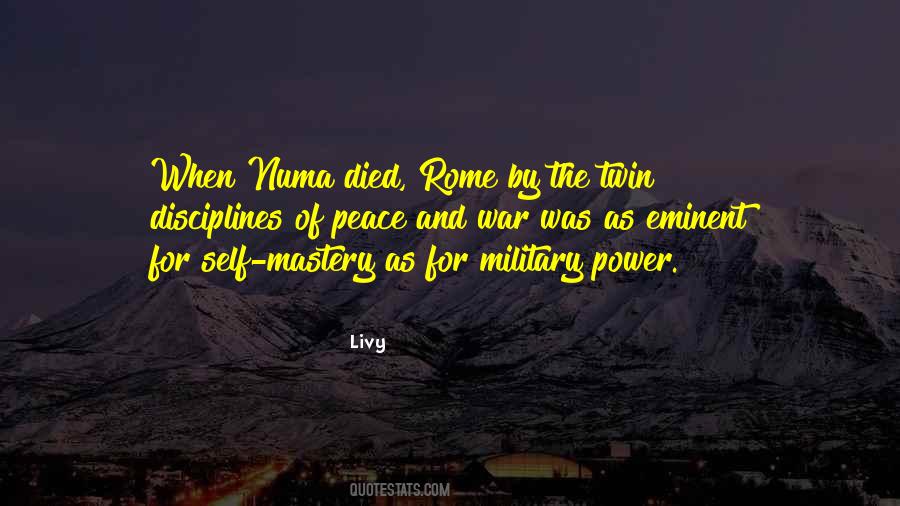 #83. It is because I believe that it is in the power of such nations to lead the world back into the paths of peace that I propose to devote myself to explaining what, in my opinion, can and should be done to banish the fear of war that hangs so heavily over the world. - Author: Arthur Henderson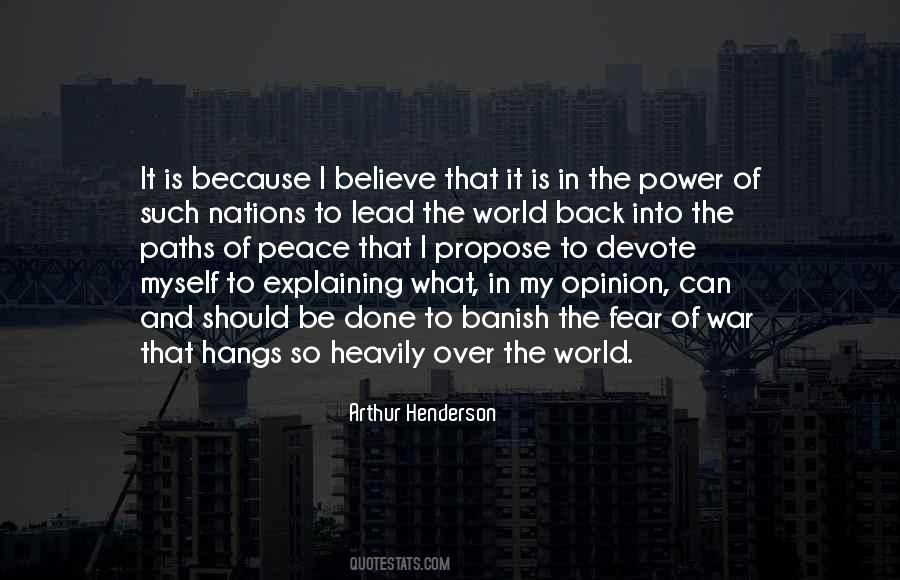 #84. It is only through an abandonment of the idea that those entrusted with power have an exclusive right to decide upon war, and the substitution of a public opinion equipped with all the facts and taken into the confidence of the ruling classes, that peace can be assured to the world. - Author: Frederic C. Howe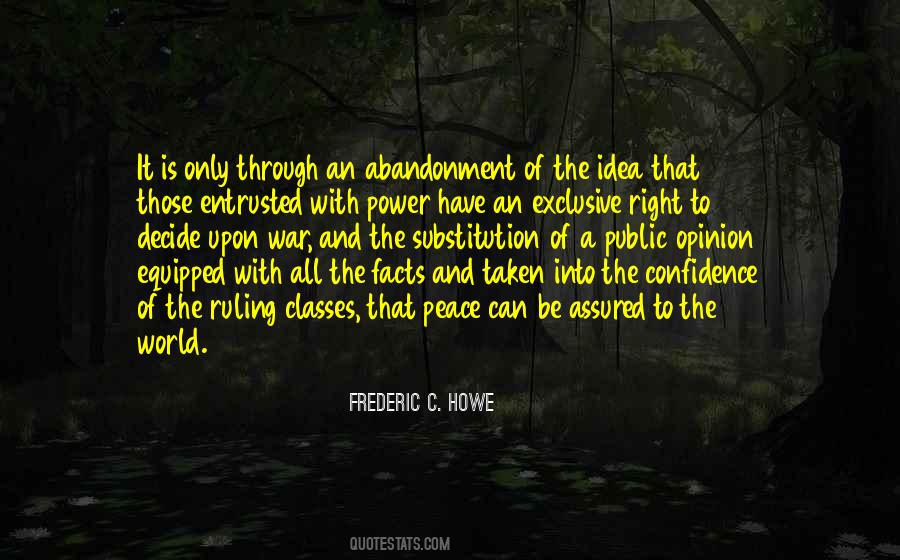 #85. Peace with God and the peace of God in a man's heart and the joy of fellowship with Christ have in themselves a beneficial effect upon the body and mind and will lead to the development and preservation of physical and mental power. - Author: Billy Graham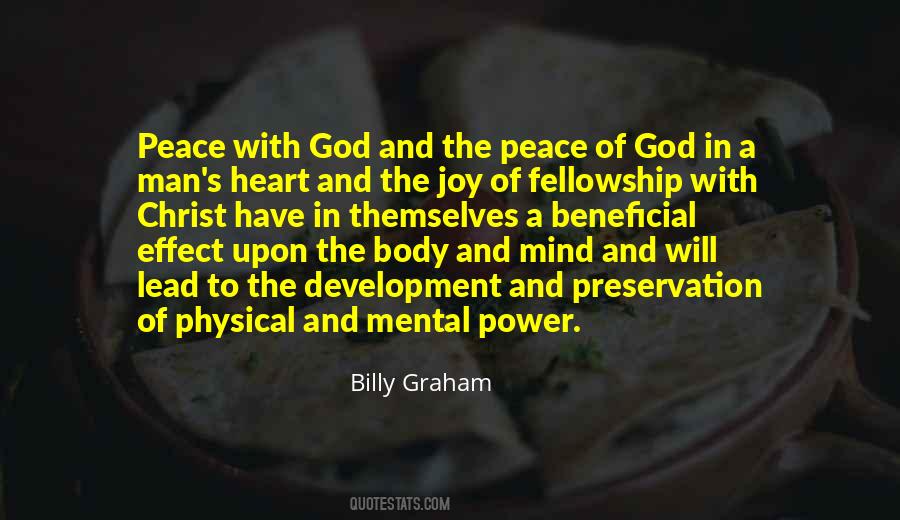 #86. We have been warned by the power of modern weapons, that peace may be the only climate possible for human life itself ... There must be law, steadily invoked and respected by all nations, for without law, the world promises only such meager justice as the pity of the strong upon the weak. - Author: Dwight D. Eisenhower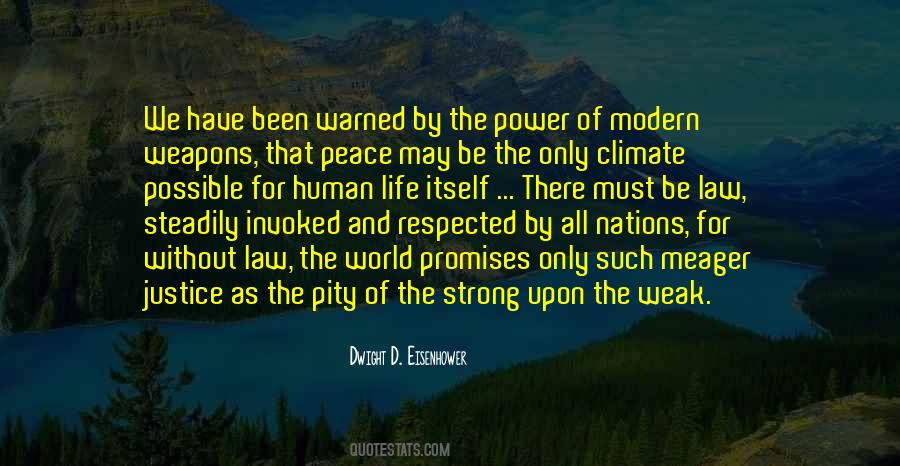 #87. I equate freedom and peace. And I believe America, given its position in the world, must use our power to promote freedom. - Author: George W. Bush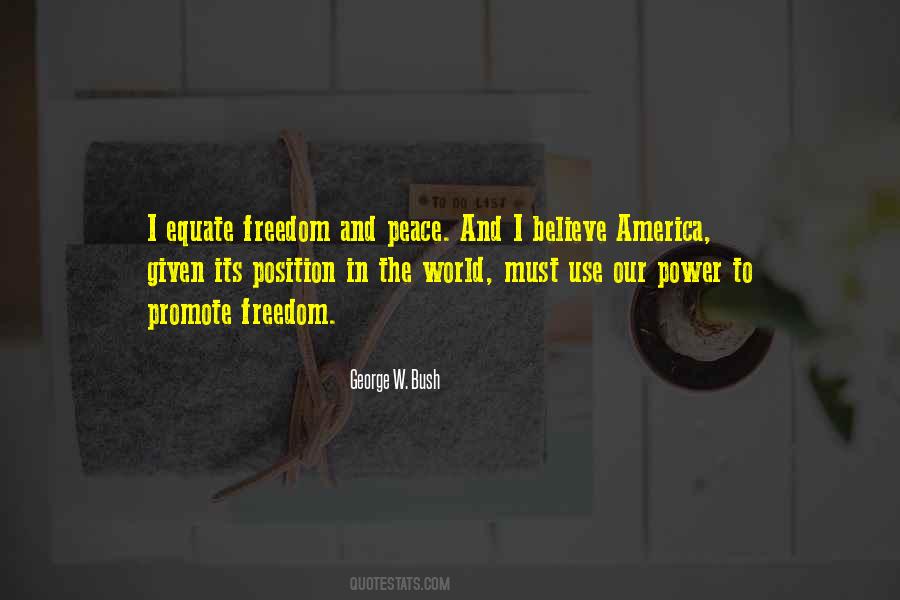 #88. Aviation is going to control the world economically and militarily whether we like it or not. Airpower is not merely military aviation, it is also civilian aviation and airpower is peace power. - Author: Roscoe Turner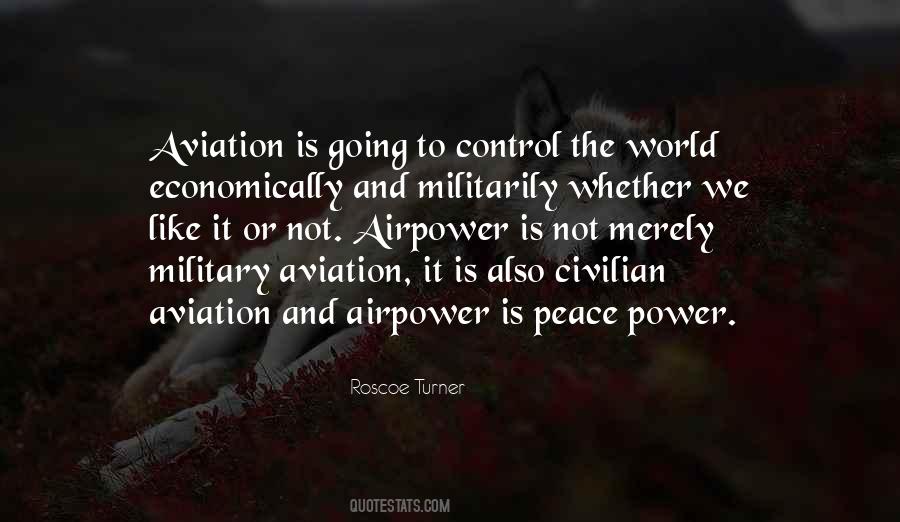 #89. You have it in your power greatly to promote my happiness by your good conduct, and greatly to destroy my comfort and peace by ill conduct. - Author: Salmon P. Chase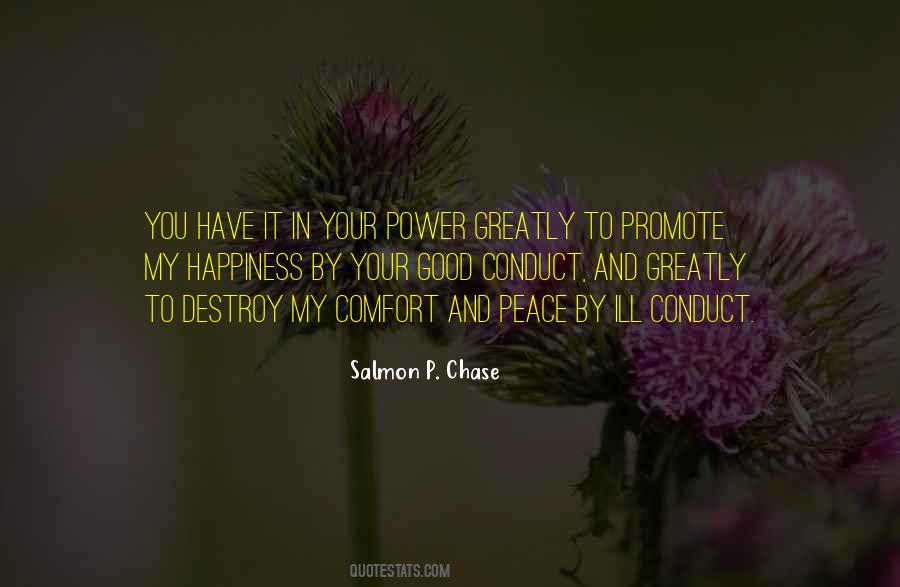 #90. Now, and ever, I shall do all in my power for peace, consistently with the maintenance of government. - Author: Abraham Lincoln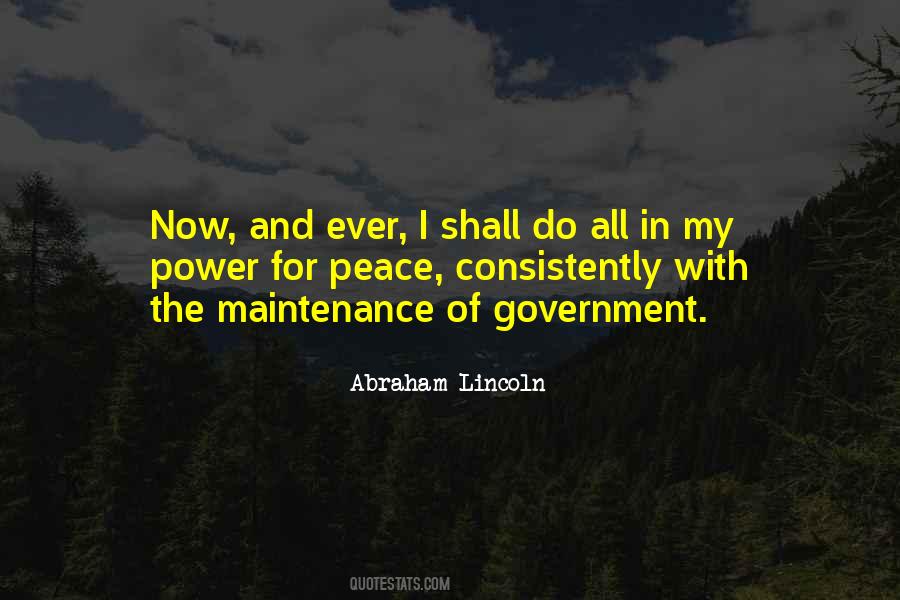 #91. The central premise behind Oslo was that if Arafat were given enough legitimacy, territory, weapons and money, he would use his power to fight terror and make peace with Israel. - Author: Natan Sharansky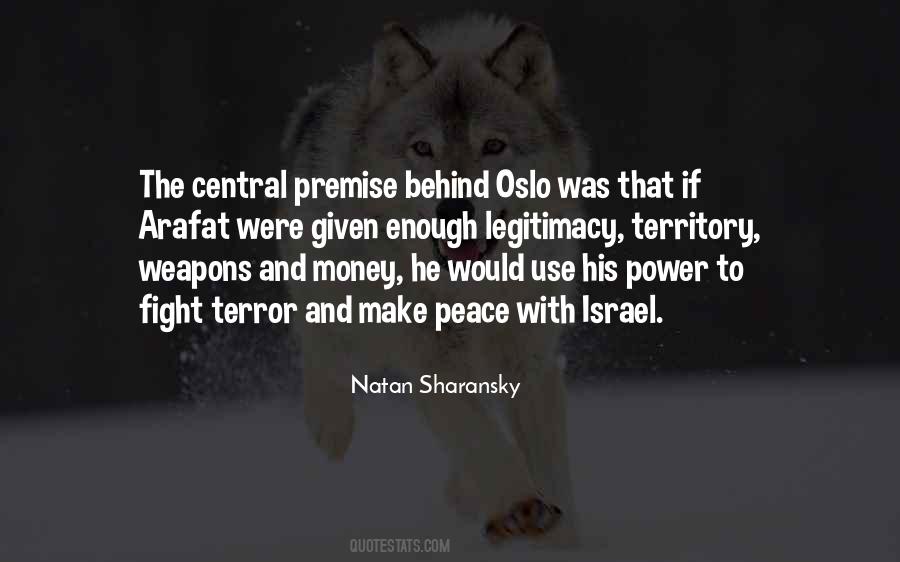 #92. A higher power does exist. The forces of day-to-day reality seem to take hold and become the truth for you, yet truth is not seen with the eyes or heard with the ears. It is felt as the peace in your heart and professes itself with health and well being. - Author: Shaman Elizabeth Herrera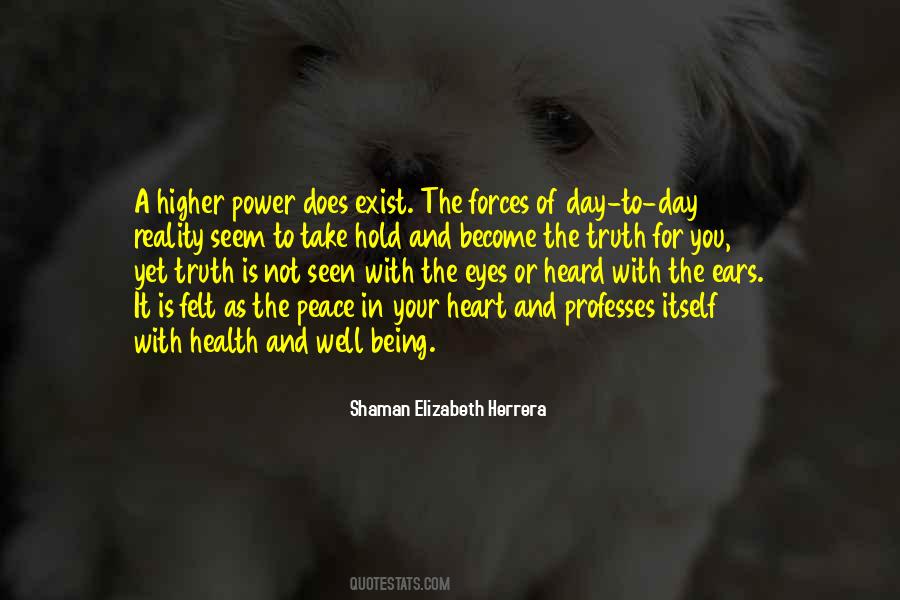 #93. I do believe in the power of freedom. The power of freedom is the mightiest force of history. Once that power unleashes, it ultimately leads to peace and prosperity. - Author: Tsakhiagiin Elbegdorj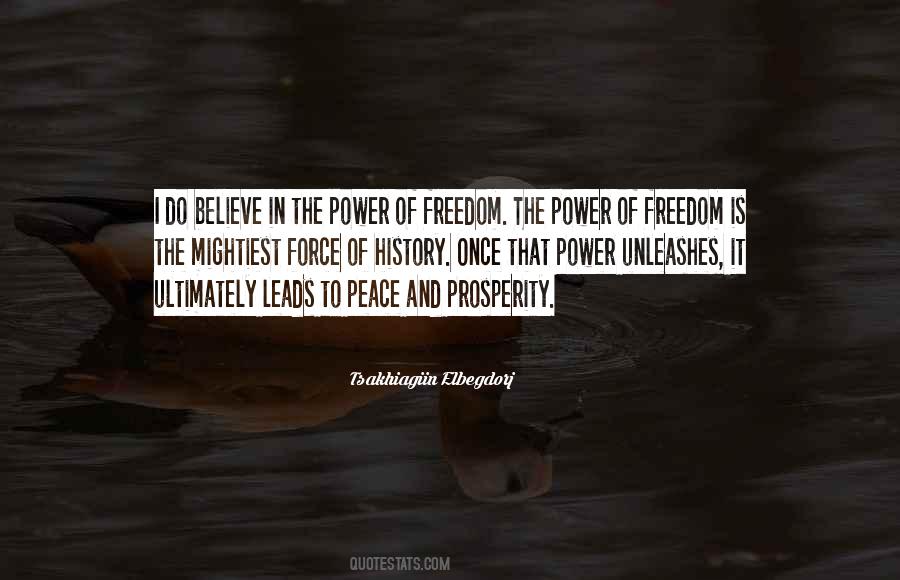 #94. The White House isn't the place to learn how to deal with international crisis, the balance of power, war and peace, and the economic future of the next generation. - Author: Joe Biden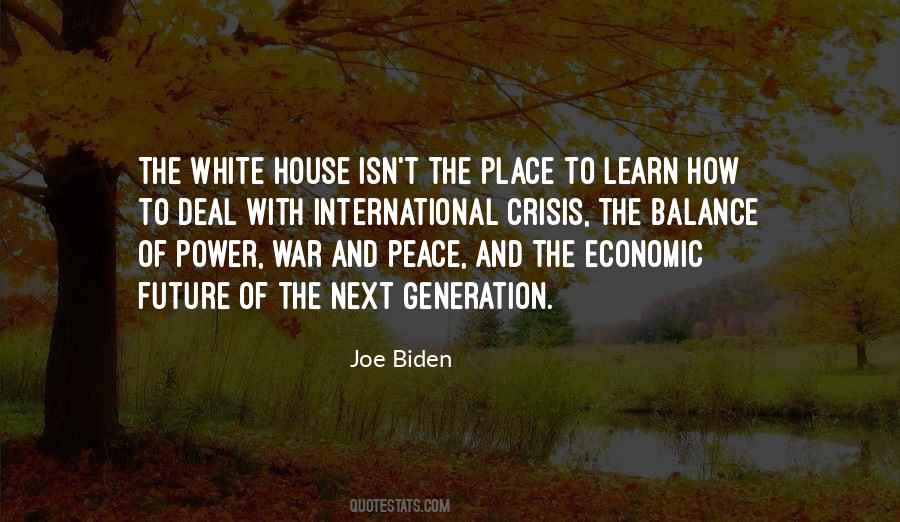 #95. Let us ask Mary to help us respond to violence, to conflict and to war, with the power of dialogue, reconciliation and love. She is our mother: may she help us to find peace; all of us are her children! - Author: Pope Francis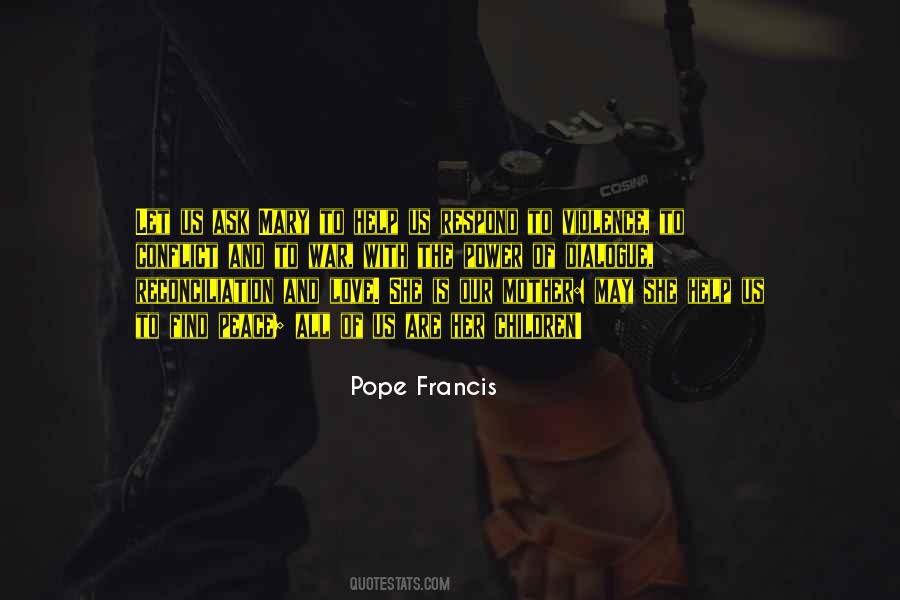 #96. 13I pray that the God who gives hope will fill you with much joy and peace while you trust in him. Then your hope will overflow by the power of the Holy Spirit. - Author: Max Lucado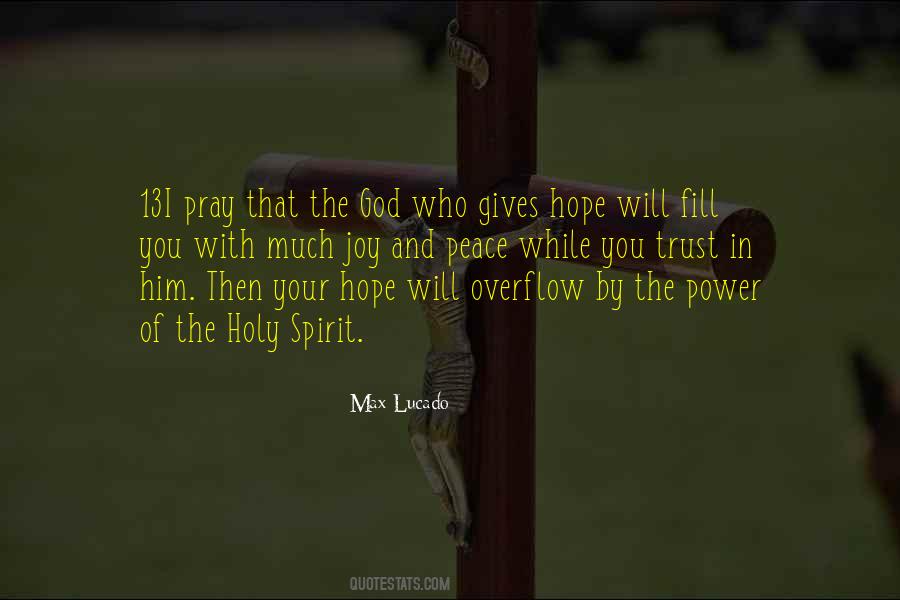 #97. 13Now may the God of hope fill you with all joy and peace in believing, so that you will abound in hope by the power of the Holy Spirit. - Author: Anonymous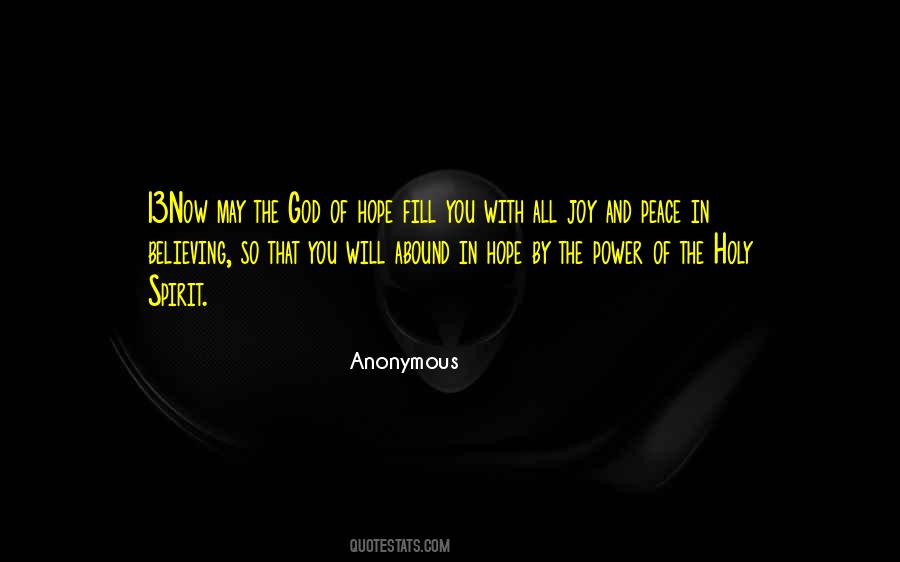 #98. In peace there is profundity from which the highest respect arises from respect comes power and command therefore observe peace. - Author: Akkineni Nagarjuna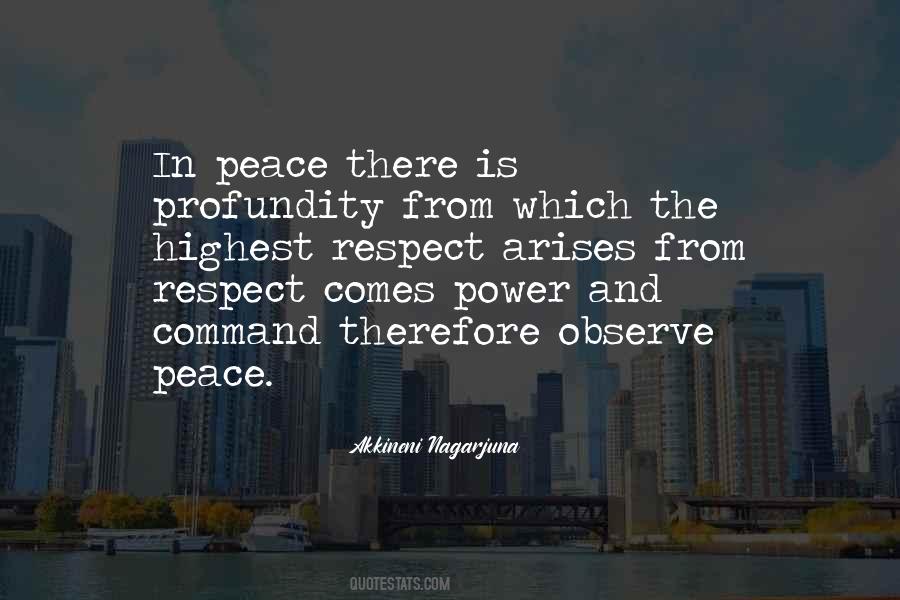 #99. The spirit of Christmas is a sweet, internal peace that testifies of the power of kindness and charity. - Author: Richelle E. Goodrich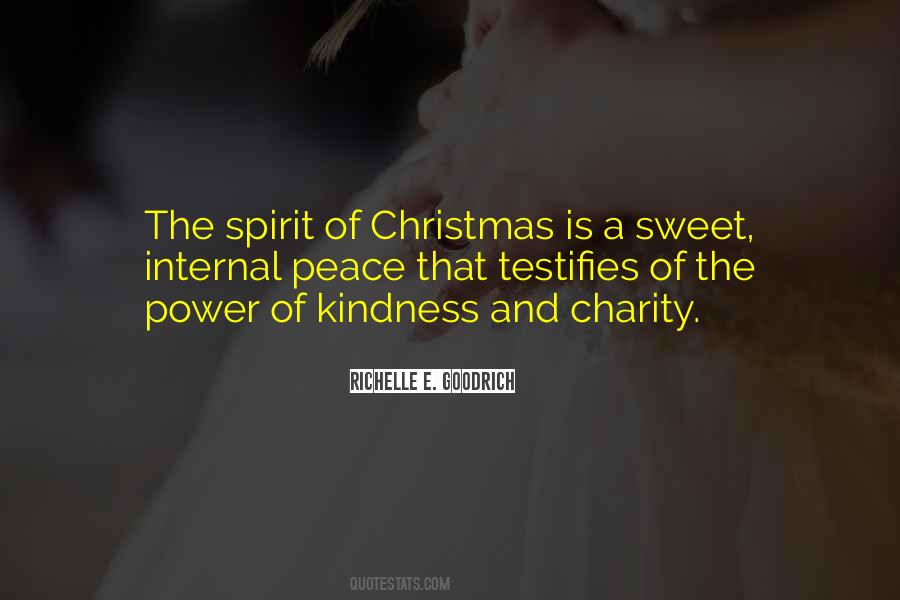 #100. May the God of hope fill you with all joy and peace as you trust in him, so that you may overflow with hope by the power of the Holy Spirit. - Author: Anonymous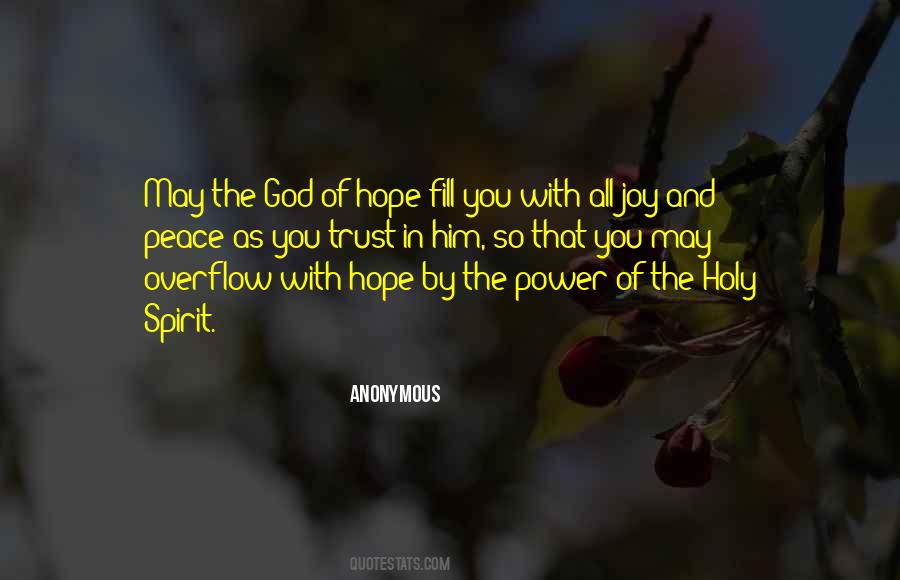 Famous Authors
Popular Topics