Political Beliefs Famous Quotes & Sayings
List of top 67 famous quotes and sayings about political beliefs to read and share with friends on your Facebook, Twitter, blogs.
Top 67 Quotes About Political Beliefs
#1. America's political landscape is infested with many zombie ideas - beliefs about policy that have been repeatedly refuted with evidence and analysis but refuse to die. The most prominent zombie is the insistence that low taxes on rich people are the key to prosperity. - Author: Paul Krugman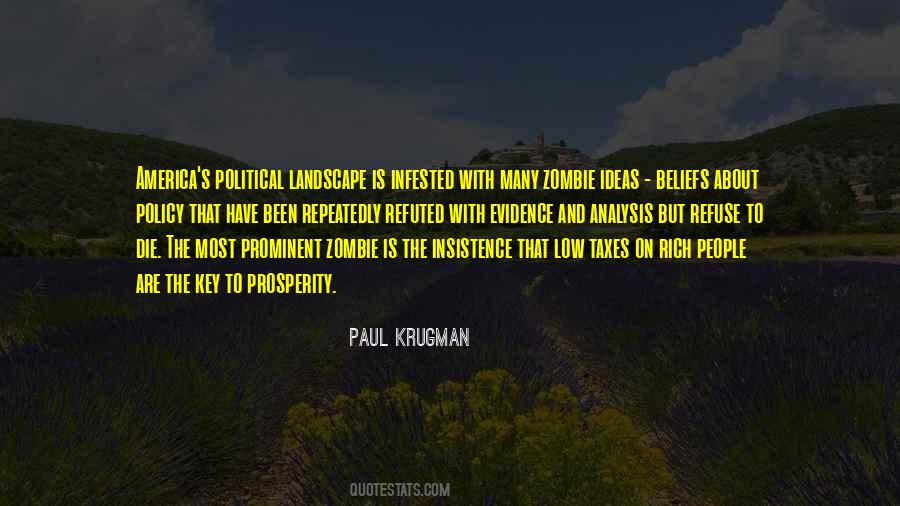 #2. These ministries have merged pseudo-science with religious beliefs to create, in effect, a new religion, ... Eventually they will collapse under the weight of their deceit. But as long as they survive we will have trouble winning any political battles. - Author: Wayne Besen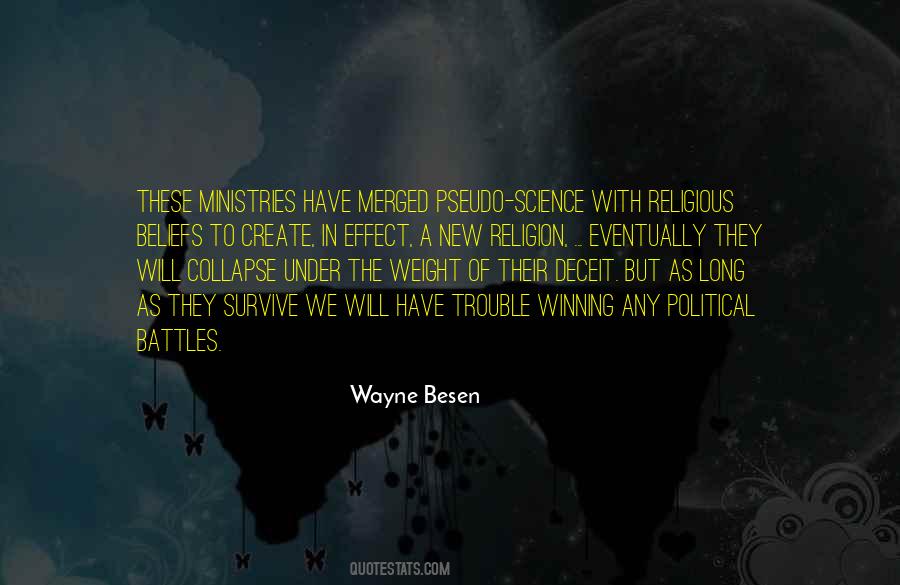 #3. It's hard to reconcile my personal beliefs with an entire institution like the Church or the Republicans. Or with people within those political persuasions who have such different ideologies but confess the same things I confess spiritually. - Author: Sufjan Stevens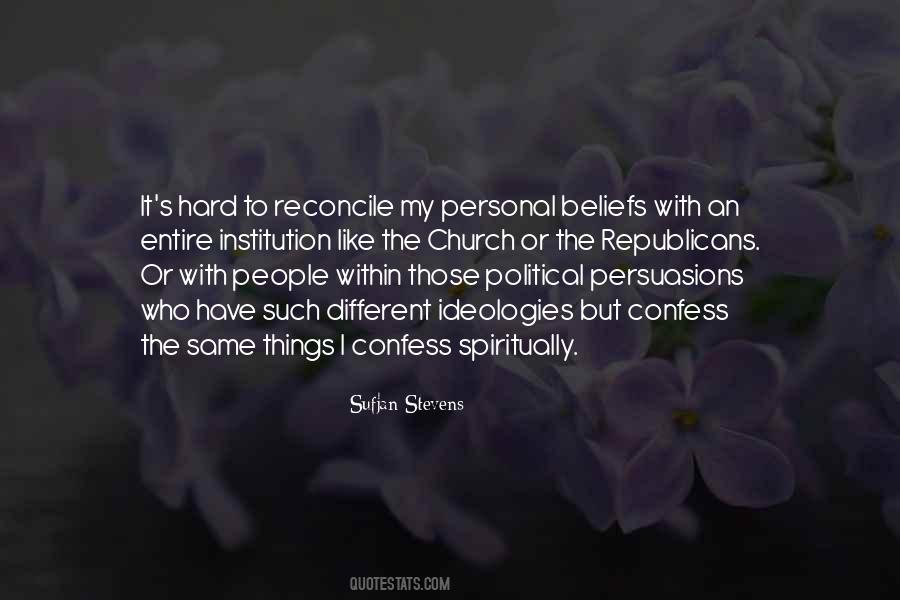 #4. In times when religious or political faith or hope predominates, the writer functions totally in unison with society, and expresses society's feelings, beliefs, and hopes in perfect harmony. - Author: Juan Goytisolo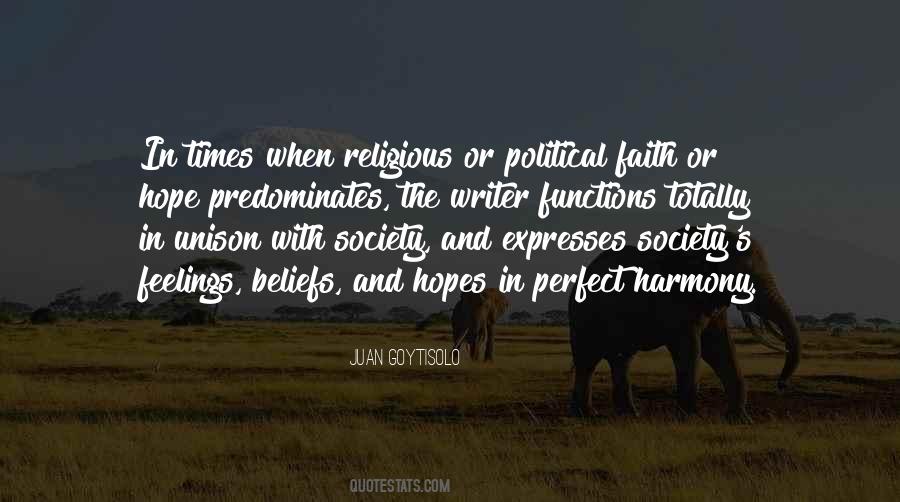 #5. Sociotropic voters with biased economic beliefs are more likely to produce severe political failures than are selfish voters with rational expectations. - Author: Bryan Caplan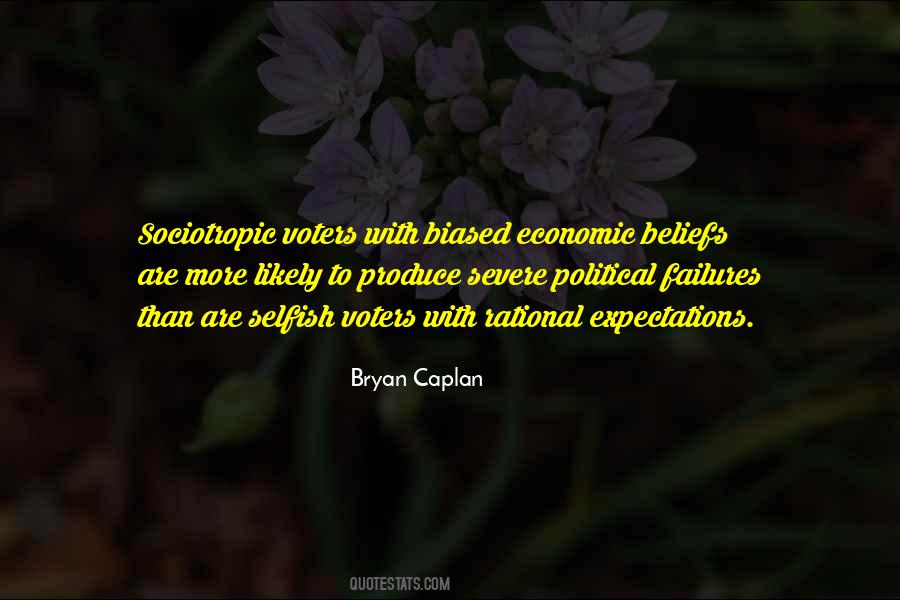 #6. Generally speaking, beliefs arise from an event or character that may or may not be authentic, and rapidly evolve into social movements that are conditioned and shaped by the political, economic and societal circumstances of the group that accepts them. - Author: Carlos Ruiz Zafon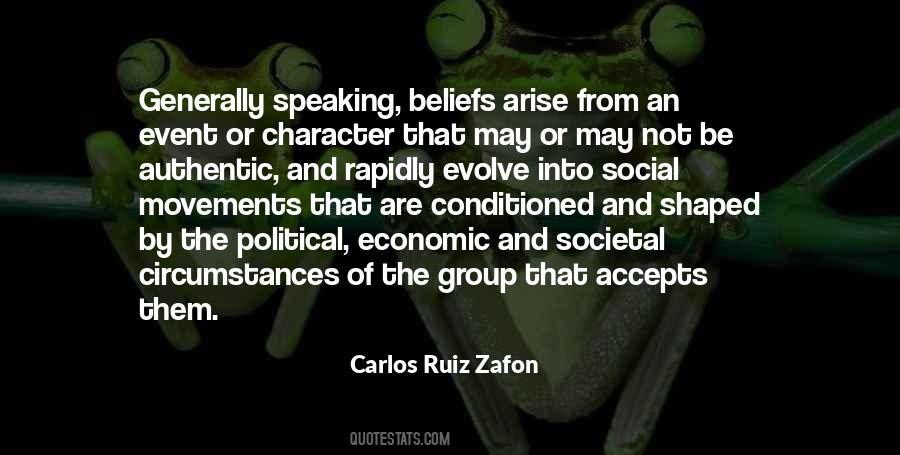 #7. Hundreds of poor laboring men and women are being thrown into jails and police stations because of their political beliefs. In fact, an attempt is being made to deport an entire political party. - Author: Jane Addams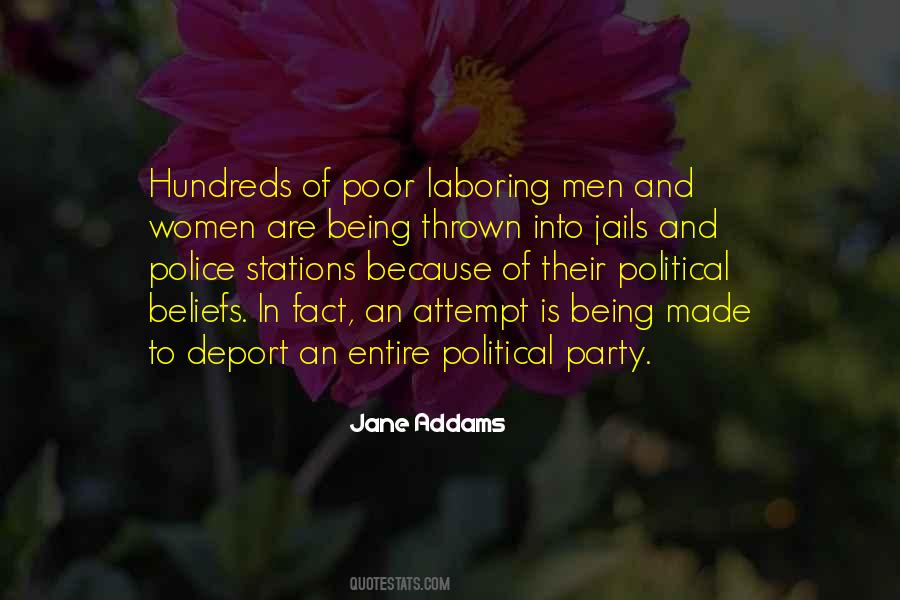 #8. The Soviet assumption that all other political life-forms and beliefs were inherently and immutably hostile was the simple and central cause of that Cold War. - Author: Robert Conquest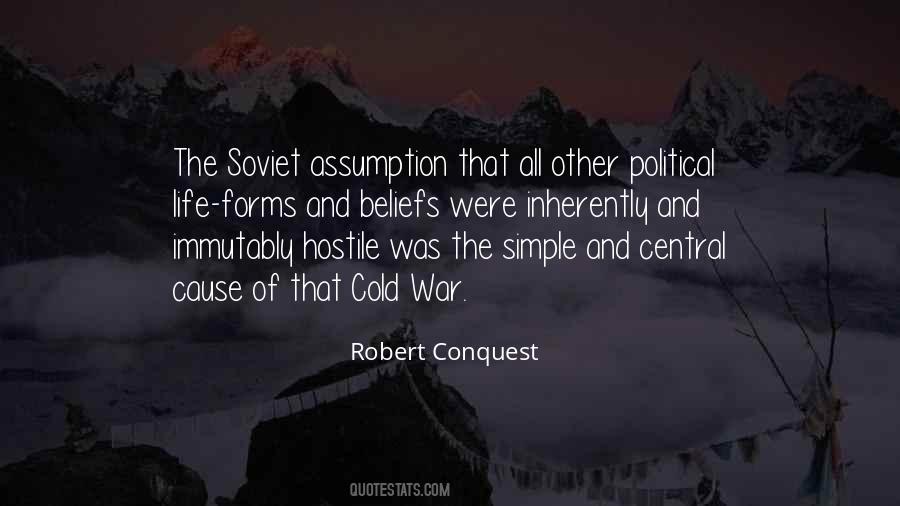 #9. I am not going to answer any questions as to my association, my philosophical or religious beliefs or my political beliefs, or how I voted in any election, or any of these private affairs. - Author: Pete Seeger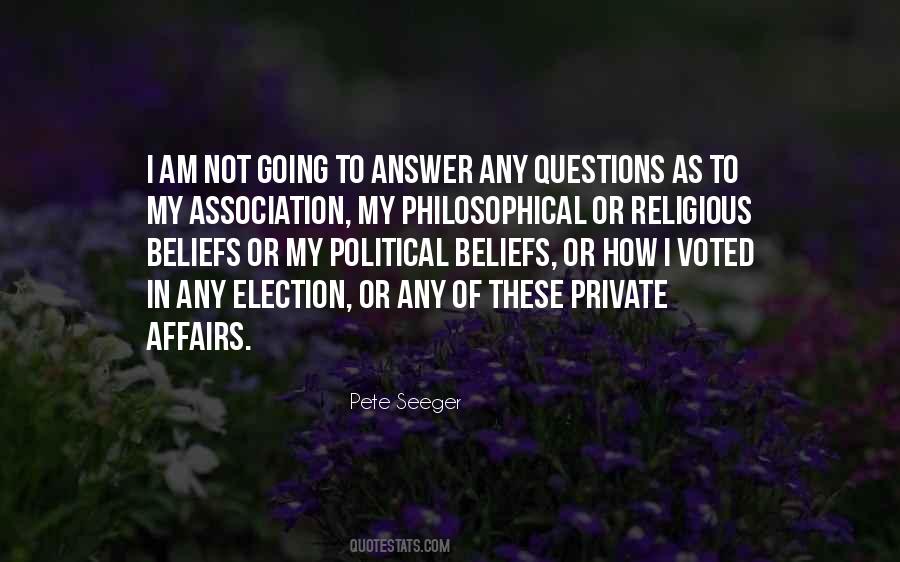 #10. One sees a trend in our political and legal cultures toward treating religious beliefs as arbitrary and unimportant, a trend supported by a rhetoric that implies that there is something wrong with religious devotion. - Author: Stephen L. Carter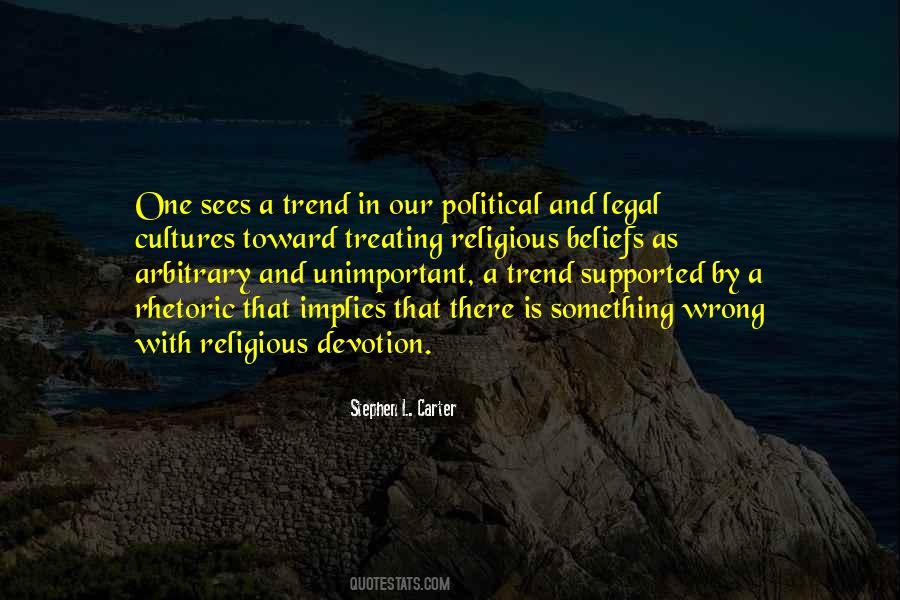 #11. In the world of pop stardom, what is mistaken for rebellion? A mediocre artist who spouts political beliefs that most freshmen in high school could have come up with after huffing Glade. - Author: Greg Gutfeld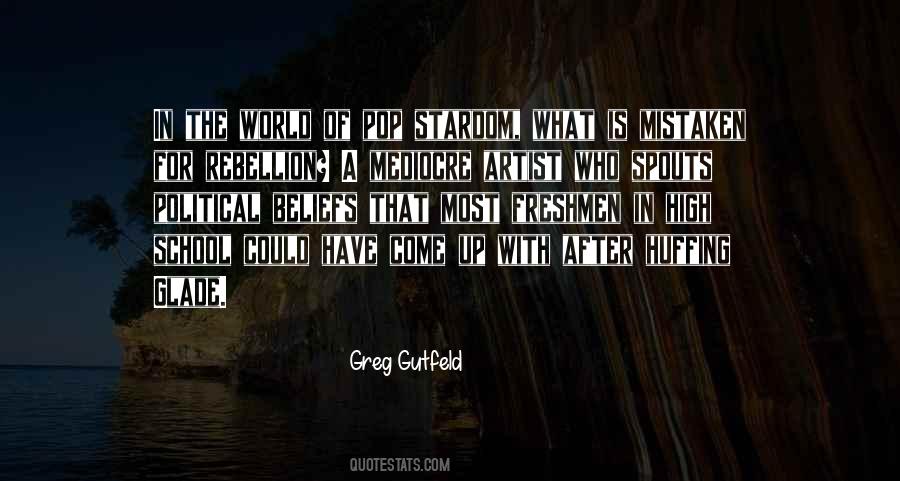 #12. I'm interested in telling the character's story, not my beliefs, political or otherwise. - Author: Sarah Paulson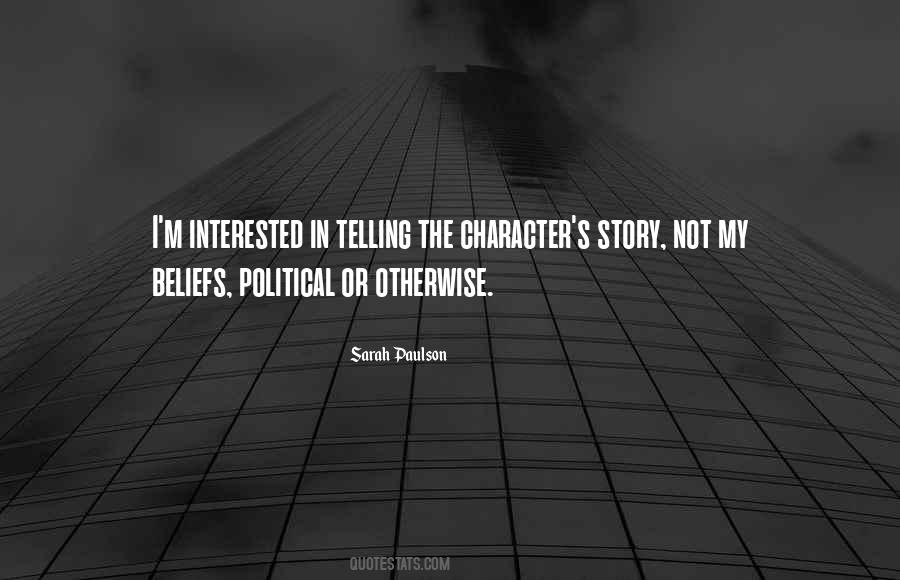 #13. The notion of a rigid separation between church and state has no basis in either the text of the Constitution or the writings of our Founding Fathers. On the contrary, our Founders' political views were strongly informed by their religious beliefs. - Author: Ron Paul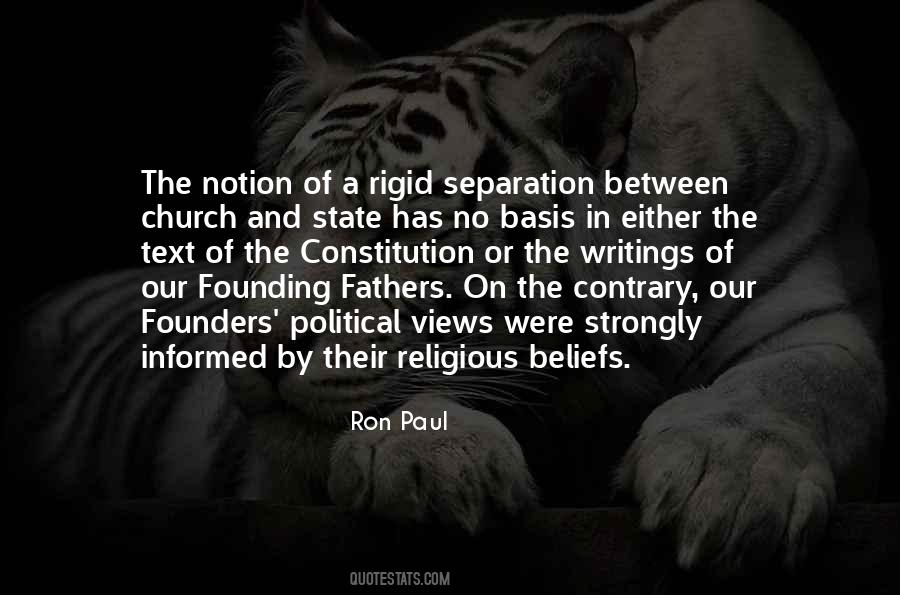 #14. We need to seek wise leaders who will seek common ground among Americans instead of dividing us further for political gain. As citizens, we must embrace those who embrace ideas, thoughtfulness, civility and kindness to others no matter what their political beliefs. - Author: James McGreevey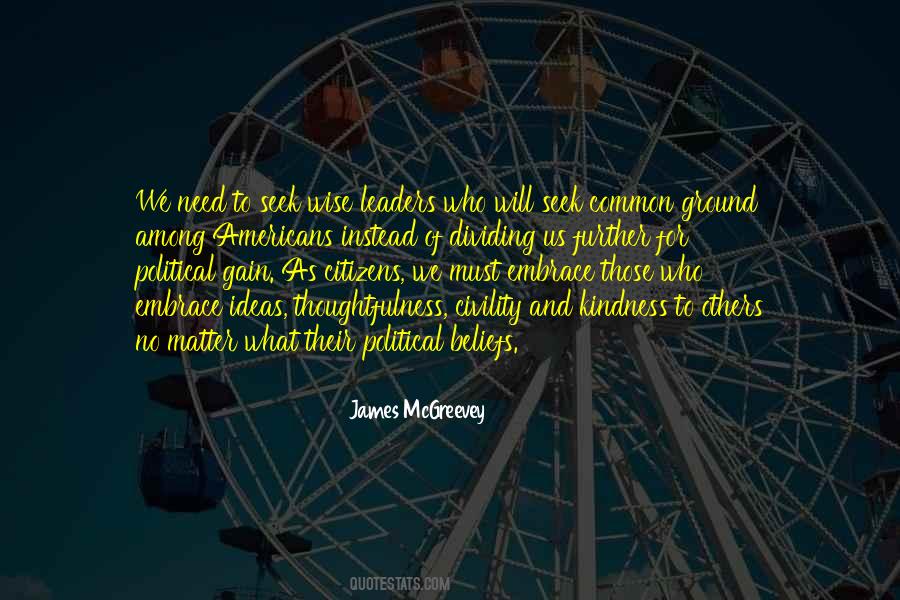 #15. It's important to ask candidates about their beliefs, in part because politicians frequently exploit religious faith - often with the idea that voters will be more likely to unthinkingly accept certain political positions so long as they arise from religious belief. - Author: Gary Bauer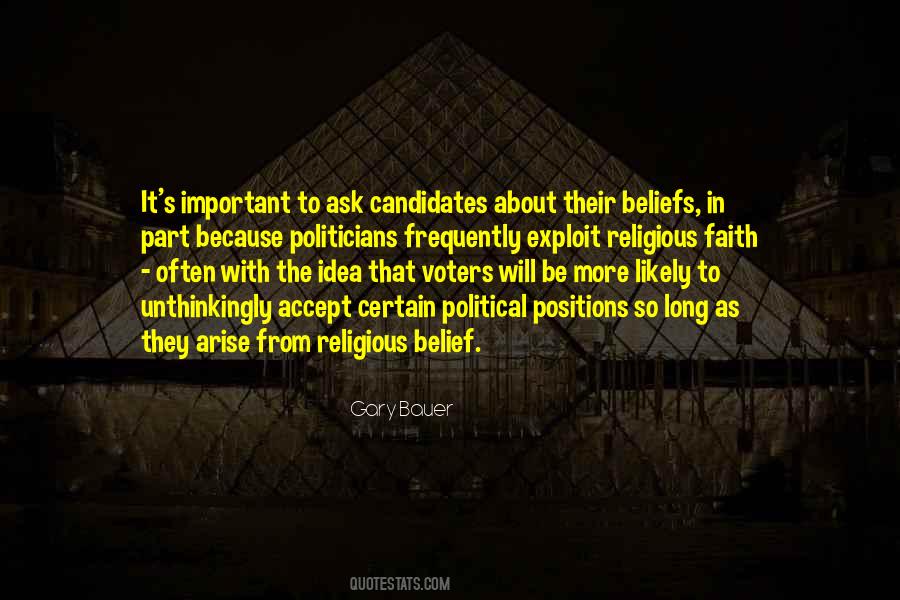 #16. Of one thing we can be certain: every person we see - no matter the race, religion, political beliefs, body type, or appearance - is family. - Author: Dieter F. Uchtdorf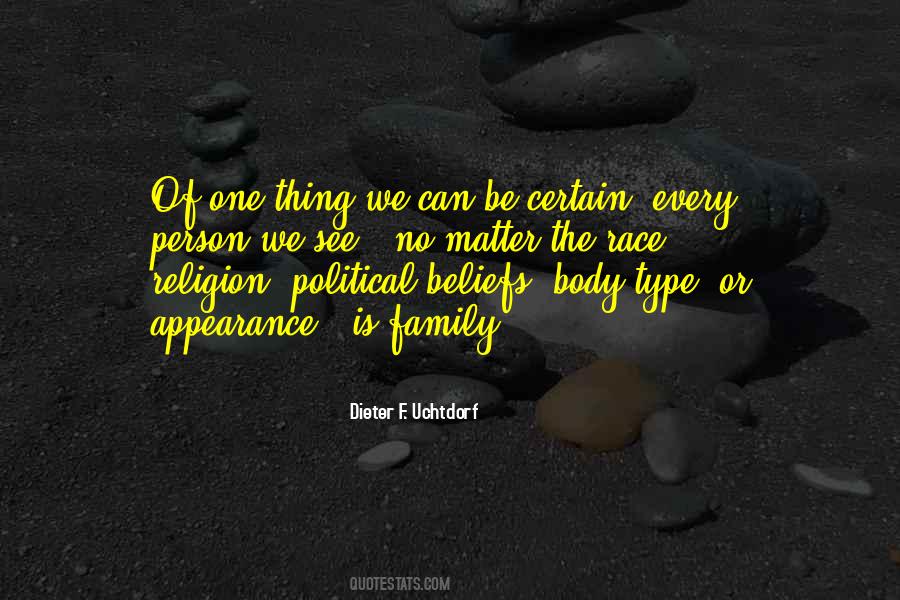 #17. To me, this is from a Buddhist perspective or whatever, sometimes people who are working out their political beliefs, they can rage against the man, and yet at the same time can be oblivious to their own way of stepping on the foot of the person right next to them. - Author: Mike White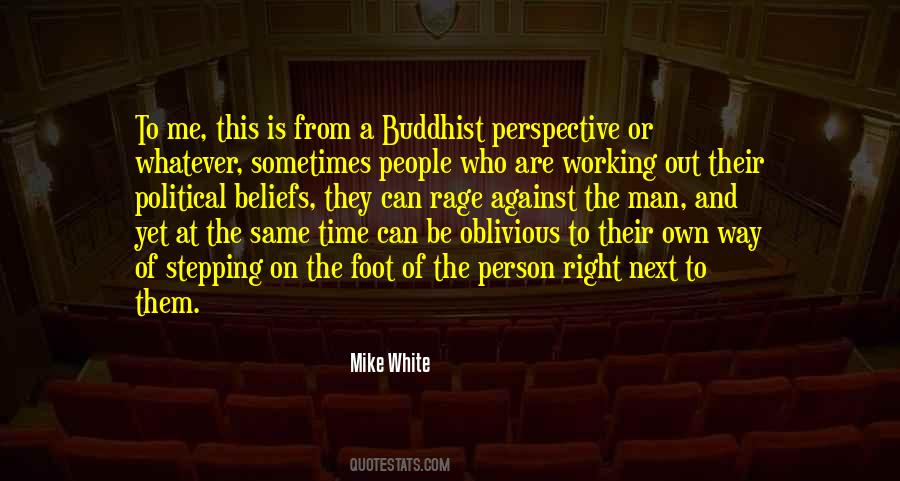 #18. Laws have to be backed up with resources and political will. And deep-seated cultural codes, religious beliefs and structural biases have to be changed. - Author: Hillary Clinton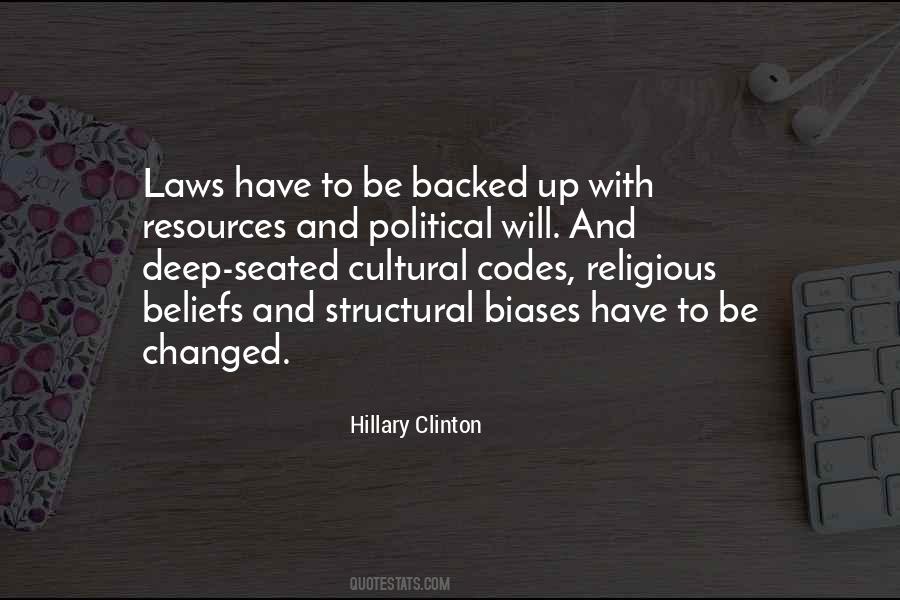 #19. Socrates was famously executed for his philosophical and political beliefs. I wondered what would happen if you had a similar character, who was so relentlessly questioning of everything? In a modern society, would we be any more or any less tolerant of that kind of character? - Author: Samantha Harvey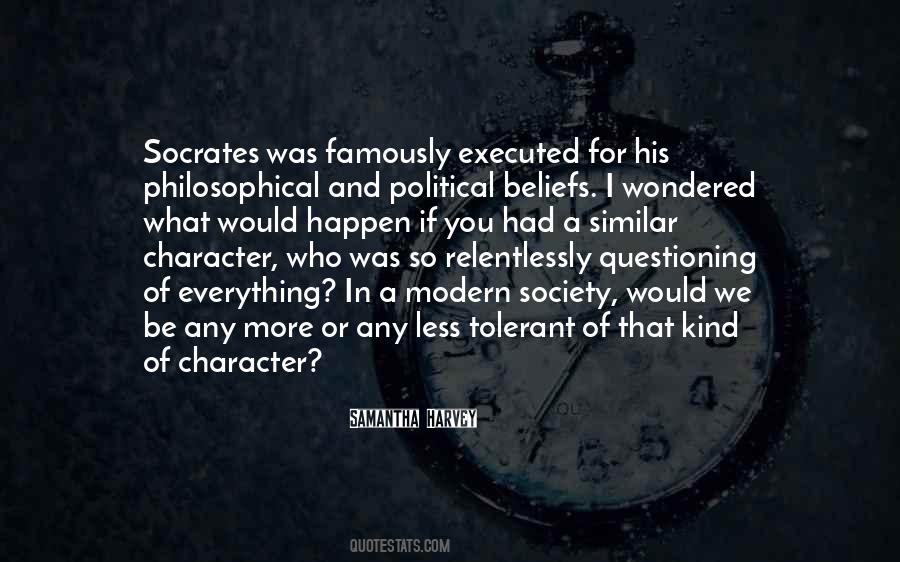 #20. Americans should not have to wonder if their government is actively looking to subvert them or their political views. We live in a nation where respect for differing beliefs and a vibrant political discourse play an important role in shaping our government. - Author: Mike Turner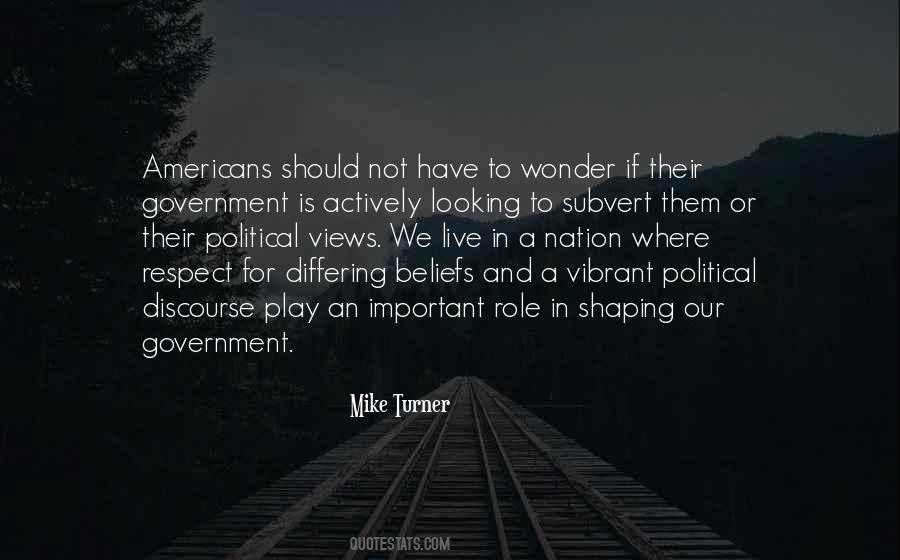 #21. I'm not a fan of everything that our ancestors did. But some practices are worth reviving. One of them is looking upon marriage as a sacred partnership between two souls; not as a political alliance between two power centres. - Author: Amish Tripathi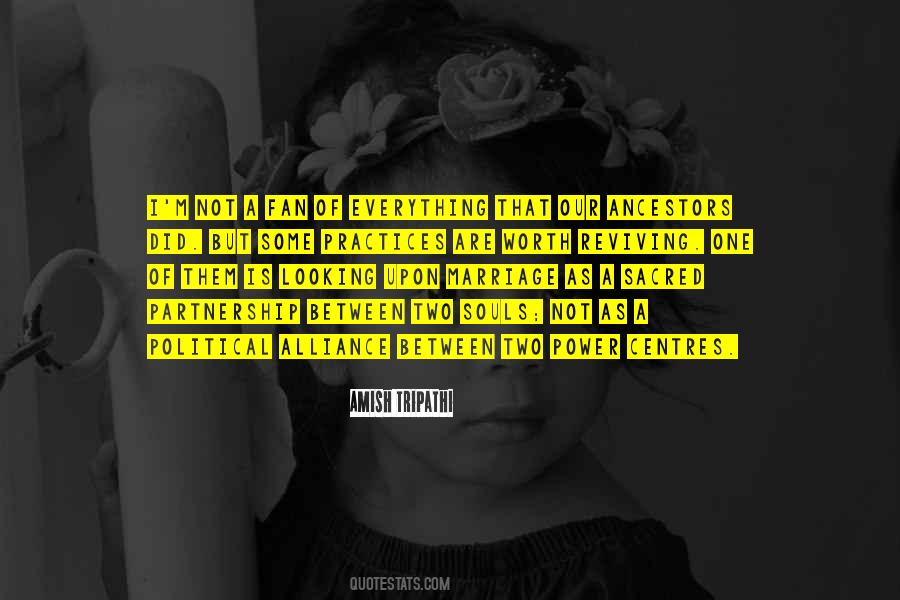 #22. Men have sacrificed so much for their beliefs. Country. Kings. Queens. Political systems. God. Love . It doesn't seem very noble to simply let something you believe in, someone you love, just walk away. To give up without a fight. - Author: Dan Skinner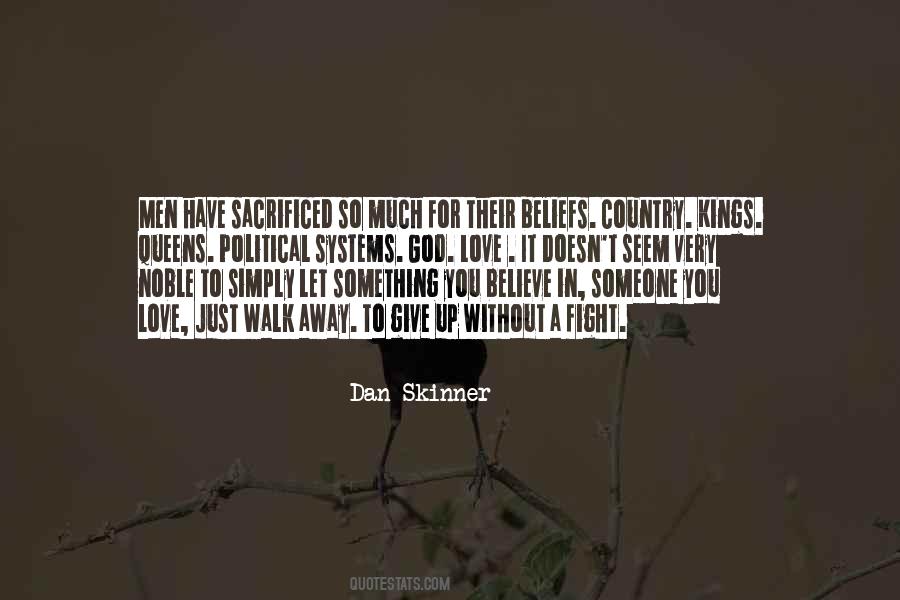 #23. But artistically, my art I kept very separate from my political beliefs, deliberately and very, very rarely would I allow that kind of thing into it. - Author: Robert Barry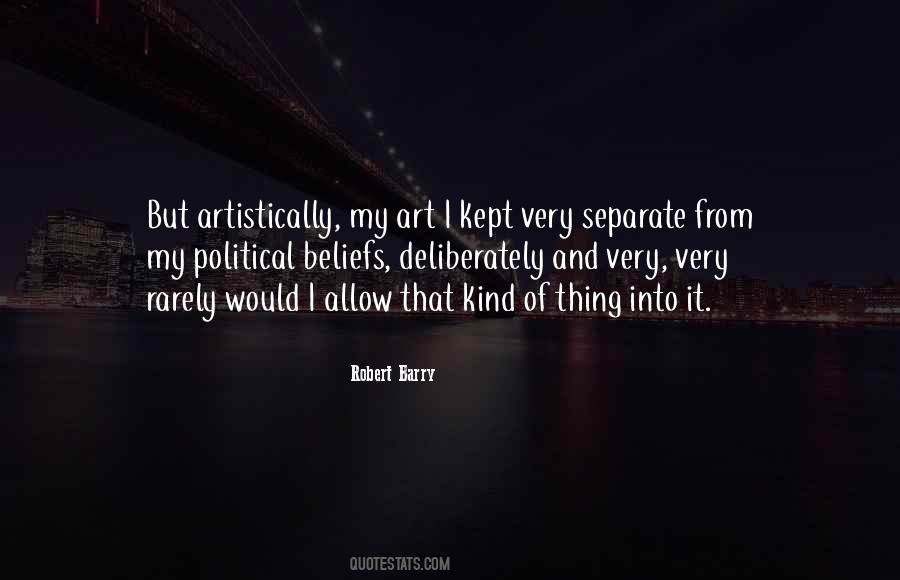 #24. I have been a political activist most of my life and many groups have attempted to label me as a criminal because of my outspoken beliefs. I am not a criminal and I have never been one. - Author: Assata Shakur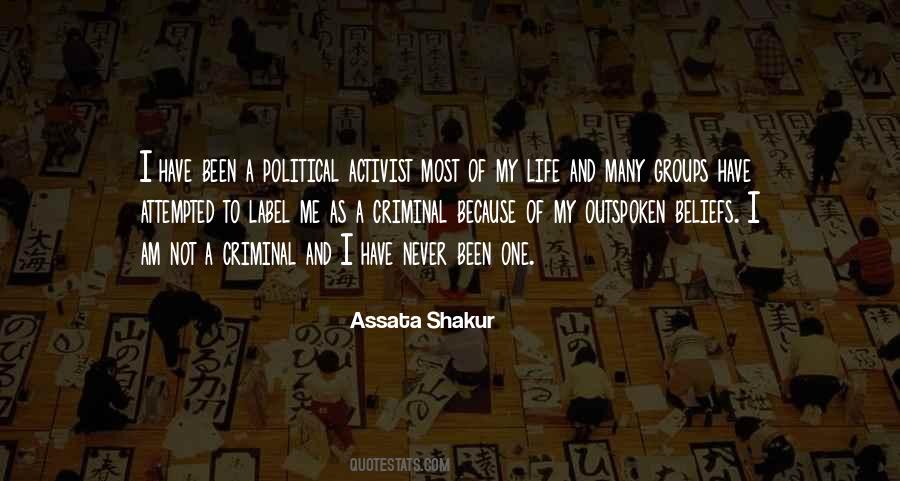 #25. The path of progress cuts through the four-way intersection of the moral, medical, religious and political - and whichever way you turn, you are likely to run over someone's deeply held beliefs. - Author: Nancy Gibbs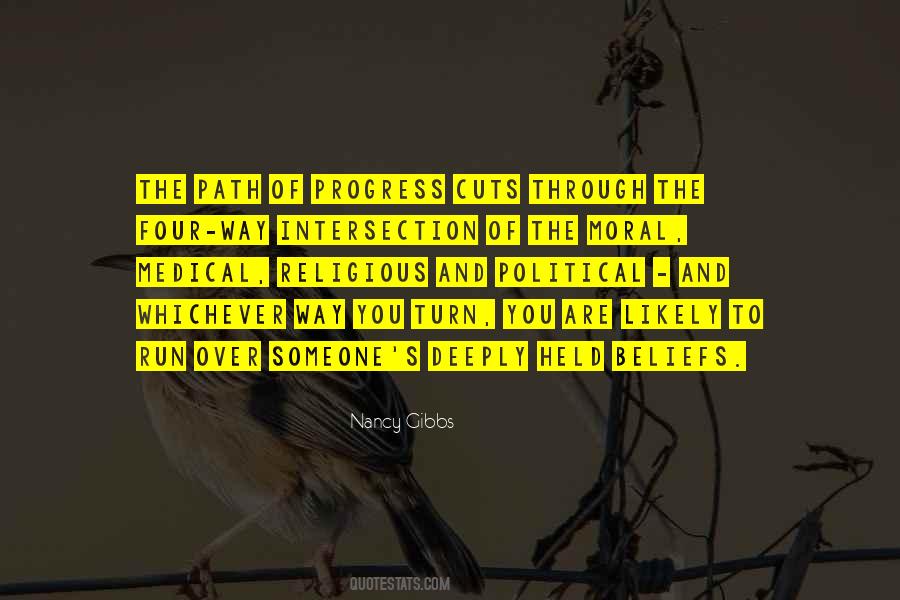 #26. I'm not going to be bullied or pushed around by the group of the day. You've got to have political courage. You've got to have your own inner beliefs. - Author: Madeleine M. Kunin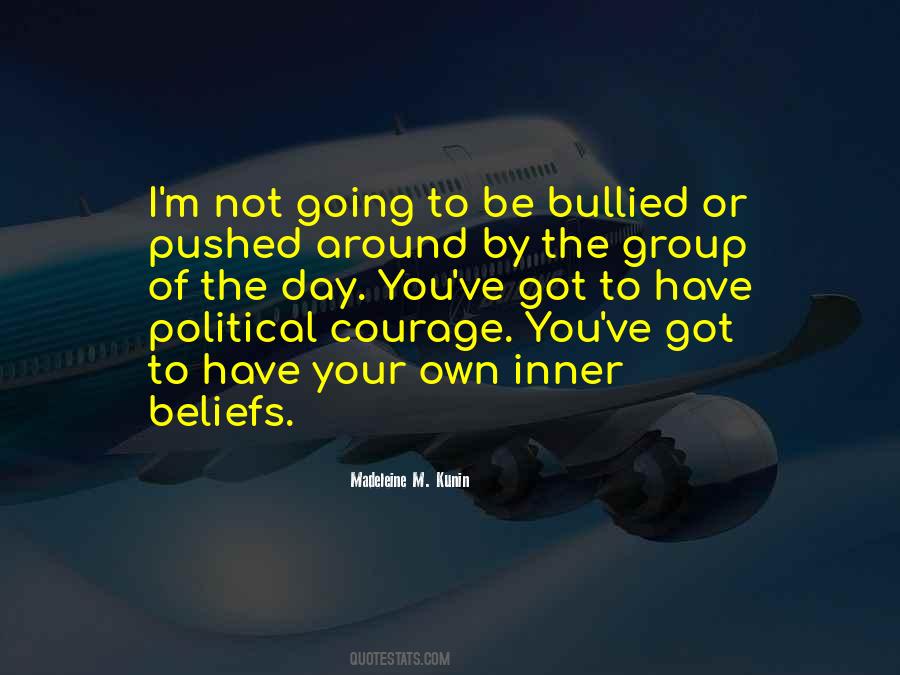 #27. It reminded us that propaganda in some form or other lurks in every book, that every work of art has a meaning and a purpose - a political, social and religious purpose - that our aesthetic judgements are always coloured by our prejudices and beliefs - Author: George Orwell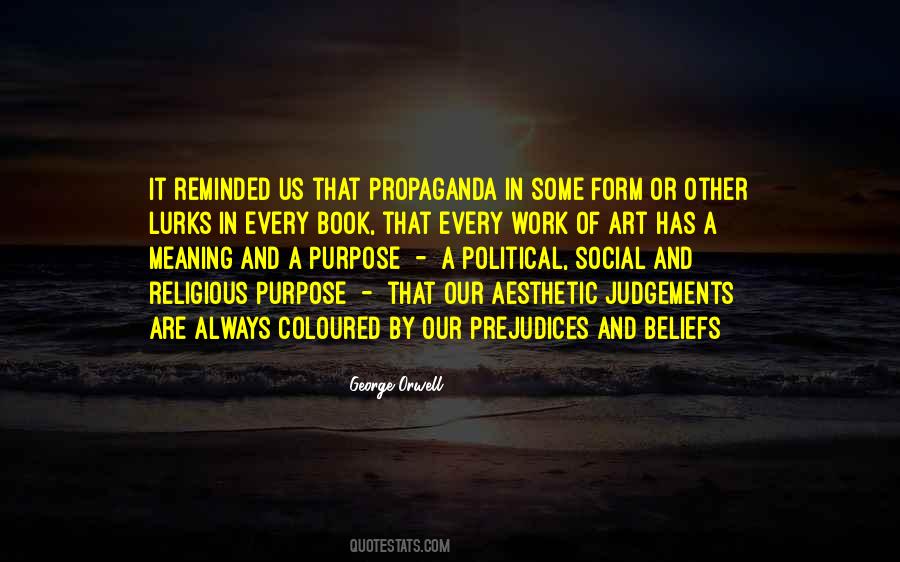 #28. This is a free country, and nobody should be criticized for their political beliefs. We're all allowed to have our opinions. - Author: Shannen Doherty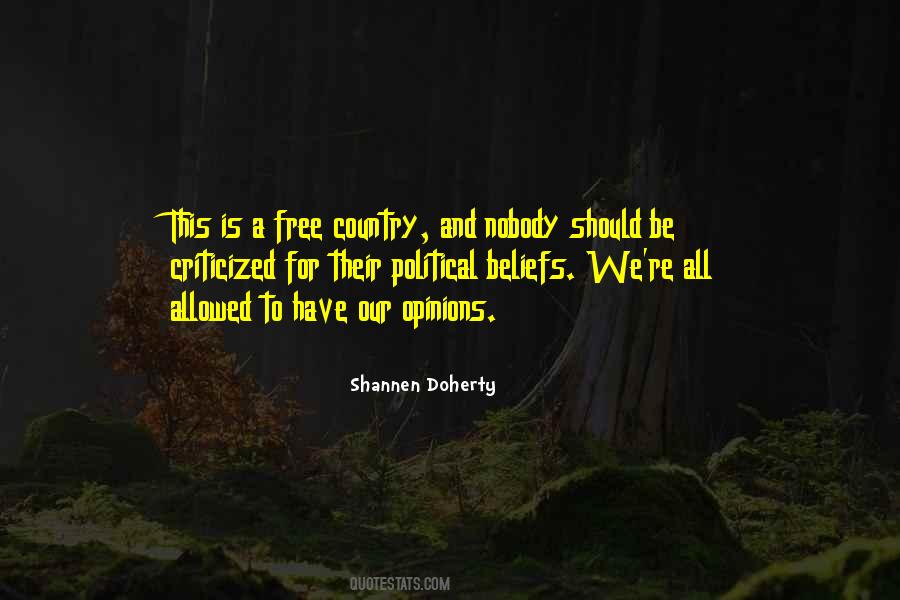 #29. This Humanist whom no beliefs constrained Grew so broad-minded he was scatter-brained. - Author: J.V. Cunningham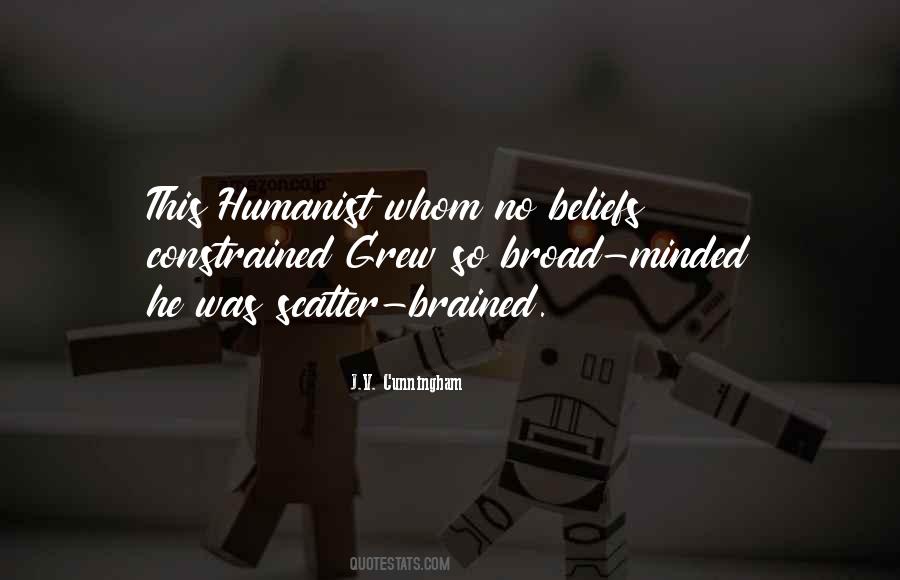 #30. I am frankly sick and tired of the political preachers telling me as a citizen that if I want to be a moral person, I must believe in A, B, C, and D. Just who do they think they are? And from where do they presume to claim the right to dictate their moral beliefs to me? - Author: Barry M. Goldwater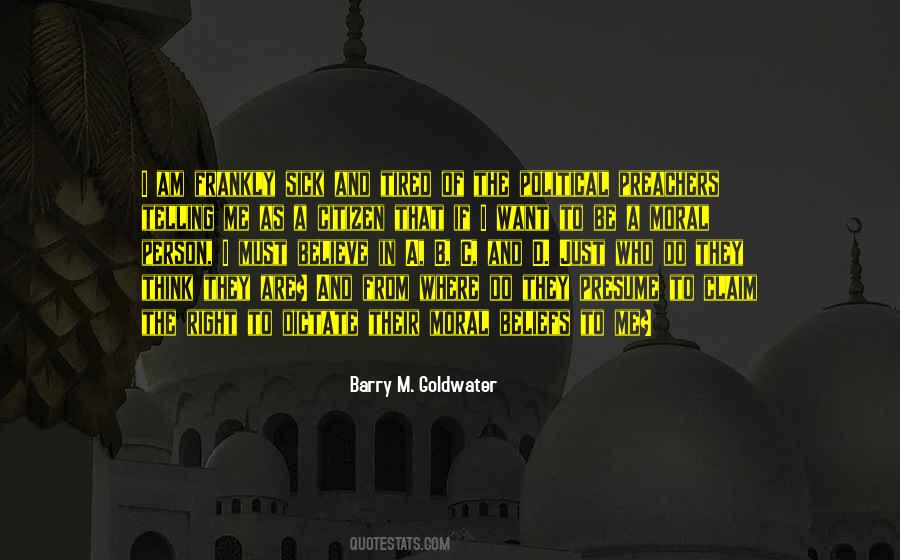 #31. As Governor, I could think of only one way to unify our State that was made up of so many different climates, political beliefs and people, and that was our music. - Author: Lamar Alexander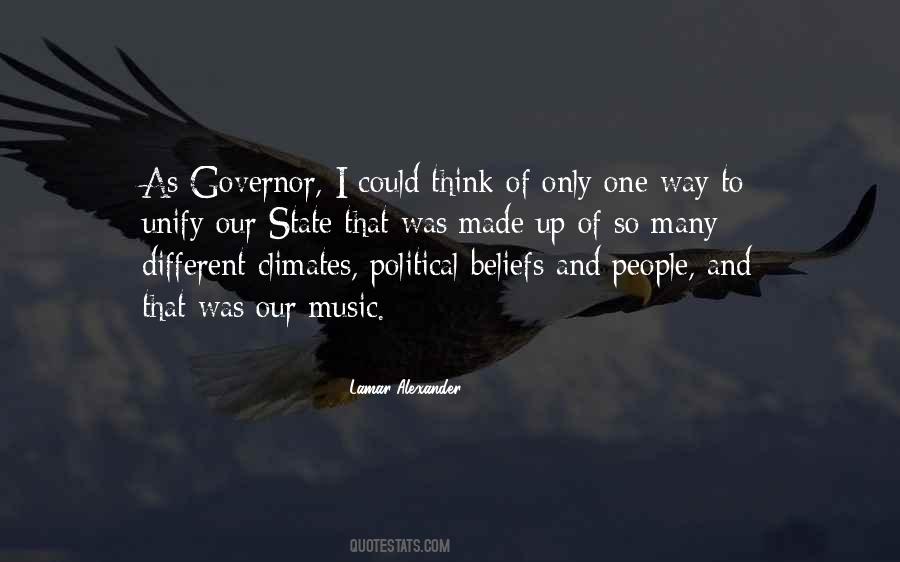 #32. I look back on my liberal political beliefs with a sort of wonder - as another exercise in self-involvement - rewarding myself for some superiority I could not logically describe. - Author: David Mamet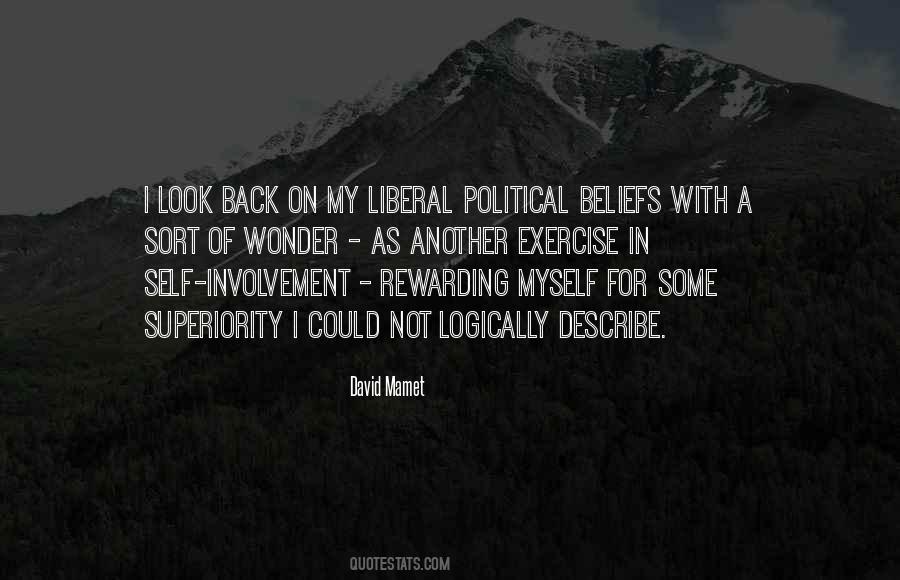 #33. I got my first camera when I was 21 - my boyfriend gave it to me for my birthday - but at that point politics was my life, and I viewed the camera as a tool for expressing my political beliefs rather than as an art medium. - Author: Carrie Mae Weems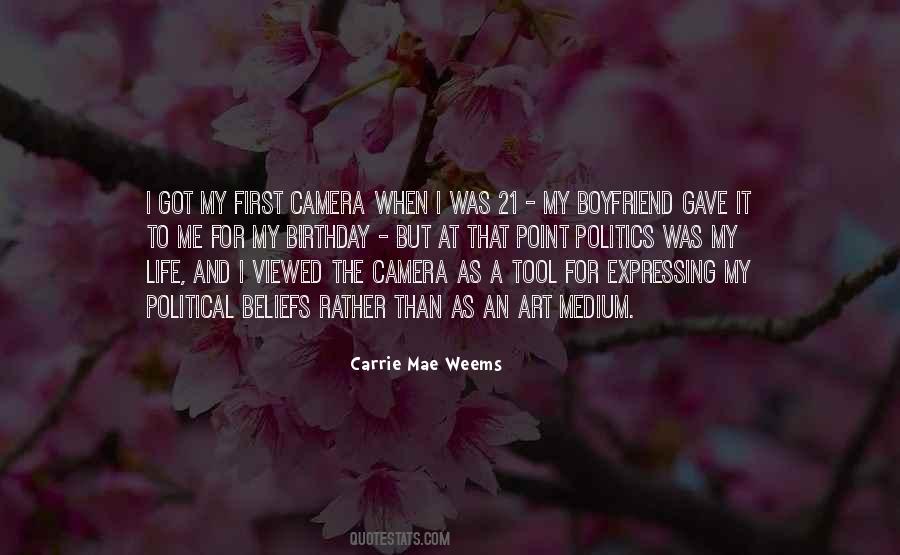 #34. He was a very small man, both in stature and girth, who had been chosen as a running mate as much for his size as for his political beliefs. The pervasive thinking in government was that a taller vice president would make the President appear weak, replaceable. - Author: Ann Patchett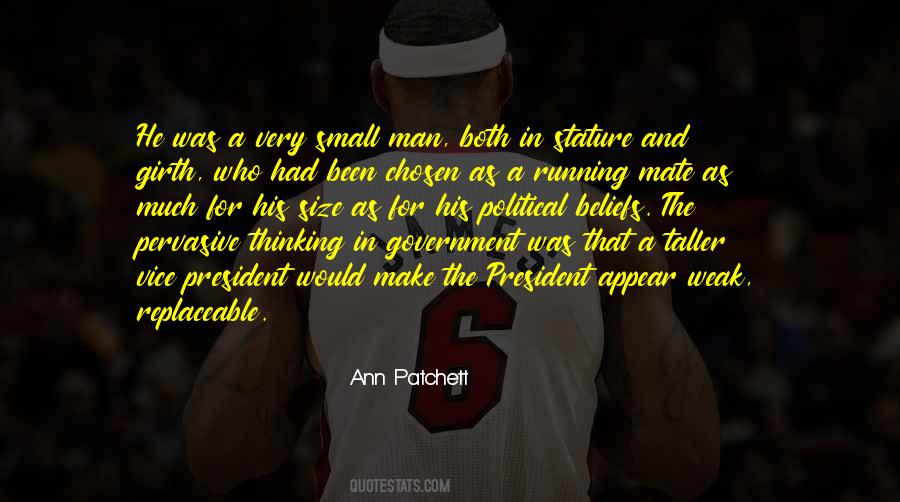 #35. Once you touch the biographies of human beings, the notion that political beliefs are logically determined collapses like a pricked balloon. - Author: Walter Lippmann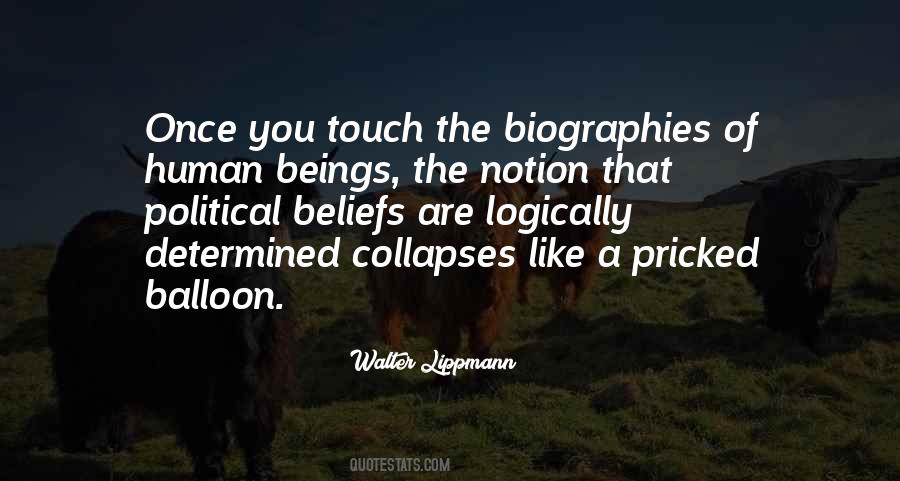 #36. Those life experiences that helped shaped my political beliefs are with me in every position I take and every vote that I cast - whether it be in favor of comprehensive immigration reform, strengthening Social Security and Medicare, or improving our nation's education system. - Author: Mark Takano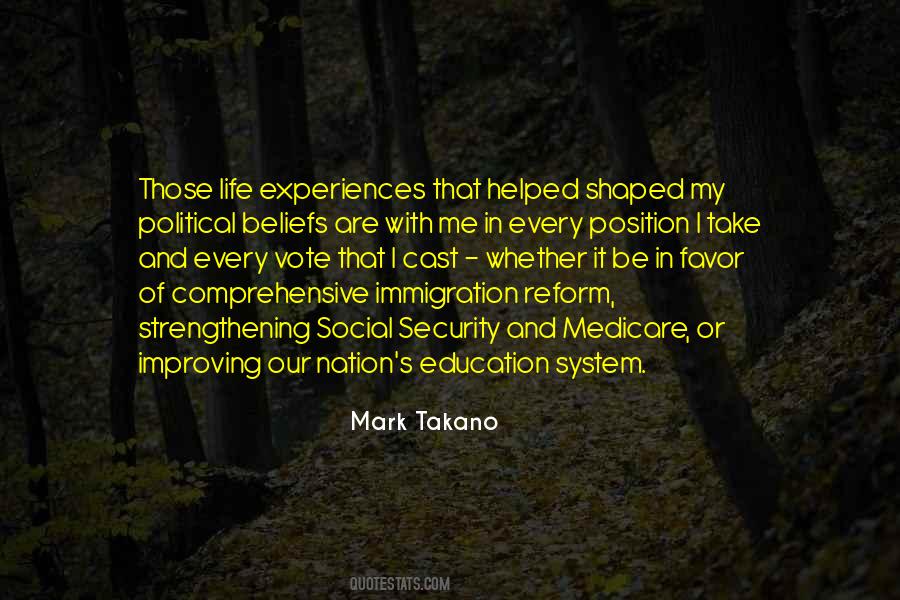 #37. Whether I am or am not a Communist is irrelevant. The question is whether American citizens, regardless of their political beliefs or sympathies, may enjoy their constitutional rights. - Author: Paul Robeson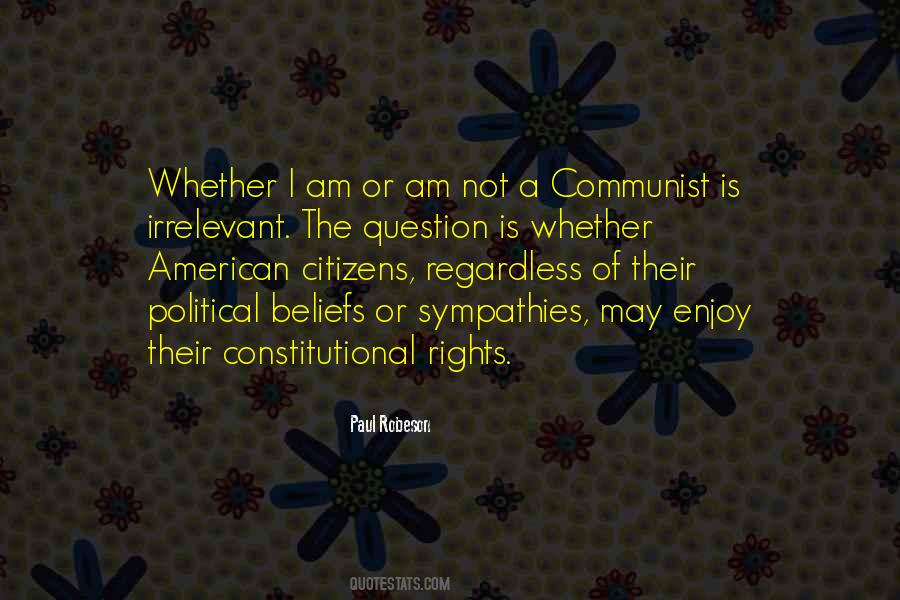 #38. A political party cannot be all things to all people. It must represent certain fundamental beliefs which must not be compromised to political expediency, or simply to swell its numbers. - Author: Ronald Reagan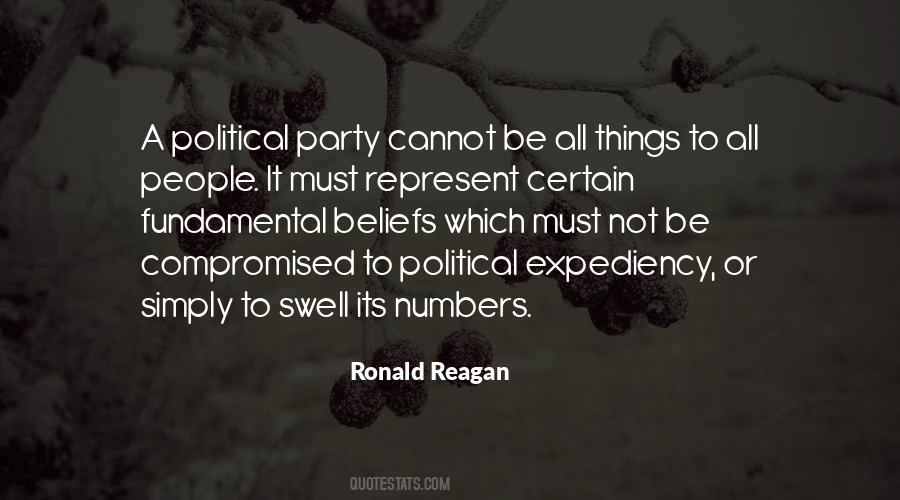 #39. Decades of destruction, suppression, genocide, sterilization, and political indoctrination could not break the Tibetans' will for freedom, or their deep-rooted religious beliefs. On - Author: Heinrich Harrer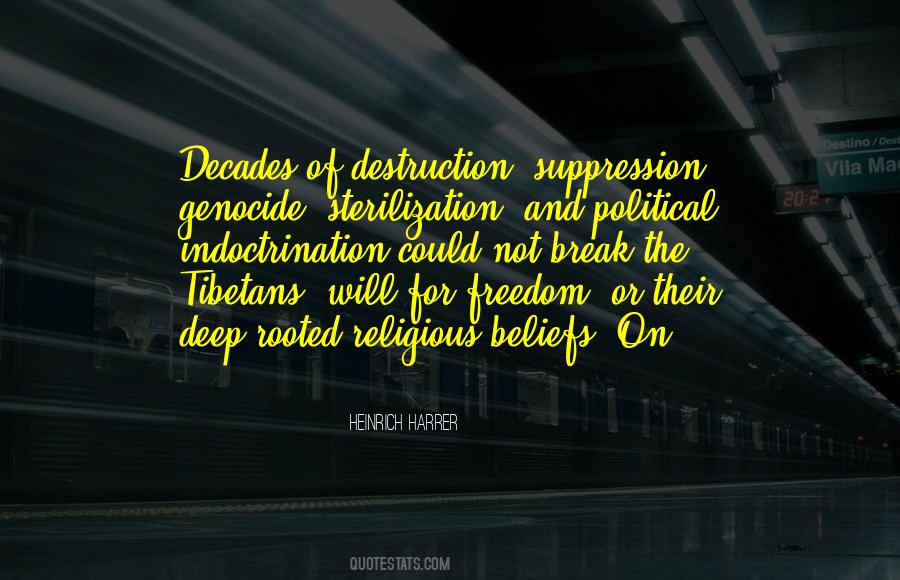 #40. Further-more, partisan attachments powerfully shape political perceptions, beliefs and values, and incumbents enjoy advantages well beyond the way in which their districts are configured. - Author: Thomas E. Mann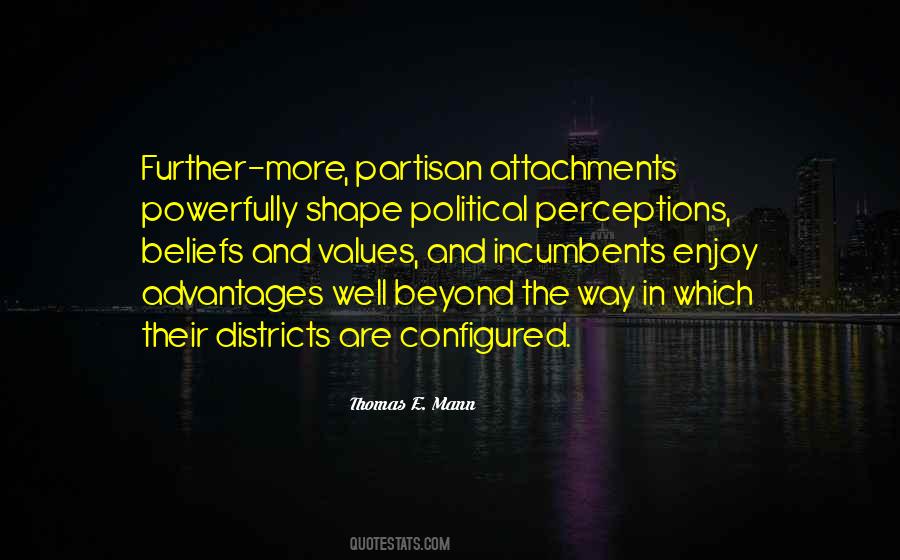 #41. Political beliefs, religious beliefs, and conspiratorial beliefs seem impenetrable to facts that contradict them. - Author: Robert Carroll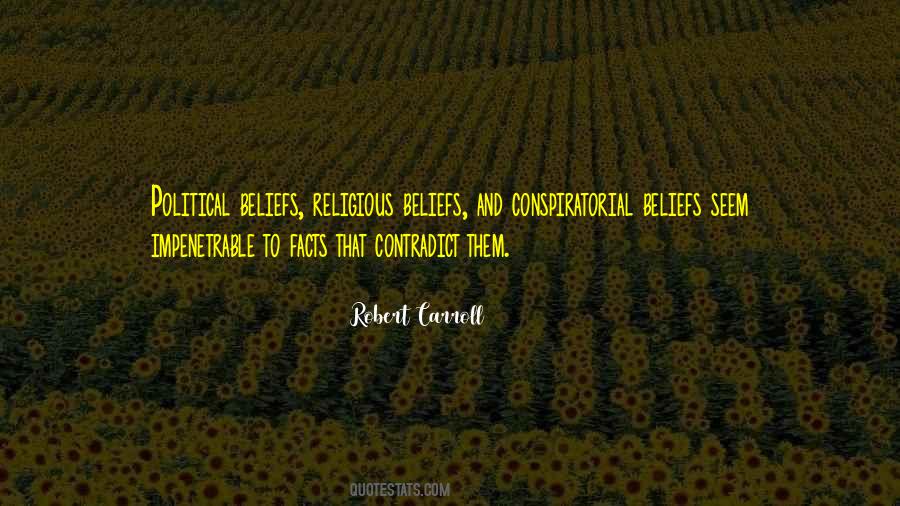 #42. [I]t kind of terrified me to imagine myself spending the rest of my life tinkering on the margins of the small arguments. - Author: Lawrence Lessig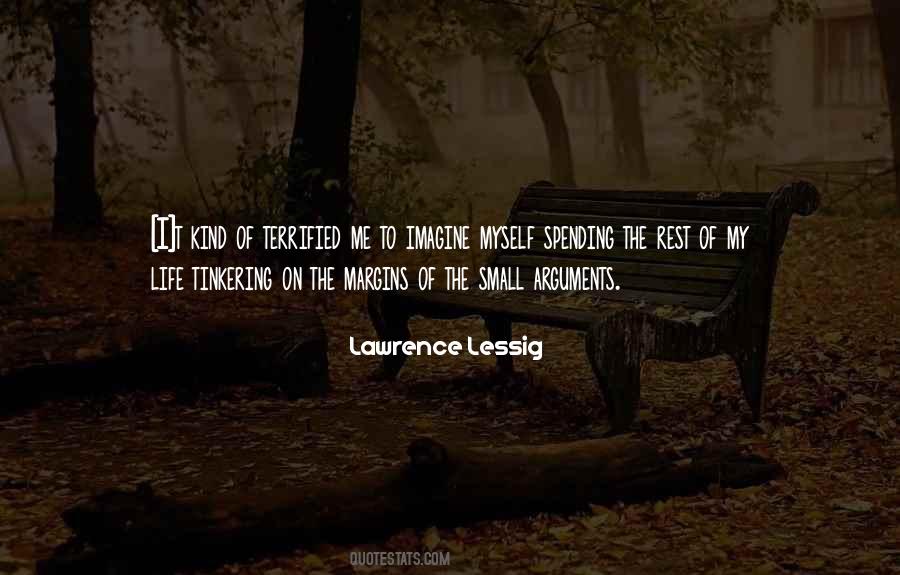 #43. The most characteristic concern of rhetoric [is] the manipulation of men's beliefs for political ends ... the basic function of rhetoric [is] the use of words by human agents to form attitudes or to induce actions in other human agents. - Author: Kenneth Burke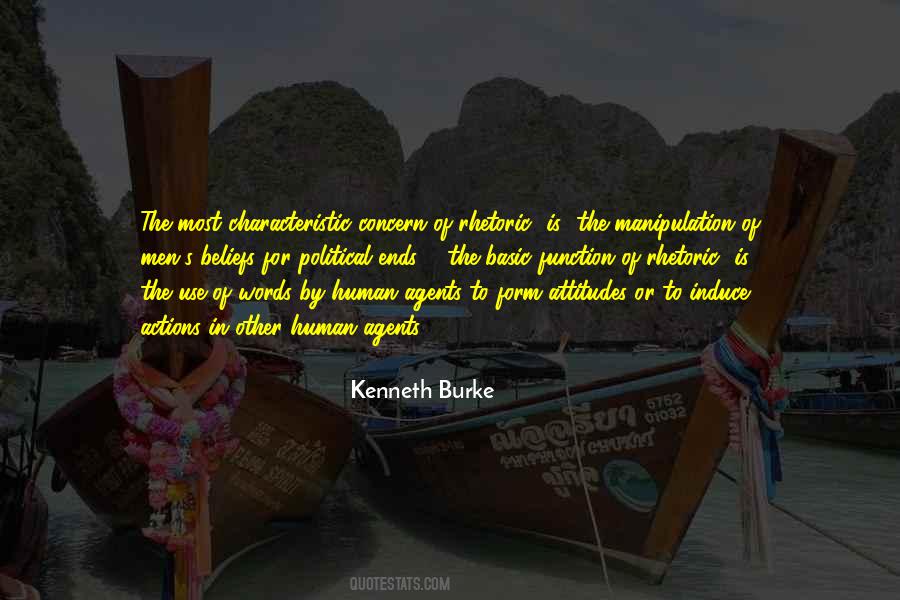 #44. Kindness' covers all of my political beliefs. - Author: Roger Ebert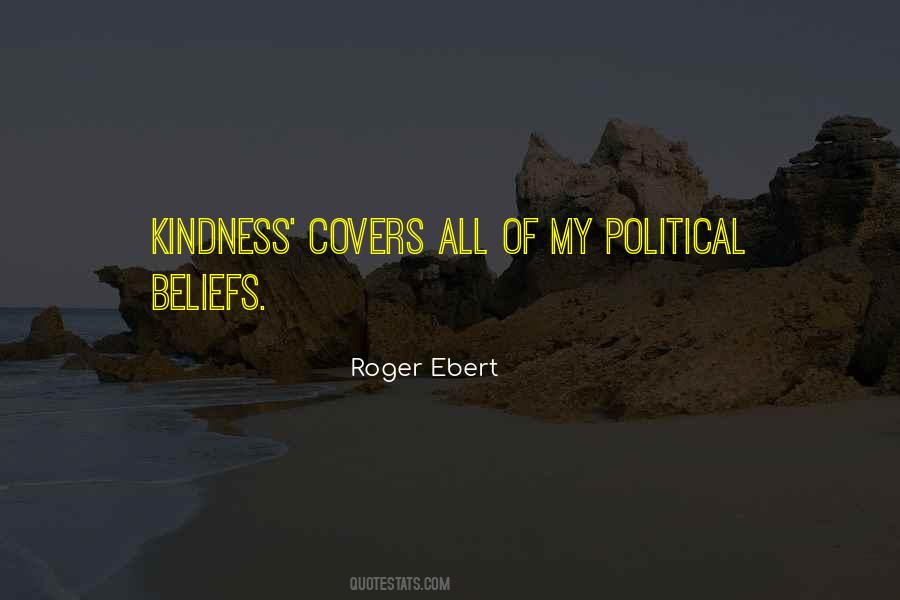 #45. Partisans are more likely to consume news sources that confirm their ideological beliefs. People with more education are more likely to follow political news. Therefore, people with more education can actually become mis-educated. - Author: Eli Pariser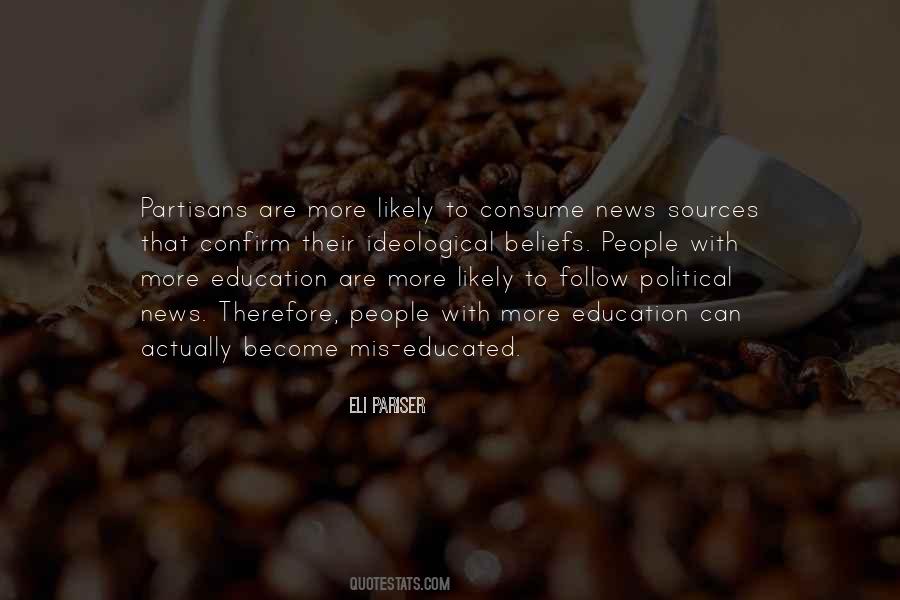 #46. But it is not our place to punish a father for his political beliefs or where he wants to raise his child. Indeed, if we were to start judging parents on the basis of their political beliefs, we would change the concept of family for the rest of time. - Author: Janet Reno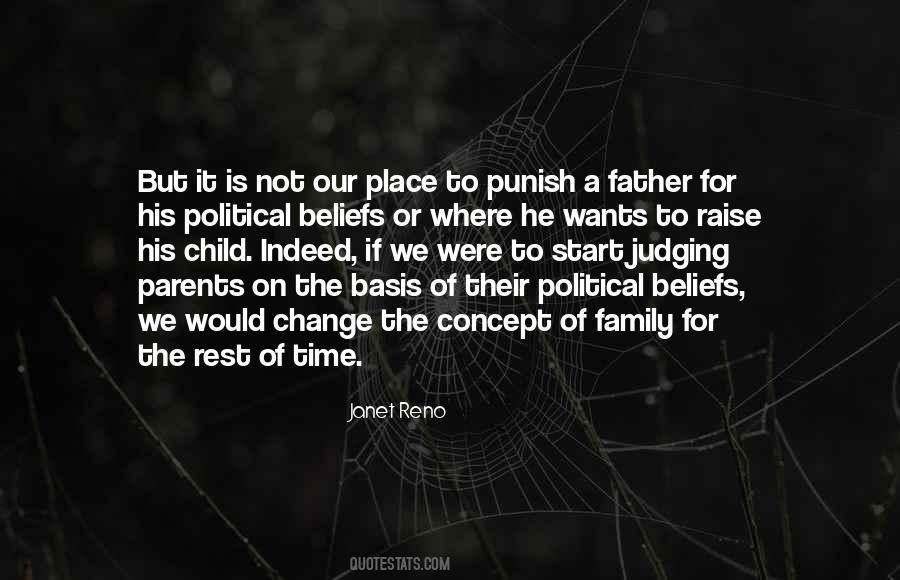 #47. Frankly, most of my friends hold very different political beliefs. It's just a funny thing in this country that supposedly you can't sit down and have dinner and enjoy another person's company if you don't have the same beliefs. It's ridiculous. - Author: Patricia Heaton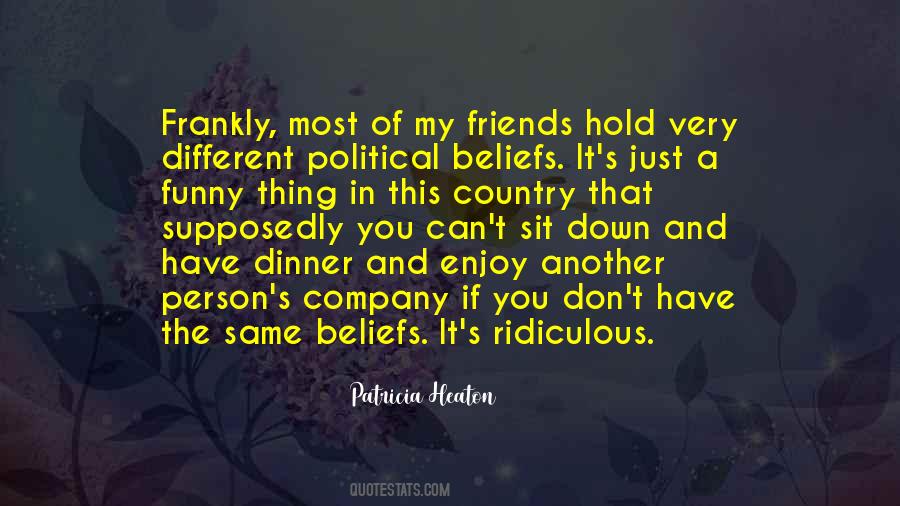 #48. My father had no influence on my political beliefs, and to imply otherwise is wrong and irresponsible. - Author: M.I.A.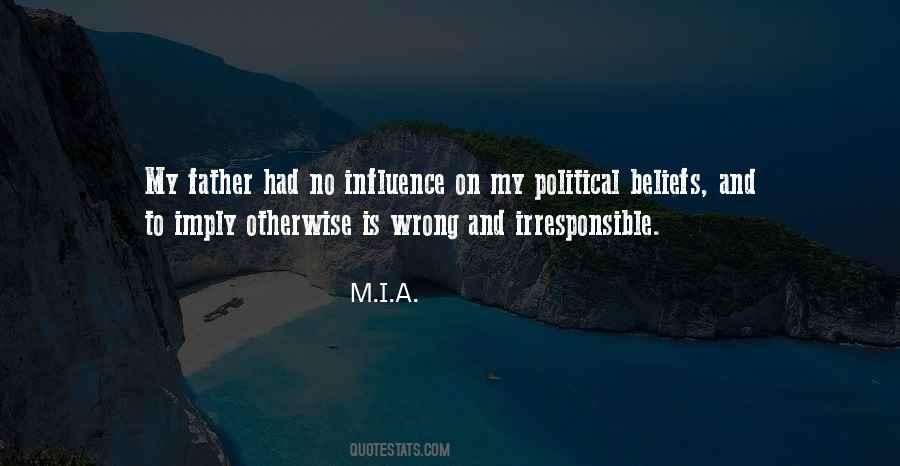 #49. Man is Nature's most wonderful creature. Torturing him, crushing him, murdering him for his beliefs and ideas is more than a violation of human rights-it is a crime against all humanity. - Author: Armando Valladares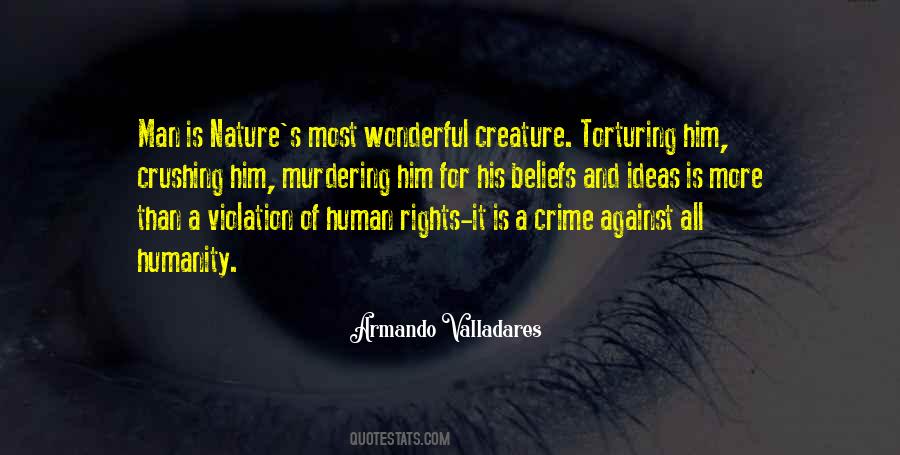 #50. Everyone's entitled to express their political beliefs. I don't presume to tell anybody who to vote for. I am comfortable telling people what my opinions are. - Author: Ben Affleck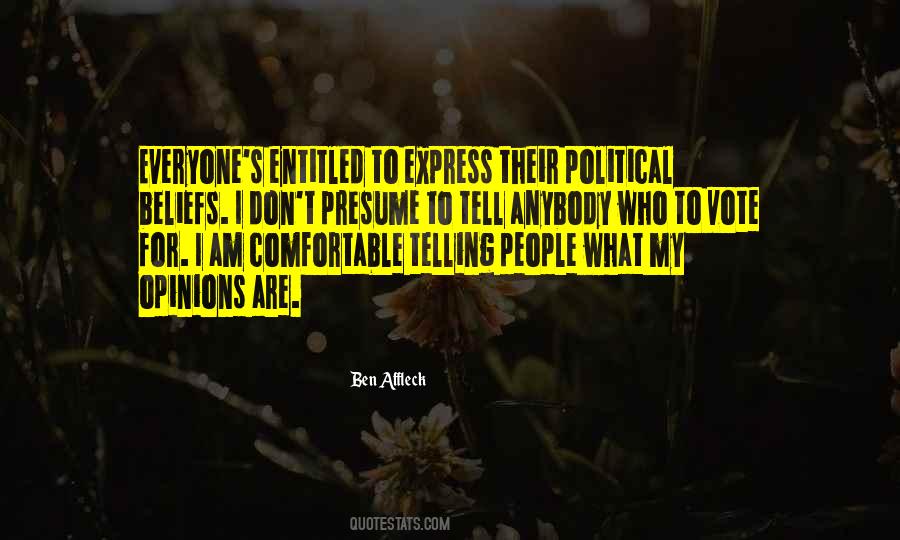 #51. I don't think I'm severely politically active. I care deeply, and I have my strong personal beliefs. I think America is dancing on thin ice. But I think it's bigger even than a political issue. I wonder about the evolution of the human race and spirit and what our goals and reasons for living are. - Author: Garry Shandling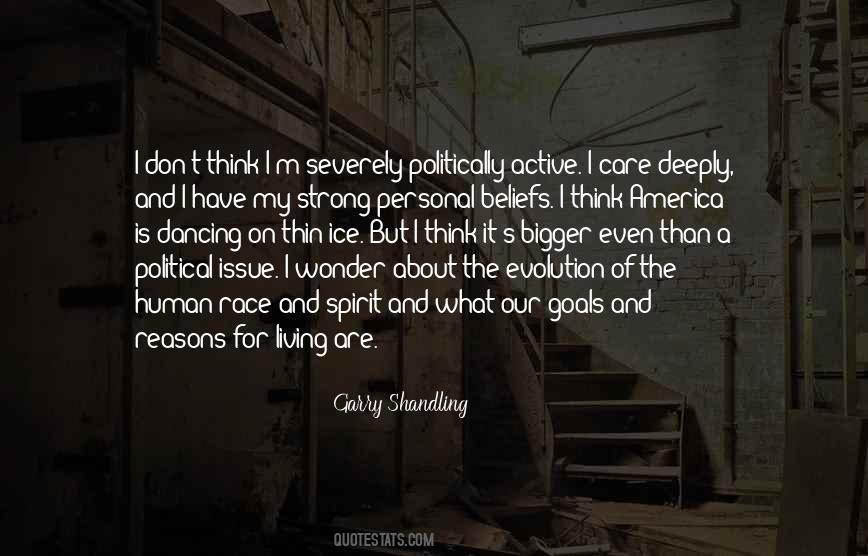 #52. My political beliefs are my moral, quasi-religious framework. - Author: Ken Livingstone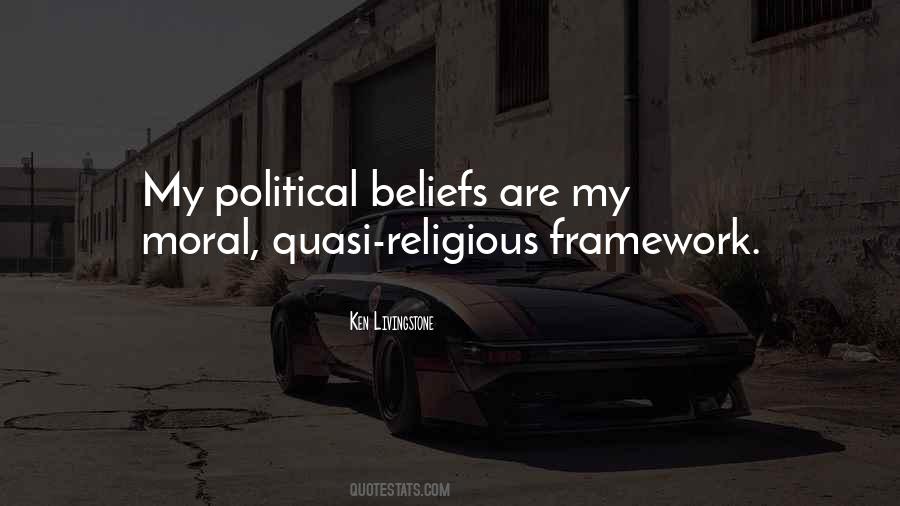 #53. Atrocities are human nature - they don't have political beliefs, color, creed or anything like that. They just happen, it's human. - Author: Clancy Brown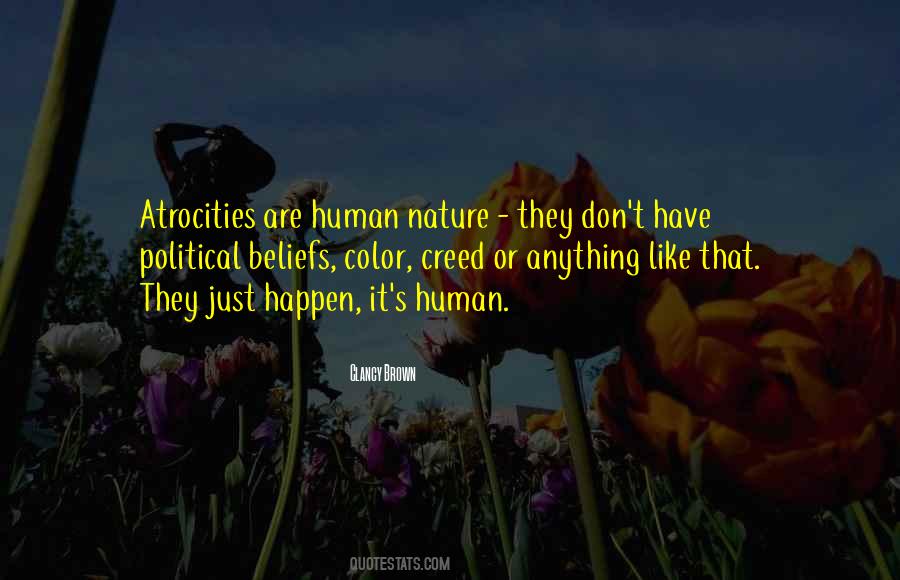 #54. It is society which, fashioning us in its image, fills us with religious, political and moral beliefs that control our actions. - Author: Emile Durkheim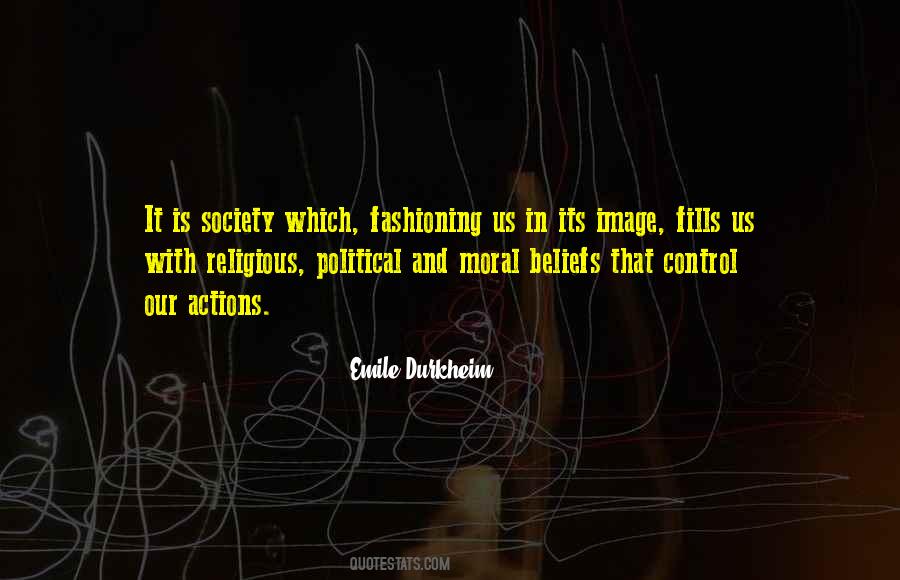 #55. It is very distressing that anyone would look at these matters from a political viewpoint. Core beliefs about when life begins and ends are far too important for any such calculations. - Author: Mac Thornberry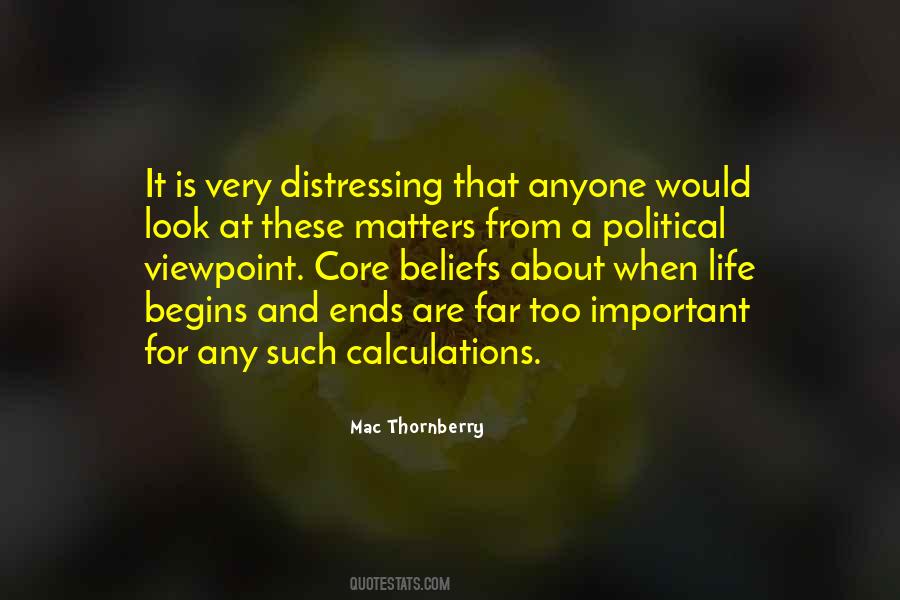 #56. The willingness to reexamine lifelong beliefs because of conflicting data takes enormous courage, and contrasts sharply with recent examples of public discourse in which our political, cultural, and religious leaders have fit data to preconceived theories. - Author: Donal O'Shea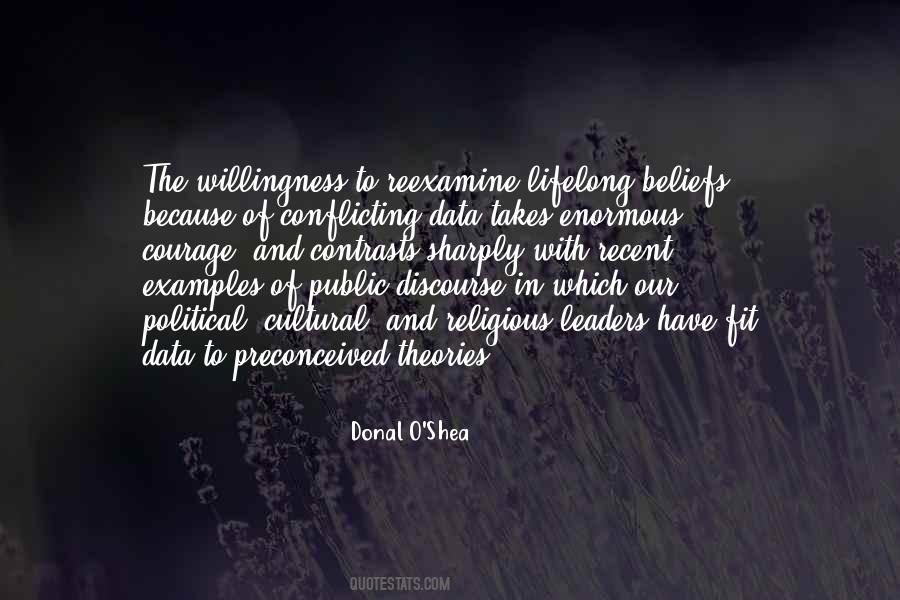 #57. Senses of humor define people, as factions, deeper rooted than religious or political opinions. When carrying out everyday tasks, opinions are rather easy to set aside, but those whom a person shares a sense of humor with are his closest friends. They are always there to make the biggest influence. - Author: Criss Jami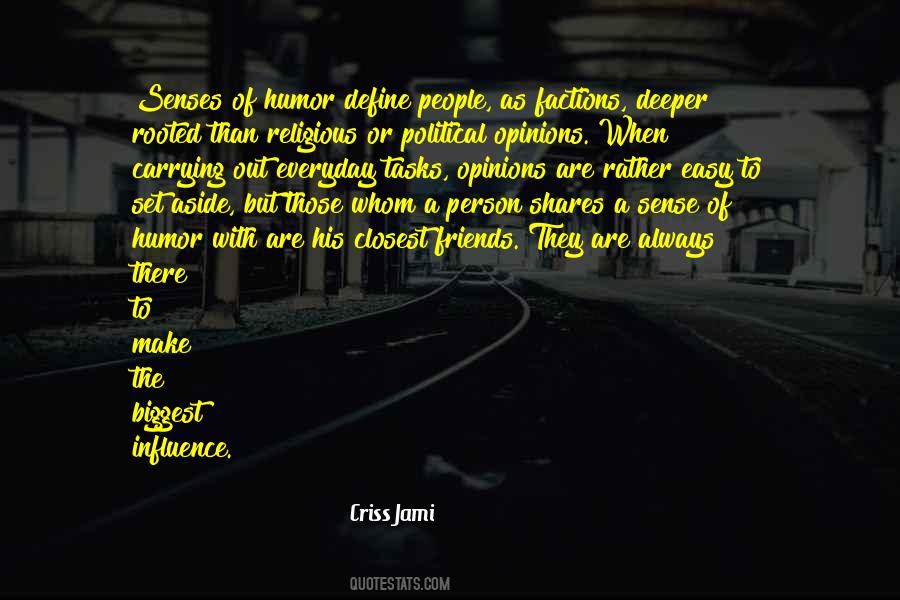 #58. It's very hard to impose your beliefs or a specific message about any given movie. I think that audiences always extract what they want from a film even if something isn't overtly political. They may or may not get it, and it's hard to control that. - Author: Leonardo DiCaprio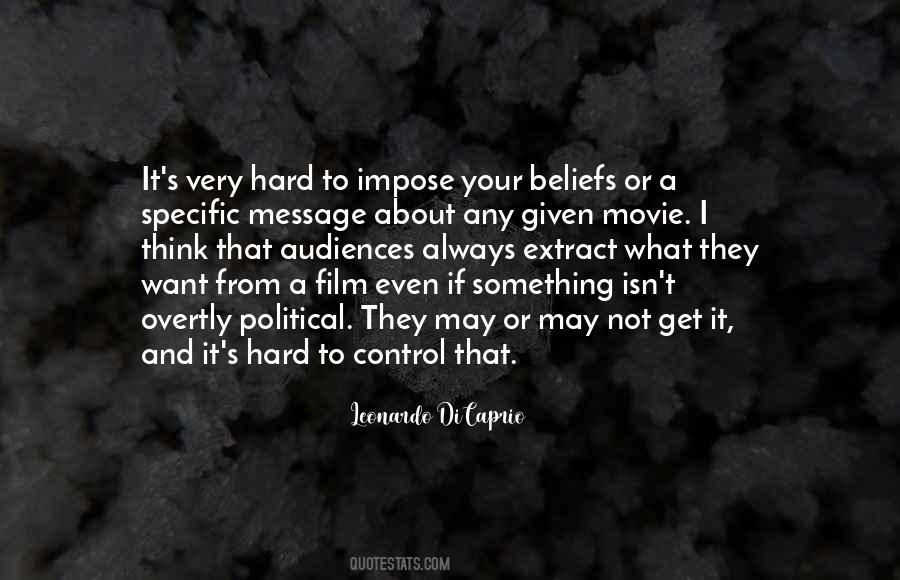 #59. I'm realizing this more and more that it's one thing to get involved with your own political beliefs and stand behind you believe in personally. - Author: John Petrucci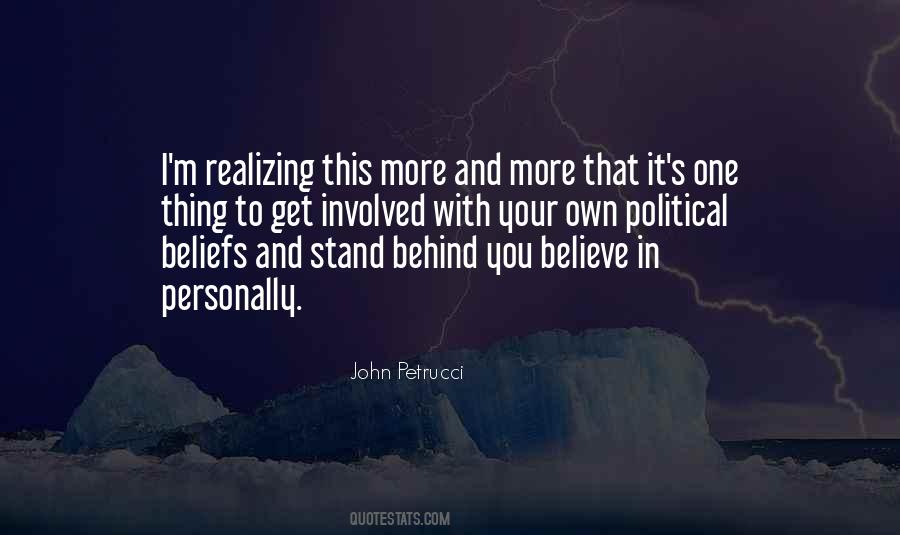 #60. We can trust our doctors to be professional, to minister equally to their patients without regard to their political or religious beliefs. But we can no longer trust our professors to do the same. - Author: David Horowitz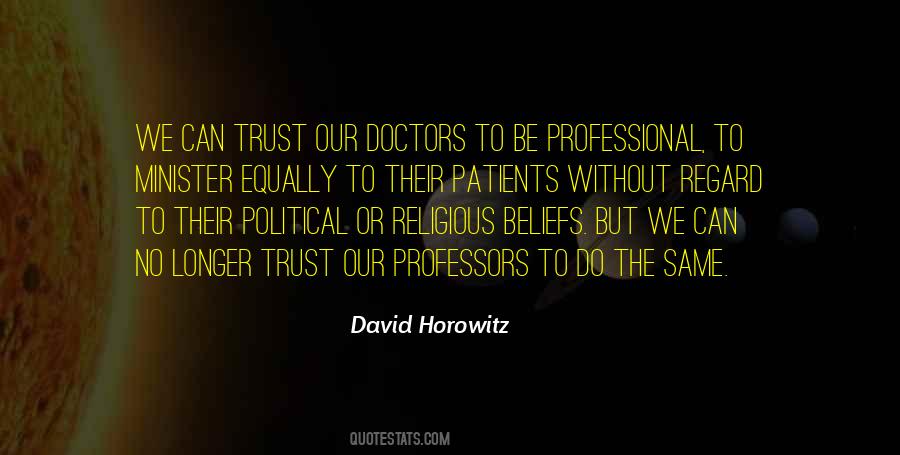 #61. Just because you have political beliefs or feminist beliefs, you don't have to like everybody, you don't have to like everything. - Author: Kate Nash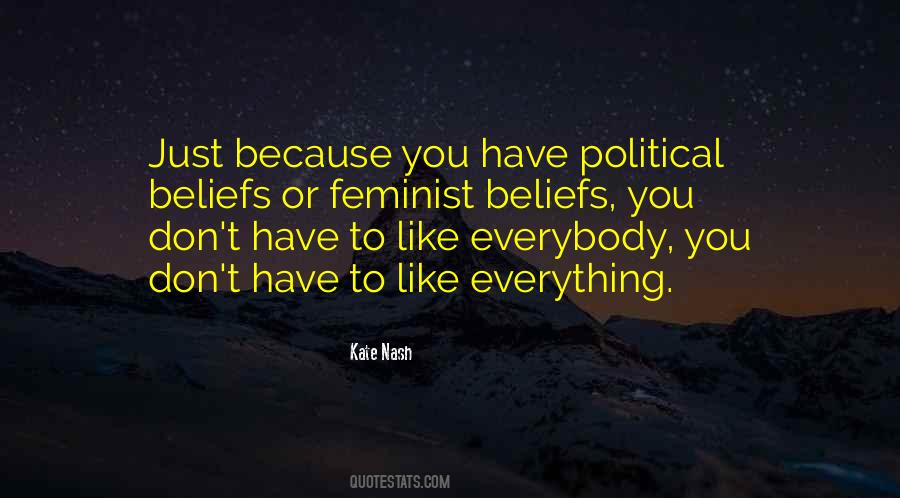 #62. You show me ten men who cherish some religious doctrine or political ideology, and I'll show you nine men whose minds are utterly impervious to any factual evidence which contradicts their beliefs, and who regard the producer of such evidence as a criminal who ought to be suppressed. - Author: H. Beam Piper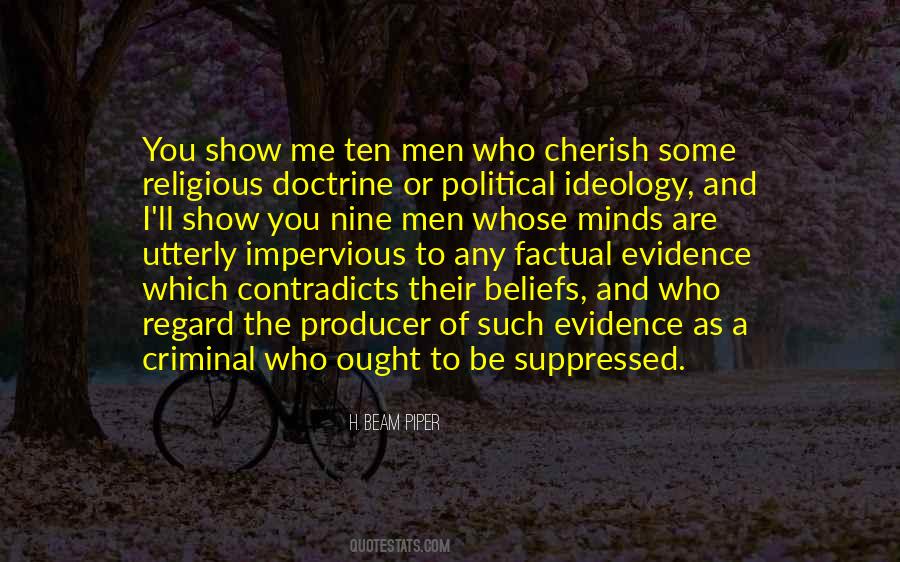 #63. Of course, my own political beliefs inform the ideas I come up with. - Author: Alison Jackson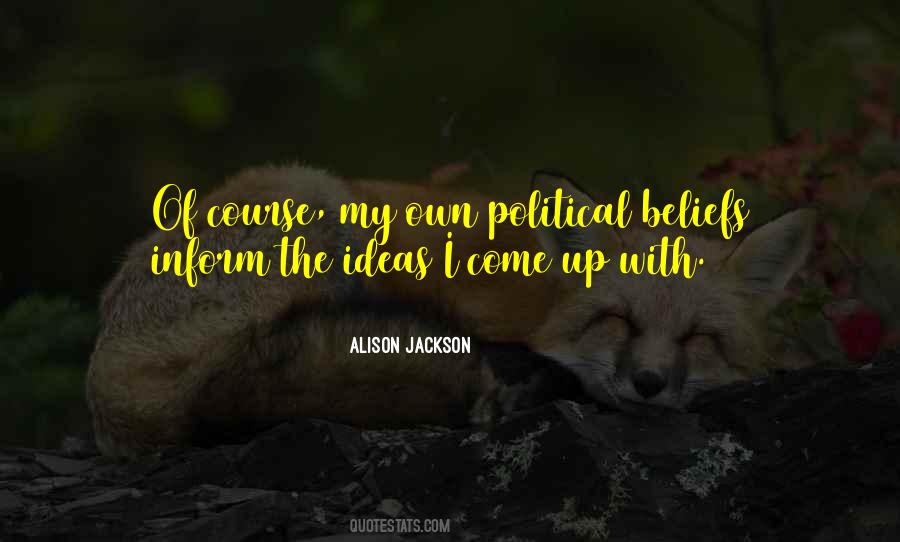 #64. For so many of my characters, they were political in their own countries and they risked their lives for certain political beliefs that they had, only to be brought to America where they're not treated like Americans - they're just not really treated like anything. - Author: Molly Antopol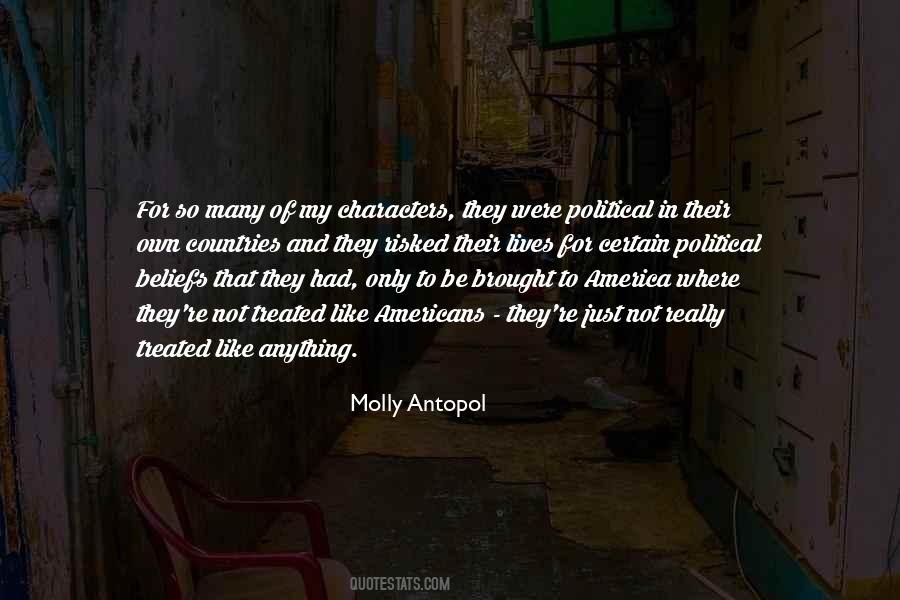 #65. At 'SNL,' I wrote political stuff, but I never felt the show should have an axe to grind. But when I left in '95, I could let my own beliefs out. - Author: Al Franken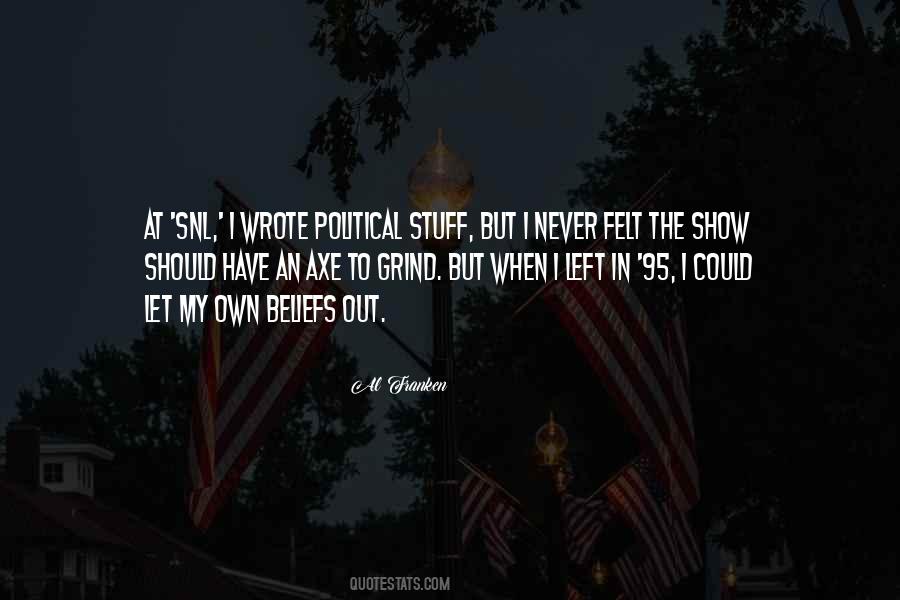 #66. I hope that I would put whatever my political beliefs aside, and realize that my country's asked me to to something, and do it. - Author: Jon Bernthal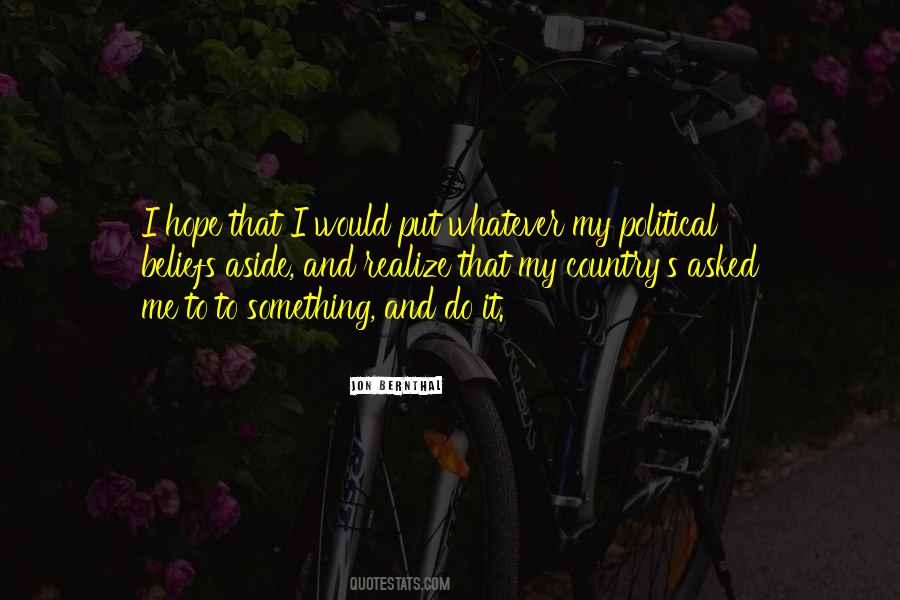 #67. I have noticed, with much distress, the excessive wartime activity of the investigating bureaus of Congress and the administration, with their impertinent and indecent searching out of the private lives and the past political beliefs of individuals. - Author: Wendell Willkie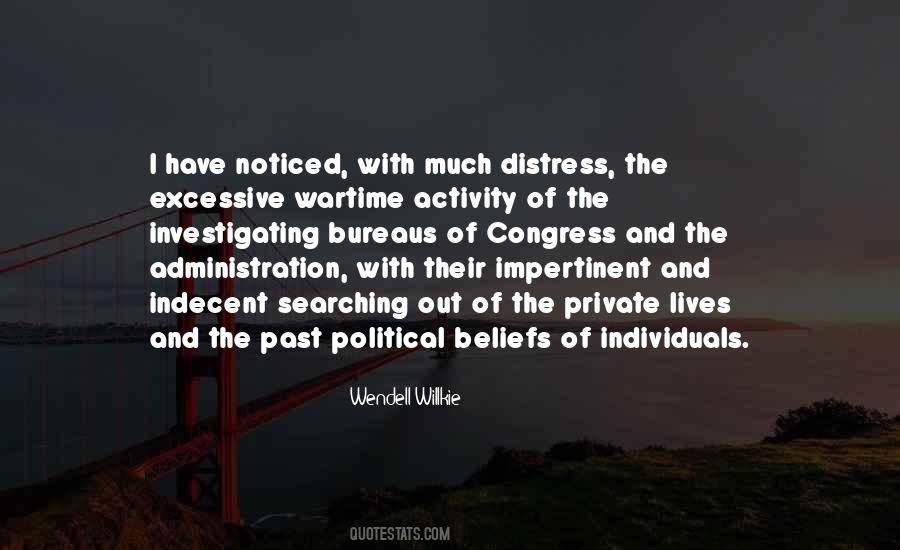 Famous Authors
Popular Topics