Plans And God Famous Quotes & Sayings
List of top 100 famous quotes and sayings about plans and god to read and share with friends on your Facebook, Twitter, blogs.
Top 100 Quotes About Plans And God
#1. I can't tell you what's in all of God's plans, but I do know part of them. He empowers you with reason and will. Those are your strengths. That's what gives you the chance to be great in his sight. He gave you a mind and codes to live by so you could be in charge of your own actions. - Author: Dan Groat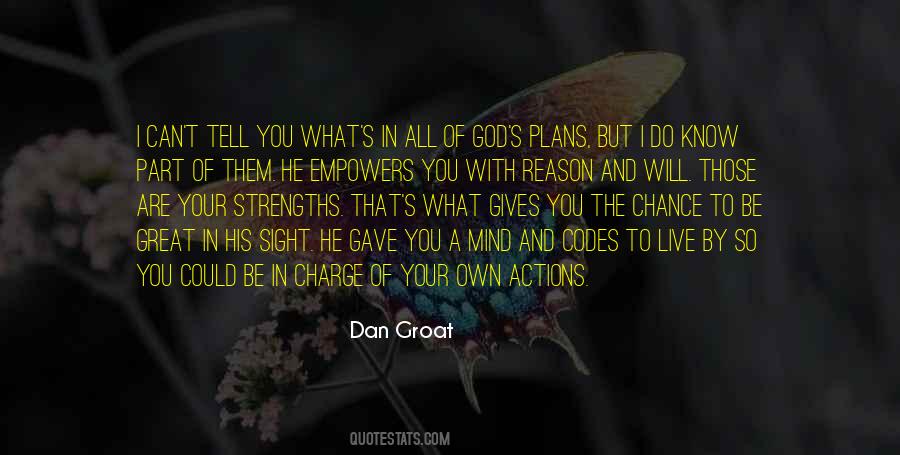 #2. Hope gives us a reason to live and to make plans for our future. But common sense gives us knowledge that God has control over our life. Life is a journey. We hope and plan our future as we travel each day. - Author: Ellen J. Barrier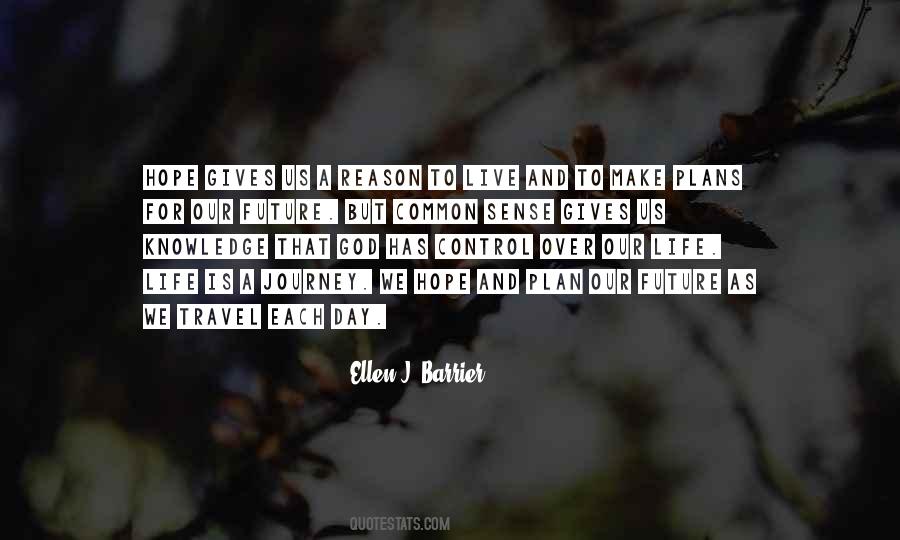 #3. Nature is the greatest teacher and I learn from her best when others are asleep. In the still dark hours before sunrise God tells me of the plans I am to fulfill. - Author: George Washington Carver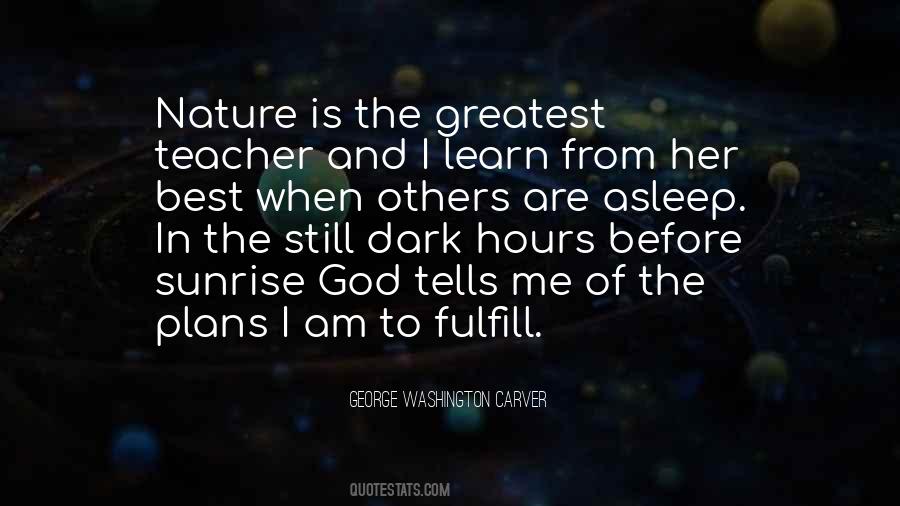 #4. The question is, do you have deliberate plans for your life? Do you have intentions with you time? God planned that there should be a time for everything and for every season, meaning you can plan for everything and every season in your life! You may ask, 'Is that possible?" I say, "It's up to you! - Author: Archibald Marwizi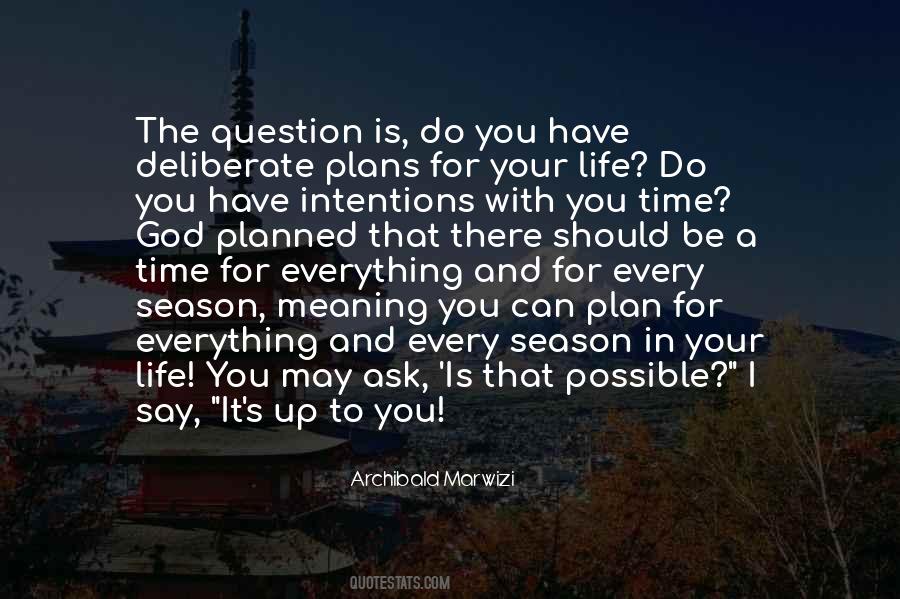 #5. Be in a close association with your creator whose is ever ready to direct your plans. Always ensure your convictions are divine and backed by a Godly approval. - Author: Israelmore Ayivor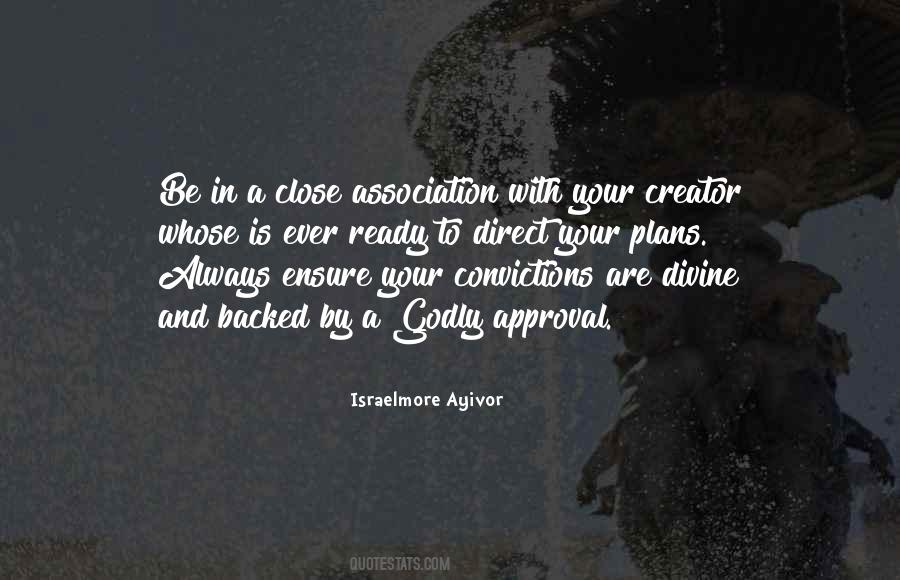 #6. Why miss out on what God has in store for you while you're trying to get in on his plan for somebody else? Your plans are the best - for YOU - and so is your personality. You're so worth it - Author: Nancy Rue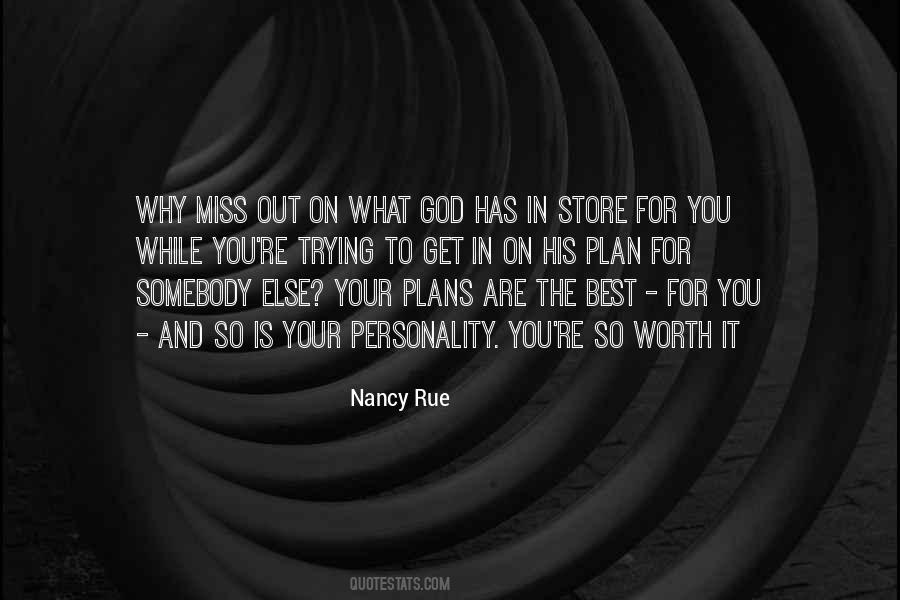 #7. God is willing to reveal His plans to us and His ways, if He sees that we are willing to stand till the end and take responsibility for our nation - Author: Sunday Adelaja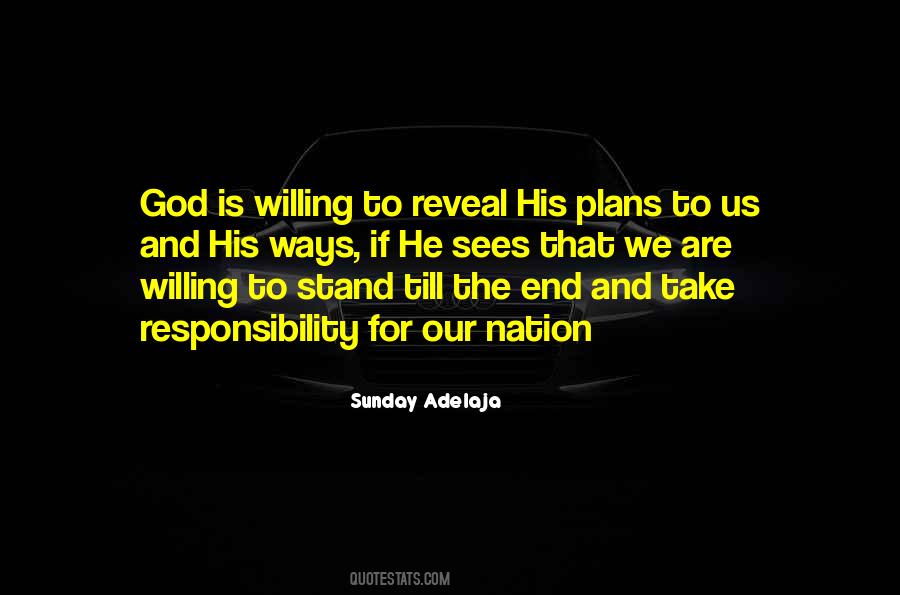 #8. God has invited us, as mere human beings, to add to the beauty of his plan and creation - Author: Sara Groves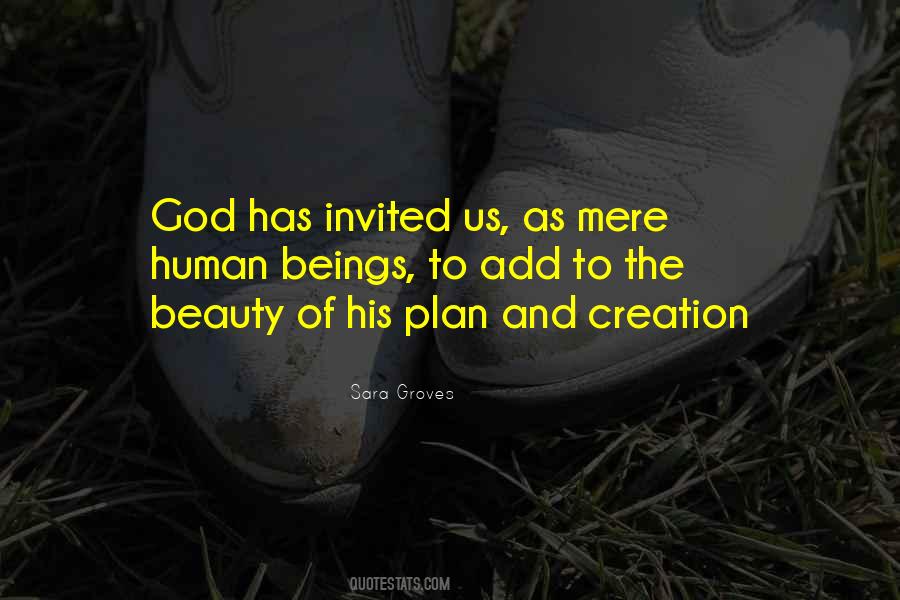 #9. I was 20 when my daughter was born, and making all these plans during my wife's pregnancy. I was going to be the perfect father. Once she was born, it was suddenly, 'Oh, my God! I'm a parent!' - Author: Kiefer Sutherland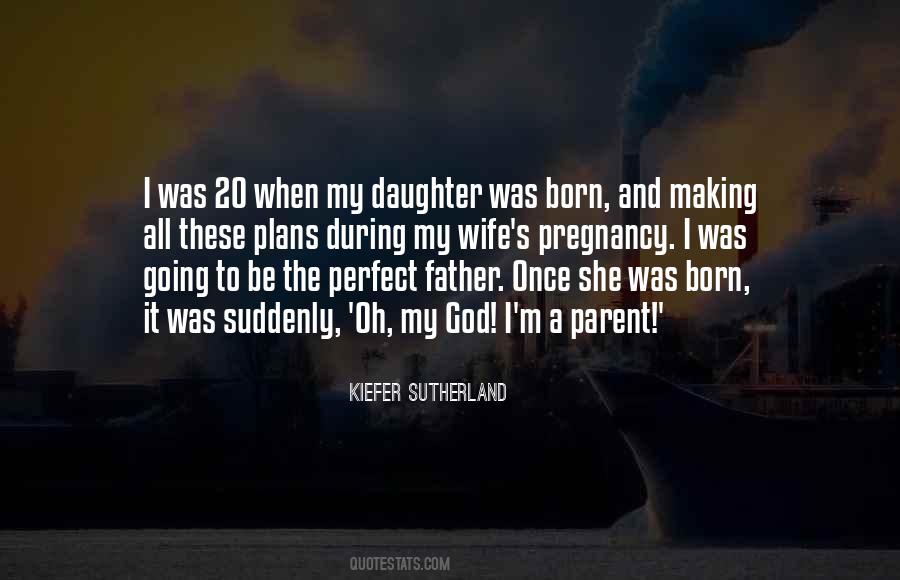 #10. Delighting in the Lord, knowing His Word, and committing yourself to Him are ways to ensure that your plans and desires for yourself match God's plans. - Author: Elizabeth George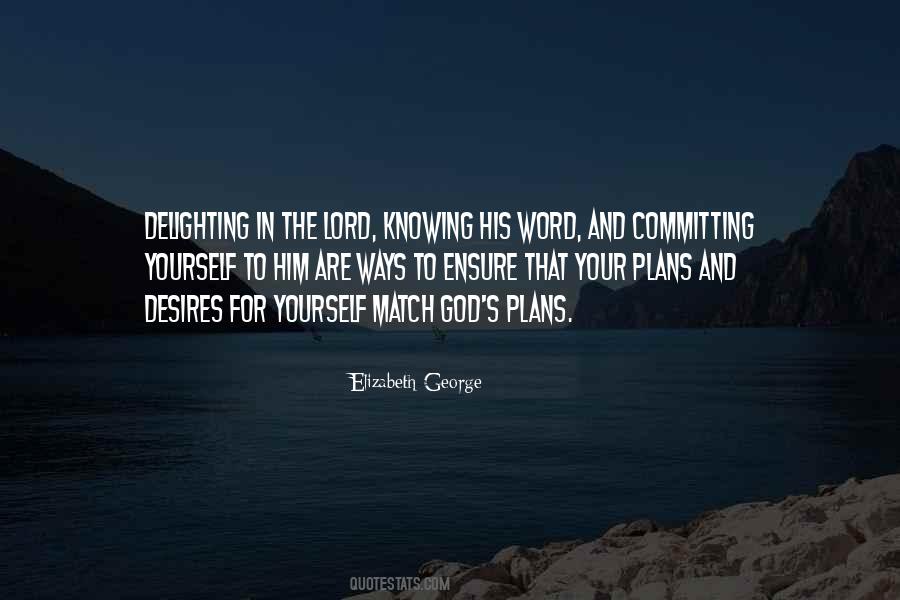 #11. Before you rush ahead and start implementing God's plans, you must have a coherent plan of
action. - Author: Sunday Adelaja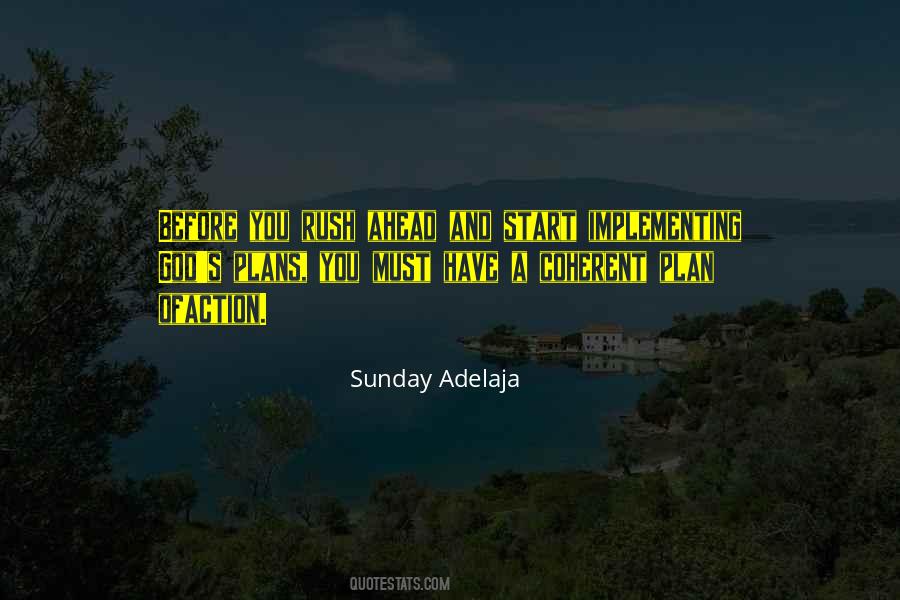 #12. God has his plans and his reasons. Sometimes we are supposed to go through things so that we learn lessons. - Author: Dolly Parton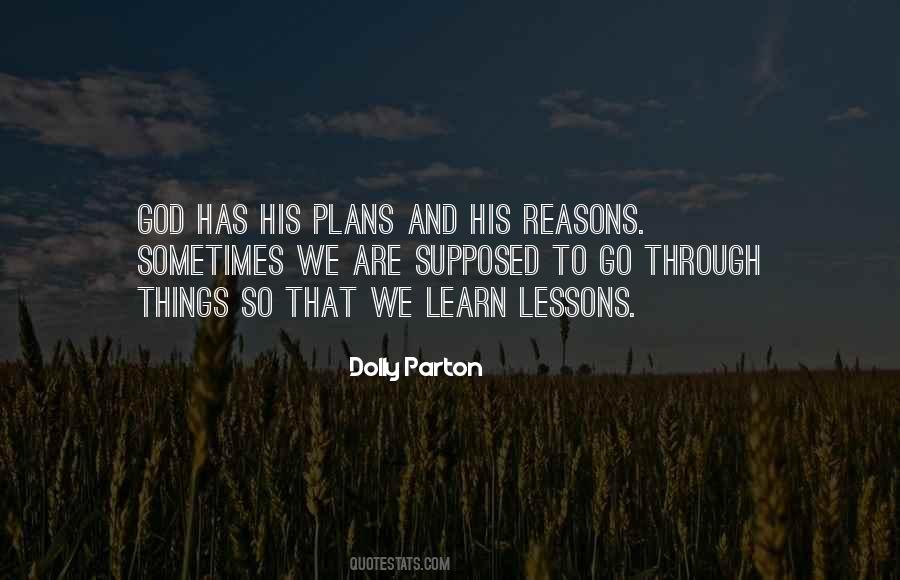 #13. They say God laughs when you make plans, that's why I make appointments and sometimes reschedule. - Author: Behdad Sami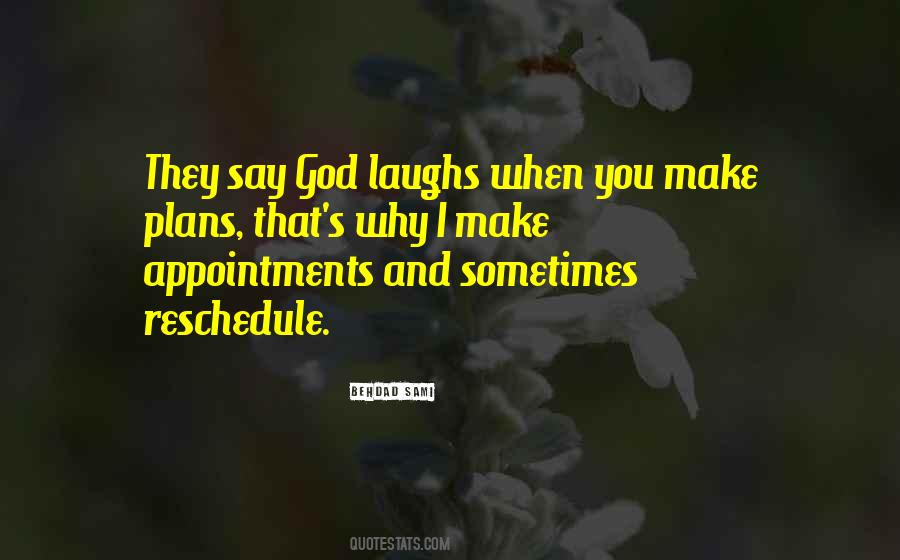 #14. Japan is the perfect example of make plans, and watch God laugh. - Author: Christopher Titus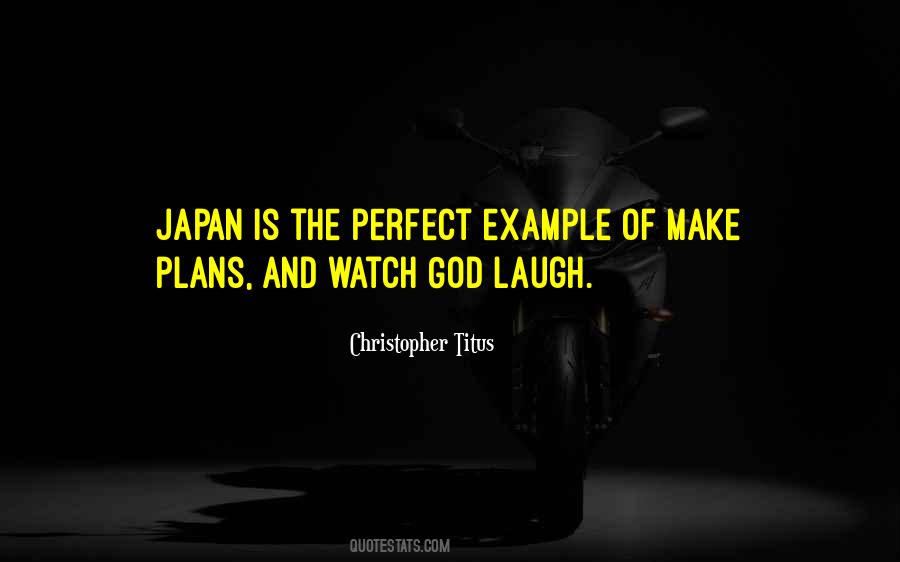 #15. May your expectations all be frustrated, May all of your plans be thwarted, May all of your desires be withered into nothingness, That you may experience the powerlessness and poverty of a child and can sing and dance in the love of God the Father, Son and Holy Spirit. - Author: John Ortberg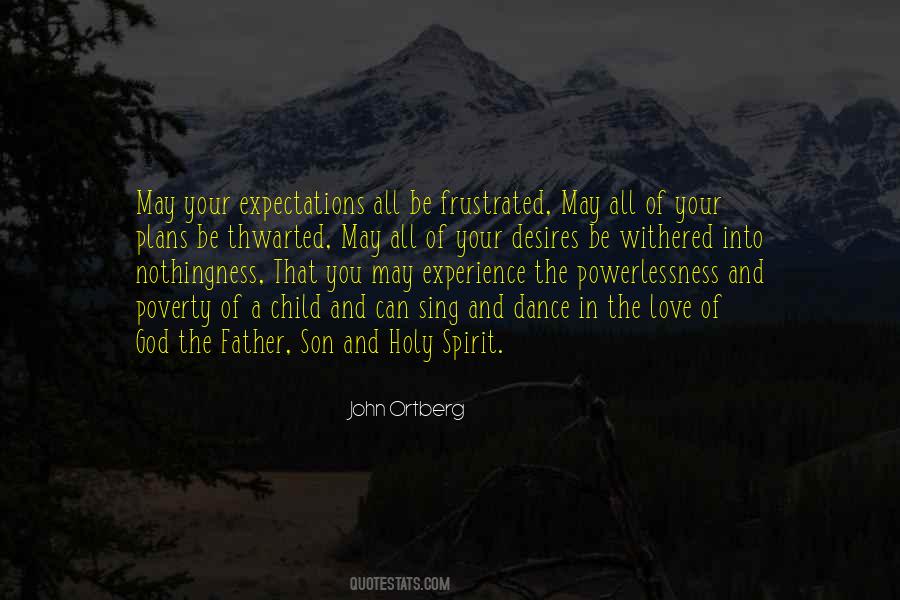 #16. Let go of your plans. The first hour of your morning belongs to God. Tackle the day's work that he charges you with, and he will give you the power to accomplish it. - Author: Edith Stein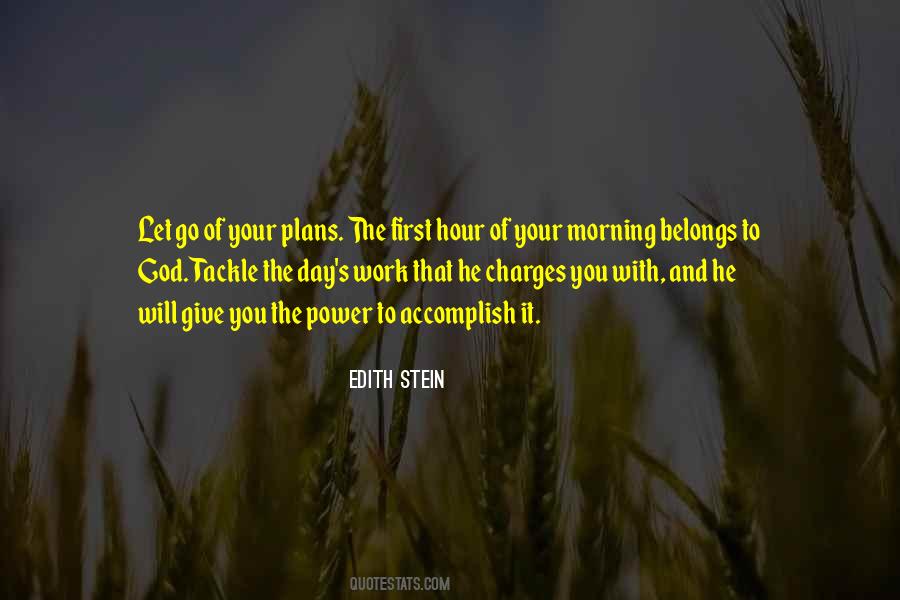 #17. Knowing in her head that God knew of His plans for her and convincing her heart were two different things. - Author: Lauraine Snelling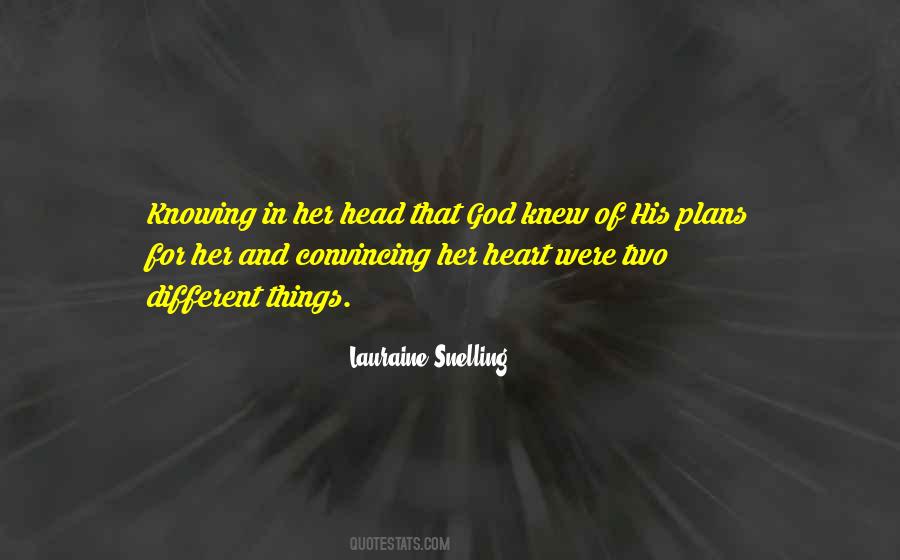 #18. No circumstance, person, or difficulty can stop the plans and the promises of God. - Author: David Jeremiah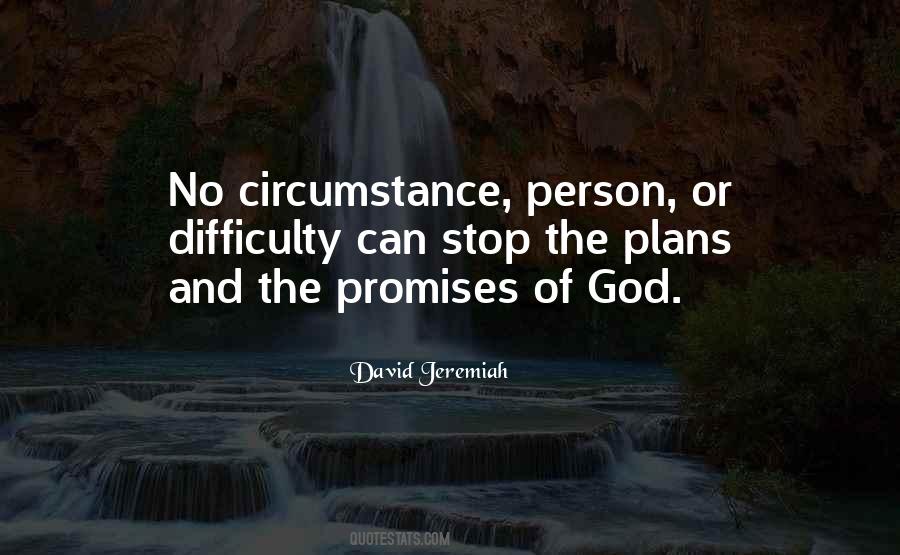 #19. Well, you just go ahead and make all the plans you want to. Sometimes God has His own plans in the works. - Author: Beth Wiseman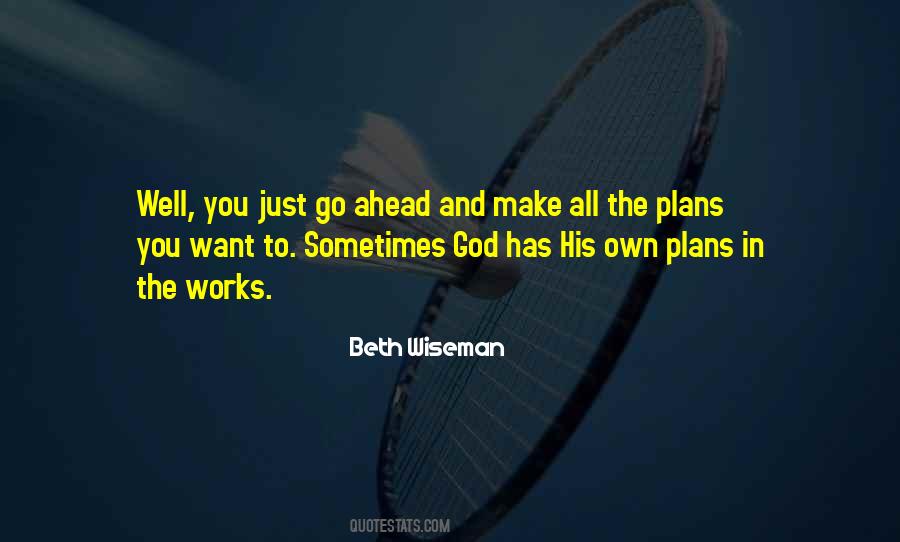 #20. May he grant you your heart's desire, and fulfill all your plans. 5 May we shout for joy over your victory, and in the name of our God set up our banners. May the LORD fulfill all your petitions. - Author: Anonymous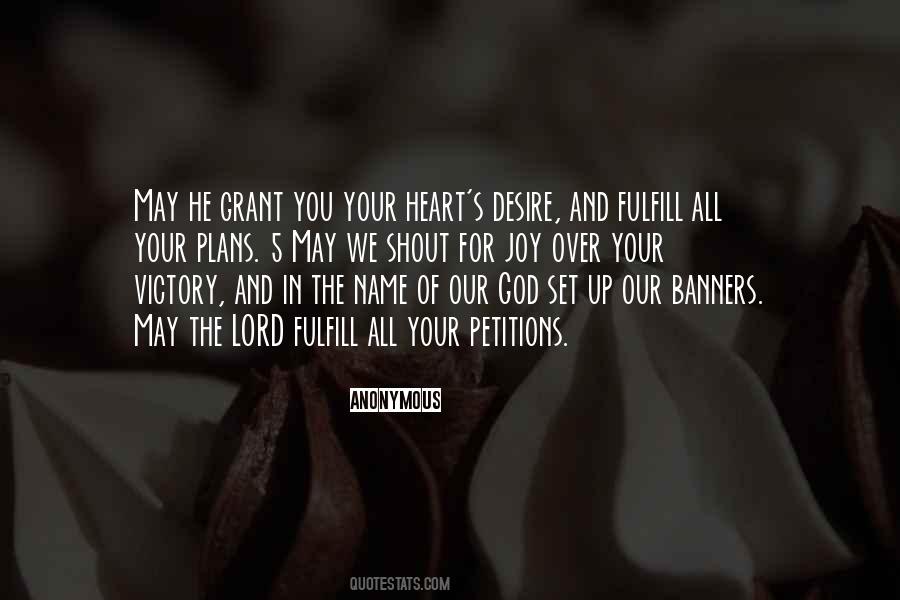 #21. In the meantime, we must hold fast to the truth of who God is and His unchanging nature: God is good. His plans are good. His requirements are good. His salvation is good. His grace is good. His forgiveness is good. His restoration is good. - Author: Lysa TerKeurst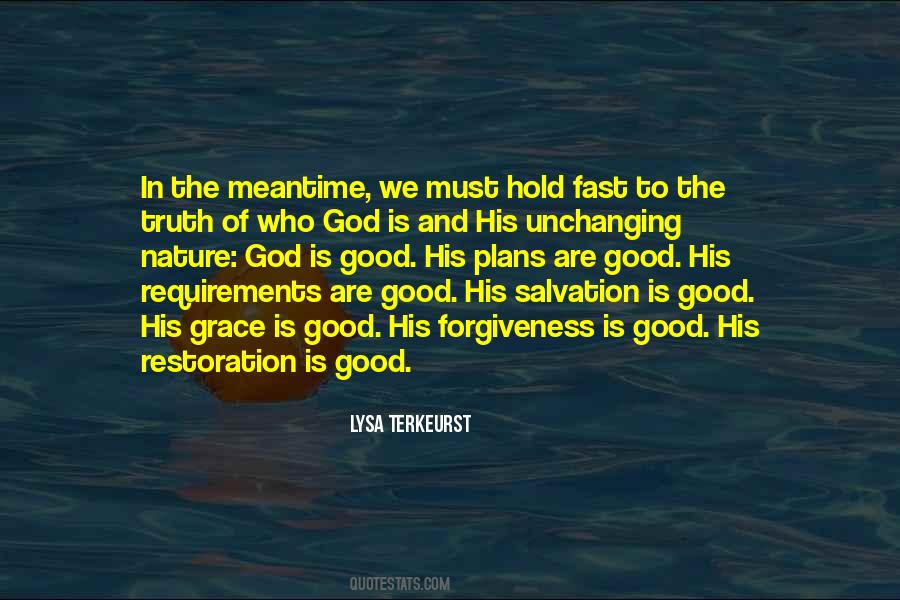 #22. Even if we don't see it, God is always working underneath the surface, behind the scenes and orchestrating His plans and purposes. - Author: Louie Giglio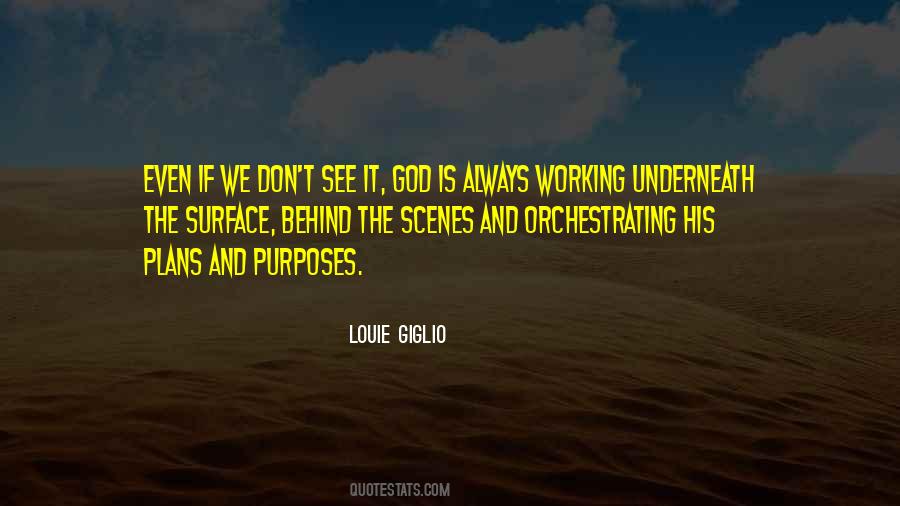 #23. The power of God will take you out of your own plans and put you into the plan of God. - Author: Smith Wigglesworth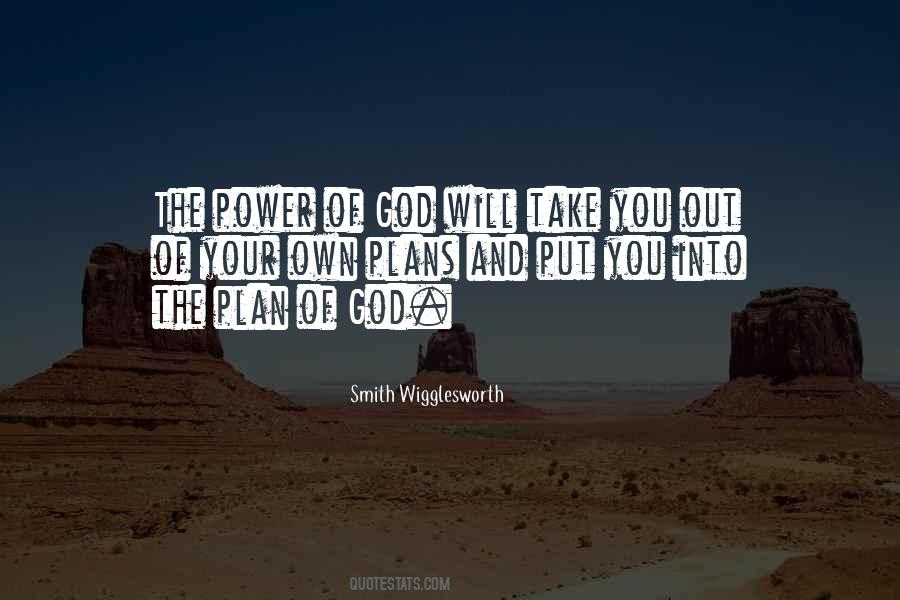 #24. God surpasses our dreams when we reach past our personal plans and agenda to grab the hand of Christ and walk the path he chose for us. He is obligated to keep us dissatisfied until we come to him and his plan for complete satisfaction. - Author: Beth Moore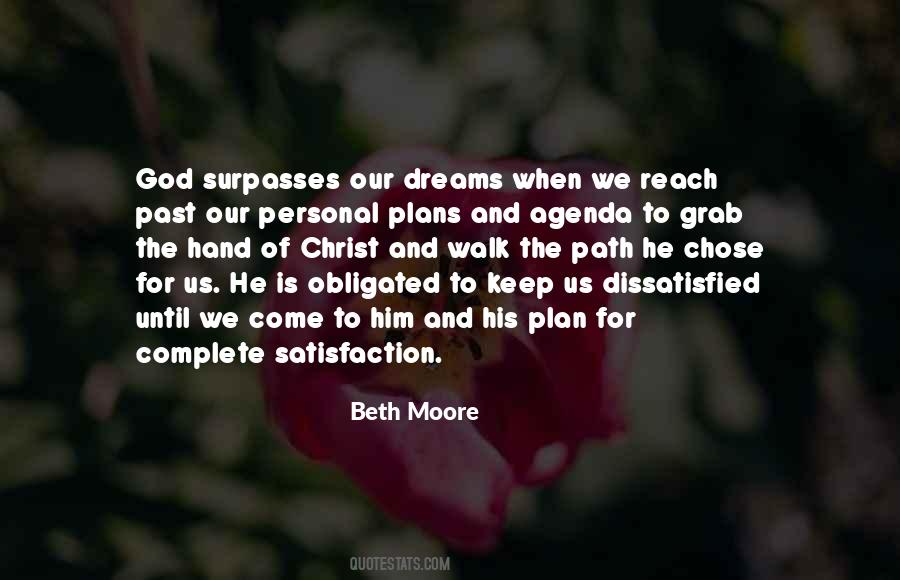 #25. May all your expectations be frustrated, may all your plans be thwarted, may all your desires be withered into nothingness, that you may experience the powerlessness and poverty of a child and sing and dance in the love of God who is the Father, Son and Spirit. - Author: Brennan Manning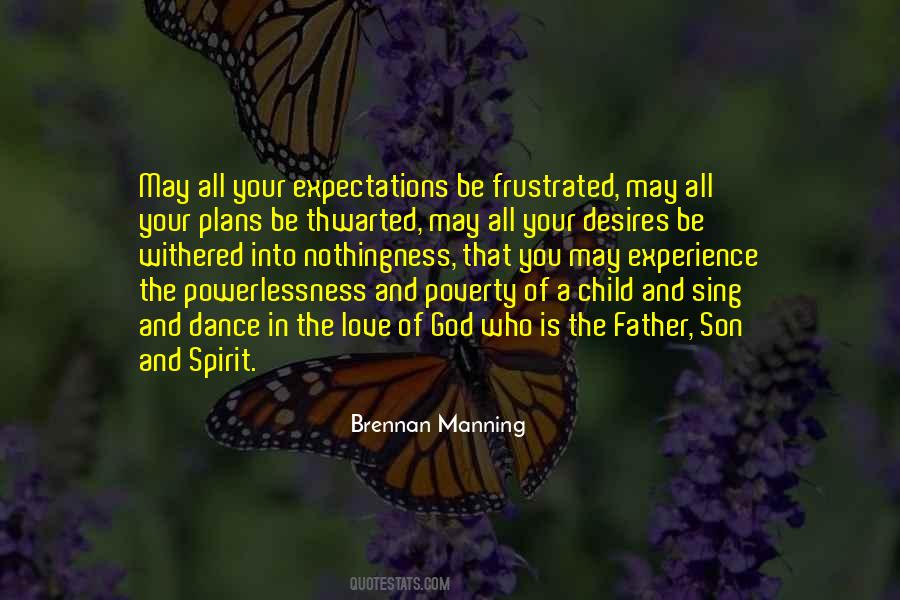 #26. All wilderness seems to be full of tricks and plans to drive and draw us up into God's light. - Author: John Muir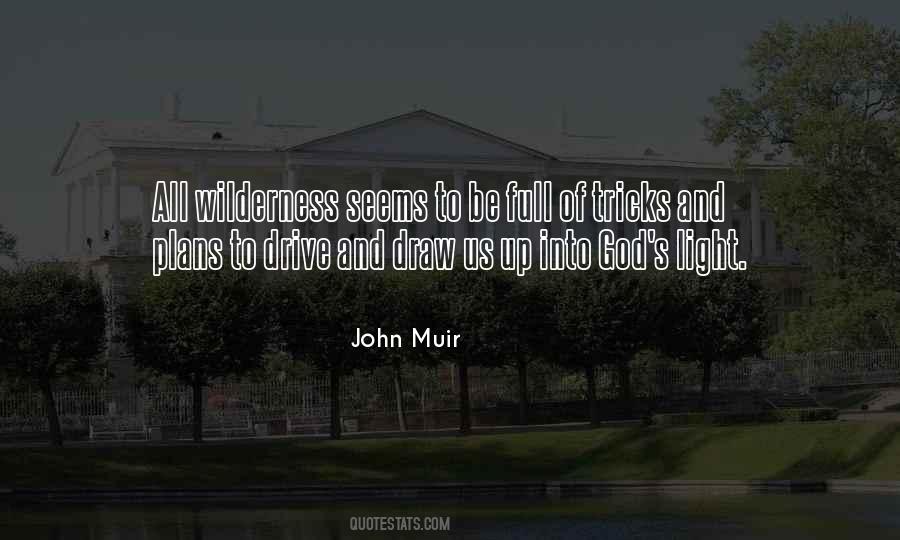 #27. The way and manner God executes His plan in our lives differs - Author: T. B. Joshua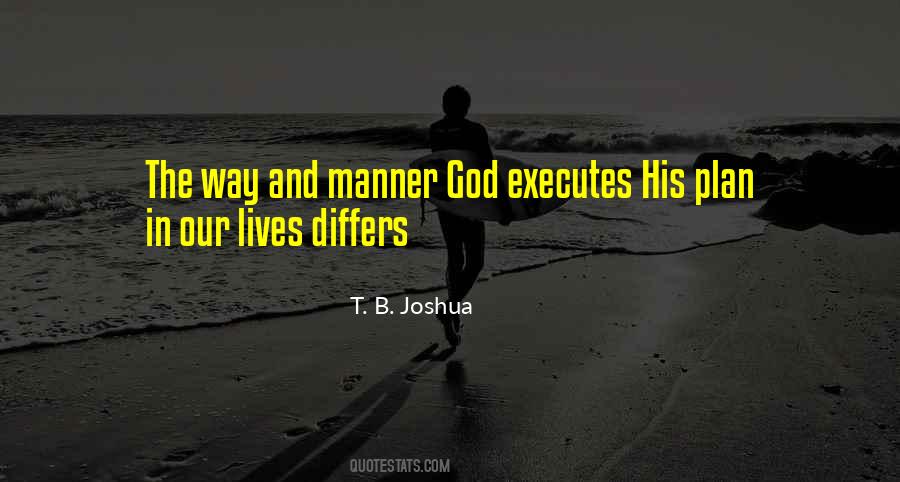 #28. It is not enough to take good decisions and make good choices. It is necessary to take heed and comply with whatever you plan and that can only happen by the influence of the Lord God, the giver of your dreams. - Author: Israelmore Ayivor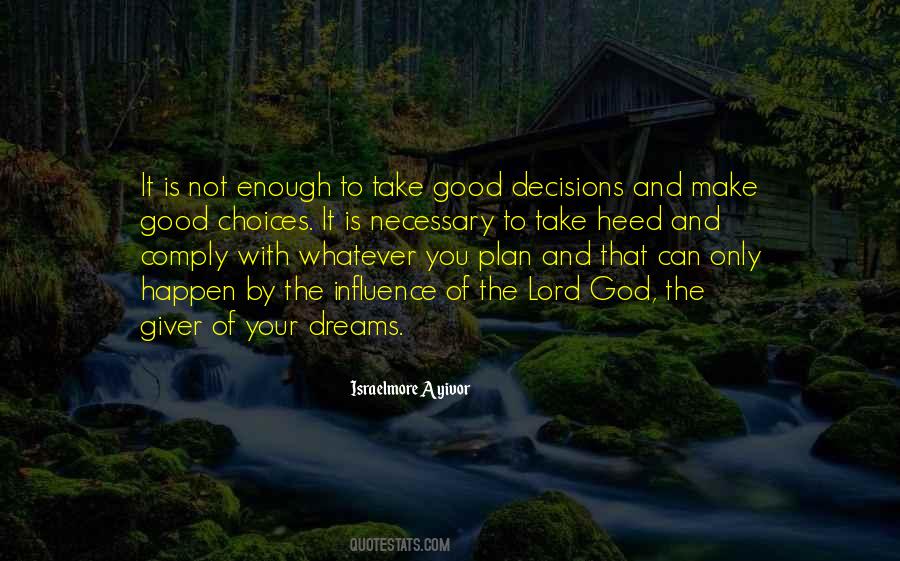 #29. Did life really matter? Could hopes and dreams and plans and life end so quickly, so terribly? She looked at the sky. Was anything there besides stars? What did it all mean? What was God? Who was God? - Author: Yvonne Lehman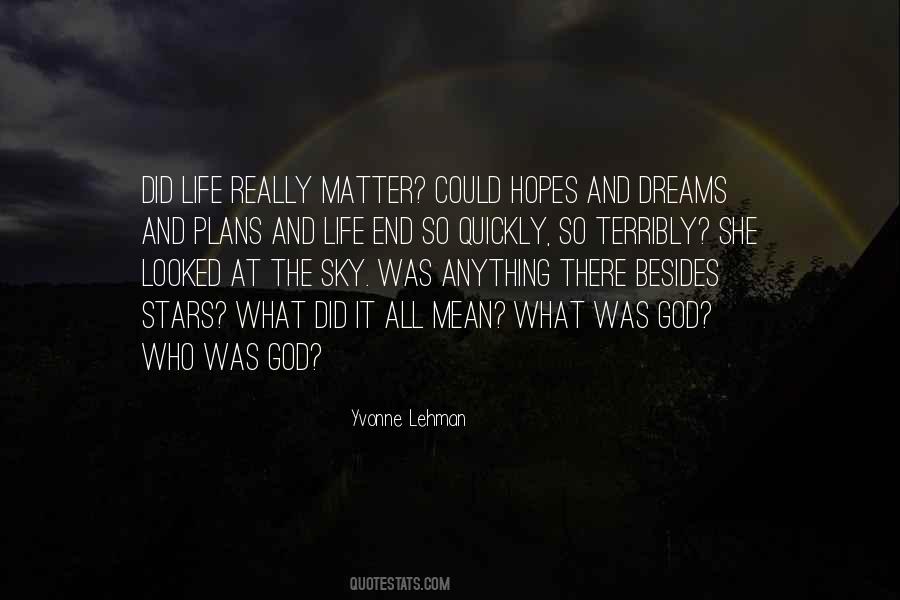 #30. Matter what your father plans, nor what his motives might be. God will prevail. God will use everything to His good purpose if you love and trust Him. - Author: Francine Rivers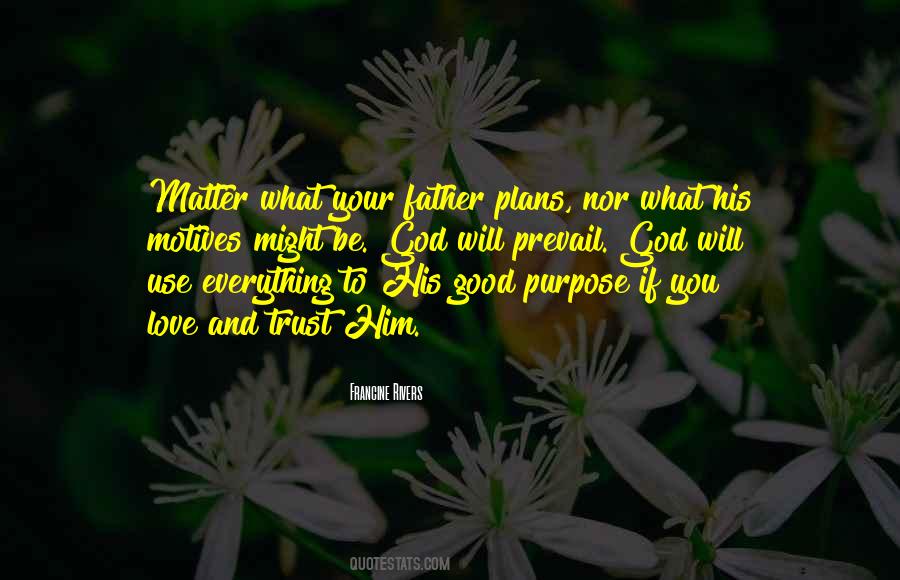 #31. Larry Hein, who wrote the blessing: May all your expectations be frustrated, may all your plans be thwarted, may all your desires be withered into nothingness, that you may experience the powerlessness and poverty of a child and sing and dance in the love of God who is Father, Son, and Spirit - Author: Brennan Manning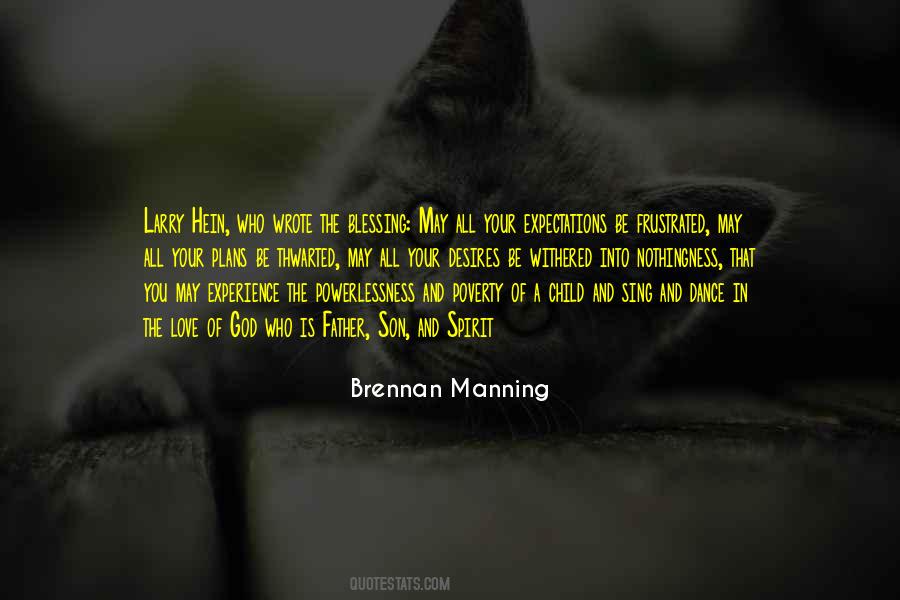 #32. Yet the saint obediently accepted the destruction of his plans and blessed God. Because of this kind of detachment from his own will and attachment to God's, Louis became an instrument used by God to accomplish even mightier works. - Author: Michael Gaitley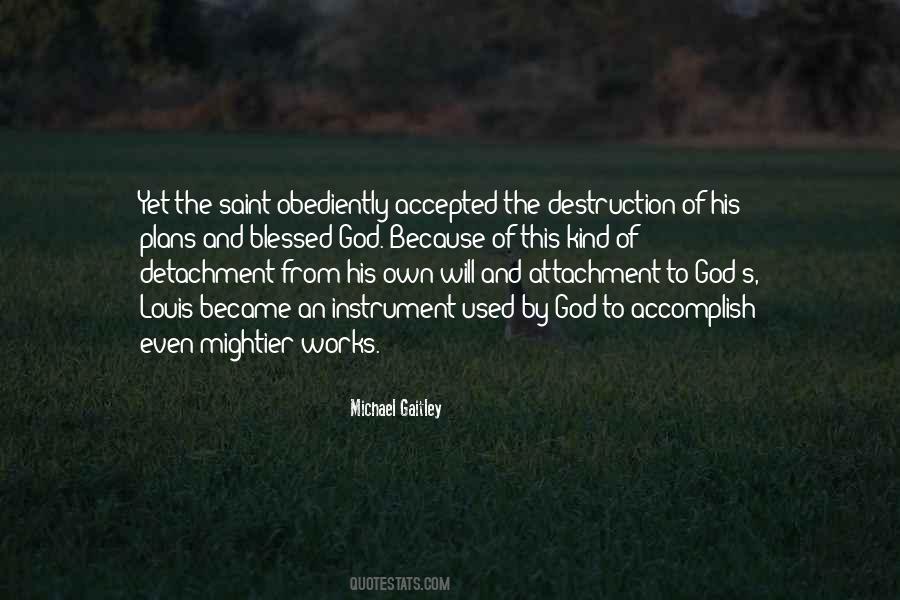 #33. Fretting rises from our determination to have our own way. Our Lord never worried and was never anxious, because His purpose was never to accomplish His own plans but to fulfill God's plans. Fretting is wickedness for a child of God. - Author: Oswald Chambers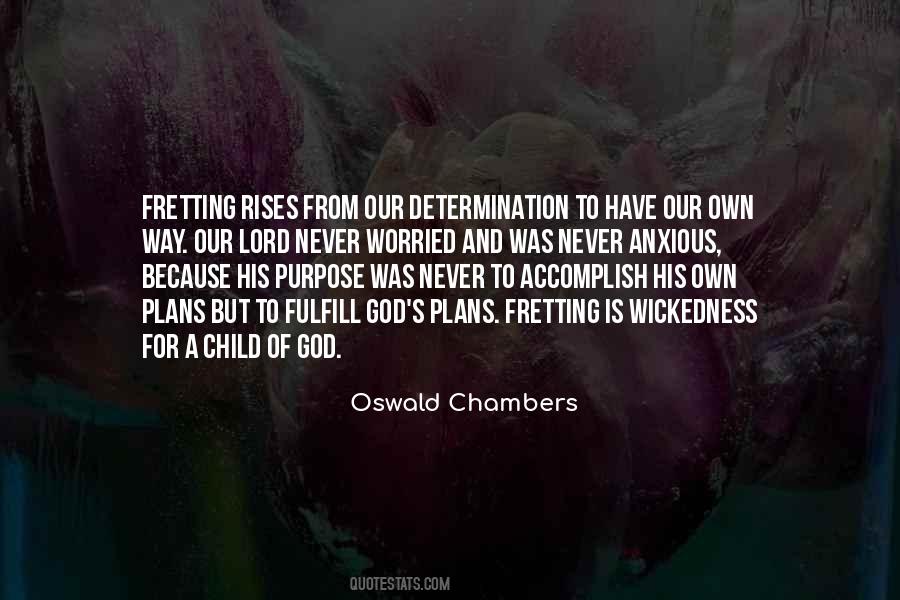 #34. God's plans and dreams for us always point to our success. No matter how much we need to learn along the way, He always desires our good. He is not only faithful, He is infinitely wise. - Author: Darren Wilson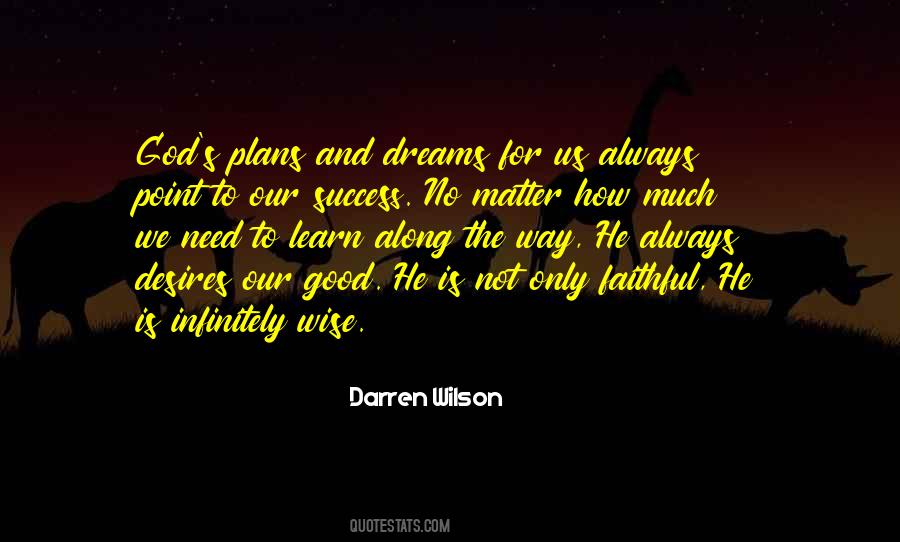 #35. There is hope for me yet
Because God won't forget
All the plans he's made for me
I have to wait and see
He's not finished with me yet - Author: Brandon Heath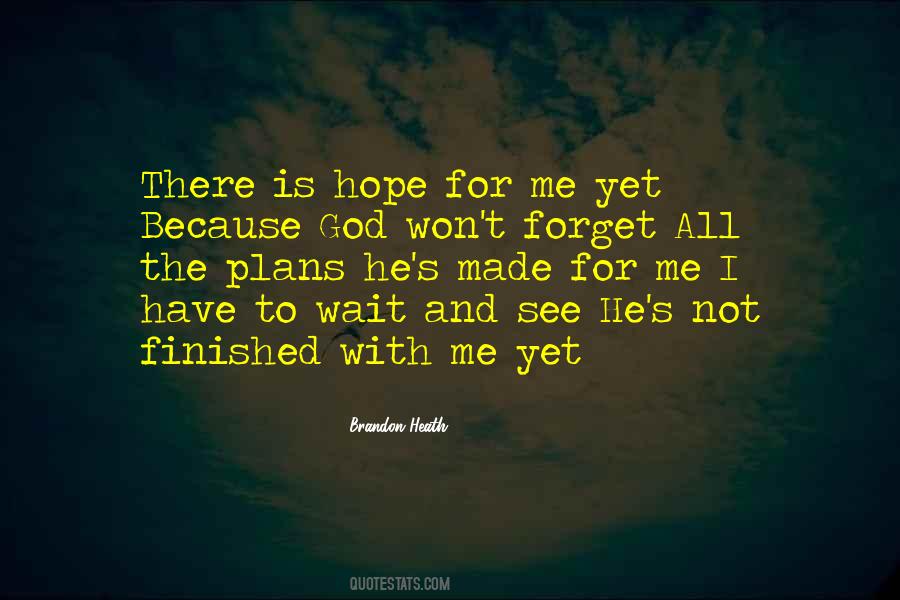 #36. When we know that His plans are to prosper us and give us hope and future, we bow down at once to the blessing of pruning, knowing that the change that will take place in us, will take us places. - Author: Joshua Stannard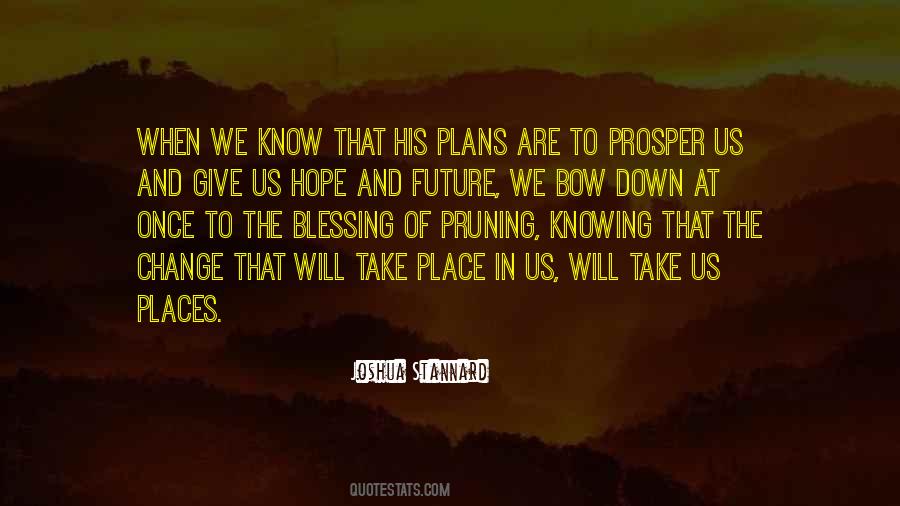 #37. God shows us his plan and connects us with others who share the same passion to extend his kingdom - Author: Sunday Adelaja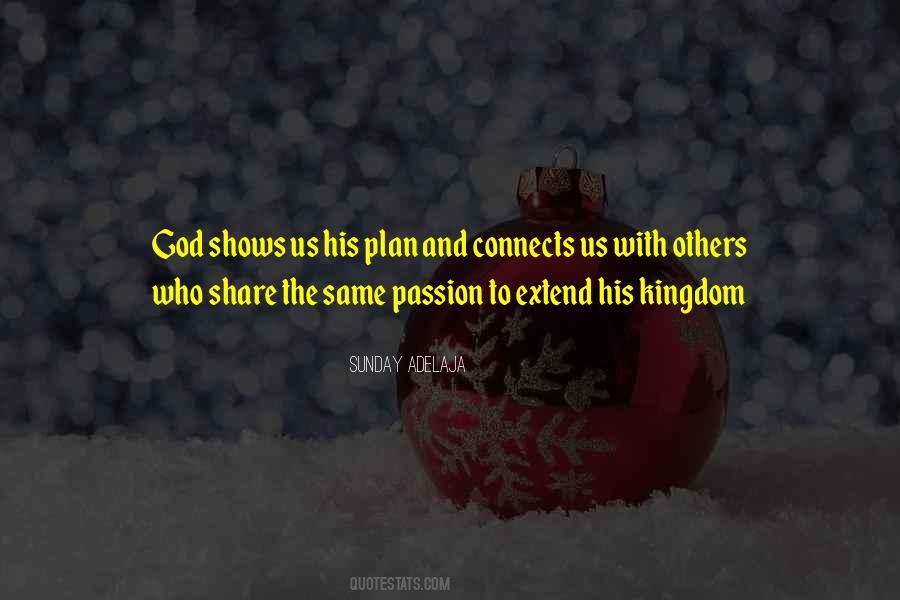 #38. Allow your dreams a place in your prayers and plans. God-given dreams can help you move into the future He is preparing for you. - Author: Barbara Johnson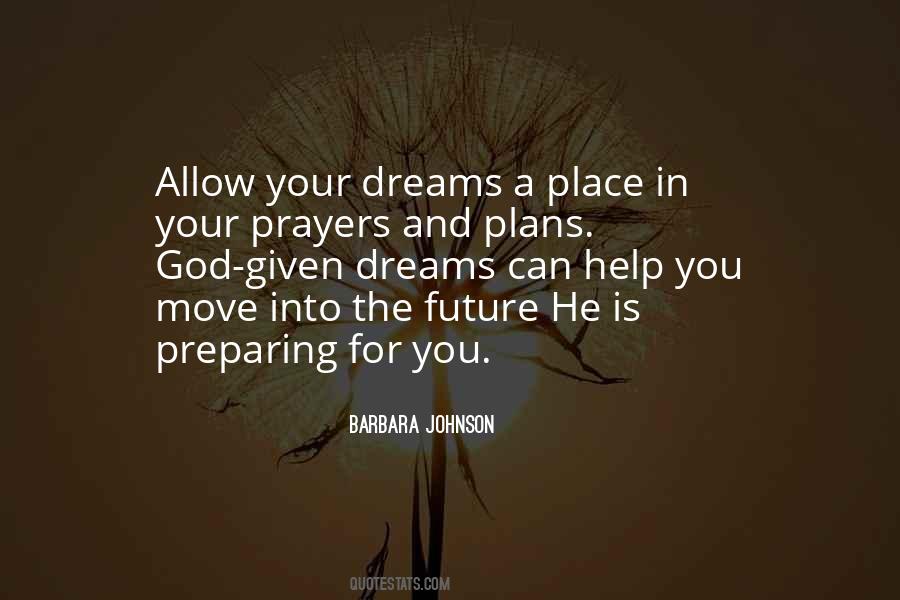 #39. God honors obedience, and He has distinct plans for us. I think the dreams that God puts in our hearts, we can fulfill. He's equipped us for that. - Author: Joel Osteen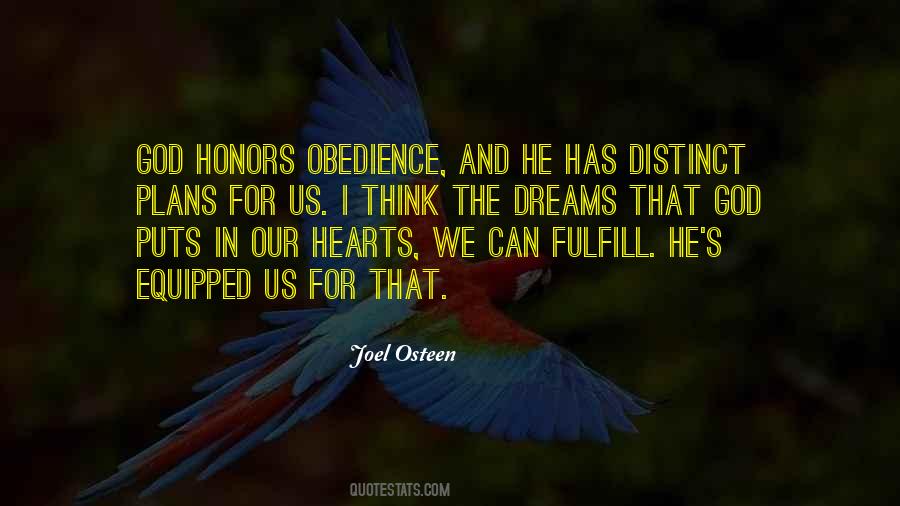 #40. Give people time and space. Dont beg for anyone to stay. Dont beg anyone for Love. Whats meant for you will always be yours. If you are meant to be together you will be despite everything! Trust in Gods plans. - Author: Lily Amis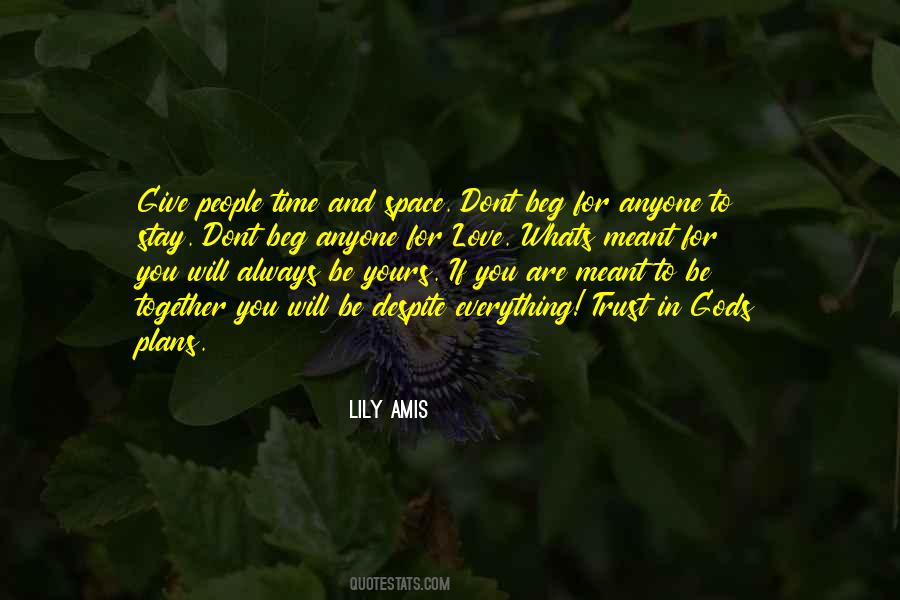 #41. God has chosen to let you live in this fallen world because he plans to employ the difficulties of it to continue and complete his work in you. - Author: Paul David Tripp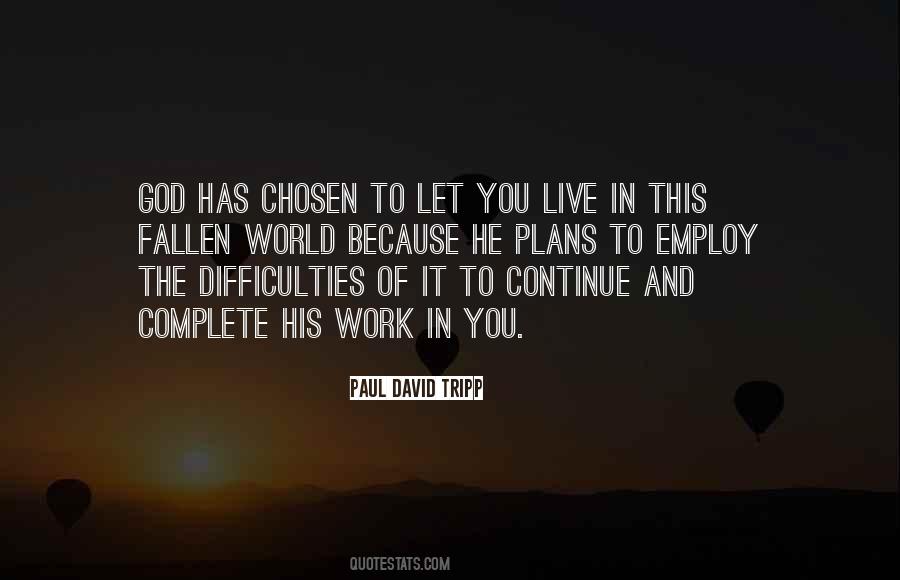 #42. We all wish something or other in our life in our own way, but God have other plans and they are best for us to realize our dream and destiny. All we need is to have faith in him always and never to lose hope. - Author: Pravin Agarwal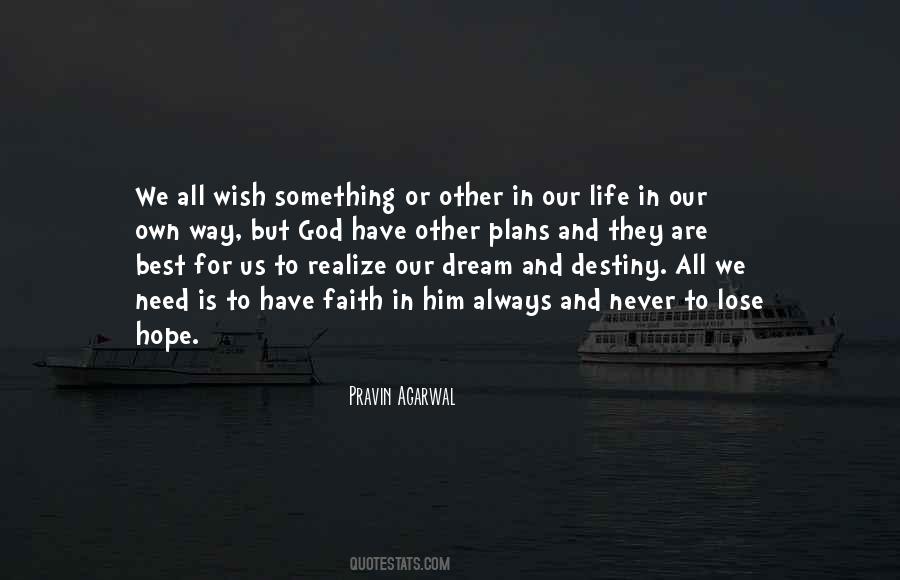 #43. Every new day comes with a new joy, a new plan and a new life, all to be directed by the same old God! You need a new dream, a new passion and a new hope to pursue your old destiny! - Author: Israelmore Ayivor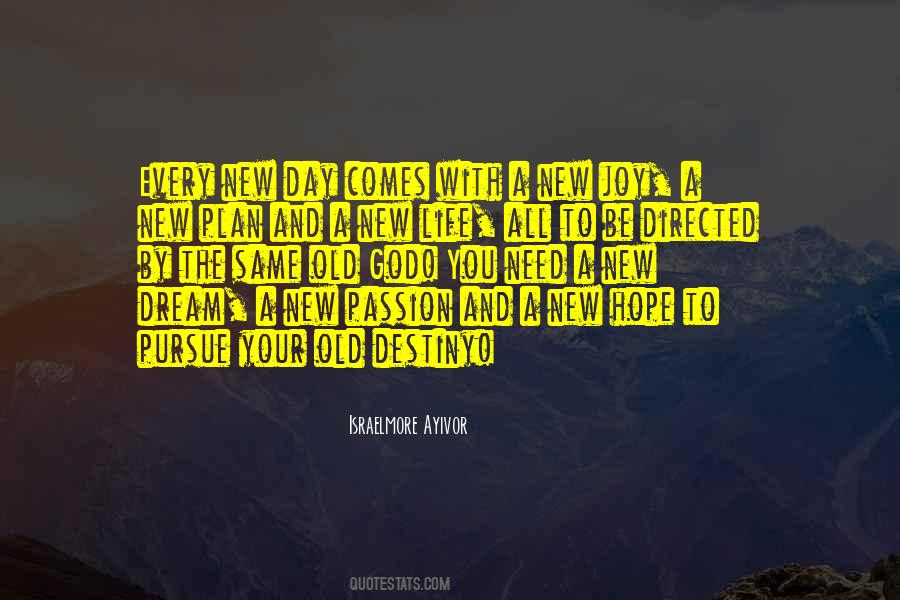 #44. You talk like Jean. She says that we shouldn't make plans
and then pray for God to bless those plans, but rather ask Him
what His will is and what we need to do to help carry it out. - Author: Donald James Parker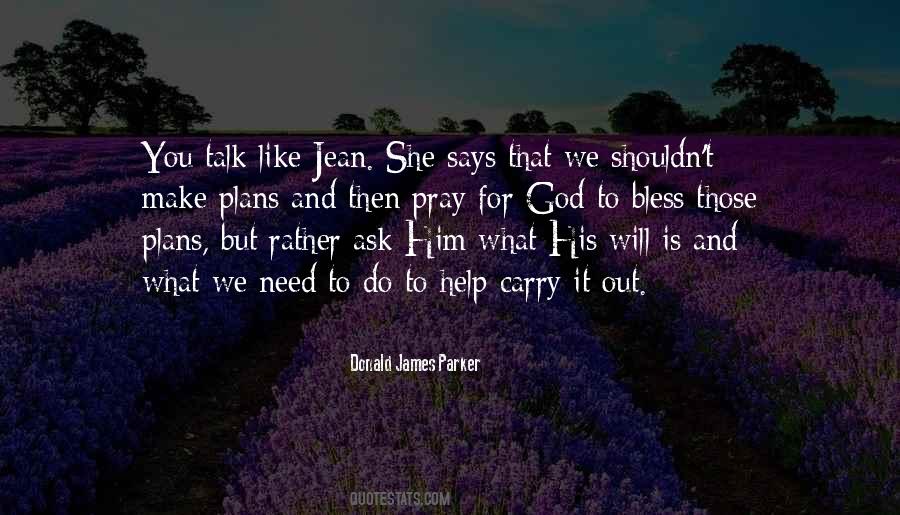 #45. Often, it'a not one great, dramatic thing that God asks us to do but hundreds of little everyday things. If we want to be used by Him, if we're ready to be used and aren't all tangled up with your own plans and projects, then He'll show us the work He has for us. - Author: Lynn Austin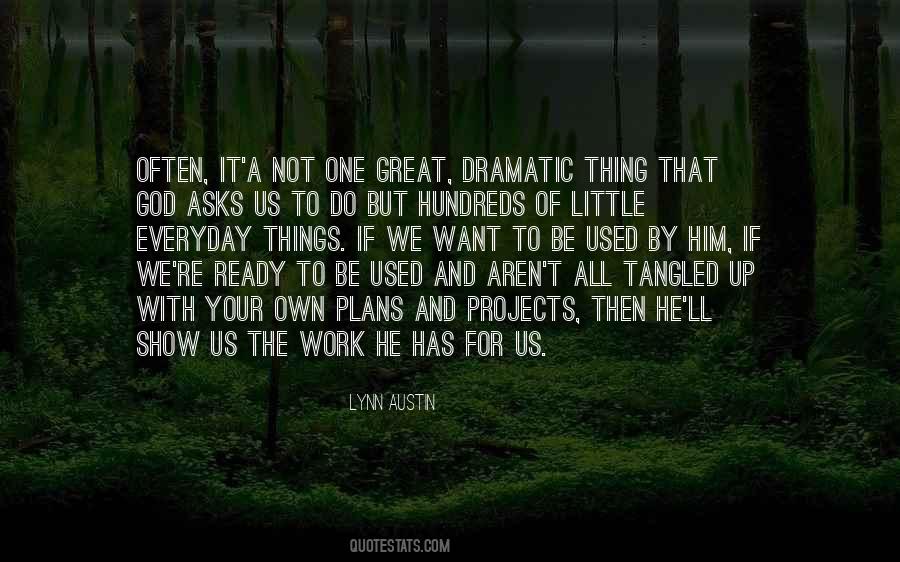 #46. I have to be honest in asking myself: Do I really want to know and do God's will? Or is it rather that I want God to do my will? Do I go to God with the assurance that I want only to know and do his will? Or do I rather first make my own plans and then insist that God make my dreams come true? - Author: John Powell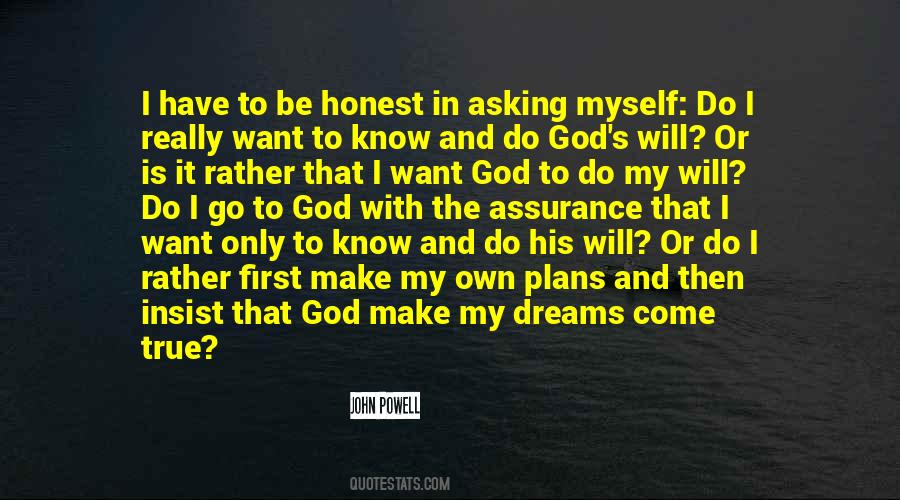 #47. I believe that God wants to put His hand upon us so that we may reach ideal definitions of humility, of human helplessness, of human insufficiency, until we will rest no more upon human plans, but have God's thoughts, God's voice, and the Holy Spirit to speak to us. - Author: Smith Wigglesworth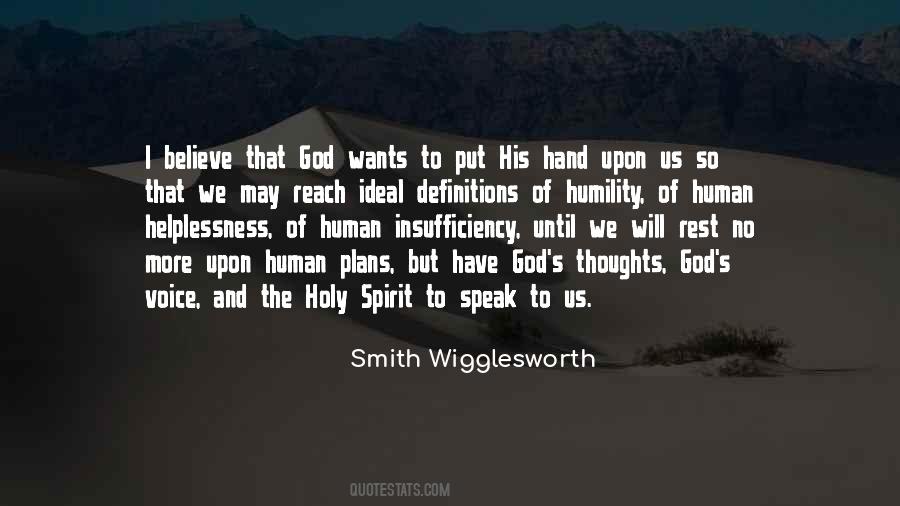 #48. To this day God is the name by which I designate all things which cross my willful path violently and recklessly, all things which upset my subjective views, plans and intentions and change the course of my life for better or worse. - Author: Carl Jung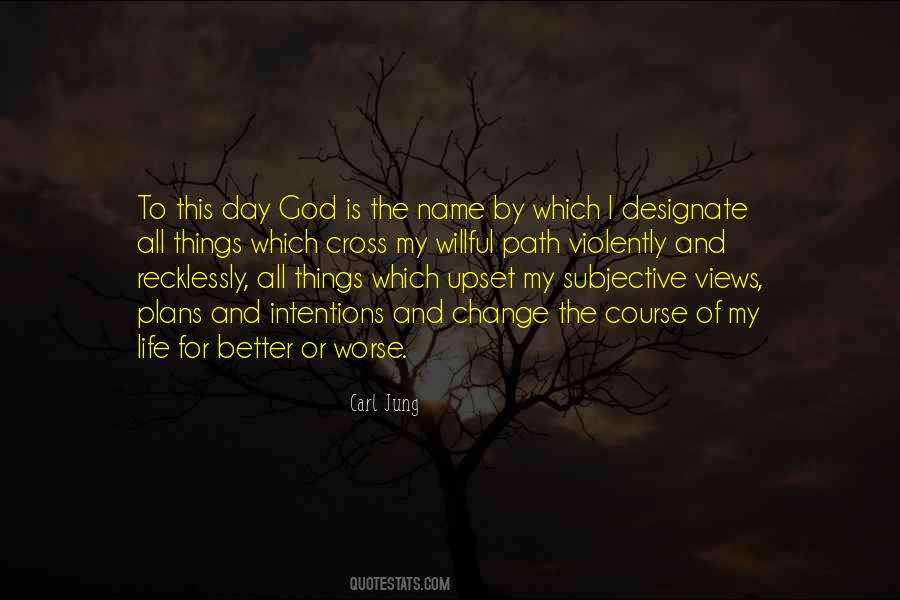 #49. We mustn't just simply pray, but rather ask God about His desires and plans. This is the prayer of enquiry - Author: Sunday Adelaja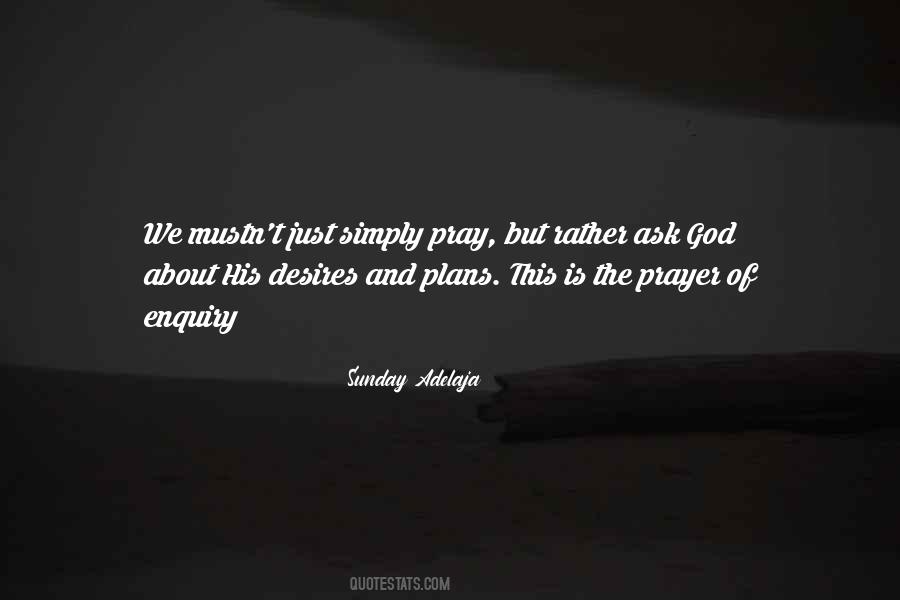 #50. The devil's main purpose is not to scare us, in a horror-movie way; when we're scared of him, we're alert to him, and that might undermine his plans. Instead, he wants to quietly, subtly lure us into stepping away from God. - Author: Frederica Mathewes-Green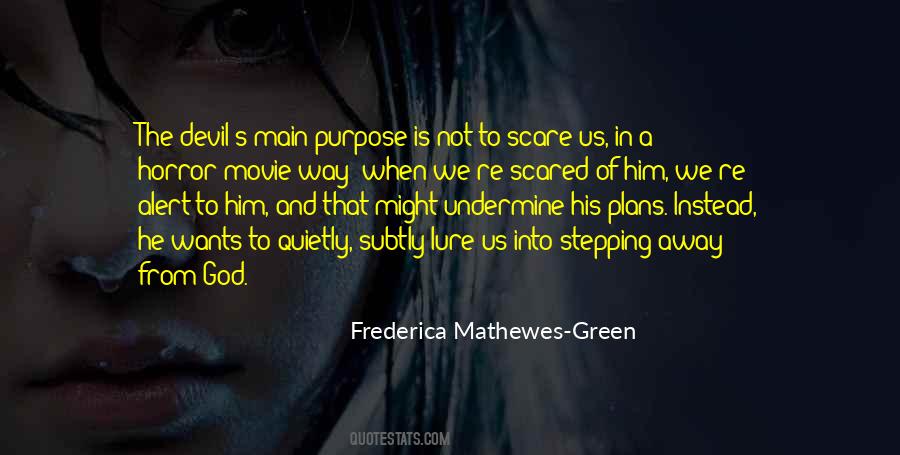 #51. My plans are perfect, and when I start to carry them out, may God have mercy on Bobby Lee, for I shall have none. - Author: Joseph Hooker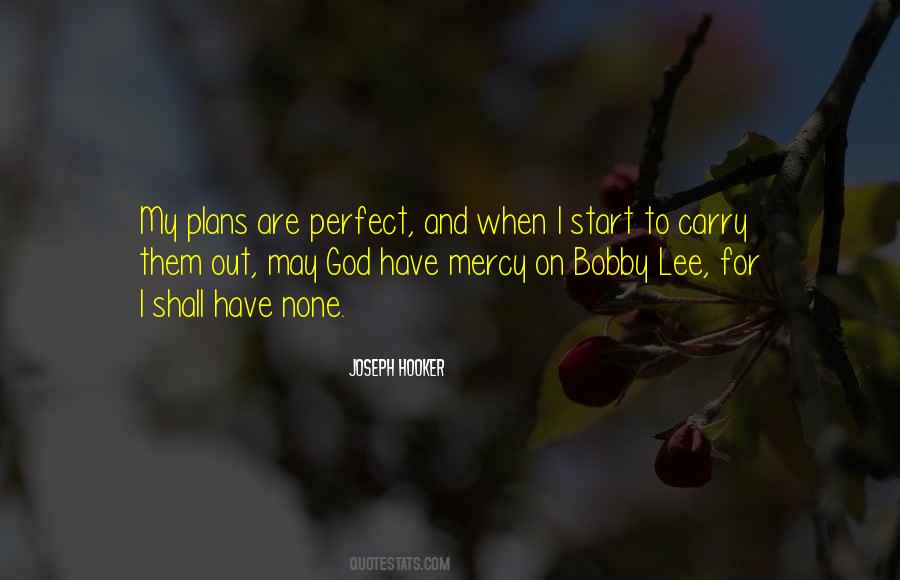 #52. He is tolerated by the gods, perhaps because his stratagems and plans save them as often as they get them into trouble.

Loki makes the world more interesting but less safe. He is the father of monsters, the author of woes, the sly god. - Author: Neil Gaiman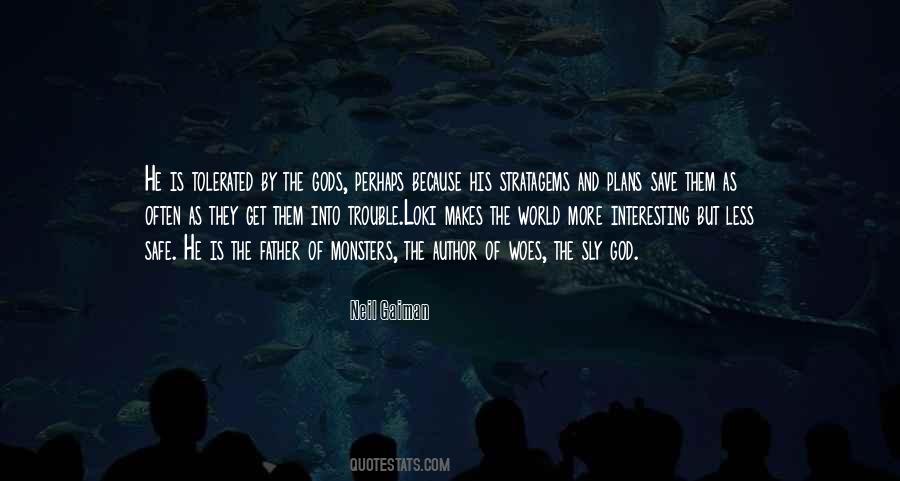 #53. There is always death at the end of your plan and life at the end of God's plan. - Author: Rod Parsley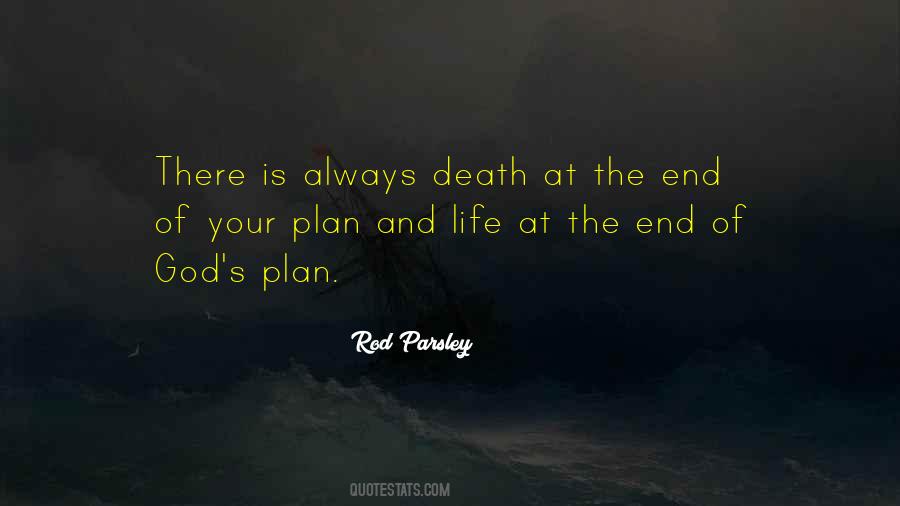 #54. You're on God's mind, He thinks a lot about you and has good plans for your life. - Author: Jamie Larbi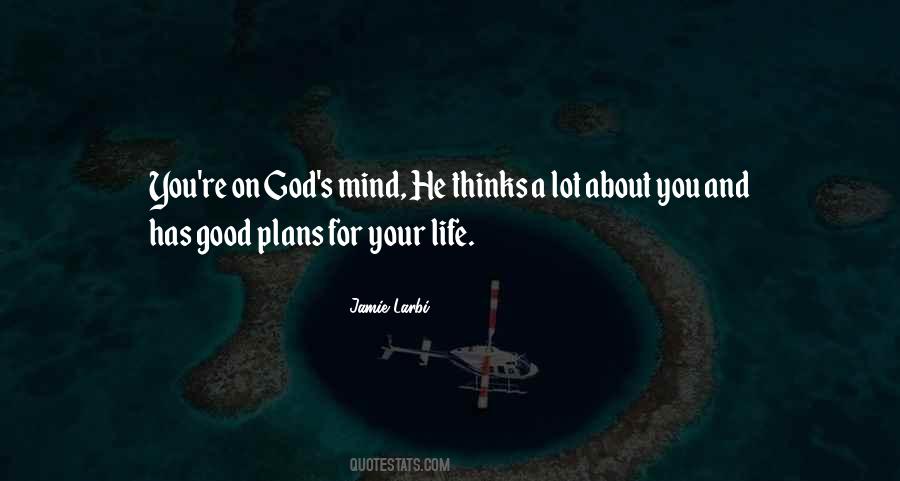 #55. I sit and talk to God, and he just laughs at my plans. - Author: Robbie Williams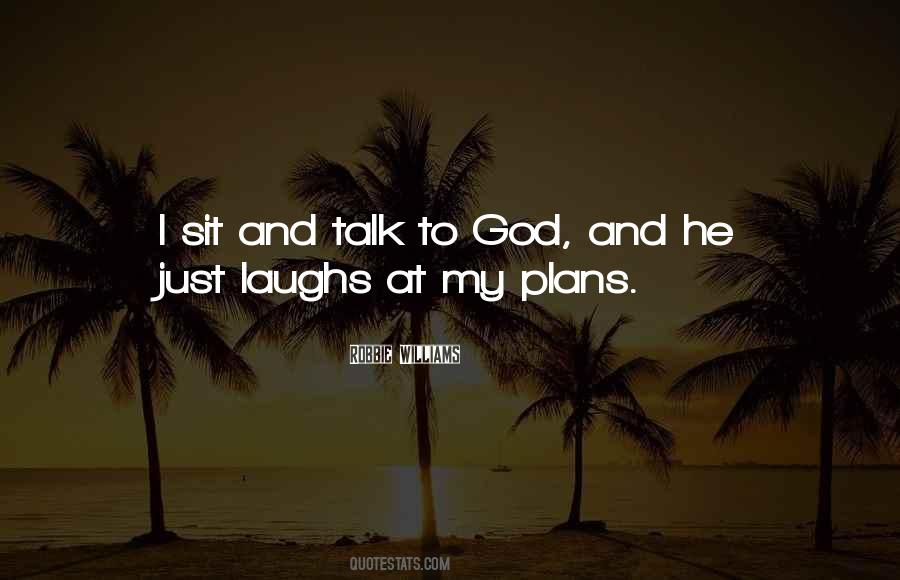 #56. If God is real, I think he might be some kind of masochist. I imagine he sits there up on his cloud, long white robes flowing, drinking a forty of Mickey's and smoking a Winston as he flips me the bird and plans what he'll do next to piss me off. - Author: T.J. Klune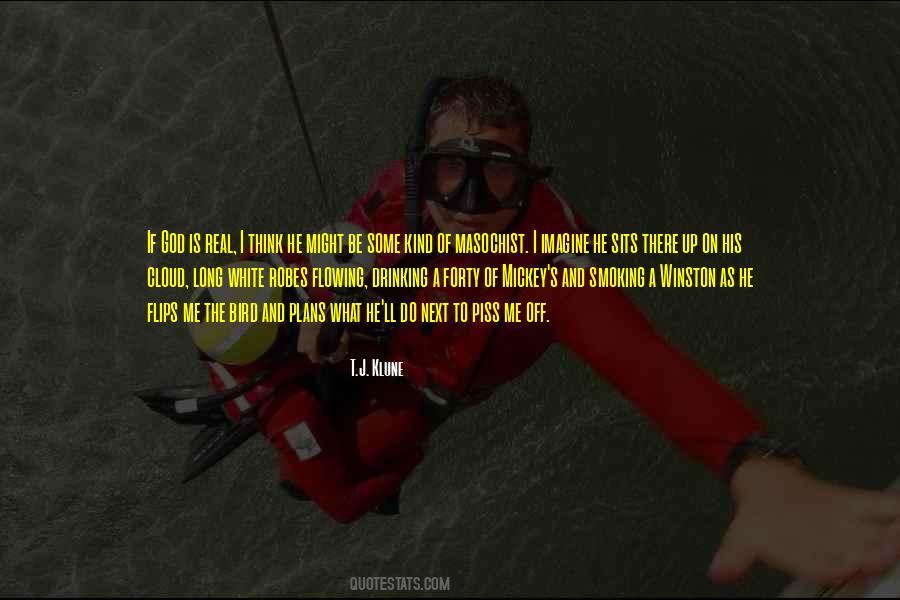 #57. The loss of transcendence has left in its wake the flotsam of distrustful, cynical Christians, angry at a capricious God, and the jetsam of smug bibilolatrists who claim to know precisely what God is thinking and exactly what he plans to do. - Author: Brennan Manning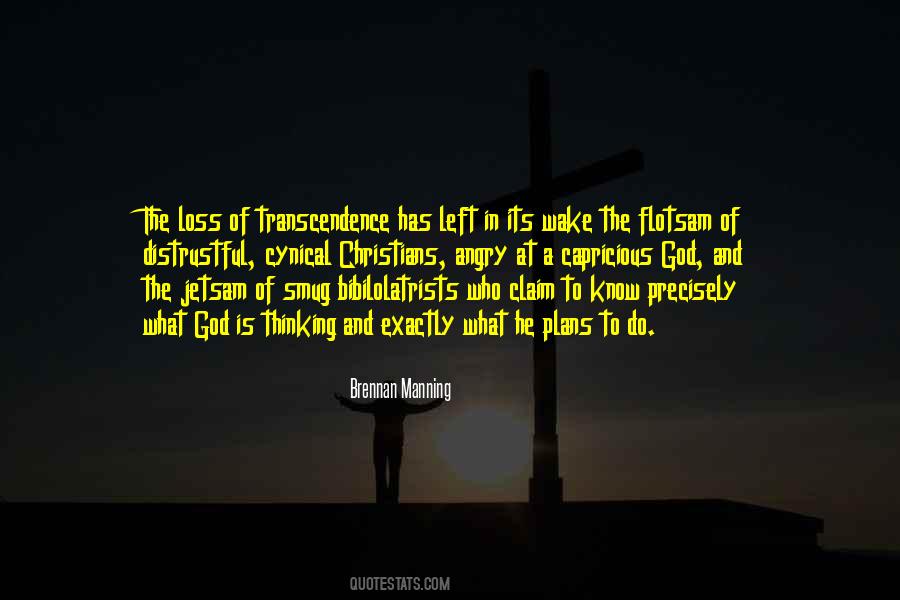 #58. It's good to have plans and dreams, but don't be surprised if God brings you somewhere else. - Author: Anne F. Beiler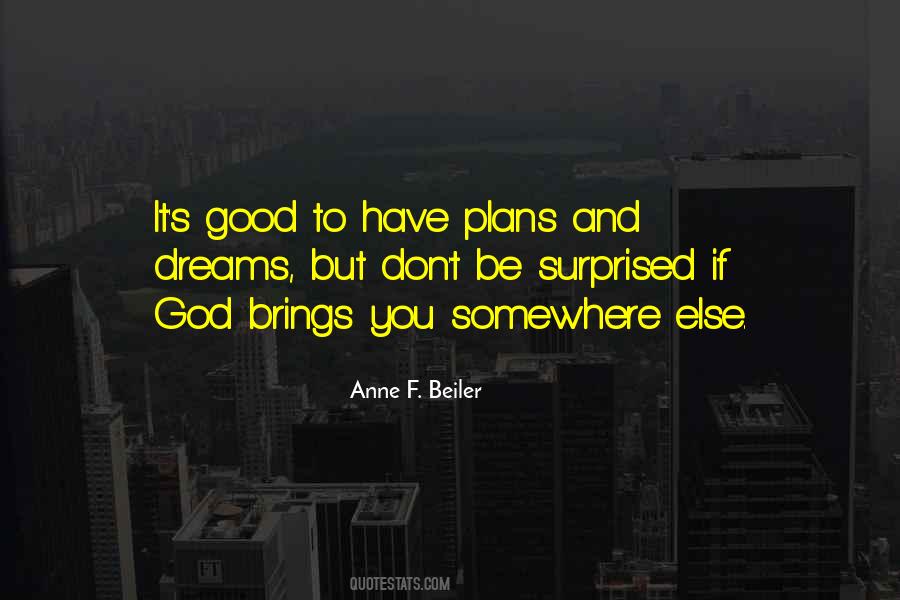 #59. Intercession is speaking and singing God's heart back to Him. He has made His plans and purposes known to us in His Word. We are to discern His will and call it forth in faith and partnership with Him, and He answers by stretching out His hand in authority. - Author: Anna Blanc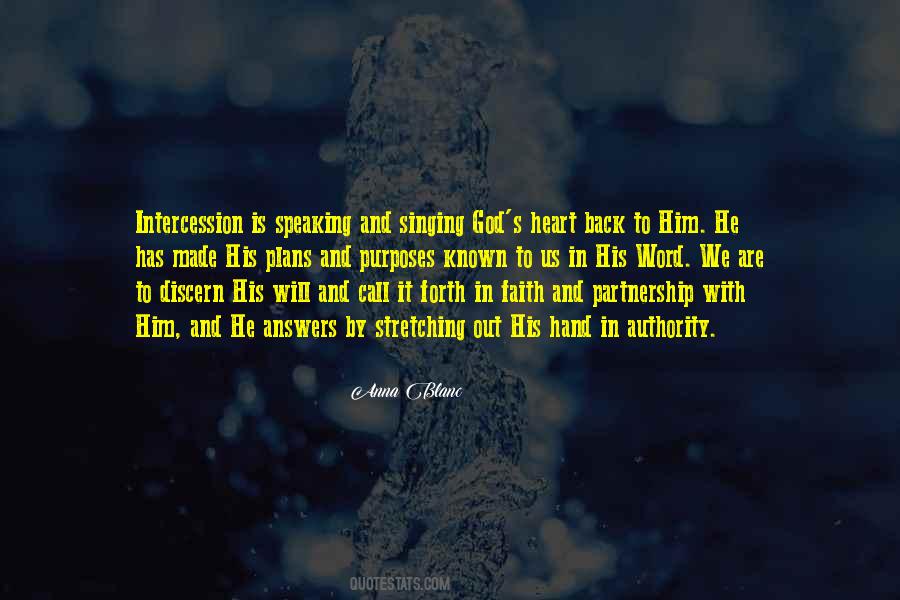 #60. When I pray, "Your kingdom come," I am saying to God's Holy Spirit, "Spirit of Christ within me, take control and do what You will for Your glory." A true child of God won't be preoccupied with his own plans and desires but with the determinate program of God, revealed in the person of Jesus Christ. - Author: John F. MacArthur Jr.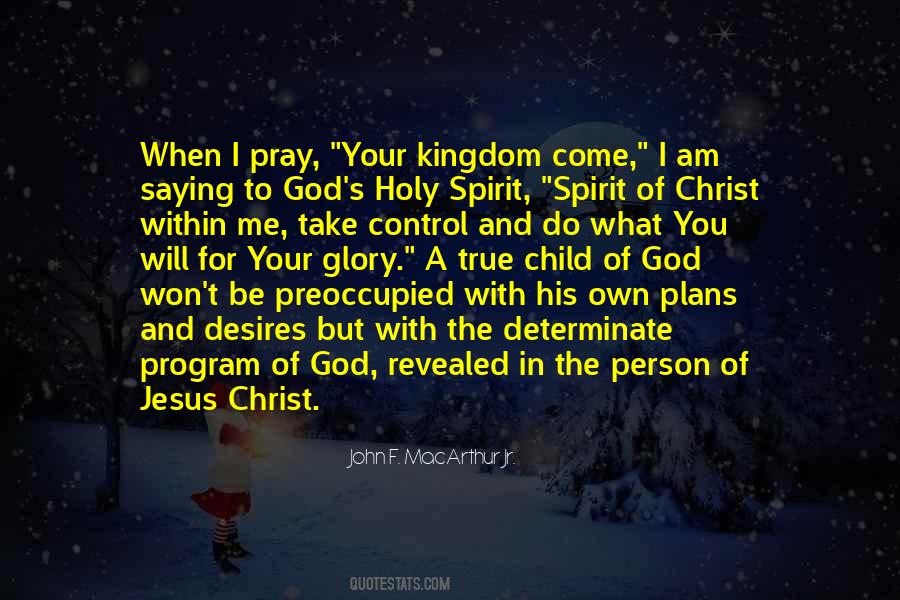 #61. I have found by experience that man makes his plans to be upset by God, but, at the same time, where the ultimate goal is the search of truth, on matter how a man's plans are frustrated the issue is never injurious and often better than anticipated. - Author: Mahatma Gandhi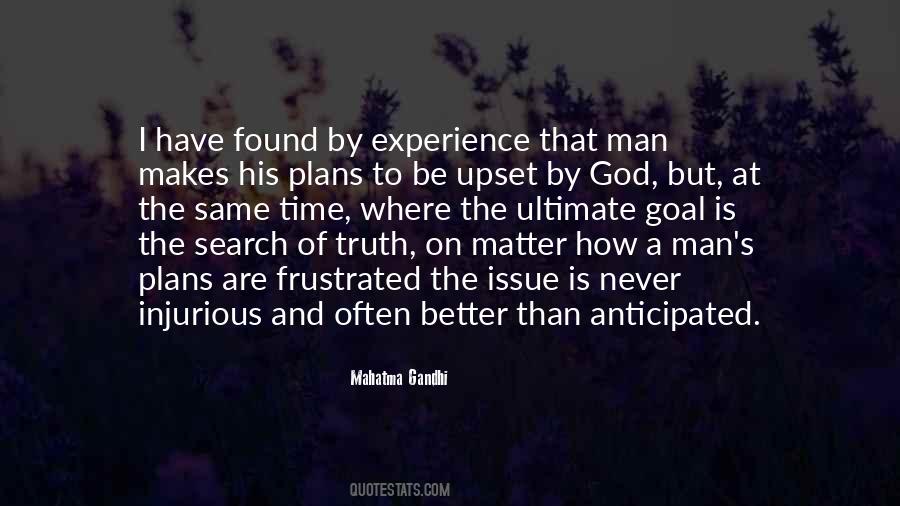 #62. As you courageously trust God's heart, ask Him to reveal Himself to you and then let Him reveal Himself through you. Hold your dreams and plans up to Jesus in surrender, and watch your life become a display of His splendor. - Author: Renee Swope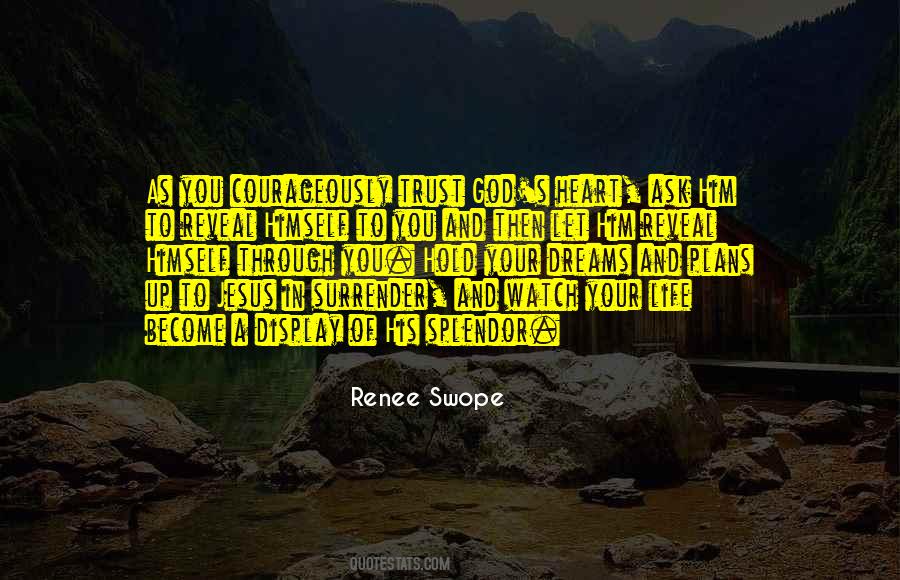 #63. God gave us life so we could live by His laws and for Him; fulfilling His plans and ideas. - Author: Sunday Adelaja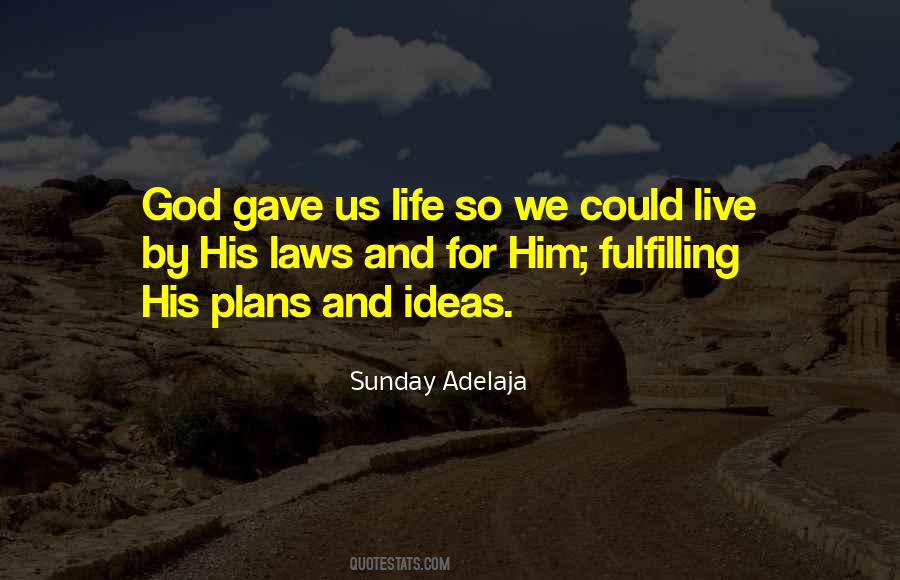 #64. Slavery and a controlling spirit are not God's methods of training and teaching people. - Author: Sunday Adelaja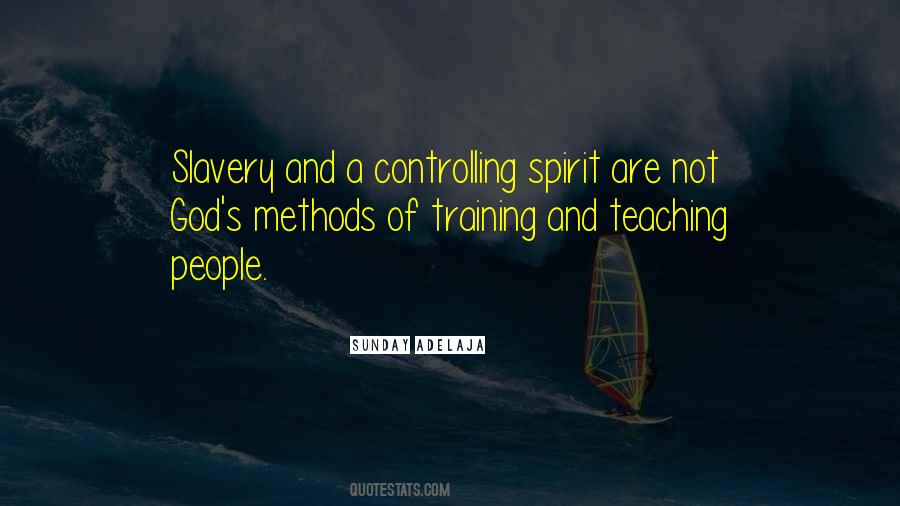 #65. When we exclude God from our intents and plans, we leave our "house of bread". - Author: Sunday Adelaja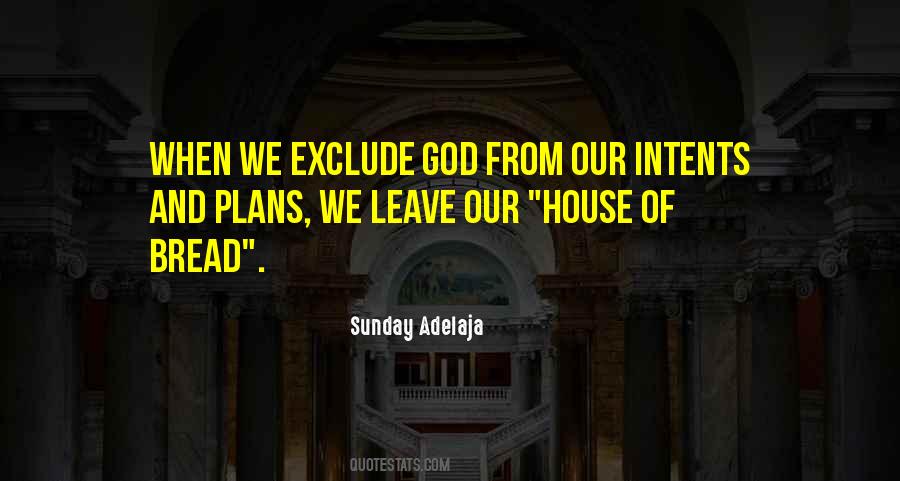 #66. Truth is God, and Truth overrides all our plans. The whole Truth is only embodied within the heart of Great Power-Truth. - Author: Mahatma Gandhi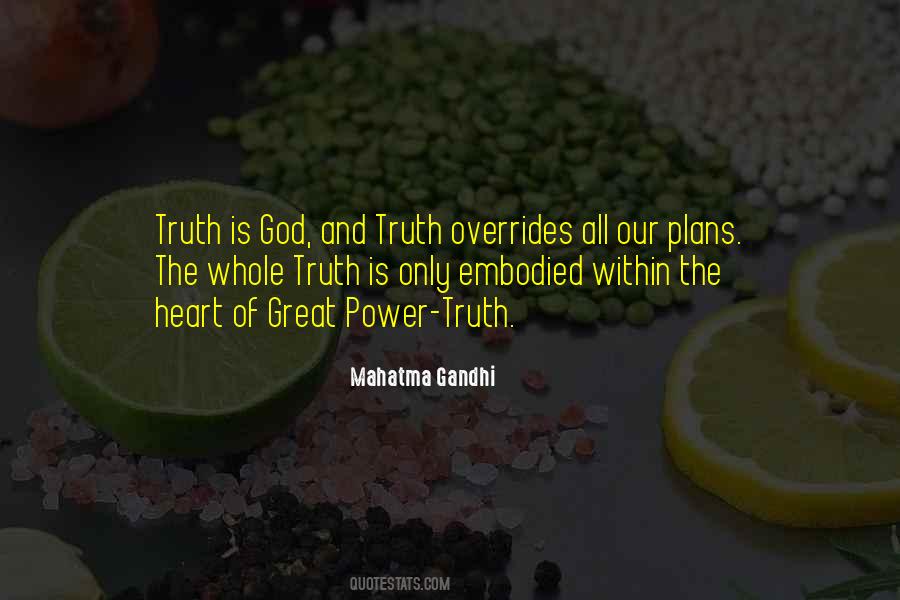 #67. We interfere with God's plans when we push in someone or something else not suitable for us. Be strict with yourself, and then be very strict with what you are receiving from the outside. - Author: Mother Teresa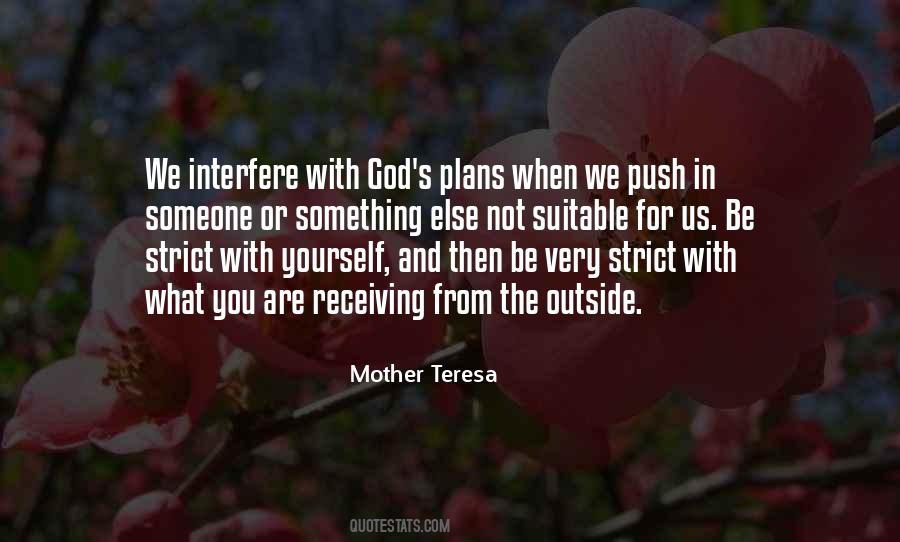 #68. God's plan' is often a front for men's plans and a cover for inadequacy, ignorance, and evil. - Author: Mary Daly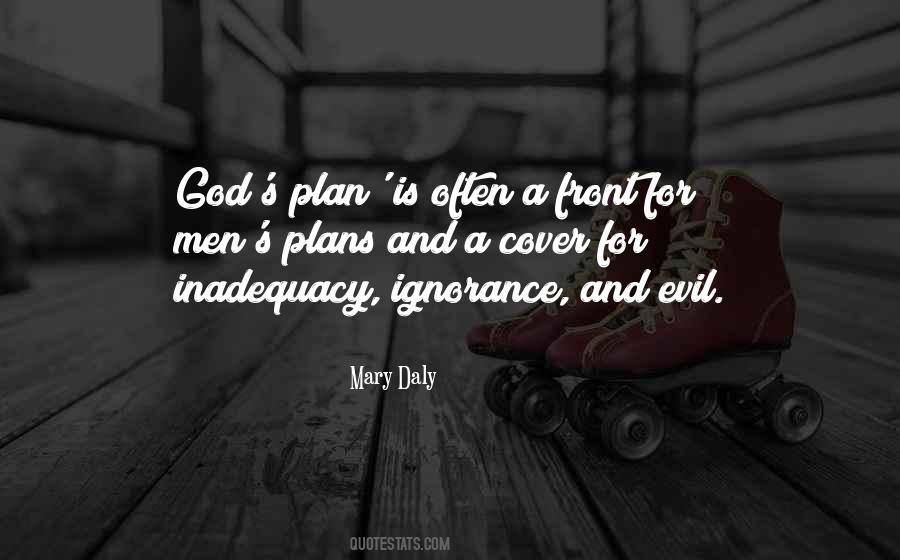 #69. In many instances, the failures of my greatest schemes ultimately lead to the fulfillment of my greatest successes. Therefore, God will allow our most cherished dreams to perish so that we might turn and seek out His most cherished plans. - Author: Craig D. Lounsbrough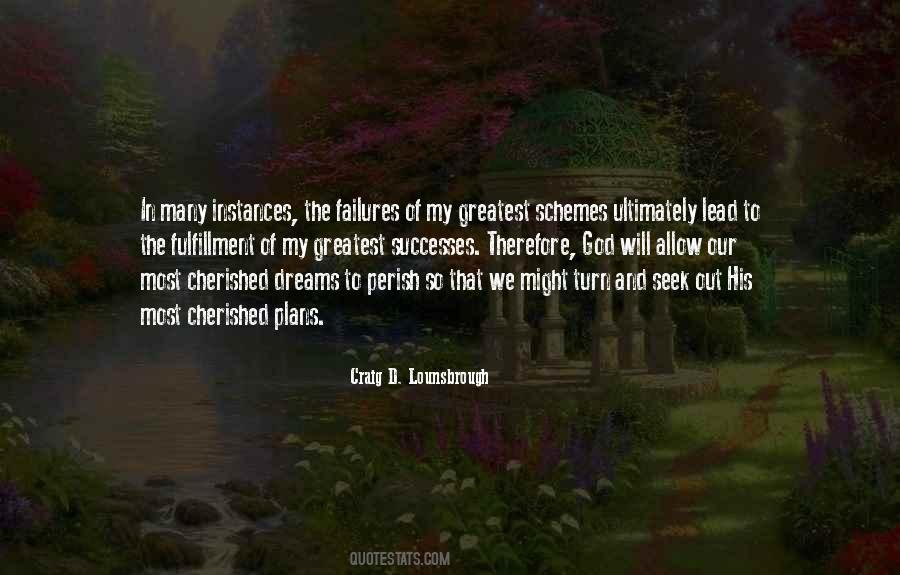 #70. He who bridles the fury of the billows knows also to put a stop to the secret plans of the wicked. Submitting with respect to His holy will, I fear God, and have no other fear. - Author: Jean Racine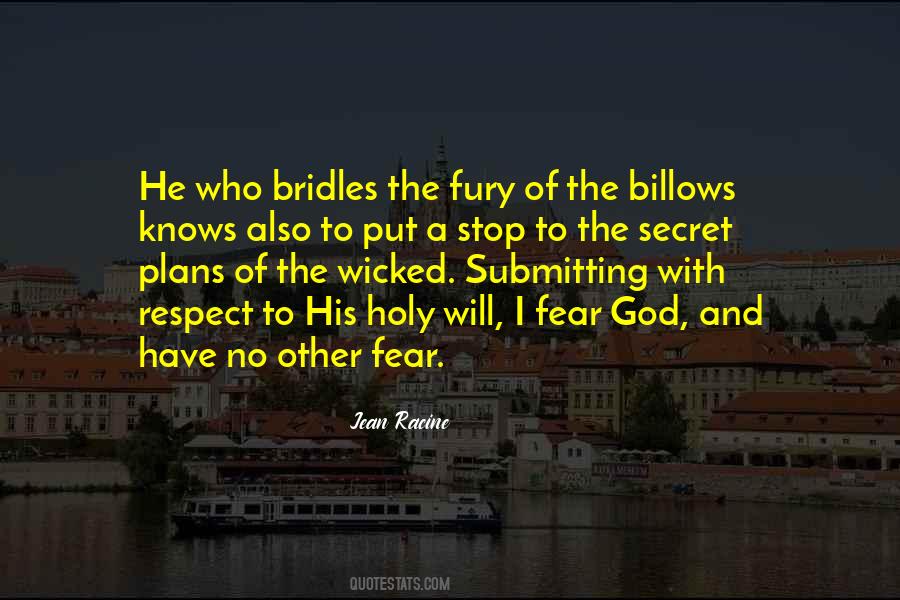 #71. God triumphs on the ruins of our plans'. And maybe that is what is happening here. We make blunders, we make mistakes, and somehow new doors open, new possibilities arise, opportunities of which, we've never dreamed. Let's trust that that is what is happening here for each of us. - Author: Anne Rice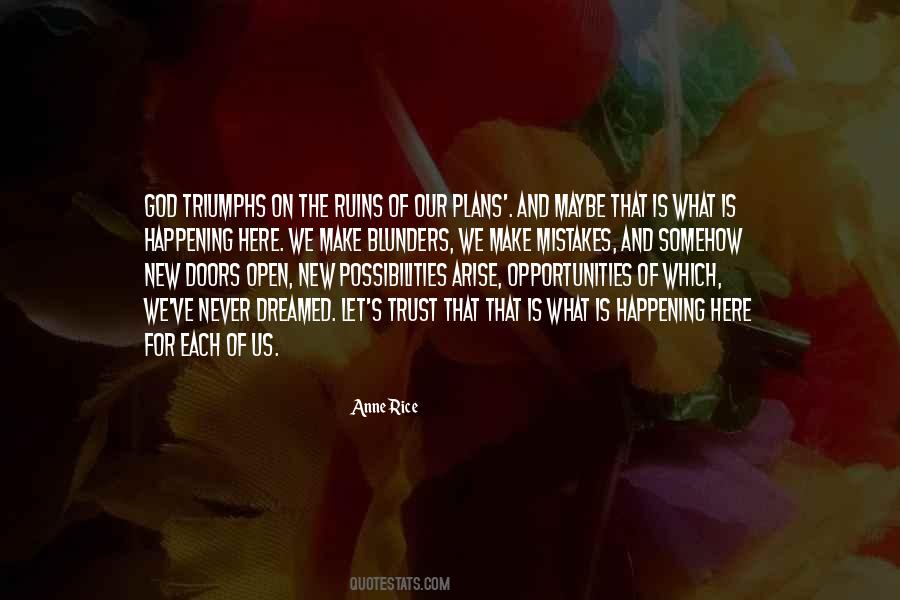 #72. God has great plans for you today ... creative and unexpected means by which He will make you a saint. He needs only your joyful submission to His plan. - Author: Mark Hart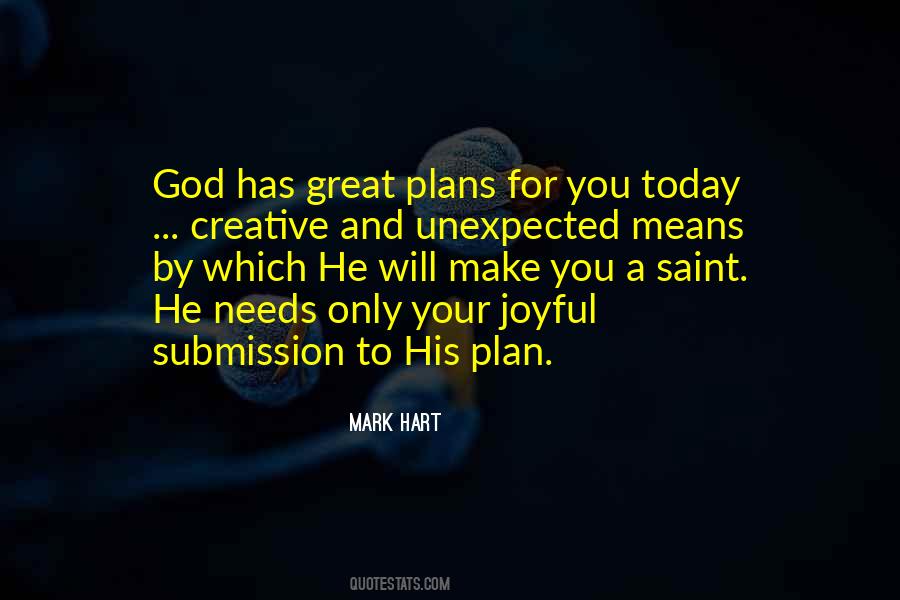 #73. The most important parts of building a family are "God's Love" and "Meaningful Friendships. - Author: Phil Mitchell
#74. Providence is wiser than you, and you may be confident it has suited all things better to your eternal good than you could do had you been left to your own option. - Author: John Flavel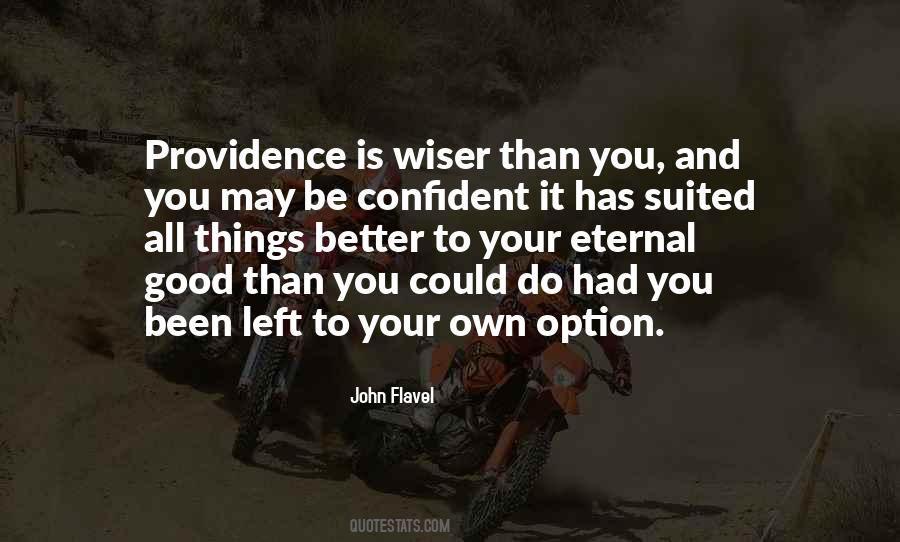 #75. There is some prophecy, however, that is unconditional. It depends solely on God himself for fulfillment. Normally it relates to the overview of his plans and purposes for mankind as a whole. - Author: Graham Cooke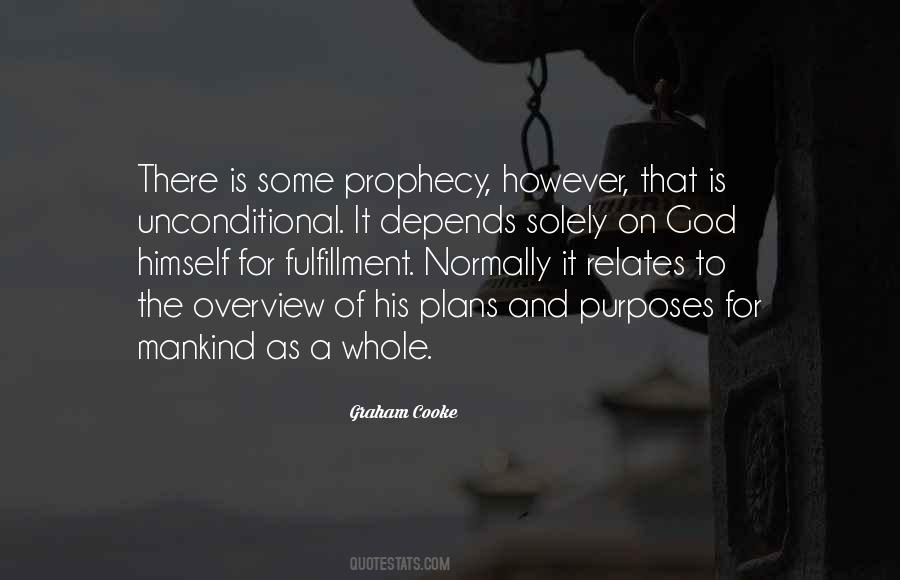 #76. St. Augustine wrote something once, something I think about often," he said. " 'God triumphs on the ruins of our plans.' And maybe that is what is happening here. We make blunders, we make mistakes, and somehow new doors open, new possibilities arise, opportunities of which we've never dreamed. - Author: Anne Rice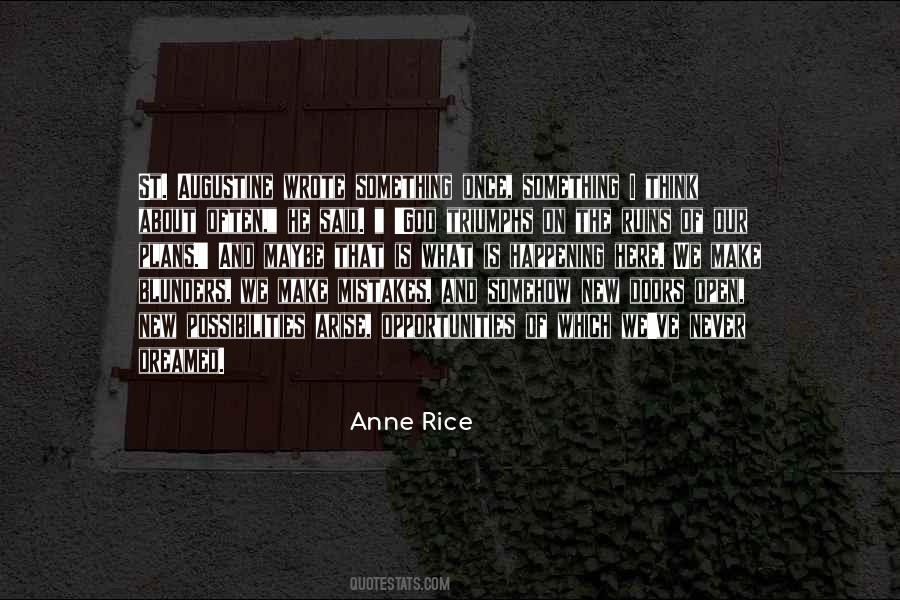 #77. God has specific plans and intentions for every man - Author: Sunday Adelaja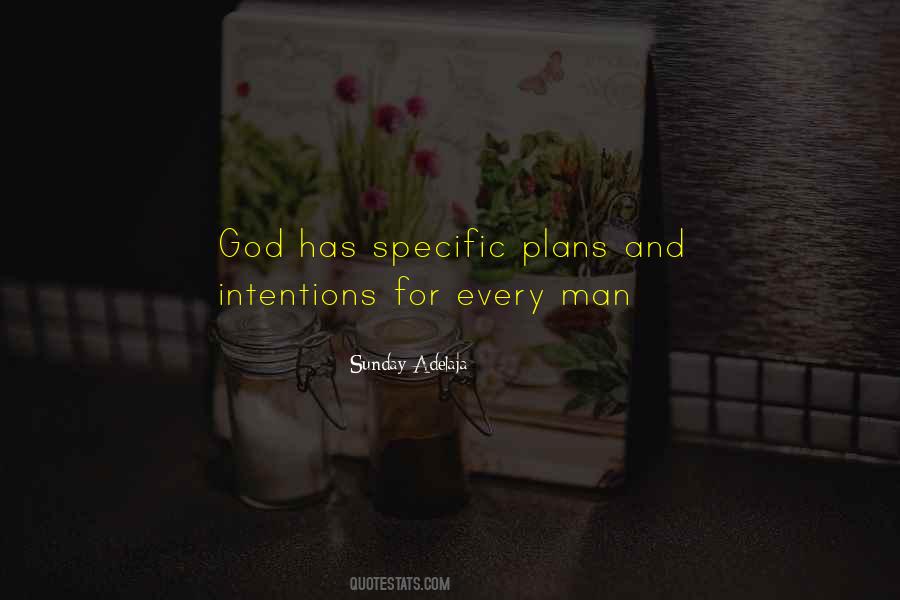 #78. God has plans and purposes for each of our lives. But the beauty is that He doesn't call us and leave us on our own. Jesus actually lives in us to pull off the amazing things that He has invited us into. - Author: Louie Giglio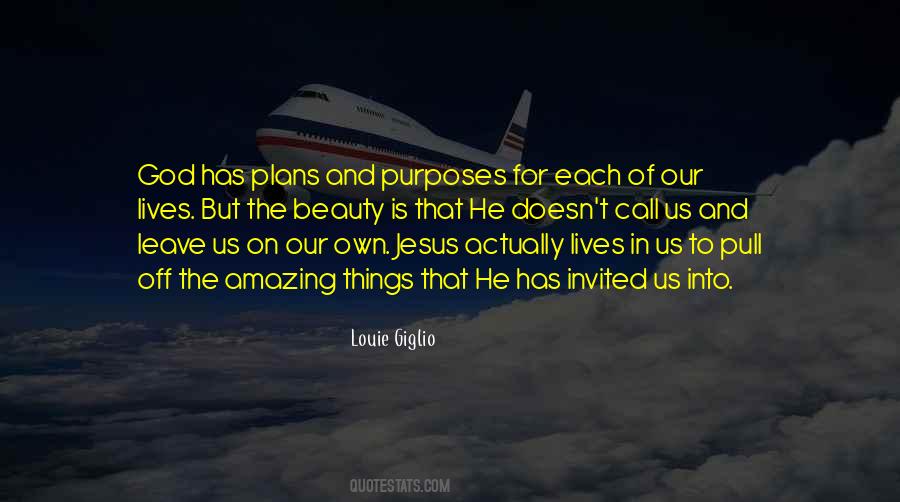 #79. Keep your head up, and know that the sun breaks through the skies each day so you can experience God's will and purpose for your life. If you can see the sun or even the moon, then you are already in line with His plans. - Author: Andrew-Knox B Kaniki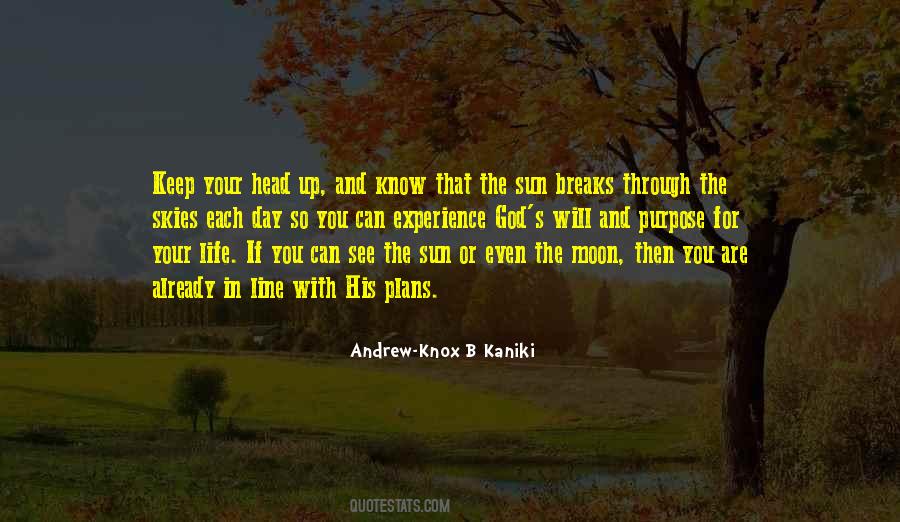 #80. Worry springs from not being convinced of a sovereign God's absolute love for you. Worry disappears when you realize that God loves you unfailingly and will let nothing interrupt His plans for your good. - Author: J.D. Greear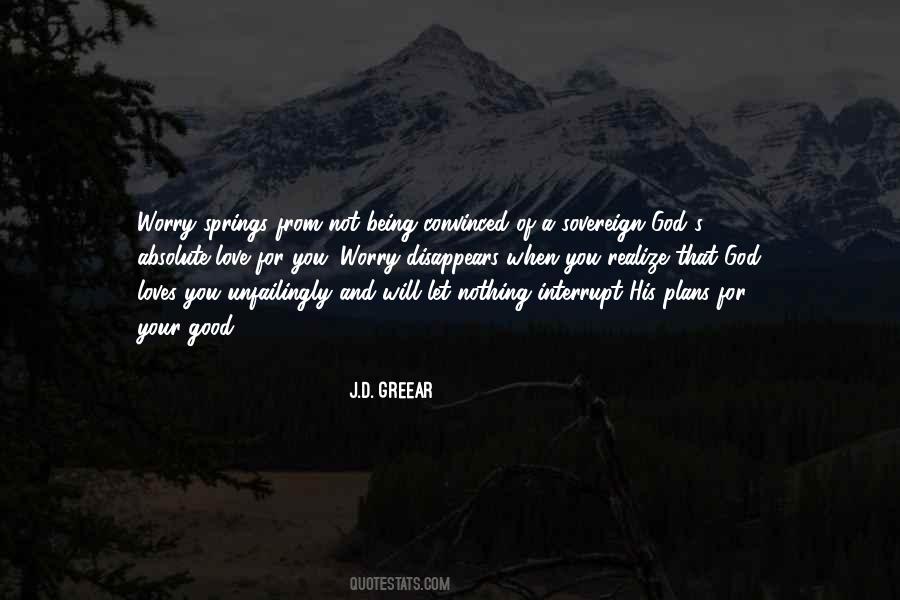 #81. How do you tell one You've spoken with God? / Would you believe someone / Who said that they saw / Plans for a boat / To hold all the beasts / And you and your kids From a flood to retreat? - Author: Brian M. Boyce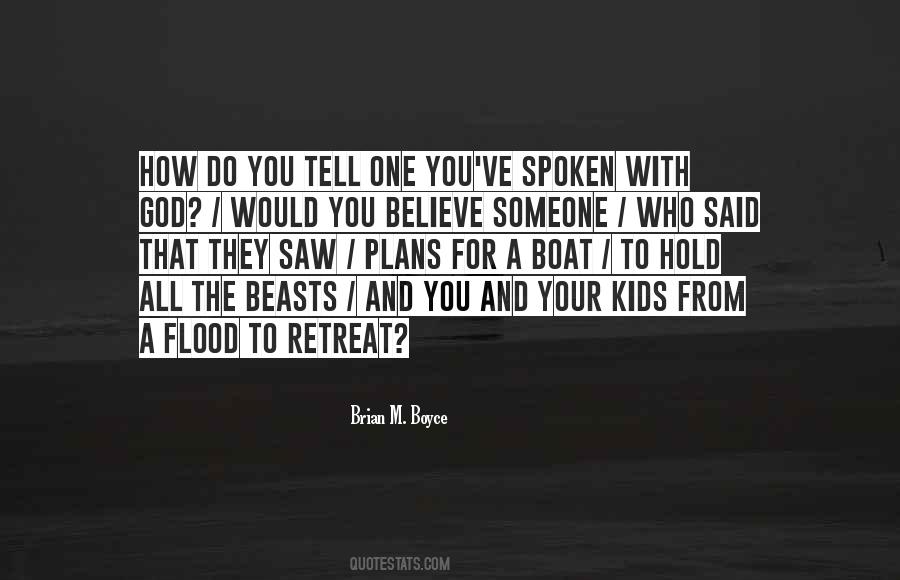 #82. Plans change, Iktomi said. Got a plan that doesn't require explosives.

Are you confident in that? Mangas asked.

I'm a god, Iktomi replied. I'm always confident.

I'm a human, Mangas thought, and we know shit happens. - Author: Brandon Nolta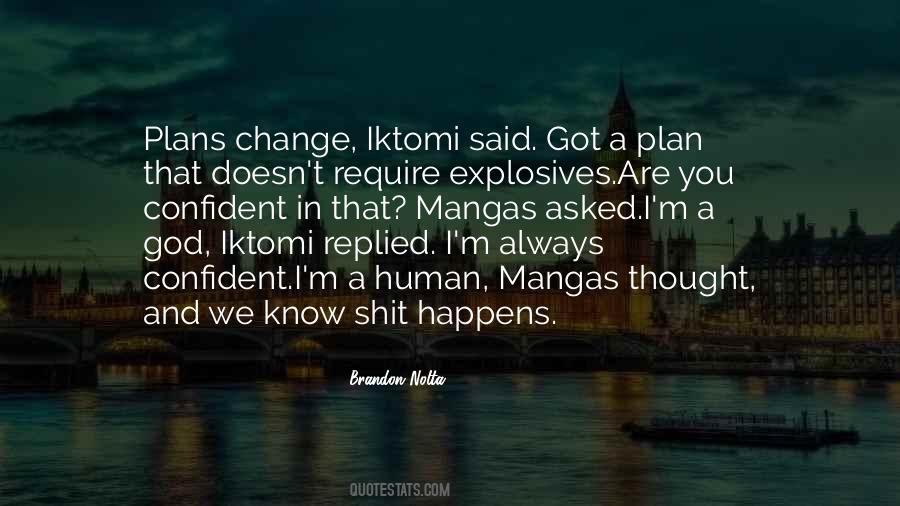 #83. Some people are very lucky, and have the story in their heads. I've never storyboarded anything. I like the idea of chance. What makes God laugh is people who make plans. - Author: Nicolas Roeg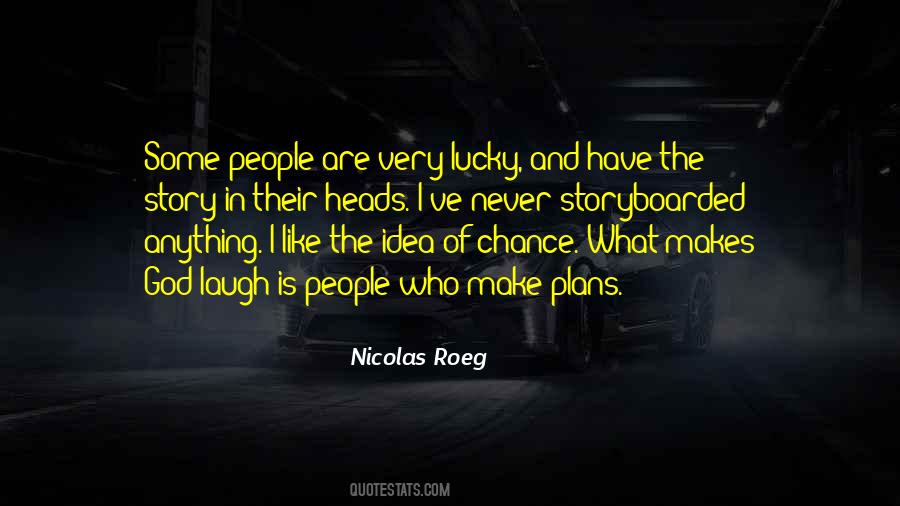 #84. Circumstances may appear to wreck our lives and God's plans, but God is not helpless among the ruins. God's love is still working. He comes in and takes the calamity and uses it victoriously, working out His wonderful plan of love. - Author: Eric Liddell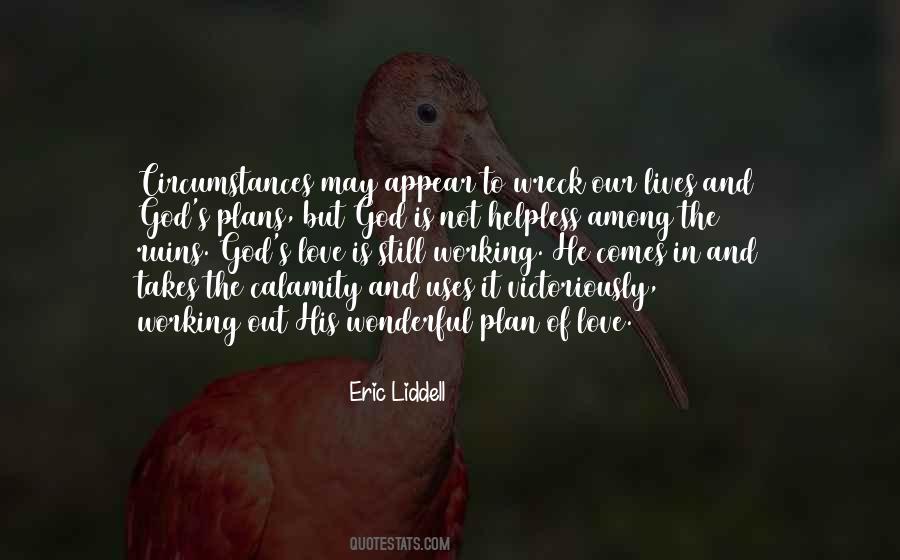 #85. Nothing is a surprise to God; nothing is a setback to His plans; nothing can thwart His purposes; and nothing is beyond His control. - Author: Joni Eareckson Tada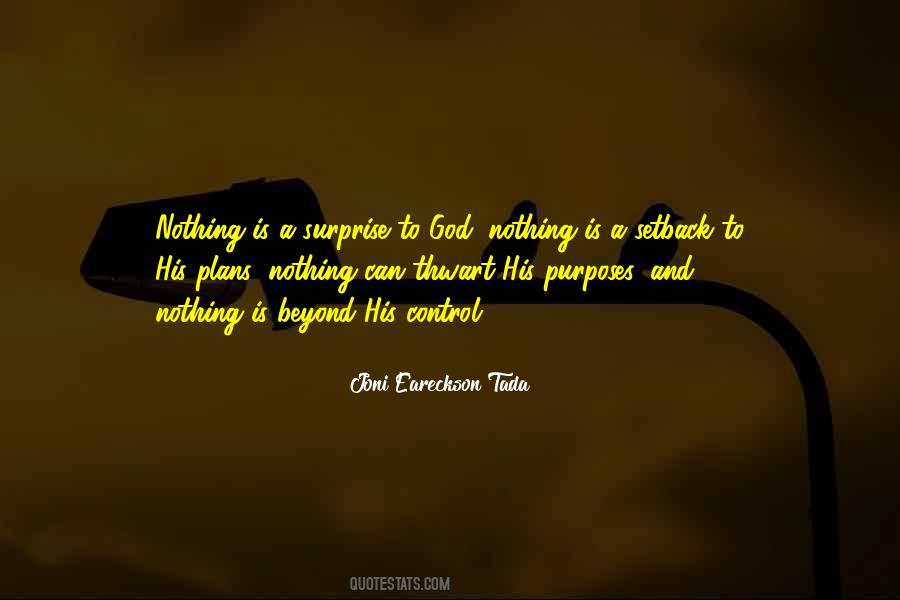 #86. Think of normal as being what God intends for your life," Mark said. "Un-normal is everything that's something other than His plans for you. Life gets easier that way, Gina. Go ahead and stress about what you should care about, but ignore the rest. - Author: Dee Henderson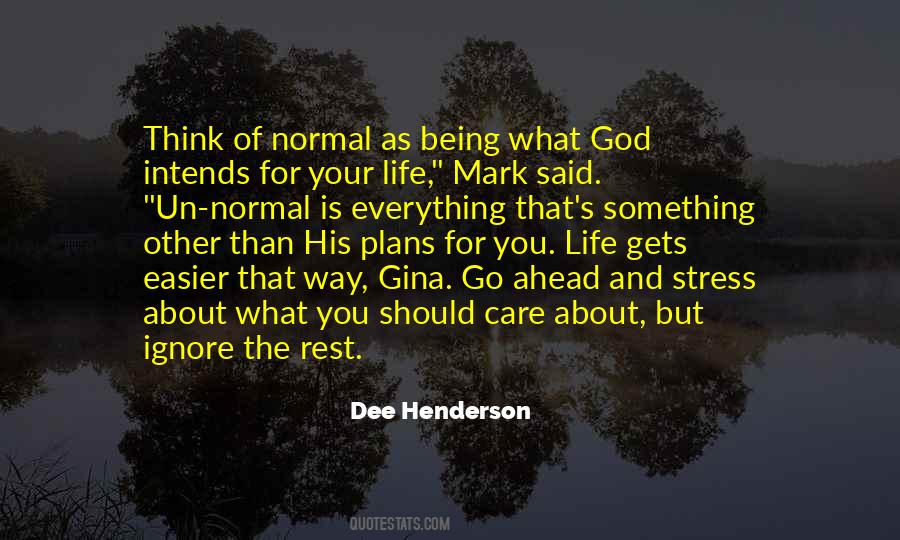 #87. The moment we change our thinking and start connecting with God, we start connecting with His plans, which always exceed our small plans. - Author: Danny Gokey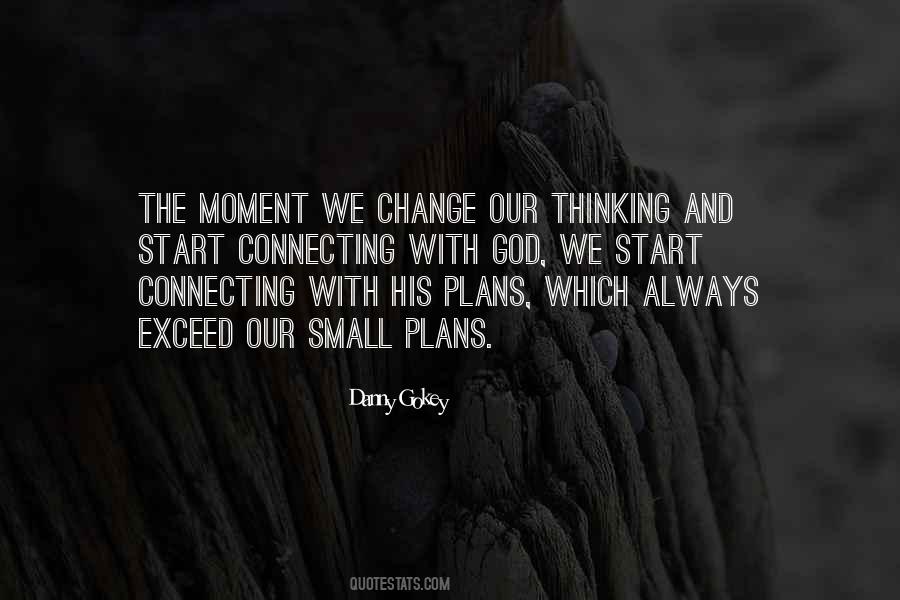 #88. We can act as if there were a God; feel as if we were free; consider Nature as if she were full of special designs; lay plans as if we were to be immortal; and we find then that these words do make a genuine difference in our moral life. - Author: William James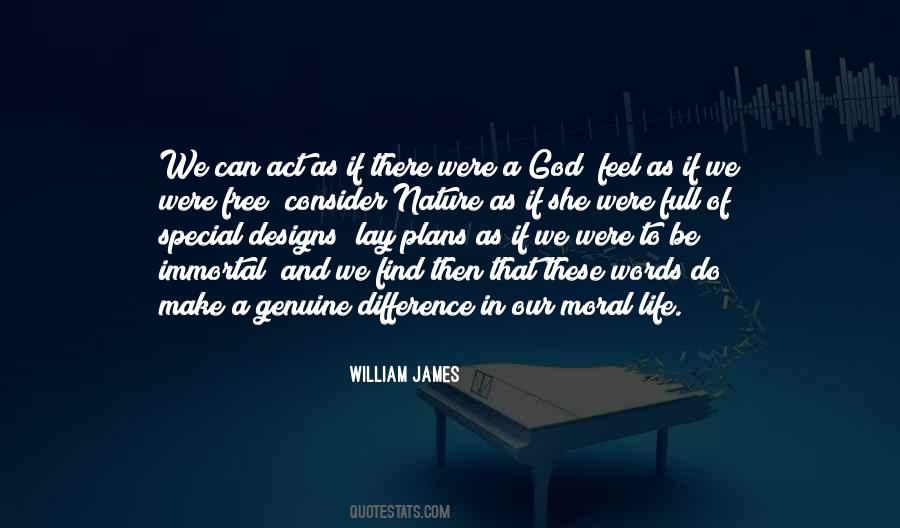 #89. God's purposes and plans will not fail. Before you spend all your prayer time telling Him about yours, ask about His. - Author: Louie Giglio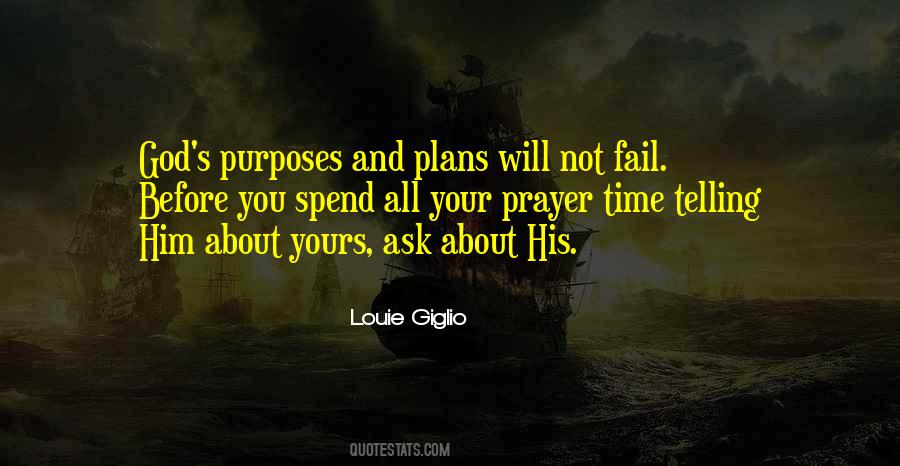 #90. When you are in troubled and worried and sick at heart
And your plans are upset and your world falls apart,
Remember God's ready and waiting to share
The burden you find much to heavy to bear
So with faith, "Let Go and Let GOD" lead your way
Into a brighter and less troubled day - Author: Helen Steiner Rice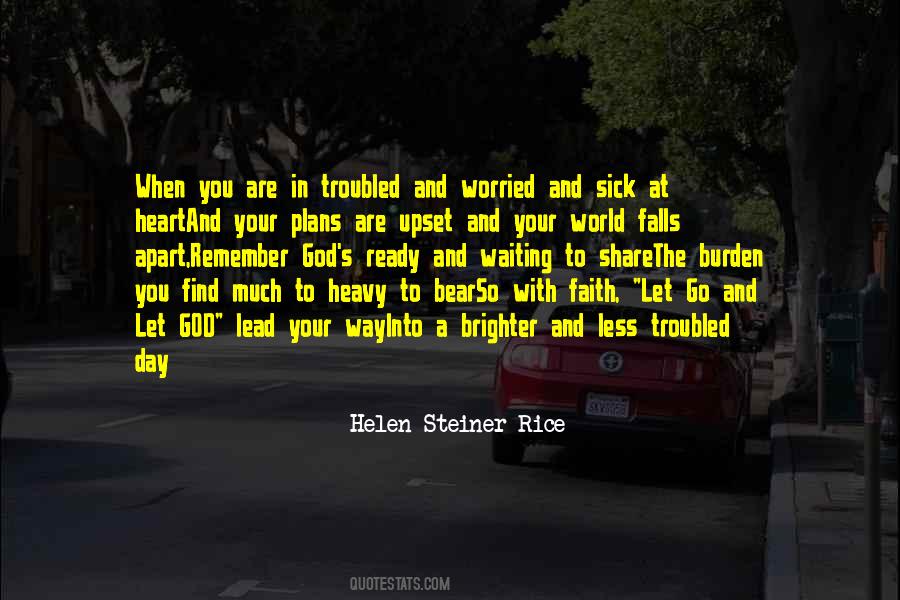 #91. Man makes plans . . . and God laughs. - Author: Michael Chabon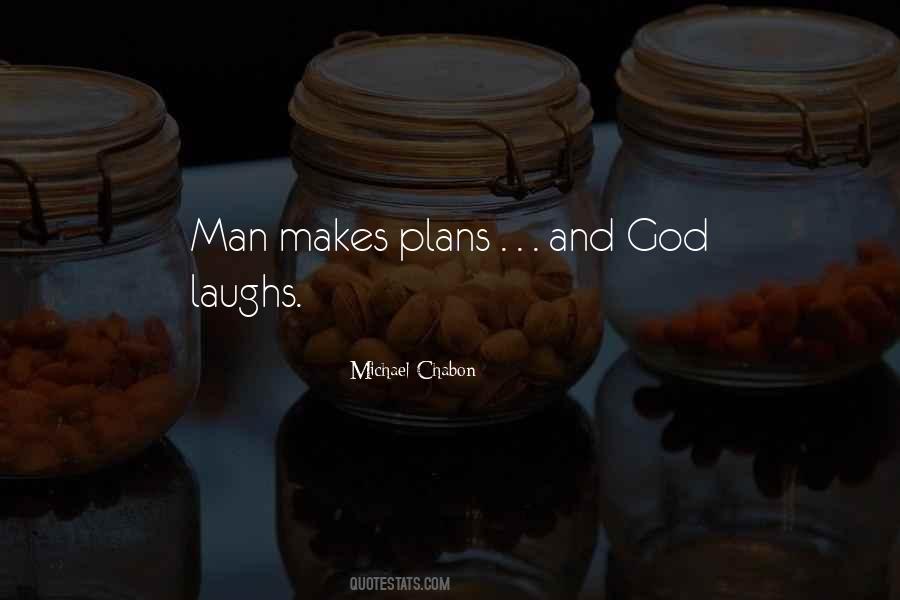 #92. God is going to send you someone that will rescue you. Then one day you will rescue them in return and together your story will rescue others. He has always been a God of rescues and a maker of warriors for his grace. You only need to believe that you are part of something greater than you know. - Author: Shannon L. Alder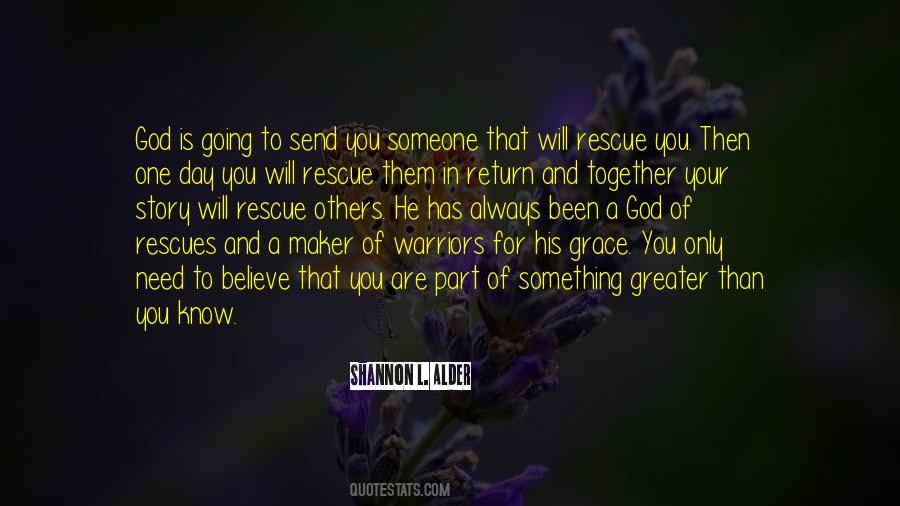 #93. But God doesn't just hang there while we get on with the rest of our week. He's up to a lot of other really cool stuff. Let's follow Him around and be part of it. I'm in! Are you? - Author: Bonnie Lyn Smith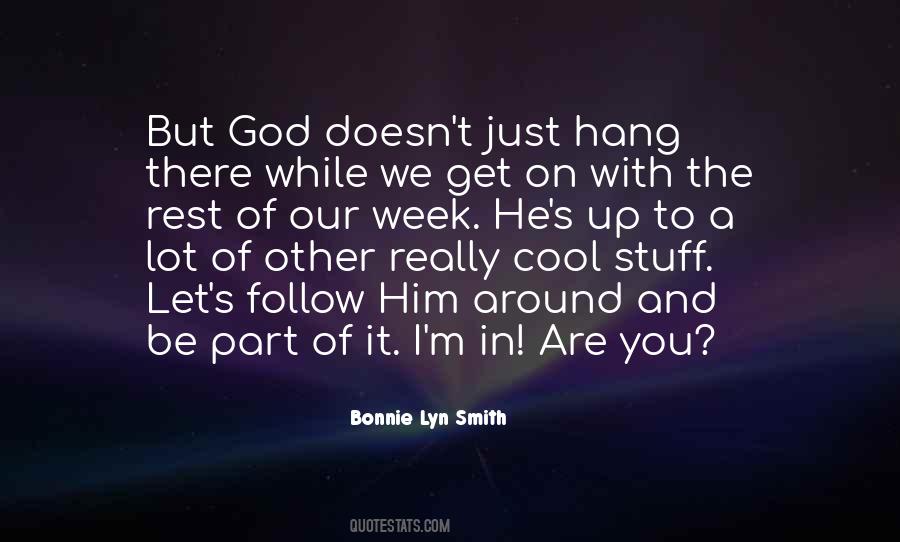 #94. I've told several writers this, and, again, I get back to it, but if you want to make God smile, tell him your plans. - Author: Vin Scully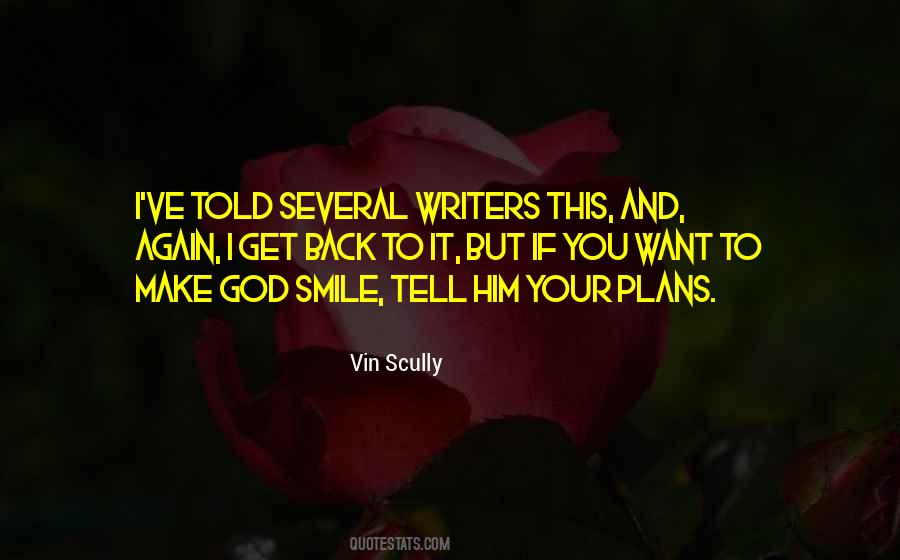 #95. I wanted to be a psychologist. You know, I thought that's what I'd be doing and it just goes to show you that, if you tell God your plans, He will laugh in your face. - Author: Gabourey Sidibe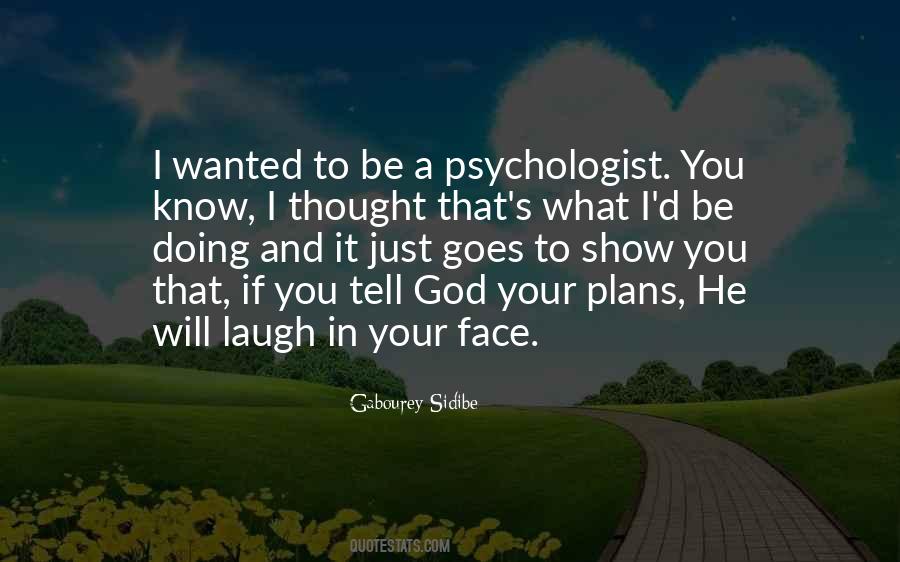 #96. God has plans for you and His plans are for good because God Himself is good. He can neither think nor do evil. - Author: Elizabeth George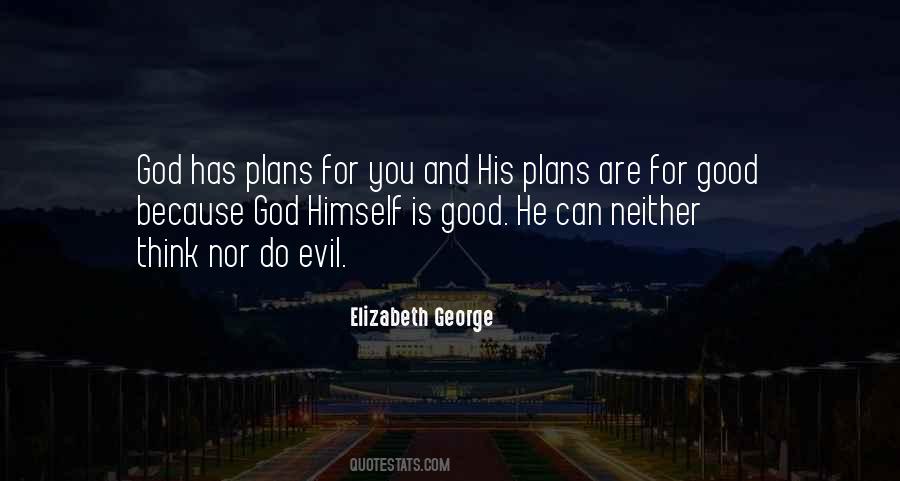 #97. Live happily thinking about those millions of good people god blessed you with not about the one person he took away from you.
There is a reason behind every decision god makes. And in the end he plans to make you anything but happy - Author: Chhavi Joshi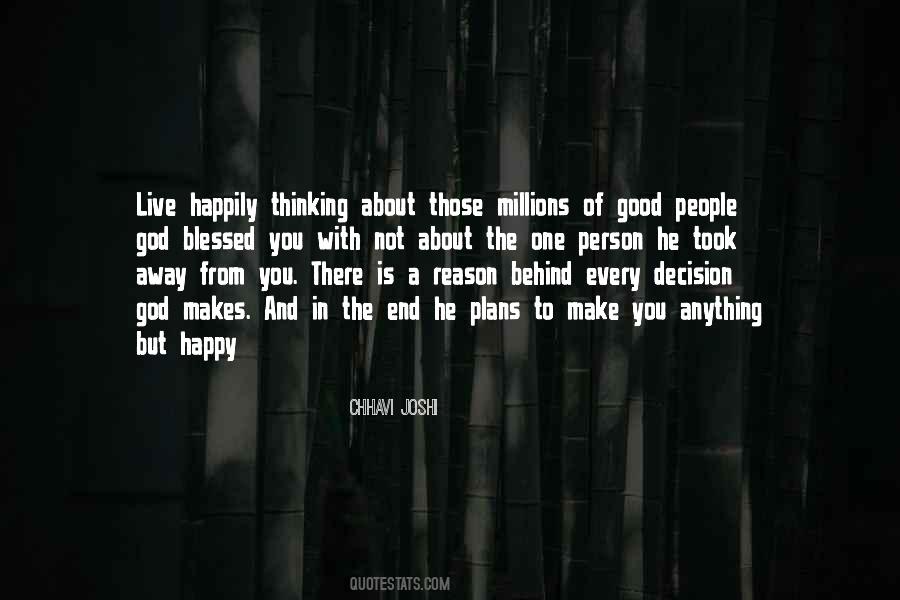 #98. Mayhap it was not wise to question God's plans; mayhap he had been meant to live, to seek this justice, to serve some purpose. The past was the past. And the future... - Author: Shelly Thacker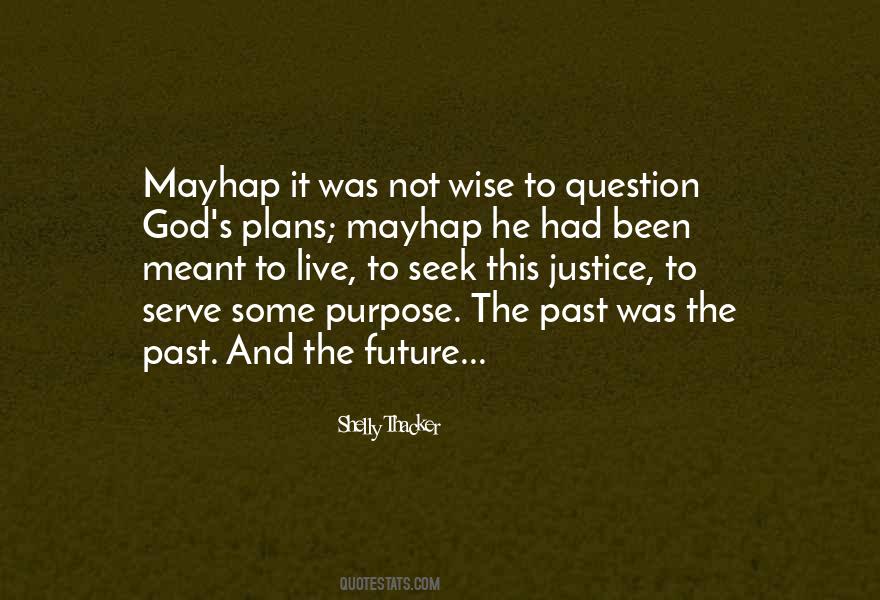 #99. We can make our own plans and judge them by our narrow expectations, or we can experience life as the boundless reality of the One who created it. - Author: Holly Sprink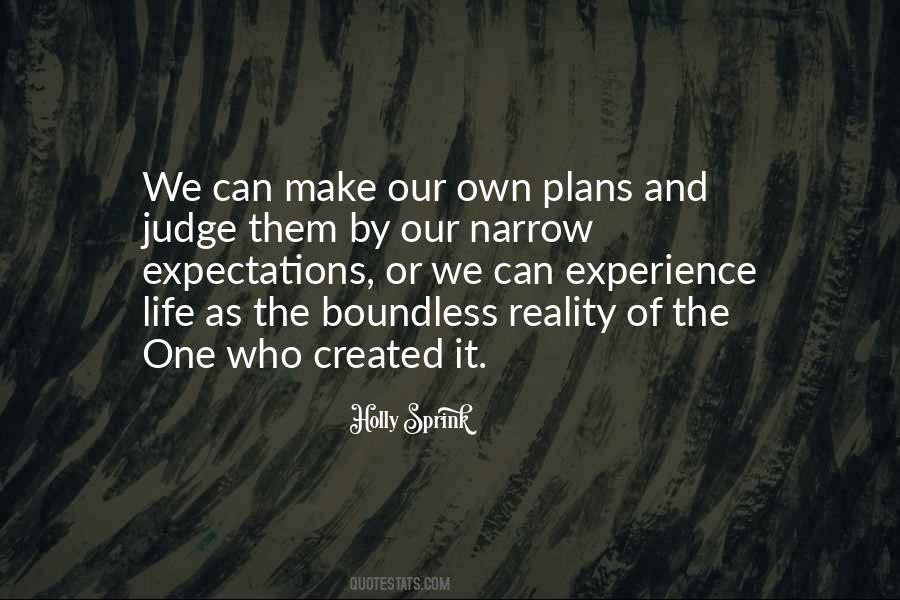 #100. Don't make any plans, because there is only one plan which really works and that is not even devised by you - Author: Alok Jagawat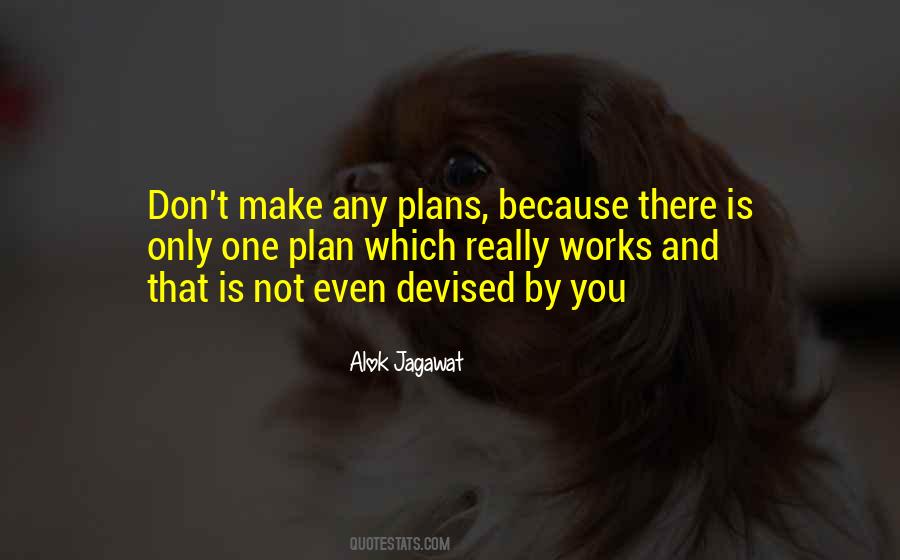 Famous Authors
Popular Topics