People's Goodness Famous Quotes & Sayings
List of top 100 famous quotes and sayings about people's goodness to read and share with friends on your Facebook, Twitter, blogs.
Top 100 Quotes About People's Goodness
#1. ...her hand caught his wrist. "Kevin, there's so much goodness inside of you. Don't be afraid to let people see it. Don't be afraid to love."
He stared at her. He couldn't let her see what she didn't want him to fear. - Author: Amie Wolf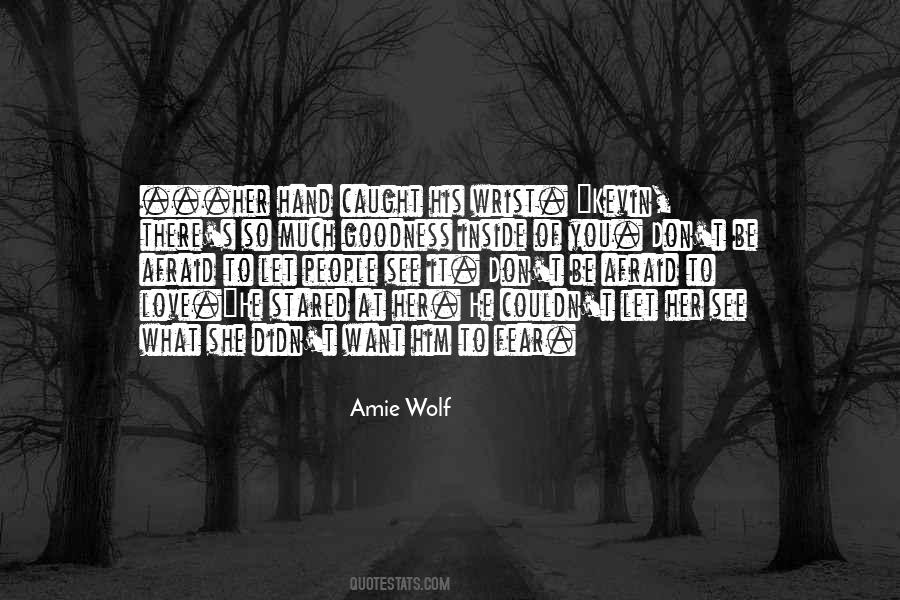 #2. I want to thank him. For showing me that life is full of love and hope and goodness, even when there's the most unbearable sadness. And those, more than money and fame and celebrity, are what make people precious. - Author: Debbie Howells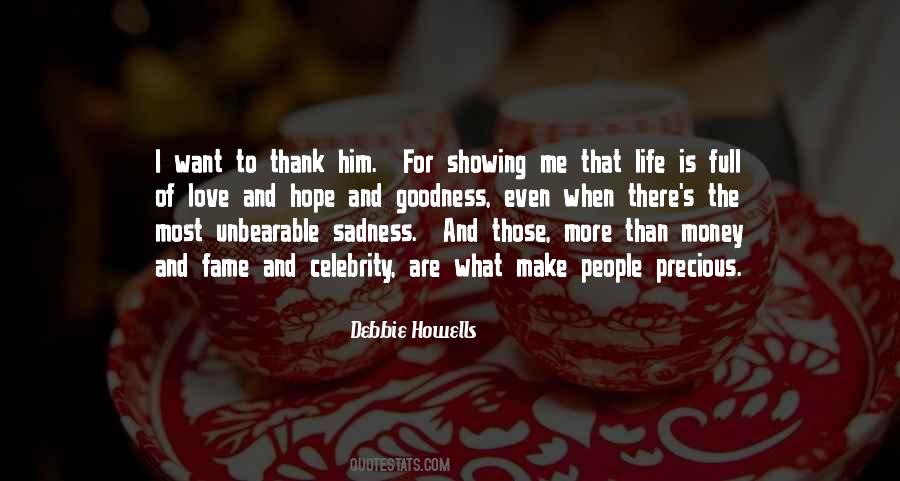 #3. Treat other people's home as you want them to respect yours because what goes around comes around. - Author: Ana Monnar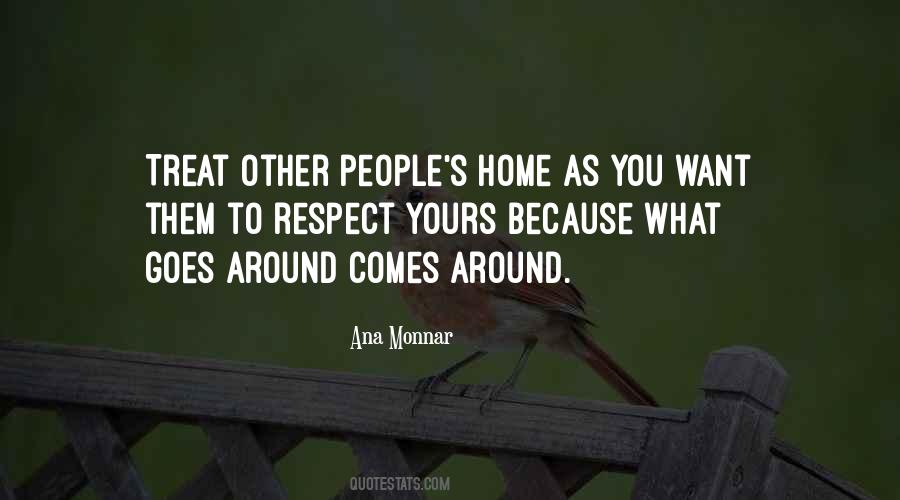 #4. Some people have goodness and merit buried deep inside and we glimpse it and see its value but ultimately it's covered by so much dirt that it's a 24/7 exercise in archaeology. - Author: Kelli Jae Baeli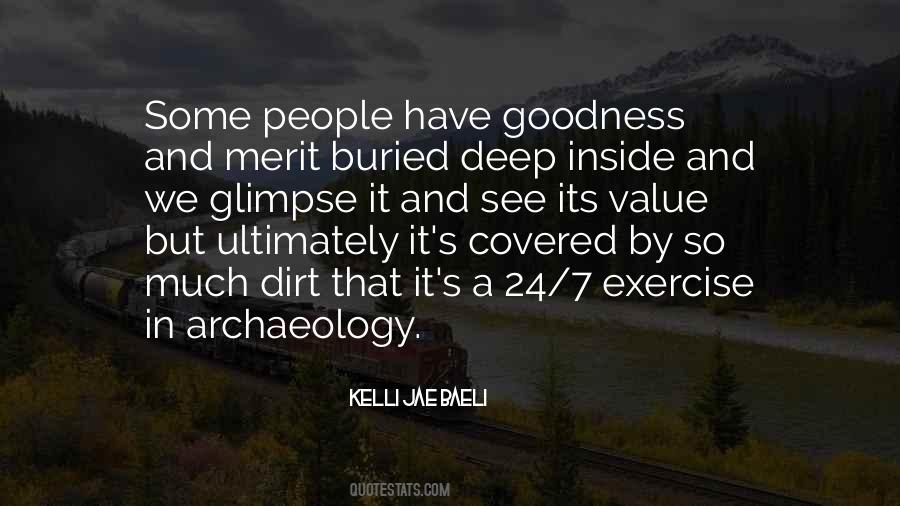 #5. Be sure don't let people's telling you, you are pretty, puff you up; for you did not make yourself, and so can have no praise due to you for it. It is virtue and goodness only, that make the true beauty. - Author: Samuel Richardson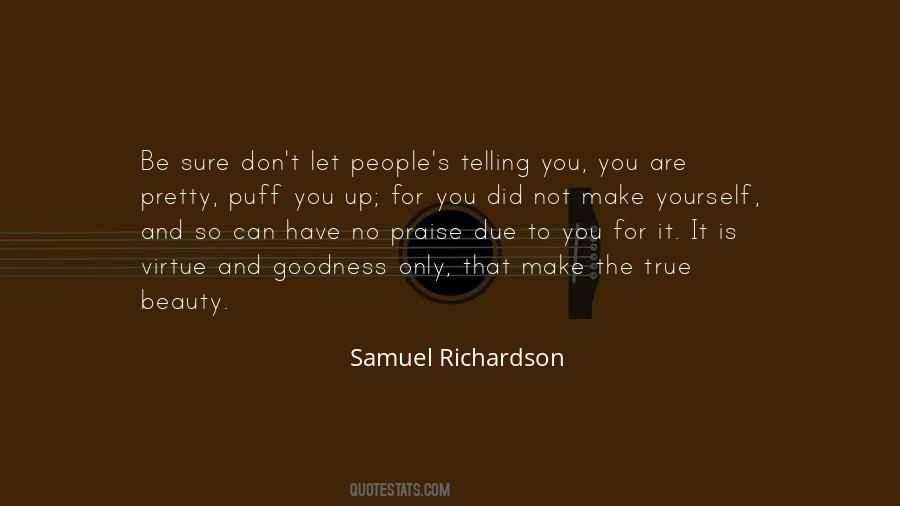 #6. I learned very early that people need to have a good grasp of God's goodness and God's sovereignty. - Author: Matt Chandler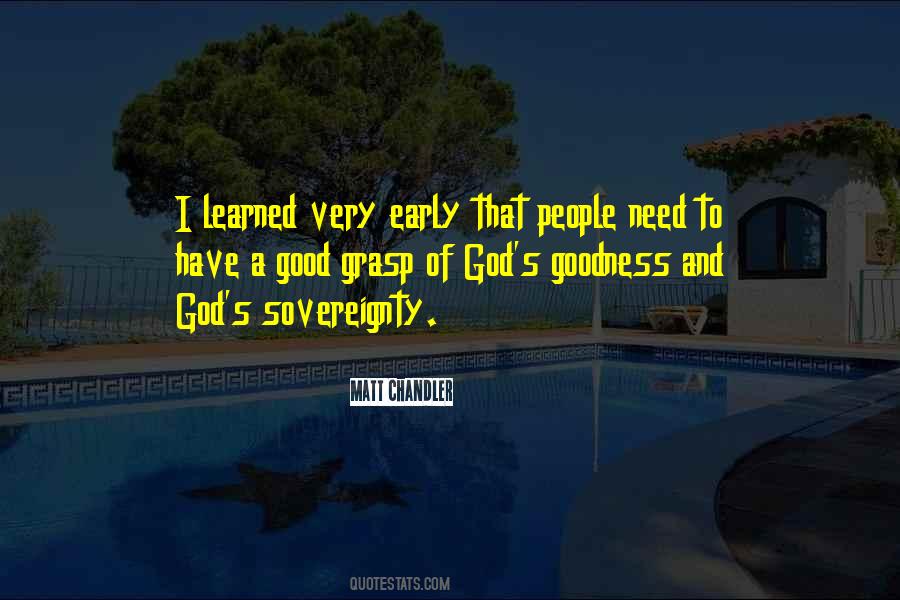 #7. Ah darling, goodness, I think, never brought any one out. Goodness, when it's real, precisely, rather keeps people IN. - Author: Henry James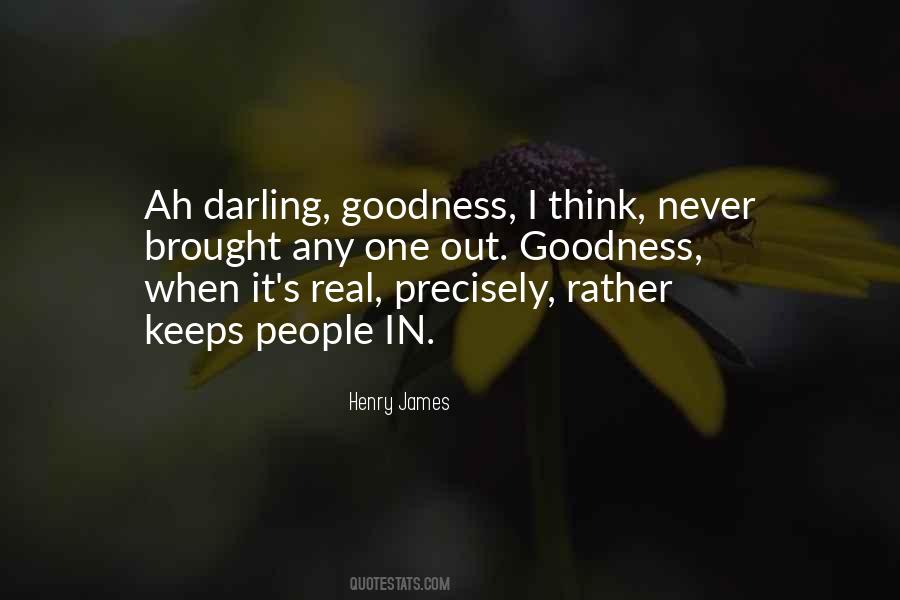 #8. As far as friendships go, things change even without the fame. People start moving on. I have a few friends that are married and are starting to have kids and I'm like, 'Oh my goodness gracious - that's so insane.' I also have friends who are just doing their own thing, which is cool. - Author: Jordin Sparks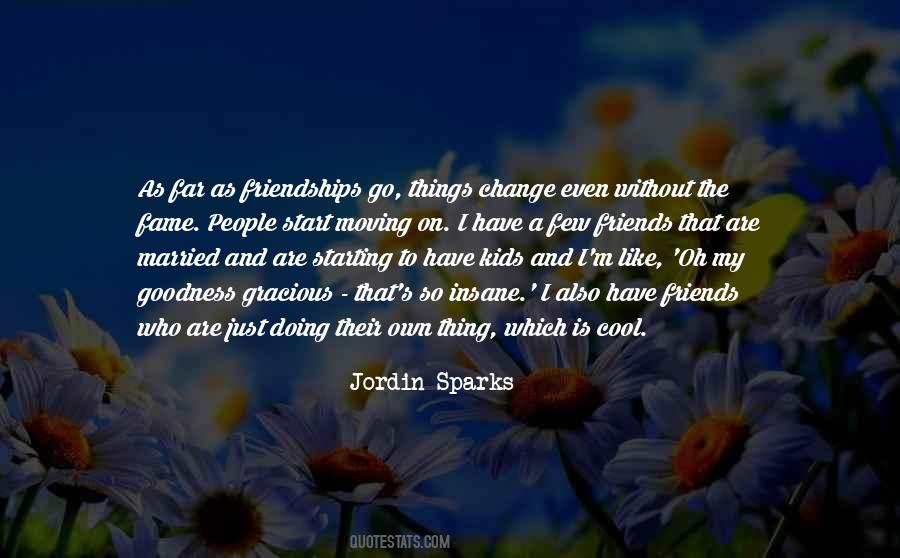 #9. Our world hinges on moral foundations. God has made it so. God has made the universe to be based on a moral law. So long as man disobeys it he is revolting against God. That's what we need in the world today: people who will stand for right and goodness. - Author: Martin Luther King Jr.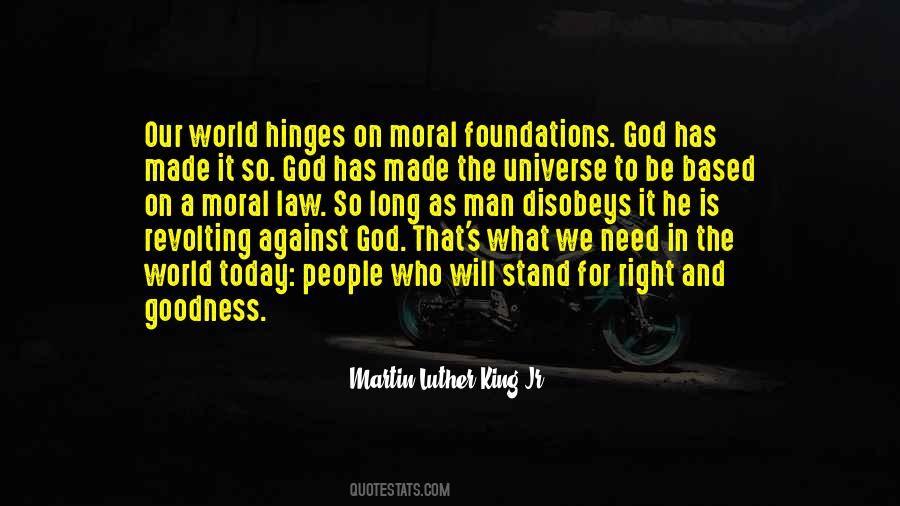 #10. I think the way for [Marco] Rubio to say to [Donald] Trump supporters, hey, essentially he's conned you. He's a con man. That's what they do. You pour gold people.My goodness, that's not the way to bring them in. - Author: Bernie Sanders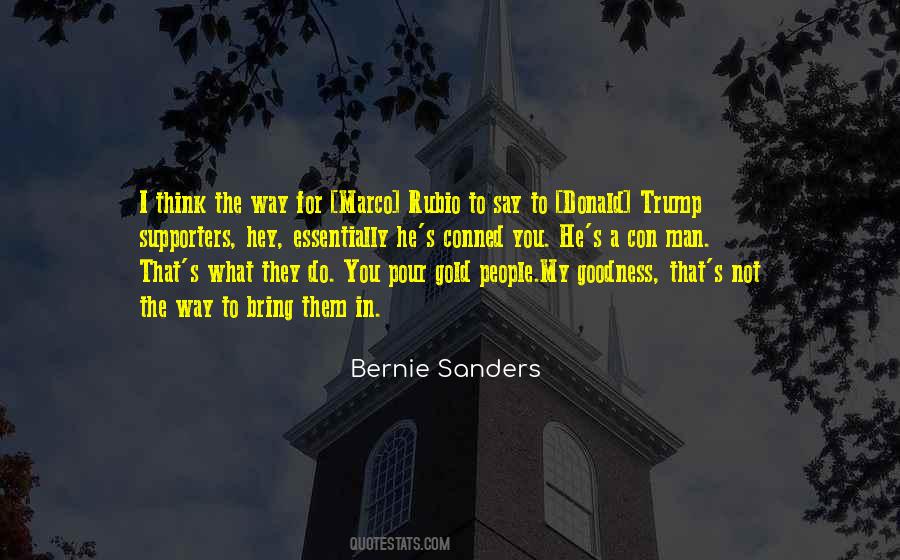 #11. I've always believed in people's capacity for goodness. I still believe that people are good. What I'm not so trusting about anymore is their relationship to their own goodness. - Author: Anne Hathaway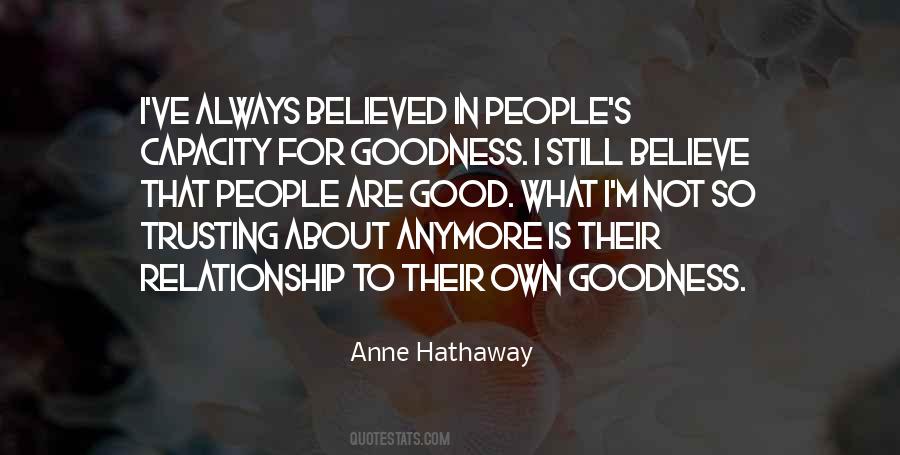 #12. Do not look for evil. Look for the goodness of God all around you. As you look for signs of His Presence, many more opportunities will occur for you to bless people and share God's true nature. - Author: Graham Cooke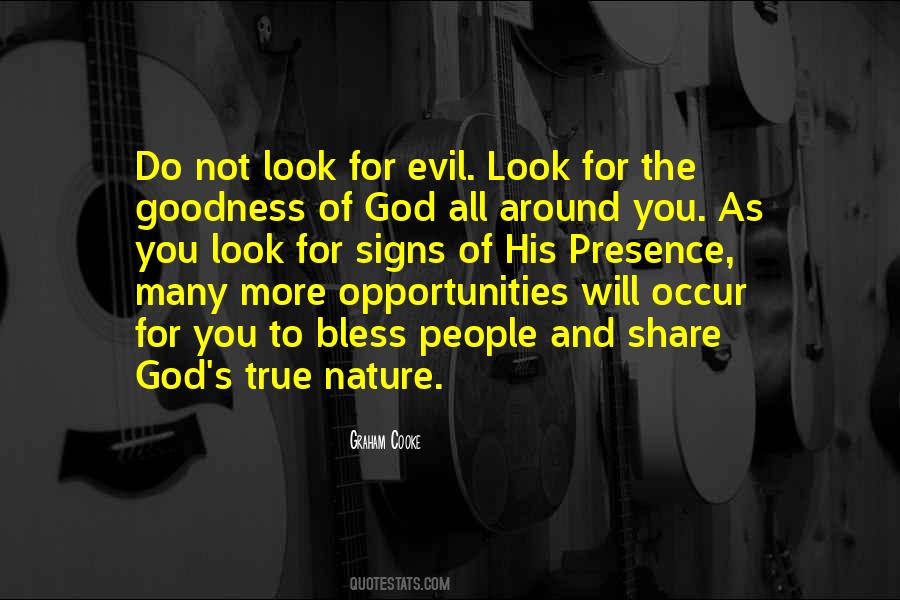 #13. God is the Champion at bringing people from a place of destruction to a place of total victory. As they reach that place of victory they become trophies of his grace. and they are set on the display as a fragrant reminder of God's goodness. - Author: Joyce Meyer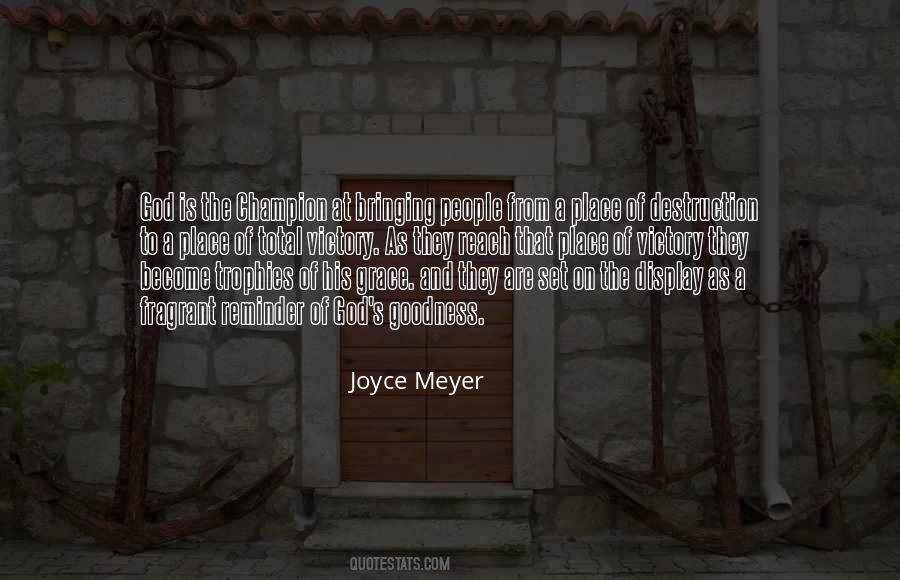 #14. Goodness is also about interacting with people, brands, companies and organizations who are invested in sustainable and ethical practices. What's the point of using products that are ruining our Earth? It doesn't make sense. - Author: Sophie Heyman Uliano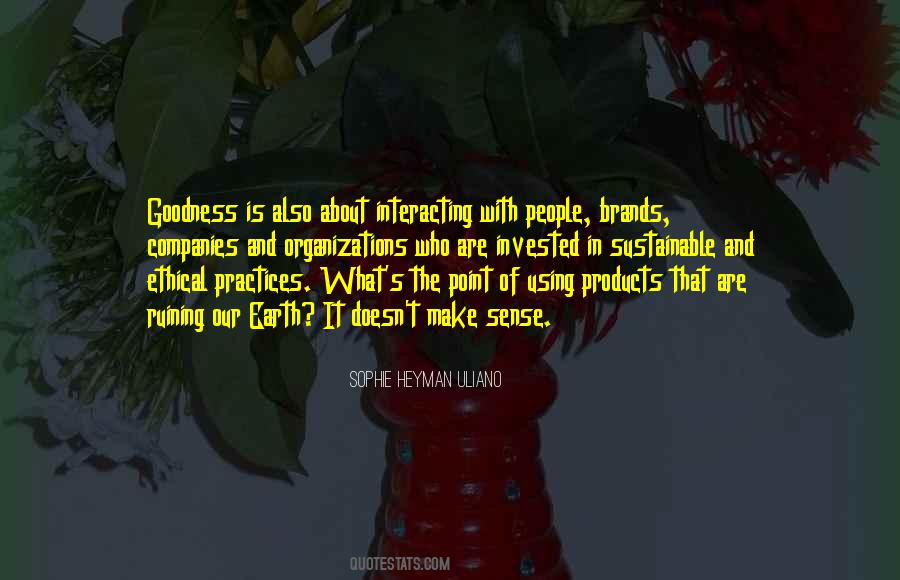 #15. I think people who truly can live a life in music are telling the world, 'You can have my love, you can have my smiles. Forget the bad parts, you don't need them. Just take the music, the goodness, because it's the very best, and it's the part I give most willingly - Author: George Harrison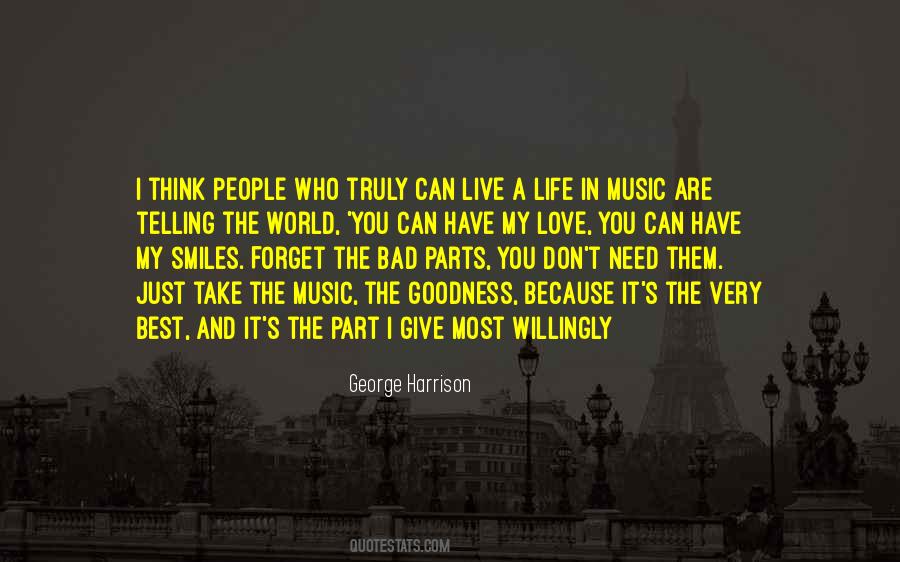 #16. Some people talk as if meeting the gaze of absolute goodness would be fun. They need to think again. - Author: C.S. Lewis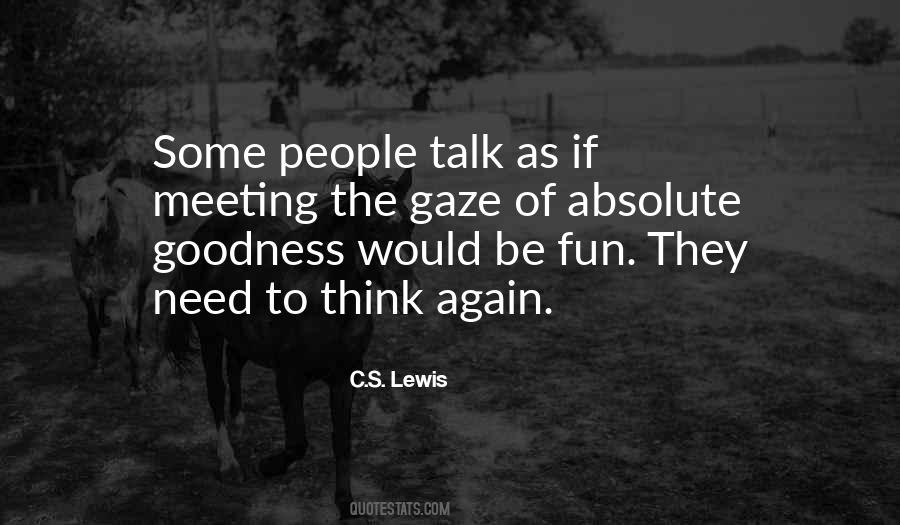 #17. When someone has been mean to you, why would you want to be good to them?' 'You wouldn't want to. That's what makes it hard. You do it anyway. Being good is hard. Much harder than being bad. - Author: Jeanne DuPrau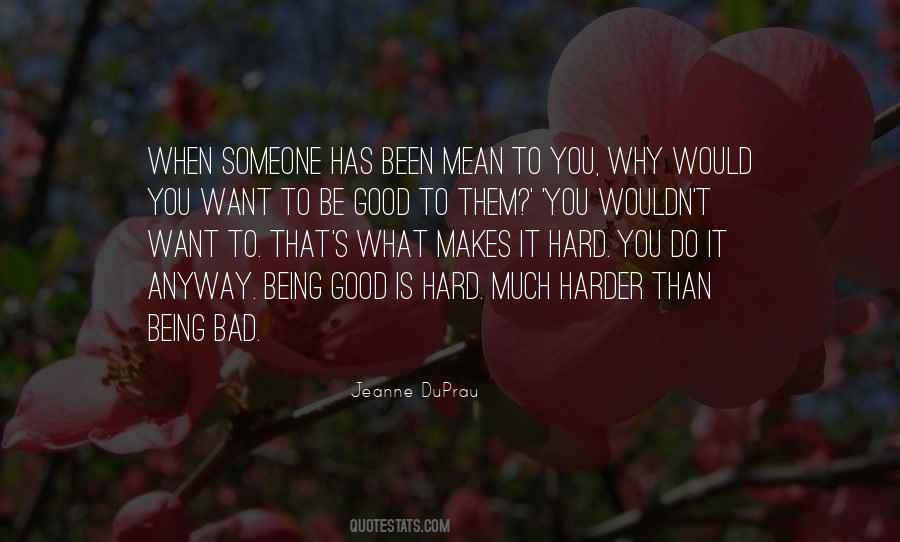 #18. Envy is when you resent God's goodness in other people's lives and ignore God's goodness in your own life. - Author: Craig Groeschel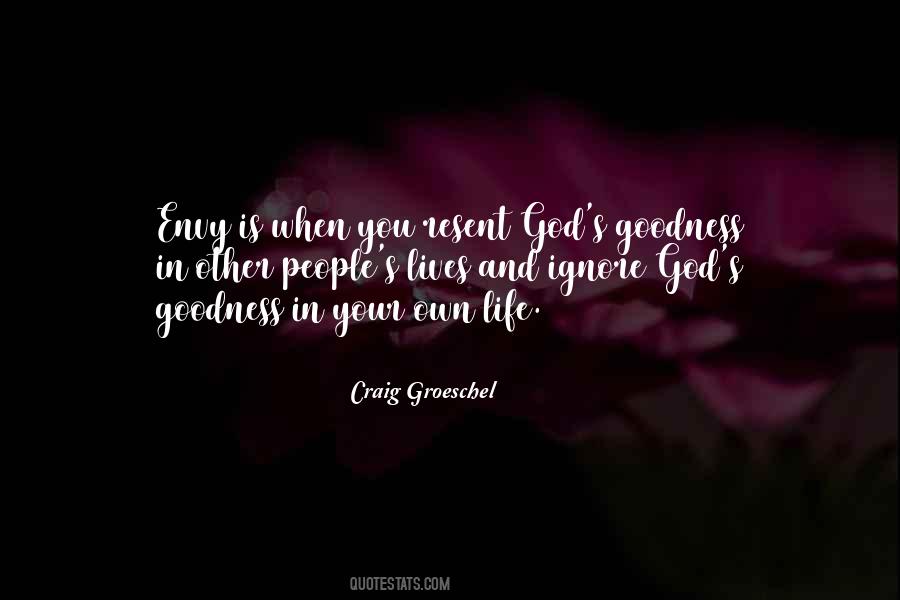 #19. I try not to speak about all the charities and people I help, because I believe we can only be truly generous when we expect nothing in return. - Author: Muhammad Ali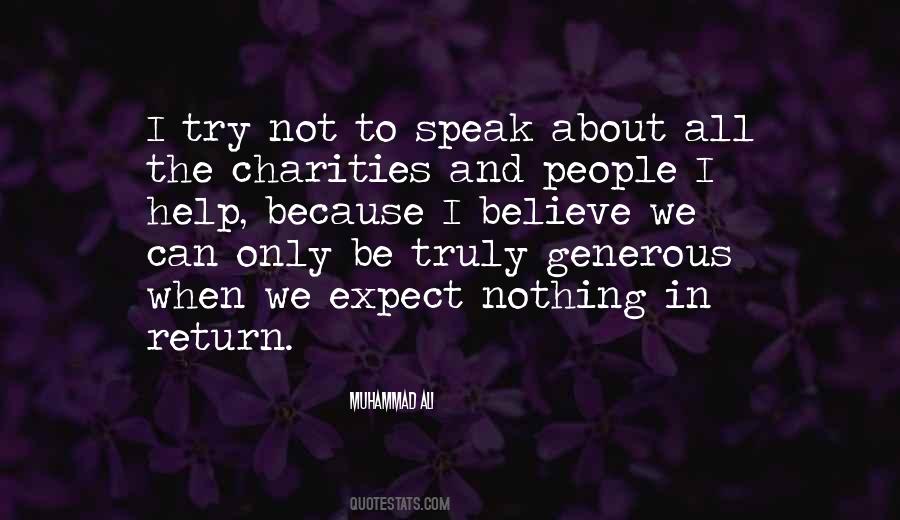 #20. Deep rooted envy is the main cause why people put you down, blame, shame, misjudge, maltreat and malign you; abusing your goodness and generosity. from the book, Odyssey of a Heart, Home of a Soul - Author: Angelica Hopes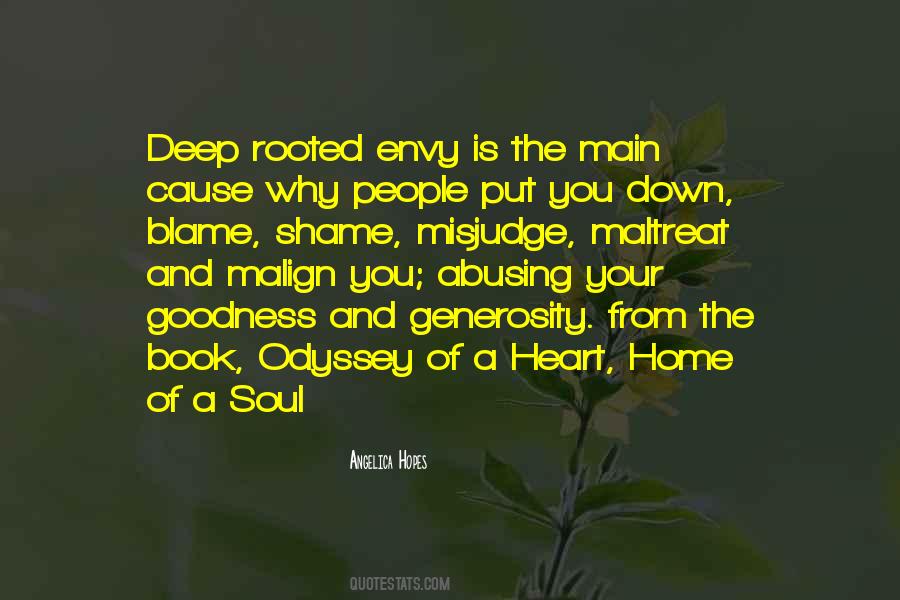 #21. Lukewarm people gauge their morality or 'goodness' by comparing themselves to the secular world. They feel satisfied that while they aren't as hard-core for Jesus as so-and-so, they are nowhere as horrible as the guy down the street. - Author: Francis Chan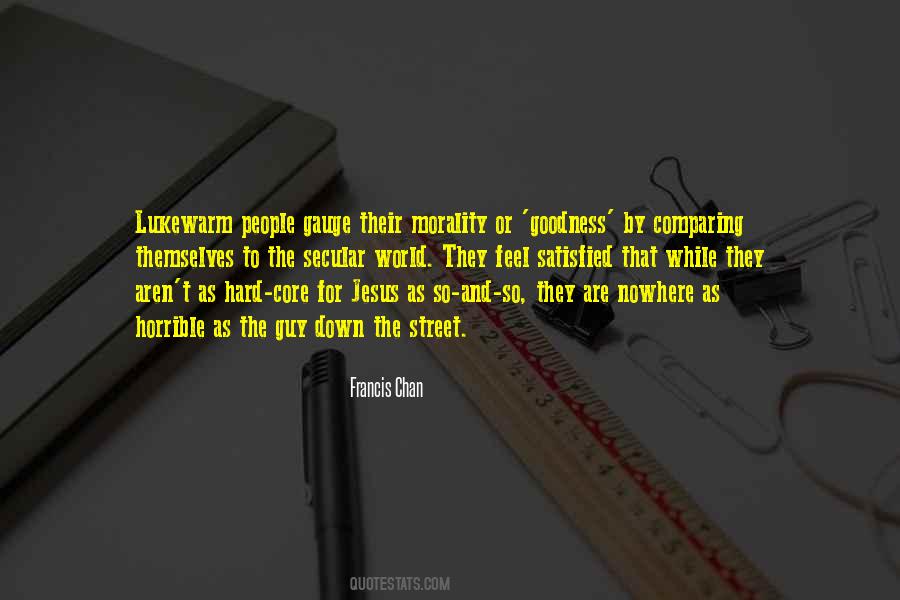 #22. No! I cannot love people whom I find that I look down on. I need someone who would himself master me, but then, goodness me, I shall never come across anyone like that. I will never fall into anybody's clutches, never, never. - Author: Ivan Turgenev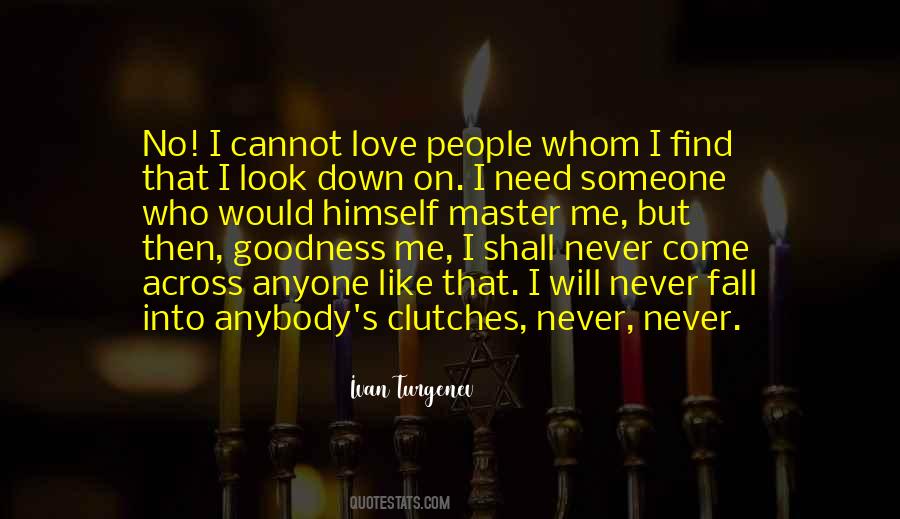 #23. I am afraid that people will think I re-illustrated 'The Little Prince,' when really, it was more a tribute to him as a dedicated pilot and a man who believed in the goodness of people. - Author: Peter Sis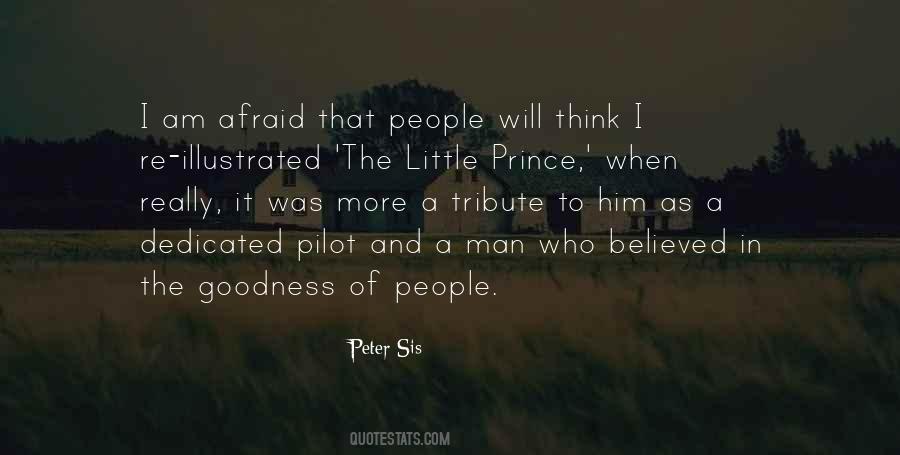 #24. Prayer is the way and means God has appointed for the communication of the blessings of His goodness to His people. - Author: Arthur W. Pink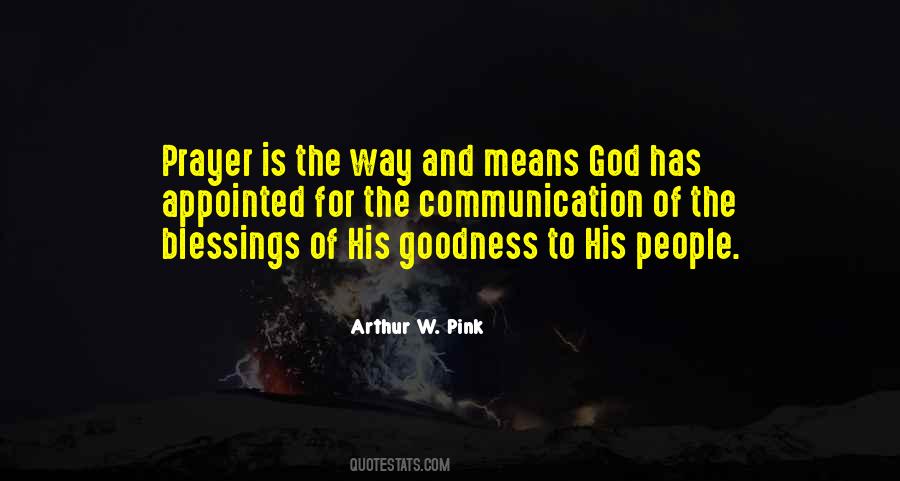 #25. Sometimes, if you have faith in people they'll surprise you. Mom and Dad taught me that. Risk is the price of believing most people want to be good. - Author: Gwenda Bond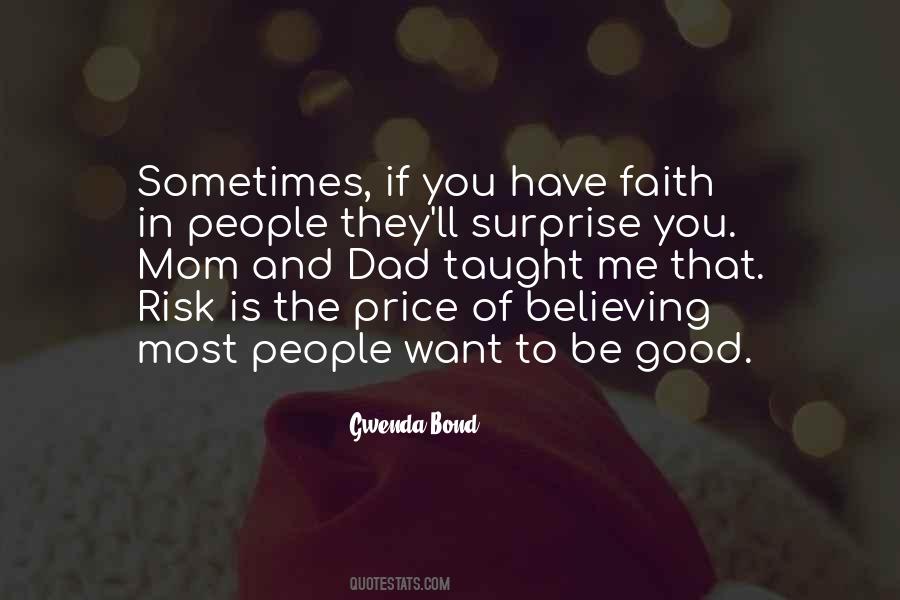 #26. With life and all I've been through, I do have a belief in goodness, a good spirit. I think what people have done with religion is personified good and evil, so good's become God with 'o' out, and evil's become Devil with a 'd' added. That's my theory of religion. - Author: Paul McCartney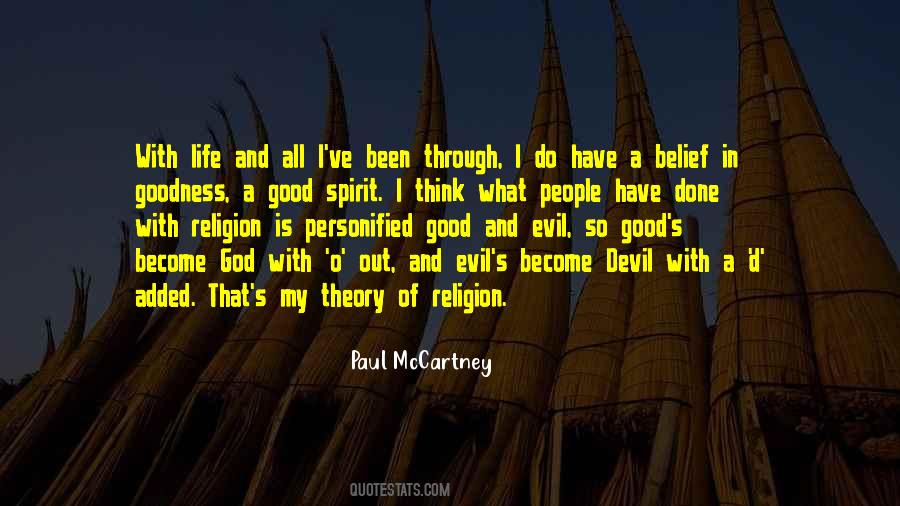 #27. Anybody is liable to rheumatism in her legs, Anne. It's only old people who should have rheumatism in their souls, though. Thanks goodness, I never have. When you get rheumatism in your soul you might as well go and pick out your coffin. - Author: L.M. Montgomery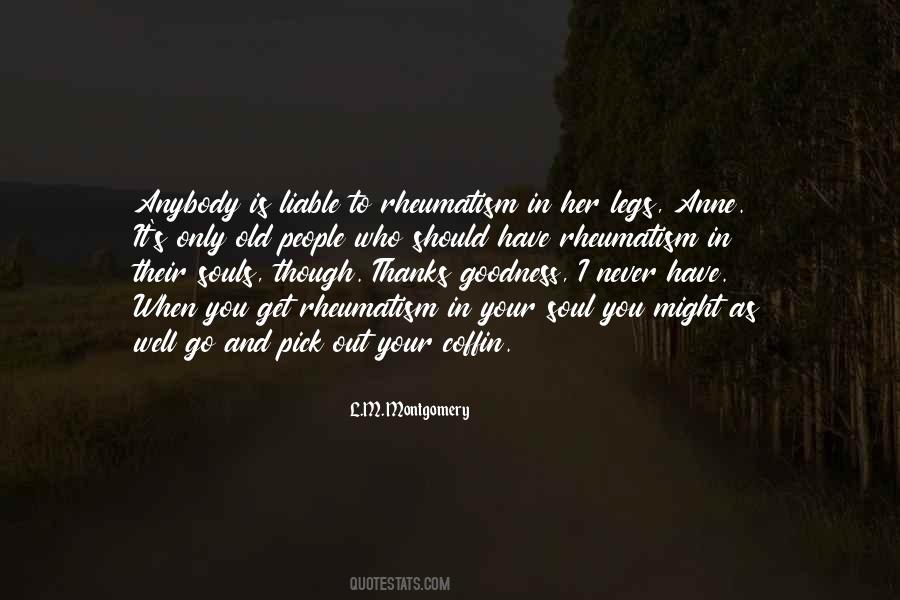 #28. We ought to be able to combine opposites: the love of goodness with indifference to other people's opinions, a liking for work with indifference to fame, concern for our health with indifference to life. - Author: Nicolas Chamfort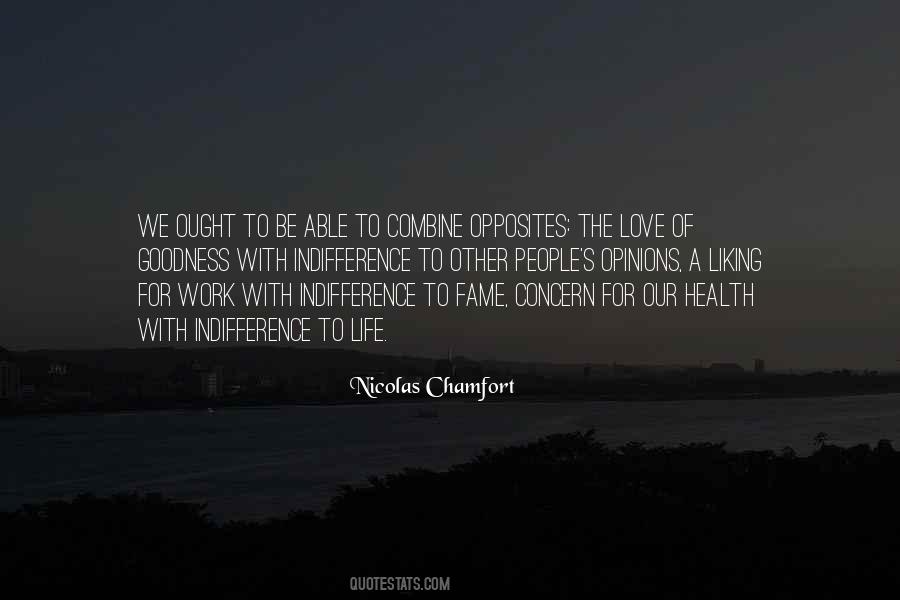 #29. I have another name for what they're terming whistleblowers, and that's righteous heroes. From Bradley Manning to Snowden. They're people of conscience who are unwilling to turn a blind eye to the crimes of our government. And thank goodness for them. - Author: Tom Morello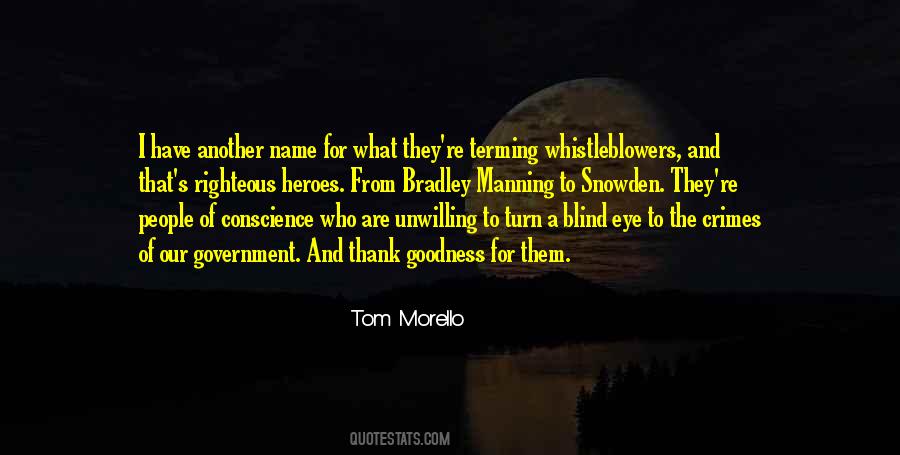 #30. Everybody knows who Reba is. She has one name, for goodness sakes! There's only, like, six people in the world that have one name. - Author: Sara Rue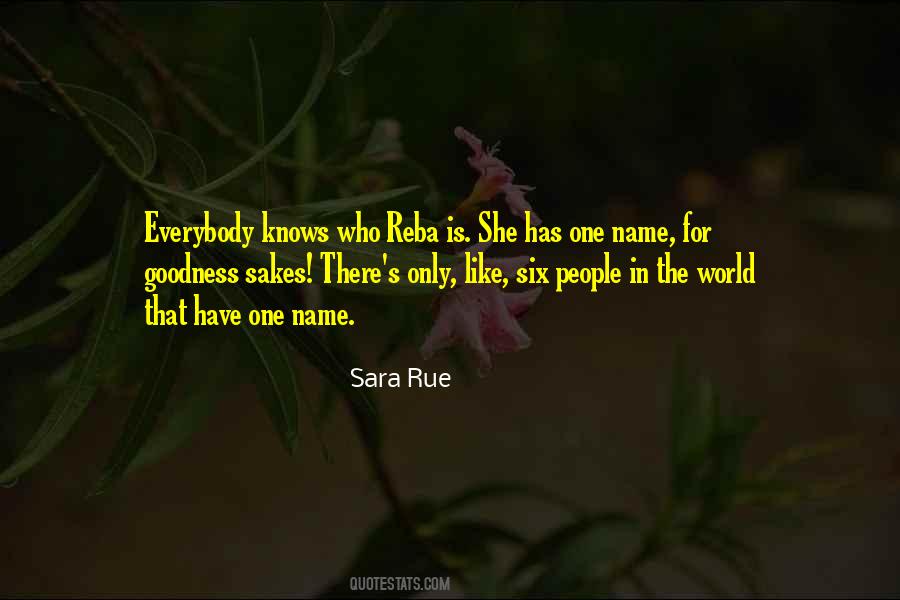 #31. Inviting people to inquiry is much more powerful to me than describing my experience. When people hear me tell the story, they often say, "Oh my goodness, I get it. I get it!" But it's not enough. - Author: Byron Katie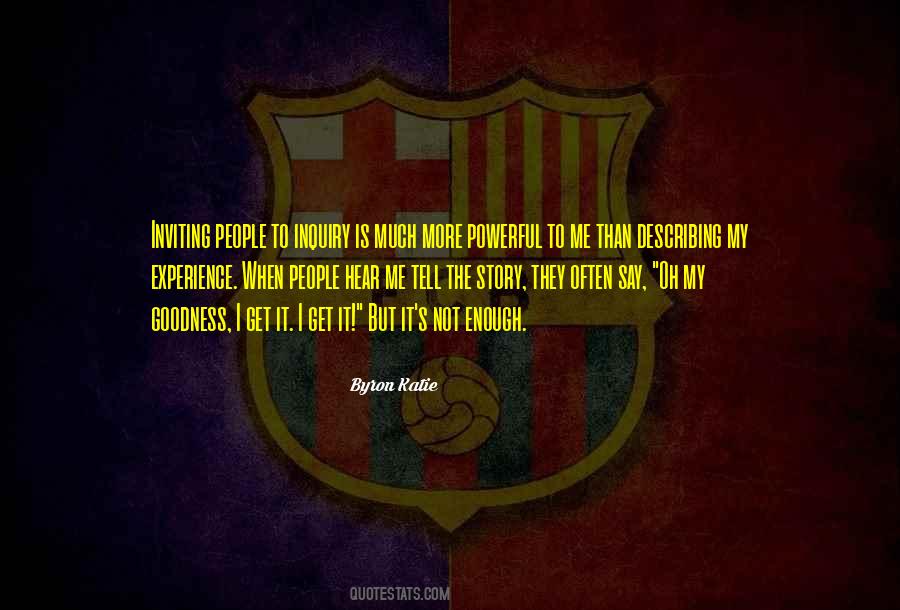 #32. The spirit of Christmas is the spirit of love and of generosity and of goodness. It illuminates the picture window of the soul, and we look out upon the world's busy life and become more interested in people than in things. - Author: Thomas S. Monson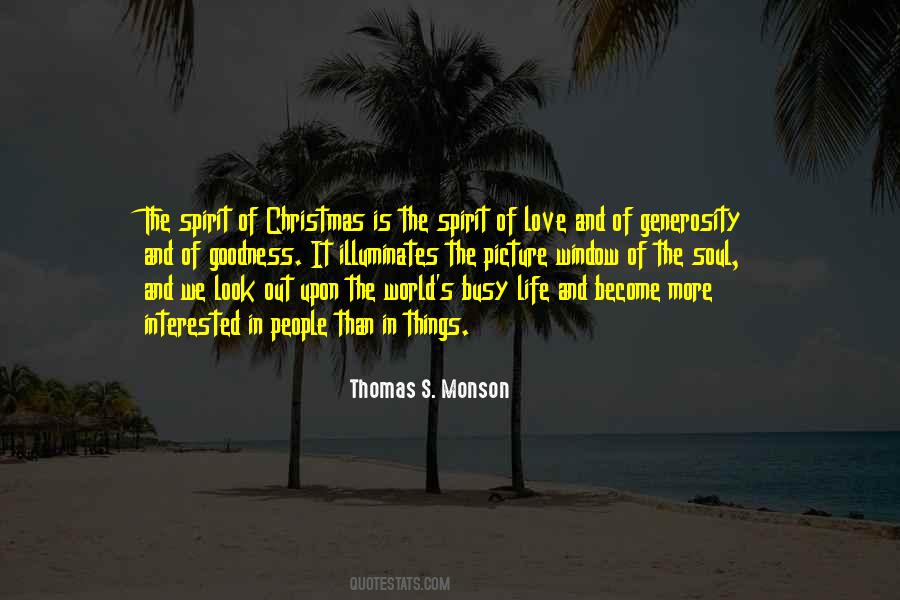 #33. Jesus didn't go around condemning people. The Bible says it's the goodness of God that leads people to repentance. - Author: Joel Osteen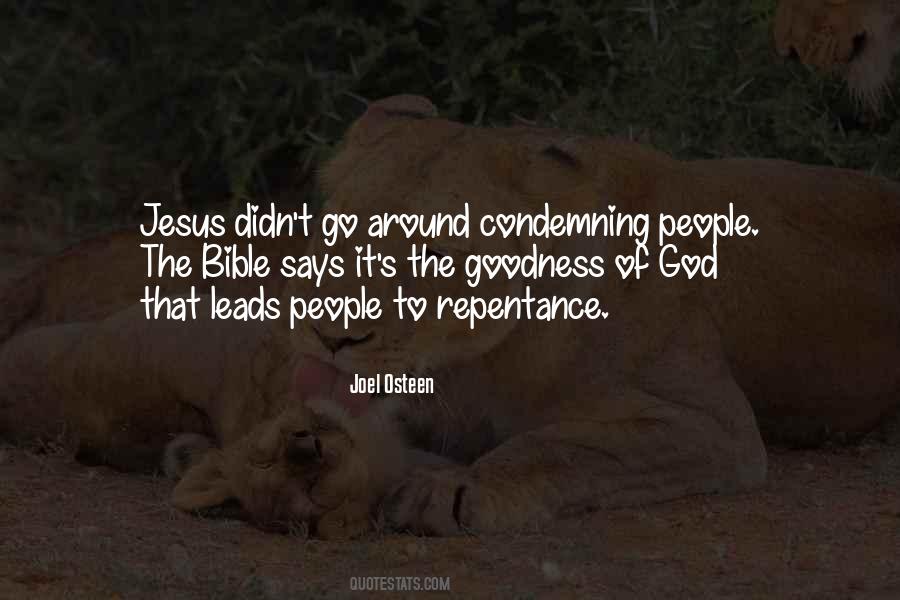 #34. If we had lost our own chief good, other people's good would remain, and that is worth trying for. - Author: George Eliot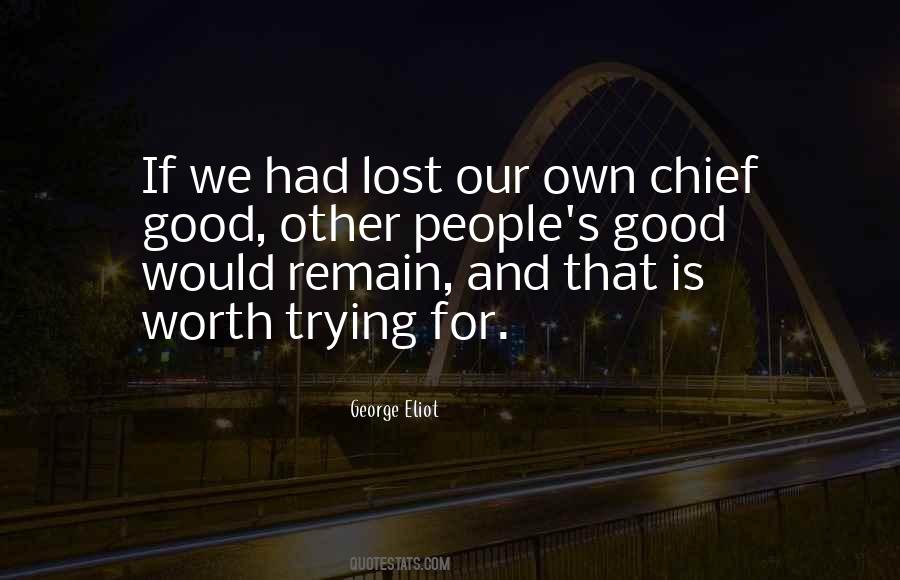 #35. People won't admit it, they're too busy grabbing to see that the lights have fused. They can't see the darkness and the spider-face beyond and the great web of it all. That there's always this if you scratch at the surface of happiness and goodness.
The black and the black and the black. - Author: John Fowles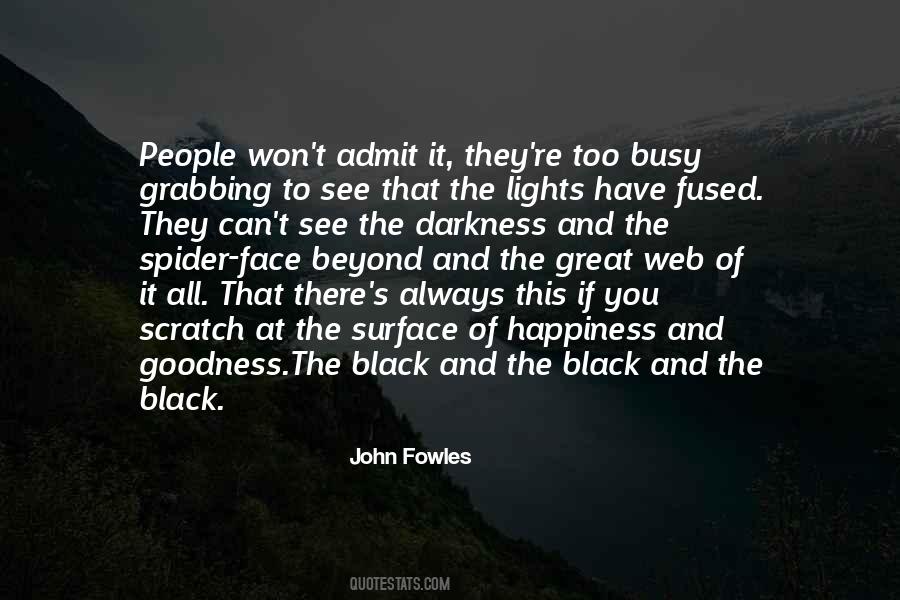 #36. People think, 'Oh my goodness! I have to do something really big.' You don't. Do what you love. There's a great quote from a poet I use all the time: 'Instead of asking what the world needs, ask yourself what you love,' because what the world needs is more people doing what they love. - Author: Maria Shriver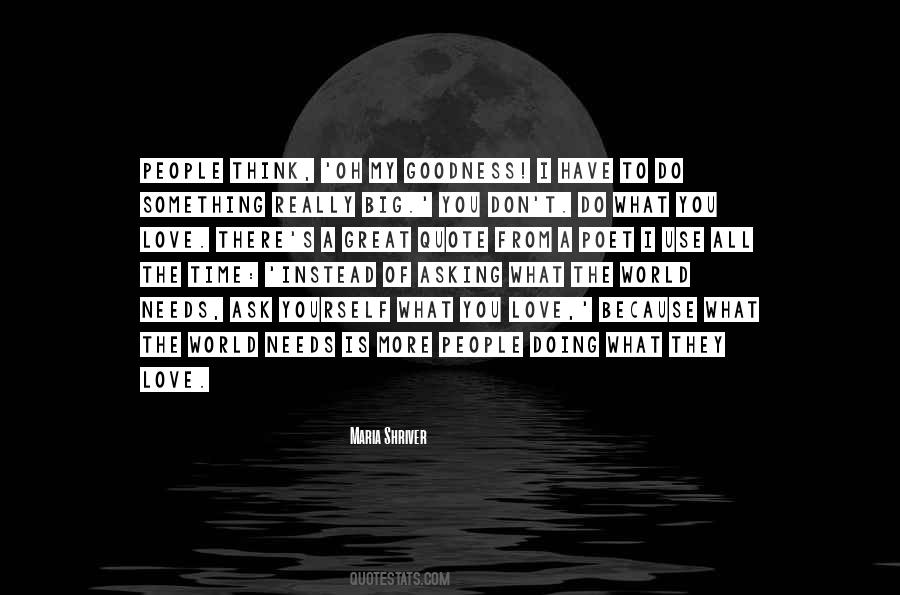 #37. Let people pray to God, it's nothing to me. Some good may even come of it, if goodness is something that matters to you. Trap him in churches if you must, and lament him there. But Roma? Roma is a weapon used against us. A poison flavoured sweet and given to hungry men. - Author: Mark Lawrence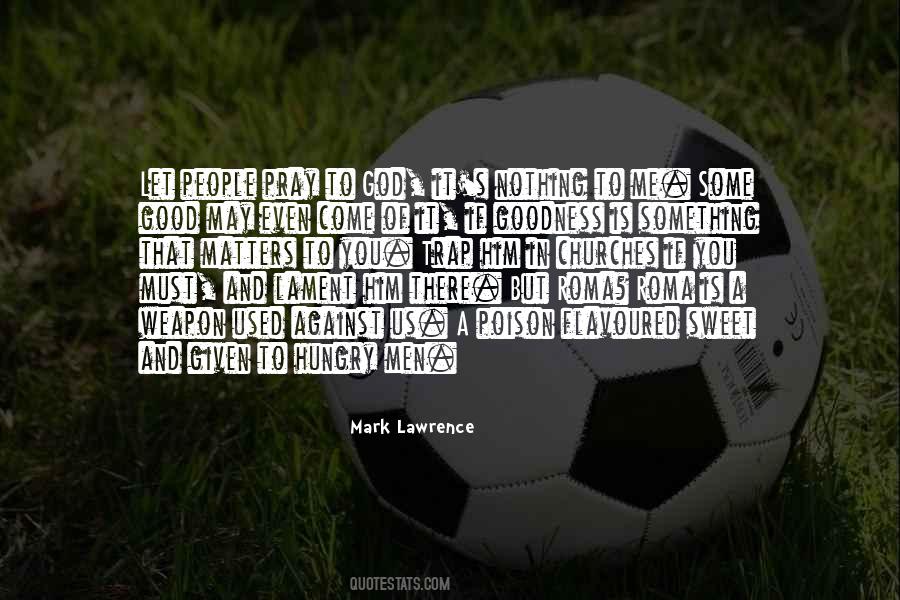 #38. From this it follows that con-sideration for other persons or for other living beings is very vital for goodness and want of consideration for other people makes human beings selfish, regardless for other people's good. - Author: Morarji Desai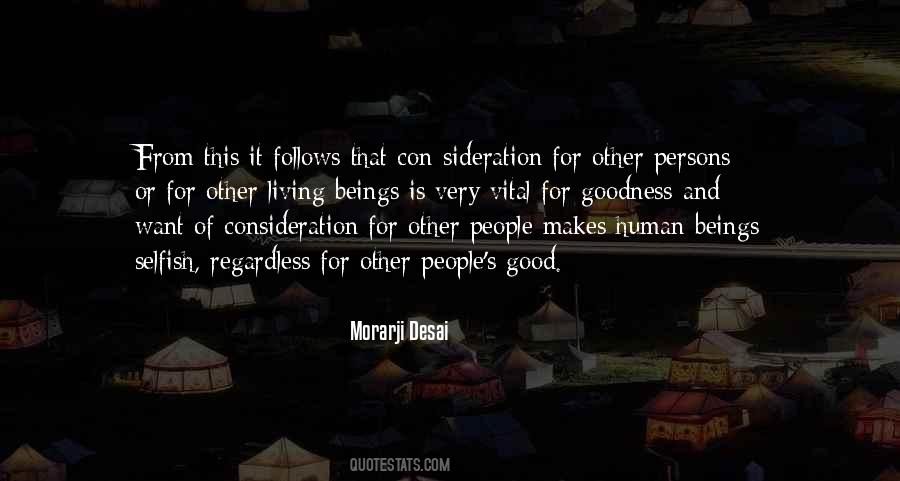 #39. Only those few people who practice it believe in goodness. - Author: Marie Von Ebner-Eschenbach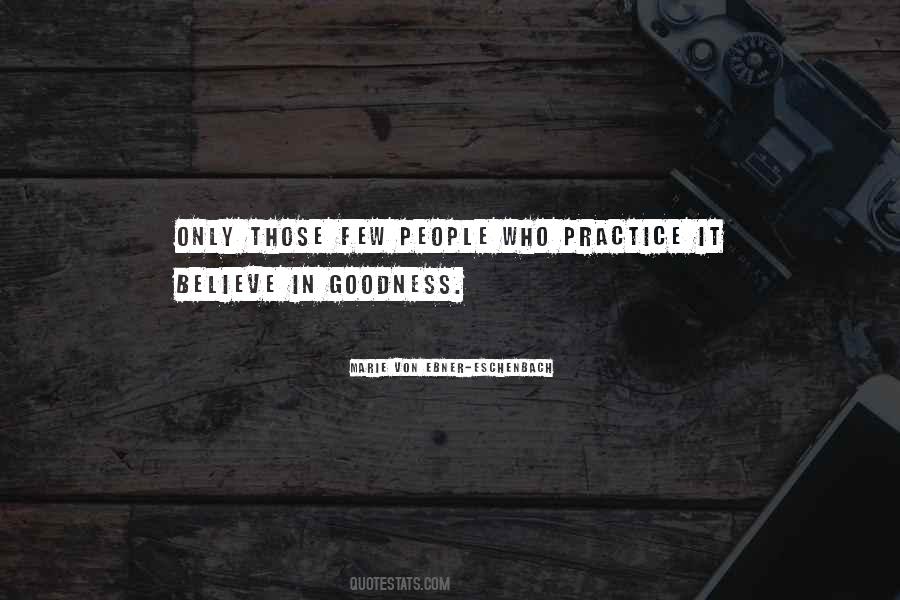 #40. It's sort of a feeling of power onstage. It's really the ability to make people smile, or just to turn them one way or another for that duration of time, and for it to have some effect later on. I don't really think it's power ... it's the goodness. - Author: Robert Plant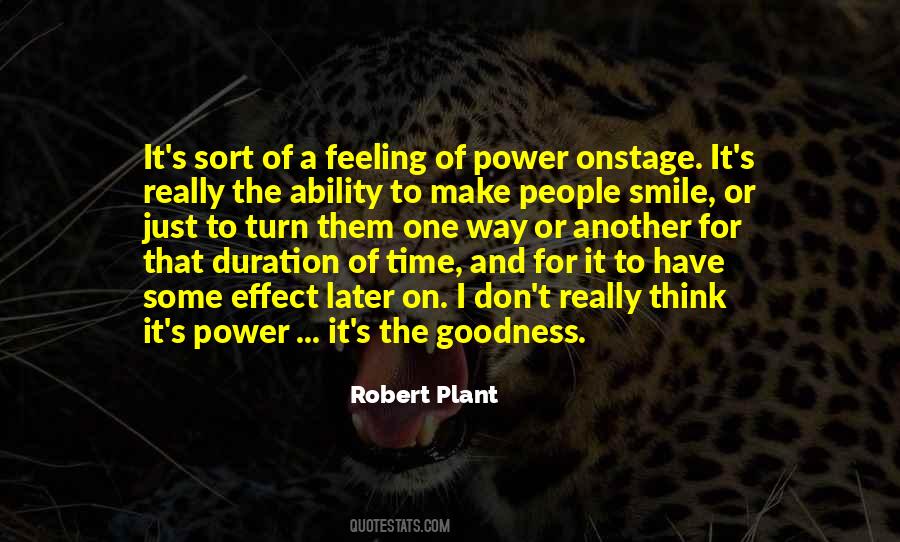 #41. We are women. We believe in love and goodness and the kindness of others above all things. We are hard-wired to blame ourselves for things that other people do, even the bad, evil ones. That's why we're so good at compassion. It's also why we're our own worst enemies sometimes. - Author: Elle Casey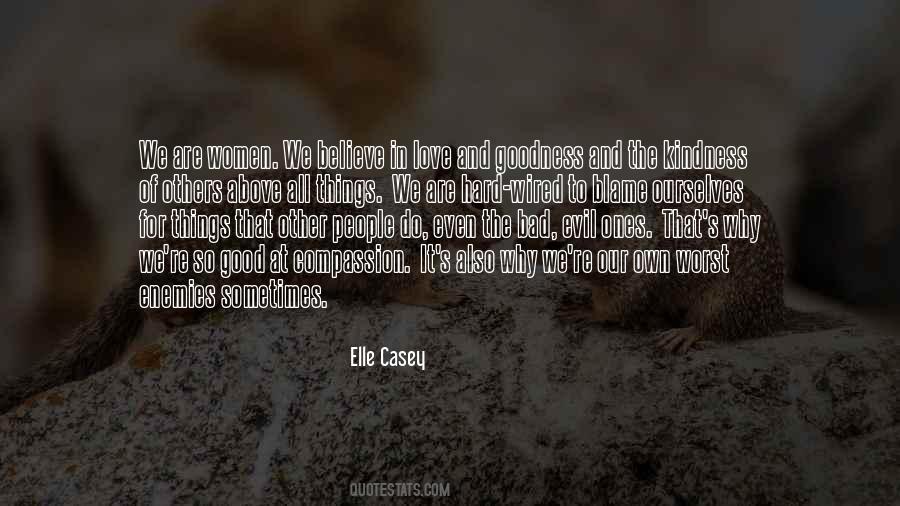 #42. The thing I didn't see back then is that people can be destroyed by goodness. Damage can be done by hope. If people aren't ready for hope, it's a cruel trick to put it on their doorstep. - Author: Barbara Hall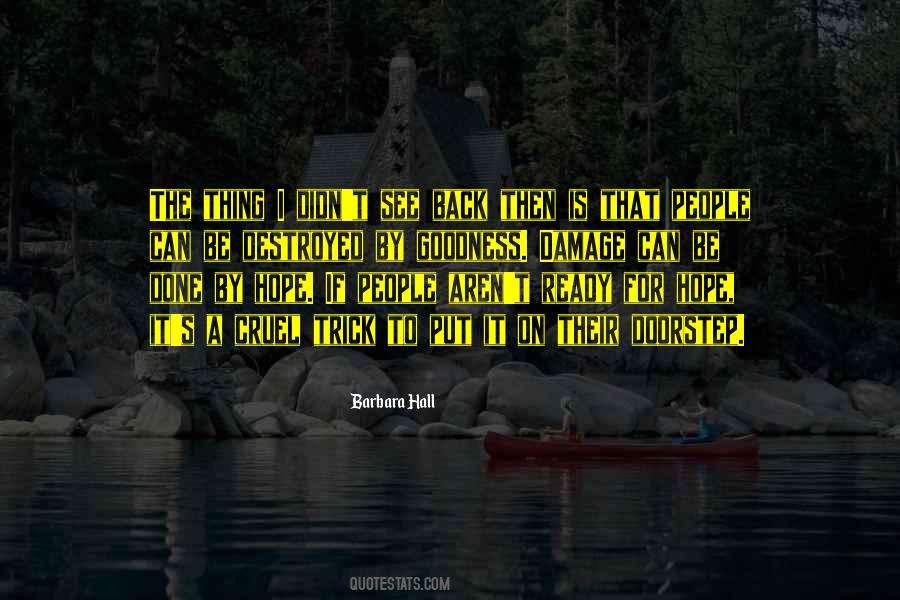 #43. Many people believe they have found the key to Heaven's gate, not realizing that there is no key hole. It is a barrier upon which you must knock. And I believe that it is by our small and simple acts of kindness that we find the gate left ajar. - Author: Richelle E. Goodrich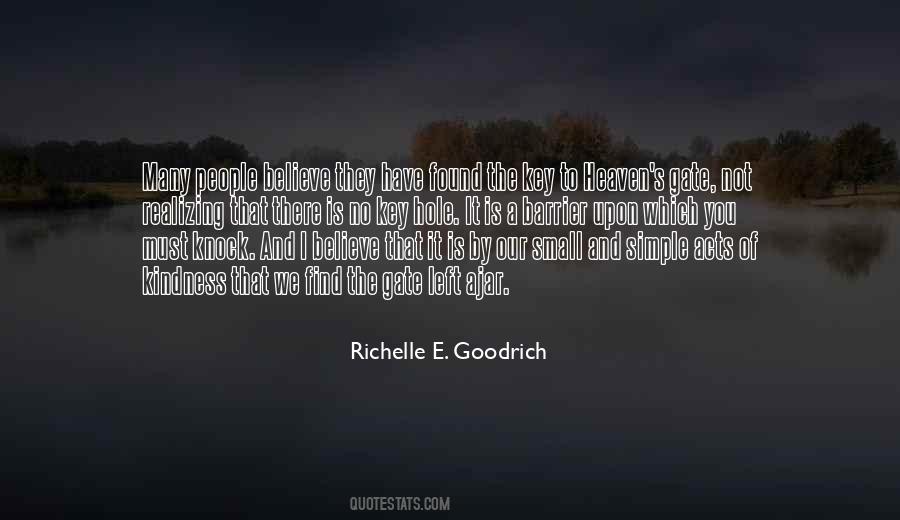 #44. I wasn't as untrusting. I had faith in the goodness of people, the perfection of love.
What happened?
Everything ends. And it's how they end that leaves the lasting effect. - Author: Zia Haider Rahman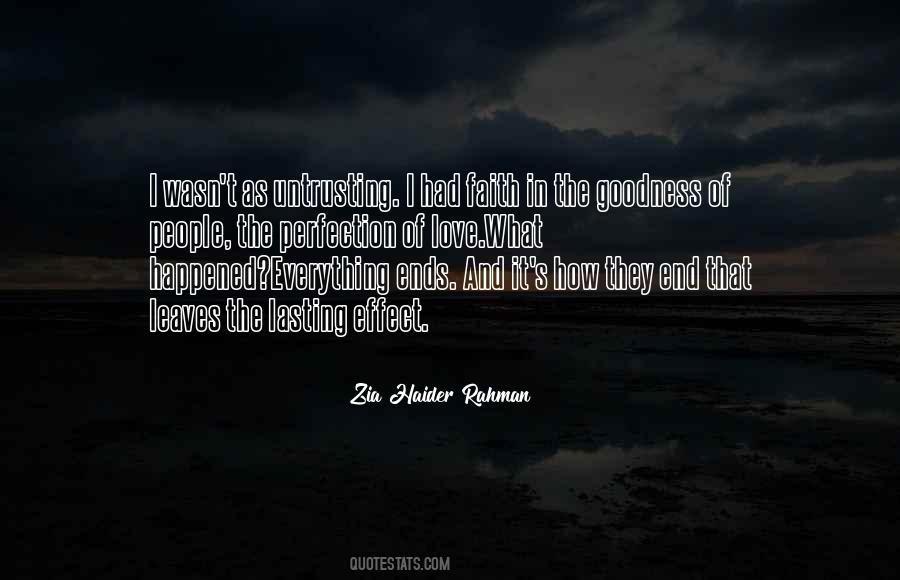 #45. People must learn to hate, and if they can learn to hate, they can be taught to love, for love comes more naturally to the human heart than its opposite ... Man's goodness is a flame that can be hidden but never extinguished. - Author: Nelson Mandela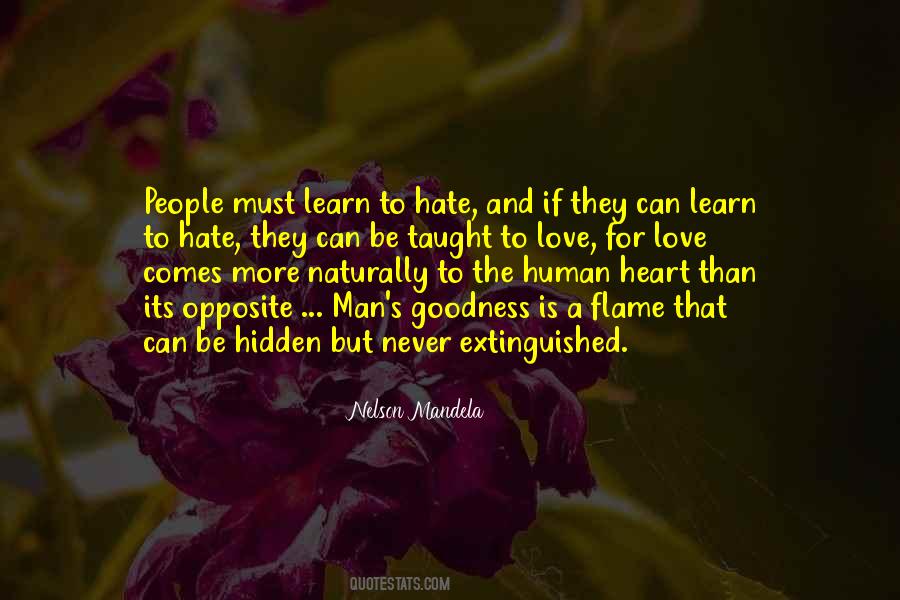 #46. When you help other people you also help yourself it's impossible to not feel good when you do good for other people - Author: Dalia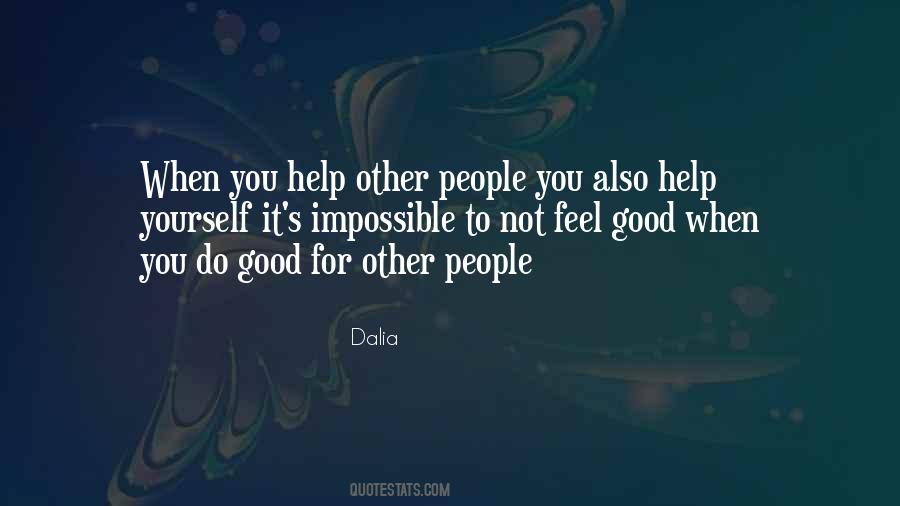 #47. My goodness, my hair's been talked about by a million people, you know? It sort of goes with the territory. - Author: Carly Fiorina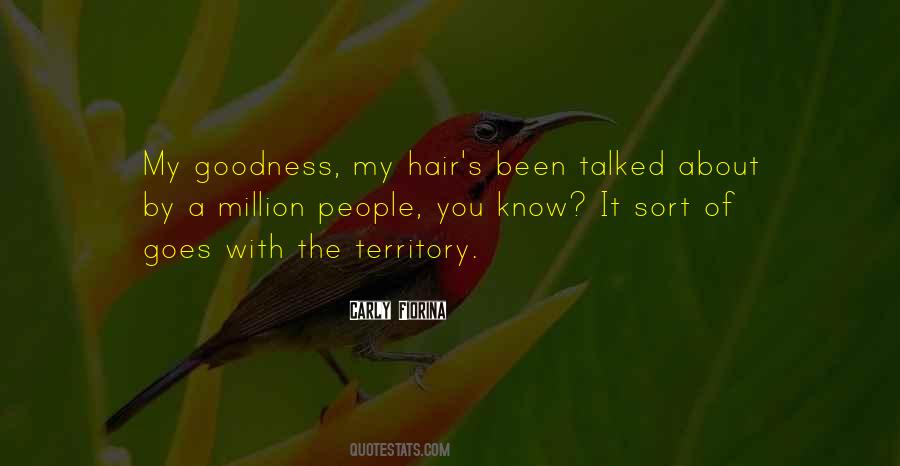 #48. Listen to people and treat people as you find them. There's an inherent goodness in most people. Don't pre-judge people - that was me Mam's advice anyway. - Author: Sean Bean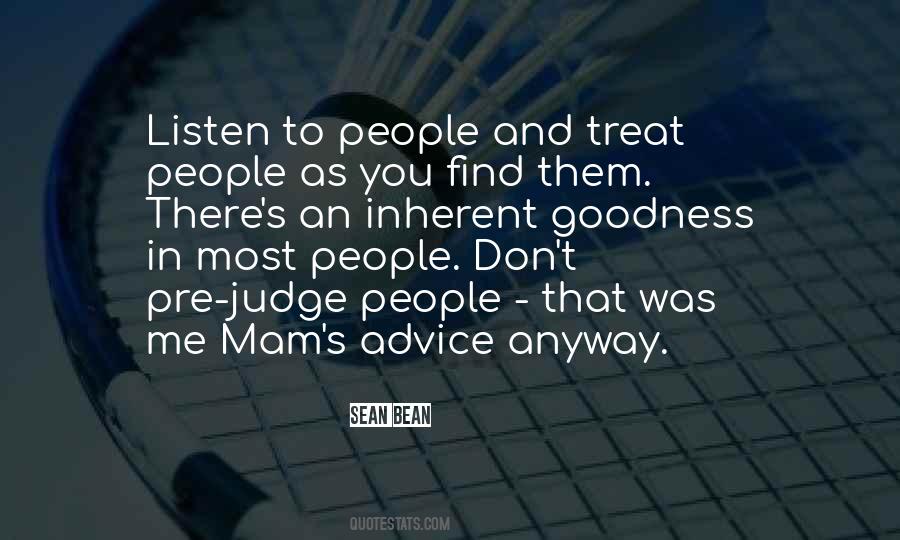 #49. There's something about the openness of the American people. Yes, we have our faults, but deep down, there's a goodness. America doesn't want to take over the world; in many ways, we don't want to be bothered by the rest of the world. - Author: Jerry Springer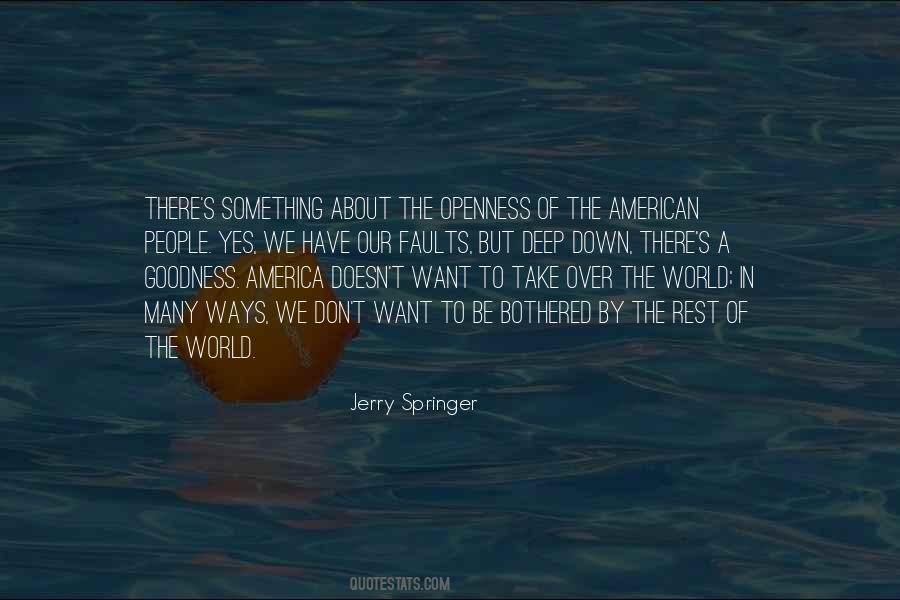 #50. The central question is, Are the leaders of the future truly men and women of God, people with an ardent desire to dwell in God's presence, to listen to God's voice, to look at God's beauty, to touch God's incarnate Word and to taste fully God's infinite goodness. - Author: Henri Nouwen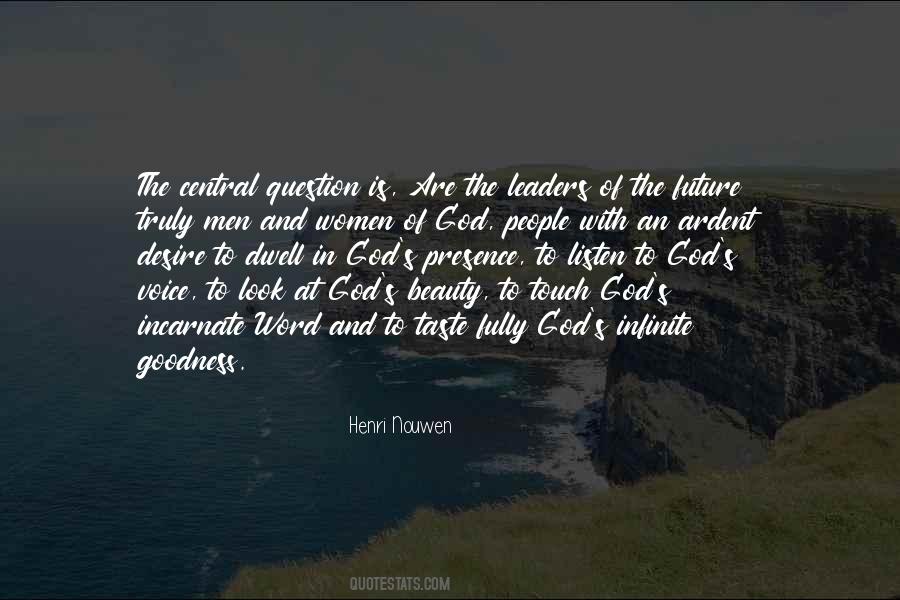 #51. It's been said that people see what they want to see. For that exact reason, look for the good in people, rather than the bad. - Author: Donald L. Hicks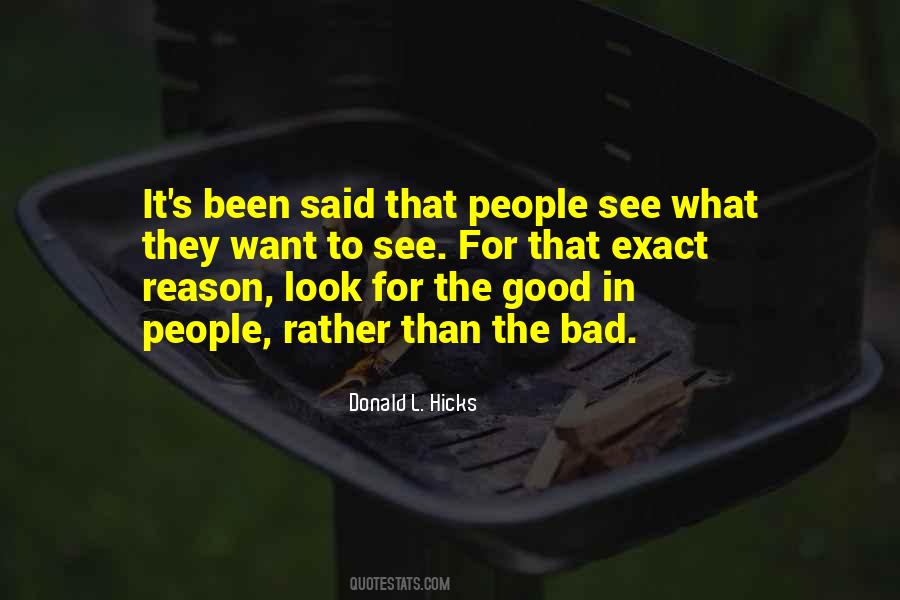 #52. God works through people by stirring their hearts and sometimes people never know how they are helping others. - Author: Colby Buzzell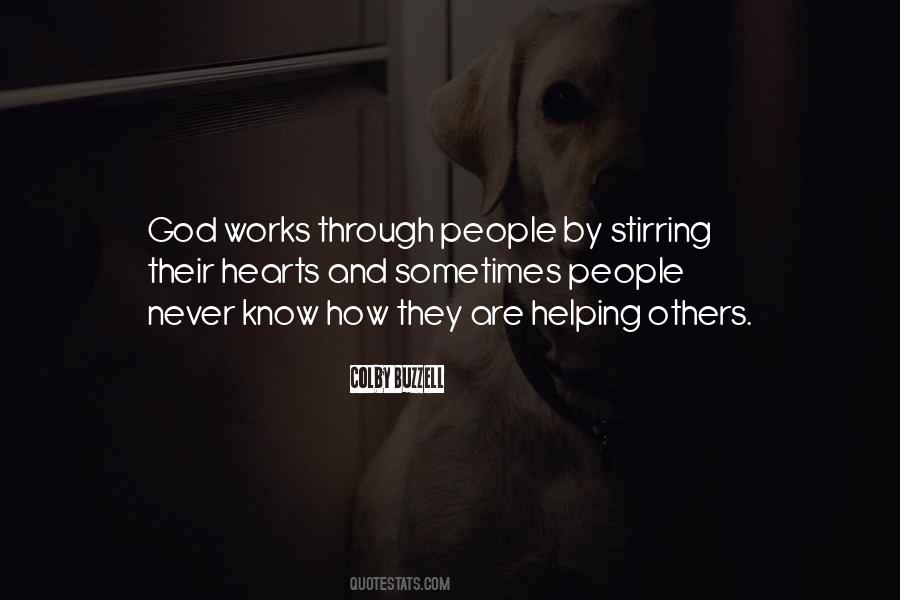 #53. The intimate space of your personal life should be reserved for amazing, beautiful, radiant souls - good, wholesome and loving people. - Author: Bryant McGill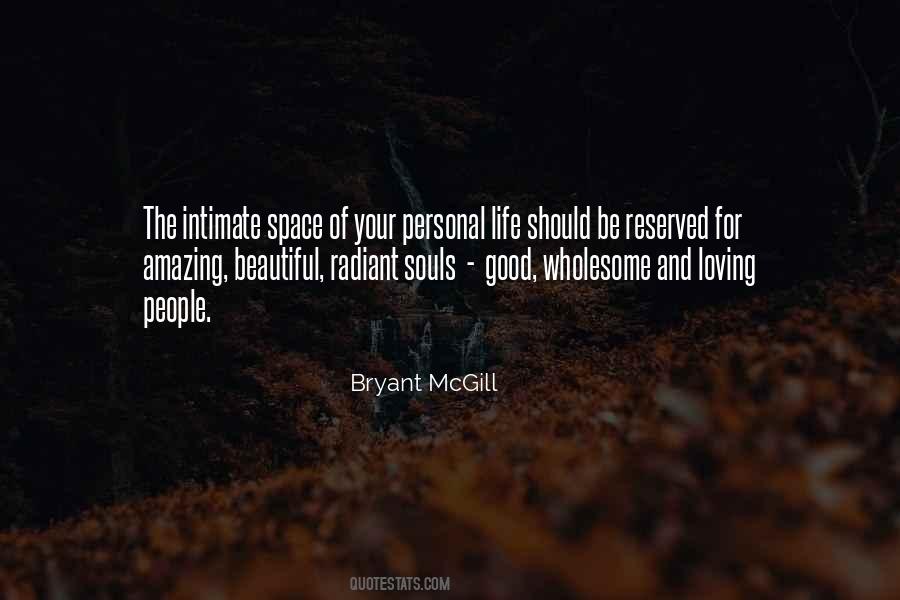 #54. It is not enough to be nice; you have to be good. We are attracted by nice people; but only on the assumption that their niceness is a sign of goodness. - Author: Roger Scruton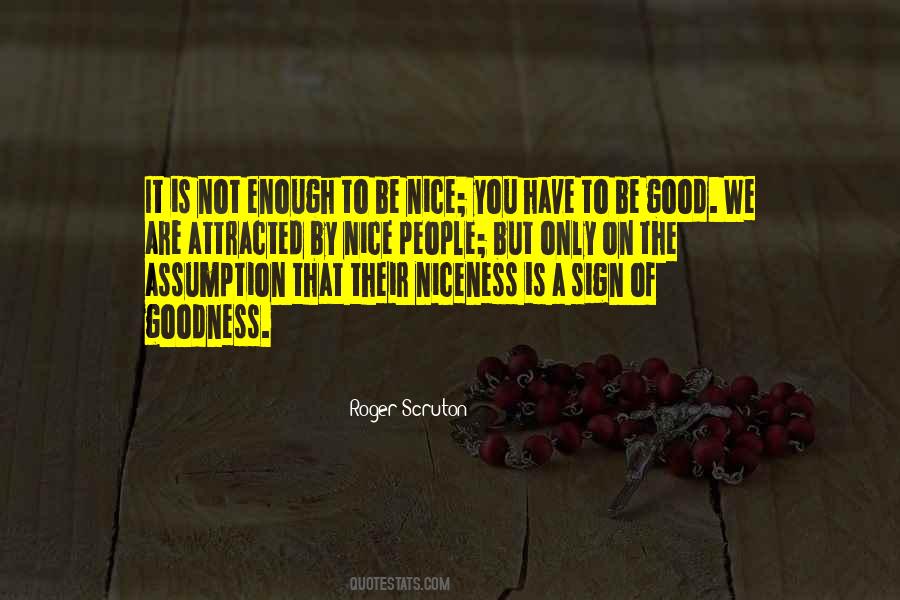 #55. I love Frank Capra. He believed in the goodness of people and one man's ability to fight and often triumph. - Author: Tom Shadyac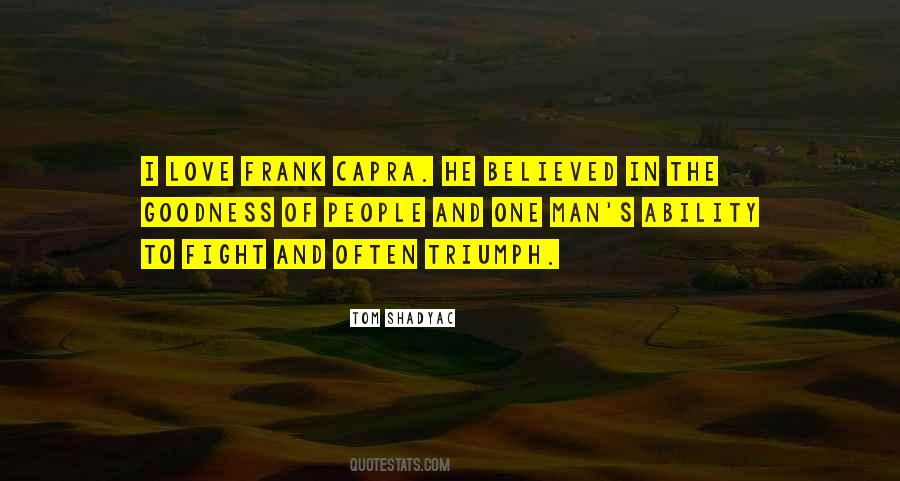 #56. How can two good people both have such good intentions end up with feelings, derived from all the goodness, that are so incredibly bad? - Author: Colleen Hoover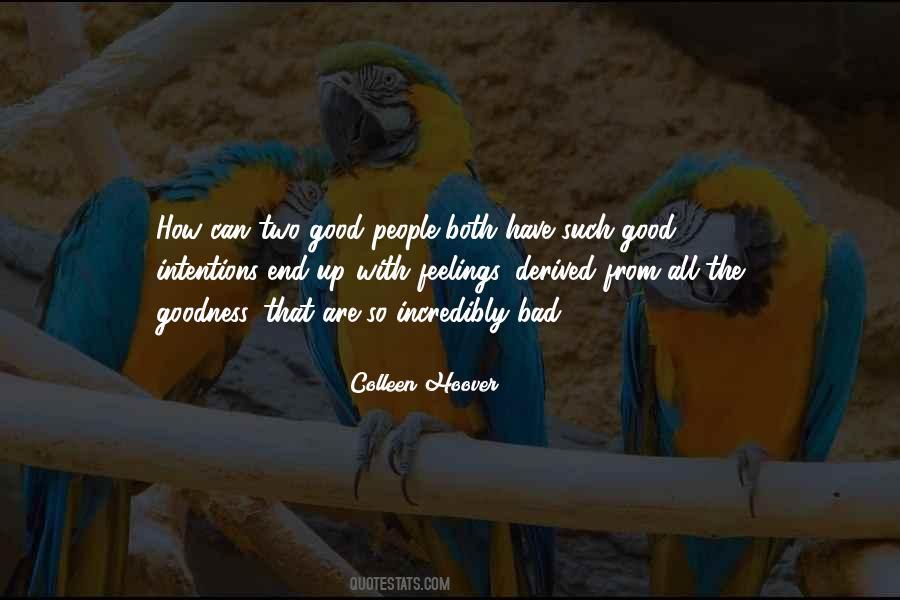 #57. How thick the fog is. I can't see the road. All the people in the world could pass by and I would never know. I wish it was always that way. It's getting dark already. It will soon be night, thank goodness. - Author: Eugene O'Neill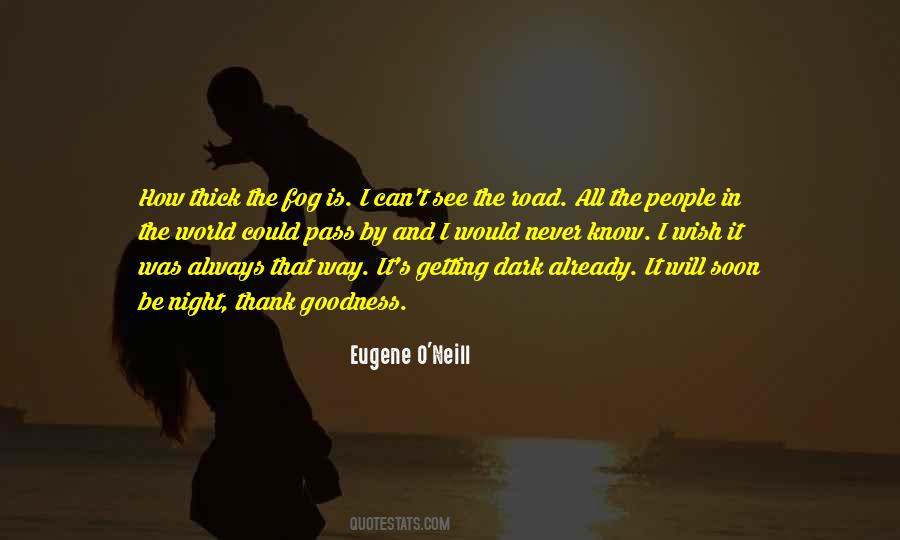 #58. If you find a need, reach out to help. - Author: Lailah Gifty Akita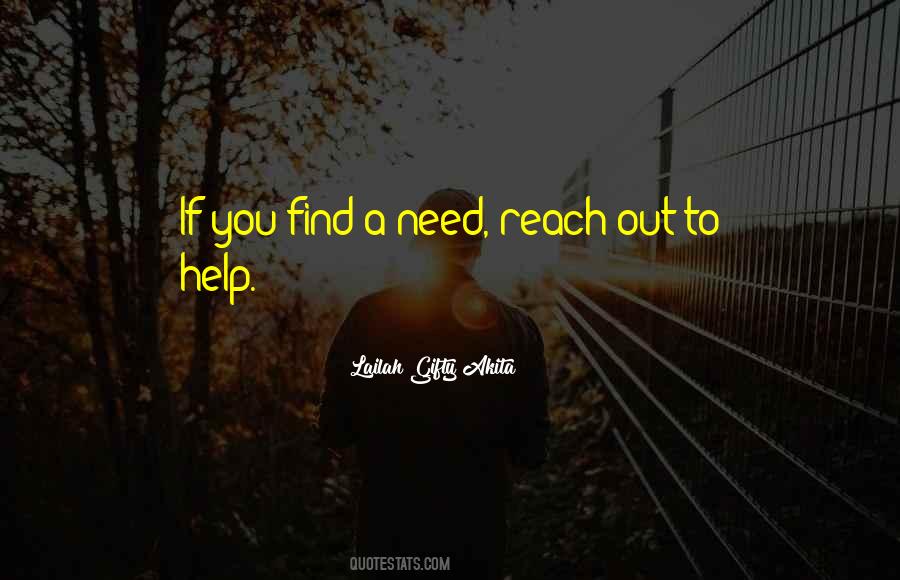 #59. A leader is one who, out of madness or goodness, volunteers to take upon himself the woe of the people. There are few men so foolish, hence the erratic quality of leadership. - Author: John Updike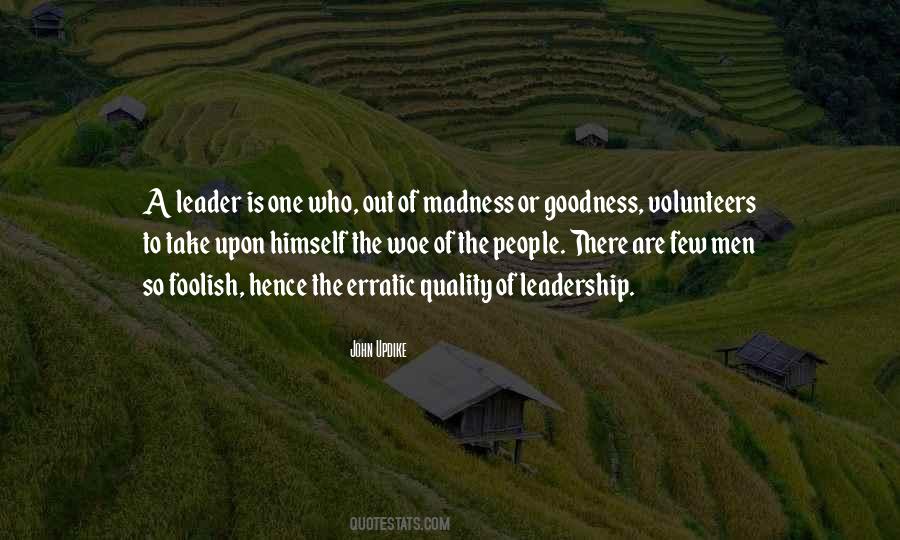 #60. People are simply incapable of prolonged, sustained goodness. - Author: Diane Frolov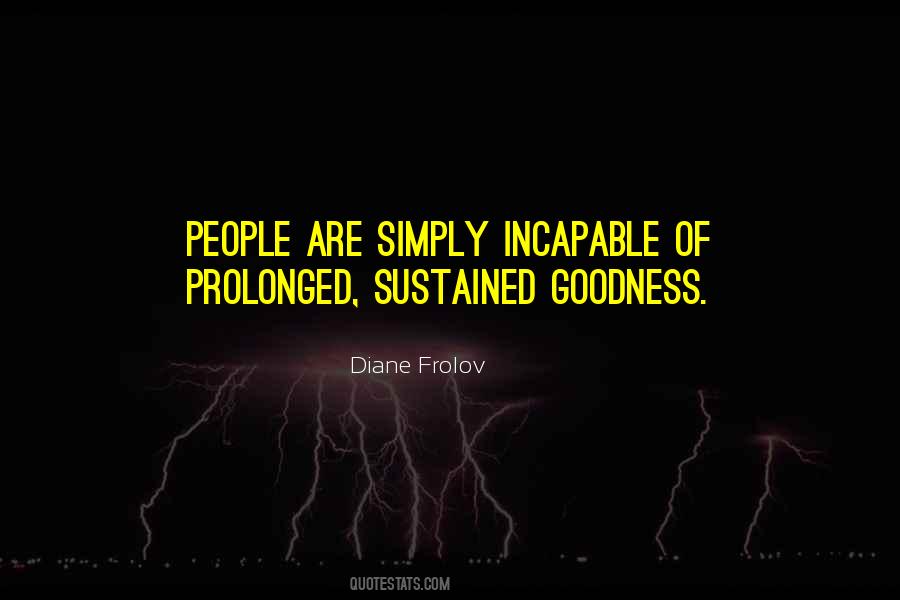 #61. Self-actualizing people are those who have come to a high level of maturation, health and self-fulfillment ... the values that self-actualizers appreciate include truth, creativity, beauty, goodness, wholeness, aliveness, uniqueness, justice, simplicity, and self-sufficiency. - Author: Abraham Maslow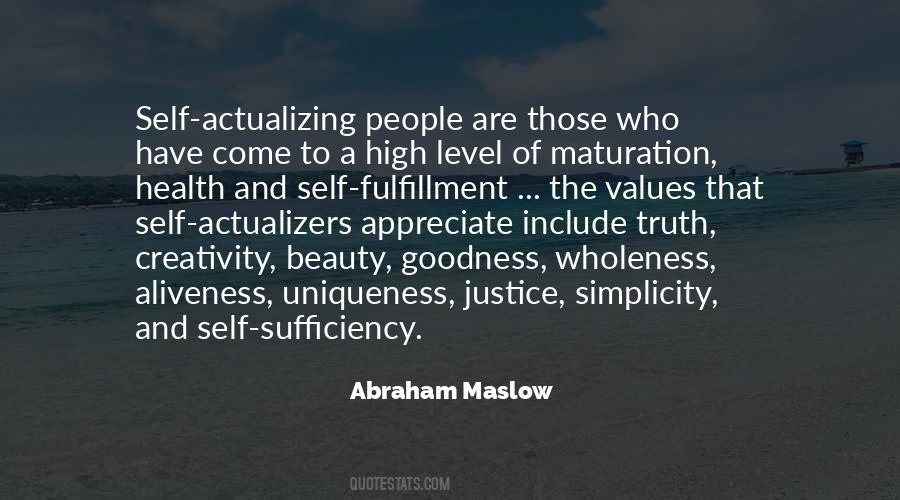 #62. I'm Gordon Ramsay, for goodness sake: people know I'm volatile. - Author: Gordon Ramsay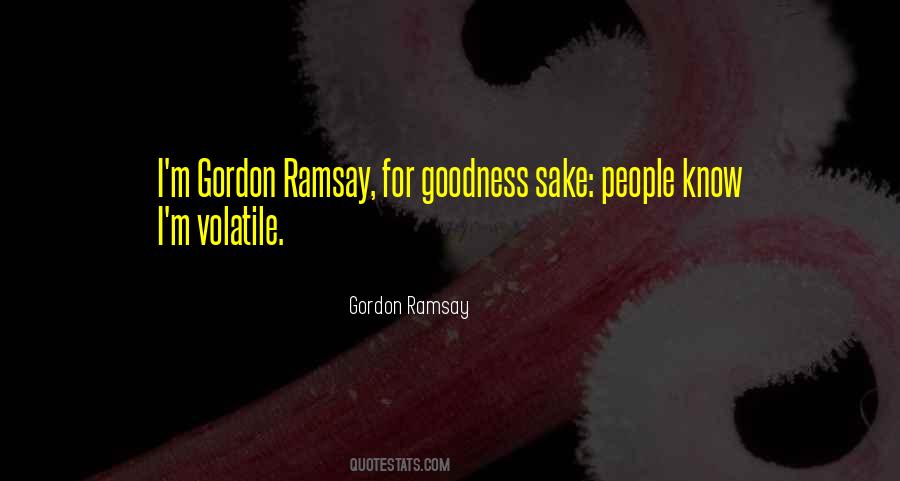 #63. Sometimes the nicest people are the ones who've been hurt the most - Author: Frances Ivy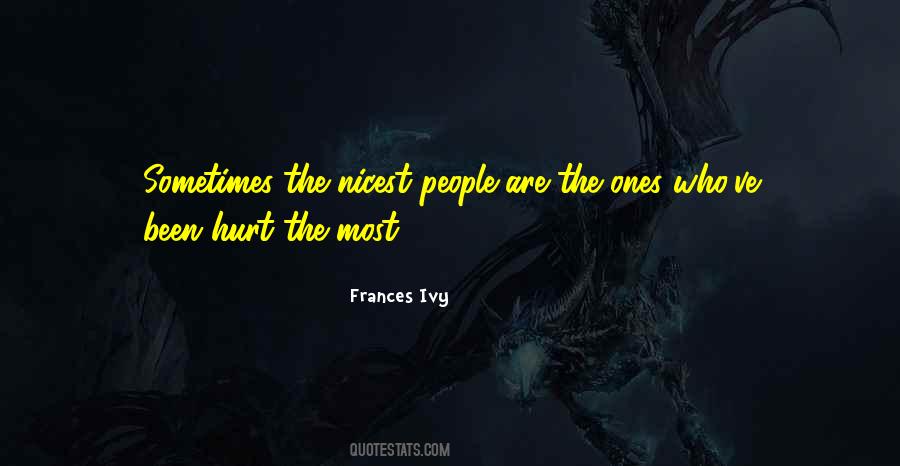 #64. But deep down she said to herself, Franz may be strong, but his strength is directed outward; when it comes to the people he lives with, the people he loves, he's weak. Franz's weakness is called goodness. - Author: Milan Kundera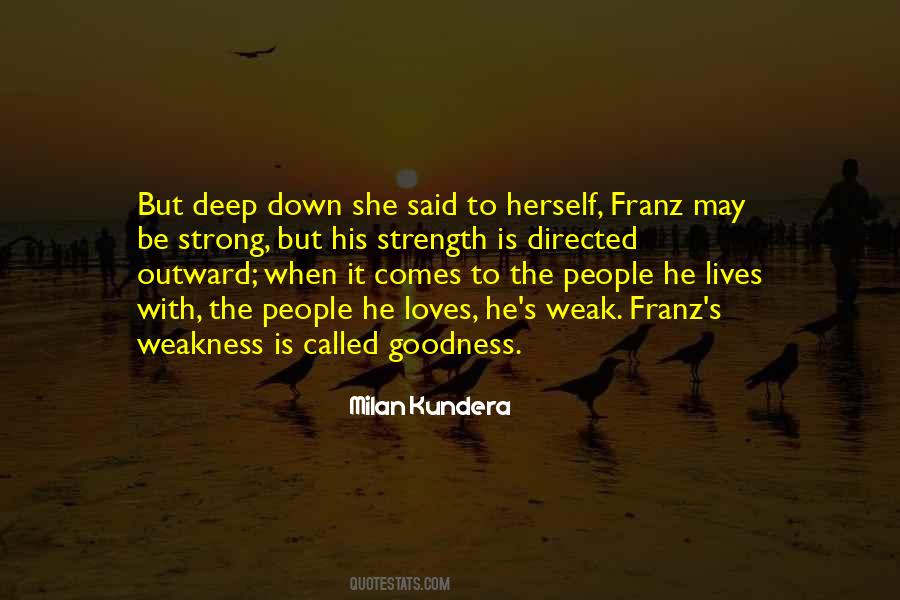 #65. In my view, success is earned externally by being better than other people. But character, that sort of unfakeable goodness, is earned by being better than you used to be. And it's about self-confrontation. - Author: David Brooks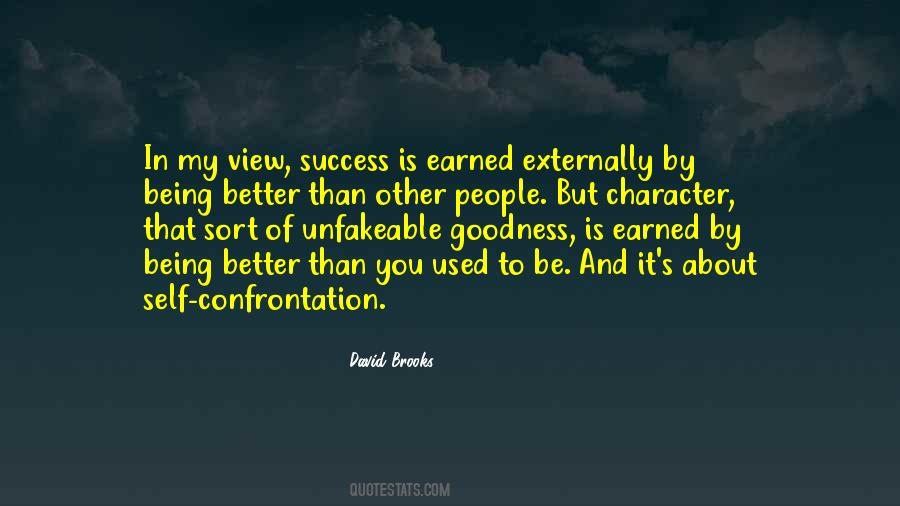 #66. We did a 60 page book in one day. She's one of the most photogenic, easy to shoot, inspiring, extraordinary people in front of the camera who I've ever photographed. Yes Taylor Swift has it all. My goodness that girl has it all, what can I say she's extraordinary. - Author: Nigel Barker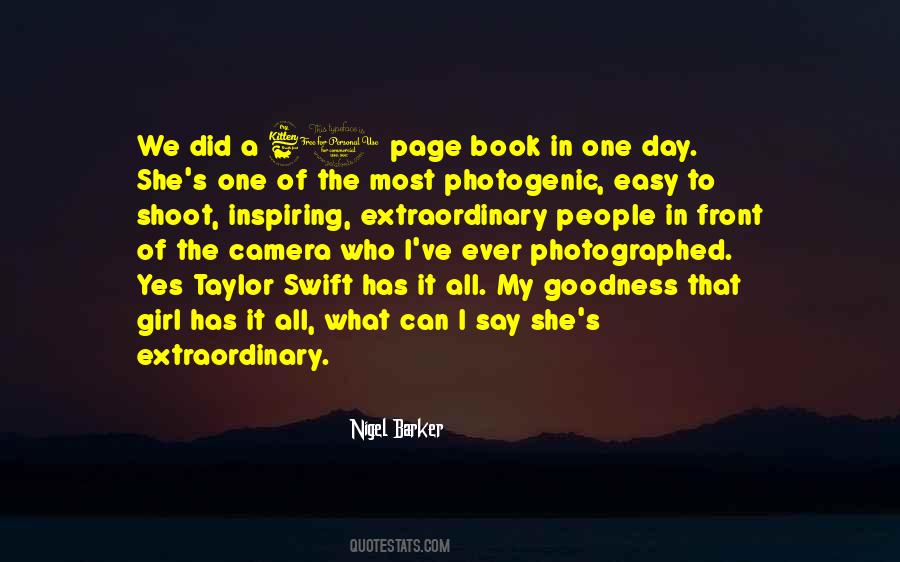 #67. I want to be good...I try to be good, I do try, and to like everybody. But there are some people - some people I can't like, however much I try. I hate them - there! - Author: Eleanor Farjeon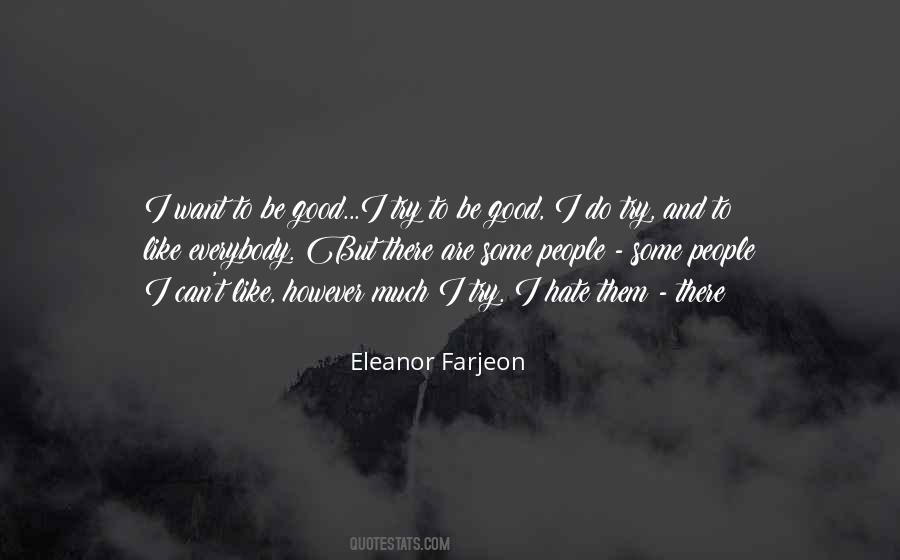 #68. In fact, if there was one thing Tabitha had learned from the weekend thus far, it was that people had all sorts of facades about them, covering tucked-away bits of badness and goodness. Fear and courage. Helplessness and hope. - Author: Jessica Lawson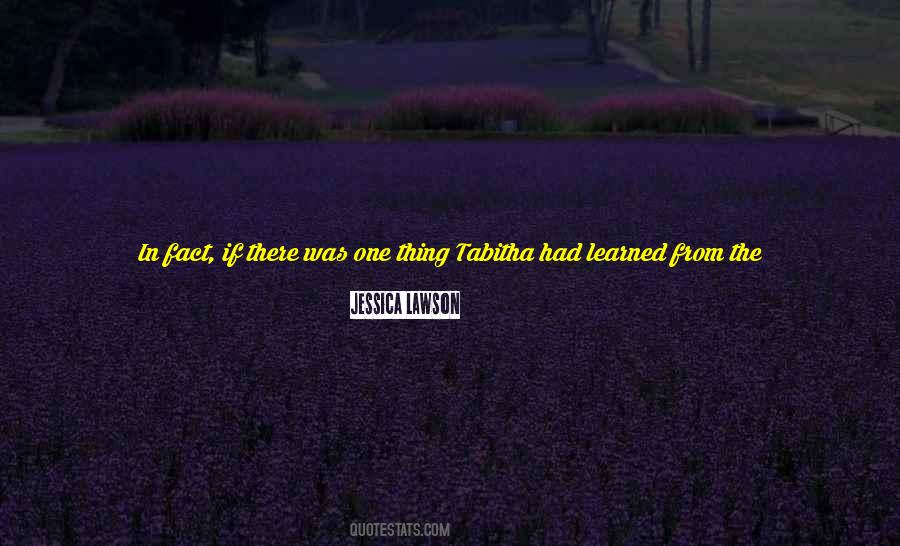 #69. Stop looking at people's religions. Try to look at the goodness within them. - Author: Abhijit Naskar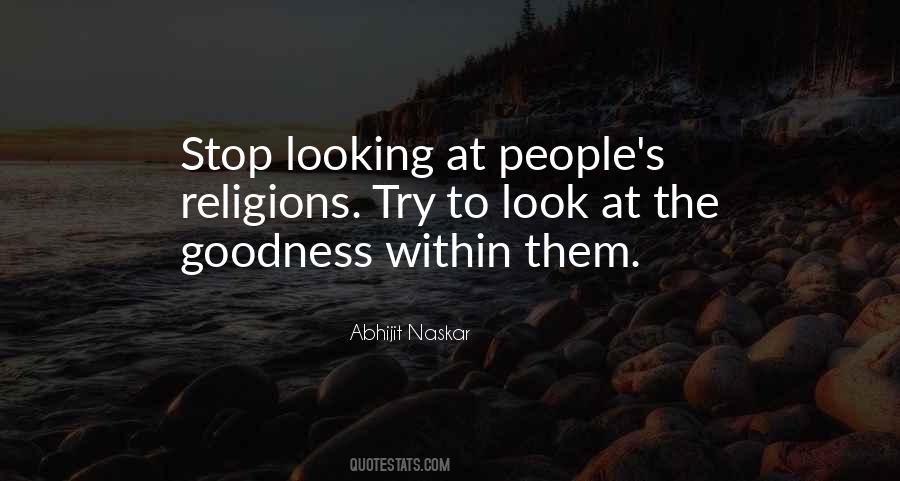 #70. People of our time are so formed for agitation and ostentation that goodness, moderation, equability, constancy, and such quiet and obscure qualities are no longer felt. - Author: Michel De Montaigne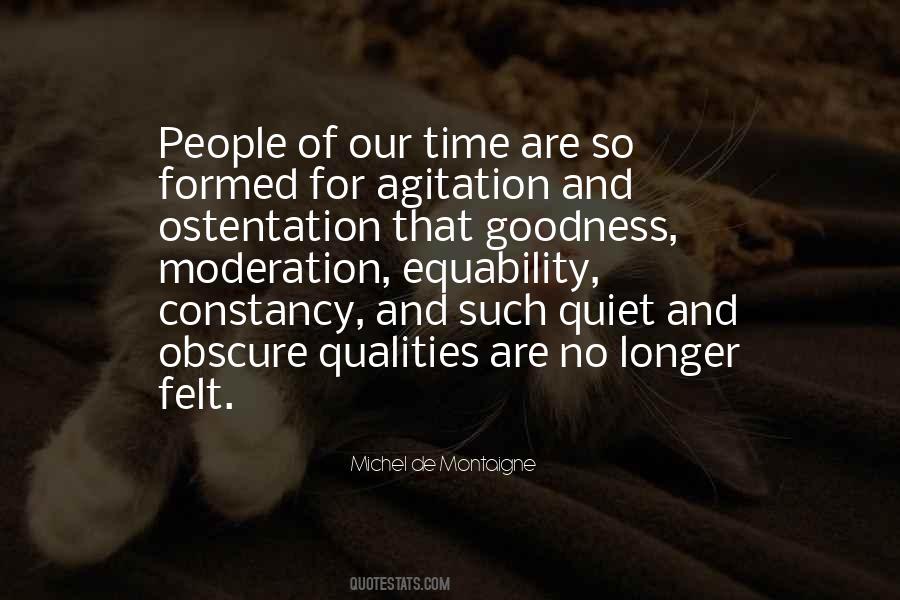 #71. Sometimes people, when left alone, can hear their own hatefulness for themselves. Sometimes goodness is enough to expose evil for what it really is. - Author: Sylvain Reynard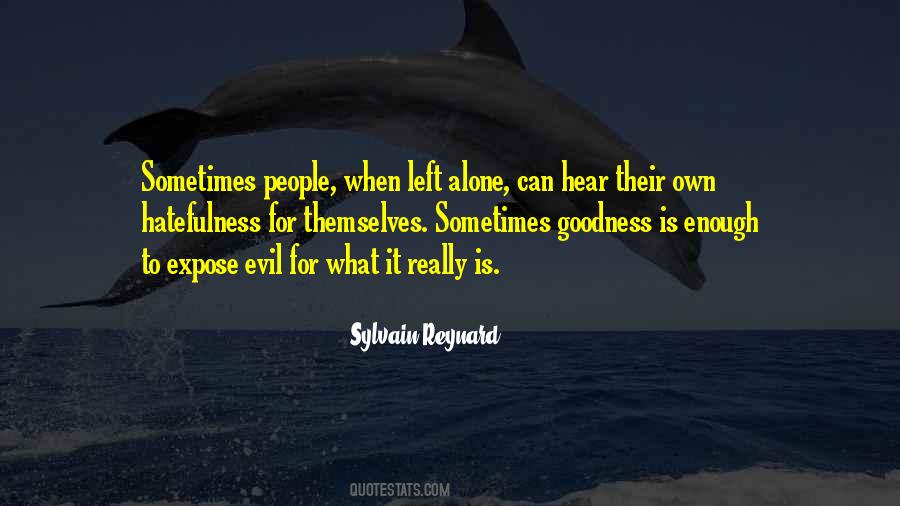 #72. We as people have a purpose here to contribute to the Earth, to contribute to people's goodness and good life. - Author: Common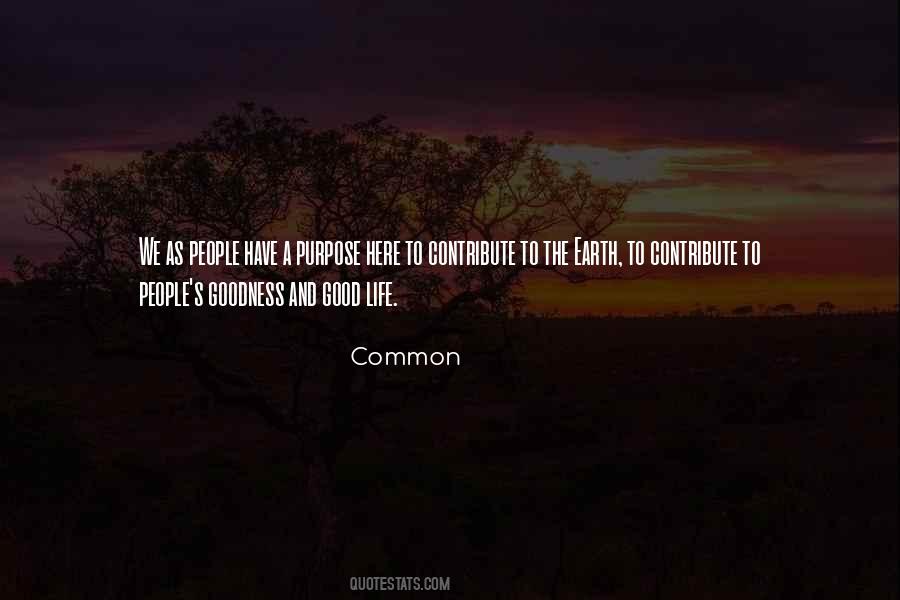 #73. Not all good things come from good people. - Author: Toba Beta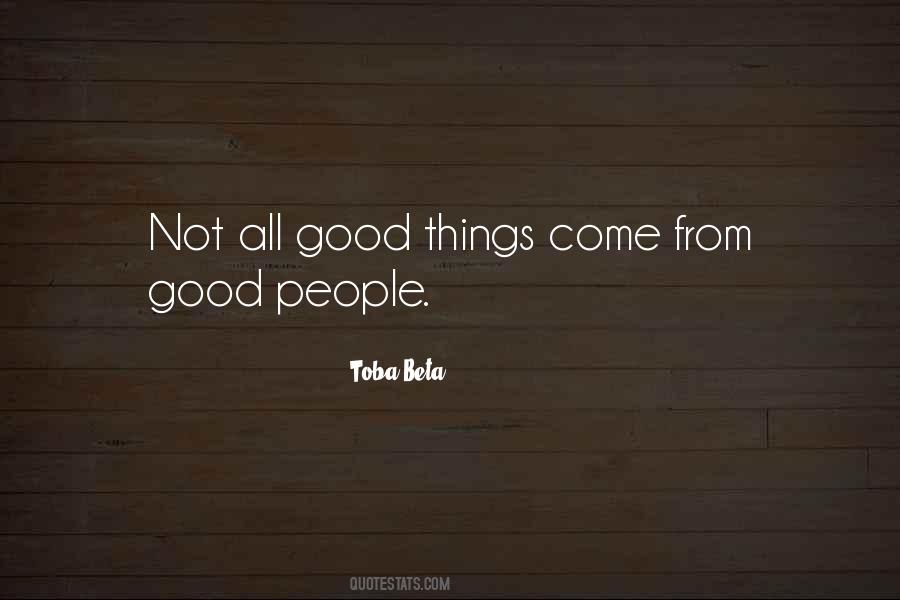 #74. Through radical generosity, we are awakening in people an in built divine consciousness of His goodness. - Author: Bill Johnson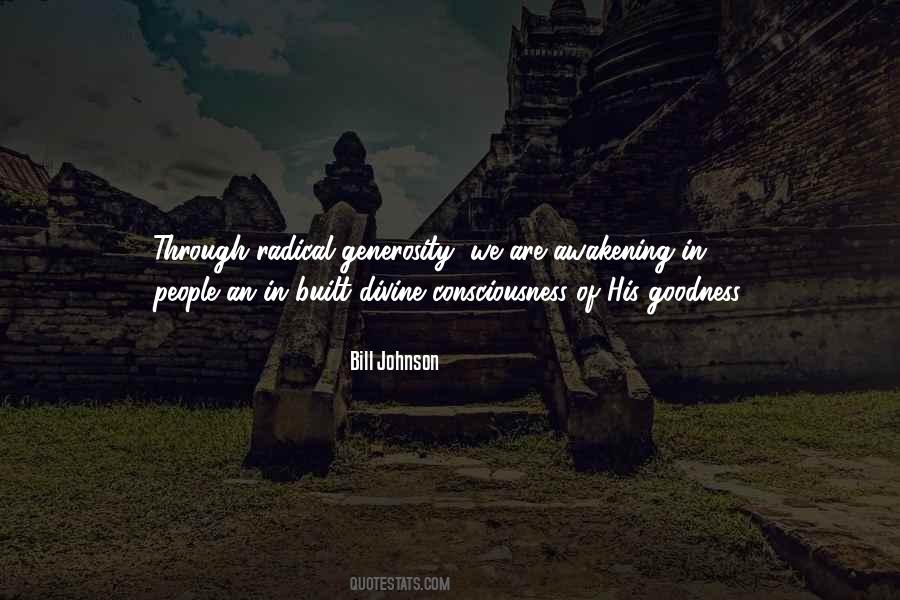 #75. A religion of human goodness will never sustain a people in times of disaster and threat. - Author: Michael S. Horton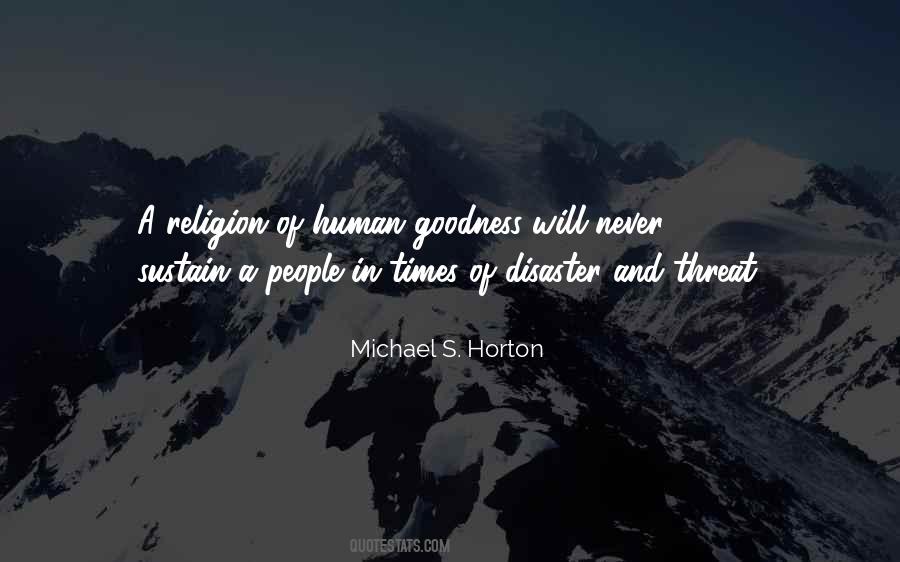 #76. - To some extent. Men want to think the best of women, especially if they're attractive. Isn't there some truth in that? That we attribute moral goodness to attractive people? And to those who present themselves as victims? Natalie - Author: Liz Jensen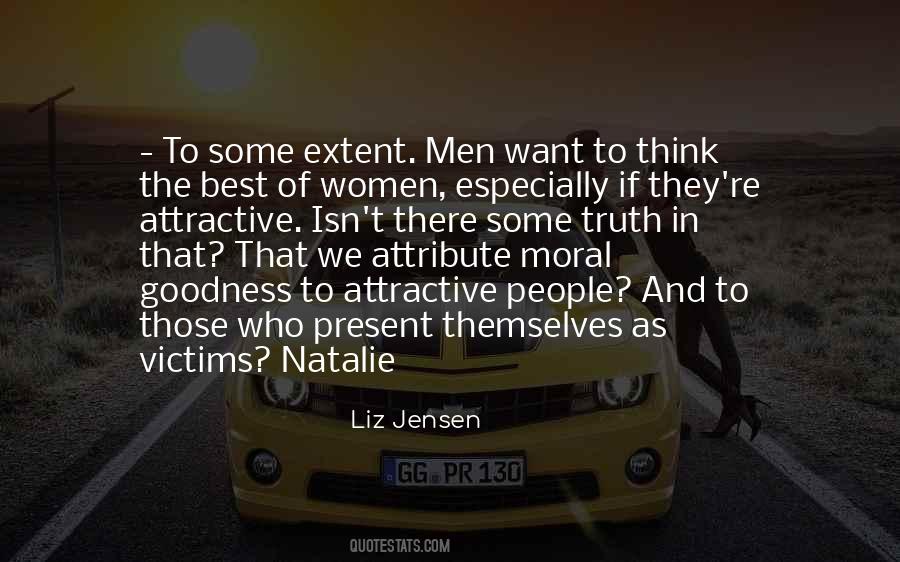 #77. The proper function of a government is to make it easy for the people to do good, and difficult for them to do evil. - Author: Daniel Webster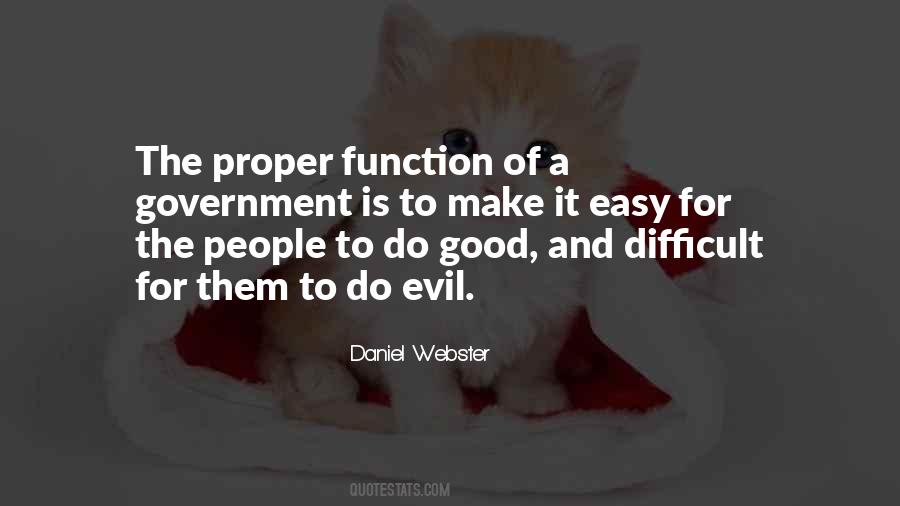 #78. Good and bad are illusions. What exists is either the presence of empathy or the lack of it. I think this should become the new, clear definition of how we see people. No more "good" and no more "bad". Those terms are highly subjective. - Author: C. JoyBell C.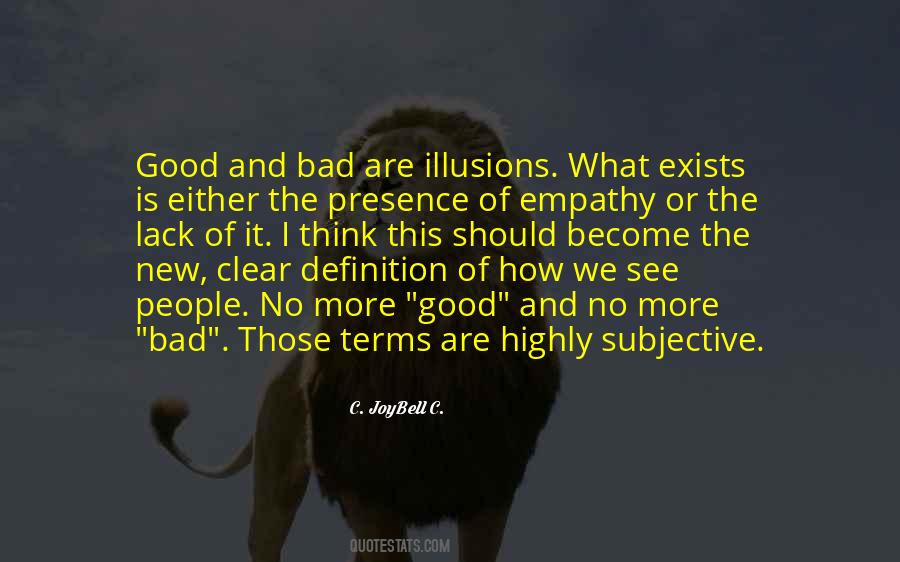 #79. When you get to know a lot of people, you make a great discovery. You find that no one group has a monopoly on looks, brains, goodness or anything else. It takes all the people - black and white, Catholic, Jewish and Protestant, recent immigrants and Mayflower descendants - to make up America. - Author: Judy Garland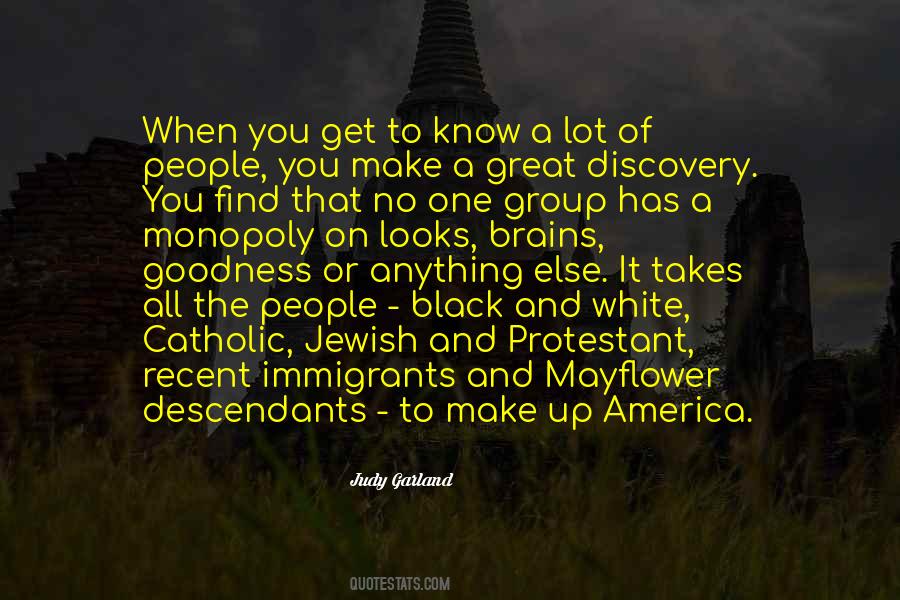 #80. This is what you have to ask yourself: Do you want to be good, or just seem good? Do you want to be good to yourself and others? Do you care about other people, always, sometimes, never? Or only when convenient? What kind of person do you want to be? - Author: Charles Yu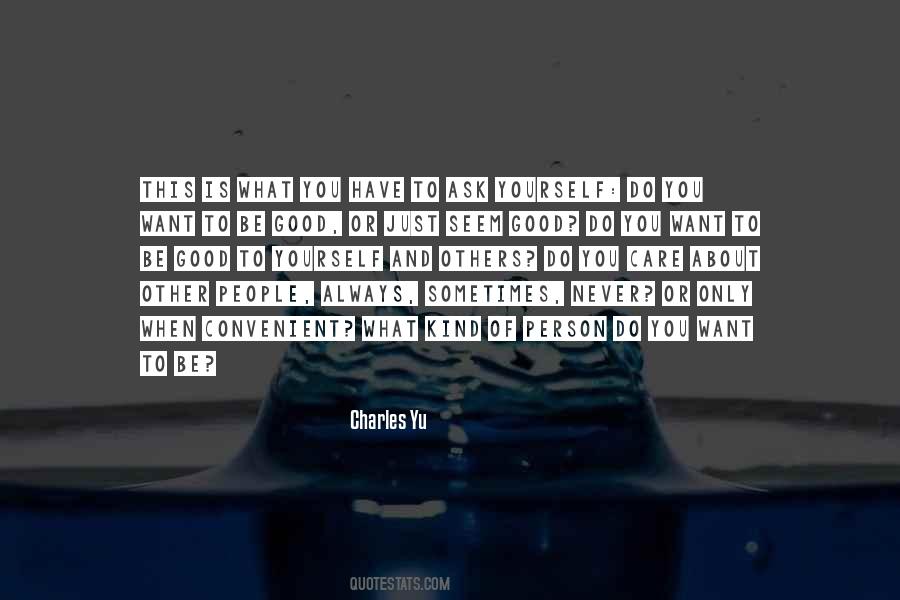 #81. There was good in people - deep down, there was always a shred of good. - Author: Sarah J. Maas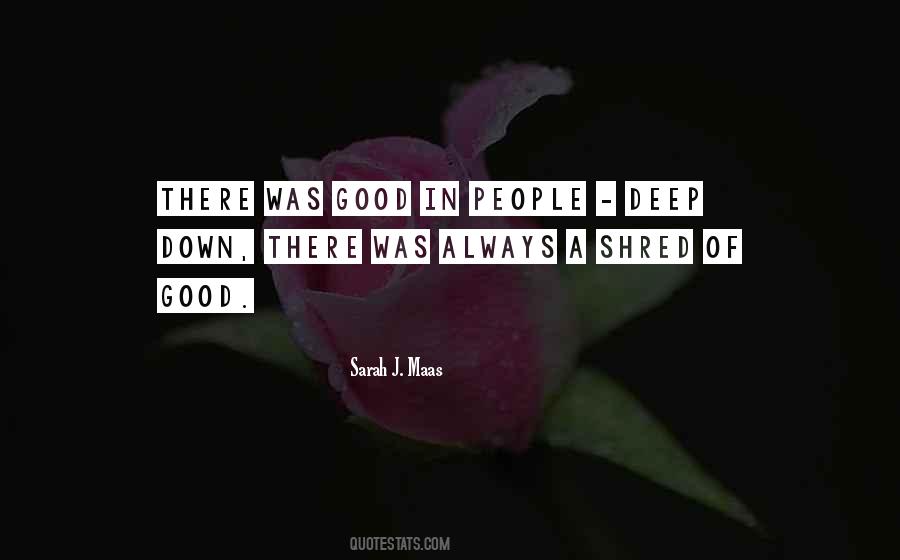 #82. All good things are borne from evil, just like good people. It's very rare that someone does things purely out of the goodness of their heart. Most need something to fight against, something to drive them forward in order to create a light in what will always be a very dark world. - Author: Kevin Reaver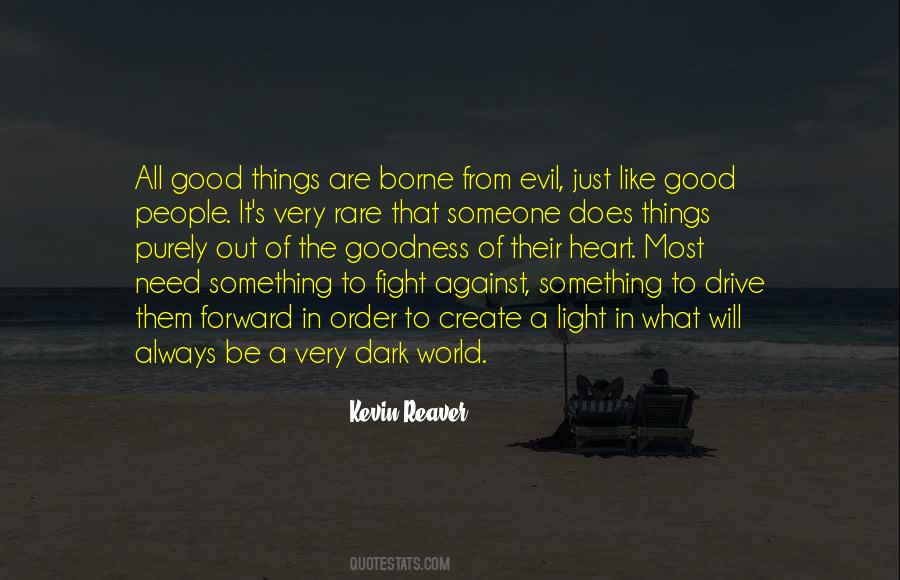 #83. We don't love people so much for the good they have done us, as for the good we have done them - Author: Laurence Sterne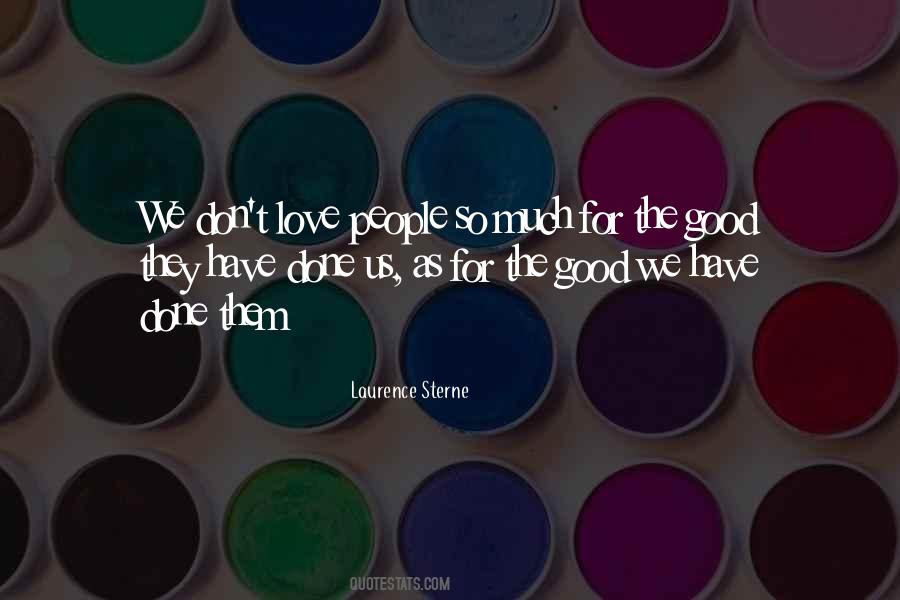 #84. I understood how we long to believe in goodness, especially in the person we promised to love and honor. It isn't just about them, it is how we want to see ourselves. It says that we are good people, patient and kind. - Author: Ann Patchett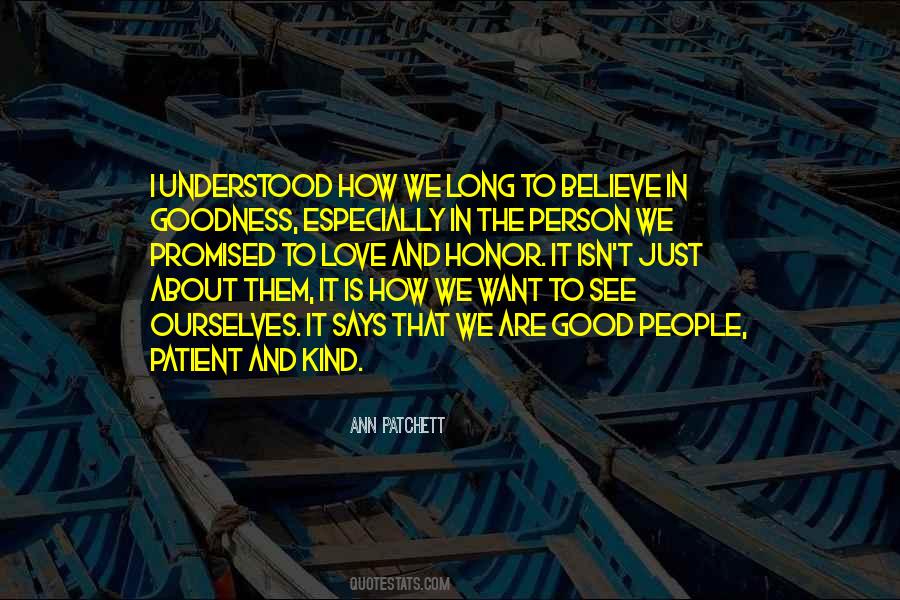 #85. Even in his greatest dedication to science he had never managed to forget that people's goodness and beauty come from what they believe, not from what they know. - Author: Robert Musil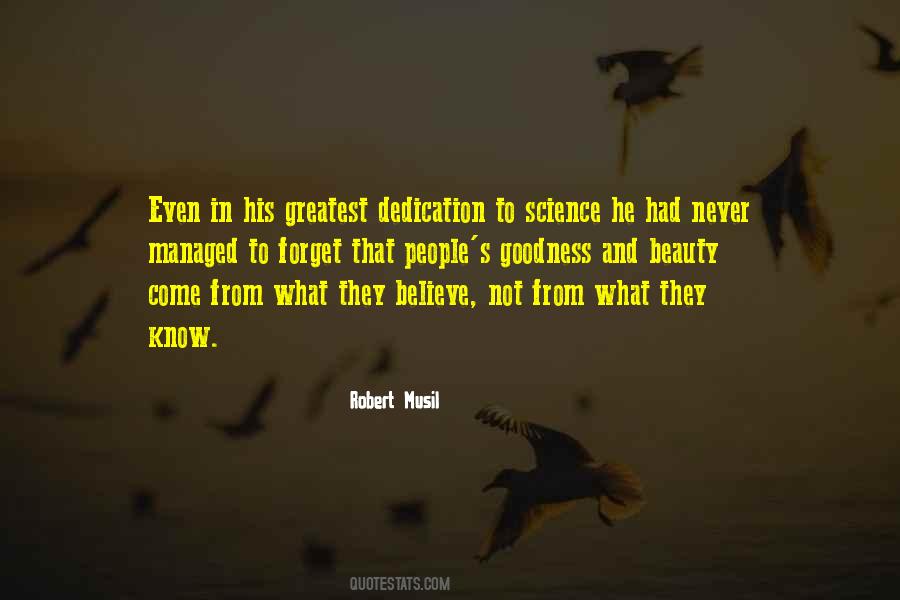 #86. Goodness is about character - integrity, honesty, kindness, generosity, moral courage, and the like. More than anything else, it is about how we treat other people. - Author: Dennis Prager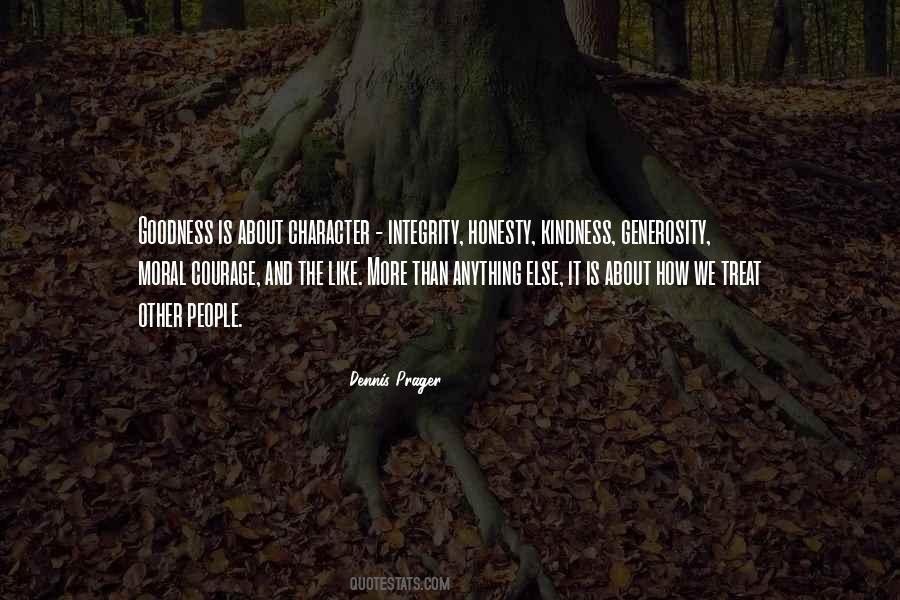 #87. God really is in the business of blessing his people in unusual ways so his goodness and his greatness will be declared among all peoples. - Author: David Platt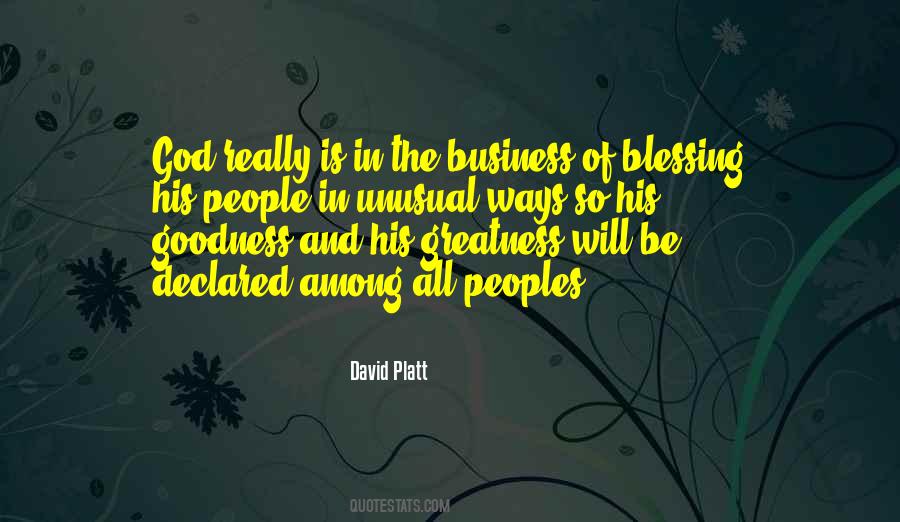 #88. Thank goodness we don't live in medieval times, when people fought wars over ideas. - Author: Wojciech Jaruzelski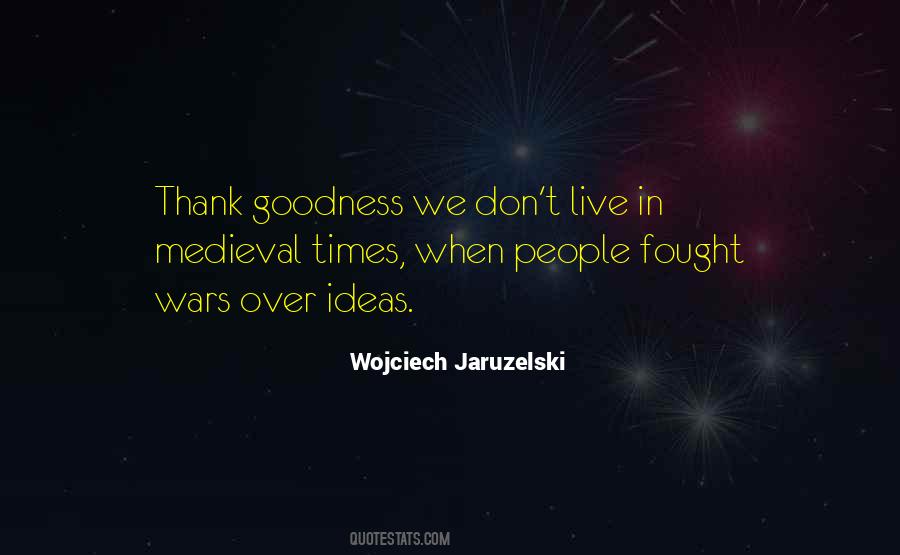 #89. Who tries? You try, your dad tries, average people try. And for their attempts at goodness, average people are mugged by strangers, molested by predatory uncles, massacred by their own governments. - Author: Nicole Peeler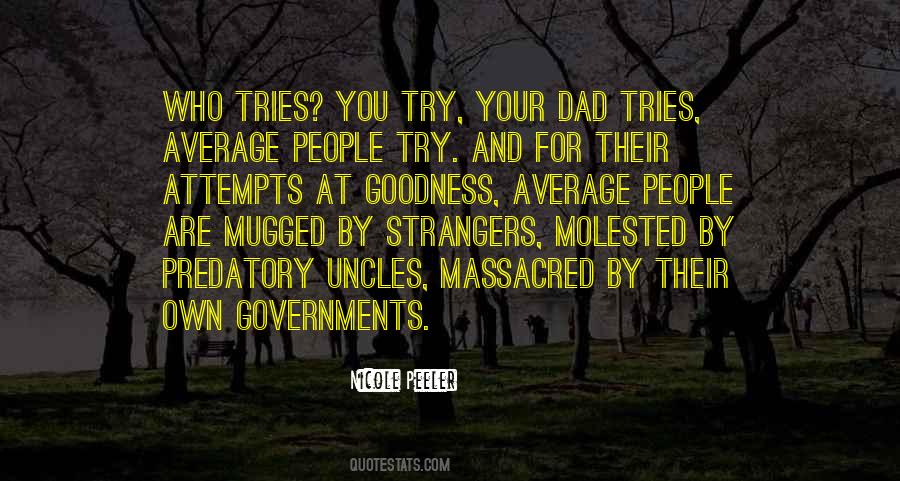 #90. Remember, your goodness as a person isn't based on how much you give in relationships, and it isn't selfish to set limits on people who keep on taking. - Author: Lindsay C. Gibson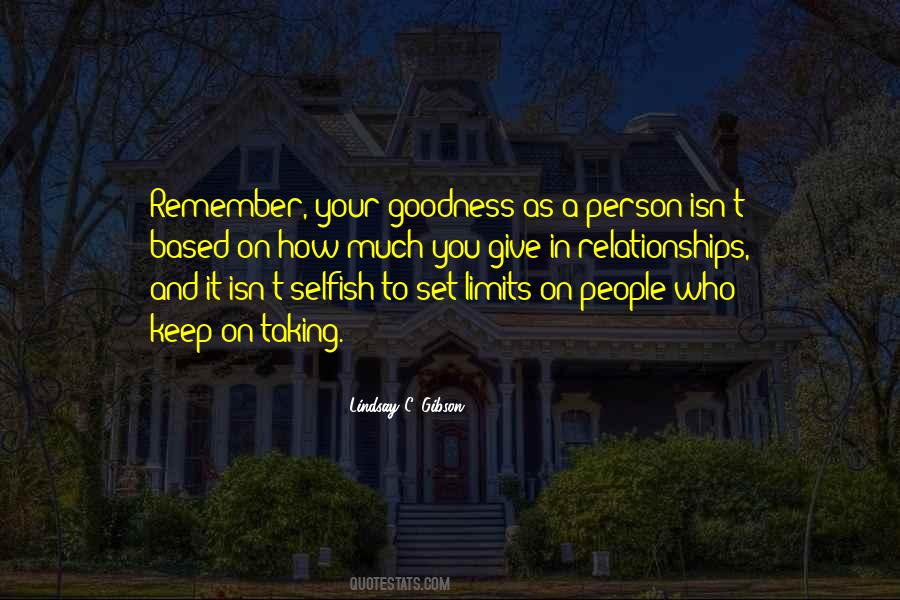 #91. Don't allow the opinions of other people to shape your concept of him. Get to know him yourself, and let the goodness of God change you from the inside out. - Author: Judah Smith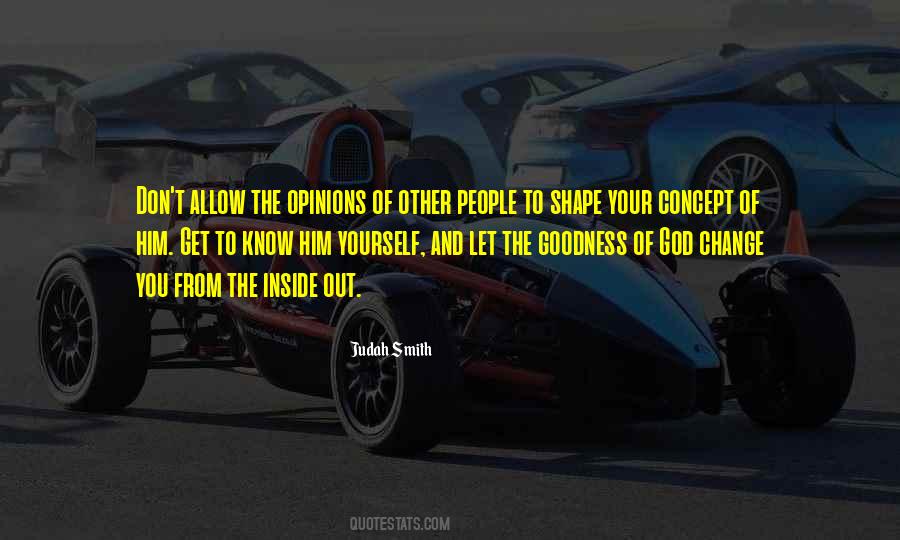 #92. If you can't please yourself some of the time, how do you expect to please people all the time? Not everyone is going to appreciate you for your efforts and deeds. - Author: Anthony Liccione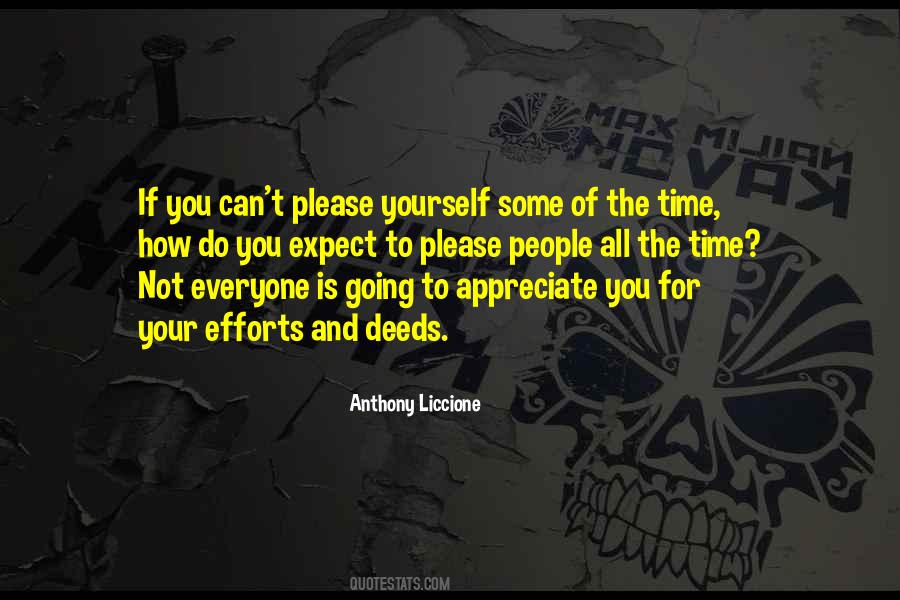 #93. Our surest protection against assault from abroad has been not all our guards, gates and guns, or even our two oceans, but our essential goodness as a people. Our richest asset has been not our material wealth but our values. - Author: Theodore C. Sorensen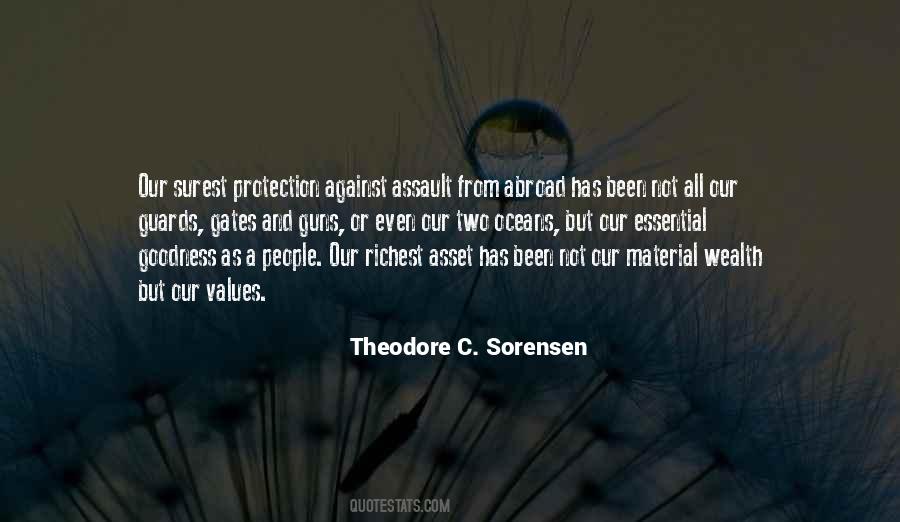 #94. Good people have no business being so bad. Goodness is about what you do. Not what you pray to. - Author: Terry Pratchett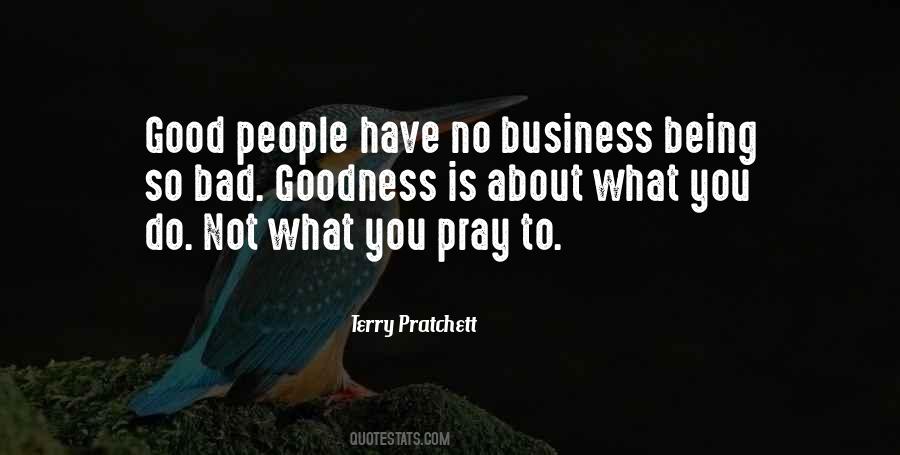 #95. It was the love of love, the love of swallows up all else, a grateful love, a love of natural, of people, of animals, a love ingengering gentleness and goodness that moved meand that I saw in you - Author: William Carlos Williams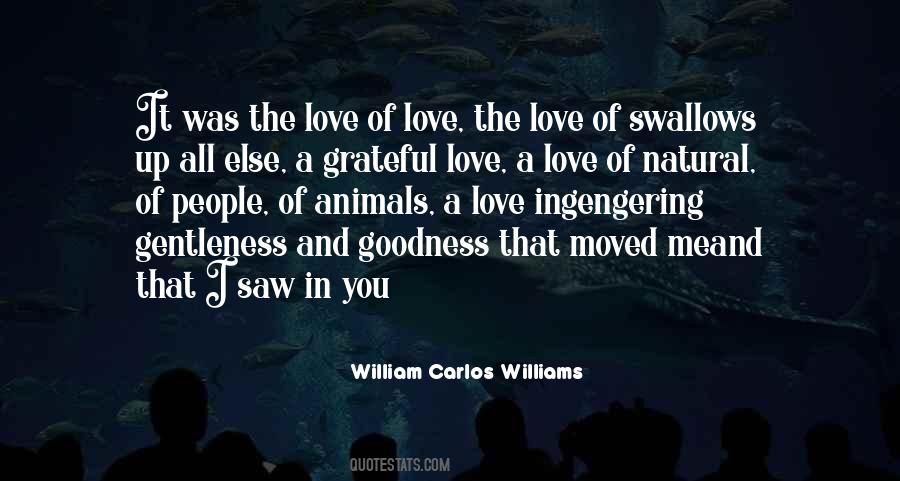 #96. Being a good person has nothing to do with allowing people to destroy you. - Author: Bryant McGill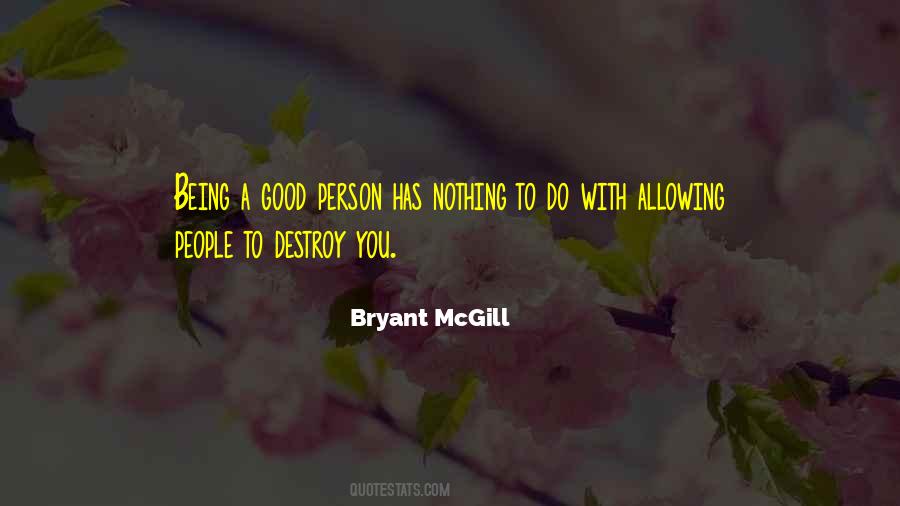 #97. God takes great delight in surprising His people with His goodness. He delights in being there for us, in coming through for us. He loves to give us the good gifts of His provision and grace that reveal to us His nature and His character. - Author: John Paul Jackson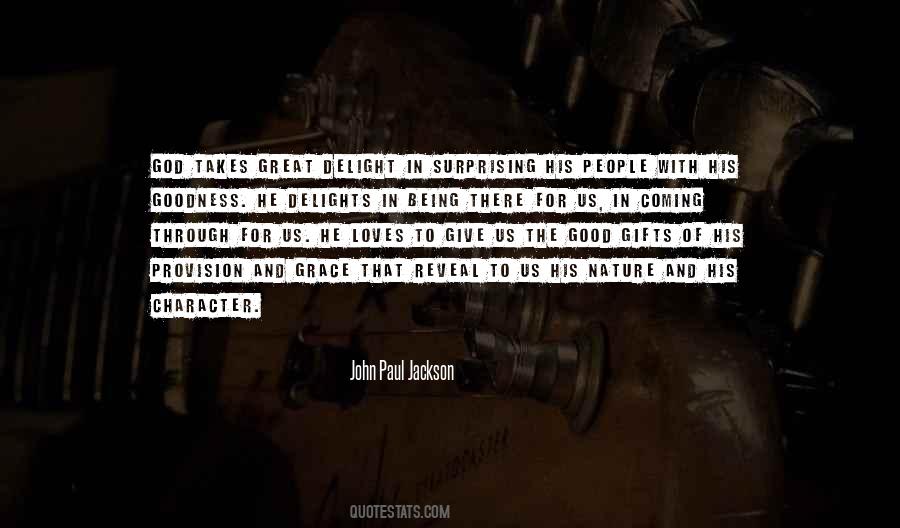 #98. I love the fact that there are also women out there that don't have a choice and they must go to work and they still have to raise the kids. Thank goodness that we value those people too. - Author: Ann Romney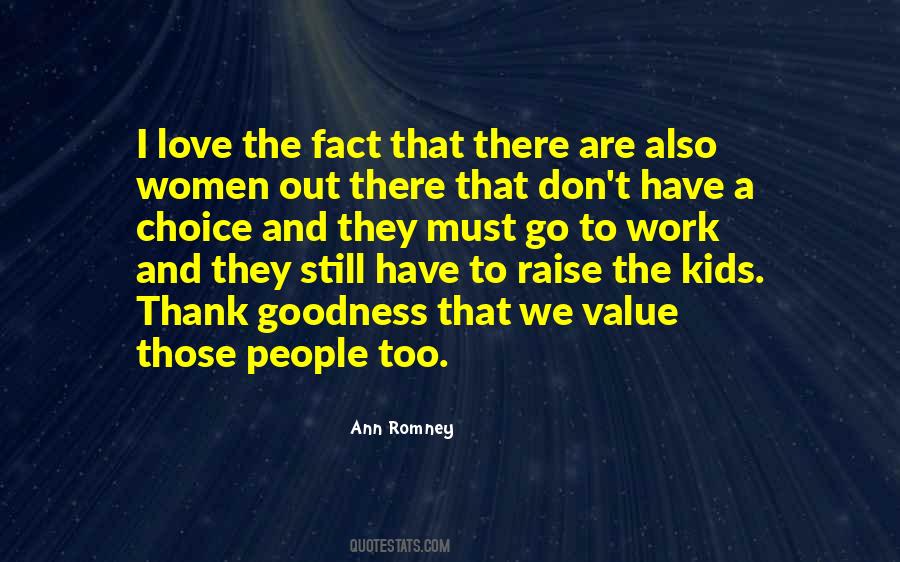 #99. The world seems to me excruciatingly, almost painfully beautiful at times, and the goodness and kindness of people often exceed that which even I expect. - Author: Lois W.
#100. I don't mean good like going to church or not breaking laws. If, in your heart, you try to get through the day
without hurting other people, then you are a good person ... - Author: Kaje Harper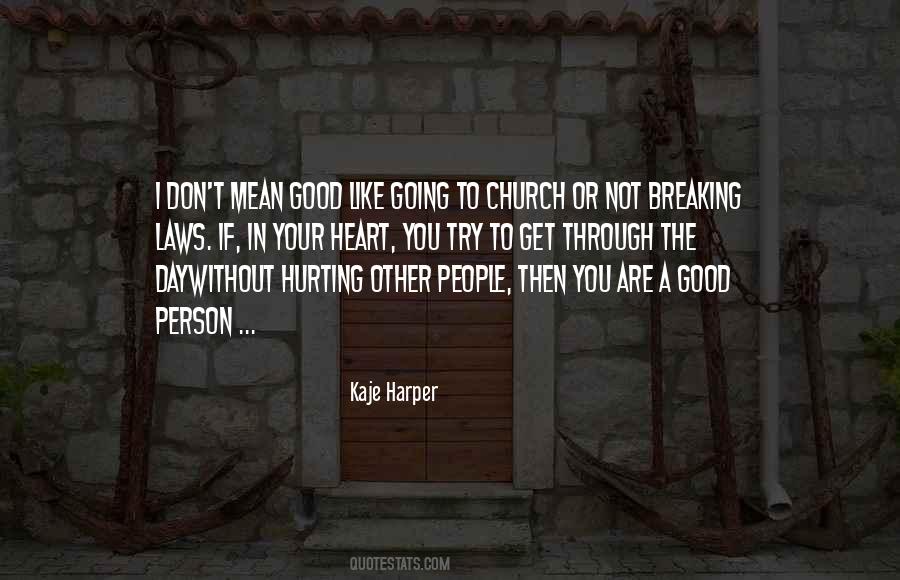 Famous Authors
Popular Topics