Our Sons Famous Quotes & Sayings
List of top 100 famous quotes and sayings about our sons to read and share with friends on your Facebook, Twitter, blogs.
Top 100 Quotes About Our Sons
#1. We have become sons of peace for the sake of Jesus, who is our leader. - Author: Origen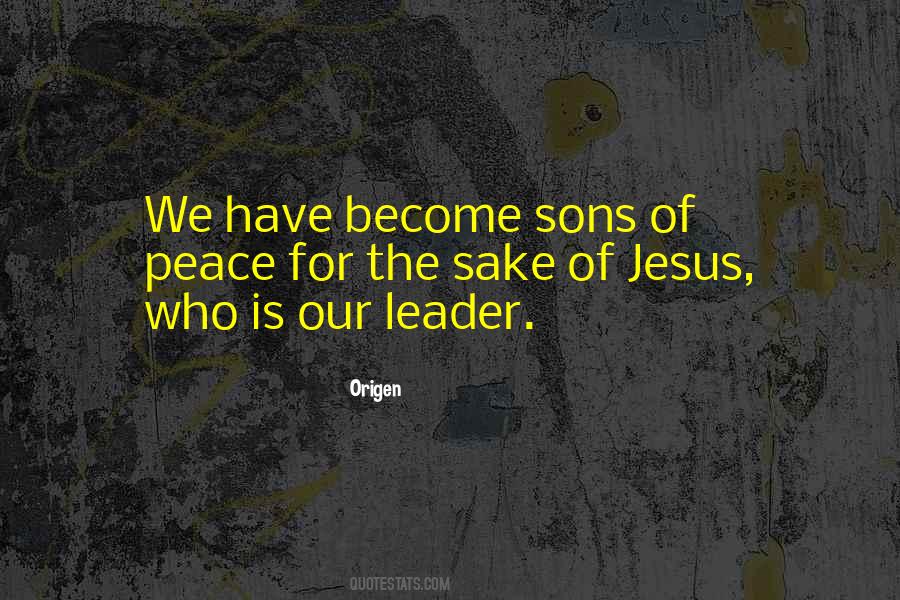 #2. If inciting people to do that is terrorism, and if killing those who kill our sons is terrorism, then let history be witness that we are terrorists. - Author: Osama Bin Laden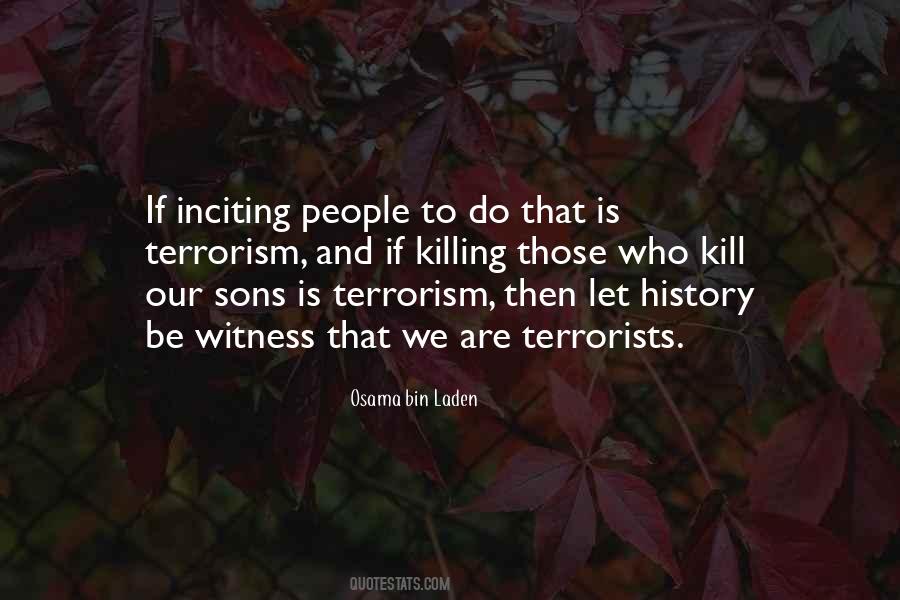 #3. We need to get our sons and daughters home and their responsibility for the security of Iraq needs to be assumed by Iraqis who will stand up and toe the line for their countries. - Author: Jay Inslee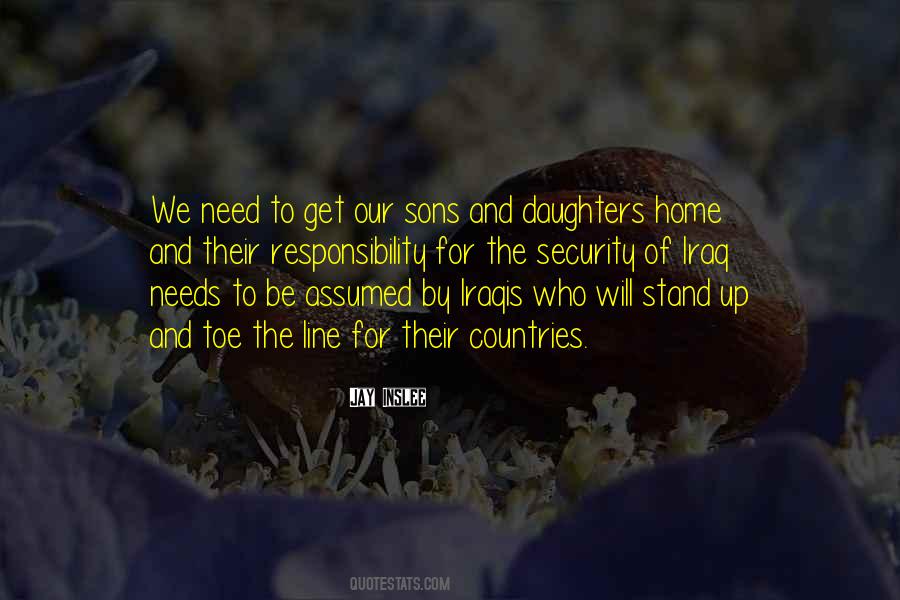 #4. I am not virtuous. Our sons will be if we shed enough blood to give them the right to be. - Author: Jean-Paul Sartre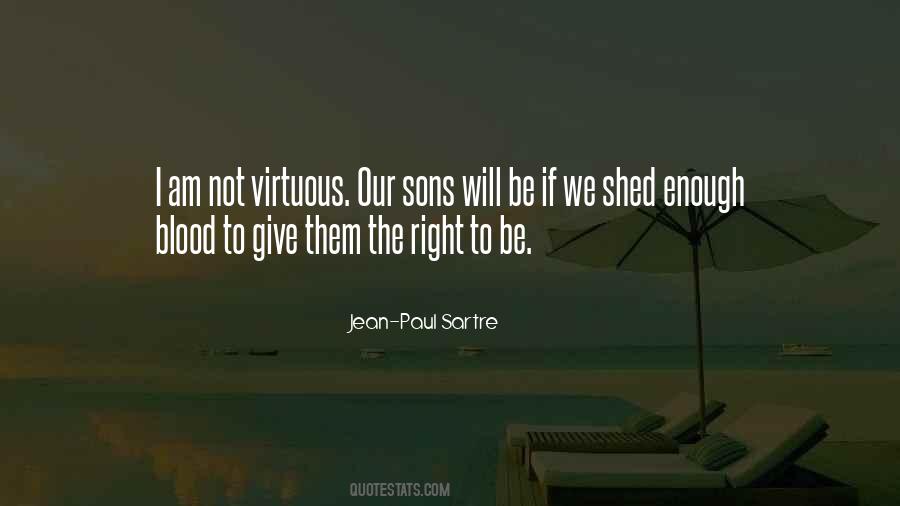 #5. We will not put our sons in prison for political membership or resisting occupation, because occupation is the reason for the problem. - Author: Said Seyam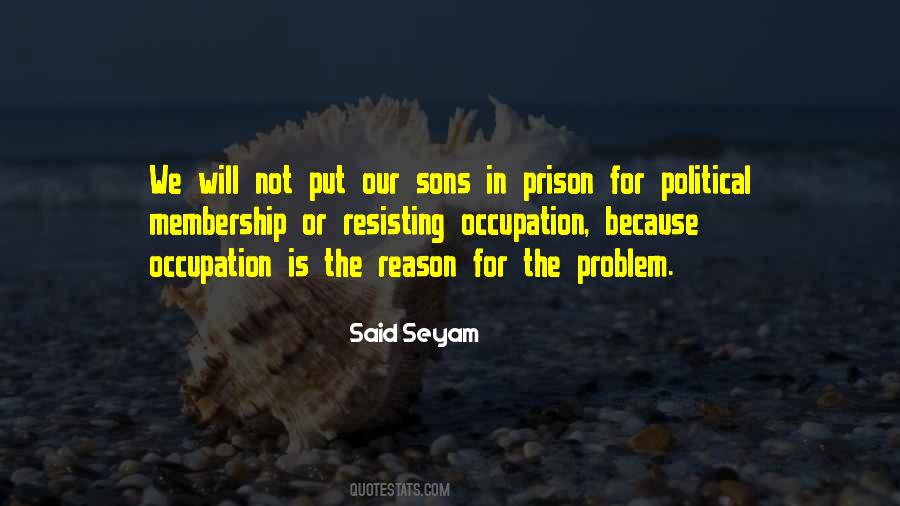 #6. I have never understood why it is called losing a child. No parent is that careless. We all know exactly where our sons and daughters are; we just don't necessarily want them to be there - Author: Jodi Picoult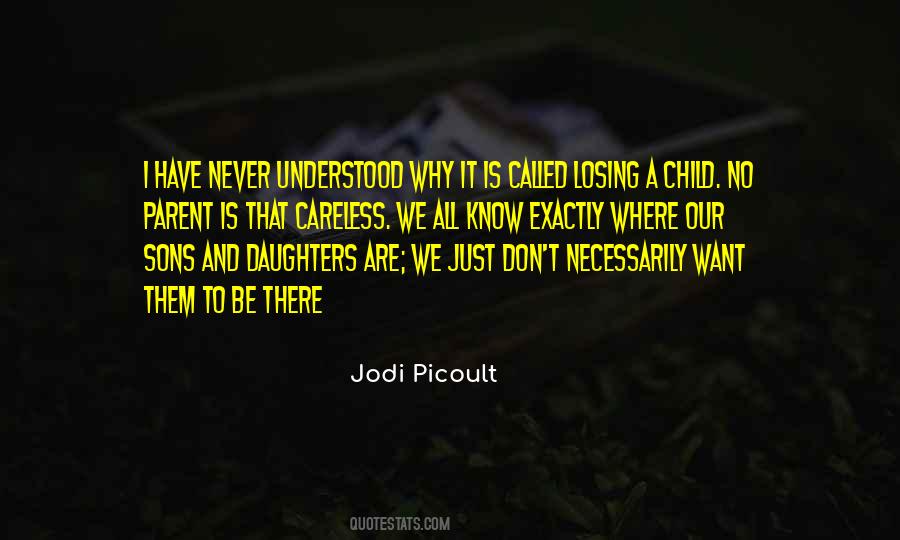 #7. [Judaism is] ever ... mighty in wickedness ... when it cursed Moses; when it hated God; when it vowed its sons to demons; when it killed the prophets, and finally when it betrayed to the Praetor and crucified our God Himself and Lord ... And so glorying through all its existence in iniquity. - Author: Hilary Of Poitiers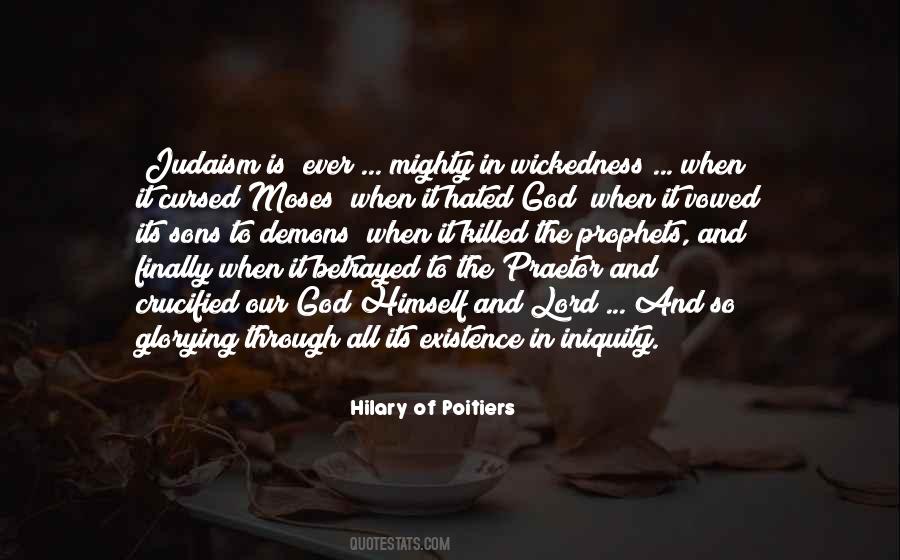 #8. We are not scholars researching an ancient Chinese emperor - a matter of objectivity and disinterestedness; we are sons and daughters who want to get to know our father - someone with whom we have an essential relationship. - Author: Brian D. McLaren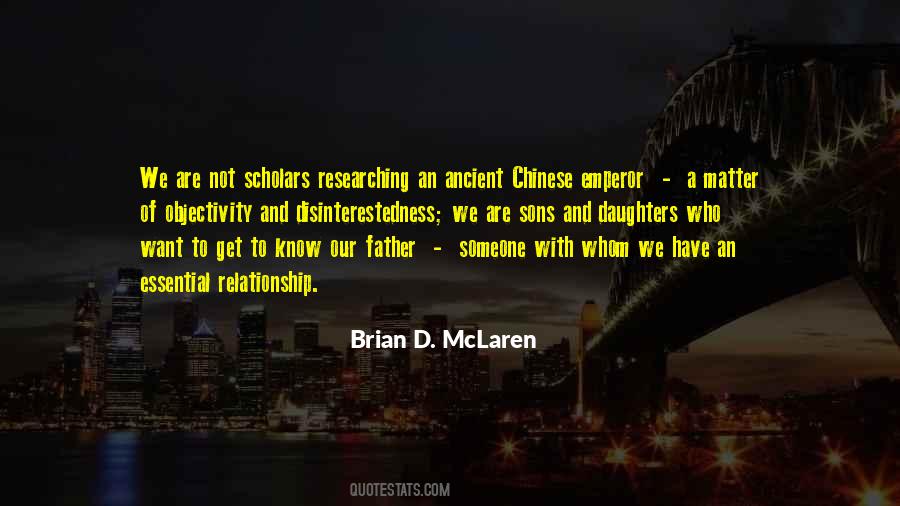 #9. I believe that women and girls today have to partner in a powerful way with men - with their fathers, with their sons, with their brothers, with the plumbers, the road builders, the caregivers, the doctors, the lawyers, with our president and with all beings. - Author: Joan Halifax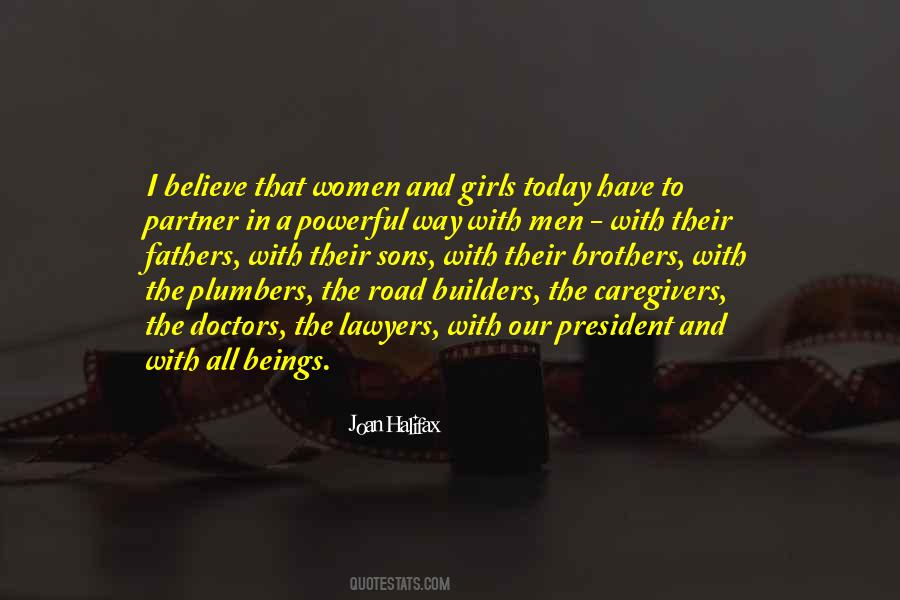 #10. As Commander in Chief of the United States Military, I will never send our sons and daughters and our brothers and sisters to die in a foreign land without telling the truth about why they're going there. - Author: Howard Dean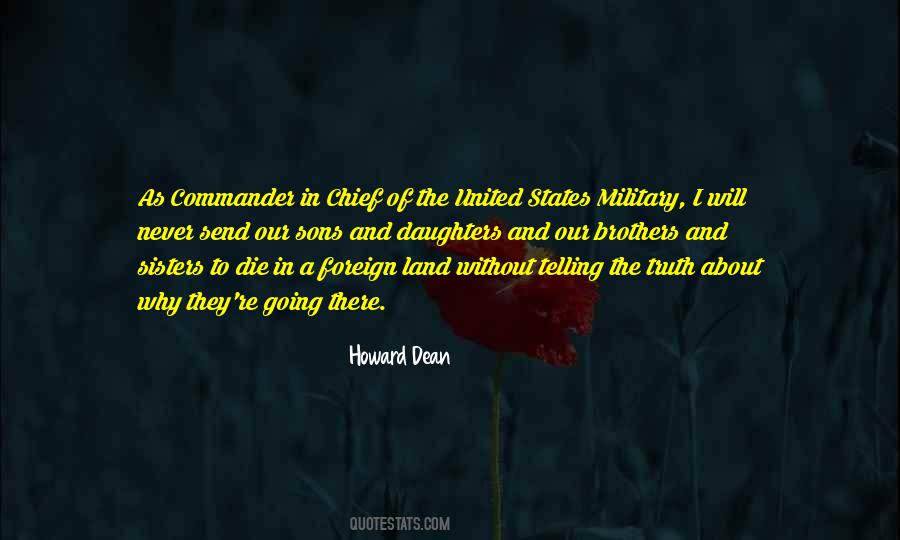 #11. Brightest and best of the sons of the morning,
Dawn on our darkness, and lend us thine aid.
Star of the east the horizon adorning,
Guide where our infant Redeemer is laid. - Author: Reginald Heber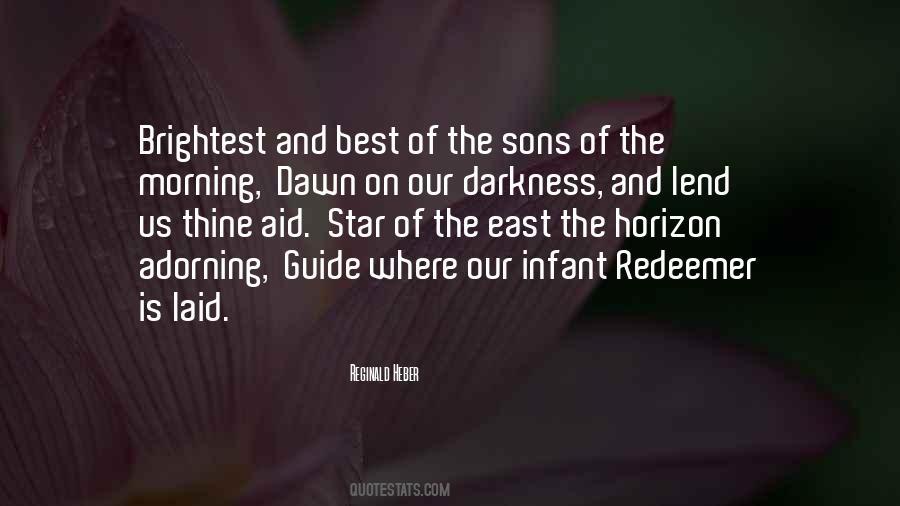 #12. He is the oldest of our sons, and although I loved him, I did not like him. - Author: Gene Wolfe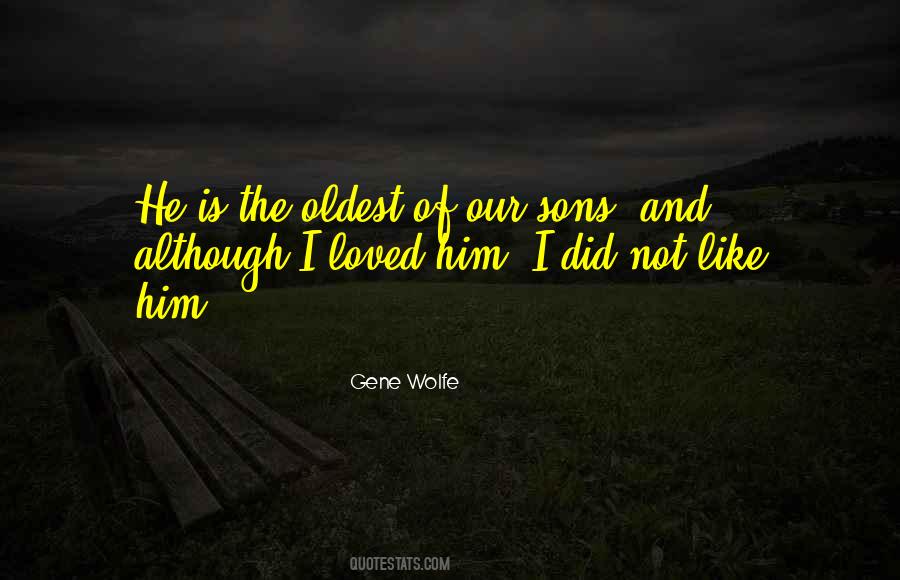 #13. Our most bitter enemies are our own kith and kin. Kings have no brothers, no sons, no mother! - Author: Honore De Balzac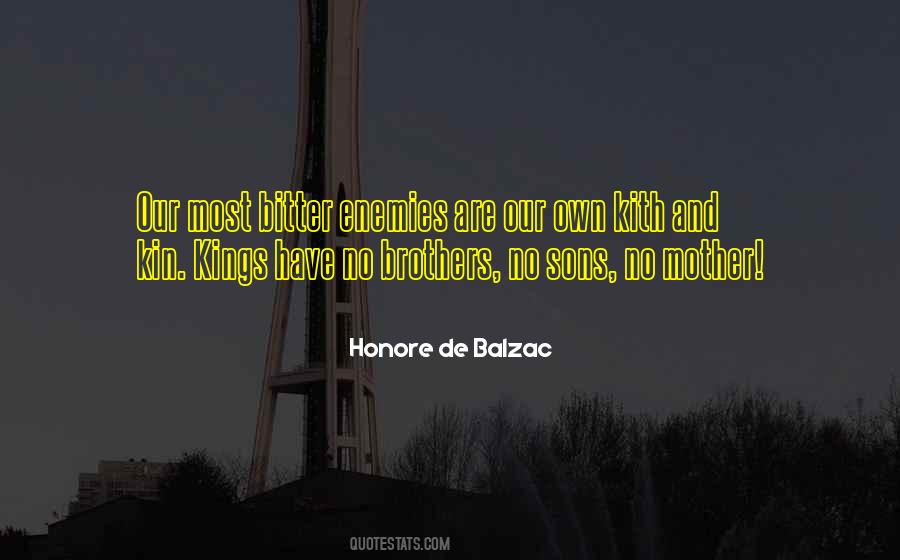 #14. We cannot find freedom in our introversion until we embrace our primary identities as sons and daughters of God. - Author: Adam S. McHugh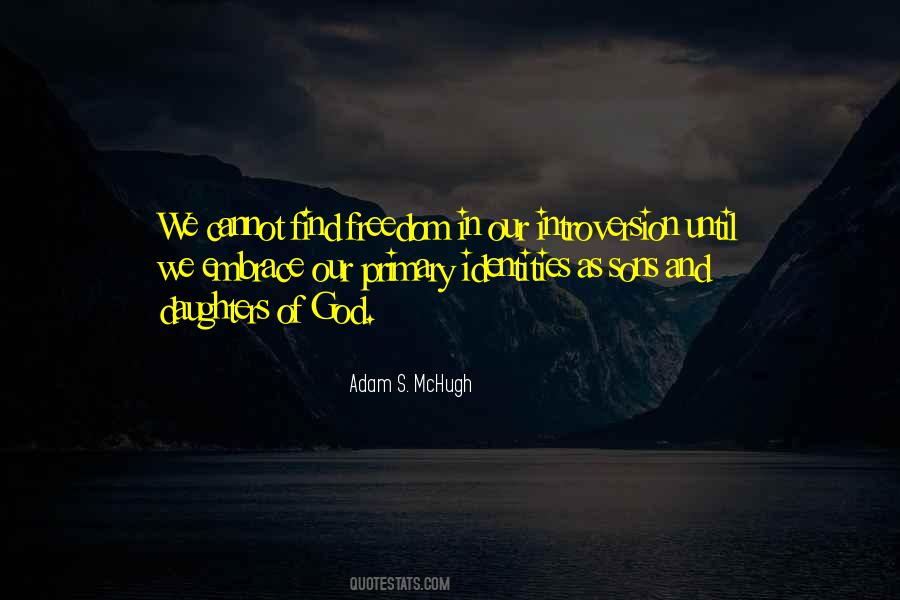 #15. The situation is not about Hosni Mubarak, but the reality is now about Egypt, its present, the future of its sons, all Egyptians are in the same trench, therefore, we should continue our national dialogue That have already started in the spirit of groups but not enemies. - Author: Hosni Mubarak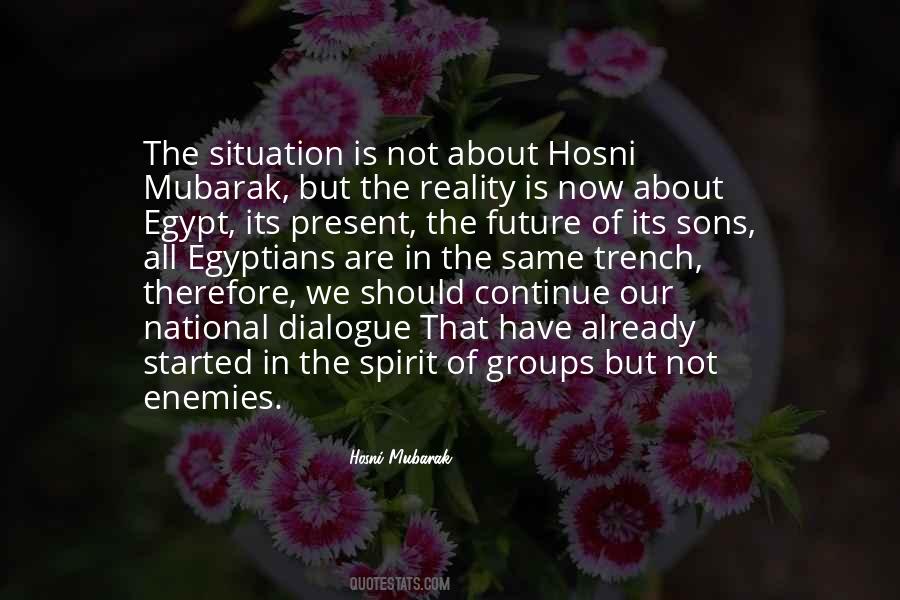 #16. Would we send our daughters off to have sex if it would benefit our country? Yet, we send our sons off to kill when we think it would benefit our country! - Author: Leonard Ravenhill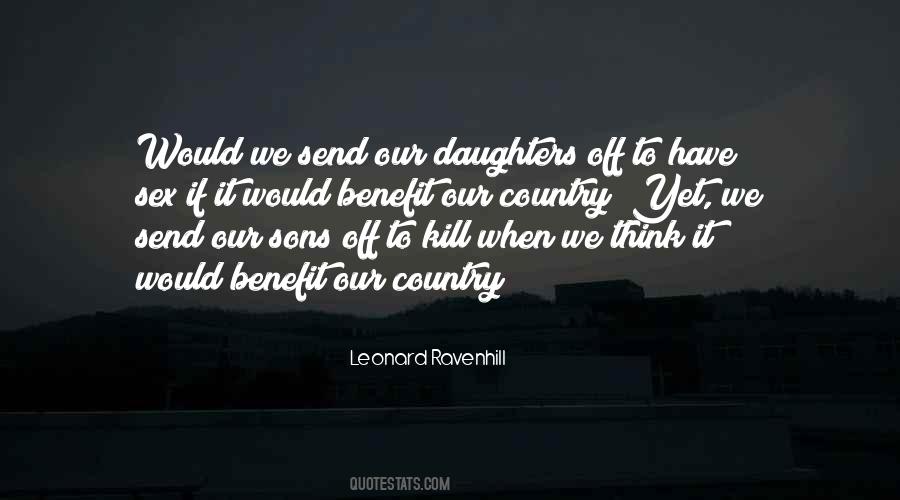 #17. Our assurance, our glory, and the sole anchor of our salvation are that Christ the Son of God is ours, and we in turn are in him sons of God and heirs of the Kingdom of Heaven, called to the hope of eternal blessedness by God's grace, not by our worth. - Author: John Calvin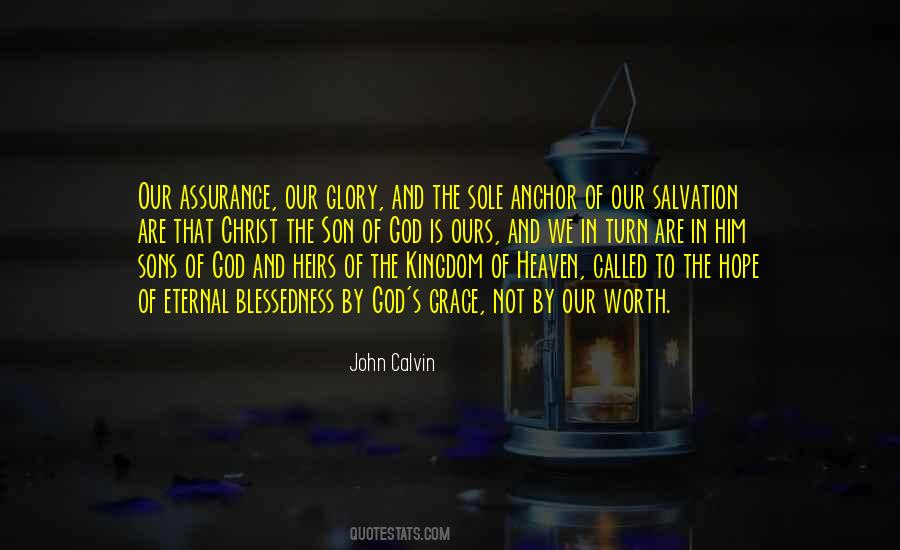 #18. Jonson wrote a poem and called his son
His best piece of poetrie
A lovely line a little loathsome
I loved that poem once
He said we are lent our sons never take
Too much pleasure in what you love - Author: Edward Hirsch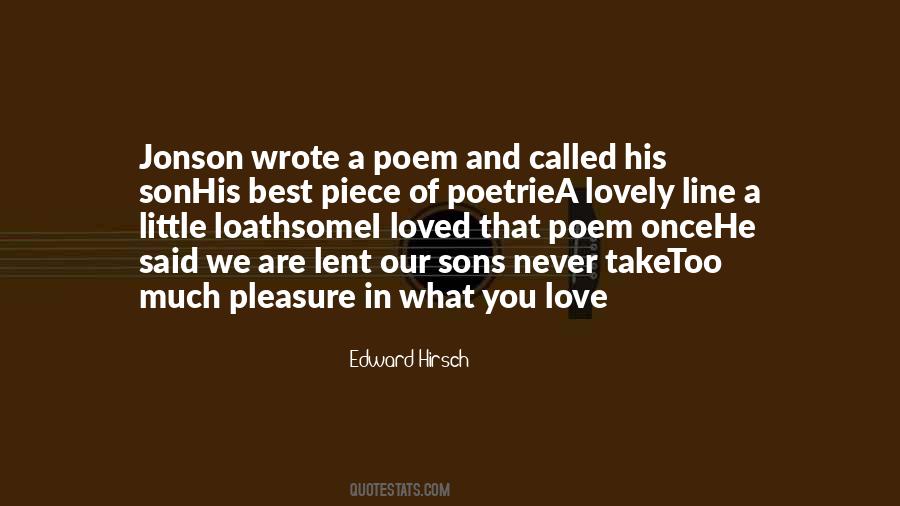 #19. Women are not always what we seem to be. What our reputations would tell you. Nor do we only exist in reference to our fathers, husbands, and sons. - Author: Ruth Downie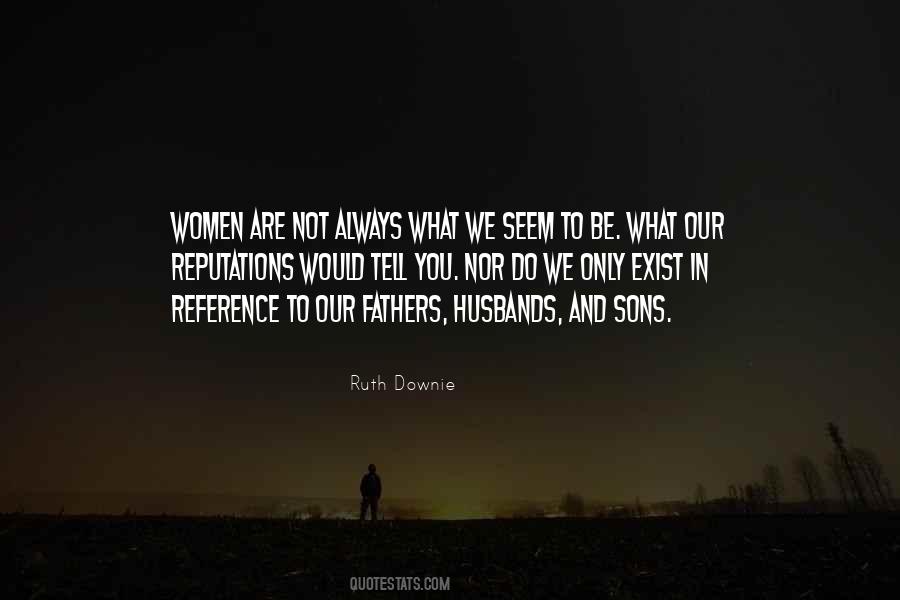 #20. My sons last summer, they won a trophy from their surfing camp and they came home and went right over to the shelf and put it up next to my Oscar. That's where we put our trophies. - Author: Geena Davis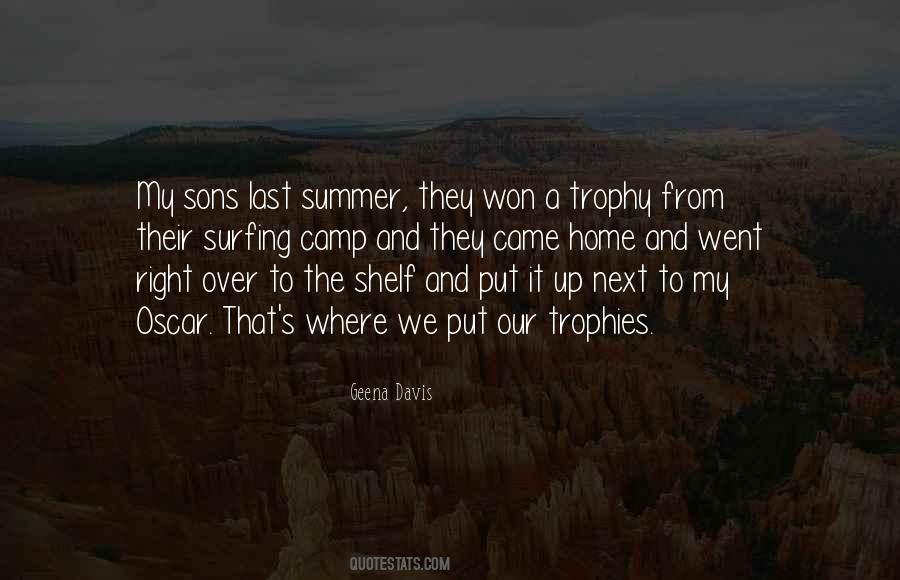 #21. Our sons and daughters must be trained in national service, taught to give as well as to receive. - Author: Emmeline Pankhurst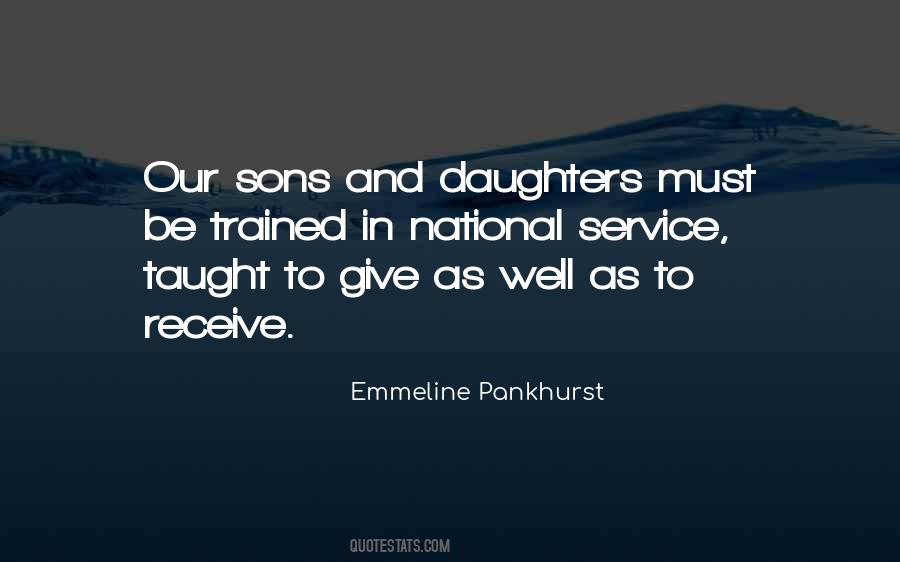 #22. Our sons and daughters are only passing through ... If we are lucky, they always will consider our home their harbor, but they are headed out to the open sea, almost from the first. - Author: Jacquelyn Mitchard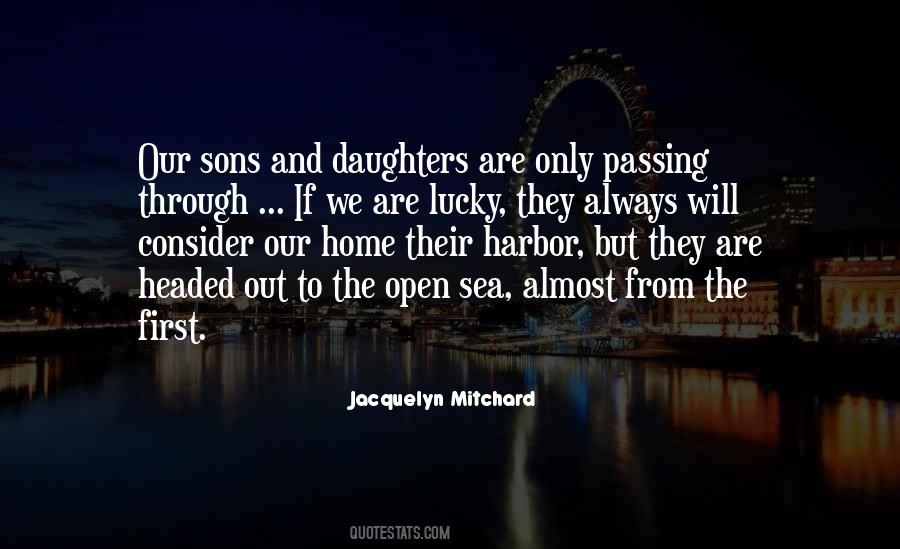 #23. Since the beginning, a woman's first and most important role has been ushering into mortality spirit sons and daughters of our Father in Heaven. - Author: Ezra Taft Benson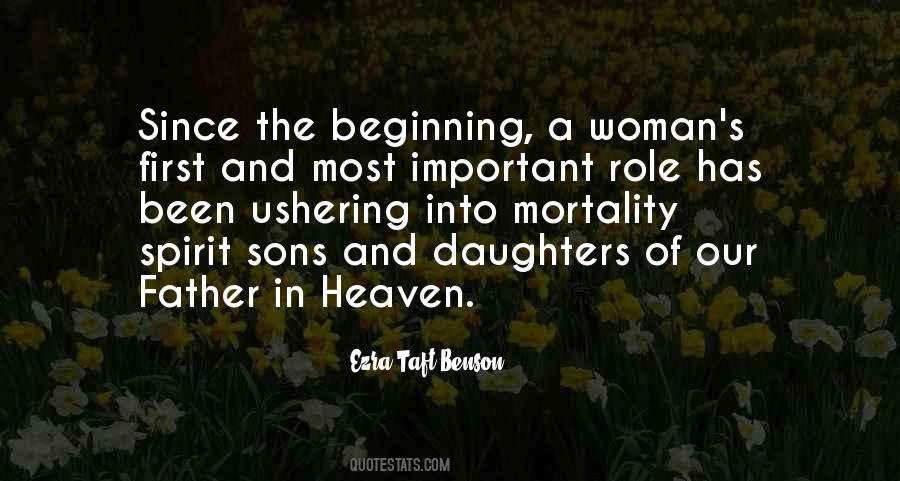 #24. We will be soldiers, so our sons may be farmers, so their sons may be artists - Author: Thomas Jefferson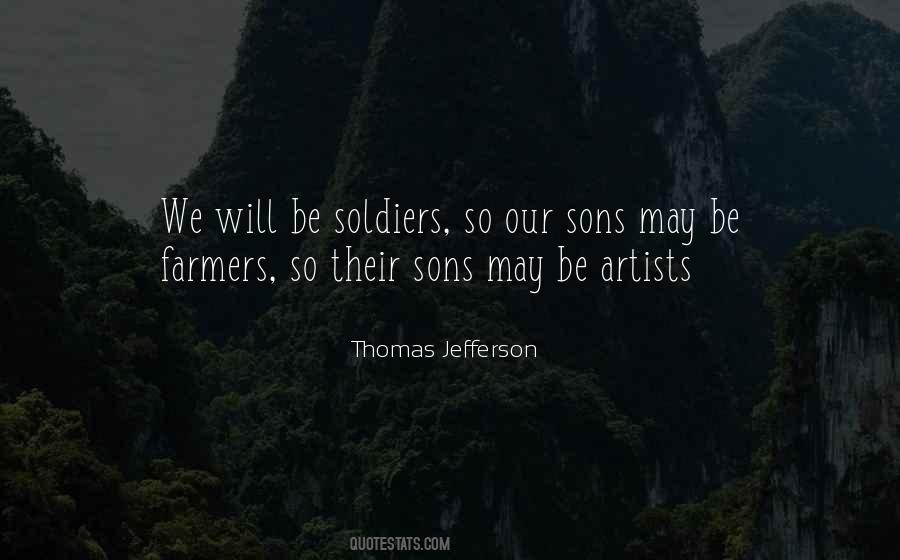 #25. Remember that our sons and grandsons are going to do things that would stagger us. - Author: Daniel Burnham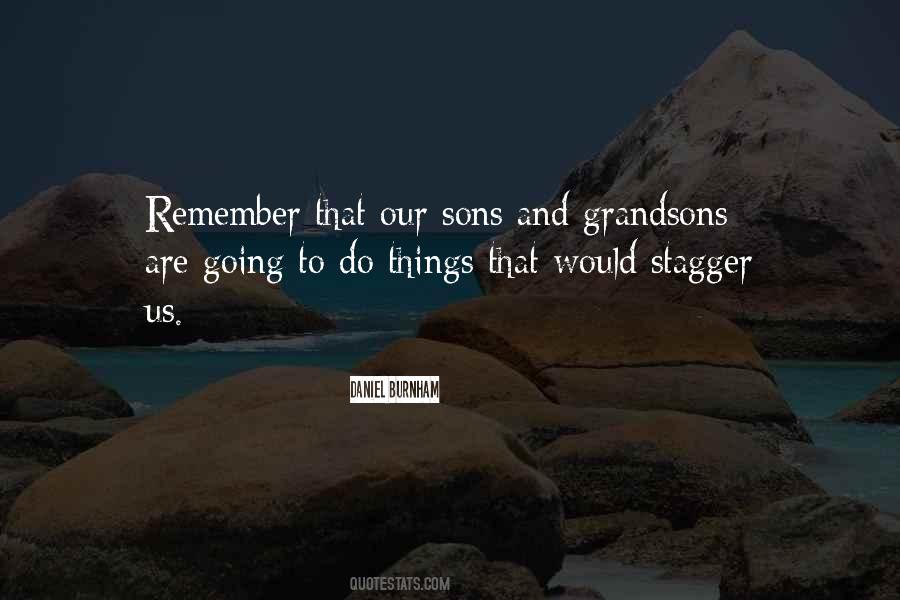 #26. We have not found it difficult to deal with the Bush administration in light of the resemblance that it bears to the regimes in our countries, half of which are ruled by the military and the other half which are ruled by the sons of kings. - Author: Osama Bin Laden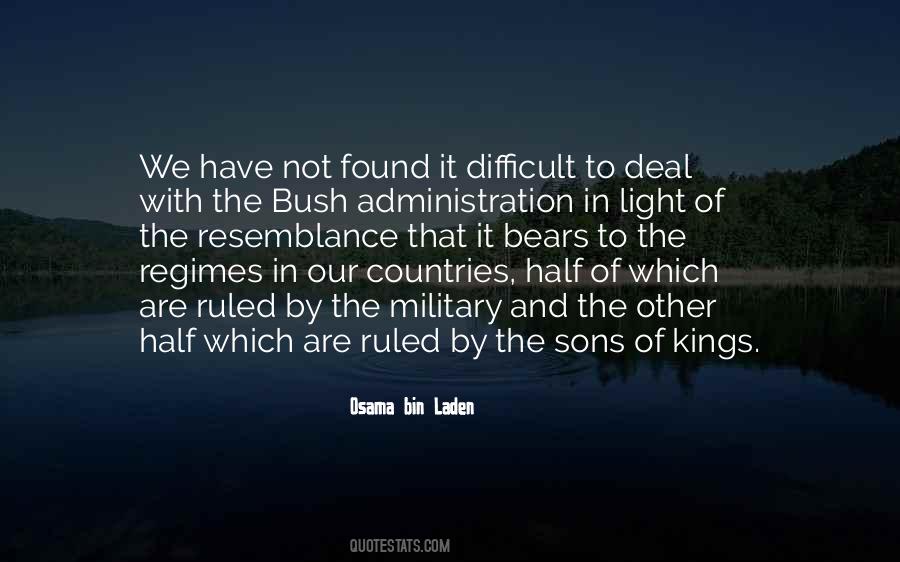 #27. Baseball is sunshine, green grass, fathers and sons, our rural past. - Author: Albert Theodore Powers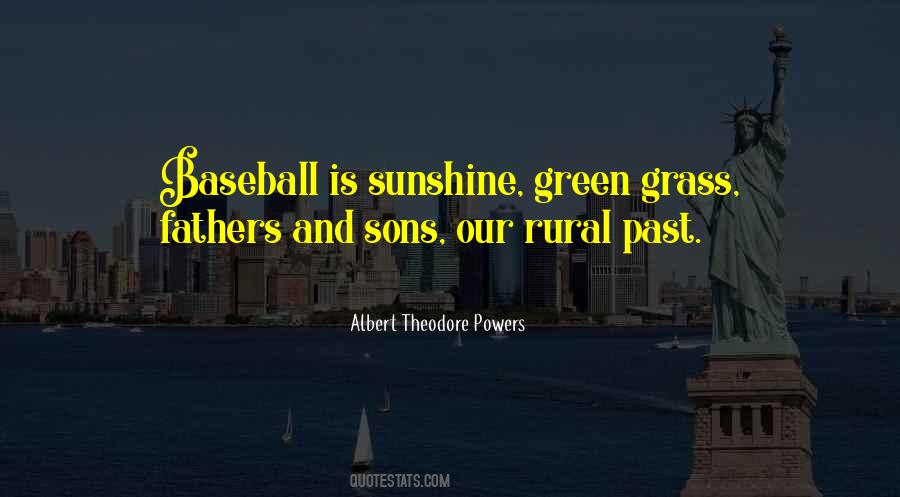 #28. Christ is redemption only as He actually redeems and delivers our nature from sin. If He is not the law and spring of a new spirit of life, He is nothing. "As many as are led by the Spirit of God, they are the sons of God," as many, no more. - Author: Horace Bushnell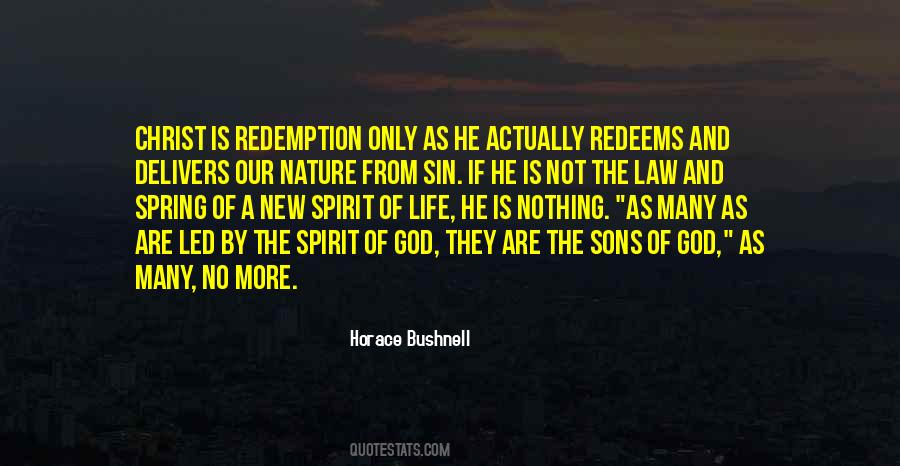 #29. Well, certainly, even separate from what our culture is going through, kids have different personalities and different natural bents and skill sets that they seem to come pre-programmed with. One of my two sons is very athletic. The other one is into social skills and humor. - Author: Alex Kendrick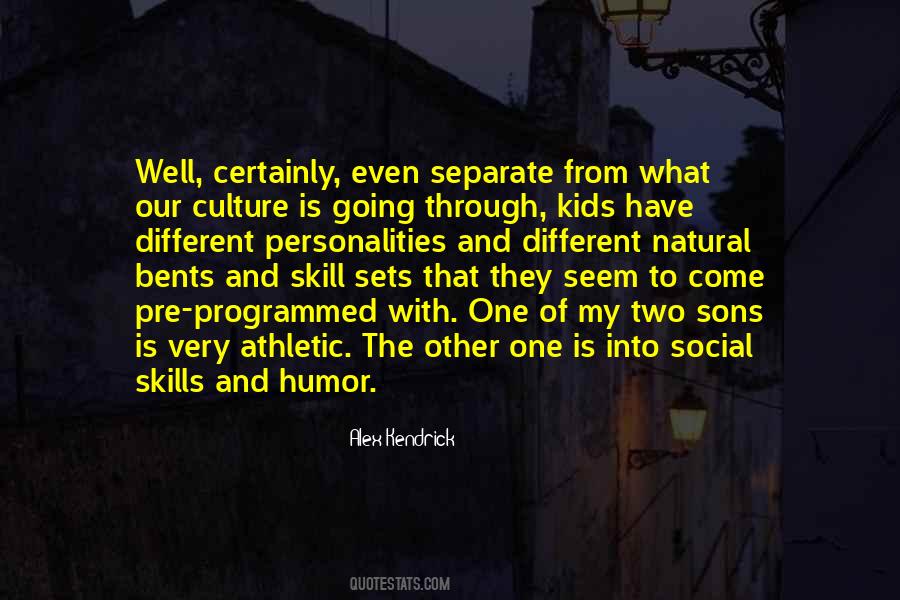 #30. Work together as a family, even if it may be faster and easier to do the job ourselves. Talk with our sons and daughters as we work together. - Author: Robert D. Hales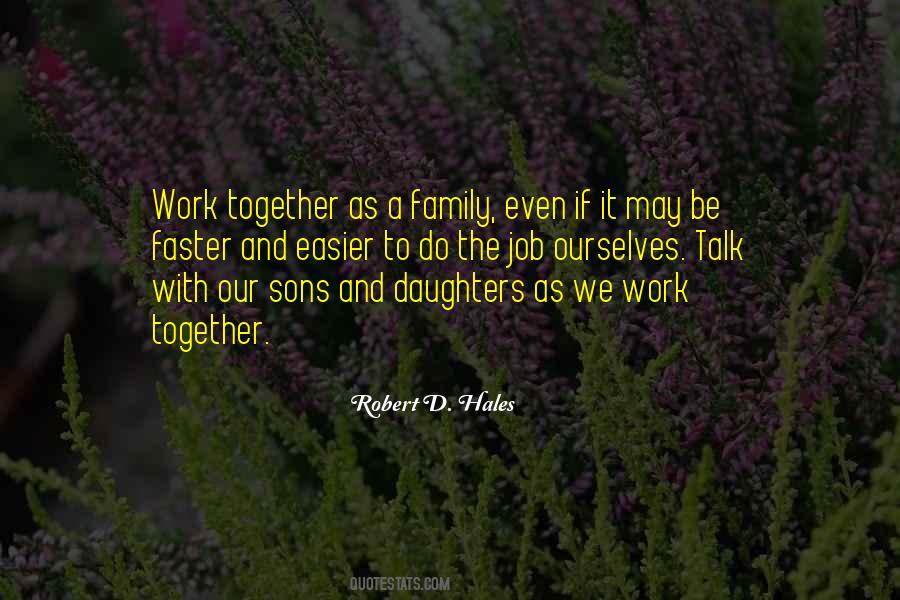 #31. Perhaps it's true that all men love their fathers, no matter how terrible the things they do to their sons: there is a part of us that remains forever in debt to those responsible for our existence. - Author: John Connolly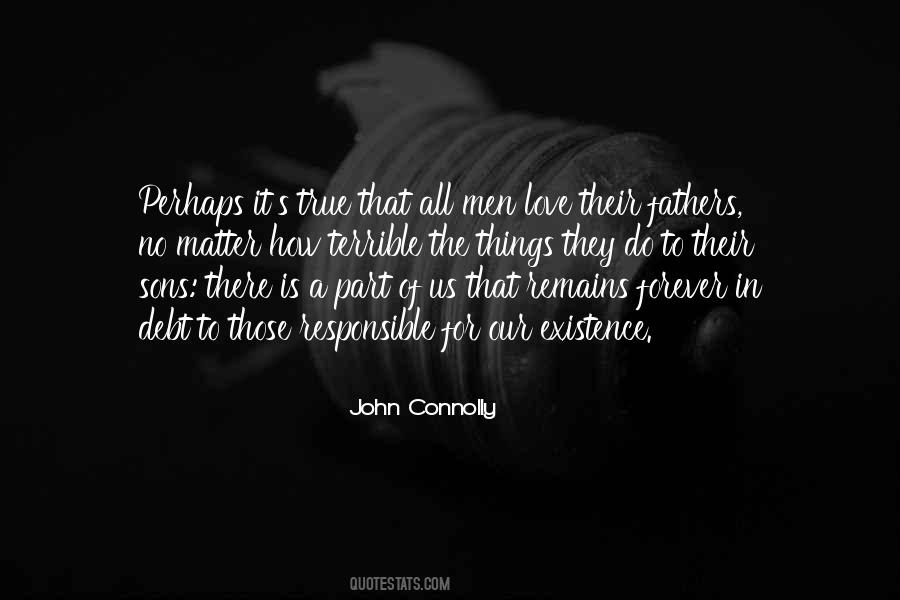 #32. And why is Grant so solemn today upon our great achievement, except he knows this unmeaning inhuman planet will need our warring imprint to give it value, and that our civil war, the devastating manufacture of the bones of our sons, is but a war after a war, a war before a war. - Author: E.L. Doctorow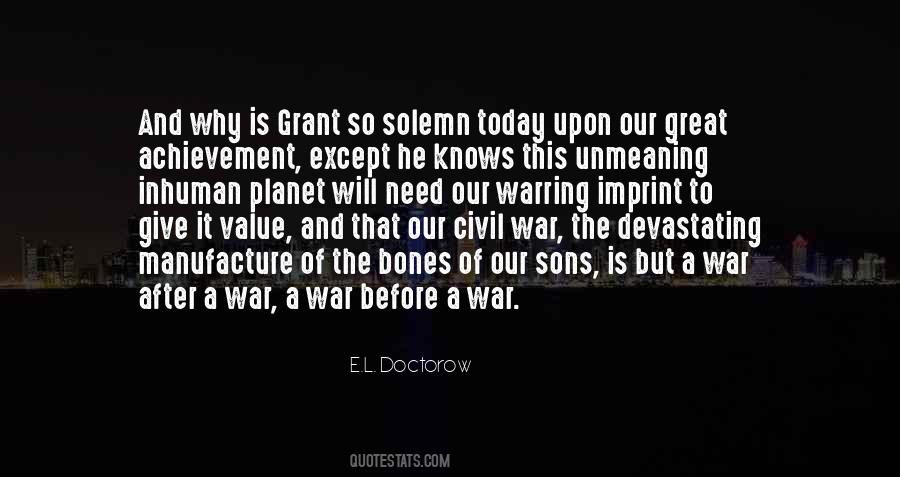 #33. We are wont to say that it was not in our power to choose the parents who fell to our lot, that they have been given to men by chance; yet we may be the sons of whomsoever we will. - Author: Seneca.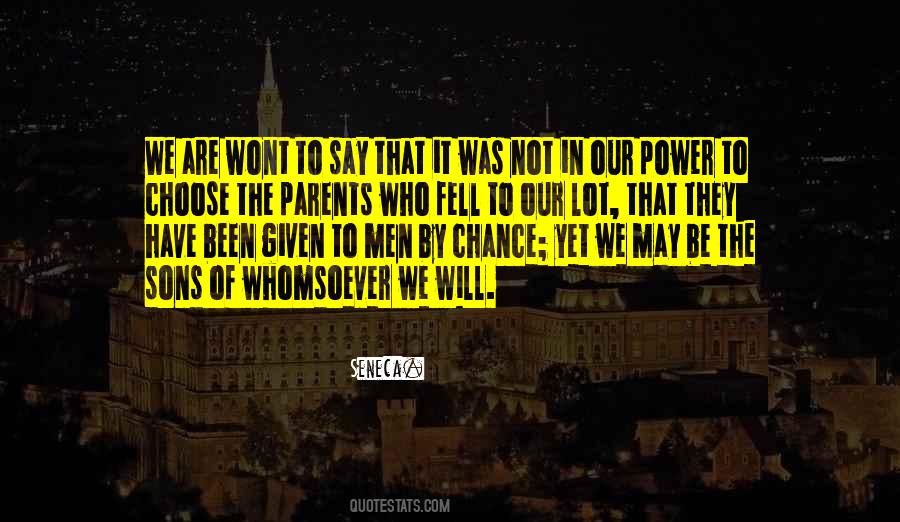 #34. It isn't true what they say about mothers. We don't hate our sons'
girlfriends. The sleazy ones - maybe. But we're mostly delighted and a little startled when a wonderful girl loves our son. And relieved the son is smart enough to love her back. I'm grateful,
Beth. - Author: Angela Morrison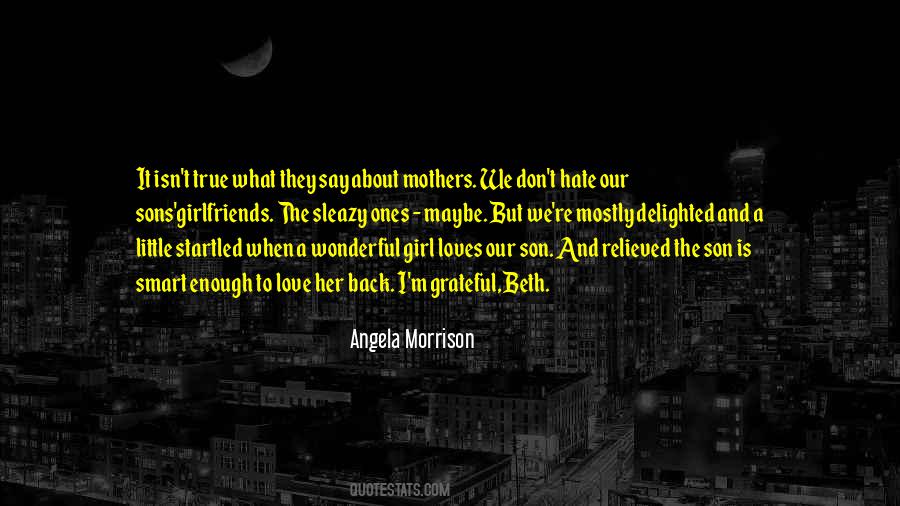 #35. Certain is it that there is no kind of affection so purely angelic as of a father to a daughter. In love to our wives there is desire; to our sons, ambition, but to our daughters there is something which there are no words to express. - Author: Joseph Addison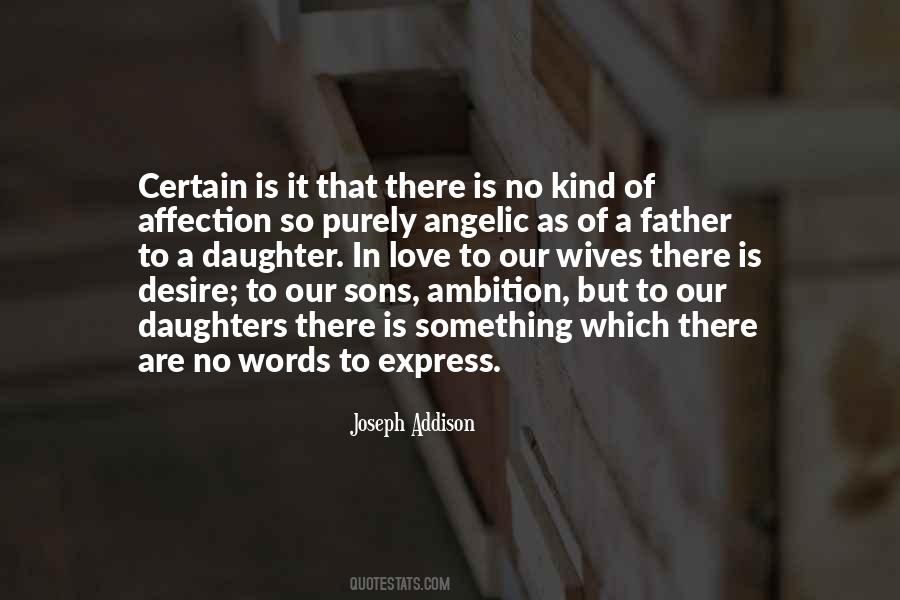 #36. Gentle Mother, font of mercy,
save our sons from war, we pray,
stay the swords and stay the arrows,
let them know a better day,
Gentle Mother, strength of women,
help our daughters through this fray,
soothe the wrath and tame the fury,
teach us all a kinder way. - Author: George R R Martin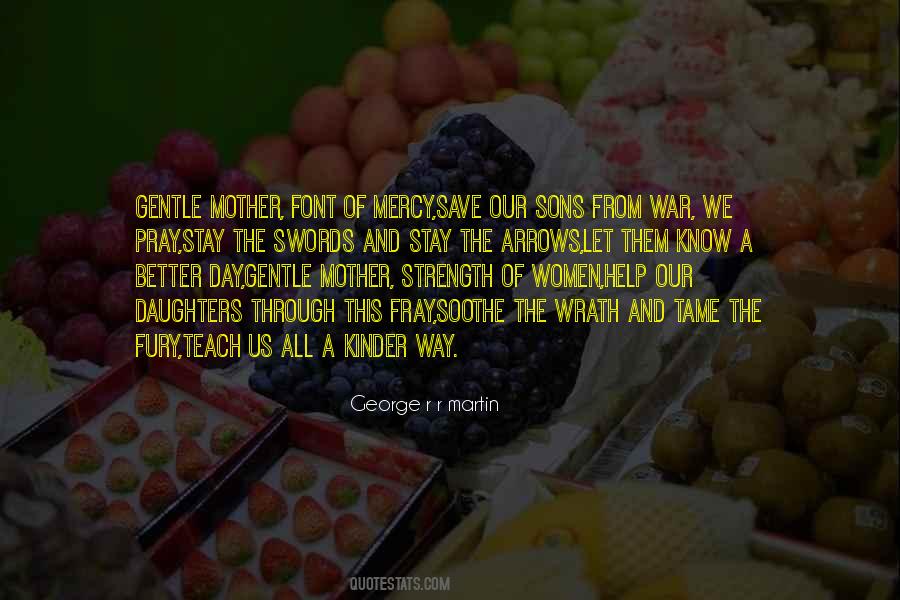 #37. Dream!
Forge yourself and rise
Out of your mind and into others.
Men, be women.
Fish, be flies.
Girls, take beards.
Sons, be your mothers.
The future of the world now lies
In coral wombs behind our eyes. - Author: Clive Barker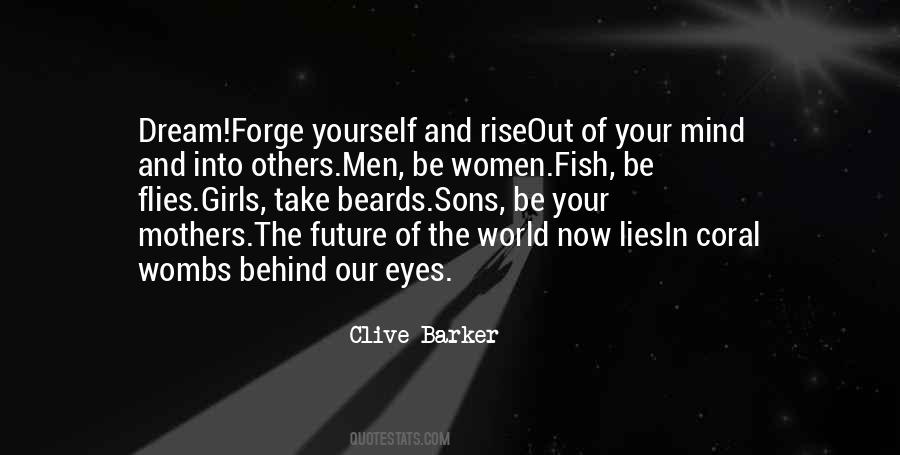 #38. We are part of the world creation, and we ourselves create nothing. Our knowledge allows us to make use of all the forces already in existence, our art to interpret emotions already felt. One big war, an epidemic, and we collapse into ignorance and darkness, fit sons of chimpanzees. - Author: Arshile Gorky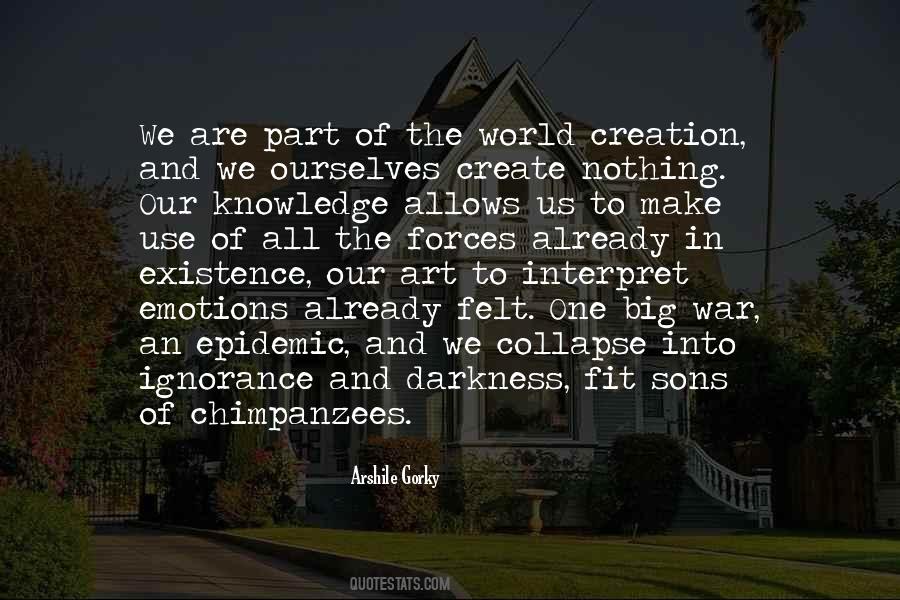 #39. our objective as moms and dads is to transform our sons from "immature and flighty youngsters into honest, caring men who will be respectful of women, loyal and faithful in marriage, keepers of commitments, strong and decisive leaders, good workers, and men who are secure in their masculinity. - Author: James C. Dobson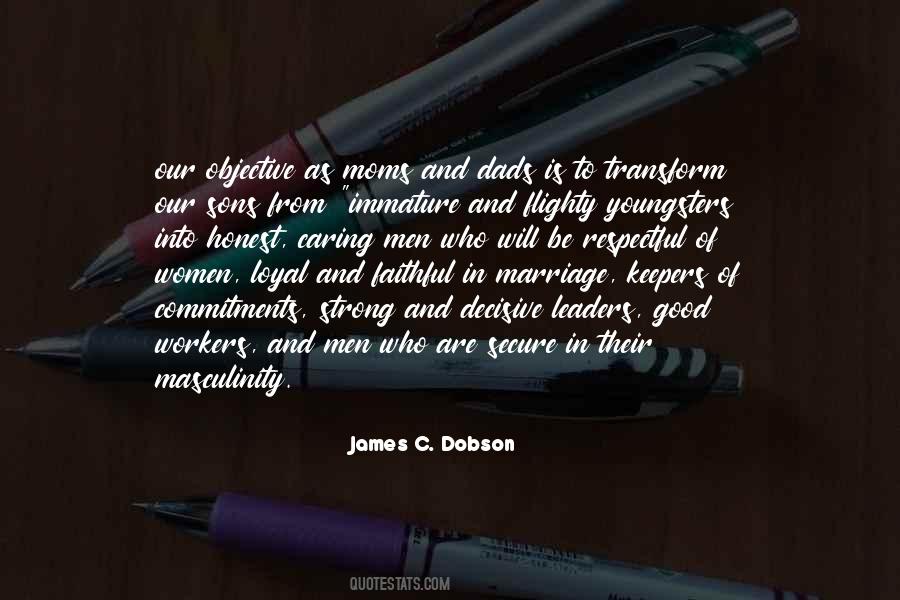 #40. The sons of Judah have to choose that God may again choose them. The divine principle of our race is action, choice, resolved memory. - Author: George Eliot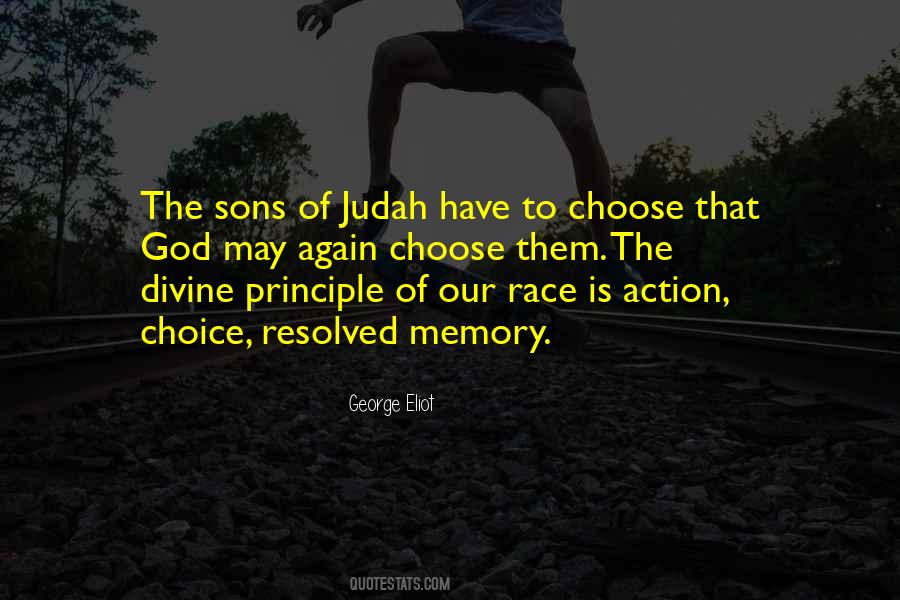 #41. Unfortunately, we spend more time teaching our daughters how to avoid becoming rape victims than teaching our sons not to become rapists. - Author: Amir Clayton Powell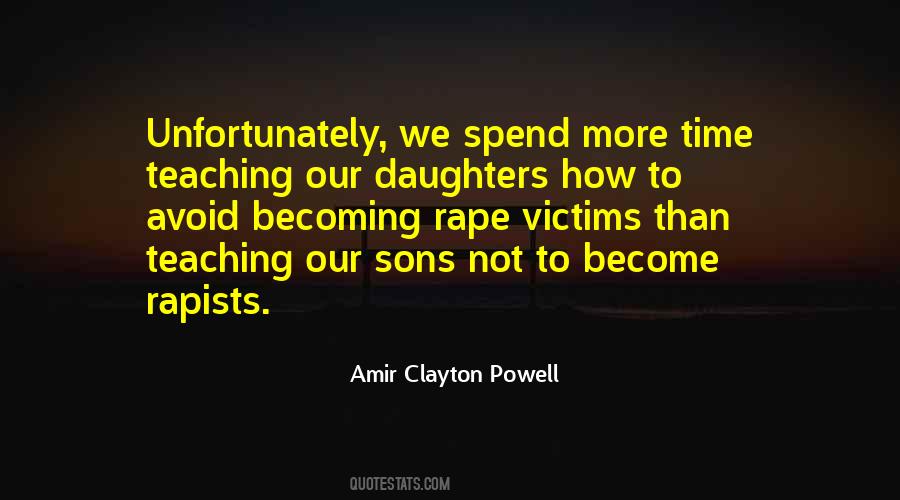 #42. We've begun to raise daughters more like sons ... but few have the courage to raise our sons more like our daughters. - Author: Gloria Steinem
#43. Good actions ennoble us, we are the sons of our own deeds. - Author: Jean Paul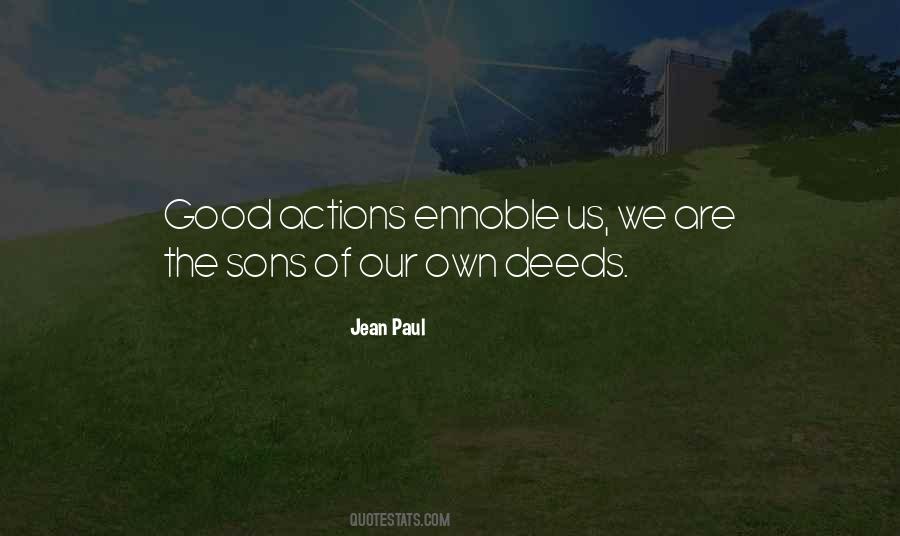 #44. A world of happier men and happier women who are truer to themselves. And this is how to start: We must raise our daughters differently. We must also raise our sons differently. - Author: Chimamanda Ngozi Adichie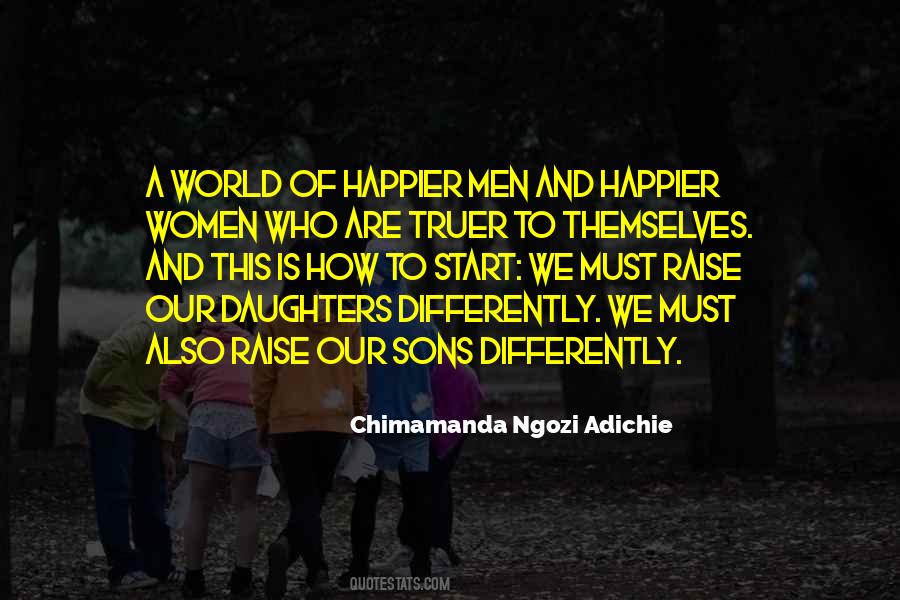 #45. If brains have brought us to what we are in now, I think it is time to allow our hearts to speak. When our sons are killed by the millions, let us, mothers, only try to do good by going to the kings and emperors without any other danger than a refusal. - Author: Rosika Schwimmer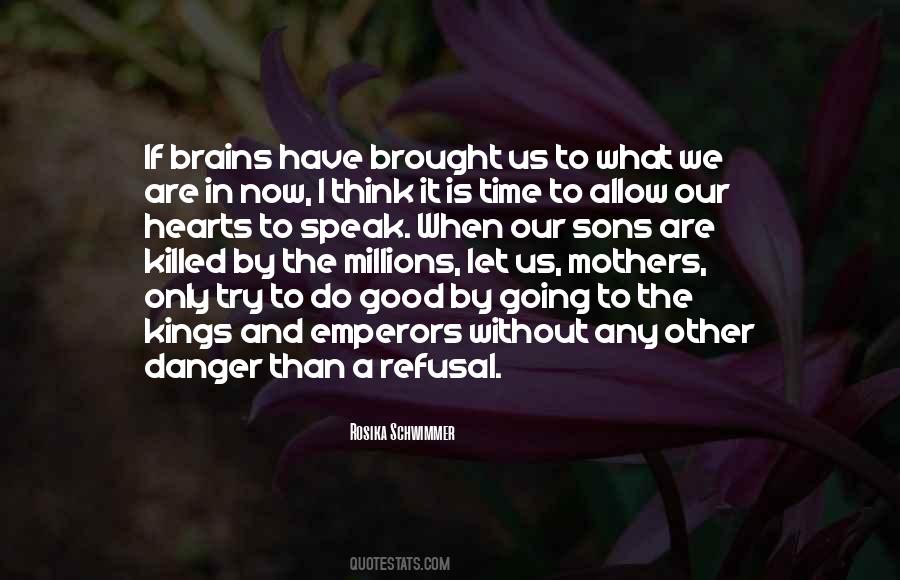 #46. We eat as sons and daughters, as families, as communities, as generations, as nations, and increasingly as a globe. We can't stop our eating from radiating influence even if we want to. - Author: Jonathan Safran Foer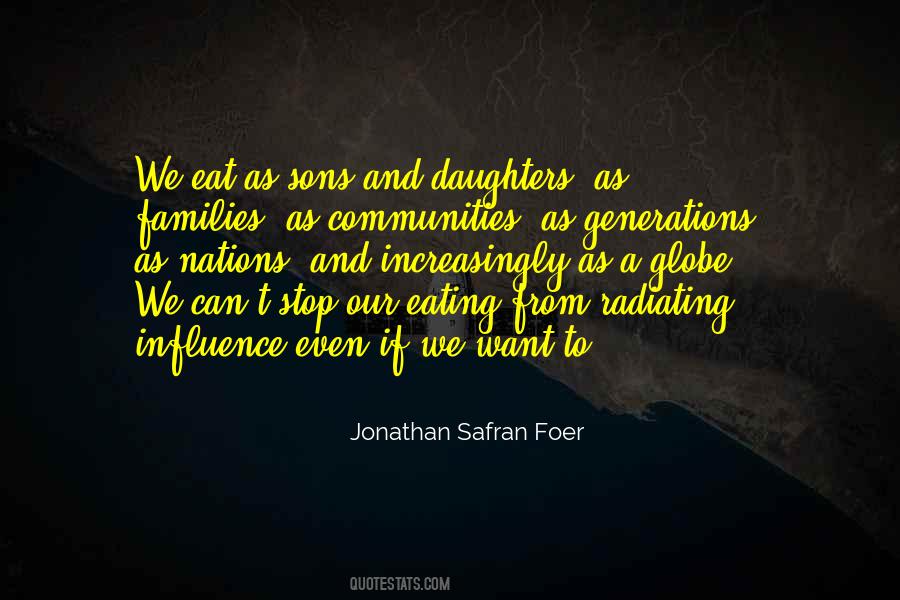 #47. I believe our legacy will be defined by the accomplishments and fearless nature by which our daughters and sons take on the global challenges we face. I also wonder if perhaps the most lasting expression of one's humility lies in our ability to foster and mentor our children. - Author: Naveen Jain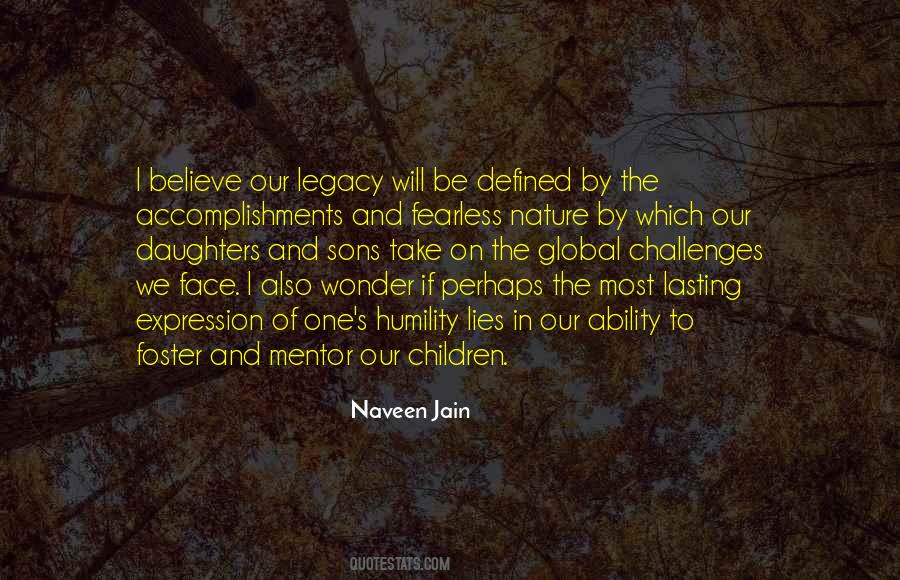 #48. HARRY: "Oh, Draco . . . we can't. We can't use it."
Draco looks up at Harry, and for the first time - at the bottom of this dreadful pit - they look at each other as friends.
DRACO: "We have to find them - if it takes centuries, we must find our sons - - Author: J.K. Rowling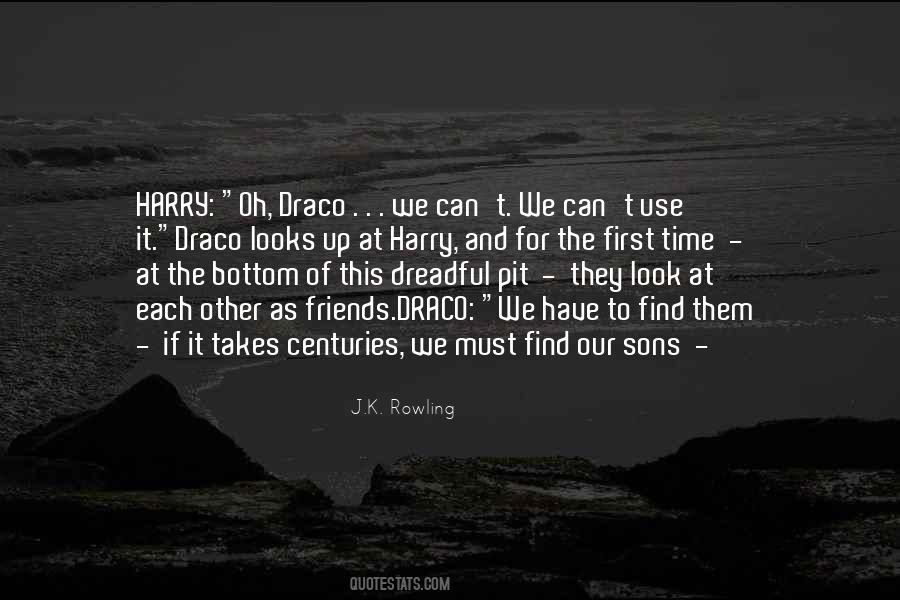 #49. Why don't the men have "Take Our Sons to the Cat-House Night"? - Author: George Carlin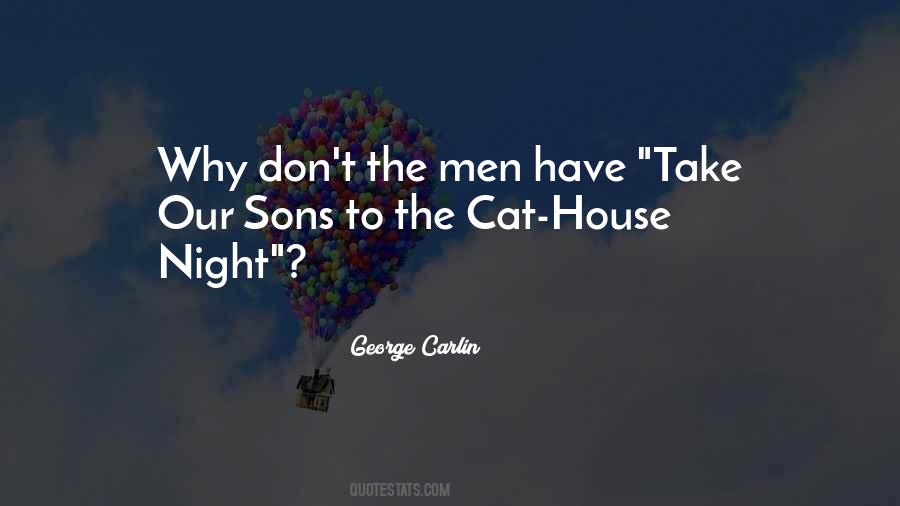 #50. Then thre is Brian. It's been a slow-grow love with its roots in our friendship. We disagree about everything that's not important, like politics and religion, but agree on everything that is important, like where the dustpan and brush should live, and his sons' girlfriends. - Author: Kate Kerrigan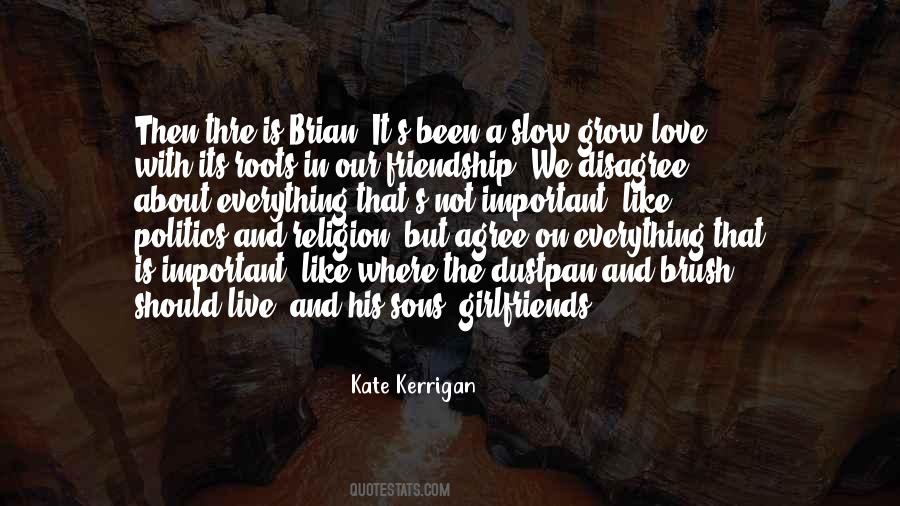 #51. Motherhood is not what was left over after our Father blessed His sons with priesthood ordination. It was the most ennobling endowment He could give His daughters, a sacred trust that gave women an unparalleled role in helping His children keep their second estate. - Author: Sheri L. Dew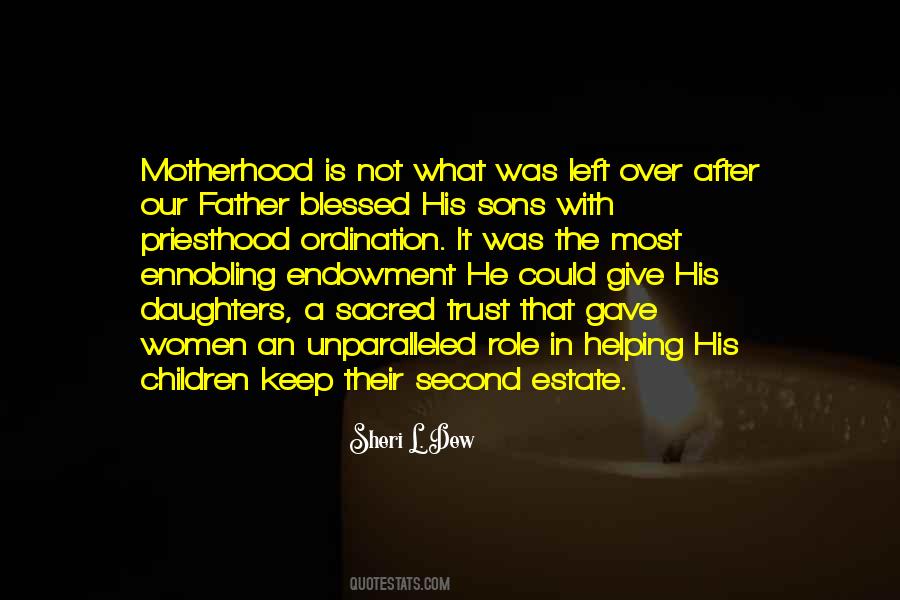 #52. Good actions ennoble us, and we are the sons of our deeds. - Author: Miguel De Cervantes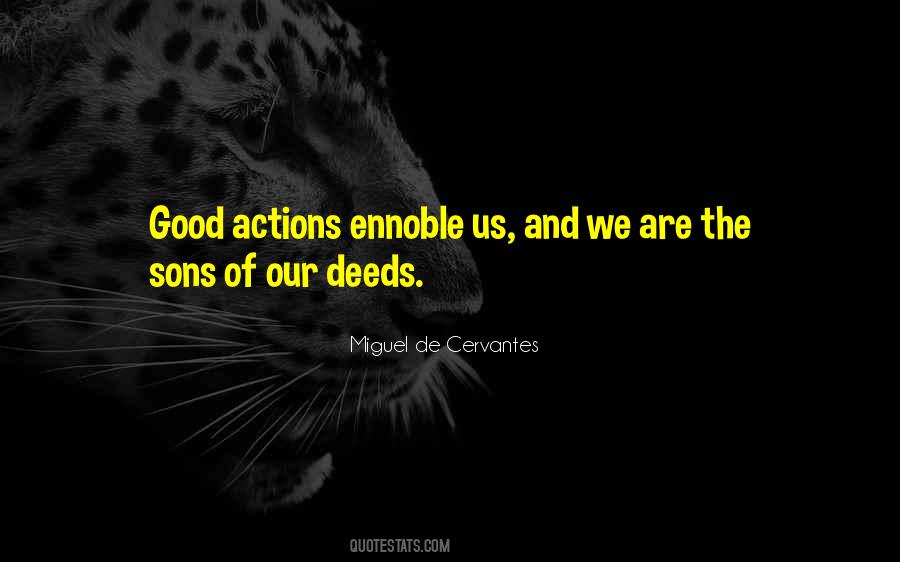 #53. Football is multigenerational. It used to be about fathers taking their sons. Now we're taking our daughters, too. - Author: Steve Tisch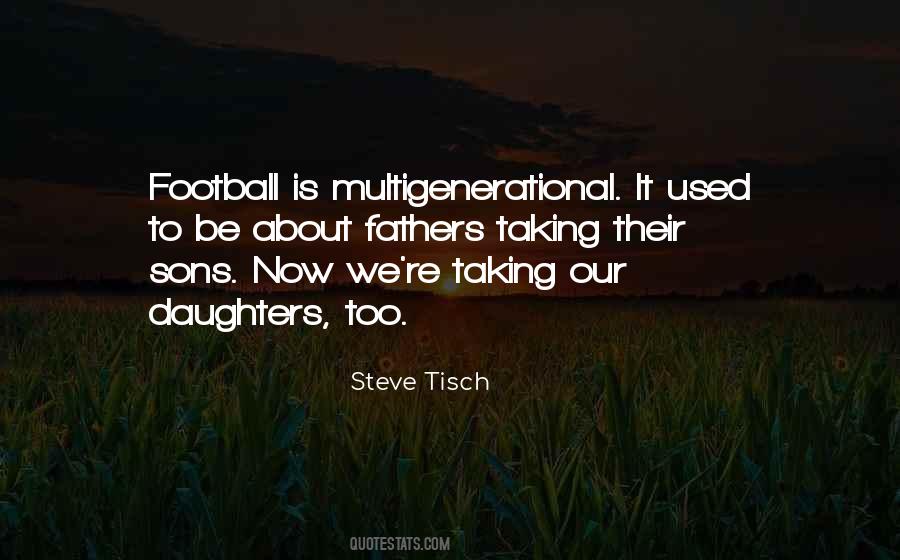 #54. Better than anything else in our culture, it enables fathers and sons to speak on a level playing field while building up from within a personal history of shared experience - a group history - that may be tapped into at will in years to come. - Author: John Thorn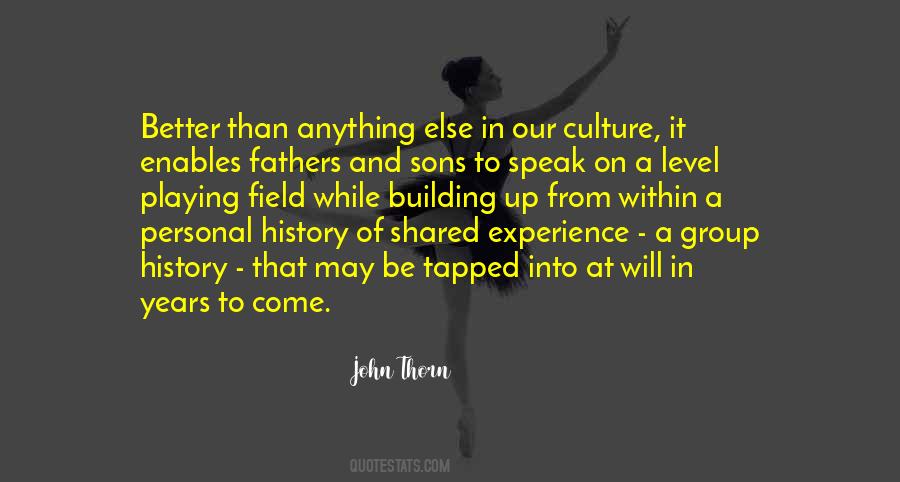 #55. Drons change the way politicians think about war. You already have society's barriers against war dropping, and now you have a technology that takes the barriers to the ground. We can carry it out without having to deal with some of the consequences of sending our sons and daughters into harm's way. - Author: P. W. Singer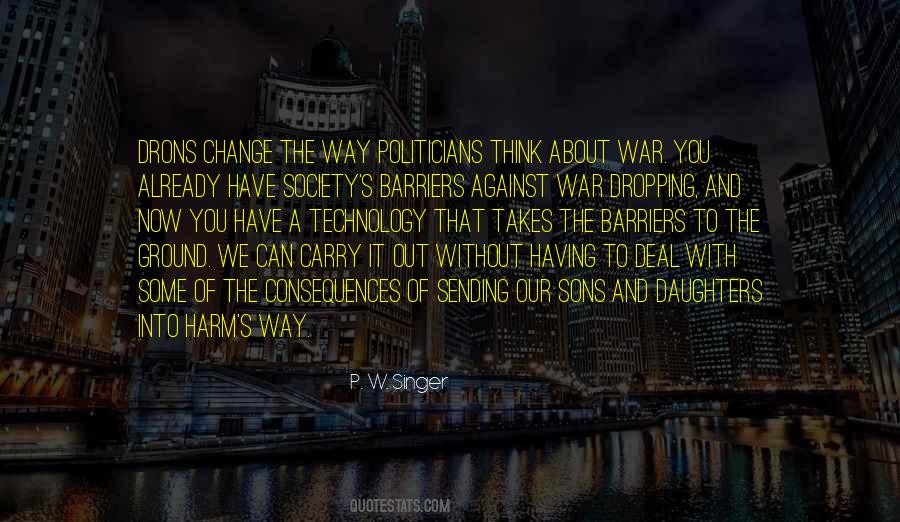 #56. Established a thriving medical practice and was a fixture at our high school sports games. He never spoke to any of us of the horrors he had seen. When one of his sons wore as a casual jacket one of Doc Auld's Army coats with the major's insignia still attached, I remember thinking, - Author: Tom Brokaw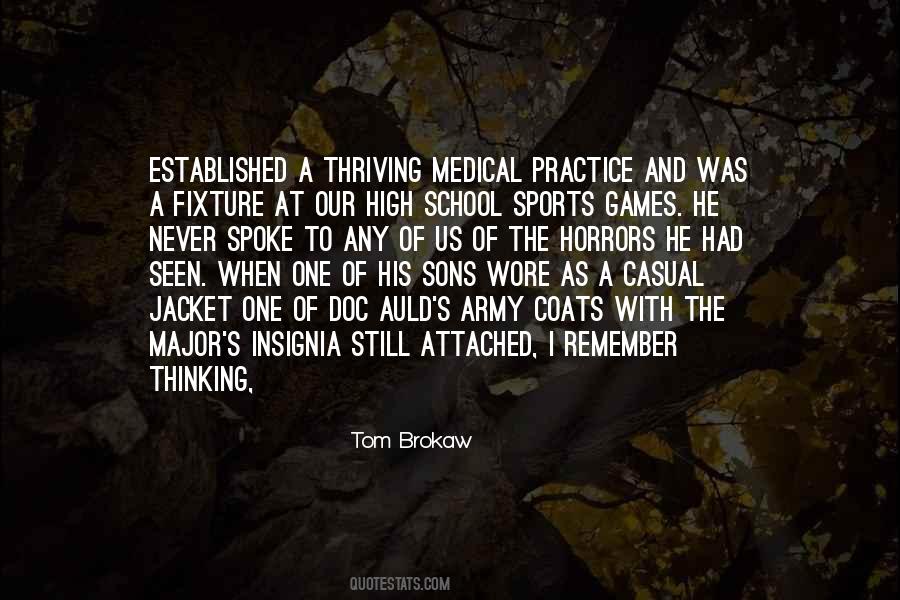 #57. It's particularly important as parents in our conversations with our daughters and our sons to consider ideas intimate justice when we talk about and set them going on their early formative experience. - Author: Peggy Orenstein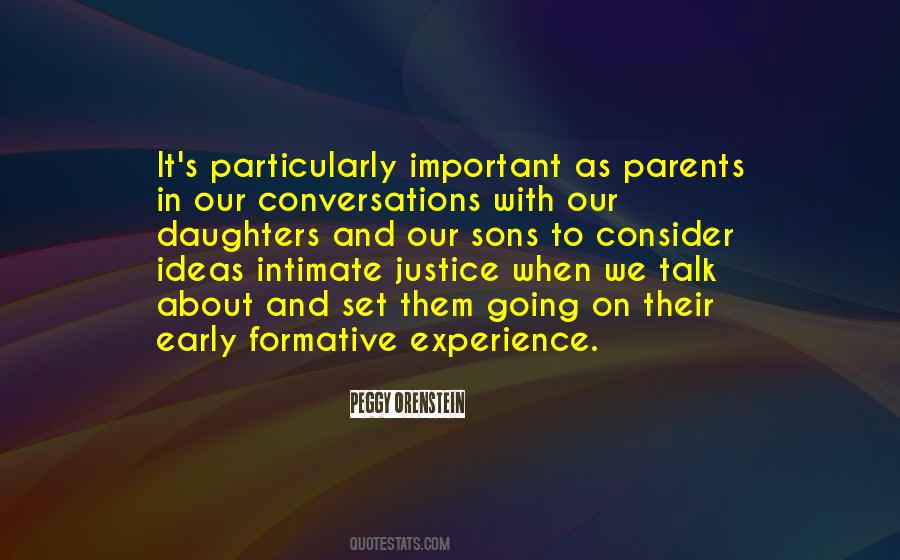 #58. It may be true of all relationships, not only between fathers and sons, but between men and women. Nothing seems fixed. Everything is always changing. We seem to have very little control over our emotional life. - Author: Sherwood Anderson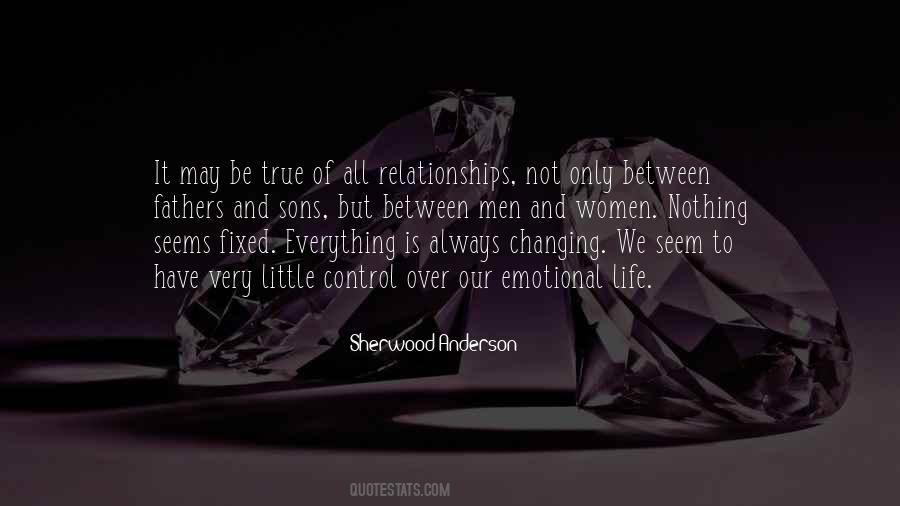 #59. My late husband and I started our sons off as readers at a very young age. Today, they are voracious readers. - Author: Soraya Diase Coffelt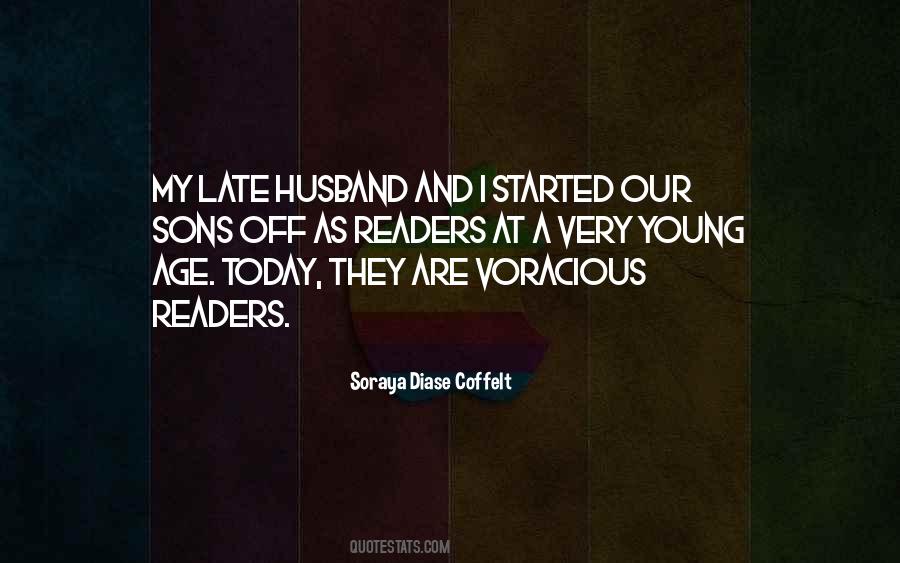 #60. If men don't know what's happening, what they're doing, where they're going
what are women to do? If Richard doesn't know what kind of world he wants, how am I to help him make it? What am I to tell our sons? - Author: James Baldwin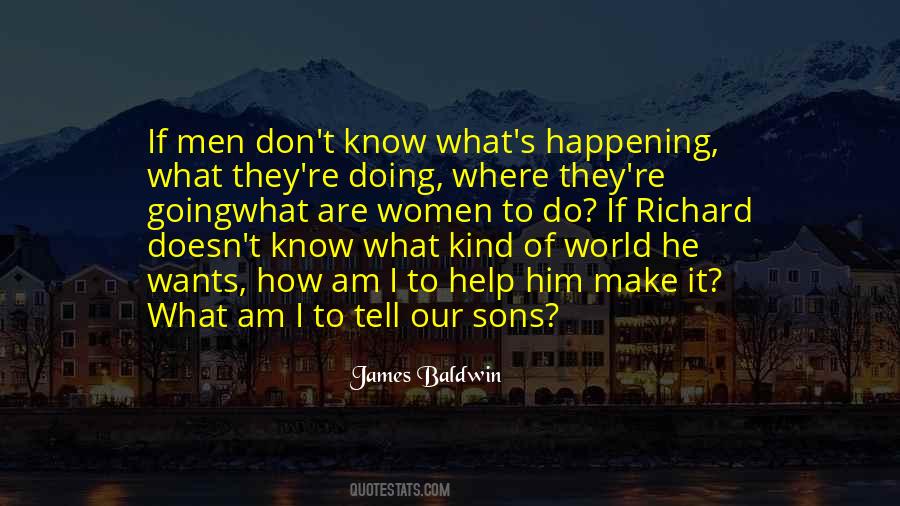 #61. We think our fathers fools, so wise we grow. Our wiser sons, no doubt will think us so. - Author: Alexander Pope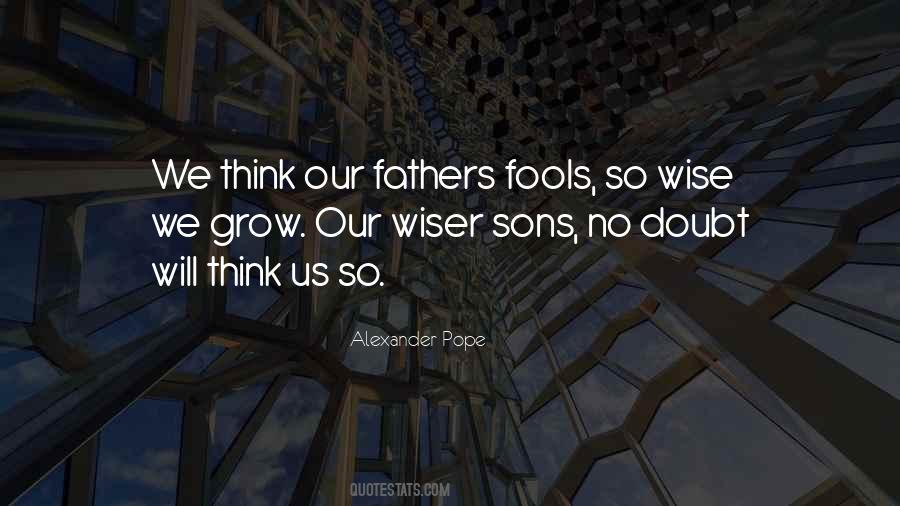 #62. trust God with our sons and daughters. No one can do a better job with them than He can! I - Author: Nathan Cole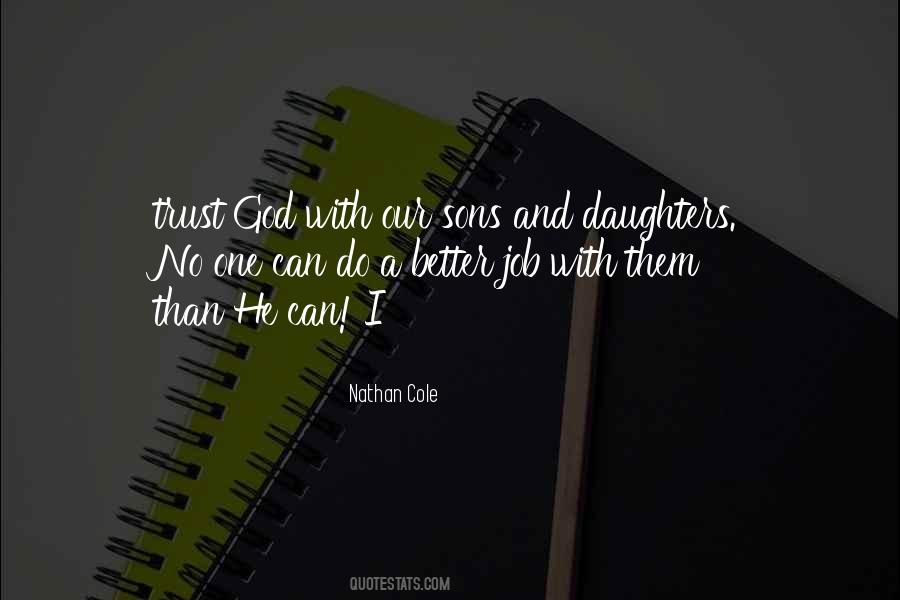 #63. We have been adopted as sons by the Lord with this one condition; that our life expresses Christ, the bond of our adoption. Accordingly, unless we give and devote ourselves to righteousness, we not only revolt from our Creator with wicked perfidy, but we also abjure our Savior Himself. - Author: John Calvin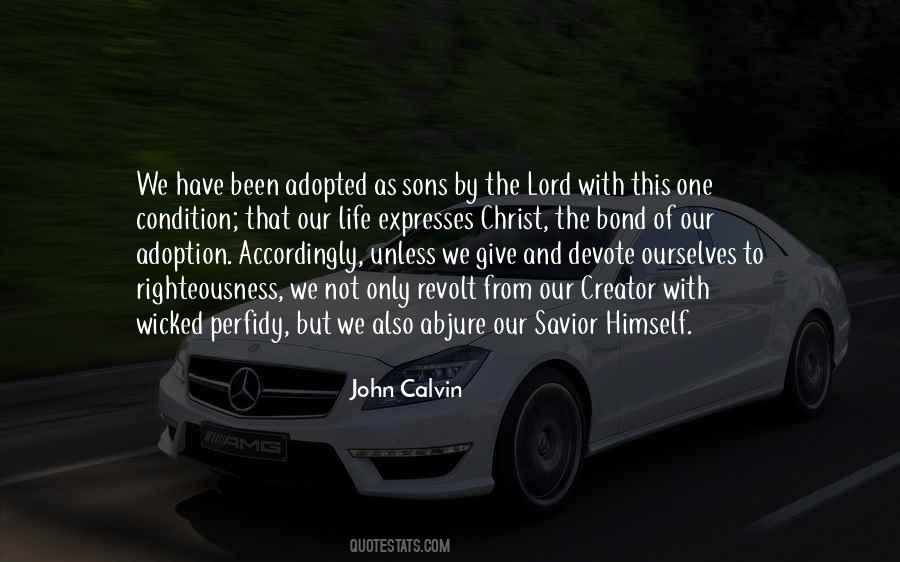 #64. Sons of a revolution fight for liberty. They give blood, flesh, limbs, their very lives. But daughters . . . we sacrifice our eternal souls. - Author: Laura Kamoie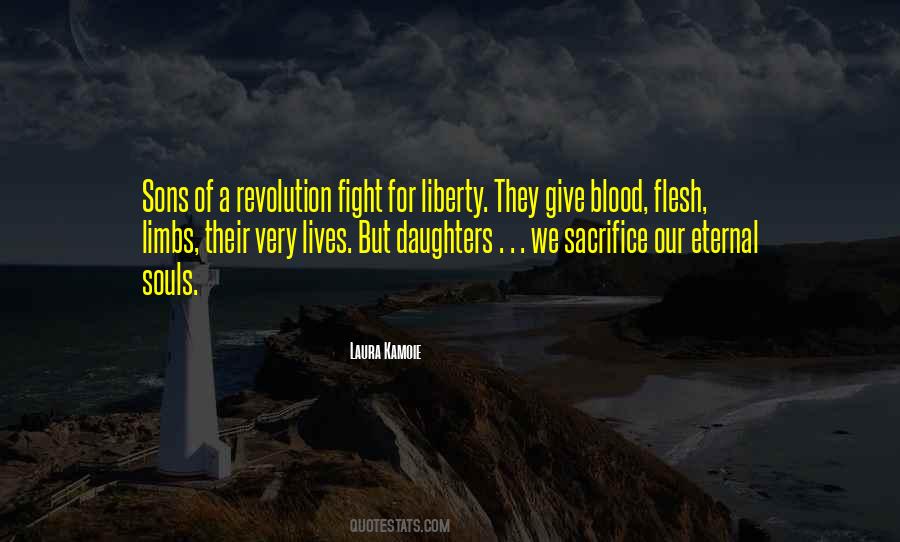 #65. Is it true that the American people are war-weary? Absolutely. We are tired of sending our sons and daughters to distant lands year after year after year, to give their lives trying to transform foreign nations. - Author: Ted Cruz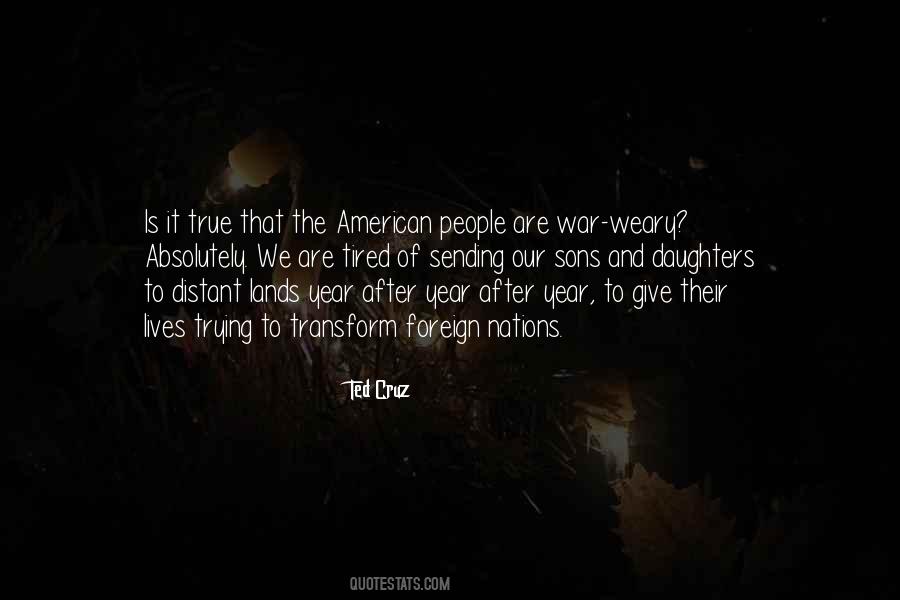 #66. Let truth be told. The more we allow water to be controlled, bottled and sold - the more we sell the security of our sons, daughters and souls. He who controls the water, controls us all. Water is the true gold. - Author: Suzy Kassem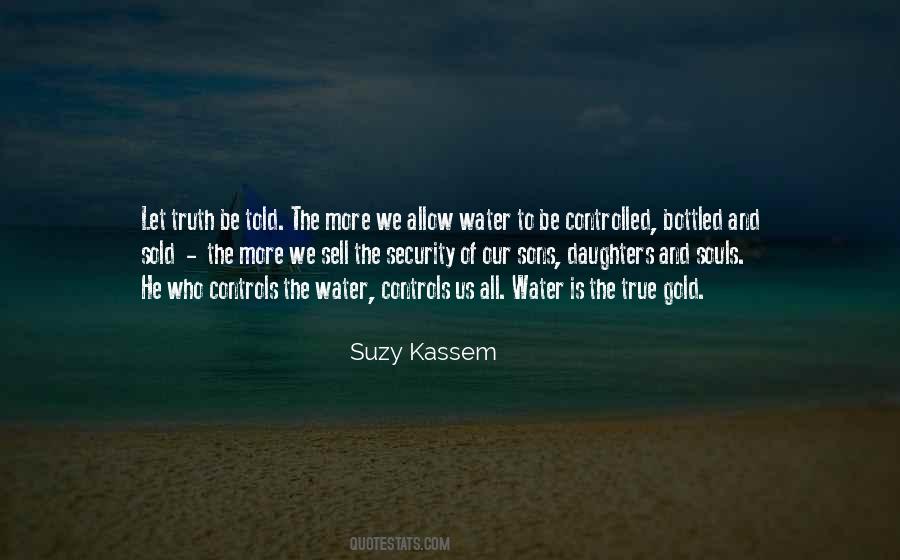 #67. Our sons, who so easily recognize our errors, and rightly denounce them, will have to confess their own, later on, and they may be as bad as ours, perhaps worse. - Author: Bruce Hutchison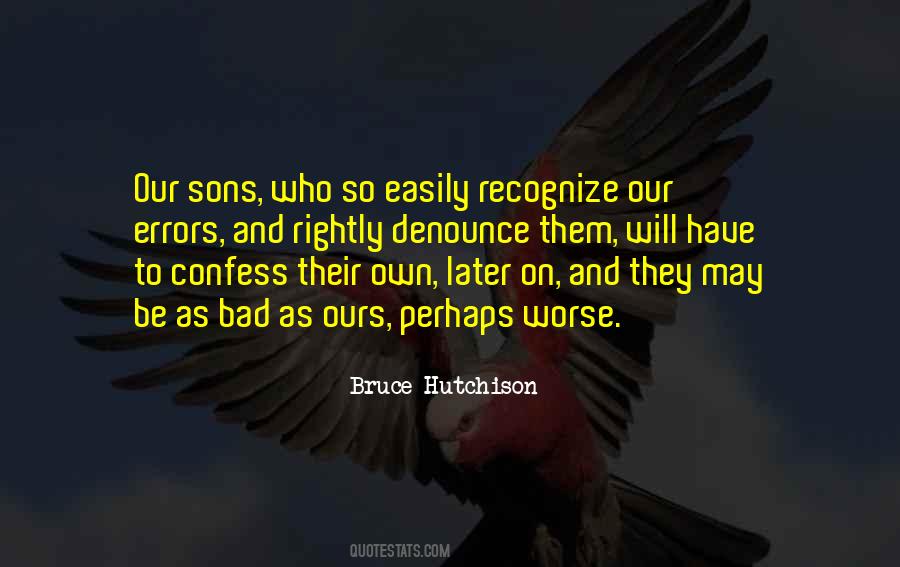 #68. In our desire after God let us keep always in mind that God also hath desire, and His desire is toward the sons of men, and more particularly toward those sons of men who will make the once-for-all decision to exalt Him over all. - Author: A.W. Tozer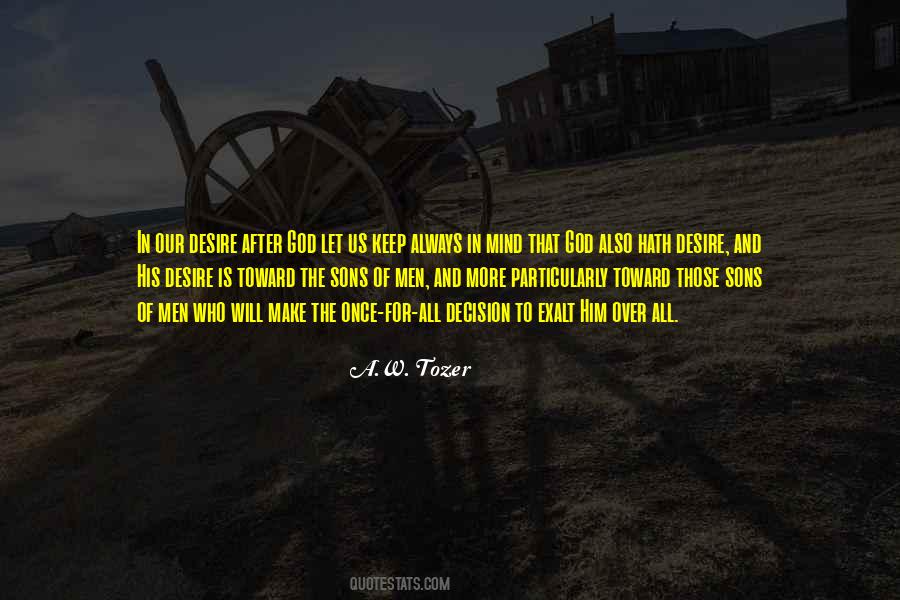 #69. Words, especially when yelled in anger, can be very damaging to a child's self-confidence. The child probably already feels bad enough just from seeing the consequences of his or her behavior. Our sons and daughters don't need more guilt and self-doubt heaped upon their already wounded egos. - Author: Jack Canfield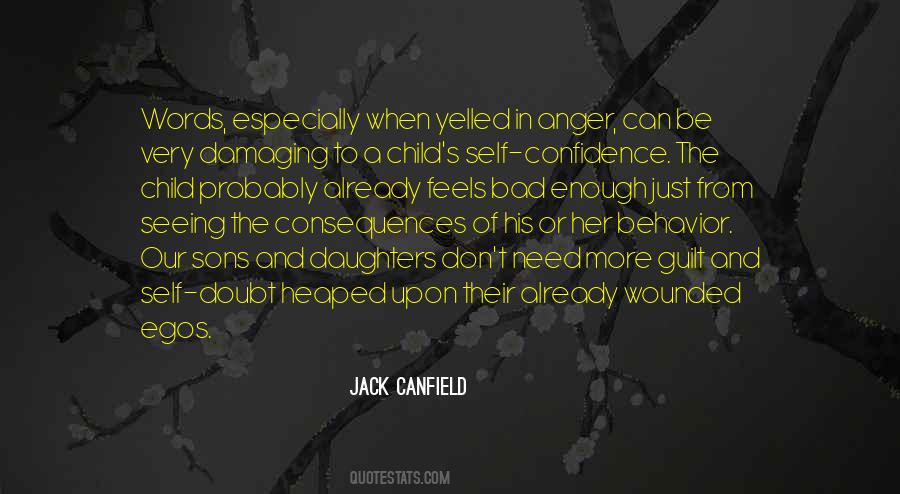 #70. God has a global dream for his daughters and his sons, and it is bigger than our narrow interpretations or small box constructions of "biblical manhood and womanhood" or feminism; - Author: Sarah Bessey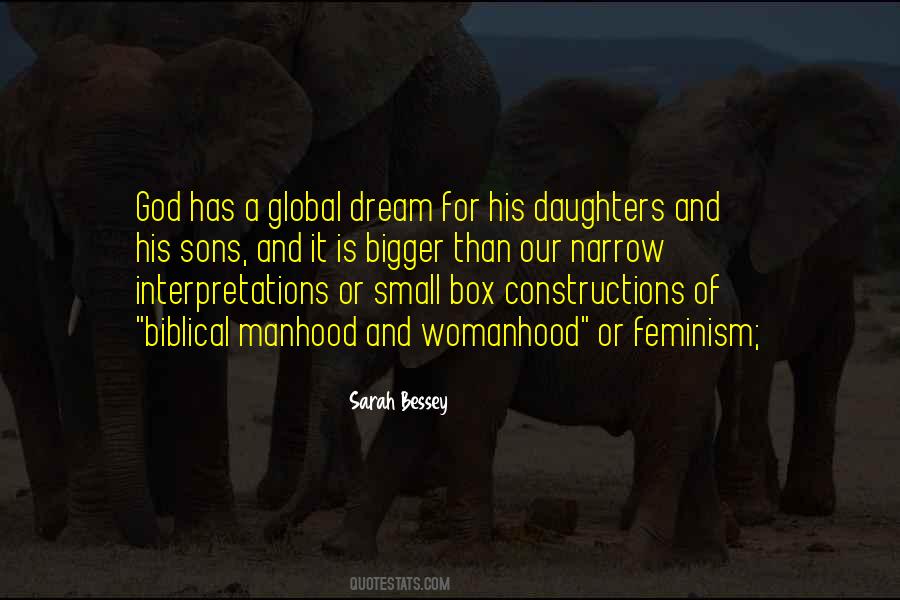 #71. Soldiers in arms! Defenders of our soil!
Who from destruction save us; who from spoil
Protect the sons of peace, who traffic or who toil;
Would I could duly praise you, that each deed
Your foe's might honor, and your friends might read. - Author: George Crabbe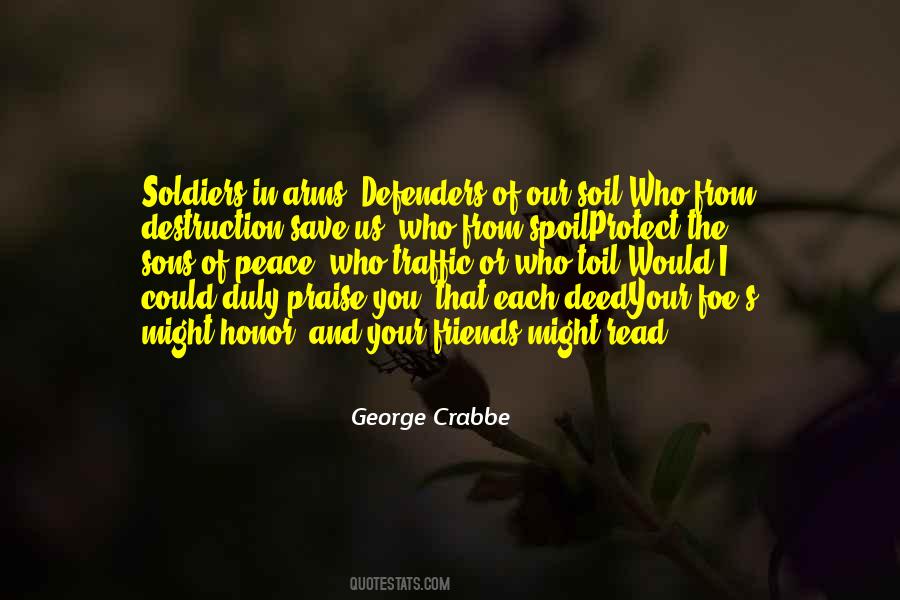 #72. Foreign Cash is not the answers to our problems, my friend. Africa needs the hearts and minds of its sons and daughters to nurture it. You were our pride, Mukoma Bryon. When you did not return, a whole village lost its investment. Africa is all that we have. If we do not build it, no one else will. - Author: J. Nozipo Maraire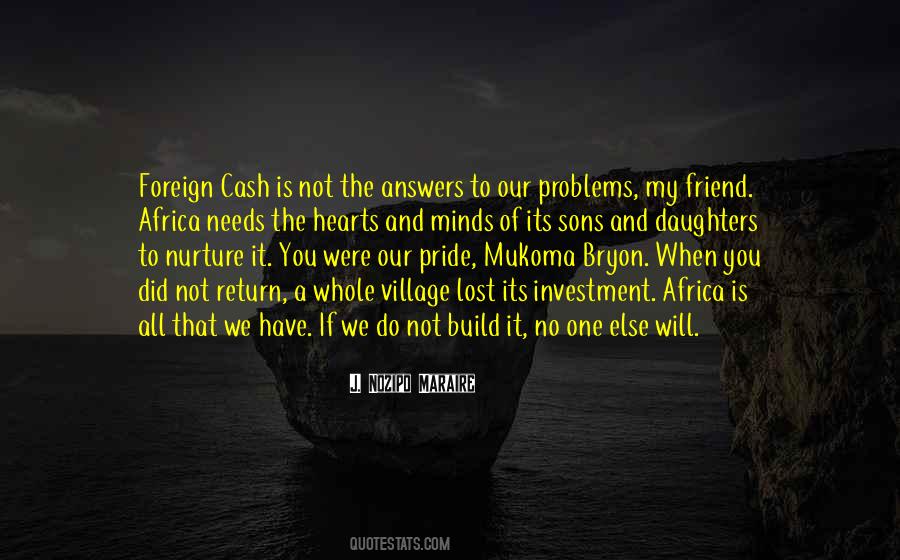 #73. Our sons, pride of our nation, this day have set upon a mighty endeavor, a struggle to preserve our Republic, our religion, and our civilization, and to set free a suffering humanity - Author: Franklin D. Roosevelt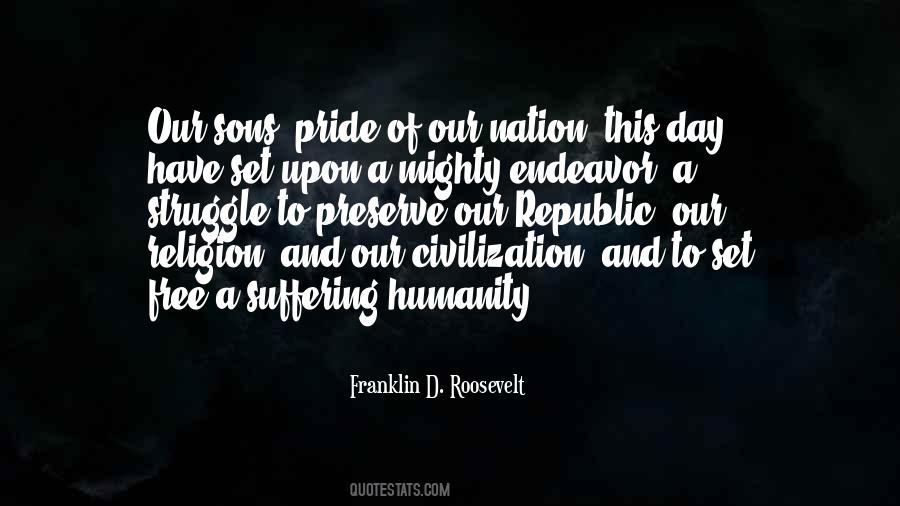 #74. We're children of God through our blood kinship with Christ. We're also sons and daughters of Adam and Eve, with a hereditary craving for forbidden fruit salad. - Author: Barbara Brown Taylor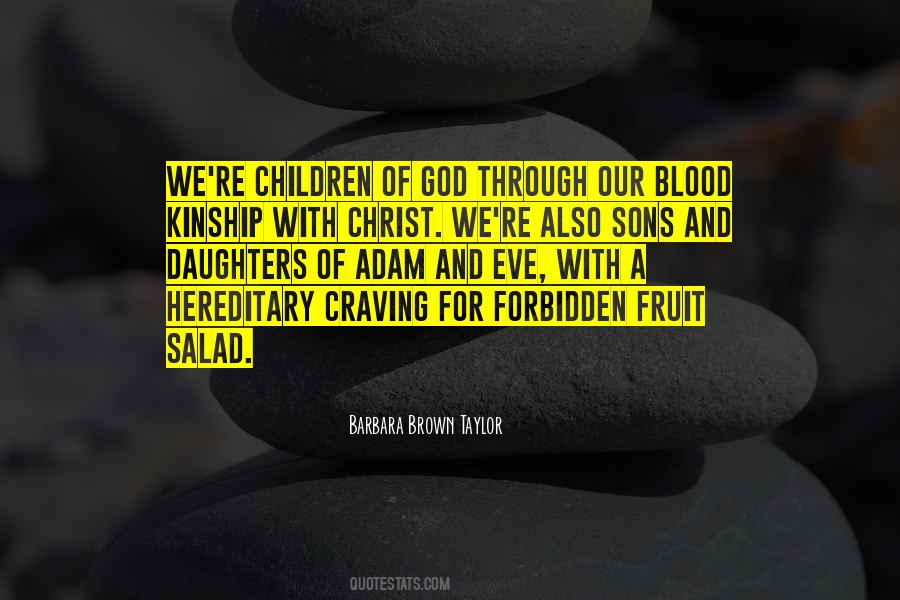 #75. I admired and valued Robin as a colleague and friend and as one of the greatest parliamentarians of our time. His wife Gaynor and his two sons are in our thoughts and prayers. - Author: Gordon Brown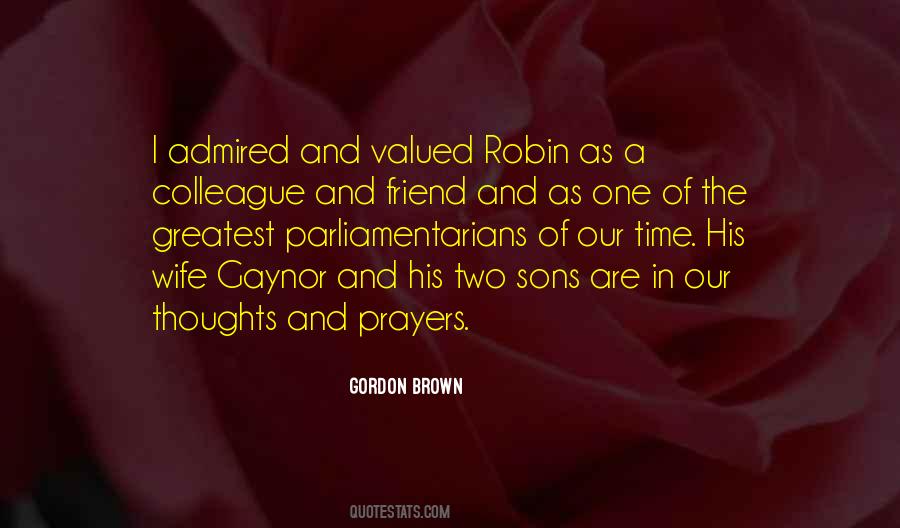 #76. Our sires' age was worse than our grandsires'. We their sons are more worthless than they: so in our turn we shall give the world a progeny yet more corrupt. - Author: Horace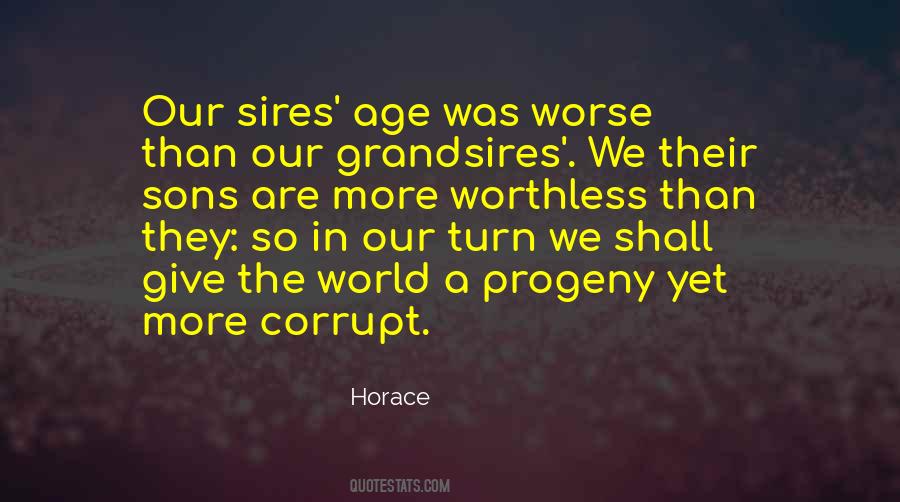 #77. The fact that we are all trained to be mothers from infancy on means that we are all trained to devote our lives to men, whether they are our sons or not; that we are all trained to force other women to exemplify the lack of qualities which characterizes the cultural construct of femininity. - Author: Andrea Dworkin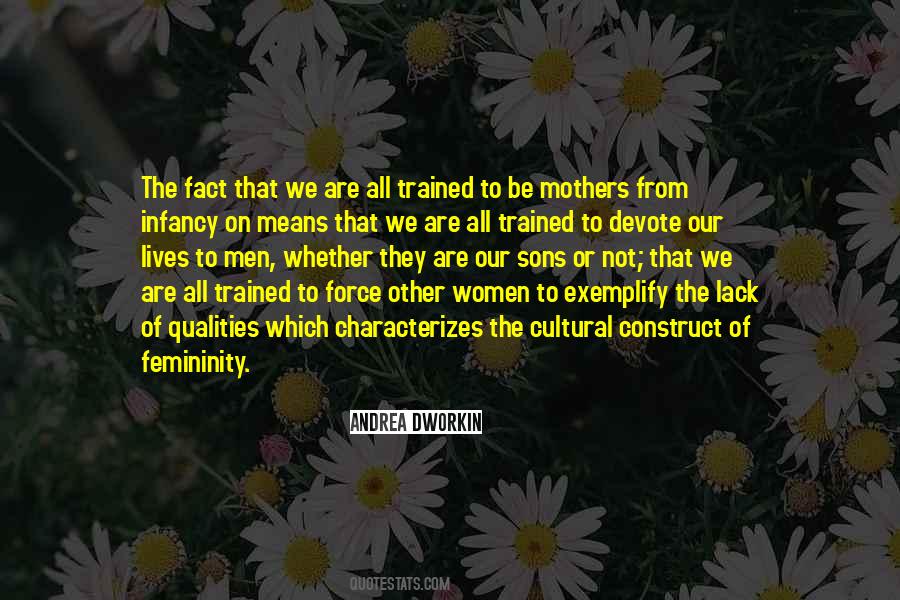 #78. We are all fools with our sons. We wipe them and suckle them and all we expect is for them to be grateful to the end of their days. - Author: Conn Iggulden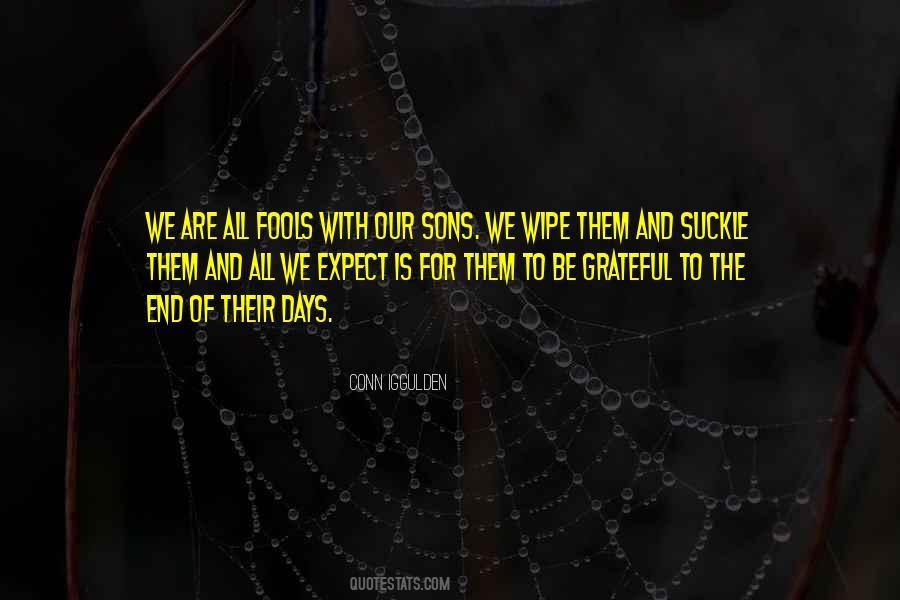 #79. The people of Abadan defended the city with empty hands, and our sons and brothers fell to the ground like flowers in the fall. My friend, believe me, today the date palms are broken. Tell me, when will our youth, our date palms, be green again? - Author: Camelia Entekhabifard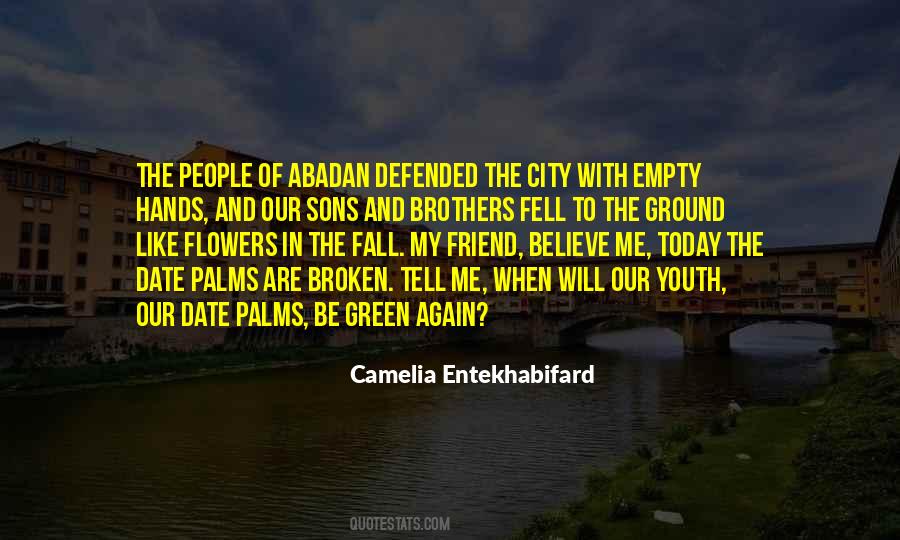 #80. The New World's sons from England's breast we drew
Such milk as bids remember whence we came,
Proud of her past wherefrom our future grew,
This window we inscribe with Raleigh's fame. - Author: James Russell Lowell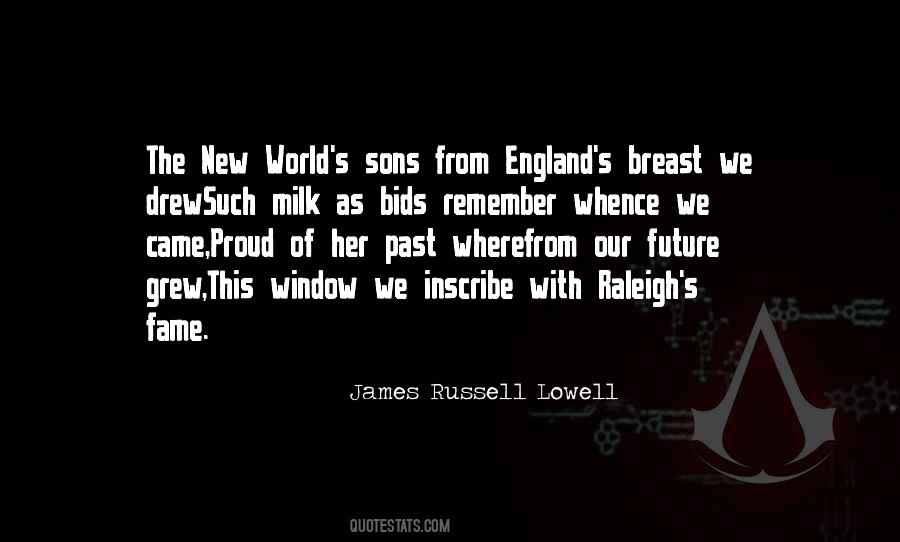 #81. I think indeed our response on counterinsurgency needs to be finely tuned to the needs of Afghanistan. This is not Iraq. We don't have a Sons of Iraq here. We don't have the same divisions here that we had between Sunni and Shia. - Author: Rahm Emanuel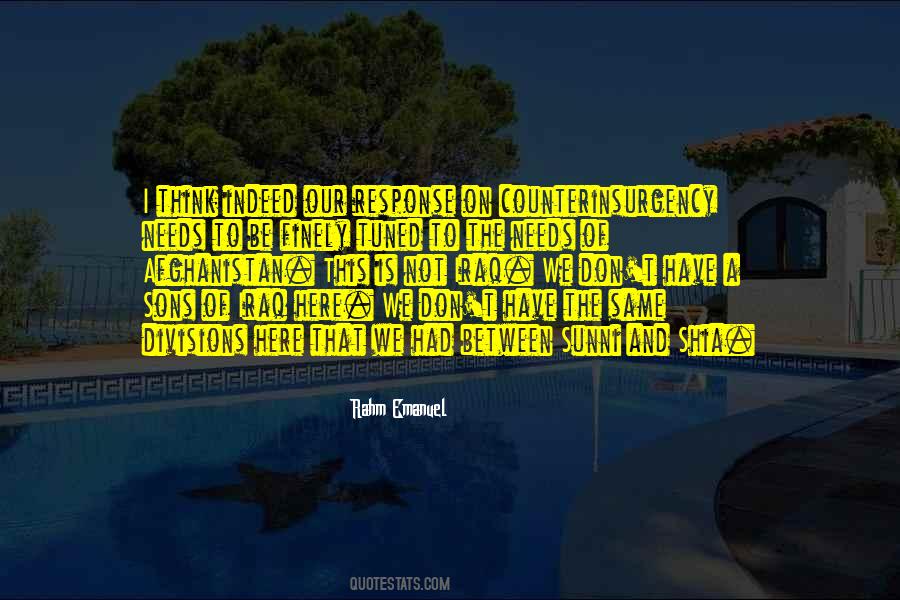 #82. The greater part of the people we assign to educate our sons we know for certain are not educated. Yet we do not doubt that they can give what they have not received, a thing which cannot be otherwise acquired. - Author: Giacomo Leopardi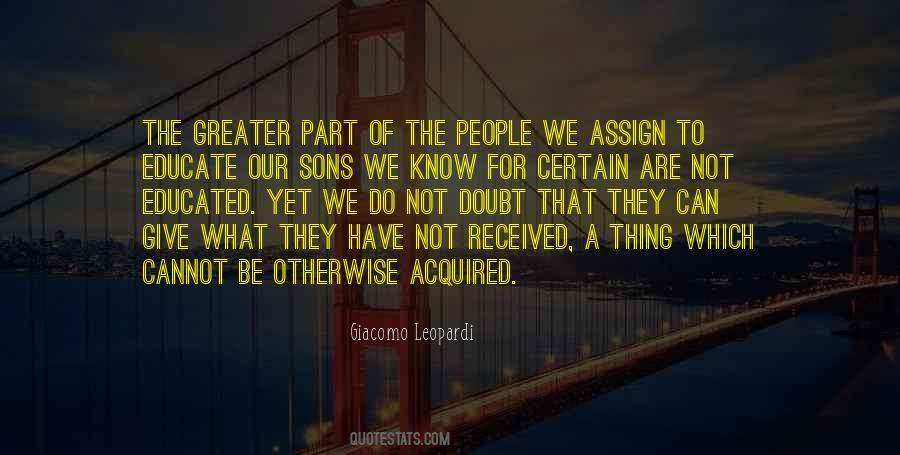 #83. Hmm. Relationships between fathers and sons can be notoriously difficult, especially for two men who are as different as you and your father are."
"Yes, and he's also the king
that makes our relationship impossible. - Author: Lynn Austin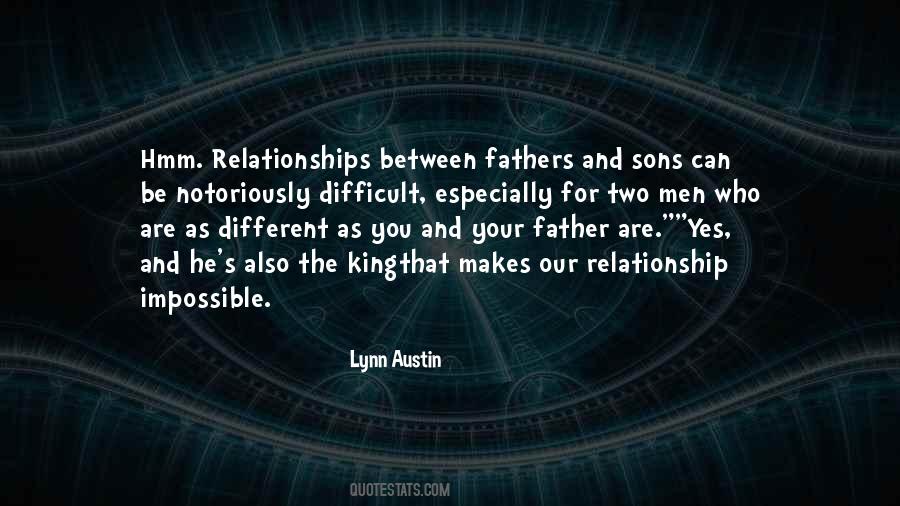 #84. It is not earthly riches which make us or our sons happy; for they must either be lost by us in our lifetime, or be possessed when we are dead, by whom we know not, or perhaps by whom we would not. - Author: Saint Augustine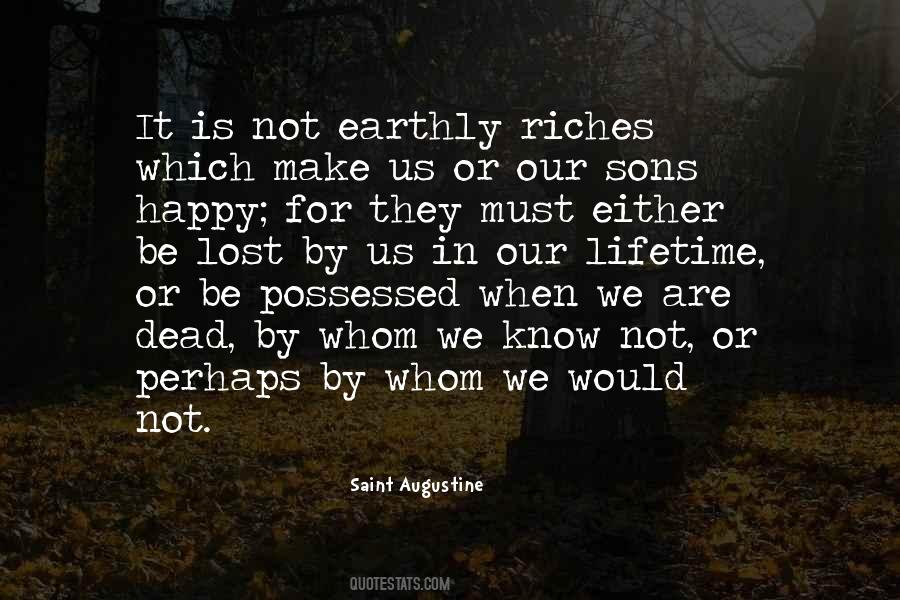 #85. We must educate our sons to save our daughters - Author: Yvette Cooper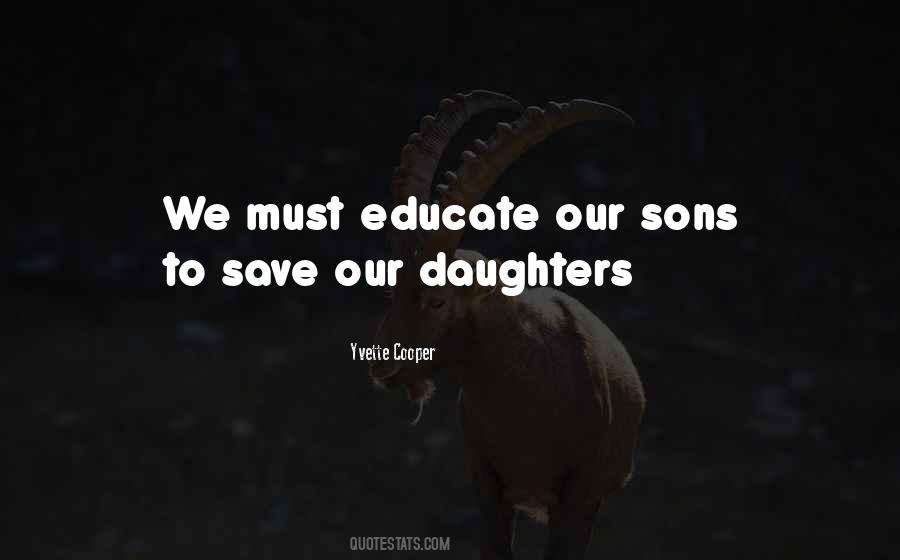 #86. I have three sons, and I think we're both fierce protectors of our children. - Author: Jami Gertz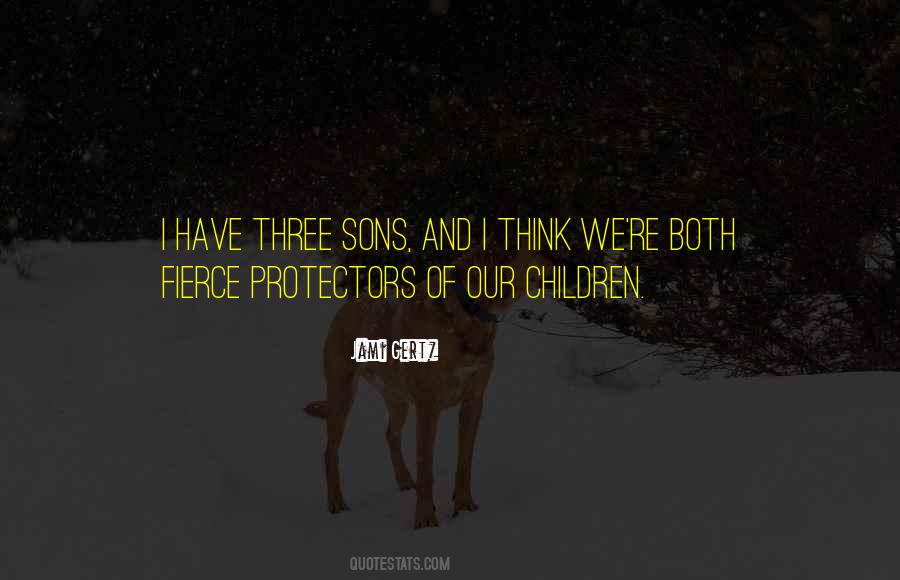 #87. The stunning part was that one time Neil McElroy the Secretary of Defense who was the father of one of our classmates spoke and basically at commencement, he told us all that our job after graduation was to get married and have interesting sons ... and we all found that hard to believe. - Author: Madeleine Albright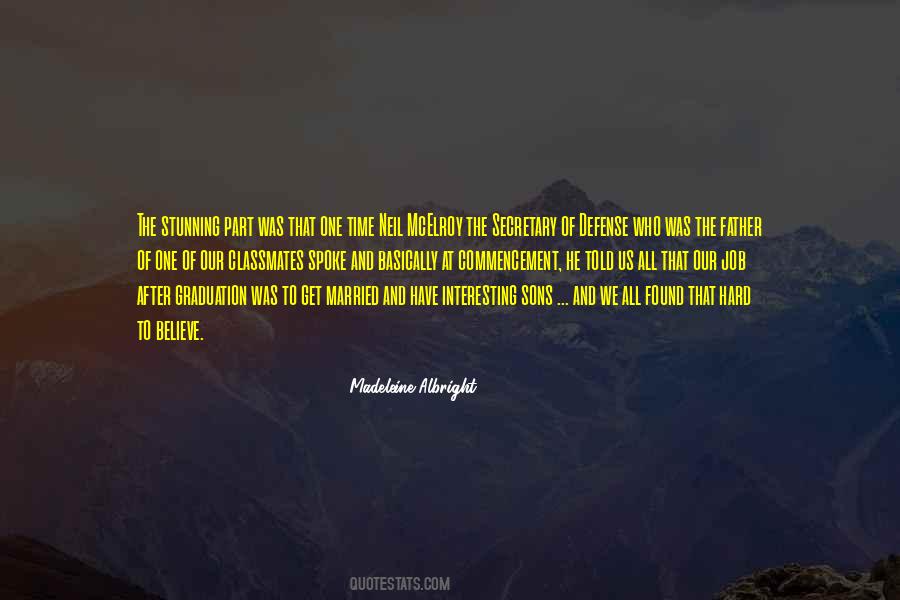 #88. Percy, lesser beings do many horrible things in the name of the gods. That does not mean we gods approve. The way our sons and daughters act in our names ... well, it usually says more about THEM than it does about us. - Author: Rick Riordan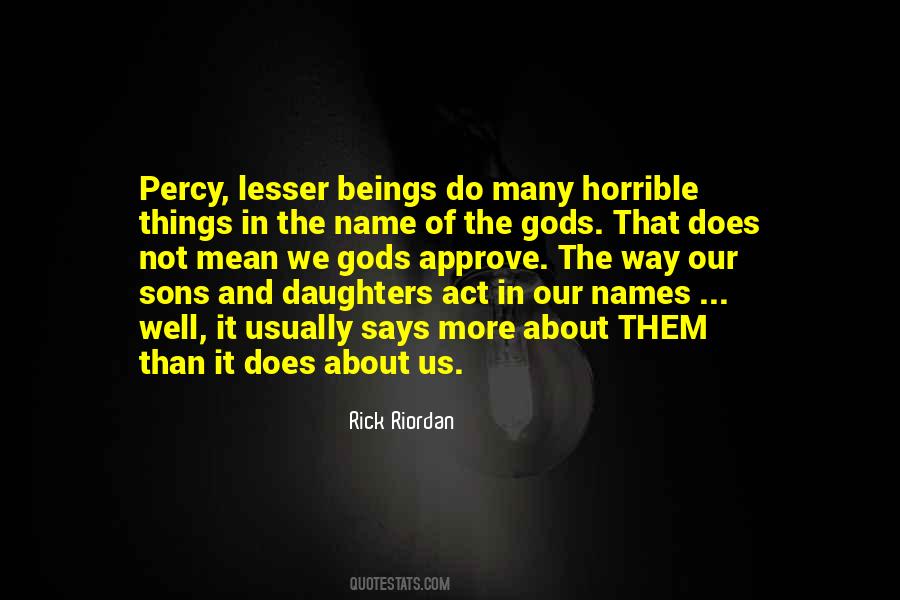 #89. What does the truth matter? Haven't we mothers all given our sons a taste for lies, lies which from the cradle upwards lull them, reassure them, send them to sleep: lies as soft and warm as a breast! - Author: Georges Bernanos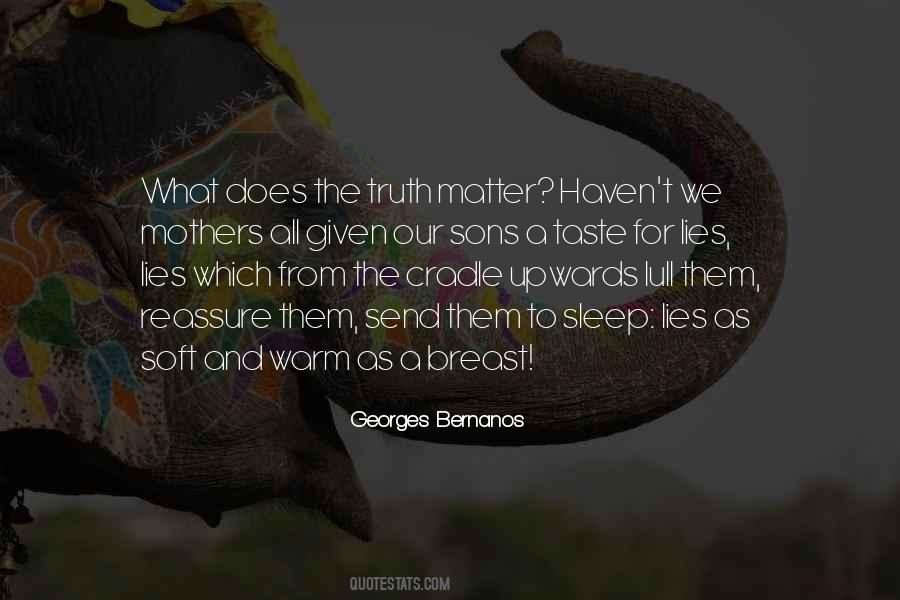 #90. We teach girls that they cannot be sexual beings in the way that boys are. If we have sons, we don't mind knowing about our sons' girlfriends, but our daughters' boyfriends? God forbid. But of course when the time is right, we expect those girls to bring back the perfect man to be their husband. - Author: Chimamanda Ngozi Adichie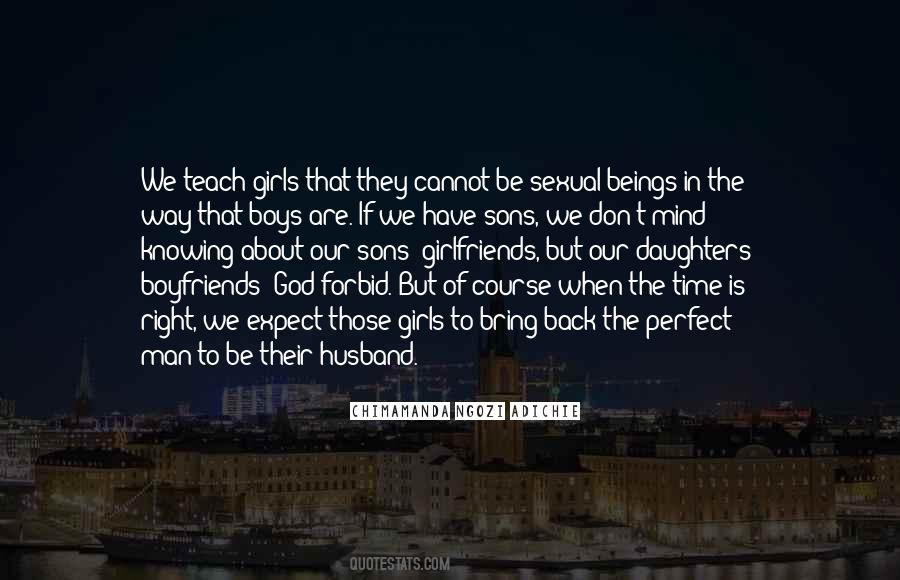 #91. That's your business, isn't it, cousin? To make nothing your business. Even your own sons going to war. How I pleaded with you. But you buried your nose in those cursed books and let our sons go like they were a pair of haramis. - Author: Khaled Hosseini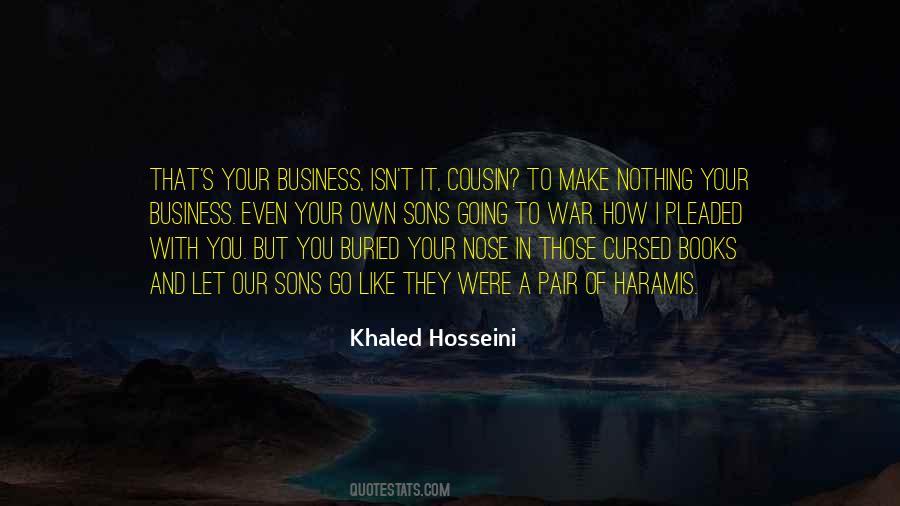 #92. We are born with our father's names. We are not responsible for their failures. We are responsible for what they made us believe in. That is our only obligation. And it is even then a choice which we may sometimes be wise to ignore. - Author: Warren Eyster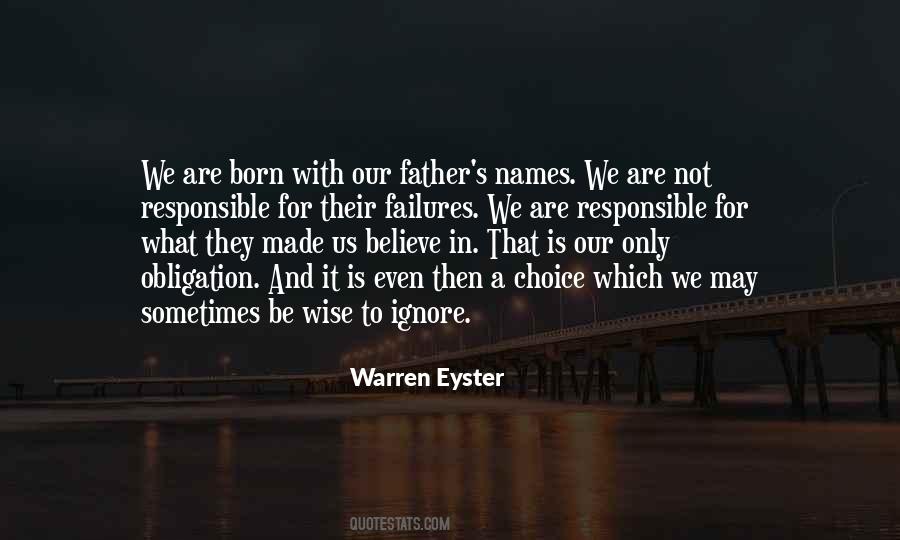 #93. Can't you just see it? Can't you see us with gray hair, sitting at those late night football games. I'll be the dad with one eye on my football playing sons, and the other on our daughter, who if she looks anything like you, I will need to carry a gun to fight off all of those horny teenage boys. - Author: Jennifer Foor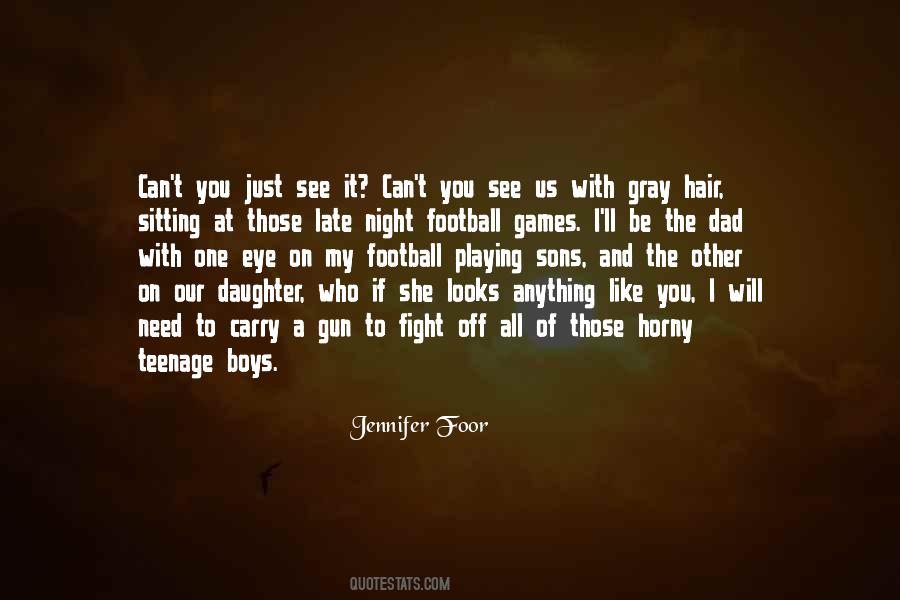 #94. We need to raise our sons more like our daughters. We need to relieve them of this burden of the idea that to be masculine they have to be superior, which is what they get addicted to, and why both racism and sexism are crimes that I call superiority crimes. - Author: Gloria Steinem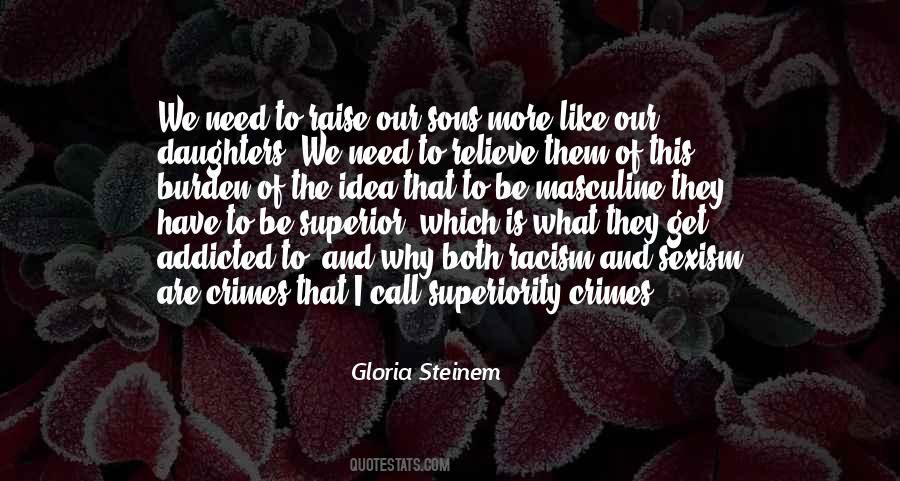 #95. I think it's time that we all be there for the children, to learn from the ones who came before us, and to teach our sons and daughters to have respect for themselves. - Author: Ja Rule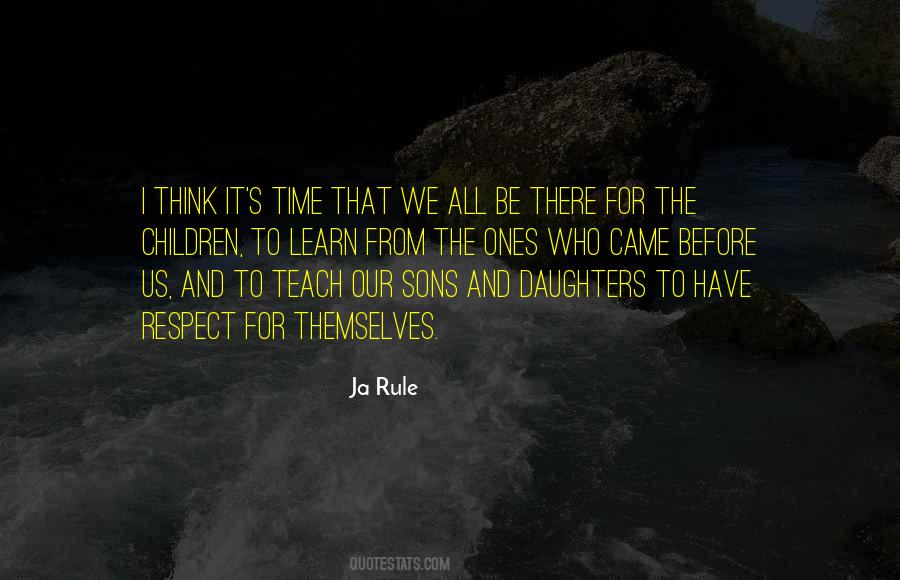 #96. All of our sons and daughters ought to have the same opportunity to experience the joy and stability of marriage. - Author: Rob Portman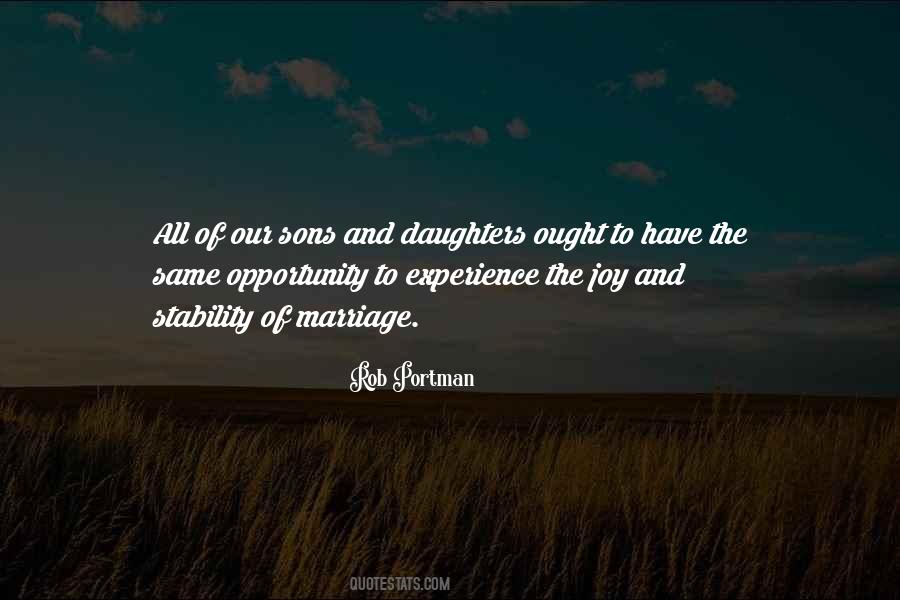 #97. Brethren, happiness is not our being's end and aim. The Christian's aim is perfection, not happiness; and every one of the sons of God must have something of that spirit which marked his Master. - Author: Frederick William Robertson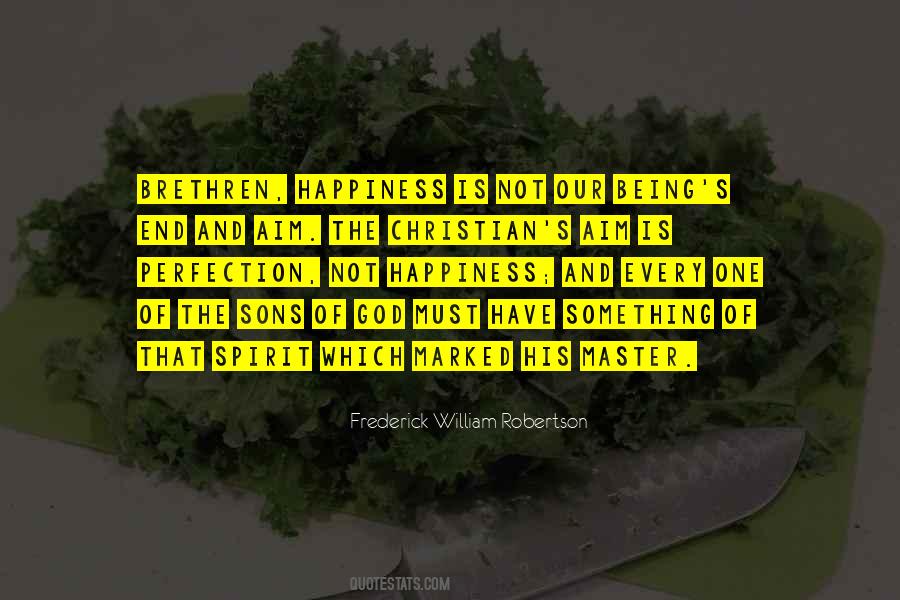 #98. The only ones who have been silenced forever are the dead. The rest, even in the distance, still remain sons of the fatherland, keeping its memory alive and ennobling our language with their words. - Author: Maria Duenas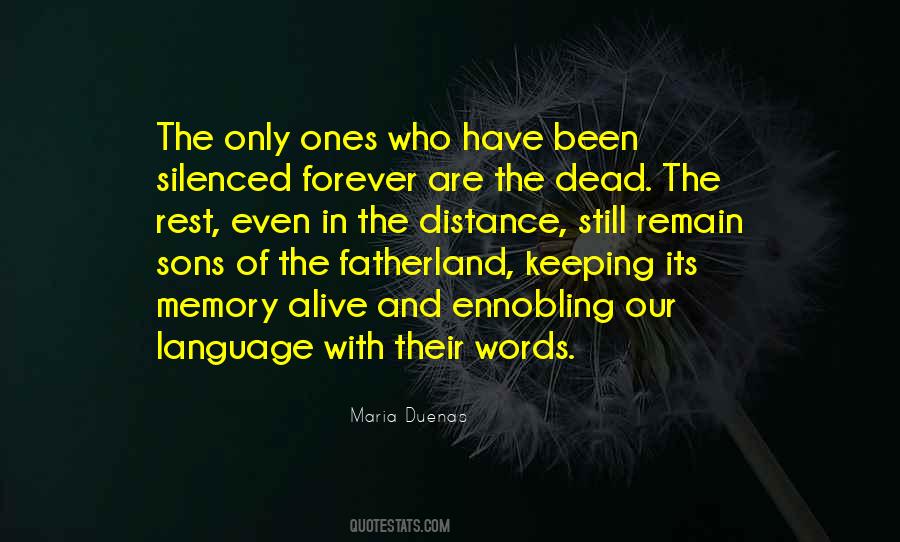 #99. Like Adam, our first conspicuous ancestor, I must begin, and lay the blame upon a woman; I am glad to recognize that I differ from the father of my sex in no important particular, being as manlike as most of his sons. - Author: Owen Wister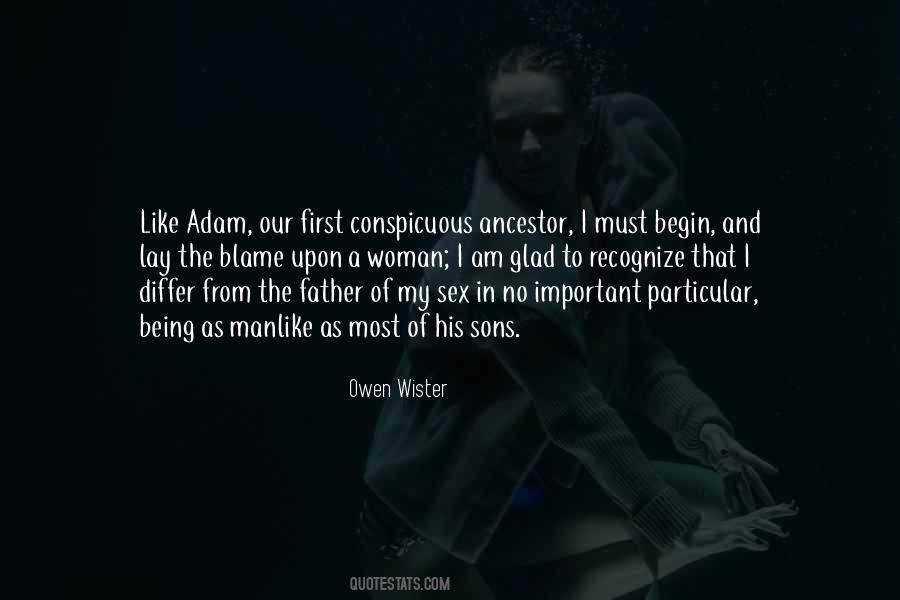 #100. The curse of God must have been on our people when we chose him out of so many noble sons of the South, who would have carried us safely through this Revolution. - Author: P. G. T. Beauregard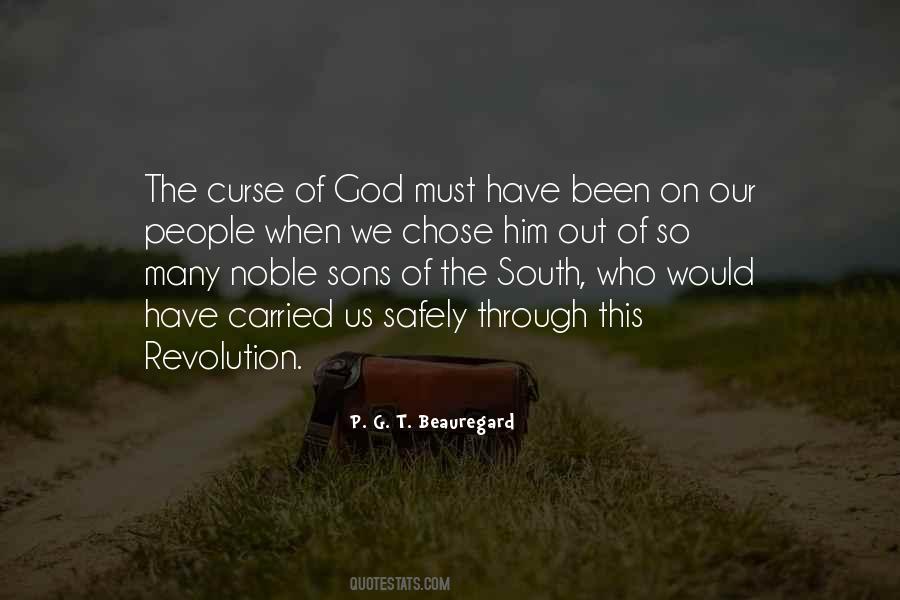 Famous Authors
Popular Topics