Our Salvation Famous Quotes & Sayings
List of top 100 famous quotes and sayings about our salvation to read and share with friends on your Facebook, Twitter, blogs.
Top 100 Quotes About Our Salvation
#1. Our conscience is our salvation. Our questioning of everything, of right and wrong, of action and consequence, is what defines our purpose. - Author: R.A. Salvatore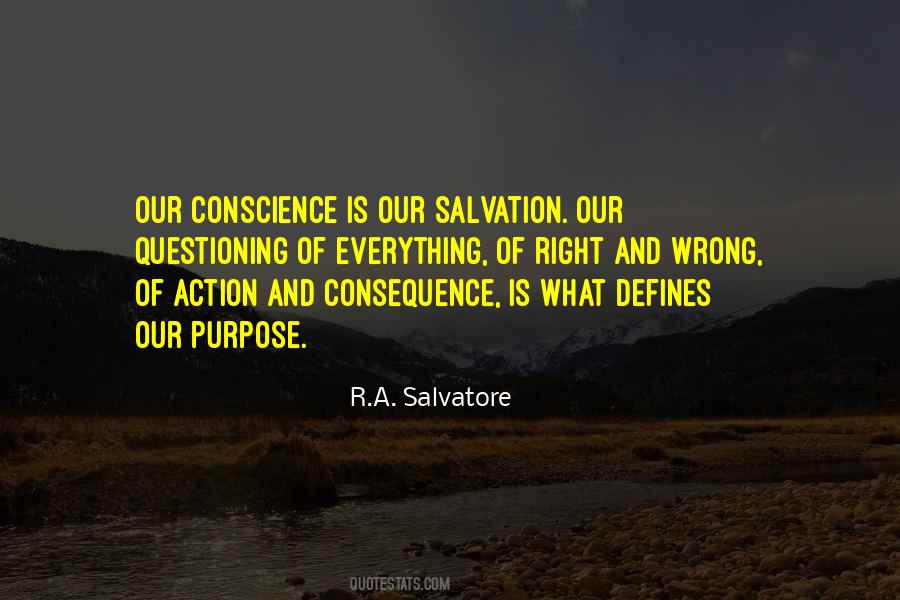 #2. A shaking of heads, perhaps even an evil laugh, must go through our old, smart, experienced, self-assured world, when it hears the call of salvation of believing Christians: "For a child has been born for us, a son given to us."5 Dietrich Bonhoeffer - Author: Dietrich Bonhoeffer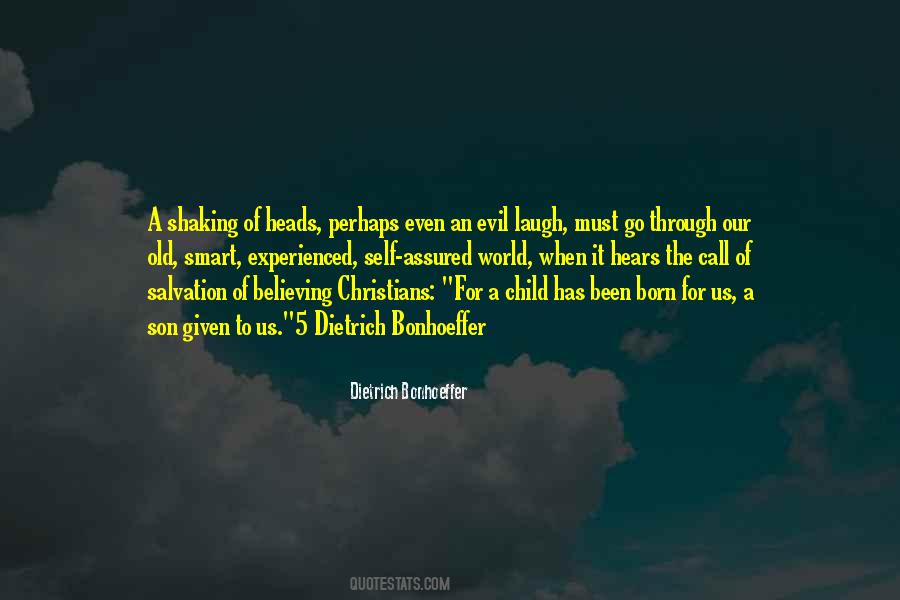 #3. Literature has been our salvation, literature has inspired and guided lovers, routed despair and can perhaps in this case save the world. - Author: John Cheever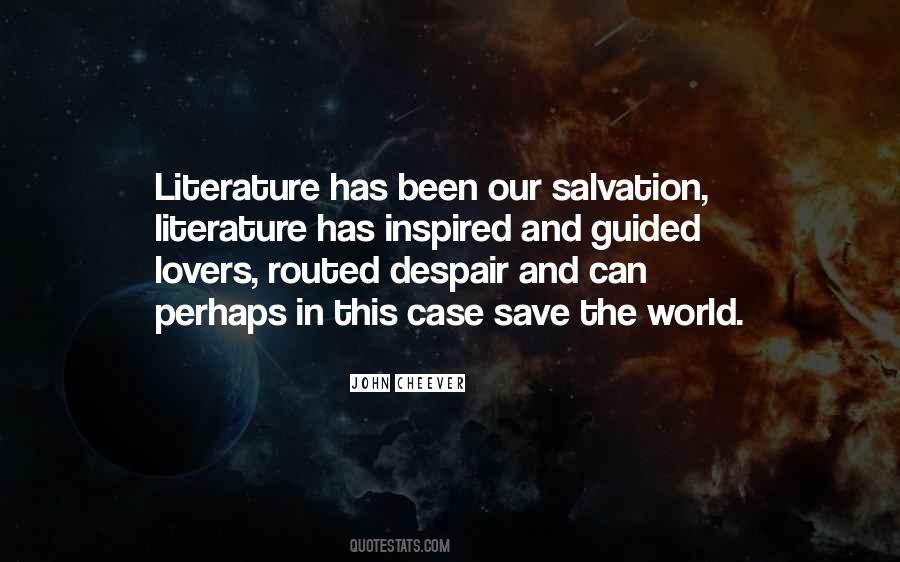 #4. the ultimate purpose of our salvation is to glorify God and to bring us into intimate, rich fellowship with Him, - Author: John F. MacArthur Jr.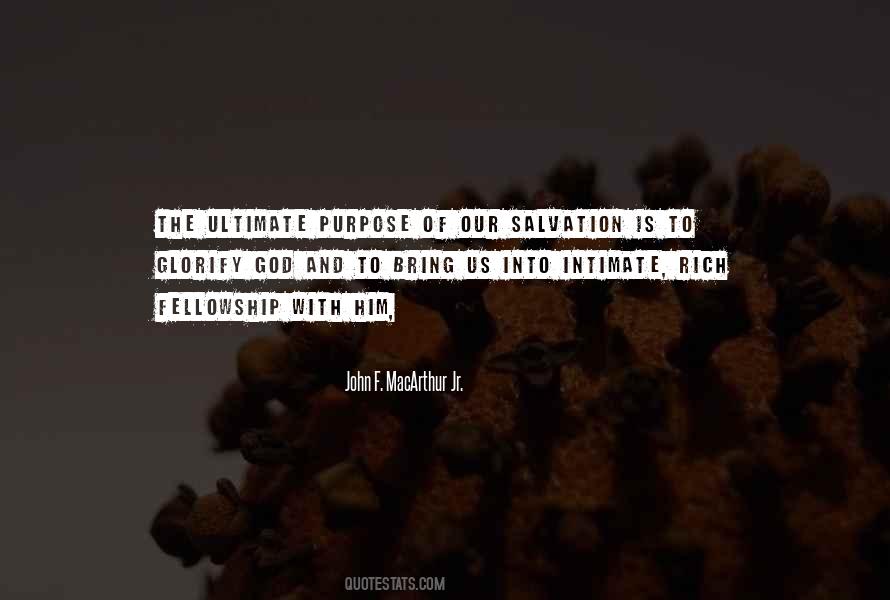 #5. Our salvation depends on not who we are but on who He is - Author: Francine Rivers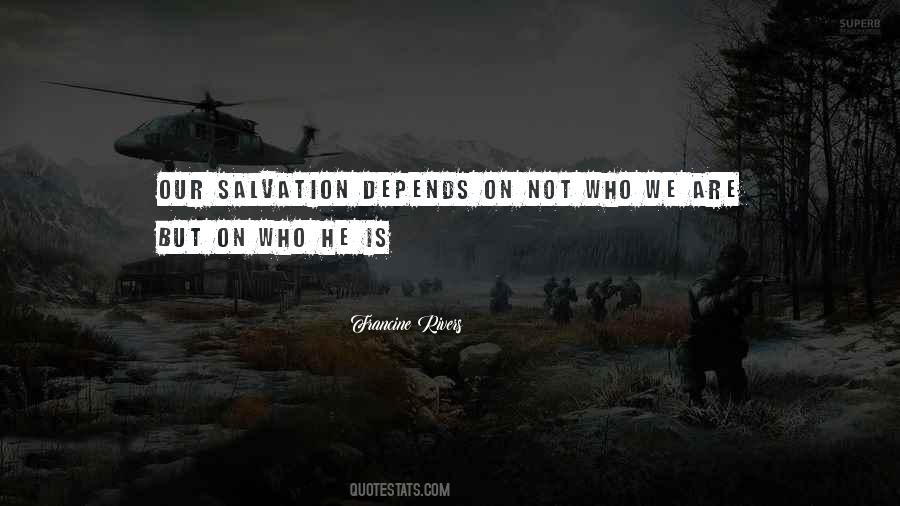 #6. Perhaps this is the solution to medicine's midlife crisis, too: doctors focusing on their noble craft, their relationships with patients, the stuff over which we have some control. Ultimately, this may be the best hope for our professional salvation. - Author: Sandeep Jauhar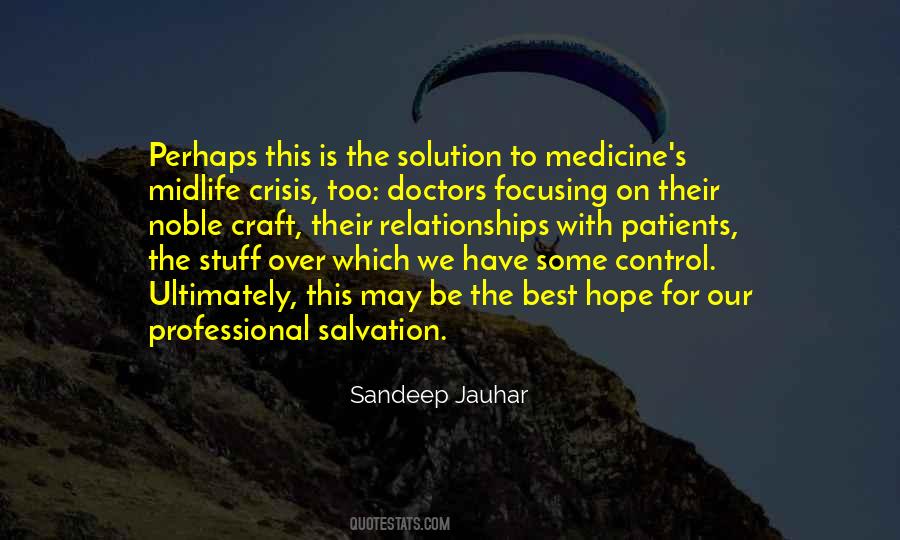 #7. And in this constancy, in this complete indifference to the life and death of each of us, there lies hid, perhaps, a pledge of our eternal salvation, of the unceasing movement of life upon earth, of unceasing progress towards perfection. - Author: Anton Chekhov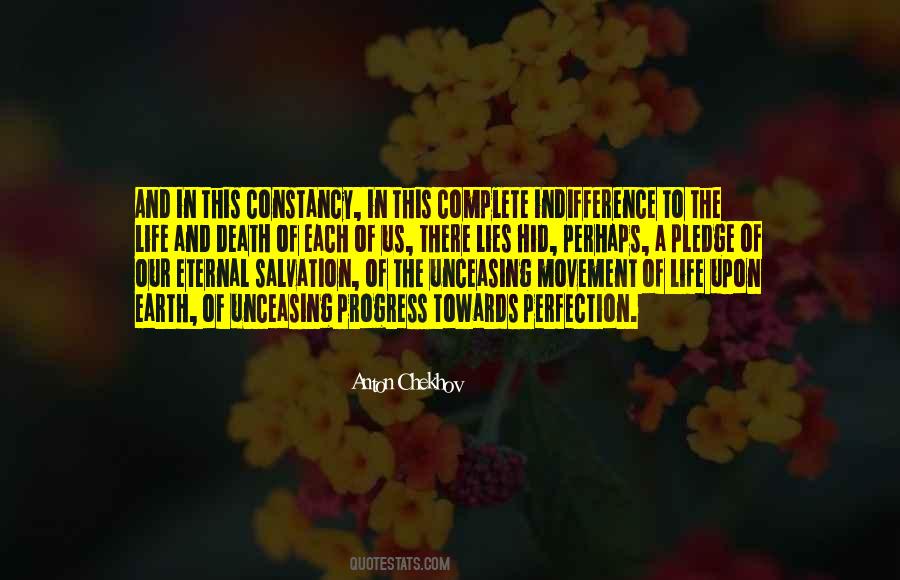 #8. So long as Jesus Christ is there, in heaven before God for us, our salvation will last. - Author: Sinclair B. Ferguson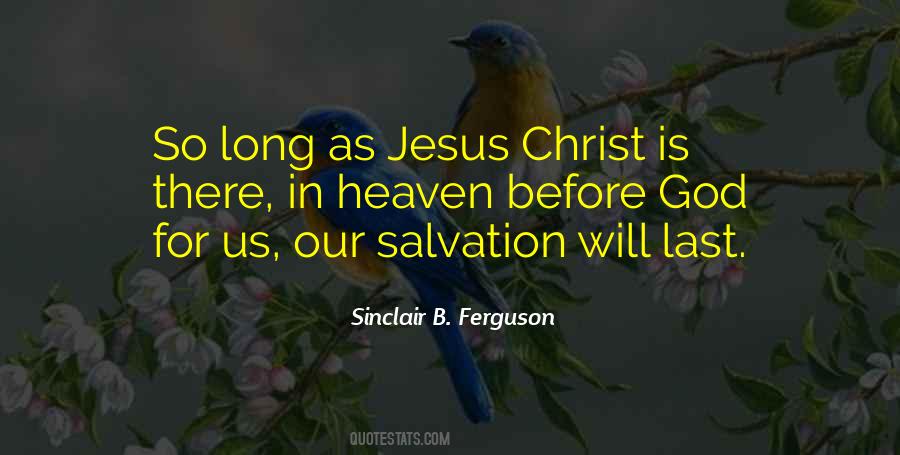 #9. Salvation, O the joyful sound!
'Tis pleasure to our ears;
A sov'reign balm for ev'ry wound,
A cordial for our fears. - Author: Isaac Watts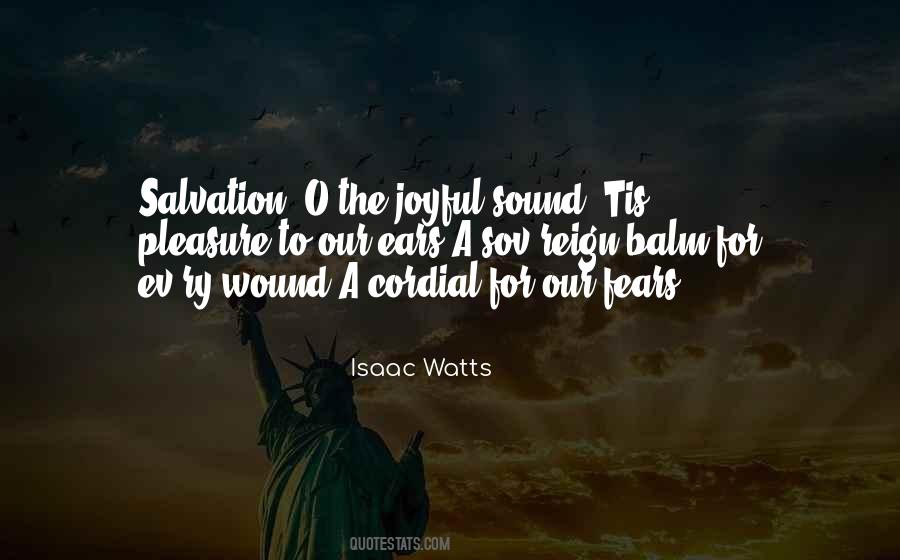 #10. The first world is going to have to account for this sort of horrible poverty in our midst. We have to, first of all, become aware of it. We have to take responsibility for it. And then we have to do something about it for our own freedom, for our own salvation, for our own humanity. - Author: Martin Sheen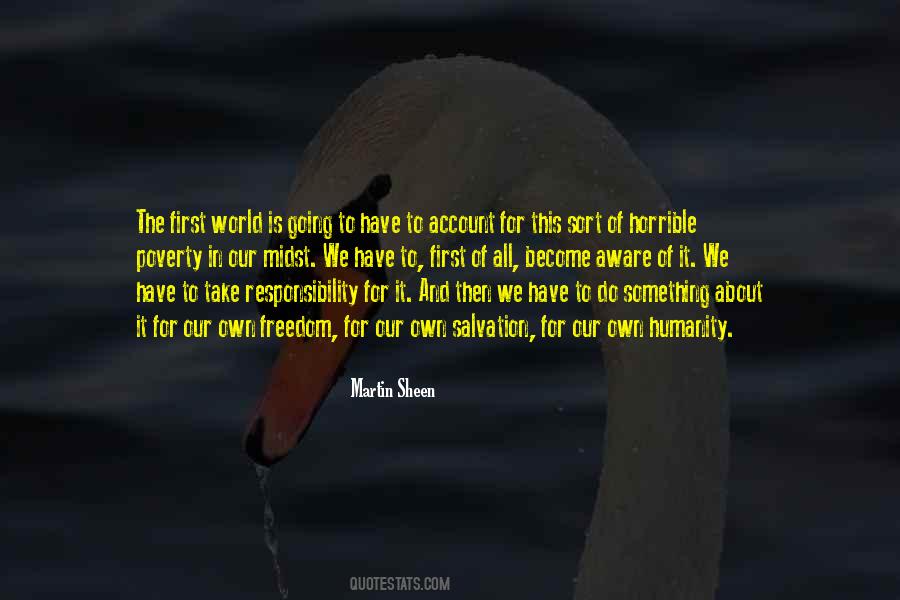 #11. Now Suzanne takes your hand
and she leads you to the river
She is wearing rags and feathers
from Salvation Army counters
And the sun pours down like honey
on our lady of the harbour
And she shows you where to look
among the garbage and the flowers - Author: Leonard Cohen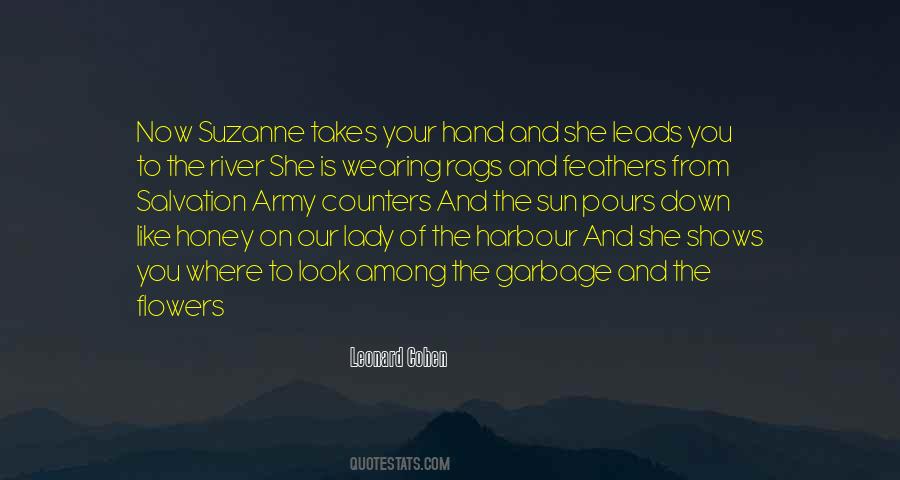 #12. For we were the purpose of his embodiment, and for our salvation he so loved human beings as to come to be and appear in a human body. - Author: Athanasius Of Alexandria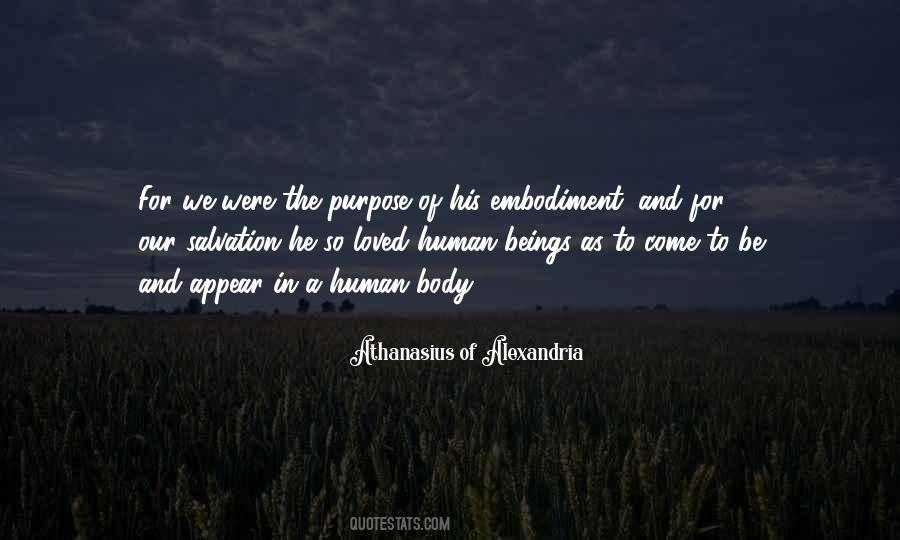 #13. No, now the domestic market is full up with other planters' troublesome slaves. Our only salvation is to scientifically breed a stable order of docile Negro. I've come up with three tenets: Isolation. Religion. Family...." Master Ben - Author: Jonathan Odell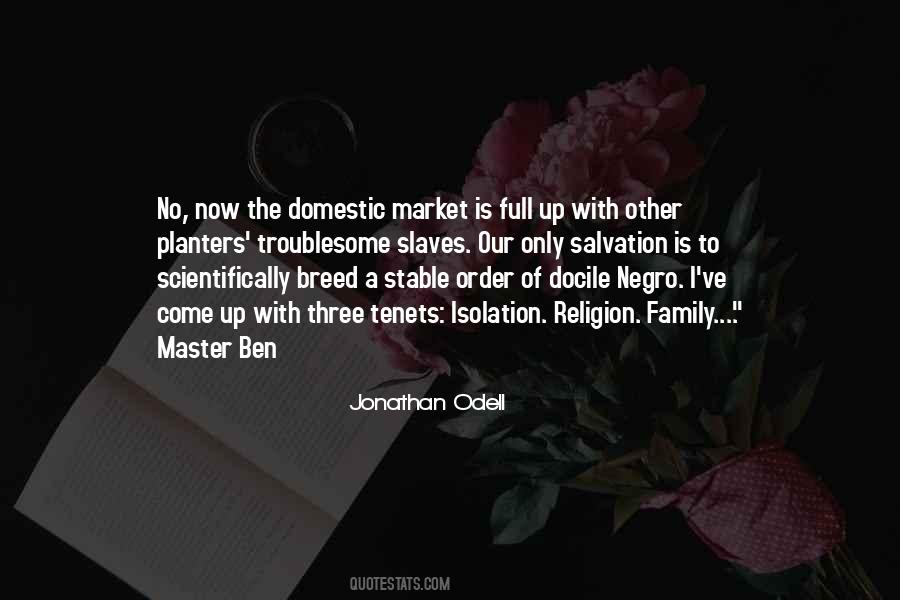 #14. To gain the spiritual ascendancy over ourselves, and the influences with which we are surrounded, through a rigid course of self-discipline, is our first consideration, it is our first labor, before we can pave the way for our children to grow up without sin unto salvation. - Author: Brigham Young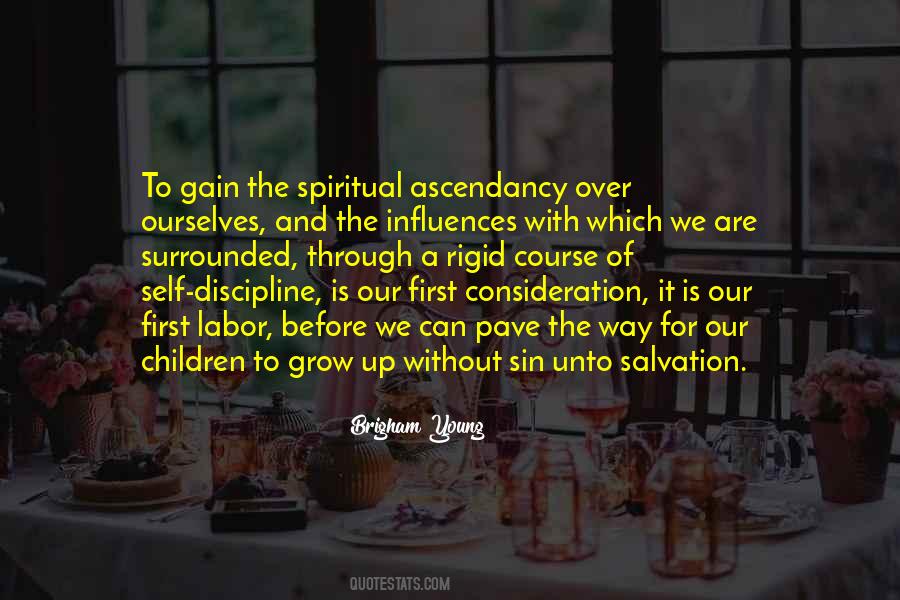 #15. This is the one great idea to understand that our power is already ours, our salvation is already within us. - Author: Swami Vivekananda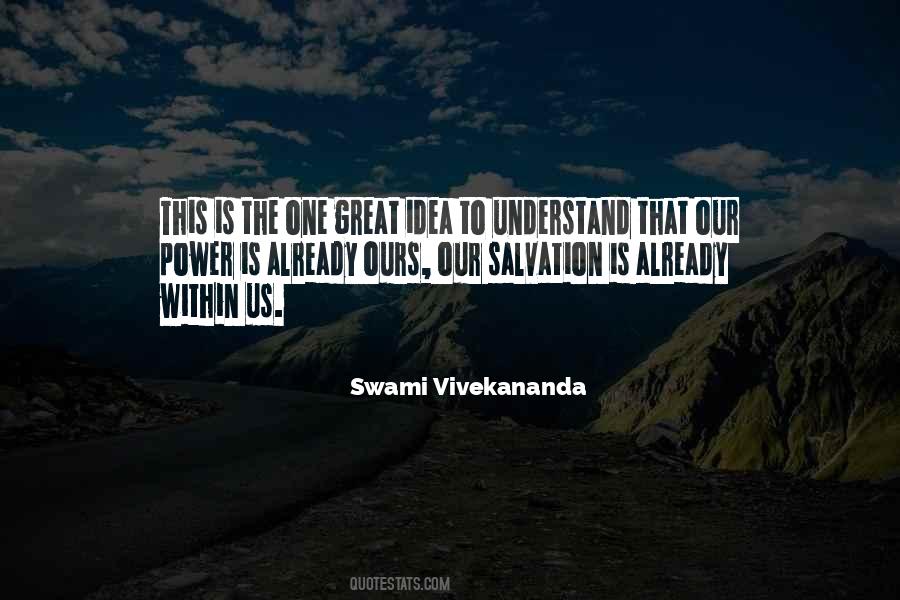 #16. We cry for the hand of God to bring us salvation, but then we seize the voice of God and use it to profess our destructive nature. - Author: J.M. Campos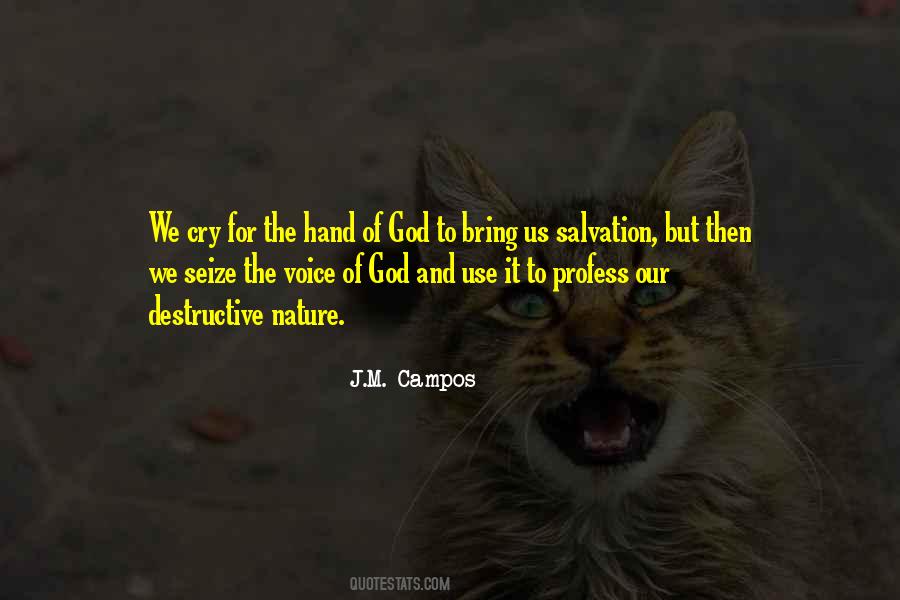 #17. The cross saves completely, or not at all. Our faith does not divide the work of salvation between itself and the cross. It is the acknowledgment that the cross alone saves, and that it saves alone. Faith adds nothing to the cross, nor to its healing virtue. - Author: Horatius Bonar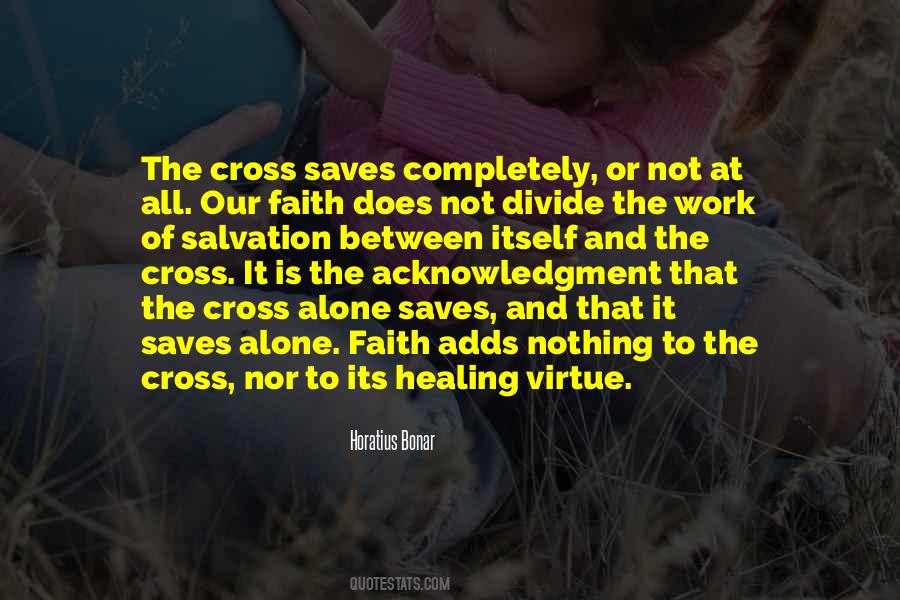 #18. Salvation for our educational ills ... will have to come from within an educational community willing to say we have met the enemy and it is us. - Author: Seymour Sarason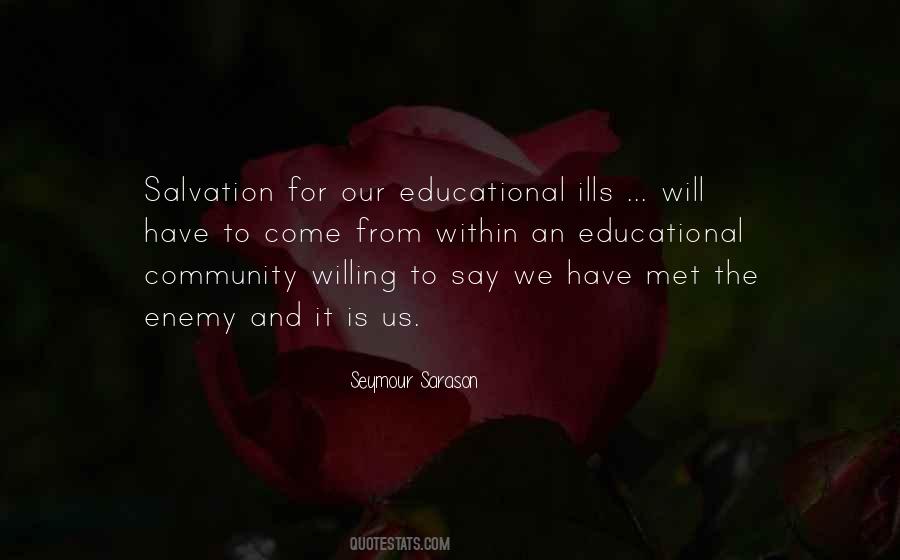 #19. Our sacred duty is to proclaim and preach the gospel of salvation to all people from every nation. - Author: Lailah Gifty Akita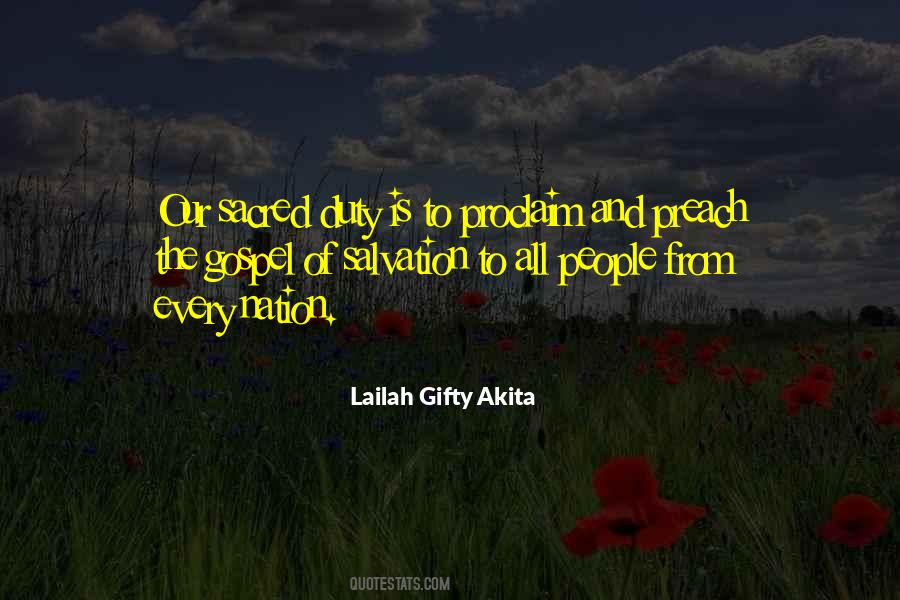 #20. Fight to escape from your own cleverness. If you do, then you will find salvation and uprightness through Jesus Christ our Lord. - Author: John Climacus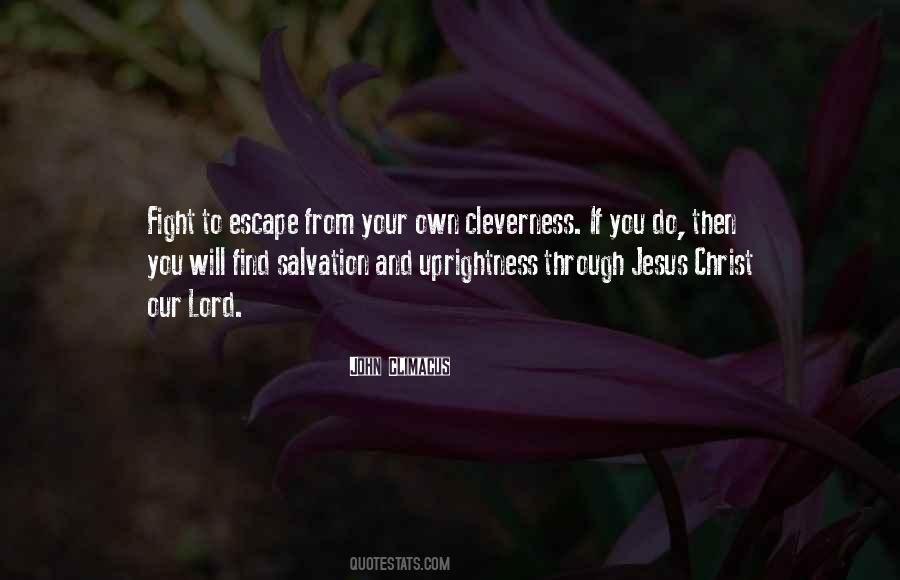 #21. The pious and learned Jesuit, Suarez, Justus Lipsius, a devout and erudite theologian of Louvain, and many others have proved incontestably that devotion to our Blessed Lady is necessary to attain salvation. - Author: Louis De Montfort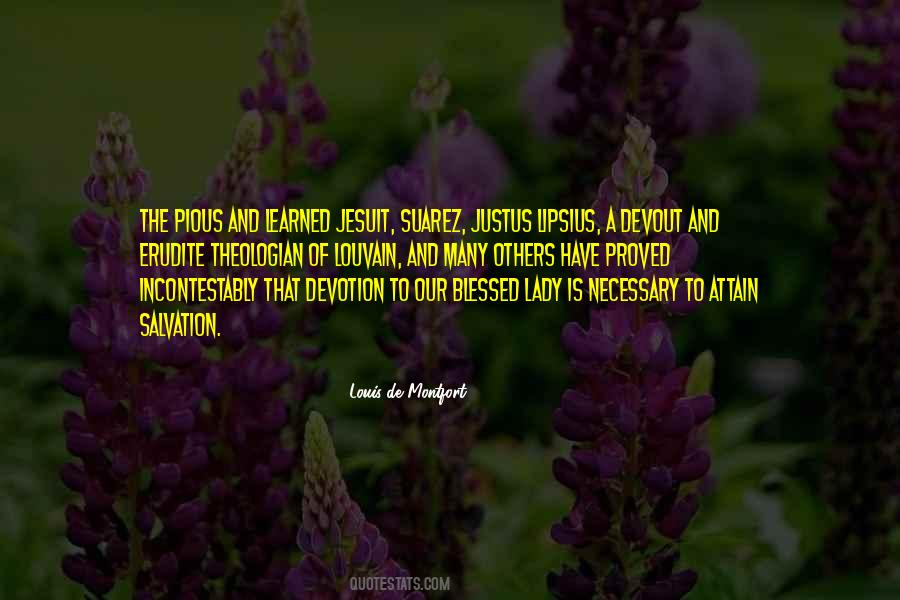 #22. The context of the gospel message is not our benefit or our salvation; the context of the gospel is the supremacy of Christ and the glory of God. This story of the good news is personal, but it is also cosmic. - Author: Matt Chandler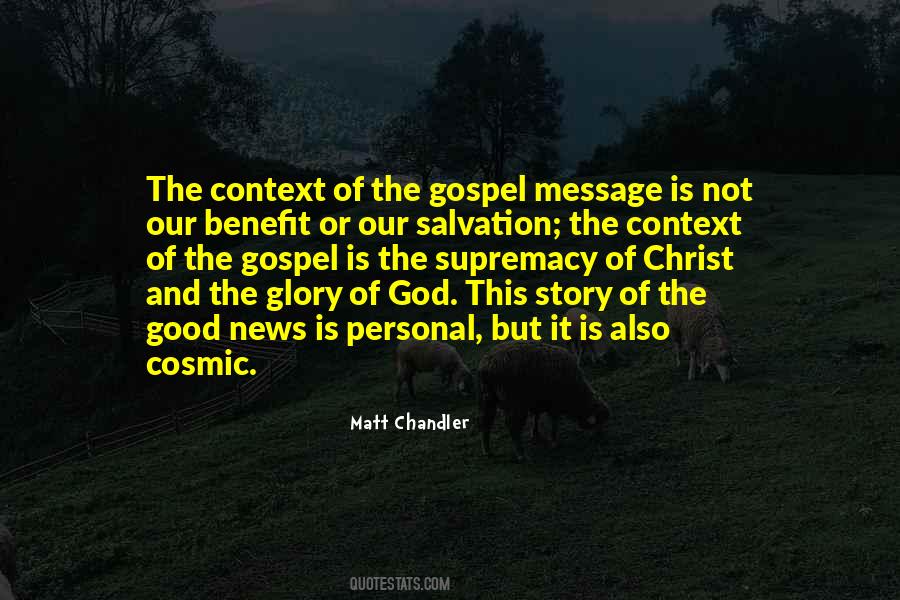 #23. Through the person and work of Jesus Christ, God fully accomplishes salvation for us, rescuing us from judgment for sin into fellowship with him, and then restores the creation in which we can enjoy our new life together with him forever. - Author: Timothy Keller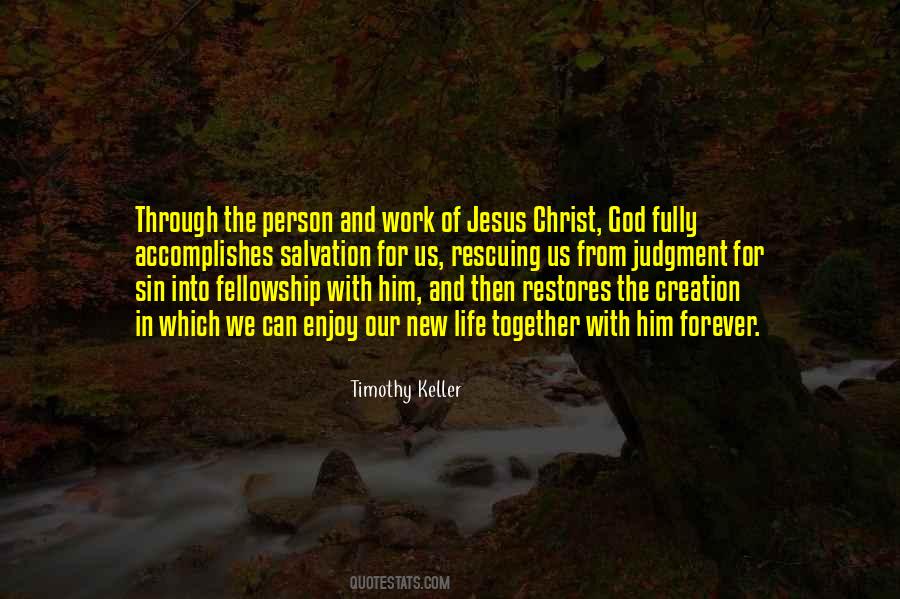 #24. Knowing that salvation is God's work alone should also free us from fear. We no longer have to fear that everything is riding on what we say - that we might miss that "one" opportunity to speak into our children's lives and have their eternal salvation forfeited. - Author: Elyse M. Fitzpatrick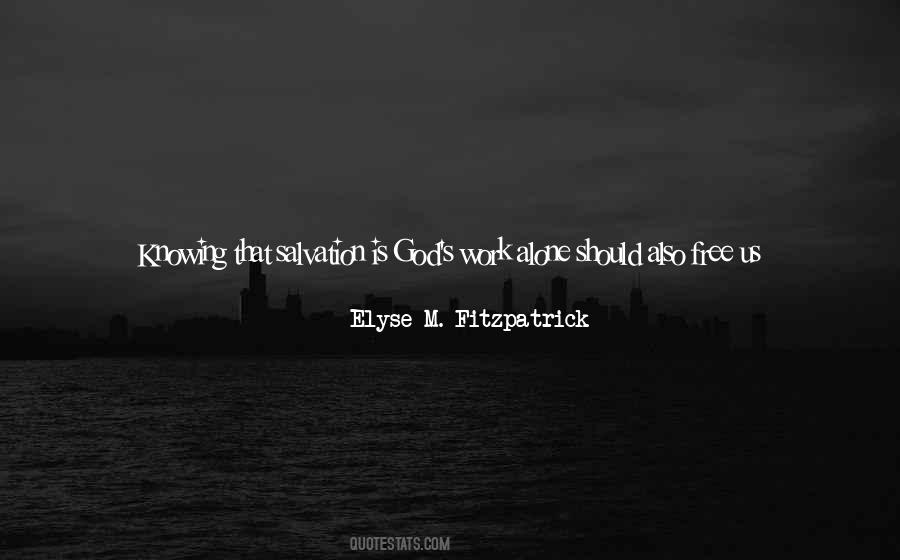 #25. His agony is the basis of the simplicity of our salvation. - Author: Oswald Chambers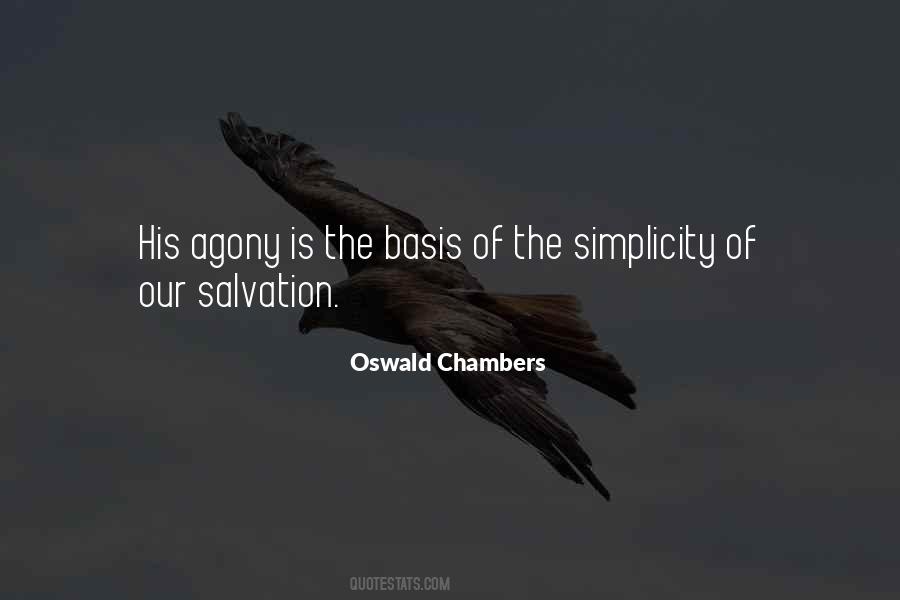 #26. May the knowledge of the Gospel, the power of salvation transform our lives to walk in the light. - Author: Lailah Gifty Akita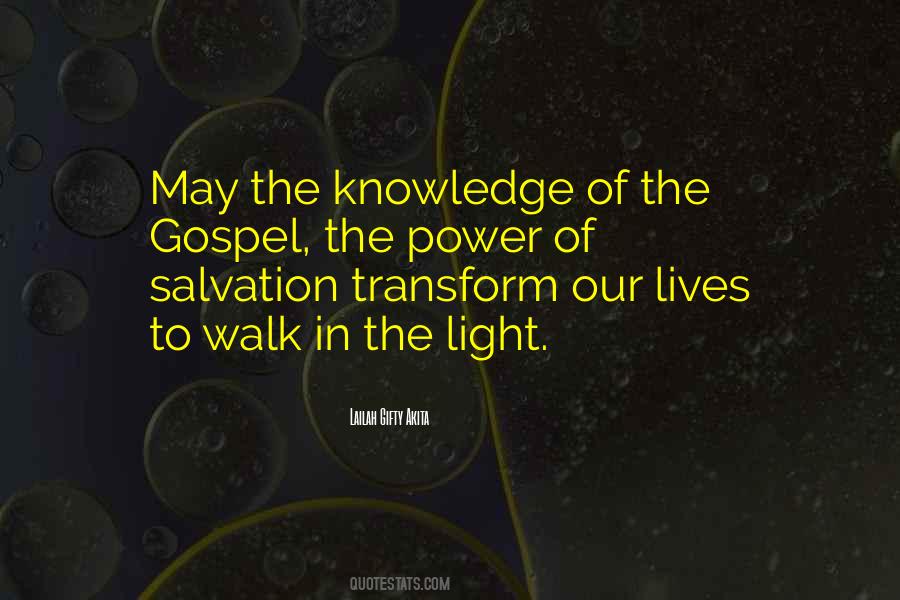 #27. In this negative frame, the quickest ticket to heaven, enlightenment, or salvation is "unworthiness" itself, or at least a willingness to face our own smallness and incapacity. - Author: Richard Rohr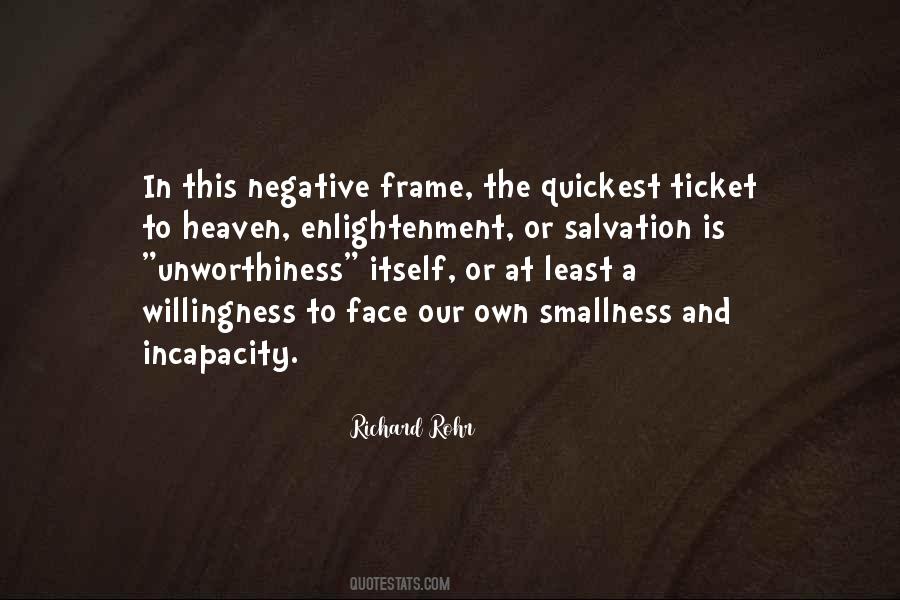 #28. Think globally, act locally": "Our salvation depends upon our ability to create a religion of nature. - Author: Rene Dubos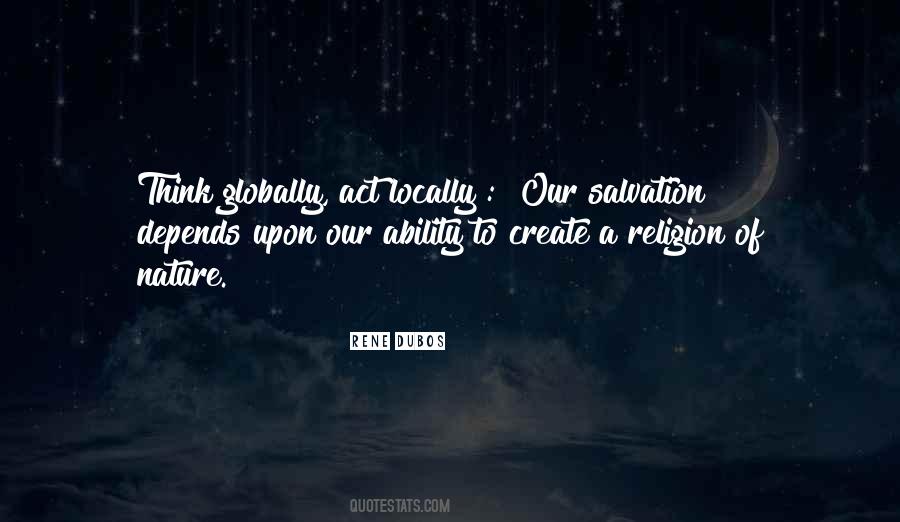 #29. We cannot find Him unless we know we need Him. We forget this need when we take a self-sufficient pleasure in our own good works. The poor and helpless are the first to find Him, Who came to seek and to save that which was lost. - Author: Thomas Merton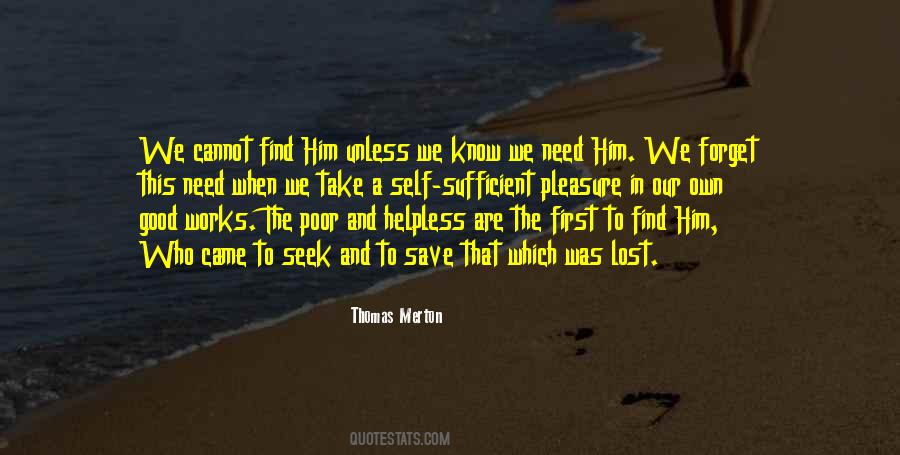 #30. Modern man is weighed down more by the burden of responsibility than by the burden of sin . We think him more a savior who shoulders our responsibilities than him who shoulders our sins. If instead of making decisions we have but to obey and do our duty, we feel it as a sort of salvation. - Author: Eric Hoffer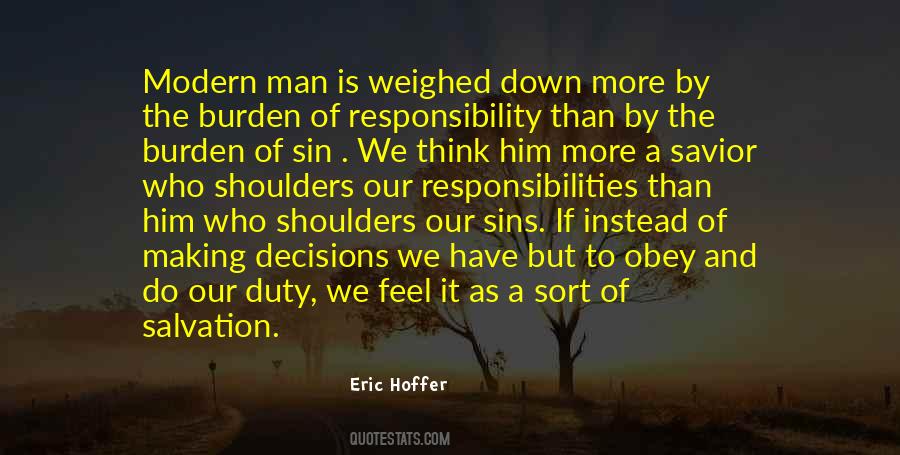 #31. My potential salvation ... must remain an unswerving commitment to treat generality only as it emerges from little things that arrest us and open our eyes with "aha"
while direct, abstract, learned assaults upon generalities usually glaze them over. - Author: Stephen Jay Gould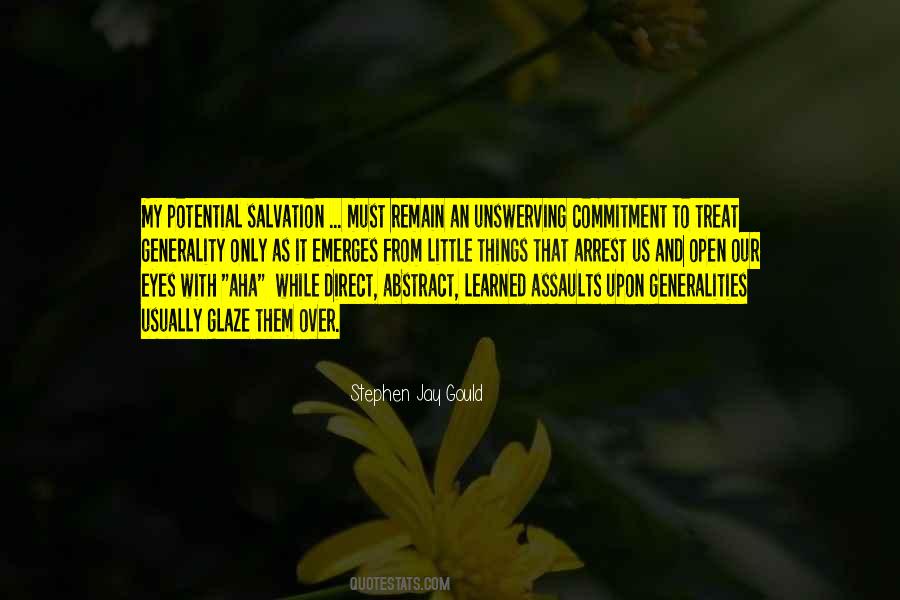 #32. To be saved is only this-salvation from our own selfishness. - Author: John Greenleaf Whittier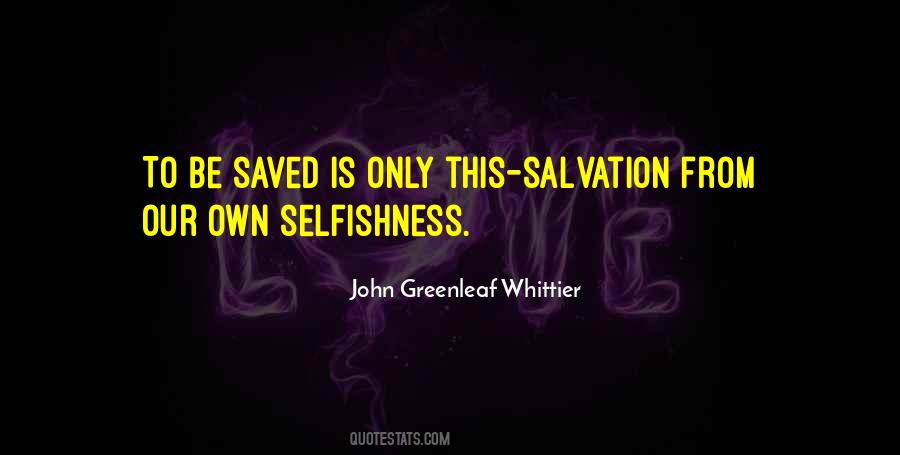 #33. Since our peace lies in loving as God loves, we must strive to love everyone. Our desire to find one "special person," one part of the Sonship who will complete us, is hurtful because it is delusional. It means we're seeking salvation in separation rather than in oneness. The - Author: Marianne Williamson
#34. Faith is the acknowledgment of the entire absence of all goodness in us, and the recognition of the cross as the substitute for all the want on our part. Faith saves, because it owns the complete salvation of another, and not because it contributes anything to that salvation. - Author: Horatius Bonar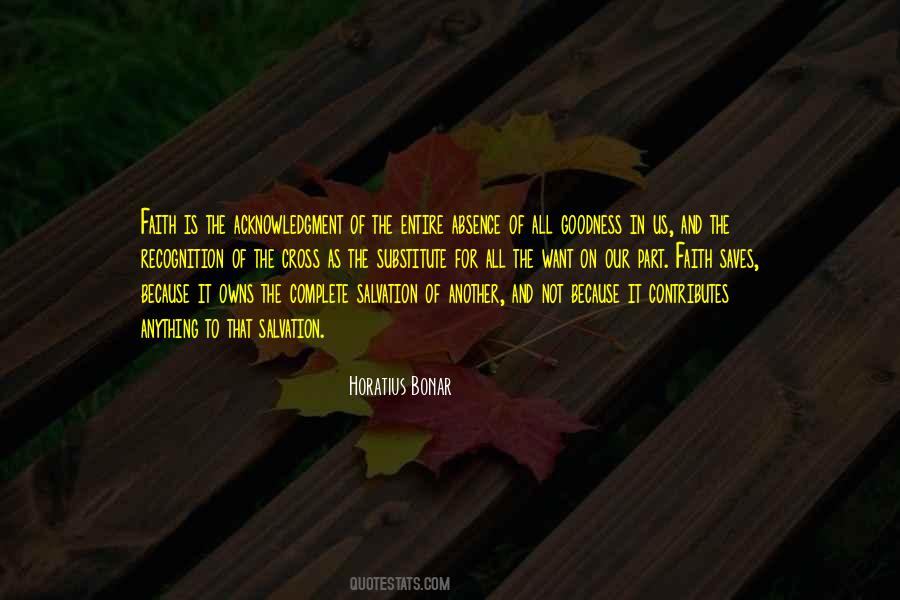 #35. As humanists, we urge today, as in the past that humans not look beyond themselves for salvation. We alone are responsible for our own destiny and the best we can do is muster our intelligence, courage, and compassion to realize our highest aspirations. - Author: Dan Barker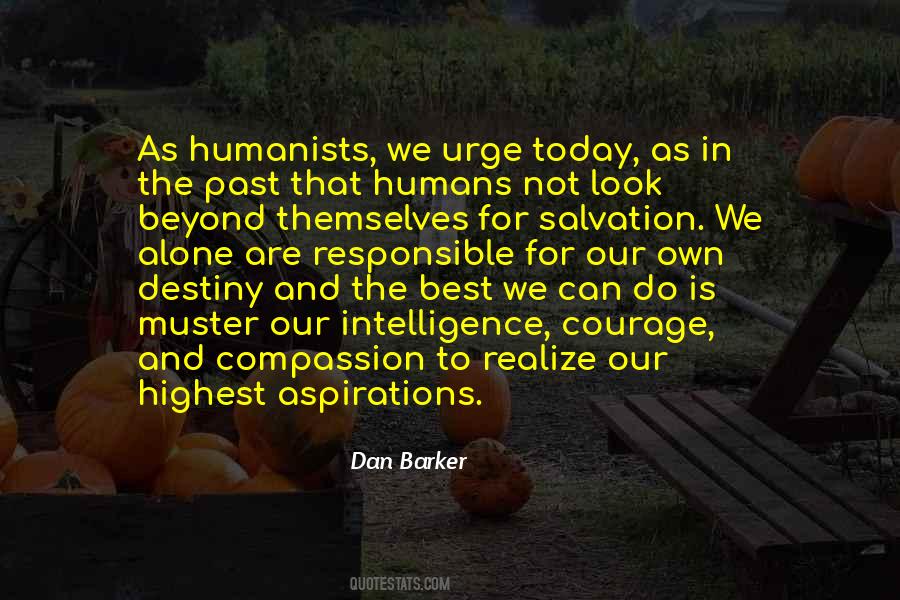 #36. Blood is mentioned 460 times in the Bible. Fourteen times in the New Testament Jesus spoke of His own blood. Why? Because by the shedding of His blood, He accomplished the possibility of our salvation. - Author: Billy Graham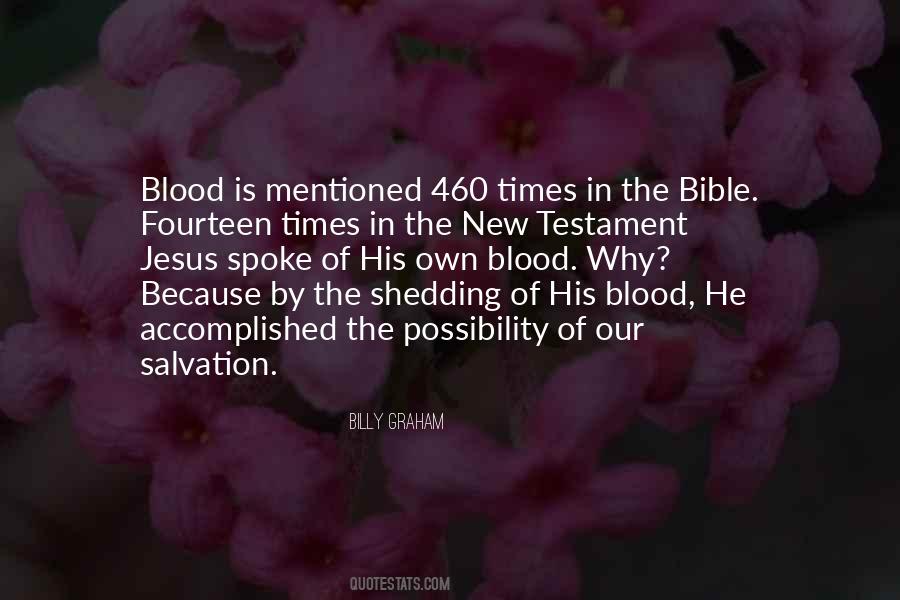 #37. The only way to avoid despair is to place our faith in Jesus Christ for the salvation God provides. - Author: R.C. Sproul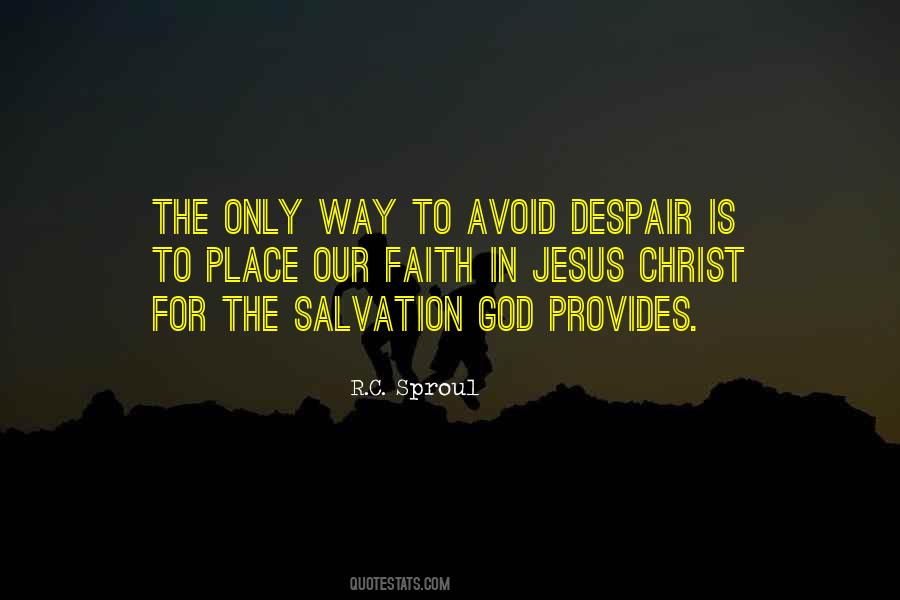 #38. All salvation is temporary," Augustus shot back. "I bought them a minute. Maybe that's the minute that buys them an hour, which is the hour that buys them a year. No one's gonna buy them forever, Hazel Grace, but my life bought them a minute. And that's not nothing. - Author: John Green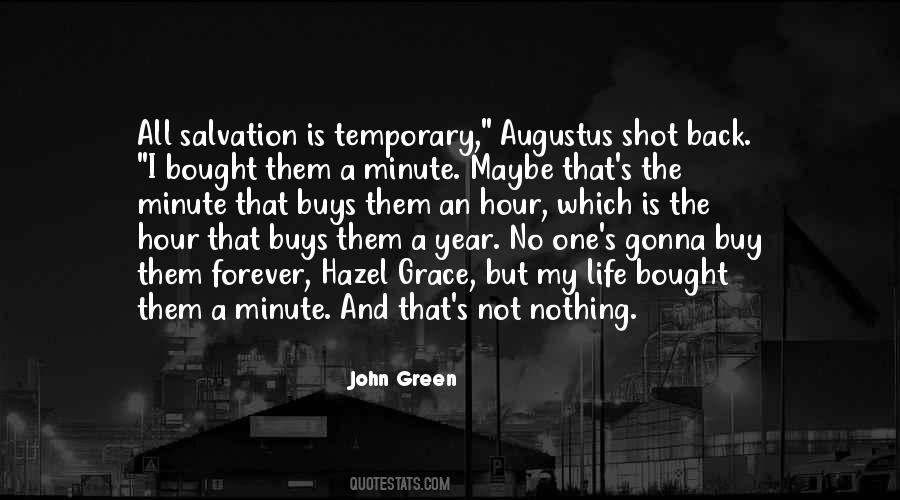 #39. To escape the error of salvation by works we have fallen into the opposite error of salvation without obedience. In our eagerness to get rid of the legalistic doctrine of works we have thrown out the baby with the bath and gotten rid of obedience as well. - Author: A.W. Tozer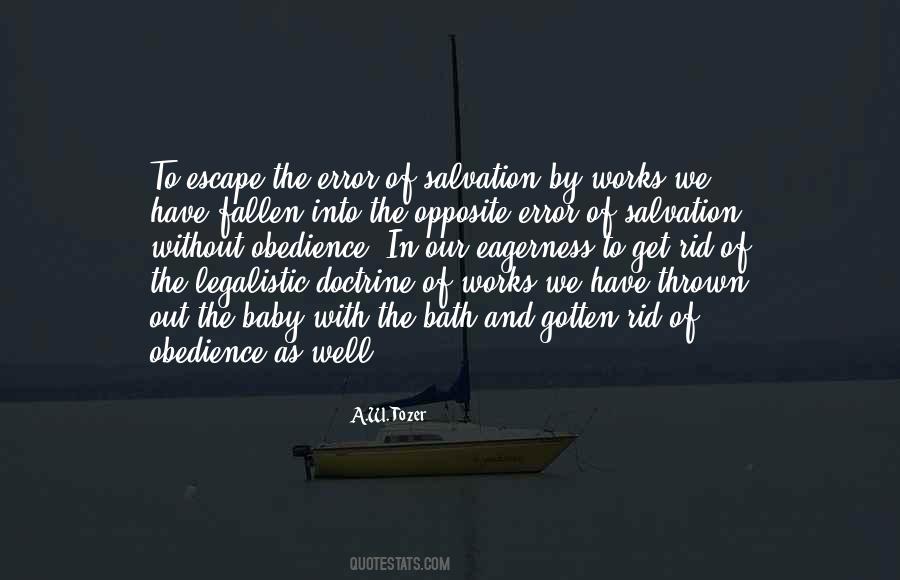 #40. Man stands on the brink of hell. The forces building up in our world are so overwhelming that man everywhere is beginning to cry out in desperation: What must I do to be saved? - Author: Billy Graham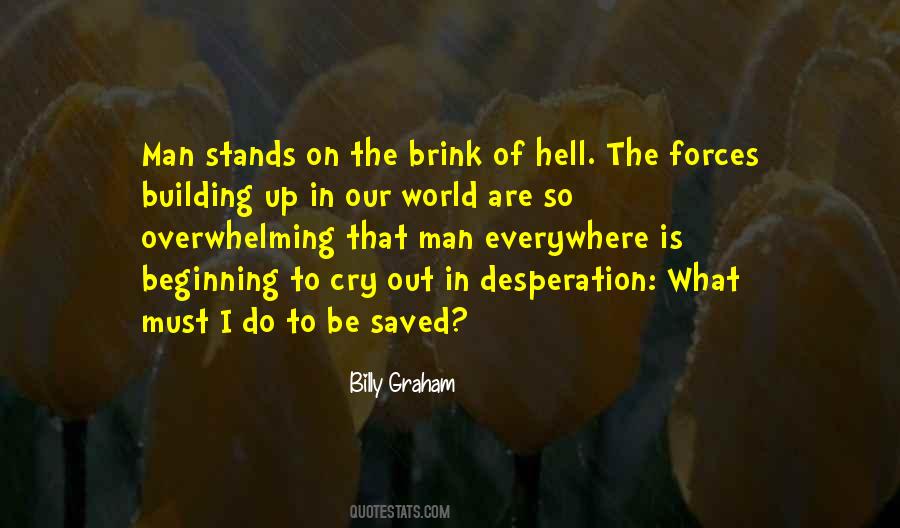 #41. I'm not claiming that football is the nation's salvation in this area, but it's one of them, one little thing that apparently has captured the imagination of a large sector of our society. But when football can't be a relatively pure outlet, a fun thing, then it hurts itself. - Author: Pete Rozelle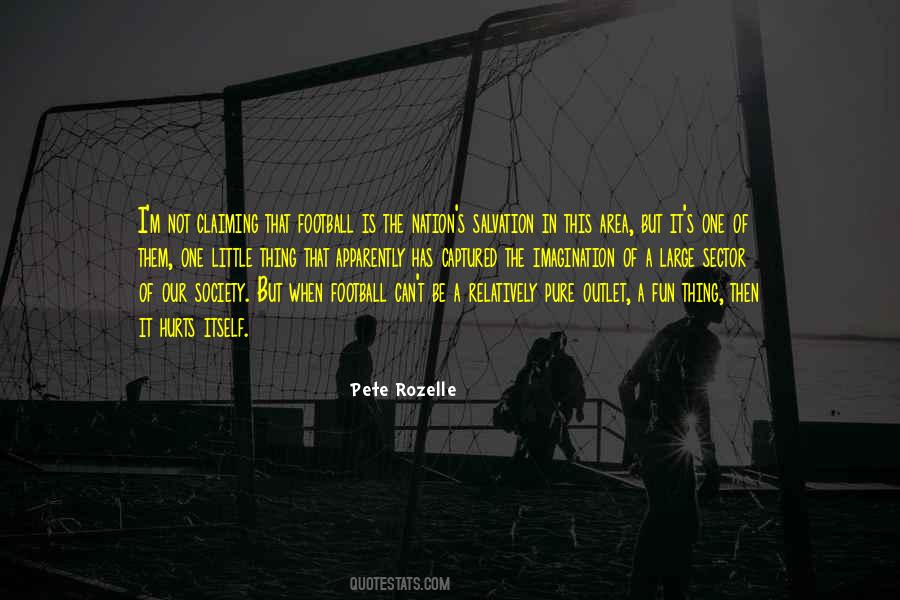 #42. We can study the whole history of salvation, we can study the whole of Theology, but without the Spirit we cannot understand. It is the Spirit that makes us realize the truth or - in the words of Our Lord - it is the Spirit that makes us know the voice of Jesus. - Author: Pope Francis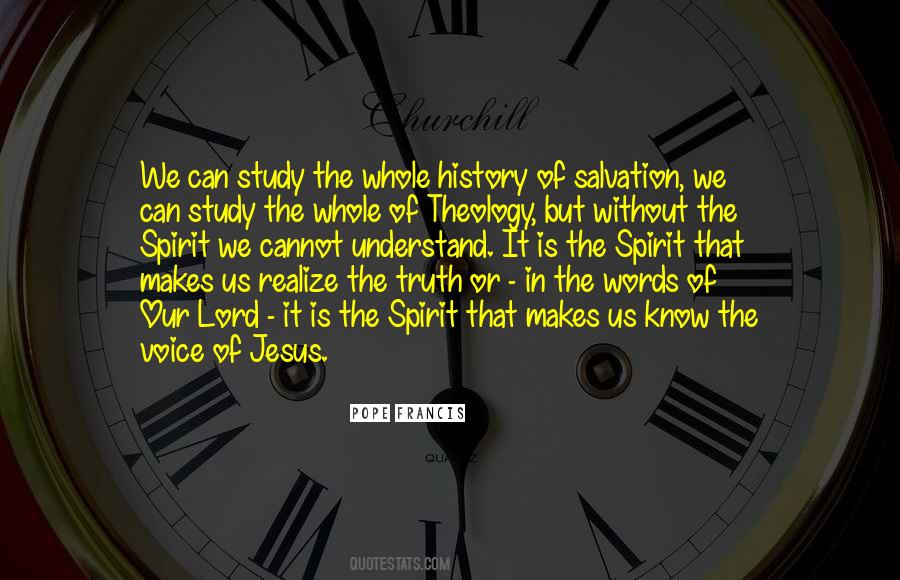 #43. Should it concern us that the bible never calls us to ask Jesus into our hearts. Should it concern us that the bible never mentions such a superstitious sinners prayer and yet that is exactly what we have sold to so many as salvation. - Author: David Platt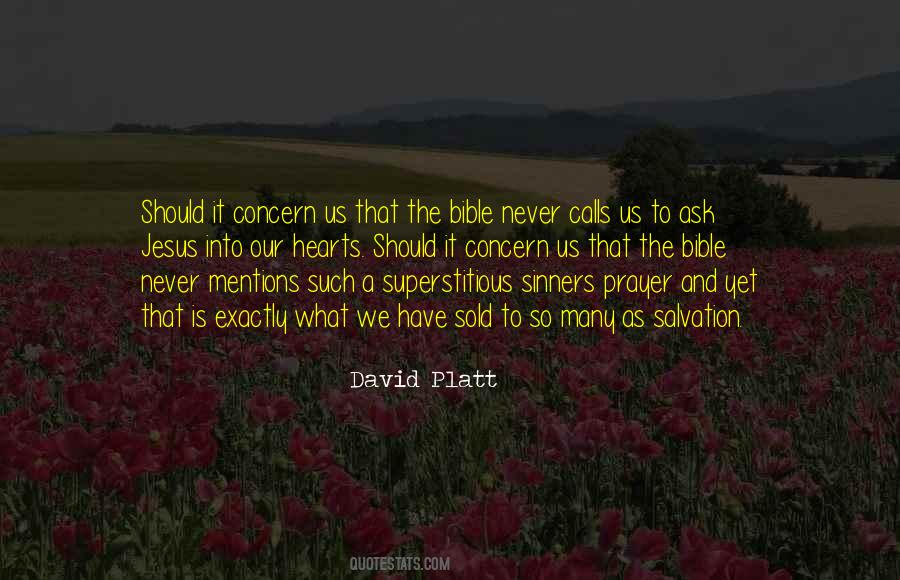 #44. Helmet Use: Salvation Application: The devil wants to make us doubt God, Jesus, and our salvation. The helmet protects our mind from doubting God's saving work for us. - Author: Anonymous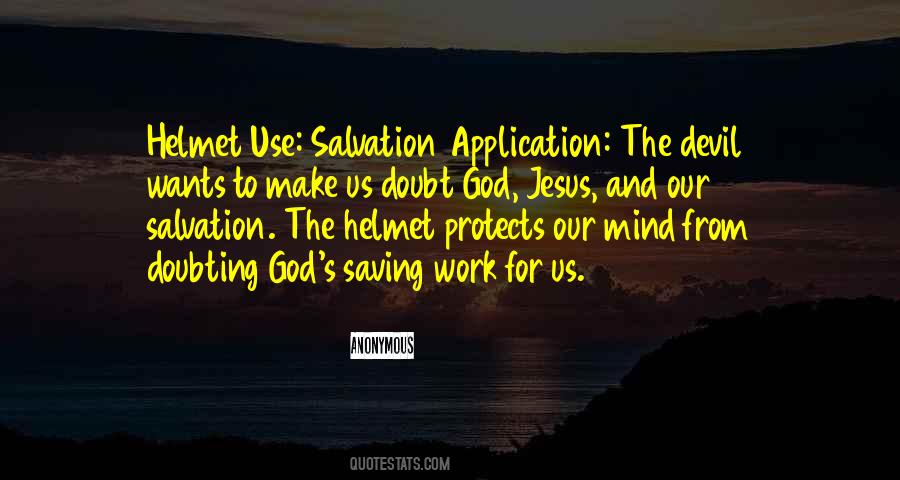 #45. This book is about a salvation that takes place within our unknowing and dissatisfaction, - Author: Peter Rollins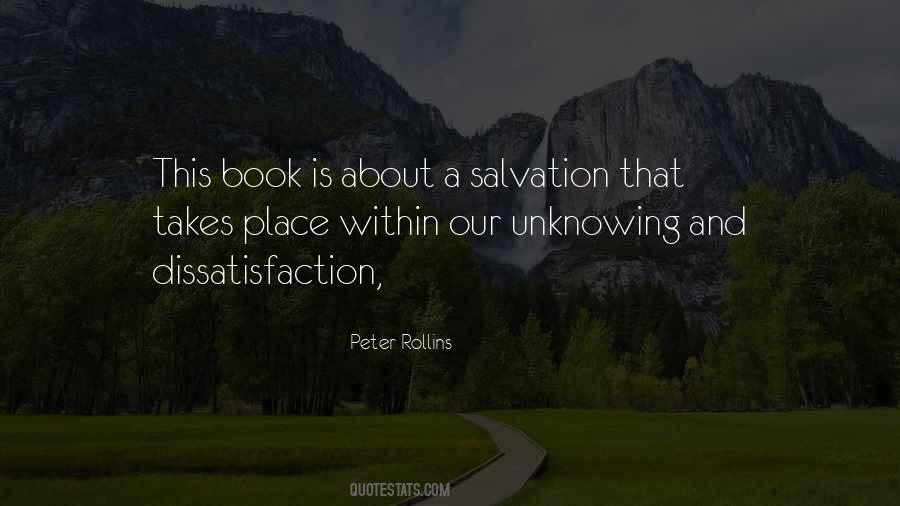 #46. When we paint the picture of our salvation for others to see, we may use different colors, textures, and shapes on the edges of the parchment. But in the center can only be a cross. Anything else cheapens grace and cheats the believer. - Author: Beth Moore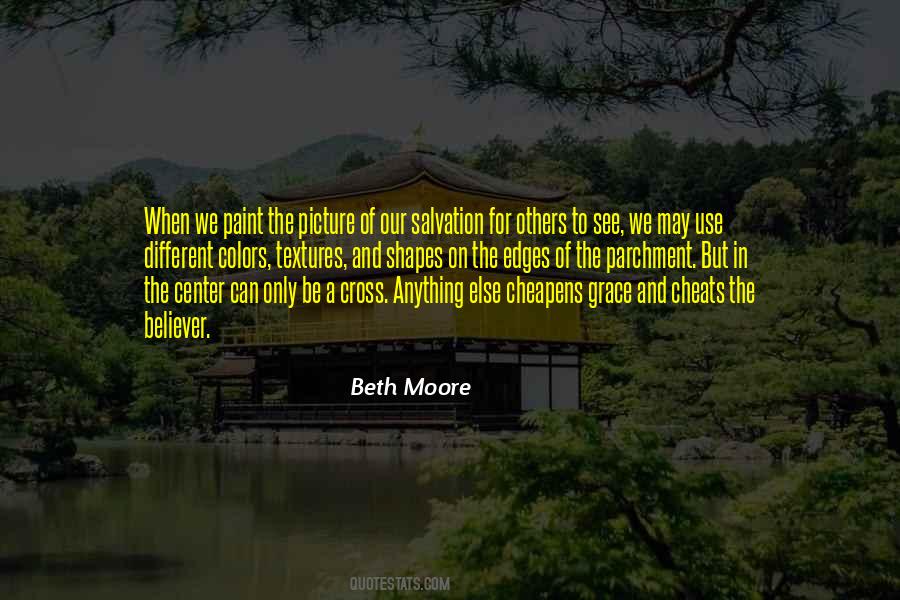 #47. We are not called to be entertainers or performers, we are called to praise and worship our creator. 'Oh come, let us sing to the Lord; let us make a joyful noise to the rock of salvation.' (Psalms95:1). - Author: Euginia Herlihy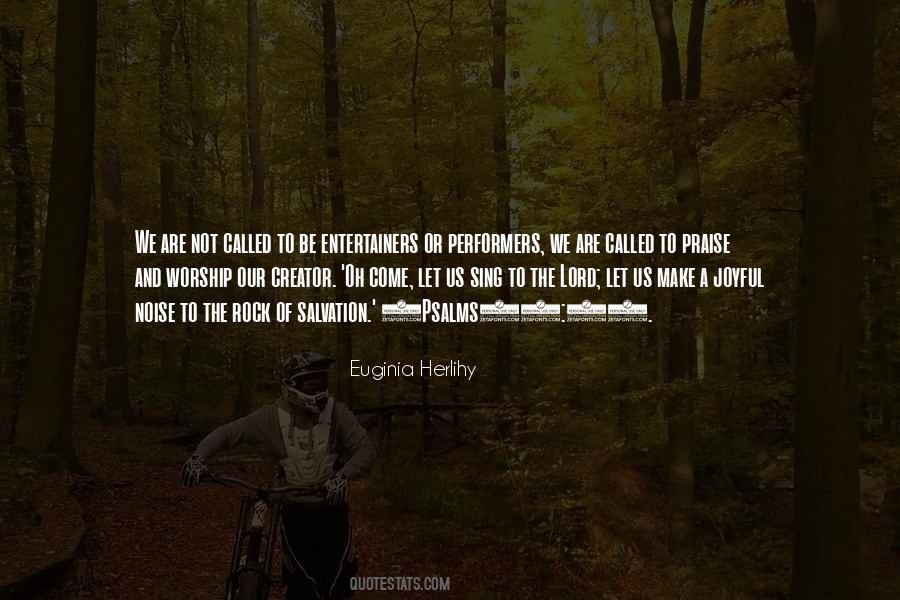 #48. Being assured of our salvation is no arrogant stoutness. It is faith. It is not presumption. Rather it is confidence in God's promise. - Author: John F. MacArthur Jr.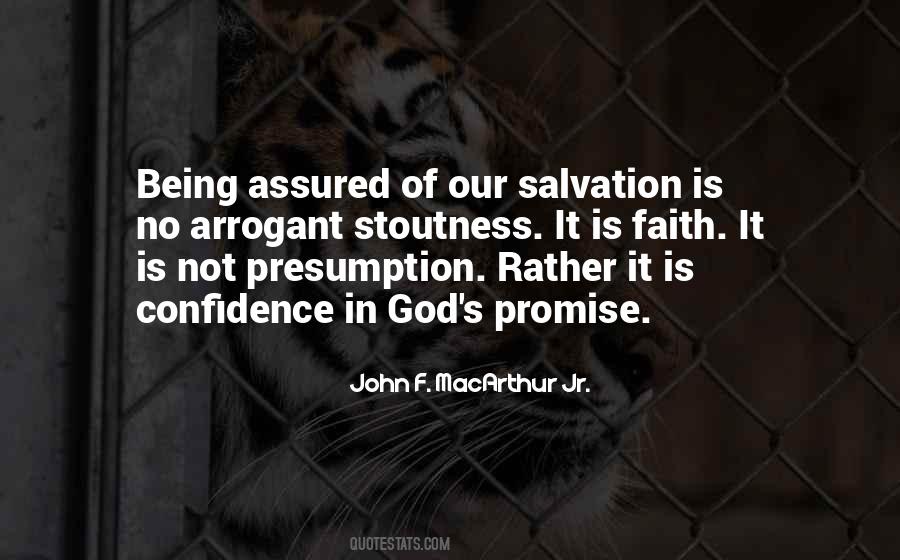 #49. The river was slow here, our old Cherwell, but kitted out with treacherous tree roots and crumbling banks, and just enough depth to scare one toward salvation. - Author: Gregory Maguire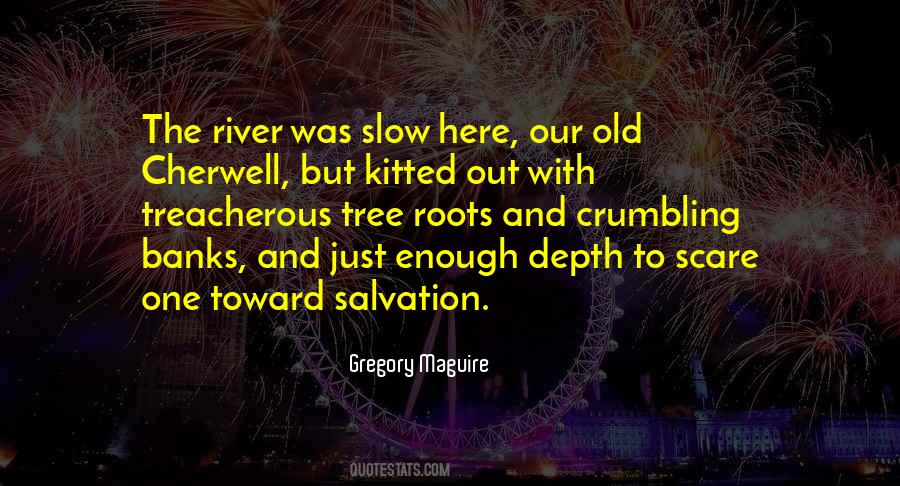 #50. Only out of stir and change is born new salvation. To deny that is to deny belief in man, to turn our backs on courage! - Author: John Galsworthy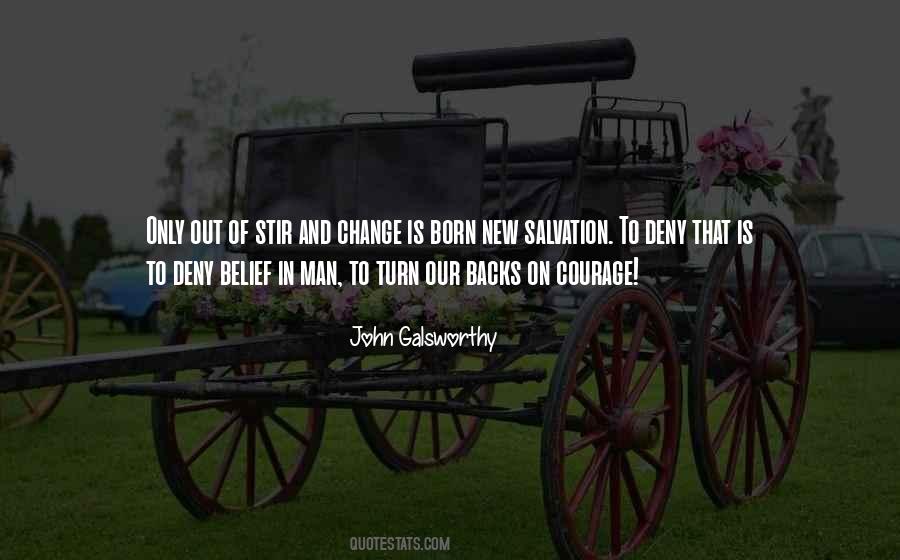 #51. That which we fear to touch is often the very fabric of our salvation. - Author: Don DeLillo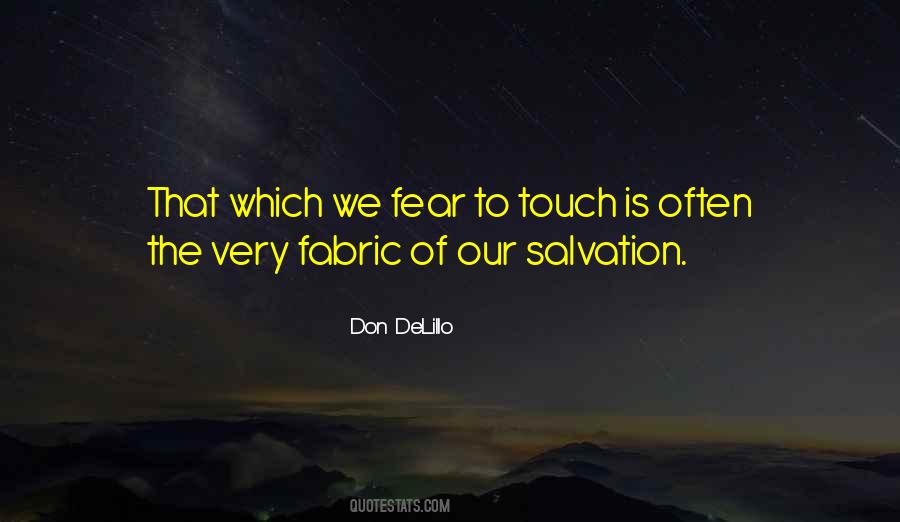 #52. The cross solved our problem by first revealing our real problem, our universal pattern of scapegoating and sacrificing others. The cross exposes forever the scene of our crime. - Author: Richard Rohr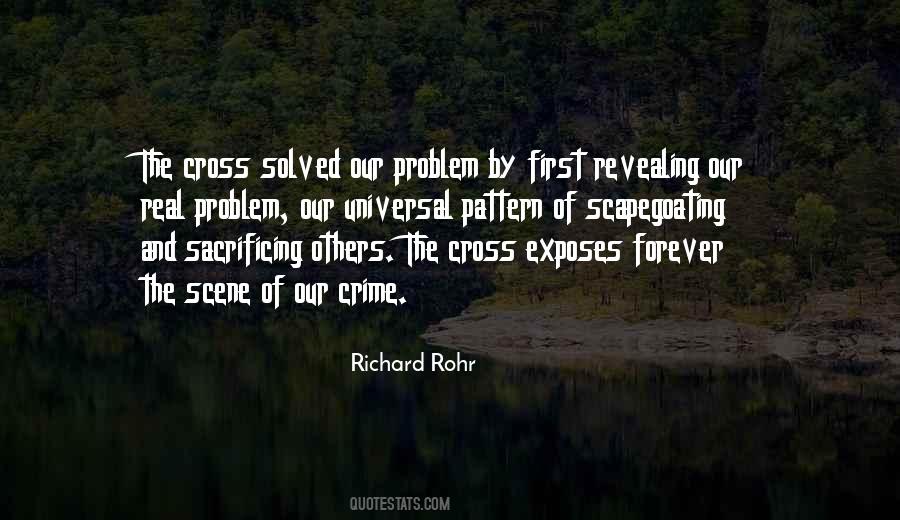 #53. This, said Mother, as she handed him a piece of dry, tasteless matzoh, is the bread of our affliction. Where, young Kugel wondered, is the seven-layer cake of our salvation? Where is the muffin of our mirth? Where is our no-longer-reduced-to-jelly doughnut? - Author: Shalom Auslander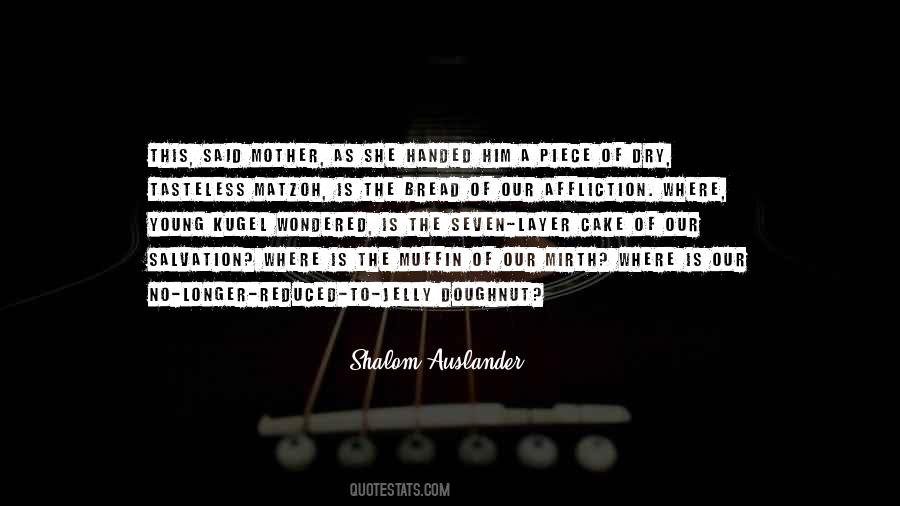 #54. Blood of my heart, protection is thine.
Life of my life, taking yours, taking mine
Body of my body, marrow and mind
Soul of my soul, to our spirit bind
Blood of my heart, my tides, my moon
Blood of my heart, my salvation, my doom - Author: Kami Garcia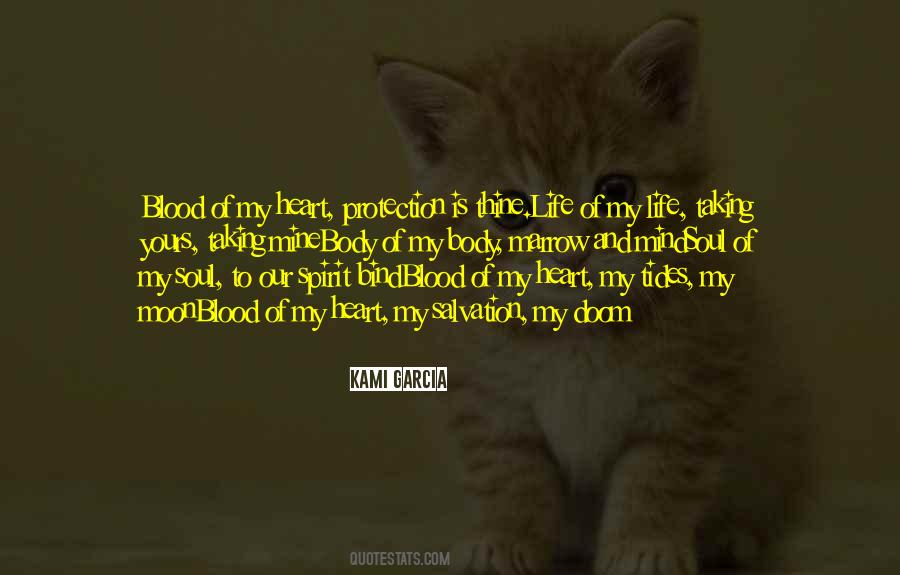 #55. However, the power of God unto salvation is not our passion for God, but the passion he has exhibited toward us sinners by sending his own Son to redeem us. - Author: Michael S. Horton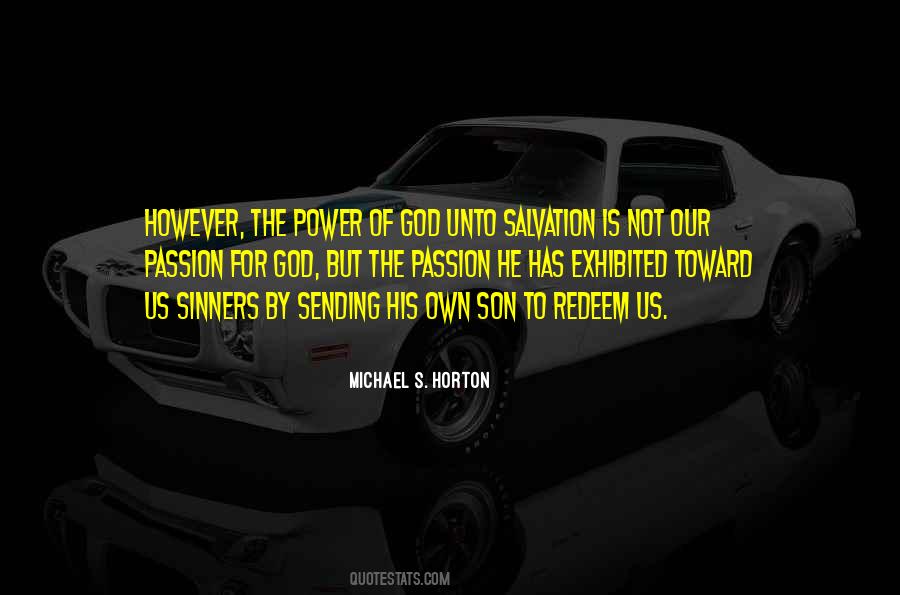 #56. Our Lord never lays down the conditions of discipleship as the conditions of salvation. - Author: Oswald Chambers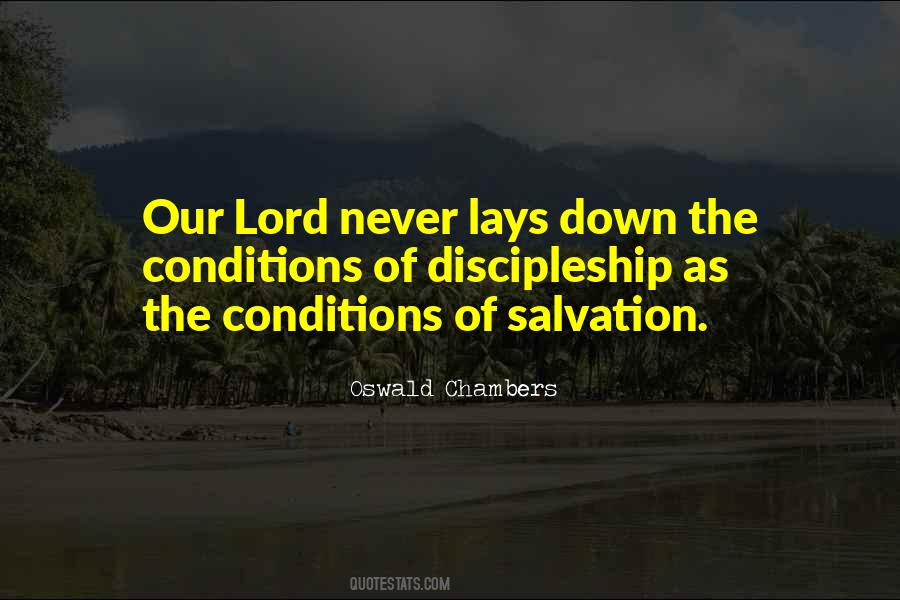 #57. Brute force is not our salvation, especially as directed by State central planning and done with little regard for the innocents ... - Author: Anthony Gregory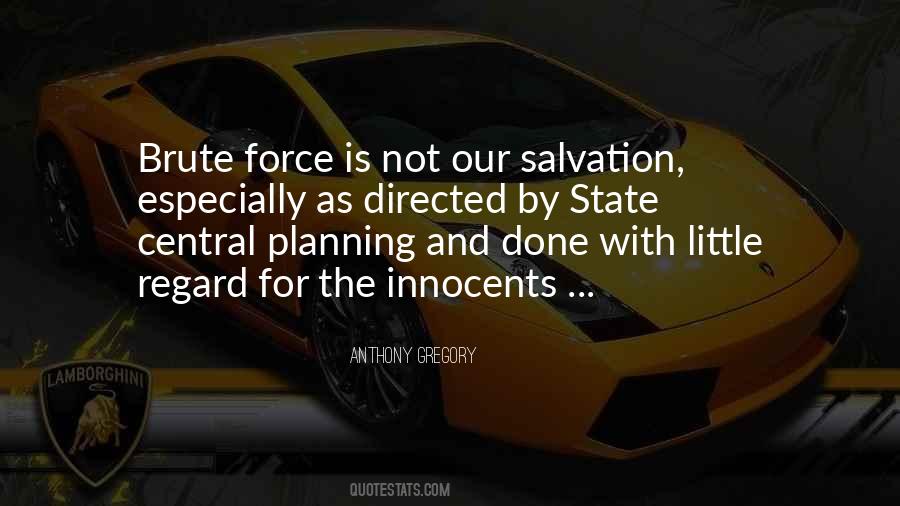 #58. Our culture is ill-equipped to assert the bourgeois values which would be the salvation of the under-class, because we have lost those values ourselves. - Author: Norman Podhoretz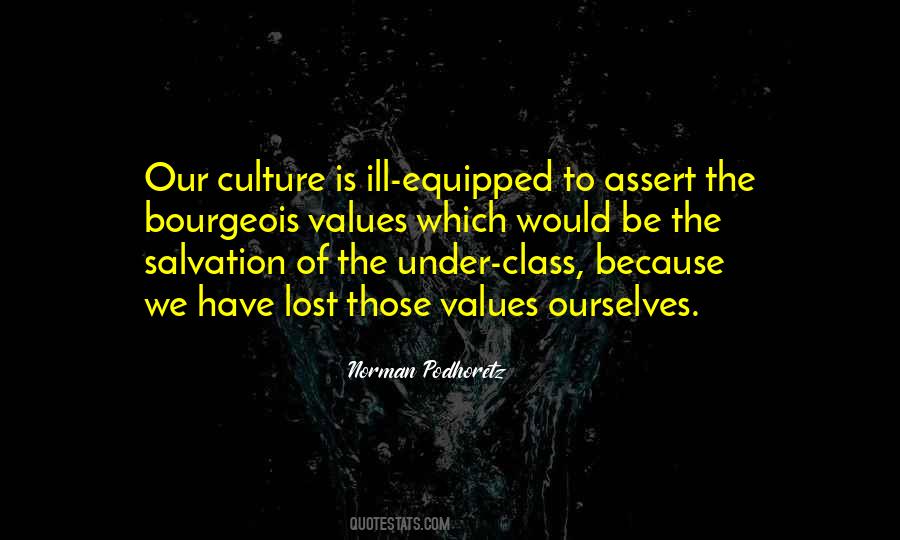 #59. [In Christianity] humans are invited to co-create in mutual kenosis with this God who weaves our sins, mistakes, and follies into a pattern, and thus offers us salvation contingent on our willingness to have it. - Author: Maggie Ross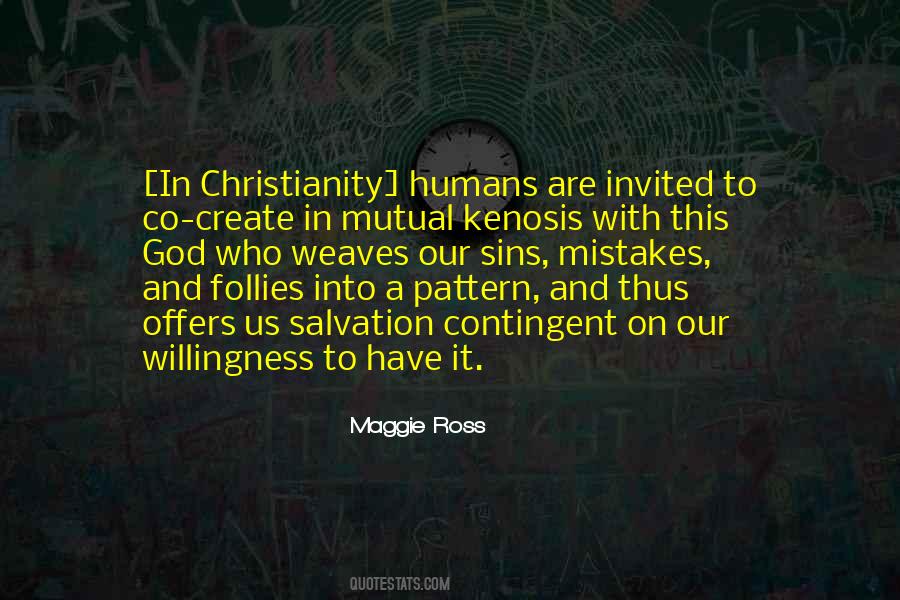 #60. Bishop Hostettler explained that baptism was not the means by which one is saved, but simply an outward sign of salvation. Just as an Amishman's beard is an indication of his marriage and commitment to his wife, so baptism symbolizes our covenant with Christ. - Author: J.E.B. Spredemann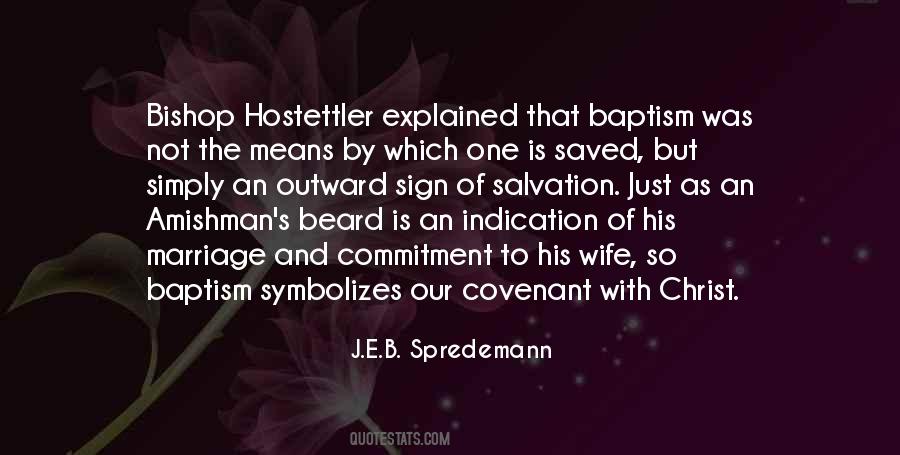 #61. Another reason for right living is that you know how late it is; time is running out. Wake up, for the coming of our salvation is nearer now than when we first believed. ROMANS 13:11 - Author: Francine Rivers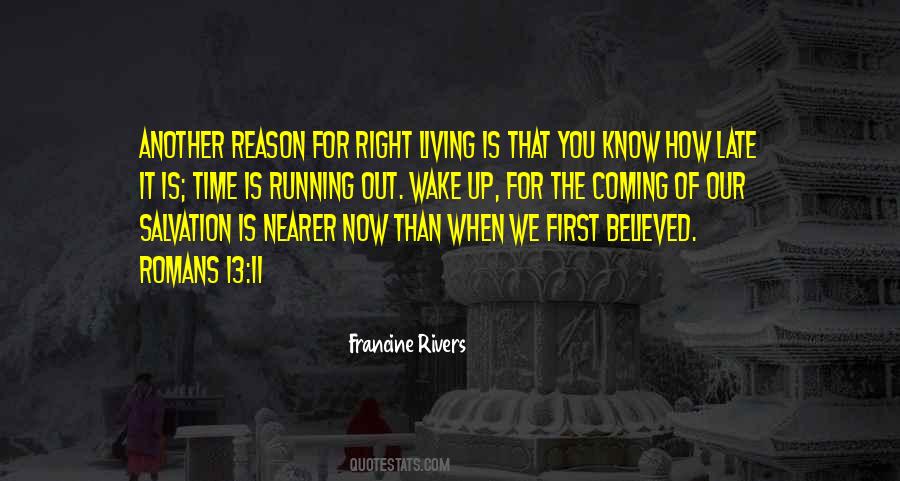 #62. Our salvation is not in some father or human instruments. It is sad to see people so blinded, worshiping the creature more than the Creator. - Author: William J. Seymour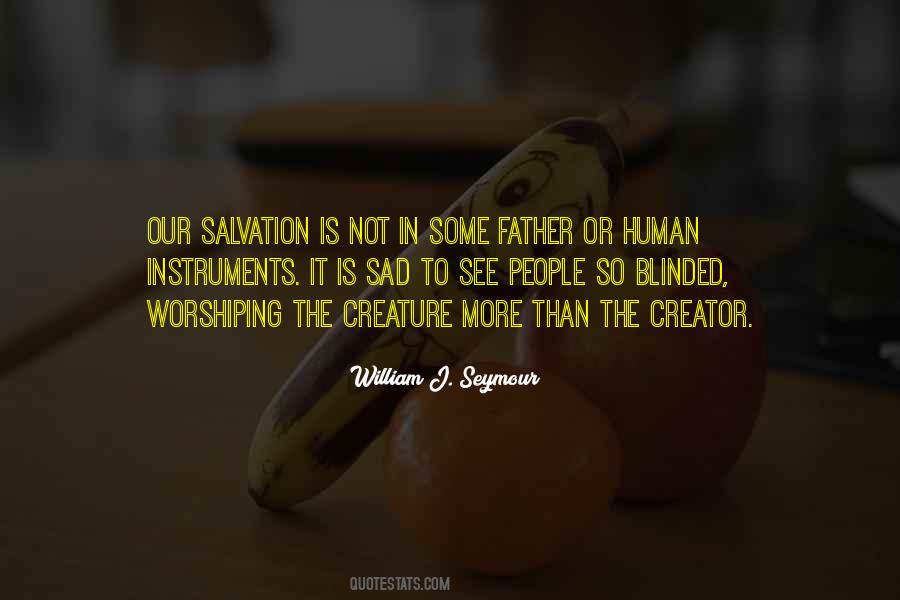 #63. Whenever our sins press hard against us, whenever Satan would drive us to despair, we must hold up this shield, that God does not want us to be overwhelmed in everlasting destruction, for He has ordained His Son to be the salvation of the world. - Author: John Calvin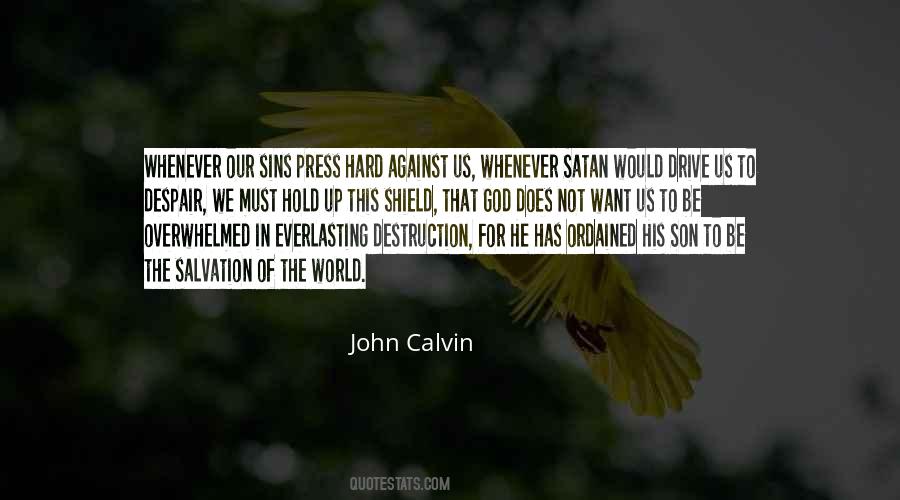 #64. Although upon doctrines of grace our views differ from those avowed by Arminian Methodists, we have usually found that on the great evangelical truths we are in full agreement, and we have been comforted by the belief that Wesleyans were solid upon the central doctrines. - Author: Charles Haddon Spurgeon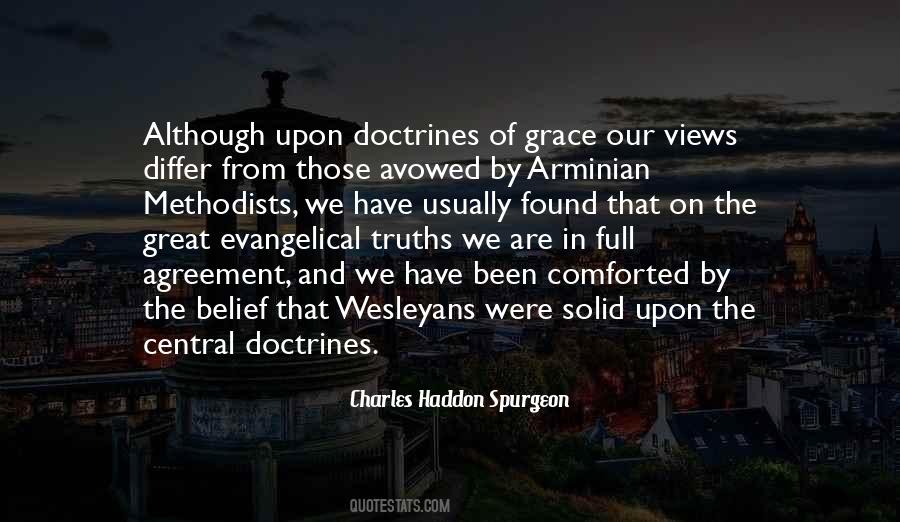 #65. Enlightenment is the ability to comprehend ourselves, it is the power to peer into our hearts and minds and reach that state of spiritual bliss, which may or may not lead us to salvation. - Author: Balroop Singh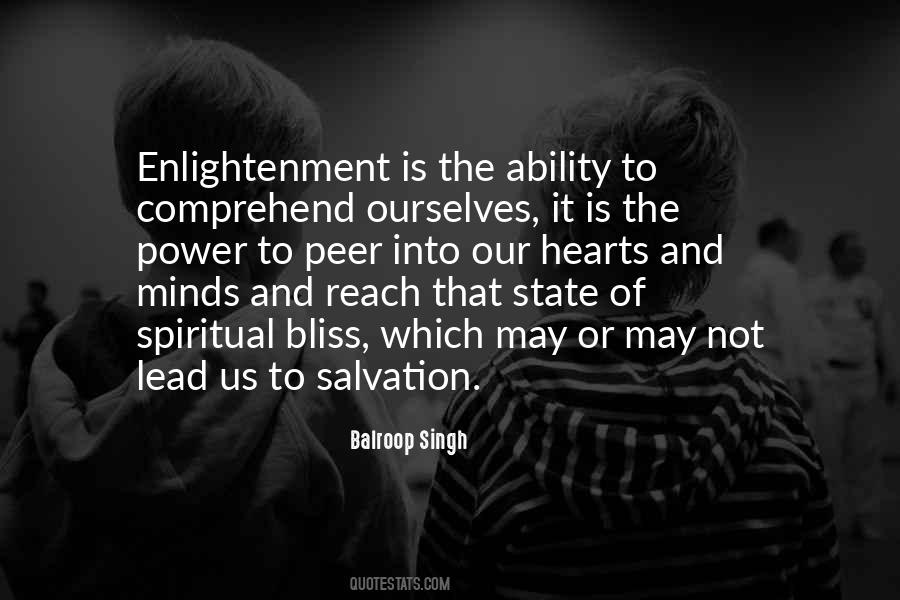 #66. God always wants what's best for us, just as you want what's best for someone you really love. You put them before you, and God does that too. God puts us before His Son, who He sacrificed for our salvation. But the Son did it voluntarily because He has the love of the Father before us. - Author: Francis George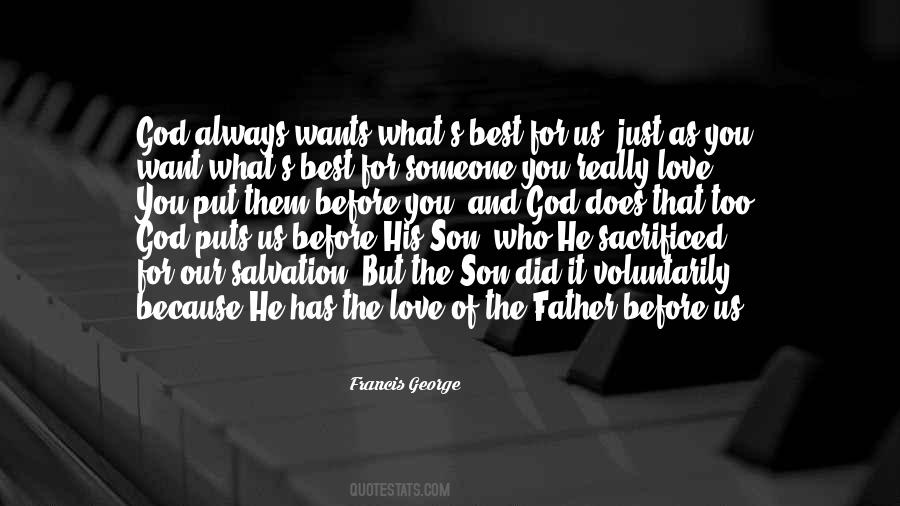 #67. Salvation is not a matter of getting a reward that will make up for a rotten deal; it is a matter of entering by faith into the happiness - the hilarity beyond all liking and happening - that has been pounding on our door all along. - Author: Robert Farrar Capon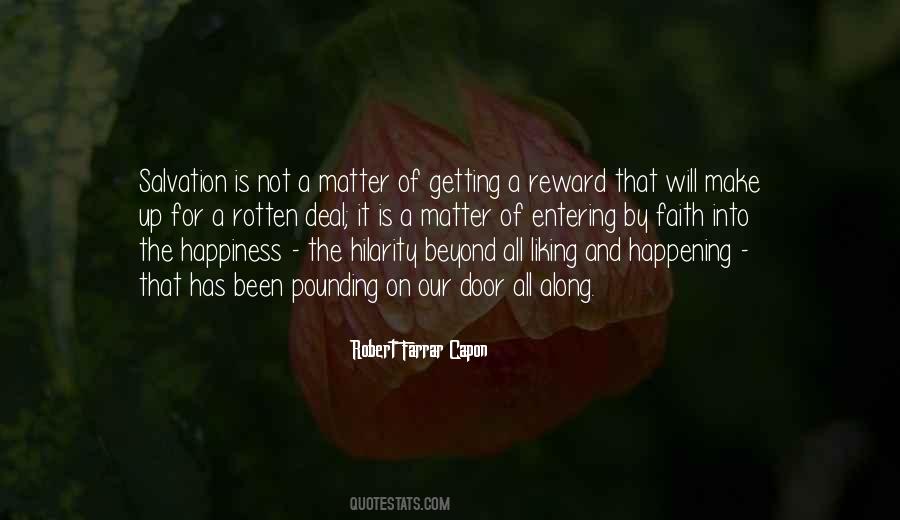 #68. The message of biblical Christianity is 'God loves me so that I might make him- his ways, his salvation, his glory, and his greatness- known among all nations.' Now God is the object of our faith, and Christianity centers around him. We are not the end of the gospel; God is' - Author: David Platt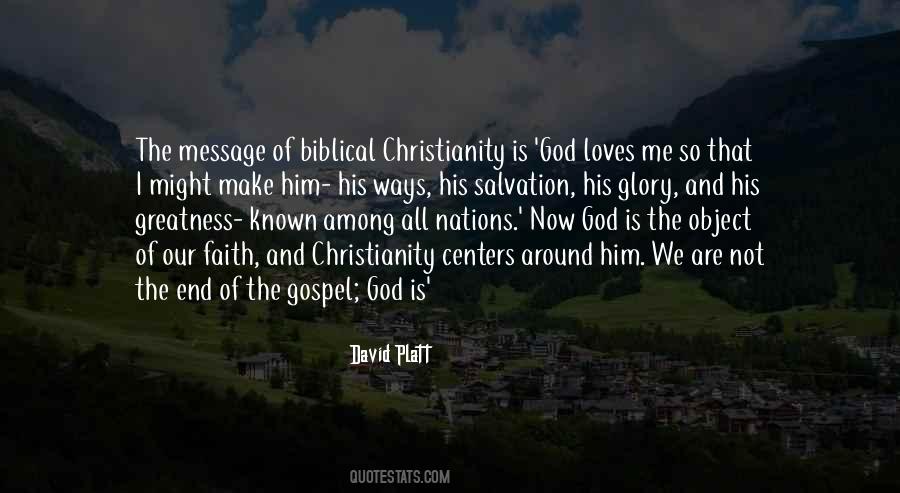 #69. If we repent of our sins, we shall recieve refreshing time from the Lord. - Author: Lailah Gifty Akita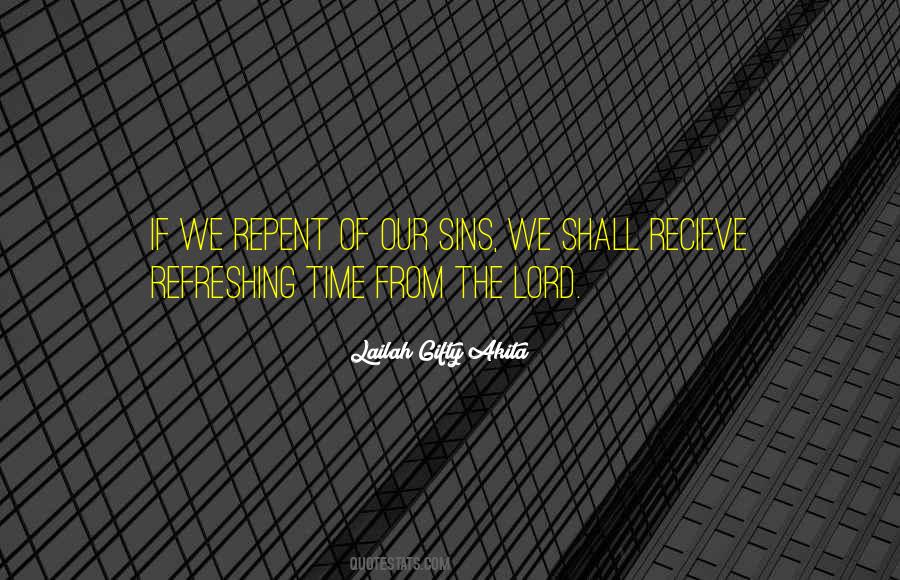 #70. There is never a time in the future in which we will work out our salvation. The challenge is in the moment, the time is always now. - Author: James Baldwin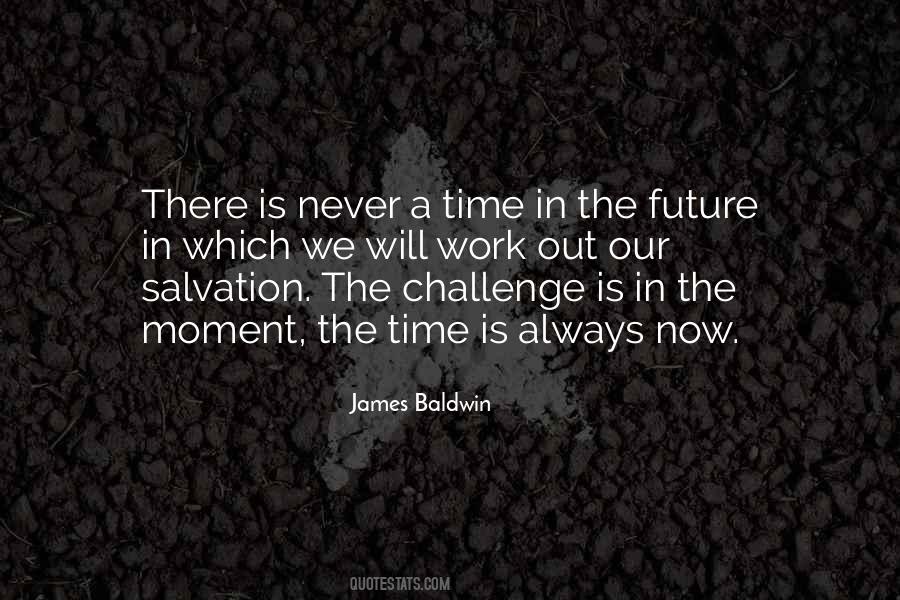 #71. EVANGELIST, n. A bearer of good tidings, particularly (in a religious sense) such as assure us of our own salvation and the damnation of our neighbors. - Author: Ambrose Bierce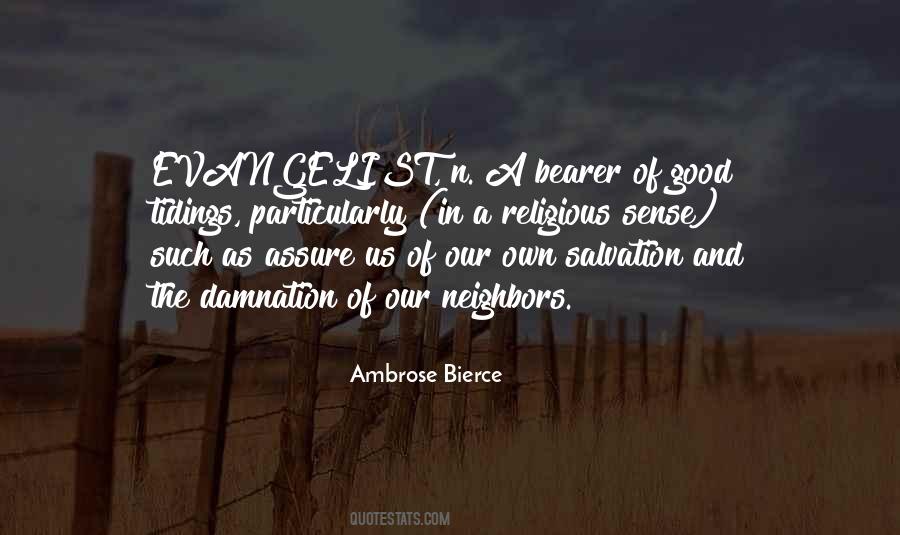 #72. We see baptism as the starting point in our journey of discipleship. Our daily walk with Jesus Christ leads to peace and purpose in this life and profound joy and eternal salvation in the world to come. - Author: Dieter F. Uchtdorf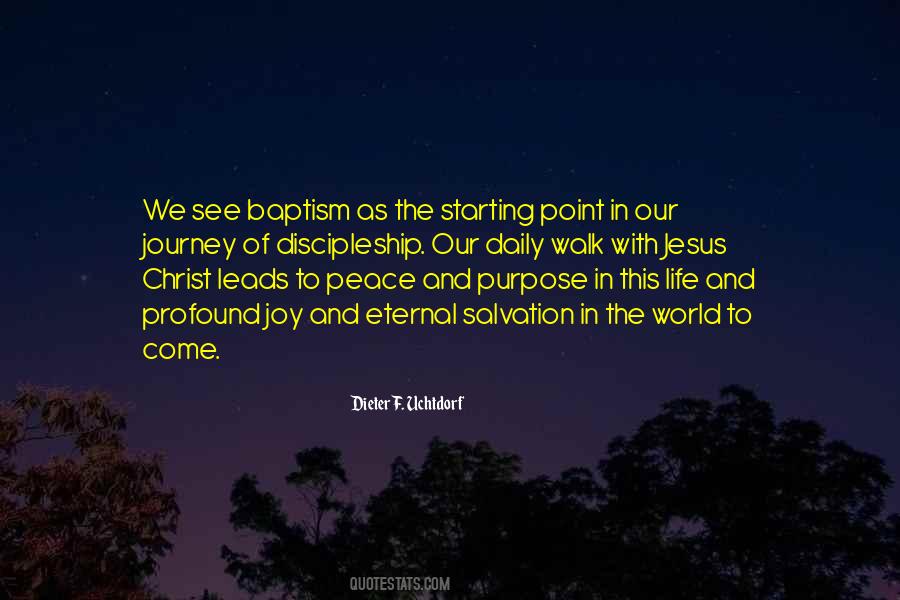 #73. It is to us artisans and tradesmen that the salvation of the fatherland is entrusted; but we are not equal to such a task; never, indeed, have we claimed that we were capable of performing it. It is a misunderstanding; and it is proving our ruin. - Author: Franz Kafka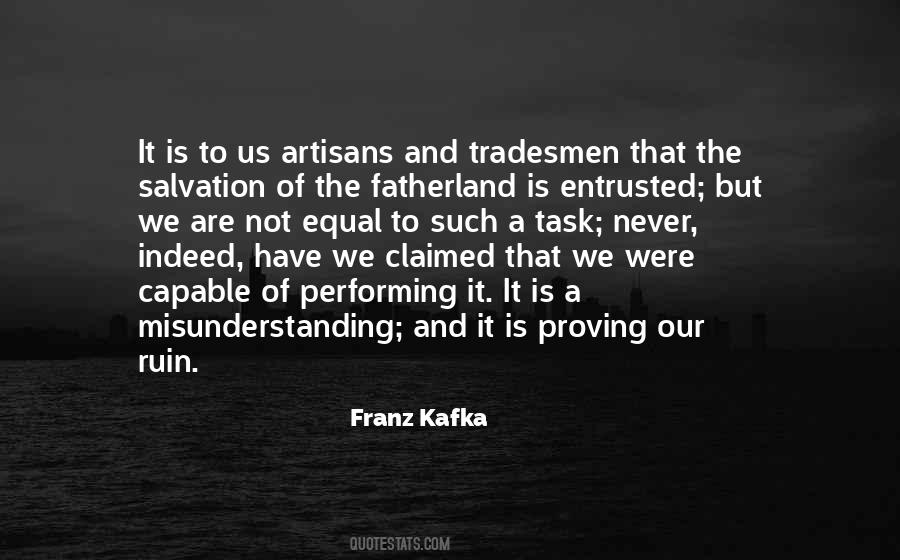 #74. [It is] essentially wholesome and necessary, for a Christian to know, whether or not the will does any thing in those things which pertain unto Salvation. Nay, let me tell you, this is the very hinge upon which our discussion turns. It is the very heart of the subject - Author: Martin Luther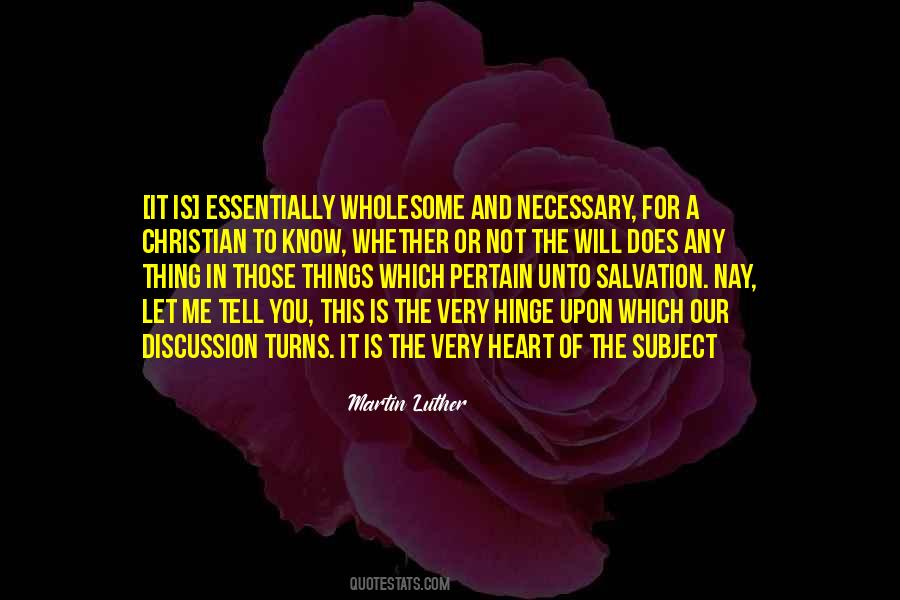 #75. Every night I pray for a lovely, swoopy-haired homosexual to come to our school, in the same way that Margaret prayed for boobs and my grandfather prays for my eternal salvation. - Author: David Levithan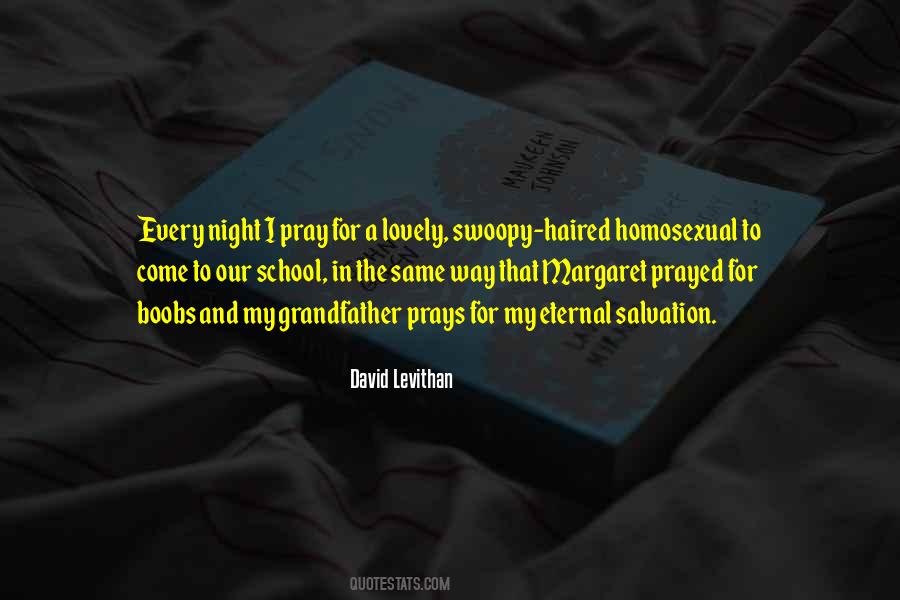 #76. One of the the loveliest lines I have ever read comes from Brother Roger, the Prior of the Protestant monks of Taize, France: 'Assured of your salvation by the unique grace of our Lord Jesus Christ.' It is still difficult for me to read these words without tears filling my eyes. It is wonderful. - Author: Brennan Manning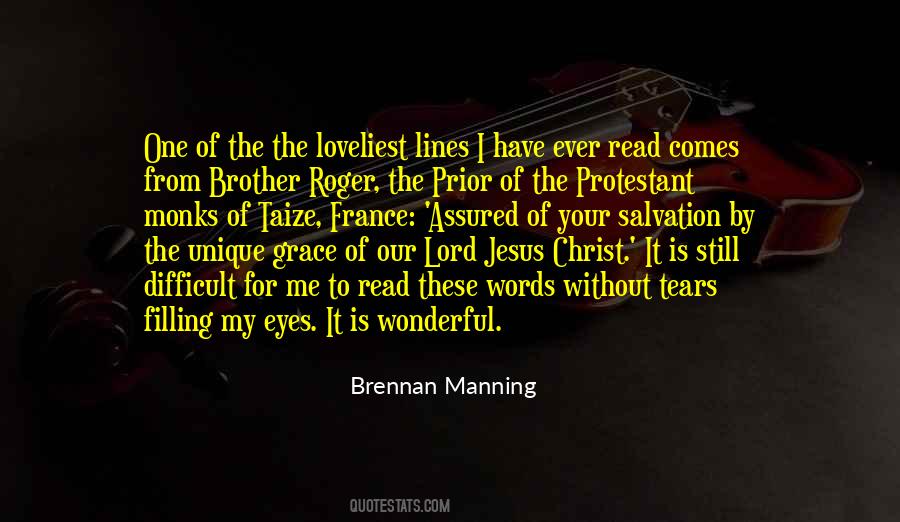 #77. The Glory of God, and, as our only means of glorifying Him, the salvation of human souls, is the real business of life. - Author: C.S. Lewis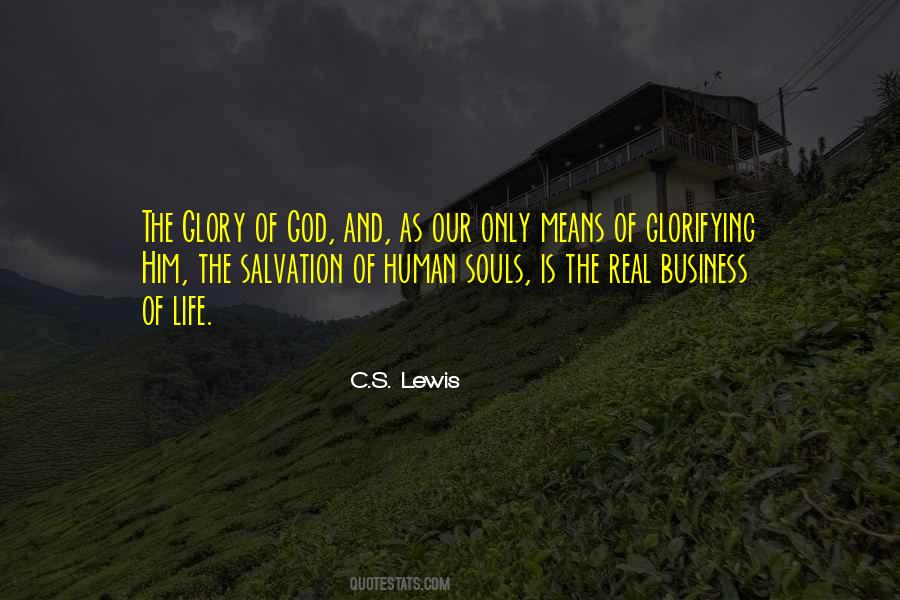 #78. The cruelty of death lies in the fact that it brings the real sorrow of the end, but not the end. The greatest cruelty of death: an apparent end causes a real sorrow. Our salvation is death, but not this one. - Author: Franz Kafka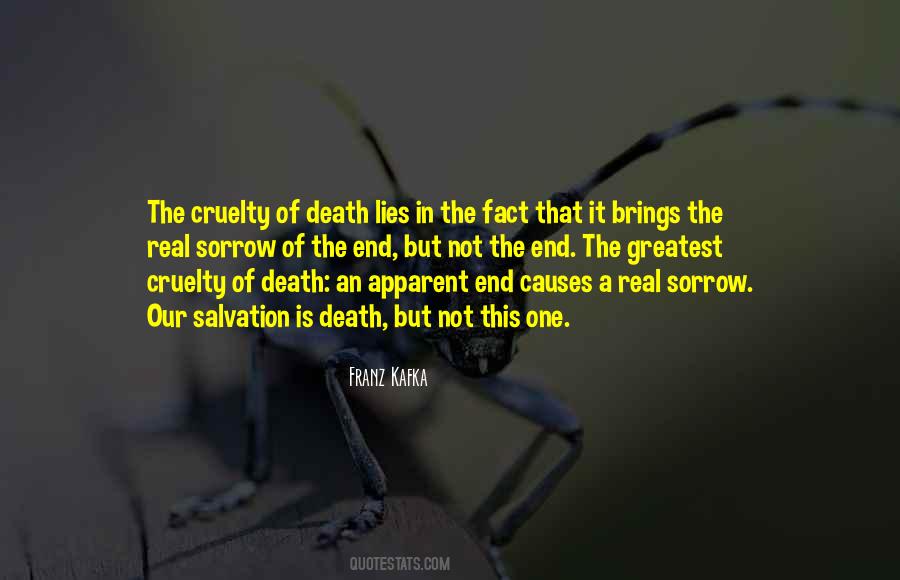 #79. Absolute peace in our world is an unattainable goal. But it is one towards which we must continue to journey, our eyes fixed on it as a traveller in a desert fixes his eyes on the one guiding star that will lead him to salvation. - Author: Aung San Suu Kyi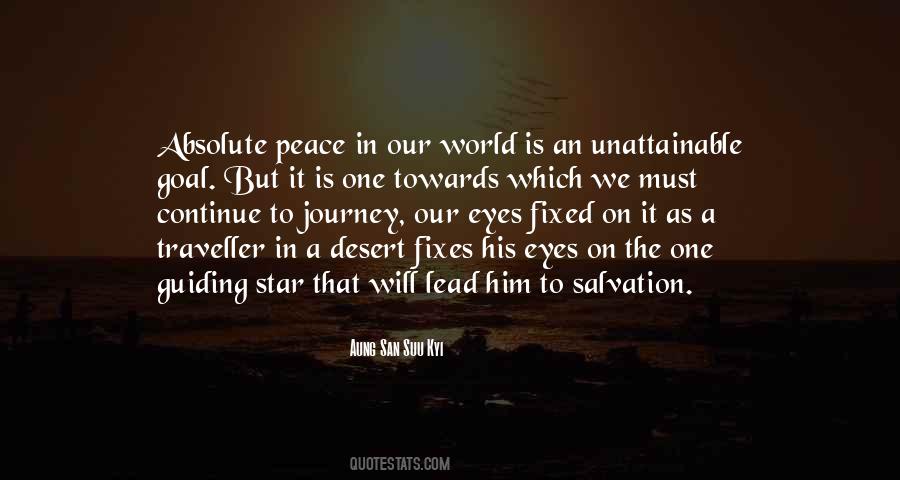 #80. I earnestly urge all our people to unite under the true banner of the Master, to teach the gospel of Jesus Christ so powerfully that no truly converted person could ever be aligned with these controversial concepts and procedures contrary to the Lord's plan of salvation. - Author: Harold B. Lee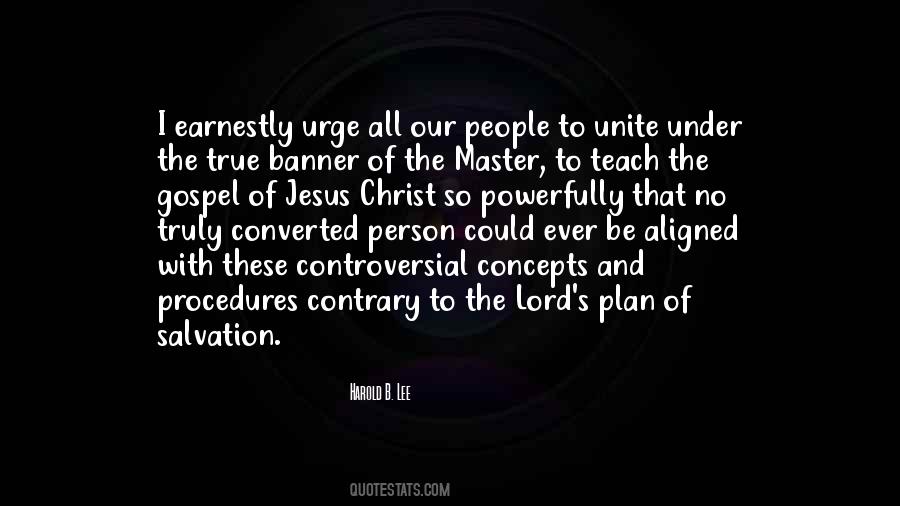 #81. When I look to my guiltiness, I see that my salvation is one of our Saviour's greatest miracles, either in heaven or earth. - Author: Samuel Rutherford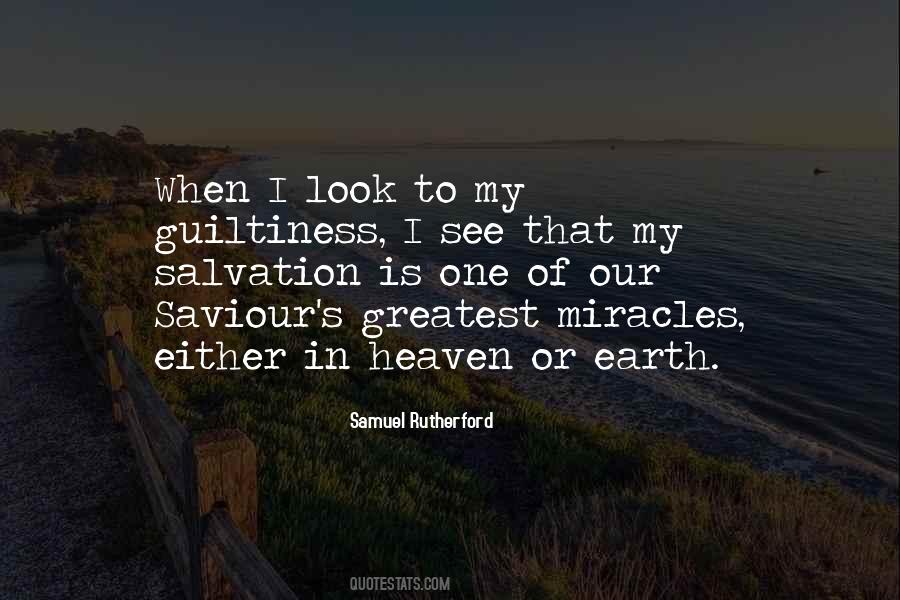 #82. The Navy can lose us the war, but only the Air Force can win it. The fighters are our salvation, but the bombers alone provide the means of victory. - Author: Winston Churchill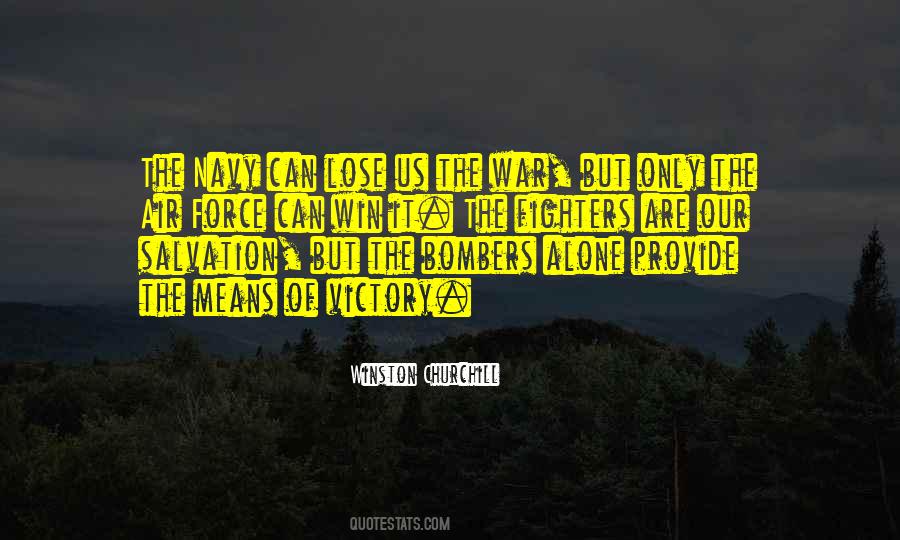 #83. Salvation is not sin perfectly avoided, as the ego would prefer; but in fact, salvation is sin turned on its head and used in our favor. - Author: Richard Rohr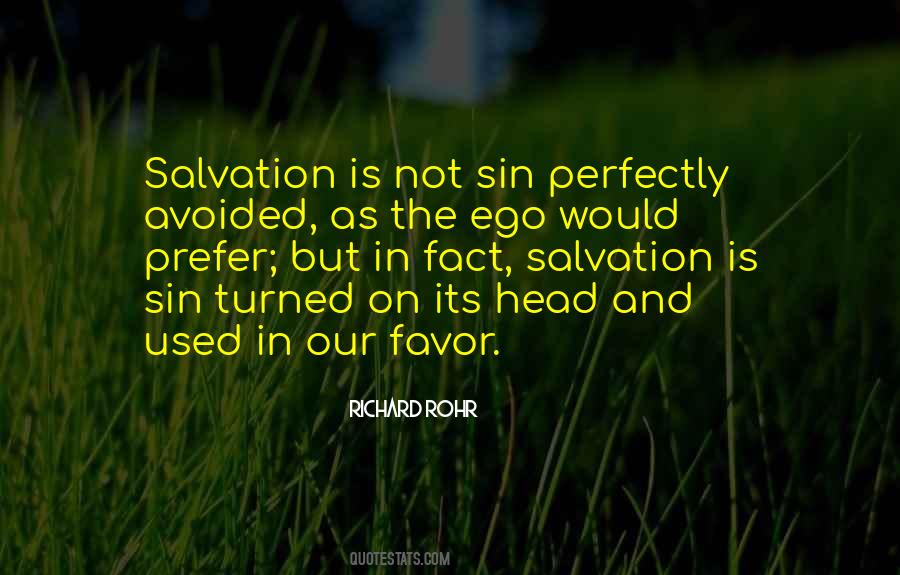 #84. Christ's intercession is the continual application of his death to our salvation. - Author: John Calvin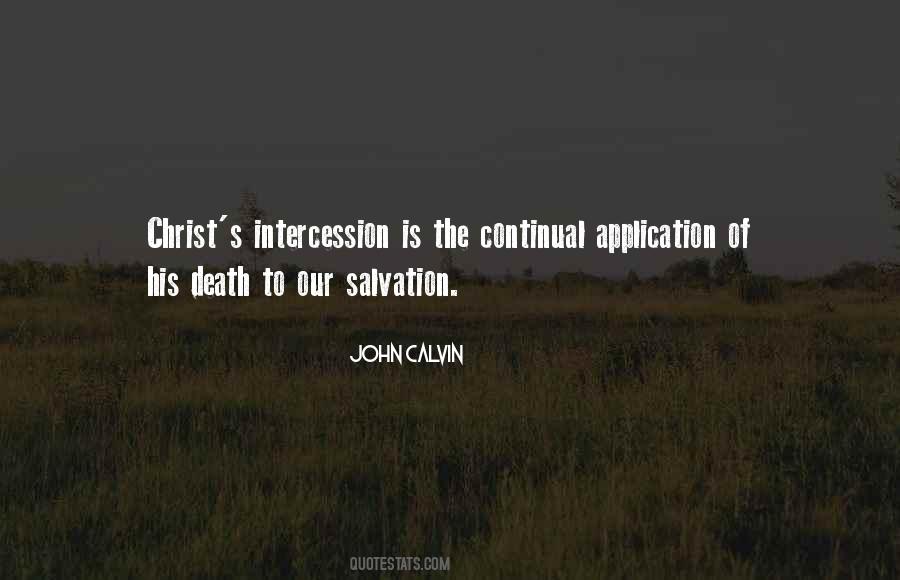 #85. As we cast our frightened eyes around for something that is real and true and enduring, we are turning once more to this ancient Book [the Bible] that has given consolation, comfort, and salvation to millions in the centuries past. - Author: Billy Graham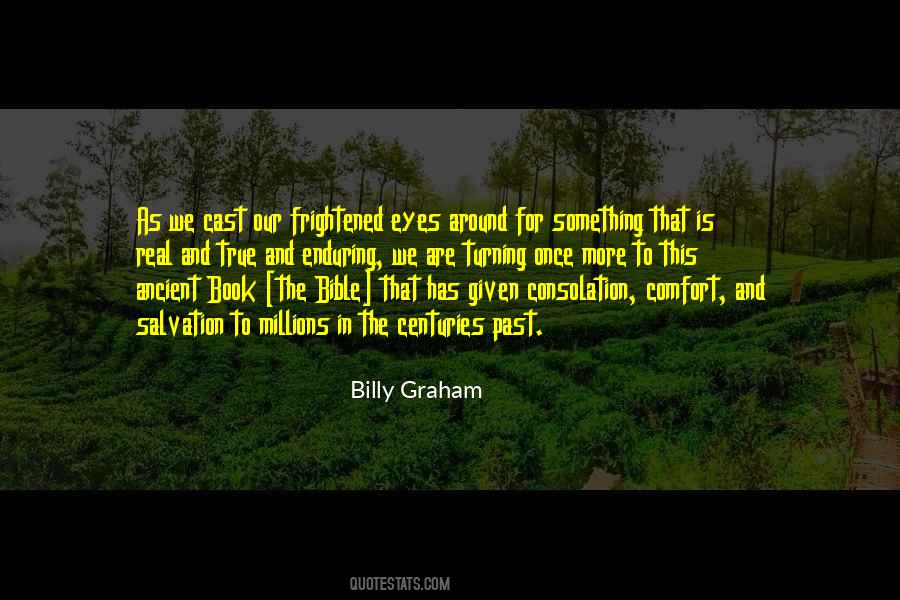 #86. No art like the art displayed in our salvation, no cunning workmanship like that beheld in the righteousness of the saints. Justification has engrossed learned pens in all ages of the church, and will be the theme of admiration in eternity. - Author: Charles Haddon Spurgeon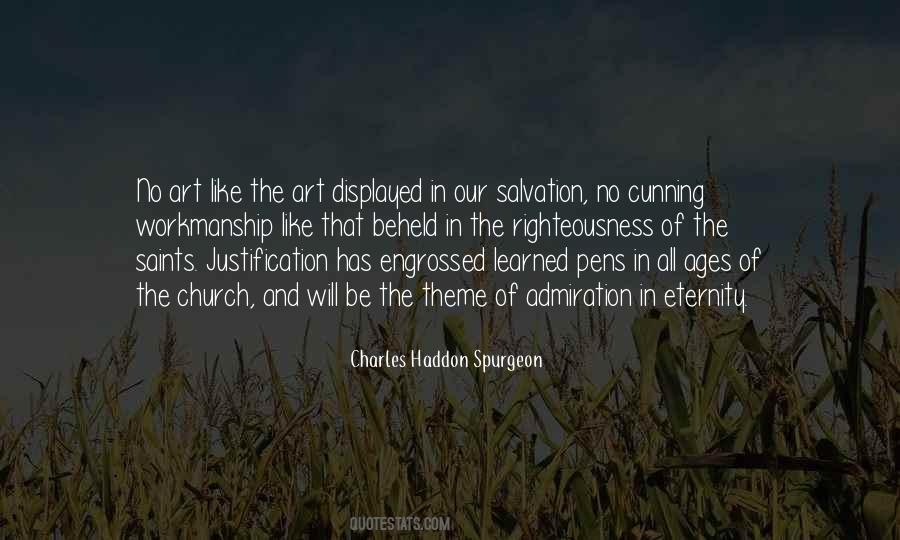 #87. God does not consume us in his wrath, but instead he consumes his wrath on himself by becoming our substitute, paying for our sins and giving us the gift of salvation. - Author: Rich Nathan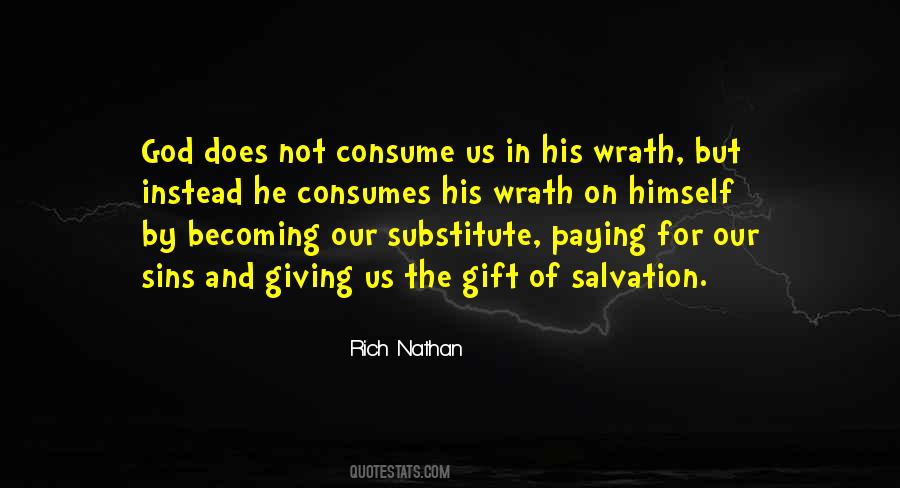 #88. Thus, to have a proper understanding of the gospel, we must recognise that we need to lean entirely upon the Lord Jesus Christ and his mercy alone as our only hope of salvation. We - Author: John Calvin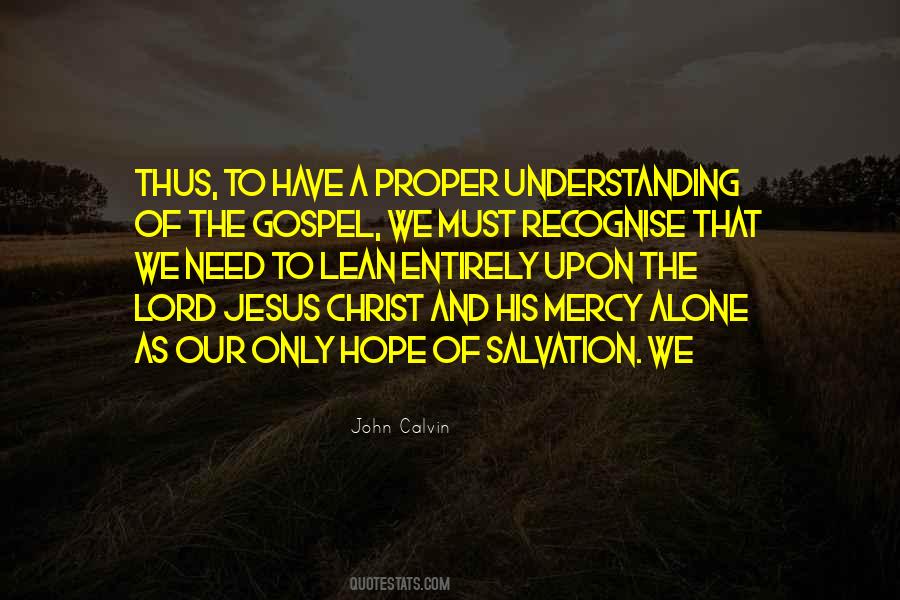 #89. We need to know that our limits do not define our limitations. And an empty tomb does exactly that. - Author: Craig D. Lounsbrough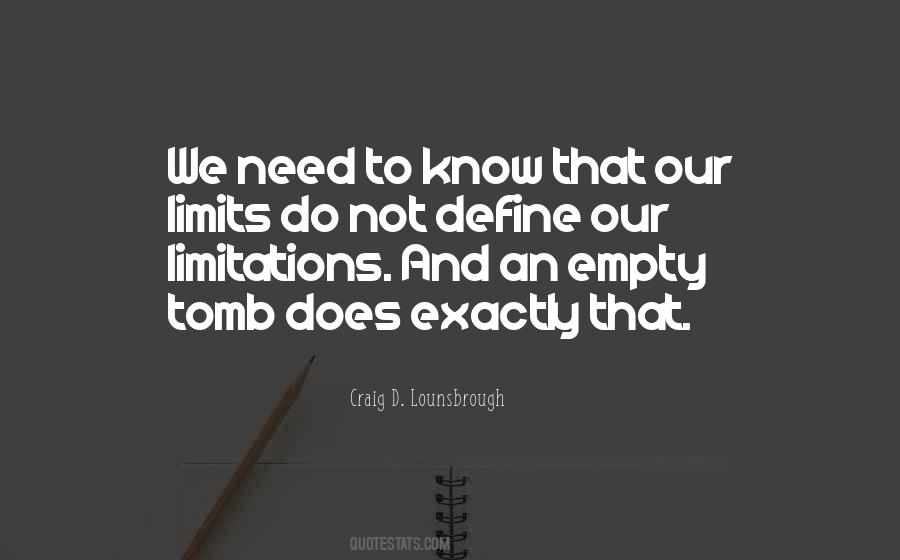 #90. We will not, on the altar of money, mortgage our conscience, mortgage our faith, mortgage our salvation. - Author: Peter Akinola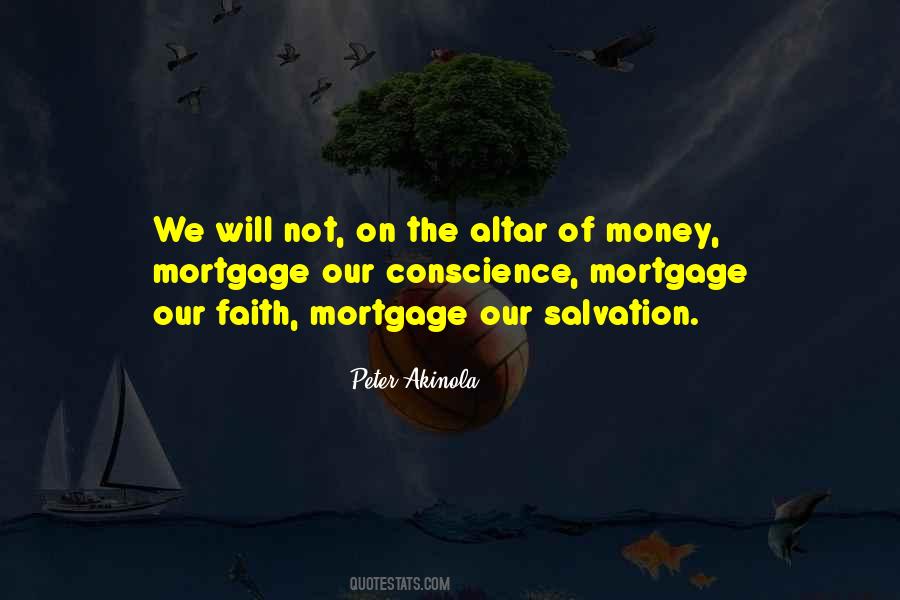 #91. Salvation now consists of a deep wrestling in our souls with the sinfulness of our hearts, the depth of our depravity, and the desperation of our need for his grace. - Author: David Platt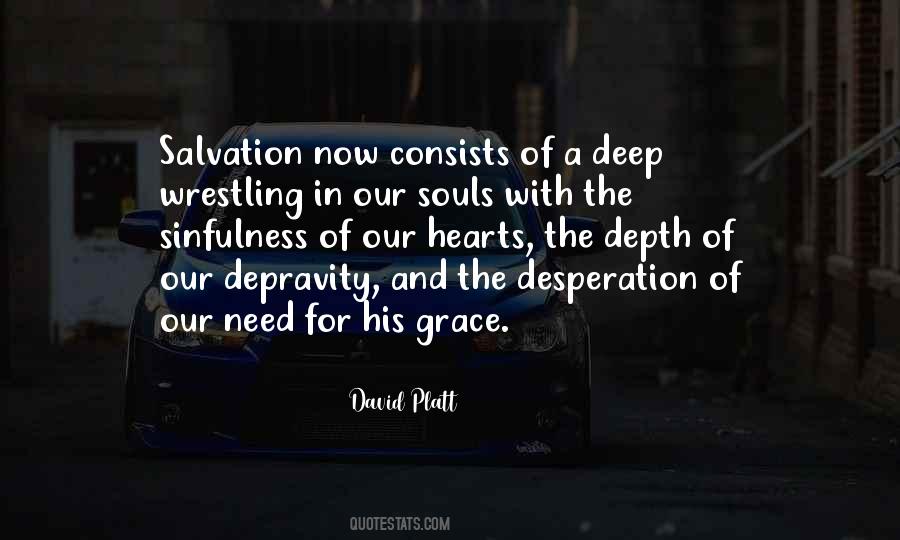 #92. The essence of our salvation is found in this phrase: Simul justus et pecator. - Author: R.C. Sproul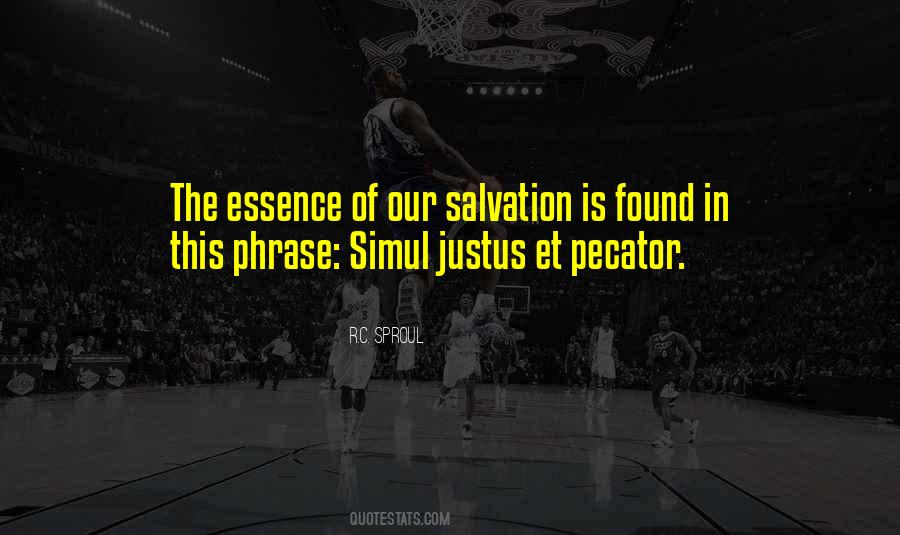 #93. The world is full of horror. Our imaginations struggle to keep up. It would be a poor life without imagining. I'm not sure we can have any salvation, in fact, without imagining. - Author: Steve Rasnic Tem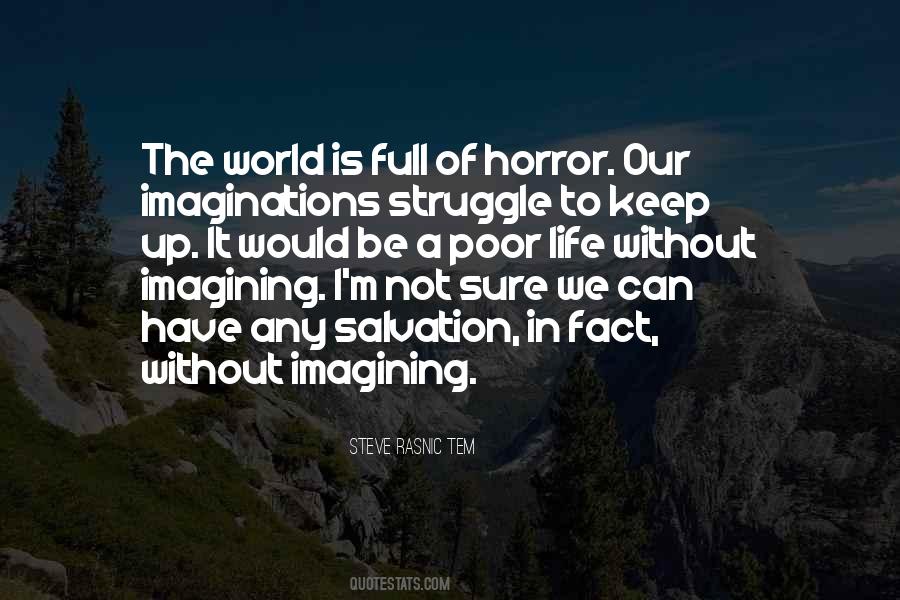 #94. When we first come to faith in Christ, we often think it was simply of our own choosing. Only later do we realize we would have never taken that step of faith apart from His grace drawing us near to Him. - Author: Dillon Burroughs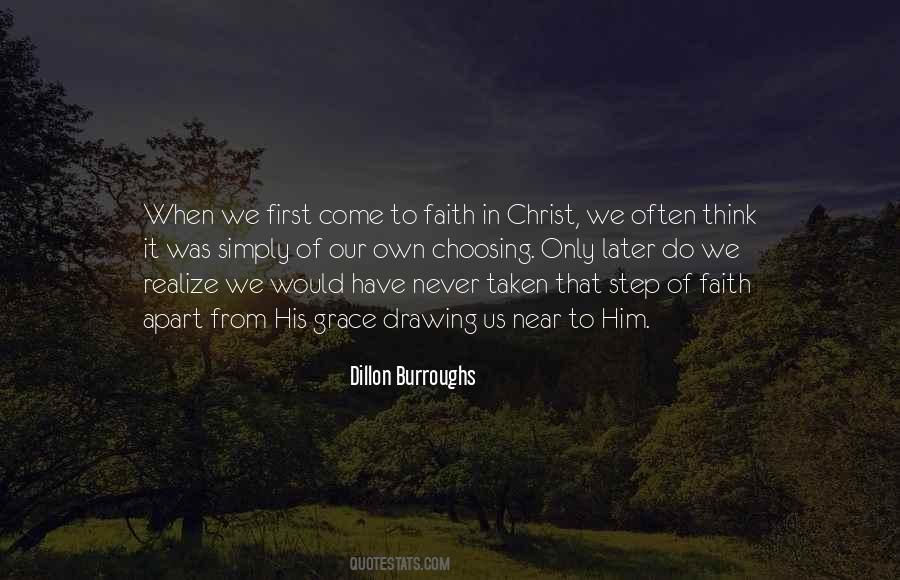 #95. Would that God, Monsieur, had rendered us worthy of spending our lives, as Our Lord did, for the salvation of those poor souls so far removed from all assistance. - Author: Vincent De Paul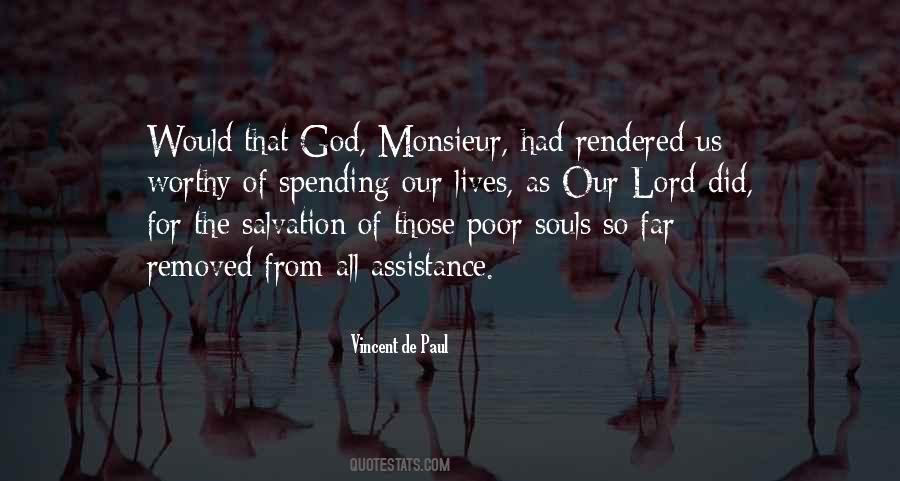 #96. All our salvation consists in the manifestation of the nature, life and spirit of Jesus Christ in our inward new man. This alone is Christian redemption, this alone delivers from the guilt and power of sin, this alone redeems and renews. - Author: William Law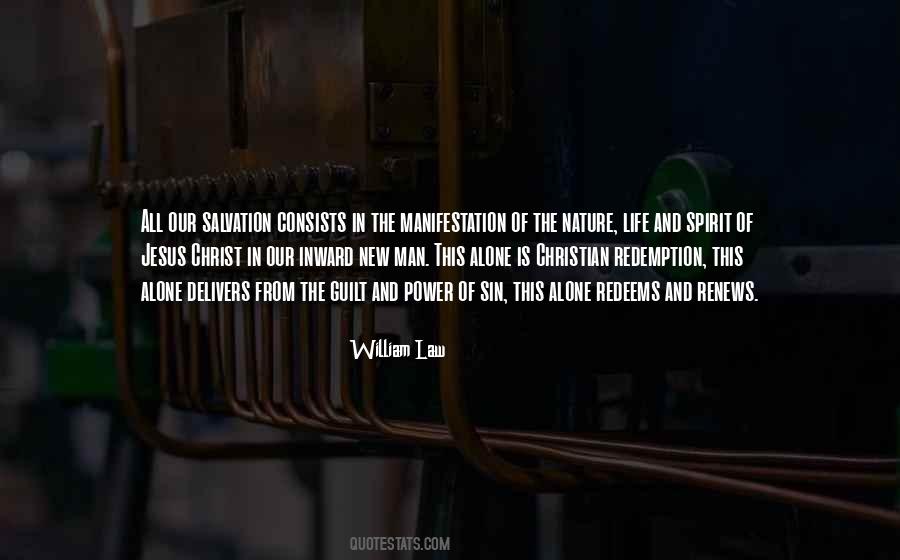 #97. For in our hope we are saved. - Author: Augustine Of Hippo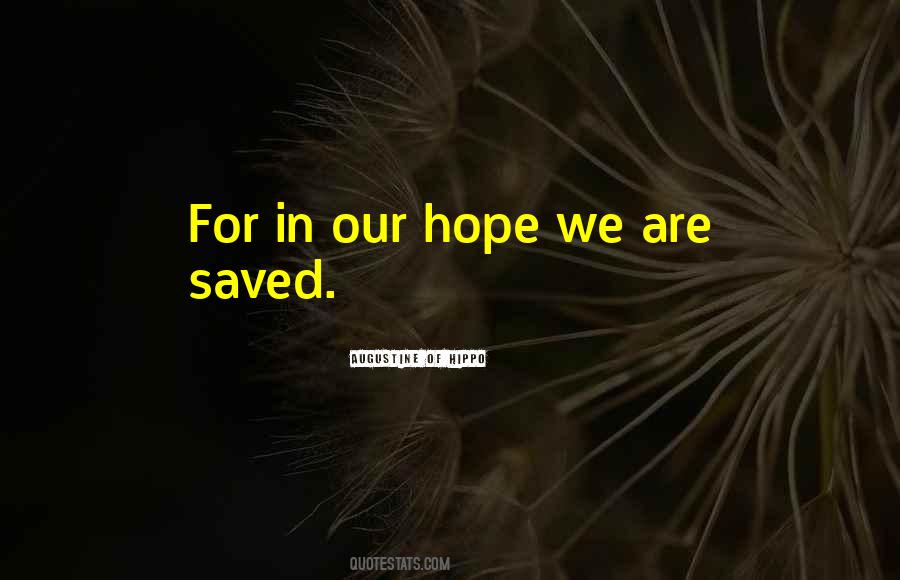 #98. There is need for a new foundation and this foundation is laid in us on the day of our salvation - Author: Sunday Adelaja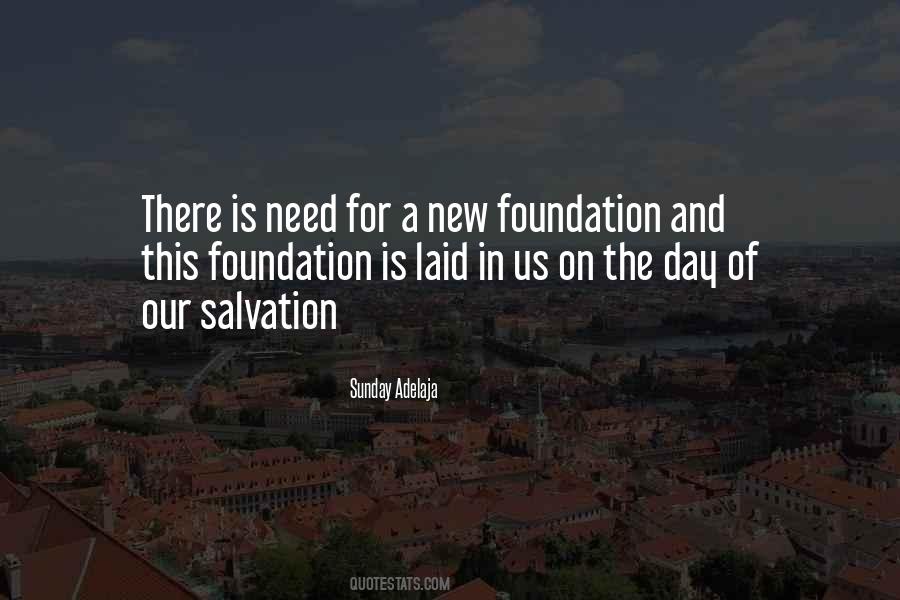 #99. The proposition that the principal articles of the Apostles' Creed did not have the same meaning for the Christians of the earliest times as they have for Christians of our time is hereby condemned and proscribed as erroneous. - Author: Pope Pius X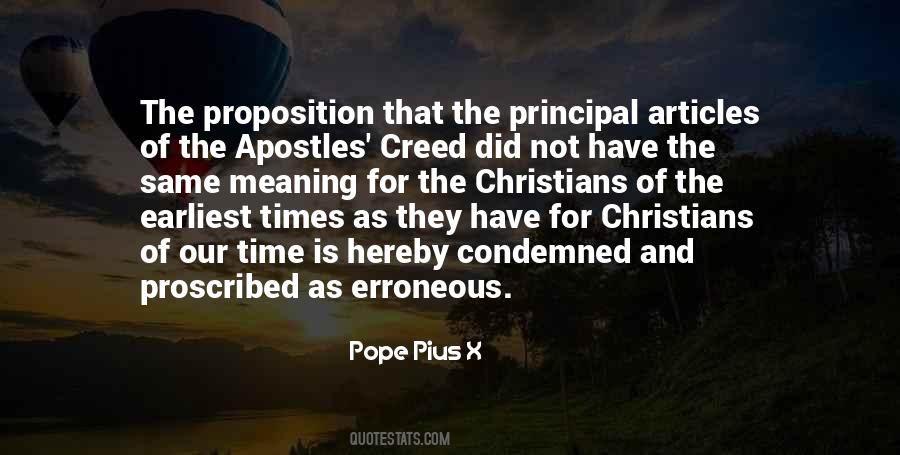 #100. Our assurance, our glory, and the sole anchor of our salvation are that Christ the Son of God is ours, and we in turn are in him sons of God and heirs of the Kingdom of Heaven, called to the hope of eternal blessedness by God's grace, not by our worth. - Author: John Calvin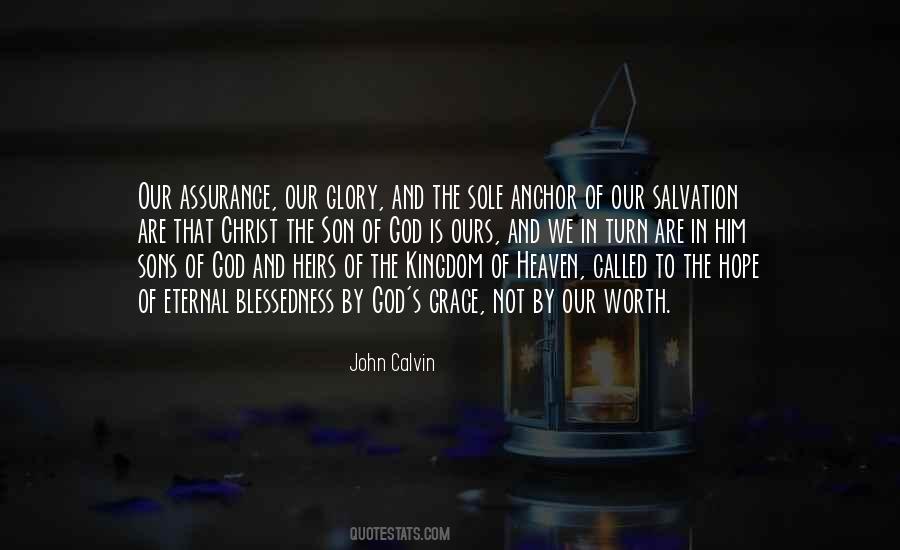 Famous Authors
Popular Topics